So let's talk about Larry Hogan, shall we?
I'm going to start way back in 2009. People tend to forget Larry actually had his eye on running for Governor back then and was briefly in the running until he deferred to his old boss and allowed him to get his doors blown off by Martin O'Malley. (Of course, I chose better in that primary, too.)
After the 2010 Ehrlich debacle – an election where the TEA Party wave somehow missed all of Maryland except for the Eastern Shore – you just had to know that Hogan, a vocal critic of Martin O'Malley during his brief time in the race, would figure out some way to stay in the headlines; thus, Change Maryland was born. I thought it was a great idea.
But when Hogan actually completed the fait accompli of getting into the 2014 open seat Governor's race, I found he was great at articulating what he was against but not so much what he was for. Given a good field to choose from and one where all the contenders (save Hogan) spelled out their agenda, I supported someone else in the Republican primary but we got Larry. Of course, the rest is history.
I'm going to talk about two memories of Hogan from the campaign and how those issues were resolved.
As the O'Malley administration was heading out of town, one last-minute priority of theirs was an attempt to saddle our farmers with new phosphorus management rules that were basically written by the environmentalist wackos of the state. Hours after being sworn in, Hogan beat a deadline and pulled the regs – much to the chagrin of Radical Green.
But barely a month later, Hogan basically put the same thing into effect with a little bit of window dressing. I will grant that it was in the face of a bill with those same regulations in them but it also put the General Assembly on notice that Hogan could be rolled. And boy, was he ever when he reneged on a promise to eliminate the MOM-imposed moratorium on fracking in Maryland and sold the panhandle of the state down the river by endorsing a ban.
Aside from eliminating some tolls and reallocating money that could have been needlessly wasted on a light-rail boondoggle in Baltimore known as the Red Line, it's really hard to compile a list of quantifiable, significant Hogan accomplishments but easy to find where he capitulated. We still have to pay for the Purple Line (not to mention a huge subsidy for the D.C. Metro), the "rain tax" repeal really wasn't one, we got stuck with competing versions of paid sick leave (from a supposedly "business-friendly" governor) and on and on. Even at the end of this term, when he was free to use his veto pen because the terms of legislators were ending and there would be no override votes, he still let a lot of bad stuff through.
But I was still planning on holding my nose really, really tight and voting for Hogan, until he sold Tony Campbell out. That was the last straw. So I looked into Shawn Quinn. Lord knows there is a lot of his platform I didn't agree with, but there is one key philosophy where Quinn and I are in complete agreement: when it comes to education, money should follow the child.
So thanks to all the betrayals and broken promises, Larry Hogan managed to lose my vote and Shawn Quinn received it – a little bit of unexpected help. No doubt Larry doesn't really care because he won and now he's a lame duck until he decides to run for something else (U.S. Senate in 2022?) but look at what he lost. He may blame Donald Trump, but I think Hogan's reliance on Democrat votes bit him in the behind when it came to downballot races like the ballyhooed "Drive for Five" with state senators. Cases in point:
In District 3B, Bill Folden won with 7,522 votes in 2014 but lost with 8,775 votes this time.
In District 9B, Bob Flanagan won with 8,202 votes in 2014 but lost with 8,311 votes this time.
District 29B's Deb Rey won last time with 5,334 votes but this time had 6,281 and still lost. That one sucked because Deb was always in the running to be one of my monoblogue Accountability Project Legislative All-Stars and achieved that goal twice, 2016 and 2017.
Glen Glass led all of District 34A with 10,779 votes in 2014 and may lose as the third-place finisher with 11.564 this time. He's 19 votes out of second.
Glass was a Legislative All-Star way back in 2012 but was more comfortably average of late – still, a significant loss. Senate seat loser Gail Bates was also an All-Star as a Delegate in 2011 – I lost a total of three. One piece of great news, though: two-time mAP Legislator of the Year Joseph Boteler is back in the fold as he was one of three winners in District 8 (and the lone Republican, a net loss of one from the three-seat district), squeezing out Cluster.
Meanwhile, Hogan ran ahead of his 2014 pace in every county. Ironically, Anthony Brown would have killed for the 917,484 votes received by Ben Jealous, as that total would have won it for him four years ago – instead Jealous lost by over 300,000 votes.
But if you do a top 6/bottom 6 list of Hogan gains, it's rather telling about the electorate.
Top 6 gainers:
Prince George's – up 13.3 percentage points
Baltimore City – up 10.0 percentage points
Kent – up 9.1 percentage points
Talbot – up 8.0 percentage points
Allegany – up 7.9 percentage points
Montgomery – up 7.9 percentage points
Out of all those counties, though, there was not one Republican gain in the General Assembly because among these are the three most dominant Democrat counties in Maryland – only Allegany, Kent, and Talbot had GOP representatives prior to 2018 and all were re-elected.
Bottom 6 gainers:
Cecil – up 0.4 percentage points
Harford – up 0.9 percentage points
Carroll – up 1.4 percentage points
Baltimore – up 2.7 percentage points
Charles – up 2.9 percentage points
Anne Arundel – up 3.0 percentage points
In those six counties, the GOP lost Delegate seats in several districts: 8 (appointee Joe Cluster lost his election bid), 30A (Herb McMillan retired), 34A (Glen Glass lost his re-election), and 42B (Susan Aumann retired). St. Mary's County (Delegate Deb Rey, District 29B) fell just outside this bottom 6 list and she paid the price, too. Also losing: Frederick County's Bill Folden (District 3B) and Bob Flanagan from Howard County (District 9B) – epitomes of suburbia.
The GOP did grab Jim Brochin's old Senate District 42 seat in Baltimore County as Delegate Chris West vacated a District 42B seat to move up, but that was tempered by the loss of the Senate District 9 seat held by Gail Bates, who was defeated in Howard County. That seat also has a small portion of Carroll County, one of my bottom 6. And of course everyone knows that MBC won in District 38, which I will get to in due course.
As more proof that Larry Hogan was the most popular Democrat in the race, let's compare federal offices from 2014 to 2018:
Andy Harris (District 1, Maryland's only GOP representative) fell from 70.4% of the vote in 2014 to just 60.3% this year. On the other hand:
Dutch Ruppersberger (District 2) gained from 61.3% to 65.7%, a 4.4 point increase.
John Sarbanes (District 3) gained from 59.5% to 68.6%, a 9.1 point increase.
Steny Hoyer (District 5) gained from 64% to 69.9%, a 5.9 point increase.
Elijah Cummings (District 7) gained from 69.9% to 76.1%, a 6.2 point increase.
In the apples to oranges category as there was a change in the office between 2014 and 2018:
District 4: Donna Edwards had 70.2% four years ago, Anthony Brown (running for re-election) got 77.6%.
District 6: John Delaney had 49.7% four years ago, but this time David Trone was elected with 57.6%. Republican Amie Hoeber lost to Delaney with 40.1% in the Presidential year of 2016 (typically high turnout) and only had 39.4% for an open seat this time.
District 8: Chris Van Hollen had 60.7% in 2014, Jamie Raskin (running for re-election) got 66.8%.
We always knew a Republican needed Democrat votes to survive statewide in Maryland, but the lack of coattails Larry Hogan had for his titular party was more than ridiculous. Their only two wins were in districts that were already primed for the GOP – District 42 had 2 of 3 GOP Delegates and a moderate Democrat Senator, while District 38 was all Republican aside from the Democrat Jim Mathias, who succeeded a longtime Republican Senator. I'm sure local Democrats are kicking themselves for not challenging Carl Anderton because they may well have won the seat back in this climate.
Indeed, the victory of MBC and the fact our other state legislative incumbents were unopposed or drew token, underfunded opposition was perhaps the only thing local Wicomico County Republicans could cheer about. Out of all the Delegate races locally, the only semi-constant was District 38A's Charles Otto. While he had more votes this time around, he lost 1 percentage point and fell below 60 percent. Despite the fact his district no longer includes Wicomico, he is often present at local party events.
Looking at District 38, Jim Mathias actually drew more votes than he had in 2014 overall, although it appears he will be right about even in Somerset County. (As of this writing, Jim is 71 votes shy of his 2014 total there.) MBC playing Mathias nearly even (six votes' difference) there in Somerset was one key, and her domination in Worcester County was the other. Compared to his 2014 race against former Delegate Mike McDermott, Mathias lost 1.6 percentage points in Wicomico, but plummeted 6.3 points in Worcester and 5.8 points in Somerset.
Locally, perhaps the biggest mistake Democrats made was not convincing Jack Heath to run in their primary. For all the angst about his independent bid, you have to call it a failure when Heath outspent his Democrat opponent by a margin of $20,556.63 to $1,266.66. (Bob Culver spent $21,616.99 through the final reporting cycle so financially the race was even between Heath and Culver.) Yet the race wasn't even close between Culver and Democrat John Hamilton, as Bob won by 19 points with Heath barely breaking into the twenties with 21% – 28 points behind Culver. In other words, Democrats were so determined to elect their own they didn't inform themselves about qualifications or readiness for office – they just saw the word "Democrat" and filled in the oval. Had he run as a Democrat, Jack could have won (or come much closer) since I suspect he split the Democrat vote.
Yet the GOP has to take some blame locally, too. I'm not sure their candidate recruitment was up to par this time around: two of their primary candidates had scrapes with the law, and while one of them was defeated in the primary the other was unopposed. I know that party preference is to avoid primaries, but I don't think voters were served well when Julie Brewington didn't withdraw prior to the primary, allowing the Central Committee to select a candidate with less baggage. She was one I withheld my vote from; instead I wrote in my friend Cathy Keim – who should have been on County Council in 2011 to succeed the late Bob Caldwell because all of us on the Central Committee except the one also running for the job, who recused herself, voted for Cathy. That was a County Council seat needlessly lost, and they were already looking at a tough district race in a heavily D district that, predictably, went for the Democrat. (And a loony-tunes lefty he is, too – grab a hold tight to your wallet and private property rights.) So the previous 6-1 margin for Republicans is now a scant 4-3, with one less-than-trustworthy vote on the R side and a Board of Education lackey there to boot, too. The only two R's I can trust to generally look out for my interests now are Marc Kilmer and Joe Holloway. (Funny, but things never change.)
Then we had another candidate who refused to knock on doors, and I told him that's how you win votes. (Ask Carl Anderton or MBC.) Great guy, very qualified for what is essentially an administrative post, but lost by about 2,300 votes (or doors he didn't knock on.) Now that his opponent is in, good luck winning that office until he retires, just like Mike Lewis or Karen Lemon are lifers where they are at.
And for all that work we did to have an elected school board, I can't say I'm pleased with the results. Out of seven spots, the two at-large winners were the ones on the teacher union's "apple ballot" – an automatic vote for their opponents in my book – and we also got a longtime board member when the Republican who was on that ballot could no longer campaign because she took a county job. So right there are three votes for the status quo – or worse. I believe, however, that Gene Malone was the last Republican BoE appointee and, having served with both John Palmer and Ann Suthowski on the Central Committee I think they will be relatively conservative (although Ann may be a squish on the wasteful mandatory pre-K idea.)
The fate of the school board, then, is coming down to District 3. David Goslee, Sr. (who I also know from serving with him on the WCRCC) is literally hanging on by the skin of his teeth – 9 votes separate him and his opponent, who is another mandatory pre-K supporter. I'm putting out the bat-signal to my friend and cohort Cathy Keim – watch that race like a hawk, I don't want them to "find" another box of provisional votes someplace.
That pretty much covers my ballot. It wasn't a straight R ticket, since there were a couple Democrats who were unopposed that were worth my vote to retain. (Same for the unopposed Republicans, by the way.) I just wish the person at the top would not have broken the little trust I had in him.
Two more quick thoughts: for all we heard about the "progressive" movement locally, they mainly got spanked at the ballot box. But it could be worse: they could be Republicans in Delaware – who now have literally no statewide offices after the lost the couple they had and saw their deficit in both House and Senate increase by one seat, a casualty list that included both their Minority Whips. Hey, maybe Larry Hogan can move there in time for 2020 and that election.
At one time I planned on writing a rebuttal to all the Trump items I put up this week yesterday, but after all the events of the convention I decided it was better to hold off for a week or so and let emotions simmer down a little bit. It also gives me a chance to attend two of my meetings and gauge the mood of the electorate, so to speak – so perhaps after all that I will pick up that baton and share my thoughts on both Marita Noon's commentary regarding Trump's energy policy and the entire Art of the Deal series. Right now, emotions are too high and points will be missed.
It's no secret I didn't support Donald Trump for the Republican nomination, nor will I be backing the Clinton/Kaine ticket. (Hell, the guy doesn't even know our part of Maryland exists because he thought Virginia shared a border with Delaware.) Yet I still have an interest in the downticket races, and this year I will be following the advice of Ted Cruz and voting my conscience. (Or, if you prefer, Ivanka Trump, who said, "I vote based on what I believe is right for my family and for my country." So will I.) But the combination of the Democratic convention taking over the news cycle and my general fatigue with the Presidential race means I may look at some other stuff for a little bit.
One thing I was asked to look at by my friends at the Patriot Post for this week was the prospects for Republicans in the downticket federal races. (If you get their "Weekend Snapshot," the article is prominently featured there as well.) But I find a little bit of fault with my editor because my original concluding sentence was, "The next four years could be the most interesting and unpredictable times our nation has ever known." My thought in that sentence was to invoke the old adage "may you live in interesting times" as we seem to be cursed into a choice leading us toward them. To me, this may be the election where more people vote against someone that affirmatively vote for a candidate.
(To that end, can we install the "none of these candidates" option like Nevada has? I could see factions in all four parties on the ballot in Maryland who would love a do-over: Republicans who are anti-Trump, Democrats who backed Bernie Sanders, Libertarians who would like a more doctrinaire candidate than former Republican Gary Johnson, and Jill Stein of the Green Party who would happily move aside for Sanders, too.)
Just think about Congress for a moment. In poll after poll it's shown to be one of the least popular institutions in the country, but voters send all but a small handful back term after term until they decide to retire. Maryland is a good example of this, with the longest-tenured Congressman being Steny Hoyer (17 terms), followed by Elijah Cummings with 10, Chris Van Hollen and Dutch Ruppersberger with seven apiece, John Sarbanes with five, Donna Edwards with four (plus a few months), Andy Harris with three, and John Delaney with two. Since Edwards and Van Hollen both sought the Senate seat, those districts will open up – but thanks to blatant gerrymandering, they are likely to be gravy trains and "lifetime appointments" for Anthony Brown and Jamie Raskin, respectively.
Aside from the one term of Frank Kratovil here in the First District as a "blue dog" Democrat carried on the Obama wave in an otherwise GOP-dominated area, you have to go back almost forty years to find a handful of one-term wonders that Maryland sent to Congress. Both our current Senators came to the job after serving multiple terms in the House, as would Chris Van Hollen if he wins the Senate seat. Kathy Szeliga, on the other hand, has served just a term and a half in the Maryland House of Delegates – although compared to other GOP Senate candidates in recent years that almost qualifies as "career politician," too.
Yet while our GOP candidate supports Trump and has an uphill battle to win, she was criticized for skipping the convention as well:
Some (GOP convention) delegates who wished to remain anonymous to avoid antagonizing another party member privately expressed discontent and disappointment with Szeliga's and Hogan's absences in Cleveland at a time when unity is a key goal of their party after a fractious primary season.
Of course, Andy Harris was there in Cleveland, but he's in an R+13 or so district with far less to worry about. It was better for Szeliga to be in Crisfield meeting voters with her opponent there.
So while I will talk about the convention in at least one piece I'm considering – and my invited guests may decide on their own to look at the Presidential race – I'm going to step back from it for a little bit. It's the pause that will refresh me.
Now that I made my thoughts on the fate of Wicomico County next year known, it's time to expand the focus to the state as a whole. After the runup to the 2014 campaign and the transition of last year occupied the state over the last two years, it seems that the political class has settled in as we enter the second year of Larry Hogan's term. His honeymoon was extended to some degree by his cancer diagnosis, but with a clean bill of health I suspect the gloves will be coming off as far as statewide Democrats are concerned. They need to position themselves for both the 2018 state election and, in some cases, the 2016 election as well. The surprise retirement announcement from Senator Barb Mikulski placed several Congressional Democrats into the race to succeed her, with House members Donna Edwards and Chris Van Hollen leading the charge. Elijah Cummings is also considering the race as well.
Of course, having these vacancies means ambitious state politicians are eyeing a move from Annapolis to Washington. So far five Democrats are considering the move, which in turn could create some vacancies by year's end as it's likely some of them emerge victorious. But on a policy note, these Democrats aren't going to run from the political center so look for a serious turn to the left from the General Assembly this year – particularly if they succeed at overturning some of Larry Hogan's 2015 vetoes in the opening days of this year's session.
One place where Hogan can make a difference, though, is on the regulatory front. He doesn't always need the General Assembly to make progress toward his goal of a more business-competitive Maryland, so look for him to try and do some pruning through his department heads.
With the economy recovering ever-so-slightly and the state addressing the structural deficit to the degree that it ran a small surplus this fiscal year, another bone of contention will be how the state's budget is set up when it comes out next month. Having reached $40 billion last year, even the $500 million reportedly in surplus only allows the state to increase spending by a little over 1 percent – of course, the Democrats have a wish list twice that large and then some. Being used to the 4 to 5 percent annual budget increases common during the O'Malley era, Democrats consider Hogan's smaller increases as cuts and that attitude is already in effect as we get ready to see the FY2017 budget.
Conservatives, though, probably aren't going to see a lot of progress toward cutting the O'Malley excess on other issues. Short of a rejection to Maryland's 2013 gun law in federal court (not likely), Hogan isn't going to push very hard to restore Second Amendment rights or bring more school choice to the state. In year one, Hogan hasn't really used his bully pulpit very much – granted, he was ill and undergoing cancer treatment for a large portion of the year but if you're expecting Hogan to be another Ronald Reagan you may be disappointed. Besides the toll and fee decreases we were given last year, there's not been much of a push for overall tax relief either thanks to the continuing structural deficit that Hogan's predecessors have granted to him.
To the extent that Maryland has a large majority of Democratic voters, perhaps the best a conservative can expect is to slow down the leftward slide into the abyss. Bringing real change to the state is perhaps a multiple-term effort – not just the two Hogan may be fortunate enough to receive, but also with the hope that he paves the way for a more conservative successor. With the exception of one Bob Ehrlich term, the state has shifted leftward more or less continuously for decades so it will take time to undo the damage.
With the national election and the real prospect of conservative change in mind, the Maryland Republican agenda should be one of working the state away from its reliability on Uncle Sam as both employer and provider of funding. Since the Democrats are going to make 2016 about laying some ticking time bombs to go off just in time for them to come save the day in 2018, the GOP needs a plan to defuse them.
Maryland probably won't make the same kind of news in 2016 as it did in 2015 – given the Baltimore riots and tremendous murder rate, we sure hope not. But the year has a lot of potential for this state, in my opinion more so than we've had in a decade. Leadership will be the key: if Larry Hogan emerges as the leader, we should be all right. But Heaven help us if it's one of those on the loony left.
Beginning a three-day announcement tour in Annapolis yesterday, Delegate Kathy Szeliga made what many considered the worst-kept secret in Maryland politics official: she's tossing her hat into the ring for a seat in the United States Senate. But it's not just any seat: if you believe the Washington Post, it's the Mikulski seat.
Regardless, she becomes the first elected Republican to seek the seat, which will probably draw a crowd: ten years ago, the last time an open Senate seat came up, nearly thirty hopefuls – elected officials and perennial candidates alike – took their shot at the brass ring. Eventually surviving the primaries were Rep. Ben Cardin and Lt. Gov. Michael Steele, with Cardin prevailing by ten points on Election Day.
The 2016 version of this scrum may bring three Democratic House members together, as Donna Edwards and Chris Van Hollen are already in and Elijah Cummings is thinking about it. (In turn, this will make next year's General Assembly session interesting as several state legislative members consider the vacated seats.) On the other hand, the GOP side is currently occupied by Richard Douglas, who ran in 2012 but finished second in the primary behind Dan Bongino, onetime Ehrlich administration lawyer Chrys Kefalas, disabled Navy veteran Anthony Seda, and Szeliga. There is also the possibility Harford County Executive (and former State Senator) Barry Glassman may get in, according to this piece at Maryland Reporter.
Some suspected Maryland's lone Republican member of Congress, Andy Harris, would make a bid but it appears he's backing his onetime chief of staff. "I know her to be a tough, smart woman from Baltimore who's not afraid to take on the political establishment to get real results for Maryland families," said Harris in a statement.
Meanwhile, it didn't take long for the candidate to fire up the e-mail appeals. If this is her basic message, she seems to riding the populist wave (as opposed to full-throated conservatism.) Here's a sample.
We have a paralyzed government incapable of solving even our most basic needs. I for one can no longer standby (sic) waiting for those we've sent to Washington to solve our problems, because they haven't. And I'm not naïve enough to think I can just ride into the Senate on a white horse and do it all by myself. It's going to take a lot of new people who aren't professional politicians to step up – average citizens with college degrees and others without. Goodness knows, they can't be any worse than the gang running things now!

Deep in our hearts, most of us – regardless of political preferences – believe in the promise of America and the power of the American Dream. We are agents of change motivated by our love of God, family, state and country. We want to rediscover a way of life as it used to be; when things really did work.

I want to serve in the US Senate to champion those forgotten Americans who are decent, responsible citizens yearning for the opportunity to work hard, pay the bills, raise a family, live a full life and yes, dream again what we seem to be losing – the American dream.
Unfortunately, when she comes to Salisbury tomorrow I can't be there, so I'm doing the next best thing and sending my cub reporter. I think Cathy will give me the coverage I need as a vital race begins to take better shape.
Last night about 120 people enjoyed hearing from both Sheriff Mike Lewis and Congressman Andy Harris, as well as words of wisdom from our sixteenth President. Here he waits his cue to walk into the gathering.
For me, this year was a little different as I subbed for our treasurer, who usually checks people in at the door. So I saw pretty much everyone who came in – actually, on my arrival I stopped Salisbury City Councilman-elect Muir Boda and his wife from going to the wrong floor. We were literally the first three there.
So by the time Lincoln and his band of Union irregulars arrived, we had a pretty full house.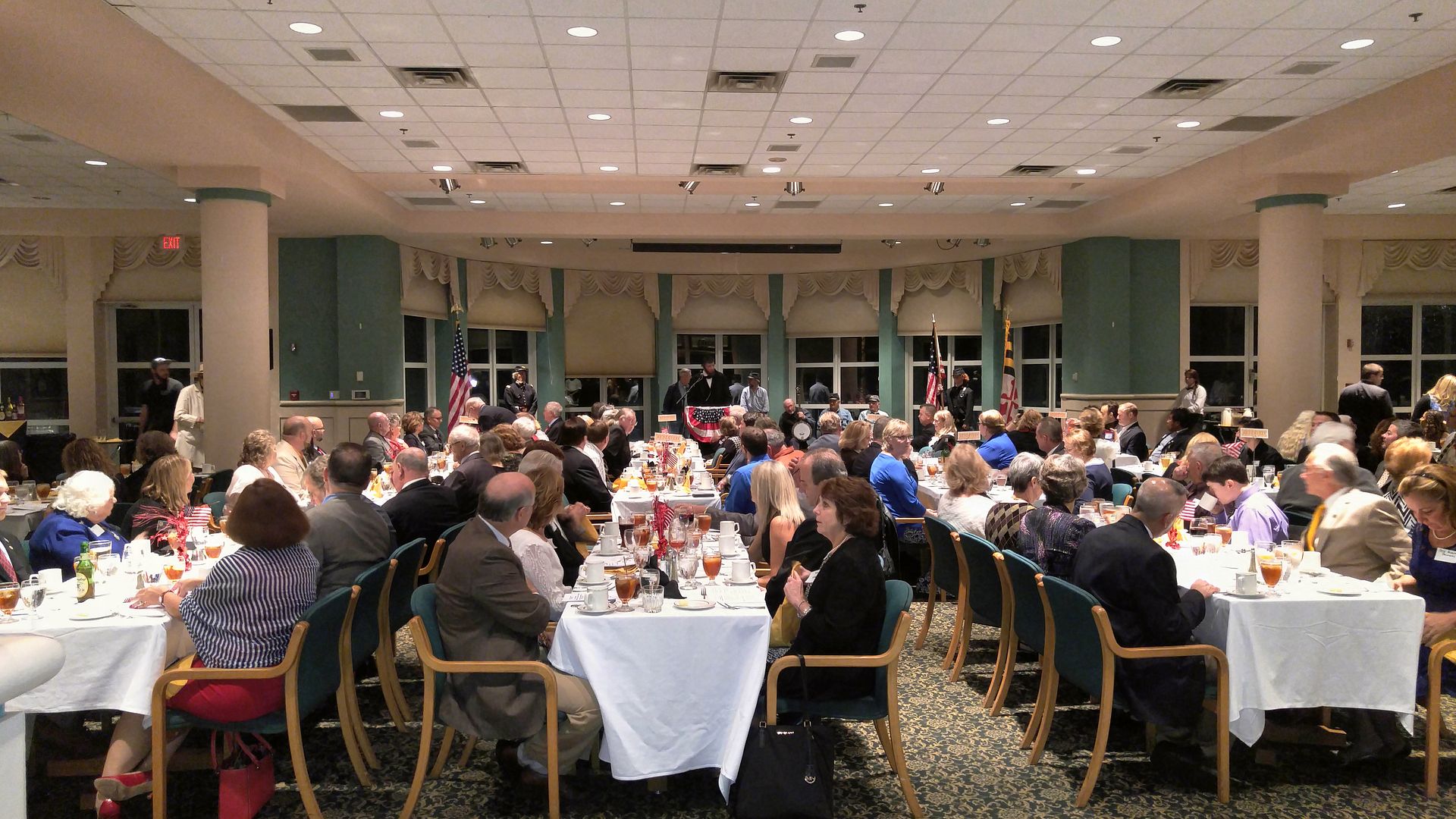 It should be noted that most of those present were from Wicomico County, but we also had contingents from surrounding counties as well as a table from Montgomery County. We also had state leaders from the Maryland Federation of Republican Women and state GOP Chair Diana Waterman.
Now because I was wrapping up my duties with a couple stragglers, I didn't catch all Lincoln had to say. But I recall he spoke about the press of the day, how candidates were vetted in an age when communication was becoming faster but still could be measured in months, and compared how voters were informed and educated then to now.
I finally got to relax, eat, and enjoy what Sheriff Mike Lewis had to say.
Lewis praised the Salisbury University College Republicans for their involvement, saying they "have to speak up" as representatives of their generation. Next year's election will be "the most important day of our lives."
Reflecting on his fairly recent fame – he just returned from a speaking engagement in Fresno, California – he noted they were trying to recruit him to run the Fresno Police Department but he had no desire to leave Wicomico County. "I'm extremely humbled" to be sheriff, said Lewis.
Mike pointed out that gun violence in Maryland was on the increase despite the passage of Senate Bill 281 in 2013, which he added was promoted by the sheriffs in both Baltimore City and County. So far in 2015, though, shootings have increased in Maryland from 725 to 1,161 while homicides have risen from 314 to 459. "Thank you, Governor Martin O'Malley," said Lewis, tongue firmly in cheek. The sentiment of "thank God for Larry Hogan" was much more sincere.
Lewis blamed "failed Denocrat leadership" for the woes in urban areas like Baltimore, Chicago, and Detroit. On the other hand, Lewis believed America needed statesmen in order to return our liberty and restore us to being the land of the free.
Turning to the drug issue, Lewis called State's Attorney Matt Maciarello "a tremendous partner" in the drug fight. It's a fight which has struck home for many in the area – Lewis has a 38-year-old niece who he had to lock up again for possession. "She doesn't want our help," said Lewis. He also related the story of the grandson of a terminally ill man who removed the elderly man's morphine drip and stuck it into his arm.
Politically, Lewis believed we needed to identify key people to represent "Eastern Shore values" in our government. "I'm so concerned about the lack of patriotism" in this country, said Lewis, calling on us to "make sure you vote right."
Lewis yielded the stage to Congressman Andy Harris, who was praised for being "incredibly optimistic" by Wicomico County GOP chair Mark McIver, who served as the emcee for the event.
Harris picked up Lewis's baton on the drug issue, saying we needed to "do all you can" to keep drug legalization from the Lower Shore. The District of Columbia "made a big mistake" on marijuana, added Harris. While the merits of medical marijuana were up for debate – Harris seeming to be on the skeptical side – his fear was having a workforce too stoned to be productive.
Changing gears, Harris noted that the "true blue" states of Massachusetts and Maryland now had Republican governors. He chalked it up to a situation, more specific to Maryland, where "government has failed them entirely." Electing GOP leaders was "no accident," he added.
Showing his optimism for 2016, Harris said, "I think things look good, actually." He also believed our late April, winner-take-all primary was key in an election where he noted Karl Rove thought there was the possibility of no candidate having enough delegates to win on the first ballot.
Andy went on to speak about the Republican field's diversity, pointing out Ben Carson was "the most serious African-American candidate" in history. This was intriguing because Carson, who Harris said he'd known since the early 1980s, was the "farthest person from a politician you could ever get." Moreover, with two Hispanic candidates the possibility was there to secure 40% of the Hispanic vote, which was the fastest-growing minority bloc.
As for the U.S. Senate race here in Maryland, on the Democcratic side Harris described Chris Van Hollen as "the consummate insider," while Donna Edwards was "to the left of Bernie Sanders." Elijah Cummings could get in the race, but there was the issue of his reaction to the Baltimore riots. "You own it, Mr. Cummings," said Andy.
Harris then revealed that Delegate Kathy Szeliga would be here in Salisbury Thursday afternoon as part of a statewide tour to promote her U.S. Senate bid. If she wins, said Andy, "Maryland is no longer a blue state." He called Szeliga "the Joni Ernst of Maryland," referring to the Senator from Iowa elected last year. "We can't keep doing business as usual in Washington," concluded Harris.
Despite the previous admonition by McIver that neither Lewis nor Harris would take questions, Harris took them anyway. First out of the chute was how Paul Ryan won him over.
Ryan was an "excellent" choice for Speaker, with Harris arguing he's "not a moderate."
But this led to a more philosophical answer, with Harris believing Ryan could unite the House and re-establish the "natural tension" between the legislative and executive branches, rather than the artificial battle between parties that Barack Obama and Harry Reid took advantage of to amass power for the executive branch. He opined that legislation from the House will be conservative, even with some Democratic amendments, but this was a way to make the House united.
The way John Boehner did things, contended Harris, was "not the way to do business." He used that example to answer the next question about government shutdowns, saying that you can't embararass the Senate into action with just a few hours to act. Ryan would work to do things in regular order, which puts the onus on the Senate to act.
Harris then answered a question about why Congress is held in such high disregard by the rest of government by claiming "bureaucracy has become the fourth branch of government." He called on the next GOP president to be "merciless" in cutting bureaucracy.
Finally, in answering a question about VA treatment, Harris made the case that a veteran from Princess Anne shouldn't have to drive by a care facility in Salisbury to go to a VA clinic up in Baltimore. When an average VA visit costs $250 compared to $65 to $85 in the private sector, "it is time we privatize" VA health care.
(Funny, some guy I know wrote a book three years ago with that same idea, among others. But I wasn't standing behind this podium.)
One other aspect of the LDD worth mentioning is the silent auction, where we had a table full of items from books and gift baskets to experiences such as lunch at the Capitol Hill Club or shooting with Harris or a State House tour and lunch with Delegate Carl Anderton, among many others. That turned out to be a success, too. I thought I had a photo of that spread but turns out I didn't. Oh well.
The SU College Republicans also did some fundraising, doing a pay-per-vote poll for President and selling T-shirts.
We may stay with this fall date next year, although it may wait until after the election – meanwhile, we may do a second fundraiser in the spring/summer. It turned out to be a good event to continue building on, so we shall see how we ended up doing when the bills are paid.
By Cathy Keim
Trade Promotion Authority (TPA) is alive and well due to political shenanigans to keep it going. When the Trade Adjustment Assistance (TAA) bill was voted down by Democrats hoping to block TPA, the game was supposed to end. However, Speaker Boehner is determined to work with Majority Leader McConnell in the Senate to present fast track to the president.
Part of what makes this so confusing is that the Republican-controlled House and Senate are working overtime to present the Democratic president the gift that he has been longing for: more authority to pursue multiple trade bills with Congress only able to vote the deal up or down. Why would the Republicans be feverishly pursuing this goal?
The obvious answer is that free trade is so important that any way of achieving it is worth making any sacrifice. That may be what they are telling you, but it just isn't true. There are plenty of ways that this deal could lock the US into untenable trade agreements. Currency manipulation, immigration, patent and copyright issues are just a few of the areas that could turn against American workers.
Even when you look at the Maryland delegation's votes, you will see strange bedfellows. First, take our two senators who split on the issue. I cannot find a statement by Senator Mikulski about her vote, but she voted no. Since she is not running for office again, she does not have to worry about offending the president.
Senator Cardin voted yes after he introduced an AIPAC backed amendment. AIPAC states:
On April 22, the Senate Finance Committee voted unanimously to include an amendment targeting harmful anti-Israel trade and commercial practices in the "Fast Track" Trade Promotion Authority bill. The amendment, authored by Sens. Ben Cardin (D-MD) and Rob Portman (R-OH), addresses efforts by foreign governments to boycott, divest from and sanction Israel. It also directs that one of the principal American objectives in upcoming trade negotiations will be to discourage trading partners from taking actions that would limit U.S.-Israel commerce.
I can understand why Senator Cardin would want to defend Israel when the current administration has shown real hostility towards them, but one has to ask if this is shortsighted on the Senator's part. Giving the same administration fast track authority when the president has shown little interest in adhering to any restraints put upon him, may in the long run turn out worse for Israel. Perhaps Senator Cardin would do better to vote no and stop the whole fast track process.
Only one other representative from Maryland voted yes on TPA and that was Congressman John Delaney of the 6th Congressional District. He stated in a press release that:
Right now, two things are happening: 1) Congress is considering a bipartisan agreement that instructs the President on trade negotiations and begins the deliberation process for a new accord and 2) China is working on their own regional trade agreement. I support giving President Obama Trade Promotion Authority because it will give the President the tools he needs to negotiate the best trade deal for America and our workers. For the first time, the bipartisan Trade Promotion Authority package includes groundbreaking environmental and labor standards and provides unprecedented human rights protections. The Trade Promotion Authority Package gives President Obama new ways to enforce these standards to make sure we're not having a race to the bottom that drags American workers down. So it's either going to be our country setting the terms for trade or it's going to be China. I want our country, our government and this President setting the terms of international trade, not China.
Congressman Harris of the 1st Congressional District voted no. His Facebook page states:
Thousands of citizens in Maryland's First District contacted my office regarding bills on trade that were recently considered in the House. Today, I voted against the Trade Promotional Authority (TPA) bill for a second time. Representing your views are of the utmost importance to me and it is truly an honor to serve the people in the First District.
He did not listen to his constituents about CRomnibus or voting out Boehner as Speaker of the House, but this time he heard us loud and clear and responded as we asked. I wonder if that is because former Delegate Mike Smigiel has announced that he is opposing Andy in the primary next April?
Representatives Donna Edwards (4th District) and Chris Van Hollen Jr. (8th District) are both running for the Senate seat being vacated by Barbara Mikulski. Edwards is running to the left and Van Hollen is obliged to move left too. Van Hollen explains his reasons in a letter to Rep. Levin.
He lists multiple concerns such as currency manipulation, increased investor lawsuits, workers' rights, environmental issues and more as his reasons for voting no.
Representatives Ruppersberger, Sarbanes, Edwards, and Cummings all signed a letter to President Obama explaining why they were voting no on TPA.
For some time, members of Congress have urged your administration to engage in broader and deeper consultations with members of the full range of committees of Congress whose jurisdiction touches on the numerous issues being negotiated.

(snip)

Beyond traditional tariff issues, these include policies related to labor, patent and copyright, land use, food, agriculture and product standards, natural resources, the environment, professional licensing, competition, state-owned enterprises and government procurement policies, as well as financial, healthcare, energy, e-commerce, telecommunications and other service sector regulations.

(snip)

Congress, not the Executive Branch, must determine when an agreement meets the objectives Congress sets in the exercise of its Article I-8 exclusive constitutional authority to set the terms of trade.
Representative Steny Hoyer is the Minority Whip. He voted against TPA because:
Trade Promotion Authority legislation lays the foundation for how we approach trade policy as part of our overall economic strategy, and we cannot look at trade simply on its own. We must consider all the elements that affect American workers and jobs.

(snip)

Our workers deserve policies that boost our competitiveness and place us at an advantage in global markets, making it easier for them to get ahead.
He then lists a whole smorgasbord of expensive programs that he wants for the workers.
The reasons for the votes cast vary from constituent demands, to fear of China, to wanting more spending, to defending Israel and to pursuing a Senate seat. Some of the reasons I can agree with while others, like wanting the Export-Import Bank renewed, are not acceptable. However, on this important vote I am happy to have the Democrats join with as many Republicans as will stand against TPA.
Keep on calling and prodding your senators to vote against TPA. The cloture vote is expected today, with the final vote coming tomorrow. If the bill survives cloture, it will likely pass, so the ball is now in the Senate's court.
This will be, by far, the trickiest of these columns I've taken the last three days to write. There are so many unknowns that even the "known unknowns" pale in comparison. But as the conservative, pro-liberty movement stands currently there are a number of items for which we can reasonably be certain 2014 will bring some kind of resolution.
First and foremost among them is that the goalposts will continue to be moved for Obamacare. As originally envisioned, we would all begin feeling its full effects tomorrow, but self-imposed – and I mean self-imposed, because few of these changes went through the legislative branch – changes have pushed back the deadline for many later into 2014 or even 2015. At this point, the strategy seems to be that everything bad about Obamacare gets blamed on Republicans who were really pretty powerless to stop its enactment in the first place – remember, Democrats had a clear majority in the House and a filibuster-proof majority in the Senate from January 2009 to February 2010 when Scott Brown was sworn in – and those few popular items are all due to the Affordable Care Act. That seems to be the preferred, focus group-tested name now because Obamacare has a bad connotation.
Meanwhile, we are supposed to be beyond the prospect of a government shutdown (really a slowdown) which Republicans were deathly afraid of for some reason. I don't recall any hardships in October, do you? My life seemed to be unaffected. Nevertheless, the GOP seems to be afraid of its own shadow so when Democrats threaten to shut down the government the GOP snaps to. It's sickening.
By that same token, the ball is supposedly being teed up for immigration reform (read: amnesty) over the summer, once GOP Senate incumbents know their filing deadline has passed. There's no question a schism over immigration is developing in the Republican Party just as Obamacare is splintering off those Senate Democrats who face re-election in states Mitt Romney carried in 2012. I say primary 'em all with conservatives so that maybe the incumbents will be scared straight.
Those are some of the key domestic issues we'll be facing. I can guess two or three which won't come up as well.
We will see absolutely zero effort to reform entitlements, whether Medicare, Medicaid, or Social Security. This will be another year they hurtle toward insolvency, probably going splat just in time for Generation X to reach retirement age in about 15 years. (That would be me – I'm on the cusp between Gen X and Boomer.)
Nor do I care how many articles of impeachment are drawn up: the House leadership doesn't have the courage to pursue it, nor would they ever get the votes in the Senate to convict. They could find Barack Obama in bed with a dead girl, live boy, a bloody knife in his right hand and a signed confession in his left and the Democrats would swear the boy set him up and the girl stabbed herself thirteen times – in the back – and not convict him.
It doesn't matter how poor the economy is, either. The government won't dare stop priming the pump to the tune of a trillion dollars a year in debt, parceling out $80 billion or so of "quantitative easing" monthly. When the Dow and its record highs are the one factor of success apologists for Obama can point to, anything which maintains that facade will be continued despite the possibility of long-term inflationary catastrophe – again, probably in time for Generation X to retire.
Just as ineffective is our foreign policy, which has been a muddled mess as old friends are ignored and longtime enemies coddled. We may have an idea of what the hotspots may be, but events have a way of occurring at the most inopportune times and places for American interests.
All this points toward the midterm elections this coming November. While Democrats are talking up their chances of regaining the House, the odds are better that Republicans will instead take the Senate. The sixth year election in a President's term is traditionally a bloodbath for his party, although the one exception over the last century was during the term of the last Democratic president, Bill Clinton in 1998. At that time, though, the economy was in pretty good shape and the modest gains by the Democrats in the House weren't enough to swing control back to them. (The Senate stayed in GOP hands, with no change in the 55-45 GOP majority.)
Looking briefly at the Maryland delegation, all indications are that all of our eight-person Congressional delegation will seek another term, although only Fifth District representative Steny Hoyer and Seventh District Congressman Elijah Cummings have filed so far. The most spirited race may be the Sixth District, where 2012 U.S. Senate candidate Dan Bongino is expected to take on freshman Democrat John Delaney.
But there's still time left for the 113th Congress, which will have to deal with the mercurial Barack Obama for another year before we enter the home stretch of what seems like a couple decades of the Obama regime. There's little doubt that conventional wisdom will be set on its head again and again over the next year, a real-life version of trying to predict the upsets we all know will occur during March Madness. It's all about who comes out on top, but my bet is that it won't be the American people.
Well, this is an interesting case indeed.
It seems that a Catonsville developer flouted campaign contribution laws by soliciting associates of his to make "straw donations" on his behalf to a Democratic Baltimore County Council member. Multiple reports relate that Stephen Whalen is on the hook for over $50,000 in fines for these transgressions.
To be perfectly honest, I don't believe in campaign contribution limits so the Whalen conviction was a witch hunt of sorts. Yet there is a side to the story which should be exposed and that's the sheer number of candidates and slates that Whalen and his companies made nearly $200,000 in contributions to over the last several years. Most of us who follow the law know that the limit for a state election cycle is $4,000 in donations to a particular candidate and $10,000 in total for the cycle.
David Ferguson of the MDGOP sent me a list of those who benefited from the largess, and it reads like a who's who of Baltimore-area Democratic politics (with a couple exceptions.) Let's start from the top, shall we?
Democratic National Committee
National Association Industrial & Office Parks PAC
President Barack Obama
Former Presidential candidate Hillary Clinton
Congressman Elijah Cummings (7th District)
Former Congressman Frank Kratovil (1st District)
Governor Martin O'Malley
Comptroller Peter Franchot
State Senator Delores Kelly
State Senator Edward Kasemeyer
House Speaker Delegate Michael Busch
Delegate Emmitt Burns
Delegate Adrienne Jones
Delegate Stephen DeBoy
Delegate James Malone
Delegate Stephen Lafferty
Delegate Peter Hammen
23rd District Slate
District 12A Slate
Howard County Executive Ken Ulman
Baltimore County Executive Kevin Kamenetz
Former Baltimore County Executive Jim Smith
Baltimore County Council member Vicki Almond
Baltimore County Council member Kenneth Oliver
Baltimore County Council member Cathy Bevins
It's not the whole list, as there were a few primary losers in the bunch. There were also five Republicans named, with Bob Ehrlich and Baltimore County Council members David Marks and Todd Huff the three winners among the group. (Marks has returned his contributions from Whalen.)
Ferguson condemned the Democrats who have been recipients of over 95% of Whalen's generosity. In a statement, the MDGOP's Executive Director says:
Those who have received contributions from Stephen Whalen should follow the lead of Baltimore County Councilman David Marks and return his dirty contributions. Whalen gave over 96% of his contributions to Democrats and it is unacceptable for nearly $200,000 to be floating through the Democrat Party's coffers from an individual convicted of political corruption.

Stephen Whalen's conviction is another consequence of Maryland being a political monopoly for Democrats and their cronies. Unfortunately, this culture of corruption is standard operating procedure for crooked politicians and donors like Stephen Whalen looking to pay-for-play. For six years, Martin O'Malley and his allies have willfully embraced the lack of ethics in their government.
There's no doubt that money may have been the lubricant for Whalen to grease the skids on getting his developments built: his company's website states they specialize in medical office space around the outskirts of Baltimore.
(I find it somewhat ironic, then, that he supports many of the same Democrats who have voted to curtail growth in rural and suburban areas. Perhaps there's more infrastructure in areas Whalen is interested in.)
So once again the state's majority party is caught with its hand in the cookie jar, but do they condemn this violation of the law? No, they'd rather take potshots at Andy Harris for voting against a pork-laden hurricane relief bill. Their silence on the transgression is deafening and speaks volumes about the corruption they're happy to put up with for political gain.
In what has become an escalating war of words between a longtime Democratic Congressman and a good-government advocacy group, True The Vote (TTV) on Monday accused Maryland Congressman Elijah Cummings of "defamation per se" based on remarks Cummings made on MSNBC; a presentation where he accused TTV of "illegal activities" and having "very strong evidence" TTV was coordinating efforts with the Republican Party. Cummings did not elaborate on his accusations or evidence in his brief segment, though.
Cummings' witch hunt began last month when he wrote to TTV head Catherine Engelbrecht demanding an accounting of voter registration actions the group has embarked upon in Ohio, Wisconsin, North Carolina, and here in Maryland. In response, Engelbrecht offered to meet with Cummings to explain the actions but apparently was rebuffed – instead, Cummings chose to go on MSNBC with his wild, unverified claims. That television appearance led to the newest communication with Cummings from TTV attorney Brock Akers demanding a retraction of his MSNBC comments.
It's interesting that Cummings, who according to his mouthpiece is "extensively involved in the presidential re-election efforts…and for Senator Cardin" had time to make up these accusations. But he doesn't have time to meet with TTV – or, for that matter, debate GOP opponent Frank Mirabile either. Yet Cummings is trying to engage TTV with the sort of intimidation tactics that the voter integrity group is fighting against. His missive demanded a large amount of information at a time when TTV is most busy with training poll watchers and working to clear voter rolls of those who don't belong there. Far from being an inconvenience, the idea behind having voters who were challenged on the rolls provide the proof they should be there is more like something which should be standard procedure – each time I've moved I've made sure to update my voter registration in a timely manner, so why can't other people?
While those of us who are citizens of this great land have the right to vote (provided we are of age and not restricted by felony or other similar prohibition) we also have the right to not have our voice drowned out by fraudsters who exercise these rights but shouldn't. The Democratic nominee for Congress here resigned her nomination for the crime of voting twice (once each in Maryland and Florida) while others who shouldn't get to vote once because they're not citizens are handed voter registration cards when they receive their driver's license.
Yet using Maryland as an example, Election Integrity Maryland has simply looked for duplicate or non-existent addresses and those who they have verified have died. Just that cursory check has provided over 9,000 names which have been flagged. They're also training additional eyes and ears at the ballot box, which obviously Cummings is afraid of.
But why? The answer to that may be self-evident.
Fresh off the latest fundraising scalp claimed by Barack Obama, the nonpartisan Government Accountability Institute has publicized a report called "America the Vulnerable: Are Foreign and Fraudulent Online Campaign Contributions Influencing U.S. Elections? Among its key findings are a number of disturbing facts about the President's online contribution reporting, including these which should give advocates of good government pause:
Obama.com Purchased By An Obama Bundler In Shanghai, China With Questionable Business Ties to State-Run Chinese Enterprises: In 2008, Obama.com was purchased by an Obama fundraiser living in Shanghai, China, whose business is heavily dependent on relationships with Chinese state-run television and other state-owned entities.

68% Of Traffic To Anonymously Registered Obama.com Is Foreign: According to industry leading web analytics site Markosweb, an anonymously registered redirect site (Obama.com) features 68 % foreign traffic. Starting in December 2011, the site was linked to a specific donation page on the official BarackObama.com campaign website for ten months. The page loaded a tracking number, 634930, into a space on the website labeled "who encouraged you to make this donation." That tracking number is embedded in the source code for Obama.com and is associated with the Obama Victory Fund. In early September 2012, the page began redirecting to the standard Obama Victory Fund donation page.
So as not to pick on Barack Obama, the group also found fault with Marco Rubio's 2010 Senate campaign and also nearly half of the Congressional campaigns which accept credit card donations. Among Maryland's nine members of Congress running this cycle, Dutch Ruppersberger (2nd District), Donna Edwards (4th District), Steny Hoyer (5th District), and Elijah Cummings (7th District) do not use this protection.
But another problem GAI noticed was the lack of accountability in federal campaigns, where amounts under $200 need not be reported unless a campaign was audited; moreover, amounts under $50 aren't even recorded. (This is why fundraising appeals from both sides often use tiny amounts, like $3 or $5. If Barack Obama can get a million people to enter a celebrity contest, that's $3-$5 million he collects but doesn't have to account for. And if it's not accounted for, the money could come from anywhere.)
It's worth pondering that Barack Obama gets a much more significant portion of his funding from small donations than Mitt Romney does. Certainly the vast percentage of those contributions are on the up-and-up, but what if even 20% of the $600 million Obama has collected in small donations came from foreign or fraudulent sources? Erick Erickson of RedState did just that as a test, and the Obama campaign failed.
Obviously this group, led by Hoover Institution Research Fellow and author Peter Schweizer, would tend to skew toward a conservative, good-government point of view, but they bring up a lot of valid points. They dug up several examples of Obama donations being promoted and encouraged on foreign websites in their report, which runs over 100 pages.
This story is attracting notice in a lot of conservative corners (like this piece at Breitbart.com), which could provide another plate for the mainstream media ignorance court jesters to keep spinning.
Okay, the results have come in and I got some sleep and a day at my outside job to consider them, so let's go back to my prediction post and see how I did.
I was actually correct in the order of presentation on the top four Presidential candidates statewide, but Mitt Romney exceeded even the pollsters' expectations when he won just under half the vote. I suppose that inevitability factor may have affected the results because it appears our turnout in 2012 will end up about 20 percent less than it was in 2008, when the race was effectively over by the time we voted. Because few people like to admit they're backing a loser, I wouldn't be surprised if a number of voters changed from Gingrich to Romney at the end while other Newt backers stayed home. It also proves Ron Paul has support a mile deep but an inch wide since both well underperformed what I thought they might. I actually missed Santorum by less than a point, although it surprised me that Rick only won two counties (Garrett and Somerset.) I would have thought Rick would carry 4 to 6 of the more rural counties, including Wicomico. But once Romney outperformed it was over.
And you may wonder why I had Fred Karger at 2 percent. I thought he would do better because, as a gay Republican candidate in a state which was bound to be a Romney state anyway, voting for him may serve as a message about the gay marriage referendum likely to appear in November. Instead, he got only less than 1/10 of my predicted total and finished dead last. I also managed to garble up the exact order of the also-rans, but with such a small sample who knew?
That same statewide trend seemed to affect my Wicomico result too because Romney outperformed and Gingrich/Paul suffered for it.
And while I didn't predict it, I find it quite fascinating that 12 percent of the Democratic primary voters selected "none of the above" rather than Barack Obama. However, that statewide average varies wildly from under 3% in Prince George's County, about 5% in Baltimore City, and just over 7% in Montgomery County to fully 1/3 of Democrats in Allegany County and a staggering 34.7% in Cecil County. In the last comparable election with a Democratic incumbent (1996) President Clinton only received 84% of the vote (onetime perennial candidate Lyndon LaRouche got 4%) but no county came close to getting 1/3 or more of the ballots against the President.
I didn't miss the "barnburner" aspect of the Senate race by much as it wasn't called until nearly midnight. But Dan Bongino carried 34% of the vote and won by 6 points over Richard Douglas. (I called it for two points, but I underestimated the impact of the little eight.) I think Joseph Alexander gets the advantage of being first of the ballot, and that accounts for his second straight third-place finish. The rest? Well, the order wasn't all that correct but they were mostly only off by a percent or two and I got last place right. And to prove it was a close race, both Bongino and Douglas carried 12 counties apiece.
What mystifies me the most isn't that Rich Douglas carried Wicomico rather easily, but how much support the other eight received – they collectively picked up almost 100 more votes than Douglas did! I would love to know the mindset of the people who voted for most of these minor candidates. I can see a case for Robert Broadus based on the Protect Marriage Maryland group, but what did the others really do to promote their campaigns? At least I know Douglas had radio spots and reasonably good online coverage.
But I did peg Ben Cardin to within 4 points statewide.
On some of the Congressional races: despite the fact I screwed up the percentages, at least I correctly called the Sixth District winners as Roscoe Bartlett and John Delaney. Both did far better than I expected, and I think part of the reason was that both their key challengers' campaigns imploded in the last week or two. A week ago we may have had something closer to the numbers I predicted. Think Rob Garagiola and David Brinkley may commiserate anytime soon?
The 'relative ease' I suspected for Nancy Jacobs was even easier than I thought. I guess Larry Smith didn't have nearly the campaign as I believed because he came up short on my prediction about as much as Nancy Jacobs was over – I wasn't all that far off on Rick Impallaria.
While there is a slim chance I may have the First District Democratic race correct, I was surprised that Eastern Shore voters didn't get all parochial and support the one Eastern Shore candidate, John LaFerla, over two from across the Bay. He only won Worcester, Kent, and Queen Anne's counties, and I would chalk most of that up to Wayne Gilchrest's endorsement. Kim Letke was about 6 points better than I thought and LaFerla was six points worse because he way underperformed on the Eastern Shore. I suspect no small part of that underperformance by LaFerla was his extreme pro-choice stance, as getting the NARAL endorsement doesn't play well among local Democrats. There is a 136 vote margin out of about 23,500 cast.
Out of the rest, the only one I got wrong was the Eighth District, and I think that was a case of better name recognition than I expected for Ken Timmerman and less of a vote split among the three candidates from Montgomery County.
As for the Democratic incumbents, I could have wrote "over 85%" and still been right, with the minor exception of Steny Hoyer getting 84.8%.
So this is how the races for November will line up. Sometime this evening I will update my sidebar to reflect this:
U.S. Senate: Dan Bongino (R) vs. Ben Cardin (D – incumbent)
District 1: Andy Harris (R – incumbent) vs. Wendy Rosen (D – pending absentees and possible recount)
District 2: Nancy Jacobs (R) vs. Dutch Ruppersberger (D – incumbent)
District 3: Eric Knowles (R) vs. John Sarbanes (D – incumbent)
District 4: Faith Loudon (R) vs. Donna Edwards (D – incumbent)
District 5: Tony O'Donnell (R) vs. Steny Hoyer (D – incumbent)
District 6: Roscoe Bartlett (R – incumbent) vs. John Delaney (D)
District 7: Frank Mirabile (R) vs. Elijah Cummings (D – incumbent)
District 8: Ken Timmerman (R) vs. Chris Van Hollen (D – incumbent)
So out of 19 contested races I predicted 15 correctly, and I stuck my neck out on percentages a few times as well. I missed Romney by 8 points statewide and 9 points here in Wicomico County. I think the "inevitable" mantle made the difference.
But with Dan Bongino I was only 2 points off statewide. Probably my worst guess, though, was being 19 points off with him in Wicomico County. It's worth noting that the Douglas late-game media strategy seemed to pay off on the Eastern Shore since he carried six of the nine counties and would have carried the nine-county Shore if he hadn't been blown out in Cecil County by 1,250 votes. Bongino carried five counties with over 40 percent of the vote (Cecil was one along with Anne Arundel, Frederick, Queen Anne's, and Montgomery) while Douglas could only claim two such counties (Dorchester and Talbot.)
I saw this possibly ending up as a rerun of the 2010 race where Eric Wargotz had more money while Jim Rutledge had more grassroots (read: TEA Party) support. Obviously media reaches a LOT more people quickly than grassroots efforts do in a statewide race, and the money to buy media is a key element of a successful campaign. That's where Eric Wargotz succeeded, because Jim Rutledge didn't raise a lot of money and Eric had a sizable bank account to tap into.
But as it turned out the Douglas bankroll wasn't all that large, and an abbreviated campaign with a spring primary didn't give Rich quite enough time to build a support base of his own. Those three or four extra months Dan worked on his campaign (at a time, remember, when better-known prospective opponents like Wargotz and Delegate Pat McDonough were considering the race) turned Bongino from an also-ran into a nominee. By succeeding enough to nationalize the campaign Dan made himself into a formidable opponent to Ben Cardin. Had this been a September primary, though, the result may have been different.
Now we have just under seven months until the general election, a chance for the campaigns to take a quick breather and begin to plot the strategy for November victory. For Democrats, it will be a hope that Obama can fool people into believing he's an effective President and having long enough coattails. On the other hand, Republicans need to point out the Obama record while spelling out their own solutions – that's where we've been lacking in some respects. We need to give people a reason to vote FOR us rather than AGAINST the other SOB.
So start working on those platforms, ladies and gentlemen. If we are to win, we need to not be a pastel Democrat-lite but present bold colors to Maryland and the nation.
While the group can learn a thing or two about how to organize a legislative scorecard from someone who knows about it, the Club for Growth recently released its 2011 legislative scorecards for the House and Senate. And for all those who believe the Club for Growth backed Harris for a reason, well, I guess you have your proof. Too bad thoughtful people agree with most of the Club's positions.
I'll cut to the chase: here is the percentage score and rank among Maryland's House delegation, by district. Bear in mind there are 435 House members:
Andy Harris, 95% (22)
Dutch Ruppersberger, 1% (419)
John Sarbanes, 8% (365)
Donna Edwards, 11% (335)
Steny Hoyer, 8% (372)
Roscoe Bartlett, 89% (42)
Elijah Cummings, 9% (353)
Chris Van Hollen, 12% (315)
On the Senate side, Barbara Mikulski scored 11% and ranked 72nd, while Ben Cardin attained a miserable 3% rating and finished 94th.
It's obvious that Maryland can do its part to help enact pro-growth policies by helping to get rid of the anti-growth president we have now, but more importantly in this election ousting Ben Cardin and some of the low-performing House members we have. That's not to say one of Bartlett's GOP primary opponents wouldn't have a similar score, though, so don't consider this an endorsement of Roscoe Bartlett. (Harris is unopposed in the GOP primary.)
Is eliminating Ben Cardin a long shot? Yes, a prudent observer would have to admit it is. Cardin is a likable guy who reminds people of a kindly grandfather, and it's obvious he has plenty of political instinct since he's made a long career out of being elected every two to four years. (By my count, he's won in 1966, 1970, 1974, 1978, 1982, 1986, 1988, 1990, 1992, 1994, 1996, 1998, 2000, 2002, 2004, and 2006. That's sixteen elections, folks.)
But it can be done, and we have to state our case to Maryland voters. The same goes for several House seats where I think we have a fighting chance: the Second, Fifth, and Eighth districts are probably the most in play. Imagine holding our two we have now and winning those three – Democrats would be self-immolating themselves if their heads didn't explode first.
There's no question conservatives have the right ideas, it's just that we have to get together and put them into practice. Of course, the Club for Growth isn't perfect but I would argue it's pretty damn conservative and this is a useful gauge on who needs to go in our current Congressional setup.
Tomorrow I have a sort of companion piece on one Senate candidate, although I could have probably written it regarding several others as well. He points out a truism about Maryland politics that I expand on.