It may not be as apparent to the average American as "vacation day" patriotic holidays like Memorial Day or Independence Day, but today a small band of Salisbury residents came to City Park along the Wicomico River and celebrated the 229th anniversary of the signing and delivery of our nascent Constitution to Congress for approval. Once approved, it was sent to each of the thirteen colonies for ratification (Delaware was first, on December 7, 1787) and by the middle of the next year the requisite nine states had ratified the document, which was not yet amended with the Bill of Rights. (That would come a few years later, in 1791.)
So I arrived fashionably on time and was pleased to see the turnout.
It seems like there were a few more people than last year's gathering, and I think the morning start time (as opposed to afternoon last year) may have had something to do with that.
We were presented with a proclamation from Salisbury mayor Jake Day reiterating that the city would be celebrating Constitution Day today. Day is one of the few who could stand and say he was actively defending the Constitution as an Army officer on active duty.
The event also was the culmination of an essay contest where the top two winners were present to be honored with a certificate from the Maryland General Assembly, presented by members of the local delegation Mary Beth Carozza (who was speaking), Christopher Adams, Carl Anderton, and Johhny Mautz. The winning entry was read by Carys Hazel of Mardela High School, with runner-up Nathaniel Sansom of Salisbury Christian School also present to receive his award.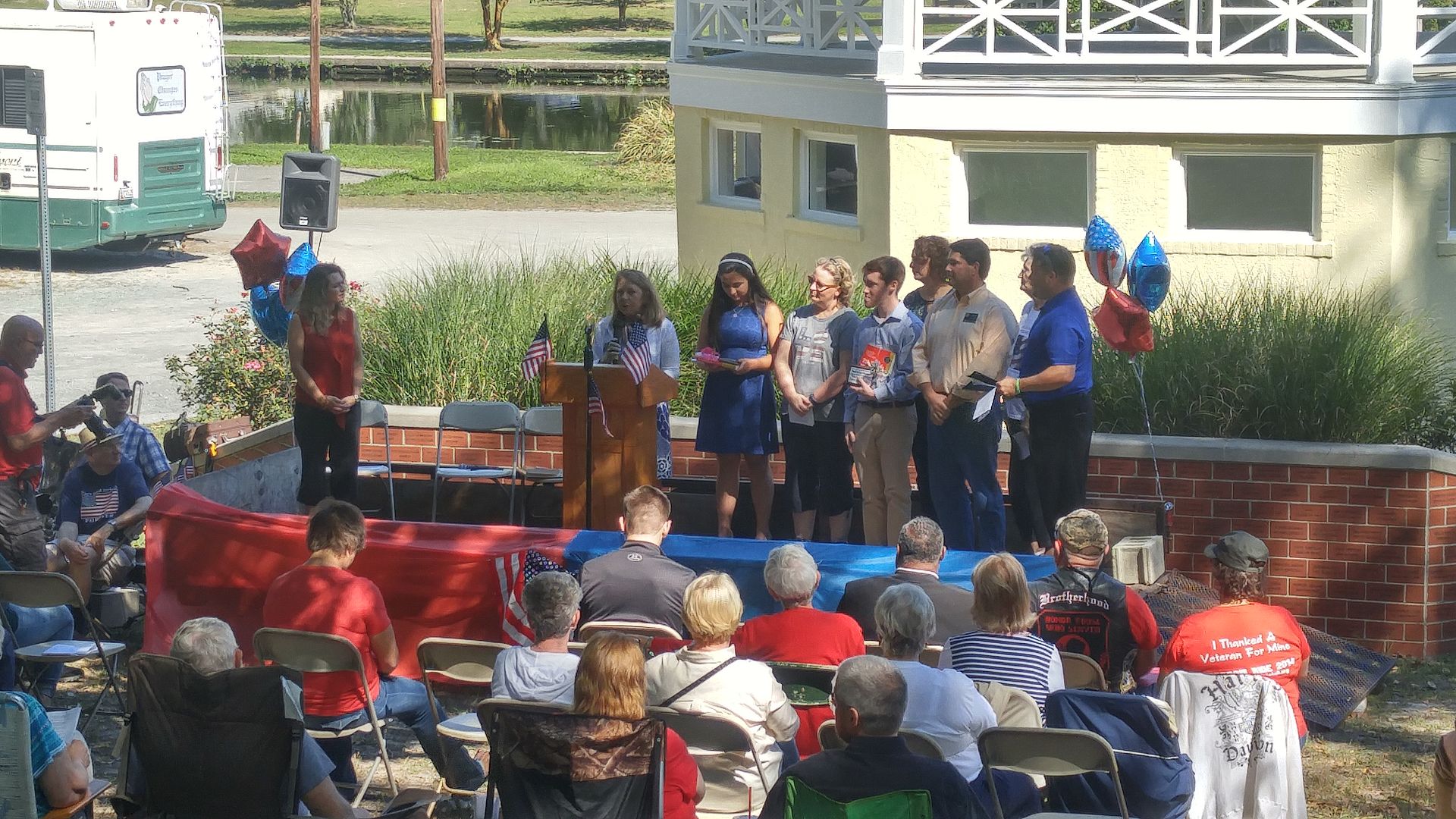 The keynote speaker was Wicomico County Sheriff Mike Lewis.
I wasn't really at the Constitution Day event to give blow-by-blow coverage, but I used the photos to both set the scene and cue up my own remarks, with the address Sheriff Lewis gave as a jumping-off point. Mike spoke at some length about the role of the military overseas and their fight against radical Islam. Certainly I understand the reason that they have embarked on such a mission, but to me it also begs a pair of questions for which we need an honest answer.
To a varying extent, the nation has been on a war footing since 9/11. In that time we have adopted the PATRIOT Act and sent thousands of troops overseas to fight against the proxy forces of radical Islam: the Taliban in Afghanistan, the Saddam Hussein regime in Iraq, and the Islamic State known as ISIS (or ISIL.) But the first question I have is: where does the balance tip too far toward security at the expense of the liberty afforded to us in the Constitution?
This question isn't really new, either: during the Civil War (or War Between the States or War of Northern Aggression, if you prefer) President Lincoln suspended the writ of habeas corpus and arrested members of the Maryland General Assembly to prevent them from meeting as a means of preserving the Union. Eight decades later, President Roosevelt interned Japanese-Americans as a result of their ancestral homeland's attack on American soil. In both instances America was in an active war within its borders or territories, but against a nation-state rather than an ideology as we are today. However, being in a state of war such that we are should not be an excuse for excess and there are many who have pondered the "War on Terror" and its response in the PATRIOT Act and whether the government is using this Long War as a flimsy excuse to consolidate power.
The idea of the government consolidating power leads to the second question: are we truly following the Constitution anymore or is this all just lip service?
Surely there are some who believe the Constitution has been eroding practically since the ink dried on the parchment. Whether they point to Marbury v. Madison being the moment where the judiciary became the most powerful of the three branches, the Civil War being the death knell for state's rights since they no longer had the right to secede if they were dissatisfied with the nation as a whole, or the Sixteenth and Seventeenth Amendments that gave the federal government taxation authority on individuals specifically prohibited in the original and ended the practice of state legislators electing Senators to represent their interests in Washington, there are a fair number that think we need to start over – perhaps with a Convention of States, otherwise known as an Article V Convention. (Years ago I contributed a couple ideas for new amendments, which are still sorely needed. Back then I had good discourse, too.)
I don't want to get into the weeds of determining the merits or problems of such a convention, but the fact that there are people who believe the Constitution needs a tune-up to fix excesses on one side or the other bolsters the argument that the government we have now is not the one originally envisioned by those men who toiled during the spring and summer of 1787 to write a replacement for the Articles of Confederation that the United States was bound to for the first decade or so of its existence. Granted, the Article V method is one prescribed in the document but there's no guarantee the amendments proposed would pass or the resulting Constitution any better for the people.
So the occasion of Constitution Day is bittersweet. Yesterday I wrote on the subject for the Patriot Post, noting that:
Contention over – and advocacy of – limitations to government based on constitutional principles has become a theoretical exercise at best, perhaps in part because few understand the ideas and arguments that were made during the drafting of our government's founding document.
Those who have sworn an oath to enlist in the military or (in my case) to take public office know that we swear to support and defend the Constitution as opposed to an oath to the United States. This is a clear distinction because the interests of the United States may vary by whoever occupies the offices of government at the time, but the Constitution is the set of ground rules which are supposed to define our nation. The key reason I resigned from the Central Committee was because I could not trust the Republican presidential nominee to support or defend the Constitution – rather, I believed he would tear the GOP from what few limited, Constitutional government roots it had remaining. Thus, I felt as a public official that supporting him was a violation of the oath I swore to the Constitution.
Many of those same men who pledged their lives, fortunes, and sacred honor to the American nation and survived the war that brought us independence were those who argued and debated the contents of the pieces of parchment that we consider our supreme law of the land. I pray that a group that is just as divinely inspired can lead us back to a nation that more closely reflects the intentions of these earliest Americans with respect to restoring a government that seeks the consent of the governed, and that those who are governed understand their responsibility in the equation as well. The fact that so few seem to have this inspiration or the desire to take this responsibility as citizens seriously may be what was most troubling about this day in the park.
Despite the fact I'm a sports fan, rest assured I'm not discussing the Stars, Mavericks, Cowboys, or Rangers. Actually, I would much rather be discussing less weighty subjects but I feel compelled to add my two cents.
All morning I heard on the news that this was the worst police fatality incident since 9/11, which is actually a little bit of a surprise given the amount of targeting they have had over the last few years. And apparently the shooter was distressed over recent shootings in Louisiana and Minnesota, so he took it out on the Dallas police before turning the gun on himself.
But I can't get my head around the logistics of the incident. You mean to tell me one man had eleven clean shots at police officers, without hitting anyone else in what had to be a melee after the first shot or two was fired? Unless they were in a group where they were easily mowed down, it seems to me that the initial reports of multiple assailants would be closer to the truth and then we have to ask where these others are. Of course, conveniently, the perp isn't talking anymore.
I have to say, though, this game of tit-for-tat is getting old. We lose five police officers in response to two (perhaps unjustified) civilian shootings, which may have occurred because the cops are on edge thanks to continuing protests and incidents like the one in New York City in December 2014 where two officers were murdered by Baltimore resident Ismaaiyl Brinsley, who "planned to kill police officers and was angered about the Eric Garner and Michael Brown cases." Innocent people are shot to death here, police officers are gunned down there. Depending on who you believe, the cops are always at fault unless the gun itself did it – and if the gun did it, that obviously means we must relieve people of their weapons, say those on the Left.
This morning I was listening to WGMD radio where Wicomico County Sheriff Mike Lewis was discussing the Dallas incident, and he revealed that four local officers had resigned over the last week. (Lewis was caredul not to specify which agencies, though.) Mike also believed that this climate was making it harder to recruit police officers because the risks are getting too great, and I can believe this. The Eastern Shore may seem like a backwater region without much potential for such an incident, but these shootings can happen anywhere.
So the question becomes: who stops first? Obviously concealed carry and the BLM threat is making police officers more nervous, and the Dallas shootings aren't going to ease their tension. There's no doubt race plays into this as well, as I'm sure every traffic stop involving a white officer and black driver will be tense.
Normally I have some ideas on how to improve the situation, but in this case I'm fresh out except for suggesting prayer – both for the families of the victims and for healing of the long-festering wounds racism on both sides have brought our nation.
Last night about 120 people enjoyed hearing from both Sheriff Mike Lewis and Congressman Andy Harris, as well as words of wisdom from our sixteenth President. Here he waits his cue to walk into the gathering.
For me, this year was a little different as I subbed for our treasurer, who usually checks people in at the door. So I saw pretty much everyone who came in – actually, on my arrival I stopped Salisbury City Councilman-elect Muir Boda and his wife from going to the wrong floor. We were literally the first three there.
So by the time Lincoln and his band of Union irregulars arrived, we had a pretty full house.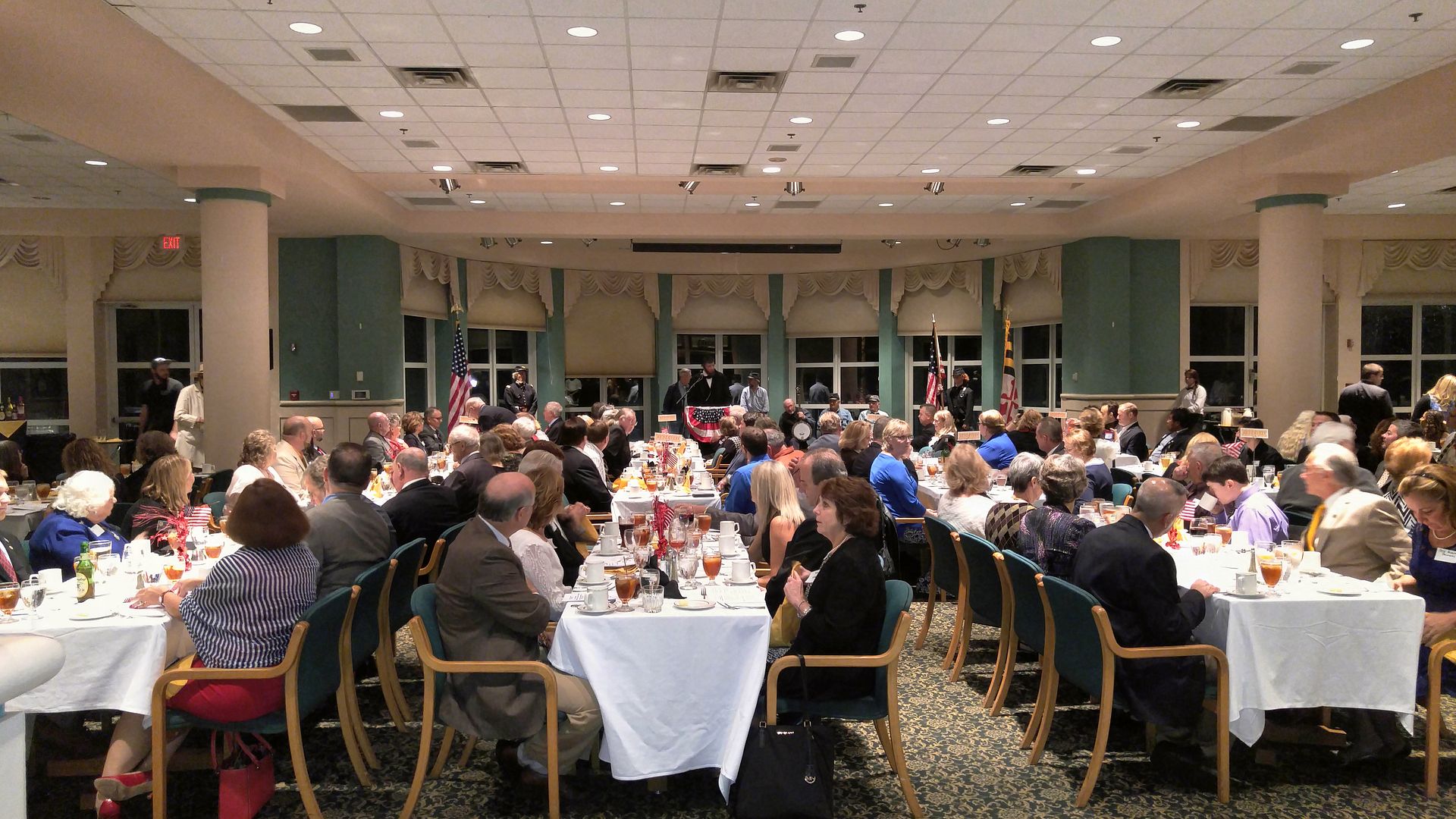 It should be noted that most of those present were from Wicomico County, but we also had contingents from surrounding counties as well as a table from Montgomery County. We also had state leaders from the Maryland Federation of Republican Women and state GOP Chair Diana Waterman.
Now because I was wrapping up my duties with a couple stragglers, I didn't catch all Lincoln had to say. But I recall he spoke about the press of the day, how candidates were vetted in an age when communication was becoming faster but still could be measured in months, and compared how voters were informed and educated then to now.
I finally got to relax, eat, and enjoy what Sheriff Mike Lewis had to say.
Lewis praised the Salisbury University College Republicans for their involvement, saying they "have to speak up" as representatives of their generation. Next year's election will be "the most important day of our lives."
Reflecting on his fairly recent fame – he just returned from a speaking engagement in Fresno, California – he noted they were trying to recruit him to run the Fresno Police Department but he had no desire to leave Wicomico County. "I'm extremely humbled" to be sheriff, said Lewis.
Mike pointed out that gun violence in Maryland was on the increase despite the passage of Senate Bill 281 in 2013, which he added was promoted by the sheriffs in both Baltimore City and County. So far in 2015, though, shootings have increased in Maryland from 725 to 1,161 while homicides have risen from 314 to 459. "Thank you, Governor Martin O'Malley," said Lewis, tongue firmly in cheek. The sentiment of "thank God for Larry Hogan" was much more sincere.
Lewis blamed "failed Denocrat leadership" for the woes in urban areas like Baltimore, Chicago, and Detroit. On the other hand, Lewis believed America needed statesmen in order to return our liberty and restore us to being the land of the free.
Turning to the drug issue, Lewis called State's Attorney Matt Maciarello "a tremendous partner" in the drug fight. It's a fight which has struck home for many in the area – Lewis has a 38-year-old niece who he had to lock up again for possession. "She doesn't want our help," said Lewis. He also related the story of the grandson of a terminally ill man who removed the elderly man's morphine drip and stuck it into his arm.
Politically, Lewis believed we needed to identify key people to represent "Eastern Shore values" in our government. "I'm so concerned about the lack of patriotism" in this country, said Lewis, calling on us to "make sure you vote right."
Lewis yielded the stage to Congressman Andy Harris, who was praised for being "incredibly optimistic" by Wicomico County GOP chair Mark McIver, who served as the emcee for the event.
Harris picked up Lewis's baton on the drug issue, saying we needed to "do all you can" to keep drug legalization from the Lower Shore. The District of Columbia "made a big mistake" on marijuana, added Harris. While the merits of medical marijuana were up for debate – Harris seeming to be on the skeptical side – his fear was having a workforce too stoned to be productive.
Changing gears, Harris noted that the "true blue" states of Massachusetts and Maryland now had Republican governors. He chalked it up to a situation, more specific to Maryland, where "government has failed them entirely." Electing GOP leaders was "no accident," he added.
Showing his optimism for 2016, Harris said, "I think things look good, actually." He also believed our late April, winner-take-all primary was key in an election where he noted Karl Rove thought there was the possibility of no candidate having enough delegates to win on the first ballot.
Andy went on to speak about the Republican field's diversity, pointing out Ben Carson was "the most serious African-American candidate" in history. This was intriguing because Carson, who Harris said he'd known since the early 1980s, was the "farthest person from a politician you could ever get." Moreover, with two Hispanic candidates the possibility was there to secure 40% of the Hispanic vote, which was the fastest-growing minority bloc.
As for the U.S. Senate race here in Maryland, on the Democcratic side Harris described Chris Van Hollen as "the consummate insider," while Donna Edwards was "to the left of Bernie Sanders." Elijah Cummings could get in the race, but there was the issue of his reaction to the Baltimore riots. "You own it, Mr. Cummings," said Andy.
Harris then revealed that Delegate Kathy Szeliga would be here in Salisbury Thursday afternoon as part of a statewide tour to promote her U.S. Senate bid. If she wins, said Andy, "Maryland is no longer a blue state." He called Szeliga "the Joni Ernst of Maryland," referring to the Senator from Iowa elected last year. "We can't keep doing business as usual in Washington," concluded Harris.
Despite the previous admonition by McIver that neither Lewis nor Harris would take questions, Harris took them anyway. First out of the chute was how Paul Ryan won him over.
Ryan was an "excellent" choice for Speaker, with Harris arguing he's "not a moderate."
But this led to a more philosophical answer, with Harris believing Ryan could unite the House and re-establish the "natural tension" between the legislative and executive branches, rather than the artificial battle between parties that Barack Obama and Harry Reid took advantage of to amass power for the executive branch. He opined that legislation from the House will be conservative, even with some Democratic amendments, but this was a way to make the House united.
The way John Boehner did things, contended Harris, was "not the way to do business." He used that example to answer the next question about government shutdowns, saying that you can't embararass the Senate into action with just a few hours to act. Ryan would work to do things in regular order, which puts the onus on the Senate to act.
Harris then answered a question about why Congress is held in such high disregard by the rest of government by claiming "bureaucracy has become the fourth branch of government." He called on the next GOP president to be "merciless" in cutting bureaucracy.
Finally, in answering a question about VA treatment, Harris made the case that a veteran from Princess Anne shouldn't have to drive by a care facility in Salisbury to go to a VA clinic up in Baltimore. When an average VA visit costs $250 compared to $65 to $85 in the private sector, "it is time we privatize" VA health care.
(Funny, some guy I know wrote a book three years ago with that same idea, among others. But I wasn't standing behind this podium.)
One other aspect of the LDD worth mentioning is the silent auction, where we had a table full of items from books and gift baskets to experiences such as lunch at the Capitol Hill Club or shooting with Harris or a State House tour and lunch with Delegate Carl Anderton, among many others. That turned out to be a success, too. I thought I had a photo of that spread but turns out I didn't. Oh well.
The SU College Republicans also did some fundraising, doing a pay-per-vote poll for President and selling T-shirts.
We may stay with this fall date next year, although it may wait until after the election – meanwhile, we may do a second fundraiser in the spring/summer. It turned out to be a good event to continue building on, so we shall see how we ended up doing when the bills are paid.
This is going to be a heads-up kind of story.
Good Lord willing and if the creek don't rise, I'll have a feature in tomorrow's Patriot Post regarding efforts at criminal justice reform. It's a topic which should be farther out on the stove than it is, but typically it sits on that rearmost burner.
While I talk briefly about and link to remarks from Sen. Mike Lee of Utah regarding his proposal, I don't get to mention the local perspective on this criminal activity.
Addiction is a terrible scourge in our community, and I think we can all agree on that. It seems like every week we hear about another death from an overdose, but more often the path leads in a different direction. Once one gets a taste, the craving becomes such that the inevitable result is crime, usually theft in order to sell the purloined item for quick cash and the next fix. It's a pretty surefire way to screw up your life, yet hundreds each year start along that path because they think they can beat the odds and enjoy the high without succumbing to the temptation that accompanies it. (Or, in some cases, can't deal with the pain otherwise.)
I'm sure if I asked our State's Attorney Matt Maciarello I could find out what alternative sentences are allowed for the high percentage of drug-related cases we have. (Adding to that total, I'm sure, is the drug interdiction expertise our Sheriff Mike Lewis has. And yes, for those who read here from around the country, he is indeed my Sheriff.) But there's the demand for getting criminals off the streets so alternatives may not be a popular option. A business burglarized for the fifth time in two years may not be happy to learn the culprit only got treatment and restitution. It won't make up for the other damage and the perception it may not be safe to go to that office or place of business.
Somehow we have to look at the supply end, but with a seemingly unending stream of money to be made it's tough for someone living in poverty to say no to taking money and becoming an accessory. I suspect there are a few in each school who deal, yet as soon as they're found and dealt with another takes their place. "It's the lure of easy money, it's got a very strong appeal," Glenn Frey once sang – thirty years later that's still the case.
So there's a difference in intent and the types of crimes committed. When the law fails to see these simple facts, it's time for policy to change. Zero tolerance may sound great, but it's impractical in real life.
For my final look this round at local races, I decided to do both Districts 37A and 37B in one feel swoop, mainly because the District 37A is already set in Sheree Sample-Hughes. She had a free ride once Delegate Rudy Cane dropped out days after the filing deadline, but it's also worth seeing how she's set financially to begin her sure re-election run in 2018. I'll get to her in due course.
Meanwhile, in District 37B there is one real race. Although the top two would normally be declared the winners, a state law prohibits two members from the same county in this two-person district which spans four counties. So the two contenders from Talbot County, Democrat Keasha Haythe and Republican Johnny Mautz, could finish 1-2 but only the winner would be seated. I'll begin with that race.
[gview file="http://monoblogue.us/wp-content/uploads/2014/09/House-37B-Talbot.pdf"]
While Johnny Mautz has far outraised his opponent, the cash on hand is surprisingly close because Mautz had to survive a primary while Haythe did not – in fact, she has only filed one actual report (the Pre-Primary 1 report in May) while spending less than $1,000 in the last two reporting periods. She attested to this through Affidavits of Limited Contributions and Expenses, better known in the game as ALCEs. Obviously she's had some spending since she has a website, but it doesn't rise to the level of filing the paperwork.
Keasha's report is fairly vanilla, although it would be interesting to know who pays for her website. As far as the small amount she's raised, the $1,000 contribution from Rudy Cane's account provides the most insight. She's the perfect contrast to Mautz as all her contributions are local.
On the other hand, Mautz's report reminded me of Mary Beth Carozza's in District 38C because a huge portion of the seed money for both has come from connections they've made in Washington, D.C. But while Carozza's local share has increased over the last several months, Mautz maintains his tremendous haul from friends in the Capital region. Over 60 percent of his total individual contributions come from outside the district, but not much comes from businesses and none from LLCs.
Mautz has also picked up some non-individual donations: $1,000 from the Republican Leadership Council of Talbot County, and PAC donations from the Maryland Farm Bureau, Licensed Beverage Association PAC, and the Maryland Dental PAC. He's also received transfers from two federal accounts belonging to current Congressman Doug Collins of Georgia and former member Jim Saxton of New Jersey, as well as $500 from the NCPA Legal-Legislative Fund (which represents community pharmacies) and a cool $4,000 from the National Shooting Sports Foundation.
But the eye-popper is the fact Mautz has gone into six figures for spending – more than any other candidate in either District 37 or 38. Over $63,000 has gone just for printing and nearly $14,000 for media, generally to local businesses. (The folks at Bay Imprint and Poore House have made a lot of money from Johnny this election.) One other interesting expenditure is $9,750 to Public Opinion Strategies for a poll back in April. (Full disclosure: Johnny's payment to me for his sidebar ad should be on his next report.)
So Mautz is the undisputed spending leader in this race. In contrast, the other Democratic contender, Rod Benjamin, is running the ultimate low-budget campaign because he's neither raised or spent above $1,000 as a serial ALCE filer.
[gview file="http://monoblogue.us/wp-content/uploads/2014/09/House-37B.pdf"]
So that leaves me Christopher Adams, who's also paid for advertising here. His figures are a little bit hard to follow, since a lot of his contributions and expenditures are tied up as loans. He took out and paid off a $20,000 loan from Value Enterprises, LLC and borrowed from his own personal coffers to replace the $20,000. So in truth he's raised $11,370, with an 11% portion from LLCs and about 1/4 from out-of-district.
Adams has spent on some interesting items, with the biggest being $19,000 to Scott Strategies. He's also transferred out some good-sized amounts on other entities and races: $500 apiece to the Caroline and Dorchester County Republican Central Committees (although the latter is mis-identified as the Democratic one), as well as to District 38B hopeful Carl Anderton. As far as media goes, I'm a line item along with an ad in the Salisbury Independent, among other things. But if you threw out the loan repayment, Scott Strategies would be well over half Christopher's spending.
Finally, let's look at the unopposed Sample-Hughes.
[gview file="http://monoblogue.us/wp-content/uploads/2014/09/House-37A.pdf"]
As you can see, the biggest part of her contributions is the $6,000 she received from the coffers of Rudy Cane. It's worth noting that Cane's campaign account was closed out as he distributed over $47,000 to several groups – local candidates Sample-Hughes, Haythe, unsuccessful Salisbury City Council candidate April Jackson, and Wicomico County Councilman-elect Ernest Davis all got something from Cane, as did the House Democratic Committee Slate ($13,242.40.) However, Rudy also gave $20,000 to Shore Up! (a local advocacy group) and distributed $13,000 between three local churches.
Sample-Hughes also received small donations from several local Republicans, such as her fellow Wicomico County Council members John Hall and Matt Holloway, along with Sheriff Mike Lewis. The Maryland Farm Bureau PAC chipped in $500 to her as well. She received very little from businesses, nothing from LLCs, and hardly anything from outside the area.
One thing I noticed is that her fundraising expenses were barely covered by the money raised, but aside from that it's the sort of a report one might expect from an unopposed candidate. Fortunately, that $6,000 from Cane is about all she's got so any 2018 contender isn't far behind in the money race yet.
So that's how District 37 shapes up. The next report is due October 24, just days before the election.
Every year I go to the WCRC Crab Feast I take this shot because I like it.
The same seems to be true about the Wicomico County Republican Club Crab Feast, as people come back year after year because they enjoy the event. Whether it's the crabs…
…the company…
…or the chance to talk one on one with many of their elected officials, they line up to get their crabs when the event opens.
For those who didn't care for crabs, Muir Boda was cooking up some mean burgers and hotdogs.
And it's not like people don't know where it is located. This was after David Warren put out a batch of Andy Harris signs.
As always, we had a silent auction table. It didn't seem like we had quite as much as we have in previous years.
But they still lined up to put in last-minute bids. There was one rule, though: no hovering.
A trend the event has had the last couple years is the move away from candidate remarks, which used to be a staple of the event. Once upon a time, candidates would get a couple minutes but now we just figure they will mix and mingle. This was true last year and pretty much remained the same, with two exceptions.
One was a reminder from our county chair Dave Parker about the Patriot's Dinner with Allen West on September 27.
We also heard from retiring Orphan's Court Judge William Smith, who thanked us for 12 years of support and urged us to vote for the one Republican on the ballot, Grover Cantwell, as well as the two incumbents who opted to run again. They're both Democrats, but one – Melissa Pollitt Bright – was at our event. Considering the good judge turns 91 soon, he's earned a retirement.
Naturally, there were a lot of local candidates there for at least part of the event, so here are some shots I took. In the first example, here are two folks with a pretty good chance to be representing us in Annapolis, Johnny Mautz and Mary Beth Carozza.
Mary Beth was all over, speaking to a lot of voters and other candidates. Here she's with County Council District 2 hopeful Marc Kilmer (center) and Central Committee-elect member Greg Belcher.
It must have been the shoes Mary Beth had on.
Under a tree, District 3 County Council candidate Larry Dodd was speaking to WCRC President Jackie Wellfonder.
Jackie also took the time to pose with District 38B Delegate candidate Carl Anderton, Jr. (left) and Wicomico County Sheriff Mike Lewis.
Far and away, the most popular person there was our Sheriff, fresh from national headlines about his pro-Second Amendment stance. As Jackie would put it, Lewis was a "rockstar" and photos with him were in demand.
A candidate looking for a return to County Council after four years away, John Cannon (pictured with his lady friend) was talking to Lewis about recent shooting incidents.
So while it was hot, fortunately the rain didn't hit until last night and the event went off without a hitch. Many of these participants will reconvene later today at the opening of the Eastern Shore Victory Headquarters here in Salisbury. The crabs? Well, we had just a couple bushels left to sell at the end and killed the beer kegs, so people must have been satisfied with the event.
Next year the event should take place in the midst of our municipal campaign and the early stages of a race for a 2016 U.S. Senate seat, so it will likely have a much different feel. But as long as the crabs are steamed just right, people will still be here to enjoy it.
Safely ensconced in our new headquarters, the Wicomico County Republican Club held its first official meeting there, with the special guest speaker being State's Attorney Matt Maciarello. Matt has the enviable position of needing one vote for another four-year term because he's unopposed.
Before we heard from Matt, though, we had the usual Lord's Prayer, Pledge of Allegiance, and introduction of distinguished guests, a list which included our state party Chair Diana Waterman. We also received a brief update from Larry Hogan's regional coordinator Joe Schanno, who was pressed for time. He noted the need for volunteer help for the Hogan campaign, and pointed out the recent poll results that showed the race within the margin of error.
We also learned Larry would be here on Sunday for a series of events: the official opening of our headquarters from 2 to 4 p.m. followed by a fundraiser for District 37B hopeful Christopher Adams at Perdue Stadium from 4 to 8 and an appearance at a fundraiser for County Executive challenger Bob Culver from 5 to 9 at a private residence. There may be some other visits with local businesses added to the schedule, said Schanno.
After Joe wrapped up, we introduced Matt Maciarello. He recounted that when he took office in 2011 it was about the same time as Salisbury police chief Barbara Duncan was selected, a time when "crime was out of control." But with Duncan and Sheriff Mike Lewis, they planned a line of attack on the spiraling situation. Matt's areas of interest in that regard, naturally, were the district and circuit courts, although there's also a children's advocacy center and drug task force.
It's the latter item which creates much of our problem, said Maciarello. He claimed that there's "one (fatal heroin) overdose a week in Wicomico County" and surmised that the appetite for opioid drugs "fuels a lot of crime."
In combating crime, Matt also noted he's been an advocate on the legislative level, monitoring legislation and providing input, both as testimony and direct discussions with legislators. After a bill is passed, his office provides roll call training to street officers to make sure they understand new and revised laws.
Much of his time of late, said Matt, has been spent compiling and writing reports on a pair of recent police-involved shootings, reports he personally wrote and took the time to talk with the families of the victims about the reports if they were inclined to discuss them.
But he concluded by stating that citizens have a choice on where to live, and the perception that a place is safe is important to an area's well-being.
Matt then answered questions, many of which queried him about gun laws. A recent profile of Sheriff Lewis as one who would refuse to enforce federal gun laws led to a discussion on nullification, which he felt was "more symbolic than anything." On that subject, "I want to be on solid legal ground" – for example, what exactly would be nullified? So while he felt parts of the Firearm Safety Act were "clearly unconstitutional," he believed opponents should get the advice from a Constitutional scholar before proceeding in order to pick and choose the best points for a legal counterattack.
Asked for a definition of "good and substantial" cause, Maciarello said, "I personally believe the burden should be on the state."
He also spoke about the relationship with the local NAACP given some recent tensions, explaining that "I see my role…as a public safety job. You have to represent justice." He's tried to be as transparent as possible in all his office's dealings.
Jackie Wellfonder, who had attended the previous forum with several GOP candidates, noted that "we had an interesting dialogue." The GOP presence was "a first step."
After I gave the treasurer's report in the absence of our regular treasurer, Jackie gave her formal president's report, gushing that the headquarters has done "a complete 180" from the state it was in when we took it over. She pointed out that donations would be welcome to help defray the expenses, and volunteers to man the phones and greet visitors would be great as well once we get the ball rolling on Sunday.
She also read a thank-you card from Elizabeth Mills, one of our two WCRC scholarship recipients.
David Warren, who is in charge of the headquarters, remarked again about the "once in a lifetime chance" we have to win seats in District 38.
He gave way to Diana Waterman, who commented about the ease of operating the "very user-friendly" phone system, and urged us to "step out of your comfort zone." She also talked up the September 27 Allen West event and announced our Super Saturday would be October 4, just before the Andy Harris Bull Roast in Queen Anne's County.
Dave Parker gave the Central Committee report, giving more details on the Allen West Patriot's Dinner and repeating the information on the October 4th events.
It was then time to hear from some of the candidates in attendance.
Speaking on behalf of Larry Hogan's campaign, Ann Suthowski revealed he would have a fundraiser featuring Chris Christie in Bethesda and there would be a day for LG candidate Boyd Rutherford in this area as well as for Hogan. She was looking for sign locations and letters to the editor as well.
Jackie Wellfonder spoke again, this time on Chris Adams's behalf. She repeated the information about his Perdue Stadium fundraiser as well as the Bob Culver gathering that will also feature Andy Harris.
County Council candidate Larry Dodd acknowledged he took a little break after the primary, but pointed out while his opponent claims to be "moderate" he was really "100 percent Democrat."
Johnny Mautz of District 37B introduced his local campaign coordinator and promoted three events: fundraisers for him in St. Michael's and Easton on September 20 and 21, respectively, and a Larry Hogan event at Sailwinds Park in Cambridge on September 28. The Easton event he's holding has as a special guest author and commentator S.E. Cupp.
Carol Rose spoke on behalf of Mary Beth Carozza and announced her fundraiser would be held at Frontier Town near Ocean City on September 7. She also noted a Worcester County TEA Party event featuring Carozza along with the other three Republican District 38 candidates was "fantastic."
Marc Kilmer was pleased to have finally met his opponent. But on a more serious note, he was ready to resume doorknocking and was looking for volunteers to help at the Sharptown Heritage Days parade on September 20.
Muir Boda wasn't a Republican candidate anymore, but revealed he was one of a dozen applicants for the vacant Salisbury City Council position. We will probably know Wednesday who will fill the unexpired term of Terry Cohen, he said.
We also heard from the unopposed County Councilman John Hall, who said his campaign was "going just swimmingly" and received an update on the September 6 WCRC Crab Feast.
So after one piece of new business, our formal meeting was done. But many stayed around for this. (Photo by Jackie Wellfonder.)

The Ice Bucket Challenge got another "victim" and this time it was MDGOP chair Diana Waterman. I guess "water" is appropriate in this case.
I'm not sure how we'll top this in September, but someone else will have to let you know. I get a personal day from the next meeting, and those of you who know me well will know the reason why.
As part of my ongoing coverage of the 2014 campaign, today I'm going to look at a number of candidates who are running for seats in District 37, which covers portions of Caroline, Dorchester, Talbot, and Wicomico counties here on the Eastern Shore. Presently the district is served by three Republicans and one Democrat, with the district's State Senator being Republican Richard Colburn. In the lower House of Delegates, Democratic Delegate Rudy Cane handles the smaller District 37A, which takes in portions of Dorchester and Wicomico counties and is drawn to be a majority-minority district, while GOP Delegates Addie Eckardt and Jeannie Haddaway-Riccio currently hold down the larger District 37B. In Maryland, House districts can serve as subdivisions of Senate districts and combinations of House districts (such as the case here) will have the same overall border as the Senate district.
I'll begin with the Senate race: while Colburn has come under fire in recent months for both campaign finance issues and a messy pending divorce, he's filed to run for another term and currently has no GOP challenger. Democrat Cheryl Everman of Talbot County is the lone Democrat in the race.
In terms of cash on hand, it's no contest: Colburn has $31,994.55 in the bank while Everman is sitting at just $1,885.88. Moreover, the incumbent added to his total by collecting $35,101.55 in 2013 through a near-equal proportion of individual contributions (46.16%) and ticket purchases (46.65%), with political clubs making up the other 7.19%. In looking at the report, however, those political club contributions seem to be misclassified as they appear to be from various state PACs. Regardless, 104 individual contributions and 128 ticket purchases made for an average contribution of $140.42 to Colburn's coffers.
On the other hand, only 38.61% of Everman's $1,890.56 take for 2013 came from individual contributions – she received the balance of the money from the candidate account of "Joe Reid for Maryland." Her 6 individual donors chipped in an average of $121.67 apiece. Since she started her reporting on May 30, this covers a little over seven months' worth of financial activity.
In my coverage of the governor's race, I also apportioned contributions into various categories: those from LLCs and similar legal entities, the legal community, unions, business, and out-of-state. (Many fell into more than one category.) I'm doing essentially the same here with the exception of the last category being out-of-district, and in this case I'm considering District 37 as the region covered by 216xx and 218xx zip codes – in essence the lower 2/3 or so of the Eastern Shore.
Colburn did well with the business community, receiving 30.84% of his 2013 donations from business entities. Just 2.66% came from law firms and only 0.31% apiece from LLCs and unions. (That translates to $100 each.) Only 16.02% came from outside of the enhanced district.
With such a small take, Everman's totals reflected just 4.11% from outside the district, or $30. None of it came from businesses, law firms, unions, or LLCs.
Turning to the Delegate races, the District 37A race is most interesting financially. Democrat Rudy Cane has no GOP opponent yet, but is being challenged by current Wicomico County Council member Sheree Sample-Hughes. That's not too shocking in and of itself.
However, Cane reported no cash balance on his report – yet is carrying forward $47,742.40 to his next one. Evem more mysterious is the fact he recorded no contributions for calendar year 2013, and the only incoming entry to his ledger is a $250 contribution from the AFSCME union in Salisbury on January 7 of this year. Yet he spent $6,250 on some interesting items – there's only three, so this is an easy read.
In August, Cane reimbursed himself $50 for his filing fee. Prior to that, his campaign made two expenditures: on January 25, he gave Salisbury City Council candidate April Jackson a $200 boost to her campaign. But stranger still, July 13 saw a $6,000 transfer to…wait for it…Sheree Sample-Hughes.
Now consider that Sheree has a balance of just $7,147.04 in the bank right now. She took in $8,260 in 2013 so obviously only 24.33% of her income came from individual contributions while 3.03% (or $250) came from ticket sales. The other 72.64% of her campaign funding for 2013 came from her ostensible opponent.
But some of those individual contributions came from those one would consider political opponents. For example, fellow Wicomico County Council members John Hall and Matt Holloway (both Republicans) chipped in $100 and $50, respectively, while Wicomico's GOP Sheriff Mike Lewis gave $40. All these were done in December, well after she had announced for the District 37A seat.
So while Cane got 100% of his contributions from unions based on the one donation, Sample-Hughes received just 1.77% from businesses and 1.11% from outside the district. Her 37 individual contributions and 9 ticket sales worked out to an average of just $49.13 apiece.
My gut instinct tells me that Cane isn't really going to run to keep his seat unless he has to. The reason he filed, I think, was to keep another person from filing and challenging Sample-Hughes, who may win the district in the primary as sort of the anointed successor to Cane, who will turn 80 in May – thus the large contribution to her coffers. If he indeed runs, it's likely he'd win another term then resign at some point, making Sample-Hughes the logical successor.
Meanwhile, there's a financial shootout going for the District 37B seats, one of which is opening up as Delegate Haddaway runs as the lieutenant governor on the David Craig ticket.
It's no surprise that the other incumbent, Addie Eckardt, leads the cash-on-hand parade with a balance of $44,488.89. But right on her heels is Republican newcomer Johnny Mautz, Jr. of Talbot County, who boasts $44,200.95 on hand. A third Republican hopeful, Christopher Adams of Wicomico County, has $24,777.29 in his coffers.
There are two others in the race, but Rene Desmarais of Wicomico County, a Republican, and the race's lone Democrat, Keasha Haythe of Talbot County, only filed what are known as ALCEs, which attest a candidate has not raised or spent over $1,000 in the cycle. This isn't surprising since both filed in mid-December, less than a month before the reporting deadline and just before the holidays, when political activity takes a hiatus.
So in looking at the three who filed full reports, we find that Mautz raised by far the most in 2013.
Cash raised:
Johnny Mautz, Jr. – $56,186
Addie Eckardt – $7,225
Christopher Adams – $6,165
As it turned out, Mautz raised every dime from individual contributions, while Eckardt raised 84.26% that way and Adams just 23.56%. The remainder of Eckardt's money came from Maryland PACs ($1,350 or 15.74%) while Adams loaned his campaign $20,000 to make up 76.44% of his receipts.
But there's a world of difference in the contributions each received. Mautz's 143 individual contributions resulted in a whopping average of $392.91 per donation. Conversely, Adams received 40 contributions for an average of $154.13 apiece, and Eckardt picked up 74 contributions at an average $97.64 per.
And while none had significant contibutions from LLCs (Adams had 4.06% and Eckardt 1.38%), law firms (none reported), or unions (Eckardt received the only union contribution of $250, or 3.46% of her total), there was quite a difference in business support:
Addie Eckardt – 19.79%
Christopher Adams – 8.52%
Johnny Mautz, Jr. – 0%
Yet the one which made my jaw drop was out-of-district contributions:
Johnny Mautz, Jr. – 68.65%
Christopher Adams – 15.57%
Addie Eckardt – 13.84%
There's no other way to say it: Johnny Mautz, Jr. had a lot of large checks dropped into his campaign from a number of inside-the-Beltway friends and acquaintances he's gathered in several years of working in Washington, D.C. Obviously this will bear watching in future reports to see how much local funding begins to come in, but it's obvious his end-of-year push came from outside the district. The initial money for Mautz's campaign came mostly from locals, but those tended to be smaller amounts.
It's obvious the big money in District 37 is going to be put into the open seat race for District 37B, although the rumored emergence of a big-name Democratic contender for Colburn's Senate seat may bring some more money to that contest, and may cause some dominoes to be knocked over on the GOP side.
Tomorrow I'll look at the races on the District 38 side.
Update: In looking up items for the sidebar widgets I'm going to feature for easy campaign website access, I came across a note on Cheryl Everman's campaign Facebook page from January 12 stating she would withdraw from the District 37 Senate race for health reasons; however, she has not finalized that paperwork.
They say the party needs to have a farm system; well, the Salisbury University College Republicans certainly are being an active participant in the political process. Next Friday night may be a watershed event for the university.
[gview file="http://monoblogue.us/wp-content/uploads/2013/05/1-CR-Town-Hall-Meeting.pdf"]
Aside from the substitution of Charles Lollar for Andy Harris, this could be a rehash of the Mike Lewis townhall meeting held in March. (Another way of looking at it – add Mike McDermott and you have our Wicomico County Lincoln Day dinner lineup, which also focused on the Second Amendment.)
Admittedly, it's a little unusual to have such an event on Friday night – particularly on the weekend before finals – so it's obvious this year's crop of College Republicans wants to go out with a bang, and yes the pun was intended. SU College Republican president Nicholas Pappas added this note:
I am just a college student, and I can only reach out to college students on campus because my resources are very limited. This Town Hall event is important because there are many new laws being pushed through…and everyone on the Eastern Shore should know about the new laws.
He was looking to promote the event, and I'm looking to help the SU College Republicans be part of the next generation of conservative leadership, so it was a good match. I also believe that Lewis and McDermott have spoken previously to the CRs so they're familiar guests, with the added attraction of a potential nominee for governor.
As the General Assembly session – that annual event I have dubbed the "90 Days of Terror" – winds down, it's looking more and more certain that a day of reckoning is coming. For Delegate Don Dwyer, the straw which broke the camel's back was the House passage of a draconian new gun law by 78 Democrats, mainly those hailing from the I-95 corridor. In an unusual move, even reliable local Democratic stalwarts Rudy Cane and Norm Conway couldn't bring themselves to vote for the bill, saving them from an act of pure political suicide in this part of the state. None of the nine Eastern Shore delegates voted for the measure.
But in Dwyer's case, the result meant one thing: it's time to unite in an act of non-compliance:
Dear Maryland Patriots, I was certain that the time would come when there would be a need to organize the "Voluntary Militia." That time has come. The voluntary militia is recognized in the Maryland Constitution under Article 9, Section 1, and the Declaration of Rights under Article 28 that notes "a well regulated Militia is the proper and natural defense of a FREE Government."

Please know that I am NOT calling for insurrection of any kind, I am simply calling for you to join me in establishing an organized effort to establish a Voluntary Militia in every county of the State.

MISSION STATEMENT

It is the intent of the Maryland Voluntary Militia to protect the law abiding Citizens of Maryland from any form of confiscation of firearms from April 3, 2013 forward. The Maryland Voluntary Militia members will not participate in any form of insurrection unless forced to do so to by the tyrannical acts of the Legislature, the Governor and of the federal government upon the Citizens of Maryland.

(Emphasis in original, although I took a small bit of editorial license with formatting.)
And when you add to that the declaration by our Sheriff Mike Lewis that, "I will not allow any deputies to go into any law-abiding citizens' houses (to confiscate guns)," it's clear the battle lines are starting to be drawn. Maryland was spared much of the fighting in the initial War Between the States, but seems to be ground zero in a battle over guns.
The worst thing, though, is how they determined the ends justified the means. Not enough people have seen this video of the joint Judiciary and Health and Government Operations committee meeting last week, where an amendment went from being passed to killed in just a few short minutes (and twisted arms.) It was almost criminal.
In fact, former U.S. Senate candidate and rising conservative media star Dan Bongino charged Delegate Joseph Vallario, who chaired the proceedings, with "thuggery and bullying tactics" in getting two Delegates to change their orginal votes to set up a scenario where he could vote to kill the amendment with the tie vote, as the video showed. As Dan explained:
First, political cowards in the Maryland Legislature scheduled a gun bill hearing on Good Friday to avoid media attention after a massive public outcry against this overreaching legislative firearm grab. Then, they crossed a line that should never be crossed in a civil society, and forfeited any semblance of dignity, ethics, or respect for their oaths of office by brazenly violating their own parliamentary procedures in order to punish legal firearm owners and protect criminals.

(snip)

We are moving into a dangerous place in both Maryland and national politics. One where a political end justifies an unethical and undemocratic means. Marylanders of all political stripes should be outraged at this naked display of political cowardice and legislative malpractice.
Unfortunately, too many of them either don't know about these tactics or will shrug their shoulders because it doesn't affect them because they don't own a gun. These people forget that perhaps the next act of chicanery may affect them more directly, and that some of us are going to look out for their liberty whether they're deserving of it or not. Yes, you are free to be an idiot and I would assess 78 members of the General Assembly qualify under that banner at the moment.
The signs were pointing to a contentious night, but most of the anger was directed toward Annapolis and Washington.
I will grant that I arrived a little late because we had a truncated Wicomico County Republican Club meeting – one which literally lasted five minutes, long enough to swear the new officers in – so I did not hear any introductions or opening remarks from event host and Wicomico County Sheriff Mike Lewis, who had a show of support from several other local sheriffs.
When I picked up on the proceedings, Congressman Andy Harris was speaking about the lack of NICS prosecutions at the federal level, with a particularly appalling lack of enforcement in Maryland. "States like Maryland will not enforce the law," Harris charged. "Maryland is one of the worst states" in reporting mentally ill people to NICS.
"This is not about stopping Newtown," Harris added. Instead, we should enforce the laws we have before adopting new ones.
While Harris drew a very good response from the audience, it was no match for the reaction to always-outspoken Delegate Mike McDermott.
Senate Bill 281, he said, is "not redeemable…it needs to die on the vine." McDermott added that "if it needed pulmonary resuscitation, I'd stomp on its chest."
"This is about feeling like you're doing something," McDermott continued.
And while there have been "behind-the-scenes negotiations" on the "most intrusive" parts of the bill, the Delegate believed "this is the week to watch" regarding its fate. We still need a good display of public outrage every day the bill doesn't advance, until April 8. He also noted the bill was assigned to two different House committees, a tactic occasionally used "to water down votes" of confirmed opponents who sit on a particular committee. Not only is the bill being heard in the Judiciary Committee McDermott serves on but it's also been placed under the auspices of the Health and Government Operations Committee.
He also believed the bill sends "a mixed message" by creating criminals out of law-abiding citizens, and exhorted us to stand firm and make our voices heard.
Event host Lewis began by repeating his testimony on behalf of the Maryland Sheriffs' Association on House Bill 294 (the crossfiled companion bill to Senate Bill 281 now being considered in the House.) He also repeated his oath of office, further pledging "we will fight for you to the end on this issue."
"This is the right thing to do for the right reason," Lewis added.
A representative from State Senator Jim Mathias's office spoke on his behalf, saying he "sends his deep regrets" about not being able to attend due to the Senate session. While the statement contained his point about assisting with the abortive Senate filibuster of the gun bill and his hope that it would be defeated in the House, Mathias also swerved off-point a little by his boast about being "able to work across the aisle" on topics like the gas tax and death penalty repeal.
Wicomico County State's Attorney Matt Maciarello made the case that "armed thugs in Salisbury don't care about these laws." He advocated for an armed deputy in each school to keep them from being "soft targets" and asked us to "hit the pause button on emotion."
"If you want to protect yourself, the government shouldn't stand in the way," concluded Matt, who later called the event "a very cathartic night for me."
While the opening remarks took around an hour, the bulk of the meeting – which lasted well over three hours – was taken by a number of citizens engaging in a question and answer session with the participants.
Right off the bat, questioners were accusatory in tone toward the state and federal government. "We need to cut (Governor O'Malley) short…he is dangerous," the initial questioner said. On his mind was the most recent ammunition shortage, to which Congressman Harris responded "we're not getting a good answer" on Congressional inquiries. He was trying to speak with various ammunition manufacturers to see whether the large government orders were curtailing general consumer availability.
Others were adamant about maintaining their rights in other ways. Here's a selection of quotes from citizens I jotted down.
"Law-abiding citizens don't want to be outgunned."
"Anyone who is naive enough to believe registration doesn't lead to confiscation is out of their minds."
"The issue has nothing to do with public safety…(it's) subverting the Constitution."
"Once the defensive weapons are gone, you can kiss everything else goodbye…the Second Amendment is our final reset button."
Another questioned why we don't adopt the Eddie Eagle program in our schools, with many speakers relating their early introduction to guns.
Yet schools held another manifestation of the problem. A thirty-year veteran teacher recalled the days when kids would come to her class prepared for hunting after school, including being armed with hunting knives inside the school and loaded weapons in their vehicles outside. Now, however, convicted felon juveniles given the choice between "school or prison" are in her classroom without her knowledge. Delegate McDermott chimed in to note he had drafted bills addressing this concern, bills which would have allowed armed school guardians (whether with weapons or tasers) and permitted off-duty officers to carry their guns on school property.
McDermott added his own dig at the gas tax as well, quipping we should use the new funds to "pay for the roadways leaving Maryland, because that's where the congestion will be."
There was one well-dressed gentleman who disagreed, believing assault weapons should be banned. However, he was "willing to compromise," in part because "I don't understand guns." Lewis was among many who would be happy to make that introduction.
Matt Maciarello may have believed he would get away without some questioning, but I wondered, knowing that Lewis had pledged not to send his deputies on what he later termed a "suicide mission" at our Lincoln Day Dinner, whether Matt would refuse to prosecute anyone charged with violating the law. Obviously I put him on the spot because he couldn't make such a blanket promise – I can understand the reasoning since all cases are different, and hopefully the question will be moot.
Another asked him about when civil disobedience was appropriate, which brought up another response Matt had to think about.
One final statement I want to relate was one made by Sheriff Lewis in answer to a question, as it's also answering something I've brought up here. Said Lewis, "I don't aspire to be a Delegate, I don't aspire to be a Senator. I aspire to be a sheriff."
Well, Mike, if you plan on continuing to be my first and last line of defense against tyranny and supporting my right to keep and bear arms against the overreaching arm of the state, brother, you've got my vote. One less office for the local Republicans to worry about.
One disappointing aspect of the night, though, was how few local politicians attended. However, Salisbury City Council member Debbie Campbell came after the conclusion of the Council meeting and I was told County Councilman John Hall was also there. But that was it, and that's really disheartening.
Certainly it wasn't quite a full house, but after a series of false starts with our list of speakers, the 2013 Wicomico County Lincoln Day Dinner still drew around 80 people last night.
Billed as an event focusing on the Second Amendment, it was that and more. For one, it was an opportunity for all three aspirants for the state party Chair race to meet the most active Republicans in Wicomico County. While I have Greg Kilne (right) in the photo below with fellow Red Maryland writer Brian Griffiths (left) flanking Andy Harris' local liaison Bill Reddish (in the center), Collins Bailey and current interim Chair Diana Waterman were present as well.
It's worthy of noting that Kline and Bailey were there well before the event began, while Waterman arrived closer to time. Perhaps she wasn't thrilled about being questioned right out of the gate, but I don't believed she stayed long after the event to mingle, while Bailey was among the last to leave.
While one of the two featured speakers, Charles Lollar, is being mentioned as a possible candidate for governor – more on that in due course – another prospective candidate for Maryland's top job was making his rounds as well.
Craig was being introduced around the room by local supporter Ann Suthowski. He also stopped to greet Lollar and his lovely wife Rosha.
But the bulk of the time was taken up by our featured speakers, including the President in question himself.
Art North has made somewhat of a cottage industry out of his admiration for our 16th President, since he now regularly appears at other local Lincoln Day dinners. For ours, he had two re-enactors posing as Civil War troops and his photographer, Matthew Brady.
Hopefully none of these men consider a run for Congress, because re-enactors tend to attract unwanted attention.
But Lincoln's message was one more tailored for the modern day. He made the point that to give up on the fact man can make himself in a free society like ours would be to give up on prosperity. "In your era," he continued, Saul Alinsky camouflaged his intent with deception "foisted upon the general population."
In his day, though, the tendency for class warfare was kept in check by the knowledge that hard work, diligent study, and striving for success were possible in America. A shoemaker's son didn't have to follow in his father's footsteps, said Lincoln.
Honest Abe also decried the evolution of our educational system from the dictate of the Northwest Ordinance, which led to the introduction of state control of schooling in the affected states (Ohio, Michigan, Indiana, Illinois, Wisconsin, and Minnesota) to the modern "massive federal control of our education system."
Who knew Lincoln was such a political animal?
Bill Reddish was called to the microphone to make an announcement about the townhall meeting called by Sheriff Mike Lewis and attended by Congressman Andy Harris tomorrow night at 7 p.m. at the Wicomico Youth and Civic Center.
He commented that a similar event in Worcester County split about 80-20 toward a pro-Second Amendment crowd. Originally they expected 75, but 250 attended that event so one would expect the WYCC to be similarly crowded.
(As an aside, we will hold a very brief, almost pro forma Wicomico County Republican Club meeting tomorrow so those attendees can get to the townhall meeting and speak if they desire.)
Because Charles Lollar needed to return to the Washington area to do his job, we allowed him to speak first.
It was a long day for Lollar, who had spoken to a men's conference early in the morning in Baltimore, at the New Antioch Baptist Church; an event at which he was "well received." They "embraced" his strong Second Amendment stand, Charles added.
"I am convinced our greatest days are in front of us," he noted, but pointed out we are at a "pivotal crossroads" in our history. Referring to the state of Maryland, Charles warned "we can't afford our lifestyle," claiming that $9.2 billion of a $35 billion state budget comes from various federal grants and stimulus money. We bring in only $26 billion of a $35 billion expense tab, said Lollar.
And he made the case that "sequestration is taking its toll, one step at a time" because Congress isn't doing its job.
He laid out a stark choice for our nation: either a "national revival of our Constitution and Declaration of Independence" or the "beginning of the end of a great nation." He was heartened, though, by the 5,000 Marylanders who showed up at the pro-Second Amendment rallies, and when it was mentioned by one observer that he didn't know there were 5,000 Republicans in Maryland Lollar pointed out "these aren't just Republicans."
"The biggest fight is for our dollars and our amendments," said Charles, who believed as well that "losing our freedoms" wasn't just a Maryland problem, but a national malady. Working for a dollar and only getting fifty cents from it thanks to taxes was "a form of slavery," opined Lollar.
But it wasn't just financial issues for Lollar. There's a danger "when you start messing with the base of the stool" that our nation was built on: morality, ethics, and God. Charles pointed out that, over our nation's history, it's been responsible for more evangelicals than all other nations combined.
It's that moral foundation which makes it necessary to defend freedom "by any means possible," and the Second Amendment "is the lifeline of your freedom."
Charles also reacted to the concept that he takes things so seriously. He grew up in a home which stressed taking responsibility for his actions, he explained, which led him to plead that we "stop playing (political) games with each other in 2013." "Take some things seriously," he continued. "My concern is for my country and my concern is for my state."
Lollar went on. "There are nations salivating for our demise." He urged us to be like the signers of the Declaration of Independence and "put your name on the document."
Charles was even serious enough to remark on the standing ovation he received at the end of his remarks, "I haven't earned that yet."
Lollar has always had a gift for public speaking, though, and while he hasn't yet tasted electoral success he's been in the trenches with his New Day MD PAC and past leadership of AFP Maryland.
I also spoke with Karen Winterling, who's been pushing the "Draft Lollar" movement. I learned that, due to the Hatch Act, Charles couldn't make an official announcement on the 2014 governor's race until June. But Winterling already had an army of 250 volunteers around the state and was hoping for "another 30 tonight."
Someone else who could get thirty volunteers in a heartbeat was the evening's final formal speaker.
Wicomico County Sheriff Mike Lewis has emerged as a leader in opposing Governor Martin O'Malley's draconian gun law proposals.
"I don't work for Martin O'Malley," explained Sheriff Lewis. "I work for the 100,000 people of Wicomico County." He clearly stated that the county sheriff is the "first and last line of defense against tyranny," and pointed out a number of his counterparts from around the state will be present for Monday night's townhall meeting here in Wicomico County.
He also made the case for the right to bear arms. "Who am I to tell a citizen they can't defend themselves?" Lewis asked. He also expressed his admiration for America's most famous sheriff, promising that "Sheriff Joe (Arpaio) will be here when I run for re-election in 2014."
And not only did Lewis take a lead role in the fight to preserve the Second Amendment, he stood in opposition to doing away with the death penalty as well. There's a framed picture of Sarah Foxwell in his office to remind his deputies of why they do their job.
But Lewis saved most of his remarks for his defense of the Second Amendment. "We're going to fight hard" against the gun bill, said Lewis, but if it passes "I will not allow any deputies to go into any law-abiding citizens' houses (to confiscate guns)," Lewis promised.
This legislation will "do nothing" to stem crime in Maryland, Mike continued. It's our "right, duty, and responsibility" to protect ourselves. Lewis also warned that the Obama administration is "trying to disarm Americans," and vowed on Monday "we will show everyone the real Obama administration."
After Delegate Addie Eckardt closed us out with a rendition of "God Bless America," the formal portion of the event concluded and people had the chance to speak one-on-one with various attendees. I took some additional time to speak with my tablemates from Strategic Victory Consulting, who had come down for the day, and also further renewed acquaintances with my "partner in crime" Heather Olsen of Prince George's County. (The below photo was taken by Dwight Patel.)
So the Maryland YRs were well-represented, too. It seemed like we had as many or more people from outside Wicomico County as we did locals.
Still, it was interesting to have the attention of the state party on our little corner of Maryland for a day. We may only make up 1/60 of the state in terms of population, but I daresay we make more than our share of political headlines and intrigue. Must be that thriving blogosphere.