Ever have something sneak up on you and by the time you realize it, you've missed out? Such was the case with Troopathon 9, which occurred last Thursday. The six hour internet telethon is put together annually by the advocacy group Move America Forward. At one time they held competitions to see which group of bloggers could raise the most money and I was pleased to be on teams that were among the leaders, even if my part was much smaller than some of the others. It's an event I have supported for some time, so I was disappointed to realize I missed it.
Luckily, if you have the time and would like to see what a number of conservative commentators have to say about the troops and the cause, the original broadcast is still available for viewing. More importantly, though, they reached their initial goal of $300,000 to help provide care packages for our troops overseas – so with that success they've pushed the goal to $325,000. As of last night when I wrote this they were at $309,639 and they are collecting Troopathon donations through July 4.
The good news on this front is that the cost to send a care package has not changed since the last time I sent one, as they start at $24.99. According to the sponsor, this is what they receive:
Each care package sponsored is packed with love and care by our team of dedicated volunteers and include the following:

Gourmet Coffee, Premium Beef Jerky, Genuine Oreo Cookies, Flavored Gatorade, Mixed Nuts/Trail Mix bags, Baby Wipes, Hot Chocolate, M&M's, Snickers, Skittles and other assorted treats, Natural Grain/Granola/Protein Bars, Gum, Sunflower Seeds, Hot Apple Cider, Shampoo & Conditioner, Deodorant, Toothpaste, Toothbrushes, Foot Cream or Powder, SPF Lip Balm, SPF Sunscreen, Bug Repellent, Military Issue Boot Socks, Magazines and Books, Casino Style Playing Cards, Phone Cards, Instant Lunches, Batteries, Laundry Detergent, Military Crisis Line/Military OneSource Resource Information, Care Packages Request Form, Handwritten Thank You Messages from School Children and other Supporters, Seasonal Items for Current Holiday, K-9 Care Packages also include eye-protecting "Doggles" & extra thick PetSport "Tuff" Balls

***Care Package Items vary depending on time of year, supply, and troop request***

That's right the most important part of our care package comes from you. Each comes with a personal message you write.
I've often wondered what has become of the few that I've sent over the years, but I suppose that doesn't matter as much as making sure the troops in the field know we have their back. While the recent withdrawal from Afghanistan (with a smaller ramp-up in Iraq) has meant that only around 10,000 soldiers remain in the field, the need is still there.
So if you have a few spare dollars in your couch cushions, dig them out and let our military know they are not forgotten, unlike me and my faulty memory for neglecting to plug Troopathon 9 earlier.
Unlike a number of the most recent previous renditions for this long-running series, this will feature four performers at three different venues in and around downtown Salisbury on consecutive days last weekend. It would have been five but the featured group from the local Academy of Music Performance was just wrapping up when we arrived.
So I wasn't intending to do a WLR when we decided to eat outside at Roadie Joe's afterward, but it turned out Kaleb Brown was playing and you know me – I like listening to music and taking pictures.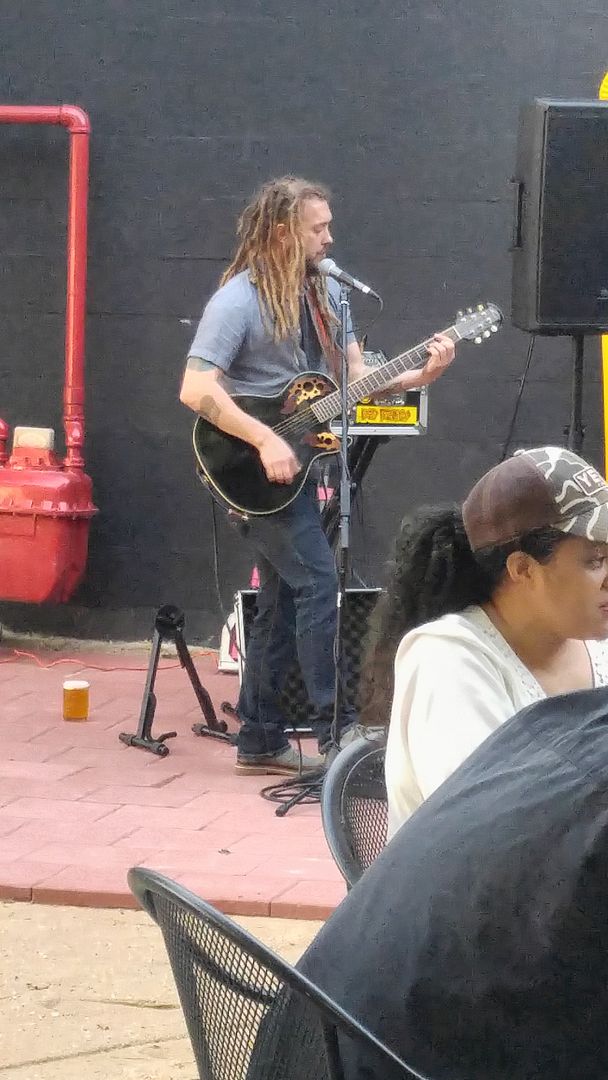 So it was just Kaleb, his guitar, and his beatbox (that would drive some of the dogs still around from 3rd Friday crazy) and that reggae sound he likes to do. Good dinner music on a lovely summer evening.
I think the band wasn't supposed to start until 10 but they got an early start. We had just finished our dinner and were ready to leave when we decided to stay for a couple songs from Naked Nation that turned into half a set.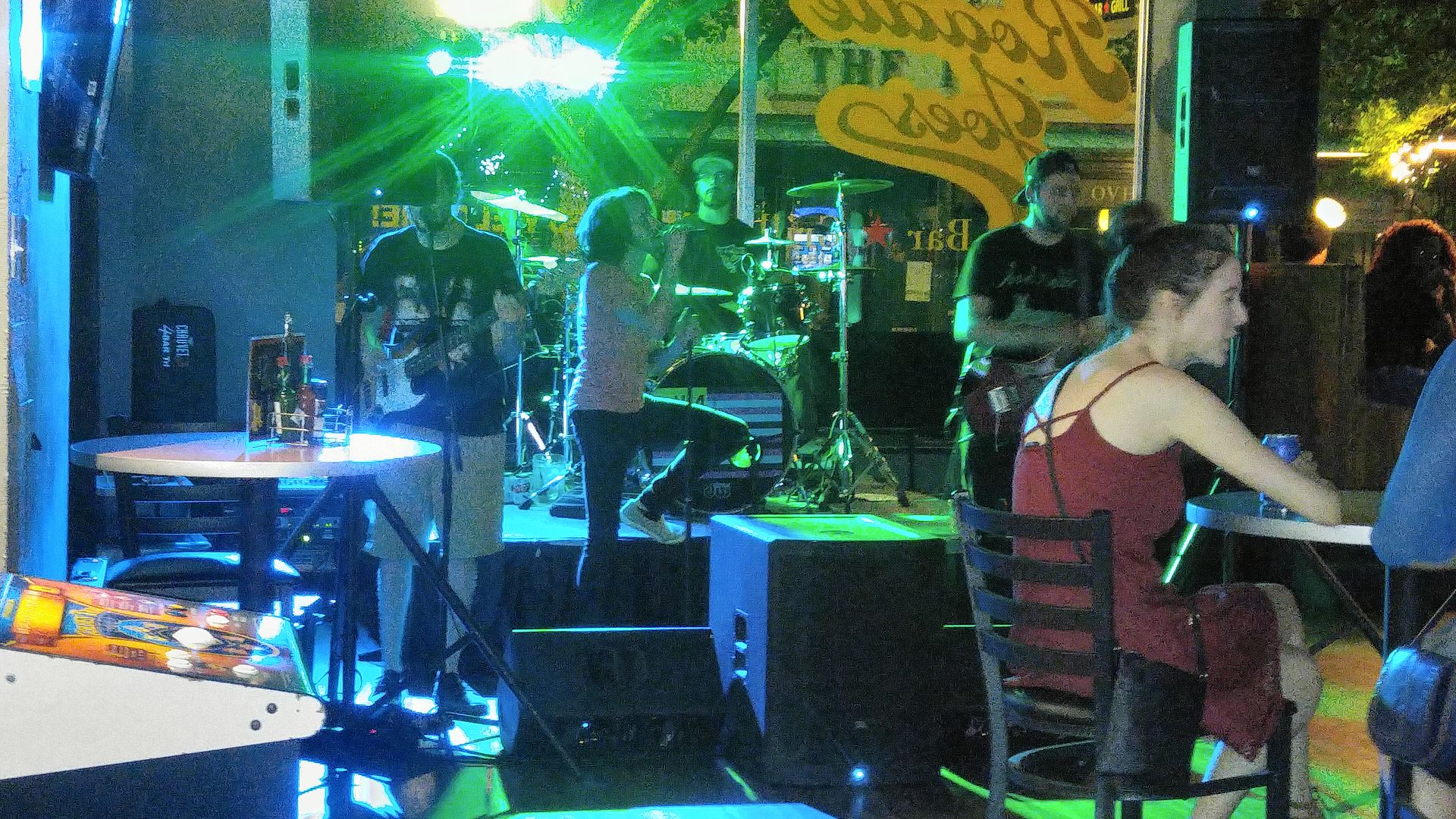 Naked Nation seemed to have a little different playlist than other cover bands, doing a wide range of songs that are not really classic rock and range more toward Top 40 alternative stuff. But the people were getting into it.
So Saturday came and I decided to head back downtown for the Salisbury Shore Craft Beer Festival. Headlining the event was Eastern Electric.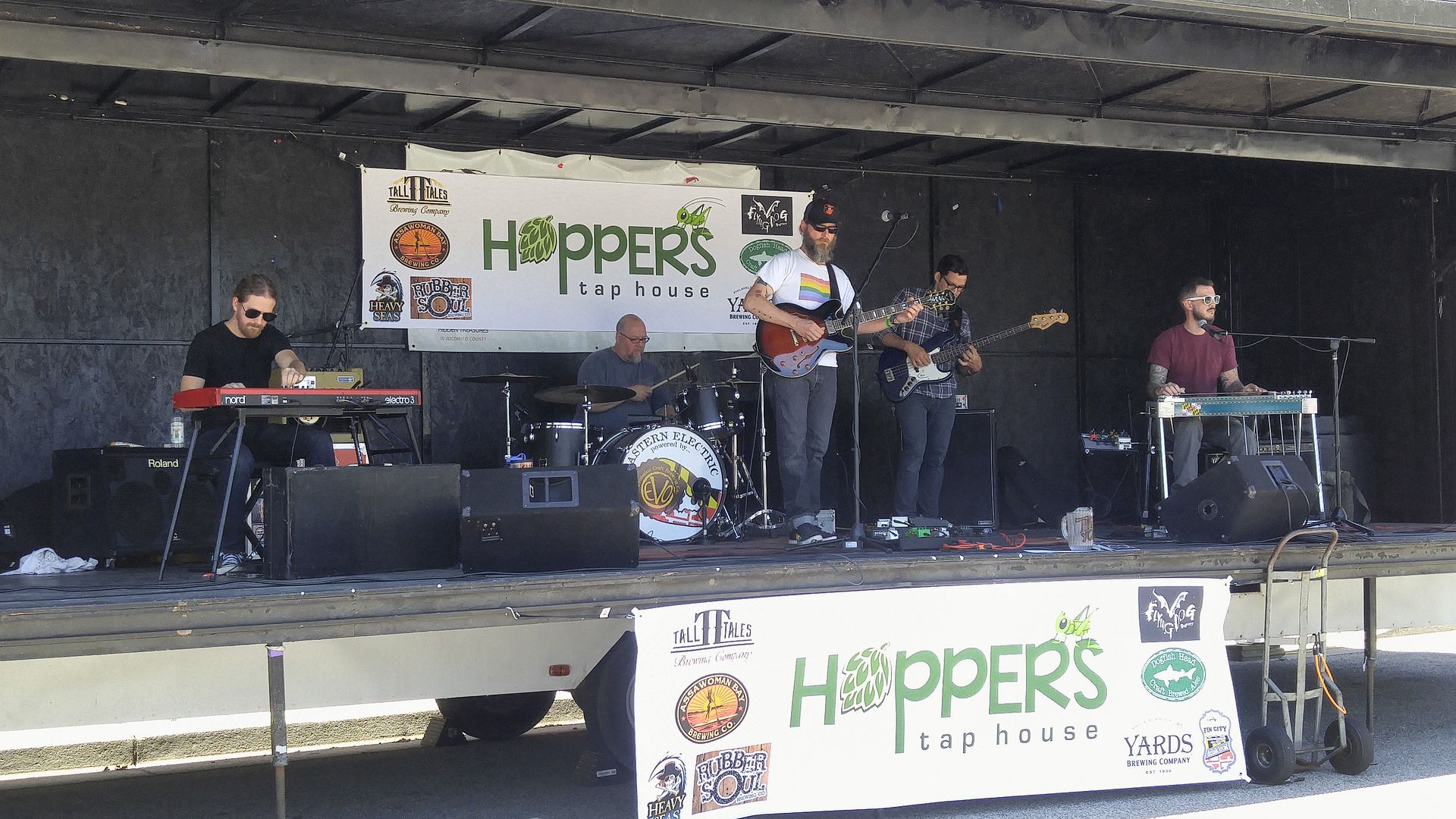 Now I like Eastern Electric, but it didn't dawn on me that there was a band also playing in Headquarters Live called Billy Earl and the Pink Flamingos. So I checked out the location and the band.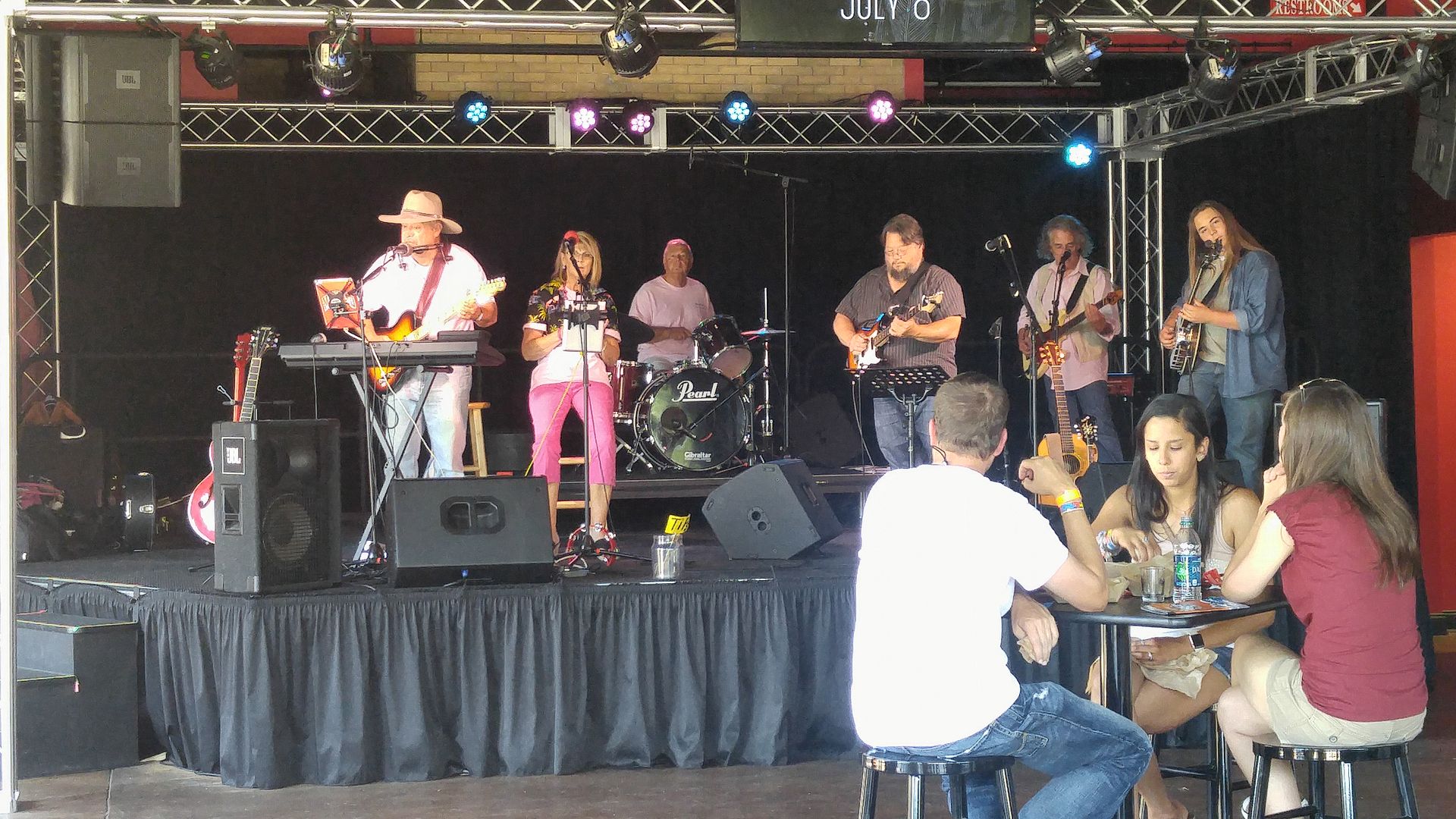 Admittedly, their style of music isn't my cup of tea – but it does allow them to put a different flavor on songs like Chris Isaak's Wicked Game. They can still make it sound hauntingly lonely.
Meanwhile, back at the Beer Fest Eastern Electric was doing their set mixing covers from several eras and some originals.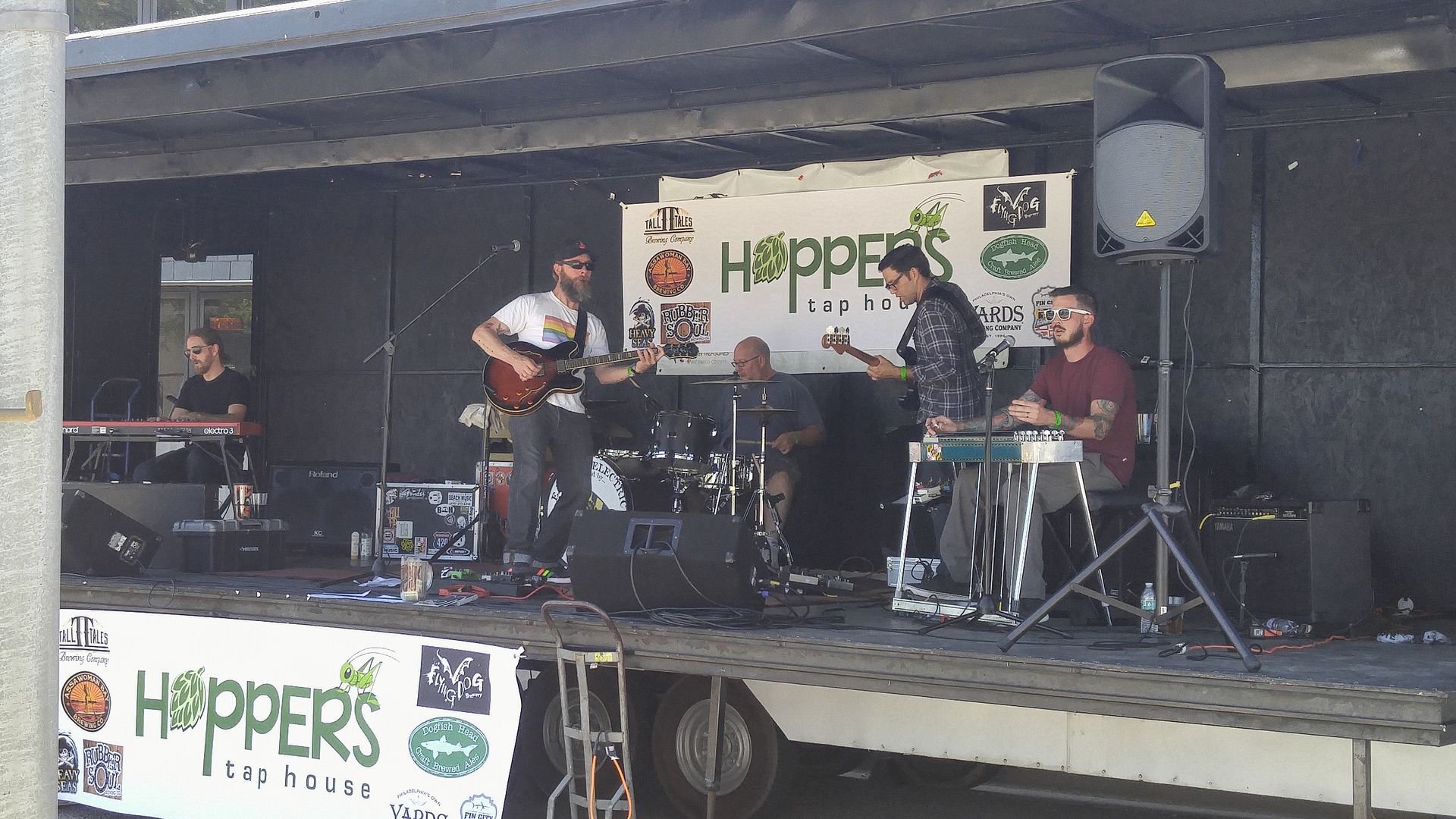 One of those was their closing song (and one I really like) called To Heaven Before The Devil. "I hope to get to Heaven/Before the Devil knows I'm dead." It's a rollicking mix of rock, blues, and country that represents the band pretty well. And as Eastern Electric singer Nate Clendenen put it, last Saturday was a nice occasion to hang out downtown – they've been trying to redevelop it "since I was in fifth or sixth grade" and it finally is taking root.
So it was truly a weekend of local rock, as all the bands came from this part of Delmarva. It's worth reminding people that our little corner of the world has musical talent. All it needs now is the audience to appreciate it.
Perhaps it sounds pretentious for an artist to have a "best of" collection from just three full-length releases and two EPs, but this is the method Eric Anders, a singer-songwriter hailing from the Bay area of California, has chosen as a career bridge.
The playlist Anders chose his 12 tracks from spans from 2003 to 2011, as Eric did a succession of work from 2003-06 with his last previous release, "Remains In Me" coming out in 2011. "Remains" was the one EP represented in the collection, with a different version of a song called How Low And Why from Anders' other EP, 2004′s "Songs For Wayward Days" also in this compilation. That variation, which reappeared on the 2006 full-length "Tethered To The Ground," is a more complex take on the song; the version Anders chose to use is a more simple, adult contemporary style arrangement.
Taking the long-range view of his career, it's noteworthy that Anders only included one song from 2003′s "Not At One." Never Enough is one of the more acoustic-sounding songs on the CD, with a nice accompaniment from what sounds like a lone cello. As I noted above, Anders skipped selecting anything from the three-song EP "Songs for Wayward Days" but included three tracks from the 2005 album "More Regrets."
You could see a progression from simple to more complex with these three songs, as Settlin' Comes and Remembering On My Own maintain a more acoustic presence, but Icarus features a more haunting melody that seems to punctuate Anders' later work more and more.
Considered by Anders to be the album he's "most proud of," "Tethered To The Ground" makes up half of the twelve-song collection. It's a diverse blend of styles, with the interesting use of musical elements on Tethered To The Ground, which leads off this release, sliding into the accessible adult contemporary title track of this release, Big World Abide. The version of How Low And Why that Anders uses comes from this album as well.
It's not the only song Anders tinkered with, though: his 2006 release had a great take on the Violent Femmes' hit Blister In The Sun that Eric slows down and (with permission from the original songwriter, Gordon Gano) added lyrics to.
Yet even a "best of" collection has its weak links, and These People, while a heartfelt ballad, is one that could have been left off. Anders has a fairly pleasant voice which some have compared to James Taylor, but he doesn't do as well singing at the high end of the register like he does with These People.
And you can't talk about Anders without getting political. "Songs For Wayward Days" is described as "an anti-Bush political EP" and he takes that stance on Looking Forward To Your Fall, written in the midst of the conflicts in Iraq and Afghanistan and released on "Tethered." It's actually one of the more active, dramatic songs on the album with a staccato rhythm.
In that vein, the two songs selected from 2011′s "Remains In Me" EP come with different styles – the song Genocide and Justice is more of a ballad but features some great slide guitar work while Remains In Me is more of a country-rock tune – but both refer to the Wounded Knee massacre as well as the Jumping Bull Ranch incident which put Leonard Peltier in prison (some say unjustly.) It was almost as if Anders was satisfied enough with the overseas policy of the time – withdrawal from Iraq and Afghanistan - that he turned his attention to the classic mistreatment of Native Americans as a new theme to address.
Unlike many "best of" compilations which are kept in the order of release, Anders and Jeff Peters, who mixed much of Anders' work and re-mastered this album, tried to approach this like a new album in making it more cohesive. Obviously one can tracklist in the order of release if desired, but I think it would have been interesting to put out the album in release order, too. But since this collection seems to be intended as a bridge to new upcoming work for Anders, it is a good look in the rear-view mirror. What you see (or hear, in this case) is probably what you will get when Anders' next album comes out at some unspecified future time.
Knowing where he's been allows us to see many different paths for the future of Eric Anders, but you can take the time to see his trail by listening for yourself. (It does autoplay, so the haunting opening riff of Tethered To The Ground is something you'll hear straight away. It's a good intro.) I'm going to be interested to see if he stays more in the adult contemporary vein or starts to veer off into more of a country sound.
And as someone who does a lot of political commentary, I'm curious to know how Eric is reacting to Clinton vs. Trump. (I suspect he's more of a Jill Stein person, but as long as he puts out good music that's an argument not worth having.) Maybe "best of" is pretentious, but it makes for a good overview.
In the wake of the successful Brexit vote I knew someone would resurrect this old idea.
Certainly the idea of the state of Delmarva (or as I would call it, the state of Chesapeake) has been around for generations. It's only natural given the geographic isolation both the Chesapeake and Delaware bays provide, but reality's heavy thud divided this sandbar somewhat unevenly into one full state and parts of two others. The full state is one of the smallest in the country by both population and geography while the states split by Chesapeake Bay have practically all of their population across the Bay – less than 10% of Maryland residents and barely 1/2% of Virginia residents live on this side.
Yet if there were a referendum on the subject, we would have a plethora of possible choices, with perhaps the top three being: one new state for the entire peninsula with a brand new slate of laws, the merger of the Eastern Shore portions of Maryland and Virginia into a greater state of Delaware, or remaining as we are. Perhaps Wilmington and New Castle County of Delaware may feel better with a more urban state like New Jersey. But then what happens to institutions like the University of Delaware, which is in New Castle County?
Obviously the politician in me likes the idea of a greater Delaware that would become a "purple" state where Republicans have a good shot of taking control. Since New Castle County boasts a population of 556,779 (according to the latest estimate) out of a state that has 945,934 (based on that same data) it's always going to run the state of Delaware. (If you think Maryland is bad, remember no jurisdiction has more than 15% of its population. New Castle County is over half of Delaware's.) Adding the Eastern Shore of Maryland and Virginia would basically negate the Democratic-leaning population of New Castle with a broad area nearly equal in population but definitely more conservative-leaning.
Yet even if we can't be part of Delaware, there are a number of things that can be done to bring us closer. My favorite (and this has been tried before) is to eliminate the sales tax from Eastern Shore counties in Maryland. (The same could be done in Virginia, although being separated by about 40 miles of Maryland makes the "Del" and "Va" a less likely pair of rivals.) Creating a business zone based on Delaware laws as applicable for the Eastern Shore could be of assistance as well.
But while this idea has plenty of benefits, it probably won't happen in my lifetime because political power is more important than the people, It's still a shock to me that the people of Great Britain were allowed such a referendum in the first place – obviously the liberal EU assumed everyone loved them. I expected a result more like the bid to split California up into six states, which failed to qualify for this year's ballot. The last state to be split up was when the Union-leaning western part of Virginia seceded from the Confederate state of Virginia in 1863 – Virginia was eventually readmitted but not reunited with its former territory, which is now West Virginia. To create a new state or expand Delaware it would take the approval of all parties involved and that's not going to happen because they need our money – and when it comes to politics we know they follow the golden rule: he who has the gold, rules.
It is nice to dream, though.
Over the years I've liked second chance stories and as we crank up the second half of the season we will see how well a fairly recent Shorebird addition continues a career resurrection.
Dominican native Jesus Liranzo began his career with the Atlanta Braves organization, originally signed at the tender (but somewhat common for the region) age of 17 in 2012. One appearance later, he was cut but signed again for the 2013 season before being dropped after three appearances. It's likely the kid's issue was wildness since he walked eight batters in just 3 1/3 total innings (although he struck out six.) He hardly had time to get the uniform dirty.
A few weeks later, Liranzo signed with the Orioles and finished the 2013 season with their Dominican Summer League team. While the wildness continued, Jesus did put up a couple nice appearances, including a career-long 4 inning start that he lost on three unearned runs. He was set for 2014 but then lost the season due to injury.
Returning to health for 2015, Jesus showed why he came stateside for this season. Retooled into a late-inning reliever, Liranzo made 23 appearances covering 38 1/3 innings, allowing just 28 hits and striking out 46 while walking only 19 for a 1.23 WHIP. One knock on him, though, was the few high-leverage situations Liranzo was inserted into as he had just two save opportunities in the 11 games he finished, failing to convert either. With the Shorebirds, Jesus has only finished three games of the eight he's pitched in – the Shorebirds were trailing in two while the other was a non-save situation. But he has pitched rather well regardless, allowing six hits and six walks in 14 1/3 innings so far for an 0.88 WHIP and puny .133 batting average allowed.
It's natural for the new guy to work his way up, and Liranzo did his work in only a month as he was called up from the DSL (which hadn't begun play yet) May 19. Much of his second-half role depends on the moves being made among the other pitchers on staff, but if he continues holding down batters and keeps his walks to a minimum he may get that elusive first professional save when Ryan Minor gives him the ball in a close game. At just 21 years of age, Liranzo is still about a year younger than the rest of the league so he has plenty of room to develop now that the Orioles have given him a fair shake of more than a handful of appearances.
When all the ballots were counted, Donald Trump amassed about 44% of the total Republican vote in the 2016 primaries. Granted, that total surely includes some Democratic crossover votes in open primary states – so we can't discount a successful Operation Chaos in reverse by the Democrats – but considering there were 6 to 10 contenders in play at the time many states voted that's a fair amount of support.
But the guy who wrote about the art of the deal seems to be having a tough time closing the sale with the GOP. In a CNN/ORC International poll released today, there are 48% of Republicans who would like a do-over in this election cycle.  (Page 18 of the poll.) Granted, Democrats are not completely thrilled with Hillary Clinton because only 55% back her with 43% still wishing for Bernie Sanders. (There is no alternative to Trump given for the GOP.) If it's not obvious by now, I'm one of those 48% who think we can do a lot better.
Obviously the path to that is one of allowing convention delegates to vote their conscience at the RNC convention next month. There are a number of renegades who will do just that, but the question is whether they would be enough to make a difference and whether they could even open up the balloting. The only alternative candidate who could be nominated as the rules stand now is Ted Cruz, who would need to restart his campaign that was mothballed in May after the Indiana primary. (But Cruz would have more cash on hand than Trump has now, and his mainly inactive campaign pulled in almost as much in May as Trump's did.)
Yet the 48% of Republicans who don't care much for Trump must be the ones not donating money to him, putting the GOP in a financial position it didn't think was possible given the political climate and eight years of a stalled economy and spotty foreign policy. The trend over the last sixty years has been eight years of one party controlling of the White House before yielding to the other side, with the only deviation being the first term of Ronald Reagan giving the GOP an "extra" four years from 1981-85. (The second term of Reagan plus George H.W. Bush were the "natural" years in this cyclical pattern, which resumed with Bill Clinton.) So the Republicans would be in the position of thinking it was their turn on the merry-go-round.
A candidate that has been the "presumptive" nominee for several weeks running but only has the support of a small percentage that didn't vote for him is perhaps a fatally flawed candidate. I'm sure many will blame the #NeverTrump movement for poisoning the well for The Donald as he tries to consolidate support, but it's not up to us to earn the votes – that's on the guy running. The other candidates on my ballot at least have some conservative credentials I can rely on as I give my support, but Trump is wrong on so many issues (or is right for about a day before backing off) that I think he will extinguish all the progress we've made since Ronald Reagan took office. Things eroded a lot during the Bush and Bush years but we would go the other way toward a more "yuge" and oppressive government regardless of who wins if we stay as Trump vs. Clinton. Whether it's "our" authoritarian or not, the Executive Branch will gain power because we already know Congress isn't doing much to stop the Obama agenda and it would be hamstrung by Trump's excesses by his being a Republican. I didn't sign up to be part of a dictatorship.
So I'm not standing alone in demanding a better alternative, and the movement grows daily.
Commentary by Marita Noon
Proponents of green energy like to point out how the costs have come down – and they have. Though renewable energy, such as wind and solar, are not expected to equal fossil fuel costs anytime in the near future and recent growth has been propped up by mandates and tax incentives. But there are other, more subtle aspects of the Obama Administration's efforts that have had negative impacts that are not felt for years after the policies are implemented. By then, it will be too late to do much about them.
We know that the push toward renewables has hurt the coal industry. As Hillary Clinton gleefully exclaimed: "we're going to put a whole lot of coal miners and coal companies out of business." We are already seeing this happen all over the country. Dozens of coal mining companies have gone bankrupt since President Obama took office and those that are still functioning are doing so with far fewer workers.
One such mine is in the Four Corners region of New Mexico – the San Juan Mine – which is one of the largest underground coal mines in the world. It has been a "top employer" in the region. Westmoreland Coal Company purchased the mine from BHP Billiton, with the sale completed on February 1, 2016. At the time, the mine employed more than 400 people. Shortly thereafter, 11 salaried staff lost their jobs and on June 16, another 85 workers – both salaried and hourly – were laid off. Which, according to the Albuquerque Journal, were "necessary because the San Juan Generating Station, which uses all the mine's coal, plans to retire two of its four units as part of a negotiated agreement among plant operator Public Service Company of New Mexico [PNM], the Environmental Protection Agency, the Navajo Nation, and the state of New Mexico."
The "agreement" to shut down half the power plant – thereby cutting the immediate need for coal – is the result of the EPA's 2011 Regional Haze Program that, according to a report from the U.S. Chamber of Commerce, "seeks to remedy visibility impairment at federal National Parks and Wilderness Areas." This, the report states, "is an aesthetic regulation, and not a public health standard" – though the results will be undetectable to the human eye. For this, nearly a quarter of the mine's workforce has been terminated.
The Albuquerque Journal cites Westmoreland's executive vice president, Joe Micheletti, as being unwilling to "comment on whether he expected to see more layoffs in the coming months." It also states that PNM has promised "not to lay off any employees at the stations as a result of the unit closures" – though through attrition employment is down 20 percent from two years ago.
The reality is, anti-fossil fuel groups like the Sierra Club, wanted the entire plant shut down. In 2018, PNM will have to plead their case before the Public Regulatory Commission to keep the San Juan Generating Station functioning past 2022. PNM is currently considering a plan for meeting its needs for electricity without it. If the plant closes, all jobs, approximately 800, at both the mine and the generating station will be gone – greatly impacting the local economy.
Obama's far-reaching green energy policies are insidious – hurting consumers in ways we don't even think of. On June 10, Stephen Yurek, president and CEO of the Air-Conditioning, Heating and Refrigeration Institute (AHRI), gave testimony before the U.S. House of Representatives Subcommittee on Energy and Power. He addressed the nearly 40-year old Energy Policy and Conservation Act (EPCA) – which, he said, "has not been updated to reflect new technologies and economic realities" and "has been misapplied by the Department of Energy [DOE]." The Obama Administration has run amuck in its application of EPCA – issuing regulation after regulation. Yurek backs this up by pointing out the difference in the Clinton and Obama administrations: "While the Clinton Administration's DOE issued just six major efficiency rules during his eight years in office, the Obama Administration's DOE issued eight major efficiency rules in 2014 alone – a record according to the Office of Information and Regulatory Affairs. And DOE's Unified Agenda indicate that between 2015 and the end of the administration, 11 additional major efficiency rules can be expected to be issued."
These rules, Yurek explained, "use unrealistic assumptions" to create "higher efficiency levels than are economically justified for consumers." He encourages Congress to force the DOE to "consider the real-world cumulative impact of product efficiency standards among agencies, businesses, and consumers" and suggests that "as DOE promulgates rules according to an accelerated regulatory schedule, necessary constructive dialogue falls by the wayside."
Yurek summarizes: "An endless cycle of efficiency rulemakings continues to have an adverse impact on our global competitiveness and the American jobs we create." This practice hurts consumers as "When new products and equipment cost more than consumers can afford, they find alternatives, some of which compromise their comfort and safety, while saving less energy or none at all or in some cases using more energy."
In the name of energy efficiency, on December 6, 2013, Obama issued a memorandum ordering federal buildings to triple renewable energy use. He declared: "Today I am establishing new goals for renewable energy as well as new energy-management practices." Now, nearly three years later, we get a taste of what his federal building initiative is costing taxpayers.
On June 16, 2016, the Federal Housing Finance Agency's (FHFA) Office of Inspector General released a report - precipitated by an anonymous hotline complaint - on the 53 percent cost escalation at Fannie Mae's extravagant new downtown DC building. As a result of the financial crisis, mortgage giant Fannie Mae received a bailout of $116.1 billion in taxpayer funds and FHFA now serves as the conservator over Fannie Mae. The Inspector General found that no one in the FHFA Division of Conservatorship "was aware of the 53% increase in the estimated build-out costs for Fannie Mae's new office space."
"Because Fannie Mae is an entity in the conservatorship of the U.S. government," the report states: "FHFA, as conservator, will need to assess the anticipated efficiencies of specific proposed features against estimated costs of those features and determine whether the efficiencies warrant the costs." The watchdog report found the ballooning costs created "significant financial and reputational risks."
Addressing the excessive cost, Rep. Scott Garrett (R-NJ), chairman of the House subcommittee with oversight over Fannie Mae, said: "Like a child with a credit card in a toy store, the bureaucrats at Fannie Mae just couldn't help themselves. After being forced to bail out the GSE's [Government-Sponsored Enterprises] to the tune of nearly $200 billion [which includes Freddie Mac], American taxpayers now get the news that they are underwriting lavish spending at Fannie Mae's new downtown Washington, D.C. headquarters. So while Americans around the country are living paycheck to paycheck, Washington insiders are blowing through budgets by designing glass enclosed bridges and rooftop decks."
In response to the call for "immediate, sustained comprehensive oversight from FHFA," Melvin L. Watt, FHFA director, defended himself. In the face of the Inspector General's caustic criticism, he claimed that many of the upfront investments would save money over time. Watt's memorandum only offers two such examples and one is more efficient lighting. He claims: "upfitting space with more expensive LED lighting instead of less expensive fluorescent lighting would result in significantly cheaper operating costs." The other example he provided was window shades.
These are just three recent examples of Obama Administration policies that were put in place years before the resulting job losses and costs to consumers and taxpayers are felt. Gratefully, for now, the Supreme Court put a stay on one of his most intrusive and expensive programs – the Clean Power Plan. But there are plenty of little rulemakings, programs, and memorandums that will still be impacting jobs and increasing costs long after he is out of office.
The author of Energy Freedom, Marita Noon serves as the executive director for Energy Makes America Great Inc., and the companion educational organization, the Citizens' Alliance for Responsible Energy (CARE). She hosts a weekly radio program: America's Voice for Energy - which expands on the content of her weekly column. Follow her @EnergyRabbit.
Back in 2013 I wrote about a company called Ethical Electric, noting that the electricity supplier was charging a premium to help out progressive causes. Well, the other day I received a solicitation from a group called Clean Energy Option and after a little digging I found out it was Ethical Electric that was doing business as (d/b/a) Clean Energy Option. Seems to be less than ethical to change their name, but it's likely a marketing thing.
Yet thanks to that 2013 piece I wrote for Watchdog Wire, I found out that Ethical Electric was charging 10.14 cents per kilowatt-hour (kWh) at the time, which was a fair-sized premium over the 8.89 cents per kWh Delmarva Power (my utility) was charging back then. That 14% difference meant the average bill would be about $12.60 higher per month for an average home that used 900 kWh monthly. I don't know about you, but I'm sure I would cry foul if my electric bill was going up $150 a year, since that's what it translates to.
It just so happened that the Clean Energy solicitation followed my latest Delmarva Power bill by a couple days so my bill was handy. Over the last two-plus years, my Delmarva Power rates haven't changed a whole lot as the "rate to compare" was 9.01 cents per kWh. In 2 1/2 years I've endured an annual rate increase far less than 1% as the total hike was 1.35%. (I also found out in researching this piece that I can get even lower rates by switching my supplier to another of several companies that are in that business. Some are "green" companies like Clean Energy Option, most are not.)
On the other hand, the teaser rate for Ethical Electric's Clean Energy Option has swelled to 11.6 cents per kWh, which is a rate hike of 14.4% overall and about 6% per year. Most likely this rate will jump again after the three-month special rate ends – after all, what business would promote a higher initial cost? The premium that was once 14% has now doubled to 28%, despite the fact people are bending over backwards to install new solar farms and wind turbines around the region. As Clean Energy Option euphemistically puts the answer to the question "What will happen to my electricity bills?":
In short, supporting new renewable energy development costs a little more than delivering polluting energy. That's because the energy you are choosing is better for you and the planet.
("Better for you" may not be true for a person within sensing range of the low-frequency sound emitted by wind turbines, but I digress.)
There's obviously something at work here to drive the cost of "regular" electricity down while wind and solar continue to increase. I suspect that something is the low cost of natural gas, which is used more frequently as an energy source to create electricity and is relatively cheap. Ironically, this economic fact is doing almost as much damage to the coal industry as Obama's EPA regulations.
So don't be fooled to the tune of $23 a month or nearly $280 a year. Keep the money in your pocket and stick with what is most reliable. Or, if you really want to put that money to work, use it to support elected officials who will stand up to the environmentalist lobby and remove these silly mandates and carveouts for the otherwise unsustainable green energy racket.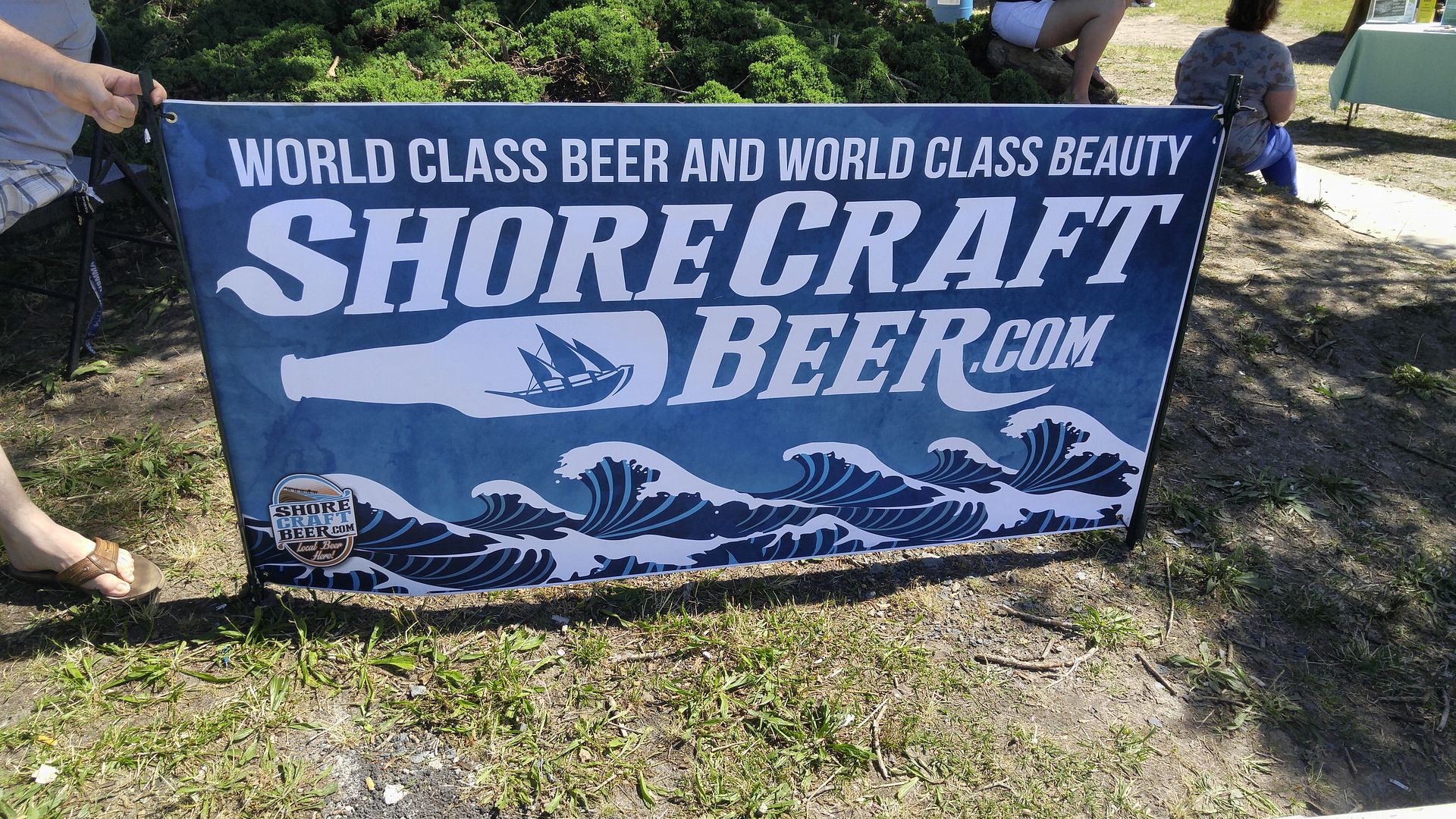 It was a perfect day to be downtown and try a few local craft beers, so I went to the inaugural Salisbury Shore Craft Beer Festival (SSCBF) held downtown along the Riverwalk. (The Salisbury designation distinguishes it from a similar event with the same sponsor in Ocean City, the first of which was held last October.) It was also billed as a "Riverwalk Celebration" and while they are renovating it, there's still some work in progress.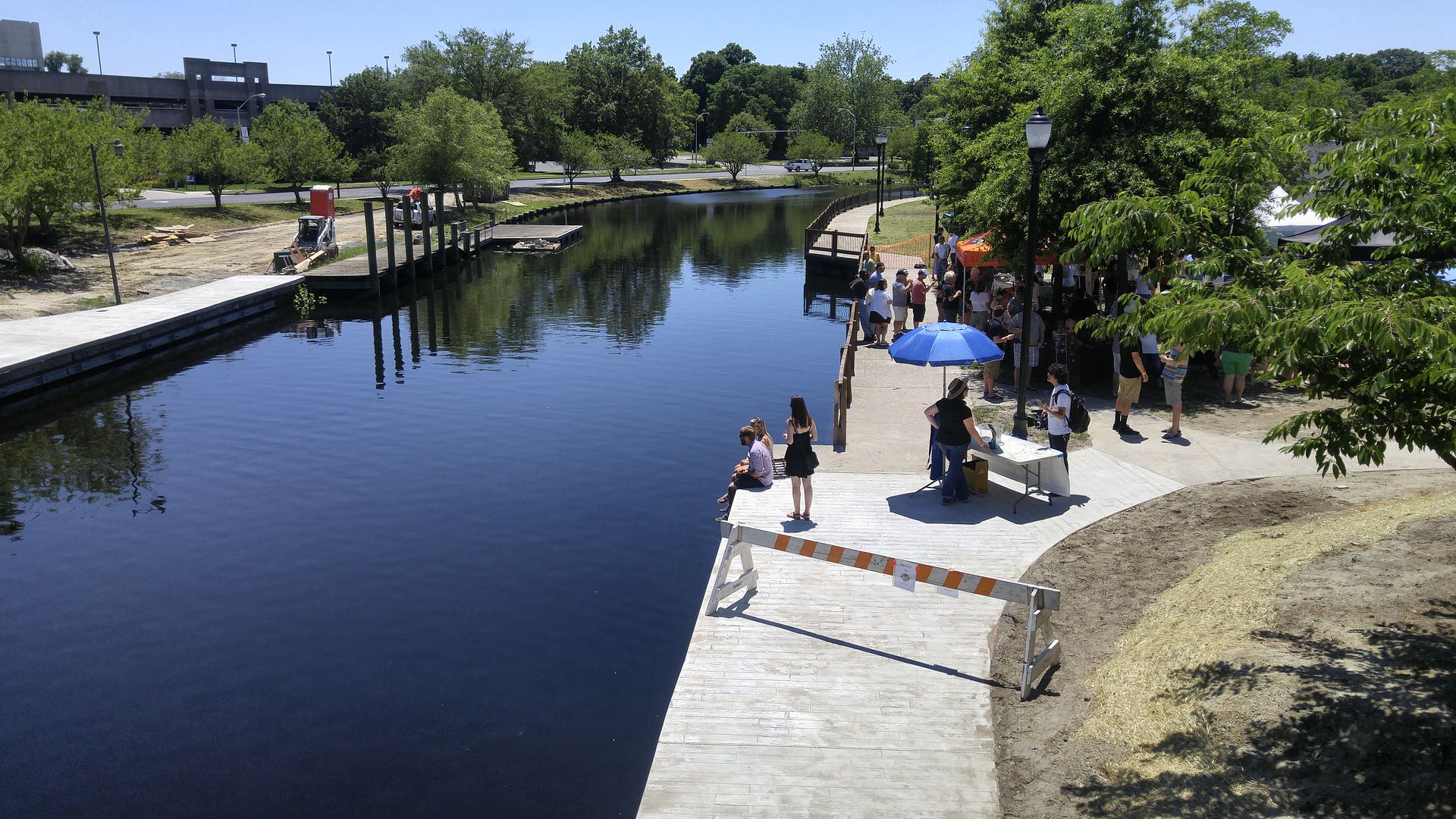 To be fair, I was looking west from the Division Street bridge and most of the Riverwalk lies east of the structure. But this was the site chosen for the festival.
Early on I thought the crowd was a little bit meager. I took this photo about 2:00, a half-hour after the gates were opened for general admission. (VIP ticket holders could get in at 12:30.)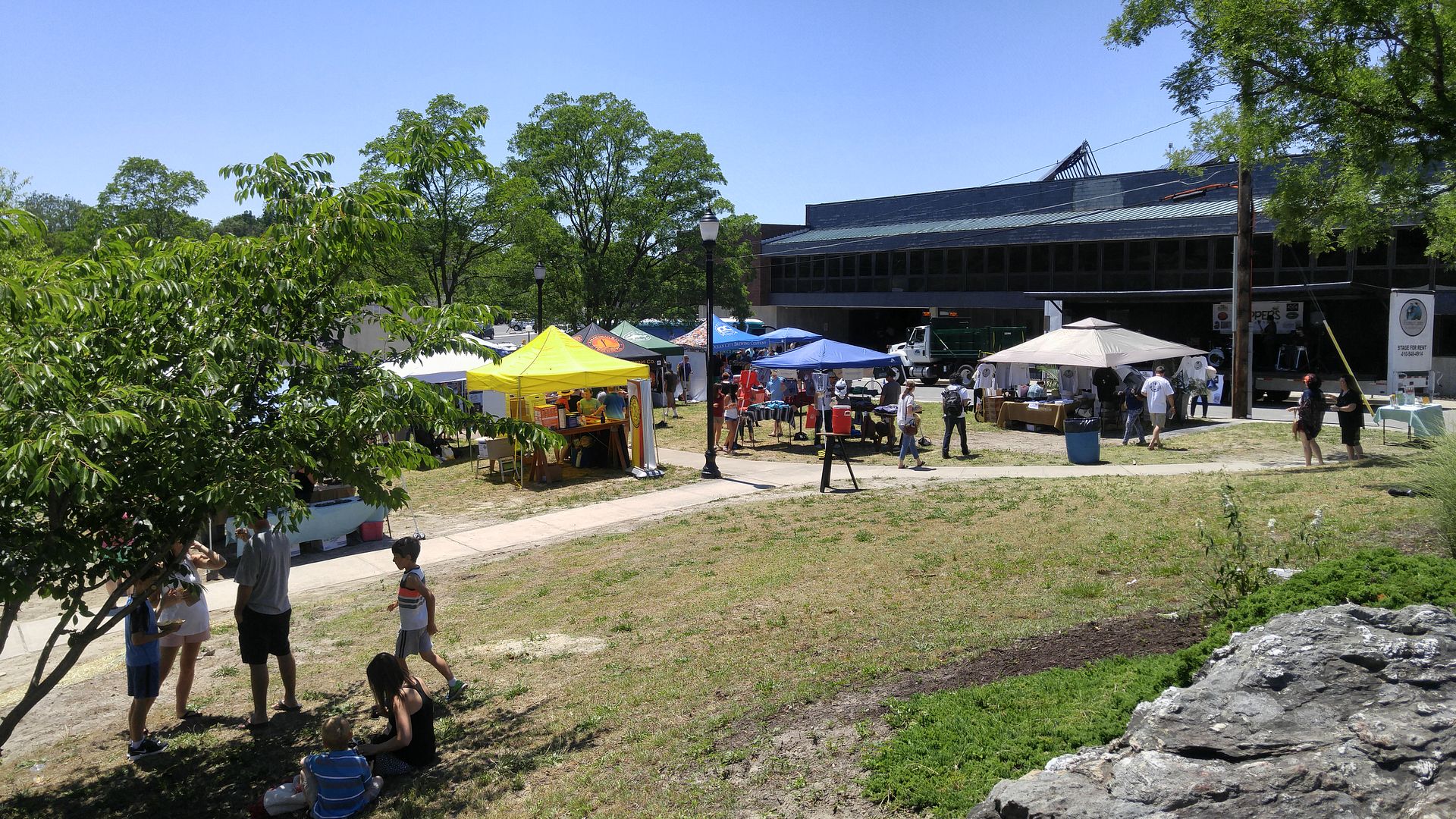 One area where the festival will have room to grow is the food selection. The Division Street bridge served as a mini-food court.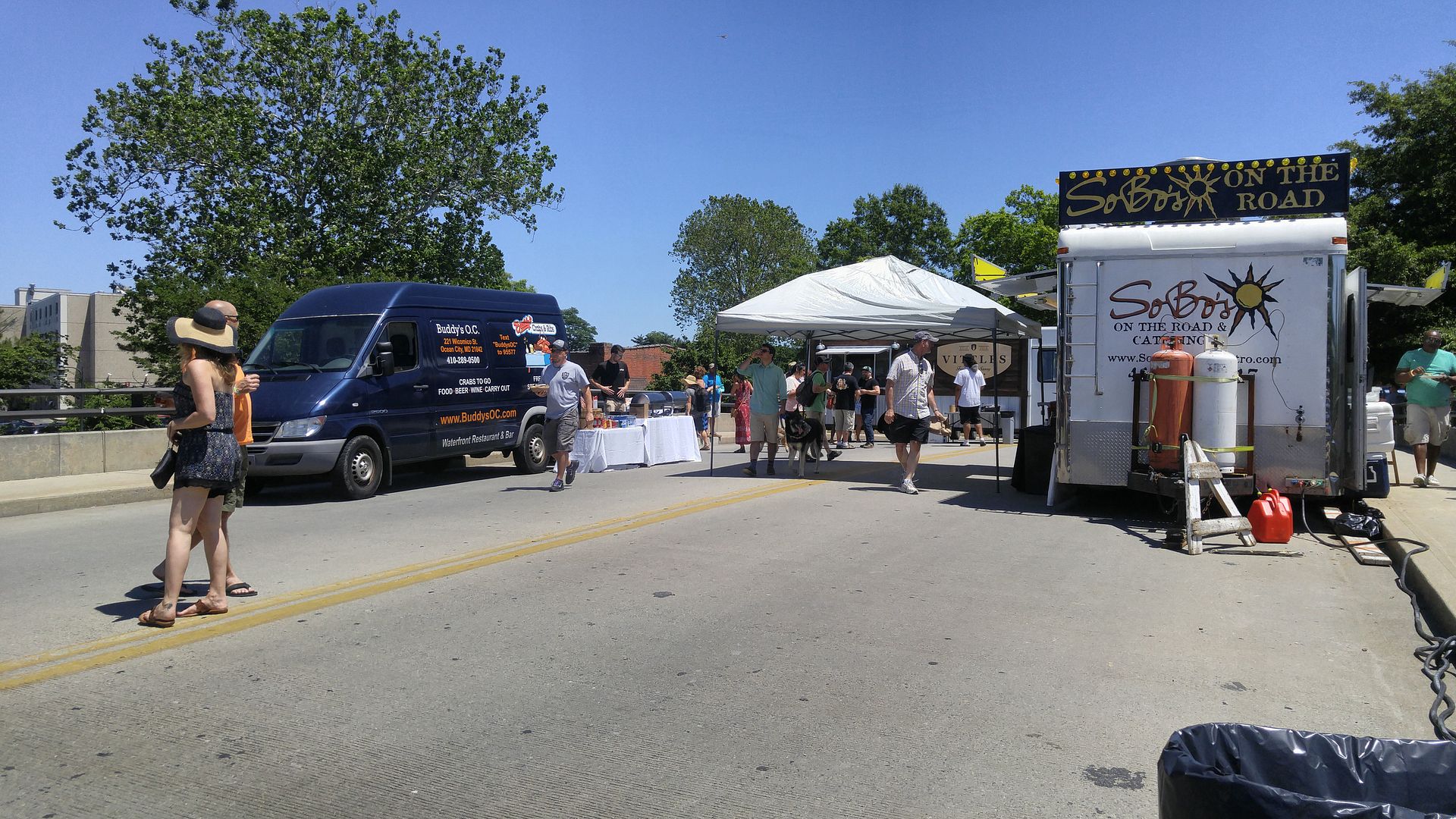 As time went on, though, the crowds thickened a little bit. This photo was taken from along the river looking toward the stage.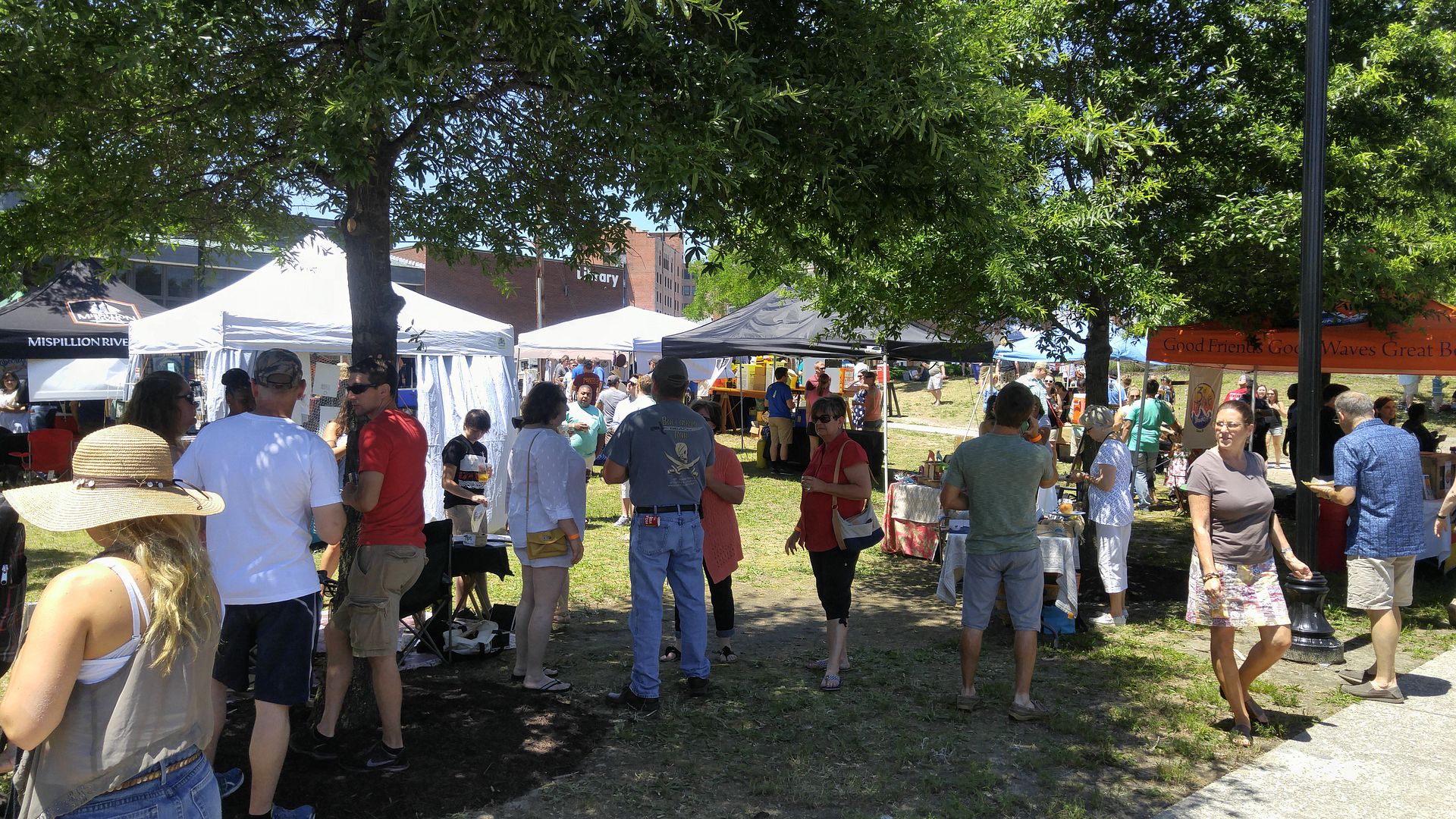 One thing that I got to take advantage of was making my first visit to Headquarters Live, which was a nice place to sit down. There wasn't a tent with picnic tables set up on the main festival site.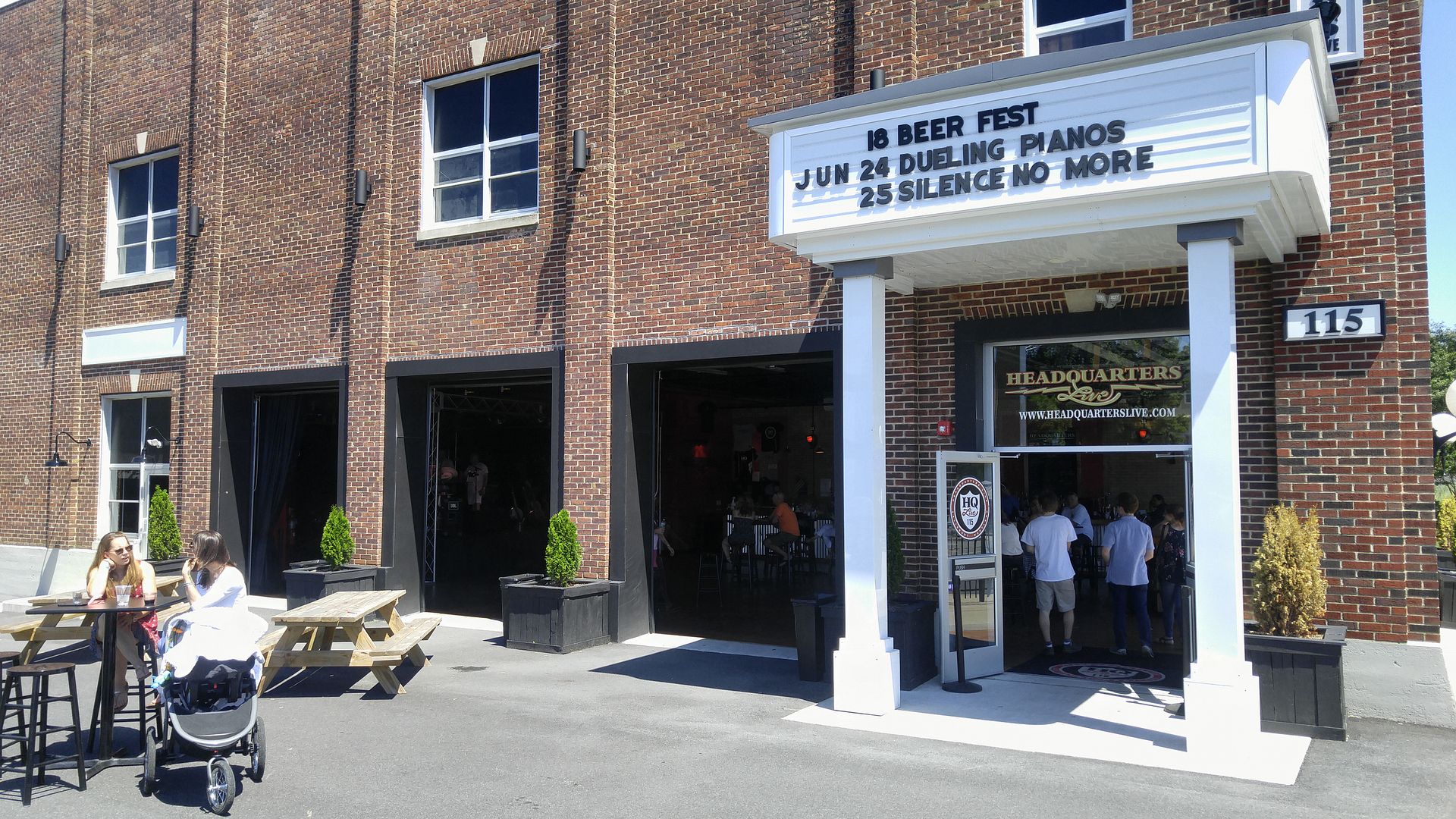 Now if you had the entry in the pool that said the first band I would see there would be called Billy Earl and the Pink Flamingos, you would be right – but I would have called you nuts.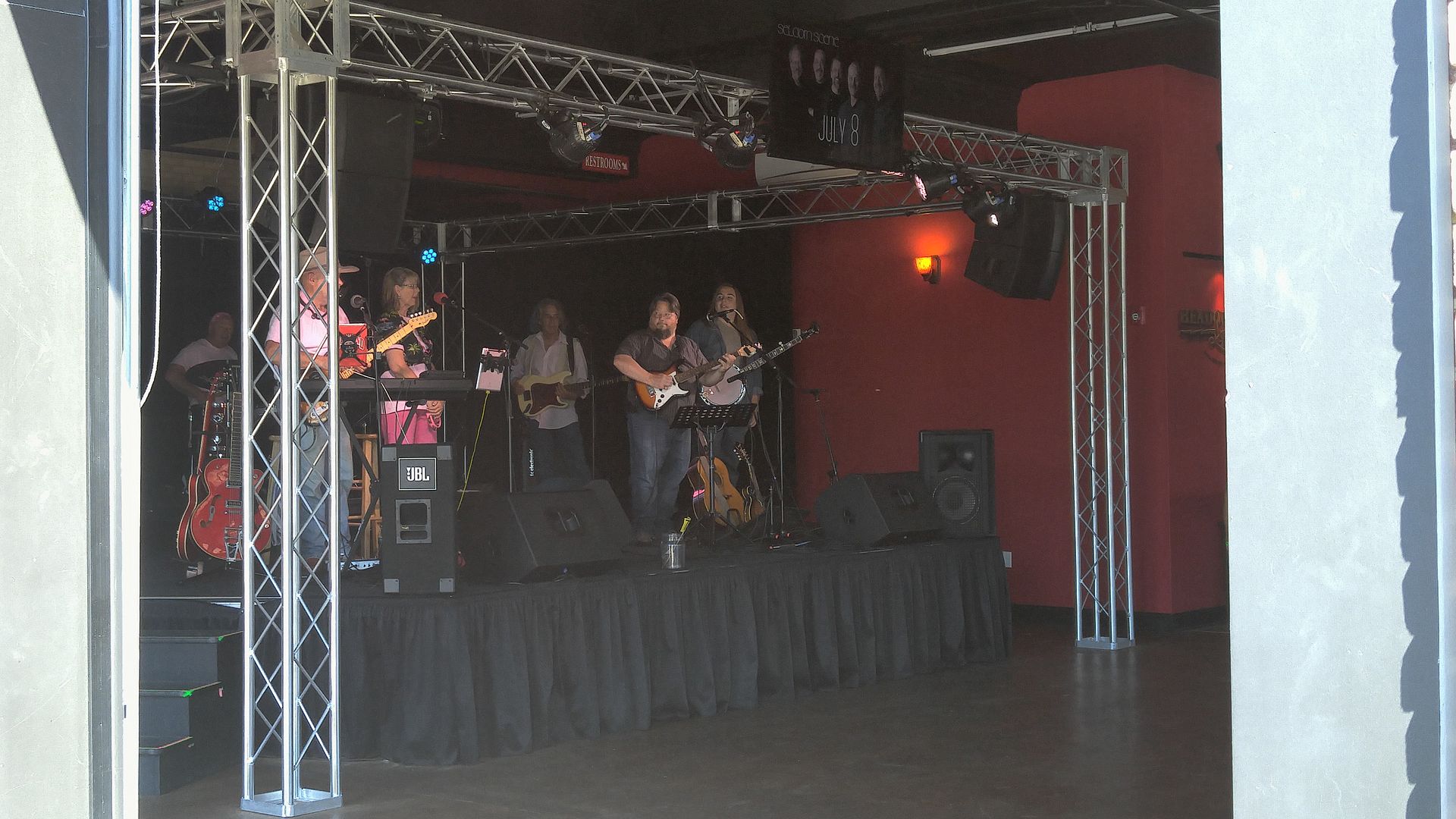 I'll have much more on them as well as Eastern Electric on the mobile stage when I do a "Weekend of local rock" post later this week, but suffice to say Headquarters Live is a smaller venue than I imagined. Yet the festival was shrewd in tying the outdoor stage and indoor venue together, with a separate wristband for each. This gives them a logical area for expansion beyond the small parcel that was used across Division Street and along the river.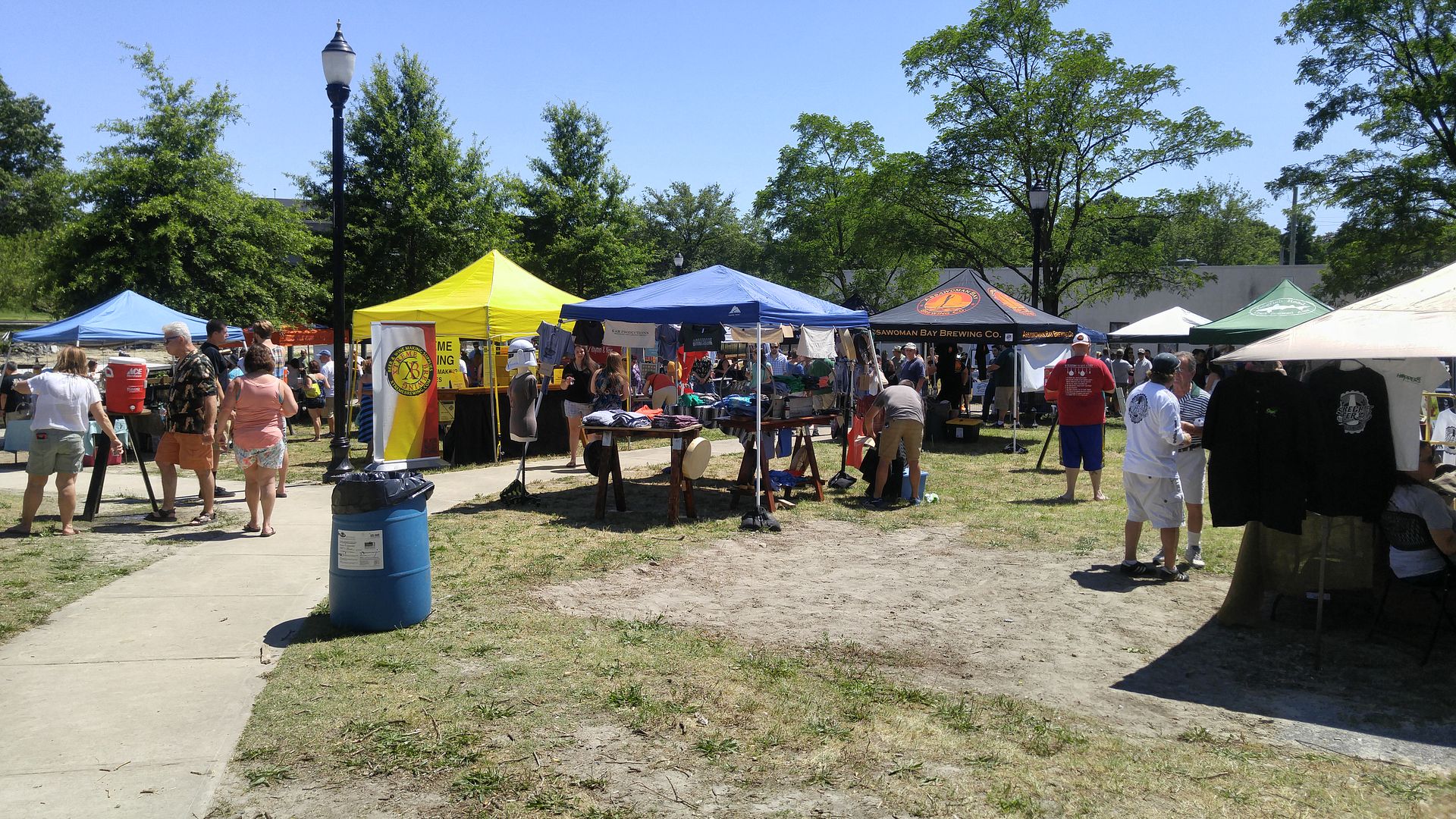 As it was, there was a comfortable amount of people in the park where you didn't feel like you were tripping over anyone yet there was enough to give the event some energy. Unlike the Good Beer Festival, which is held in a secluded location outside of town, people could readily walk in from outside but they could not sample the beer. Another asset was the fact that it was all local breweries – none of those mainstream brewers that are still considered crafters like Sam Adams or Blue Moon which come to the Good Beer Festival from afar. This will limit the event's size to some extent as the area can only support so many breweries and expanding to markets farther and farther away will run them into stiff competition from their local crafters. There were twelve area breweries represented at the SSCBF, pouring around 30 beers as well as a couple of tea concoctions.
I think the event was rather successful considering it was held at a time when few other events off the beach seem to succeed. Most of our larger local festivals actually occur during what's considered "shoulder season" before Memorial Day or after Labor Day. (April and October are the favored months.) In this case, the SSCBF was up against the OC Air Show and the end of the Firefly Music Festival as well as at a time when Salisbury University isn't in regular session, so there were a lot of distractions. It may succeed a little more a week earlier or a week later, but this isn't a bad summer event.
So we will see what happens next year and find out how much more of the Riverwalk they take advantage of.
I saw this on RedState and thought it was worth sharing. Just because I didn't create my kids, as long as they think I'm no less a dad for that fact then I am doing my job – even if I do screw up, a lot.
And I know Senator Ben Sasse is a conservative Republican elected official from a flyover state of Nebraska who's probably reading this off a teleprompter in a staged setting. You can kill the messenger, but the message should still ring true.
Dads are really not disposable, regardless of what modern culture and big government policy may lead you to believe.
I'm about two weeks late on this, but it's better late than never when it comes to the Concert for a Random Soldier held back on Memorial Day weekend.
There were over a dozen bands on the bill, but we arrived about halfway through the event so we missed some of the acts that I remember as more of the oldies groups. (One thing about CRS: many of the same bands participate year after year.) So we walked in on Scrapple – it's not just for breakfast anymore, but they were a first-time participant who enjoyed the affair.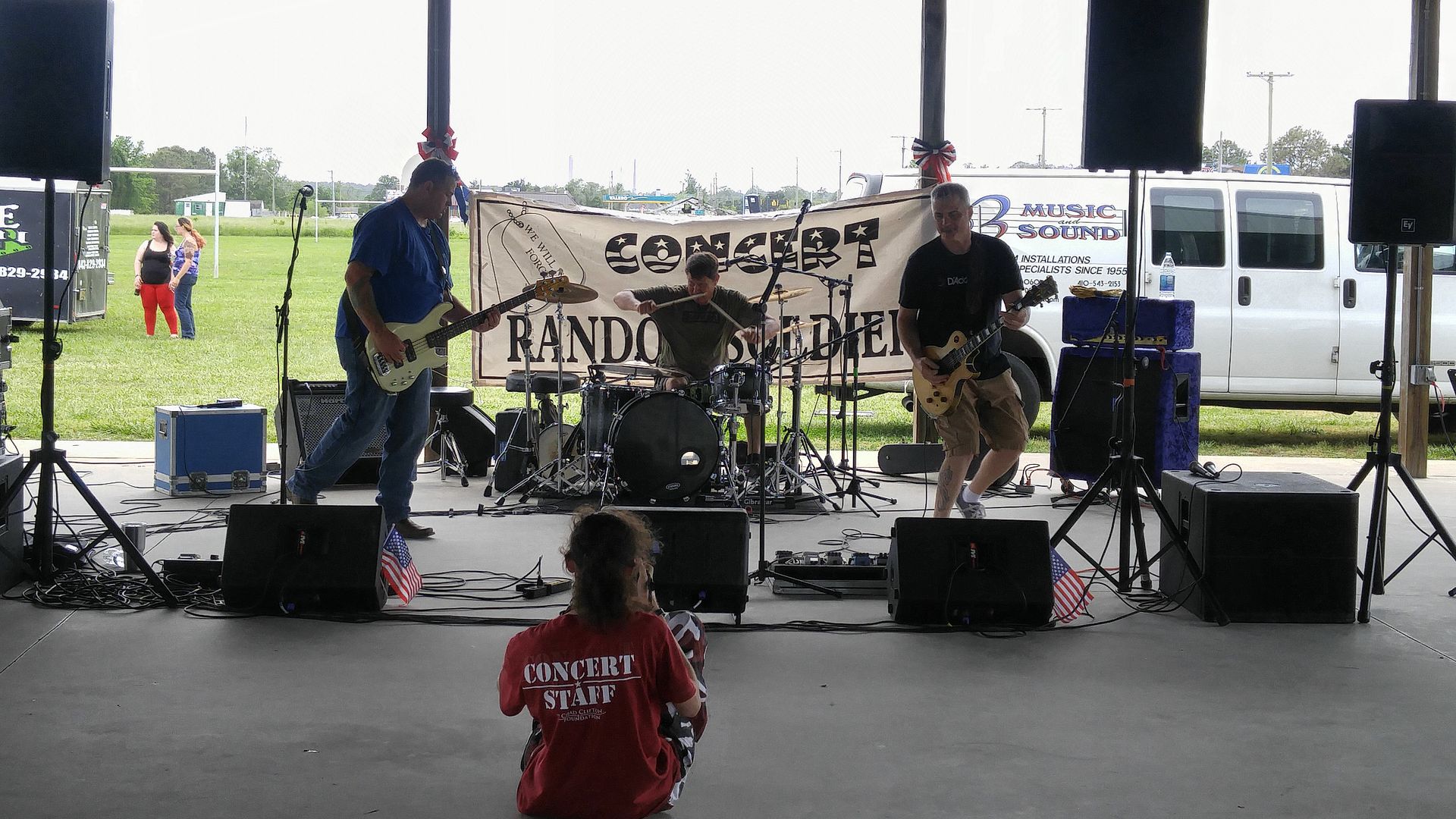 They were probably one of the first to play the heavier stuff, doing some Godsmack and a great mashup of Rush's Working Man and War Pigs by Black Sabbath. I would have liked the solo at the end of Working Man to make it a circular medley, but no matter.
As the stage was reset between bands, there were acoustic acts set up off to the side. Captain Mike was one of those who did a couple stints.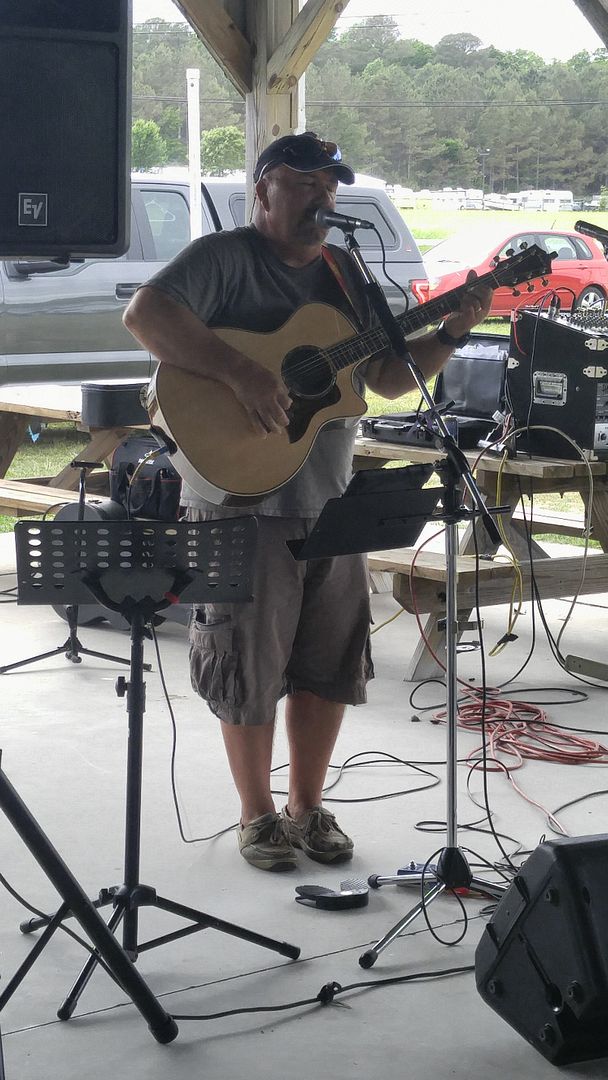 In this case, he yielded to the Joey Fulkerson Trio, which is the three-piece variant of Nothin' But Trouble.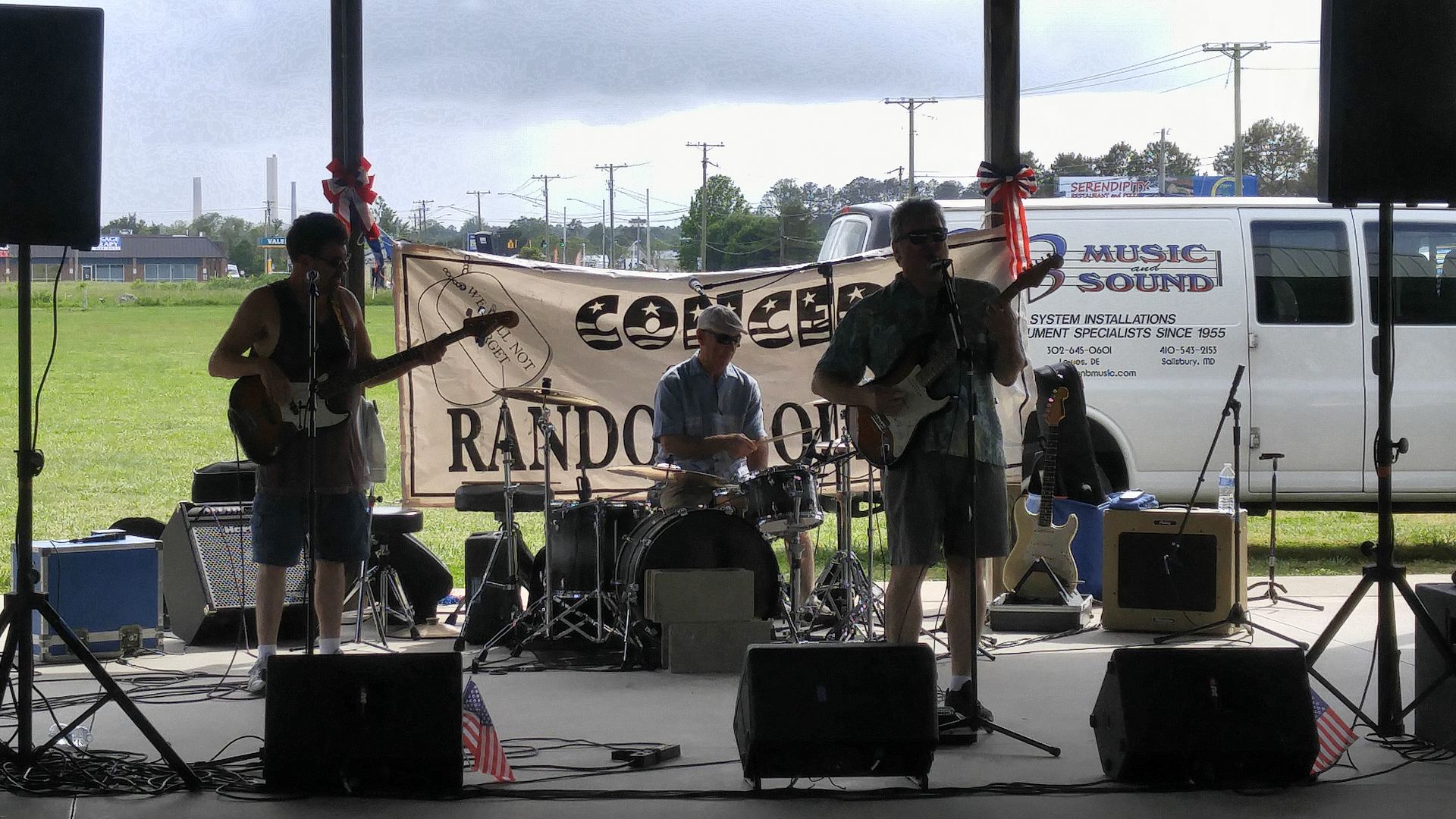 They reached back into a blues-based set that featured some B.B. King and wrapped up with the Jimi Hendrix classics Hey Joe and Voodoo Child. That was an enjoyable set as the fellas were jamming.
After the return of Captain Mike, the stage was set up for Welcoming War.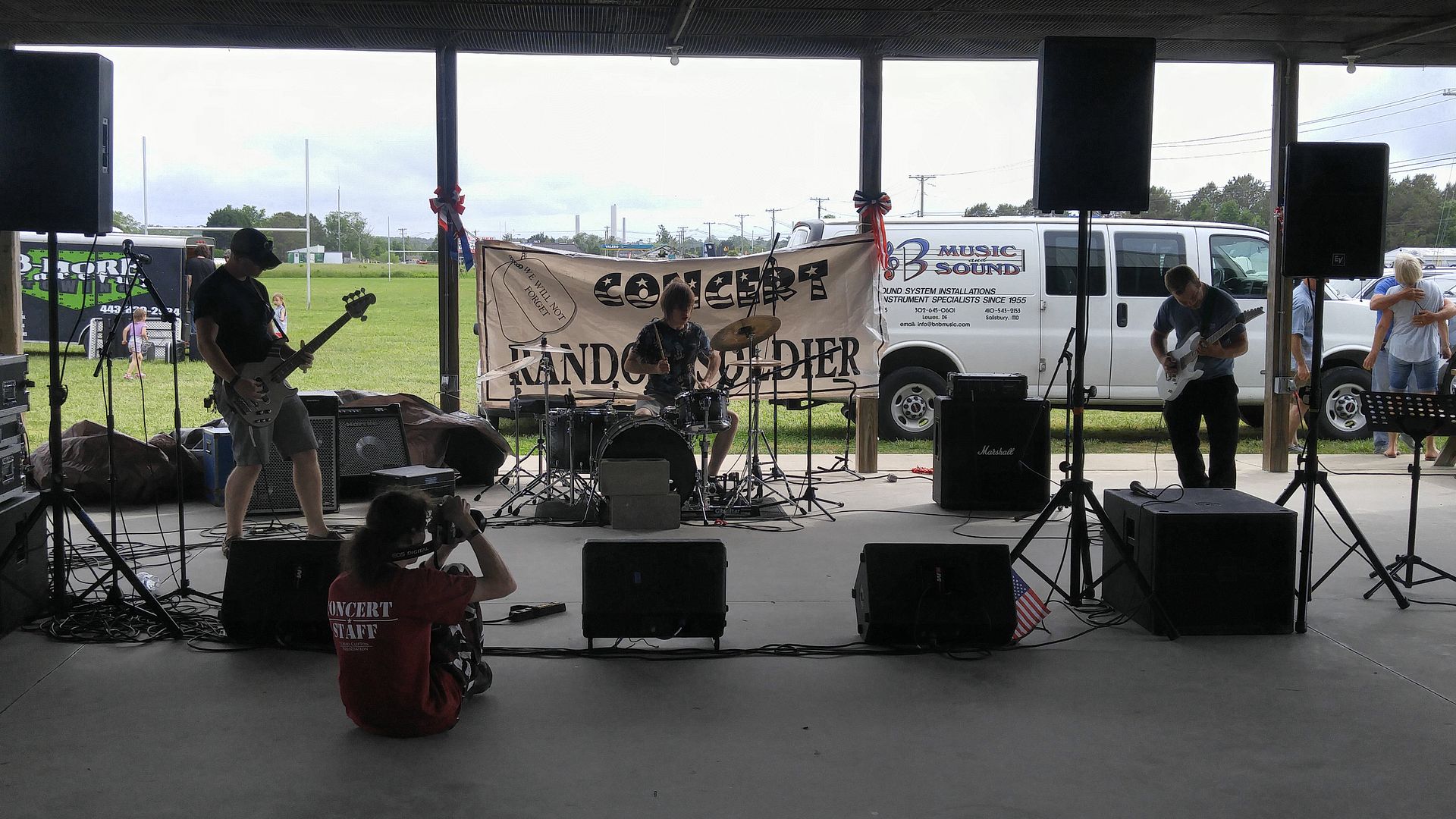 They were definitely a power trio, with the additional distinction of not having a lead singer. So all of the songs were instrumental.
In that respect it was much like listening to jazz – which is also often instrumental – but with rock instruments. It was a unique sort of a heavy metal/jazz fusion that I think I can get into because I don't much care for jazz but heavy metal sometimes needs a different take.
The mood shifted for the final acoustic act of the day-turned-evening, Mike and Savannah Shockley.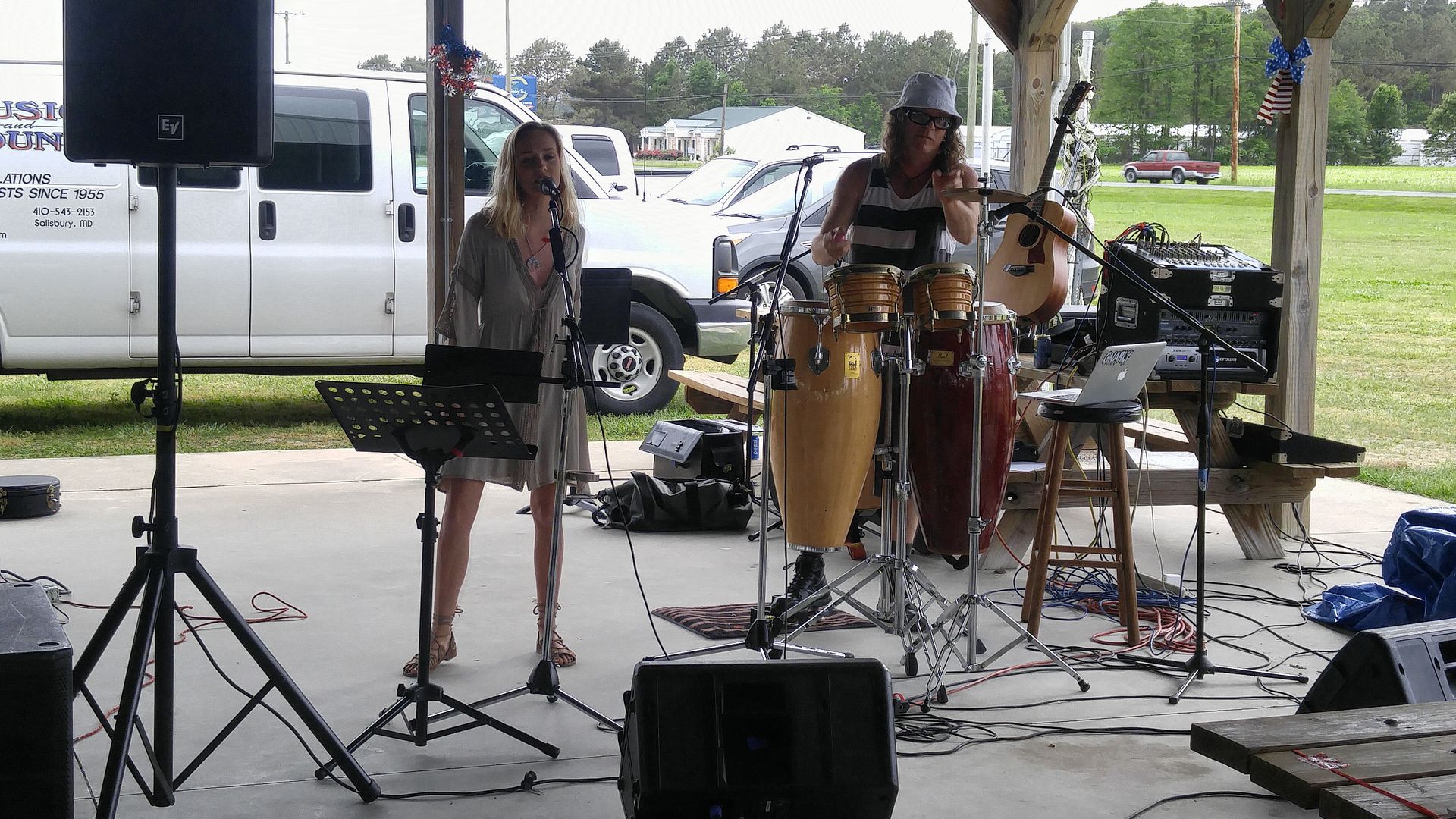 Savannah did a credible job on a Stevie Nicks classic, but she really did well with the couple originals they did. It's interesting that some of their music is programmed while the remainder is live, as you can see. Obviously this can be done in a professional manner as I've reviewed a lot of albums put together by one person, a handful of instruments, and a computer, so we will see how they develop.
From what I understand this was their second gig, so Savannah will learn over time and performance just what songs work for her and which ones she should avoid.
There was no avoiding the heavy from the last act of the day, Modern Day Addiction.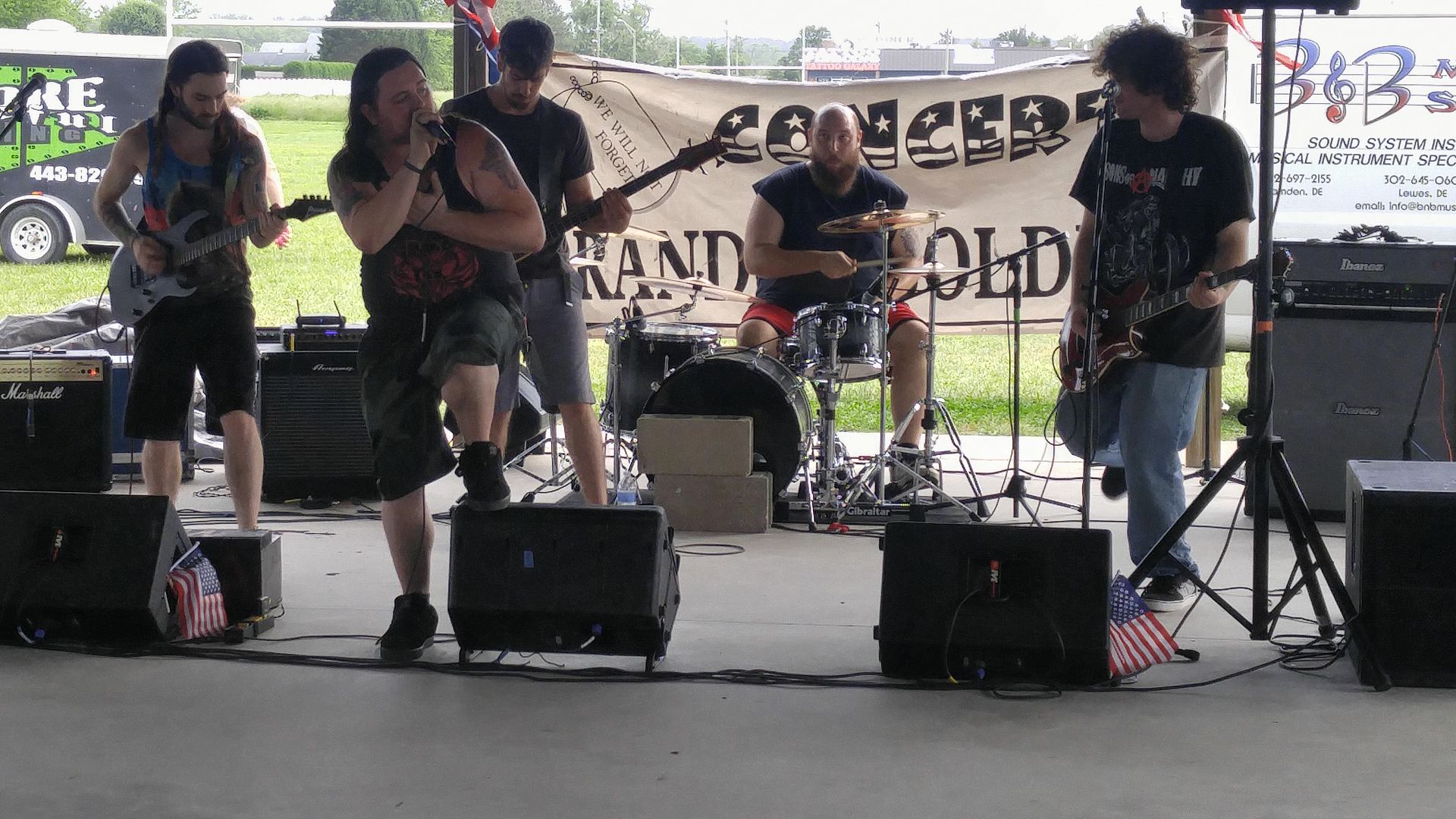 Blasting their way through a bevy of covers like TNT, Fuel, Dio's Holy Diver, and a great version of Tainted Love, a song made famous a quarter-century ago by Soft Cell, they also threw in some great original stuff. The mosh pit was in full effect while they were playing, even if it was only a couple people.
There have been a couple years where the company was ready to go by the time MDA played, so I was glad to stick around this time.
Of all the acts and all the love they had for the cause, though, there was one thing sadly missing. My friends Jim and Michele Hogsett used to play this event annually, whether as part of Semiblind or as solo performers (and sometimes both.) Regular readers of mine know Michele lost her battle with cancer late last year (WLR volume 67 covered her memorial concert) and it's hit Jim hard, so keep him in your thoughts and prayers. I definitely missed him at CRS, and I'm sure the Cliftons did too.
But they promise "a few exciting changes" for next year, so I hope to see you out there. Great music for a great cause is always good.
As a programming note: you won't have to wait as long for WLR volume 69. It will truly be a weekend full this time.
In the interest of not letting good writing go to waste, allow me to direct you to the Patriot Post today. I truly enjoyed writing on my assigned topic this week, but wanted to share a couple other thoughts with you. It's a good time for some reminders.
Over the years I have done this website, I have made the energy industry somewhat of a focus. It began with a friendship with Jane Van Ryan, who used to work for API before she left there a few years back. She encouraged me to do a little bit of research on the topic and quickly I was reminded that oil was the economic lifeblood of our country and the better and cheaper energy would be, the better off our economy would be. Being the logical sort of person I am, it was easy to figure out that coal, oil, and natural gas were definitely more reliable than wind that may not blow or sun that only shines between 9 and 15 hours a day – assuming, of course, a cloudless sky. So I believed in the idea that our future could be more secure if we use our natural resources we were blessed with.
On the other hand, there are those who want to tilt the playing field toward what they consider "renewable" resources. Green energy has been the beneficiary of not just direct subsidies, but carveouts in the market designed to make sure there is a place for these (otherwise useless) solar panel fields and wind turbines to send their energy. The market has been bent every which way for decades, although I'm sure many would argue that the oil industry got the initial benefits when we built thousands of miles of highways. For the most part, though, the pathways were already there – we just improved them to allow goods and people access from coast to coast in a matter of three to four days. It was as easy as stopping at the gas station every few hundred miles.
My columnist Marita Noon gets it too, which is why I run her column weekly. She was talking about wind turbines this week, which led one of my more liberal readers to note that there are a lot of places which welcome wind turbines. He mentioned Germany, but the love for wind turbines there is far from universal and the subsidies still won't make offshore wind palatable.
I just look at things through a logical lens. A century ago, windmills powered individual farms but they were scrapped once rural electrification took hold in the 1930s - that was a more reliable source. So why are we going back to that less reliable technology when we have the reliability of coal, oil, and natural gas? Seems to me that "free" electricity in the form of solar or wind power costs a lot more than we think.