If you go to the gas pump, you've probably noticed the little sign that says the blend is "10% ethanol." For several years, the EPA has mandated a certain amount of ethanol be used to slake America's thirst for gasoline, with a 10% blend of ethanol being just enough to cover the mandate. Unfortunately, with less gasoline being necessary to meet demand thanks to both a stagnant economy and more fuel-efficient cars, the mandated amount of ethanol isn't being used anymore. I noted the other day that the oil companies were calling on the EPA to scrap the proposed mandate increase this year.
When I wrote that I wasn't aware that a movement is out there to not just stop at E-15 but go all the way to E-30. Oddly enough, I saw a piece from Rick Weiland, who I referred to in my dark money post, which brought it to my attention. (Damn, that dude has made it on here twice in one week. After he loses that race, he'll probably move to Maryland and run with his newfound name recognition here.) So I did a quick bit of research and found there is a movement out there which believes E-30 is actually the optimum amount of ethanol to take best advantage of its attributes. Weiland is obviously driving a vehicle tuned to that specification and there are actual service stations which have the blend in his region – in both cases, the average motorist isn't usually going to have that condition. A check of this site revealed no such stations around Delmarva, so it wouldn't do us much good.
Needless to say, what the market won't do government will force. So Senate Democrats are pushing the EPA to increase the mandate, meaning that they'll artificially create a market for higher ethanol blends. (Flex-fuel cars are supposed to be able to handle E-15, but they've never been a popular option because they're not as fuel-efficient running an E-15 blend. It's telling that you see a lot of government cars with that option, but not a lot of private cars.)
But let's say the mandated number of gallons increases. The scarcity will be in the E-10 or straight gasoline which smaller motors need to run properly; in addition, the cost of anything which consumes or has corn as an ingredient will rise. It's why so many different groups advocated for a smaller ethanol mandate.
If we really wanted to do something to use less gasoline, it makes more sense to me to impose part of the Pickens Plan. Now I don't think wind power is the way to go because it's not as reliable as fossil fuels, but I think running fleets on natural gas is a fairly good idea for the reasons they state. To me, using food as fuel for automobiles doesn't make a whole lot of sense – and yes, I know Brazil uses sugar cane for their ethanol. Brazil can use all the sugar cane it wants.
But I look closer to home, and our chicken farmers want their feed to be as inexpensive as possible. Corn growers already have plenty of mouths to feed, so they really don't need to fill our gas tanks, too.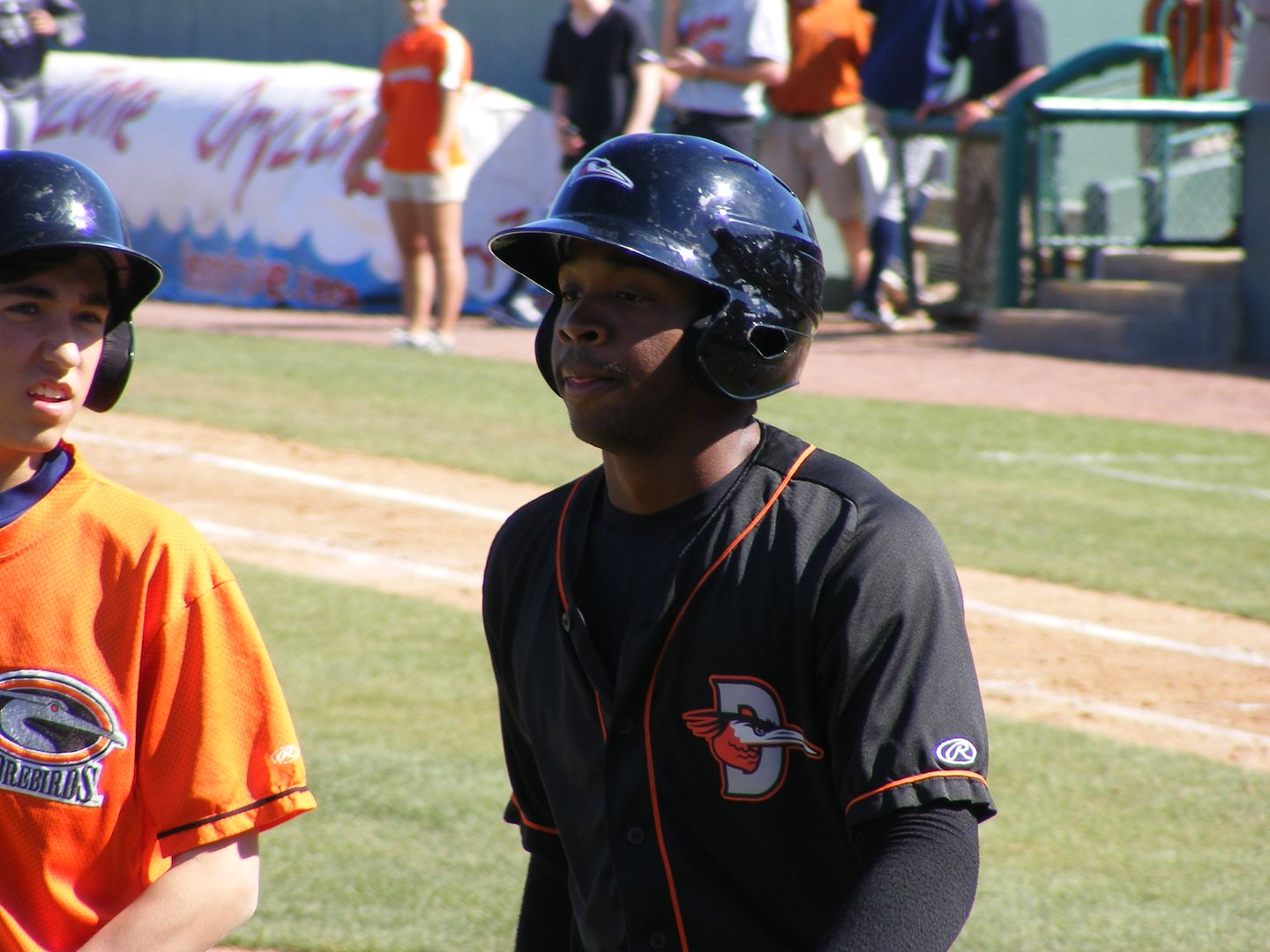 Before spring training began, Josh Hart was best known as the Orioles' sandwich first round pick (37th overall) last season. Now that he knows who Frank Robinson is we can pay attention to how the prospect is doing on the field, and after a hiatus due to injury Hart is back patrolling center field for the Shorebirds.
At just 19 years old and barely a year removed from Parkview High School in Lilburn, Georgia, the bat hasn't quite caught up to the potential – although he has made strides in his pro career. After hitting just .218/0/9/.588 OPS between the Gulf Coast League and Aberdeen last year (just 1-for-10 with Aberdeen in 3 games) Hart has picked up the pace with Delmarva. The power isn't there yet, as Hart has just 3 extra base hits on the season, but the average for Delmarva is a respectable .250 mark in 56 games.
Josh missed most of June with an injury, easing back into playing with the Gulf Coast League Orioles and hitting .167 there (4-for-24, with a triple.) But since returning to the Shorebird fold on July 5, Hart has found some success – in particular a nice 7-for-20 in the series against Hagerstown which wrapped up this week.
And while Hart was a first round pick, there are some things he will need to work on as he progresses. Building up that extra-base hit total is one obvious task, but getting a better understanding of the strike zone is also paramount as Josh has just 9 walks vs. 56 strikeouts this year (in only 247 plate appearances.) I suspect the plan may be for Hart to repeat at this level next season, which would not be a real setback considering most of the players he's up against are several years older.
Over the years, hundreds of players with tools have come from high school with all the promise in the world and garnered a high draft position, only to fail. If Josh is as willing to work and learn on the field as he did off the field – and has the talent the scouts thought he might – he may take the steps needed to join Frank Robinson in the fraternity of Oriole players.
We were warned about this all along, but everyone seems shocked that gun maker Beretta has followed through and decided to relocate its production to a new plant in Tennessee next year. The loss of 160 manufacturing jobs from its Accokeek plant will be the gain, once production ramps up, of Gallatin, a town which is a few miles outside Nashville and is about the same size as Salisbury. Here's what Maryland is losing, from Beretta's release:
Beretta U.S.A. anticipates that the Gallatin, Tennessee facility will involve $45 million of investment in building and equipment and the employment of around 300 employees during the next five years.
It's worth noting that Beretta is not the only gun manufacturer potentially leaving Maryland. LWRC of Cambridge said last year "we simply couldn't do business here" if the gun law passed, with 300 jobs at stake. Rumors of a purchase of LWRC by Colt were rampant earlier this year,  yet while no formal announcement has been made the Bob Owens piece I'm citing is useful as a reminder of what such a company means to a rural area.
Needless to say, Larry Hogan had the expected reaction on Beretta's plight. Yet the question isn't one of "high taxes and punitive regulations" so much as it's a question of repealing a knee-jerk law passed in the aftermath of the Sandy Hook shooting – not that any law was going to stop Adam Lanza anyway, nor does this law stop a single homicide in Maryland. It was all feelgood legislation from the start; unfortunately, the powers that be chose not to back the referendum route which would have placed the law on the ballot at the same time as many who voted for it.
To change Maryland's fate in this respect, not only does the state have to improve on its business friendliness but it also has to find the political will to overturn its onerous gun laws like 2013′s Senate Bill 281. Elections mean things, and not only do we need a governor willing to backtrack on this mistake but also enough of a General Assembly coalition to get a bill through the legislature. That part may be the most difficult, because getting to just 50 Republicans in the House and 19 in the Senate would be a minor miracle – yet Republicans need 71 and 24, respectively, to actually control the chambers. It's mathematically doable but the odds of hitting the Powerball are probably much better.
So say goodbye to Beretta's production, and know that it won't be missed at all by the Democrats in Annapolis.
Of all the states in the union, South Dakota is not one where I have a ton of readership – maybe one or two a month wander by here from the Mount Rushmore State. But I have somehow found my way to the mailing list of their Democratic U.S. Senate candidate Rick Weiland, and if his e-mails are any indication, the dreaded Koch brothers aren't just the obsession of Harry Reid. Get a load of this:
"Americans for Prosperity," a dark money front group for the Koch Brothers, have quietly set up shop in South Dakota in an effort to exert big money control of South Dakota's United States Senate seat.

The Washington Post reported over the weekend, "Americans for Prosperity, the on-the-ground wing of the network of conservative organizations spearheaded by the billionaire industrialists Charles and David Koch, will open new state chapters in South Dakota and Alaska in coming weeks, the group's president said."

"Big Money is becoming increasingly concerned that our town-to-town grassroots campaign to take our country back from groups like the Koch Brothers and other billionaires and big corporations is working. And, as a result, South Dakotans will be "subjected to a never-ending stream of negative television advertisements," said Sioux Falls small businessman and US Senate candidate Rick Weiland.

Weiland challenged Republican nominee to work with him to keep so-called "Dark Money" groups out of South Dakota. "Mike, this is an opportunity for both of us to show we can be leaders. Let's sign a pledge and agree to keep billionaires from buying these elections," Weiland said. (Link added.)
I'm less than impressed, particularly since the South Dakota version of AFP really doesn't have a full site and their Facebook page has 11 likes. Then again, they have a state chapter and Maryland doesn't anymore. That's a very, very quiet setting up of shop, though.
But it sounds to me like AFP is trying to do something the Republican Party doesn't seem to be doing otherwise – trying to mobilize action on a local level. Something Weiland didn't quote from the Post story:
Building AFP's presence in new states, (AFP president Tim) Phillips said, is one of the lessons the group took away from the 2012 elections, when Democratic efforts to organize voters proved far better than the GOP's turnout operations.
Sounds like the old "50 state strategy" to me, although for now AFP hasn't returned to Maryland. Guess we have to do it ourselves.
My point is that Democrats seem to be desperate to attack anyone who has money and wishes to donate to conservative causes because they sure can't run on their record. The seat Weiland is aiming for is one held by a retiring Democrat, Sen. Tim Johnson. Polling is still rather scarce, but Weiland – who's threatening to move into the "perennial candidate" category with another loss – trails in the state's polls by about 15 points, with former Gov. Mike Rounds, the Republican, leading, and a third candidate, former Sen. Larry Pressler, in the race as a centrist independent and behind Weiland by about 10 points. No wonder Weiland is blaming AFP, since he's lost any prospect of running to the center. Moreover, there's no question Democrats are fighting elsewhere to save seats.
But this tale also provides a good transition to something I've been meaning to do for awhile. How much "dark money" is in our local politics? And by that I mean how much do our candidates here on the Lower Shore get from elsewhere? Now that we have just two entrants in most races, it should be easier to see where the money came from pre-primary and can serve as a lead-in to the next report due August 26. Look for these updates in coming weeks.
If we would only be so lucky to get some conservative counterweight around these parts to all the special interests which seem to be funneling money toward the Democrats. But we will have to make do with what we have, which is the right position on most issues. Many of our folks have been out knocking on doors and engaging in the retail politics which will have to beat the 30-second commercials and expensive full-color mailers the other side will surely try to fool us with. Let's keep those tricks from working this time.
Update: As if on cue, Michelle Malkin has this piece on a major-league lefty contributor. But you won't hear anything from the rest of the media on the eeeeevil Democracy Alliance, nor will John Boehner begin screeching about them.
It's been awhile since I wrote about the energy industry but things are always happening there and I decided to take a peek because of some items I've spied in daily updates I receive from the American Petroleum Institute. I like to know what's going on in important growth industries which profoundly affect our daily lives.
As one might expect, API CEO Jack Gerard is a leading spokesperson against what he calls Barack Obama's "irrational" energy policy. It makes sense when you consider that the United States is now the world's leading producer of both natural gas and oil, thanks in large part to recent advancements in fracking technology which have revitalized the once-moribund American energy industry. Speaking before an audience in New Orleans, Gerard noted:
The choice before us is whether we pursue an American future of energy abundance, self-sufficiency and global leadership or take a step back to the era of American energy scarcity, dependence and economic uncertainty.

It is that simple.
There's a clear benefit to having the abundant resources we do. I was only nine years old when the first oil crisis hit in 1973, but I remember the long gas lines and jump in prices. If you consider the long-term effects in policy and marketing, such as the adoption of fuel economy standards and the push toward smaller cars, ask yourself what may have happened if we hadn't become so dependent on Middle Eastern oil. Would we have had the resulting mid-1970s recession?
Obviously we have recessionary conditions now in spite of the current oil boom, but there's a valid argument that opening up the spigots (so to speak) and allowing more extraction would push the economy into more consistent growth.
Another example of an irrational energy policy is our continued ethanol mandate, about which API is asking for another cutout of a mandated increase. The EPA decided not to change the allotment for this year, but needs to finalize the rule.
To me, there are two telling facts about this story: one is that API has given up on legislative relief from Congress and appealed directly to the EPA, which speaks volumes about the transition of our supposedly limited government into a fiefdom unto itself.
The second is the sheer volume of interests on the side of eliminating the mandates entirely – everyone from motorcyclists who complain about ethanol's deleterious effects on their engines (as is the case for other small engines from boating to lawn equipment) to the poultry producers who have seen corn prices artificially propped up due to the amount of corn necessary for creating ethanol and even environmental groups who fret that the corn-based product is actually worse for the environment. Obviously the corn growers love the price support, though, and farmers have their own determined lobbyists who would love to see an even higher ethanol blend called E-15 allowed.
API and other ethanol opponents are hinging their future hopes on a more business-friendly Congress in the next term, though.
Irrational energy policy on the state level may occur after this fall in Colorado, a state which has taken advantage of the energy boom but may fall prey to the scare tactics environmentalists use to portray fracking in a negative light. There Governor John Hickenlooper, a Democrat, sees his state's energy success being threatened by a petition drive to place further restrictions on fracking on their November ballot. Hickenlooper is quoted in Bloomberg as pointing out, "(t)hese measures risk thousands and thousands of jobs and billions in investment and hundreds of millions of dollars in state tax revenue."
I found this interesting because the proposed restrictions would prohibit drilling within 2,000 feet of structures, a change which energy companies complain would "effectively ban" fracking in the state. Their current restriction is 500 feet.
Now something which came out the other day to little fanfare was a draft report outlining some of Maryland's proposed fracking regulations. The original recommendation, based on other states' best practices by the University of Maryland Center for Environmental Science, Appalachian Laboratory, was for a 500-foot setback from wells. That guidance was expanded by the Department of Natural Resources and Maryland Department of the Environment to – you guessed it – 2,000 feet. (Page 18-20 here shows the recommended DNR/MDE changes.) In short, these regulations are intended to "effectively ban" fracking in Maryland to the detriment of not just our far western counties, but any of the regions of the state (including the Eastern Shore) that have shale deposits underneath. Talk about an "irrational" energy policy!
So here's the deal: Maryland wants to depend more and more on methods of generating electricity which lack reliability and increase cost to consumers. Yes, that's sounds like "smart, green, and growing" to me – not too bright, costing more green, and growing the desire of businesses to leave the state to find a place where energy exploration and extraction is encouraged and rates therefore are cheaper.
I know the Hogan administration would want a "balanced approach" to energy in the state, but I would have to hope part of that balance is returning to the best practices suggested by UMCES and not the onerous restrictions which would effectively ban fracking in the state.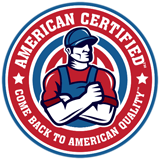 It was a varied palette of items written about on my American Certified blog, The Sausage Grinder. Maybe it was a little more like scrapple. Regardless, I made several contributions to the discourse.
For most of the spring and summer, I've been following a sort of obscure Commerce Department case regarding allegations of Korean dumping of a processed steel piping product called Oil Country Tubular Goods – it's strange that Korea is an OCTG producer when it has little oil. They made a decision favoring American steelworkers, which got positive reaction from a variety of interests.
One of those I quoted in the Commerce piece was the leader of the steelworkers' union. His fellows at the United Auto Workers got an unexpected surprise from Volkswagen, which let the UAW in the back door despite workers at the Chattanooga plant voting against the UAW in February.
The concept of economic patriotism was brought out last week in a letter from Treasury Secretary Jack Lew, who pressed Congress to do something about the practice of tax inversion, where companies transfer assets overseas to take advantage of lower tax rates. While I didn't bring up the argument in my piece, locally it's just like the practice of stores selling big-ticket items locating just across the Delaware line so they can advertise their "no sales tax" prices and hope to increase volume accordingly.
Finally, I restated the obvious: Obamacare rates will go up in 2015. In a government takeover of the health insurance industry, did you really expect otherwise?
As always, I'm working on new stuff for next week, with other stories to follow.
They have always said that you can't judge a book by its cover, but in this case a lot of clues about the debut EP from Stockholm's The Lost Poets can be found: the release is a stark yet mysterious five-song effort which may not seem attractive at first glance – or first listen – but is intriguing enough to have staying power in the mind's eye. In short, it's worth the listen and I'll tell you why.
First, though, you have to eliminate your preconceived notions of how a rock band which lists influences as "Queens of the Stone Age, David Bowie, The Raconteurs, Soundgarden and Nick Cave" should sound because The Lost Poets are a two-piece band. Vocalist David Rosengren also handles the guitar while bandmate Petter Ossian Stromberg handles both bass and drums.
So it shouldn't be surprising that the leadoff track, Ode To K, has a simple yet powerful arrangement through most of its length. To me, it was a very straightforward song which began to reveal what The Lost Poets are all about, and it's not upbeat bubblegum pop.
Instead, what you get is a almost menacing, grungy, snarling tone like that exhibited on the second song, Lying Down. It's heavy, not in a bombastic sense with sledgehammer riffs, but more of a constant weight, although its ending near-silence, evoking a skipping record, struck me as odd.
The slow-developing Die To Live takes its acoustic opening about as far as one can take it without becoming trite and boring, transitioning quickly at that point into a plodding, churning heavy midsection chorus with distorted lyrics before fading away and restarting. I've always been partial to that soft to hard transition in various metal songs, and it's developed nicely on this track without veering into Metallica Nothing Else Matters territory where the heavy stuff is too little and too late.
Repetitive lyrics such as you'd find in a blues song are the hallmark of the title track, Insubordia. Yet it's not a traditional bluesy sound that the lyrics are paired with; instead, this intriguing rhythm goes in a different direction. It's quite the haunting song.
Finally, to keep the listener off-balance, the last track Inside The Cage is a brief, distorted acoustic track, with the accents coming through on the chord changes.
On many of these albums I review, I take issue with self-production because there's either overkill or missed opportunity with the sound. This effort has a nice production touch, as the two members seem to know just what they are looking for and execute it well, particular when one figures it was laid down as several tracks. Having the drummer and bassist as the same person may have helped in that regard, although it would be interesting to see what The Lost Poets do for a live show.
But if you're into a a slow, almost soul-crushing grunge sound, this might be the EP to check out. Given my partiality to metal and grunge I actually rather liked it, so I encourage you to listen for yourself.
Here at my site I have, on rare occasions, reviewed a non-fiction book which interests me from a political angle. For the first time, though, I'm today reviewing a fictional novel – but it's one which could, more or less, be ripped from current headlines.
In The Founder's Plot, at a time not-so-far removed from the present, Michael DiGrasso is elected as governor with the promise to get tough on illegal immigration. The one aspect of the story which is a little unbelievable is the part about being elected in California on that particular platform, although I suppose those few taxpaying citizens who remain in the Golden State could be motivated enough to do such a thing as conditions in the state continue to deteriorate from an onslaught of illegal immigrants. We have seen evidence of this outrage recently in the small town of Murrieta, California.
Regardless, DiGrasso is elected and immediately puts his plan into action. The secondary storyline of The Founder's Plot shrewdly looks at the situation through the eyes of Carlos and Marisol Costellano, illegal immigrants who had made a home in America despite their lack of legal status. Over several years, Carlos had worked his way through a variety of jobs to the point of being a skilled laborer, investing his earnings into the purchase of the duplex where his family lived. Also residing in the duplex are the Castellanos' good friends Julio and Carmella Perez, whose grown children also work their way into the story.
Yet it's not just characterization, as Victoria puts a lot of work into the book's details. While he glosses past the machinations of putting the tough immigration law into place, he doesn't skimp on the political dealings which occur after the law takes effect and it becomes clear that DiGrasso means business. Nor are we spared the backstory explaining DiGrasso's dogged determination and desire to make a stand against where he believes America has veered from the path intended by those who created our nation. In that regard, he gets assistance from some powerful friends.
On the flip side, Victoria adroitly creates a setting where we follow Carlos into an underworld of selling forged documents to fellow illegal immigrants as he desperately tries to make additional money for his growing family. While DiGrasso is only a man Carlos sees in the news, he senses DiGrasso is serious about enforcing the new immigration law and has to consider whether to pull up stakes and move to another state or even return to Mexico after years away.
The book's seminal event is perhaps its most realistic prospect: a legal challenge to DiGrasso's immigration law survives to the Supreme Court, which rules that it goes too far in its restrictions. The governor's open defiance of the Court's decision leads to protests and calls for his impeachment by California opposition leaders. Unsurprisingly, Victoria relates how some in DiGrasso's own party are too weak-willed or blinded by political opportunism to stand up for a state's right to enforce its own laws.
The accurate detail continues in the depiction of DiGrasso's dealings with a skeptical, questioning press around the country. The harsh questioning from penny-ante television "legal experts" is expertly dissected by DiGrasso, whose confident answers – ones which cite well the Founders' original intent – make you wish DiGrasso was a real governor putting these personalities in their place.
As the book continues on, both protagonists wrestle with a number of moral dilemmas. Castellanos finds he's a good salesman of the forged documents, but keeping that job secret from his wife and staying one step ahead of the law takes its toll – yet to stop the activity exposes him to the prospect of additional harm. Similar family issues also leave DiGrasso wavering on whether to continue his defiant stance or find compromise with those who claim the law is too difficult on immigrant families simply searching for a better life.
I read The Founder's Plot over several sittings, but it was crafted in such a way that getting deeper into it made it harder to put down. Running at 341 pages, Victoria puts together a gripping tale full of twists and turns which can't be anticipated, leaving the reader trying to guess how the story would come out. The ending turns out to involve the President and may come as a pleasant surprise given the caliber of politicians and entities involved.
While Victoria has a degree in journalism and experience in the writing field as a longtime newsletter writer and editor, it's a giant leap to writing fiction in a believable manner. Perhaps a pickier review would speak more to the lack of development of certain minor characters and subplots which could have been excised from the book, but overall I found The Founder's Plot to be an excellent political thriller – as I said, the farther I got into it, the harder time I had putting it down. Those who like their fiction taken from the events of today would be well-served to pick up and read Victoria's debut fictional effort.
A slightly different version of this is crossposted at Watchdog Wire.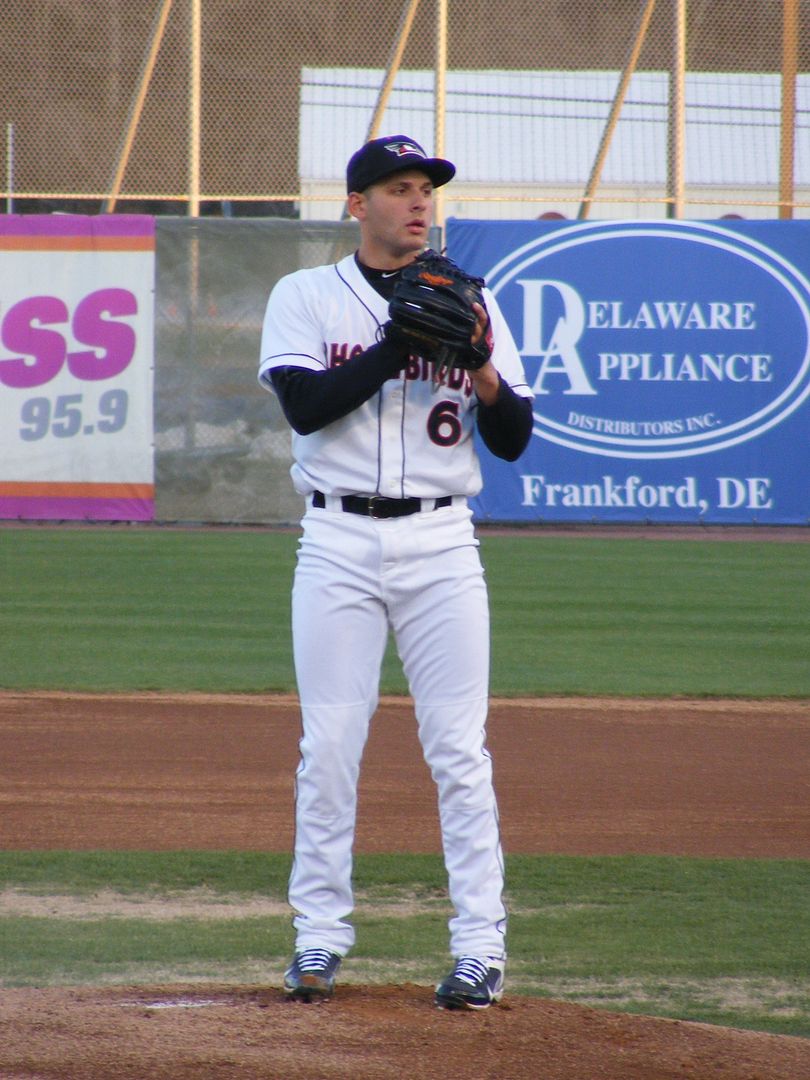 If the Orioles had their way originally, Austin Urban might have been here a season or two ago. In 2010 they drafted him out of high school in Johnstown, Pennsylvania as a 27th rounder – instead, he opted to go to Penn State before eventually transferring to Des Moines Area Community College in Iowa and then being drafted by the Cubs in 2011. While he signed with Chicago after the draft, he never threw a pitch for their organization because he missed an entire season with a back problem before drawing his release.
Long story short, it's been a series of nicely documented personal and professional detours, but perhaps Urban is now where he needs to be. So how is he doing?
Austin put together a decent campaign for Aberdeen last season, going 3-5 with a 3.32 ERA and 1.56 WHIP, mainly due to a high rate of walks – 29 in 57 innings. (However, 21 of them came in his first four professional outings, covering 21 1/3 innings.)
Still, if there's one weakness in Urban's game, it is that tendency to give up walks – so far this season he's allowed 30 in 52 1/3 innings, and with just 30 strikeouts to go with them it doesn't seem Urban has yet mastered a put-away pitch. But the overall numbers are improving after a tough start, as Urban is 3-4 with a 4.47 ERA. A 1.68 WHIP is still too high, but Urban has done a good job as the successor to the promoted Jimmy Yacabonis as closer, garnering four saves in the second half.
Austin seems to pitch better in a bullpen situation. He was the #6 starter in the six-man Delmarva rotation to start the season but was moved to the bullpen by mid-May when results weren't those desired by the Orioles. But with his whirlwind career, it's easy to forget he just turned 22 last week so his development isn't necessarily behind schedule and the Orioles obviously thought enough of Austin to give him another chance after he spurned their original draft offer.
Urban will be a story to follow in the coming months, to see if he can improve his game enough to keep being promoted up the system.
Once again, thousands came to Crisfield and heeded this advice.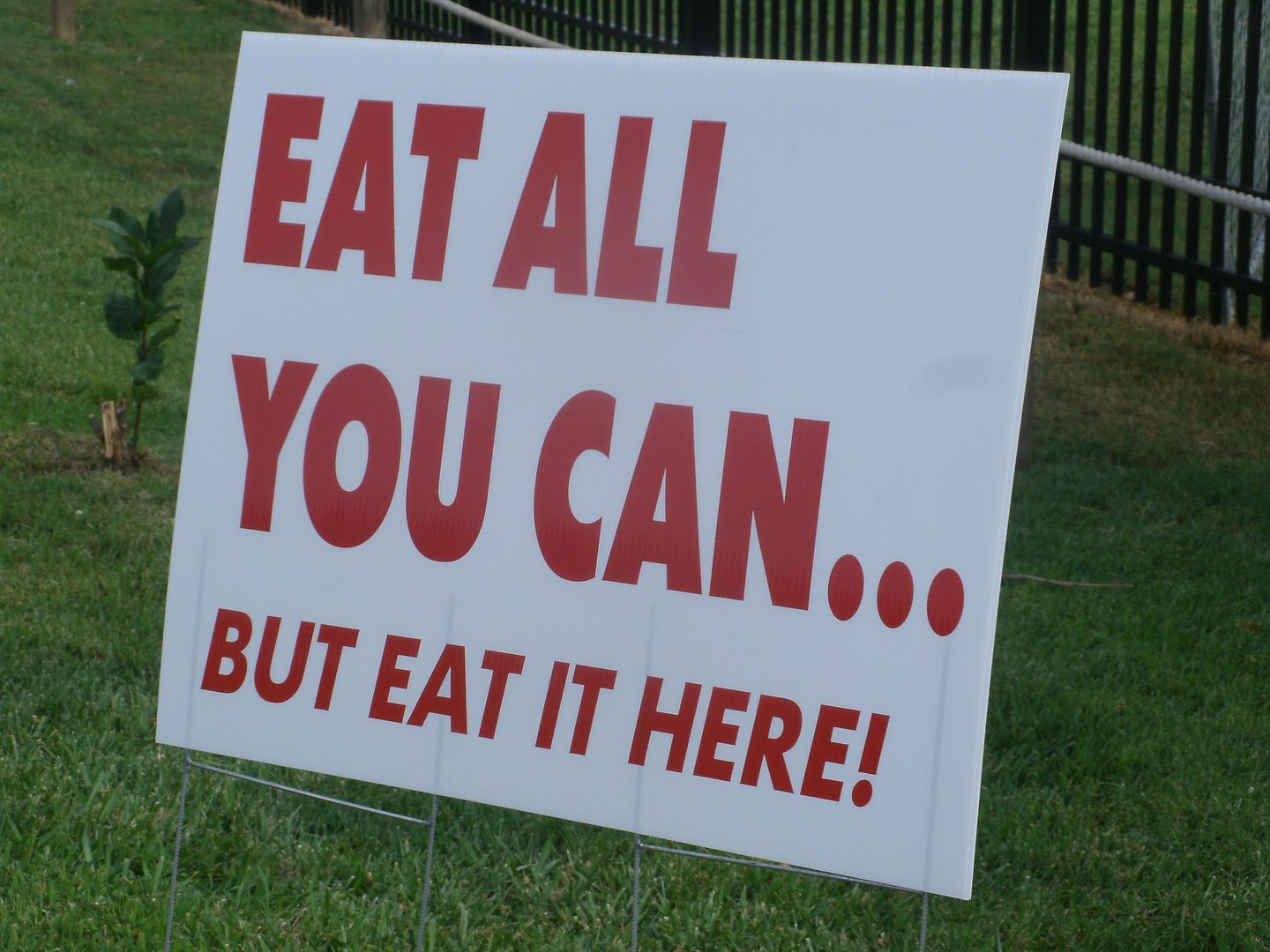 Somers Cove Marina was set up a little differently this year, but the real difference was that the attendees didn't soak through their clothes this year – instead, the day was cloudy but relatively comfortable, with only a small touch of humidity. Most years this setup – by a local engineering firm, naturally – would be oh so handy. But not so much this year.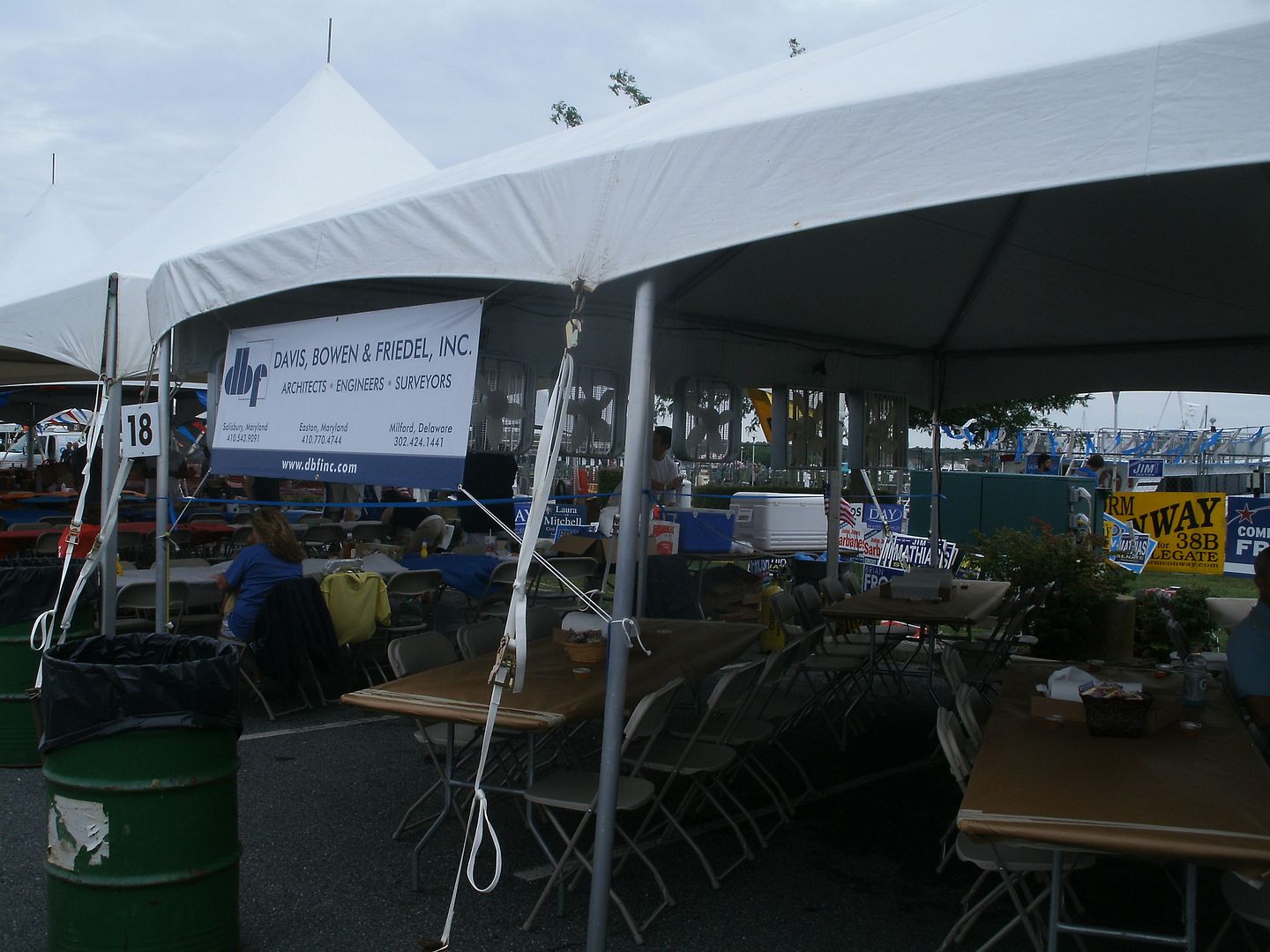 One key difference in the arrangement this year was the prominence of this tent.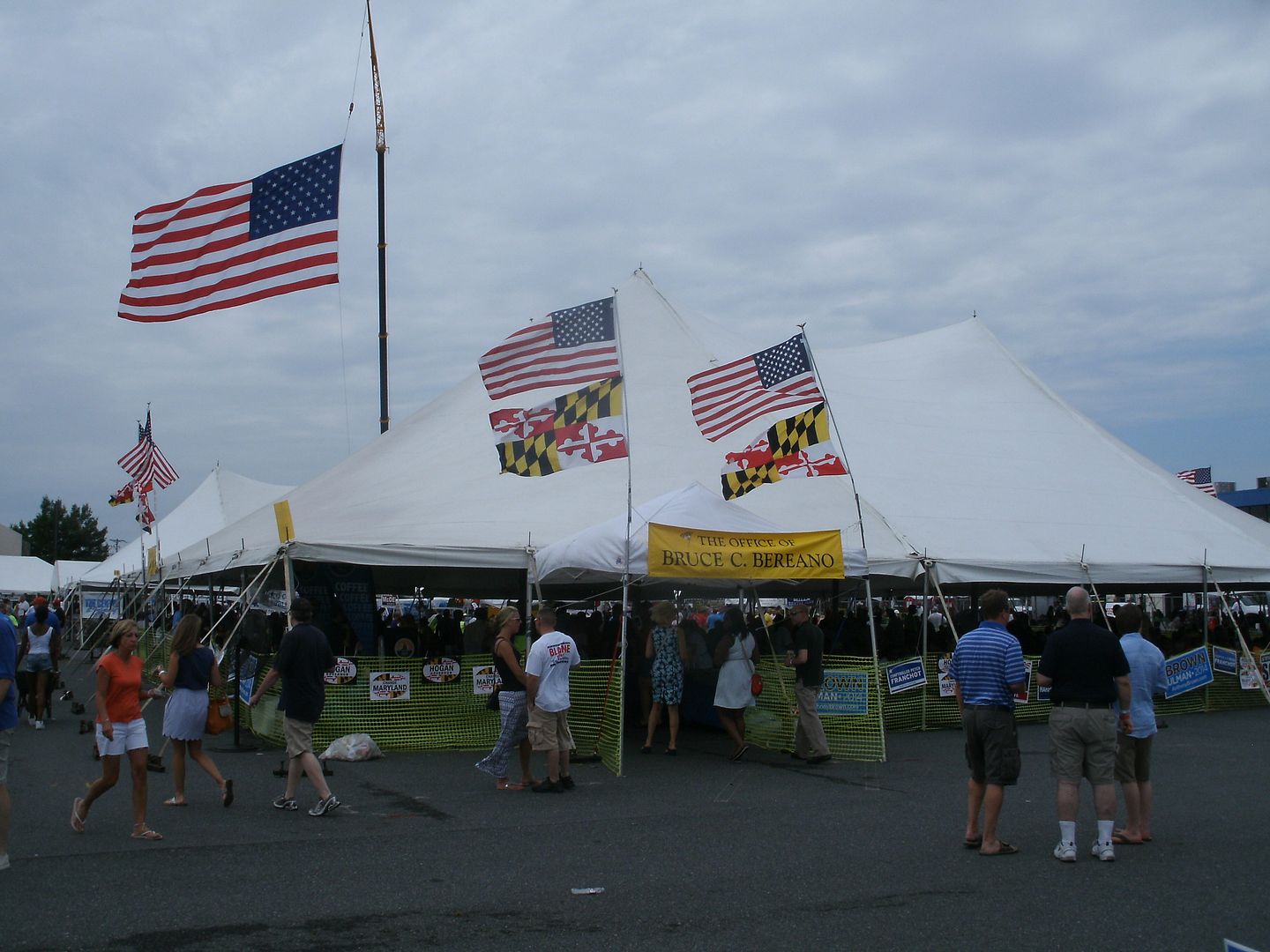 Annapolis lobbyist Bruce Bereano always has a crowded party, and it's a bipartisan affair.
The GOP tent this time was set up behind Bruce's, and it was a hub of activity for the Republican side. A lot of local and state hopefuls were there at some point.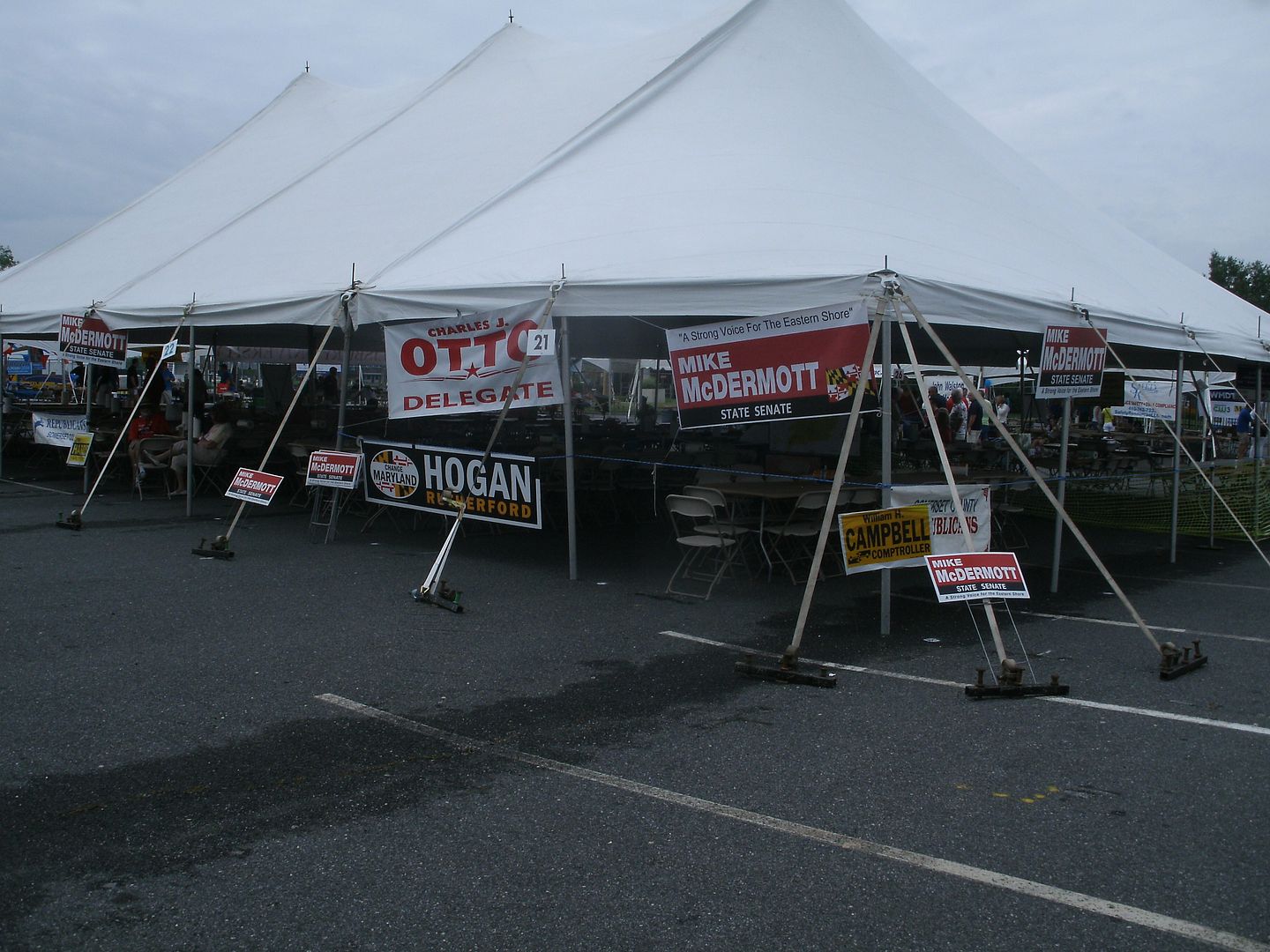 GOP gubernatorial candidate Larry Hogan decided to have his own space, which ended up by the side entrance.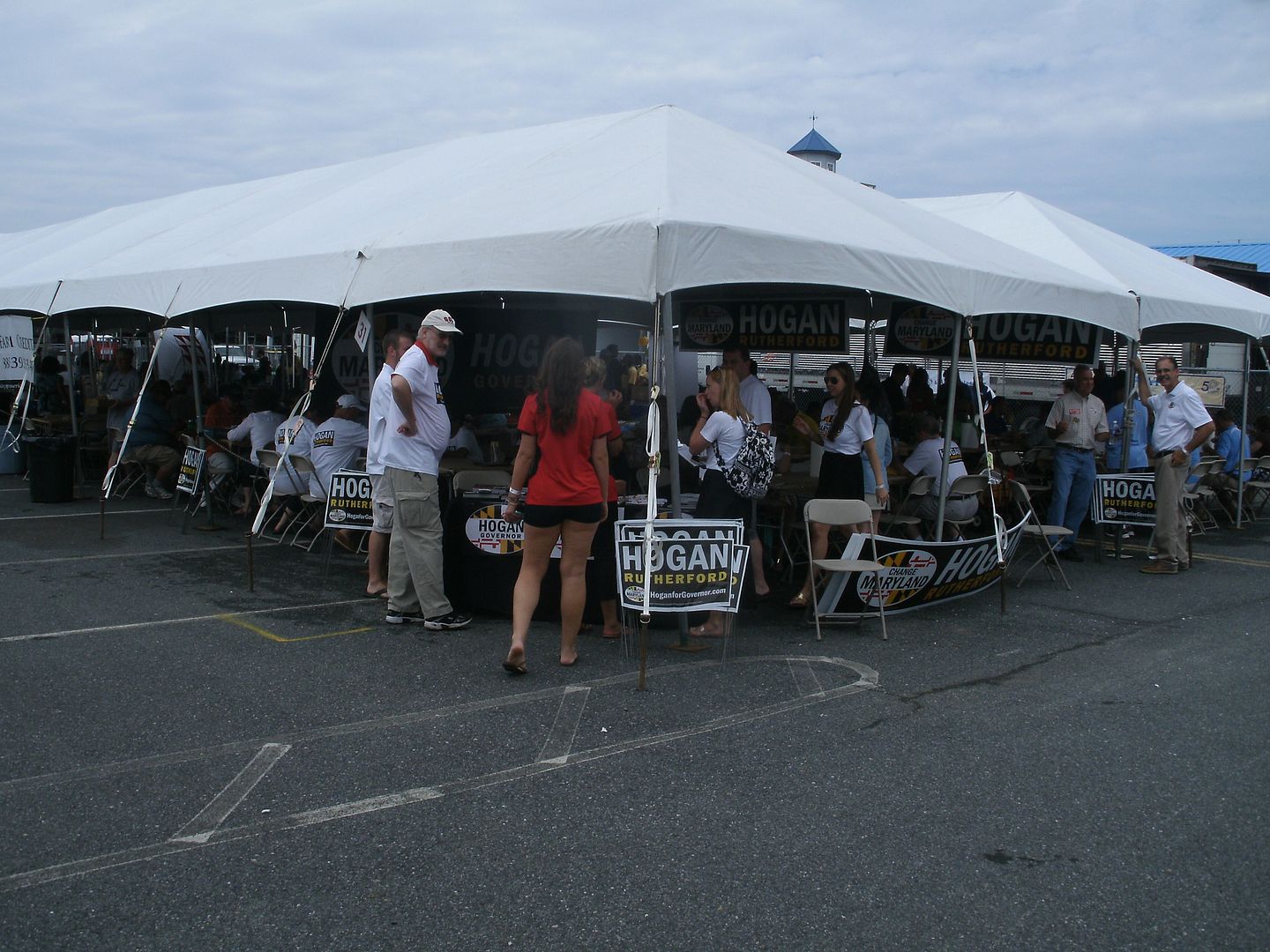 On the other side of the Republican tent and just around the corner, the Democrats were set up close to their usual rear location along the waterfront. Salisbury mayor Jim Ireton was holding court there. (He's in the white at the center, in shades.)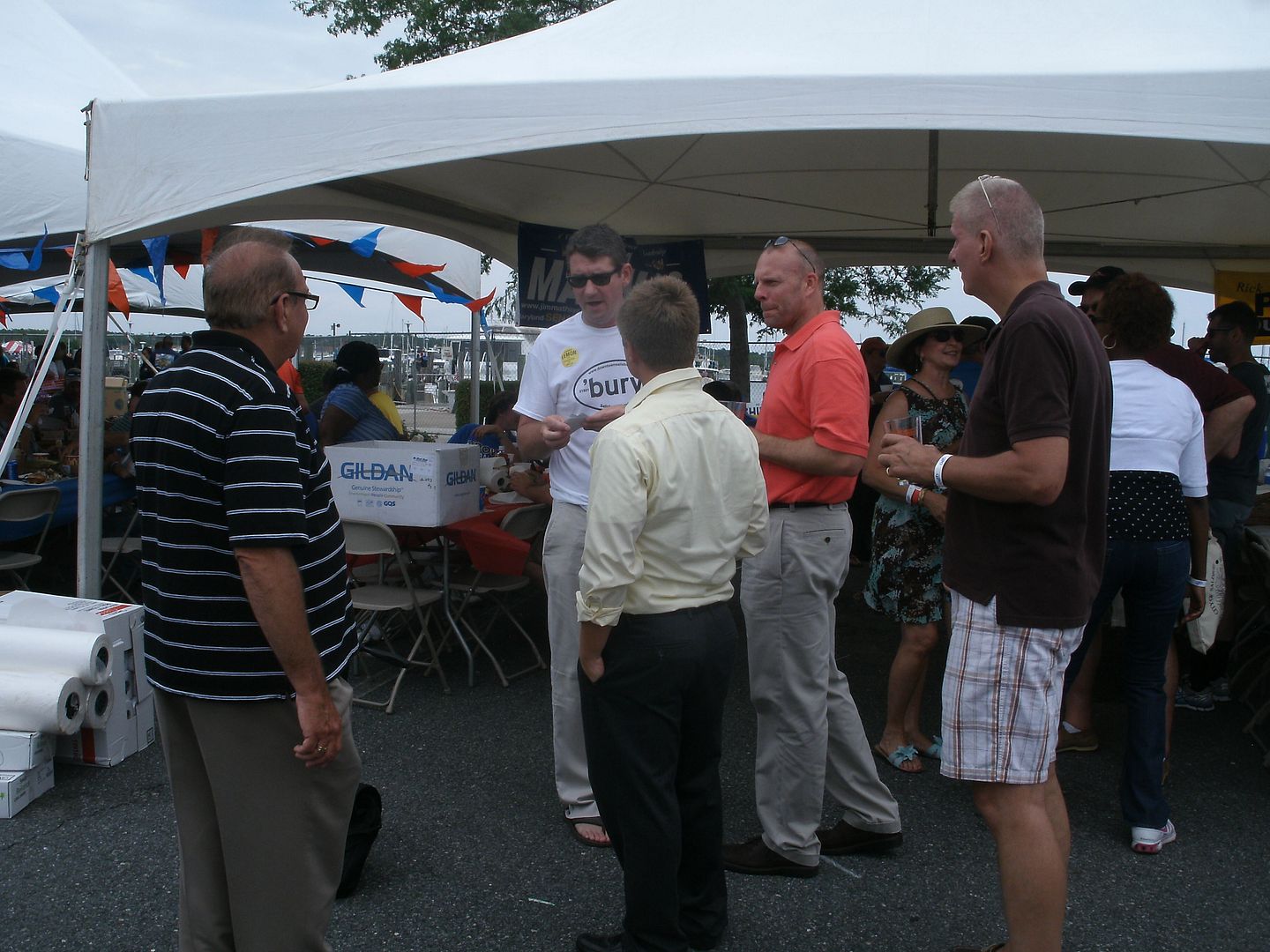 By and large, though, most of those in attendance were interested in one thing. See the light blue lean-to to the left of the Sysco trailers in the photo below? That's where the crabs were being served, and the line indeed stretched that far back 15 minutes before the announced noon opening – they really start serving about 11:30 or so.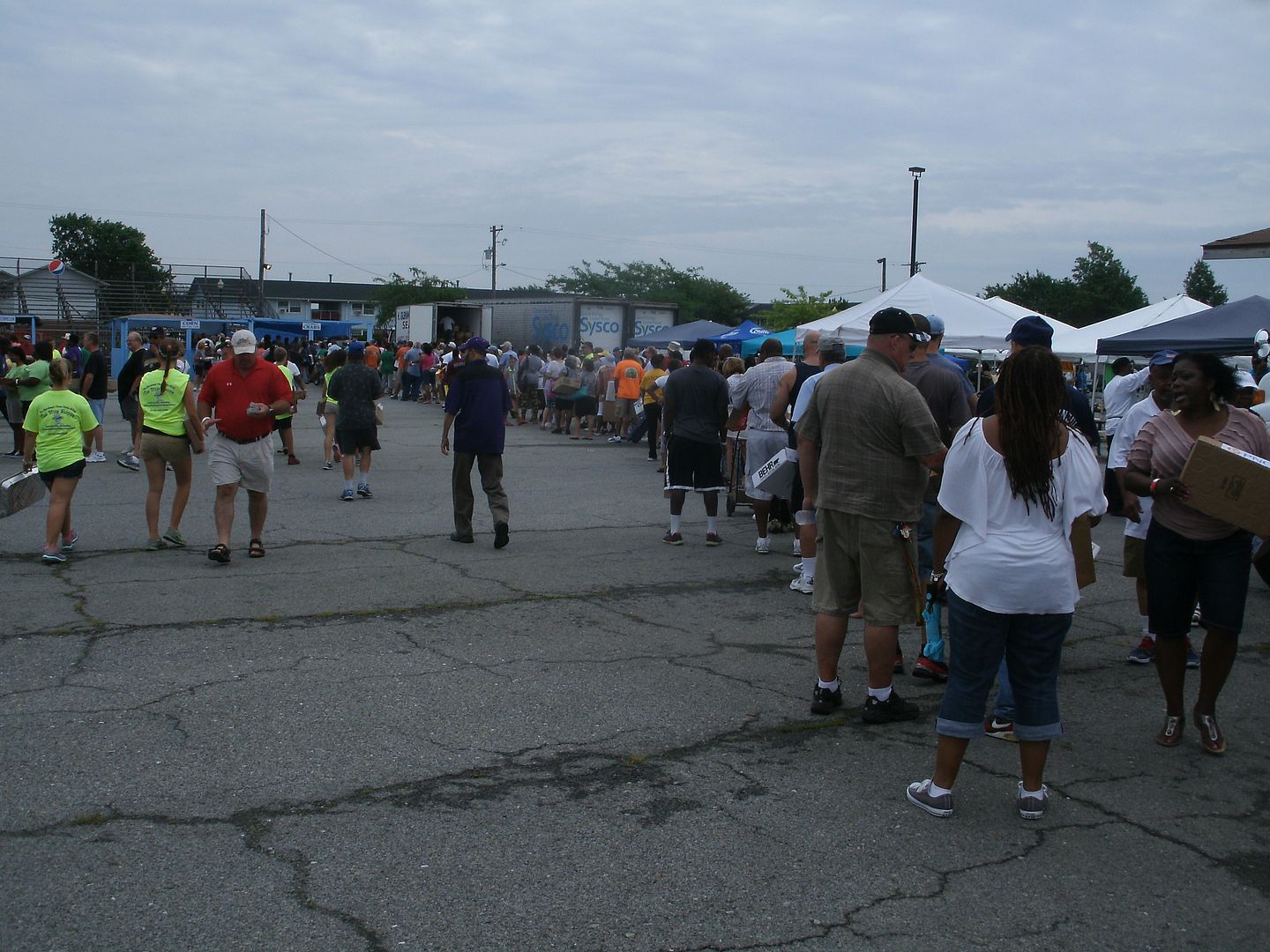 I think the longest wait I had was about 10 minutes for the Boardwalk fries. As it turns out, I'm not a crab eater – but I like the fried clams and the fish sandwiches. Oh, and there's a few politicians there too, but I'll get to that in due course because I can find the political in a lot of things – except perhaps this.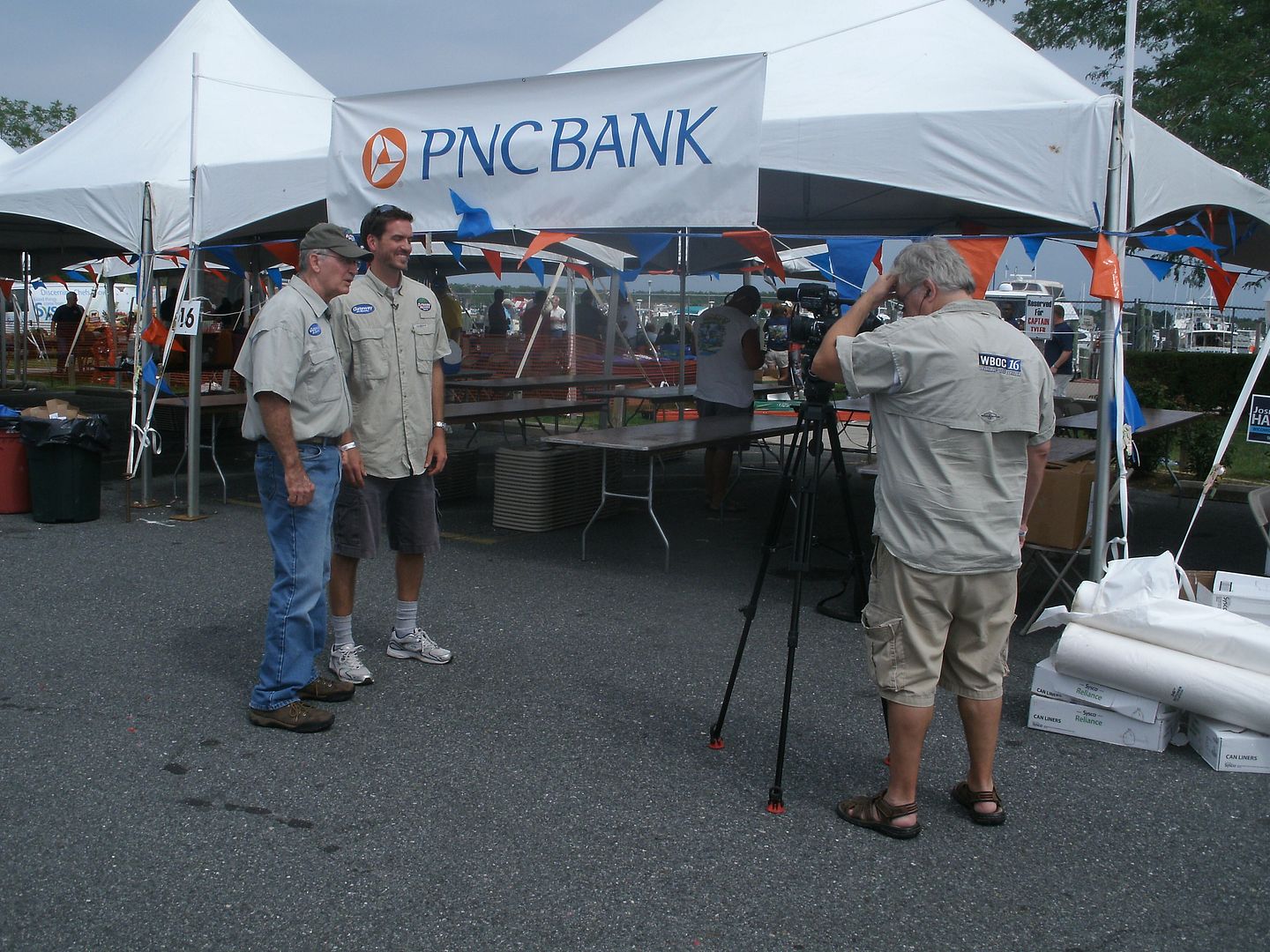 The hosts of a locally-produced show called "Outdoors Delmarva" always seem to find time to tape a segment here.
Another local business I always find at Tawes made a very classy, and apolitical, gesture this year.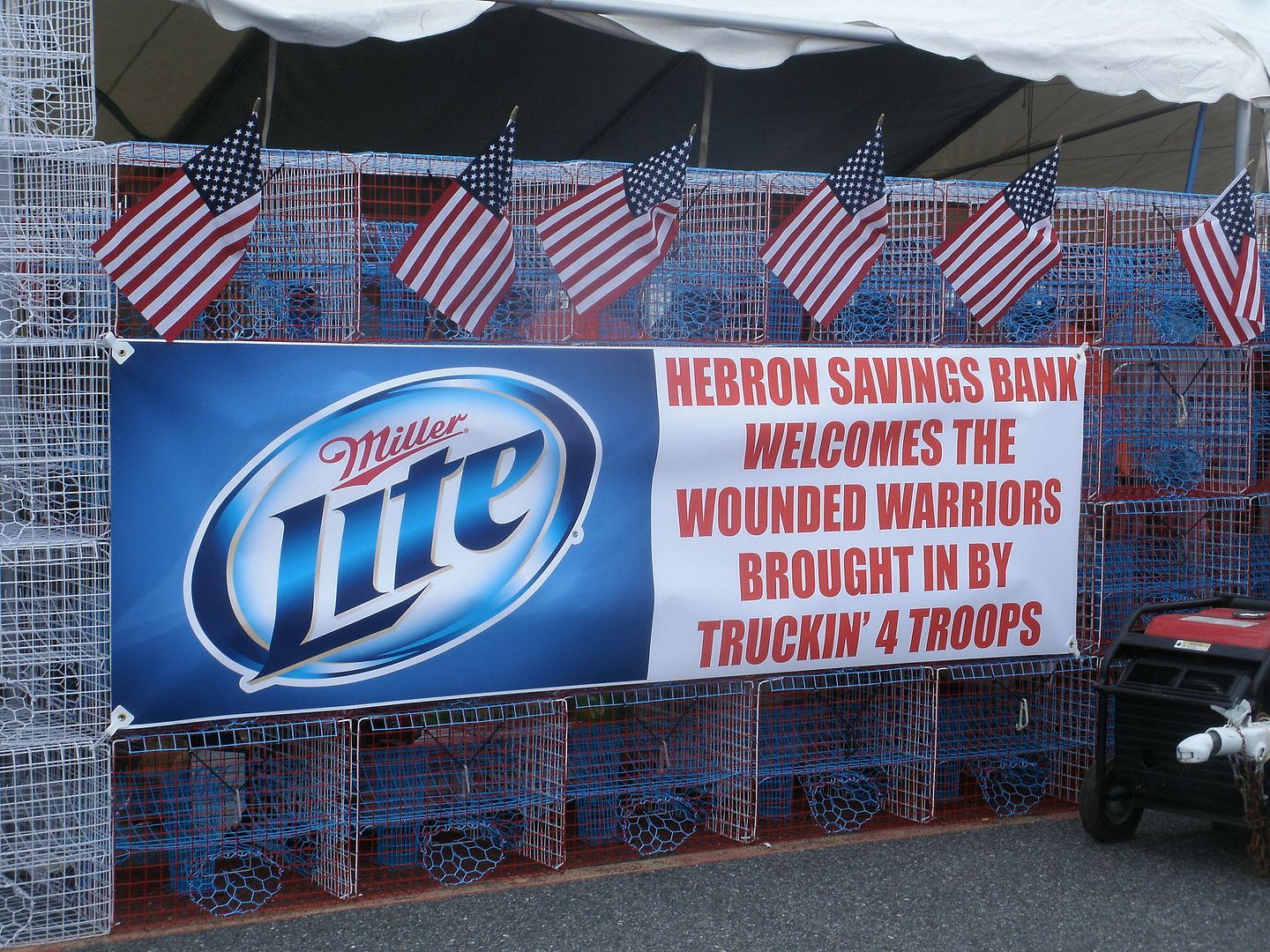 But I do find the irony in some things. For example, those of you familiar with the Hudson case may appreciate some here.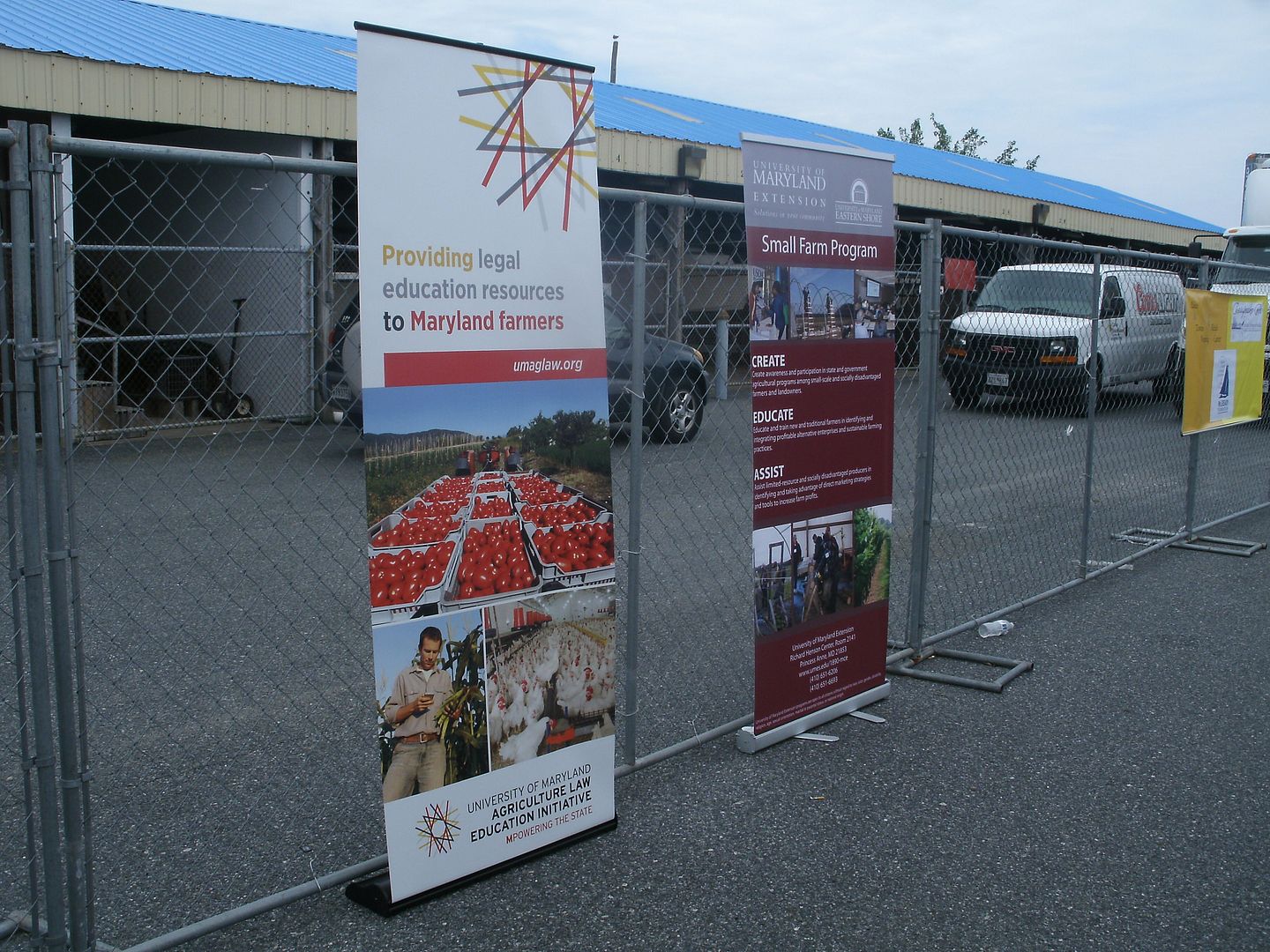 It seems to me the UM law school was on the other side of the fence before, as opposed to this group, part of the Clean Chesapeake Coalition, which tends to take agriculture's side as well as that of local government.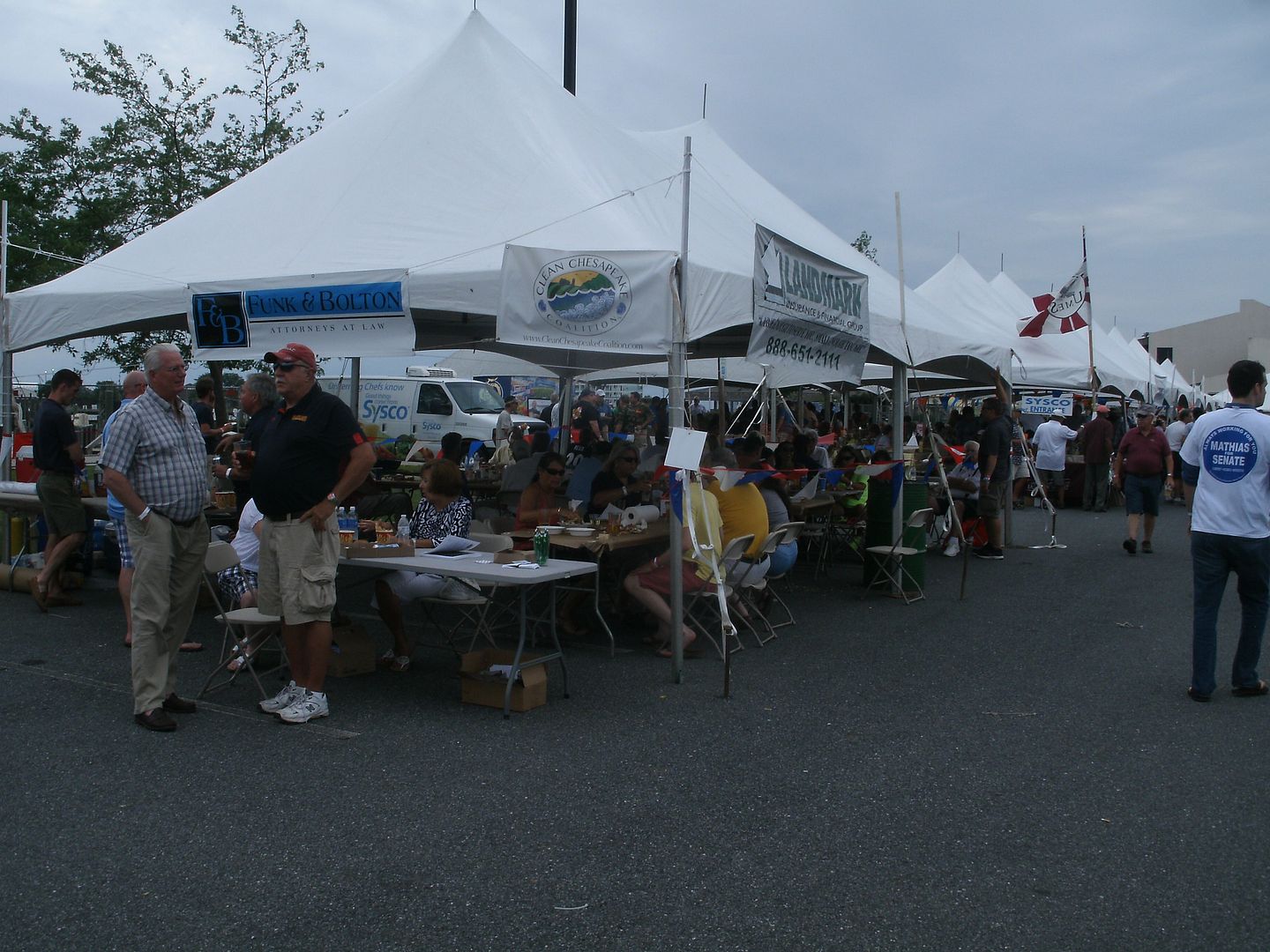 One other thing worth pointing out is the media frenzy this event creates. Here's Delegate (and Senate candidate) Mike McDermott being interviewed. Wonder how much they actually used?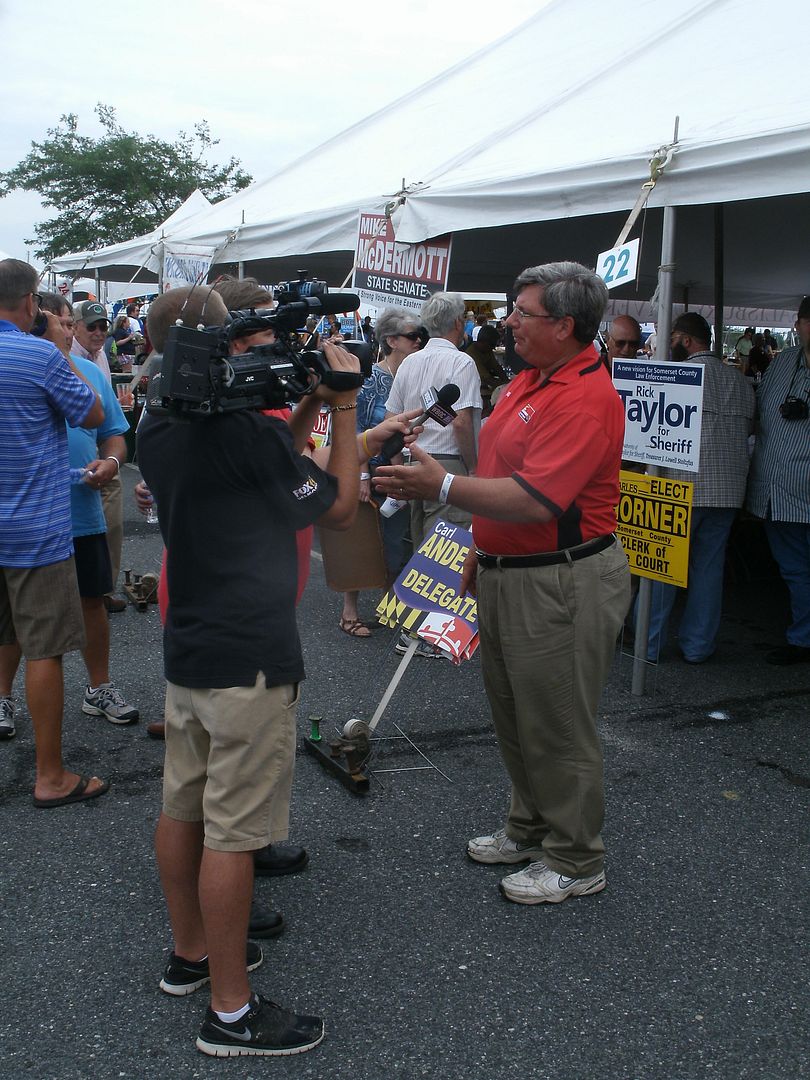 Most of the excitement occurs when the top members of the respective tickets arrive. Hogan had the tent but didn't come until the event was well underway. His entrance was rather modest.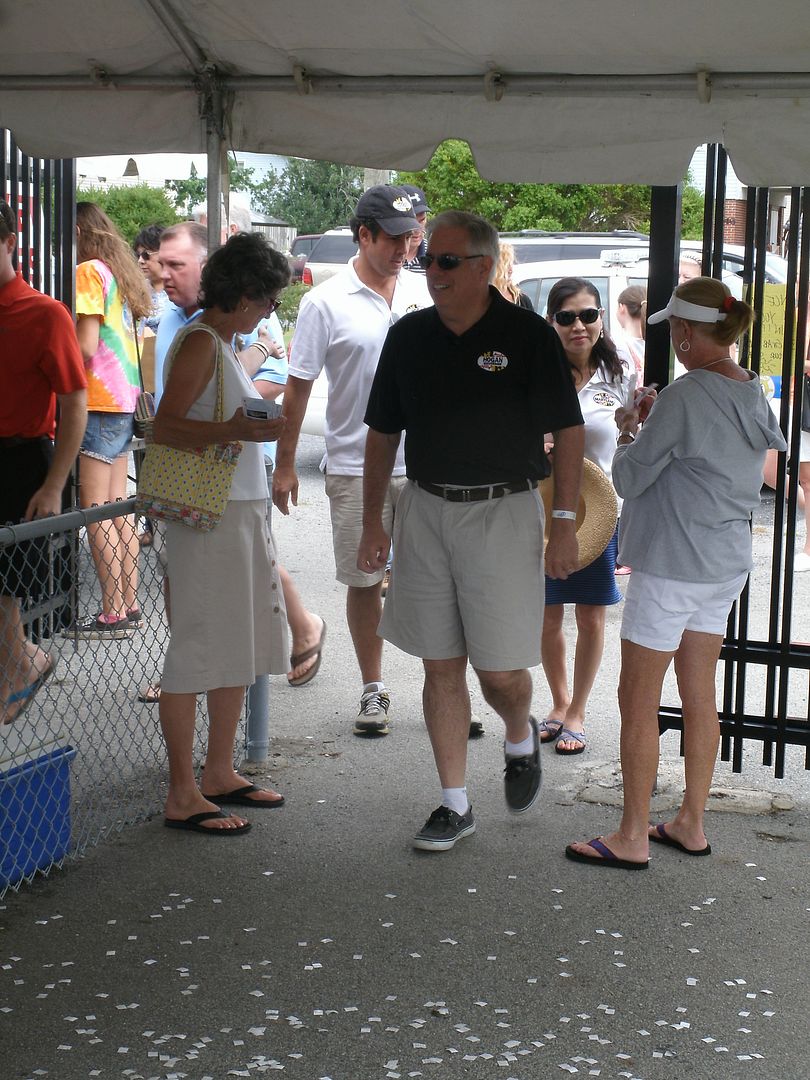 Oh, did I tell you pretty much everyone in the tent was waiting for him?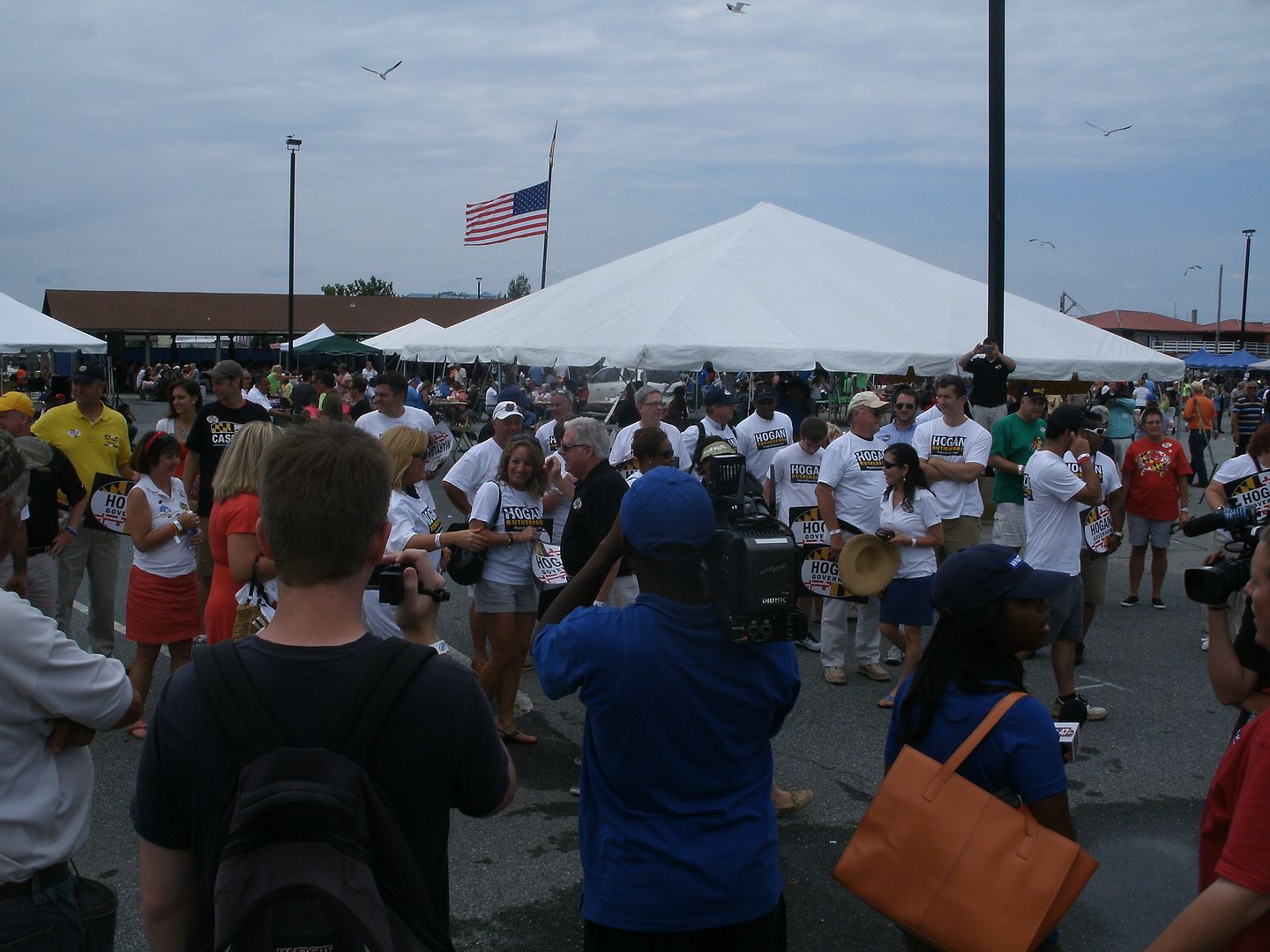 Naturally, everyone wanted to get their quote from him – perhaps even the tracker from the Brown campaign. I'm told Hogan has one.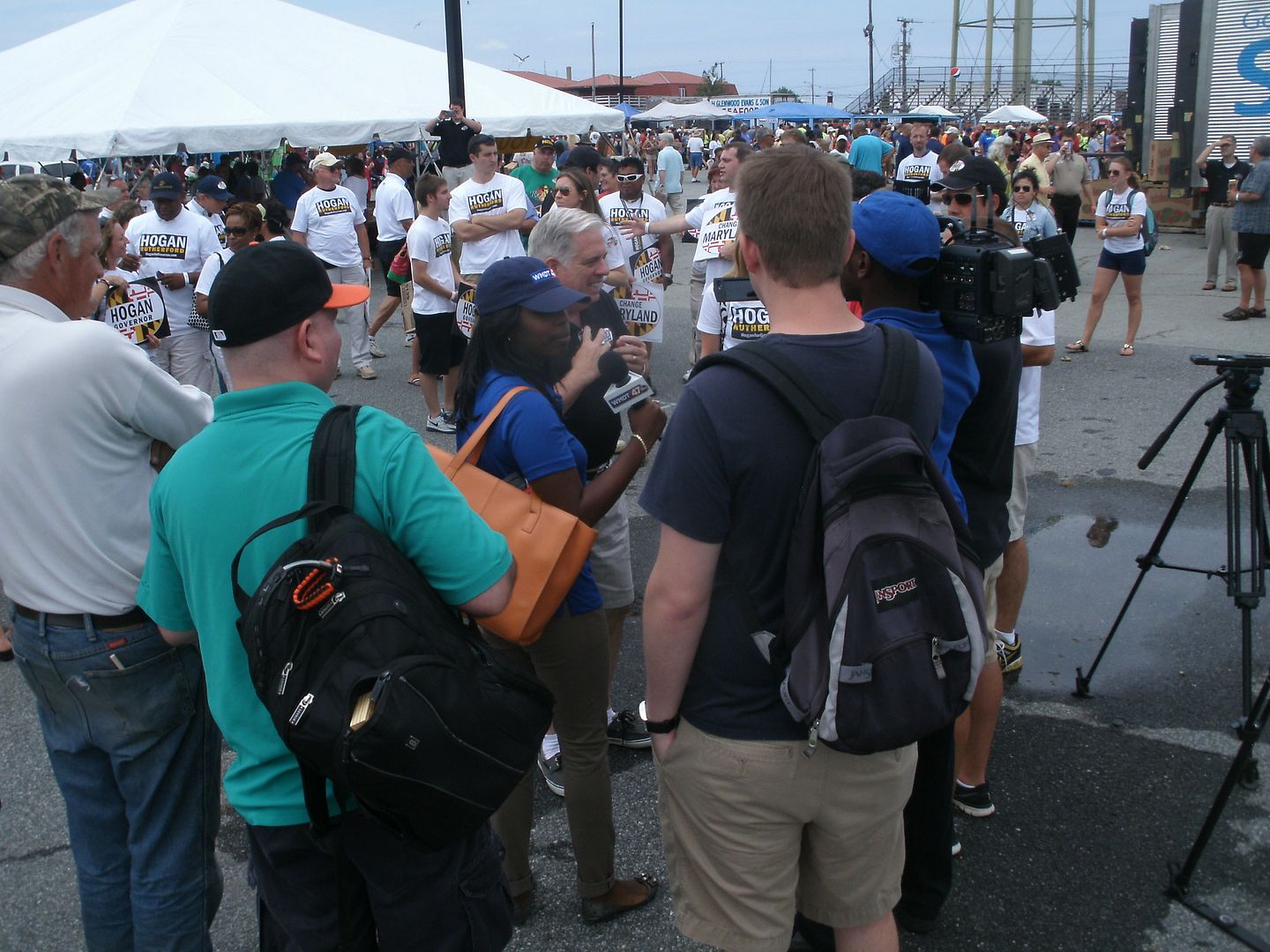 While I've been critical of the Hogan campaign throughout, the way their team handled today was outstanding. This was the first stop I noticed him making after all the interviews were through.
In case you can't read the sign above, it's the tent of the Somerset County Economic Development Commission. To me, that was the perfect place to be seen.
They took a little time to meet and greet; they being both Hogan and running mate Boyd Rutherford. But the point was that I didn't see them walking around much – instead they were engaging voters.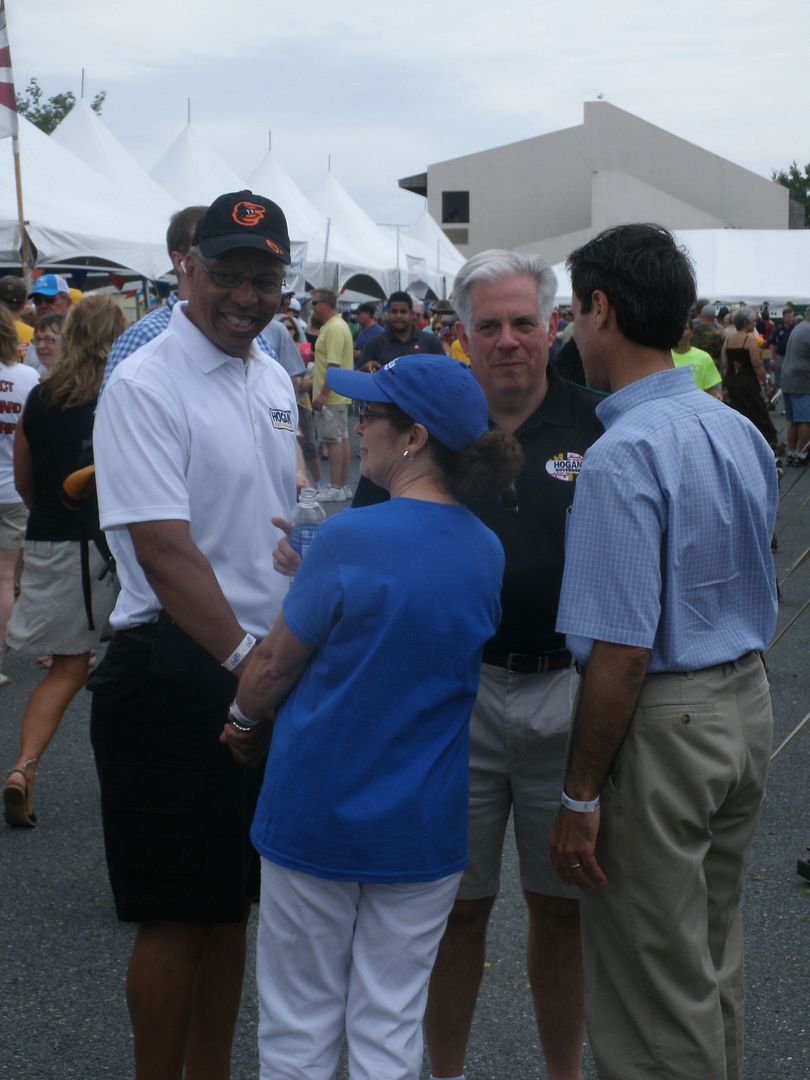 As I noted earlier, there were a number of other politicos there, but the statewide Democrats were not well-represented. I did see their AG nominee Brian Frosh. He's the small guy in the center, violating the Don Murphy rule about not wearing white.
Notably absent, though, was the top of their ticket, Anthony Brown. It's odd because he's been here a few times.
One guy who wouldn't dare miss this is local Delegate Charles Otto (center.) His Democratic opponent is the just-replaced former mayor of Crisfield, which certainly made for interesting retail politics for them.
A guy who lost his primary, Muir Boda (left) was out supporting those who won – and yes, Johnny Mautz was in the house. Muir's with Democratic Wicomico County Council candidate Josh Hastings (right.)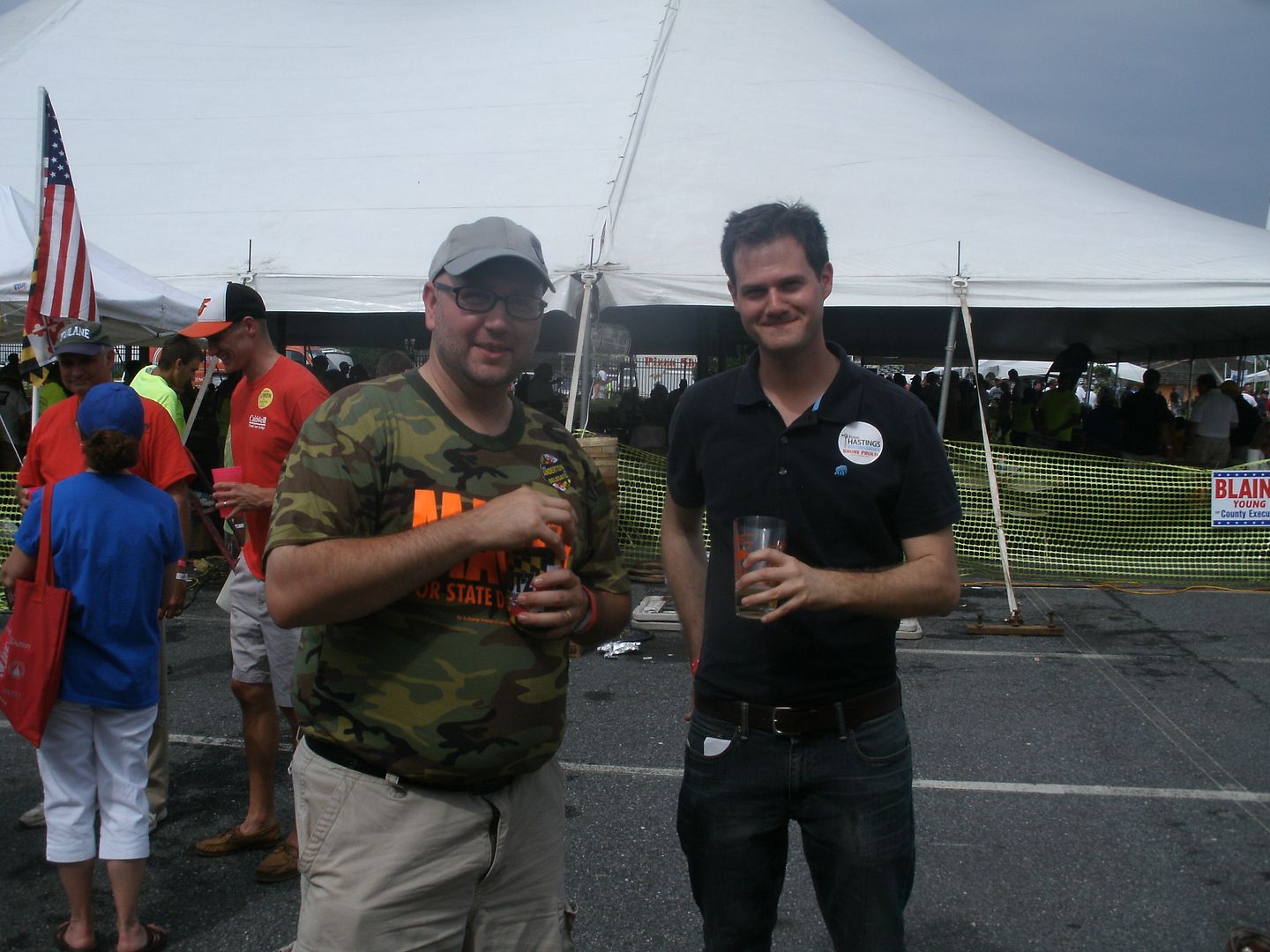 All told, there were a lot of people there. I took this panoramic shot about quarter to three, which is just before those who had their fill begin to trickle out.

One other difference was not seeing all the Red Maryland crew there, although I did speak to Duane Keenan, who does a radio show on their network. Another media guy trying to drum up business was Phil Tran, who you couldn't help but notice.
The other new media people I saw there were Jackie Wellfonder – although she hasn't blogged about her experiences yet, she did burn up Twitter – and Jonathan Taylor of Lower Eastern Shore News, who has his own photo spread.
But as the event came to an end, we know that by week's end Somers Cove will be back to normal.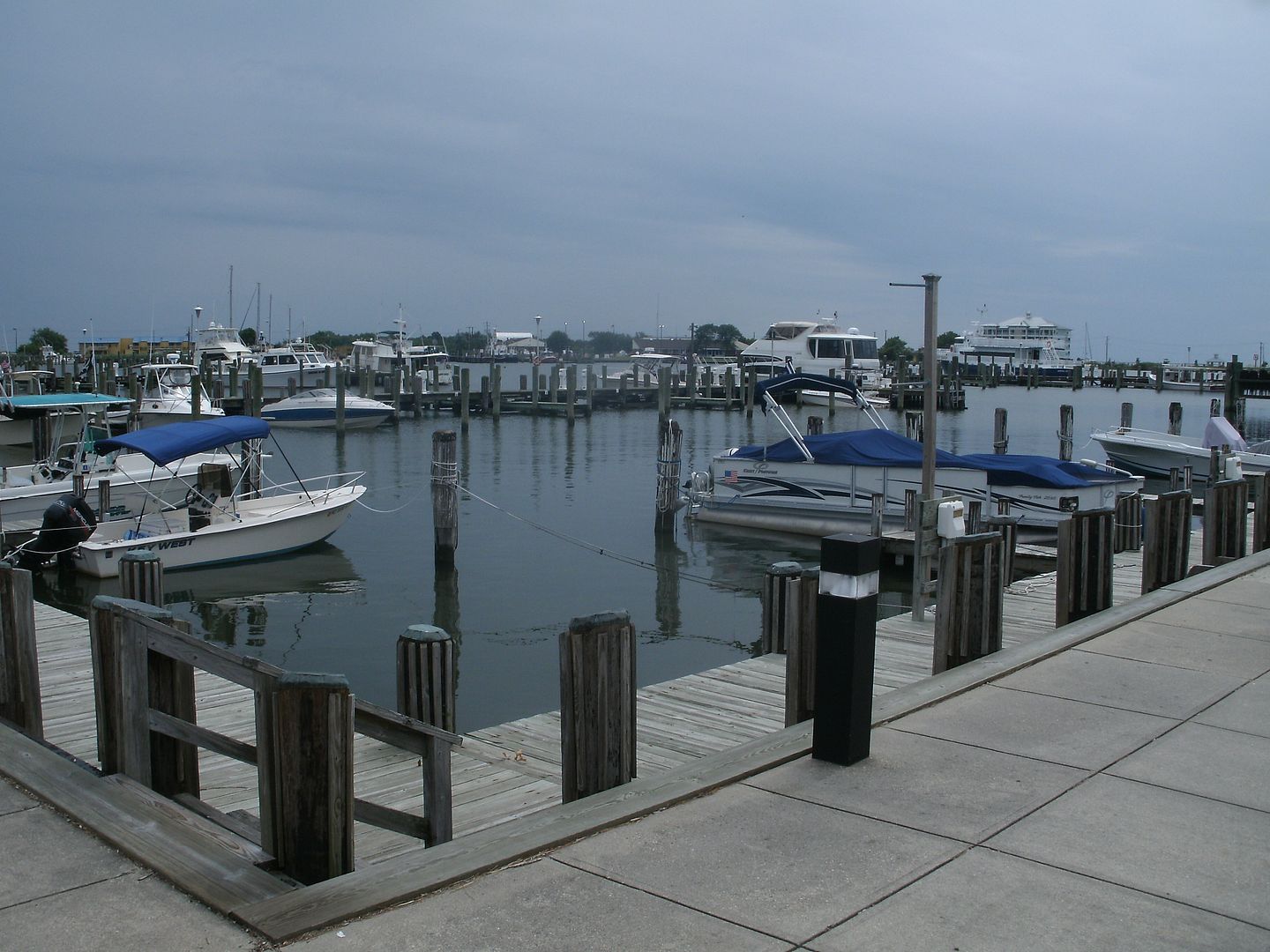 In 2015 the Tawes event should be good for sizing up the lone statewide race in 2016. While Barbara Mikulski has given no indication on whether she will retire, the soon-to-be 78-year-old senior Maryland Senator may not like being in the minority come next year and could decide to call it a career. We should know by next July.
Crisfield is the southernmost town in Maryland, but one day per summer it becomes the state's political capital. Anyone familiar with Maryland politics knows that a summer tradition is standing around on the blacktop at Somers Cove Marina waiting for crabs and watching politicians try to create a show of support. But this year's affair promises to be somewhat different than ones in years past, perhaps getting the feel of one held the year after the previous gubernatorial election.
This is because, for the first time, we already know for sure who the nominees will be. In years past we had a primary just weeks away but that's no more. So Anthony Brown will be there, presumably with a cadre of blue-shirted volunteers who will head straight to the AFSCME tent. Larry Hogan's posse will arrive at some point and the question will be how much smaller will his be, as it always seems Republican groups are smaller.
If things hold as they have over the past few years, there will be a steady stream of traffic going by the GOP tent, if only because Bruce Bereano's bipartisan party is generally right across the walkway; meanwhile, the Democrats will hole up in the opposite corner by the cove, near a place I generally go to get some shade as I walk around. The only difference is that shade may not be such a requirement – the forecast for Crisfield tomorrow is for temperatures only in the upper 70s but a chance of rain throughout the afternoon after a stormy early morning. It could affect the business portion of the event, as a number of local businesses use this as a party for their employees and clients. (It's not just politicians having a good time – I have some beer pong photos from a few years back. I was not a participant.)
I have no insight as to how ticket sales are doing, aside from knowing we sold most of our allotment. I do know this will be the ninth straight one I've gone to (beginning in 2006) and a lot of things have stayed pretty constant. Something worth noting from 2006 is that then-Governor Ehrlich skipped the event – and lost. Martin O'Malley didn't skip the event in 2006 and 2010, and won.
But instead of blast-furnace hot as is usual, we may be drowned rat wet. Fortunately, there are tents but those cardboard box halves may come in handy as makeshift umbrellas. (Pro tip: don't forget the box half, although occasionally campaigns will be one step ahead and bring a bunch. It's a good place to use old bumper stickers.)
In any event, be looking for me. I got my ticket last week and will be there with my little camera taking pictures as I have for most of the last several years. I have a lot of good memories of Tawes and met some fine people, so there's no reason to stop going now.
I've heard a lot of talk about nominees who are RINOs and sitting out the election because so-and-so won the primary and they don't want to vote for the "lesser of two evils," and it always amazes me because this doesn't happen on the other side. Here's a case in point from a fawning AP story by Steve LeBlanc about Senator (and potential Presidential candidate) Elizabeth Warren.
Now, Warren is continuing her fundraising efforts, with a planned Monday event with West Virginia Democratic Senate hopeful Natalie Tennant. Tennant, West Virginia's secretary of state, is vying with U.S. Rep. Shelley Moore Capito for the seat held by retiring Democratic Sen. Jay Rockefeller. Capito is favored and holds a hefty cash advantage.

Capito's campaign has also been quick to target Warren, calling her "one of the staunchest opponents of coal and West Virginia's way of life."

Warren has conceded that she and Tennant — who, like (Kentucky Democrat Senate nominee Alison Lundergan) Grimes, has criticized Obama's plans to limit carbon emissions from the coal industry — don't agree on everything, but can come together on economic issues facing struggling families.
So it's obvious that the Democrats have their own 80/20 rule, but unlike some on our side they don't take their ball and go home based on the non-conformance of the 20.
We had our primary, and at the top of the ticket there were 57% who voted for someone else besides our nominee – many of those live here on the Eastern Shore, where David Craig received 49.6% of the vote and carried seven of the nine counties. There can be a case made that Craig's running mate, Eastern Shore native and resident Jeannie Haddaway-Riccio, was a huge factor in his success here, but the fact remains that this area I live in was one of the two areas Hogan was weakest (the other being southern Maryland, where Charles Lollar resides.) These are votes Hogan will need, and surely many will migrate his way because he's the Republican nominee.
On the other hand, Anthony Brown got a majority of the Democratic vote and carried all but a few counties. Those three on the Eastern Shore, plus Carroll County, aren't places Brown would expect to win in November anyway – except perhaps Kent County, which was the lone county Heather Mizeur won and which only backed Mitt Romney by a scant 28 votes in 2012.
The path to victory for any statewide Republican candidate is simple, because Bob Ehrlich did this in 2002 – roll up huge margins in the rural areas and hold your own in the I-95 corridor. Ehrlich won several rural counties with over 70% of the vote in 2002, and got 24%, 38%, and 23% in Baltimore City, Montgomery County, and Prince George's County, respectively. When that formula didn't happen in 2006, he lost.
Granted, demographic changes and other factors may not allow Larry Hogan to pick up 65% of the vote in Anne Arundel County, 61% in Baltimore County, or 56% in Charles County, but it's possible he does slightly better in Prince George's and may hold some of those other areas. Turnout is key, and we know the media will do its utmost to paint Anthony Brown as anything other than an incompetent administrator and uninspiring candidate – as the natural successor to Martin O'Malley, who has done a wonderful job further transforming this state into a liberal's Utopian dream at the expense of working Maryland families, one would have expected Brown to have picked up at least 60% of the Democratic primary vote.
Yet you can bet your bottom dollar that even the most diehard Mizeur and Gansler supporters may hold their nose but will still push that spot on the screen next to Anthony Brown's name. They may have several points of contention with Brown on key issues, but the other side will push those aside to maintain power.
Perhaps Natalie Tennant over in West Virginia had misgivings for a moment about inviting Elizabeth Warren for a fundraiser, but she realized that there is a segment of her would-be supporters who would gladly contribute more to her campaign to meet Senator Warren, despite the fact they are on opposite sides of a particular issue. To Warren, the end goal of holding that seat in her party's hands and maintaining a Democrat-controlled Senate was more important than conformity with the one place where Tennant may go against leftist orthodoxy.
If we're to upset the apple cart here in Maryland, we have to deal with the obvious flaws in Larry Hogan's philosophy and platform at the most opportune time – when he takes office.