You know, since the events that led to the formation and rise of the TEA Party the Republican Party has promised to be our savior if only given the chance. After they successfully won the messaging battle over Obamacare in 2009-10 – aided by the ham-fisted, cynical fashion it was rammed through Congress and onto Barack Obama's desk – the GOP won a smashing electoral victory that flipped the House just two years after the second of two successive wave elections convinced many political pundits we were on the verge of another decades-long run of Democratic dominance in Washington. While that success took a pause in 2012, perhaps because the Republicans nominated the originator of state-supported health insurance in Mitt Romney to face Barack Obama, the actual implementation of Obamacare beginning in 2014 resulted in yet another midterm electoral shellacking for the Democrats that November, costing them control of the Senate.
All along, Republicans told us these various steps along the way, once they won the House in 2010. First they whined that they only had one-half of one-third of the government, which sufficed as a campaign plank until 2014, when they won the Senate. Once they won the Senate, they actually passed a bill repealing Obamacare – of course, it was vetoed by Barack Obama and the votes weren't there for an override. So now they needed the White House and then, once and for all, we could be rid of Obamacare.
July 26, 2017. The Senate has its chance to pass a nearly "clean" Obamacare repeal bill, with a majority of Republicans in the body. There's no question such a bill would sail through the House and we have a nominally Republican president in Donald Trump who would be for repealing Obamacare – although he wanted to replace it, too. It just has to get through the Senate, and yet – it did not. Seven Republicans joined all 48 Democrats (as one would expect) in turning their back on the people who elected them.
So who's in this Hall of Shame? Well, it's mainly the usual suspects: Lamar Alexander (Tennessee), Shelley Moore Capito (West Virginia), Susan Collins (Maine), Dean Heller (Nevada), John McCain (Arizona), Lisa Murkowski (Alaska), and Rob Portman (Ohio). With the exception of Maine – where Trump won one of the state's two Congressional districts (for one electoral vote) but lost overall – all these states went GOP in the last election, yet their Senators sided with the Democrats. And as President Trump noted, "Any senator who votes against repeal and replace is telling America that they are fine with the ObamaCare nightmare, and I predict they'll have a lot of problems." Yet only Heller faces the voters in 2018 – McCain, Murkowski, and Portman were just re-elected and the other three aren't up until 2020.
The question now is how GOP loyalists are going to spin and explain this one away. To be quite honest, I think people have known for many moons that the Republicans were selling the voters a bill of goods but if you can't keep your caucus together on something that's been a fundamental promise for seven years then it's clear even the fig leaf is gone. Despite their high-minded rhetoric, the GOP is now just as much the party of big government as the Democrats are. Now it's just a question of which side gets the spoils.
And now where do those who believe in limited government go? They are now political orphans because the Republican Party just showed they aren't willing to stand by those principles when push comes to shove.
For some reason the vibe seemed a little different to me this time around – maybe it's because this is the first one I've attended as an erstwhile political participant. But at 10:00 I rolled into town and got my ticket (this was a first, too – more on that in a bit) so I started looking around while I was there. Immediately I found there was still one constant.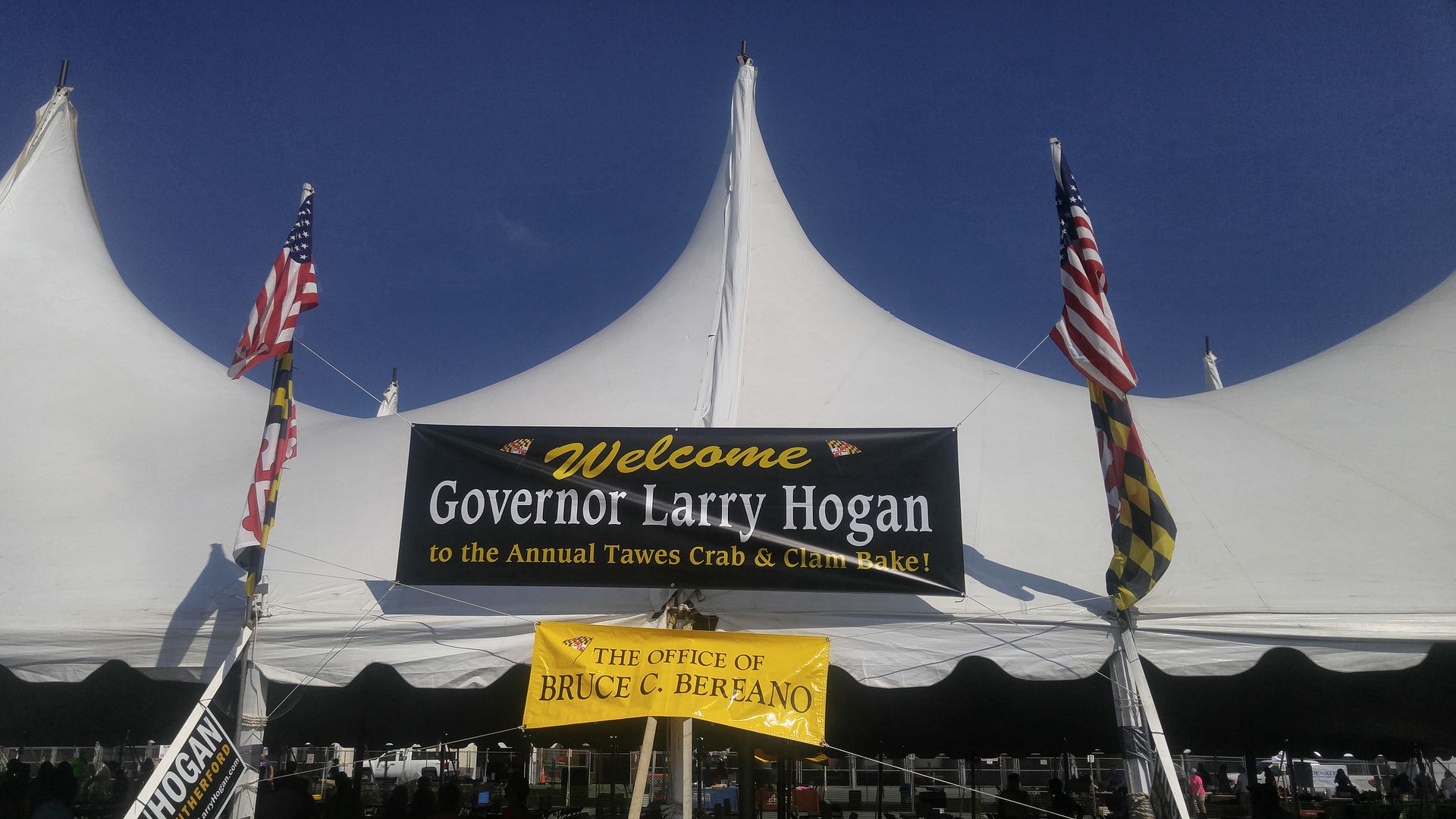 Bruce Bereano probably brings half the people down there, and I'm not kidding. If you consider that the political people are a significant draw to this festival, and his massive tent is annually chock-full of Annapolis movers and shakers, one has to wonder just what would be left if he ever pulled up stakes. Would they have a crowd like this?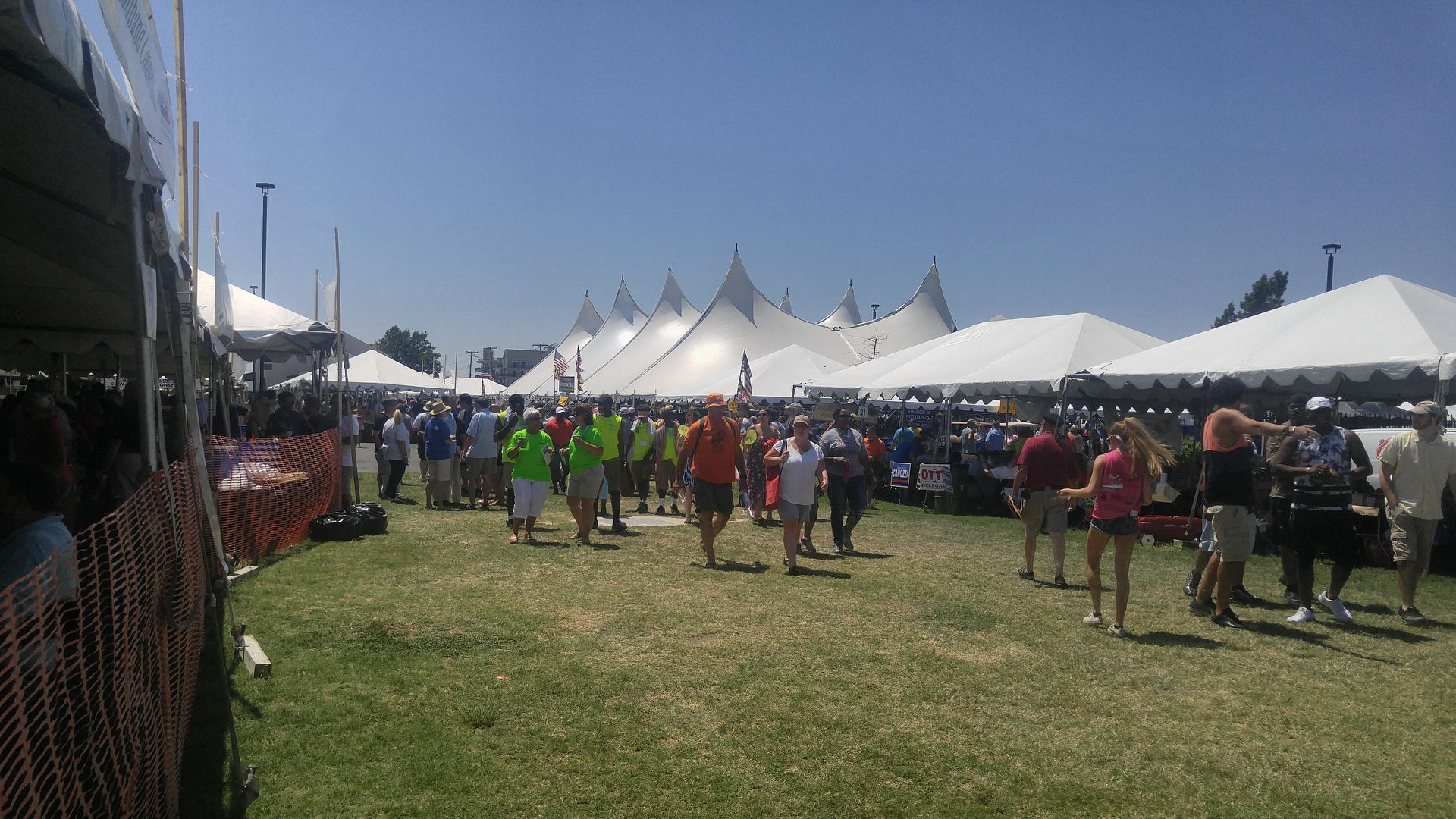 But the Crisfield Chamber of Commerce (as event sponsor) has its own ideas on VIP treatment.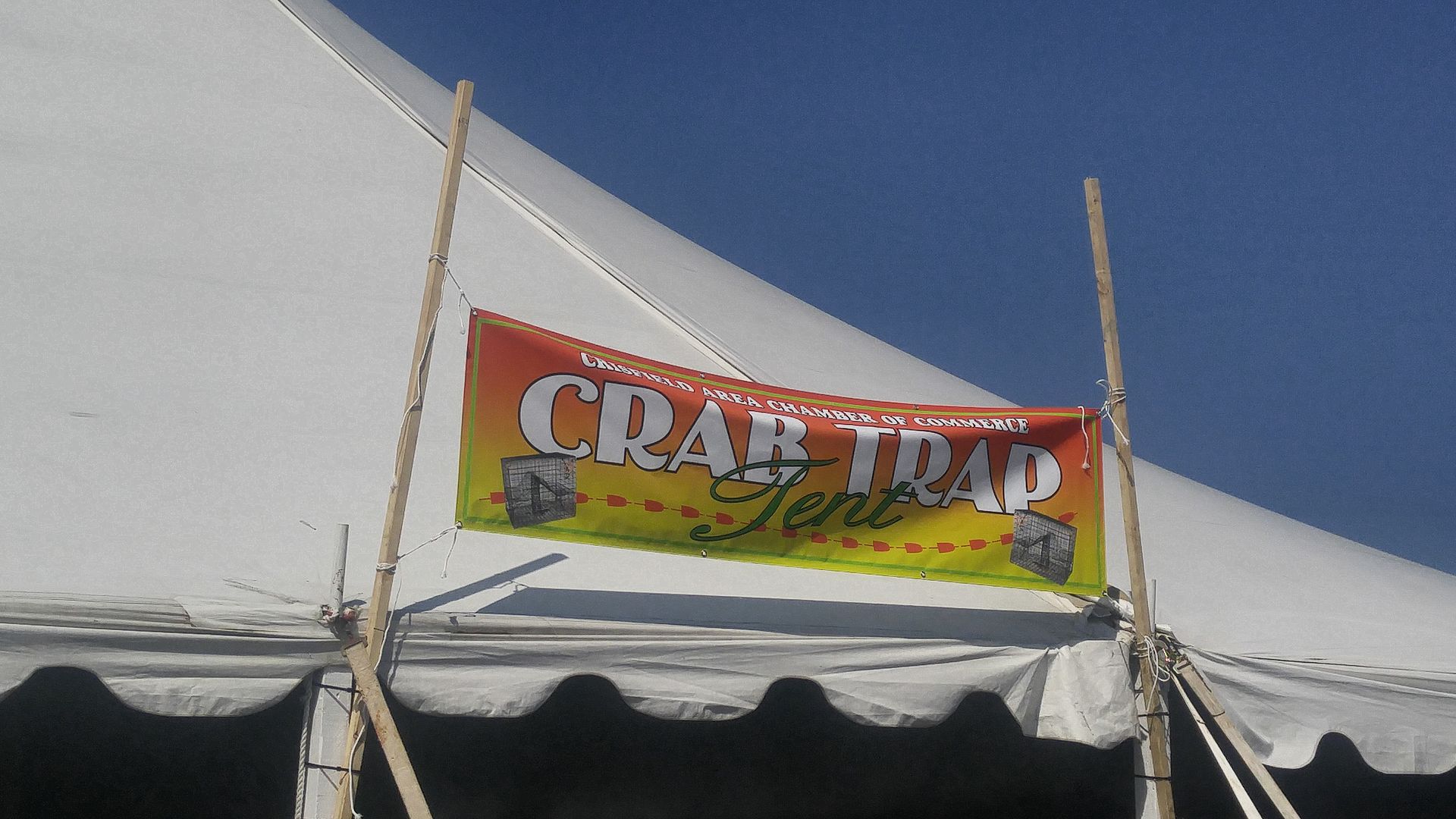 For an additional $15 fee on top of the ticket price, you could get access to this tent with its amenities. It was an answer to some of the corporate tents that were doing this anyway. Many of those were still doing their thing.
Most of the people were already in line at 11:30 waiting on lunch. While the ticket says 12, if you wait until then you're waiting for food.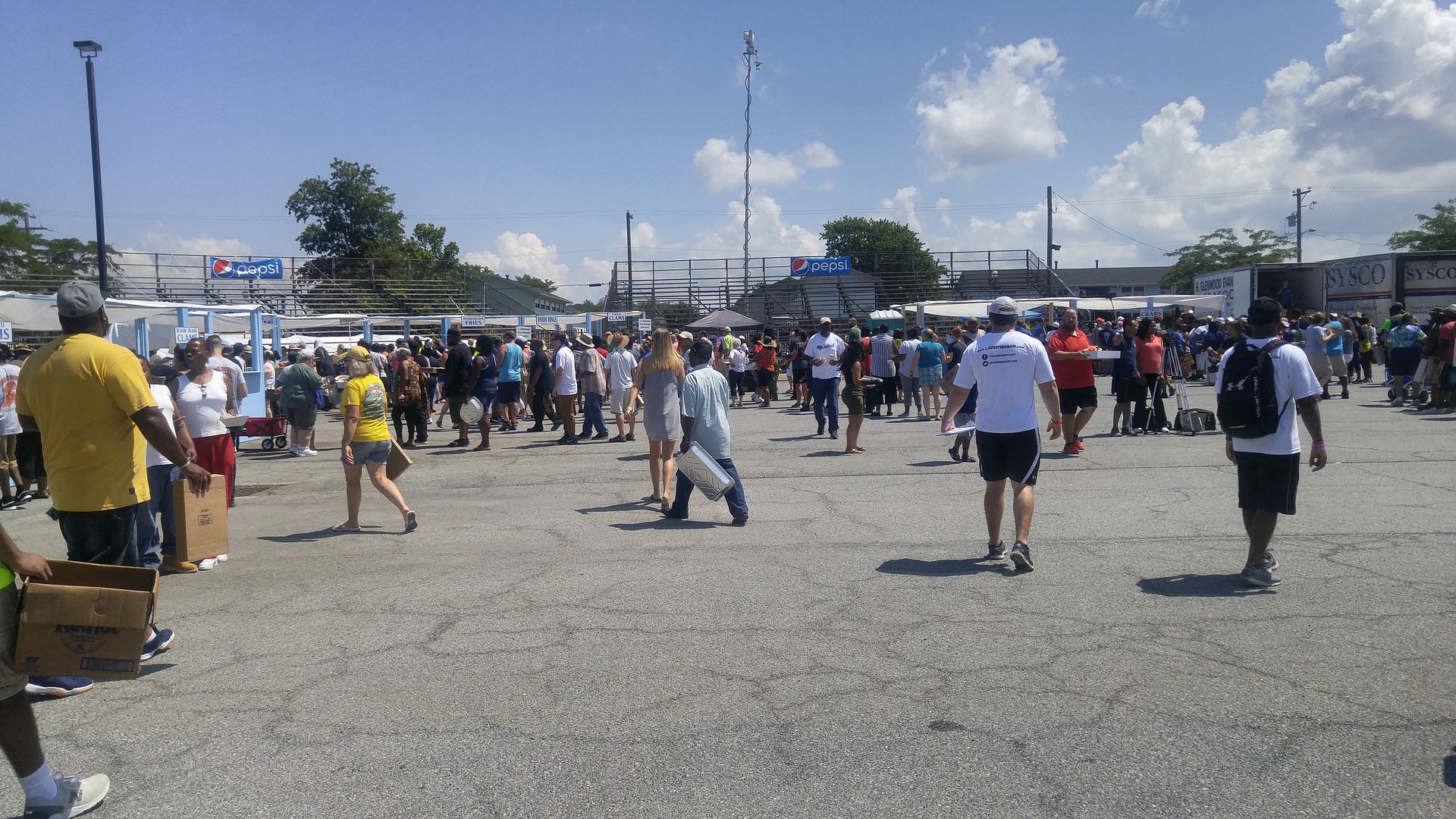 But let's face it: the media doesn't really come here to see food lines, although that's where I found this crew from Channel 47, WMDT-TV.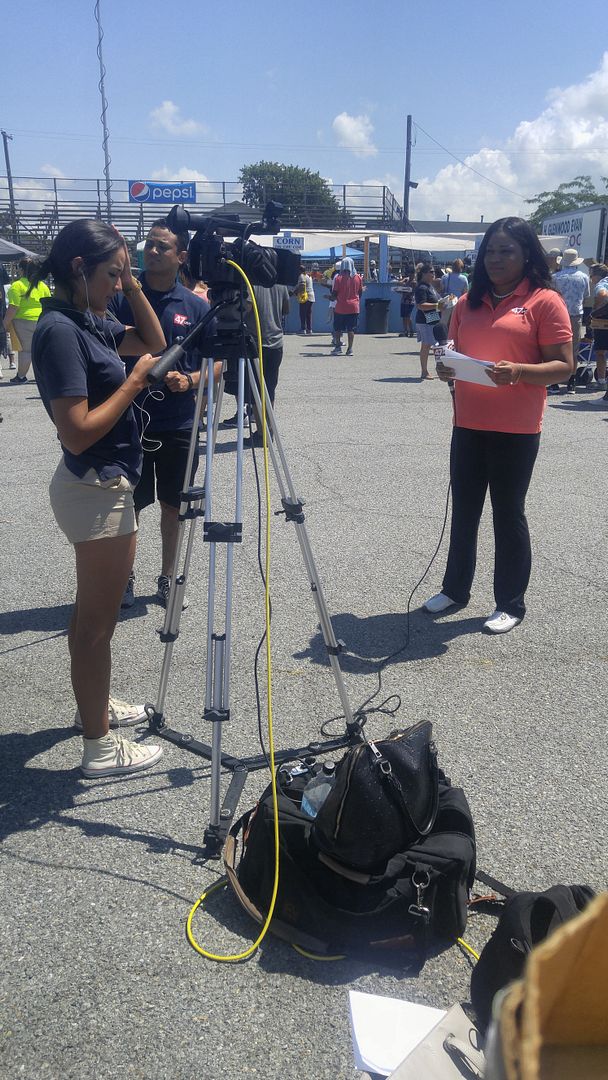 No, the real draw for this edition was the potential 2018 candidates. Until the last couple cycles, odd-numbered years were somewhat sleepy because the campaigns weren't really underway yet, while the even-numbered years saw Tawes fall on a date less than two months before the primary. That's now flipped on its head because the primary was moved up to June, so this is the last Tawes before the 2018 primary. So several contenders were out scouring for votes – none, I would say, moreso than this guy.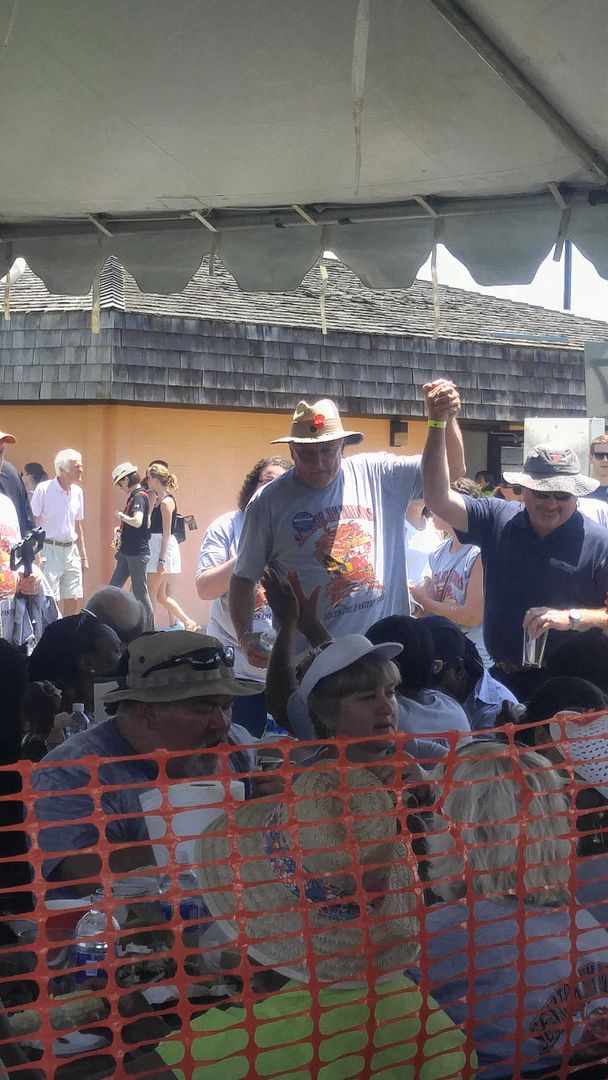 State Senator Jim Mathias (standing, in the gray shirt) has a huge target on his back that's far larger than the logo on the front. He is the one Democrat Senator on the Eastern Shore, and the GOP sees his seat as a prime candidate for taking over next year as they need to flip five Senate seats to assure themselves the numbers to sustain Larry Hogan's vetoes.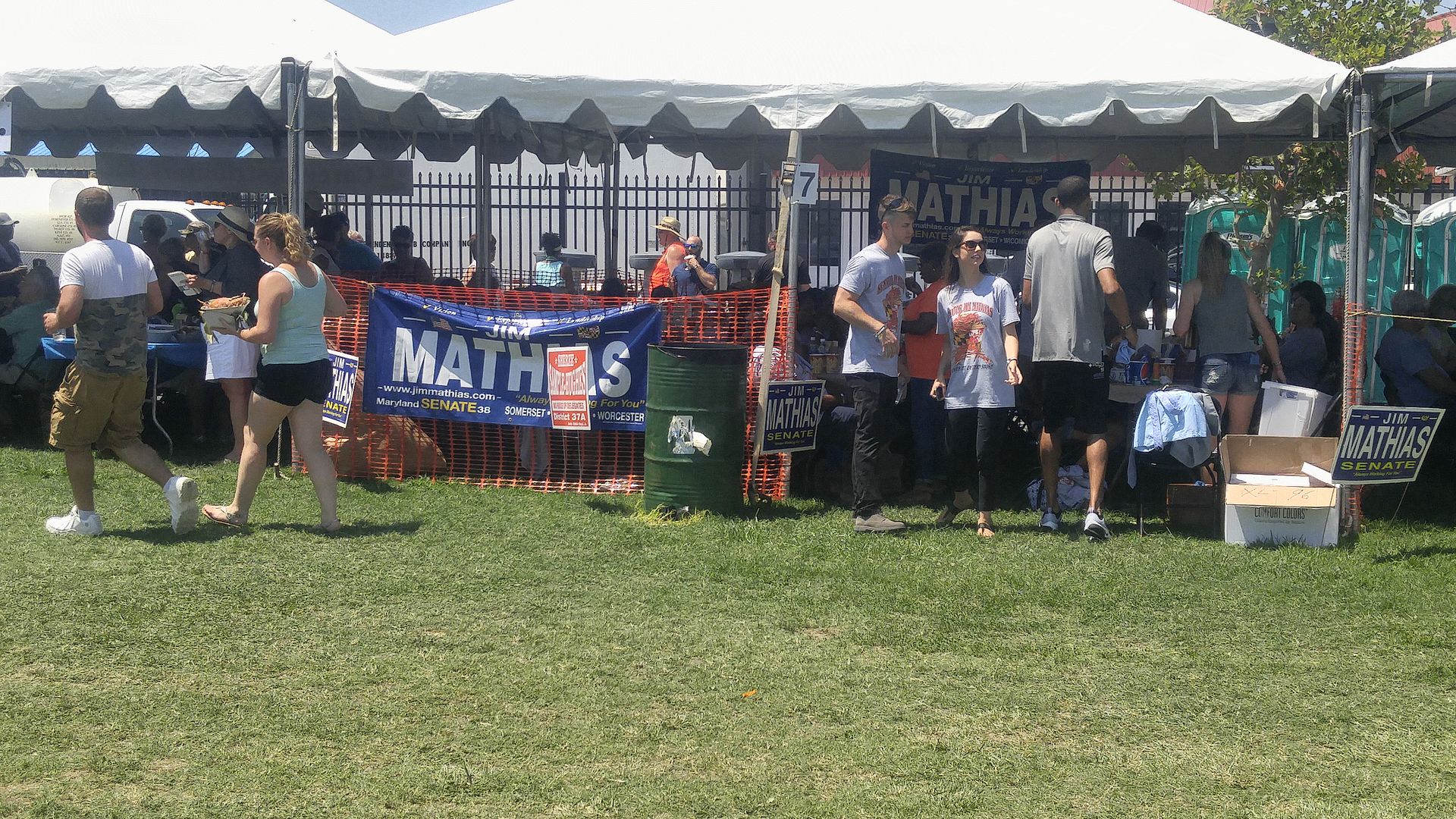 To that end, Mathias was the one candidate who had his own supporter tent. To me, that was interesting because most of the local Democrats that I know spent their time milling around the Mathias tent (wearing their own gray shirts) and didn't hang out at the "regular" Democrat party tent.
Just a couple spots over from Mathias was the Somerset GOP tent.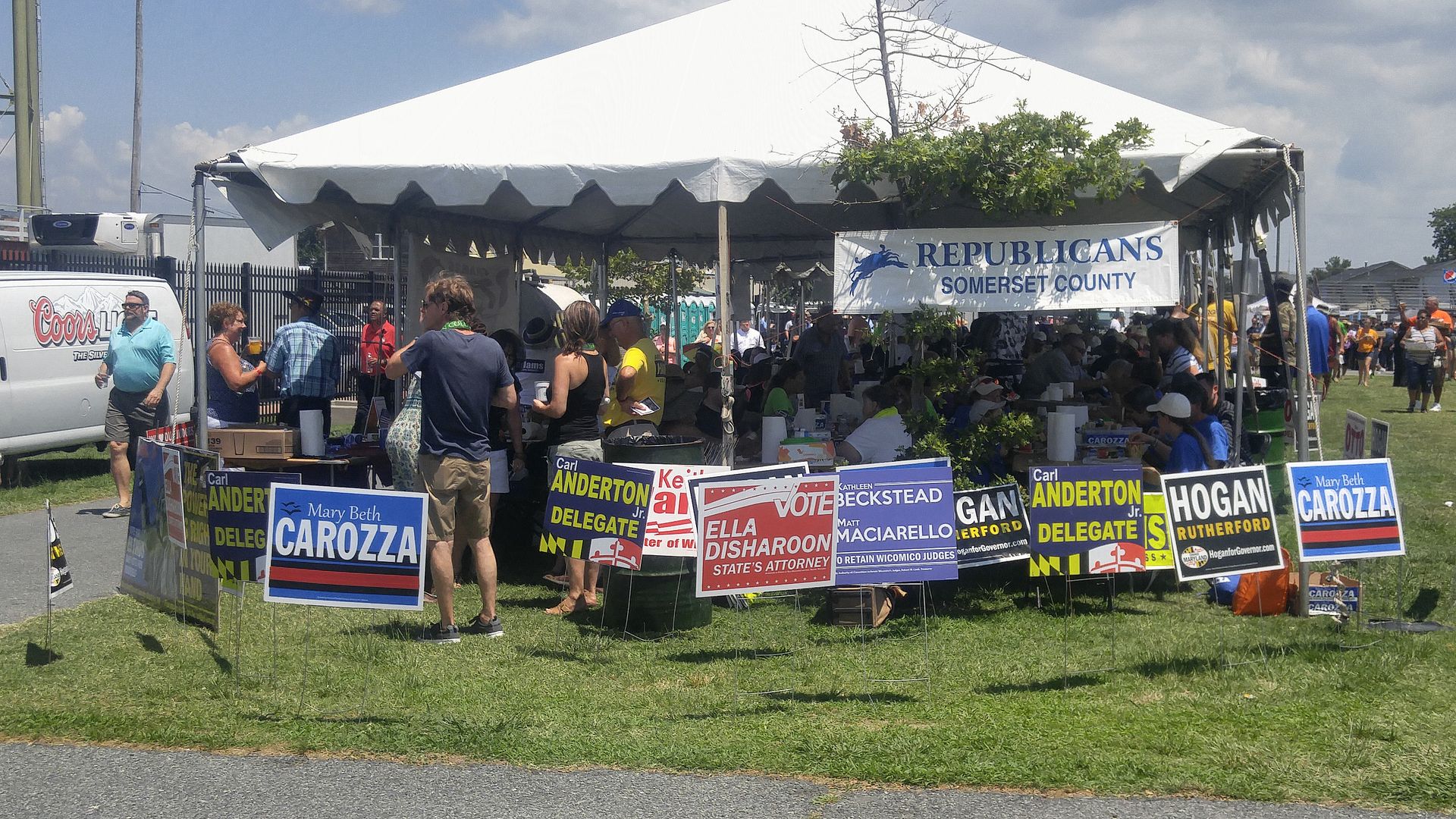 Now you'll notice I said Somerset. For whatever reason, Wicomico's Republicans chose not to participate this year and there were few of my former cohorts to be found. Since that's how I used to get my tickets, I had to make alternate arrangements this time. That's not to say there weren't Wicomico County Republicans there such as County Executive Bob Culver, Judge Matt Maciarello, Salisbury City Councilman Muir Boda, and many others – just not the Central Committee.
Closer to their usual back corner spot were the Democrats.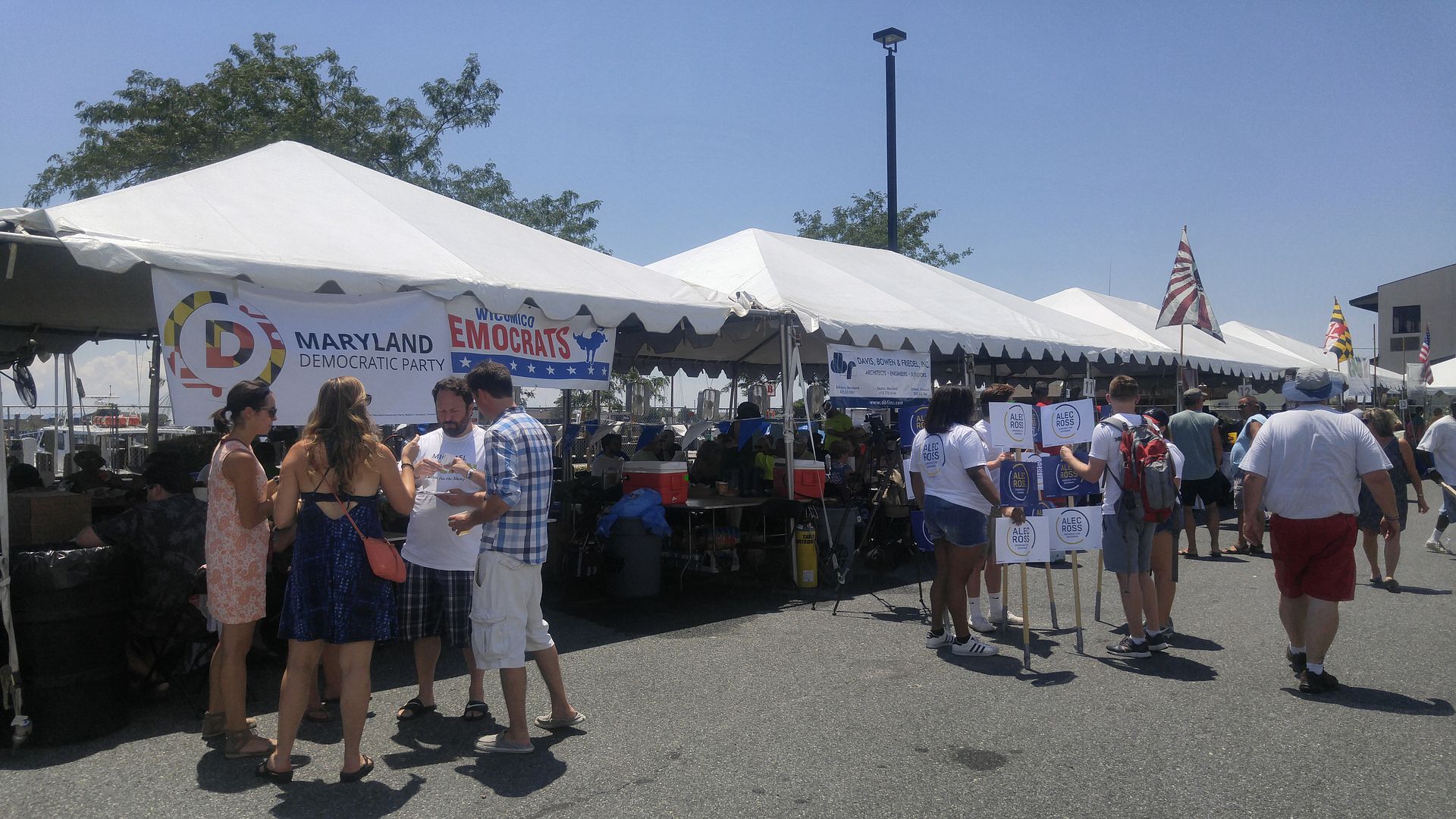 Their focus seemed to be more on the larger races, as even their state chair Kathleen Matthews was there. Here she's speaking with Crisfield mayor Kim Lawson.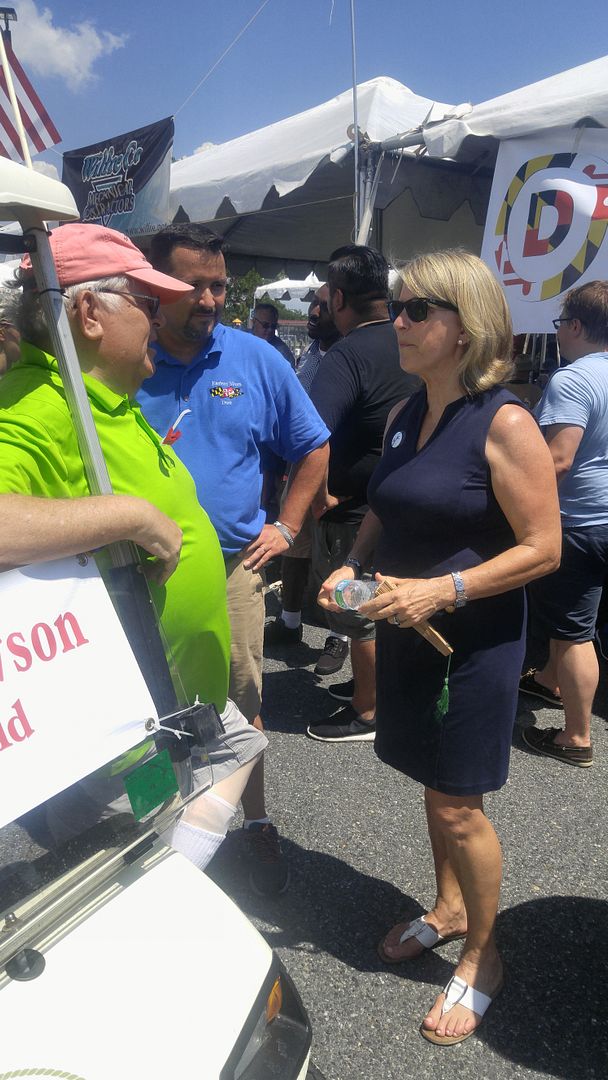 (Lawson has a smart-aleck sense of humor I can appreciate. When a photographer introduced herself as being from the Sun, he thanked her for making it a little cooler here than back home. I got it right away, she looked befuddled.)
The small posse you may have noticed in the original photo of the Democrats' tent belonged to gubernatorial candidate Alec Ross, who eventually caught up to them at the tent.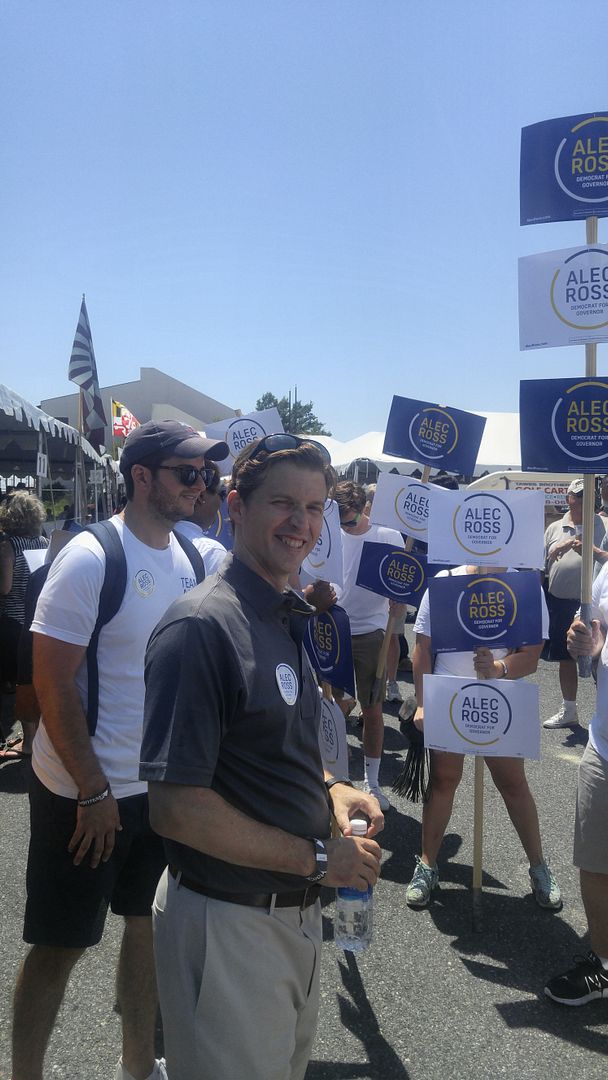 I asked Ross what he would do differently than the current governor, and he said he would focus more on education. One thing I agreed with him on was something he called a Democratic "failure" – focusing too much on preparing kids for college when some aren't college material and would be better suited for vocational training. But he limits himself in the palette of school improvement and choice to public and charter schools, whereas I believe money should follow the child regardless. Ross also has this pie-in-the-sky scheme about government credit to working moms for child care which I may not quite be grasping, but one assumes that all moms want to work. I think some may feel they have to work but would rather be stay-at-home moms.
The thing that stuck out at me was his saying that when two people disagree, at least one of them is thinking. You be the judge of who ponders more.
But the Democrats' field for the top spot is getting so crowded that I got about five steps from talking to Ross and saw State Senator Richard Madaleno, another candidate.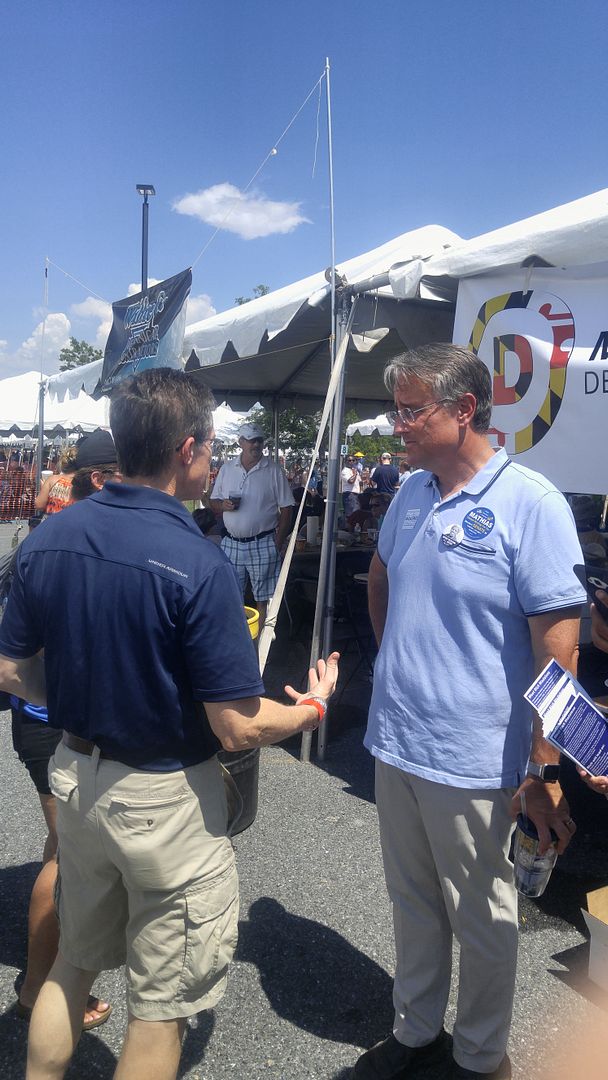 Having done the monoblogue Accountability Project for a decade now, I pretty much know where Madaleno stands on issues – but I was handed a palm card anyway. Indeed, he's running as a "progressive."
And then there's this guy. I didn't realize he was talking to the state chair Matthews at the time, but I wonder if she was begging him to get in the governor's race or stay out of it. I suspect state Comptroller Peter Franchot is probably happy where he is.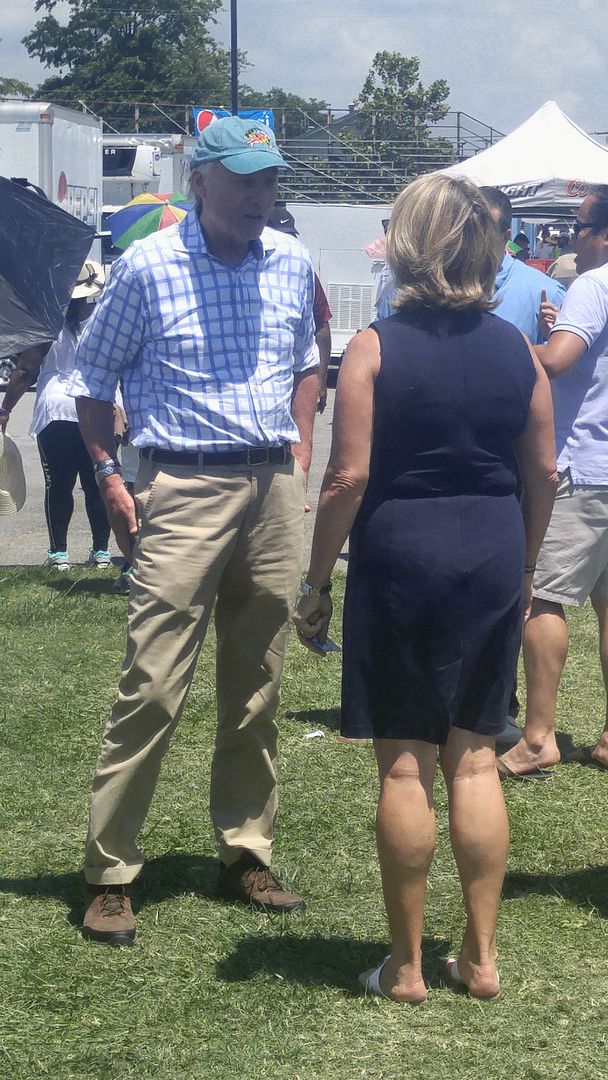 Franchot is probably happy because he works so well with this guy, the undisputed star of the show.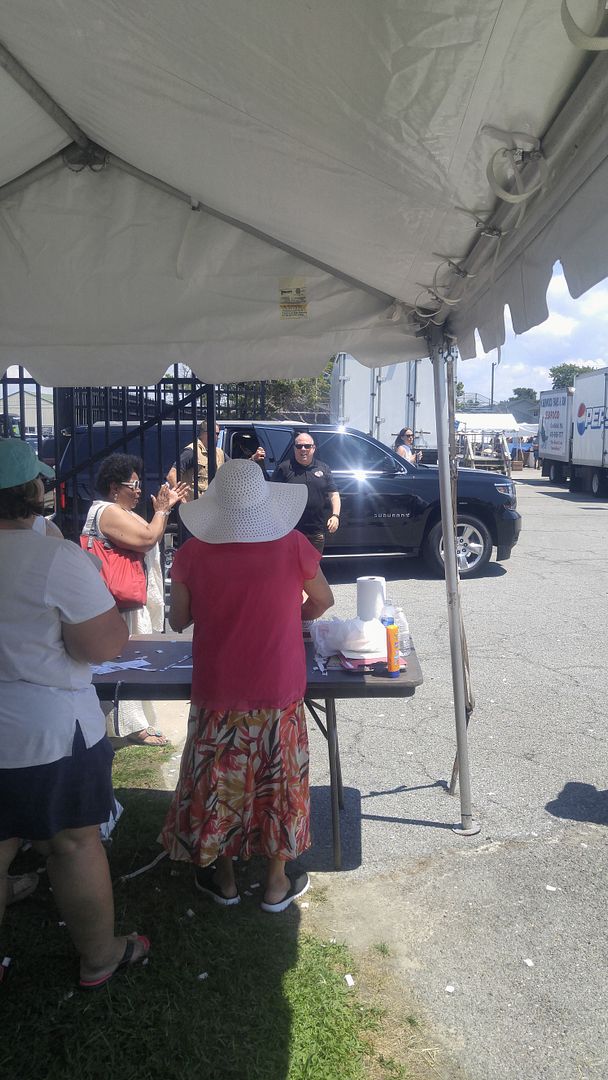 This turned out to be a pretty cool photo because I was standing in just the right spot to see his car swoop around the corner, come to a halt, and watch the trooper open the door for Governor Hogan to emerge.
If you follow me on social media you already saw this one.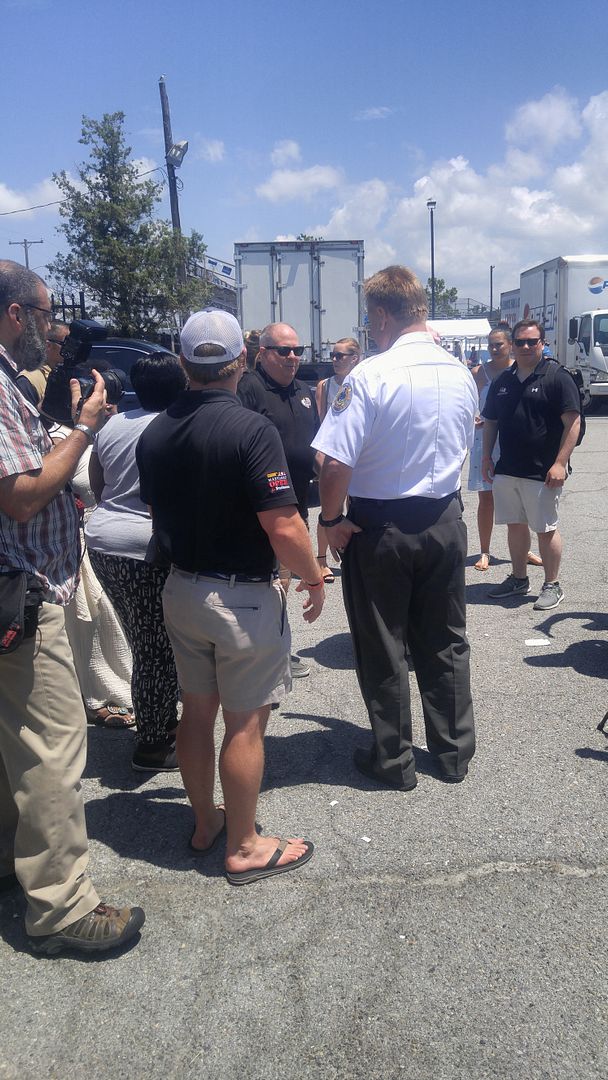 Say what you will, and Lord knows I don't agree with him on everything: but Governor Larry Hogan was treated like a rock star at this gathering, to a point where he could barely make it 50 yards in a half-hour.
This would have been of no use.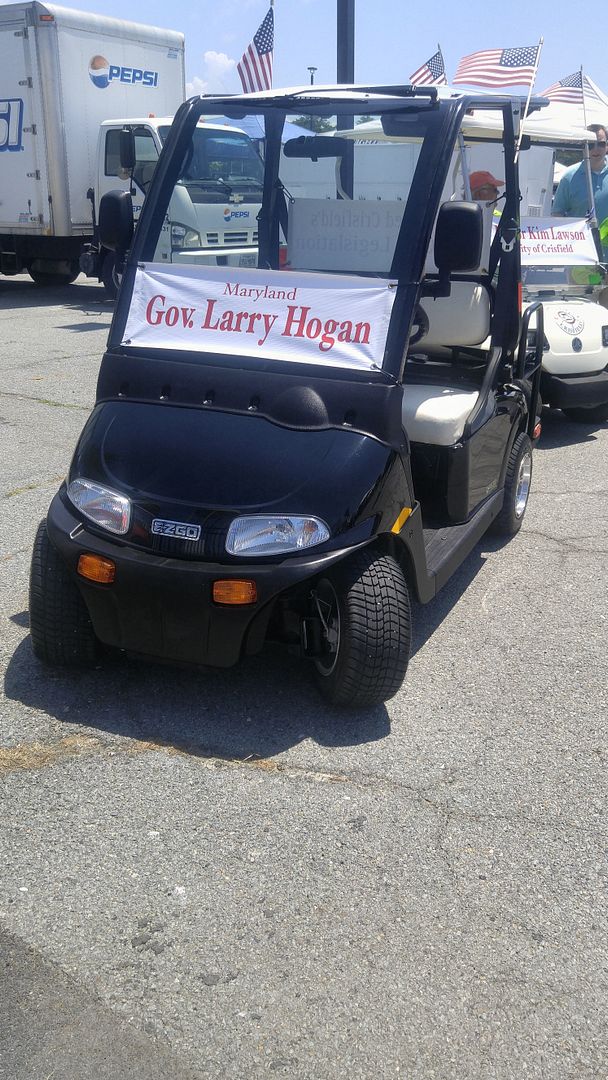 I said my quick hello to Larry moments before WBOC grabbed him for an interview, and that's fine with me.
Here are two ladies who were probably glad he was there, too.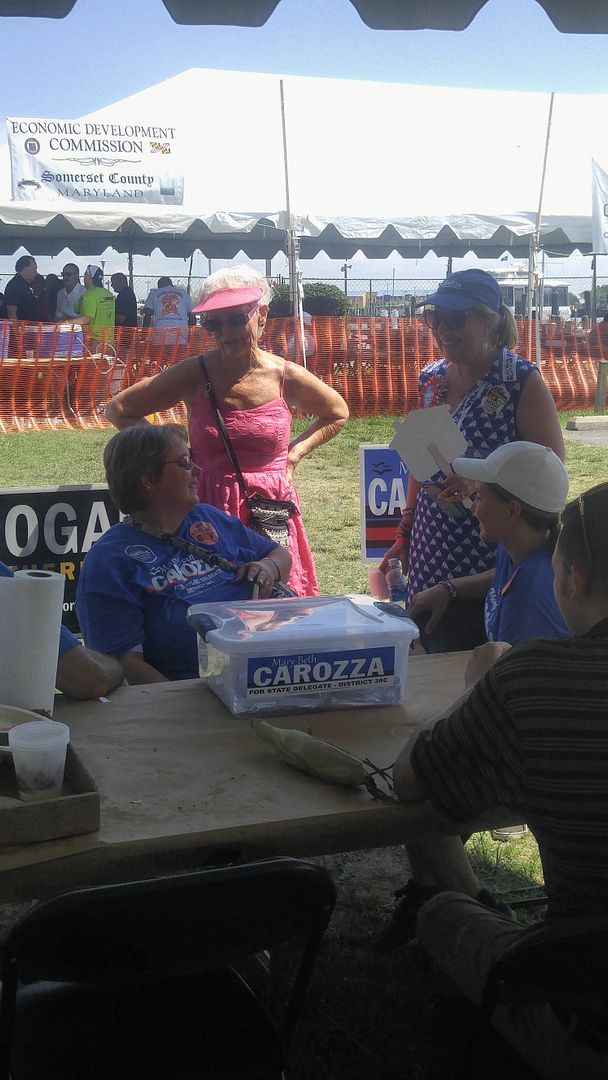 In her usual pink was State Senator Addie Eckardt, while Delegate Mary Beth Carozza was in her campaign blue. And since Carozza told me she treasures my observations, here are a couple.
First of all, it's obvious that Jim Mathias is running scared because why else would he spend the big money on a tent and dozens of shirts for the volunteers that showed up (plus others who may have asked)? Not that he doesn't have a lot of money – the special interests across the bridge make sure of that – but Mathias has to realize there is some disconnect between his rhetoric and his voting record. And he's not prepping for a major challenge from Ed Tinus.
A second observation is that most of the Mathias signs I saw driving down there were flanked by signs for Sheree Sample-Hughes, and you don't do that for a Delegate seat you were unopposed for the first time you ran. Something tells me Sheree has a higher goal in mind, but it may not one worth pursuing unless the circumstances were right.
One thing I found out from the Democrat chair Matthews is that at least two people are in the running against Andy Harris and were there. I didn't get to speak with Michael Pullen, but I did get to chat for a bit with Allison Galbraith.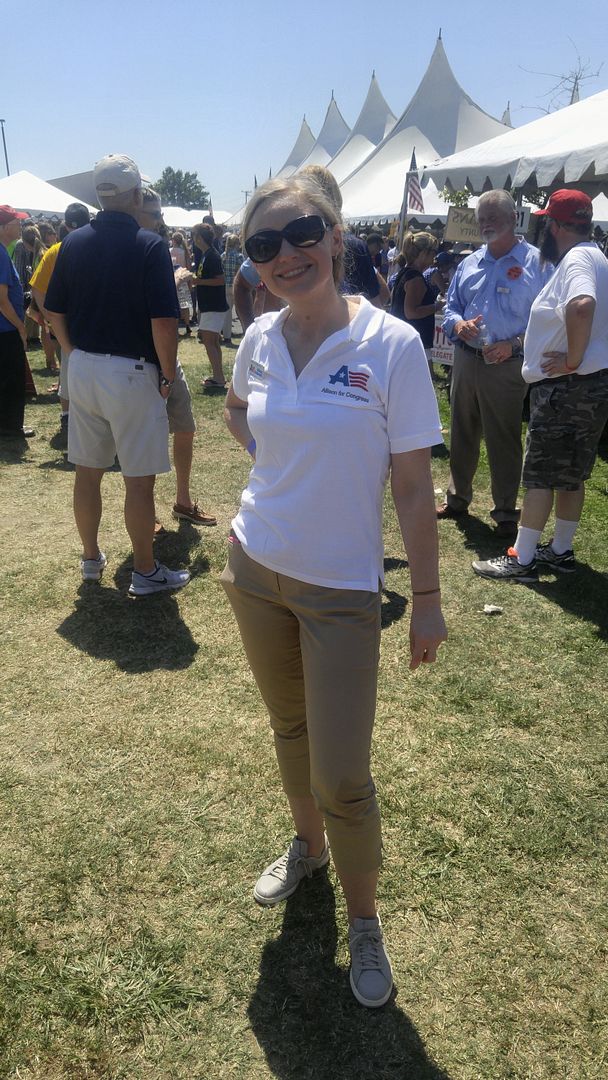 So when I asked her what she would do differently than Andy Harris, the basic response was what wouldn't she do differently? We talked a little bit about defense, entitlements, and health care. Now she is against government waste (as am I) but I think my idea of waste is somewhat different. She also claimed to have saved some sum of money based on her previous work, but I reminded her she would be one of 435 and there seems to be a "I'll scratch your back if you scratch mine" mentality in Congress. (I should have asked her who she would pattern herself after as a Congresswoman.)
But in the end, I was hot, sweaty, sunburned, and dog tired. I will say, though, that despite the rancor that seems to be pervasive in our world these days when it comes to politics most of the people in Crisfield got along just fine. I think I was very bipartisan in speaking since I talked to many GOP friends and met some of these Democrat candidates I didn't know so I had an idea who they were. And who knows? I haven't checked yet, but I may be on the Sun's website – that same photographer Lawson joked with took my photo later while I was asking Ross questions and got my info.
By the time we do this next year, we will know who's running for office and the campaigning will be more serious. So will the eating for the 50% that don't care about politics and never wander by Bereano's massive setup. As long as the Tawes event can cater to both they should be okay.
I promised when I did last month's awards that this month I would do a first half in review, so here goes.
Over the last several years, our trend has been to have the better first half and fade in the second so the fact that we had a lackluster 29-39 first half that placed us 10 games in arrears to eventual leader Kannapolis doesn't bode really well. And unlike a lot of other seasons I can recall, the team did not do a large-scale turnover at the All-Star break as no players were promoted to Frederick – those who were bound for Aberdeen had already long since left the scene. So there's been little player movement since the second half began.
Statistically, the Shorebirds were a bottom-echelon team in most offensive categories, generally ranking outside the top 10 in the league. As far as pitching went, they were more toward the average but still tended toward the lower half. And the fact that there were no obvious standout players who just had to be promoted to Frederick says a lot about this team, which seems to be comprised of a large proportion of late-round draft picks for some reason. As of this writing, it's worth noting that the top five hitters in average were respectively drafted in rounds 31, 19, 7, 21. and 15, while the best ERAs belong to pitchers drafted in rounds 33, 23, and 34 (three others were international free agents.)
So the fact that they are where they are in the standings may be reflective of their relative talent level compared to other squads loaded with blue-chip prospects. The success we may have will definitely be unexpected on paper, but it is why they play the games.
June provided a wide-open free-for-all competition for Player of the Month – there was no real standout. I could make legitimate arguments for four different players based on the factors of statistics, comparison to season performance as a whole, and comparison to expectations. Cole Billingsley, Rafael Palmiero, Alejandro Juvier, and Frank Crinella were all contenders for the prize, which Palmiero would have won in back-to-back months.
And while Alejandro Juvier started out July with a personal milestone, it was the great month preceding it that tipped the scales toward the Player of the Month honors for the versatile infielder. Juvier, who's now played 53 games at second base, 17 at third base, and 5 at shortstop, hit a solid .288 in June (23-for-80) to lead the team in hitting, chipping in four doubles, a triple, and a home run with 8 RBI.  Stumbling along with a .221 average as the month began, Alejandro increased the mark to .244 by month's end, setting monthly highs in most offensive categories and putting up a remarkable .760 OPS for the month (compared to a lifetime .595 mark.) Maybe the guy needs to shop for diamond rings more often.
It's a significant improvement over the time he spent here last season, where he fell one AB short of the Mendoza line in 30 games, going 22-for-111 (a .198 average.) But aside from the 2015 season, where he somehow put together a slash line of .307/0/18/.742 OPS between the GCL Orioles (29 games) and Aberdeen (17 games), offense has been a challenge for the 21-year-old Cuban native whose family found its way to Miami and got Juvier into the Doral Academy Preparatory School, from which Juvier was drafted three years ago in the 15th round. (Juvier was the first player drafted from there; two others followed this year.) Alejandro carries only a .236 lifetime mark, and tossing out the aberrant 2015 season lowers it to a .220 number. So hitting over .280 for a stretch is big news, and worth celebrating. I've often noted that it sometimes takes a player a second time here to "get it," but with perhaps the chance at another 200 or so plate appearances, Juvier could make a run at a nice mark around .260 with the same sort of effort.
Similarly to the position players, there were three pitchers I could have awarded this distinction to. It really came down to a trio who had good months in Lucas Humpal, Steven Klimek, and Matt Trowbridge – of the three, Humpal is the lone starter.
In the end, though, I opted to go with the best body of work overall and that belonged to Steven Klimek. Like Juvier, Steven spent a brief amount of time with the Shorebirds in 2016 and struggled, going 0-1 with a 6.10 ERA in 10 1/3 innings. In June Steven made seven appearances, allowing 2 runs on 10 hits in 11 2/3 innings for a 1.54 ERA and 0.86 WHIP. (The WHIP was low because Klimek walked no one while striking out 14. This goes with a 45-to-3 strikeout-to-walk ratio for the season, in 44 innings.)
Klimek had either a tie or lead in all seven appearances, and there was only one instance where he failed to keep it – Kannapolis scored a run on him June 12 to tie the game, but the Shorebirds would win it in extra innings. Thus, he had a win and two saves in the month as Klimek has become the guy for high-leverage situations. Not bad for a 33rd round draft pick out of St. Bonaventure two years ago. Klimek is actually my oldest SotM honoree for this nascent award as he's already turned 23.
Over the years I have seen this type of pitcher a lot – a guy with pinpoint control at this level who has issues when promoted because batters become more selective. Obviously that will be a test for Klimek when he moves up, since I see no reason why he shouldn't get a chance in the coming months. But bear in mind he struggled his first time here, so he was one of those that "got it" the second time too.
Now that I have my internet back, I should be able to resume my regular schedule and do July's Shorebird of the Month on August 3.
It's probably been a decade or so, but once upon a time I picked up a used CD at a store that sold such things called "Full Bluntal Nugity." As you may be able to guess, I'm a fan of Ted Nugent's music and this album was a recording of a "Whiplash Bash" New Year's Eve live performance he did many years ago in Detroit. The phrase in my title was a joking reference Nugent made to how he did his songwriting as part of the expletive-filled banter between songs. (I like Ted, but let me tell you the dude could make a sailor blush. Maybe he's mellowed out a little bit as he approaches the age of 70?)
But what triggered me to think of the phrase (and I realize in this day and age that's a loaded word) was the Scalise shooting that's almost a month gone by now. (I actually didn't intend the puns at first, but stuck with them.) With the schedule I keep these days I have less time for writing but I still have time to read social media, and on that medium I often check out what the Left has to say more than what my peeps on the Right have to say. And as is predictable in these cases, their sentiments often broke down into two categories, and generally without the fig leaf of well wishes for the victims that the politicians had to put up.
On the one hand, you had the crowd who thought the Republicans deserved this as karma for trying to take away people's health care by repealing Obamacare. Setting aside the obvious fallacy of that mindset of deserving anything bad to happen to them for any action that's legal – and, I would argue, more in accordance with the intention of those who founded our nation – the reality of the American Health Care Act (AHCA) is that it's a work in progress and there's still going to be way more government involvement in our healthcare than there should be. Remember, many of the provisions that characterized Obamacare were untouched by the AHCA. Moreover, there are several states rushing to fill the gaps they perceive in the AHCA so their laws will likely supplement the federal regulations.
The other side of the coin was the usual banshee-like cry for more gun control, and this is the part I want to spend most of this post addressing. Like many people around this area, we are gun owners. Members of our family went out of their way to be legal gun owners, as a matter of fact, because they strive to be law-abiding citizens.
Those weapons that we have, however, even if they were laying around loaded, would not hurt anyone because (and I realize this is a stunning revelation to some) guns are inanimate objects. I could pull a handgun out of its safe place in our house, lay it in front of me, and stare at it for hours – it's going to just sit there. No one will be injured. The only risk of someone being injured from that gun would be the exceptionally unlikely events of one of our cats knocking it off our table and it falling just the right way to discharge; meanwhile the random line of fire would have to actually strike someone.
So as the events unfolded in Alexandria and we learned more about the mindset of shooter James Hodgkinson, a 66-year-old retired home inspector from Illinois who identified himself as a leftist and supporter of Bernie Sanders for president last year, we once again saw the Right blamed for actions a member of the Left was participating in. But let's look at two basic facts regarding the shooter here: he was born in 1951 and came of age in the Illinois town in which he last permanently lived.
Thus, Hodgkinson grew up in an era when he could have been sent to Vietnam, could have gone to Woodstock (although it appears he did neither), lived through Watergate and the energy crisis as a young adult, and was approaching middle age during the Reagan Revolution. Whatever the case, his story ended as he was living out of a van several hundred miles from home and hanging around a local YMCA, according to this somewhat sympathetic Washington Post feature. While he was married, Hodgkinson had a violent past and perhaps became moreso as he aged, regardless, the question has to be asked: what made him believe he was justified in picking up a rifle to attempt to kill people who presented no physical threat to him?
Moreover, one also has to ponder what Hodgkinson would have accomplished had he mowed down the entire field of Congressmen: would that have scared the remainder into inaction or simply redoubled their resolve? Maybe it would have been a moment not unlike the days after 9/11 or the Oklahoma City bombing, when Americans turned introspective regarding their place in the world. The AHCA may have been shelved for a time, but likely would have returned after the wave of special elections made necessary by the slaughter of Congressional membership, with most of the seats likely remaining in GOP hands and Democrats perhaps paralyzed by having to run campaigns against a wave of sympathy.
I don't believe for a second that access to guns is the problem in this nation. Instead, I think what we need to access a better sense of morality, beginning with a newfound respect for life. Hodgkinson lived most of his adult life under the rules of Roe v. Wade, and ironically enough spent many years as a foster parent – so he dealt with a number of children who were deemed expendable by their parents. Just days before I began writing this piece in the wake of the Alexandria shooting last month, our city of Salisbury was rocked by two shootings in one night that left two men dead in separate incidents less than an hour apart – then last night two other men were gunned down at a local Denny's restaurant.
You keep hearing about these gatherings where we are told violence is not the answer, but that message is being drowned out in a cacophony of cultural and political references:
(Respectively, Barack Obama reputedly paraphrasing the 1987 movie "The Untouchables", Obama adviser Jim Messina, and Donald Trump.)
So which side is winning here? Is it the side with the attitude that life is something that should be treasured and preserved, and that differences in philosophy aren't so great or insurmountable that they can generally be worked out with patient discourse and a little bit of compromise if it achieves something that's good for everyone?
Or is it the side that takes the first sign of disrespect as the cue for escalating violence because it's what they were taught and encouraged to do?
Whichever is the case, there is only one person over whom you have full control, and that is yourself. You determine your own attitude, so perhaps this is a good time to discuss turning the other cheek. I give you not just the verse (which comes from Jesus' Sermon on the Mount) but some context as well.
Ye have heard that it hath been said, An eye for an eye, and a tooth for a tooth:

But I say unto you, That ye resist not evil: but whosoever shall smite thee on thy right cheek, turn to him the other also.

And if any man will sue thee at the law, and take away thy coat, let him have thy cloak also.

And whosoever shall compel thee to go a mile, go with him twain.

Give to him that asketh thee, and from him that would borrow of thee turn not thou away.

Ye have heard that it hath been said, Thou shalt love thy neighbour, and hate thine enemy.

But I say unto you, Love your enemies, bless them that curse you, do good to them that hate you, and pray for them which despitefully use you, and persecute you;

That ye may be the children of your Father which is in heaven: for he maketh his sun to rise on the evil and on the good, and sendeth rain on the just and on the unjust.

For if ye love them which love you, what reward have ye? do not even the publicans the same?

And if ye salute your brethren only, what do ye more than others? do not even the publicans so?

Be ye therefore perfect, even as your Father which is in heaven is perfect. (Matthew 5:38-48, KJV)
How you approach life and how you approach others is the one thing you have control over. A good attitude can go a long way in making things better, but that is also something which needs to be encouraged in the culture by turning away from those who would tell you otherwise. Heck, even Nugent himself pledged to tone things down in the wake of the Alexandria incident and if he can follow through so can the rest of us. It truly is about the attitude.
Oh my gosh, have I been pining to write this.
You are probably wondering why it's been so damn long since I wrote a post, so let me tell you: we moved. This was actually a planned thing, but I wasn't planning on doing it quite so soon. And part of that move was having to re-establish internet service and that took until today – until now I had to use my phone's mobile hotspot to get on the internet and I wasn't going to chew up gobs of data just to write and research blog posts. (I did it for writing Patriot Post, though, such as yesterday's piece that led off their "Weekend Snapshot." That was plenty enough.)
Now I have service re-established, though, I can get back to writing stuff every once in awhile. In fact, one thing I owe you is a Shorebird of the Month for June as it was a casualty of my wait for internet. I'll pick that up next Thursday at the appointed time.
But wait: there's more. I got some news yesterday that I'm keeping under my hat for a few days, but in time this will be the opportunity to end my hiatus from serious writing. Let me assure you that prayers are answered.
I may have a post tomorrow for you as well because I started one before we moved, hoping to get it done (obviously not.) I'll have to look it over and see if it's still relevant but I think it will be. In the meantime, I'm pleased to be back online with good internet.
And boy do I have a lot to say!
Because I did a lot of explanation before introducing my April position player and pitcher of the month, I think I'll stay with the trend for May and do my impressions on the season so far.
As it stands, the Shorebirds are tracking to be about the team I thought they would be when I found out that three of the top four picks in last season's draft would bypass Delmarva and jump straight from Aberdeen to Frederick: how would this team look with Cody Sedlock and Keegan Akin in the rotation and Austin Hays in center field? I'm not sure they would flip their current record that has them well under .500 and already all but eliminated from the first half title with a couple weeks to go, but we would be much less mediocre.
When I looked up those players who were slated to make the Delmarva starting lineup, I cringed at their offensive production. One of the few saving graces I thought we would have was the fact the plan for Dariel Alvarez was to have him pitch once or twice a week as he learned that aspect of the game but stay in touch with the offensive end as a DH a couple games a week also. It would have been like having a guy on rehab all year (and bear in mind Joey Rickard hit .300 in his brief rehab stint here.) Alvarez wasn't a slouch at the plate for the Orioles in his time there, so that would have been an interesting couple days a week and/or weapon off the bench. Alas, Alvarez blew out his arm so we may never know how it would have worked out.
I thought we would have a reasonably decent pitching staff, but with the exception of my April Pitcher of the Month Alex Wells, the rotation has been roughed up for much of the season. Aside from Wells, none of the five rotation mainstays have an ERA under 4.10 or a WHIP under the league average of 1.27. (Lucas Humpal is right on that mark, though.) Even our closer has an ERA over 4. It's just a team that seems to languish in the bottom half of the league in a number of categories, including the number of blue-chip prospects that are playing right now.
Earlier this week we also learned who our three representatives to the SAL All-Star Game will be, and to no one's surprise my April players of the month are two of the three – Alex Wells will pitch for the Northern Division team while Jake Ring will be a starting outfielder. They're joined by Chris Clare, who's the utility infielder of the group. However, while all three of them had good months in May, none of them were selected as my two honorees.
Instead, I went with two players who had hot hands in May; in particular my position player. This player had a May batting average over 100 points higher than his April mark and his OPS surged from .608 in April to .908 for the month of May. Based on a stellar month in which he batted .303/4/15/.908 OPS I selected Preston Palmiero as my Position Player of the Month for May.
It's obvious that Palmiero has a bit of a legacy to uphold as a member of the Orioles' organization, as his father had seven of his twenty very productive major league seasons in a Baltimore uniform. (Unlike his older brother Patrick, who played for three seasons in the White Sox organization and now plays with the independent Atlantic League's Southern Maryland Blue Crabs, Preston was born while his father was an Oriole.) The younger Palmiero was also the higher draft pick, taken in the 7th round last season by the Orioles. (Worth noting: his brother Patrick was drafted out of high school by the Pirates, but did not sign. The White Sox signed Patrick as a free agent after college, so Preston obviously drew a lot more interest as he attended North Carolina State.)
Preston put up reasonable numbers in 34 games last season with Aberdeen, hitting .258/0/18/,622 OPS. It wasn't going to set the world on fire, but I'm certain that Palmiero was ticketed for Delmarva this season all along unless he really struggled or shined with the IronBirds last season. And April was a mighty struggle for Preston, but May was a month he righted the ship, aided by a lot of road games – Palmiero has an extreme split in favor of games away from Perdue Stadium thus far, where he's hitting .289/6/18/.941 OPS compared to .216/1/11/.575 OPS at home. It's almost like he tries too hard here, but since the Shorebirds had so few home games in May it helped Preston out. Surely the numbers will begin to balance out, but for now his average is about where it was for Aberdeen and the trend is in a good direction.
If Preston hadn't come on with such a good month, I would have had no problem giving the honor to Jake Ring again. He had a fairly solid month of May to go with a stellar April, and that's why he'll be an All-Star.
As for the May Pitcher of the Month, the seeds of his success began in April when he began a shutout streak that would take him deep into May and even through one spot appearance with the Frederick Keys. Francisco Jimenez had six consecutive shutout appearances that varied between 2 and 6 innings during the run, but for the month of May itself he was 2-0 with a 1.02 ERA and WHIP of 0.906. (Note that Baseball Reference does their splits among all levels, so this counts his one 3 2/3 inning appearance with Frederick. If you back out the Frederick innings the ERA goes up to 1.29 and WHIP to 0.929, which are still really, really good.)
In Francisco's case, though, one could argue that he's only come to master this level because he's repeating it for the third time – he was he for the last few weeks of the 2015 season, all of 2016, and so far this season except for the quick dash to Frederick. But a point to consider is how many pitchers who succeed here struggle immediately on their promotion to the Keys, so that's in Jimenez's favor. Also. he's had the flexibility to pitch as both a starter and reliever this year, although his background has been more geared toward a starting role.
Also doing well this past month on the bump and deserving mention are starting pitcher Matthias Dietz, who has bounced back to great extent after a terrible start, and relief pitcher Cody Dube. Both were top-10 picks last season so you would hope they have success at this level.
Finally, I wanted to point out that so far – with the exception of Wells, who is but 20 years old – all of my Shorebird of the Month selections are 22 years old, so they are right in line with expectations for excelling at this level. Once we reach the All-Star break, it will be interesting to see how the roster is shaken up as the team doesn't appear to be a contender with the cast they have now. My June Shorebird of the Month selection will have a first half review as well.
You know, there's no shortage of irony that exactly 50 years ago many of the granola-crunching veterans of the leftist political movement were putting flowers in their hair and heading out to San Francisco to celebrate the "Summer of Love." (Yes, that was 1967. I was two years old at the time.) Now their progeny are gathering around their computers later today to hear Rep. Keith Ellison of the Democratic National Committee and other "special guests" blather on about how they will have the "summer of resistance" this year. More than likely it will be just as successful as one of the several "recovery summers" the last administration tried to drum up support for, but no matter – we know how this will go. Instead of the summer of love, it's the summer of hate for what's made America great (and I'm not talking about Donald Trump.)
Just look at what the Left has been getting themselves all worked up over since President Trump came to office. They dressed up as large-scale versions of certain lady parts to promote funding Planned Parenthood, a code spoken with the true meaning of their "right" to murder babies in the womb under the guise of "choice" or "reproductive rights," completely forgetting that, at the moment of conception, the tiny human inside them earned the most pre-eminent of all rights, the right to life. (For without life, how can you enjoy liberty or the pursuit of happiness?) Corollary to that was Trump's vow to repeal and replace Obamacare, which was a replacement more than I would have preferred.
We have spent countless hours of news coverage and barrels of ink talking about a possible Russian influence on our elections, but the question that should really be asked is why their propaganda was so believable? If we thought the worst about Hillary Clinton, there had to be a reason why and I don't think we have been working for the last 16 years, through two other presidents, just so the Russians could set up an election between Clinton and Trump because they utterly feared the former and had plenty of dirt on the latter. I would believe the reverse far more readily, but the Left keeps playing with the "Trump is a Russian puppet" narrative.
The latest hissy fit from the Left comes as Donald Trump has decided the Paris Climate Agreement as negotiated by the Obama administration isn't for him, so he wants a do-over. Of course, the Left is having a collective cow on this one as well, but it's also worth noting that some of the more foolish states and localities among us are vowing to continue working on their own toward the parameters of the Paris Climate Agreement.
**********
As I see it, what the Democrats are proposing isn't the summer of resistance but the summer of submission: willfully being tied to an inept, impersonal, and immoral nation-state that dictates our actions to us rather than allowing us the freedom to chart our own course. A true Summer of Resistance would perhaps have a convention of states that proposes only a handful of new amendments to our founding documents to provide for the following:
The repeal of the Sixteenth and Seventeenth Amendments, with concurrent adoption of a consumption-based tax system and return to state legislatures electing Senators as terms expire
An amendment prohibiting discrimination against or for certain groups in various legal functions, including crime and punishment
A balanced budget, except in instances of Congressionally-declared war or state of emergency
Additional language to clarify and rein in abuse of the general welfare and commerce clauses
This convention would also come up with a list of names from around the nation that would constitute a new court system to replace the present appellate system that has gone too far out of balance. Along with sending the new Constitutional amendments to the states for ratification, this new court system would be on the Congressional Summer of Resistance docket as well as a budget that completely rightsizes the federal government by returning it to the duties they are supposed to do.
By summer's end, Americans would be free of their federal burdens. Yes, for some it would be a struggle at first but it would be incumbent upon a nation that is the most charitable in the world to give the helping hand to those in need voluntarily, and not via the force of government edict.
Instead of a good Summer of Resistance like the one I described, though, we'll just get more anger and angst from people who still haven't accepted the fact that Donald Trump won more electoral votes than Hillary Clinton did. Try as they might, they can't resist that simple fact. But they can (and will) continue to piss and moan a lot.
This is one of those posts it took me a few days to write as life intervened, but it turns out to be a happy accident in this case.
While I'm certainly not been the biggest fan of Donald Trump as President overall, he has had his moments. Today he's given Radical Green a conniption fit just by announcing he will make a formal declaration on whether we will remain in the Paris Climate Agreement tomorrow afternoon. It's expected he will decide to withdraw, but there's also a school of thought that believes it's just a negotiating ploy to give America a better bargain than Barack Obama negotiated.
In the meantime, it looks like another of those moments may be the rebirth of something that was strangled in the crib during the last administration when they overreacted to the comparatively rare Deepwater Horizon disaster by eliminating the prospect of oil exploration off the mid-Atlantic coast.
In order to get to that point, though, a necessary step is to do seismic surveying. Remember when the environmentalists had a cow awhile back because they were talking about doing this for oil exploration, and it got everyone's knickers in a wad all up and down the coast? Well, it turns out doing this can serve a lot of other interests as well, at least according to Interior Secretary Ryan Zinke:
"Seismic surveying helps a variety of federal and state partners better understand our nation's offshore areas, including locating offshore hazards, siting of wind turbines, as well as offshore energy development," said Secretary of the Interior Ryan Zinke. "Allowing this scientific pursuit enables us to safely identify and evaluate resources that belong to the American people. This will play an important role in the President's strategy to create jobs and reduce our dependence on foreign energy resources."

The last G&G seismic data for the Mid- and South-Atlantic Outer Continental Shelf (OSC) were gathered more than 30 years ago when technology was not as advanced as today. Aside from providing data on potential offshore oil and gas resources, seismic surveys are also used to site offshore wind structures, locate potential seafloor hazards, locate potential sand and gravel resources for beach replenishment activities, and locate potential archaeological resources. Data from seismic surveys also assists the Department in determining Fair Market Value of offshore resources.
It was also over 30 years ago that a series of exploratory oil wells were drilled and capped off the New Jersey and Delmarva coastline, with the closest to us being about 80 miles ESE of Ocean City. At the time it was determined this was essentially a dry hole, but the exercise was useful as a study of the ocean floor and substrate below. So if the same is true now, I wonder why the environmentalists are so afraid of exploratory drilling and seismic surveying? Maybe because they know as well as I do that there's a significant amount of oil out there, and it would keep the price of oil affordable enough to undercut the subsidies needed to keep renewables competitive?
And last week's update from Energy Tomorrow was doubly interesting because not only did it have the release regarding the seismic surveying, it also had a small news item that pointed to a new, soon-to-be-released (and peer-reviewed) three-year study that concluded fracking has no effect on groundwater. (Are you listening, Larry Hogan? There's still time to reconsider your foolish ban on fracking in this state before your election next year.)
Of course, the study authors did have a caveat to their findings:
In contrast to groundwater samples that showed no evidence of anthropogenic contamination, the chemistry and isotope ratios of surface waters (n = 8) near known spills or leaks occurring at disposal sites mimicked the composition of Marcellus flowback fluids, and show direct evidence for impact on surface water by fluids accidentally released from nearby shale-gas well pads and oil and gas wastewater disposal sites.
Now I know the Radical Green folks will be going "SEE! SEE! I BET YOU CAN LIGHT THAT WATER ON FIRE!!!" However, it seems to me one could easily have the same contaminating type of effect from a sanitary sewer overflow, underground tank leak, or EPA incident. The key words are "accidentally released," and companies that want to stay in the business have a duty and legal obligation to be as careful as possible.
But this blows away one key argument from fracking opponents, not that they are much for using logic anyway.
With the right mindset and private-sector infrastructure investment, this region of the country could finally be energy self-sufficient on its own. The job created could be yours.
I have seen a number of people who I count among my friends fall on the other side of an issue where I'm not certain they're seeing the proper perspective.
If you look at the situation from the world's view, Maddi Runkles is being punished because she became pregnant and chose not to abort that pregnancy; yet despite that commendable pro-life stand she is being denied the honor of taking the stage to accept her diploma, among the other discipline handed down by the Heritage Academy, a Christian school in Hagerstown.
However, I look at it from the standpoint of a Christian, and perhaps more importantly, that of a step-parent who could theoretically very well be in the exact same situation as Kim and I have a daughter in a Christian school. So as I was reading some of the reaction from my friends (and their friends) on social media, I was led to the statement from the school, or as one particular friend put it, the group of "lost souls, despite what they are 'preaching.'" Since this is probably creating more traffic in a week for the school than their website previously received in the last year, their front page has this statement so I'm choosing to reprint it for posterity when this all eventually dies down and the school returns to normal. (Otherwise, the link will point incorrectly.)
Dearest Heritage Family:

As I begin, please understand that my wife and I have fallen in love with the people of Heritage Academy.  Therefore, it is for Heritage's protection that I write this.

The main reason I have been silent to this point is because in disciplinary situations, each Heritage family deserves confidentiality. The conduct of your children is not everyone's business. This perspective would have been the best way to deal with Maddi Runkles' disciplinary situation. However, her family has chosen to make her behavior a public matter. Before sending this letter, I contacted Scott Runkles who gave me permission to discuss this publicly. In my thinking, these were the two to protect: first Maddi, then Heritage, in that order. Unfortunately, both are now being hurt by those who do not know or understand the situation. For this sole reason, I am now willing to comment publicly.

Let me clarify some facts. Maddi is being disciplined, not because she's pregnant, but because she was immoral. The Student Pledge which every student from 5th grade through 12th grade signs states that this application of Philippians 4:8 "extends to my actions, such as protecting my body by abstaining from sexual immorality and from the use of alcohol, tobacco, and illegal drugs".  Heritage is also pleased that she has chosen to not abort her son. However, her immorality is the original choice she made that began this situation. Secondly, she will receive her diploma that she has earned.

Much has been said about grace. I believe that there are two kinds of grace: saving grace and living grace. One is concerning spiritual birth "once and for all" (Hebrews 9:12, 10:10) which demanded no effort on my part, because my Savior Jesus, finished this on His cross and from His empty tomb. The other kind of grace is spiritual growth that does demand my effort (2 Peter 3:18). It also includes discipline (Hebrews 12:5-11). A wise man told me that discipline is not the absence of love, but the application of love. We love Maddi Runkles. The best way to love her right now is to hold her accountable for her immorality that began this situation.

As I conclude, I have two concerns. First, I am concerned that my Heritage family feels that the Board and I are harsh, cruel, hard-hearted men. Nothing can be further from the truth. We have spent countless hours in prayer and discussion. The Board has listened to three appeals from the Runkles family and compromised all three times. Secondly, I am concerned about our graduation ceremony on the evening of June 2nd. That night, I want God to be glorified in a dignified manner. Please enable us to do this.

With deepest sincerity,

David R. Hobbs

Administrator

(All emphasis mine.)
Before I go on, I want to add the context of Phillippians 4:8 that their Student Pledge is apparently based upon:
Finally, brethren, whatsoever things are true, whatsoever things are honest, whatsoever things are just, whatsoever things are pure, whatsoever things are lovely, whatsoever things are of good report; if there be any virtue, and if there be any praise, think on these things.
In so many words, do the things which are good and which are right based on the Biblical values being taught in the school.
But let me step away from the Biblical and moral for a moment and consider the practical. Whether a young lady is taking birth control pills or not, whether the young man is wearing his own protection or not, whenever there is sex there is always the possibility of unplanned pregnancy as has occurred in Maddi Runkles' case. And bringing a baby into the world as an unwed couple means the child is more likely to grow up in poverty and/or with single parents, neither of which are the more desirable outcomes. That's not me talking, that's a statistical fact: the best way for a couple to avoid poverty is to finish their schooling and find work, get married, and then have kids – in that order.
Most of those people who are taking issue with the school are saying they are punishing her for doing the right thing insofar as having the child; but the problem remains that she violated the school code and she faces a punishment for doing so. However, the punishment cannot be given to both participants because the young man does not attend the school, and the truly unfortunate fact of life is that, for boys (even if they attended that school and got a non-student pregnant) they could get away with doing the same thing Maddi did because they're not going to get pregnant and it's quite likely they could deny getting the girl pregnant until there's no need to anymore. (It would be his word against hers.) It's not fair, but neither is life.
I can't speak to this for a fact, but as I read this there was the distinct possibility the school could have expelled Runkles immediately without giving her a diploma. We don't know what other previous transgressions (if any) may have occurred involving her, either, but we do know that she has been made out to be the victim in this case because she lost out on the privilege of receiving her diploma with her classmates. But what she has lost out on are just her privileges. She will still be a graduate of Heritage Academy and can do with that what she will.
To me, the reaction to this story coincides very well with the reaction to the news about the group of graduating students who made the public show of walking out on Vice-President Pence as he delivered commencement remarks at Notre Dame last week. Those who thought the students were justified seem to also believe this school should bend its rules to allow Runkles to receive her diploma because she deserves it, despite one incident of wrongdoing (that we are aware of.) On the other hand, people like me who think the Notre Dame students should have handled the situation differently (perhaps by boycotting the ceremony entirely) are more likely to believe the school should remain firm in enforcing its rules.
One final thought. I've seen a number of comments from people, particularly of the Millennial generation, that basically run along the line of "well, no wonder they're having a hard time getting kids to come to Christian schools when you have such draconian, backward rules." I agree, to a point: for example, I could understand the girls being pleased about being able to wear pants because they ditched the skirts-only rule a few years ago at our school. Small stuff like that isn't worth sweating over.
But the larger stuff, such as alcohol, illicit drugs, tobacco, and premarital sex? Such prohibitions are among those I find entirely appropriate for a Christian school. And yes, I think it is appropriate to expect Biblical-style morals from our children. Why should we settle for less when we see the results in the world today?
As parents, our charge is simple, and it's reflected, among other places, in Proverbs 22:6:
Train up a child in the way he should go: and when he is old, he will not depart from it.
That's not to say any parent will do a perfect job, but there's a reason it works best when a couple gets to know one another well enough to make a commitment to be wed then prayerfully and reverently embarks upon the job of rearing children (and even then it's not foolproof.)
Apparently the plan was different for Maddi Runkles. I hope and pray when graduation is over she has a healthy baby and she and the father decide to do what's right. I also hope and pray that the fifteen minutes of fame she receives for this episode, good and bad, will be gentle about chewing her up and spitting her out (as I'm sure it will, because that's the fate of most "average" people thrust into the limelight so someone can make a point.)
Finally, I pray that the Heritage Academy weathers the storm sure to come from a world that's sure it's right but knows nothing of the sort. If I were them, the only people who need to be at their graduation a week from Friday are the graduates, their families, and invited guests. The media wouldn't care a whit about whatever number of solid Christian graduates the Heritage Academy (and other schools like it) send into the world any other time, so why indulge them now?
I'm going back to a monoblogue music alumni on this one.
Back in 2014 I reviewed Matt's effort, done with a band he called the Wonder of the World. In it, I noted that Townsend had an unmistakable vocal resemblance to Bob Dylan, but added, "fortunately for this listener, it's really only the voice which is reminiscent of Bob Dylan because Matt forges his own musical direction." (He also contributed to a more recent album I reviewed from the Asheville Symphony Orchestra.)
In some respects, that musical direction remains true with this release but I also think it's a far more politically-pointed effort. I normally don't read other reviews before I do my own, but I couldn't help noticing on Townsend's Bandcamp page as I was listening to the five songs that make up part one of what is supposed to be a two-part effort that he's being compared to Bruce Springsteen and Woody Guthrie – both noted leftist icons. That leaning is unmistakable in the opening song, called The Great American Madness, later on in Freedom Is Calling Again, and it's also a little bit there in Came Down From The Mountain if you listen between the lines.
And listening between the lines is something you really need to do with this EP. With the exception of the final song, Katie, the other four songs are well-composed, complex arrangements. Townsend obviously spent the 2 1/2 years between "Wonder of the World" and "Drifter and the Dream" honing his musicianship and songwriting ability, as he has learned well how to craft songs in a style that suits his voice and the genre he's choosing to work within. (I should say, however, that Katie is not a bad song by any stretch – it's just a far simpler acoustic number with guitar, harmonica, and poignant vocals.) This ability shines the most on Roaming Twilight, a ballad which I think shows Matt at his best.
I wasn't originally aware that this EP had been out for a few months (it was actually released back in December) so once I noticed that I got to wondering how work on part two was going. To be honest, I couldn't find out much about that but I did learn that Matt was (obviously) successful in raising the $12,000 he needed to bring this project to life through crowdfunding and maybe had enough initial success with sales (or enough ambition) to do a quick tour around Florida and Georgia earlier this year. (He has only one show on his current docket at the moment, fairly local to his North Carolina home.)
As a bottom line, if you were to look at the evolution and growth as an artist and craftsman of song between his 2014 release and this more recent one, you would see from Matt a serious upgrade and dedication that is reflected in the work. It's music that is invigorating and refreshing in its honesty. I don't have to necessarily agree with the lyrical content or the politics of the singer to appreciate the music, so (knowing the political composition of my core audience) baffle the other side and listen for yourself with an open mind, too.
The other day I noticed on social media that our Congressman, Andy Harris, had put up a post explaining his vote for Trumpcare 2.0, the "repeal and replace" bill for Obamacare. (Most people refer to it as the American Health Care Act, or AHCA.) At the time I saw this there were 1,043 comments on his post and probably 80 to 90 percent of them were negative. I can guarantee you that 80 to 90 percent of his district doesn't oppose his vote, but thanks to this so-called "Indivisible" movement we are seeing some of the most seriously squeaky wheels get the grease that comes from taking 30 seconds to write the linguistic equivalent of "you suck!" on his wall. So I took about five to ten minutes to write my response, because there was a little research involved.
1,043 comments, mostly from people who probably didn't vote for Andy in the first place, vowing he's going to lose in 2018. Y'all need about 139,000 more folks.

In terms of repealing the disaster known as Obamacare, this was the correct vote, We have a long way to go in the process and it's way too early to say what will happen in the Senate (except that regardless of what it is, Maryland's Senators will vote no.)

Oh, and by the way, I just checked out that Allison whats-her-name and if she's praising NARAL she's not getting too far in this district. Most of us stand for life.

Also, since you are on the subject of town halls up and down the thread, could you get those aforementioned Senators down here to have one? Interesting how I never hear anyone clamoring for that.
I have to admit I was only being semi-flippant when it came to "Allison whats-her-name" because I had closed my window and honestly didn't feel like looking it up. Her name is actually Allison Galbraith and she makes her living from, of all things, steering companies to government contracts. I kid you not.
But to begin this piece I want to address the two people who replied directly to my comment, whose names are Gail Jankowski and Bill Schwartz. I'm going to quote their opening sentences here, ladies first.
Gail: We will get MORE than enough votes to replace him because more and more constituents are learning just how negatively this AHCA will affect them!

Bill: Maryland is a Blue State and we need to ensure that the first district is fairly represented.
I'm sure Gail and Bill are nice enough people, and in her case she gets bonus points for (at least presumably, judging by the surname) marrying into a Polish family. (By the same token, I won't take any points from Bill just because his ancestors insisted on unnecessary consonants.) But they seem to have a slim knowledge of political reality.
What the vast majority of people "know" about the AHCA comes from the talking points being fed to them from the media, which isn't exactly a set of unbiased observers. But the 2018 campaign won't begin in earnest for another 15 to 16 months, and what I've found out over the years, Gail, is that the issue you may think will drive the electorate this far out isn't always the one that is front and center by the time people really begin to pay attention, let alone when votes are cast. The big difference between the era of the TEA Party eight years ago in the Obama administration and the Indivisible movement now is, while both are having a discussion about health care as a topic in the off-year before the election – although Obamacare was more dominant in the fall and winter of 2009 – the economy was much, much worse back then. If the economy is in good shape come the fall of 2018, the AHCA will be a minor issue by comparison. People generally vote with their pocketbooks, and the reason the 2010 election was such a wave was the pent-up outrage at an administration that addressed health care before job creation and the economy. (The sticker shock effects of Obamacare were the reason for the 2014 wave election, since it took effect in earnest that year.)
So if the economy remains in decent shape, the AHCA will be so minor of a concern by then that Andy Harris will once again get his 60-65% of the vote and cruise to victory. You see, Bill, Maryland is indeed (and unfortunately) such a blue state that our previous governor and the Democrats got greedy – or at least as greedy as their incumbent Democrat Congressmen would allow them to be. I've made this point before, but if the composition of the First Congressional District were the same in 2008 as it became in 2012, Andy Harris would be on his fifth term. By erasing the northern half of Carroll County from the previous configuration of the Sixth Congressional District and adding it to the First, it assured whoever the GOP puts up in the First District will win because the plurality of the state's Republican voters now reside in the First, and it's by a factor of almost 50% more than any other district. So based on the electorate of the district the First is fairly represented. (The rest of the state? Well, they are just poorly represented, but I'm working on that.)
So now let me turn to another aspect of social media. My friend Sarah Meyers, who describes herself as a proud moderate Democrat (and is a member of our county's central committee) was distraught about the passage of the American Health Care Act, claiming, "The Republican House just voted to allow insurance companies to deny me healthcare."
Now I'll set aside the false conflation of actually having health care provided and paying for it, since there are other methods of doing so out there, but my response essentially noted that she is in the minority of people who are net beneficiaries of the ACA in terms of paying less. Those who get their insurance through their employer are paying far more, a fact that she chalked up to the "greed" of the insurance companies. But the "greed" is tempered by the fact that group insurers have to pay out 80 to 85 percent of their premium income on medical care, leaving the remainder for "administration, marketing, and profit." Since neither administration nor marketing are free, one can presume these insurers are not rolling in profit. This "medical loss ratio" is part of the ACA and may be one reason why insurers are dropping out of the business.
One of the next arguments I got was that the ACA "saves lives," presumably because those who could not afford insurance or were no longer being tossed off for the various reasons of pre-existing conditions, lifetime limits, and so forth were being covered. But the evidence of this is anecdotal at best, and rather dubious in the amount of inference that has to be made. It truly depends on the source, but the best scholarly guess is a net wash. Even some of the partisans concede it's a bogus argument. And while there's always the emotional appeal of someone who can come out and claim they are a survivor because they had health insurance through Obamacare, it's pretty difficult to speak with someone who didn't because Obamacare made their deductible too expensive.
The most radical solution offered up was the old single-payer bromide, from local leftist Chuck Cook:
Single payer is the only solution, and it has been proven to work in every single industrialized first world nation on the planet… except ours. We are the outlier due to conservative ideology that honors the wealth of billionaires over the health of children.
Uh…..no. Honestly, we're very close to having a single-payer system in place here given the lack of competition in many places and tight regulations on the health insurance industry in terms of how much they can make, what they must cover, and how they conduct their business. Basically it would be a Medicare/Medicaid for All system and you can just ask a doctor (whose Medicare reimbursement increased a whopping 0.24% this year, with Medicaid reimbursement being a fraction thereof) how they like it or check out study outcomes, as the left-leaning Kaiser Family Foundation did recently, noting…
Multiple studies, though not all, have documented improvements in beneficiaries' self-reported health, reduced stress and anxiety, and improved quality of life following Medicaid expansions. The Oregon Health Insurance Experiment, which used a research design that is considered the gold standard, compared the experience of adults who gained and adults who did not gain Medicaid coverage through a lottery that allocated a limited number of new Medicaid "slots" for low-income uninsured adults in the state. The study found that Medicaid improved self-reported mental health and reduced clinically observed rates of depression by 30% relative to the uninsured group. The findings related to impacts on physical health were mixed. Medicaid increased the detection of diabetes and use of diabetes medication, but did not have a statistically significant effect on control of diabetes, high blood pressure, or high cholesterol. The researchers note that the study did not have sufficient statistical power to detect changes in these measures, and also that factors including missed diagnosis and inappropriate or ineffective treatments, among others, could mitigate the impact of coverage on clinical outcomes.
…to see if this meets your definition of "proven to work." For me it's lacking.
I think both sides agree, though, that the problems with the system are defined simply: access and cost. The government's solution was twofold: one side was to force everyone into the insurance market whether they wanted to be or not (hence, the "shared responsibility payment") so that the healthy people would balance out the sick and the other side was to try and make preventative care cost nothing out of pocket, but the problem with that is doctors aren't going to work for free because they have families to feed, too. And thanks to all of the billing and coding concerns we have with modern government medicine, a good percentage of the staff in any doctor's office is the overhead required to deal with billing and not there for patient care. (It's akin to the number of administrators in a school system who don't educate children.) In other words, "free" is the extra $2,000 on your deductible or $40 a week out of your paycheck.
One analogy often used as a comparison to health insurance is auto insurance, which is also mandatory in most states (New Hampshire is the lone holdout.) However, when you buy auto insurance it does not cover oil changes, new tires, and other mechanical issues. Similarly, the original intent of health insurance was to cover the medical bills in case you were hospitalized, as opposed to supplemental insurance like AFLAC which covers other expenses.
The idea of insurance is that of calculating and sharing risk among as many participants as possible. Let's say you have a group of 1,000 40-year-olds whose lives are all insured for $100,000 and you know four of them will die on the average in a given year. You then know your premium pool will have to be set to $400,000 plus an amount set aside for the off-chance of a year where more than 4 die, plus administrative expenses, plus a little for shareholders. If you assume those other expenses total $300,000, then each participant would pay $700 a year to be insured for $100,000 if they die, which they may find is a prudent and affordable hedge against that risk as they have families to support. It would be impossible for a group of 2 or 10 to be able to do this, but over a thousand people it's very attainable.
However, what we now have with health insurance isn't truly insurance because there is so much mandated coverage and the risks are highly unpredictable. Nor are they being shared among all the participants equally because some are paying themselves through their employer, some are being subsidized for their coverage by the government, and others are completely on the government dime. Because a large amount of the money comes from funds never seen by the buyers (deducted from their checks, or just plain subsidized) they don't much care what treatment costs, just their premiums and deductibles.
So let me return to the car insurance analogy. You have to have car insurance, and it has to be minimum coverage, but after that the market is relatively free and there are a whole lot of competitors. If you get tired of Allstate because they raised your rates 50% for no good reason, there's always Progressive. When Flo gets too annoying, Jake from State Farm will be happy to help. If you don't like them, we have local independent agents. They compete on price, coverage, and service – so why can't that be the case with true health insurance, too? And what I mean by "true health insurance" is that you select what you want to cover from the options provided by the companies, or you can skip it altogether. (Or, the option for employers to provide group coverage can be left in place as well, as I'll get to in a moment.)
I can already hear the Sarah Meyerses of the world screaming "but pre-existing conditions!" Yes, there can be high-risk pools created for those at the state level, or even groups of states can create a compact to make the pool even larger and share the cost among more people. If states want to create incentives for employers to provide insurance, that's fair game as well. I happen to think the Tenth Amendment is the part of the Constitution that's supposed to be most flexible, allowing states to do a large number of things that should be off-limits to the federal government. I may or may not agree with them, but that is their right to do so. There's very little need for federal involvement in health care at all – certainly nowhere near the amount we have now.
I'm sorry to break this to Chuck Cook, but the United States isn't like the rest of the "industrialized first world." We are a constitutional republic where the federal government is intended to be limited, not maximized and in control of everything. (It's also worth mentioning that the wealth of our billionaires – and the talent of a lot of other, less well-to-do American people – is quite often freely given to assist in promoting the health of people both here in America and around the world. Here's a great local example.) So the idea that we don't have single-payer health care is one of those rare things that's still a feature of ours and not a bug. That's not to say it can't stand some serious improvement, though.
Let's just see if we can't make it more in conformance with what our great American experiment in liberty is supposed to be all about, mmmmkay?
I see I have a select few who have stuck around.
In the month of April I put up a whopping two posts. after just eight in March. That point in my life I had long feared would come had arrived, a point where I had a lot on my plate combined with very little desire or passion to comment on the political news. Whether that's the result of stepping away from the arena as I did last summer or just a realization that a lot of what I have done over the last decade was so much beating my head against the wall on so many levels is something others may speculate upon. All I know is that the spirit to open up the back side of my website and post my thoughts for the world to see wasn't there enough to convince me to make it a priority.
But I do have the space, and it pays for itself as long as certain posts are placed there, so I may as well use it once in awhile, right?
Truth be told, there are three things that are overwhelming in this world: the amount of information that is at one's fingertips when they learn to surf the World Wide Web, the amount of influence and power exhibited by government at all levels – which, in part, we can learn about from the internet – and, finally, the number of people who style themselves as political pundits who are trying to grab an audience that's probably shrinking in terms of readers of the long-form commentary that's my preferred method of communication. Once upon a time bloggers were the new, hip thing, but now people are looking to Tweets, video, or violence in the street to state their case. Nowadays you can get a lot more attention standing in the street holding a sign and blocking traffic than spending a couple hours researching points, formulating arguments, and making the argument to influence the discourse in 1200 to 1500 words. Donald Trump can dash off a Tweet and reach millions of people, so when was the last time he wrote an opinion piece? (Okay, it wasn't that long ago. But he still employs Twitter way, way more.)
But I hate Twitter, have no desire to do video or a podcast because I know I'm not an eloquent speaker, and don't really have any reason to block traffic in the street. So here I sit, writing again.
Yet there is so much going on that I have no idea if I could keep to a particular topic. Those of you who have stuck with me in my post-political phase that began last summer know I did not like Donald Trump, did not vote for him, and did not expect a whole lot to move in my preferred political direction when he shocked the world and won the Electoral College vote. I will give him credit for creating a perception the economy is improving despite glacial growth in terms of GDP. It is interesting to note there, though, that:
The increase in real GDP in the first quarter reflected positive contributions from nonresidential fixed investment, exports, residential fixed investment, and personal consumption expenditures (PCE), that were offset by negative contributions from private inventory investment, state and local government spending, and federal government spending. Imports, which are a subtraction in the calculation of GDP, increased. (Emphasis mine.)
And this got my interest piqued. So I did a little bit of looking and found this item from my old friends at Americans for Limited Government, which says in part:
(W)hen government spending is included as a component of GDP, and then is held steady or cut…it weighs down the GDP on a nominal basis. And when spending increases…it boosts the GDP nominally speaking. This is an inherent bias of the first order in favor of government expenditures when measuring the health of the economy. (Emphasis in original.)
So perhaps Donald Trump is on to something if government spending is down. Too bad he wants to spend more by not reforming entitlements. Meanwhile, his discretionary budget is pretty much a wash as the $54 billion he would cut from other programs is spent on defense – admittedly, a more Constitutional mandate but one that simply flat-lines the government. And it's doubtful his budget blueprint will survive unscathed, meaning that spending is bound to increase yet again.
I did some looking on various websites and found that, interestingly enough, as the Y2K scare receded our GDP crossed over the $10 trillion barrier, coming in at $10.031 trillion for Q1 2000. As of Q4 2016 it was calculated at $18.8694 trillion for a 16-year increase of 88.11%. Meanwhile, the federal budget went from $1.863 trillion for FY2001 (the last Bill Clinton budget, which had a modest surplus thanks to the GOP Congress) to $3.854 trillion for FY2016, which was the last full year under Barack Obama and added $587 billion to the deficit. Government spending grew 106.87% during that time, while cumulative inflation was just 39.4% – at least according to the government.
I'm no economic genius by any stretch of the imagination, but I would suspect having GDP growth exceed inflation is good, but having government spending (which is a component of GDP) increase more quickly than either is a bad sign. If you take away the government spending component the question is whether GDP growth is still ahead of inflation. Maybe it's not.
But who profits from that? I will grant there is certain government spending that adds value: if someone in the federal DOT had the gumption to have an interstate highway built between here and I-95 by Wilmington, not only would the money create local construction jobs on Delmarva but the greater ease in access to and from points north like New York, Boston, and Philadelphia would be good for local tourism and industry by making it easier to get here and transport there.
On the other hand, simple wealth transfers from rich to poor (welfare, Medicaid) and young to old (Social Security, Medicare) don't add much in the way of value except in the sense that their care and feeding keeps a few thousand paper-pushers employed. But they are not creating value as their wages are extracted from those dollars others earn with work that adds value like mining, manufacturing, services like architecture and construction, and so forth. (Did I mention that I'm once again a registered architect in Maryland?)
So if you know this and I know this, why is the system remaining as is? I believe more and more that there is a group of well-connected people and entities who make their fortunes by gaming the system. Instead of government being a neutral arbitrator, they seem to be putting their thumb on the scale to favor those who now participate in an ever-widening vicious cycle of dependency and rent-seeking. To me, things should be fair for everyone with equal treatment in the eyes of the law but greed and lack of respect for one's fellow man has changed the Golden Rule to "he who has the gold, rules."
Surely, then, I'm asked why I don't like efforts to overturn the Citizens United decision? I look at it this way: money in politics wouldn't be a problem if there were no money in the honey pot for one's sticky fingers to clutch on to. If the federal government did just what they were Constitutionally mandated to do, it wouldn't matter in the least who gave campaign cash to who because the limits of government would mean lobbyists would have to make an honest living.
Consider that I've been riffing on this theme for over a decade and you'll understand why I need a break sometimes. I do have a few tricks up my sleeve though, including the 2017 edition of the monoblogue Accountability Project. I think that's going to be easier to compile because there are so many veto votes to use. Hopefully that will be done the first week of June, so we'll see how this year's General Assembly session stacks up.
And to be honest, it's work I truly enjoy doing. Maybe that's what keeps me going despite the lack of progress in changing things, so off to work I go.