To be perfectly honest, I knew very little about the events in Charlottesville until well after they happened. I was in a vacuum of sorts because I was tuned out from the world, enjoying family and festivities surrounding my wife's attaining her bachelor's degree in this stage of her life as a University of Phoenix graduate. So while the family watched her and hundreds of her fellows walk onstage to accept their degrees at the newly-rechristened Capital One Center in Washington, D.C., a few dozen miles to the southwest a chaotic scene was unfolding. As I have since learned, Heather Heyer, a 32-year-old white woman who was a paralegal from the city, was killed when she was struck by a car reportedly driven by a 20-year-old white Ohio man, James Alex Fields, Jr. While Fields lives in my old stomping grounds (Maumee, Ohio is a suburb of Toledo) he grew up in Kentucky and is supposedly an "alt-right" Trump supporter.
You'll notice I linked to the CNN story, but through the evening Saturday and into Sunday afternoon there were all sorts of different reports and rumors on what happened: different identities on the car driver and registration, people describing how the original protesters (dubbed "Unite the Right") had their permit pulled, then restored, then pulled again while the counter-protesters never got a permit, a tale alleging the Unite the Right group was set up by the city for a beatdown by the "Antifa" and "Black Lives Matter" groups by ordering them to leave the park a certain way through their counter-protest, and so on and so forth. Obviously the Left blames the Right and the Right counters that the Left is really at fault.
But my question goes all the way back to the root of the problem. In the last several years, the city of Charlottesville – which is home of the University of Virginia – has become what is described as "progressive." At one time it had parks named after Confederate generals Robert E. Lee and Thomas "Stonewall" Jackson, but no more. This latest controversy was about removing the statue of Robert E. Lee that graces what used to be called Lee Park; a statue put up decades after Lee's death in 1870. (Unlike most other conflicts, in our War Between the States neither the leader of the opposition army nor government was executed for treason – Lee lived until a stroke and subsequent illness felled him five years later, while Confederate president Jefferson Davis was imprisoned for a few years but out of prison well before his death in 1889.) In his postwar days, Lee was best remembered for restoring what became known as Washington and Lee University while his former estate became Arlington National Cemetery. (In no small bit of irony, our family spent a good part of Saturday afternoon there after the graduation ceremony and our lunch.)
It's also true that Lee turned down the opportunity to lead part of the Union forces as a colonel (his rank at the time the conflict began) because he felt more loyal to his home state of Virginia, which chose to join the Confederacy – this despite Lee's personal opposition to secession.
So then we come to the reason people were in Charlottesville to protest. The "Unite the Right" had one very valid point in that there's no good reason to remove this piece of history from its longtime place. If anything, more context should be added: why was Lee deemed important enough at the time to be so honored and what have we learned about him since? (To that end, three states still celebrate his January 19 birthday as a legal holiday; oddly enough, every few years it falls on the date we celebrate the birth of Martin Luther King, Jr. As another example, there is also federal law that equates Confederate veterans with Union veterans when it comes to grave markers.) In short, taking an honest look at Lee's life and legacy would be more complex than simply boiling it down to the four years he spent leading a Confederate army, but most people don't want to do that because it doesn't suit their political purposes.
We then loop back to the events in Charlottesville. What we know is that there is a young man who's being portrayed as one whose head is full of racist, neo-Nazi tripe and he stands accused of maiming innocent bystanders to the extent that one has died and several others were left in critical condition. We also know that this rally necessitated additional police coverage, and a police helicopter carrying two Virginia State Police officers crashed on Saturday, killing both men on board. All four of these lives were changed irrevocably and senselessly for no good reason, over an inanimate object.
And that same controversy roils locally on a smaller scale over another Civil War figure. Brigadier General John Henry Winder was a Union officer in the Mexican War but later served as the administrator of all the Confederate military prisons until his death just weeks before the Confederate States of America ceased to exist. Since he was born in what would become Wicomico County after his death, and the state needed something to commemorate the war with here after 100 years, we got a plaque that originally sat by where the Evolution brewery is now but moved to its present location around 1983. For 33 years this was no problem but then Donald Trump was elected and suddenly it became so. Oops, did I say that?
Why, yes I did. And despite the fact I didn't vote for the guy and he's generally the epitome of politically tone-deaf, in this case he's getting a really raw deal. Trump puts out a statement on Saturday that may have seemed bland on the surface but was immediately panned for noting the "hatred, bigotry, and violence" came from "many sides." So a couple days later he reiterated his disapproval and was regaled with a press reaction sort of like this: (courtesy of the Patriot Post)
So when the President went back to the more original tone today you had to know the media would crucify him once again, and again they miss the point. It took two sides to tango down in Charlottesville, and note that several previous events (such as the tiki torch rally the night before) had gone off without the violence. It was only when the BLM and Antifa side showed up that the clashes occurred. As for using a car as a deadly weapon, James Fields will have his day in court – if he survives that long. I'm sure the more conspiratorial among us are already trying to figure out just how their bogeyman du jour (George Soros, the Clintons, the Rothschilds, et. al.) will make his death look like a suicide. We know Fields will be in jail until then because he was denied bail.
For those of you who partake in such things, maybe the best answer to all this is to look to the Almighty in prayer. Pray for the families of Heather Heyer, and VSP troopers Berke Bates and Jay Cullen, who surely need comfort and strength through this difficult time of loss. Pray that this becomes a time of reflection and repentance for James Fields, to drive out the wickedness and hatred in his heart and turn his life in the right direction, and that others see this result and step back from the brink before it's too late.
And pray for a nation that's being torn asunder more each day by forces wishing to divide it. Pray that we once again remember that we are a nation that God blessed, and in return we should be grateful for our abundance. We are all part of His creation, so perhaps it's time to remember Luke 6:31.
If you were to ask me just how to categorize this latest release from this North Carolina-based group, which they put out in May, I would just have to shrug my shoulders and say "I dunno." It's not really country, not really rock, has some elements of blues and even a touch of brass, but honestly comes across more like just what the band felt like playing at the particular moment in time they were writing the song.
That doesn't make this a bad album at all – just one where the reviewer has to think a little bit. My first impression upon hearing the title track that leads the album was that these guys wanted to sound like the Grateful Dead. Nothing wrong with that, they were a trailblazing group for many a jam band. But then that wasn't the vibe I got when She Kept My Room Warm began playing, because for some odd reason that brought me back to thinking of that sort of pop-country hybrid that was popular for a bit back in the day when I was a kid and my parents had the radio on.
Since I wasn't the greatest fan of that genre, I was relieved to hear the classic call-and-respond blues-rock styling of It's Always Something, a hard-luck tale that has a nice lick and coda to it. Lyrically it finds its mirror with the second song afterward that I'll get to in a moment, but instead the band follows up with a more piano-based bluesy slower jam called Lord Have Mercy. Then it's You Can't Keep A Good Man Down, which is a musical kitchen sink of sorts with plenty of piano and sax thrown in (each gets its own bridge) and some fuzzed-out vocals added for good measure. It's one of the two songs on the set that runs over six minutes; with the exception of She Kept My Room Warm and the final track Lemonade Blues, all of the songs run over four minutes.
The band gets just a tad funky to start the back half with the quirky Love Monkey, and has next perhaps its biggest misstep of the bunch with Soul Sistah. Normally I'm a fan of backing harmony, but in this song it just doesn't work well. I think it's because the lyrical runs seem too short, so the repetition on the harmony comes too quickly. I see why it was done on this song (which is the only one with a female backing vocal) based on concept, but it could have done without.
They redeem themselves on the next track, though, which I think is the best of the set: an inspirational tune called On The Mend. I really loved the great chorus line where "I looked the Grim Reaper in the eye/And I told him 'Nice try.'" This leads into a song called West LA Fadeaway. It starts and ends with a lyric line, but in between it's sparse patches of (sometimes quite strange and obscure) lyric between some very nice bridges that make up the bulk of the six-minute-plus song.
Finally, we come to the last simple acoustic number called Lemonade Blues, which is just vocals and guitar and runs only about 2 1/2 minutes. But I can just see Rich sitting on a barstool in a club singing this as the break song for the rest of the band during a three hour show. (He got his break on the last song with all the bridges.)
There are some people I can think of who would probably be big fans of these guys, who don't seem to be the touring type anymore but are in the promoting business around their home base of Greensboro. (Case in point: they headline a charity event they call Groove Jam, which will have its sixth rendition in September. Years ago I posted about how musicians are often the most willing to give their time and talent, and it's not just here on Delmarva.)
As I always do, though, I encourage you not to take my word for it, but listen for yourself. (Spotify doesn't bite, I have it on my laptop.) You may take it or you may leave it, but you will find it rather interesting.
July was a month where the Shorebirds marched through Georgia like William Tecumseh Sherman, compiling their first perfect two-stop road trip in at least 12 years and coming home in first place. Unfortunately that lead has melted away like a gallon of ice cream left out in the sun, but the Shorebirds are enjoying unexpected success due in large part to the players honored here this month.
While Jake Ring took home honors in April, it was his two usual counterparts in the outfield, Cole Billingsley and Ryan McKenna, who were vying for the honor in July – seemingly trying to outdo each other at every turn. Billingsley was hitting an even .250 when the calendar turned to July, but his hot month improved his overall average to a more solid-looking .270 mark. However, while his average has gone up Billingsley has become more of a slap hitter, with just three extra-base hits in July leading to an OPS of  just .718. Thus, what tipped the scale to his teammate Ryan McKenna was the latter's .319 batting average, 5 steals, and .824 OPS – by far his best of the season and way above his numbers for May and June. While Billingsley picked up his average 20 points in July, McKenna did even better by going from .231 to .254 in the month, recovering a large part of what he lost in a two-month slump. On that aforementioned road trip to Georgia, Ryan was a hot hand as he went 11-for-27 in the seven games, including four doubles. (Ryan had 11 doubles for the month.)
Ryan is an Oregon native who was drafted out of high school in New Hampshire two years ago as a fourth-rounder, so a lot is expected of him. With this being his first opportunity to play full-season ball, McKenna has set career marks in most of his categories already, but he has shown some improvement in his all-around game so he's tracking to make the jump to Frederick next year as a 21-year-old (he will turn 21 just before camp opens next spring.)
Besides Billingsley, another batter who had a month worth noting (albeit in limited spot duty) was infielder Tanner Kirk, who brought his average up above the Mendoza Line with a little room to spare.
On the other hand, there was no contest on the pitching side of the equation and it netted me my first-ever repeat Shorebird Pitcher of the Month in Alex Wells.
Here are the brief lines from Alex's five July starts:
vs. Lakewood, 7 innings, 3 hits, 5 strikeouts.
at Hickory, 6 innings, 2 hits, 4 strikeouts.
vs. Rome, 6 innings, 4 hits, 5 strikeouts.
at Rome, 6 innings, 1 hit, 5 strikeouts.
vs. Greensboro, 6 innings, 3 hits, 7 strikeouts.
I did not mention runs or walks because there were none. Wells has not allowed a run since June 30 and last walked a batter June 25. Brett Barbier, then of Lakewood, was the last batter to walk off Wells, and it turns out Wells' streak has outlasted the remainder of Barbier's pro career as he's since been released.
In the category of "duh", the Orioles also selected Wells as their Minor League Pitcher of the Month. So the question now becomes what will happen with him?
He's on pace for six more starts this season, and it seems to me that as long as the Shorebirds have a chance at the postseason he should stay here. Barring rainouts, Wells is actually lined up just right to start the first game of a postseason series on normal rest. And it's not like he doesn't have things to work on, despite the recent success – one is a penchant for giving up the longball. (Wells has allowed 13 this season, and consider the team has given up 66 collectively.) At 114 innings, the Orioles may also want to slow his workload down as well, so he may be cut back to 5 inning starts or skip a turn along the way.
In either case, when you have an ERA of 0 and a WHIP that comes in at 0.42 for the month, there's a pretty good chance you'll be my pitcher of the month, again.
One more month and then we'll line 'em up and pick a Shorebird of the Year.
We have barely made it six months into President Donald Trump's term. And while Democrats were ready to oppose him from day one – Trump's Presidential honeymoon lasted less than a nanosecond after he was sworn in – no one really expected the 2020 race to begin shaping up until we made it through the 2018 midterm elections.
But as further proof we now have a continuous campaign, the first somewhat serious candidate to enter the race on the Democrat side made his intention known Friday by foregoing another term in the House. Rep. John Delaney put an op-ed in the Washington Post on Friday that claimed he would be the candidate to "have an original approach to governing and an economic policy that can put us on a different course."
Yet while the incumbent President is a businessman, Delaney thinks he's not cut out to be a leader. "I think Trump, to some extent, is a punctuation of everything that has broken down with our politics," said the Congressman in a separate WaPo interview.
So he's going to do things a little differently.
As a progressive businessman, I've made it a priority to be solutions-oriented and have been consistently recognized as one of the most innovative and bipartisan members of Congress. I've done this by simultaneously celebrating the power of our free-market economy while insisting that there is a role for government to set goals and rules of the road and take care of those who are left behind.
And let me grab one more excerpt to illustrate his approach:
We need to be smarter, fueled by more investment in science, education and research. We need new ideas on the future of jobs and work, one where we build a stronger and more vibrant middle class. We need to encourage a more just and inclusive form of capitalism and reduce barriers to small-business formation, start-ups, job creation, investment and growth. We need to strengthen our safety-net programs and create a new social contract. We need to reform the systems of education, health care and immigration, and encourage more volunteerism, impact investing and public service. And we need to take affirmative steps to reduce our security, fiscal and climate risks. This is what my campaign will be about.
Let me begin at the top. Would it not be fair to say that, in order to have a truly free-market economy, there should be a minimum of government-set rules and goals and a maximum of market-set ones? I'm sure John didn't wake up every day when he was building his businesses and say to himself, "Gee, how can I meet the specifications and expectations laid out for me by the federal government today?" I know I don't say that when I consider what to write in my little space.
And the problem with the government taking care of those being left behind is that they become overly comfortable in that lifestyle and create generations that don't aspire to anything more than living off the state.
As a Democrat, Delaney has to include the old canards about "investment" (read: more unnecessary spending) in science, education, and research. But what really reveals the game is the idea of a "more just and inclusive form of capitalism." Capital is as just and as inclusive as the market participants, which I will agree goes in with reducing barriers. But those barriers should be reduced in such as way that no one gets an advantage for themselves – the problem is, as we all know, Democrats will rig the game for certain constituencies in order to buy their votes.
All in all, I've figured out just what Delaney's campaign will be about: he will be the arbiter of everything. I mean, he already has a website for his campaign where he has the catchy "D" logo with a highway disappearing into the horizon, and in the video he has there he goes over just how wonderful and peachy everything will be if he's in charge and in control of everything, because that's what "progressive" policies entail – government calls the shots and you get what they grudgingly give you. One of the women on the video talks about what a great progressive businessman Delaney is to his employees, and that's outstanding. But let that be his choice, not forced on every business whether they can afford it or not.
Yet there's another point to be made here as well. Think back to this time on the calendar in 2009, when Barack Obama was perceived as popular – even if many of his policy ideas were not. On the other hand, there's been little discussion about Trump's policy ideas (aside from the GOP's failed attempt to rid us of Obamacare, which Trump was more or less ambivalent about, in all honesty – after all, he was the one who introduced Republicans to the "repeal and replace" concept.) But if you transport yourself to the end of July 2009, the GOP presidential contest was thought to be Sarah Palin's to lose – but she was months away from announcing her intentions, as were other 2008 and possible 2012 contenders. So Delaney's entry into the race, well over 2 1/2 years before we deal with the snowy Iowa caucuses, either means Democrats are just chomping at the bit because they think they have 2020 in the bag or they are just trying to extend the perception of Donald Trump's unpopularity. And who knows? The 2020 field for the Democrats may make the 2016 GOP field look small in comparison because EVERYONE who thinks they can be President will give it a shot. Maxine Waters, anyone?
There's only been one President who was elected from being a sitting House member, and that's James Garfield. (Technically, Delaney won't be a sitting House member when elected since he's dropping out of Congress after three terms.) Even so, I think that 140 year streak will be safe. But in any battle someone has to charge forward and take the arrows, and it looks like John Delaney is that guy. The only question is whether he will be first in, first out.
And somewhere Larry Hogan is breathing a sigh of relief. I've thought all along Hogan was most vulnerable to a Delaney challenge given their similar backgrounds, but it appears John has more ambition than to just be governor.
When I went to check out this just-released album from Pittsburgh-based rocker Freddie Nelson, for three minutes and 55 seconds I was transported back to 1987. Back then you could have taken a tape of the lead song on this CD, called Turn You On, to any A&R guy in the country worth his salt and he would have given you cash money to take you to the band's next show.
There are a lot of great hooks like that on this 11-song set, a collection where Nelson plays everything but the drums, piano, and keyboards (but does handle the B3 organ.) Just take two back-to-back examples buried farther within the compilation: My Girl and Let You Go are both the catchy-type songs that made rock and roll what it was back in its heyday.
And if you have a lot of older rock albums, like I do, you realize there is a bit of a formula to put them together. Nelson stays fairly true to this successful way of doing things, putting in the bluesy ballad called The Show, the somewhat more mellow and acoustic song Monster In My Room, and another bluesier homage called Keep Running. It seemed like every good rock album had a few songs that departed from the norm in some little way, just to prove the artist could do it – almost as if he's playing around with the listener, not taking this too, too seriously. After all, this is supposed to be fun here, isn't it?
You see, this is where a highbrow music reviewer might say you can't write a song called For Those Who Die and make it upbeat. They would whine that All Night Long exhibits too much of the alpha-male, testosterone-fueled bravado that was so wrong about hair metal, or that Light is a little too derivative of Freddie Mercury and Queen at its best, or that Never Fight Alone uses the trickery of sampling to ask the question, "Whatever happened to decent music?"
Well, guess what? I'm not that reviewer and I happen to think this IS very decent music, the way rock and roll is supposed to be. As Nelson noted in a statement accompanying the release, "The record is called Shake The Cage, because I feel that a lot of music has become one dimensional with tools such as pitch correction and formulated songwriting.  There is no substitute for hard work and honing your craft, and it's time to challenge mediocrity." Damn straight it is.
This is the latest video from the album, a song called Hey Doll, which leads me to one more observation.
Just listening to the arrangement and the lyrics, I would make a bet that if you worked in a banjo, changed the key, and had someone like Luke Bryan sing it, this song would sell by the truckload. To me it veers in a rockabilly, country-rock direction, and that's not unusual for someone based out of that region.
So I think my friends and neighbors should get over their animus about all things Pittsburgh (aside from Buxy's in Ocean City) and check it out – but don't take my word for it, go listen for yourself.
You know, since the events that led to the formation and rise of the TEA Party the Republican Party has promised to be our savior if only given the chance. After they successfully won the messaging battle over Obamacare in 2009-10 – aided by the ham-fisted, cynical fashion it was rammed through Congress and onto Barack Obama's desk – the GOP won a smashing electoral victory that flipped the House just two years after the second of two successive wave elections convinced many political pundits we were on the verge of another decades-long run of Democratic dominance in Washington. While that success took a pause in 2012, perhaps because the Republicans nominated the originator of state-supported health insurance in Mitt Romney to face Barack Obama, the actual implementation of Obamacare beginning in 2014 resulted in yet another midterm electoral shellacking for the Democrats that November, costing them control of the Senate.
All along, Republicans told us these various steps along the way, once they won the House in 2010. First they whined that they only had one-half of one-third of the government, which sufficed as a campaign plank until 2014, when they won the Senate. Once they won the Senate, they actually passed a bill repealing Obamacare – of course, it was vetoed by Barack Obama and the votes weren't there for an override. So now they needed the White House and then, once and for all, we could be rid of Obamacare.
July 26, 2017. The Senate has its chance to pass a nearly "clean" Obamacare repeal bill, with a majority of Republicans in the body. There's no question such a bill would sail through the House and we have a nominally Republican president in Donald Trump who would be for repealing Obamacare – although he wanted to replace it, too. It just has to get through the Senate, and yet – it did not. Seven Republicans joined all 48 Democrats (as one would expect) in turning their back on the people who elected them.
So who's in this Hall of Shame? Well, it's mainly the usual suspects: Lamar Alexander (Tennessee), Shelley Moore Capito (West Virginia), Susan Collins (Maine), Dean Heller (Nevada), John McCain (Arizona), Lisa Murkowski (Alaska), and Rob Portman (Ohio). With the exception of Maine – where Trump won one of the state's two Congressional districts (for one electoral vote) but lost overall – all these states went GOP in the last election, yet their Senators sided with the Democrats. And as President Trump noted, "Any senator who votes against repeal and replace is telling America that they are fine with the ObamaCare nightmare, and I predict they'll have a lot of problems." Yet only Heller faces the voters in 2018 – McCain, Murkowski, and Portman were just re-elected and the other three aren't up until 2020.
The question now is how GOP loyalists are going to spin and explain this one away. To be quite honest, I think people have known for many moons that the Republicans were selling the voters a bill of goods but if you can't keep your caucus together on something that's been a fundamental promise for seven years then it's clear even the fig leaf is gone. Despite their high-minded rhetoric, the GOP is now just as much the party of big government as the Democrats are. Now it's just a question of which side gets the spoils.
And now where do those who believe in limited government go? They are now political orphans because the Republican Party just showed they aren't willing to stand by those principles when push comes to shove.
For some reason the vibe seemed a little different to me this time around – maybe it's because this is the first one I've attended as an erstwhile political participant. But at 10:00 I rolled into town and got my ticket (this was a first, too – more on that in a bit) so I started looking around while I was there. Immediately I found there was still one constant.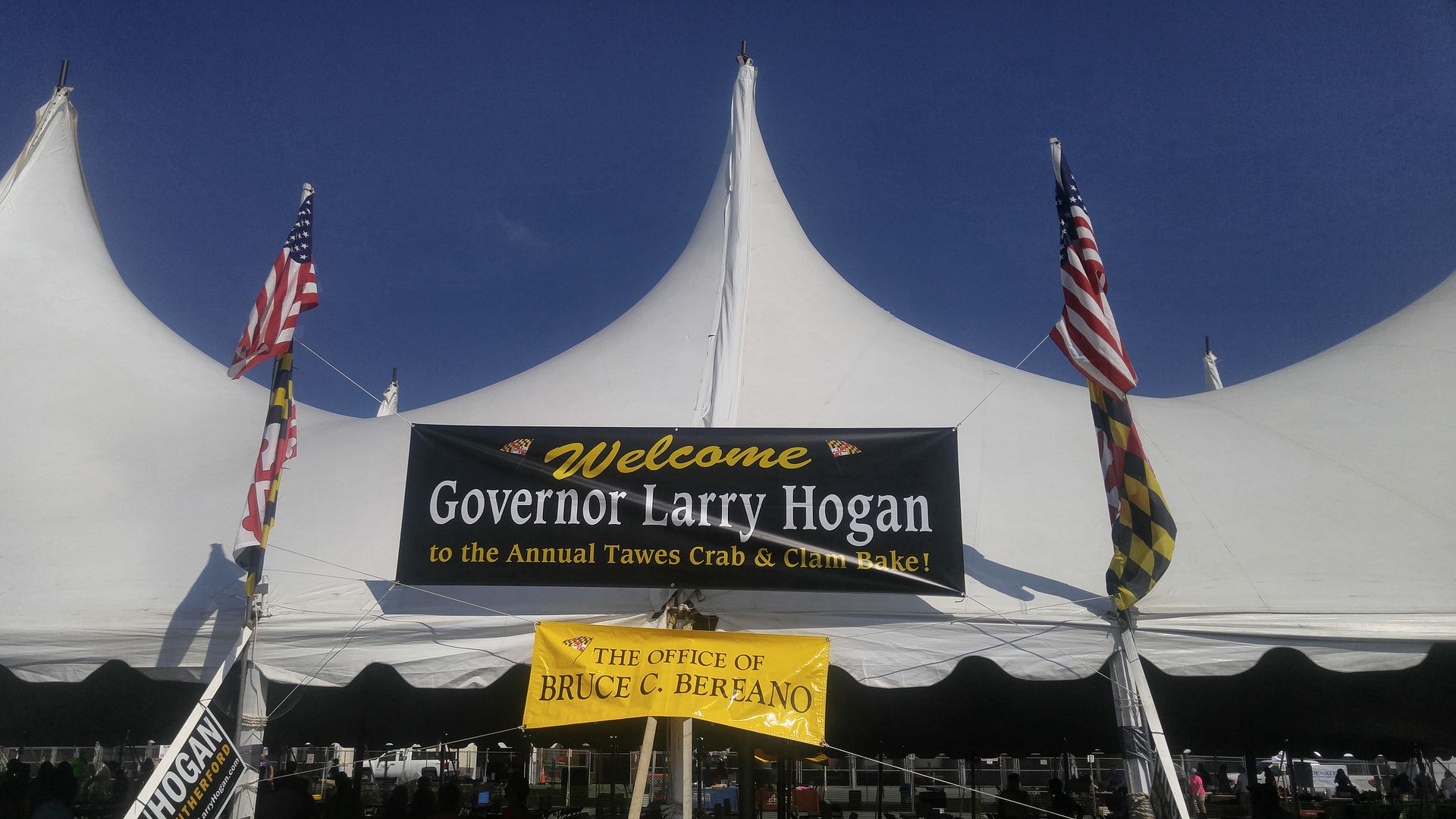 Bruce Bereano probably brings half the people down there, and I'm not kidding. If you consider that the political people are a significant draw to this festival, and his massive tent is annually chock-full of Annapolis movers and shakers, one has to wonder just what would be left if he ever pulled up stakes. Would they have a crowd like this?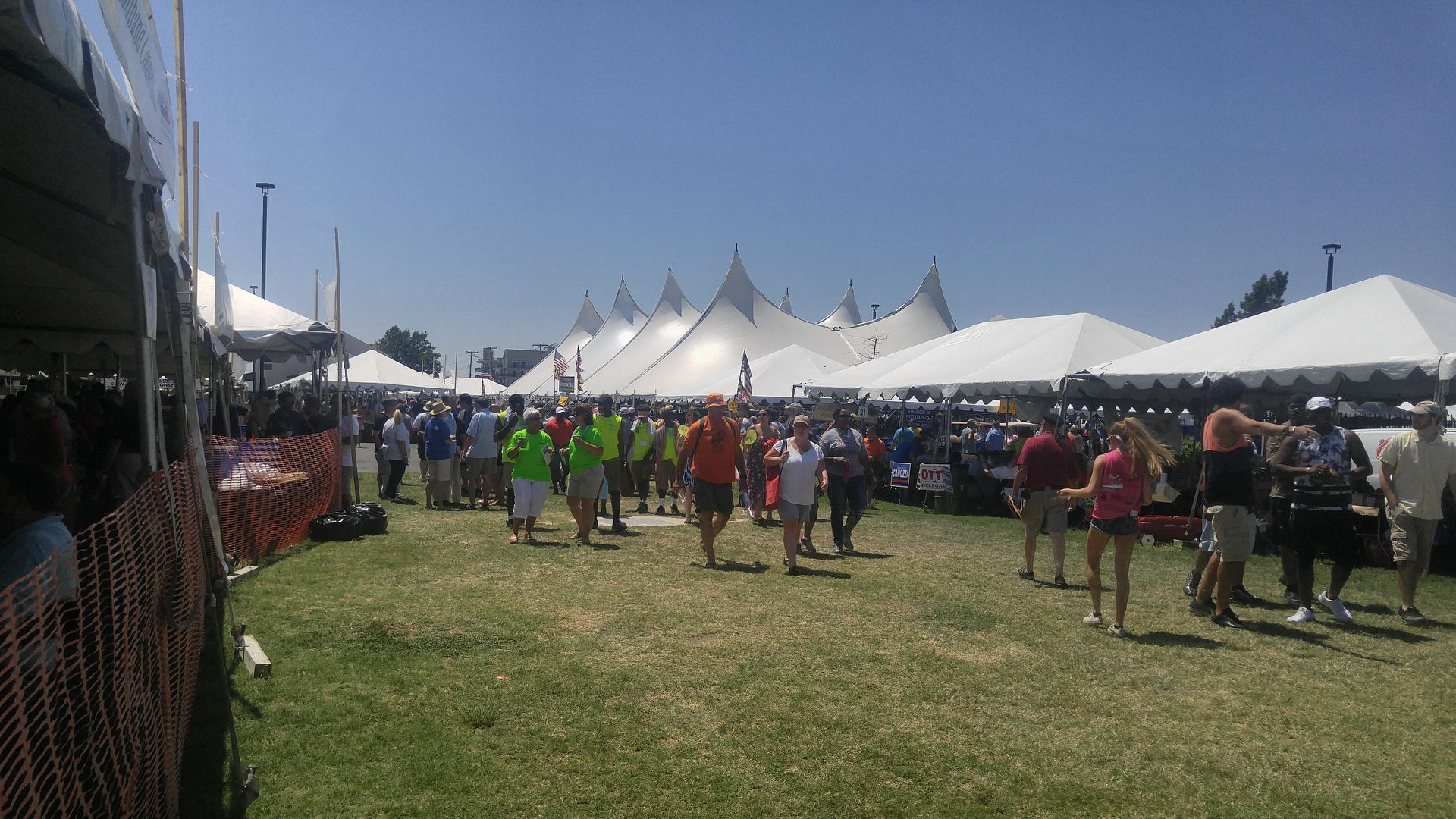 But the Crisfield Chamber of Commerce (as event sponsor) has its own ideas on VIP treatment.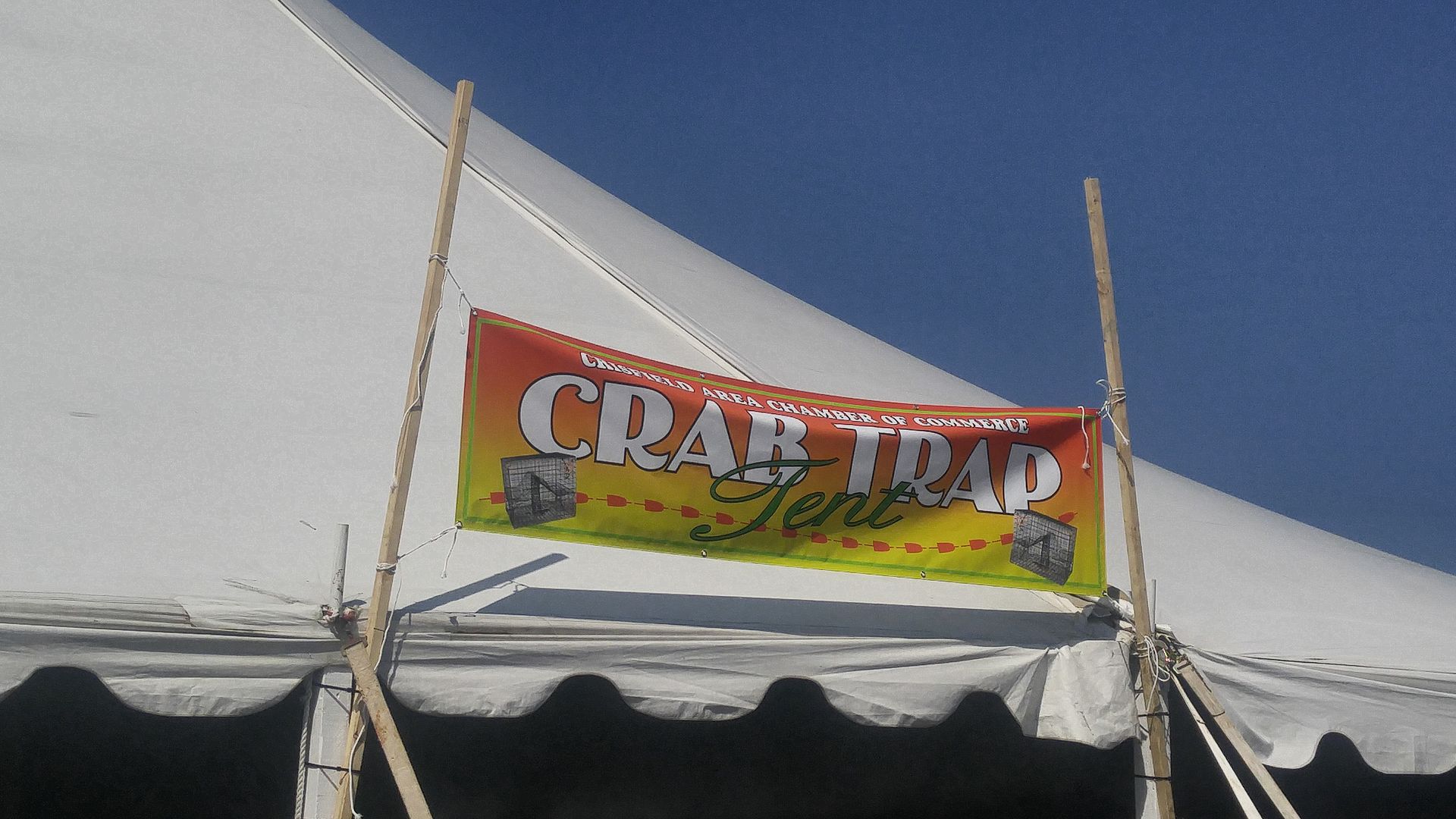 For an additional $15 fee on top of the ticket price, you could get access to this tent with its amenities. It was an answer to some of the corporate tents that were doing this anyway. Many of those were still doing their thing.
Most of the people were already in line at 11:30 waiting on lunch. While the ticket says 12, if you wait until then you're waiting for food.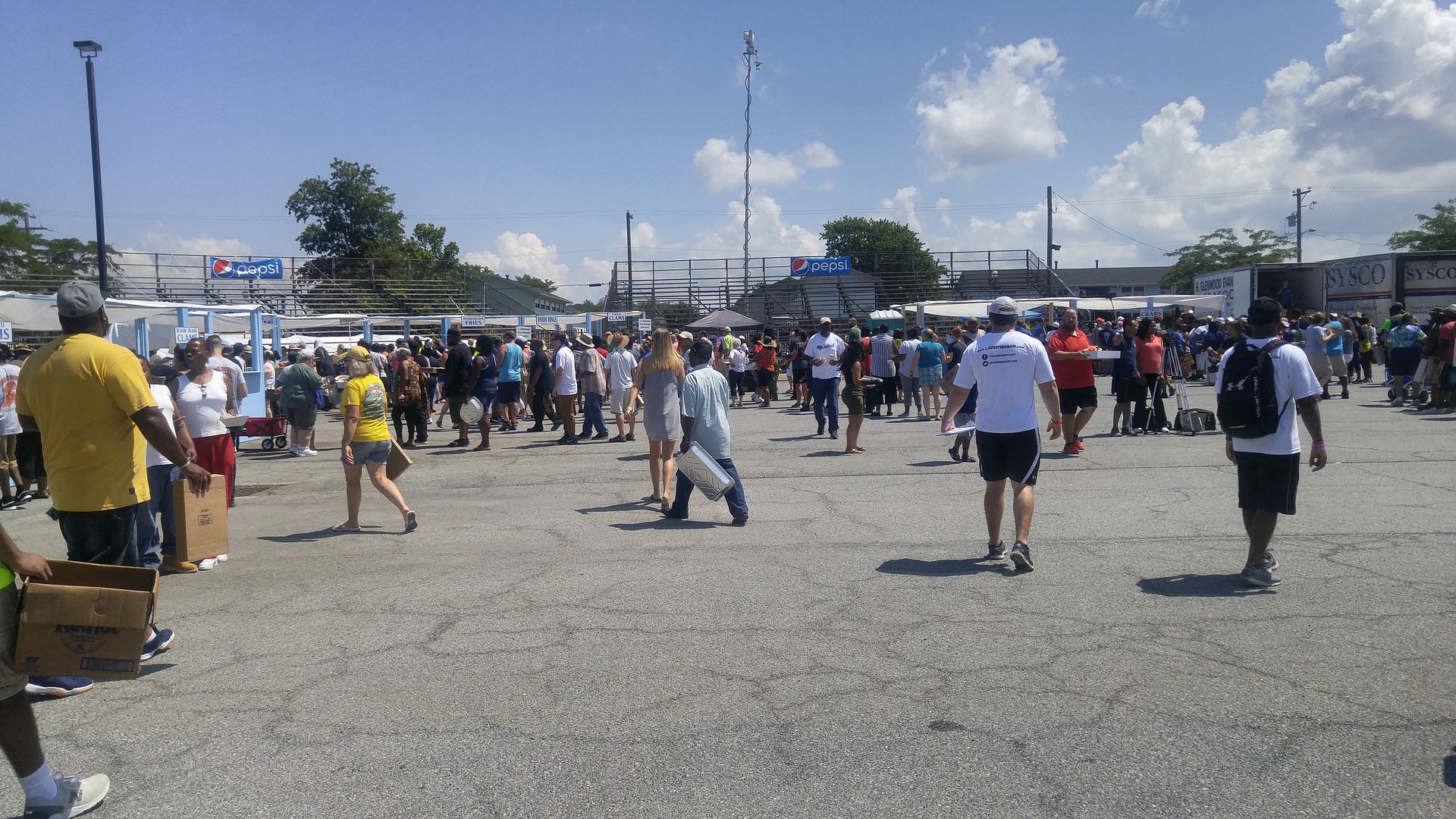 But let's face it: the media doesn't really come here to see food lines, although that's where I found this crew from Channel 47, WMDT-TV.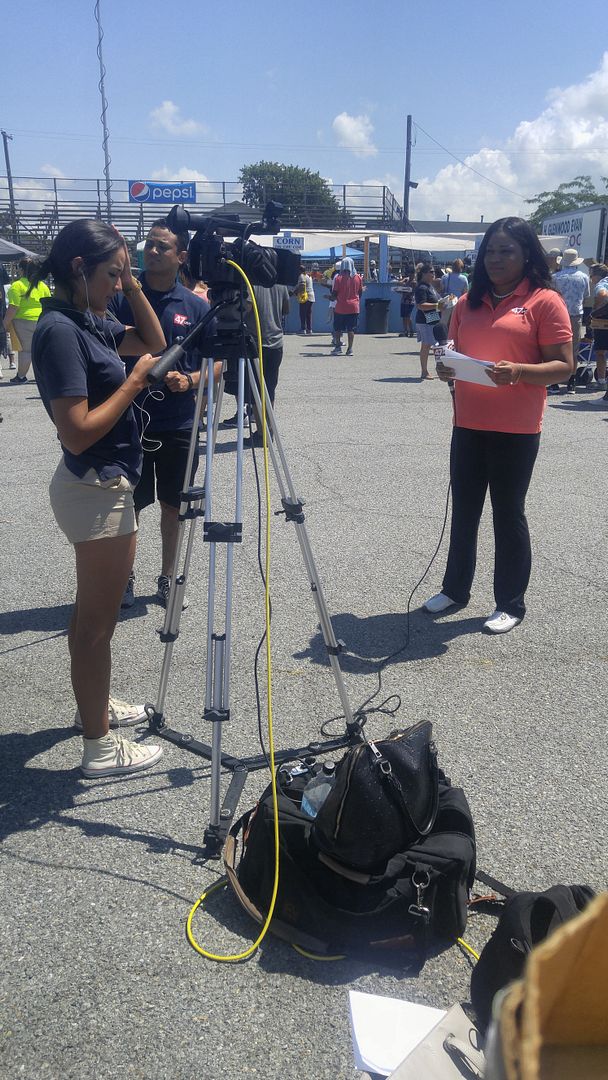 No, the real draw for this edition was the potential 2018 candidates. Until the last couple cycles, odd-numbered years were somewhat sleepy because the campaigns weren't really underway yet, while the even-numbered years saw Tawes fall on a date less than two months before the primary. That's now flipped on its head because the primary was moved up to June, so this is the last Tawes before the 2018 primary. So several contenders were out scouring for votes – none, I would say, moreso than this guy.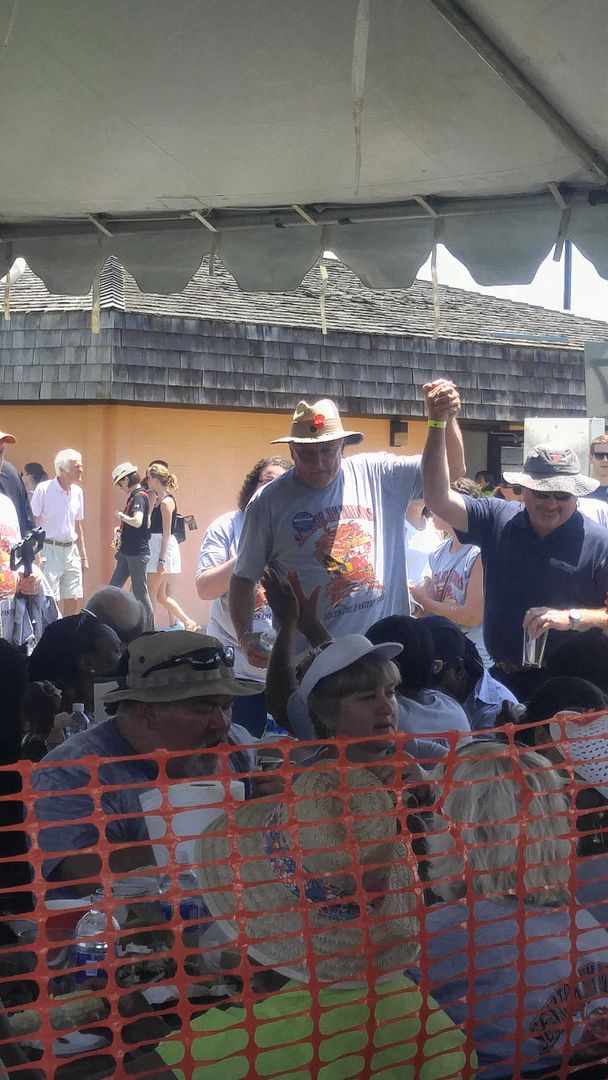 State Senator Jim Mathias (standing, in the gray shirt) has a huge target on his back that's far larger than the logo on the front. He is the one Democrat Senator on the Eastern Shore, and the GOP sees his seat as a prime candidate for taking over next year as they need to flip five Senate seats to assure themselves the numbers to sustain Larry Hogan's vetoes.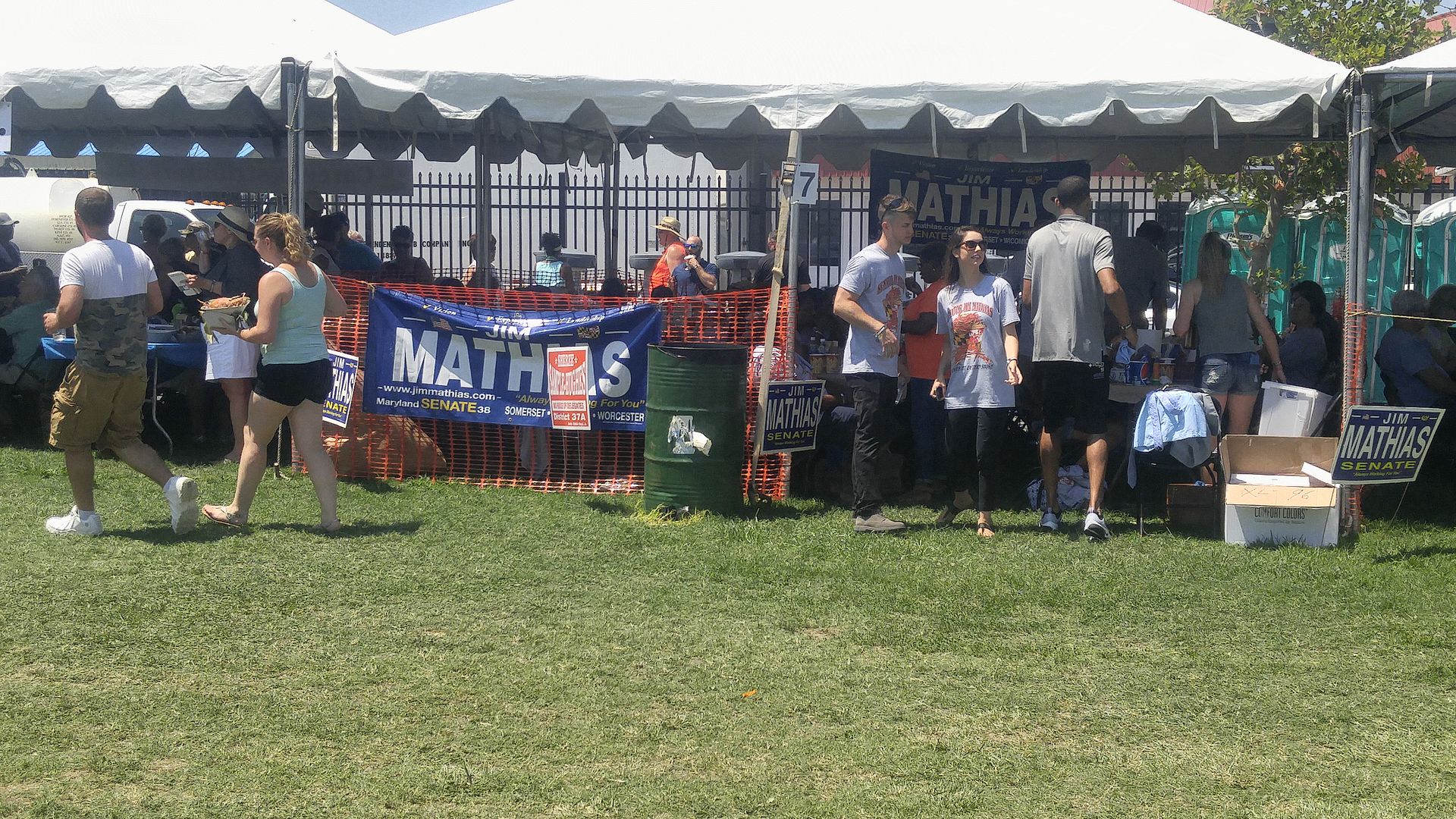 To that end, Mathias was the one candidate who had his own supporter tent. To me, that was interesting because most of the local Democrats that I know spent their time milling around the Mathias tent (wearing their own gray shirts) and didn't hang out at the "regular" Democrat party tent.
Just a couple spots over from Mathias was the Somerset GOP tent.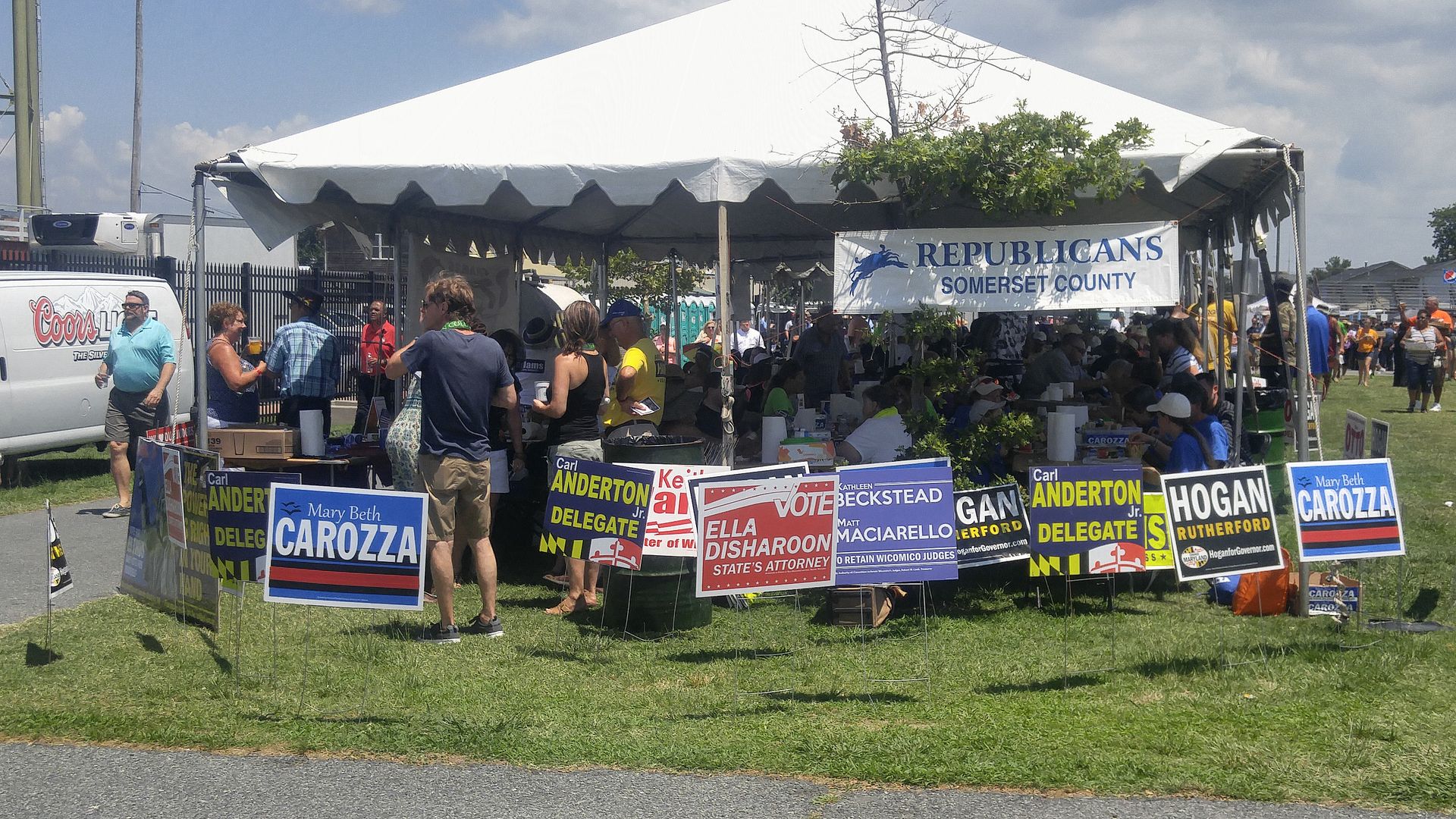 Now you'll notice I said Somerset. For whatever reason, Wicomico's Republicans chose not to participate this year and there were few of my former cohorts to be found. Since that's how I used to get my tickets, I had to make alternate arrangements this time. That's not to say there weren't Wicomico County Republicans there such as County Executive Bob Culver, Judge Matt Maciarello, Salisbury City Councilman Muir Boda, and many others – just not the Central Committee.
Closer to their usual back corner spot were the Democrats.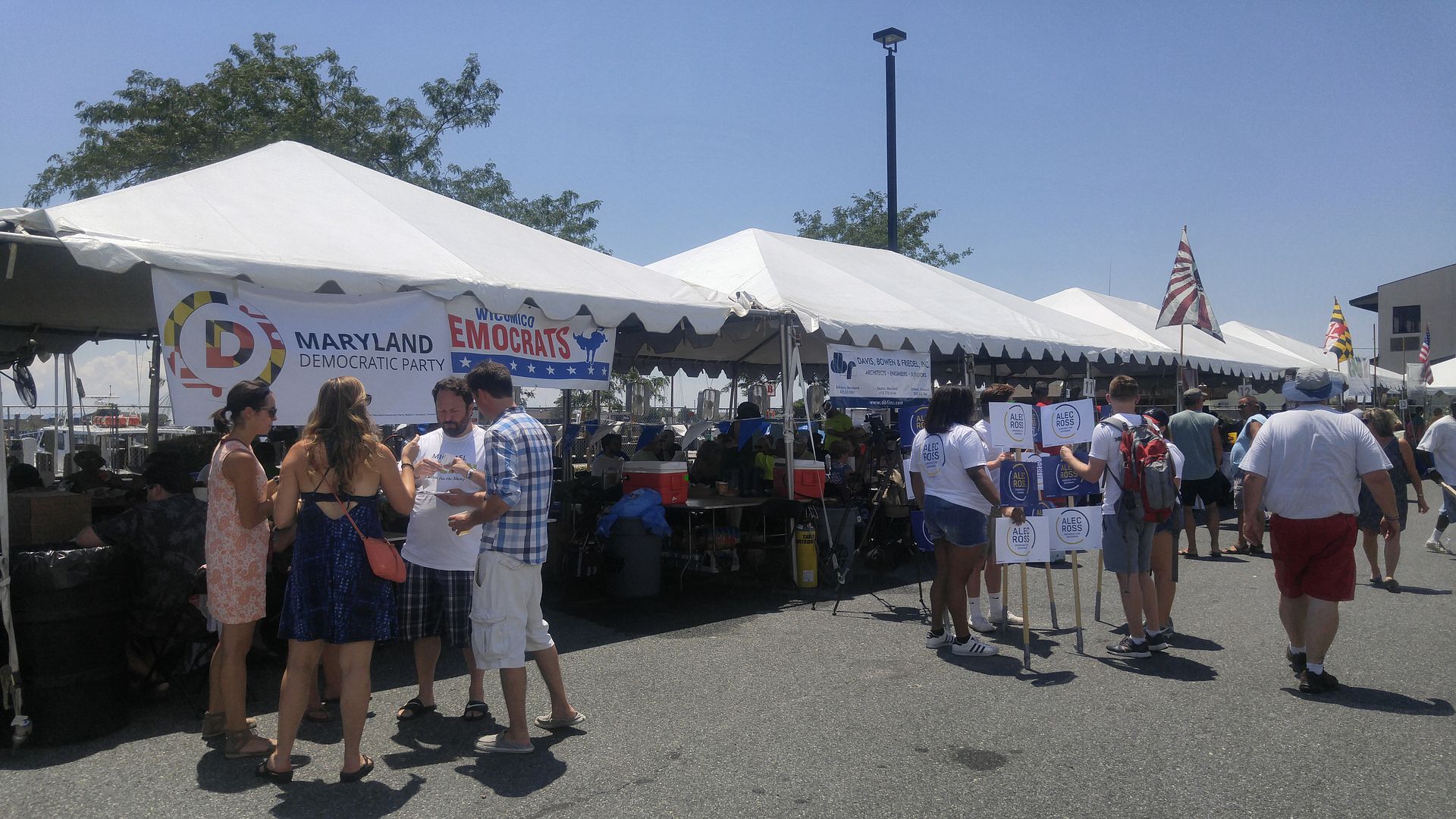 Their focus seemed to be more on the larger races, as even their state chair Kathleen Matthews was there. Here she's speaking with Crisfield mayor Kim Lawson.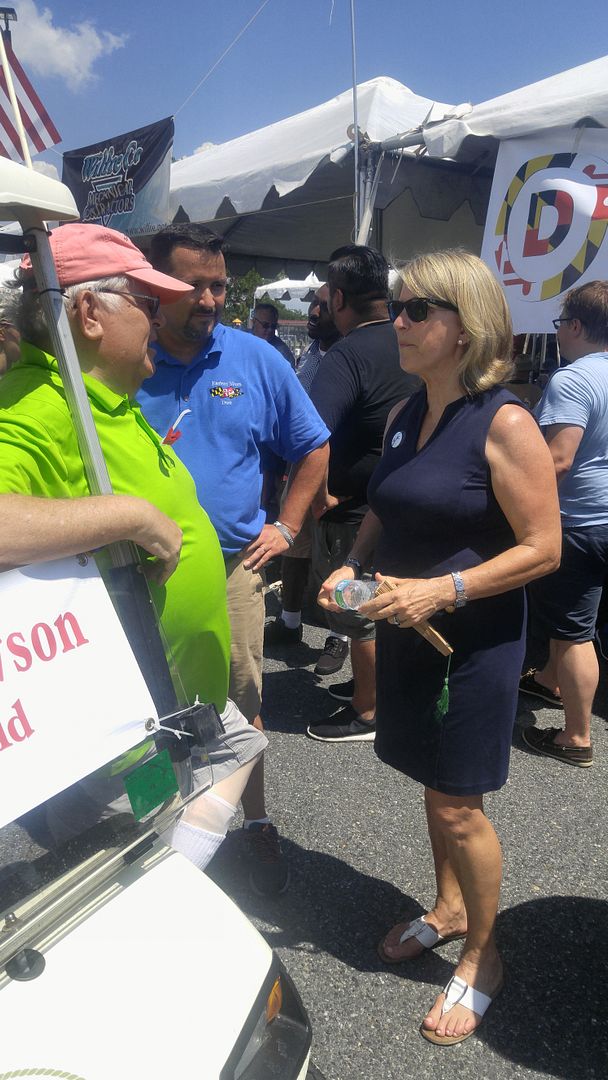 (Lawson has a smart-aleck sense of humor I can appreciate. When a photographer introduced herself as being from the Sun, he thanked her for making it a little cooler here than back home. I got it right away, she looked befuddled.)
The small posse you may have noticed in the original photo of the Democrats' tent belonged to gubernatorial candidate Alec Ross, who eventually caught up to them at the tent.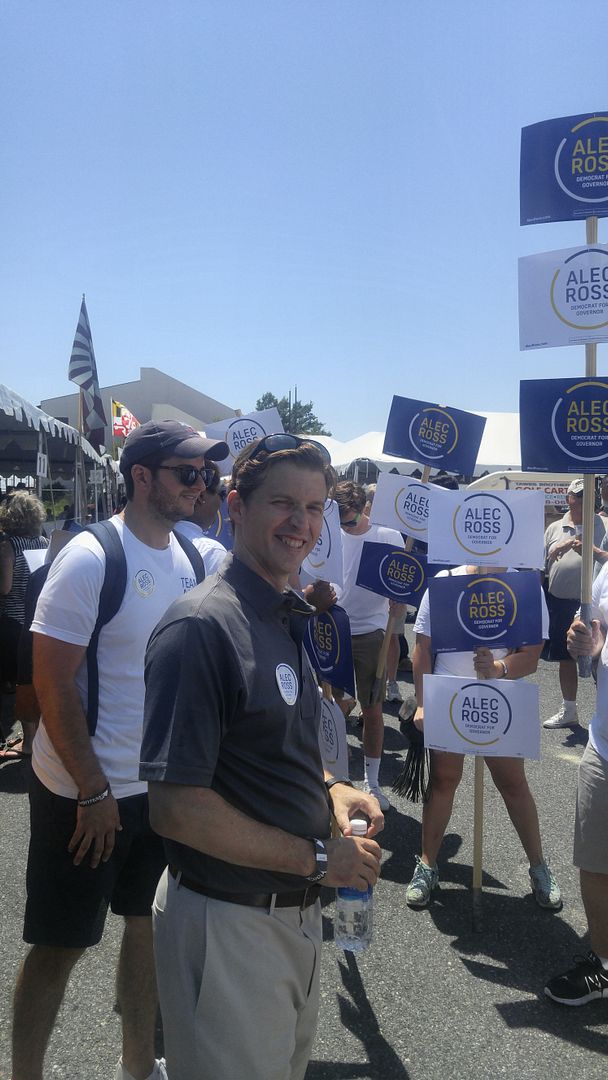 I asked Ross what he would do differently than the current governor, and he said he would focus more on education. One thing I agreed with him on was something he called a Democratic "failure" – focusing too much on preparing kids for college when some aren't college material and would be better suited for vocational training. But he limits himself in the palette of school improvement and choice to public and charter schools, whereas I believe money should follow the child regardless. Ross also has this pie-in-the-sky scheme about government credit to working moms for child care which I may not quite be grasping, but one assumes that all moms want to work. I think some may feel they have to work but would rather be stay-at-home moms.
The thing that stuck out at me was his saying that when two people disagree, at least one of them is thinking. You be the judge of who ponders more.
But the Democrats' field for the top spot is getting so crowded that I got about five steps from talking to Ross and saw State Senator Richard Madaleno, another candidate.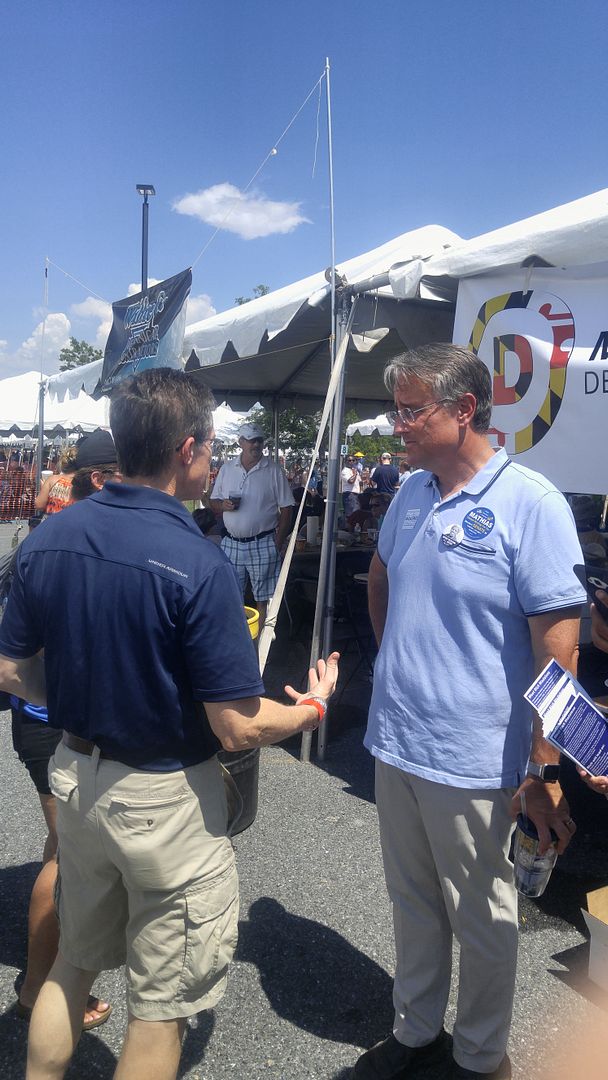 Having done the monoblogue Accountability Project for a decade now, I pretty much know where Madaleno stands on issues – but I was handed a palm card anyway. Indeed, he's running as a "progressive."
And then there's this guy. I didn't realize he was talking to the state chair Matthews at the time, but I wonder if she was begging him to get in the governor's race or stay out of it. I suspect state Comptroller Peter Franchot is probably happy where he is.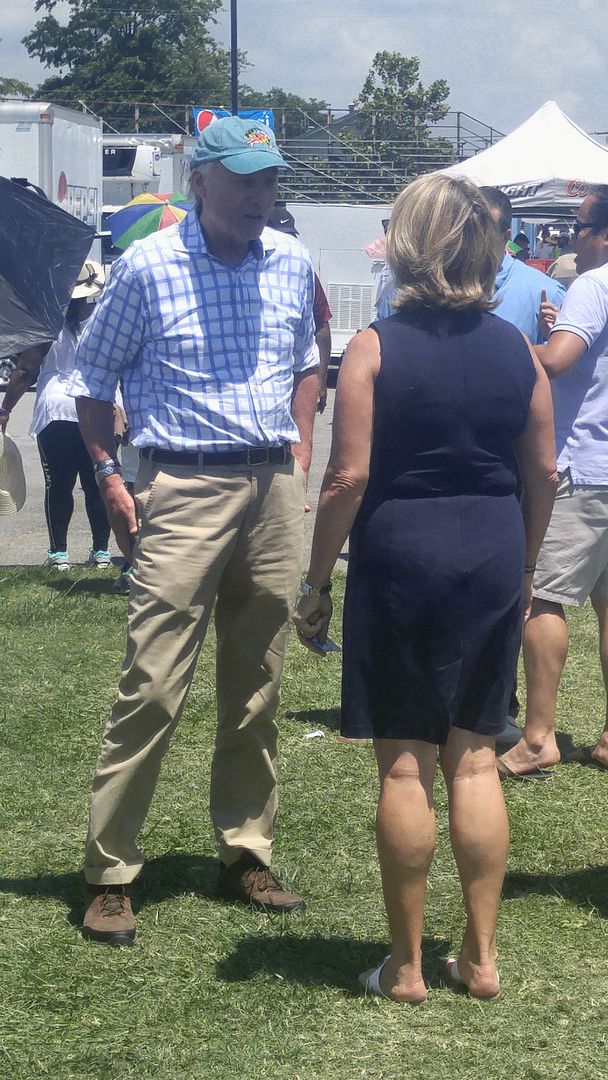 Franchot is probably happy because he works so well with this guy, the undisputed star of the show.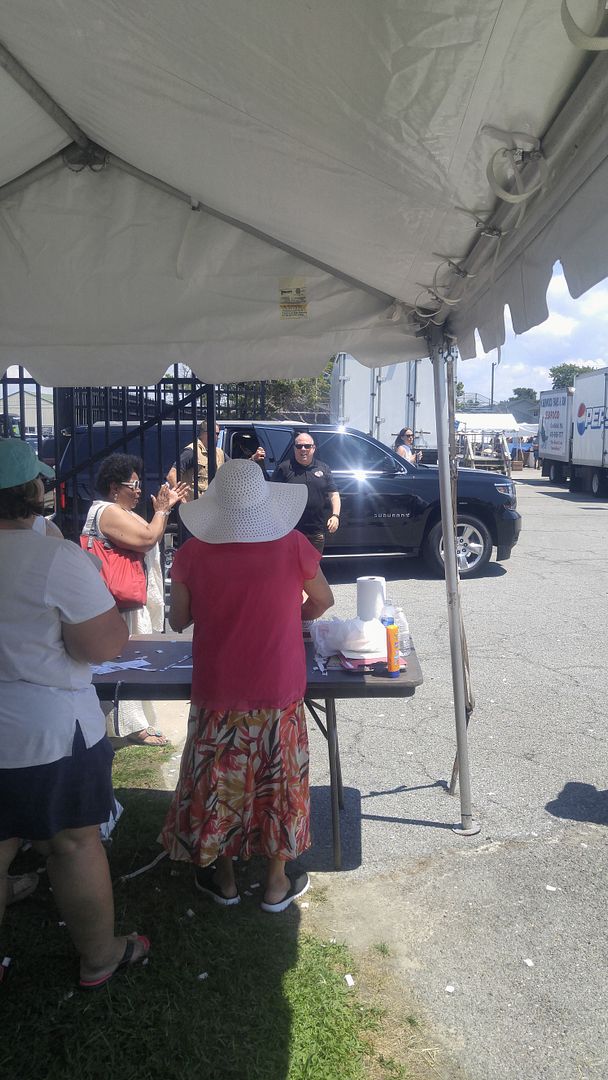 This turned out to be a pretty cool photo because I was standing in just the right spot to see his car swoop around the corner, come to a halt, and watch the trooper open the door for Governor Hogan to emerge.
If you follow me on social media you already saw this one.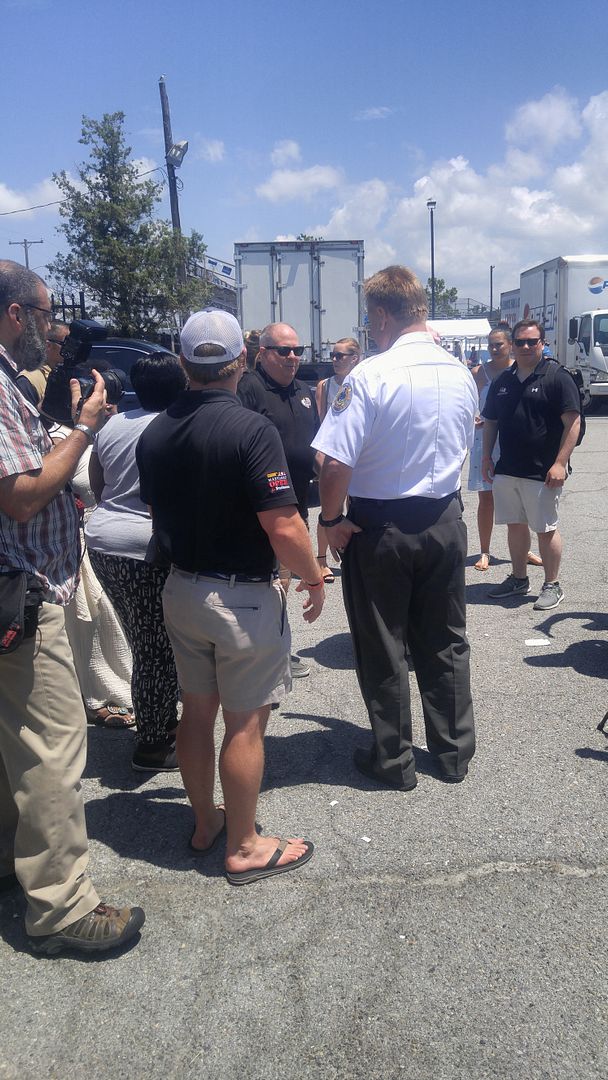 Say what you will, and Lord knows I don't agree with him on everything: but Governor Larry Hogan was treated like a rock star at this gathering, to a point where he could barely make it 50 yards in a half-hour.
This would have been of no use.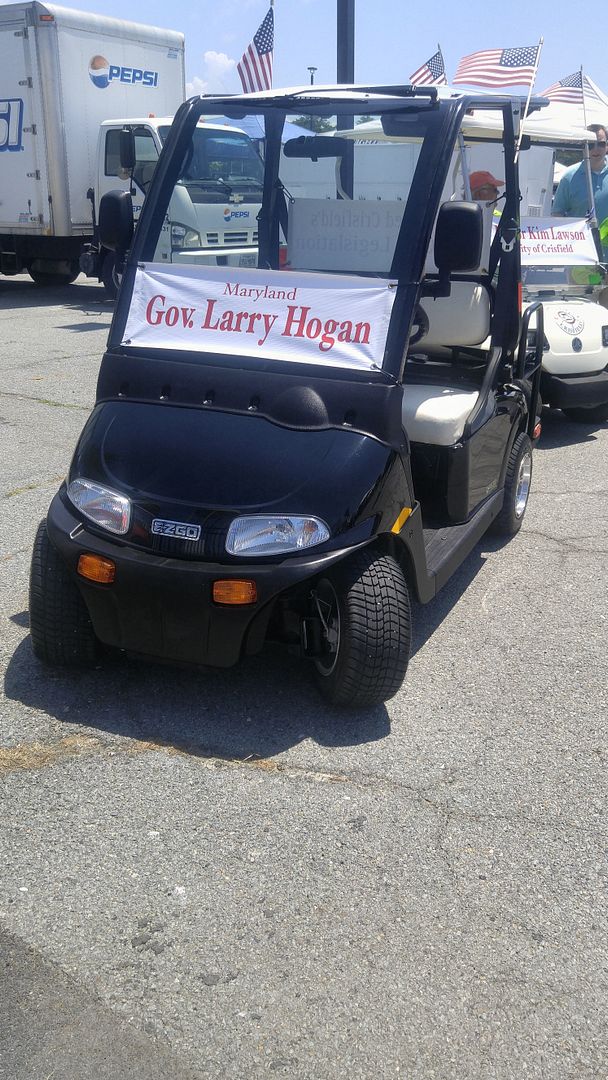 I said my quick hello to Larry moments before WBOC grabbed him for an interview, and that's fine with me.
Here are two ladies who were probably glad he was there, too.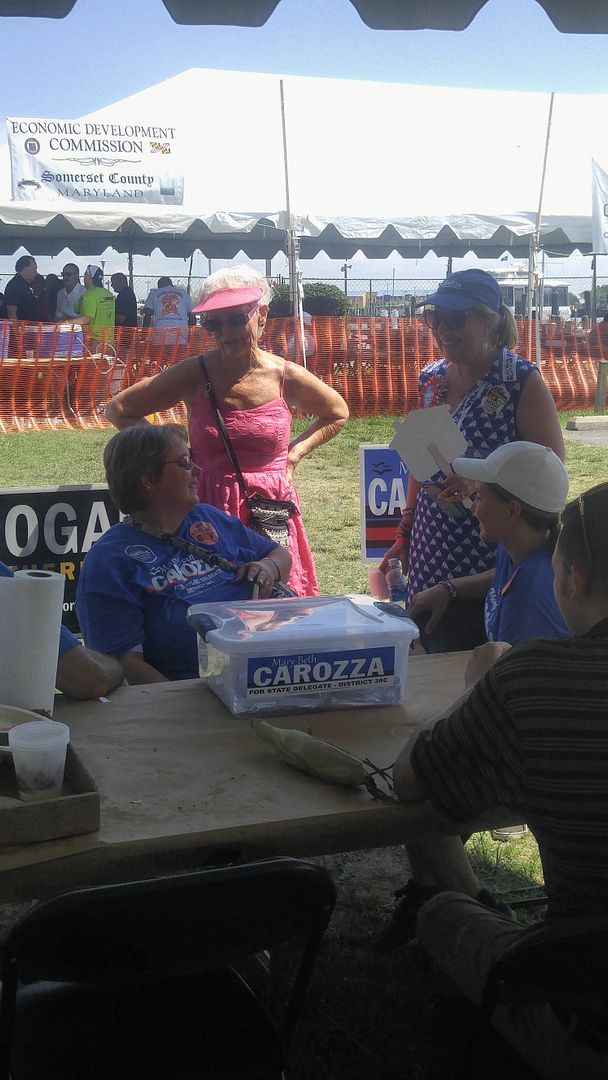 In her usual pink was State Senator Addie Eckardt, while Delegate Mary Beth Carozza was in her campaign blue. And since Carozza told me she treasures my observations, here are a couple.
First of all, it's obvious that Jim Mathias is running scared because why else would he spend the big money on a tent and dozens of shirts for the volunteers that showed up (plus others who may have asked)? Not that he doesn't have a lot of money – the special interests across the bridge make sure of that – but Mathias has to realize there is some disconnect between his rhetoric and his voting record. And he's not prepping for a major challenge from Ed Tinus.
A second observation is that most of the Mathias signs I saw driving down there were flanked by signs for Sheree Sample-Hughes, and you don't do that for a Delegate seat you were unopposed for the first time you ran. Something tells me Sheree has a higher goal in mind, but it may not one worth pursuing unless the circumstances were right.
One thing I found out from the Democrat chair Matthews is that at least two people are in the running against Andy Harris and were there. I didn't get to speak with Michael Pullen, but I did get to chat for a bit with Allison Galbraith.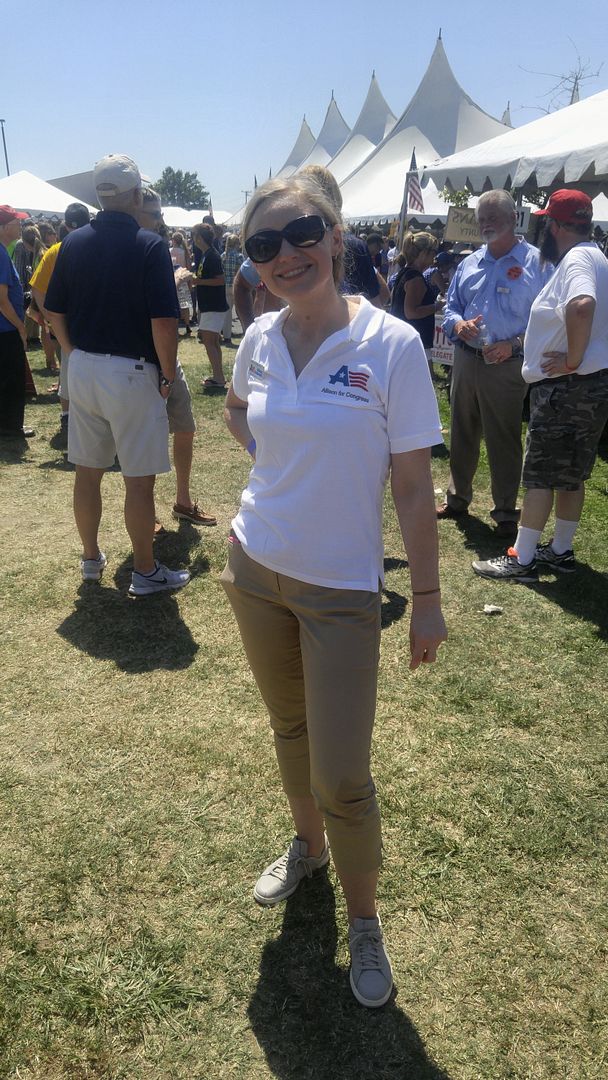 So when I asked her what she would do differently than Andy Harris, the basic response was what wouldn't she do differently? We talked a little bit about defense, entitlements, and health care. Now she is against government waste (as am I) but I think my idea of waste is somewhat different. She also claimed to have saved some sum of money based on her previous work, but I reminded her she would be one of 435 and there seems to be a "I'll scratch your back if you scratch mine" mentality in Congress. (I should have asked her who she would pattern herself after as a Congresswoman.)
But in the end, I was hot, sweaty, sunburned, and dog tired. I will say, though, that despite the rancor that seems to be pervasive in our world these days when it comes to politics most of the people in Crisfield got along just fine. I think I was very bipartisan in speaking since I talked to many GOP friends and met some of these Democrat candidates I didn't know so I had an idea who they were. And who knows? I haven't checked yet, but I may be on the Sun's website – that same photographer Lawson joked with took my photo later while I was asking Ross questions and got my info.
By the time we do this next year, we will know who's running for office and the campaigning will be more serious. So will the eating for the 50% that don't care about politics and never wander by Bereano's massive setup. As long as the Tawes event can cater to both they should be okay.
I promised when I did last month's awards that this month I would do a first half in review, so here goes.
Over the last several years, our trend has been to have the better first half and fade in the second so the fact that we had a lackluster 29-39 first half that placed us 10 games in arrears to eventual leader Kannapolis doesn't bode really well. And unlike a lot of other seasons I can recall, the team did not do a large-scale turnover at the All-Star break as no players were promoted to Frederick – those who were bound for Aberdeen had already long since left the scene. So there's been little player movement since the second half began.
Statistically, the Shorebirds were a bottom-echelon team in most offensive categories, generally ranking outside the top 10 in the league. As far as pitching went, they were more toward the average but still tended toward the lower half. And the fact that there were no obvious standout players who just had to be promoted to Frederick says a lot about this team, which seems to be comprised of a large proportion of late-round draft picks for some reason. As of this writing, it's worth noting that the top five hitters in average were respectively drafted in rounds 31, 19, 7, 21. and 15, while the best ERAs belong to pitchers drafted in rounds 33, 23, and 34 (three others were international free agents.)
So the fact that they are where they are in the standings may be reflective of their relative talent level compared to other squads loaded with blue-chip prospects. The success we may have will definitely be unexpected on paper, but it is why they play the games.
June provided a wide-open free-for-all competition for Player of the Month – there was no real standout. I could make legitimate arguments for four different players based on the factors of statistics, comparison to season performance as a whole, and comparison to expectations. Cole Billingsley, Rafael Palmiero, Alejandro Juvier, and Frank Crinella were all contenders for the prize, which Palmiero would have won in back-to-back months.
And while Alejandro Juvier started out July with a personal milestone, it was the great month preceding it that tipped the scales toward the Player of the Month honors for the versatile infielder. Juvier, who's now played 53 games at second base, 17 at third base, and 5 at shortstop, hit a solid .288 in June (23-for-80) to lead the team in hitting, chipping in four doubles, a triple, and a home run with 8 RBI.  Stumbling along with a .221 average as the month began, Alejandro increased the mark to .244 by month's end, setting monthly highs in most offensive categories and putting up a remarkable .760 OPS for the month (compared to a lifetime .595 mark.) Maybe the guy needs to shop for diamond rings more often.
It's a significant improvement over the time he spent here last season, where he fell one AB short of the Mendoza line in 30 games, going 22-for-111 (a .198 average.) But aside from the 2015 season, where he somehow put together a slash line of .307/0/18/.742 OPS between the GCL Orioles (29 games) and Aberdeen (17 games), offense has been a challenge for the 21-year-old Cuban native whose family found its way to Miami and got Juvier into the Doral Academy Preparatory School, from which Juvier was drafted three years ago in the 15th round. (Juvier was the first player drafted from there; two others followed this year.) Alejandro carries only a .236 lifetime mark, and tossing out the aberrant 2015 season lowers it to a .220 number. So hitting over .280 for a stretch is big news, and worth celebrating. I've often noted that it sometimes takes a player a second time here to "get it," but with perhaps the chance at another 200 or so plate appearances, Juvier could make a run at a nice mark around .260 with the same sort of effort.
Similarly to the position players, there were three pitchers I could have awarded this distinction to. It really came down to a trio who had good months in Lucas Humpal, Steven Klimek, and Matt Trowbridge – of the three, Humpal is the lone starter.
In the end, though, I opted to go with the best body of work overall and that belonged to Steven Klimek. Like Juvier, Steven spent a brief amount of time with the Shorebirds in 2016 and struggled, going 0-1 with a 6.10 ERA in 10 1/3 innings. In June Steven made seven appearances, allowing 2 runs on 10 hits in 11 2/3 innings for a 1.54 ERA and 0.86 WHIP. (The WHIP was low because Klimek walked no one while striking out 14. This goes with a 45-to-3 strikeout-to-walk ratio for the season, in 44 innings.)
Klimek had either a tie or lead in all seven appearances, and there was only one instance where he failed to keep it – Kannapolis scored a run on him June 12 to tie the game, but the Shorebirds would win it in extra innings. Thus, he had a win and two saves in the month as Klimek has become the guy for high-leverage situations. Not bad for a 33rd round draft pick out of St. Bonaventure two years ago. Klimek is actually my oldest SotM honoree for this nascent award as he's already turned 23.
Over the years I have seen this type of pitcher a lot – a guy with pinpoint control at this level who has issues when promoted because batters become more selective. Obviously that will be a test for Klimek when he moves up, since I see no reason why he shouldn't get a chance in the coming months. But bear in mind he struggled his first time here, so he was one of those that "got it" the second time too.
Now that I have my internet back, I should be able to resume my regular schedule and do July's Shorebird of the Month on August 3.
It's probably been a decade or so, but once upon a time I picked up a used CD at a store that sold such things called "Full Bluntal Nugity." As you may be able to guess, I'm a fan of Ted Nugent's music and this album was a recording of a "Whiplash Bash" New Year's Eve live performance he did many years ago in Detroit. The phrase in my title was a joking reference Nugent made to how he did his songwriting as part of the expletive-filled banter between songs. (I like Ted, but let me tell you the dude could make a sailor blush. Maybe he's mellowed out a little bit as he approaches the age of 70?)
But what triggered me to think of the phrase (and I realize in this day and age that's a loaded word) was the Scalise shooting that's almost a month gone by now. (I actually didn't intend the puns at first, but stuck with them.) With the schedule I keep these days I have less time for writing but I still have time to read social media, and on that medium I often check out what the Left has to say more than what my peeps on the Right have to say. And as is predictable in these cases, their sentiments often broke down into two categories, and generally without the fig leaf of well wishes for the victims that the politicians had to put up.
On the one hand, you had the crowd who thought the Republicans deserved this as karma for trying to take away people's health care by repealing Obamacare. Setting aside the obvious fallacy of that mindset of deserving anything bad to happen to them for any action that's legal – and, I would argue, more in accordance with the intention of those who founded our nation – the reality of the American Health Care Act (AHCA) is that it's a work in progress and there's still going to be way more government involvement in our healthcare than there should be. Remember, many of the provisions that characterized Obamacare were untouched by the AHCA. Moreover, there are several states rushing to fill the gaps they perceive in the AHCA so their laws will likely supplement the federal regulations.
The other side of the coin was the usual banshee-like cry for more gun control, and this is the part I want to spend most of this post addressing. Like many people around this area, we are gun owners. Members of our family went out of their way to be legal gun owners, as a matter of fact, because they strive to be law-abiding citizens.
Those weapons that we have, however, even if they were laying around loaded, would not hurt anyone because (and I realize this is a stunning revelation to some) guns are inanimate objects. I could pull a handgun out of its safe place in our house, lay it in front of me, and stare at it for hours – it's going to just sit there. No one will be injured. The only risk of someone being injured from that gun would be the exceptionally unlikely events of one of our cats knocking it off our table and it falling just the right way to discharge; meanwhile the random line of fire would have to actually strike someone.
So as the events unfolded in Alexandria and we learned more about the mindset of shooter James Hodgkinson, a 66-year-old retired home inspector from Illinois who identified himself as a leftist and supporter of Bernie Sanders for president last year, we once again saw the Right blamed for actions a member of the Left was participating in. But let's look at two basic facts regarding the shooter here: he was born in 1951 and came of age in the Illinois town in which he last permanently lived.
Thus, Hodgkinson grew up in an era when he could have been sent to Vietnam, could have gone to Woodstock (although it appears he did neither), lived through Watergate and the energy crisis as a young adult, and was approaching middle age during the Reagan Revolution. Whatever the case, his story ended as he was living out of a van several hundred miles from home and hanging around a local YMCA, according to this somewhat sympathetic Washington Post feature. While he was married, Hodgkinson had a violent past and perhaps became moreso as he aged, regardless, the question has to be asked: what made him believe he was justified in picking up a rifle to attempt to kill people who presented no physical threat to him?
Moreover, one also has to ponder what Hodgkinson would have accomplished had he mowed down the entire field of Congressmen: would that have scared the remainder into inaction or simply redoubled their resolve? Maybe it would have been a moment not unlike the days after 9/11 or the Oklahoma City bombing, when Americans turned introspective regarding their place in the world. The AHCA may have been shelved for a time, but likely would have returned after the wave of special elections made necessary by the slaughter of Congressional membership, with most of the seats likely remaining in GOP hands and Democrats perhaps paralyzed by having to run campaigns against a wave of sympathy.
I don't believe for a second that access to guns is the problem in this nation. Instead, I think what we need to access a better sense of morality, beginning with a newfound respect for life. Hodgkinson lived most of his adult life under the rules of Roe v. Wade, and ironically enough spent many years as a foster parent – so he dealt with a number of children who were deemed expendable by their parents. Just days before I began writing this piece in the wake of the Alexandria shooting last month, our city of Salisbury was rocked by two shootings in one night that left two men dead in separate incidents less than an hour apart – then last night two other men were gunned down at a local Denny's restaurant.
You keep hearing about these gatherings where we are told violence is not the answer, but that message is being drowned out in a cacophony of cultural and political references:
(Respectively, Barack Obama reputedly paraphrasing the 1987 movie "The Untouchables", Obama adviser Jim Messina, and Donald Trump.)
So which side is winning here? Is it the side with the attitude that life is something that should be treasured and preserved, and that differences in philosophy aren't so great or insurmountable that they can generally be worked out with patient discourse and a little bit of compromise if it achieves something that's good for everyone?
Or is it the side that takes the first sign of disrespect as the cue for escalating violence because it's what they were taught and encouraged to do?
Whichever is the case, there is only one person over whom you have full control, and that is yourself. You determine your own attitude, so perhaps this is a good time to discuss turning the other cheek. I give you not just the verse (which comes from Jesus' Sermon on the Mount) but some context as well.
Ye have heard that it hath been said, An eye for an eye, and a tooth for a tooth:

But I say unto you, That ye resist not evil: but whosoever shall smite thee on thy right cheek, turn to him the other also.

And if any man will sue thee at the law, and take away thy coat, let him have thy cloak also.

And whosoever shall compel thee to go a mile, go with him twain.

Give to him that asketh thee, and from him that would borrow of thee turn not thou away.

Ye have heard that it hath been said, Thou shalt love thy neighbour, and hate thine enemy.

But I say unto you, Love your enemies, bless them that curse you, do good to them that hate you, and pray for them which despitefully use you, and persecute you;

That ye may be the children of your Father which is in heaven: for he maketh his sun to rise on the evil and on the good, and sendeth rain on the just and on the unjust.

For if ye love them which love you, what reward have ye? do not even the publicans the same?

And if ye salute your brethren only, what do ye more than others? do not even the publicans so?

Be ye therefore perfect, even as your Father which is in heaven is perfect. (Matthew 5:38-48, KJV)
How you approach life and how you approach others is the one thing you have control over. A good attitude can go a long way in making things better, but that is also something which needs to be encouraged in the culture by turning away from those who would tell you otherwise. Heck, even Nugent himself pledged to tone things down in the wake of the Alexandria incident and if he can follow through so can the rest of us. It truly is about the attitude.
Oh my gosh, have I been pining to write this.
You are probably wondering why it's been so damn long since I wrote a post, so let me tell you: we moved. This was actually a planned thing, but I wasn't planning on doing it quite so soon. And part of that move was having to re-establish internet service and that took until today – until now I had to use my phone's mobile hotspot to get on the internet and I wasn't going to chew up gobs of data just to write and research blog posts. (I did it for writing Patriot Post, though, such as yesterday's piece that led off their "Weekend Snapshot." That was plenty enough.)
Now I have service re-established, though, I can get back to writing stuff every once in awhile. In fact, one thing I owe you is a Shorebird of the Month for June as it was a casualty of my wait for internet. I'll pick that up next Thursday at the appointed time.
But wait: there's more. I got some news yesterday that I'm keeping under my hat for a few days, but in time this will be the opportunity to end my hiatus from serious writing. Let me assure you that prayers are answered.
I may have a post tomorrow for you as well because I started one before we moved, hoping to get it done (obviously not.) I'll have to look it over and see if it's still relevant but I think it will be. In the meantime, I'm pleased to be back online with good internet.
And boy do I have a lot to say!
Because I did a lot of explanation before introducing my April position player and pitcher of the month, I think I'll stay with the trend for May and do my impressions on the season so far.
As it stands, the Shorebirds are tracking to be about the team I thought they would be when I found out that three of the top four picks in last season's draft would bypass Delmarva and jump straight from Aberdeen to Frederick: how would this team look with Cody Sedlock and Keegan Akin in the rotation and Austin Hays in center field? I'm not sure they would flip their current record that has them well under .500 and already all but eliminated from the first half title with a couple weeks to go, but we would be much less mediocre.
When I looked up those players who were slated to make the Delmarva starting lineup, I cringed at their offensive production. One of the few saving graces I thought we would have was the fact the plan for Dariel Alvarez was to have him pitch once or twice a week as he learned that aspect of the game but stay in touch with the offensive end as a DH a couple games a week also. It would have been like having a guy on rehab all year (and bear in mind Joey Rickard hit .300 in his brief rehab stint here.) Alvarez wasn't a slouch at the plate for the Orioles in his time there, so that would have been an interesting couple days a week and/or weapon off the bench. Alas, Alvarez blew out his arm so we may never know how it would have worked out.
I thought we would have a reasonably decent pitching staff, but with the exception of my April Pitcher of the Month Alex Wells, the rotation has been roughed up for much of the season. Aside from Wells, none of the five rotation mainstays have an ERA under 4.10 or a WHIP under the league average of 1.27. (Lucas Humpal is right on that mark, though.) Even our closer has an ERA over 4. It's just a team that seems to languish in the bottom half of the league in a number of categories, including the number of blue-chip prospects that are playing right now.
Earlier this week we also learned who our three representatives to the SAL All-Star Game will be, and to no one's surprise my April players of the month are two of the three – Alex Wells will pitch for the Northern Division team while Jake Ring will be a starting outfielder. They're joined by Chris Clare, who's the utility infielder of the group. However, while all three of them had good months in May, none of them were selected as my two honorees.
Instead, I went with two players who had hot hands in May; in particular my position player. This player had a May batting average over 100 points higher than his April mark and his OPS surged from .608 in April to .908 for the month of May. Based on a stellar month in which he batted .303/4/15/.908 OPS I selected Preston Palmiero as my Position Player of the Month for May.
It's obvious that Palmiero has a bit of a legacy to uphold as a member of the Orioles' organization, as his father had seven of his twenty very productive major league seasons in a Baltimore uniform. (Unlike his older brother Patrick, who played for three seasons in the White Sox organization and now plays with the independent Atlantic League's Southern Maryland Blue Crabs, Preston was born while his father was an Oriole.) The younger Palmiero was also the higher draft pick, taken in the 7th round last season by the Orioles. (Worth noting: his brother Patrick was drafted out of high school by the Pirates, but did not sign. The White Sox signed Patrick as a free agent after college, so Preston obviously drew a lot more interest as he attended North Carolina State.)
Preston put up reasonable numbers in 34 games last season with Aberdeen, hitting .258/0/18/,622 OPS. It wasn't going to set the world on fire, but I'm certain that Palmiero was ticketed for Delmarva this season all along unless he really struggled or shined with the IronBirds last season. And April was a mighty struggle for Preston, but May was a month he righted the ship, aided by a lot of road games – Palmiero has an extreme split in favor of games away from Perdue Stadium thus far, where he's hitting .289/6/18/.941 OPS compared to .216/1/11/.575 OPS at home. It's almost like he tries too hard here, but since the Shorebirds had so few home games in May it helped Preston out. Surely the numbers will begin to balance out, but for now his average is about where it was for Aberdeen and the trend is in a good direction.
If Preston hadn't come on with such a good month, I would have had no problem giving the honor to Jake Ring again. He had a fairly solid month of May to go with a stellar April, and that's why he'll be an All-Star.
As for the May Pitcher of the Month, the seeds of his success began in April when he began a shutout streak that would take him deep into May and even through one spot appearance with the Frederick Keys. Francisco Jimenez had six consecutive shutout appearances that varied between 2 and 6 innings during the run, but for the month of May itself he was 2-0 with a 1.02 ERA and WHIP of 0.906. (Note that Baseball Reference does their splits among all levels, so this counts his one 3 2/3 inning appearance with Frederick. If you back out the Frederick innings the ERA goes up to 1.29 and WHIP to 0.929, which are still really, really good.)
In Francisco's case, though, one could argue that he's only come to master this level because he's repeating it for the third time – he was he for the last few weeks of the 2015 season, all of 2016, and so far this season except for the quick dash to Frederick. But a point to consider is how many pitchers who succeed here struggle immediately on their promotion to the Keys, so that's in Jimenez's favor. Also. he's had the flexibility to pitch as both a starter and reliever this year, although his background has been more geared toward a starting role.
Also doing well this past month on the bump and deserving mention are starting pitcher Matthias Dietz, who has bounced back to great extent after a terrible start, and relief pitcher Cody Dube. Both were top-10 picks last season so you would hope they have success at this level.
Finally, I wanted to point out that so far – with the exception of Wells, who is but 20 years old – all of my Shorebird of the Month selections are 22 years old, so they are right in line with expectations for excelling at this level. Once we reach the All-Star break, it will be interesting to see how the roster is shaken up as the team doesn't appear to be a contender with the cast they have now. My June Shorebird of the Month selection will have a first half review as well.
You know, there's no shortage of irony that exactly 50 years ago many of the granola-crunching veterans of the leftist political movement were putting flowers in their hair and heading out to San Francisco to celebrate the "Summer of Love." (Yes, that was 1967. I was two years old at the time.) Now their progeny are gathering around their computers later today to hear Rep. Keith Ellison of the Democratic National Committee and other "special guests" blather on about how they will have the "summer of resistance" this year. More than likely it will be just as successful as one of the several "recovery summers" the last administration tried to drum up support for, but no matter – we know how this will go. Instead of the summer of love, it's the summer of hate for what's made America great (and I'm not talking about Donald Trump.)
Just look at what the Left has been getting themselves all worked up over since President Trump came to office. They dressed up as large-scale versions of certain lady parts to promote funding Planned Parenthood, a code spoken with the true meaning of their "right" to murder babies in the womb under the guise of "choice" or "reproductive rights," completely forgetting that, at the moment of conception, the tiny human inside them earned the most pre-eminent of all rights, the right to life. (For without life, how can you enjoy liberty or the pursuit of happiness?) Corollary to that was Trump's vow to repeal and replace Obamacare, which was a replacement more than I would have preferred.
We have spent countless hours of news coverage and barrels of ink talking about a possible Russian influence on our elections, but the question that should really be asked is why their propaganda was so believable? If we thought the worst about Hillary Clinton, there had to be a reason why and I don't think we have been working for the last 16 years, through two other presidents, just so the Russians could set up an election between Clinton and Trump because they utterly feared the former and had plenty of dirt on the latter. I would believe the reverse far more readily, but the Left keeps playing with the "Trump is a Russian puppet" narrative.
The latest hissy fit from the Left comes as Donald Trump has decided the Paris Climate Agreement as negotiated by the Obama administration isn't for him, so he wants a do-over. Of course, the Left is having a collective cow on this one as well, but it's also worth noting that some of the more foolish states and localities among us are vowing to continue working on their own toward the parameters of the Paris Climate Agreement.
**********
As I see it, what the Democrats are proposing isn't the summer of resistance but the summer of submission: willfully being tied to an inept, impersonal, and immoral nation-state that dictates our actions to us rather than allowing us the freedom to chart our own course. A true Summer of Resistance would perhaps have a convention of states that proposes only a handful of new amendments to our founding documents to provide for the following:
The repeal of the Sixteenth and Seventeenth Amendments, with concurrent adoption of a consumption-based tax system and return to state legislatures electing Senators as terms expire
An amendment prohibiting discrimination against or for certain groups in various legal functions, including crime and punishment
A balanced budget, except in instances of Congressionally-declared war or state of emergency
Additional language to clarify and rein in abuse of the general welfare and commerce clauses
This convention would also come up with a list of names from around the nation that would constitute a new court system to replace the present appellate system that has gone too far out of balance. Along with sending the new Constitutional amendments to the states for ratification, this new court system would be on the Congressional Summer of Resistance docket as well as a budget that completely rightsizes the federal government by returning it to the duties they are supposed to do.
By summer's end, Americans would be free of their federal burdens. Yes, for some it would be a struggle at first but it would be incumbent upon a nation that is the most charitable in the world to give the helping hand to those in need voluntarily, and not via the force of government edict.
Instead of a good Summer of Resistance like the one I described, though, we'll just get more anger and angst from people who still haven't accepted the fact that Donald Trump won more electoral votes than Hillary Clinton did. Try as they might, they can't resist that simple fact. But they can (and will) continue to piss and moan a lot.