Commentary by Marita Noon
Perhaps you watched the Earth Day news coverage of the "historic" ceremonial signing of the Paris Climate Agreement during which representatives from 175 countries walked up to the stage in the General Assembly hall at the United Nations headquarters in New York, sat down behind a desk on the podium, and added their signatures to the book. "In the name of the United States of America," Secretary of State John Kerry signed his name with his young granddaughter on his lap.
The event, according to the Wall Street Journal, set "in motion a process to curb the impact of global warming."  The International Business Times said it was "the latest in a series of steps to transform the global accord into an actual tool for combating greenhouse gas emissions and boosting the use of cleaner energy." Newsweek reported: "the leaders accepted the science of climate change and agreed to work together to do something about it."
Perhaps the "leaders," in signing their names, have "accepted the science," but read what individuals have to say in the comment portion of any of the aforementioned news stories and you'll see that there is still a great deal of debate regarding global warming – or was it global cooling, or maybe we should just call it climate change. Whatever it is, the alarmists say is urgent.
At the Earth Day gathering, U.N. secretary-General Ban Ki-moon declared: "We are in a race against time."
However, as the new movie Climate Hustle makes perfectly clear, climate alarmists have been making such proclamations for decades.
The film, which is being shown in theaters nationwide on May 2, starts out with clips of many such claims made by the news media and, of course, former Vice President Al Gore.
Marc Morano, the documentary's host, opens by stating: "We repeatedly hear that the time for debate is past" and then addresses the oft-quoted "97 out 100 scientists agree that climate change is real" narrative. Climate Hustle then crushes both claims – and many more (including whether or not CO2 is "the villain").
Using a touch of humor and a three-card monte theme, Morano likens the crisis marketing to a sleight of hand; a Climate Hustle. He says: "when the people pushing you to get into the game, the ones predicting a calamitous future due to global warming, don't show their cards, it is a hustle." The film shows the cards so the viewers can decide if "they are playing it straight or if you are being hustled."
Climate Hustle features a history of climate alarmism. Morano asks: "How has the alleged climate consensus changed over time?" While many of us may recall seeing some of the "wild claims," Climate Hustle puts them all together – and seeing them back-to-back should cause all thinking people to question what we are being told today. For example, in 1978, Leonard Nimoy, known for his role as Star Trek's Mr. Spock, announced: "the next ice age is on its way." He predicted: "unprecedented" hunger and death.  In 1972, trusted newscaster Walter Cronkite warned: "A new ice age is creeping over the northern hemisphere."
The film even quotes one of America's founding fathers as being worried about climate change. In the late 1700s, Thomas Jefferson wrote: "A change in our climate is taking place." Then, in 1817, The President of the UK Royal Society, Joseph Banks, addressed the melting polar ice. It's doubtful that either Jefferson's or Bank's concerns were the result of fossil fuel use.
In 1988, the global cooling of the 70s flipped to global warming. Using "stagecraft," a hearing was scheduled on Capitol Hill on the "hottest day of the year" where James Hanson, wiping his brow, testified about the urgency of global warming.
Repeatedly throughout the past couple of decades, we've been pummeled with dire predictions and told "time is short." In 1989, the UN predicted "Global warming would destroy entire nations by 2000." In 2007, we were told: "Scientists believe we have less than ten years to bring emissions under control to prevent a catastrophe." In 2008, Britain's Prince Charles said we only had 100 months left to solve the problem. Gore, in 2009, said: "We have to do it this year."
Yet, as the film demonstrates, scientists don't want to talk about their failed predictions.
Meanwhile, scientists who don't agree with the "leaders" are accused, by the likes of Robert F. Kennedy Jr., of "treason." He wants them "in jail."
Yes, as Climate Hustle makes clear, there are dissenting scientists – but they are marginalized, even called "kooks." If they speak out, they are insulted, ignored, ridiculed, ostracized, called heretics, hurt professionally, and even terminated for divergent views. This is not the scientific method.
Despite being treated like 17th century "witches,"" many scientists are reexamining the evidence and reversing their positions – even calling their previous views: "quite a big mistake."
Climate Hustle addresses many of the talking points we hear to defend the views held by the signers of the Paris Climate Agreement including polar bears and arctic ice, hurricanes and tornadoes. It explains the flawed models and "the pause." The lowly armadillo has been heralded as evidence of both global cooling and global warming.
Jumping back and forth from dramatic claims to scientific fact, Climate Hustle helps thinking people see past the fear mongering of the current climate change narrative and examine the global warming evidence for themselves.
In Climate Hustle renowned Swedish sea level expert and climatologist Nils-Axel Mörner concludes: "Geological facts are on one side, lobbying and models are on the other."
Check to see if Climate Hustle is being shown in your area and watch it on May 2 so you aren't taken in by the sleight of hand.
(Editor's note: Unfortunately, the closest venues for us to see the movie appear to be across the Bay Bridge or up in Wilmington.)
The author of Energy Freedom, Marita Noon serves as the executive director for Energy Makes America Great Inc., and the companion educational organization, the Citizens' Alliance for Responsible Energy (CARE). She hosts a weekly radio program: America's Voice for Energy—which expands on the content of her weekly column. Follow her @EnergyRabbit.
Commentary by Marita Noon
Friday, April 22, will mark the 47th Earth Day. You may think it is all about planting trees and cleaning up neighborhoods. But this year's anniversary will be closer to its radical roots than, perhaps, any other since its founding in 1970. Considered the birth of the environmental movement, the first Earth Day took place during the height of America's counterculture era. According to EarthDay.org, it gave voice to an "emerging consciousness, channeling the energy of the anti-war protest movement and putting environmental concerns on the front page."
We did need to clean up our act. At that time "littering" wasn't part of our vocabulary, The air in the Southern California valley where I grew up was often so thick with smog we couldn't see the surrounding mountains.
Thankfully, that has changed.
Look around your community. You'll likely see green trees, blue skies, and bodies of water sparkling in the sunshine. With the success of the environmental movement, its supporters, and the nonprofit groups it spawned, had to become ever more radical to stay relevant.
Environmentalism has changed.
The morphing of the movement may be most evident in Earth Day 2016 – which some are calling "the most important Earth Day in history."
This year, on April 22, in a high-level celebration at the United Nations headquarters in New York, the Paris Climate Agreement will officially be signed. Thirty days after its signing by at least 55 countries that represent 55 percent of global greenhouse gas emissions, the agreement will take effect – committing countries to establishing individual targets for emission reductions with the expectation that they will be reviewed and updated every five years.
While news reports of Earth Day 2016 will likely depict dancing in the streets, those who can look past the headlines will see a dire picture – one in which more than 10 percent of a household's income is spent on energy costs; one of "green energy poverty."
To meet the non-binding commitments President Obama made last December in Paris, he is counting on, among many domestic regulations, the Clean Power Plan (CPP).
Last week, on the Senate floor, Senator Jim Inhofe (R-OK), chairman of the Senate Environment and Public Works Committee, delivered remarks in advance of Earth Day on the unattainability of the U.S. climate commitments. He said: "The Clean Power Plan is the centerpiece of the president's promise to the international community that the U.S. will cut greenhouse gas emissions by 26 to 28 percent." It would "cause double digit electricity price increases in 40 states" and "would prevent struggling communities from accessing reliable and affordable fuel sources, which could eventually lead to poor families choosing between putting healthy food on the table or turning their heater on in the winter."
The Heritage Foundation has just released a report on the devastating economic costs of the Paris Climate Agreement, which it calls "a push for un-development for the industrialized world and a major obstacle for growth for the developing world." Because global warming regulations "stifle the use of the most efficient and inexpensive forms of electricity, businesses as well as households will incur higher electricity costs." The report concludes: "restricting energy production to meet targets like those of the Paris agreement will significantly harm the U.S. economy. Bureaucratically administered mandates, taxes, and special interest subsidies will drive family incomes down by thousands of dollars per year, drive up energy costs, and eliminate hundreds of thousands of jobs. All of these costs would be incurred to achieve only trivial and theoretical impacts on global warming."
Real world experience bears out the both Inhofe's observations and the Heritage Foundation's conclusions.
Germany is one of the best examples of green energy poverty as the country has some of the most aggressive greenhouse gas reduction programs that offer generous subsidies for any company producing green energy. Based on an extensive study done by green energy believers in 2014, I addressed the program's overall result: raised costs and raised emissions. I stated: "After reading the entire 80-page white paper, I was struck with three distinct observations. The German experiment has raised energy costs to households and business, the subsidies are unsustainable, and, as a result, without intervention, the energy supply is unstable." At that time, I concluded: "The high prices disproportionately hurt the poor, giving birth to the new phrase: 'energy poverty.'"
More recently, others have come to the same conclusion (read here and here). On April 13, the Wall Street Journal (WSJ) opined: "Germany's 16-year-old Energiewende, or energy transformation, already has wrecked the country's energy market in its quest to wean the economy off fossil fuels and nuclear power. Traditional power plants, including those that burn cleaner gas, have been closing left and right while soaring electricity prices push industries overseas and bankrupt households. Job losses run to the tens of thousands." Meanwhile, emissions over the past seven years have increased. Last month, Mike Shellenberger, President, Environmental Progress and Time magazine "Hero of the Environment," tweeted: "people really want to believe good things about Germany's energy shift, but … its emissions rose." WSJ concludes: "The market distortions caused by overreliance on expensive but undependable power already have pushed German utilities to rely more on cheap and dirty coal-fired power plants to make up the shortfall when renewable sources can't meet demand."
Germany is not alone.
The U.K., according to Reuters, is facing "fuel poverty." The report states: "The government is also under pressure to curb rising energy bills with 2.3 million of Britain's 27 million households deemed fuel poor, meaning the cost of heating their homes leaves them with income below the poverty line." Another account covers the U.K.'s cuts to solar subsidies, saying: "The government says the changes were necessary to protect bill payers, as the solar incentives are levied on household energy bills."
The Netherlands, which is already behind in meeting its green energy targets, has, according to the Washington Post, had to build three new coal-fueled power plants – in part, at least, to power the high percentage of electric cars. Additionally, the country has hundreds of wind turbines that are operating at a loss and are in danger of being demolished. A report states: "Subsidies for generating wind energy are in many cases no longer cost-effective. Smaller, older windmills in particular are running at a loss, but even newer mills are struggling to be profitable with insufficient subsidies."
Bringing it closer to home, there is über-green California – where billionaire activist Tom Steyer aggressively pushes green energy policies. Headlines tout California has the most expensive market for retail gasoline nationwide. But, according to the Institute for Energy Research, it also has some of the highest electricity prices in the country – "about 40 percent higher than the national average." A 2012 report from the Manhattan Institute, states that about one million California households were living in "energy poverty"- with Latinos and African Americans being the hardest hit. With the Golden State's headlong rush toward lower carbon-dioxide emissions and greater use of renewables, the energy poverty figure is surely much higher today.
This week, as you hear commentators celebrate "the most important Earth Day in history" and the global significance of the signing of the Paris Climate Agreement, remember the result of policies similar to CPP: green energy poverty. Use these stories (there are many more) to talk to your friends. Make this "Green Energy Poverty Week" and share it: #GEPW.
We, however, do not need to be doomed to green energy poverty. There is some good news.
First, the Paris Climate Agreement is non-binding. Even Todd Stern, U.S. climate envoy, acknowledged in the Huffington Post: "What Paris does is put in place a structure that will encourage countries to increase their targets every five years." While the requisite number of countries will likely sign it before the election of the next president, the only enforcement mechanism is political shaming. Even if it was legally binding, as was the Koyto Protocol, Reason Magazine points out what happened to countries, like Canada and Japan, which "violated their solemn treaty obligations" – NOTHING. The Heritage report adds: "History, however, gives little confidence that such compliance will even occur. For instance, China is building 350 coal-fired power plants, and has plans for another 800."
Then there is the legal delay to the implementation of the CPP – which, thanks to a Supreme Court decision earlier this year, will be tied up in courts for at least the next two years. Inhofe stated: "Without the central component of (Obama's) international climate agenda, achieving the promises made in Paris are mere pipe dreams."
"President Obama's climate pledge is unobtainable and it stands no chance of succeeding in the United States," Inhofe said. "For the sake of the economic well-being of America, that's a good thing."
The author of Energy Freedom, Marita Noon serves as the executive director for Energy Makes America Great Inc., and the companion educational organization, the Citizens' Alliance for Responsible Energy (CARE). She hosts a weekly radio program: America's Voice for Energy—which expands on the content of her weekly column. Follow her @EnergyRabbit.
Commentary by Marita Noon
In this election cycle, we hear a lot about the "establishment." Most people are not really sure who they are, but they are sure that they do not like them. The anger toward the establishment is not party specific and has propelled two unlikely candidates: Donald Trump on the Republican side and Senator Bernie Sanders for the Democrats.
The faithful following these outsiders may be more about "the grassroots trying to teach the establishment a lesson," as Gary Bauer posited last month, than about affection for either man. In an InfoWars video, reporter Richard Reeves, at the University of Texas in Austin speaks to Wyatt, a young man who'd just voted for Sanders. Wyatt indicates that most of his fellow students likely voted for Sanders as well. The surprise is his comment about the students' second choice: "Donald Trump."  Why? He's not "establishment." Wyatt admits he didn't consider voting for anyone else – just Sanders and Trump.
The establishment has been slow to grasp the public's rejection of an increasingly distrusted political class.
However one might define the "establishment," it certainly includes long-time Washington politicians like Senators Harry Reid (D-NV), Bill Nelson (D-FL), Ron Wyden (D-OR), John Thune (R-SD), Orrin Hatch (R-UT), and Mitch McConnell (R-KY) – who have just engaged in the exact tactics that have fed the voter frustration aimed at them. Avoiding a vigorous debate, they are using a must-pass bill to sneak through millions in totally unrelated taxpayer giveaways to special interests in the renewable energy industry – and they hope voters won't notice.
The bill is the Federal Aviation Administration (FAA) Reauthorization Act. On April 6, using an unrelated House bill (H.R. 636) that will serve as the legislative shell for the Senate's FAA measure (S. 2658), the Senate began consideration to reauthorize the FAA for 18 months. It is expected that the bill will be voted on this week, followed by the House – which will take it up when it is back in session.
Funding for the FAA expired in September and received a 6-month extension – which expired again on March 31. Avoiding a shutdown, Congress passed another extension that President Obama signed on March 30. This legislation authorized federal spending on aviation and related aviation taxes through mid-July 2016.
Both the House and Senate have been grappling with a multi-year aviation bill. Now, FAA reauthorization only has about two weeks to be debated and approved before it will be shoved aside to make way for budget proceedings. One major point of conflict is the renewable energy tax breaks. Because the Senate FAA bill includes a tax title, it is open to unrelated tax amendments.
Many renewable energy tax credits were extended in the omnibus spending package that was passed late last year, but Democrats claim that in the chaos of last minute negotiations, some were "unintentionally" left out. According to Morning Consult, Thune said: "This is what [Democrats] always viewed as the best opportunity to get some of these things that were left out of last year's extender bill." Senate Minority Leader Reid announced: "the inclusion of the provisions is a requirement for the legislation to move forward."
While many Republicans opposed the addition of the renewable energy tax credits, provisions supporting investments in fuel cells, geothermal and biomass were included in the Senate negotiations. Addressing the Senate's scramble to "settle on a cohesive strategy" regarding attaching the renewable energy tax breaks to the bill, Politico reports: "House Republicans have made it clear they're not interested in renewing any of the expired tax provisions this year." The bill's coverage in Roter Daily states: "key Republicans have already warned fellow House members to oppose a deal on tax extenders if it comes out of the Senate, saying they have consistently failed to promote economic growth and create jobs."
As we have seen with the recent demise of government-funded, green-energy projects, such tax credits and subsidies have repeatedly failed to deliver on their promises of long-term job creation and economic viability. It is for this reason that, on April 5, a coalition of more than 30 organizations sent a letter to the Senate Finance Committee expressing our deep opposition to the proposal. The letter, of which I am a signatory, states: "Congress considered the matter of expiring tax provisions less than 4 months ago. … It should also be noted that Congress extended significantly favorable tax treatment to renewable energy in omnibus appropriation legislation that accompanied the aforementioned tax extender package."
Andrew Langer, President of the Institute for Liberty, who also signed the letter, explains his position: "In December, Congress purposefully allowed a series of tax credits for so-called 'green' energies to expire. This was not some mere oversight as some have alleged, but a purposeful recognition that as the energy landscape has changed, the need to extend some two dozen of these credits was unwarranted. Others were allowed to continue – but roughly $1.5 billion were not."
If you believe, as all the signatories to the letter do, that American taxpayers shouldn't have to prop up large, well-connected special interests through tax handouts, carve outs, and loopholes using unsustainable Washington spending, please let your representatives know now. Please urge Senate offices to oppose keeping in the tax extenders, and encourage House offices to oppose adding in extenders.
With our national debt totaling more than $19 trillion, the last thing we need is more corporate welfare. But our legislators are slow to learn. Senate Republicans, like Thune, who is the lead negotiator for the Republicans, have worked with the Democrats to include the renewable energy tax credits. Thune stated: "We're listening to them and we're working for them."
No wonder the electorate is angry. But Washington politicians don't get it. While a battle rages over who will be the next president, unfazed, the establishment continues on.
Langer concludes: "the political ramifications are clear, as history has taught us. Republicans who give in to cronyism, who give in to profligate spending… they get nothing in the end. Worse, they do considerable damage to the concept that Republicans are the party of lower spending and less government. In a political cycle where the future is entirely uncertain for Republicans at all levels, those who are pushing for these tax breaks do their colleagues no great service."
Join us in educating the "establishment" by calling them and telling them: "No more green pork!" #GreenPork
The author of Energy Freedom, Marita Noon serves as the executive director for Energy Makes America Great Inc., and the companion educational organization, the Citizens' Alliance for Responsible Energy (CARE). She hosts a weekly radio program: America's Voice for Energy—which expands on the content of her weekly column. Follow her @EnergyRabbit.
Commentary by Marita Noon
Hillary Clinton's "trustworthiness" problem is fed by a long history of "varying credibility," as a recent Politico story delineated, including cattle-futures trading, law firm billing records, muddled sniper fire recollections and e-mail use.
While providing pertinent points, the Politico list is just a sampling.
One missing item on the "mistrust" litany is a project she reportedly cooked up as Secretary of State, but that was shaped by her family foundation. State Department staff sent official emails to solicit funds from foreign governments.
The project sounds innocent enough: "to save lives, improve livelihoods, empower women, and combat climate change." What miracle product can do all that? A cookstove. Yes, that is correct – a cookstove. This is not the product of "as seen on TV" wizardry, nor is it the latest in high-efficiency appliances.
There's something fishy when governments throughout the world (including the U.S), corporations (including Bank of America, Goldman Sachs, and Johnson & Johnson), and Ted Turner's UN Foundation and the Clinton Global Initiative are involved as they are with the Global Alliance for Clean Cookstoves (Alliance).
No one would begrudge corporations giving to a philanthropic effort, but we would probably feel differently about our own tax dollars going to the project Clinton is hawking – especially when the project is, by most accounts, an epic fail.
The Alliance claims to provide a solution to the "fourth worst overall health risk factor in developing countries." Its website's "Frequently Asked Questions" download states: "Exposure to smoke from traditional cookstoves and open fires – the primary means of cooking and heating for nearly three billion people in the developing world – causes 1.9 million premature deaths annually with women and young children most affected." Not only that, but "Reliance on biomass for cooking and heating increases pressure on local resources" as women and children "forage for fuel." Additionally, "inefficient cookstoves contribute to climate change through emissions of greenhouse gases."
To remedy this problem, it would make sense for the well-funded public-private partnership to use its money and influence to help build natural-gas-fueled power plants and infrastructure to bring electricity to the developing world. But that was not Clinton's idea.
On September 21, 2010, the world first became aware of Clinton's brainchild – though she may have stolen the idea from India's National Biomass Cookstoves Initiative that made headlines around the world in the summer of 2010. The Secretary of State announced the Alliance at the Annual Meeting of the Clinton Global Initiative (GCI) – with the Clinton Foundation being one of the "Strategic Partnerships and Alliances." By November 2014, at the "Inaugural Cookstoves Futures Summit" it was announced that more than $400 million had been raised for the project. As co-host of the meeting, Clinton exclaimed: "We have to redouble our efforts to get more clean and efficient products in the hands and homes of families everywhere. … We can rededicate ourselves to doing everything we can to help more people in more places to breathe more easily, work more safely and live healthier lives." In her memoir, Hard Choices, she brags about her role in the Alliance: "I was delighted by the scope and speed of the progress [the Global Alliance for Clean Cookstoves] made around the world."
"Progress" in the Alliance can be attributed to her influence as Secretary of State. Before the announcement of the Alliance, Kris Balderston, who served as her special representative for global partnerships, on his state.gov account pressured Norway to join. They obliged with a commitment for a $600,000 "down payment." Apparently, as emails revealed, the country wanted to be part of the launch: "They wanted to move quickly for the CGI announcement." (Note: Norway is a major donor to the Clinton Foundation.) Once Norway signed on, France and Finland were expected to follow suit. While traveling the globe, on the taxpayers' dime, Clinton recruited more partners.
All big charity programs have celebrity spokespersons – the Alliance has actress Julia Roberts and chef Jose Andres – but Clinton was much more. She is credited with the program's birth. While Secretary of State, it was "on the top of her agenda." Once retiring from her official duties, Clinton became the Chair of the Alliance's Leadership Council – where she still serves.
If you don't know the rules, this may seem like petty politics. However, as Kathleen Clark, a law professor at Washington University in St. Louis and an expert on ethics in government, in the Washington Times cites the Code of Federal Regulations on the use of public office for private gain: "an employee shall not use his public office for his own private gain, for the endorsement of any product, service or enterprise, or for the private gain of friends, relatives or persons with whom the employee is affiliated in a nongovernmental capacity, including nonprofit organizations of which the employee is an officer or member."
While at best, Clinton's clean cookstove campaign seems slimy, and may be illegal, one might cast a blind eye if the program achieved its aggrandizing goals.
These so-called "clean cookstoves," even by the Alliance's own literature, "may last for several years" – yet only 20 percent, according to a survey cited in the Washington Post (WP), are still in use after two years. While the Alliance has reportedly "helped drive more that 28 million stoves into the field," most do not meet the World Health Organization's guidelines for indoor emissions. The WP states: "The vast majority of the stoves burn wood, charcoal, animal dung or agricultural waste – and aren't, therefore, nearly as healthy as promised." While "some perform well in the lab," others "crack or break under constant heat."
In her book, A River Runs Again, journalist Meera Subramanian chronicled cookstove use in India. The WP reports: "She found that women had stopped using the stoves because they didn't like the design or because the stoves broke, burned more wood (not less, as intended) or didn't get foods hot enough."
Defending the Alliance's effort, Radha Muthiah, CEO of the Alliance, says: "There may not be the greatest health benefit, but there's certainly a good environmental benefit, and it will save them more time" and create "livelihood and empowerment opportunities."
Distributing stoves that "we know will kill people" has been called "unethical." Rema Hanna, the Harvard economist who led "Up in Smoke" - which WP calls "the most extensive field study to date on this subject" – says: "it makes no sense to 'push more stoves into the world that people are not going to use.'" Citing a recent publication in the American Economic Journal: Economic Policy, David Kreutzer, Senior Research Fellow, Energy Economics and Climate Change at The Heritage Foundation, reports: "there were no long-term (after four years) health benefits from clean cook stoves. After two years, smoke inhalation was not at all different, and by the fourth year, nearly one-third of the households had so little use for the new stoves that they actually destroyed them."
Rather than burning biomass, experts believe that gas, electricity, or both would be better at protecting health. Kreutzer agrees: "These cookstoves seem to be substitutes for efforts to provide affordable modern power to those in need" – which he says condemn so many of the poor to continuing energy poverty. Sadly, Alliance members oppose projects that would provide low-cost power to these poor households.
You have to wonder, if these cookstoves – which are more like a hibachi grill than a stove and cost about $25 – don't achieve the stated goals, why is Clinton such a proponent? As Christine Lakatos, whom I have worked with on dozens of green-energy, crony-corruption reports, and who alerted me to this dirty story, found in her Green Corruption File report, Alliance work was a high priority during Clinton's time as Secretary of State. The project spanned eleven federal agencies and, so far, totals more than $114 million.
Her involvement complicates her "trustworthiness" concerns and risks, as the Washington Times points out: "Raising questions about where she drew the line between official business and aiding the family charity run by her husband and daughter."
The answer to Clinton's involvement, and the conflict of interest with her role at the State Department and "aiding the family charity," deserves further investigation by someone with better access, and a bigger budget, than Lakatos or I have. But a hint can be found on the Alliances' own website: carbon credits. It states: "In addition to being one of the fastest growing offset types in the voluntary market, cookstoves credits are selling for some of the highest prices observed in the voluntary carbon market."
If Clinton becomes president, her energy policies will likely enact a cap-and-trade system or a carbon tax—which would suddenly make her cookstove project profitable.  Rather than helping bring modern power to the world's poor, she's, as Kreutzer calls it, "prolonging energy poverty for millions upon millions in the developing world." And that is the dirty story behind Clinton's clean cookstove campaign.
The author of Energy Freedom, Marita Noon serves as the executive director for Energy Makes America Great Inc., and the companion educational organization, the Citizens' Alliance for Responsible Energy (CARE). She hosts a weekly radio program: America's Voice for Energy - which expands on the content of her weekly column. Follow her @EnergyRabbit.
Commentary by Marita Noon
By now, most people probably know about one of Secretary Hillary Clinton's biggest campaign gaffes to date: "we're going to put a lot of coal miners and coal companies out of business." As soon as I heard it, I tweeted: "Imagine a presidential candidate running for office based on putting people out of work?"
I wasn't the only one shocked by the uncharacteristic clarity of her statement. Lacking the usual political-speak, her comments were all the more surprising in that they were not made at a fundraiser in billionaire environmental donor Tom Steyer's posh San Francisco living room. They were made in Ohio – coal country, where coal production in 2015 was down 22 percent – at a nationally televised CNN town hall and just hours before the important state's primary election.
In response, Christian Palich, President of the Ohio Coal Association sent this: "Hillary Clinton's callous statements about coal miners, struggling under the weight of a hostile administration, are reprehensible and will not be forgotten. The way Secretary Clinton spoke so nonchalantly about destroying the way of life for America's coal families was chilling. Come tomorrow, or next November, Ohioans in coal country will vote to keep their jobs and not for the unemployment line."
US News reports that Democrats in the coal states of Wyoming, West Virginia, Kentucky, and Ohio have tried to "distance themselves from Clinton's comments." Former Ohio Governor Ted Strickland, a Clinton ally who handily won his party's primary election for Senator, called her slip, "unartful." Senator Joe Manchin (D-WV), who, last April, endorsed Clinton, took issue with her comments and contacted her campaign.
Facing the backlash, and in damage-control mode, Clinton sent a letter to Manchin: "Simply put, I was mistaken."
But was she? I don't think so.
Though her comments may have been "unartful" and, arguably, poorly timed, I believe they reflect private conversations and campaign strategy. It may be no coincidence that rumors of President Obama's tepid support for Clinton – though the White House denies endorsing her – surfaced after her killing coal comments.
First, it is clear that Clinton needs President Obama's endorsement. She needs him to generate excitement for her lackluster campaign – something Democrat voters are not feeling for her as they did for him. She needs his campaign machine to get out the votes.
But, he needs her just as much – his legacy hangs on her election. Because so much of what he's done has been by executive action, his legacy can just as easily be undone – as every remaining Republican candidate would likely do.  Obama is, reportedly, committed to "a hard campaign of legacy preservation." He is ready to "raise money to fill Democratic coffers and target the key communities that would make up a winning coalition for the party, including blacks, Latinos, educated single women and young voters, to encourage them to go to the polls."
Following the voluntary climate agreement in Paris, Politico stated: "Barack Obama wants to be remembered as the president who saved the world from climate change." For this legacy to stick, all of his anti-fossil fuel policies must stay intact. To get his endorsement, a Democrat presidential candidate must embrace what he started and promise to "build upon President Obama's legacy of environmental protections and climate action," as Clinton has.
While Obama frequently claims to support an "all of the above" energy policy, actions speak louder than words. From his 2009 stimulus bill throwing billions at speculative green energy projects, his killing coal efforts, his stand that we can't drill our way to low gas prices, his rejection of the Keystone pipeline, and his threat to veto a bill to lift the oil export ban – just to name a few – he obviously meant "none of the below."
The White House denies a "war on coal." In December, after the Paris climate agreement was signed, former Deputy Assistant to the President for Energy and Climate Change, Heather Zichal, defended Obama's green platform: "Nobody's screaming that their energy bills are on fire; jobs have not been lost."
Bill Bissett, President of the Kentucky Coal Association called Zichal's comments: "insulting and inaccurate." He told me: "The Obama Administration and its allies have an intentional blind spot to the economic and social damage that their anti-coal policies are causing in the United States and especially in coal country. The top coal producing states in our nation not only benefit from the extraction of coal, but all of us benefit greatly from having low kilowatt-per-hour rates. But that economic advantage is eroding as Obama does everything in his power, and against the will of Congress, to move the United States away from coal production and use." He added: "More than 8,000 Kentucky coal miners have lost their jobs since Obama took office and countless other Kentuckians have lost their livelihoods through indirect and induced job loss due to his anti-coal agenda. And, yes, our electricity rates are increasing in Kentucky as our country moves away from coal."
"Ms. Zichal and the administration can spin it any way they like but no one outside of their fringe enviro friends is clamoring for their energy policies," said Mike Duncan, President of the American Coalition for Clean Coal Electricity.
While much of the electricity price increases associated with the Obama Administration will only be seen later, the fact is, according to an Energy Information Agency data set, the increase in retail electricity prices since 2008 is 12.8 percent.
Clinton's anti-coal comments got all the press. But she didn't stop there. Almost under her breath, a few sentences later, she added: "We've got to move away from coal and all of the other fossil fuels" – more pandering for Obama's much needed (and, so far, withheld) endorsement.
But how realistic is the Democrat's goal of moving away from coal and all the other fossil fuels?
"Unlikely," according to new research from the University of Chicago. The authors wanted a different answer. Like Clinton, and Obama, they believe fossil fuel use is driving "disruptive climate change" that will lead to "dramatic threats to human well-being" and a "dystopian future." Reading the 22 pages of the report on their findings, one can almost feel their dismay.
Yet, after discussing "supply theory" – which posits the world will run out of inexpensive fossil fuels – they state: "If the past 35 years is (sic) any guide, not only should we not expect to run out of fossil fuels anytime soon, we should not expect to have less fossil fuels in the future than we do now. In short, the world is likely to be awash in fossil fuels for decades and perhaps even centuries to come." Complicating matters, the authors acknowledge: "a substantial penetration of electric vehicles would reduce demand for oil. Provided that the supply curve for oil is upward sloping (as it is in almost all markets), this drop in demand would translate to lower oil prices, making gasoline vehicles more attractive."
Then, on "demand theory" – the economy will stop demanding fossil fuels as alternatives become more cost competitive – they lament: "In the medium-run of the next few decades, none of these alternatives seem to have the potential based on their production costs (that is without the government policies to raise the costs of carbon emissions) to reduce the use of fossil fuels below these projections." Additionally, they conclude: "Alternative sources of clean energy like solar and wind power, which can be used to both generate electricity and to fuel electric vehicles, have seen substantial progress in reducing costs, but at least in the short- and middle-term, they are unlikely to play a major role in base-load electrical capacity or in replacing petroleum-fueled internal combustion engines."
While the authors support "activist and aggressive policy choices…to drive reductions in the consumption of fossil fuels and greenhouse gas emissions," they reluctantly admit the proposed solutions are not apt to be the answer they seek. "Even if countries were to enact policies that raised the cost of fossil fuels, like a carbon tax or cap-and-trade system for carbon emissions, history suggests that technology will work in the opposite direction by reducing costs of extracting fossil fuels and shifting their supply curves out."
Perhaps, before Clinton – who accuses anyone who doesn't agree with her climate alarmist view as ignoring the science – makes mistakes, like declaring that she'll put coal miners and coal companies out of business, she should check the science behind her claims to "move away from coal and all the other fossil fuels."
Making her March 13 comments seem even more foolish, the following days cast a shadow over the specter of funding more speculative solar power, as she's proposed to do. Three stimulus-funded solar failures made big headlines.
On Wednesday, March 16, the Wall Street Journal (WSJ)  announced that the massive $2.2 billion ($1.5 billion in federal loans according to WSJ, but other research shows more) Ivanpah Solar Electric Generating System may be forced to shut down because it has failed to produce the expected power. What it has produced: "fetched about $200 a mega-watt hour on average during summer months," while "power from natural-gas plants went for $35 a mega-watt hour on average in California's wholesale market."
On the same day, SunEdison's troubles worsened. After the company acquired stimulus-funded First Wind last year, it became "the leading renewable energy developer in the world." Now, its "mounting financial woes" resulted in another delay to the filing of its annual reports. The company's stock, according to WSJ, has "lost 67% over the past three months and 91% over the past year." It "slid another 16% to $1.73 in premarket trading."
The next day, March 17, the New York Times declared that Abengoa, the Spanish company hailed as "the world leader in a technology known as solar thermal, with operations from Algeria to Latin America" has gone from "industry darling to financial invalid." I've written repeatedly on Abenoga – which is on the verge of becoming "the largest bankruptcy in Spanish corporate history." Note: Abengoa was the second largest recipient of U.S. taxpayer dollars – more than $3 billion - from the green energy portion of Obama's 2009 stimulus package.
It appears Clinton's energy policies are aimed at trying to make winners out of losers. How can she help it? That is what the Democrat Party is trying to do with her.
Hopefully, voters know better. But then, as the University of Chicago's study's closing words remind us: "hope is too infrequently a successful strategy."
The author of Energy Freedom, Marita Noon serves as the executive director for Energy Makes America Great Inc., and the companion educational organization, the Citizens' Alliance for Responsible Energy (CARE). She hosts a weekly radio program: America's Voice for Energy—which expands on the content of her weekly column. Follow her @EnergyRabbit.
After controversy about the prospect of large poultry operations with multiple chicken houses (up to a baker's dozen in one case) as well as concern over the paleochannel that runs near the Salisbury area, County Executive Bob Culver organized a public meeting held earlier this evening to discuss some of these concerns with a number of state officials. Ten representatives, mainly from the Maryland Department of the Environment (MDE) but also representing the Department of Agriculture and the Department of Health and Mental Hygiene (DHMH), were made available to answer questions from a large audience of onlookers.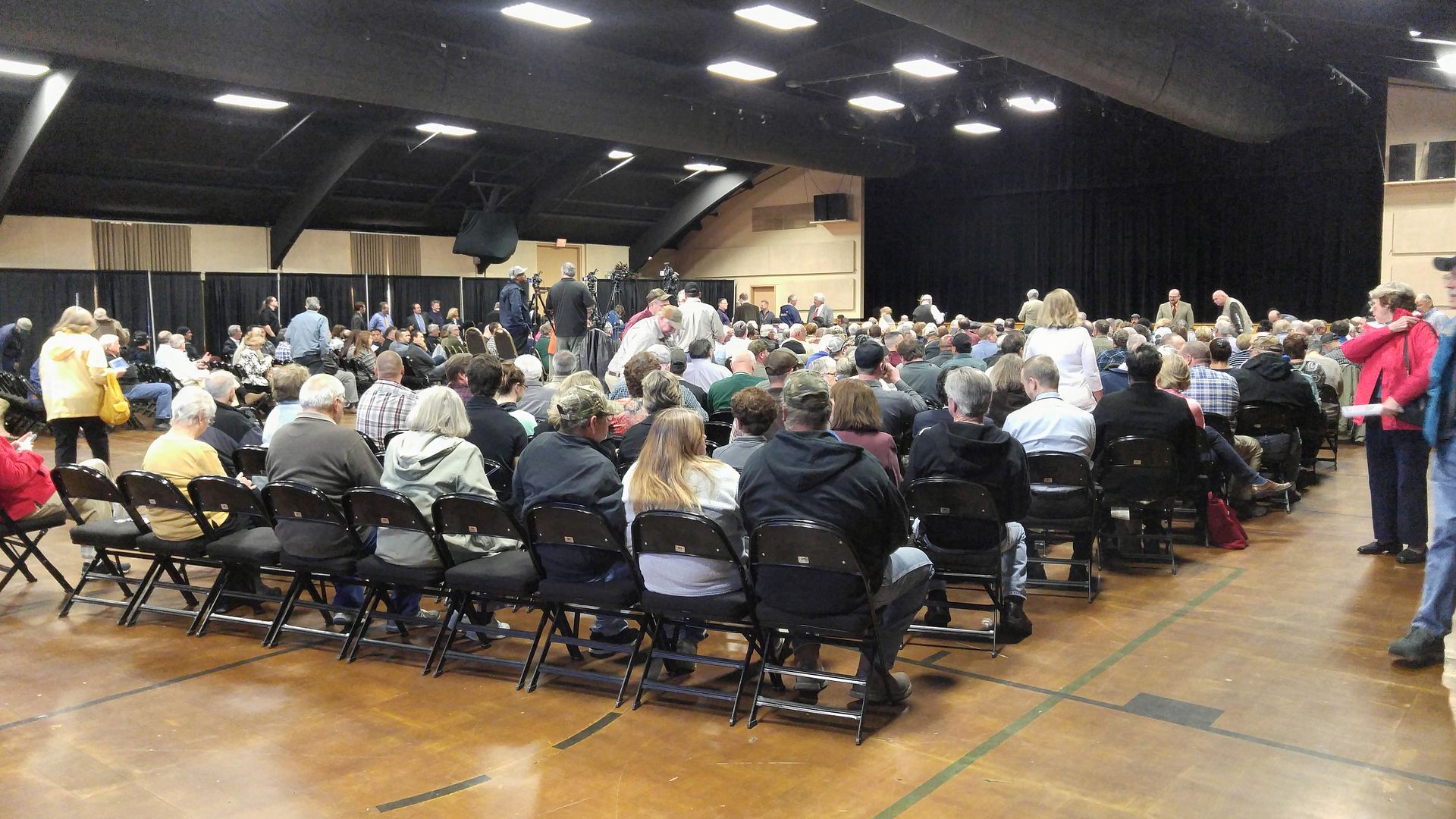 Culver assured the audience that there were "no predetermined outcomes from this forum," stressing that the idea was to explore the impact these operations would have on groundwater and the paleochannel, along with the possibility of airborne toxins. Culver noted that a Daily Times editorial penned by local activist Judith Stribling called on us to be "determined to avoid polarization," and the crowd inside complied.
Outside? Well, that was a different story.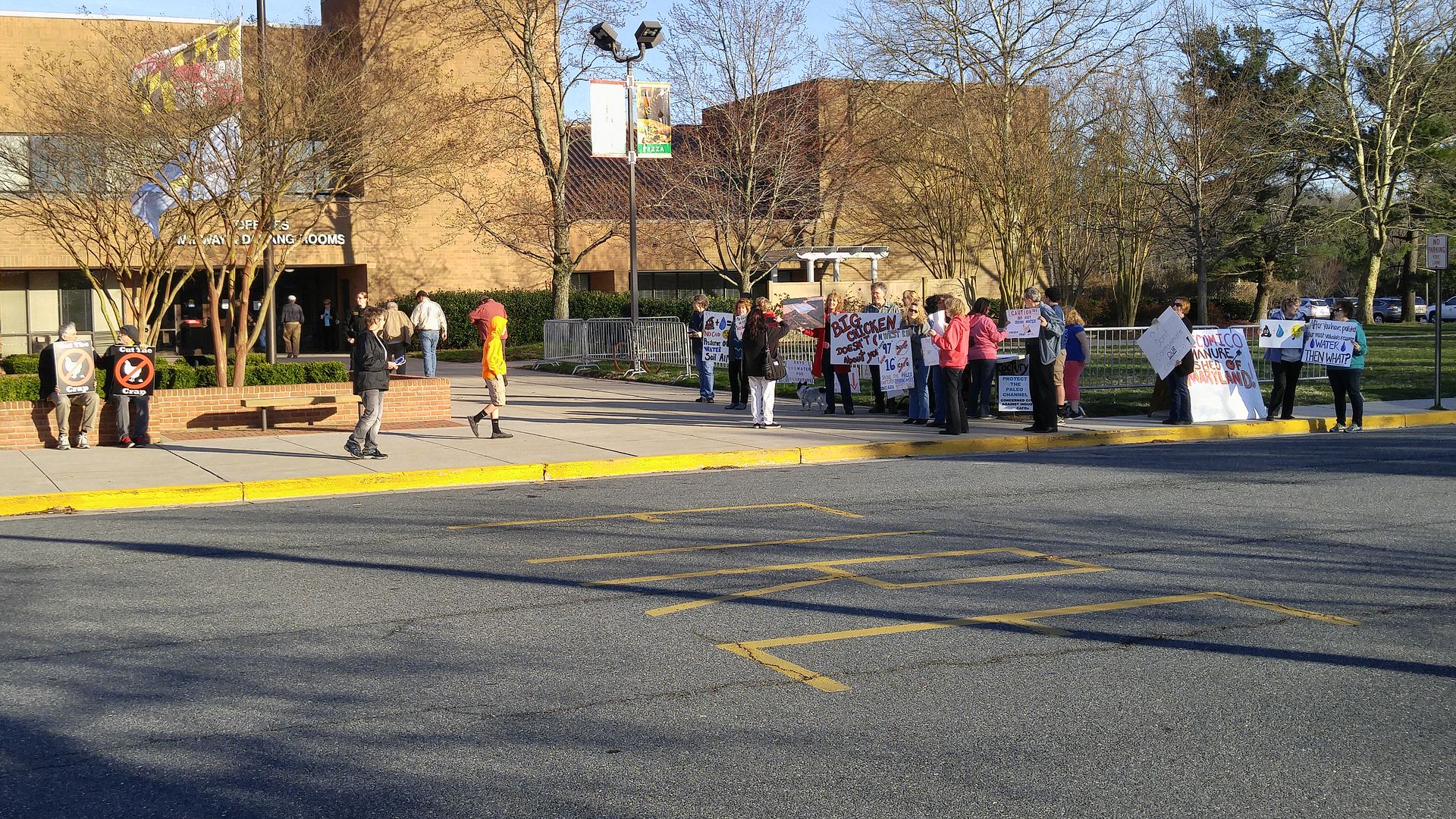 I shared this on social media, noting the anti-poultry zealots had arrived. Yet that band of perhaps three dozen was no more than a fraction of those inside. And it's a sure bet that many thousands more will be alerted to the results of this meeting on local media.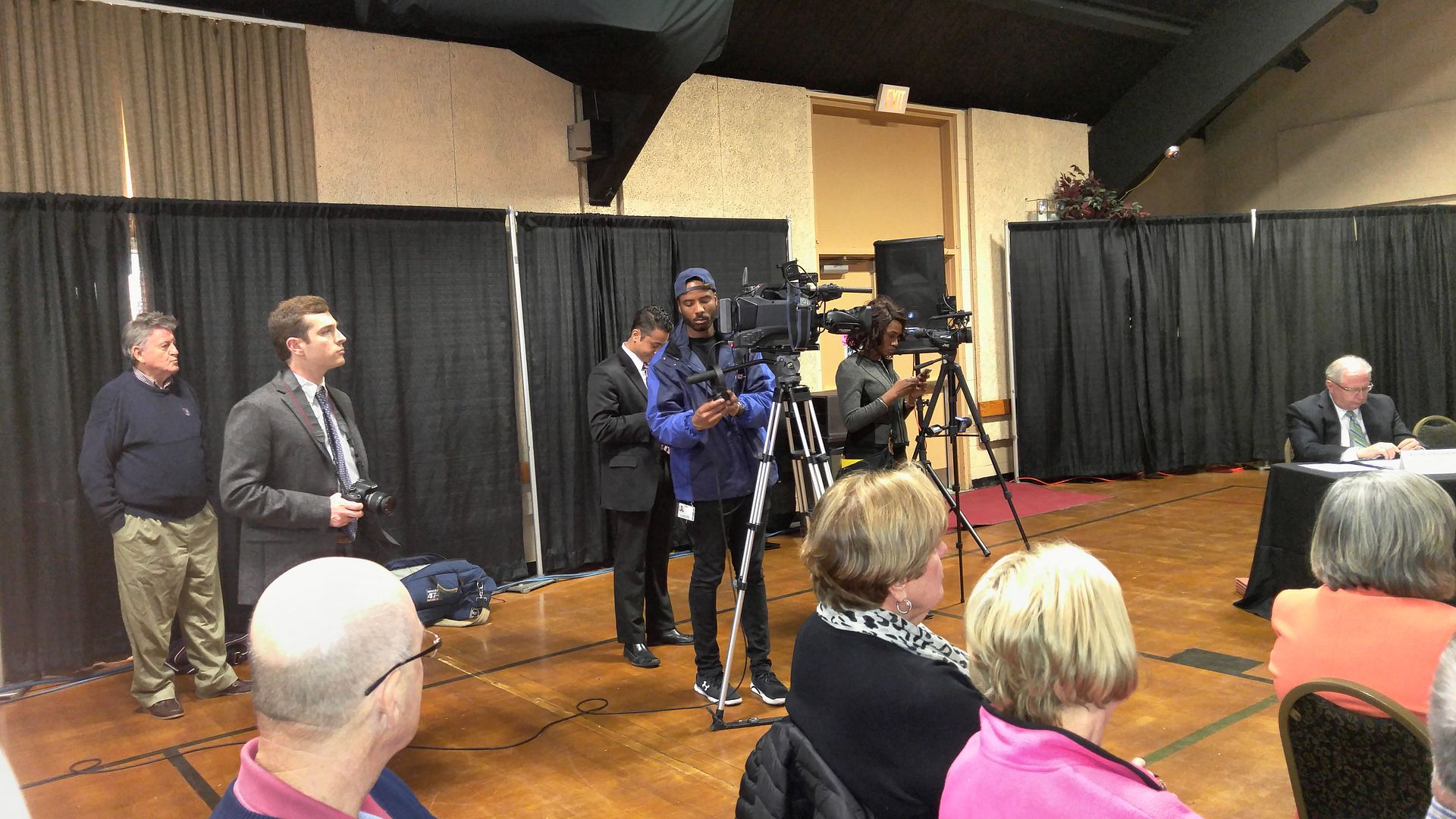 Needless to say, once moderator Greg Bassett of the Salisbury Independent opened up the questions, which were written by audience members and passed to the front of the room, we had a lot of queries about how the operations would affect the water supply as well as the disposition of the natural by-products of the poultry.
In fact, the first question out of the chute was on how the PMT regulations were affecting the capacity of the land to handle manure. Dave Mister of the Department of Agriculture told those gathered that "we feel there will be adequate land to apply manure." One thing he didn't add was that much of the lower Shore has reached its saturation point for phosphorus, so that waste would need to be transported.
But the main thrust of the questioners regarding the waste itself was the effects it would have on peoples' health. There were no "cancer clusters" being caused by these operations, said Dr. Clifford Mitchell of DHMH. Asthma from airborne particulates could be an issue, but that depended more on the individual and poultry operations couldn't be blamed as a blanket cause.
The only possible issue could be nitrates in the water supply, which is regulated by the federal EPA to prevent what's called "blue baby syndrome." There is no regulation for phosphorus, added John Grace of MDE.
Moreover, the panel agreed health or environmental issues shouldn't be a problem as long as the operation is run according to permit requirements. The idea is "zero discharge," said Gary Kelman of the MDE. "No discharge will occur…if the permit is adhered to," Kelman added. We also learned that they inspect based on complaints, and "we have lots of eyes out there," said Kelman. Operations are inspected every five years at the minimum, but more often if there are complaints.
This to me may be an Achilles heel for the industry, since those who want to stir up trouble can make it difficult for CAFOs (short for concentrated animal feeding operations) to survive a week without some inspection. (To be considered a CAFO, a grower has to deal with 37,500 or more birds.)
And while they couldn't answer a question dealing with the carrying capacity of our local industry, Mister admitted the number of chickens being grown was probably increasing. "The industry is growing, and that's a good thing," said Mister. The industry has to expand to be successful.
It was interesting to me that one of the more asinine questions was what they would do to protect smaller farmers; a question that received a smattering of applause. Mister simply said that was "best answered by the industry." But on a compliance basis, he noted that all farmers have issues yet they get "phenomenal" cooperation from growers when there are problems.
We went almost the first hour without getting a question about the paleochannel, but one finally came. And the consensus was that there was "little chance" the paleochannel would be affected by these operations because they were all under roof – even the mortality composters were protected from the elements. In the event of a catastrophic loss, there was also the option of using the manure storage shed. There seems to be a lot of redundancy in the operation as well as in the permitting process.
That process also was a concern of some questioners, who worried that there was an effort to "fast-track" approvals. But the idea was to process them as efficiently as possible, protested Hussein Alhija of MDE, who noted "my job is to improve the process." Several different state entities have to work in conjunction to get these permits in order. It's a "very complex process." noted Mister, who added that education on permitting was important. Kelman chimed in by pointing out lenders need the permits in order to fund the operations.
Nor is the paleochannel in danger from the water usage required by these operations. Poultry growing uses "several orders of magnitude" less water than cropland operations, said Grace. In fact, there is "no declining water level" in the aquafers. "We're okay as far as the water supply goes," Grace assessed.
Yet while the answers seemed to be satisfactory regarding water quality and permitting, those who thought CAFOs could be eliminated from being adjacent to residential areas were likely disappointed. The only standard that applies as far as the state is concerned is that operations must be 1oo feet away from "waters of the state." Otherwise, Kelman conceded that it "seems to be a local zoning issue." Given that residential development is oftentimes adjacent to land zoned agricultural, that will be something the county would need to address.
And there will still be people who are aggravated, even with all the assurances from the state group.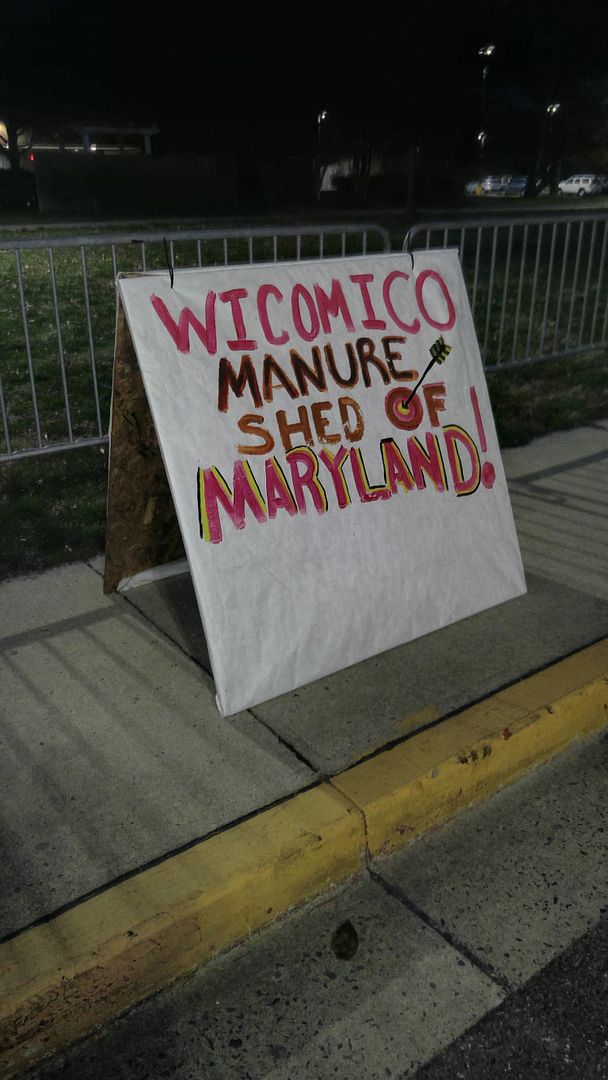 Perhaps the creator of this sign is related to the late William Donald Schaefer, the onetime governor who called the Eastern Shore the "shithouse" of Maryland.
In about an hour and a half, though, we all got a little understanding about the permitting process prospective growers have to go through, and perhaps it's the idea that dealing with one big farm and one permit rather than several operations that is making the large-scale farms the better business model.
In his introduction, Culver noted there are 2,300 employees of local poultry companies. That's a decent percentage of the local workforce, and it doesn't count the ancillary jobs created by the need for these employees to live their lives. If the supply chain of chicken dries up, there will be a significant impact to our local economy that low-impact tourism can't replace.
Given the evidence that the state of Maryland is trying to be of assistance to growers in maintaining a clean environment, the only explanation for the opposition is that it's being whipped up by Radical Green, with the paleochannel just an excuse to stop vital development. With the steps being taken to treat stormwater and precautions being taken to keep farm operations as environmentally friendly as possible, I think that chicken growers are trying to be the best neighbors they can – it's the outside extremists who are trying to foul our economic nest.
Commentary by Marita Noon
Researchers have found that some buyers are willing to pay for environmentally friendly products because those products are "status symbols." A report in the Atlantic states: "Environmentally-friendly behaviors typically go unseen; there's no public glory in shortened showers or diligent recycling. But when people can use their behavior to broadcast their own goodness, their incentives shift. The people who buy Priuses and solar panels still probably care about the environment – it's just that researchers have found that a portion of their motivation might come from a place of self-promotion, much like community service does good and fits on a résumé."
With "green" having become a status symbol, the affluent can afford it. Yet, their desire to "broadcast their own goodness" actually results in higher costs to those who can least afford it.
Solar power is a great example. On the website for SunRun, a solar panel leasing company, through the story of customer "Pat," they even encourage the "green status symbol" as a sales feature. While Pat may be happy with her solar panels and "hopes that all her neighbors will go solar, too," her "green status symbol" costs all the utility's customers who mostly can't afford to "go solar."
As I've written on many times, the idea of solar leasing works because of tax incentives and a system called "net metering." First, those tax incentives are paid for by all taxpayers. Anytime the government gives something away, everyone pays for it. Net metering is a little harder to understand. In short, the utility is required by state laws to purchase the extra electricity generated by rooftop solar panels at the full retail rate – even though they could purchase it at a fraction of the cost from the power plant. As more and more people sign up for these programs, it increases the overall cost of electricity. Remember, however, those with solar panels could have a zero dollar utility bill but they are still using electricity from the utility company at night and generate additional customer service costs such as transmission lines. Ultimately, the cost of electricity goes up on the bills of non-solar customers. Due to this "cost shifting," many states are changing the net metering policies so solar customers cover the unpaid grid costs. However, as has happened recently in Nevada, the revised programs change the economics and make it unprofitable for companies to operate in the state.
This is clear to see in overall rising electric costs – about 3 percent per year according to the Institute for Energy Research – despite the main fuel costs (coal and natural gas) being at all-time lows.
Earlier this month, Investor's Business Daily (IBD) addressed another interesting angle: "Green energy can't compete with $30 oil." The only way for "green" energy to survive, it says, is: "by the government forcing people to buy them and jacking up electricity and heating prices to families and businesses."
A new study from the University of Chicago, referenced by IBD, concludes that for an electric vehicle to be cheaper to operate than the modern internal combustion engine, "the price of oil would need to exceed $350 a barrel." The IBD states: "without massive additional taxpayer subsidies to companies such as Tesla, the price of oil would have to not just double or triple, but rocket more than 10-fold before battery-operated cars make financial sense."
Yet, sales for the Tesla Model S, the International Business Times (IBT), reports: "actually rose 16 percent last year, in part because they serve as status symbols or appeal to the environmental concerns of well-to-do drivers."
On March 11, in the Wall Street Journal, columnist Holman Jenkins writes: "Voters should be mad at electric cars." Why? Because, as he explains: "how thoroughly Tesla's business model depends on taxpayer largess." Jenkins states: "Tesla's cars have status cachet, yes. Even some middle-class customers might be attracted, notwithstanding low gas prices, as long as helped by an enormous dollop of taxpayer favoritism." As he lays out for the reader the "absurdity of their subsidy regime," Jenkins concludes: "And you wonder why, on some level voters sense that our political class has led America into a dead-end where the only people doing well are the ones who have subsidies, regulation and political influence stacked in their favor."
Alternative fuels have also taken a hit with low oil prices. According to IBT: "corn ethanol and algae-based diesel need oil prices at around double today's levels – or higher – to compete with fossil fuels."
Another fixture of the "green" social movement that has taken a toll in the low oil-priced environment is, surprisingly, recycling. Calling recycling a "$100-billion-a-year business," National Public Radio reporter Stacy Venek Smith, points out: "Plastic is made from oil, so when oil gets cheap, it gets really cheap to make fresh plastic. When the price of oil gets really low, using recycled plastic can actually be more expensive because it has to be sorted and cleaned." In Salt Lake City, KUTV reported: "Many businesses are finding it cheaper to manufacture new plastic than to use recycled materials." In Montana, according to the Philipsburg Mail, plastics are no longer being picked up for recycling "because the price per pound was so low, it didn't cover the cost of gas and mileage to make the trip."
The problem is international. Germany has a reputation as a recycling model with a goal of 36 percent of its plastic production coming from recycled materials and "German consumers finance recycling via licensing fees, which are added on to the price of the products they purchase," says Deutsche Welle, Germany's leading organization for international media development, in a report titled: "Low oil prices threaten Germany's plastics recycling." It states: "For manufacturers with eyes firmly fixed on costs, opting for cheaper new plastics would be the more economically attractive option." However, many companies, wanting to appear "environmentally friendly" will still "pay up for recycled plastics, despite higher costs" – meaning higher consumer prices for the plastics they produce.
Addressing the recycling problem, The Guardian states: "Recycling only works when there's someone on the other side of the equation, someone who wants to buy the recycled material."
Fortunately for the recycling industry, but bad for consumers who pay higher prices for plastic products, the Philipsburg Mail concludes: "A lot of Fortune 500 Companies still want to purchase recyclables to meet sustainability goals."
Despite claims of "green prosperity" that implies such policies can "fight poverty and raise living standards," the opposite is true. Everyone pays more – even those who can least afford it – so the elites, seeking green status symbols, can feel good and appear to be community leaders.
The author of Energy Freedom, Marita Noon serves as the executive director for Energy Makes America Great Inc., and the companion educational organization, the Citizens' Alliance for Responsible Energy (CARE). She hosts a weekly radio program: America's Voice for Energy—which expands on the content of her weekly column. Follow her @EnergyRabbit.
By Cathy Keim
Your worldview shapes how you see everything about you, and a great deal of that is shaped by your parents and the times in which they lived. I do not think it's unfair to say that for older Americans our baseline assumptions about animals, food, and farms were less idealized than today's vision of the family farm - particularly as much of the population had a rural background. My father grew up plowing behind mules and was eager to get away from the hard work by becoming a civil engineer. His mother told of plucking feathers from geese and chickens to make pillows. She was hilarious in her description of how mean the geese were and how they scared her when she was little. She also explained that during the Depression the only food they had to eat some days was what they got from her garden. There was genuine food insecurity in the everyday lives of average Americans less than one hundred years ago.
Since those days the explosion of technology has propelled the farmer into a world where the mule is replaced by mechanized equipment and the actual crops are genetically modified to produce many times the yield that my grandmother would have expected. Gone are the chickens pecking in her backyard for bugs, replaced by the much-maligned concentrated animal feeding operation (CAFO). Where she enjoyed a Sunday dinner of a tiny chicken that took weeks to mature, we now have massive chickens weighing in at 8 pounds or more after a few weeks in a CAFO.
Americans have been so blessed with abundant food and are so far removed from the actual process of producing their food that we have begun to see a number of trends that are only possible due to our blessed abundance.
The demand for organic fruits and vegetables, locally sourced produce, heirloom tomatoes, and free range beef and chicken is all well and good for a financially independent society. However, a vast number of Americans with less financial flexibility are quite pleased to obtain their food at the local megastore at lower prices made possible by those terrifying "factory" farming methods.
It is rather amusing to see the same progressive crowd that is demanding that global warming deniers be shut up for their "anti-science" beliefs are the same progressives pushing to shut down the science-intensive, high-tech "factory" farms. The progressives loudly proclaim themselves to be the defender of science against the barbarians, i.e. conservatives. However, in the case of farming, they appear to be the ones who want us to retreat to archaic farming methods.
They show the same cognitive disconnect that the animal rights zealots exhibit. Their claims are correct, no matter the evidence against them, and other people are wrong. (They often dismiss the evidence as being bought and paid for by the agricultural mega-corporations, such as ADM or Monsanto. In their minds only the activists have pure motives.) Both groups ascribe to the time-tested progressive method of push as far as you can to achieve your goal, making any temporary alliances you need to succeed, drop back if the goal is unachievable, and then attack again at the next opportunity.
Thus we arrive at the current Chicken Wars on the Eastern Shore. Family farms are redefined as factory farms, which has a connotation better suited to rouse the troops. The new chicken houses that are being proposed are larger than older chicken houses. This is due to several reasons.
Maryland is a highly regulated state and those regulations cause people to change their behavior. Due to stormwater regulations, it may now be more advantageous to build several very large chicken houses together. Consider the local case of proposed chicken houses outside Salisbury, which is raising the ire of local neighbors and environmentalists:
The family considered permitting the two farms separately, (owner spokesman Basit) Zulfiqar said. But that would have doubled the amount of mandated stormwater structures and buffers areas, reducing the number of buildings they could put on the property.
Also, the demand to reduce the use of antibiotics in the poultry industry results in the need for additional space per chicken, thus larger chicken houses. Farmers, whether the family that lives down the lane or a person that is investing their life savings into their new venture, have to make a profit or they go out of business just like everybody else. You can be sure that farmers are looking to maximize their production and minimize their risk just like every other businessman, so if it is in their best interest to build larger chicken houses they will.
Their choice as to how to run their business on their own property and to feed hungry people in the process has been recast into a horror story of wicked businessmen abusing chickens in warehouses and polluting the earth. It is not to any farmer's benefit to pollute his own property, nor is it beneficial for him to raise chickens in an environment that would not ensure the best growth with the best outcome.
Why are some groups so eager to impugn farmers with evil motives? Could it be that there is a larger agenda?
Progressives are infamous for using people to achieve their goals. In this case, the families that are protesting the building of the new chicken houses near their property are helping the progressives in their agenda. These families are using whatever "data" they can get to declare their concern for the paleochannel, their children's health, and so forth. This really comes down to the "not in my back yard" argument dressed in the best clothes they can find.
Rather than grasping at these arguments, perhaps they should reflect on their decision to live next to zoned farmland. If we remove all farmland from use because somebody builds a house next to it, then we have two choices: we make people move into the city core, or we starve. Either of these two choices are in line with the progressive plans.
Take a look at Agenda 21 approved by the United Nations and our own elites and you will find that all the current rage to build in the city core so that no citizens will need a car is really the beginning of insisting that all citizens live in the city core and cannot have a car. Only those deemed worthy of having their own transportation, such as government workers, will be allowed to.
The push for organic sustainable farming works into their plans also since they wish to decrease the world's population significantly. If we turn back from using the GMO crops we will rapidly revert back to the food insecurity that is not such a distant memory.
But back to the Eastern Shore Chicken Wars of today. For those who believe that this is only about stopping mega-sized chicken houses next to family houses, just think back to the unsuccessful but prolonged attack on the Hudson family and their farm a few years ago. The same entities that are joining in this attack were there to drag the Hudson family through the mud for years.
Kathy Phillips and the Assateague Coastal Trust, John Groutt and the Wicomico Environmental Trust, and others will continue to agitate against farmers on the Eastern Shore even after this incident is settled.
Take some time to look at the principles involved and find out the facts rather than depending on the emotional arguments being presented. There will be an informational meeting on March 22, 2016, at 6pm at the Wicomico Youth and Civic Center. Radical Green will be there – will you?
Commentary by Marita Noon
There is no shortage of news stories touting the splits within each party.
The Democrat divide is, as NBC News sees it, between dreamers and doers—with the International Business Times (IBT) calling it: "a civil war over the party's ideological future." The Boston Globe declares that the "party fissures" represent "a national party torn between Clinton's promised steady hand and Sanders' more progressive goals."
The Republican reality is, according to IBT, a battle between moderates and conservatives. The party is being "shattered" by the fighting between the establishment and the outsiders. The New Yorker said the days following the Detroit debate have "been the week of open civil war within the Republican Party." Former standard-bearer, Mitt Romney, laid the foundation for a floor fight at the party's Cleveland convention. Peggy Noonan, in the Wall Street Journal, states: "The top of the party and the bottom have split." She describes the party's front runner this way: "He is a divider of the Republican Party and yet an enlarger of the tent."
Candidates from both sides of the aisle claim to be unifiers. But when it comes to energy issues, each party is already unified—though each is totally different.
Generally speaking, the Democrats want more government involvement—more government-led investment and federal regulation. In contrast, Republicans want the free market—consumer choice—not government to determine the winners and losers.
The next president will have a significant impact on how America produces, uses, and distributes energy.
In response to frequent questions from talk show hosts regarding the candidates' energy plans, now that the field has winnowed, I set out to write a review. However, my research revealed that a candidate-by-candidate analysis would be repetitive. Instead, I'll lay out the distinctive direction each party would drive energy policy and highlight the minor differences within the candidates.
First, one must look at climate change, as, despite repeated failed predictions, it has been the driver of energy policy for the past decade.
The Democrat candidates believe that climate change is a crisis caused by the use of fossil fuels. Therefore, both Senator Bernie Sanders and Secretary Hillary Clinton opposed the Keystone pipeline and lifting the oil export ban. Each supports restricting drilling on federal lands and federal hydraulic fracturing regulations to supersede the states' policies. At Sunday's CNN Debate, both opposed fracking—though Sanders was more direct about it. Sanders and Clinton favor increased Environmental Protection Agency (EPA) efforts to encourage the use of renewable energy sources.
They would continue the policies, such as the Clean Power Plan, advocated by President Obama—with Sanders being more progressive than Clinton. He wants to institute a tax on carbon emissions, ban all drilling on federal lands, and has sponsored the "keep it in the ground" bill. She would "phase out" hydraulic fracturing on public lands, end tax credits for fossil fuels and increase government fees and royalties. Both support tax credits for renewable energy.
In the transition away from fossil fuel use, Clinton would utilize nuclear power, while Sanders would put a moratorium on nuclear plant license renewals. She supports hydropower.
Over all, the Democrats approach can be summed up as anti-conventional fuels—resulting in higher costs for consumers.
USNews states: "Clinton and Sanders also have expressed frustration with their political colleagues who deny the link between fossil fuel combustion and climate change."
The four remaining Republican candidates have slightly differing views on climate change—though, unlike their "political colleagues," none bases his energy policies exclusively on it.
Donald Trump is the biggest opponent of climate change having called the man-made crisis view a "hoax" and tweeting that the Chinese started the global warming ruse "in order to make US manufacturing non-competitive." In his book, Crippled America, Trump opens his chapter on energy with a tirade on climate change in which, talking about historic "violent climate changes" and "ice ages," he acknowledges that the climate does change, but concludes: "I just don't happen to believe they are man-made."
Senator Ted Cruz is next. He's stated: "If you're a big-government politician, if you want more power, climate change is the perfect pseudo-scientific theory … because it can never, ever, ever be disproven." He, too, supports the view that global warming is a natural phenomenon rather than man-made.
Senator Marco Rubio believes the climate is changing. He's said: "The climate's always changing—that's not the fundamental question. The fundamental question is whether man-made activity is what's contributing most to it. I know people said there's a significant scientific consensus on that issue, but I've actually seen reasonable debate on that principle." He's added: "And I do not believe that the laws that they propose we pass will do anything about it. Except it will destroy our economy."
Governor John Kasich's views cut "against the grain in the Republican Party" in that he believes climate change is a problem—though he doesn't support curbing the use of fossil fuels. His state, Ohio, is rich with coal, oil, and natural gas and he believes low-cost reliable energy is "the backbone of America's economy." The Hill quotes him as saying: "I believe there is something to [climate change], but to be unilaterally doing everything here while China and India are belching and putting us in a noncompetitive position isn't good."
Regardless of their specific views, none of the Republican candidates sees climate change as an "existential crisis," as Clinton called it on Kimmel Live—and their energy policies reflect that.
All four agree the Keystone pipeline should be built, are critical of the EPA's aggressive regulations (instead, they support the regulation of energy production at the state and local level), and want to spur economic growth by increasing American energy production and reducing our reliance on foreign sources.
Though Kasich signed legislation freezing Ohio's law requiring increasing use of renewables, Kasich is the most supportive of them saying: "I believe in wind and solar, there are big subsidies on it but that's okay."  He also acknowledged that mandating 20-25 percent renewables by a set date is "impossible" and will "throw people out of work." Cruz and Rubio have voted against production tax credits for wind and solar and against setting a national renewable energy standard. In Iowa, Cruz stood up to the ethanol lobby (he's repeatedly called for an end to the ethanol mandate), while Trump pandered to it. Rubio and Kasich would allow the ethanol mandate to sunset. In his book, Trump states that the big push to develop "so-called green energy" is "another big mistake" that is "being driven by the wrong motivation." He calls renewables: "an expensive way of making the tree huggers feel good about themselves." In contrast, he's promised to "revive Kentucky's coal industry."
Overall, the Republicans views can be summed up as embracing the positive potential of America's energy abundance—resulting in lower energy costs.
If you believe that effective, efficient, economic energy is the lifeblood of the American economy, you know how to vote in November. The contrast is obvious.
The author of Energy Freedom, Marita Noon serves as the executive director for Energy Makes America Great Inc., and the companion educational organization, the Citizens' Alliance for Responsible Energy (CARE). She hosts a weekly radio program: America's Voice for Energy—which expands on the content of her weekly column. Follow her @EnergyRabbit.
It's Leap Day, so why not use the occasion to put up the odds and ends cluttering up the mailbox? After sifting through the stuff I thought might be useful but is now pretty much irrelevant, I've still come up with a post's worth of things that take a sentence to a couple paragraphs to deal with.
As you may know, here in Maryland we have passed the halfway point of the "90 days of terror" I call the General Assembly session. While several of the items I cite aren't on the agenda, I think you can file them under the "bright idea" category, as in "don't give them any bright ideas."
While the first idea (one of many Daily Signal items that caught my eye) isn't really on the table in the state, locally they are kicking around the thought of assisting local students who want to attend Wor-Wic Community College. But Louisiana's program is breaking the state, so it may be a cautionary tale for the county.
Look, you begin with one college campus and recent high school graduates but then the folks at Salisbury University will want in, then there will be a clamor to include other groups and schools. With any government program, mission creep is a concern and this is no exception. It's a natural lead-in to an excellent piece by James Bovard at Mises Daily (for this the hat tip goes to my friends at Americans for Limited Government.) Once we set the precedent of free tuition, will the county ever get off the hook?
"(Politicians) realize that addicting citizens to government handouts is the easiest way to breed mass docility and stretch their power," writes Bovard, and he is absolutely correct. Why do you think I advocate so much for starving the beast? It's the only way out of this mess we have created.
But as the Daily Signal adds in another great piece, Republicans who want limited government find it a tough sell in minority communities despite the evidence that shoveling money into the welfare system isn't helping. Perhaps this is because conservatives are losing the battle for debunking the lies being sold to the minorities and youth, despite Dan Bongino's best efforts to change the narrative at the Conservative Review.
Then again, when you have the dissent-free atmosphere of college campuses these days (again from the Daily Signal), it's easier to see why the "skulls full of mush" remain in their state.
Something that is on the docket in Maryland once again is a "death with dignity" bill. But my final piece from the Daily Signal points out that if you took Oregon's assisted suicide rate and extrapolated the numbers nationwide, 10,529 people annually would take their own lives. By comparison, in 2013 just over 33,000 people died as a result of vehicle accidents and roughly the same number perished in firearm-related deaths. But the majority of those firearm deaths were suicides, with 11,208 being homicides. (Table 18 way back in this government report.)
So what we would be doing is likely reducing the firearm death figure by a little bit, but increasing the suicide rate by giving it less of a stigma. I'm not sure I agree with this because in this day and age it's easy for the greedy grandkids to convince their rich grandma she is bound any day to catch Alzheimer's and struggle on for years afterward. Why not save us, uh, we mean yourself the trouble, they would ask.
I wanted to bring up one more seeming juxtaposition in Maryland politics before I switch gears. A couple weeks back there was a candidates' debate for the Republicans seeking the U.S. Senate seat (way too) long held by Barbara Mikulski. I believe there were five candidates present of the fourteen who filed, but the most notable absentee was Delegate Kathy Szeliga. As she noted, there was a Maryland GOP event held that same night. Under the heading of "An Amazing Event!" she wrote:
Thursday night, I was able to attend an event with three great governors… Bob Ehrlich, Charlie Baker (Mass. GOP Gov.), and Larry Hogan even stopped by! These men know how to win and govern in blue states.

We will win our U.S. Senate campaign the same way – by being authentic and showing voters that we truly care about our state and nation. Our ideas work and empower people over big government.
It's interesting she points this out since we didn't get to hear her ideas in the debate. On the other hand, fellow candidate Richard Douglas chided Szeliga indirectly by stating:
I am delighted to be participating in the Goucher College Republican candidate's debate for the U.S. Senate on February 18, 2016. Only a serious family emergency could keep me away. Over many weeks, College Republicans and some of Maryland's most devoted grassroots Republican activists have devoted enormous effort to this useful event. I warmly commend them for this effort, and from the beginning, my participation was never in doubt. Service in the armed forces and with two U.S. Senate committees teaches a vital lesson: people come first. I took that lesson to heart in Iraq, on a Navy submarine, and in the U.S. Senate as it reacted to the September 11, 2001 terrorist attacks. If elected to the U.S. Senate, I will never make party or President higher priorities than the people of Maryland.
As you recall, there were a series of questions I sent out to 12 of the 14 candidates (two had bad e-mail addresses so their mail bounced.) I mention this because I received Douglas's answers yesterday as the second response to come in – haven't heard from Szeliga yet.
Finally, if there were a third person I would like to add to monoblogue (at least on a weekly basis) it's this lady. Each time I read Marita Noon's posts on the political aspects of energy I nod my head in agreement, and this one was no exception – it even ties in to the lunacy on college campuses these days because this is what some of these crackpots do after college. I give you the movement to "keep it in the ground":
"Keep it in the ground" is the new face of environmental activism. If those who understand the role energy plays in America and our freedoms don't engage, don't attend meetings and send statements, and don't vote, the policy makers have almost no choice but to think these vocal few represent the many.
For example, there's the case of Sandoval County, New Mexico, which has potential to be a wealthier county but can't even give permission to drill an exploratory well without angst:
In the past few years, when oil prices were higher, Encana and WPX drilled some 200 wells in the same geology, 70 of them in Sandoval County. Not one single instance of any interference, damage, or invasion of fresh water aquifers has occurred. For that matter, over the past 50 years of production in Sandoval County, even with technology and safety standards that were not as advanced or rigorous as todays, there has not been one instance of aquifer harm.

(snip)

One "small drilling well" outside of a community on the edge of Albuquerque that could create jobs and help the local and state economy could be blocked because of a few dozen agitators who could cause the county to "keep it in the ground."
When I read this it makes me think of the short-sightedness of several regional governmental bodies that have expressed their opposition to the simple act of seismic surveying of the waters off the coast, citing harm to marine life. (This didn't seem to be a problem in 2013 when it was done to place wind turbines, though.)
I suppose they would rather wreak havoc on the migratory bird population with wind turbines, but I think both oil platforms and wind turbines can co-exist – an "all of the above" strategy if you will. It's just that one will prove to be a boondoggle without subsidies and one won't.
So as we wrap up this Leap Day, here's hoping Donald Trump is the first to take a flying leap – to where I don't care.
After doing this the last two years one would think I would be an expert at dissecting what will go on over the course of a year, but in this case my crystal ball is a little bit cloudy. Perhaps that's because things are looking up for a change.
I went to the state Department of Labor, Licensing, and Regulation website and downloaded some figures which reflect great job creation news - particularly in the latter half of this year. Since June, Wicomico County employment figures are running between 1,300 and 1,800 jobs higher than the corresponding month of 2014. Conversely, in 2014 we never ran more than 753 jobs ahead of 2013 and by the end of last year we actually had fewer employed than the year prior. That downturn carried into this calendar year but by March we had turned the corner.
The growth in the latter half of the year was reminiscent of the boom period of 2004-06, when Wicomico County routinely gained 1,000 or more jobs in every month year-over-year.
So the question will be whether county revenues begin to increase. Unlike the boom of a decade ago, which was fueled by a rapid increase in property values that later translated into increased tax collections, this upturn doesn't come with rapidly appreciating property values. And there are plenty of bills for the county to pay – two new schools with a third one now placed into the pipeline as well as new facilities for the Board of Elections, increased mandates for education spending and environmental cleanup from the state and federal governments, respectively, and a call from the city of Salisbury to assist them more with fire protection expenses through a more equitable revenue sharing. Certainly it appears that any new money has a number of hands reaching out for it.
Another question regards how well two relatively new leaders will work with each other. It's fortunate that both County Executive Bob Culver and Salisbury Mayor Jake Day spent a little bit of time on the legislative side of things because it will help them understand the process the other has to go through to get things done. If there's one thing we have learned from Culver, though, it's that he's a man of action who always seems to have a to-do list of improvements he'd like to see. It's more autocratic than bureaucratic on the county side of the Government Office Building these days. Initial impressions of Day seem to be similar, although he's made much less of an impact on taking office than Culver did insofar as personnel decisions are concerned.
But there are two key issues regarding education that will be out of Culver's hands. One is the fate of the elected school board, which is now up to the Maryland General Assembly. The other is the new superintendent that will take over the county schools sometime in 2016. The Board of Education begins the selection process after the holidays – by the way, the county Republican Central Committee will be called upon to retain or replace two GOP members of that body this summer.
Getting around may become a little more difficult next fall as well, as the state will begin replacing 11 bridge decks on the U.S. 13 bypass. It's a project that's not supposed to impact summer traffic in 2017 but won't be complete until 2018.
In comparison to previous years there doesn't seem to be anything particularly contentious on the horizon - with the possible exception of the proposed large-scale chicken farms Radical Green is already up in arms against - which probably means we're going to have an interesting year. If we can keep up the pace of job creation, though, eventually the local economy will get back to where it was a decade ago and prosperity takes care of a lot of problems.
Tomorrow I shift my focus to the state as a whole.
Ringing a bell about something that I was previously planning to post on anyway, my Central Committee cohort Julie Brewington wrote on social media today about a disagreement she had with the Assateague Coastkeepers regarding what they consider "factory farms" being proposed and built in Wicomico County. (So I'll give the onetime blogger a hat tip.) Obviously the Coastkeepers have a concern about what they see as excessive pollution arising from what chickens naturally do, which is doo-doo. It's been a concern of the state for years, and earlier this year you may recall Governor Larry Hogan thwarted the efforts of the outgoing O'Malley administration to curtail chicken farming via the Phosphorus Management Tool. Unfortunately, Hogan later conceded that these farms and their by-products are an issue worth regulating (with his Agriculture Phosphorus Initiative) to the point where some farmers would not be allowed to use this natural fertilizer. This edict disproportionately affects Eastern Shore farmers.
At the risk of excessive aggravation, I visited the Assateague Coastkeeper site for one simple reason: if they didn't want the poultry industry and its huge economic impact of the area, what do they see as job creators? As I expected, I was disappointed in what I found: aside from a legislative agenda that would subsidize offshore wind, their overall strategic plan fails to address the economic impact their wish list would create or lay out an alternative scenario. (They are working on the "educational" part of the agenda, though.)
Not only do the Coastkeepers have an objection to the chicken farms, though, but they also object to offshore drilling off our coast despite its potential for good-paying jobs. In fact, their advocacy shuts the door to even doing the seismic testing needed to see how much oil and natural gas could be out there. It's rather unfortunate that Ocean City and Lewes, Delaware have fallen for the scare tactics groups like the Coastkeepers use to try and prevent this technique, which is already used in the Gulf of Mexico. The Bureau of Ocean Energy Management (a federal agency) notes that:
To date, there has been no documented scientific evidence of noise from air guns used in geological and geophysical (G&G) seismic activities adversely affecting marine animal populations or coastal communities.  This technology has been used for more than 30 years around the world.  It is still used in U.S. waters off of the Gulf of Mexico with no known detrimental impact to marine animal populations or to commercial fishing.
If you want to know the truth, I think the Coastkeepers aren't worried about the harm to marine life. They're more worried that their smug assertions that there's only a small amount of oil and natural gas out there – not really enough to be commercially viable – will be proven wrong. As technology improves for oil extraction, we could find there's billions of barrels of oil or trillions of cubic feet of natural gas out there, meaning those nasty fossil fuels will be cheaper and obviously far more reliable than the bird-chopping windmills they want to build instead. Personally, I think if the market is there the wind turbines and oil rigs can co-exist – but I'll bet the oil rigs create more local jobs.
Oil drilling, if it occurs, is probably a decade or more away, so in the here and now we have to be concerned with their opposition to expansion of the local poultry industry. And let's face it: without Perdue, Mountaire, Tyson, et. al. there would be nothing on this part of the Eastern Shore to speak of except perhaps Salisbury University and Ocean City. Basically, Salisbury would be a slightly larger version of Princess Anne, which is a modest little county seat where the University of Maryland – Eastern Shore is located. That's about it – there's little commercial development in Princess Anne and not much to create jobs in Somerset County aside from UMES and the Eastern Shore Correctional Institution.
It's understandable that someone who has chosen to live in a development bordering a rural area may object when a typical chicken farm opens up, but that is the deal with living by a farm. Any of us who grew up in a rural area can tell you that animals tend to smell sometimes, as does fertilizer. It's all part of that "fresh country air."
But to many thousands in the area, the smell of chicken poop is the smell of money – directly or indirectly, it's how they make a living and thank God people around the world like to eat chicken. This region has had chicken farmers for generations, ever since the Perdue family put Salisbury on the map with their chickens.
So if this region is ever going to diversify its economic interests, one path we should explore is the path offshore. Let's find out once and for all if there's oil and natural gas out there, because as I said I think the Coastkeepers are worried that the answer is a resounding yes.