As a Republican in Maryland, there are two things you have to account for in a statewide race: you have a smaller pool of party regulars in the voting bank when compared to the Democrat in the race and you will have less money and free media than the Democrat has at his or her disposal. These have been givens throughout the modern political era, and it's a rare Republican who can overcome them.
But I think the idea of playing up just how low-budget a campaign is (against a well-funded Washington insider) doesn't work well as a serious campaign ad. I'm going to share Kathy Szeliga's ad so you can judge whether she plays this shtick (as well as the motorcycle riding angle) too much.
In truth, when I looked up the latest FEC reports (as of June 30), Van Hollen only had about a 2-to-1 cash on hand advantage on Szeliga, with $566,795 on hand. Admittedly, Van Hollen had definitely churned through a lot more money than Szeliga over the previous 15 months covered in his report, but he was also trying to fend off a well-known challenger for the Democratic nomination in Fourth District Congressman Donna Edwards.
And Kathy was determined to squeeze her nickels:
Our fundraising has been going well, but we didn't want to waste a dime, so we shot the ad on an iPhone – saving the campaign thousands of dollars. And TV ads are expensive, so we decided to buy cable and focus on a strong social media push.
She would need more than a strong social media push, though: her 17,126 Facebook likes trail Van Hollen's 21,333, while the margin is even worse on Twitter: Szeliga has just 2,349 followers compared to 28,780 Twitter followers for Van Hollen. (Of course, Chris has more of a national profile as a Congressman so that should be expected. As evidence, current Senator Barb Mikulski has 48,683 followers while Andy Harris has 6,281.)
But since the Democrat is afraid to debate in the hinterlands of the state (or include the third candidate in the race, Green Party candidate Margaret Flowers), perhaps the ante needs to be increased. This is what you really need to know about Chris Van Hollen: a description from his campaign website but edited for more truthfulness by this writer. Normally this would be a blockquote but I have it in normal text to make the edits (deletions struck through, additions in italics) more clear.
**********
Chris Van Hollen has been described as "one of those rare leaders who runs for office because he wants to DO something, not because he wants to BE something." Yet it's what he has done that should trouble the hardworking Marylanders he's trying to win over.
This sentiment captures Chris's approach to public service, an approach that he will bring to the U.S. Senate to fight – and win – for Marylanders who depend on the ever-expanding federal government to deal with on the challenges we face today.
Government-dependent Maryland families can count on Chris to be their champion – because that's what he has been doing for over two decades. As for the rest of you, well, you are correctly described by our Presidential nominee as the "basket of deplorables" because you don't share my 'progressive' vision.
Chris was first elected to public office in 1990, when he campaigned for the Maryland House of Delegates as part of the 'Choice Team,' which unseated an a pro-life incumbent opposed to women's reproductive rights. So I have spent 26 of my 57 years on this planet in public office, and as you will see later on I was groomed for this practically from birth.
In Annapolis, Chris quickly earned a reputation as a champion for progressive causes and a talented legislator who was not afraid to take on blame powerful special interests for problems we in government created – like the NRA, Big Oil, and Big Tobacco – on behalf of hardworking families. I just didn't let on that the NRA never pulled the trigger on a murder victim in Baltimore, Big Oil makes a fraction of the profit for putting in all the work compared to the ever-increasing bonanza we take in with every gallon, and we don't have the guts to actually ban tobacco because we need their tax (and settlement) money.
He led successful fights to make Maryland the first state to require infringe with built-in safety trigger locks on handguns, ban the prospective job creation of oil drilling around the Chesapeake Bay, and prevent tobacco companies from peddling cigarettes to our kids, taking credit even though sales to minors have been illegal for decades. Chris also negotiated an historic tax increase in funding for all Maryland schools. Just don't ask me to increase the choices you have to educate your children by allowing that money to follow your child.
Time Magazine said Chris was "a hero to environmentalists, education groups and gun control advocates." The Baltimore Sun called him "effective" and "tenacious" and the Washington Post dubbed him "one of the most accomplished members of the General Assembly." If you were a special interest that depended on a continual government gravy train, I was definitely your "fair-haired boy."
In 2002 Chris was elected to Congress on a wave of grassroots special interest support, ousting a 16-year Republican incumbent thanks in large part to some creative redistricting. There he brought the same brand of can-do activism socialist failure with him. He led the successful effort to stop big banks from reaping outrageous profits from having student loans as part of their loan portfolio - instead, we made sure Uncle Sam got that piece of the action and rigged the game so that even bankruptcy cannot save most graduates who can't find a job to pay their loans from - and was also credited with helping Democrats win back control of the House in 2006, just in time to steer the national economy into the rocks.  He became a Democratic leader and played a key role in the passage of the Affordable Care Act perpetual annual increase in health insurance rates and deductibles, the Wall Street Reform protection law, and the Economic Recovery Act that helped rebuild our shattered economy has helped saddle us with the worst recovery from recession in the last century.
When the Republicans took over the House in 2010, Chris's colleagues elected him to lead the battle against the Tea Party budget sanity. In that role he has been leading the fight to protect Medicare and Social Security from GOP budget attacks necessary reforms and protect vital investments in education, transportation, medical research and programs for the most needy. We have to buy those votes somehow and grease the right palms – debt is only a number anyway, right?
Chris has also unveiled a comprehensive plan to address one of the greatest challenges of our time – growing inequality in America.  His 'Action Plan to Grow the Paychecks of All, Not Just the Wealth of a Few'  Redistribute Even More Wealth and Create More Government Dependency' has been called a forward-looking blueprint for building an economy a government behemoth that works for everyone the ruling class inside the Beltway.
In the Senate Chris will continue to fight for against bold measures to revive the promise that every individual has the chance to climb the ladder of opportunity and lead a successful and fulfilling life. We Democrats can't let an individual be successful on his or her own, particularly if he or she is a minority.
The son of a Baltimore native, Chris's involvement in social justice and political action began at an early age. Chris's mom and dad were both dedicated public servants, and growing up he saw their strong commitment to making the world a better place.  As a student, he joined efforts to end Apartheid in South Africa and stop the nuclear arms race. And while Chris put himself through law school at night, he worked as a Congressional aide and then as an advisor to Maryland Governor William Donald Schaefer. So in my adult life I have never held a private-sector job or signed a paycheck. But I'm fighting for you because I am down with your struggle to balance a household budget when both parents are working multiple jobs!
Chris and his wife, Katherine, live in Kensington where they have raised their three children.
**********
The above is somewhat tongue-in-cheek, but along the line in this campaign I am very tempted to look at some of the local races on a more issue-by-issue basis, a "compare and contrast" if you will. I have no doubt that Chris Van Hollen is well to the left of most hardworking Maryland families.
But if Kathy Szeliga is as conservative as she says, perhaps we should downplay the "Washington insider" angle a bit because that's not going to play inside the Beltway. The latest voter registration numbers tell the tale: just between the two counties directly bordering Washington, D.C. we find 31% of all state voters. Add in the close-by counties of Charles and Howard and the number edges close to 40%. Put another way, 2 in 5 Maryland voters have some degree of connection to the seat of federal government – even if they don't work directly for Uncle Sam, their area was built on the economic impact of the government bureaucrat.
So the real question has to be about real solutions. Van Hollen cites a lot of things he has worked on, but one has to ask if the work he has done has actually solved the problem. Intentions might be grand for putting together a political webpage, but they don't fly in the real world.
Even if you go back to his earliest days, consider these checklist items: as a youth, Van Hollen worked to stop apartheid in South Africa and against nuclear arms proliferation. Unfortunately, the transition away from apartheid also led to the decline of South Africa as a nation – just like a number of American inner cities in the 1950s and 1960s the nation was a victim of white flight because among those who were liberated were too many who used the occasion to settle scores instead of living peacefully as may have occurred with a slower transition. And that youthful resistance against nuclear proliferation yielded to political partisanship when Van Hollen supported the Iranian nuclear agreement. Perhaps the proliferation he sought to end was only our own.
Or ponder the effects of the policies Van Hollen backed in the General Assembly. Trigger locks became required for all guns sold in Maryland, so there's already an extra expense. And I seriously doubt the bad guys have one on their guns, so if some citizen is shot and killed because they couldn't disengage a trigger lock in order to defend themselves, will Van Hollen apologize or believe more legislation is needed?
And like many liberal policies, Chris took the first step and his cohorts have walked them a mile. We went from banning oil drilling in the Chesapeake (which may not be economically viable anyway, but we have no way of finding out) to thwarting the state's efforts to drill for its proven natural gas reserves in the Marcellus Shale region (as well as other prospective areas including Annapolis and parts of the Eastern Shore.) That cost the state hundreds of possible jobs. Meanwhile, the state of Maryland perpetuates the hypocrisy of encouraging people to stop smoking with a small portion of the taxes they rake in with every pack – a sum that "progressives" annually want to increase as one of the state's most regressive taxes.
Nor should we forget the policies Van Hollen has supported over the last eight years. Just ask around whether your friend in conversation feels they are better off with their health coverage, or if the economy is really doing well for them. If they have student loans, ask them what they think of the price of college. In all these areas, government that considers meddling as its task has made things worse for the rest of us in Maryland.
These are the questions Kathy Szeliga should be asking, rather than joking about her low-budget campaign. The aggressor sets the rules, and to win over the voters the candidate has to define the opponent for them. My definition of Chris Van Hollen is that he's part of the problem, so the task is to make sure voters know that before explaining the solution.
It may not be as apparent to the average American as "vacation day" patriotic holidays like Memorial Day or Independence Day, but today a small band of Salisbury residents came to City Park along the Wicomico River and celebrated the 229th anniversary of the signing and delivery of our nascent Constitution to Congress for approval. Once approved, it was sent to each of the thirteen colonies for ratification (Delaware was first, on December 7, 1787) and by the middle of the next year the requisite nine states had ratified the document, which was not yet amended with the Bill of Rights. (That would come a few years later, in 1791.)
So I arrived fashionably on time and was pleased to see the turnout.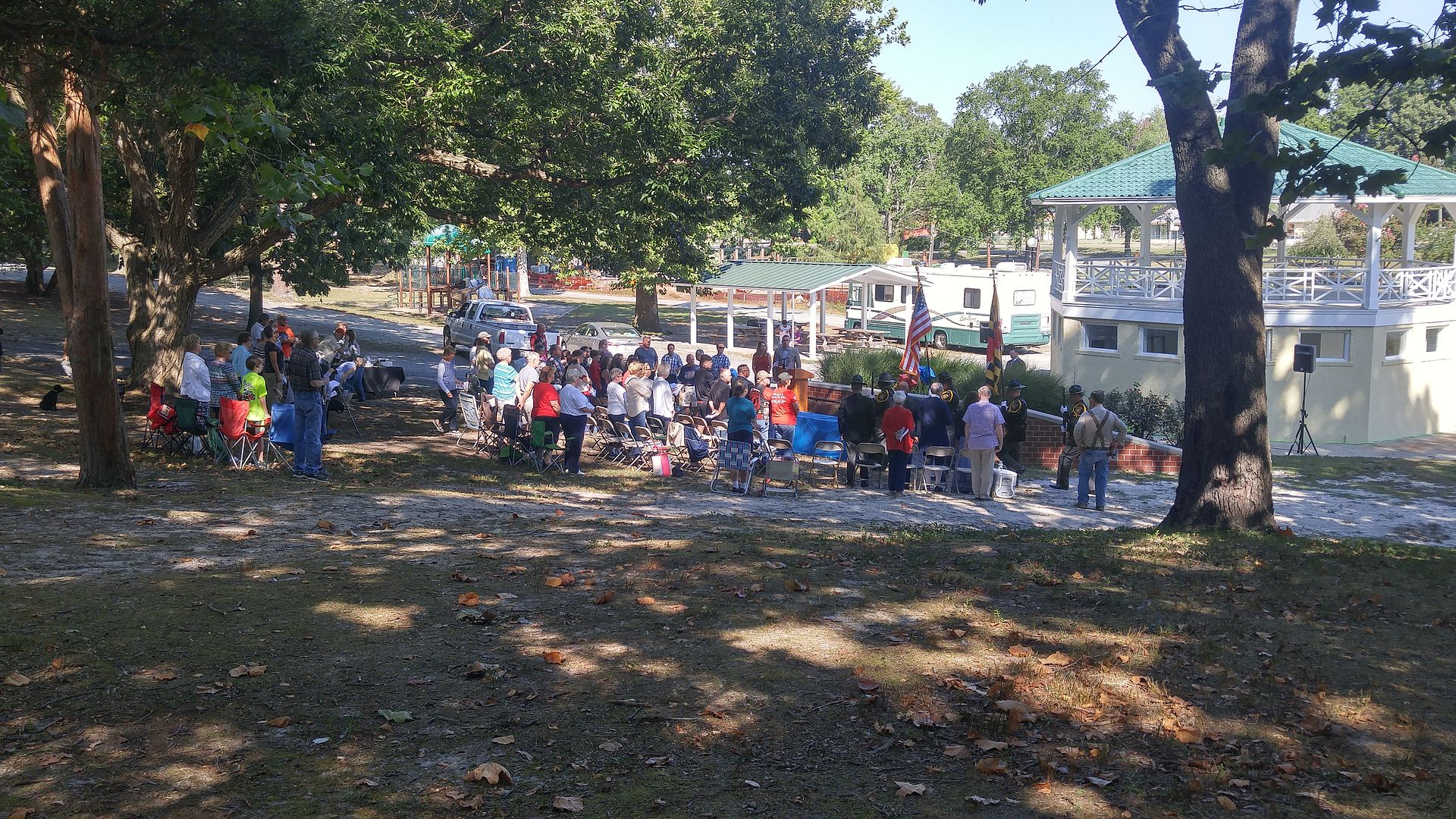 It seems like there were a few more people than last year's gathering, and I think the morning start time (as opposed to afternoon last year) may have had something to do with that.
We were presented with a proclamation from Salisbury mayor Jake Day reiterating that the city would be celebrating Constitution Day today. Day is one of the few who could stand and say he was actively defending the Constitution as an Army officer on active duty.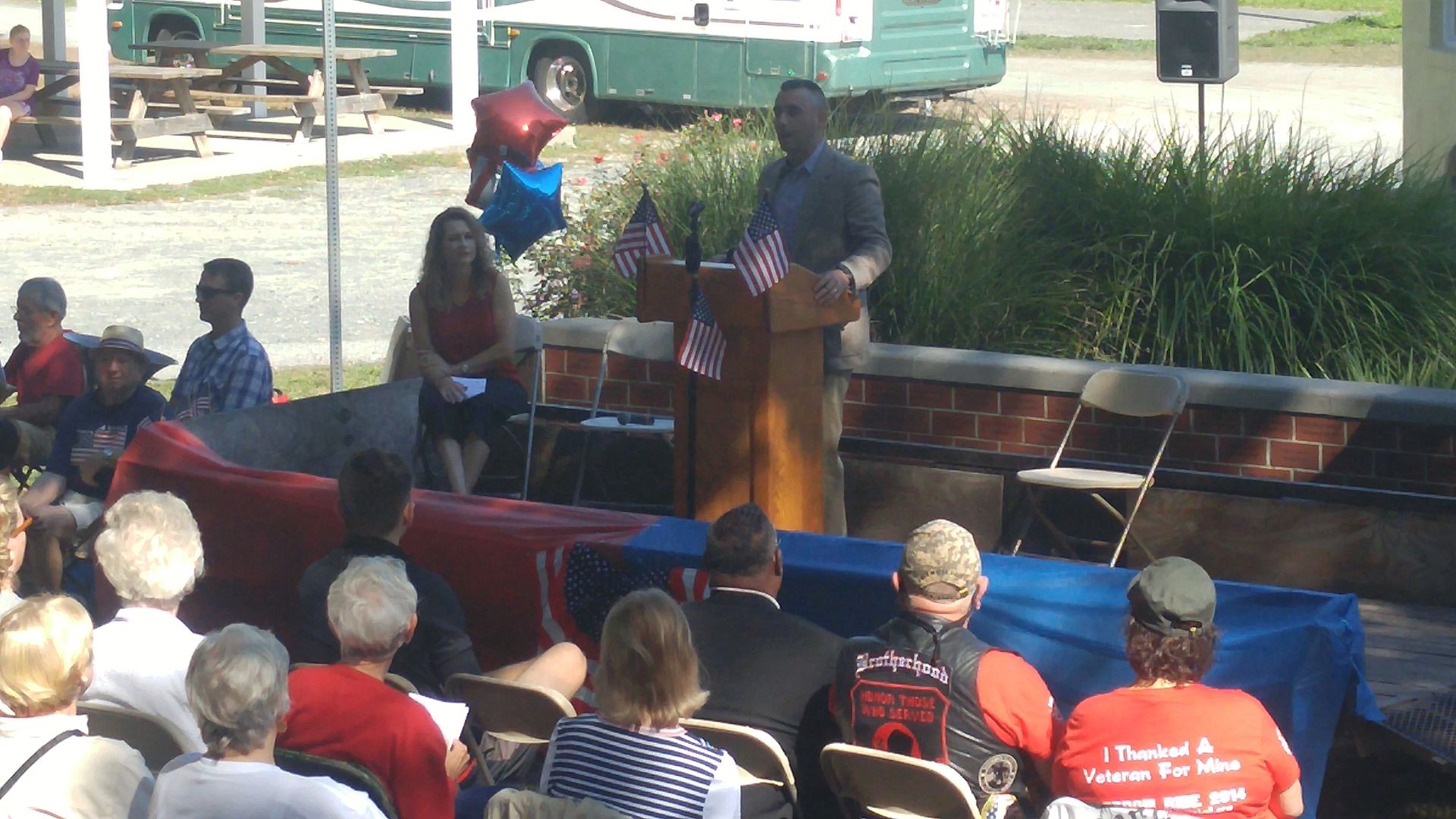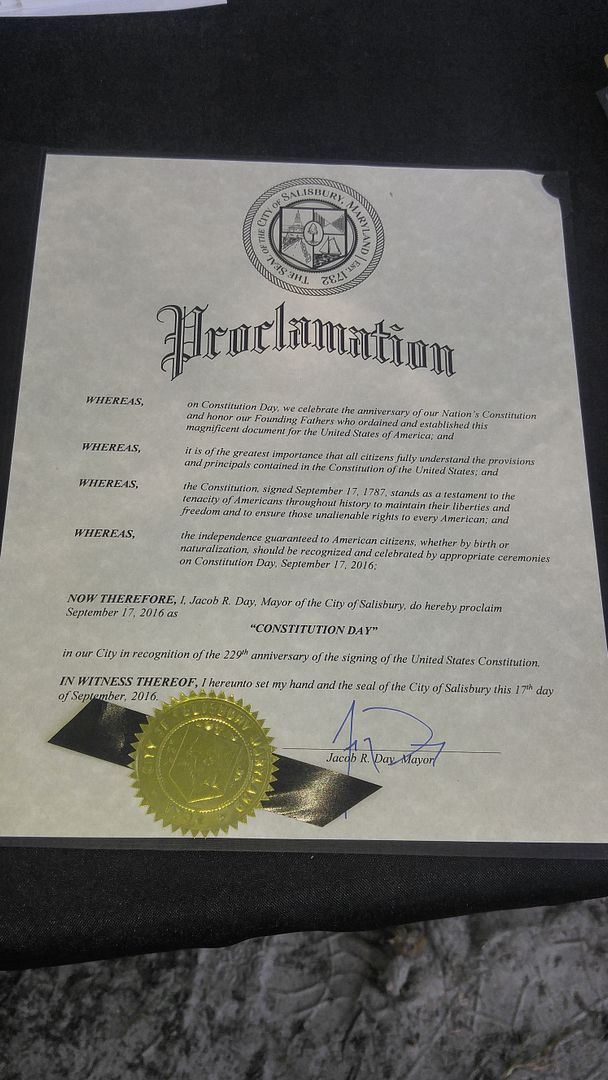 The event also was the culmination of an essay contest where the top two winners were present to be honored with a certificate from the Maryland General Assembly, presented by members of the local delegation Mary Beth Carozza (who was speaking), Christopher Adams, Carl Anderton, and Johhny Mautz. The winning entry was read by Carys Hazel of Mardela High School, with runner-up Nathaniel Sansom of Salisbury Christian School also present to receive his award.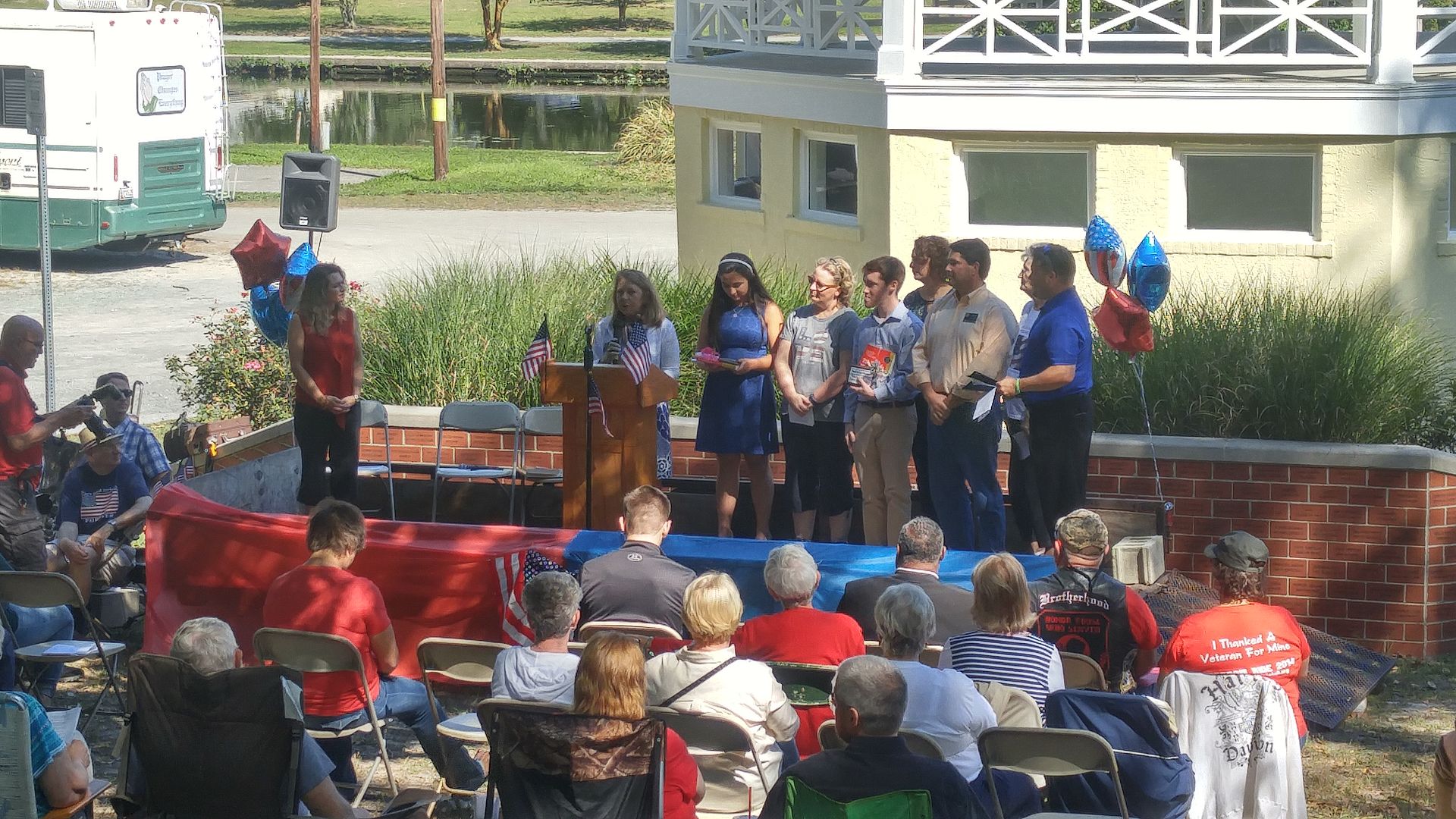 The keynote speaker was Wicomico County Sheriff Mike Lewis.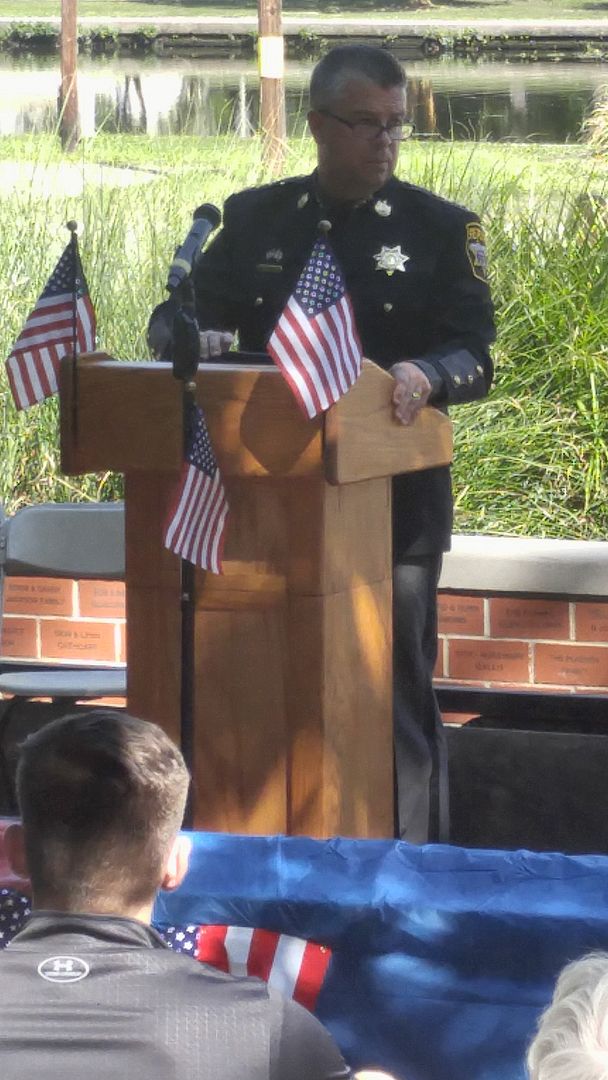 I wasn't really at the Constitution Day event to give blow-by-blow coverage, but I used the photos to both set the scene and cue up my own remarks, with the address Sheriff Lewis gave as a jumping-off point. Mike spoke at some length about the role of the military overseas and their fight against radical Islam. Certainly I understand the reason that they have embarked on such a mission, but to me it also begs a pair of questions for which we need an honest answer.
To a varying extent, the nation has been on a war footing since 9/11. In that time we have adopted the PATRIOT Act and sent thousands of troops overseas to fight against the proxy forces of radical Islam: the Taliban in Afghanistan, the Saddam Hussein regime in Iraq, and the Islamic State known as ISIS (or ISIL.) But the first question I have is: where does the balance tip too far toward security at the expense of the liberty afforded to us in the Constitution?
This question isn't really new, either: during the Civil War (or War Between the States or War of Northern Aggression, if you prefer) President Lincoln suspended the writ of habeas corpus and arrested members of the Maryland General Assembly to prevent them from meeting as a means of preserving the Union. Eight decades later, President Roosevelt interned Japanese-Americans as a result of their ancestral homeland's attack on American soil. In both instances America was in an active war within its borders or territories, but against a nation-state rather than an ideology as we are today. However, being in a state of war such that we are should not be an excuse for excess and there are many who have pondered the "War on Terror" and its response in the PATRIOT Act and whether the government is using this Long War as a flimsy excuse to consolidate power.
The idea of the government consolidating power leads to the second question: are we truly following the Constitution anymore or is this all just lip service?
Surely there are some who believe the Constitution has been eroding practically since the ink dried on the parchment. Whether they point to Marbury v. Madison being the moment where the judiciary became the most powerful of the three branches, the Civil War being the death knell for state's rights since they no longer had the right to secede if they were dissatisfied with the nation as a whole, or the Sixteenth and Seventeenth Amendments that gave the federal government taxation authority on individuals specifically prohibited in the original and ended the practice of state legislators electing Senators to represent their interests in Washington, there are a fair number that think we need to start over - perhaps with a Convention of States, otherwise known as an Article V Convention. (Years ago I contributed a couple ideas for new amendments, which are still sorely needed. Back then I had good discourse, too.)
I don't want to get into the weeds of determining the merits or problems of such a convention, but the fact that there are people who believe the Constitution needs a tune-up to fix excesses on one side or the other bolsters the argument that the government we have now is not the one originally envisioned by those men who toiled during the spring and summer of 1787 to write a replacement for the Articles of Confederation that the United States was bound to for the first decade or so of its existence. Granted, the Article V method is one prescribed in the document but there's no guarantee the amendments proposed would pass or the resulting Constitution any better for the people.
So the occasion of Constitution Day is bittersweet. Yesterday I wrote on the subject for the Patriot Post, noting that:
Contention over – and advocacy of – limitations to government based on constitutional principles has become a theoretical exercise at best, perhaps in part because few understand the ideas and arguments that were made during the drafting of our government's founding document.
Those who have sworn an oath to enlist in the military or (in my case) to take public office know that we swear to support and defend the Constitution as opposed to an oath to the United States. This is a clear distinction because the interests of the United States may vary by whoever occupies the offices of government at the time, but the Constitution is the set of ground rules which are supposed to define our nation. The key reason I resigned from the Central Committee was because I could not trust the Republican presidential nominee to support or defend the Constitution – rather, I believed he would tear the GOP from what few limited, Constitutional government roots it had remaining. Thus, I felt as a public official that supporting him was a violation of the oath I swore to the Constitution.
Many of those same men who pledged their lives, fortunes, and sacred honor to the American nation and survived the war that brought us independence were those who argued and debated the contents of the pieces of parchment that we consider our supreme law of the land. I pray that a group that is just as divinely inspired can lead us back to a nation that more closely reflects the intentions of these earliest Americans with respect to restoring a government that seeks the consent of the governed, and that those who are governed understand their responsibility in the equation as well. The fact that so few seem to have this inspiration or the desire to take this responsibility as citizens seriously may be what was most troubling about this day in the park.
I do not live in the First State of Delaware, but I work there as does my wife. So despite the fact I have no vote in the process, to me tomorrow's primary is important enough to devote a post to. As originally intended, I had a pair of questions to ask of each of the four gubernatorial candidates regarding development and job creation that I sought their answer to so I e-mailed them to each candidate and listed it as a press inquiry. For the record, I only received a response from the campaign of Republican Colin Bonini asking for my phone number to do an interview. But I decided that wouldn't be right to be that one-sided, nor am I a great fan of not having answers in writing. So this piece became more of a general overview.
In a political sense, Delaware is a lot like Maryland: dominated by Democrats who live in one heavily-populated area of the state, while the downstate area is more Republican and conservative. To buttress that point, Democratic gubernatorial candidate (and current Congressman) John Carney was born and lives in the Wilmington area while the two Republicans facing off to oppose him, State Senator Colin Bonini and businesswoman Lacey Lafferty, live in Kent and Sussex counties, respectively.
And in John Carney you also have a Ivy League liberal who's been in government for most of his adult life as an appointee who moved up to Lieutenant Governor for two terms but was defeated in his effort to succeed his "boss" (in a manner of speaking, since the positions are elected separately in Delaware) in the 2008 Democratic primary by current Governor Jack Markell. Undaunted, John just waited until the opening came in 2010 to run for Congress since then-Rep. Mike Castle opted to run for the Senate seat that opened up when Joe Biden became Vice President. (The seat had a placeholder appointee until the 2010 election, which was to finish the last four years of Biden's term. This was the primary Castle lost to Christine O'Donnell.) John Carney won the Delaware Congressional seat Castle was vacating and probably would have been happy to stay in Congress except that Joe Biden's son Beau, who was the odds-on favorite to run for and win Delaware's highest office in 2016, passed away from cancer last year. So Carney seems to be the recipient of the "Delaware Way" of particular officeholders cycling between political jobs.
One thing I noticed in taking a cursory read of Carney's campaign site: he uses the word "invest" a lot. Those in the know realize this means a LOT more government spending and that, to me, is bad for business. Higher taxes aren't the way to attract the clientele that keeps my employer going, either.
But the winner of the GOP primary faces the long odds of trying to overcome Carney, who has name recognition aplenty and will certainly be burning up our local airwaves in the next couple months since Salisbury (and Rehoboth Beach, where the local NBC affiliate's broadcast orignates) is actually the TV market serving southern Delaware.
It's a contest between a man who has been in political office since 1994 (and was elected at the age of 24, meaning he has spent nearly half his life in office) and a woman who apparently began her run almost as soon as the votes were counted from the 2012 gubernatorial election.
There are definitely some things to like about Colin Bonini: he has the good idea to make Delaware a right-to-work state and would encourage the streamlining of state government by offering longtime employees an early retirement package. Legislatively, he has ranked as the most conservative legislator in the Senate (although out of 21 that may not be the greatest achievement.) However, he has the luxury of running from cover as his legislative seat isn't up for election this time and, quite frankly, this may not be the year for entrenched politicians on the Republican side.
At least that's what Lacey Lafferty is hoping for. Now I have heard Lafferty on the radio a couple times (since I often listen to Delaware talk radio) and she seems to have the political style people associate with Donald Trump insofar as running as an outsider. (Like Trump, she was once a Democrat, too.) And the rhetoric isn't far off, either:
Sen. Bonini is the choice of the establishment, but Ms. Lafferty believes she will win.

She's been critical of her primary opponent, referring to him on Twitter as "lazy" and a "buffoon." Sen. Bonini represents part of a failed political culture, Ms. Lafferty said, noting he did not officially unveil his campaign until recently.

"This is what people are sick of," she said. "They're tired of this. They want somebody that they can depend upon."

Sen. Bonini has referred to her as a "fringe candidate," and more recently, he stressed Republican voters should select the person with "the best chance to win in November."

As of Aug. 14, he had about $66,000 on hand, while Ms. Lafferty had $4,400.

Delaware State University professor Sam Hoff foresees Ms. Lafferty pulling in about 15 percent of the primary vote, largely from more left-leaning Republicans.
Apparently there aren't a lot of polls done in Delaware, but the poll I did find has the race at 29-22 Bonini. And since I have heard Lafferty identify with Trump on several occasions, I don't think she would be t
he choice of "left-leaning" Republicans.
I have to give credit to Lafferty for working hard to build a grassroots campaign, with the best philosophical idea I noted from her being that of stressing vocational education. I agree that not all students are college material, but those who can work with their hands and aren't afraid of a little effort can succeed quite well in life. She has quite the distinctive yard signs, too. (Don Murphy would hate them but you have to admit they are artistic.) And I see quite a few of them driving around Sussex County.
So Republican voters of Delaware have an interesting choice to make tomorrow for governor. They can pick the candidate who has lots of experience in lawmaking and owns a very conservative voting record; someone who is likely perceived as the safe choice but may not have the appeal for people to cross party lines.
Or they can select someone who is, to be honest, more of a wild card. We have no idea whether she will be polished on the stump or self-destruct when the people begin to pay attention. It's possible she was a tough-talking conservative the entire campaign but finds out there's not the waste, fraud, and abuse she thinks there is in state government - not to mention has to deal with Bonini as a state senator who would have to push her agenda.
I would be remiss if I didn't note there will be other candidates on the November gubernatorial ballot, including Libertarian Sean Goward – who may be hoping for a boost from the national ticket with Gary Johnson polling in the high single digits. Goward hasn't been one to update his website much, though.
On the other hand, the contest for Lieutenant Governor is solely on the Democratic side, as La Mar Gunn is the only GOP stalwart to run. (He's best known for "losing" the Kent County Recorder of Deeds race in 2014 by two votes – the first recount that the Democratic incumbent Betty McKenna won after Gunn won on Election Day by two votes and won two recounts by similar – but not those exact - margins.) Between the six candidates on the Democratic ballot (Sherry Dorsey Walker, Brad Eaby, Greg Fuller, Bethany Hall-Long, Kathy McGuiness, and Ciro Poppiti) you find varying levels of political experience but more or less the same amount of liberalism – basically peas in a pod.
There's also a Congressional race with one Republican (Hans Reigle), one Libertarian (Scott Gesty), and (again) six Democrats – Sean Barney, Mike Miller, Lisa Blunt Rochester, Bryan Townsend, Scott Walker, and Elias Weir. In looking through their positions, this November you can decide between Reigle, who seems to me a right-of-center sort who would probably fall midway between the most conservative and liberal Republicans in Congress, the fairly classic small-government, non-interventionist Libertarian Gesty, and the Democrat who will be way left of center whoever he or she is. Again, peas in a pod.
I'm not involved with the Delaware Republican Party, but it seems to me they have a harder time getting candidates than even our loony-bin left state of Maryland does. In one respect this prevents bitter primary fights, but there's also the aspect of leaving rank-and-file voters out of the decision. Between the statewide races this year (governor, lieutenant governor, insurance commissioner, and Congressman) the Republicans only have six candidates on the ballot. Democrats match that in either of two prominent races. Note that the voter registration numbers are less dire in the First State compared to Maryland - in Delaware only 48% are Democrats, 28% Republican, and 24% "others." (There are more Democrats in New Castle County, however, than Republicans or "others" in the entire state.)
Unlike Maryland politics, I look at the situation in Delaware as an interested observer rather than an erstwhile participant because, as I said up top, I work in the state. But as one who lives across the Transpeninsular Line I think I speak for the people of Delaware who want their state to succeed. Above all, I want it to be attractive to new residents and prosperous for those already there because that helps to make my paycheck, so vote wisely in the primary.
By Cathy Keim
Congress headed back to work right after the Labor Day weekend. This will be the last opportunity for the Republican controlled House and Senate to finally find their legs and stand up to President Obama's out of control executive overreach. Sadly, I do not expect them to even try based on their previous performances.
With the presidential election looming in November, wouldn't this be a great time for the House to remember that they control the purse strings? If they do not put the money in the budget that they will be approving in September, then they can bring programs to a screeching halt. Their fear of a government shutdown renders them incapable of using the only instrument left to stop a president run amok.
Our national debt is now over $19.5 trillion, but still our Congress cannot find it in themselves to defund anything that the president demands.
Obamacare is collapsing, as it was meant to do from the beginning, to force us into a single-payer national health scheme. Watching the United Kingdom struggle with their broken system should give our leaders the encouragement to stop this, but instead they have funded the demise of our health care.
The Iran deal has been shown to be a disaster with our government trading money for hostages and Iran increasingly ready to harass our Navy ships.
Or how about the president's giveaway of our internet to China, Russia, and Iran!
Ann Corcoran has released a new video called "Changing America by Changing Its People." In under five minutes, Ann explains the Refugee Resettlement Program and how it can be stopped. You guessed it! This program that was started by Joe Biden and Ted Kennedy could be halted by defunding it. All the Voluntary Agencies (VOLAGS) that are bringing in the refugees are funded with your tax dollars.
Many of the VOLAGS have religious names, but they are not allowed to speak the name of Christ to the refugees they import. They are on the government payroll as private contractors and thus are prohibited from proselytizing. Why would Christian and Jewish groups bring in thousands of Muslims who are bound by their religion to make every effort to institute sharia law instead of living under our Constitution? People whose religion teaches them to hate Jews and Christians and to subjugate or kill them? I have not been able to come up with a reasonable explanation for that.
Since the Democrats cannot get Americans to willingly agree to their progressive Utopian scheme, then they will overwhelm the current Americans with imported people that they hope to keep voting Democrat forever.
If our Congress would defund some programs, another one that could bear careful scrutiny would be the food stamp program. Once again, Ann Corcoran on her blog Refugee Resettlement Watch pulls together the information that is out there, but that our Congressional watchdogs don't bother to notice. Baltimore, Maryland gets unflattering attention again for a huge food stamp fraud bust. Buffalo, New York, makes the news with this convenience store operator getting charged with fraud. The local convenience store operators buy the EBT cards from the food stamp recipients for 50% of the face value. Instead of food, the customer gets cash and the owner takes the other 50% to buy items to resell at his store. Sweet deal if you can get it, right?
I do not know if any of the convenience store owners are refugees, but Ann points out that their clientele most likely includes refugees: Senator Jeff Sessions of Alabama stated on his website last September that more than 90% of recent Middle Eastern refugees are on food stamps and almost 70% are on cash welfare.
Put these statistics together with this interesting statement:
[T]he Koran encourage Muslims to collect jizya – blood tax – from kafirs, the non-Muslims, and welfare is looked upon as jizya. Collecting money from non-Muslims is considered a legal entitlement since the kafir is not entitled to any land or laws of their own anywhere, meaning their presence on a land or country of their own is a "theft" of "occupation" of what should be Muslim land.
Defrauding the welfare system becomes a type of jihad against the welcoming host country.
The list could go on and on with all the missed opportunities to block an imperial presidency and to recalibrate the separation of powers equation. What better time to grandstand against the president's failed policies than the last session while the GOP still has control of both houses of Congress? Use every platform available to broadcast the deficiencies of the current administration that would be continued by the next Democrat president. Give speeches, hold hearings, give interviews, and hold the failed policies up to the public view during the entire budget process instead of acquiescing to the agenda and rubber stamping another omnibus spending bill.
Unfortunately, Paul Ryan and the House leadership don't see the situation like I do. According to The Hill:
Members of the conservative House Freedom Caucus are pushing to extend government funding into early 2017, wary of a massive bipartisan spending deal in the lame-duck. But GOP leaders and House Democrats are already laying the groundwork for a short-term continuing resolution, or CR, that will set up a vote on a catch-all spending bill right before the holidays.
Once again, the GOP will cave, even if it means passing the omnibus bill with Democrat votes just like the last CRomnibus budget vote. And when they cave, they will not show the fortitude to fight to cut the funding for refugee resettlement, or any other item that President Obama desires.
The GOP leadership is already signaling defeat when "Rep. Tom Cole (R-Okla.), a senior appropriator and leadership ally, dismissed the Freedom group's approach, saying it's backed by Republicans who would rather create 'some sort of massive showdown crisis.'"
We don't even try to mount an offense. The House leadership has already begun attacking the conservatives in their own party before the session even opens. The leadership seems to think that the election is going to be a disaster, so they need to do the best deal now. It appears that they have already given up on maintaining control of the Senate and winning the presidency.
It is interesting that Paul Ryan would think that he can get a better deal with a lame duck President Obama rather than Trump or Clinton. Let's see where Andy Harris goes on this budget vote.
What is particularly galling about this whole sham of not passing budget bills until the last minute so that they can all be rolled into one huge omnibus bill and rammed through is that the American people are being played by their elected representatives. This process of not functioning in order to push through a monstrosity has been perfected by our Congressional leaders as a means to keep the status quo. Since everything keeps being funded at previous levels, nothing ever changes. The American citizen is being played. This is why there is a revolt brewing. There is discontent on every side. The leaders will not be able to keep this scam going forever.
On Labor Day I normally post on something union-related, but today I have a different sort of union to ponder: the union between conservative activists and the Republican Party.
Among the items on my Facebook feed this morning was one from Dwight Patel, who is one of the financial movers and shakers in the Maryland Republican Party (note: I have transcribed these as written, grammatical/spelling errors and all):
If you are an elected Republican Central Committee member and you can't bring yourself to Vote for our Parties (sic) nominee… Go resign
After the shouts of "Preach!" and "Word!" in response was this from Eugene Craig, who is the 3rd Vice-Chair of the MDGOP:
Elected members of the central committee were elected to build the GOP not tear it down with blind gang like loyalty to open racism. That is not the party of Reagan and Lincoln and I will protect every RCC member rights to do what's best to build their local party and vote their conscience.
So Patel responded:
Eugene out (sic) bylaws speak of this… Hence many people have resigned over trump… It was the right thing to do… And you need not further the lefts talking points by calling Donald trump a racist.
Dwight went on to explain that Trump was among his bottom choices and he gave maximum or sizeable donations to others. I can vouch for the fact that Dwight is a significant donor – the resident of Montgomery County bought two tables for our Lincoln Day Dinner last year and brought several people across the bridge. It's likely he will do so again this year.
As you likely know, I am one of the "many people (who) have resigned over trump." I didn't have to in accordance with the bylaws, but I chose to anyway. Simply put, as one who is conservative before Republican I could not back a man who I saw as detrimental to the conservative cause, in part because I found him lacking in trustworthiness and principle. Having no way of knowing just how many people have resigned over Trump as compared to regular turnover, though, I don't know what sort of trend we have here. But it's highly likely that most of those who have left over Trump are those who were on the conservative side of the Republican party – people I call the "principle over party" wing as opposed to the "party over everything" wing. (And then you have those caught in the middle based on the fear of a Hillary Clinton administration, which seems to be descriptive of Patel. I suspect they would be sorely disappointed with the lack of positive change that would come from a Trump administration – just more of the status quo of ever-expanding government but with the "Republican" imprimatur on it.)
But in speaking to Craig's point about "build(ing) their local party," the sad fact is that 64.6% of those voters in Wicomico County who showed up voted for Trump over a more Constitutional conservative choice in Ted Cruz and a more moderate choice in John Kasich. Perhaps if Maryland had voted earlier in the process many within the 64.6% would have backed other conservatives in the race but we will never know – I just have to deal with the data at hand, and to me it proved that our county voters may be the "party over everything" group. If that's true, then many of my efforts in educating local voters have been for naught.
I will admit that Trump seems to be getting his campaign going in a better direction, and even with the possible pitfalls of the Trump University trial and allegations of financial ties to Russian and Chinese backers those pale in comparison to the headaches Hillary Clinton is dealing with as the e-mail and Clinton Foundation scandals – along with the rumors of serious health issues with which Hillary is afflicted - smolder in the background despite being ignored by the partisan media. And the other day I concocted a scenario in playing with an Electoral College map where Trump had a path to victory if he can make up just five points on Clinton in certain states. (Part of that involves getting Gary Johnson into the debates, which I support. Let Jill Stein come along and participate, too.)
But, to use an overused phrase, in terms of the conservative movement a Trump presidency would still be rearranging the deck chairs on the Titanic. Moreover, his base has been variously described as "nationalist populist" or "alt-right" while those who oppose those ideas are dismissed as "cuckservative." I reject that description: I think I stand on the real conservative ground here based on my body of work – it's you guys who need to get off the idea of using government to get even with your opponents. That makes you no better than liberals.
In this case I am not an unbiased observer, but the number in Maryland and around the country that have resigned from party-level positions based on Trump securing the nomination on a plurality of the vote – with some unknown number of Democrats switching over to goose the process for nefarious reasons – is less important than the conservative balance they brought to the Republican Party. Because of certain tasks I was generally given, I could not bear the idea of publicly having to show support for Donald Trump so I opted out.
I have read on many occasions that the Republican Party will soon go the way of the Whig Party, but the circumstances have changed significantly since the mid-19th century as Republicans and Democrats cooperated to make ballot access difficult, if not impossible, for other parties to secure. (The same goes for the Presidential debates, which are controlled a commission made up primarily by members of the two parties. It's why people like me, who have some degree of agreement with the Libertarian and Constitution parties, stayed as Republicans – the others can't win on a state and national level.) If the Republican Party ceased to be, it wouldn't surprise me in the least to see the power-hungry Democrats take the opportunity to lock the process entirely. So it's gut-wrenching to see the GOP self-destruct, but there's the possibility this may occur.
The conservative fight has to go on, though. Like many of the others who left over Trump, I may just need some time to figure out my role.
In the middle of reading a story about a possible breakup between two conservative factions in the House, I found what should be a very, very fascinating tidbit to folks in these parts. According to Phillip Wegmann at the Daily Signal:
"I've heard of no mass exodus (from the Republican Study Committee)," a GOP aide said, "just a few members here and there who don't feel they use the resources [RSC] provides often enough to justify paying the dues."

The right candidate for RSC chairman could change that dynamic though, the aide speculated. "I'd imagine a Chairman Andy Harris would make (House Freedom Caucus) folks more likely to stick around."

Harris, a Maryland Republican, is a potential candidate for RSC chairman, according to multiple Capitol Hill sources. He has remained tight-lipped about his plans, however. Harris' office did not respond to multiple requests by email and phone from The Daily Signal.

The race for RSC chairman will officially be decided after the November election, but members have been talking about it at least since July when Flores announced this year's process. When lawmakers return in September, interested candidates will meet with the study committee's founders. Because the House is in recess all of October and most of November, that only leaves next month for campaigning.

No congressmen have declared their candidacy officially, but a senior GOP aide told The Daily Signal that both Harris and Rep. Mark Walker, R-N.C., are building support inside the caucus for a bid. (Emphasis mine.)
I realize we are going by the word of an unnamed "GOP aide" – for all we know, he or she may work for Andy – but assuming this is true, it is an intriguing prospect for Andy's national profile. Because he is far more conservative than most Maryland voters are perceived to be (and certainly Democrats are happy to help that perception along) it's quite likely that a statewide position isn't in the cards for Andy. However, he does represent a conservative district that is quite pleased with his record based on the fact he's received over 75% of the primary vote each time since his 2010 election against challengers who ranged from neophyte to crackpot to serious enough to have some name recognition in portions of the district.
While the RSC has maintained a reputation as the conservative hangout for the House, the fact that membership includes the vast majority of the Republican caucus seems to give a perception that the RSC is now the "establishment." At the beginning of the current iteration of Congress, the more conservative members decided they needed their own group because they felt the large size of the RSC was watering down its conservative message – hence, the House Freedom Caucus was born. While Harris wasn't a founding member of that group, he is one of 42 members of the Freedom Caucus as well as an RSC participant.
As leadership will likely be rearranged in the wake of November's election, Andy Harris may be presented with a number of opportunities. Given that the state's blatant gerrymandering has placed Harris in an exceptionally safe seat, he has used the opportunity to try and build up the GOP farm team in his district – but now could be a spokesperson on a larger stage. (However, I am holding him to something he promised when first elected – six terms and out.) Love him or hate him, we will see if the back half of Harris's Congressional service becomes a springboard to a leading role in the national conservative movement.
By Cathy Keim
(Editor's note: Cathy thought I should share the credit, but all I did was add a few finishing touches. She did the hard part.)
The fear of being called a racist has frozen people into a defensive crouch for most of my lifetime. In modern America it is a ridiculous threat – yet it still keeps people immobilized from taking any action that might open them to being called racist.
Why is it a ridiculous threat? Because it just hasn't been true for many years now. It is hard to find a family that isn't filled with in-laws, stepchildren, adopted children, cousins, and more that are from a different race or ethnic group. Being old enough to have attended a segregated public school and then living through integration and finishing my public school education in an integrated high school, I can attest to the huge strides forward made in this country towards a color blind society.
Sadly, that is all being turned back by the purposeful hyping of our society into tribalism. It is more beneficial for some politicians to divide us by race or ethnicity than it is to emphasize our common beliefs as Americans.
These common beliefs are what made America so unique in the world. We were not bound together by our tribe; instead we were bound together by our consent to believe in the principles and laws set out by our Constitution and Founding Fathers. Despite the obvious concession we have to make that America has not been perfect and that there have been blemishes on our record, we can admit to those flaws but as a whole still be proud of our principles and our nation. After all, no nation led by human hearts and minds will ever be perfect – but we are charged in our Constitution to strive "to form a more perfect Union."
Unfortunately, our youth are not being taught the good that is America, but to magnify the flaws and warts that are still items to be worked on – a distorted picture of the truth. This cultural manipulation of our story has been going on for decades in order to benefit those politicians that want to keep power over the people.
When I first became active in the Tea Party, I quickly recognized that being called a racist, bigot, or homophobe (and combinations of the three) would come with the territory. It didn't take me long to learn that, rather than trying to defend myself from the spurious charges, it was better to keep on making the case for the rational ideas and policies that I believed in. One's defense against being called a racist usually falls flat, anyway, because how can you prove a negative or defend yourself against liars? No matter what you tell them, they will continue to lie and even make up new charges if necessary.
It would seem that some of the Republicans are waking up to this idea. Recently the front page stories have been the ones between Trump and Hillary, but I was interested in the sidebar story on the governor of Maine refusing to be called a racist.
Maine Gov. Paul LePage went ballistic Thursday after several Democratic politicians labeled him a "racist" over comments he made about the demographic makeup of drug trafficking suspects in his state.

LePage went on a profanity-laced tirade in a voicemail message in which he challenged Democrat state legislator Drew Gattine to prove he was a racist, the Portland Press Herald reported.

"Mr. Gattine, this is Gov. Paul Richard LePage," a recording of the governor's phone message says. "I would like to talk to you about your comments about my being a racist, you (expletive). I want to talk to you. I want you to prove that I'm a racist. I've spent my life helping black people and you little son-of-a-bitch, socialist (expletive). You… I need you to, just friggin. I want you to record this and make it public because I am after you. Thank you."
It would seem that GOP Presidential nominee Donald Trump is leading the way for others to take the offense when accused of racism, as Michael wrote on Friday:
But speaking Wednesday in Jackson, Mississippi, Trump took a more accusatory approach. "Hillary Clinton is a bigot who sees people of color only as votes, not as human beings worthy of a better future," he shouted. It's an approach that won't win any friends at The Washington Post, but the message wasn't aimed at them.
The race baiters have frequently called for the need for a dialogue on race, but they have wanted to control the terms of the discussion – otherwise, we are a "nation of cowards" on race. In light of the incitement to tribalism from our elites, it is past time for regular Americans to have the discussion publicly.
I want for people to respond to each other as fellow citizens based on their actions. If you obey the laws, work hard to support your family, contribute to your community, and stay out of trouble, then we can all get along together. Notice that none of that depends on your tribal affiliation.
The recent upturn in protests by La Raza (the Race) and Black Lives Matter point to the urgent need for Americans to embrace our common heritage before we descend into the full-blown tribalism that has plagued the rest of the world for centuries. Americans of all races have enjoyed a higher standard of freedom, security, and living than any other nation, while other nations – particularly those deemed "Third World" countries in Africa, Asia, and the Americas – have all been plagued with violence, graft, and corruption as warring factions seek control of their natural resources and people.
Over the last few years we have seen the rise of factions in our nation as well. Both Black Lives Matter and La Raza are inherently racist and un-American. They are being manipulated to further destroy the fabric of America.
Moreover, the Democrat party has thrived for years by fomenting the distress of the minority Americans. They have not alleviated the problems, but instead have created further issues on so-called "poverty plantations" while calling conservatives or Republicans racists, bigots, and haters, accusing them of holding minorities back.
But take a look at the cities that are boiling over with hatred – they are all controlled by Democrats and have been for decades. The liberal Great Society policies of the 1960s served to dismantle the black family and replace the father with government subsidies, and they have been the most devastating attack on the inner cities possible. More recently, the government policies of bringing in low-skilled immigrants through the refugee resettlement program, the H2B temporary workers visas, and illegal immigration have all contributed to the loss of jobs for minority workers and have caused wages to stagnate.
There are many Black and Hispanic citizens that are integrated into our communities and are thriving, but the focus is always on fomenting the discontent and exploiting the rage of the minorities that are trapped in the underclass. Trump is finally asking those Americans what the politicians have done for them? It is about time that more leaders stand up and state the truth: our current government is not here to help you, because it is to their advantage to keep you down.
All of America loses if we revert to ethnic and racial tribalism rather than joining together to declare that in America all men are created equal and all can participate in our society.
I will close with a quote a recently-published book my son enjoyed and recommended, Tribe: On Homecoming and Belonging by Sebastian Junger. He begins this passage by quoting neuroscientist and traumatic stress expert Dr. Rachel Yehuda of Mt. Sinai Hospital in New York City.
'If you want to make a society work, then you don't keep underscoring the places where you're different – you underscore your shared humanity… I'm appalled by how much people focus on differences. Why are you focusing on how different you are from one another, and not on the things that unite us?'

The United States is so powerful that the only country capable of destroying her might be the United States herself, which means that the ultimate terrorist strategy would be to just leave the country alone. That way, America's ugliest partisan tendencies could emerge unimpeded by the unifying effects of war. The ultimate betrayal of tribe isn't acting competitively – that should be encouraged – but predicating your power on the excommunication of others from the group. That is exactly what politicians of both parties try to do when they spew venomous rhetoric about their rivals. That is exactly what media figures do when they go beyond criticism of their fellow citizens and openly revile them.

Reviling people you share a combat outpost with is an incredibly stupid thing to do, and public figures who imagine their nation isn't, potentially, one huge combat outpost are deluding themselves.
It predates my writing career, but back during the 2004 Presidential campaign much hay was made over Democrat John Kerry's attempts to be on both sides of various issues, including voting for something before he was against it. If you ask me, though, Kerry was by no means alone in terms of trying to cover all the bases and be all things to all people – the truth is that the further you go in politics, the more likely it is you will run across situations where your current action may well contradict something you did 10 years ago.
People are allowed to change their minds on issues, and I can use myself as an example: for a time I held the orthodox libertarian view that term limits artificially restrict voter choice and should be eliminated. While that makes a lot of sense on a philosophical level, in practice voter choices are more limited by the amount of money that naturally accrues to incumbents and by rules about ballot access that tend to favor the two major parties, enabling them to get their message out more effectively (and in turn more likely to succeed.) In keeping with the idea espoused by our Founding Fathers that representatives were only supposed to stand for election and do that public service for a term or two before returning to private life, I now feel that making it more difficult for people to make a career out of elected politics through term limits would bring us closer to the original intention. (Nor should we forget that only the House was supposed to be elected by the people directly - Senators were appointed through the respective state legislatures until the 17th Amendment was adopted in 1913.*) There is a compelling argument to be made, though, which contends that if term limits were adopted then control of the government would be placed in the hands of the unelected bureaucrats that write the rules and regulations. But I also believe that if elected officials are relieved of the constant fundraising to stay in office they may come up with more bold ideas and real solutions to problems – not lip-service intended to keep government bureaucrats in place perpetually.
I could probably spend a couple thousand words pursuing that digression, but my real intention in putting pixels to screen today was to discuss the immigration "flip-flop" of Donald Trump in relation to other issues. I put the phrase in quotes because to me it was already baked into his campaign, and those who truly believed he would be a hardliner on immigration were being played for suckers. Early on I knew about the "big, beautiful door" and "touchback" amnesty so what was one of his strongest points when I analyzed all of the GOP Presidential hopefuls almost a year ago became more and more watered down as time went on.
The difference to me between a "flip-flop" and a legitimate change of heart, though, comes down to whether the words remain consistent and are followed by appropriate actions. Obviously as a challenger in a political campaign Donald Trump doesn't have a record of votes to compare nor has he had to address the myriad issues that someone in political office is confronted with on a daily basis. As a case in point for the latter: a week or so ago I put up a Facebook post asking why utility trucks such as those operated by Delmarva Power have to go through truck scales (as I had observed that day) with my thought being: what if they were going to repair a major power outage? I can almost guarantee you that no other constituent had that thought in mind in the year or two my local Delegates have been in office, but to me the question was worth asking for the reason stated.
Let me use Trump as an example in two areas: immigration and abortion. As I see it, the recent statements from Trump on the prospect of amnesty represent a flip-flop of a rhetorical kind, although some may consider it the usual running to the center a Republican candidate is supposed to do after he or she runs right for the primary. It's more magnified for Trump, however, because of the ferocity of his initial statements such as "(Mexico is) sending people that have lots of problems, and they're bringing those problems with us. They're bringing drugs. They're bringing crime. They're rapists. And some, I assume, are good people." In the weeks immediately after Trump's announcement, the murder of Kate Steinle by an illegal immigrant who had been repeatedly deported yet kept returning into the United States buttressed Trump's point. So the rhetoric remained hardline, thus, there is a certain element of Trump's support base that probably feels completely sold out but will revert to reassuring themselves "he's not Hillary" rather than admit buyer's remorse from being sold a bill of goods.
It should be noted this Trump pivot, which may or may not bolster his standing among Hispanic voters, also comes at a time when he is also making a parallel push for black voters on a more legitimate question: what have the Democrats done for you lately – or for that matter since the Great Society era and civil rights struggles a half-century ago? Obviously he's not going to the Obama/Clinton position of just letting any immigrant in, but this more recent concession is quite a different tone than the initial Trump "build a wall and make Mexico pay for it" stance. Those who wanted a "pause" to immigration are surely disgusted with the turn of events over the last week or so, but there are enough Trump skeptics out there who can say nativists were warned regarding Trump and immigration.
Yet on abortion I think Donald Trump had a more legitimate change of heart toward being pro-life, a move he claims came from a personal experience. Of course, those who are farther along on the pro-life spectrum still question Trump's bonafides based on his support for Planned Parenthood, but that is not the be-all and end-all of the movement – Planned Parenthood is more of a symptom of the disease than the disease itself. Certainly Donald Trump is not one who has led a monogamous lifestyle – and only God knows if any of his trysts have led to pregnancies eventually terminated - but small victories are still small victories nonetheless. Over the course of the campaign Trump has not shifted a great deal on the issue, with the horserace watchers more focused on the aspect of which evangelical leaders are backing Trump despite his faults and which ones are simply sitting this election out or voting for a more strictly values-based candidate, either on the ballot or as a write-in, as I may.
But there remains a trust issue with Trump that makes writing pieces like this necessary. (Not being able to trust Hillary Clinton any farther than they could throw her was already factored in for millions of voters, simply based on the litany of scandal and questionable decisions she's made over a quarter-century.) I've argued before that 2016 is the election of the flawed individual, but perhaps character doesn't count in America anymore. While the Clintons, Al Gore, John Kerry, and Barack Obama have major character flaws, only Kerry lost the popular vote on Election Day – and conspiracy theorists still blame Diebold for that 2004 loss. So perhaps Republicans now believe that "if you can't beat 'em, join 'em" and selected their own person of questionable character just to pick up that long-desired W on Election Day.
And if you discount character, you quickly understand why there are people who walk among us that would say or do whatever is necessary, flipping and flopping on their beliefs and values, to get what they want – anything from the modest "15 minutes of fame" to the most powerful political office in the country. Upon that realization, it's just a short step to pondering about the fate of this very republic we live in. America will survive, but with the leadership we seem to be attracting who will want to live there?
Women and men of values, character, and principle, please make yourself known. Your nation needs you, now more than ever.
*Ironically, Delaware and Maryland did not ratify the 17th Amendment until 2010 and 2012, respectively. In Maryland, only eight members of the House of Delegates properly voted against ratification – and one of the eight switched his vote to be against it only after it passed.
By Cathy Keim and Michael Swartz
Woe unto them that call evil good, and good evil; that put darkness for light, and light for darkness; that put bitter for sweet, and sweet for bitter!

Isaiah 5:20, KJV
This fall in Maryland we will have four parties on the ballot: not just the Republicans and Democrats, but also the Libertarians and the Green Party. All four of them are represented on the Presidential ballot, with three also contending for United States Senate and for our First District Congressional seat. (There is no Libertarian running for Senate and no Green Party candidate in the First District. Around the state, there are six Libertarians and five Greens running for the House.)
As one who has a passionate interest in the subject, Cathy Keim sat down to take a look at the four parties and where they stand on life issues, particularly abortion. Most of us aren't single-issue voters, but I think I speak for Cathy when I contend we are both convinced that the way a party looks at the subject of life is an indicator of how it interprets the intersection of liberty on the one hand and faith on the other – or, as I would put it, the location of the guardrails on America's path.
The Declaration of Independence states our unalienable rights to Life, Liberty, and the pursuit of Happiness. One cannot partake of these unalienable rights if they are murdered in the womb, so to us it is just that simple that an American that believes in the founding principles of our nation must also embrace a pro-life position.
To approach this, we have decided to lay out each party's platform on the subject and provide our take on it afterward. These will be placed in alphabetical order so the Democrats go first.
**********
Securing Reproductive Health, Rights, and Justice

Democrats are committed to protecting and advancing reproductive health, rights, and justice. We believe unequivocally, like the majority of Americans, that every woman should have access to quality reproductive health care services, including safe and legal abortion – regardless of where she lives, how much money she makes, or how she is insured. We believe that reproductive health is core to women's, men's, and young people's health and wellbeing. We will continue to stand up to Republican efforts to defund Planned Parenthood health centers, which provide critical health services to millions of people. We will continue to oppose – and seek to overturn – federal and state laws and policies that impede a woman's access to abortion, including by repealing the Hyde Amendment. We condemn and will combat any acts of violence, harassment, and intimidation of reproductive health providers, patients, and staff. We will defend the ACA, which extends affordable preventive health care to women, including no-cost contraception, and prohibits discrimination in health care based on gender.

We will address the discrimination and barriers that inhibit meaningful access to reproductive health care services, including those based on gender, sexuality, race, income, disability, and other factors. We recognize that quality, affordable comprehensive health care, evidence-based sex education and a full range of family planning services help reduce the number of unintended pregnancies and thereby also reduce the need for abortions.

And we strongly and unequivocally support a woman's decision to have a child, including by ensuring a safe and healthy pregnancy and childbirth, and by providing services during pregnancy and after the birth of a child, including adoption and social support services, as well as protections for women against pregnancy discrimination. We are committed to creating a society where children are safe and can thrive physically, emotionally, educationally, and spiritually. We recognize and support the importance of civil structures that are essential to creating this for every child. (Page 37 here.)
Also, on Page 46:
We will support sexual and reproductive health and rights around the globe. In addition to expanding the availability of affordable family planning information and contraceptive supplies, we believe that safe abortion must be part of comprehensive maternal and women's health care and included as part of America's global health programming. Therefore, we support the repeal of harmful restrictions that obstruct women's access to health care information and services, including the "global gag rule" and the Helms Amendment that bars American assistance to provide safe, legal abortion throughout the developing world. (Emphasis ours.)
**********
Cathy: How can the Democrat Party write such drivel with a straight face?  They define reproductive health as including abortion and proceed to say that reproductive health is core to women's,  men's, and young people's health and wellbeing.  Except for the baby that is murdered in the womb.  The aborted baby's health and wellbeing is certainly not benefited by legal abortion.
Once upon a time, they pretended that the baby was just a blob of tissue, but now they declare that even if life begins at conception, they would still demand that abortion be legal. Despite their claim that they want abortions to be safe, they have blocked and overturned any laws that have been passed to require abortion mills to conform to accepted standards of safety. You would be horrified if your vet subjected your dog to the kind of unsanitary, unsafe conditions that abortion mills routinely conduct their procedures under.
The Democrat Party plank on abortion definitely falls under the category of calling evil good.
Michael: What I can't get over is the sheer hypocrisy of the Democrats standing for "creating a society where children are safe" when the one place you would think would be the safest is fair game for a mother's ill-informed "choice." And does it not reek of the same sort of eugenics made famous by Margaret Sanger (founder of Planned Parenthood) that the Democrats want to promote abortion "throughout the developing world?" Why not just call them "human weeds" while you are at it?
And once again they give their whole-hearted support to Planned Parenthood by claiming they "provide critical health services." So do thousands of other facilities that don't make millions of dollars performing abortions or stand accused of selling baby parts for profit.
Next we will turn to the Green Party, which recently finalized its 2016 platform.
**********
Women's rights must be protected and expanded to guarantee each woman's right as a full participant in society, free from sexual harassment, job discrimination or interference in the intensely personal choice about whether to have a child.

Women's right to control their bodies is non-negotiable. It is essential that the option of a safe, legal abortion remains available. The "morning-after" pill must be affordable and easily accessible without a prescription, together with a government-sponsored public relations campaign to educate women about this form of contraception. Clinics must be accessible and must offer advice on contraception and the means for contraception; consultation about abortion and the performance of abortions, and; abortion regardless of age or marital status.

We endorse women's right to use contraception and, when they choose, to have an abortion. This right cannot be limited to women's age or marital status. Contraception and abortion must be included in all health insurance policies in the U.S., and any state government must be able to legally offer these services free of charge to women at the poverty level. Public health agencies operating abroad should be allowed to offer family planning, contraception, and abortion in all countries that ask for those services. We oppose our government's habit of cutting family planning funds when those funds go to agencies in foreign countries that give out contraceptive devices, offer advice on abortion, and perform abortions.

We encourage women and men to prevent unwanted pregnancies. It is the inalienable right and duty of every woman to learn about her body and to be aware of the phases of her menstrual cycle, and it is the duty for every man to be aware of the functions and health of his and his partner's bodies. This information is necessary for self-determination, to make informed decisions, and to prevent unintended consequences. Unplanned conception takes control away from individuals and makes them subject to external controls. The "morning-after" pill and option of a safe and legal abortion need to remain available. (This is under the heading of "Civil Rights.")

Under "Health Care":

The Green Party unequivocally supports a woman's right to reproductive choice, no matter her marital status or age, and that contraception and safe, legal abortion procedures be available on demand and be included in all health insurance coverage in the U.S., as well as free of charge in any state where a woman's income falls below the poverty level.
**********
Cathy: The Green Party seems to think that reproduction refers to the right to prevent or terminate a child. This is changing the meaning from good to evil. A child is to be prevented from being conceived (I find this hard to believe) by the woman knowing her menstrual cycle! This sounds rather like the rhythm method. Why bother when you can have a free morning after pill or a safe abortion on demand? Every part of this plank is geared towards preventing future citizens. Women are only equal if they do not get pregnant.
"Unplanned conception takes control away from individuals and makes them subject to external controls." I would think that that sentence should read makes them subject to internal controls since the baby is inside the mother's womb!
This whole conversation is ignoring the right of the baby to exist. They try to hide that by talking about prevention, but in the end, the right to abort the baby must be universal. Since any baby can be aborted, then there can be no protection for a baby that has Down's syndrome or any other problems. This means that there is no call to prevent sex-selection abortions. What if the baby has a cleft palate which can fixed by surgery? Once the sanctity of life is broken, there is no end to the mischief that results.
The Green Party fails completely on the abortion issue, but that didn't surprise you, did it?
Michael: The scariest part of their platform to me is the fact that they actually say abortion is a "right (that) cannot be limited to women's age or marital status." As I read this, they are perfectly fine with a 10 year old getting an abortion, whether the parent knows or not. There IS a surefire way to prevent unwanted pregnancies, but then it would eliminate the choice a woman would have to sleep with a man. If the choice is made to engage in sexual activity, then there is a risk of pregnancy. Even if a woman is "aware of the phases of her menstrual cycle" there's no guarantee that a time she thinks she's safe is really a safe time. (Nor does this account for the inevitable failure of contraceptives.)
In essence, they are perfectly willing to absolve the women of all responsibility for their actions in the name of "individual rights." And that leads us to the Libertarian Party.
**********
Recognizing that abortion is a sensitive issue and that people can hold good-faith views on all sides, we believe that government should be kept out of the matter, leaving the question to each person for their conscientious consideration.
**********
Cathy: The Libertarian Party takes a dive with their disingenuous attempt to leave abortion up to the individual.  If life is an unalienable right, then you cannot leave the choice up to the individual.  We do not leave it up to the individual to decide whether to murder someone, so why should we suddenly pretend that this is different?  The only difference is the size of the citizen.
Michael: They definitely punt on this question, and not in the least because "people can hold good-faith views on all sides."
I believe that the Founders placed "life, liberty, and the pursuit of happiness" in that order intentionally. It is difficult, if not impossible, to pursue happiness without liberty, but it is impossible to enjoy liberty without life. And this is why I believe a true libertarian would by necessity be pro-life. Rather than argue about the point of viability for the unborn, I presume that they enjoy the right to life upon conception and their right to life trumps the mother's liberty, as expressed in the phony "right to privacy" the majority in Roe v. Wade made out of thin air.
I can agree that the federal government should be kept out of the abortion matter, because I believe it's properly debated and adjudicated in the several states.
Finally, we get to the Republican Party, which has been traditionally the home of the pro-life movement.
**********
The Sanctity and Dignity of Human Life  
Faithful to the "self-evident" truths enshrined in the Declaration of Independence, we assert the sanctity of human life and affirm that the unborn child has a fundamental individual right to life which cannot be infringed. We support a human life amendment to the Constitution and endorse legislation to make clear that the Fourteenth Amendment's protections apply to unborn children. We oppose using public revenues to promote or perform abortion or fund organizations which perform or advocate it and will not fund or subsidize health care which includes abortion coverage. We support the appointment of judges who respect traditional family values and the sanctity of innocent human life. We oppose the non-consensual withholding or withdrawal of care or treatment, including food and water, from people with disabilities, including newborns, as well as the elderly and infirm, just as we oppose active and passive euthanasia and assisted suicide.
Republican leadership has led the effort to prohibit the barbaric practice of partial-birth abortion and permitted States to extend health care coverage to children before birth. We urge Congress to strengthen the Born Alive Infant Protection Act by enacting appropriate civil and criminal penalties on healthcare providers who fail to provide treatment and care to an infant who survives an abortion, including early induction delivery where the death of the infant is intended. We call for legislation to ban sex-selective abortions - gender discrimination in its most lethal form - and to protect from abortion unborn children who are capable of feeling pain; and we applaud U.S. House Republicans for leading the effort to protect the lives of pain-capable unborn children in the District of Columbia. We call for a ban on the use of body parts from aborted fetuses for research. We support and applaud adult stem cell research to develop lifesaving therapies, and we oppose the killing of embryos for their stem cells. We oppose federal funding of embryonic stem cell research.
**********
Cathy: The Republican Party plank is pretty good.  It covers a lot of areas that need to be protected.  However, it stops short of stating that from conception to natural death, life should be protected.  This includes children with Down's syndrome, birth defects, and babies conceived by rape.  The baby should not be punished for the sins of the father.
Michael: It's a very comprehensive platform. I think Cathy's concern is covered somewhat by the opposition to "withholding or withdrawal of care or treatment…from people with disabilities." But I especially like the mention of judges, who are vital in the effort to provide protection to the unborn – how many common-sense laws have been overturned by the unelected federal judiciary? Ask the state of Texas, which had a perfectly valid law regarding abortion clinics overturned by judicial fiat.
Yet with such a great platform one has to ask just how much the nominee believes in it, given his statements on Planned Parenthood and relatively recent conversion to a pro-life stance. I understand people can honestly change, but the proof is in the pudding and this nominee sometimes has difficulty keeping a story straight.
Cathy: If you are a person that believes that abortion is wrong, then the party platforms reduce the viable candidates immediately.  If you further look at which party has a chance of winning, then there is only one party that works for the pro-life individual.
Voters that are concerned with "social issues" are frequently reprimanded for being single issue voters or for holding the party back from success.  I hear those arguments, but they don't hold much water if you are not allowed to ever draw your first breath.  The pro-life position is so basic that it leaves no room to discuss other policies.  Once we have determined that our future citizens have the right to safety in their mother's womb, then we can talk about the other issues.
The Republican Party does many things that I do not always agree with, but they have still managed to hang onto their pro-life plank.  I also understand that not every candidate will fully support every plank, but from my survey of the candidates listed on the Maryland ballot, they all claim to stand on abortion where their parties' plank would put them.
Consider this as you choose which candidate will receive your vote.
It really wasn't my intention to write about this election very much, as I would rather try to shape post-Trump conservatism, but there is an occasion here for a lesson to be taught.
Late last week we began hearing the rumbles about a letter to the RNC, signed by a number of concerned party members, urging them to stop financially supporting the flailing Trump campaign and concentrate their declining finances on saving the House and Senate from a Democratic takeover. The latter was already a strong possibility thanks to the sheer number of Republican seats in play – the TEA Party wave election of 2010 comes home to roost this year in the Senate. Among those signing are onetime Maryland YR chair Brian Griffiths and my "partner in crime" Heather Olsen, who resigned earlier this summer as county chair in Prince George's County because she, too, could not support Donald Trump as the GOP nominee.
While I have had my differences with Griffiths over the years, it's more rare that I disagree with my friend Heather. Yet I believe there are two good arguments for keeping Trump in the GOP financial loop, despite their (likely correct) contention that it's "throwing good money after bad."
First of all, those who climbed aboard the Trump Train early on were completely and utterly convinced that he would absolutely steamroller Hillary Clinton just as he has built up his business empire. But now that the polls being reported on a near-daily basis continue to find Trump not only losing nationally but putting several "safe" GOP states in play, these backers not only claim the polls are "fake" but also point to other (non-scientific) polls showing Trump has a "YUGE" lead and analysis saying he'll win in a "landslide." So apparently this money is going to a good cause, right? These militant Trumpkins are going to be covered regardless – either he wins and then the purge of the #NeverTrump group from the GOP begins, or he loses because he said early on "I'm afraid the election going to be rigged."
So if you withhold the GOP money from Donald Trump, it's just going to be another thing to blame his loss on. "We had these huge rallies and we knew we had this election in the bag," they will wail, "but Reince Priebus and the GOP establishment wouldn't give us any support – they must have been in cahoots with Hillary." Don't you dare give them that excuse.
As for the second reason, the Republican Party simply needs to be taught a lesson on its own and sometimes the only way to get the point across is letting them utterly fail. They had the chance, several times, to do something to avoid this situation – closed primaries, penalties for skipping debates and insistence on participation to the end, or allowing convention delegates to vote their conscience, as examples - but they did none of these things, allowing a candidate with far less than 50% of the Republican vote to skate off with the nomination. (This doesn't count the policy failures of Republicans in Congress.) As I have said before: you break it, you bought it. Give Trump the money he's due, and when the election is lost all of those involved will hopefully resign in disgrace for what they have done to a great party and a great country.
So when I get my appeals for donations to the national Republican party (and even the state version) I'm not giving them a dime. This is actually nothing new for me, since I would rather give to the individual candidate I believe in than a party organization that will be as likely to support a candidate edging left of center as it would a conservative (and perhaps more.) And too often they place their thumb on the scale in a primary even though it's against their policy to do so. (Heather surely recalls Rule 11 being used for Maryland in 2010.)
It looks more and more likely that a bitterly divided Republican Party will endure electoral disaster unseen in a decade this November. (Maybe it's years ending in 6, since the last several of those have been horrible for national Republicans – they lost all of Congress in 2006, Bob Dole lost in 1996, they lost the Senate in 1986, and Gerald Ford was defeated in 1976. 1966 was the last successful one.) But just as the Democrats are now split between the radical progressives that backed Bernie Sanders and the establishment which went for Clinton, the GOP is rent asunder by the schism between conservatism and the alt-right populism best expressed by Donald Trump (and, to a certain extent prior to that, Sarah Palin.)
Once we get to 2017, the question will be that of who blinks first. After the new Congress and administration is sworn in, it will be time for the GOP to get together and select new leadership. If things go as expected in November, the January RNC meeting will be must-see TV for political junkies as the fate of the resistance is determined.
But if the right people are placed in charge, the few million dollars wasted on Trump at the expense of Congress will be a memory because many may be willing to open their wallets again. In that respect, perhaps the Trump candidacy will be the catharsis the GOP needed to begin on a path to a post-Trump conservatism. We can only hope.
The mailing had everything needed for the shock value: a worried-looking senior citizen juxtaposed over a stack of paper stamped "DENIED." "Worried About Government Bureaucracy Restricting Your Medicare?" it asked. If the piece of paper could listen I would tell it that I'm not even counting on having Medicare when I get to that age, but I figured this may be a fun bit of research and exploration to do. "Okay, I'll bite," I thought.
The mailing came to both my wife Kim and I as two separate "families" and was paid for by the American Action Network (AAN). So my first question was obvious: who is the American Action Network? According to Wikipedia, the AAN is "a nonprofit issue advocacy group based in Washington, D.C. which promotes center-right public policy. It was established in 2010 by Fred Malek and Norm Coleman as a 501(c)(4) organization." On their behalf, the AAN argues its "primary goal is to put our center-right ideas into action by engaging the hearts and minds of the American people and spurring them into active participation in our democracy." So the heart must be the center and the mind must be right?
In essence, it's a group similar to one I pointed out last week, Americans for Limited Government. AAN may have fancier digs and a larger mailing list and donor base, but they are just another of the thousands of issue advocacy groups orbiting around the capital region – one that has $1.7 million to spend on sending a piece that specifically asked me to, "Tell Congressman Andy Harris to Continue His Fight to Protect Your Medicare." Since both Kim and I are registered as Republicans, I'm thinking the list was culled to specifically target GOP voters and it wouldn't shock me if they also narrowed this mailing to only reach those over 50 (as Kim and I both are.) According to AAN, 61 districts in 27 states were targeted for the advocacy campaign, for a total cost (with print and digital ads) of $4.8 million.
To be specific, the mailing advocated the passage of two bills: H.R. 1190, which is better known as the Protect Seniors' Access to Medicare Act of 2015, and H.R. 5122, which doesn't have a fancy title but is intended "To prohibit further action on the proposed rule regarding testing of Medicare part B prescription drug models." Harris (as well as every other Republican present, and 11 Democrats) voted for the former bill last year, but it's been bottled up in the Senate.
H.R. 1190 has two purposes: one is the termination of the Independent Payment Advisory Board (or, in the words of Sarah Palin, the "death panels") while the other cuts billions of dollars in spending on the Prevention and Public Health Fund over the next decade. But because Barack Obama isn't going to agree with this anyway, it's apparent that the bill will go nowhere in the Senate (they won't even make it past the cloture vote.)
The second bill, H.R. 5122, would eliminate spending on a proposed rule, which is 33 pages to explain that the Department of Health and Human Services wants to try a new method of payment for certain drugs administered to Medicare patients as a trial program. The overall idea is to encourage the use of lower-priced drugs, since the authors of the rule contend the providers use more expensive medications to take advantage of a flat 6 percent reimbursement rate. As an experiment, the rate would go down to 2.5% plus a flat $16 additional reimbursement. After its introduction the bill has apparently sat in a desk drawer someplace because no vote has been taken on it.
Yet AAN objects to both bills, and "calls on seniors to advocate for two key legislative priorities: (1) H.R. 5122, to prevent the Obama Administration from changing the Medicare Part B payment policy for treatments, and (2) H.R. 1190, to repeal the Independent Payment Advisory Board (IPAB). Both bills will block bureaucrats from imposing harmful changes to Medicare that could threaten seniors' access to care."
So I investigated further, and found a missive Coleman wrote last month about this and other issues. Among the things Coleman said:
Despite assurances that ObamaCare would be the end all, be all, for health care reform in America, we now know that it is simply collapsing in on itself.  Insurers are fleeing the system - premiums are increasing - and recent court rulings have undermined the credibility of the financial assumptions used by liberals to justify the creation of ObamaCare.
All this is true. Yet Coleman goes on:
In the end, America doesn't need only to reform government.

We need to reform the notion that government is the solution to our problems or the key to our future prosperity.
Again, truer words have never been spoken. But the premise of the AAN mailing is that of protecting a government program by appealing to the beneficiaries. (A subsidiary site operated by AAN and promoted on the mailing makes this clear: DontCutOurMedicare.com.) If government isn't the solution to our problem, one would think AAN would be looking to repeal Medicare entirely (over a relatively lengthy sunset period, of course) to truly reform the notion that Americans should depend on our government for health care or feel entitled to it. At the very most, the idea of Medicare should be no more than a state-level initiative – if the people of Maryland want a lavish senior care program, let them adopt it as their own. However, those in Delaware may feel differently.
So the definition of "center-right" seems to be the same sore subject that millions of Donald Trump voters used as their excuse to vote against the "establishment." While they have selected a deeply flawed vessel to amplify their message, it seems those frustrated voters are looking more for the "right" than the "center," since all the center seems to be is the maintenance of a failed status quo.
On the other hand, one can argue that their objection is not about government involvement, but instead only a complaint about the originator of the idea. They don't seem to have the same issues with the Medicare Part D program enacted under Republican President George W. Bush – which is, in some respects, similar to the pilot program H.R. 5122 seeks to defund because Part D tends to reward the usage of less expensive medication. It's still the federal government subsidizing health care, but it was done in the name of a centrist "compassionate conservatism" instead of the leftward "fundamental change to America."
To me, it's very ironic that a group which wants to back away from the idea that our government is a solution sends out a directive to appeal to our very conservative representative to maintain a costly government entitlement program. Even more so, those who complain "don't touch our Medicare" would be the first to object to expanding eligibility to cover those over 50 years of age, in part because it's Hillary Clinton's idea. (Trump seems to favor the Medicare status quo with a few tweaks, which may explain why much of the AAN target audience is his support base.)
Perhaps the most interesting aspect of this is figuring out where they got $4.8 million for the campaign. We have a few clues, but the backers of this group aren't being very public about it. So if they were looking for exposure, I suppose this piece is added value to them. But I must say: the "center" of their "center-right" really comes out with this one, particularly if you consider the center as our current situation – a President pulling to the left and Congress mildly countering to the right. Then again, to AAN we are only a "democracy" anyway, so at the moment the people want largesse from the public treasury, with AAN's large donors perhaps trying to preserve their cut of the proceeds.
While those on the Left, such as writer Igor Volsky, celebrated Medicare as a success and believe the issue is settled, I happen to think those Volsky cites who argued against the concept when it was first proposed over 50 years ago were proven correct. Volsky also quotes an exchange between then-Congressman Mike Pence and journalist Andrea Mitchell:
Rep. Mike Pence (R-IN) explained his opposition to a new public health care option by arguing that Medicare spending has exceeded actuarial estimates from 1965. As Andrea Mitchell pointed out, somewhat jokingly, "I don't know if you want to go back to Indiana and campaign against Medicare."
Obviously those on the center-right don't want to, so it's going to take decades of re-education on the concepts of liberty and personal responsibility to counter the effects of the entitlement mentality society we live in today. Some may consider Medicare a success and wish it saved, but to achieve the rightsizing of government we need it's clear Newt Gingrich was correct: Medicare does need to "wither on the vine." Given the sheer number of insurance companies that now cater to the senior market, the problem Medicare was created to "solve" can easily be addressed by the private sector.
It was about seven or eight years ago that I first came in contact with the group called Americans for Limited Government. One of their projects that I participated in for awhile was called Liberty Features Syndicate, which (as the name implied) was a syndication service that generally catered to small newspapers. For perhaps a year, I was one of their writers and every so often I would find out one of my 600-word columns was placed in some small-town newspaper. That was a neat experience, particularly the very first time when I found out my column was in a Kentucky newspaper fitting that description. For a moment I thought I was destined to be the next Ann Coulter. (Now I'm glad I'm not.) They also do the NetRightDaily site, which is where I first discovered Marita Noon as they also carry her weekly op-ed. Somewhere in their archives I'm sure most of my columns survive.
All that has gone by the wayside, but I remain Facebook friends with current ALG president Richard Manning. Over the last few months, though, I've been dismayed to see how a group which claims to be for limited government has climbed aboard the Trump train. A case in point was something they posted last week, which I want to use as an educational tool. It's called "Trump's the nominee, deal with it." I'm going to go through it a little at a time and share my thoughts as we go.
Donald Trump is the nominee and the establishment is going to have to deal with it. These anonymous GOP sources speculating on what the process would be if Donald Trump chose to withdraw from the race for president should be identified and forever run out of the GOP.
I find this rhetoric to be disheartening and a little disingenuous. Manning should remember that 56% of the Republican voters did not support Trump, but when it came time for that group to be represented at the RNC Convention Trump was right there with the "establishment" to shut it down. It was a coordinated effort, so don't tell me Trump is not part of the establishment when it serves his purpose, and vice versa. Personally, I believe the whole "Trump will withdraw" story is wishful thinking on the part of some, but given his meteoric personality it's not outside the realm of possibility. If anyone deserves to be "forever run out of the GOP," though, it's the Trump/RNC "enforcers" who were at the convention intimidating the grassroots supporters of needed rule changes. That action was one of the reasons I left the party leadership.
Where were they when Mitt Romney was outed telling donors that 47 percent of the people were on government assistance, creating the exact class warfare narrative that the Democrats craved? These anonymous, cowardly whiners were more than likely busily making fortunes at the GOP trough.
Probably the same place they were when Trump alienated women voters with his remarks about Megyn Kelly – except those weren't surreptitiously recorded like Romney's remarks were. The Democrats are going to attempt their tactics of division regardless of what the Republican nominee says. The one thing to criticize Romney for? He was off by 2 points – it was actually 49 percent. One would think that a group advocating limited government would embrace that fact as a reason to begin work on the issue. The truth hurts sometimes.
The only reason that this circular firing squad story exists is because the D.C. establishment class cannot get over that Jeb lost and with his loss, their every four-year financial windfall went away. And that's the ugly truth, Donald Trump's real failure is his unwillingness to spend millions in consulting fees to keep the GOP consulting vultures at bay. If these consultants had not lost the popular vote in five of the past six presidential elections, they might have some validity in their concerns, but they are proven losers, and Trump doesn't like losers.
This is perhaps Manning's best point, but by making it about Trump he makes a mistake. Trump may not be using the consultant class, but the problem is that he's losing just like in the other five elections (and the current polls track similarly to theirs.) If Trump were running at 60% in the polls Manning would have a great point, but the only thing about Trump at 60% is his negatives. We should hope that the consultant class withers on the vine, but the way to do that is through limiting government so there's less financial incentive to be a consultant.
So, now they are all-in in trying to stop Trump, and by fostering speculation that he might drop out, they give their cohorts in the mainstream media the excuse to replay some mistakes that Trump has made and the campaign is trying to move on from.
They don't have to replay mistakes because Trump creates a fresh batch on an almost-daily basis.
It is time to root out these conspirators to elect Hillary Clinton president, and not allow them to hide under the cloak of invisibility that cockroaches and vermin depend upon.
Someone really needs to do an exhaustive study on how many Democrats crossed over in the open primaries to help make Trump the GOP nominee. Oh, wait, those aren't the conspirators Manning is referring to? My contention all along is that the only candidate Hillary could beat was Donald Trump, so I suppose the real conspiracy was within the group that talked Trump into running when there were already several in the race – remember, Trump was among the last to announce.
For the rest of us, Donald Trump is the only chance to end the Obama expansion of federal government power, his disastrous EPA regulations, Obamacare and his use of the enforcement powers of the Executive Branch as weapons against his political enemies.
For Trump, any and all of these will eventually be negotiable except for the last one. Given the ferocity of his attacks against his former Republican foes, I don't doubt that Trump has an "enemies list" of his own, and it won't be all the groups who have tormented conservatives the last eight years. The conservatives will remain in the crosshairs because Trump didn't need party unity anyway.
Moreover, The Donald yo-yos between wailing about "draconian rules" regarding federal land and advocating the federal government remain in control of it. His stated health care plan repeals Obamacare, but he also vowed to make a deal with hospitals to take care of the poor at government expense. EPA regulations are bad unless you're pandering to Iowa corn farmers.
In short, I truly don't see any real support for limited government from Trump, which makes me wonder why ALG is involved in this election. To be honest, I'm sure Americans for Limited Government is a relatively modest group, living on a comparative shoestring as one of many thousands of advocacy groups around Washington, D.C. (That in and of itself is rather ironic. If they don't like the inside-the-Beltway culture perhaps their headquarters should be in flyover country.) They take Trump's outsider image to heart, even though he has donated thousands of dollars to political candidates on both sides.
But simply being an outsider with little political experience does not necessarily equate to limited government. And while some argue that with Trump we at least have a slim chance of success, let me remind you that failure to constrain government will once again be a Republican trait if Trump wins and governs on a platform where Obamacare is replaced by other government involvement, regulations are addressed in a capricious manner, and entitlements like Social Security and Medicare are off limits to needed reform, let alone the true limitation of government that can be achieved by sunsetting the programs over a multi-decade period to provide an orderly transition.
I use this as a cautionary tale about consistency. If you believe the group's mission statement, it's a curiosity to me why they involved themselves in this race:
We are leaders in identifying, exposing and working with Congress and state legislatures to prevent the continued expansion of government. Never shying away from the big issues, ALG is perpetually ahead of the issue curve taking on issues like the $100 billion International Monetary Fund line of credit while others are still trying to spell IMF. This aggressive, non-partisan approach to the threats posed by an ever expanding government to our basic freedoms gives us the ability to honestly present the limited government perspective both inside the beltway and most importantly around the country.
It's clear to me that neither Donald Trump nor Hillary Clinton will lift a finger to limit government; rather, they will rearrange the deck chairs on the Titanic. I can understand the fear of Hillary Clinton being a third term of Barack Obama, but who's to say Donald Trump wouldn't be a third term of George W. Bush, where government expanded at an alarming rate, too? There were several other candidates who were willing to begin the process of rightsizing the federal Leviathan, but Trump prevailed as the "Republican, not the conservative" nominee. It's troubling to me that the folks at ALG let party override principle and fear take the place of common sense.
So despite the admonition of Manning and friends, the only nonsense we need to stop is continually claiming that not voting for Trump is a vote for Hillary. One can be #NeverTrump and #NeverHillary at the same time. There are other candidates out there who hew closer to the principles of limited government, and one of those things which holds them back is the perception that no one other than a Republican or Democrat can win. In the end, the decision is up to the voters, so what ALG needs to do is return to stressing the value of limited government rather than shill for one flawed candidate against another.