It's been a crusade of mine to encourage the rebirth of American manufacturing – unfortunately, we seem to be going the wrong way, according to the union-backed Alliance for American Manufacturing. Holding Barack Obama to his promise for one million new manufacturing jobs in his second term, the net gain has fallen with the September employment results and the August revision to 370,000. Even if you consider that their figure is a net figure, we're still way short of one million jobs created.
Overall, the job market is creating about 200,000 jobs per month – slower than last year, but still positive growth. Unfortunately, it's barely exceeding population growth.
You may ask yourself, though – why the emphasis on manufacturing in these quarters, particularly when you work in a service industry? To me, the answer is simple: economic growth is achieved when we add value to the overall economy. Sure, you can print money until the printing presses break but that just adds paper and not value.
Consider the iPad I'm writing this on. Originally it was a number of raw materials extracted from the ground. The first addition of value came when they were extracted, but a far larger one came when the component parts were created. A further increase in value came from the assembly process, which made the iPad into something usable by a member of the public. At that point, a little extra was added in shipping it to the venue of retail.
While I can't ascertain where the raw materials came from, the iPad is manufactured overseas and shipped to the American market. Supposedly Apple has moved some production here, but not for iPads.
I don't want to get bogged down in those nuts-and-bolts, but suffice to say that I think manufacturing adds more value per dollar invested than service industries. Certainly it can be fickle – the fanfare associated with this early '70s plant expansion died quickly when a national recession shuttered it within a couple years – but more often than not good jobs are provided.
We are better off when we make stuff. China may be cheaper, but is it better? How many times have you purchased some Chinese-made trinket only to scrap it in a couple years because it was assembled in a shoddy manner with substandard parts? America used to be better than that, and I want to see us return there.
By Cathy Keim
John Boehner hit the Sunday morning TV circuit to explain why he is resigning and to spin his past performances. In addition, the various media are adding their spin and giving advice as to how to proceed. After reading through a variety of reports, it seems pretty well decided that:
John Boehner did the best he could under the circumstances.
Congress never really had the ability to stop the Obama agenda.
The conservatives/Tea Party types that caused this ruckus should go away.
House Majority Leader Kevin McCarthy will be the next speaker.
One can go farther and depending on the source conclude that:
Our nation has grown too large to govern as a republic.
Christians should withdraw to enclaves because it is all going to the dogs.
There is no turning back from the path of destruction that we are on.
Before you give up hope and head for the hills with your guns, ammo, Bibles, and food, let us take a quick review of the comment sections of the same articles.
I do not read the comments on some sites because they are merely vile epithets interspersed with poor spelling, but other sites actually have rousing comment sections. There are many Americans that are still interested in the American Experiment and in their Christian faith. They are not giving up. Nor should we.
We need to think about the battlefield before we proceed. Rep. Peter Roskam (R-IL) says:
If we launch headfirst into leadership elections like this is a typical succession, without ever taking the time to diagnose our current ailments, we won't heal the fractures in a Conference that has thus far proved unleadable. Simply reshuffling the deck won't serve our members, and it especially won't help our next slate of leaders who will be tasked with producing better results than our leaders have so far been able to achieve.
Kudos to Rep. Roskam for identifying the need to come up with a coherent strategy to unite the GOP. The current fracture between the leadership and the base is not going to disappear, especially if Boehner uses his last 30 days as Speaker to push through a clean CR as is rumored. (He did.) If the House replaces Boehner with McCarthy it will be viewed as the leadership ignoring the base once again. It is possible that McCarthy would acknowledge the desires of the base more than Boehner did, but it would be a long road to prove this and to gain the trust of the base.
We have entered into a dangerous time for the country with an expanded imperial presidency unfettered by the legislative branch and supported by the judicial branch. This president rules by executive order, regulations, and selective enforcing of the laws.
Congress has allowed this because under Pelosi and Reid they agreed with Obama's agenda. The citizens expressed their strong disapproval by dismissing first Pelosi and then Reid by decisive victories in the House and the Senate. Those victories at the elections have never translated into victories in rolling back the president's fundamental changes. This has led to extreme disappointment and anger amongst the base. The passage of the CRomnibus bill is a recent example of this outrage. Rep. Harris said we needed to just pass the CRomnibus so that we could focus on this year's budget. We didn't have time to fight over the previous budget, because we needed to look ahead. Fast forward. Now we are looking at another CR. Hmmm, we didn't fight last time so that we could work on doing it right this time, so now let's just pass another clean CR so we can focus on the next one?
We have been handed that line just a few too many times. They say we will hold the line on that debt ceiling; no, at the budget; no, back to the debt ceiling. The bait and switch doesn't work once people realize that it is happening.
Congress under its present failed leadership has tried one too many times to blame everything on anything except themselves. Like a drug addict in rehab, they need to get clean, and face their inner demons. They were elected to serve their country, not to become rich, powerful men and women addicted to their status and in need of the next cash transfusion from their donors/masters.
The GOP leadership really cannot afford to kick this can down the road now. In the progressive movement, they are facing a ruthless, effective opposition that will stop at nothing to achieve total control of every aspect of our lives.
Housing and transportation zoning codes: Agenda 21 takes care of that.
Education: Common Core destroys that.
Family: Changes to marriage and social mores finishes that off.
Freedom of Religion: Reduced to a personal faith only to be expressed inside the church building, and only as long as they don't get political.
Government medical care: We have you covered, but that doesn't ensure access to care.
We are well on our way to a totalitarian state and the progressives will not stop until they get there or are decisively defeated, not just pushed back for an election cycle or two.
Now, GOP leadership, do I have your attention? Your base understands and is extremely motivated to stop the fundamental transformation that is taking place in this country. We are no longer deceived by your show votes.
I suggest that instead of sneering at your base, the leadership of the GOP should take a brief time to reflect on the course of the nation and come to a plan of action that will encourage its base and present the proper explanations which can be ably defended by many of the presidential candidates as to why we need to defund Planned Parenthood, stop the flood of immigrants that we are not assimilating, and change our foreign policies, particularly our policy towards Iran.
Carly Fiorina is not backing down on the evil that is Planned Parenthood as revealed by the Center for Medical Progress's videos. Congress should join her by forcing a vote on defunding PP and making the President veto it. Show the videos so that the President and his followers are exposed for supporting selling butchered baby organs.
Ted Cruz is standing alone on the floor of the Senate calling out the failed leadership on their collusion in funding Planned Parenthood and the Iran deal.
Ben Carson is not retreating from his statements about a Muslim president.
Many of our candidates are showing themselves to be fearless in presenting their ideas. This should be a lesson to our present failed leadership.
Do not go onto the battlefield without a strategy to win. Once you start, stand by your principles, and go for victory.
The only flaw in this advice is that it assumes that our current leadership is operating on principles when it sadly seems that they are doing the bidding of the highest donors. This is the most plausible theory to explain why the GOP keeps siding with the progressive agenda when it coalesces around the goals of crony capitalism rather than their base. If so, they need to reform or find themselves cast aside like Boehner. Revolutions can pick up momentum. The outsiders may just lead the base to true victory.
When I started this process back in June, the field of Republican presidential hopefuls was still expanding. Now that October is almost here, the roster is shrinking as Rick Perry and Scott Walker have already left and, aside from Carly Fiorina who was promoted to the main event, the half-dozen or so who didn't make the initial Fox Newd debate almost two months ago now are on the endangered list. (Perry was one of the also-rans then; based on the most recent polling data Scott Walker was bound to slide out of the top ten or eleven before the next debate.)
But I'm ignoring the polling data in order to wrap up my personal process. My polling data will have 100% support for whoever comes out on top, and the five remaining points I award for intangibles finishes the 100-point scale, which began with education, the Second Amendment, and energy, then continued with social issues, trade and job creation, and taxation before concluding with immigration, foreign policy, entitlements, and the role of government.
I have decided that those candidates who have served as governors will get one point for that, so the first point accrues to Jeb Bush, Chris Christie, Jim Gilmore, Mike Huckabee, Bobby Jindal, and George Pataki. After eight years where we lacked executive political experience in the White House, I think we need it back.
Up to two more points will be awarded (or deducted) for the candidate's website. Admittedly this is a little picayune; however, the presentation and willingness to be concise and persuasive on issues reflects to me on how they will act accordingly as President.
So there are two candidates who get both points: Rand Paul and Marco Rubio. Both are well-organized and have an abundance of information about where they stand.
Just behind them with very good, one-point websites are Jeb Bush, Chris Christie, Carly Fiorina (whose Answers segment is rather unique), Lindsey Graham, Bobby Jindal, and John Kasich.
On the other hand, I was disappointed with other websites for lack of clarity, poor layout, or a general lack of attention to detail. Ted Cruz falls into that category of one-point deductions, as does George Pataki and Donald Trump.
Rick Santorum loses two points, simply because he has promised an economic plan "in a few short weeks" since June. It's almost like he's going through the motions of having a website.
Finally, there are other issues people bring up which may not fit into one of my categories.
Jeb Bush has an interesting take on cyber security, which will add a point to his score.
Total score for Bush – 3.0 of 5 points.
Ben Carson gets kudos for this piece as only he can, being the one black Republican in the race.
Total score for Carson – 1.0 of 5 points.
Chris Christie fills up his tree by discussing criminal justice reform and having the belief that veterans should be able to use any available medical facility, not just VA hospitals and clinics.
Total score for Christie – 4.0 of 5 points.
Although I could have added this to the role of government, Ted Cruz's actions in defending the Constutution are worth mentioning..
Total score for Cruz – 1.0 of 5 points.
Carly Fiorina answers at least 80 valid questions on her site, and I agree with her on many not brought up previously.
Total score for Fiorina – 3.0 of 5 points.
I checked to see if I alluded to Jim Gimore's stance on climate change when I discussed energy and I had not. He's a skeptic of anthropogenic climate change, which is a point in my book. Otherwise, I've covered his issues.
Total score for Gilmore – 2.0 of 5 points.
I didn't gain anything from Lindsey Graham insofar as issues went, so he just gets the one point for the site.
Total score for Graham – 1.0 of 5 points.
One thing I like about Mike Huckabee's site is the record as governor. Certainly it glosses over some items but it's a helpful reminder he wasn't just a face on TV.
Total score for Huckabee – 3.0 of 5 points.
Something Bobby Jindal addresses on his site, which I haven't seen much of otherwise, is radical Islam. It's worth a point.
Total score for Jindal – 3.0 of 5 points.
I think John Kasich has beefed up his website over the course of this process, turning a negative into a positive.
Total score for Kasich – 2.0 of 5 points.
George Pataki has a poor website that lacks an issue page.
Total score for Pataki – 0.0 of 5 points.
I love the diversity of Rand Paul and his issues, which includes civil liberties and auditing the Fed.
Total score for Paul – 4.0 of 5 points.
Splashed on the front of the Marco Rubio website was a proposal for paid leave, which is a problem. But he is taking the fight to Hillary, which is a plus. It's one of a plethora of items he's placed on his site.
Total score for Rubio – 4.0 of 5 points.
Rick Santorum doesn't tread any new ground with his issues, so he stands where he was.
Total score for Santorum – (-2.0) of 5 points.
Donald Trump has a slightly better website, but still not up to snuff.
Total score for Trump – (-1.0) of 5 points.
It's time to determine who should be our next President – the one who will have a raging mess to clean up.
From the bottom up we go:
George Pataki – 20.3 points
Donald Trump – 29 points
Chris Christie – 39.1 points
John Kasich – 40.5 points
Jeb Bush – 41.1 points
Carly Fiorina – 42.6 points
Rick Santorum – 44.5 points
Jim Gilmore – 45.5 points
Ben Carson – 46.2 points
Marco Rubio – 49.6 points
Mike Huckabee – 52.5 points
Lindsey Graham – 52.8 points
I'm going to stop right there because my top three were head and shoulders above the rest of the field – a nearly 20-point spread. So I'm going to recommend two and endorse the winner.
Ted Cruz finished with 71.1 points. There was a point where he was leading but he slipped in a couple categories.
But where I could see him as an excellent President is his willingness to fight for principle. He hasn't had a lot of success up to now because he's saddled with a body of 99 others who mainly seem unable or unwilling to follow his lead as he tries to restore the pre-eminence of the Constitution.
Rand Paul was second-best with 74.4 points. The overall breadth of his platform is excellent, and while I may not be on board with his foreign policy I think he has learned from the extreme positions of his father. Both Cruz and Paul are champions of limited government, and a nation with a President Paul would rally back to its proper place in the world.
Unfortunately, neither of those two have significant executive experience while the man who has won the monoblogue endorsement does. Governor Bobby Jindal combines that leadership quality with some of those most well-thought out policy positions in the field. He scored 79.3 points, which meant he pretty much won this before the intangibles.
Now I'm aware of the report which was based on "experts" predicting Jindal would be next out. That would be a complete shame because out of all the candidates I can see Jindal being a modern-day Calvin Coolidge – reducing the budget in real terms (as he did in Louisiana), getting government out of the way, and bringing true prosperity back to the nation by allowing us to be an energy superpower.
It's my job to begin reversing those polls and putting a thumb in the eye of those "experts." Bobby Jindal wins my endorsement for President of the United States.
By Cathy Keim
I wrote a piece on Thursday night about John Boehner's upcoming problem with the continuing resolution. To my surprise, Speaker Boehner announced on Friday morning that he would resign at the end of October. He claims that he had the votes to survive Rep. Mark Meadows' (R-NC) motion to vacate the chair, but we will never know now if that was true.
At his resignation press conference he stated:
But more than anything, my first job is — as Speaker, is to protect the institution.
He seemed to think that by resigning he was protecting the institution. Actually, I believe that he was not protecting the institution by his continual acquiescing to President Obama's desires, nor has he stopped the infighting amongst the House members by his resignation.
His self-deception will continue, it appears. In the corporate world when an employee is terminated, they are often escorted to the door immediately. Here, the Speaker is resigning before he can be fired, but he has decided to hang around for another month to help with the transition and has already said that House Majority Leader Kevin McCarthy (R-CA) would be a good Speaker of the House.
Since he is resigning due to conflict, perhaps it would be better if he left posthaste and didn't try to influence the election of the next Speaker.
Here is my original piece. I still think that many of the points are worth reading since Boehner's resignation has not fixed anything. Unless a new Speaker is elected that will replace the failed GOP leadership model, then there will be no improvement and the conflict between the conservative and moderate GOP House members will continue.
(Editor's note: I slightly revised the original piece to refer to Boehner in the past tense as appropriate.)
Original piece:
It is possible that we are seeing the end of the Republican Party. We are rapidly approaching another continuing resolution battle where the fight is between two factions of the GOP rather than between the Democrats and the Republicans. The conservative portion of the House of Representatives would like to stand up and fight even to the point of shutting down the government. The mainstream portion would prefer that they go along to get along.
There are two potential sources of members refusing to go along with the party line: the Defund Planned Parenthood group and the no to Syrian refugee resettlement group (both of which may overlap.)
We may have to call this the Carly Fiorina dilemma: shut the government down to stop the attack on our physical security by importing thousands of Syrians who cannot be vetted by the FBI to ensure that they are not jihadists or shut down the government to stop the destruction of our moral character by the killing of our babies and selling their body parts for profit.
Personally, I am for attaching amendments to the CR to achieve both of these goals. However, as we have seen with the CRomnibus bill and numerous other opportunities, the leadership would rather throw in the towel before the fight begins than stand up to the President.
I am not a gambler, but as Kenny Rogers sang, "You've got to know when to hold 'em, know when to fold 'em." Speaker Boehner seemed to have one policy and that was to fold 'em and run away.
His refusal to fight resulted in the relinquishing of the power of the purse and the complete abandonment of any check on the executive branch of the government.
Speaker Boehner is leaving in part because he was in the unenviable position of being squeezed between the unhappy conservative members. If he insisted on the clean CR he would lose at least 50 conservative Republican votes – meaning he will need Democrat votes to pass his CR.
Had this come to pass, it would have caused Congressman Mark Meadows (R-NC) to call for his motion to vacate the chair. At that point, it is possible that the Speaker would have only been able to retain his position if he had support from the Democrats. He would have retained control as Speaker, but at the cost of being beholden to the opposition party for saving his speakership. There was even talk that Boehner would give subcommittee chairmanships to Democrats.
At some point, you have to ask, is it really worth being the Speaker of the House if it would require destroying your party to retain power? For Boehner, the answer was no.
House Majority Whip Steve Scalise, R-LA, is trying to woo the conservative bloc by offering to use reconciliation as a method to defund Planned Parenthood. Reconciliation only requires a simple majority, as we remember from the Obamacare fight. By using reconciliation, the amended CR could make it to President Obama's desk, where he would promptly veto it and that would be the end of that since the GOP could not get the 67 votes necessary to override a veto.
So what does that get us? Nothing. Planned Parenthood would continue to receive 41% of its funding from taxpayers. Although they cannot directly use the money to fund abortions, we all know that they just shift money around and pretend that it didn't enable them to do exactly what they want to do. PP would continue to abort babies. They would perform about 440,000 more abortions before President Obama would finish his last day in office.
If the GOP leadership would stand up and fight, there could be a chance to save some of those 440,000 babies. If they would refuse to allow thousand of "refugees" into the USA, they would not have to be concerned about jihadists gaining entry through the refugee programs.
Despite the clear and present danger to the lives of our unborn citizens and of violent jihadists gaining entry to our country, Speaker Boehner showed every sign of weepily folding without a fight. And by his staying through October, a grand bargain may well be set in motion.
Rather than hoping that the next president will be a Republican who will fix everything by undoing executive orders, I plead with our current leaders to do what we sent them to DC to do: fight.
Do not brag to me about how many bills you passed in the House when we all know they never made it through the Senate, so they never achieved anything. Stop passing bills that never go anywhere and get a strategy that will actually advance our cause. If we must shut the government down to get the president's attention, then let's do it. All essential personnel are required to work anyway, so the government never really shuts down.
This president has already shown his vindictive streak the last time there was a government shutdown when he "closed" the World War II Memorial and national parks. We know what he will do. Let's prepare an offensive strategy.
We have many vocal Presidential candidates who can very ably make the case to the public that the President is the one that is shutting down the government by his veto. This may be the best possible time to have this battle since the Presidential candidates can use their public time to advance the cause.
Wouldn't you like to see Ted Cruz, Ben Carson, Carly Fiorina, and even Donald Trump explain why we needed to pass the CR with the defund Planned Parenthood amendment and the no refugee amendment?
Speaker Boehner and Senate Leader Mitch McConnell should welcome the help since they have been silent far too long.
In my final category, I have reviewed my previous work to get an idea of just what impact I believe these candidates will have in two distinct directions: right-sizing government in terms of power and in reducing spending to take less money out of everyone's pocket. (Because we don't mandate a balanced budget, this is a little different than strict taxation, although taxation played a role in this effort.)
There are two other factors I think are important here. I believe Rand Paul is the only one on record to eliminate entire Cabinet departments now that Rick Perry is out. Paul will also end the Patriot Act, which should be allowed to expire.
On the fiscal side, Bobby Jindal is a governor who has actually cut spending since taking office. And we're not talking the phantom Martin O'Malley-style "cuts" but actually less money, to the tune of nearly $3 billion from his predecessor in his first budget. Spending has only increased modestly in the years since. (Compare this to Larry Hogan, who was hailed as a budget cutter for only increasing spending a percentage point or two from his predecessor.)
For this understanding of the role of government, they get an extra two points apiece over and above what I would give them.
Ted Cruz gets extra points for this. We need a fighter.
Jeb Bush, of all people, has some idea of how to approach the issue, too. So I gave him an extra point and a half.
I liked what Ben Carson had to say about the size of government so he got an extra point for this. the same goes for Carly Fiorina's critique.
On the other hand, this critique of Mike Huckabee enhances his reputation as a big-government populist, just like John Kasich has his critics. Marco Rubio also has a reputation as a "reformocon" embracing expanding government.
Populism such as that of Rick Santorum can also lead to bigger government.
Since this is a fourteen-point category, I started everyone off with seven points. Things I saw to reduce the size and scope of government got a + on my ledger and things which made government bigger got a (-). I added each + to 7, subtracted each minus, and gave the bonus points to come out with these numbers:
Rand Paul, 14 points
Ted Cruz, 13 points
Bobby Jindal, 13 points
Carly Fiorina, 9 points
Lindsey Graham, 9 points
Ben Carson, 7 points
Mike Huckabee, 7 points
Jim Gilmore, 6 points
Rick Santorum, 6 points
Donald Trump, 6 points
Chris Christie, 5 points
John Kasich, 5 points
Marco Rubio, 5 points
Jeb Bush, 3.5 points
George Pataki, 3 points
So I have come down to a handful of intangibles and a final decision. That will be in my final Dossier post early next week – hopefully the field will stay at 15 long enough to let me write it.
By Cathy Keim
"Action springs not from thought, but from a readiness for responsibility." ― Dietrich Bonhoeffer
"Silence in the face of evil is itself evil: God will not hold us guiltless. Not to speak is to speak. Not to act is to act." ― Dietrich Bonhoeffer
There is going to be another Protest Planned Parenthood rally in front of the Easton Planned Parenthood facility on Saturday, October 10, 2015. Once again this will be in conjunction with over 330 protests across the nation.
Michael covered the last protest but since then several more videos have come out from the Center for Medical Progress. If you take the time to watch them, you will see Planned Parenthood staff discussing that they must be careful how they approach the issue of selling baby parts because it wouldn't play well as a newspaper headline. They were correct on that count. More disturbing, though, is watching as they pick through the pieces of a baby to see how much it would be worth if sold to a tissue procurement firm.
Father Frank Pavone of Priests for Life writes:
In our day, many Christians shy away from the word 'protest,' but there is no reason to do so. To affirm good means to reject evil. To stand up for what is right means to protest what is wrong.

When people realize the atrocities going on in Planned Parenthood, such as the harvesting of body parts, and when they have the courage to view what an aborted baby actually looks like, a voice of protest arises from inside of them: "No, this is wrong; this must stop!"

At that point, every human being is at a crossroads: we either act on that voice of protest or we silence it.
Too many times we squelch the voice of protest because it is easier, we are busy, it would be embarrassing, or we just don't know how to go about protesting. Maybe we feel like it won't make any difference anyways.
And with that decision another part of us dies. Carly Fiorina said at the last debate that:
I'd like to link these two issues; both are incredibly important. Iran and Planned Parenthood. One has something to do with the defense of the security of this nation. The other has something to do with the defense of the character of this nation.

You haven't heard a plan about Iran from any politician up here, here is my plan. On day one I will make two phone calls, the first to my good friend to Bibi Netanyahu to reassure him that we will stand with the state of Israel. The second to the Supreme Leader to tell him that unless and until he opens every military and every nuclear facility to real anytime, anywhere inspections by our people, not his, we the United States of America will make it as difficult as possible to move money around the global financial system, we can do that, we don't need anyone's cooperation to do it. And every ally and adversary we have in the world will know that the United States of America is back in the leadership business, which is how we must stand with allies.

As regard to Planned Parenthood, anyone who has watched this videotape – I dare Hillary Clinton and Barack Obama to watch these tapes. Watch a fully formed fetus on the table, its heart beating, its legs kicking while someone says we have to keep it alive to harvest its brain. This is about the character of our nation, and if we will not stand up and force President Obama to veto this bill, shame on us.
I think Carly Fiorina correctly connects the Planned Parenthood issue as equal in importance to the Iran agreement. The horrible Iran deal weakens our physical security while the Planned Parenthood holocaust destroys our moral character.
We have become so used to millions of lives being stamped out in their mother's womb that we are numb to the horror. It is time to shake off our slumber and rise to the call to action. For many, this first step of standing with a sign in front of an abortion provider may seem difficult, but think of the alternative which is to let your conscience die piece by piece. Once you take action, you will find that it frees you to take other steps.
The media speaks with a monolithic voice to lull you into complacency. Because they repeat the same meme over and over again, people think that everybody is in agreement on the issue.
I talk to lots of people that think that there is nothing that they can do to change things or they think that they are not brave enough to face the disapprobation of their family and friends. Give it a try and see if standing up for the defenseless is not worth the effort.
Another point that Father Frank Pavone makes is:
When you look at the organizations that help sponsor these events, you will find people and groups who pour out their time, money, and energy all year long to provide alternatives to abortion and healing after abortion. Some of the organizers are pregnancy centers and maternity homes. Abortions do not happen because of freedom of choice, but because some people feel they have no freedom and no choice. The same people who come out and protest a Planned Parenthood on a Saturday will volunteer at a pregnancy center during the week. Moreover, they reach out to provide counseling and healing to those who have had abortions. We who reject abortion do not reject those who have had abortions, but rather embrace them with mercy and forgiveness.
As I looked around at our last Protest Planned Parenthood rally, I saw people that use their time and money to help their community in many ways from supporting pregnancy centers, to helping the homeless, mentoring children, and advocating for the value of life at every stage. These are the acts of free people choosing to help others. The government would prefer that we numb ourselves with senseless entertainment while they control how everyone lives.
Join us as we protest against the evil of abortion and selling baby parts for profit. Let us stand for the defenseless.
Think back with me, if you will, to those frosty days of last winter and early spring. Remember when Rush Limbaugh seemed to mention Wisconsin Governor Scott Walker on an almost daily basis as a guy who knew how to take it to liberals? There was a point where people were openly clamoring for him to get in the GOP race, thinking he – not Jeb Bush – was the man to beat. After all, the Democrats had thrown the kitchen sink at Walker three times without beating him, even after he stared down the unions in Wisconsin and got them to blink.
In the post-mortem of Walker's shuttered campaign, my take in general is that he shouldn't have waited until June to get in. Had he jumped sooner, it's possible that some of the others at the bottom may have taken a pass because he may have used his reputation to line up support. Granted, I'm sure some of his most inside people knew weeks in advance what Walker's intentions would probably be, but waiting until later can be seen as indecisive or not having the fire in the belly.
But I want to talk about my thoughts on Walker as a potential President. As my faithful readers know, I do a lot of reading and comparison on candidates to find the one I think is best. He or she may not be on top in the polls at the moment, but this is after all the time for choosing.
Early on, based on reputation, I thought Scott Walker would be one of my top picks but he disappointed me at every turn. I didn't see him as the conservative answer we needed on several issues, and his sliding back and forth on a few was worrisome. At the time of his suspension I had just wrapped up the dossier on entitlements and he had a plan that was somewhat conservative but also had some strains of big government like age-based tax credits. With me, he never really got the traction to get out of the middle of the pack.
On the other hand, Rick Perry usually did well and he would likely have finished in my top 5 based on his thoughts about shifting power to the states in many areas. But he was outside the top ten cut, so no one really noticed he was withdrawing.
Walker's rapid decline in the polls came as people began coming to the realization that he was a nice enough guy and maybe can fight on a state level, but not a particularly accomplished debater. Truthfully, he wasn't adding much to the race until his Hail Mary regarding curtailing public sector unions and establishing national right-to-work. (States would be allowed to opt back out, so never fear – the Democrats who run Maryland into the ground would have demanded a Special Session to appease their union toadies.)
It's a great idea, but it looks like someone else will have to run with it now.
While the category of entitlements is worth 13 points, the only people who would get all thirteen are the ones who would embark on an orderly sunsetting of all the familiar entitlements: Social Security, Medicare, Medicaid, and Obamacare. I don't think any of the contenders would go that far, but we'll see.
But it also helps to tell me about their vision of the role of government, for the perfect candidate would be most interested in limiting the size and scope of government to a Constitutionally appropriate level. Those who are most willing to divest power to the states and stay out of their affairs will do best. That last part is worth 14 points but also depends quite a bit on previous categories such as education and taxation, among others, as well as fiscal responsibility.
We will then be down to the catch-all category of intangibles and the coveted monoblogue endorsement.
Since he dropped out of the race, I'm off the hook for Rick Perry. That's sad because he was tracking as a dark horse in my race. Nevertheless, I soldier on with 16 contenders now.
It's pretty much given that GOP contenders would drop Obamacare like a bad habit, so the question is: what comes after?
Among other things, Jeb Bush's plan would shift the program to the states, with the federal government maintaining a hand in catastrophic coverage and tax credits for premiums.
Ben Carson is a strong supporter of health savings accounts, which have the benefit of allowing people to share their burden. His idea is to have the government fund each for $2,000 per year.
Chris Christie hasn't put forth a replacement plan – but he expanded Medicaid in New Jersey under Obamacare.
Allowing people to buy health insurance across state lines through the Health Care Choices Act is the Ted Cruz plan.
"Let's try the free market," says Carly Fiorina, with states managing their own high-risk pools.
Jim Gilmore thinks there are good things about Obamacare, such as the ban on denial for pre-existing conditions and coverage by parents to age 26 but he thinks states can handle those. He would favor a proposal offered by Rep. Tom Price in 2013 that encouraged interstate sale of insurance, premium tax credits, and HSAs.
Lindsey Graham isn't specific about "cost-effective, market-driven reforms" aside from favoring association plans.
I think the Mike Huckabee solution is to pass it on to the states.
As he has in other areas. Bobby Jindal has an exceptionally comprehensive plan to replace Obamacare.
John Kasich would adopt what he calls the "Ohio Model" nationwide.
Whatever George Pataki does to replace Obamacare, it would include the pre-existing condition regulations.
Rand Paul favors HSAs, allowing insurance to be sold across state lines, and a tax deduction for all health care expenses.
Tax credits and regulatory reform highlight the Marco Rubio plan.
Rick Santorum has backed HSAs, tax credits, and selling insurance across state lines but now advocates "federal support for everybody to be able to go out and get the plan they want."
Through a spokesman, Donald Trump's campaign vowed to make insurance available across state lines and give individual tax relief.
Scott Walker plans to revert authority to the states and install sliding-scale tax credits based on age to go with the HSAs and selling policies across state lines.
On Medicaid:
On Medicare:
HSAs may be the panacea for Medicare, too. Why not? Ben Carson seems to have one solution.
Means-testing, increasing the eligibility age, and standardizing deductibles make up the Chris Christie plan.
Ted Cruz opposed the "doc fix" bill because he wanted reforms to give seniors "more power and control."
The same "get our house in order" argument applies here for Carly Fiorina.
I found nothing to pin down Jim Gilmore's position.
Means-testing and raising the eligibility age are reform starting points for Lindsey Graham.
"I will kill anything that poses a threat" to Medicare (as well as Social Security), Mike Huckabee thunders.
Premium support and Medigap reform highlight Bobby Jindal's plan.
John Kasich argues entitlements have to be "innovated" to survive.
George Pataki would increase co-pays.
Rand Paul sponsored Medicare reform legislation in 2013 that would have voucherized Medicare, but he's supposedly backing off that a little bit now.
The Marco Rubio vision for Medicare would involve a premium support system, based loosely on Medicare Advantage.
Rick Santorum would change it via increasing the eligibility age or changing the COLA structure.
Because it's "not fair," Donald Trump won't cut Medicare (or Medicaid.)
In 2013 Scott Walker was in favor of cutting Medicare (and Social Security) but it would likely fall on younger workers.
Social Security proposals seemed to fall into three tiers. Most candidates, with the exceptions of Gilmore, Huckabee, Jindal, and Trump, would raise the retirement age. But few (Bush, Christie, Paul, Rubio, and Santorum) advocated for means testing and fewer still (Cruz, Jindal, and perhaps Kasich) had the guts to advocate for partial privatization. Ben Carson even went a bit farther with the idea to allow for wealthier seniors opting out (although it sounds like the money paid in would be forfeited.)
I wasn't expecting high scores, so it's no surprise my best candidate has just 7 points.
7 points – Bobby Jindal
6 1/2 points – Ted Cruz
6 points – Ben Carson, John Kasich
5 points – Rand Paul, Scott Walker
4 1/2 points – Jeb Bush, Lindsey Graham, Marco Rubio
4 points – Rick Santorum
3 points – Chris Christie, Jim Gilmore, George Pataki
2 points – Carly Fiorina, Mike Huckabee
1 point – Donald Trump
Next will be the last major category, role of government.
As soon as I heard a commercial from CNN comparing tonight's Republican presidential debate to a prizefight, I knew it wouldn't be worth watching.
The thing I find most interesting, though, is that by elevating Carly Fiorina to the "big kids table," the withdrawal of Rick Perry, and the absence of Jim Gilmore for whatever reason, they had just four for the initial debate: Lindsey Graham, Bobby Jindal, George Pataki, and Rick Santorum.
Now I am a transcript guy – I would rather just read a speech than watch it because it takes me five minutes to work through an hour-long speech in real time. But I think the also-ran debate came closest to my idea when this all started, and it would probably be great reading because with only four contenders and 90 minutes to kill, we could actually have either good depth or a great variation of questions.
And even in those four you have a good variety of viewpoints: two governors and two Senators, with one of the governors also having Congressional experience. One of each category is currently in elected office while the other has been in the private sector for a decade. They also run the gamut from the moderate wing of the party to the social and fiscal conservative outskirts.
On the other hand, the other 11 in the later debate will have most of the oxygen sucked out of the room by one Donald Trump. So far in the campaign I have been less than impressed with him, but Trump is on top of the polls because a lot of people want a complete shakeup in Washington and assume he's the guy for the job.
So I'm sure the coverage and spin will be all about what The Donald said, did, and had for a postgame meal. Will that make the voters any more informed? I doubt it.
Generally speaking, the media as a whole is not favorable territory for conservatives. Particularly in the last two cycles, we have seen the media given the perception that they shaped the GOP campaign. John McCain was a media darling until Barack Obama secured the nomination and McCain chose the then-obscure and tough-taking Governor Sarah Palin for a running mate. All media passes expired at that point.
In the 2012 campaign we had a similar phenomenon to the Trump insurgence at about the same point in the campaign. It came from an outsider who made his mark in business and had the additional appeal of being a minority and a cancer survivor, with an economic plan that would change the entire system. It was simply amazing how much dirt was found on Herman Cain, and if you ask me, the media was scared to death that Cain could beat Barack Obama by being a competent minority who is conservative. If Ben Carson pulls ahead in the polls, you can bet your bottom dollar they will be out to find or make up something that will stick.
So it makes me wonder why the media hasn't really gone after Trump, hounding him like Palin or Cain. I just have that sense that the dirt on Trump is waiting until he closes in on the nomination and it's too late to change.
There is the chance such an event would further galvanize support for Trump, but as much as they have glossed over Hillary's record I doubt it. (While the GOP debates are being promoted as must-see TV, it's interesting to me how they have limited the Democratic debates to a half-dozen or fewer. Less risk of a gaffe.)
If you were watching I hope you enjoyed it, but I had more productive pursuits this evening.
Subtitled, the year of the monsoon.
I found this year I took very few pictures compared to past years. Some of that was the weather, where the skies gushed forth just before our slated 1 p.m. start. It forced us all under the pavilion but those on the outside rows were still soaked.
This also meant the silent auction was ruined. We ended up with a live auction later.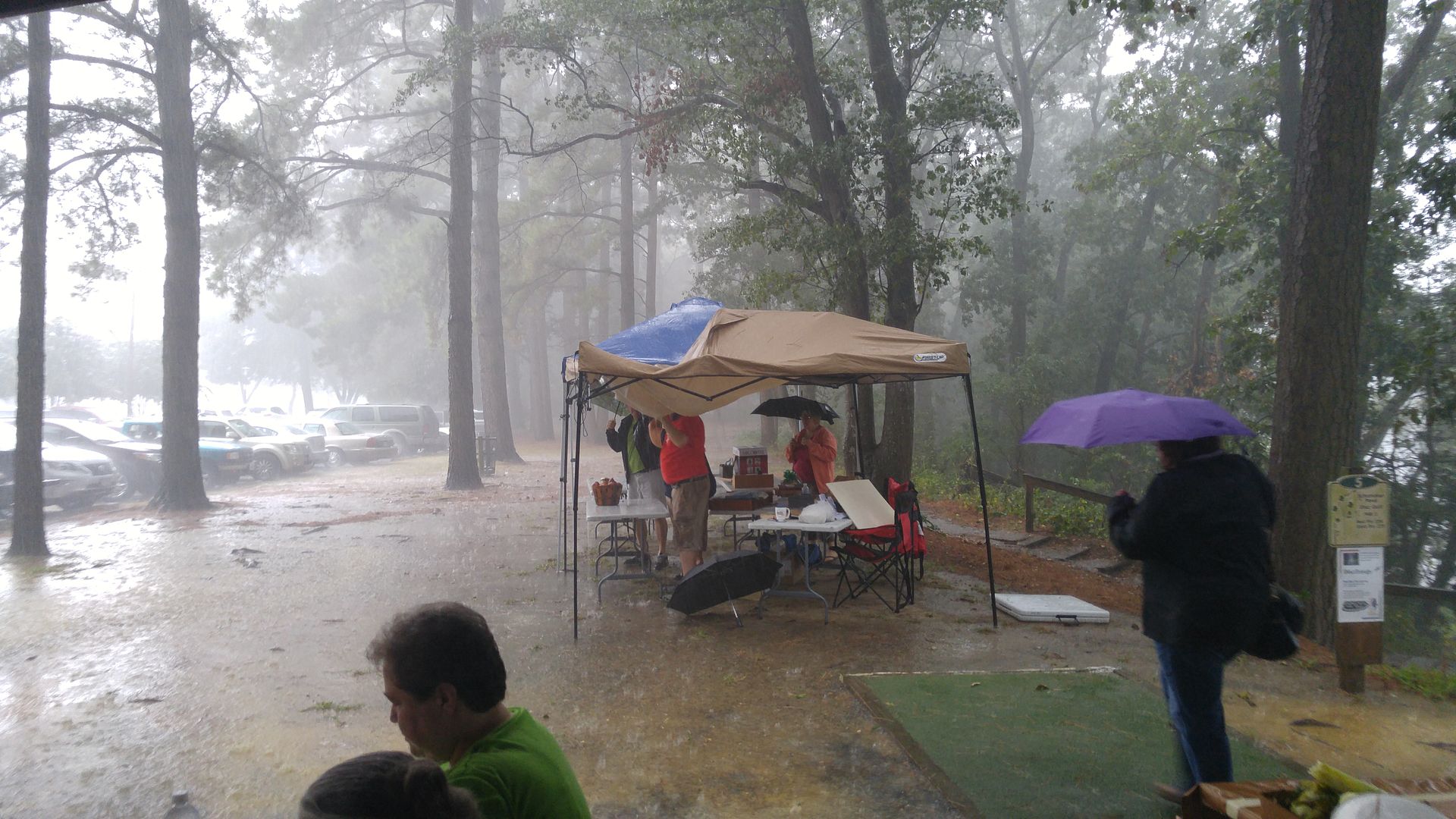 Yet the pouring rain didn't spoil everything. We made a special presentation to Jim Jester, our club's volunteer of the year. A plaque is one thing, but a fine cigar can be quite another. Both were kept dry.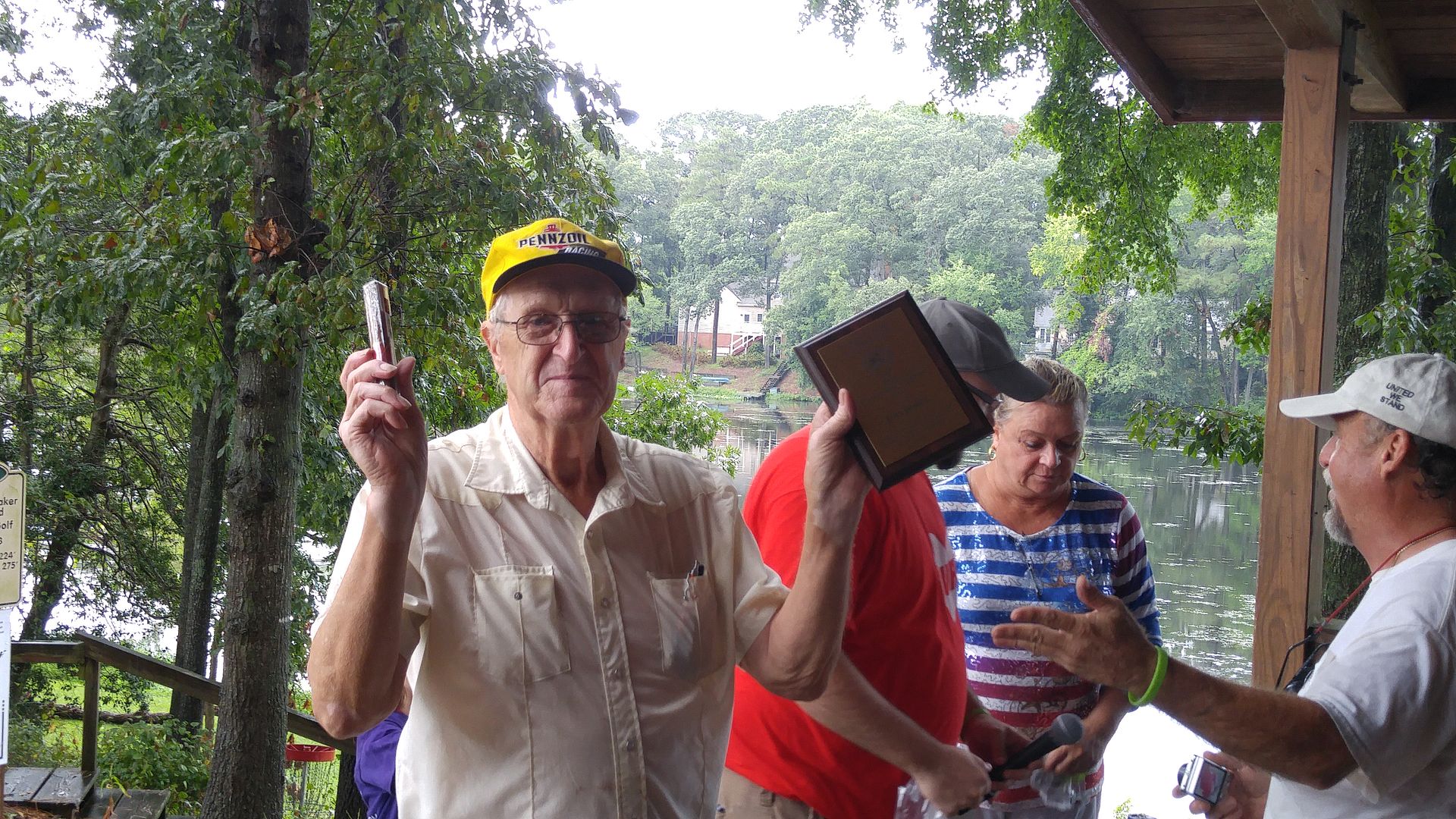 And the crabs apparently were good because we had to do a quick order for another three or four bushels. (The crab eaters at my table gave them good reviews.) The corn also went fast, but at least some of the produce was donated.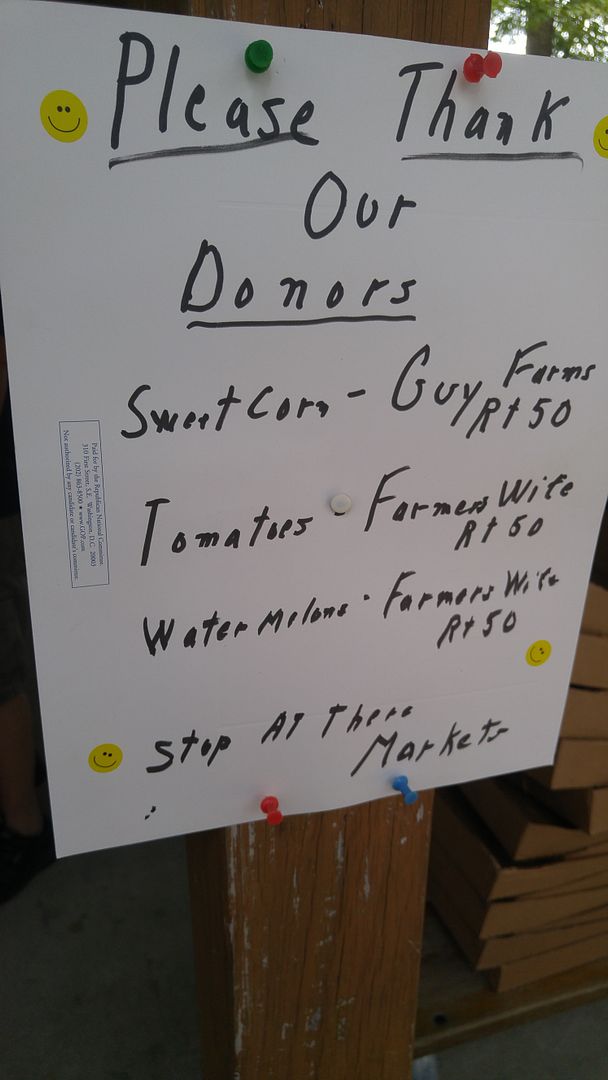 While the elected officials didn't speak formally, most made the rounds of the event. Being early in the term, they didn't need to campaign, but the awareness group We Decide Wicomico had a number of yard signs.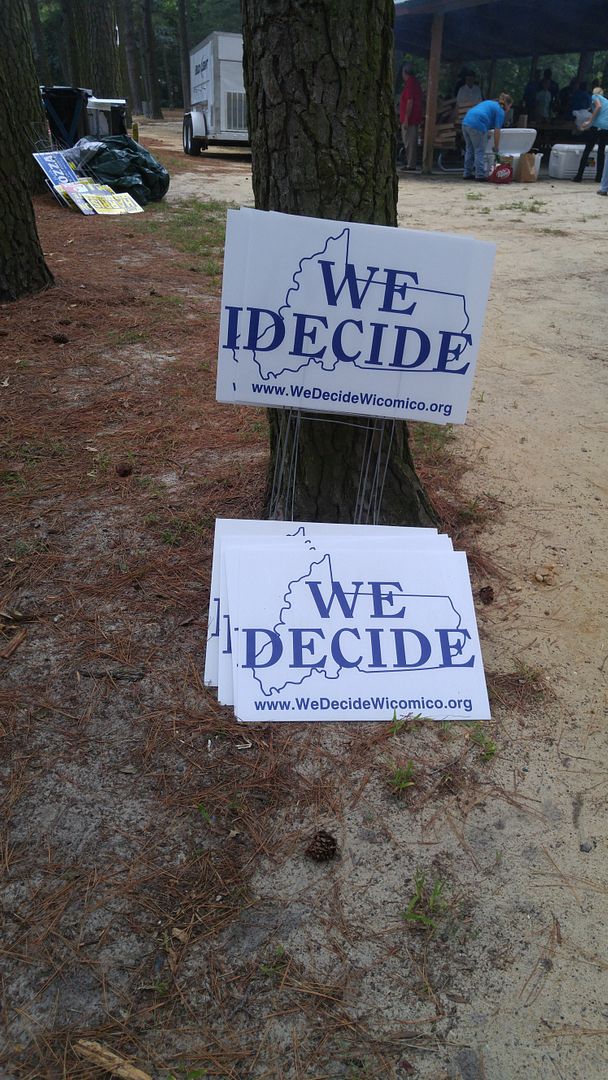 There were a lot of elected officials there, but I think the award for coming the farthest goes to Johnny Mautz. I grabbed the photo from Julie Brewington since she tagged me in it.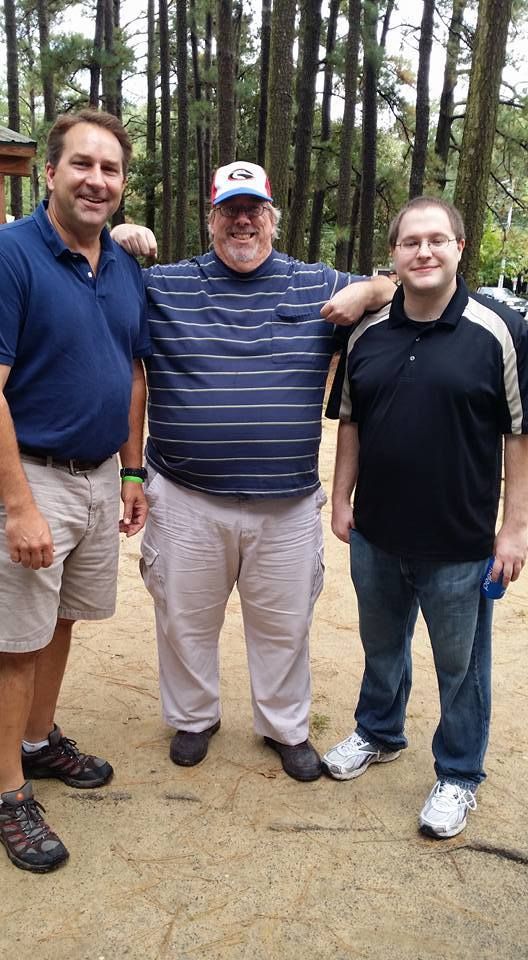 We also had Senator Addie Eckardt, Delegates Carl Anderton, Mary Beth Carozza, and Charles Otto, and a host of local pols from County Executive Bob Culver on down. But the most surprising no-show to me was Congressional candidate Mike Smigiel, who I figured would drop by. Granted, a Congressional district has a lot going on during any given Saturday but there was nothing I noticed on his calendar except a missed opportunity.
Hopefully the 2016 version will avoid the monsoon and make a lot of money for the club. Once the rain left, it wasn't a bad afternoon and some people ventured to the outside tables. Let's if we can't fill the outside tables as we have before and have a lucrative silent auction.
As I work my way up to the most important aspects of deciding on a Presidential candidate to back, I come to foreign policy which will be worth 12 points.
In doing this part, I'm going to make the assumption that, by and large, these candidates will represent a sharp turn from the disastrous direction our foreign policy has taken under our current President and (for one term) his presumptive Democratic replacement. So since these candidates will represent a sea change, I also want to know how much of a priority they place on it. This will actually make my research easier since I will do it specifically from their campaign websites, including their position papers and news they link to.
For various reasons, I'm ambivalent about certain aspects of foreign policy but I want those who oppose our nation treated as enemies and those who back us to be embraced as friends. I'm no longer convinced we can build nations as we tried to do in the Middle East but regard radical Islam as a threat which will require a Long War to neutralize and contain.
Thus, it's time to see how they do.
Not only does Jim Gilmore have a comprehensive approach to foreign policy on the website, in all aspects save one it is spot on. My lone quibble would be the wisdom of creating a NATO-like defense pact with Middle East nations against Iraq, one which would include Israel. Aside from that, he has charted an impressive course that tops the field.
Total score for Gilmore – 11.5 of 12.
Lindsey Graham is basing his campaign on being the national security hawk, so you better believe he has a plan. Parts of it may be a difficult sell, but it's combined with some ideas on the domestic front as well, Overall, a great effort.
Total score for Graham – 11.0 of 12.
In establishing the "Rubio Doctrine," Marco Rubio has hit on many key points and included others, such as our relationship with Europe. But to me it may be a little too interventionist because we don't need to be the world's policeman and that's how I interpret the statement. Nor do I support making Section 215 of the Patriot Act permanent. It's why Rubio doesn't have a higher score.
Total score for Rubio – 9.0 of 12.
Focusing more on national defense and the failures of the Obama administration, it seems that Bobby Jindal is a firm believer in the old Reagan-era "peace through strength" doctrine. Some will certainly call him a neocon, but he presents a compelling case for returning to that brand of thinking. However, he doesn't consider the civil liberty aspect of his ideas, and that drops him slightly.
As he did on energy, though, he presents a very comprehensive plan.
Total score for Jindal – 8.4 of 12.
Jeb Bush stresses three things when it comes to foreign policy: the war on radical Islam, our friendship with Israel, and the mistake we are making in normalizing our relationship with Cuba without demanding democratic reforms first. He has a very detailed plan to address radical Islam, but it may be a tough sell to the American people because surely the Democrats and the media (but I repeat myself) will be talking down those efforts.
Yet there is an elephant in the room ignored – or perhaps a bear and a dragon. Admittedly, Bush's website is a little frustrating to navigate but I found no mention of Russia or China and how he would address those nations. Overall, though, his effort is solid.
Total score for Bush – 8.0 of 12.
Eight years ago, the thing that sank his father's campaign with me was an unrealistic, isolationist view on foreign policy. Rand Paul is a little more flexible in that regard, and is hesitant to return to the Middle East because of it. He believes that we should not go it alone in that theater, and to that extent he is correct. I'm not as certain how he would deal with other enemies in a Cold War-style situation, though, which is why I hesitate to grade him higher.
Total score for Paul – 7.5 of 12.
Scott Walker is set against radical Islam and the Iranian deal, but I'm not as certain how he will react against others who threaten us. He seems to want to follow a Reaganesque path, but it's worth noting that we withdrew from the Middle East under Reagan. Will Walker buckle under that pressure?
Total score for Walker – 7.0 of 12.
The conventional wisdom was that Ben Carson would be weak on foreign affairs as a political neophyte. So while he is for keeping Gitmo open, noting plainly that we should be a friend to Israel, warning about Russian aggression, and decrying the poorly thought-out Iran nuclear deal, it's done as a broad statement rather than a detailed approach. It may be fleshed out in coming months, but for now it isn't as strong as some others.
Total score for Carson – 6.0 of 12.
Similarly to Carson, Carly Fiorina had spoken in broad, big picture terms on her foreign policy. But she vows on day one to reassure Israel about our friendship and tell Iran that their deal is going to change to allow more surprise inspections. She's also vowed to send a message to Vladimir Putin through various strategic moves like reinstating an Eastern European missile defense system and rebuilding the Sixth Fleet. It's a promising start.
Total score for Fiorina – 6.0 of 12.
Chris Christie has a relatively comprehensive foreign policy vision which is global as it mentions both friends and foes. However, there are two issues that I have with it. One is the civil libertarian aspect of continuing Patriot Act provisions, which Chris avidly supports, and the other is about not treating China as an adversary. Until they stop pointing missiles at us, threatening the sovereign state of Taiwan, and manipulating currency to benefit their economy at our expense, I consider them a foe. Communism and Constitutional republics are mutually exclusive.
Total score for Christie – 5.5 of 12.
Ted Cruz seems to have his head on straight regarding foreign policy, but the information is so piecemeal I had a hard time digesting it all. A for effort, D for presentation.
Total score for Cruz – 5.0 of 12.
I have much the same problem with Rick Perry. For example, he did a major policy speech last year that was warmly received – but it's hard to tell how he would react to newer crises. Aside from immigration, he seems more a domestic policy president.
Total score for Perry – 5.0 of 12.
With Mike Huckabee, as I read through his site I get the sense that we will have a reactive foreign policy more so than a proactive one. For example, he decreed that we should hack China back after they hacked into our computer systems. It seems to me that would be an expected move but not necessarily strategic. While he stresses Israel a lot, he seems a little simplistic so I don't get that great of an impression.
Total score for Huckabee – 4.8 of 12.
John Kasich seems to want to tie the extent of his foreign policy to the extent of the economy, noting we can afford enhanced defense spending as we improve the economy. But I don't really see what he would do in terms of relationships.
Total score for Kasich – 4.8 of 12.
With a foreign policy primarily focused on the Iranian deal and using Kurdish proxies to subdue ISIS, there's a lot I'm left wondering about when it comes to George Pataki. So he doesn't score very well.
Total points for Pataki – 4.0 of 12.
I can tell you that Rick Santorum doesn't like the Iran deal and wants to bomb ISIS back to the 7th century. As for China, Russia, and how to pick up the pieces afterward, who knows?
Total score for Santorum – 2.0 of 12.
After doing well on immigration, Donald Trump falls again on foreign policy. There is rhetoric and there is a plan, and Trump has plenty of former and not much on the latter.
Total score for Trump – 0.0 of 12.
My next part is worth 13 points; however, I suspect scoring will be low because my view on entitlements is decidedly more libertarian than the field will likely present.
It's been a tough year for Big Labor. From the worker freedom side, states are switching over to right-to-work status which gives the working man the ability to put hundreds of dollars more in their pockets annually by reducing or eliminating the forced payment of union dues. Meanwhile, the environmental lobby has grabbed the attention of the Obama administration from the left, meaning no Keystone XL pipeline the Teamsters support and a more rapid demise of the United Mine Workers union thanks to EPA regulations discouraging the use of coal. Ironically, Big Labor has allies on both those environmental issues in the Republican Party they rail against while shoveling millions to those who support the environmentalists.
But today I want to take a brief look at the former issue. In the next few months, there's a good chance that Missouri could join the ranks of right-to-work states despite the fact it has a Democratic governor – the GOP has significant majorities in both houses of its legislature so it's merely a matter of intestinal fortitude on their part.
After that, though, the pickings are far more slim. Most of the remaining closed-shop states have either a Democrat-controlled legislature – which means any right-to-work legislation is dead on arrival, as is annually the case in Maryland – or a Democratic governor who won't sign it and knows the votes aren't there to override. That eliminates most of the states which toil under closed shops.
A couple exceptions to this are Alaska and Ohio, but these states aren't promising for different reasons. Alaska has a Republican-controlled legislature and a governor who is a Republican-turned-independent who ran on a unity ticket with the Democratic nominee to defeat former GOP Gov. Sean Parnell. But there's no real push to adopt such legislation as it appears the energy industry, which is the state's predominant private employer, is comfortable with the closed shops.
On the other hand, Ohio tried to pass right-to-work reforms in 2011 but they were overturned via referendum that same year. In an election year with solely local offices on the ballot, Big Labor was able to mobilize its army of volunteers and fool enough of the others to win a sizable victory. And while the dire predictions that the defeat of right-to-work would make Gov. John Kasich a one-term governor didn't pan out, the current Presidential candidate has no appetite to go through that fight again. Moreover, GOP members of the Ohio legislature aren't going to risk anything that could enhance Democratic turnout in a state Republicans need to carry in 2016.
So the fight in Missouri may be the last right-to-work battleground for awhile. It may be Labor Day of 2017 before we get significant movement one way or the other.