No, I'm not talking about a political figure today. Instead, I received an e-mail from the American Wind Energy Association telling me about the state of the wind industry and how its costs are falling rapidly. (This blog post at Into the Wind, the AWEA blog site, has the same information.)
If you look at points 1 through 4, they make varying amounts of sense. With the maturation of the market, it's no stretch to assume that costs would go down just as they would for any technology. Personally, though, I disagree with the premise that additional carbon emissions are necessarily bad, particularly when the idea is to blame them for climate change. Nearly two decades of steady temperatures combined with the increasing emissions seem to me a fairly good testament that increasing emissions aren't the problem.
It's point number 5 that's the payoff for me, because I knew it would be coming sooner or later.
5. Policy support is still essential for the U.S. to keep scaling up renewable energy

The Lazard study also highlights the need for clear, long-term policy support for renewable energy. While projects located at some of the best wind resources in the country are now cost-competitive, it notes that this is still not the case in most regions. The most recent expiration of the Production Tax Credit (PTC) resulted in a 92% drop in new wind projects from 2012 to 2013.

The PTC helps correct for flaws in our electricity market design that do not value wind's benefits for protecting the environment and consumers. Wind energy creates billions of dollars in economic value by drastically reducing pollution that harms public health and the environment, but wind energy does not get paid for that even though consumers bear many of those costs.

Wind energy also protects consumers from price increases for fuel, but that is not accounted for in the highly regulated electricity market because other energy sources get to pass their fuel price increases directly on to consumers who have little choice in the matter.

Policies like the PTC correct for those market failures to reach a more efficient market outcome. The PTC has expired, however, for any project not started by the end of last year. An extension is now urgent to avoid shutting down the U.S. manufacturing base, and to ensure that more wind farms are built so that more consumers can benefit from these record low prices.
Yet what if the lack of subsidy isn't a market failure as they describe? In the original blog post there's a graphic which shows that every time the tax subsidy is cut, the amount of wind capacity installed plummets. Between that subsidy and the various renewable portfolio standards enacted by many states (including Maryland) it seems to me they artificially prop up the wind energy market, which can't stand on its own otherwise. This approach is the same argument which posits a carbon tax is necessary because fossil fuel users aren't paying for the supposed destruction of the environment and public health they create, but discounts the increased standard of living brought on by the usage of reliable sources of electricity to, among other things, improve public health.
Another thing worth pointing out about these studies and reports is that they look strictly at land-based wind turbines. While they are falling in price, researchers around the world are finding that residents nearby are complaining about a litany of health issues derived from the constant noise. Naturally, naysayers would contend that other methods of power generation, such as fracking, also have ill effects but these are anecdotal as well.
So while offshore wind would seem to be a solution, the cost is far more prohibitive. Maryland's 2013 offshore wind bill, for example, subsidizes the effort through both an increase in the required renewable energy portfolio and $1.7 billion in direct subsidy over 20 years, parceled out as an $18 annual surcharge to residential consumers and a 1.5% hike for businesses. (A business paying $1,000 a month, such as a restaurant, would have to add $180 a year.) Naturally this doesn't take into account the penchant for our General Assembly, once a new tax or surcharge is enacted, to declare it's not enough and raise the tariff accordingly. I give it no more than 5 years before someone demands to raise the fee to $30 or $40 annually and hike commercial users up to a 2% or 3% a month surcharge just to keep the business in Maryland's waters.
It would seem that wind power is a logical way to create electricity in certain locations and situations, but for general use it has the drawback of not being as strictly reliable as fossil fuels are. The fact that we have to create a renewable energy portfolio tells me that the market has otherwise spoken.
We really haven't heard about this as an issue for the 2014 election, but I would presume the Brown administration would continue on this path as they promise to:
Expand our renewable mix with investments in (read: subsidies for) Maryland-based solar and wind, which can both create new jobs and reduce air pollution that affects the health of everyday Marylanders.
It would be my hope that Larry Hogan would revisit this effort, backing legislation to eliminate this expensive renewable energy portfolio and repealing the prospect of higher electricity rates come 2017 – at the very least, recast this scheme as an opt-in program just like consumer choice has already created with companies like Ethical Electric, which I wrote about last year. Let the market decide how much it wants to support the renewable energy boondoggle, and how many of us simply crave the reliability of knowing that when we flip the switch, the light will turn on.
Over the last few years, there's been a fairly quiet development in the film industry, one which highlights faith-based stories. The other day I found out about a documentary film which looks at the state of religion in America, with the unique pitch of turning places of worship into its world premiere theaters.
It was passed along to me via the vast mailing list of Rick Santorum's Patriot Voices organization, but Santorum's EchoLight Studios has put together a documentary called "One Generation Away." The title borrows from the Reagan speech where he warned freedom is never more than one generation away from extinction. Naturally, the film has its naysayers from the secular community, but those who have a basis in their faith must feel like persecuted second-class citizens these days.
Yet given the obvious role of church as gathering place and the investments many have made in their own theatrical-quality audio and video systems, the Santorum strategy of pitching the documentary and other upcoming EchoLight movies as something to be seen at a church (as opposed to a regular theater) has some merit. As they sell it:
Imagine premiering world class, redemptive films in your church, building community within and reaching outside the four walls to engage those within your city.
First of all, while many may balk at being seen going to a theater which is playing that movie, how many would even go to a church to watch it? You could accuse the filmmakers of preaching to the choir, but it seems to me that's what they want to do. There will be some small percentage of viewers who might become churchgoers thanks to the screening, but it will likely be the fellowship which attracts them moreso than the content of the movie drawing any new worshipers back. I could see this being akin to a long sermon, one which doesn't focus on a particular Biblical passage, but the concept of religious freedom in America circa 2014. Notice the artwork depicting a church standing on the precipice – it's obvious those who created the film feel like they're under attack from the secular side of society.
One other advantage of this sort of marketing is that they don't have to fall under Hollywood's rules on what constitutes a successful movie. If "One Generation Away" had gone into theatrical release and grossed, say, $2 million its first weekend, the conventional wisdom would be it was on the bomb on the scale of these from last year. Certainly there would be some cost involved for patrons, but it's likely the distributor won't mind a loss on OGA in the hope to make some back on video sales and build a market for future films. It's not like the OGA movie had a large budget to begin with.
So I checked into the distribution locally and found the movie wasn't slated for any area locations, even as the premiere period began September 1 (it runs through November 28.) More than likely, though, some area church will be interested enough to give it a try.
But the question remains: with Judeo-Christian values under assault from popular culture and the government, is it all up to the Millennial Generation to keep the flame of religious liberty alight? We need more than a movie to answer the question, but hopefully some hearts and minds will be changed.
I've been seeing some comment about a blog post recently penned by outgoing Delegate Michael Smigiel regarding the Maryland GOP not assisting Mike McDermott in his Maryland Senate run against Jim Mathias. There are two damning allegations therein, so I'll speak to both.
First, we have the financial angle:
The Republican Party found it possible just two years ago to support three Republicans running for local county council seats to the tune of $40,000 in a Cecil County race! Now in a pivotal State Senate Race they can not offer the same support? Correct that, they can not offer any support? Even if the party claims financial inability, where are the dollars from Congressman Harris who two years ago gave $40,000 to the party to help those local candidates? Where is the help from the State Senators who have no challengers in their races but have tens of thousands of dollars in their war chests?
I know Smigiel has some sour grapes against certain Cecil County Republicans, but a quick check of campaign finance records finds only a few thousand dollars in contributions to these candidates from the local Republican club and Central Committee – nowhere near $40,000.
As for Andy Harris, he's already assisted Delegate candidate Carl Anderton (as have others) and it may be he's going to chip into McDermott's cause as well.
But the last sentence of Smigiel's is a valid question, particularly in light of his next paragraphs.
Republican State Senators have been told by the Democrat Senate President, "If you get in the McDermott v. Mathias race, you will be punished." So Republican Senators with the ability and the desire to help are not helping because of a concern over their own political comfort. Shame on any Senator in a position to help who fails to help out of fear they may be punished by the Democrat Senate President.

I call it Political cowardice to kowtow to the Democrat leadership on the decision of whom the Republicans should support for election to State wide office.

The Party and individual members of the Senate need to stand up to Democrat leadership and show they will not be intimidated into allowing the Democrat leadership to keep the growth of the Republican party stifled. Rhetoric about freedom and liberty rings hollow when you fail to stand up to tyranny when confronted with it in government. Republican Senators need to stand up and be counted. If you have no opponent and have tens of thousands of dollars in the bank you need to donate to and assist in every way possible in elected fellow Republicans. If you are threatened with loss of your committee seat or any other punishment by the Senate President, then make it public and double your efforts on behalf of the Republican candidate.
So is this a Senate or a fiefdom? Bear in mind that Senate President Mike Miller (Maryland's version of Harry Reid) has a Republican opponent himself, Jesse Peed. Those of you reading this in District 27 should note accordingly.
I did take a peek at Smigiel's last filing, which was the May filing, and it showed he had about $21,000 remaining in his account (with loans outstanding.) Obviously we have nothing newer to go by, but I haven't seen any transfers out from his account yet.
Now I don't know anything about the inner workings of the Maryland General Assembly but I do know bullshit when I smell it. Simply put, the way those bodies are conducted during the 90 days of terror we endure each year reeks to high heaven. Bills which would do a lot of good are stashed in the desk drawers of committee heads, arms are twisted in grotesque ways to get other less palatable bills to pass, and the public's voice is often ignored.
Thus, it doesn't really surprise me that such a punishment threat as Smigiel alleges might exist, but we need someone to stand up and say so. There are some who are no longer in office who could verify such statements because I'm sure these threats aren't new. Maybe Senator Simonaire would have something to say since he was the lone voice of opposition to Miller's re-election as Senate President.
As for the would-be Senator McDermott, he's come out with some interesting items of his own lately. I had intended to take a look at them, but there's one thing I need to put it all together so it can wait a few days. It's all good.
There's some concern in Larry Hogan's campaign about a New York Times/CBS News/YouGov Battleground Tracker Poll showing Hogan again trails Anthony Brown by double digits, particularly after a Republican pollster showed Hogan trailing by just three points last month. This outfit's July poll of over 1,400 registered voters showed Brown on top by 13 points in July, and is computed in the Real Clear Politics average.
The Republican's campaign contends the poll is "so flawed and so misleading that Politico hammered the New York Times for lending their name to this internet survey." YouGov's methods are different than most pollsters, as they conduct their surveys among an audience which opts into the poll via the internet, then weighs the results among demographics. The overall survey even solicits new customers, requesting people to "Join YouGov today to take part in surveys like these and earn money…"
Maryland's race is also interesting because of the relative lack of responses compared to other states. Out of 35 states surveyed, Maryland only beats 12 states in terms of participation. Most of the states Maryland beats are fairly rural and sparsely populated: Alabama, Hawaii, Idaho, Kansas, Nebraska, Oklahoma, Rhode Island, South Carolina, South Dakota, Tennessee, Vermont, and Wyoming. It's not a tremendously representative sample.
Nor is it necessarily reflective of the Maryland electorate. The unweighted sample actually has independents well over their voting strength at 29%, with Democrats comprising 45% and Republicans only 25%. (It's actually close on the GOP.) But weighting the sample as YouGov does places the Democrats at 52%, independents at 26%, and Republicans at only 22%. In reality, according to the latest voter registration figures, Democrats have 55% share, Republicans 25.7%, and independents just 19.3%. So both major parties are undersampled by about 3% apiece.
Polling is all about turnout. While the YouGov survey claims these are "likely voters," in reality those not affiliated with a party are the least likely to turn out for a gubernatorial election. Yet when I reset their polling numbers to a very likely turnout model (that of the 2010 election, which was a muted TEA Party wave election in the state) and distribute the "not sure" voters in the same proportion as those who have decided, I come out with this possible result:
Brown 57.5%, Hogan 40.2%, other 2.3%
I think the reason this turns out the way it does is that the YouGov sample has Brown winning Democrats at roughly the same rate Hogan wins GOP voters. In a lot of ways the YouGov poll is almost a worst-case scenario for Hogan, who needs to both boost turnout for his side to levels last seen in 2002, when almost 68% of Republicans and over 45% of independents came out to vote – in 2010 those numbers were about five points lower – and get far more than the 6% of Democrats the YouGov poll has voting for him. If Anthony Brown can convince Democrat voters to stay loyal to the nominee, the game is over, and that's why Brown's going negative.
In fact, Hogan's campaign added that:
If the MD Democratic Party – with their two-to-one registration advantage over Republicans – honestly thought Brown was ahead, they wouldn't need O'Malley's Democratic Governors Association to spend $750,000 in special interest money on attack ads to bail out his campaign.
So I think the reality is somewhere between the 14 points this poll has Brown leading by and the 3 points Hogan claims he is behind. It just proves there's a lot of work to do in explaining the real record of Anthony Brown and the damage his policies would do to Maryland if he's elected.
Might be the easiest post I've had in awhile – all I have to do is cut and paste since I wrote it in the first place.
FOR IMMEDIATE RELEASE
Lt. Col. Allen West headlines Wicomico County Patriot's Dinner to be held September 27
Former Congressman and Iraqi war hero headlines election prelude and fundraiser
The Wicomico County Republican Central Committee is proud to announce their first Patriot's Dinner will feature former Congressman, Lt. Col. Allen West.
Describing himself as "steadfast and loyal," Lt. Col. West grew up in the same Atlanta neighborhood where Dr. Martin Luther King Jr. once preached. After serving 22 years in the Army, including combat in Operation Desert Storm, Operation Iraqi Freedom, and Afghanistan, West retired in 2004, later serving as a civilian military adviser in Afghanistan.
In 2010 he was elected to serve in Congress, representing Florida's 22nd District. After being redistricted to the 18th District, he lost a bid for re-election in 2012 by less than 1% of the vote. Since serving in Congress, West has become a Fox News Contributor, a Senior Fellow at the London Center for Policy Research, and regularly writes for numerous media outlets. He recently served as a guest host for Sean Hannity's radio show.
"This will be an opportunity for local residents to meet and hear the most famous conservative to visit the Lower Shore within memory," said Wicomico County Republican Party Chair Dave Parker. "West loves his country and its Constitution more than its government or his own skin color, and proves that people of every race can be Christian, patriotic, and conservative."
"Every time I've had the honor to hear Lt. Col. West speak, I have been invigorated and encouraged," added Wicomico County Republican Club president Jackie Wellfonder. "We are very grateful for the opportunity to have him here on the Eastern Shore as we get closer to election day in November. It is my hope that his message will promote a deeper level of engagement with our local conservative base."
A number of public and private events are slated with West:
4:30 p.m. – Private reception with the Salisbury University College Republicans.

5:00 p.m. – Allen West Guardian Roundtable, to benefit West's Guardian Fund PAC. Donation is $1,000 for Host, $500 for Patron, $250 for Sponsor. Attendees also receive an autographed copy of West's new book, Guardian of the Republic.

6:00 p.m. – VIP Reception and Pictures with West, to benefit the Maryland Republican Party. Donation is $150/person or $270/couple.

7:00 p.m. – Patriot's Dinner featuring Allen West, to benefit the Lower Shore county Republican parties. Donation is $65/person or $115/couple.
The College Republican reception, Guardian Roundtable, and VIP Reception will be held at the Ward Museum of Wildfowl Art, 909 South Schumaker Avenue in Salisbury. The Patriot's Dinner will be held at the Wicomico Youth and Civic Center, 500 Glen Avenue in Salisbury. Attendees of the Guardian Roundtable or VIP Reception will also get free admission to the Patriot's Dinner.
The Republican Central Committee asks that those interested in attending the VIP Reception or Patriot's Dinner register and pay through their website or mail check payable to WCRCC with the mail-in form at the above site by September 20, to WCRCC, PO Box 252, Salisbury, MD 21803.
###
I took the liberty of deleting the media contact because I know his number already – note, though, it's not me. I also can install the direct link to the page, and add this photo I have with Lt. Col. West from CPAC 2013. I wonder whatever happened to the Next Generation idea they were pushing – it sort of faded away after West left the scene late last year. Onward and upward, I guess.
Truly, I think this will be a fun event. We originally wanted the good Colonel to be our Lincoln Day speaker this year but couldn't make a spring date work – so we did the next best thing. I'm hoping that we get a good enough crowd to encourage more interesting, nationally-known speakers to come to Salisbury for our events. Who would you like to see?
So yesterday I spread this out to a batch of media outlets. Let's get people excited and motivated, shall we?
Believe it or not, this feature which used to be a staple of my site has gone dormant for over 18 months. But I decided to resurrect it because all these financial reports I've been doing as well as other regular features have taken up my time and allowed my e-mail box to become dangerously full of items which were rapidly running out of shelf life. So here you go: the return of odds and ends for what promises to be a cameo appearance.
As evidence of that shelf life, I wanted to bring up a thoughtful piece by my friend Rick Manning – not to be confused with the former Cleveland Indians outfielder – regarding the prospect of a continuing resolution for federal spending which would expire in December, necessitating a lame duck session.
Manning is right in believing that the strategy is fraught with peril, and if the pre-election polling is correct and Republicans take over the Senate come January this only invites Democrats to lay a few traps as they back out the door. Of course, if Congress (read: the Senate) would actually do its job and get the budget work done before the federal fiscal year begins on October 1, this wouldn't be a problem.
One Senator, Rand Paul, received some criticism from Timothy H. Lee of the Center for Individual Freedom, who noted Paul's flip-flop on foreign policy neatly coincided with a shift in public opinion regarding the Islamic State.
Returning to the fold of NetRightDaily – which has been on a content roll lately – I found someone who agrees with me on the Seventeenth Amendment. Tom Toth lays out the case, although I think we should do a couple other amendments first. Obviously this would probably change the composition of the Senate rather quickly to an almost perpetually Republican body, but someone needs to look out for the states and that element is missing in modern politics.
Something else Congress should get to (but probably won't) are curbs on civil forfeiture, the subject of a recent push by the Institute for Justice. The bills themselves were introduced back in July by Sen. Paul and Rep. Tim Walberg, but while IJ has been doggedly against what they call "policing for profit" for several years, this latest offensive stems from a petition drive and video the group has done detailing abuses of the process in Philadelphia.
It's clear the libertarian-leaning group doesn't like the idea, and with good reason. Think of it as the step beyond speed cameras.
Philadelphia also figures prominently into my next piece. I'll explain this more on Sunday, but there were a number of pieces I was perhaps intending to use for my American Certified site but instead will be mentioned in brief here.
One group which has made it to those pages a lot is the Alliance for American Manufacturing. Certainly they complain a lot about the trade deficit with China but AAM President Scott Paul (no relation to Rand Paul) also made a great point about the continuing lack of manufacturing jobs.
This jobs report is a big disappointment for factory workers. While we can never read too much into just a month's worth of data, a goose egg for manufacturing doesn't look like progress to me. And it will be hard to consistently move the manufacturing jobs number up unless our goods trade deficit with China comes down.

Two years ago President Obama campaigned on a pledge to create one million new manufacturing jobs in his second term. Our #AAMeter shows progress toward that goal is stalling. A national manufacturing strategy could help get us back on track.
Yes, they track the progress toward that elusive one million jobs, and Obama stands at a puny 193,000. It's surprising because as Rick Manning stated in an earlier piece, we have the energy resources to bring American manufacturing back. We're now number 1 in natural gas production, and our energy dominance serves to stabilize world prices, says Mark Green of API.
Looking at it from the perspective of state government, a recent video by Republican gubernatorial candidate Larry Hogan explained his thoughts on creating opportunity.
The key phrase in this video comes early on, when Hogan talks about his appointments. This is an opportunity which is rarely discussed, but when Democrats have run this state for all but four years of the last forty, the pool of those who get to be department heads becomes ossified. The Glendening appointee to one office may have been O'Malley's point guy somewhere else and would be on the short list for Anthony Brown.
But if Larry Hogan can resist the temptation to overly rely on his buddies from the Ehrlich administration, we have the potential for real reform and new ideas at the department level.
Another reform is being pushed by the Maryland Liberty PAC, and Republicans will be pleased to know they are firing in the right direction by attacking the "toxic track record" of District 34A Democratic nominee Mary Ann Lisanti. They didn't catch this gem, though.
Finally, I wanted to promote something a fellow blogger is trying. Peter Ingemi (aka DaTechGuy) has a radio spot for you:
It's near the end of the year when everyone's ad budgets are pretty empty so as I've got some ad space left on my radio show I've got an offer to make exclusively to the bloggers, advocates & folk on my e-mail blast.

Produce a 15 second plug for your blog, podcast or web site and for only $30 I'll include it on my radio show DaTechGuy on DaRadio for a FULL MONTH.

That's not only 70% off the normal price but it also means your plug will be included on broadcast replays, my own podcast replay, the live replay on FTR Radio and all four weekly replays on the 405media Tuesday through Friday. And if you want an even better deal I'll give you 30 seconds for just $50 a month (or I'll replay your 15 second spot twice).

This is a great chance to get your blog some national exposure on multiple platforms that you might not currently be reaching. (His emphasis, not mine.)
He's the consummate salesman, is he not? But I have him beat, at least in terms of price. I'm not doing a radio show anytime soon, though.
And I may not be doing another odds and ends soon either. But it was fun to go back and put one together for old times' sake.
It's hard to knock out someone who's been in politics for over half of their life, but in District 38B Delegate Norm Conway, who at 72 years of age has held elective office since 1974, has a challenger in 41-year-old Delmar Mayor Carl Anderton, Jr. (Put another way, Anderton was but a mere toddler when Conway was first elected.) It's also hard to knock out someone who has as much in the campaign bank as Norm does, but Carl is getting some help on that front as well.
There's no question that Conway has many of the same financial traits as fellow Democrat Jim Mathias: a plethora of businesses and PACs support his effort to remain in the House of Delegates. But it's interesting to note that, after putting in a spate of local contributions dated January 7 of this year to be placed in the 2013 report (from a January 5 fundraiser in Willards, which ironically is now outside his district) and comply with the law prohibiting fundraising during session, Conway's local contributions have all but dried up since that January accounting. Conway has raised less than $5,000 in individual contributions since the January report, with significant money coming from Rickman Firstfield Associates ($1,000) and PGA One Charles Center, L.P. ($2,000.) Rickman Firstfield is connected to William Rickman, who owns Ocean Downs and has been implicated in skirting Maryland's ban on casino owners donating to political candidates. PGA One Charles Center works back to asbestos lawyer Peter Angelos, owner of the Baltimore Orioles.
It's worth asking why they care about a local Delegate race, particularly since 96.4% of Conway's individual contributions since his January report have come from outside the 218xx zip code area.
In that light, Anderton's is for all intents and purposes a local effort: no PAC money and only a small percentage out of the district. Granted, the largest single donation comes from the vast coffers of Congressman Andy Harris, who gave $4,000, but that pales in comparison to PAC money finding its way to Conway. Others who have helped out Anderton are fellow Delegate hopeful Christopher Adams in District 37B, Wicomico County Council candidate Marc Kilmer, and Anne Arundel County Councilman Jerry Walker. Politicians have also transferred money to Conway: Wicomico County Council candidate Ernest Davis, Delegate Patrick Hogan (a Republican), and Baltimore County Executive Kevin Kamenetz have chipped in.
But a consistent 25 to 35 percent of Conway's take comes from Maryland PACs, with some of the largest contributors being the Baltimore Gas and Electric PAC ($1,000), Comcast PAC of Maryland ($1,000), Health Policy Leadership Alliance, the PAC of the Maryland Hospital Association ($1,000), Medical PAC Maryland ($1,000), SEIU Local 500 PAC ($1,000), Maryland Realtors PAC ($1,300), and the biggest by far: MSEA's Fund for Children and Public Education PAC – the teacher's union gave Norm a cool $5,150.
So it's sort of telling in a way that Conway spent a tremendous amount of money on fundraising, spending over $17,000 to create just over $41,000 in individual contributions with events in Salisbury, Willards, and Annapolis. (For the Annapolis one he used our old "incumbency protection" friends at Rice Consulting, which received $4,361.93 for their trouble.) Meanwhile, the $15,880 on media was actually for billboard advertising with Clear Channel.
Conversely, Anderton seemed to have a lot more bang for his buck when it came to fundraising, spending $1,156.48 to generate $12,966.01 in individual contributions. EVO was his choice for venue, as he spent the entire sum there. All told, it's worth pointing out that since the January report Anderton has outraised Conway $10,366.01 to $8,462.50 – granted, there were 90 days where Conway could not fundraise but practically all of the local money over the timeframe has gone to the challenger. (As full disclosure, I've chipped $10 into the Anderton effort although I didn't attend a formal fundraiser.)
I was driving home yesterday along U.S. 50 when I noticed a Conway billboard – whether it's the one he paid $15,880 for or one subsequent is not important. But on it Conway cited his "Eastern Shore Values" as a reason to be re-elected, so it's funny that most of the money he's used to pay for it comes from people who likely don't share those values because they live in Annapolis or other parts of the state. Food for thought.
Next week I wrap up the series with a look at the District 37 House races. I'm just going to do one post and look at all five contenders.
You know the other side has nothing in their bag of ideas when you see this recycled old chestnut of an appeal for cash:
This from the side with a President who regularly finds millionaires willing to fork over big bucks to get their slice of the government pie.
But I presume these guys are counting the Americans for Prosperity as part of the "hundreds of millions of dollars," which is funny because while reports attempt to spin the news that the Koch brothers are raising up to $290 million to spend, it's not like Democratic backers like Tom Steyer and the venerable George Soros are standing still.
Yet what do all these participants stand for? In the case of Soros, he's donated millions over the years to reliably left-wing causes and opined after the 2010 election wipeout that Barack Obama didn't fight hard enough for cherished progressive causes. Instead:
While Soros's comment gave some attendees the impression that he'd cheer a primary challenge to the president, the point, sources say, was different. Rather, it is time to shuffle funds into a progressive infrastructure that will take on the tasks that the president can't or won't take on.

"People are determined to help build a progressive infrastructure and make sure it is there not just in the months ahead but one that will last in the long term," said Anna Burger, the retired treasury secretary of SEIU. "Instead of being pushed over by this election it has empowered people to stand up in a bigger way."

"There was frustration," said one Democratic operative who attended the meetings. The main concern was about messaging. I think they are frustrated that the president isn't being more direct. But I did not get the sense that anyone's commitment to the progressive movement was wavering… The general consensus is that support has to move beyond being about one person and more about a movement. I don't know if we've moved beyond there."

One of those "movement" ventures is an outside-government arm to match conservatives in the 2012 elections. For several weeks, discussions have been led by Media Matters for America founder David Brock about the need to create a group that will run advertisements, conduct opposition research and perform rapid response functions. (Emphasis mine.)
As an example of this concept, just look at the movement to increase the minimum wage. I don't think the SEIU is doing this by themselves.
In Steyer's case, he's out pushing for the extinction of fossil fuels, despite being a major benefactor from them over the years. (This would be a fun debate to watch.) Imagine the increase in costs and decrease in living standards a wholesale overnight embrace of renewables would cause. Until we can make the sun shine and the wind blow steadily 24 hours a day, we have a problem. (In terms of naturally occurring energy gathering, it would seem hydroelectric would be the best choice, but that's also climate-dependent: a drought would dry up supply.)
So consider what the Koch brothers have helped to create: the Cato Institute, a libertarian, small-government think tank and Americans for Prosperity (who would be against prosperity?) They also built up the family business and became billionaires in the process – isn't that the American Dream writ large? (They also support other causes, as this tongue-in-cheek post notes.)
If the Democrats have to use the Koch brothers – who built a successful life for themselves with a minimum of government assistance and would like others to follow in their footsteps – as an example of evil because they support Republicans, we know they have nothing.
Every year I go to the WCRC Crab Feast I take this shot because I like it.
The same seems to be true about the Wicomico County Republican Club Crab Feast, as people come back year after year because they enjoy the event. Whether it's the crabs…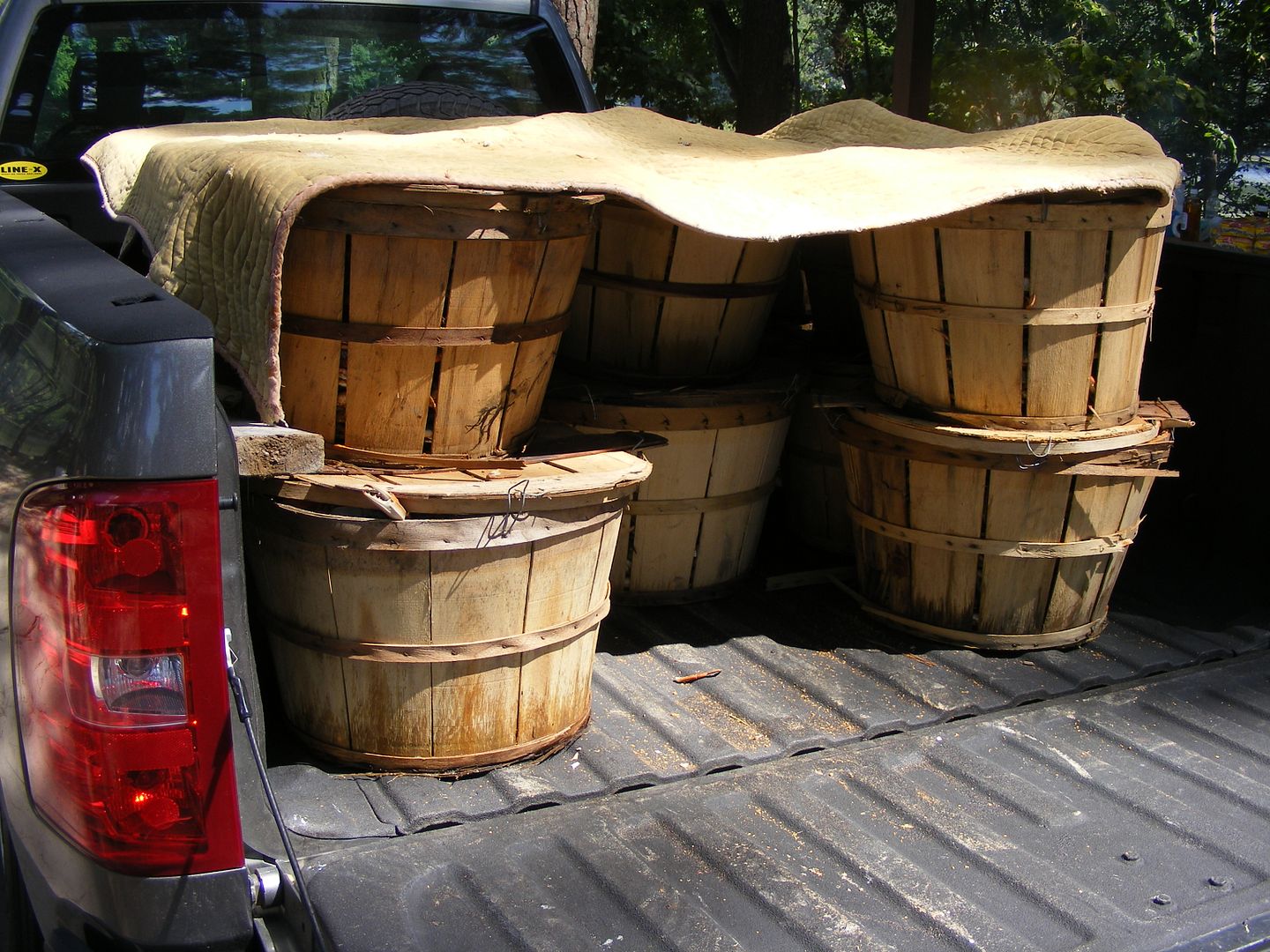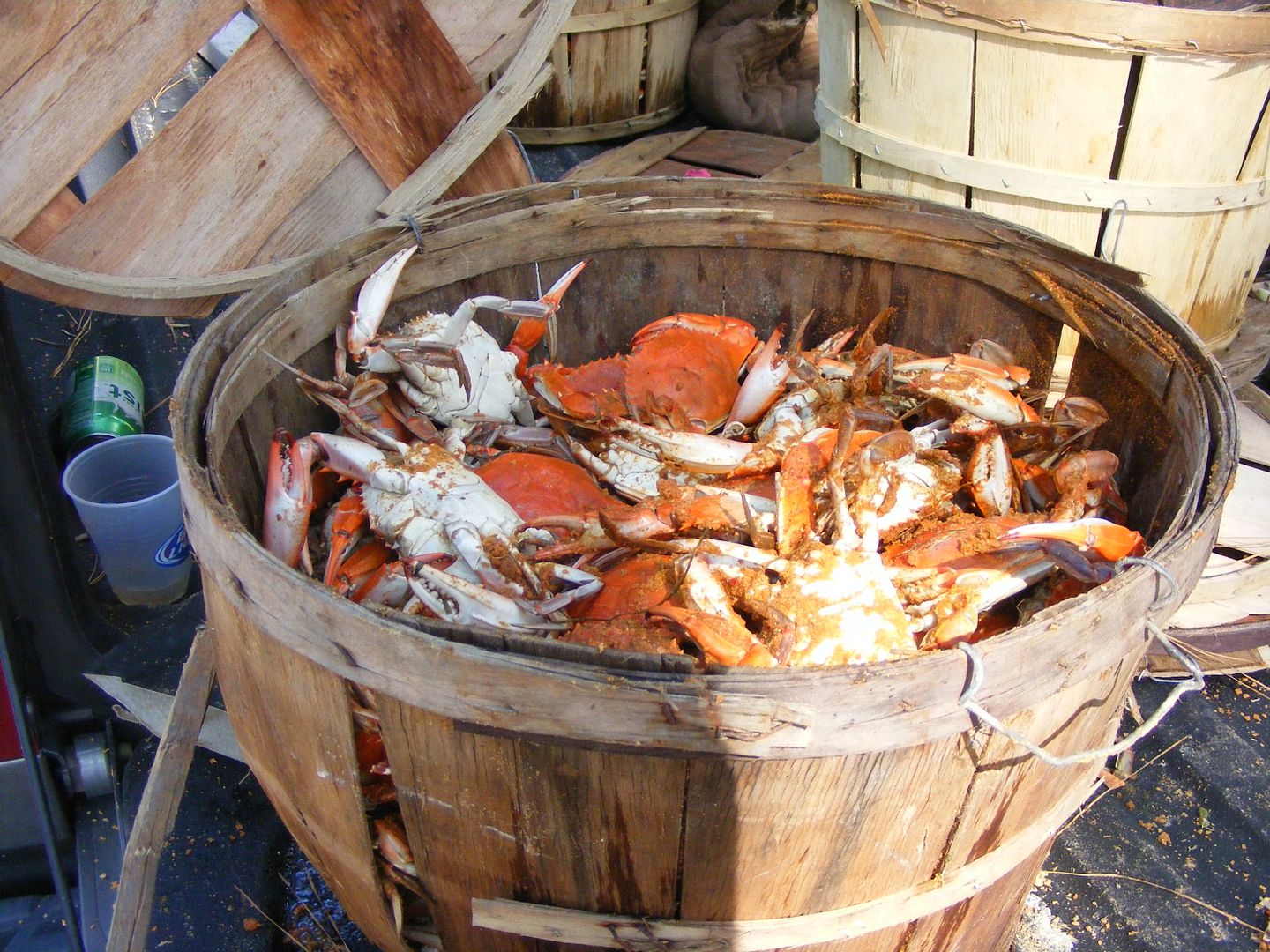 …the company…
…or the chance to talk one on one with many of their elected officials, they line up to get their crabs when the event opens.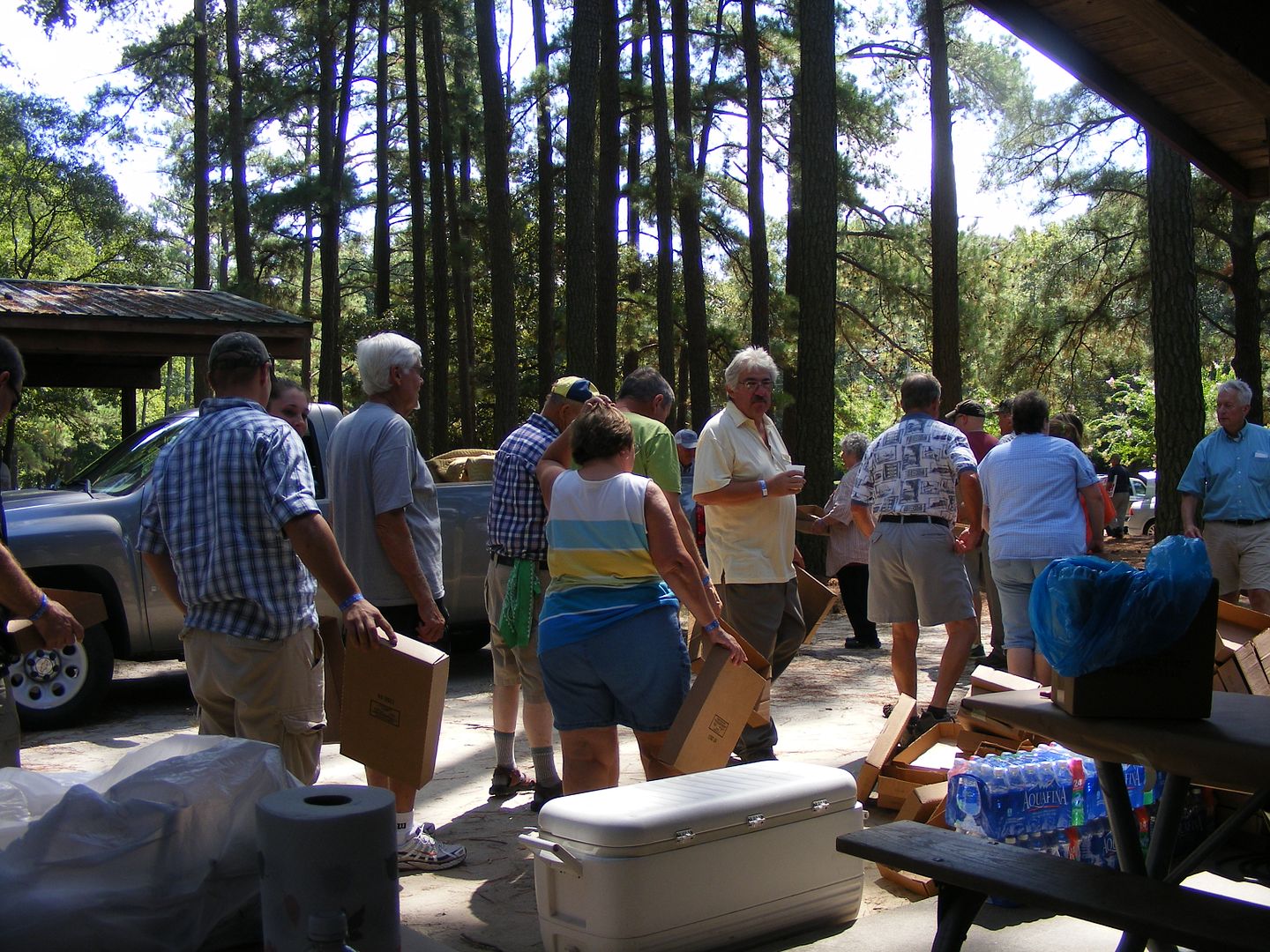 For those who didn't care for crabs, Muir Boda was cooking up some mean burgers and hotdogs.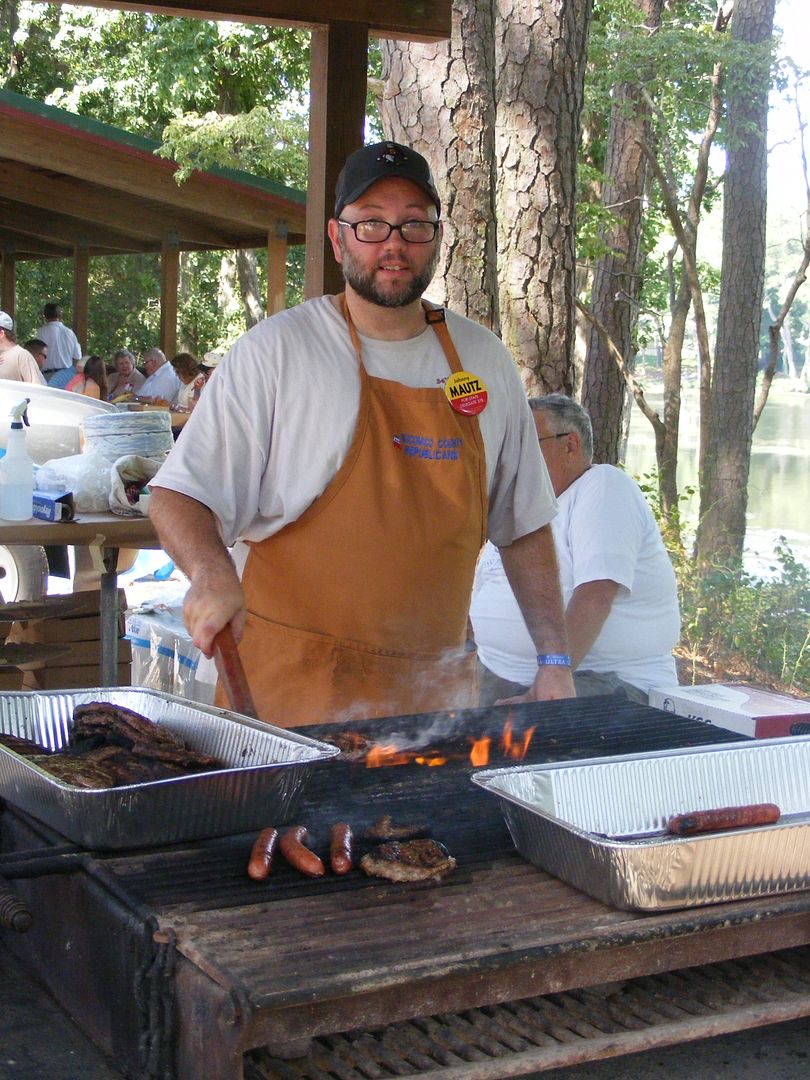 And it's not like people don't know where it is located. This was after David Warren put out a batch of Andy Harris signs.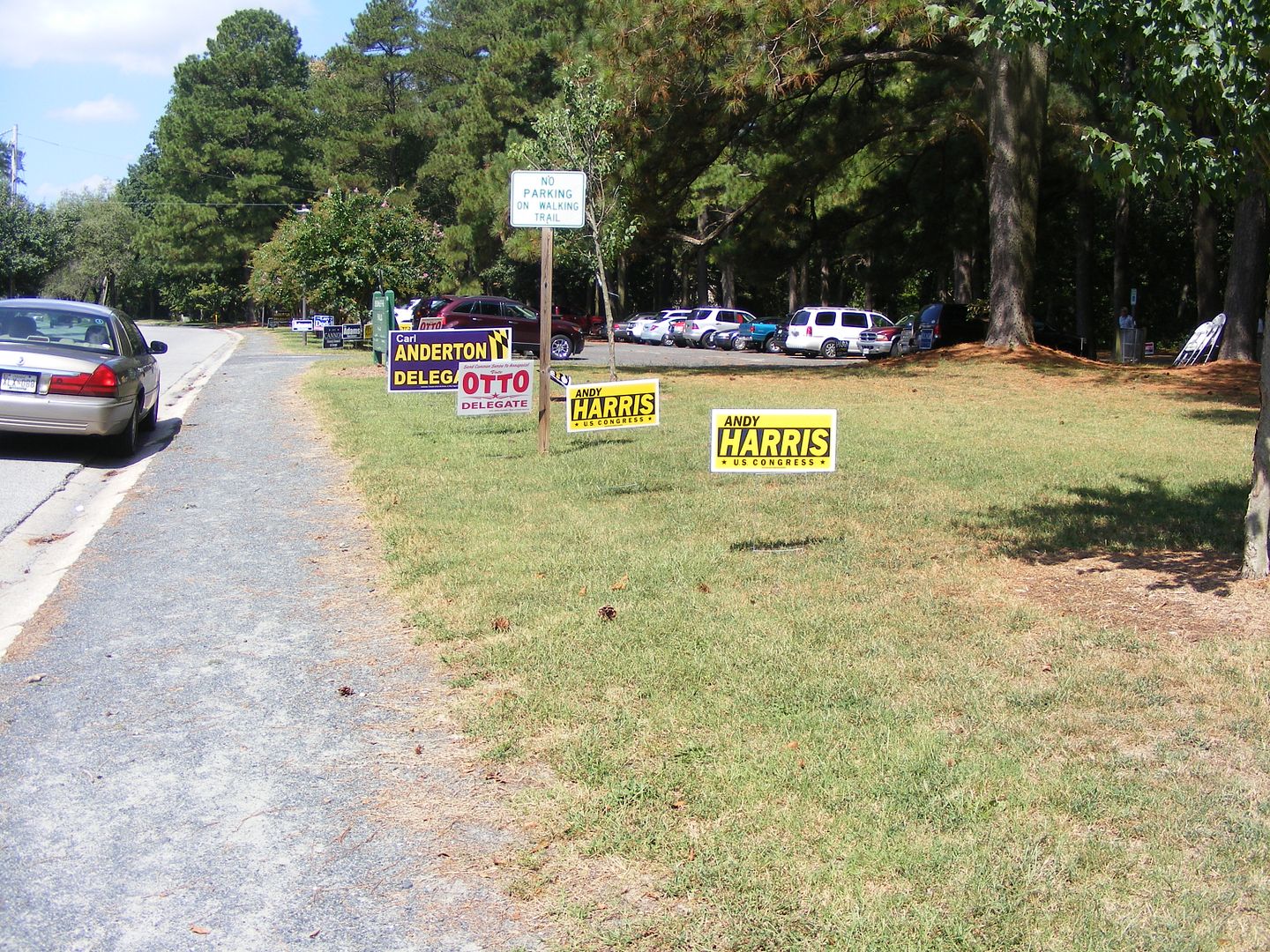 As always, we had a silent auction table. It didn't seem like we had quite as much as we have in previous years.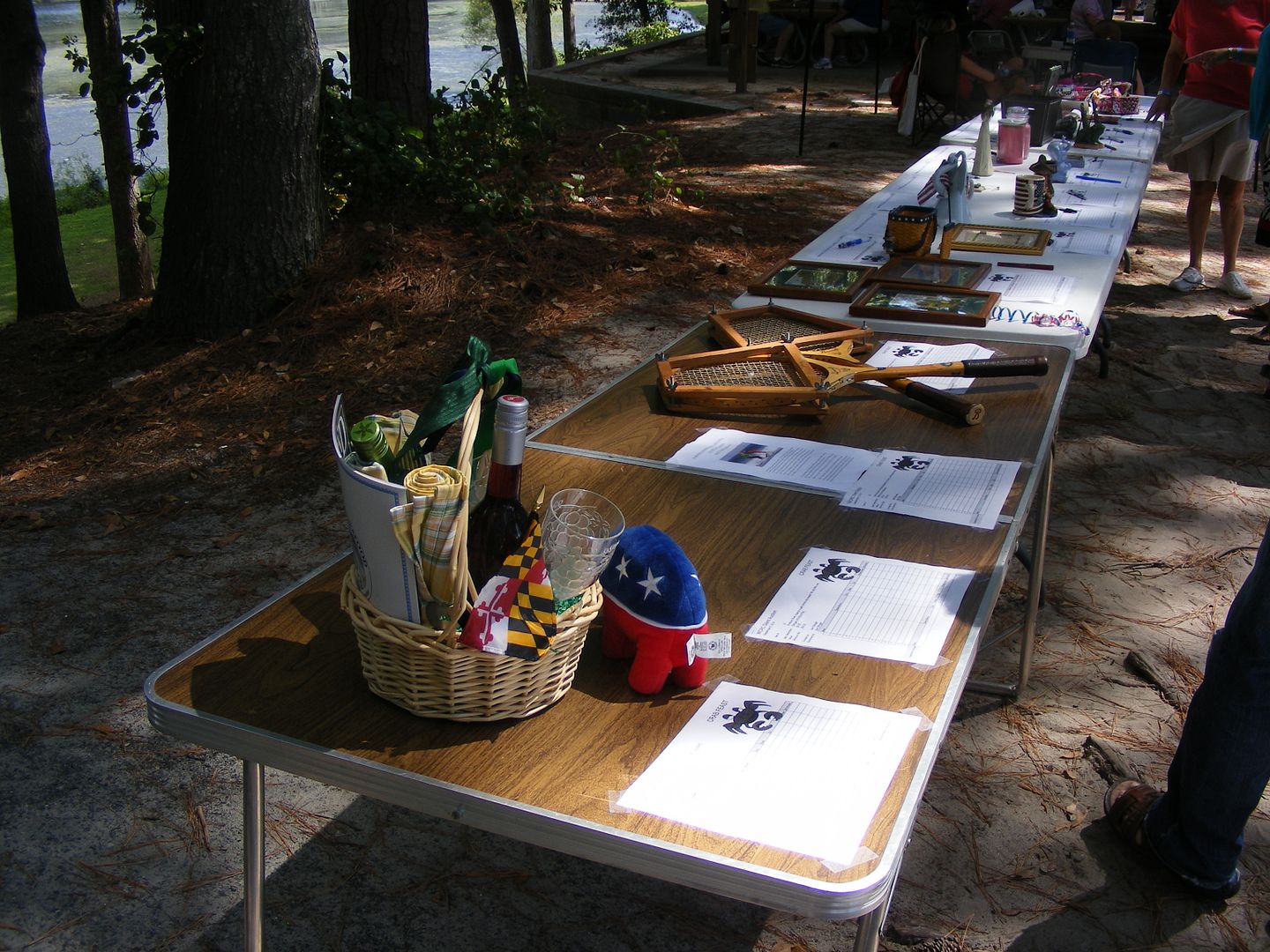 But they still lined up to put in last-minute bids. There was one rule, though: no hovering.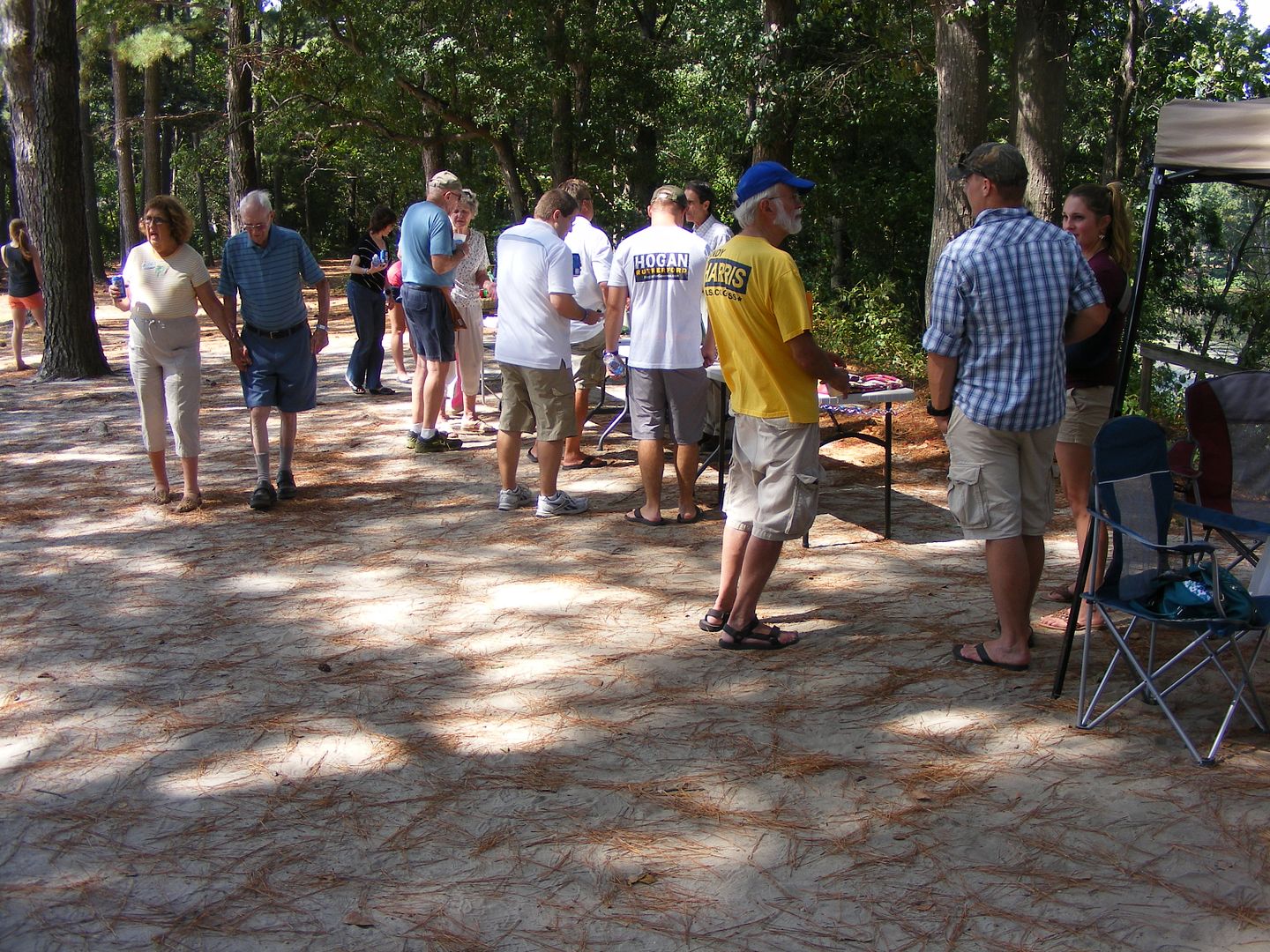 A trend the event has had the last couple years is the move away from candidate remarks, which used to be a staple of the event. Once upon a time, candidates would get a couple minutes but now we just figure they will mix and mingle. This was true last year and pretty much remained the same, with two exceptions.
One was a reminder from our county chair Dave Parker about the Patriot's Dinner with Allen West on September 27.
We also heard from retiring Orphan's Court Judge William Smith, who thanked us for 12 years of support and urged us to vote for the one Republican on the ballot, Grover Cantwell, as well as the two incumbents who opted to run again. They're both Democrats, but one – Melissa Pollitt Bright – was at our event. Considering the good judge turns 91 soon, he's earned a retirement.
Naturally, there were a lot of local candidates there for at least part of the event, so here are some shots I took. In the first example, here are two folks with a pretty good chance to be representing us in Annapolis, Johnny Mautz and Mary Beth Carozza.
Mary Beth was all over, speaking to a lot of voters and other candidates. Here she's with County Council District 2 hopeful Marc Kilmer (center) and Central Committee-elect member Greg Belcher.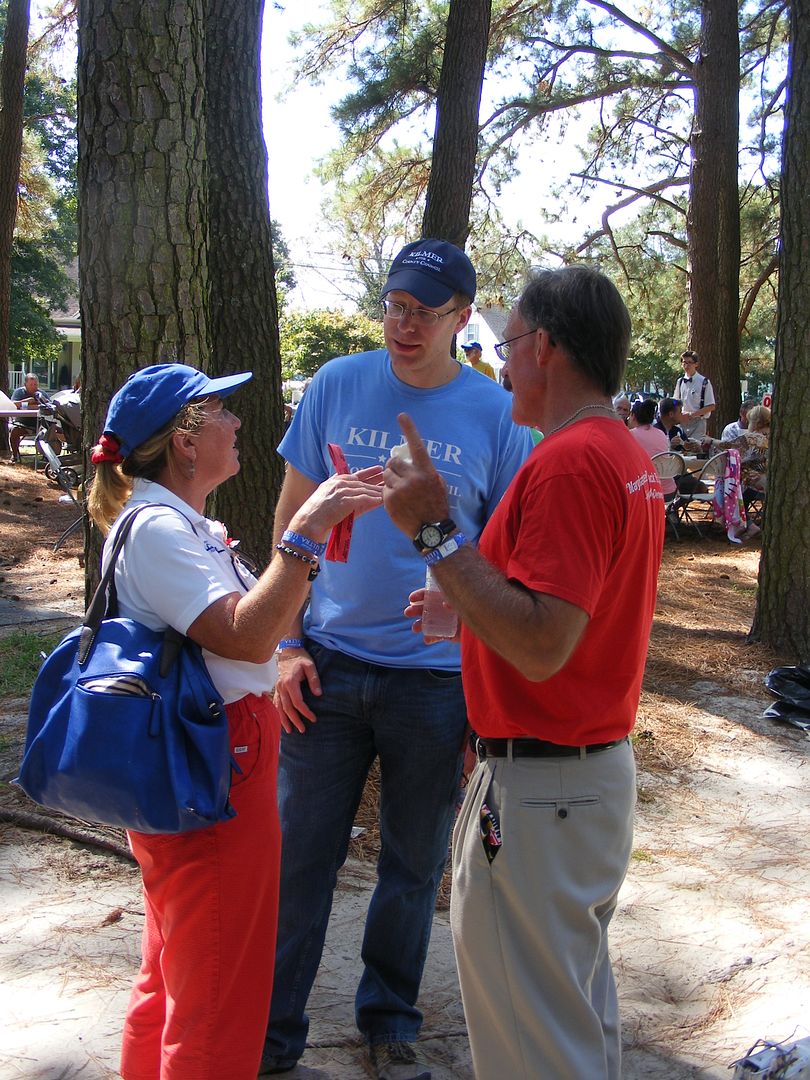 It must have been the shoes Mary Beth had on.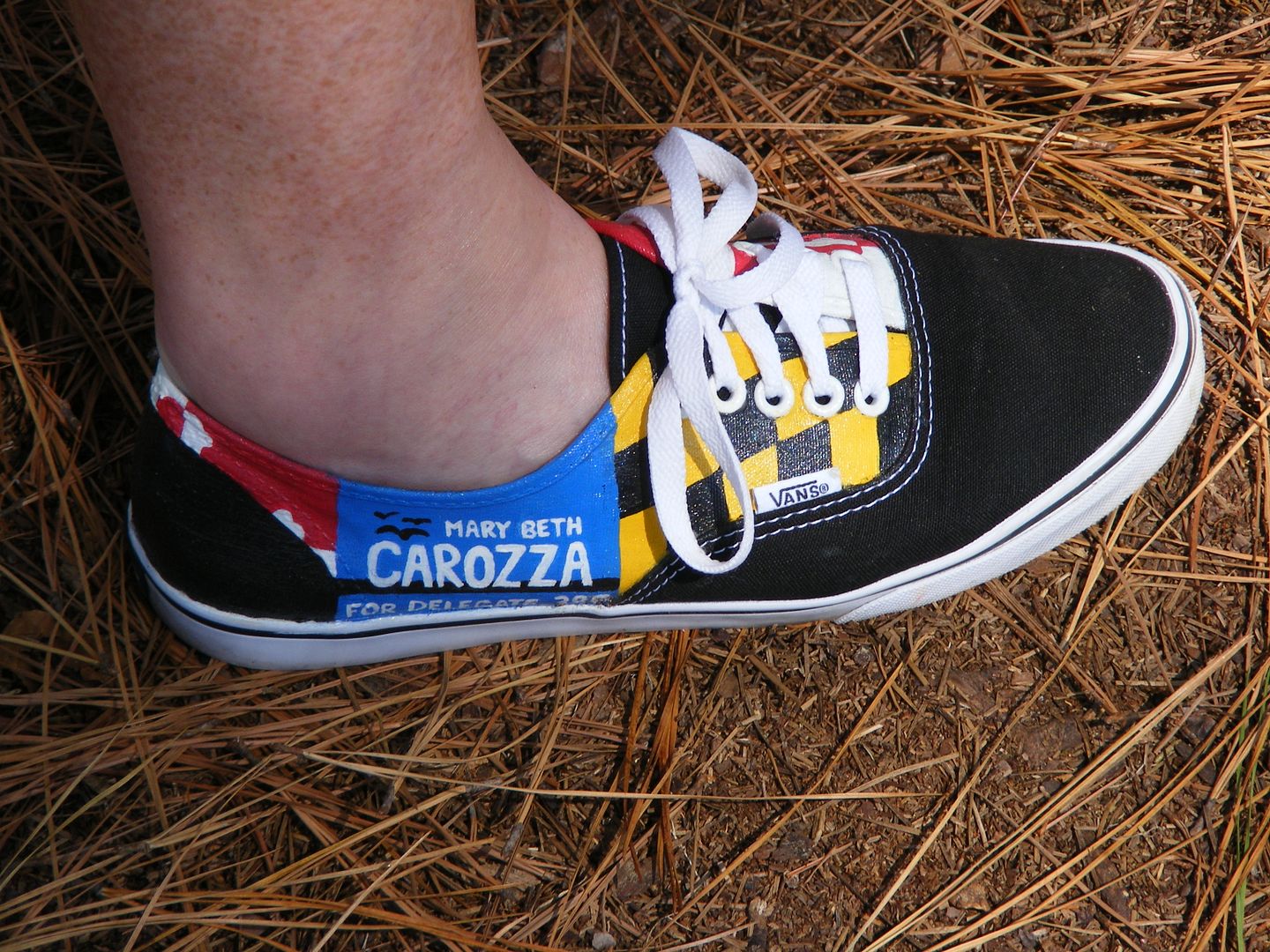 Under a tree, District 3 County Council candidate Larry Dodd was speaking to WCRC President Jackie Wellfonder.
Jackie also took the time to pose with District 38B Delegate candidate Carl Anderton, Jr. (left) and Wicomico County Sheriff Mike Lewis.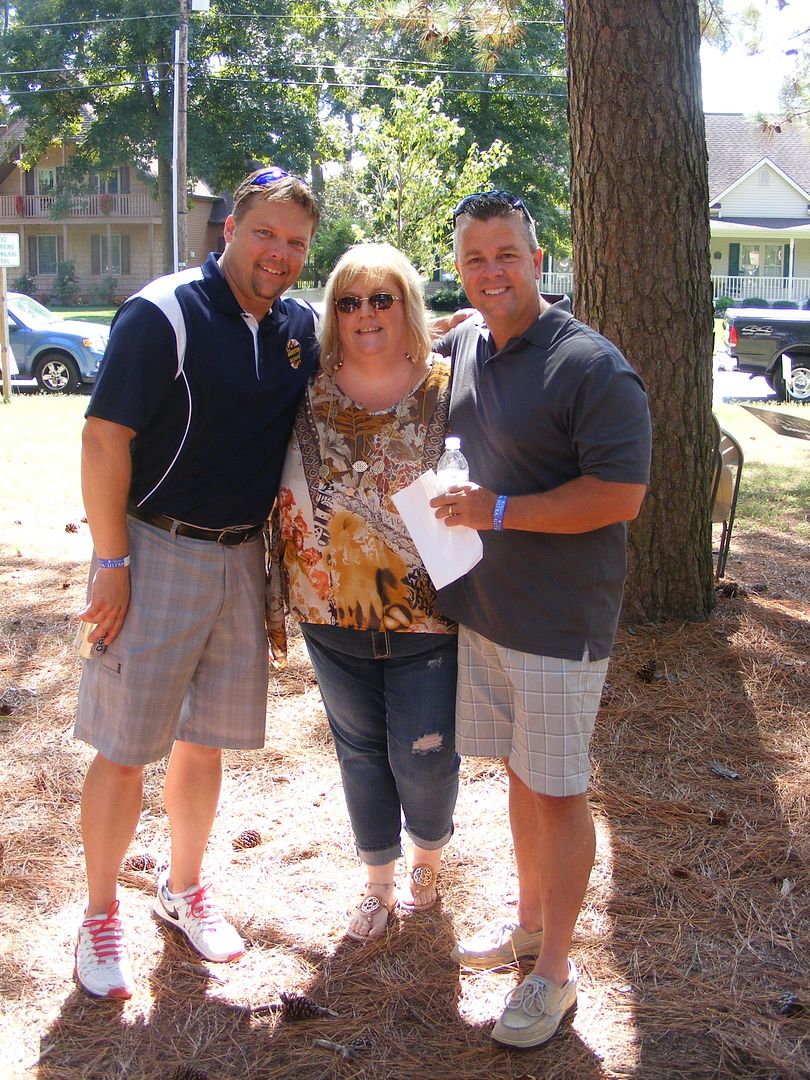 Far and away, the most popular person there was our Sheriff, fresh from national headlines about his pro-Second Amendment stance. As Jackie would put it, Lewis was a "rockstar" and photos with him were in demand.
A candidate looking for a return to County Council after four years away, John Cannon (pictured with his lady friend) was talking to Lewis about recent shooting incidents.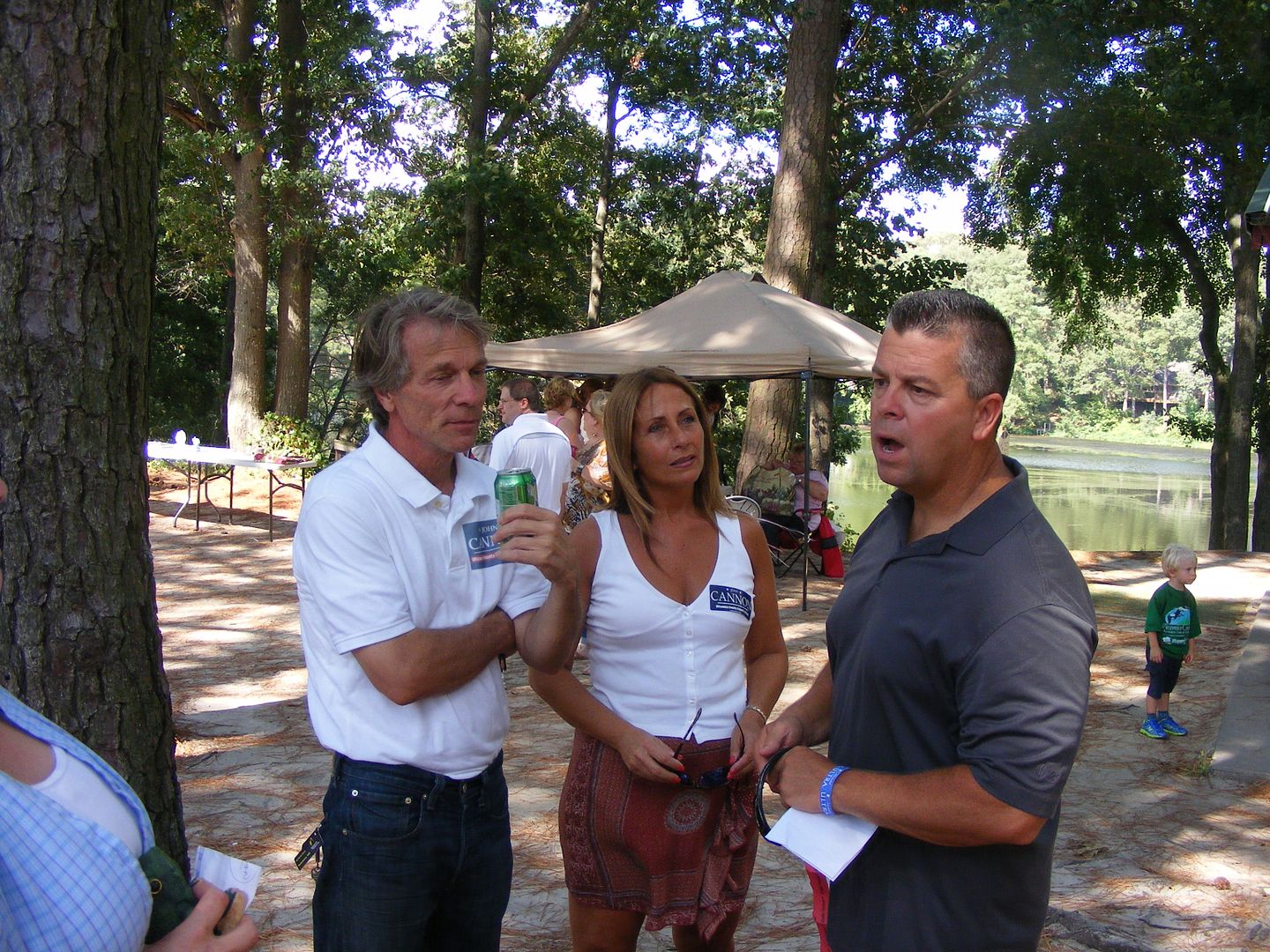 So while it was hot, fortunately the rain didn't hit until last night and the event went off without a hitch. Many of these participants will reconvene later today at the opening of the Eastern Shore Victory Headquarters here in Salisbury. The crabs? Well, we had just a couple bushels left to sell at the end and killed the beer kegs, so people must have been satisfied with the event.
Next year the event should take place in the midst of our municipal campaign and the early stages of a race for a 2016 U.S. Senate seat, so it will likely have a much different feel. But as long as the crabs are steamed just right, people will still be here to enjoy it.
I've written and researched a lot this week (and already laid some groundwork for next week) so this will be short, sweet, and to the point.
Yesterday I got an e-mail announcing a local event:
Michael –

Please join us Sunday (9/7/14) at 4:00pm for the Grand Opening of our Lower Shore HQ!

HOGAN FOR GOVERNOR HQ
4:00PM
1801 North Salisbury Blvd
Salisbury, MD 21801

Stop by and see Larry and pick up your Hogan supplies!
As a member of the Central Committee, I've been referring to this building as the Lower Shore Victory Center, or just "headquarters" or "Mister Paul's" (the former occupant.) The Wicomico County Republican Club calls it the "Eastern Shore Victory Headquarters." Did I miss something?
Do Republicans want Larry Hogan to win? Well, all but three percent of them did in a recent poll. But the last time we had a Republican governor, there was something missing: party development. All of the effort and money went toward getting Bob Ehrlich re-elected and not so much in candidate grooming and local campaigns which could have used the help. So we ended up with a debt-ridden party without a bench, and I'm not interested in a repeat of that mistake.
So I have a problem with being invited to the "Hogan for Governor" headquarters, even though that will be one of its primary functions. To a lot of local people, it's more important to elect Addie Eckardt and Mike McDermott to the State Senate, Carl Anderton, Jr., Christopher Adams, and Johnny Mautz to become our newest Delegates, and Bob Culver as our County Executive. Many of my friends are pounding the pavement for those races, figuring Hogan can take care of himself – so why is he looking for all the credit? (It also just dawned on me that it would be a complete turnover in those particular positions, something sorely needed.)
Maybe it's just bad optics to me. But it's worth remembering that Hogan didn't win this county, David Craig did.
So I'm hoping that when Larry comes down, he will refer to it properly as an Eastern Shore Victory Headquarters and not "his" headquarters. When you need 65-70% of the local vote to have a chance, a little respect goes a long way.
And while I'm thinking about Hogan, a few words about his fundraiser with Chris Christie. Do I agree with Chris Christie on a lot of issues? In a Presidential sense, not really. Does it bother me that Larry Hogan is bringing him to Maryland to fundraise? Absolutely not. Christie isn't my cup of tea, but if it raises a lot of money that's good for everyone.
On the other hand, Allen West is more my cup of tea and he'll be here later this month. So save the date of September 27 and your pennies because these events will be helping three different entities: West's Guardian PAC (which is supporting, among others, Dan Bongino), the state GOP, and the local party units.
A few weeks ago I promised to start once again looking into where our candidates get their money.
The first race I wanted to delve into on the financial end was the District 38 Senate race between incumbent Democrat Jim Mathias and challenger Republican Delegate Mike McDermott. As you'll see, Mathias has the clear financial advantage.
This file is something I composed as a composite which includes all four financial reports due since the beginning of 2014 – the 2013 annual, the two pre-primary reports, and now the first pre-general report.
So we can see that, in this race, incumbent Democrat Jim Mathias has raised a lot of money compared to his opponent, who is also an incumbent in the House of Delegates. Mike McDermott was more or less forced to run for a different office thanks to being squeezed into a single-member district with fellow Delegate Charles Otto by Democratic gerrymandering.
Where did the money come from? More than most others whose financial forms I've studied, Mathias gets a lot of donations from ticket sales, presumably to his relatively frequent fundraisers both in the Ocean City area and occasionally across the bridge. Almost 2/3 of his income came that way, with most of the rest being PAC contributions. Having looked as well at the records of his fellow Democrat incumbent Delegate Norm Conway, it's apparent that PACs are very happy to give plenty of money to Democratic incumbents, but not so much to Republicans because Mike McDermott has negligible PAC money compared to Jim Mathias.
Moreover, there are a lot of big-money donors from Ocean City (and beyond) who have opened up their wallets for Jim Mathias, while only a handful are supporting McDermott. Given the huge disparity in money allotted to fundraising – for every dollar McDermott has spent on fundraising, Mathias has forked over $17.30 – it's small wonder there's a big gap in cash on hand.
It's also worth mentioning that nearly half of Mathias's total spending has gone to one entity – Rice Consulting of Bel Air, a frequent client of Maryland Democrats. Whether directly or as a pass-thru to other entities, Mathias gave $37,320.16 to Rice Consulting out of $78,388.97 spent.
McDermott has used a pair of outside consultants: Campaign On out of Owings Mills for $3,087 and Scott and Associates of Annapolis for $5,000. That represents about 40% of McDermott's spending, but it's going to media rather than fundraising and "strategic incumbency protection," which are Rice Consulting's specialties. Personally, I'd prefer strategic taxpayer and citizen protections.
It's also worth pointing out that several current and former Annapolis and Baltimore Democratic elected officials have chipped in for Mathias from their campaign accounts:
retired Delegate Ann Marie Doory: $100
District 6 Delegate and State Senate candidate John Olszewski, Jr.: $150
District 11 Delegate Dan Morhaim: $250
retiring Baltimore County Councilman John Olszewski, Sr.: $450
retiring Delegate Brian McHale: $1,000
District 40 State Senator Catherine Pugh: $1,000
retiring Delegate James Hubbard: $2,000
retired Senator (and onetime Congressional candidate) Rob Garagiola: $2,250
District 13 Delegate and State Senate candidate Guy Guzzone: $6,000
The only elected official contributing to McDermott's side thus far is Wicomico County Republican Central Committee-elect member Greg Belcher, who donated $154.18 in closing his election account.
So it's very obvious that Maryland Democrats and their patrons are throwing the kitchen sink into keeping this seat. Mathias has a war chest which will likely land him some television time and allow him to once again carpetbomb the district with full-color mailings which obfuscate his real record.
But it's also a fact that Mathias only won one of the three counties in the 38th District last time, winning in Worcester County by just enough to overcome his deficits in Somerset and Wicomico counties. He outspent Republican opponent Michael James $300,835.32 to $225,556.44 in the process, so indications are he will be able to spend the same amount (or more) this time.
Next up will be a look at the Senate race in District 37. My plan is to do each local district on a Tuesday or Wednesday, so look for the other Senate race after Labor Day.
It may not have been such a bad idea at the time, but the thought of adding corn-based ethanol to automotive fuel to stretch the oil supply seems rather silly in retrospect given our recent prowess in finding new supplies of black gold. In 2005, under the George W. Bush administration and a Republican Congress, the EPA was given the first Renewable Fuels Standard (RFS) mandate to include ethanol in motor fuel. It was at a time when many still believed in the theory of "peak oil" and determined we had to look past this resource in order to meet our growing needs.
Fast-forward to the present day and we find that, because of issues with decreased consumption of gasoline combined with increasing statutory requirements for the inclusion of ethanol in automotive fuel, the EPA took the unprecedented step of reducing its mandated amount of ethanol for this year; meanwhile, the RFS which was supposed to come out in November of last year is still on the EPA drawing board.
In reading a summary of energy news I receive daily from the American Petroleum Institute, it was revealed that retailers and other petroleum marketers have their own concerns about the prospect of E15 fuel being approved for use in order to achieve the mandated amount of ethanol required for these increasing RFS numbers.
Naturally, this is from the perspective of what's derided as Big Oil – on the other side, you have officials in corn-producing states beseeching Barack Obama to stand firm on these standards, while desperately attempting to secure infrastructure to provide the even higher E85 blend for flexfuel vehicles, such as the "I-75 Green Corridor" which has a lot of gaps.
The whole flexfuel idea was popularized a few years ago by a group I gave some pixels to during the $4 a gallon price surge called NozzleRage, which was the brainchild of another group called the Center for Security Policy – their goal in creating yet a third group called Citizens for Energy Freedom was to mandate cars be equipped as flexfuel vehicles. Even though it's essentially a free option, there are few takers for flexfuel cars as they occupy a tiny proportion of the market – about 1 in 20 cars sold are flexfuel cars (although that number is higher for government vehicles.)
Obviously the hope for ethanol proponents is to expand the number of facilities where E85 can be purchased in order to eliminate the need to go to an unpopular E15 blend while simultaneously being able to ratchet up the RFS figures. If even 15 percent of the cars can run on E85 and the price is competitive, then corn growers would be happy. (Never mind the folly of using food for fuel.)
Personally, though, I'm hoping they scrap the RFS altogether. It was an idea which may have had merit (and a lot of Congressional backing from farm states) a half-decade ago, but we can do better because our oil supplies are much more plentiful thanks to new technology. That's not to say that technology can't eventually be in place to use another source for ethanol (like the sugar cane Brazil uses for its much more prevalent ethanol market) but how about letting the market decide?
And while it's unrelated to ethanol, I thought it was worth devoting a paragraph or two to note that North Carolina – hardly a conservative state – is getting closer to finishing the rulemaking process for fracking in the state. Most noteworthy to me in my cursory reading of the rules is that North Carolina is looking at a fairly sane setback distance from various impediments – nothing more than 650 feet. They also seem to lean heavily on industry standards.
On the other hand, Maryland was looking to set rules which would require a completely arbitrary 2,000 foot setback and require plans for all wells proposed by a drilling company, rather than single wells. In short, we would do to fracking in Maryland what Barack Obama is doing to the coal industry nationwide – strangle it with unneeded and capricious regulations. That should not stand in either case.
It's been my philosophy that an area which doesn't grow will die. It may take a while, but killing growth will sooner or later kill the economic viability of a city, county, region, state, or nation. Putting silly regulations in place because a minority believes the debunked hype about a safe process is a surefire way to kill a vital region in the state, not to mention impede the possibility of prosperity elsewhere. We can do much better when common sense prevails.