By Cathy Keim
Due to the Paris attacks a week ago Friday, immigration is a hot topic – especially the Refugee Resettlement Program which brings in about 65,000 refugees annually Now it is being primed to bring in 10,000 Syrians or more this year.
About 30 governors have requested that Syrian refugees not be admitted to their states. Speaker Paul Ryan is bringing a proposal to the House to stop admitting Syrian refugees. This sudden light shining on the Refugee Resettlement Program caused the Volunteer Agencies (VOLAGS) to have a conference call last week to tell the press how safe the program is.
I joined in on the call and heard some interesting information. The VOLAGS were condescending, insulting, and deceptive in their information but also attempted to tug at the heartstrings with sad stories and shame anyone who questioned bringing Syrians into the USA.
Keep in mind that the VOLAGS are paid by the head to bring the refugees in and to get them settled somewhere. Several of the VOLAGS have religious names such as Church World Service and Lutheran Immigration and Refugee Services, but they cannot share their faith because they are supported in the 90%+ range by federal tax dollars. So one has to ask why is a "religious" organization working as a government contractor when that explicitly rules out any ability to share their religious faith with the refugee? They might as well remove the deceptive "religious" title.
I missed the first few minutes of the call, but when I joined the reporters were being assured that many refugees have been resettled for many years and we have never had an incident so our record is good. In fact, the VOLAG representative stated that their refugees are vetted much more thoroughly than other visa holders such as students, tourists, and businessmen. Hold that thought, as we will come back to it.
Addressing the governors' moves to refuse refugees, the representative stated that the refugees are legal residents so they can move wherever they want. The governors cannot stop them once they are in the country. Later she stated that refugees must always inform Homeland Security of their new address every time they move until they become citizens, but they can move wherever they wish. (Many do migrate a second time to be closer to family or other of their countrymen. Baltimore has had a difficult time retaining the refugees that they have brought in to repopulate the inner city.)
A reporter asked if the VOLAGS keep crime statistics on the refugees. The representative cheerfully replied, "No, but I can count on one hand the crimes committed by refugees and I have worked with them for years!" This is an astonishing claim since Ann Corcoran at Refugee Resettlement Watch frequently reports on crime issues among refugees.
The spokeswoman sneered at Texas and Alabama for saying they didn't want any Syrian refugees. She said Texas had received 238 refugees in 3 years and Alabama had received 105 refugees last year, which had an insignificant impact in her words. She compared states denying access to state services with George Wallace refusing to integrate the University of Alabama.
The reps said that the poor attitude exhibited by these governors would have a negative impact on how the refugee community interfaces with the community. Here was the example given: In Minneapolis – St. Paul where they have a huge Somali population, they have had problems with refugees trying to travel abroad to fight. The FBI meets regularly with the community and has a good rapport with them, so the families contact the FBI to stop their young men when they try to leave to fight. If the governors keep acting in an unwelcoming way, this kind of trust with be disrupted!
Wow, that is a real success story. Young men that have been raised most or all of their lives in America want to go abroad to join the jihadists, but mom calls the FBI to keep them home. Why do I not find that comforting?
In a bid for sympathy that had a threatening edge to it, the rep told how these refugees have suffered greatly due to terror and war. It is wrong to deny them the ability to join family members in the states these governors represent. Prohibiting them from joining families that are already here working, paying taxes, and being good neighbors is wrong, but these are survivors won't be stopped. They will join their families no matter what the governors said.
The final threat was that these refugees have been through so much and have had to wait for so long in refugee camps, that if the process is delayed anymore then they may just undertake the risky trek to Europe rather than wait for America to let them in. The trek is dangerous and it will be our fault if they don't survive it.
She also pointed out that we couldn't deny access just to Syrians. How can you tell if they are Syrian, not Lebanese, or Jordanian? This implies that if we try, then they will just declare themselves to be from another country and who can tell? That seems to refute the thorough vetting claims, but we won't quibble here.
Now let's address a few points that the VOLAGS didn't mention.
It appears that out of 2 million Christians and 80,000 Yazidis in Syria, the Refugee Resettlement Program has brought in 53 Christians and 1 Yazidi and less than 10 Druze, Baha'is and Zoroastrians combined. The reason for this is that the UN High Commissioner for Refugees decides which refugees come to the USA. The UNHCR chooses refugees from people that are in the camps that they sponsor. The minorities do not dare go to those camps because the other inhabitants will persecute them, thus they have no access to apply to the refugee program. Now you know why we are not helping the persecuted Christians.
Here is another interesting fact. If we bring a refugee to the USA, it will cost about $64,000 to take care of him for five years, but it would only cost about $5,300 for five years if he relocated in his native region, thus we could help twelve times as many people for the same cost. Since our money is limited, would it not be better to spend it more wisely?
Now back to those student visas that the rep so correctly pointed out as being dangerously unvetted. The numbers of foreign students are huge.
The Institute of International Education recently wrote regarding student visas for the academic year of 2014/2015. Here are some highlights:
974,926 foreign students were admitted for this past academic year, almost double the overall level before 9/11.
After China, India, and South Korea, the leading country of origin is Saudi Arabia with 59,945 student visas. In addition, we took in 10,724 from Turkey, 11, 338 from Iran, and 9,034 from Kuwait.
Using the 44 predominantly Muslim countries we identified in our piece on green cards from Muslim countries, I counted 156,781 student visas from those same predominantly Muslim countries. This means that Muslims likely account for 16% of the foreign students, and that doesn't include India. Roughly 10% of the Indian population is Muslim and we bring in a whopping 138,000 students from there.
Is there any wonder why U.S. college campuses are replicas of some European countries in terms of the anti-Jewish activity and pro-Palestinian activism?
Even more amazing is that in 2010 President Obama unilaterally shut down the National Security Exit-Entry Registration System (NSEERS), which was implemented after 9/11 to properly vet and track those who come here from risky countries on a student visa.
Daniel Horowitz asks,
(W)hat is tolerant about importing an ideology that is stridently intolerant, incompatible with democracy, and promotes ethnic and religious supremacism? What is humanitarian about transforming America into Europe where Jews, ironically and tragically, are forced to flee because of the growing Islamic intolerance?
We need to pause immigration and take the time to have this discussion rather than continuing heedlessly onward with ever increasing numbers of unassimilated immigrants.
A few weeks ago freshman Senator Ben Sasse from Nebraska made what is called his "maiden speech" on the Senate floor, and it was a thoughtful critique of the Senate's rules and the partisan arguments that the body has devolved to.
He cited a number of Senate icons: Daniel Patrick Moynihan, who Sasse praised for his curious nature; Margaret Chase Smith, who was unafraid to question those in her own party – even when she agreed with them on principle; and Robert Byrd, who cared most about the Senate as an institution. I realize this is about a 30-minute speech, but you can break away from the Ravens or Redskins game today to take the time to listen – and avoid having the foibles of those two losing teams spike your blood pressure.
In all seriousness, though, two of the points Sasse makes regard the constant travel and fundraising as well as the reflexive talking points they need to recite to create soundbites for the voters back home. It's really not supposed to be that way, and to me Sasse's speech can be part of an argument I have made over the last several years.
When you consider what the legislative branch was originally supposed to be, it's clear that the House was supposed to be of the people, who, if they found out the person they sent to represent them was a scoundrel, only had to wait two years to toss them out. To those who argued at our formation, it seemed like an appropriate enough time for representatives to establish themselves and still be accountable.
On the other hand, Sasse notes that an argument was made by some of the writers of the Constitution that Senators should have lifetime terms. As it was, they agreed Senators should have lengthier tenures of six years.
Yet the key differences between the House and Senate as originally applied was the latter's equal representation from each state and their selection by the respective state legislatures rather than the voters. Each state, regardless of population, was entitled to two members of the Senate – it was the result of a compromise between larger states which thought they should have a larger share of the say in our affairs and smaller states which felt like they should get their voices heard as well. Thus, little Delaware and its fewer than 60,000 inhabitants at the time would have equal status in one house of the legislature with Virginia, which had a population over ten times greater. While we now have the concept of one person, one vote for our states to abide by in all their legislative bodies, including their equivalents to the national House and Senate, the Senate was excepted.
Prior to the adoption of the Seventeenth Amendment in 1913, the Senate was inhabited by whichever two people the state legislature deemed worthy for the job – thus, you had statesmen and scoundrels alike, with absenteeism an ongoing issue. As part of the Progressive movement of the early twentieth century, direct election of Senators by the people was proposed and ratified. Fast forward a century and what do you find? Statesmen and scoundrels, who now have to hustle for campaign cash to be re-elected every six years and don't always show up, either. While the argument can be made that the Senate is far more accountable now, it doesn't seem to give the people any more faith in Congress. So why not revert back to the old way?
For one thing, we've seen the interests of states recede in our political system. More and more, the states are becoming simple lines on a map that give out different colored license plates because the federal government runs roughshod over their interests. Indeed, there is a Constitutional supremacy of the federal government but this should stop at affairs each state should be equipped to handle on its own.
Sasse alluded to the short-term thinking of the Senate in this era, and that's also reflected in the body's makeup. Several successive "wave" elections have radically changed its makeup, reflecting voter preference of the day: the leftist tide that ejected the Republican majority and brought Barack Obama to office at the end of last decade yielded to the rightward TEA Party wave that retook the House for Republicans in 2010 and the Senate four years later. Had the Senate been insulated from the fickle nature of the voter, change would have been more gradual. Certainly, ascending Republican fortunes on a state level would be gradually shifting the Senate rightward, but at a slower pace.
Restoring the pre-Seventeenth Amendment method of selecting Senators would also make state legislative elections far more important, as chances would be great that at least one Senator would come up for reappointment during a term. States that value diversity, moreover, could make their own waves with their appointments and not leave it to the will of the voters. Also, without the worry about advocating a politically incorrect viewpoint – lest their opponents make a campaign commercial out of it – Senators would be more free to speak their minds and engage in the style of debate Sasse advocates.
It's generally the Left which advocates for getting money out of politics, so what better way would there be than to take the direct election process for Senators out of the hands of the voters entirely? Just in Maryland alone, it's a certainty that the candidates running for the open Senate seat on the ballot next year will spend $15 million or more to get through a contested primary and general election because they have to secure more votes (at least in the Democratic primary, where much of that $15 million will be spent) than Sen. John Barasso did to easily win his 2012 election in Wyoming. To keep his Senate seat from Wyoming, Barasso got 184,531 votes – that total would have placed him a distant second in the 2012 Democratic Senate primary here in Maryland, let alone being an also-ran in the general election. And Maryland, in turn, is small potatoes compared to states like California, Texas, or Florida.
This may seem like a counter-intuitive argument to make from one who has forcefully argued that our local school board should be elected for accountability's sake. But I agree with Sasse that the bureaucracy in the federal government has become its fourth branch, one which is contributing to the imbalance between the legislature and executive branches. Currently we have an executive run amok, although he's just the latest in a string to do so. It's a philosophy expressed by the phrase attributed to Clinton advisor Paul Begala: "Stroke of the pen. Law of the land. Kinda cool."
Directly or indirectly, the people were made responsible for at least a portion of two of the three branches of government, electing a House of Representatives and a slate of presidential electors that rarely stray from the party line of how the state as a whole voted. Their interests were balanced out by the states, represented in the Senate, and the judiciary which wasn't selected by the people but by the executive with the permission of the Senate. (This insulated them from undue influence.)
In the manner of "progress" we have moved to a system where Senators are just another class of politicians. Certainly I have my favorites among the group, but as a whole I think we may be better served by going back to the original system. We realized the mistake of the amendment following the direct election of Senators (Prohibition) and repealed it in short order, so there is precedent for removing this error as well. Let's bring back the balance.
Political junkies know the first Friday of the month will generally bring the unemployment rate and job creation numbers from the previous month. As of Friday, the government told us we were at 5% unemployment for the first time since the Bush years, when economists talked us into a recession. (This was back when tepid job growth actually increased the unemployment rate. Of course, people blamed the president at the time.)
Be that as it may, though, there were no net manufacturing jobs created during the month, a fact which concerned pro-manufacturing organizations like my old friends at the Alliance for American Manufacturing. To quote their president, Scott Paul:
Underneath the euphoria over a good topline employment number is this fact: Manufacturing hasn't gained a single net job since January. 

That's terrible news for our economy. The effects of China's industrial overcapacity can be seen in waves of layoffs in American steel, aluminum, and other manufacturing sectors. This weakness in factory hiring comes at a very inconvenient time for the proponents of the TPP, which analysts predicted will widen our record manufacturing trade deficit. (Emphasis in original.)
Regarding the TPP, the U.S Business & Industry Council (USBIC), an advocacy organization for small businesses, said in a statement that the TPP is full of "special deals" for multinational businesses. USBIC president Kevin Kearns:
The TPP is anything but the free trade agreement it purports to be.  The use of the term 'free trade' is simply a codeword designed to attract the support of Congressional Republicans who lurch zombie-like to support anything so labeled, without examining the fine print.

A real free-trade deal could be written on a single sheet of paper, with commitments to remove all tariffs and non-tariff barriers of any kind.
Over at the National Association of Manufacturers (NAM), writer Linda Dempsey demanded a thorough review of TPP's provisions. All this makes it clear that manufacturers are wary about the effects of this trade deal. I also covered some of the other potential pitfalls on Friday for my weekly Patriot Post piece, which leads me to wonder: just who the heck is for the deal?
Well, actually, NAM is part of a broad coalition of business interests seeking the deal, which makes it less of a Main Street vs. Wall Street issue and mote of a tug-of-war between union interest in protectionism and businesses after free trade. But one question worth asking (as Kearns does) is why we need over 5,000 pages of agreement to clear the trade docket? One can also ponder what benefits we really get as the largest partner by far – it's not a coalition of equals by any stretch of the imagination, although depending on the source the per capita GDP has been measured slightly higher than ours for partners Australia and Singapore.
If there was ever a case where the devil is in the details, this may be the one. I noted in Friday's article that time is not of the essence – the 12 nations have up to two years to ratify the agreement, with only 6 (one being the United States) being enough to enable it under certain conditions. (It boils down to we have veto power, and Japan also might depending on the direction of its GDP compared to the dozen as a whole. The Japanese are close to the 15% of total TPP GDP needed to sink the deal if they don't pass it. By the way, we have a roughly 65% share so we are by far the biggest frog in this little pond.)
The concept of free trade works best among equals. Unfortunately, there aren't many peers at the level of the United States so you get the complexity of the TPP, which I won't dare profess to understand. Just on gut instinct I think the acronym KISS is in order here but when it comes to modern government it seems we can only weave tangled webs.
Last night about 120 people enjoyed hearing from both Sheriff Mike Lewis and Congressman Andy Harris, as well as words of wisdom from our sixteenth President. Here he waits his cue to walk into the gathering.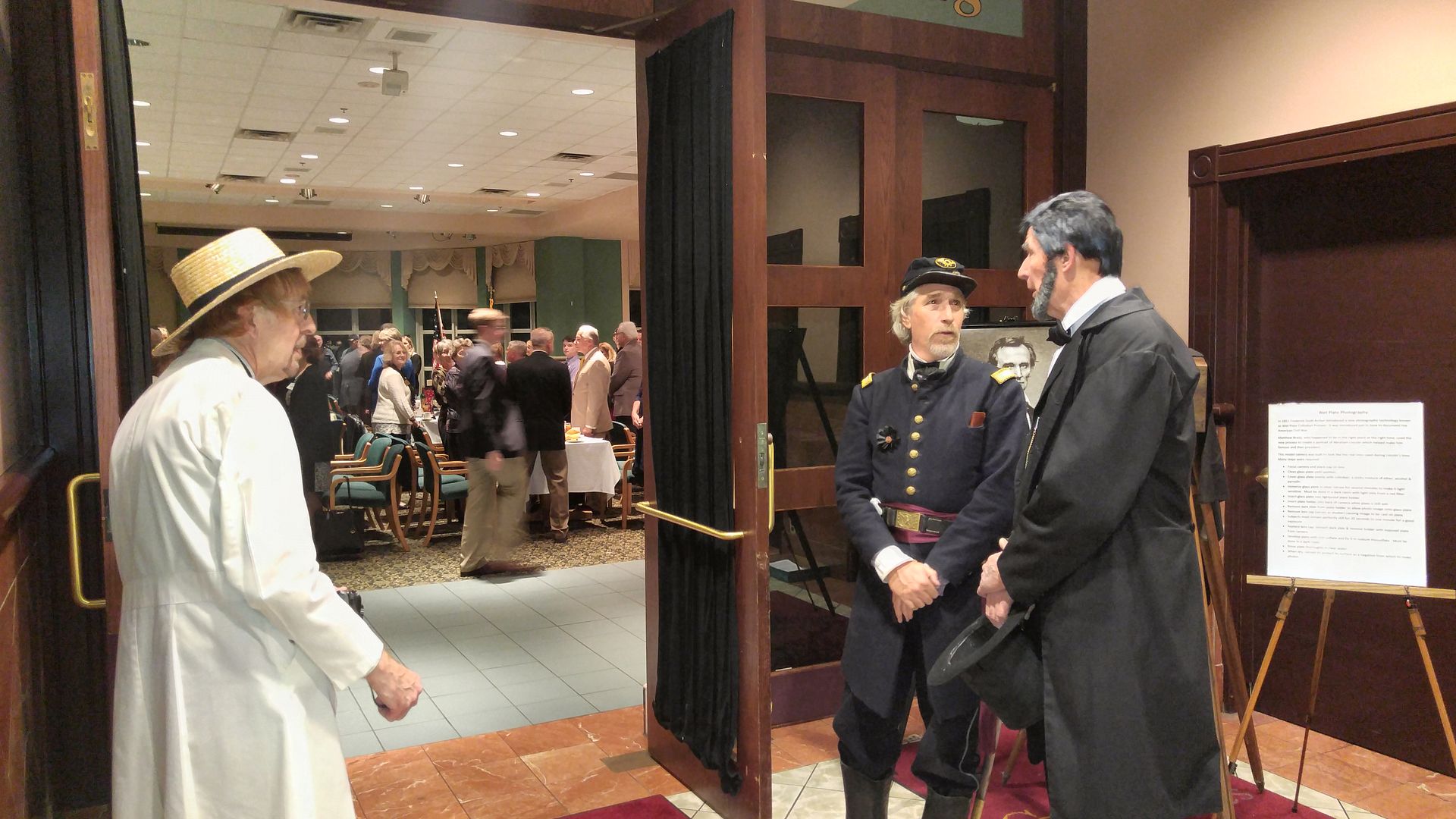 For me, this year was a little different as I subbed for our treasurer, who usually checks people in at the door. So I saw pretty much everyone who came in – actually, on my arrival I stopped Salisbury City Councilman-elect Muir Boda and his wife from going to the wrong floor. We were literally the first three there.
So by the time Lincoln and his band of Union irregulars arrived, we had a pretty full house.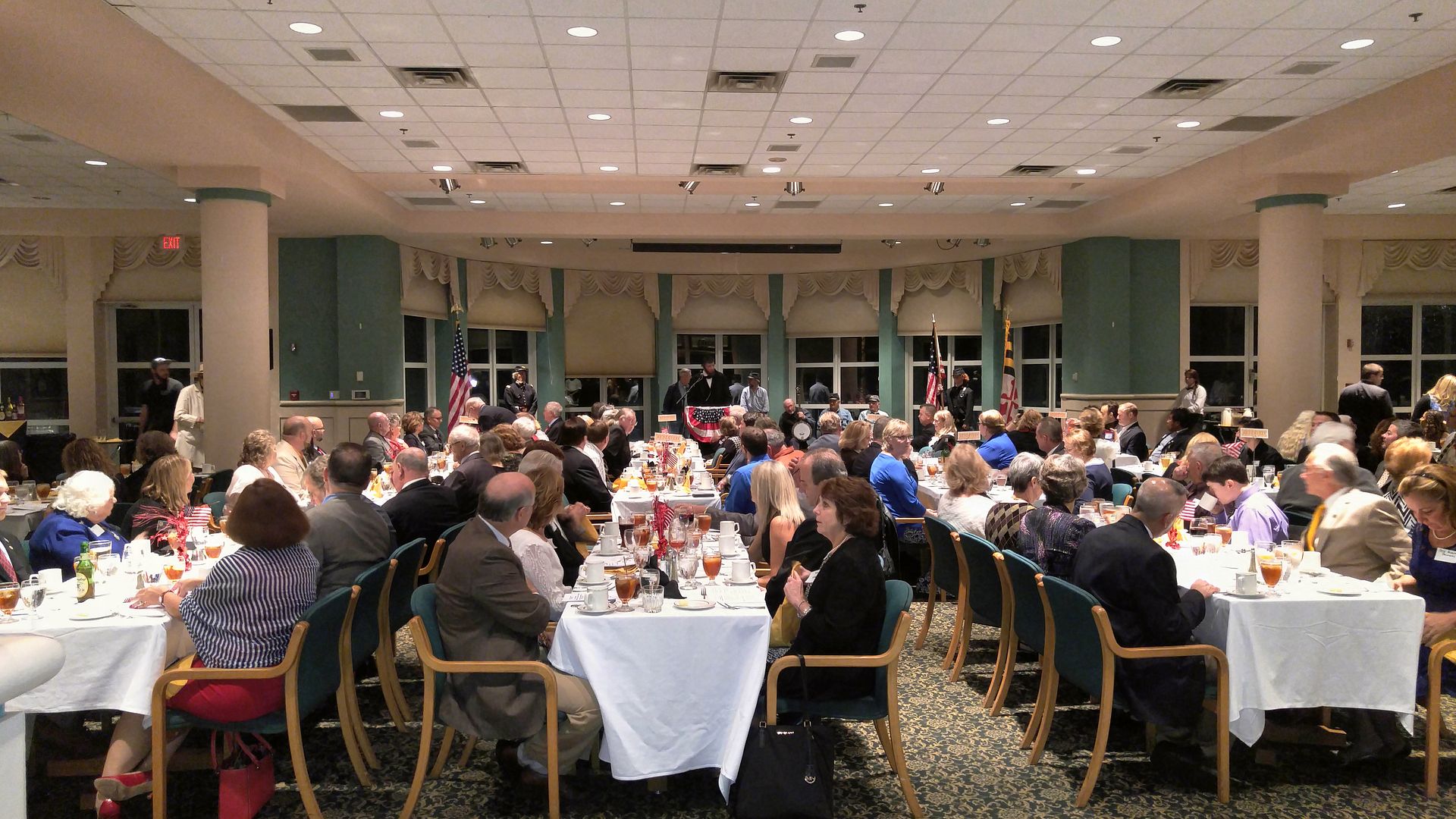 It should be noted that most of those present were from Wicomico County, but we also had contingents from surrounding counties as well as a table from Montgomery County. We also had state leaders from the Maryland Federation of Republican Women and state GOP Chair Diana Waterman.
Now because I was wrapping up my duties with a couple stragglers, I didn't catch all Lincoln had to say. But I recall he spoke about the press of the day, how candidates were vetted in an age when communication was becoming faster but still could be measured in months, and compared how voters were informed and educated then to now.
I finally got to relax, eat, and enjoy what Sheriff Mike Lewis had to say.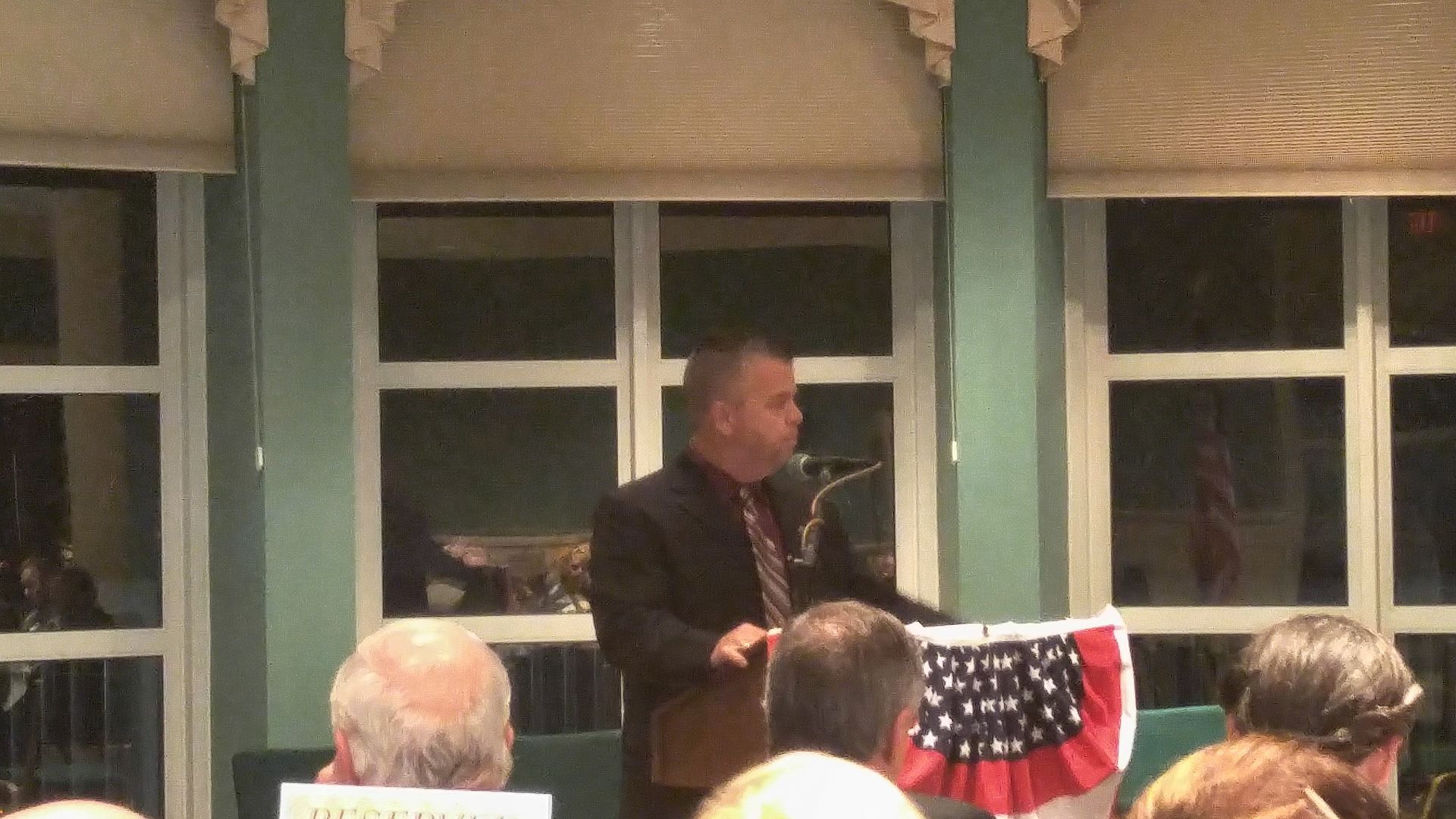 Lewis praised the Salisbury University College Republicans for their involvement, saying they "have to speak up" as representatives of their generation. Next year's election will be "the most important day of our lives."
Reflecting on his fairly recent fame – he just returned from a speaking engagement in Fresno, California – he noted they were trying to recruit him to run the Fresno Police Department but he had no desire to leave Wicomico County. "I'm extremely humbled" to be sheriff, said Lewis.
Mike pointed out that gun violence in Maryland was on the increase despite the passage of Senate Bill 281 in 2013, which he added was promoted by the sheriffs in both Baltimore City and County. So far in 2015, though, shootings have increased in Maryland from 725 to 1,161 while homicides have risen from 314 to 459. "Thank you, Governor Martin O'Malley," said Lewis, tongue firmly in cheek. The sentiment of "thank God for Larry Hogan" was much more sincere.
Lewis blamed "failed Denocrat leadership" for the woes in urban areas like Baltimore, Chicago, and Detroit. On the other hand, Lewis believed America needed statesmen in order to return our liberty and restore us to being the land of the free.
Turning to the drug issue, Lewis called State's Attorney Matt Maciarello "a tremendous partner" in the drug fight. It's a fight which has struck home for many in the area – Lewis has a 38-year-old niece who he had to lock up again for possession. "She doesn't want our help," said Lewis. He also related the story of the grandson of a terminally ill man who removed the elderly man's morphine drip and stuck it into his arm.
Politically, Lewis believed we needed to identify key people to represent "Eastern Shore values" in our government. "I'm so concerned about the lack of patriotism" in this country, said Lewis, calling on us to "make sure you vote right."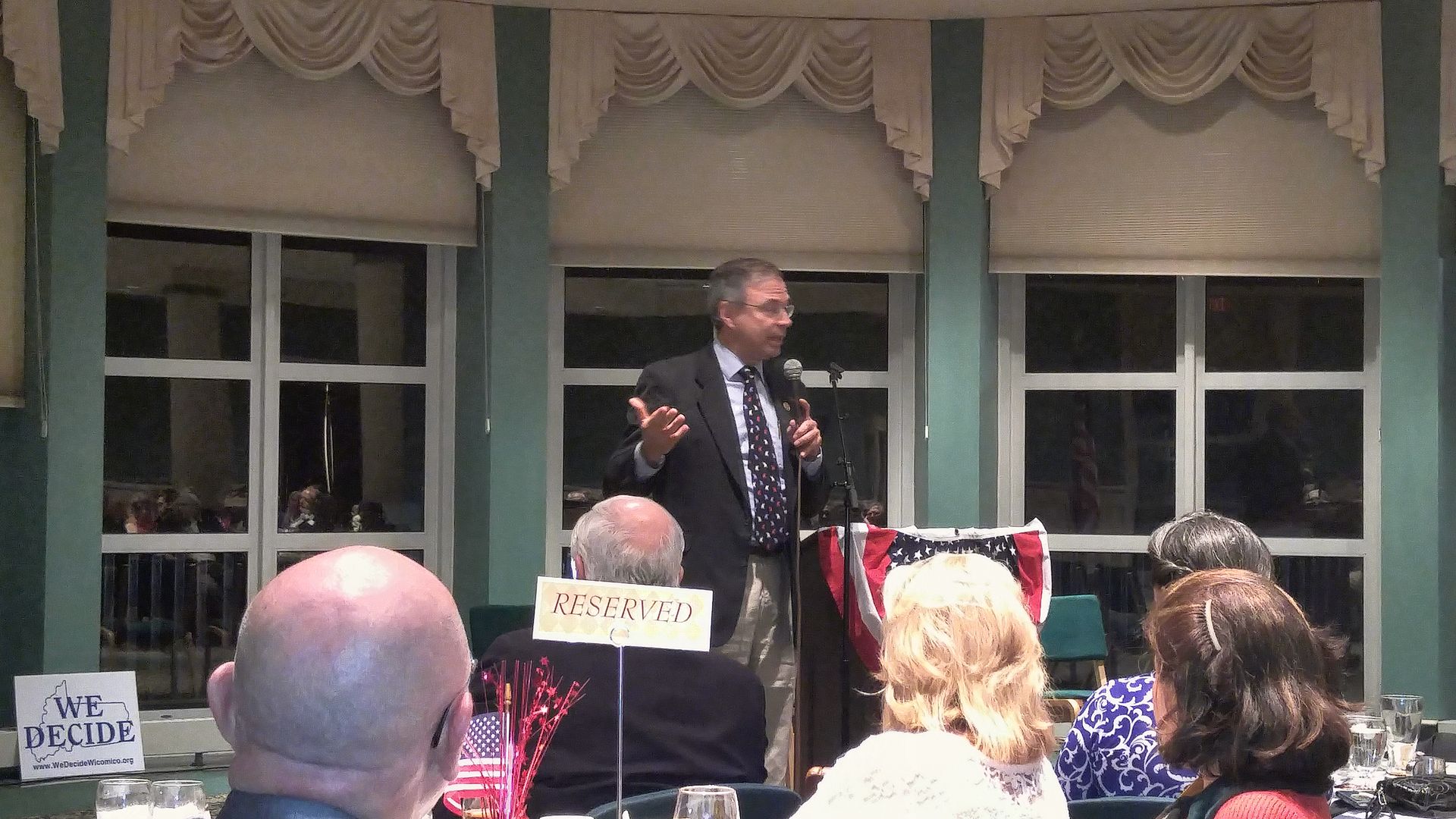 Lewis yielded the stage to Congressman Andy Harris, who was praised for being "incredibly optimistic" by Wicomico County GOP chair Mark McIver, who served as the emcee for the event.
Harris picked up Lewis's baton on the drug issue, saying we needed to "do all you can" to keep drug legalization from the Lower Shore. The District of Columbia "made a big mistake" on marijuana, added Harris. While the merits of medical marijuana were up for debate – Harris seeming to be on the skeptical side – his fear was having a workforce too stoned to be productive.
Changing gears, Harris noted that the "true blue" states of Massachusetts and Maryland now had Republican governors. He chalked it up to a situation, more specific to Maryland, where "government has failed them entirely." Electing GOP leaders was "no accident," he added.
Showing his optimism for 2016, Harris said, "I think things look good, actually." He also believed our late April, winner-take-all primary was key in an election where he noted Karl Rove thought there was the possibility of no candidate having enough delegates to win on the first ballot.
Andy went on to speak about the Republican field's diversity, pointing out Ben Carson was "the most serious African-American candidate" in history. This was intriguing because Carson, who Harris said he'd known since the early 1980s, was the "farthest person from a politician you could ever get." Moreover, with two Hispanic candidates the possibility was there to secure 40% of the Hispanic vote, which was the fastest-growing minority bloc.
As for the U.S. Senate race here in Maryland, on the Democcratic side Harris described Chris Van Hollen as "the consummate insider," while Donna Edwards was "to the left of Bernie Sanders." Elijah Cummings could get in the race, but there was the issue of his reaction to the Baltimore riots. "You own it, Mr. Cummings," said Andy.
Harris then revealed that Delegate Kathy Szeliga would be here in Salisbury Thursday afternoon as part of a statewide tour to promote her U.S. Senate bid. If she wins, said Andy, "Maryland is no longer a blue state." He called Szeliga "the Joni Ernst of Maryland," referring to the Senator from Iowa elected last year. "We can't keep doing business as usual in Washington," concluded Harris.
Despite the previous admonition by McIver that neither Lewis nor Harris would take questions, Harris took them anyway. First out of the chute was how Paul Ryan won him over.
Ryan was an "excellent" choice for Speaker, with Harris arguing he's "not a moderate."
But this led to a more philosophical answer, with Harris believing Ryan could unite the House and re-establish the "natural tension" between the legislative and executive branches, rather than the artificial battle between parties that Barack Obama and Harry Reid took advantage of to amass power for the executive branch. He opined that legislation from the House will be conservative, even with some Democratic amendments, but this was a way to make the House united.
The way John Boehner did things, contended Harris, was "not the way to do business." He used that example to answer the next question about government shutdowns, saying that you can't embararass the Senate into action with just a few hours to act. Ryan would work to do things in regular order, which puts the onus on the Senate to act.
Harris then answered a question about why Congress is held in such high disregard by the rest of government by claiming "bureaucracy has become the fourth branch of government." He called on the next GOP president to be "merciless" in cutting bureaucracy.
Finally, in answering a question about VA treatment, Harris made the case that a veteran from Princess Anne shouldn't have to drive by a care facility in Salisbury to go to a VA clinic up in Baltimore. When an average VA visit costs $250 compared to $65 to $85 in the private sector, "it is time we privatize" VA health care.
(Funny, some guy I know wrote a book three years ago with that same idea, among others. But I wasn't standing behind this podium.)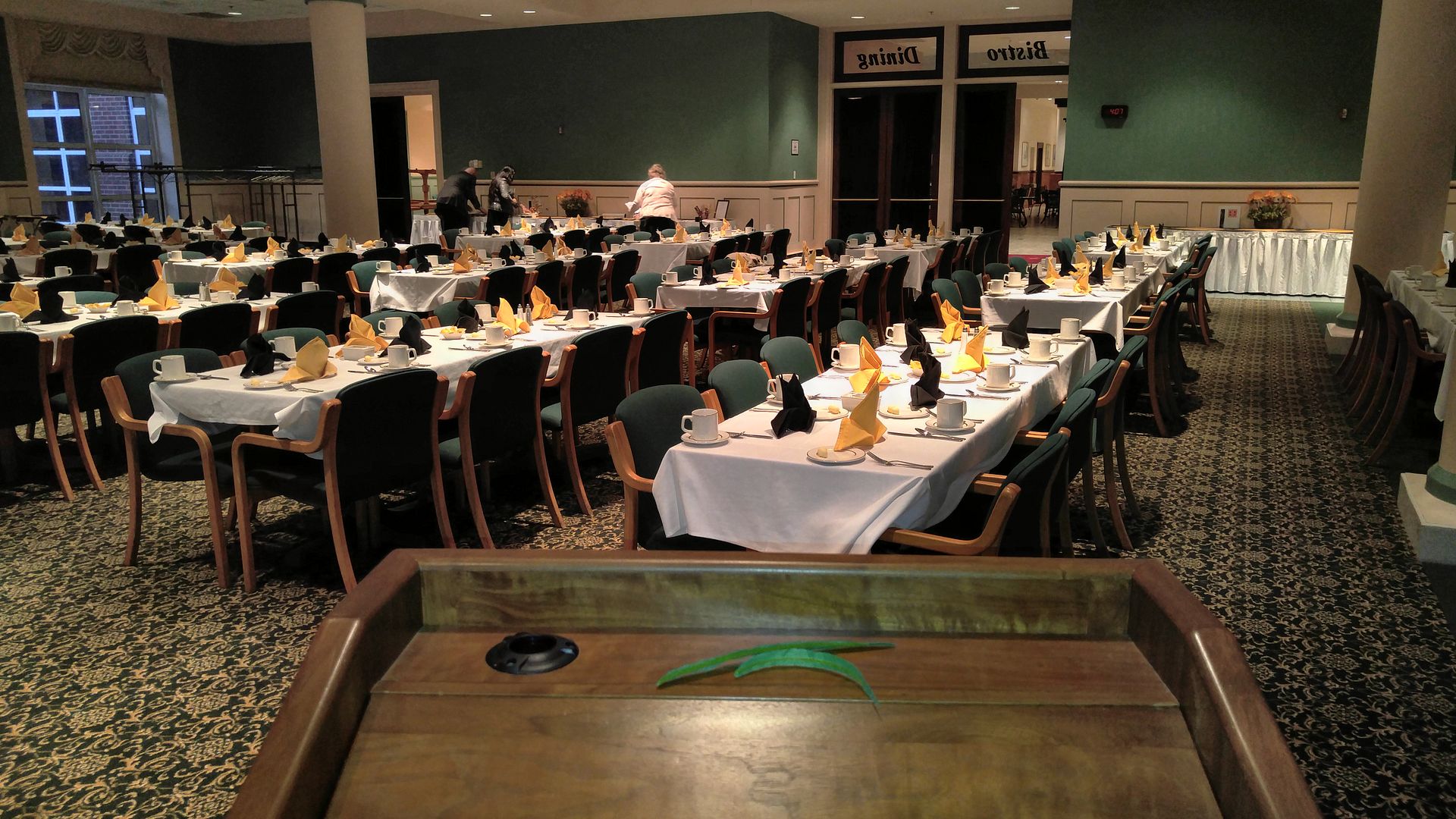 One other aspect of the LDD worth mentioning is the silent auction, where we had a table full of items from books and gift baskets to experiences such as lunch at the Capitol Hill Club or shooting with Harris or a State House tour and lunch with Delegate Carl Anderton, among many others. That turned out to be a success, too. I thought I had a photo of that spread but turns out I didn't. Oh well.
The SU College Republicans also did some fundraising, doing a pay-per-vote poll for President and selling T-shirts.
We may stay with this fall date next year, although it may wait until after the election – meanwhile, we may do a second fundraiser in the spring/summer. It turned out to be a good event to continue building on, so we shall see how we ended up doing when the bills are paid.
By Cathy Keim
I have been out of action due to travel and a crashed computer. Now that I am home and my computer has been revived, I would like to offer some thoughts about last week's disheartening and cowardly betrayal of the base by our overlords in D.C.
Speaker Boehner used his last opportunity to either support President Obama's agenda again or to clear the path for the 2016 Presidential election so that the GOP candidate can win by removing the controversial budget battle and potential government shutdown. I suppose that the GOP leadership thinks that it was the second option, but the effect on the base was to demoralize and depress them to the point where one might say we are not a two party system anymore. Instead, they contend we are a one party system with two names!
The backroom bargaining that led to the passage of the budget bill was a slap in the face to all the grassroots supporters of the GOP. The leadership may think that they have cleared the path for the new Speaker of the House, Paul Ryan, to work collegially with the various factions in the House, but this seems unlikely.
Speaker Boehner passed his budget through with Democrat votes again! The majority of the Republicans voted against the budget, but not Paul Ryan. "I think this process stinks," the speaker-in-waiting reportedly harrumphed as he walked into a meeting where Republicans were briefed about the 11th-hour agreement. "Under new management, we are not going to run the House this way."
Speaker Boehner cleaned the barn before turning the reins over to Paul Ryan, who despite his complaint about how the budget deal came to be, did not disagree so strongly as to vote against it.
Congressman Andy Harris voted against the budget and even tweeted this plea to the senate to save us from this deal.
Overwhelming Republican Majority in House voted NO #BudgetDeal – Senate should oppose to protect Americans from irresponsibility.

— Rep. Andy Harris, MD (@RepAndyHarrisMD) October 29, 2015
But in similar fashion to Ryan, he got over his angst quickly enough to vote the next day to approve Ryan as Speaker.
Where does this leave us now? Will Speaker Ryan be an improvement over John Boehner? Will it make any difference?
Our first inkling of whether Paul Ryan will try to re-establish Congressional prerogatives to check this administration will be whether he will allow riders on the next CRomnibus bill. If he allows the conservative members to attach riders, this will lead to a fight with the President. Will Ryan permit this or will he roll over for the President?
We will know soon enough since the CR has to be dealt with in December.
Another major issue to watch is immigration. Paul Ryan has been soft on immigration for years. In a bargain to be elected Speaker, he agreed to not bring up immigration reform under this President. Depending on who the next President is, this promise may not amount to much. Several of the GOP candidates are open border types as is Hillary Clinton, so this promise is a weak reed for the conservatives in Congress to lean on.
Interestingly, the House Freedom Caucus is not conservative on immigration. This makes logical sense if one realizes that many of the Freedom Caucus members are more libertarian than conservative and libertarians tend to advocate for immigration.
From Breitbart:
A recent PBS documentary exposed how Ryan and Rubio were nearly successful in their effort to pass amnesty in 2014. Ryan had crafted a bill and had the Republican votes necessary to pass it. Ryan's amnesty effort was aided by many of the members of the House Freedom Caucus, including Rep. Mick Mulvaney (R-SC) and Rep. Raul Labrador (R-ID). Mulvaney has since become one of the biggest boosters in the House Freedom Caucus of a Paul Ryan Speakership. According to the documentary, the Ryan-Rubio amnesty plan was foiled when Rep. Dave Brat (R-VA)scored a historic primary victory to oust then-House Majority Leader Eric Cantor.

Sessions explained in the interview, "There's a great danger to elect a Speaker of the House who is a leading advocate for two major issues today — trade and immigration — and advocating against the wishes of the Republican voter."
No matter what Speaker Ryan does, I doubt if any of us will wish to have John Boehner back. But we may not find Ryan much of an improvement if he follows through on his previous positions. If he does allow for more open debate without punishing those that disagree with him and if he will return to the Hastert Rule which says the Speaker will not bring up issues for a vote which cannot be passed by a majority vote of the majority party (no more bills passed by a minority of Republicans aided by Democrats), then we may find that Paul Ryan is an improvement over John Boehner.
Even though he won the coveted monoblogue endorsement, I wasn't really trying to make this an all-Bobby Jindal all the time site. Surely he's spending hundreds if not thousands of dollars weekly on his own internet presence so Bobby doesn't really need my help with making and sharing news.
But it seems as of late that Jindal is putting out stuff that's, well, presidential. He grabbed the bully pulpit with his remarks on cultural decline the other day and now he has come out with a somewhat unique tax plan that makes the point people need to step up and take a little responsibility. Unlike many others in the race, Jindal believes that it's a "terrible mistake" that nearly half of people pay no federal income tax. Instead, he proposes a modest 2% tax bracket for the lowest wage earners, with many others falling into a 10% bracket and the top bracket paying 25%.
Now that low top rate and the fact everyone pays will obviously get the Democrats and their class-envy allies screaming about tax cuts for the wealthy being paid for by everyone else. My advice to them: shut up. I'm tired of that rhetoric, particularly when we live in a nation where the top income earners pay far more in tax than their share of the overall wealth.
Even better from my perspective is that we're not shooting for revenue-neutral here. No, this will bring less money to Washington so more stays in your pocket where it belongs. Jindal admits, "the only way to shrink the size and influence of Washington is to starve it." Or, as I call it: an admirable start.
While this isn't a substitute for the benefits of a consumption-based tax, Jindal makes an important nod in that direction by allowing tax-free savings accounts with contributions of up to $30,000 per year. If you can't tax consumption, at least reward savings.
Winning my endorsement came not just because Bobby was well-versed in a conservative manner on the issues, but in large part because these positions are thought out and explained for the benefit of both the average voter and those who are interested in the wonkish side, like me. Compared to the Jindal campaign, too many others have the depth of a cookie sheet.
Finally, I want to play devil's advocate for a moment. I can almost see the argument about how the states will have to step in and increase their budgetd because the federal government will have to cut out of necessity. This may be true – but wouldn't you rather fight budgetary battles in Annapolis, Dover, or Sacramento than in Washington? Even after seven years, Jindal spends less money than his predecessor did. We praised Larry Hogan for only raising the budget by one percent, but imagine if he cut it nearly 10%.
We stand at a crossroads in this nation. Many seem to be conceding that our course is now just to do the best we can in hoping our freedom isn't extinguished in one fell swoop, and seem to be happy with tamping on the brakes as we lurch toward a train wreck of our own making.
I look at things differently. People see Donald Trump as someone who would shake up the status quo, but I question his conservatism on a number of issues. He authored a tax plan which removes over half of taxpayers from the rolls, meaning the takers will always outvote the givers and the incentive to reduce government will be gone. In a nation formed on the principle of limited government, we retreat further and further from the ideal. Sooner or later we will be back where we started since Trump isn't serious about addressing our runaway spending.
I spoke to my mom the other day, and I reminded her of what Washington is. Years ago we lived in a house where a colony of bees had taken residence under the porch. So my parents put out a piece of cardboard and spread a sticky substance on it – a couple days later it was full of bees. To me, Washington is that piece of cardboard and all that taxpayer money is the sticky stuff the bees flock to. The only differences are that we're all stuck and we're all being stung by that mass of bees that have taken up shop inside the Beltway.
It's long past time to call in a beekeeper to put those worker bees in a more productive place. Bobby Jindal just might be that guy.
By Cathy Keim
John Boehner hit the Sunday morning TV circuit to explain why he is resigning and to spin his past performances. In addition, the various media are adding their spin and giving advice as to how to proceed. After reading through a variety of reports, it seems pretty well decided that:
John Boehner did the best he could under the circumstances.
Congress never really had the ability to stop the Obama agenda.
The conservatives/Tea Party types that caused this ruckus should go away.
House Majority Leader Kevin McCarthy will be the next speaker.
One can go farther and depending on the source conclude that:
Our nation has grown too large to govern as a republic.
Christians should withdraw to enclaves because it is all going to the dogs.
There is no turning back from the path of destruction that we are on.
Before you give up hope and head for the hills with your guns, ammo, Bibles, and food, let us take a quick review of the comment sections of the same articles.
I do not read the comments on some sites because they are merely vile epithets interspersed with poor spelling, but other sites actually have rousing comment sections. There are many Americans that are still interested in the American Experiment and in their Christian faith. They are not giving up. Nor should we.
We need to think about the battlefield before we proceed. Rep. Peter Roskam (R-IL) says:
If we launch headfirst into leadership elections like this is a typical succession, without ever taking the time to diagnose our current ailments, we won't heal the fractures in a Conference that has thus far proved unleadable. Simply reshuffling the deck won't serve our members, and it especially won't help our next slate of leaders who will be tasked with producing better results than our leaders have so far been able to achieve.
Kudos to Rep. Roskam for identifying the need to come up with a coherent strategy to unite the GOP. The current fracture between the leadership and the base is not going to disappear, especially if Boehner uses his last 30 days as Speaker to push through a clean CR as is rumored. (He did.) If the House replaces Boehner with McCarthy it will be viewed as the leadership ignoring the base once again. It is possible that McCarthy would acknowledge the desires of the base more than Boehner did, but it would be a long road to prove this and to gain the trust of the base.
We have entered into a dangerous time for the country with an expanded imperial presidency unfettered by the legislative branch and supported by the judicial branch. This president rules by executive order, regulations, and selective enforcing of the laws.
Congress has allowed this because under Pelosi and Reid they agreed with Obama's agenda. The citizens expressed their strong disapproval by dismissing first Pelosi and then Reid by decisive victories in the House and the Senate. Those victories at the elections have never translated into victories in rolling back the president's fundamental changes. This has led to extreme disappointment and anger amongst the base. The passage of the CRomnibus bill is a recent example of this outrage. Rep. Harris said we needed to just pass the CRomnibus so that we could focus on this year's budget. We didn't have time to fight over the previous budget, because we needed to look ahead. Fast forward. Now we are looking at another CR. Hmmm, we didn't fight last time so that we could work on doing it right this time, so now let's just pass another clean CR so we can focus on the next one?
We have been handed that line just a few too many times. They say we will hold the line on that debt ceiling; no, at the budget; no, back to the debt ceiling. The bait and switch doesn't work once people realize that it is happening.
Congress under its present failed leadership has tried one too many times to blame everything on anything except themselves. Like a drug addict in rehab, they need to get clean, and face their inner demons. They were elected to serve their country, not to become rich, powerful men and women addicted to their status and in need of the next cash transfusion from their donors/masters.
The GOP leadership really cannot afford to kick this can down the road now. In the progressive movement, they are facing a ruthless, effective opposition that will stop at nothing to achieve total control of every aspect of our lives.
Housing and transportation zoning codes: Agenda 21 takes care of that.
Education: Common Core destroys that.
Family: Changes to marriage and social mores finishes that off.
Freedom of Religion: Reduced to a personal faith only to be expressed inside the church building, and only as long as they don't get political.
Government medical care: We have you covered, but that doesn't ensure access to care.
We are well on our way to a totalitarian state and the progressives will not stop until they get there or are decisively defeated, not just pushed back for an election cycle or two.
Now, GOP leadership, do I have your attention? Your base understands and is extremely motivated to stop the fundamental transformation that is taking place in this country. We are no longer deceived by your show votes.
I suggest that instead of sneering at your base, the leadership of the GOP should take a brief time to reflect on the course of the nation and come to a plan of action that will encourage its base and present the proper explanations which can be ably defended by many of the presidential candidates as to why we need to defund Planned Parenthood, stop the flood of immigrants that we are not assimilating, and change our foreign policies, particularly our policy towards Iran.
Carly Fiorina is not backing down on the evil that is Planned Parenthood as revealed by the Center for Medical Progress's videos. Congress should join her by forcing a vote on defunding PP and making the President veto it. Show the videos so that the President and his followers are exposed for supporting selling butchered baby organs.
Ted Cruz is standing alone on the floor of the Senate calling out the failed leadership on their collusion in funding Planned Parenthood and the Iran deal.
Ben Carson is not retreating from his statements about a Muslim president.
Many of our candidates are showing themselves to be fearless in presenting their ideas. This should be a lesson to our present failed leadership.
Do not go onto the battlefield without a strategy to win. Once you start, stand by your principles, and go for victory.
The only flaw in this advice is that it assumes that our current leadership is operating on principles when it sadly seems that they are doing the bidding of the highest donors. This is the most plausible theory to explain why the GOP keeps siding with the progressive agenda when it coalesces around the goals of crony capitalism rather than their base. If so, they need to reform or find themselves cast aside like Boehner. Revolutions can pick up momentum. The outsiders may just lead the base to true victory.
By Cathy Keim
I wrote a piece on Thursday night about John Boehner's upcoming problem with the continuing resolution. To my surprise, Speaker Boehner announced on Friday morning that he would resign at the end of October. He claims that he had the votes to survive Rep. Mark Meadows' (R-NC) motion to vacate the chair, but we will never know now if that was true.
At his resignation press conference he stated:
But more than anything, my first job is — as Speaker, is to protect the institution.
He seemed to think that by resigning he was protecting the institution. Actually, I believe that he was not protecting the institution by his continual acquiescing to President Obama's desires, nor has he stopped the infighting amongst the House members by his resignation.
His self-deception will continue, it appears. In the corporate world when an employee is terminated, they are often escorted to the door immediately. Here, the Speaker is resigning before he can be fired, but he has decided to hang around for another month to help with the transition and has already said that House Majority Leader Kevin McCarthy (R-CA) would be a good Speaker of the House.
Since he is resigning due to conflict, perhaps it would be better if he left posthaste and didn't try to influence the election of the next Speaker.
Here is my original piece. I still think that many of the points are worth reading since Boehner's resignation has not fixed anything. Unless a new Speaker is elected that will replace the failed GOP leadership model, then there will be no improvement and the conflict between the conservative and moderate GOP House members will continue.
(Editor's note: I slightly revised the original piece to refer to Boehner in the past tense as appropriate.)
Original piece:
It is possible that we are seeing the end of the Republican Party. We are rapidly approaching another continuing resolution battle where the fight is between two factions of the GOP rather than between the Democrats and the Republicans. The conservative portion of the House of Representatives would like to stand up and fight even to the point of shutting down the government. The mainstream portion would prefer that they go along to get along.
There are two potential sources of members refusing to go along with the party line: the Defund Planned Parenthood group and the no to Syrian refugee resettlement group (both of which may overlap.)
We may have to call this the Carly Fiorina dilemma: shut the government down to stop the attack on our physical security by importing thousands of Syrians who cannot be vetted by the FBI to ensure that they are not jihadists or shut down the government to stop the destruction of our moral character by the killing of our babies and selling their body parts for profit.
Personally, I am for attaching amendments to the CR to achieve both of these goals. However, as we have seen with the CRomnibus bill and numerous other opportunities, the leadership would rather throw in the towel before the fight begins than stand up to the President.
I am not a gambler, but as Kenny Rogers sang, "You've got to know when to hold 'em, know when to fold 'em." Speaker Boehner seemed to have one policy and that was to fold 'em and run away.
His refusal to fight resulted in the relinquishing of the power of the purse and the complete abandonment of any check on the executive branch of the government.
Speaker Boehner is leaving in part because he was in the unenviable position of being squeezed between the unhappy conservative members. If he insisted on the clean CR he would lose at least 50 conservative Republican votes – meaning he will need Democrat votes to pass his CR.
Had this come to pass, it would have caused Congressman Mark Meadows (R-NC) to call for his motion to vacate the chair. At that point, it is possible that the Speaker would have only been able to retain his position if he had support from the Democrats. He would have retained control as Speaker, but at the cost of being beholden to the opposition party for saving his speakership. There was even talk that Boehner would give subcommittee chairmanships to Democrats.
At some point, you have to ask, is it really worth being the Speaker of the House if it would require destroying your party to retain power? For Boehner, the answer was no.
House Majority Whip Steve Scalise, R-LA, is trying to woo the conservative bloc by offering to use reconciliation as a method to defund Planned Parenthood. Reconciliation only requires a simple majority, as we remember from the Obamacare fight. By using reconciliation, the amended CR could make it to President Obama's desk, where he would promptly veto it and that would be the end of that since the GOP could not get the 67 votes necessary to override a veto.
So what does that get us? Nothing. Planned Parenthood would continue to receive 41% of its funding from taxpayers. Although they cannot directly use the money to fund abortions, we all know that they just shift money around and pretend that it didn't enable them to do exactly what they want to do. PP would continue to abort babies. They would perform about 440,000 more abortions before President Obama would finish his last day in office.
If the GOP leadership would stand up and fight, there could be a chance to save some of those 440,000 babies. If they would refuse to allow thousand of "refugees" into the USA, they would not have to be concerned about jihadists gaining entry through the refugee programs.
Despite the clear and present danger to the lives of our unborn citizens and of violent jihadists gaining entry to our country, Speaker Boehner showed every sign of weepily folding without a fight. And by his staying through October, a grand bargain may well be set in motion.
Rather than hoping that the next president will be a Republican who will fix everything by undoing executive orders, I plead with our current leaders to do what we sent them to DC to do: fight.
Do not brag to me about how many bills you passed in the House when we all know they never made it through the Senate, so they never achieved anything. Stop passing bills that never go anywhere and get a strategy that will actually advance our cause. If we must shut the government down to get the president's attention, then let's do it. All essential personnel are required to work anyway, so the government never really shuts down.
This president has already shown his vindictive streak the last time there was a government shutdown when he "closed" the World War II Memorial and national parks. We know what he will do. Let's prepare an offensive strategy.
We have many vocal Presidential candidates who can very ably make the case to the public that the President is the one that is shutting down the government by his veto. This may be the best possible time to have this battle since the Presidential candidates can use their public time to advance the cause.
Wouldn't you like to see Ted Cruz, Ben Carson, Carly Fiorina, and even Donald Trump explain why we needed to pass the CR with the defund Planned Parenthood amendment and the no refugee amendment?
Speaker Boehner and Senate Leader Mitch McConnell should welcome the help since they have been silent far too long.
Before Donald Trump supposedly made this an issue, I decided that immigration was one of my highest-priority issues in selecting a presidential candidate.
In the last few decades our nation has wrestled with the question of what to do with the hordes who sneak across our southern border or simply decide when the time is up on their legally-acquired visa that they're not going anywhere. Perhaps Ronald Reagan's biggest mistake was signing the Simpson-Mazzoli Act, for while he believed that, "Future generations of Americans will be thankful for our efforts to humanely regain control of our borders and thereby preserve the value of one of the most sacred possessions of our people: American citizenship," the inverse has occurred. Our borders are a sieve and millions who believe a second amnesty is around the corner have swarmed to our land, doubling down by having "anchor babies" who are considered citizens via a faulty interpretation of the Fourteenth Amendment.
So let's talk about that aspect. Oddly enough, a story (from NBC News, of all places) discussed how several of the candidates felt about ending birthright citizenship. Mostl are in favor of ending the practice:
Ben Carson: Reportedly told a Phoenix rally that birthright citizenship "doesn't make sense to me."
Chris Christie: it "needs to be re-examined."
Ted Cruz: "as a policy matter (it) doesn't make sense," he said last week on "Face The Nation."
Lindsey Graham: "I think it's a mistake."
Mike Huckabee: once against it, but recently told radio host Hugh Hewitt he was now open to it.
Bobby Jindal: "We need to end birthright citizenship for illegal immigrants."
Rand Paul: proposed a Constitutional amendment to end the practice.
Rick Santorum: "(an) enticement (that) should be ended."
Donald Trump: "biggest magnet for illegal immigrants."
Those who would leave it as is:
Jeb Bush: "I don't support revoking it."
Carly Fiorina: we should put our energy into border security.
Jim Gilmore: Quoted in the Richmond Times-Dispatch, "every person born in this country has the right to citizenship."
John Kasich: Once a supporter of revoking birthright citizenship, now says, "we're gonna welcome you to a path of legalization."
George Pataki: "I don't support amending the Constitution to kick out kids who were born here."
Rick Perry: If the border is secured, it "becomes inconsequential," as quoted in the Dallas News two weeks ago.
Marco Rubio: won't repeal the Fourteenth Amendment, but is open to not allowing the practice.
Scott Walker: Apparently has moved out of the "end birthright citizenship" camp.
As regards the actual process of dealing with illegal immigrants, the naysayers would tell you we can't deport all 20 million of them. Maybe not, but we could at least get rid of the criminals and turn up the heat on employers who knowingly hire illegal aliens. I see nothing wrong with E-Verify as a starting point, as long as it can be done quickly. We also need visa reform to keep better tabs on those who are our guests. And while it goes without saying we need to secure our border with Mexico, the question is how best to do it. One big problem is that a significant part of the border is a river and I don't think sharks will live in fresh water. (Yes, I am joking.) But we should build a sturdy fence, whether Mexico pays for it or not. We were promised as much a decade ago.
But the biggest sticking point is amnesty. We are in this situation because amnesty once was granted so the precedent is there. Anyone who has shown up illegally over the last 30 years now feels entitled to all the benefits because, if we did it once, we can do it again. If we do the 20 million who are here will become 50 million, all expecting the next amnesty and "path to citizenship." To me, the path to citizenship begins by going back to their country of origin but, because of birthright citizenship, those anchor babies became their golden tickets which allow them to stay. To me that's wrong and unfair to those doing it the right way.
Imigration is an issue that, frankly, may make the person who has to be the bad guy plunge in the opinion polls. And it's certain that the Beltway Republicans will whine and complain about losing the Latino vote, but it's not necessarily true that a hard line on immigration will significantly hurt us with less than 10 percent of the electorate. (Yes, that is all we are talking about.)
So how do the candidates do? Some speak to the issue directly on their campaign websites while others remain less direct.
In his first effort at comprehensive policy creation, Donald Trump has hit the sweet spot. While there may be a few places I think are unworkable, it is a great template to follow in both proposal and attention to detail. It's no wonder his popularity is increasing; obviously this category is a gigantic step up for him.
Total points for Trump – 10.5 of 11.
It's not quite to the standard that Trump set, but Rick Santorum has a good, basic outline of his immigration policy ready for inspection and it correctly hits most of my highlights.
Total score for Santorum – 9.0 of 11.
Border security is paramount for Rand Paul, who has his own plan that's mindful of civil liberties. One thing I like about it is the idea of not having a national identity card. The only drawback may be that it's sort of a go-slow approach because we're not securing the border that quickly. On the whole, though, it's worth a look.
Total score for Paul – 7.7 of 11.
Bobby Jindal doesn't have his immigration policy spelled out as those above him do, aside from the typical "secure the borders" rhetoric and a desire for people to follow the law. But as a first-generation American, he makes a brilliant point about assimilating that others aren't making. Even he Americanized his name as Bobby is the nickname he adopted as a child. It sure beats Piyush.
Total score for Jindal – 7.5 of 11.
For a guy who was the governor of a border state, I thought Rick Perry was a little evasive in this interview. Of course, if I assume Perry goes with his record as governor he does better than the guy who signed a Texas version of the DREAM Act. So he's going to score better than average but not really at the top of the heap.
Total score for Perry – 7.5 of 11.
Ted Cruz has a relatively simple view on immigration: "legal good, illegal bad." I applaud his insistence on following the rule of law, but am scratching my head as to why he wanted to quintuple the number of H-1B visas at a time when companies are flouting the existing rules and favoring foreign workers over Americans.
Total score for Cruz – 7.4 of 11.
Assuming that something he wrote last November is still valid, Ben Carson has a somewhat unique approach to the illegal immigration issue: a guest worker program. And while he stresses those who wish to be guest workers should apply from their country of origin, my fear is that the Chamber of Commerce types who want ultra-cheap labor will get the return home portion of the idea scrapped. After all, what employer will really want to hold a job for someone for months while they go through that process?
Total score for Carson – 5.1 of 11.
Being for stopping illegal immigration is one thing. But Mike Huckabee has a somewhat vague, fuzzy plan to do so after securing the border. And as someone who at times seems to pander to the crowd, I'm not as trusting in Huckabee as I would others in the field.
Total points for Huckabee – 5.0 of 11.
Jim Gilmore starts out so well, with a nice, relatively comprehensive summary of his policy. I totally support deporting the criminal illegal aliens among us, but the problem is – and perhaps I am misunderstanding it – he would allow illegals here to continue working in place. I think they need to return home and get in line. Otherwise, there are some decent points as Gilmore's campaign finally begins to flesh things out.
Total score for Gilmore – 4.5 of 11.
Securing the border is key to Scott Walker, who has turned heads by bringing up a border fence with Canada, too. Supposedly he is moving toward more of a hardline stance on immigration, but he has been all over the map even during the campaign and the fact he doesn't discuss it as an issue on his campaign site is evidence he wants to play both sides against the middle. I'm not convinced.
Total points for Walker – 3.5 of 11.
Now that I've seen some of Carly Fiorina's "Answers," I get that she wants to secure the borders first. But it's also a copout to blame both parties for a lack of political will over the last 25 years. What I want to know is how you will overcome that inertia.
Total points for Fiorina – 3.0 of 11.
It's described as a "moderate" approach to immigration, but while Chris Christie says he's no longer for amnesty, he's also not supportive of an enhanced border fence. He would rather work to dry up sources of employment, which is fine for those coming to work but not those who wish to have anchor babies or conduct criminal activity.
Total score for Christie – 2.5 of 11.
The bottom five are all for giving illegals some sort of legal status. Way to encourage another 50 million of them, guys.
"Don't send me a(n immigration reform) bill without a pathway to citizenship or I will veto it," said Lindsey Graham. Well, they don't call him "Grahamnesty" for nothing, and if it weren't for at least getting it on birthright citizenship nothing is what he would get for this category.
Total score for Graham – 2.0 of 11.
Marco Rubio will tell you he's for several aspects of combatting illegal immigration: the border security, E-verify, and so forth. But he's another who is hard to pin down because he doesn't highlight immigration on his site, so I have to base my thoughts on him on his coming out against the Trump plan, supporting a large increase in H-1B visas as well as legal status for illegals after a decade, and most of all being part of the Gang of Eight.
Total score for Rubio – 1.5 of 11.
Jeb Bush visited the border, whined about how much the Trump plan is big government, then said we need to give illegals "a vigorous path to earned legal status where people…work and not receive federal government benefits." Do you honestly think such a program will last five years before the work requirement is waived? Please.
Total score for Bush – 0.0 of 11.
John Kasich stops short of granting them citizenship, but is squarely in the camp of legalizing the illegals, which he would "prefer." I prefer someone interested in the rule of law, not emotion.
Total score for Kasich – 0.0 of 11.
George Pataki would grant amnesty to illegal immigrants. I don't care what he says about securing the border because by allowing law-breakers a path to citizenship if they have no criminal record and do 200 hours of community service he has forfeited any respectability on this issue. Do you honestly think bureaucrats will check all these criminal records and verify the community service? It's called a rubber stamp, and patently unfair to thosr who did it right.
Total score for Pataki – 0.0 of 11.
The next topic is one I've had in previous elections, but in a different form. Instead of just looking at the Long War against radical Islam, I'm expanding it to look at foreign policy in general, for 12 points.
Coming in next in importance to me as the sixth of my ten pet issues in taxation. This may be the simplest to explain of all the issues because I don't think there is a candidate among the 17 Republicans who wants to increase them.
However, if you ask me – and since I write this blog and you have read this far I'm going to presume you want my opinion – my preference is for a consumption-based tax like the FairTax. It creates a scenario where we have the most control over how much we pay while encouraging saving and allowing us to take home much more of our paycheck. My second choice, if I had to maintain an income-based tax scheme, would be a flat tax with a low rate and limited deductions. Sure, the tax preparer lobby would scream but they deserve to. It should not take me the better part of a weekend to compile the paperwork and prepare two tax returns, but as it stands now I have to.
As for corporate taxes, I would be amenable to a low rate of perhaps 10 percent. Right now our rate is more than triple that.
So let's take a look at where candidates stand and how many of 10 points they gather. Alas, none get ten because there's none talking about the very important step of repealing the Sixteenth Amendment.
If I am reading Rand Paul's "Fair and Flat Tax Plan" correctly, it has a relatively low rate for everyone but more importantly eliminates the FICA tax. Practically all working Americans would get a quick raise.
It takes the income-based tax about as far as it can go, but also has a better chance of being accepted by the public.
Total score for Paul – 9.0 of 10.
While he hasn't really addressed what he would do as President, I'm giving Bobby Jindal high marks for two reasons. One is that, over nearly two terms as governor of Louisiana, he's been highly resistant to increasing taxes as well as taking a meat ax to the state's budget. Could he become the second coming of Calvin Coolidge at a federal level?
On the one hand, he was a backer of Rick Perry's 2012 flat tax plan, but on the other hand he attempted (alas, unsuccessfully) to bring a version of the FairTax to Louisiana. That basically leaves a swing between 9 points and seven so I took the middle course.
Total score for Jindal – 8.0 of 10.
He's been on record as supporting the FairTax, so Mike Huckabee is at the top of the heap. The only problem is that we don't know the needed rate. We also don't know what we will see with corporate tax rates, which may be because they are eliminated with the FairTax.
Unfortunately, Huckabee was criticized for his taxation record in office so I'm reticent to give him a really high score.
Total score for Huckabee – 7.5 of 10.
Combine the support of a Forbesian flat tax with the record of cutting taxes John Kasich has put together and he has a relatively strong case for improving taxation. In Ohio, he proposed an idea to eliminate income taxes for business owners, but make up the revenue through a higher corporate tax, additional sin taxes, and a sales tax increase. Although Art Laffer liked Kasich's idea, I see it as a sort of Frankenstein hybrid of both income and sales taxes when we need to eliminate one in favor of the other.
Total score for Kasich – 6.0 of 10.
Ben Carson is looking for a tax system which is "fairer, simpler, and more equitable" with a call for "wholesale tax reform." His idea is loosely based on Biblical tithing, which is generally considered a 10 percent tax; however, he conceded that the rate may have to start higher and work down over time to stay revenue-neutral. He's also alluded to reducing the corporate tax rate, although it may not drop to 10% either.
The idea of eliminating the progressive tax has merit, though. It just may prove politically difficult to weather all the harpies who think their tax breaks are too important to eliminate – that should be a circus worth watching. The next step for Carson is learning that revenue-neutral is not necessarily what we need because government is not God.
Total score for Carson – 5.5 of 10.
"I will abolish the IRS," says Ted Cruz. At one point, he was going to do it with the FairTax but more recently he's lowered his sights to a flat tax with a few popular deductions, such as charitable contributions and the mortgage interest deduction. We don't know just what rate Cruz is proposing for individuals, but he is on record that a 15% corporate tax rate would be acceptable.
I'm a little disappointed that he backed away from the FairTax for political expedience, for true leadership would bring people around to the merits of the issue.
Total score for Cruz – 5.5 of 10.
More or less, the one platform plank that Jim Gilmore has shared so far is the Growth Code, a plan to reduce individual taxes to three brackets of 10 to 25 percent while eliminating taxes on capital gains and other investment income. He would also reduce corporate taxes to 15%. It's a good start, but I would like to see an end to progressive taxes altogether.
Total score for Gilmore – 5.0 of 10.
Much like others in this portion of this summary, Marco Rubio has a simpler two-bracket system he first unveiled last year with Senator Mike Lee of Utah. Since then the brackets have been firmed at 15 and 25 percent, with a 25% corporate tax. The rates fall between Gilmore's and Perry's, so Rubio's score will, too.
Total score for Rubio – 4.9 of 10.
Rick Perry hasn't revised his 2012 tax plan yet. It was a plan that gave people the option to pay a 20% flat tax on a specific year's return or stay with the old system, which would eventually be phased out. He would also reduce corporate taxes to 20% as well.
Although the plan was endorsed by Bobby Jindal at the time, Bobby moved on in the correct direction. Until I find out otherwise, I have to assume this is the Perry plan and it's just average.
Total score for Perry – 4.8 of 10.
I've been waiting for Rick Santorum to reveal his economic plan for weeks. Supposedly it will be reflective of the one from his 2012 campaign, which is fairly similar to those other hopefuls in the 4-to-5 point range. While rates may change, though, I don't think the complexity goes away. So we work back to square one.
Total score for Santorum – 4.6 of 10.
On his website, Chris Christie keeps it simple, calling for "creating a flatter, fairer, and simpler individual income tax system and keep returns simpler by reducing deductions and giveaways." He also advocates for a 25% corporate tax rate, which is an improvement to about average among industrialized nations.
Listen, anything to help can be considered a victory but those from this point down the candidates either just tinker around the edges or even make things worse.
Total score for Christie – 4.5 of 10.
He cut taxes in Wisconsin, but Scott Walker only wants to turn the clock back to the 1980s, expressing an interest in reviving the tax reforms Ronald Reagan put in place. This is all well and good, but to be honest we aren't all that far off where Reagan was in comparison to where we were when he took over for Jimmy Carter. So it's not all that impressive to me in a crowded field.
Total score for Walker – 4.2 of 10.
In his announcement speech, Jeb Bush alluded to creating "a vastly simpler system" with fewer rates. But some complain that Bush was no longer willing to participate in a "grand bargain" to reduce the deficit by taking a small tax increase for supposed cuts. (If only his dad had ignored that siren song, Hillary Rodham would be an activist lawyer for some far left-wing group and Bill Clinton would be another in a long line of Democratic presidential losers free to cat around at will.)
At any rate, his vagueness on the subject bothers me so he doesn't score all that well.
Total score for Bush – 4.0 of 10.
Lindsey Graham is all over the map. He's been for a flat tax, which would qualify for the "simpler" scheme he seeks if not the "fairer" that leftist critics who love the current super-progressive system don't want. Lindsey also advocates for lower corporate tax rates.
But he falls victim to the same mentality plaguing Jeb Bush, thinking Democrats would actually cut spending if he raised taxes – even, as he clains, it would only be certain deductions. That's just the start of hard-working Americans being rolled anew.
Total score for Graham – 3.5 of 10.
I'm looking forward to how Donald Trump puts H&R Block out of business. Until then, I can't give him a good score.
Total score for Trump – 2.0 of 10.
George Pataki favors scrapping the tax code, but who among this group doesn't? Described as a governor who started out as a serious fiscal conservative, he devolved into just another big spender by the end. What worries me, though, is that he's considering raising corporate tax rates to pay for infrastructure. That's a guaranteed job killer.
Total score for Pataki – 1.0 of 10.
Carly Fiorina wants a "transparent and fair" tax code and released a lot of returns to make her point. But that's it. This makes it hard to take her seriously.
Total score for Fiorina – 0.5 of 10.
Postscript 9/26: Since Fiorina has since advocated for a simpler system that reduces revenue, I'm adding 1.5 points to her score. She should at least match Trump here.
Next on the docket, for eleven valuable points, is immigration. That may provide some sharp differences.
By Cathy Keim
Last month I wrote about Governor Hogan expanding the You've Earned It! subsidized mortgage program for young adults with college loans. Politicians can never resist giving away other people's money especially if it makes them seem caring and gets votes.
For a quick review, college student loan debt is now at 1.2 trillion dollars and growing. The average debt for a four-year degree is $29,000, but it can skyrocket to $100,000 or more for a graduate degree. This debt is having huge impacts on young people that are starting their careers severely burdened with loan repayments. These young voters are prime targets for politicians. Wouldn't you vote for somebody that promised to get rid of your debt?
Unfortunately, the politicians are aiming at the wrong target to cure the problem.
A study released in July by the Federal Reserve Bank of New York was only the latest piece of evidence of what conservatives have long knew: Increasing public support for college tuition, especially in the form of federal tuition subsidies, has inflated its total cost.
Every time the politicians make student loan money easier to obtain, the colleges just raise the tuition costs. Colleges and universities have increased their administrative personnel by 60% between 1990 and 2003. The university presidents and top administrators make CEO-type salaries in the 7-digit category. And let us not forget the building programs. Many schools have swimming pools with floating rivers for relaxation. The students certainly should be stressed just thinking about how they are going to repay all the loans they took out to attend the institution.
In 2006 the cap on loans for graduate school was raised and the borrowing levels skyrocketed. Many of these students will avail themselves of the debt forgiveness programs to handle the loans. For example, Georgetown University created a clever loophole: if a law grad works for the government or a non-profit for ten years with a salary under $75,000 per year, then they can qualify for a loan forgiveness program. Who wouldn't borrow money, not only for tuition but also to live on, if they know it will be forgiven?
President Barack Obama came out with free community college. Governor Martin O'Malley and Senator Bernie Sanders are topping that with four years of college for free.
Hillary Clinton has offered up a package that many voters with college loans will find attractive.
In a more blatant payoff, Clinton proposes not only offering new subsidies for those who are going off to college, but also new subsidies for those who already left. But "refinancing" student loans and offering more generous income-based repayment plans will do absolutely nothing to improve education attainment or economic competitiveness. It is simply a transfer from the federal fisc to Americans with above-average educations and incomes. Income-based repayment is not a bad idea per se, but Clinton's plan includes forgiveness after 20 years, which is a huge payoff for those with the biggest loan balances.
Would you be more likely or less likely to borrow money if you knew that in twenty years the loan would be forgiven, no questions asked? For those of us that live in the real world, the answer is absolutely: not only will people borrow money, they will borrow more money. If you were guaranteed that you would not have to pay it all back, then why would you scrimp and do without when you can live in luxury?
Hillary's plan is almost entirely silent on controlling total costs, and, by increasing the supply of low-cost loans, the level of funding from state governments, and increasing other subsidies, proposes to lower out-of-pocket costs in the way that we've already seen will backfire.
Every time Washington proposes to fix something, it usually gets worse. They are already micromanaging the public school system from DC with mandate after mandate. The more they get involved in the university system, the more of a quagmire it will become. The college marketplace needs to be subject to local and free market forces. Then it will be able to react to the demands of the students and parents, not to the mandates of the feds.
The increases in tuition are not going to hire and pay more professors. Professors' pay has not increased; in fact, more college instructors are poorly paid adjunct professors that teach by the course for far lower salaries than tenured professors. Just like with our public schools, much of the money gets eaten up by administration costs to ensure that the mandates are met.
While these plans will not contain college costs, they will achieve their goal of bringing out self-interested voters for the presidential election.
Over the last few months Richard Douglas has quietly been exploring a run for the U.S Senate. In an e-mail he sent out to supporters, though, he took aim at those he may be working with as well as Barack Obama.
In two paragraphs he expertly dissected the problem:
The President wished to avoid congressional review altogether. But the Corker-Cardin concession of the Senate's treaty prerogatives was seen in the White House as a palatable alternative. Why? Because Corker-Cardin puts the success or failure of congressional action into the hands of Chris Van Hollen, Ben Cardin, and other reliable Obama yes-men in the House and Senate. By passing Corker-Cardin instead of demanding Senate treaty review, the Republican-led Congress marginalized itself.

How could any of this happen? Because the Republican-led Congress – the Senate in particular – allowed it to happen by not using its powers, during the seven months it had the chance, to defend its equities and change the President's behavior. Beginning in January, the Republican-led Congress should have brought action on the President's legislative priorities to a screeching halt until he wised up. Instead, Congress enacted those priorities.
Running against Congress seems to be the norm today for both parties, as the current leaders seem to be the gang who can't shoot straight. Unfortunately, we have one side who is afraid of a government shutdown they would be blamed for and the other side takes advantage of their fears. So you have the group of spineless jellyfish who pass for majority leadership in Congress.
Douglas doesn't have the bluster of Donald Trump, but he has foreign policy expertise in spades based on years of working in that area. It's no wonder John Bolton is willing to put his name and reputation on the line for Douglas.
At this time, foreign policy is not the key issue on the table for 2016. But it lies at the heart of a number of peripheral issues such as the Trans-Pacific Partnership and accusations of currency manipulation by China, the continuing saga of illegal immigration at our southern border, and the Keystone XL pipeline, to name a few. We may not be in an overt war in Iraq, Ukraine, or Syria, but there is pressure to stand by our allies, including Israel, instead of making overtures to old enemies Iran or Cuba.
The tone of his entire e-mail makes it clear that he's expecting Chris Van Hollen to be the Democratic Senate opponent, which is probably the conventional wisdom. Van Hollen has been a reliable party man and helped to raise a lot of money, but can you name any singular House achievements of his? With this message, Richard makes clear he can be a leading voice on the Senate's traditional role in guiding foreign policy – and not a moment too soon.