Last year, Delegate Mark Fisher did what only three others in the decade of my monoblogue Accountability Project have done: compiled a perfect 25-for-25 vote score. Unfortunately for him, 2016 brought two such scores and based on his overall record and other factors my Legislator of the Year was fellow Delegate Warren Miller, who compiled the other perfect mark.
But Fisher has put up an interesting proposal that reflects a desire to limit government, at least as part of an e-mail I received. Here are a couple excerpts:
Each year, Maryland has a 90-day Legislative Session.  Over 3,000 bills are proposed each year that seek to limit your freedoms and stifle prosperity.  And so the question arises:  How does Virginia, a much larger state, survive with only a 60-day Session during even years – and a 46-day Session during odd years?

The answer is simple – Annapolis elites believe that your prosperity comes from government.

(snip)

But, it doesn't have to be this way.  A shorter, 60-day legislative session combined with a modest salary of $18,000.00, like Virginia, is a good start.   When a legislature has less time to meet, there's less time to meddle.
It's true that other states have differing rules on their legislative sessions, as does Congress. But in all honesty, the state legislature really has just one job, and that's to approve the budget. Instead, they do meddle in a lot of things and more often than not, they remove county authority in favor of the state. While there's a stated goal among many to be "One Maryland," the reality is that the Annapolis perception of "One Maryland" is a lot different than the reality we live with. Our Maryland is slower-paced, doesn't rely on the federal government for employment, and would prefer local control of many entities, such as planning and zoning and our schools. We also have competition that's unique to our part of the state for business and retail establishments, as those across the Mason-Dixon and Transpeninsular lines in Delaware toil in a state known for being business-friendly and without a sales tax.
Yet if Fisher wants to cut into the sum total of legislation, he doesn't necessarily need to shorten the session. Perhaps there needs to be a regulation in place that creates a sunset date for all new bills so that they need to be revisited every few years. (Some bills already feature this, so they have to be dealt with at appropriate times.)
I think he has the right idea on this one, but I'm sure it's an idea that goes nowhere given the state of our state.
Sometime tomorrow the Maryland General Assembly will be gaveled back to life and your freedom and wallets will once again be at peril.
While those of us who are familiar with social media know about the push to repeal the "road kill bill" passed last year over the objection of Governor Hogan, to me it's more telling that the very first House bill out of the chute will be the mandated sick leave bill. The next one is a bid to expand the earned income tax credit, including to those who are childless.
But in reading through the list of pre-filed bills, there's not a whole lot of exceptionally radical stuff – although the bill to mandate "stop and frisk zone" signage in Baltimore City gives me a lot of pause. There are also a couple of mandated spending bills already on the table, which is par for the course insofar as the majority in the body is concerned.
I suspect this session will be among the most rancorous yet as Democrats, desperate to knock down Larry Hogan's approval rating, are going to throw everything he wants in a desk drawer and toss out the key; meanwhile, they will certainly do their level best to muck up the works and prepare the state for the 2018 Democratic campaign, which will employ the tactic of portraying Larry Hogan as a do-nothing governor.
I can see this coming a mile away, and actually the direction of legislation may be an indicator of who his opponents may be: legislators always try to bring home a little bacon for their districts, but if the idea is that of making a particular county-level executive look good (think Kevin Kamenetz) then there may be even extra effort to mandate spending for the county – never mind the rest of the state.
Of course, the flip side of the equation is that a whole lot of common-sense legislation will never make it out of committee because it would limit government, enhance freedom, or make things easier for business to succeed. But that's why I look at the legislation every so often, and doubly why I do the monoblogue Accountability Project because people should know what happens to these more conservative, pro-liberty measures and how they never make it out of committee. If mandated paid sick leave makes it to a floor vote, I would say there's a 99% chance that becomes one of my votes.
So now is the time to be vigilant, and let's hope that the Hogan budget holds the line on spending this year. If you're already going to be accused of cutting everything under the sun, you may as well be blamed for something you actually do.
Last year I did this in three parts, but to me that may be overkill this time around. Consider that 2017 is not an election year, so if anything we will not see much on that front until the latter stages of the year as the campaigns for 2018′s state elections ramp up. And because all but one of our local officials are first-term representatives in their respective offices, it's likely they will wish to continue in office. Bear in mind, though, on the Senate side longtime House member Addie Eckardt will be 75 and Jim Mathias (who is in his second term as Senator after one-plus in the House) will be 67 by the time the next election comes around, so they are likely closer to the end of their lengthy political careers than to the beginning. And thanks to Wicomico County voters who passed the referendum this past November, 2017 will be the year we formally set up the elections which will net the county its first fully-elected Board of Education in late 2018.
Speaking of the local BOE, we still have an appointed board until that election and the two members whose terms expire this year are both Democrats who are term-limited. I suspect the local Democrats will try and send up names of people who will run for seats in 2018 to gain that incumbency advantage – as envisioned, though, these will be non-partisan elections. And the final say goes to the state Secretary of Appointments, who over the years hasn't always been kind to those we preferred, either. Or, conversely, since the incumbents serve until their successors are appointed, we may see a long stalling technique, too. It will be interesting to see how that plays out, but I'll bet those who are appointed will use that tenure as a springboard for eventual election.
Elsewhere in Wicomico County as 2016 comes to an end, it appears the city of Salisbury and Wicomico County are working out their issues rather well. The biggest sticking point remains fire service, and it's relatively likely the city is going to see more of a reimbursement from the county when it comes to that – perhaps to the tune of up to $2 million a year. It's possible there may be something to cut to make up for this, but as the county has increased its debt in the last few years to build several schools it leaves less room for spending cuts to make up the difference. If the city receives $2 million annually that would equate to about a 3 or 4 cent property tax increase for county residents. There's also the chance that a tax differential or rebate may be on the table in order to reimburse city residents, as they pay the same tax rate as county residents. Wicomico is one of only three counties in the state that choose not to provide a tax differential to their municipalities.
But there is another factor to consider. Back in June the number of people working in Wicomico County set an all-time high of 52,010, eclipsing a mark that had stood for nearly a decade (July 2006.) That record lasted a month, as July came in at 53,668. While the number of jobs has finally reached where we were a decade ago, bear in mind the labor force is about 1,000 larger – so unemployment is in the 5.5% range rather than 4%. Even so, that extra number of people working – a number which year-over-year between 2015 and 2016 has fluctuated quite a bit but usually comes in at 1,000 or more additional workers in 2016 – means there's more revenue to the county from income taxes so paying the city of Salisbury may not be such a heavy lift. The question for 2017 will be whether these economic conditions continue and whether Wicomico County will want to spend every "extra" dime on items which are unsustainable in rougher economic times.
That same question goes for the state, but the trend there has been for more spending. Democrats in the General Assembly added millions in mandated spending to the state budget and it's a sure bet they will try again this year. Add to that the general belief that year 3 of a Maryland political cycle sees the most ambitious agenda put forth – it's time for those incumbents to bring home the bacon and burnish their re-election chances the next year – and you can bet that paid sick leave will pass, Radical Green will have its day (perhaps with a fracking ban, which would devastate Western Maryland), and any Hogan veto will be promptly overridden. It's certain that they will leave enough time in passing these controversial bills to do so. We've already seen battle lines drawn with the counter-proposal from Governor Hogan on paid sick leave and the social media-fueled drive to repeal the "Road Kill Bill" that Democrats passed over Governor Hogan's veto in the spring of this year.
The wild card in state politics, though, comes from national politics. It's not because we had the well-publicized answer to an extremely nosy press – if only they paid as much attention to some of Martin O'Malley's foibles and scandals! – that Larry Hogan wasn't going to support his (nominally at best) fellow Republican Donald Trump, but the idea that Donald Trump may actually do something to cut the size and scope of government. (Military contractors, particularly, have reason to worry.) And because Maryland's economy is so dependent on the federal government, to a shocking and sickening degree, we know that if Trump begins to make cuts it will hurt Maryland the most. Given the typical bureaucrat CYA perspective, it explains perfectly why four of the five jurisdictions Trump did worst in - the only five which came in below his 35% statewide total – were the four counties closest to the District of Columbia (MoCo, PG, Charles, and Howard. Baltimore City was the fifth.) While I am entirely a skeptic on this, there seems to be the belief that Trump will take a meat cleaver to the budget and thousands of federal and contract workers will be cast aside because of it.
And in a situation where revenues are already coming up short of forecast, a recession in the state's biggest jurisdictions, coupled with the mandated spending Democrats keep pushing through, will make it really, really difficult on Larry Hogan going into 2018. You will be able to judge who has the most ambition to be Governor by who carps the longest about these cuts.
While the Dow Jones stalled this week in an effort to breach the 20,000 mark by year's end, the rise in the markets echoes consumer optimism - even as fourth quarter GDP forecasts turned a little bearish, consumers still feel a little better about the state of our economy. If we can get the 4% GDP growth Donald Trump promised we may see some of these fiscal crises take care of themselves.
Yet there was also a sentiment in 2016 that the world was going mad: consider all the terror attacks, the seemingly unusual number of and extended shock over high-profile celebrity deaths, and a general turning away from that which was considered moral and proper to that which fell under the realm of political correctness, wasn't a "trigger" and didn't violate the "safe spaces" of the Millennial "snowflakes." (I can't resist linking to this one I wrote for The Patriot Post.) At some point the pendulum swings back the other way, but in most cases that takes a life-changing event like 9/11 or Pearl Harbor. I'd prefer a much softer transition but a transition nonetheless.
As I see it, the key word for 2017 will be leadership: if the current elected officials and new President have it and use it wisely to the benefit of our county, state, and nation "so help me God" things will be okay. If not, well, we've seen that movie for about eight or ten years already and we will continue to slouch toward Gomorrah.
I'm certain there's a percentage of my readers who would disagree with the title, but for those who would like to improve our state there's a chance to take action: specifically a week from tomorrow, but in general before the Maryland General Assembly begins its annual "90 days of terror" in January.
I was introduced online, through a mutual friend, to one of the leaders putting together a rally in Annapolis, as she explains:
The Maryland legislature is considering regulations that would finally allow natural gas development in our state.

We need to show that Marylanders want responsible energy development and that any regulations MUST be reasonable and consider their impact on Maryland jobs and energy costs.

Please join us Tuesday, December 20 for an Energy Citizens and Energy Nation Rally to support clean and affordable natural gas and jobs for Marylanders!
The Energy Citizens group is springing for breakfast at Harry Browne's beginning at 8:30 a.m. before reconvening for the rally at 9:30 a.m. on Lawyer's Mall. (All they ask is that you RSVP first.) They will stay until 11, hopefully long enough to make their point, which is:
A Maryland legislative committee is considering new regulations for natural gas development in our state. Any regulations MUST be reasonable and consider their impact on Maryland jobs and energy costs.

Responsible energy production would give Western Maryland the chance to create thousands of good-paying jobs, boost the local economy, and make energy more affordable for families and businesses across the state. But time is short.

Please Email your Representatives now. Tell them you support responsible natural gas development and to consider jobs and energy prices when any new regulations are being discussed!

(snip)

Hydraulic fracturing is safe, and reasonable government oversight and regulation are appropriate, but Maryland should follow the example of dozens of other states where production has proceeded safely for years.

The Western part of our state should have the chance to create thousands of jobs and stimulate their local economy. Our families deserve affordable energy to heat our homes and power our businesses. (Emphasis in original.)
Now this is the part where I may go off the organizer's script (if she had one in mind for me) but I'm a guy who tries to give the straight scoop. The lefties* at SourceWatch sneeringly call Energy Citizens "a front group backed by the American Petroleum Institute," and the backing part is absolutely true. I knew this awhile ago because I'm quite familiar with API. It's a very good group from which to get energy information, and I have a vested interest in keeping energy as reliable and inexpensive as possible – it's called electric and heating oil bills to pay. 200 gallons in the oil tank isn't cheap, but we needed to get them nonetheless to have a full tank once the cold weather hit. I definitely prefer not to have to run my laptop and internet off a battery and at this time of year I like to be something close to warm.
And look at the approach they are taking, saying "reasonable government oversight and regulation are appropriate." They are not advocating for the Wild West of fracking, but something that is reasonable – unlike the authors of the various proposals in the General Assembly. I've not forgotten that the original first reading bill that mandated the halt on fracking through October of next year originally had an expiration date of April 30, 2023 – and only after a panel stacked with "public health experts" as opposed to those expert in "science and engineering" were charged to "examine the scientific literature related to the public health and environmental impacts of hydraulic fracturing." I wonder what a panel of "experts" appointed by liberal leadership would have found? </sarc>
Bear in mind that the bill was not properly vetoed by Governor Hogan, but he didn't sign it either. He just let it become law without his signature, rather than tell these misinformed environmentalists to pound sand and dare the Democrats to vote against good jobs once again.
Furthermore, according to that bill, these regulations should have been in place by this past October. The MDE, however, was about 6 weeks behind and put them out November 14, with public comment closing later this week. Assuming they are close to those detailed back in June, the state will have some of the most stringent regulations in the nation. That doesn't seem to be very balanced or reasonable.
If I were to make a modest, sensible proposal, I would posit that Maryland's regulations should mirror Pennsylvania's as closely as possible, for a very logical reason: for most of those companies already doing business in Pennsylvania, that portion of Maryland is but a short distance from their other operations and would likely by overseen by supervisors based in Pennsylvania – a state which, by the sheer size of its share of the Marcellus Shale formation, will have far more natural gas output than Maryland ever will. If Maryland even gets to 10% of Pennsylvania's output it would be a victory for the Old Line State. So why not make it easy and convenient for those experts in the field, considering that they've had the better part of a decade now to iron out the kinks just on the other side of the Mason-Dixon Line?
At the market price for natural gas, we should be doing all that we can to make it easier to create the good-paying jobs (not to mention the royalty payments landowners could receive) for a part of the state that, like the Eastern Shore, always seems to lag behind the economic curve thanks to shortsighted policy decisions in Annapolis. I hope a lot of my Western Maryland friends (and maybe some from our part of the state) go to support a better way of life for themselves a week from Tuesday. They'll even bring you over to Annapolis from the west side of the state.
You can call me just another Energy Citizen.
______________
* I like this description of the Center for Media and Democracy, which is the backing group of SourceWatch:
CMD takes significant sums of money for its work from left-wing foundations, and has even received a half-million dollar donation from one of the country's largest donor-advised funds – all the while criticizing pro-business or free-market advocacy groups who also use donor advised funds or rely on foundation support.
Don't you love the smell of hypocrisy in the morning?
It may not be as apparent to the average American as "vacation day" patriotic holidays like Memorial Day or Independence Day, but today a small band of Salisbury residents came to City Park along the Wicomico River and celebrated the 229th anniversary of the signing and delivery of our nascent Constitution to Congress for approval. Once approved, it was sent to each of the thirteen colonies for ratification (Delaware was first, on December 7, 1787) and by the middle of the next year the requisite nine states had ratified the document, which was not yet amended with the Bill of Rights. (That would come a few years later, in 1791.)
So I arrived fashionably on time and was pleased to see the turnout.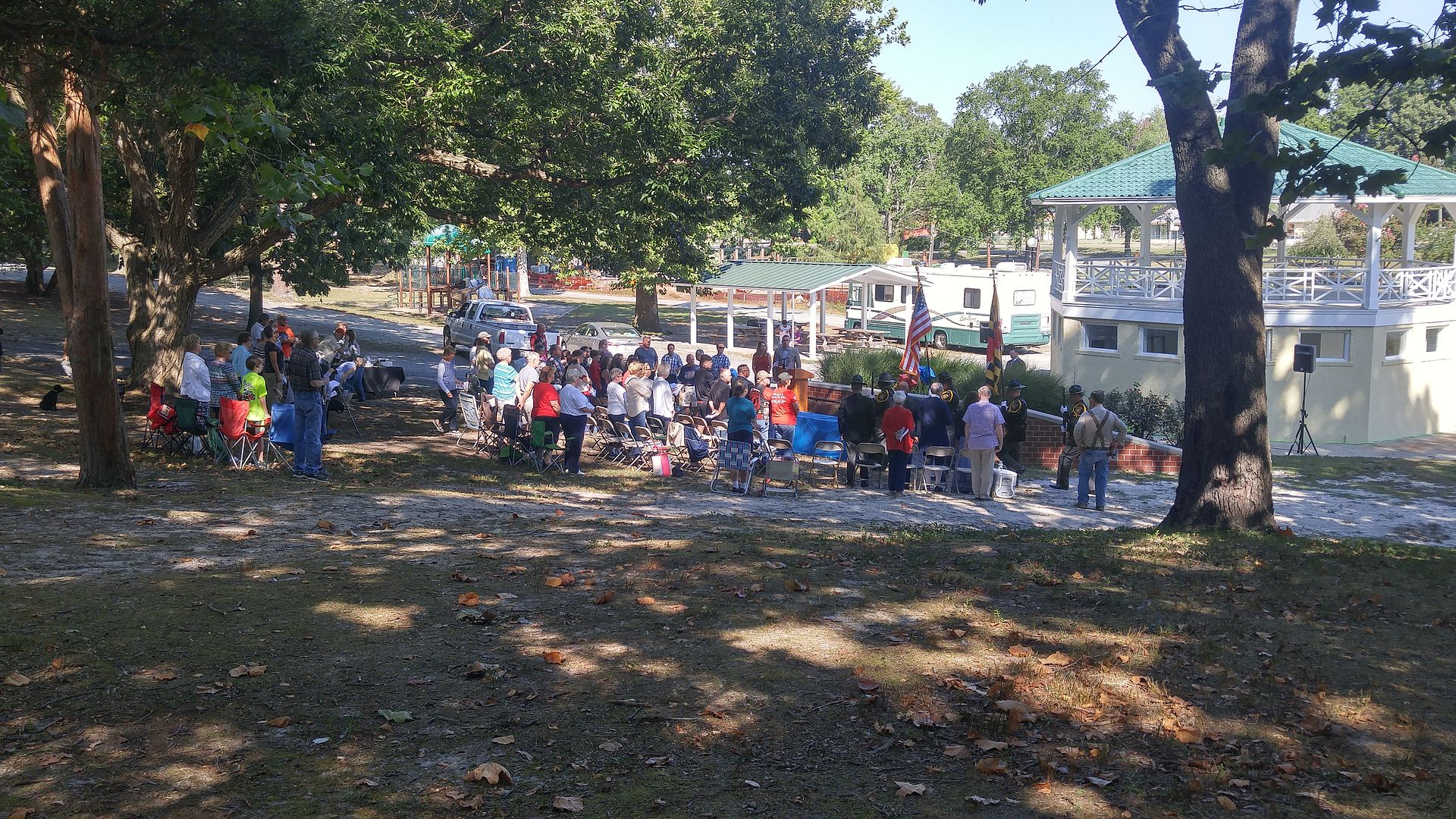 It seems like there were a few more people than last year's gathering, and I think the morning start time (as opposed to afternoon last year) may have had something to do with that.
We were presented with a proclamation from Salisbury mayor Jake Day reiterating that the city would be celebrating Constitution Day today. Day is one of the few who could stand and say he was actively defending the Constitution as an Army officer on active duty.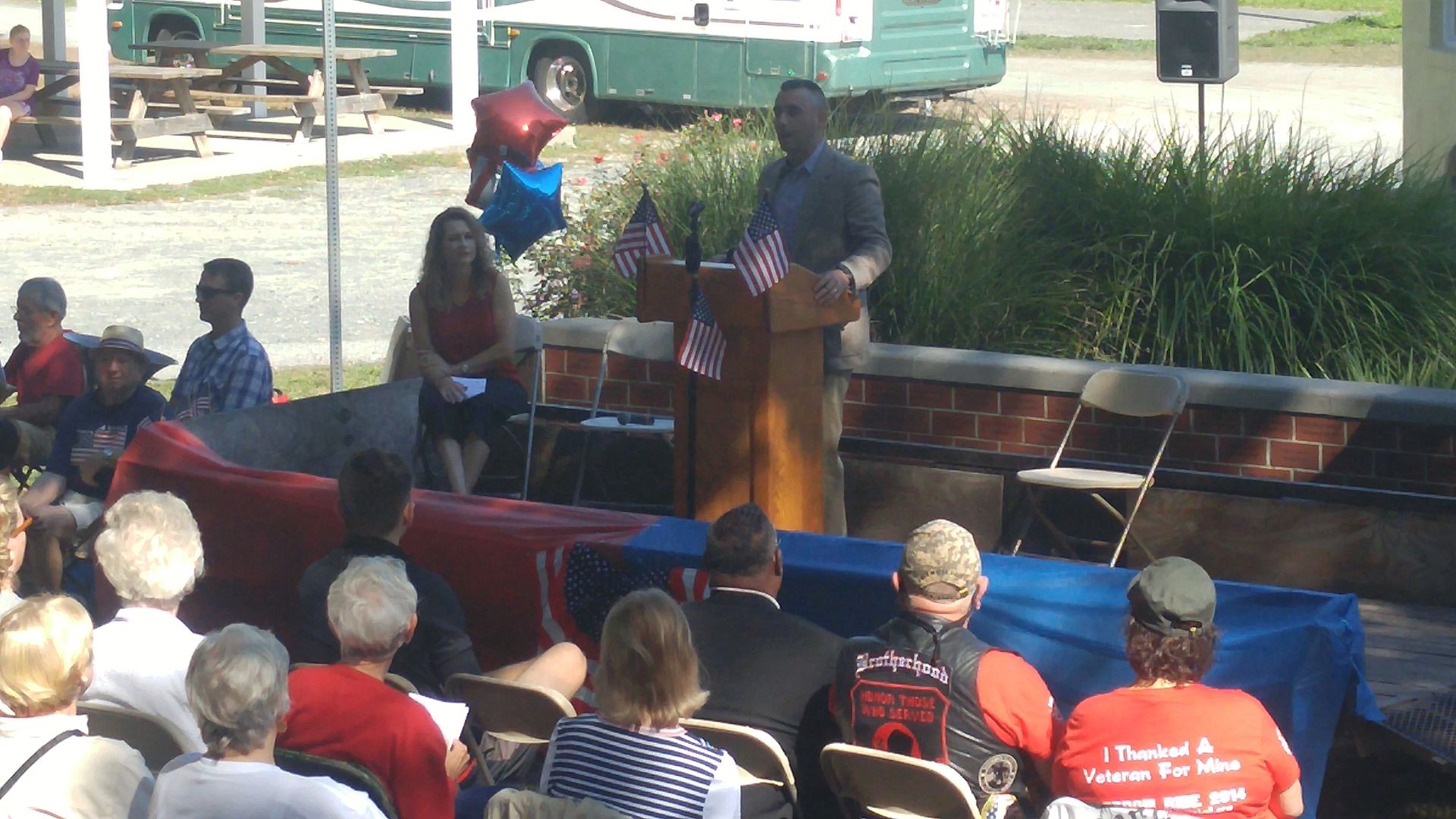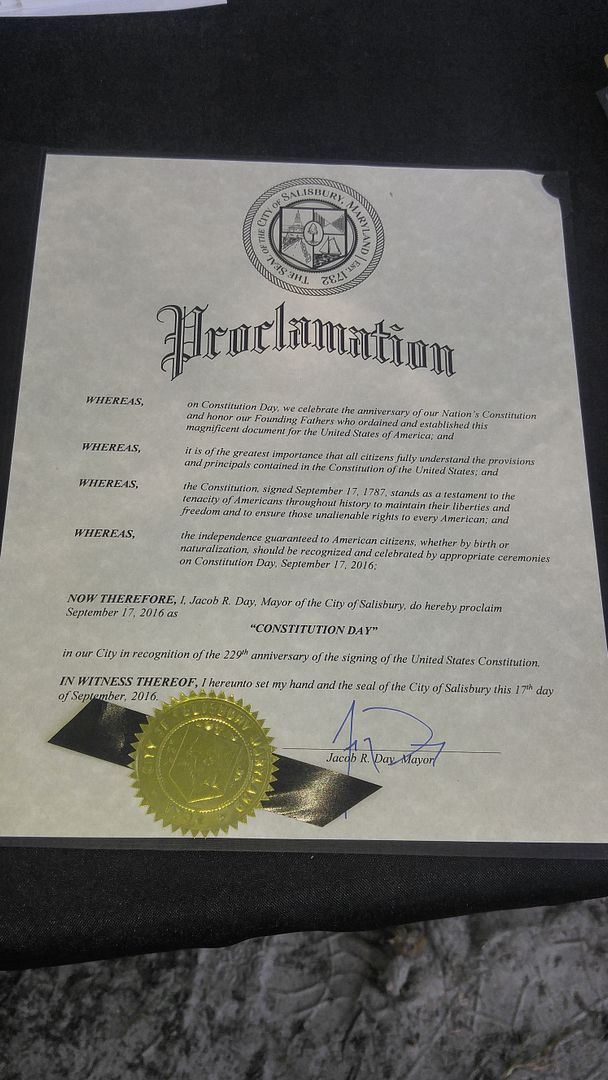 The event also was the culmination of an essay contest where the top two winners were present to be honored with a certificate from the Maryland General Assembly, presented by members of the local delegation Mary Beth Carozza (who was speaking), Christopher Adams, Carl Anderton, and Johhny Mautz. The winning entry was read by Carys Hazel of Mardela High School, with runner-up Nathaniel Sansom of Salisbury Christian School also present to receive his award.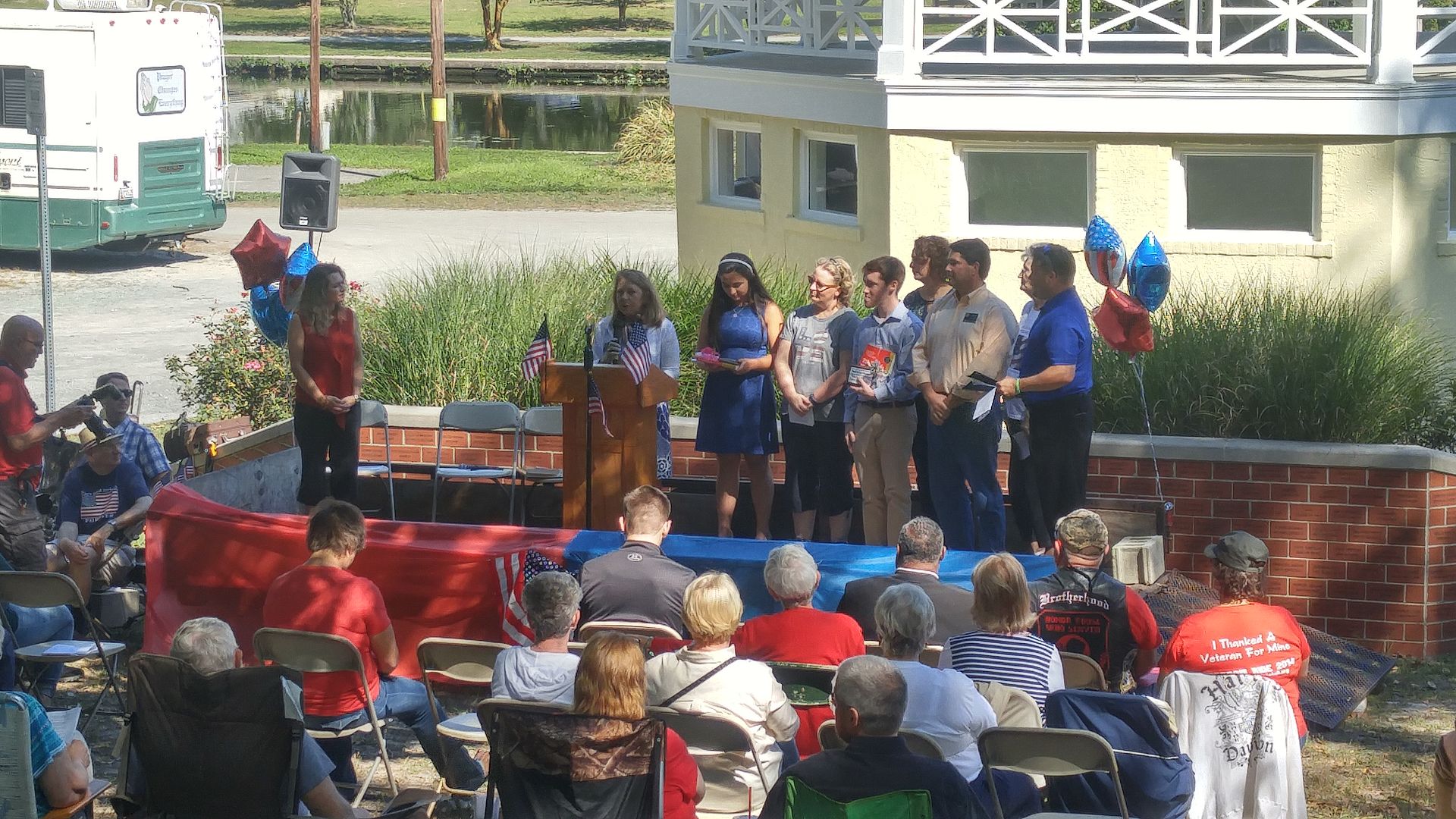 The keynote speaker was Wicomico County Sheriff Mike Lewis.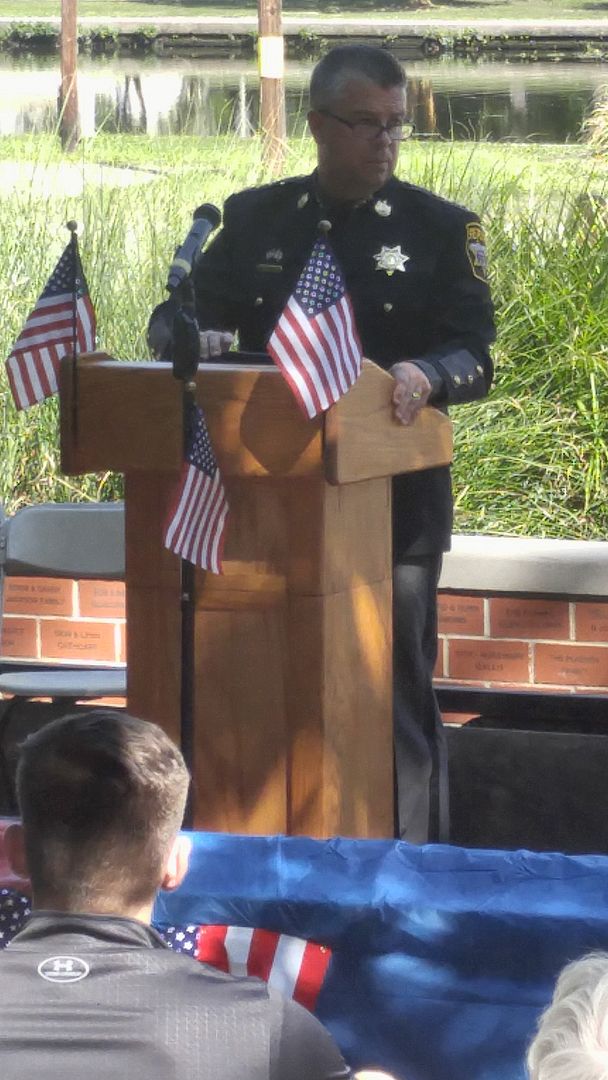 I wasn't really at the Constitution Day event to give blow-by-blow coverage, but I used the photos to both set the scene and cue up my own remarks, with the address Sheriff Lewis gave as a jumping-off point. Mike spoke at some length about the role of the military overseas and their fight against radical Islam. Certainly I understand the reason that they have embarked on such a mission, but to me it also begs a pair of questions for which we need an honest answer.
To a varying extent, the nation has been on a war footing since 9/11. In that time we have adopted the PATRIOT Act and sent thousands of troops overseas to fight against the proxy forces of radical Islam: the Taliban in Afghanistan, the Saddam Hussein regime in Iraq, and the Islamic State known as ISIS (or ISIL.) But the first question I have is: where does the balance tip too far toward security at the expense of the liberty afforded to us in the Constitution?
This question isn't really new, either: during the Civil War (or War Between the States or War of Northern Aggression, if you prefer) President Lincoln suspended the writ of habeas corpus and arrested members of the Maryland General Assembly to prevent them from meeting as a means of preserving the Union. Eight decades later, President Roosevelt interned Japanese-Americans as a result of their ancestral homeland's attack on American soil. In both instances America was in an active war within its borders or territories, but against a nation-state rather than an ideology as we are today. However, being in a state of war such that we are should not be an excuse for excess and there are many who have pondered the "War on Terror" and its response in the PATRIOT Act and whether the government is using this Long War as a flimsy excuse to consolidate power.
The idea of the government consolidating power leads to the second question: are we truly following the Constitution anymore or is this all just lip service?
Surely there are some who believe the Constitution has been eroding practically since the ink dried on the parchment. Whether they point to Marbury v. Madison being the moment where the judiciary became the most powerful of the three branches, the Civil War being the death knell for state's rights since they no longer had the right to secede if they were dissatisfied with the nation as a whole, or the Sixteenth and Seventeenth Amendments that gave the federal government taxation authority on individuals specifically prohibited in the original and ended the practice of state legislators electing Senators to represent their interests in Washington, there are a fair number that think we need to start over - perhaps with a Convention of States, otherwise known as an Article V Convention. (Years ago I contributed a couple ideas for new amendments, which are still sorely needed. Back then I had good discourse, too.)
I don't want to get into the weeds of determining the merits or problems of such a convention, but the fact that there are people who believe the Constitution needs a tune-up to fix excesses on one side or the other bolsters the argument that the government we have now is not the one originally envisioned by those men who toiled during the spring and summer of 1787 to write a replacement for the Articles of Confederation that the United States was bound to for the first decade or so of its existence. Granted, the Article V method is one prescribed in the document but there's no guarantee the amendments proposed would pass or the resulting Constitution any better for the people.
So the occasion of Constitution Day is bittersweet. Yesterday I wrote on the subject for the Patriot Post, noting that:
Contention over – and advocacy of – limitations to government based on constitutional principles has become a theoretical exercise at best, perhaps in part because few understand the ideas and arguments that were made during the drafting of our government's founding document.
Those who have sworn an oath to enlist in the military or (in my case) to take public office know that we swear to support and defend the Constitution as opposed to an oath to the United States. This is a clear distinction because the interests of the United States may vary by whoever occupies the offices of government at the time, but the Constitution is the set of ground rules which are supposed to define our nation. The key reason I resigned from the Central Committee was because I could not trust the Republican presidential nominee to support or defend the Constitution – rather, I believed he would tear the GOP from what few limited, Constitutional government roots it had remaining. Thus, I felt as a public official that supporting him was a violation of the oath I swore to the Constitution.
Many of those same men who pledged their lives, fortunes, and sacred honor to the American nation and survived the war that brought us independence were those who argued and debated the contents of the pieces of parchment that we consider our supreme law of the land. I pray that a group that is just as divinely inspired can lead us back to a nation that more closely reflects the intentions of these earliest Americans with respect to restoring a government that seeks the consent of the governed, and that those who are governed understand their responsibility in the equation as well. The fact that so few seem to have this inspiration or the desire to take this responsibility as citizens seriously may be what was most troubling about this day in the park.
You know what they say about the best-laid plans of mice and men? It applied to last night's Wicomico County Republican Club meeting, as the expected legislative wrapup from the remaining non-participants in our May meeting were those slated to speak this month. Unfortunately, the MML conference and a Hogan fundraiser took precedence for those candidates, so it actually fell on a somewhat unexpected guest to deliver a few off-the-cuff thoughts on the session: Delegate Charles Otto, who came up from Somerset County to speak with us. As he was originally elected in 2010 in a district that then included a portion of Wicomico County, he's considered us his constituents despite the fact he was redistricted out for this term.
Thus, once we took care of doing the Lord's Prayer, Pledge of Allegiance, and treasurer's report, we heard Otto's assessment that "we have a challenge this year" in electing our President and U.S. Senator. On the latter race, Otto praised his colleague, saying of Kathy Szeliga that "I can't think of anyone better to fill that position."
As for the legislative session, he felt that we had "a lot of threats" in the 90 days, but "I think we fared well." Efforts to mandate paid leave and a minimum wage increase were rebuffed, and while he termed the Justice Reinvestment Act "a decent bill," he admitted it was one of the hardest votes for him to consider in his six years on the General Assembly. To a degree, the same was true for the budget, which was more spending growth than he would have likely preferred.
Otto also believed that the transportation bill will be a "big hurdle" to overcome in the coming years, as it favors larger jurisdictions. But local development may be helped by the Triton unmanned aviation program, which is being considered for Wallops Island. Charles noted it has bipartisan support from all three Delmarva governors, who understand the economic impact this could have locally.
But Otto didn't have an answer regarding a question about the aging school program and $80 million that was supposed to be included. It was a question brought up by John Palmer, who sits on our local school board. I chimed in with a somewhat rhetorical question about the many funding mandates Democrats seem to be adopting to tie Governor Hogan's hands when it comes to the budget – could we do a reverse BRFA and try to get rid of them? It made for some discussion, and I was thanked later for bringing up the point. (Perhaps I need to save it for a Democratic Club meeting if I ever go to one.)
For being placed on the spot, Delegate Otto did a nice job, so we turned to the Central Committee report from Mark McIver. He noted that the Secretary of Appointments had selected two new Board of Education members who sounded like fine additions, but both of them applied directly to the Governor's office. None of the five we interviewed, including the incumbent who desired another term, were picked. Yet McIver was "hopeful" about the selections, noting the Appointments office contacted him regularly through the process with questions.
But now it was time to work on the school board referendum, said Mark. It would involve creating a political committee to promote the fully-elected option.
We also learned Mark has tickets to the upcoming Tawes Crab and Clam Bake in Crisfield and our committee's next meeting would be pushed back until July 11 thanks to the Independence Day holiday.
Jim Jester revealed "we've made progress" on the Crab Feast: we have secured the all-important one-day beer license. Now we just have to get approval from the health department, after he found out he filled out the obsolete old form that was online and was given a longer, more complicated new one.
Shawn Bradley updated us on Third Friday, which "was a nice surprise" with plenty of involvement as the Republican Club has tried to maintain a table there each month. This month they had the political realm to themselves as the Democrats apparently weren't there.
Our next piece of business was a lengthy discussion about where to place a headquarters this year and how to pay for it. It will be a joint effort between the club and Central Committee, with a number of locations under consideration.
A contingent from the Republican Women of Wicomico was present to speak on their annual Constitution Day celebration on September 17 at City Park. Former Delegate Mike McDermott is the featured speaker, and the festivities will begin early: a 10:30 a.m. start is planned since Somerset County will be celebrating their 350th anniversary that day in Westover, as Delegate Otto pointed out. (It was also noted that we were sitting in what once was Somerset County; that is before it was split along Division Street in Salisbury and Fruitland to first create Worcester County to its east. Both then ceded territory in 1867 to create Wicomico County. So I stand corrected since Somerset preceded Worcester.)
We then found out from John Palmer that Wicomico County Board of Education meetings would soon be streamed online thanks to the PAC14 website. The eventual idea is to allow real-time involvement from those watching.
Finally, we were alerted to a townhall meeting Congressman Andy Harris would be holding tonight (June 29) at Black Diamond Catering in Fruitland from 6-7 p,m,
In less than an hour we had taken care of our business and become more informed. Next month we go off the political board a little bit as our speaker will be Mitzi Perdue. That meeting will come July 25.
For the tenth year in a row, I have graded all 188 legislators in the Maryland General Assembly based on their voting patterns on a number of key issues. Beginning with sine die back in April, I started looking into both floor and committee votes trying to find those which reflected conservative principles, with an eye on civil liberties as well. The final product, all 27 pages, can be found right here or in its usual sidebar location.
You'll notice the look is a little different this year, as I decided to scrap the old two-column format and just give it more of a standard form that's easier to read. I also changed the font to something a little more stylistic. On the charts themselves, I decided to eliminate the committee votes from the main chart and instead added two new pages for those votes so that all of the legislators on the committee can be more directly compared.
As for the votes themselves, the overriding theme to me was fiscal. Democrats don't like not being in the governor's chair to spend money, so they are trying to use their legislative majority to force Governor Hogan to spend more. To the majority, there are two advantages to this approach: not only can they give handouts to favored constituencies, but they can prevent Hogan from finding the savings he can use to cut taxes and fees. Their goal seems to be putting our governor in a position where he has to raise taxes, which is music to the ears of people like Mike Miller and Michael Busch.
So you'll notice quite a few floor votes deal with these sort of mandates. There are also quite a few intended to strip power from the Executive Branch (which wasn't an issue just two short years ago) and tie the hands of businesses because government needs something to justify its existence.
I note in the conclusion that there were far fewer correct votes this year, and a large part of that was the mix of bills I selected. Last year I had an average House score of 39.82 and Senate count of 41.15. This was because a lot of Democrats got scores in the 20s, and that was based on their support for marijuana and civil liberties legislation I favored. This year, not so much as the averages plummeted to 27.1 in the House and 23.26 in the Senate. Being a more hardline fiscal conservative this year (because they addressed the issues they were with me on last year) changed a lot of Democratic scores from 24 to a big fat zero. On the other hand, I had only seen two perfect scores in nine previous years but got two in one session this year for the first time.
I've been warned that the third year of the cycle is always the most ambitious for policy, although liberals are dangerous any year. There are a few things that were stopped this year that we will surely see in 2017, such as paid sick leave. I also expect a bid to extend the fracking moratorium as part of a broad environmental package – the wackos were strangely quiet this year but I think 2017 brings some interim deadlines and reports on Bay cleanup. Add in the trend to mandate more spending and 2017 will be an interesting time.
One final change comes in the sidebar. I'm leaving the 2015 report available as part of a long-term process to show trends for the 2015-18 term. As one example, I think the candidacies of Kathy Szeliga and David Vogt affected their voting patterns – you'll be able to judge for yourself now.
Feel free to print yourself a copy for your use, just don't forget where it came from.
I have generally associated Friday afternoon before a holiday weekend news dumps with the party of our current President, but Governor Hogan took advantage of the impending holiday weekend to announce he's allowing 39 Senate and 45 House bills to become law without his signature. Hogan is vetoing just six bills at the end of this session, with two of them being crossfiled versions of a bill that would increase renewable energy mandates that will be featured on my monoblogue Accountability Project. In his veto letter for HB1106/SB921, Hogan conceded the idea was sound but that this measure took things too far when ratepayers are already shelling out a collective $104 million in compliance fees in 2014, the last year for which data was available.
The renewable portfolio standard wasn't the only mAP bill Hogan vetoed – two other ones had to do with transportation and the fallout from Hogan's decision to pull the plug on Baltimore's Red Line. Back in April, Hogan vetoed the infamous Maryland Open Transportation Investment Decision Act of 2016 only to have General Assembly Democrats rise up and override him. The veto vote was the one I used for the HB1013 slot of the mAP.
Hogan also chastised General Assembly Democrats for their support of SB907, which would have mandated a $75 million annual payment toward a replacement for the Harry W. Nice Memorial Bridge, which carries U.S. 301 over the Potomac River between Maryland and Virginia. Hogan noted that this project is already in the pipeline, calling the legislation "absolutely unnecessary." This will also be an mAP vote.
A third bill that I didn't use as an mAP vote – but which also deals with transportation – was HB1010, which would have created the Maryland Transit Administration Oversight and Planning Board. Governor Hogan called it "a sophomoric attack on sound transportation policy," noting also that the board would be stacked with members from the urban counties.
The other two bills Hogan vetoed were comparatively minor. One dealt with a proposed mixed-use project at Morgan State University in Baltimore, while the other claimed the proposed Maryland Education Development Collaborative ran afoul of the state constitution by placing General Assembly members in a position where they would be doing executive functions.
I'm sure some part of the equation whether Hogan vetoed the bills or not had to do with the likelihood of a veto being sustained, so here are the margins of passage for each of these bills:
HB1106: House 92-46, Senate 32-14. Override possible by 11 votes in House, 5 in the Senate.
SB921: Senate 31-14, House 91-48. Override possible by 5 votes in Senate, 9 in House.
SB907: Senate 33-12, House 90-50. Override possible by 7 votes in Senate, 7 in House.
HB1010: House 87-51, Senate 28-19. Override possible by 6 votes in House, but Senate can uphold veto if all 19 maintain their votes.
SB540 (Morgan State): Senate 41-0, House 113-22. Override likely: Senate would need to find 19 votes and House 35.
SB910 (MEDC) passed without objection in both houses, but will likely have GOP support for a veto. If so, they need 5 Senate Democrats or 7 House Democrats to join them.
Given those results, I'm quite disappointed Hogan didn't veto more bills. Not only does it put Democrats on record opposing a popular centrist governor, but it also slows down the General Assembly and hopefully makes the more centrist members of the majority rethink their support of bad legislation. It was pointed out to me recently that Hogan won 71 legislative districts but only 50 Republicans were elected to the House – thus, in theory the GOP can get a majority for the first time in generations in 2018. Dream big. (Sometime I should look into this claim.)
One other issue with this is that Hogan's slow veto deliberations removed any opportunity to petition the most egregious legislation to referendum. However, I say this knowing that we aren't taking advantage when opportunity knocks – I honestly believe felon voting should have been petitioned to referendum (as an act this year thanks to the veto override vote, it could have.)  Let's see if 80 percent really oppose it.
So it will turn out that the vast majority of bills on my mAP – all of which I opposed for the floor vote – will become law anyway. I think we're reaching way too far across the aisle in this state considering how little we get in return, so in my view Hogan should have really played hardball. At some point a number of these bills are going to bite us, but now we won't even get the luxury of a repreieve for a few months. Thanks, Larry.
Back on Tuesday I promoted Marita Noon's most recent column on social media with the promise to do a Maryland-centric follow up "If I think about it this week." (I planned to all along, but sometimes I forget so I figured I better cover myself.) Anyway, the passage that piqued my interest was this one:
In California, where (billionaire and liberal Democrat political backer Tom Steyer) has been a generous supporter of green energy policies, he helped pass Senate Bill 350 that calls for 50 percent renewable energy by 2030. California's current mandate is 33 percent by 2020 – which California's three investor-owned utilities are, reportedly, "already well on their way to meeting." It is no surprise that California already has some of the highest electricity rates in the country. Analysis released last week found that states with policies supporting green energy have much higher power prices.
In doing research for the monoblogue Accountability Project, which I am in the process of completing now, I stumbled across two bills which dovetail nicely with both this article and another recent commentary by Noon regarding solar power mandates and incentives. I'll tackle the latter issue first.
For several years the state of Maryland has mandated a certain percentage of electrical power be derived from renewable sources, with a proposed new version of the law (HB1106/SB921)retaining the 13.1% share required for 2017 but increasing the carveout for solar energy from 0.95% to 1.15%. This bill also proposed that the share of both renewables and solar power increase at an accelerating rate, eventually ratcheting up the requirements to 25% and 2.5%, respectively. While that would be great news for the solar industry, it would be bad news for consumers – according to the information provided with these bills the increase in monthly electric bills to an average consumer if this measure is enacted could be as much as $3.06 per month by 2020. However, Maryland's Department of Legislative Services cautions (page 7 of the Fiscal and Policy Note) predicting this increase can only be "for illustrative purposes" because of all the factors involved.
The reason behind the rate increases is the payment to the state called the Alternative Compliance Payment (ACP), which also is affected by the bill. The proposal actually would decrease slightly the ACP for all renewable energy sources except solar from 4 cents to 3.75 cents per kilowatt-hour, or, in a more practical term, from $40 per megawatt-hour (MWh) to $37.50 per MWh. (An average home is considered to use 1 megawatt-hour of electricity per month.) It also gives utilities a temporary break on the solar energy carveout, where the fee for a shortfall would decrease from a scheduled $200 per MWh in 2017 and 2018 to $195 and $175 for 2017 and 2018, respectively. The fee would increase in the out years, however.
When the Fiscal Note predicts that the state itself would incur an additional $2.2 million in electrical costs by 2021, it's obvious that this proposal would be a costly one for consumers. At this point the bill is in limbo, as it was passed by both the House of Delegates and Senate but has not been signed or vetoed yet by Governor Larry Hogan.
Now let's turn to the most recent commentary from Noon, where she notes California will mandate 50 percent renewables 14 years hence. Unfortunately, Maryland is not that far behind them as they just enacted SB323, which will take effect in October. Instead of letting this silly notion that our little state can actually do something about climate change by reducing our energy consumption expire – as it would have with no action - this bill instead maintained a 25% by 2020 mandate and increased the mandated energy reduction to 40% by 2030. As an analysis Noon used in her piece shows, Maryland is among the states with the highest electricity bills and follies such as these are a reason why.
Don't get me wrong: I am definitely for energy efficiency, but it should be in terms of consumer choice rather than government fiat. Those who create and pass the laws rarely embark on any sort of dynamic cost/benefit analysis for their policies, so in this case they're not considering the effect on ratepayers and job creators in balance with the very dubious pie-in-the-sky notion of affecting our climate. (After all, if it was once warm enough to have the polar expanse of Greenland actually be green, as it was around the turn of the previous millennium – well before the Industrial Revolution or the car-happy society we inhabit now – then how much effect do we really have?) We can hardly predict with any certainly the weather two weeks from now, so why should we trust the accuracy and inerrancy of a climate forecast for 2050 when it's used as an excuse for confiscatory policy that indirectly benefits those making the forecast?
As I brought up the monoblogue Accountability Project earlier, it shall be noted that the votes on both these bills will be used for this year's mAP. It's a shame that just 39 Delegates out of 141 and only two (yes, two!) Senators out of 47 have the potential for getting both these votes correct. Maryland has a relatively powerful environmental lobby thanks to its straddling of Chesapeake Bay, but these were cases where the state's budding attempt to be more business-friendly and hopefully end its economic reliance on big government should have held sway. While Governor Hogan erred in signing the climate change folly, he can do a more concrete favor for businesses and ratepayers by vetoing HB1106/SB921 and creating a proposal to sunset the ACP for next year's session.
And while we are at making energy policy, I encourage Governor Hogan to follow the lead of his friend and cohort New Jersey Governor Chris Christie and remove Maryland from the membership rolls of the Regional Greenhouse Gas Initiative. Utilities (and their ratepayers) will thank him from getting us out from under that wealth transfer boondoggle.
My final primary endorsement comes in a race that, for me, has come down to the wire: do I go for the known conservative quantity that's part of one of the most unpopular institutions in the country or do I go for one of the upstarts in a hope to bring about change or a more libertarian direction?
Well, the answer became a little easier as I looked into two of the four GOP candidates. Both Jonathan Goff, who challenged Andy Harris in 2014 and got the 22% of the anti-Harris vote in that primary, and Sean Jackson have expressed their support for Donald Trump so that eliminates them automatically as not conservative.
Yet despite the entry of Goff and Jackson, the Congressional race has been figured all along as a two-man contest between Harris and former Delegate Mike Smigiel.
We pretty much know the backstory on Andy Harris: he served in the Maryland State Senate for a decade before challenging incumbent Republican Congressman Wayne Gilchrest in 2008. The problem with Wayne, as Harris and many others saw in the district, was that Gilchrest was too centrist for a conservative district. Harris ended up winning a contentious primary, alienating enough Gilchrest supporters in the process that Democrat Frank Kratovil (who Gilchrest eventually endorsed) won by a narrow plurality in the Obama wave election of 2008. (A Libertarian candidate took 2.5% of the vote, denying Kratovil a majority.)
Harris finished out his term in the State Senate as he plotted to challenge Kratovil, who served as a "blue dog" Democrat (case in point: he voted against Obamacare.) Winning a far less acrimonious GOP primary in 2010 over businessman Rob Fisher, Harris went on to defeat Kratovil by 12 points in the first TEA Party wave election of 2010. Since then Harris hasn't been seriously challenged in either the primary or general elections, winning with 63.4% of the vote in 2012 and 70.4% in 2014 after Goff challenged him in the primary.
While Democrat Jim Ireton may think he has a shot against Harris, it's very likely that Tuesday's election is the deciding factor in who will be our representative to the 115th Congress. But Mike Smigiel is the first serious candidate with a pedigree to challenge for the First District seat since Harris and State Senator E.J. Pipkin, among others, both took on Wayne Gilchrest in 2008.
Like Harris, Smigiel served for 12 years in the Maryland General Assembly but he served in the House of Delegates, representing the upper Eastern Shore. This factor is an important one in determining who will be the better candidate, as their terms of service overlapped from 2003-2010. Smigiel ran for re-election in the 2014 primary, but finished fourth in a seven-person field. It's worth noting that four of the District 36 contenders were from Smigiel's Cecil County, which may have sapped his electoral strength – or reflected a dissatisfaction with Mike's approach. Only one of them could have advanced, so in effect they cannibalized the primary vote.
Mike's case for unseating Harris has evolved from an undertone of dissatisfaction from those who supported Harris for the seat. They say that Andy is not a fighter or a leader in the conservative movement, and long for a more libertarian Congressman perhaps in the mold of Justin Amash or Thomas Massie. To that end, Smigiel has advocated his case for a Constitutional, limited government, often waving his copy of the Constitution in a debate or forum session. His campaign has focused to a great extent on a number of Congressional votes that Harris has cast, particularly the 2014 CRomnibus bill.
In looking at this race, it should be pointed out that I saw Smigiel's libertarian approach as an asset; however, I felt the strong emphasis on Harris's voting record masked some of the real truth.
A key difference between the legislative process in Maryland and the federal sausage-grinding we find in Washington is that Congressional legislation is not limited to a single issue as Maryland's is. You can take the CRomnibus bill as an example, as it was a compromise hammered out between the various factions of Congress. That's not to say Harris made the correct vote, but Smigiel is counting on a bit of ignorance in how the system works. I could say the same thing about Smigiel since he voted for the first O'Malley budget while Harris voted no.
So let's talk about voting records, shall we? Because voting in a federal legislature is not the same as voting on state matters, we have an apples-to-oranges comparison between Harris and Smigiel. But over the eight years both men served in the General Assembly, a more apples-to-apples approach is possible.
Since 2007, I have done the monoblogue Accountability Project, so it covers the last four years that Harris and Smigiel served together. As an aggregate, I found that Smigiel voted as I would have 77.7% of the time, or 101 times out of 130. On the other hand, Harris was "correct" 89.1% of the time, or 122 times out of 137.
I even went back and found three years' worth of data on the old Maryland Accountability Project that mine continued. While the author perhaps had a different standard of what he considered "conservative," in each of those three years (2003-2005) Harris had a higher score: 84%-60% in 2003, 80%-75% in 2004, and 84%-83% in 2005. (The 2006 results were not available for the House, but Harris only scored 65% in the Senate – so Smigiel may have prevailed that year.)
Yet these are not "clean" comparisons, either, because in my case I hadn't streamlined the process of doing the mAP yet. (Since 2011, both House and Senate ratings are based on the same bills.) So I went back and tried to locate the cases in my work where Harris and Smigiel voted the opposite way. There were a handful that over time have mattered less, but I would like to point out a few items that Harris favored and Smigiel opposed, since Mike has attacked Andy's record:
Smart, Green, and Growing – Maryland Sustainable Growth Commission (2010) – replaced a task force with the MSGC, an O'Malley-sponsored bill.
Higher Education Investment Fund – Tuition Stabilization and Funding (2010) – a spending mandate O'Malley also sought.
Greenhouse Gas Emissions Reduction Act of 2009 – this was a horrible bill that established and codified carbon reductions into state law.
One can definitely argue that Harris was trying to soften his image with these votes, since they came after his unsuccessful 2008 run.
But there is another side: those bills that Smigiel favored and Harris opposed:
Other Tobacco Products Licenses (2010) – required separate licenses for those who sell cigars, snuff, or pipe tobacco. Harris was one of just 7 in the MGA to oppose this.
High Performance Buildings Act – Applicable to Community College Capital Projects (2010) – required LEED Silver or above ratings.
Regional Greenhouse Gas Initiative – Maryland Strategic Energy Investment Program (2008) – an O'Malley bill to spend RGGI money.
Environment – Water Management Administration – Wetlands and Waterways Program Fees (2008) – established a fee of up to $7,500 an acre for certain developments.
Chesapeake and Atlantic Coastal Bays Critical Area Protection Program – Administrative and Enforcement Provisions (2008) – additional mandates on local government.
High Performance Buildings Act (2008) – the precursor to the 2010 act above.
Maryland Clean Cars Act of 2007 – an O'Malley bill requiring California emissions for Maryland cars, which added cost to new cars.
Higher Education – Tuition Affordability Act of 2007 – another O'Malley bill that extended an artificial tuition freeze.
Electricity – Net Energy Metering – Renewable Energy Portfolio Standard – Solar Energy (2007) - a good old-fashioned carveout, picking a winner.
It seems to me there's a major difference on environmental issues between Smigiel and Harris, and while that may not matter so much at a federal level my belief that "green is the new red" leads me to think that Smigiel's pro-liberty case isn't as airtight as we are led to believe.
I can go all night looking at voting records, but there is one other thing I'd like to point out.
Last week I criticized Smigiel for spending part of the weekend before the primary at a cannabis convention, a stance he took exception to in a private message to me. Without divulging the full conversation, which I assumed was just for my private use, the upshot was that he argued there were going to be fundraising benefits for him as well as possible job creation in the 1st District. I can buy that argument, but if it hinges on him winning the primary Job One has to be getting the votes.
So it was interesting that a friend of mine shared a card her daughter received, which looks like the one below.
My friend speculated the card was targeted to a certain age group of Millennials since her daughter was the only one in the house to receive it. Yet the card isn't from Mike's campaign but instead an organization called 420 USA PAC, which advocates for cannabis legalization.
Of course, my personal stance is not all that far from Mike's, but we also have two laboratories of democracy in Colorado and Washington state to see how the legalization of marijuana plays out. Smigiel argues the District of Columbia cannabis initiative is a state's rights issue but should know that in the Constitution Congress is responsible to "exercise exclusive Legislation in all cases whatsoever" over the District per Article I, Section 8. So Harris performed some oversight.
On the other hand I can vouch for Andy being in the district over the weekend. Perhaps this is a classic conservative vs. libertarian matchup, although both men are well-accepted in the pro-life community.
This has been an endorsement I have had to think long and hard about; luckily it's a case where I could easily work for the other gentleman if he will have me.
But I have decided that Andy Harris deserves another term in Congress. Saying that, though, it's obvious people will be watching and if I were Mike Smigiel I wouldn't dismiss trying again in 2018 because we could use his kind of voice in Congress as well. Think of the next two years as a probationary period for Harris.
So allow me to review my three endorsements for the major races.
For President, I urge you to vote for the remaining true conservative in the race, Ted Cruz. He has six people running for Delegate and Alternate Delegate who need your votes as well (although my friend Muir Boda is on the ballot, too.)
For U.S. Senate, I had a hard time deciding between Dave Wallace and Richard Douglas, but the backbone Richard Douglas has shown earned him my endorsement and vote.
And finally, retain Andy Harris as our Congressman.
Just don't forget to vote Tuesday. It's up to us to begin turning Maryland into a more conservative state – not just trying to teach the benefits of conservatism to an audience charitably described as skeptical but making sure we vote in the right manner as well.
I really had to blow a lot of dust off this series – its last installment was in July of 2013 – but I will be on the internet radio tomorrow morning at 11:00 thanks to radio hostess (and new monoblogue contributor) Marita Noon. She asked me to come on this week's installment of her "America's Voice for Energy" program to discuss a post I did last year.
It came about because she was doing a piece on where the candidates stood on energy (which will be her debut post here tomorrow morning) and I noted to her via social media that I had done quite a bit of research last summer on that very topic as part of my "Dossier" series. She wanted to discuss that piece and other thoughts I had on the subject, thus early this morning we recorded my segment of her show, which will be the opening segment. Thirteen minutes may seem like a long time to fill on the radio, but we were rolling so well I almost didn't get to promote my site.
Yet there are some other things which were sadly left on the cutting room floor, so to speak. Something I would have liked to fill her audience in on further but didn't have the time to this morning was the unique situation we have here in Maryland with regard to energy. I did get to discuss a little bit about the proposed offshore wind that Martin O'Malley was trying to push, but I wanted to mention that there are hundreds of other jobs at stake in Maryland's energy industry. (I actually did a little looking up last night because I was curious.)
According to the most recent state report available (2013) there are 401 coal mining workers in the state of Maryland, all based out of Allegany and Garrett counties in Maryland's western panhandle. No, we're not West Virginia or Kentucky by any stretch of the imagination but the Obama administration's "war on coal" isn't going to help their employment situation, particularly since these coal fields lie close to shale deposits ripe for fracking – unfortunately, a short-sighted General Assembly and Hogan administration put that resource development on hold until 2017.
The other fascinating thing I didn't get to was the fact that cities up and down the coast are being intimidated into opposing seismic exploration of the ocean floor for the purposes of oil and gas exploration - but had no objection when they went out and did the same thing to map the ocean floor for siting wind turbines. Apparently that was a noble enough cause to kill a few fish over. Honestly, I think the opponents are very aware what is really out there and that's billions of barrels of oil and trillions of cubic feet of natural gas, all within easy reach of our shoreline and extractable at a cost that would blow the renewables out of the water. (Yes, the pun was intended.)
So take a listen, either live as it happens or later on when it becomes available as a podcast. I believe there are three other guests on the show, so I'll be curious to see what they have to say as well when I catch the podcast (I'll be at work when it's on live.)
Let's just hope that the long radio slump is over. Thanks to Marita for having me on as a guest, albeit a little reluctantly since I have been under the weather the last few days. But I managed to avoid a Hillary-style coughing jag and pushed through.
Bloggers love it when they can tie multiple points together in one cohesive post, and here I have the opportunity to do so thanks to a press release from Delegate David Vogt, who is moonlighting as a candidate for Congress from the Sixth Congressional District. Here's what Vogt had to say about likely opponent John Delaney and his insistence that Larry Hogan should denounce GOP presidential candidate Donald Trump:
John Delaney should just go ahead and declare his candidacy for Governor so he can stop pretending to represent the 6th District.  Congressman Delaney would rather support an avowed socialist or a career criminal over an accomplished businessman who is tackling the issues that matter.

The Congressman's time in office has been spent as a rubber-stamp for the failed Obama/Pelosi liberal agenda, and it is no surprise that he is calling on one popular, successful Republican to denounce another.

The people of the 6th District need a Congressman, not a political pundit, and Delaney's incompetent handling of the Iran nuclear deal, the Syrian refugee crisis, and Obamacare shows that he isn't qualified to be either.
It's intriguing to me that Vogt feels that way because I have those same suspicions about Delaney's plans for 2018. In a lot of respects, Delaney is the Democratic mirror image of Hogan with a business background and, aside from the two terms in Congress, a similar political record. (Had Hogan had a specially-gerrymandered district created for him, perhaps he would have gone in another direction after winning his 1992 Congressional campaign. It was a trajectory his old boss, Bob Ehrlich, employed in 2002.)
Obviously Democrats are trying to throw the kitchen sink at Hogan legislatively but try as they might Hogan's approval numbers continue to rise, reaching a stratospheric 70 percent in the most recent Maryland Poll released today. (H/T: Maryland Reporter.) Yes, that is 7 out of 10. I have no doubt they may chip away at the approval rating as a strategy but Maryland Democrats also have to find a candidate willing to take on a popular Republican governor running for re-election. Will anyone have the same ambitious streak as Martin O'Malley?
There's one thing missing from the Maryland Poll that would serve as a counterpoint to Hogan's numbers, and that is an approval rating for the General Assembly. We know Congress is unpopular (although the "throw the bastards out" mentality stops with their own representative) but no one polls regarding our body politic either during or after the "90 days of terror." With the number of veto overrides and the blockage of some of Hogan's legislation, it would be intriguing to see how popular the Maryland legislature is.
But returning to 2018: the Democrats have a relatively short bench of willing candidates with name recognition, and it's unclear just how well Delaney is known outside the Capital region. The only other statewide candidate being mentioned is Peter Franchot, and right now he has a rather sweet gig as Comptroller – maybe not quite to the extent of Louis Goldstein, but if he wants another term or two it's doubtful Maryland voters would object. At the age of 70 by the time the 2018 election comes around, Franchot would be the oldest governor to win election in at least a century. (AG Brian Frosh is reputedly not interested in being Governor.)
As for Hogan and Trump, that's a matchup which seems like oil and water. While I'm sure Hogan respects the business acumen of Trump, the bombast The Donald brings is a polarizing feature among both parties that Hogan is likely to avoid. Hogan was indebted to Chris Christie for campaigning on his behalf, but if I were to pick a remaining hopeful Hogan would back he probably lines up best with fellow Governor John Kasich. But Hogan may just steer clear of an endorsement until mid-April, seeing who is still in the race.