For the eleventh year in a row, I have graded all 188 legislators in the Maryland General Assembly based on their voting patterns on a number of key issues. Beginning with sine die back in April, I started looking into floor votes trying to find those which reflected conservative principles, with an eye on civil liberties as well. The final product, all 20 pages, can be found right here or in its usual sidebar location.
The major change I made for this year was reverting back to a system of all floor votes, as I had in the early years before committee votes were made readily available. It's not that committee votes aren't important, but in this year's case I had so many possible relevant votes from the floor that I decided not to use three on committee votes that may not have had such impact. Two of the 25 votes are veto override votes, one from legislation carried over from 2016 and the other from a bill proposed this session.
If there's one thing that Democrats like even less than not being in the governor's chair to spend money, I think it's the fact that Donald Trump is President and the GOP controls Congress. Several of the bills I used had to do with impacts they perceived would occur with the Trump administration. It's strange how federal government effects become a big deal with Republicans in charge, particularly one like Donald Trump. Mandates placed by his predecessor were just peachy with the General Assembly majority, and they often adopted them with very little fuss to continue Maryland's complete over-dependence on the federal government as an economic driver. Ironically, the type of president this nation needs would be bad news for Maryland in the short run as those well-paid federal workers wouldn't be working and paying taxes.
So you'll notice quite a few floor votes deal with these subjects, but this year was about as loony far-left as I ever recall. Thus, the number of correct votes is little changed from last year; however, one significant change I made was adopting what I call a "flip-flop" indicator. Votes shown in red are votes where the member changed sides between the House and Senate votes. I was truly shocked how much this happens.
As I did last year, I'm leaving the 2015 and 2016 reports available as part of a long-term process to show trends for the 2015-18 term.
Feel free to print yourself a copy for your use – just don't forget where it came from.
Western Maryland is blessed with an enormous amount of cleaner burning natural gas and we need an all of the above approach to energy. I am concerned that there has been a knee-jerk reaction against affordable energy production in our state. Maryland is definitely behind the curve because this administration has decided to politicize the issue rather than take a balanced approach to ensuring we have access to clean and affordable energy sources to power our homes and businesses and grow our economy.

States throughout the country including our neighbors develop their natural gas resources safely and efficiently. Many of these states are realizing an economic boom through gas and oil exploration and are working in concert with groups like the Natural Resources Defense Council to harness these vast resources of domestic energy in an environmentally sensitive way.

Larry Hogan, in response to a WYPR-FM candidate survey, May 2014. (Emphasis mine.)
Three years later, western Maryland is still blessed with an enormous amount of cleaner-burning natural gas, but on Friday Governor Hogan decided it would be better to leave this valuable resource in the ground rather than create jobs and economic opportunities for a section of the state that lags behind the rest of Maryland when it comes to those two very things.
Perhaps we should have seen this coming, though: the temporary moratorium that was in place stemmed from a bill that Hogan allowed to become law without his signature rather than veto it back in 2015. The bill, which as originally introduced was laughably intended to "protect our health and communities," was amended from a ban extending to 2023 to a prohibition intended to last until October of this year, when the Maryland Department of the Environment was to have regulations in place. But, as Governor Hogan noted in his press conference announcing the new fracking ban, Maryland envisioned the most stringent regulations in the nation – a roll of red tape that would have amounted to a de facto ban if enacted.
And to illustrate the political pressure Radical Green can put on wobbly members of the GOP, bear in mind that the original third reader vote on the 2015 House bill had 45 opposed, but that number whittled down to 33 once the Senate version passed and the House bill (as amended to match the Senate version) went to third reader. The wobblers who changed their votes were Delegates Anderton, Afzali, Beitzel, Carozza, Krebs, Malone, McComas, Miele, Shoemaker, and West. (This list is ten because two Delegates who voted "no" originally were absent the second time, but Afzali changed her vote after the fact to be truly gutless. Interestingly enough, Delegates Anderton, Carozza, Krebs, and Shoemaker all changed back three days later when the Senate third reader came to the House while Delegate Saab opted to join the dark side.) Conversely, the Senate only had two votes correctly in opposition all along, Senators Hough and Ready.
Now we can add Larry Hogan to the list that has wobbled and fallen – this despite a mountain of evidence that hydraulic fracturing, which has been ongoing for over six decades, is safe when done properly. Even the EPA, which put out a final report in the waning days of the Obama administration, noted they found scientific evidence that hydraulic fracturing activities can impact drinking water resources under some circumstances. Yet many of the circumstances they point out could occur at any chemical plant, and they note:
Data gaps and uncertainties limited EPA's ability to fully assess the potential impacts on drinking water resources locally and nationally. Because of these data gaps and uncertainties, it was not possible to fully characterize the severity of impacts, nor was it possible to calculate or estimate the national frequency of impacts on drinking water resources from activities in the hydraulic fracturing water cycle.
So should I point out again that over 2 million wells have been hydraulically fractured over the last six decades without incident? It seems to me that past performance should be a very good predictor of future results, particularly as the technology advances. And if you read the report, you'll note that the uncertainty of cause even extends to those limited, rare incidents blamed – many times falsely – on fracking and most publicized by Radical Green.
No one denies there is risk with hydraulic fracturing – just as there are documented issues with low-frequency noise and impacts on bat population with wind turbines and potential for environmental impact as more and more solar panels are spread over the landscape to significant effect – but the rewards from fracking, as measured by both local economic benefits and the lessening of reliance on foreign energy supplies, have been found to outweigh the risks in nearly every jurisdiction where fracking is possible, while the recalcitrant others (Maryland and New York) have believed the hype over the facts.
While Maryland is a small part of the Marcellus Shale formation that has produced the resurgent energy industry in a region that first benefitted over a century ago from an oil boom – there's a reason we have motor oil from Pennzoil and Quaker State and it's not because the brand names are cute – this is a time when the domestic oil and natural gas industry is in a holding pattern. Crude oil prices in the $40-50 a barrel range and a relatively constant balance of natural gas supply and demand means that Maryland missed the boat by about a half-decade in the current cycle, but an increased potential in natural gas exports – coupled with a multi-billion dollar investment in Maryland's Cove Point facility for LNG exporting that's slated to come online later this year – means our state would have been in good position to benefit in a few years' time once natural gas exploration began and delivery infrastructure was put in place. (People tend to forget that part of the equation, too.) But politics, embodied in the baseless fear caused by a noisy environmental lobby, ruled the day Friday.
Allow me to let you in on a dose of common sense: there's no way in hell Radical Green will give Larry Hogan any credit for what he did on fracking come election time. You can bet your bottom dollar that they will flock to whoever the Democrats end up anointing in their primary because their main goal isn't a clean environment but to have statists in charge of government. Yes, the rank-and-file who might send a couple hundred dollars to the Chesapeake Bay Foundation every year may really care about the health of the bay, but when the people who benefit most from it are the ones who determine the annual "grade" for the cleanliness of the Bay one has to wonder how much of their thumb is placed on the scale. After all, if the Bay had a grade of A and was pristine H2O, what need would there be for a CBF?
The oil and gas industry doesn't depend on a government subsidy – they just want a fair and predictable regulatory scheme. But a state which has no problem bending the energy trade by mandating a certain percentage of electricity comes from solar energy and demanding ratepayers subsidize an offshore wind farm seems to have an issue with the source that's been proven reliable over time and is known as a job creator.
As a ratepayer and voter, I was willing to accept the slight environmental risk of fracking in return for a more prosperous state overall as well as more inexpensive and reliable energy. (And yes, I know that the area in question isn't one where I live. But if I ever secure a piece of land nearby and someone wants to pay me for the right to use my land to explore for energy resources, I'm glad to oblige. No one has yet assessed the Delmarva Basins on which many of us live for their energy potential.)
In 2014, Allegany and Garrett counties provided almost 1/4 of Larry Hogan's margin of victory as he carried the duo by 16,466 votes in an election he won by 65,510 votes. Add in adjacent Washington County and that number becomes 35,274 votes, or over half his victory margin. At the risk of losing thousands of votes in that region, Larry Hogan has acquiesced to an environmental lobby that's not going to give him any credit, any dollars, or any votes for the decision he's made.
I suppose Larry Hogan thinks he's got an all-of-the-above electoral strategy, too. But at a time he could have changed Maryland for the better, he instead foolishly chose to surrender to the naysayers.
The result of a special election in Delaware's 10th Senate district, way up there in New Castle County, was discouraging to First State Republicans who were thisclose to regaining the State Senate for the first time in decades. Instead, the Democrats reached into their vastly deep pockets and bought themselves a seat, spending about $100 a vote to hold on to the State Senate in a district they were already about 6,000 votes in based on registration. (While they didn't have a majority of the registered voters, they had the most significant plurality. In fact, the results indicated either unaffiliated voters slightly favored the GOP or the Republicans did a little better turning out their voters – just not good enough.)
Perhaps the most interesting takes were from libertarian Delaware-based writer Chris Slavens. Taking to social media, he opined the time was now to work on an old idea for which the time may have come: a state of Delmarva that takes in the remainder of the peninsula. My thought on this: what would the makeup of this new state really look like – would it be a red state?
Let's start with the basics: based on the 2015 Census estimates this state would have a total of 1,444,288 people.
945,934 in Delaware (556,779 in New Castle County, 215,622 in Sussex County, 173,533 in Kent County)
453,226 in Maryland (102,382 in Cecil County, 102,370 in Wicomico County, 51,540 in Worcester County, 48,904 in Queen Anne's County, 37,512 in Talbot County, 32,579 in Caroline County, 32,384 in Dorchester County, 25,768 in Somerset County, 19,787 in Kent County)
45,128 in Virginia (32,973 in Accomack County, 12,155 in Northampton County)
Having that number of residents would allow for two Congressional seats, with the most likely and logical divisions being either New Castle + Kent County (DE) or New Castle + Cecil + Kent (MD) + the northern extent of Kent (DE). It's most likely they would split evenly, with a Democrat representing the Wilmington area and a Republican winning the rest.
On a legislative level, there's somewhat of an apples-to-oranges comparison because of the nature of each state's districts – Delaware's 41 representatives and 21 Senators represent smaller districts than the 12 Delegates and 4 Senators who come from Eastern Shore counties in Maryland. (In reality, there's a small portion of Harford County that gives the Eastern Shore its delegation of 12 and 4, as the 35th District straddles Cecil and Harford counties.) Meanwhile, the Eastern Shore counties in Virginia are represented by one Delegate and one Senator they share with the other side of the bay. It's only a fraction of a Delegate district.
Regardless, in terms of raw numbers, Delaware's Senate is split 11-10 in favor of Democrats – however, Maryland balances it out with a 3-1 Republican split among its districts to push the GOP ahead 13-12. But Eastern Shore Virginia voters send a Democratic senator to Richmond so the parties split 13-13 in this case.
As for their lower houses, the Democrats control Delaware by a 25-16 margin but that would be tempered by the 11-1 edge Republicans have on the Maryland Eastern Shore. With a 27-26 advantage, Republicans would control the Delmarva House 28-26 when the one Republican Delegate is added from Virginia.
That closeness would also be reflected in election results. In 2016, the Delmarva race would have been watched to practically the same extent as New Hampshire, which also had four electoral votes and was razor-close. Based on the totals in all 14 Delmarva counties, the result would also have mirrored that of the Granite State:
Hillary Clinton – 322,702 votes (47.58%)
Donald Trump – 320,387 votes (47.24%)
Gary Johnson – 21,690 votes (3.2%)
Jill Stein – 8,351 votes (1.23%)
all others – 5,094 votes (0.75%)
In most states, the margin would have triggered an automatic recount. But imagine the attention we would have received from the national press on this one! Hillary carried New Castle County, of course, but the other county she carried was on the other end of the "state" and population range – Northampton County, which is the smallest of the 12.
Even the Congressional race would have been close. I am using the three Congressional race results (Delaware – at-large, Maryland – 1st, Virginia – 2nd) as a proxy for a Senatorial race.
generic Republican – 316,736 votes (48.8%)
generic Democrat – 308,891 votes (47.59%)
generic Libertarian – 14,739 votes (2.27% in DE and MD only)
generic Green – 8,326 votes (1.28% in DE only)
all others – 398 votes (0.06%)
This despite a voter registration advantage for the Democratic Party, which holds 441,022 registered voters (43.24%) compared to 317,263 Republicans (31.1%) and 261,735 unaffiliated and minor party voters (25.66%). Note, though, that the unaffiliated total is bolstered by nearly 34,000 Virginia voters, none of whom declare party affiliation.
So if there were a state of Delmarva, there would be a very good chance it would rank as among the most "purple" states in the nation, with frequent swings in party control. (Because each state elects a governor in a different year, there's no way to compare these totals.*) Most of the counties would be Republican-controlled, but the largest county would have its say in state politics. Yet it would not dominate nearly as much as it does in the present-day state of Delaware as the additional population leans to the right. Moreover, practically any measure coming out of the legislature would have to be bipartisan just by the nature of the bodies.
But if a state of Delmarva ever came to pass, everyone's vote would definitely count.
* Based on the McAuliffe-Cuccinelli race in Virginia (2013), the Hogan-Brown race in Maryland (2014), and the Carney-Bonini race in Delaware (2016) it comes out:
total Democrats (McAuliffe/Brown/Carney) – 292,196 votes (50.41%)
total Republicans (Cuccinelli/Hogan/Bonini) – 273,928 votes (47.26%)
total Libertarians – 7,342 votes (1.27%)
total Green (DE only) – 5,951 votes (1.03%)
total others – 235 votes (0.04%)
Note that Carney provided 248,404 votes of the Democrats' total since he ran in a presidential year, while Hogan put up only 100,608 GOP votes to the total because he ran in an offyear election. (Virginia's aggregate was less than 15,000 votes.) That's why it's hard to compare, because Hogan actually prevailed by a larger percentage margin than Carney did.
With the whole Trump transition, controversy over various nominees, and other distracting background noise, there are a lot of subjects which have been placed on the back burner – one of them is renewable energy.
I noted a few days back that two pipelines stalled under the previous administration were kicked back into gear once Trump came into office, but at the very end I alluded to two battles shaping up in the Maryland General Assembly. One was the overturning of Governor Hogan's proper veto of the "sunshine tax," which I discussed a lot on the Facebook page of the Maryland Climate Coalition (a motley crew of environmentalist wackos, leftist faith-based groups, and a union or two.) The other is their misguided attempt to ban fracking in the state (SB740/HB1325) which has 23 of the 47 Senators as co-sponsors and over 60 members of the House of Delegates.  (Think of the sponsor lists as a handy guide for voting for their opponents in 2018.)
A couple days later, I received an e-mail from someone at the National Council for Solar Growth (NCSG), which I gather is a non-profit because she wrote "We're in a dash to get as much exposure as possible in fear that our funding may soon be pulled. :(" According to their website, they are a 501 (c)(3) organization "with a mission to educate homeowners and businesses about the economic and environmental benefits of PV solar," and some of the benefactors listed are the Departments of Energy and Housing and Urban Development, along with the Global Solar Council and PACENow, which is a financing mechanism that adds an assessment to your property tax bill.
One thing that is worth reading on their website is a case study on return on investment, using a home in Massachusetts as an example. This family spent $55,000 on a 10 kW system, which is probably double the amount some homeowners would require. But once you knocked off rebates, tax credits, solar renewable energy credits, and net metering, supposedly the cost came down to just under $30,000. Realize, of course, most of this "savings" is a subsidy by state and federal governments. In Maryland's case, the "sunshine tax" that Hogan vetoed would increase the number of solar renewable energy credits utility companies have to purchase – basically they created an artificial market where none existed. In the case of this Massachusetts family, their upfront cost was defrayed by $3,725 and it would continue at that pace for another nine years.
All told, the family would put in about $30,000 but taxpayers and ratepayers would kick in $54,750 – $21,225 up front and $33,525 over the next nine years. The case study also said the family was receiving income of about $350 monthly from the utility company for net metering. It seems like a sweet gig, which is probably why I see Solar City trucks all over the place. But would they be as prevalent if the public money spigot were shut off? I think not, and remember our friend was fretting about NCSG losing their funding. The market may not be sustainable at this point, nor will it become so. Over time, the panels will begin to lose efficiency and may not end up saving them anything.
And then I started thinking about some of those who have been financing the Left over the years, particularly a "green energy" guy like Tom Steyer. Instead of working to mature the market and taking the risks inherent in building it while allowing people to choose whether they wish to participate or not, those financing Radical Green have instead been backing the idea of forcing people to adapt via government fiat. Don't want to buy a solar energy system for your house? Well, we will just make the utility companies pay for it and they'll just pass the cost onto you. Can't find enough private financing to build the market? We'll just lobby for our own carveouts and earmarks in the name of "saving the planet." Instead of assisting those interested, they impose their preferences on everyone.
I think a great example of this is the electric car. Once upon a time, way back when, there were rudimentary electric cars produced. But people found it was cheaper and easier to use the internal combustion engine, and the American love affair with the automobile began. As opposed to mass transit, for one thing the automobile equates to freedom of movement: you are not at the mercy of waiting for the next train or bus nor are you restricted to going only to places they serve.
So I suppose it's a concession from the Left that they decided electric cars are worth an "investment." The problem is that they aren't necessarily suited for freedom of movement in the respect that they have a limited range – it's almost like you have a leash on yourself unless you know of places you can charge up, and that's not even really an option because, as opposed to five or ten minutes at the local Wawa filling up, you would need at least a half-hour to charge enough for 90 miles. But the government is still trying to bring that market up to speed, to turn a phrase.
Consider the Chevy Bolt, which GM bills as an all-electric vehicle with a range per charge of 238 miles. It's built on the same platform as their sub-compact Spark, but instead of setting you back about $17,000 as a Spark would a Bolt retails for $37,495. (Some of that is returned in a federal tax credit of $7,500 – again, no one is giving tax credits on the regular Spark. My older daughter and son-in-law would love that, since they both own a Spark.) But to do things right, you would need to install a home charging station, which costs about $1,000 – of which 30% is rebated in another federal tax credit. It requires at least 40 amp, 240 volt service so a rule of thumb is that you will use about 30 kWh to go 100 miles. Driving 1,500 miles a month (not uncommon around here) and that means additional electrical consumption of 450 kWh, which is about 50% of a typical home's usage for a month. So much for net metering.
So let's recap: you're using far more electricity, limiting your range of motion, and costing taxpayers about $8,000 for dubious gain. (And I haven't even discussed how they get the materials for the battery – hint: it's not very eco-friendly.)
In essence, what has been going on for the last thirty years is that we have transferred billions of dollars from hard-working taxpayers to those who profit from a belief that mankind can save their planet from the scourge of climate change, which is laughable on its face. As I have said for years, I have no real issue with energy efficiency but that should be sought on a market standpoint, not because we are forced into it or made to pay for it. There are certain things which create abundant energy quite cheaply and reliably: coal, oil, and natural gas. At one time – before my time – we were told (falsely, as it turned out) that nuclear power would be so cheap they wouldn't have to meter it.
With a government that's spending $4 trillion a year, isn't it time to let these giveaways to Radical Green go away? And before you argue about Big Oil and its "subsidies," read this. America's economic engine needs reliable and inexpensive energy to run at peak efficiency, and on this cloudy day with relatively calm winds I'm not seeing much from those other sources.
I was sitting on some stuff from my old friends at API for awhile, but I decided it was getting a little too stale and broomed it. Luckily for both of us, events and more concise blogging make for a far better analysis, to wit from the Energy Tomorrow blog and Mark Green:
President Trump's executive orders clearing the way to restart the Keystone XL and Dakota Access pipelines are welcome indeed. Both projects represent great opportunity for U.S. jobs, consumer benefits, economic growth and strengthened energy security.

At the same time, the significance of the White House's action goes beyond a pair of important energy projects. It's a signal that long-needed energy infrastructure will once again be able to advance in this country – under regular-order reviews and approval processes – providing broad benefits to millions of Americans. That's huge.

Both projects had become political footballs, with political agendas trumping science, factual analysis and careful, lawful governmental review.

Keystone XL was reviewed five times by the U.S. State Department, which said the pipeline and the Canadian oil sands it would deliver to U.S. refiners would not significantly impact the environment. It enjoyed strong, bipartisan support from the American public, which saw the privately financed project as a job creator and economy grower. The builders of Dakota Access followed regular permitting and approval processes – only to see politics prevail over the rule of law – with the 1,172-mile pipeline just 1,100 feet from completion.

President Trump's executive orders allow both projects to get on track again. API President and CEO Jack Gerard:

"We are pleased to see the new direction being taken by this administration to recognize the importance of our nation's energy infrastructure by restoring the rule of law in the permitting process that's critical to pipelines and other infrastructure projects. Critical energy infrastructure projects like the Keystone XL and the Dakota Access Pipelines will help deliver energy to American consumers and businesses safely and efficiently."
I find it amazing just how little of the DAPL was controversial: it would be like driving from here to Key West to stay free at a Gulf-front cottage for a week only to find the last bridge is out and no repairs are scheduled for the month.
While I'm sure the folks in the media work hard to keep a sharp eye out for pipeline mishaps in this day and age, the fact that there's a "dog bites man" quality to these stories means that they're a pretty safe way to get oil and natural gas from one place to another. To hear Radical Green tell it, we should have totally contaminated Gaia ten times over by now, so the fact that we haven't means either we do a good job of keeping environmental damage to a minimum (which, in the long run, pays dividends for these energy companies) or Mother Nature does a pretty good job of healing itself. (Consider the Deepwater Horizon from the more immediate perspective to that of more recent vintage, when those studying had to speculate on mental health of residents because the seafood coming from the Gulf was deemed safe.)
There won't be a whole lot of jobs from DAPL now (since there's less than 1/4 mile remaining to be built) but there will be jobs with Keystone. More importantly, this commentary from API reflects their optimism that the Trump administration will be more amenable to their interests, something that was missing over the last eight years despite the industry's relative prosperity.
Closer to home, here's hoping that streak continues: there's been a full-court press on the Radical Green side to keep Democrats in line regarding Governor Hogan's veto of the "sunshine tax" but also, more behind the scenes, there's a call for a permanent fracking ban in Maryland. For that I have two words: big mistake. Our options should remain open, particularly since the regulations are being finalized.
America has abundant energy in many places, so if you have it you may as well use it for our good. No need to keep it in the ground – that's the place for the pipelines to go. Let's get to work.
Last year, Delegate Mark Fisher did what only three others in the decade of my monoblogue Accountability Project have done: compiled a perfect 25-for-25 vote score. Unfortunately for him, 2016 brought two such scores and based on his overall record and other factors my Legislator of the Year was fellow Delegate Warren Miller, who compiled the other perfect mark.
But Fisher has put up an interesting proposal that reflects a desire to limit government, at least as part of an e-mail I received. Here are a couple excerpts:
Each year, Maryland has a 90-day Legislative Session.  Over 3,000 bills are proposed each year that seek to limit your freedoms and stifle prosperity.  And so the question arises:  How does Virginia, a much larger state, survive with only a 60-day Session during even years – and a 46-day Session during odd years?

The answer is simple – Annapolis elites believe that your prosperity comes from government.

(snip)

But, it doesn't have to be this way.  A shorter, 60-day legislative session combined with a modest salary of $18,000.00, like Virginia, is a good start.   When a legislature has less time to meet, there's less time to meddle.
It's true that other states have differing rules on their legislative sessions, as does Congress. But in all honesty, the state legislature really has just one job, and that's to approve the budget. Instead, they do meddle in a lot of things and more often than not, they remove county authority in favor of the state. While there's a stated goal among many to be "One Maryland," the reality is that the Annapolis perception of "One Maryland" is a lot different than the reality we live with. Our Maryland is slower-paced, doesn't rely on the federal government for employment, and would prefer local control of many entities, such as planning and zoning and our schools. We also have competition that's unique to our part of the state for business and retail establishments, as those across the Mason-Dixon and Transpeninsular lines in Delaware toil in a state known for being business-friendly and without a sales tax.
Yet if Fisher wants to cut into the sum total of legislation, he doesn't necessarily need to shorten the session. Perhaps there needs to be a regulation in place that creates a sunset date for all new bills so that they need to be revisited every few years. (Some bills already feature this, so they have to be dealt with at appropriate times.)
I think he has the right idea on this one, but I'm sure it's an idea that goes nowhere given the state of our state.
Sometime tomorrow the Maryland General Assembly will be gaveled back to life and your freedom and wallets will once again be at peril.
While those of us who are familiar with social media know about the push to repeal the "road kill bill" passed last year over the objection of Governor Hogan, to me it's more telling that the very first House bill out of the chute will be the mandated sick leave bill. The next one is a bid to expand the earned income tax credit, including to those who are childless.
But in reading through the list of pre-filed bills, there's not a whole lot of exceptionally radical stuff – although the bill to mandate "stop and frisk zone" signage in Baltimore City gives me a lot of pause. There are also a couple of mandated spending bills already on the table, which is par for the course insofar as the majority in the body is concerned.
I suspect this session will be among the most rancorous yet as Democrats, desperate to knock down Larry Hogan's approval rating, are going to throw everything he wants in a desk drawer and toss out the key; meanwhile, they will certainly do their level best to muck up the works and prepare the state for the 2018 Democratic campaign, which will employ the tactic of portraying Larry Hogan as a do-nothing governor.
I can see this coming a mile away, and actually the direction of legislation may be an indicator of who his opponents may be: legislators always try to bring home a little bacon for their districts, but if the idea is that of making a particular county-level executive look good (think Kevin Kamenetz) then there may be even extra effort to mandate spending for the county – never mind the rest of the state.
Of course, the flip side of the equation is that a whole lot of common-sense legislation will never make it out of committee because it would limit government, enhance freedom, or make things easier for business to succeed. But that's why I look at the legislation every so often, and doubly why I do the monoblogue Accountability Project because people should know what happens to these more conservative, pro-liberty measures and how they never make it out of committee. If mandated paid sick leave makes it to a floor vote, I would say there's a 99% chance that becomes one of my votes.
So now is the time to be vigilant, and let's hope that the Hogan budget holds the line on spending this year. If you're already going to be accused of cutting everything under the sun, you may as well be blamed for something you actually do.
Last year I did this in three parts, but to me that may be overkill this time around. Consider that 2017 is not an election year, so if anything we will not see much on that front until the latter stages of the year as the campaigns for 2018's state elections ramp up. And because all but one of our local officials are first-term representatives in their respective offices, it's likely they will wish to continue in office. Bear in mind, though, on the Senate side longtime House member Addie Eckardt will be 75 and Jim Mathias (who is in his second term as Senator after one-plus in the House) will be 67 by the time the next election comes around, so they are likely closer to the end of their lengthy political careers than to the beginning. And thanks to Wicomico County voters who passed the referendum this past November, 2017 will be the year we formally set up the elections which will net the county its first fully-elected Board of Education in late 2018.
Speaking of the local BOE, we still have an appointed board until that election and the two members whose terms expire this year are both Democrats who are term-limited. I suspect the local Democrats will try and send up names of people who will run for seats in 2018 to gain that incumbency advantage – as envisioned, though, these will be non-partisan elections. And the final say goes to the state Secretary of Appointments, who over the years hasn't always been kind to those we preferred, either. Or, conversely, since the incumbents serve until their successors are appointed, we may see a long stalling technique, too. It will be interesting to see how that plays out, but I'll bet those who are appointed will use that tenure as a springboard for eventual election.
Elsewhere in Wicomico County as 2016 comes to an end, it appears the city of Salisbury and Wicomico County are working out their issues rather well. The biggest sticking point remains fire service, and it's relatively likely the city is going to see more of a reimbursement from the county when it comes to that – perhaps to the tune of up to $2 million a year. It's possible there may be something to cut to make up for this, but as the county has increased its debt in the last few years to build several schools it leaves less room for spending cuts to make up the difference. If the city receives $2 million annually that would equate to about a 3 or 4 cent property tax increase for county residents. There's also the chance that a tax differential or rebate may be on the table in order to reimburse city residents, as they pay the same tax rate as county residents. Wicomico is one of only three counties in the state that choose not to provide a tax differential to their municipalities.
But there is another factor to consider. Back in June the number of people working in Wicomico County set an all-time high of 52,010, eclipsing a mark that had stood for nearly a decade (July 2006.) That record lasted a month, as July came in at 53,668. While the number of jobs has finally reached where we were a decade ago, bear in mind the labor force is about 1,000 larger – so unemployment is in the 5.5% range rather than 4%. Even so, that extra number of people working – a number which year-over-year between 2015 and 2016 has fluctuated quite a bit but usually comes in at 1,000 or more additional workers in 2016 – means there's more revenue to the county from income taxes so paying the city of Salisbury may not be such a heavy lift. The question for 2017 will be whether these economic conditions continue and whether Wicomico County will want to spend every "extra" dime on items which are unsustainable in rougher economic times.
That same question goes for the state, but the trend there has been for more spending. Democrats in the General Assembly added millions in mandated spending to the state budget and it's a sure bet they will try again this year. Add to that the general belief that year 3 of a Maryland political cycle sees the most ambitious agenda put forth – it's time for those incumbents to bring home the bacon and burnish their re-election chances the next year – and you can bet that paid sick leave will pass, Radical Green will have its day (perhaps with a fracking ban, which would devastate Western Maryland), and any Hogan veto will be promptly overridden. It's certain that they will leave enough time in passing these controversial bills to do so. We've already seen battle lines drawn with the counter-proposal from Governor Hogan on paid sick leave and the social media-fueled drive to repeal the "Road Kill Bill" that Democrats passed over Governor Hogan's veto in the spring of this year.
The wild card in state politics, though, comes from national politics. It's not because we had the well-publicized answer to an extremely nosy press – if only they paid as much attention to some of Martin O'Malley's foibles and scandals! – that Larry Hogan wasn't going to support his (nominally at best) fellow Republican Donald Trump, but the idea that Donald Trump may actually do something to cut the size and scope of government. (Military contractors, particularly, have reason to worry.) And because Maryland's economy is so dependent on the federal government, to a shocking and sickening degree, we know that if Trump begins to make cuts it will hurt Maryland the most. Given the typical bureaucrat CYA perspective, it explains perfectly why four of the five jurisdictions Trump did worst in – the only five which came in below his 35% statewide total – were the four counties closest to the District of Columbia (MoCo, PG, Charles, and Howard. Baltimore City was the fifth.) While I am entirely a skeptic on this, there seems to be the belief that Trump will take a meat cleaver to the budget and thousands of federal and contract workers will be cast aside because of it.
And in a situation where revenues are already coming up short of forecast, a recession in the state's biggest jurisdictions, coupled with the mandated spending Democrats keep pushing through, will make it really, really difficult on Larry Hogan going into 2018. You will be able to judge who has the most ambition to be Governor by who carps the longest about these cuts.
While the Dow Jones stalled this week in an effort to breach the 20,000 mark by year's end, the rise in the markets echoes consumer optimism – even as fourth quarter GDP forecasts turned a little bearish, consumers still feel a little better about the state of our economy. If we can get the 4% GDP growth Donald Trump promised we may see some of these fiscal crises take care of themselves.
Yet there was also a sentiment in 2016 that the world was going mad: consider all the terror attacks, the seemingly unusual number of and extended shock over high-profile celebrity deaths, and a general turning away from that which was considered moral and proper to that which fell under the realm of political correctness, wasn't a "trigger" and didn't violate the "safe spaces" of the Millennial "snowflakes." (I can't resist linking to this one I wrote for The Patriot Post.) At some point the pendulum swings back the other way, but in most cases that takes a life-changing event like 9/11 or Pearl Harbor. I'd prefer a much softer transition but a transition nonetheless.
As I see it, the key word for 2017 will be leadership: if the current elected officials and new President have it and use it wisely to the benefit of our county, state, and nation "so help me God" things will be okay. If not, well, we've seen that movie for about eight or ten years already and we will continue to slouch toward Gomorrah.
I'm certain there's a percentage of my readers who would disagree with the title, but for those who would like to improve our state there's a chance to take action: specifically a week from tomorrow, but in general before the Maryland General Assembly begins its annual "90 days of terror" in January.
I was introduced online, through a mutual friend, to one of the leaders putting together a rally in Annapolis, as she explains:
The Maryland legislature is considering regulations that would finally allow natural gas development in our state.

We need to show that Marylanders want responsible energy development and that any regulations MUST be reasonable and consider their impact on Maryland jobs and energy costs.

Please join us Tuesday, December 20 for an Energy Citizens and Energy Nation Rally to support clean and affordable natural gas and jobs for Marylanders!
The Energy Citizens group is springing for breakfast at Harry Browne's beginning at 8:30 a.m. before reconvening for the rally at 9:30 a.m. on Lawyer's Mall. (All they ask is that you RSVP first.) They will stay until 11, hopefully long enough to make their point, which is:
A Maryland legislative committee is considering new regulations for natural gas development in our state. Any regulations MUST be reasonable and consider their impact on Maryland jobs and energy costs.

Responsible energy production would give Western Maryland the chance to create thousands of good-paying jobs, boost the local economy, and make energy more affordable for families and businesses across the state. But time is short.

Please Email your Representatives now. Tell them you support responsible natural gas development and to consider jobs and energy prices when any new regulations are being discussed!

(snip)

Hydraulic fracturing is safe, and reasonable government oversight and regulation are appropriate, but Maryland should follow the example of dozens of other states where production has proceeded safely for years.

The Western part of our state should have the chance to create thousands of jobs and stimulate their local economy. Our families deserve affordable energy to heat our homes and power our businesses. (Emphasis in original.)
Now this is the part where I may go off the organizer's script (if she had one in mind for me) but I'm a guy who tries to give the straight scoop. The lefties* at SourceWatch sneeringly call Energy Citizens "a front group backed by the American Petroleum Institute," and the backing part is absolutely true. I knew this awhile ago because I'm quite familiar with API. It's a very good group from which to get energy information, and I have a vested interest in keeping energy as reliable and inexpensive as possible – it's called electric and heating oil bills to pay. 200 gallons in the oil tank isn't cheap, but we needed to get them nonetheless to have a full tank once the cold weather hit. I definitely prefer not to have to run my laptop and internet off a battery and at this time of year I like to be something close to warm.
And look at the approach they are taking, saying "reasonable government oversight and regulation are appropriate." They are not advocating for the Wild West of fracking, but something that is reasonable – unlike the authors of the various proposals in the General Assembly. I've not forgotten that the original first reading bill that mandated the halt on fracking through October of next year originally had an expiration date of April 30, 2023 – and only after a panel stacked with "public health experts" as opposed to those expert in "science and engineering" were charged to "examine the scientific literature related to the public health and environmental impacts of hydraulic fracturing." I wonder what a panel of "experts" appointed by liberal leadership would have found? </sarc>
Bear in mind that the bill was not properly vetoed by Governor Hogan, but he didn't sign it either. He just let it become law without his signature, rather than tell these misinformed environmentalists to pound sand and dare the Democrats to vote against good jobs once again.
Furthermore, according to that bill, these regulations should have been in place by this past October. The MDE, however, was about 6 weeks behind and put them out November 14, with public comment closing later this week. Assuming they are close to those detailed back in June, the state will have some of the most stringent regulations in the nation. That doesn't seem to be very balanced or reasonable.
If I were to make a modest, sensible proposal, I would posit that Maryland's regulations should mirror Pennsylvania's as closely as possible, for a very logical reason: for most of those companies already doing business in Pennsylvania, that portion of Maryland is but a short distance from their other operations and would likely by overseen by supervisors based in Pennsylvania – a state which, by the sheer size of its share of the Marcellus Shale formation, will have far more natural gas output than Maryland ever will. If Maryland even gets to 10% of Pennsylvania's output it would be a victory for the Old Line State. So why not make it easy and convenient for those experts in the field, considering that they've had the better part of a decade now to iron out the kinks just on the other side of the Mason-Dixon Line?
At the market price for natural gas, we should be doing all that we can to make it easier to create the good-paying jobs (not to mention the royalty payments landowners could receive) for a part of the state that, like the Eastern Shore, always seems to lag behind the economic curve thanks to shortsighted policy decisions in Annapolis. I hope a lot of my Western Maryland friends (and maybe some from our part of the state) go to support a better way of life for themselves a week from Tuesday. They'll even bring you over to Annapolis from the west side of the state.
You can call me just another Energy Citizen.
______________
* I like this description of the Center for Media and Democracy, which is the backing group of SourceWatch:
CMD takes significant sums of money for its work from left-wing foundations, and has even received a half-million dollar donation from one of the country's largest donor-advised funds – all the while criticizing pro-business or free-market advocacy groups who also use donor advised funds or rely on foundation support.
Don't you love the smell of hypocrisy in the morning?
It may not be as apparent to the average American as "vacation day" patriotic holidays like Memorial Day or Independence Day, but today a small band of Salisbury residents came to City Park along the Wicomico River and celebrated the 229th anniversary of the signing and delivery of our nascent Constitution to Congress for approval. Once approved, it was sent to each of the thirteen colonies for ratification (Delaware was first, on December 7, 1787) and by the middle of the next year the requisite nine states had ratified the document, which was not yet amended with the Bill of Rights. (That would come a few years later, in 1791.)
So I arrived fashionably on time and was pleased to see the turnout.
It seems like there were a few more people than last year's gathering, and I think the morning start time (as opposed to afternoon last year) may have had something to do with that.
We were presented with a proclamation from Salisbury mayor Jake Day reiterating that the city would be celebrating Constitution Day today. Day is one of the few who could stand and say he was actively defending the Constitution as an Army officer on active duty.
The event also was the culmination of an essay contest where the top two winners were present to be honored with a certificate from the Maryland General Assembly, presented by members of the local delegation Mary Beth Carozza (who was speaking), Christopher Adams, Carl Anderton, and Johhny Mautz. The winning entry was read by Carys Hazel of Mardela High School, with runner-up Nathaniel Sansom of Salisbury Christian School also present to receive his award.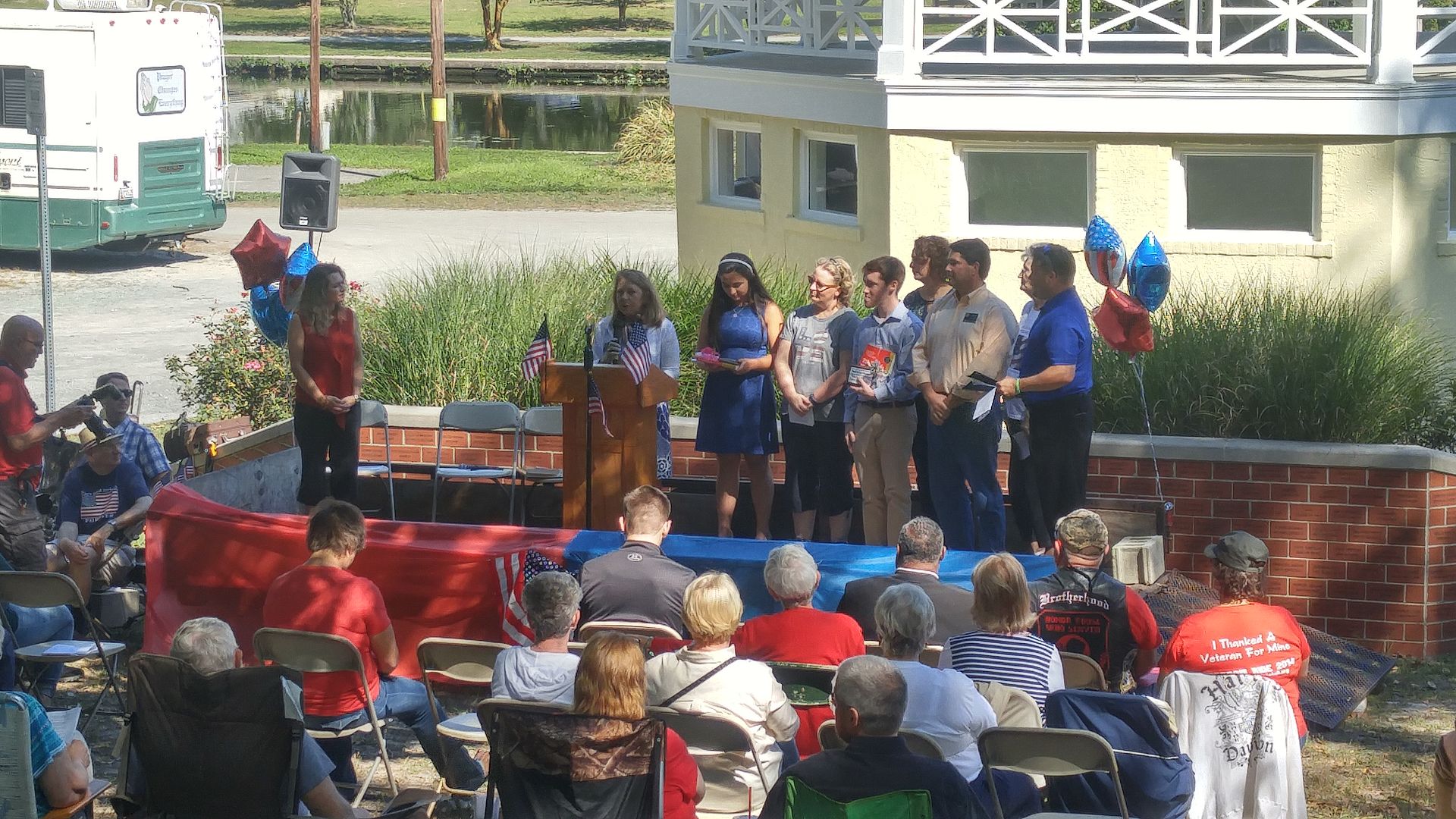 The keynote speaker was Wicomico County Sheriff Mike Lewis.
I wasn't really at the Constitution Day event to give blow-by-blow coverage, but I used the photos to both set the scene and cue up my own remarks, with the address Sheriff Lewis gave as a jumping-off point. Mike spoke at some length about the role of the military overseas and their fight against radical Islam. Certainly I understand the reason that they have embarked on such a mission, but to me it also begs a pair of questions for which we need an honest answer.
To a varying extent, the nation has been on a war footing since 9/11. In that time we have adopted the PATRIOT Act and sent thousands of troops overseas to fight against the proxy forces of radical Islam: the Taliban in Afghanistan, the Saddam Hussein regime in Iraq, and the Islamic State known as ISIS (or ISIL.) But the first question I have is: where does the balance tip too far toward security at the expense of the liberty afforded to us in the Constitution?
This question isn't really new, either: during the Civil War (or War Between the States or War of Northern Aggression, if you prefer) President Lincoln suspended the writ of habeas corpus and arrested members of the Maryland General Assembly to prevent them from meeting as a means of preserving the Union. Eight decades later, President Roosevelt interned Japanese-Americans as a result of their ancestral homeland's attack on American soil. In both instances America was in an active war within its borders or territories, but against a nation-state rather than an ideology as we are today. However, being in a state of war such that we are should not be an excuse for excess and there are many who have pondered the "War on Terror" and its response in the PATRIOT Act and whether the government is using this Long War as a flimsy excuse to consolidate power.
The idea of the government consolidating power leads to the second question: are we truly following the Constitution anymore or is this all just lip service?
Surely there are some who believe the Constitution has been eroding practically since the ink dried on the parchment. Whether they point to Marbury v. Madison being the moment where the judiciary became the most powerful of the three branches, the Civil War being the death knell for state's rights since they no longer had the right to secede if they were dissatisfied with the nation as a whole, or the Sixteenth and Seventeenth Amendments that gave the federal government taxation authority on individuals specifically prohibited in the original and ended the practice of state legislators electing Senators to represent their interests in Washington, there are a fair number that think we need to start over – perhaps with a Convention of States, otherwise known as an Article V Convention. (Years ago I contributed a couple ideas for new amendments, which are still sorely needed. Back then I had good discourse, too.)
I don't want to get into the weeds of determining the merits or problems of such a convention, but the fact that there are people who believe the Constitution needs a tune-up to fix excesses on one side or the other bolsters the argument that the government we have now is not the one originally envisioned by those men who toiled during the spring and summer of 1787 to write a replacement for the Articles of Confederation that the United States was bound to for the first decade or so of its existence. Granted, the Article V method is one prescribed in the document but there's no guarantee the amendments proposed would pass or the resulting Constitution any better for the people.
So the occasion of Constitution Day is bittersweet. Yesterday I wrote on the subject for the Patriot Post, noting that:
Contention over – and advocacy of – limitations to government based on constitutional principles has become a theoretical exercise at best, perhaps in part because few understand the ideas and arguments that were made during the drafting of our government's founding document.
Those who have sworn an oath to enlist in the military or (in my case) to take public office know that we swear to support and defend the Constitution as opposed to an oath to the United States. This is a clear distinction because the interests of the United States may vary by whoever occupies the offices of government at the time, but the Constitution is the set of ground rules which are supposed to define our nation. The key reason I resigned from the Central Committee was because I could not trust the Republican presidential nominee to support or defend the Constitution – rather, I believed he would tear the GOP from what few limited, Constitutional government roots it had remaining. Thus, I felt as a public official that supporting him was a violation of the oath I swore to the Constitution.
Many of those same men who pledged their lives, fortunes, and sacred honor to the American nation and survived the war that brought us independence were those who argued and debated the contents of the pieces of parchment that we consider our supreme law of the land. I pray that a group that is just as divinely inspired can lead us back to a nation that more closely reflects the intentions of these earliest Americans with respect to restoring a government that seeks the consent of the governed, and that those who are governed understand their responsibility in the equation as well. The fact that so few seem to have this inspiration or the desire to take this responsibility as citizens seriously may be what was most troubling about this day in the park.
You know what they say about the best-laid plans of mice and men? It applied to last night's Wicomico County Republican Club meeting, as the expected legislative wrapup from the remaining non-participants in our May meeting were those slated to speak this month. Unfortunately, the MML conference and a Hogan fundraiser took precedence for those candidates, so it actually fell on a somewhat unexpected guest to deliver a few off-the-cuff thoughts on the session: Delegate Charles Otto, who came up from Somerset County to speak with us. As he was originally elected in 2010 in a district that then included a portion of Wicomico County, he's considered us his constituents despite the fact he was redistricted out for this term.
Thus, once we took care of doing the Lord's Prayer, Pledge of Allegiance, and treasurer's report, we heard Otto's assessment that "we have a challenge this year" in electing our President and U.S. Senator. On the latter race, Otto praised his colleague, saying of Kathy Szeliga that "I can't think of anyone better to fill that position."
As for the legislative session, he felt that we had "a lot of threats" in the 90 days, but "I think we fared well." Efforts to mandate paid leave and a minimum wage increase were rebuffed, and while he termed the Justice Reinvestment Act "a decent bill," he admitted it was one of the hardest votes for him to consider in his six years on the General Assembly. To a degree, the same was true for the budget, which was more spending growth than he would have likely preferred.
Otto also believed that the transportation bill will be a "big hurdle" to overcome in the coming years, as it favors larger jurisdictions. But local development may be helped by the Triton unmanned aviation program, which is being considered for Wallops Island. Charles noted it has bipartisan support from all three Delmarva governors, who understand the economic impact this could have locally.
But Otto didn't have an answer regarding a question about the aging school program and $80 million that was supposed to be included. It was a question brought up by John Palmer, who sits on our local school board. I chimed in with a somewhat rhetorical question about the many funding mandates Democrats seem to be adopting to tie Governor Hogan's hands when it comes to the budget – could we do a reverse BRFA and try to get rid of them? It made for some discussion, and I was thanked later for bringing up the point. (Perhaps I need to save it for a Democratic Club meeting if I ever go to one.)
For being placed on the spot, Delegate Otto did a nice job, so we turned to the Central Committee report from Mark McIver. He noted that the Secretary of Appointments had selected two new Board of Education members who sounded like fine additions, but both of them applied directly to the Governor's office. None of the five we interviewed, including the incumbent who desired another term, were picked. Yet McIver was "hopeful" about the selections, noting the Appointments office contacted him regularly through the process with questions.
But now it was time to work on the school board referendum, said Mark. It would involve creating a political committee to promote the fully-elected option.
We also learned Mark has tickets to the upcoming Tawes Crab and Clam Bake in Crisfield and our committee's next meeting would be pushed back until July 11 thanks to the Independence Day holiday.
Jim Jester revealed "we've made progress" on the Crab Feast: we have secured the all-important one-day beer license. Now we just have to get approval from the health department, after he found out he filled out the obsolete old form that was online and was given a longer, more complicated new one.
Shawn Bradley updated us on Third Friday, which "was a nice surprise" with plenty of involvement as the Republican Club has tried to maintain a table there each month. This month they had the political realm to themselves as the Democrats apparently weren't there.
Our next piece of business was a lengthy discussion about where to place a headquarters this year and how to pay for it. It will be a joint effort between the club and Central Committee, with a number of locations under consideration.
A contingent from the Republican Women of Wicomico was present to speak on their annual Constitution Day celebration on September 17 at City Park. Former Delegate Mike McDermott is the featured speaker, and the festivities will begin early: a 10:30 a.m. start is planned since Somerset County will be celebrating their 350th anniversary that day in Westover, as Delegate Otto pointed out. (It was also noted that we were sitting in what once was Somerset County; that is before it was split along Division Street in Salisbury and Fruitland to first create Worcester County to its east. Both then ceded territory in 1867 to create Wicomico County. So I stand corrected since Somerset preceded Worcester.)
We then found out from John Palmer that Wicomico County Board of Education meetings would soon be streamed online thanks to the PAC14 website. The eventual idea is to allow real-time involvement from those watching.
Finally, we were alerted to a townhall meeting Congressman Andy Harris would be holding tonight (June 29) at Black Diamond Catering in Fruitland from 6-7 p,m,
In less than an hour we had taken care of our business and become more informed. Next month we go off the political board a little bit as our speaker will be Mitzi Perdue. That meeting will come July 25.
For the tenth year in a row, I have graded all 188 legislators in the Maryland General Assembly based on their voting patterns on a number of key issues. Beginning with sine die back in April, I started looking into both floor and committee votes trying to find those which reflected conservative principles, with an eye on civil liberties as well. The final product, all 27 pages, can be found right here or in its usual sidebar location.
You'll notice the look is a little different this year, as I decided to scrap the old two-column format and just give it more of a standard form that's easier to read. I also changed the font to something a little more stylistic. On the charts themselves, I decided to eliminate the committee votes from the main chart and instead added two new pages for those votes so that all of the legislators on the committee can be more directly compared.
As for the votes themselves, the overriding theme to me was fiscal. Democrats don't like not being in the governor's chair to spend money, so they are trying to use their legislative majority to force Governor Hogan to spend more. To the majority, there are two advantages to this approach: not only can they give handouts to favored constituencies, but they can prevent Hogan from finding the savings he can use to cut taxes and fees. Their goal seems to be putting our governor in a position where he has to raise taxes, which is music to the ears of people like Mike Miller and Michael Busch.
So you'll notice quite a few floor votes deal with these sort of mandates. There are also quite a few intended to strip power from the Executive Branch (which wasn't an issue just two short years ago) and tie the hands of businesses because government needs something to justify its existence.
I note in the conclusion that there were far fewer correct votes this year, and a large part of that was the mix of bills I selected. Last year I had an average House score of 39.82 and Senate count of 41.15. This was because a lot of Democrats got scores in the 20s, and that was based on their support for marijuana and civil liberties legislation I favored. This year, not so much as the averages plummeted to 27.1 in the House and 23.26 in the Senate. Being a more hardline fiscal conservative this year (because they addressed the issues they were with me on last year) changed a lot of Democratic scores from 24 to a big fat zero. On the other hand, I had only seen two perfect scores in nine previous years but got two in one session this year for the first time.
I've been warned that the third year of the cycle is always the most ambitious for policy, although liberals are dangerous any year. There are a few things that were stopped this year that we will surely see in 2017, such as paid sick leave. I also expect a bid to extend the fracking moratorium as part of a broad environmental package – the wackos were strangely quiet this year but I think 2017 brings some interim deadlines and reports on Bay cleanup. Add in the trend to mandate more spending and 2017 will be an interesting time.
One final change comes in the sidebar. I'm leaving the 2015 report available as part of a long-term process to show trends for the 2015-18 term. As one example, I think the candidacies of Kathy Szeliga and David Vogt affected their voting patterns – you'll be able to judge for yourself now.
Feel free to print yourself a copy for your use, just don't forget where it came from.