This evening I may have made some of the more radical Trumpkins happy: I resigned from the Wicomico County Republican Central Committee and as an officer of the Wicomico County Republican Club. It was the time of my choosing.
My original draft of this piece was much more angry and bitter, but I think now on reflection that it's just a mounting frustration with all things political. I can see the iceberg as I'm standing on the deck of the Titanic but no one hears my warnings.
This is the time of year that I normally would begin the process for putting together volunteers to help out at the Wicomico County Fair, Good Beer Festival, and Autumn Wine Festival. But after a lot of thought, I realized that I would be lying to myself if I thought I could sit at a Republican table and hand out signage and trinkets for a candidate who I cannot support in Donald Trump. It got me thinking that we supposedly have all these new people who are willing to support Trump but would not support previous Republicans we worked hard to elect, so they can take over that duty.
In the last few months I have made a number of steps on my life journey, deepening in my faith. Now I understand I should be the forgiving sort, and if the reported conversion of Donald Trump to be a "baby Christian" is the truth, then I am pleased to hear it. But there also have to be deeds associated with the words, and the problem I have with Trump is that his version of the truth changes like most people change their socks. I find the lack of consistency to be an issue; while I know no one is perfect I would at least like to see him work in that direction. To borrow from the message I listened to Sunday on 3 John, Trump to me is still more of a Diotrephes and not enough of a Demetrius.
Because of that change, I've also realized that the party I have occupied for most of my adult life (aside from the two years I was classified as a Democrat because of my own Operation Chaos I did as a college student) has moved away from me. A party steeped in conservatism and willing to stand up for Judeo-Christian values would have laughed Donald Trump out of the race before we even counted the votes in Iowa because he has very little of either. And while the GOP talked a good game over the last eight years saying what they would do for the sake of government restraint via conservative principles if they were given enough power, their rank-and-file voters (well, the plurality of rank-and-file voters) decided to select a candidate who is, on balance, not for limiting government or for conservative ideals. This group of 44% of the Republican voters instead elected a television star and huckster whose claim to fame is a brand that's always for sale; a man to whom practically everything is negotiable at some point. Call me hardline, but I have principles that are not negotiable.
Trump is correct in noting that he was running for the Republican Party, not the Conservative Party, but until he came along during most of my life it was understood that the Republicans were the conservatives. Not anymore.
So I have become a free agent. A party that embraces Donald Trump is no party for me. Certainly I will lean heavily to the right, but I think it's time I freed myself from the shackles of having to be a spokesperson for a party that nominated so poorly for the top of the ticket.
While I am at it, I have to make a couple other observations. There are a lot of Trump supporters who are vowing not to support Larry Hogan in 2018 because he won't vote for The Donald – a stand from Hogan that I applauded and let him know that I did. So let me ask them: are you going to find a primary opponent? I can't wait to see that one. While I'm not the greatest fan of everything Hogan has done, I must say that you Trump backers are looking up the wrong hill to die on. If you want to push Hogan to the right, it's called giving him more conservatives in the General Assembly, not tossing a governor who has a reasonable chance at a second term where he can do a lot for the GOP - like redistrict the state in a fair manner.
I also have something to say to the "party over everything" people, mainly those heavily involved in the Maryland GOP, who keep saying "not voting for Trump is a vote for Hillary." I'm not voting for Hillary either, so neither side gets a vote from me. What you can't seem to get through your heads is that, if Hillary is indeed elected in November, the moment she won the election was the moment you helped to nominate the extraordinarily unpopular, boorish, often truth-challenged Donald Trump to be the GOP standard-bearer. Not only did I not vote for him in the primary, I spent many weeks in the summer of 2015 researching candidates and can tell you that all but maybe one or two of Trump's opponents would have been far better on top of the ticket. You chose to ignore me (and a lot of others who said basically the same thing) so you'll get either a humiliating loss in November or a Republican president who will likely govern like the worst of Democrats, with the added "bonus" of making Congressional Republicans vote against their President. There were always a handful who voted against Bush's government expansion, but most sold themselves out based on "party over everything."  And what did it get us? Farther away from the ideals of our Founding Fathers, that's what.
Unfortunately, the damage is yet to come: a lot of good people will be hurt by the short-sightedness of the portion of the GOP electorate that picked Trump. But I'm done carrying their water as a party officer, just as several of my friends and cohorts have already done. I was hoping against hope for a convention miracle; alas it was not to be.
This decision, however, will lead to a few changes here: no longer will I cover the Wicomico County Republican Club or the state party conventions. I may attend events after the election, but for now I think it's better I do my own thing.
I guess the way I look at it there are three possibilities here: either Trump is going to lose to Hillary, he will beat Hillary and govern exactly as I predict he will, or he will be a great President and I will have assessed him incorrectly. Truly I wouldn't mind being wrong for the sake of this great nation, but I have no evidence to believe I will be.
Finally, if I offended any of my erstwhile peers by my manner of springing this on you as the meeting tonight drew to a close, I'm truly sorry. But I believed I owed you an explanation. Some have been supportive and others not so much but that's what I expected. It's been a fun and rewarding ten years in the local Republican Party (not to mention another decade I did the same in Ohio) but all things must pass. So let it be.
This time we meant it. After having a last-minute meeting called last month, a little planning made this month's meeting go a long way. It got off to an unusual beginning as the Jaycees meeting in the next room joined us for the Pledge of Allegiance before we went solo on the Lord's Prayer. (Usually we do this in reverse – as a former WCRC president once said, God before country. I think that it was the late George Ossman who introduced that tradition.)
The meeting was jam-packed with information because we had two speakers. It was suggested to us that we have Anthony Gutierrez from the Board of Elections in to go over the new paper-ballot voting machines we will be using, so he led off the evening with a pair of short videos explaining how they will work. For early voting there will be one ADA unit (which is slightly enhanced for those who are physically impaired but can be used by anyone) and two optical scanner units. Filling out a paper ballot is like filling out the standardized tests you had in school except you fill the circle in with an ink pen.
There were a few other election notes he passed along, including the fact that over 10,000 Wicomico voters will not be participating in April's primary because they are unaffiliated. (This is out of about 58,000 total.) Gutierrez noted as well that the last Presidential primary with no incumbent (2008) had 48.9% for a February primary, but he predicted April's turnout would be more like 35-40%. There will be five separate races on the ballot, he added: President, U.S. Senate, Congressional representative, and delegates/alternate delegates to the national convention. Voters will be sent their specimen ballots the Monday before early voting begins.
Mark McIver of the Central Committee asked whether more election judges were needed, and Gutierrez said they were fine for the primary. But he encouraged those interested to apply anyway for November and to be backups in case they have a need in April. Compensation for the day is $250.
Another question about same-day registration came up, and Anthony replied that it would be effective only for early voting. Some voters who had MVA information in the system would be "precleared," he added.
I asked if the new machines would result in delays, but Gutierrez noted from the experience he had with observing these machines in other elections that the process was actually faster. They would use the primary to make adjustments for the larger turnout in November, he added.
Once Gutierrez wrapped up, our other featured speaker began. Having served as the co-chair of the Redistricting Reform Commission (RRC), Walter Olson came to speak about Maryland's gerrymandering and the commission set up to suggest improved voting districts. Legislation to create a non-partisan redistricting body was introduced earlier this session, with hearings next week in both the House and Senate.
"I think we've got to end the practice of drawing our congressional districts so that politicians can pick their voters and not the other way around." Those weren't the words of Walter Olson; it's a quote from the most recent State of the Union speech Barack Obama delivered. He also made the point in Illinois during a recent appearance there, said Olson. Moreover, 70 percent of Maryland residents would prefer an independent commission, which is fitting: since North Carolina's gerrymandering (considered the worst in the country) was struck down in court, the new number one worst was the great state of Maryland.
With the recalcitrant Democrats being placed in an uncomfortable position of being against both their president and the voting public – as Olson pointed out, "they're not happy with what we're doing" - their only response was to complain that five hearings around the state weren't enough. And "did we ever get an earful" at the hearings, said Walter. Districts were created not to fairly represent, but "to reward and punish" legislators. Olson handed out a chart that clearly showed how the system was exploited: all but 6 Republicans represent districts with larger-than-average population, while Democrats represent all but one of the smallest 25 districts. (The one Republican who represents a small district won election in 2014 over an incumbent Democrat.) Needless to say, Mike Miller and Michael Busch are "not enthusiastic" about this proposed change, even though it's been debated off and on over the last half-century.
The RRC was an 11-member commission, with seven selected by Governor Hogan (3 from each party, plus one unaffiliated) and two from both the House and Senate, one from each party. Their report of suggestions were based mainly on those adopted by California, with some tweaking to fit our Constitution. The report was adopted by a 9-2 vote, and you can imagine which party had the two and where they came from to serve on the RRC. The legislation introduced on Hogan's behalf has "most of" the recommendations, Olson added.
What the RRC asked for was stronger criteria for population, with just a 1% variation. Districts had to comply with the Voting Rights Act, of course, but also needed to be congruent, contiguous, and compact. No more "blood splatters at a crime scene," as Olson described Maryland's Third Congressional District.
The redistricting body itself was intriguing to me. Applicants would be screened to make sure they weren't connected to the process as members of the legislature, their families, etc. After that, they would be placed into groups representing each of the two principal parties and unaffiliated/minor party voters, those who hadn't switched registration recently. Out of 10 applicants in each pool (Republican, Democrat, unaffiliated) selected based on these criteria, three of them would be randomly chosen to serve on the body, with the chair chosen out of the three unaffiliated members.
But the cool part was that anyone could submit a map. Olson said that Pennsylvania's map, which replaced a gerrymandered original done by the legislature, was done by a piano tuner who submitted a map which best complied with the requirements.
In the question-and-answer period, Olson stressed that the redistricting body would do both Congressional and state legislative districts. But it likely wouldn't be pressed into service until after the next census because it was unlikely the system in place now would be overturned unless it was found to be a Voting Rights Act violation. A suit by Judicial Watch regarding Maryland's gerrymandering was "somewhat of a long shot" to succeed, assessed Olson.
Walter also was careful to add that, while he works at the Cato Institute, the Institute is not involved with this. He was doing this as a private citizen.
Finally, we got to club business. The treasurer's report was given by Muir Boda, who has stepped in to become treasurer since the previous officeholder had to resign to take a job across the Bay. We are working out kinks in the accounts since they were based on her e-mail.
Mark McIver reported for the Central Committee. After a moment of silence for Blan Harcum, we learned his funeral will be Saturday, March 5 at Holloway Funeral Home, with visitation the evening before. He also related that he testified for the elected school board bill, which has now passed the full Senate (with a clean sweep 47-0 vote, by the way.)
Julie Brewington, speaking on behalf of the Ted Cruz presidential campaign as its Lower Shore coordinator, announced she had county chairs in each of her counties and was seeking sign locations along U.S. 50.
I made a motion to clean up some business so we could have our officer elections, and all five officers were nominated and elected by acclamation. I'm going to use Julie Brewington's photo here. (She posted it on social media last night, so she gets the credit.)
From left to right, it's Treasurer Muir Boda, First Vice-President Dave Snyder, President Shawn Jester, Second Vice-President Shawn Bradley, and Secretary Michael Swartz. (Me on the far right – whooda thunk it?)
We found out from Jackie Wellfonder that the Ehrlich book-signing was rescheduled for Friday, March 11 and relocated to the lobby of the City Center building, adjacent to Roadie Joe's. She was hoping to coordinate with the College Republican event that has to be similarly rescheduled, but the date didn't work with SU.
Woody Willing reminded us the WCRC Scholarship was still available, but the deadline was fast approaching (March 1.) Graduating seniors from any Wicomico County school (public, private, or homeschooled) are eligible provided they complete the application process. I asked if the application could be put online.
Willing also asked if we could make our annual YMCA donation, which was met with the club's approval.
Julie Brewington returned to announce the Republican Women of Wicomico would next meet March 2, with Mitzi Perdue as the speaker.
Joe Ollinger and John Palmer gave us some news about the Wicomico Board of Education, which was getting deeper into its superintendent search. They should be close to selecting the next time we meet, said Ollinger. Various focus groups comprised of about 75 people total were considering the applicants, added Palmer. John also said we were "on track" to getting Board of Education meetings on PAC14.
Nate Sansom updated us on the Teenage Republicans, which would have their first meeting March 4 at the Centre of Salisbury library branch. This led to Patty Miller being asked to fill us in on the SU College Republicans, which are having a fundraiser at the Greene Turtle March 21 and are "working on some big things."
Matt Maciarello updated us briefly on legislation he was interested in, adding the Eastern Shore delegation is "working so hard" on these items. Included in his assessment was the bomb threat prosecution bill sponsored by Mary Beth Carozza as well as a bill dealing with sex offenders.
As you can tell, it was a meeting full of information that we somehow crammed into about 90 minutes. Our next gathering will be March 28, with U.S. Senate candidate Dave Wallace the first statewide candidate to stop by one of our meetings since 2013.
I normally don't go into great detail when it comes to internal Central Committee business, but I had already broached the subject when I covered the recent Maryland GOP convention. Moreover, I'm a representative of the county GOP voters so I think it's only fair to bring my thoughts and opinions on this particular subject out to the public, as it will be debated in the General Assembly and eventually affect the representation of all Republicans in the state. Here Republicans have a forum for response should they choose to.
In the Executive Committee meeting we had as part of our November convention, Senator Bryan Simonaire went over his proposal to change the date new Central Committee members are sworn in. More recently he sent a letter to Central Committee members asking for their input. Simonaire stated in his letter that the change in inauguration of Central Committee members dates from the mid-1980s, when the period was changed from about a week after the primary (then held in September) to after the November election (as it has remained.) With the change in our primary date from September to late June, it leaves a long lame duck period for those who chose not to run or were defeated for re-election. Bryan seems to think the will of the voters was expressed in June and should be reflected more quickly.
In a perfect world, the primary would not have been moved back quite so far – to me, a mid-August primary date would have been appropriate for the federal regulations and better compressed the political season. But we are stuck with late June and the five-month interim between election and swearing-in.
Yet this doesn't bother me for two reasons. First of all, voters in the many districts where one party or the other is either unopposed or has token opposition already have to wait from June to January for new representation. A local example was Delegate Sheree Sample-Hughes, who won her seat when no one stepped up to challenge her (granted, the incumbent waited until immediately after the filing deadline to withdraw and leave her as the only candidate in the race.) She was the Delegate-in-waiting for most of a year before she actually took office.
Secondly, and corollary to this, is the theory that most of the campaign experience comes from those who had been in office for the prior three-plus years. We recruited the candidates and had given them advice and support, experience which a new member might not have. Simonaire points out that the majority of those who seek re-election win, but speaking as a member of the minority that didn't I was glad my term extended through the November election. It allowed us to bring the new members up to speed, giving them a little bit of on-the-job training for the next cycle. On our group we only turned over three people, with two choosing not to run and one losing in the primary.
When we elect people assuming they will serve from the beginning of a term or session it seems a little unfair to stagger the terms of the Central Committee members that far off the remaining state political offices. We may be elected in the primary, but the idea is to be the representatives of the Republican Party and the job of the Central Committee is to help elect Republicans.
Given how the state runs its electoral cycle, and even though it defies logic to some extent, I think we should keep things the way they are.
In the wake of comments many believed exposed Donald Trump as a religious bigot, there was condemnation on both sides. But what happens if he wins the Republican nomination in a deeply divided GOP? Maybe my fellow blogger and Central Committee member from Howard County Dave Wissing gives us a clue. He took to social media yesterday to state:
I usually keep my political posts to a minimum, but after today it has reached the point where I can't stay quiet any longer. As a lifetime Republican who has always supported Republicans for President, I will not support Donald Trump for President should he get the Republican nomination and will work to defeat him. If this costs me my position on the Central Committee, so be it.

More in my party should be saying this.
I'm not going to look at this from the standpoint of whether what Trump said was right or wrong. Instead it brings up the question of whether members of the Central Committee are supposed to blindly follow the party, even if they nominate a person who would seemingly represent the worst possible face of the party.
In the past we have had discussions about something we dubbed the "David Duke rule," named for the white supremacist who was successful enough to finish second in Louisiana's 1991 gubernatorial "jungle" primary. Duke ran as a rump Republican against party-switching incumbent Buddy Roemer and former scandal-tainted governor Edwin Edwards, who eventually won a fourth non-consecutive term over Duke. Duke was shunned by practically every elected Republican in the country up to and including President George H.W. Bush, who backed the Democrat Edwards. While my philosophy is to trust the wisdom of the voters, sometimes circumstance forces you to turn your back on a candidate. For many, including Wissing, this seems to be the case with Trump.
Nor does every Central Committee have a loyalty clause.
In reviewing our county's bylaws, making a statement like Wissing's is not automatically grounds for removal. Instead, the only grounds for removal is that of missing meetings or conventions. Further, in our case, a 2/3 vote of the committee would be enough to not endorse Trump (or any other candidate) as far as our county is concerned. If Howard County's rules are similar, those calling for Wissing's resignation are out of order despite his proclamation.
Yet there is the average Trump supporter to consider. He or she tends to be the working class voter that Republicans constantly try to keep from defecting to the Democrat Party where they came from to vote first for Ronald Reagan. I know a few Trump supporters who like his tough-talking rhetoric, if not his record of political accomplishment, and they're bound and determined to see him become President.
They can't seem to move the Trump needle over 25 to 30 percent in the polls, though. There are still over a dozen candidates in the race, but eventually more will drop out and support will coalesce behind other challengers who may eventually replace Trump as the frontrunner. This may solve the immediate problem but create a second one – disheartened Trump supporters who stay home rather than vote for another Republican.
There is a piece in the Onion that satirically illustrates the perils of underestimating The Donald, though. Things that may sink another's campaign seem to energize Trump supporters even more. The trick may be to interest them if Trump falls short.
My "10 from 10″ post this morning regarding the 9/12 Rally back in 2009 got me to pondering where the movement has gone in the intervening years.
If you've been a reader around here for a long time, you may recall that I covered a significant number of TEA Party-related groups that sprung up in the local area over the next couple years. Not only did we have the TEA Parties themselves that went on in both 2009 and 2010, but also groups like Americans for Prosperity and the Wicomico Society of Patriots. They went on for a couple of years but essentially died off from a lack of interest. (On the other hand, we still have the Worcester County TEA Party and 9-12 Delaware Patriots.)
Having been involved to a limited extent with the Wicomico groups, I can tell you that some of the players who remain active have gone "establishment" to the extent they remain active in the local Republican Party. Three of those most heavily involved have served on the Central Committee – unfortunately, that's the only election where some of the TEA Party leaders have found success. While many in the area take TEA Party values to heart, they seem to vote for the names they know.
This erosion of the brand is also reflected on a national level. I used to write quite a bit about the TEA Party Patriots and expressed hope that the TEA Party Express would bring some of its star power to the region. In the last few years, though, the national movement has suffered from infighting as well as a concerted media effort to impugn the brand. I don't hear nearly as much from the group these days, as their function has by and large been superseded by SuperPACs that fight for specific candidates or causes.
If you consider the high point of the TEA Party as the 2010 election, where the political landscape dramatically shifted in a more conservative direction in the wake of two consecutive leftward shifts as well as the adoption of an unpopular Obamacare entitlement program, then the nadir came two years later with Barack Obama's re-election. A conspiracy theorist could point out that the 2010 election results put the Obama campaign on high alert, meaning they pulled out all the stops to ensure re-election with a little help from a compliant media. But one could counter by noting the movement wasn't strong enough to topple frontrunner Mitt Romney and they shot themselves in the foot by staying home on Election Day. (As it was, though, Romney did get more votes than John McCain did in 2008.)
So while you can credit TEA Party principles for winning the day in 2014, the actual movement itself seems to be receding to a low tide. Since TEA is an acronym for "taxed enough already" it's been pointed out by the Left that taxes really aren't that bad, at least in comparison to the rates in place for administrations from Hoover to Carter. (This is a neat little chart to see the differences.) Ronald Reagan dropped rates twice: from 70% to 50% in 1982 and eventually down to 28% with the Tax Reform Act of 1986. It had been over 50 years since the top rate was less than 50%.
But that only considers income tax. Certainly as a 100-year body of work our current rates are on the low side, but back then we didn't have the maddening plethora of taxes and fees we do now. Some are consumption-based taxes like sales tax on goods purchased or per gallon of gasoline, while others are considered some sort of "sin" tax like additional levies on cigarettes or alcohol, a combination that Marylanders endure to a larger extent than several of their neighbors. Even speed cameras could be regarded as a sort of "sin" tax, since supposedly the only ones who pay it are the ones who are speeding well above the posted limit. (Try as they might to convince us that it's about safety, we all know they need the Benjamins. Why else would they have to install cameras in more and more dubious "school zones"?) Nor does that consider property tax, which tends to be the preferred vehicle for raising money for the public schools. In most states where districts have taxing authority, it's not uncommon to see a school district seek three to four additional property tax levies a decade as they strive to raise funds for buildings and operations. (Maryland is different because counties pay for their portion of school funding from their general funds, so there are no ballot issues to deal with property taxes.) To make a long story short, we still consider ourselves taxed enough already.
As far as a formal movement goes, though, for the most part we are back to where we were around 2008. There is a lot of frustration with the direction of both parties, but this time rather than a movement without a leader people are going the route of a looking for a leader for what they consider their movement – hence, political outsiders Ben Carson and Donald Trump have been ahead of the Republican field for most of this campaign. (As further proof, the other side is still believed to be behind Hillary Clinton.) Carson is cast as the Godly, principled man who would quietly and reverently lead our nation in need of healing, while Trump comes across as the brash general who would kick butt and take names, restoring America to its top of the heap status.
Conversely, those who are conservative but came up through the standard political channels have fallen out of favor this cycle. In any other cycle, we would look at governors like Rick Perry, Scott Walker, or Bobby Jindal as frontrunners – instead, all three are out of the race. In terms of political resumes, the front-runners on both sides have even less to go on than Barack Obama did, and that's saying something.
So it's hard to tell where the TEA Party trail runs cold. I think a number of them have coalesced behind Donald Trump despite the fact The Donald is not a movement conservative. One recent rumor is that a Trump/Cruz ticket is in the works, which would perhaps appease the true believers. Trump's success has belied the predictions of TEA Party leaders that he will be a flash in the pan.
But it appears the days of rallies like 9/12 are behind us. Such a pity.
We didn't have the biggest crowd on a Thanksgiving week, but Delegate Christopher Adams made his points during the final scheduled WCRC meeting of 2015.
Adams was down the agenda this time, as we chose to do our usual opening routine with the exception of me giving the treasurer's report for the absent Deb Okerblom. We slotted the Central Committee report first, which meant Mark McIver could detail the "huge success" of the Lincoln Day Dinner.
McIver chalked up the success to a couple factors: good profit from the silent auction and the use of several database lists – and 150 hand-written personal invitations – to target our advertising.
Briefly going over the state convention, McIver detailed how we heard from the three leading Republican U.S. Senate candidates. Ann Suthowski chimed in that Muir Boda was mentioned twice during the convention for his success and Mark Edney did a good job explaining the succession by-laws amendment. The Salisbury University College Republicans were also mentioned as part of the state CR report for co-hosting the Lincoln Day Dinner.
McIver also announced he would host a joint club and Central Committee Christmas Party next month.
Finally, we heard from Delegate Adams. He was pleased to see the change in government in Salisbury, which he said has more sway than he does locally.
Adams noted that with $20 trillion in debt, it was likely the GOP would win this year's election. He suggested they make cuts to the "fourth branch," as cost-saving measures.
In Maryland, Adams continued, the Augustine Commission determined that federal spending accounted for 25% of the state's GDP, so government cuts would affect Maryland disproportionately. The state needed to develop an "entrepreneurial ecosystem," he added.
Most of Chris's message dealt with legislation he was introducing to allow counties to opt out of sprinkler system requirements once again. It's something they've been asking for, Adams added, but they were up against a powerful firefighter lobby. Adams noted he had a meeting slated with the state!s deputy fire marshal.
Yet the $5 to $7 per square foot cost for a small, affordable home was one that couldn't be added to the value. Mandates like this are putting new homes out of reach for young families,
He explained that the 2012 International Residential Code had this mandate, but prior to last year counties were allowed to opt out. Taking back local control "has to be a grassroots effort," said Adams, and it requires action on a local level.
Adams was asked if many new home builders voluntarily put in sprinklers, but few did. He added that some states prohibit the mandate, including several neighboring states.
Mark McIver noted that the state was "taking away the American Dream…it's bankrupting the younger generation."
Adams was also asked about sprinker systems affect insurance rates. He believe they made little difference in the rates, because alleviating the fire risk was balanced against the leaking and water damage potential.
Finally, Adams was asked about last year's bill, introduced by Delegate Jeff Ghrist, to address this. He noted it was late-filed, so it never got a hearing. His bill is pre-filed.
Christopher concluded by announcing he has a unique fundraiser at the OC Hilton December 12 and 13. You would get 2 nights' stay and lunch with special guest Bob Ehrlich for one price.
Since we had a number of other state legislators in attendance, we got brief updates.
Carl Anderton spoke with Delaware officials, trying to get their perspective on agricultural issues. He also has a fundraiser coming up at the Delmar VFW on December 3.
Johnny Mautz believed "this year will be different than last year" in the General Assembly, with "a lot of activity." Federal campaigns will drive some of that activity, so it would be up to Eastern Shore Republicans to kill bad bills as they could.
Addie Eckardt thought it would get "testy," with pressure to spend our new-found surplus on items that were cut from last year's budget. The idea was not to let ourselves get splintered, she concluded.
All in all, it was a nice little pre-session update – and timely, since we won't meet again until after the session starts in January. To be exact, the WCRC will reconvene on January 25, 2016.
It's been awhile since I was entitled to go to the state convention, but what a few hundred Wicomico County voters tried to do was undone by a much smaller number last month, so I have returned like the prodigal son.
My first convention back will be in Solomons, which as I recall was the home of my favorite convention, the spring 2012 one where we elected Nicolee Ambrose as National Committeewoman in a contentious vote over Audrey Scott. This one will probably not have the same amount of angst, although we may see issues with the three bylaw amendments on the docket.
The first is a lengthy proposal to create a process for Central Committees to fill legislative vacancies. After the debacles we saw last year as Governor Hogan picked members of the General Assembly to fill out his cabinet and lead departments, it became a priority to come up with a way of doing so lest the General Assembly take our power away (which still could happen.)
In a nutshell, the amendment allows a county to create its own process but leaves as a default the state-prescribed method. In looking it over briefly, the fight may be over the call to submit "name(s)" to the Governor, as some would prefer the Central Committee submit just one name as was custom until the most recent round of appointments.
That controversy led to the second bylaws amendment, which a perverse sort of "loser pays" arrangement for entities taking legal action against the state party, just like Carroll County did last year. I think this one will create the loudest arguments, to be honest.
Third is a proposal to give the Maryland Black Republican Council full voting status on the Executive Committee. If so, they would join the Maryland Federation of Republican Women, the Maryland Federation of Young Republicans, and the Maryland Federation of College Republicans as voting members of that committee. (Conversely, the Teenage Republicans and Heritage Council are non-voting members.) As I recall, we had a lot of rancor about giving the YRs and CRs an Executive Committee vote a couple years ago, in a voice vote that was literally cast as we were being ushered out the door. So we'll see.
The one resolution that I'm aware of (barring others introduced from the floor for our consideration) deals with the redistricting commission, so that should be no issue. I don't think there's 10 percent of the party that likes the way we do it now.
But all work and no play makes Republicans a cranky bunch. Fortunately, unlike the last couple conventions I attended, we will have no shortage of hospitality suites to check out.
A list sent out by the state party shows no less than a dozen different suites. While the host counties of Calvert and St. Mary's and Montgomery County have their parties, the headlining parties will be competing affairs between supporters of Ted Cruz and Marco Rubio. Not to be left out, all three major U.S. Senate hopefuls – Richard Douglas, Chrys Kefalas, and Kathy Szeliga, who is piggybacking with Congressman Andy Harris – will have suites on separate floors. Add in local Congressional candidate Charles "Sam" Faddis and the aforementioned Black Republican Council, throw in a couple wild card suites, and it should be a fun evening tonight.
Naturally some of the conservative blogosphere will be there, so we'll see what sort of coverage we can drum up. Whether the era of good feelings brought on by Larry Hogan's election will subside this time or wait until spring when we elect a new National Committeeman and National Committeewoman along with slates of convention delegates and alternates remains to be seen.
For now I'm just going to enjoy the moment because, I hate to admit, I sort of missed these gatherings during my hiatus. Glad to be back.
Last night about 120 people enjoyed hearing from both Sheriff Mike Lewis and Congressman Andy Harris, as well as words of wisdom from our sixteenth President. Here he waits his cue to walk into the gathering.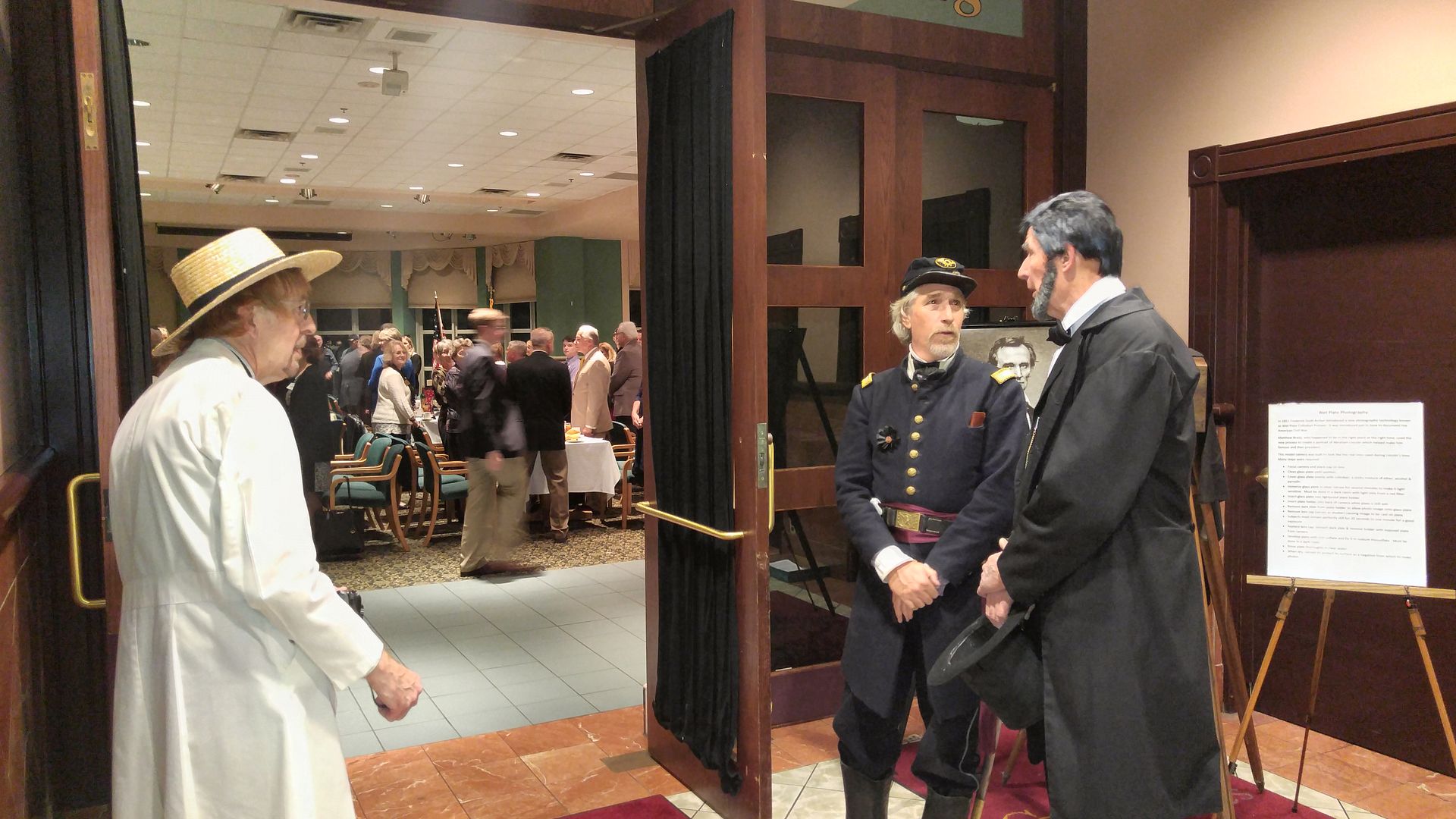 For me, this year was a little different as I subbed for our treasurer, who usually checks people in at the door. So I saw pretty much everyone who came in – actually, on my arrival I stopped Salisbury City Councilman-elect Muir Boda and his wife from going to the wrong floor. We were literally the first three there.
So by the time Lincoln and his band of Union irregulars arrived, we had a pretty full house.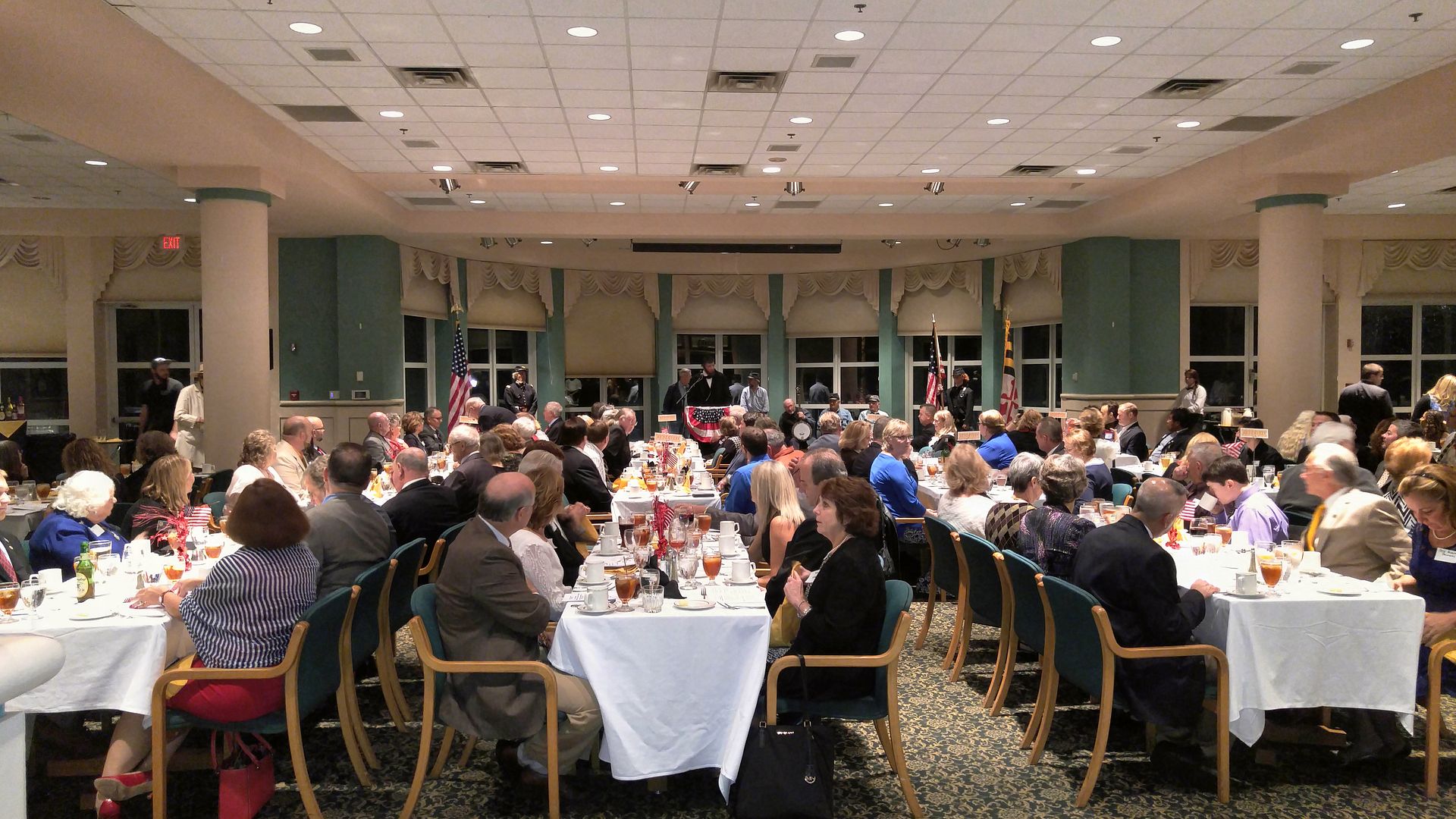 It should be noted that most of those present were from Wicomico County, but we also had contingents from surrounding counties as well as a table from Montgomery County. We also had state leaders from the Maryland Federation of Republican Women and state GOP Chair Diana Waterman.
Now because I was wrapping up my duties with a couple stragglers, I didn't catch all Lincoln had to say. But I recall he spoke about the press of the day, how candidates were vetted in an age when communication was becoming faster but still could be measured in months, and compared how voters were informed and educated then to now.
I finally got to relax, eat, and enjoy what Sheriff Mike Lewis had to say.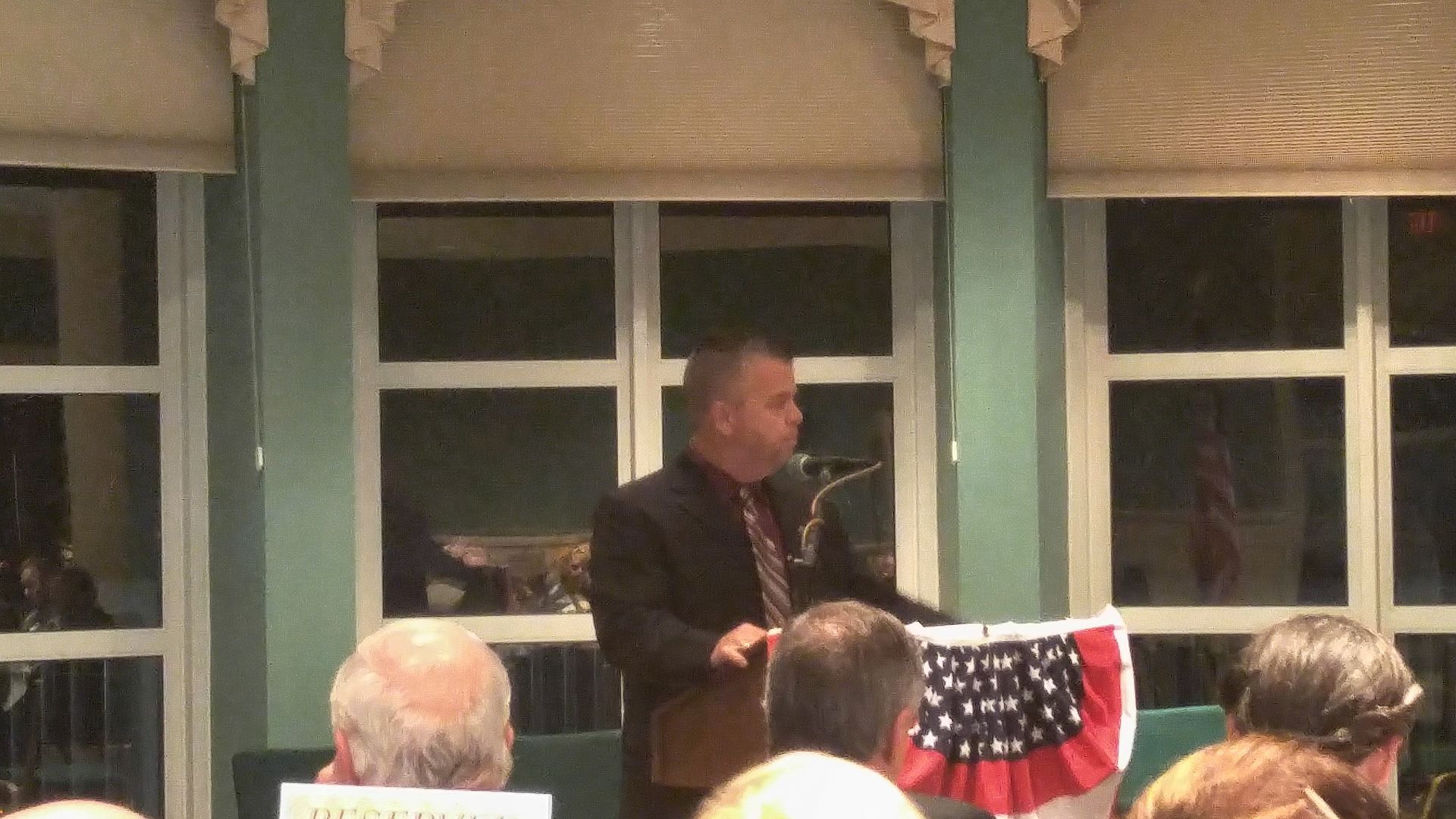 Lewis praised the Salisbury University College Republicans for their involvement, saying they "have to speak up" as representatives of their generation. Next year's election will be "the most important day of our lives."
Reflecting on his fairly recent fame – he just returned from a speaking engagement in Fresno, California – he noted they were trying to recruit him to run the Fresno Police Department but he had no desire to leave Wicomico County. "I'm extremely humbled" to be sheriff, said Lewis.
Mike pointed out that gun violence in Maryland was on the increase despite the passage of Senate Bill 281 in 2013, which he added was promoted by the sheriffs in both Baltimore City and County. So far in 2015, though, shootings have increased in Maryland from 725 to 1,161 while homicides have risen from 314 to 459. "Thank you, Governor Martin O'Malley," said Lewis, tongue firmly in cheek. The sentiment of "thank God for Larry Hogan" was much more sincere.
Lewis blamed "failed Denocrat leadership" for the woes in urban areas like Baltimore, Chicago, and Detroit. On the other hand, Lewis believed America needed statesmen in order to return our liberty and restore us to being the land of the free.
Turning to the drug issue, Lewis called State's Attorney Matt Maciarello "a tremendous partner" in the drug fight. It's a fight which has struck home for many in the area – Lewis has a 38-year-old niece who he had to lock up again for possession. "She doesn't want our help," said Lewis. He also related the story of the grandson of a terminally ill man who removed the elderly man's morphine drip and stuck it into his arm.
Politically, Lewis believed we needed to identify key people to represent "Eastern Shore values" in our government. "I'm so concerned about the lack of patriotism" in this country, said Lewis, calling on us to "make sure you vote right."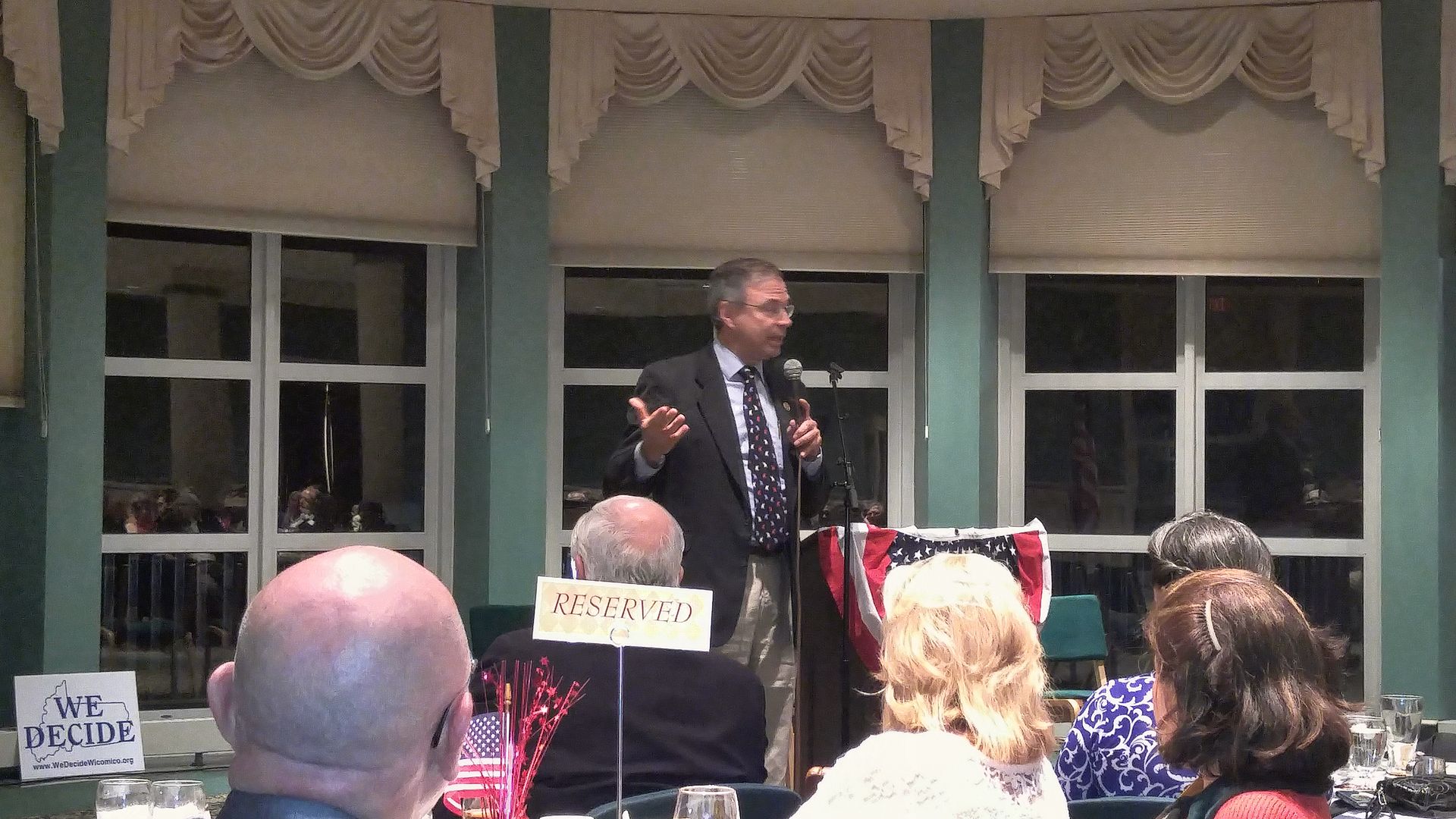 Lewis yielded the stage to Congressman Andy Harris, who was praised for being "incredibly optimistic" by Wicomico County GOP chair Mark McIver, who served as the emcee for the event.
Harris picked up Lewis's baton on the drug issue, saying we needed to "do all you can" to keep drug legalization from the Lower Shore. The District of Columbia "made a big mistake" on marijuana, added Harris. While the merits of medical marijuana were up for debate – Harris seeming to be on the skeptical side – his fear was having a workforce too stoned to be productive.
Changing gears, Harris noted that the "true blue" states of Massachusetts and Maryland now had Republican governors. He chalked it up to a situation, more specific to Maryland, where "government has failed them entirely." Electing GOP leaders was "no accident," he added.
Showing his optimism for 2016, Harris said, "I think things look good, actually." He also believed our late April, winner-take-all primary was key in an election where he noted Karl Rove thought there was the possibility of no candidate having enough delegates to win on the first ballot.
Andy went on to speak about the Republican field's diversity, pointing out Ben Carson was "the most serious African-American candidate" in history. This was intriguing because Carson, who Harris said he'd known since the early 1980s, was the "farthest person from a politician you could ever get." Moreover, with two Hispanic candidates the possibility was there to secure 40% of the Hispanic vote, which was the fastest-growing minority bloc.
As for the U.S. Senate race here in Maryland, on the Democcratic side Harris described Chris Van Hollen as "the consummate insider," while Donna Edwards was "to the left of Bernie Sanders." Elijah Cummings could get in the race, but there was the issue of his reaction to the Baltimore riots. "You own it, Mr. Cummings," said Andy.
Harris then revealed that Delegate Kathy Szeliga would be here in Salisbury Thursday afternoon as part of a statewide tour to promote her U.S. Senate bid. If she wins, said Andy, "Maryland is no longer a blue state." He called Szeliga "the Joni Ernst of Maryland," referring to the Senator from Iowa elected last year. "We can't keep doing business as usual in Washington," concluded Harris.
Despite the previous admonition by McIver that neither Lewis nor Harris would take questions, Harris took them anyway. First out of the chute was how Paul Ryan won him over.
Ryan was an "excellent" choice for Speaker, with Harris arguing he's "not a moderate."
But this led to a more philosophical answer, with Harris believing Ryan could unite the House and re-establish the "natural tension" between the legislative and executive branches, rather than the artificial battle between parties that Barack Obama and Harry Reid took advantage of to amass power for the executive branch. He opined that legislation from the House will be conservative, even with some Democratic amendments, but this was a way to make the House united.
The way John Boehner did things, contended Harris, was "not the way to do business." He used that example to answer the next question about government shutdowns, saying that you can't embararass the Senate into action with just a few hours to act. Ryan would work to do things in regular order, which puts the onus on the Senate to act.
Harris then answered a question about why Congress is held in such high disregard by the rest of government by claiming "bureaucracy has become the fourth branch of government." He called on the next GOP president to be "merciless" in cutting bureaucracy.
Finally, in answering a question about VA treatment, Harris made the case that a veteran from Princess Anne shouldn't have to drive by a care facility in Salisbury to go to a VA clinic up in Baltimore. When an average VA visit costs $250 compared to $65 to $85 in the private sector, "it is time we privatize" VA health care.
(Funny, some guy I know wrote a book three years ago with that same idea, among others. But I wasn't standing behind this podium.)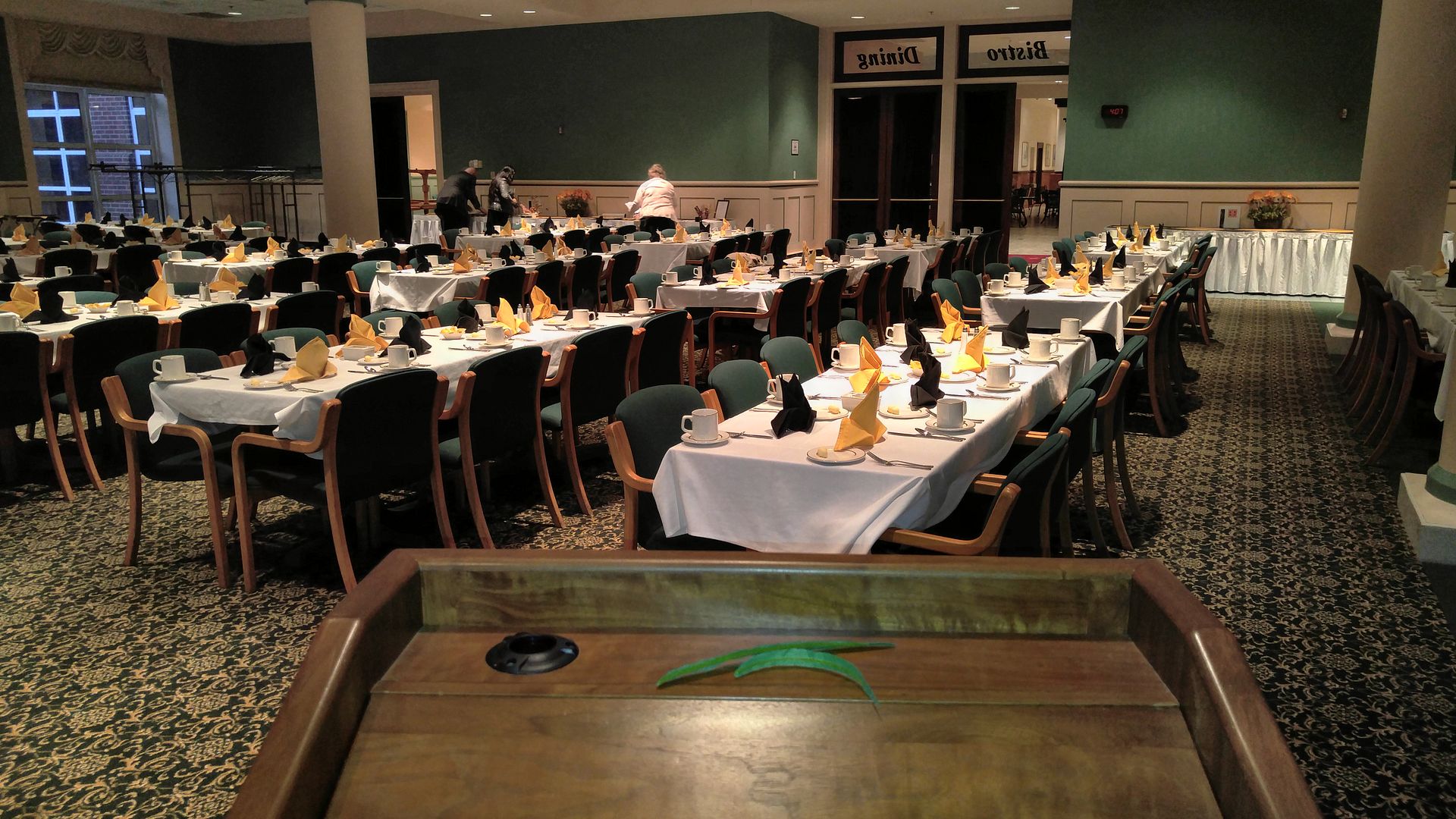 One other aspect of the LDD worth mentioning is the silent auction, where we had a table full of items from books and gift baskets to experiences such as lunch at the Capitol Hill Club or shooting with Harris or a State House tour and lunch with Delegate Carl Anderton, among many others. That turned out to be a success, too. I thought I had a photo of that spread but turns out I didn't. Oh well.
The SU College Republicans also did some fundraising, doing a pay-per-vote poll for President and selling T-shirts.
We may stay with this fall date next year, although it may wait until after the election – meanwhile, we may do a second fundraiser in the spring/summer. It turned out to be a good event to continue building on, so we shall see how we ended up doing when the bills are paid.
Subtitled, the year of the monsoon.
I found this year I took very few pictures compared to past years. Some of that was the weather, where the skies gushed forth just before our slated 1 p.m. start. It forced us all under the pavilion but those on the outside rows were still soaked.
This also meant the silent auction was ruined. We ended up with a live auction later.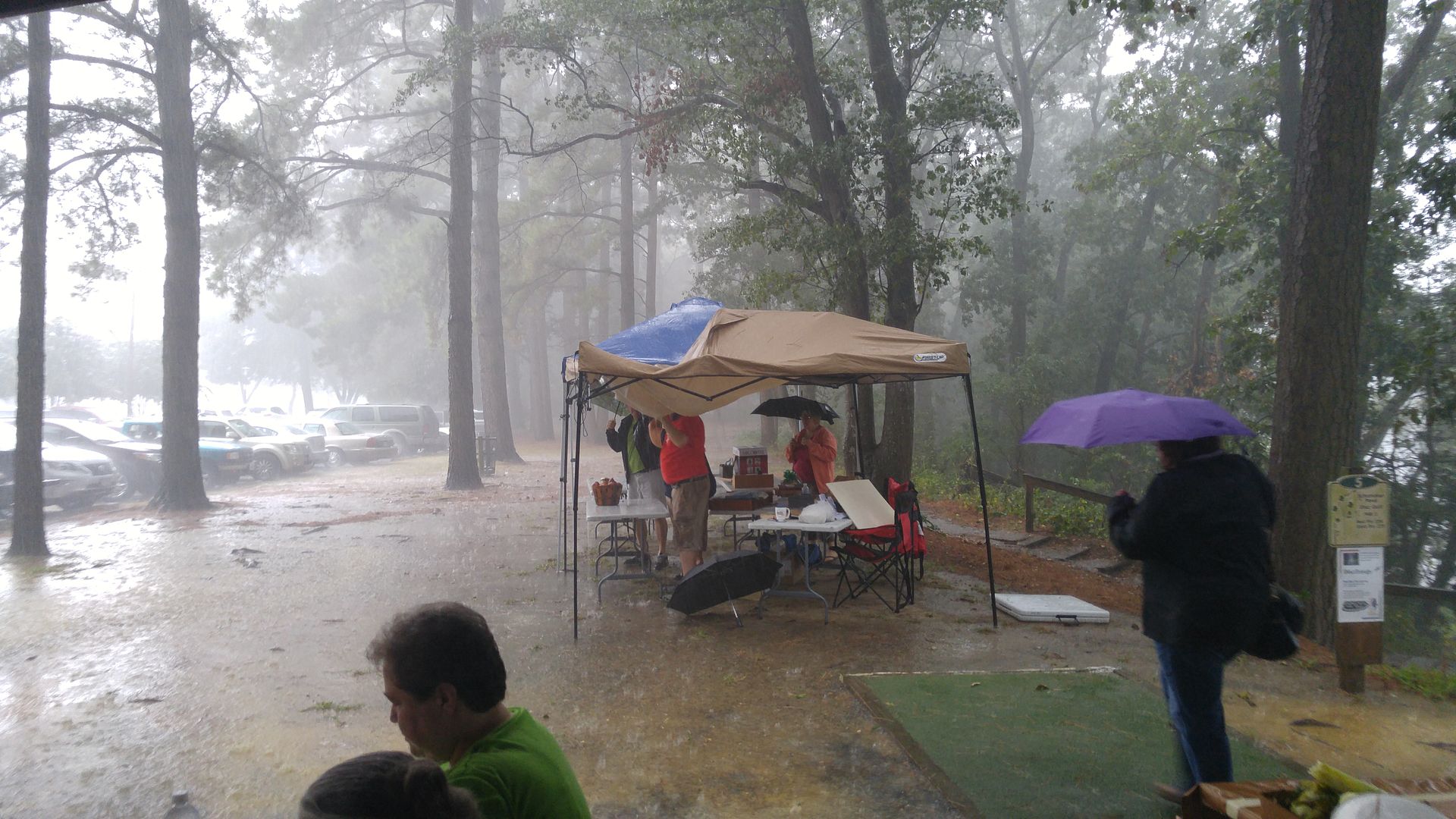 Yet the pouring rain didn't spoil everything. We made a special presentation to Jim Jester, our club's volunteer of the year. A plaque is one thing, but a fine cigar can be quite another. Both were kept dry.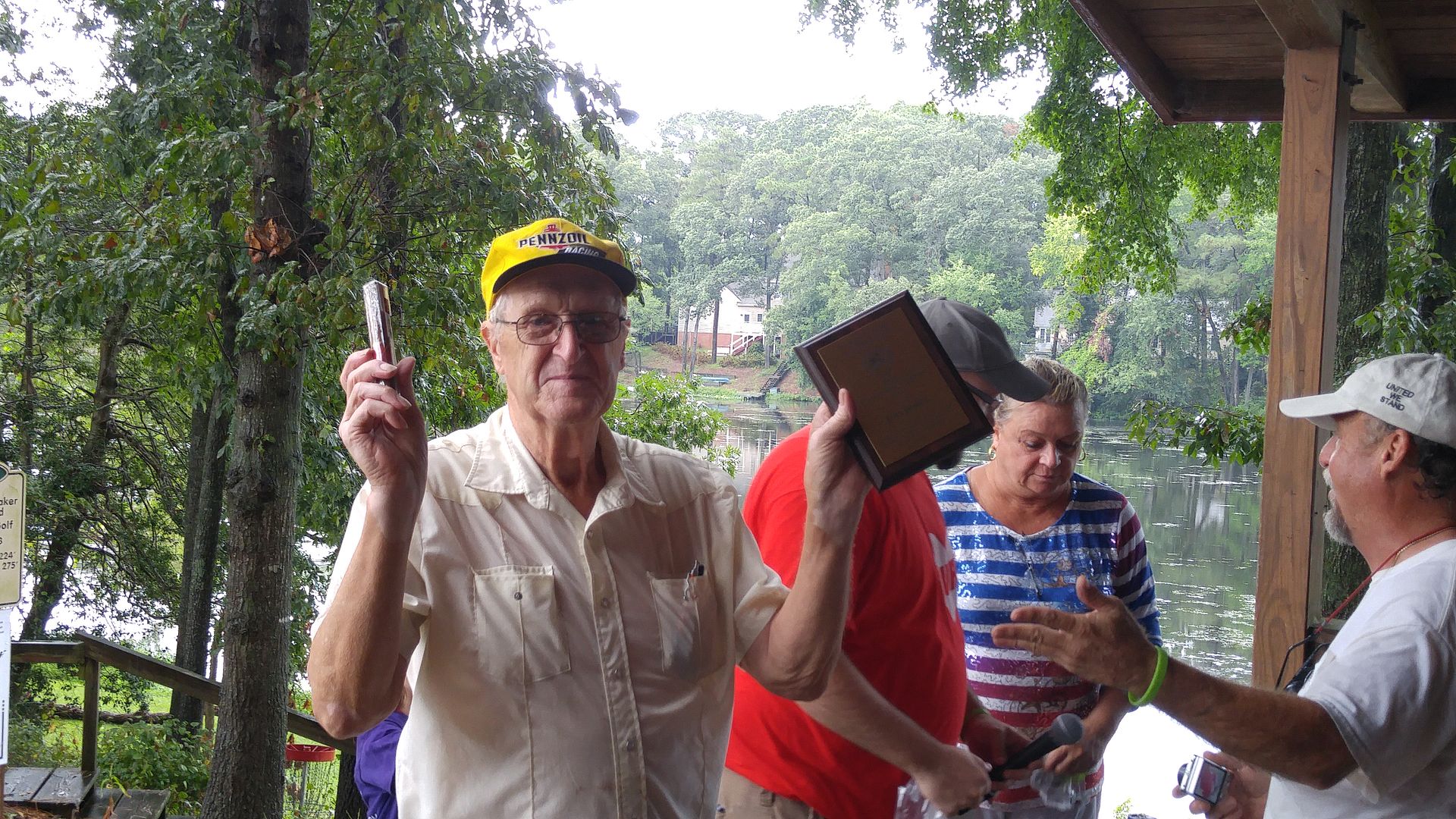 And the crabs apparently were good because we had to do a quick order for another three or four bushels. (The crab eaters at my table gave them good reviews.) The corn also went fast, but at least some of the produce was donated.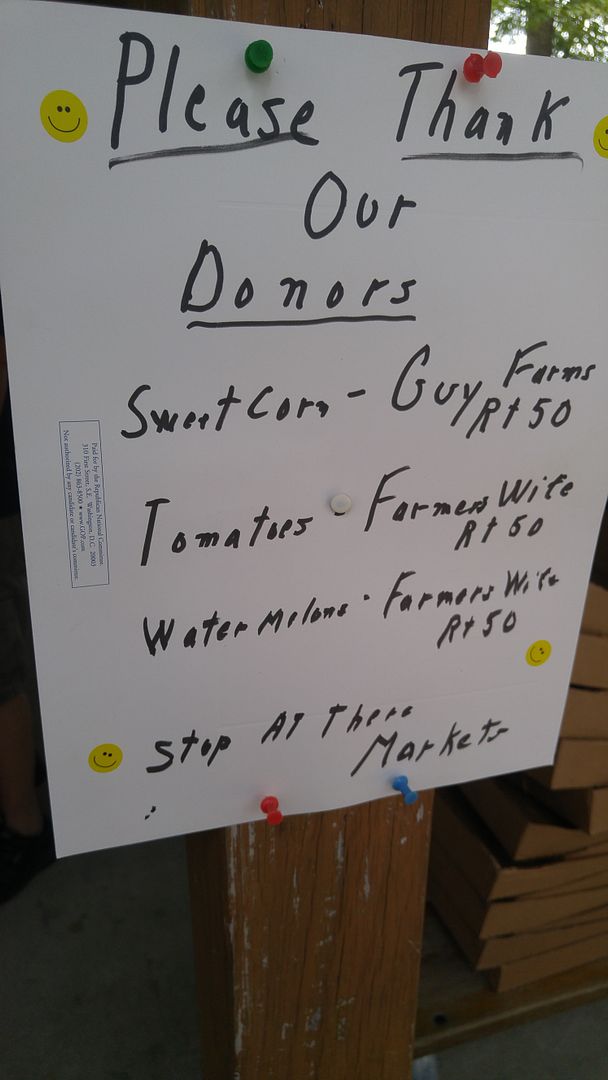 While the elected officials didn't speak formally, most made the rounds of the event. Being early in the term, they didn't need to campaign, but the awareness group We Decide Wicomico had a number of yard signs.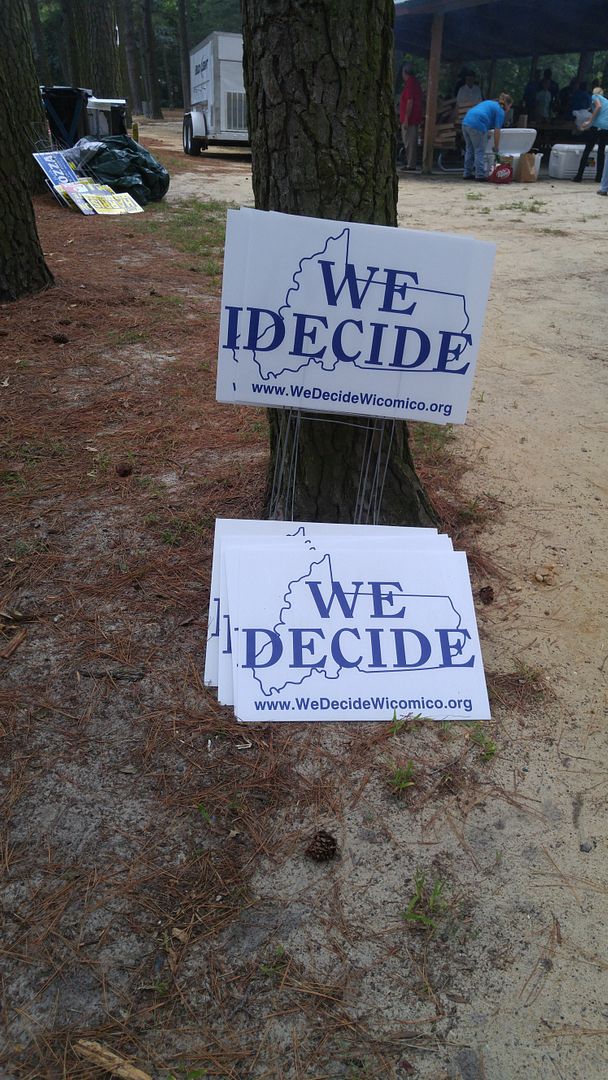 There were a lot of elected officials there, but I think the award for coming the farthest goes to Johnny Mautz. I grabbed the photo from Julie Brewington since she tagged me in it.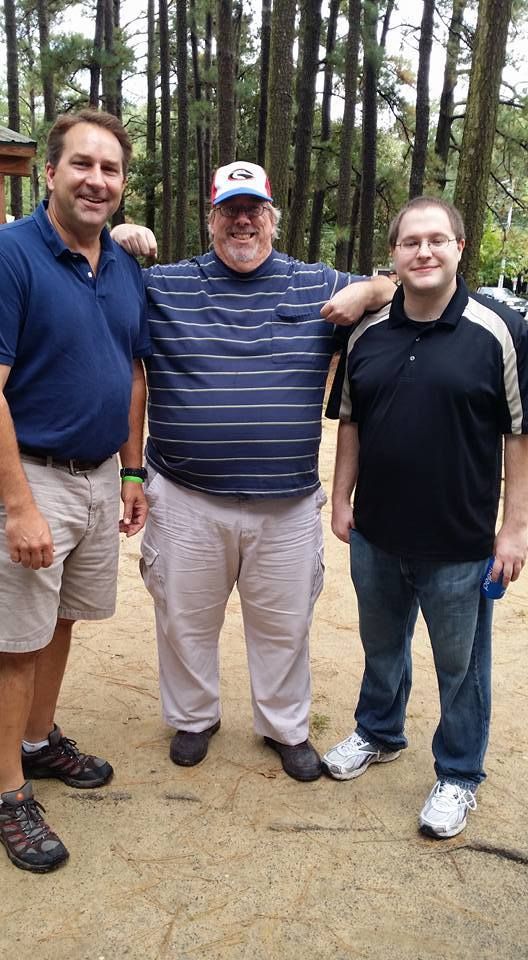 We also had Senator Addie Eckardt, Delegates Carl Anderton, Mary Beth Carozza, and Charles Otto, and a host of local pols from County Executive Bob Culver on down. But the most surprising no-show to me was Congressional candidate Mike Smigiel, who I figured would drop by. Granted, a Congressional district has a lot going on during any given Saturday but there was nothing I noticed on his calendar except a missed opportunity.
Hopefully the 2016 version will avoid the monsoon and make a lot of money for the club. Once the rain left, it wasn't a bad afternoon and some people ventured to the outside tables. Let's if we can't fill the outside tables as we have before and have a lucrative silent auction.
It was via a roundabout route, but we finally heard from the man who's presumptively Salisbury's next mayor, Jake Day. Because Jake had another place to be this evening – the Salisbury City Council meeting that he ran as their president – we had a succession of speakers to fill the time. It was interesting to note that several of these speakers dropped in as our meeting was going on, which told me they were looking forward to hearing what Jake had to say.
But we began as we always do, with the Lord's Prayer, Pledge of Allegiance, and introduction of distinguished guests, all done by our first vice-president Muir Boda, who filled in for our under-the-weather president Shawn Jester. We then did the swearing in of new second vice-president Dave Snyder, who pledged to be "a very good listener" and work to recruit 100 new GOP voters and new club members.
I took a little time to thank people for helping out at the Wicomico County Fair, as did Dave. My one suggestion was to perhaps look into a spot for outside next year.
In a Central Committee report, Mark McIver called the elected school board "one of the biggest things on our plate." He added there was a new initiative called "We Decide" that was a non-partisan group to back an all-elected school board, and related the urging from County Council that we should participate in these hearings. It was going to be "an 8-week push."
Mark Edney added his two cents, informing us that there will be an initiative this fall to address the issue of vacancies in the General Assembly through the state party's bylaws. Noting the issues faced by Carroll County, Edney intoned that it was "important that we get this right" because members of both parties in the General Assembly sought to take away the power local Central Committees had to choose successors.
Joe Ollinger updated us on the Crab Feast, which had most of the items in place except a silent auction coordinator. It's still on schedule for September 12 at Schumaker Park.
Speaking of food, Muir Boda announced his own, more modest event this Saturday at Doverdale Park. His community barbecue was slated for 3-5 p.m. but volunteers could show up at 2:00. Boda remarked he had three opponents in the election, so getting out the vote was paramount.
He also commented that the proposed city curfew was a "big issue" but questioned whether it would be enforceable given current resources and the spread-out geography of Salisbury. By itself, a curfew "won't solve youth crime," Muir said.
Senator Addie Eckardt, who had arrived after we began, spoke briefly about her upcoming annual bike ride through the district that will cover Wicomico County on Thursday. She also praised Governor Hogan, who has "put a great team together." It would help government become, as she put it, more responsive and cost-effective.
Delegate Christopher Adams remarked about his attendance at the defund Planned Parenthood rally in Easton as well as a stop last week at Wallops Island in Virginia. They were expecting to resume launches at the pad damaged in an explosion last fall by March, he said.
Looking forward, though, he wanted to concentrate on regulatory reform, as some needed changes could be done more easily through that avenue than through the legislative process.
Fellow Delegate Johnny Mautz predicted "a really busy session" next year but expressed his disappointment in getting a low 25% score from the League of Conservation Voters. I looked up the floor votes they scored: two were anti-fracking measures and the other was the "repeal" of the rain tax sponsored by Mike Miller. So pro-business was not going to meet pro-environmnet with the LCV.
Bunky Luffman stood in for Delegate Carl Anderton, commenting to an earlier point made about regulation by bringing up the sprinkler mandate that is halting construction locally. One local developer lost a builder who refused to build more dwellings – they weren't able to make money with the mandate and additional costs.
Most of the legislators had come late to hear Jake Day, who spoke for about 15 minutes and answered questions for another 20. Apologizing both for being late and a lack of sleep as a new dad, Day told us he was "very excited" about becoming mayor. As a Council member he was pursuing a pro-business agenda, but noted "I have found a roadblock in the current administration." Like the state of Maryland, his effort would be to attract business: "I want us to be competitive," said Day, citing Delaware under Jack Markell as a "more friendly and welcoming environment." Perdue's decision to move some of its corporate operations to Delaware "sent a message," said Jake. "The economy will be first and foremost on my mind each day." His idea was to grow jobs "locally and organically,"
One area he saw as a job creator was downtown, for which revitalization was important to Jake. It's "part of the renaissance" of Salisbury, said Day. He criticized the "lack of active leadership from the top" and sought a City Council that was cordial, but aggressive. He also announced the intention to continue divesting the city's surface parking lots, believing successful downtowns do better with infill rather than surface parking.
Crime was another top issue. Day observed that criminal activity was starting at a younger and younger age, so the city could have to "pick up where the parents left off."
It was an enlightening address, but the questions were good, too. The first one out of the chute was about the "rain tax." Jake disagreed with the state mandate, but believed it was necessary for a city which had ignored the issue for over a century. He was willing, though, to reduce property tax rates and scrap the city's inventory tax to help even things out.
And when I asked why the city couldn't use its water and sewer fund surplus, Day said the surplus was being depleted too quickly. Basically the relief would be short-term at best.
Corollary to that initial question was a discussion about the closing of Labinal, which will cost the city hundreds of jobs. While the popular opinion was that the state's difficult business climate drove them away, Day said the answer was more simple: Texas (and Mexico) were closer to their main customer base, and Salisbury mainly served military clients whose contracts were winding down.
A second concern was the issue with fire service. Rather than the "big mistake" of giving ultimatums through the media, Jake was working closely with county officials in coming up with a long-term solution. He conceded it probably wouldn't be all the city wanted, but noted that he and County Executive Bob Culver were "working well together." The key was making things more fair in a way that doesn't alienate non-city residents.
Our wastewater treatment plant was the subject of a question. Calling its saga "a scar on Salisbury's history," Day announced the next phase of renovations would begin in October. Bunky Luffman, who formerly worked at the plant, pointed out it had reduced the amounts of nitrogen and phosphorou, but not enough to meet more stringent state standards that changed midstream.
A final questioner tested Day on his "number one challenge – is my (business) location safe?" Crime was a concern for local businesses, and "a lot of solutions to our challenges are economic," Jake said. He vowed to show leadership and compile more data on the current conditions.
We finally let Jake go, so that Boda could announce our next meeting would be September 28. Hopefully it will be as chock-full of information as this one was.
Consider this an open letter to the 16 or 17 Republican presidential campaign teams.
From the sound of it, we are planning to do our Wicomico County Lincoln Day Dinner in early November. Originally we wanted to get Larry Hogan as our speaker, but so did everyone else and then he announced he's fighting stage 3 non-Hodgkin's lymphoma. Given the length of the course of treatment, it's not likely he'll be doing a great deal of traveling and public appearances during that time – however, should he decide to drop by the door is certainly open. I'm sure Larry would be gracious, even if it wasn't his endorsee Chris Christie doing the talking.
Yet it's always been puzzling to me as to why we in Wicomico County can't get a better "name" speaker. After all, we are the "crossroads of Delmarva" and that has to count for something, right? Not only that, we have a wonderful venue at Salisbury University that we have used for several years – the food is always good.
So I look at this as a great chance for a presidential candidate who wants to think a little bit outside the box and perhaps swipe a few votes with some retail politics. We're not all that far from New Hampshire and there are several attributes the schedulers may want to consider:
Between Maryland and Delaware there will be 54 Republican convention delegates (38 for Maryland, 16 for Delaware.) Even though Iowa and New Hampshire have a more advantageous position on the primary calendar, they only account for 53 delegates between them.
There is a potential audience of 102,793 Republicans within the four counties that make up the Lower Eastern Shore of Maryland and Sussex County, Delaware. That doesn't count unaffiliated and crossover Democrats who are desperate to not vote for Hillary.
All of them are within the Salisbury media market, and it's not like the news in Salisbury has a lot of content. You may get wall-to-wall coverage if you show up.
We have a pretty good fundraising scheme in place which we used for the Patriot's Dinner with Lt. Col. Allen West last year.
Lastly, not every Lincoln Day Dinner actually has a Lincoln. We do. He might even bring some Union troops along.
Generally our Lincoln Day dinner gets between 100 and 150 people – but I see no reason we couldn't get 300 to 400 with the right candidate. The optics of a sold-out venue would be a shot in the arm for any campaign, so why not take advantage? You can't let Donald Trump be the last one to show up at a Maryland event.
Back in 2012, the all-but-lost cause of Newt Gingrich came to Salisbury and drew plenty of regional attention, so here's my earnest plea on behalf of the good Republicans of Delmarva: retail politics may well go a long way here. Do it while you're still in the race this November and it may pay off in a year's time.
Besides, isn't the old adage "ask and you shall receive?" I'm asking nicely.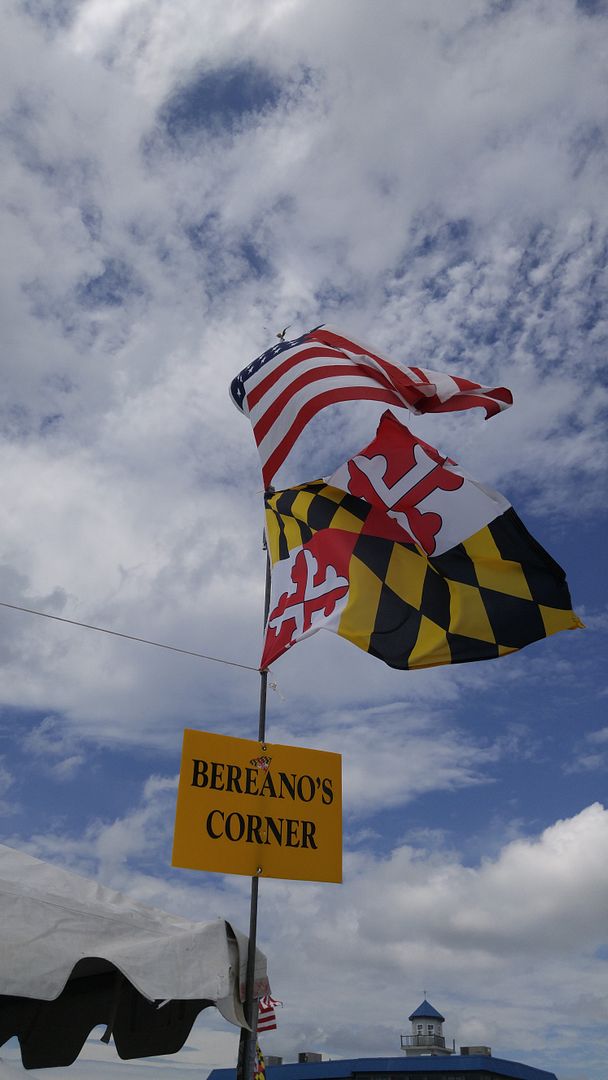 Bereano's Corner was in roughly the same location, but there was a lot of strangeness about this year's event.
Our tent was in a new location. Some liked the idea of being along the marina, but the traffic walking by wasn't as brisk as we had when we were in the middle, next to Bereano.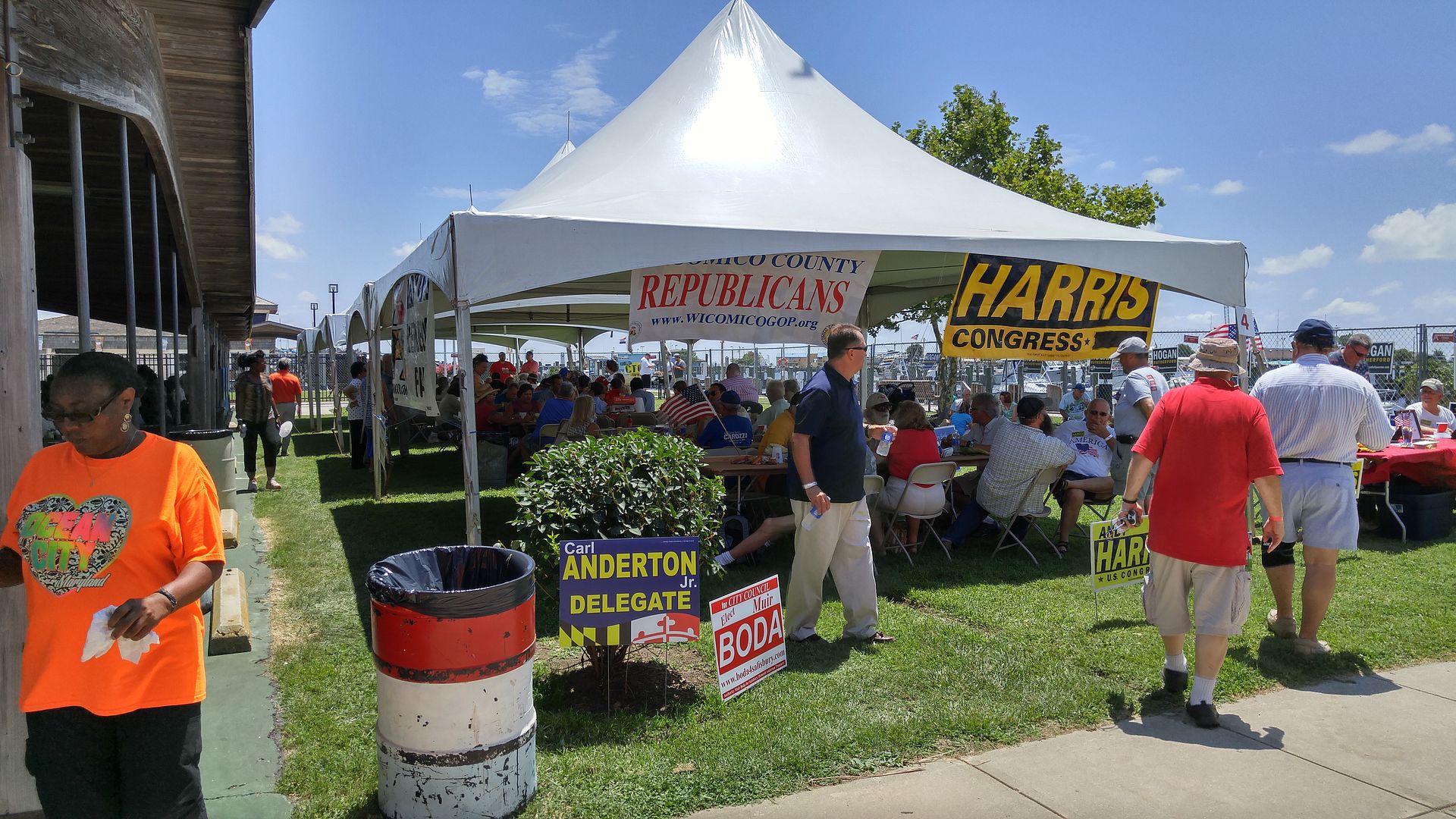 It did have a great space for signage that many took advantage of.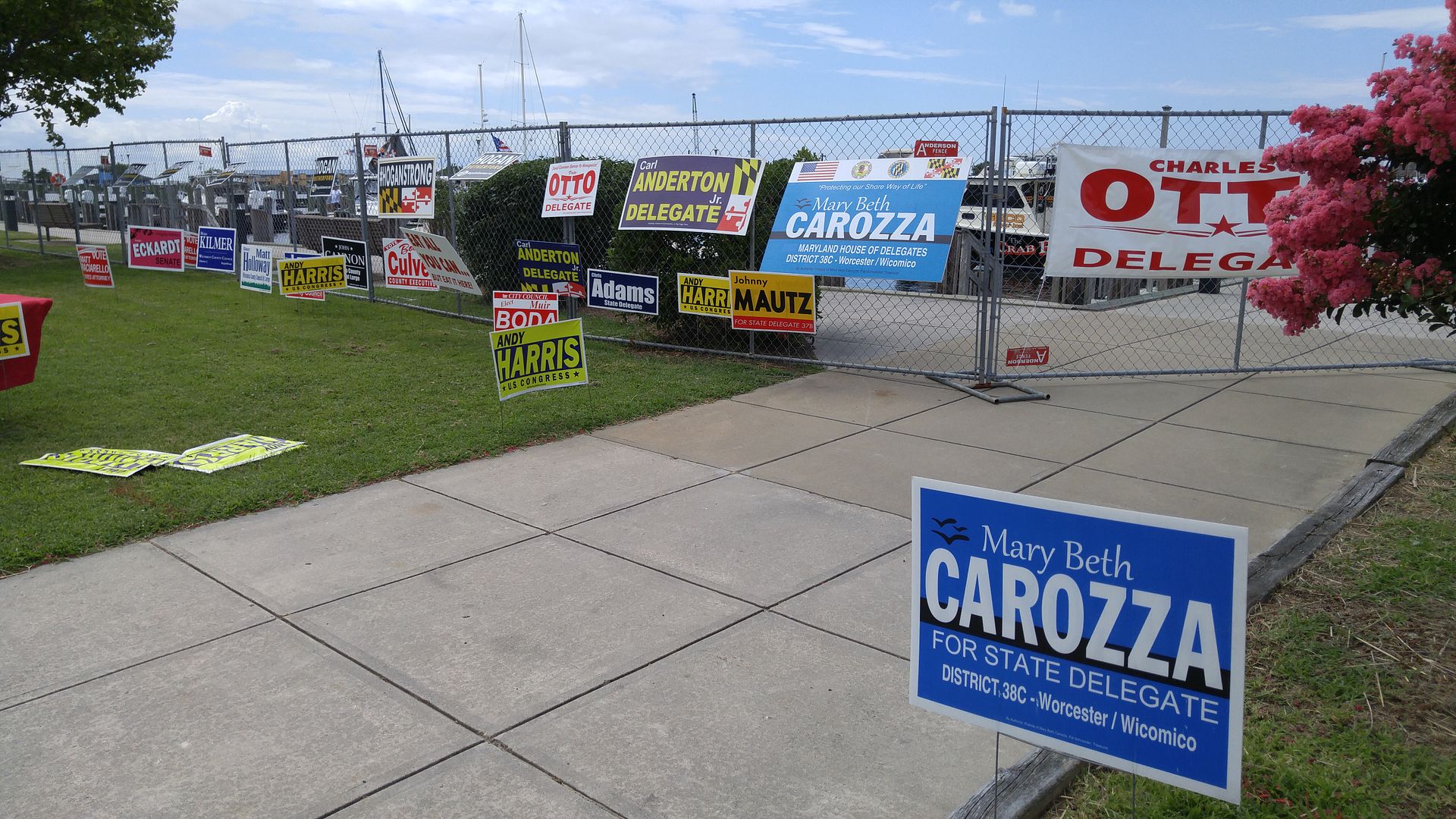 Being on the grass, we also had our share of bloodsucking biting flies. Speaking of bloodsuckers, the Democrats were less than thrilled with their location as well. Normally they have been the corner tent in this line.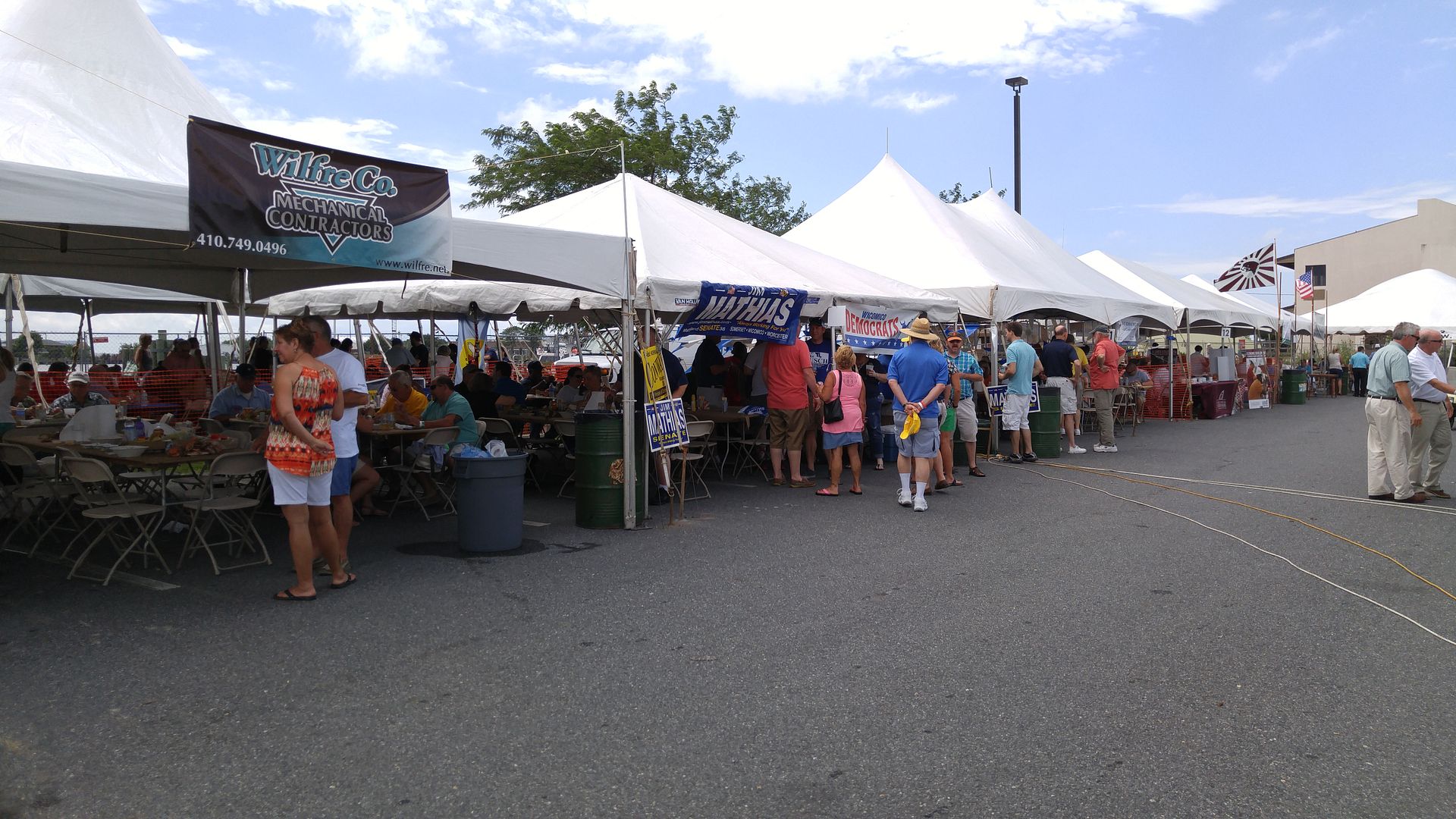 But they did have the keg, not that I had anything from it. They also had an interesting table within.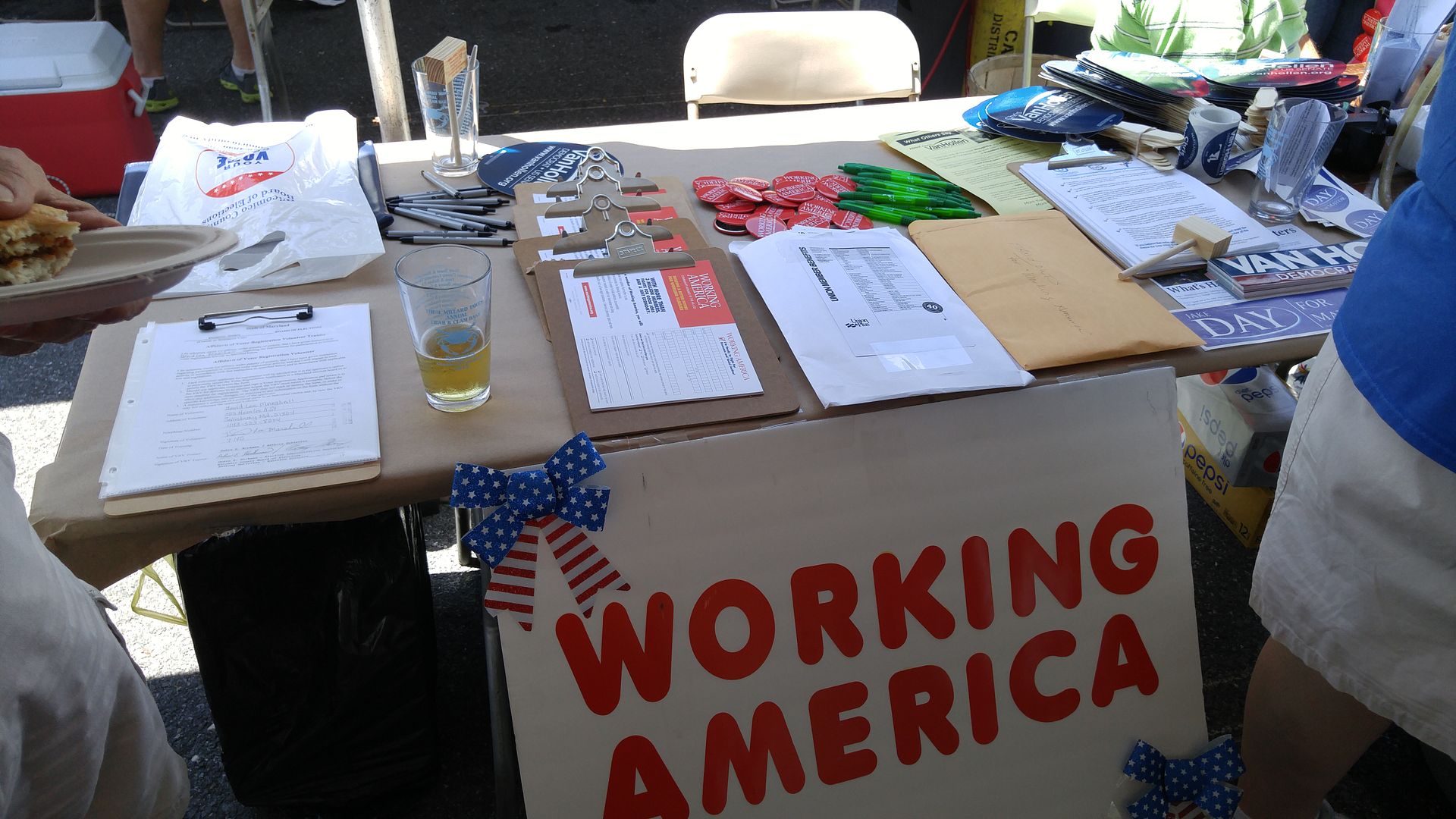 While I am part of working America I'm not a member of this AFL-CIO affiliated organization, so it's no surprise to find them in the Democrats' tent. There were a handful of folks walking around with their red shirts on, but Big Labor didn't have the presence here they did during the O'Malley years. Maybe they are laying low until next year.
There were quite a few businesses there, although it was a different mix than I recall from previous years.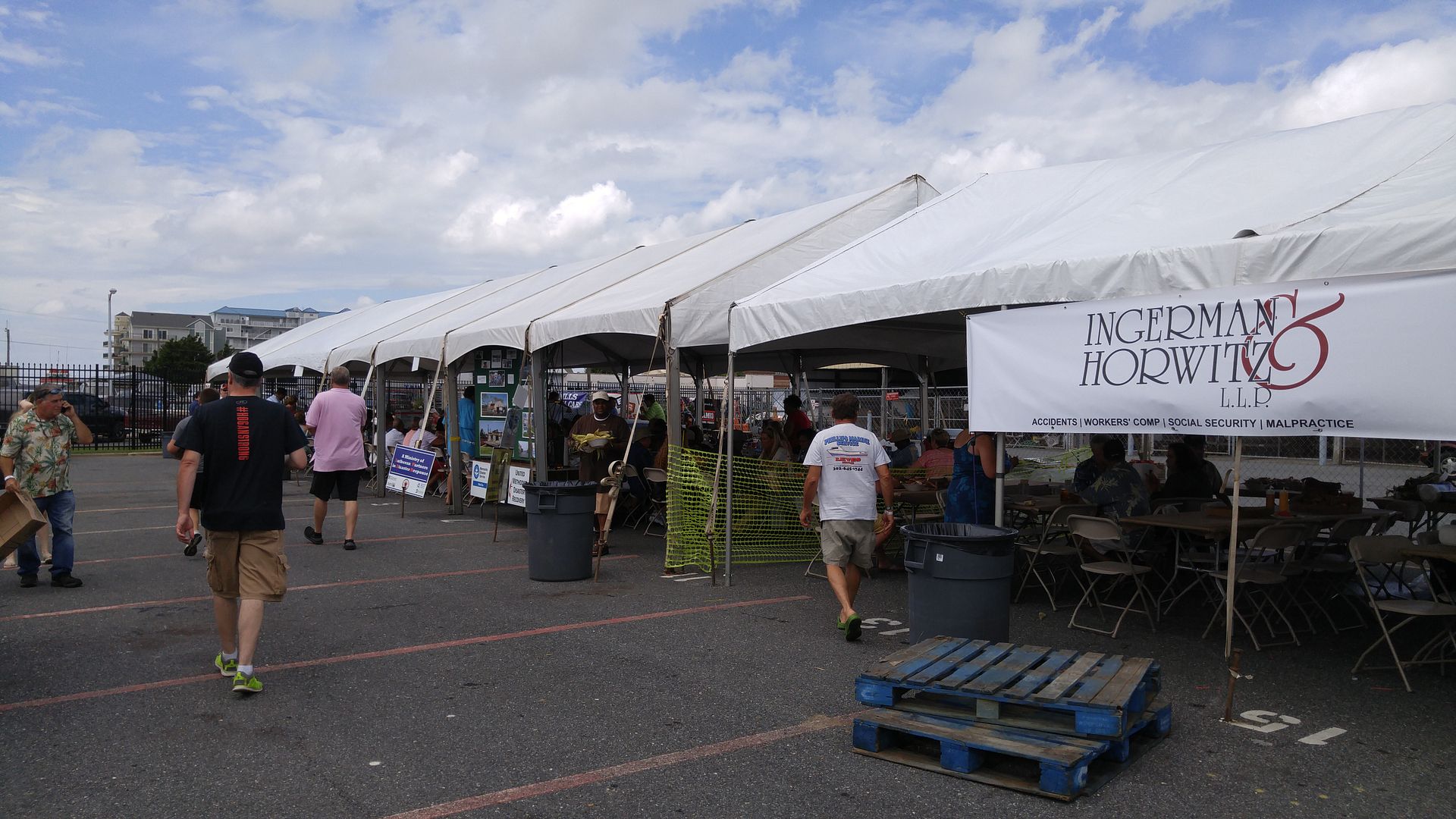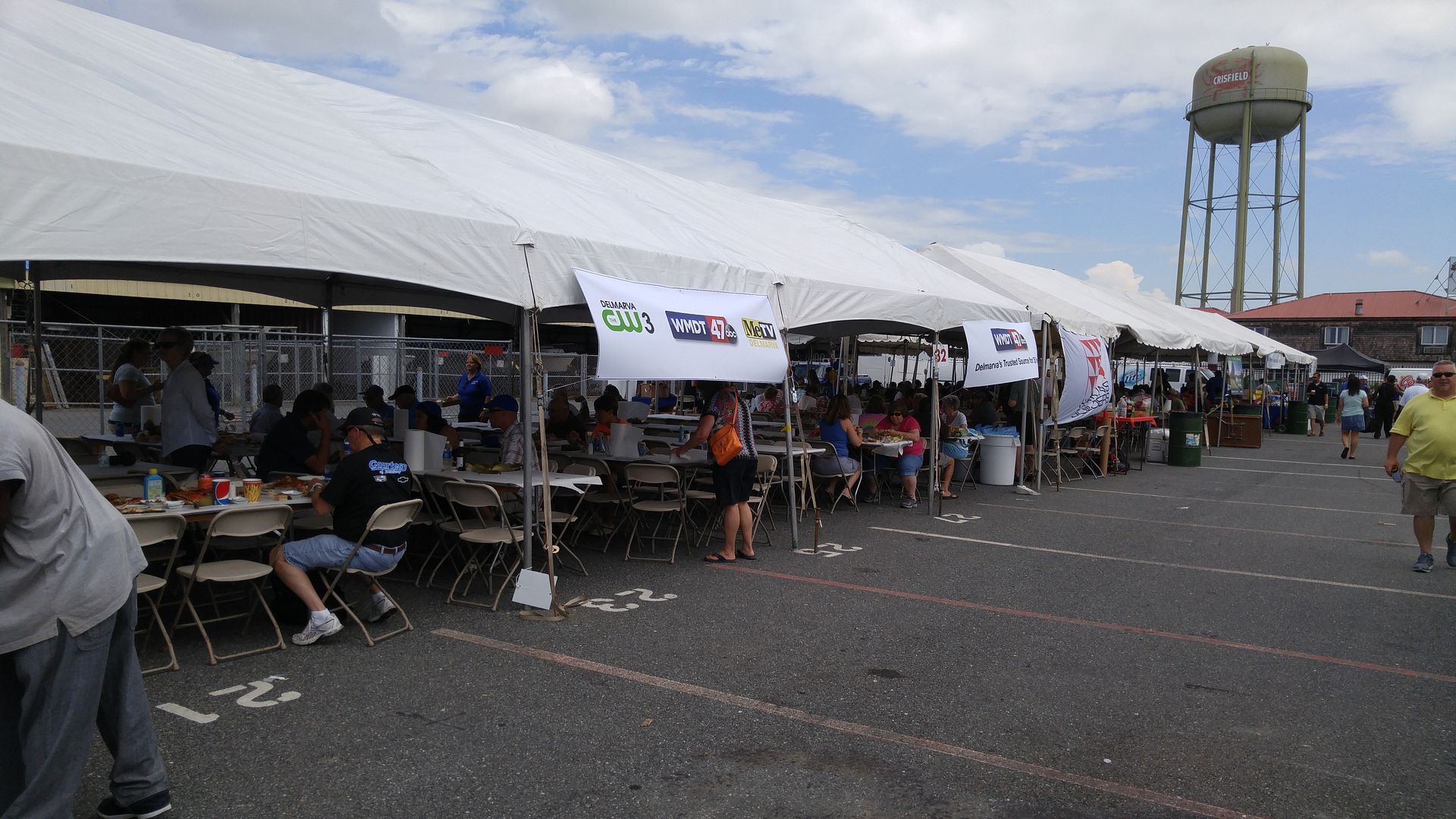 Some enterprising youth took the occasion to be their own business people. Those in orange were "runners" and on their shirts it read they were working for tips.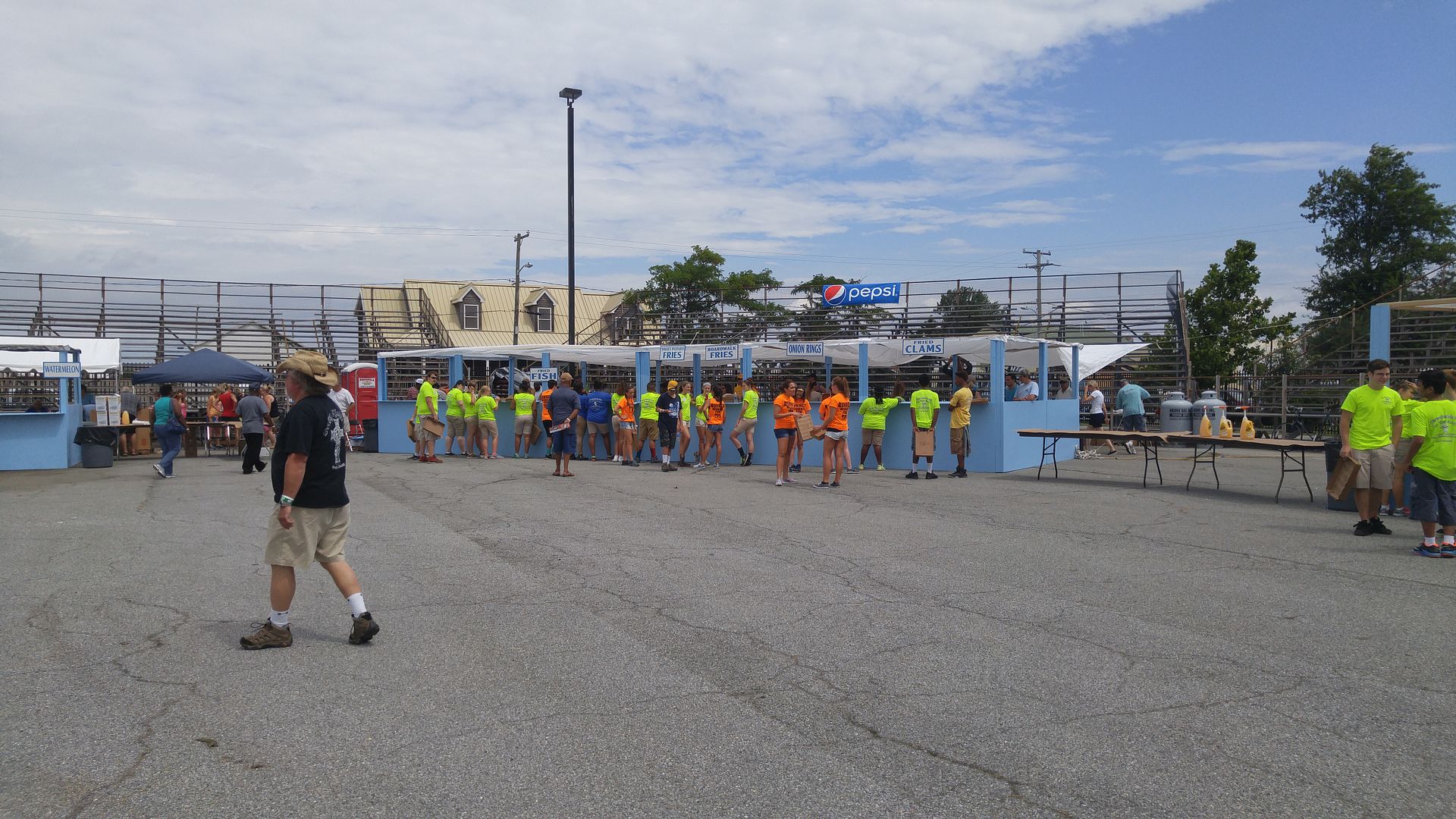 Hopefully they made more money than those who annually charge $10 or $20 for parking in their yard. I don't think business was as brisk for them because attendance seemed off from last year.
Government and public entities were well-represented, too. Interesting how the environmentalists are cozy with the economic development group.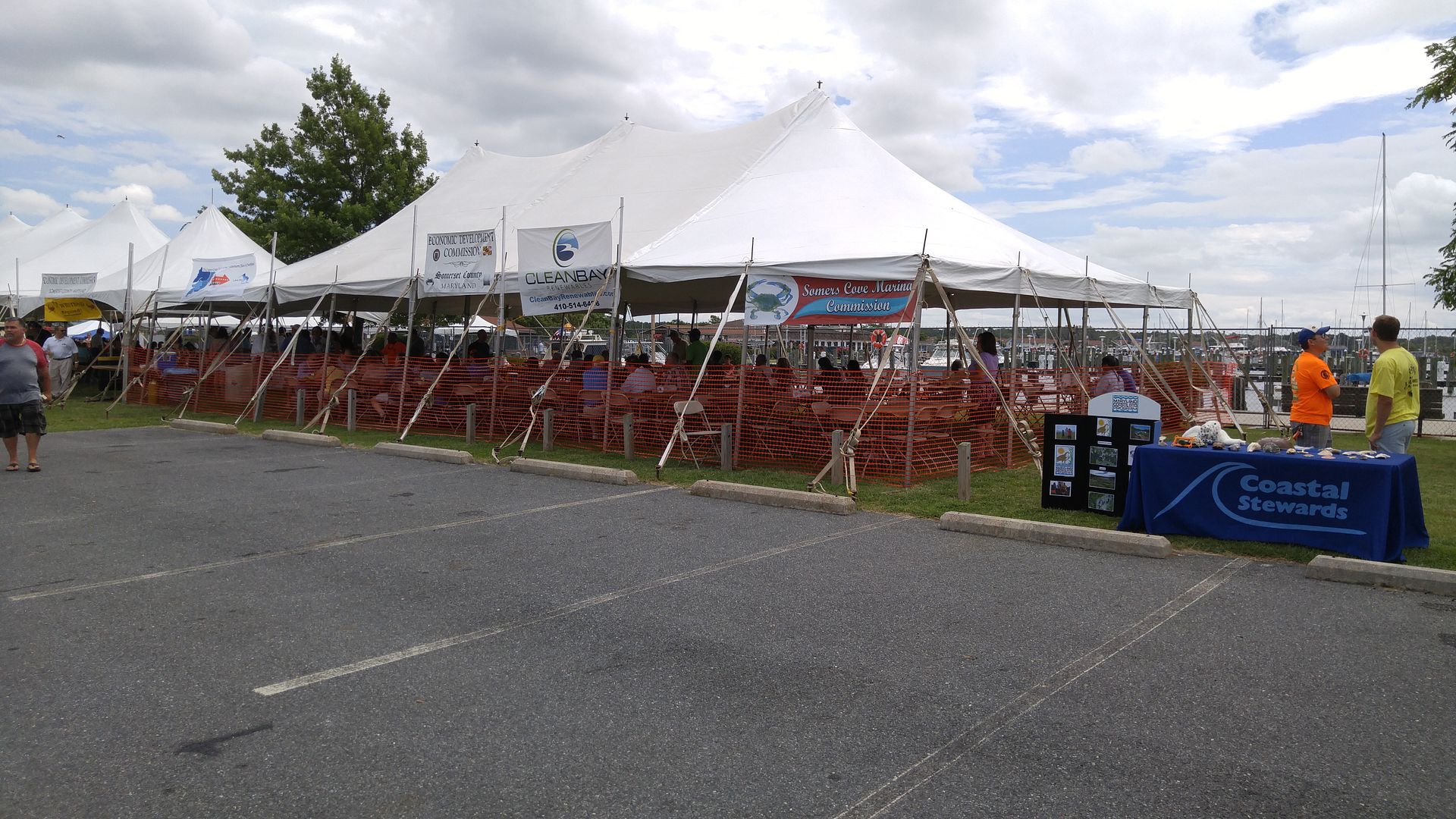 I think the University of Maryland – Eastern Shore was next to the Democrats, but Salisbury University was really trying to make a splash.
While there were a lot of differences in this year's rendition of Tawes, some things never change. Lobbyist Bruce Bereano always has the biggest tent.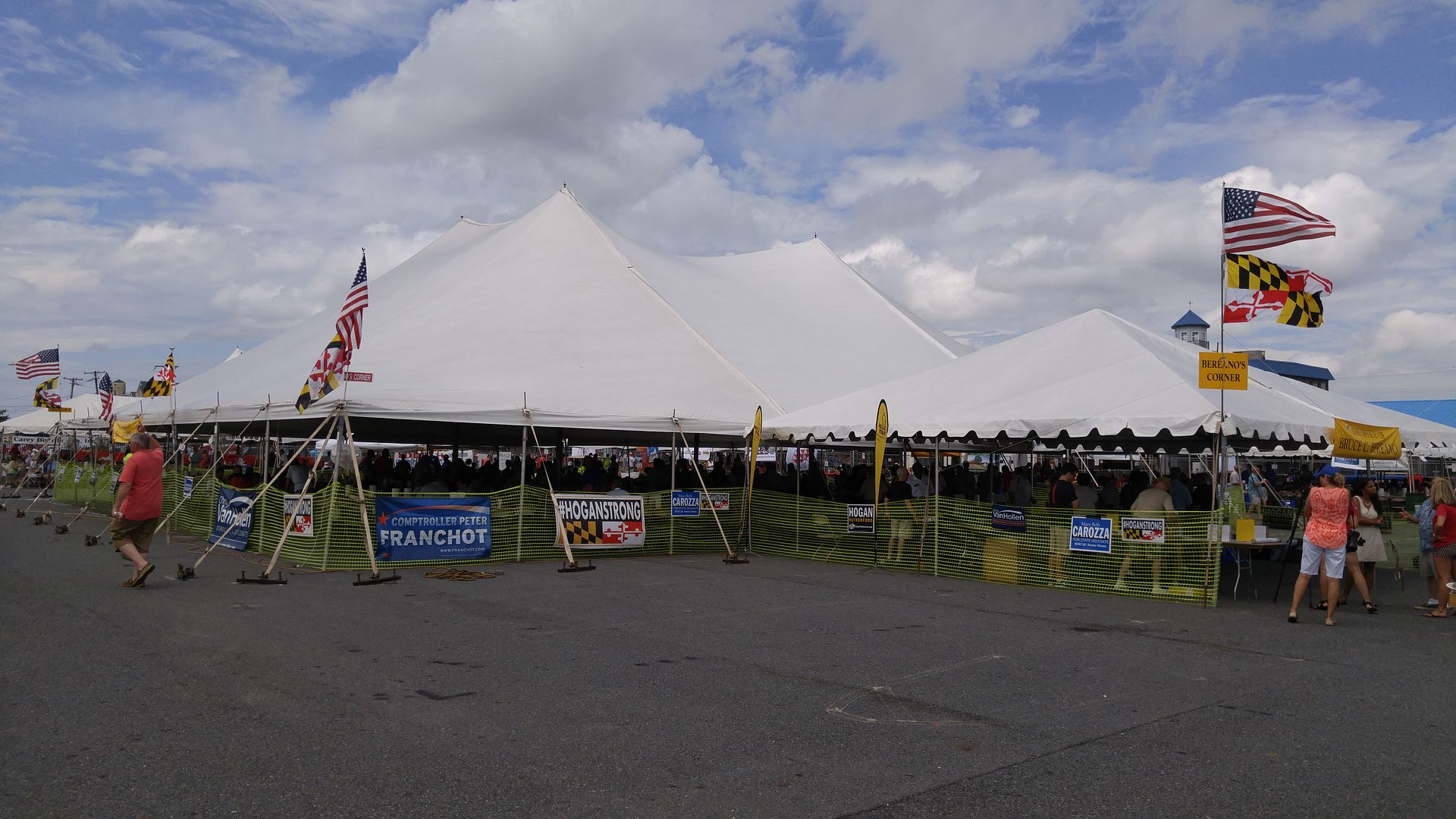 Another constant is a ton of good food, particularly of the fried variety. This was my spread.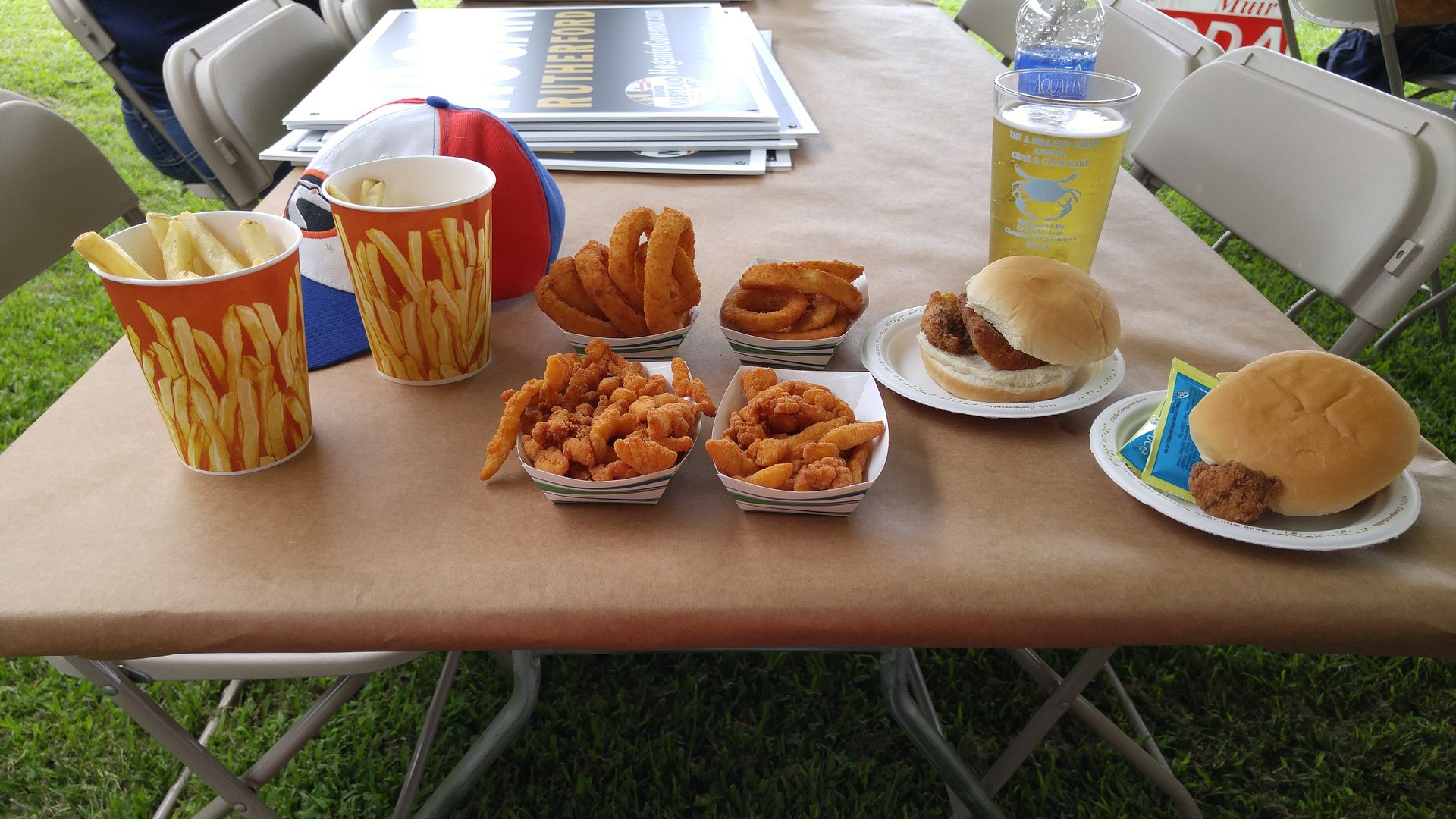 Not a salad in sight – in my dietary defense, I skipped breakfast. But it was all very good, aside from a little lack of fileting on one of the sandwiches. It was a trifle bony.
(No, I don't like crabs – so don't ask.)
This event also draws media like the food on the ground draws seagulls. Here's Delegate Carl Anderton being interviewed by local television.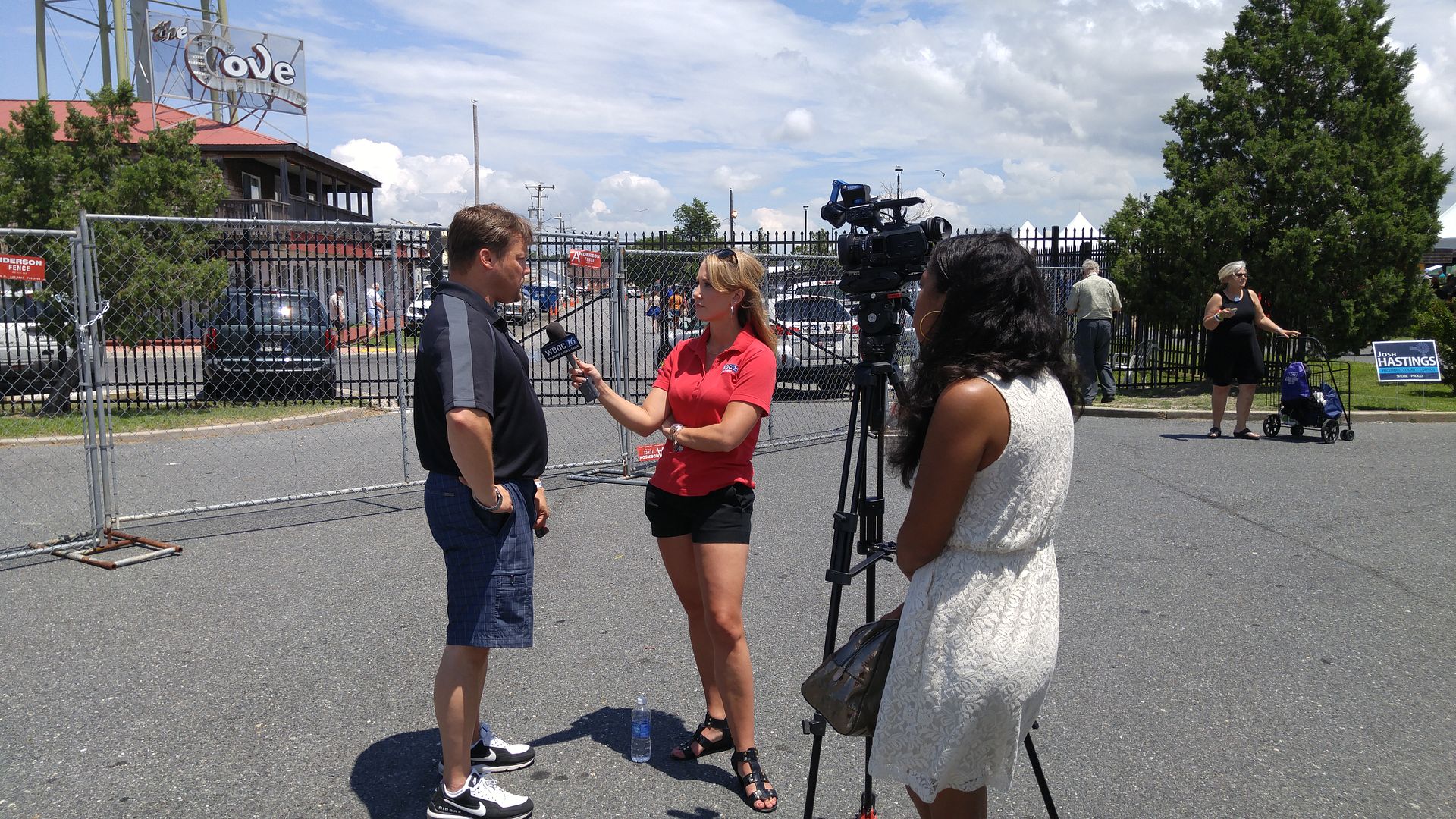 Both local Salisbury stations were there doing live shots and interviews.
And while the faces may change, the political aspect never does. You have the newcomers trying to make a good first impression, like U.S. Senate hopeful Chrys Kefalas and his millennial posse.
By the way, I had to look up that Kefalas is 35 because he appears a decade younger.
You have old hands looking for new positions, like Congressional candidate Mike Smigiel (in the center). He had a batch of "I Like Mike" buttons.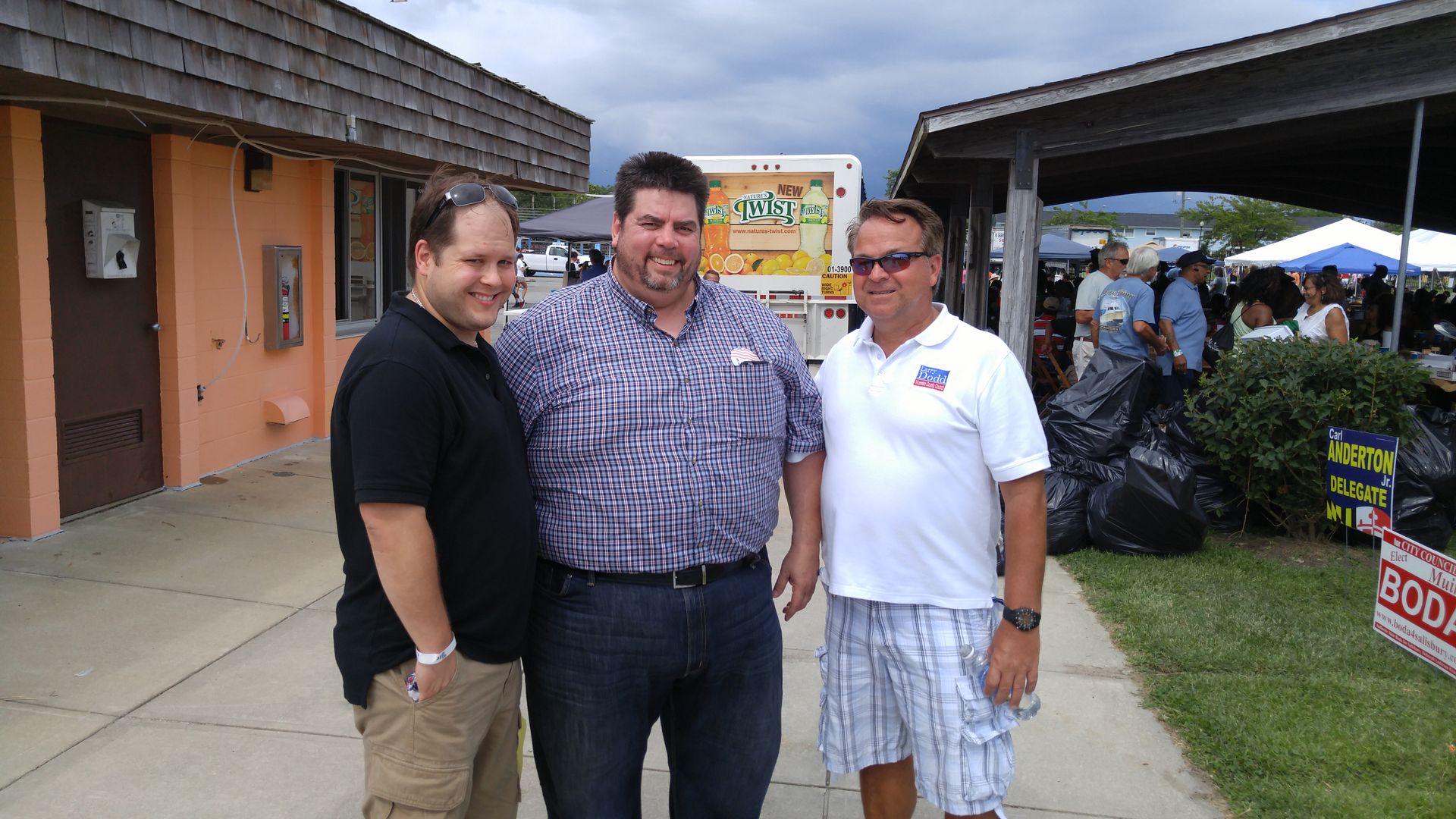 County Councilman Larry Dodd is on the right, and I apologize for not recalling the gentleman on the left's name.
And then there were established officeholders like my 2015 monoblogue Accountability Project Legislator of the Year, State Senator Justin Ready. He's talking to Jackie Wellfonder, who probably has some sort of social media record for photos with the most officeholders and general friends of hers.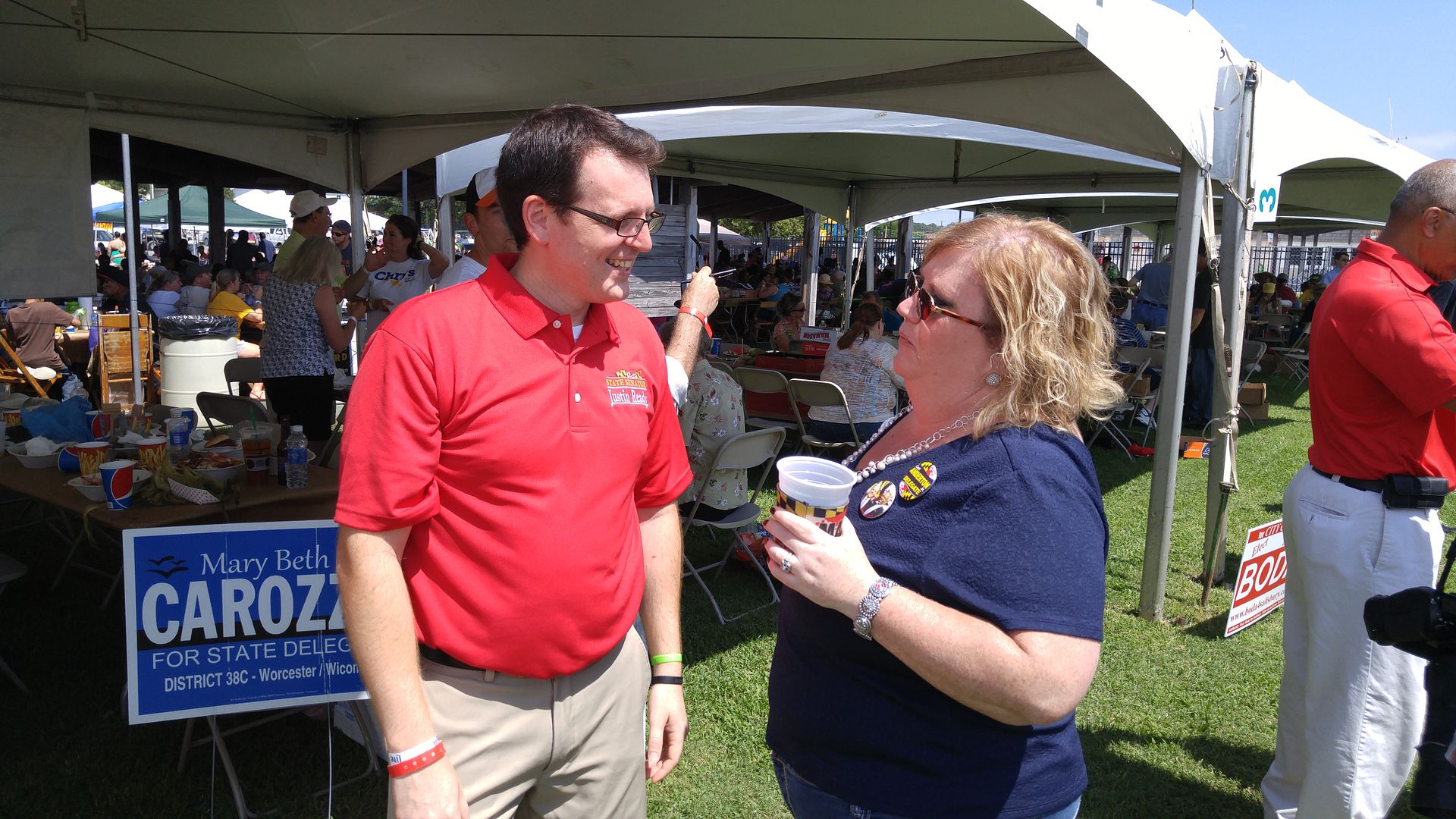 I think I've already seen her picture with our Lieutenant Governor, Boyd Rutherford. He's the distinguished-looking guy in the center.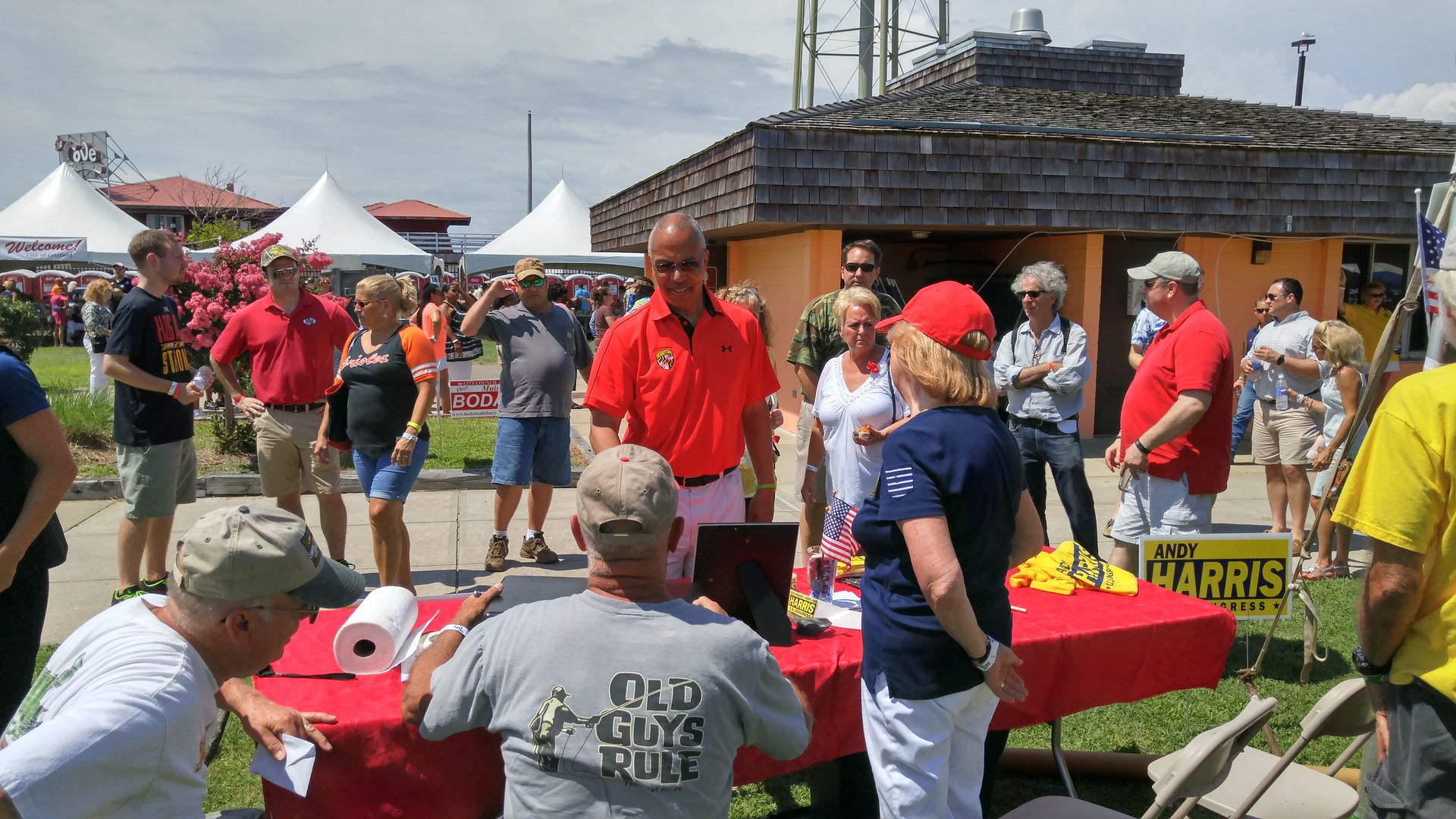 One final difference was the weather. While it was relatively comfortable, with a gentle breeze, the clouds rolled in toward the end.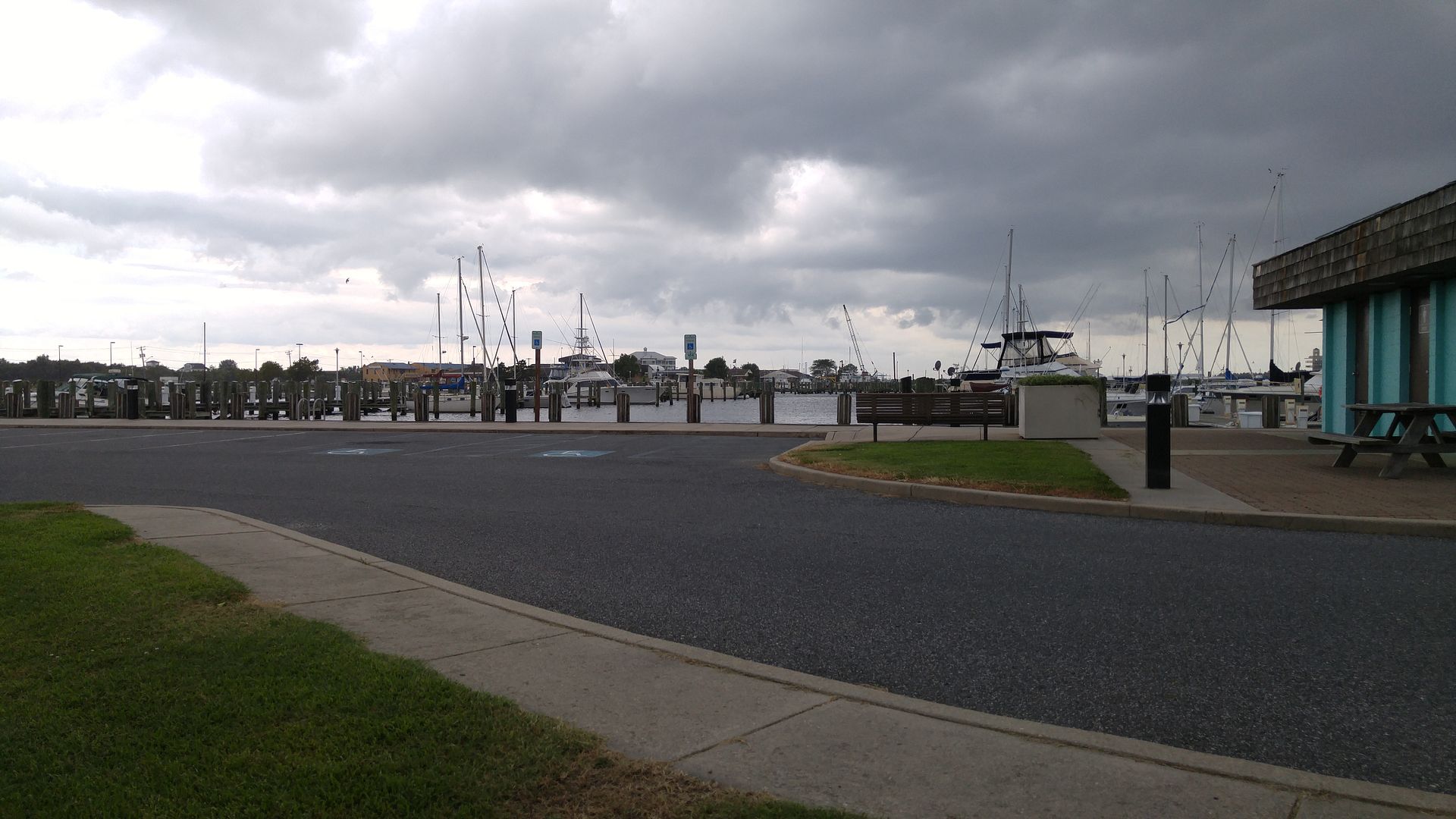 I left about 20 minutes before the scheduled 4:00 close, and by the time I got to my car about 1/2 mile away it was raining lightly. Before I got out of Crisfield it let loose and poured, so those who stayed to the bitter end either got under a tent or looked like drowned rats (or both.)
It was a fitting end to an event which was good, but perhaps a little off kilter. In fact, I was discussing the future of this gathering with someone who compared it to the Salisbury Festival – a venerable event that didn't change and eventually withered away. Since the cost went up this year (to $45 a ticket) we'll see how it affects the plans for next year.
As for me, I'd like the center location back.