It may not be as apparent to the average American as "vacation day" patriotic holidays like Memorial Day or Independence Day, but today a small band of Salisbury residents came to City Park along the Wicomico River and celebrated the 229th anniversary of the signing and delivery of our nascent Constitution to Congress for approval. Once approved, it was sent to each of the thirteen colonies for ratification (Delaware was first, on December 7, 1787) and by the middle of the next year the requisite nine states had ratified the document, which was not yet amended with the Bill of Rights. (That would come a few years later, in 1791.)
So I arrived fashionably on time and was pleased to see the turnout.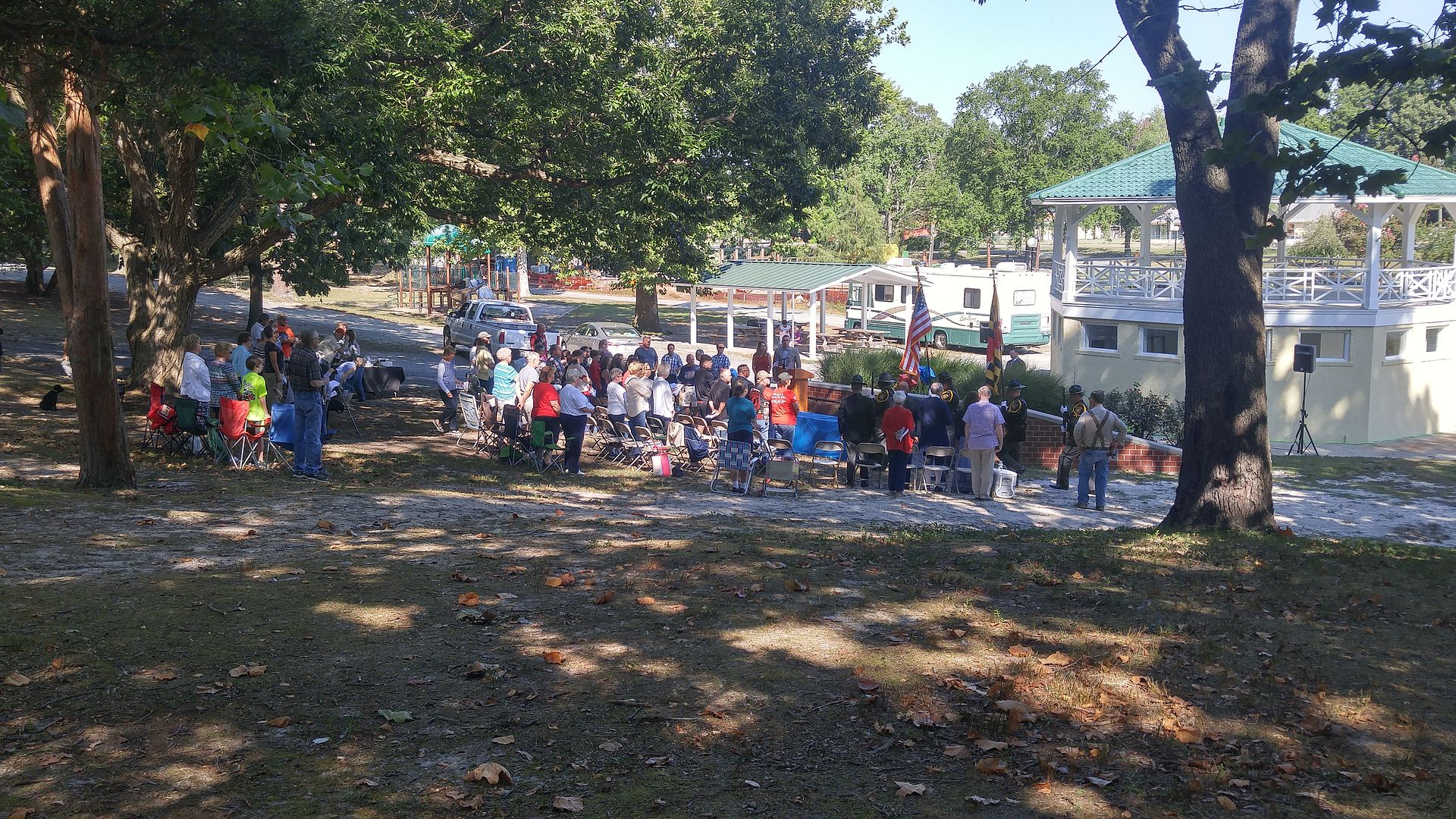 It seems like there were a few more people than last year's gathering, and I think the morning start time (as opposed to afternoon last year) may have had something to do with that.
We were presented with a proclamation from Salisbury mayor Jake Day reiterating that the city would be celebrating Constitution Day today. Day is one of the few who could stand and say he was actively defending the Constitution as an Army officer on active duty.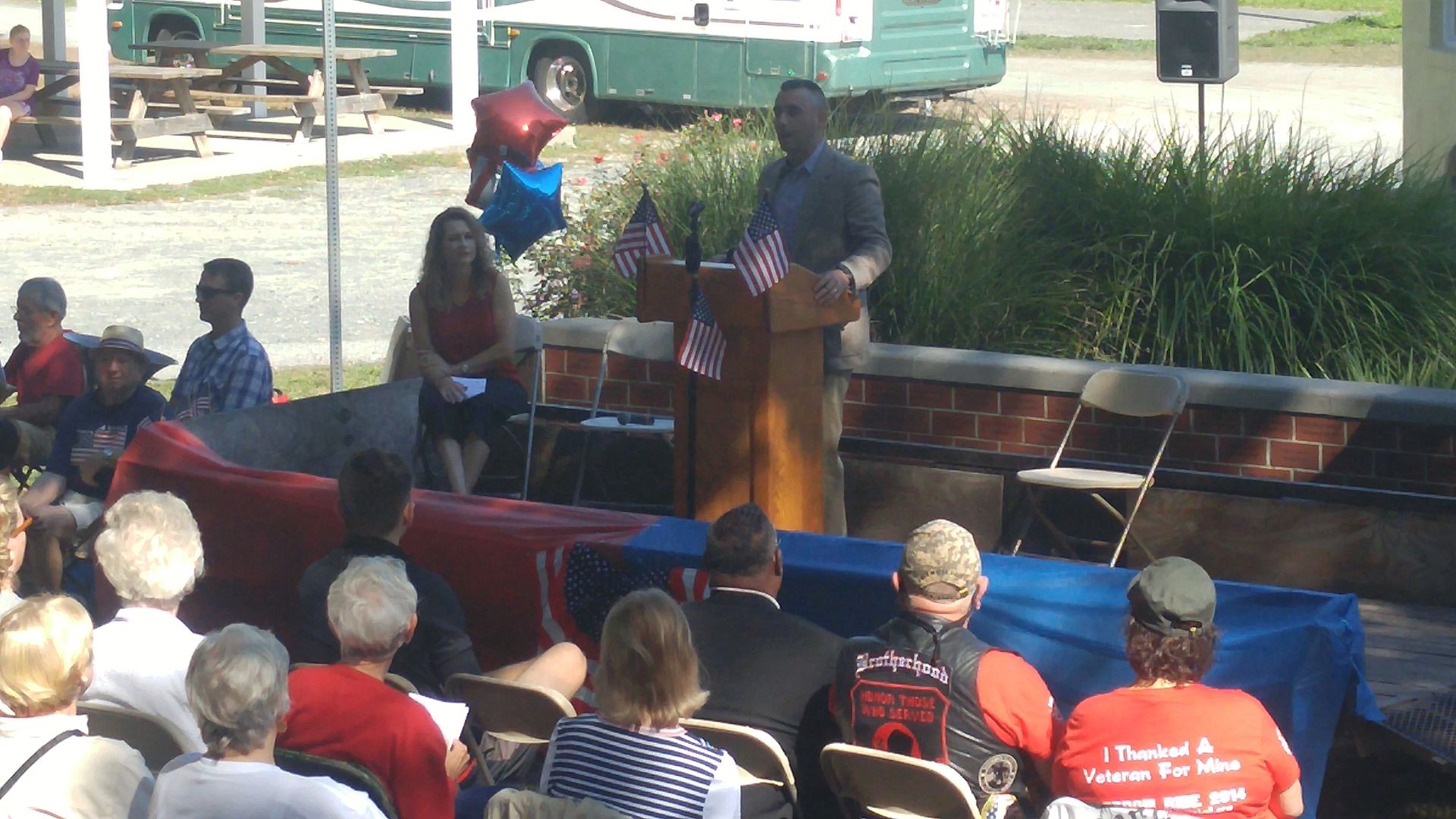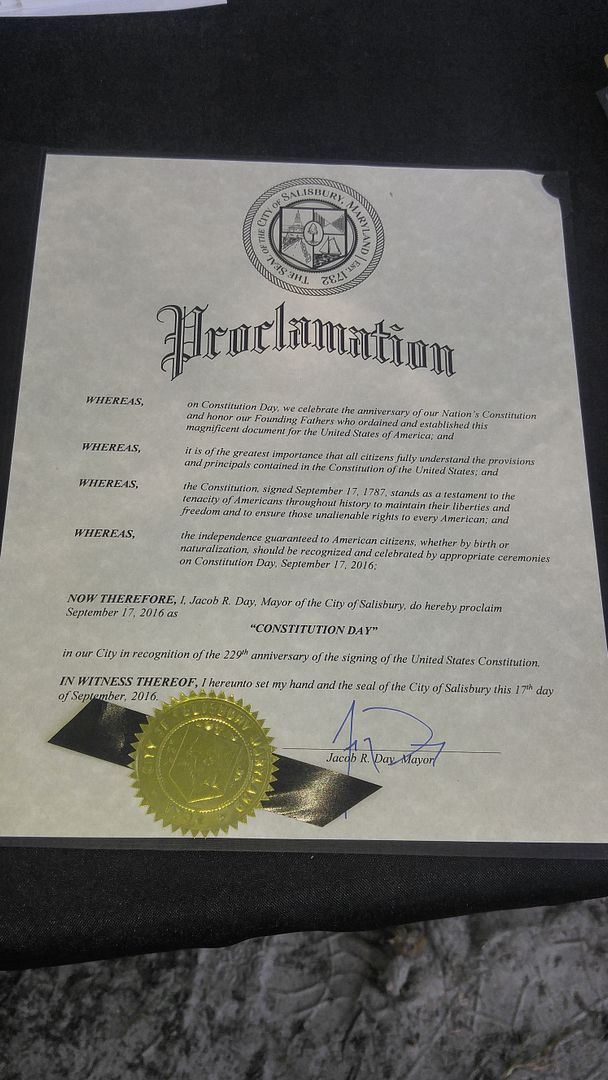 The event also was the culmination of an essay contest where the top two winners were present to be honored with a certificate from the Maryland General Assembly, presented by members of the local delegation Mary Beth Carozza (who was speaking), Christopher Adams, Carl Anderton, and Johhny Mautz. The winning entry was read by Carys Hazel of Mardela High School, with runner-up Nathaniel Sansom of Salisbury Christian School also present to receive his award.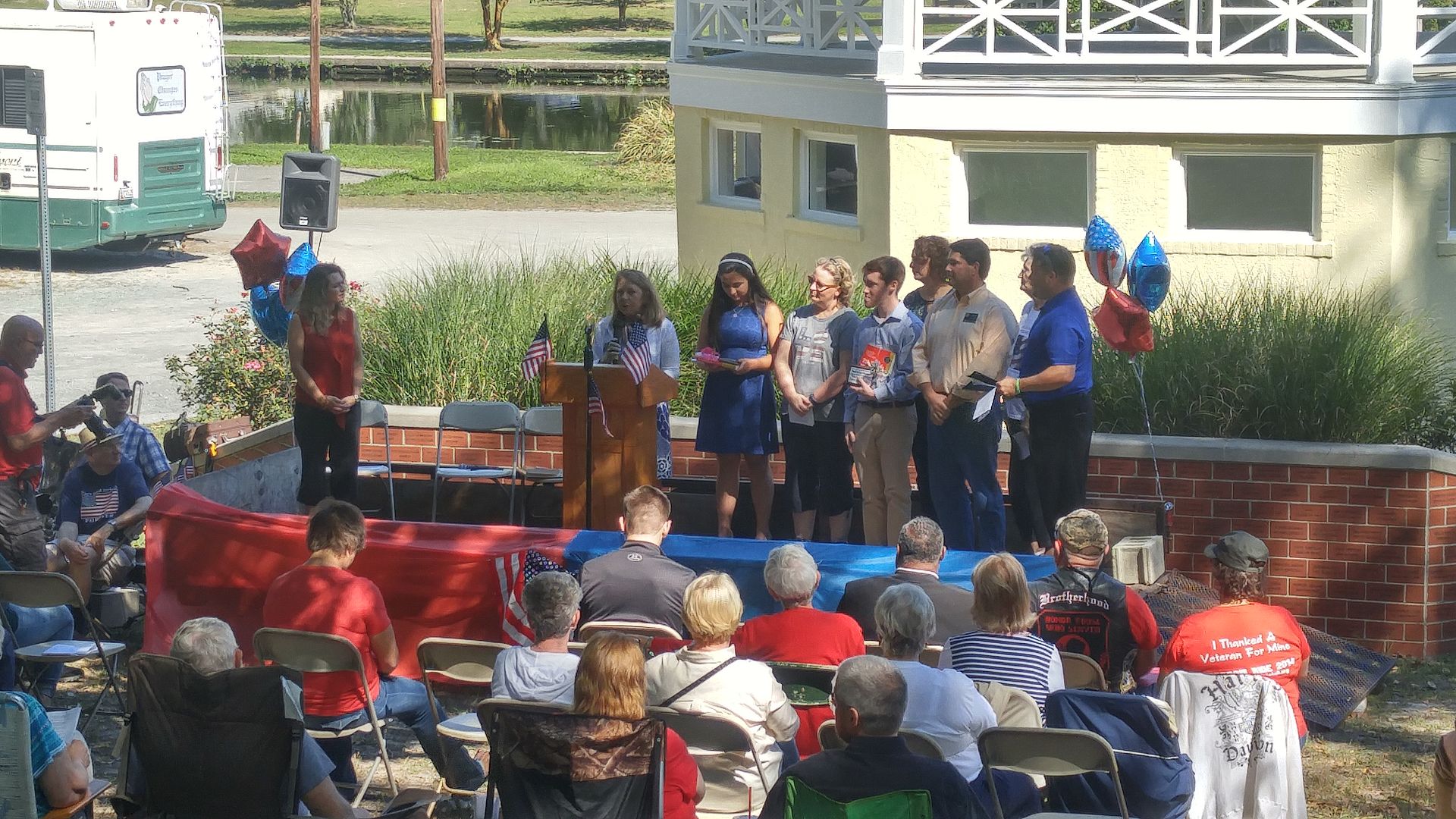 The keynote speaker was Wicomico County Sheriff Mike Lewis.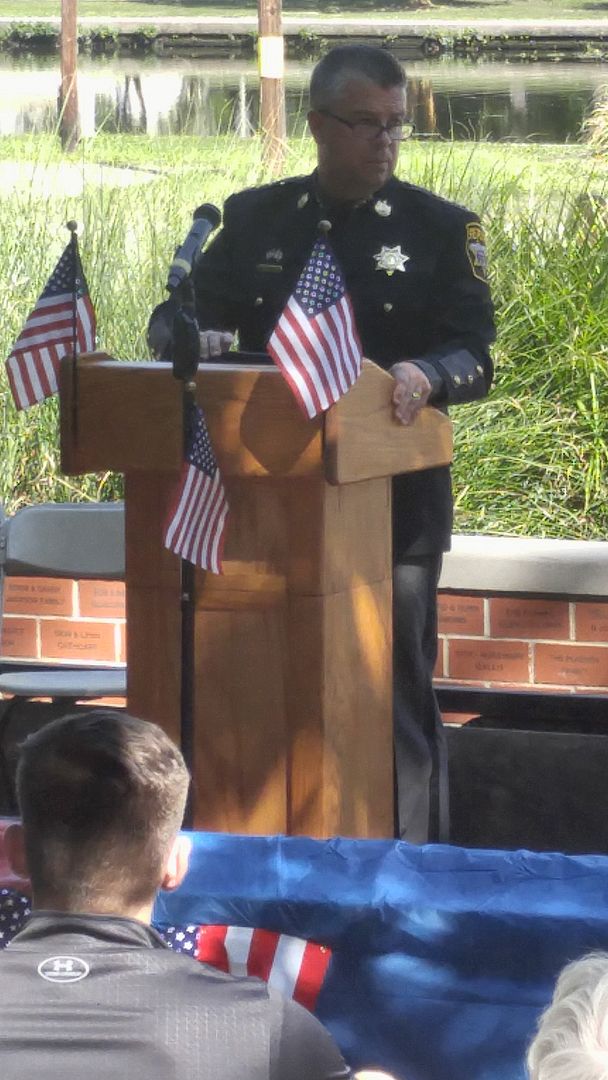 I wasn't really at the Constitution Day event to give blow-by-blow coverage, but I used the photos to both set the scene and cue up my own remarks, with the address Sheriff Lewis gave as a jumping-off point. Mike spoke at some length about the role of the military overseas and their fight against radical Islam. Certainly I understand the reason that they have embarked on such a mission, but to me it also begs a pair of questions for which we need an honest answer.
To a varying extent, the nation has been on a war footing since 9/11. In that time we have adopted the PATRIOT Act and sent thousands of troops overseas to fight against the proxy forces of radical Islam: the Taliban in Afghanistan, the Saddam Hussein regime in Iraq, and the Islamic State known as ISIS (or ISIL.) But the first question I have is: where does the balance tip too far toward security at the expense of the liberty afforded to us in the Constitution?
This question isn't really new, either: during the Civil War (or War Between the States or War of Northern Aggression, if you prefer) President Lincoln suspended the writ of habeas corpus and arrested members of the Maryland General Assembly to prevent them from meeting as a means of preserving the Union. Eight decades later, President Roosevelt interned Japanese-Americans as a result of their ancestral homeland's attack on American soil. In both instances America was in an active war within its borders or territories, but against a nation-state rather than an ideology as we are today. However, being in a state of war such that we are should not be an excuse for excess and there are many who have pondered the "War on Terror" and its response in the PATRIOT Act and whether the government is using this Long War as a flimsy excuse to consolidate power.
The idea of the government consolidating power leads to the second question: are we truly following the Constitution anymore or is this all just lip service?
Surely there are some who believe the Constitution has been eroding practically since the ink dried on the parchment. Whether they point to Marbury v. Madison being the moment where the judiciary became the most powerful of the three branches, the Civil War being the death knell for state's rights since they no longer had the right to secede if they were dissatisfied with the nation as a whole, or the Sixteenth and Seventeenth Amendments that gave the federal government taxation authority on individuals specifically prohibited in the original and ended the practice of state legislators electing Senators to represent their interests in Washington, there are a fair number that think we need to start over - perhaps with a Convention of States, otherwise known as an Article V Convention. (Years ago I contributed a couple ideas for new amendments, which are still sorely needed. Back then I had good discourse, too.)
I don't want to get into the weeds of determining the merits or problems of such a convention, but the fact that there are people who believe the Constitution needs a tune-up to fix excesses on one side or the other bolsters the argument that the government we have now is not the one originally envisioned by those men who toiled during the spring and summer of 1787 to write a replacement for the Articles of Confederation that the United States was bound to for the first decade or so of its existence. Granted, the Article V method is one prescribed in the document but there's no guarantee the amendments proposed would pass or the resulting Constitution any better for the people.
So the occasion of Constitution Day is bittersweet. Yesterday I wrote on the subject for the Patriot Post, noting that:
Contention over – and advocacy of – limitations to government based on constitutional principles has become a theoretical exercise at best, perhaps in part because few understand the ideas and arguments that were made during the drafting of our government's founding document.
Those who have sworn an oath to enlist in the military or (in my case) to take public office know that we swear to support and defend the Constitution as opposed to an oath to the United States. This is a clear distinction because the interests of the United States may vary by whoever occupies the offices of government at the time, but the Constitution is the set of ground rules which are supposed to define our nation. The key reason I resigned from the Central Committee was because I could not trust the Republican presidential nominee to support or defend the Constitution – rather, I believed he would tear the GOP from what few limited, Constitutional government roots it had remaining. Thus, I felt as a public official that supporting him was a violation of the oath I swore to the Constitution.
Many of those same men who pledged their lives, fortunes, and sacred honor to the American nation and survived the war that brought us independence were those who argued and debated the contents of the pieces of parchment that we consider our supreme law of the land. I pray that a group that is just as divinely inspired can lead us back to a nation that more closely reflects the intentions of these earliest Americans with respect to restoring a government that seeks the consent of the governed, and that those who are governed understand their responsibility in the equation as well. The fact that so few seem to have this inspiration or the desire to take this responsibility as citizens seriously may be what was most troubling about this day in the park.
I find the controversy over Governor Hogan's executive order mandating that Maryland public schools begin classes after Labor Day and wrap up by the following June 15 to be a good opportunity for commentary, so I decided to add my couple pennies.
First of all, this isn't a new idea. In 2015 and 2016 legislation was introduced in the Maryland General Assembly to create a similar mandate. As proof of how Annapolis works, the 2015 versions only got House and Senate hearings but the 2016 versions picked up the remaining local House delegation as sponsors (only Delegates Mary Beth Carozza and Charles Otto were local co-sponsors in 2015) and got a Senate committee vote. (It failed on a 5-5 tie, with one of the Republicans on the committee being excused. The other two voted in favor.) There was a chance this legislation may have made it through in 2017, but apparently Hogan was unwilling to take the risk. He took the opportunity to make a news event at a perfect time – when most local districts were already a week or two into school, Larry announced this from the Ocean City boardwalk on a pleasant beach day – and showed he was willing to stand up for one of his principles, that being improving opportunities for small business. (At a minimum, with Hogan's edict kids are off for 11 weeks for summer vacation.)
In reality, what Hogan has done is shift the calendar backward by about a week: for example, Wicomico County public school kids had their last day of school June 9 and returned August 29 and 30. But the thought process is that families are more likely to take a vacation in July and August than they are in June, so because Ocean City is a great tourist attraction the state should follow Worcester County's lead and begin school after Labor Day. (They simply went an extra week into June, concluding on June 17 this year.)
Granted, our family has enjoyed a post-Labor Day start for a number of years since parochial schools have more calendar flexibility: our child began her summer vacation after classes ended June 3 and returns on Tuesday the 6th. Growing up, I seem to recall the city schools I attended began after Labor Day and went into June but the rural school I graduated from began classes in late August and was done by Memorial Day. (We had a longer Labor Day weekend, though, because our county fair runs that weekend and the Tuesday after Labor Day was Junior Fair Day. Thirty-odd years later, it still is.) The point is that each of these localities knows what works best, so I can understand the objection from those who advocate local control of school schedules. And talk about strange bedfellows: I'm sure many of those praising Hogan's statewide mandate locally are also those who have fought for local control of our Board of Education - after at least ten years of trying, we finally have a chance for local control (as opposed to appointments by the Governor) over our Board of Education through a referendum this November. (I recommend a vote for the fully-elected Option 2 on Question A.)
So I agree with the objections on those grounds, even though I personally think a post-Labor Day start is a good idea based on the school calendar typically used. (If I truly had my way, though, we would adopt a 45-15 style plan so that summer break is somewhat shorter and kids spend less time relearning what they forgot over the break.) What I don't see as productive are those who whine about how this would affect preparation for particular tests – that shouldn't be the overall goal of education. Obviously they would be the first to blame the calendar (and by extension, Larry Hogan) if test scores went down. But Hogan's not alienating a group that was squarely in his corner anyway, as the teachers' unions almost reflexively endorse Democrats, including his 2014 opponent, and mislead Marylanders about education spending. It's increased with each Hogan budget - just not enough to fund every desire the teachers have.
Come January, it will be interesting to see if the Democrats attempt to rescind this executive order through legislative means, daring Hogan to veto it so they can override the veto and hand him a political loss a year out from the election. While most Marylanders are fine with the change, the Democrats are beholden to the one political group that seems to object and those special interests tend to call the tune for the General Assembly majority.
Yet the idea that the state feels the need to dictate an opening and closing date to local school districts is just another way they are exerting control over the counties. We object when they tell us how to do our local planning, so perhaps as a makeup for this change our governor needs to rescind the PlanMaryland regime in Annapolis.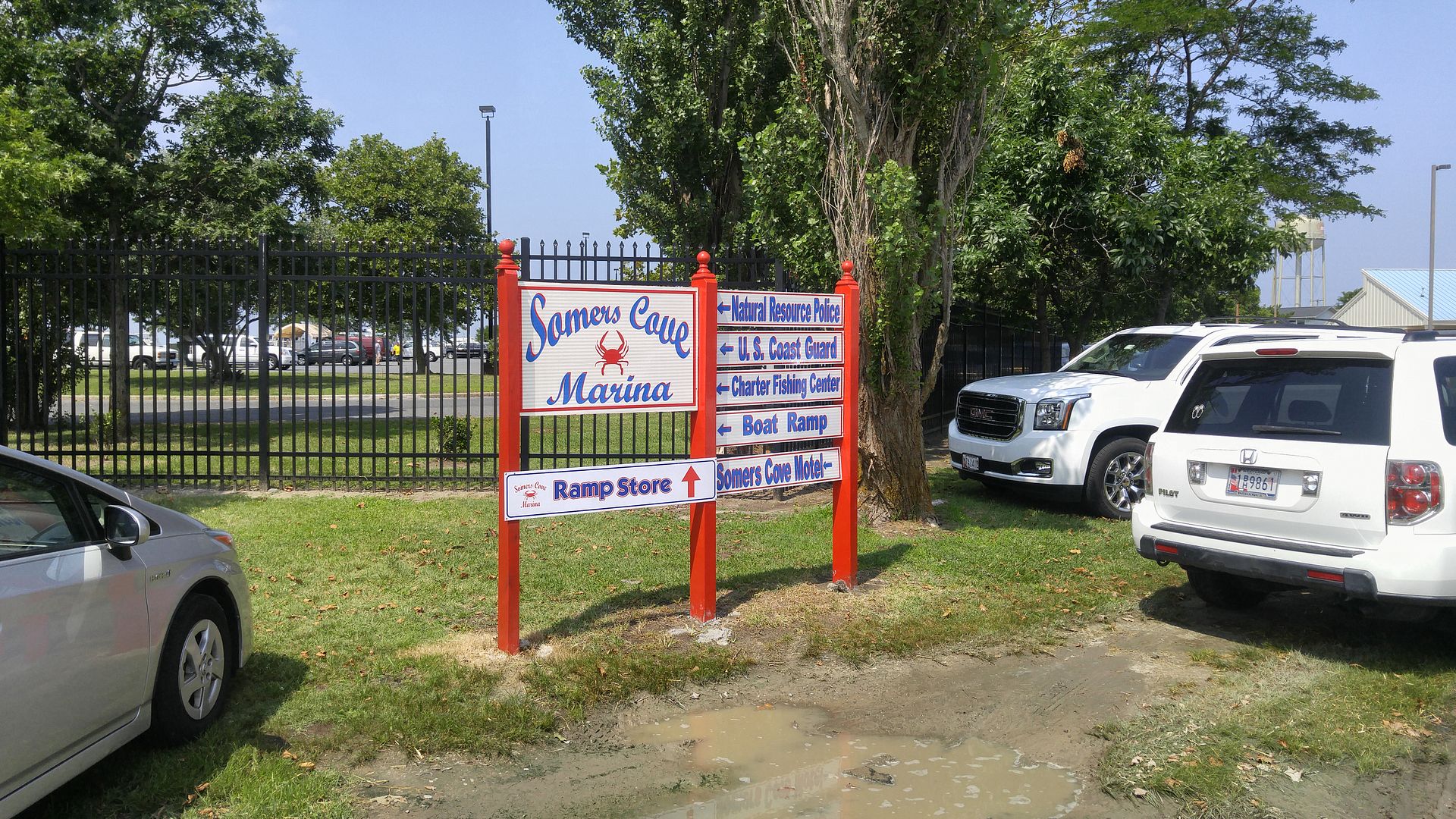 It was awful tempting to jump on into that water, but several thousand people managed to sweat their way through another hot Tawes Crab and Clam Bake. While Republicans tend to have a little more presence in the area, some of the Tawes regulars were absent because the event coincided this year with the Republican National Convention in Cleveland.
That convention minted the GOP Presidential nominee, who seemed to be pretty popular.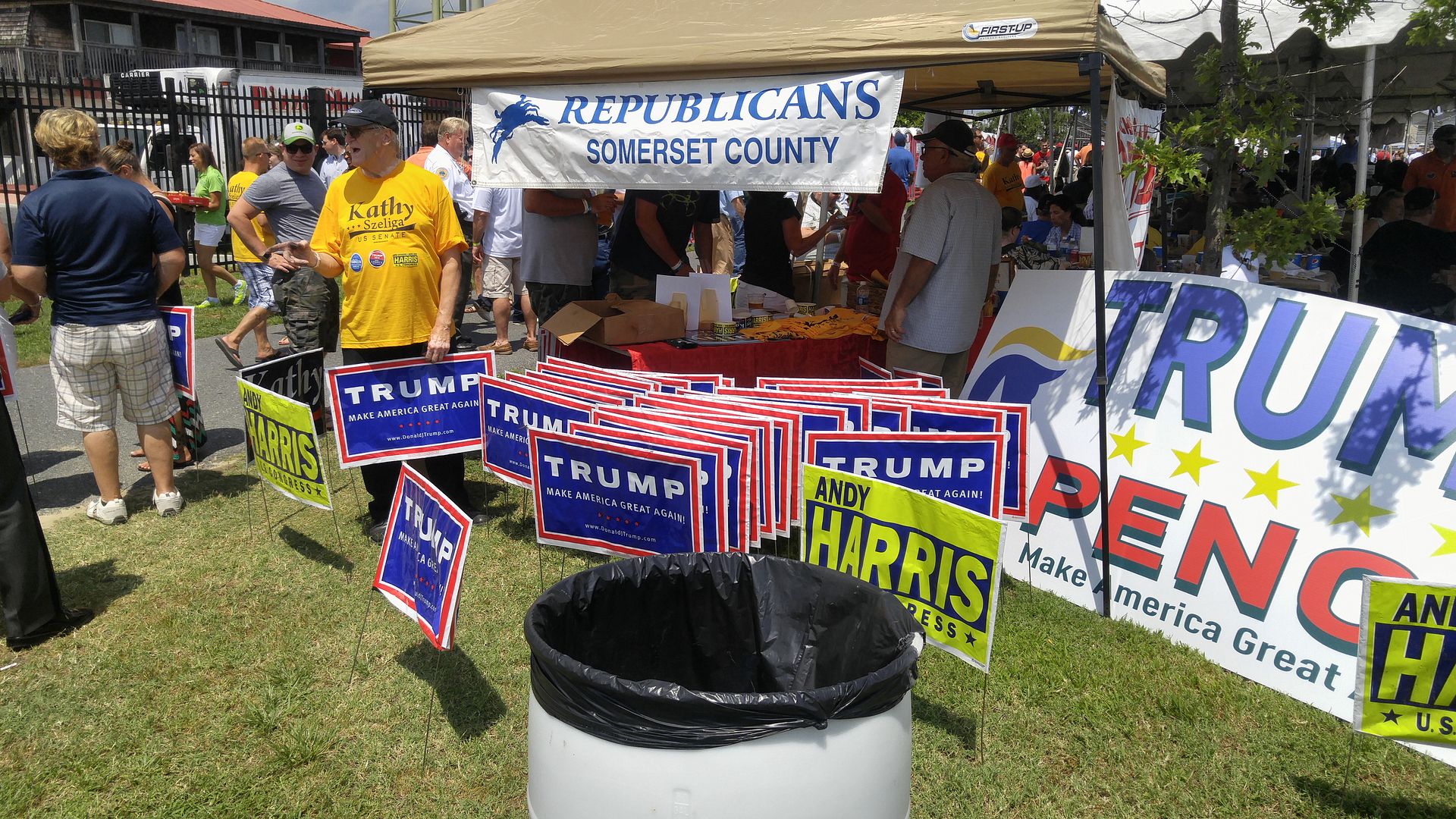 That group of signs dwindled little by little, as Trump adorned a number of tents. On the other hand, there were far fewer Hillary signs – but the Democrats also had their crowded space.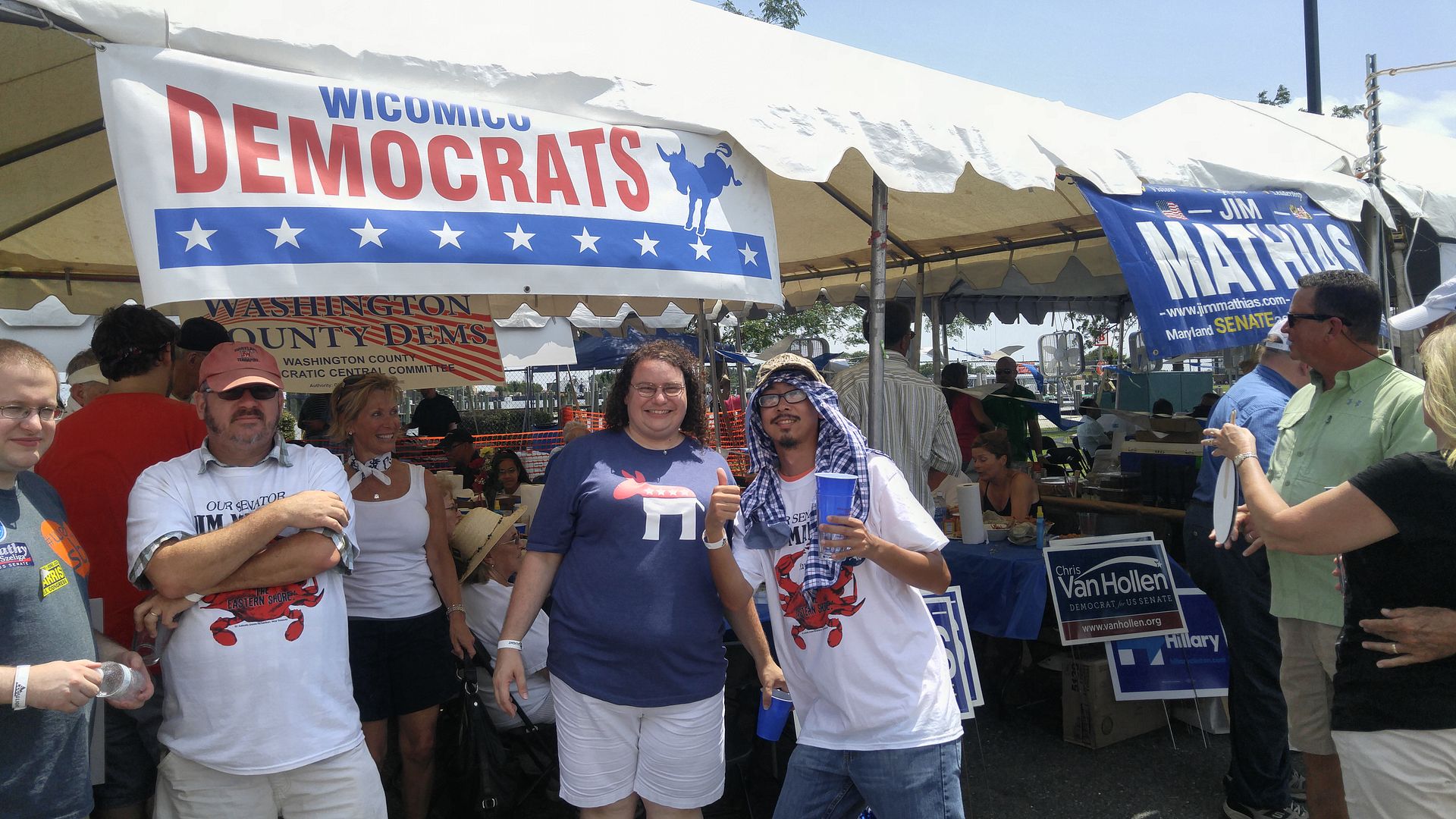 Sarah Meyers (in the blue shirt) is a friend of mine, and she was tearing her hair out as the coordinator there because they overbooked the space. (You may see her at the Democratic Convention next week, as she will be there as a page.) By the same token, the Somerset Republicans only went with one tent as well and it was packed, too. So both parties had close quarters.
Yet the businesses seemed to have ample space. I didn't peek into every tent, but many of them (as well as businesses lining State Route 413 into Crisfield) had a simple message: welcome Governor Hogan.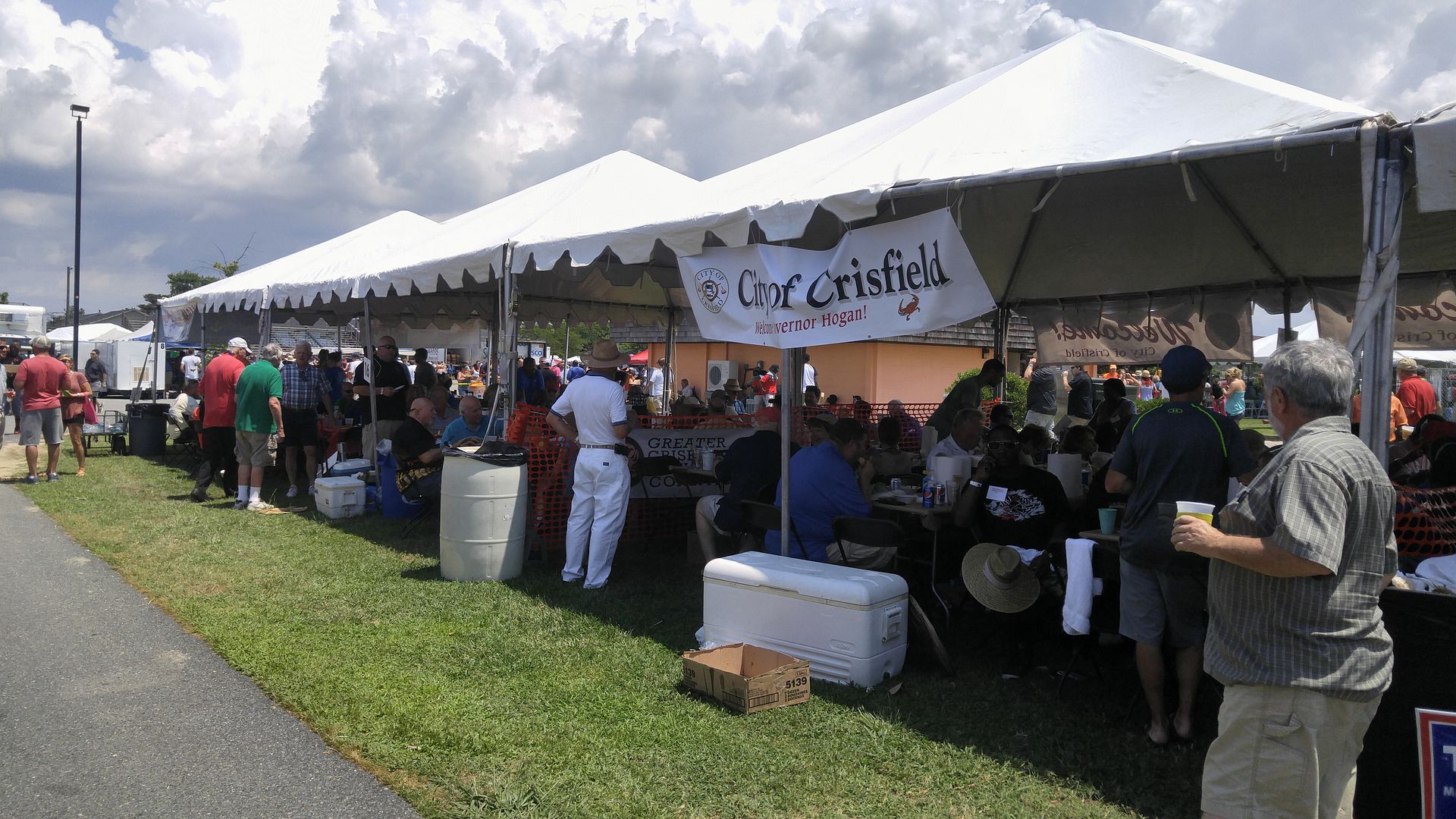 Even lobbyist Bruce Bereano, who always has the largest space, got into that act.
Yet among those businesses I did pick out I found an odd juxtaposition there, particularly under the auspices of the local economic development commission.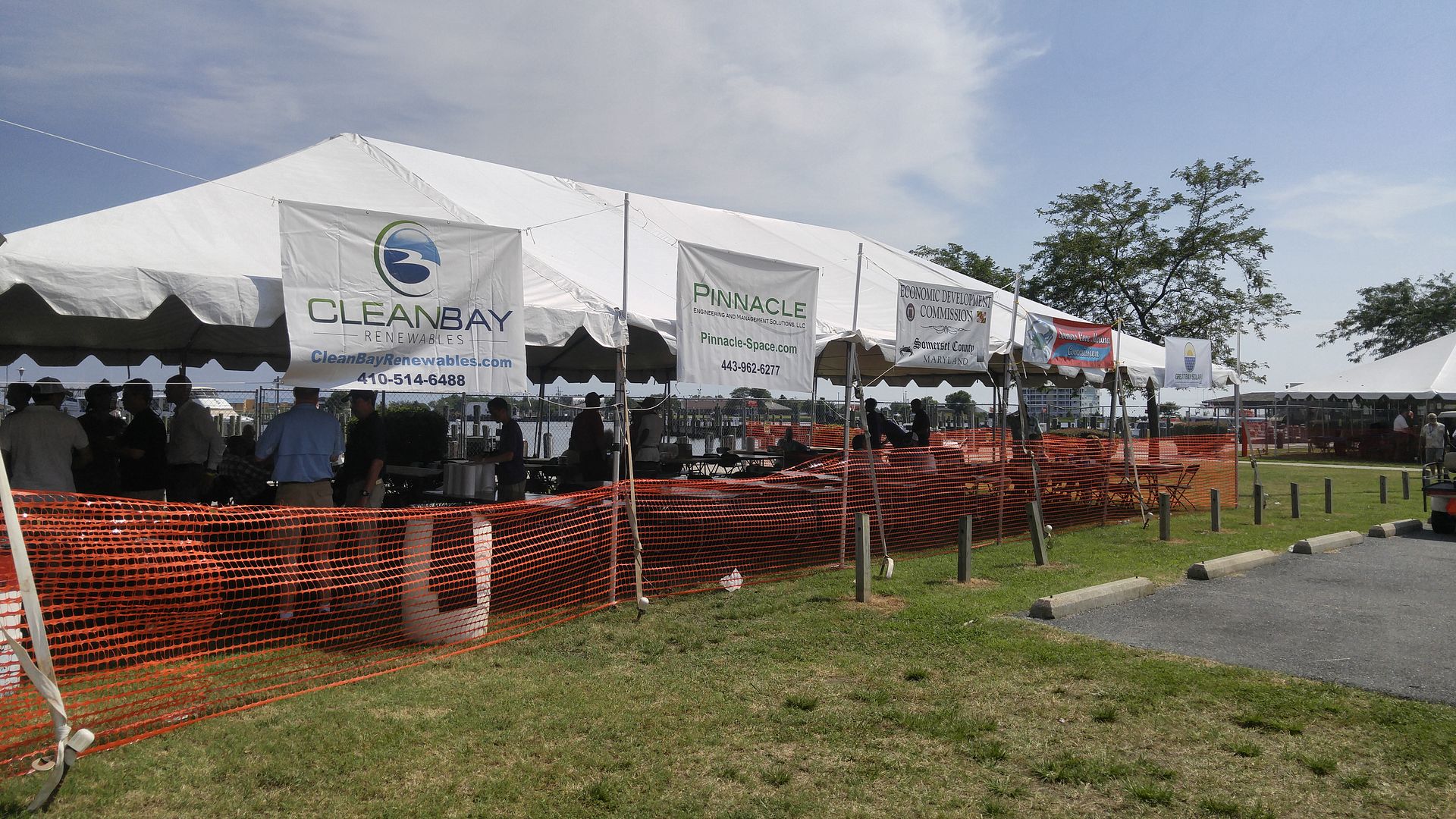 In order, these businesses are Cleanbay Renewables, which is a chicken waste recycling firm, Pinnacle Engineering, which services NASA, the Somers Cove Marina Commission, and Great Bay Solar I. The last is interesting because this project was originally supposed to be wind turbines, but objections to the siting of the turbine towers from the Navy forced the company to go solar, making lemonade out of lemons. With the exception of Pinnacle, the state has sort of forced the market for the other two businesses.
Yet on the other side was a law firm that objects to the approach the state is using to clean Chesapeake Bay through its Clean Chesapeake Coalition. They believe much of the problem comes from the sediment that leaches out from behind Conowingo Dam in severe storms.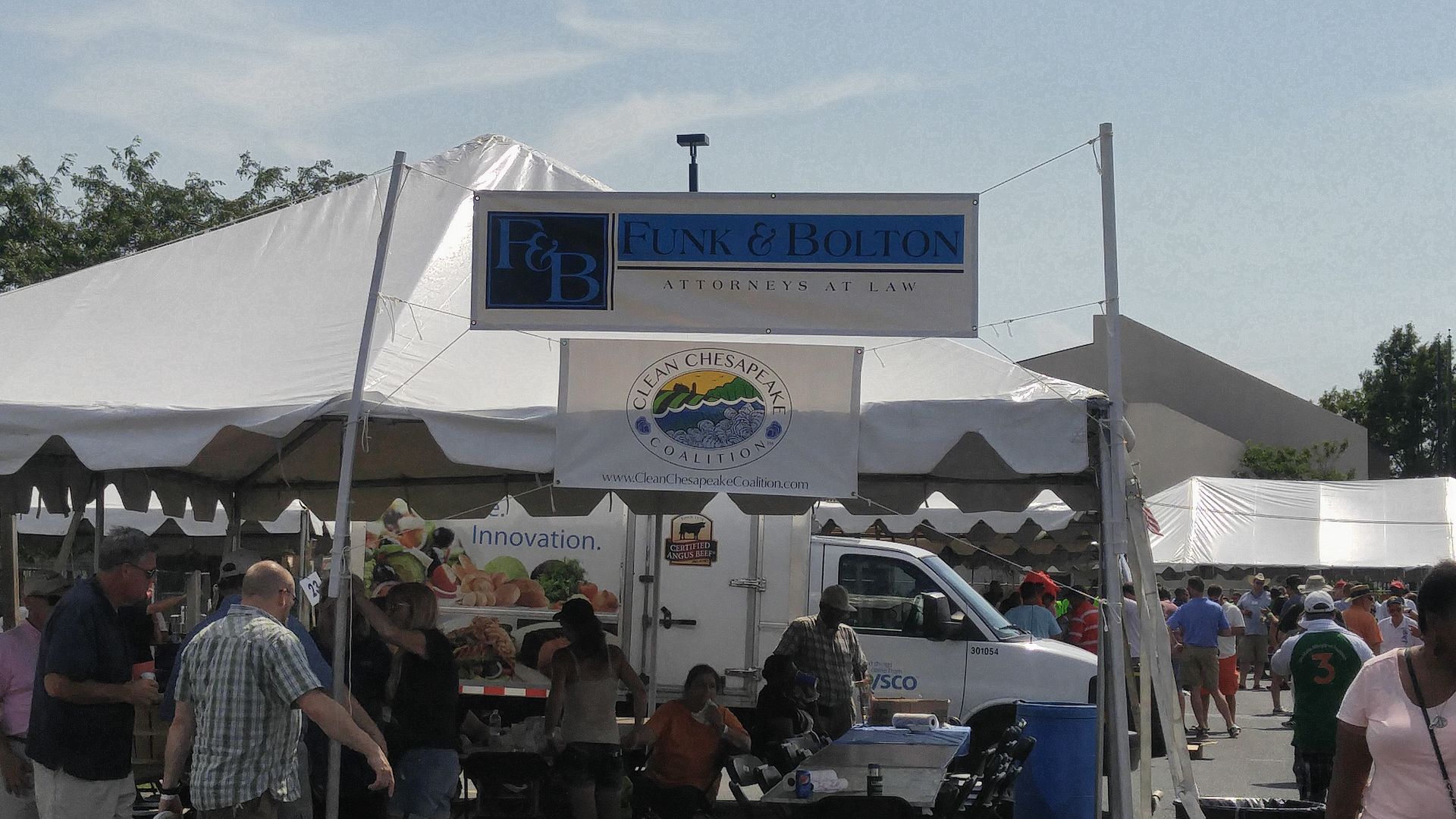 I happen to think the CCC has a pretty good case.
Speaking of business, the food business did pretty well there. Almost too well.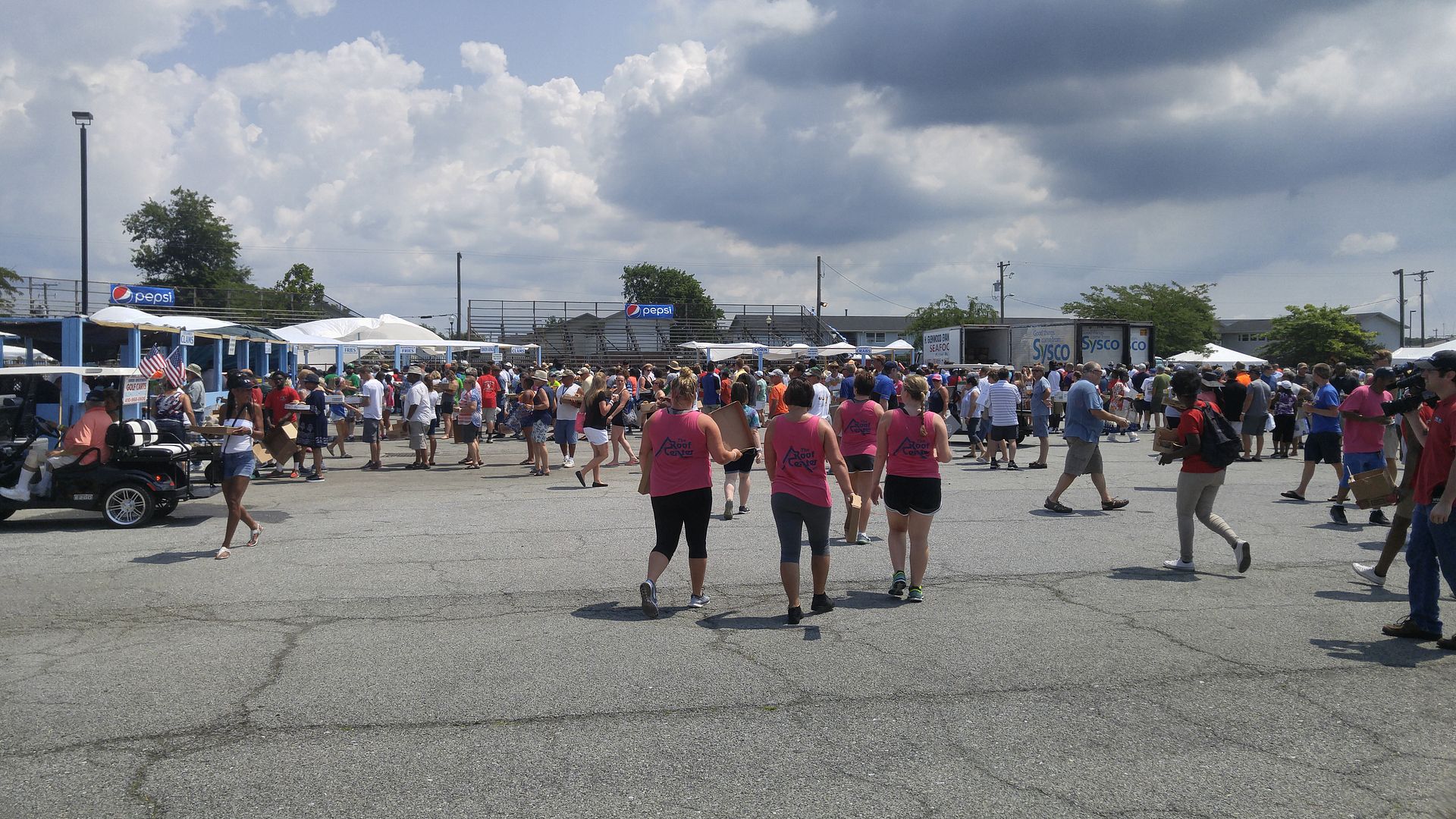 According to my cell phone camera, which took all my photos today, I took that picture at 12:01 as I walked over to get in line for food. Here is the end result, 46 minutes and four lines later.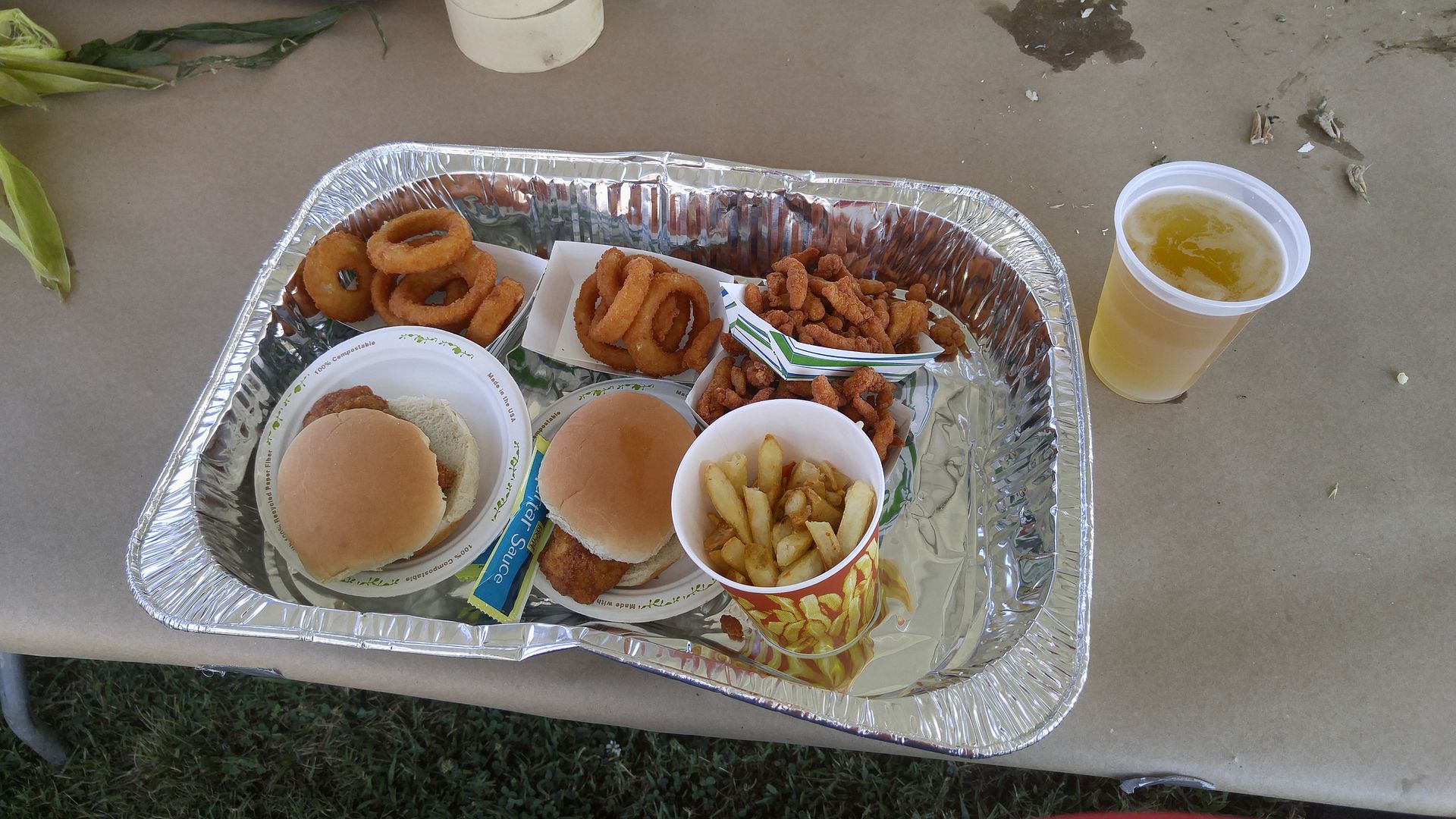 I actually asked for the onion rings as I inched closer to the front of the French fry line. And I certainly don't fault the crew because they worked hard, even toward the end when I snapped this.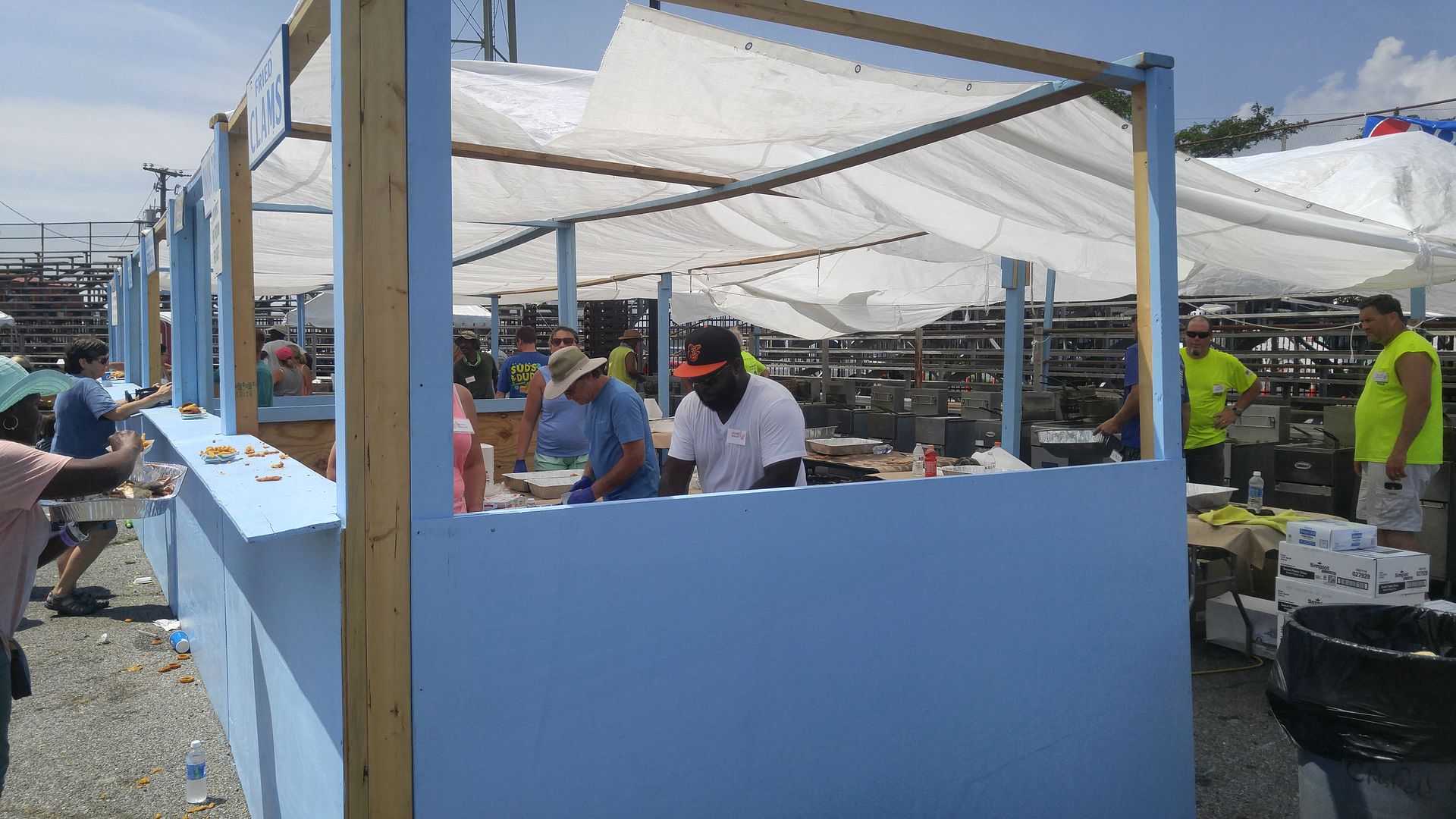 I think the issue is the increasing use of "runners" who get multiple orders of food and slow down the lines. It seemed like every third person in line was one, which meant those who just wanted to fend for themselves had to wait.
The guy who didn't have to wait in line was Governor Larry Hogan, because I don't think he ate a bite.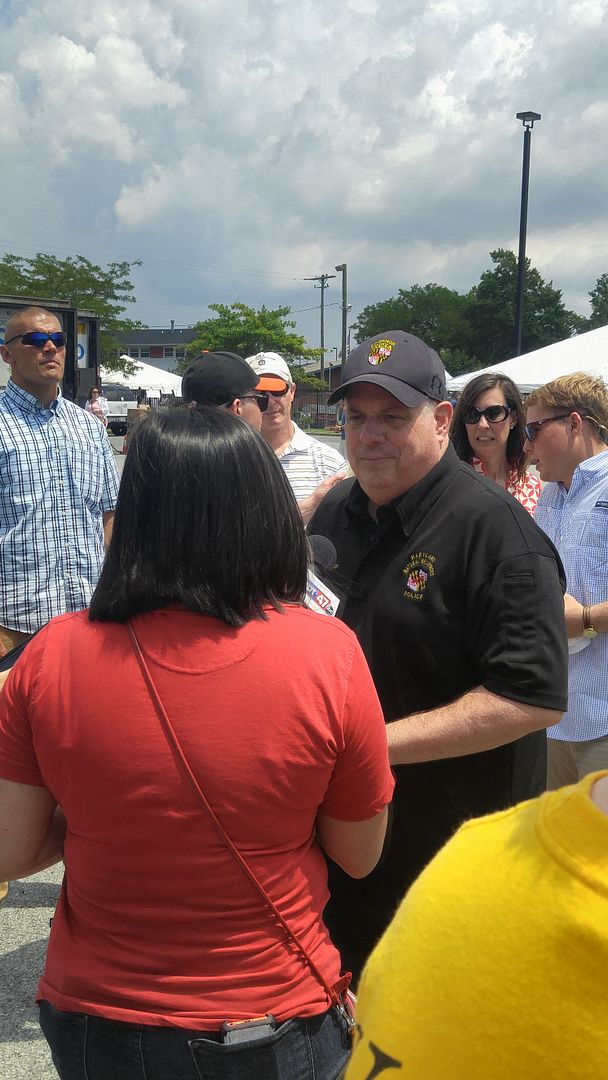 This is a second segment of time lapse. I took this photo above in the area where the food lines were at 1:57 p.m. Now, let me ask you: where's Hogan?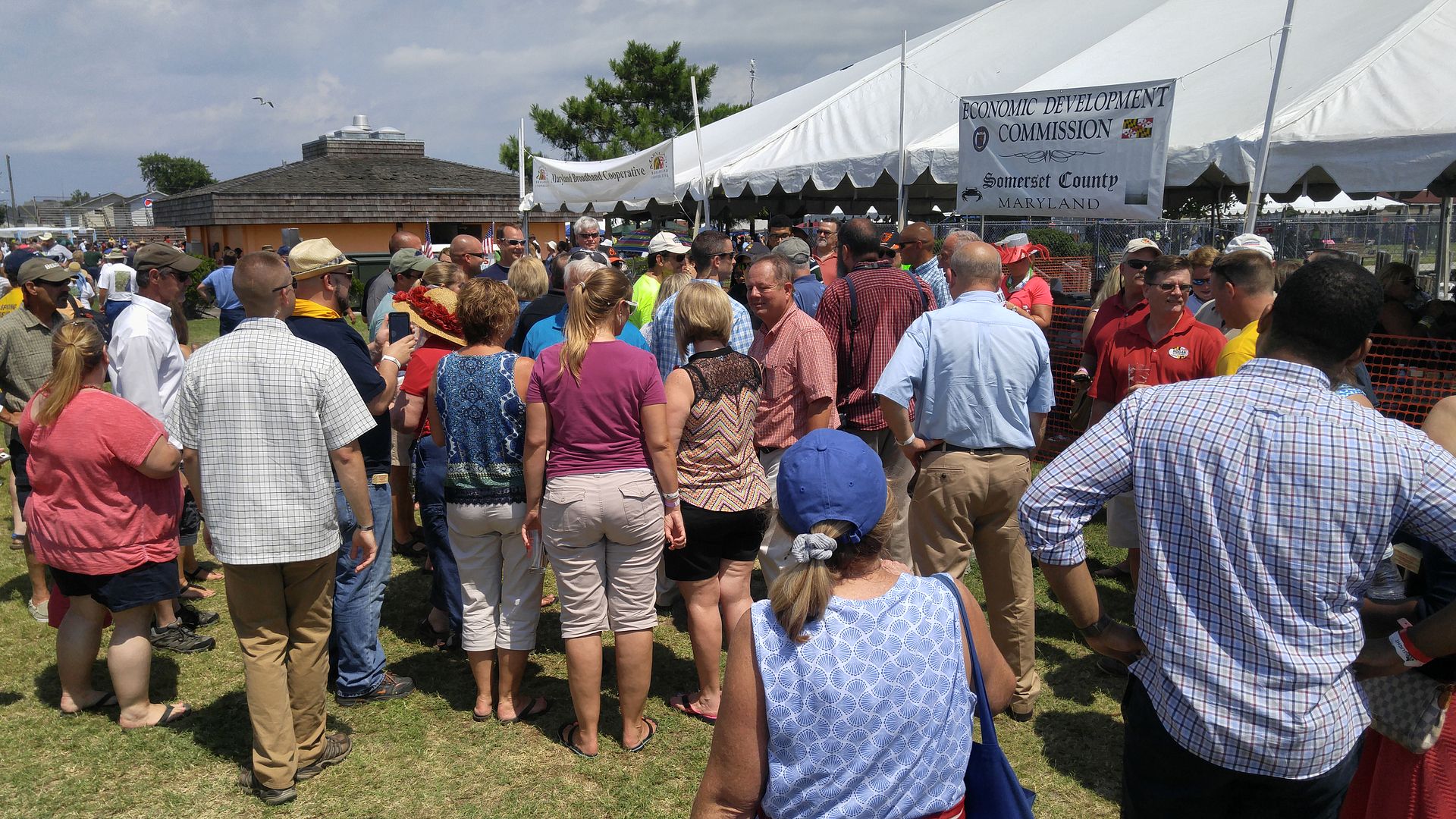 He's barely visible in the center of the photo, obscured by Delegate Charles Otto in the pinkish shirt. In 35 minutes he had advanced maybe 80 yards thanks to the crush of well-wishers who wanted to shake his hand, have a photo with him (although he suggested it in a number of cases) and perhaps say their piece. I was in the latter group as I wanted to thank him for his stance on the Presidential election. Larry commented that he had noticed the reception I've received on social media a couple times as it echoed a lot of what he had seen on his.
Stay strong, Governor.
The two major-party candidates for U.S. Senator were also there. Now I missed Democrat Chris Van Hollen – perhaps because I didn't recognize him walking around – but I did get a glimpse of Kathy Szeliga from the GOP.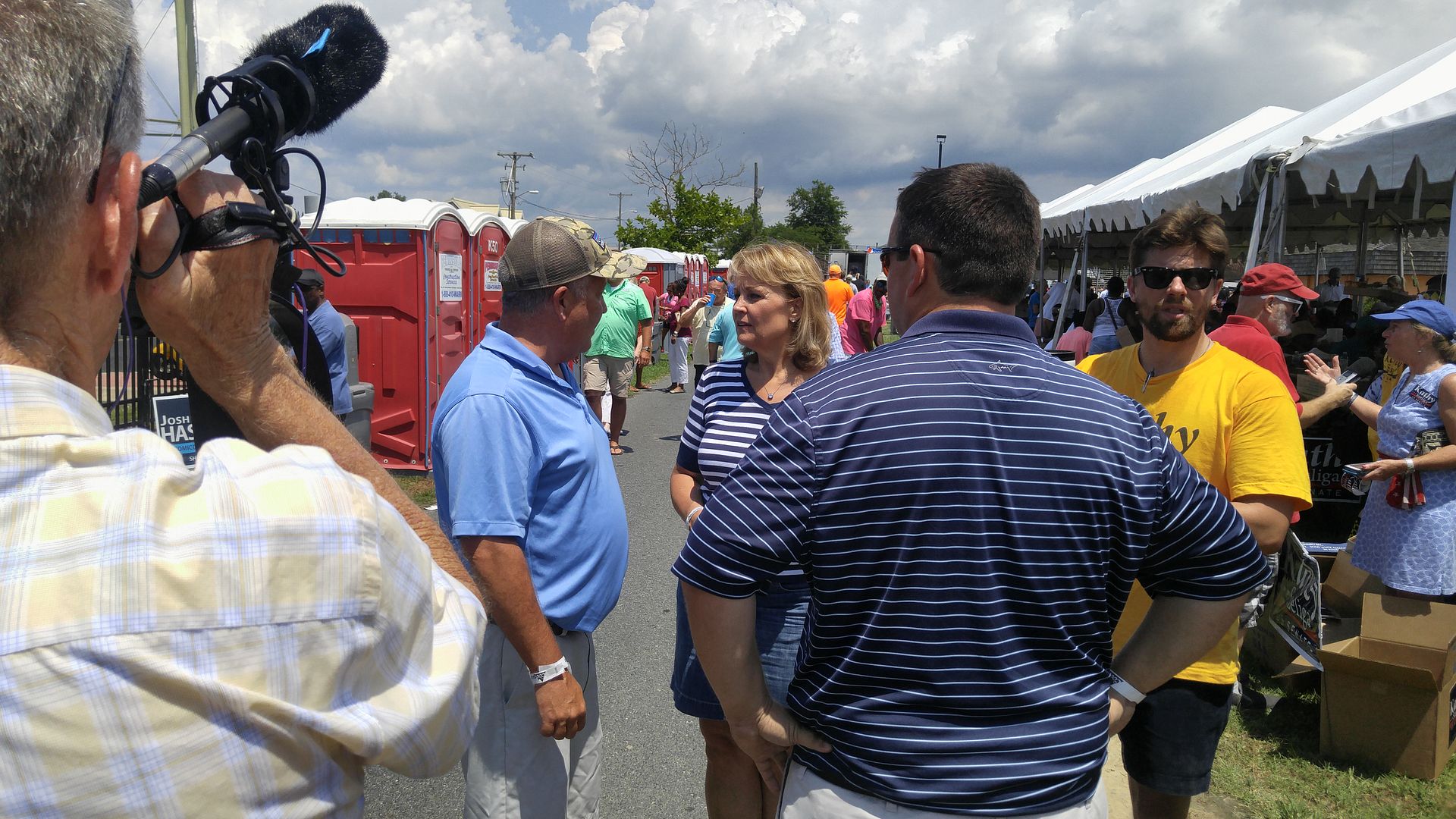 Of the people I saw and photographed, she was one of the few I didn't speak to at least a little bit. I don't blame her – our paths just didn't cross but once.
Of course, a few locals managed to be in front of my camera, such as Delegate Mary Beth Carozza, who brought her family and a batch of others from Worcester County.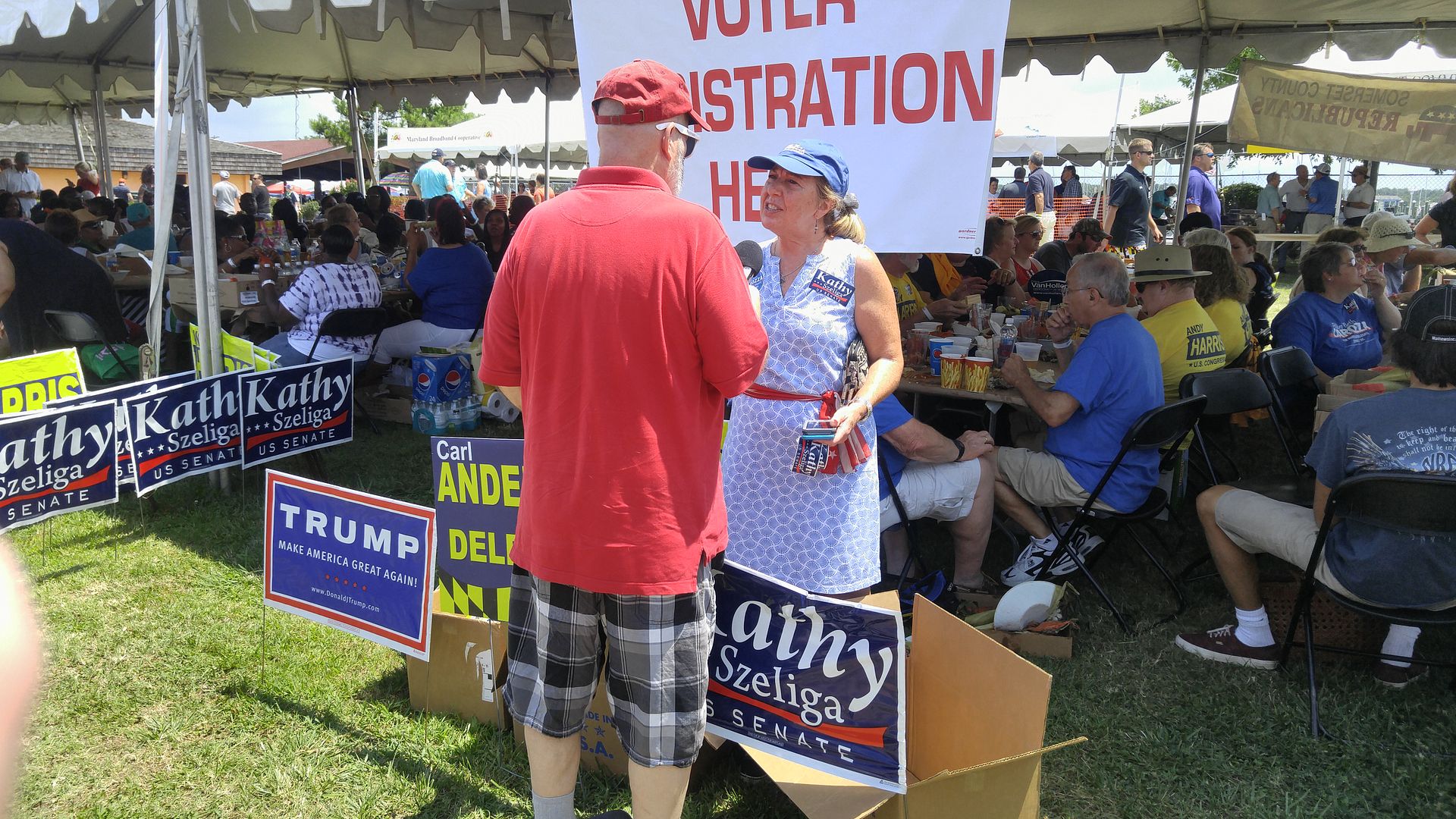 She was speaking to Duane Keenan from Red Maryland.
The other half of Worcester County must have come with Senator Jim Mathias, who had a number of folks with a matching shirt to his. He was a little peaked by the time I took the moment to thank him for his assistance with the school board election bill.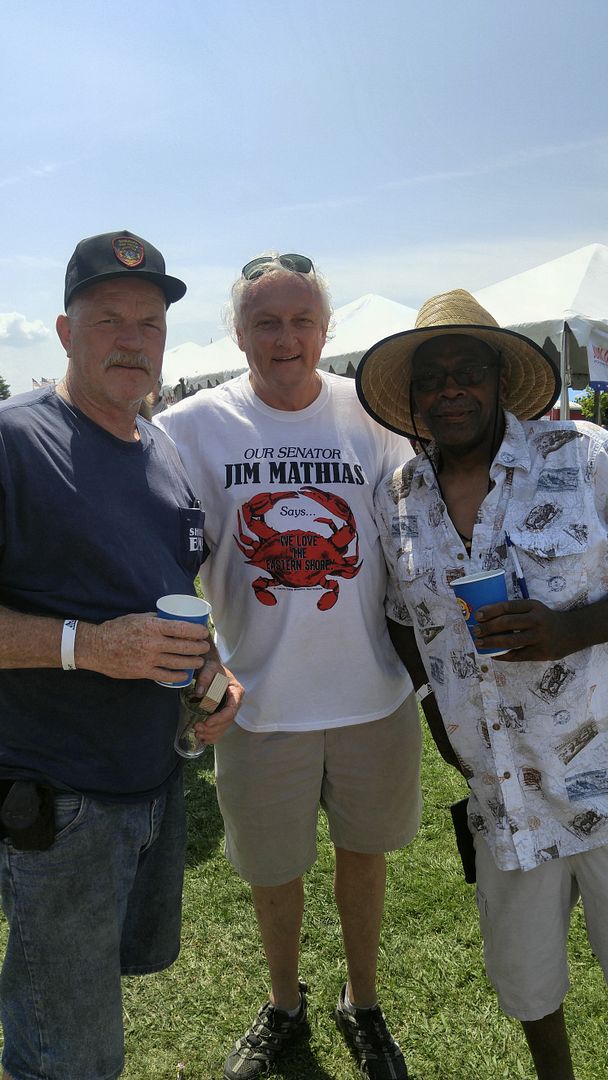 Yet while we had hot and cold running politicians there, we also had a lot of media asking questions. I noted Duane Keenan above, but here's Ovetta Wiggins of the Washington Post (right) speaking to Jackie Wellfonder. Jackie made the cut in Ovetta's story.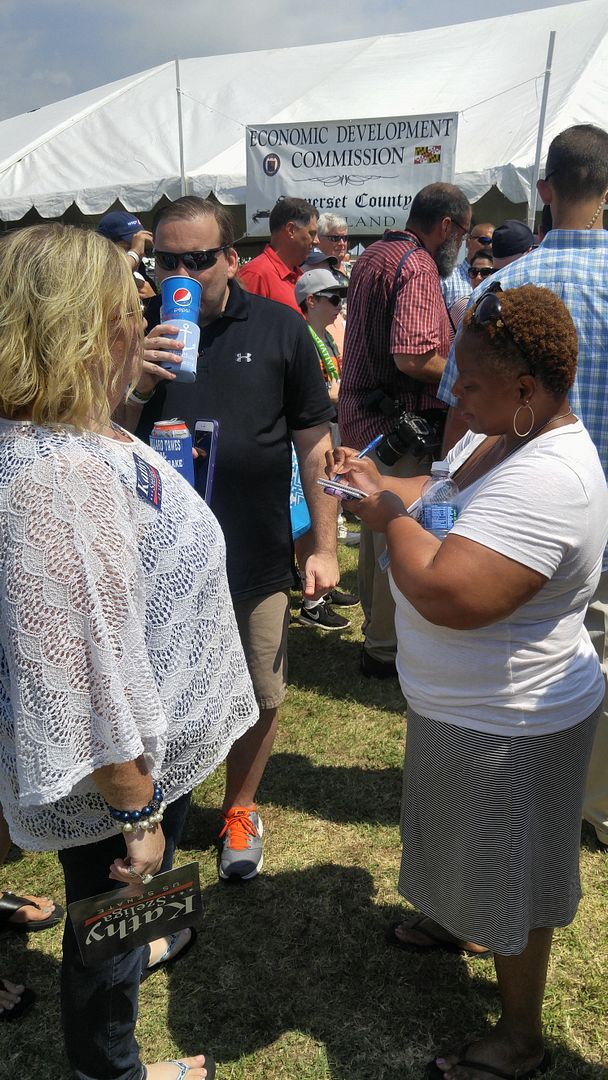 I also had the pleasure of meeting Mike Bradley, who hosts WGMD's morning show out of Lewes, Delaware. Since his station covers a fair amount of the lower Shore in its signal, he was interviewing some of the local players. It's a very good show that I catch once I cross into Delaware on my way to work.
And it could be that the Tawes event is becoming one for the greater Delmarva area. A delegation of elected officials from the First State included Representative Tim Dukes, who covers the Laurel and Delmar areas in his 40th District.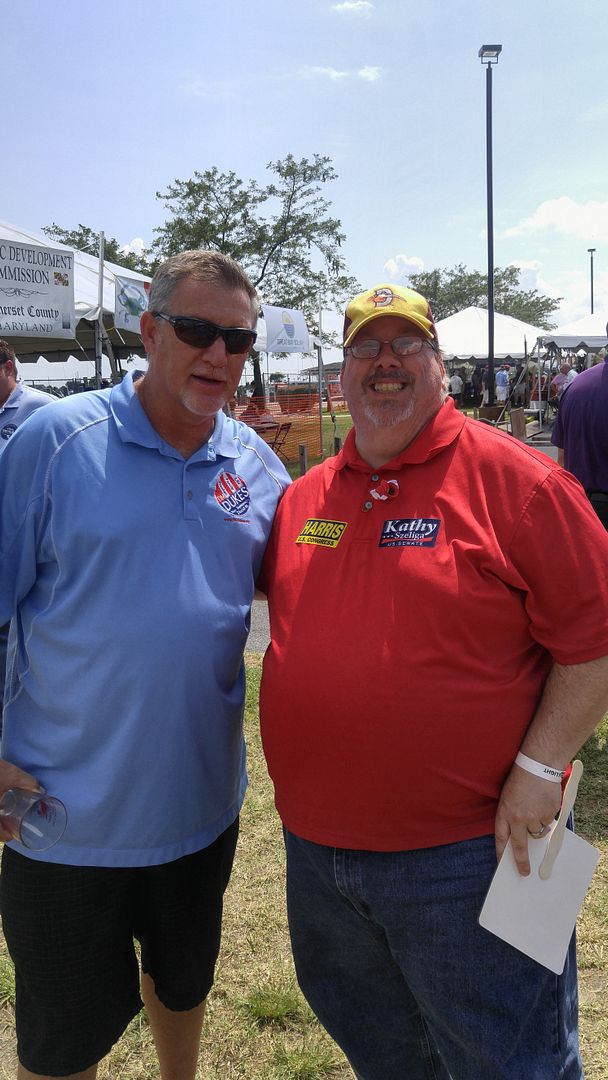 The reason I'm in the photo on the right: it was taken by Dukes' fellow representative (and Minority Leader in the Delaware House) Danny Short of Seaford. Since we're neighbors with Delaware it was nice to see some of their elected officials, too.
In that respect, this coverage was a little lacking because I did a lot of walking and talking to a number of nice folks from around the state. I want to say I overheard Jackie Wellfonder say this, but Tawes really is "like a big 'ol family reunion." We don't often see a lot of politicians travel across the bridge but for attending Tawes, so you have to say hello and speak your piece when you can.
The fact that Memorial Day occurs on a somewhat rare fifth Monday of the month this year provided the WCRC with an "extra" meeting this year, and they took advantage by scheduling something that's becoming a tradition: the annual Legislative Wrapup. All six Republican members of our local delegation (from Districts 37 and 38) were invited – but thanks to a number of calendar conflicts, only two of them came. It was ladies' night for the delegation as Delegate Mary Beth Carozza and Senator Addie Eckardt gave their accounts of the recently completed session. (Delegate Chris Adams made the attempt to stop by, but came just after we wrapped up.)
So once we did our usual Lord's Prayer, Pledge of Allegiance, and introduction of distinguished guests, Eckardt got the meeting underway by praising the state's $42 billion budget, which needed no new taxes for balance. The reason for this was that the Hogan cabinet was finding more efficiencies in their respective departments, enabling the state to become more business-friendly. One way they were doing this was through fee reduction, although Eckardt noted that some Democrats were fretting that fees were getting too low. Yet the budget allowed for a reduction in the structural deficit and did not feature a BRFA, the omnibus bill where spending mandates are often buried. This year's spending had "full transparency," said Addie.
But the push to reduce taxation was one goal of the Augustine Commission, explained Addie. Sadly, the broader tax reform package could not pass thanks to the question of passing a package mandating expanded paid sick leave - despite the fact changes to the earned income tax credit would have helped thousands of working Maryland families that I thought the majority party deigned to represent.
On the other side of that Augustine coin, Addie continued, was the idea of being responsive to constituents; to "change the tenor of government." This went with a drive to bring things to the county level, as Addie noted "local control is important to me."
One complaint Eckardt had about the session was the "crusade to get the Red Line back." It led to the passage of what's known as the "Maryland Open Transportation Investment Decision Act of 2016." (I call it the "Revenge for Not Funding the Red Line in Baltimore" Act.) While the bill overall is terrible, Eckardt noted it was amended somewhat to give local jurisdictions a little more priority.
And while she was pleased Wicomico County would be receiving an additional $8.7 million from the state for various projects, Addie was more passionate about a series of initiatives to bolster mental health and combat addiction around the state. She was also happy to see the Justice Reinvestment Act pass, which was a bipartisan effort at criminal justice reform. The state was also doing more to address mental and behavioral health, particularly since she claimed later in the evening it took someone who was addicted and incarcerated two years to re-integrate fully. This led to a discussion about what the state and local governments were doing to deal with the issue of homelessness, to which Muir Boda revealed the city of Salisbury would be embarking on a Housing First program modeled after one in the state of Utah.
Between Eckardt's main presentation and the later discussion about mental and behavioral health issues, we heard Delegate Carozza's perspective. She began by praising the club for being a group of workers and doers when it came to advocacy, with the optimistic view that "this is our time…Governor Hogan is turning the state around." But that was a process which would take at least eight years, said Mary Beth. As an aside, she also believed that Kathy Szeliga was "the candidate that can win" the U.S. Senate seat, which would also lay the groundwork for Larry Hogan's re-election campaign.
Both she and Eckardt, added Carozza, were in the position to support the budget thanks to their respective committees. They could succeed making suggestions for "walling off" funds for supplemental budget proposals, of which there were two or three each year. And while this budget allowed for what Carozza termed "a well-rounded tax package," only a minor tax break for Northrop Grumman made it through. But the "good news" out of that was that it was making Mike Busch and Mike Miller talk about tax relief, making it a stronger possibility we may see some in 2017.
As for some of her priorities, Carozza was happy to see the bomb threat bill she sponsored make it through the General Assembly in its second try. (A similar proposal was introduced by then-Delegate Mike McDermott in 2013, said Mary Beth.) She commented about how the broad community support, combined with the "sense of urgency" provided by a series of bomb threats making the news earlier this year, allowed the bill to pass easily. Another bill she was happy to shepherd through was the ABLE bill, which allows the disabled to save money for dealing with their medical-related expenses without jeopardizing their means-tested benefits.
She also stressed that killing bad bills was a part of the job as well, citing the defeat of the poultry litter and "farmer's rights" bills where she praised Delegates Carl Anderton and Charles Otto as they "led the charge" against those measures. Mary Beth also took the unusual step of personally testifying against the assisted suicide bill and worked to amend the sick leave bill to exempt more seasonal employees. On that bill, she predicted "we're going to see it again next session."
Even after hearing all that information, we had some business to do, like the treasurer's report and Central Committee report that Dave Parker delivered. He called the recent state convention the "get over it, people" convention, noting the party seemed pretty well unified afterward. Even local radio host Don Rush had difficulty finding disunity among a group of Republicans who were his guests last Friday, Parker added. On the other hand, "Hillary can't close the deal" on the Democratic side.
I added my two cents about the convention to his report, pointing out the National Committeeman race was perhaps the biggest bone of contention and that was relatively minor. But the Fall Convention may be interesting because we will be electing a new Chair, and the question is whether it will be someone who will work more for Larry Hogan's re-election or to bolster the GOP numbers in the General Assembly. A Hogan win, I added, would make redistricting the key focus for the second term – personally, I think we should strive for single-member districts and Eckardt agreed based on its impact to minorities.
Shelli Neal updated us on the Greater Wicomico Republican Women, who would be holding their next meeting June 16 at Adam's Taphouse. They had two tickets to the Tawes Crab and Clam Bake in Crisfield to raffle off as part of a membership meeting for the newly-christened organization.
Another fairly new creation was the Wicomico Teenage Republicans, which had "a great start of a club" according to Nate Sansom. While their next meeting was slated for this coming Friday, they planned on taking a summer break and reconvening in August once school started back up. With a group of "passionate people, happy to be involved," Sansom believed his group would focus on statewide campaigns like Kathy Szeliga's as well as the local We Decide Wicomico campaign for an elected school board.
Representing the statewide College Republicans, their Chair Patty Miller was hoping to reach each county Central Committee at one of their meetings over the next few months and "see what they need from us." Her first stop will be this week in Calvert County.
Jim Jester reminded us the Crab Feast would be September 10, but stressed the need for more volunteers – particularly to handle admissions and the silent auction.
Shawn Jester pointed out the WCRC Scholarship winners had a brief story in the Daily Times. But, since the subject was volunteering, he was also looking for people to help out at Third Friday, which we missed this month because no one was available. On that note, a signup sheet was passed around. (We will also need help for upcoming events such as the Wicomico County Fair, Good Beer Festival, and Autumn Wine Festival.)
After all that discussion, and seeing that we had a legislative update where the topic wasn't addressed, I added one thing to the conversation. General Assembly Democrats sponsored a large number of bills this year that mandated spending. To me, this is an effort to handcuff Larry Hogan when it comes to budgeting but also leaves less room for tax reform. Many of these bills may become law without Hogan's signature, but they will be law just the same. It's an issue that I think needs a strategy to address, perhaps a reverse BRFA to eliminate mandates.
We are going to try and get the guys who didn't show up this month to come to our June meeting, so stay tuned. It will be June 27.
In the opening days of her campaign, Kathy Szeliga announced she had the support of practically every Republican member of the Maryland General Assembly. So I wasn't surprised to see a more recent message from Delegate Mary Beth Carozza backing her, but the content of that endorsement was more interesting and compelling than most boilerplate endorsements I hear about.
I'm going to quote Carozza at some length here, so be ready:
I am excited to share the news that I am endorsing my friend and colleague, Kathy Szeliga, as our next United States Senator.

Kathy is a true friend and a real team player. When I first made the decision with my family to be a candidate for State Delegate in new District 38C,  Kathy was the among the first Republican leaders to call me, thank me for running, and ask how she could help my campaign.

Actions always speak louder than words, and Kathy was my special guest for my first reception at The Atlantic Hotel, hosted by Michelle and John Fager, back in July of 2013.  For the past three years, Kathy has continued to take time from her summer vacations in Ocean City to spend time with my supporters throughout the district.

(snip)

Kathy knows and loves the Shore.  She understands the challenges we face in protecting our key industries of tourism, agriculture, and small business.  She appreciates the value of our beaches, bay, and boardwalk as well as our commercial and recreational fishing and boating industry.  (Plus, Kathy met her husband years ago in Ocean City!)

I'm also proud to say that Kathy Szeliga has been right there from the very beginning with her strong support for Governor Larry Hogan.  We both knocked on plenty of doors and campaigned hard for Larry Hogan in the last election because we so strongly believe in the Governor's leadership in changing Maryland for the better. Now during the legislative session, we've both been in the trenches working hard to put Maryland's fiscal house in order and bring common sense tax and regulatory relief to Maryland small businesses and families.

Now we need Kathy Szeliga to bring that same change to Washington, DC.!  Join Kathy's team and learn more about her commitment to all of Maryland by visiting (her website. I link to it in the sidebar.)
Even if you factor in the obvious fact that Mary Beth and Kathy are both elected officials in the same body, you should give Szeliga credit for trying to build the Maryland GOP – granted, Carozza's district was sort of a gimme for the GOP because Democrats were trying to pack Norm Conway's district with as many District 38 Democrats as they could. But Mary Beth worked hard for all of the 70-plus percent of the vote she received and Kathy was a significant part of that early effort.
Yet the concern I have with Szeliga (not necessarily Mary Beth, but her endorsement gives me the chance to speak about this) is the utter lack of specifics I find on issues. Her website doesn't have an issues page and, to be quite honest, I haven't sat down and listened to the handful of debates she's been featured in. My fear with any GOP candidate is that they will go up against the Democrat (likely either Chris Van Hollen or Donna Edwards) and they will try to out-concern the other side, speaking in platitudes and soundbites rather than solutions.
Nor do I see Kathy as a particularly pro-liberty candidate: one example is a recent post she put up regarding speed camera repeal and why she voted to kill the bill – it covered work zone cameras in addition to red-light and speed cameras. In my monoblogue Accountability Project from last year I also found she voted against a repeal bill in committee. If it was that important, I have to ask why she didn't attempt to amend either bill?
We also have the bill she co-sponsored in 2014 (as part of the county delegation) regarding the Harford County Republican Central Committee in an attempt to create a committee more to her liking.
While I'm certainly not going to go all #NeverKathy on the race, suffice to say I'm not sure I share Mary Beth's enthusiasm regarding Szeliga for Senate.
On the other hand, I really want to give props to Delegate David Vogt for this website, which is still making me chuckle. Nothing like a little pre-emptive strike, particularly since it all rings so true.
It wasn't the relatively immediate endorsement you sometimes get when a candidate drops out of a race, but nonetheless Chris Christie became the first Presidential dropout to officially endorse Donald Trump. On the surface it seems like a logical pairing, made moreso by the fact the families have known each other for years. And with the conventional wisdom about Thursday night's debate being that Donald Trump was bloodied by Marco Rubio and Ted Cruz, what better time to bring in someone who has been known for getting under Rubio's skin?
More interesting on a local level, though, is the fact Larry Hogan hasn't endorsed Trump by extension. You may recall that Hogan endorsed Christie fairly early on in the campaign, both as a friend and probably as appreciation for Christie's support for Hogan's 2014 gubernatorial campaign. But Hogan was mum when pressed about the issue, and it may be better that way because Larry doesn't seem like the type who would endorse Trump – if anyone I would imagine him backing John Kasich or Marco Rubio. The problem with that is Kasich may not be in the race for much more than a week or two, leaving the race without a governor in a political year where 8 of the 17 who originally ran had executive experience as the head of a state.
In the poll of former candidates, though, Rubio still leads.
So allow me once again to update my tier map:
Bottom tier: George Pataki (Marco Rubio), Donald Trump
Fourth tier: Chris Christie (Donald Trump), John Kasich, Jeb Bush, Carly Fiorina
Third tier: Rick Santorum (Rubio), Jim Gilmore, Ben Carson
Second tier: Marco Rubio, Mike Huckabee, Lindsey Graham (Jeb Bush)
Top tier: Ted Cruz, Rand Paul, Bobby Jindal (Rubio)
I should add that former candidate Rick Perry, who dropped out in the midst of my dossier series, endorsed Ted Cruz a few weeks back. Rumors are strong that Mike Huckabee may also back Trump since his daughter now works for Trump's campaign.
Also of note: local Delegate Mary Beth Carozza is on the Kasich for Maryland team. Before you scratch your head, remember that Mary Beth has experience with the Ohio governor while he was with Congress – she was a staffer for the Ohio delegation at the time.
Each day now I receive an e-mail of news clips from Allison Meyers, who is with the Hogan for Governor campaign. I don't read every one but I peruse a number of them and one of the items the other day was from Calvert County regarding four legislators out of 26 statewide who are being honored by the American Conservative Union at the upcoming CPAC event.
Needless to say, I had to check the list to see who was on it. Unfortunately, none of our local legislators made this list of 26 – they are among the 38 Republicans who did not make the cut of an 80 percent rating. (And you thought I was the only one who rated legislators based on voting record?)
Just to save you some of the agate type, here are the scores our local delegation received, in rank order:
Christopher Adams (R – House 37B) 78%
Charles Otto (R – House 38A) 78%
Johnny Mautz (R – House 37B) 72%
Carl Anderton (R – House 38B) 67%
Mary Beth Carozza (R – House 38C) 67%
Addie Eckardt (R – Senate 37) 50%
Jim Mathias (D – Senate 38) 43%
Sheree Sample-Hughes (D – House 37A) 33%
Eckardt was the lowest Republican in the entire General Assembly, while Mathias was tied as the top Democrat in the Senate for the second year in a row. [I also found 2014 ratings. Last year Mike McDermott would have received an Award for Conservative Excellence (90% or better) while Jeannie Haddaway-Riccio was due an Award for Conservative Achievement (80%-89%).]
In looking at the ACU list, many of the bills also found their way into the monoblogue Accountability Project; however, my list is a little more broad since I took 22 floor votes and include the budget. But if my memory is correct the ACU and I saw eye to eye on every bill they scored so I would have had a perfect 100. (The only one to do so.)
Normally when Republicans fall down my list it's for one (or more) of three reasons:
They vote for bloated spending bills. I haven't liked a budget yet since I began the mAP, so voting in its favor always works against them. I'm leaning against this year's budget only because I think 5% growth is excessive.
Civil libertarian laws. Two key examples this past year were marijuana and civil forfeiture. I'm for stopping crime but if someone can brew their own beer they should also be able to grow their own marijuana. Regulate it like alcohol. Meanwhile, government greed is leading them to police for profit rather than safety.
Environmental bills. They get too cozy with the Chesapeake Bay Foundation and other backers of Radical Green. Let the regulations in place have a chance to work before dreaming up new stuff.
So I was a little disappointed to see none of the local legislators make the list, although had they had two more bills to score Adams and Otto may have made the 80 percent threshold. But it is tough to score well in any such rating system so hopefully we will see better in the 2016 edition.
This time we meant it. After having a last-minute meeting called last month, a little planning made this month's meeting go a long way. It got off to an unusual beginning as the Jaycees meeting in the next room joined us for the Pledge of Allegiance before we went solo on the Lord's Prayer. (Usually we do this in reverse – as a former WCRC president once said, God before country. I think that it was the late George Ossman who introduced that tradition.)
The meeting was jam-packed with information because we had two speakers. It was suggested to us that we have Anthony Gutierrez from the Board of Elections in to go over the new paper-ballot voting machines we will be using, so he led off the evening with a pair of short videos explaining how they will work. For early voting there will be one ADA unit (which is slightly enhanced for those who are physically impaired but can be used by anyone) and two optical scanner units. Filling out a paper ballot is like filling out the standardized tests you had in school except you fill the circle in with an ink pen.
There were a few other election notes he passed along, including the fact that over 10,000 Wicomico voters will not be participating in April's primary because they are unaffiliated. (This is out of about 58,000 total.) Gutierrez noted as well that the last Presidential primary with no incumbent (2008) had 48.9% for a February primary, but he predicted April's turnout would be more like 35-40%. There will be five separate races on the ballot, he added: President, U.S. Senate, Congressional representative, and delegates/alternate delegates to the national convention. Voters will be sent their specimen ballots the Monday before early voting begins.
Mark McIver of the Central Committee asked whether more election judges were needed, and Gutierrez said they were fine for the primary. But he encouraged those interested to apply anyway for November and to be backups in case they have a need in April. Compensation for the day is $250.
Another question about same-day registration came up, and Anthony replied that it would be effective only for early voting. Some voters who had MVA information in the system would be "precleared," he added.
I asked if the new machines would result in delays, but Gutierrez noted from the experience he had with observing these machines in other elections that the process was actually faster. They would use the primary to make adjustments for the larger turnout in November, he added.
Once Gutierrez wrapped up, our other featured speaker began. Having served as the co-chair of the Redistricting Reform Commission (RRC), Walter Olson came to speak about Maryland's gerrymandering and the commission set up to suggest improved voting districts. Legislation to create a non-partisan redistricting body was introduced earlier this session, with hearings next week in both the House and Senate.
"I think we've got to end the practice of drawing our congressional districts so that politicians can pick their voters and not the other way around." Those weren't the words of Walter Olson; it's a quote from the most recent State of the Union speech Barack Obama delivered. He also made the point in Illinois during a recent appearance there, said Olson. Moreover, 70 percent of Maryland residents would prefer an independent commission, which is fitting: since North Carolina's gerrymandering (considered the worst in the country) was struck down in court, the new number one worst was the great state of Maryland.
With the recalcitrant Democrats being placed in an uncomfortable position of being against both their president and the voting public – as Olson pointed out, "they're not happy with what we're doing" - their only response was to complain that five hearings around the state weren't enough. And "did we ever get an earful" at the hearings, said Walter. Districts were created not to fairly represent, but "to reward and punish" legislators. Olson handed out a chart that clearly showed how the system was exploited: all but 6 Republicans represent districts with larger-than-average population, while Democrats represent all but one of the smallest 25 districts. (The one Republican who represents a small district won election in 2014 over an incumbent Democrat.) Needless to say, Mike Miller and Michael Busch are "not enthusiastic" about this proposed change, even though it's been debated off and on over the last half-century.
The RRC was an 11-member commission, with seven selected by Governor Hogan (3 from each party, plus one unaffiliated) and two from both the House and Senate, one from each party. Their report of suggestions were based mainly on those adopted by California, with some tweaking to fit our Constitution. The report was adopted by a 9-2 vote, and you can imagine which party had the two and where they came from to serve on the RRC. The legislation introduced on Hogan's behalf has "most of" the recommendations, Olson added.
What the RRC asked for was stronger criteria for population, with just a 1% variation. Districts had to comply with the Voting Rights Act, of course, but also needed to be congruent, contiguous, and compact. No more "blood splatters at a crime scene," as Olson described Maryland's Third Congressional District.
The redistricting body itself was intriguing to me. Applicants would be screened to make sure they weren't connected to the process as members of the legislature, their families, etc. After that, they would be placed into groups representing each of the two principal parties and unaffiliated/minor party voters, those who hadn't switched registration recently. Out of 10 applicants in each pool (Republican, Democrat, unaffiliated) selected based on these criteria, three of them would be randomly chosen to serve on the body, with the chair chosen out of the three unaffiliated members.
But the cool part was that anyone could submit a map. Olson said that Pennsylvania's map, which replaced a gerrymandered original done by the legislature, was done by a piano tuner who submitted a map which best complied with the requirements.
In the question-and-answer period, Olson stressed that the redistricting body would do both Congressional and state legislative districts. But it likely wouldn't be pressed into service until after the next census because it was unlikely the system in place now would be overturned unless it was found to be a Voting Rights Act violation. A suit by Judicial Watch regarding Maryland's gerrymandering was "somewhat of a long shot" to succeed, assessed Olson.
Walter also was careful to add that, while he works at the Cato Institute, the Institute is not involved with this. He was doing this as a private citizen.
Finally, we got to club business. The treasurer's report was given by Muir Boda, who has stepped in to become treasurer since the previous officeholder had to resign to take a job across the Bay. We are working out kinks in the accounts since they were based on her e-mail.
Mark McIver reported for the Central Committee. After a moment of silence for Blan Harcum, we learned his funeral will be Saturday, March 5 at Holloway Funeral Home, with visitation the evening before. He also related that he testified for the elected school board bill, which has now passed the full Senate (with a clean sweep 47-0 vote, by the way.)
Julie Brewington, speaking on behalf of the Ted Cruz presidential campaign as its Lower Shore coordinator, announced she had county chairs in each of her counties and was seeking sign locations along U.S. 50.
I made a motion to clean up some business so we could have our officer elections, and all five officers were nominated and elected by acclamation. I'm going to use Julie Brewington's photo here. (She posted it on social media last night, so she gets the credit.)
From left to right, it's Treasurer Muir Boda, First Vice-President Dave Snyder, President Shawn Jester, Second Vice-President Shawn Bradley, and Secretary Michael Swartz. (Me on the far right – whooda thunk it?)
We found out from Jackie Wellfonder that the Ehrlich book-signing was rescheduled for Friday, March 11 and relocated to the lobby of the City Center building, adjacent to Roadie Joe's. She was hoping to coordinate with the College Republican event that has to be similarly rescheduled, but the date didn't work with SU.
Woody Willing reminded us the WCRC Scholarship was still available, but the deadline was fast approaching (March 1.) Graduating seniors from any Wicomico County school (public, private, or homeschooled) are eligible provided they complete the application process. I asked if the application could be put online.
Willing also asked if we could make our annual YMCA donation, which was met with the club's approval.
Julie Brewington returned to announce the Republican Women of Wicomico would next meet March 2, with Mitzi Perdue as the speaker.
Joe Ollinger and John Palmer gave us some news about the Wicomico Board of Education, which was getting deeper into its superintendent search. They should be close to selecting the next time we meet, said Ollinger. Various focus groups comprised of about 75 people total were considering the applicants, added Palmer. John also said we were "on track" to getting Board of Education meetings on PAC14.
Nate Sansom updated us on the Teenage Republicans, which would have their first meeting March 4 at the Centre of Salisbury library branch. This led to Patty Miller being asked to fill us in on the SU College Republicans, which are having a fundraiser at the Greene Turtle March 21 and are "working on some big things."
Matt Maciarello updated us briefly on legislation he was interested in, adding the Eastern Shore delegation is "working so hard" on these items. Included in his assessment was the bomb threat prosecution bill sponsored by Mary Beth Carozza as well as a bill dealing with sex offenders.
As you can tell, it was a meeting full of information that we somehow crammed into about 90 minutes. Our next gathering will be March 28, with U.S. Senate candidate Dave Wallace the first statewide candidate to stop by one of our meetings since 2013.
If not for Jonas, this post probably would have had at least one photo of our former Republican governor Bob Ehrlich. But since our friend Jonas left him stuck across the bridge, in lieu of the book signing fundraiser we instead had a hastily arranged meeting to go over a handful of announcements, with the first one being prospective dates for rescheduling the event are March 7 or 14. Of course, that's subject to change and as I brought up the former date would conflict with our Central Committee meeting. Jackie Wellfonder added that the event was nearly sold out, but there were still a few spots available.
(Historically there seems to be an issue with wintertime events featuring Bob Ehrlich here in Wicomico County.)
But anyway, the meeting announcement caught me by surprise since I hadn't even gone through and compiled the minutes from the last one. Nor did we have a copy of the Treasurer's Report, but interim treasurer Muir Boda had the excuse of having a meeting prior to this one. We were informed, though, that there were some changes to our accounts made necessary by the abrupt resignation of our previous treasurer and integration with the WCRC Paypal account.
Julie Brewington and I tag-teamed on the Central Committee report, which didn't feature a whole lot. As a body we had done our post-mortem on the Lincoln Day Dinner and discussed having another "retreat" as we did last year.
Jackie Wellfonder informed us that the Governor's Ball would be February 18. That brought up another question regarding how successful a couple local events turned out to be, with Jackie and Julie replying that Mary Beth Carozza's fundraising event was "hugely successful." Shawn Jester added that Andy Harris's Fruitland town hall meeting was well-attended, without the drama of the subsequent Bel Air townhall.
Julie Brewington then noted the Republican Women of Wicomico group was growing, and its next meeting would be February 3 at Brew River. Muir Boda is the slated speaker for the 11:30 lunch meeting, with Mitzi Perdue set for the March meeting. She was "very optimistic" about the direction the group was taking. Julie also took a moment to announce she was the Ted Cruz campaign coordinator locally.
Marc Kilmer gave us an impromptu update on County Council, with the biggest issues right now being the capital budget and proposed mega-chicken house. The bulk of the capital budget borrowing would be going toward updating and upgrading the county's radio communication system, to the tune of $11 million. As for the chicken house, which would be the largest in the county, Kilmer explained that the county really had no say on its construction and operation beyond the planning and zoning aspect – it would be an agricultural use in an area zoned for agriculture. Most of the scrutiny of its operation would come from the state, Kilmer added.
Kilmer also expressed his concern with negotiations with the county's law enforcement officers regarding a proposed pension program, noting other counties have had issues with the costs.
There were a couple legislative updates given. I updated the progress of the school board bill (SB145), which has a hearing on Wednesday, while we also were alerted to the possibility the sprinkler bill (HB19) wouldn't make it out of committee. (I checked on the latter, and found its scheduled hearing has been cancelled.)
In more mundane club news, we'll have to look for a new Crab Feast chair and we discussed some planning items for the coming year.
Things to add to the calendar: The RWOW group is doing a paint night at Brew River on February 11 from 6 to 8, said Julie, while Jackie added that Bob Ehrlich is scheduled for another book signing event at SU, but there you don't have to buy the book to attend (at a reduced cost.) She suggested we could support their February 15 event without buying the book then doing the WCRC fundraiser to get a copy.
Next month's meeting will be a double dip: Walter Olson of the Cato Institute will discuss Maryland's gerrymandering, while Anthony Gutierrez of the Wicomico Board of Elections will demonstrate the new voting machines. That meeting will be February 22. Sounds like a good one!
It's been almost three years since this was a regular feature on my site, but it appears I may have to bring this back to deal with all the stuff that I receive and deem to be somewhat newsworthy - just not enough to devote an entire post to. Ideally I can use it to clean out an e-mail box that gets too full of stuff that otherwise sits for awhile. As always, we'll see how it goes but it's been long enough that I had to go look up where I was in the series.
If you recall when I discussed the state convention last week, Maryland National Committeeman Louis Pope was pleased with the national GOP's fiscal situation and it was also announced that the state party was finally out of debt. So it's interesting to find out our national Democratic counterparts are doing what they do best: spending money they don't have. Even with Martin O'Malley still in the race, they can't just raise taxes to cover the difference.
It's doubtful that Hillary's campaign will be hurt, but Democrats are also salivating over retaking the Senate as the seats won by the GOP in the first TEA Party wave of 2010 come up for re-election in a Presidential year. That's where a shortfall could come into play.
Speaking of the state convention, the sponsor of the amendment which actually stripped the voting rights of three auxiliary organizations now questions his own standing in introducing the amendment in the first place. It's the ultimate in do-overs, but we have to ask whether he would have been as honest had the proposal passed.
Now Tony Campbell wants a special convention to right what was made wrong.
In discussing this with a former Chair, one thing that I learned is that seldom does an individual vote matter on the Executive Committee – there is rarely a time when a vote is close enough to make a difference. The only instance he could think of where a vote was close like that was the vote of no confidence in former Chair Jim Pelura back in 2009. That was still a relatively lopsided vote, 20 to 10, but the county chairs only voted 14 to 10. It was the six leadership and auxiliary votes that padded the margin.
(It's also a rare time of late that I cite the balky and ad-bloated Red Maryland site, but you'll notice the reason for the exception.)
So I think we should deal with this in due course. Perhaps we can do like we do for government "shutdowns" and give the auxiliary organizations their votes later as back votes once we rectify the situation, as I know we will.
Staying with the Maryland GOP, a few days back I received a list of 61 Republican leaders throughout the state who are backing Delegate Kathy Szeliga in her U.S. Senate bid. As you may expect, there are a lot of General Assembly members on the list: locally it includes Delegates Christopher Adams, Carl Anderton, Mary Beth Carozza, and Charles Otto as well as Senator Addie Eckardt and County Executive Bob Culver. 42 of 50 Republican Delegates and 13 of 14 GOP Senators are on the list. (George Edwards of western Maryland is the recalcitrant Senator.)
But I noticed one name among the local delegation was missing: it looks like Delegate Johnny Mautz has kept his powder dry for the moment. I can't figure out if he just didn't want to sign or if he's backing someone else – with his Congressional staffer connections, he would be a logical backer of Richard Douglas. Just grist for the mill.
I haven't even started to make my mind up on the race, but I will say Kathy has a long way to go to get my support – if only because her campaign website is still bare-bones a couple weeks after she jumped into the fray. That's the type of lack of attention to detail that can sink a campaign.
Ethanol hasn't been in the news much lately, but I thought it was worth pointing out that one of my favorite energy writers, Marita Noon, recently detailed how Ben Carson has moved to the right side of the issue. API's Linda Rozett adds her two cents as well, making the case that dairy subsidies didn't work out well so neither are ethanol carveouts creating the desired effects. Look, when we have plenty of oil there's no real need to use food for fuel, despite what the corn growers who are enjoying the artificial price support may say.
Of course, people like me who believe food shouldn't be used as fuel tend to fall into the category of climate change "deniers." The folks at Organizing Against America For Action are excited about events in Paris. (Not the Friday the 13th ones, although this could be just as detrimental to millions.) In an e-mail exhorting supporters to "call out" skeptics, they say:
Remember when getting an elected official to even mention carbon pollution or climate change was a big deal? We've come a long way.

Today, the momentum for action has never been greater. Climate change denial in America is at an all-time low, and hundreds of companies have come out to support rules on power plant pollution. As if that wasn't enough, religious leaders like Pope Francis are insisting that there is a moral obligation to address climate change.

In just two weeks, more than 160 nations, representing more than 90 percent of the world's carbon pollution, are joining together for an international conference to tackle climate change, while we still can.
I dare them to call me out. YOU ARE A FRAUD. We've been holding steady on global temperature since the turn of the millennium, and if anything the indications are we are getting colder, not warmer. Throttling back the economies of the developed world will only weaken the rest of the planet.
Yet there are people talking common sense:
Climate change deniers are trying to spoil this big moment by undermining America's commitment to act on climate change.

Some senators, like James Inhofe and Mitch McConnell, are going out of their way to undermine American commitments. Senator Inhofe, famous for bringing a snowball onto the Senate floor as proof that climate change doesn't exist, has committed to crash the talks and be a "one-man truth squad," telling the international negotiators how little he believes in climate science.

Senator Inhofe isn't alone. Back at home, climate change deniers in both chambers of Congress are working to overturn the carbon pollution standards for power plants.
Good. I hope they succeed in overturning the job-killing restrictions. Just call me the Republican uncle, except I can do more than recite talking points.
Killing – not of jobs, but of fellow public housing residents – may not be out of the realm of the 6,000 drug convicts the Obama administration is releasing, and thanks to Judicial Watch we also know that they will be welcomed into public housing. I will grant that probably 99% of them will be more or less model citizens, but that still leaves a few dozen miscreants to cause trouble. I think Judicial Watch has reason to be concerned, as do those residents who get them as neighbors. Perhaps the same sort of notice granted when sex offenders move nearby is in order, at least to start. Call it a probationary period.
Finally, let's end on a happier note. I wrote about a similar event last year, but over the weekend we were encouraged to participate in the Made in the USA Christmas Challenge by the Patriot Voices advocacy group. While most of the electronics we use are made overseas, it is possible to purchase gifts made in America. (One familiar group has some suggestions.)
It's worth noting, though – as of this writing, just 116 have signed up at Patriot Voices. That's not very many patriots, so hopefully more people than that are conscious of the advantages of supporting our businesses.
So there you have it – you are more informed and I have a clean inbox. I love it when a plan comes together.
After a delay of a month caused by a trial that resulted in a conviction, we got to hear from Matt Maciarello tonight as our featured speaker. So we did the usual Lord's Prayer, Pledge of Allegiance, and roster of distinguished guests before received the treasurer's report.
Matt went over the two key issues we're having – juvenile crime and the opioid epidemic. Most of his time was spent talking about the latter, although he noted specific information on overdoses was hard to come by due to HIPAA restrictions. It was possible to deduce this information from other factors, though.
Noting that "you can't arrest your way out of the problem,"  Maciarello pointed out that the county had what he described as an "opioid reduction officer," who was tasked with, among other things, figuring out what other states were doing. One example Matt used was the TROSA program in North Carolina, where rehabbing addicts were both treated and taught one of five trades.
Closer to home Matt wanted to see a 24-hour call center established so those in need could be connected to resources like available treatment beds. He also wanted to differentiate the legal approach to those who sold heroin for profit as opposed to those who sold it to feed their habits, although the idea was to get both off the streets. He also advocated for better coordination of treatment, explaining that support shouldn't end when a patient leaves the center. Many people need methadone treatment for months or even years afterward, he added.
Yet there was a compassionate side to the approach. Matt believed we needed to "take away the shame from opioid addiction" because it's touched a lot of lives and people shouldn't be discouraged from getting help. Many times the problem began with over-prescription of legal drugs or kids accessing their parents' medication, Eventually this can lead to heroin addiction, which is dangerous because of how the drug is "cut" with other compounds.
Juveniles were also a concern for Maciarello, who noted we have "a critical mass of anti-social teens."  Matt seemed a little frustrated with the current juvenile system, which he had "broad philosophical issues" with. A different path he spent some time encouraging was that of mentoring, for which there is a critical need based on a lengthy waiting list of youth looking for one. Even an hour a week can make a difference, said Matt! and he encouraged the club to be a leader in that regard. We were pleased to learn County Executive Bob Culver was on board with this idea, as Culver revealed some employee policy changes to accommodate the need were in the works.
Opioids accounted for about 70 percent of the crime problem, but overall Matt's goal was "to set the model for the state" on reversing the problem.
All that was a tough act for City Council candidate Roger Mazzullo to follow, so he stuck more to his pro-business agenda. He wanted to work with the new mayor on bringing jobs and industry to the city through incentives; however, he also mentioned the desire to address youth crime through more activities for the youth. As a neophyte politician, Roger was "impressed" with the cooperation between law enforcement and the community; in turn, Maciarello praised Mazzullo for being the one candidate to meet with him and raise "thoughtful questions."
One thing I asked, based on the marketing experience he touted, was what strengths he could use to sell Salisbury. He emphasized the rural feel of the area, but the subject somehow came atound to specific stores like Harris Teeter or Redner's, specifically to fill the old Giant/Super Fresh location near the north Walmart. (Personally I think Redner's would be the better fit there but I could envision either.) And you can count Mazzullo among those who want a Cracker Barrel. Still, he added "I believe in local (business)," adding he was less than impressed with his opponent's business record as mayor.
After all that, the reports were fairly anti-climactic. On behalf of the Central Committee, Mark McIver reminded us the Lincoln Day Dinner was in less than two weeks, and we were looking for silent auction items. Thus, we secured a one-hour tennis lesson courtesy of Delegate Mary Beth Carozza (who as I recall played collegiately) and a surfing lesson from Matt Maciarello. Delegate Carl Anderton didn't have a lesson to give, but a guided tour of the State House was a good substitute.
Alison Pulcher spoke on behalf of HERO Day, which will also occur on November 7. The main events are a 5k run and dog walk, but other events and speakers would also liven up the festivities.
I gave a brief synopsis of the fall festivals, taking the time to thank my volunteers, and also reminded the group we will need to establish a Nominations Committee by next month to select possible officers for next year. Finally, Joe Ollingrr asked if we could resume getting registration reports from the Board of Elections.
Truly, it was one of our more informative meetings of the year. The next one is slated for November 23, the Monday before Thanksgiving. It will be the final WCRC meeting of 2015.
Last week the state wrapped up a series of hearings on the state's redistricting process. Unfortunately, the local hearing was neither local (held in Easton) nor convenient (held on a weekday afternoon.) While the Eastern Shore is well-ensconced in the First Congressional District, it endured plenty of change in the last state redisrtricting as boundary lines were shifted dramatically and former multi-delegate districts broken down for single delegates.
To be more specific about the points I mentioned above, the Democrats in charge of the 2010 census redisrtricting placed two Republicans in a single-member district based mainly in Somerset County. To form the revamped District 38A, they chopped off the southern portion of Wicomico County that freshman Republican Charles Otto was elected to represent in 2010 and pushed the district eastward into Worcester County to include fellow freshman GOP member Mike McDermott. Otto kept the seat in 2014, but McDermott lost a bid for Senate to incumbent Jim Mathias.
The part of Wicomico County formerly represented by Otto shifted mainly to District 37B, a fairly safe GOP district then represented by Delegates Addie Eckardt and Jeannie Haddaway-Riccio. After neither sought re-election in favor of higher office, the district became home to two freshmen Republican Delegates: Christopher Adams of Wicomico County and Johnny Mautz of Talbot County.
The rest of the old 38A was placed into a greatly diminished District 38B, one which encompassed territory from Delmar to Fruitland through the eastern half of Salisbury. Removing the rural portions of a former two-delegate seat was supposed to make it easier for incumbent Democrat Norm Conway, but he was still ousted by Republican Carl Anderton. The rest of District 38B not taken by Otto's district was rebadged District 38C, a fairly solid Republican area now represented by Delegate Mary Beth Carozza.
The only district that stayed relatively the same was District 37A, a majority-minority district where Delegate Rudy Cane retired and left the field to freshman Democrat Sheree Sample-Hughes. As it turned out, the only incumbent Delegate to survive out of the two districts was Charles Otto. Wicomico County is now represented by five freshman Delegates, four Republican and one Democrat.
Yet the cynicism wasn't just limited to our area. According to Delegate Jeff Ghrist, there are 71 districts that have an above-average population while 70 fall below the average. It's just amazing that 44 of the 50 Republicans represent districts in the larger-than-average category, while 64 of 91 Democrats come from "small" districts. Given that a variation of 5% is permissible, there could be 4,000 more residents in a GOP district than a Democratic one, allowing the party in power an extra 6 or 7 seats across the state.
Ghrist also complained about the size of the districts. He lives near the border of District 36, but noted adjacent District 37B spans from Denton to the Somerset County line and from the Delaware border to the far reaches of Oxford and St. Michael's as a two-member district. His District 36 takes in the northern part of the Eastern Shore as a three-member district. While most of the counties on the Shore are too small to support their own district, it is possible for the Shore to fill four full three-member districts with a little help from the eastern end of neighboring Harford County.
The key, though, is single-member districts. A county like Wicomico could have two members to itself, while sharing the majority-minority district in existence with Dorchester County. Geography may dictate some crossing of lines, but the districts can be made much more compact and contiguous.
Obviously Senate districts will need to span several county lines. The remedy to this is to go back to a system which, unfortunately, was dealt its mortal blow by the ill-advised passage of the Seventeenth Amendment and formally died with the Reynolds vs. Sims decision in 1964. Until then, each Maryland county had its own Senator to represent county interests. The right thing to do would be place the Senate in the hands of each county's legislative body, allowing them to choose two (for a total of 48) and staggering the terms to having them pick a new one every two years. (Like the U.S. Senate, it would be the job of the Lieutenant Governor to break tie votes.)
If they had the cojones to challenge the 51-year-old Reynolds ruling Maryland can be a leader in moving forward into the past, restoring the original intent of our founders in balancing the interests of the people and local governments.
In part two, I want to consider our Congressional districts.