As I have often done, I'll allow the pictures to tell most of the story – at least until the speeches begin.
On Saturday night, a cautiously optimistic Wicomico County Republican Party welcomed our two federal candidates to its fold for its annual Lincoln Day dinner: our current Congressman Andy Harris and a man who hopes to join him on the Senate side of Congress, Tony Campbell.
But there were some other noteworthy things to relate as well, so I'll begin with this picture.
It's also worth pointing out that, besides the silent auction there was an envelope raffle (place $5 or $10 in the envelope and if drawn you win 10 times the amount) and a 50-50 raffle to benefit the co-hosting Salisbury University College Republicans. So a lot of money was changing hands.
In his remarks, Lincoln conceded that "the nation has taken a downhill course" in recent years, as "incivility is the new norm." Cautioning the gathering not to betray tradition and values, Lincoln stressed the importance of his Cabinet being comprised of the most able men, not yes men.
As part of this narrative I also want to give a shout out to one of our two Volunteers of the Year, a young man who eventually closed out the evening with his benediction.
Nate Sansom holds a special place with me because he's the one I recommended to fill my spot when I left the WCRCC in 2016, and not just because to our knowledge he'd be the youngest CC member in state history: it was because I knew he'd be an asset to the committee. (I'd like to think his selection was out of respect to my wishes.) But because he wasn't one of the top 9 contestants in the Central Committee's election back in June, his tenure comes to an end when the final results are in next month. One of his legacies: the state GOP now officially favors a system where each Congressional district controls one Presidential electoral vote with only two at-large, similar to Maine and Nebraska but with ten electoral votes at stake, which would make it the largest such state.
Yet somehow I don't think Nate has reached the limits of his political achievement. Perhaps someday he will be a successor to our main speaker.
I noted in the photo of Lincoln above the overall topic of his remarks, which may have been overly long for neither remaining speaker took a great deal of our time. (Photo credit for the next two pictures goes to Wendy Anspacher, an incoming member of the 2018-22 WCRCC.)
Republican U.S. Senate candidate Tony Campbell is, according to conventional wisdom, the latest cannon fodder for a Senate seat that's been held by Democrats for seven consecutive terms (five for former Sen. Paul Sarbanes and two by Ben Cardin) and is being sought for the second time in a row by a (different) politically unknown but well-funded unaffiliated challenger.
But Tony saw it differently. Telling us that the Democrats were still trying to find themselves, Campbell predicted that Republicans will be elected on November 6 and it will result in "a whole bunch of gnashing of teeth by Maryland Democrats." As evidence, he noted the increased early voting numbers in strongly Republican counties.
Campbell criticized Democrats by stating, "I would hope our elected officials have ethics," and, referring to the uproar they caused over Brett Kavanaugh's SCOTUS nomination, told the group that Christina Ford is simply "collateral damage" to the Democrats. To that end, the human caravan in Mexico "is all about the midterms." Democrats, he continued, don't care about people, they care only about power. To counter this, Republicans "just have to be bold," but we have to make a commitment to principles. "We can win and be conservatives" in Maryland, said Tony.
But hanging over this was the specter of race. "I knew when I got into this I would be called an Oreo," said Campbell. Noting that the band played Lincoln's "favorite song" Dixie on his exit, Campbell felt he needed to speak the truth and tell us, while it may be historically accurate (and it is), playing that song sends a bad message to minority voters.
However, it should be pointed out that, aside from the two districts which are majority-minority, Maryland's Congressional delegation (nine of ten of whom are Democrats) are all white males while the two non-incumbent Democrats (including the guy challenging our next speaker) are also. Compare that to Maryland Republicans having two women (including one woman of color) in the running for Congress as well as "minority" candidates in the two majority-minority districts (both are white) and the black man running for Senate and ask yourself: if diversity is your thing, which party is the more diverse?
While it was important to Andy Harris that we elect Republicans, he had a clear request for us: the next time he runs for re-election he wanted Wicomico County to be a Republican county in terms of voter registration: since they elect Republicans they may as well come home to the party. He added that if Larry Hogan wins re-election and brings in five new Republican state senators, the redistricting map they draw will likely allow for three Republicans in Maryland's Congressional delegation.
He also had a job in mind for Larry Hogan once he vacates the governor's chair in 2022: "Larry Hogan can beat Chris Van Hollen any day of the week," predicted Harris.
Turning to the First District and his opponent, Harris saw him as soft on the Second Amendment, which was a core tenet of this district, Additionally, Andy opined that the state and national Democrats have left the First District Democrats behind in their rush to move in an even more leftward direction. It was beginning to work until the Democrats "overplayed their hand" with the Kavanaugh saga: for example, the Beto O'Rourke vs. Ted Cruz Senate race in Texas was a toss-up before the Kavanaugh confirmation, but now Cruz has opened up a significant lead.
Meanwhile, the caravan in Mexico "is the Democrats' worst nightmare" because it makes border security an issue and motivates GOP voters. The election will be about border security, Harris confidently continued, and "November 6 will be a great night in Maryland."
One other race Harris had a keen interest in was the state Attorney General race. "Nothing Brian Frosh did as Attorney General surprises me," said Andy, who served with Frosh in the State Senate. But under Frosh, Baltimore "is a lawless city."
In conclusion, Andy urged his fellow Republicans to vote for their party up and down the ballot and encourage others to do the same.
I want to conclude this piece with a non-political photo I thought was pretty cool, if not necessarily in terms of color or composition. Outside on the sidewalk I saw this:
Indeed I looked it up, but I like to have a little context in Scripture so let's add the previous verse to this. 1 Peter 5:6-7:
Humble yourselves therefore under the mighty hand of God, that he may exalt you in due time: Casting all your care unto him; for he careth for you.
It appears someone at Salisbury University has a serious Bible study going on. Considering I sat amidst several of the College Republicans and this was still on the sidewalk, maybe there's hope for us yet.
This time around it will be fewer pictures and more text. It's not like I haven't done this for many years at the same venue. But you may recall I took a hiatus from party politics for awhile, meaning this was the first such event I'd attended in two years.
So I was greeted with mainly open arms, although many people thought I had already moved to Delaware. (Not quite yet.) Regardless, the feel of the event was such that I felt right at home – the only difference was that we were supposed to begin an hour earlier to accommodate our speaker. As it turned out, we got underway about 45 minutes late (or 15 minutes early by our "normal" schedule), so I who was there at 5:00 for a 6:00 dinner had plenty of time to commiserate and hear the band play.
One of the new folks I got to meet was the lone statewide candidate to attend. She is definitely having fun on the campaign trail.
Angie Phukan (a.k.a. "MsComptroller") is, as the tagline would suggest, running for the GOP nomination for Comptroller. To date she's the only candidate to file against incumbent Democrat Peter Franchot, who likewise has filed. She hails from Ocean City, so she's a statewide candidate in our backyard.
I had actually conversed online with her a few weeks back when she was trying to figure out her yard signs. I suggested simpler is better, and assured her last night she need not worry about separate signs for primary and general elections. "Your job right now is to build name recognition," I told her.
Of course, most of our local contingent of folks were there as well. One I want to point out is Mary Beth Carozza, Delegate from District 38C. Here she's between County Council member from District 5 Joe Holloway and his wife Faye. (Holloway is once again my Councilman since we moved.)
The reason Carozza is important to the story is she's making a "special announcement" next month in Ocean City.
The speculation is rampant this will make formal what's been rumored for awhile: notice how much Jim Mathias is on social media these days? If Mary Beth indeed decides to try for the promotion, she would join Democrat-turned-Republican Ed Tinus in the race, although Tinus could then decide to seek the open Delegate seat.
As always, we began with a visit from our 16th President and the event's namesake.
I had some fun with the photo since it demanded an oldtime look. As he always does, Lincoln waxed eloquent with tales from his life, this time focusing on the time he was a young man who studied voraciously to tackle new opportunities that came his way, such as surveying or winning his first elective office at the age of 25. (Oddly enough, the Whigs of the day had to contend with voters who were ineligible because they didn't live in the district or weren't yet citizens.) Observing today's political landscape, he noted that there seemed to be no survey plan to drain the swamp.
As I was driving around to find a parking spot before the event, I spied a well-dressed man who seemed like he was looking for the door to get in. I thought it was David Bossie and it turned out I was right. He may be our Republican National Committeeman and entrenched as a confidant for President Trump, but he was still baffled by the setup of Salisbury University's Guerrieri Hall.
But when it was Bossie's turn to speak, there was no confusion. First of all, he asked how many in the room thought a year ago that Donald Trump would win. When a fair number went up, he said "Liars," adding "I didn't raise my hand."
"I'll tell the President that he had a room full of people who knew he would win," added Bossie. He only figured it out as he was feeding information to the soon-to-be President on Election Night.
David had met Trump several years earlier through a mutual friend who believed Trump would be willing to lend the use of his golf course for a charity event Bossie was organizing. The main reason for Bossie's interest in that cause was his then-six month old son, who had several medical issues that piqued his interest in fighting against Obamacare in the belief it would damage our medical system that was aiding his son.
Bossie's role in the campaign and eventual transition was "a humbling experience," although for a time it greatly diminished when Paul Manafort was hired. Manafort "froze him out," so when Trump "thankfully…(got) rid of Manafort" Bossie helped lead the comeback from a low point after the GOP convention.
So the day after Trump shocked the world, they realized there was no formal transition plan. In part, that was superstition from Trump, an avid sportsman who had the belief – like many athletes who compete regularly do – that considering the transition would be a departure from routine and would jinx his campaign. Shortly after the victory, though, David was selected as the Deputy Executive Director of the transition.
While this was going on, Bossie remained at the helm of Citizens United, which he described as "focused on the President's agenda like a laser beam." The problem with enacting it, continued David, was that our government was "dysfunctional and out of touch." Since the House and Senate were elected on the same issues as Trump was, their reluctance to cooperate was an affront to President Trump. "He's a pissed off dude, isn't he?" said Bossie about the President. "Get something done and the temperature goes down," he added, referring to the Senate and relations between them and Trump. If they do, there's a "good opportunity to pick up Senate seats…really good math for us." Bossie mentioned races in Ohio and Missouri as strong possibilities for pickups and welcomed the changes in Arizona and Tennessee with the retirements of Jeff Flake and Bob Corker, respectively.
(Interesting to note: the mentions of Flake, Corker, and John McCain drew boos and hisses from some in the crowd.)
We needed, though, to put aside the things of a year ago. Remember, "if Hillary Clinton wins, the nation as we know it is over," said Bossie. But since Trump won, things have taken shape with our economy: the Dow is "out of its mind" and as far as regulations go, Trump promised to eliminate two for every new one. "Do you know how many he's done?" Bossie asked, and someone in the crowd you may know well said, "Sixteen."
"Who said sixteen?" he asked. "Showoff." Indeed, the Trump administration is mowing down regulations at a frenetic pace.
But the economy is missing one thing: a "robust" tax reform package; one that Bossie described as "generational."
"Shame on us if we don't get it done," Bossie said, and the sooner the better: if enacted by year's end and made retroactive for 2017, the boost in the economy will kick in around next summer and make the 2018 election a pocketbook balloting. If done in the spring, the effects won't be nearly as great, argued David.
While Bossie apologized in advance for not being able to stay too late, he did answer a few questions.
The first one required him to put on his National Committeeman hat, as he was asked "what can we do on the Eastern Shore?"
Our focus, said David, should be first on winning the needed five State Senate seats to sustain Governor Hogan's vetoes. Of course, that also meant we had to turn out for Hogan as we did last time so he could defeat the "worst group of Democrats" in the country.
He was less optimistic when asked about what we could do about Ben Cardin. "There's lost causes, then there's lost causes," said Bossie. That may be news to Sam Faddis, who is the only Republican with an FEC account in that race so far. (No one has formally filed, save three Democrats not named Cardin who are hoping the incumbent retires or keels over.)
Someone else asked whether GOP money was going to Donald Trump. Their investment is "behind the scenes" right now, assured Bossie, although Trump already has a 2020 re-election account as well. The RNC is "stockpiling" money with a large advantage in fundraising over the Democrats at the moment.
Turning to foreign affairs, a question was asked about our relationship with China.
Trump was focusing on the Chinese president, David said. "No one wants war," and by dealing with China – which is the main trading partner of North Korea – Trump is dealing with an entity that could "suffocate" North Korea if they chose. It's a combination of tough talk and diplomacy, he added.
Finally, it was asked about the governors not supporting Trump. Bossie argued that their agenda was better off with Republican governors whether they agreed with President Trump on everything or not. And even though our governor didn't support the Trump bid, it was "vital" he be re-elected anyway, concluded Bossie.
With that, he was off to see his family before an early morning gig on Fox News, so the conclusion of the event was the introduction of a number of elected officials, club officers, and 2018 candidates, along with the drawing of raffles from both the Wicomico County Republican Club and the College Republicans. As it turned out both grand prizes were donated back to their respective organizations, so the WCRC can once again give away a $1,000 Dick's Sporting Goods gift card and the College Republicans netted $280. Wicomico County GOP Chair Mark McIver also announced that there were 130 people in attendance, making this a successful event that grossed better than $8,000.
Just like in the beginning, there are people who stay around and gab the night away. In this case, it's Delegate Charles Otto (left) with Joe Schanno of the Department of Natural Resources (center) and Dwight Patel (right), who annually makes the trip from Montgomery County to show his support. We finally cleared out about 9:30, although there was an impromptu afterparty offsite some chose to enjoy.
It was nice to be remembered, and as I had pointed out to me by County Councilman Marc Kilmer, now that I'm a "free agent" I can pick and choose my events. Trust me, I'm still on the mailing lists.
But writing this was like riding a bicycle – you don't forget how to do it even after awhile away. It was fun.
We had a good gathering for our primary eve meeting, buoyed by the presence of the families of the winners of our annual scholarship contest. Three things that were missing at the start, though, were three of our officers so Second Vice-President Shawn Bradley got things underway with a little assistance from me. Fortunately, we do pretty much the same thing as an introduction every month so we made it over those bumps in the road and heard our Central Committee report first.
County Chair Mark McIver announced we were still seeking applicants for our two upcoming Board of Education appointments, although we already had 5 with their information turned in. He also reminded us that the end of this process could be at hand, as the bill allowing us to vote on whether we wanted an elected school board was passed by the General Assembly. Jackie Wellfonder revealed the signing ceremony was slated for tomorrow, with Governor Hogan signing the Senate version sponsored by Senators Jim Mathias and Addie Eckardt.
He also spoke about the voter affiliation drive to allow people to vote in our primary. It was a multi-prong push combining a mailing, letters to the editor, and advertising in local media. I noted that the effort had worked to some extent – according to Board of Elections statistics, I recalled the GOP had gained about 400 voters in March, the Democrats about 250, and unaffiliated voters falling by about 250. (Actual numbers as I looked them up just now: Republicans +398, Democrats +261, and unaffiliated -247. We also lost 5 Greens and 18 "other" but gained 9 Libertarians.)
Mark also allowed Nate Sansom to speak. On his behalf, we are planning to bring a resolution to the Spring Convention asking for electoral votes in Maryland to be awarded to the winner of each Congressional district instead of all ten being winner-take-all. (Maine and Nebraska have such a system.) As I pointed out, it's only fair after the way Democrats gerrymandered our state.
McIver also announced he would be hosting a pig roast fundraiser on June 11, and it was likely several state candidates may be there to help the Wicomico GOP.
Ed Senkbeil, representing our scholarship committee, had the honor of presenting two local seniors WCRC Scholarships. Taylor Creighton of Mardela High School and Jessica Willey of Parkside High School were the two winners. Creighton will be heading off to Clemson University to study in the field of genetics, while Willey will be studying psychology at Washington College. Both of them gave brief introductory remarks and did well for an impromptu engagement.
We then heard from our featured speaker: the incoming president of the Maryland College Republicans, Patty Miller of Salisbury University.
After Miller introduced her successor as SU chapter president, Shelby Hall, she remarked that the College Republicans were "on the front lines of dealing with liberal college students." Under her leadership of the SU chapter, they had become active in local and state campaigns and recently hosted an address by Ben Shapiro, a writer, editor, and author perhaps most famous for working at Breitbart.com until he resigned after the Michelle Fields incident.
It was interesting to learn that her maternal family has a rich heritage in politics. Miller's mother is a native of Honduras, where her family was involved in the 2009 removal of President Manuel Zelaya, a leftist ally of the late Venezuelan strongman Hugo Chavez. Zelaya was ousted after attempting to circumvent a constitutional provision against serving more than one four-year term. These family ties made her "passionate about capitalism…the American Dream is still alive."
As the CR state chair, she announced "I'm here to get stuff done." She actually wasn't originally seeking the office of president but a series of events led her to take the top position, which oversees 11 school-level chapters around the state – Miller would like to secure two others as well. She also gets a non-voting seat on the state party's executive committee, although there is a proposal before the membership next month that may allow the CRs to have a vote once again.
After Miller's remarks, we went through some business. Jackie Wellfonder had the list of polling places for sign placement, which would commence after the meeting. She also announced the newly-formed Wicomico Republican Women's Club would host a "Welcome Back Reception for the Eastern Shore Delegation" on May 5.
Jim Jester let us know the Crab Feast will be September 10, once again at Schumaker Pond. His next step was securing the beer permit, but Muir Boda added we were seeking event sponsors for the first time to help defray the costs.
Nate Sansom was pleased to say the second meeting of the Wicomico Teenage Republicans was a success. Through his diligence, Nate was able to secure a phone visit from two local candidates: Anthony Seda for U.S. Senate and Jonathan Goff for Congress. He also received information from several other candidates to distribute, so these were well-informed TARs.
While we waited for 50/50 tickets to be sold as our last event, I asked Muir Boda to give us a City Council update. He had just come from the first budget meeting, where they were attempting to raise water and sewer rates. Muir also explained one of the budget priorities set out by Mayor Jake Day: the construction of a community center to host city-sponsored after-school programs as well as more immediate funding for a summer youth employment program. While the city of Salisbury would purchase the land and build the community center, funding for its operations would come from local non-profits.
Boda also noted that getting more highway user revenue from the state would assist in fixing some of the city's worst streets, which have been neglected for years if not decades.
So while the meeting turned out to be less than an hour, several people stuck around to help with signs for tomorrow. If you ask me, the most effective ones should be the red Ted Cruz sign, the blue-and-white Richard Douglas sign, and the yellow-and-blue Andy Harris one.
Next month's meeting (and yes, we will have a May meeting thanks to a late Memorial Day) will be May 23. It's not official, but I think we are due for our annual legislative wrapup.
This time we meant it. After having a last-minute meeting called last month, a little planning made this month's meeting go a long way. It got off to an unusual beginning as the Jaycees meeting in the next room joined us for the Pledge of Allegiance before we went solo on the Lord's Prayer. (Usually we do this in reverse – as a former WCRC president once said, God before country. I think that it was the late George Ossman who introduced that tradition.)
The meeting was jam-packed with information because we had two speakers. It was suggested to us that we have Anthony Gutierrez from the Board of Elections in to go over the new paper-ballot voting machines we will be using, so he led off the evening with a pair of short videos explaining how they will work. For early voting there will be one ADA unit (which is slightly enhanced for those who are physically impaired but can be used by anyone) and two optical scanner units. Filling out a paper ballot is like filling out the standardized tests you had in school except you fill the circle in with an ink pen.
There were a few other election notes he passed along, including the fact that over 10,000 Wicomico voters will not be participating in April's primary because they are unaffiliated. (This is out of about 58,000 total.) Gutierrez noted as well that the last Presidential primary with no incumbent (2008) had 48.9% for a February primary, but he predicted April's turnout would be more like 35-40%. There will be five separate races on the ballot, he added: President, U.S. Senate, Congressional representative, and delegates/alternate delegates to the national convention. Voters will be sent their specimen ballots the Monday before early voting begins.
Mark McIver of the Central Committee asked whether more election judges were needed, and Gutierrez said they were fine for the primary. But he encouraged those interested to apply anyway for November and to be backups in case they have a need in April. Compensation for the day is $250.
Another question about same-day registration came up, and Anthony replied that it would be effective only for early voting. Some voters who had MVA information in the system would be "precleared," he added.
I asked if the new machines would result in delays, but Gutierrez noted from the experience he had with observing these machines in other elections that the process was actually faster. They would use the primary to make adjustments for the larger turnout in November, he added.
Once Gutierrez wrapped up, our other featured speaker began. Having served as the co-chair of the Redistricting Reform Commission (RRC), Walter Olson came to speak about Maryland's gerrymandering and the commission set up to suggest improved voting districts. Legislation to create a non-partisan redistricting body was introduced earlier this session, with hearings next week in both the House and Senate.
"I think we've got to end the practice of drawing our congressional districts so that politicians can pick their voters and not the other way around." Those weren't the words of Walter Olson; it's a quote from the most recent State of the Union speech Barack Obama delivered. He also made the point in Illinois during a recent appearance there, said Olson. Moreover, 70 percent of Maryland residents would prefer an independent commission, which is fitting: since North Carolina's gerrymandering (considered the worst in the country) was struck down in court, the new number one worst was the great state of Maryland.
With the recalcitrant Democrats being placed in an uncomfortable position of being against both their president and the voting public – as Olson pointed out, "they're not happy with what we're doing" – their only response was to complain that five hearings around the state weren't enough. And "did we ever get an earful" at the hearings, said Walter. Districts were created not to fairly represent, but "to reward and punish" legislators. Olson handed out a chart that clearly showed how the system was exploited: all but 6 Republicans represent districts with larger-than-average population, while Democrats represent all but one of the smallest 25 districts. (The one Republican who represents a small district won election in 2014 over an incumbent Democrat.) Needless to say, Mike Miller and Michael Busch are "not enthusiastic" about this proposed change, even though it's been debated off and on over the last half-century.
The RRC was an 11-member commission, with seven selected by Governor Hogan (3 from each party, plus one unaffiliated) and two from both the House and Senate, one from each party. Their report of suggestions were based mainly on those adopted by California, with some tweaking to fit our Constitution. The report was adopted by a 9-2 vote, and you can imagine which party had the two and where they came from to serve on the RRC. The legislation introduced on Hogan's behalf has "most of" the recommendations, Olson added.
What the RRC asked for was stronger criteria for population, with just a 1% variation. Districts had to comply with the Voting Rights Act, of course, but also needed to be congruent, contiguous, and compact. No more "blood splatters at a crime scene," as Olson described Maryland's Third Congressional District.
The redistricting body itself was intriguing to me. Applicants would be screened to make sure they weren't connected to the process as members of the legislature, their families, etc. After that, they would be placed into groups representing each of the two principal parties and unaffiliated/minor party voters, those who hadn't switched registration recently. Out of 10 applicants in each pool (Republican, Democrat, unaffiliated) selected based on these criteria, three of them would be randomly chosen to serve on the body, with the chair chosen out of the three unaffiliated members.
But the cool part was that anyone could submit a map. Olson said that Pennsylvania's map, which replaced a gerrymandered original done by the legislature, was done by a piano tuner who submitted a map which best complied with the requirements.
In the question-and-answer period, Olson stressed that the redistricting body would do both Congressional and state legislative districts. But it likely wouldn't be pressed into service until after the next census because it was unlikely the system in place now would be overturned unless it was found to be a Voting Rights Act violation. A suit by Judicial Watch regarding Maryland's gerrymandering was "somewhat of a long shot" to succeed, assessed Olson.
Walter also was careful to add that, while he works at the Cato Institute, the Institute is not involved with this. He was doing this as a private citizen.
Finally, we got to club business. The treasurer's report was given by Muir Boda, who has stepped in to become treasurer since the previous officeholder had to resign to take a job across the Bay. We are working out kinks in the accounts since they were based on her e-mail.
Mark McIver reported for the Central Committee. After a moment of silence for Blan Harcum, we learned his funeral will be Saturday, March 5 at Holloway Funeral Home, with visitation the evening before. He also related that he testified for the elected school board bill, which has now passed the full Senate (with a clean sweep 47-0 vote, by the way.)
Julie Brewington, speaking on behalf of the Ted Cruz presidential campaign as its Lower Shore coordinator, announced she had county chairs in each of her counties and was seeking sign locations along U.S. 50.
I made a motion to clean up some business so we could have our officer elections, and all five officers were nominated and elected by acclamation. I'm going to use Julie Brewington's photo here. (She posted it on social media last night, so she gets the credit.)
From left to right, it's Treasurer Muir Boda, First Vice-President Dave Snyder, President Shawn Jester, Second Vice-President Shawn Bradley, and Secretary Michael Swartz. (Me on the far right – whooda thunk it?)
We found out from Jackie Wellfonder that the Ehrlich book-signing was rescheduled for Friday, March 11 and relocated to the lobby of the City Center building, adjacent to Roadie Joe's. She was hoping to coordinate with the College Republican event that has to be similarly rescheduled, but the date didn't work with SU.
Woody Willing reminded us the WCRC Scholarship was still available, but the deadline was fast approaching (March 1.) Graduating seniors from any Wicomico County school (public, private, or homeschooled) are eligible provided they complete the application process. I asked if the application could be put online.
Willing also asked if we could make our annual YMCA donation, which was met with the club's approval.
Julie Brewington returned to announce the Republican Women of Wicomico would next meet March 2, with Mitzi Perdue as the speaker.
Joe Ollinger and John Palmer gave us some news about the Wicomico Board of Education, which was getting deeper into its superintendent search. They should be close to selecting the next time we meet, said Ollinger. Various focus groups comprised of about 75 people total were considering the applicants, added Palmer. John also said we were "on track" to getting Board of Education meetings on PAC14.
Nate Sansom updated us on the Teenage Republicans, which would have their first meeting March 4 at the Centre of Salisbury library branch. This led to Patty Miller being asked to fill us in on the SU College Republicans, which are having a fundraiser at the Greene Turtle March 21 and are "working on some big things."
Matt Maciarello updated us briefly on legislation he was interested in, adding the Eastern Shore delegation is "working so hard" on these items. Included in his assessment was the bomb threat prosecution bill sponsored by Mary Beth Carozza as well as a bill dealing with sex offenders.
As you can tell, it was a meeting full of information that we somehow crammed into about 90 minutes. Our next gathering will be March 28, with U.S. Senate candidate Dave Wallace the first statewide candidate to stop by one of our meetings since 2013.
Last night about 120 people enjoyed hearing from both Sheriff Mike Lewis and Congressman Andy Harris, as well as words of wisdom from our sixteenth President. Here he waits his cue to walk into the gathering.
For me, this year was a little different as I subbed for our treasurer, who usually checks people in at the door. So I saw pretty much everyone who came in – actually, on my arrival I stopped Salisbury City Councilman-elect Muir Boda and his wife from going to the wrong floor. We were literally the first three there.
So by the time Lincoln and his band of Union irregulars arrived, we had a pretty full house.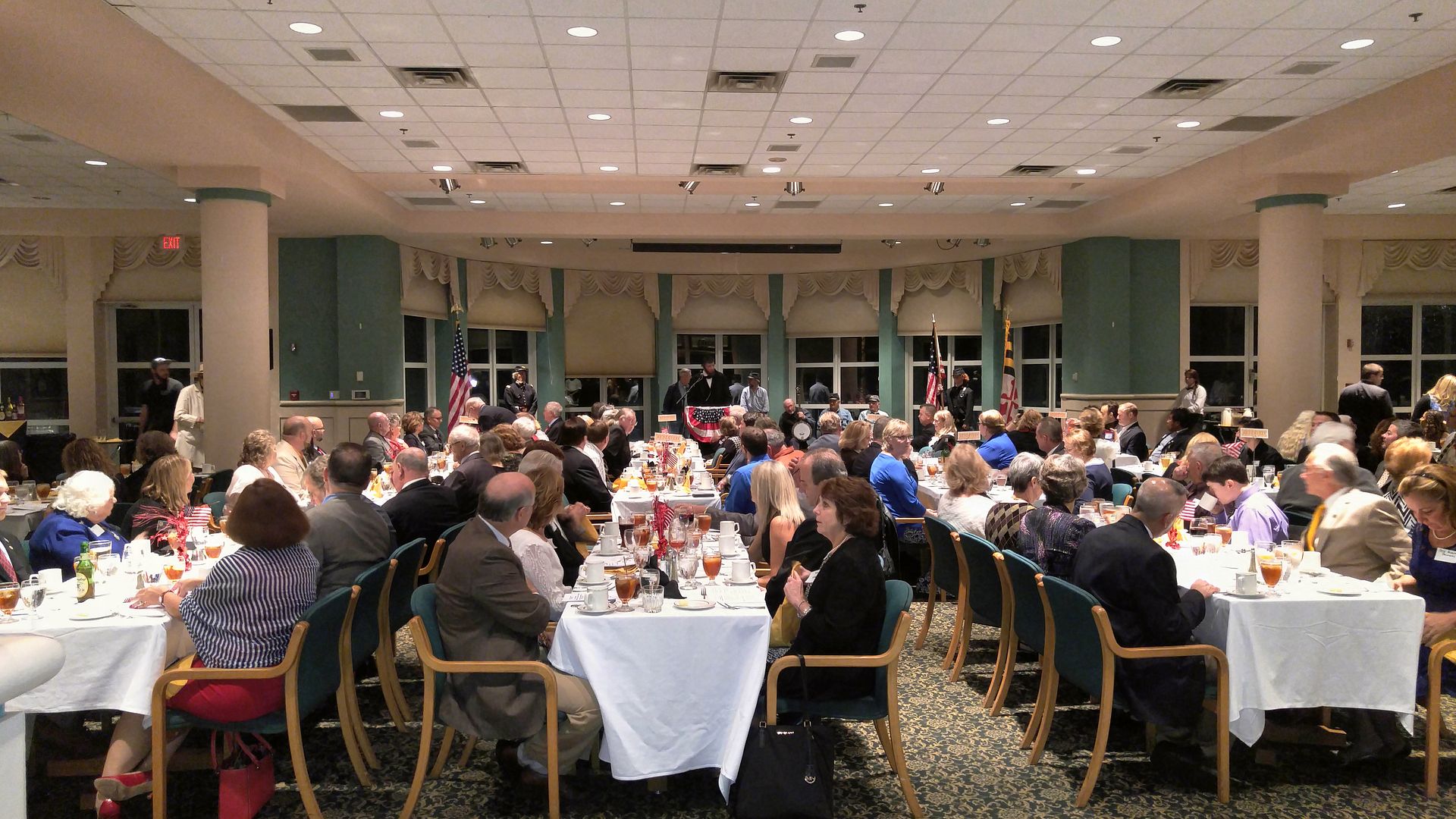 It should be noted that most of those present were from Wicomico County, but we also had contingents from surrounding counties as well as a table from Montgomery County. We also had state leaders from the Maryland Federation of Republican Women and state GOP Chair Diana Waterman.
Now because I was wrapping up my duties with a couple stragglers, I didn't catch all Lincoln had to say. But I recall he spoke about the press of the day, how candidates were vetted in an age when communication was becoming faster but still could be measured in months, and compared how voters were informed and educated then to now.
I finally got to relax, eat, and enjoy what Sheriff Mike Lewis had to say.
Lewis praised the Salisbury University College Republicans for their involvement, saying they "have to speak up" as representatives of their generation. Next year's election will be "the most important day of our lives."
Reflecting on his fairly recent fame – he just returned from a speaking engagement in Fresno, California – he noted they were trying to recruit him to run the Fresno Police Department but he had no desire to leave Wicomico County. "I'm extremely humbled" to be sheriff, said Lewis.
Mike pointed out that gun violence in Maryland was on the increase despite the passage of Senate Bill 281 in 2013, which he added was promoted by the sheriffs in both Baltimore City and County. So far in 2015, though, shootings have increased in Maryland from 725 to 1,161 while homicides have risen from 314 to 459. "Thank you, Governor Martin O'Malley," said Lewis, tongue firmly in cheek. The sentiment of "thank God for Larry Hogan" was much more sincere.
Lewis blamed "failed Denocrat leadership" for the woes in urban areas like Baltimore, Chicago, and Detroit. On the other hand, Lewis believed America needed statesmen in order to return our liberty and restore us to being the land of the free.
Turning to the drug issue, Lewis called State's Attorney Matt Maciarello "a tremendous partner" in the drug fight. It's a fight which has struck home for many in the area – Lewis has a 38-year-old niece who he had to lock up again for possession. "She doesn't want our help," said Lewis. He also related the story of the grandson of a terminally ill man who removed the elderly man's morphine drip and stuck it into his arm.
Politically, Lewis believed we needed to identify key people to represent "Eastern Shore values" in our government. "I'm so concerned about the lack of patriotism" in this country, said Lewis, calling on us to "make sure you vote right."
Lewis yielded the stage to Congressman Andy Harris, who was praised for being "incredibly optimistic" by Wicomico County GOP chair Mark McIver, who served as the emcee for the event.
Harris picked up Lewis's baton on the drug issue, saying we needed to "do all you can" to keep drug legalization from the Lower Shore. The District of Columbia "made a big mistake" on marijuana, added Harris. While the merits of medical marijuana were up for debate – Harris seeming to be on the skeptical side – his fear was having a workforce too stoned to be productive.
Changing gears, Harris noted that the "true blue" states of Massachusetts and Maryland now had Republican governors. He chalked it up to a situation, more specific to Maryland, where "government has failed them entirely." Electing GOP leaders was "no accident," he added.
Showing his optimism for 2016, Harris said, "I think things look good, actually." He also believed our late April, winner-take-all primary was key in an election where he noted Karl Rove thought there was the possibility of no candidate having enough delegates to win on the first ballot.
Andy went on to speak about the Republican field's diversity, pointing out Ben Carson was "the most serious African-American candidate" in history. This was intriguing because Carson, who Harris said he'd known since the early 1980s, was the "farthest person from a politician you could ever get." Moreover, with two Hispanic candidates the possibility was there to secure 40% of the Hispanic vote, which was the fastest-growing minority bloc.
As for the U.S. Senate race here in Maryland, on the Democcratic side Harris described Chris Van Hollen as "the consummate insider," while Donna Edwards was "to the left of Bernie Sanders." Elijah Cummings could get in the race, but there was the issue of his reaction to the Baltimore riots. "You own it, Mr. Cummings," said Andy.
Harris then revealed that Delegate Kathy Szeliga would be here in Salisbury Thursday afternoon as part of a statewide tour to promote her U.S. Senate bid. If she wins, said Andy, "Maryland is no longer a blue state." He called Szeliga "the Joni Ernst of Maryland," referring to the Senator from Iowa elected last year. "We can't keep doing business as usual in Washington," concluded Harris.
Despite the previous admonition by McIver that neither Lewis nor Harris would take questions, Harris took them anyway. First out of the chute was how Paul Ryan won him over.
Ryan was an "excellent" choice for Speaker, with Harris arguing he's "not a moderate."
But this led to a more philosophical answer, with Harris believing Ryan could unite the House and re-establish the "natural tension" between the legislative and executive branches, rather than the artificial battle between parties that Barack Obama and Harry Reid took advantage of to amass power for the executive branch. He opined that legislation from the House will be conservative, even with some Democratic amendments, but this was a way to make the House united.
The way John Boehner did things, contended Harris, was "not the way to do business." He used that example to answer the next question about government shutdowns, saying that you can't embararass the Senate into action with just a few hours to act. Ryan would work to do things in regular order, which puts the onus on the Senate to act.
Harris then answered a question about why Congress is held in such high disregard by the rest of government by claiming "bureaucracy has become the fourth branch of government." He called on the next GOP president to be "merciless" in cutting bureaucracy.
Finally, in answering a question about VA treatment, Harris made the case that a veteran from Princess Anne shouldn't have to drive by a care facility in Salisbury to go to a VA clinic up in Baltimore. When an average VA visit costs $250 compared to $65 to $85 in the private sector, "it is time we privatize" VA health care.
(Funny, some guy I know wrote a book three years ago with that same idea, among others. But I wasn't standing behind this podium.)
One other aspect of the LDD worth mentioning is the silent auction, where we had a table full of items from books and gift baskets to experiences such as lunch at the Capitol Hill Club or shooting with Harris or a State House tour and lunch with Delegate Carl Anderton, among many others. That turned out to be a success, too. I thought I had a photo of that spread but turns out I didn't. Oh well.
The SU College Republicans also did some fundraising, doing a pay-per-vote poll for President and selling T-shirts.
We may stay with this fall date next year, although it may wait until after the election – meanwhile, we may do a second fundraiser in the spring/summer. It turned out to be a good event to continue building on, so we shall see how we ended up doing when the bills are paid.
For the last month (and some time beyond) there has been a war of words between supporters of the former Chair of the Maryland Young Republicans, Brian Griffiths, and backers of the current Chair Kory Boone. It's a situation which brings back thoughts of the Ws being missing on the computer keyboards when George W. Bush came into office in 2001 – in fact, Boone's reaction is reminiscent of Bush's as he is being rather silent about the whole thing.
On the other hand Griffiths continues to speak out, admonishing the new leadership by saying on his Red Maryland website that "(i)t's a shame that they are wasting their time in office with minutiae and nonsense instead of being the 'competent' slate that they promised everybody they would be. Maybe it's time to drop the vendettas, stop focusing on national YR politics, and see the big picture."
Let me preface this by saying I was once in a smaller pair of shoes in my life – for a year (2000) I was president of the Toledo Metro Area Young Republican Club. And I'll cheerfully admit that it was a learning experience for me and they probably would have done better if someone else had stepped up to the plate. But I was asked, so I accepted – maybe if my life at the time had been more settled it would have gone better.
One thing I learned, though – and the same thing is holding true in Maryland – is that Young Republican clubs tend to be cyclical. A crop of interested people start the club and they become the core group which runs it for a half-dozen years. But then that group ages out, moves away, or actually succeeds in winning elective office and suddenly no one is there to take over. About 6 to 8 years ago we had a Lower Shore YR chapter but it eventually became inactive. As it stood, dwindling interest meant the time was right for new leadership, and Maryland will get it.
But the change isn't coming easily, and Griffiths doesn't seem to be embracing it. Despite his promise that "I intend to make this (recent MDYR convention) my last Maryland YR event," he's since spoken out about proposed bylaw changes and fretted about losing the opportunity for Annapolis to host the 2017 national YR convention, an event which Griffiths admitted he was skeptical about in the beginning.
Meanwhile, questions have arisen about the financial state Boone inherited when he took over the leadership of the MDYRs. In a recent audit made available online, MDYR treasurer Eric Beasley essentially threw up his hands:
Given the lack of information (about the recent financial past), the MDYR Treasurer cannot establish a historical trend and create realistic goals for the organization to prosper in 2016 and 2018.

These issues highlighted above can be directly linked to a lack of efficient record keeping and management within the organization. Due to the severity of the issues, The MDYR Treasurer will be requesting all bank statements which are not available online and sending the entirety of financial information to a 3rd party auditor for review. The auditor will not be an active official within the Republican Party or any Republican-affiliated organization, elected or appointed. The individual will also have extensive experience with maintaining financial information.
Even if you chalk this up to sloppy record-keeping, the fact that the group is down to one chartered local group and a dearth of members (a paid membership which allegedly excluded Griffiths) is enough to make one believe that, first of all, the group really can't be damaged anymore by the actions of its current leadership – if that were indeed the goal, which I doubt – and secondly, at least someone gave enough of a damn to want to steer the group in a new direction. Perhaps their fundraiser was a failure, as Griffiths charges, but they at least tried to have an event and spread the word that the YRs are active in the state.
When he came to our Central Committee meeting last month, Kory noted his goals for his tenure were to "establish local chapters (and) get local people elected." First of all, the fact that he came to our local meeting to introduce himself was an improvement over the previous chair, who only seemed to show for events where he could somehow promote the Red Maryland brand, and secondly, Boone expressed goals that seem rather attainable with some field work and promotion.
The last crop of Lower Shore Young Republicans had among them a current staffer for Congressman Andy Harris (who also serves as president of the Wicomico County Republican Club), a former WCRC president who is now a County Councilman, and another who attempted to secure a Delegate seat in a difficult district but put up a good race. With Salisbury University being the logical feeder group of College Republicans (their incoming President went to WiHi here), there's no reason a YR group can't make it here if the state leadership shows some support – and it will eventually accrue dividends for the local GOP.
Brian Griffiths had his time in the sun, so it's time for him to let someone else lead.
Oh, and by the way, those who harp on reaching out to the minority community may wish to know Kory is a member of same, from the desolate frontier (at least in GOP terms) of Prince George's County. It's not important as to how he does the job, but to those for whom perception is reality that's a bonus.
So I look forward to seeing what Kory Boone can do.
As it turned out we didn't have a speaker for tonight's meeting so the agenda was on the light side. Still, there was plenty of discussion at our gathering.
We did the Lord's Prayer and Pledge of Allegiance as we always do, but in between we had a silent moment of prayer for Governor Hogan. I had not heard the news about his cancer diagnosis, so I was quite shocked. It was definitely a somber way to begin the meeting.
With no speaker, we jumped to Julie Brewington's Central Committee report. She recounted our appointments to the Board of Elections and Board of Education and revealed we were in the process of working on a fundraising event. We were also seeking a mayoral candidate for Salisbury as the filing deadline approaches in August.
Representing Somerset County's GOP was Matthew Adams, who came up to sell tickets to the Tawes Crab and Clam Bake. Readers of mine know all about this annual event, which this year has increased its ticket price to $45. Between the state party and our two counties, we have half of one of the large tents for a total of 120 tickets. Adams expressed his interest in having Andy Harris make an appearance, but we were at the mercy of the House voting schedule for that one. Harris may be able to do a morning event, though. (I would assume that Harris's primary opponent, Michael Smigiel, already has Tawes on his calendar just as Harris was able to do when Frank Kratovil held the seat.)
We also got the pleasure of meeting Patty Miller, who is the incoming president of the Salisbury University College Republicans. Their big task this year, said Miller, was to recruit new members. When asked about the atmosphere on campus Miller admitted that it was hard to overcome the liberal bias of the faculty, but it helped that many students came from rural areas. Adams noted that a good percentage of SU students come from Somerset County and was hoping to use them to gain inroads into UMES.
Some good news came from Muir Boda, who announced the beer license for the Crab Feast on September 12 should be secured this week. The issue was our non-profit status, which was resolved by (of all people) the IRS. Boda was working with Josh Hastings of the Democratic Club, who have the same issue with their event, so there is bpiartisan cooperation around here. He also announced he had filed for City Council last week.
Another upcoming event is the Wicomico County Fair in August, and we were in the process of getting our space there. Dave Snyder asked about voter registration and we encouraged him to do so.
Our most recent appointees to the Board of Education were then asked to speak, as their first meetinnd wg will occur tomorrow morning. And while the reaction to John Palmer's appointment was "righteously fearful," according to Julie Brewington, Joe Ollinger struck a more optimistic tone – although he admitted "public education is a tough job." But it's not a money issue, he added.
Some of his ideas for change were efforts to instill more discipline in the schools while encouraging more respect for the public school teachers. But he also wished to move as much responsibility as possible to the local board, hoping the state would cede some power.
One other item on the club's agenda is a new officer. Since Joe Collins took a position on the Board of Elections, he can't serve as an officer for the WCRC. Dave Snyder volunteered to be nominated but we would like to have other candidates step up, too.
Marc Kilmer filled us in on the public hearing process for an elected school board. Five hearings will be held beginning in September – wonder where they got that idea? It was also suggested that we hold a straw poll at the Wicomico County Fair to gauge support.
Marc also was lauded by Joe Ollinger for how he explained how he came u with his votes, and it was incumbent upon us to demand that same forthrightness from the others on County Council.
Shawn Jester passed along word from Delegate Carl Anderton that his district office was now open. We also learned from Cathy Keim that we would be using the optical scanner machines beginning in 2016. Of course, that brings a headache because the machines and paper ballots have to be kept in a conditioned space the county doesn't have yet, so they will have to lease or build one.
Next month we will have two speakers. It's no surprise that our old friend Jeannie Haddaway-Riccio is coming to address us, but having Jake Day speak is definitely different. He sought us out, though, and we'll give him the forum on July 27.
It was a day and setting tailor-made for a gathering.
Thus it was that the Wicomico County Republican Club held its annual Crab Feast today, with a crowd close to 300 overflowing the picnic pavilion and seated around the space at Schumaker Pond.
If you were a Republican in Wicomico County, it was the place be seen, particularly if you're a candidate. Even the statewide campaigns were represented.
The David Craig campaign was represented by his running mate Jeannie Haddaway-Riccio, pictured here on the left with Wicomico County Republican Club president Jackie Wellfonder. Thanks to Jackie for sending along the photo, which I actually took but using her cell phone.
On the other hand, Ron George came himself (well, actually with a couple volunteers in tow, as did Haddaway-Riccio) to mingle and speak with a number of those around the pavilion, including Delegate Charles Otto (seated at left) and a pair of attentive Salisbury University College Republicans.
Here's another one with George and fellow Delegate Addie Eckardt, as always with her pink on.
Another local candidate who found plenty of support after a rough last few days was State Senator Rich Colburn, pictured center speaking with County Chair Dave Parker (on left) and Jackie Wellfonder. Mike McDermott, who's trying to join Colburn in the State Senate, is in the background in the orange shirt.
Another hopeful candidate rustling up votes was District 38C candidate Mary Beth Carozza, who brought her father Tony for additional support.
But it wasn't just about the political fellowship. The club uses this as a fundraiser as well, and between the silent auction pictured below and a 50/50 drawing the club raised well over $1,000. They even recouped some of their investment by selling the spare bushels of crabs, which I'm pleased to report met my fiance's seal of approval.
One big departure from previous years, though, was that elected officials and candidates were recognized but not given none decided to take the time to speak. (Thanks to Jackie for the reminder/clarification.) It made for a quicker-paced event, but those who may have wanted to hear more from certain hopefuls may have been out of luck.
Then again, who would want to listen to a speech with this view?
So it turned out to be a nice day. Maybe it wasn't the most newsworthy, but I had the pleasure of speaking at some length with both Jeannie Haddaway-Riccio and Ron George during the time I was there.
Hopefully we get the same weather for next year. Certainly we'll know who the candidates are.
They say the party needs to have a farm system; well, the Salisbury University College Republicans certainly are being an active participant in the political process. Next Friday night may be a watershed event for the university.
[gview file="http://monoblogue.us/wp-content/uploads/2013/05/1-CR-Town-Hall-Meeting.pdf"]
Aside from the substitution of Charles Lollar for Andy Harris, this could be a rehash of the Mike Lewis townhall meeting held in March. (Another way of looking at it – add Mike McDermott and you have our Wicomico County Lincoln Day dinner lineup, which also focused on the Second Amendment.)
Admittedly, it's a little unusual to have such an event on Friday night – particularly on the weekend before finals – so it's obvious this year's crop of College Republicans wants to go out with a bang, and yes the pun was intended. SU College Republican president Nicholas Pappas added this note:
I am just a college student, and I can only reach out to college students on campus because my resources are very limited. This Town Hall event is important because there are many new laws being pushed through…and everyone on the Eastern Shore should know about the new laws.
He was looking to promote the event, and I'm looking to help the SU College Republicans be part of the next generation of conservative leadership, so it was a good match. I also believe that Lewis and McDermott have spoken previously to the CRs so they're familiar guests, with the added attraction of a potential nominee for governor.
Well, the Presidential campaign comes to the Eastern Shore – but you need to be a member of the SU campus community to see him.
Taking a page from fellow competitor Ron Paul, Newt Gingrich will be appearing at Holloway Hall tomorrow afternoon from 3 to 4 p.m. However, the event is closed to the general public as it's only open to those with campus ID.
More as the story develops…
Update: I managed to talk my way into the event through a friend, so a full report tonight.
Well, the reviews are in – this may have topped last year's effort as a great Lincoln Day dinner. We had our fair share of red meat, complements of our newly sworn-in Congressman who was featured speaker and we received valuable input on the direction our state party should take from another special guest.
But first we heard from the birthday honoree, who brought a few friends.
Honest Abe was actually flanked by three Union troops, but I could only get two in the picture.
Since my picture of county party Chair and event host Dave Parker didn't turn out, his standing in the background while Lincoln spoke will have to suffice.
Abe spoke of many things during his remarks: his battles against Black Hawk in the Indian uprisings that plagued the state of Illinois in its early days, the advancement of the tools of war (which far outstripped the tools of healing the soldiers affected by this mechanization of mayhem), and his trip from Springfield to Washington in the winter of 1861. His inauguration occurred amidst a nation undergoing a perilous division, with states openly in revolt.
Yet I'm getting ahead of myself, for even the invocation had something of a political tone. Delegate Mike McDermott was pressed into service by the absence of my Central Committee cohort who usually handles these things, and Mike remarked "this is the one thing we can't do in the House of Delegates."
College Republican President Tim Riley did the Pledge of Allegiance, which was a change since I had handled the job previously. I didn't mind giving up the slot to our event co-hosts, who were a significant portion of the attendees.
If you've never come to a Lincoln Day Dinner, the usual format is to have a featured speaker or two. Last year, this was ably handled by the tag team of Bob and Kendal Ehrlich. But in his introduction for guest speaker Eric Grannon, Joe Collins asked what Martin Luther King and those involved in women's suffrage would say about the state of our party now? The way I see it, obviously were aren't a monochrome, single-gender organization, nor should we be.
Perhaps with an eye on that, back in December the state party selected a female First Vice-Chair and black Third Vice-Chair. Both were in attendance last night, as Diana Waterman is a frequent guest of ours anyway and Grannon gave us a clear message about the "straightforward but difficult task" of getting Republicans elected in Maryland.
He pointed out that Lincoln had the moral courage to wage a war and end slavery while Ronald Reagan had the moral courage to say the Soviet Union was the "Evil Empire." Eric also recalled as a young boy – from a welfare family in Brooklyn, no less – hearing Reagan's message of optimism and self-reliance and being inspired.
That Republican message, continued Eric, was one we needed to convey to what Grannon called "non-traditional" groups. By population, Maryland is nearly 30% black and we can't win if we concede 30% of the voters to the other side. We have to go to them, but we need not change our principles. We need a plan, not a platitude – he called this a Republican Agenda for Working Families.
Introduced by former SU College Republican president Matt Teffeau, the featured speaker was a familiar face now playing a new role. I'm only disappointed that the voters of the First District realized two years later than they needed to that Andy Harris would be a dynamic voice for conservatism; then again, he plays a much bigger role in the majority than he would have as a minority party backbencher.
Right out of the gate, Andy alerted us: the revolution of 2011 is coming to Washington, D.C. While the Democrats pounded on the message of job creation over their four-year run in the majority, "they don't get it," claimed Andy. The "harsh reality" for them is that the private sector creates the jobs.
But Harris also warned us of a "sobering" fiscal future, one where we have a $75 TRILLION "fiscal gap" over the next 75 years. All that we have been promised is $75 trillion more than the revenue we can expect – undoubtedly, this has to change. As he said, "the path back will be difficult."
Yet there are a number of obstacles in the way of regaining prosperity. Harris divided them into three main areas – regulatory, taxation, and the debt itself.
Andy gave us the example of regulation run amok by pointing out the lengthy process of having dairy farmers exempted from an EPA regulation on oil tanks. Yes, milkfat is considered an oil and if you have a large enough tank preventive measures need to be in place to avoid contaminating the waterways. (Talk about crying over spilt milk!) Even after two years where the EPA promised the exemption, dairy farmers are still waiting for something that should have taken weeks, even with the required public comment period.
On taxes, our Congressman believed we need to give entrepreneurs "an edge" by lowering the corporate tax rate, and, more importantly, eliminating the estate tax entirely.
Harris brought a prop to talk about spending, a copy of The Hill with a headline that blared "Tea Party yanks GOP leash on spending cuts" and a message of not compromising the promised $100 billion in cuts despite the fact the fiscal year is nearly half-over. "100 is 100," Andy said. He predicted "this week will be rough for Republicans" as Democrats trot out so-called victims of budget cuts. Many of these cuts will come from defunding Obamacare and zeroing out the "czars", a comment which drew applause from the packed house.
Andy had a little time after his remarks to answer questions, but only received one regarding the PATRIOT Act. Harris revealed that only three provisions of the whole had come up for discussion – the Democrats connivingly had those expire months prior to the full reauthorization to promote a divisive vote. "We will look at the PATRIOT Act" in full come December, including hearings, promised Andy.
After Andy concluded his remarks, we took a few moment to recognize a number of elected officials and honored guests, a group which included those who ran for office in 2010 but didn't succeed. We also commended both our 2010 Republican of the Year and a new, special category created for the recipient: the 2010 Republican Youth of the Year. Unfortunately, neither were there to collect our accolades.
Ed Nelson was our choice for Republican of the Year thanks to his tireless behind-the-scenes work, while Katherine Gaetano, who was a fixture at the Victory Center making phone calls despite her tender age of 11 at the time, was honored as the Republican Youth of the Year.
Since Delegate McDermott had opened the proceedings with his invocation, it fell to him as well to do the benediction. But he couldn't resist making a few other remarks about the General Assembly, reminding us that President Lincoln jailed the body so Maryland wouldn't secede from the Union. "We are fighting the good fight" in the General Assembly, said McDermott, but "there's an insanity run amok in this state." Eventually Mike did get to the defined purpose of a closing prayer and the 2011 Wicomico County Lincoln Day Dinner was history.
Yet many participants lingered afterward, and I had the pleasure of meeting Robert Broadus of Protect Marriage Maryland – he's also throwing his hat into the ring to challenge Ben Cardin in 2012. (He unsuccessfully ran for Congress in the Fourth District in 2010, taking on Donna Edwards.) Broadus will be back in the area for a gathering to discuss the same-sex marriage proposal in Maryland at 7 p.m. on February 22nd at Adam's Ribs in Fruitland. (The event is being sponsored by the Wicomico Maryland Society of Patriots.)
Speaking of the MSP, Julie Brewington at Right Coast has more pictures of the event as well as remarks on video, including from Andy Harris. Between us, we pretty much have the full coverage.
I'll leave you with the wisdom of "Maxine."