There's some concern in Larry Hogan's campaign about a New York Times/CBS News/YouGov Battleground Tracker Poll showing Hogan again trails Anthony Brown by double digits, particularly after a Republican pollster showed Hogan trailing by just three points last month. This outfit's July poll of over 1,400 registered voters showed Brown on top by 13 points in July, and is computed in the Real Clear Politics average.
The Republican's campaign contends the poll is "so flawed and so misleading that Politico hammered the New York Times for lending their name to this internet survey." YouGov's methods are different than most pollsters, as they conduct their surveys among an audience which opts into the poll via the internet, then weighs the results among demographics. The overall survey even solicits new customers, requesting people to "Join YouGov today to take part in surveys like these and earn money…"
Maryland's race is also interesting because of the relative lack of responses compared to other states. Out of 35 states surveyed, Maryland only beats 12 states in terms of participation. Most of the states Maryland beats are fairly rural and sparsely populated: Alabama, Hawaii, Idaho, Kansas, Nebraska, Oklahoma, Rhode Island, South Carolina, South Dakota, Tennessee, Vermont, and Wyoming. It's not a tremendously representative sample.
Nor is it necessarily reflective of the Maryland electorate. The unweighted sample actually has independents well over their voting strength at 29%, with Democrats comprising 45% and Republicans only 25%. (It's actually close on the GOP.) But weighting the sample as YouGov does places the Democrats at 52%, independents at 26%, and Republicans at only 22%. In reality, according to the latest voter registration figures, Democrats have 55% share, Republicans 25.7%, and independents just 19.3%. So both major parties are undersampled by about 3% apiece.
Polling is all about turnout. While the YouGov survey claims these are "likely voters," in reality those not affiliated with a party are the least likely to turn out for a gubernatorial election. Yet when I reset their polling numbers to a very likely turnout model (that of the 2010 election, which was a muted TEA Party wave election in the state) and distribute the "not sure" voters in the same proportion as those who have decided, I come out with this possible result:
Brown 57.5%, Hogan 40.2%, other 2.3%
I think the reason this turns out the way it does is that the YouGov sample has Brown winning Democrats at roughly the same rate Hogan wins GOP voters. In a lot of ways the YouGov poll is almost a worst-case scenario for Hogan, who needs to both boost turnout for his side to levels last seen in 2002, when almost 68% of Republicans and over 45% of independents came out to vote – in 2010 those numbers were about five points lower – and get far more than the 6% of Democrats the YouGov poll has voting for him. If Anthony Brown can convince Democrat voters to stay loyal to the nominee, the game is over, and that's why Brown's going negative.
In fact, Hogan's campaign added that:
If the MD Democratic Party – with their two-to-one registration advantage over Republicans – honestly thought Brown was ahead, they wouldn't need O'Malley's Democratic Governors Association to spend $750,000 in special interest money on attack ads to bail out his campaign.
So I think the reality is somewhere between the 14 points this poll has Brown leading by and the 3 points Hogan claims he is behind. It just proves there's a lot of work to do in explaining the real record of Anthony Brown and the damage his policies would do to Maryland if he's elected.
Believe it or not, this feature which used to be a staple of my site has gone dormant for over 18 months. But I decided to resurrect it because all these financial reports I've been doing as well as other regular features have taken up my time and allowed my e-mail box to become dangerously full of items which were rapidly running out of shelf life. So here you go: the return of odds and ends for what promises to be a cameo appearance.
As evidence of that shelf life, I wanted to bring up a thoughtful piece by my friend Rick Manning – not to be confused with the former Cleveland Indians outfielder – regarding the prospect of a continuing resolution for federal spending which would expire in December, necessitating a lame duck session.
Manning is right in believing that the strategy is fraught with peril, and if the pre-election polling is correct and Republicans take over the Senate come January this only invites Democrats to lay a few traps as they back out the door. Of course, if Congress (read: the Senate) would actually do its job and get the budget work done before the federal fiscal year begins on October 1, this wouldn't be a problem.
One Senator, Rand Paul, received some criticism from Timothy H. Lee of the Center for Individual Freedom, who noted Paul's flip-flop on foreign policy neatly coincided with a shift in public opinion regarding the Islamic State.
Returning to the fold of NetRightDaily – which has been on a content roll lately – I found someone who agrees with me on the Seventeenth Amendment. Tom Toth lays out the case, although I think we should do a couple other amendments first. Obviously this would probably change the composition of the Senate rather quickly to an almost perpetually Republican body, but someone needs to look out for the states and that element is missing in modern politics.
Something else Congress should get to (but probably won't) are curbs on civil forfeiture, the subject of a recent push by the Institute for Justice. The bills themselves were introduced back in July by Sen. Paul and Rep. Tim Walberg, but while IJ has been doggedly against what they call "policing for profit" for several years, this latest offensive stems from a petition drive and video the group has done detailing abuses of the process in Philadelphia.
It's clear the libertarian-leaning group doesn't like the idea, and with good reason. Think of it as the step beyond speed cameras.
Philadelphia also figures prominently into my next piece. I'll explain this more on Sunday, but there were a number of pieces I was perhaps intending to use for my American Certified site but instead will be mentioned in brief here.
One group which has made it to those pages a lot is the Alliance for American Manufacturing. Certainly they complain a lot about the trade deficit with China but AAM President Scott Paul (no relation to Rand Paul) also made a great point about the continuing lack of manufacturing jobs.
This jobs report is a big disappointment for factory workers. While we can never read too much into just a month's worth of data, a goose egg for manufacturing doesn't look like progress to me. And it will be hard to consistently move the manufacturing jobs number up unless our goods trade deficit with China comes down.

Two years ago President Obama campaigned on a pledge to create one million new manufacturing jobs in his second term. Our #AAMeter shows progress toward that goal is stalling. A national manufacturing strategy could help get us back on track.
Yes, they track the progress toward that elusive one million jobs, and Obama stands at a puny 193,000. It's surprising because as Rick Manning stated in an earlier piece, we have the energy resources to bring American manufacturing back. We're now number 1 in natural gas production, and our energy dominance serves to stabilize world prices, says Mark Green of API.
Looking at it from the perspective of state government, a recent video by Republican gubernatorial candidate Larry Hogan explained his thoughts on creating opportunity.
The key phrase in this video comes early on, when Hogan talks about his appointments. This is an opportunity which is rarely discussed, but when Democrats have run this state for all but four years of the last forty, the pool of those who get to be department heads becomes ossified. The Glendening appointee to one office may have been O'Malley's point guy somewhere else and would be on the short list for Anthony Brown.
But if Larry Hogan can resist the temptation to overly rely on his buddies from the Ehrlich administration, we have the potential for real reform and new ideas at the department level.
Another reform is being pushed by the Maryland Liberty PAC, and Republicans will be pleased to know they are firing in the right direction by attacking the "toxic track record" of District 34A Democratic nominee Mary Ann Lisanti. They didn't catch this gem, though.
Finally, I wanted to promote something a fellow blogger is trying. Peter Ingemi (aka DaTechGuy) has a radio spot for you:
It's near the end of the year when everyone's ad budgets are pretty empty so as I've got some ad space left on my radio show I've got an offer to make exclusively to the bloggers, advocates & folk on my e-mail blast.

Produce a 15 second plug for your blog, podcast or web site and for only $30 I'll include it on my radio show DaTechGuy on DaRadio for a FULL MONTH.

That's not only 70% off the normal price but it also means your plug will be included on broadcast replays, my own podcast replay, the live replay on FTR Radio and all four weekly replays on the 405media Tuesday through Friday. And if you want an even better deal I'll give you 30 seconds for just $50 a month (or I'll replay your 15 second spot twice).

This is a great chance to get your blog some national exposure on multiple platforms that you might not currently be reaching. (His emphasis, not mine.)
He's the consummate salesman, is he not? But I have him beat, at least in terms of price. I'm not doing a radio show anytime soon, though.
And I may not be doing another odds and ends soon either. But it was fun to go back and put one together for old times' sake.
After a week's delay caused by the untimely passing of Sylvia "Cookie" Harris, wife of our esteemed Congressman, we finally opened our local Republican headquarters to a crowd of about 75 people.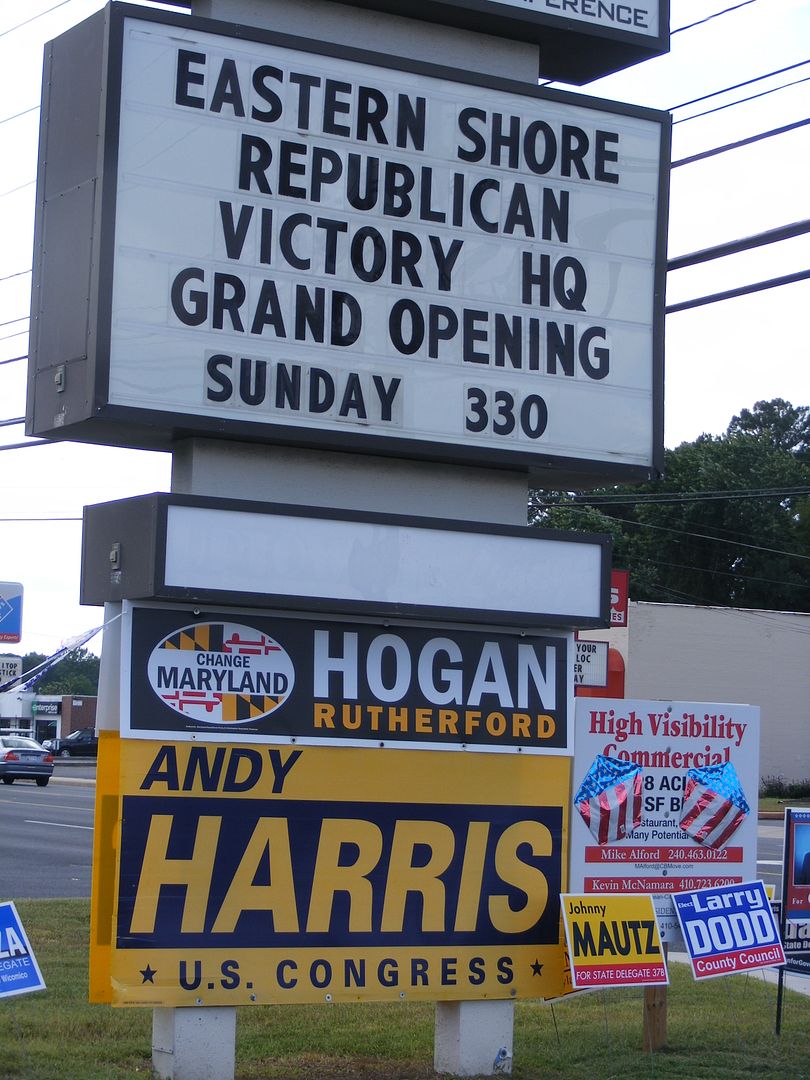 The old Mister Paul's Legacy had been spruced up after several months of inactivity for a new purpose: to assist in getting local Republican candidates into office.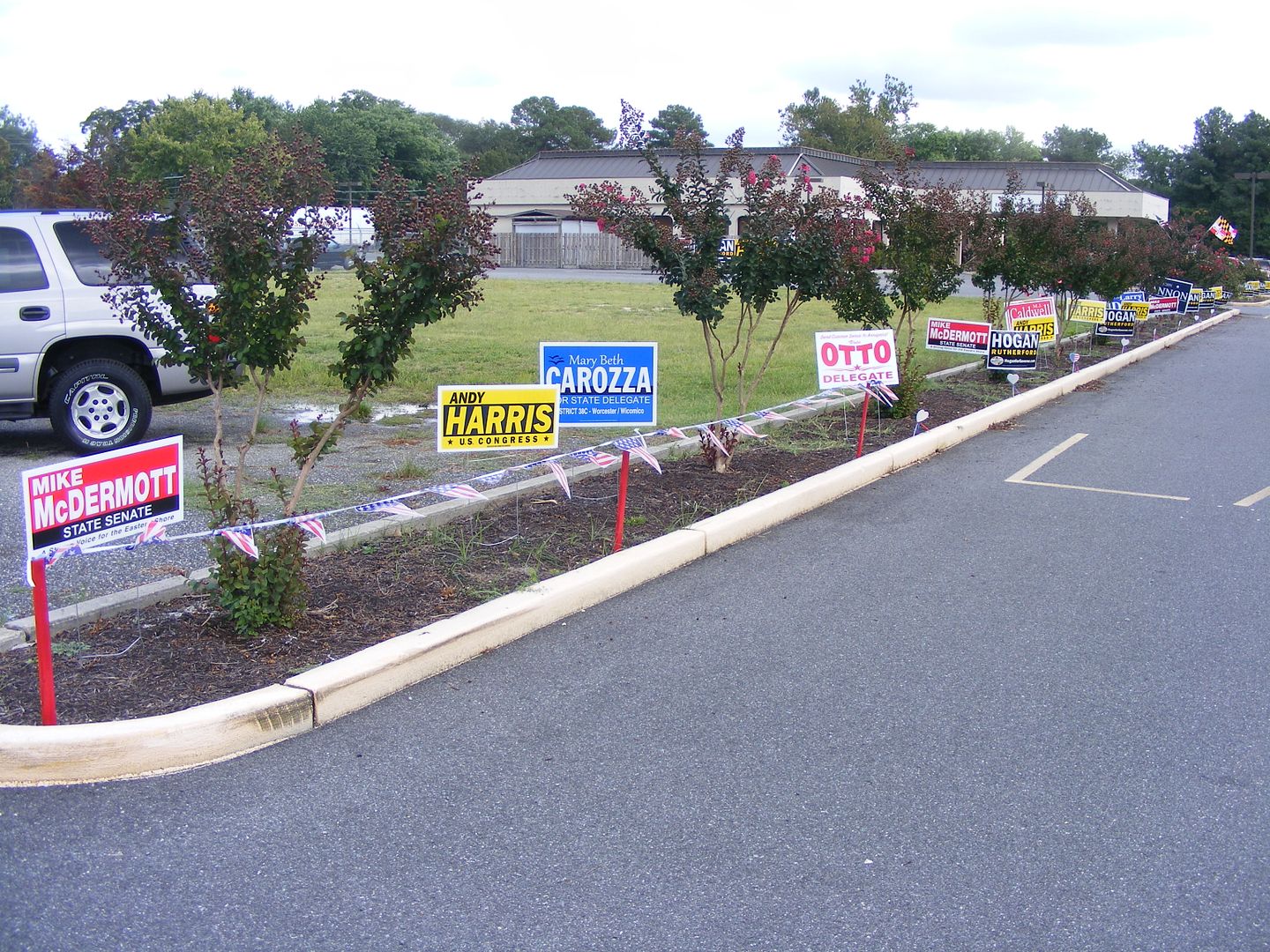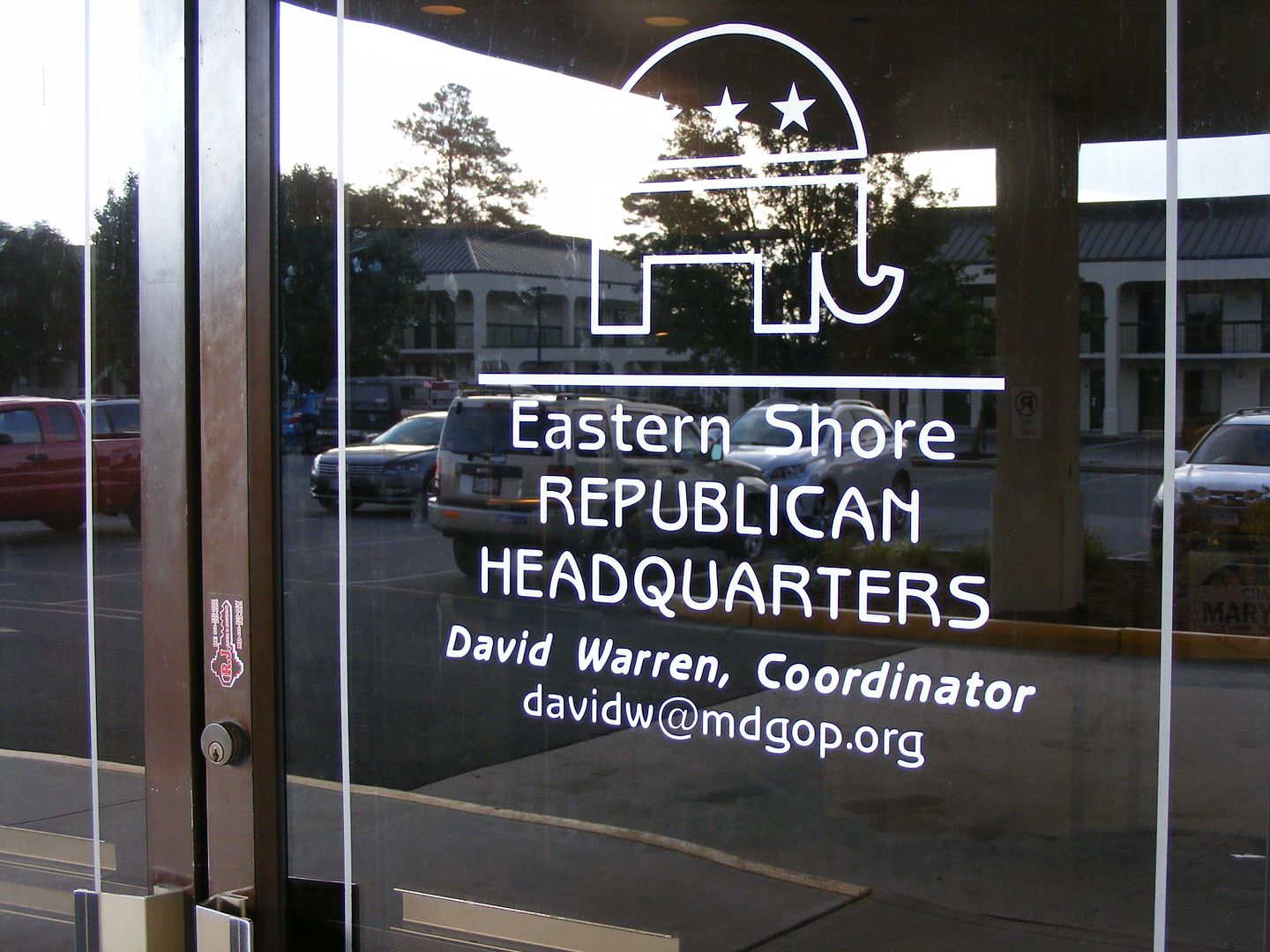 Of course, a number of candidates and elected officials were there, along with supporters. Inside there were signs and information for all the local hopefuls who had dropped anything off, as well as a table for the top of the ticket.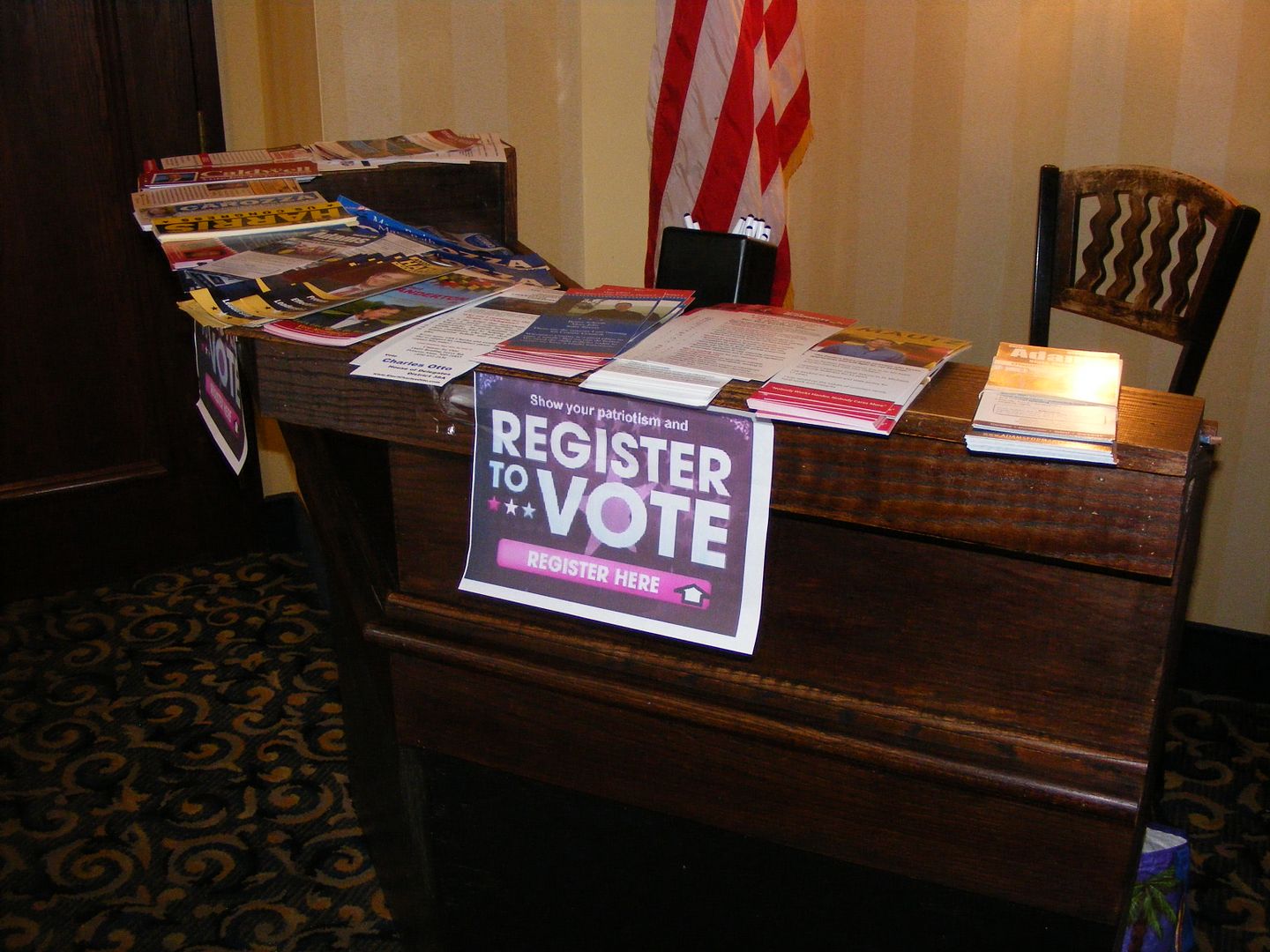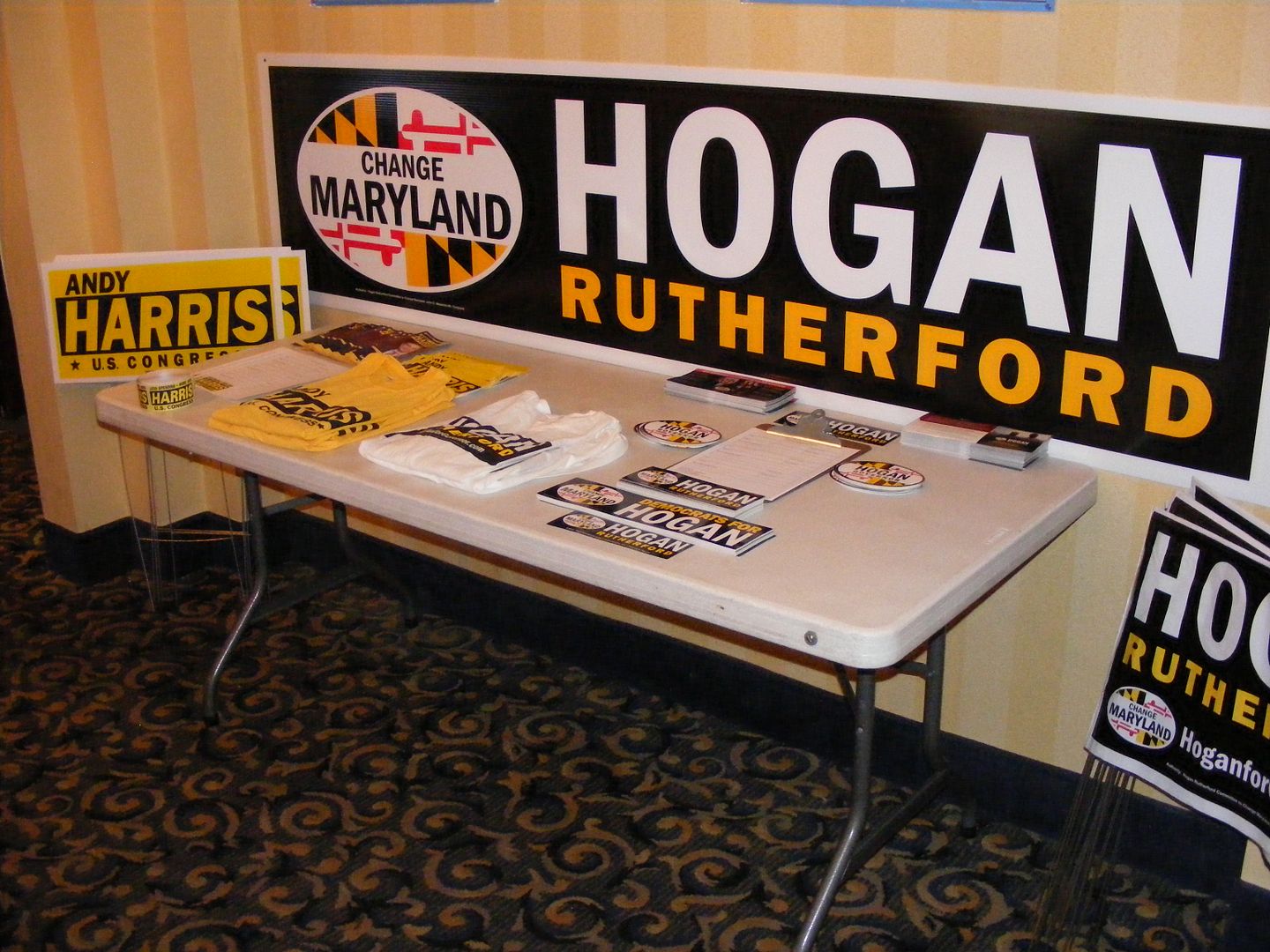 And while the star of the show was rightfully going to be gubernatorial candidate Larry Hogan, local folks were indeed showing a lot of passion for their favored downticket candidates.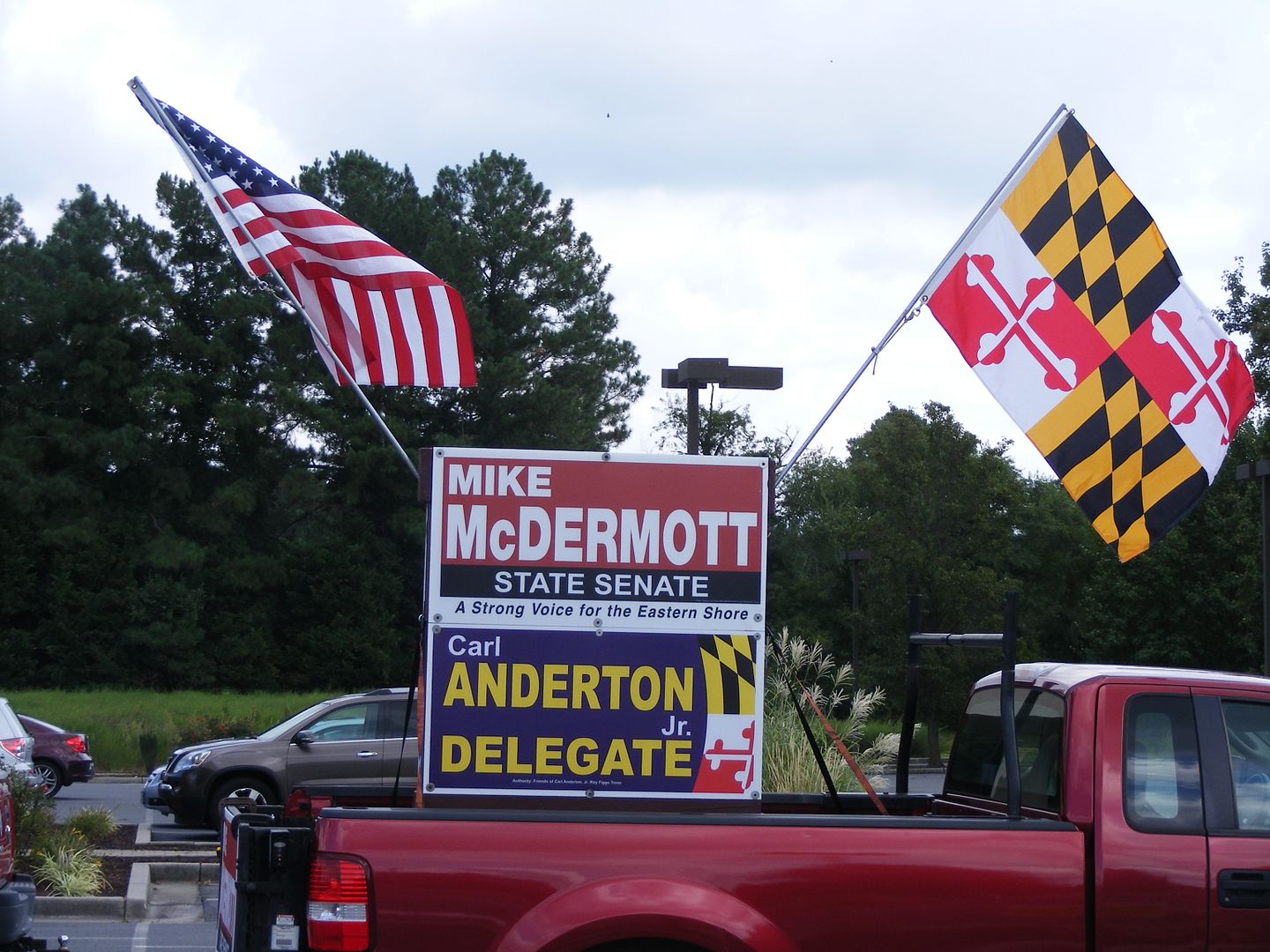 There was even love for our volunteers spread around inside with little messages like this.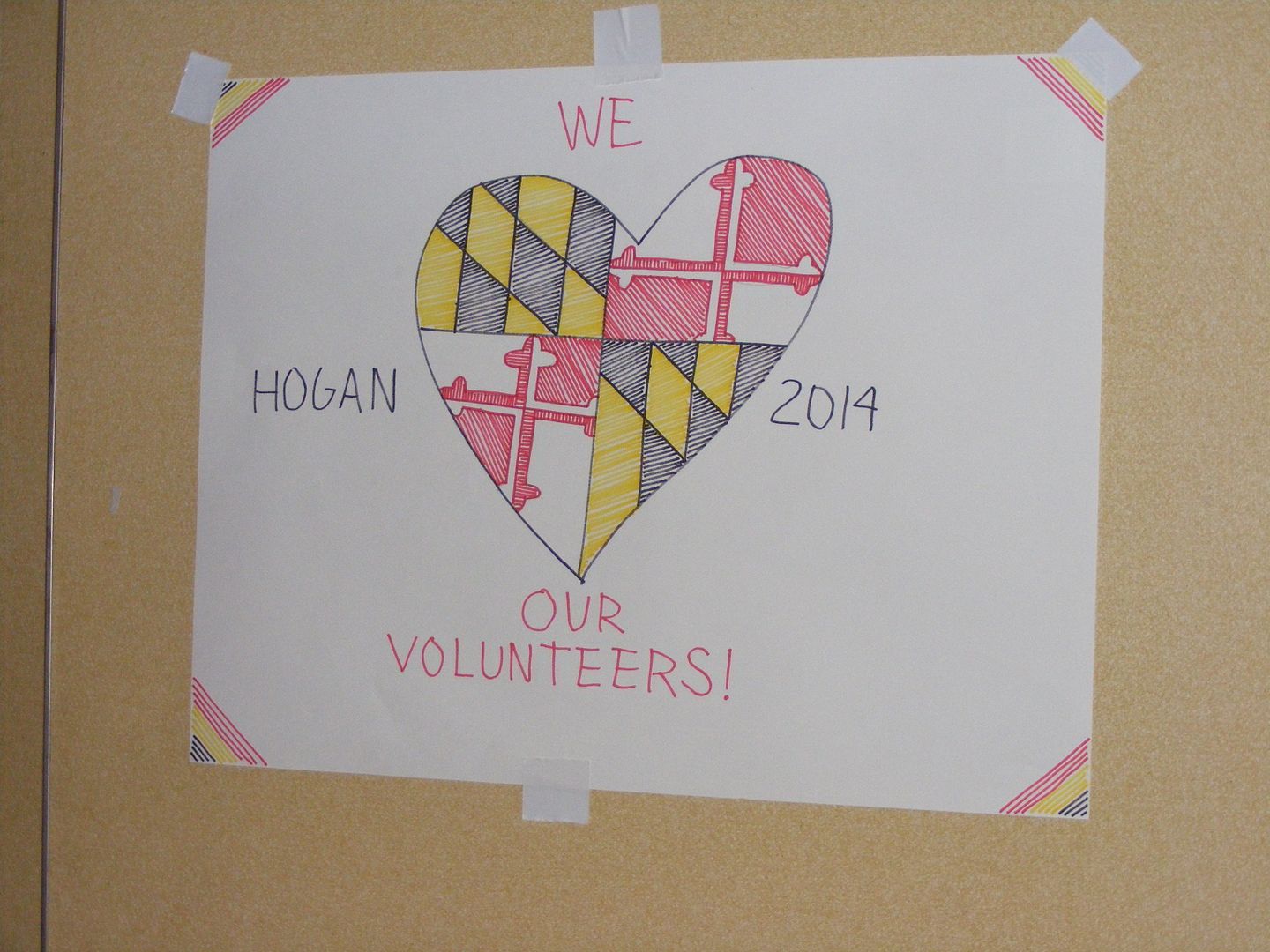 Our presentation began, though, with an emotional update from Mark McIver on how Andy Harris was doing after the sudden passing of his wife. The "terminal optimist" was holding up all right and was getting ready to once again make himself available to help local Republicans emerge victorious. It led up to a moment of silence for both Cookie Harris and Dr. John Mautz, the father of District 37B Delegate candidate Johnny Mautz. The elder Mautz, an Easton dentist, died suddenly yesterday morning.
Wicomico County Republican Club president Jackie Wellfonder had the honor of introducing the guests of honor.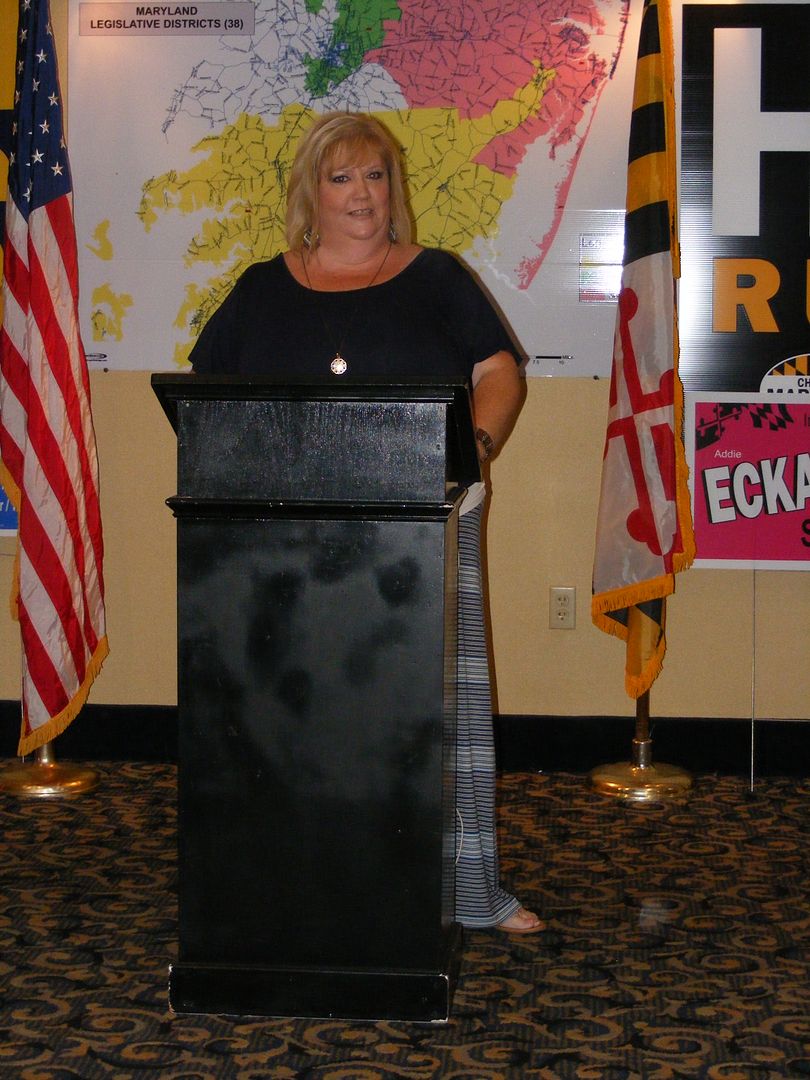 We actually went in reverse of the common political ceremony, because Larry Hogan spoke first.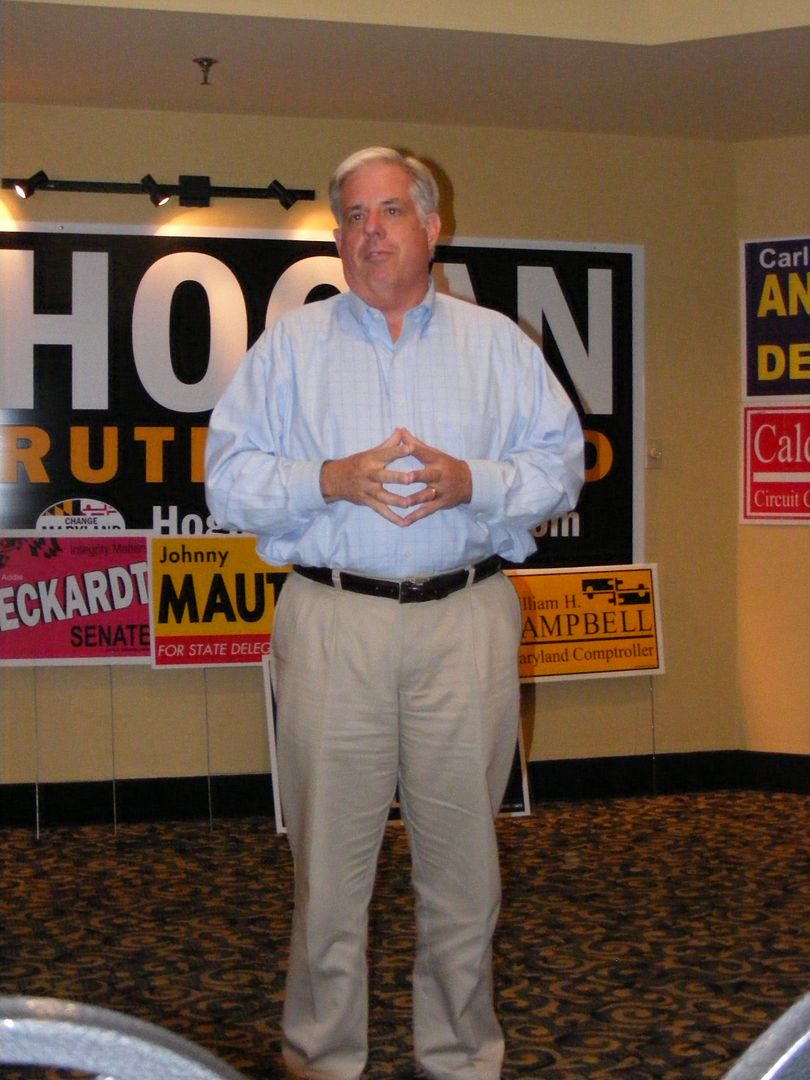 Eschewing the safety of the podium, Hogan complemented the local workers for putting together the "nicest and most luxurious" headquarters in the state. Not bad praise from a guy who rides around in this: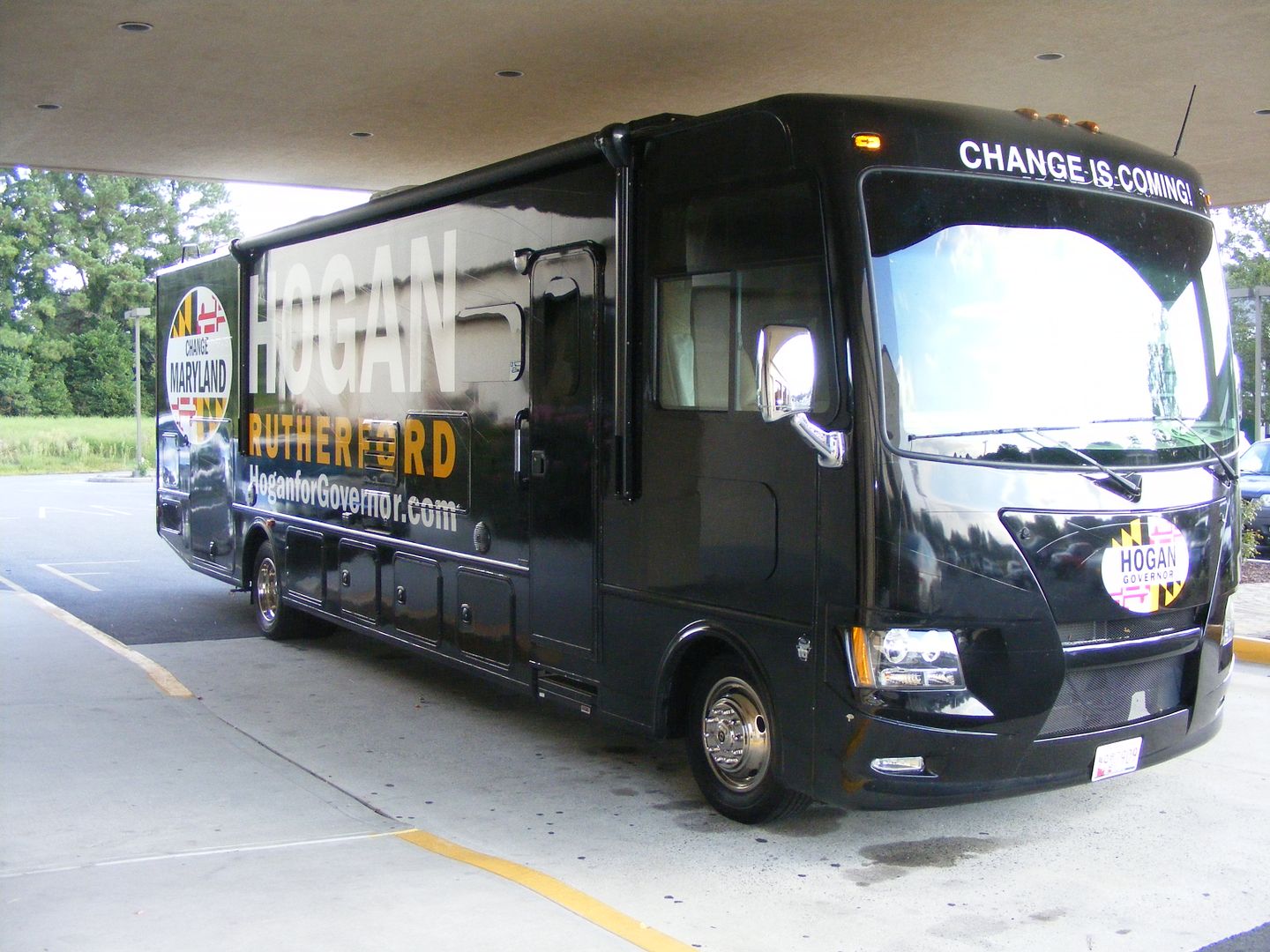 (By the way, it does have a Maryland license plate. I checked.)
Hogan went on to stress that "this is a team effort" and that "this victory center is here to try and elect great Republicans."
And while he called the reaction and response to his campaign "tremendous" Larry also pointed out the feedback from the minority community, noting that in Baltimore City he often heard the refrain "no one cares about us" and that politicians don't come to the area for their input.
It led into his bread and butter message: that after 40 tax hikes and zero economic growth – a statistic Larry called "simply unacceptable" – things were so bad that the majority of Marylanders were fed up with the direction things were going. He cited a recent poll which stated 71% of Marylanders think taxes are too high and 62% would like the state to go in a different direction. His hottest giveaway item was "Democrats for Hogan" stickers, said Larry.
Our voters were angry, Larry explained, while theirs are complacent. "We're driving some big turnouts," he continued. And while he thought of his campaign as the air force, he realized that what we were doing was trying to provide the infantry for the fight. We can "send a loud and clear message" if we all work together, Hogan concluded.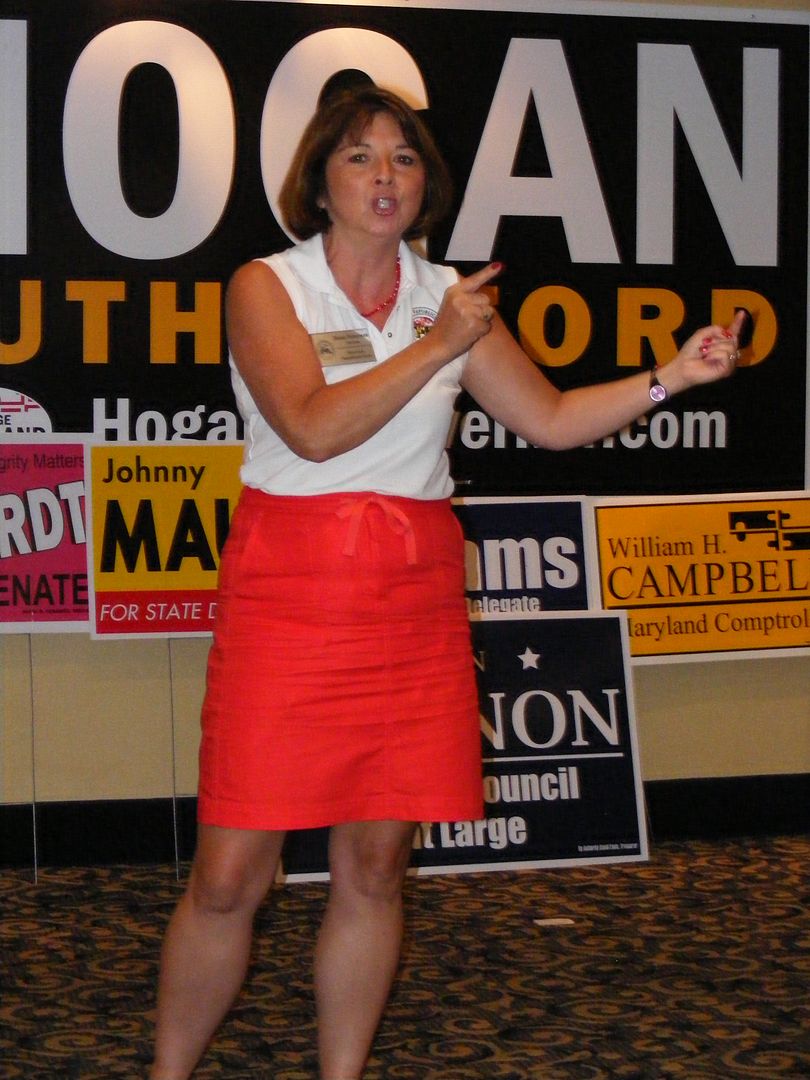 We had heard a lot of what state party Chair Diana Waterman had to say when she appeared at our recent Republican Club meeting.
But Diana wanted us to get as much turnout as we could, even if it meant going against the principle of opposing early voting. "Embrace it and make it ours," she said. Our candidates were "strong" and "ready to serve," but "as Larry said it's all about turning out our vote." We needed to get past the old saying about not discussing politics with our neighbors and instead pester them to vote, and vote for our side.
Had David Warren alerted me to what he would do with the Coke can, I would have grabbed a shot of him with the visual aid.
But Warren made the case that he said no one else had adequately made. That can of Coke, he pointed out as he popped the top, was something not available on Howard County property because Howard County Executive (and Brown running mate) Ken Ulman had placed a ban on sugary drinks. "Imagine Ken Ulman and Anthony Brown doing your health care," the Howard County native warned.
David focused on local races as well, bringing up a recent visit by three people from the Frederick area who had driven three hours here to help our folks out. As he pointed to the signs festooned on the wall behind him, he stated that "your guys represent you. The other guys represent Annapolis." He also warned that "we don't do this in 2014, we're done." It was also important to re-elect Larry in 2018 so we controlled redistricting, David added.
Today was a day to "eat, drink, and do selfies" but we had to step away from our comfort zone and work hard for the last 58 days of the campaign, Warren concluded.
Speaking of selfies, a number of candidates got to pose with Larry before he left. But first we had the official ribbon cutting.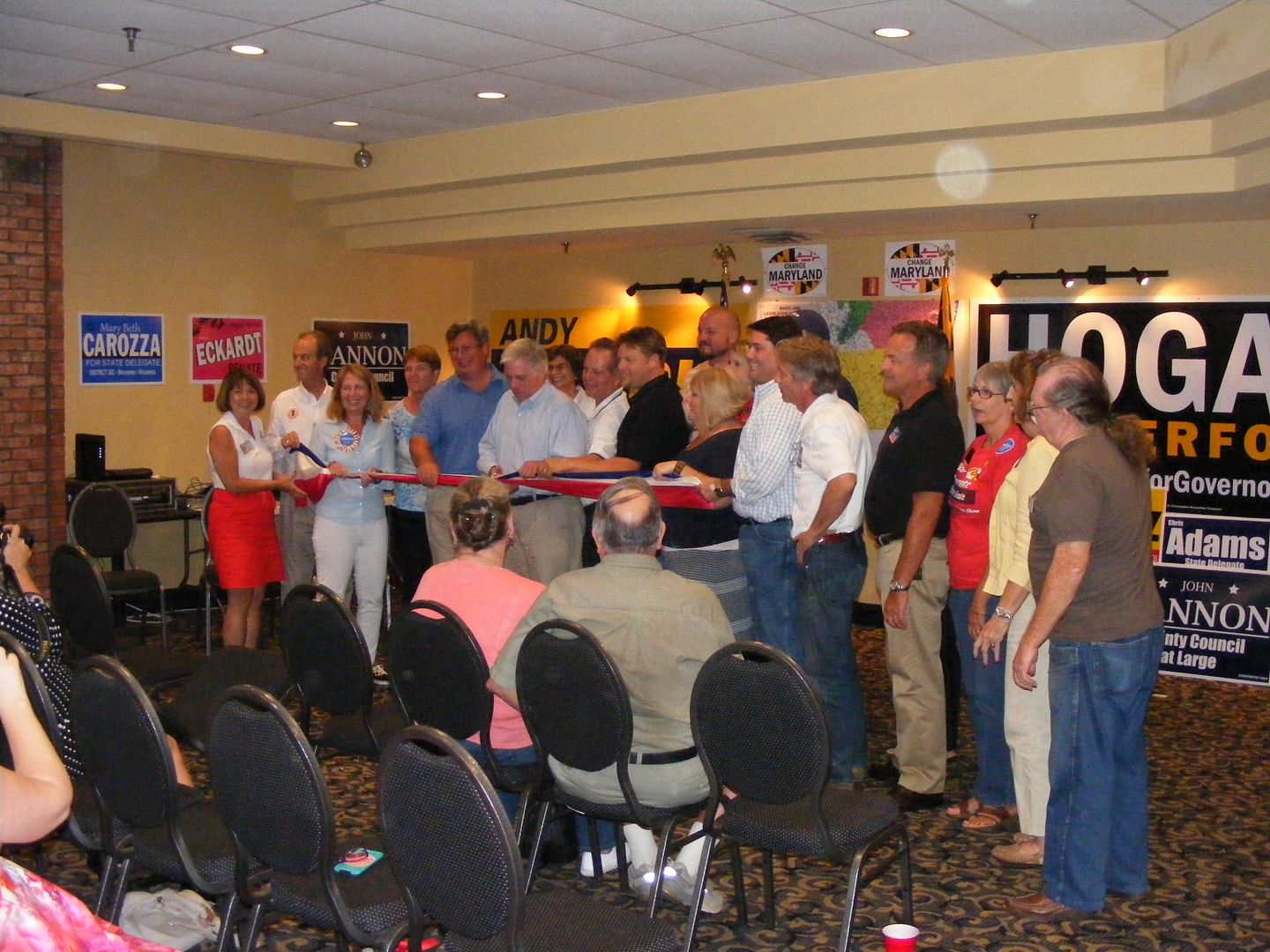 The one shot of the several that I took that I decided to use here was the District 38 team. I encourage you to send these folks to Annapolis! From left to right it's District 38C candidate Mary Beth Carozza, Delegate and District 38 Senate candidate Mike McDermott, Larry Hogan, District 38B candidate Carl Anderton, Jr., and Delegate Charles Otto of District 38A.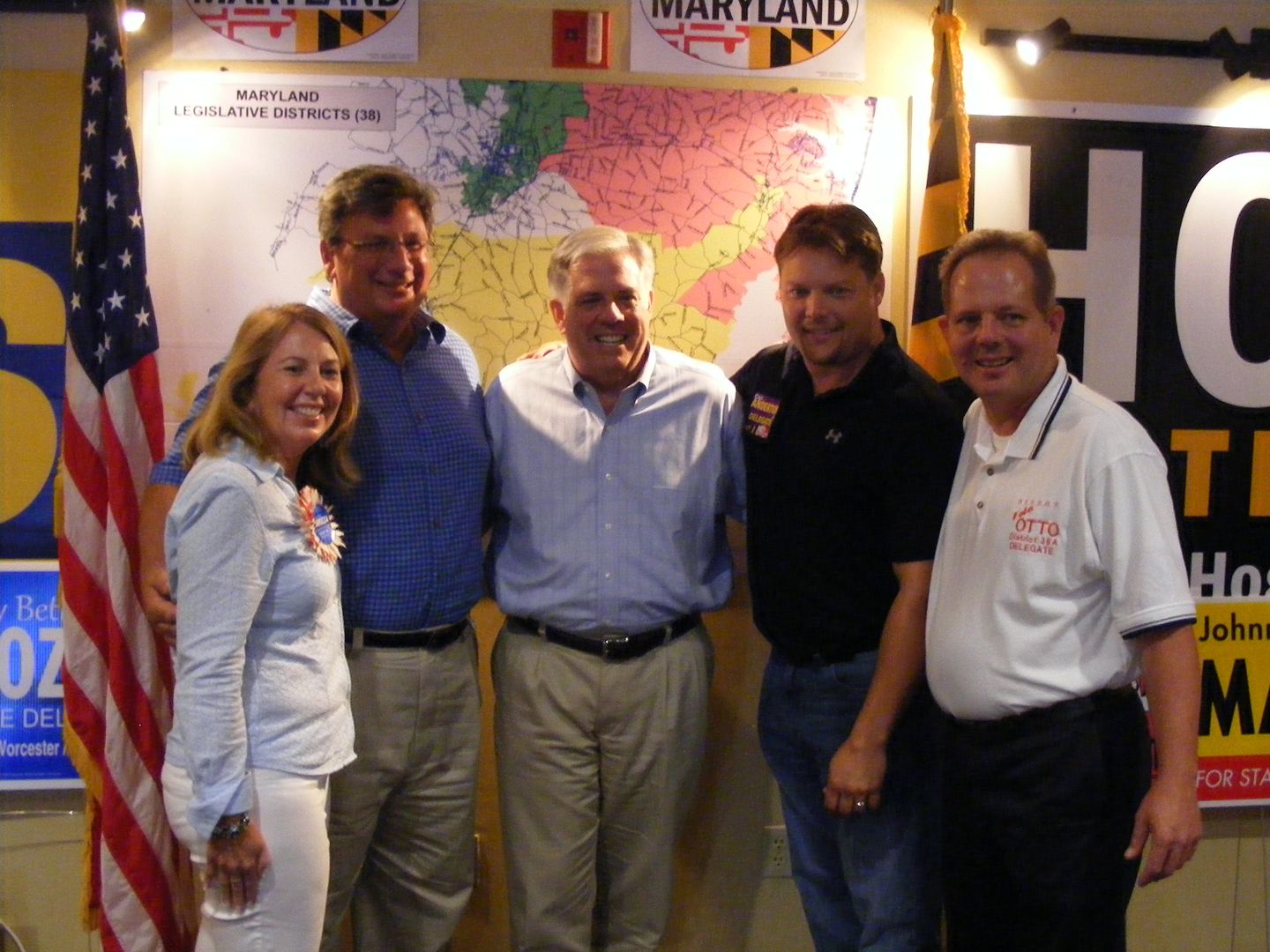 But the last one was special. Forty years ago, said Hogan, Blan Harcum helped Hogan's father on his campaign, so he makes it a point to renew acquaintances when here in Wicomico County.
So the headquarters is off to a good start. But after the food, drink, and selfies we need volunteers to help run the shop but more importantly assist with the campaigns. The headquarters is open 10-8 on weekdays and 10-7 on Saturday, according to Warren.
To borrow a phrase from a local candidate, let's get back to work.
I've written and researched a lot this week (and already laid some groundwork for next week) so this will be short, sweet, and to the point.
Yesterday I got an e-mail announcing a local event:
Michael –

Please join us Sunday (9/7/14) at 4:00pm for the Grand Opening of our Lower Shore HQ!

HOGAN FOR GOVERNOR HQ
4:00PM
1801 North Salisbury Blvd
Salisbury, MD 21801

Stop by and see Larry and pick up your Hogan supplies!
As a member of the Central Committee, I've been referring to this building as the Lower Shore Victory Center, or just "headquarters" or "Mister Paul's" (the former occupant.) The Wicomico County Republican Club calls it the "Eastern Shore Victory Headquarters." Did I miss something?
Do Republicans want Larry Hogan to win? Well, all but three percent of them did in a recent poll. But the last time we had a Republican governor, there was something missing: party development. All of the effort and money went toward getting Bob Ehrlich re-elected and not so much in candidate grooming and local campaigns which could have used the help. So we ended up with a debt-ridden party without a bench, and I'm not interested in a repeat of that mistake.
So I have a problem with being invited to the "Hogan for Governor" headquarters, even though that will be one of its primary functions. To a lot of local people, it's more important to elect Addie Eckardt and Mike McDermott to the State Senate, Carl Anderton, Jr., Christopher Adams, and Johnny Mautz to become our newest Delegates, and Bob Culver as our County Executive. Many of my friends are pounding the pavement for those races, figuring Hogan can take care of himself – so why is he looking for all the credit? (It also just dawned on me that it would be a complete turnover in those particular positions, something sorely needed.)
Maybe it's just bad optics to me. But it's worth remembering that Hogan didn't win this county, David Craig did.
So I'm hoping that when Larry comes down, he will refer to it properly as an Eastern Shore Victory Headquarters and not "his" headquarters. When you need 65-70% of the local vote to have a chance, a little respect goes a long way.
And while I'm thinking about Hogan, a few words about his fundraiser with Chris Christie. Do I agree with Chris Christie on a lot of issues? In a Presidential sense, not really. Does it bother me that Larry Hogan is bringing him to Maryland to fundraise? Absolutely not. Christie isn't my cup of tea, but if it raises a lot of money that's good for everyone.
On the other hand, Allen West is more my cup of tea and he'll be here later this month. So save the date of September 27 and your pennies because these events will be helping three different entities: West's Guardian PAC (which is supporting, among others, Dan Bongino), the state GOP, and the local party units.
While it's at a point in his career where there's little political fallout, it's still interesting to note that retiring Democratic Delegate John Wood, Jr. of St. Mary's County has endorsed GOP standardbearer Larry Hogan for governor over his own party's Anthony Brown. The story on TheBayNet.com by Dick Myers notes that Wood also endorsed Bob Ehrlich and has endorsed the Republican seeking to replace him in Annapolis.
Wood is one of the few Democrats who would regularly buck his party in Annapolis, and was a six-time winner of what I called the Top (Blue) Dog Award from the monoblogue Accountability Project. That award goes to "the Democrat who ranks the highest in my ratings, showing signs that there is a small but rarely-seen centrist element to the Maryland Democratic Party. It's the way the aisle should be crossed." Wood had a lifetime 46 rating on the mAP, by far the best of any Democrat and slightly better than retiring Republican Robert Costa, who finished with a 44 rating.
It proves that the 15% of Democrats who expressed a preference for Hogan in a recent internal Hogan poll are a legitimate part of the electorate, receptive to the fiscally sound message Hogan is trying to put out. Thar number is clear improvement from a July CBS News/New York Times poll where just 8% of Democratic voters favored Hogan. Obviously given the vast gulf of registration numbers between Democrats and Republicans in Maryland it's essential that some Democrats like Wood cross the aisle to back Hogan. To buttress that fact, there are dozens of "Democrats for Hogan" stickers available at our headquarters.
So welcome aboard, Delegate Wood. And bring a few other thoughtful souls to our side.
Safely ensconced in our new headquarters, the Wicomico County Republican Club held its first official meeting there, with the special guest speaker being State's Attorney Matt Maciarello. Matt has the enviable position of needing one vote for another four-year term because he's unopposed.
Before we heard from Matt, though, we had the usual Lord's Prayer, Pledge of Allegiance, and introduction of distinguished guests, a list which included our state party Chair Diana Waterman. We also received a brief update from Larry Hogan's regional coordinator Joe Schanno, who was pressed for time. He noted the need for volunteer help for the Hogan campaign, and pointed out the recent poll results that showed the race within the margin of error.
We also learned Larry would be here on Sunday for a series of events: the official opening of our headquarters from 2 to 4 p.m. followed by a fundraiser for District 37B hopeful Christopher Adams at Perdue Stadium from 4 to 8 and an appearance at a fundraiser for County Executive challenger Bob Culver from 5 to 9 at a private residence. There may be some other visits with local businesses added to the schedule, said Schanno.
After Joe wrapped up, we introduced Matt Maciarello. He recounted that when he took office in 2011 it was about the same time as Salisbury police chief Barbara Duncan was selected, a time when "crime was out of control." But with Duncan and Sheriff Mike Lewis, they planned a line of attack on the spiraling situation. Matt's areas of interest in that regard, naturally, were the district and circuit courts, although there's also a children's advocacy center and drug task force.
It's the latter item which creates much of our problem, said Maciarello. He claimed that there's "one (fatal heroin) overdose a week in Wicomico County" and surmised that the appetite for opioid drugs "fuels a lot of crime."
In combating crime, Matt also noted he's been an advocate on the legislative level, monitoring legislation and providing input, both as testimony and direct discussions with legislators. After a bill is passed, his office provides roll call training to street officers to make sure they understand new and revised laws.
Much of his time of late, said Matt, has been spent compiling and writing reports on a pair of recent police-involved shootings, reports he personally wrote and took the time to talk with the families of the victims about the reports if they were inclined to discuss them.
But he concluded by stating that citizens have a choice on where to live, and the perception that a place is safe is important to an area's well-being.
Matt then answered questions, many of which queried him about gun laws. A recent profile of Sheriff Lewis as one who would refuse to enforce federal gun laws led to a discussion on nullification, which he felt was "more symbolic than anything." On that subject, "I want to be on solid legal ground" – for example, what exactly would be nullified? So while he felt parts of the Firearm Safety Act were "clearly unconstitutional," he believed opponents should get the advice from a Constitutional scholar before proceeding in order to pick and choose the best points for a legal counterattack.
Asked for a definition of "good and substantial" cause, Maciarello said, "I personally believe the burden should be on the state."
He also spoke about the relationship with the local NAACP given some recent tensions, explaining that "I see my role…as a public safety job. You have to represent justice." He's tried to be as transparent as possible in all his office's dealings.
Jackie Wellfonder, who had attended the previous forum with several GOP candidates, noted that "we had an interesting dialogue." The GOP presence was "a first step."
After I gave the treasurer's report in the absence of our regular treasurer, Jackie gave her formal president's report, gushing that the headquarters has done "a complete 180″ from the state it was in when we took it over. She pointed out that donations would be welcome to help defray the expenses, and volunteers to man the phones and greet visitors would be great as well once we get the ball rolling on Sunday.
She also read a thank-you card from Elizabeth Mills, one of our two WCRC scholarship recipients.
David Warren, who is in charge of the headquarters, remarked again about the "once in a lifetime chance" we have to win seats in District 38.
He gave way to Diana Waterman, who commented about the ease of operating the "very user-friendly" phone system, and urged us to "step out of your comfort zone." She also talked up the September 27 Allen West event and announced our Super Saturday would be October 4, just before the Andy Harris Bull Roast in Queen Anne's County.
Dave Parker gave the Central Committee report, giving more details on the Allen West Patriot's Dinner and repeating the information on the October 4th events.
It was then time to hear from some of the candidates in attendance.
Speaking on behalf of Larry Hogan's campaign, Ann Suthowski revealed he would have a fundraiser featuring Chris Christie in Bethesda and there would be a day for LG candidate Boyd Rutherford in this area as well as for Hogan. She was looking for sign locations and letters to the editor as well.
Jackie Wellfonder spoke again, this time on Chris Adams's behalf. She repeated the information about his Perdue Stadium fundraiser as well as the Bob Culver gathering that will also feature Andy Harris.
County Council candidate Larry Dodd acknowledged he took a little break after the primary, but pointed out while his opponent claims to be "moderate" he was really "100 percent Democrat."
Johnny Mautz of District 37B introduced his local campaign coordinator and promoted three events: fundraisers for him in St. Michael's and Easton on September 20 and 21, respectively, and a Larry Hogan event at Sailwinds Park in Cambridge on September 28. The Easton event he's holding has as a special guest author and commentator S.E. Cupp.
Carol Rose spoke on behalf of Mary Beth Carozza and announced her fundraiser would be held at Frontier Town near Ocean City on September 7. She also noted a Worcester County TEA Party event featuring Carozza along with the other three Republican District 38 candidates was "fantastic."
Marc Kilmer was pleased to have finally met his opponent. But on a more serious note, he was ready to resume doorknocking and was looking for volunteers to help at the Sharptown Heritage Days parade on September 20.
Muir Boda wasn't a Republican candidate anymore, but revealed he was one of a dozen applicants for the vacant Salisbury City Council position. We will probably know Wednesday who will fill the unexpired term of Terry Cohen, he said.
We also heard from the unopposed County Councilman John Hall, who said his campaign was "going just swimmingly" and received an update on the September 6 WCRC Crab Feast.
So after one piece of new business, our formal meeting was done. But many stayed around for this. (Photo by Jackie Wellfonder.)

The Ice Bucket Challenge got another "victim" and this time it was MDGOP chair Diana Waterman. I guess "water" is appropriate in this case.
I'm not sure how we'll top this in September, but someone else will have to let you know. I get a personal day from the next meeting, and those of you who know me well will know the reason why.
It was just about this time in 2010 that Bob Ehrlich had his last positive poll – a Rasmussen Poll had the Maryland race tied at 47-47. Granted, the former election calendar dictated a primary was still to come but it was presumed early on (particularly as the state party had its thumb on the scale) that Ehrlich would be the nominee.
But as time wore on and people began to pay attention, the thought of returning to the era of Ehrlich seemed to turn voters off, as the race which was single-digits until mid-October turned suddenly and forcefully Martin O'Malley's way in the end, as he won going away by 14 points. This blowout for O'Malley had a few coattails as well, as the GOP lost two Maryland Senate seats (but gained six House of Delegates seats, solace in an otherwise contrarian election here in Maryland given the 2010 national TEA Party wave.)
We have no idea if the same will hold true with different players in 2014, but the Maryland GOP was pleased to release a poll which showed the race between Larry Hogan and Anthony Brown was within the margin of error. Granted, it was from a Republican pollster and perhaps slightly oversampled Republicans but the results still have some merit.
As the OnMessage, Inc. pollsters write:
The ballot currently stands at 45% for Brown, 42% for Hogan, 4% for Libertarian Shawn Quinn and 9% undecided. In deep blue Maryland, that signals real trouble for Governor O'Malley's right hand man. More importantly, Independents favor Hogan by 8 points with a quarter still undecided. That's remarkable considering that Hogan is still unknown to most Independents with an image of 27% favorable and 14% unfavorable. But Independents know Brown better and don't particularly like what they see. Brown's image among Independents currently stands at 32% favorable to 39% unfavorable.
I can easily gather two things about this race: one is that Shawn Quinn will get 1% if he's lucky, and the other three percent will likely break toward Hogan by a 2:1 margin. It's also an axiom that undecideds tend to break for the challenger; despite the fact the seat is an open seat Brown as LG has to be considered the incumbent. It's a scenario which could be a repeat of the 1994 gubernatorial race.
Insofar as the numbers go, the sample used by OnMessage is a 51-32 D-R split, which oversamples registered Republicans by about five points. However, if Republicans are motivated to turn out and Democrats are dispirited, that turnout model may not be bad. And when just 51% of Democrats feel the state is on the right track (while 64% of independents and 88% of Republicans think things are going the wrong way) the motivation should be on the GOP side.
It's also worth mentioning that Brown is already leaking 15% of Democratic votes to Hogan while just 3% of Republicans back Brown. The only reliable constituency Anthony Brown has is the black vote, which is at an 87-5 margin – hence the Michael Peroutka scare tactics being used as a dog whistle to minority voters.
Even though it's a Republican poll, the trend has to be a little disturbing to Democrats. Earlier in the summer, Brown had a massive lead over Hogan – up 18 in a June Washington Post poll, and up 13 in separate July CBS News and Rasmussen polls – so to see that melt away to no worse than single digits has to shake up the Brown campaign. It explains why they're throwing the kitchen sink at Hogan on social issues, trying to distract attention from Brown's pitiful and puny record of political accomplishments.
Obviously the fight in this election will be how well Hogan can stick to his message of fiscal responsibility. Now that the primary is over, we don't have to fight on degrees of difference so when the Democrats try and change the subject I'm not going to allow it. It's time for fiscal responsibility and competence, and Maryland Democrats over the last eight years have shown little of either.
First, the setup: one of the many e-mails I've received beseeching me for donations. It asks "Are you on this list, Michael?"
Michael,

Chairman Walden just sent me a list of NRCC Members for 2014, and I don't see your name.

I know you've been one of NRCC's most loyal supporters since the start, this just can't be right.

You donated in the past in defense of a Republican House Majority, but not yet this year.

It's getting urgent with 80 days until Election Day. We need you now more than ever. We're working to stop the Obama campaign machine in its tracks – BUT we can't do it without you.

In order to combat the $374 MILLION that Democrats are spending this cycle, we need grassroots supporters like you to renew your support for Republicans across the country today.

Together we'll rally families and workers to stop President Obama's disastrous Big Government Agenda – and advance better solutions for a brighter future.

Please don't wait another moment. Renew your NRCC membership today with a gift of $10.

And, if you renew by tonight at midnight, I will triple your donation, so your gift of $10 will have an impact of $30.

Thanks,

John Boehner
Speaker of the House
Let's clear a few things up. I don't think I've ever given a penny to the NRCC, so they're pulling that one out of their rear end.
But more importantly, what have you really done to "stop President Obama's disastrous Big Government Agenda?" Have you defunded Obamacare or told the EPA where to go? How about impeaching some of the lesser members of the administration? Of course not, because your consultants said it would drive away independents, as if most of them will vote in a non-Presidential race anyway.
And then you have what this duly-elected Congressional nominee wrote yesterday:
I just pulled over about 2 hours into a trip to Allegany County to write this. I think it's time.

Have you heard of the National Republican Congressional Committee (NRCC)? They exist to allegedly help Republican candidates get elected to congress. Do you know that it's been months since my victory in the Republican primary in Maryland and I haven't heard a peep from either them or the RNC?

Do these establishmentarians think it's easy running as a Republican in deep-blue Maryland? Do they think that after years of having OUR party nearly taken over by cronyists, interventionists, purveyors of bad policies like TARP and grotesque levels of government spending, that outsiders like me have it easy?

I can barely knock on an Independent's or a non-white-male-voter's door without being thrown off their porch. Do you feel that you've mastered the message and it's really people like me who are the problem? Who do you think is fighting this battle? It's certainly not you. We're the ones at the doors, where it matters.

What's your reason for ignoring me, and the many others fighting for this magical country's tomorrows? Do I not fit into your box? Is it my youth, my message, or is it that I haven't firmly planted my lips on your rear-end?

I'm a Republican because I believe liberty matters and we should not surrender OUR party to cronyists and connected-insiders. We built this house and you don't get to burglarize it and keep the spoils. If elected Democrats want to monopolize unlimited government and evaporating liberty then go join them in their house but stay out of ours.

Finally, thanks to the grassroots who have accepted me as one of their own, despite my recent entrance into the political arena. It's your sweat and positive energy that keeps me going despite the willful ignorance of so many on the inside. It's you that matters. Thank you so much.
Really? You at the NRCC ask me for money and don't support a guy like this? Well, perhaps I have an idea why Dan Bongino and others like him get the shaft. I won't blockquote the whole thing, but a piece by Dr. Steven J. Allen of the Capital Research Center is worth reading in order to get a peek into what I think is the mindset of the NRCC and "establishment" Republicans at large.
But the problem isn't just Washington. Just look at what the Democrats have tried to stick on Larry Hogan with the help of a most compliant media. From a Michael Dresser piece in the Sun:
"The No. 1 priority is to expose Larry Hogan as a conservative, knee-jerk Republican who doesn't support universal pre-K and doesn't support a woman's right to choose, doesn't support increasing the minimum wage but instead supports giving billion-dollar tax giveaways to the largest corporations," (Anthony Brown campaign manager Justin) Schall said.
Needless to say, there was no follow-up as to why universal pre-K is so vital (Head Start has been shown to be ineffective after grade 3), proof that Hogan isn't pro-choice, and, frankly, why Brown thinks we should be confiscating tax money from our largest employers – you know, those people who create jobs that have value rather than push paper?
Unfortunately, this is what Hogan's side had to say.
"We obviously have to get our message out to a broad segment of the population. We have to lay out a clear vision of what we want to accomplish," (Hogan campaign manager Steve) Crim said. "It's a humanization. It's showing people that Larry does care about everyone."
I didn't know that was a question. I would contend that Anthony Brown only cares about the special interests bankrolling his campaign. So why is it implied that the Republicans don't care about everyone? I deeply resent that implication.
Or read this lead paragraph from John Wagner in the Washington Post:
To hear Maryland Democrats tell it, a victory for Republican gubernatorial nominee Larry Hogan could lead to the legalization of additional assault rifles, new limits on women's access to contraception and the clock being turned back on gay rights.
Prove it. Come on, Maryland Democrats, let me see the legislation Larry Hogan has proposed to do just that. Put up or shut up. Unfortunately, Larry plays along to an extent:
"It seems like every other day, we're getting some off-the-wall attack on something that no one cares about," Hogan said. "They're trying to make me into a right-wing, tea party Republican."
Trust me, Maryland, if only…but he's the best we have to work with.
It's time for a little attitude. Later in the Post piece, the whole Michael Peroutka affair is brought up, and look who went dumpster-diving for that minor little issue:
The Brown campaign e-mailed reporters about the secessionist views of Michael Peroutka, a Republican council candidate in Anne Arundel, where Hogan lives. Hogan promptly responded by saying Peroutka's views have no place in politics. An aide said that Hogan and Peroutka have no relationship. (Emphasis mine.)
Divert from important issues much? The Brown campaign is worried about a local County Council race? I think I'd worry more about the $150 million or so of taxpayer dollars you wasted on a balky website than one person's personal views, which wouldn't affect how he served the public in his capacity anyway.
There are a lot of fed-up people out here in the real world. They're tired of struggling to make ends meet while watching the borders and the law be ignored, their taxes constantly go up while government cronies prosper, and being told their conventional, Judeo-Christian views of morality are politically incorrect and intolerant. I'm sick of it, too.
I have a number of friends who are Democrats. A lot are great people, and perhaps there are places we share political common ground. But to blame Republicans for the problems affecting this state and nation is the height of folly, considering who's been in charge recently. Simply put, the Democratic prescription is not making the patient better; instead, Uncle Sam is more infected and weakened than he was when the Democrats took over Congress in 2007 and the White House two years later.
The real truth is out there beyond the headlines. Talk to the people, and they will tell you just what I said a couple paragraphs above. Maybe the political consultants and hucksters who keep putting out constant e-mail appeals for my money (trust me, it comes from both sides) are getting a cut, but I say we ignore them and just give to our favored candidates. (Okay, I will make an exception for the state GOP, if only to keep their lights on and phone working.)
I think somewhere we lost our way, and the world needs good leaders on par with our Founding Fathers to steer us back. Just wish I knew who they were, because when I look at a lot of those people who would deign to be our national leaders I see a load of snake oil salesmen.
I'm probably going to drive my Republican friends nuts here, but I think this guy has a point.
Last night I saw this among the posts on my Facebook feed:
What do you think you will hear Saturday from Brown and Hogan?

Brown will tell you about his folks and the one year he served. He will replay everything that O'Malley has done has if he had something to do with it.

Hogan will simply bash Brown for every problem in the state.

If Quinn had been allowed to speak you would hear about term limits, lower taxes, better schools, reformed tax codes and regulations, restored rights and power being given back to the people. Do you see why they can not let Quinn to be heard? November you decide, a self serving governor or an open, honest and people caring governor. They can't stop you from voting for the best possible governor.
Of course, the author of this piece was Libertarian candidate for governor Shawn Quinn, who wasn't invited to the MACO forum to speak and will lead a small protest to that fact Saturday morning.
Come out on Saturday in Ocean City and help me protest this apparent anti-citizen group. We will get pictures of who is supporting this government-controlled Association and let you see who is abusing their office.
Obviously I come from a Republican perspective, but I have given the Libertarians a little ink in the past (like this when the 2010 campaign began.) So it's nothing necessarily new, even though I do believe they take more votes away from Republicans than Democrats. (Conversely, the Green Party takes mainly from the Democrats, which may be why they haven't put up a 2014 candidate.)
I can understand that there are candidates who will be on the ballot but get a tiny percentage of the vote, but it's interesting how they're treated by the media. Until he was tossed off the ballot, Brian Vaeth and his likely 1-2 percent of the vote was often included in Republican debates; on the other hand, only the three main Democratic candidates got the spotlight while the other three (Ralph Jaffe, Charles Smith, and Cindy Walsh) were ignored. It begs the question of whether their combined 2.8% was a factor of not having popular viewpoints or being ignored by most media. (Jaffe and Smith, however, fall into the perennial candidate category. On the other hand, Walsh ran to the left of Heather Mizeur, who she called "a nice person (who) will serve as an establishment neo-liberal." I think Walsh would have been great in the debates, and she got half that 2.8%.)
There's no question that Quinn will fall far short of being the next governor. Susan Gaztanaga got 0.8% of the vote in 2010, which set the high-water mark for the Libertarians in Maryland. They didn't field a 2006 candidate, and Spear Lancaster scored 0.68% of the electorate in 2002. Getting to 1% would be enough of an achievement.
But even though there's little chance Quinn will win, I think he should be included in debates. I think it would be educational for the others to respond to some of the points the Libertarian brings up on his issue page, like this one:
The largest percentage of welfare tax dollars goes to pay the salaries of welfare workers and government overhead expenses, only a fraction of these monies actually make it into the hands of the needy. Throughout history private charities and groups do a better and more efficient job of helping the truly needy get back on their feet. A priority for our administration will be working to transfer these much needed services to the private sector and assist them in creating programs to put people back in the work force instead of continuing to perpetuate the meager handouts which force the needy into government dependency.
In turn, there needs to be some questioning of Quinn as to how he would perform some of these policy changes with a General Assembly practically (if not physically) devoid of his party.
But that's the great thing about a debate of ideas – too bad we won't get one anytime soon.
As you can see, the state of Maryland is once again exhibiting its generosity by not charging sales tax this week on clothing and certain other goods. (I took the picture at my local Walmart, actually to send to Kim as a reminder.)
I've often advocated for the reduction or elimination of the sales tax – at least for those counties on the Eastern Shore – as a way to compete with nearby Delaware, which charges no sales tax. However, unlike my recent idea of ridding ourselves of the corporate income tax, which raises about $1 billion annually, I realize it would be a lot more difficult for the state to rescind the sales tax entirely. The state expects over $4.4 billion a year from the sales tax – about 11% of revenue – so getting rid of that would be a lot less likely. The sales tax is the third-largest revenue stream for Maryland, behind the individual income tax and the 27% of our revenue we receive from Uncle Sam.
But would it be a bad thing to make the Eastern Shore a tax-free zone? Obviously I can hear from here the wailing and gnashing of teeth from those of you on the other side of the bridge, but when you think about it the chances are pretty good those from the Western Shore have to pay a toll to get over here anyway. So why not give yourselves that break?
In rough terms, the Eastern Shore is 1/10 of the state's population, so in theory it would cost the state $440 million a year to exempt the Eastern Shore from the sales tax. I'll assume we do a little better than that given the tourism attraction of Ocean City and several close outlet malls, so call it $500 million. Certainly the state can figure out a way to excise 1% or so from its budget, with the additional income and jobs created for people on this side of the Bay making a significant dent into that perceived loss to the state. That's borne out in part by what Comptroller Peter Franchot told the Daily Times – lost revenue from exempt items is partially made up by extra non-exempt items purchased. By that same token, the sales tax loss would come back in the form of extra gasoline tax collected, more income tax from increased employment, and other revenue from enhanced economic activity.
We've tried to exempt ourselves from the sales tax increases before, but all those General Assembly members from the other side of the Bay want us to pay our fair share – never mind we are already taxed, regulated, and dictated to death over here. We carved out certain parts of the state to pay a "rain tax" so why not go the other way and allow some counties the economic relief?
When Larry Hogan is trying to figure out some of the taxes he can cut to assist hard-working Marylanders, why can't he do those of us who have to compete with Delaware a favor and make this part of the state a sales tax-free zone? You just might bring some business back from Delaware as a bonus.
I don't have a poll to show you, but I do have a website.
Today I was alerted to the existence of a new political website which makes the case that the next Congressman from the First District should be a woman: Jeannie Haddaway-Riccio. Gleaned in large part from her recent run for lieutenant governor on the David Craig ticket and set up to resemble an actual campaign site, the website is the brainchild of political activist Phil Tran. Tran points out that current Congressman Andy Harris is voluntarily term-limiting himself and believes Haddaway-Riccio would be the best logical successor.
I decided to start a movement. In the event that Congressman Andy Harris decides to voluntarily limit his terms, we need to have a formidable successor ready to go. That successor is Delegate Jeannie Haddaway!

Jeannie Haddaway is a great role model for young women (and men alike!). She will serve Maryland's Eastern Shore and the Baltimore suburbs with grace and dignity in a Congress that desperately needs such qualities.

Plan ahead or plan to fail. Please sign the petition to draft Jeannie Haddaway for Congress! We are also selling shirts to support the movement!
(I know David Craig didn't use the full name, but I prefer to refer to her with the married professional variation she used for the House of Delegates, Jeannie Haddaway-Riccio.)
It's fun to note that Tran has both 2016 and 2022 listed as the prospective dates for the campaign, and each presents different opportunities – as do other points on the calendar, as I'll illustrate.
First, though, it's my understanding that Andy Harris would stay in Congress twelve years – under his proposed Constitutional amendment, Congressional members would be limited to twelve consecutive years. I think the three terms statement is a misunderstanding since I was told twelve years at the time Andy ran the first time for Congress, and had personally asked him for clarification since. Twelve years was always the answer I received. But there are a lot of other ways Jeannie could go in the interim.
Let's look at 2016 for a second. It's a Presidential year, so there won't be a lot on the ballot. While I hope Andy Harris gets some Congressional help this year, it's likely he will either remain the lone Maryland Republican federal elected official or perhaps have Dan Bongino as second fiddle if the Sixth District votes in its best interest. (Obviously, if Maryland voted in its best interest they would have a full GOP delegation, but I'm talking in real terms.) In any case, I don't think Harris is leaving after just three terms.
But there is an intriguing race which could develop. Remember in early 2010 when the rumor that Barbara Mikulski was passing on re-election caught fire? Well, with the increasingly likely prospect of Republicans taking over the Senate, and the fact Mikulski's not getting any younger (she will turn 80 a few months before the 2016 election) it could lead to an open Senate seat for the first time since 2006. Needless to say, every Democrat in the state and their brother (and sister) will be salivating at the chance for the brass ring, but who else is on the GOP bench that has run statewide? You could say Bob Ehrlich, but he's been rejected twice by statewide voters.
Jeannie Haddaway-Riccio as the Republican Senate nominee in an open-seat scenario, particularly if the Democrats have a bloody primary because most are running from cover? Maybe she's not as conservative a candidate as I'd prefer, but I think she's electable in Maryland and it's a move that would make sense if she wanted another statewide bid. She would also have the advantage of needing less time to ramp up a campaign since it's likely Mikulski would wait until the last minute to announce her intentions to the world.
If Jeannie wanted to wait until 2018, she would have even more options. One would hope that she doesn't have to worry about a run for governor because Larry Hogan is the incumbent, but the possibility of a match against Anthony Brown is there. Unfortunately, no Democrat governor has lost a re-election bid in Maryland in about forever (okay, actually 1950 – and ironically, William Preston Lane lost over tax increases) so that may not be the best play.
After running for office statewide, it would perhaps be seen as a demotion to run locally, but there's the chance Addie Eckardt may only want one Senate term as she will be in her mid-70s by that point. Granted, we will hopefully have two new GOP Delegates who could move up if Eckardt wants just one bite of the apple, but my suspicion is that 2018 was always eyed as the time Jeannie would make the jump. A win there could keep her in the limelight for 2022, when Harris would be through his twelve years, the 2014 gubernatorial winner would be term-limited out of office, and – if Mikulski finally decided to retire at the age of 86 – that Senate seat would be again up for grabs.
Another possibility for 2018 would be to take on Ben Cardin in a Senate race, but assuming Ben wants to stay on he would be tough to beat – although, at 75 years of age and perhaps in the minority he may decide to ride off into the sunset as well.
It's clear that Jeannie's selection as David Craig's running mate opened a lot of eyes around the state (and brought out a few long knives) so it's no wonder Phil Tran is promoting her as a possibility for higher office. She isn't the longest-tenured or most conservative Republican candidate in the state, but she has the right experience and didn't hurt the Craig ticket, which simply didn't have the resources to compete against a deep-pocketed opponent who made no critical mistakes.
Running for lieutenant governor didn't turn out to be a success short-term, but it's obvious a lot of people now think highly of her long-term prospects.
For three years, the folks at Thumbtack.com, a service for entrepreneurs looking to trumpet their wares, has partnered with the Kauffman Foundation to produce a Small Business Friendliness Survey for much of the country. I've referred to this survey before on several occasions.
Out of 38 states which had enough data to analyze, Maryland falls in a range between 25th and 27th with a "C-" rating, placing it in a group with Michigan and Wisconsin. While it rated top grades (an A+) for training and networking programs, it had only one other good grade – a B+ in ease of hiring – and several D+ grades in regulations, tax code, licensing, environmental, and zoning.
There are a couple caveats to bear in mind for Maryland's grade. There aren't a whole lot of businesses surveyed, and the written responses came from a small area of the state representing Montgomery, Prince George's, Howard, Frederick, and Baltimore counties as well as Baltimore City. Those are the areas which generally represent the Democratic strongholds of the state, which leads me to wonder whether the grades are inflated because the responses tend to skew toward a liberal population or whether their frustration level is such because they are conservatives in a liberal state. Regardless, you have a number of survey answers like this one from Severn:
Maryland is all about taxing entrepreneurs and driving them to other states.
To be fair, there were a lot of positive responses, too, like this one from Hyattsville:
I have no complaints. The state of Maryland does a very good job in providing incentives for small business owners like myself to continue to conduct business.
If you hold your cursor over a dot on the page, you can read the good and bad reviews – by my count there are 32.
But to me this is a good primer for politicians to read – real responses from real business people who are hustling daily. And you can easily compare notes with a state like Texas, where responses were plentiful (at least from the urban Dallas, Houston, Austin, and San Antonio areas) and the grades were outstanding across the board – Texas was the lone state to not have any B grades whatsoever, just straight A's. (Virginia was also in a fairly elite category as well, along with Idaho and Utah.) That's a very useful facet of this survey in my eyes.
Having three years of data to work with can be telling as well. Out of ten sub-categories the survey measured, Maryland slipped in eight of them between 2013 and 2014. (Only the "training and networking" improved, while "employment, labor, and hiring" stayed put. These were the two best categories for Maryland.)
It is a legitimate question to ask, though, whether the frequent talk over the last couple years about how bad Maryland businesses have it has become a self-fulfilling prophecy insofar as these survey responses are concerned. While there's obviously been changes in law and regulation, they didn't seem as bad as some of the grade drops may seem to indicate. But then these are the people in the trenches.
With the timing of the survey, I suspect it will be taken next year in the opening weeks of either the Hogan or Brown administration, and the responses may hold a key to what we can expect over the next few years as far as businesses see Maryland.