A new day dawned yesterday after a night of partying I described in part 1. Too bad it was about the last time we got to see the sun.
Instead, I went down to grab breakfast and remarks fron three U.S. Senate candidates. It should be noted that a fourth, Anthony Seda, "has never reached out" to the MDGOP, according to Diana Waterman.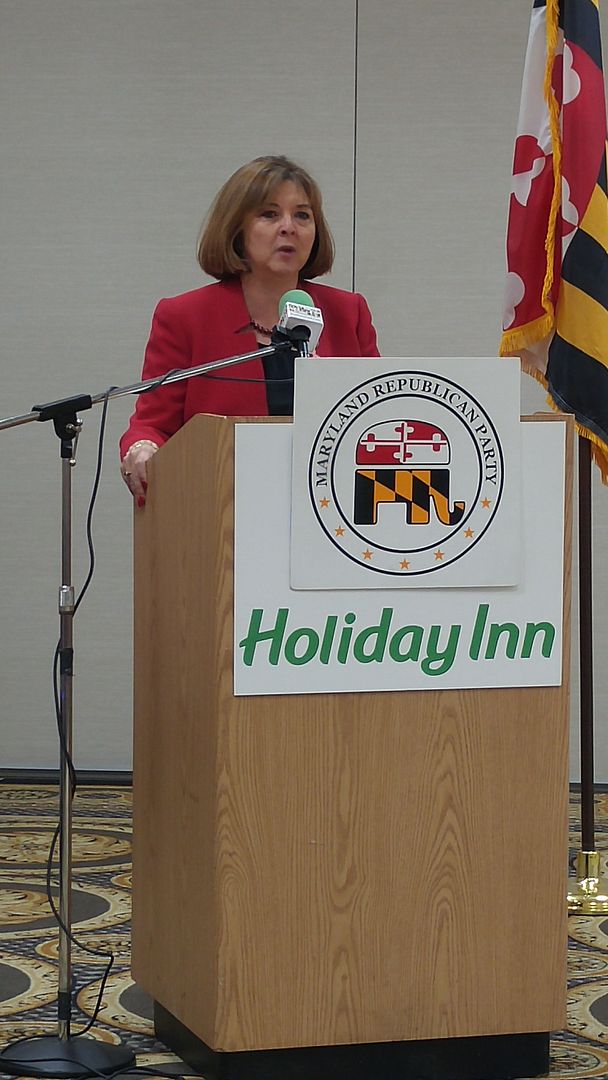 After an opening prayer where Delegate Deb Rey prayed that we "cruise to victory," we did the speeches in alphabetical order. This meant Richard Douglas spoke first.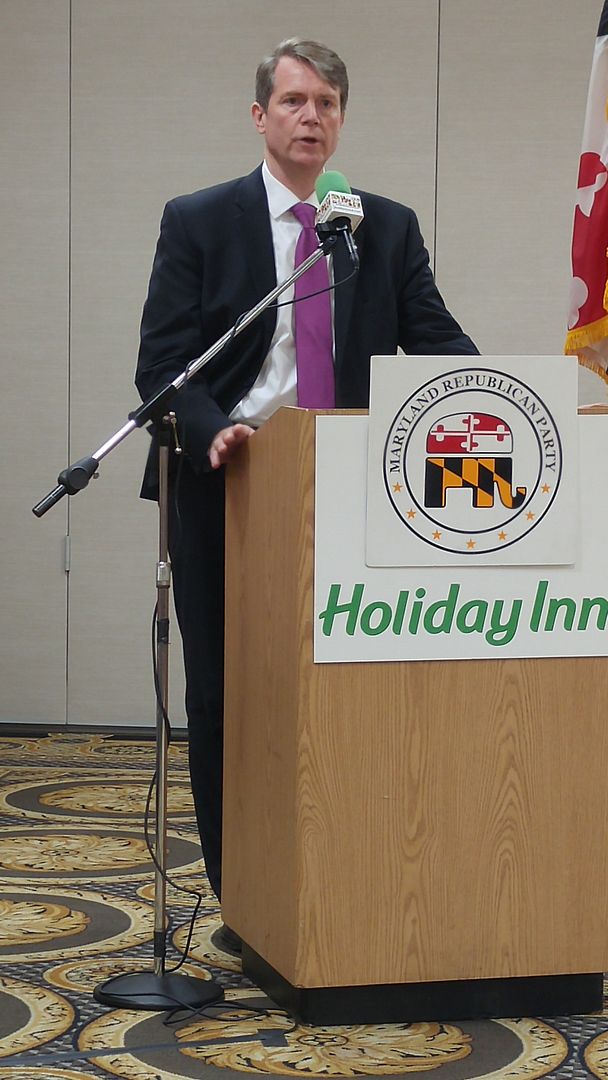 Richard noted the news was still filled with images from Paris, Belgium, and Mali, saying it underscores that "terrorism…remains a concern." He added that the authorization to use military force passed after 9/11 remains in effect today.
He added that growing up abroad made incidents like the building of the Berlin Wall and Cuban missile crisis "indelibly etched in my mind." But he assured us we are stronger than Russia – we just have a leadership problem. No one is pushing back on Russia, China, or Iran, he continued.
Douglas pivoted to domestic issues with a mention of the Bladensburg Cross, a court case he's assisting on and one for which he predicted "we'll take the wood to the humanists." It led into his thought that the job of a Senator was not to pontificate, but to act. In Maryland, it meant not just doing what he could at the federal level to eliminate the rain tax and entice industry. One example of the latter was the Howard Street Tunnel, which is too shallow to accommodate double-decker rail cars. It's a problem the current Senator has had 30 years to address.
"People who have three squares a day…don't riot," Douglas noted. With foreign policy experience and what could be described as a populist agenda, Douglas vowed "I intend to go to the Senate to make that place better."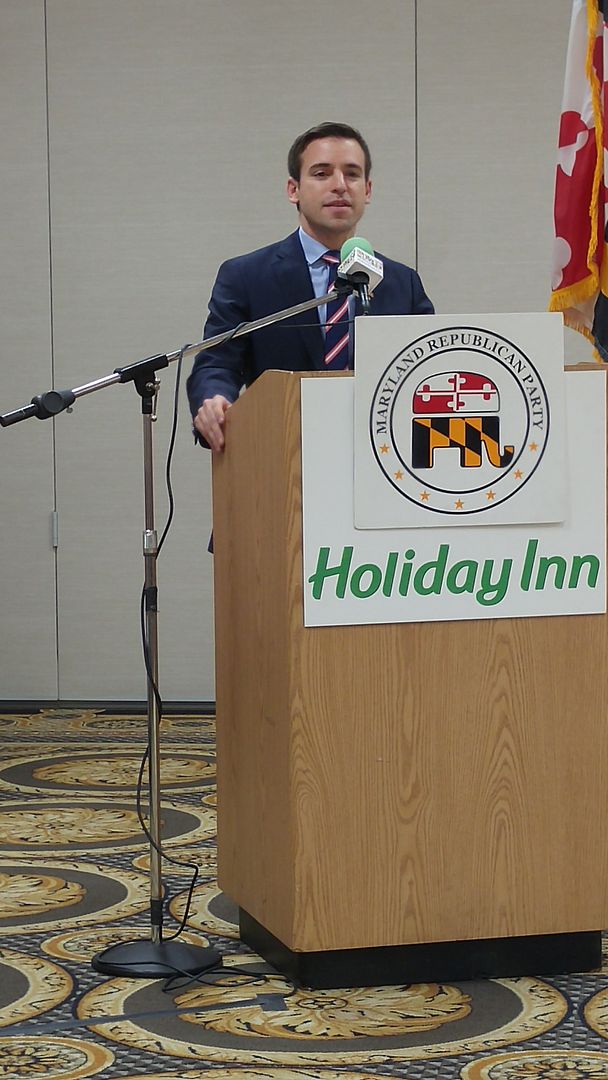 The son of Greek immigrants, Chrys Kefalas opened by saying, "I'm a story that's brought to you courtesy of the American Dream." He then detailed a life of precocious entrepreneurship as a teenage business owner who parlayed that success into law school and eventually jobs with Bob Ehrlich, both as Congressman and as governor. One of his accomplishments with the Ehrlich administration was pioneering criminal justice reform.
After a stint at the Eric Holder Justice Department working on a "smart on crime" initiative, Kefalas is now a vice-president at the National Association of Manufacturers. "Manufacturing is coming back," said Chrys. America has the advantages of innovative and productive workers as well as affordable energy. Taxes and regulations were holding us back, he explained.
Yet he was quick to recognize "you are the ones who are going to make the party strong…the campaign is about you."
Kefalas added that the task of the nominee is to win, and he would do so with his positive vision. In this "once-in-a-generation opportunity" to win the seat, Kefalas believed "I can get more Democratic crossover support than anyone else in the primary."
"We need to expand the map in Maryland," he continued. Through him "we have a path to victory."
Kefalas concluded by noting his recent engagement, stating "I am a gay Republican." But "we move our country in a better direction when we are together."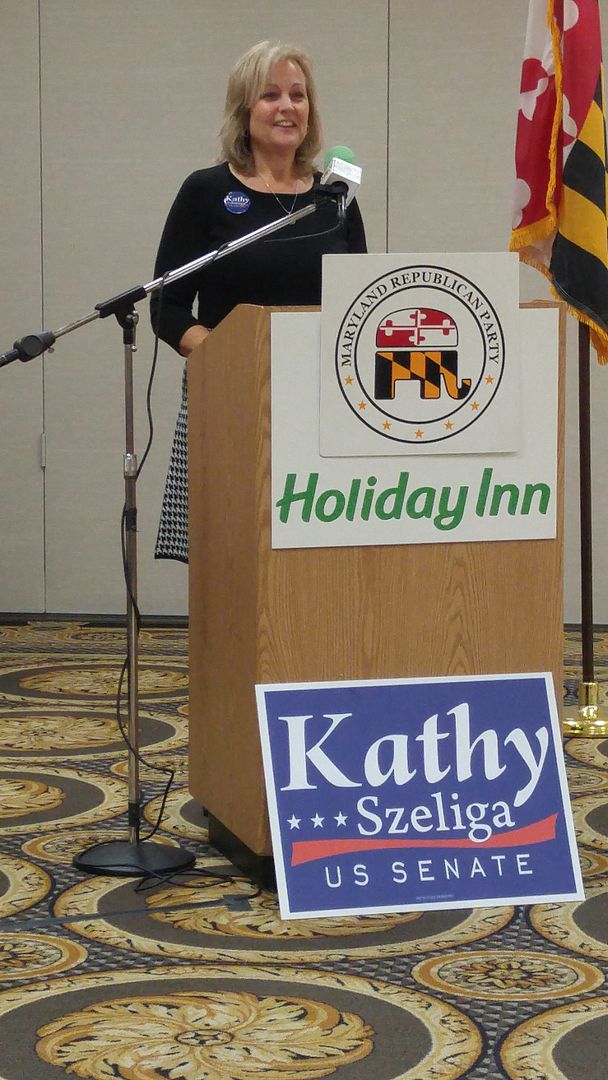 Kathy Szeliga emphasized her working-class background and that she and her husband Mark "believed in the American Dream." For most of her life she'd played the various roles working moms did.
But Kathy stressed her more recent past, talking about how she and fellow Delegate Nic Kipke "brought some new ideas to Annapolis." She also learned how to work across the aisle there.
With a new governor, Szeliga added, things were moving in the right direction – for example, we "repealed that darn rain tax." (Actually, we only eliminated the 'shall' but kept the onus on counties to pay for the improvements.)
As for her Senate run, Kathy believed "there was a time that Congress worked," but now government is too big, too gridlocked, and too distant. Indeed, "now is the time to turn Washington around…the American Dream is fading."
Her pet issues if elected would be quality of life, security, and schools. Most of her remaining time was spent discussing the security aspect, noting that "terrorism is real…we must remain vigilant." She vowed to support law enforcement as well.
Addressing her prospective opponents Chris Van Hollen and Donna Edwards, Szeliga opined they don't understand the dangers we face from "radical Islam terrorists."
In closing, Kathy pointed out her initial run of 61 endorsements and stated, "together we're gonna get this done in 2016."
So after Diana Waterman thanked her "three amazing candidates," I had some time to spend in the exhibit hall before the morning session.
There I ran into Tanya Tiffany from MDCAN.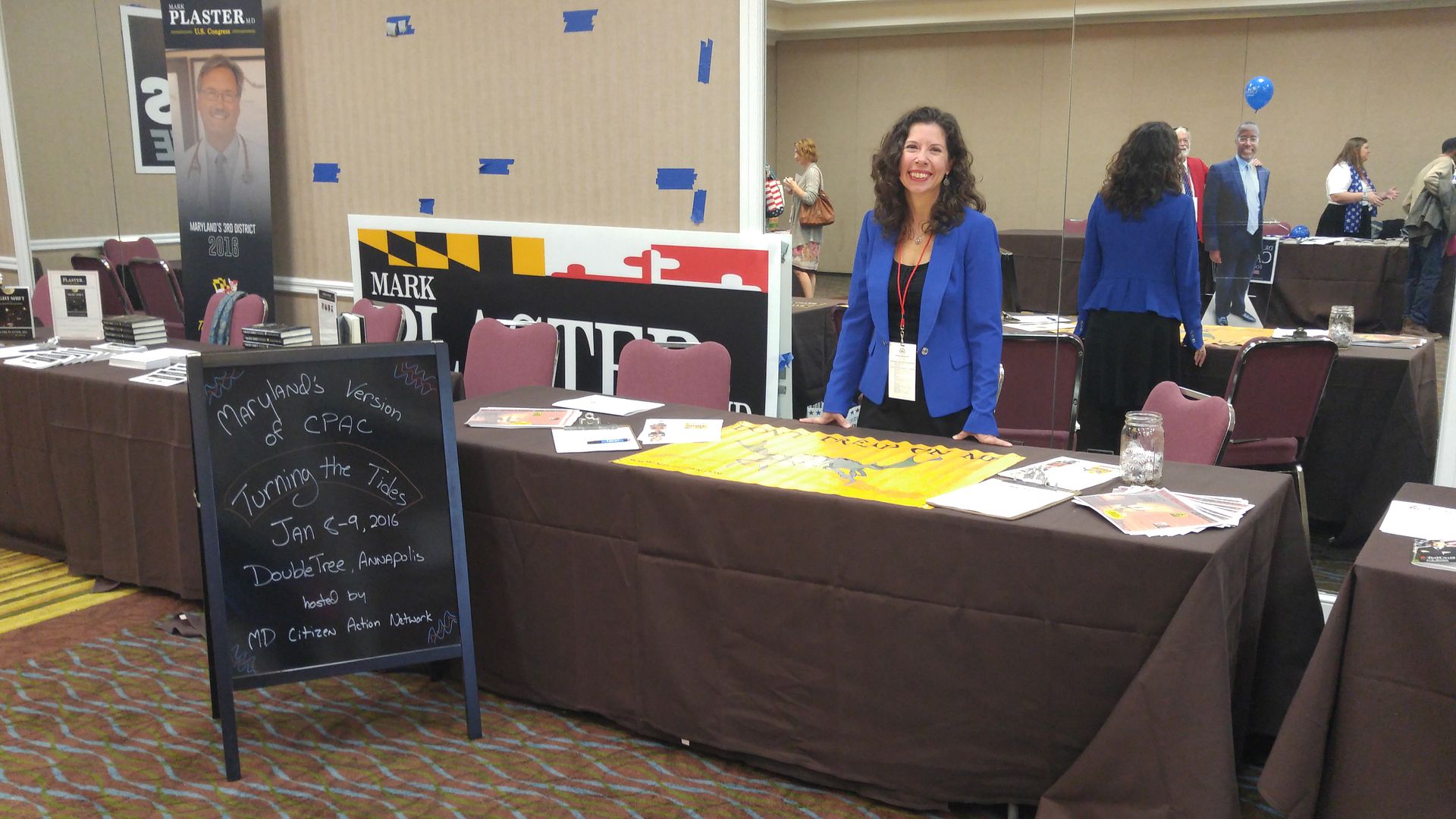 It's a good moment to remind readers about the upcoming Turning the Tides Conference coming up January 8-9, 2016. I asked her if they would have a Blogger's Row as in past editions and she said they were looking for a sponsor. They're also changing the format a little bit to be more like previous editions, so it should be informative and more like "Maryland's version of CPAC."
With the convention opening, we were welcomed by Senator Steve Waugh.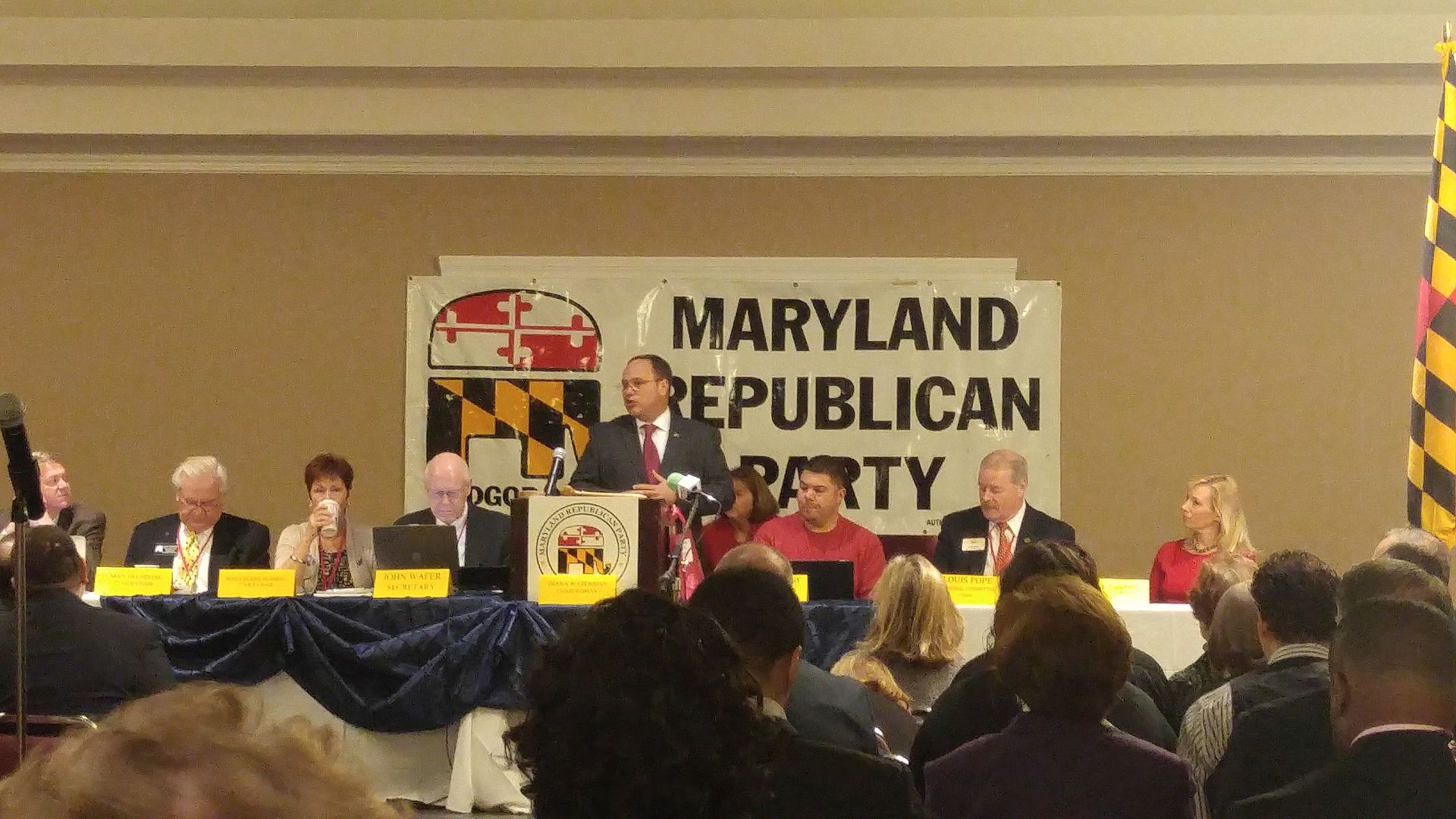 In his remarks, Waugh focused on the fact this part of Maryland "gave freedom of religion to the world" with the passage of the Tolerance Act in 1649. In the here and now, Waugh believed Governor Hogan "made the perfect call" regarding Syrian refugees, noting "you must ensure our safety."
In another bit of history, Waugh pointed out that 15 years ago Calvert and St. Mary's counties were about 2-1 Democrat but now both have a GOP majority.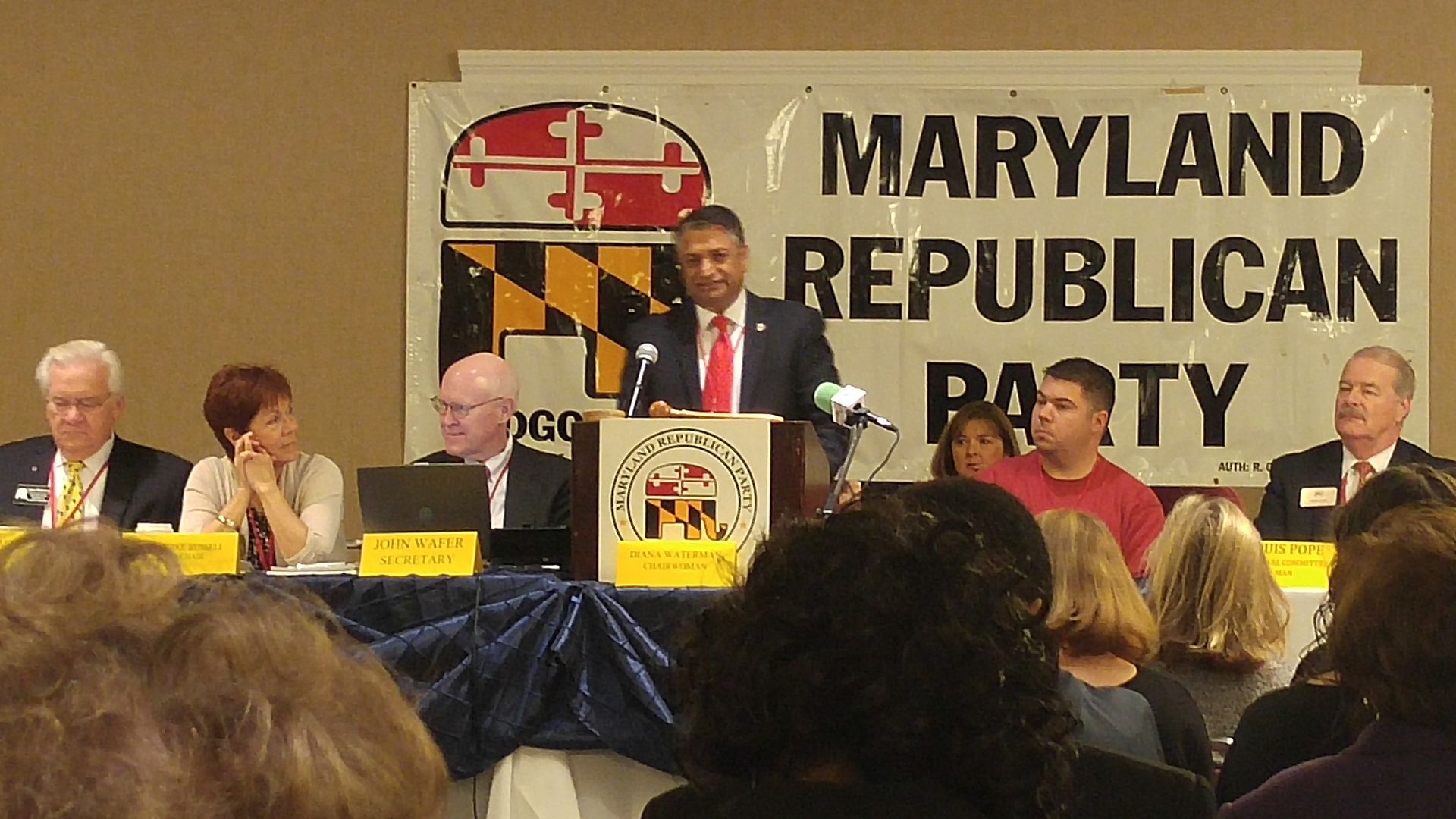 Since Larry Hogan was at the RGA meeting and Boyd Rutherford had a previous personal engagement, it fell to Secretaty of Human Resources Sam Malhotra to extend the governor's greetings. He went through a laundry list of accomplishments by the administration over its first year, but concluded with the remark "I can't wait for the next seven years." He believed we were in the process of changing Maryland from deep blue to "baby blue" to purple to red.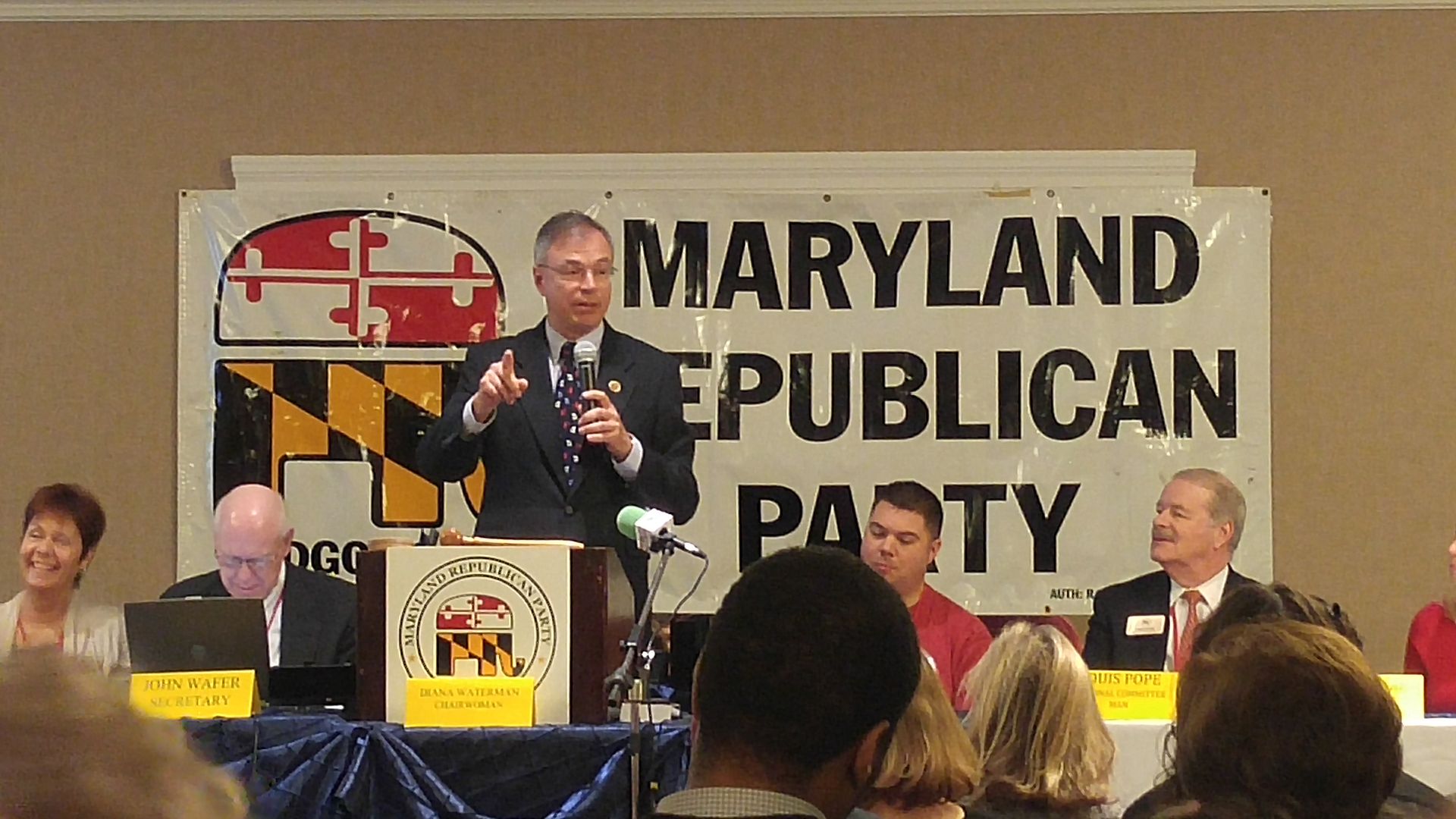 Congressman Andy Harris supplemented Malhotra's remarks by saying he'd work hard to get five more Senators in Larry's second term. "What a difference a year makes," he added, also maintaining "this is not a deep blue state."
As far as Congressional leadership, Harris believed it was the right time to change leadership. Paul Ryan can deliver our message, as opposed to John Boehner. "I don't believe he communicated well," said Harris. Andy also believed Speaker Ryan had his priorities in order, putting family first. "It doesn't take a village, it takes a family," said Harris.
Turning to the economy, the Congressman was waiting for the "last shoe to drop," meaning an inevitable interest rate hike. If rates rise to their historical rate of 2 1/2% it would mean $500 billion a year in interest payments alone – more than we spend on defense. "The economy is not going to get better" under Barack Obama, he added.
Obama's administration is also promoting the message that law enforcement "is our enemy." Yet this is a time where we had a real enemy. "What Paris showed us is that 9/11 is not over," said Andy. Add in the Russian airliner and the Mali attack, and it was no wonder France took action. Hollande "figured it out" that Obama wouldn't take charge. "This is a setback to him," explained Harris.
The narrative that ISIS is contained falls flat to Harris as well. "ISIS is here in the United States," said Harris. "We have to declare war on ISIS." Moreover, "we have to fight the war on ISIS as a war to win."
Looking back to the state party, Harris believed we were on a roll and the Democrats were worried. Now we have to recognize the importance of local elections and raise money for the local Central Committees. "Only 350 days until Election Day," Harris concluded.
We then heard from Steve Waugh again, who gave the Senate portion of the legislative update. "The magic number today is 19," he said, referring to the number of Senators required to sustain a veto.
He predicted the next session "will be all about Baltimore," adding that the budget will also come through the Senate this year. Other items to watch out for: paid sick leave, body cameras for police, K-12 education funding, a bottle tax, and "death with dignity." We also have to figure out how to come up with over $1 billion to service O'Malley's debt, Waugh added.
While the Democrats would try to sandbag Governor Hogan by laying traps for him to spring in 2018, Waugh advised us to "stay focused on the message."
Wearing her Delegate hat, Kathy Szeliga urged us to join the Governor's press list so we could spread the word about his successes. She harped on the $17,000 per pupil Baltimore City Schools spends, saying we were committed to education but also to accountability. How much is enough?, asked Szeliga.
She added there were some successes from the House on the Second Amendment as we ended ballistic fingerprinting, made it easier for armored car personnel to get permits, and removed some accessories from the SB281 ban list.
Finally, Kathy urged us to "answer back" to Democratic fundraising.
Shifting gears, we heard from Lucas Boyce of the RNC regarding their new philosophy to "engage, embrace, entrust" and the Republican Leadership Institute. Diana Waterman was working to bring some RLI graduates to work here in Maryland.
Boyce wrapped up the morning session, so we adjourned for two seminars and lunch. The first seminar I went to featured Nicolee Ambrose.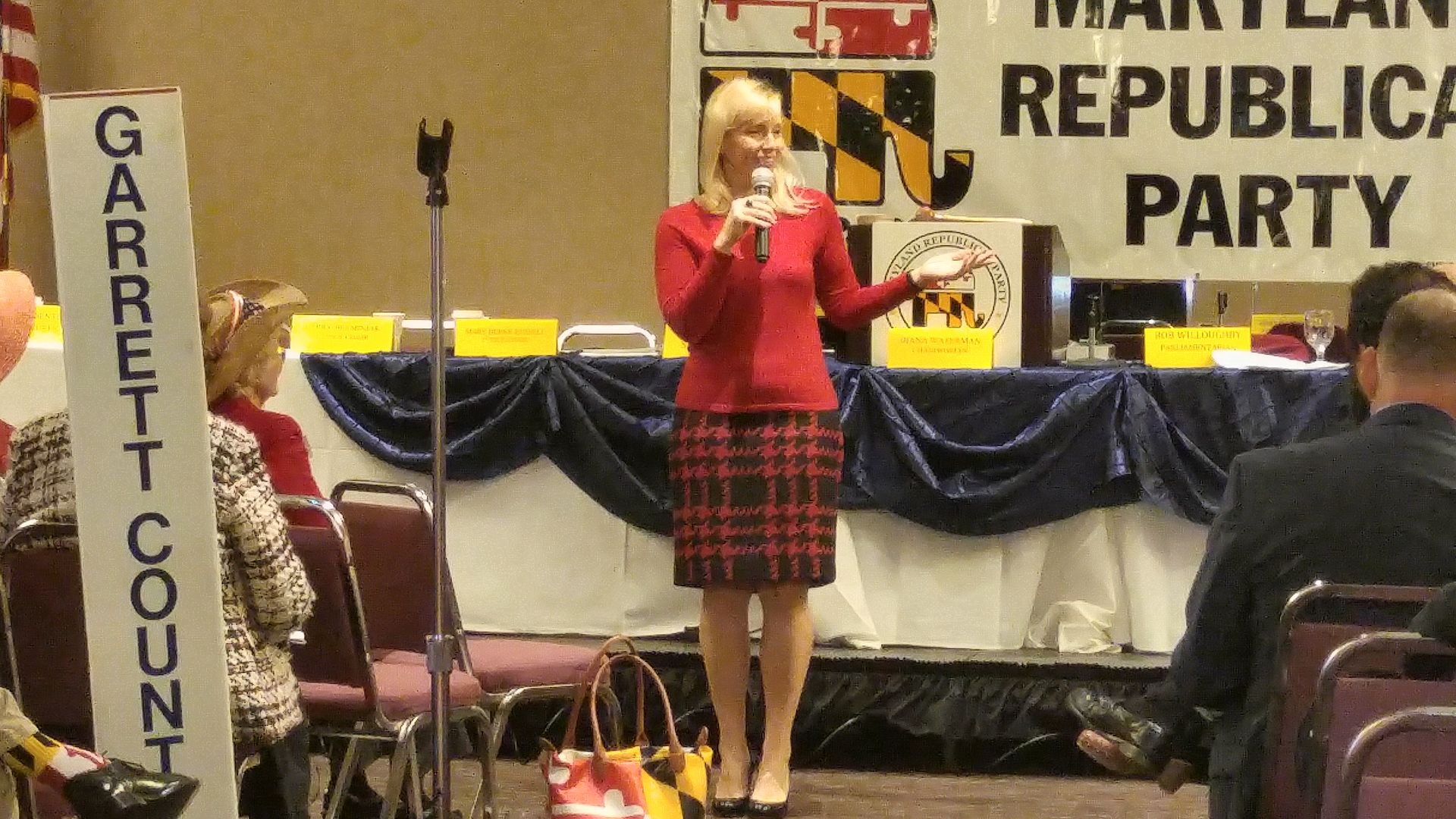 There we discussed two somewhat disparate but vital topics: grassroots organizing and public speaking. On the latter, we did a pair of "American Idol" style auditions where "contestants" were judged and advised on a two-minute speech. It's really hard to talk for two minutes.
I didn't take a photo at the second one, but Justin Ready spoke on some of these same topics and more.
Not taking Justin's photo means I have a cleaner lead into the National Committeewoman's report Nicolee delivered to start the afternoon.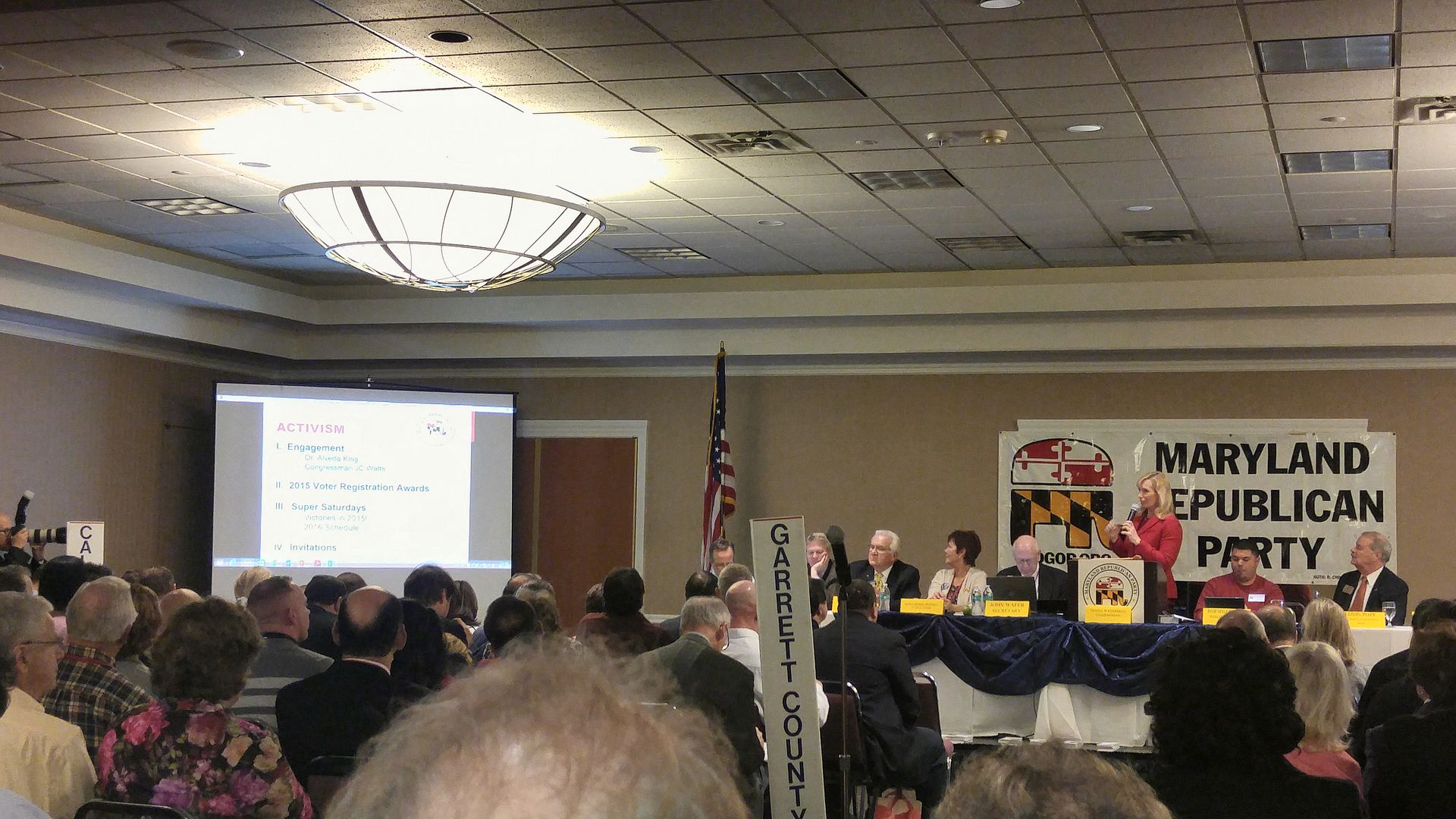 Nicolee pointed out some of our engagement events featuring Alveda King and J.C. Watts in Baltimore City, adding that getting Republican totals to 25% there makes us a red state. She also announced the winners of our voter registration contest for various-sized counties.
Ambrose was happy about going "2 for 2″ with her Super Saturdays, winning with both Michael Esteve in Bowie and Muir Boda right here in Salisbury. "This man was an animal" when it came to door-knocking, said Ambrose of Boda. She also praised Patrick McGrady for winning for mayor in Aberdeen.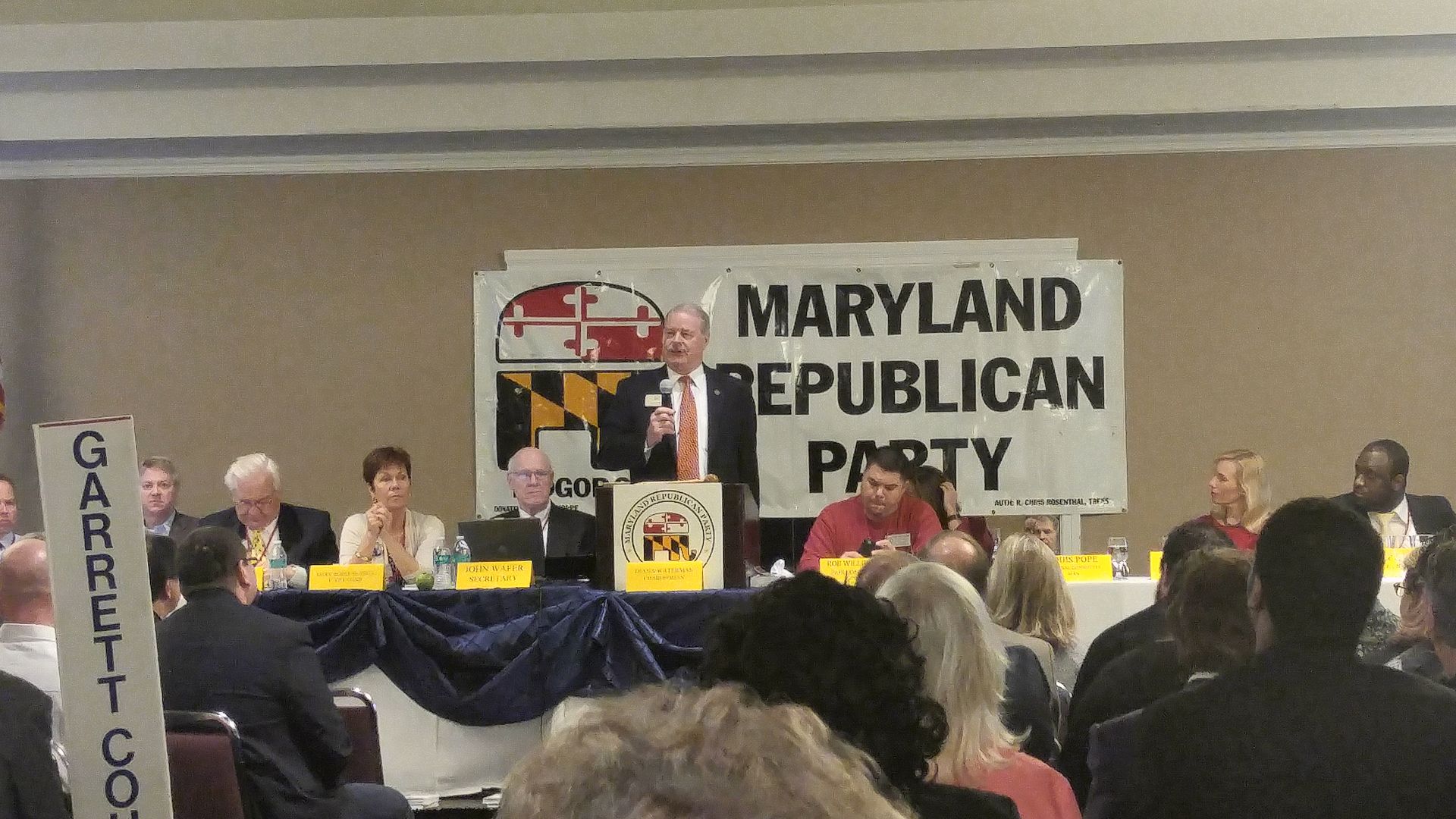 A man who hosted a "phenomenal" house party, according to Diana Waterman, Louis Pope gave the National Committeeman's report.
He focused more on the national scene, saying the RNC was "far more viable" than at any other point in history. And although this success wasn't being picked up by the mainstream media, the ground game was "going exceedingly well…our turnout machine is working." Now we had 32 GOP governors, added Pope.
Noting the CNBC debate showed "how unbelievably biased" the media is, Pope opined the primary season would be over by April 30. After that, it was "absolutely essential" that we come together. "Next year's election will be a battle royal," said Pope. The RNC has "a very deep playbook" on Hillary, Louis added.
On a local level, Pope urged the Central Committee members to raise money this year for the 2018 elections, since there's not much competition for funding. This year's campaign, though, will require "sweat equity," said Pope.
We heard a quick report from College Republican Chair Christine McElroy, detailing their successes – including the Salisbury University CRs co-sponsoring our Lincoln Day Dinner. But she also revealed the sad fact that 77% of millennials could not identify even one of their home state Senators.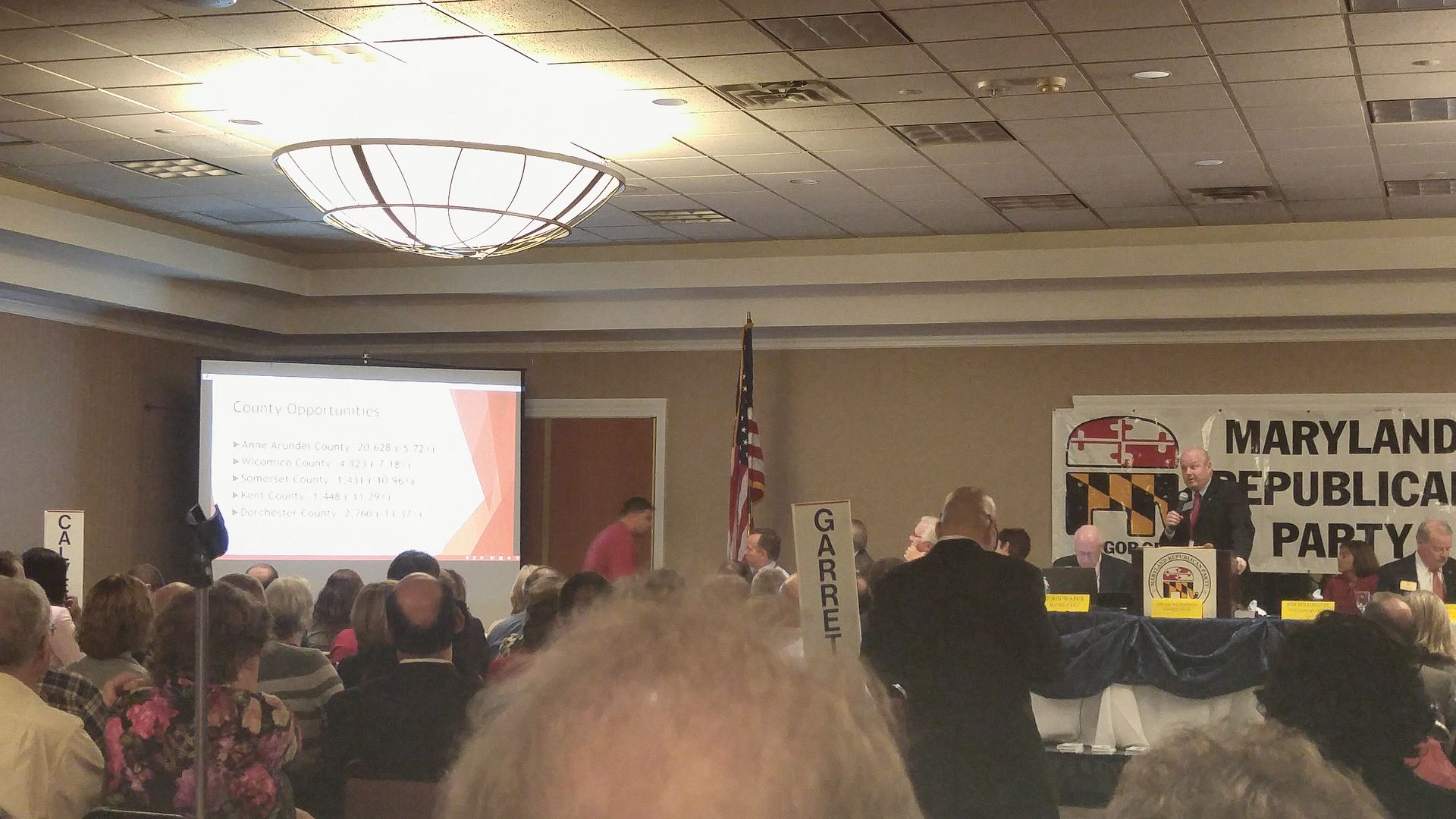 Party Executive Director Joe Cluster went over voter registration, pointing out the five counties (including Wicomico) where the GOP is closest to overtaking Democrats. "The numbers are moving in our direction," said Cluster. He also touched on goals for precinct captains, opportunities to help Governor Hogan on boards and commissions, and the Baltimore city elections.
In her Chair's report, Diana Waterman paid tribute to the late Frank McCabe, for whom the party would have a dinner later that evening. But she stressed the need to pass the first bylaws amendment, believing if we fail to adopt this the General Assembly will take the right away. "It is for your protection," said Diana.
First we had to deal with one resolution in support of a Constitutional amendment to reform redistricting. It passed by a voice vote, with just one or two objections.
In introducing the first bylaw amendment, Mark Edney of Wicomico County stressed that "we have a problem with the process." The proposal provides a process but is not specific.
While there was spirited debate on both sides, in the end the measure had enough votes to pass. On the weighted voting scale it was 369-170, which exceeded the 2/3 majority required. (In terms of actual people, the vote was 182-85. Only Baltimore City, Frederick, Queen Anne's, and Washington counties had a majority objecting.) All nine in Wicomico County voted in favor, although I believe we will create our own specific guidelines.
On the "loser pays" amendment, an attempt to change it to cover both sides was proposed but was superseded by a motion to table the amendment, which passed with a resounding voice vote.
And then we had bylaw amendment #3. I thought it would pass with little objection, but the fireworks began right away. Most of the argument centered on whether the Black Republican group was established enough – those arguing against the amendment frequently referred to the Young Republicans, which reached a low point in chapters and membership shortly after getting an Executive Committee vote.
At first we voted on a motion to recommit to the Bylaws Committee, which drew the argument that it came from that committee. But Heather Olsen explained that the committee got this at the last minute and only checks for conformance, not on merits. In the end, the motion to recommit failed 217-324, or 114-156 in bodies. Wicomico was split 5-4 against recommitting.
Then we tried to table it, but that motion was rejected by voice vote.
The next move was to amend the bylaw to strip the voting rights from every one of the auxiliary organizations. That started new debarte, including a motion to continue debate that lost soundly in a voice vote.
The final motion to amend passed 359-178, with the amended bylaw change passing 408-83. (Body counts were 178-91 and 206-41.) Only Calvert, St. Mary's, Wicomico, and Worcester voted against both.
Once that vote was in, the bylaws committee report was done "after 2 hours and 3 minutes." Before we adjourned, Diana Waterman told us it should never be said we don't allow enough debate.
But I suspect the debate will go on. I'll have more thoughts later this week.
Oh, and another thing. We did a straw poll, with Ted Cruz the winner.
Ted Cruz – 62 votes (24%)
Marco Rubio – 52 (20%)
Donald Trump – 49 (19%)
Ben Carson – 26 (10%)
Carly Fiorina – 18 (7%)
Rand Paul – 15 (6%)
Chris Christie – 14 (5%)
John Kasich – 12 (5%)
Jeb Bush – 11 (4%)
Mike Huckabee – 2 (1%)
Rick Santorum – 2 (1%)
(All work and no play? You can skip to part 2.)
As I said before, like the prodigal son I have returned.
I counted 26 pictures in my folder. As a rule of thumb I try to keep pictorial posts under 20 so you get two parts, with this covering Friday night and part 2 looking at Saturday. While the latter was more contentious, there was some news from Friday night that I will get to in due course.
Upon arriving and checking in, I was greeted by a Ted Cruz volunteer and a cute two-girl welcoming crew. Bad time for a glitch on the cell phone camera, but it set the tone for the evening.
They were gone by the time I went down to register, but in the adjacent room I saw Ben Carson. Well, sort of.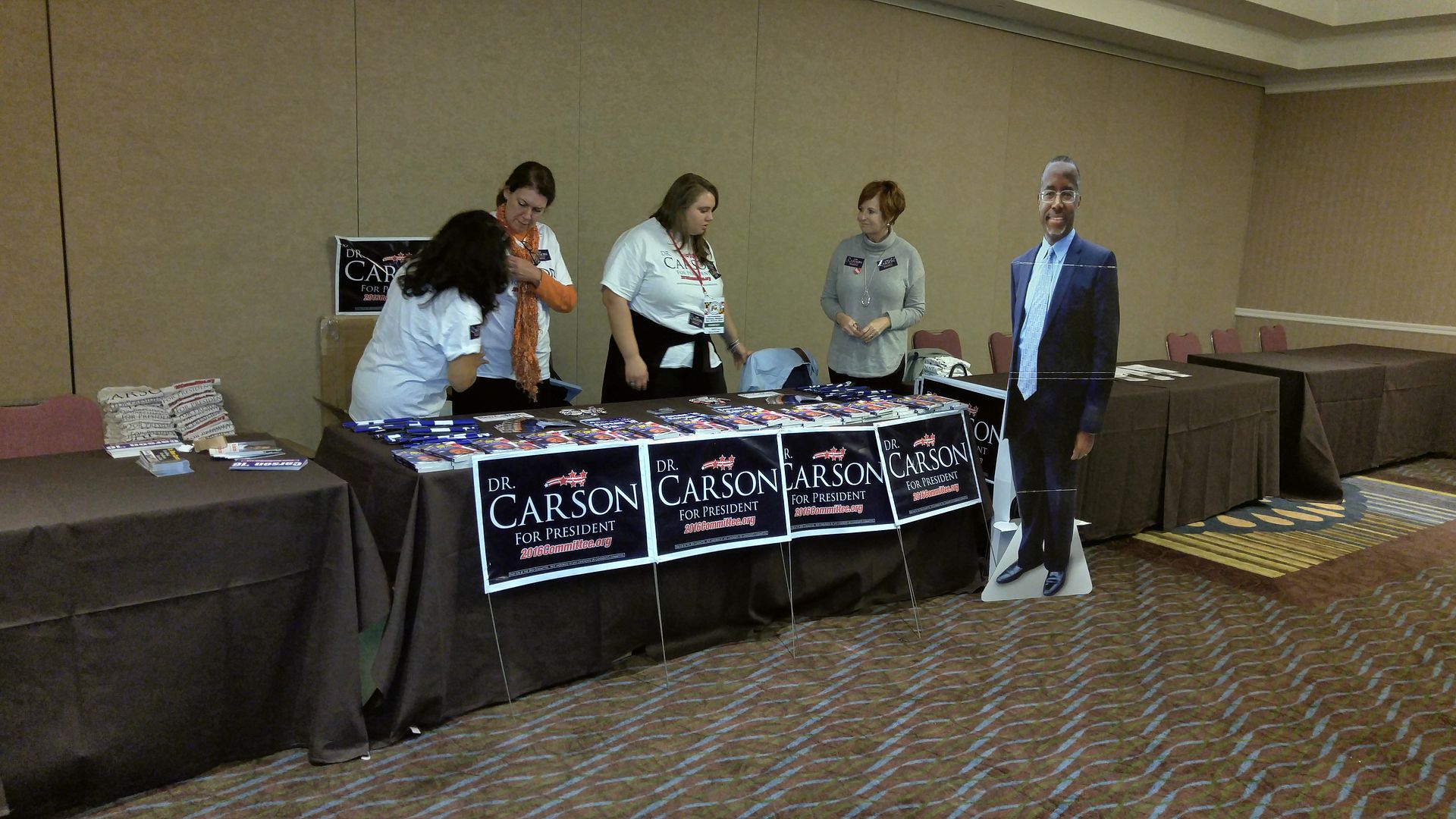 You could meet his son at one of the suites, though. I just wasn't sure where that was so, alas, it was one I missed. (I guess the younger Carson did, too.)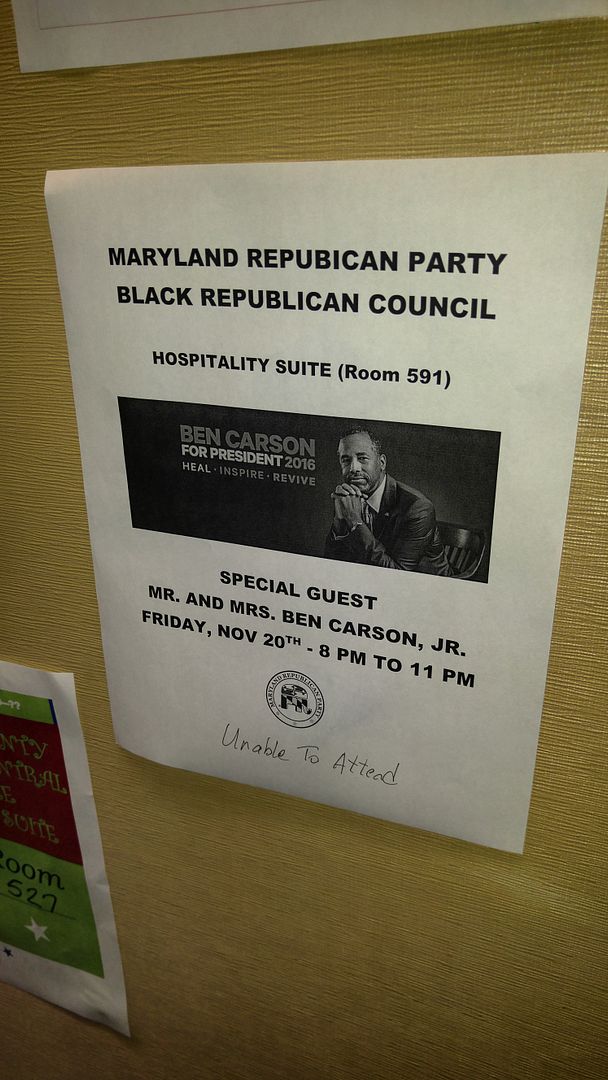 I didn't stay in the exhibit room too long. Most suites don't start right away so I usually attend the Executive Committee meeting to see what's news.
Most of it is devoted to reports that are repeated to one extent or another during the Saturday session, but I did learn the party was working on another Student Legislative Day for kids around the state.
The best tidbit came from State Senator Bryan Simonaire, who, after relating how working with Governor Hogan was "tremendous" – in part because there were no tax increases on the floor for the first time in 10 years – he revealed a piece of legislation he was considering. (I think Bryan forgot the "travel tax" Hogan vetoed and the increased court fees he adopted. But I digress.)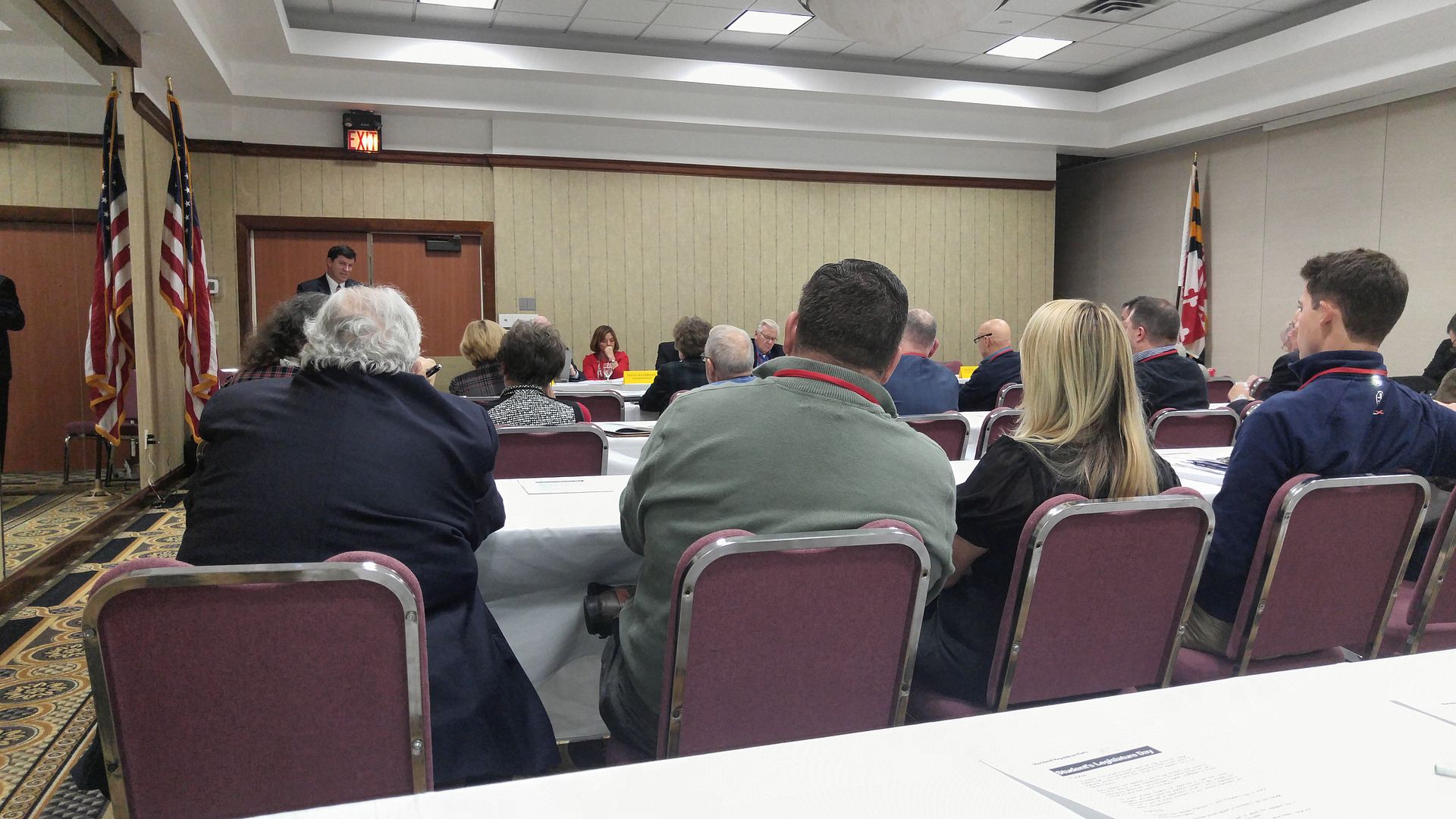 Bryan went over some of the pros and cons he had heard about changing the date Republican Central Committee members take office. By law, we don't start until after the General Election that occurs after the primary. This made sense with the old September primary, but leaves a long lame-duck period from a June primary.
Yet many of the county chairs argued "five months was no big deal" and added that it was unfair to those who weren't coming back to end their term before the election they were working toward. They wanted the members who weren't coming back to stay on. The proposal was "a solution to a problem that doesn't exist," added one party officer.
Despite the criticism from the county chairs, most of whom objected in a show of hands, Simonaire appreciated the dialogue but stated, "I am moving forward with it."
A couple folks we did not hear from on Saturday gave reports. Ivan Garcia-Hidalgo, who now heads the Maryland Heritage Council, explained his goal was to change the narrative that "Republicans are racist" and convince Hispanics their "natural home" is the Republican Party.
Meanwhile, Kory Boone of the Maryland Young Republicans was pleased to report that they had grown to seven chapters with new ones in St. Mary's and Prince George's counties.
Speaking of St. Mary's County, their District 29 suite was the first hospitality suite I stopped by. I was hungry to try some "SoMD stuffed ham."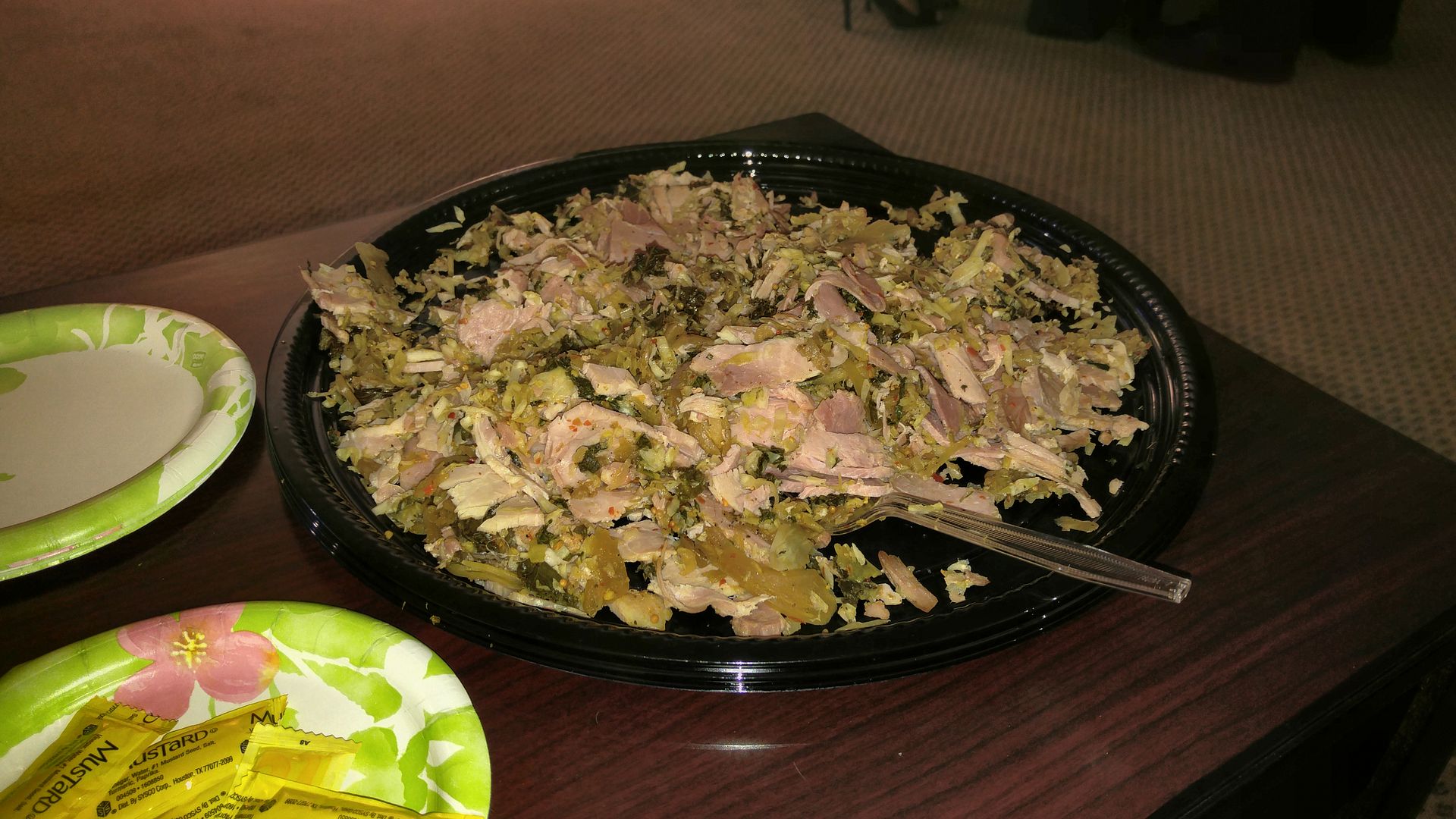 The District 29 delegation was there, including Delegate Deb Rey.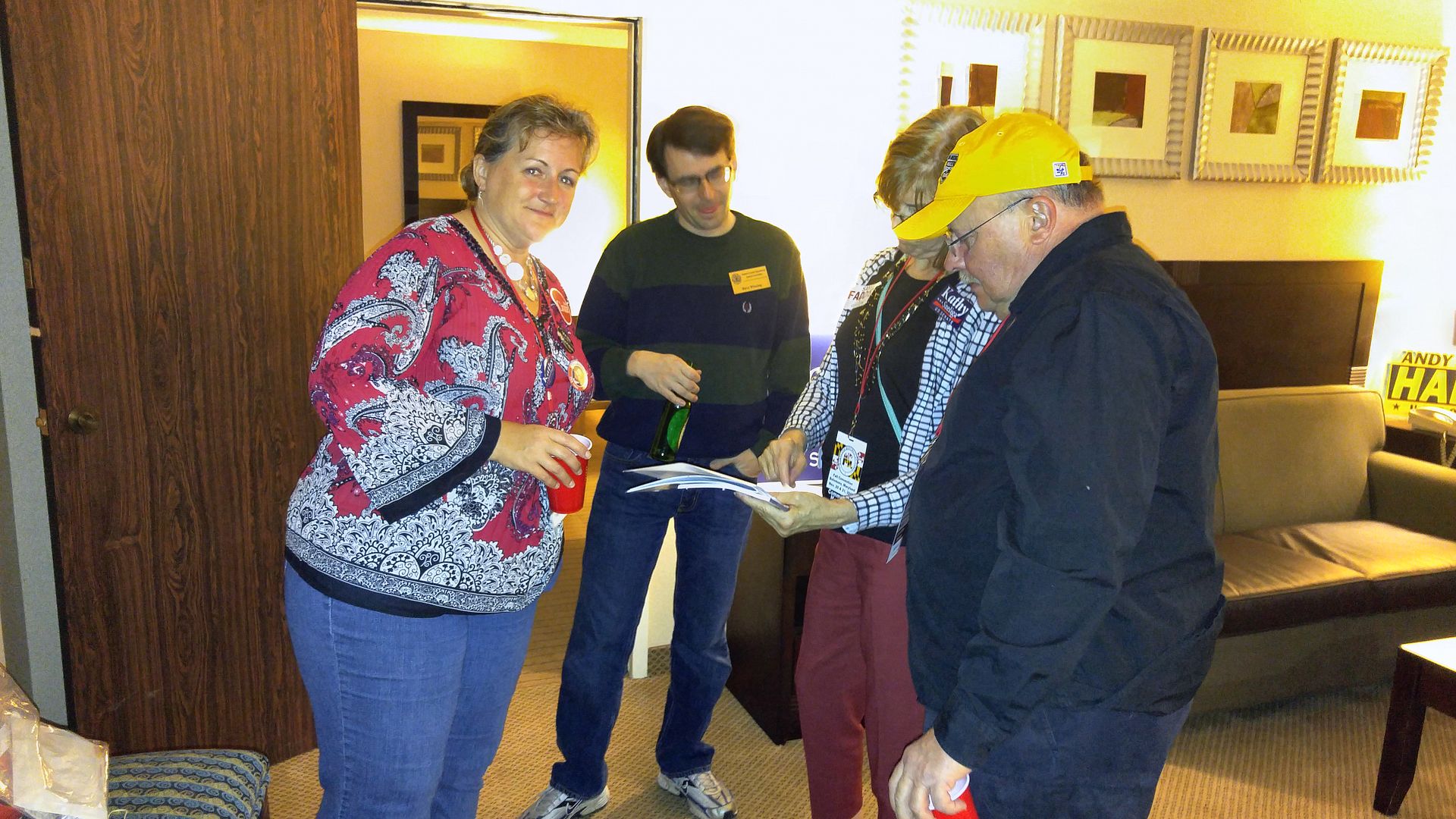 She was selling raffle tickets for a Beretta rifle as a fundraiser, to be drawn at another fundraiser on January 7. (That week or so will be busy for our General Assembly members, who can't do fundraisers during the 90 days of session.)
Having my helping of ham, I could go get some seafood at Richard Douglas's Senate suite. There were a number taking part, and to be honest it was better than the pizza next door at the Montgomery County suite.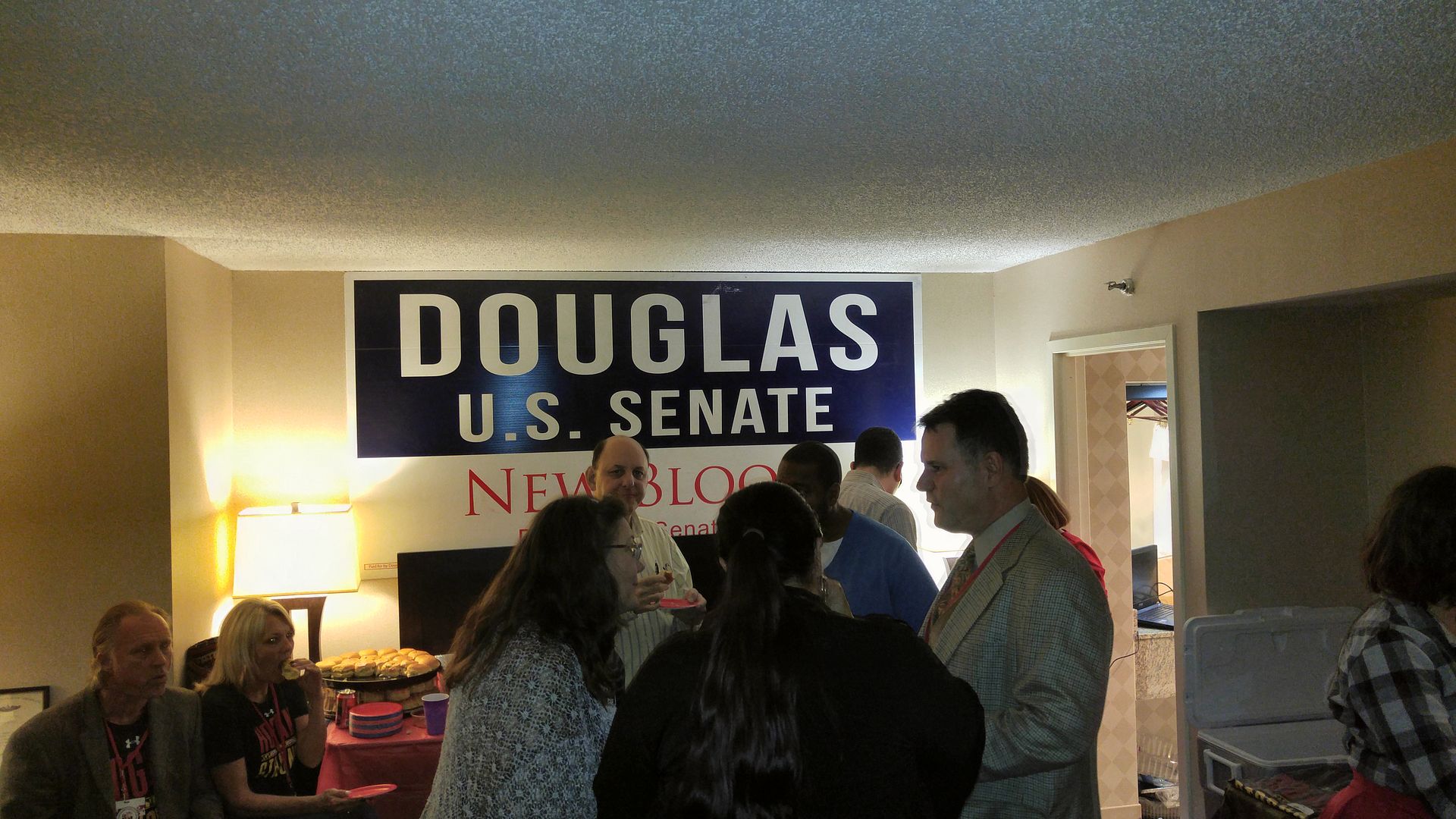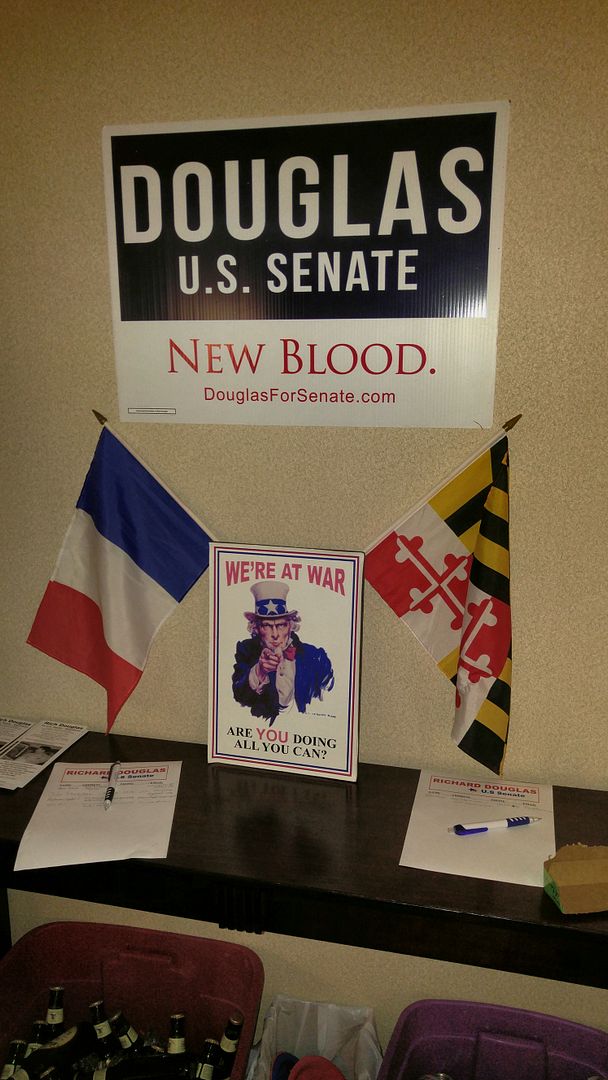 If Douglas wants to be the "new blood," one of those he has to beat was directly upstairs in a suite she was sharing with Andy Harris.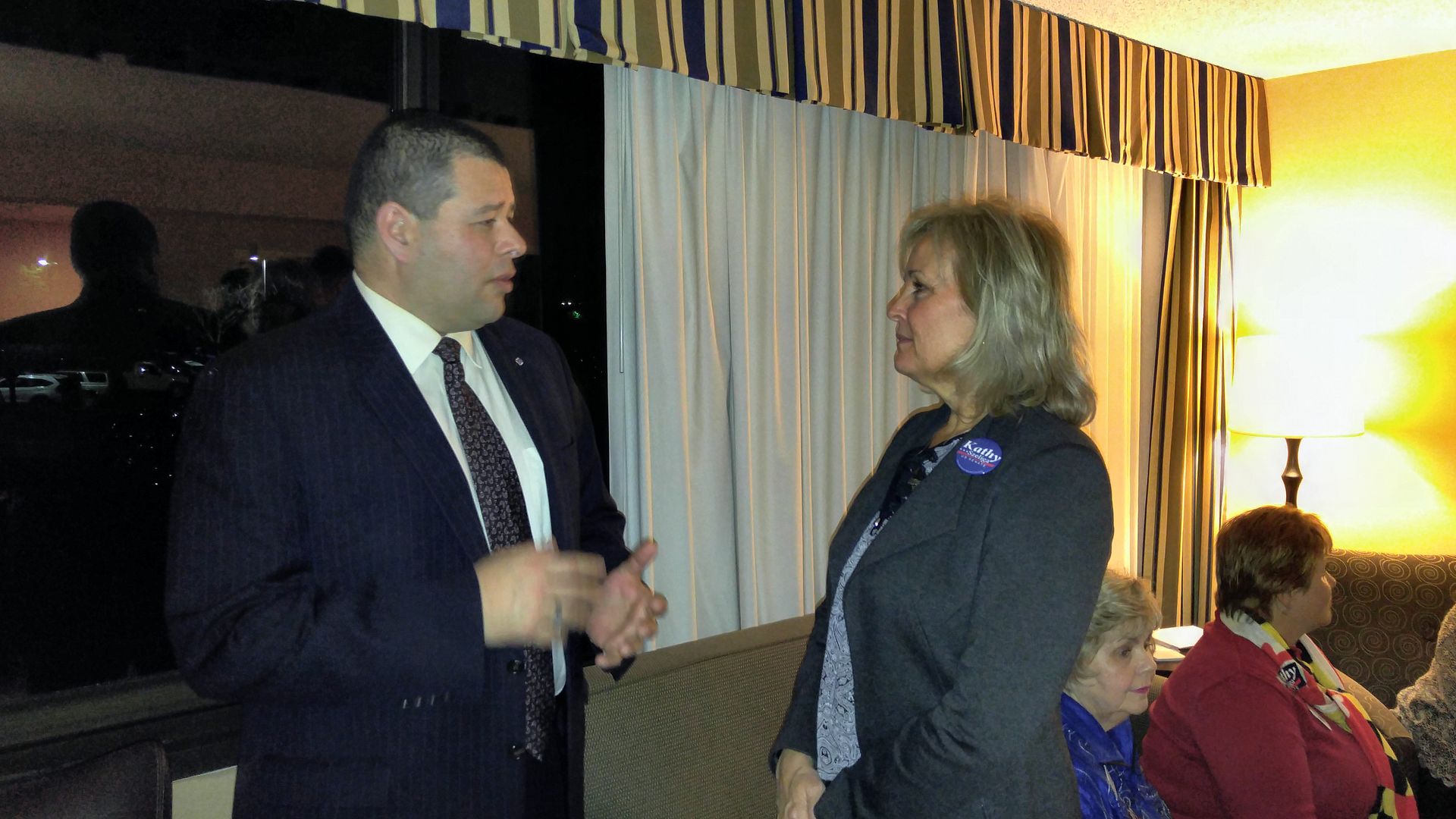 Along with the Congressman, Szeliga was there talking to the aforementioned Ivan Garcia-Hidalgo. I did mention to her that I was sad about missing her trip to Salisbury, but noted my cohort Cathy Keim covered it well for me. Hopefully Szeliga will be back here soon.
Just across a short hallway was the suite belonging to the Ted Cruz campaign.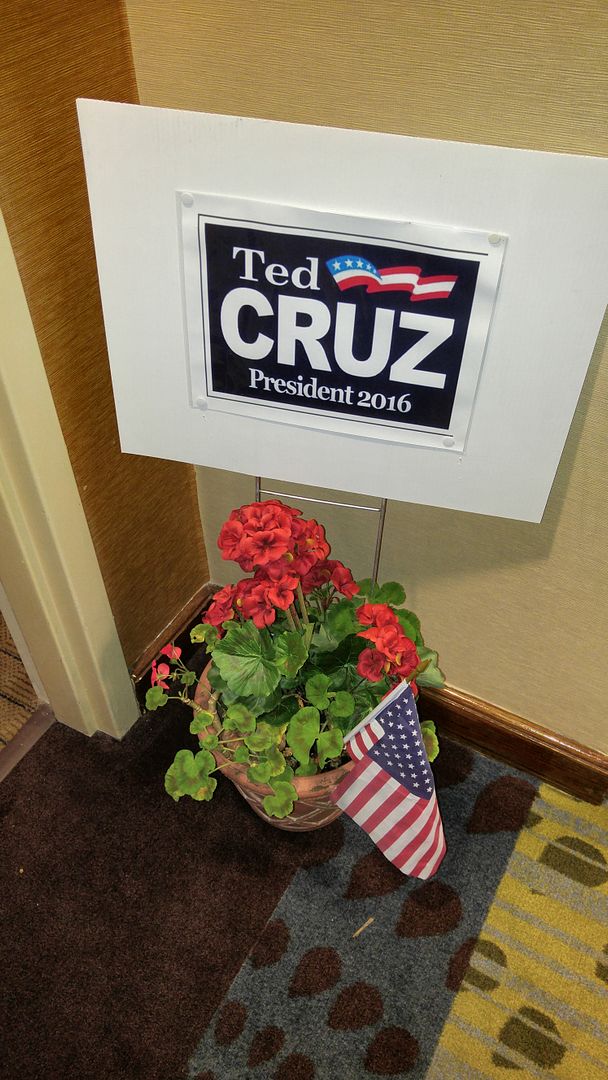 Let's get this out of the way: now that Bobby Jindal is out, among the remaining GOP field I would lean most toward Ted Cruz. They also had outstanding chili there. I just hope their field people are up to the task.
Their suite wasn't very busy, either – not like Marco Rubio's.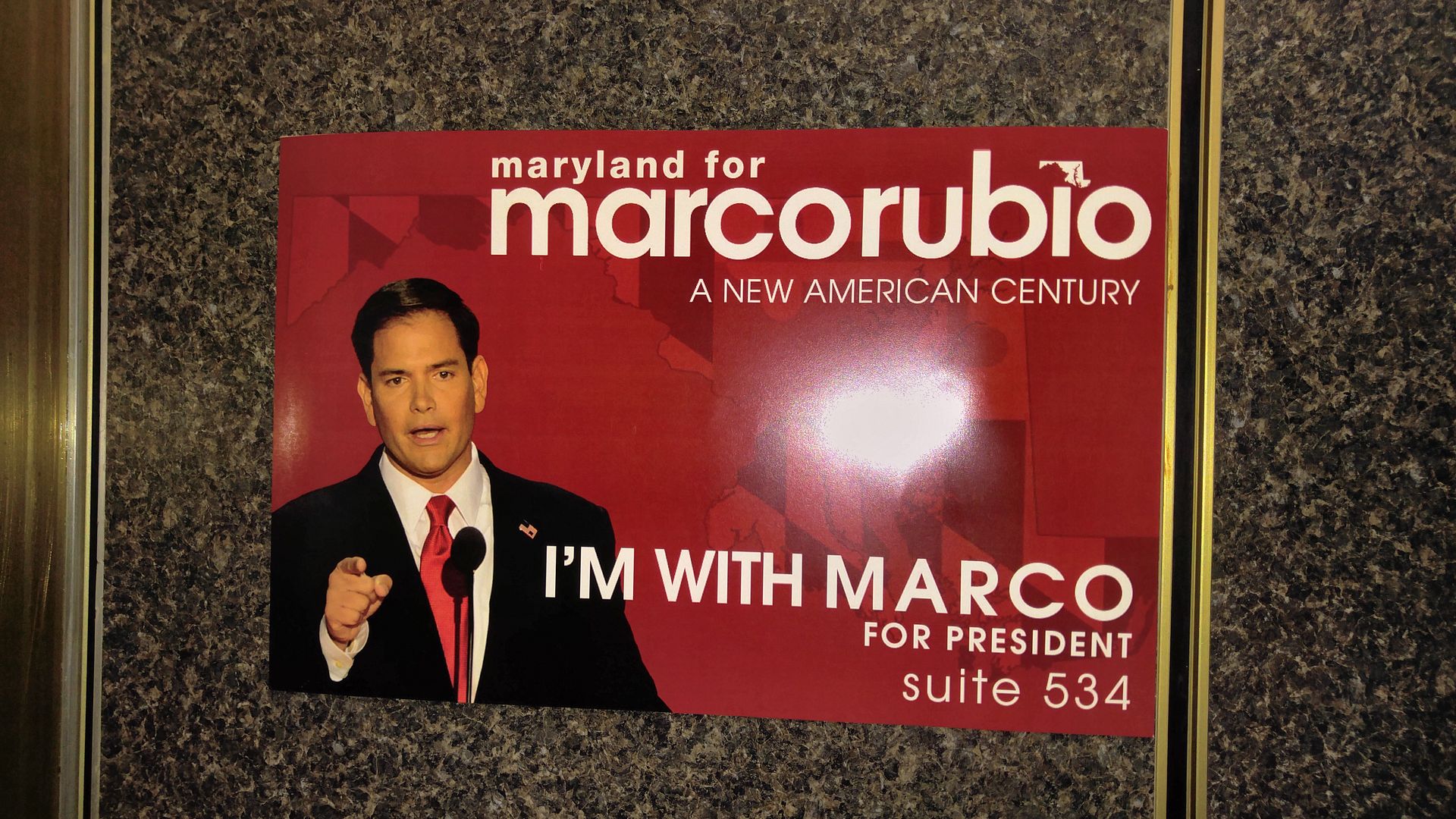 My photo doesn't do their gathering justice.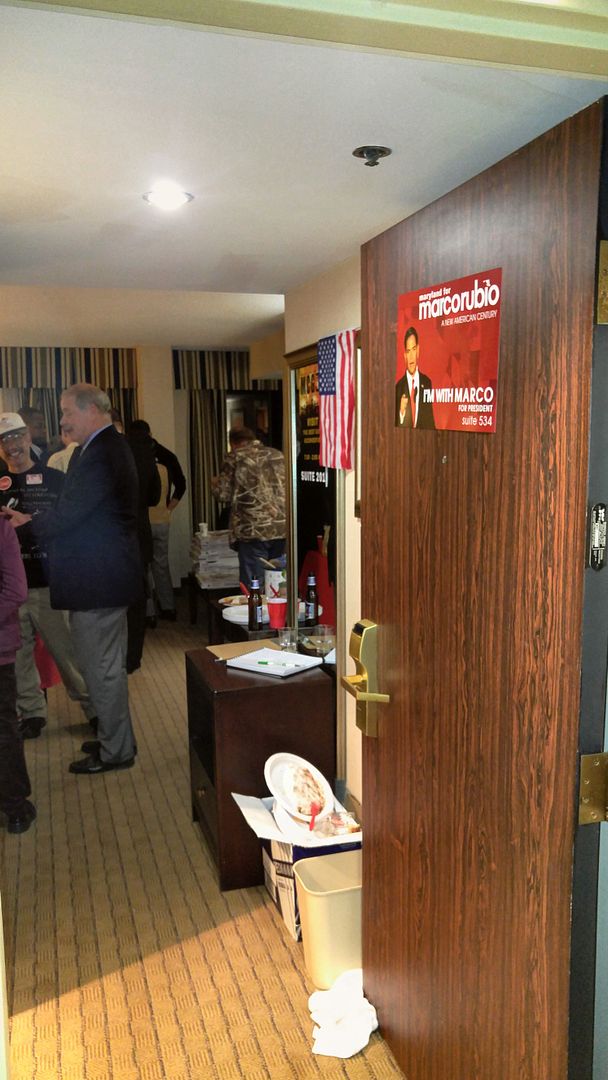 I get the sense that Rubio is the "establishment" choice now that Jeb's campaign is cratering. Maybe that's just me, but it's my gut instinct.
In taking so long to go through the suites I did and renew some acquaintances, I missed the ones on my floor – one of which belonged to this guy.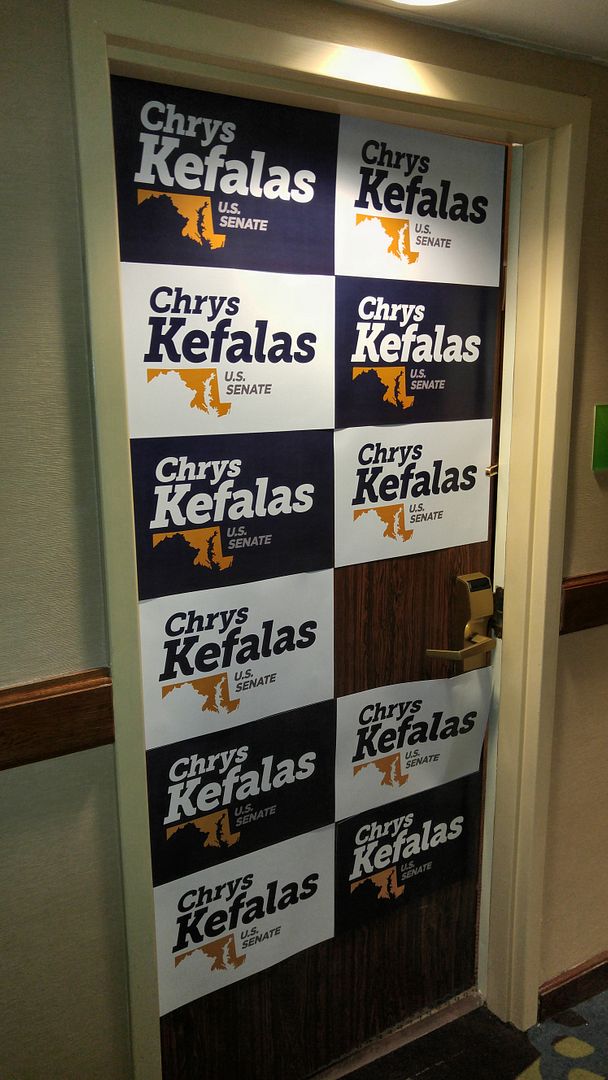 So it was not a slight on my part, as my plan was to do the ones on my floor last. Most of them respected the 11:00 or so closing time to get cleaned up and allow the neighbors some sleep, so I was just too late.
Since they were winding down, going to bed is what I did. In part 2 this evening I look at Saturday.
It's been awhile since I was entitled to go to the state convention, but what a few hundred Wicomico County voters tried to do was undone by a much smaller number last month, so I have returned like the prodigal son.
My first convention back will be in Solomons, which as I recall was the home of my favorite convention, the spring 2012 one where we elected Nicolee Ambrose as National Committeewoman in a contentious vote over Audrey Scott. This one will probably not have the same amount of angst, although we may see issues with the three bylaw amendments on the docket.
The first is a lengthy proposal to create a process for Central Committees to fill legislative vacancies. After the debacles we saw last year as Governor Hogan picked members of the General Assembly to fill out his cabinet and lead departments, it became a priority to come up with a way of doing so lest the General Assembly take our power away (which still could happen.)
In a nutshell, the amendment allows a county to create its own process but leaves as a default the state-prescribed method. In looking it over briefly, the fight may be over the call to submit "name(s)" to the Governor, as some would prefer the Central Committee submit just one name as was custom until the most recent round of appointments.
That controversy led to the second bylaws amendment, which a perverse sort of "loser pays" arrangement for entities taking legal action against the state party, just like Carroll County did last year. I think this one will create the loudest arguments, to be honest.
Third is a proposal to give the Maryland Black Republican Council full voting status on the Executive Committee. If so, they would join the Maryland Federation of Republican Women, the Maryland Federation of Young Republicans, and the Maryland Federation of College Republicans as voting members of that committee. (Conversely, the Teenage Republicans and Heritage Council are non-voting members.) As I recall, we had a lot of rancor about giving the YRs and CRs an Executive Committee vote a couple years ago, in a voice vote that was literally cast as we were being ushered out the door. So we'll see.
The one resolution that I'm aware of (barring others introduced from the floor for our consideration) deals with the redistricting commission, so that should be no issue. I don't think there's 10 percent of the party that likes the way we do it now.
But all work and no play makes Republicans a cranky bunch. Fortunately, unlike the last couple conventions I attended, we will have no shortage of hospitality suites to check out.
A list sent out by the state party shows no less than a dozen different suites. While the host counties of Calvert and St. Mary's and Montgomery County have their parties, the headlining parties will be competing affairs between supporters of Ted Cruz and Marco Rubio. Not to be left out, all three major U.S. Senate hopefuls – Richard Douglas, Chrys Kefalas, and Kathy Szeliga, who is piggybacking with Congressman Andy Harris – will have suites on separate floors. Add in local Congressional candidate Charles "Sam" Faddis and the aforementioned Black Republican Council, throw in a couple wild card suites, and it should be a fun evening tonight.
Naturally some of the conservative blogosphere will be there, so we'll see what sort of coverage we can drum up. Whether the era of good feelings brought on by Larry Hogan's election will subside this time or wait until spring when we elect a new National Committeeman and National Committeewoman along with slates of convention delegates and alternates remains to be seen.
For now I'm just going to enjoy the moment because, I hate to admit, I sort of missed these gatherings during my hiatus. Glad to be back.
Tonight the City of Salisbury embarked on a new chapter in its government as its City Council changed hands. Ironically, the person running the meeting at the beginning would shortly become the city's mayor – Jake Day wielded the gavel for the last time, departing slightly from the agenda to ask for a moment of silence for the people of Paris.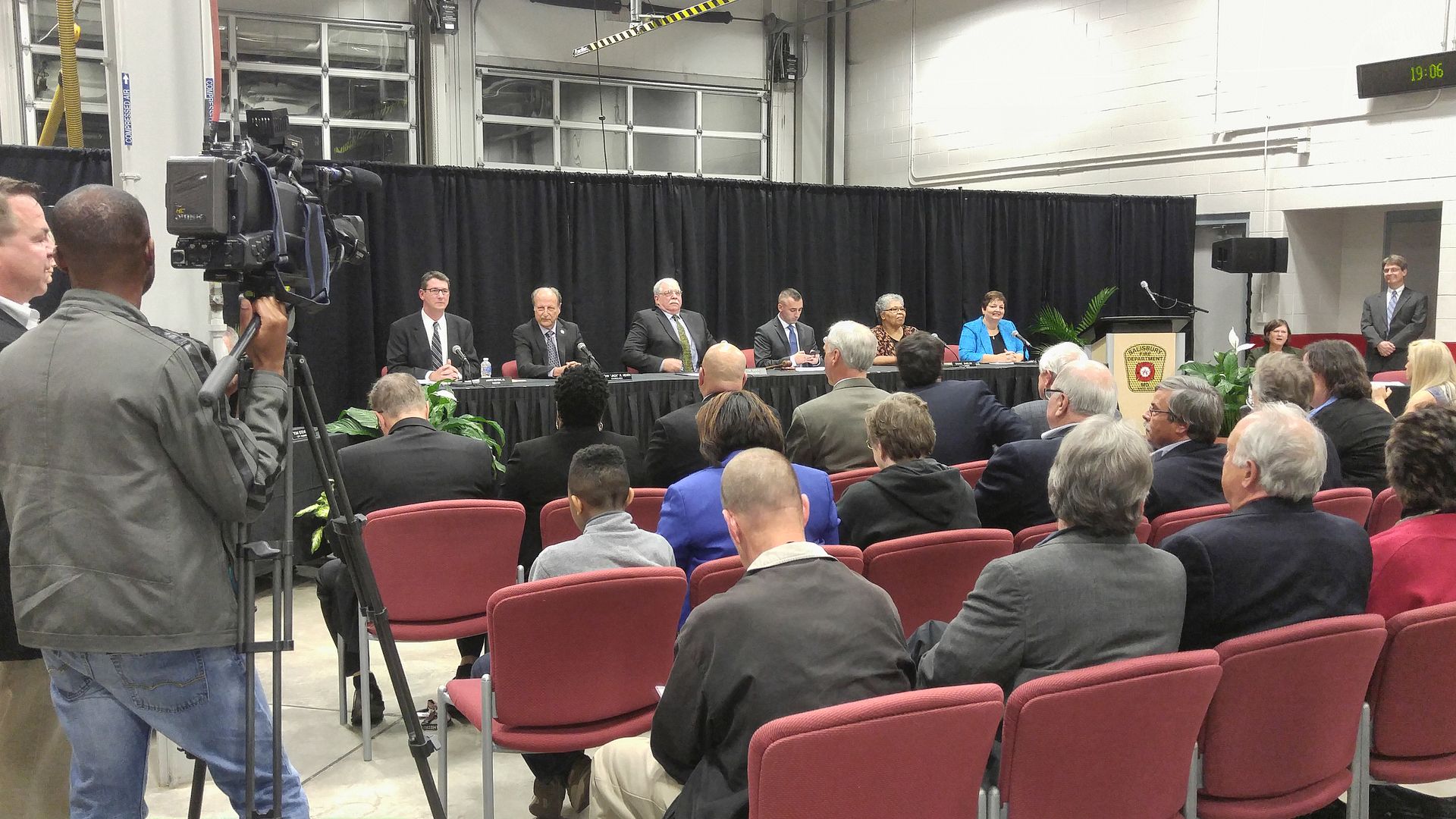 But the first to make comments was outgoing mayor Jim Ireton, who credited the "unsung heroes" who voted for him twice as mayor but "await(s) the incredible things we'll do together" during the next four years. Ireton also noted later that changing just one person on council can make a profound difference in the body.
Jack Heath, who won election to a full term, noted he "came to know the power of the city and the goodness of its workers." The man he defeated, Tim Spies, said the last 4 1/2 years were "good for me" and believed the city had a terrific future, with high expectations. He encouraged more people to make a Monday night of getting to Council meetings, adding afterward it was half-price burger night at the Irish Penny to cap off the evening. Public service for him was "fulfilling" with no end to opportunities, Spies said later.
Outgoing Mayor Ireton noted on Spies, "We would be well to have 33,000 Tim Spieses in the city."
The other Council member leaving, Shanie Shields, vowed "I'm not going anywhere." Not only would she be there for her successors, she planned on using her newfound time to make County Council meetings. In speaking of Shields, Ireton noted that the Salisbury he grew up in was a "place of 1,000 moms" and Shields was one of them. Shields, he added, reminded him never to forget our best work is ahead of us.
Noting the overflow crowd in the garage of Station 16, Laura Mitchell also hoped they would stay involved. "I would love to see more of this." Day wrapped up that portion of the evening to noting Council had "exceeded my expectations."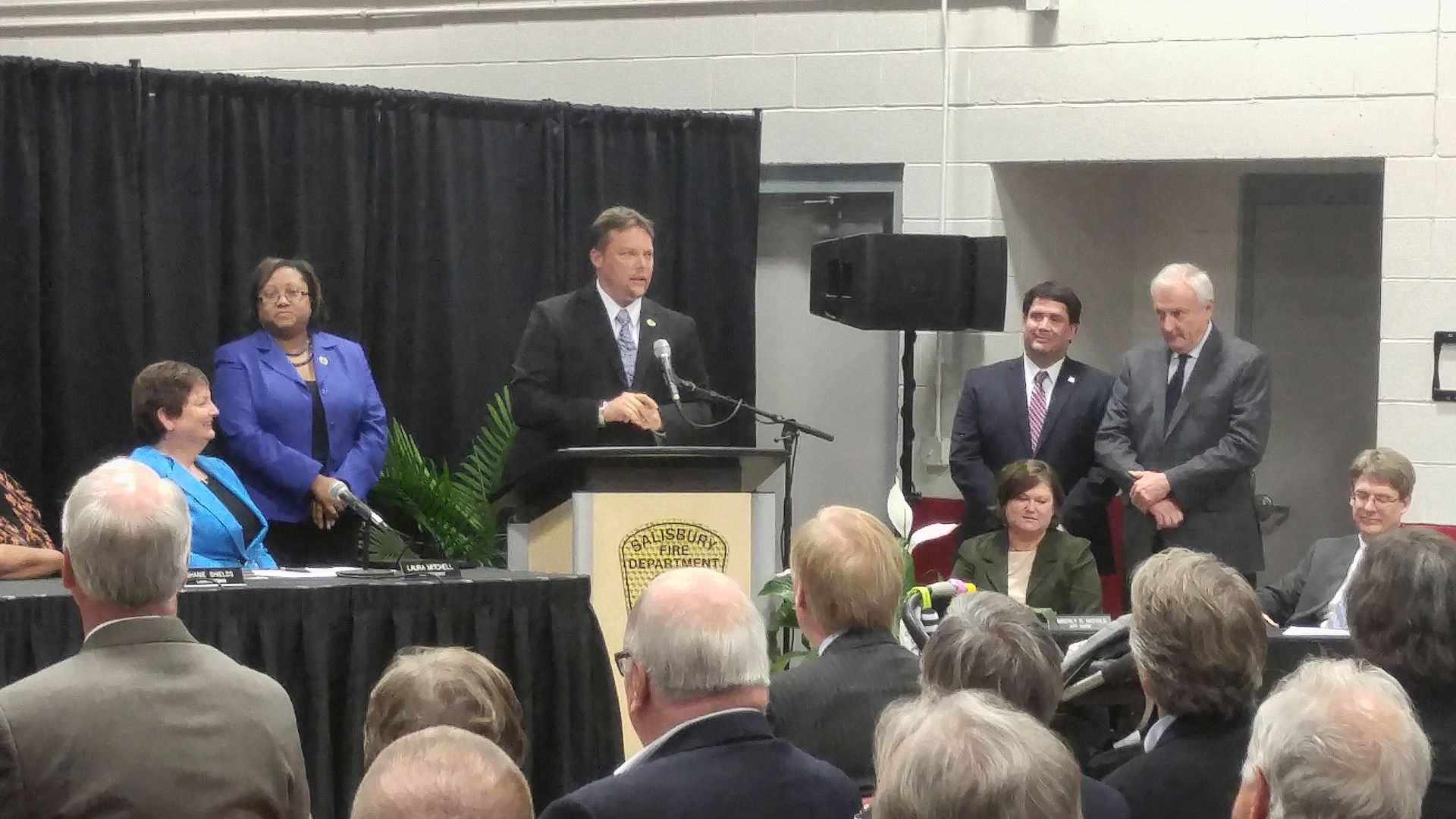 Ireton and Day, with help from Delegates Christopher Adams, Carl Anderton, and Sherrie Sample-Hughes, and Senator Jim Mathias, presented certificates to Shields and Spies. Anderton also revealed to the audience that Governor Larry Hogan had come through his cancer treatment successfully and was deemed cancer-free, which brought rousing applause from the gathering.
Once those who were leaving were honored, it was time to turn the page and swear in the new members. The Council went first, then Jake Day, with his wife and daughter by his side.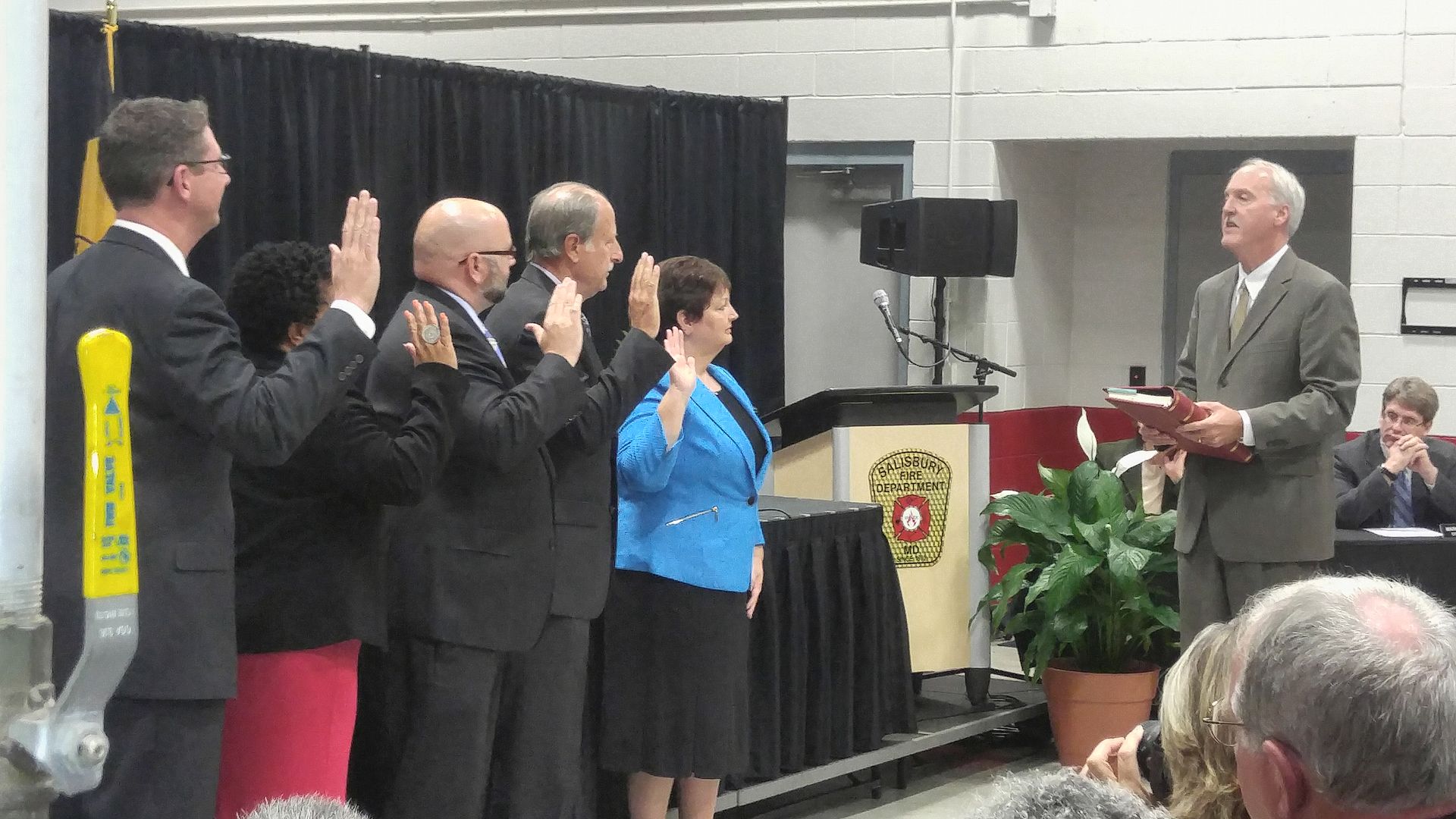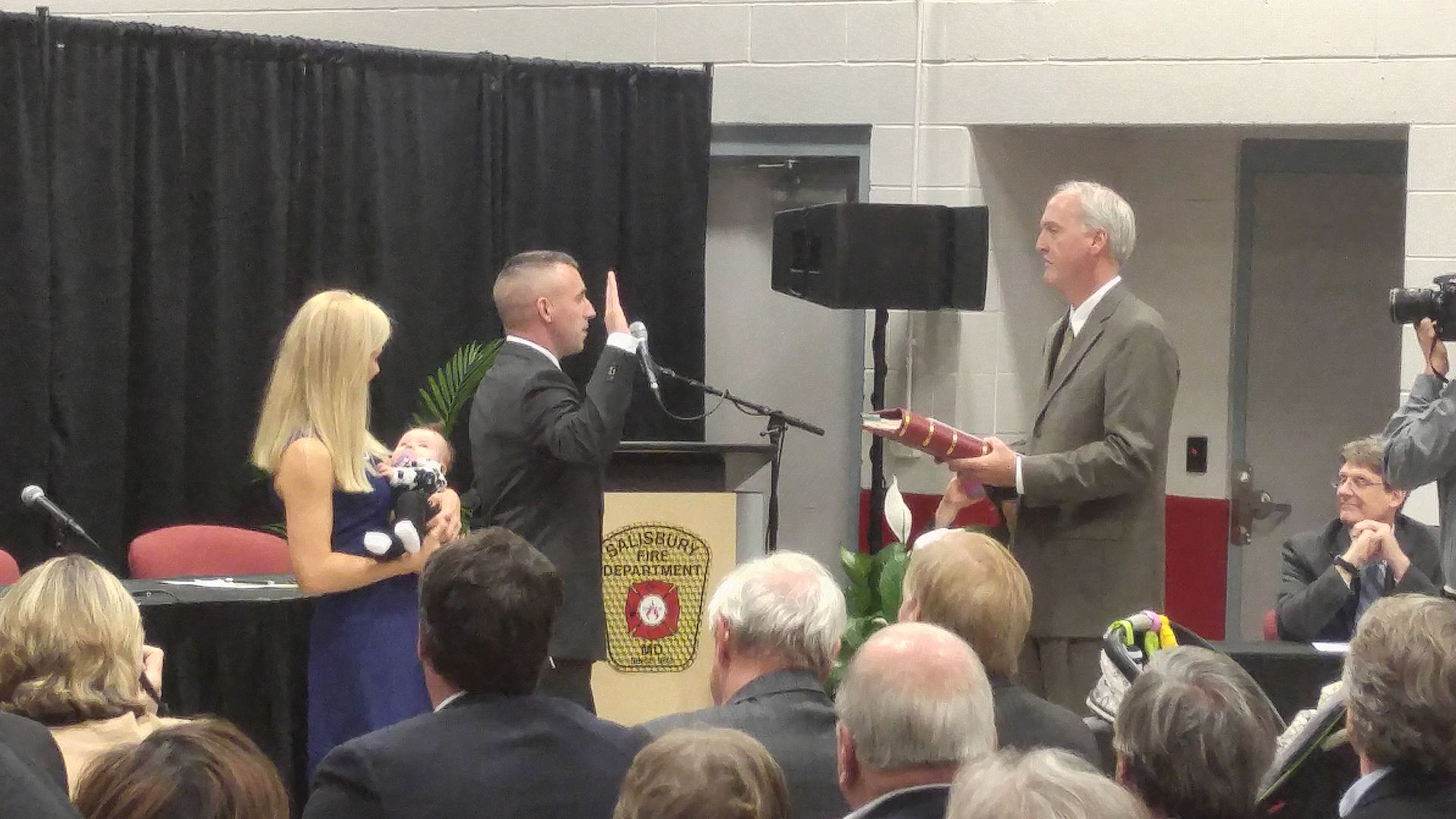 Our featured speaker was Comptroller Peter Franchot, who let us know "I'm a huge fan of Jake Day."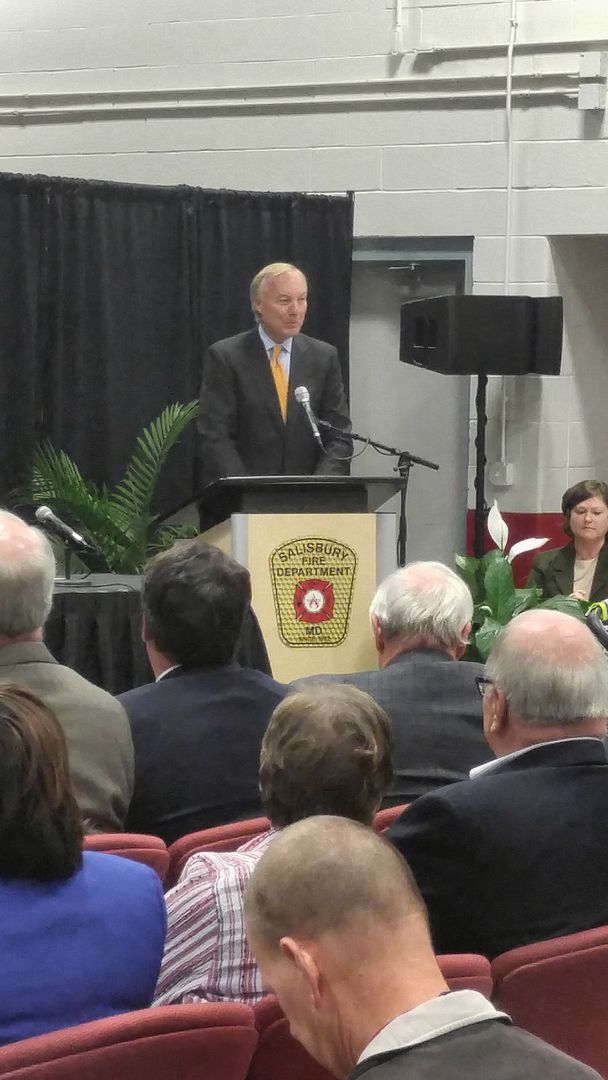 In his relatively brief remarks, he praised Salisbury as "a city on the rise" with "fresh talent (and) new energy." We were crucial to the state's economic fabric, concluded Franchot.
The Council did have a little work to do, though: electing officers. In what turned out to be uncontested votes by acclamation, Jim Ireton nominated Jack Heath to be Council president and Muir Boda nominated Laura Mitchell to its vice-president.
Once again, we heard remarks from the new Mayor and Council. Day made a laundry list of promises, concluding with a vow "we will give you a Salisbury we can be proud of."
It was noted that Muir Boda had won after multiple tries for office, to which he responded, "I'm finally here." Even though it was a long process for Boda, he was nowhere near as emotional as April Jackson, who choked up when she said, "I wish my dad could be here." A well-known community leader, Billy Gene Jackson died earlier this year. Once she regained her composure, she told the crowd, "I'm ready to go. Not to go home, but to get to work!"
As the new Council President, Jack Heath said mutual respect and inclusion was "his pledge." Once he spoke, he rapped the gavel and declared the meeting to be adjourned.
Because it comes on board at this point in the year, the Council will get to ease into its duties a little bit – the city's budget isn't due for a few months. But we will have crime and economic development to deal with, and that's a pretty full plate as well.
I think they'll do just fine. To wrap up, here's a guy I'm proud to call friend, Muir Boda, and his wife Briggit.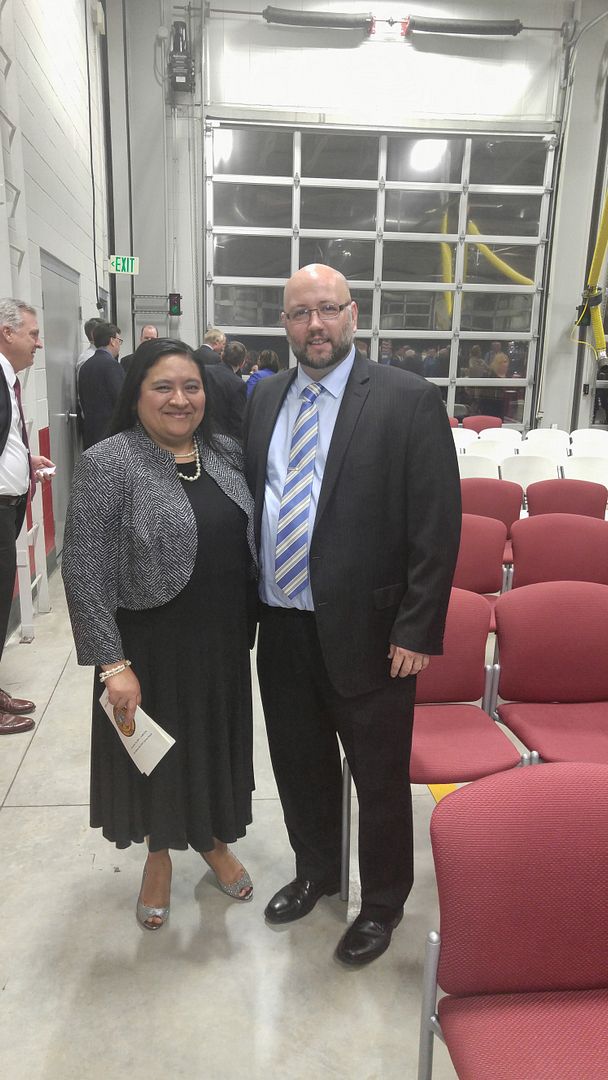 It took six years, but I'm pleased my support finally helped make him a winner. My advice to him? Get used to having your picture taken.
To borrow a phrase from Delegate Carl,Anderton, let's get to work!
A recent poll by the Washington Post brought gasps of surprise from Republicans – even in a state where registered Republicans are outnumbered by better than 2-to-1 by their Democratic counterparts, the people of Maryland approve of Larry Hogan's performance by a margin of 61% to 22% disapproval. Since a similar poll taken shortly after Hogan took office, he has gained 19 points in the approval department by pulling in a large percentage of those who previously had no opinion and even whittling the disapproves from 24% to 22%.
All those are encouraging signs, particularly as the Post points out Hogan is nine points up on Martin O'Malley at a similar juncture and back in the territory Bob Ehrlich enjoyed early on.
Of course, the Democrats retort that a portion of the goodwill is based on Hogan's ongoing treatment for non-Hodgkin's lymphoma, with his last round wrapping up. Hogan's newly bald head is regularly featured on social media as a constant reminder of his treatment, something which he's parlayed into a lot of good press coverage.
Insofar as policy goes, though, Hogan has gone pretty much down the center of the road. The incoming governor whose initial act of significance was to pull unpopular phosphorus regulations from being published in the Maryland Register ended up compromising on less stringent measures in order to avoid a veto fight over a legislative version of the O'Malley regulations. Days later, his first budget made some unpopular "cuts" (read: more modest increases in spending than the opposition was conditioned to expect) but still was larger than the previous year's.
On the transportation front, Hogan pulled the Red Line in Baltimore but decided to keep the Purple Line in the suburbs of Washington provided the local governments paid more for it. He used the money saved from the Red Line to fund needed highway projects and also figured out a way to reduce the tolls in Maryland. Unfortunately, we still have the higher gas taxes passed by Martin O'Malley to pay for the Purple Line and planned Red Line.
In a number of ways, Hogan has achieved his level of popularity to working around the edges. The makeup of the General Assembly is such that Hogan had a number of bills that passed where he allowed them to become law without his signature. It was probably a political calculation of the likelihood of whether his veto would hold and if the hill was vital enough to die on politically. Both sides seemed to be feeling each other out in a cautious session – save the doomed effort to roll back the "rain tax," Hogan's legislative agenda had a focus on economic development that was to some extent left over from the O'Malley administration's half-hearted attempts to address the state's awful business climate.
The question for Maryland Republicans going forward is just how much conservatism they want to push. Those in the party who disapprove of Hogan generally fall into either or both of the two categories of wanting fewer gun restrictions or better leadership on social issues – naturally, the Democrats tried to use both as wedge issues against Hogan and failed.
Maybe a better way to frame this is to question whether the Republican caucus in the General Assembly will create its own legislative agenda for next year or just ride along with Hogan's. One thing I have noticed over the years is that there are several legislators who introduce bills in the General Assembly but we don't seem to have a platform we follow – it's like every man for himself.
Perhaps next session the GOP should pick out eight to ten important, conservative bills and work like hell to get them passed, bypassing the committee if necessary. (For example, had they done that on the original "rain tax" bill, they could have forced a floor vote on sustaining it, putting Democrats on the record as favoring it.) They can even be repeal bills of O'Malley legislation – after all, if Hogan is rolling back O'Malley's toll hikes and Red Line boondoggle, we should hope he will ditch items like the "septic bill" and PlanMaryland.
If you have 61% of the public behind you, it's time to grab a bully pulpit and make needed change.
It wasn't the meeting we expected, but still turned out to be informative.
We had scheduled State's Attorney Matt Maciarello to be our speaker, but with a pending trial Matt needed to burn a little midnight oil. So we were left with some reports instead. As one member put it, having members of several local groups meant we could always have an interesting meeting.
So once we took care of the usual opening business, we got a Central Committee report from Ann Suthowski. She reminded us the Lincoln Day Dinner was slated for November 7. When asked why it was so late in the year, Dave Parker noted it was originally planned that way to attempt to get Governor Hogan to speak, but his ongoing cancer treatments thwarted that idea. However, since Lieutenant Governor Boyd Rutherford has a daughter who attends Salisbury University, it was hoped he may appear. Suthowski wondered if he was being considered as a commencement speaker since his daughter would be graduating this year.
Suthowski also revealed there was an opening on the Central Committee, with Parker adding action to fill the vacancy could occur as soon as their next meeting October 5.
Bunky Luffman, speaking on Delegate Carl Anderton's behalf, announced he would hold an event Thursday evening at Evolution Brewing. It was to celebrate the first day of the "Evo Bill" that allowed Wicomico County breweries such as Evolution and Tall Tales to double their output yet keep their particular licenses.
Anderton is also planning a anniversary celebration November 4, said Luffman. When he won his initial election last year, the results weren't official until late in the evening so they wanted to have a more proper celebration for his supporters.
As part of his own campaign, Muir Boda is getting some help from around the state with a Super Saturday planned for October 17. He'll get assistance from various volunteers from the state party and Maryland Young Republicans.
On the We Decide Wicomico front (the grassroots effort to secure an elected Board of Education) Dave Snyder reviewed the first two public hearings, the second of which in Delmar had a "pitiful" turnout, according to another observer who was there. Nevertheless, they were pressing on for the third which was held tonight at First Baptist Church. (I'll have some observations on that tomorrow.) Snyder also added he sought to speak to the local PTAs but was turned down until such time when a referendum was on the ballot.
When asked about media, the feeling among several members was that the Daily Times was doing "nothing" but the Independent was doing a good job pushing it. The hearings are also taped for broadcast on the local access channel PAC14.
County Councilman Marc Kilmer opined that a hybrid vs. elected question can be on the ballot. But Don Coffin cautioned that we should "keep it simple," adding "our country was founded to have elected officials." Dave Parker added that we needed a provision for replacing members as well. "I want the best people," said Parker.
But Kilmer pointed out this "has to be acceptable to the majority of legislators in Annapolis." It was also revealed by Bunky Luffman that there was no precedent for a three-way referendum such as an appointed vs. hybrid vs. elected would be. We were also told that Wicomico's legislation last year was modeled on a version Prince George's County used.
Turning to the Crab Feast, it was no surprise that the poor weather soaked the bottom line, Attendance and silent auction proceeds were down markedly from 2014, which was the run up to the election. One suggestion made for next year was to get a better sound system so people at the outside tables could hear.
I then discussed the upcoming Good Beer and Autumn Wine festivals, and we broached the idea of getting our Christmas Party organized.
Before we left, we learned from Joe Ollinger that the school board was working on a search for a new superintendent and wanted to finish by next March. There was also the news that the school system was being investigated by the Justice Department for disparity of discipline.
The next meeting will be October 26.
For several years I have cited an annual survey of business friendliness put together by thumbtack.com. It was useful in illustrating how poor the Maryland business climate was.
Unfortunately, year one of the Hogan administration finds the state in a deeper hole, narrowly missing the bottom five of the 36 states for which the survey had sufficient data to compile. It is noteworthy, however, to point out Baltimore's grade basically drove the state grade so they may bear a significant share of the blame.
As for what the survey asked and found specifically:
Small business owners found Maryland to be one of the least friendly states for microenterprise, though they widely approved of local training opportunities, according to Thumbtack's annual Small Business Friendliness Survey.

Nearly 18,000 U.S. small business owners responded to the survey, including 442 in Maryland. The study asked respondents to rate their state and city governments across a broad range of policy factors. Thumbtack then evaluated states and cities against one another along more than a dozen metrics.

"Small business owners on Thumbtack have consistently told us that they welcome support from their governments but are frequently frustrated by unnecessary bureaucratic obstacles," said Jon Lieber, Chief Economist of Thumbtack. "Maryland offers decent programs to support business owners directly, but they tell us the regulatory environment is just too hard for them to understand and navigate."

"The taxes here are high," commented a property manager in Baltimore. "There is no support from the government, especially the housing office."
Here's where entrepreneurs will pin their hopes on the new Regulatory Review Commission, which should try and reach out to as many of these businesses as possible to get suggestions.
The biggest problems with our state insofar as this subject goes is that its grade is getting worse – declining from a C- last year to its D+ this time – and Virginia got an A on the same survey. (Delaware had fewer than the 50 responses needed to get a grade.) Business owners hated the state in particular for its environmental and zoning regulations and government friendliness, both of which were given big fat Fs from those surveyed. (The former category also gets a "see, now what have I been telling you for the better part of a decade" from this writer.)
If a state is going to brag that it's "open for business" it needs to be better than a D+ state. The work on regulatory reform should be in tandem with other avenues toward success like lowering the corporate tax rate (or, even better, figuring out a way to cut three cents out of every dollar in state spending and scrapping it entirely) and telling the liberals in Annapolis who keep whining about the need for combined reporting to pound sand. Another proposal I would have is adoping the proposed moratorium on new Chesapeake Bay regulations until the sediment at Conowingo Dam is addressed,
We have models for success all around the country so why should we be 31st out of 36? I can't fault Larry Hogan for a lack of effort or his difficult circumstances, but we need leadership in this regard and if it means telling the people the truth about where the problems lie (hint: they hold 124 seats in the General Assembly) so be it.
By Cathy Keim
Last month I wrote about Governor Hogan expanding the You've Earned It! subsidized mortgage program for young adults with college loans. Politicians can never resist giving away other people's money especially if it makes them seem caring and gets votes.
For a quick review, college student loan debt is now at 1.2 trillion dollars and growing. The average debt for a four-year degree is $29,000, but it can skyrocket to $100,000 or more for a graduate degree. This debt is having huge impacts on young people that are starting their careers severely burdened with loan repayments. These young voters are prime targets for politicians. Wouldn't you vote for somebody that promised to get rid of your debt?
Unfortunately, the politicians are aiming at the wrong target to cure the problem.
A study released in July by the Federal Reserve Bank of New York was only the latest piece of evidence of what conservatives have long knew: Increasing public support for college tuition, especially in the form of federal tuition subsidies, has inflated its total cost.
Every time the politicians make student loan money easier to obtain, the colleges just raise the tuition costs. Colleges and universities have increased their administrative personnel by 60% between 1990 and 2003. The university presidents and top administrators make CEO-type salaries in the 7-digit category. And let us not forget the building programs. Many schools have swimming pools with floating rivers for relaxation. The students certainly should be stressed just thinking about how they are going to repay all the loans they took out to attend the institution.
In 2006 the cap on loans for graduate school was raised and the borrowing levels skyrocketed. Many of these students will avail themselves of the debt forgiveness programs to handle the loans. For example, Georgetown University created a clever loophole: if a law grad works for the government or a non-profit for ten years with a salary under $75,000 per year, then they can qualify for a loan forgiveness program. Who wouldn't borrow money, not only for tuition but also to live on, if they know it will be forgiven?
President Barack Obama came out with free community college. Governor Martin O'Malley and Senator Bernie Sanders are topping that with four years of college for free.
Hillary Clinton has offered up a package that many voters with college loans will find attractive.
In a more blatant payoff, Clinton proposes not only offering new subsidies for those who are going off to college, but also new subsidies for those who already left. But "refinancing" student loans and offering more generous income-based repayment plans will do absolutely nothing to improve education attainment or economic competitiveness. It is simply a transfer from the federal fisc to Americans with above-average educations and incomes. Income-based repayment is not a bad idea per se, but Clinton's plan includes forgiveness after 20 years, which is a huge payoff for those with the biggest loan balances.
Would you be more likely or less likely to borrow money if you knew that in twenty years the loan would be forgiven, no questions asked? For those of us that live in the real world, the answer is absolutely: not only will people borrow money, they will borrow more money. If you were guaranteed that you would not have to pay it all back, then why would you scrimp and do without when you can live in luxury?
Hillary's plan is almost entirely silent on controlling total costs, and, by increasing the supply of low-cost loans, the level of funding from state governments, and increasing other subsidies, proposes to lower out-of-pocket costs in the way that we've already seen will backfire.
Every time Washington proposes to fix something, it usually gets worse. They are already micromanaging the public school system from DC with mandate after mandate. The more they get involved in the university system, the more of a quagmire it will become. The college marketplace needs to be subject to local and free market forces. Then it will be able to react to the demands of the students and parents, not to the mandates of the feds.
The increases in tuition are not going to hire and pay more professors. Professors' pay has not increased; in fact, more college instructors are poorly paid adjunct professors that teach by the course for far lower salaries than tenured professors. Just like with our public schools, much of the money gets eaten up by administration costs to ensure that the mandates are met.
While these plans will not contain college costs, they will achieve their goal of bringing out self-interested voters for the presidential election.
Consider this an open letter to the 16 or 17 Republican presidential campaign teams.
From the sound of it, we are planning to do our Wicomico County Lincoln Day Dinner in early November. Originally we wanted to get Larry Hogan as our speaker, but so did everyone else and then he announced he's fighting stage 3 non-Hodgkin's lymphoma. Given the length of the course of treatment, it's not likely he'll be doing a great deal of traveling and public appearances during that time – however, should he decide to drop by the door is certainly open. I'm sure Larry would be gracious, even if it wasn't his endorsee Chris Christie doing the talking.
Yet it's always been puzzling to me as to why we in Wicomico County can't get a better "name" speaker. After all, we are the "crossroads of Delmarva" and that has to count for something, right? Not only that, we have a wonderful venue at Salisbury University that we have used for several years – the food is always good.
So I look at this as a great chance for a presidential candidate who wants to think a little bit outside the box and perhaps swipe a few votes with some retail politics. We're not all that far from New Hampshire and there are several attributes the schedulers may want to consider:
Between Maryland and Delaware there will be 54 Republican convention delegates (38 for Maryland, 16 for Delaware.) Even though Iowa and New Hampshire have a more advantageous position on the primary calendar, they only account for 53 delegates between them.
There is a potential audience of 102,793 Republicans within the four counties that make up the Lower Eastern Shore of Maryland and Sussex County, Delaware. That doesn't count unaffiliated and crossover Democrats who are desperate to not vote for Hillary.
All of them are within the Salisbury media market, and it's not like the news in Salisbury has a lot of content. You may get wall-to-wall coverage if you show up.
We have a pretty good fundraising scheme in place which we used for the Patriot's Dinner with Lt. Col. Allen West last year.
Lastly, not every Lincoln Day Dinner actually has a Lincoln. We do. He might even bring some Union troops along.
Generally our Lincoln Day dinner gets between 100 and 150 people – but I see no reason we couldn't get 300 to 400 with the right candidate. The optics of a sold-out venue would be a shot in the arm for any campaign, so why not take advantage? You can't let Donald Trump be the last one to show up at a Maryland event.
Back in 2012, the all-but-lost cause of Newt Gingrich came to Salisbury and drew plenty of regional attention, so here's my earnest plea on behalf of the good Republicans of Delmarva: retail politics may well go a long way here. Do it while you're still in the race this November and it may pay off in a year's time.
Besides, isn't the old adage "ask and you shall receive?" I'm asking nicely.
By Cathy Keim
So who needs Martin O'Malley when Larry Hogan will carry on his work?
I was astonished to read that Governor Hogan is expanding the You've Earned It! mortgage assistance program from the original $20 million to an additional $70 million. (Hat tip: Gwen Cordner.)
The program is aimed at assisting potential buyers, particularly members of the so-called "Boomerang Generation," who are employed and have good credit but are saddled with student debt that is proving a barrier to homeownership. These young people are more likely to live with their parents than were young people one or two decades ago and they are saddled with significantly more student loan debt than their predecessors.
The student loan debt in America is over $1 trillion dollars and growing. The federal government supports 95% of student loans and is making billions of dollars of profit on them. There is no incentive by the Feds or by the colleges and universities to cut the spigot. As tuition rises each year, the students borrow more money only to find out when they graduate that there are no jobs for them to earn enough to support themselves and pay their loans.
Another neat trick is that you cannot get out of paying back your student loans by going bankrupt. There is no escape. Is it any wonder that young people who are graduating with a national average of $29,000 in college loan debt must live in their parents' basement because they cannot pay their loans and live independently on a barrista's salary?
In a Wall Street Journal interview, Dr. Richard Vedder of the Center for College Affordability and Productivity links the tuition increases to "the 50-fold growth in federal student financial assistance programs since 1970. Former Education Secretary Bill Bennett was mostly right when he said federal aid programs enabled colleges to raise tuition fees, helping to fuel the academic arms race."
Why do so many people need a college degree? Many of the jobs that require a college degree did not require it in the past. We can thank the government for that also. Businesses used to administer tests to see if the potential employee had the skills necessary to fill the position. The government struck down testing as unfair, so many businesses switched to a college degree requirement as a way to screen applicants without running foul of the government.
Over time the value of the bachelor's degree was diminished and now many jobs require a master's degree forcing more students into school longer and causing more debt.
This situation is a serious problem for all of us. We need our younger generation to be buying consumer goods, especially cars and homes, to keep the economy humming. They must do their part, even if the government has to step in to "help" them again. It helped them acquire student loan debt and now it can help them acquire mortgage debt.
But the story doesn't end there. These mortgages must be for homes in a certified sustainable community. And who determines what is "sustainable?" This group:
Sustainable Maryland is a certification program for municipalities in Maryland that want to go green, save money and take steps to sustain their quality of life over the long term. Sustainable Maryland Certified is a collaborative effort between the Environmental Finance Center (EFC) at the University of Maryland and the Maryland Municipal League to replicate the success of theSustainable Jersey initiative throughout the Mid-Atlantic States, beginning in Maryland.
To become a certified sustainable city, the city must have a green team comprised of municipal workers, city leaders/businessmen and diverse citizens. This is a standard tactic to get leaders onboard a project and others will follow because if "Joe" is on it, then it must be ok. The city can apply for tax credits and grants to bring improvements such as bike paths or renovating old buildings. The municipal workers on the green team get paid for their efforts (it is part of their job), but the citizens are volunteers because their hearts are in the right place.
(Note: Salisbury is registered, but not certified yet. Snow Hill and Berlin are certified sustainable cities.)
(Editor's note: one of the Sustainable Maryland "primary partners" is the Town Creek Foundation, which never met a Radical Green program it didn't like.)
Once these debt-laden former students are ensconced in their subsidized mortgage home, they will be ready to marry and produce the next generation of liberty-loving citizens. The next generation will be taught in the fully implemented Common Core method, which will ensure that they never hear of their heritage as Americans. They will be assessed and evaluated from pre-school to the workforce. The thousands of data points gathered will ensure that they are nudged gently into the correct attitudes so that they will fit into the new world order. Teamwork and cooperation will be their strong suit while individuality and thinking deeply on any subject will be discouraged.
The water in the pot is almost to a boil. If we don't jump this presidential election, I fear it will be too late.
I harbor no illusions that my post from the other day regarding the declining optimism of Maryland business owners goaded him into action, but today Governor Hogan announced the formation of a Regulatory Review Commission (RRC), charged over the next three years with "(f)ixing our burdensome antiquated, broken and out-of-control regulatory environment in Maryland." The ten members of the RRC are volunteering their time to "focus like a laser beam on these issues", said Hogan.
It's interesting that the Democrats are claiming the Augustine Commission (which was created in the waning months of Martin O'Malley's second term) was intended to address these issues and saying Hogan shouldn't need three years to address the problem. How soon they forget that Larry's Change Maryland organization was convening business summits over the last three years to gain the business perspective, not to mention the fact it was their administration which put out a number of these job-strangling regulations in the first place.
To me it's just sour grapes. Ask yourself: had Anthony Brown won, would curtailing regulations be a priority? Thought not. The Augustine Commission report would have been filed and ignored.
But I hope the RRC has the latitude to go beyond just regulations and into other areas like taxation and, more importantly, looking into where other states succeed. Take a state like Texas, where hundreds of thousands of jobs have been created (as a net gain over jobs lost, not as a one-for-one swap) over the last decade. What attracts these entrepreneurs and leaders, and what assets can Maryland use to emulate their gains? Granted, a good portion of the Lone Star State's gain came from abundant energy resources that Maryland can't match, but there are other areas we may be able to do as well or better if we make that a goal. Unfortunately, over the last eight years our state took its cues from states like California and New York, places where capital and population have been fleeing.
Another question is just how cooperative these Democrats, who are already trying to take credit for the little bit done in 2015, will be to the RRC's agenda as they submit their findings.
Take the "rain tax" as an example – a Democrat introduced the vastly watered-down bill that eventually passed, so they will surely henceforth try and take credit for ending the "rain tax." But the mandate for affected counties to have a watershed protection and restoration fund did not go away (page 4 here) – it's just up to the county to fill it, and most will likely retain some version of the "rain tax." The actual repeal of the "rain tax" on this Hogan-sponsored bill was killed in committee by the Democrats therein on a straight party-line vote. (I used that vote as one of the committee votes on the monoblogue Accountability Project.) So it's a fairly safe bet the Democrats are only paying lip service to the issue of regulations now because to them more is better – that's how they've run Annapolis for most of the decade I've lived here and probably my whole life before that.
So the RRC can't just exist in a vacuum. Now that Larry Hogan has experienced the way Democrats in the General Assembly basically gave the finger to his mandate, he will need in the coming months and years to take a page from the Reagan handbook and go straight to the people. Democrats may claim the last election was about "divided government" but the motivation was clearly behind a more conservative direction for the state.
While I would have preferred a more rapid formation for the RRC, this is a definite feather in the cap for Larry Hogan. Let's hope that it's not just for show but instead gives us an agenda even the Democrats can't stop.
It's only one survey of 280 small (perhaps micro-scale) businesses in Maryland, but a recent poll conducted by a company which should be familiar to regular readers calls into question the effectiveness of Larry Hogan's efforts at improvement in Maryland's business climate in his first few months in office.
In cooperation with the Kauffman Foundation, Thumbtack.com has done annual, quarterly, and now monthly surveys of small business sentiment around the country. (I've written about their surveys on business friendliness in the past.) While it comes in a more graphical form than I can readily share here, some items I gleaned from the most recent Maryland and national data follow:
In terms of revenue and overall financial outlooks, Maryland businesses are less positive than the rest of the nation in the former and fall right at the national mean for the latter. The good news, though, is that over 70% of these businesses have a positive outlook over the next quarter.
Less than half, however, rate their financial situation as "very good" or "somewhat good." Maryland's total is 45.9% compared to 48.1% nationwide.
Maryland businesses are more pessimistic about profitability than their national peers; still, over 60% think they will do better. On the other hand, their perception on business conditions is actually better than the national average – 53.4% in Maryland think they will be better in three months' time, while only 51.9% nationally share that outlook.
Finally, 24% of Maryland micro-businesses anticipate hiring over the next three months, while just 22.1% do nationwide. But while only 2.1% of businesses nationwide thought they would need to furlough workers, that percentage was 2.5% in Maryland.
As I noted above, this data was compiled at different intervals. Until March, this was done as a quarterly survey; now it is monthly. But one asset of this approach is that I can go back to the beginning of the year, and in their release accompanying the information Thumbtack.com noted:
In June, respondents nationwide indicated reduced optimism about the economy for the third month in a row, though sentiment about current and future conditions continues to be higher than that reported one year ago.

Key findings for Maryland include:

Maryland small businesses reported a sharp decline across each of the metrics tracked by Thumbtack, with the strongest declines coming in their expectations about future financial conditions and the economy.
Maryland experienced one of the largest overall business sentiment declines in the country in June; the state is now below the regional and national averages for small-business sentiment and ranks 30th overall nationwide.
Sentiment is still higher than it was one year ago, reflecting a broad-based increase in perceptions of economic conditions by small businesses across the country.
For the second month in a row, small businesses nationally expressed increasing pessimism about future economic conditions, which have been the largest contributors to the decline in overall sentiment.
Thus, it sounds like Maryland is reflective of a national trend.
But it's also worth noting that the 2015Q1 survey showed broadly higher numbers across the board – revenue outlook has declined 10.9 points, financial outlook 5.2 points, profitability 11 points, and business conditions 8 points.
In addition, those who thought they may be hiring declined from 26% to 24.1%. Only the respondents' assessment of their financial condition stayed relatively unchanged, declining just 1/10 of a point.
Unfortunately, these were the types of numbers we came to expect in the O'Malley administration. Obviously Hogan apologists would argue that their guy has been in office less than six months and it takes time to turn the ship of state around. And they would be correct, as the Augustine Commission agenda sailed through the General Assembly with its effective date in October.
Yet to me much of that was a simple rearrangement of deck chairs on the Titanic. While we can't do a whole lot about the national economic climate, one thing Maryland could have done was allow these entrepreneurs to keep a little more of their money by reducing personal income tax rates; meanwhile, they could accommodate the entire elimination of corporate taxes with modest budget cuts of 3% or less. (The corporate tax brings in just over $1 billion of a $40 billion budget.) This would encourage larger businesses to consider Maryland for their growth and create more spinoff work for these micro-businesses.
Think of it this way under my scenario – Justin relocates from New York to work at the new Maryland corporate headquarters of XYZ Company, which was attracted here by the zero corporate tax rate as well as the other benefits Maryland brings. He needs a guy to fix his laptop, someone to watch the kids while Justin and Mrs. Justin are at work, and so on and so forth. Imagine what 250 Justins can do for a community and how many extra jobs they create. (I'm sure someone somewhere has done a study on this but today I'll work without a net.)
The point is that addressing regulation and red tape is great, but the financial incentive has to be there as well. Among states with flat corporate tax rates, Maryland ranks among the highest. On a personal income level, Maryland's rates appear to be a little better but that doesn't add in the local county tax. (Granted, other states may also have the same practice.)
Let's just say this: with an agenda that includes financial incentives as well as some cooperation from thoughtful Democrats in the Maryland General Assembly, by this time next year we can have a far more optimistic business community and in a few months after that they can better enjoy the results of hard work because the state takes a smaller cut.