First, the setup: one of the many e-mails I've received beseeching me for donations. It asks "Are you on this list, Michael?"
Michael,

Chairman Walden just sent me a list of NRCC Members for 2014, and I don't see your name.

I know you've been one of NRCC's most loyal supporters since the start, this just can't be right.

You donated in the past in defense of a Republican House Majority, but not yet this year.

It's getting urgent with 80 days until Election Day. We need you now more than ever. We're working to stop the Obama campaign machine in its tracks – BUT we can't do it without you.

In order to combat the $374 MILLION that Democrats are spending this cycle, we need grassroots supporters like you to renew your support for Republicans across the country today.

Together we'll rally families and workers to stop President Obama's disastrous Big Government Agenda – and advance better solutions for a brighter future.

Please don't wait another moment. Renew your NRCC membership today with a gift of $10.

And, if you renew by tonight at midnight, I will triple your donation, so your gift of $10 will have an impact of $30.

Thanks,

John Boehner
Speaker of the House
Let's clear a few things up. I don't think I've ever given a penny to the NRCC, so they're pulling that one out of their rear end.
But more importantly, what have you really done to "stop President Obama's disastrous Big Government Agenda?" Have you defunded Obamacare or told the EPA where to go? How about impeaching some of the lesser members of the administration? Of course not, because your consultants said it would drive away independents, as if most of them will vote in a non-Presidential race anyway.
And then you have what this duly-elected Congressional nominee wrote yesterday:
I just pulled over about 2 hours into a trip to Allegany County to write this. I think it's time.

Have you heard of the National Republican Congressional Committee (NRCC)? They exist to allegedly help Republican candidates get elected to congress. Do you know that it's been months since my victory in the Republican primary in Maryland and I haven't heard a peep from either them or the RNC?

Do these establishmentarians think it's easy running as a Republican in deep-blue Maryland? Do they think that after years of having OUR party nearly taken over by cronyists, interventionists, purveyors of bad policies like TARP and grotesque levels of government spending, that outsiders like me have it easy?

I can barely knock on an Independent's or a non-white-male-voter's door without being thrown off their porch. Do you feel that you've mastered the message and it's really people like me who are the problem? Who do you think is fighting this battle? It's certainly not you. We're the ones at the doors, where it matters.

What's your reason for ignoring me, and the many others fighting for this magical country's tomorrows? Do I not fit into your box? Is it my youth, my message, or is it that I haven't firmly planted my lips on your rear-end?

I'm a Republican because I believe liberty matters and we should not surrender OUR party to cronyists and connected-insiders. We built this house and you don't get to burglarize it and keep the spoils. If elected Democrats want to monopolize unlimited government and evaporating liberty then go join them in their house but stay out of ours.

Finally, thanks to the grassroots who have accepted me as one of their own, despite my recent entrance into the political arena. It's your sweat and positive energy that keeps me going despite the willful ignorance of so many on the inside. It's you that matters. Thank you so much.
Really? You at the NRCC ask me for money and don't support a guy like this? Well, perhaps I have an idea why Dan Bongino and others like him get the shaft. I won't blockquote the whole thing, but a piece by Dr. Steven J. Allen of the Capital Research Center is worth reading in order to get a peek into what I think is the mindset of the NRCC and "establishment" Republicans at large.
But the problem isn't just Washington. Just look at what the Democrats have tried to stick on Larry Hogan with the help of a most compliant media. From a Michael Dresser piece in the Sun:
"The No. 1 priority is to expose Larry Hogan as a conservative, knee-jerk Republican who doesn't support universal pre-K and doesn't support a woman's right to choose, doesn't support increasing the minimum wage but instead supports giving billion-dollar tax giveaways to the largest corporations," (Anthony Brown campaign manager Justin) Schall said.
Needless to say, there was no follow-up as to why universal pre-K is so vital (Head Start has been shown to be ineffective after grade 3), proof that Hogan isn't pro-choice, and, frankly, why Brown thinks we should be confiscating tax money from our largest employers – you know, those people who create jobs that have value rather than push paper?
Unfortunately, this is what Hogan's side had to say.
"We obviously have to get our message out to a broad segment of the population. We have to lay out a clear vision of what we want to accomplish," (Hogan campaign manager Steve) Crim said. "It's a humanization. It's showing people that Larry does care about everyone."
I didn't know that was a question. I would contend that Anthony Brown only cares about the special interests bankrolling his campaign. So why is it implied that the Republicans don't care about everyone? I deeply resent that implication.
Or read this lead paragraph from John Wagner in the Washington Post:
To hear Maryland Democrats tell it, a victory for Republican gubernatorial nominee Larry Hogan could lead to the legalization of additional assault rifles, new limits on women's access to contraception and the clock being turned back on gay rights.
Prove it. Come on, Maryland Democrats, let me see the legislation Larry Hogan has proposed to do just that. Put up or shut up. Unfortunately, Larry plays along to an extent:
"It seems like every other day, we're getting some off-the-wall attack on something that no one cares about," Hogan said. "They're trying to make me into a right-wing, tea party Republican."
Trust me, Maryland, if only…but he's the best we have to work with.
It's time for a little attitude. Later in the Post piece, the whole Michael Peroutka affair is brought up, and look who went dumpster-diving for that minor little issue:
The Brown campaign e-mailed reporters about the secessionist views of Michael Peroutka, a Republican council candidate in Anne Arundel, where Hogan lives. Hogan promptly responded by saying Peroutka's views have no place in politics. An aide said that Hogan and Peroutka have no relationship. (Emphasis mine.)
Divert from important issues much? The Brown campaign is worried about a local County Council race? I think I'd worry more about the $150 million or so of taxpayer dollars you wasted on a balky website than one person's personal views, which wouldn't affect how he served the public in his capacity anyway.
There are a lot of fed-up people out here in the real world. They're tired of struggling to make ends meet while watching the borders and the law be ignored, their taxes constantly go up while government cronies prosper, and being told their conventional, Judeo-Christian views of morality are politically incorrect and intolerant. I'm sick of it, too.
I have a number of friends who are Democrats. A lot are great people, and perhaps there are places we share political common ground. But to blame Republicans for the problems affecting this state and nation is the height of folly, considering who's been in charge recently. Simply put, the Democratic prescription is not making the patient better; instead, Uncle Sam is more infected and weakened than he was when the Democrats took over Congress in 2007 and the White House two years later.
The real truth is out there beyond the headlines. Talk to the people, and they will tell you just what I said a couple paragraphs above. Maybe the political consultants and hucksters who keep putting out constant e-mail appeals for my money (trust me, it comes from both sides) are getting a cut, but I say we ignore them and just give to our favored candidates. (Okay, I will make an exception for the state GOP, if only to keep their lights on and phone working.)
I think somewhere we lost our way, and the world needs good leaders on par with our Founding Fathers to steer us back. Just wish I knew who they were, because when I look at a lot of those people who would deign to be our national leaders I see a load of snake oil salesmen.
I'm probably going to drive my Republican friends nuts here, but I think this guy has a point.
Last night I saw this among the posts on my Facebook feed:
What do you think you will hear Saturday from Brown and Hogan?

Brown will tell you about his folks and the one year he served. He will replay everything that O'Malley has done has if he had something to do with it.

Hogan will simply bash Brown for every problem in the state.

If Quinn had been allowed to speak you would hear about term limits, lower taxes, better schools, reformed tax codes and regulations, restored rights and power being given back to the people. Do you see why they can not let Quinn to be heard? November you decide, a self serving governor or an open, honest and people caring governor. They can't stop you from voting for the best possible governor.
Of course, the author of this piece was Libertarian candidate for governor Shawn Quinn, who wasn't invited to the MACO forum to speak and will lead a small protest to that fact Saturday morning.
Come out on Saturday in Ocean City and help me protest this apparent anti-citizen group. We will get pictures of who is supporting this government-controlled Association and let you see who is abusing their office.
Obviously I come from a Republican perspective, but I have given the Libertarians a little ink in the past (like this when the 2010 campaign began.) So it's nothing necessarily new, even though I do believe they take more votes away from Republicans than Democrats. (Conversely, the Green Party takes mainly from the Democrats, which may be why they haven't put up a 2014 candidate.)
I can understand that there are candidates who will be on the ballot but get a tiny percentage of the vote, but it's interesting how they're treated by the media. Until he was tossed off the ballot, Brian Vaeth and his likely 1-2 percent of the vote was often included in Republican debates; on the other hand, only the three main Democratic candidates got the spotlight while the other three (Ralph Jaffe, Charles Smith, and Cindy Walsh) were ignored. It begs the question of whether their combined 2.8% was a factor of not having popular viewpoints or being ignored by most media. (Jaffe and Smith, however, fall into the perennial candidate category. On the other hand, Walsh ran to the left of Heather Mizeur, who she called "a nice person (who) will serve as an establishment neo-liberal." I think Walsh would have been great in the debates, and she got half that 2.8%.)
There's no question that Quinn will fall far short of being the next governor. Susan Gaztanaga got 0.8% of the vote in 2010, which set the high-water mark for the Libertarians in Maryland. They didn't field a 2006 candidate, and Spear Lancaster scored 0.68% of the electorate in 2002. Getting to 1% would be enough of an achievement.
But even though there's little chance Quinn will win, I think he should be included in debates. I think it would be educational for the others to respond to some of the points the Libertarian brings up on his issue page, like this one:
The largest percentage of welfare tax dollars goes to pay the salaries of welfare workers and government overhead expenses, only a fraction of these monies actually make it into the hands of the needy. Throughout history private charities and groups do a better and more efficient job of helping the truly needy get back on their feet. A priority for our administration will be working to transfer these much needed services to the private sector and assist them in creating programs to put people back in the work force instead of continuing to perpetuate the meager handouts which force the needy into government dependency.
In turn, there needs to be some questioning of Quinn as to how he would perform some of these policy changes with a General Assembly practically (if not physically) devoid of his party.
But that's the great thing about a debate of ideas – too bad we won't get one anytime soon.
As you can see, the state of Maryland is once again exhibiting its generosity by not charging sales tax this week on clothing and certain other goods. (I took the picture at my local Walmart, actually to send to Kim as a reminder.)
I've often advocated for the reduction or elimination of the sales tax – at least for those counties on the Eastern Shore – as a way to compete with nearby Delaware, which charges no sales tax. However, unlike my recent idea of ridding ourselves of the corporate income tax, which raises about $1 billion annually, I realize it would be a lot more difficult for the state to rescind the sales tax entirely. The state expects over $4.4 billion a year from the sales tax – about 11% of revenue – so getting rid of that would be a lot less likely. The sales tax is the third-largest revenue stream for Maryland, behind the individual income tax and the 27% of our revenue we receive from Uncle Sam.
But would it be a bad thing to make the Eastern Shore a tax-free zone? Obviously I can hear from here the wailing and gnashing of teeth from those of you on the other side of the bridge, but when you think about it the chances are pretty good those from the Western Shore have to pay a toll to get over here anyway. So why not give yourselves that break?
In rough terms, the Eastern Shore is 1/10 of the state's population, so in theory it would cost the state $440 million a year to exempt the Eastern Shore from the sales tax. I'll assume we do a little better than that given the tourism attraction of Ocean City and several close outlet malls, so call it $500 million. Certainly the state can figure out a way to excise 1% or so from its budget, with the additional income and jobs created for people on this side of the Bay making a significant dent into that perceived loss to the state. That's borne out in part by what Comptroller Peter Franchot told the Daily Times – lost revenue from exempt items is partially made up by extra non-exempt items purchased. By that same token, the sales tax loss would come back in the form of extra gasoline tax collected, more income tax from increased employment, and other revenue from enhanced economic activity.
We've tried to exempt ourselves from the sales tax increases before, but all those General Assembly members from the other side of the Bay want us to pay our fair share – never mind we are already taxed, regulated, and dictated to death over here. We carved out certain parts of the state to pay a "rain tax" so why not go the other way and allow some counties the economic relief?
When Larry Hogan is trying to figure out some of the taxes he can cut to assist hard-working Marylanders, why can't he do those of us who have to compete with Delaware a favor and make this part of the state a sales tax-free zone? You just might bring some business back from Delaware as a bonus.
I don't have a poll to show you, but I do have a website.
Today I was alerted to the existence of a new political website which makes the case that the next Congressman from the First District should be a woman: Jeannie Haddaway-Riccio. Gleaned in large part from her recent run for lieutenant governor on the David Craig ticket and set up to resemble an actual campaign site, the website is the brainchild of political activist Phil Tran. Tran points out that current Congressman Andy Harris is voluntarily term-limiting himself and believes Haddaway-Riccio would be the best logical successor.
I decided to start a movement. In the event that Congressman Andy Harris decides to voluntarily limit his terms, we need to have a formidable successor ready to go. That successor is Delegate Jeannie Haddaway!

Jeannie Haddaway is a great role model for young women (and men alike!). She will serve Maryland's Eastern Shore and the Baltimore suburbs with grace and dignity in a Congress that desperately needs such qualities.

Plan ahead or plan to fail. Please sign the petition to draft Jeannie Haddaway for Congress! We are also selling shirts to support the movement!
(I know David Craig didn't use the full name, but I prefer to refer to her with the married professional variation she used for the House of Delegates, Jeannie Haddaway-Riccio.)
It's fun to note that Tran has both 2016 and 2022 listed as the prospective dates for the campaign, and each presents different opportunities – as do other points on the calendar, as I'll illustrate.
First, though, it's my understanding that Andy Harris would stay in Congress twelve years – under his proposed Constitutional amendment, Congressional members would be limited to twelve consecutive years. I think the three terms statement is a misunderstanding since I was told twelve years at the time Andy ran the first time for Congress, and had personally asked him for clarification since. Twelve years was always the answer I received. But there are a lot of other ways Jeannie could go in the interim.
Let's look at 2016 for a second. It's a Presidential year, so there won't be a lot on the ballot. While I hope Andy Harris gets some Congressional help this year, it's likely he will either remain the lone Maryland Republican federal elected official or perhaps have Dan Bongino as second fiddle if the Sixth District votes in its best interest. (Obviously, if Maryland voted in its best interest they would have a full GOP delegation, but I'm talking in real terms.) In any case, I don't think Harris is leaving after just three terms.
But there is an intriguing race which could develop. Remember in early 2010 when the rumor that Barbara Mikulski was passing on re-election caught fire? Well, with the increasingly likely prospect of Republicans taking over the Senate, and the fact Mikulski's not getting any younger (she will turn 80 a few months before the 2016 election) it could lead to an open Senate seat for the first time since 2006. Needless to say, every Democrat in the state and their brother (and sister) will be salivating at the chance for the brass ring, but who else is on the GOP bench that has run statewide? You could say Bob Ehrlich, but he's been rejected twice by statewide voters.
Jeannie Haddaway-Riccio as the Republican Senate nominee in an open-seat scenario, particularly if the Democrats have a bloody primary because most are running from cover? Maybe she's not as conservative a candidate as I'd prefer, but I think she's electable in Maryland and it's a move that would make sense if she wanted another statewide bid. She would also have the advantage of needing less time to ramp up a campaign since it's likely Mikulski would wait until the last minute to announce her intentions to the world.
If Jeannie wanted to wait until 2018, she would have even more options. One would hope that she doesn't have to worry about a run for governor because Larry Hogan is the incumbent, but the possibility of a match against Anthony Brown is there. Unfortunately, no Democrat governor has lost a re-election bid in Maryland in about forever (okay, actually 1950 – and ironically, William Preston Lane lost over tax increases) so that may not be the best play.
After running for office statewide, it would perhaps be seen as a demotion to run locally, but there's the chance Addie Eckardt may only want one Senate term as she will be in her mid-70s by that point. Granted, we will hopefully have two new GOP Delegates who could move up if Eckardt wants just one bite of the apple, but my suspicion is that 2018 was always eyed as the time Jeannie would make the jump. A win there could keep her in the limelight for 2022, when Harris would be through his twelve years, the 2014 gubernatorial winner would be term-limited out of office, and – if Mikulski finally decided to retire at the age of 86 – that Senate seat would be again up for grabs.
Another possibility for 2018 would be to take on Ben Cardin in a Senate race, but assuming Ben wants to stay on he would be tough to beat – although, at 75 years of age and perhaps in the minority he may decide to ride off into the sunset as well.
It's clear that Jeannie's selection as David Craig's running mate opened a lot of eyes around the state (and brought out a few long knives) so it's no wonder Phil Tran is promoting her as a possibility for higher office. She isn't the longest-tenured or most conservative Republican candidate in the state, but she has the right experience and didn't hurt the Craig ticket, which simply didn't have the resources to compete against a deep-pocketed opponent who made no critical mistakes.
Running for lieutenant governor didn't turn out to be a success short-term, but it's obvious a lot of people now think highly of her long-term prospects.
For three years, the folks at Thumbtack.com, a service for entrepreneurs looking to trumpet their wares, has partnered with the Kauffman Foundation to produce a Small Business Friendliness Survey for much of the country. I've referred to this survey before on several occasions.
Out of 38 states which had enough data to analyze, Maryland falls in a range between 25th and 27th with a "C-" rating, placing it in a group with Michigan and Wisconsin. While it rated top grades (an A+) for training and networking programs, it had only one other good grade – a B+ in ease of hiring – and several D+ grades in regulations, tax code, licensing, environmental, and zoning.
There are a couple caveats to bear in mind for Maryland's grade. There aren't a whole lot of businesses surveyed, and the written responses came from a small area of the state representing Montgomery, Prince George's, Howard, Frederick, and Baltimore counties as well as Baltimore City. Those are the areas which generally represent the Democratic strongholds of the state, which leads me to wonder whether the grades are inflated because the responses tend to skew toward a liberal population or whether their frustration level is such because they are conservatives in a liberal state. Regardless, you have a number of survey answers like this one from Severn:
Maryland is all about taxing entrepreneurs and driving them to other states.
To be fair, there were a lot of positive responses, too, like this one from Hyattsville:
I have no complaints. The state of Maryland does a very good job in providing incentives for small business owners like myself to continue to conduct business.
If you hold your cursor over a dot on the page, you can read the good and bad reviews – by my count there are 32.
But to me this is a good primer for politicians to read – real responses from real business people who are hustling daily. And you can easily compare notes with a state like Texas, where responses were plentiful (at least from the urban Dallas, Houston, Austin, and San Antonio areas) and the grades were outstanding across the board – Texas was the lone state to not have any B grades whatsoever, just straight A's. (Virginia was also in a fairly elite category as well, along with Idaho and Utah.) That's a very useful facet of this survey in my eyes.
Having three years of data to work with can be telling as well. Out of ten sub-categories the survey measured, Maryland slipped in eight of them between 2013 and 2014. (Only the "training and networking" improved, while "employment, labor, and hiring" stayed put. These were the two best categories for Maryland.)
It is a legitimate question to ask, though, whether the frequent talk over the last couple years about how bad Maryland businesses have it has become a self-fulfilling prophecy insofar as these survey responses are concerned. While there's obviously been changes in law and regulation, they didn't seem as bad as some of the grade drops may seem to indicate. But then these are the people in the trenches.
With the timing of the survey, I suspect it will be taken next year in the opening weeks of either the Hogan or Brown administration, and the responses may hold a key to what we can expect over the next few years as far as businesses see Maryland.
Although Jenna Johnson's Washington Post piece described Governor Martin O'Malley as "brusque…terse and often lack(ing) patience" during a Board of Public Works meeting, that meeting still netted Dominion Resources another small step toward investing $3.8 billion into upgrading their Cove Point facility by allowing them a tidal wetlands license. O'Malley joined Comptroller Peter Franchot and Treasurer Nancy Kopp in approving the permit, leaving only federal authorities in the way. The permit was for a temporary pier to offload construction supplies for the project, which environmentalists fear will lead to further extraction of natural gas in the region for export.
To me, it wasn't a vote O'Malley wanted to take, and he really didn't have to – his vote against would have only made it a 2-1 decision. But to do otherwise would have left another black mark on his administration's legacy of making Maryland one of the states most unfriendly to business in the nation, even though the permit would have gone through.
And it's not like environmentalists aren't winning the war despite losing that battle – the prospect of fracking in Western Maryland is growing dimmer by the day given some market saturation and the outlandish regulations proposed for drilling – never mind the possible benefits that would bring. But O'Malley had to disappoint the few hundred who are passionately opposing the remodeling of the LNG terminal in Calvert County.
At this point, though, it's all about promoting the legacy and let's face it: are the environmentalists going to vote for Larry Hogan? Well, there is that slight possibility but when the Washington AFL-CIO and other trade unions support Cove Point, O'Malley can't afford to alienate that group. That's hundreds or even thousands of motivated voters he has to keep in the Anthony Brown camp. So Martin O'Malley will hold his nose and vote for Cove Point, all the while hoping that his buddies at the EPA or somewhere else in the federal government will bail him out by turning thumbs-down on the project at a late stage. After all, if they can stall the Keystone XL pipeline for this long, pushing back a project just a few miles outside Washington, D.C. is almost a no-brainer to them.
So when Martin O'Malley acts like a petulant child in a meeting because he knows he has to take an unpopular vote, we shouldn't feel any sympathy for him. He's left a whole lot on the table insofar as benefiting from our American energy boom goes and he knows it.
Over the last several days, it's become clear that Democrats believe they own this state lock, stock, and barrel. Why else would they raise a stink about an otherwise obscure local county council race?
On June 24, Michael Peroutka won the Anne Arundel County District 5 County Council primary on the Republican side by just 38 votes out of 7,181 cast in a five-way race – meanwhile, the Democratic candidate won with a majority out of the 4,062 votes Democrats in the district tallied. Presumably, then, this is a majority-Republican district; however, Peroutka won with just 32.5% of the vote but defeated incumbent Council member Dick Ladd in the process. Ladd's downfall, according to Peroutka, was his vote in favor of Anne Arundel County's "rain tax." Peroutka also noted his belief that the rain tax was "an end run around the (county's) tax cap."
This is the platform Peroutka ran on:
I have an American View of government. I believe, like many others across America and my home state of Maryland believe, that there is a God, the God of the Bible, and that our Rights come from Him, and that the purpose of civil government is to secure our rights. I am the only candidate who pledges:

To NEVER increase taxes for any reason, period!
To work for the repeal of the rain tax which Dick Ladd voted for "with pleasure."
To be guided in all things by the original, true view of American law and government which is: There is a God; our rights come from Him; and it is the purpose of government to protect God-given rights.
To work tirelessly to make government smaller with less debt.
To courteously pay attention to what our citizens say when they come before the County Council.

I am strongly for:

Traditional, man-woman only marriage;
2nd Amendment right to self-defense;
Legal protection for innocent, unborn human life.

And strongly against:

Obamacare;
Common Core;
And any programs or proposals not authorized by the US Constitution or the County Charter.
I will admit that few of these are applicable to the Anne Arundel County Council but the idea of smaller, more limited government is appealing – or at least it was to the plurality of voters. So what was the issue?
Peroutka is "affiliated" with the League of the South, a group which claims to stand for "Servant Leadership, State Sovereignty, and Southern Independence." In addition, their statement of purpose is to:
"We seek to advance the cultural, social, economic, and political well-being and independence of the Southern people by all honourable means."
I say "affiliated" because Peroutka is currently listed as neither a state or national leader of the group, but was previously appointed to its board.
Regardless, the group has attracted the attention of the left-wingers of the Southern Poverty Law Center, which classified the League of the South as a "neo-Confederate" group:
The League of the South is a neo-Confederate group that advocates for a second Southern secession and a society dominated by "European Americans." The league believes the "godly" nation it wants to form should be run by an "Anglo-Celtic" (read: white) elite.
The SPLC also considers the American Family Association, Family Research Council, Federation for American Immigration Reform, and WorldNetDaily among its targeted "extremist" groups, although it also considers the Nation of Islam and New Black Panther Party in that vein as well. Perhaps there are some groups too far to the left for them.
It was the SPLC involvement which got a couple prominent Republicans to run for the tall grass. Larry Hogan quickly disavowed the "secessionist" Peroutka, while Anne Arundel County Executive hopeful Steve Schuh called on Peroutka to resign from that group. Others took a wait-and-see approach.
While most people reading this have probably never heard of the League of the South, I actually wrote about one of their Eastern Shore events in 2012. The "Take Back Maryland Rally" featured onetime Congressional candidate Robert Broadus, State Senator Richard Colburn (speaking on Eastern Shore secession) and David Whitney of the Institute on the Constitution, which Michael Peroutka co-founded. I did not attend the event, but noted at the time that a number of their ideas (short of secession, since we already had that war) were worthy of discussion in a cultural and societal context.
Democrats have become good at painting Republicans in a negative light for casual encounters with unpopular causes – for example, in 2010, an Ohio Congressional candidate was targeted by liberal media because he played a Nazi soldier in various World War II re-enactments as a hobby. (Never mind that Rich Iott was a successful businessman and film producer.)
To me, the proper response would have been along these lines:
While I don't personally agree with the League of the South's views on secession, the fact that Democrats are using this national issue in a local race speaks volumes about what they're worried about come November. As a local Council member, Peroutka will have little influence on broad cultural and spiritual context nationally, although one has to ask why our opponents would disagree about reminding our people that we were "endowed by their Creator with certain unalienable Rights."
Rather, the focus should be on the important issues where the opposition regularly falls short: addressing a "rain tax" which is unfairly penalizing certain counties of the one state which has rolled over to federal demands rather than standing up and asserting a shared solution proportionate to the cause of the problem, rightsizing a local government which can be more efficient in its services while minimizing its reach into people's pockets, and, above all, listening to the people and not the siren song of a state government too powerful for its own good, one where the opposition has fiddled while this great state burned under a stalled economy and terrible business climate.
As long as Peroutka can be a trusted public servant who devotes his time and effort to the people of his district while advocating for the causes he's placed on his platform, his affiliations are his business. It is a local matter and I trust the voters of his district will judge the candidates accordingly.
At the same time, perhaps we need to look a little bit closer into who the other side affiliates with. Chances are there are skeletons in their closets which really will negatively influence how they operate.
We were warned about this all along, but everyone seems shocked that gun maker Beretta has followed through and decided to relocate its production to a new plant in Tennessee next year. The loss of 160 manufacturing jobs from its Accokeek plant will be the gain, once production ramps up, of Gallatin, a town which is a few miles outside Nashville and is about the same size as Salisbury. Here's what Maryland is losing, from Beretta's release:
Beretta U.S.A. anticipates that the Gallatin, Tennessee facility will involve $45 million of investment in building and equipment and the employment of around 300 employees during the next five years.
It's worth noting that Beretta is not the only gun manufacturer potentially leaving Maryland. LWRC of Cambridge said last year "we simply couldn't do business here" if the gun law passed, with 300 jobs at stake. Rumors of a purchase of LWRC by Colt were rampant earlier this year,  yet while no formal announcement has been made the Bob Owens piece I'm citing is useful as a reminder of what such a company means to a rural area.
Needless to say, Larry Hogan had the expected reaction on Beretta's plight. Yet the question isn't one of "high taxes and punitive regulations" so much as it's a question of repealing a knee-jerk law passed in the aftermath of the Sandy Hook shooting – not that any law was going to stop Adam Lanza anyway, nor does this law stop a single homicide in Maryland. It was all feelgood legislation from the start; unfortunately, the powers that be chose not to back the referendum route which would have placed the law on the ballot at the same time as many who voted for it.
To change Maryland's fate in this respect, not only does the state have to improve on its business friendliness but it also has to find the political will to overturn its onerous gun laws like 2013′s Senate Bill 281. Elections mean things, and not only do we need a governor willing to backtrack on this mistake but also enough of a General Assembly coalition to get a bill through the legislature. That part may be the most difficult, because getting to just 50 Republicans in the House and 19 in the Senate would be a minor miracle – yet Republicans need 71 and 24, respectively, to actually control the chambers. It's mathematically doable but the odds of hitting the Powerball are probably much better.
So say goodbye to Beretta's production, and know that it won't be missed at all by the Democrats in Annapolis.
It's been awhile since I wrote about the energy industry but things are always happening there and I decided to take a peek because of some items I've spied in daily updates I receive from the American Petroleum Institute. I like to know what's going on in important growth industries which profoundly affect our daily lives.
As one might expect, API CEO Jack Gerard is a leading spokesperson against what he calls Barack Obama's "irrational" energy policy. It makes sense when you consider that the United States is now the world's leading producer of both natural gas and oil, thanks in large part to recent advancements in fracking technology which have revitalized the once-moribund American energy industry. Speaking before an audience in New Orleans, Gerard noted:
The choice before us is whether we pursue an American future of energy abundance, self-sufficiency and global leadership or take a step back to the era of American energy scarcity, dependence and economic uncertainty.

It is that simple.
There's a clear benefit to having the abundant resources we do. I was only nine years old when the first oil crisis hit in 1973, but I remember the long gas lines and jump in prices. If you consider the long-term effects in policy and marketing, such as the adoption of fuel economy standards and the push toward smaller cars, ask yourself what may have happened if we hadn't become so dependent on Middle Eastern oil. Would we have had the resulting mid-1970s recession?
Obviously we have recessionary conditions now in spite of the current oil boom, but there's a valid argument that opening up the spigots (so to speak) and allowing more extraction would push the economy into more consistent growth.
Another example of an irrational energy policy is our continued ethanol mandate, about which API is asking for another cutout of a mandated increase. The EPA decided not to change the allotment for this year, but needs to finalize the rule.
To me, there are two telling facts about this story: one is that API has given up on legislative relief from Congress and appealed directly to the EPA, which speaks volumes about the transition of our supposedly limited government into a fiefdom unto itself.
The second is the sheer volume of interests on the side of eliminating the mandates entirely – everyone from motorcyclists who complain about ethanol's deleterious effects on their engines (as is the case for other small engines from boating to lawn equipment) to the poultry producers who have seen corn prices artificially propped up due to the amount of corn necessary for creating ethanol and even environmental groups who fret that the corn-based product is actually worse for the environment. Obviously the corn growers love the price support, though, and farmers have their own determined lobbyists who would love to see an even higher ethanol blend called E-15 allowed.
API and other ethanol opponents are hinging their future hopes on a more business-friendly Congress in the next term, though.
Irrational energy policy on the state level may occur after this fall in Colorado, a state which has taken advantage of the energy boom but may fall prey to the scare tactics environmentalists use to portray fracking in a negative light. There Governor John Hickenlooper, a Democrat, sees his state's energy success being threatened by a petition drive to place further restrictions on fracking on their November ballot. Hickenlooper is quoted in Bloomberg as pointing out, "(t)hese measures risk thousands and thousands of jobs and billions in investment and hundreds of millions of dollars in state tax revenue."
I found this interesting because the proposed restrictions would prohibit drilling within 2,000 feet of structures, a change which energy companies complain would "effectively ban" fracking in the state. Their current restriction is 500 feet.
Now something which came out the other day to little fanfare was a draft report outlining some of Maryland's proposed fracking regulations. The original recommendation, based on other states' best practices by the University of Maryland Center for Environmental Science, Appalachian Laboratory, was for a 500-foot setback from wells. That guidance was expanded by the Department of Natural Resources and Maryland Department of the Environment to – you guessed it – 2,000 feet. (Page 18-20 here shows the recommended DNR/MDE changes.) In short, these regulations are intended to "effectively ban" fracking in Maryland to the detriment of not just our far western counties, but any of the regions of the state (including the Eastern Shore) that have shale deposits underneath. Talk about an "irrational" energy policy!
So here's the deal: Maryland wants to depend more and more on methods of generating electricity which lack reliability and increase cost to consumers. Yes, that's sounds like "smart, green, and growing" to me – not too bright, costing more green, and growing the desire of businesses to leave the state to find a place where energy exploration and extraction is encouraged and rates therefore are cheaper.
I know the Hogan administration would want a "balanced approach" to energy in the state, but I would have to hope part of that balance is returning to the best practices suggested by UMCES and not the onerous restrictions which would effectively ban fracking in the state.
Once again, thousands came to Crisfield and heeded this advice.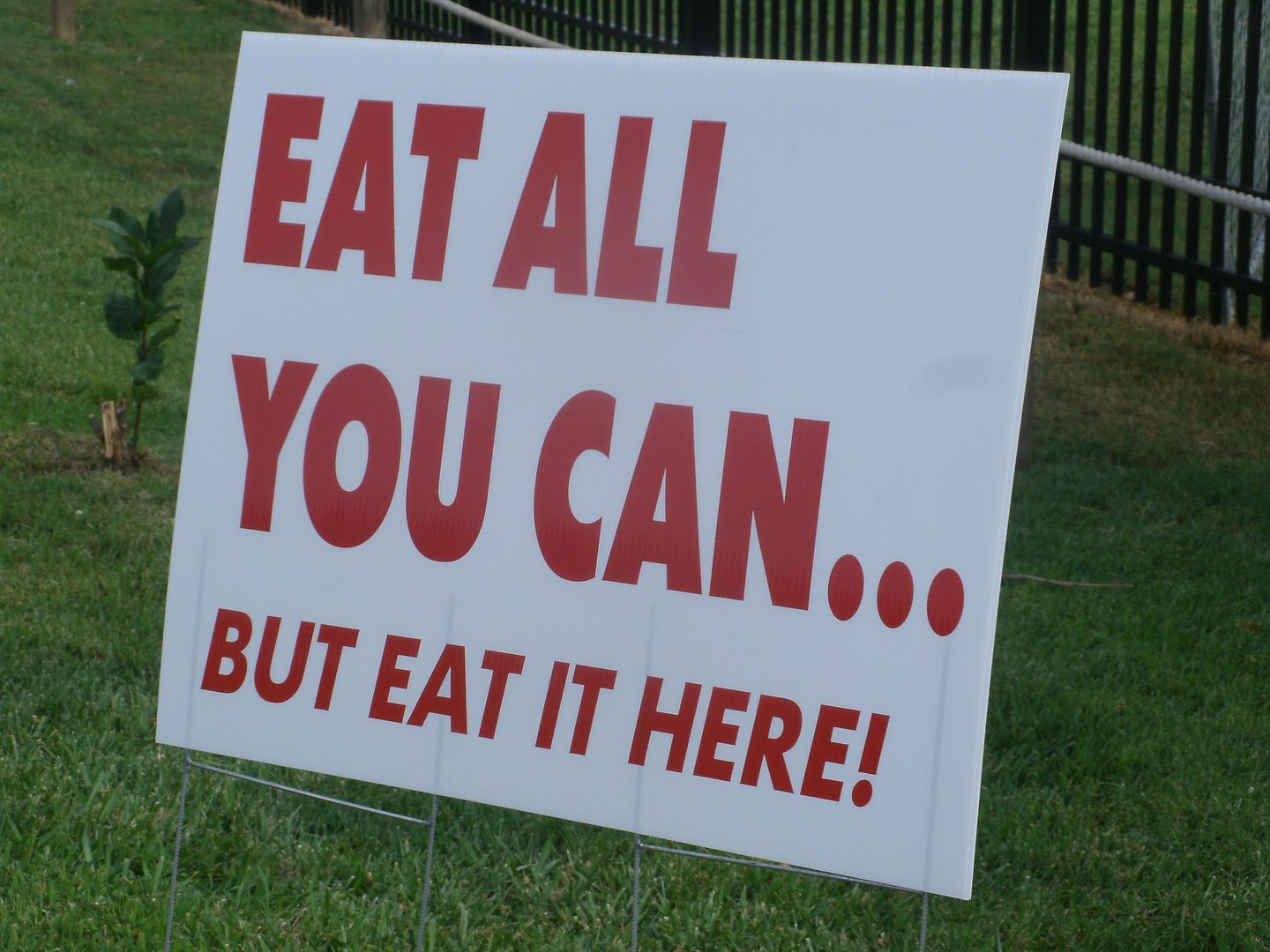 Somers Cove Marina was set up a little differently this year, but the real difference was that the attendees didn't soak through their clothes this year – instead, the day was cloudy but relatively comfortable, with only a small touch of humidity. Most years this setup – by a local engineering firm, naturally – would be oh so handy. But not so much this year.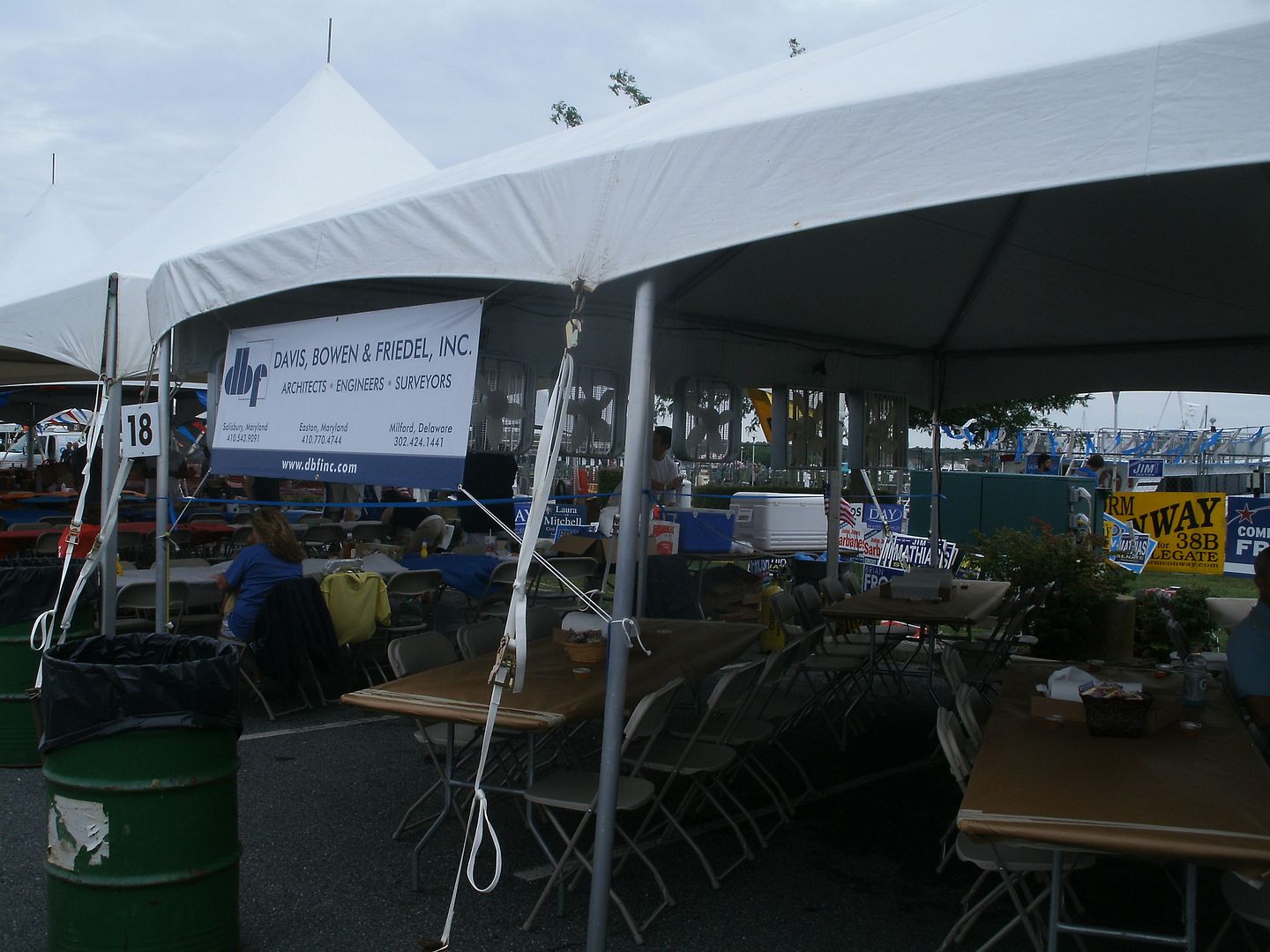 One key difference in the arrangement this year was the prominence of this tent.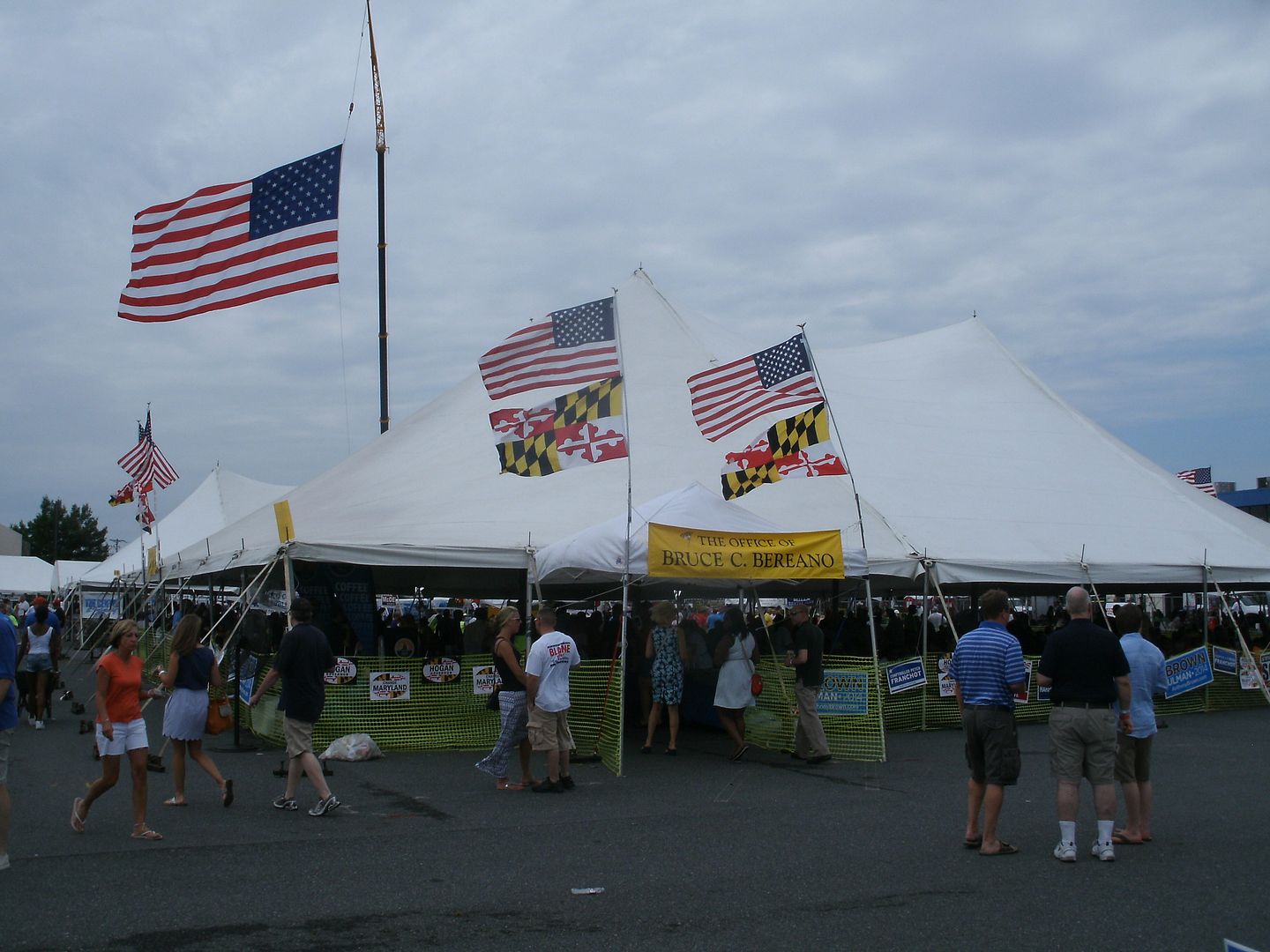 Annapolis lobbyist Bruce Bereano always has a crowded party, and it's a bipartisan affair.
The GOP tent this time was set up behind Bruce's, and it was a hub of activity for the Republican side. A lot of local and state hopefuls were there at some point.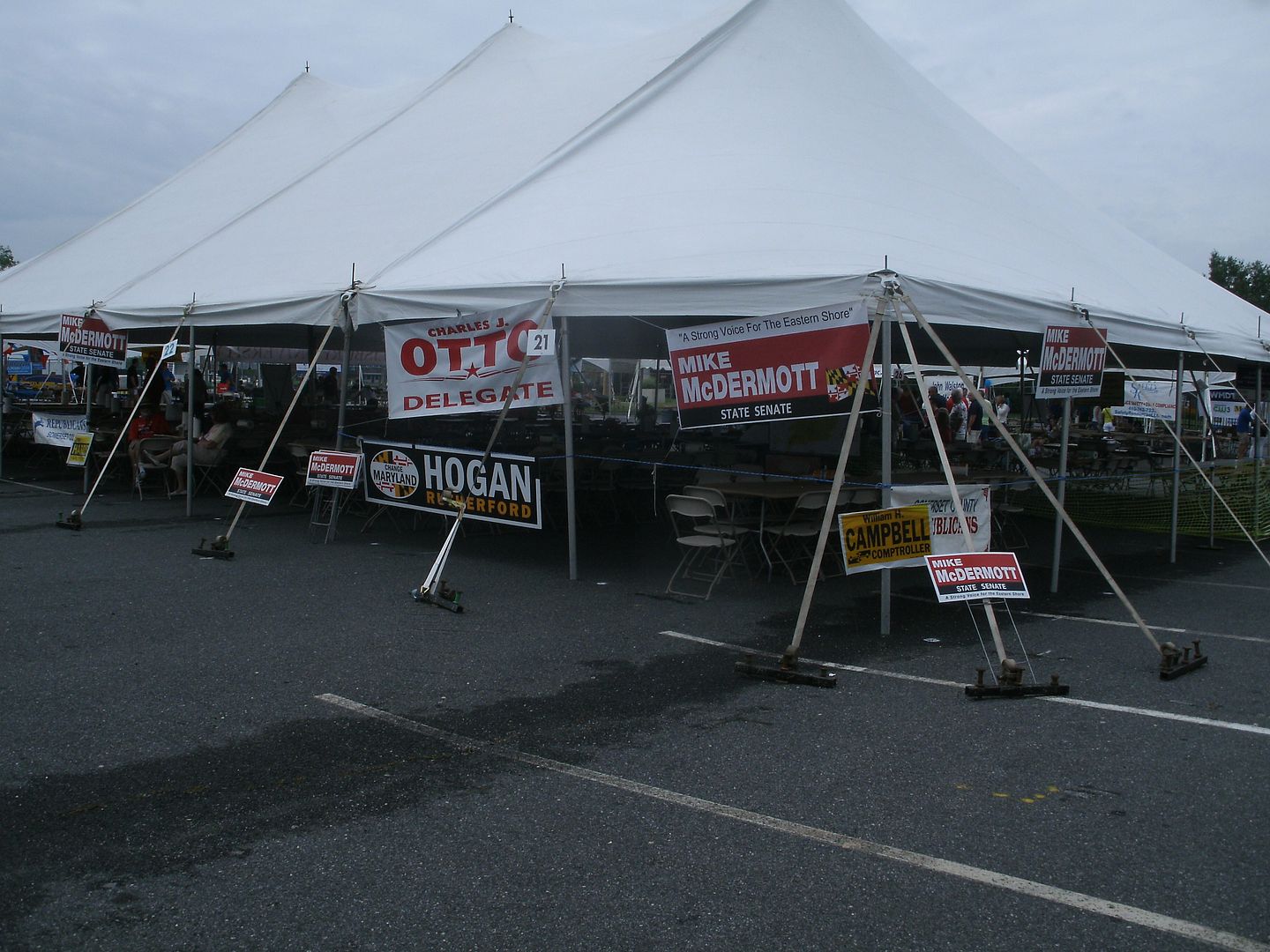 GOP gubernatorial candidate Larry Hogan decided to have his own space, which ended up by the side entrance.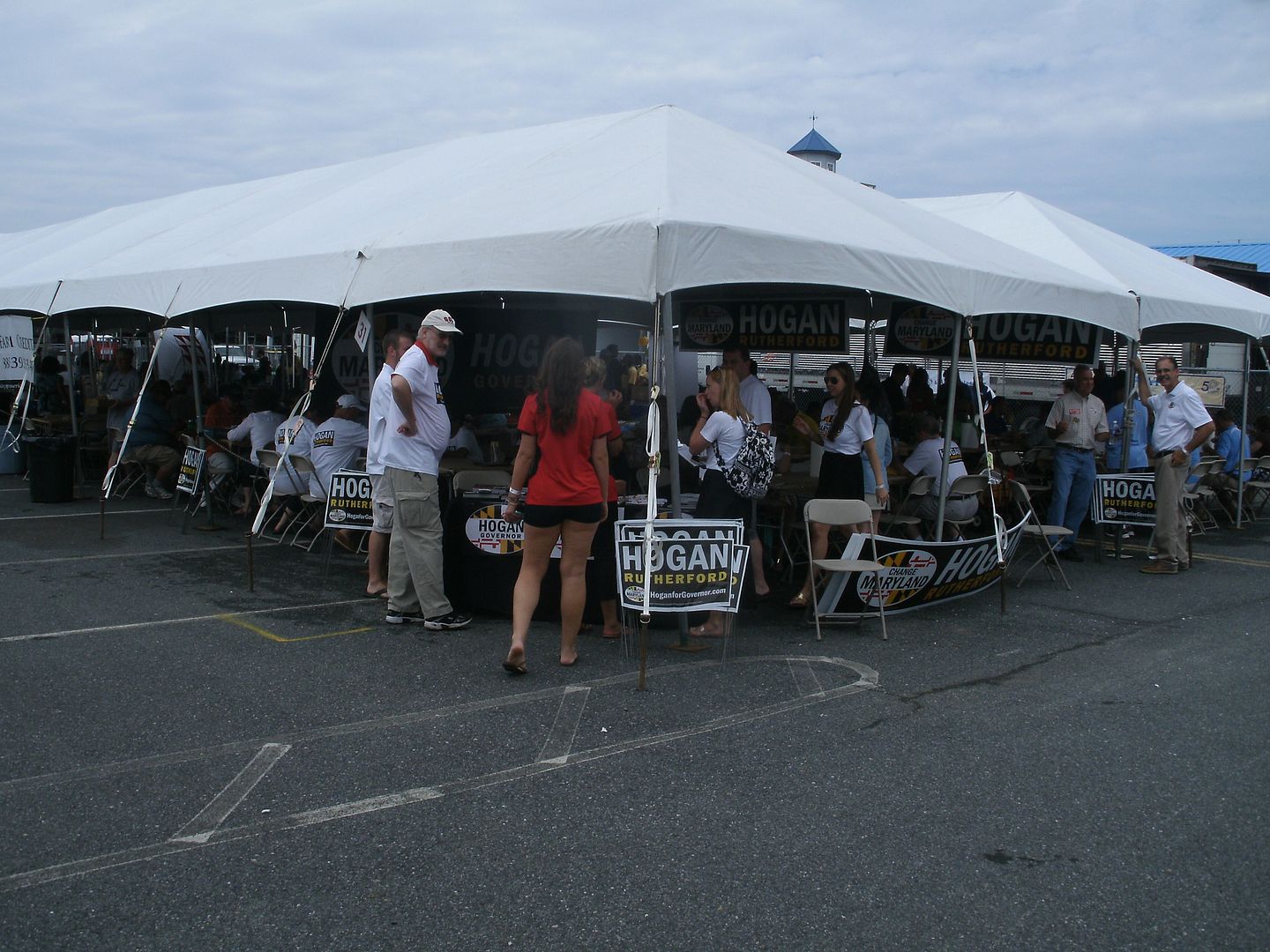 On the other side of the Republican tent and just around the corner, the Democrats were set up close to their usual rear location along the waterfront. Salisbury mayor Jim Ireton was holding court there. (He's in the white at the center, in shades.)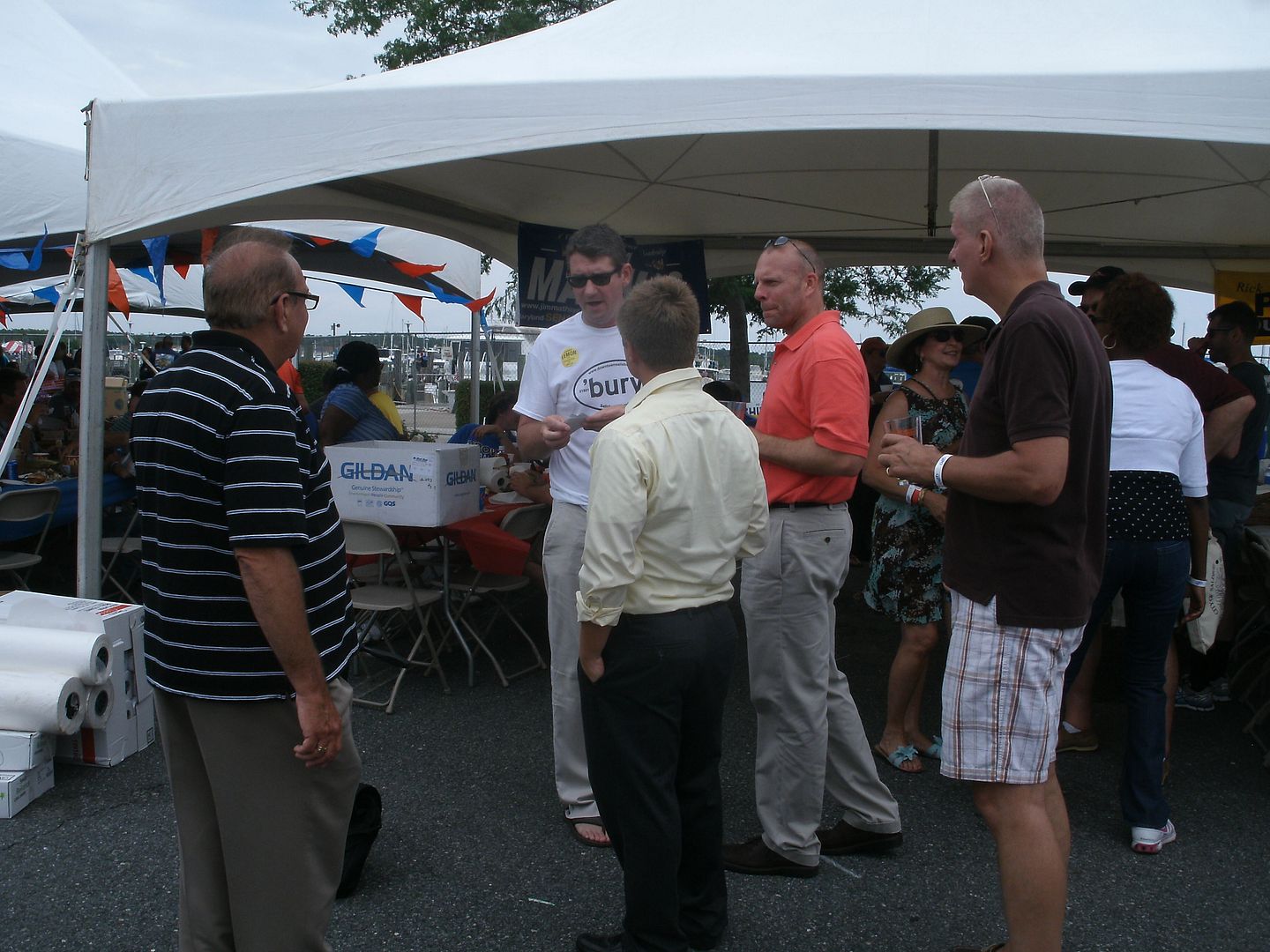 By and large, though, most of those in attendance were interested in one thing. See the light blue lean-to to the left of the Sysco trailers in the photo below? That's where the crabs were being served, and the line indeed stretched that far back 15 minutes before the announced noon opening – they really start serving about 11:30 or so.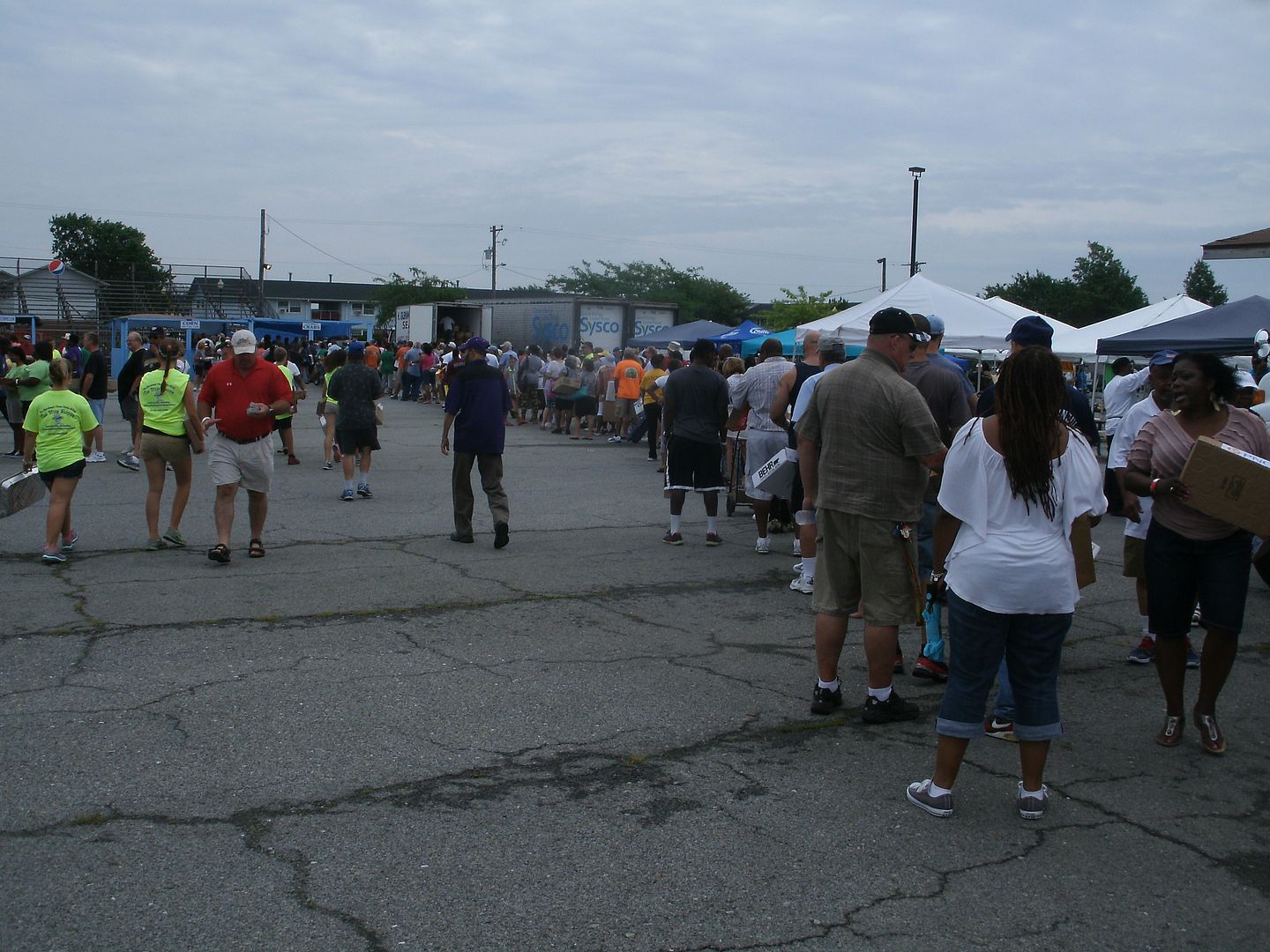 I think the longest wait I had was about 10 minutes for the Boardwalk fries. As it turns out, I'm not a crab eater – but I like the fried clams and the fish sandwiches. Oh, and there's a few politicians there too, but I'll get to that in due course because I can find the political in a lot of things – except perhaps this.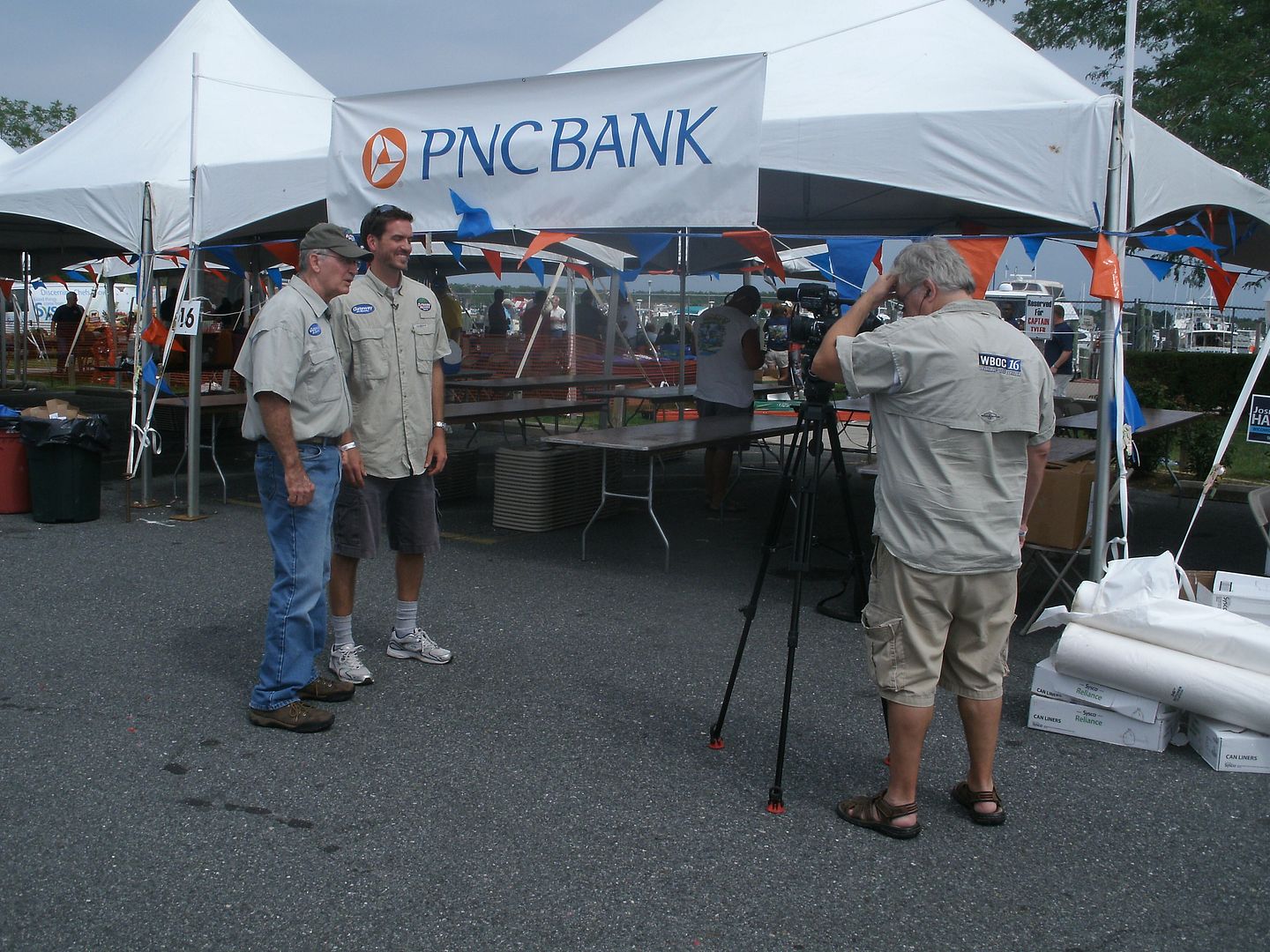 The hosts of a locally-produced show called "Outdoors Delmarva" always seem to find time to tape a segment here.
Another local business I always find at Tawes made a very classy, and apolitical, gesture this year.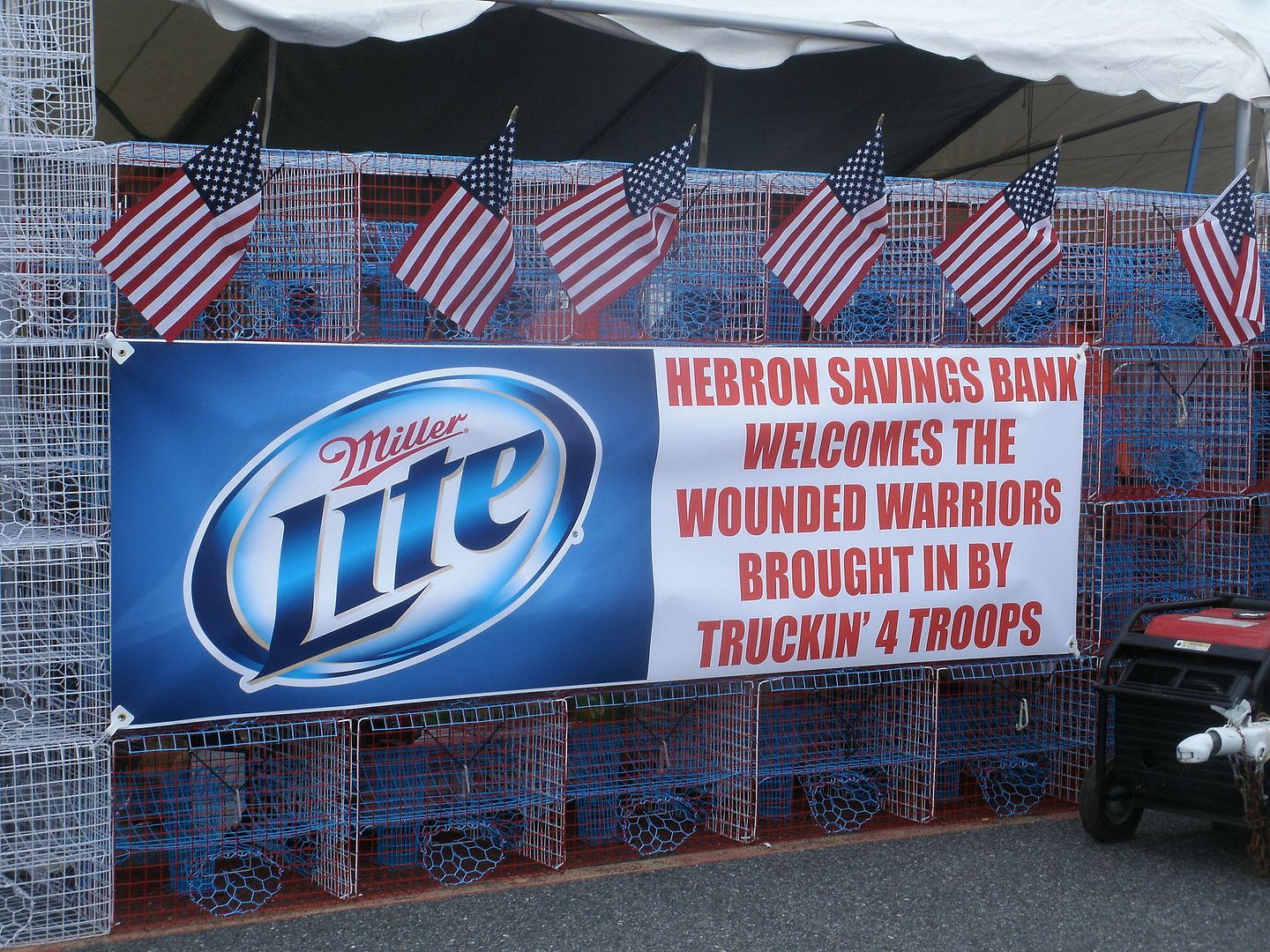 But I do find the irony in some things. For example, those of you familiar with the Hudson case may appreciate some here.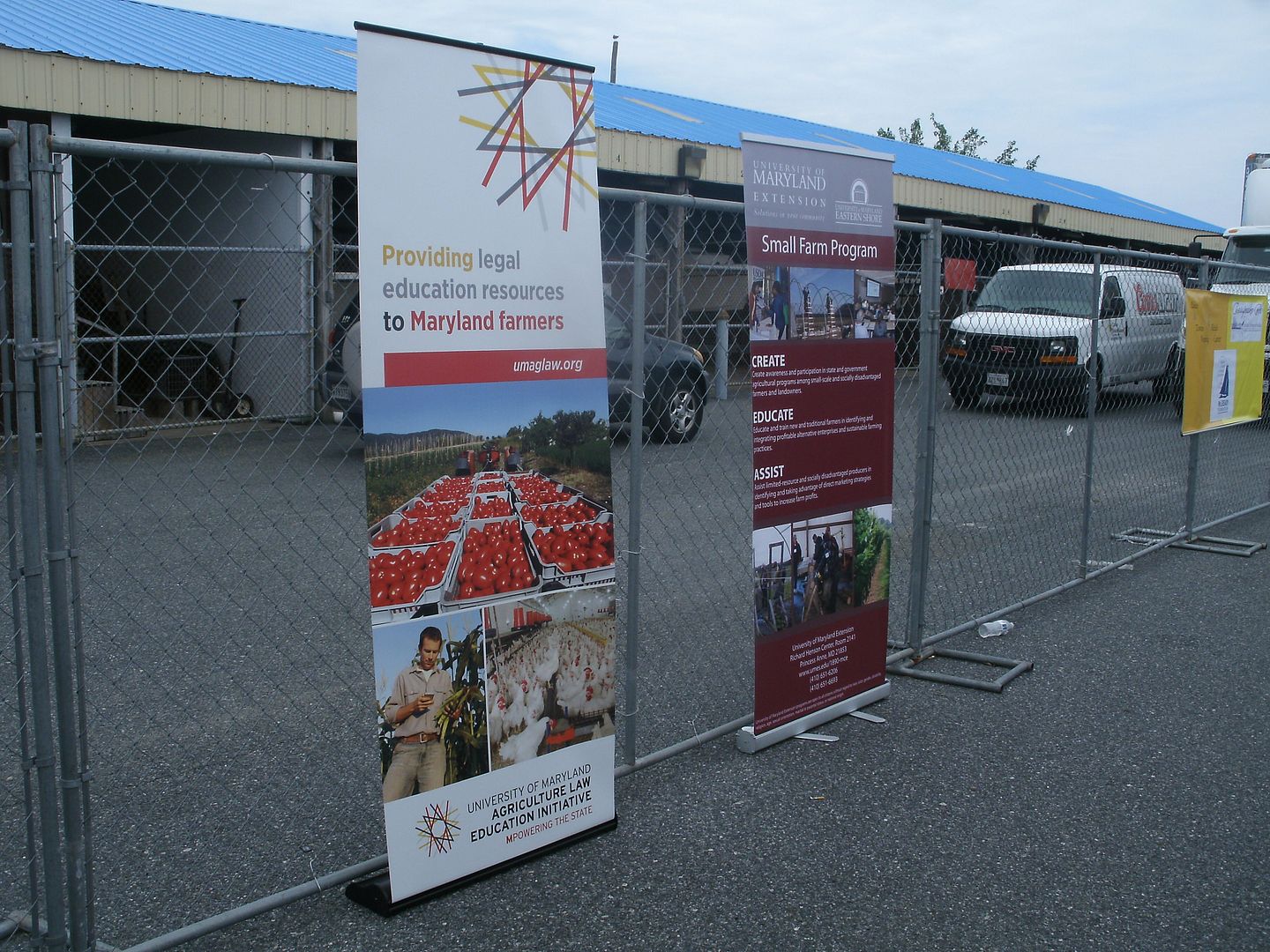 It seems to me the UM law school was on the other side of the fence before, as opposed to this group, part of the Clean Chesapeake Coalition, which tends to take agriculture's side as well as that of local government.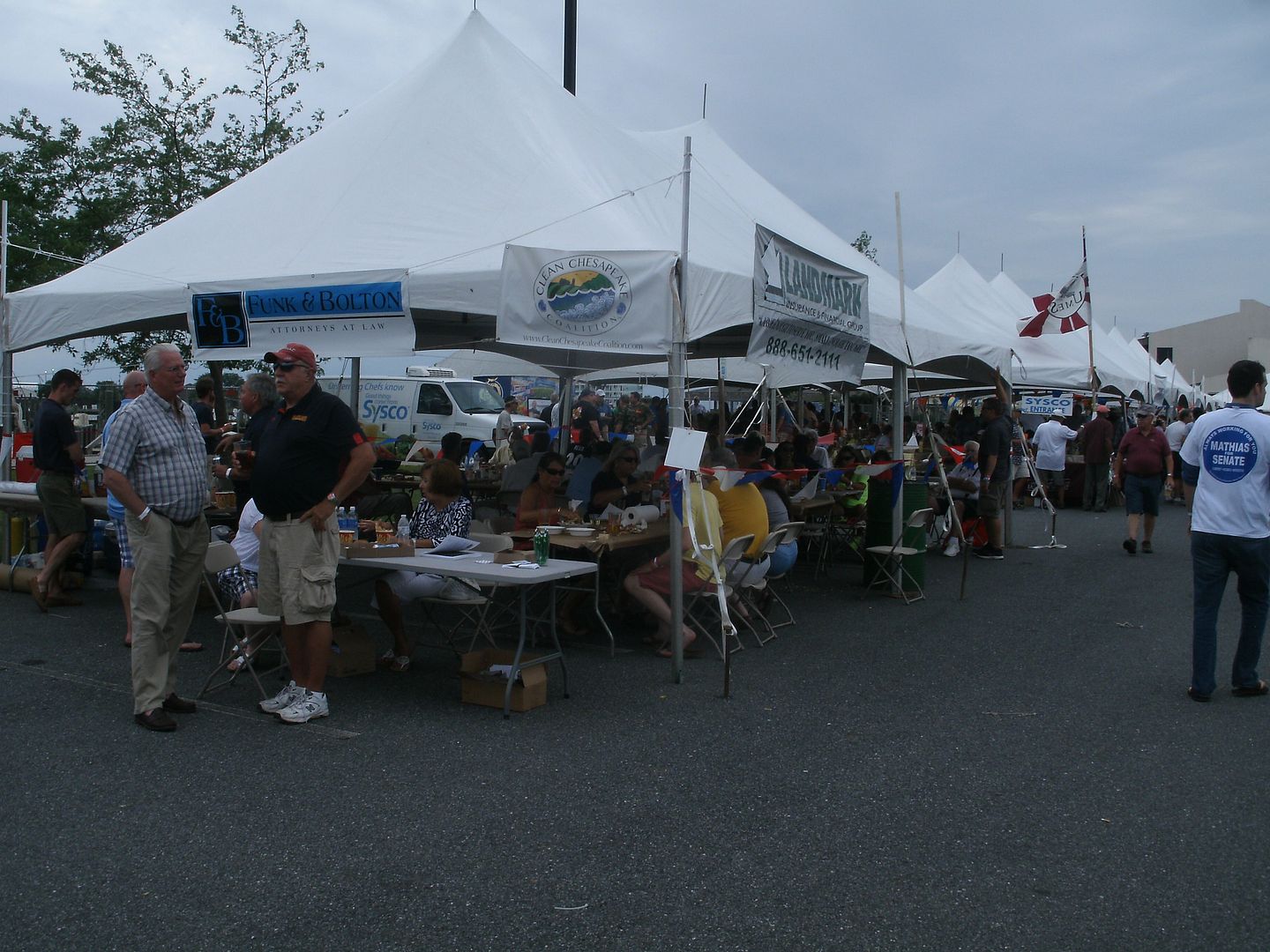 One other thing worth pointing out is the media frenzy this event creates. Here's Delegate (and Senate candidate) Mike McDermott being interviewed. Wonder how much they actually used?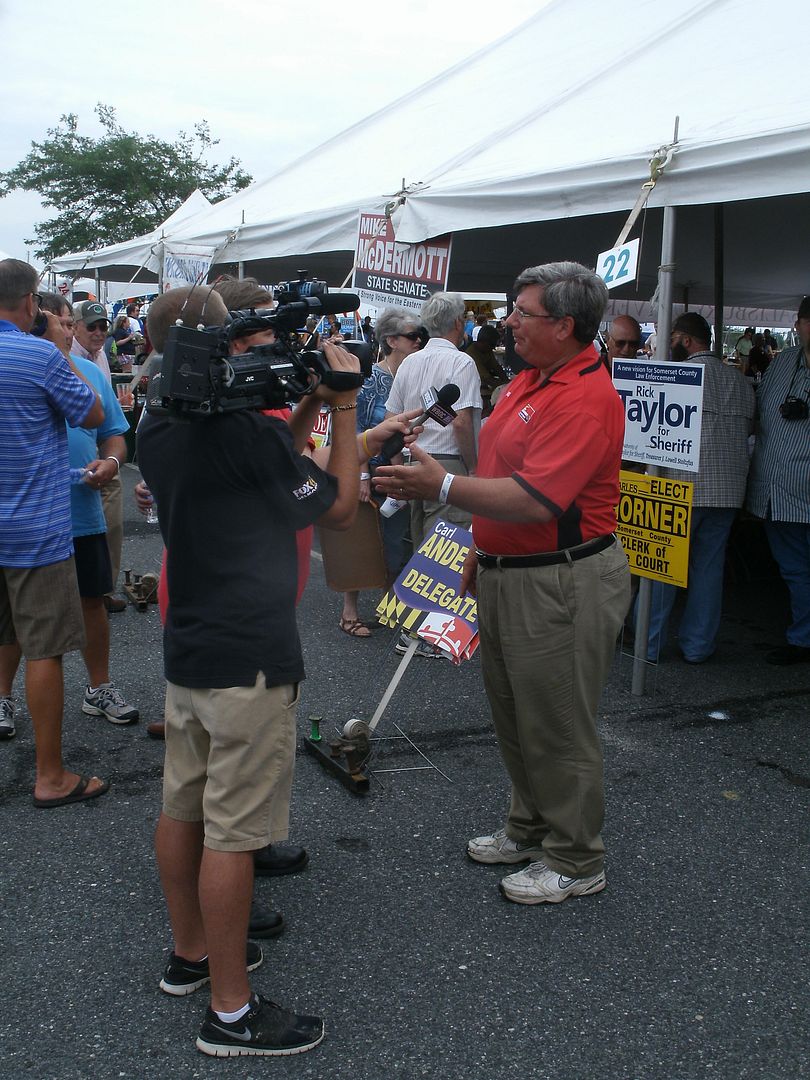 Most of the excitement occurs when the top members of the respective tickets arrive. Hogan had the tent but didn't come until the event was well underway. His entrance was rather modest.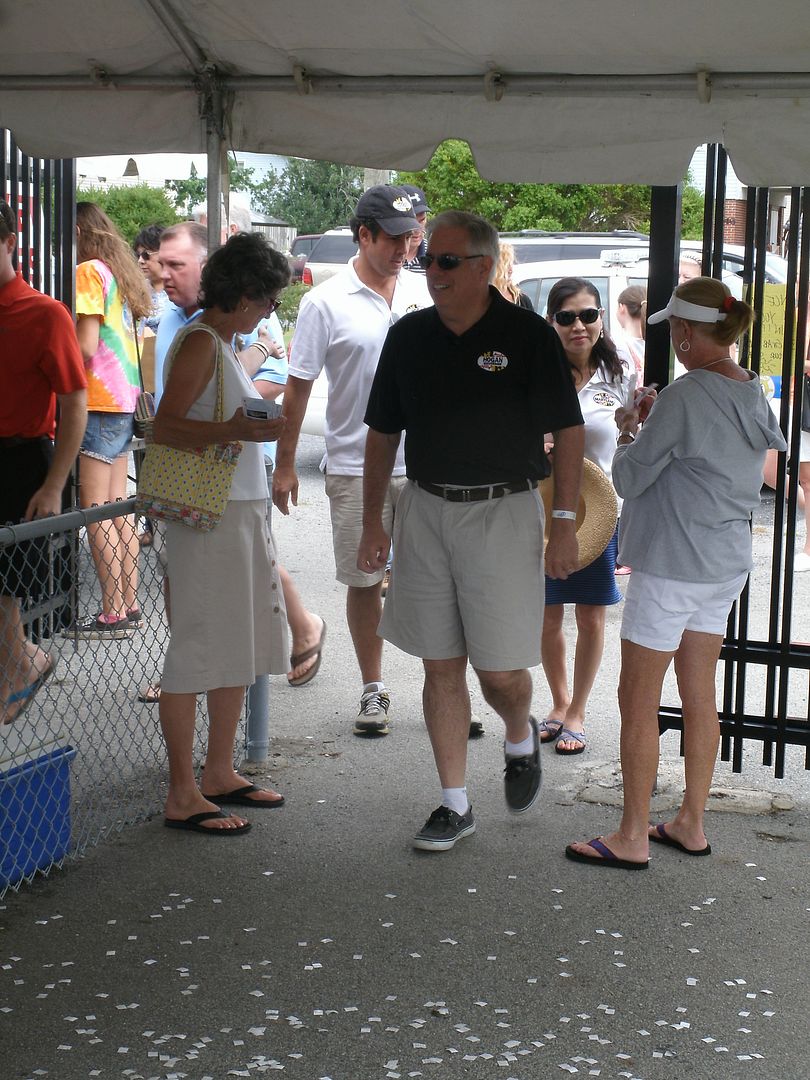 Oh, did I tell you pretty much everyone in the tent was waiting for him?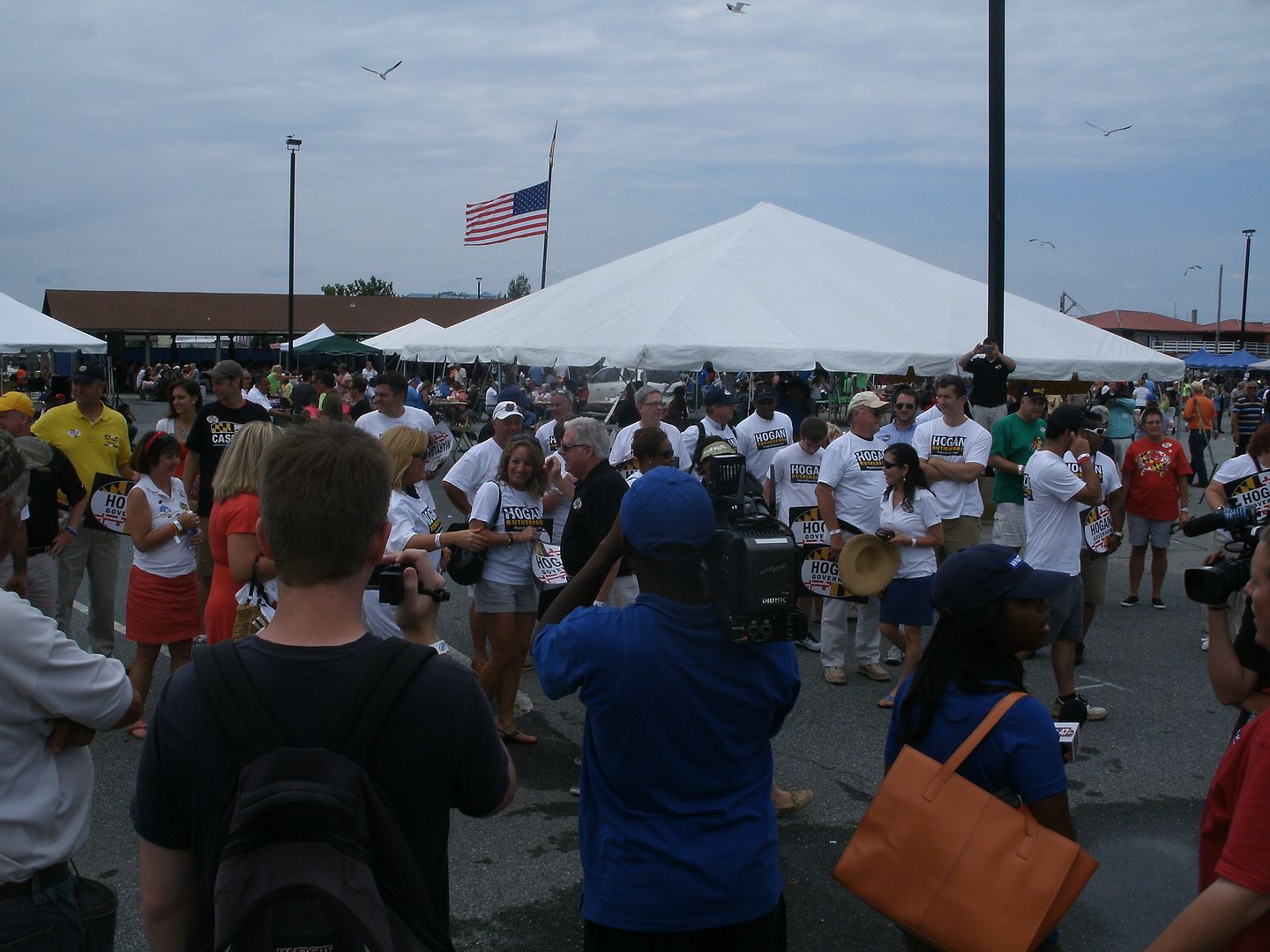 Naturally, everyone wanted to get their quote from him – perhaps even the tracker from the Brown campaign. I'm told Hogan has one.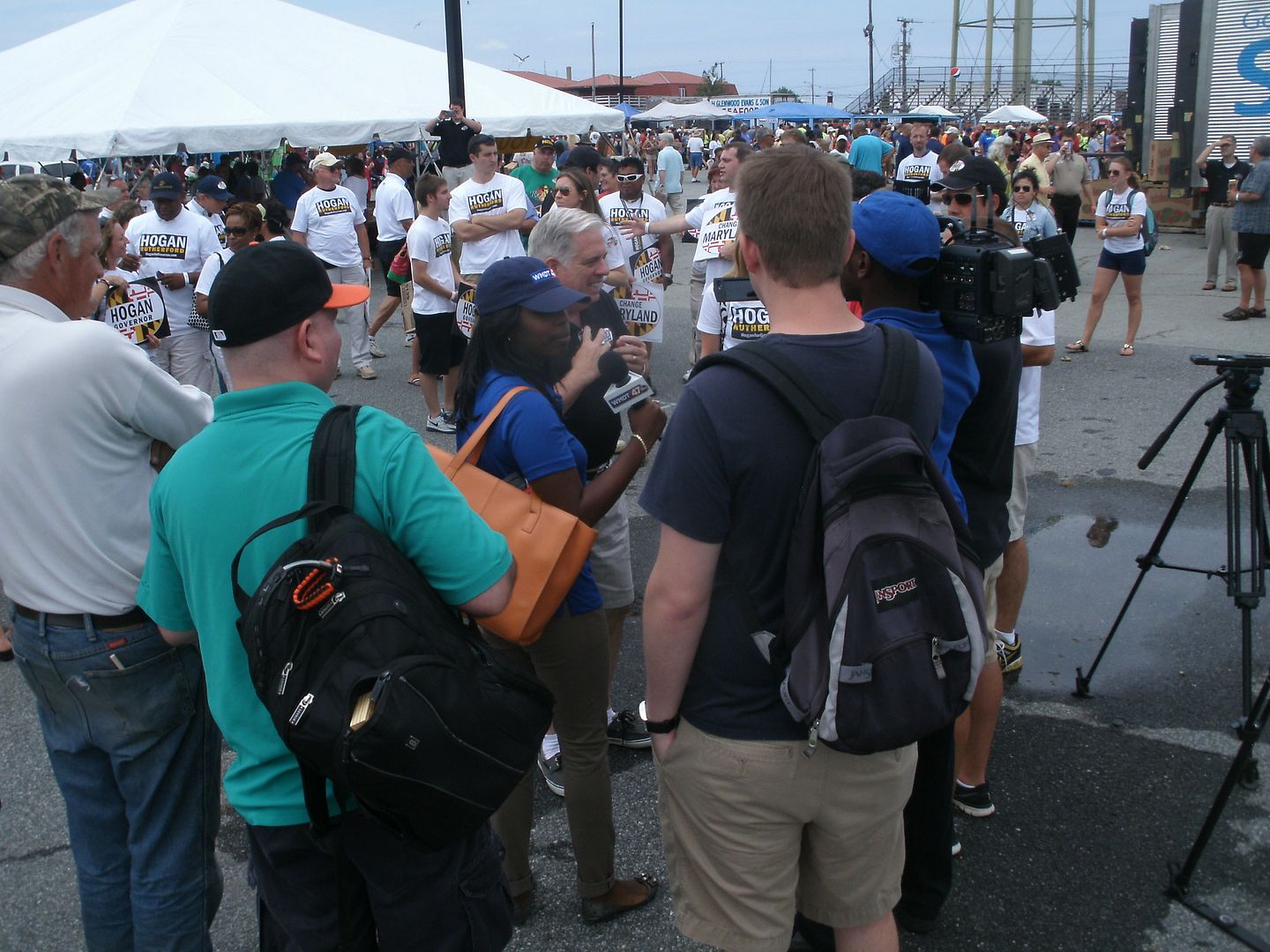 While I've been critical of the Hogan campaign throughout, the way their team handled today was outstanding. This was the first stop I noticed him making after all the interviews were through.
In case you can't read the sign above, it's the tent of the Somerset County Economic Development Commission. To me, that was the perfect place to be seen.
They took a little time to meet and greet; they being both Hogan and running mate Boyd Rutherford. But the point was that I didn't see them walking around much – instead they were engaging voters.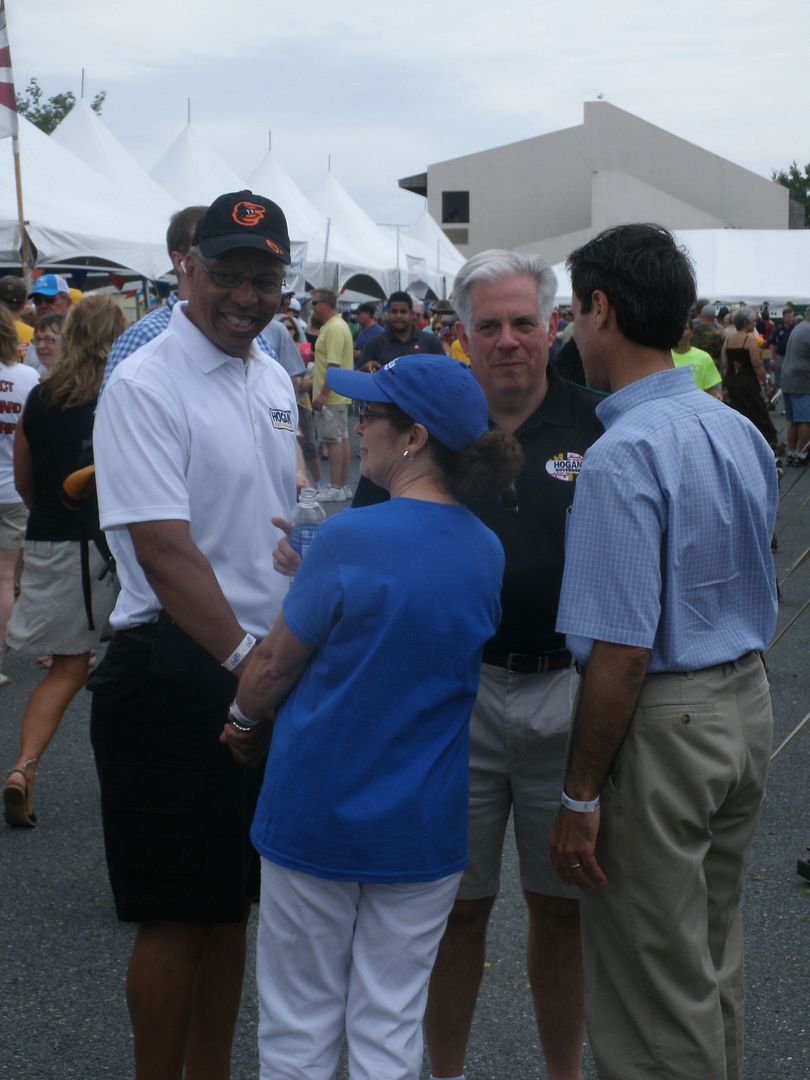 As I noted earlier, there were a number of other politicos there, but the statewide Democrats were not well-represented. I did see their AG nominee Brian Frosh. He's the small guy in the center, violating the Don Murphy rule about not wearing white.
Notably absent, though, was the top of their ticket, Anthony Brown. It's odd because he's been here a few times.
One guy who wouldn't dare miss this is local Delegate Charles Otto (center.) His Democratic opponent is the just-replaced former mayor of Crisfield, which certainly made for interesting retail politics for them.
A guy who lost his primary, Muir Boda (left) was out supporting those who won – and yes, Johnny Mautz was in the house. Muir's with Democratic Wicomico County Council candidate Josh Hastings (right.)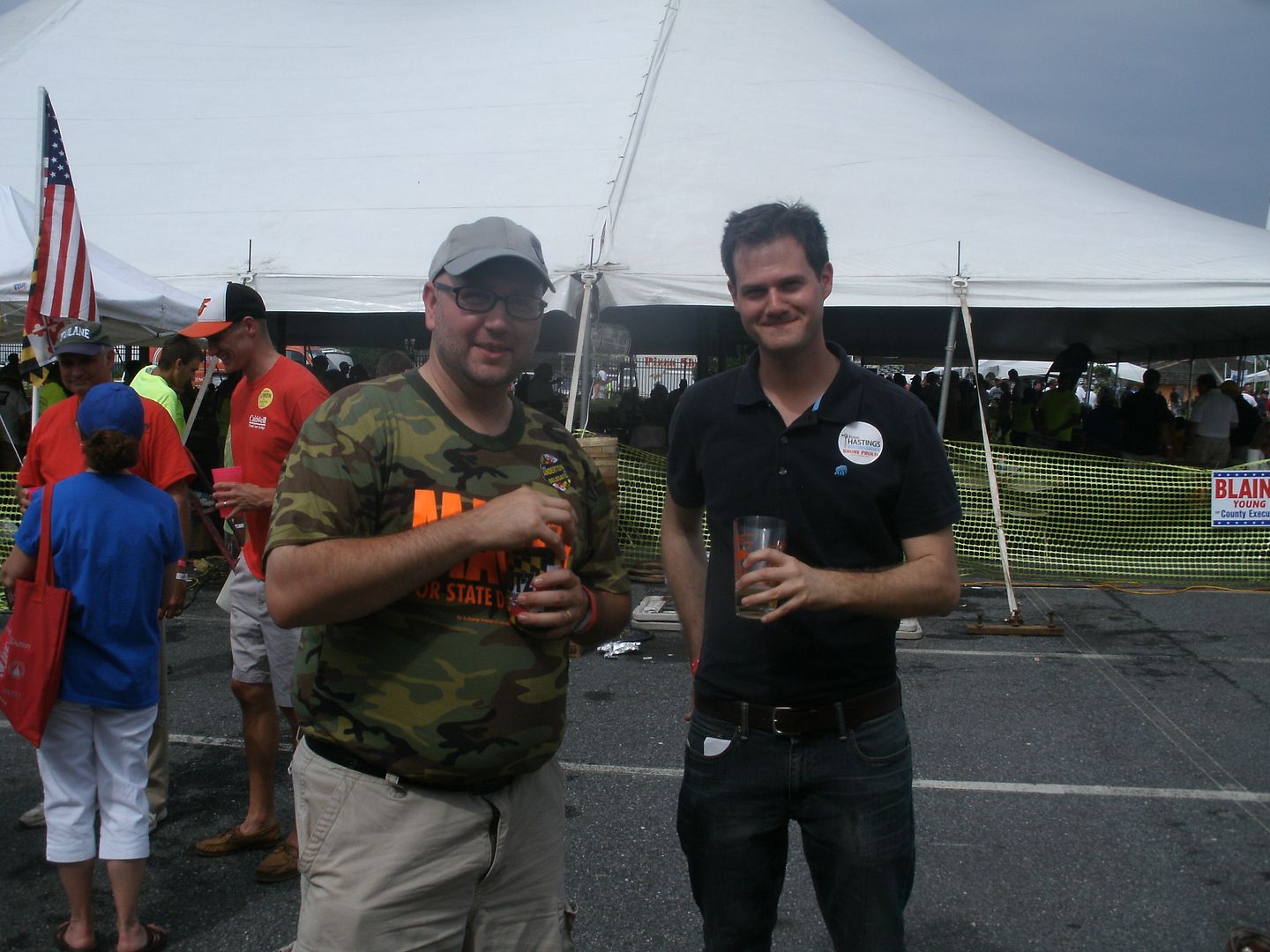 All told, there were a lot of people there. I took this panoramic shot about quarter to three, which is just before those who had their fill begin to trickle out.

One other difference was not seeing all the Red Maryland crew there, although I did speak to Duane Keenan, who does a radio show on their network. Another media guy trying to drum up business was Phil Tran, who you couldn't help but notice.
The other new media people I saw there were Jackie Wellfonder – although she hasn't blogged about her experiences yet, she did burn up Twitter – and Jonathan Taylor of Lower Eastern Shore News, who has his own photo spread.
But as the event came to an end, we know that by week's end Somers Cove will be back to normal.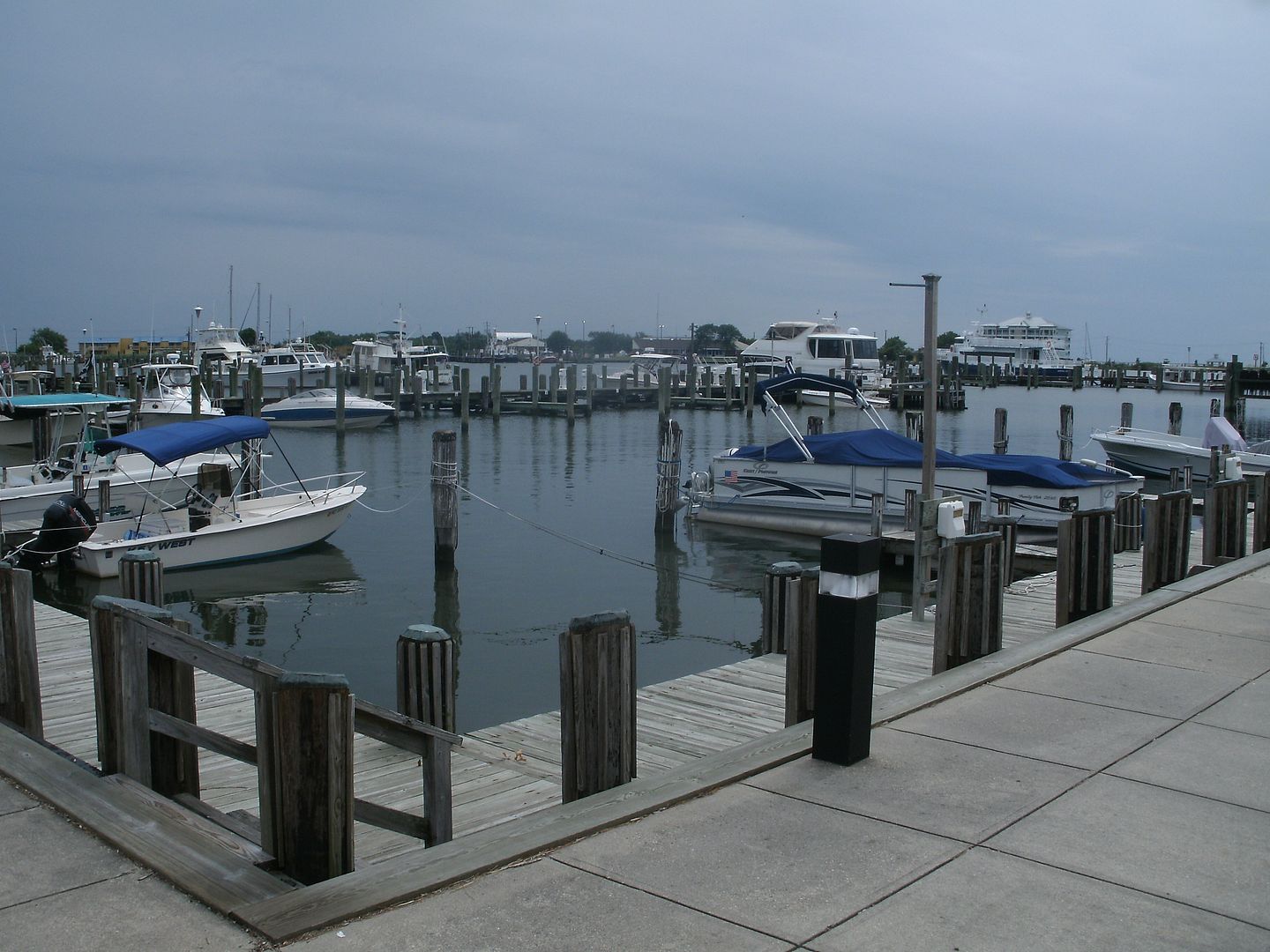 In 2015 the Tawes event should be good for sizing up the lone statewide race in 2016. While Barbara Mikulski has given no indication on whether she will retire, the soon-to-be 78-year-old senior Maryland Senator may not like being in the minority come next year and could decide to call it a career. We should know by next July.
Crisfield is the southernmost town in Maryland, but one day per summer it becomes the state's political capital. Anyone familiar with Maryland politics knows that a summer tradition is standing around on the blacktop at Somers Cove Marina waiting for crabs and watching politicians try to create a show of support. But this year's affair promises to be somewhat different than ones in years past, perhaps getting the feel of one held the year after the previous gubernatorial election.
This is because, for the first time, we already know for sure who the nominees will be. In years past we had a primary just weeks away but that's no more. So Anthony Brown will be there, presumably with a cadre of blue-shirted volunteers who will head straight to the AFSCME tent. Larry Hogan's posse will arrive at some point and the question will be how much smaller will his be, as it always seems Republican groups are smaller.
If things hold as they have over the past few years, there will be a steady stream of traffic going by the GOP tent, if only because Bruce Bereano's bipartisan party is generally right across the walkway; meanwhile, the Democrats will hole up in the opposite corner by the cove, near a place I generally go to get some shade as I walk around. The only difference is that shade may not be such a requirement – the forecast for Crisfield tomorrow is for temperatures only in the upper 70s but a chance of rain throughout the afternoon after a stormy early morning. It could affect the business portion of the event, as a number of local businesses use this as a party for their employees and clients. (It's not just politicians having a good time – I have some beer pong photos from a few years back. I was not a participant.)
I have no insight as to how ticket sales are doing, aside from knowing we sold most of our allotment. I do know this will be the ninth straight one I've gone to (beginning in 2006) and a lot of things have stayed pretty constant. Something worth noting from 2006 is that then-Governor Ehrlich skipped the event – and lost. Martin O'Malley didn't skip the event in 2006 and 2010, and won.
But instead of blast-furnace hot as is usual, we may be drowned rat wet. Fortunately, there are tents but those cardboard box halves may come in handy as makeshift umbrellas. (Pro tip: don't forget the box half, although occasionally campaigns will be one step ahead and bring a bunch. It's a good place to use old bumper stickers.)
In any event, be looking for me. I got my ticket last week and will be there with my little camera taking pictures as I have for most of the last several years. I have a lot of good memories of Tawes and met some fine people, so there's no reason to stop going now.
I've heard a lot of talk about nominees who are RINOs and sitting out the election because so-and-so won the primary and they don't want to vote for the "lesser of two evils," and it always amazes me because this doesn't happen on the other side. Here's a case in point from a fawning AP story by Steve LeBlanc about Senator (and potential Presidential candidate) Elizabeth Warren.
Now, Warren is continuing her fundraising efforts, with a planned Monday event with West Virginia Democratic Senate hopeful Natalie Tennant. Tennant, West Virginia's secretary of state, is vying with U.S. Rep. Shelley Moore Capito for the seat held by retiring Democratic Sen. Jay Rockefeller. Capito is favored and holds a hefty cash advantage.

Capito's campaign has also been quick to target Warren, calling her "one of the staunchest opponents of coal and West Virginia's way of life."

Warren has conceded that she and Tennant — who, like (Kentucky Democrat Senate nominee Alison Lundergan) Grimes, has criticized Obama's plans to limit carbon emissions from the coal industry — don't agree on everything, but can come together on economic issues facing struggling families.
So it's obvious that the Democrats have their own 80/20 rule, but unlike some on our side they don't take their ball and go home based on the non-conformance of the 20.
We had our primary, and at the top of the ticket there were 57% who voted for someone else besides our nominee – many of those live here on the Eastern Shore, where David Craig received 49.6% of the vote and carried seven of the nine counties. There can be a case made that Craig's running mate, Eastern Shore native and resident Jeannie Haddaway-Riccio, was a huge factor in his success here, but the fact remains that this area I live in was one of the two areas Hogan was weakest (the other being southern Maryland, where Charles Lollar resides.) These are votes Hogan will need, and surely many will migrate his way because he's the Republican nominee.
On the other hand, Anthony Brown got a majority of the Democratic vote and carried all but a few counties. Those three on the Eastern Shore, plus Carroll County, aren't places Brown would expect to win in November anyway – except perhaps Kent County, which was the lone county Heather Mizeur won and which only backed Mitt Romney by a scant 28 votes in 2012.
The path to victory for any statewide Republican candidate is simple, because Bob Ehrlich did this in 2002 – roll up huge margins in the rural areas and hold your own in the I-95 corridor. Ehrlich won several rural counties with over 70% of the vote in 2002, and got 24%, 38%, and 23% in Baltimore City, Montgomery County, and Prince George's County, respectively. When that formula didn't happen in 2006, he lost.
Granted, demographic changes and other factors may not allow Larry Hogan to pick up 65% of the vote in Anne Arundel County, 61% in Baltimore County, or 56% in Charles County, but it's possible he does slightly better in Prince George's and may hold some of those other areas. Turnout is key, and we know the media will do its utmost to paint Anthony Brown as anything other than an incompetent administrator and uninspiring candidate – as the natural successor to Martin O'Malley, who has done a wonderful job further transforming this state into a liberal's Utopian dream at the expense of working Maryland families, one would have expected Brown to have picked up at least 60% of the Democratic primary vote.
Yet you can bet your bottom dollar that even the most diehard Mizeur and Gansler supporters may hold their nose but will still push that spot on the screen next to Anthony Brown's name. They may have several points of contention with Brown on key issues, but the other side will push those aside to maintain power.
Perhaps Natalie Tennant over in West Virginia had misgivings for a moment about inviting Elizabeth Warren for a fundraiser, but she realized that there is a segment of her would-be supporters who would gladly contribute more to her campaign to meet Senator Warren, despite the fact they are on opposite sides of a particular issue. To Warren, the end goal of holding that seat in her party's hands and maintaining a Democrat-controlled Senate was more important than conformity with the one place where Tennant may go against leftist orthodoxy.
If we're to upset the apple cart here in Maryland, we have to deal with the obvious flaws in Larry Hogan's philosophy and platform at the most opportune time – when he takes office.