Now that the election is in the rearview mirror, the Wicomico County Republican Club moved off its campaign mode and began working on next year's agenda. Among the items of business were establishing a nominations committee and elections committee for next year's crop of officers, which will be different in several positions, as well as finalizing arrangements for the club's Christmas Party December 7.
But for the first time in several months we had a guest speaker, even though he was a familiar face to a lot of us. Carl Anderton reviewed his campaign and put forth a few of the items he was looking to achieve in relatively brief remarks before the gathering this evening. Fondly recalling that he had made his intentions known to the WCRC in June of 2013, Carl thanked all those who helped, particularly the crew which knocked on thousands of doors in the district.
It wasn't easy, though. A campaign that was "hitting its stride" after an early October debate at the Chamber "had to start all over" after a mailing came out depicting Norm Conway as a masked criminal. (Anderton revealed his wasn't the only district so targeted; a Cecil County race had a similar mailing.) But the local GOP team overcame that obstacle, and once results from two key precincts were known Anderton realized he was over the top. But that "shellshocked" feeling you may have noticed on Election Night was genuine – Carl was "incredibly blessed and overwhelmed" about this "opportunity of a lifetime."
There will be work to do in Annapolis, though. Carl sarcastically noted he was "excited about the going-away present" of hundreds of millions of dollars in budget shortfalls, particularly since the FY2016 budget is mainly being created by Martin O'Malley. But the important thing to Carl is to "bring back the quality of life on the Eastern Shore."
Asked about the prospect of an elected school board, Carl said he "absolutely" supports it, and received some pointers from current legislators on how to bring it to fruition.
We also got to hear a little bit from incoming County Executive Bob Culver, who will be sworn in next Tuesday. Culver revealed that we would have a special guest at the ceremony in Governor-elect Larry Hogan.
Bob also noted that he was hard at work already, addressing some changes he'd like to make to Rick Pollitt's last bond request. He also talked about an elected school board, calling on a new vote from the incoming County Council to back it.
Yet cleaning up county government isn't the only thing which will change. The physical office of the County Executive would also undergo some renovations to update the look to be more appropriate for a county on the rise. And if you're worried about taxpayer expense, don't be because Culver added he'd be footing the bill for the new carpet and paint.
Newly-appointed county GOP Chair Mark McIver called his election "a humbling experience," adding he was "psyched and excited" to take over the party. One of the first orders of business for the new committee, though, will be helping to select a Wicomico County Board of Education member to replace Larry Dodd, who will become the new District 3 Council member. McIver thought it would be a good goal to create a pool of interested Republicans from which we could appoint members to appropriate entities for their interests. "I want to hear from the Republicans in Wicomico County," McIver concluded.
But basically once we finalized some plans for the Christmas Party and heard a comment about the "excellent job" the executive board did in allocating contributions to various candidates, we were through, It was a meeting which came in under an hour, but a lot got done in that time span.
The next time we formally meet will be January 26, 2015. Obviously the speaker is to be determined.
They say success has many fathers while failure is an orphan. In the case of the Maryland Republican Party, the inverse seems to be true: thanks to the outstanding election results, people seem to be satisfied with the status quo. I may be out of the loop insofar as voting, but I'm still on the list distributed to the state party because I remain an officer on our local central committee.
Just in case the candidates were really checking their e-mail lists and omitting me because I don't have a vote (although I would probably be first in line for a proxy) I asked a few of my cohorts if they were getting any campaign-related items and aside from knowing Diana Waterman and party treasurer Chris Rosenthal were seeking new terms the answer was no. Considering the state of the race in 2010, it appears the convention will be fairly innocuous compared to organizing conventions in the past; perhaps victory is the balm which heals old wounds. As one of my respondents noted, "Frankly I don't see anyone having an easy time of defeating (Diana) – unless s/he can sell the Party on the idea that cleaning out the officers is the right thing to do after the most devastating victory in memory."
So in terms of party unity this may be the best convention since 2002, which is before my time in this state. It doesn't appear Larry Hogan will want "his" chairman put in place at this point, although in two years it may be a different story.
Perhaps the one interesting point of view to be presented will be the now semi-annual Friday night gathering of the Maryland Liberty Action group, a get-together which will feature some good speakers: Delegate-elect Robin Grammer, Carroll County Commissioner Richard Rothschild, and MLA director of operations Christina Trotta (a fan of this site, by the way.) It's a good representation of the libertarian side of the GOP, and it's a crowd which tends to skew younger than the average Central Committee member.
With a focus on what we can expect during the upcoming 2015 General Assembly session it will certainly be worth it to stop by if you're at the convention. They start a little earlier than most of the other hospitality suites (a 6:00 start) so you can check them out before heading over to the other suites sponsored by the various candidates. (Pro tip: as I recall – and unlike a lot of our other venues over the years – Turf Valley had suites in two very separate areas of the complex, so check your local listings.)
Victory has been a rare experience for Maryland Republicans, so if the convention has the same joyous mood as our local election night party, Turf Valley should be rocking on December 5.
After he lost the 2012 Senatorial primary to Dan Bongino, Richard Douglas has kept a somewhat low profile. Eschewing a possible run for Attorney General this year, Douglas has instead focused on particular issues such as the Bladensburg Peace Cross earlier this year and his latest, a criticism of Maryland's two sitting Senators for a lack of action on freeing Marylander Alan Gross from a Cuban prison.
In today's Daily Record (11/19), I was astonished to read the Capital News Service whitewash of the Maryland U.S. congressional delegation's record of failure on Alan Gross.

Marylander Gross remains in a Cuban jail because Maryland's weak, irresolute U.S. Senators have done precisely nothing to force our weak, irresolute President to make Cuba howl. Senators Ben Cardin and Barbara Mikulski have used none of the tools available to majority-party senators, or in Mikulski's case, to the chair of the Senate's most powerful standing committee, to bludgeon the Obama White House into meaningful action to free their fellow Marylander.

To try to force presidential action, Cardin and Mikulski could easily have blocked Obama legislative priorities, Obama executive nominations, treaties, senior bureaucratic promotion lists, and spending bills. But they didn't, and these are glaring omissions in the Capitol Hill playbook. They confirm that Cardin and Mikulski have pulled their punches with their ideological teammate in the White House.

Whitewash can't conceal the truth. Maryland's U.S. Senators and the White House have shown weakness and a lack of resolve on Mr. Gross. That same brand of weakness and lack of resolve helped put Russian troops in Ukraine, and allows Islamist terrorists to murder Americans almost at will.

In January, the new Republican majority in the Senate could finally force President Obama to break a sweat over Alan Gross, five long years into his imprisonment. We'll see. But what a pity that Maryland's U.S. Senators, clucking furiously on the sidelines, have utterly failed to use the tools which the Framers gave them to force Obama to do his job.
Douglas was quite critical of Cardin in his 2012 run, but hadn't really had much need to be critical of Maryland's senior Senator. It's Mikulski's seat which will be at stake in 2016, though, and Douglas's statewide experience may lead some to ask whether he's thinking of challenging Mikulski. With the Senate political landscape being almost exactly the opposite of 2014′s (where Republicans will have at least 24 seats to defend against just 10 for Democrats) the chance to pull an upset in Maryland is intriguing in the wake of Larry Hogan's win.
Naturally, the prospect of a rematch of the two top GOP contenders from 2012 means Dan Bongino will be in the conversation as a possible contender. But will Bongino want to undergo yet another campaign, the third one in five years?
With the experience Douglas boasts as a former Chief Counsel of the Senate Foreign Relations Committee, and former General Counsel of the Senate Intelligence Committee, in an election where cleaning up Barack Obama's foreign policy messes may be a key issue, the prospect of someone with Richard's expertise going up against Mikulski – or a new Democrat should Barb decide to retire – is quite interesting. Surely we will see in the coming months if it's a race Richard wants to run.
On Thursday night an interesting meeting is slated in Ocean Pines.
Jillian Patterson, VP of Policy for Education Freedom Committee will speak about fighting Common Core at the state and local levels and strategies for defeating it. Ms. Patterson will include some basic information about what Common Core is and why parents should be concerned with its current implementation, followed by Q&A.

County Commissioners and School Board members will be invited.
The Worcester County TEA Party is the sponsor of the event, which will be held at the Ocean Pines Community Center.
Most interesting to me is the last line, because some will judge the worthiness of the newly-elected (or re-elected) county commissioners and school board members on whether they show up and listen attentively to this speaker. Fortunately for Worcester County. any school board member who doesn't wish to enlist in this (admittedly uphill) battle can be ousted in the next election. It's something we here in Wicomico County cannot boast about yet, although I'm confident our new leadership team will begin the long-overdue process of addressing this inequity.
But Maryland is likely going to be one of the last states to reconsider the Common Core standards, which have gotten such a bad rap nationally that the state dubbed them the "College and Career-Ready" standards, eschewing the "Common Core" moniker. So it will be interesting to see what the report which is due from that bill will say, and whether any mention of the states which are dropping Common Core is made. This despite the fact that Governor-elect Larry Hogan has said we "need to hit the 'pause' button on Common Core and to give control back to teachers and parents."
The chances are fairly good that a Common Core repeal could be introduced in the General Assembly this year, although likely not at the behest of Hogan. The question is how many Democrats will cross the MSEA teachers' union and help pass the bill out of committee if it even gets a vote. That's where we come in, with the "encouragement" to make sure such a bill escapes the committee chair's drawer.
One concern I see and hear after the surprise Larry Hogan victory is that we don't want all of the Ehrlich retreads running the state government now that the GOP is back in charge. As it turns out, Hogan – the Secretary of Appointments for Ehrlich – selected another Ehrlich official, Secretary of General Services Boyd Rutherford, as his lieutenant governor and has tabbed James T. Brady and Robert Neill as integral parts of the transition team. Brady worked as a member of the Parris Glendenning administration and Neill is a Republican-turned-Democrat who served in the Maryland General Assembly for 18 years, sandwiching a term as Anne Arundel County Executive. Reports are that outgoing Harford County Executive David Craig, who also sought the GOP nomination for governor, is also being considered for a role.
This is all well and good, I suppose, since a stated goal of the incoming Hogan administration seems to be one of bipartisanship. But my question is how much it will build the Maryland Republican party if we tab Democrats for positions they've already had over the last 8 and 40 of the last 44 years? Building a farm team doesn't just come from elected officials and I'm sure that fresh eyes in a lot of positions will do a lot of good.
The Democrats lost, so let's act like winners and put good conservatives in charge of state departments, To do otherwise leaves the potential that we will have another opportunity to build on success slip away in 2018, dooming ourselves to more years in the wilderness. In short, let's use the electoral broom we just received to sweep these offices clean like Martin O'Malley did. It's the least we can do to push this state in the right direction.
It's been a great month for Maryland Republicans, and after a few weeks to finish the counting of both our votes and our blessings on Thanksgiving, the party will meet early next month to elect its new leadership.
Unlike the last few times we have done this (I say "we" because I was a part of the process for eight years) the convention mood should be pretty joyous. Consider the situations where we've had this election in recent years I've been involved:
In 2006 we elected Jim Pelura in the wake of losing the governor's race and taking a step backward nationally.
In 2009 Audrey Scott was picked to finish Pelura's four-year term at a time when the party was broke, desperate, and suffered from infighting over Jim's activist role while he was Chair.
In 2010 we lost the governor's race again after a contested primary, missing out on the TEA Party wave which otherwise swept the country with the exception of getting back the First District Congressional seat. Alex Mooney won based on a platform of improving the party's fiscal situation.
In early 2013, Diana Waterman ascended to the position as the previous First Vice-Chair, taking over a party riven by discord between TEA Party conservatives and more moderate members. Mooney's promise of financial health had not come true, so the party was forced to downsize its headquarters in an effort to maintain solvency.
I did a little reading of my archives over the last few minutes in order to rehash the 2010 race (which was decided a week later than this year's convention will be) and it's interesting to note I spent the better part of a month talking about the race and its various players last time. Granted, we were talking about an open seat since Audrey Scott didn't want another term, but the success of 2014 means a lot of people should be happy with the current leadership.
Moreover, there is a slightly different dynamic at play this time around – by-law changes a few years back mean the recently-concluded term of Mooney/Waterman was the final four-year term for a party Chair. As of this election, the new Chair will be in office for just two years, through the Fall Convention in 2016.
This gives the party an opportunity to split the four-year cycle into two logical halves. The first half should be devoted to something which was done fairly well in this cycle with a few exceptions – candidate recruitment and growing the party. Once we see the 2016 results and know the health of the national party, we can go to more of a re-elect Hogan mode with fundraising being the main idea. Personally, I think Diana deserves the opportunity to lead over the next two years, while the Hogan administration can have its selection for years 3 and 4. The 2018 election will be important to our side as the winner controls redistricting, so egregious gerrymanders such as the Third and Sixth Congressional Districts can be addressed once the 2020 census is complete.
Unless I hold a proxy for the convention I won't have a direct say in the matter but I think the Maryland GOP would be well-served to avoid a divisive fight in this convention and work toward making inroads into more Democratic-controlled areas by identifying and recruiting good candidates, volunteers, and financial supporters for the 2018 cycle. I see no need to make a change if Diana Waterman wants the job for another two years.
Update: Going by her reply to my Facebook post promoting this piece, she's in.
I tell you, it's the mundane things I do…
Last night I was setting up the 2015 monoblogue Accountability Project charts, to save me a little work come next spring. (One key change: I'm going to alphabetical order to make it so, so much easier to compile votes since the state legislative chart lists tallies alphabetically.) Something I note on the mAP is the "years of service" and there are a lot of people who will have "1″ next to their name.
In the House of Delegates, there will be a whopping 58 rookie legislators, while the Senate will boast three rookies. Out of those 61, which make up almost a third of the General Assembly as 29 are Republicans and 32 are Democrats, it's worth noting that all three Senate rookies come from the GOP, which has changed over half its 12 members that were elected in 2010 in expanding back to the 14 they had from 2006-10.
While the GOP House caucus is at a modern high of 50 members, over half of them will be new to the General Assembly. Just on a local level, the District 38 delegation has two rookies while District 37 has three. Between the primary and general elections, the three local politicians who have 20 or more years in the General Assembly were whittled to one (newly-minted Senator Addie Eckardt.) Next in seniority is Senator Jim Mathias, who was first appointed to the House in 2006, then Delegate Charles Otto, who won re-election last week for a second term.
The learning curve for all these newbies will be steep, but it will be fascinating to see if they come up with new and better bills than the old veterans have done over the last eight years. Another interesting angle will be the bills sponsored by the Speaker and Senate President – since the governor cannot introduce a bill, it's normally introduced by the Speaker or President "by request" of the administration – here's one example. Imagine a tax cut bill being introduced by a Democrat – but that will be the case as Governor-elect Hogan outlines a legislative agenda.
(Another thing to watch is whether Martin O'Malley will leave some sponsored bills as parting gifts walking out the door, since the General Assembly reconvenes a couple weeks before the inauguration of Larry Hogan. Honestly, I doubt it.)
This will be an exciting time to watch the General Assembly.
Yesterday we received word that the unemployment rate dropped again, with another month of job growth in the 200,000 range. It's not the Reagan recovery of the 1980s – when we had 15 straight months of job growth in 1983-84 that would put this latest number to shame, including a whopping 1,115,000 jobs created in September 1983 – but it is a reasonably decent run.
Yet just as manufacturing didn't share in the Reagan-era gains as much as other sectors did (in fact, it lost some ground), the second Obama term has also fallen well short of manufacturing growth goals. I've discussed this group and its job tally before both here and on my former American Certified site, but the Alliance for American Manufacturing tracks progress toward the one million manufacturing jobs Barack Obama promised in his second term.
AAM's president Scott Paul isn't all that pleased about it, either.
The good news is that manufacturing jobs have grown over the past few months. The bad news is that they haven't grown fast enough. I'm very concerned that a surge of imports from China and a paucity of public investment in infrastructure will continue to hamper the great potential of the productive sector of our economy.

Hopes of achieving the White House goal of 1 million new jobs in the Administration's final term are fading fast. Without some progress on the trade deficit and a long-term infrastructure plan, I don't see that changing. No doubt the economic anxiety that many Americans still feel is compounded by stagnant wage growth and diminished opportunities for middle class careers.
Two of the key issues AAM harps on are, indeed, currency manipulation and infrastructure investment, although they also took time recently to praise Obama's manufacturing initiatives and chastise Walmart for their 'buy American' effort because much of it comes in the form of produce and groceries. Around these parts, we don't really mind that emphasis because we produce a lot of American-grown poultry so if Walmart is willing to invest in us we're happy to provide. (Then again, that promised distribution center would be nice too.) Of course, AAM is backed in part by the steelworkers' union so one can reasonably assume their view is the center-left's perspective.
Even so, the group is useful because it makes some valid points. And I think we should have some focus on creating manufacturing jobs in Maryland, as the defunct gubernatorial campaign of outgoing Delegate Ron George tried to do.
Thus, I think the incoming Hogan/Rutherford administration should make it a goal to create 50,000 new manufacturing jobs in Maryland over his first four-year term – if he succeeds, you better believe he deserves a second. According to BLS figures, as of September an estimated 103,000 people are employed in manufacturing in Maryland. But if you look at past data, it's not unprecedented to have 150,000 (as late as November 2002) or even 200,000 (as late as June 1990) working in the field. And when you take the confluence of a state that is supposedly #1 in education and combine it with the proximity to both major markets and inexpensive energy sources, there's no reason we should have lost 30,000 jobs in the manufacturing sector under Martin O'Malley – or 16,000 under Bob Ehrlich, for that matter.
But how do you turn things around in four years? Maryland has to make people notice they are open for business, and there are some radical proposals I have to help with that turnaround.
First of all, rather than tweak around the edges with lowering the corporate tax rate, why not just eliminate it altogether? The revenue to the state from that toll is $1.011 billion in FY2015, which is far less than the annual budgetary increase has been. Would that not send a message that we are serious about job growth and immediately improve our status as a business-friendly state?
The next proposals are somewhat more controversial. To the extent we are allowed by the federal government and its environmental regulations, those who choose to invest in the state and create jobs should have an easier path to getting environmental permits and zoning approvals. Even if a moratorium is temporary, making it easier to deal with MDE regulations would encourage job creation. Most of Maryland's towns and cities already have industrial sites available, but we shouldn't discourage construction in rural areas if a job creator needs more space.
We've also heard about the construction of the Purple Line in Montgomery and Prince George's counties and the Red Line in Baltimore - combined, the two are expected to fetch a price tag of $5.33 billion. For that sum, it seems to me we could build a lot of interstate highway – even if this $4 million per mile figure is low (and it would be 1,267 miles of highway based on the combined cost of the Red Line and Purple Line) we could do a lot to assist in moving goods through and from Maryland, whether by finishing the originally envisioned I-97 through to the Potomac (and with Virginia's assistance, to I-95 near Richmond) or enlisting Virginia and Delaware's help in improving the U.S. 13/58 corridor to interstate standards to provide a secondary route around Richmond, Washington, and Baltimore.
Once we eliminate the onerous restrictions proposed for fracking and begin to open up the western end of the state for exploration, and (dare I say it?) work on making Maryland a right-to-work state like Virginia – or even creating right-to-work zones in certain rural counties like the Eastern Shore and Maryland's western panhandle – the potential is there to indeed create those 50,000 manufacturing jobs – and a lot more! It just takes a leader with foresight and the cajones to appeal to the Democrats in the General Assembly as well as a Republican Party unafraid to take it to the streets in the districts of recalcitrant members of Maryland's obstructionist majority party.
But even if we only create 40,000 or 25,000 manufacturing jobs through these policies, the state would be better-positioned to compete for a lot of other jobs as well, and the need is great. For too long this state has put its economic eggs in the federal government's basket and there's a changing mood about the need for an expansive presence inside the Beltway. Rightsizing the federal government means Maryland has to come up with another plan, and this one has proven to be a success time and time again across the nation.
Most newspapers will use their Sunday edition before the election to either make the most key endorsement, such as for governor or president, or summarize their endorsements into a ballot guide for voters.
I'm not a newspaper, but I have a news source. And I'm urging you (all of you, including the ten friends you drag to the polls) to march right into that ballot box, look for every Republican name on it, and check that box right next to it – making sure, of course, that the ballot summary agrees with your steady diet of Republicans and doesn't show a "calibration error."
Let's begin from the top. Does this state really need a third term of Martin O'Malley? Thought not.
I will grant that Larry Hogan wasn't my first – or second – choice for the GOP nomination, but I also have to admit as well he has run about as good of a campaign as a Republican can run statewide in Maryland and picked up national attention for it. Yes, I would like him to be stronger on the Second Amendment and I cringed when I heard him say no to addressing social issues, but the overall electorate in this state is still conditioned to believe that there's a right to privacy and gay marriage is no big deal. They need a little work yet. Let's at least get someone who won't be completely hostile to those interests like Anthony Brown would be.
(And yes, I hear the Libertarians caterwauling in the corner. When you get to double-digits with a candidate, we'll talk.)
Actually, though, I must say some bloggers have a point about the Libertarian candidate for AG, Leo Dymowski. But the election is about more than the failed "war on drugs" – although I agree with that particular assessment, I would also like the AG to fight on other issues. Unfortunately, the late start Republican Jeffrey Pritzker got means the chances are good that we'll have to endure four years of gun-grabbing Brian Frosh; however, every vote counts and stranger things have happened.
For 2018, though, I think a county-level State's Attorney needs to make that step up. It's something Matt Maciarello should consider.
And we have a more than qualified Comptroller candidate in William Campbell. My main mission in two festivals was, every time I came across a Maryland voter from outside our county, to push the candidacy of one Bill Campbell. Everyone knew who Larry Hogan was but not enough knew of this fine gentleman. If Maryland voters have a clue they will choose Campbell.
And then we have local races. Frankly, I'm not too worried about Andy Harris although it would be helpful for Sixth District voters to add Dan Bongino to the GOP roster at the federal level. But there's a lot at stake on the General Assembly front.
Try as we might, we had to concede the District 37A seat for this term to Sheree Sample-Hughes. If she gets more than single digits on the monoblogue Accountability Project I will be shocked. Otherwise in District 37, you know its a conservative district when even one of the Democrats is running on a platform of lower taxes and less government. But why have conservative-lite when the real thing is attainable?
Even if we sweep those three District 37 seats, though, we don't really gain anything because three of the four representatives are already Republican. But in District 38 we can reclaim the Senate seat lost in 2010 to a liberal Democrat and take over a seat in the House of Delegates to bring us closer to that magic number of 47, where, as I understand it, we can work around Democrat-controlled committees. (A Hogan win may make that necessary more often.) Aside from that splotch of blue in our county we can work on for 2018, I'd like the Eastern Shore painted red, gaining the one Senate seat and one House seat we can contribute to the GOP effort statewide.
And then we have Wicomico County, which needs a strong leader in Bob Culver. We've done eight years with the affable bureaucrat Rick Pollitt, but those eight years have seen our county backslide economically. We can blame the national economy to some extent, but other surrounding counties seem to be succeeding – so why haven't we?
Unfortunately, the problem Culver has is that two of the Republicans who will likely be on County Council are already stabbing him in the back. With one Democrat assured of victory in Council District 1, it makes the County Council races very important. We know District 5′s Joe Holloway is a conservative who will win and Marc Kilmer in District 2 has an excellent chance to join him, but the John Cannon vs. Laura Mitchell race is a key along with Larry Dodd vs. Josh Hastings in District 3. Both Democrats are trying to convince voters they'll be fiscal hawks, but don't be fooled. We need the 6-1 Republican majority to have a potential 4-3 conservative majority behind Bob as he tries to right the ship. Finding good local candidates is a priority for 2018 as well.
As for the issues on the ballot, I've already urged a vote AGAINST Question 1 because it's a weak excuse for a lockbox and Maryland taxpayers deserve better: send it packing and insist on a 3/4 majority provision to be voted on in 2016. On Question 2, I think on balance it's a good idea but it will also demand vigilance, as Election Integrity Maryland's Cathy Kelleher points out in a Sun editorial opposing the question.
Lastly, I must say this is the time for conservative voters to shine. The fact that early voting had as many Republicans as Democrats by percentage statewide and by raw numbers on the Lower Shore (despite a registration disadvantage of about 10 percent) indicates the GOP is more keenly interested in this election. But I want to run a few numbers, with the photo below telling the tale.
For this exercise, I used the voter proportions illustrated in the recent Gonzales Research poll, which is probably a fairly realistic model. I assumed undecided voters would remain in proportion with their trend (as opposed to breaking for the challenger) and left 1% for other candidates, write-ins, etc. (I also didn't figure in the 50,000 or so registered to minor parties – if they vote they'll not influence the result significantly.)
The sheet on the left is my calculations using a Bob Ehrlich Republican turnout from 2002, 68% of Republicans.
The sheet on the right is the same calculations for Democrats and the unaffiliated, but assuming a turnout like we saw in the Presidential election two years ago, when 78% of Republicans came out – even though Maryland was considered a lost cause for Mitt Romney.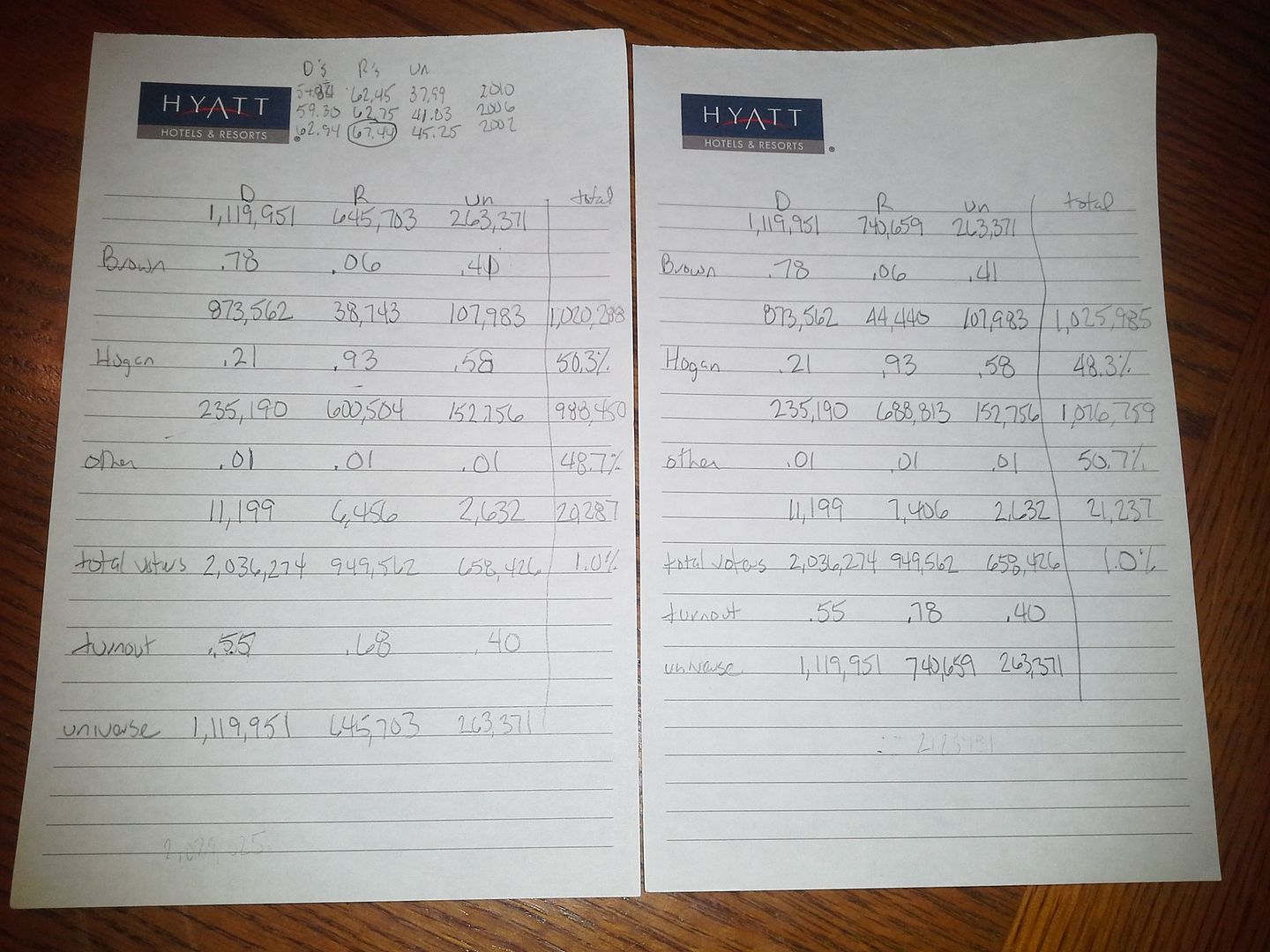 Indeed, we turn from crushing disappointment to "winner, winner, chicken dinner" simply by getting an extra 1 in 10 Republicans to turn out.
If Republicans turned out like that for an election which was an almost foregone conclusion in this state, hopefully this simple calculation will provide the incentive to Maryland Republicans to come out in a gubernatorial election where they have a shot to sneak away with a close victory!
Early voting numbers were encouraging, but Tuesday it will be time to finish the job.
Update: Hey, I missed a key set of races. It's not a partisan race, but M.J. Caldwell is a far more qualified jurist than the guy Martin O'Malley picked based on his last name. And speaking of O'Malley picks, there are two others on our ballot who we can remove from office and perhaps allow for the first crop of Larry Hogan appointees. So vote "no" on continuance in office for Kevin Arthur and Andrea Leahy.
This letter was sent to me by incoming Central Committee member Dr. Greg Belcher. His concern was an e-mail sent out by Tamara Lee-Brooks, the county's Public Information Officer, to her county e-mail address list.
**********
Wicomico County residents should be informed about recent events involving the County Executive and his staff.
It has come to my attention that on October 17 the Wicomico County Public Information Officer sent an e-mail message to various persons announcing a joint press conference to be held by Anthony Brown, Rick Pollitt (Brown's local campaign manager), and the mayor of Salisbury to criticize Brown's opponent, Larry Hogan. In her e-mail Ms. Lee-Brooks stated that she "was asked to forward" the announcement but did not identify by whom. However, Mr. Pollitt is her superior, in essence if not directly.
It is my understanding that such a communication is a clear violation of the County's ethics law by Ms. Lee-Brooks, and more significantly the supervisor who ordered it, reasonably assumed to be Mr. Pollitt or another member of his staff. Using public resources (and personnel) for partisan political purposes is strictly prohibited by the law.
Other conduct by Mr. Pollitt and/or members of his staff deserves the voters' consideration, as well. It has been reported that County vehicles are being used for personal matters, including visiting a local bar and grill. And – in response to Freedom of Information requests – it has been disclosed that Mr. Pollitt has used his County credit card to buy personal groceries on more than one occasion and pay for meals at restaurants. Such conduct is unacceptable, even if Mr. Pollitt promptly reimbursed the County. This, too, is a likely violation of the County's ethics law.
A complaint is being filed with the County's Ethics Commission asking for appropriate sanction for matters discussed above. That body should investigate the charges and act appropriately in advance of November 4.
**********
This is the text of the e-mail sent by Lee-Brooks, who added she was "asked to forward for your attention."
FOR ADVISORY PURPOSES
Friday, October 17, 2014
Contact:
Jerid Kurtz: 443-297-7702
JeridKurtz@AnthonyBrown.com

Press Office: 240-478-6488
Press@AnthonyBrown.com

FRIDAY: Anthony Brown, Rick Pollitt, Jim Ireton to Hold Press Conference on Harm Larry Hogan's $450 Million Cut to School Construction Would Cause to the Eastern Shore

Hogan's "Savings Plan" includes a $450 Million Cut to School Construction Funding that Would Threaten Projects – like Bennett Middle School- Throughout the Eastern Shore

Upper Marlboro, MD – On Friday at 11:00 a.m., Lt. Governor Anthony Brown, Wicomico County Executive Rick Pollitt, and Salisbury Mayor Jim Ireton will hold a press conference to discuss the harm that Republican Larry Hogan's $450 million cut to school construction would have on the Eastern Shore.

These cuts are contained in Hogan's so-called savings plan — a plan whose numbers the Baltimore Sun noted "don't add up."

Hogan's proposed $450 million cut to school construction could put projects like the construction of Bennett Middle School out of reach for many communities along the Eastern Shore. For the next four years, counties across the Eastern Shore have requested millions in state funding for repairs and renovations in order to modernize their classrooms and deal with overcrowding. But school construction cuts could put all of these local projects at risk.

What:
Press Conference to discuss the harm Larry Hogan's $450 million cut to school construction would cause to the Eastern Shore's public schools.

When:
Friday, October 17th at 11:00 a.m.

Where:
Outside of Bennett Middle School
523 South Division Street, Fruitland, MD
Click here for a map.
It's worth pointing out that the State Ethics Commission has already deemed this letter improper, but for some strange reason none of the local media is very interested in that fact.
In response, county Republican Party Chairman Dave Parker has today asked the county attorney to investigate:
I am deeply concerned that recent actions by elected and appointed Wicomico County officials were in direct violation of §37, the Wicomico County Ethics Law – and likely also the Maryland Ethics law.

The Brown/Ulman gubernatorial campaign recently scheduled a "press conference" in Salisbury claiming "to discuss" Hogan's alleged plan to make a $450 million cut to school construction on the Eastern Shore. That alleged cut is clearly part of the political dialog which typically occurs during campaigns for office, and as such is clearly more a scare tactic than a reliable statement of fact. At best it is a partisan political disagreement.

However, as the attached email indicates, Tamara Lee-Brooks, the Wicomico Public Information Officer, honored a request (from an unnamed source) to forward the announcement of Brown's press conference, and Matt Creamer, the Wicomico County Council Administrator, further forwarded this request (as a media advisory). Members of the media consequently reported this so-called press conference, apparently actually attended by Brown. Regardless of the number of individuals to whom this request was forwarded, the County time and other County resources consumed are what are what I believe were unethical.

As I understand the law, because these were obviously partisan political actions in support of the Brown/Ulman campaign, using County Offices, County email, and County employee time to forward Brown's announcement were are all violations of ethics laws. Because County Executive Rick Pollitt is not only ultimately responsible for supervising Tamara Lee-Brooks but because he also serves as Brown's local campaign manager, an investigation will likely identify others who used County resources to promote the Brown/Ulman campaign.

Accordingly, with this letter I am, in accordance with instructions I received from your office by telephone, herewith submitting to you a formal ethics complaint for you to deliver to the Wicomico County Ethics Commission for their action. Moreover, I'm requesting that the Commission first thoroughly investigate, then determine and publicly identify and announce both what ethical violations have taken place (and by whom) and what corrective measures will be taken to prevent similar violations in the future.

On the other hand, if overt partisan political activity using County time and resources is not a violation of law, then please so inform me, in writing, that this is the case, citing the appropriate legal authorities.
It's highly unlikely at this late date that any resolution will occur before Tuesday, but this is just another example of shoddy ethics in Wicomico County government.
Yet these scare tactics from local and state Democrats – in lieu of a record of success from nominee and Lt. Gov. Anthony Brown – are par for the course. Sensible voters know Bennett Middle School will be finished and other projects will probably get their funding. It's worth pointing out as well that there may be some cost savings on individual projects which could make a big difference that Larry Hogan could – and should – get behind, such as eliminating the need to comply with LEED Silver standards and prevailing wage for school construction (as Ohio did some years ago.)
Of course, the real change which should be made in Maryland education creates a prospect that scares the living bejeezus out of Maryland Democrats and their wholly owned subsidiary, the Maryland State Education Association. That would be a program of money following the child regardless of schooling situation, forcing public schools to compete on a level playing field with charter, for-profit, and faith-based educational institutions as well as making homeschooling more affordable.
So it's not a surprise that Democrats circle the wagons around school construction because it's not the buildings that are being threatened, it's the power structure.
While it can be dismissed as an internal push poll, given its conclusion that Larry Hogan "is well positioned heading into the final week," or the final add of, "Having the resources to go toe-to-toe with Brown on TV will be crucial in turning his current lead into a victory on Election Day," a survey by pollster Wilson Perkins Allen Opinion Research has buoyed the Hogan camp and led to another upcoming visit from New Jersey Governor Chris Christie this coming Sunday evening at Patapsco Arena in Baltimore.
Yet other polls suggest a significant Brown lead, most particularly a YouGov poll which has stubbornly put Brown up by double-digits every month (and is computed in the RCP average.) Not added to the RCP total, though, is a survey by Gonzales Research which showed the race was far closer and as an added benefit gives the breakdown of expected turnout.
One could even argue that the "calibration error" problems with voting machines – which only seem to be turning Republican votes to Democratic ones, and not vice versa – is the sign of a party desperate to hold on to the governor's chair. (A source tells me here in Wicomico County, at least one early voting machine was put out of service after the error was replicated on it. The personnel at the early voting center were reluctant to get involved, according to my insider.) Add to that the allegation of non-citizen voting and it's no wonder Republicans are sweating out the prospect of the same fishiness which plagued the 1994 gubernatorial election some swear was stolen from Ellen Sauerbrey.
Yet as the old adage says, you just have to beat them by more than they can cheat.
There's no question that Democrats are less enthused about this election than they have been in the past. But let's go back and look at some key numbers from 2010, the second Ehrlich-O'Malley rumble.
As I said, I really like Gonzales polling because they give an honest breakdown and analysis. In October 2010 their poll had Martin O'Malley with a 47-42 advantage over Bob Ehrlich – a race that O'Malley eventually ran away with. In fact, out of the last several polls this was the one which gave the last fading hope of an Ehrlich upset.
But there were some warning signs – for example, Ehrlich's 17% support among Democrats "won't do it," said Gonzales, nor would the 8-point advantage in the Baltimore suburbs. In the recent Gonzales survey, Hogan doesn't do a whole lot better among Democrats than Ehrlich (19-73 for Hogan vs. 17-72 for Ehrlich) but is significantly stronger in the Baltimore suburbs (55-37 Hogan vs. 49-41 Ehrlich.) On the other hand, Brown does a little better in the Washington suburbs at 70-25 (vs. O'Malley's 65-25) but Hogan counteracts this with a strong showing among the growing unaffiliated ranks (46-32 Hogan vs. 42-36 Ehrlich.)
To me, the truth is somewhere in between the five-point Hogan lead in the WPA poll and the 2 points Gonzales has him down, probably closer to the latter. All I know is I think it will be close and every vote will have to be carefully scrutinized by the person casting it. (My source also told me there may be a robocall put out to remind Republicans to check their ballot before leaving.)
Yet the idea isn't just to be satisfied with a Republican governor – we need to give him plenty of help and local voters can oust a number of thorns in the conservative side next week. Let's paint the Eastern Shore red from Cecil to Somerset, from the Bay Bridge to Ocean City.
Without a lot of fanfare (or great production value) a number of conservative leaders are pleading with the TEA Party to get out and vote this time around. People like former Congressman Lt. Col. Allen West…
…or current Congressman Rep. Louie Gohmert of Texas…
…or retired Lt. Gen Jerry Boykin…
…or Senator Mike Lee.
The effort is spearheaded by my old friends at Americans for Limited Government, particularly Rick Manning, who was interviewed for a recent Washington Examiner story on the videos. It's a grassroots social media answer to the old adage that our vote is meaningless, as an extra million or two TEA Party votes could turn a few House and Senate races into nasty surprises for the Democrats. (On a more local note, it could spell the difference between victory and defeat for Larry Hogan and perhaps a dozen or so General Assembly candidates, like local favorites Carl Anderton and Mike McDermott.)
It's interesting to note as well that West and Boykin have spoken locally in recent years – West for our Patriot's Dinner last month and Boykin for a controversial prayer breakfast in Ocean City in 2012. Voting is a much less controversial topic, but it's important that those on our side be motivated to appear at the polls.