Unfortunately, I can't make the event with my work schedule but I was asked to at least spread the word.
Christopher Summers of the Maryland Public Policy Institute invited me to a Maryland Policy Forum on A Better Way to Restore the Chesapeake Bay, to be held Tuesday night (the 28th of October) at Washington College in Chestertown. (It would be a close trip for my friends and fans up Cecil County way.) The event is billed this way:
Maryland officials expect that it will cost over $14 billion in the next decade to meet EPA pollution mitigation targets for the Chesapeake Bay by 2025. Yet Maryland has pointedly ignored a single, enormous source of the pollutants—the massive amount of water-scoured sediment and trapped nitrogen and phosphorus behind the Susquehanna River's Conowingo Dam. Periodic discharges from the dam, such as the one following Tropical Storm Lee in 2011, spill enormous amounts of sediment and nutrients into the Bay, dwarfing the most optimistic cleanup targets that have been set for the watershed.

What should Maryland do to reduce Chesapeake Bay pollution, and is current policy too much or too little?
In looking at the bios of the three panelists and moderator, it looks like a good mix of opinions will be had. Of course, there are those who believe the MPPI will put its thumb on the scale for the conservative side but it's a side which isn't often listened to in this state.
Personally I believe the cleanup behind Conowingo should take precedence over the regulations which have been adopted. Ditch enforcement of these tier maps, the seven-lot subdivision limit, and septic regulations which only serve to curtail growth in rural areas of the state like the Eastern Shore until the sediment behind that dam is cleaned up and we have a year or two of testing to see the difference. Instead of picking on agriculture, figure out ways to upgrade the real problem: failing urban sanitary sewage treatment plants.
I doubt either of the two candidates for governor will be there, but I think Larry Hogan should send a surrogate to hear what the MPPI and their panelists have to say. Obviously job creation is the key issue in this election, but a different, localized approach to cleaning up Chesapeake Bay would be a good secondary issue to discuss in the waning days of the campaign.
Today is the day that tiny percentage of Maryland registered voters who actually do this begin going to the polls for early voting. I know some of my party cohorts will be out at the Civic Center campaigning for the Republican ticket, and needless to say it's a straight R year for me.
But there are races I'm much more passionate about than others, so let's go through the list and I'll tell you what I think. That IS why you come here, isn't it? If my number 16 race doesn't come out I won't be all that upset, but if the top half-dozen or so go the wrong way I'll be pissed. These are the 16 items on my specimen ballot – I live in House District 38B and Wicomico County Council District 3, which is one of only two of the five districts to have a contested race.
Carl Anderton, Jr. for Delegate, District 38B. I am really tired of my poor representation in Annapolis from Norm Conway. He votes for every bloated budget, (almost) every conformity with Obamacare, every accommodation to Big Labor, and a number of other dreadful things as well: in 2011 he voted for the Congressional redistricting that made our state a laughingstock but in committee he helped kill provisions to allow referendums on tax increases and proof of lawful presence before collecting benefits. In 2012 he voted to saddle new homeowners with the added expense of sprinklers, but he saddled the rest of us with the rain tax, tier maps, and the key to getting around our county's revenue cap by mandating maintenance of effort spending. Granted, once in awhile he votes the right way but why lose on three or four issues to gain one? Republicans and pro-Wicomico Democrats: don't fall for the hype of potentially losing a committee chair – even though Norm is a fairly nice guy, if he were all that powerful we would be the richest county in the state and we are far from that. It's definitely time for some new blood to get us back to work. Chances of success: about 50-50.
Mike McDermott for Senate, District 38. Really, this should be 1-a but my function won't let me do that. Jim Mathias may vote a little better than Norm Conway, but I would rather have someone who's a thorn in the side of the current Annapolis majority – who went out of their way to lump him into a district with another sitting Delegate – than a backbencher. What better way to thumb your nose at those who believe the Eastern Shore is the state's "shithouse" (in more ways than one) than to foil their political intentions? If I can pick up 60 points on the monoblogue Accountability Project by changing my representation, you know the answer is yes. This is another race where conservatives need to come home and not cross the aisle, because Jim's few blind squirrel votes aren't worth the overall pain. Chances of success: about 50-50.
Bob Culver for County Executive.  Our county has stumbled and staggered through this so-called recovery with the incumbent Rick Pollitt, a self-described bureaucrat, in charge. Don't forget that Rick whined about the revenue cap for the first three years in office and promised a zero-based budget I haven't seen yet. After eight years, it's time for a change in tactics and Bob can be a fresh set of eyes to address our declining number of employed. I know Bob may rub some the wrong way but I'm willing to overlook that because, to me, re-electing Rick Pollitt is the definition of insanity for Wicomico County. Chances of success: I would say about 40-50 percent.
M.J. Caldwell for Circuit Court Judge. To me, this is a perplexing case. Here you have an experienced attorney who knows his way around a courtroom taking on a person whose claim to fame is his last name – if it were Swartz, he'd still be at his old firm. But because people still know the Sarbanes name in this area, the newly-appointed "incumbent" got the gig. I was extremely disappointed and somewhat disgusted to see that Caldwell only won the Republican primary with 57 percent of the vote – people, do your homework! Caldwell would be a good judge. Chances of success: about 1 in 3 unless Republicans shape up.
William Campbell for Comptroller. You'll notice Peter Franchot has played up his fiscal watchdog tendencies in this campaign, but I think that if Larry Hogan becomes governor we need Bill to keep him grounded and make the Board of Public Works work in a conservative direction for the first time in…well, ever. Unfortunately, Bill has little money to get his message out and Franchot's too scared to debate him. One problem with Larry Hogan taking public financing is that the Maryland GOP is spending maximum time and effort fundraising for Larry instead of helping these downballot races. Chances of success: alas, probably less than 1 percent.
Larry Hogan for Governor. All politics is local, so I think the state race can take care of itself. But I hope that Hogan has enough coattails to bring in a dozen Delegates and half-dozen new Senators, including the two mentioned above. While I hated his primary campaign, I have to admit Hogan's done a good job in the general election round. But will it be enough? Polls suggest it might. Chances of success: about 50-50.
Larry Dodd for District 3 Council. The thing that bothers me about his opponent is that, for all his "aw, shucks" demeanor, he's been exposed to a large number of anti-property rights zealots. He worked for Joan Carter Conway, the Senate's EHEA Chair, and not only does she have a lifetime mAP rating of 4 (yes, that's really bad) but she has passed a lot of bad legislation through her committee over the last several years – something Josh fails to mention. But I will give Josh Hastings his due: he's campaigning hard, knocked on my door and has worked harder for the seat than Dodd has. It would be a shame to succeed a good, conservative Councilwoman in Gail Bartkovich with a liberal who may have grown up on a farm but has spent his politically formative years more readily influenced by Baltimore City and Annapolis. Chances of success: about 35 to 40 percent.
John Cannon for at-large County Council. While his voting record has often been a disappointment, he was one of the two who got through the primary. I have more hope for him becoming a conservative stalwart, though, than I do for his fellow Republican. Chances of success: around 60 percent.
Voting against Question 1. I've stated my reasons for opposition before, but most of the money is backing it and referendum items rarely fail. Chances of success: less than 10 percent.
Jeffrey Pritzker for Attorney General. We are really in trouble, folks. We could have had one of our good county state's attorneys (or my personal favorite, Jim Rutledge) step up but instead we got Pritzker, who I have never met. When I see prominent conservative-leaning bloggers backing the Libertarian in the race, it can't be much of a campaign. That's a shame, because there's more to the campaign than legalizing pot. And losing this seat means the gun-grabbing Brian Frosh will be our Attorney General. Chances of success: even less than Campbell's sub-1 percent shot.
Matt Holloway for at-large County Council. There are many holes in his voting record as well, but winning the primary makes him the odds-on favorite to not be third on November 4. So I guess I'll have to wonder how often he'll cave for another four years. Chances of success: over 80 percent.
Andy Harris for Congress. No muss, no fuss. Have you heard a word about Bill Tilghman? The one thing you can say about Bill is that at least we haven't caught him voting twice. This race is perhaps the closest thing to an automatic win for our side – when even the Daily Times has to endorse you, it's a good sign. Chances of success: over 95 percent.
Voting against Andrea Leahy as a Special Appeals Judge. Similar to the election involving Jimmy Sarbanes, Judge Leahy is up for election because she was appointed by Martin O'Malley in March. I looked at her profile and wasn't impressed, but it's rare a judge is tossed out. I would love to see who Larry Hogan would appoint, but if Leahy lost Martin O'Malley would rush another appointee through – and he or she would sit until 2016. Chances of success: in the single-digits.
Voting against Kevin Arthur as a Special Appeals Judge. His profile is better than Leahy's but, still, he is an O'Malley appointee. Chances of success: in the single-digits.
Grover Cantwell for Orphan's Court Judge. I have never met the guy, yet he wants my vote. This is a part of the ballot where those who get listed first (the Democrats) have the advantage because they've all been on the ballot before. Chances of success: perhaps 1 in 3.
Voting for Question 2. I can get behind this proposal, which allows charter counties like Wicomico the option to have special elections to fill County Council seats. Having gone through the process of filling such a vacancy, I think it should be opened up despite the risk of losing a GOP seat to a Democrat. Chances of success: over 90 percent.
So this is how I think my local election will go. As for some other contested county races I'm supporting, in order of likelihood of success:
Addie Eckardt for Senate, District 37. The hard part for her was winning the primary. Sure, there may be some diehard Colburn supporters out there but their other choice is a guy he beat by 20 points last time around. Chances of success: 95 percent.
Mary Beth Carozza for Delegate, District 38C. Having an opponent who wears a "Ban Assault Weapons" t-shirt to an Andy Harris townhall event provides an immediate advantage in this area. But Mary Beth has been working since the summer of 2013 on this race, and that hard work is on the verge of paying off. Chances of success: 95 percent.
Marc Kilmer for District 2 Council. When your opponent threatens to go to court for winning, you know you're in good shape. But Marc has taken nothing for granted, works hard, and has a fairly solid Republican district. Chances of success: at least 80 percent.
Christopher Adams for Delegate, District 37B. He wasn't the top vote-getter in any county, but he's run a solid campaign and the dynamics of the race give him a better path to victory than fellow Republican contender Johnny Mautz. Chances of success: a solid 75 percent.
Johnny Mautz for Delegate, District 37B. By far the top primary vote-getter, the one drawback is that he has to finish ahead of Keasha Haythe because both hail from Talbot County and there's a limit of one per county. If he were second to her in the overall voting, he would lose and the third-place finisher moves up. With that in mind, I give him just ever-so-slightly less favorable odds. Chances of success: a solid 74.9 percent.
My advice to every contender in the last two weeks: run like you are five points behind. See you at the polls!
In the midst of what's good news about energy production in America – despite the headwinds created by an administration that believes global warming is a large problem while spending millions to prop up failing green energy companies – the question can be asked whether Maryland has achieved its share. I want to quote writer Mark Green from the Energy Tomorrow blog, who writes that based on Energy Information Administration data that:
This is a snapshot of America's energy revolution – the fundamental shift from energy scarcity to abundance that would have been unthinkable less than a decade ago. The shift is the result of surging oil and natural gas production using advanced hydraulic fracturing and horizontal drilling, harnessing oil and gas reserves in shale and other tight-rock formations. Safe, responsible energy development has made the United States the world's No. 1 natural gas producer, and the U.S. could become the world's top producer of crude oil related liquids before the year is out.
Larry Hogan has acknowledged that western Maryland has an "enormous" amount of natural gas and that he favors an "all of the above" energy policy. On the other hand, Anthony Brown is studying the issue to death. At the other end of the state and scale, Brown backs his boss's offshore wind boondoggle while Hogan mentions that "proponents (of wind power) rarely mention the actual costs which include billions in state and federal subsidies." In a separate statement, he also decries the potential for offshore wind's "crony capitalism" under a Brown administration.
You know, there's no question that the key issue in this gubernatorial race is the economy. Maryland is a state lagging behind its peers, and more and more people speak about pulling up stakes and relocating somewhere else: Delaware, Florida, Virginia, the Carolinas, Tennessee – name a state south of the Mason-Dixon Line and it's likely someone you knew in Maryland moved there.
But one piece of the puzzle is energy, and those who toil in the oil and gas industry understand what the potential is. In his piece, Green closes by quoting American Petroleum Institute president and CEO Jack Gerard:
We need leaders who reject the outdated political ideology of the professional environmental fringe and the political dilettantes who advance the irresponsible and unrealistic "off fossil fuel" agenda. Because if we get our energy policy right today, we can be the generation that erases what for decades has been our country's most potent and intractable economic vulnerability: dependence on energy resources from less stable regions and countries hostile to our goals, ideals and way of life.
Writer Rob Port at the Say Anything Blog also asks the pertinent question, and the answer on a state level can be found in Maryland.
I look at it this way. There was a governor and a majority in the General Assembly who were willing to risk over a billion dollars in ratepayer money on something which studies suggested might work but hadn't been tried in Maryland before, offshore wind. Conversely, given the success of the Marcellus Shale formation in several surrounding states (most notably Pennsylvania), why not encourage the exploration of several other regions in the state which share many of the same characteristics? The worst that can happen is that we find these areas aren't worthwhile for natural gas with current technology, but the rapidly evolving science of energy extraction means studies done even as recently as a few years ago may be rendered worthless.
Given the correct conditions for marketable extraction of coal and natural gas and an aggressive expansion of power plant capacity which uses those resources, it should be a goal to make Maryland self-sufficient in electricity by 2030. I don't think offshore wind will get us there, but extracting those resources we have gives us a shot, and provides good-paying jobs for Maryland families who need them.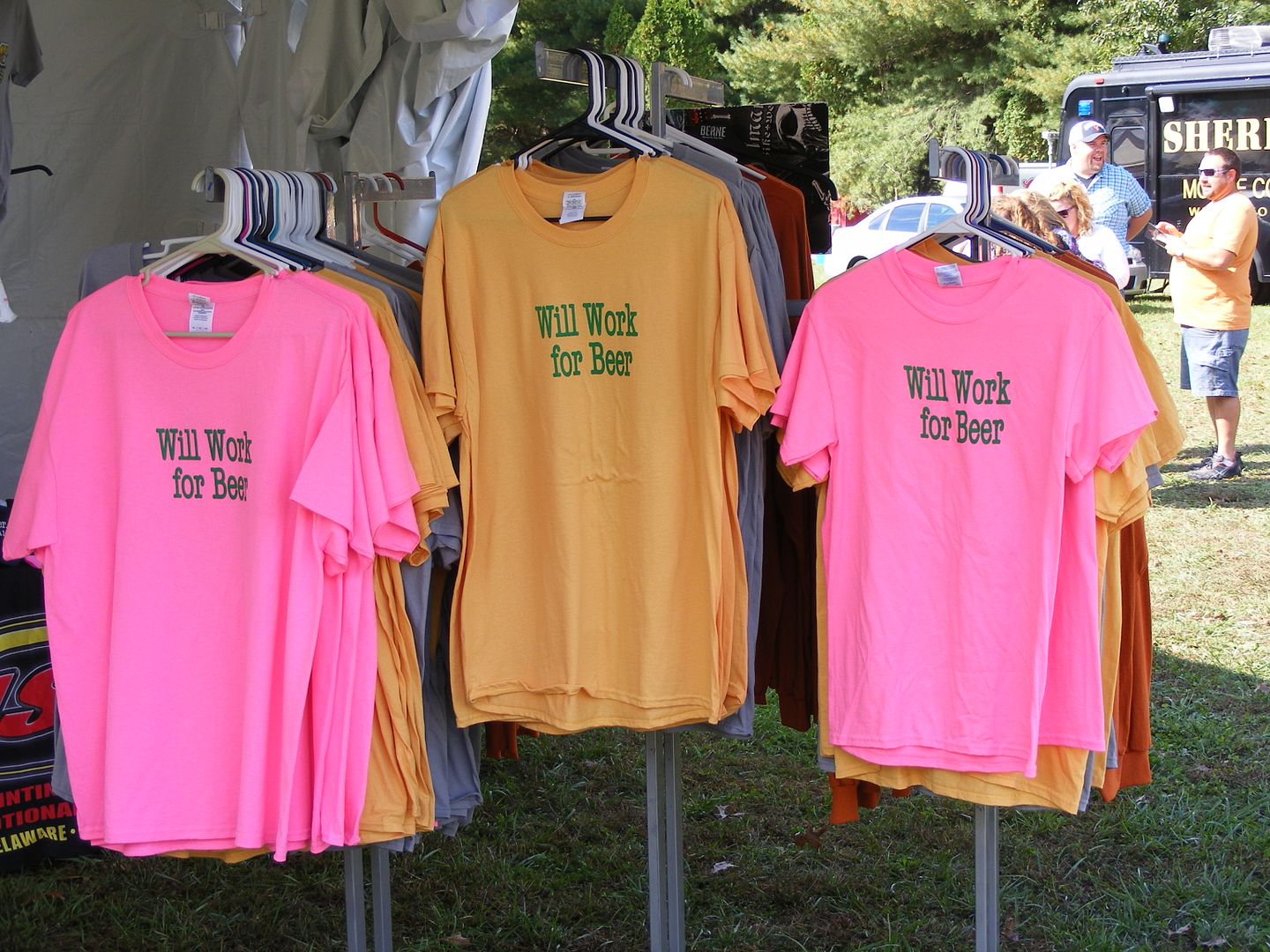 Plagued once again by poor weather on its bigger day (Saturday) nonetheless hardy beer enthusiasts from around the region gathered to sample a few swigs and generally celebrate all things beer.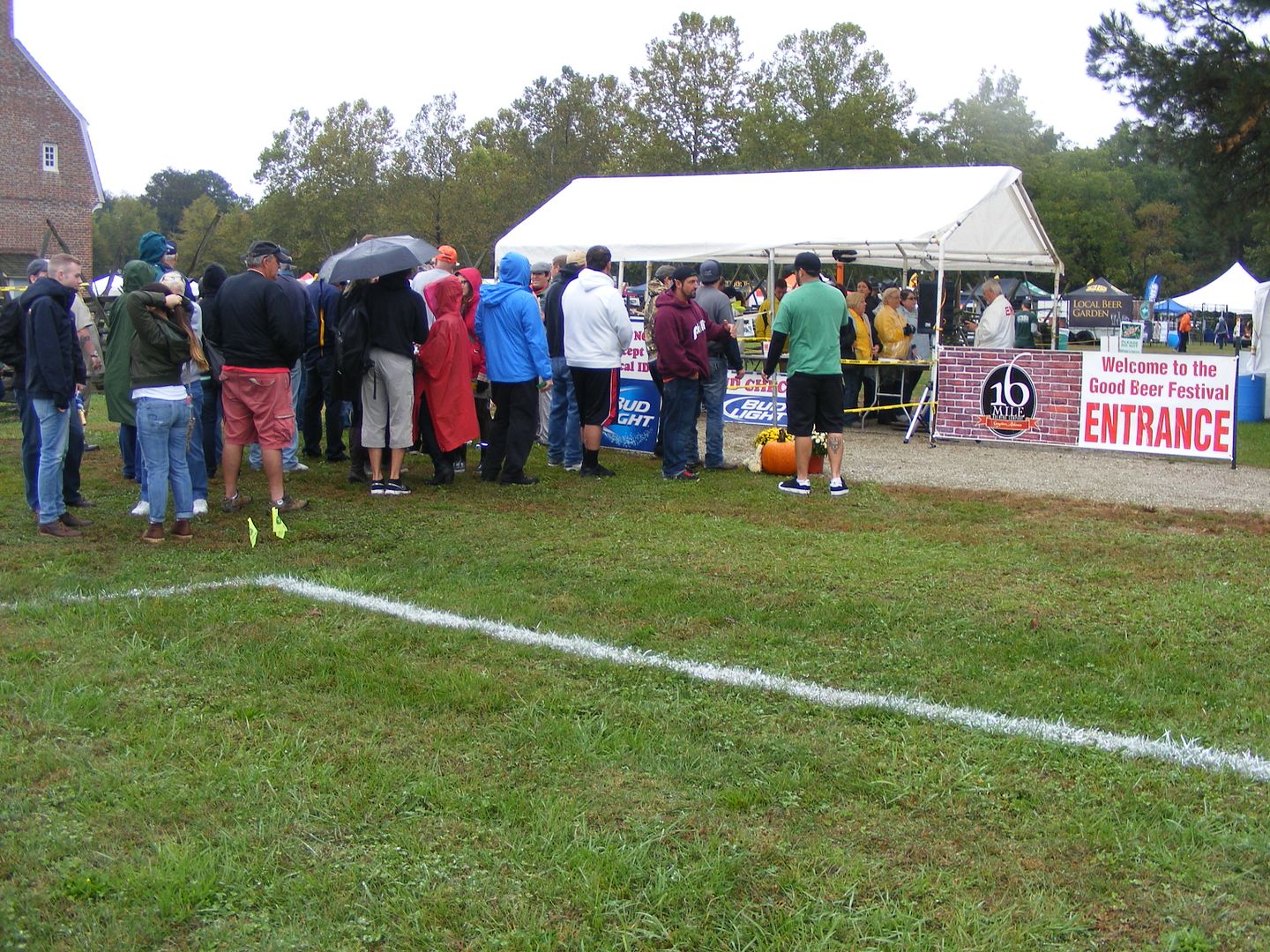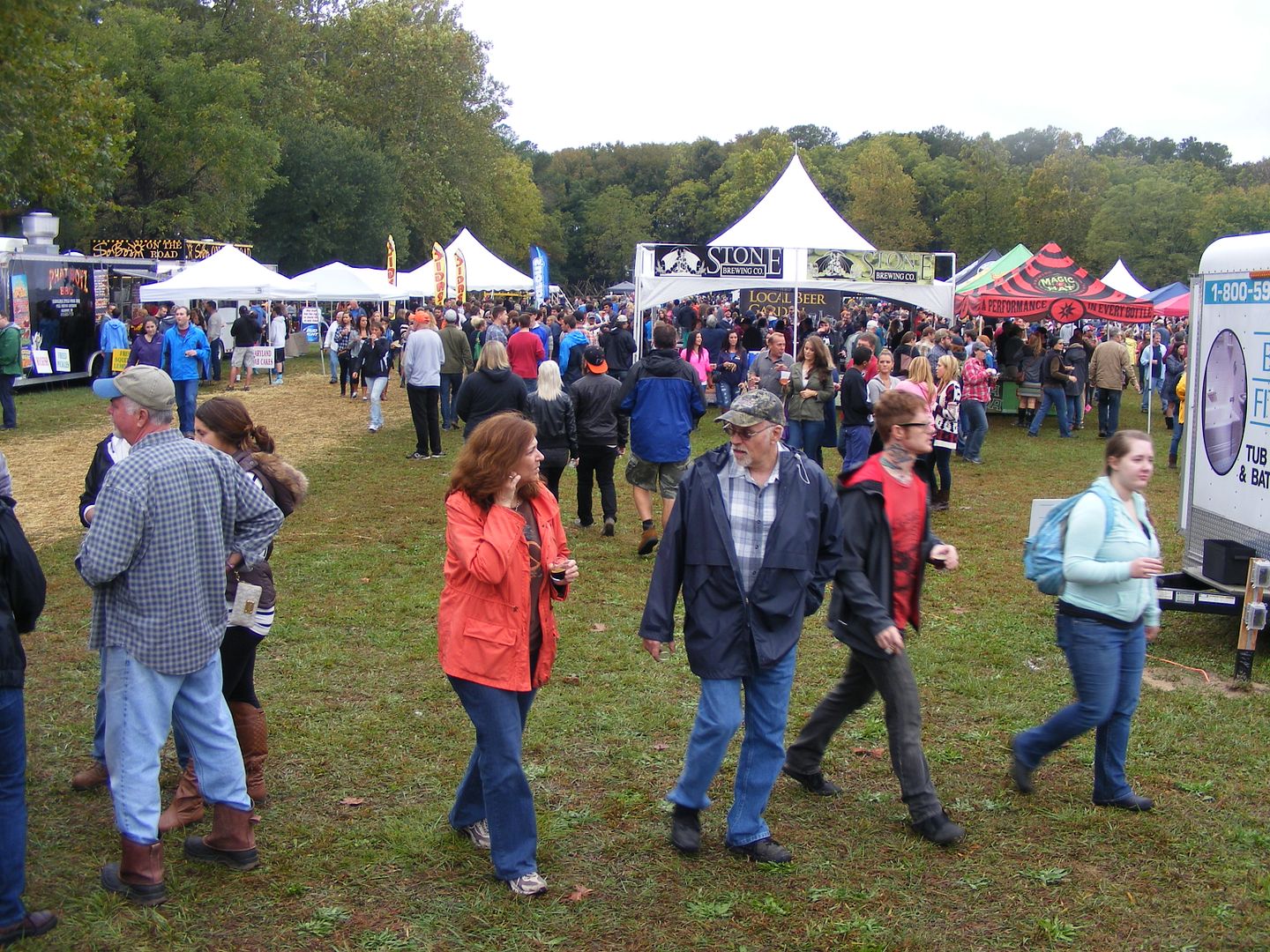 Did I mention the weather was subpar? At least we salvaged one decent day, unlike last year.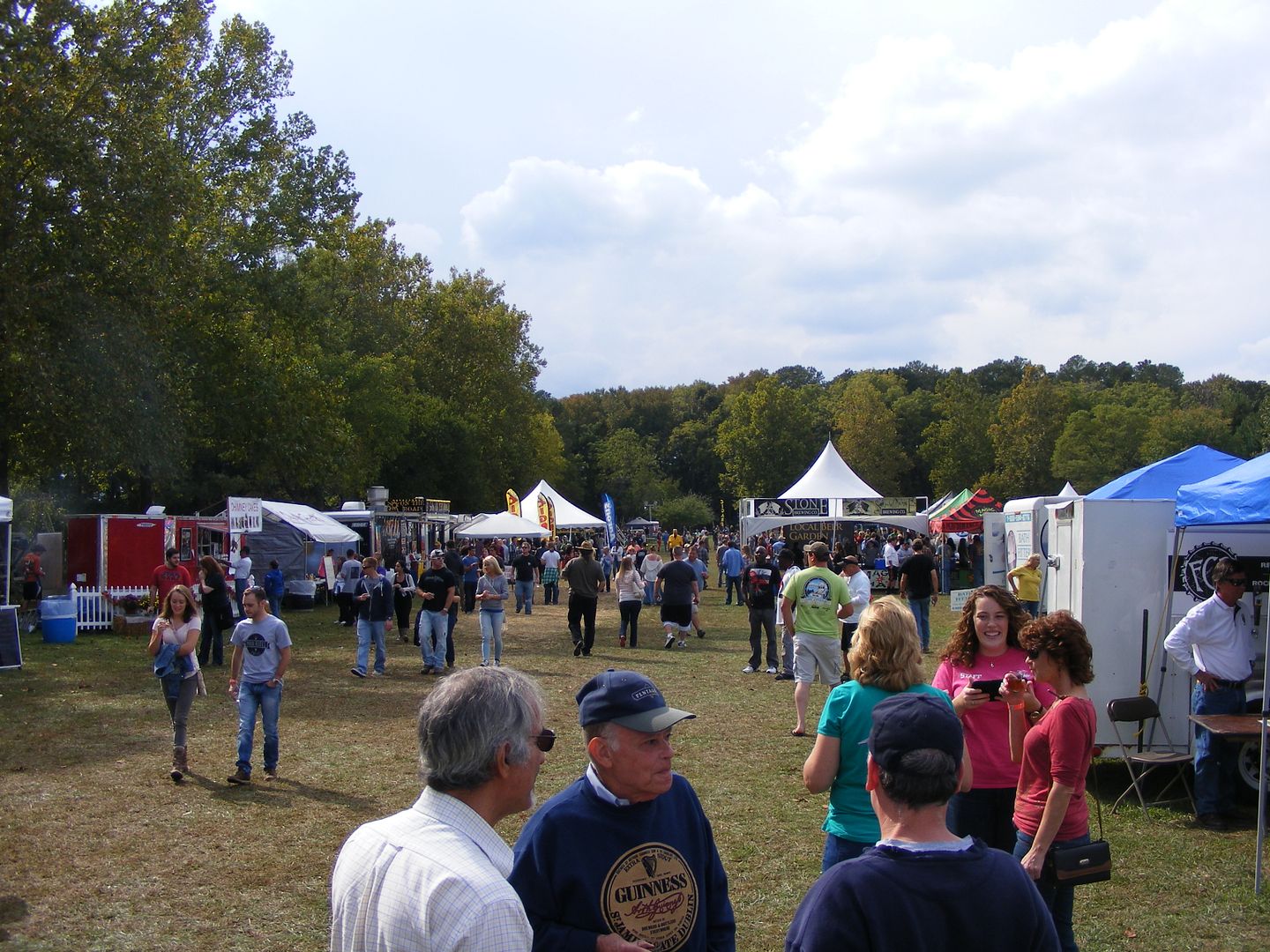 Unlike last year's effort, though, there weren't a whole lot of new wrinkles. Coming back for another year, for example, was the home brewer's competition and dedicated area.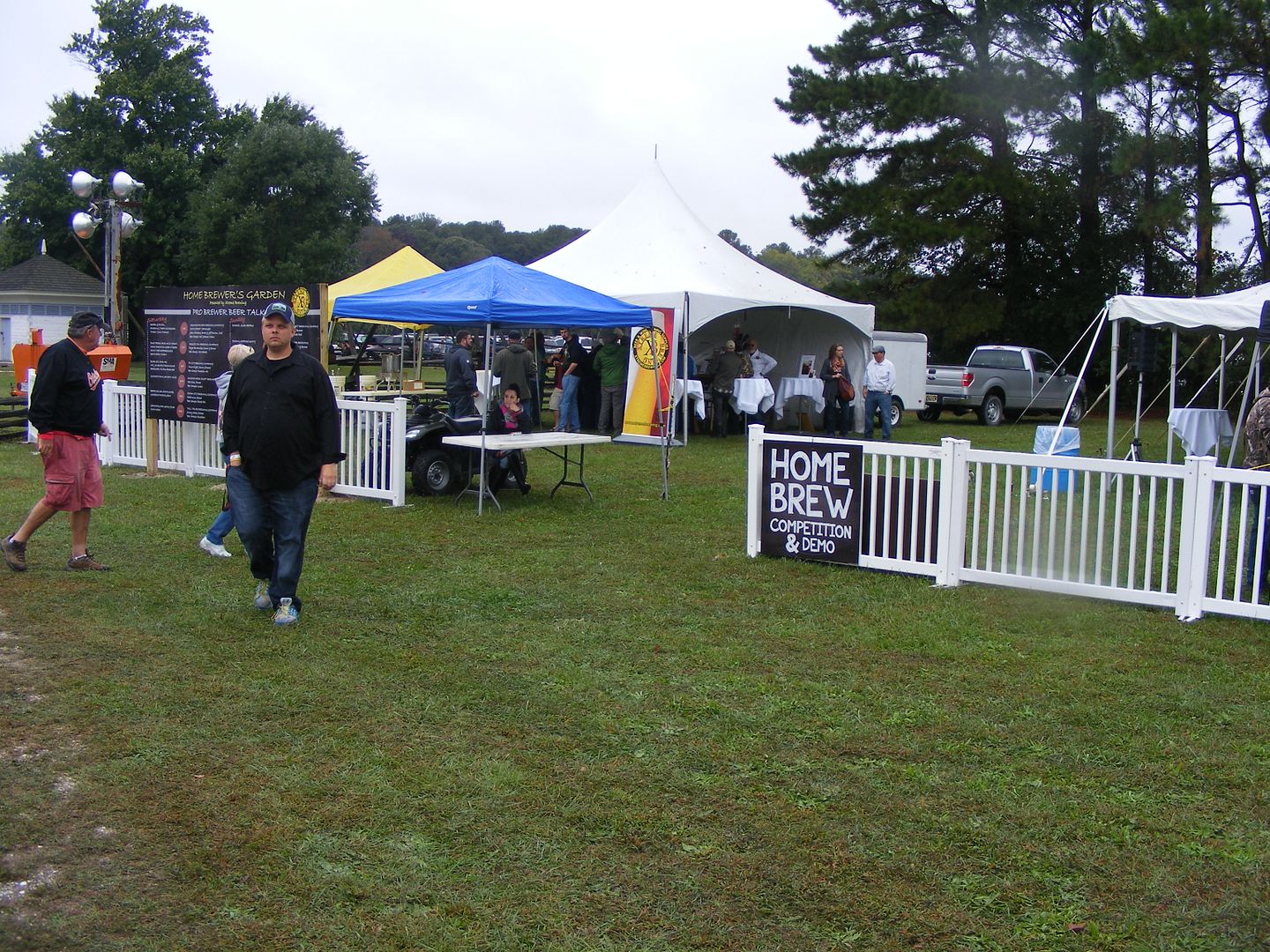 Another old favorite kept around was the TV lounge, where people cheered on the Ravens and Orioles on Sunday.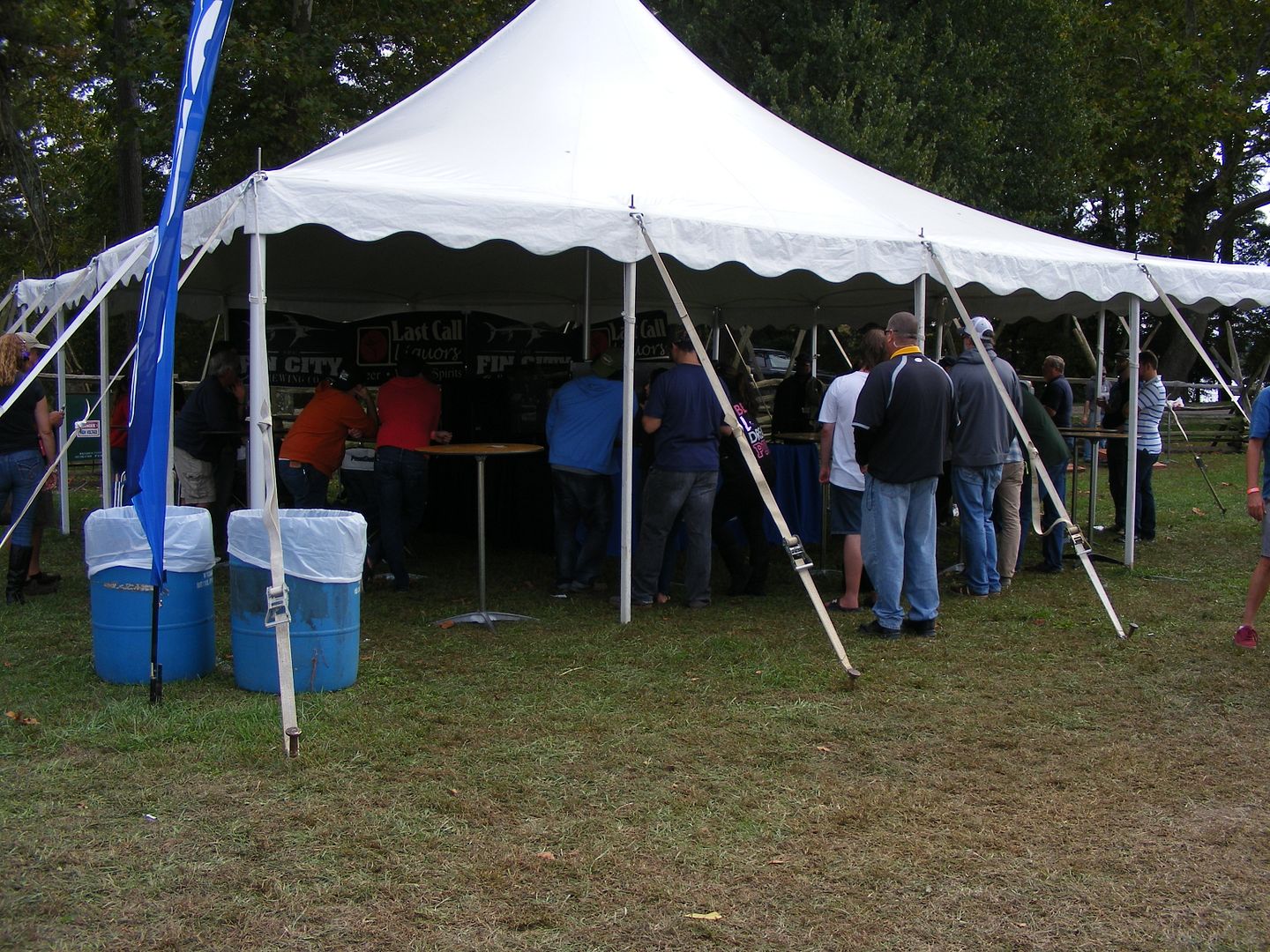 Close by were the cornhole games and that maddening peg hook test of skill.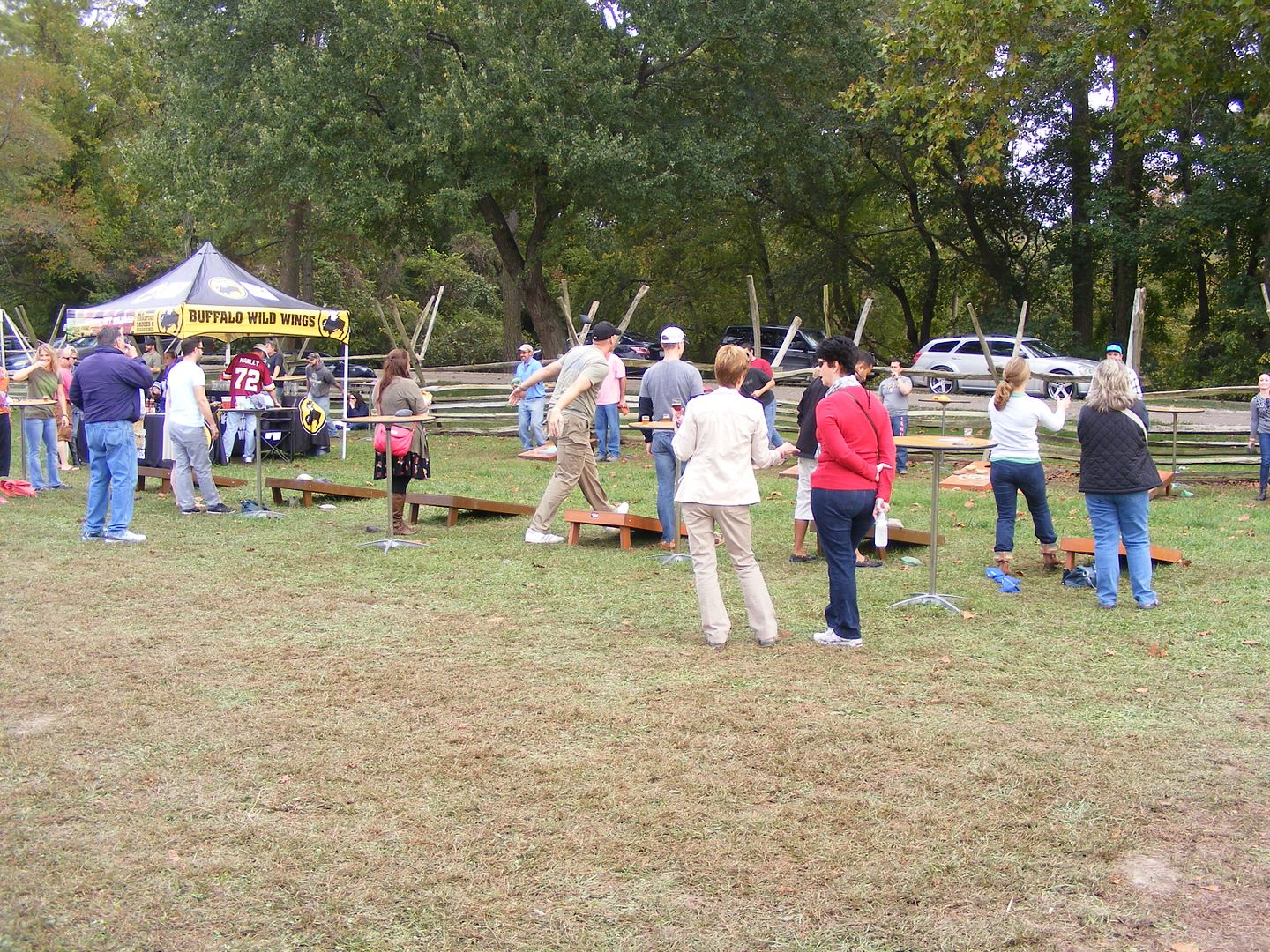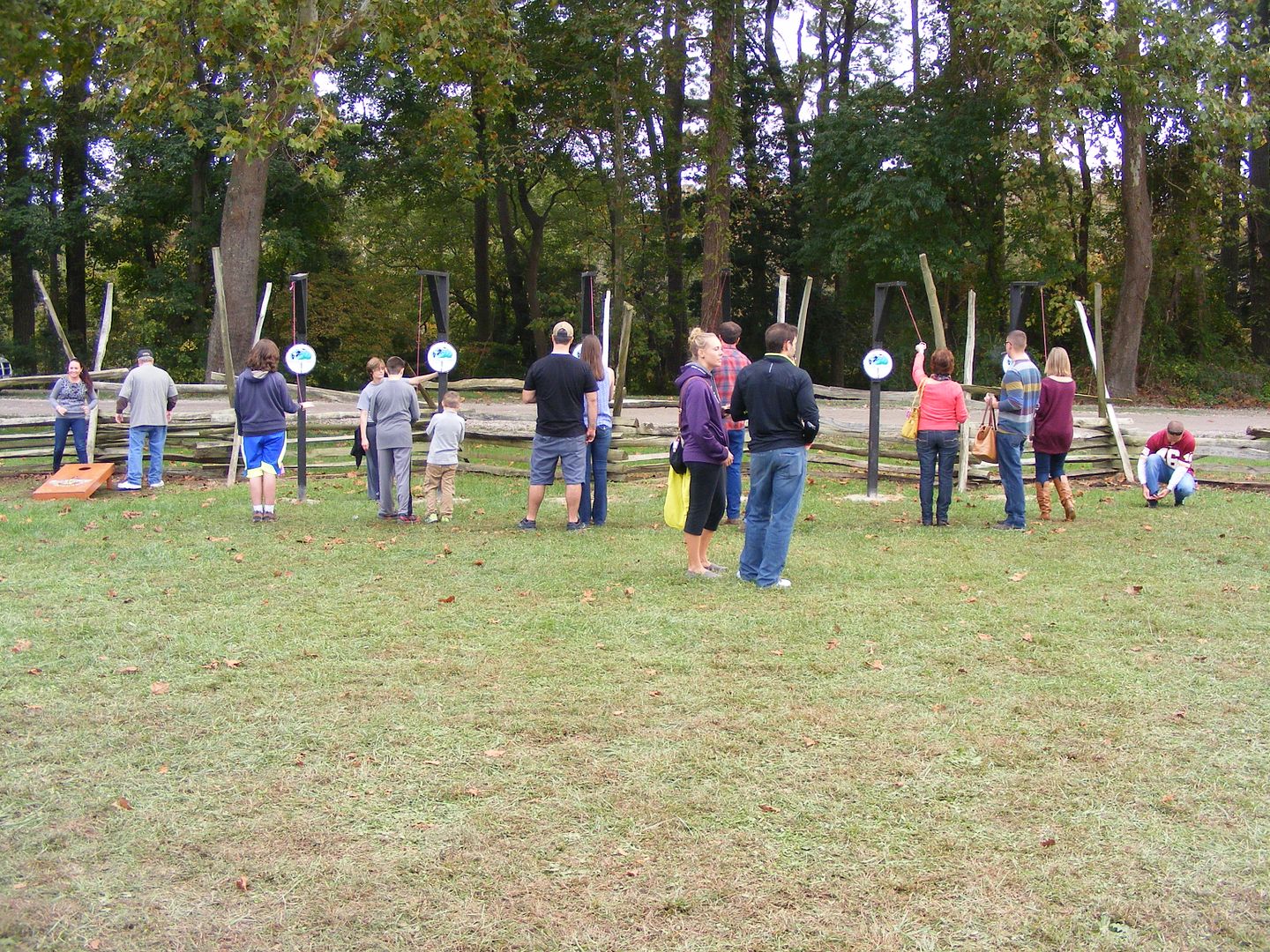 Once the skies cleared for Sunday, those in attendance could (and did) express themselves.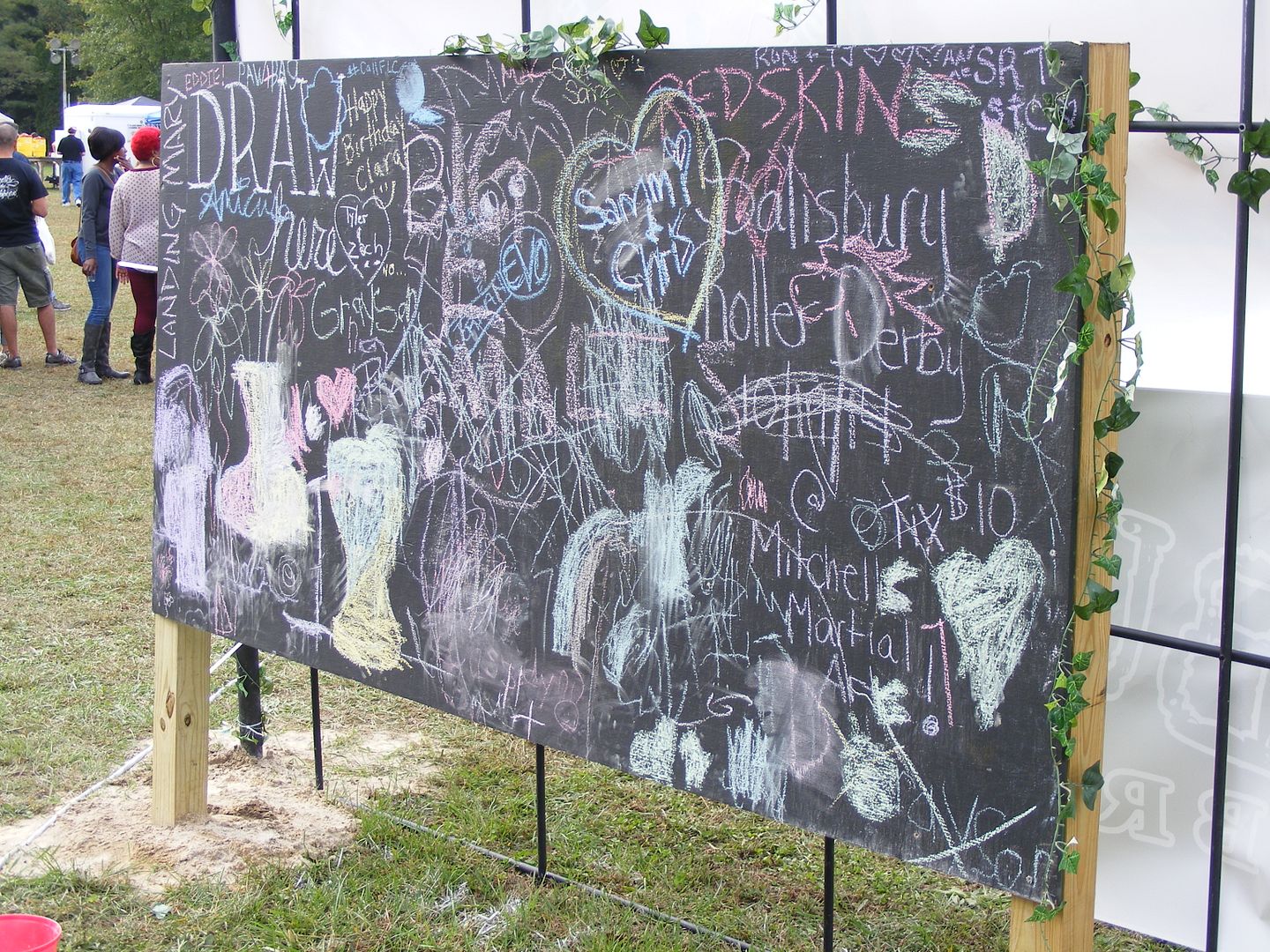 Those chalkboards were mounted aside the local beer garden, which had an interesting occupant.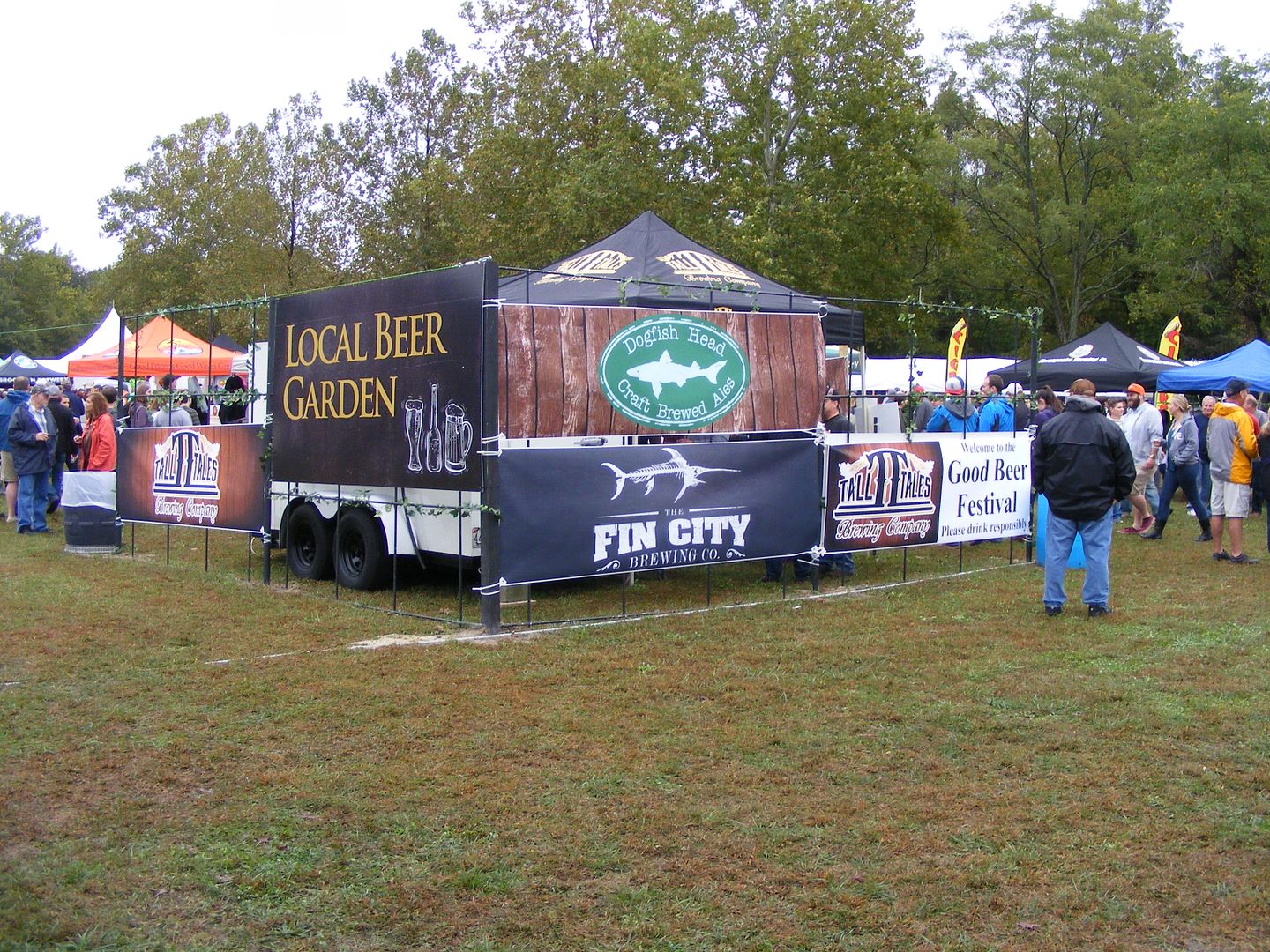 Perhaps Backshore Brewery (from Ocean City) was here last year but I don't recall the old VW Microbus.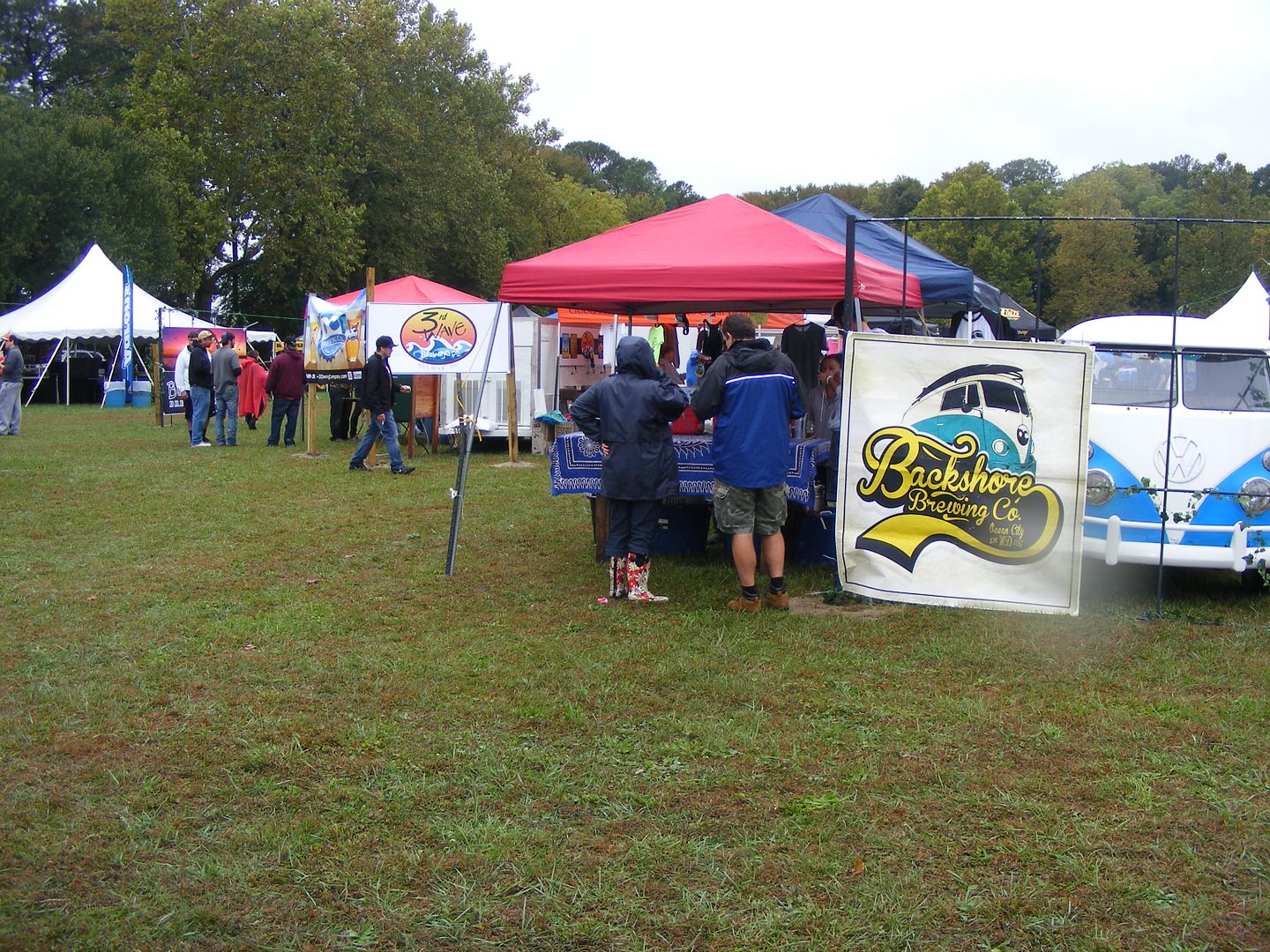 They also win the monoblogue prize for the best beer name. That and $4 would have secured a pint, I guess.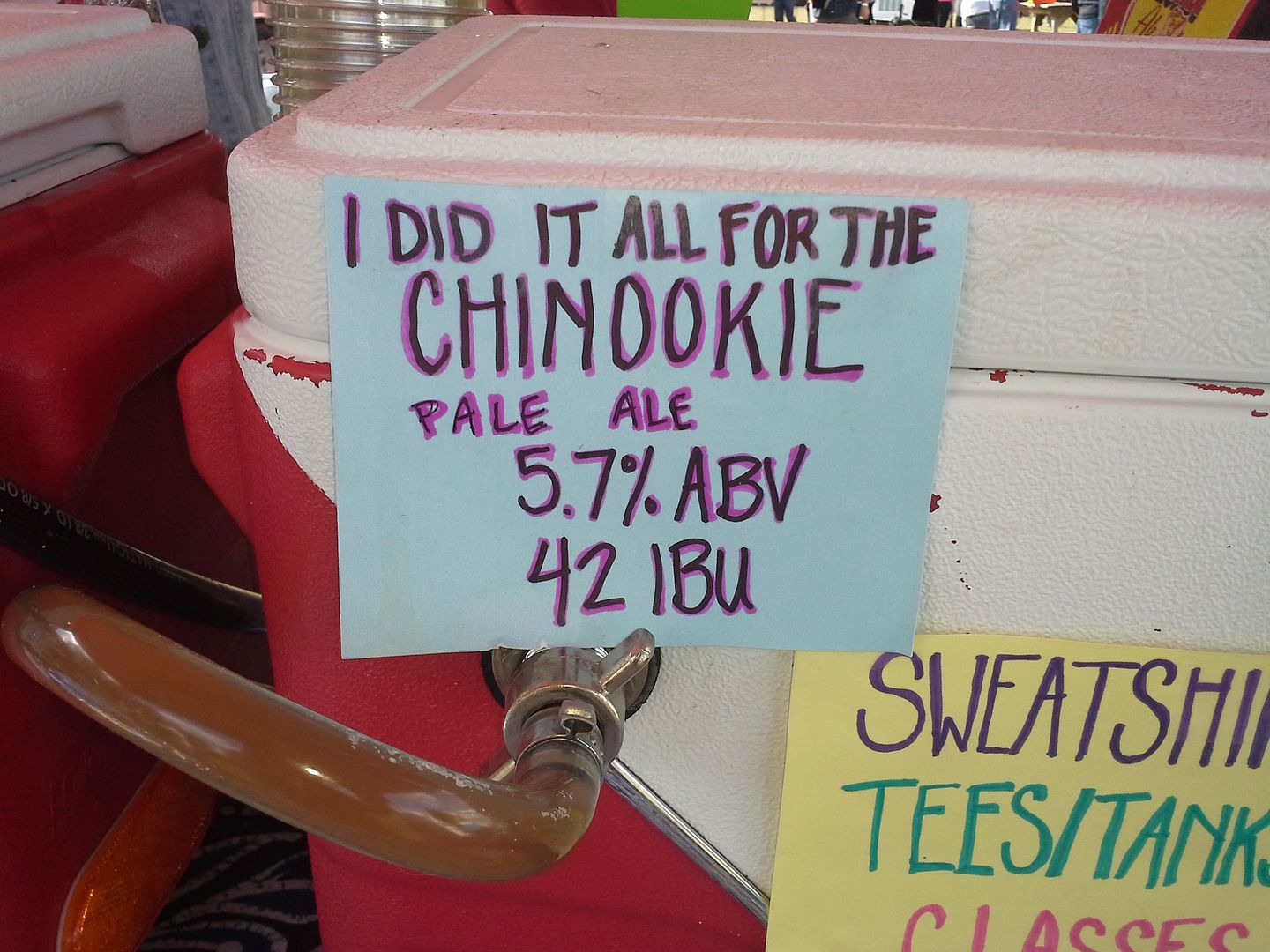 Yes, I did try it and I thought it was pretty good. But their Boardwalk Blonde Ale was one of my two favorites along with the Shotgun Betty Ale from Lonerider Brewing, which I think came from North Carolina.
Perhaps pale ales weren't this guy's style, but it's what I prefer. I just wanted the shot of his hat, a style I saw on a couple people over the two days. I didn't notice anyone selling them.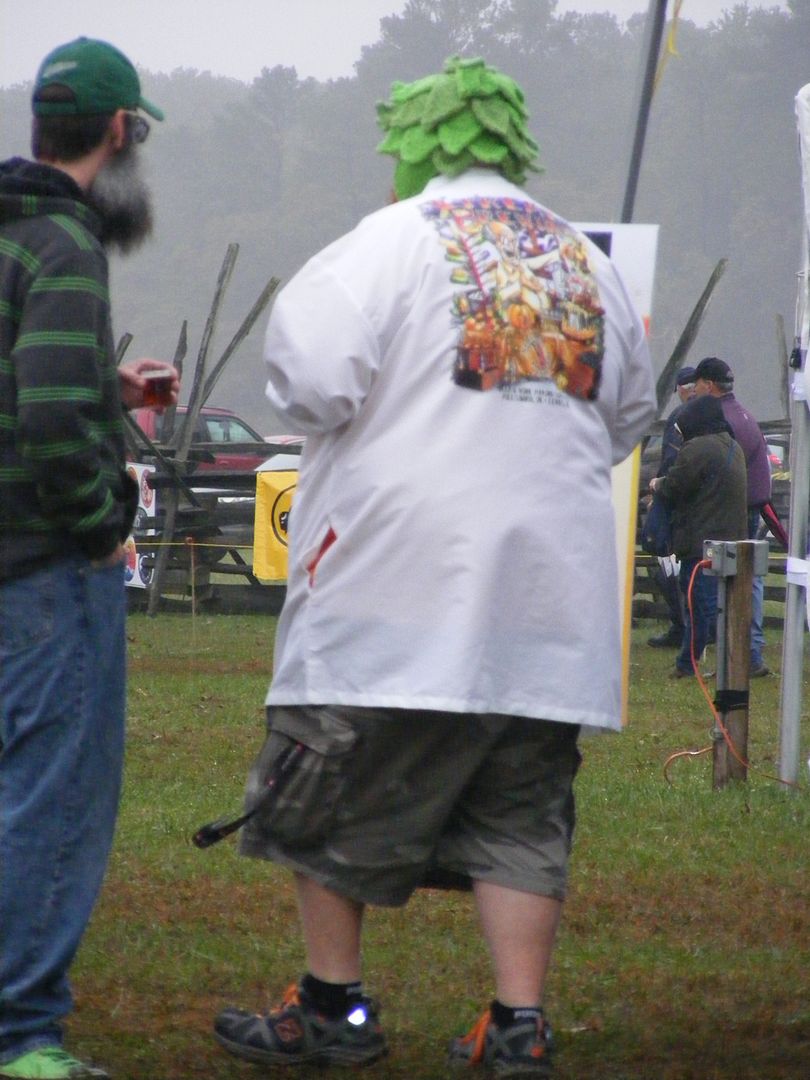 Another local brewer, though, was angling for donations to a different cause.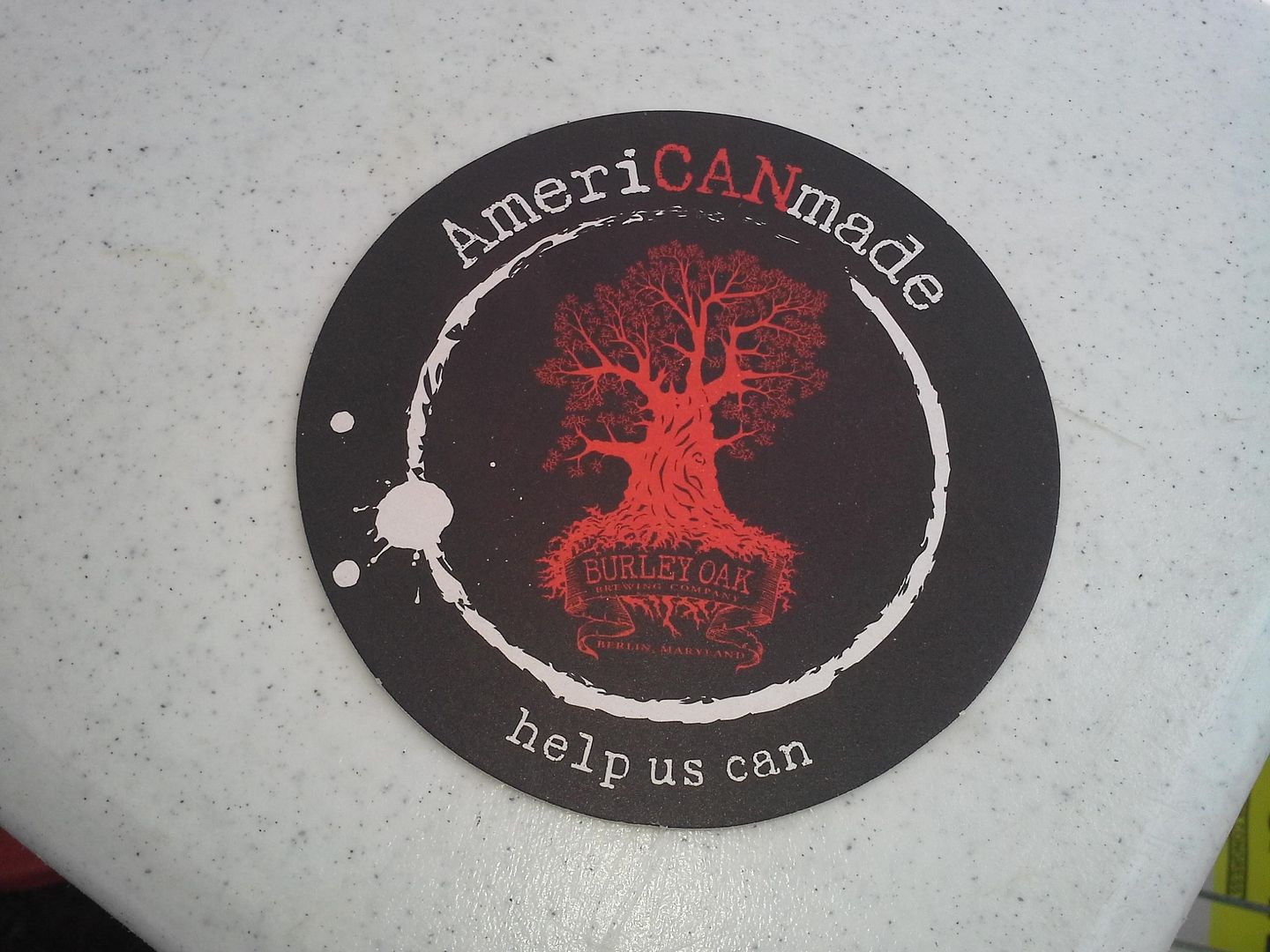 Burley Oak is doing a Kickstarter campaign to enable the canning of its beer – as it turns out, they achieved their goal. But the coasters were a nice reminder and quite useful, since that coaster is under my drink (alas, diet Pepsi) as I sit here.
Oh, did I mention I was there for political reasons?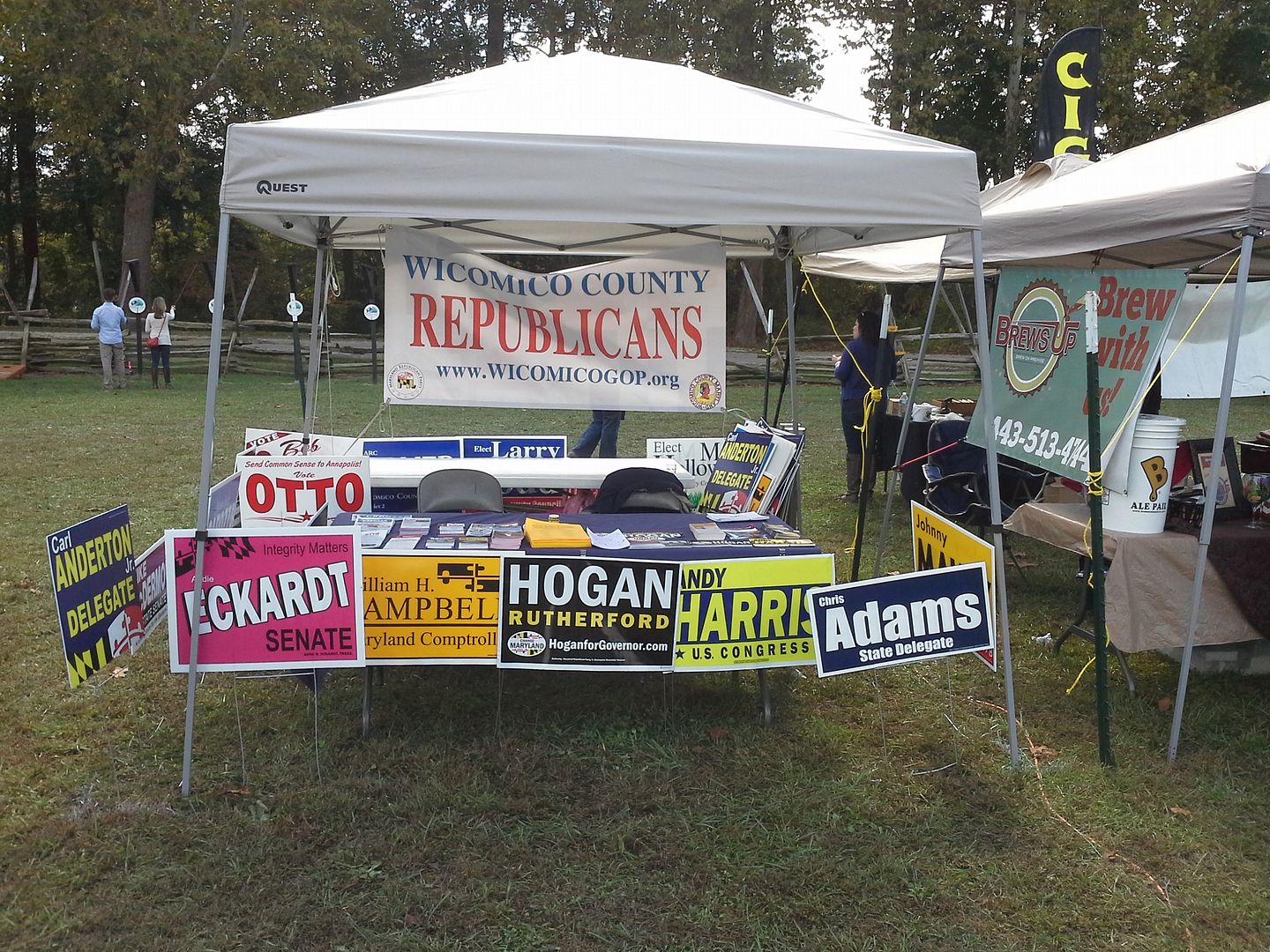 It wasn't quite dripping with political types as the last time we were in a local election year (the first rendition of the GBF back in 2010) but some of the local political incumbents came to cut the ribbon Saturday.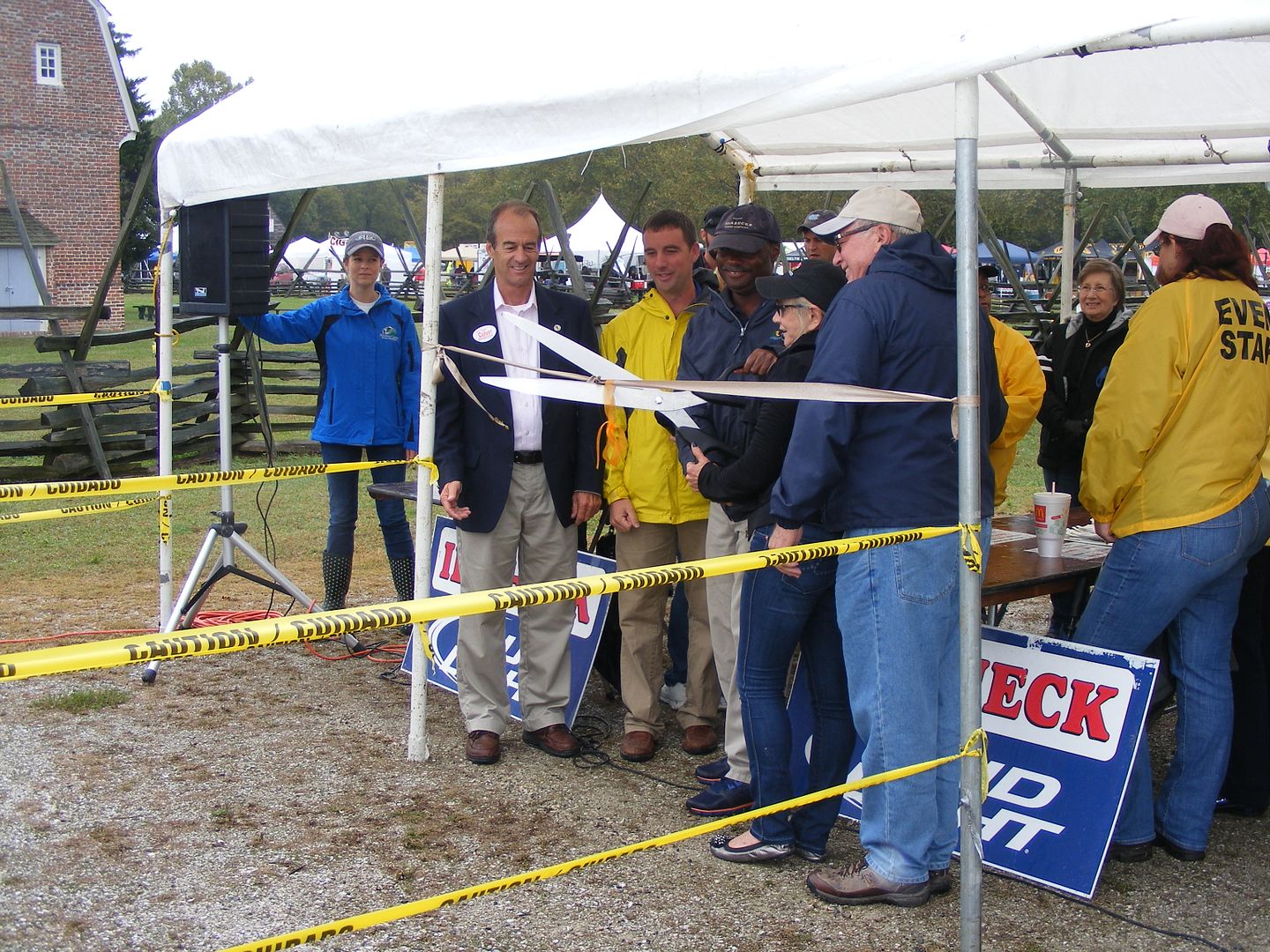 Doing the honors in this instance were four members of County Council: Bob Culver, Matt Holloway, Stevie Prettyman, and John Hall. Culver was around on both days to press the flesh for a County Executive run, but he was pretty much the only one there.
Yet the reception at our tent was quite good and I handed out a lot of items. My emphasis, particularly with out-of-town people who were interested in Larry Hogan items, was on promoting William Campbell for Comptroller and Jeffrey Pritzker for Attorney General. Those statewide downballot races are very important as well.
And despite the rain attendance held steady, described as just under 3,000. It's good exposure and this year there wasn't much obnoxious behavior. In short, a good time was had by all.
Oh, and about that top picture? I'm not averse to bartering advertising space for a monthly supply…just saying.
On Saturday I pointed out the Gonzales Poll Larry Hogan has cited as proof he's within striking distance in the governor's race. The news wasn't quite as good in a more recent Washington Post poll, but it wasn't as bad as previous polls in that newspaper.
But again it's a question of turnout, and the Post simply replicated the pattern of registered voters in the state. If Republicans come out to a greater extent than Democrats – many of whom aren't excited about Brown – that cuts into the Brown lead. Considering the Post poll is of randomly selected adults, I suspect the turnout model they're using favors Brown in the poll.
So instead of the 15 to 18 points Brown has led by in previous polls, this poll by itself drove the RCP average down from 15 to 12 points.
But the breakdown on issues is interesting. Remember, this is a sample that is probably slightly oversampling Democrats, but the key issue is taxes. Yet on a number of other issues the only ones which reflect closely the partisan breakdown are social issues and public education. It's hard to believe that fully half prefer Brown on the issue of health care considering how he botched the state's website, but others like gun laws, job creation, and illegal immigration lean Hogan's way in comparison to the partisan breakdown of the sample.
Given the crosstabs, though, the best way for Hogan to cut into Brown's lead is to chip away at the Democrats on the issues that he's closest to moving ahead on. It's absolutely essential for Larry to somehow get to about 25 percent of Democrats going his way, with this polling suggesting he's at about 14 percent. If Democrats get the 62% turnout this poll suggests (with Republicans at 65% and unaffiliated at 48%) that's the only way he can win.
Somehow the case has to be made to the low-information crowd that a third term of Martin O'Malley is too much for the state to bear. Those of us who have a lick of common sense already know this, but too many people must actually think a poor economy is a good thing.
It goes without saying that Larry Hogan is excited about the most recent polling results and how they affect the perception of the race.
Everyone now knows this race is too close to call. This week, we told you about the Gonzales poll showing us within striking distance of Brown. Yesterday, the media validated these numbers. And today, the Cook Political Report has reclassified this race from "Solid Democrat" to "Leans Democrat"!

The Maryland governors race started as "Solid Democrat" and has moved TWO SPOTS to its current classification.
This varies from the Real Clear Politics version of the race, which hasn't updated in the month since the YouGov poll that Hogan questioned. They still show the race as "Likely Dem" with a 15-point margin. So which is right?
In my opinion, the fact that Anthony Brown is trying to paint Larry as a TEA Party Republican by stressing the gun law and abortion rather than discussing the state's moribund economy points to a tightening race. That seems to be the conventional wisdom of the Hogan camp and I'm inclined to agree.
Yet the tale will begin to be told with the debates that begin next week. One thing Marylanders really haven't seen is how the two candidates perform on the stump to an audience which hasn't been attuned to the race aside from thirty-second commercials. How will the two fare under the pressure of direct questioning and close media scrutiny? Elections aren't won with debates, but they can be lost.
So what will be the strategies of the two participants? I would look for Brown to continue his recent line of attack on Hogan by stressing social issues and gun safety in an attempt to hold the female vote – you know, that whole thoroughly discredited War on Women meme. He'll avoid direct questions on the lack of job creation by saying he has a plan to address it – which he does, all 17 pages of it –  but not go into the specifics of how it may affect Maryland workers.  For example, a "Blue Ribbon Commission on Tax Reform" just means at least two more years of the status quo and inaction, not addressing the issue.
On the other hand, Hogan will stress the "most incompetent man in Maryland" theme for Brown, while sticking with his bread and butter issues of jobs, the middle class, and restoring the state's economy. It's carried him this far, so why stop now?
That task will likely be made more difficult by the questioning, which will probably cater more to Brown's strategy of marginalizing Hogan than tough questions on how the state of the economy got to where it is under the O'Malley/Brown team.
I'm hoping to see a couple polls come out after the debate to gauge the true state of the race. In truth, I think it's probably closer to the margin of error than the 15-point RCP average. It doesn't mean Hogan has it in the bag, but we could have a far closer race than 2010′s blowout.
It took a few days for word to filter out through the local media, but I was very pleased to see Larry Hogan borrow a phrase which has become a rallying cry to some here on this side of the Chesapeake. According to Gail Dean of the Dorchester Star:
For the past eight years in Annapolis, Hogan said, "There's been a war on rural Maryland. There's been a war on the Eastern Shore and there's been a outright assault on watermen and farmers" and other small businesses.
Dean describes what Hogan said about watermen and farmers, and they were all very good points. But those only cover a few fronts on the War on Rural Maryland and its impact on the Eastern Shore.
For example, let's start a conversation about private property rights in this state. Due to the ill-advised Senate Bill 236 of 2012 – better known as the septic bill – counties are forced to either draw restrictive tier maps or endure an even more draconian rule on subdivisions cast upon them by onerous state law. In 2013 there was an effort made by local Delegates to repeal the so-called "Sustainable Growth and Agricultural Preservation Act of 2012," the original of which incidentally was sponsored by a Governor who was a former mayor of Baltimore and five Senators from suburban districts. What they know about either sustainable growth or agricultural preservation is probably less than the intelligence of the average farmer or waterman's pinkie finger.
(It should also be noted that Norm Conway voted FOR Senate Bill 236 [and against farmers] and so did Jim Mathias on the original Senate third reading. He changed his vote to no on the conference bill, perhaps because he knew what the fallout would be.)
Obviously my question is whether Hogan would look to repeal that bill, or make other moves to restore county autonomy in zoning. I know Hogan is gun-shy about repealing law already in place – and yes, that phrase was intentional – but he should know downzoning isn't popular in local farming circles. Another whisper for Hogan's "open ear" on that same front would be a moratorium imposed on new Chesapeake Bay regulations until after the Conowingo Dam sediment cleanup is complete.
Now, as far as the War on the Eastern Shore, I think one step in assisting us would be to waive the sales tax for the nine counties on that side of the Chesapeake in order to better compete with sales-tax free Delaware. (All but one of those counties shares a border with Delaware.) If the state can have the precedents of tax-free days for school clothes and various regulations which only apply to certain counties or regions, I think this is one way of jump-starting the local economy and encouraging growth in a region which generally lags the state in employment. It's also an idea which has been tried and failed in the General Assembly on several occasions, so perhaps it needs a gubernatorial champion. And wouldn't it be neat to see the phrase "By Request – Administration" on some good bills for a change?
So I'm glad Hogan gets it as far as Eastern Shore matters are concerned, because we would likely never reach our potential under a third term of Martin O'Malley in the guise of Anthony Brown.
Obviously I've been concerned about the upcoming Maryland election, and we're probably four to six months away from the formal beginnings of the 2016 Presidential campaign on both sides of the aisle. But over the weekend, while Allen West was speaking to us, a few of his former Congressional colleagues were addressing the annual Values Voter Summit in Washington in an attempt to gain support. Ted Cruz narrowly topped the field in their annual straw poll, drawing 25% of the vote and besting fellow contenders Ben Carson (20%), Mike Huckabee (12%), and Rick Santorum (10%). Leading a second tier were Bobby Jindal and Rand Paul, both with 7% of the 901 votes cast.
Also worth talking about were the issues this group was most concerned with: protecting religious liberty topped the list, with abortion a strong second. Interestingly enough, protecting natural marriage was the top vote-getter as the number 3 issue on people's lists, but was seventh as a choice for number one contender and a distant third as a second place issue. Whether people are begrudgingly accepting same-sex unions due to isolated votes and ill-considered judicial decisions overturning the expressed will of the people or see it more as a religious liberty issue based on the experiences of those who object is an open question, though.
The other open question is just how much this voting bloc will take in terms of being ignored. There is a bloc of the Republican Party which says that social issues are to be avoided because it alienates another, supposedly larger group of moderate voters. Needless to say, Democrats exploit this as well – the Maryland gubernatorial race is a good example.
Even the Baltimore Sun concedes that "(p)ortraying Larry Hogan as a hard-core right-wing Republican is part of Brown's strategy." This despite Hogan's insistence that Maryland settled the abortion issue 22 years ago in a referendum, just as they decided same-sex unions in 2012. To believe the other side, these votes were overwhelming mandates; in the 1992 case they have a point but not so much the same-sex unions one which passed by less than 5% on the strength of a heavy Montgomery County vote (just six counties voted yes, but it was enough.)
Yet I believe the abortion balloting is open to question because attitudes about abortion have changed. According to Gallup, the early 1990s were the nadir for the pro-life movement so perhaps the question isn't the third rail political consultants seem to believe. To be perfectly honest, while there's no question where I stood on the more recent Question 6 regarding same-sex unions I would have likely been more neutral on the 1992 version at the time because in my younger days I leaned more to the pro-choice side. I didn't really become pro-life until I thought through the ramification of the right to life for the unborn and how it trumped the mother's so-called right to privacy. Exceptions for rape and incest I could buy – although I would strongly prefer the child be carried to term and given to a loving adoptive family – but not unfettered baby murder just as a method of birth control. Now I'm firmly on the pro-life side.
So when Larry Hogan makes these statements about how certain items are off-limits because at some past point voters have spoken doesn't make those who have faith-based core beliefs overly confident in a Hogan administration as an alternative to Anthony Brown. They may hold their nose and vote for Hogan, but they won't be the people who are necessary cogs in a campaign as volunteers and financial contributors.
On the other hand, there is a better possibility we could see action on these fronts with the federal government, even if it's only in terms of selecting a Supreme Court that overturns Roe v. Wade (placing the matter with the states where it belongs) and understands there is a legitimate religious objection to same-sex nuptials and funding abortions via health insurance as mandated by Obamacare.
We've been told for years that conservatives can't win if they stress social issues. But on the federal level I've noticed that even when Republicans haven't been addressing the social side we have lost, so why not motivate a set of voters which serves as the backbone of America?
It's funny – I was at a bit of a loss to find something to write about today when Kim and I received a letter in the mail from a friend of hers. In it was the note which said "Miss you but I love Florida!" The friend in question moved down there a year ago to take a job in her industry.
Admittedly, there is a lot to love about Florida in terms of weather. The one year I spent Christmas down there I was sitting on my parents' porch in shorts because it was 80 degrees out. That was somewhat of an anomaly for the season, but the fact is the Sunshine State doesn't see a whole lot of snow and cold. Florida in 2014 is sort of like southern California in 1964, as millions moved there for the perpetually sunny and nice weather as well as the chance to create opportunity for themselves.
That got me to thinking about how many people I know have left this area, many for Florida or the Carolinas. Sometimes to me it's a wonder that people stay around here given the broad litany of complaints people make about the region. On the surface I think it has many of the same qualities which attracted me in the first place – although last winter's snow and cold made me think I was back in Ohio again.
But there is an economic side, and that factor has influenced the decision of many who have left the state to go to areas where taxes are lower and business opportunities more plentiful. Job creation hasn't seemed to be job one for those in charge of the state because we've lost jobs while other states have picked up the pace.
Over the last few days I've talked quite a bit about the state's budget shortfall, particularly in terms of what it means for the governor's race. Sadly, I would estimate there are probably 20,000 Hogan votes that have left the state during this last cycle because they couldn't hang on any longer or found better opportunities. On the other hand, ask yourself: if you lived in another state, what would you move to Maryland to do? About the only answer I could come up with was be in government, whether for Uncle Sam or a local branch office thereof. Even those who like the region seem to be moving to Sussex County, Delaware – it grew at a faster pace than the state of Delaware as a whole over the last three years while all nine Eastern Shore counties were short of Maryland's (slower) overall growth rate, with three counties of the nine declining in population. A lack of local good-paying jobs is a complaint we've heard here for years.
I think the fear among many in my circle of friends – many of whom were raised here and care deeply about the state – is that another four to eight years under the same sort of governance will seal the state's doom, much like the economic basket case that is California. That was a state which had all sorts of advantages in terms of attracting families but has squandered many of them away through their treatment of job creators. Like Maryland, it's a state that seems attractive on the surface but living there is another thing, from what I'm told. (I've never visited the state, so it's all second-hand knowledge on this one.)
Electing Larry Hogan could be the start of a comeback, but the problem isn't just something which can be solved by a single chief executive. Rooting out the entirety of the issue would take a generation of conservative leadership with a General Assembly re-purposed to solving problems rather than protecting turf or enacting worthless feelgood legislation. But if nothing, not even the first step, is done this time, the exodus is sure to continue and increase.
After yesterday's lengthy post about Peter Franchot's assessment of the state economy, I wondered how the Republican running for the state's top job would react. Fortunately, I can distill his statement down to a couple short paragraphs:
(Wednesday's) report is utterly devastating and confirms what we have been saying, that Martin O'Malley and Anthony Brown have taxed and spent our economy into the ground. Overtaxed Marylanders are earning less, small business profits are disappearing and people have less to spend on goods and services.

As governor, I'll put partisan politics aside and work across the aisle to undo the damage of the past eight years. We'll work together to reign in reckless spending and waste so we can roll back as many of the O'Malley and Brown's 40 straight tax hikes as possible. It's time for Annapolis to live within its means so people can keep more of their hard earned money.
I was fine with that until the part about "work together," particularly with regard to an event last week with New Jersey Governor Chris Christie:
The Democrats want to tell you that Governor Christie and I are far-right extremists. Our similarities stem from the fact that we are commonsense Republicans that are prepared to reach across the aisle in order for progress and prosperity. That is why Governor Christie was overwhelmingly reelected in the blue state of New Jersey to a second term. And that is why Marylanders are ready for a Republican governor in Annapolis.
Unfortunately in this partisan day and age, for a Republican reaching across the aisle means getting your arm bit off and used as a club to beat you with. Remember, the reason for Christie's initial popularity was his get-tough stance with the state's unions, and I honestly don't see those sort of stones with Larry Hogan.
It's obvious we have a problem in this state, as Franchot pointed out. But the problem isn't just in the governor's office, it's in the bowels of the General Assembly as well.
Remember the "doomsday budget" session of a couple years ago, and the big deal many in the General Assembly made that spending "only" went up $700 million instead of the $1.2 billion they eventually received? Imagine that fight every year.
Depending on how many Democrats are returned to Annapolis, the budget that Governor Hogan would send out might only get 50 or 60 House votes, so the overriding question is what tradeoffs will we have to endure? Or will Hogan surprise me and take the bully pulpit, going over the heads of the General Assembly and the press to convince the people to demand action on a leaner budget? We know the unions wouldn't take cuts lying down, so are those on the side of sanity going to go to Annapolis and tell Big Labor to pound sand when they mass in protest like they did a few years back? Fifty isn't much against 5,000 and their box lunches.
(By the way, I should point out the link above was one of the posts where I lost all my pictures when Photoshop folded into Adobe Revel and rendered all my photo links obsolete. I spent a good half-hour fixing it for presentation last night because it was important to convey the sort of protest Larry Hogan can expect if he stands his ground.)
I certainly hope Larry wins and comes out with budgets which reflect sanity and not just a 4-6 percent increase each year. But be warned it won't come without a fight. And we can live with Larry's middle-of-the-road, reach-across-the-aisle tendencies if we can get some conservatives to Annapolis to keep him in line, with the rest of us having his back when he makes those promised cuts.
Bear in mind the following words are written by a Democrat in Maryland. It's an extremely long blockquote of an entire release but I thought readers deserved full context.
We convene today to write down our already cautious revenue projections for Fiscal Years 2015 and 2016 by more than $405 million. Far more important than what a $405 million shortfall means for the state budget is the painful reality that it indicates for the budgets of Maryland families and small businesses.

We're writing down individual income tax receipts – the largest individual source of state revenue – by over $350 million, between the shortfall in individual income tax receipts carried over from Fiscal 2014 and our write down of expected revenues for Fiscal Year 2015.  Six years removed from the economic collapse, and far too many families and small businesses are still waiting for the recovery they keep hearing about.

We can classify a year or two outside the ordinary as simply abnormal. But more than a half decade later, we need to accept that sluggish growth and challenging economic conditions have become our new normal. It feels like we sit at these meetings every quarter, hopeful and determined that 'next year will be the year' when the recovery takes hold and is felt broadly throughout the economy. Yet, another year has passed, and ordinary families and small businesses haven't even recovered to where they were before the financial collapse, much less made up for the wages they've lost over the past six years. We need to recognize that hope is not an economic strategy.

The same challenging conditions I've discussed in past meetings haven't substantively improved. Wages and salaries are essentially stagnant. Local, independent businesses are struggling to meet payroll, cover their costs and turn a profit. Working families have cut back their spending because they just don't have the money, they're scared of losing their jobs, or, in many cases, both.

In a consumer-driven economy, it should come as no surprise that when consumers are struggling, businesses inevitably feel that pain, particularly in an environment where margins have often already been trimmed down to the bone. Add that to Maryland's unemployment rate – traditionally a major strength – not keeping pace with improvements seen in the country as a whole.

Maryland's 6.4 percent unemployment rate is higher than the national rate of 6.1 percent – something we've only experienced twice in the past three and a half decades – during the tech boom of the late 1990s and the 1980 recession. In terms of wages – the oxygen working families need to survive – Maryland's average wage growth was just 0.4 percent in the first quarter of 2014, far below the rate of inflation for the same period.

Essentially, workers perceive that their take-home pay is headed in the wrong direction and the purchasing power for Maryland families is, in reality, diminishing. The housing market has failed to rebound in a sustained and meaningful way, particularly with Maryland second worst in the nation in home foreclosure rates.

Combined, these economic indicators led to a Maryland economy that didn't grow at all last year – with a 0 percent GDP growth for 2013. As we know, an economy that isn't growing is actually retracting. This all means uncertainty for families and businesses. They are unsure about their prospects and, as a result, unwilling to make the purchases and investments our consumer-driven economy needs to grow. As great a state as we are and as robust an economic system as we have, uncertainty serves as a serious deterrent to economic growth.

Whether it's sequestration, unpredictability in the tax and regulatory environment or an inability to make long-term federal budgeting decisions, most of the uncertainty is based on political problems and decisions, as opposed to global economic conditions. While the federal government has always been and certainly remains a major economic advantage, our over reliance on the public sector carries significant risks. We can embrace our proximity to Washington as a strength without depending on it as our sole basis for economic stability.

We simply can't assume that we're around the corner from returning to the way it was, and back to the decisions we could afford to make in Maryland as a result. The fact remains that we'll only see the economic growth we're accustomed to when we get the private sector economy growing. We can only make that happen if we provide a sense of predictability for Maryland families and small businesses.

As state policymakers, we need to be smart in how we spend taxpayer dollars, recognizing that to invest in the things we need, we have to forego many of the things we simply want. We have to be more forward-looking about how we borrow money as a state.  We simply can't sustain our current patterns of debt accumulation without provoking actions that could do further harm to an already fragile economy — amplifying the significant fiscal and economic challenges we already face.

As we all know, a sustained economic recovery is going to come down to jobs, both here in Maryland and throughout the nation. As long as we see continued weakness in wages and job growth, consumers will inevitably pull back, causing businesses to struggle and the economy to underperform.

We simply cannot create any unnecessary road blocks that would make employers reluctant to invest, grow and hire. But if we maintain a cautious mindset and provide a sense of predictability to Maryland families and small businesses, our economic bones are strong enough and our people are resilient enough to withstand this write down and the economic challenges it represents. (All emphasis mine.)
That's the entirety of a press release put out by state Comptroller Peter Franchot as the Board of Revenue Estimates calculated our state would yet again be short on revenues to the tune of $405 million, or slightly over 1% of the current budget.
But let's read between the lines, in the passages I highlighted.
(W)e need to accept that sluggish growth and challenging economic conditions have become our new normal.
No we don't. What we need to do is realize our policy prescriptions over the last eight years or so have done little to help the local economy. States are succeeding in this country, whether it's through ambitious exploitation of energy resources like North Dakota or smart, pro-business policy such as the sort Texas seems to use. (Heck, Rick Perry even encouraged Maryland businesses to relocate to his state.) To attain growth, it has to be encouraged and the only thing we're encouraging the growth of in this state is government.
The same challenging conditions I've discussed in past meetings haven't substantively improved. 
Peter Franchot became Comptroller in the same 2006 election we elected Martin O'Malley as governor. Perhaps that should give an indication as to why these conditions persist.
Essentially, workers perceive that their take-home pay is headed in the wrong direction and the purchasing power for Maryland families is, in reality, diminishing.
This is reflective of national conditions, since real household income has declined since reaching a peak anywhere from 7 to 15 years ago, depending on income quintile. And with wage-earners having to string together a series of part-time jobs to make ends meet thanks to the impact of Obamacare and a higher cost of living, the budgets of Maryland families are indeed stretched to the breaking point.
(M)ost of the (economic) uncertainty is based on political problems and decisions, as opposed to global economic conditions.
Families continue to wait for the other shoe to drop. Spend over $100 million on a botched website? Don't worry, we'll make up the shortfall by figuring out some new revenue stream. This is the state that experimented with the "tech" tax some years ago before the computer business threatened to bolt, so they decided to tax millionaires instead – and watched many move out of state. Even taxing rain to supposedly help clean up Chesapeake Bay has become a boondoggle as different counties decided on different approaches, while a select few counties (including Wicomico) figure they are next on the firing line to be stuck with the "rain tax" like 10 other Maryland counties.
While the federal government has always been and certainly remains a major economic advantage, our over reliance on the public sector carries significant risks. We can embrace our proximity to Washington as a strength without depending on it as our sole basis for economic stability.
This is a very prescient statement, but Franchot is only looking at it in terms of tax revenue from federal workers. Surely he's less inclined to speak out about the fact that it's actually Uncle Sam – not income tax receipts – that is the largest source of state revenue. I know the unsuccessful campaign of Charles Lollar made overtures about slaying that beast, but it's just as bad to be dependent on the federal government for operating revenue as it is to make it as much as a significant economic driver as it tends to be for the Capital region. Meanwhile, jobs which create real value – whether it's extracting natural gas in Garrett County, making steel in Baltimore, or growing chickens on a rural Somerset County farm – get short shrift from an administration which has tried to thwart that sort of growth at every turn.
Whether Peter Franchot wants to admit it or not, the damning economic statement made by a Comptroller who still endorsed the candidate who most represents this failed status quo in Anthony Brown makes the case that a new broom needs to sweep Maryland politics clean. If you haven't heard about GOP candidate for Comptroller William Campbell, it's time you did.
And Anthony Brown? I'm sure he knows that Franchot is pretty much correct in this assessment, which is why he's trying to paint Larry Hogan as a Republican extremist (there is no such thing) and not talk about his own accomplishments or plans. "More of the same" just won't sell for a large number of Maryland's working families.
In the post I recently did about wind power, I pointed out that beginning in 2017 Maryland electric ratepayers will begin a 20-year process of chipping in $1.7 billion in subsidies to the developer of an offshore wind farm off the Ocean City or Assateague coast. Yet a new study claims that Maryland could reap far greater economic benefits over the next two decades if offshore drilling is allowed in the region, with even larger payoffs for Virginia and the Carolinas by virtue of their longer coastlines. Nearly as important are the thousands of jobs which could be created – something wind energy producers can't match.
There's no doubt that these rosy scenarios presented by Dr. Timothy J. Considine of the University of Wyoming and the Interstate Policy Alliance (which includes the Maryland Public Policy Institute) were made up to encourage the loosening of restrictions on offshore drilling. Yet they also take into account the cost of environmental factors in a reasonable way, which balances the picture. It turns out that Maryland is one of the better cost/benefit performers of the six states (Delaware, Georgia, Maryland, North Carolina, South Carolina, and Virginia) included in the study.
It also goes without saying that our Senate representatives are foolishly dead-set against the idea, signing onto an August letter which claimed detrimental effects on tourism in the highly unlikely event of an oil spill. (A few Maryland House members signed a similar letter.) While tourism is a good thing and we'd like to encourage more of it, the value which could be added to our economy from oil and natural gas is far greater.
At this early stage, the next move seems to be simply testing to update decades-old mapping which suggests there's a potential for millions of barrels of oil offshore. Any actual drilling is probably years and several court battles away, as it's almost a guarantee that Radical Green will throw the legal kitchen sink at any attempt to drill for oil in the Atlantic. May I kindly suggest they go pound sand.
But if they insist on building wind turbines offshore, it should be noted that oil rigs and wind turbines can coexist and once the oil is tapped out the platforms can be put to good use. These uses don't have to be mutually exclusive, but in terms of current economics it's difficult to match the high subsidies required to get companies to even consider offshore wind when compared to the clamor of energy producers to see just what's underneath all that Atlantic coastline. If Larry Hogan really wants the "all of the above" energy approach, he should embrace the prospect of offshore oil exploration.