Returning once again to a familiar role of thorn in the side and burr under the saddle, Change Maryland and Larry Hogan took the occasion of the final legislative session under Martin O'Malley to remind us of his underwhelming record of "accomplishments" over the last long eight years, wrapped up in one release. All we needed was the bow, as Change Maryland remarked that:
They broke promises to state workers by diverting $200,000,000 from pension funds to plug their budget gap.
They've eviscerated local arts funding to hike the film tax credit for Hollywood millionaires.
They raided the Transportation Trust Fund then raised gas taxes to pay for mass transit.
They hiked income taxes on families, small business and large employers.
They blew $125,000,000 of our tax dollars on a health exchange website that still doesn't work and was never needed in the first place; today, more Marylanders lack health insurance than when O'Malley-Brown took office.
More than 73,000 residents have had their health insurance policies cancelled and tens of thousands more have seen massive increases in their premiums and deductibles.
They put the teacher union bosses that bankroll their political machine ahead of students, parents and classroom teachers.
They've badly mismanaged the education budget, as a result inner city schools are falling farther behind, state SAT scores are down and elementary school reading aptitude is flat. And, even the teacher union said their rollout of Common Core was a mismanaged "train wreck."
Their job-destroying tax hikes on the so-called rich and small businesses – those individuals earning $100k or more – backfired, missing revenue projections.
Some entry level jobs will pay a little more but there will be fewer of them.
There's a federal investigation into the Anthony Brown Health Exchange but state lawmakers aren't issuing their findings until well after the primaries.
Thousands of employers are now "paying their fair share" in taxes albeit to Virginia and the Carolinas; about 6,500 companies have left Maryland taking with them more than 100,000 jobs.
Likewise, more than 31,000 Maryland residents left for more affordable states, taking $1.7 billion each year out of our economy; among these were thousands of seniors on fixed incomes who can no longer afford to retire near their families.
It costs you more when it rains and more again when you drive to the beach.
Describing the O'Malley era as one where, "(i)n nearly every quality of life measurement our state is worse off than it was seven years ago… even areas that showed modest improvement came at a horrendous financial cost due (to) Martin O'Malley and Anthony Brown's mismanagement and one-party rule in Annapolis," it's clear that Hogan isn't too enamored with the last seven years.
But while Hogan strives to "get the government off our backs and out of our pockets so we can grow the private sector, put people back to work and turn our economy around," we're more or less supposed to take his word for it. Obviously some of these items he complains about from the outside will be ones he may well find useful when he takes over the governor's chair. For example, he (or anyone else for that matter) will have to figure out how to backfill the pension funds, live with the increasing minimum wage (which, for all his charms, he won't be able to get the General Assembly Democrats to rescind), and roll back taxes and fees to previous levels yet keep the budget in balance. That aspect may actually be the easiest because he would set the budget. Unfortunately, we're stuck with Obamacare for at least the first two years of anyone's term, and probably longer.
However, I have a prediction for you. If the budget gets smaller – or even if it's level-funded – you will hear a howling like you've never heard before from the special interests, press, and Democrats (but I repeat myself) who will be out marching in the streets against the heartless Republicans. Remember why we had a Special Session a couple years ago? It was because we passed a "doomsday budget" that was "only" $700 million higher than the previous one, and despite GOP objection we ended up raising spending another $500 million. Again, that was with a budget increase! Heaven help us if we actually proposed spending less money!
So those we elect in 2014 need to be ready and be stiff of spine because those Annapolis fat cats are going to come after us. We threaten their existence on the government teat and they know it. Having a $125 million boondoggle of a health exchange isn't helping, which is why that scandal is being swept under the rug just as fast as the broom can collect the dirt.
In this part of the state we have some opportunities to chip away at the Democrats' overall advantage. We'll have to wait until 2018 to win back the District 37A seat – which will be held for the time being by a woman who I predict will have the same reliably far-left voting record as her predecessor – but aside from that we can speak our piece by ejecting two members of the General Assembly who will occasionally vote the right way when they get the hall pass to do so, but can be replaced by two members who we know will stand up for our interests. We can confound the Democrats' cynical redistricting ploys by elevating Mike McDermott to the Senate and getting the fresh new ideas of Maryland Municipal League president Carl Anderton, Jr. into the House of Delegates.
Changing the state means pulling our weight, and the Eastern Shore can do most of its part by leaving just one Democrat east of the Chesapeake for the next four years.
So after six months of saying things are fixable, the state of Maryland is finally throwing in the towel on its online health exchange and using the technology which supposedly works for Connecticut? And it only cost us $125 million that we will likely never see again? But that's not all – according to the Washington Post story by Mary Pat Flaherty and Jenna Johnson:
It was not immediately clear how much more money Maryland may have to invest to get a fully functioning system, according to the two individuals, who spoke on the condition of anonymity because they were not authorized to discuss the changes.
Can anyone say blank check? I think gubernatorial candidate and Delegate Ron George might be able to:
We cannot allow the O'Malley/Brown administration to get away with wiping this scandal under the rug and forget that over $260 million taxpayer dollars were doled out to large corporate special interests in exchange for a broken website. The Maryland Health Exchange never stood a chance because the administration approached the Affordable Care Act as a pile of federal money they could convert into favors for political allies and donors. We have been taken to the cleaners by these vendors.

I ask the Attorney General to take the primary contractors, including prolific O'Malley/Brown donors Maximus Inc, to court to win back our wasted tax dollars. As a sitting delegate, I call on the Department of Justice to appoint a federal prosecutor to begin investigations into how these vendors contracts were procured and at what stage these vendors knew the exchange was never going to effiectively operate. The citizens of Maryland deserve a full and thorough investigation into the collapse of our state exchange.
Not to be outdone, the Larry Hogan campaign chimed in:
The O'Malley-Brown administration was one of the first and most vocal proponents of the new healthcare law, touting itself as a national model for the Affordable Healthcare Act. Lt. Governor Brown, the O'Malley administration's point man on the rollout, was eager to take credit for prior to the rollout. Yet the news out of our state since the day the exchange opened has been nothing short of embarrassing and now, Lt. Governor Brown and the rest of the administration has done nothing but seek to evade accountability.

After learning of the state's plans to scrap its exchange entirely (the only state to do so), the Hogan-Rutherford campaign urges that the Lt. Governor should have no further dealings with the exchange, that all of Lt. Governor Brown's and the administration's correspondence with those in charge of the exchange be made public, and that an independent, thorough audit of what happened in this horrible failure be conducted immediately, the findings of which made available to the public prior to the November election.
Unfortunately, the chances of a "full and thorough investigation" or "independent, thorough audit" are roughly equal to the probability of the glue factory reject winning the Preakness. This guy named Anthony Brown is having those skids greased for his ascension to the Maryland political throne, which is odd because one would think his opponent, the Attorney General Doug Gansler, could take advantage of such an investigation. He sure seemed to go for the headlines in many previous cases.
But let's say the state somehow manages to prevail in court. All that will do is tap out the liability insurers the vendors use, and of course they will either have to raise their rates for all small businesses or come hat in hand to the government, or both. Welcome to the modern America.
So we ask again: while you can't say everything was perfect back then, just what was irretrievably wrong with the system circa 2008? It's pretty obvious the 2014 system isn't working all that well.
And then you have this video:
Let's see if it can go viral.
It's not just frustrated and disgruntled members of the public who are looking to bring their government to a local level closer to the people, rebelling against what they consider outsized influence from Washington and the various state capitals. In the case of the Wicomico County Education Association (WCEA) – a bargaining unit representing teachers and various other school employees in this semi-rural outpost of the Eastern Shore of Maryland – their aim is to break away from the much larger Maryland State Education Association (MSEA), making the case in an open letter from WCEA president Kelly Stephenson to the MSEA and community that:
In the years I have been representing WCEA, several things have become clear for all to see. First, many school employees believe MSEA has not represented them properly over the last decade and find it ironic that your people only show up when the $537,000 dues money is at risk. It is clear that you and your people on the "other side of the bridge" have a different agenda from those of us on this side of the bridge. Wicomico County, to most of us, is like a family – WCEA will work out our problems for the betterment of all – not just for the betterment of the Annapolis elite. In short, WCEA Board has heard repeatedly that your organization's presence is not seen as a plus for our community.
And those fighting words serve to buttress one point: MSEA representation is expensive for the average teacher in Wicomico County. Depending on salary and position, annual dues can range from $197.28 to $598.50. Supporters claim the WCEA proposal would shave up to $260 off that cost.
But controversy has been brewing for several years, and heads were turned in 2012 when it was learned that an embezzlement case in adjacent Worcester County was handled internally by MSEA and the local association rather than alerting authorities at the time of discovery back in 2009 – the thefts occurred over a three-year period before that. Meanwhile, complaints began to pile up in Wicomico County about ineffective representation services, a lack of support in negotiations, concerns about the political direction and activities of the state union – which endorsed Democratic Lt. Gov. Anthony Brown a year ahead of this November's election and commissioned polls to tout his lead – and constantly increasing dues, particularly when union leadership was making far more than the average Wicomico County teacher.
Exasperated, WCEA members started a petition drive to change the local unit's bylaws and remove the provision requiring concurrent membership in the MSEA and National Education Association (NEA), citing the concern that membership rolls were dwindling because many potential members simply could not afford the dues. Local leadership has been careful to stress that WCEA members may still be members of MSEA/NEA if desired – although apparently the MSEA begs to differ:
It is difficult to understand why the MSEA leadership has suggested they would not welcome you in the future to be a member of MSEA if WCEA chooses to disaffiliate when the information on the MSEA website tells a different story. From the MSEA website under FAQs:

"Q: How do I join MSEA?

A: If you are employed in professional education work for any school district in the state of Maryland, are a student or retired educator, or work for an accredited institution of higher education, you are eligible to become a member of MSEA as well as your local association and NEA."
The WCEA goes on to say that many of its benefits would continue even without MSEA membership – and in some cases, strictly local representation can provide members a better deal, particularly when it comes to legal representation and similar services. The WCEA also reminded its members that they are the legally recognized bargaining unit for the teachers and staff, soliciting a local attorney to verify that there is no legal connection between the WCEA and MSEA – only the membership requirement in the WCEA bylaws.
All this back-and-forth is leading up to a vote of the WCEA membership slated for April 28-29; a balloting which is expected to be close and rather divisive. Some opponents of the change are skeptical that a WCEA which "goes it alone" would be powerful enough to stand up to the local Board of Education, which by state law is appointed by a representative of Democratic Gov. Martin O'Malley and thus holds a 4-3 Democratic majority. The current teachers' contract, which was signed last year, runs through June 30, 2016; however, health insurance coverage and other fringe benefits can be revisited on an annual basis if both sides agree.
But even if the opponents of the bylaws change prevail, it's obvious that there are serious misgivings between the Wicomico County rank-and-file and the state union, just as there's a great deal of skepticism from the residents of the state's Eastern Shore about the goings-on within state government in general. Chesapeake Bay is much more than a body of water dividing the state geographically; it also seems to separate the two sides in politics and their all-around attitude towards life. Politically, the Eastern Shore sends a significant share of the state's minority Republicans to Annapolis and most of its counties are dominated by the GOP; moreover, the denizens of those areas east of the Chesapeake seem to take a perverse pride in being what one former governor called the state's outhouse. (The actual term was more, shall we say, descriptive.)
So this election should be closely watched as a test case. If the local Wicomico County bargaining unit can convince their teachers that breaking away from the MSEA is to their benefit, it may encourage a number of the other counties in the state to consider a similar move, perhaps costing the MSEA several million dollars in dues they would otherwise collect. While $537,000 may not be a lot when it comes to a union's budget –  the county's dues only cover four "average" MSEA employees – it can still be spread around to a host of state and federal elected officials, and it's that political purchasing power MSEA worries most about losing.
I got an interesting e-mail the other day – not necessarily for the content, but who it was from and what it may represent.
After the 2012 Republican primary campaign wrapped up, a number of the also-rans decided to form political groups or super PACs to keep their names out there, continue compiling e-mail lists, and – most importantly – keep the money coming in. Two good examples are Rick Santorum's Patriot Voices group he formed shortly after withdrawing and the American Legacy PAC Newt Gingrich is wrapped up in.
But as we begin to inch toward the 2016 campaign, the Republican field is (hopefully) looking beyond the retreads from past elections, and the potential first-time candidates are numerous. Sure, you have your share of governors like, for example, Chris Christie, Bobby Jindal, Mike Pence, and Scott Walker, along with a number of those already in Washington like Senators Ted Cruz and Rand Paul, who has began the slog by winning a couple key straw polls.
Yet there's always something about a campaign: the issues you may think will be the hot-button issues a couple years in advance rarely turn out to be; heck, even six months is a political lifetime. But Barack Obama's foreign policy weaknesses, which were successfully swept under the rug for 2012, seem to be much more prominent of late. It's interesting how the race to enroll people by the March 31 deadline for Obamacare and the entirety of the debacle itself still hasn't quite been able to succeed in pushing the Russia/Crimea/Ukraine situation off the front pages, no matter how hard the Obama admnistration tries to mash that "reset" button.
So yesterday, thanks to the always-growing number of people who seem to have my e-mail address on file, I found out that former Ambassador John Bolton created a PAC last year. He was looking for donations, of course, but one has to ask whether the time has arrived for a foreign policy hawk to assume the Commander-in-Chief's position? I can't answer the question, of course, but it's relevant to ask because Bolton drew 3% of the vote at the Northeast Republican Leadership Conference. Granted, that's not in the league of the aforementioned Paul, Christie, et. al. but it's three times better than Martin O'Malley is doing in Iowa and everyone knows MOM's gunning for the White House sooner or later. Like O'Malley, Bolton is even a Maryland native.
Maybe what got me to thinking Bolton may make a run is the PAC website. Its look and feel gives me the impression that it's a couple little tweaks from being the John Bolton for President website. Instead of featuring candidates the PAC may be helping, it's focused completely on Bolton himself – not a bad thing, but why have the pretense?
At the risk of being called a neocon, I don't think it would be a bad thing for Bolton to make a run and create a referendum on our foreign policy. Obviously John was there during the George W. Bush years when we were hip-deep in Iraq and Afghanistan, but unfortunately it's beginning to appear all that blood and treasure was for naught because we left before the job was (or will be) done. In both cases, we stopped short of annihilating the enemy with overwhelming force as we did in World War II. (Arguably, this is true of all our conflicts in the post-atomic era – well, maybe Grenada turned out pretty good.)
Unfortunately, those who have opposed us since the Vietnam era have learned that our resolve is only as good as the news cycle allows it to be. One would think after 9/11 we would see the Long War through but it doesn't appear our current Commander-in-Chief is interested in victory or even rules of engagement which would allow the possibility because someone here may be offended. In the interim, much damage has been done to both our military and our national psyche, and Hillary Clinton won't be the right person to fix it – for one thing, she wouldn't hire John Bolton, PAC or no PAC.
In life there is a difference between saying and doing. In this case neither protagonist, unfortunately, is in a position where they can do much more than talk and advocate but it is interesting to see what the two men in question have to say about a paticular situation.
First I'll point out the talker:
More and more of our friends and neighbors are unemployed and our state economy remains stalled. Clearly, the economic policies of Martin O'Malley and Anthony Brown have failed, and it's time for new leadership and a new direction in Annapolis.

The O'Malley/Brown Administration continues to drive taxpayers and job creators from Maryland and into the arms of better run, lower cost states.
Those were the words of gubernatiorial candidate Larry Hogan, whose campaign went on to point out that 9,800 Marylanders were furloughed in January and the state endured its worst year of job creation since the recession ended in 2009. (At least for some parts of the state, the question of whether we are back in one is open for debate.)
I will give some credit to Larry for beginning to round out a platform which doesn't simply bash the incumbent and his heir apparent for tax increases or cite his group's social media prowess:
Hogan, a business leader and former Maryland state cabinet secretary, favors a pro-growth agenda that combines reigning (sic) in Annapolis spending, jump starting the economy by cutting taxes on workers and their employers, and aggressively courting larger employers which in recent years have left Maryland for Virginia and other states.
We're still a little vague as to specifics, but the ideas are mostly right out of the conservative playbook and certainly won't hurt. I'm ever-so-slightly leery of the "cutting taxes on workers and their employers" line because that suggests only a targeted tax cut rather than the flattening (or complete elimination) of rates we need, but we'll see where Larry goes with this one.
On the other hand – and I really wish he had said it a month ago, because it would have went perfectly with this post – David Craig has a grand idea:
Harford County Executive and Maryland Governor Candidate David Craig called on incumbent Governor Martin O'Malley to push the Obama Administration to complete a final regulatory review to enable a facility in southern Maryland to export liquefied natural gas. The issue takes on greater urgency as the Ukraine and several European countries seek long-term solutions to reduce dependence on Russian energy exports.

"Now is not the time for dithering and red tape," said Craig. "Maryland is on the verge of being only the second state in the country to export liquefied natural gas and our proximity to the Marcellus Shale, and the Atlantic Ocean and existing infrastructure gives us a competitive advantage that nobody else has. Maryland can attract thousands of energy sector jobs and help assert U.S. influence in the crisis in the Ukraine. But we must act now."

Ambassadors to the U.S. from Hungary, Poland and the Czech and Slovak republics wrote House Speaker John Boehner last week that U.S. "natural gas would be much welcome in Central and Eastern Europe, and Congressional action to expedite [liquefied natural gas] exports to America's allies would come at a critically important time for the region."

The U.S. Department of Energy has approved just six export licenses for LNG projects, including Cove Point, since 2011. Dominion Resources-owned Cove Point, in Lusby, MD, is one of about 20 U.S. projects that want to export LNG. Of those, only one, in Louisiana, has full federal permitting.

Delays in Maryland are coming on multiple fronts. Political support among the O'Malley-Brown Administration is non-existent. Gubernatorial candidate and legislator Heather Mizeur is leading the charge in outright opposition to the project, while Lt. Gov. and front-runner candidate Anthony Brown promotes "environmental justice," a left-wing social movement that attempts to stifle energy exploration wherever politically-favored constituencies may object. The other democratic gubernatorial candidate, the current Attorney General, is opposed to timely approval of the project. Apart from general statements about the importance of developing jobs and traditional forms of energy, GOP primary candidates for Governor have heretofore not yet articulated positions on the issue. (Links added.)
Given my interest in energy-related issues, I can't believe I missed that originally – the release has been out about a week – but I'm glad David Craig is coming out on the right side of this issue. As I pointed out last month, Dominion Resources, the operator of the Cove Point facility, estimated that 4,000 construction jobs and 14,600 permanent positions could be created through this $3.5 billion investment. Those could be 14,600 people paying taxes and investing in our communities rather than wondering what comes next after the unemployment runs out or making plans to escape Maryland for greener pastures like Virginia, the Carolinas, Florida, or Texas. Democrats often talk about making "investments" with our tax dollars, well, here's an investment that the private sector is willing to make and government is mad because they can't control who receives it. Let's throw them a pity party: awwwwwwww….
Running mate Jeannie Haddaway made another good point in that statement:
Instead of picking winners and losers and subsidizing the most expensive options such as wind energy, we should be taking advantage of our existing resources and diversifying in a way that is meaningful to our economy and to job creation.

The choice is clear, the opportunity is now.
I look at it this way: if there were a market for wind energy, we would already have plenty of infrastructure out there. But the fact we have to subsidize its meager presence and carve out market share for it tells me wind is an economic loser overall. Just like solar energy, it's only as reliable as atmospheric conditions allow it to be. And while solar and wind are considered "green" energy, the birds being cooked or bats being exterminated might beg to differ.
So we can exacerbate the unemployment problem or we can put the people in place to help create jobs. It's your choice, Maryland.
There's no doubt the importance of the 2014 elections in Maryland can't be overstated. At stake will be the very direction of the state: will it continue to re-elect the same failed liberal leadership that's been bleeding jobs (and may continue to do so) and can't seem to balance a budget, or will it try the GOP alternative that at least promises to reduce the state's onerous personal tax burden, depending on whether the victor is David Craig, Ron George, Larry Hogan, or Charles Lollar? And will the GOP get to those magical numbers of 48 Delegates and 19 Senators which will allow it to be a viable minority party?
To address the latter point, it's worth mentioning that the GOP has conceded 46 House seats and 14 Senate seats to the Democrats because they couldn't find a willing candidate. Most of these vacancies are in what I call the 10, 20, and 40 districts, which in the state's numbering system cover areas around Washington, D.C. and inner-city Baltimore – basically the counties and Baltimore City which haven't quite figured out yet that it would be in their best interest to divest themselves from big government and voted for Martin O'Malley and Barack Obama. Most of the areas which backed Bob Ehrlich and Mitt Romney lie in the districts with single digits 1 through 9 or in the 30s. (For reference, here on the Eastern Shore we have districts 36, 37, and 38.) In the latter areas, Democrats conceded five House seats and three in the Senate, so at play are a total of 90 House seats and 30 Senate seats. In order to get to 48 and 19, respectively, the MDGOP has to win 43 out of 90 races in the House and 16 of 30 in the Senate.
We obviously won't know those results until November, and they will go a long way in determining the fate of the Free State. They will also go a long way in determining who will lead the party over the next four two years, and I think Diana Waterman is working hard to overcome her early missteps – so would she be in the mix for a full four-year term starting this November? (Corrected: I forgot we changed the bylaws a couple years ago to a two-year term starting in 2014, to match the national party.)
Certainly many have been impressed with her response to the ill-considered HB1513 on behalf of the state's Central Committees, which Joe Steffen elaborated on yesterday. But she's also been careful to reiterate that Central Committees cannot endorse candidates in contested primaries (although individual members can) and that our terms run until the election is over. (This year's Fall Convention doubles as the quadrennial organizational meeting for the party, when new members are officially sworn in.)
And she also reminded us:
I'm sure you're getting tired of hearing this but our number one job is to get Republicans elected. This is our time – the stage is almost set (Primary first to determine who will be facing off against the Democrat). The only way we will be successful is by working together. We are outnumbered. We must find a way to pull together – even if don't see eye to eye with the candidate or some of their volunteers. And I expect all of us to run clean campaigns so that they day after the Primary we can stand together and show our complete support for our ballot. I promise you, no matter who the candidate is, even if they were not your candidate, that you will have more in common with them than you will the Democrat on the other side of the ballot. I am not asking you to yield on any of your principles but to remember, even if the candidate who won the Primary is too conservative or too moderate for you – they are better than the Democrats who have a strangle hold on everything in our State. For starters, the Democrat who wins in the Legislature will case their first vote for Mike Miller or Mike Busch. And it just goes downhill from there!
Precisely. So the question is whether the grassroots and activists will follow, or take their ball and stay home on election day if their chosen candidate doesn't win. Remember, based on the polls we've had so far, a majority of voters will not have their first choice be the nominee for governor; unlike other states, we don't have a runoff to ensure majority support.
That healing process has to start June 25, because I know from experience that the other side sucks it up and gets behind whoever they pick, generally having their arguments behind closed doors.
But if Diana Waterman can pull off these electoral miracles with very little money and the more than 2-to-1 registration disadvantage with which we're currently handicapped, the only races we may have would be for the vice-Chair positions. I can't see the Republican winner wanting to put "their guy" in as the party chair after success like that. She's mended some fences over her term, and standing up for the Central Committees may allow her to climb out of the hole she dug early on.
Tonight's gathering wasn't exactly the one we had planned, but it turned out all right. Considering our outgoing first vice-President Marc Kilmer was placed in charge by the late arrival of president Jackie Wellfonder and that our speaker, District 38B candidate Carl Anderton Jr., was late due to mayoral duties in Delmar, the agenda was reshuffled a few times but we got through in one of the speedier meetings we've had recently.
Yet we began the meeting in much the same way many previous meetings have commenced, with the recitation of the Lord's Prayer and Pledge of Allegiance. And while I don't read the minutes anymore (because they're posted on the website), we still had the Treasurer's Report to file.
But because of the absences, we actually led off with Dave Parker's Central Committee report. He assessed the election as "shaping up rather nicely" as he reported on the candidates who had filed, with a couple last-minute updates from those in attendance. Parker also had some lighter fare as he recited a number of observations based on the thought that "you might be living in a country run by idiots."
He invited all local Republican candidates to our next Central Committee meeting on March 3, and updated us on the Lincoln Day Dinner where we are still working with our desired speaker on a date – however, if only a midweek event is possible we may have to change the venue.
A number of candidates (or their surrogates) gave updates and reports.
John Hall, who is running for a full term in County Council District 4, noted that "next year will be a very difficult year" financially for the county, and that needed future school projects may have to wait. Hall was appointed to fill out the unexpired term of the late Bob Caldwell in 2011.
Mary Beth Carozza spoke about being an advocate for several causes in Annapolis, particularly against the "chicken tax." And while she was still out knocking on a lot of doors, she was still finding she needed to educate voters about the new district setup and the June primary.
Larry Dodd, who's in the ring for County Council District 3, gave a shortened stump speech highlighting his experience and time at the Board of Education. If elected he woould work to reduce crime and make sure farmer's rights are protected, along with making sure government lives within its means.
This was important because the next to speak was Dodd's recently-filed primary opponent, Tom Taylor. After reaching over and shaking Dodd's hand, Taylor stated his case that the GOP should have a choice and that he was committed to fiscal conservatism and "better government through being smaller."
County Executive hopeful Bob Culver told those gathered that "this was the best time we have to take Rick (Pollitt, current County Executive) out of office.,,it's time for a change." He called on us to give him a strong primary showing.
On behalf of District 37B candidate Christopher Adams, Marc Kilmer said Adams was busy meeting voters, but was also testifying in Annapolis on a number of business bills. Kilmer then went on to discuss his own camapign, with an April fundraiser in the works.
Fellow District 37B hopeful Johnny Mautz Jr. had a surrogate as well in Shawn Jester. Shawn passed along word that we were invited to a Mautz campaign event March 2 in Cambridge, from 4 to 6 p.m.
Dr. Rene Desmarais, who was a little late but is also a District 37B contender, assessed his campaign as "going great" and raising a lot of money. He invited us to an event March 12 in Fruitland. He actually spoke after our featured speaker, who came in about a half-hour late.
But Carl Anderton, Jr. had a good excuse as he was at a meeting involving the two commissions which run their respective sides of Delmar. (Part lies in Maryland and part in Delaware; however, they strive to coordinate efforts as one entity where possible.)
He led off with his meeting with the governor as head of the Maryland Municipal League. catching Martin O'Malley by surprise when he told him about the proposed "chicken tax" and its potentially devastating effect on the Eastern Shore. That led to the O'Malley "read my lips" veto threat a few days later. And when Carl confronted House sponsor Delegate Shane Robinson with the fact that 40% of Eastern Shore jobs have some reliance on the poultry industry, Delegate Robinson backed off, saying that he "just wanted to have a conversation" about the idea.
Yet this played into a significant part of Carl's campaign: the premise that we have great educational institutions locally but no jobs to keep the graduates here. Even the potential explosive growth at the Wallops Island space complex just across the Virginia line may be squandered by Maryland's poor business climate. Anderton's was a "we need to get back to basics" approach, charging that part of the Eastern Shore delegation was working against us. Not only could we not attract business, continued Carl, but we can no longer attract retirees either because of our punitive income and estate taxes. "It's time for a whole lifestyle change," concluded Carl.
We finally got around to a little business once Carl finished, most importantly the election of officers. For 2014, they will be almost the same group as last year's, with one exception.
President: Jackie Wellfonder
First Vice-President: Shawn Jester
Second Vice-President: Larry Dodd
Third Vice-President: Sean Fahey
Fourth Vice-President: Cathy Keim
Treasurer: Deb Okerblom
Secretary: Michael Swartz
Jester is the newcomer, replacing Marc Kilmer.
We also made and passed motions to secure a table at the Salisbury Festival and potentially one at Pork in the Park as well. There's also the prospect of needing a headquarters for this fall's election, and some members are already chomping at the bit to secure a location – unfortunately, we have several of our old ones to choose from because they are still vacant after all this time.
All told, we were through in less than an hour, but we accomplished quite a bit. It's also worth noting that a man who's perhaps one of Maryland's longest-serving elected officials announced his retirement tonight. After close to a half-century on the Wicomico County Republican Central Committee, Blan Harcum will not seek another term. We applauded him for his efforts tonight.
To be honest, I'm not sure if I was sent this to provoke a comment or if I just happen to be on a list that gubernatorial candidate Heather Mizeur doesn't use all that often. I think most observers know I have an interest in energy issues, and this definitely falls into one of them. You just have to ask yourself why Mizeur counts herself among the Democrats are so insistent on denying the opportunity for shovel-ready jobs and investment – I thought that was what they were all about.
First of all, this is what Mizeur had to say about the proposed Cove Point LNG export facility.
(Yesterday), Delegate Heather Mizeur (D-Montgomery), candidate for governor, called on Governor O'Malley to join her in opposition to the Dominion Resources liquefied natural gas (LNG) export facility at Cove Point in Calvert County. She made the announcement during a speech at the Stop Cove Point Rally in downtown Baltimore City earlier today.

"I am calling on Gov. O'Malley to take a stand with us today to reject Cove Point," Mizeur told the audience. "You cannot leave a legacy on addressing climate change and be silent on Cove Point. It's time for Gov. O'Malley to break the silence and join us in saying no to Cove Point."

The rally, which was attended by 500 people, was organized by climate, health and anti-fracking activists from across the state, and was one of the largest environmental rallies ever in Baltimore City. It came as the state Public Service Commission begins official hearings on the project.

Mizeur is currently the only gubernatorial candidate to state her opposition to the project. When she announced her opposition in December, both Lieutenant Governor Brown and Attorney General Gansler – the two other Democratic candidates in the race for governor – expressed a desire to build the project without environmental damage, but failed to explain how such a plan would be possible.

Dominion Resources, a Virginia-based energy company, is pursuing the construction of a $3.8 billion facility to serve as a collection point for fracked natural gas from throughout the Mid-Atlantic region, where cargo tankers would then ship it throughout the world.

But the Cove Point facility would release 3.3 million tons of carbon dioxide and other harmful greenhouse gases into the air annually, making it a serious setback to achieving the state's goals on fighting climate change, including a plan for a 25% reduction of greenhouse gases by 2020.

Mizeur has also called on Dominion Resources to invest $3.8 billion – the construction cost of the proposed facility – in the state's renewable energy sector. According to the U.S. Department of Energy, clean energy investments create more permanent jobs than exporting fracked gas.
Obviously Mizeur is an adherent to the religion of manmade climate change, a belief system which fails to address why none of the climate models have predicted the lack of warming this century. The fact that they managed to get just 500 people to a climate change rally shows how small the cadre of believers really is – a good Second Amendment or TEA Party rally can rustle up similar numbers without really trying. If this is "one of the largest environmental protests in state history" then we really are letting a tiny minority dictate policy.
But let's say these guys are really serious – I suppose living in a state foolish enough to believe that artificially limiting its carbon emissions will have an effect on our overall global climate will do that to you. Even if the point source of 3.3 million tons is correct, it doesn't take into account the reduction in emissions at destination points abroad. Natural gas is cleaner burning than coal, and until we figured out that fracking was a way to supercharge the moribund domestic natural gas market it was a fossil fuel environmentalists weren't uncomfortable with. To show how the market has changed, the Cove Point facility was originally built in the 1970s as an import facility because the domestic natural gas market was thought to be in an irreversible decline.
On the other hand, the point source investment of $3.8 billion will have a positive effect on the regional and state economies. Last year, in announcing its filing, Dominion claimed the project will create up to 4,000 jobs during the construction phase and perhaps over 14,000 jobs overall, not to mention billions in royalty payments. Because most of the supply would come from regional producers, the entire mid-Atlantic area would benefit (except Maryland and New York, which currently have bans on fracking.) The facility would also provide a needed boost to our export tally to address a persistent American trade deficit, as the LNG is already contracted out to distributors in Japan and India.
Finally, Mizeur complains that the $3.8 billion Dominion is willing to invest in the project could be better spent in the renewable energy sector. Does the name "Solyndra" ring a bell? Despite its best efforts to create a market for offshore wind, companies aren't willing to make the investment in that area – remember Bluewater Wind? In the area of solar energy, it took billions in taxpayer-guaranteed loans – and mandated renewable energy portfolios such as the one Maryland is saddled with – to get that market off the ground, yet it still produces but a tiny fraction of our electricity needs at a cost several times the going rate for electricity produced from coal or natural gas.
And it's funny that Mizeur worries about the cost of natural gas going up due to exports, but had no problem with raising the gasoline tax on a perpetual basis. So much for supporting hard-working Marylanders.
So the choices are either zero or $3.8 billion; that's reality. We can take advantage of proven resources we already have or listen to alarmists whose real goal is to foster dependence on government under the guise of saving the planet. It's just too bad our little sandbar is energy-poor, unless you deign to call chicken manure an energy gold mine, and even the proponents concede its not as efficient as natural gas.
Do you remember a guy named Ron George? You know, he's this guy who actually jumped into the gubernatorial race back in June and had steadily plodded through the campaign, in part because he's serving in the House of Delegates as is Democratic hopeful Heather Mizeur. In the straw poll I wrote about yesterday, George was second to Charles Lollar with 24% of the vote, beating both Larry Hogan and David Craig, but in the internecine sniping over the last couple days between supporters of two of those aforementioned camps you'd have thought Ron had dropped out of the running.
But on the heels of his call for a special counsel to investigate the Maryland Health Exchange Board, George today revealed more information through his research. The statement (below) is accusatory, but George backs it up by putting the pieces of the puzzle together.
The Maryland Health Exchange Board should never have been granted special procurement powers which resulted in the rewarding of political allies. The administration continued to favor a vendor who has a flawed history with Maryland and deep fundraising relationships to both Governor O'Malley and Lt. Governor Brown. We need a special counsel with the authority to investigate the procurement practices of the Health Exchange Board.

It appears the administration was in favor of rewarding their political supporters despite serious legal concerns relating to this same vendor's work with state foster children and a troubling history collecting child support payments in Baltimore. The problem with one-party control is the people in power get to make the rules even when they are inappropriate and can lead to waste, fraud and corruption. I demand a full and thorough investigation into the contracts approved by the Health Exchange Board and their adherence to transparent and impartial government.
This is the same vein that Larry Hogan's Change Maryland mined with his own accusations of pay-to-play which came out last month. Seems like we have a pretty corrupt set of people running Annapolis.
One thing which needs to be addressed when the Republicans take over state government is the procurement procedure. It's certainly the conservative ideal that as many government functions as possible be transferred to the private sector, and generally this is accomplished through a bidding process with the lowest and best bid which meets the specifications prevailing. Most people associate the process with construction projects, but much of government –  including the contract for customer service call centers George refers to – is done this way. On the surface, it's a good idea to allow a private company with some expertise in the field to replicate their service for government rather than hire a group of workers to duplicate efforts needlessly.
Yet there are flaws in this approach which make it exploitable, and I believe what George wants investigated is how the process of selecting Maximus came to be. For example, were the specifications written in such a way to make Maximus into the only company capable of doing the contracted work? Much as the 2005 Fair Share Health Care Act was written to punish just one company – Walmart – the rules and specifications for awarding a job can be tailored to make it so just one bidder can feasibly secure the work. (If you forgot about what Fair Share was, it was an early topic of conversation in my blogging career. Check out this blast from the past.)
Perhaps more sinister yet would be the idea of getting insider information as the process was going along. In my architectural days, we had to be scrupulously careful that any changes made – whether clarifications of questions asked by bidders, revisions by the client, or the occasional error or omission on our end – were transmitted to all bidders to make sure no one received an unfair advantage. But if someone has a thumb on the scale, they may get a little bit of advance notice on changes or otherwise gain a leg up on the competition.
As it stands, though, it appears that $325,000 investment by Maximus paid off with a $36.5 million return. Of course, there's nothing illegal about donating money to a political candidate and many companies play the field by donating to both Republicans and Democrats. (There was an anecdote I heard about the Maryland GOP accidentally getting both checks from a corporate donor, noting the GOP amount was far smaller than the Democratic one.) Just a look at a website like Open Secrets or Follow the Money will show most corporations embrace the practice.
So Republicans will have to walk a fine line when they take over in Annapolis. It's almost impossible not to benefit a business which made a political donation, particularly if they shower both sides with campaign cash, but there needs to be some transparency in the process and a way to write specifications to maximize participation rather than funnel business to one or two well-connected bidders. Reducing the size and scope of government should be the primary goal of conservatives, but levelling the playing field for those who wish to provide needed services from the private sector should be a close second priority.
There is an older lady I'm familiar with from various political functions who is a David Craig supporter. During this campaign, since Craig was the first to announce, she would ask "has anyone else announced yet?" And once Craig selected Jeannie Haddaway as his running mate, she would then ask "Well, does so-and-so have a running mate? You need one to file."
Well, lady, the answer to the latter question is now "yes" in Larry Hogan's case. As part of his delayed gala announcement he's selected former Ehrlich Administration official Boyd Rutherford as his ticketmate.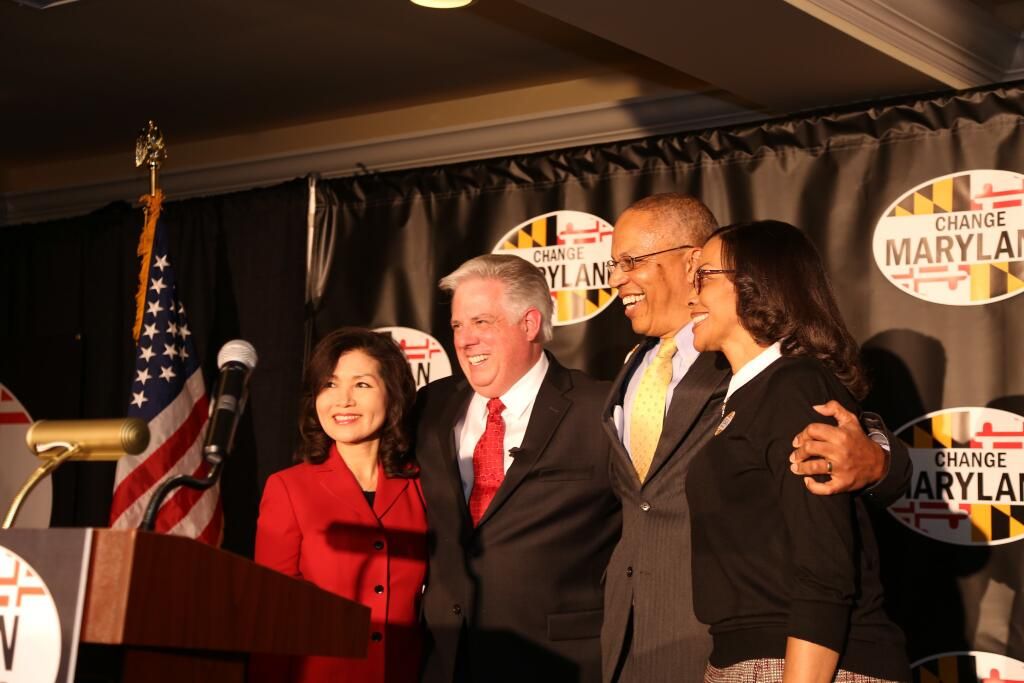 There's no question that this will lead to the portrayal of Larry Hogan as the lost second term of Bob Ehrlich, since both members of the Hogan/Rutherford team have served in his administration as secretaries. After leaving the Ehrlich administration at the behest of President George W. Bush in 2006, Rutherford has tried his hand at some other enterprises.
This certainly presents a study in contrasts with some of the other tickets: Anthony Brown, whose background is mostly legislative aside from serving as Martin O'Malley's caddy for the last eight years, selected a county executive with a large campaign warchest. Doug Gansler, who came up through the legal ranks, picked a legislator, and Heather Mizeur, a Delegate, selected someone outside of politics entirely, an activist minister. Fellow Republican David Craig, a career politician, looked to a youthful but experienced Delegate.
Rutherford described his role simply:
Accordingly, my pledge to you is simple:  When Governor Hogan assigns this Lieutenant Governor a policy initiative to implement, I will question and I will monitor, and I will safeguard the spending of your tax dollars every waking hour.
That statement had to be a dig at Anthony Brown, who trumpeted his heavy involvement in the Maryland Health Connection until it flopped like a dying flounder. Suddenly he wasn't as responsible.
Also interesting to me is the fact that Hogan is now beginning to flesh out his campaign and his positions. Obviously he has his priorities in order, although I don't understand the emphasis on "middle class." I like to think of people as apriring to get beyond middle class.
This also puts the pressure on the other two in the race to find their lieutenant governor candidates. With less than a month before the filing deadline, and with a significantly weaker financial standing than the others in the race, Ron George and Charles Lollar will need to convince someone to join their campaign.
So six months or so after I thought he should have entered, the evolution of Change Maryland to Larry Hogan campaign team is complete. And while Hogan enters as the candidate with the most hype, the question is whether there's more substance than sizzle.
Three of those gentlemen who would like to deliver the next State of the State address in 2015 put out remarks in reaction to the current occupant of Government House and what he had to say yesterday afternoon. These are in alphabetical order, by the way, not necessarily in order of preference.
David Craig called the O'Malley era a "sad legacy" in his brief statement, one which focused on the failure to implement the state health insurance exchange but the success he had in implementing higher taxes and fees:
The O'Malley-Brown years leave a sad legacy for those interested in basic government competence, fiscal responsibility and individual freedom.

While Governor O'Malley acknowledged the failure of his Administration and Lt. Gov. Brown to implement Obamacare, there are important facts missing among the many statistics he likes to choose. The Administration has a long way to go on providing transparency on health care including the number of how many consumers are obtaining actual coverage, the number of people dropped from private plans and the total cost.

We have heard for several years now the growing amount of money in so-called 'cuts' to the budget, when in fact the budget has grown $10 billion during the O'Malley and Brown terms. Over 70 tax, fee and toll increases are hurting the economy, reducing employment compared to other states in the region and is taking more money for more government.
Similarly, Delegate Ron George attacked O'Malley's economic record, calling it a "burden on job creation":
Never has a governor so boldly claimed budget cuts, economic growth and a shrinking executive branch in the face of such clear evidence against. Small businesses have seen their taxes rise tremendously under the O'Malley/Brown administration. Now in 2014, he is burdening job creators with the rain tax, implementation of Obamacare and a forced wage increase.

The O'Malley/Brown administration has seen the relocation of thousands of small businesses and tens of thousands of taxpayers due to a hostile state government. Our mom and pop shops, who employ the majority of our workers, are already struggling to stay open. We must focus on expanding opportunities for entrepreneurs and technical training for our unemployed to protect and grow our middle class for generations to come.
More bluntly, Larry Hogan called O'Malley's tenure one of "nothing more than lip service" to working Marylanders:
Year after year, this governor has provided nothing more than lip service to hundreds of thousands of hard working Maryland families who look to their governor for leadership. Today was no different. We heard nothing about how the O'Malley-Brown administration plans to turn our economy around, nothing about attracting job creators to Maryland, and no apology to the tens of thousands of Marylanders who have not been able to participate in Maryland's healthcare exchange.

Instead, what Governor O'Malley delivered today was pure fiction. The Governor continued his perennial claim of spending cuts when the simple fact is the O'Malley-Brown administration has increased spending by 33 percent: from $29.5 billion in their first year to $39.2 billion proposed in their final year.

O'Malley talked a lot about the middle class but, under this administration, the middle class has never felt more pain. The O'Malley-Brown administration paid for their excessive spending on the backs of the middle class. Forty consecutive tax and fee increases – record sales tax increases, the massive gas tax increase, and higher fees on nearly everything – have hit the middle class pocket book the hardest. Their taxes have gone up, their jobs have disappeared, and they now pay more than ever to heat their homes, commute to work, and feed their families.

Marylanders deserve better.
These themes and more were woven into the "official" Republican response, which came this year from Senate Minority Leader David Brinkley.
But all of them – with the exception of Ron George, who briefly touched on a couple ideas he had – did a great job of identifying the problem, yet didn't pose any possible solutions. Having the longest space in the official response, Brinkley did well speaking to the issue with O'Malley's signature initiative this year of raising the minimum wage, but what is really needed are some actual business people testifying that if the minimum wage goes up, they'll have to reduce staff and raise prices to consumers. What's not generally mentioned is that the process of raising the minimum is envisioned as a multi-step program, as the $10.10 per hour wouldn't take effect until July 1, 2016. (As the bill is written, the wage would step up in 95-cent annual increments beginning July 1, 2014. However, after that point the intention is to index the minimum to inflation so it would automatically go up each year at a slightly faster pace – the bill rounds it up to the nearest penny.)
The other initiative items O'Malley touched upon in his remarks were "advancing" universal pre-kindergarten across the state and revamping domestic violence laws, both of which also happen to be key platform planks in his lieutenant governor's campaign. My question on pre-K, though, is twofold: what sort of "investment" are we talking about and is it going to be worth it? Studies of the effects of Head Start on young students show that the advantages gained in such a classroom environment evaporate quickly, at best by the time the child reaches third grade but perhaps even after first grade. But it sure would create a lot of union jobs.
Most disappointing – although I can't say I'm surprised after seven years of this mismanagement at the state level – are the two most fundamental misunderstandings uttered by our state's chief executive.
Here's the first one:
We've lost sight of how our economy works when it is working well.

Prosperity doesn't trickle down from the top.

It never has.

It's built from the middle out — and from the middle up.
It was O'Malley's Democratic fellow, President John F. Kennedy, who popularized the phrase "a rising tide lifts all boats." Using the ocean as an analogy, O'Malley's argument would seem to be that the ocean rises when the streams which feed it increase their inward flow. Indeed, this is true to some extent, but remember those streams are replenished by the rain which falls from above, as it also does over the ocean.
Obviously there are some people in the world who would be happy with a middle-class existence. But I haven't seen the lottery yet which succeeded on the promise of $50,000 a year – people aspire to wealth, although obviously with the caveat of not having to do more than purchase a ticket to secure it. The odds are vastly better that someone who works hard to enact his entrepreneurial ideas will become wealthy, dragging many of those who simply aspire to be middle-class upward with him or her through being employed in the enterprise.
Unfortunately, the path to becoming middle-class seems now to be most readily available through government. I have a friend who has been an entrepreneur; unfortunately, his ventures haven't been as successful as he would like. His new job is with a state agency – yes, the pay is decent but the problem his conscience wrestles with is one of being a taker rather than a creator. There are many fine federal, state, and local government workers out there but all of them share one thing in common: they're paid by revenues mainly collected from the private sector. The O'Malley legacy is one of absolutely brutalizing the private sector producers, who can't trickle anything once the state is through with them.
Here's the second issue – stop me if you've heard this one before:
Seven years later, we are not just One Maryland. By many measures, we are Number One Maryland.
And by many other important measures, we are number 24 or 41 or 44 Maryland. But my contention is that the state is not One Maryland, but really at least four: the western panhandle, which combines rugged beauty with the potential to tap significant energy reserves; the I-95 corridor where most people live, a study in contrasts between rich and poor, educated and streetwise, and all shades in between; southern Maryland, which is the quickly evolving bedroom community and playground for those who work in government; and the Eastern Shore, where agriculture and tourism have to co-exist, doing so more or less peacefully. Making decisions for one region tends to adversely affect the other ones.
But I think "One Maryland" to Martin O'Malley is his code to continue the top-down, Annapolis-knows-best leadership style for which his administration has been known. We've had the septic bill, the rain tax, educational maintenance of effort requirements, and dozens of other instances where counties serves as little more than lines on a map because their authority is folded under the Annapolis bureaucracy.
I understand the Republicans only had a limited time to respond, but there was so much we left on the table in replying to Martin O'Malley's message. I'm looking forward to Republicans laying out their plan for Maryland, since I'm confident conservative leadership can really move this state forward.
Back when Change Maryland released the first teaser for this pay-to-play report sent out to media outlets today, I guessed that the release would precede the official announcement of Larry Hogan's intentions by a couple days, in order to extend the news cycle surrounding hie entry into the race. But instead it came out today, just two days before the beginning of the General Assembly session and nowhere near Hogan's yet-to-be-scheduled formal announcement.
And honestly, aside from the documentation of what Change Maryland terms a "deliberate, coordinated effort by this administration to to circumvent the intent of the law" and the influence it bought, the 15-page report on "alleged unethical relationships" begs the question: what can we do about it? Their lone attempt to address the situation notes:
Job creators looking to establish their business in the mid-Atlantic region want a stable and predictable business climate. They want to conduct their business without the heavy hand of politicians shaking them down for hundreds of thousands in ethically questionable political donations.

For the sake of transparency and good governance, we believe these allegations seriously warrant further investigation.
All this is correct as far as it goes, but probably the earliest we could have some sort of formal investigation would be 2015, after O'Malley is safely out of office – and only if a Republican wins the governorship. Even then, the cacophany of "this is just old news, nothing to see here, let's just move forward" will be shrill coming from the current majority party.
On the other hand, I will say I got a little more direction from Hogan's remarks accompanying the release of the document.
Our research reveals a disturbing pattern from this administration that is at the very least unethical and inappropriate. The people of Maryland deserve to know the truth about these donations and the state decisions that may have been influenced. Did the Governor solicit large contributions to help further his national aspirations and reward those donors with huge state contracts and favorable decisions?

Allowing a 'pay-to-play' culture of corruption to take a stronghold in our state government threatens every business and individual in Maryland. Even the perception of this practice prevents an honest and fair bidding process for all job creators who may wish to contract with the state. It allows complicit politicians to hijack millions, and even billions in taxpayer dollars that could serve a greater purpose, both in the government and in the wallets of struggling Maryland families.

Unfortunately, this culture of corruption is enabled when you have a political monopoly with no checks and balances. For almost eight years, this administration has run amuck without any accountability, and it's Maryland's working families who have paid the price. This is just the tip of the iceberg – we believe these allegations seriously warrant further investigation. (Emphasis mine.)
Hey, now there's something to sink our teeth into! It seems some other party used the "culture of corruption" mantra to take over Congress after 12 years of minority status, so why can't Republicans try and chip into 150 years of being on the losing side in this state? It can't hurt.
The trick will be explaining just how this affects the average Marylander who knows instinctively that the state's machine politics is rife with decay and corruption, but feels powerless to affect it. I'm just one vote, he may say.
That's not necessarily true, though. When I get e-mail from the 9-12 Delaware Patriots, it ends with the tagline "you are not just one, you are one more." If Change Maryland really has 73,000 activists who are clamoring for an end to the pay-to-play mentality in this state, the issue will be there for 2014. It will be up to candidate Larry Hogan to show leadership in the direction he wants to take us.
It's far past time to clean up the state and end the Maryland culture of corruption.