Recently I've posted about three likely entrants into the 2016 Presidential race – Jeb Bush and Dr. Ben Carson on the Republican side and Jim Webb representing the Democrats. Naturally with an open seat the interest in the job increases, since there's no incumbent with his built-in advantages to contend with. This opens the field to a lot of potential contenders who passed on the 2012 race for various reasons. Recall that many of those who ran in 2012 on the GOP side are still active in the political arena – Newt Gingrich with his production group, Rick Santorum with Patriot Voices, Mitt Romney with endorsements and help with financial support, and Rick Perry with his RickPAC, among others.
Obviously Democrats were silent in 2012, but it's been known that grassroots movements have sprung up for Hillary Clinton and Elizabeth Warren (who's trying to tell her supporters "no") while Martin O'Malley began his own PAC for 2014. Joe Biden claims he "honest to God hasn't made up my mind" about running.
On the GOP side, these aforementioned contenders have one thing in common: except for Perry, who did not seek another term and leaves next month, they are not currently serving in office. (On the other hand, among the Democrats only Webb and Clinton are out of office, although O'Malley joins that group January 21.) Yet the GOP has an extremely deep bench of current governors, many of which are in their second term and have national name recognition: in alphabetical order, the group includes Chris Christie of New Jersey, Bobby Jindal of Louisiana, John Kasich in Ohio, Mike Pence of Indiana, and Scott Walker in Wisconsin.
In recent years, our presidents have tended to be former governors: George W. Bush, Bill Clinton, Ronald Reagan, and Jimmy Carter all came from that background. Obviously their tenures in the Oval Office were a mixed bag of success, but Americans tend to be more confident that those who ran a state can run a federal government. (The only recent exceptions to this were 2012 with Mitt Romney and 1988, where Vice-President Bush defeated Michael Dukakis. Maybe being governor of Massachusetts works as a disqualifier.)
With the large potential field of governors, it may be just as important to know who's out. When you have a state to run for another four years, the excuses for trips to Iowa and New Hampshire are fewer. It's not to say that governors who want the brass ring won't try and make that effort, but as we've seen with Martin O'Malley and his frequent journeys to New Hampshire and Iowa in his second term, there is the potential for losing focus on your real job. It was enough to cost his anointed successor his election, for the dubious gain of polling at 1 percent or less in most 2016 Presidential polls.
There are perhaps 15 to 20 figures in national politics who could potentially run for President on the Republican side – far more than the Democrats boast. Of course, only one can win a party's nomination, but beyond that there are only three or four who can be in the top tier and raise the money necessary to wage a national campaign. (It's something that Martin O'Malley is finding out firsthand on the Democrat side, since he's not one of those.) It's been claimed on a grassroots level that the last two Republican campaigns were decided when the "establishment" settled on one candidate before the activists did – that group split their allegiances and votes several ways until it was too late. By the time Rick Santorum outlasted Gingrich, Perry, et. al. he was no more than the highest loser because at that point the nomination was just about sealed for Mitt Romney. Romney may have been the best candidate for 2012, but he wasn't good enough to get the nearly 3.6 million who passed on voting for Barack Obama a second time to come on board.
People like to keep their options open, but since the announcements of who's in seem to be receding farther and farther from the actual election, it may help those of us on the Right who would like to select a candidate to know who won't be running. Obviously there will be a few ardent supporters who will pine for that candidate to reconsider – as far-left populist Democrats are finding with Elizabeth Warren – but we could save a lot of wasted money and effort by finding out who won't make a half-hearted attempt at an early date.
In the ongoing quest by Martin O'Malley and his administration to burnish his environmental credentials for a possible presidential run, the farmers of the Eastern Shore have been placed squarely in his crosshairs. I suppose this is MOM's way to catch the fourteen counties not yet affected by his "rain tax," although some local municipalities are joining in on that fun without waiting on the mandate.
At the beginning of the month, the administration began once again to try and enact the Phosphorus Management Tool, or PMT. The timing was important because the mandated public comment period comes to a close December 31, three weeks before MOM rides off into the proverbial sunset. Appeals for a public hearing have thus far fallen on deaf ears, so the comment period is really the only opportunity to make our voice heard. (Comments should be addressed to Maryland's Secretary of Agriculture, Earl Hance. His e-mail address is earl.hance@maryland.gov.)
Needless to say, the environmentalists are thrilled about this prospect, including a "Maryland Clean Agriculture Coalition" which doesn't have a single farming-related entity within it. They note the 48,000 pounds (24 tons) of phosphorus the PMT is supposed to alleviate. Remember that number because it comes up later.
The Clean Chesapeake Coalition (CCC) chimed in with its appeal, which states in part:
In furtherance of this objective and in the interests of its individual county members, the Coalition opposes the re-proposed regulations and requests MDA to withdraw the regulations for the reasons explained below. In sum, the implementation costs to farmers, the costs to taxpayers, the adverse impacts on local and regional economies, and the overall added strain from more piled on Chesapeake Bay Total Maximum Daily Load ("TMDL") driven regulations far outweigh the purported reduction in overall phosphorus loading to Maryland waters and other speculative environmental benefits that may result from the PMT regulations.
In reading their ten-page letter to Secretary of Agriculture Earl Hance, the points made by the CCC appear to be as follows:
The economic effect on businesses is "grossly understate(d)." While the BEACON study was done in order to satisfy the demand for a study of these effects, its author admits it "was not meant to serve as a comprehensive economic impact study."
Remember that 24 tons of phosphorus these regulations address, at a cost of $61 million over six years in increased expenses from farmers and state subsidies? The flow running through the Conowingo Dam spews out 3,300 tons of phosphorus a year – it's like sticking your finger in the hole in the dike and ignoring the water pouring over the top. Meanwhile, the pond behind the dam has another 130,000 tons just waiting to be scoured out in a significant storm event.
Phosphorus concentration in tributaries of the Susquehanna River north of the dam is over 3.5 times greater than comparable tributaries on the Eastern Shore.
On that last point, it's helpful to use the illustration the CCC provides:
Phosphorus is loaded into the Bay at an average annual rate of 3,300 tons (6,600,000 lbs.) from the Susquehanna River; not including what is scoured from the full reservoirs in the lower Susquehanna during storm events and on a more regular basis. Maryland's annual average phosphorus loading to the Bay from agriculture of 985 tons (1,970,000 lbs.) is minimal when compared to the Susquehanna River.
Earlier this month, Exelon withdrew its request for renewal of its hydroelectric license at Conowingo Dam because more study of its effects on water quality downstream were desired. The utility has agreed to spend up to $3.5 million on studies of water quality downstream. It appears they've also become aware of the detrimental effects on the Chesapeake Bay, yet the environmentalists don't seem to be interested nearly as much in Exelon and in the Conowingo Dam as they are the poultry industry.
A Washington Post story over the weekend noted the controversy, including remarks from Wicomico County farmer Lee Richardson, who seems to be something of a go-to guy when it comes to poultry growers. Many of the reader comments on the Post piece, though, illustrate the divide between the urban and suburban hipster whose idea of poultry is the organic chicken they buy at Whole Foods and the beleaguered grower who already has to comply with numerous state and federal guidelines without having to worry about arrangements to truck chicken droppings out of the area. The Post readers blame the industry itself, saying that its not carrying its weight in addressing the concerns about water quality – bear in mind these are the people who were just fine with enacting a nickel-per-bird "chicken tax" called the Poultry Fair Share Act which was supposed to raise $15 million a year.
In that fiscal note from the Senate bill, it's noted that the Eastern Shore has "over 700″ poultry farmers. For ease of calculations, I'll set the number at 750. If the cost to farmers is $22.5 million over 6 years – as estimated in the BEACON study – it works out to $30,000 per farmer over the six-year period or $5,000 a year. That's a significant compliance cost – assuming, of course, it's really true because government estimates are generally optimistic on revenues and short on expenditures.
So here's hoping that our efforts can bear fruit and stop this particular piece of madness once and for all. There's still time to comment.
Last week, Mark Green at the Energy Tomorrow blog posted a critique of the proposed fracking regulations Maryland may adopt in the waning days of the O'Malley administration. In his piece, Green stressed that Maryland needed to adopt "sensible" restrictions but feared Maryland would go too far. It was echoed in the Washington Post story by John Wagner that Green cites.
But the money quote to me comes out of the Post:
"In the short term, as a practical matter, the industry will probably choose to frack in other states than Maryland where the standards are lower," O'Malley said. But in the longer term, he said, "it could well be that responsible operations may well choose to come here."
Or maybe not, which seems to have been the goal of O'Malley and Radical Green all along. It's funny that they don't seem to have the objections to wind turbines dotting the landscape despite their own health issues. Certainly no one studied them to death.
Being a representative of the energy industry, Green naturally argues that "sensible" regulations are similar to those already in place in states which already permit the practice. As he notes:
Hydraulic fracturing guidelines developed by industry – many of them incorporated into other states' regulatory regimes – offer a sound approach proved by actual operations.
I can already hear the howling from Radical Green about the fox guarding the hen house, and so forth. But is it truly in the interest of industry to foul its own nest?
On the other hand, the success of fracking and other domestic exploration may create an interesting situation. Even back in October, when oil had declined to $90 a barrel from a June peak of nearly $115 a barrel, analysts were speculating on the effects the drop would have on the budgets of OPEC member nations. Now that oil in closing in on $60 a barrel, the economic effects on certain nations will be even more profound, and contrarian economic observers are already warning that the oil boom is rapidly turning into a bust with a ripple effect on our economy.
Even the revenue scheme by which Maryland would collect a sales tax on gasoline depended on gas prices staying somewhere over $3 a gallon. Assuming the price of gasoline stays at about $2.70 per gallon through the first of the year, the predicted 8-cent per-gallon rate will only be 5.4 cents. (The sales tax on gasoline is slated to increase to 2% on January 1.)
In any case, there is a price point at which non-traditional oil extraction such as fracking or extraction from tar sands – the impetus for the long-stalled Keystone XL pipeline – becomes economically non-viable. I had always heard that number was $75 per barrel, which was a number we had consistently hovered above for the last half-decade. Now that we are under that number, the question of exploration in Maryland may be moot for the short-term, although the price of natural gas is only slightly below where it was this time last year so that play is still feasible.
Whether the decline in oil prices is real or a manipulation of the market by a Saudi-led OPEC which is playing chicken with prices to try and restore its bargaining position by outlasting domestic producers, it may be yet another missed opportunity for Maryland as it could have cashed in during a difficult recession and recovery if not for an administration which believed the scare tactics and not what they saw with their own eyes as neighboring Pennsylvania thrived.
It was an exciting day and a contentious night for the new County Executive and County Council here in Wicomico County. It's not often the incoming governor pays attention to an event in our fair county.
But the auditorium at Wor-Wic Community College was packed to its 200-plus person capacity to watch our second County Executive (and first such Republican) Bob Culver take the oath of office from Clerk of the Court Mark Bowen.
After the presentation of colors, the Rev. George Patterson delivered an invocation where he prayed that Culver would be "seasoned with wisdom, grace, and humility" as he took this office.
That quickly, since it had to be finished by noon, Culver took the oath flanked by members of his family.
In his remarks which followed, Bob expressed how he was "humbled and honored" by his election, about which he commented that he "wasn't the only one who wanted to see change."
His approach was going to be relatively simple, as he believed "good, workable ideas can come from either side," but at the same time "'if it ain't broke don't fix it' will no longer be the rule." On the other hand, change wouldn't be made for its own sake.
Culver's brief address, which lasted less than four minutes, concluded with a simple request: "we need your ideas." He then introduced the Governor-elect.
Along with Culver, Larry Hogan announced "we're going to roll up our sleeves and get to work." Hogan was optimistic about Wicomico County and the rest of the Eastern Shore, promising we "will no longer be taken for granted…you'll have a seat at the table."
His first order of business affecting us locally was fighting the Phosphorus Management Tool, new regulations he accused Governor O"Malley of "push(ing) at the midnight hour, on his way out the door." Hogan wasn't necessarily opposed to regulations on farmers, but believed they needed to be based on science and not "promised to a special interest group."
Turning to the new County Executive, Hogan said "Bob is truly a salt of the earth kind of guy" and that he "can't think of anyone more qualified" to grow the local economy based on his business experience than Culver.
The ceremony wasn't all that long, but it was lunchtime and many of those who came to the swearing-in went to the next building to celebrate with a reception hosted by Culver.
I must say the catering was outstanding, and people generally left in a good, optimistic mood.
But while Culver was "humbled and honored" by his election, the first County Council meeting under his tenure was definitely on the humbling side.
It began, though, with remarks from the outgoing County Council. In particular, retiring Council member Gail Bartkovich called her tenure "an honor, privilege…and tremendous education." Interestingly enough, all three of the women who served in the 2010-14 term left County Council, leaving a body of seven men.
Stevie Prettyman acknowledged the large crowd "for a change" and thanked the citizens for their trust in her.
And while he wasn't going anywhere, John Hall lamented the "loss of wisdom and integrity" provided by the outgoing members. Matt Holloway, who was also staying on, noted this edition of Council had accomplished a lot: building a new Bennett Middle School, supplying water to the Morris Mill neighborhood plagued by well contamination, and continually improving its bond ratings.
Similarly, Sheree Sample-Hughes, who was elected to the House of Delegates, thanked the people for "putting their trust in me as a leader."
But she foreshadowed the discussion to come by expressing her disappointment that West Salisbury Elementary School would not be in the revised bonding program Culver was asking County Council to approve.
After a quick recess to rearrange seats, the new County Council was sworn in.
Returning members Joe Holloway (third from left), Matt Holloway (center), and John Hall (far right) were now joined by Larry Dodd (far left), Marc Kilmer (second from left), John Cannon (third from right), and Ernest Davis (second from right.) Dodd and Cannon have previously served one term apiece on County Council, though, leaving Kilmer and Davis as the two rookies.
Their first order of business was electing a president and vice-president. Since John Cannon and Matt Holloway were the lone nominees for those respective positions, Cannon took over the meeting with Matt Holloway seated next to him.
The other item on the agenda was the controversial reduction in new county debt from the $16.5 million requested by Rick Pollitt to a new $10.9 million total Culver desired, To accomplish this reduction Bob reduced the bonding amount for ongoing construction of Bennett Middle School, and postponed three other projects: work on the final phase of the Westside Collector Road, work on the Wicomico Youth and Civic Center, and replacement of West Salisbury Elementary.
Projects which would remain, on the other hand, were Bennett Middle School, the purchase of land for dredge material placement for the Wicomico River, the purchase of the newly renovated State's Attorney office, and renovations to Perdue Stadium.
Culver explained that the Bennett bond could be safely reduced without endangering progress. He also made the case that improvements to the river channel would allow for continued commerce and safer oil transport (as there is a refinery along the river), the purchase of the State's Attorney office would save $300,000 annually in rent, and that the Perdue Stadium renovations were at the request of the Orioles and would ensure the team remains in Salisbury.
Joe Holloway commented that taking off the school was "probably a good idea" based on his conversation earlier that day with Larry Hogan, with Kilmer agreeing it was likely a "prudent course." On the other hand, Larry Dodd was "disappointed" that the West Salisbury bond was removed, and Ernest Davis, who represents that district, criticized the deletion as pushing them to the back burner again.
That sentiment was echoed frequently in the public comments Cannon allowed. Over a dozen citizens stood up to blast the decision to drop the bond funding, many complaining about the deplorable shape the 50-year-old building is in and decrying its lack of air conditioning. (It's worth pointing out the state denied Wicomico County's request to address the air conditioning for FY2015 because the amount was too small – see page 173 here. Three other Wicomico County schools were granted funds.)
In the end, though, the vote was 5-1 to approve the revised bonding, with Davis opposed. Larry Dodd had to leave early for a family function.
After that vote, Kilmer expressed the sentiment that he wished he saw as much passion about what happens in the schools as he did about the school building. But in his president's remarks, Cannon was more optimistic, saying "I see good things for Wicomico County." He also expressed his appreciation for all that Rick Pollitt did in his eight years at the helm.
But it goes without saying that Culver's honeymoon wasn't very long. Several people expressed the belief that our place in line for funding would be lost and we could go another several years before the needs of West Salisbury were addressed. But Culver and County Council wanted to see some of the buildings for themselves to assess the needs. Aside from the question one observer brought up about the maintenance issues related by those testifying on West Salisbury's behalf, it was a night filled with passion for a school of just 309 students.
Look for more battles as the FY2016 budget begins to take shape next year.
While Ben Carson made a splash on the GOP side by strongly hinting he was in the 2016 Presidential fray, he stopped short of actually launching an exploratory committee. The first major candidate – at least one who has a shot at being in the top couple tiers, anyway – to form an exploratory committee is Democrat Jim Webb, the former Reagan administration official who later became a Democratic senator from Virginia. Daniel Larison at The American Conservative has some thoughts on this challenge to presumptive nominee Hillary Clinton, but Webb has his own explanation at his newly-christened website.
And while it's probably the longest of shots to oppose the Clinton machine, Webb does have somewhat of an opening according to Harry Enten at fivethirtyeight.com. He points out that Hillary's support is weakest in the political center, where Webb's pro-military but populist message may resonate. As David Freedlander writes at the Daily Beast:
And Clinton, (Webb's) aides insist, is a non-factor.

"It ain't about Hillary," said Mudcat Saunders, a longtime Virginia strategist who worked on Webb's Senate campaign. "It's about bring the American dream to the forefront once again for working people and small business. The working people and small business – they haven't had any representation in years. And they know it.

Americans want to do something about this coin-operated government."
In a lot of respects, Webb hearkens back to the old Democratic party, the one which was just as liberal as it is today but was pro-military and pro-American. Ronald Reagan led those voters to the Republican Party and many of them stayed. For those who hang on to their faith in the old-style Democratic party and the song and dance about their support for the working man – the sort of Democrat who still resides mainly in rural areas like this one – Webb may be an appealing option. Take this excerpt from his introductory video as an example, one where Webb points out that he's no stranger to long-shot campaigns since he defeated George Allen in 2006 to win his one term as Senator.
With enough financial support to conduct a first-class campaign, I have no doubt that we can put these issues squarely before the American people and gain their support. The 2016 election is two years away, but serious campaigning will begin very soon. The first primaries are about a year away. Your early support will be crucial as I evaluate whether we might overcome what many commentators see as nearly impossible odds.

We are starting with very little funding and no full-time staff, but I've been here before. In February, 2006 I announced for the Senate only nine months before the election against an entrenched incumbent. We had no money and no staff. We were more than 30 points behind in the polls. I promised to work on the same themes I am putting before you now: reorient our national security policy, work toward true economic fairness and social justice, and demand good governance, including a proper balance between the Presidency and the Congress. We won. And despite the paralysis in our government, we delivered on these promises, in measurable, lasting ways.

In 2007, I gave the response to President Bush's State of the Union address. I put economic fairness for our working people and small business owners at the front of my response, noting the immense and ever-growing disparities in income between corporate executives and those who do the hard work. When I graduated from college the average corporate CEO made twenty times what his workers made. Today that number is greater than 300 times. The inequalities between top and bottom in our country are greater than at any time in the last hundred years. And the disparities between those at the very top and the rest of our society have only grown larger since the economic crash of late 2008 and early 2009.
With over 30,000 views in the first few days, the video is indeed portraying a very populist message that would appeal to the vast number of voters who fall for the class envy trap. (Dirty little secret: CEO pay is much higher now because many are paid in large part with stock options, thanks to the push a couple decades ago to more directly tie CEO salaries to company profitability and financial performance. In terms of actual salary, the ratio is far lower.)
It's doubtful that Jim Webb is the obstacle to an eventual Hillary coronation that Barack Obama was in 2008, and at this point he's probably in the same low tier of probability that Martin O'Malley rests on, well behind Joe Biden and miles in arrears to Hillary. But it wouldn't surprise me to see Jim in the mid-single digits in early polls as an outsider who has military experience, as opposed to most others in the Democratic field. He may be the catalyst for another Operation Chaos on the Democratic side.
It's already hard not to be cynical in this day and age, when politicians make used car salesmen look like Sunday School teachers by comparison, but the recent hullabaloo about remarks made by Obamacare (and Romneycare) architect Jonathan Gruber would be enough to shake even the most trusting of people. Maybe it's not to the level of finding out your spouse of fifty years has had an affair for 49.8 of them, but this revelation does serve to erode the public's trust in institutions even more.
There's an old maxim that "absolute power corrupts absolutely," and nowhere does it seem to be better displayed than in our all-encompassing federal government. No better proof exists than the Gruber example: here is an un-elected bureaucrat, appointed on behest of the state, who admits to writing a law that no one really read (remember, we had to pass it to know what was in it) in such a deceptive manner that it couldn't be scored by the Congressional Budget Office, all the while considering those of us who pay the salaries of these governmental hangers-on and grifters as rubes worthy only of contempt.
Surely this is only the tip of the iceberg, though. In less than 250 years we have taken this republic – a republic, we were warned, would exist only as long as we could keep it – and turned it into some murky composite of the worst features of democracy and dictatorship. We are at a point where there are just about as many adults not working or working for the government as there are private-sector employees. While it's a dramatic oversimplification to state that those who work in the private sector are the "makers" and the rest are the "takers," the one-to-one ratio is very worrisome.
The problem is that perception is becoming reality before our eyes. Take, for example a proposed land deal which would have benefited a backer of Martin O'Malley – that is, until the public caught wind of it and made the state change its plans slightly. Just ask yourself: how many other crony capitalist deals come down before the public finds out, when it's too late to back away? The road to wealth in 2014 America doesn't seem to be that of hard work and inspiration anymore; instead, it seems to be finding the right sleazy politician to donate a few thousand dollars to and wait for the no-bid contract or grant to roll your way.
I guess the two things I consider missing from government today are honesty and a moral compass. Of course there are honest, decent people in government but too many seem to believe they are entitled to all the spoils they can get. And this is why I have always come down on the side of what I call "rightsizing" government, figuring if the pot of money becomes smaller it won't be as worthwhile to use your greedy hands to scoop up ill-gotten cash.
We didn't need to pass Obamacare because there was already an admittedly imperfect but reasonably successful system in place – the problem was that the "wrong" people benefited from it and that had to change as far as proponents like Jonathan Gruber were concerned. Now we're at a point where there will be a small but extremely vocal minority which would speak out if Obamacare were eliminated. And as we've seen time and time again in recent America, there isn't a group too small to be heard if they want more government or a breakdown of our moral fabric.
It's the rest of us "too stupid to understand" people who have to work harder just to keep pace.
I tell you, it's the mundane things I do…
Last night I was setting up the 2015 monoblogue Accountability Project charts, to save me a little work come next spring. (One key change: I'm going to alphabetical order to make it so, so much easier to compile votes since the state legislative chart lists tallies alphabetically.) Something I note on the mAP is the "years of service" and there are a lot of people who will have "1″ next to their name.
In the House of Delegates, there will be a whopping 58 rookie legislators, while the Senate will boast three rookies. Out of those 61, which make up almost a third of the General Assembly as 29 are Republicans and 32 are Democrats, it's worth noting that all three Senate rookies come from the GOP, which has changed over half its 12 members that were elected in 2010 in expanding back to the 14 they had from 2006-10.
While the GOP House caucus is at a modern high of 50 members, over half of them will be new to the General Assembly. Just on a local level, the District 38 delegation has two rookies while District 37 has three. Between the primary and general elections, the three local politicians who have 20 or more years in the General Assembly were whittled to one (newly-minted Senator Addie Eckardt.) Next in seniority is Senator Jim Mathias, who was first appointed to the House in 2006, then Delegate Charles Otto, who won re-election last week for a second term.
The learning curve for all these newbies will be steep, but it will be fascinating to see if they come up with new and better bills than the old veterans have done over the last eight years. Another interesting angle will be the bills sponsored by the Speaker and Senate President – since the governor cannot introduce a bill, it's normally introduced by the Speaker or President "by request" of the administration – here's one example. Imagine a tax cut bill being introduced by a Democrat – but that will be the case as Governor-elect Hogan outlines a legislative agenda.
(Another thing to watch is whether Martin O'Malley will leave some sponsored bills as parting gifts walking out the door, since the General Assembly reconvenes a couple weeks before the inauguration of Larry Hogan. Honestly, I doubt it.)
This will be an exciting time to watch the General Assembly.
Yesterday we received word that the unemployment rate dropped again, with another month of job growth in the 200,000 range. It's not the Reagan recovery of the 1980s – when we had 15 straight months of job growth in 1983-84 that would put this latest number to shame, including a whopping 1,115,000 jobs created in September 1983 – but it is a reasonably decent run.
Yet just as manufacturing didn't share in the Reagan-era gains as much as other sectors did (in fact, it lost some ground), the second Obama term has also fallen well short of manufacturing growth goals. I've discussed this group and its job tally before both here and on my former American Certified site, but the Alliance for American Manufacturing tracks progress toward the one million manufacturing jobs Barack Obama promised in his second term.
AAM's president Scott Paul isn't all that pleased about it, either.
The good news is that manufacturing jobs have grown over the past few months. The bad news is that they haven't grown fast enough. I'm very concerned that a surge of imports from China and a paucity of public investment in infrastructure will continue to hamper the great potential of the productive sector of our economy.

Hopes of achieving the White House goal of 1 million new jobs in the Administration's final term are fading fast. Without some progress on the trade deficit and a long-term infrastructure plan, I don't see that changing. No doubt the economic anxiety that many Americans still feel is compounded by stagnant wage growth and diminished opportunities for middle class careers.
Two of the key issues AAM harps on are, indeed, currency manipulation and infrastructure investment, although they also took time recently to praise Obama's manufacturing initiatives and chastise Walmart for their 'buy American' effort because much of it comes in the form of produce and groceries. Around these parts, we don't really mind that emphasis because we produce a lot of American-grown poultry so if Walmart is willing to invest in us we're happy to provide. (Then again, that promised distribution center would be nice too.) Of course, AAM is backed in part by the steelworkers' union so one can reasonably assume their view is the center-left's perspective.
Even so, the group is useful because it makes some valid points. And I think we should have some focus on creating manufacturing jobs in Maryland, as the defunct gubernatorial campaign of outgoing Delegate Ron George tried to do.
Thus, I think the incoming Hogan/Rutherford administration should make it a goal to create 50,000 new manufacturing jobs in Maryland over his first four-year term – if he succeeds, you better believe he deserves a second. According to BLS figures, as of September an estimated 103,000 people are employed in manufacturing in Maryland. But if you look at past data, it's not unprecedented to have 150,000 (as late as November 2002) or even 200,000 (as late as June 1990) working in the field. And when you take the confluence of a state that is supposedly #1 in education and combine it with the proximity to both major markets and inexpensive energy sources, there's no reason we should have lost 30,000 jobs in the manufacturing sector under Martin O'Malley – or 16,000 under Bob Ehrlich, for that matter.
But how do you turn things around in four years? Maryland has to make people notice they are open for business, and there are some radical proposals I have to help with that turnaround.
First of all, rather than tweak around the edges with lowering the corporate tax rate, why not just eliminate it altogether? The revenue to the state from that toll is $1.011 billion in FY2015, which is far less than the annual budgetary increase has been. Would that not send a message that we are serious about job growth and immediately improve our status as a business-friendly state?
The next proposals are somewhat more controversial. To the extent we are allowed by the federal government and its environmental regulations, those who choose to invest in the state and create jobs should have an easier path to getting environmental permits and zoning approvals. Even if a moratorium is temporary, making it easier to deal with MDE regulations would encourage job creation. Most of Maryland's towns and cities already have industrial sites available, but we shouldn't discourage construction in rural areas if a job creator needs more space.
We've also heard about the construction of the Purple Line in Montgomery and Prince George's counties and the Red Line in Baltimore - combined, the two are expected to fetch a price tag of $5.33 billion. For that sum, it seems to me we could build a lot of interstate highway – even if this $4 million per mile figure is low (and it would be 1,267 miles of highway based on the combined cost of the Red Line and Purple Line) we could do a lot to assist in moving goods through and from Maryland, whether by finishing the originally envisioned I-97 through to the Potomac (and with Virginia's assistance, to I-95 near Richmond) or enlisting Virginia and Delaware's help in improving the U.S. 13/58 corridor to interstate standards to provide a secondary route around Richmond, Washington, and Baltimore.
Once we eliminate the onerous restrictions proposed for fracking and begin to open up the western end of the state for exploration, and (dare I say it?) work on making Maryland a right-to-work state like Virginia – or even creating right-to-work zones in certain rural counties like the Eastern Shore and Maryland's western panhandle – the potential is there to indeed create those 50,000 manufacturing jobs – and a lot more! It just takes a leader with foresight and the cajones to appeal to the Democrats in the General Assembly as well as a Republican Party unafraid to take it to the streets in the districts of recalcitrant members of Maryland's obstructionist majority party.
But even if we only create 40,000 or 25,000 manufacturing jobs through these policies, the state would be better-positioned to compete for a lot of other jobs as well, and the need is great. For too long this state has put its economic eggs in the federal government's basket and there's a changing mood about the need for an expansive presence inside the Beltway. Rightsizing the federal government means Maryland has to come up with another plan, and this one has proven to be a success time and time again across the nation.
Most newspapers will use their Sunday edition before the election to either make the most key endorsement, such as for governor or president, or summarize their endorsements into a ballot guide for voters.
I'm not a newspaper, but I have a news source. And I'm urging you (all of you, including the ten friends you drag to the polls) to march right into that ballot box, look for every Republican name on it, and check that box right next to it – making sure, of course, that the ballot summary agrees with your steady diet of Republicans and doesn't show a "calibration error."
Let's begin from the top. Does this state really need a third term of Martin O'Malley? Thought not.
I will grant that Larry Hogan wasn't my first – or second – choice for the GOP nomination, but I also have to admit as well he has run about as good of a campaign as a Republican can run statewide in Maryland and picked up national attention for it. Yes, I would like him to be stronger on the Second Amendment and I cringed when I heard him say no to addressing social issues, but the overall electorate in this state is still conditioned to believe that there's a right to privacy and gay marriage is no big deal. They need a little work yet. Let's at least get someone who won't be completely hostile to those interests like Anthony Brown would be.
(And yes, I hear the Libertarians caterwauling in the corner. When you get to double-digits with a candidate, we'll talk.)
Actually, though, I must say some bloggers have a point about the Libertarian candidate for AG, Leo Dymowski. But the election is about more than the failed "war on drugs" – although I agree with that particular assessment, I would also like the AG to fight on other issues. Unfortunately, the late start Republican Jeffrey Pritzker got means the chances are good that we'll have to endure four years of gun-grabbing Brian Frosh; however, every vote counts and stranger things have happened.
For 2018, though, I think a county-level State's Attorney needs to make that step up. It's something Matt Maciarello should consider.
And we have a more than qualified Comptroller candidate in William Campbell. My main mission in two festivals was, every time I came across a Maryland voter from outside our county, to push the candidacy of one Bill Campbell. Everyone knew who Larry Hogan was but not enough knew of this fine gentleman. If Maryland voters have a clue they will choose Campbell.
And then we have local races. Frankly, I'm not too worried about Andy Harris although it would be helpful for Sixth District voters to add Dan Bongino to the GOP roster at the federal level. But there's a lot at stake on the General Assembly front.
Try as we might, we had to concede the District 37A seat for this term to Sheree Sample-Hughes. If she gets more than single digits on the monoblogue Accountability Project I will be shocked. Otherwise in District 37, you know its a conservative district when even one of the Democrats is running on a platform of lower taxes and less government. But why have conservative-lite when the real thing is attainable?
Even if we sweep those three District 37 seats, though, we don't really gain anything because three of the four representatives are already Republican. But in District 38 we can reclaim the Senate seat lost in 2010 to a liberal Democrat and take over a seat in the House of Delegates to bring us closer to that magic number of 47, where, as I understand it, we can work around Democrat-controlled committees. (A Hogan win may make that necessary more often.) Aside from that splotch of blue in our county we can work on for 2018, I'd like the Eastern Shore painted red, gaining the one Senate seat and one House seat we can contribute to the GOP effort statewide.
And then we have Wicomico County, which needs a strong leader in Bob Culver. We've done eight years with the affable bureaucrat Rick Pollitt, but those eight years have seen our county backslide economically. We can blame the national economy to some extent, but other surrounding counties seem to be succeeding – so why haven't we?
Unfortunately, the problem Culver has is that two of the Republicans who will likely be on County Council are already stabbing him in the back. With one Democrat assured of victory in Council District 1, it makes the County Council races very important. We know District 5′s Joe Holloway is a conservative who will win and Marc Kilmer in District 2 has an excellent chance to join him, but the John Cannon vs. Laura Mitchell race is a key along with Larry Dodd vs. Josh Hastings in District 3. Both Democrats are trying to convince voters they'll be fiscal hawks, but don't be fooled. We need the 6-1 Republican majority to have a potential 4-3 conservative majority behind Bob as he tries to right the ship. Finding good local candidates is a priority for 2018 as well.
As for the issues on the ballot, I've already urged a vote AGAINST Question 1 because it's a weak excuse for a lockbox and Maryland taxpayers deserve better: send it packing and insist on a 3/4 majority provision to be voted on in 2016. On Question 2, I think on balance it's a good idea but it will also demand vigilance, as Election Integrity Maryland's Cathy Kelleher points out in a Sun editorial opposing the question.
Lastly, I must say this is the time for conservative voters to shine. The fact that early voting had as many Republicans as Democrats by percentage statewide and by raw numbers on the Lower Shore (despite a registration disadvantage of about 10 percent) indicates the GOP is more keenly interested in this election. But I want to run a few numbers, with the photo below telling the tale.
For this exercise, I used the voter proportions illustrated in the recent Gonzales Research poll, which is probably a fairly realistic model. I assumed undecided voters would remain in proportion with their trend (as opposed to breaking for the challenger) and left 1% for other candidates, write-ins, etc. (I also didn't figure in the 50,000 or so registered to minor parties – if they vote they'll not influence the result significantly.)
The sheet on the left is my calculations using a Bob Ehrlich Republican turnout from 2002, 68% of Republicans.
The sheet on the right is the same calculations for Democrats and the unaffiliated, but assuming a turnout like we saw in the Presidential election two years ago, when 78% of Republicans came out – even though Maryland was considered a lost cause for Mitt Romney.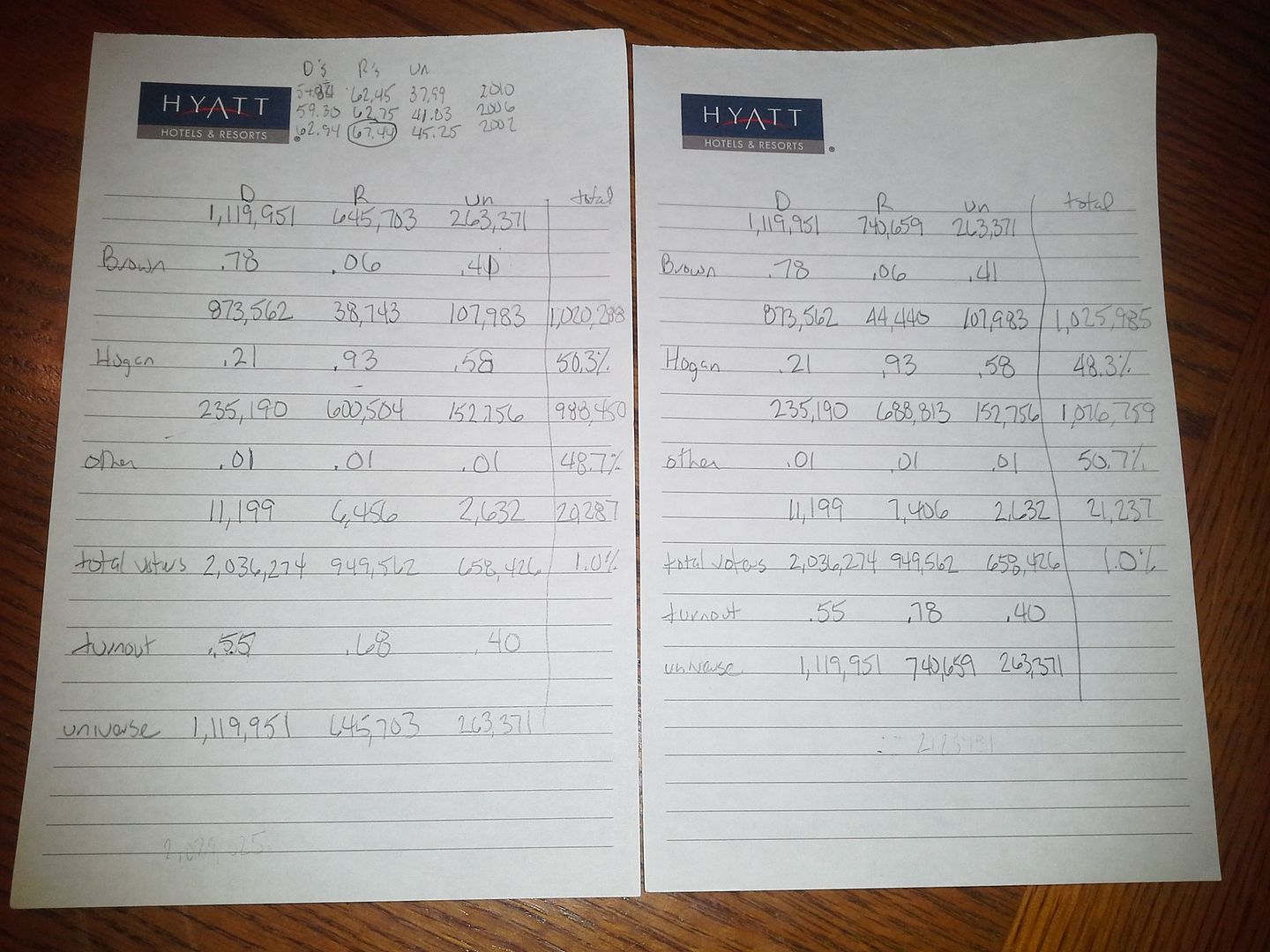 Indeed, we turn from crushing disappointment to "winner, winner, chicken dinner" simply by getting an extra 1 in 10 Republicans to turn out.
If Republicans turned out like that for an election which was an almost foregone conclusion in this state, hopefully this simple calculation will provide the incentive to Maryland Republicans to come out in a gubernatorial election where they have a shot to sneak away with a close victory!
Early voting numbers were encouraging, but Tuesday it will be time to finish the job.
Update: Hey, I missed a key set of races. It's not a partisan race, but M.J. Caldwell is a far more qualified jurist than the guy Martin O'Malley picked based on his last name. And speaking of O'Malley picks, there are two others on our ballot who we can remove from office and perhaps allow for the first crop of Larry Hogan appointees. So vote "no" on continuance in office for Kevin Arthur and Andrea Leahy.
While it can be dismissed as an internal push poll, given its conclusion that Larry Hogan "is well positioned heading into the final week," or the final add of, "Having the resources to go toe-to-toe with Brown on TV will be crucial in turning his current lead into a victory on Election Day," a survey by pollster Wilson Perkins Allen Opinion Research has buoyed the Hogan camp and led to another upcoming visit from New Jersey Governor Chris Christie this coming Sunday evening at Patapsco Arena in Baltimore.
Yet other polls suggest a significant Brown lead, most particularly a YouGov poll which has stubbornly put Brown up by double-digits every month (and is computed in the RCP average.) Not added to the RCP total, though, is a survey by Gonzales Research which showed the race was far closer and as an added benefit gives the breakdown of expected turnout.
One could even argue that the "calibration error" problems with voting machines – which only seem to be turning Republican votes to Democratic ones, and not vice versa – is the sign of a party desperate to hold on to the governor's chair. (A source tells me here in Wicomico County, at least one early voting machine was put out of service after the error was replicated on it. The personnel at the early voting center were reluctant to get involved, according to my insider.) Add to that the allegation of non-citizen voting and it's no wonder Republicans are sweating out the prospect of the same fishiness which plagued the 1994 gubernatorial election some swear was stolen from Ellen Sauerbrey.
Yet as the old adage says, you just have to beat them by more than they can cheat.
There's no question that Democrats are less enthused about this election than they have been in the past. But let's go back and look at some key numbers from 2010, the second Ehrlich-O'Malley rumble.
As I said, I really like Gonzales polling because they give an honest breakdown and analysis. In October 2010 their poll had Martin O'Malley with a 47-42 advantage over Bob Ehrlich – a race that O'Malley eventually ran away with. In fact, out of the last several polls this was the one which gave the last fading hope of an Ehrlich upset.
But there were some warning signs – for example, Ehrlich's 17% support among Democrats "won't do it," said Gonzales, nor would the 8-point advantage in the Baltimore suburbs. In the recent Gonzales survey, Hogan doesn't do a whole lot better among Democrats than Ehrlich (19-73 for Hogan vs. 17-72 for Ehrlich) but is significantly stronger in the Baltimore suburbs (55-37 Hogan vs. 49-41 Ehrlich.) On the other hand, Brown does a little better in the Washington suburbs at 70-25 (vs. O'Malley's 65-25) but Hogan counteracts this with a strong showing among the growing unaffiliated ranks (46-32 Hogan vs. 42-36 Ehrlich.)
To me, the truth is somewhere in between the five-point Hogan lead in the WPA poll and the 2 points Gonzales has him down, probably closer to the latter. All I know is I think it will be close and every vote will have to be carefully scrutinized by the person casting it. (My source also told me there may be a robocall put out to remind Republicans to check their ballot before leaving.)
Yet the idea isn't just to be satisfied with a Republican governor – we need to give him plenty of help and local voters can oust a number of thorns in the conservative side next week. Let's paint the Eastern Shore red from Cecil to Somerset, from the Bay Bridge to Ocean City.
On Saturday I was alerted to a story by John Fritze in the Baltimore Sun regarding Andy Harris and his attempt to level the playing field a little bit in Maryland politics by creating a superPAC called A Great Maryland PAC. According to the Sun, Harris donated $150,000 to the PAC, which turned right around and put out a commercial depicting Jim Mathias, Norm Conway, Martin O'Malley and Barack Obama as "liberal peas in a pod."
I don't have a copy of the spot to show you at the moment, but the theme seems similar to one Harris used in the 2008 primary against former State Senator E. J. Pipkin and onetime Congressman Wayne Gilchrest.
What's funny to me, though, is the Democrats' reaction, like from Jim Mathias:
"I don't think it's right," said Mathias, who said he had no idea who was behind the television spot. "People's freedom of speech — I support that with my every breath — but if you're going to make these kinds of accusations, I think there should be accountability."
Funny you should talk about that, Jim – I've been holding you accountable for your votes for years, and I'm glad to finally have a little help. So come clean about where you received your campaign funding (hint: it's a lot of special interests.)
Harris has been a savior to Republicans around the state, with significant donations to several candidates as well as the state party – in total, including the seed money for the A Great Maryland PAC, Harris is over $300,000 in campaign contributions – and that's good news for conservatives around the state.
Hopefully he'll need to collect more to give to more incumbent recipients next time around.
After yesterday's lengthy post about Peter Franchot's assessment of the state economy, I wondered how the Republican running for the state's top job would react. Fortunately, I can distill his statement down to a couple short paragraphs:
(Wednesday's) report is utterly devastating and confirms what we have been saying, that Martin O'Malley and Anthony Brown have taxed and spent our economy into the ground. Overtaxed Marylanders are earning less, small business profits are disappearing and people have less to spend on goods and services.

As governor, I'll put partisan politics aside and work across the aisle to undo the damage of the past eight years. We'll work together to reign in reckless spending and waste so we can roll back as many of the O'Malley and Brown's 40 straight tax hikes as possible. It's time for Annapolis to live within its means so people can keep more of their hard earned money.
I was fine with that until the part about "work together," particularly with regard to an event last week with New Jersey Governor Chris Christie:
The Democrats want to tell you that Governor Christie and I are far-right extremists. Our similarities stem from the fact that we are commonsense Republicans that are prepared to reach across the aisle in order for progress and prosperity. That is why Governor Christie was overwhelmingly reelected in the blue state of New Jersey to a second term. And that is why Marylanders are ready for a Republican governor in Annapolis.
Unfortunately in this partisan day and age, for a Republican reaching across the aisle means getting your arm bit off and used as a club to beat you with. Remember, the reason for Christie's initial popularity was his get-tough stance with the state's unions, and I honestly don't see those sort of stones with Larry Hogan.
It's obvious we have a problem in this state, as Franchot pointed out. But the problem isn't just in the governor's office, it's in the bowels of the General Assembly as well.
Remember the "doomsday budget" session of a couple years ago, and the big deal many in the General Assembly made that spending "only" went up $700 million instead of the $1.2 billion they eventually received? Imagine that fight every year.
Depending on how many Democrats are returned to Annapolis, the budget that Governor Hogan would send out might only get 50 or 60 House votes, so the overriding question is what tradeoffs will we have to endure? Or will Hogan surprise me and take the bully pulpit, going over the heads of the General Assembly and the press to convince the people to demand action on a leaner budget? We know the unions wouldn't take cuts lying down, so are those on the side of sanity going to go to Annapolis and tell Big Labor to pound sand when they mass in protest like they did a few years back? Fifty isn't much against 5,000 and their box lunches.
(By the way, I should point out the link above was one of the posts where I lost all my pictures when Photoshop folded into Adobe Revel and rendered all my photo links obsolete. I spent a good half-hour fixing it for presentation last night because it was important to convey the sort of protest Larry Hogan can expect if he stands his ground.)
I certainly hope Larry wins and comes out with budgets which reflect sanity and not just a 4-6 percent increase each year. But be warned it won't come without a fight. And we can live with Larry's middle-of-the-road, reach-across-the-aisle tendencies if we can get some conservatives to Annapolis to keep him in line, with the rest of us having his back when he makes those promised cuts.