To be perfectly honest, I knew very little about the events in Charlottesville until well after they happened. I was in a vacuum of sorts because I was tuned out from the world, enjoying family and festivities surrounding my wife's attaining her bachelor's degree in this stage of her life as a University of Phoenix graduate. So while the family watched her and hundreds of her fellows walk onstage to accept their degrees at the newly-rechristened Capital One Center in Washington, D.C., a few dozen miles to the southwest a chaotic scene was unfolding. As I have since learned, Heather Heyer, a 32-year-old white woman who was a paralegal from the city, was killed when she was struck by a car reportedly driven by a 20-year-old white Ohio man, James Alex Fields, Jr. While Fields lives in my old stomping grounds (Maumee, Ohio is a suburb of Toledo) he grew up in Kentucky and is supposedly an "alt-right" Trump supporter.
You'll notice I linked to the CNN story, but through the evening Saturday and into Sunday afternoon there were all sorts of different reports and rumors on what happened: different identities on the car driver and registration, people describing how the original protesters (dubbed "Unite the Right") had their permit pulled, then restored, then pulled again while the counter-protesters never got a permit, a tale alleging the Unite the Right group was set up by the city for a beatdown by the "Antifa" and "Black Lives Matter" groups by ordering them to leave the park a certain way through their counter-protest, and so on and so forth. Obviously the Left blames the Right and the Right counters that the Left is really at fault.
But my question goes all the way back to the root of the problem. In the last several years, the city of Charlottesville – which is home of the University of Virginia – has become what is described as "progressive." At one time it had parks named after Confederate generals Robert E. Lee and Thomas "Stonewall" Jackson, but no more. This latest controversy was about removing the statue of Robert E. Lee that graces what used to be called Lee Park; a statue put up decades after Lee's death in 1870. (Unlike most other conflicts, in our War Between the States neither the leader of the opposition army nor government was executed for treason – Lee lived until a stroke and subsequent illness felled him five years later, while Confederate president Jefferson Davis was imprisoned for a few years but out of prison well before his death in 1889.) In his postwar days, Lee was best remembered for restoring what became known as Washington and Lee University while his former estate became Arlington National Cemetery. (In no small bit of irony, our family spent a good part of Saturday afternoon there after the graduation ceremony and our lunch.)
It's also true that Lee turned down the opportunity to lead part of the Union forces as a colonel (his rank at the time the conflict began) because he felt more loyal to his home state of Virginia, which chose to join the Confederacy – this despite Lee's personal opposition to secession.
So then we come to the reason people were in Charlottesville to protest. The "Unite the Right" had one very valid point in that there's no good reason to remove this piece of history from its longtime place. If anything, more context should be added: why was Lee deemed important enough at the time to be so honored and what have we learned about him since? (To that end, three states still celebrate his January 19 birthday as a legal holiday; oddly enough, every few years it falls on the date we celebrate the birth of Martin Luther King, Jr. As another example, there is also federal law that equates Confederate veterans with Union veterans when it comes to grave markers.) In short, taking an honest look at Lee's life and legacy would be more complex than simply boiling it down to the four years he spent leading a Confederate army, but most people don't want to do that because it doesn't suit their political purposes.
We then loop back to the events in Charlottesville. What we know is that there is a young man who's being portrayed as one whose head is full of racist, neo-Nazi tripe and he stands accused of maiming innocent bystanders to the extent that one has died and several others were left in critical condition. We also know that this rally necessitated additional police coverage, and a police helicopter carrying two Virginia State Police officers crashed on Saturday, killing both men on board. All four of these lives were changed irrevocably and senselessly for no good reason, over an inanimate object.
And that same controversy roils locally on a smaller scale over another Civil War figure. Brigadier General John Henry Winder was a Union officer in the Mexican War but later served as the administrator of all the Confederate military prisons until his death just weeks before the Confederate States of America ceased to exist. Since he was born in what would become Wicomico County after his death, and the state needed something to commemorate the war with here after 100 years, we got a plaque that originally sat by where the Evolution brewery is now but moved to its present location around 1983. For 33 years this was no problem but then Donald Trump was elected and suddenly it became so. Oops, did I say that?
Why, yes I did. And despite the fact I didn't vote for the guy and he's generally the epitome of politically tone-deaf, in this case he's getting a really raw deal. Trump puts out a statement on Saturday that may have seemed bland on the surface but was immediately panned for noting the "hatred, bigotry, and violence" came from "many sides." So a couple days later he reiterated his disapproval and was regaled with a press reaction sort of like this: (courtesy of the Patriot Post)
So when the President went back to the more original tone today you had to know the media would crucify him once again, and again they miss the point. It took two sides to tango down in Charlottesville, and note that several previous events (such as the tiki torch rally the night before) had gone off without the violence. It was only when the BLM and Antifa side showed up that the clashes occurred. As for using a car as a deadly weapon, James Fields will have his day in court – if he survives that long. I'm sure the more conspiratorial among us are already trying to figure out just how their bogeyman du jour (George Soros, the Clintons, the Rothschilds, et. al.) will make his death look like a suicide. We know Fields will be in jail until then because he was denied bail.
For those of you who partake in such things, maybe the best answer to all this is to look to the Almighty in prayer. Pray for the families of Heather Heyer, and VSP troopers Berke Bates and Jay Cullen, who surely need comfort and strength through this difficult time of loss. Pray that this becomes a time of reflection and repentance for James Fields, to drive out the wickedness and hatred in his heart and turn his life in the right direction, and that others see this result and step back from the brink before it's too late.
And pray for a nation that's being torn asunder more each day by forces wishing to divide it. Pray that we once again remember that we are a nation that God blessed, and in return we should be grateful for our abundance. We are all part of His creation, so perhaps it's time to remember Luke 6:31.
We have barely made it six months into President Donald Trump's term. And while Democrats were ready to oppose him from day one – Trump's Presidential honeymoon lasted less than a nanosecond after he was sworn in – no one really expected the 2020 race to begin shaping up until we made it through the 2018 midterm elections.
But as further proof we now have a continuous campaign, the first somewhat serious candidate to enter the race on the Democrat side made his intention known Friday by foregoing another term in the House. Rep. John Delaney put an op-ed in the Washington Post on Friday that claimed he would be the candidate to "have an original approach to governing and an economic policy that can put us on a different course."
Yet while the incumbent President is a businessman, Delaney thinks he's not cut out to be a leader. "I think Trump, to some extent, is a punctuation of everything that has broken down with our politics," said the Congressman in a separate WaPo interview.
So he's going to do things a little differently.
As a progressive businessman, I've made it a priority to be solutions-oriented and have been consistently recognized as one of the most innovative and bipartisan members of Congress. I've done this by simultaneously celebrating the power of our free-market economy while insisting that there is a role for government to set goals and rules of the road and take care of those who are left behind.
And let me grab one more excerpt to illustrate his approach:
We need to be smarter, fueled by more investment in science, education and research. We need new ideas on the future of jobs and work, one where we build a stronger and more vibrant middle class. We need to encourage a more just and inclusive form of capitalism and reduce barriers to small-business formation, start-ups, job creation, investment and growth. We need to strengthen our safety-net programs and create a new social contract. We need to reform the systems of education, health care and immigration, and encourage more volunteerism, impact investing and public service. And we need to take affirmative steps to reduce our security, fiscal and climate risks. This is what my campaign will be about.
Let me begin at the top. Would it not be fair to say that, in order to have a truly free-market economy, there should be a minimum of government-set rules and goals and a maximum of market-set ones? I'm sure John didn't wake up every day when he was building his businesses and say to himself, "Gee, how can I meet the specifications and expectations laid out for me by the federal government today?" I know I don't say that when I consider what to write in my little space.
And the problem with the government taking care of those being left behind is that they become overly comfortable in that lifestyle and create generations that don't aspire to anything more than living off the state.
As a Democrat, Delaney has to include the old canards about "investment" (read: more unnecessary spending) in science, education, and research. But what really reveals the game is the idea of a "more just and inclusive form of capitalism." Capital is as just and as inclusive as the market participants, which I will agree goes in with reducing barriers. But those barriers should be reduced in such as way that no one gets an advantage for themselves – the problem is, as we all know, Democrats will rig the game for certain constituencies in order to buy their votes.
All in all, I've figured out just what Delaney's campaign will be about: he will be the arbiter of everything. I mean, he already has a website for his campaign where he has the catchy "D" logo with a highway disappearing into the horizon, and in the video he has there he goes over just how wonderful and peachy everything will be if he's in charge and in control of everything, because that's what "progressive" policies entail – government calls the shots and you get what they grudgingly give you. One of the women on the video talks about what a great progressive businessman Delaney is to his employees, and that's outstanding. But let that be his choice, not forced on every business whether they can afford it or not.
Yet there's another point to be made here as well. Think back to this time on the calendar in 2009, when Barack Obama was perceived as popular – even if many of his policy ideas were not. On the other hand, there's been little discussion about Trump's policy ideas (aside from the GOP's failed attempt to rid us of Obamacare, which Trump was more or less ambivalent about, in all honesty – after all, he was the one who introduced Republicans to the "repeal and replace" concept.) But if you transport yourself to the end of July 2009, the GOP presidential contest was thought to be Sarah Palin's to lose – but she was months away from announcing her intentions, as were other 2008 and possible 2012 contenders. So Delaney's entry into the race, well over 2 1/2 years before we deal with the snowy Iowa caucuses, either means Democrats are just chomping at the bit because they think they have 2020 in the bag or they are just trying to extend the perception of Donald Trump's unpopularity. And who knows? The 2020 field for the Democrats may make the 2016 GOP field look small in comparison because EVERYONE who thinks they can be President will give it a shot. Maxine Waters, anyone?
There's only been one President who was elected from being a sitting House member, and that's James Garfield. (Technically, Delaney won't be a sitting House member when elected since he's dropping out of Congress after three terms.) Even so, I think that 140 year streak will be safe. But in any battle someone has to charge forward and take the arrows, and it looks like John Delaney is that guy. The only question is whether he will be first in, first out.
And somewhere Larry Hogan is breathing a sigh of relief. I've thought all along Hogan was most vulnerable to a Delaney challenge given their similar backgrounds, but it appears John has more ambition than to just be governor.
You know, since the events that led to the formation and rise of the TEA Party the Republican Party has promised to be our savior if only given the chance. After they successfully won the messaging battle over Obamacare in 2009-10 – aided by the ham-fisted, cynical fashion it was rammed through Congress and onto Barack Obama's desk – the GOP won a smashing electoral victory that flipped the House just two years after the second of two successive wave elections convinced many political pundits we were on the verge of another decades-long run of Democratic dominance in Washington. While that success took a pause in 2012, perhaps because the Republicans nominated the originator of state-supported health insurance in Mitt Romney to face Barack Obama, the actual implementation of Obamacare beginning in 2014 resulted in yet another midterm electoral shellacking for the Democrats that November, costing them control of the Senate.
All along, Republicans told us these various steps along the way, once they won the House in 2010. First they whined that they only had one-half of one-third of the government, which sufficed as a campaign plank until 2014, when they won the Senate. Once they won the Senate, they actually passed a bill repealing Obamacare – of course, it was vetoed by Barack Obama and the votes weren't there for an override. So now they needed the White House and then, once and for all, we could be rid of Obamacare.
July 26, 2017. The Senate has its chance to pass a nearly "clean" Obamacare repeal bill, with a majority of Republicans in the body. There's no question such a bill would sail through the House and we have a nominally Republican president in Donald Trump who would be for repealing Obamacare – although he wanted to replace it, too. It just has to get through the Senate, and yet – it did not. Seven Republicans joined all 48 Democrats (as one would expect) in turning their back on the people who elected them.
So who's in this Hall of Shame? Well, it's mainly the usual suspects: Lamar Alexander (Tennessee), Shelley Moore Capito (West Virginia), Susan Collins (Maine), Dean Heller (Nevada), John McCain (Arizona), Lisa Murkowski (Alaska), and Rob Portman (Ohio). With the exception of Maine – where Trump won one of the state's two Congressional districts (for one electoral vote) but lost overall – all these states went GOP in the last election, yet their Senators sided with the Democrats. And as President Trump noted, "Any senator who votes against repeal and replace is telling America that they are fine with the ObamaCare nightmare, and I predict they'll have a lot of problems." Yet only Heller faces the voters in 2018 – McCain, Murkowski, and Portman were just re-elected and the other three aren't up until 2020.
The question now is how GOP loyalists are going to spin and explain this one away. To be quite honest, I think people have known for many moons that the Republicans were selling the voters a bill of goods but if you can't keep your caucus together on something that's been a fundamental promise for seven years then it's clear even the fig leaf is gone. Despite their high-minded rhetoric, the GOP is now just as much the party of big government as the Democrats are. Now it's just a question of which side gets the spoils.
And now where do those who believe in limited government go? They are now political orphans because the Republican Party just showed they aren't willing to stand by those principles when push comes to shove.
For some reason the vibe seemed a little different to me this time around – maybe it's because this is the first one I've attended as an erstwhile political participant. But at 10:00 I rolled into town and got my ticket (this was a first, too – more on that in a bit) so I started looking around while I was there. Immediately I found there was still one constant.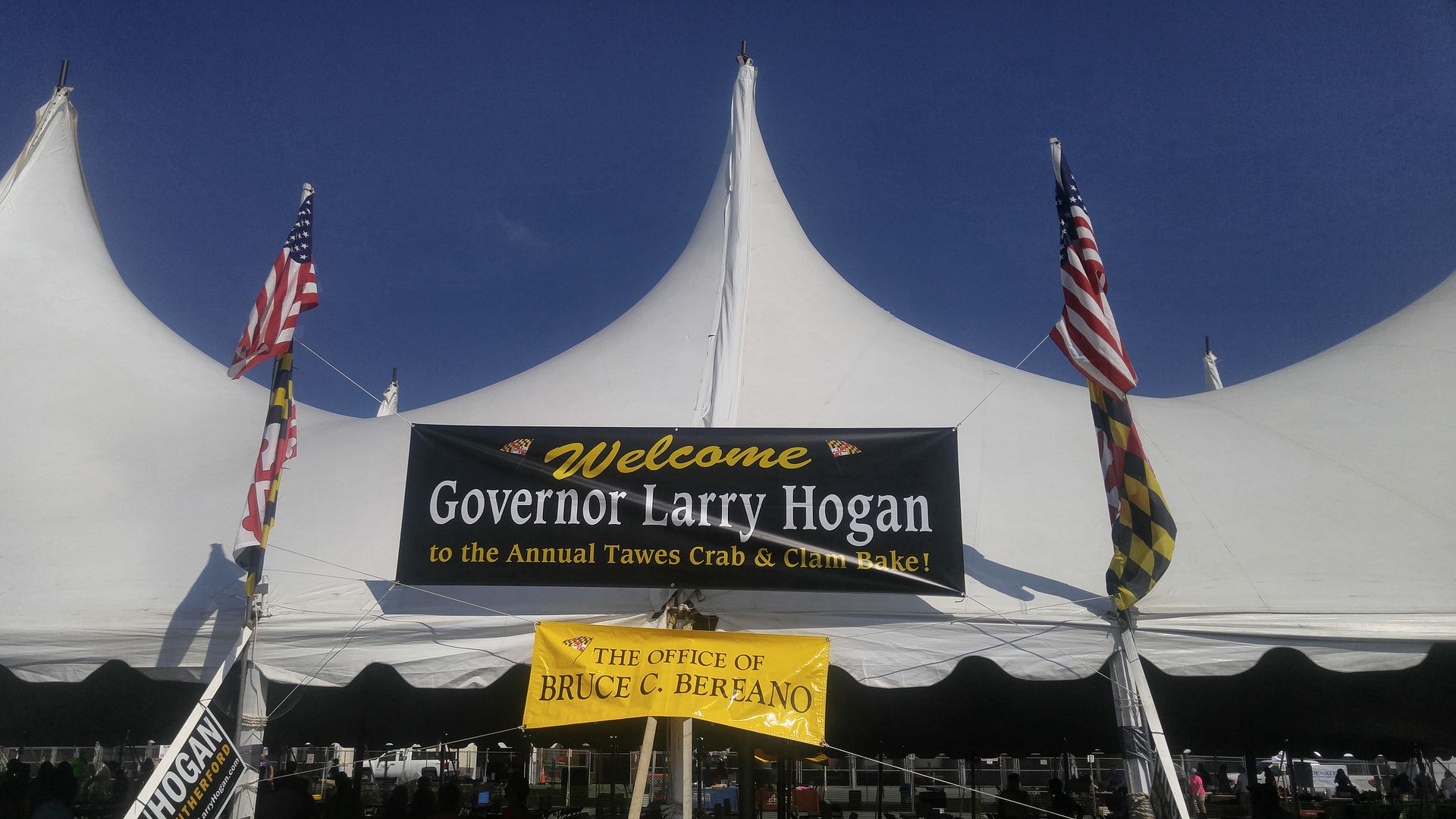 Bruce Bereano probably brings half the people down there, and I'm not kidding. If you consider that the political people are a significant draw to this festival, and his massive tent is annually chock-full of Annapolis movers and shakers, one has to wonder just what would be left if he ever pulled up stakes. Would they have a crowd like this?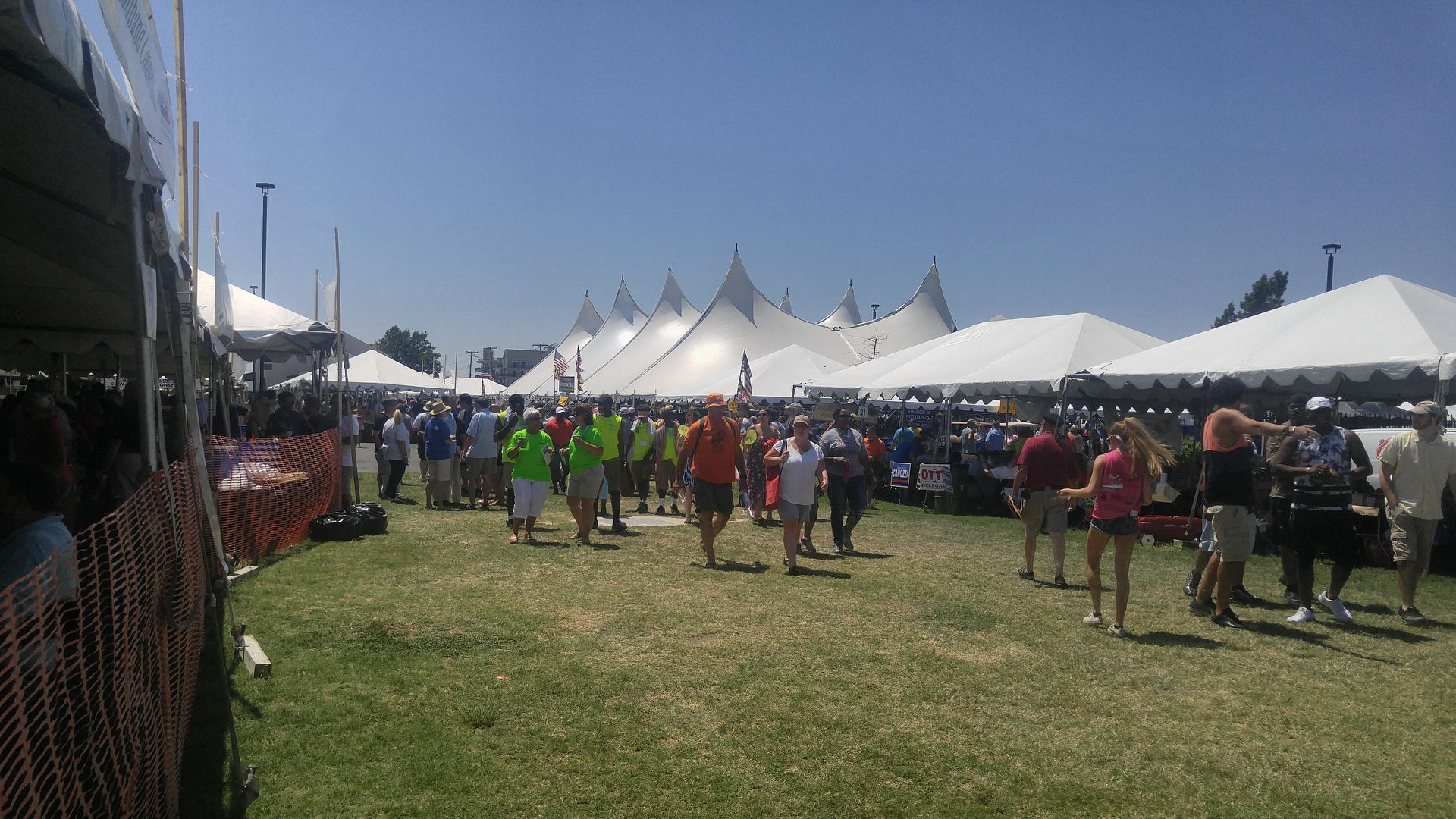 But the Crisfield Chamber of Commerce (as event sponsor) has its own ideas on VIP treatment.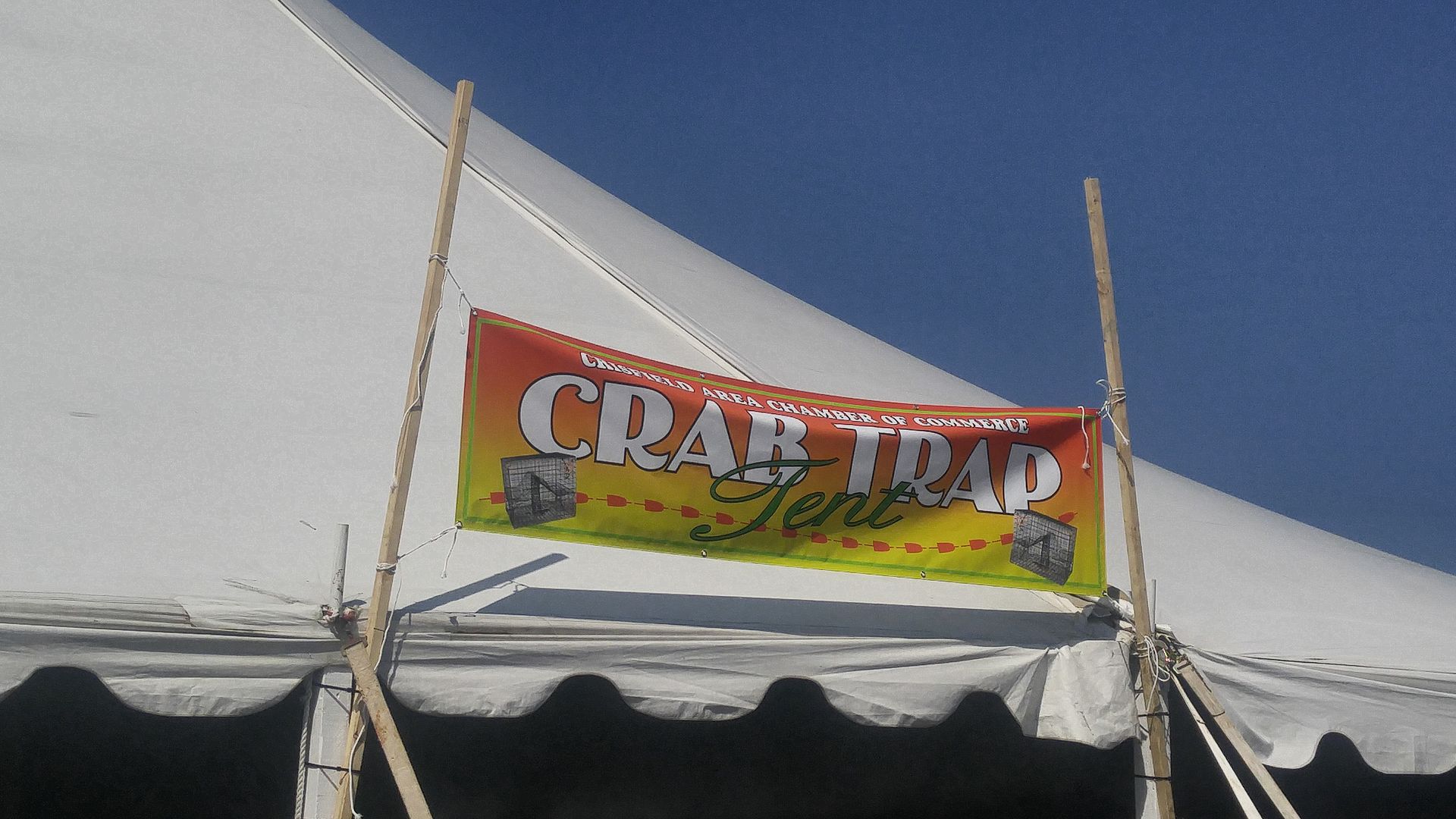 For an additional $15 fee on top of the ticket price, you could get access to this tent with its amenities. It was an answer to some of the corporate tents that were doing this anyway. Many of those were still doing their thing.
Most of the people were already in line at 11:30 waiting on lunch. While the ticket says 12, if you wait until then you're waiting for food.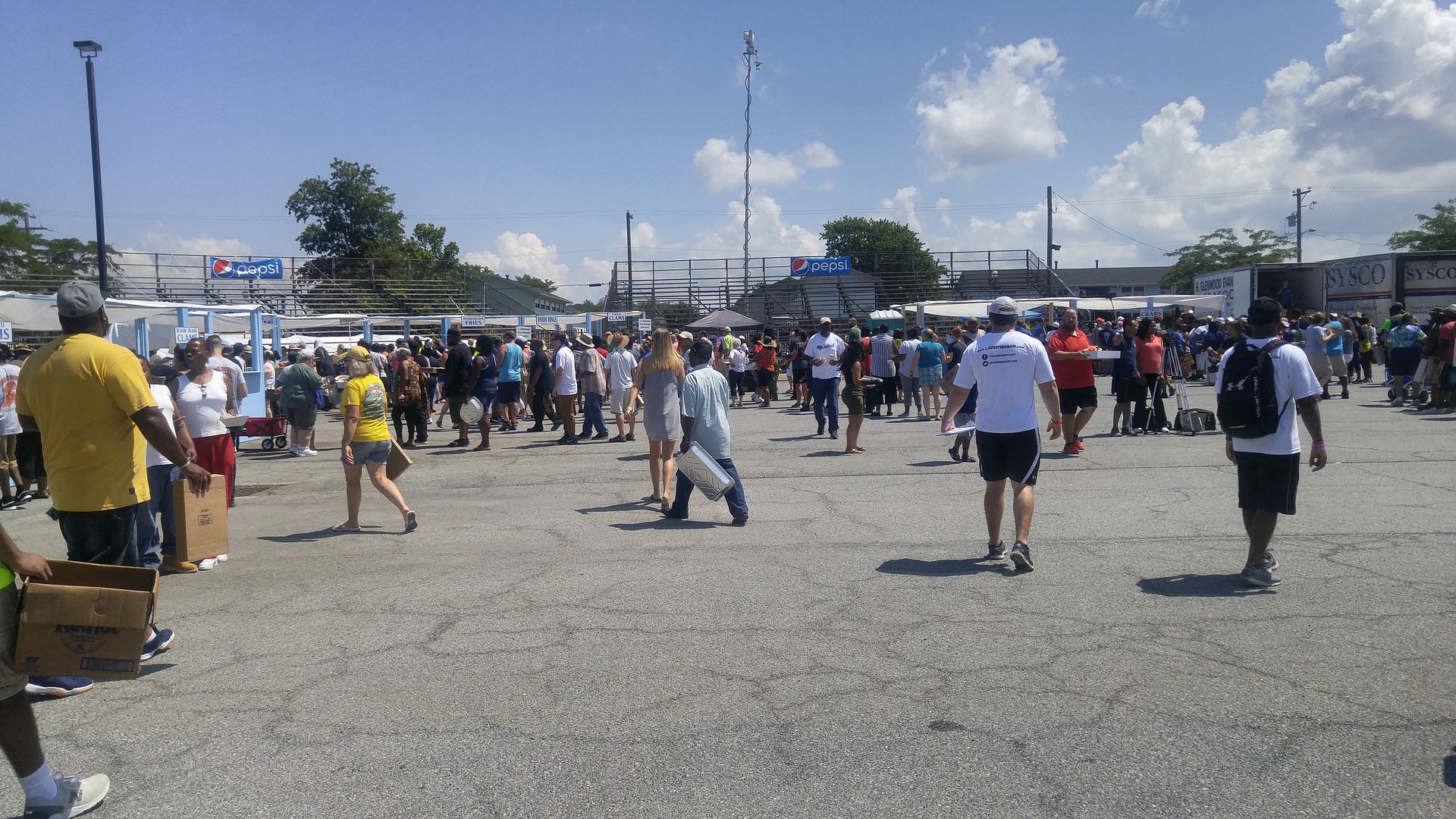 But let's face it: the media doesn't really come here to see food lines, although that's where I found this crew from Channel 47, WMDT-TV.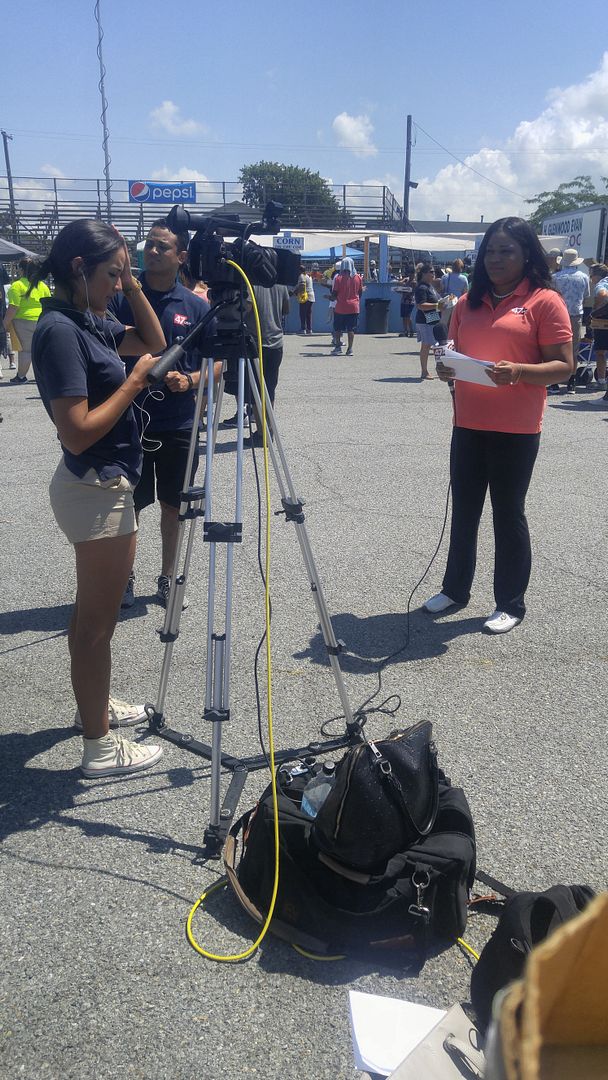 No, the real draw for this edition was the potential 2018 candidates. Until the last couple cycles, odd-numbered years were somewhat sleepy because the campaigns weren't really underway yet, while the even-numbered years saw Tawes fall on a date less than two months before the primary. That's now flipped on its head because the primary was moved up to June, so this is the last Tawes before the 2018 primary. So several contenders were out scouring for votes – none, I would say, moreso than this guy.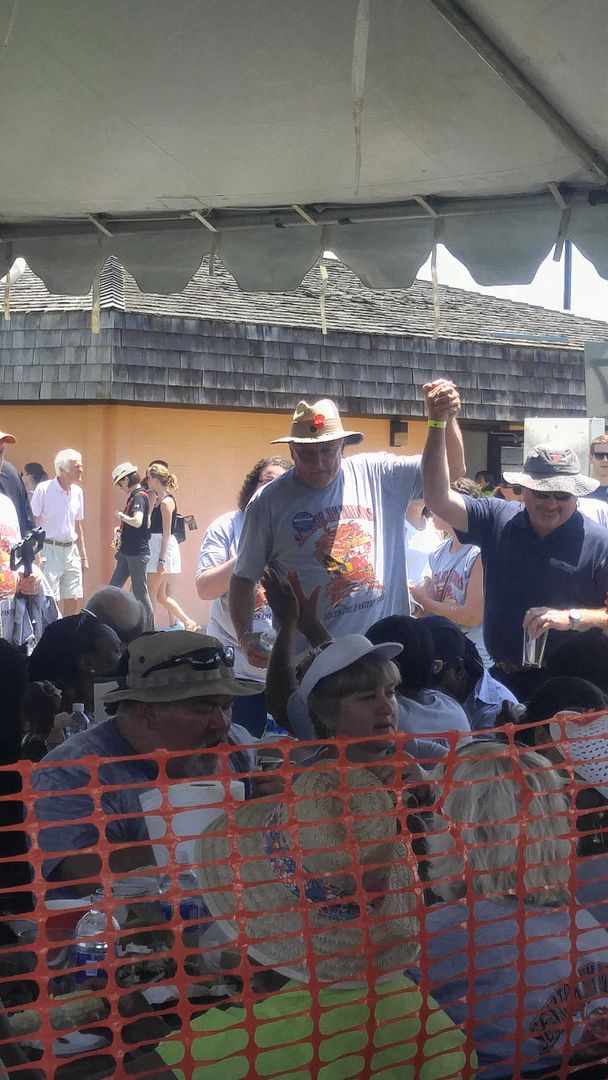 State Senator Jim Mathias (standing, in the gray shirt) has a huge target on his back that's far larger than the logo on the front. He is the one Democrat Senator on the Eastern Shore, and the GOP sees his seat as a prime candidate for taking over next year as they need to flip five Senate seats to assure themselves the numbers to sustain Larry Hogan's vetoes.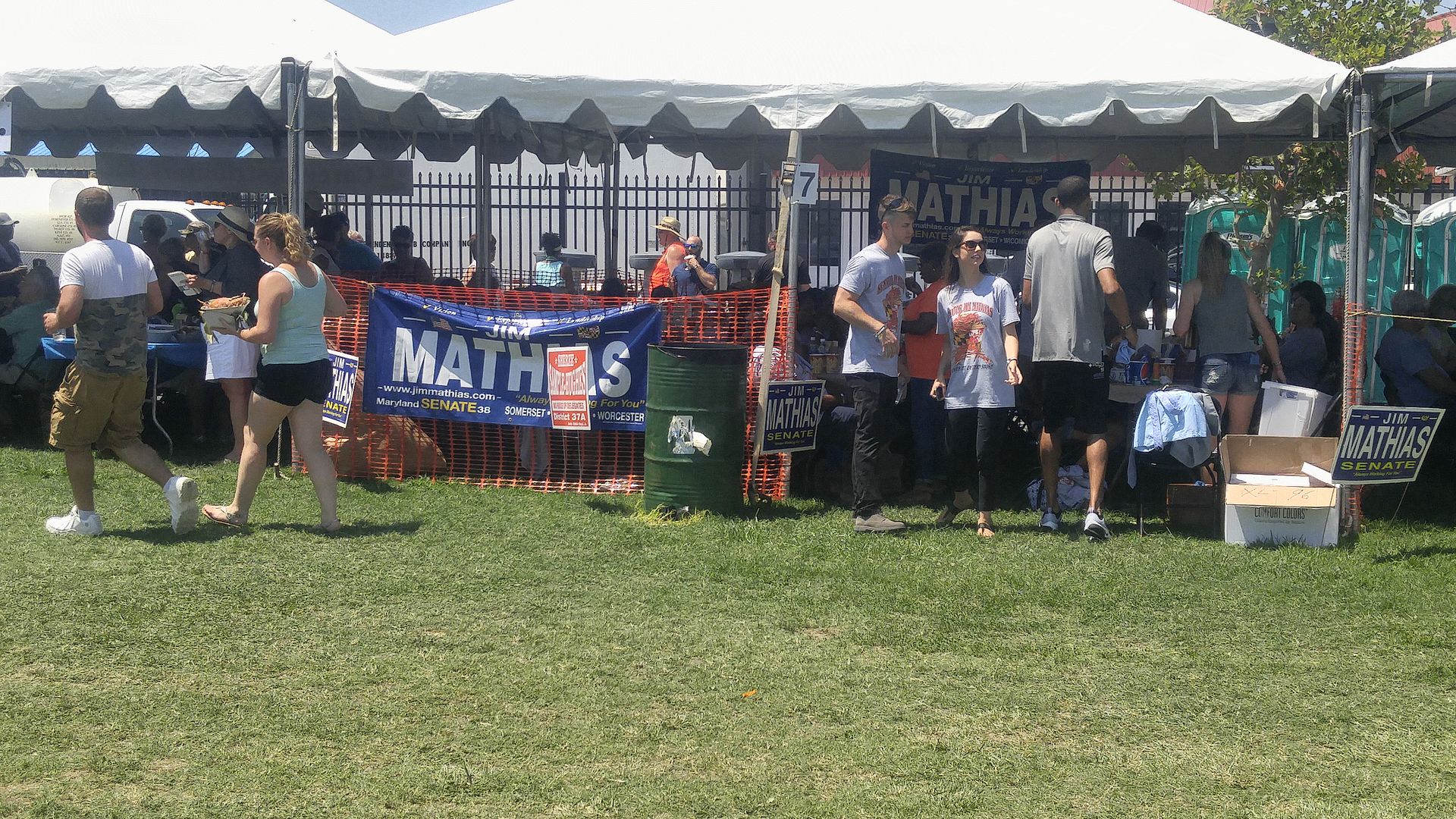 To that end, Mathias was the one candidate who had his own supporter tent. To me, that was interesting because most of the local Democrats that I know spent their time milling around the Mathias tent (wearing their own gray shirts) and didn't hang out at the "regular" Democrat party tent.
Just a couple spots over from Mathias was the Somerset GOP tent.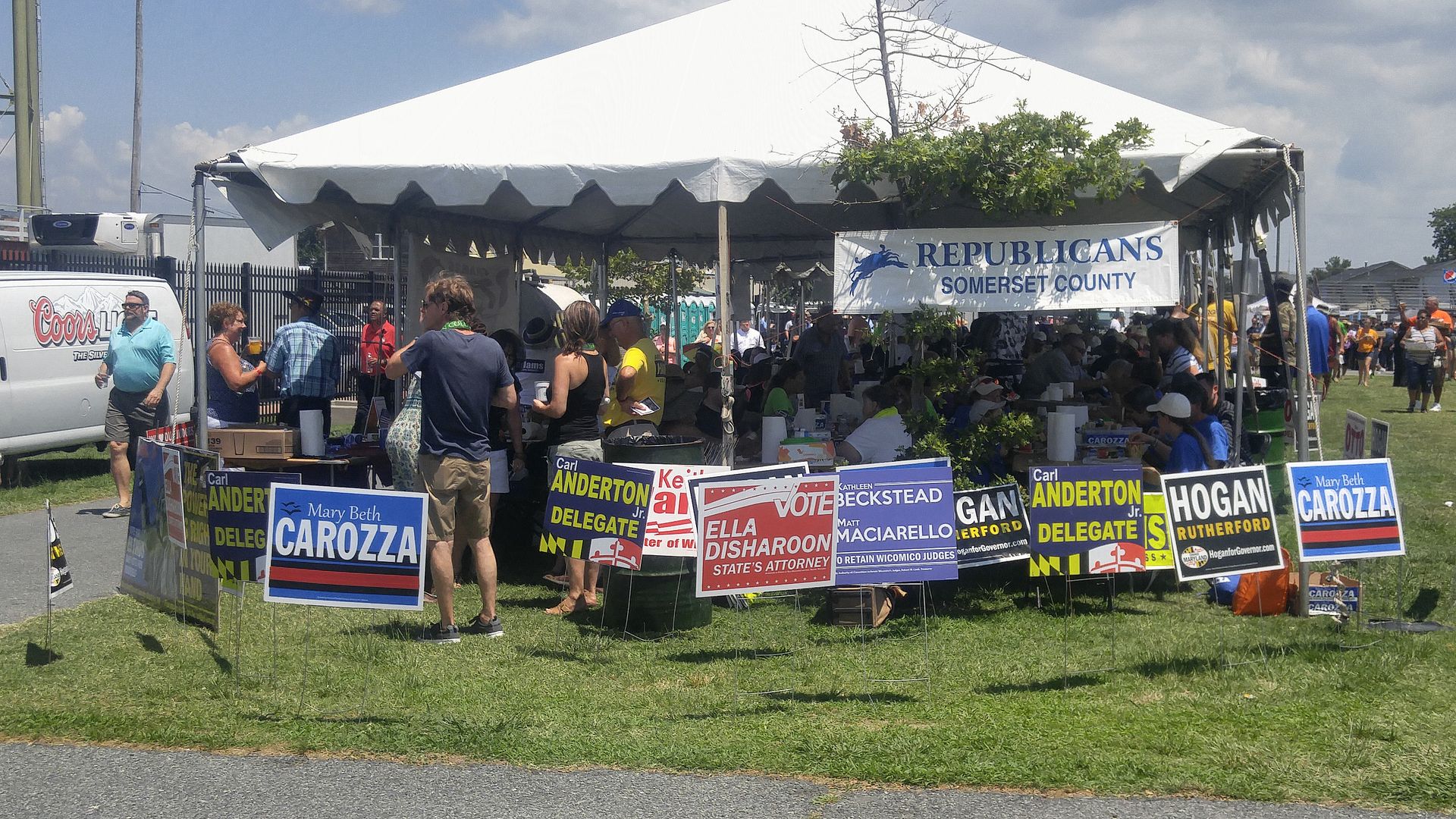 Now you'll notice I said Somerset. For whatever reason, Wicomico's Republicans chose not to participate this year and there were few of my former cohorts to be found. Since that's how I used to get my tickets, I had to make alternate arrangements this time. That's not to say there weren't Wicomico County Republicans there such as County Executive Bob Culver, Judge Matt Maciarello, Salisbury City Councilman Muir Boda, and many others – just not the Central Committee.
Closer to their usual back corner spot were the Democrats.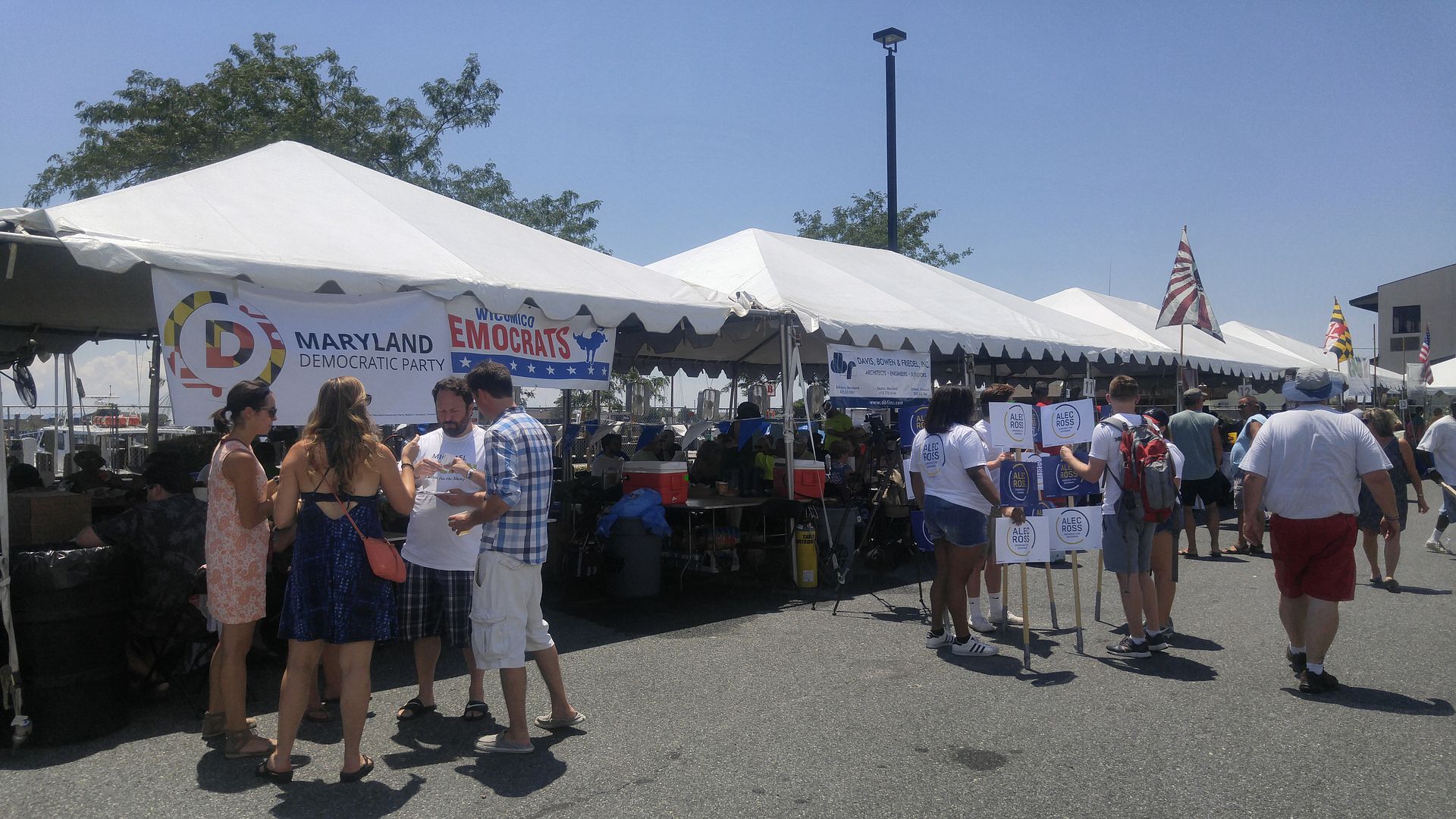 Their focus seemed to be more on the larger races, as even their state chair Kathleen Matthews was there. Here she's speaking with Crisfield mayor Kim Lawson.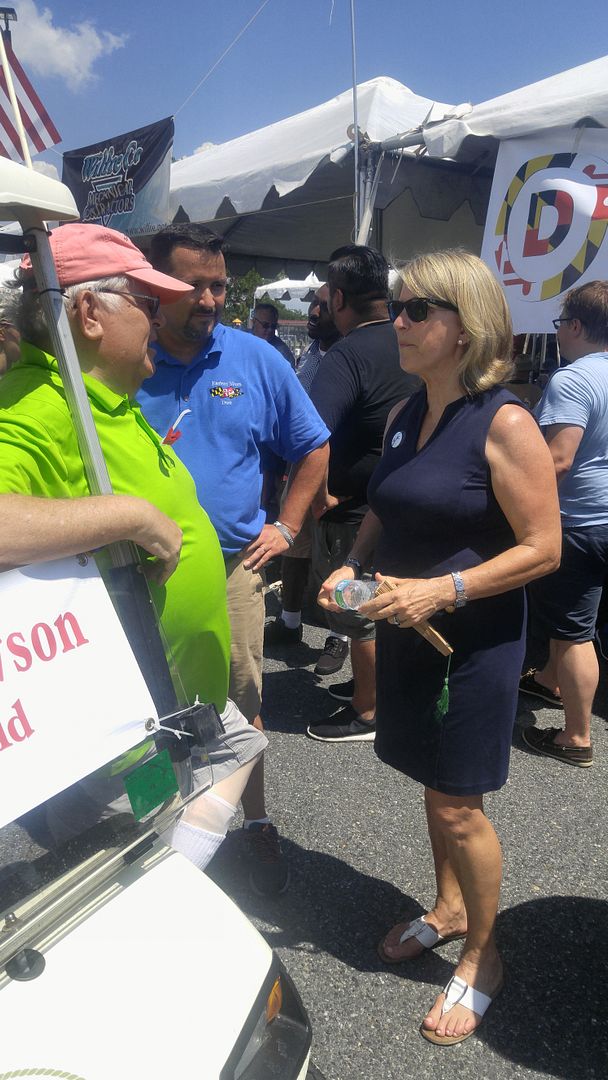 (Lawson has a smart-aleck sense of humor I can appreciate. When a photographer introduced herself as being from the Sun, he thanked her for making it a little cooler here than back home. I got it right away, she looked befuddled.)
The small posse you may have noticed in the original photo of the Democrats' tent belonged to gubernatorial candidate Alec Ross, who eventually caught up to them at the tent.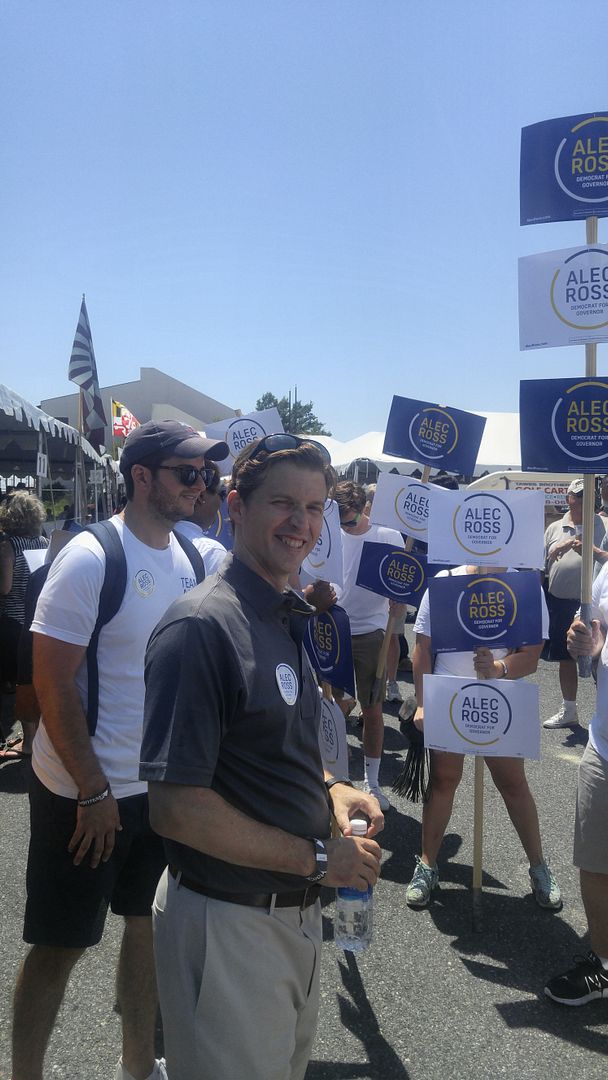 I asked Ross what he would do differently than the current governor, and he said he would focus more on education. One thing I agreed with him on was something he called a Democratic "failure" – focusing too much on preparing kids for college when some aren't college material and would be better suited for vocational training. But he limits himself in the palette of school improvement and choice to public and charter schools, whereas I believe money should follow the child regardless. Ross also has this pie-in-the-sky scheme about government credit to working moms for child care which I may not quite be grasping, but one assumes that all moms want to work. I think some may feel they have to work but would rather be stay-at-home moms.
The thing that stuck out at me was his saying that when two people disagree, at least one of them is thinking. You be the judge of who ponders more.
But the Democrats' field for the top spot is getting so crowded that I got about five steps from talking to Ross and saw State Senator Richard Madaleno, another candidate.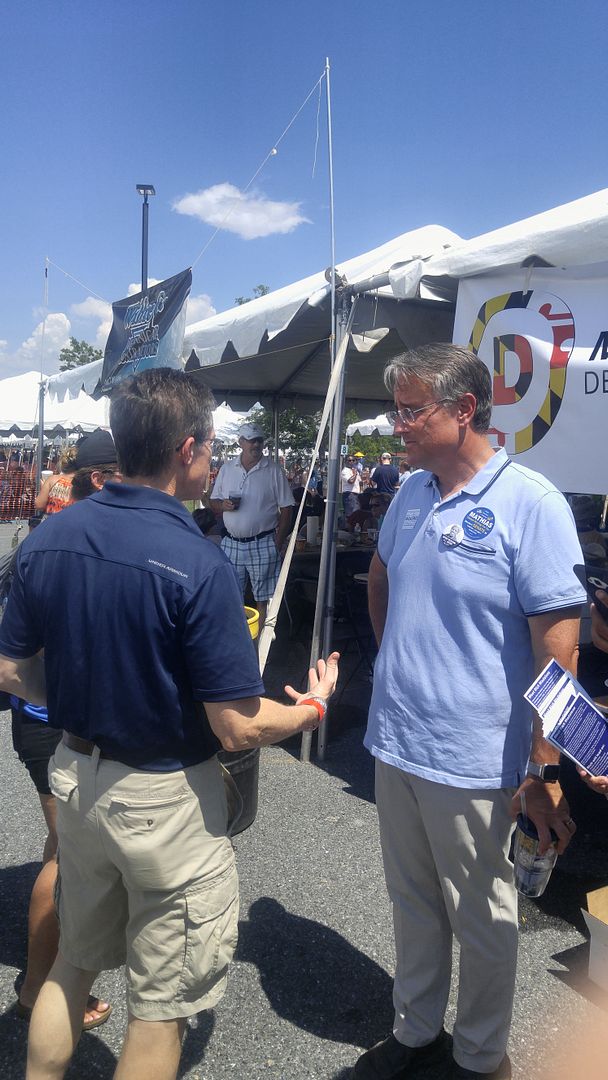 Having done the monoblogue Accountability Project for a decade now, I pretty much know where Madaleno stands on issues – but I was handed a palm card anyway. Indeed, he's running as a "progressive."
And then there's this guy. I didn't realize he was talking to the state chair Matthews at the time, but I wonder if she was begging him to get in the governor's race or stay out of it. I suspect state Comptroller Peter Franchot is probably happy where he is.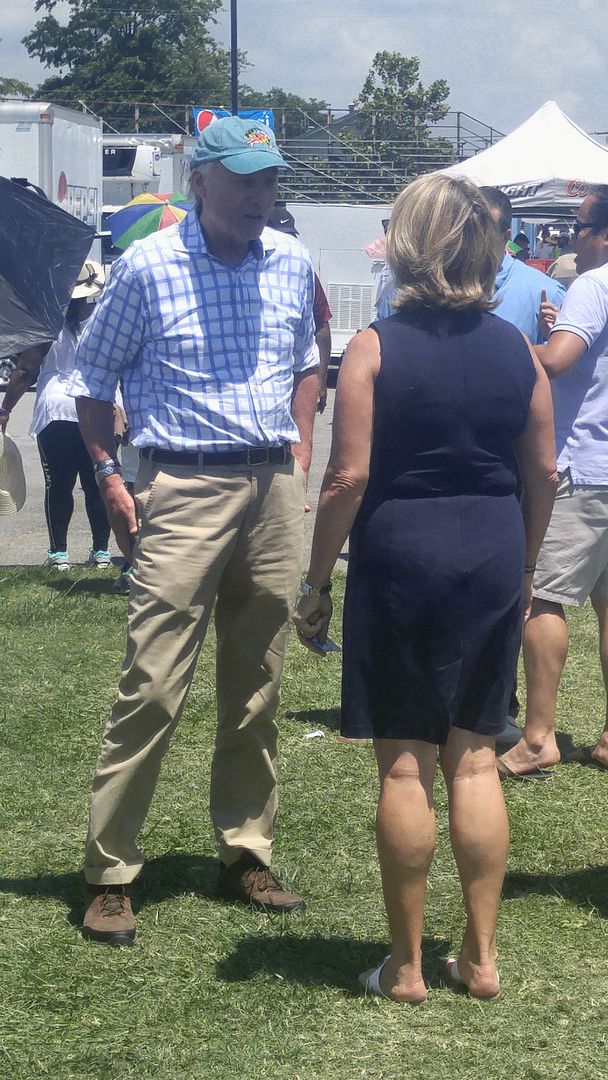 Franchot is probably happy because he works so well with this guy, the undisputed star of the show.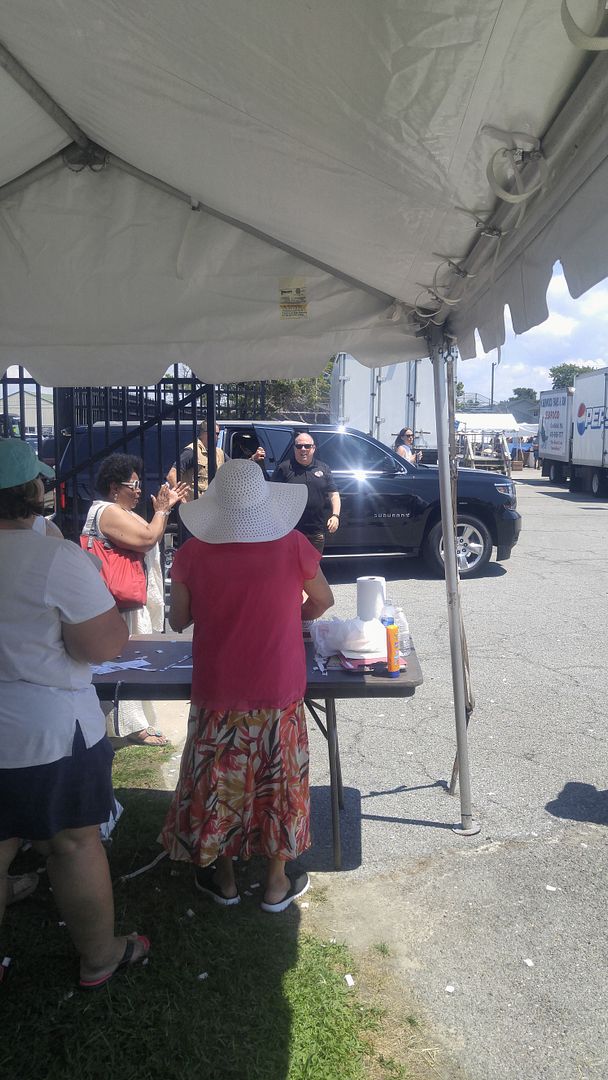 This turned out to be a pretty cool photo because I was standing in just the right spot to see his car swoop around the corner, come to a halt, and watch the trooper open the door for Governor Hogan to emerge.
If you follow me on social media you already saw this one.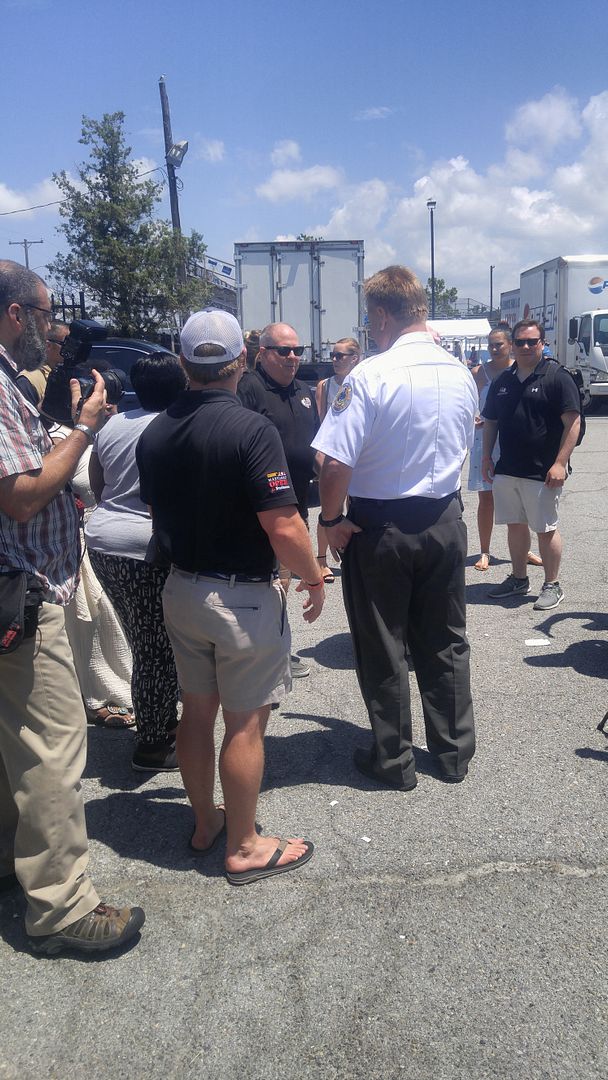 Say what you will, and Lord knows I don't agree with him on everything: but Governor Larry Hogan was treated like a rock star at this gathering, to a point where he could barely make it 50 yards in a half-hour.
This would have been of no use.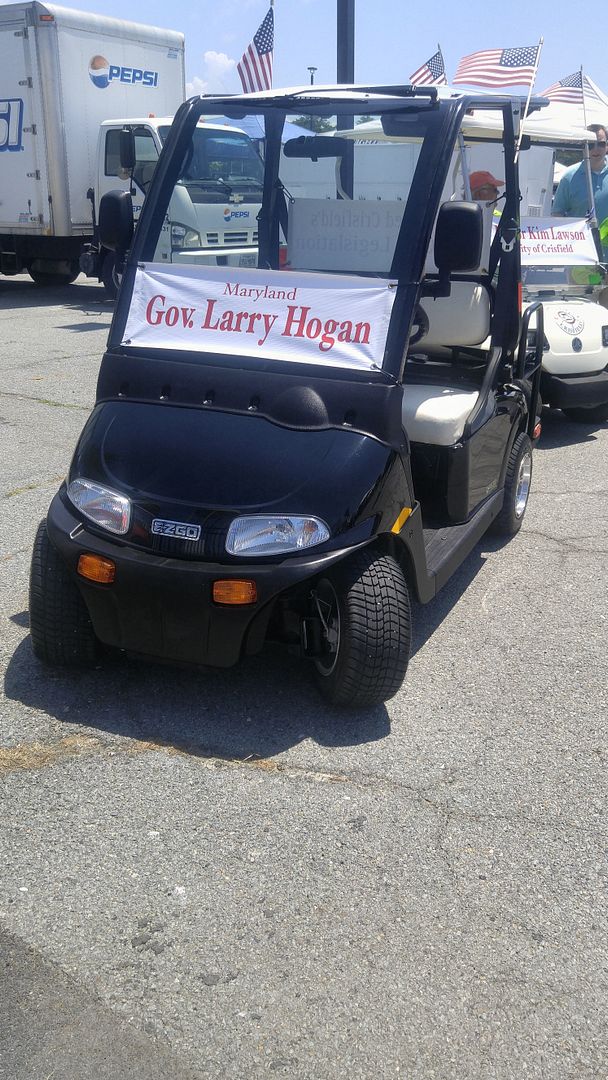 I said my quick hello to Larry moments before WBOC grabbed him for an interview, and that's fine with me.
Here are two ladies who were probably glad he was there, too.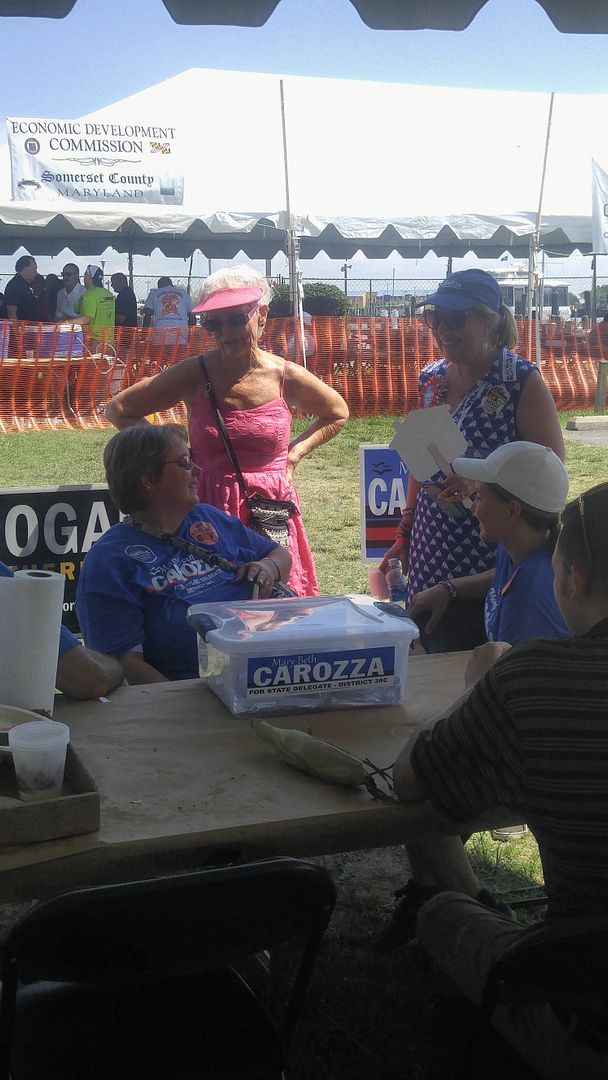 In her usual pink was State Senator Addie Eckardt, while Delegate Mary Beth Carozza was in her campaign blue. And since Carozza told me she treasures my observations, here are a couple.
First of all, it's obvious that Jim Mathias is running scared because why else would he spend the big money on a tent and dozens of shirts for the volunteers that showed up (plus others who may have asked)? Not that he doesn't have a lot of money – the special interests across the bridge make sure of that – but Mathias has to realize there is some disconnect between his rhetoric and his voting record. And he's not prepping for a major challenge from Ed Tinus.
A second observation is that most of the Mathias signs I saw driving down there were flanked by signs for Sheree Sample-Hughes, and you don't do that for a Delegate seat you were unopposed for the first time you ran. Something tells me Sheree has a higher goal in mind, but it may not one worth pursuing unless the circumstances were right.
One thing I found out from the Democrat chair Matthews is that at least two people are in the running against Andy Harris and were there. I didn't get to speak with Michael Pullen, but I did get to chat for a bit with Allison Galbraith.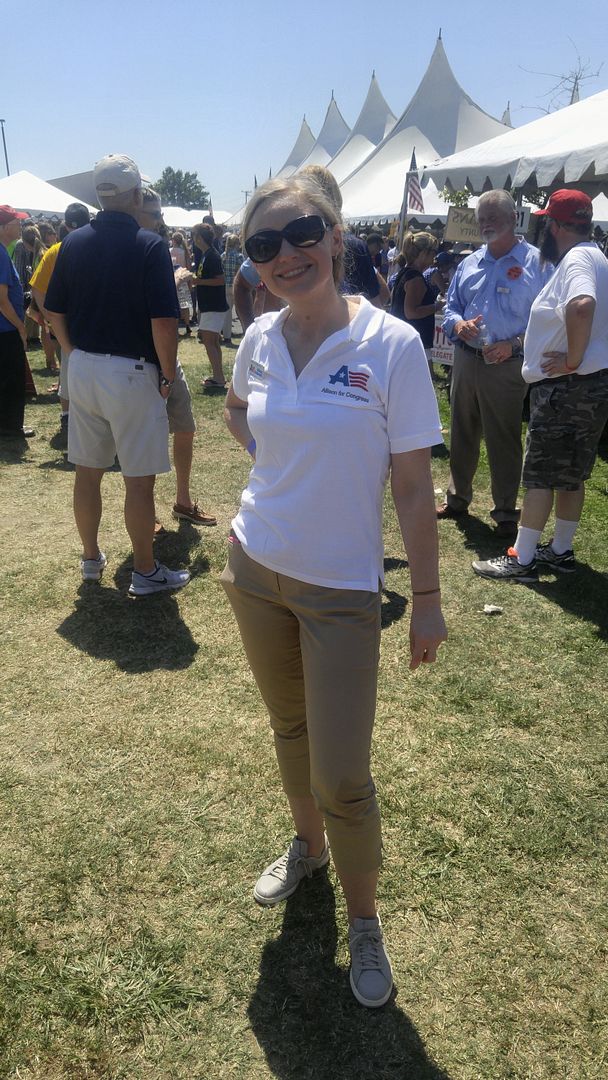 So when I asked her what she would do differently than Andy Harris, the basic response was what wouldn't she do differently? We talked a little bit about defense, entitlements, and health care. Now she is against government waste (as am I) but I think my idea of waste is somewhat different. She also claimed to have saved some sum of money based on her previous work, but I reminded her she would be one of 435 and there seems to be a "I'll scratch your back if you scratch mine" mentality in Congress. (I should have asked her who she would pattern herself after as a Congresswoman.)
But in the end, I was hot, sweaty, sunburned, and dog tired. I will say, though, that despite the rancor that seems to be pervasive in our world these days when it comes to politics most of the people in Crisfield got along just fine. I think I was very bipartisan in speaking since I talked to many GOP friends and met some of these Democrat candidates I didn't know so I had an idea who they were. And who knows? I haven't checked yet, but I may be on the Sun's website – that same photographer Lawson joked with took my photo later while I was asking Ross questions and got my info.
By the time we do this next year, we will know who's running for office and the campaigning will be more serious. So will the eating for the 50% that don't care about politics and never wander by Bereano's massive setup. As long as the Tawes event can cater to both they should be okay.
It's probably been a decade or so, but once upon a time I picked up a used CD at a store that sold such things called "Full Bluntal Nugity." As you may be able to guess, I'm a fan of Ted Nugent's music and this album was a recording of a "Whiplash Bash" New Year's Eve live performance he did many years ago in Detroit. The phrase in my title was a joking reference Nugent made to how he did his songwriting as part of the expletive-filled banter between songs. (I like Ted, but let me tell you the dude could make a sailor blush. Maybe he's mellowed out a little bit as he approaches the age of 70?)
But what triggered me to think of the phrase (and I realize in this day and age that's a loaded word) was the Scalise shooting that's almost a month gone by now. (I actually didn't intend the puns at first, but stuck with them.) With the schedule I keep these days I have less time for writing but I still have time to read social media, and on that medium I often check out what the Left has to say more than what my peeps on the Right have to say. And as is predictable in these cases, their sentiments often broke down into two categories, and generally without the fig leaf of well wishes for the victims that the politicians had to put up.
On the one hand, you had the crowd who thought the Republicans deserved this as karma for trying to take away people's health care by repealing Obamacare. Setting aside the obvious fallacy of that mindset of deserving anything bad to happen to them for any action that's legal – and, I would argue, more in accordance with the intention of those who founded our nation – the reality of the American Health Care Act (AHCA) is that it's a work in progress and there's still going to be way more government involvement in our healthcare than there should be. Remember, many of the provisions that characterized Obamacare were untouched by the AHCA. Moreover, there are several states rushing to fill the gaps they perceive in the AHCA so their laws will likely supplement the federal regulations.
The other side of the coin was the usual banshee-like cry for more gun control, and this is the part I want to spend most of this post addressing. Like many people around this area, we are gun owners. Members of our family went out of their way to be legal gun owners, as a matter of fact, because they strive to be law-abiding citizens.
Those weapons that we have, however, even if they were laying around loaded, would not hurt anyone because (and I realize this is a stunning revelation to some) guns are inanimate objects. I could pull a handgun out of its safe place in our house, lay it in front of me, and stare at it for hours – it's going to just sit there. No one will be injured. The only risk of someone being injured from that gun would be the exceptionally unlikely events of one of our cats knocking it off our table and it falling just the right way to discharge; meanwhile the random line of fire would have to actually strike someone.
So as the events unfolded in Alexandria and we learned more about the mindset of shooter James Hodgkinson, a 66-year-old retired home inspector from Illinois who identified himself as a leftist and supporter of Bernie Sanders for president last year, we once again saw the Right blamed for actions a member of the Left was participating in. But let's look at two basic facts regarding the shooter here: he was born in 1951 and came of age in the Illinois town in which he last permanently lived.
Thus, Hodgkinson grew up in an era when he could have been sent to Vietnam, could have gone to Woodstock (although it appears he did neither), lived through Watergate and the energy crisis as a young adult, and was approaching middle age during the Reagan Revolution. Whatever the case, his story ended as he was living out of a van several hundred miles from home and hanging around a local YMCA, according to this somewhat sympathetic Washington Post feature. While he was married, Hodgkinson had a violent past and perhaps became moreso as he aged, regardless, the question has to be asked: what made him believe he was justified in picking up a rifle to attempt to kill people who presented no physical threat to him?
Moreover, one also has to ponder what Hodgkinson would have accomplished had he mowed down the entire field of Congressmen: would that have scared the remainder into inaction or simply redoubled their resolve? Maybe it would have been a moment not unlike the days after 9/11 or the Oklahoma City bombing, when Americans turned introspective regarding their place in the world. The AHCA may have been shelved for a time, but likely would have returned after the wave of special elections made necessary by the slaughter of Congressional membership, with most of the seats likely remaining in GOP hands and Democrats perhaps paralyzed by having to run campaigns against a wave of sympathy.
I don't believe for a second that access to guns is the problem in this nation. Instead, I think what we need to access a better sense of morality, beginning with a newfound respect for life. Hodgkinson lived most of his adult life under the rules of Roe v. Wade, and ironically enough spent many years as a foster parent – so he dealt with a number of children who were deemed expendable by their parents. Just days before I began writing this piece in the wake of the Alexandria shooting last month, our city of Salisbury was rocked by two shootings in one night that left two men dead in separate incidents less than an hour apart – then last night two other men were gunned down at a local Denny's restaurant.
You keep hearing about these gatherings where we are told violence is not the answer, but that message is being drowned out in a cacophony of cultural and political references:
(Respectively, Barack Obama reputedly paraphrasing the 1987 movie "The Untouchables", Obama adviser Jim Messina, and Donald Trump.)
So which side is winning here? Is it the side with the attitude that life is something that should be treasured and preserved, and that differences in philosophy aren't so great or insurmountable that they can generally be worked out with patient discourse and a little bit of compromise if it achieves something that's good for everyone?
Or is it the side that takes the first sign of disrespect as the cue for escalating violence because it's what they were taught and encouraged to do?
Whichever is the case, there is only one person over whom you have full control, and that is yourself. You determine your own attitude, so perhaps this is a good time to discuss turning the other cheek. I give you not just the verse (which comes from Jesus' Sermon on the Mount) but some context as well.
Ye have heard that it hath been said, An eye for an eye, and a tooth for a tooth:

But I say unto you, That ye resist not evil: but whosoever shall smite thee on thy right cheek, turn to him the other also.

And if any man will sue thee at the law, and take away thy coat, let him have thy cloak also.

And whosoever shall compel thee to go a mile, go with him twain.

Give to him that asketh thee, and from him that would borrow of thee turn not thou away.

Ye have heard that it hath been said, Thou shalt love thy neighbour, and hate thine enemy.

But I say unto you, Love your enemies, bless them that curse you, do good to them that hate you, and pray for them which despitefully use you, and persecute you;

That ye may be the children of your Father which is in heaven: for he maketh his sun to rise on the evil and on the good, and sendeth rain on the just and on the unjust.

For if ye love them which love you, what reward have ye? do not even the publicans the same?

And if ye salute your brethren only, what do ye more than others? do not even the publicans so?

Be ye therefore perfect, even as your Father which is in heaven is perfect. (Matthew 5:38-48, KJV)
How you approach life and how you approach others is the one thing you have control over. A good attitude can go a long way in making things better, but that is also something which needs to be encouraged in the culture by turning away from those who would tell you otherwise. Heck, even Nugent himself pledged to tone things down in the wake of the Alexandria incident and if he can follow through so can the rest of us. It truly is about the attitude.
You know, there's no shortage of irony that exactly 50 years ago many of the granola-crunching veterans of the leftist political movement were putting flowers in their hair and heading out to San Francisco to celebrate the "Summer of Love." (Yes, that was 1967. I was two years old at the time.) Now their progeny are gathering around their computers later today to hear Rep. Keith Ellison of the Democratic National Committee and other "special guests" blather on about how they will have the "summer of resistance" this year. More than likely it will be just as successful as one of the several "recovery summers" the last administration tried to drum up support for, but no matter – we know how this will go. Instead of the summer of love, it's the summer of hate for what's made America great (and I'm not talking about Donald Trump.)
Just look at what the Left has been getting themselves all worked up over since President Trump came to office. They dressed up as large-scale versions of certain lady parts to promote funding Planned Parenthood, a code spoken with the true meaning of their "right" to murder babies in the womb under the guise of "choice" or "reproductive rights," completely forgetting that, at the moment of conception, the tiny human inside them earned the most pre-eminent of all rights, the right to life. (For without life, how can you enjoy liberty or the pursuit of happiness?) Corollary to that was Trump's vow to repeal and replace Obamacare, which was a replacement more than I would have preferred.
We have spent countless hours of news coverage and barrels of ink talking about a possible Russian influence on our elections, but the question that should really be asked is why their propaganda was so believable? If we thought the worst about Hillary Clinton, there had to be a reason why and I don't think we have been working for the last 16 years, through two other presidents, just so the Russians could set up an election between Clinton and Trump because they utterly feared the former and had plenty of dirt on the latter. I would believe the reverse far more readily, but the Left keeps playing with the "Trump is a Russian puppet" narrative.
The latest hissy fit from the Left comes as Donald Trump has decided the Paris Climate Agreement as negotiated by the Obama administration isn't for him, so he wants a do-over. Of course, the Left is having a collective cow on this one as well, but it's also worth noting that some of the more foolish states and localities among us are vowing to continue working on their own toward the parameters of the Paris Climate Agreement.
**********
As I see it, what the Democrats are proposing isn't the summer of resistance but the summer of submission: willfully being tied to an inept, impersonal, and immoral nation-state that dictates our actions to us rather than allowing us the freedom to chart our own course. A true Summer of Resistance would perhaps have a convention of states that proposes only a handful of new amendments to our founding documents to provide for the following:
The repeal of the Sixteenth and Seventeenth Amendments, with concurrent adoption of a consumption-based tax system and return to state legislatures electing Senators as terms expire
An amendment prohibiting discrimination against or for certain groups in various legal functions, including crime and punishment
A balanced budget, except in instances of Congressionally-declared war or state of emergency
Additional language to clarify and rein in abuse of the general welfare and commerce clauses
This convention would also come up with a list of names from around the nation that would constitute a new court system to replace the present appellate system that has gone too far out of balance. Along with sending the new Constitutional amendments to the states for ratification, this new court system would be on the Congressional Summer of Resistance docket as well as a budget that completely rightsizes the federal government by returning it to the duties they are supposed to do.
By summer's end, Americans would be free of their federal burdens. Yes, for some it would be a struggle at first but it would be incumbent upon a nation that is the most charitable in the world to give the helping hand to those in need voluntarily, and not via the force of government edict.
Instead of a good Summer of Resistance like the one I described, though, we'll just get more anger and angst from people who still haven't accepted the fact that Donald Trump won more electoral votes than Hillary Clinton did. Try as they might, they can't resist that simple fact. But they can (and will) continue to piss and moan a lot.
This is one of those posts it took me a few days to write as life intervened, but it turns out to be a happy accident in this case.
While I'm certainly not been the biggest fan of Donald Trump as President overall, he has had his moments. Today he's given Radical Green a conniption fit just by announcing he will make a formal declaration on whether we will remain in the Paris Climate Agreement tomorrow afternoon. It's expected he will decide to withdraw, but there's also a school of thought that believes it's just a negotiating ploy to give America a better bargain than Barack Obama negotiated.
In the meantime, it looks like another of those moments may be the rebirth of something that was strangled in the crib during the last administration when they overreacted to the comparatively rare Deepwater Horizon disaster by eliminating the prospect of oil exploration off the mid-Atlantic coast.
In order to get to that point, though, a necessary step is to do seismic surveying. Remember when the environmentalists had a cow awhile back because they were talking about doing this for oil exploration, and it got everyone's knickers in a wad all up and down the coast? Well, it turns out doing this can serve a lot of other interests as well, at least according to Interior Secretary Ryan Zinke:
"Seismic surveying helps a variety of federal and state partners better understand our nation's offshore areas, including locating offshore hazards, siting of wind turbines, as well as offshore energy development," said Secretary of the Interior Ryan Zinke. "Allowing this scientific pursuit enables us to safely identify and evaluate resources that belong to the American people. This will play an important role in the President's strategy to create jobs and reduce our dependence on foreign energy resources."

The last G&G seismic data for the Mid- and South-Atlantic Outer Continental Shelf (OSC) were gathered more than 30 years ago when technology was not as advanced as today. Aside from providing data on potential offshore oil and gas resources, seismic surveys are also used to site offshore wind structures, locate potential seafloor hazards, locate potential sand and gravel resources for beach replenishment activities, and locate potential archaeological resources. Data from seismic surveys also assists the Department in determining Fair Market Value of offshore resources.
It was also over 30 years ago that a series of exploratory oil wells were drilled and capped off the New Jersey and Delmarva coastline, with the closest to us being about 80 miles ESE of Ocean City. At the time it was determined this was essentially a dry hole, but the exercise was useful as a study of the ocean floor and substrate below. So if the same is true now, I wonder why the environmentalists are so afraid of exploratory drilling and seismic surveying? Maybe because they know as well as I do that there's a significant amount of oil out there, and it would keep the price of oil affordable enough to undercut the subsidies needed to keep renewables competitive?
And last week's update from Energy Tomorrow was doubly interesting because not only did it have the release regarding the seismic surveying, it also had a small news item that pointed to a new, soon-to-be-released (and peer-reviewed) three-year study that concluded fracking has no effect on groundwater. (Are you listening, Larry Hogan? There's still time to reconsider your foolish ban on fracking in this state before your election next year.)
Of course, the study authors did have a caveat to their findings:
In contrast to groundwater samples that showed no evidence of anthropogenic contamination, the chemistry and isotope ratios of surface waters (n = 8) near known spills or leaks occurring at disposal sites mimicked the composition of Marcellus flowback fluids, and show direct evidence for impact on surface water by fluids accidentally released from nearby shale-gas well pads and oil and gas wastewater disposal sites.
Now I know the Radical Green folks will be going "SEE! SEE! I BET YOU CAN LIGHT THAT WATER ON FIRE!!!" However, it seems to me one could easily have the same contaminating type of effect from a sanitary sewer overflow, underground tank leak, or EPA incident. The key words are "accidentally released," and companies that want to stay in the business have a duty and legal obligation to be as careful as possible.
But this blows away one key argument from fracking opponents, not that they are much for using logic anyway.
With the right mindset and private-sector infrastructure investment, this region of the country could finally be energy self-sufficient on its own. The job created could be yours.
The other day I noticed on social media that our Congressman, Andy Harris, had put up a post explaining his vote for Trumpcare 2.0, the "repeal and replace" bill for Obamacare. (Most people refer to it as the American Health Care Act, or AHCA.) At the time I saw this there were 1,043 comments on his post and probably 80 to 90 percent of them were negative. I can guarantee you that 80 to 90 percent of his district doesn't oppose his vote, but thanks to this so-called "Indivisible" movement we are seeing some of the most seriously squeaky wheels get the grease that comes from taking 30 seconds to write the linguistic equivalent of "you suck!" on his wall. So I took about five to ten minutes to write my response, because there was a little research involved.
1,043 comments, mostly from people who probably didn't vote for Andy in the first place, vowing he's going to lose in 2018. Y'all need about 139,000 more folks.

In terms of repealing the disaster known as Obamacare, this was the correct vote, We have a long way to go in the process and it's way too early to say what will happen in the Senate (except that regardless of what it is, Maryland's Senators will vote no.)

Oh, and by the way, I just checked out that Allison whats-her-name and if she's praising NARAL she's not getting too far in this district. Most of us stand for life.

Also, since you are on the subject of town halls up and down the thread, could you get those aforementioned Senators down here to have one? Interesting how I never hear anyone clamoring for that.
I have to admit I was only being semi-flippant when it came to "Allison whats-her-name" because I had closed my window and honestly didn't feel like looking it up. Her name is actually Allison Galbraith and she makes her living from, of all things, steering companies to government contracts. I kid you not.
But to begin this piece I want to address the two people who replied directly to my comment, whose names are Gail Jankowski and Bill Schwartz. I'm going to quote their opening sentences here, ladies first.
Gail: We will get MORE than enough votes to replace him because more and more constituents are learning just how negatively this AHCA will affect them!

Bill: Maryland is a Blue State and we need to ensure that the first district is fairly represented.
I'm sure Gail and Bill are nice enough people, and in her case she gets bonus points for (at least presumably, judging by the surname) marrying into a Polish family. (By the same token, I won't take any points from Bill just because his ancestors insisted on unnecessary consonants.) But they seem to have a slim knowledge of political reality.
What the vast majority of people "know" about the AHCA comes from the talking points being fed to them from the media, which isn't exactly a set of unbiased observers. But the 2018 campaign won't begin in earnest for another 15 to 16 months, and what I've found out over the years, Gail, is that the issue you may think will drive the electorate this far out isn't always the one that is front and center by the time people really begin to pay attention, let alone when votes are cast. The big difference between the era of the TEA Party eight years ago in the Obama administration and the Indivisible movement now is, while both are having a discussion about health care as a topic in the off-year before the election – although Obamacare was more dominant in the fall and winter of 2009 – the economy was much, much worse back then. If the economy is in good shape come the fall of 2018, the AHCA will be a minor issue by comparison. People generally vote with their pocketbooks, and the reason the 2010 election was such a wave was the pent-up outrage at an administration that addressed health care before job creation and the economy. (The sticker shock effects of Obamacare were the reason for the 2014 wave election, since it took effect in earnest that year.)
So if the economy remains in decent shape, the AHCA will be so minor of a concern by then that Andy Harris will once again get his 60-65% of the vote and cruise to victory. You see, Bill, Maryland is indeed (and unfortunately) such a blue state that our previous governor and the Democrats got greedy – or at least as greedy as their incumbent Democrat Congressmen would allow them to be. I've made this point before, but if the composition of the First Congressional District were the same in 2008 as it became in 2012, Andy Harris would be on his fifth term. By erasing the northern half of Carroll County from the previous configuration of the Sixth Congressional District and adding it to the First, it assured whoever the GOP puts up in the First District will win because the plurality of the state's Republican voters now reside in the First, and it's by a factor of almost 50% more than any other district. So based on the electorate of the district the First is fairly represented. (The rest of the state? Well, they are just poorly represented, but I'm working on that.)
So now let me turn to another aspect of social media. My friend Sarah Meyers, who describes herself as a proud moderate Democrat (and is a member of our county's central committee) was distraught about the passage of the American Health Care Act, claiming, "The Republican House just voted to allow insurance companies to deny me healthcare."
Now I'll set aside the false conflation of actually having health care provided and paying for it, since there are other methods of doing so out there, but my response essentially noted that she is in the minority of people who are net beneficiaries of the ACA in terms of paying less. Those who get their insurance through their employer are paying far more, a fact that she chalked up to the "greed" of the insurance companies. But the "greed" is tempered by the fact that group insurers have to pay out 80 to 85 percent of their premium income on medical care, leaving the remainder for "administration, marketing, and profit." Since neither administration nor marketing are free, one can presume these insurers are not rolling in profit. This "medical loss ratio" is part of the ACA and may be one reason why insurers are dropping out of the business.
One of the next arguments I got was that the ACA "saves lives," presumably because those who could not afford insurance or were no longer being tossed off for the various reasons of pre-existing conditions, lifetime limits, and so forth were being covered. But the evidence of this is anecdotal at best, and rather dubious in the amount of inference that has to be made. It truly depends on the source, but the best scholarly guess is a net wash. Even some of the partisans concede it's a bogus argument. And while there's always the emotional appeal of someone who can come out and claim they are a survivor because they had health insurance through Obamacare, it's pretty difficult to speak with someone who didn't because Obamacare made their deductible too expensive.
The most radical solution offered up was the old single-payer bromide, from local leftist Chuck Cook:
Single payer is the only solution, and it has been proven to work in every single industrialized first world nation on the planet… except ours. We are the outlier due to conservative ideology that honors the wealth of billionaires over the health of children.
Uh…..no. Honestly, we're very close to having a single-payer system in place here given the lack of competition in many places and tight regulations on the health insurance industry in terms of how much they can make, what they must cover, and how they conduct their business. Basically it would be a Medicare/Medicaid for All system and you can just ask a doctor (whose Medicare reimbursement increased a whopping 0.24% this year, with Medicaid reimbursement being a fraction thereof) how they like it or check out study outcomes, as the left-leaning Kaiser Family Foundation did recently, noting…
Multiple studies, though not all, have documented improvements in beneficiaries' self-reported health, reduced stress and anxiety, and improved quality of life following Medicaid expansions. The Oregon Health Insurance Experiment, which used a research design that is considered the gold standard, compared the experience of adults who gained and adults who did not gain Medicaid coverage through a lottery that allocated a limited number of new Medicaid "slots" for low-income uninsured adults in the state. The study found that Medicaid improved self-reported mental health and reduced clinically observed rates of depression by 30% relative to the uninsured group. The findings related to impacts on physical health were mixed. Medicaid increased the detection of diabetes and use of diabetes medication, but did not have a statistically significant effect on control of diabetes, high blood pressure, or high cholesterol. The researchers note that the study did not have sufficient statistical power to detect changes in these measures, and also that factors including missed diagnosis and inappropriate or ineffective treatments, among others, could mitigate the impact of coverage on clinical outcomes.
…to see if this meets your definition of "proven to work." For me it's lacking.
I think both sides agree, though, that the problems with the system are defined simply: access and cost. The government's solution was twofold: one side was to force everyone into the insurance market whether they wanted to be or not (hence, the "shared responsibility payment") so that the healthy people would balance out the sick and the other side was to try and make preventative care cost nothing out of pocket, but the problem with that is doctors aren't going to work for free because they have families to feed, too. And thanks to all of the billing and coding concerns we have with modern government medicine, a good percentage of the staff in any doctor's office is the overhead required to deal with billing and not there for patient care. (It's akin to the number of administrators in a school system who don't educate children.) In other words, "free" is the extra $2,000 on your deductible or $40 a week out of your paycheck.
One analogy often used as a comparison to health insurance is auto insurance, which is also mandatory in most states (New Hampshire is the lone holdout.) However, when you buy auto insurance it does not cover oil changes, new tires, and other mechanical issues. Similarly, the original intent of health insurance was to cover the medical bills in case you were hospitalized, as opposed to supplemental insurance like AFLAC which covers other expenses.
The idea of insurance is that of calculating and sharing risk among as many participants as possible. Let's say you have a group of 1,000 40-year-olds whose lives are all insured for $100,000 and you know four of them will die on the average in a given year. You then know your premium pool will have to be set to $400,000 plus an amount set aside for the off-chance of a year where more than 4 die, plus administrative expenses, plus a little for shareholders. If you assume those other expenses total $300,000, then each participant would pay $700 a year to be insured for $100,000 if they die, which they may find is a prudent and affordable hedge against that risk as they have families to support. It would be impossible for a group of 2 or 10 to be able to do this, but over a thousand people it's very attainable.
However, what we now have with health insurance isn't truly insurance because there is so much mandated coverage and the risks are highly unpredictable. Nor are they being shared among all the participants equally because some are paying themselves through their employer, some are being subsidized for their coverage by the government, and others are completely on the government dime. Because a large amount of the money comes from funds never seen by the buyers (deducted from their checks, or just plain subsidized) they don't much care what treatment costs, just their premiums and deductibles.
So let me return to the car insurance analogy. You have to have car insurance, and it has to be minimum coverage, but after that the market is relatively free and there are a whole lot of competitors. If you get tired of Allstate because they raised your rates 50% for no good reason, there's always Progressive. When Flo gets too annoying, Jake from State Farm will be happy to help. If you don't like them, we have local independent agents. They compete on price, coverage, and service – so why can't that be the case with true health insurance, too? And what I mean by "true health insurance" is that you select what you want to cover from the options provided by the companies, or you can skip it altogether. (Or, the option for employers to provide group coverage can be left in place as well, as I'll get to in a moment.)
I can already hear the Sarah Meyerses of the world screaming "but pre-existing conditions!" Yes, there can be high-risk pools created for those at the state level, or even groups of states can create a compact to make the pool even larger and share the cost among more people. If states want to create incentives for employers to provide insurance, that's fair game as well. I happen to think the Tenth Amendment is the part of the Constitution that's supposed to be most flexible, allowing states to do a large number of things that should be off-limits to the federal government. I may or may not agree with them, but that is their right to do so. There's very little need for federal involvement in health care at all – certainly nowhere near the amount we have now.
I'm sorry to break this to Chuck Cook, but the United States isn't like the rest of the "industrialized first world." We are a constitutional republic where the federal government is intended to be limited, not maximized and in control of everything. (It's also worth mentioning that the wealth of our billionaires – and the talent of a lot of other, less well-to-do American people – is quite often freely given to assist in promoting the health of people both here in America and around the world. Here's a great local example.) So the idea that we don't have single-payer health care is one of those rare things that's still a feature of ours and not a bug. That's not to say it can't stand some serious improvement, though.
Let's just see if we can't make it more in conformance with what our great American experiment in liberty is supposed to be all about, mmmmkay?
I see I have a select few who have stuck around.
In the month of April I put up a whopping two posts. after just eight in March. That point in my life I had long feared would come had arrived, a point where I had a lot on my plate combined with very little desire or passion to comment on the political news. Whether that's the result of stepping away from the arena as I did last summer or just a realization that a lot of what I have done over the last decade was so much beating my head against the wall on so many levels is something others may speculate upon. All I know is that the spirit to open up the back side of my website and post my thoughts for the world to see wasn't there enough to convince me to make it a priority.
But I do have the space, and it pays for itself as long as certain posts are placed there, so I may as well use it once in awhile, right?
Truth be told, there are three things that are overwhelming in this world: the amount of information that is at one's fingertips when they learn to surf the World Wide Web, the amount of influence and power exhibited by government at all levels – which, in part, we can learn about from the internet – and, finally, the number of people who style themselves as political pundits who are trying to grab an audience that's probably shrinking in terms of readers of the long-form commentary that's my preferred method of communication. Once upon a time bloggers were the new, hip thing, but now people are looking to Tweets, video, or violence in the street to state their case. Nowadays you can get a lot more attention standing in the street holding a sign and blocking traffic than spending a couple hours researching points, formulating arguments, and making the argument to influence the discourse in 1200 to 1500 words. Donald Trump can dash off a Tweet and reach millions of people, so when was the last time he wrote an opinion piece? (Okay, it wasn't that long ago. But he still employs Twitter way, way more.)
But I hate Twitter, have no desire to do video or a podcast because I know I'm not an eloquent speaker, and don't really have any reason to block traffic in the street. So here I sit, writing again.
Yet there is so much going on that I have no idea if I could keep to a particular topic. Those of you who have stuck with me in my post-political phase that began last summer know I did not like Donald Trump, did not vote for him, and did not expect a whole lot to move in my preferred political direction when he shocked the world and won the Electoral College vote. I will give him credit for creating a perception the economy is improving despite glacial growth in terms of GDP. It is interesting to note there, though, that:
The increase in real GDP in the first quarter reflected positive contributions from nonresidential fixed investment, exports, residential fixed investment, and personal consumption expenditures (PCE), that were offset by negative contributions from private inventory investment, state and local government spending, and federal government spending. Imports, which are a subtraction in the calculation of GDP, increased. (Emphasis mine.)
And this got my interest piqued. So I did a little bit of looking and found this item from my old friends at Americans for Limited Government, which says in part:
(W)hen government spending is included as a component of GDP, and then is held steady or cut…it weighs down the GDP on a nominal basis. And when spending increases…it boosts the GDP nominally speaking. This is an inherent bias of the first order in favor of government expenditures when measuring the health of the economy. (Emphasis in original.)
So perhaps Donald Trump is on to something if government spending is down. Too bad he wants to spend more by not reforming entitlements. Meanwhile, his discretionary budget is pretty much a wash as the $54 billion he would cut from other programs is spent on defense – admittedly, a more Constitutional mandate but one that simply flat-lines the government. And it's doubtful his budget blueprint will survive unscathed, meaning that spending is bound to increase yet again.
I did some looking on various websites and found that, interestingly enough, as the Y2K scare receded our GDP crossed over the $10 trillion barrier, coming in at $10.031 trillion for Q1 2000. As of Q4 2016 it was calculated at $18.8694 trillion for a 16-year increase of 88.11%. Meanwhile, the federal budget went from $1.863 trillion for FY2001 (the last Bill Clinton budget, which had a modest surplus thanks to the GOP Congress) to $3.854 trillion for FY2016, which was the last full year under Barack Obama and added $587 billion to the deficit. Government spending grew 106.87% during that time, while cumulative inflation was just 39.4% – at least according to the government.
I'm no economic genius by any stretch of the imagination, but I would suspect having GDP growth exceed inflation is good, but having government spending (which is a component of GDP) increase more quickly than either is a bad sign. If you take away the government spending component the question is whether GDP growth is still ahead of inflation. Maybe it's not.
But who profits from that? I will grant there is certain government spending that adds value: if someone in the federal DOT had the gumption to have an interstate highway built between here and I-95 by Wilmington, not only would the money create local construction jobs on Delmarva but the greater ease in access to and from points north like New York, Boston, and Philadelphia would be good for local tourism and industry by making it easier to get here and transport there.
On the other hand, simple wealth transfers from rich to poor (welfare, Medicaid) and young to old (Social Security, Medicare) don't add much in the way of value except in the sense that their care and feeding keeps a few thousand paper-pushers employed. But they are not creating value as their wages are extracted from those dollars others earn with work that adds value like mining, manufacturing, services like architecture and construction, and so forth. (Did I mention that I'm once again a registered architect in Maryland?)
So if you know this and I know this, why is the system remaining as is? I believe more and more that there is a group of well-connected people and entities who make their fortunes by gaming the system. Instead of government being a neutral arbitrator, they seem to be putting their thumb on the scale to favor those who now participate in an ever-widening vicious cycle of dependency and rent-seeking. To me, things should be fair for everyone with equal treatment in the eyes of the law but greed and lack of respect for one's fellow man has changed the Golden Rule to "he who has the gold, rules."
Surely, then, I'm asked why I don't like efforts to overturn the Citizens United decision? I look at it this way: money in politics wouldn't be a problem if there were no money in the honey pot for one's sticky fingers to clutch on to. If the federal government did just what they were Constitutionally mandated to do, it wouldn't matter in the least who gave campaign cash to who because the limits of government would mean lobbyists would have to make an honest living.
Consider that I've been riffing on this theme for over a decade and you'll understand why I need a break sometimes. I do have a few tricks up my sleeve though, including the 2017 edition of the monoblogue Accountability Project. I think that's going to be easier to compile because there are so many veto votes to use. Hopefully that will be done the first week of June, so we'll see how this year's General Assembly session stacks up.
And to be honest, it's work I truly enjoy doing. Maybe that's what keeps me going despite the lack of progress in changing things, so off to work I go.
It has now made national news that the townhall meeting held by Andy Harris up at Chesapeake College turned into a loud protest brought on by the local, so-called "Indivisible" groups. (Even more amusing is their reaction when Harris called out one woman who continued to be disruptive. It's from a page called "Shareblue" which is trying to be the Breitbart of the regressive Left.) Now I have attended Harris townhalls in the past (here are three examples; unfortunately two of them no longer have the photos) and they have often began with PowerPoint presentations – this is nothing new. But it seemed like the fringe Left wanted blood, so they reacted accordingly.
In some other forum I made the point that we never get to hear from the other side. Maybe I just don't find out about it because I'm not on the radical left e-mail list, but it seems to me that our Senators rarely hold townhall meetings and when they do they are in politically safe (for them) areas like Silver Spring.
Yet the argument from the Left is that they are simply doing what members of the TEA Party did during the initial Obamacare debate in 2009. (The "Indivisible" crowd claims to be using the same tactics the TEA Party did.) I will grant the TEA Party stepped out of bounds on a few occasions – one case in point was this protest* in front of then-Congressman Frank Kratovil's Salisbury office in July of 2009 that I covered (which remains one of the most commented-upon posts I've ever done here) – but when it came to a townhall setting, yes, we showed our passion. In comparison to the new alt-Left, though, we were well-behaved.
Then again, local conservatives have had to put up with disruptions from the Left for awhile so perhaps this isn't a new phenomenon.
As evidence of the difference, I attended a meeting set up by Senator Cardin in August of 2009. It wasn't initially intended as a true townhall meeting because its target audience was seniors, but a few of those in the local TEA Party (including me) managed to secure tickets – the 100 or so there could have easily been double or triple if the room were set to accommodate them. This explains how the meeting came to be:
Originally the meeting was set up back in March and wasn't intended to be a town hall; however, once the health care controversy blew up this became a hot ticket. The intention was to get the perspective of residents who are over 50 and live on the Lower Shore, and the ground rules were pretty strict. There would be no questions during Senator Cardin's presentation, the ratio would be one question for a GraySHORE member for each one from a non-member, and questions would have a 30-second limit.

In the welcoming remarks, it was noted that the state as a whole is getting younger but the Eastern Shore is aging. While the state is a "net exporter of seniors" at least 7 of the 9 Shore counties are net importers. We are also older and poorer than the state at-large. The idea behind GraySHORE was to brief elected officials with policy recommendations.

Something I found intriguing was the mention of Senator Cardin's career. He has been our Senator since 2007, but served in Congress since 1987 and was a member of Maryland's General Assembly for almost two decades before that – he was first elected in 1966. Basically, Senator Cardin fits the definition of a professional politician and I thought that was worth mentioning before I got too far.

When Senator Cardin came up, he noted that he was skipping the slide show to get to the questions. He also commented that this size group was a "manageable" group for dialogue.

As he had on prior occasions, the Senator couched the health care question as one of "what happens if we do nothing?" Health care costs were rising faster than income and would double in the next decade. As well, Cardin gave that mythical 46 million uninsured figure as part of his case and claimed that it cost each of us "an extra $11,000 per year to pay for (those not covered)."

The idea behind reform was to bring down costs through wellness and prevention and through better recordkeeping, while creating individual and employer mandates through the bill. It would provide a "level playing field" for private insurers and remove the caps on coverage, but above all reform "must reduce costs and be paid for." Cardin compared the idea to Medicare, which has worked "extremely well" over its lifespan and was put into place because insurers wouldn't cover the elderly or disabled. (Emphasis added for this post.)
It should also be pointed out that most of the TEA Party objections centered on policy and not necessarily personality. Bear in mind that the first TEA Party protests were over the stimulus proposal because the bill that eventually came to be known as Obamacare (which used as its shell a bill passed in the House but completely gutted by the Senate in order to satisfy the Constitutional requirement that bills dealing with revenue had to come from the House – a legislative sleight-of-hand if there ever was one) hadn't been introduced yet. That came later on in the summer. So at the time this was done there were a number of competing bills for the Senate to consider.
And did the TEA Party raise a ruckus over that summer? Certainly, and they asked a lot of questions. But listen to how this went down. My guess is that the context of this video is one where it was taken after some townhall event or other public appearance by Kratovil. The questions are certainly pointed, but the key is that the audience is listening to Frank's side of the story. They may not believe it, but they are being respectful. Now imagine if the lot at Chesapeake College were to be in that same situation with Harris – I doubt Andy would get a word in edgewise.
In truth, I think the "Indivisible" group would have began no matter which Republican secured the nomination and won the election – out of the field of contenders for the 2016 GOP nomination Donald Trump was probably the second-most philosophically close to the left (with onetime New York governor George Pataki, a pro-choice Republican, the only one being closer.) Remember, Trump is the one that added the "replace" to repeal of Obamacare.
I will grant that several of Trump's Cabinet choices are relatively conservative, but for the most part they are also outsiders and I think he was looking more for that aspect of "draining the swamp" by intentionally selecting people outside the Beltway axis than selecting those who are for rightsizing government. But the leftists would likely be out in some force for John Kasich, Marco Rubio, Jeb Bush, et. al. - just not to this extent. About the only two 2016 aspirants who would have attracted as much ire as Trump would have been Ted Cruz (because he would have governed from a truly conservative philosophy) and Scott Walker (based on what happened in Wisconsin.) Maybe Bobby Jindal would have been a third.
But here's a message for those who believe Andy Harris can be toppled in 2018: Go ahead and nominate the most radical leftist you want to Congress, and you will watch Harris spank him or her by 20 to 25 points. Thanks to your favorite former governor, this district basically has the bulk of Republicans in Maryland and considering Andy had almost 80% of the primary vote (over a candidate with legislative experience, a previously unsuccessful candidate, and one other "regular" person) I don't think you will get too far.
And I know you will point to Frank Kratovil's 2008 victory over Harris as proof a Democrat can win here but bear in mind that the redrawn district took away the portion of Anne Arundel County Harris won by about 3,000 votes and added Carroll County, where Republican Roscoe Bartlett won by a nearly 2-to-1 margin, or 25,000 votes. Even though the First District doesn't take in all of Carroll County, I think that with the post-2010 First District Harris would have won in 2008 with over 50% of the vote.
Your caterwauling doesn't help your cause. And if you want to use the TEA Party as your measuring stick, it's worth noting that their success was really fairly limited insofar as national electoral results go. The problem with those on the far Left is that they are trying to sell the same stuff that didn't work for their other "answers" to the TEA Party like the Coffee Party, Occupy Wall Street, and so forth, and most Americans don't buy it. They wanted repeal without replacement, immigration laws to be followed and the border secured, regulatory agencies reined in, and – most especially – they didn't want a third Obama term via Hillary Clinton.
Of all the things that fuel the Indivisible movement, they can't get over the fact that under the rules in place Hillary lost despite getting more votes. Well, to borrow a phrase from another liberal movement, it's time for you all to move on.
__________
*As longtime readers know, many of my photo archives were lost with the demise of an Adobe website where I used to link to them rather than place them on my website server – at the time my storage there was limited. In a stroke of remarkable fortune, this Kratovil protest piece was on the front page of my site when the Wayback Machine did its occasional archive so I recovered these photos earlier today – the post is once again complete and coherent.
On social media I have somehow found myself receiving a number of missives from our recently-elected (but not by me) Senator Chris Van Hollen. The other day he posted a link to a New York Times story about Trump budget cuts, and frankly I had to let him and his mindless minions have it, both barrels.
I notice not one of them has responded! Since I don't think all that many people I know see Van Hollen's leftist propaganda, these thoughts must have stunned those minions into silence.
**********
It's interesting to me that the media didn't go out and find "struggling Americans" during the last administration. (They could have interviewed me, since I was in the building industry and was laid off from it for several years – so I found my own work.)
But here's my real point: these people who are whining about the Trump budget – which is still going to be deficit spending, although maybe not as much as we would have had – need to look in the mirror and ask themselves why they are so worried about government cuts. How did you manage to put yourselves in a position of dependence?
The way I look at it, the federal government has a limited number of core functions that are spelled out in the Constitution. That is what they are supposed to do, and nothing more. (The rest goes to the states, or the people – refer to the Tenth Amendment.) But over the years our nation has found that it's good to be on the gravy train and politicians like Chris Van Hollen will pander to them over and over with posts like this. As long as they can buy votes with federal largesse, who cares whether our grandkids will have to pay the bill?
Well, I do. Let's make a deal, Senator: you figure out a way to allow me to get back everything I put into the Ponzi scheme of Social Security and black hole of Medicaid over the last thirty years I've worked and I will figure out how to get through my golden years using that little nest egg without you parceling it out monthly. I can figure out a budget, unlike you guys and your continuing resolutions.
And if you say that the money I put into Social Security and Medicare is being set aside so I can use it later, well, perhaps my late brother could have used some of what he put in before he passed away with no wife or kids at the age of 47. Just give me a lump sum and let me walk away. Even President Trump isn't saying that – in fact, he campaigned saying neither needed to be touched – but I think it's necessary to deal with the bill we're giving our kids.
Trump's cuts are pocket change to where the federal government needs to be. And, just so you all know, I didn't vote for him and I certainly wouldn't have voted for Hillary even if you put a gun to my head. I chose a far better candidate, one who had he somehow won would have caught a tremendous amount of flack for doing what he said he would from everyone who has figured out a way to become dependent on Uncle Sugar.
So, Senator, if you and your supporters were looking for an "attaboy" for finding a story about Americans struggling under Trump, the only one I would have is for the young Tracy Spaulding:
"People get laid off every day. I'll make it one way or another."
I have been laid off four times in my life, and guess what? I made it one way or another. You all can survive a few government cuts, and you might just find it liberating. And to ask the government workers whose jobs are on the chopping block who read this: didn't they say just a few years ago that unemployment was a great thing because there was all that extra free time you could enjoy?
Why yes they did.
Lucky for you people in the private sector are hiring.
**********
Callous? Perhaps. A little over the top? I don't think so. And by the way, the Medicaid was a typo since I think it was mentioned in the story. Later I correctly stated Medicare.
I have grown weary of all the strife over the last 4 1/2 months since Donald Trump was elected, even though I wasn't one who voted for him. Certainly I have my policy differences with him, although to be honest these are far fewer than the number I had with our last President. But I have to give Trump credit for following through on some of those things he promised, even as the Republican Congress goes seriously wobbly regarding all they pledged. (Case in point: I don't recall anyone really talking about the "replace" with the "repeal" until Donald Trump came along. Just repeal it with an effective date of this time next year and states will have time to do what they wish to do in the interim.)
Once upon a time I used to put some of my best comments elsewhere into posts, as I believe in not letting good writing go to waste. This may be a feature to resurrect in the near future, but this one wasn't going to wait for an editorial decision.
You know, I think I was blessed with a decent amount of intelligence – maybe not Mensa-grade, but I did all right in public school. I don't think I'm that much smarter than the average bear, though, and maybe that's why I can't figure out how everyone can't see what has been going on for the last thirty years – although I know some who would argue the timespan is far longer. We have put ourselves at the mercy of a lot of people and entities that, when push comes to shove, are going to think about themselves first and the rest of us not at all. Perhaps it's always been like this, with some people destined to be the lords and kings and most destined to be the vassals and serfs. But as long as their chains rest lightly I suppose most of these people who wish for more and more government aren't going to mind a little less freedom.
It wasn't much more than a century ago that there were still places in continental America where you could live in an informally organized territory, and maybe there is still a real-life Galt's Gulch here in America. But our people now seem to want America to be the land of the free stuff, and we need to remind them often that things don't work that way.
With that my work is done here, at least for tonight.
Western Maryland is blessed with an enormous amount of cleaner burning natural gas and we need an all of the above approach to energy. I am concerned that there has been a knee-jerk reaction against affordable energy production in our state. Maryland is definitely behind the curve because this administration has decided to politicize the issue rather than take a balanced approach to ensuring we have access to clean and affordable energy sources to power our homes and businesses and grow our economy.

States throughout the country including our neighbors develop their natural gas resources safely and efficiently. Many of these states are realizing an economic boom through gas and oil exploration and are working in concert with groups like the Natural Resources Defense Council to harness these vast resources of domestic energy in an environmentally sensitive way.

Larry Hogan, in response to a WYPR-FM candidate survey, May 2014. (Emphasis mine.)
Three years later, western Maryland is still blessed with an enormous amount of cleaner-burning natural gas, but on Friday Governor Hogan decided it would be better to leave this valuable resource in the ground rather than create jobs and economic opportunities for a section of the state that lags behind the rest of Maryland when it comes to those two very things.
Perhaps we should have seen this coming, though: the temporary moratorium that was in place stemmed from a bill that Hogan allowed to become law without his signature rather than veto it back in 2015. The bill, which as originally introduced was laughably intended to "protect our health and communities," was amended from a ban extending to 2023 to a prohibition intended to last until October of this year, when the Maryland Department of the Environment was to have regulations in place. But, as Governor Hogan noted in his press conference announcing the new fracking ban, Maryland envisioned the most stringent regulations in the nation – a roll of red tape that would have amounted to a de facto ban if enacted.
And to illustrate the political pressure Radical Green can put on wobbly members of the GOP, bear in mind that the original third reader vote on the 2015 House bill had 45 opposed, but that number whittled down to 33 once the Senate version passed and the House bill (as amended to match the Senate version) went to third reader. The wobblers who changed their votes were Delegates Anderton, Afzali, Beitzel, Carozza, Krebs, Malone, McComas, Miele, Shoemaker, and West. (This list is ten because two Delegates who voted "no" originally were absent the second time, but Afzali changed her vote after the fact to be truly gutless. Interestingly enough, Delegates Anderton, Carozza, Krebs, and Shoemaker all changed back three days later when the Senate third reader came to the House while Delegate Saab opted to join the dark side.) Conversely, the Senate only had two votes correctly in opposition all along, Senators Hough and Ready.
Now we can add Larry Hogan to the list that has wobbled and fallen – this despite a mountain of evidence that hydraulic fracturing, which has been ongoing for over six decades, is safe when done properly. Even the EPA, which put out a final report in the waning days of the Obama administration, noted they found scientific evidence that hydraulic fracturing activities can impact drinking water resources under some circumstances. Yet many of the circumstances they point out could occur at any chemical plant, and they note:
Data gaps and uncertainties limited EPA's ability to fully assess the potential impacts on drinking water resources locally and nationally. Because of these data gaps and uncertainties, it was not possible to fully characterize the severity of impacts, nor was it possible to calculate or estimate the national frequency of impacts on drinking water resources from activities in the hydraulic fracturing water cycle.
So should I point out again that over 2 million wells have been hydraulically fractured over the last six decades without incident? It seems to me that past performance should be a very good predictor of future results, particularly as the technology advances. And if you read the report, you'll note that the uncertainty of cause even extends to those limited, rare incidents blamed – many times falsely – on fracking and most publicized by Radical Green.
No one denies there is risk with hydraulic fracturing – just as there are documented issues with low-frequency noise and impacts on bat population with wind turbines and potential for environmental impact as more and more solar panels are spread over the landscape to significant effect – but the rewards from fracking, as measured by both local economic benefits and the lessening of reliance on foreign energy supplies, have been found to outweigh the risks in nearly every jurisdiction where fracking is possible, while the recalcitrant others (Maryland and New York) have believed the hype over the facts.
While Maryland is a small part of the Marcellus Shale formation that has produced the resurgent energy industry in a region that first benefitted over a century ago from an oil boom – there's a reason we have motor oil from Pennzoil and Quaker State and it's not because the brand names are cute – this is a time when the domestic oil and natural gas industry is in a holding pattern. Crude oil prices in the $40-50 a barrel range and a relatively constant balance of natural gas supply and demand means that Maryland missed the boat by about a half-decade in the current cycle, but an increased potential in natural gas exports – coupled with a multi-billion dollar investment in Maryland's Cove Point facility for LNG exporting that's slated to come online later this year - means our state would have been in good position to benefit in a few years' time once natural gas exploration began and delivery infrastructure was put in place. (People tend to forget that part of the equation, too.) But politics, embodied in the baseless fear caused by a noisy environmental lobby, ruled the day Friday.
Allow me to let you in on a dose of common sense: there's no way in hell Radical Green will give Larry Hogan any credit for what he did on fracking come election time. You can bet your bottom dollar that they will flock to whoever the Democrats end up anointing in their primary because their main goal isn't a clean environment but to have statists in charge of government. Yes, the rank-and-file who might send a couple hundred dollars to the Chesapeake Bay Foundation every year may really care about the health of the bay, but when the people who benefit most from it are the ones who determine the annual "grade" for the cleanliness of the Bay one has to wonder how much of their thumb is placed on the scale. After all, if the Bay had a grade of A and was pristine H2O, what need would there be for a CBF?
The oil and gas industry doesn't depend on a government subsidy – they just want a fair and predictable regulatory scheme. But a state which has no problem bending the energy trade by mandating a certain percentage of electricity comes from solar energy and demanding ratepayers subsidize an offshore wind farm seems to have an issue with the source that's been proven reliable over time and is known as a job creator.
As a ratepayer and voter, I was willing to accept the slight environmental risk of fracking in return for a more prosperous state overall as well as more inexpensive and reliable energy. (And yes, I know that the area in question isn't one where I live. But if I ever secure a piece of land nearby and someone wants to pay me for the right to use my land to explore for energy resources, I'm glad to oblige. No one has yet assessed the Delmarva Basins on which many of us live for their energy potential.)
In 2014, Allegany and Garrett counties provided almost 1/4 of Larry Hogan's margin of victory as he carried the duo by 16,466 votes in an election he won by 65,510 votes. Add in adjacent Washington County and that number becomes 35,274 votes, or over half his victory margin. At the risk of losing thousands of votes in that region, Larry Hogan has acquiesced to an environmental lobby that's not going to give him any credit, any dollars, or any votes for the decision he's made.
I suppose Larry Hogan thinks he's got an all-of-the-above electoral strategy, too. But at a time he could have changed Maryland for the better, he instead foolishly chose to surrender to the naysayers.