Earlier this week the Tax Foundation released its annual State Business Tax Climate Index. Despite Governor Hogan's insistence on improving business climate and efforts to adopt some of the Augustine Commission's reforms, Maryland once again has the dubious distinction of being a bottom-10 state.
Yes, that sickening orange color tags us as a state to avoid insofar as business taxes are concerned. In truth, we've only dropped one spot from the 2015 index so while we could have made a few minor improvements other states are improving at a faster pace. (Maryland seems to tread water – over the last four years we have oscillated between #40 and #41.) Moreover, we still lag behind all of our neighbors with Delaware again leading the region. The First State maintained its #14 ranking.
There is one important caveat to Maryland's decline which could push them out of the bottom 10 next year. Late last month Governor Hogan announced a significant cut in the unemployment insurance tax, which is one of the factors (albeit the least-weighted) the Tax Foundation uses to determine its rank order. But other states are trying to push the envelope more quickly by reducing corporate and individual tax rates, something Maryland has talked about but not acted upon. (The Tax Foundation's weighting process is explained on page 16 of their full report.)
While reducing regulations doesn't always require legislative approval, the tax nut is a harder one to crack. The requirement to balance the budget means that revenue no longer extracted from corporations and small businesses alike can't be used for profligate spending. At a time when government getting an increase that's less than expected brings screams about draconian cuts from the left side of the aisle, heads truly explode when less real money is allocated. Even if you get 97 cents when you used to get a dollar, liberals act as if you just shot their unicorn with a scary-looking AR-15.
There's a reason I bring up 97 cents as a particular figure. According to the state's FY2016 budget, the corporate income tax accounts for 3% of the revenue; thus, eliminating it entirely would mean a corresponding budget cut. (We'll leave aside the obvious competitive benefit to the state, which would eventually attract more business and increase revenue via other means such as income and sales taxes.) While it's true that having a poor corporate tax ranking doesn't completely eliminate the good – Delaware's #50 ranking in corporate taxes only drags its overall rank to #14 – eliminating the tax would make it plain that Maryland is indeed "open for business."
Eliminating the tax would also eliminate what's become an annual debate about combined reporting. Proponents of its adoption, mainly Democrats, claim large businesses are not paying their fair share because they use the accounting trick of claiming their income arises from low-tax states. They may make actual profit in Maryland but don't report it because they have operations in other. more tax-friendly states. The most recent iteration of the idea came last year, with the tradeoff that would have eliminated filing fees for small (less than 10 employee) businesses. In that respect it was a money-loser for the state; however, the research showed in better economic times the effect would be beneficial to state coffers.
Interestingly, Salisbury has a new mayor that epitomizes the opposite end of the chicken-and-egg approach: last week in the Salisbury Independent, Jake Day was quoted as noting:
"Economic development isn't what it used to be," he said. "It includes more activities. It's now about culture. About quality of life issues. The arts and people. Parks, bike trails, bike lanes. And if you don't get those right, don't even talk about workforce development and industry and business development efforts, because you have to have those things to attract anyone."
This portion of Delmarva boasts a lot of natural beauty along its rivers and coastlines, a well-regarded university, and a proportionate share of arts and culture. Perhaps the traditional bricks-and-mortar manufacturing or legacy service industries won't come to Salisbury, but it's been obvious over the last ten years that the beauty, academics, and culture isn't exactly making this a hotbed of economic activity either. There needs to be a more balanced approach to development because it takes a fair amount of money to create and maintain parks, bike trails, and bike lanes – particularly if the money is granted from the state as it often is. We may be competitors to certain other urban areas around the state, but development somewhere else in the state or even another state, depending on the grant source, is paying the lion's share for the bike lanes to be installed here. (In some cases, local gifts have helped.) Funding will also be required to maintain parks and develop new ones like Pirate's Wharf along the Wicomico River.
There are thousands who have moved here over the decades as adults, and for the most part they came here for one of two reasons: they came to school or they came for a job. And if they came for school, there's no guarantee they will stay if jobs or entrepreneurial opportunities aren't available.
Simply put, Maryland has a long way to go in overcoming the poor reputation they have for growing and attracting businesses. It's a lot easier for those on the Western Shore to prosper when there's a ready-made source of confiscated wealth in close proximity. (If all those people had to find honest work Maryland would be just like West Virginia, with high unemployment. Because it's well away from that honey pot of confiscated largess, the lower Eastern Shore already is in that same high-joblessness boat.)
I learned the other day that the Augustine Commission determined 1/4 of Maryland's GDP comes from the federal government. If we can rightsize the federal government over the coming decades, Maryland will be negatively affected in what would be of overall benefit to the nation. It's time to wean our state off the opioid of living off the federal employees and make strides in diversifying our economy. For that reason, making our state more business-friendly simply has to occur.
My "10 from 10″ post this morning regarding the 9/12 Rally back in 2009 got me to pondering where the movement has gone in the intervening years.
If you've been a reader around here for a long time, you may recall that I covered a significant number of TEA Party-related groups that sprung up in the local area over the next couple years. Not only did we have the TEA Parties themselves that went on in both 2009 and 2010, but also groups like Americans for Prosperity and the Wicomico Society of Patriots. They went on for a couple of years but essentially died off from a lack of interest. (On the other hand, we still have the Worcester County TEA Party and 9-12 Delaware Patriots.)
Having been involved to a limited extent with the Wicomico groups, I can tell you that some of the players who remain active have gone "establishment" to the extent they remain active in the local Republican Party. Three of those most heavily involved have served on the Central Committee – unfortunately, that's the only election where some of the TEA Party leaders have found success. While many in the area take TEA Party values to heart, they seem to vote for the names they know.
This erosion of the brand is also reflected on a national level. I used to write quite a bit about the TEA Party Patriots and expressed hope that the TEA Party Express would bring some of its star power to the region. In the last few years, though, the national movement has suffered from infighting as well as a concerted media effort to impugn the brand. I don't hear nearly as much from the group these days, as their function has by and large been superseded by SuperPACs that fight for specific candidates or causes.
If you consider the high point of the TEA Party as the 2010 election, where the political landscape dramatically shifted in a more conservative direction in the wake of two consecutive leftward shifts as well as the adoption of an unpopular Obamacare entitlement program, then the nadir came two years later with Barack Obama's re-election. A conspiracy theorist could point out that the 2010 election results put the Obama campaign on high alert, meaning they pulled out all the stops to ensure re-election with a little help from a compliant media. But one could counter by noting the movement wasn't strong enough to topple frontrunner Mitt Romney and they shot themselves in the foot by staying home on Election Day. (As it was, though, Romney did get more votes than John McCain did in 2008.)
So while you can credit TEA Party principles for winning the day in 2014, the actual movement itself seems to be receding to a low tide. Since TEA is an acronym for "taxed enough already" it's been pointed out by the Left that taxes really aren't that bad, at least in comparison to the rates in place for administrations from Hoover to Carter. (This is a neat little chart to see the differences.) Ronald Reagan dropped rates twice: from 70% to 50% in 1982 and eventually down to 28% with the Tax Reform Act of 1986. It had been over 50 years since the top rate was less than 50%.
But that only considers income tax. Certainly as a 100-year body of work our current rates are on the low side, but back then we didn't have the maddening plethora of taxes and fees we do now. Some are consumption-based taxes like sales tax on goods purchased or per gallon of gasoline, while others are considered some sort of "sin" tax like additional levies on cigarettes or alcohol, a combination that Marylanders endure to a larger extent than several of their neighbors. Even speed cameras could be regarded as a sort of "sin" tax, since supposedly the only ones who pay it are the ones who are speeding well above the posted limit. (Try as they might to convince us that it's about safety, we all know they need the Benjamins. Why else would they have to install cameras in more and more dubious "school zones"?) Nor does that consider property tax, which tends to be the preferred vehicle for raising money for the public schools. In most states where districts have taxing authority, it's not uncommon to see a school district seek three to four additional property tax levies a decade as they strive to raise funds for buildings and operations. (Maryland is different because counties pay for their portion of school funding from their general funds, so there are no ballot issues to deal with property taxes.) To make a long story short, we still consider ourselves taxed enough already.
As far as a formal movement goes, though, for the most part we are back to where we were around 2008. There is a lot of frustration with the direction of both parties, but this time rather than a movement without a leader people are going the route of a looking for a leader for what they consider their movement – hence, political outsiders Ben Carson and Donald Trump have been ahead of the Republican field for most of this campaign. (As further proof, the other side is still believed to be behind Hillary Clinton.) Carson is cast as the Godly, principled man who would quietly and reverently lead our nation in need of healing, while Trump comes across as the brash general who would kick butt and take names, restoring America to its top of the heap status.
Conversely, those who are conservative but came up through the standard political channels have fallen out of favor this cycle. In any other cycle, we would look at governors like Rick Perry, Scott Walker, or Bobby Jindal as frontrunners – instead, all three are out of the race. In terms of political resumes, the front-runners on both sides have even less to go on than Barack Obama did, and that's saying something.
So it's hard to tell where the TEA Party trail runs cold. I think a number of them have coalesced behind Donald Trump despite the fact The Donald is not a movement conservative. One recent rumor is that a Trump/Cruz ticket is in the works, which would perhaps appease the true believers. Trump's success has belied the predictions of TEA Party leaders that he will be a flash in the pan.
But it appears the days of rallies like 9/12 are behind us. Such a pity.
In proof that even I, a veteran of nearly 20 state party conventions, can be blindsided by political events therein, I give you Exhibit A: the Black Republican bylaws amendment. And here I thought the second one that was tabled rather quickly would be the one with the loudest argument.
But the fact that this was the second-to-last piece of business (besides revealing the straw poll that no one seems to care about because Ted Cruz won) makes for a lot of bitter feelings on the social media I've seen. So I thought some perspective was in order.
One thing I understood about the outcome is that it's supposed to be temporary. The idea is, just like the state party that streamlined the process of filling vacancies in the General Assembly at this convention, at some future gathering they will debate just what groups will qualify for inclusion on the state's executive committee and which receives a vote on the body. To me, it's a conversation which really should have occurred when we were instead rushed out the door a couple years ago.
One argument that's been made against expanding the vote is that the county chairs on the Executive Committee are there by virtue of the electorate. (Not necessarly true given midterm appointments, but more often than not it is so.) On the other hand, they argue, representatives of the other groups are selected from within.
The poster child for the argument against the inclusion of the auxiliary groups are the Young Republicans. Although they are on the comeback trail thanks to new leadership, they secured their vote on the Executive Committee despite losing chapters and membership over several years.
But it also begs a pair of questions: what constitutes success for a particular group? Will they go by paid members, chapters, or some magic combination of both? With age-restricted groups such as the Teenage, College, or Young Republicans, the ebb and flow of membership is common – for example, next year the CRs will need a new president because their current leader is a college senior.
Personally, I would have been fine with giving the Black Republican Council a vote – as long as the other two voteless groups got one, too. Since that wasn't an option I thought this was the next-best route.
I don't have a copy of the bylaws of each of each organization, but I suspect the state party chair doesn't get a vote on their board. We appreciate the voice each have, but perhaps rather than arguing over who gets a vote and who doesn't maybe we have the best possible situation for now.
We didn't have the biggest crowd on a Thanksgiving week, but Delegate Christopher Adams made his points during the final scheduled WCRC meeting of 2015.
Adams was down the agenda this time, as we chose to do our usual opening routine with the exception of me giving the treasurer's report for the absent Deb Okerblom. We slotted the Central Committee report first, which meant Mark McIver could detail the "huge success" of the Lincoln Day Dinner.
McIver chalked up the success to a couple factors: good profit from the silent auction and the use of several database lists – and 150 hand-written personal invitations – to target our advertising.
Briefly going over the state convention, McIver detailed how we heard from the three leading Republican U.S. Senate candidates. Ann Suthowski chimed in that Muir Boda was mentioned twice during the convention for his success and Mark Edney did a good job explaining the succession by-laws amendment. The Salisbury University College Republicans were also mentioned as part of the state CR report for co-hosting the Lincoln Day Dinner.
McIver also announced he would host a joint club and Central Committee Christmas Party next month.
Finally, we heard from Delegate Adams. He was pleased to see the change in government in Salisbury, which he said has more sway than he does locally.
Adams noted that with $20 trillion in debt, it was likely the GOP would win this year's election. He suggested they make cuts to the "fourth branch," as cost-saving measures.
In Maryland, Adams continued, the Augustine Commission determined that federal spending accounted for 25% of the state's GDP, so government cuts would affect Maryland disproportionately. The state needed to develop an "entrepreneurial ecosystem," he added.
Most of Chris's message dealt with legislation he was introducing to allow counties to opt out of sprinkler system requirements once again. It's something they've been asking for, Adams added, but they were up against a powerful firefighter lobby. Adams noted he had a meeting slated with the state!s deputy fire marshal.
Yet the $5 to $7 per square foot cost for a small, affordable home was one that couldn't be added to the value. Mandates like this are putting new homes out of reach for young families,
He explained that the 2012 International Residential Code had this mandate, but prior to last year counties were allowed to opt out. Taking back local control "has to be a grassroots effort," said Adams, and it requires action on a local level.
Adams was asked if many new home builders voluntarily put in sprinklers, but few did. He added that some states prohibit the mandate, including several neighboring states.
Mark McIver noted that the state was "taking away the American Dream…it's bankrupting the younger generation."
Adams was also asked about sprinker systems affect insurance rates. He believe they made little difference in the rates, because alleviating the fire risk was balanced against the leaking and water damage potential.
Finally, Adams was asked about last year's bill, introduced by Delegate Jeff Ghrist, to address this. He noted it was late-filed, so it never got a hearing. His bill is pre-filed.
Christopher concluded by announcing he has a unique fundraiser at the OC Hilton December 12 and 13. You would get 2 nights' stay and lunch with special guest Bob Ehrlich for one price.
Since we had a number of other state legislators in attendance, we got brief updates.
Carl Anderton spoke with Delaware officials, trying to get their perspective on agricultural issues. He also has a fundraiser coming up at the Delmar VFW on December 3.
Johnny Mautz believed "this year will be different than last year" in the General Assembly, with "a lot of activity." Federal campaigns will drive some of that activity, so it would be up to Eastern Shore Republicans to kill bad bills as they could.
Addie Eckardt thought it would get "testy," with pressure to spend our new-found surplus on items that were cut from last year's budget. The idea was not to let ourselves get splintered, she concluded.
All in all, it was a nice little pre-session update – and timely, since we won't meet again until after the session starts in January. To be exact, the WCRC will reconvene on January 25, 2016.
By Cathy Keim
Due to the Paris attacks a week ago Friday, immigration is a hot topic – especially the Refugee Resettlement Program which brings in about 65,000 refugees annually Now it is being primed to bring in 10,000 Syrians or more this year.
About 30 governors have requested that Syrian refugees not be admitted to their states. Speaker Paul Ryan is bringing a proposal to the House to stop admitting Syrian refugees. This sudden light shining on the Refugee Resettlement Program caused the Volunteer Agencies (VOLAGS) to have a conference call last week to tell the press how safe the program is.
I joined in on the call and heard some interesting information. The VOLAGS were condescending, insulting, and deceptive in their information but also attempted to tug at the heartstrings with sad stories and shame anyone who questioned bringing Syrians into the USA.
Keep in mind that the VOLAGS are paid by the head to bring the refugees in and to get them settled somewhere. Several of the VOLAGS have religious names such as Church World Service and Lutheran Immigration and Refugee Services, but they cannot share their faith because they are supported in the 90%+ range by federal tax dollars. So one has to ask why is a "religious" organization working as a government contractor when that explicitly rules out any ability to share their religious faith with the refugee? They might as well remove the deceptive "religious" title.
I missed the first few minutes of the call, but when I joined the reporters were being assured that many refugees have been resettled for many years and we have never had an incident so our record is good. In fact, the VOLAG representative stated that their refugees are vetted much more thoroughly than other visa holders such as students, tourists, and businessmen. Hold that thought, as we will come back to it.
Addressing the governors' moves to refuse refugees, the representative stated that the refugees are legal residents so they can move wherever they want. The governors cannot stop them once they are in the country. Later she stated that refugees must always inform Homeland Security of their new address every time they move until they become citizens, but they can move wherever they wish. (Many do migrate a second time to be closer to family or other of their countrymen. Baltimore has had a difficult time retaining the refugees that they have brought in to repopulate the inner city.)
A reporter asked if the VOLAGS keep crime statistics on the refugees. The representative cheerfully replied, "No, but I can count on one hand the crimes committed by refugees and I have worked with them for years!" This is an astonishing claim since Ann Corcoran at Refugee Resettlement Watch frequently reports on crime issues among refugees.
The spokeswoman sneered at Texas and Alabama for saying they didn't want any Syrian refugees. She said Texas had received 238 refugees in 3 years and Alabama had received 105 refugees last year, which had an insignificant impact in her words. She compared states denying access to state services with George Wallace refusing to integrate the University of Alabama.
The reps said that the poor attitude exhibited by these governors would have a negative impact on how the refugee community interfaces with the community. Here was the example given: In Minneapolis – St. Paul where they have a huge Somali population, they have had problems with refugees trying to travel abroad to fight. The FBI meets regularly with the community and has a good rapport with them, so the families contact the FBI to stop their young men when they try to leave to fight. If the governors keep acting in an unwelcoming way, this kind of trust with be disrupted!
Wow, that is a real success story. Young men that have been raised most or all of their lives in America want to go abroad to join the jihadists, but mom calls the FBI to keep them home. Why do I not find that comforting?
In a bid for sympathy that had a threatening edge to it, the rep told how these refugees have suffered greatly due to terror and war. It is wrong to deny them the ability to join family members in the states these governors represent. Prohibiting them from joining families that are already here working, paying taxes, and being good neighbors is wrong, but these are survivors won't be stopped. They will join their families no matter what the governors said.
The final threat was that these refugees have been through so much and have had to wait for so long in refugee camps, that if the process is delayed anymore then they may just undertake the risky trek to Europe rather than wait for America to let them in. The trek is dangerous and it will be our fault if they don't survive it.
She also pointed out that we couldn't deny access just to Syrians. How can you tell if they are Syrian, not Lebanese, or Jordanian? This implies that if we try, then they will just declare themselves to be from another country and who can tell? That seems to refute the thorough vetting claims, but we won't quibble here.
Now let's address a few points that the VOLAGS didn't mention.
It appears that out of 2 million Christians and 80,000 Yazidis in Syria, the Refugee Resettlement Program has brought in 53 Christians and 1 Yazidi and less than 10 Druze, Baha'is and Zoroastrians combined. The reason for this is that the UN High Commissioner for Refugees decides which refugees come to the USA. The UNHCR chooses refugees from people that are in the camps that they sponsor. The minorities do not dare go to those camps because the other inhabitants will persecute them, thus they have no access to apply to the refugee program. Now you know why we are not helping the persecuted Christians.
Here is another interesting fact. If we bring a refugee to the USA, it will cost about $64,000 to take care of him for five years, but it would only cost about $5,300 for five years if he relocated in his native region, thus we could help twelve times as many people for the same cost. Since our money is limited, would it not be better to spend it more wisely?
Now back to those student visas that the rep so correctly pointed out as being dangerously unvetted. The numbers of foreign students are huge.
The Institute of International Education recently wrote regarding student visas for the academic year of 2014/2015. Here are some highlights:
974,926 foreign students were admitted for this past academic year, almost double the overall level before 9/11.
After China, India, and South Korea, the leading country of origin is Saudi Arabia with 59,945 student visas. In addition, we took in 10,724 from Turkey, 11, 338 from Iran, and 9,034 from Kuwait.
Using the 44 predominantly Muslim countries we identified in our piece on green cards from Muslim countries, I counted 156,781 student visas from those same predominantly Muslim countries. This means that Muslims likely account for 16% of the foreign students, and that doesn't include India. Roughly 10% of the Indian population is Muslim and we bring in a whopping 138,000 students from there.
Is there any wonder why U.S. college campuses are replicas of some European countries in terms of the anti-Jewish activity and pro-Palestinian activism?
Even more amazing is that in 2010 President Obama unilaterally shut down the National Security Exit-Entry Registration System (NSEERS), which was implemented after 9/11 to properly vet and track those who come here from risky countries on a student visa.
Daniel Horowitz asks,
(W)hat is tolerant about importing an ideology that is stridently intolerant, incompatible with democracy, and promotes ethnic and religious supremacism? What is humanitarian about transforming America into Europe where Jews, ironically and tragically, are forced to flee because of the growing Islamic intolerance?
We need to pause immigration and take the time to have this discussion rather than continuing heedlessly onward with ever increasing numbers of unassimilated immigrants.
A new day dawned yesterday after a night of partying I described in part 1. Too bad it was about the last time we got to see the sun.
Instead, I went down to grab breakfast and remarks fron three U.S. Senate candidates. It should be noted that a fourth, Anthony Seda, "has never reached out" to the MDGOP, according to Diana Waterman.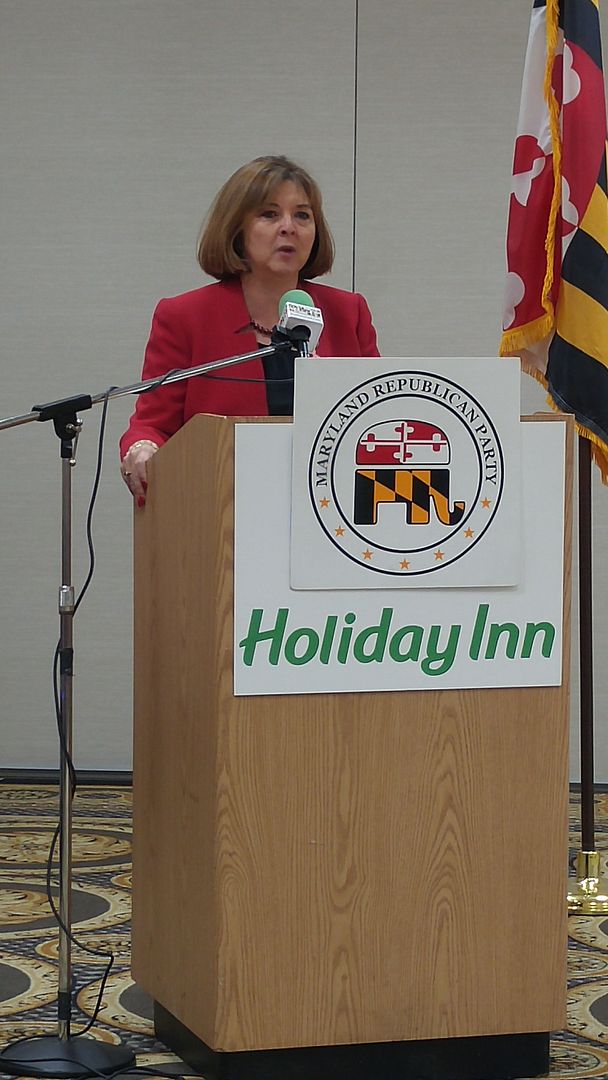 After an opening prayer where Delegate Deb Rey prayed that we "cruise to victory," we did the speeches in alphabetical order. This meant Richard Douglas spoke first.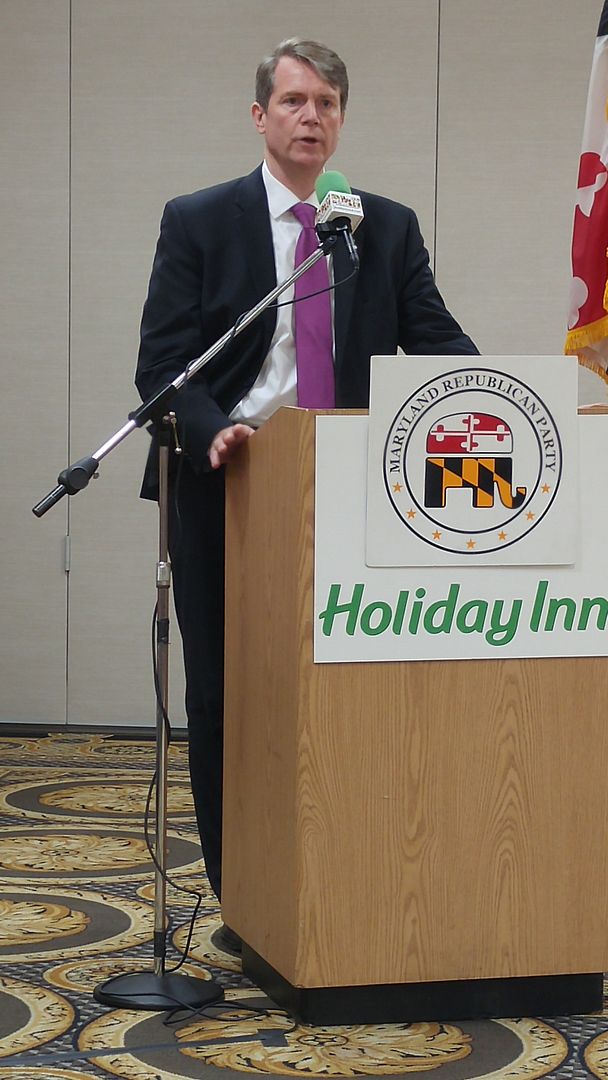 Richard noted the news was still filled with images from Paris, Belgium, and Mali, saying it underscores that "terrorism…remains a concern." He added that the authorization to use military force passed after 9/11 remains in effect today.
He added that growing up abroad made incidents like the building of the Berlin Wall and Cuban missile crisis "indelibly etched in my mind." But he assured us we are stronger than Russia – we just have a leadership problem. No one is pushing back on Russia, China, or Iran, he continued.
Douglas pivoted to domestic issues with a mention of the Bladensburg Cross, a court case he's assisting on and one for which he predicted "we'll take the wood to the humanists." It led into his thought that the job of a Senator was not to pontificate, but to act. In Maryland, it meant not just doing what he could at the federal level to eliminate the rain tax and entice industry. One example of the latter was the Howard Street Tunnel, which is too shallow to accommodate double-decker rail cars. It's a problem the current Senator has had 30 years to address.
"People who have three squares a day…don't riot," Douglas noted. With foreign policy experience and what could be described as a populist agenda, Douglas vowed "I intend to go to the Senate to make that place better."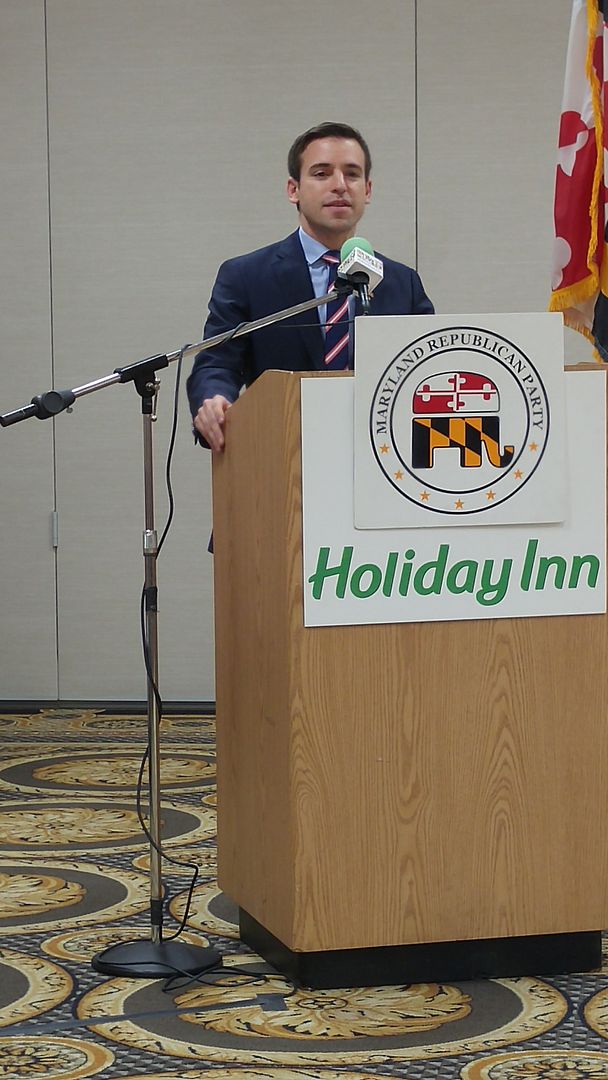 The son of Greek immigrants, Chrys Kefalas opened by saying, "I'm a story that's brought to you courtesy of the American Dream." He then detailed a life of precocious entrepreneurship as a teenage business owner who parlayed that success into law school and eventually jobs with Bob Ehrlich, both as Congressman and as governor. One of his accomplishments with the Ehrlich administration was pioneering criminal justice reform.
After a stint at the Eric Holder Justice Department working on a "smart on crime" initiative, Kefalas is now a vice-president at the National Association of Manufacturers. "Manufacturing is coming back," said Chrys. America has the advantages of innovative and productive workers as well as affordable energy. Taxes and regulations were holding us back, he explained.
Yet he was quick to recognize "you are the ones who are going to make the party strong…the campaign is about you."
Kefalas added that the task of the nominee is to win, and he would do so with his positive vision. In this "once-in-a-generation opportunity" to win the seat, Kefalas believed "I can get more Democratic crossover support than anyone else in the primary."
"We need to expand the map in Maryland," he continued. Through him "we have a path to victory."
Kefalas concluded by noting his recent engagement, stating "I am a gay Republican." But "we move our country in a better direction when we are together."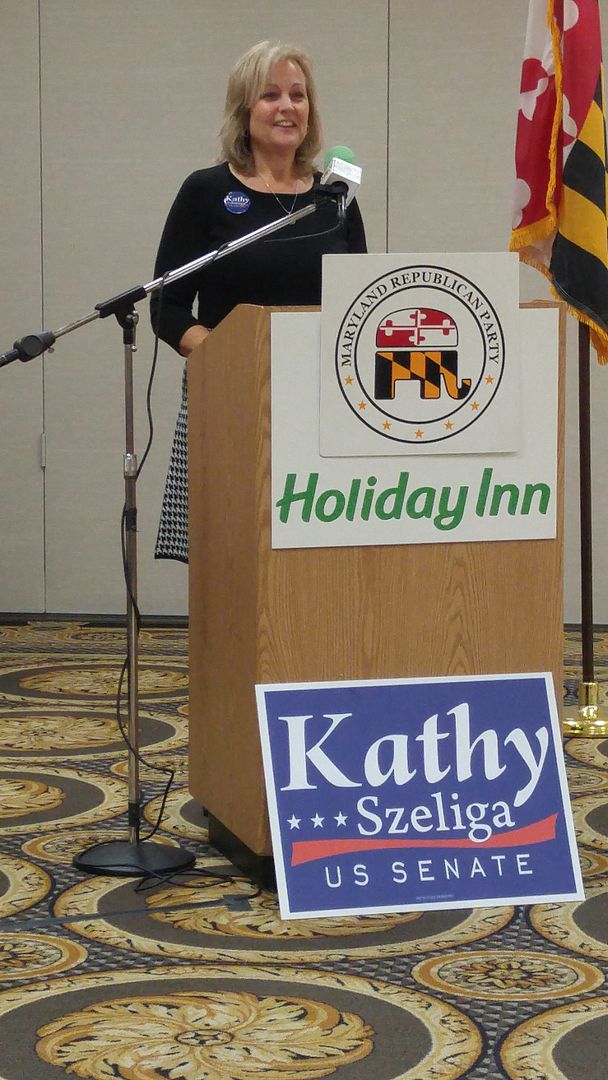 Kathy Szeliga emphasized her working-class background and that she and her husband Mark "believed in the American Dream." For most of her life she'd played the various roles working moms did.
But Kathy stressed her more recent past, talking about how she and fellow Delegate Nic Kipke "brought some new ideas to Annapolis." She also learned how to work across the aisle there.
With a new governor, Szeliga added, things were moving in the right direction – for example, we "repealed that darn rain tax." (Actually, we only eliminated the 'shall' but kept the onus on counties to pay for the improvements.)
As for her Senate run, Kathy believed "there was a time that Congress worked," but now government is too big, too gridlocked, and too distant. Indeed, "now is the time to turn Washington around…the American Dream is fading."
Her pet issues if elected would be quality of life, security, and schools. Most of her remaining time was spent discussing the security aspect, noting that "terrorism is real…we must remain vigilant." She vowed to support law enforcement as well.
Addressing her prospective opponents Chris Van Hollen and Donna Edwards, Szeliga opined they don't understand the dangers we face from "radical Islam terrorists."
In closing, Kathy pointed out her initial run of 61 endorsements and stated, "together we're gonna get this done in 2016."
So after Diana Waterman thanked her "three amazing candidates," I had some time to spend in the exhibit hall before the morning session.
There I ran into Tanya Tiffany from MDCAN.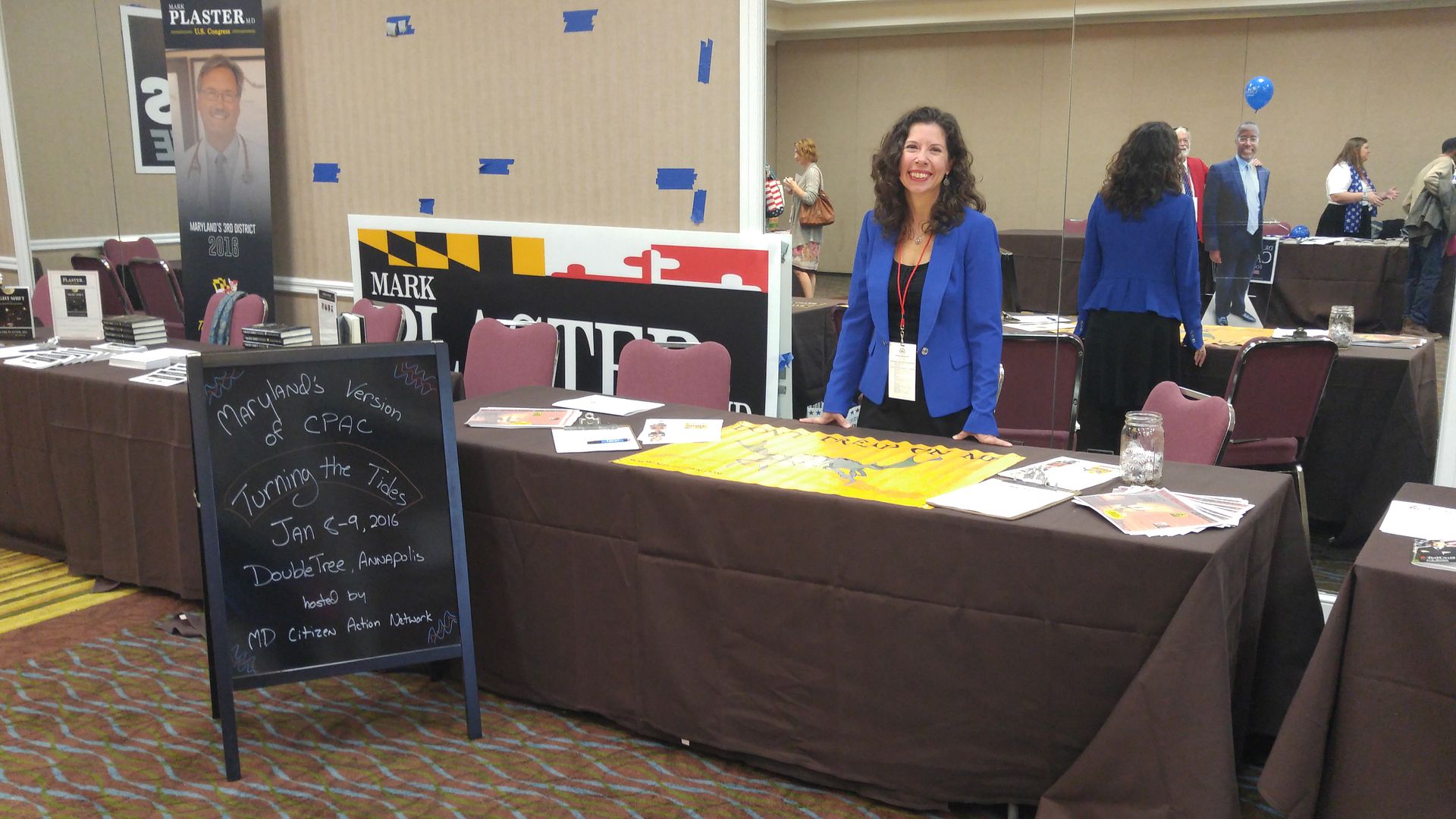 It's a good moment to remind readers about the upcoming Turning the Tides Conference coming up January 8-9, 2016. I asked her if they would have a Blogger's Row as in past editions and she said they were looking for a sponsor. They're also changing the format a little bit to be more like previous editions, so it should be informative and more like "Maryland's version of CPAC."
With the convention opening, we were welcomed by Senator Steve Waugh.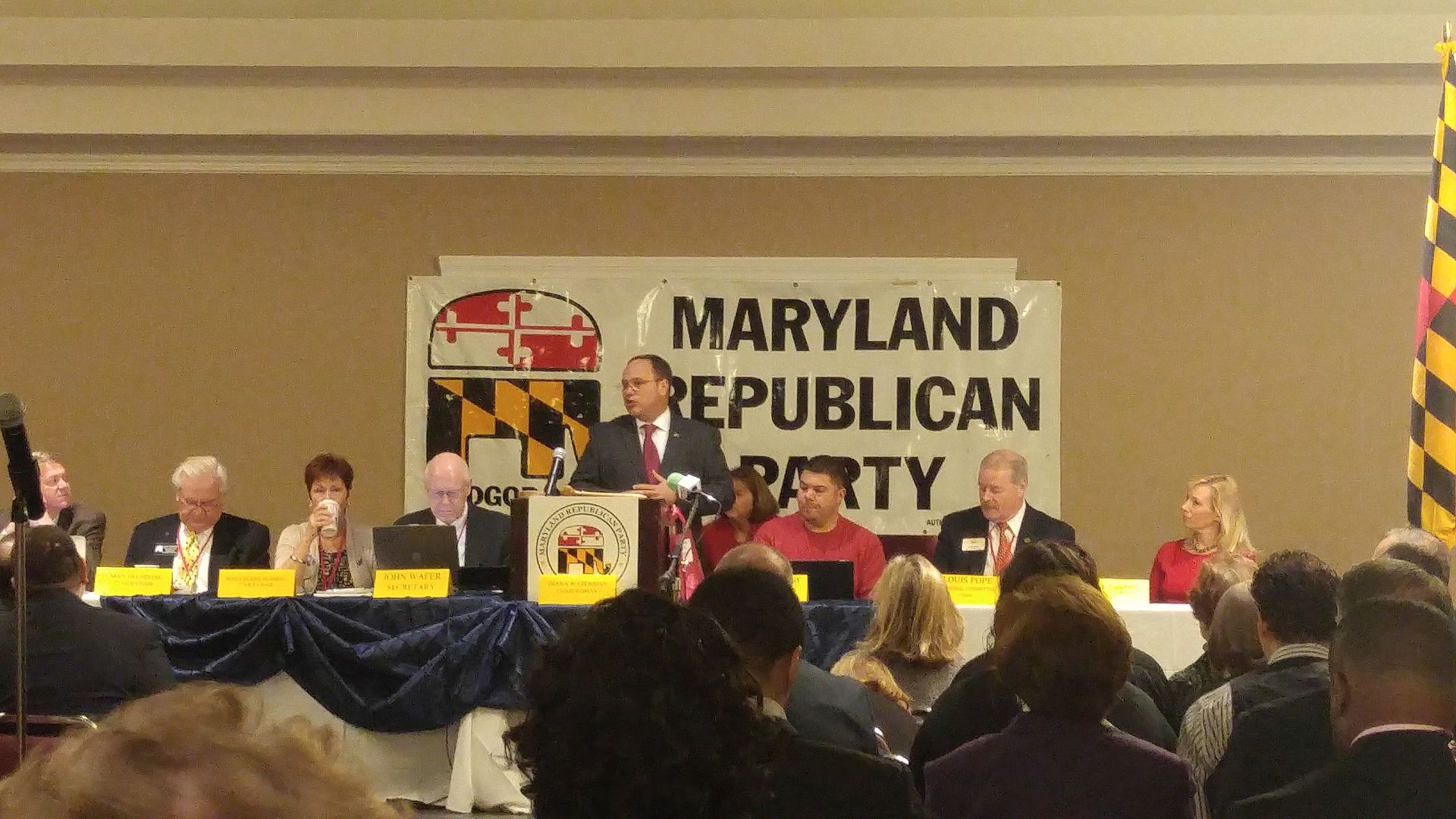 In his remarks, Waugh focused on the fact this part of Maryland "gave freedom of religion to the world" with the passage of the Tolerance Act in 1649. In the here and now, Waugh believed Governor Hogan "made the perfect call" regarding Syrian refugees, noting "you must ensure our safety."
In another bit of history, Waugh pointed out that 15 years ago Calvert and St. Mary's counties were about 2-1 Democrat but now both have a GOP majority.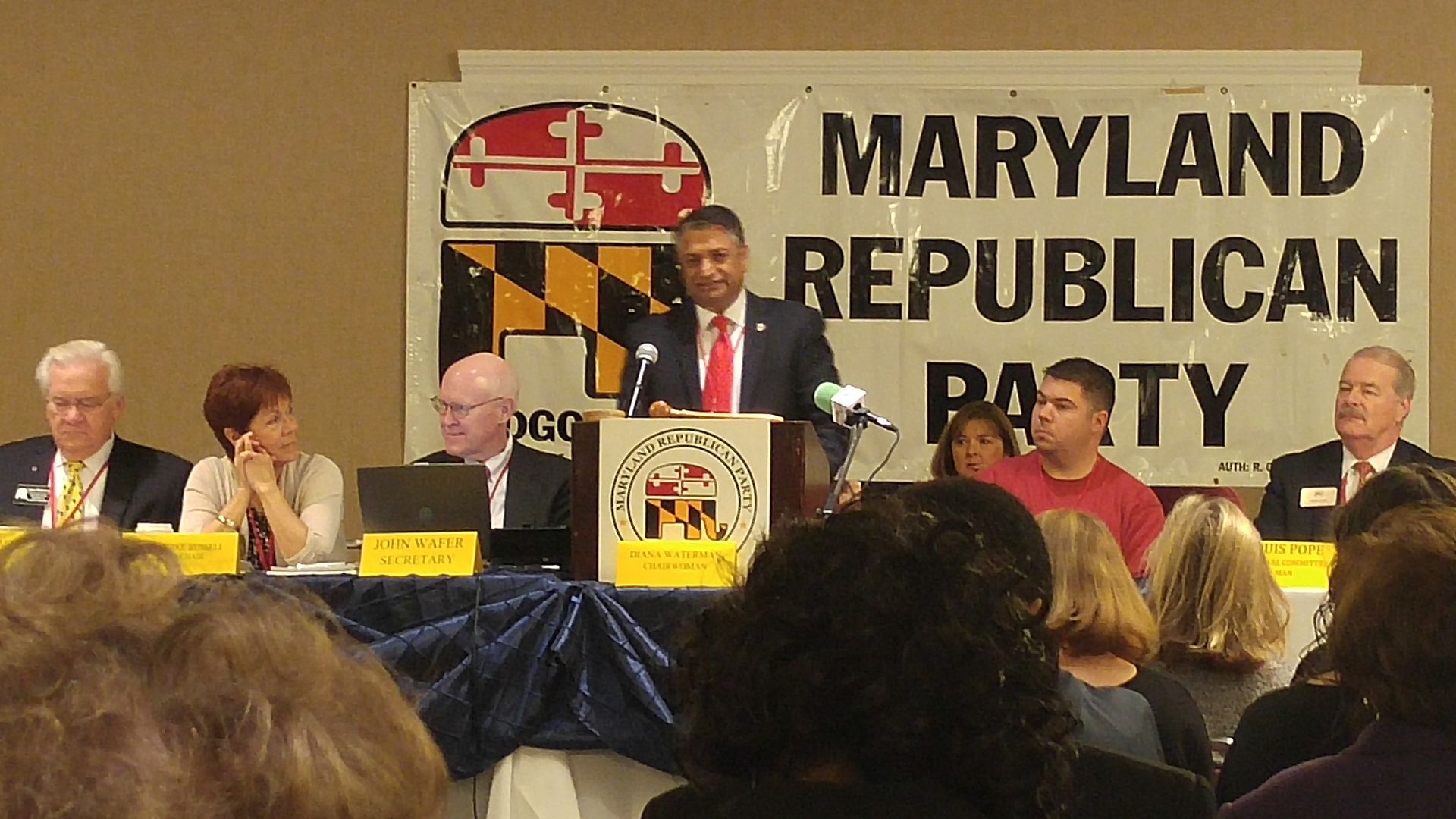 Since Larry Hogan was at the RGA meeting and Boyd Rutherford had a previous personal engagement, it fell to Secretaty of Human Resources Sam Malhotra to extend the governor's greetings. He went through a laundry list of accomplishments by the administration over its first year, but concluded with the remark "I can't wait for the next seven years." He believed we were in the process of changing Maryland from deep blue to "baby blue" to purple to red.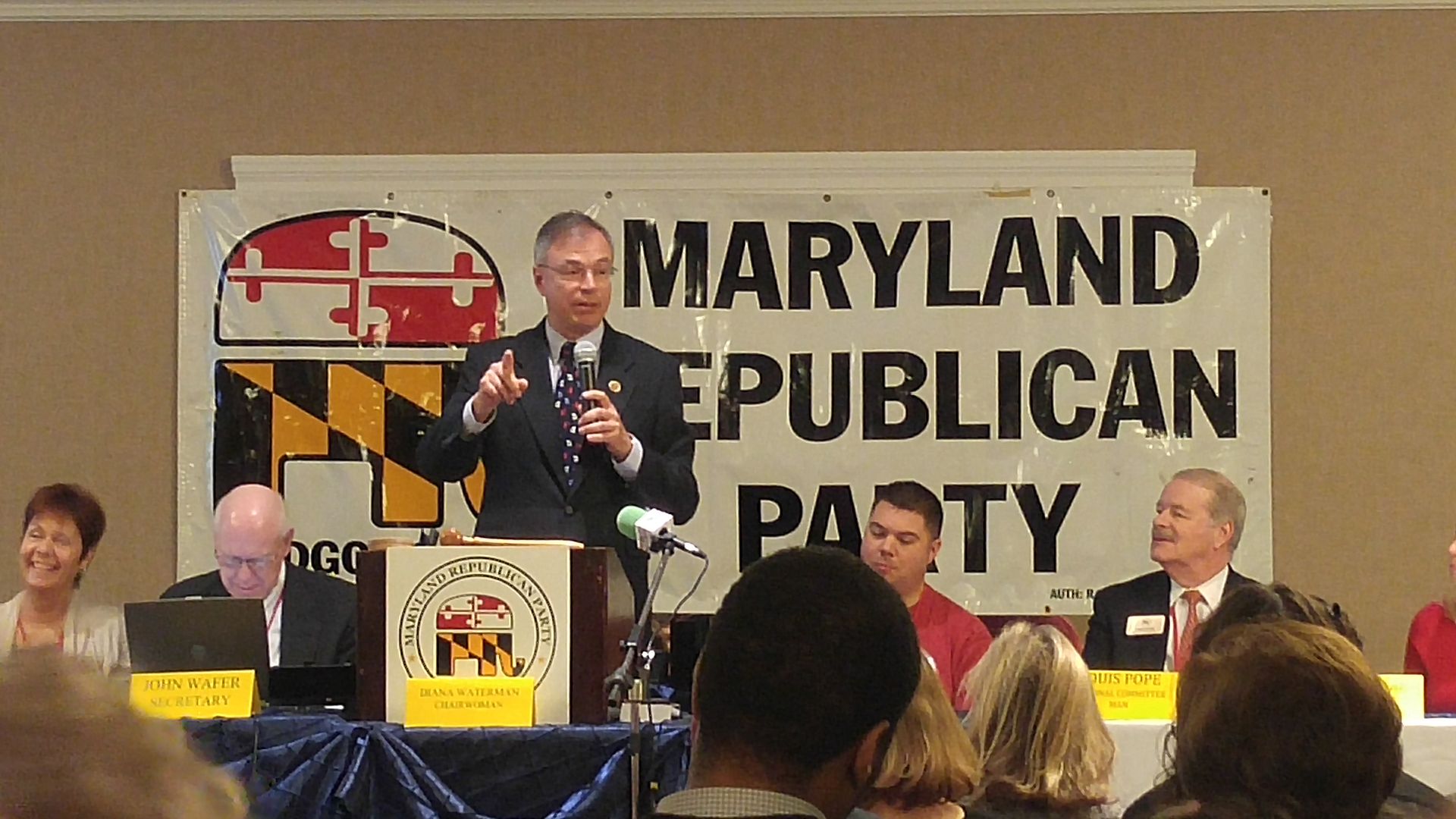 Congressman Andy Harris supplemented Malhotra's remarks by saying he'd work hard to get five more Senators in Larry's second term. "What a difference a year makes," he added, also maintaining "this is not a deep blue state."
As far as Congressional leadership, Harris believed it was the right time to change leadership. Paul Ryan can deliver our message, as opposed to John Boehner. "I don't believe he communicated well," said Harris. Andy also believed Speaker Ryan had his priorities in order, putting family first. "It doesn't take a village, it takes a family," said Harris.
Turning to the economy, the Congressman was waiting for the "last shoe to drop," meaning an inevitable interest rate hike. If rates rise to their historical rate of 2 1/2% it would mean $500 billion a year in interest payments alone – more than we spend on defense. "The economy is not going to get better" under Barack Obama, he added.
Obama's administration is also promoting the message that law enforcement "is our enemy." Yet this is a time where we had a real enemy. "What Paris showed us is that 9/11 is not over," said Andy. Add in the Russian airliner and the Mali attack, and it was no wonder France took action. Hollande "figured it out" that Obama wouldn't take charge. "This is a setback to him," explained Harris.
The narrative that ISIS is contained falls flat to Harris as well. "ISIS is here in the United States," said Harris. "We have to declare war on ISIS." Moreover, "we have to fight the war on ISIS as a war to win."
Looking back to the state party, Harris believed we were on a roll and the Democrats were worried. Now we have to recognize the importance of local elections and raise money for the local Central Committees. "Only 350 days until Election Day," Harris concluded.
We then heard from Steve Waugh again, who gave the Senate portion of the legislative update. "The magic number today is 19," he said, referring to the number of Senators required to sustain a veto.
He predicted the next session "will be all about Baltimore," adding that the budget will also come through the Senate this year. Other items to watch out for: paid sick leave, body cameras for police, K-12 education funding, a bottle tax, and "death with dignity." We also have to figure out how to come up with over $1 billion to service O'Malley's debt, Waugh added.
While the Democrats would try to sandbag Governor Hogan by laying traps for him to spring in 2018, Waugh advised us to "stay focused on the message."
Wearing her Delegate hat, Kathy Szeliga urged us to join the Governor's press list so we could spread the word about his successes. She harped on the $17,000 per pupil Baltimore City Schools spends, saying we were committed to education but also to accountability. How much is enough?, asked Szeliga.
She added there were some successes from the House on the Second Amendment as we ended ballistic fingerprinting, made it easier for armored car personnel to get permits, and removed some accessories from the SB281 ban list.
Finally, Kathy urged us to "answer back" to Democratic fundraising.
Shifting gears, we heard from Lucas Boyce of the RNC regarding their new philosophy to "engage, embrace, entrust" and the Republican Leadership Institute. Diana Waterman was working to bring some RLI graduates to work here in Maryland.
Boyce wrapped up the morning session, so we adjourned for two seminars and lunch. The first seminar I went to featured Nicolee Ambrose.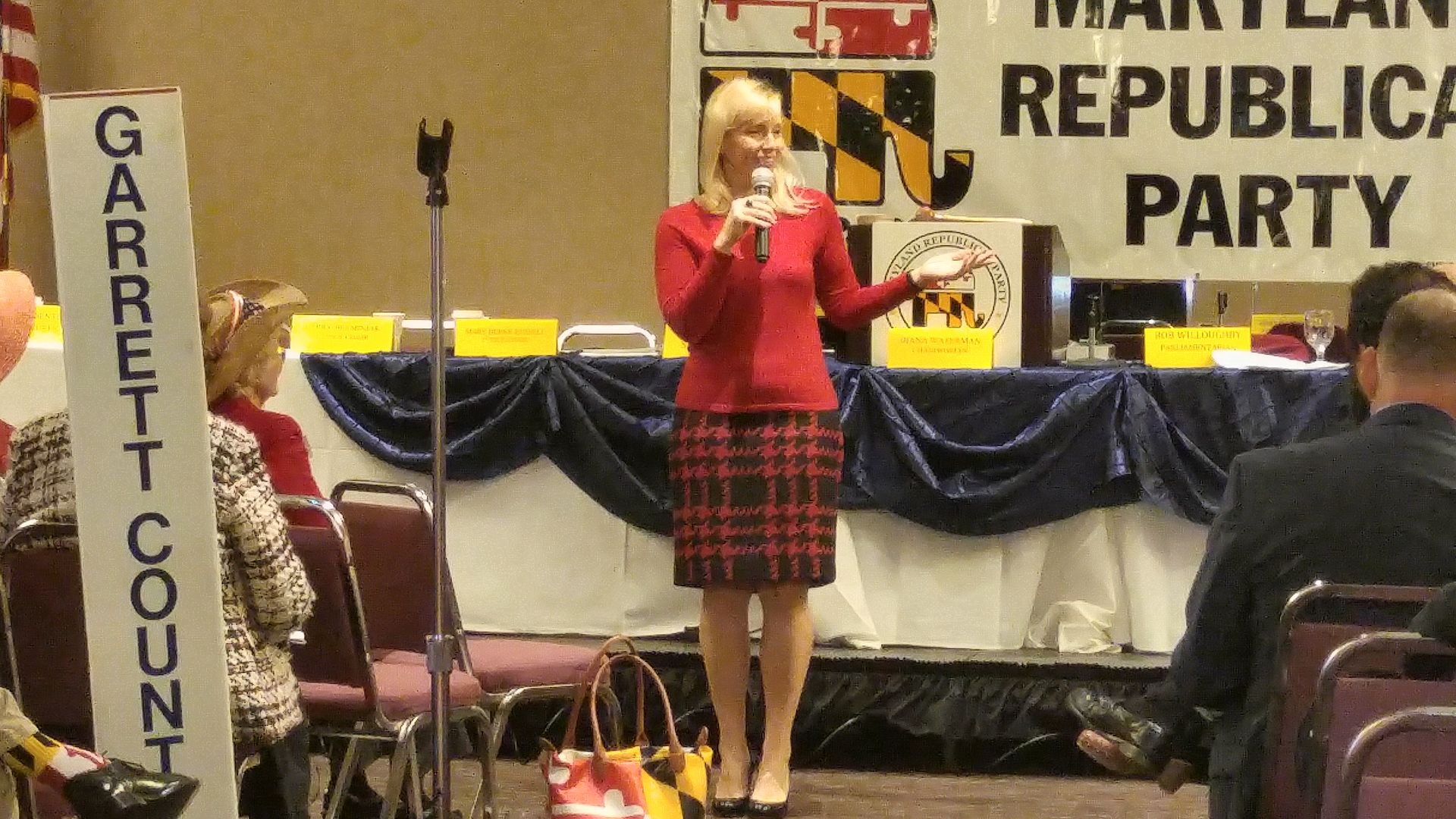 There we discussed two somewhat disparate but vital topics: grassroots organizing and public speaking. On the latter, we did a pair of "American Idol" style auditions where "contestants" were judged and advised on a two-minute speech. It's really hard to talk for two minutes.
I didn't take a photo at the second one, but Justin Ready spoke on some of these same topics and more.
Not taking Justin's photo means I have a cleaner lead into the National Committeewoman's report Nicolee delivered to start the afternoon.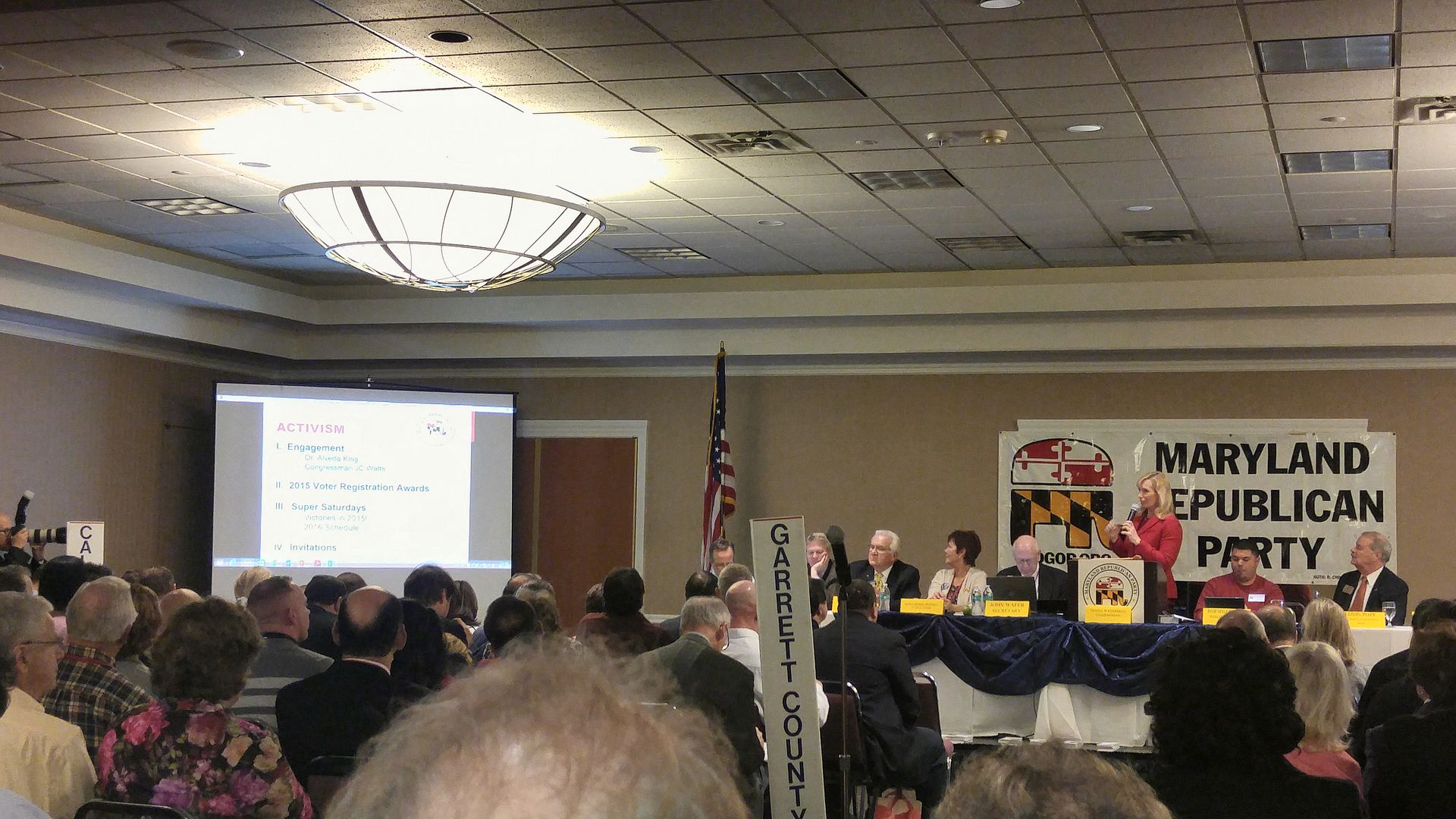 Nicolee pointed out some of our engagement events featuring Alveda King and J.C. Watts in Baltimore City, adding that getting Republican totals to 25% there makes us a red state. She also announced the winners of our voter registration contest for various-sized counties.
Ambrose was happy about going "2 for 2″ with her Super Saturdays, winning with both Michael Esteve in Bowie and Muir Boda right here in Salisbury. "This man was an animal" when it came to door-knocking, said Ambrose of Boda. She also praised Patrick McGrady for winning for mayor in Aberdeen.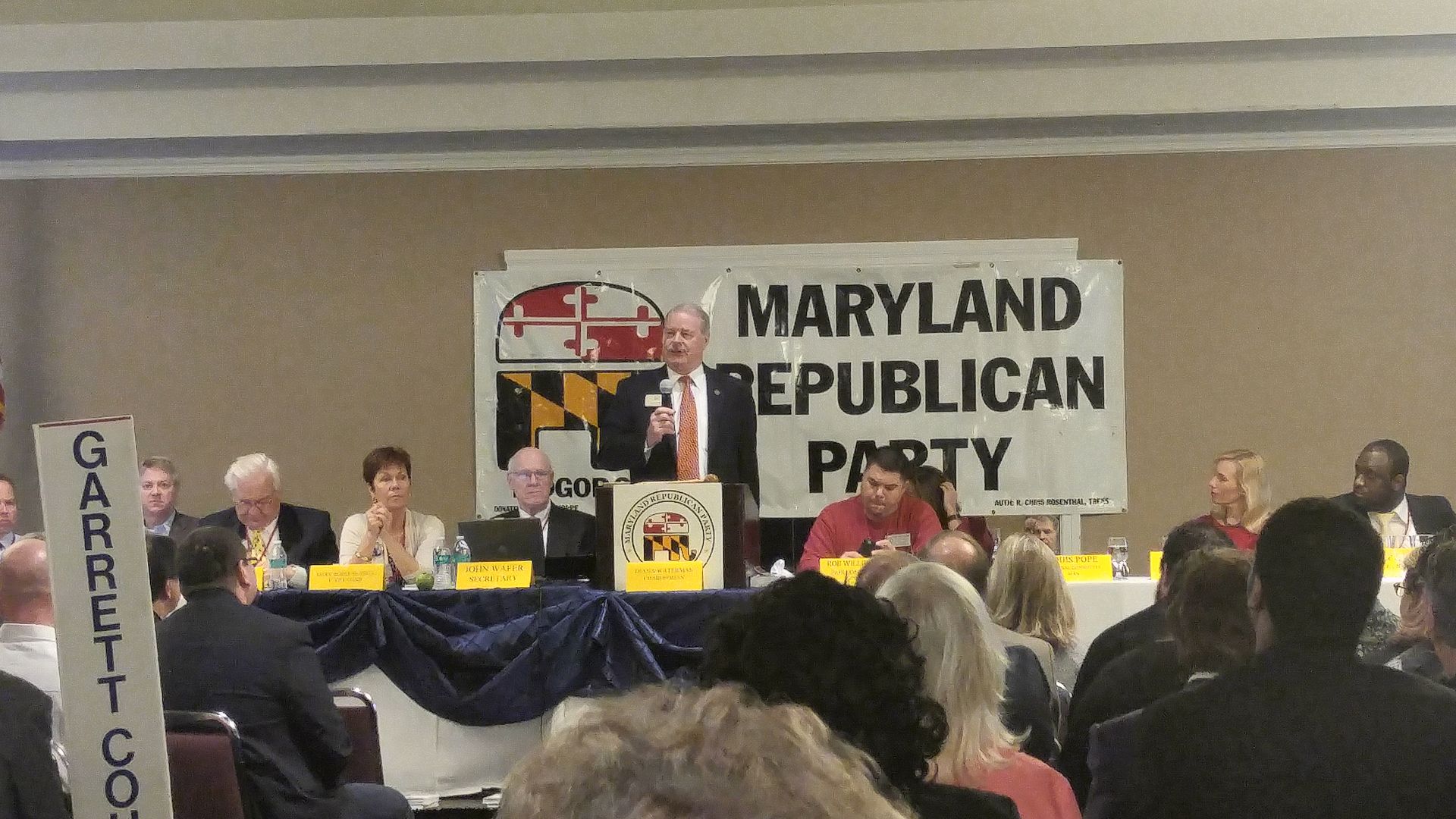 A man who hosted a "phenomenal" house party, according to Diana Waterman, Louis Pope gave the National Committeeman's report.
He focused more on the national scene, saying the RNC was "far more viable" than at any other point in history. And although this success wasn't being picked up by the mainstream media, the ground game was "going exceedingly well…our turnout machine is working." Now we had 32 GOP governors, added Pope.
Noting the CNBC debate showed "how unbelievably biased" the media is, Pope opined the primary season would be over by April 30. After that, it was "absolutely essential" that we come together. "Next year's election will be a battle royal," said Pope. The RNC has "a very deep playbook" on Hillary, Louis added.
On a local level, Pope urged the Central Committee members to raise money this year for the 2018 elections, since there's not much competition for funding. This year's campaign, though, will require "sweat equity," said Pope.
We heard a quick report from College Republican Chair Christine McElroy, detailing their successes – including the Salisbury University CRs co-sponsoring our Lincoln Day Dinner. But she also revealed the sad fact that 77% of millennials could not identify even one of their home state Senators.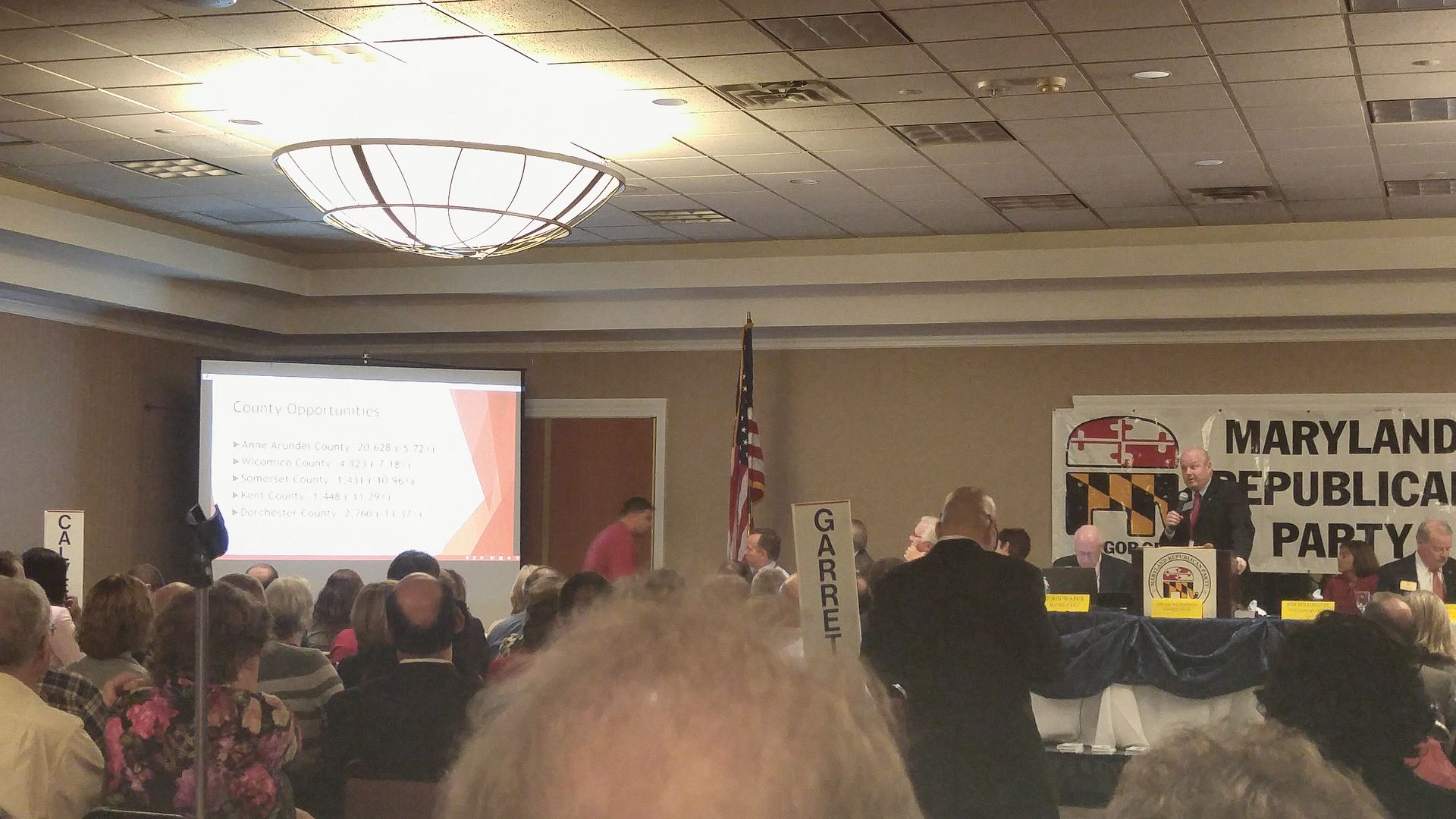 Party Executive Director Joe Cluster went over voter registration, pointing out the five counties (including Wicomico) where the GOP is closest to overtaking Democrats. "The numbers are moving in our direction," said Cluster. He also touched on goals for precinct captains, opportunities to help Governor Hogan on boards and commissions, and the Baltimore city elections.
In her Chair's report, Diana Waterman paid tribute to the late Frank McCabe, for whom the party would have a dinner later that evening. But she stressed the need to pass the first bylaws amendment, believing if we fail to adopt this the General Assembly will take the right away. "It is for your protection," said Diana.
First we had to deal with one resolution in support of a Constitutional amendment to reform redistricting. It passed by a voice vote, with just one or two objections.
In introducing the first bylaw amendment, Mark Edney of Wicomico County stressed that "we have a problem with the process." The proposal provides a process but is not specific.
While there was spirited debate on both sides, in the end the measure had enough votes to pass. On the weighted voting scale it was 369-170, which exceeded the 2/3 majority required. (In terms of actual people, the vote was 182-85. Only Baltimore City, Frederick, Queen Anne's, and Washington counties had a majority objecting.) All nine in Wicomico County voted in favor, although I believe we will create our own specific guidelines.
On the "loser pays" amendment, an attempt to change it to cover both sides was proposed but was superseded by a motion to table the amendment, which passed with a resounding voice vote.
And then we had bylaw amendment #3. I thought it would pass with little objection, but the fireworks began right away. Most of the argument centered on whether the Black Republican group was established enough – those arguing against the amendment frequently referred to the Young Republicans, which reached a low point in chapters and membership shortly after getting an Executive Committee vote.
At first we voted on a motion to recommit to the Bylaws Committee, which drew the argument that it came from that committee. But Heather Olsen explained that the committee got this at the last minute and only checks for conformance, not on merits. In the end, the motion to recommit failed 217-324, or 114-156 in bodies. Wicomico was split 5-4 against recommitting.
Then we tried to table it, but that motion was rejected by voice vote.
The next move was to amend the bylaw to strip the voting rights from every one of the auxiliary organizations. That started new debarte, including a motion to continue debate that lost soundly in a voice vote.
The final motion to amend passed 359-178, with the amended bylaw change passing 408-83. (Body counts were 178-91 and 206-41.) Only Calvert, St. Mary's, Wicomico, and Worcester voted against both.
Once that vote was in, the bylaws committee report was done "after 2 hours and 3 minutes." Before we adjourned, Diana Waterman told us it should never be said we don't allow enough debate.
But I suspect the debate will go on. I'll have more thoughts later this week.
Oh, and another thing. We did a straw poll, with Ted Cruz the winner.
Ted Cruz – 62 votes (24%)
Marco Rubio – 52 (20%)
Donald Trump – 49 (19%)
Ben Carson – 26 (10%)
Carly Fiorina – 18 (7%)
Rand Paul – 15 (6%)
Chris Christie – 14 (5%)
John Kasich – 12 (5%)
Jeb Bush – 11 (4%)
Mike Huckabee – 2 (1%)
Rick Santorum – 2 (1%)
(All work and no play? You can skip to part 2.)
As I said before, like the prodigal son I have returned.
I counted 26 pictures in my folder. As a rule of thumb I try to keep pictorial posts under 20 so you get two parts, with this covering Friday night and part 2 looking at Saturday. While the latter was more contentious, there was some news from Friday night that I will get to in due course.
Upon arriving and checking in, I was greeted by a Ted Cruz volunteer and a cute two-girl welcoming crew. Bad time for a glitch on the cell phone camera, but it set the tone for the evening.
They were gone by the time I went down to register, but in the adjacent room I saw Ben Carson. Well, sort of.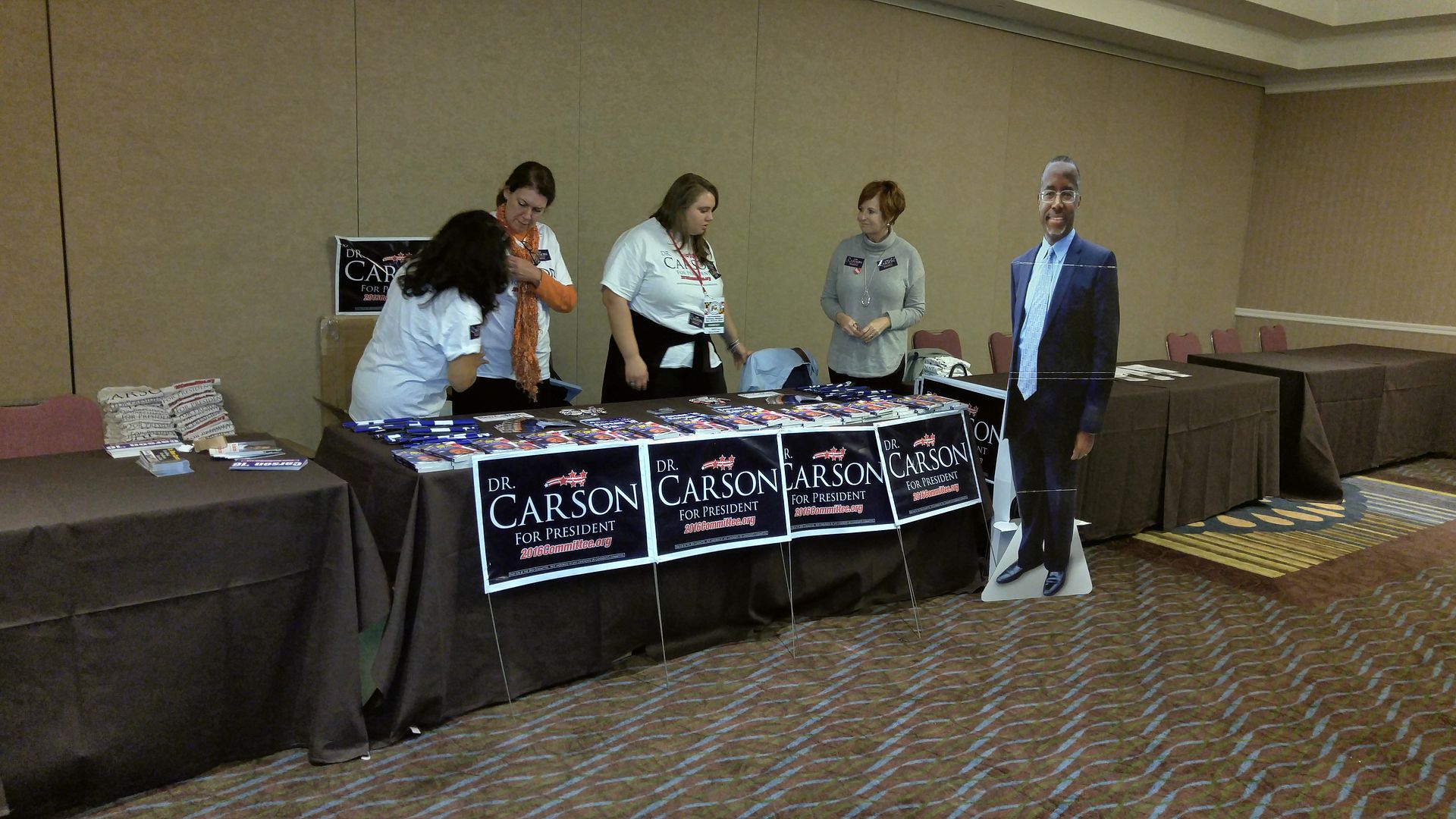 You could meet his son at one of the suites, though. I just wasn't sure where that was so, alas, it was one I missed. (I guess the younger Carson did, too.)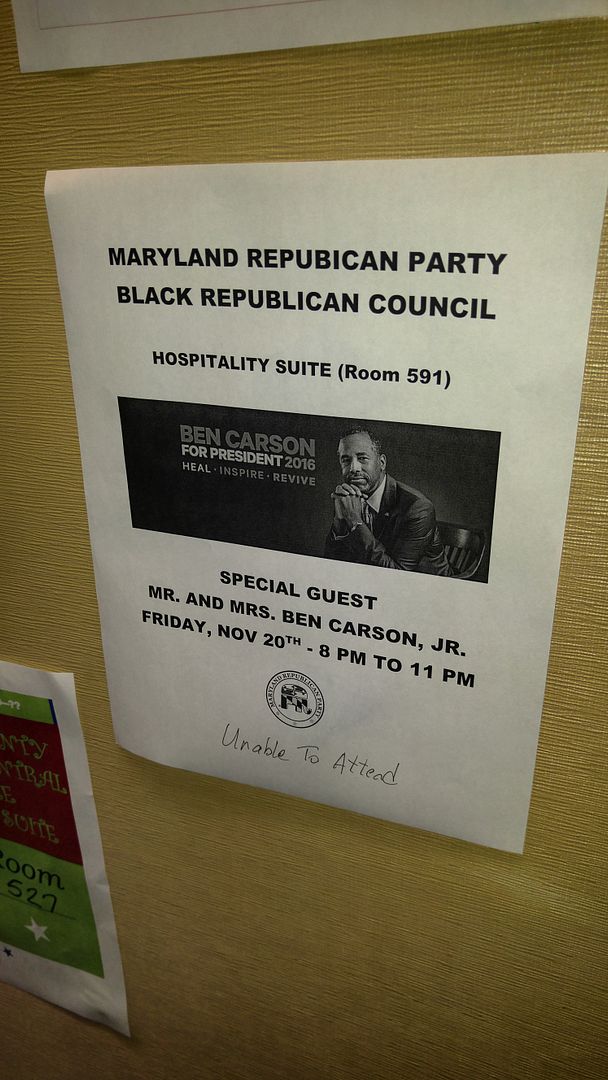 I didn't stay in the exhibit room too long. Most suites don't start right away so I usually attend the Executive Committee meeting to see what's news.
Most of it is devoted to reports that are repeated to one extent or another during the Saturday session, but I did learn the party was working on another Student Legislative Day for kids around the state.
The best tidbit came from State Senator Bryan Simonaire, who, after relating how working with Governor Hogan was "tremendous" – in part because there were no tax increases on the floor for the first time in 10 years – he revealed a piece of legislation he was considering. (I think Bryan forgot the "travel tax" Hogan vetoed and the increased court fees he adopted. But I digress.)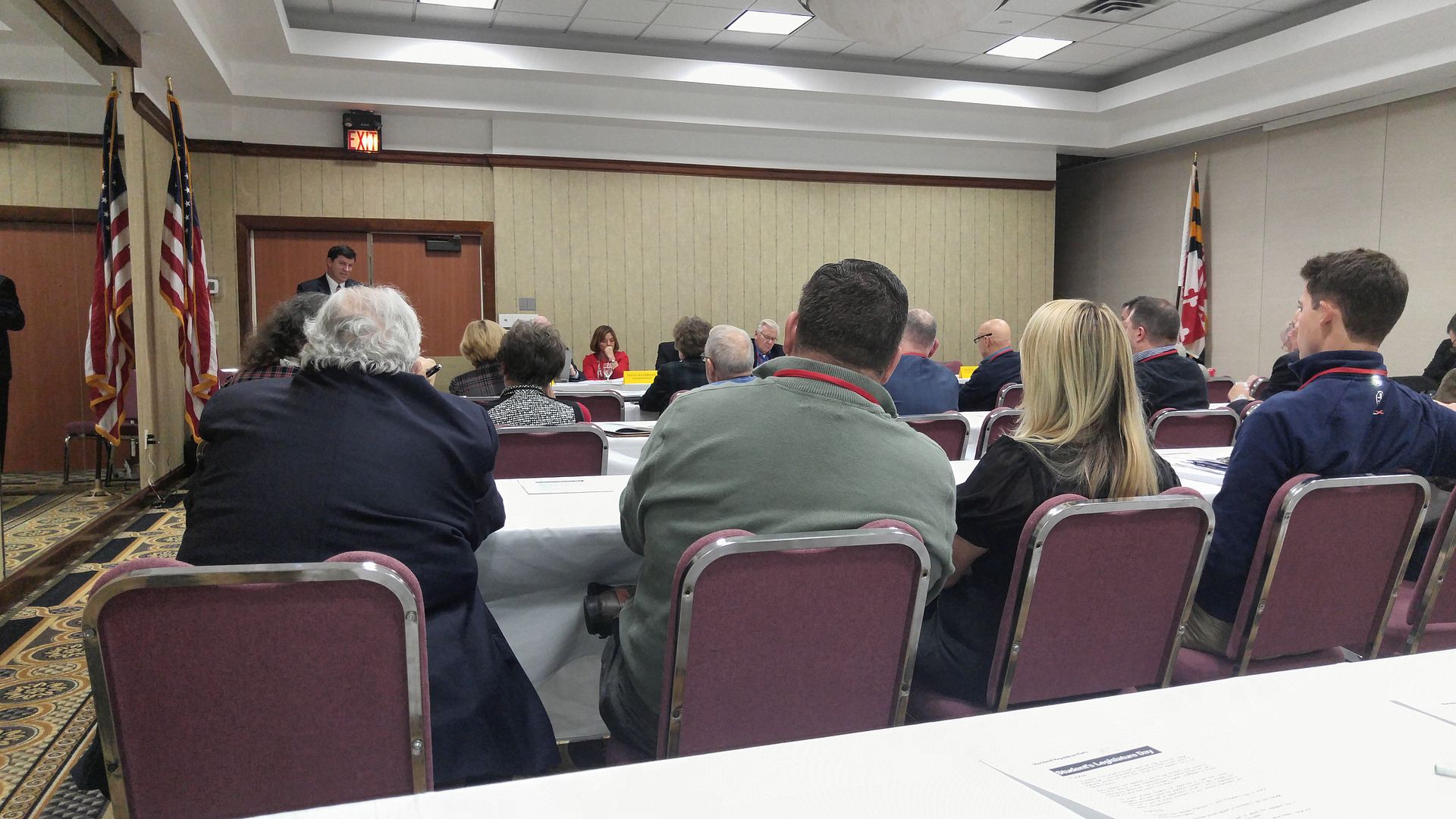 Bryan went over some of the pros and cons he had heard about changing the date Republican Central Committee members take office. By law, we don't start until after the General Election that occurs after the primary. This made sense with the old September primary, but leaves a long lame-duck period from a June primary.
Yet many of the county chairs argued "five months was no big deal" and added that it was unfair to those who weren't coming back to end their term before the election they were working toward. They wanted the members who weren't coming back to stay on. The proposal was "a solution to a problem that doesn't exist," added one party officer.
Despite the criticism from the county chairs, most of whom objected in a show of hands, Simonaire appreciated the dialogue but stated, "I am moving forward with it."
A couple folks we did not hear from on Saturday gave reports. Ivan Garcia-Hidalgo, who now heads the Maryland Heritage Council, explained his goal was to change the narrative that "Republicans are racist" and convince Hispanics their "natural home" is the Republican Party.
Meanwhile, Kory Boone of the Maryland Young Republicans was pleased to report that they had grown to seven chapters with new ones in St. Mary's and Prince George's counties.
Speaking of St. Mary's County, their District 29 suite was the first hospitality suite I stopped by. I was hungry to try some "SoMD stuffed ham."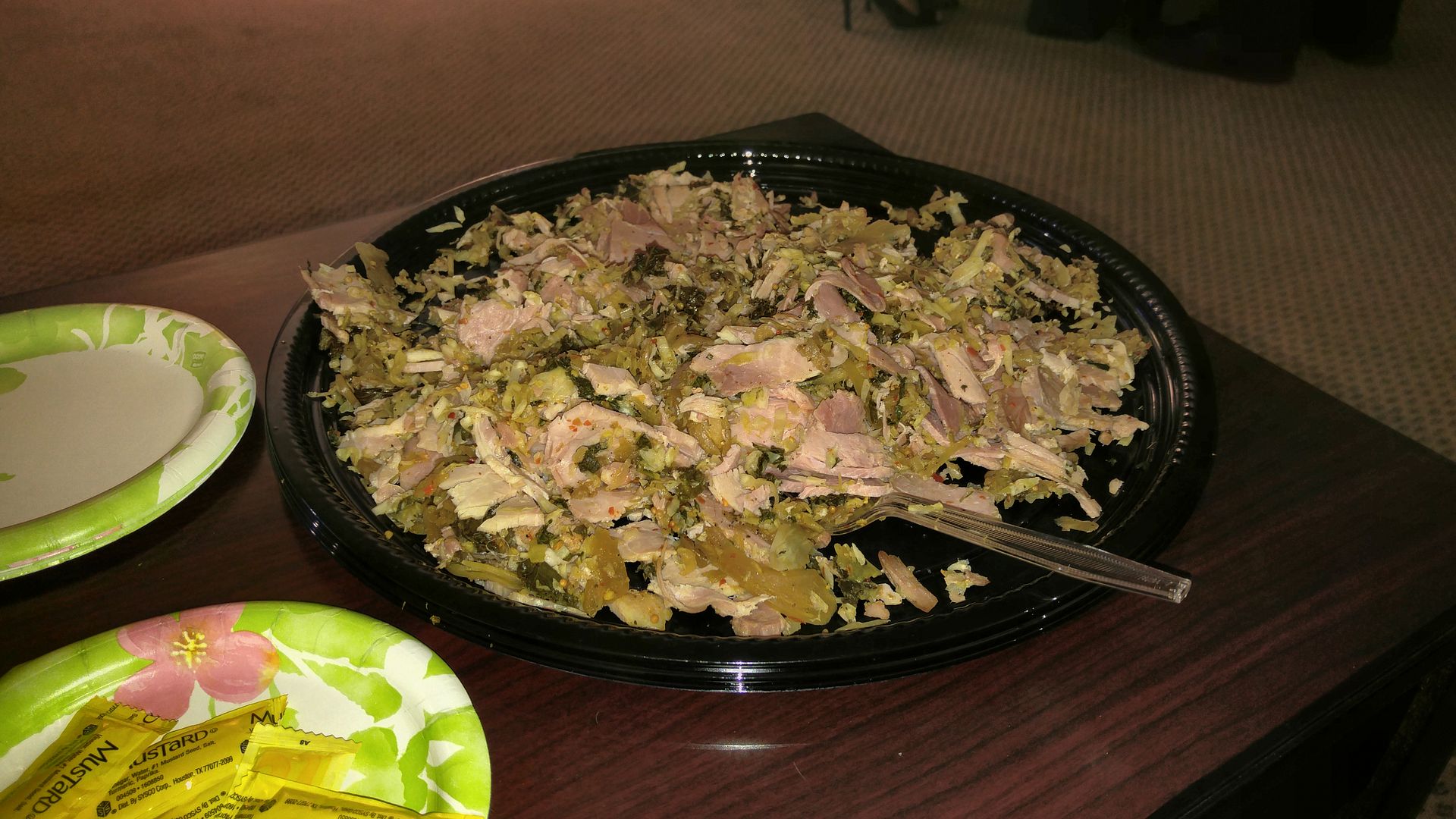 The District 29 delegation was there, including Delegate Deb Rey.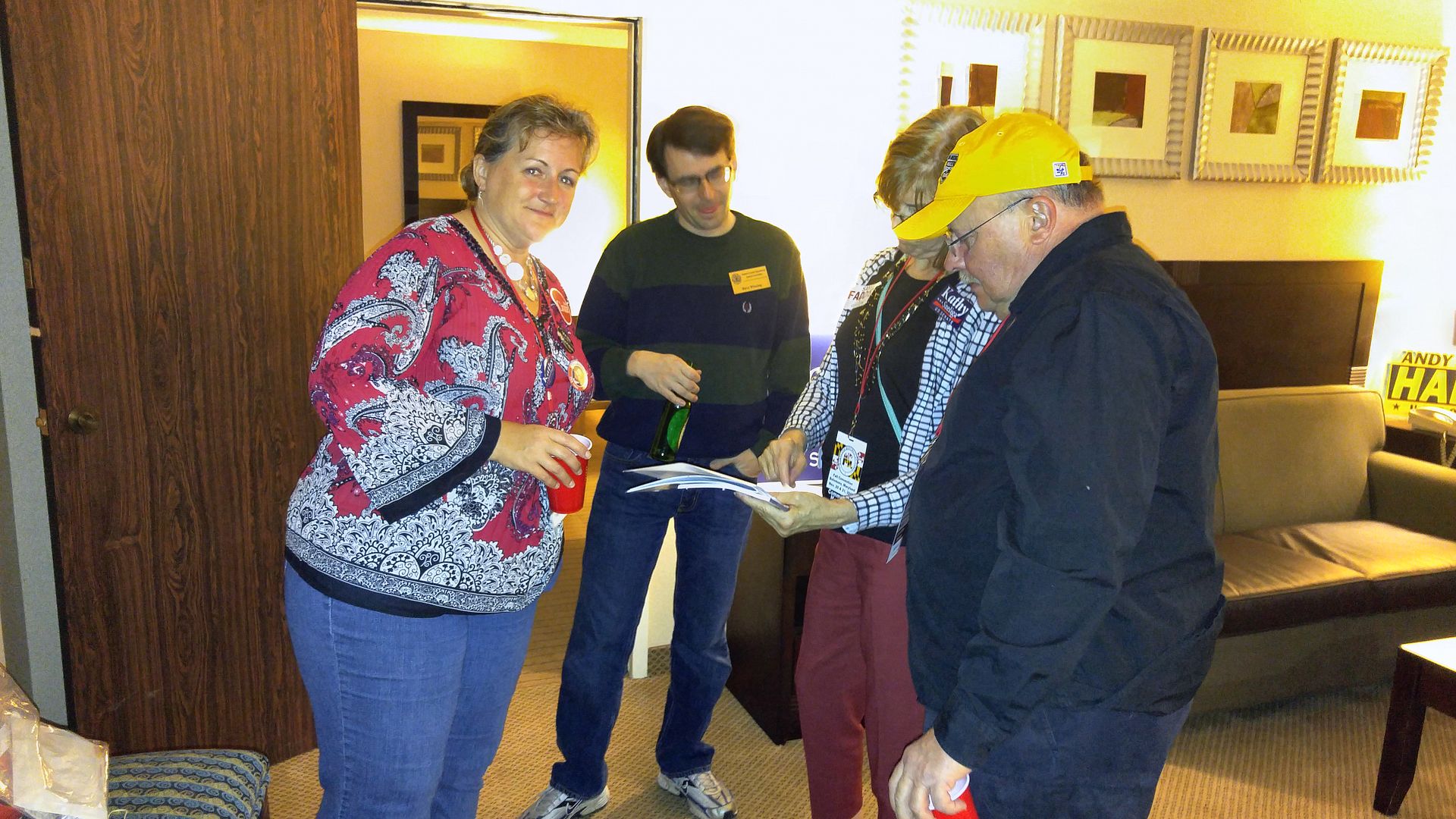 She was selling raffle tickets for a Beretta rifle as a fundraiser, to be drawn at another fundraiser on January 7. (That week or so will be busy for our General Assembly members, who can't do fundraisers during the 90 days of session.)
Having my helping of ham, I could go get some seafood at Richard Douglas's Senate suite. There were a number taking part, and to be honest it was better than the pizza next door at the Montgomery County suite.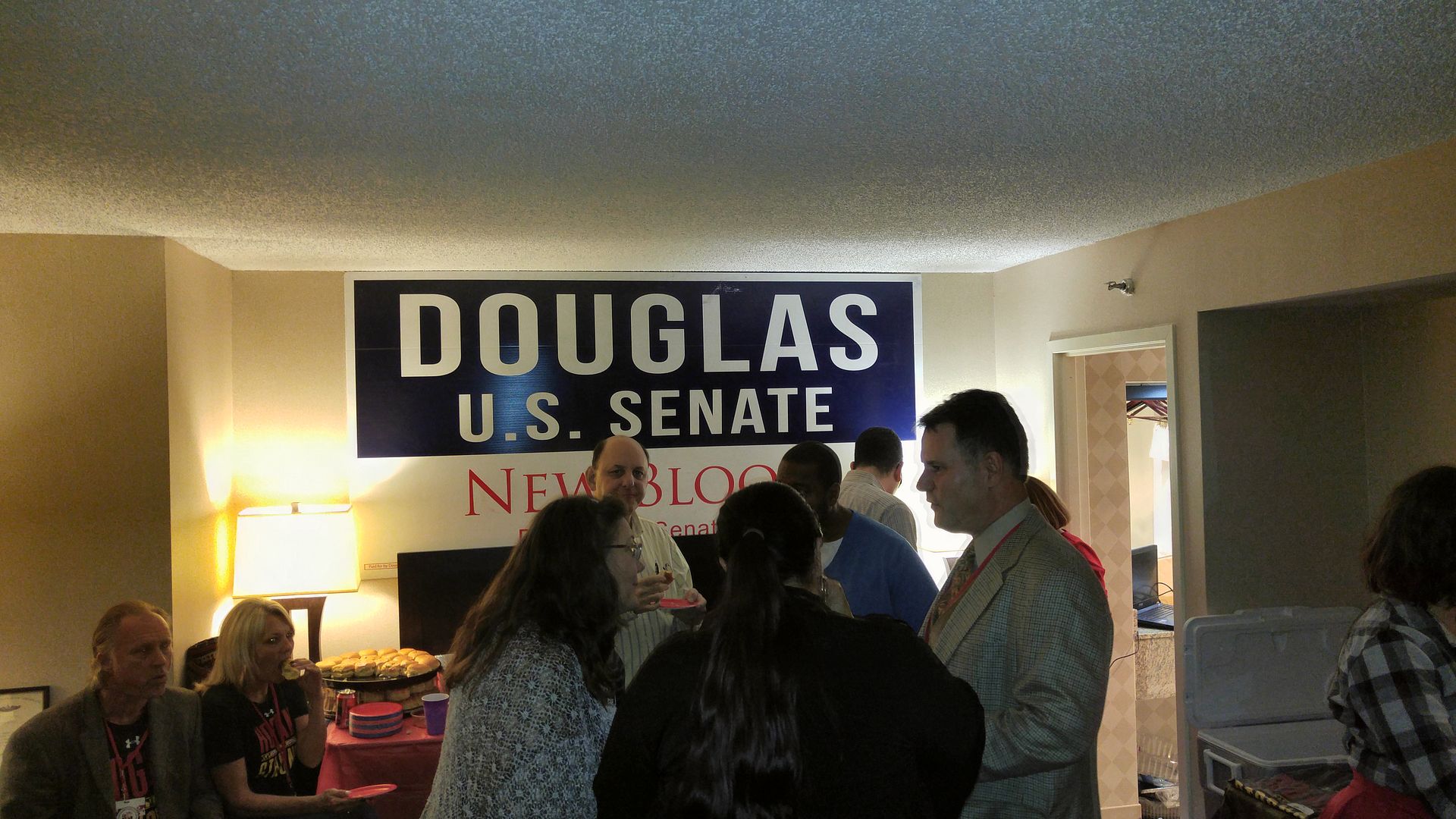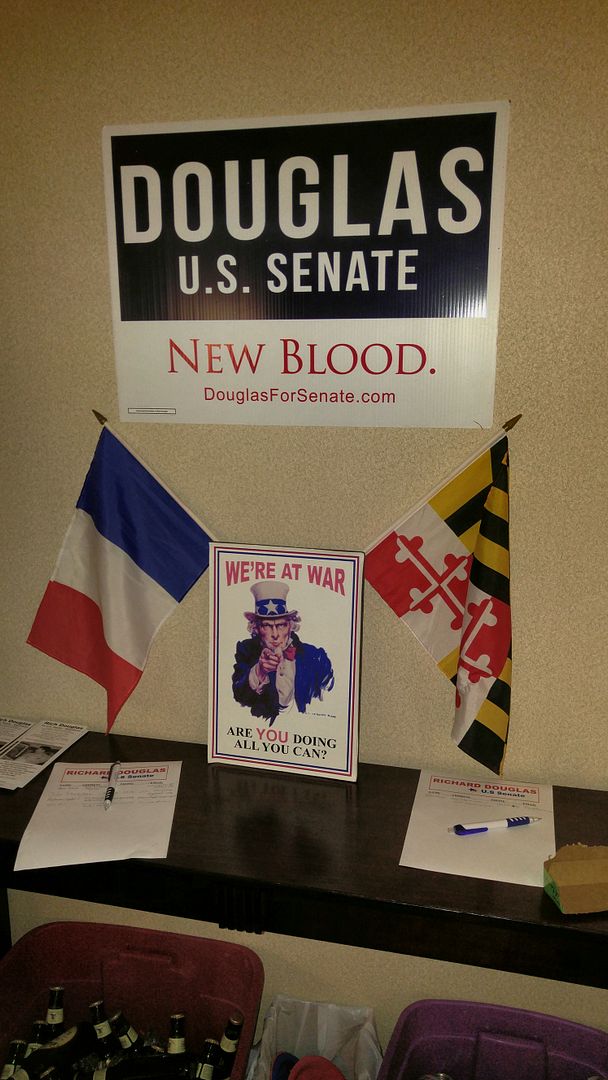 If Douglas wants to be the "new blood," one of those he has to beat was directly upstairs in a suite she was sharing with Andy Harris.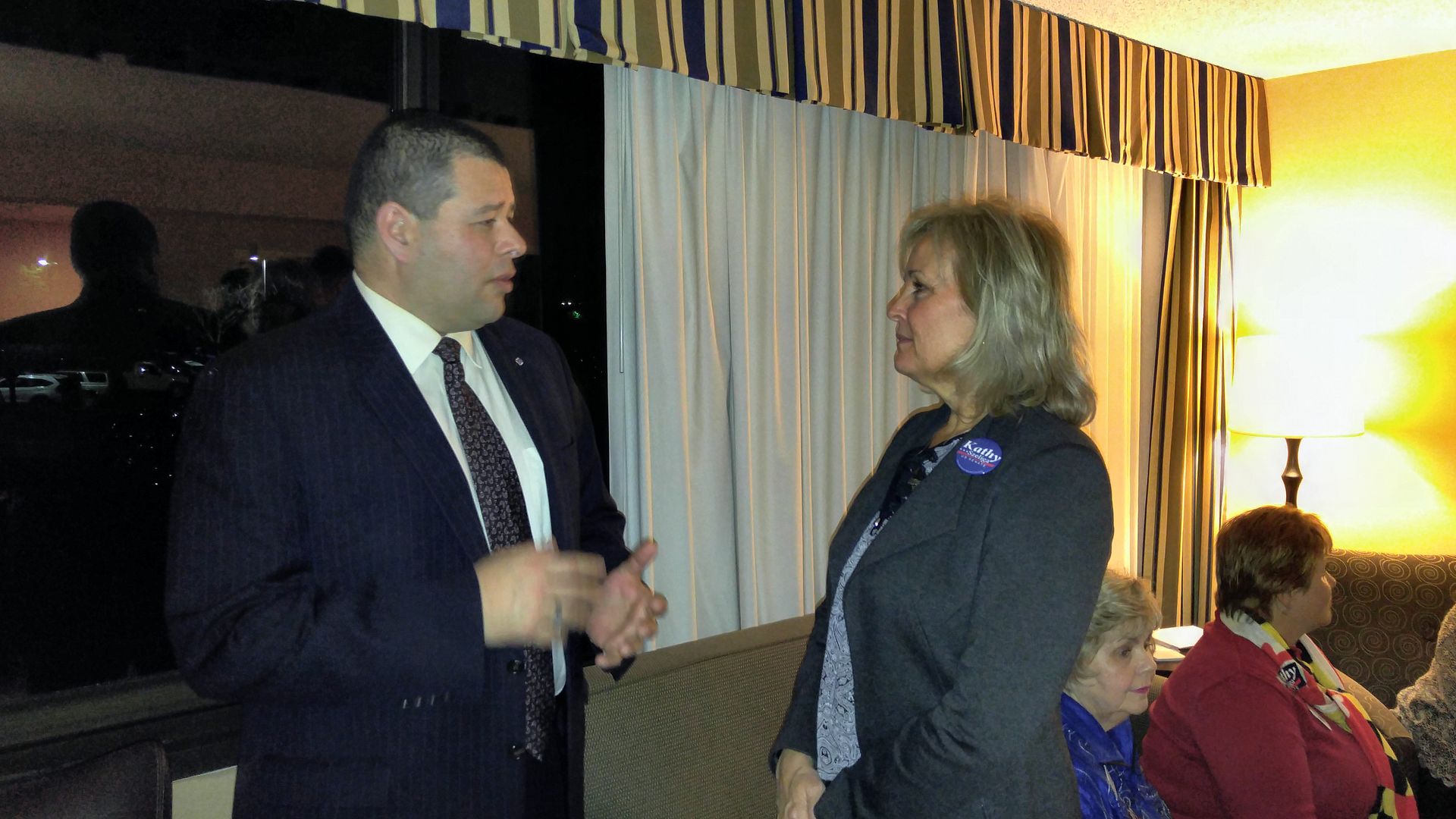 Along with the Congressman, Szeliga was there talking to the aforementioned Ivan Garcia-Hidalgo. I did mention to her that I was sad about missing her trip to Salisbury, but noted my cohort Cathy Keim covered it well for me. Hopefully Szeliga will be back here soon.
Just across a short hallway was the suite belonging to the Ted Cruz campaign.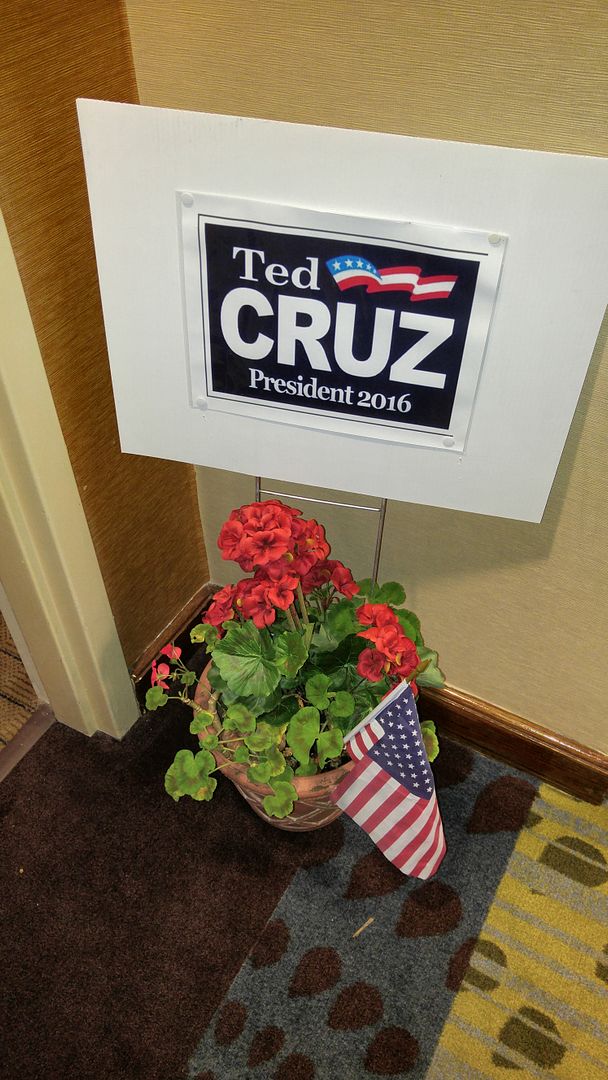 Let's get this out of the way: now that Bobby Jindal is out, among the remaining GOP field I would lean most toward Ted Cruz. They also had outstanding chili there. I just hope their field people are up to the task.
Their suite wasn't very busy, either – not like Marco Rubio's.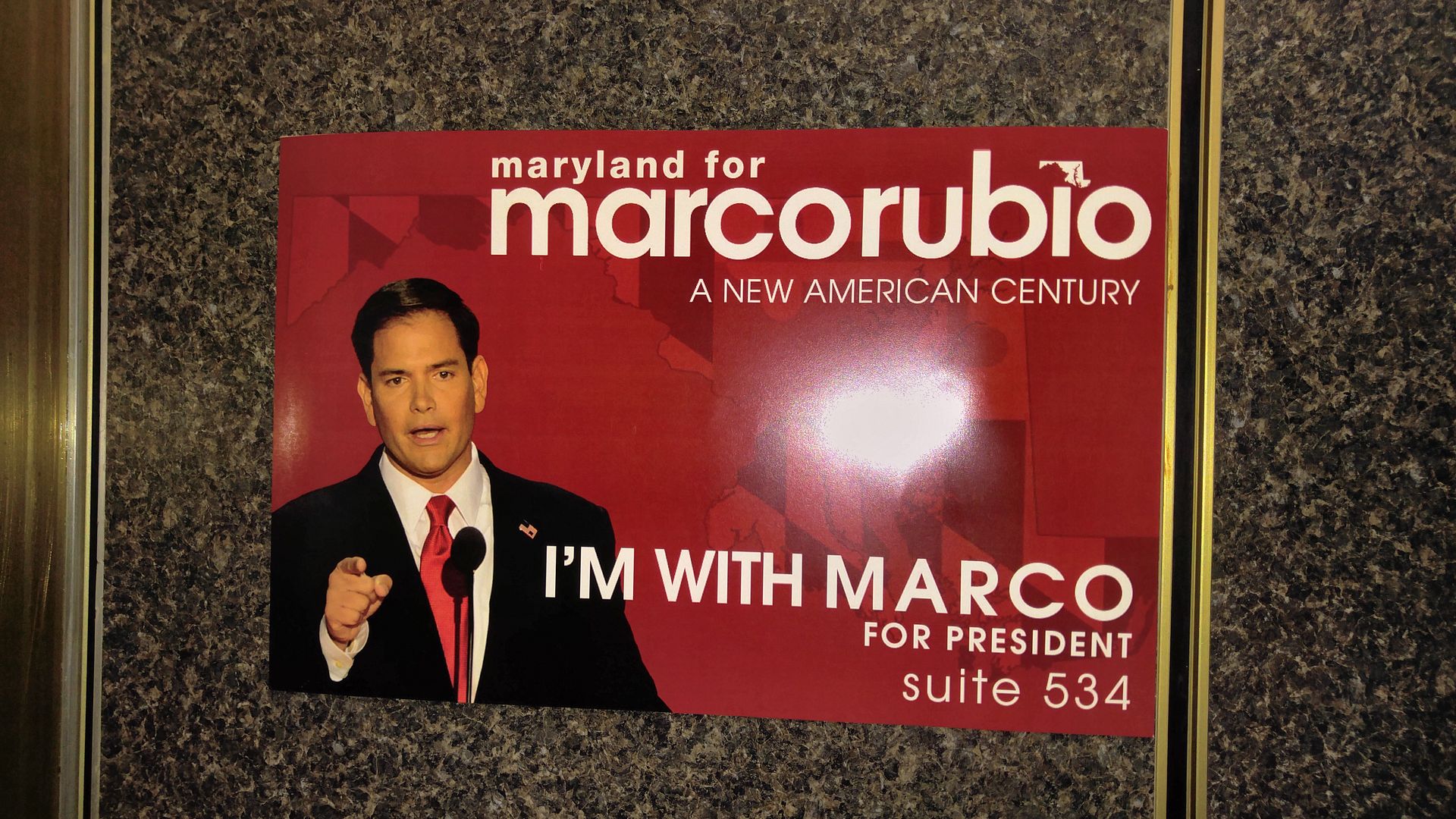 My photo doesn't do their gathering justice.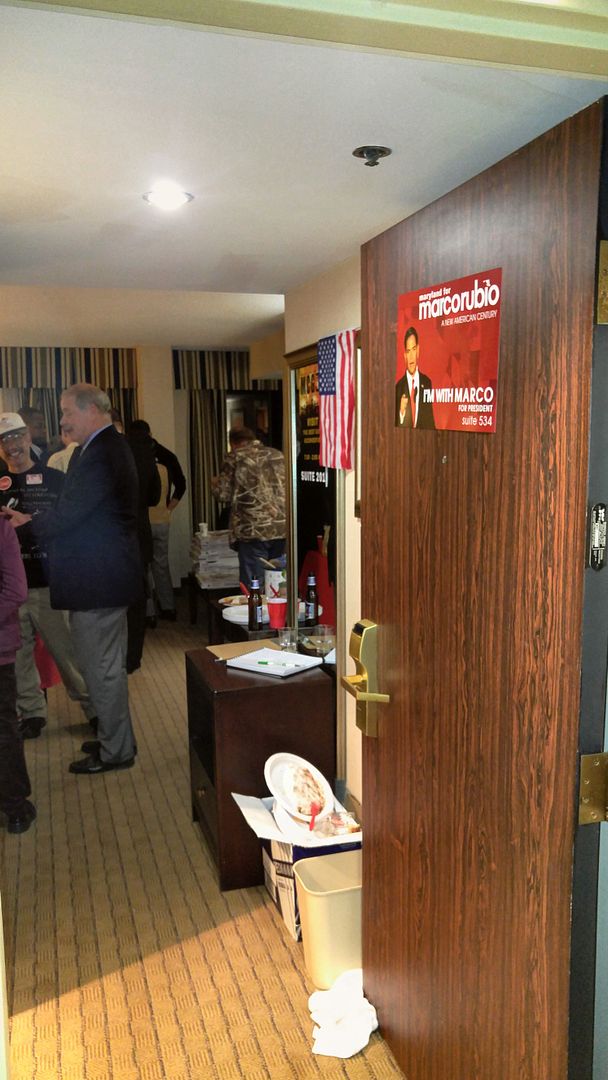 I get the sense that Rubio is the "establishment" choice now that Jeb's campaign is cratering. Maybe that's just me, but it's my gut instinct.
In taking so long to go through the suites I did and renew some acquaintances, I missed the ones on my floor – one of which belonged to this guy.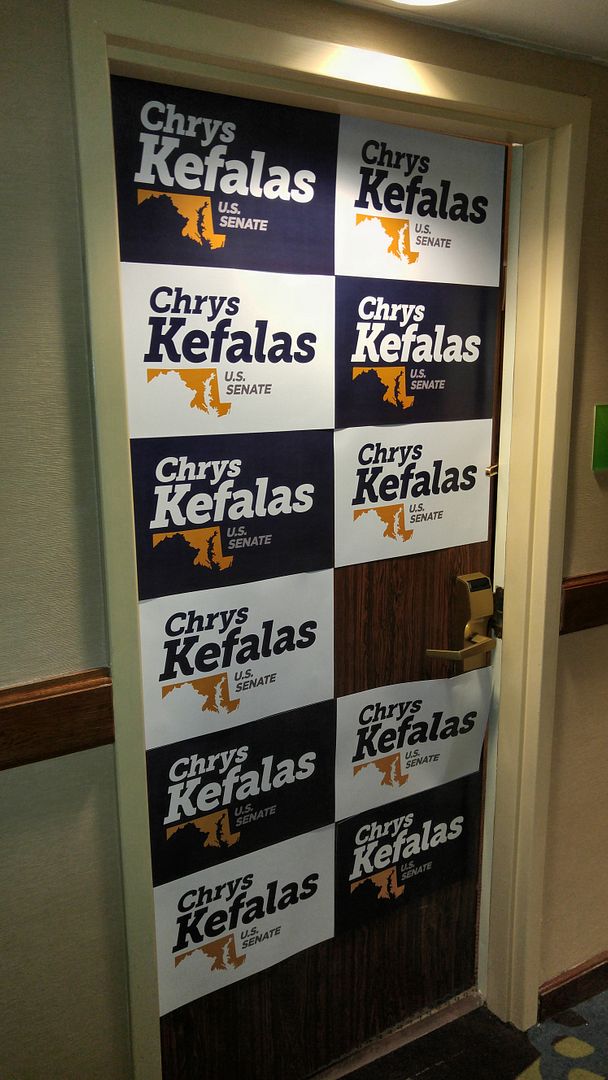 So it was not a slight on my part, as my plan was to do the ones on my floor last. Most of them respected the 11:00 or so closing time to get cleaned up and allow the neighbors some sleep, so I was just too late.
Since they were winding down, going to bed is what I did. In part 2 this evening I look at Saturday.
It's been awhile since I was entitled to go to the state convention, but what a few hundred Wicomico County voters tried to do was undone by a much smaller number last month, so I have returned like the prodigal son.
My first convention back will be in Solomons, which as I recall was the home of my favorite convention, the spring 2012 one where we elected Nicolee Ambrose as National Committeewoman in a contentious vote over Audrey Scott. This one will probably not have the same amount of angst, although we may see issues with the three bylaw amendments on the docket.
The first is a lengthy proposal to create a process for Central Committees to fill legislative vacancies. After the debacles we saw last year as Governor Hogan picked members of the General Assembly to fill out his cabinet and lead departments, it became a priority to come up with a way of doing so lest the General Assembly take our power away (which still could happen.)
In a nutshell, the amendment allows a county to create its own process but leaves as a default the state-prescribed method. In looking it over briefly, the fight may be over the call to submit "name(s)" to the Governor, as some would prefer the Central Committee submit just one name as was custom until the most recent round of appointments.
That controversy led to the second bylaws amendment, which a perverse sort of "loser pays" arrangement for entities taking legal action against the state party, just like Carroll County did last year. I think this one will create the loudest arguments, to be honest.
Third is a proposal to give the Maryland Black Republican Council full voting status on the Executive Committee. If so, they would join the Maryland Federation of Republican Women, the Maryland Federation of Young Republicans, and the Maryland Federation of College Republicans as voting members of that committee. (Conversely, the Teenage Republicans and Heritage Council are non-voting members.) As I recall, we had a lot of rancor about giving the YRs and CRs an Executive Committee vote a couple years ago, in a voice vote that was literally cast as we were being ushered out the door. So we'll see.
The one resolution that I'm aware of (barring others introduced from the floor for our consideration) deals with the redistricting commission, so that should be no issue. I don't think there's 10 percent of the party that likes the way we do it now.
But all work and no play makes Republicans a cranky bunch. Fortunately, unlike the last couple conventions I attended, we will have no shortage of hospitality suites to check out.
A list sent out by the state party shows no less than a dozen different suites. While the host counties of Calvert and St. Mary's and Montgomery County have their parties, the headlining parties will be competing affairs between supporters of Ted Cruz and Marco Rubio. Not to be left out, all three major U.S. Senate hopefuls – Richard Douglas, Chrys Kefalas, and Kathy Szeliga, who is piggybacking with Congressman Andy Harris – will have suites on separate floors. Add in local Congressional candidate Charles "Sam" Faddis and the aforementioned Black Republican Council, throw in a couple wild card suites, and it should be a fun evening tonight.
Naturally some of the conservative blogosphere will be there, so we'll see what sort of coverage we can drum up. Whether the era of good feelings brought on by Larry Hogan's election will subside this time or wait until spring when we elect a new National Committeeman and National Committeewoman along with slates of convention delegates and alternates remains to be seen.
For now I'm just going to enjoy the moment because, I hate to admit, I sort of missed these gatherings during my hiatus. Glad to be back.
By Cathy Keim
It seems ridiculous to even be addressing oversensitive students at expensive, overrated colleges when Paris has just endured brutal terrorist attacks. One would think that the reality shock treatment of these events would stop the complaining, but that is not going to happen.
President Obama has led the way with his racially divisive, politically motivated statements since he was elected. Rather than leading a united America, he has taken every opportunity to drive wedges deeper between our different ethnic groups.
I return to the words of Victor Davis Hanson, who explores the president's actions:
Race largely determines whether Obama comments on pending criminal cases such as those of Trayvon Martin or Michael Brown or keeps silent about such cases as the murder of Kate Steinle. If Professor Henry Louis Gates had been white and the arresting officer black, there would have been no beer summit. Obama would have kept mum if Trayvon Martin had been white or had successfully killed George Zimmerman and survived their fight — or had been shot in a fight by another African-American. A typical weekend bloodbath in Chicago, Baltimore, or Detroit earns no presidential editorialization.
Of course, President Obama is a product of our Ivy League university system, so he is just regurgitating what he learned there. Here is where the real danger lies. The students that seem so ridiculous to those of us that function in the real world, graduate and go on to get jobs at leftist think tanks, in the government, or remain in academia. They do not enter the real world and grow up. Rather they stay in "safe spaces" and spew out their warped views on all of us by the megaphone they obtain by the media coverage of the think tanks, by the regulations they produce in the government, or the young students they infect as they teach.
David French points out that:
…perhaps the most pernicious aspect of the entire morally bankrupt system is its balkanizing effect on our fragile, multiethnic democracy. Universities are creating an entire class of people who are race/gender/sex-obsessed, viewing themselves less as Americans than as advocates for their particular ethnic or cultural tribe. The result is endless racial conflict, constant rage over sex and gender, and numerous innocent, resentful casualties of the never-ending quest for utopia. Is it any wonder that college students now face a "mental-health crisis?
This fixation on sex and gender issues has led to the additional danger of being accused of date rape. Every student must be aware that they may be accused of a sex crime and their life ruined in the ensuing melee. It seems that at most colleges it is guilty until proven innocent when it comes to date rape.
I think that David French hits the nail on the head when he states:
Conservative parents have often reduced themselves to expecting that their kids will waste their college years — either wildly drunk, wildly liberal, or both — and then hope and pray that they muddle through, earn their degree, and get a job so that "real life" will "straighten them out." Sometimes it does, sometimes it doesn't, but parents rarely seem to question the decision to feed their own children to the lawless, malicious beast. We do what we're expected. We do what we must. And we deliver our kids to the very institutions that seek to destroy us.

Conservatives possess the power of the federal purse. Conservatives possess the power of the state purse in most states. Millions of conservative parents help guide (and pay for) their kids' college choices. Given this reality, helplessness and impotence are a choice. It's time for a cultural and political war against the intellectual and legal corruption of the university Left.
Although I am addressing the university system here, I would add that the same holds true for the government schools K-12. Parents need to stop feeding their children to the beast. Pull your children out of the government schools. We have lost control of the system and it is not working for the good of our children. Parents need to exit the system completely and let it collapse.
The university system needs to be examined closely and you need to know your child before you let them go to university. If your child has no clear purpose, then do not send them to be indoctrinated or to party at huge expense. They can drink themselves silly for much less while working at an entry-level position. When they realize that is not how they want to spend their life, at least they won't be buried in school loans.
The current craze for everybody needing a college degree is due to the government forcing companies to stop giving aptitude tests. Businesses used to have tests that they gave to job-seekers that would help them find who had the skills to fill the position. When the federal government decided that was unfair, businesses used a college diploma as a way to weed out their applicants, thus spawning the expensive race for a diploma which has resulted in many students attending college that neither have the interest nor the desire to really be there.
If one major corporation would eliminate the degree requirement for employment, the floodgates would open and others would follow. The diplomas in certain areas have become so worthless in predicting whether a person can write or read at a college level that it is time to remove this obstacle to employment.
For many jobs some on-the-job technical training or a few courses at the community college would better prepare the applicant with the skills needed. If your child wants to go into a field that needs extensive training such as engineering or the sciences, then you can still avoid the expense and drama of the party school college environment by taking courses online, or utilizing a community college for the first two years. Then when the student is older and has proven that he is ready, you can send them off to a carefully selected institution of higher learning. There are still a few out there that have not succumbed to the insanity, but do due diligence to find them and don't depend on out-of-date information since the inexorable push is to the left.
This is a long war on our country and our children's education is the battlefield. You must wake up and realize that the government school system is not what it was when you were a child. You cannot undo over the supper table in an hour what is being force-fed into your child for hours each day and when they leave for university, the phone call once a week is no match for the powerful persuasion of professors and peers.
Your duty as a parent is to train and equip them to face the onslaught once they are ready. Do not send them out to do battle until they are prepared.
By Cathy Keim
"What did it profit that I read the greatest human ideas of the so-called 'liberal arts' in the books I got hold of. My thinking was enslaved to corrupt desires, so what difference did it make that I could read and understand these books? I delighted in learning, but I had no divine context for what my mind picked up. I had no foundation to discern what is true or certain. I was standing with my back to the light, so that the things that should be illuminated were in shadow, even though they were in front of my face." ― Augustine of Hippo, Confessions
Last week I attended a talk on marriage by Msg. Charles Pope. His message was excellent, but one thought that he tossed out at the very end in response to a worried parent's question about their child keeping the faith in college really hit me. He opined that going to college might not be the best choice anymore because the college campus has become a cesspool. (In the context of marriage, the hook up culture certainly qualifies as a cesspool that is damaging many young peoples' futures emotionally.) But he further clarified his comment by pointing out that St. Augustine observed that one cannot learn truth when one's mind is consumed with lust. Thus, Msg. Pope concluded that the current depraved moral state of universities might render them unsuitable places for a young person to study with any hope of actually learning what is good and true.
Victor Davis Hanson writes that:
The truth is that the university is a dysfunctional institution. Free speech no longer exists. Trigger warnings, micro-aggressions, and safe zones have created a climate of fear and bullying on campus. Affirmative action criteria emulate the abhorrent "one-drop" rule of the Old Confederacy. Campus identity is defined by race and gender, but never class. Annual hikes in tuition exceed the rate of inflation. Faculty are paid widely asymmetrical compensation for instruction of the identical class, depending on archaic institutions like tenure and seniority. Non-teaching personnel have soared. Graduate PhD programs have proliferated, even as jobs for their graduates have shrunk. Undergraduate university graduation rates have declined. College graduates are assumed to earn high-paying jobs; but the dismal rate of bachelor's degrees translating into employment commensurate with staggering college costs and student-loan debt would prompt federal investigations of fraud and false advertising in any other institution."
The next day I received an email from a friend with the link to James O'Keefe's undercover videos of college officials destroying copies of the Constitution because a "student" felt offended by it.
I was rather perplexed as to why James O'Keefe would have chosen that stunt for his newest expose, but next we have the outrageous behavior at Mizzou.
Then I received the following piece from a young acquaintance about PC behavior run amok on modern liberal arts college campuses.
Liberal arts schools all over the country have apparently gone insane. At Claremont McKenna College, a young woman has been publicly shamed, plastered all over the internet, and had to resign her position as junior class president not for verbally or physically attacking or belittling someone, not for bandying about racial slurs, and not even for personally wearing a Halloween costume deemed "offensive," "racist," or "culturally appropriative" by the People Who Decide Such Things. No, no – she committed the thought crime of (horror of horrors!) posing for a picture with two people whose costumes could be considered crass and stereotypical. And so, for the insubstantial, subjective "crime" of hurting people's feelings, even though she herself was not wearing a costume that could be offensive to anyone aside from those who enjoy decent music, this girl gets her photo posted and re-posted, gets to be the subject of mockery and derision around the world, and is forced to resign her position because the Student Body President believes she can no longer "effectively represent students in her class." Remember, though, that while CMC has become a decidedly "unsafe space" for her, she is the "aggressor" and villain here.

Meanwhile, at Yale, that shining paragon of intellectualism, two professors are on the mob-rule chopping block for an even more intellectual and intangible thought crime: the opinion – conveyed in a measured, respectful email – that maybe, just maybe, the annual PC clamor over Halloween costumes is overblown. This "hateful" email triggered an immediate call for these professors to resign their positions, and even resulted in some students claiming that they could not bear to live on Yale's campus anymore because they felt "unsafe." Just watch this video and remember: the meek, bespectacled professor standing calmly in a crowd of students is the villain; the "brave" young woman hurling abuse and profanity in his face, while gesturing wildly in a way that seems to indicate she is a hair-trigger away from physically attacking him, is a social justice warrior, and, therefore, our hero.

I'd like to ask a question: let's theoretically postulate that these individuals, this CMC student and these Yale professors, have, as their detractors seem to be assuming, the worst of intentions. Let's accept, for the sake of argument, that all three are inveterate racists, but change none of the other facts in these scenarios. What is an appropriate "punishment" for their behavior? Should they be fired from their jobs? Lose their scholarships? Be kicked out of school? Should their insensitive photos and meekly worded (er, I mean, "hateful") emails follow them for the rest of their lives, affecting their employment prospects, their dating lives, and everything else they do for the rest of forever? Does relatively inoffensive or even meek, non-confrontational "racism" justify the permanently life-altering consequences this kind of public shaming entails? I'd honestly like to know, because the more I see internet lynch mobs tear apart their prey, the more it astounds me that, although the Modern Illiberal Left has disavowed things like the death penalty and demanded second, third, and fourth chances for all manner of criminality, thought crime is seemingly the one offense for which the punishment must be absolute and for which there is no mercy.

Finally, I'd like to end with a reminder that most of the "social justice warriors" who jump into these things seem to forget: what's good for the goose is good for the gander. PC is not an ideology that remains static, and while you might be comfortably ensconced in the "enlightened" crowd right now, how long before the wheel turns and you find that an opinion or two of your own is no longer popular or PC? From my recollection, many of my old college friends who posted the CMC Halloween costume story with positive and socially conscious affirmation, likely have Facebook photos lurking from seven years ago of themselves in costumes and/or situations that, stripped of any context, could make them appear racist, insensitive, or culturally appropriative. I wonder how many of them think on the fact that their own lives could have been irrevocably altered and their reputations destroyed – all for nothing more than a Halloween costume.
The universities have a stranglehold on our young people due to the diploma being required for many jobs and professions. One wonders though if the insanity has reached the tipping point where parents and students will refuse to enslave themselves to outrageous school loan debt in order to attend these cesspools?
Update: Turmoil at CMC continued last Thursday "with the resignation of Dean of Students Mary Spellman, who had angered students with her email to a Latina student saying she would work to serve those who "don't fit our CMC mold." Spellman later apologized." (Emphasis mine.) Dean Spellman's mistake was to upset the sensitive student that she sought to help by sending an email that was deemed insufficiently politically correct thus outraging the student more.
(Editor's note: watch for Part 2 tomorrow evening.)
You know it's been a bad day when this is what you see first thing on social media, and it refers to "has been to run" as past tense:
I cannot tell you what an honor it has been to run for President of the United States of America. My parents came to this country 45 years ago searching for freedom and a chance.

When I was born, we lived in student housing at LSU, and never in their wildest dreams did they think their son would have the opportunity to serve as Governor of Louisiana or to run for President.

They raised me to believe Americans can do anything, and they were right, we can. But this is not my time, so I am suspending my campaign for President.

Going forward, I believe we have to be the party of growth and we can never stop being the party that believes in opportunity. We cannot settle for The Left's view of envy and division. We have to be the party that says everyone in this country – no matter the circumstances of their birth or who their parents are – can succeed in America.

One of the things I will do is go back to work at the think tank I started a few years ago – where I will be outlining a blueprint for making this the American century.

We must show the way forward on growing our economy and winning the war against terror, and especially defeating radical Islam.

I realize that our country is off on the wrong track right now. Everyone knows that, but don't forget, this is still the greatest country in the history of the world – and every single one of us should start every day by thanking God that we are fortunate enough to be US citizens.

Now is the time for all those Americans who still believe in freedom and American exceptionalism to stand up and defend it. The idea of America – the idea that my parents came here for almost a half a century ago – that idea is slipping away from us. Freedom is under assault from both outside our borders and from within. We must act now, we do not have a moment to spare.
Now is that something you'd hear from Donald Trump or any Democrat? Don't think so.
This truly saddens me: here was a candidate who I agreed with to a large extent on all of my key issues. Looking at them piece by piece Jindal was in my top five on every one. Every. Freaking. One. The wonk in me loved his detailed plans, which seems to come naturally if he led a think tank.
But if there were two things for which I would fault Jindal's campaign, it would be these.
First of all, he got in too late. Granted, hindsight is 20-20, but a person who doesn't have a great deal of name recognition needs to overcome that with an early start. Jindal was the first to announce after Donald Trump did on June 16th. Consider this: of the five candidates who announced after Trump, two are now out (Jindal and Walker), one's never been a factor (Gilmore), and the stock of the other two has fallen such that Chris Christie fell out of the main debate this time and John Kasich is losing friends quickly with his debate performances. Jindal should have jumped in right before Memorial Day – that month probably lost him 5 or 6 points early on, and if he had been in that range he would easily have made the initial prime-time debate. He never got past the "kiddie table" debate where Carly Fiorina did.
The second is never adequately countering the prevailing "Louisiana is a failure" narrative. Making budget cuts is never popular, and Jindal took pride in having less spending even now in his final year of his second term, then his predecessor did. I think it's a badge of honor in terms of right-sizing government but if you read the liberal Louisiana media each day it's a drumbeat of bad news. Simply put, Jindal refused to raise taxes and that was his cardinal sin in the eyes of the media in Louisiana. The low-information voters were the ones giving him low marks on the polls despite the job creation record Jindal had.
Of course, the last time a very outspoken conservative governor was placed on a Presidential ticket, she was absolutely trashed in the media. But if a non-governor wins the nomination, he or she would be wise to consider Jindal as the VP choice given his executive experience. There's no doubt the media is in the tank for Hillary so we may as well be pedal-to-the-metal conservative on the GOP ticket. Screw the establishment.
As for me and my choice, I may keep my powder dry and options open. Indeed, some candidates scored better than others but more information has come out and perhaps some issues take higher precedence with recent events. So we will see.
Tonight the City of Salisbury embarked on a new chapter in its government as its City Council changed hands. Ironically, the person running the meeting at the beginning would shortly become the city's mayor – Jake Day wielded the gavel for the last time, departing slightly from the agenda to ask for a moment of silence for the people of Paris.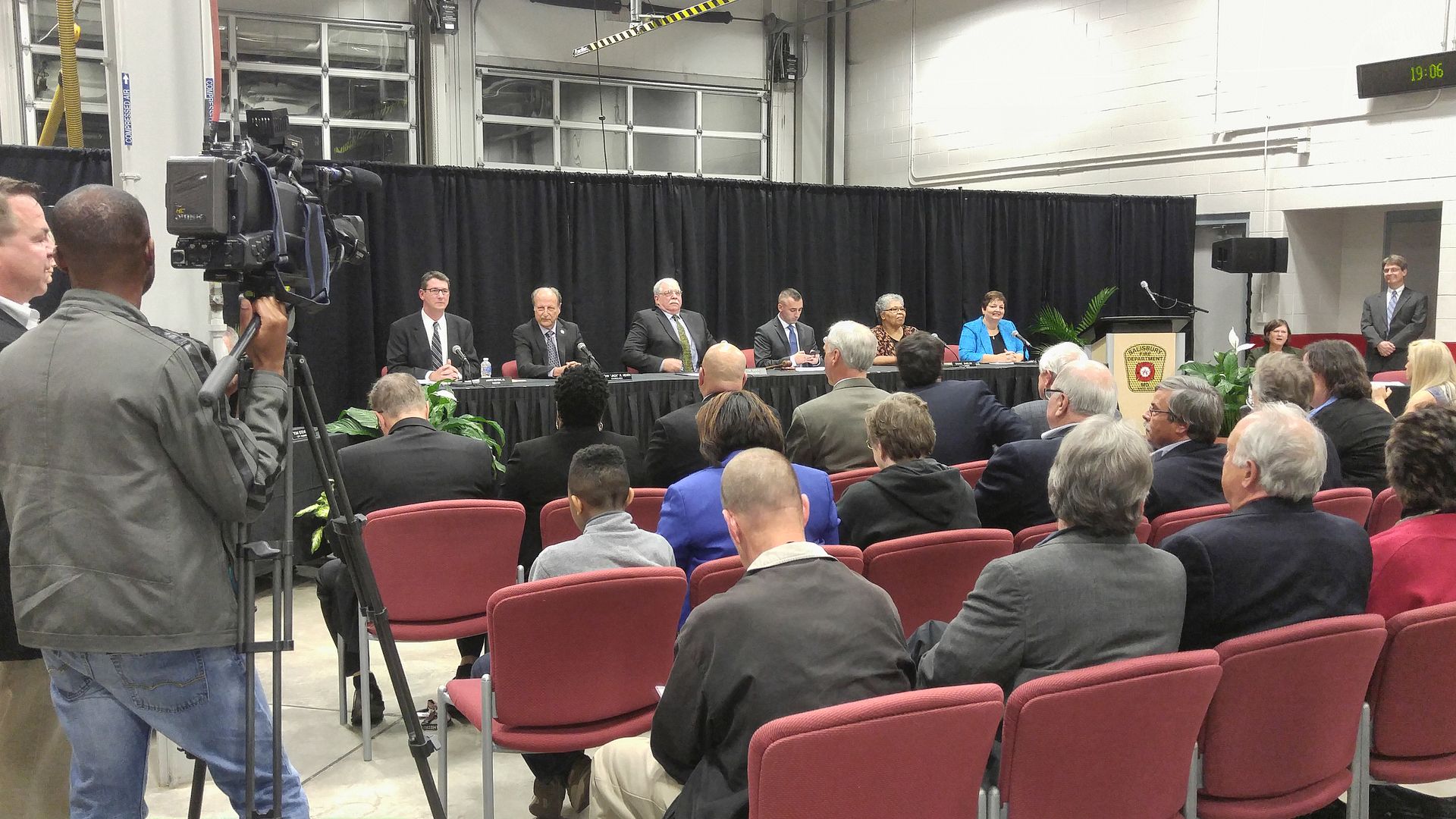 But the first to make comments was outgoing mayor Jim Ireton, who credited the "unsung heroes" who voted for him twice as mayor but "await(s) the incredible things we'll do together" during the next four years. Ireton also noted later that changing just one person on council can make a profound difference in the body.
Jack Heath, who won election to a full term, noted he "came to know the power of the city and the goodness of its workers." The man he defeated, Tim Spies, said the last 4 1/2 years were "good for me" and believed the city had a terrific future, with high expectations. He encouraged more people to make a Monday night of getting to Council meetings, adding afterward it was half-price burger night at the Irish Penny to cap off the evening. Public service for him was "fulfilling" with no end to opportunities, Spies said later.
Outgoing Mayor Ireton noted on Spies, "We would be well to have 33,000 Tim Spieses in the city."
The other Council member leaving, Shanie Shields, vowed "I'm not going anywhere." Not only would she be there for her successors, she planned on using her newfound time to make County Council meetings. In speaking of Shields, Ireton noted that the Salisbury he grew up in was a "place of 1,000 moms" and Shields was one of them. Shields, he added, reminded him never to forget our best work is ahead of us.
Noting the overflow crowd in the garage of Station 16, Laura Mitchell also hoped they would stay involved. "I would love to see more of this." Day wrapped up that portion of the evening to noting Council had "exceeded my expectations."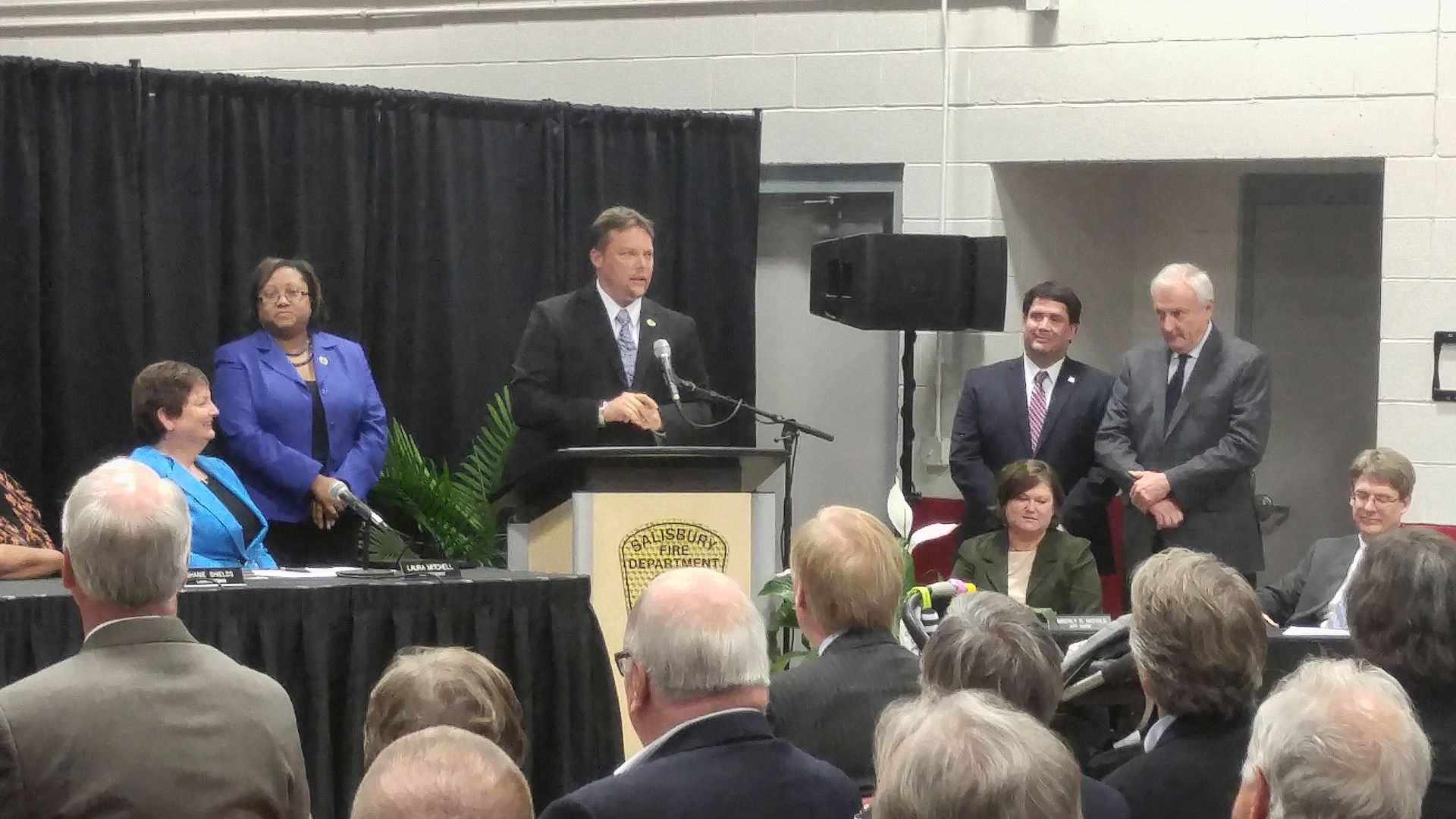 Ireton and Day, with help from Delegates Christopher Adams, Carl Anderton, and Sherrie Sample-Hughes, and Senator Jim Mathias, presented certificates to Shields and Spies. Anderton also revealed to the audience that Governor Larry Hogan had come through his cancer treatment successfully and was deemed cancer-free, which brought rousing applause from the gathering.
Once those who were leaving were honored, it was time to turn the page and swear in the new members. The Council went first, then Jake Day, with his wife and daughter by his side.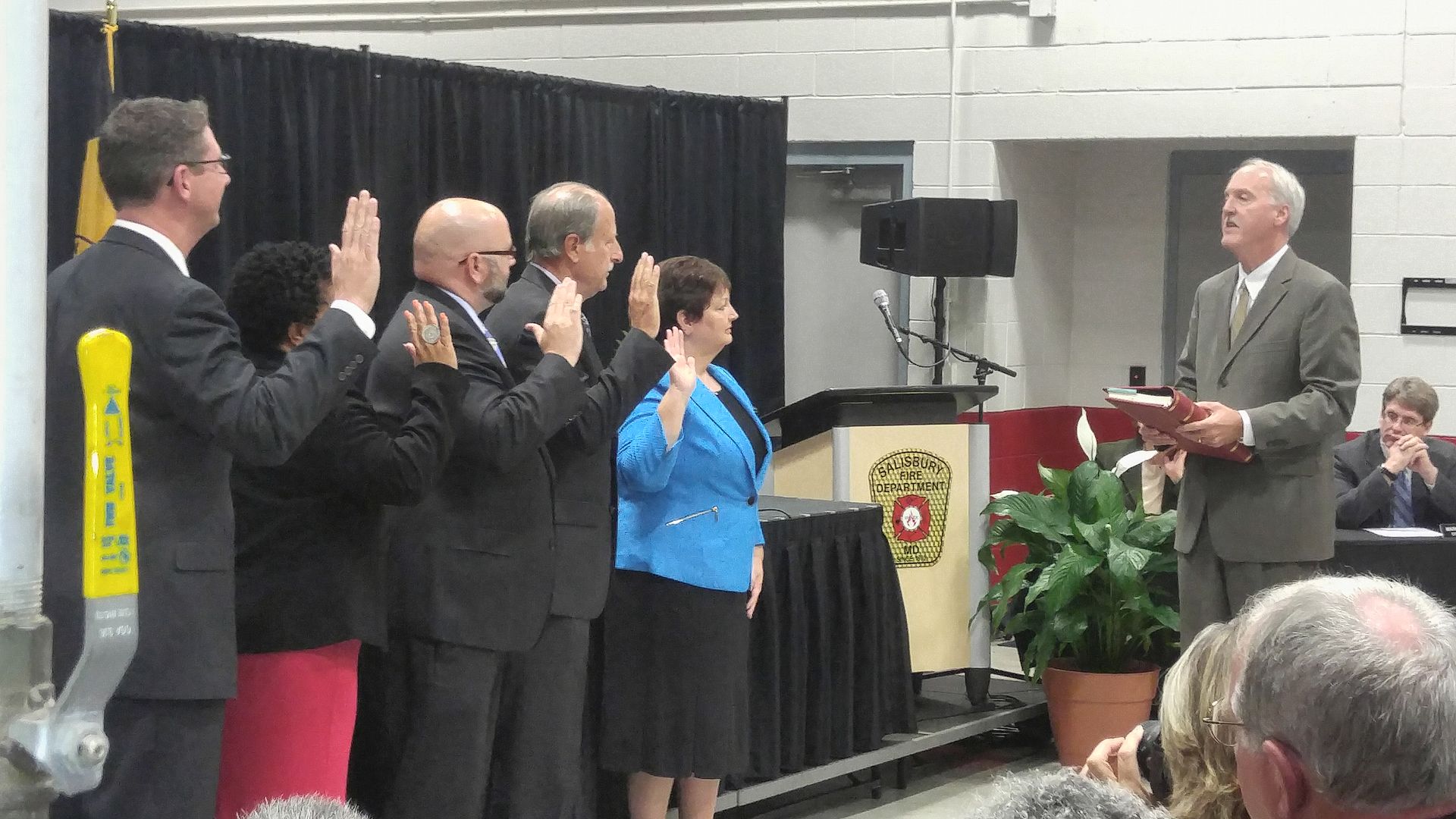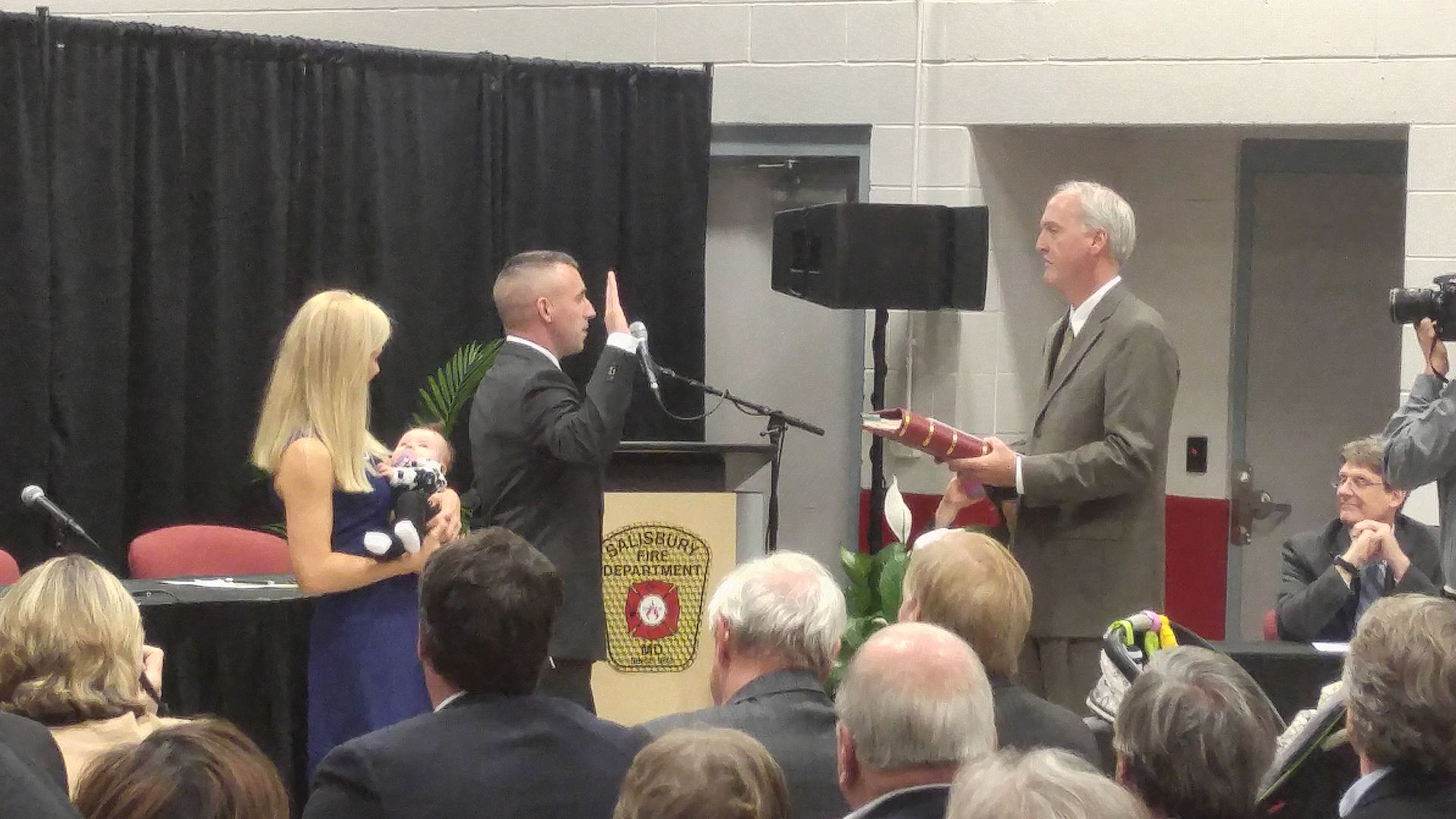 Our featured speaker was Comptroller Peter Franchot, who let us know "I'm a huge fan of Jake Day."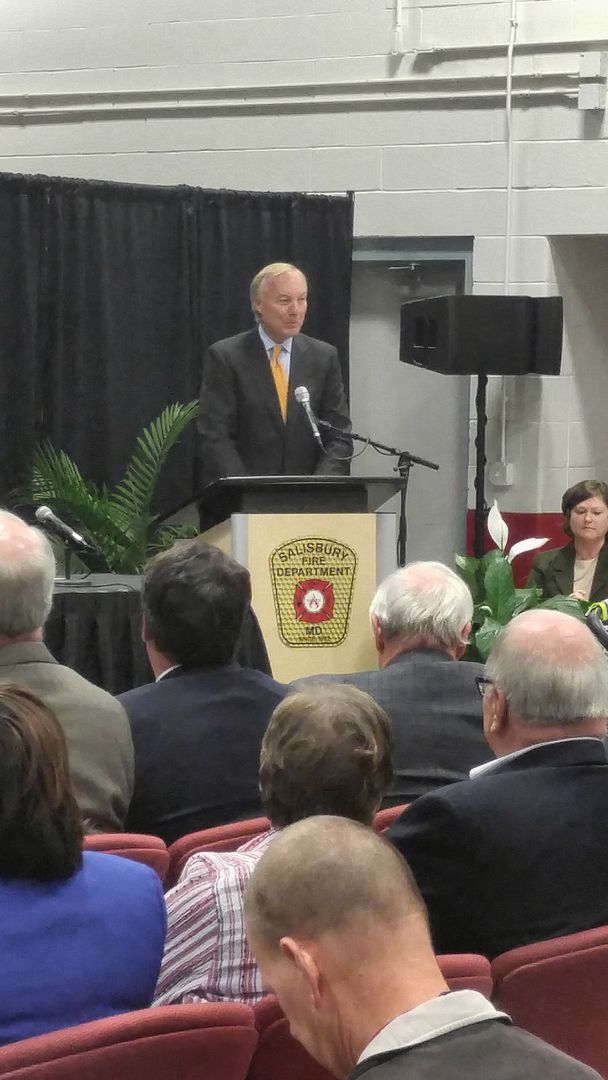 In his relatively brief remarks, he praised Salisbury as "a city on the rise" with "fresh talent (and) new energy." We were crucial to the state's economic fabric, concluded Franchot.
The Council did have a little work to do, though: electing officers. In what turned out to be uncontested votes by acclamation, Jim Ireton nominated Jack Heath to be Council president and Muir Boda nominated Laura Mitchell to its vice-president.
Once again, we heard remarks from the new Mayor and Council. Day made a laundry list of promises, concluding with a vow "we will give you a Salisbury we can be proud of."
It was noted that Muir Boda had won after multiple tries for office, to which he responded, "I'm finally here." Even though it was a long process for Boda, he was nowhere near as emotional as April Jackson, who choked up when she said, "I wish my dad could be here." A well-known community leader, Billy Gene Jackson died earlier this year. Once she regained her composure, she told the crowd, "I'm ready to go. Not to go home, but to get to work!"
As the new Council President, Jack Heath said mutual respect and inclusion was "his pledge." Once he spoke, he rapped the gavel and declared the meeting to be adjourned.
Because it comes on board at this point in the year, the Council will get to ease into its duties a little bit – the city's budget isn't due for a few months. But we will have crime and economic development to deal with, and that's a pretty full plate as well.
I think they'll do just fine. To wrap up, here's a guy I'm proud to call friend, Muir Boda, and his wife Briggit.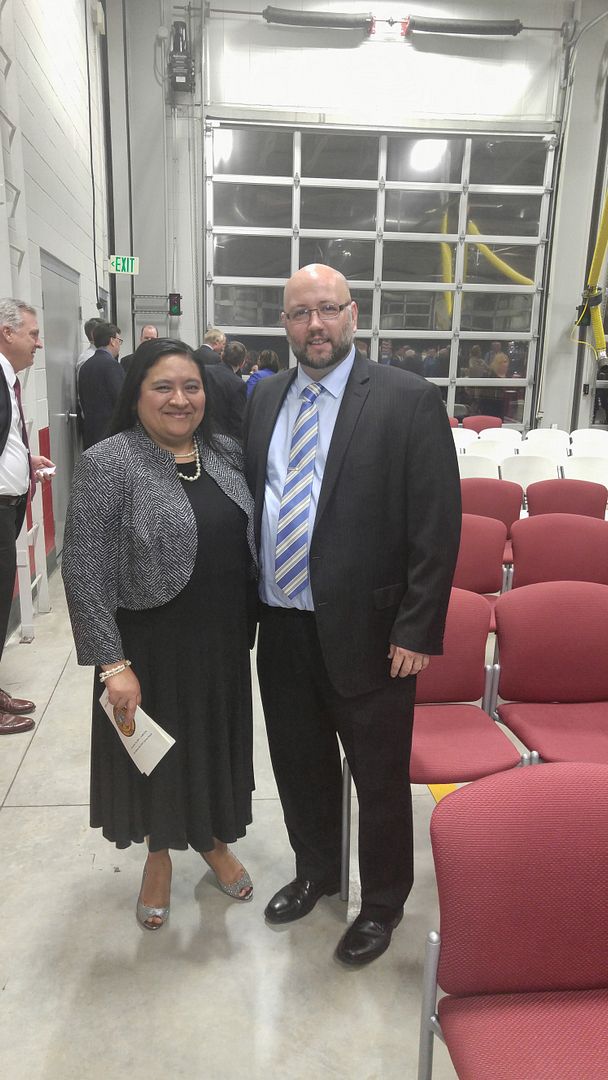 It took six years, but I'm pleased my support finally helped make him a winner. My advice to him? Get used to having your picture taken.
To borrow a phrase from Delegate Carl,Anderton, let's get to work!