Sometimes we make the best advance plans and they go for naught. It happened to the Wicomico County Republican Club tonight when not just one, but both of their scheduled speakers had to send their regrets thanks to Uncle Sam and an Annapolis meeting. So we heard from neither Jake Day nor Jeannie Haddaway-Riccio tonight.
But we did get some business done and firmed up a number of dates for future reference.
Alison Pulcher filled in for Jake Day a little bit as his campaign manager, officially sending his regrets by noting he was "really sad" that he couldn't be there. One question which was asked is why the onetime Republican switched parties, with Pulcher responding her belief that he has "ideologies on both sides of the plate." She herself was impressed with the passion on both sides of the aisle here, as she isn't a native to the region.
In his Central Committee report, Mark McIver confirmed the Lincoln Day Dinner is slated for November 7 and will feature Andy Harris. But he also asked for a moment of silence for longtime WCRCC member Blan Harcum, whose farm was the scene of an incident today that left Mark "devastated."
After that silence, McIver was asked whether the Central Committee had any involvement with the local liquor board, which they do not. But it was a point that we should check into as appointments were allegedly made at the behest of one of our local Senators, and not the one who is of our party.
The conversation then turned to the elected school board as McIver was one of those chosen to testify in an open work session before County Council. Intentionally or not, it was somewhat stacked with Democrats and opponents of an elected board.
Marc Kilmer chimed in, announcing public hearings were scheduled for September 10, 22, and 29, and October 15. They would be distributed between the Pittsville/Parsonsburg area, Delmar, the Wicomico Youth and Civic Center, and First Baptist Church in Salisbury. The only confirmed date/location so far is September 22 at the WYCC.
Kilmer conceded, though, that things may be beyond our control. When it comes to getting the legislation necessary for the transition, "the only person that matters is Jim Mathias." Custom requires that all Senators representing a county should be on board with legislation affecting it, and Mathias shares representation with Addie Eckardt, who supports the elected board.
Since the two newest school board members were there, it was asked if they could make the point to the incoming superintendent that this was something they may have to work with. The process will begin soon, but one thing I didn't know is that the new administrator has to win state approval as well. I suspect we may not get the school board's first choice.
Because we lost an officer when Joe Collins was selected for the Board of Elections, we had to select a new 2nd vice-president and Dave Snyder stepped forward. He was elected by acclamation.
The next announcement was that the Wicomico County Fair was coming up August 14-16. I had a signup sheet out for fine Republicans to work at our table, and I'm pleased with the response. Ann Suthowski suggested we let the elected and appointed officials know we would be there.
Another event on the horizon is the Crab Feast, which is coming together. We should have the liquor license this week, so "our biggest fundraiser" was just in need of volunteers to help with setup, cooking, takedown, and the silent auction. We are set for September 12 otherwise, and the tickets are just $30.
That was pretty much the extent of a tidy meeting which came in under an hour. Next month we hope to reschedule Jake Day (and maybe Jeannie Haddaway-Riccio) – regardless we will reconvene on August 24.
Follow the money. Someone did and a whole slew of America's corporate giants had some 'splainin to do.
Over the past few days, the Heritage Foundation's Daily Signal website has followed a story where a website called Second Vote tracked corporate donations to Planned Parenthood, notorious alleged purveyor of aborted baby parts. Three of the 41 immediately denied they donated to the organization nor did they match employee contributions, while others downplayed their role by protesting Planned Parenthood was a 501 (c)(3) like any other eligible group and it was up to employees to contribute. By week's end, Planned Parenthood eliminated this lightning rod for criticism by pulling the entire corporate donor list.
It would be an interesting study, though, to figure out whether these companies have any restrictions at all on giving to pro-life groups – that is, when they can actually receive 501(c)(3) status the IRS is reticent to give out. Perhaps pro-lifers should adopt the tactic of this group, which is more politically correct and has both 501(c)(3) and 501(c)(4) status as two "separate" entities. Or maybe they can be "engaged in education, training, organizing, action, and coalition building" as this 501(c)(3) is. Somehow I doubt the IRS gave them any issues.
Maybe the biggest objection on this whole front is that our tax dollars help Planned Parenthood carry out its mission – even if they can't legally spend the money on providing abortions, surely they are using it to pay the staff who does the service and they can use the medical equipment in a number of other procedures. If they just happen to be abortions where they avoid doing things in a "crunchy" manner, so be it.
What it all comes down to is that Planned Parenthood would come to a lot less grief if they just got out of the abortion business. After all, its defenders say that only about 3% of its procedures are abortions, so it would be like a 3% budget cut, wouldn't it? You wouldn't miss three measly percent and the staff would have plenty to do to keep them busy, right?
Obviously I don't see this occurring, despite the fact its founder has been associated with the 20th century eugenics movement. Margaret Sanger was in favor of contraception "to be used in poverty stricken slums, jungles and among the most ignorant people." Considering the outsized proportion of minority abortions to their overall numbers, she may be attaining her wish.
Body parts, though, don't reflect poverty, upbringing, or ignorance. They seem to have a value regardless of source, so why can't we give a value to the lives snuffed out for their ghoulish harvest? Obviously corporations concerned about their image already have, if only to avoid the bad optics of being associated with abortion these days.
Third out of my ten priority issues for the 2016 candidates is energy, where candidates can score up to seven points with an agreeable policy. You're likely asking what would be agreeable to me, so here is a quick primer.
As you likely know from reading this site regularly, I'm in favor of letting the market determine what is efficient and inexpensive. Since oil is plentiful and relatively cheap within our shores, I think we need to allow exploration wherever possible including offshore areas currently off-limits. The same goes for natural gas, with hydraulic fracturing being a proven technique to extract both oil and natural gas. It should be encouraged, including the infrastructure needed to more safely transport it – yes, that means build the Keystone XL pipeline.
Maybe the best way to put it is that I advocate a "most-of-the-above" energy policy. Those items which are exceptions would be federal subsidies for the solar and wind industries, which should be made to compete on a more level playing field. We need to also dump the Renewable Fuel Standard because it makes no sense to grow food to turn into fuel. This may not make me a lot of friends in the corn industry, but it's time to end the failed experiment.
I also have nothing against the coal industry, so let them keep mining and burning coal.
Now that you get the idea of where I stand, where do the candidates stand?
There are a couple more specific resources that I used for this exercise. On the wind energy Production Tax Credit (PTC), the Huffington Post blogger Heather Taylor-Miesle shared the following, with some assistance from the League of Conservation Voters:
I also leaned on a well-done Ballotpedia article for many of these candidates, as well as their campaign websites. This gives me an idea of just how much they are committed to energy as a topic for the campaign.
But I honestly wish every candidate would cover every issue as thoroughly as Bobby Jindal presents his energy platform. Even the title is optimistic: "Organizing Around Abundance." There's not much at all to dislike within it, either. I spent a very productive half-hour reading through the report and if he doesn't win the Presidency we should at least make Jindal the Secretary of Energy. The next President has the blueprint dropped into his or her lap right here.
Total score for Jindal – 6.9 of 7.
Ted Cruz couches his energy policy as one of jobs and opportunity, and in that respect he is right on. He voted to end wind subsidies, and told an Iowa crowd in the middle of corn country that ethanol subsidies had to go. His Ballotpedia energy profile lists any number of bills he co-sponsored to assist in deregulating the energy industry. The only question is how well he would be able to use his bully pulpit, but there's not a lot to dislike about the Cruz approach so I give it high marks.
Total score for Cruz – 6.6 of 7.
Claiming to want a free-market approach seemed to take a back seat for Rand Paul when he wanted to win votes in Iowa. Going to E15 full-time would be a disaster, but he supports it.
Listen, if he wants to live a sustainable lifestyle on his own time that's cool but "well thought-out regulations" is generally an oxymoron to the highest degree. So while I like his stances on encouraging drilling and exporting oil and natural gas, Rand comes in a cut below the top tier.
Total score for Paul – 5.0 of 7.
On his state level, Rick Perry has presided over a boom in most energy sectors, although some accuse him of lagging on solar. He signed a modest renewable energy portfolio, which thanks to abundant wind resources is covered – at a cost of several dollars a month on state electric bills.
But Perry, surprisingly, doesn't have an energy policy spelled out. I know he's fracking-friendly and supports exporting of oil, but the key unanswered question is just how far he would allow a state-centered approach to go if it gets in the way of his overall goals. Are state's rights that paramount?
Total score for Perry – 4.2 of 7.
While Lindsey Graham voted recently to end the PTC, there are areas of his energy program which cause me concern. (He gets kudos for wrapping it up in one easy-to-digest package, though. It's more than most of his counterparts put up.) The nagging thought I have is about "investing in cutting-edge technologies." Did we not learn a lesson with Solyndra? And in the back of my mind, I wonder if he still believes this after seeing five years of the fracking boom?
Total score for Graham – 3.6 of 7.
It's always revealing to see who the Left dislikes most, and Scott Walker was declared as the "worst candidate for the environment." This was basically because he didn't fall in with Radical Green. He seems to remind them of Snidely Whiplash, even cutting funding for a renewable energy research center. Yet on a state level he has kept a number of programs going, even though he was also worried about the effects of wind turbines on health.
But I saw the flip-flop on the RFS, and that hurt his chances with me. Nor does he delve into energy on his website.
Total score for Walker – 3.5 of 7.
Mike Huckabee is all over the map on energy. He won't commit one way or the other on wind, has gone from ethanol supporter to opponent depending on venue and audience, but says we should exploit "anything and everything" when it comes to domestic energy. I like the ideas of relaxing export and exploration restrictions on oil and natural gas, but suspect that green energy subsidies won't be going away soon as he once backed cap-and-trade. He would be better than some others, and I like the America-first attitude, but he falls short of the top tier with his indecisiveness.
Total score for Huckabee – 2.7 of 7.
You would think Jeb Bush would be very good on energy given his family's interest in oil. But he has a go-slow approach in several areas, including the delayed phaseout of the PTC and a call for "rational" restrictions on fracking – remember, "rational" is always in the eye of the beholder. He is in favor of finishing Keystone XL and opening federal lands to drilling, which is a minor plus, but also endorsed a national goal of 25% renewable energy by 2025 – that would be a job-killer. I'm just afraid a Bush administration would be a repeat of his brother's, where we were saddled with programs such as the Renewable Fuel Standard (which he wants to keep) and regulatory demise of inexpensive incandescent light bulbs.
Total score for Bush – 2.5 of 7.
While George Pataki deserves some credit for advocating an end to New York's fracking ban and correctly feels that wind subsidies need to be blown away, what worries me are his thoughts on ethanol. I think the jury is still out on "clean," but while corn-based ethanol is relatively renewable and American-made, I would rather eat my corn than put it in my gas tank. I can't eat tar sands or sweet light crude.
Like Bush above, Pataki also signed the "25 in '25″ pledge, so I don't think he gets that the market should lead, not government.
Total score for Pataki – 2.5 of 7.
Chris Christie has a very mixed record – great for items like pulling out of the RGGI boondoggle that Martin O'Malley entangled us into, but in the same breath he banned new coal-fired power plants in the state. After putting out a one-year moratorium on fracking, he at least came to his senses 2 years later and vetoed a fracking ban. Offshore wind projects are stalled, but he has high hopes for solar. Rationalizing our approach to regulations and lifting the ban on exporting crude oil are positives, but not going after some of the biggest hurdles to a free energy market negates these campaign planks.
As a whole, though, he's less trustworthy than Bush but hangs around that same level.
Total score for Christie – 2.3 of 7.
Making news on how his views have changed on the climate is the bulk of my look into Marco Rubio's policies. At one time he voted for looking into a cap-and-trade program for Florida, but claims he was never really for it. At that time he had a lot of green-friendly ideas, so I don't know where he stands now. It's a trust issue.
Total score for Rubio – 2.0 of 7.
Carly Fiorina has slim pickings when it comes to energy; however, her vow to eliminate the PTC by 2020 is at odds with the "all-of-the-above" approach she championed in 2010. More recently she's tried to convince skeptical audiences we can innovate our way out of climate change, but that innovation once included support for a cap-and-trade program once proposed by John McCain. I just don't see a whole lot of consistency and the lack of an issues page on her site makes it even worse.
Total score for Fiorina – 1.5 of 7.
John Kasich is new to the race, and as such has no energy platform on his website. But several discouraging acts of late give me pause: an effort to increase taxes on energy producers coupled with the reversal of an earlier decision to allow fracking on state lands outweigh positive moves to freeze the state's renewable energy portfolio requirements and place prudent tabs on wind turbine siting. I see more of the same leftward drift with Kasich.
Total score for Kasich – 1.4 of 7.
While he isn't opposed to fracking, the pandering Rick Santorum did in Iowa at the feet of King Corn made me wonder if he wouldn't do the same on other issues. He once voted against the PTC but Iowa is also a leader in wind, so who knows what he will say next. Will he really stand up to the EPA? You would think a candidate from a fracking state would say more on his website and in general about energy, but Rick doesn't.
Total score for Santorum – 1.4 of 7.
Okay, we know Donald Trump understands the economic benefits of fracking and loathes wind and solar power. But I have no idea what this will do with policy. All the hullabaloo over immigration and John McCain isn't helping either.
Total score for Trump – 0.5 of 7.
You may have noticed an omission among the group atop the post when it came to wind. Quite frankly Ben Carson is a non-entity when it comes to energy issues. Aside from a vague reference to "developing our natural energy resources," the biggest indicator I could find is this piece where he claims in one breath he wants a free energy market, but makes the exception for not just E-15, but E-30. If you want to lose the boat owner vote you just succeeded wildly.
Total score for Carson – 0.0 of 7. (Yes, that is a goose egg.)
It used to be that Social Security was the "third rail" of politics – touch it and you're dead. But now I think social issues have become that for the GOP; nevertheless that is my next topic.
I know I'm a day late to the party, but I think most people with political sense already had Ohio governor John Kasich priced into the presidential market, so to speak. So what does he bring to the table and does his late announcement make sense?
If you look at the GOP race, it is chock full of governors. Let's make a list, shall we?
Jeb Bush had two terms as Florida's governor which mostly overlapped his brother's tenure in the White House.
Chris Christie is in his second term as governor of New Jersey.
Mike Huckabee served two-plus terms as Arkansas governor, becoming governor when Jim Guy Tucker resigned in 1996 and winning election in 1998 and 2002.
Bobby Jindal is finishing his second term as Louisiana's governor.
George Pataki was governor of New York for three terms, with 9/11 being the biggest milestone.
Rick Perry became Texas governor when George W. Bush resigned to become President, and won full terms in 2002, 2006, and 2010.
Scott Walker was elected governor of Wisconsin in 2010, survived a 2012 recall attempt, and won re-election in 2014.
Aside from the failed recall, Kasich comes in on roughly the same career trajectory as Scott Walker – both are Midwest governors who tangled with Big Labor, although Kasich's reforms were not as successful.
So what does he have that others don't? Kasich was a Congressman for nearly two decades, which eliminates everyone else in the field except Jindal, who had a much shorter run. But in reality, he's coming in on the centrist side of the GOP spectrum, which is already somewhat crowded with Christie, Pataki, and to some extent Jeb Bush. Among non-governors, it's territory that is familiar to Carly Fiorina and Lindsey Graham. Certainly there are many trying to woo that segment of the Republican party.
But while centrists may be the ones donating money, the question is always whether they will show up to vote. Primaries, more often than not, are contests where the more conservative candidates win because their backers are more passionate. Ask Senator Castle from Delaware about that sometime. The establishment knows this, which is why in a state like Ohio the GOP does its level best to clear the field beforehand. (In 2010, despite there being a Democratic incumbent, John Kasich was the only Republican in the primary.)
Ohio has had eight presidents, and with the exception of William Henry Harrison, all of them were Republicans. (The elder Harrison was a Whig.) It's a must-win state for the GOP, which is one reason why the Republicans are having their convention next year in Cleveland.
So don't sleep on Kasich. I doubt he will be my first choice, but over the next few weeks I'll see how he looks on my issues.
Consider this an open letter to the 16 or 17 Republican presidential campaign teams.
From the sound of it, we are planning to do our Wicomico County Lincoln Day Dinner in early November. Originally we wanted to get Larry Hogan as our speaker, but so did everyone else and then he announced he's fighting stage 3 non-Hodgkin's lymphoma. Given the length of the course of treatment, it's not likely he'll be doing a great deal of traveling and public appearances during that time – however, should he decide to drop by the door is certainly open. I'm sure Larry would be gracious, even if it wasn't his endorsee Chris Christie doing the talking.
Yet it's always been puzzling to me as to why we in Wicomico County can't get a better "name" speaker. After all, we are the "crossroads of Delmarva" and that has to count for something, right? Not only that, we have a wonderful venue at Salisbury University that we have used for several years – the food is always good.
So I look at this as a great chance for a presidential candidate who wants to think a little bit outside the box and perhaps swipe a few votes with some retail politics. We're not all that far from New Hampshire and there are several attributes the schedulers may want to consider:
Between Maryland and Delaware there will be 54 Republican convention delegates (38 for Maryland, 16 for Delaware.) Even though Iowa and New Hampshire have a more advantageous position on the primary calendar, they only account for 53 delegates between them.
There is a potential audience of 102,793 Republicans within the four counties that make up the Lower Eastern Shore of Maryland and Sussex County, Delaware. That doesn't count unaffiliated and crossover Democrats who are desperate to not vote for Hillary.
All of them are within the Salisbury media market, and it's not like the news in Salisbury has a lot of content. You may get wall-to-wall coverage if you show up.
We have a pretty good fundraising scheme in place which we used for the Patriot's Dinner with Lt. Col. Allen West last year.
Lastly, not every Lincoln Day Dinner actually has a Lincoln. We do. He might even bring some Union troops along.
Generally our Lincoln Day dinner gets between 100 and 150 people – but I see no reason we couldn't get 300 to 400 with the right candidate. The optics of a sold-out venue would be a shot in the arm for any campaign, so why not take advantage? You can't let Donald Trump be the last one to show up at a Maryland event.
Back in 2012, the all-but-lost cause of Newt Gingrich came to Salisbury and drew plenty of regional attention, so here's my earnest plea on behalf of the good Republicans of Delmarva: retail politics may well go a long way here. Do it while you're still in the race this November and it may pay off in a year's time.
Besides, isn't the old adage "ask and you shall receive?" I'm asking nicely.
By Cathy Keim
Abortion is murder. If we would stop dancing around about choice, privacy, complicating circumstances, etc. and just state the facts plainly, then the discussion would be clearer.
When a woman is pregnant, there are two people involved: the woman and the baby in her womb. After an abortion, there is a woman and a dead baby outside her womb. (Yes, there is also a father, but he cannot stop the mother from having an abortion.)
This is amazing in its gruesome truth. We, as a nation, have murdered over 55 million babies since 1973 when seven of our Supreme Court justices determined that abortion was just fine.
Now there is a video to reveal how hardened one can become to this terrible truth. If you murder enough babies, then it just becomes another day at work. But we find out that murdering babies isn't enough. Profit can be made by selling pieces of the murdered children.
The undercover video was filmed in July 2014 by the Center for Medical Progress, an advocacy group that reports on medical ethics. They dispatched two actors posing as representatives of a human biologics company to a business lunch with Dr. Deborah Nucatola, Planned Parenthood's senior director of medical services.
Dr. Nucatola casually discusses how she extracts body parts unharmed so that they can be used in medical research. These children that Planned Parenthood refers to as blobs of tissue have such developed tissue that it is sold as hearts, lungs, livers, and brains. All these years Planned Parenthood has been lying to cover their evil actions, but when a purchaser is involved the blobs of tissue are correctly identified as the functioning organs we knew they were.
The mothers that are willingly killing their own child can soothe their conscience by saying that the destroyed pieces of their child are going to help medical researchers find a cure for terrible diseases that afflict many people.
I am sorry, but this is not a decision that any mother should make. An adult may decide to donate a kidney to another person, but we do not allow people to donate their heart to someone else. We do not kill a person to obtain their organs for someone else.
Why is there a consent form for the mother to fill out, but the living child in her womb has no advocate if she decides the child must go? A mother that is in the process of killing her child really should not have the option to donate the poor dead child to medical research so that she can feel that some good has come out of the episode.
Planned Parenthood first tried to say that the video was deceptively edited, but now they are having to regroup and say that the tissue harvesting is legal. Even that is suspect because the video shows Dr. Nucatola discussing changing the baby's position to enable the abortionist to harvest the desired parts without damage. Federal law states that the abortion cannot be prolonged to allow harvesting.
It is fine by me if this federal law can be used to shut down Planned Parenthood or to remove government funding, but let us go back to my original premise. Abortion is murder. Is it any surprise that once the decision is made to murder a little human being that other bad decisions will follow?
There is the federal government helpfully setting up laws on how the mother must give consent for her baby to be divided up for tissue harvesting. If mom consents, then it is legal.
Next the government makes another law to protect mom from the abortionist prolonging or changing the procedure to increase the yield of good body parts.
Finally, the government makes a law that making profit on the body parts is not okay, but getting reimbursed for the work involved in securing parts of a child is legal.
Once you declare that murder in the form of abortion is legal, then you continue to make one bad decision after another. Are you surprised that a murderer, an attractive young female doctor, would speak calmly of dismembering little bodies while chowing down her lunch?
We have called evil good and good evil for so long that we are hardly even shocked by this story. It is time to speak the truth plainly even if it offends people. I am offended that tearing little ones to pieces in the womb that should be sheltering them from harm is done with monotonous regularity in this country.
Just as a woman could not sign a consent form to donate her body parts resulting in her death, so she should not be able to sign a consent form to donate her living child's body by way of abortion.
As always, once the government intrudes, the long list of laws, regulations, funding, and exceptions increase. It is time to call abortion murder and be done with all the subterfuge.
Increasingly our country is being divided into two camps with no room for compromise. In this instance, one camp wants murder and the other wants life. I am firmly on the side of life.
Editor's note: I think it's worth noting that, while Cathy used a Fox News link to detail the Nucatola story, that news item is filed under "opinion" and not on the lead news site. The video was only opinion insofar as Dr. Nucatola had her guard down because she believed she was speaking to a potential client.
There are a lot of my friends who are deriving a certain amount of schadenfreude over the fact Martin O'Malley was heckled off the stage at the Netroots Nation conference yesterday, as was fellow Democratic presidential hopeful Bernie Sanders.
But I want to concentrate on what O'Malley reportedly said in response at the start of the interruption: "I know, I know…Let me talk a little bit…Black lives matter, white lives matter, all lives matter." For that, he was shouted down and unable to continue.
I'll set aside the complete lack of tolerance once again shown by the "tolerant" far left and say that I agree with O'Malley on the last part: all lives do matter. But I'm sure that if you asked the vast majority of O'Malley backers – or even Martin O'Malley himself – about the lives of the unborn, he would immediately change his tune. This is the problem; not only with the Left but with a fair number in the center and a troubling and increasing number on the Right.
It turns out that, as editor of this website, I know exactly what my cohort Cathy Keim is going to write about and tomorrow she will be sharing her thoughts on abortion and the Planned Parenthood situation. (Trust me, you will like what she has to say. I almost ran it today but know that my audience is larger on weekdays and the piece deserves a wider reading.)  It's no secret where we stand on the subject, though.
And it's even more ironic that the same people who thundered and carried on about #blacklivesmatter are aborting themselves at a far higher rate than the population at large. Do the lives only matter when they are outside the womb?
Just the other day a young couple we know from being at their wedding in January of last year had their first child. I'm sure if you asked them when his life began to matter, they would have said that it became paramount the moment they discovered she was pregnant with him. Maybe they weren't in the greatest financial situation and their lives will never be perfectly settled as long as the young father serves in the military, but they were understandably excited with the role they would be taking on.
A quote from the Guardian story shows the mentality of the Left. This is MoveOn executive director Anna Galland:
The presidential candidates' responses today to the powerful protest led by black activists at Netroots Nation … make clear that all Democratic candidates have work to do in understanding and addressing the movement for black lives.

Saying that 'all lives matter' or 'white lives matter' immediately after saying 'black lives matter' minimizes and draws attention away from the specific, distinct ways in which black lives have been devalued by our society and in which black people have been subject to state and other violence.
Do you mean devalued as in receiving an oversize proportion of abortions? Sounds like the extension of your desire of having "choice" to me.
But even more so, it begs a question about how black lives specifically have been "devalued": presuming this goes back to the days of slavery, what would be considered paying off the debt my great-great-great-great grandparents (and I think I'm recalling the family tree right; there may be another great- missing) supposedly incurred to black people for enslaving them? That is if my ancestors ever held black slaves and I think back in that era they were still in Germany and what is now Poland, so I doubt it.
Obviously that question is rhetorical because no amount would ever satisfy the minds of those who choose to make themselves victims.
In short, all lives matter but it's the choices we make that determine how much they matter. Those at Netroots seem to want government to determine what constitutes mattering and allow them, through the power of coercing those who made correct choices, to receive atonement for their incorrect selections in life – many of which involved turning their back on God to one extent or another.
Martin O'Malley and Bernie Sanders may be church-going men, but that which they allow to happen in the name of compassion makes me wonder what they're being told from the pulpit.
By Cathy Keim
So who needs Martin O'Malley when Larry Hogan will carry on his work?
I was astonished to read that Governor Hogan is expanding the You've Earned It! mortgage assistance program from the original $20 million to an additional $70 million. (Hat tip: Gwen Cordner.)
The program is aimed at assisting potential buyers, particularly members of the so-called "Boomerang Generation," who are employed and have good credit but are saddled with student debt that is proving a barrier to homeownership. These young people are more likely to live with their parents than were young people one or two decades ago and they are saddled with significantly more student loan debt than their predecessors.
The student loan debt in America is over $1 trillion dollars and growing. The federal government supports 95% of student loans and is making billions of dollars of profit on them. There is no incentive by the Feds or by the colleges and universities to cut the spigot. As tuition rises each year, the students borrow more money only to find out when they graduate that there are no jobs for them to earn enough to support themselves and pay their loans.
Another neat trick is that you cannot get out of paying back your student loans by going bankrupt. There is no escape. Is it any wonder that young people who are graduating with a national average of $29,000 in college loan debt must live in their parents' basement because they cannot pay their loans and live independently on a barrista's salary?
In a Wall Street Journal interview, Dr. Richard Vedder of the Center for College Affordability and Productivity links the tuition increases to "the 50-fold growth in federal student financial assistance programs since 1970. Former Education Secretary Bill Bennett was mostly right when he said federal aid programs enabled colleges to raise tuition fees, helping to fuel the academic arms race."
Why do so many people need a college degree? Many of the jobs that require a college degree did not require it in the past. We can thank the government for that also. Businesses used to administer tests to see if the potential employee had the skills necessary to fill the position. The government struck down testing as unfair, so many businesses switched to a college degree requirement as a way to screen applicants without running foul of the government.
Over time the value of the bachelor's degree was diminished and now many jobs require a master's degree forcing more students into school longer and causing more debt.
This situation is a serious problem for all of us. We need our younger generation to be buying consumer goods, especially cars and homes, to keep the economy humming. They must do their part, even if the government has to step in to "help" them again. It helped them acquire student loan debt and now it can help them acquire mortgage debt.
But the story doesn't end there. These mortgages must be for homes in a certified sustainable community. And who determines what is "sustainable?" This group:
Sustainable Maryland is a certification program for municipalities in Maryland that want to go green, save money and take steps to sustain their quality of life over the long term. Sustainable Maryland Certified is a collaborative effort between the Environmental Finance Center (EFC) at the University of Maryland and the Maryland Municipal League to replicate the success of theSustainable Jersey initiative throughout the Mid-Atlantic States, beginning in Maryland.
To become a certified sustainable city, the city must have a green team comprised of municipal workers, city leaders/businessmen and diverse citizens. This is a standard tactic to get leaders onboard a project and others will follow because if "Joe" is on it, then it must be ok. The city can apply for tax credits and grants to bring improvements such as bike paths or renovating old buildings. The municipal workers on the green team get paid for their efforts (it is part of their job), but the citizens are volunteers because their hearts are in the right place.
(Note: Salisbury is registered, but not certified yet. Snow Hill and Berlin are certified sustainable cities.)
(Editor's note: one of the Sustainable Maryland "primary partners" is the Town Creek Foundation, which never met a Radical Green program it didn't like.)
Once these debt-laden former students are ensconced in their subsidized mortgage home, they will be ready to marry and produce the next generation of liberty-loving citizens. The next generation will be taught in the fully implemented Common Core method, which will ensure that they never hear of their heritage as Americans. They will be assessed and evaluated from pre-school to the workforce. The thousands of data points gathered will ensure that they are nudged gently into the correct attitudes so that they will fit into the new world order. Teamwork and cooperation will be their strong suit while individuality and thinking deeply on any subject will be discouraged.
The water in the pot is almost to a boil. If we don't jump this presidential election, I fear it will be too late.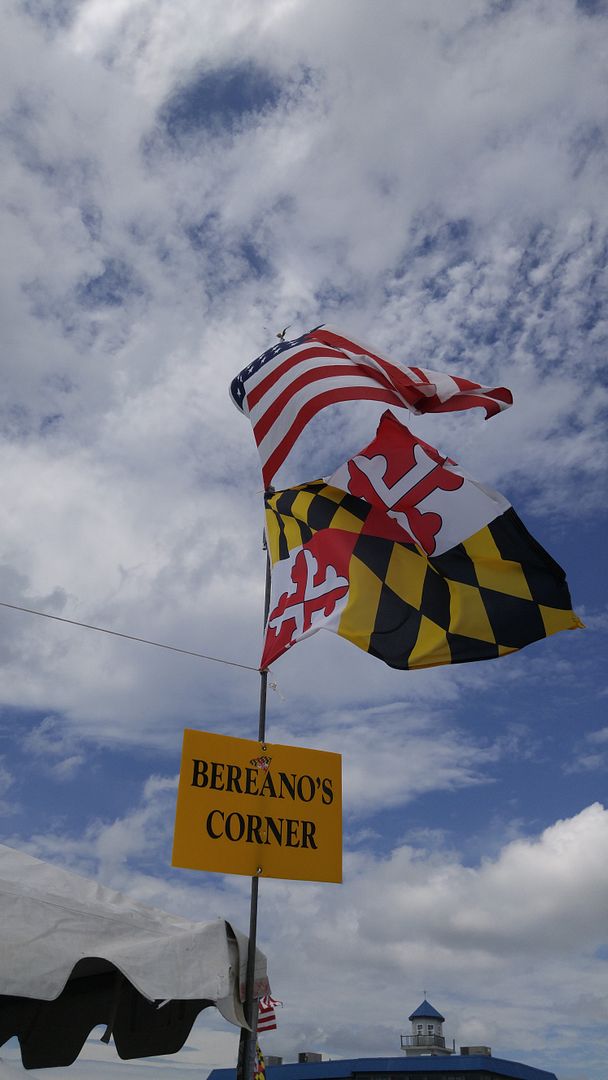 Bereano's Corner was in roughly the same location, but there was a lot of strangeness about this year's event.
Our tent was in a new location. Some liked the idea of being along the marina, but the traffic walking by wasn't as brisk as we had when we were in the middle, next to Bereano.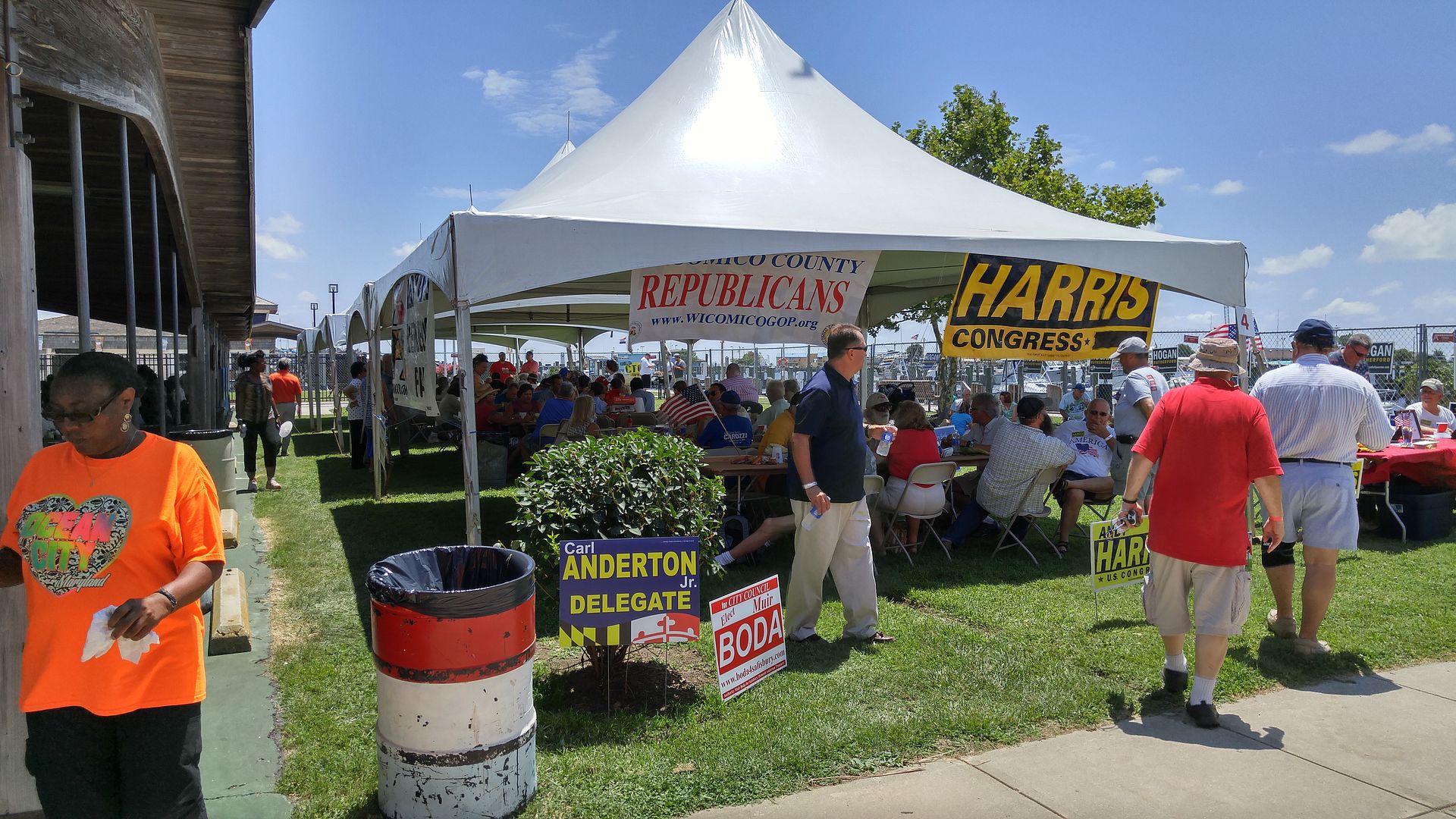 It did have a great space for signage that many took advantage of.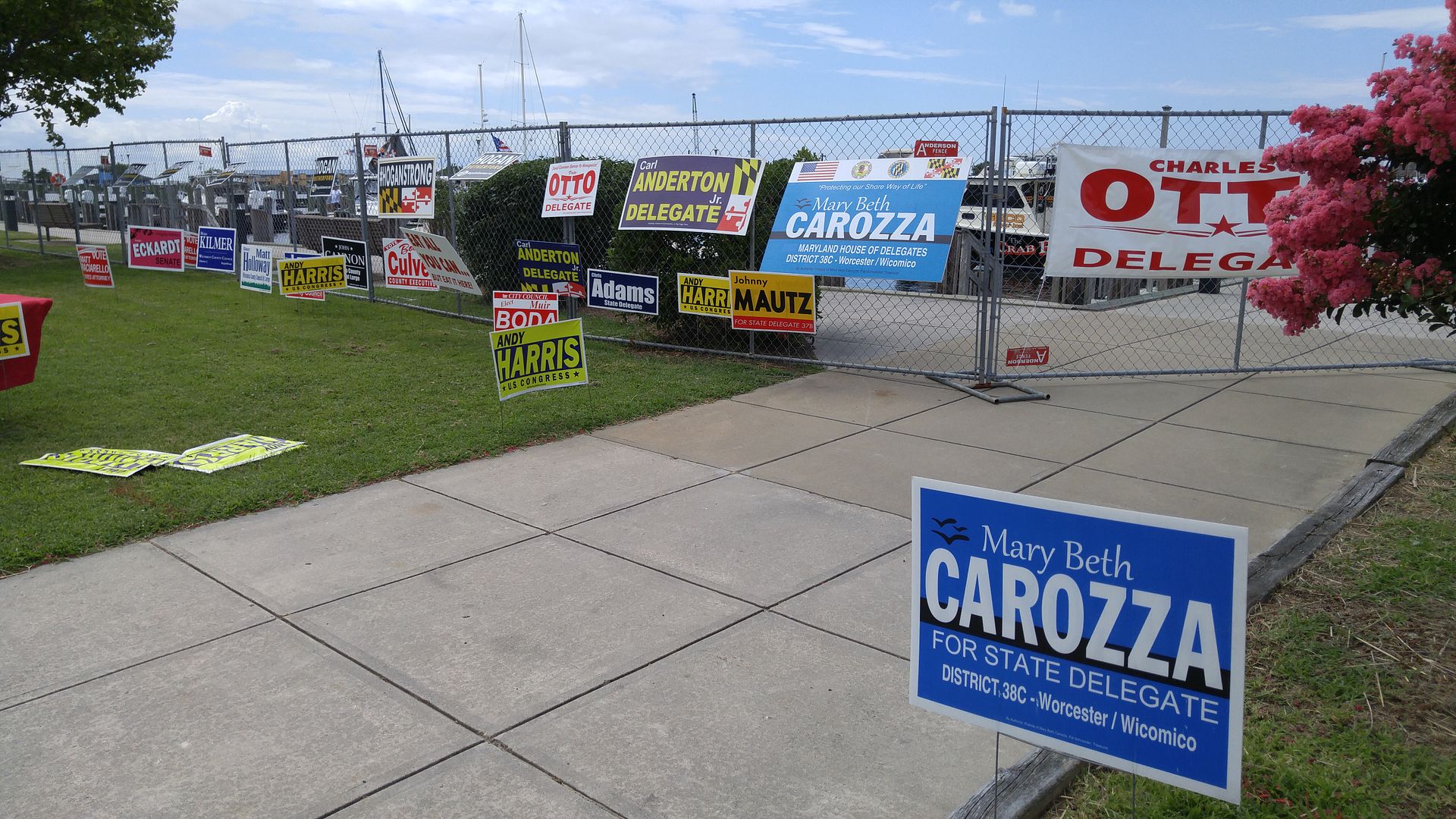 Being on the grass, we also had our share of bloodsucking biting flies. Speaking of bloodsuckers, the Democrats were less than thrilled with their location as well. Normally they have been the corner tent in this line.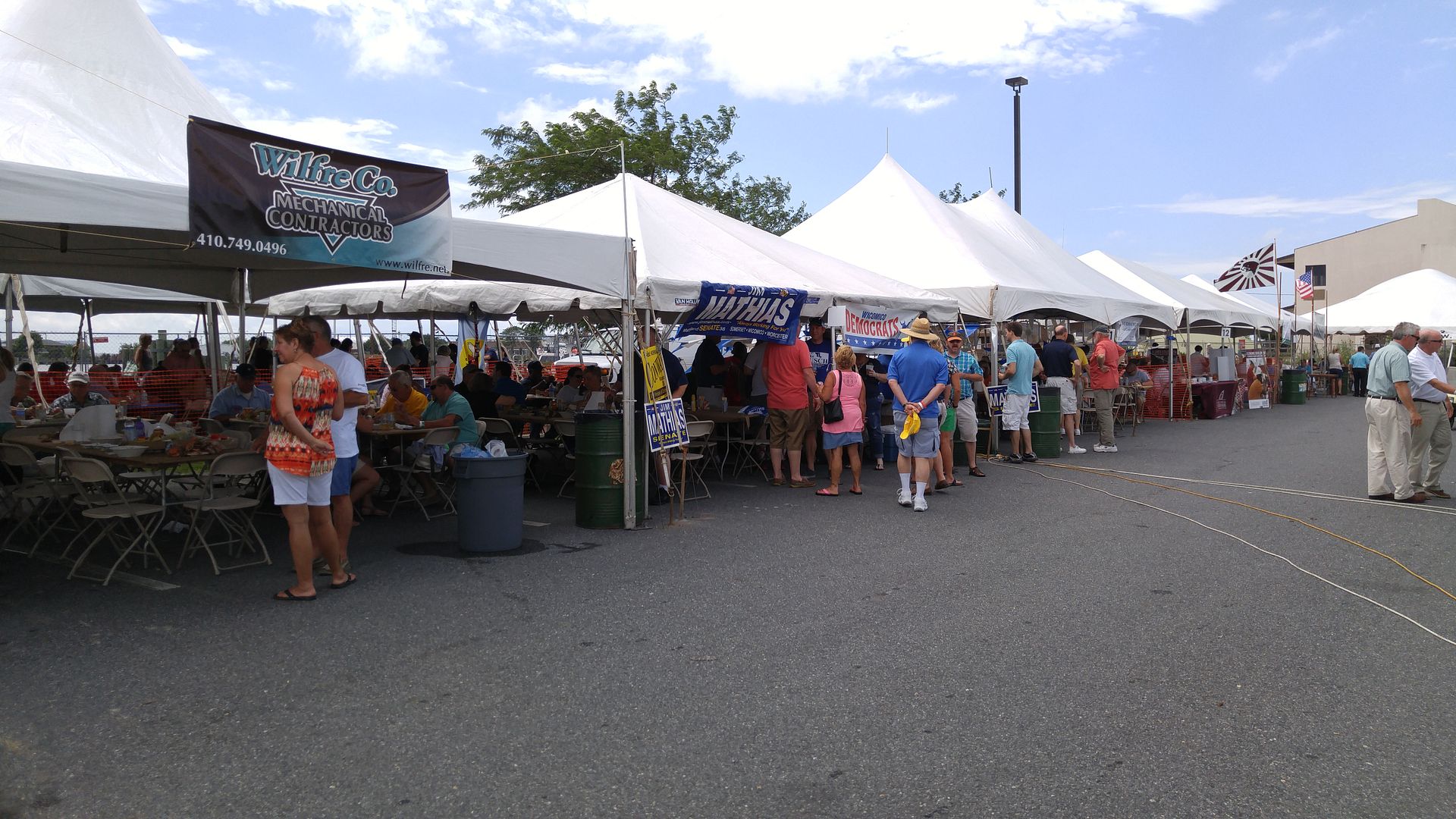 But they did have the keg, not that I had anything from it. They also had an interesting table within.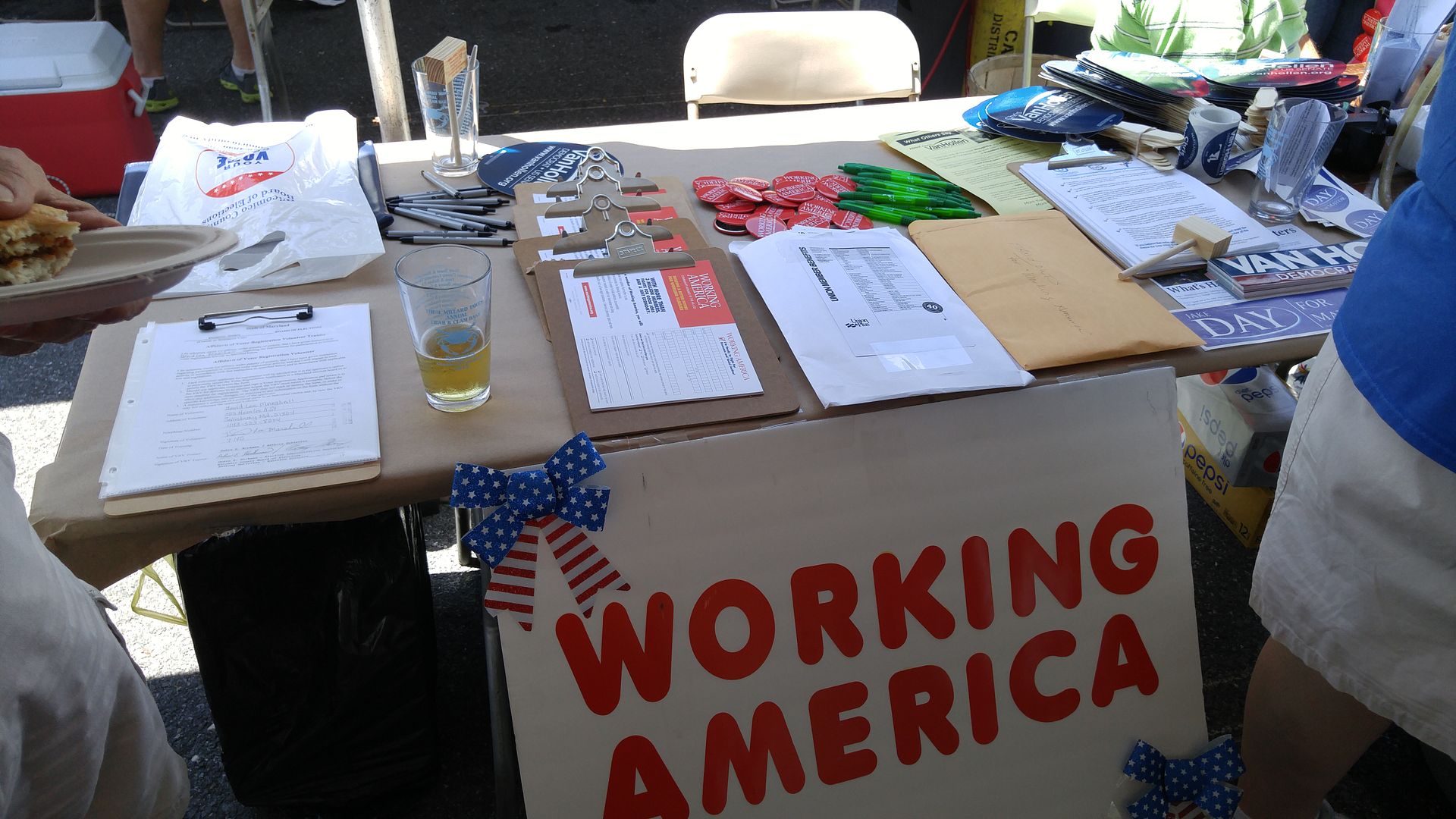 While I am part of working America I'm not a member of this AFL-CIO affiliated organization, so it's no surprise to find them in the Democrats' tent. There were a handful of folks walking around with their red shirts on, but Big Labor didn't have the presence here they did during the O'Malley years. Maybe they are laying low until next year.
There were quite a few businesses there, although it was a different mix than I recall from previous years.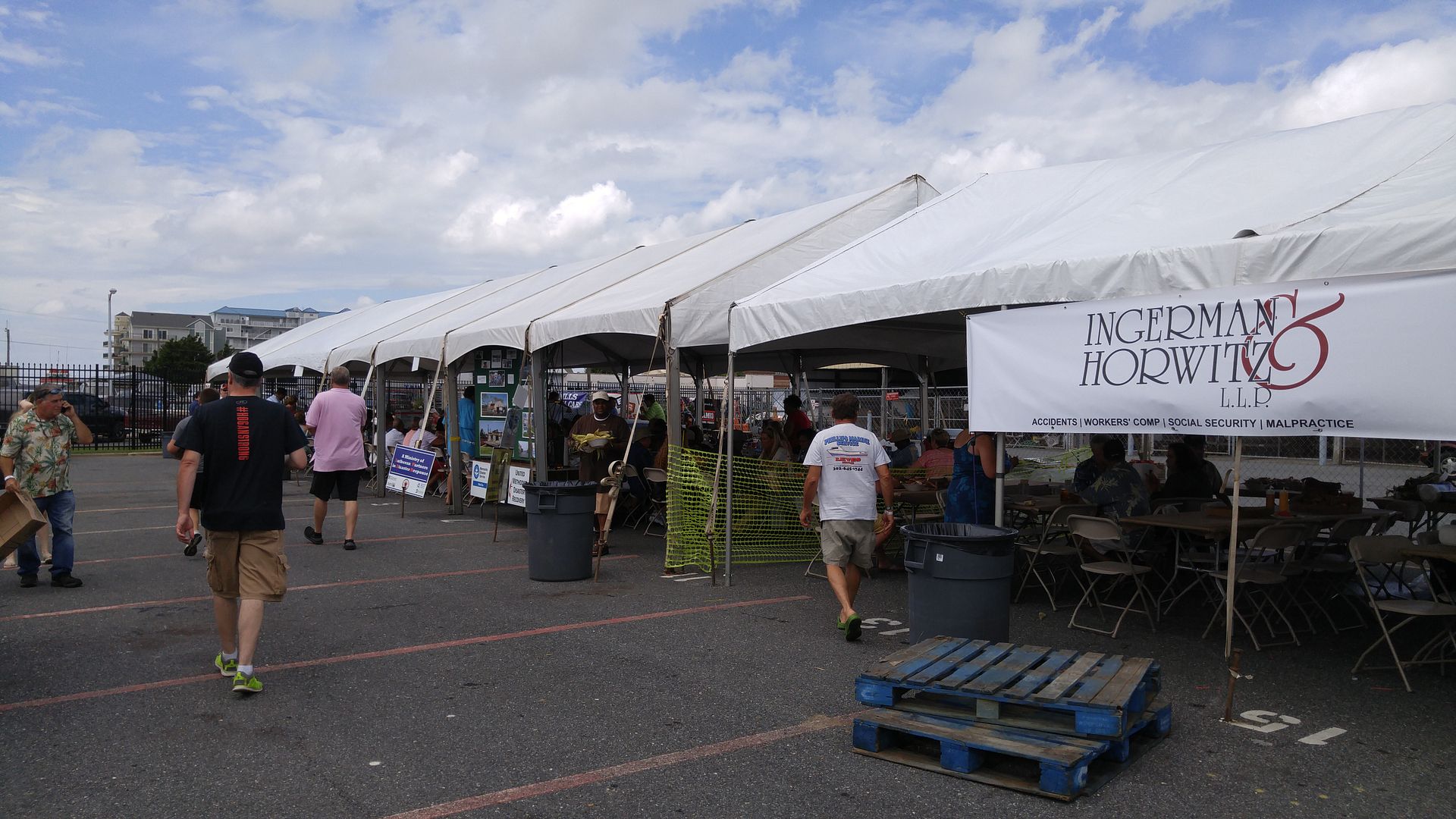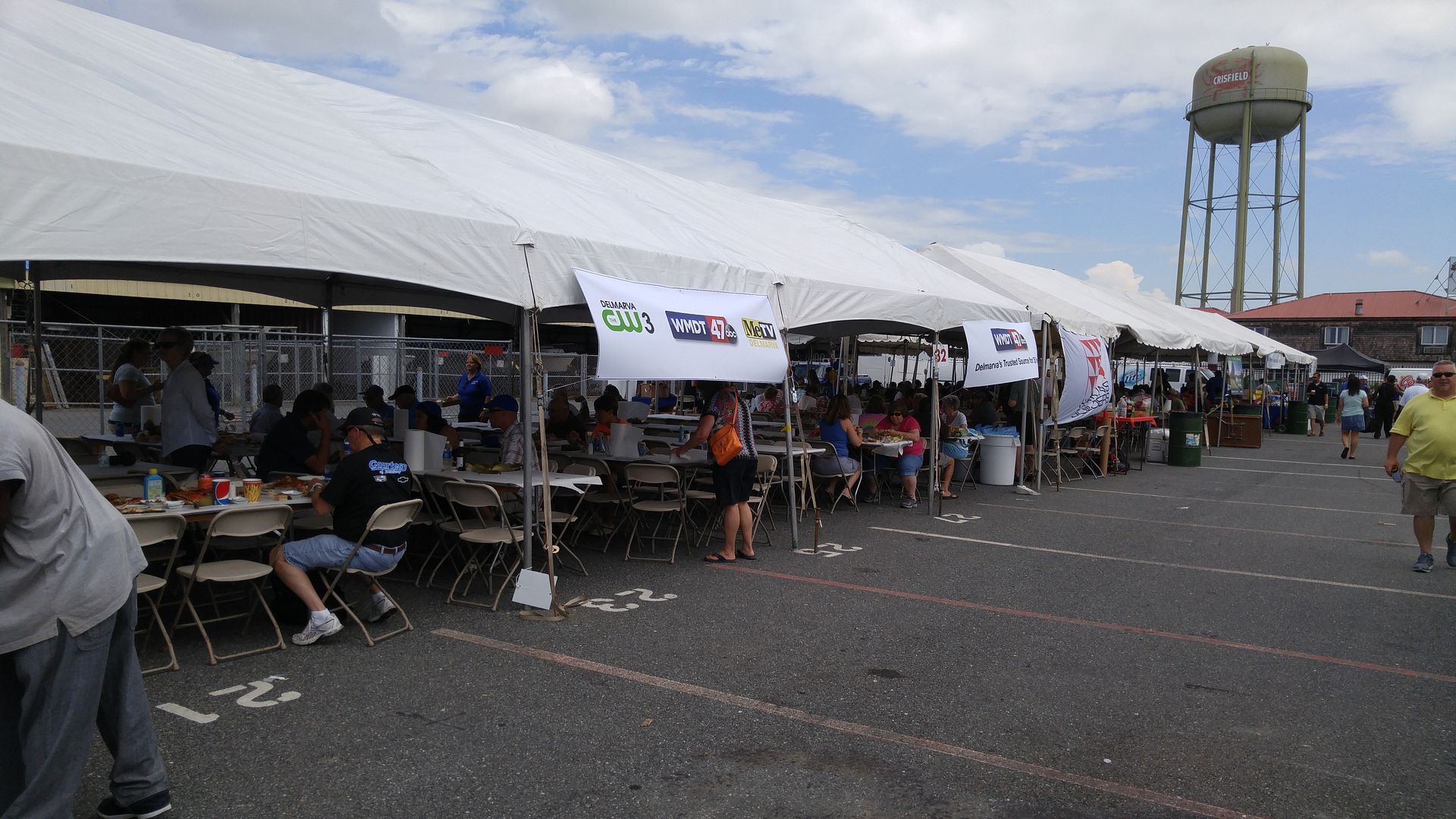 Some enterprising youth took the occasion to be their own business people. Those in orange were "runners" and on their shirts it read they were working for tips.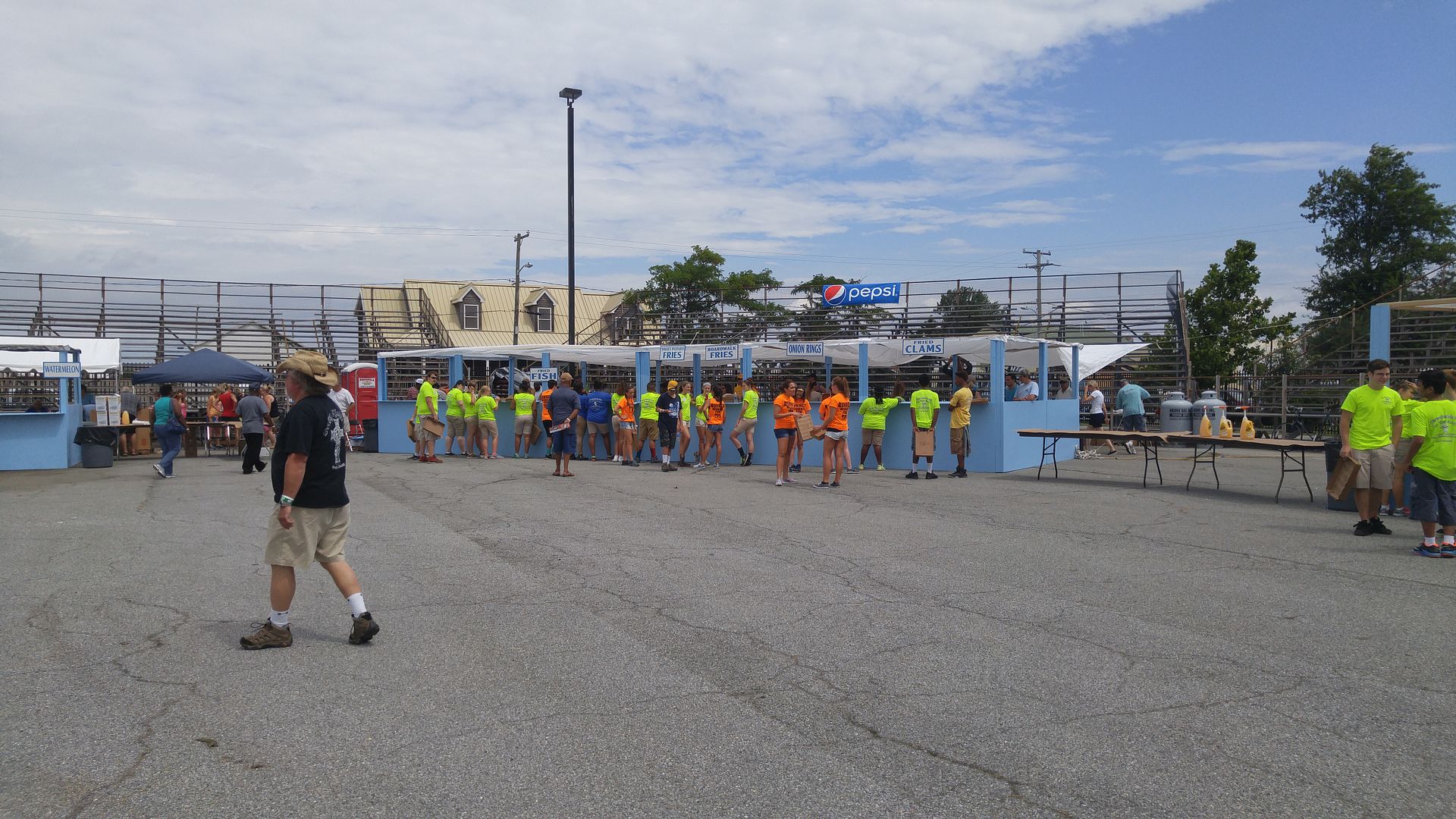 Hopefully they made more money than those who annually charge $10 or $20 for parking in their yard. I don't think business was as brisk for them because attendance seemed off from last year.
Government and public entities were well-represented, too. Interesting how the environmentalists are cozy with the economic development group.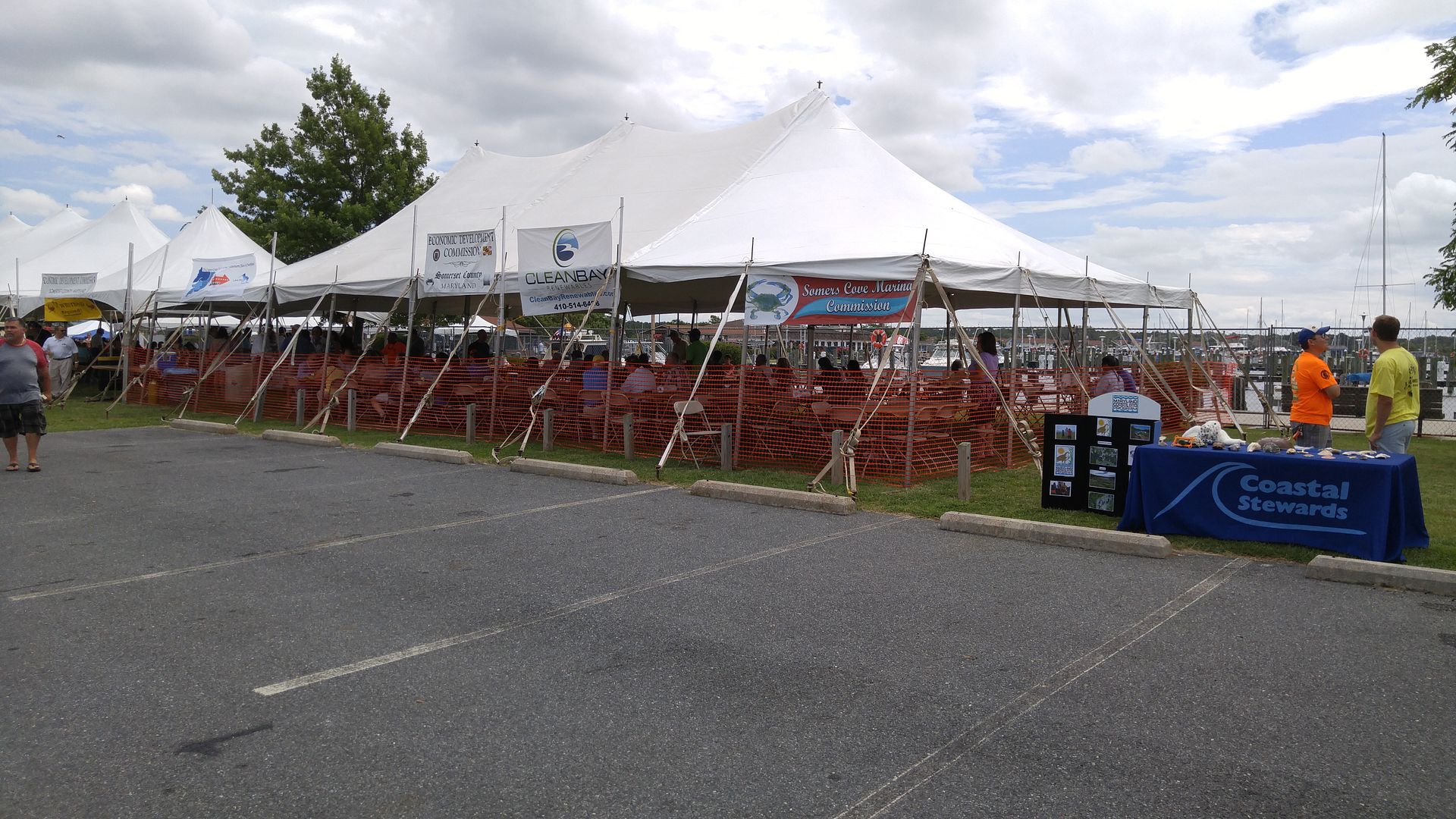 I think the University of Maryland – Eastern Shore was next to the Democrats, but Salisbury University was really trying to make a splash.
While there were a lot of differences in this year's rendition of Tawes, some things never change. Lobbyist Bruce Bereano always has the biggest tent.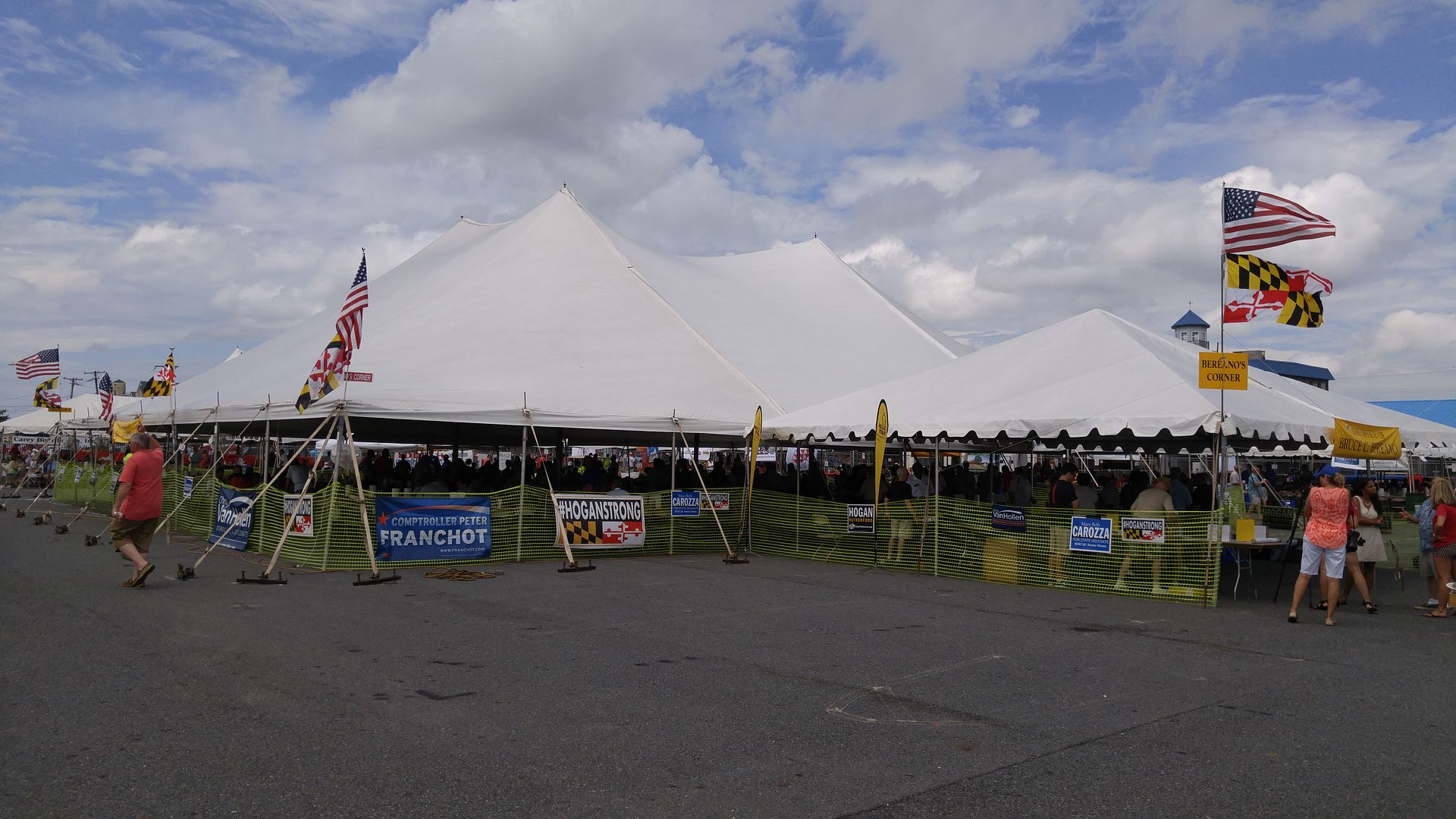 Another constant is a ton of good food, particularly of the fried variety. This was my spread.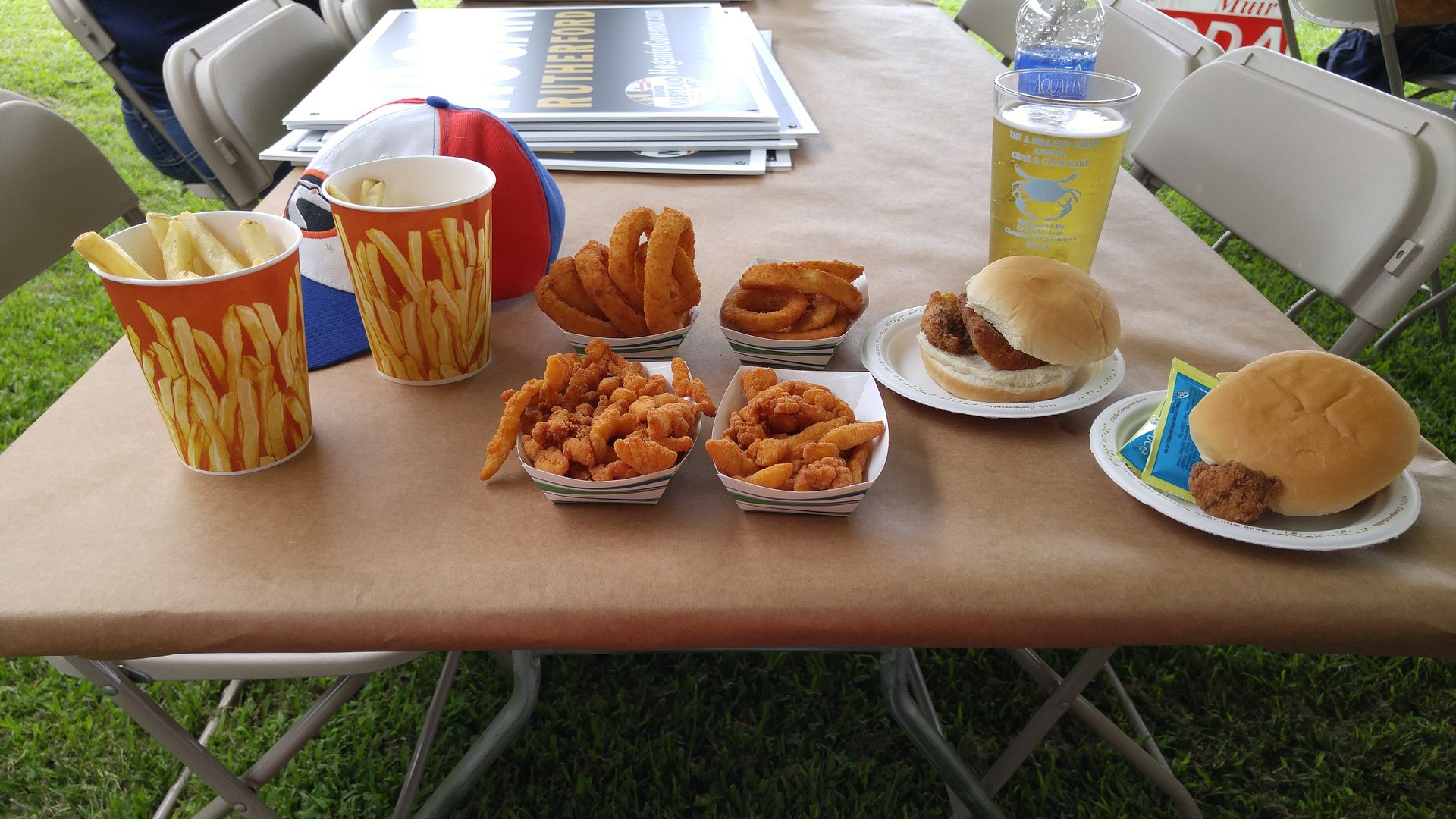 Not a salad in sight – in my dietary defense, I skipped breakfast. But it was all very good, aside from a little lack of fileting on one of the sandwiches. It was a trifle bony.
(No, I don't like crabs – so don't ask.)
This event also draws media like the food on the ground draws seagulls. Here's Delegate Carl Anderton being interviewed by local television.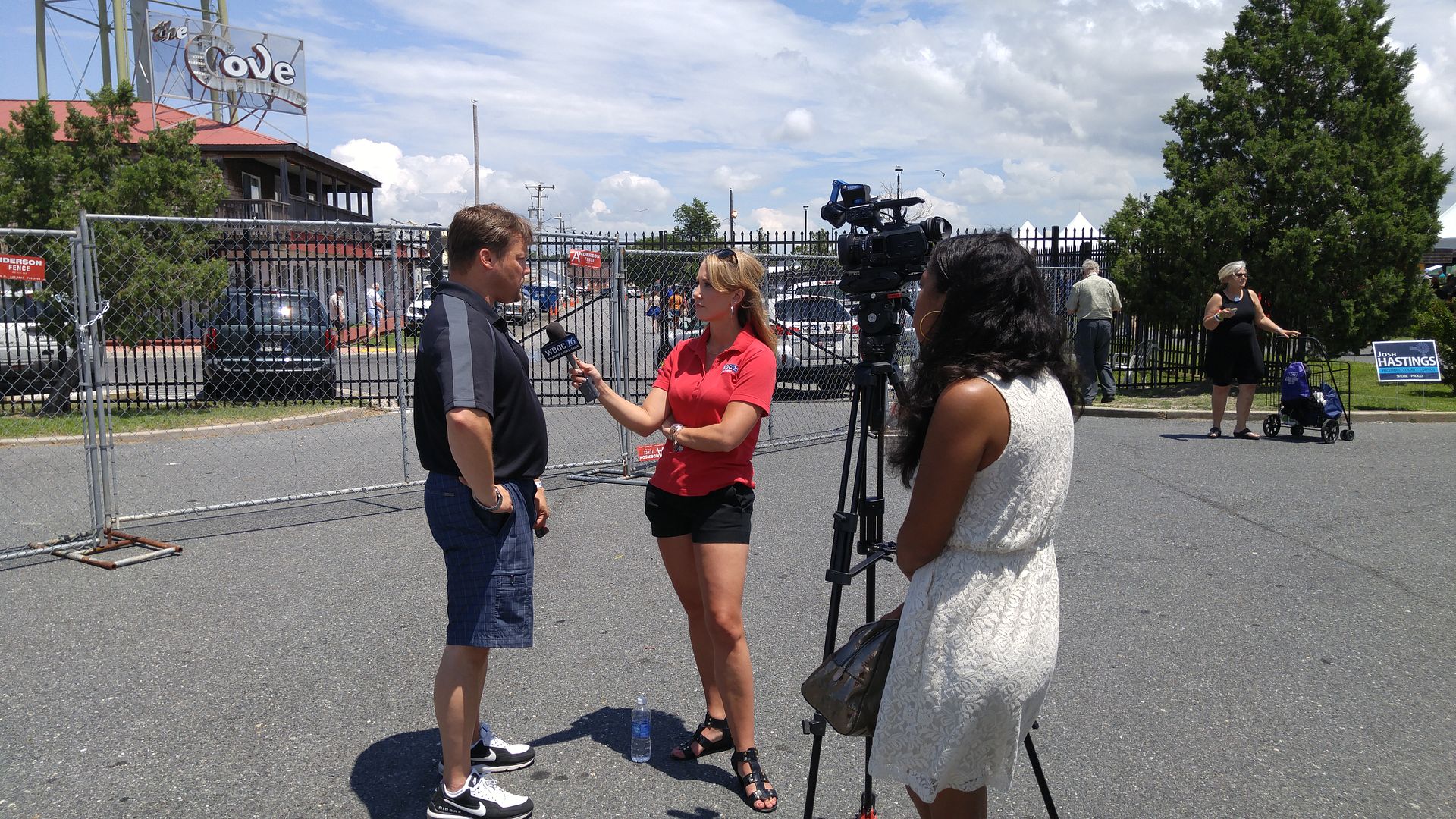 Both local Salisbury stations were there doing live shots and interviews.
And while the faces may change, the political aspect never does. You have the newcomers trying to make a good first impression, like U.S. Senate hopeful Chrys Kefalas and his millennial posse.
By the way, I had to look up that Kefalas is 35 because he appears a decade younger.
You have old hands looking for new positions, like Congressional candidate Mike Smigiel (in the center). He had a batch of "I Like Mike" buttons.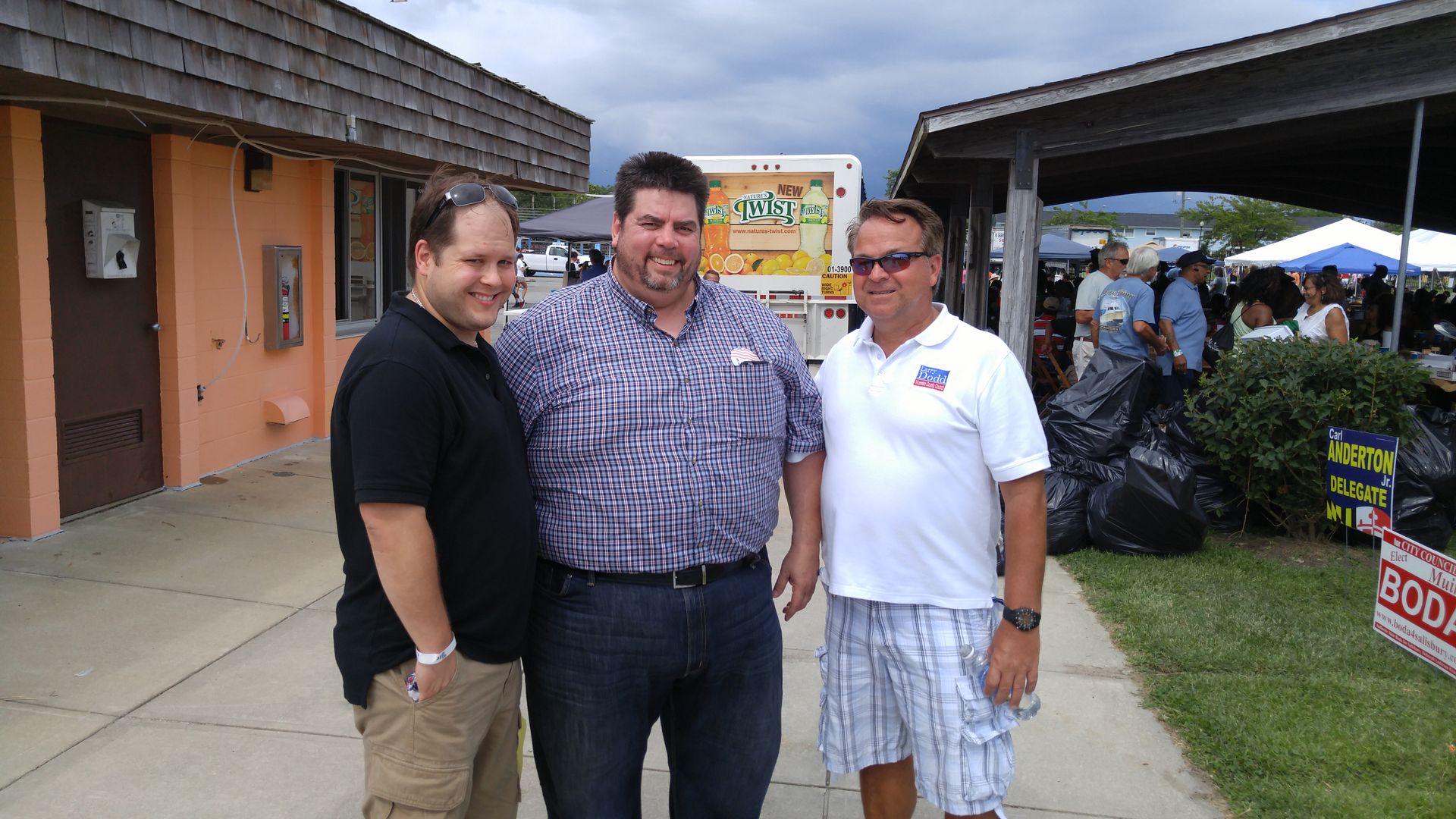 County Councilman Larry Dodd is on the right, and I apologize for not recalling the gentleman on the left's name.
And then there were established officeholders like my 2015 monoblogue Accountability Project Legislator of the Year, State Senator Justin Ready. He's talking to Jackie Wellfonder, who probably has some sort of social media record for photos with the most officeholders and general friends of hers.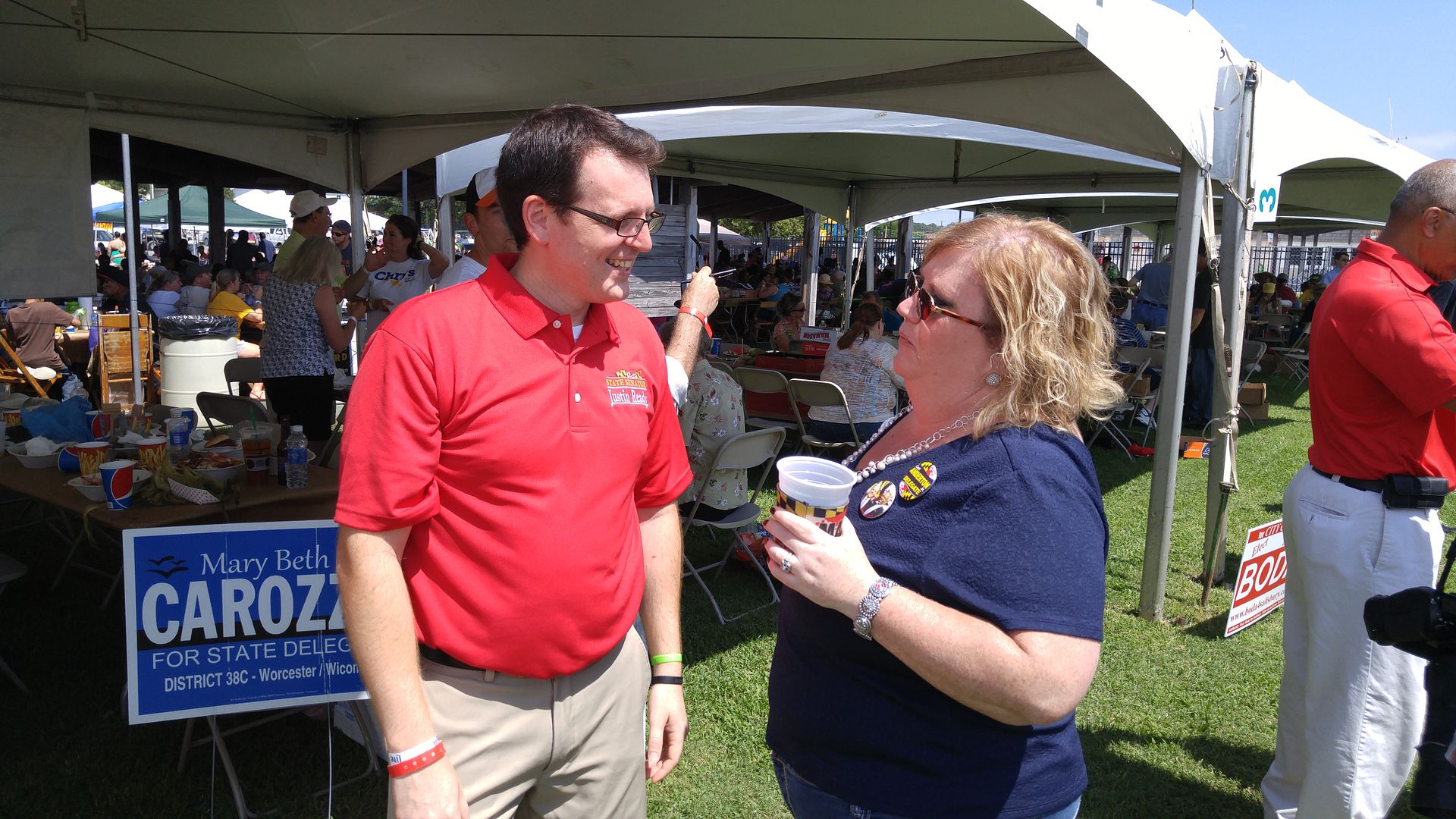 I think I've already seen her picture with our Lieutenant Governor, Boyd Rutherford. He's the distinguished-looking guy in the center.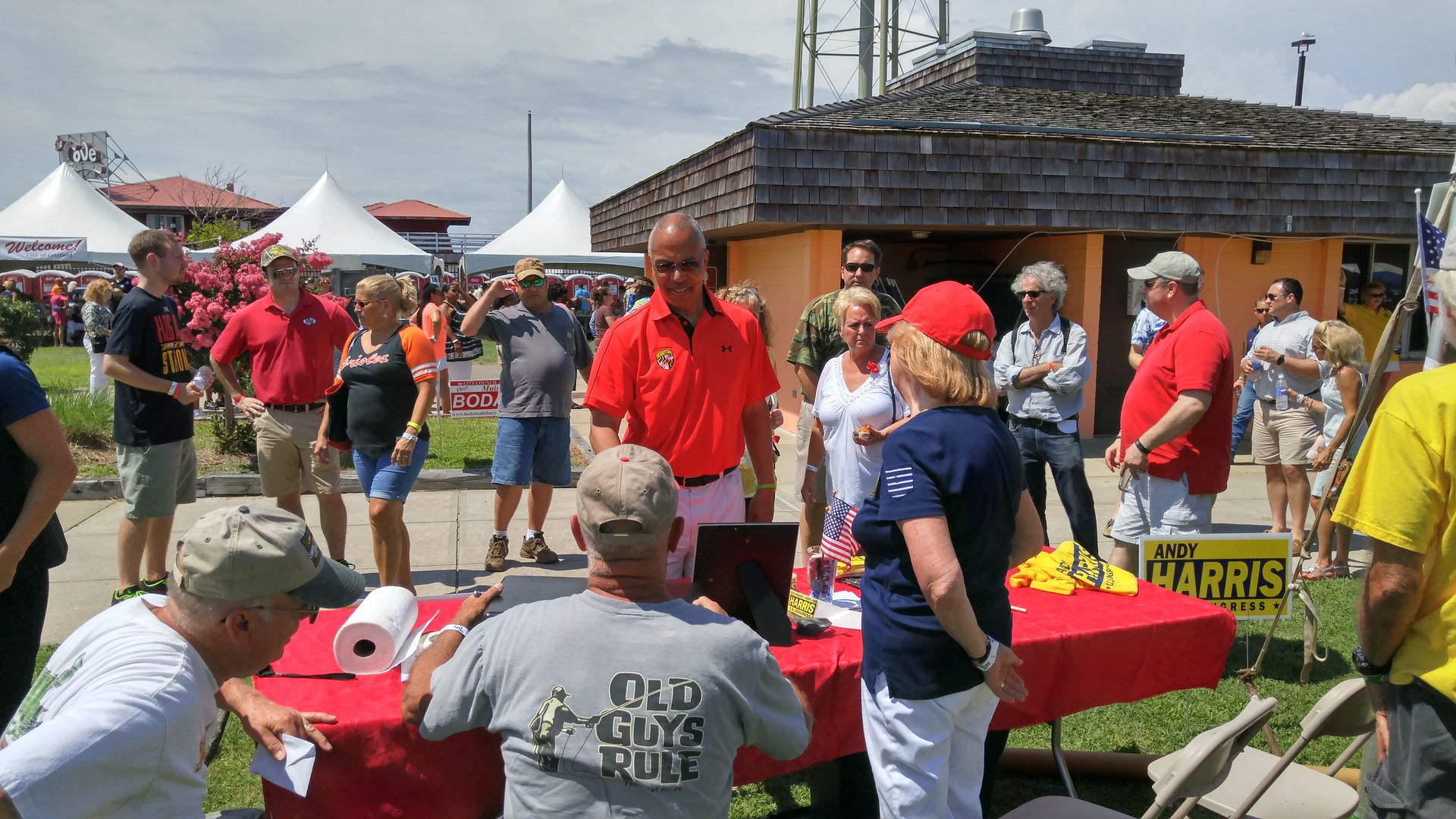 One final difference was the weather. While it was relatively comfortable, with a gentle breeze, the clouds rolled in toward the end.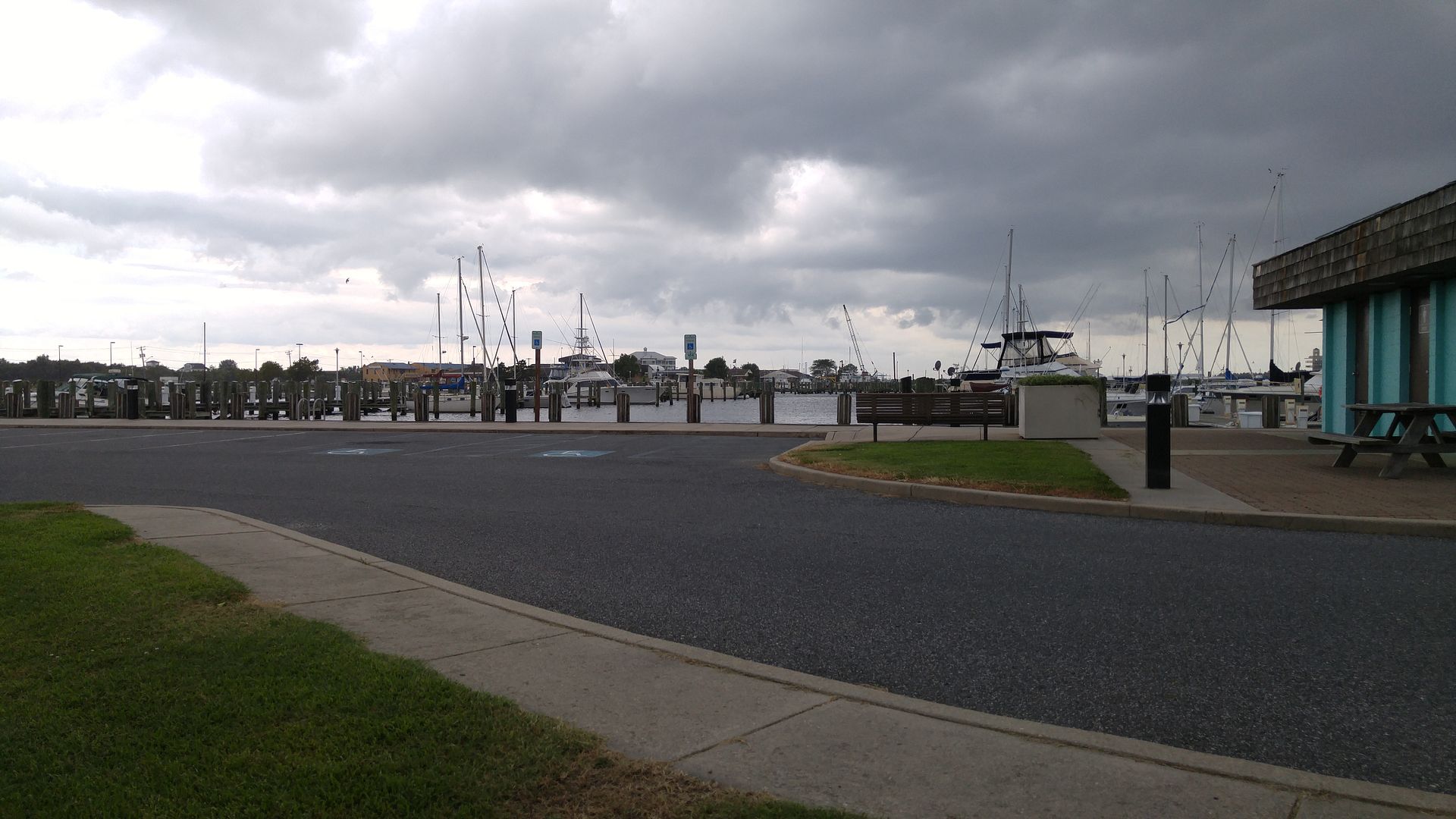 I left about 20 minutes before the scheduled 4:00 close, and by the time I got to my car about 1/2 mile away it was raining lightly. Before I got out of Crisfield it let loose and poured, so those who stayed to the bitter end either got under a tent or looked like drowned rats (or both.)
It was a fitting end to an event which was good, but perhaps a little off kilter. In fact, I was discussing the future of this gathering with someone who compared it to the Salisbury Festival – a venerable event that didn't change and eventually withered away. Since the cost went up this year (to $45 a ticket) we'll see how it affects the plans for next year.
As for me, I'd like the center location back.
Since Scott Walker is joining my presidential sweepstakes already in progress, I need to catch him up with the areas of education and the Second Amendment. So you'll read them here, but I will also add them in their proper rank in the category at large, since I will come back and refer to it later.
Early on, I really liked Scott Walker and figured he would rank near the top of my choices. That may indeed happen, but how does he fare on these two issues?
I'll begin with education:
Scott Walker has a mixed record on the important subject of Common Core. He will say he's against it, but hasn't gone out of his way to eliminate it in Wisconsin. And while his state has gone farther than most to install a measure of school choice, there are a number of restrictions and only certain families qualify, so it's not always a case of money following the child.
Like Huckabee and Graham above him, Walker is a strong backer of homeschooling. He also has shown the teachers' unions he's the boss, but has been silent on what he would do with the Department of Education and doesn't speak a great deal about local control. This puts him more squarely in the middle of the pack.
Total score for Walker – 2.5 of 5.
On the Second Amendment:
Like Bobby Jindal and Jeb Bush, Scott Walker has loosened the gun restrictions in his state over his time in office. But while he has claimed on separate occasions that he is "a firm defender of the Second Amendment" and is "proud to stand up" for it, I don't see the forceful advocacy and bully pulpit ability that we need, so he ranks a little below the upper tier.
Total score for Walker – 4.8 of 6.
I'm working on the next segment for later this week, although I'm finding the information is coming in a slightly different format than in the first two parts. Regardless, the hard part is looking for similar information on 15 (soon to be 16 or maybe even 17) candidates. But that's what you pay me for. (Oh wait, I'm working for free? Call it a labor of love, I guess – although there is a tip jar to rattle.)
Tomorrow, though, I take a break for state politics. See you in Crisfield.
Unfortunately, the Second Amendment continues to be under assault from those who misinterpret its meaning to believe the "well regulated militia" is the National Guard and that the only ones who should have guns are the police and military (except when the latter are on base, of course.)
So the question for me is relatively cut and dried; my job is to determine how well these candidates would lead on reversing this trend if they were elected president. No more talk of a so-called "assault weapons" ban, but instead encouraging states to allow reciprocal concealed carry and convincing Congress to roll back the existing gun laws. What part of "shall not infringe" do they not understand? You'd think they were on the Supreme Court with their poor understanding of law and the Constitution.
Anyway, this category is worth up to six points and those who wish to make us more free to defend ourselves from whatever comes along score better than those who say, "well, maybe except for this instance" or "you know they were talking about muskets back then, not AR-15s."
Ted Cruz is one of those who gets that. He's been a staunch defender of Second Amendment rights, features his record prominently on his campaign website, and correctly notes that it's not just about self-defense. My very minor complaint regards some provisions in this bill he co-sponsored with Senator Grassley a couple years ago – for one, the "Cruz Task Force" may be a little overbearing.
Total score for Cruz – 5.8 of 6.
Rand Paul gets the same score as Cruz, but for a different reason. Even though the District of Columbia is in the wrong regarding its gun laws, it does seem a little hypocritical that Rand is trying to block their laws through Congressional action. If it wasn't good enough for Andy Harris to do it on the marijuana issue, then Rand Paul should not either. But he's actually more strident on gun rights than even the NRA, correctly noting that mass shootings could be stopped (or even prevented) by armed citizens.  It's also interesting that he equates the Second Amendment with the Fourth Amendment.
Total score for Paul – 5.8 of 6.
Mike Huckabee talks a lot about defending the Second Amendment and the rights of gun owners, and he gets the idea that it's there to defend our liberty. Presumably he would also not stand in the way of enhanced carrying laws based on his assessment of the Dylann Roof situation. Plus he owns several AR-15s, and while the Left made light of that pencil analogy it really is true. In a lot of ways, Mike gets it and hopefully he can lead on the issue. My only concern is he would simply play defense as opposed to pushing back the frontiers of ignorance on the issue like those above him are doing.
Total score for Huckabee – 5.4 of 6.
Just slightly below my top tier as well is Marco Rubio. While he also is steadfast on the Second Amendment being there for self-protection – and walks the walk as a gun owner and concealed-carry permit holder who would like to see reciprocity – there are limits to how far he takes the Second Amendment. The Undetectable Firearms Act is simply a method to keep otherwise law-abiding citizens unarmed in an era where 3-D printing technology is now able to create firearms made of the resin used in that process. Again, please refer to "shall not infringe."
Total score for Rubio – 5.3 of 6.
I wish I had a little more on the plans Bobby Jindal has for America regarding the Second Amendment, since he doesn't cover them on his campaign site. However, if he is as active a supporter for gun-friendly reforms as President as he was as governor, we would be in fine shape. Even the restriction he added allows for its removal when appropriate.
And while he doesn't put in the same terms as Cruz or Paul, Jindal has a fairly good understanding of the importance of the Second Amendment. So he's right up among the highest tier hopefuls with a score over 5.
Total score for Jindal – 5.2 of 6.
Much like Jindal, Jeb Bush has a solid pro-gun record as governor, which he touts with regularity unlike Bobby. (I like the quote about the Second Amendment being the original Homeland Security in the last piece.) But I worry about expansion of instant background checks that Bush favored. It's only based on his state track record that he ranks as highly as he does, as Bush is silent on the issue on his campaign site.
Total score for Bush – 4.8 of 6.
Maybe the one thing I don't like about Lindsey Graham and his approach is the defensive posture. I'm glad you will stand against further intrusions on our rights, but the jury is still out with me on the incremental approach coming back. A couple things stand out in his favor, though: advocating for concealed carry reciprocity and understanding that home defense may require more firepower, much as the idiots on the Left may snicker.
Yet he criticized Ted Cruz for making a similar remark about protecting liberty. Since I have a sheriff who knows confiscating guns is a suicide mission, I have to come down on Cruz's side. That is why Graham is looking up at him in my rankings.
Total score for Graham – 4.8 of 6.
Like Bobby Jindal and Jeb Bush, Scott Walker has loosened the gun restrictions in his state over his time in office. But while he has claimed on separate occasions that he is "a firm defender of the Second Amendment" and is "proud to stand up" for it, I don't see the forceful advocacy and bully pulpit ability that we need, so he ranks a little below the upper tier.
Total score for Walker – 4.8 of 6.
What passes for a Second Amendment record for Rick Perry is really a batch of peripheral issues – all nice, and feathers in any governor's cap, but not necessarily moving the ball down the field. (Although, clarification on Castle Doctrine is important.) And while he's for concealed carry even in schools, he's not as big on open carry. Maybe there's logic to that, but why stand in the way of a state? If you don't want to carry openly, you don't have to – unfortunately, due to a politically motivated indictment, Perry can't carry legally right now anyway. I think Rick would be okay, but not as good as others.
Total score for Perry – 4.2 of 6.
As someone who claims the Second Amendment is there to protect the First, I was dismayed to find no reference to the issue on the Rick Santorum campaign website. I know Rick feels that an armed America is a safer America – which I believe is correct – but was disappointed to read that we have "reasonable accommodations in place" when it comes to gun laws. No, we really don't – "shall not be infringed" is very clear language to me as a reasonable accommodation.
Total score for Santorum – 3.2 of 6.
Honestly, I don't know what to make about Ben Carson. There are times (as well as on his website) where he at least says the right things, and as we all know he has no voting record on the issue to glean information from. But he's also stated that "assault weapons" should only be available for rural Americans before trying to walk back and further clarify where he stands.
Maybe he is "evolving" on the issue, but something tells me that he would work his way to the wrong side if elected.
Total score for Carson – 3.0 of 6.
Because Carly Fiorina has only run for office once, in 2010, we don't have a lot from her. In her California Senate race, she came out against the assault weapons ban that was being discussed at the time, correctly noting that the features gun control advocates thought were dangerous were instead harmless. That was good, but in the story it's also reported she would take a "wait and see" approach on further bans.
So while she claims to be a Second Amendment supporter, she didn't elaborate on this when she had the best opportunity to do so. That's rather alarming to me.
Total score for Fiorina – 2.8 of 6.
Perhaps Donald Trump has evolved over the last 15 years, but the guy who once called for an assault weapons ban is now claiming our Second Amendment rights are being taken away. As he gets farther down the campaign trail, I hope we get more clarity on his hawkish views on guns, including which infringements would be eliminated. At this juncture I hear only platitudes as other issues are being lost with the Donald's immigration remarks. More on that in a future installment.
Total score for Trump – 1.2 of 6.
Chris Christie is not what you would call a friend of the Second Amendment. He did little to reverse New Jersey's draconian gun laws, which are so extreme innocent drivers face prison time, but at least realized that more wouldn't help him become president. Now it's about the "right balance." But nobody is being fooled by Christie's changing stance. Still, he's against concealed carry and so-called "assault weapons," so electing him would be a step backwards for gun advocates.
Total score for Christie – 0.5 of 6.
George Pataki took advantage of tragedy to push through what was then billed as the nation's strictest gun control laws, adding "we hope other states follow." Now he believes states should put limits on gun use. I will give him a modicum of credit for believing we need no new gun laws, but that stance may change with the next headlining incident.
Total score for Pataki – 0.1 of 6.
Next in line, for seven points, is the world of energy. I suspect this will provide some separation as gas prices haven't been the issue in recent months, so not all candidates are speaking out on the issue. But I'll see what I can dig up on it.
By Cathy Keim
On July 8, 2015, the House passed HR 5, the Student Success Act, which is the reauthorization of No Child Left Behind (NCLB). This behemoth of a bill weighing in at 800 pages will guarantee that every child that graduates from high school is ready to attend college or start in the workforce without remediation. Yes, you read that correctly.
The hubris of our Washington elite putting into law that every child that graduates from high school will need no remediation is amazing. Just that one statement alone assures me that the 800 pages are filled with bureaucratic overreach.
What kind of measures must be in place to assure that grandiose statement? This is the same government that cannot get patients seen at the VA hospitals in a timely fashion, yet they are proclaiming that every child that graduates from high school in these United States will be stamped proficient to advance to the next step of their lives by the Department of Education.
I can think of only one way that they might even pretend that this could be true and that would be by dumbing down the system so that more children could meet the criteria, but even that is not going to convince me that the government can achieve their goal.
Just try to think of anything in real life that can be achieved 100% of the time. You can't come up with much, can you? (Remember that NCLB declared that there would be 100% proficiency in reading and math in the entire US school system by 2014.) You can check out American Principles in Action's 24 points for plenty of details on why this is a terrible bill.
HR 5 was brought up in February 2015, but was pulled because the Republican leadership could not get the votes to pass it. They have used the time tested ruse of bringing it back in the summer when parents are not paying attention to school issues.
It narrowly passed, 218 to 213, with every Democrat voting no, and 27 courageous Republicans joining them. This is similar to the TPA battle where a few Republicans joined the Democrats in opposing another awful bill.
Of course, their reasons for opposing were completely different, just like the TPA fight. Once again it gives me pause when I find myself on the same side as the Democrats.
One of the reasons given for conservatives voting for HR 5 was that the Senate version, SB 1177, the Every Child Achieves Act, (ECAA) is even worse. The reasoning goes that by voting for HR 5 it preempts the Senate version, so that even if the Senate passes their bill, it will be forced into conference rather than the Senate bill coming directly to the House.
From past experience we all know that what comes out of the conference back room will very likely be worse than what went in.
Andy Harris voted yes on HR 5. I called his office to inquire what his reasons were for voting yes, but I have not received an answer yet.
I called Senators Cardin and Mikulski's offices to inquire if they had any statements out about this bill. Senator Cardin's office said that he supports the bill in general, but is concerned about the Title I funding following the child since it might allow money to go to schools that don't need it rather than to the schools originally intended.
(Editor's note: one selling point given for the SSA is that it would allow certain parents who have children in failing schools a choice in where to send their children for their education, although the choices are limited to just public and public charter schools. This is the meaning between the lines of Cardin's remarks.)
Senator Mikulski's office said she did not have a statement out yet, but that she is against No Child Left Behind. Since ECAA is a reauthorization for NCLB, which actually expands it, we will just have to see how she decides to vote.
Generally speaking the Democrats seem to be against this bill due to the Title I funding shift potential and also because they fear it could lead to universal vouchers.
The Republican leadership crows that HR 5 is returning education issues back to state control. If so, why do they need 800 pages to do this?
The Senate should take this bill up in the coming weeks, so please call your senators and explain to them why they should vote no. Their offices need to be bombarded with parents telling them to not expand on No Child Left Behind.
However, the best reason is the one given by former Delegate Michael Smigiel, who is running for Congress in the First Congressional District. When I asked him whether he would support HR 5 he replied, "I would do away with the Federal involvement in education as it is not authorized by the Constitution. The individual States should determine educational standards for their own States. I led the fight against Common Core and argue and voted against No Child Left Behind."
While that is the correct reason for opposing ECAA, our current leadership is not impressed by the concept. Until we can elect sufficient Constitutionalists to represent us, we will have to rely on a massive phone campaign to get the attention of the DC crowd.