Safely ensconced in our new headquarters, the Wicomico County Republican Club held its first official meeting there, with the special guest speaker being State's Attorney Matt Maciarello. Matt has the enviable position of needing one vote for another four-year term because he's unopposed.
Before we heard from Matt, though, we had the usual Lord's Prayer, Pledge of Allegiance, and introduction of distinguished guests, a list which included our state party Chair Diana Waterman. We also received a brief update from Larry Hogan's regional coordinator Joe Schanno, who was pressed for time. He noted the need for volunteer help for the Hogan campaign, and pointed out the recent poll results that showed the race within the margin of error.
We also learned Larry would be here on Sunday for a series of events: the official opening of our headquarters from 2 to 4 p.m. followed by a fundraiser for District 37B hopeful Christopher Adams at Perdue Stadium from 4 to 8 and an appearance at a fundraiser for County Executive challenger Bob Culver from 5 to 9 at a private residence. There may be some other visits with local businesses added to the schedule, said Schanno.
After Joe wrapped up, we introduced Matt Maciarello. He recounted that when he took office in 2011 it was about the same time as Salisbury police chief Barbara Duncan was selected, a time when "crime was out of control." But with Duncan and Sheriff Mike Lewis, they planned a line of attack on the spiraling situation. Matt's areas of interest in that regard, naturally, were the district and circuit courts, although there's also a children's advocacy center and drug task force.
It's the latter item which creates much of our problem, said Maciarello. He claimed that there's "one (fatal heroin) overdose a week in Wicomico County" and surmised that the appetite for opioid drugs "fuels a lot of crime."
In combating crime, Matt also noted he's been an advocate on the legislative level, monitoring legislation and providing input, both as testimony and direct discussions with legislators. After a bill is passed, his office provides roll call training to street officers to make sure they understand new and revised laws.
Much of his time of late, said Matt, has been spent compiling and writing reports on a pair of recent police-involved shootings, reports he personally wrote and took the time to talk with the families of the victims about the reports if they were inclined to discuss them.
But he concluded by stating that citizens have a choice on where to live, and the perception that a place is safe is important to an area's well-being.
Matt then answered questions, many of which queried him about gun laws. A recent profile of Sheriff Lewis as one who would refuse to enforce federal gun laws led to a discussion on nullification, which he felt was "more symbolic than anything." On that subject, "I want to be on solid legal ground" – for example, what exactly would be nullified? So while he felt parts of the Firearm Safety Act were "clearly unconstitutional," he believed opponents should get the advice from a Constitutional scholar before proceeding in order to pick and choose the best points for a legal counterattack.
Asked for a definition of "good and substantial" cause, Maciarello said, "I personally believe the burden should be on the state."
He also spoke about the relationship with the local NAACP given some recent tensions, explaining that "I see my role…as a public safety job. You have to represent justice." He's tried to be as transparent as possible in all his office's dealings.
Jackie Wellfonder, who had attended the previous forum with several GOP candidates, noted that "we had an interesting dialogue." The GOP presence was "a first step."
After I gave the treasurer's report in the absence of our regular treasurer, Jackie gave her formal president's report, gushing that the headquarters has done "a complete 180″ from the state it was in when we took it over. She pointed out that donations would be welcome to help defray the expenses, and volunteers to man the phones and greet visitors would be great as well once we get the ball rolling on Sunday.
She also read a thank-you card from Elizabeth Mills, one of our two WCRC scholarship recipients.
David Warren, who is in charge of the headquarters, remarked again about the "once in a lifetime chance" we have to win seats in District 38.
He gave way to Diana Waterman, who commented about the ease of operating the "very user-friendly" phone system, and urged us to "step out of your comfort zone." She also talked up the September 27 Allen West event and announced our Super Saturday would be October 4, just before the Andy Harris Bull Roast in Queen Anne's County.
Dave Parker gave the Central Committee report, giving more details on the Allen West Patriot's Dinner and repeating the information on the October 4th events.
It was then time to hear from some of the candidates in attendance.
Speaking on behalf of Larry Hogan's campaign, Ann Suthowski revealed he would have a fundraiser featuring Chris Christie in Bethesda and there would be a day for LG candidate Boyd Rutherford in this area as well as for Hogan. She was looking for sign locations and letters to the editor as well.
Jackie Wellfonder spoke again, this time on Chris Adams's behalf. She repeated the information about his Perdue Stadium fundraiser as well as the Bob Culver gathering that will also feature Andy Harris.
County Council candidate Larry Dodd acknowledged he took a little break after the primary, but pointed out while his opponent claims to be "moderate" he was really "100 percent Democrat."
Johnny Mautz of District 37B introduced his local campaign coordinator and promoted three events: fundraisers for him in St. Michael's and Easton on September 20 and 21, respectively, and a Larry Hogan event at Sailwinds Park in Cambridge on September 28. The Easton event he's holding has as a special guest author and commentator S.E. Cupp.
Carol Rose spoke on behalf of Mary Beth Carozza and announced her fundraiser would be held at Frontier Town near Ocean City on September 7. She also noted a Worcester County TEA Party event featuring Carozza along with the other three Republican District 38 candidates was "fantastic."
Marc Kilmer was pleased to have finally met his opponent. But on a more serious note, he was ready to resume doorknocking and was looking for volunteers to help at the Sharptown Heritage Days parade on September 20.
Muir Boda wasn't a Republican candidate anymore, but revealed he was one of a dozen applicants for the vacant Salisbury City Council position. We will probably know Wednesday who will fill the unexpired term of Terry Cohen, he said.
We also heard from the unopposed County Councilman John Hall, who said his campaign was "going just swimmingly" and received an update on the September 6 WCRC Crab Feast.
So after one piece of new business, our formal meeting was done. But many stayed around for this. (Photo by Jackie Wellfonder.)

The Ice Bucket Challenge got another "victim" and this time it was MDGOP chair Diana Waterman. I guess "water" is appropriate in this case.
I'm not sure how we'll top this in September, but someone else will have to let you know. I get a personal day from the next meeting, and those of you who know me well will know the reason why.
Yesterday, in my thoughts on an unrelated subject, I alluded to the massive loss of jobs in Maryland. Turns out it was worse than I thought – based on the unrevised Bureau of Labor Statistics totals, 16,286 fewer people in Maryland were working in July than June, adding 10,057 to the ranks of the unemployed.
The state compiles this data for Wicomico County as well, and I thought it would be instructive to note the June totals for the last several years. It's worth noting that employment here normally tops out in July, with June usually a close second. The numbers are readily available for the period 2009-14, which covers the trough of the recession and the recovery.
So here are the June totals since 2009:
2009 – 49,271 employed, 4,556 unemployed (8.5%)
2010 – 49,548 employed, 4,856 unemployed (8.9%)
2011 – 49,160 employed, 5,030 unemployed (9.3%)
2012 – 49,585 employed, 4,759 unemployed (8.8%)
2013 – 48,991 employed, 4,526 unemployed (8.5%)
2014 – 48,760 employed, 3,964 unemployed (7.5%)
Over the five-year period, the unemployment rate went down 1 percent, but the number employed also went down by 511.
Just as a comparison to use a (generally) worst-case scenario, here are January numbers:
2009 – 47,015 employed, 4,722 unemployed (9.1%)
2010 – 45,526 employed, 5,669 unemployed (11.1%)
2011 – 46,838 employed, 5,393 unemployed (10.3%)
2012 – 46,758 employed, 5,178 unemployed (10.0%)
2013 – 46,806 employed, 5,066 unemployed (9.8%)
2014 – 46,711 employed, 4,338 unemployed (8.5%)
Over that five-year period in the month which is generally the nadir for local employment, we still lost 304 jobs although the rate deceased 0.6 percent.
But it's estimated that Wicomico County gained 2,163 people between the census in April, 2010 and the 2013 estimate. So how are those people supporting themselves on 300 to 500 fewer jobs?
The title of this piece comes from a tagline and hashtag that District 38B candidate Carl Anderton, Jr. has been using during his campaign. While state numbers have fluctuated due in large part to changes at the federal level, the number of jobs in this area really doesn't depend on the mood of the federal government. Instead, much of it is influenced by the policies at the state level and, judging by the figures, it's pretty obvious that what's being tried isn't working – particularly if you're one of those who had a job and lost it.
It's often forgotten that the government doesn't necessarily produce anything nor does it create value. Even in cases where infrastructure is being improved (such as the airport runway I described a few days back) the actual work is contracted out to a private company. But that private company has to follow additional rules and regulations to access that federal money, ones which may not apply in a truly private transaction – oftentimes there is a prevailing wage provision, for example. Meanwhile, we also have to pay the bureaucrats who reviewed the grant application, wrote the specifications, and so forth. The airport is receiving $5.53 million, but it may have cost taxpayers $7-8 million with the overhead involved.
Simply put, the Washington bureaucrats served as a conduit and a filter, meaning they received their cut first. Sure, this project will create a handful of construction jobs but imagine what the overhead could have done. It's pretty much the same when Annapolis or local government is involved, since they get their cues from higher levels.
There are a number of economic drivers which this area relies on: agriculture (particularly poultry, with the feed stock being an integral part of this), tourism, and to a small extent, technology (thanks to spillover from Wallops Island.) Here's where we really need help from the state:
improving transportation by using the gas tax we pay to actually build the needed bypasses and through routes to make access easier for tourists and getting goods to market more efficiently for producers;
leaving alone our true environmentalists, the farmers, by allowing them to use their land as they see fit and reforming the transfer of development rights to a generational term rather than perpetual;
creating a sales tax-free zone to allow us to compete directly with Delaware for retail sales;
finally, putting an end to blaming farmers for environmental problems and looking at common-sense solutions for cleaning the Chesapeake Bay. Work on the problems we know we have and put a moratorium on new regulations until we can determine how well the ones we have in place work.
Larry Hogan addresses some of the problem in his new video:
But the other side of that is reining in the Maryland Department of the Environment and Chesapeake Bay Foundation, neither of which Hogan addresses. That's okay, though; I'd rather not telegraph those sorts of moves.
I have often seen complaints from the other side (of both the Bay and the political spectrum) that we on the Eastern Shore take more from the state than we give to them. For the sake of the argument, let's say that's true.
One has to ask, then, why this is the state of affairs? The people of the Eastern Shore seem like the hard-working, prideful sort who don't like the thought of handouts. All we want is a chance to shine and do what we do best – left to our own devices, we can prosper and lead the state.
But there are those who like the Eastern Shore just as it is, preferring it remain rural and backward so they can look down on us and refer to us as the state's "shithouse" as they fly through on the way to their beachfront Ocean City condo. Those are the people who need to be on the outside looking in politically in order for us to succeed.
To be honest, I took these photos on Tuesday intending to add them to my coverage – then promptly forgot and posted it anyway. But it doesn't hurt to have a second look back before moving forward. There's really not going to be a lot of fresh news until after the Independence Day holiday anyway, plus it also proves the adage that every picture tells a story.
So I'm going to lead with this one I also posted to Facebook.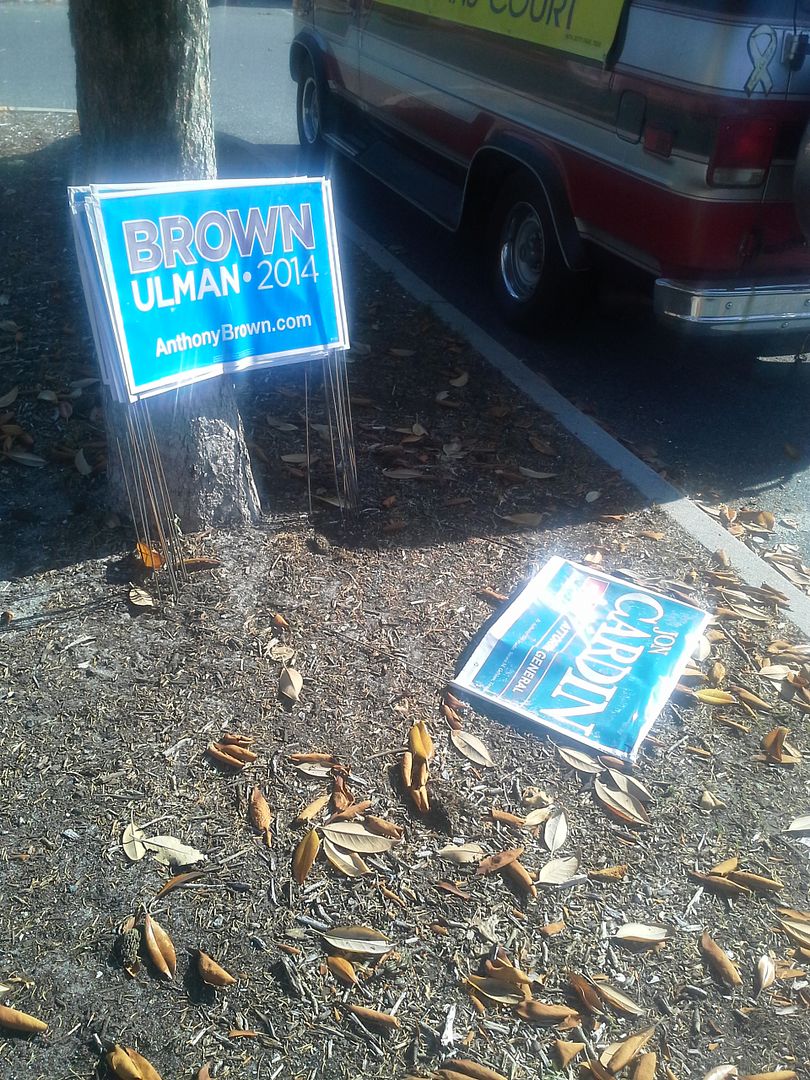 It's interesting to see this pile of Anthony Brown signs, which as I recall were pretty much all of the Brown signs I saw. Now one person suggested that they were originally set within the 100′ limit then relocated against the tree, which is possible – but I doubt it. Instead, my thought was someone left the pile of signs earlier that day or the previous night intending to have the first volunteer at the site place them in the morning – sort of like someone decided to have a insurance exchange website intending to have the thing actually work and not waste millions of dollars.
If you don't get the small details, the large stuff bites you in the ass.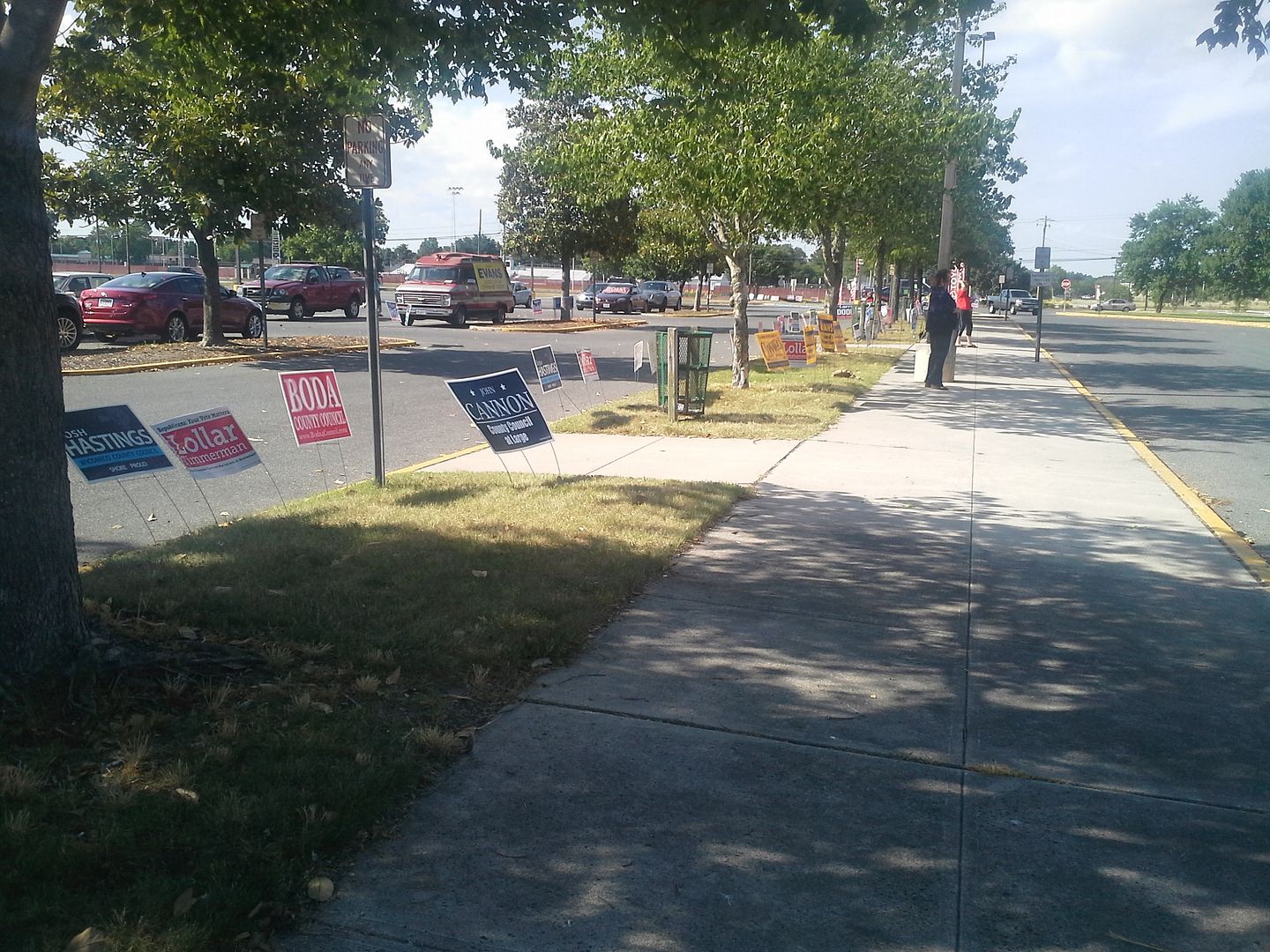 Speaking of signage, I did not count how many signs were out there on the grounds of the Civic Center, but I would suggest the ratio was perilously close to one for every other voter. Interest seemed to be quite low.
I took that picture about 5:00 after I arrived about 4:30. (This was an election day I had to work – I couldn't alter my schedule enough to avoid it.) There were literally three people working the polls when I got there – M.J. Caldwell's wife Pam, a lady representing Circuit Court appointee Jimmy Sarbanes, and Jim Jester, who was doing double duty with an Andy Harris shirt and Mike McDermott sign. This is one of the busier polling places in the county, and only three people were there.
If I saw 100 people vote in the time I was there, it was a lot.
Speaking of M.J. Caldwell, the Republican voters of this county need an education. I would expect about 60-65% of Democrats to blindly support someone named Sarbanes, but 43% of Republicans? Really? Someone selected not on qualifications, but on name recognition by a political hack governor we can't stand? Get real. That has to turn around in November.
Even the news coverage was lackadaisical. Channel 47 did a live remote, but they never came out to talk with us. They probably showed the pictures of an all-but-empty polling place to an audience which can be charitably described as second-best in the market.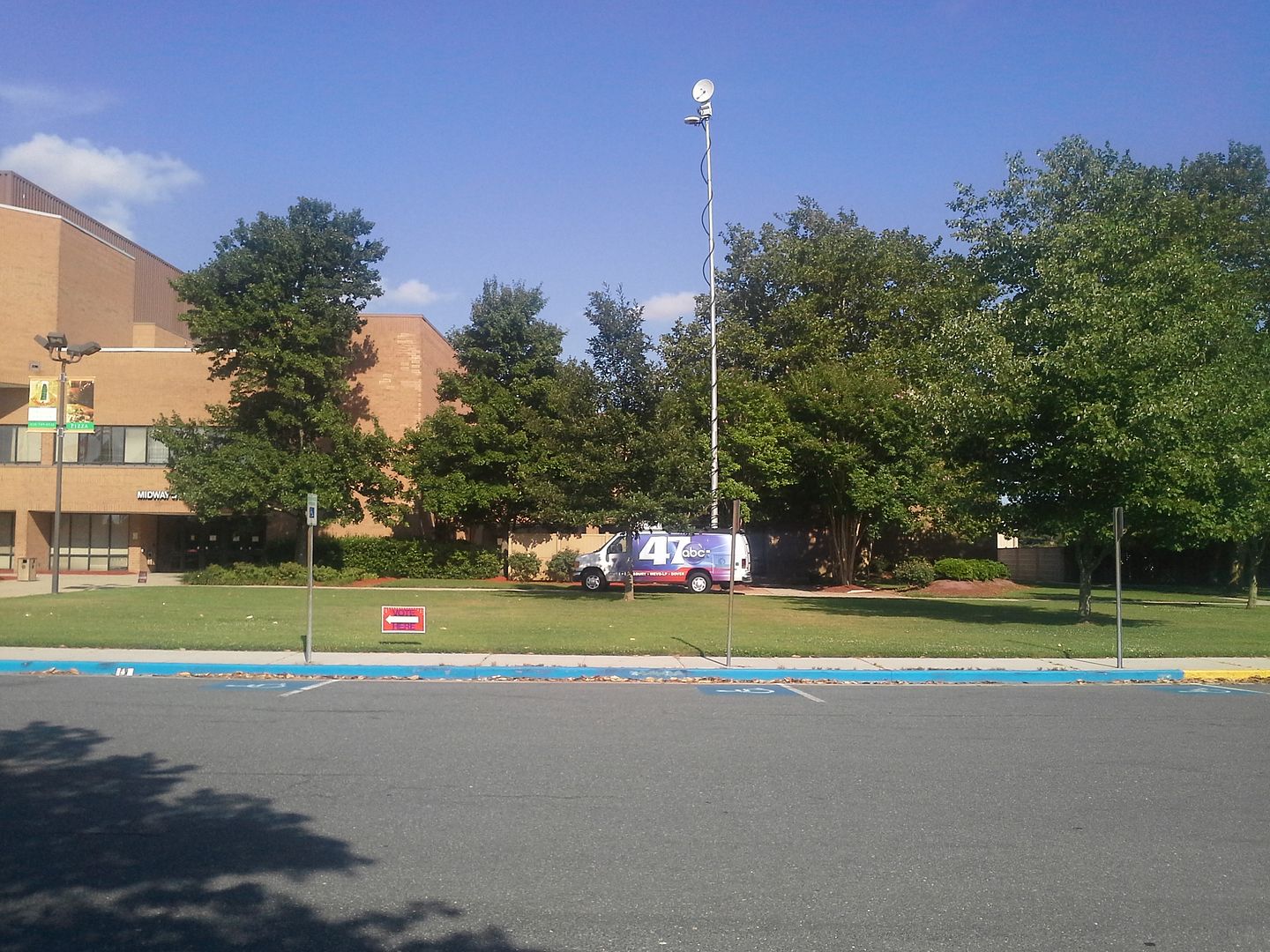 In terms of poll workers, it did pick up after a time. Jackie Wellfonder came along to work this poll.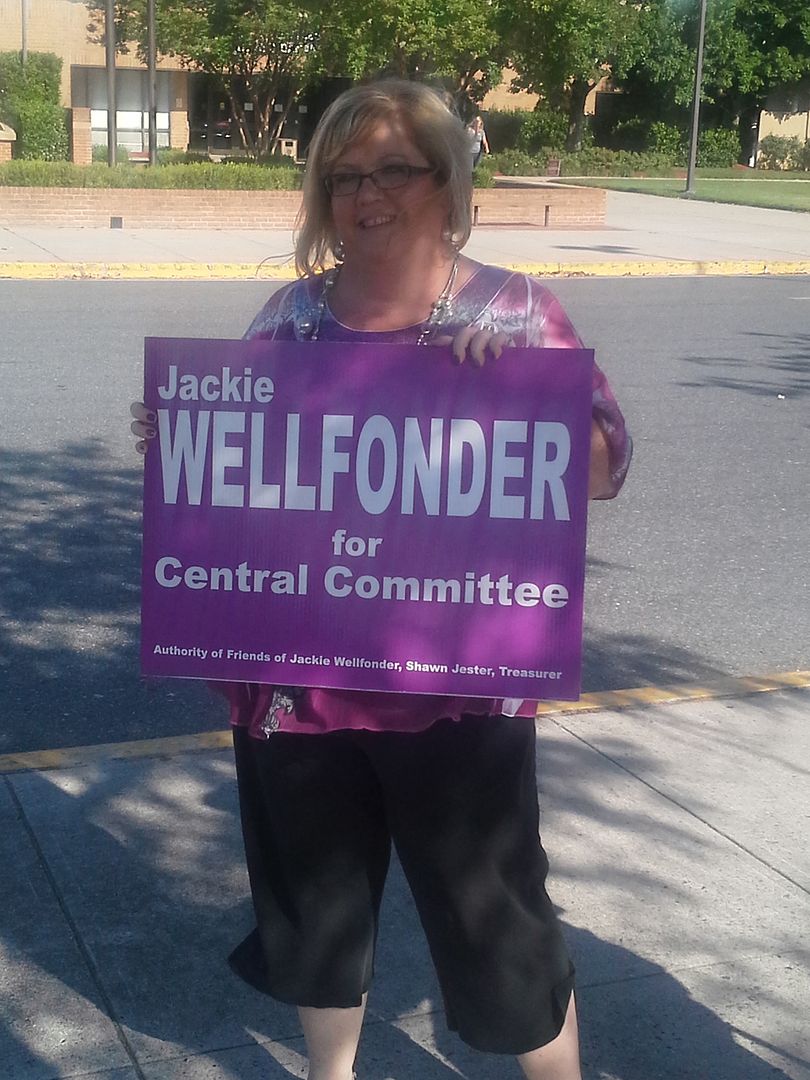 Turned out the face-to-face didn't do either of us much good because we got about the same amount of votes, and that wasn't enough.
Josh Hastings was unopposed in his primary, so all he had to do was await the winner on the GOP side.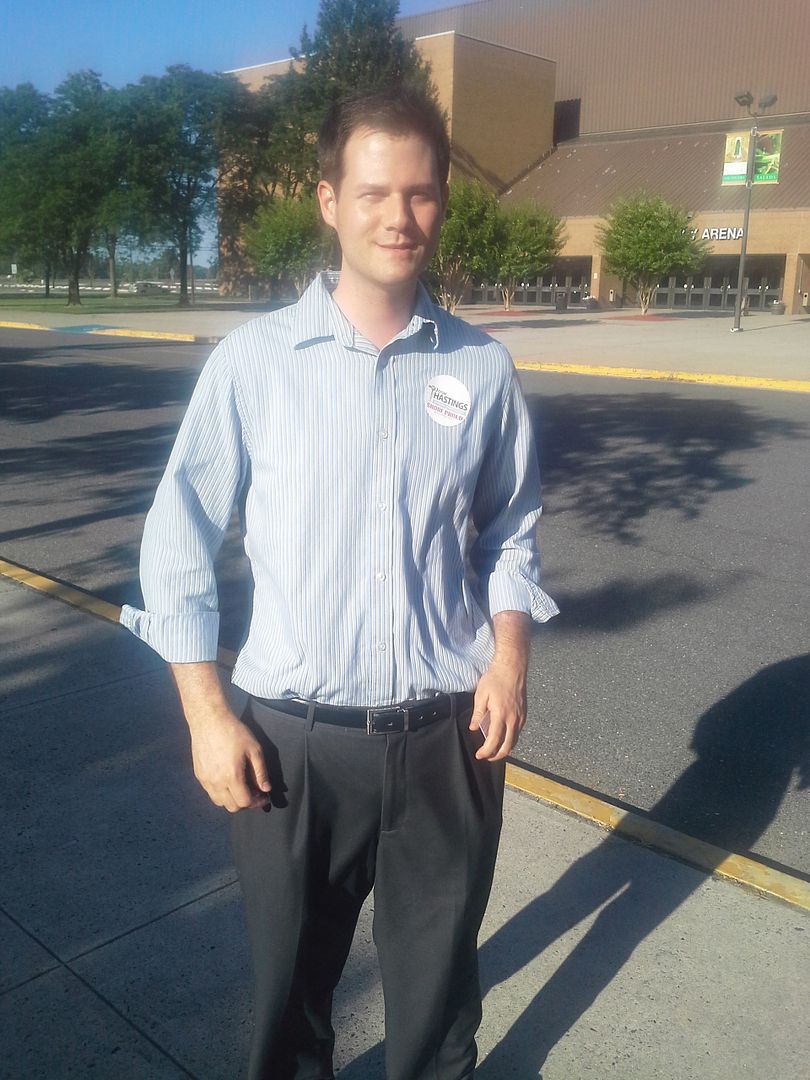 His opponent will be Larry Dodd, who had someone there eventually but he wasn't the social type.
Having worked polls a few times here, I know that after about 7:00 it's pretty well done for the night. So there were a gaggle of people with Hastings who got to talking down the way on the Democratic side, and a few of us for the GOP. It's not like we had voters to convince, as maybe 20 stopped by during the last hour.
At the very end, Carl Anderton dropped by to retrieve his signs as did Jim Mathias. They had a nice conversation, although I didn't get a picture. I was even bipartisan and helped Jim pick up some of the Democrats' signs.
I was in a group which went on to The Cellar Door to check on the returns, but it wasn't really a good night for most of us as you now know.
There were a couple things I learned, though. First and foremost is that Facebook is worthless as a campaign aid unless you want to pay through the nose. Social media isn't really social anymore; it's become commercialized like everything else. I had 60 likes for my Facebook page, which isn't much but it at least gives me insight on how my posts did. (By comparison, Jackie Wellfonder also had a similar page and got 100 likes – but about 60 fewer votes.)
I placed a total of 41 posts on the page, although there was one I shared multiple times. My total reach was 2,718 – it's about 66 per post. Ironically, my best post insofar as Facebook is concerned is the last one I think of as my concession speech, which reached 298 people. A little late, don't you think? But if you figure a good number of those 66 per post see my stuff time after time, it's not all that efficient for the investment.
I didn't have thousands of dollars laying around to get my Facebook page up to 100,000 likes as Change Maryland did, and we only know about the last 30,000 or so because the campaign paid for those – Change Maryland was close to 70,000 when Hogan made it official. So who knows how much he paid for that promotion? More than I had in my pocket.
Anyway, social media isn't really the way to go. But what is?
The second thing I found out is that the public seems to be unmotivated to find out what people really stand for. In race after race, I saw that those who spelled out their platform in the most complete manner lost to those who were a mystery to voters but had name recognition. It also didn't necessarily matter how hard you worked – if John Cannon or Matt Holloway went door-to-door I didn't hear about it, but Muir Boda did and got 18% of the vote to show for it. Tyler Harwood went door-to-door with Greg Belcher (in the same group which at times featured Carl Anderton, Marc Kilmer, and Boda) and finished dead last for Central Committee (Greg was 8th.) Hard work wasn't its own reward, and no good deed went unpunished – or so it seemed. (Nope, Marc corrected me – it was just his lit, not him.)
In short, I'm not sure I did my job very well on a local level. If I have a mission to educate voters, it looks like I have to work a little harder on it – and so I shall. I suppose the one thing about being a lame duck is that I have no election to worry about anymore, so I can speak my mind perhaps a little moreso than political correctness may dictate.
One source of relief is that I have a smaller range of people to keep up with for November. I think we could have done somewhat better coming out of this primary, but at least now I know whose feet I'll have to keep to the fire and who I should be able to count on with a minimum of supervision.
As I pointed out on Saturday, I talked about the music before the event, which was unusual for me. It was also unusual for us to go to Pork in the Park on Friday night, as I think I only have maybe one time before. But we had our reasons, and it turned out to be a good experience.
It didn't turn out to be the rainy Saturday we all feared, but I found the crowds were much more manageable on Friday. For example, here was a shot of the food court as we arrived about 7:00.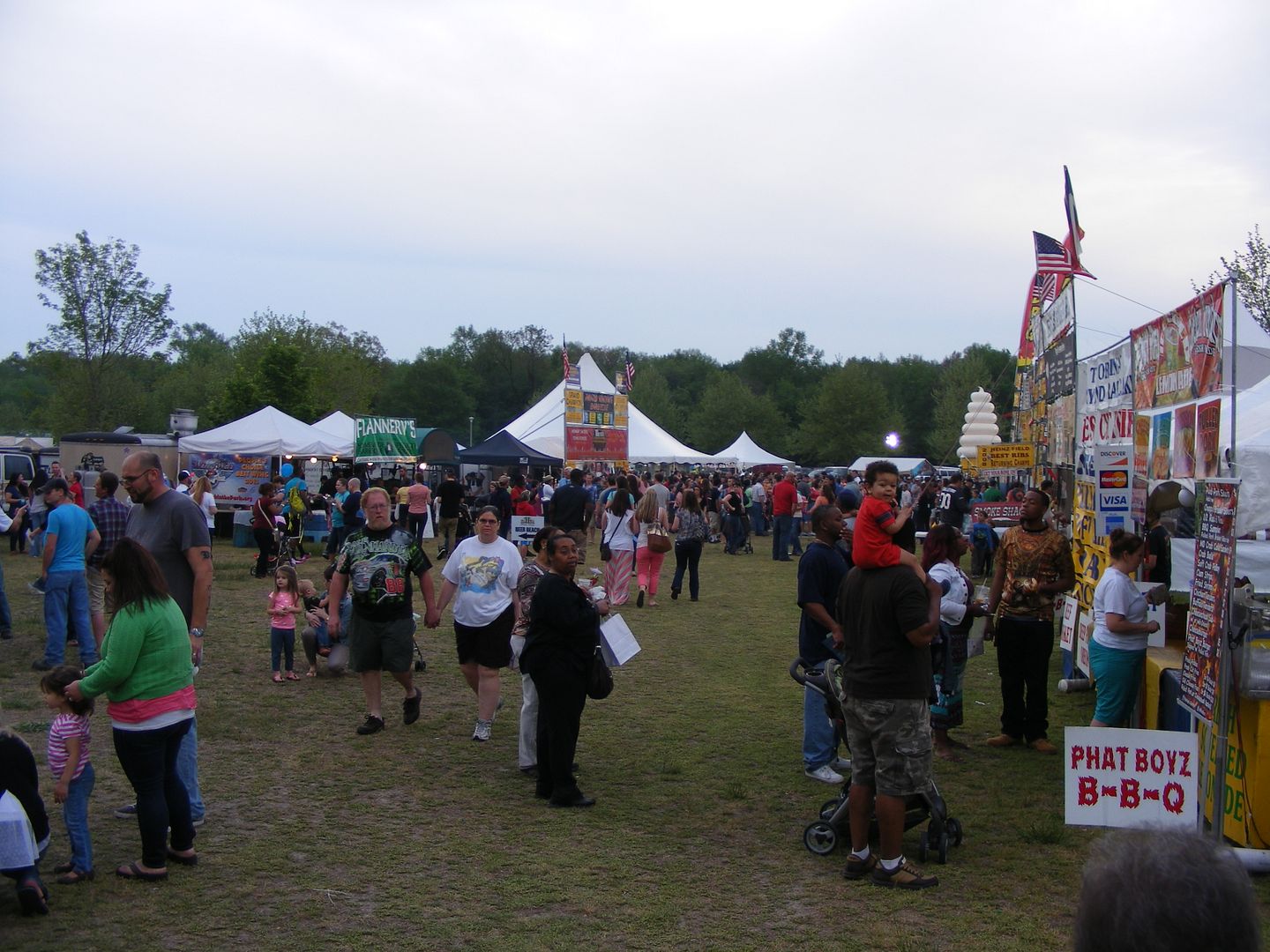 One thing I found was that the change in date from its usual late April timeslot to Mother's Day weekend probably affected competitor and vendor turnout. In 2013 there were over 100 competitors, but just 40 or so this year. So there were only a couple of non-local places actually selling ribs in the food court. Nothing against the locals, but I can have theirs any time.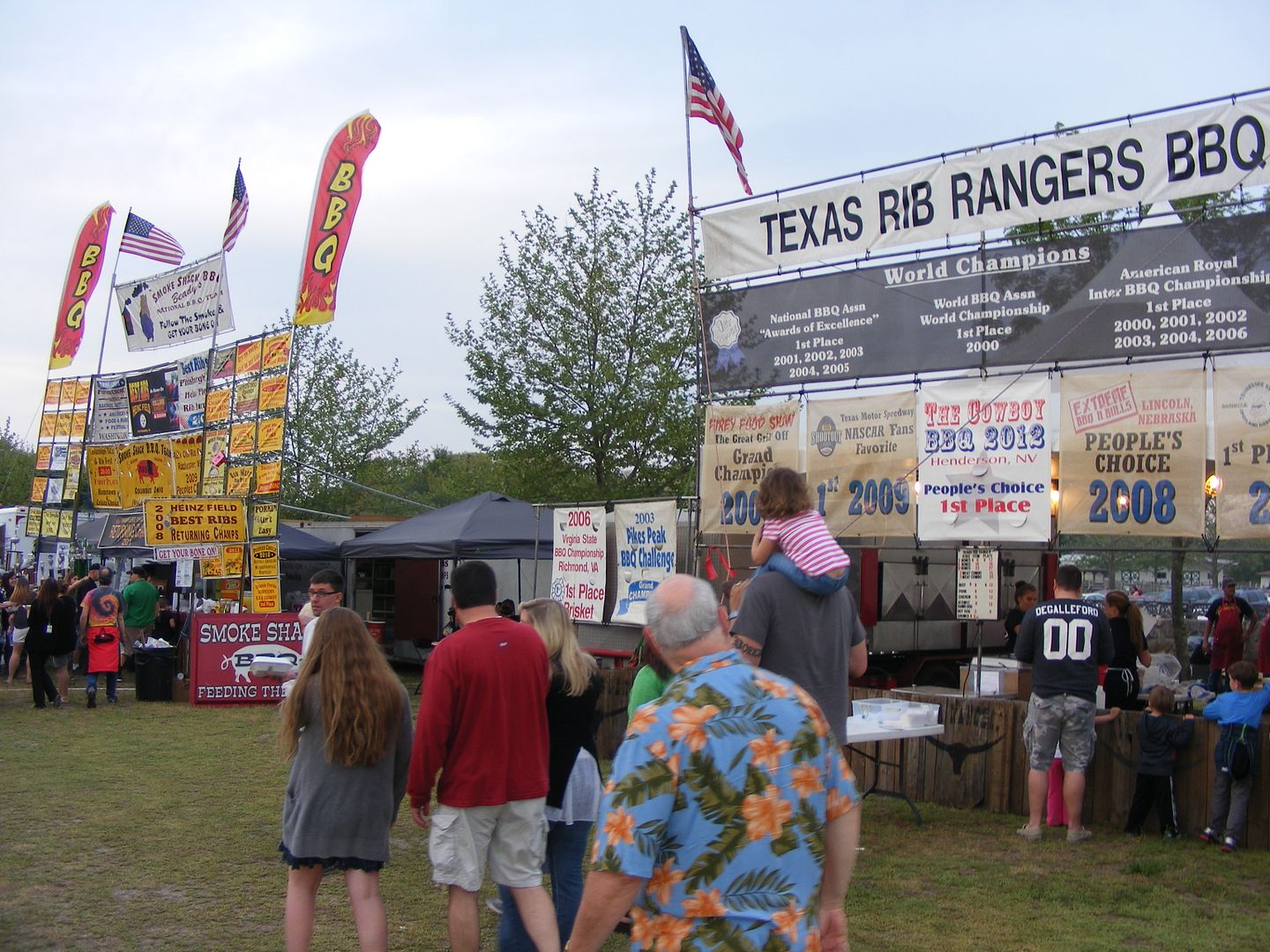 I tried the Texas Rib Rangers on the right, which really didn't have a line by the time we ate. Kim went with this outlet – maybe it was because Hess BBQ had all these trophies. (This photo shows about half, actually.)
I'm actually getting ahead of myself, though, because we didn't eat until probably 8:30 or so. Initially we wandered around the grounds, getting a few photos of things we thought interesting like the rides.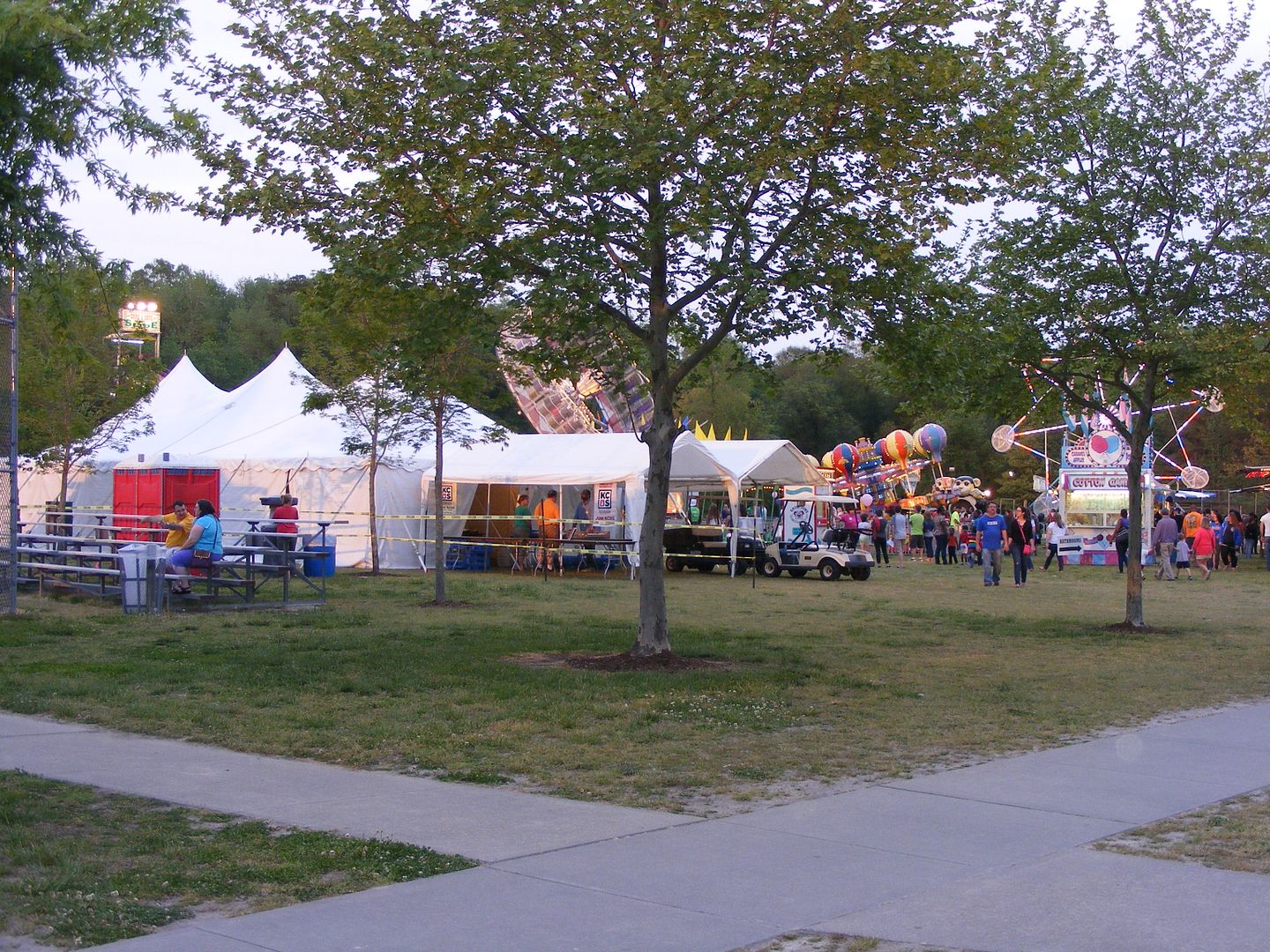 They were tucked in alongside the judges' tent, which invited business for next year.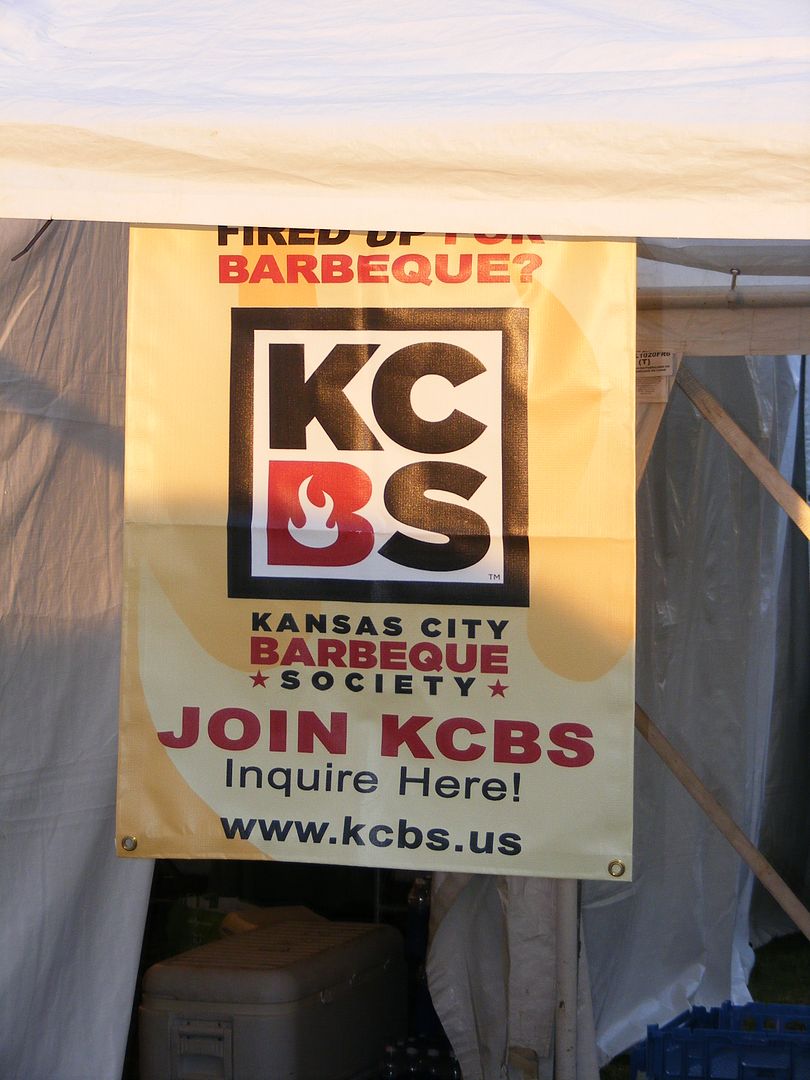 I decided not to be too nosy and snap photos of the inside. To me it's more appealing to wander around the competitors area with open eyes – and nostrils.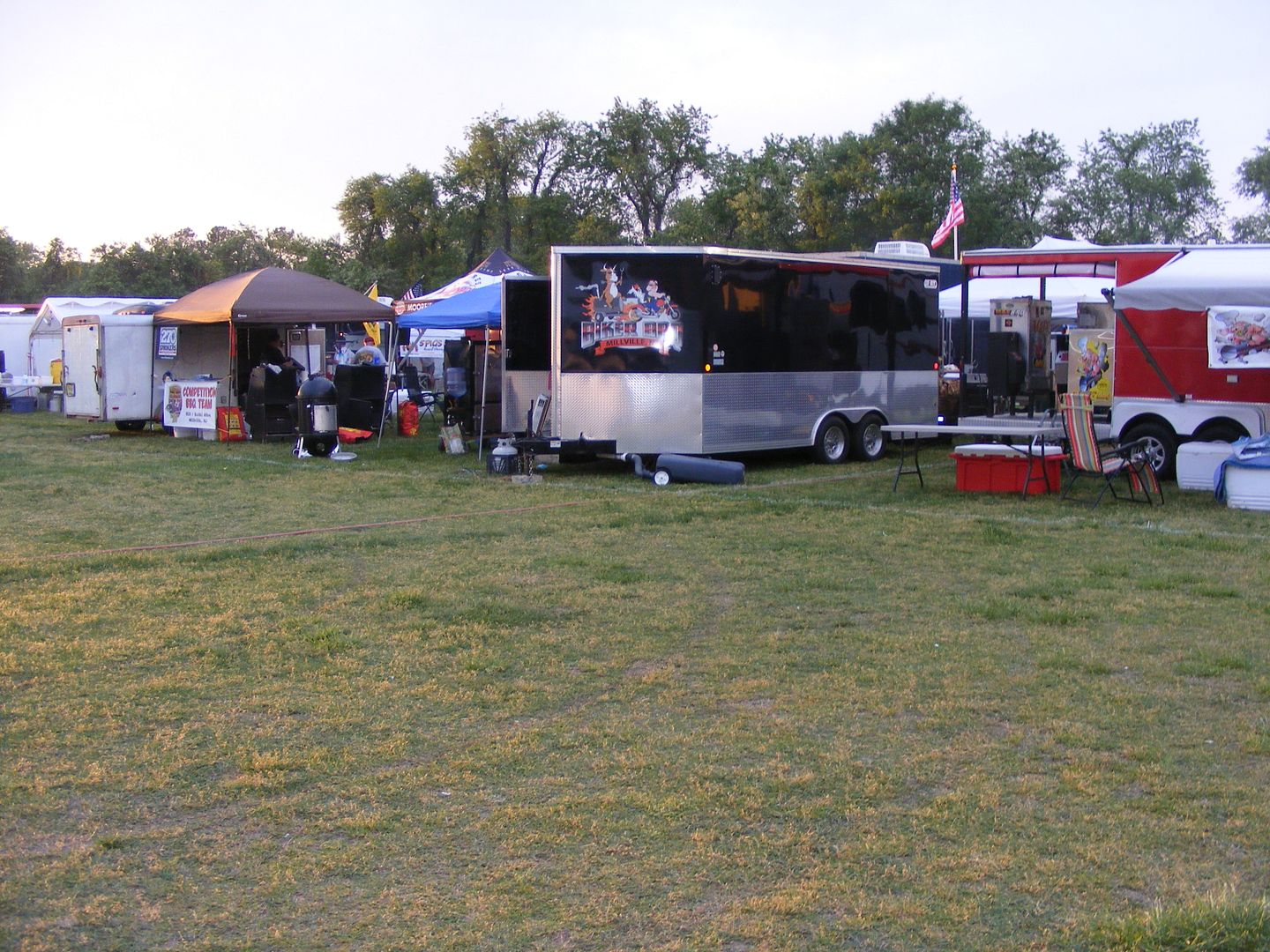 I don't think I smelled THAT smell, though.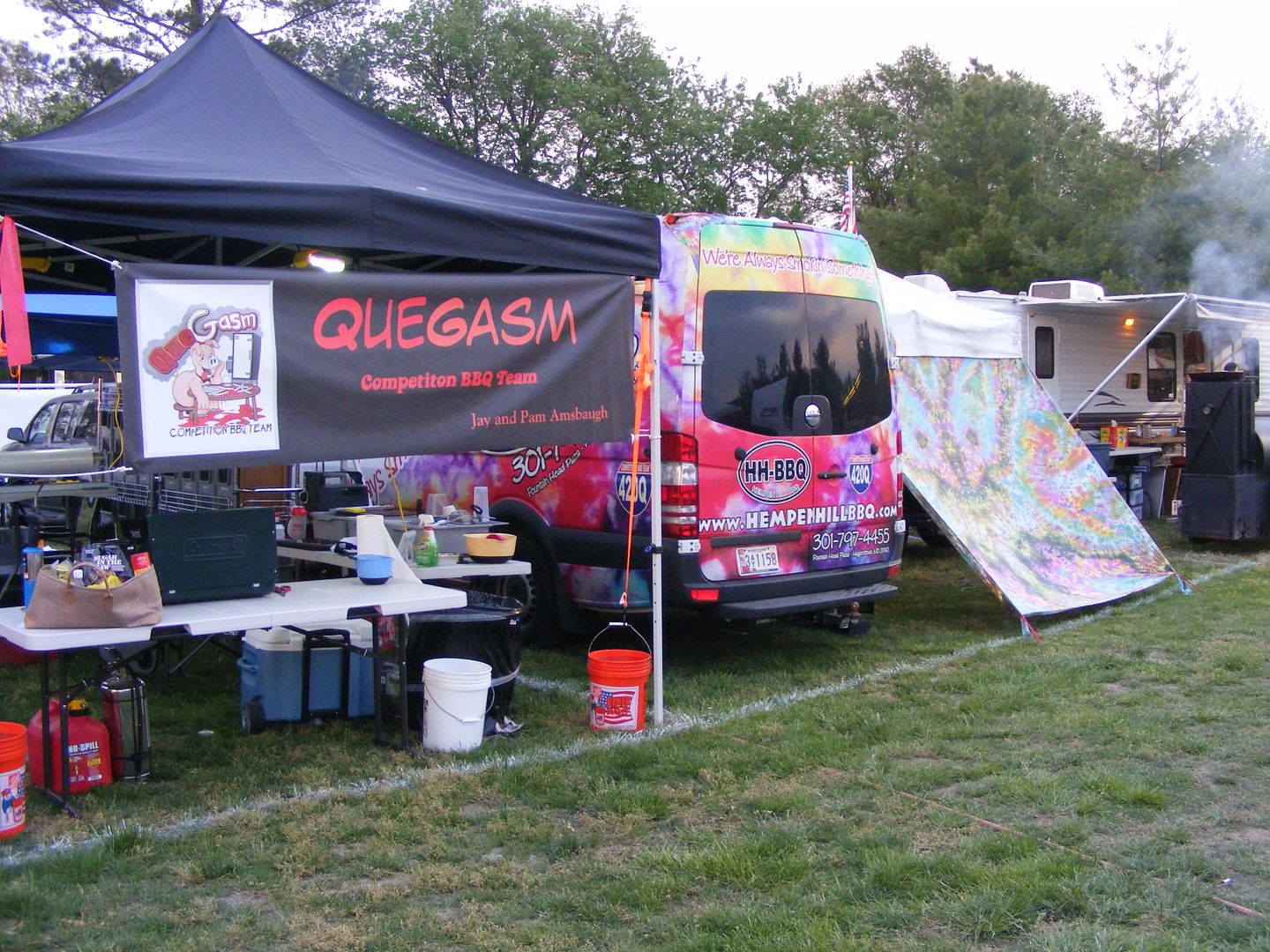 Some people believed they had a serious problem.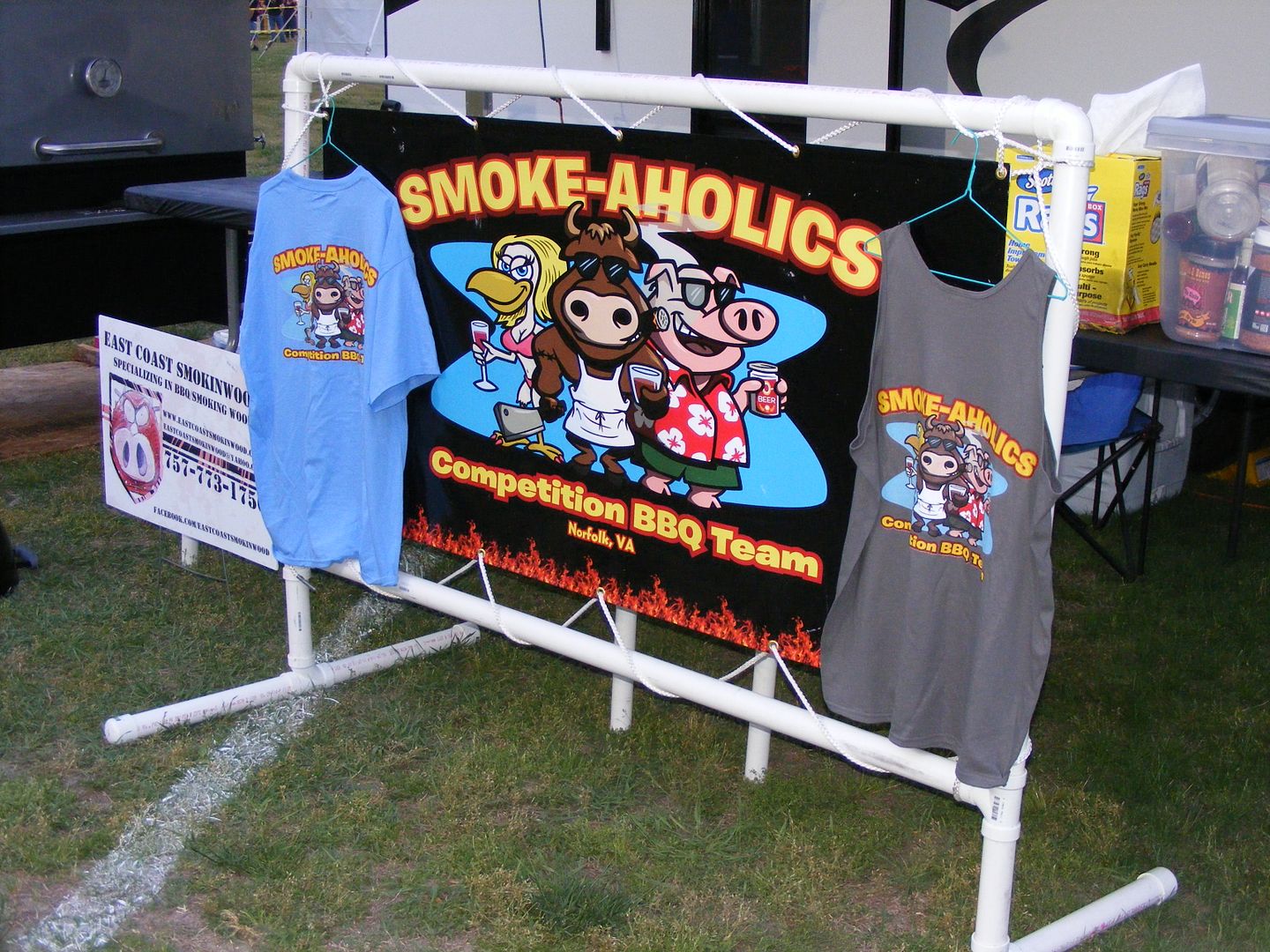 This group was an instant favorite with me, rocking the Gadsden flag.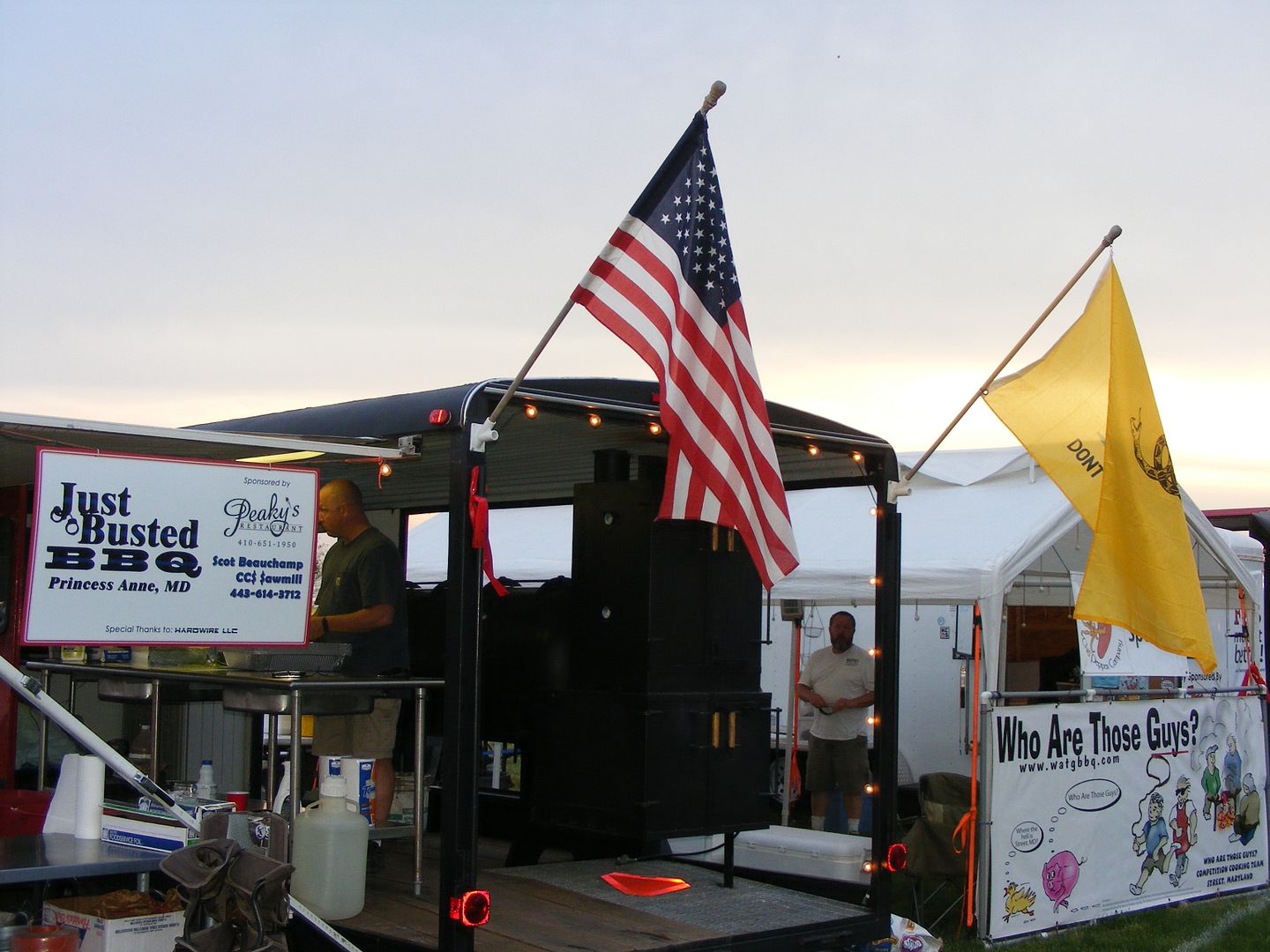 And what barbecue festival is complete without beer?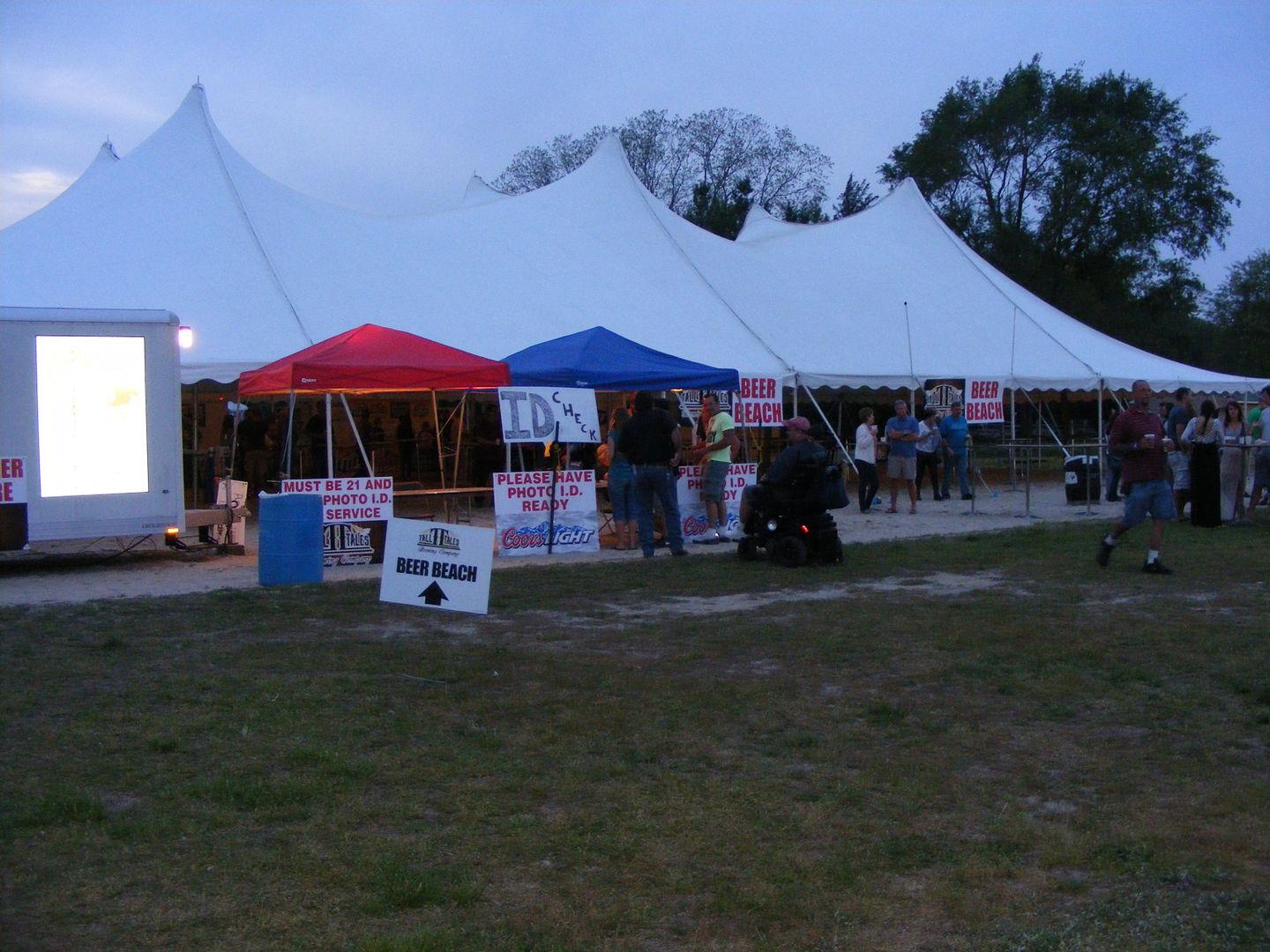 This was in a good spot, in between the food court and the stage and not far from the porta-potties.
We walked back to get our food just in time for this spectacle.
I realize this is a shallow pond but where are their lifejackets? These guys almost capsized a couple times, but they lit the center bonfire and several other smaller ones.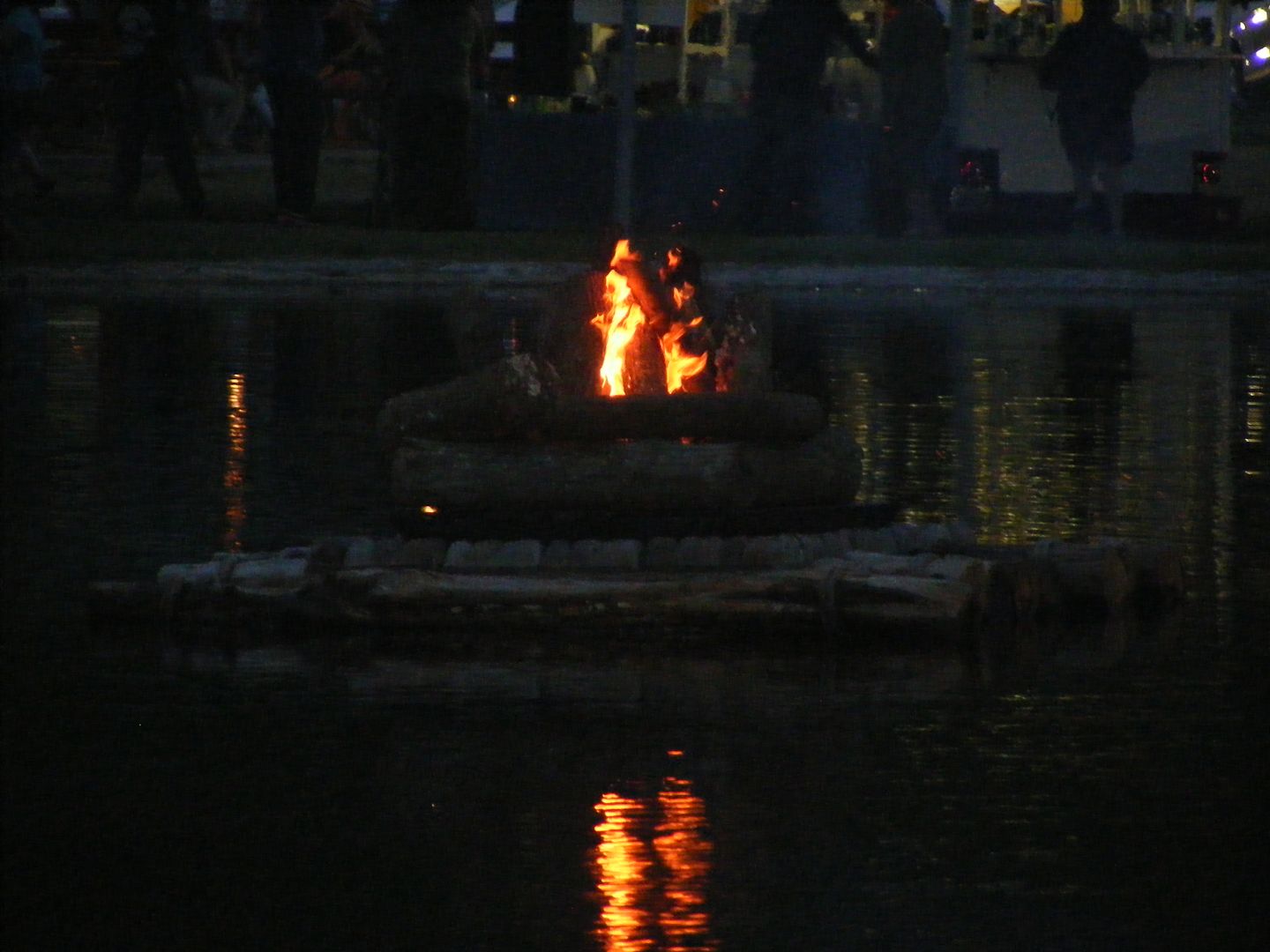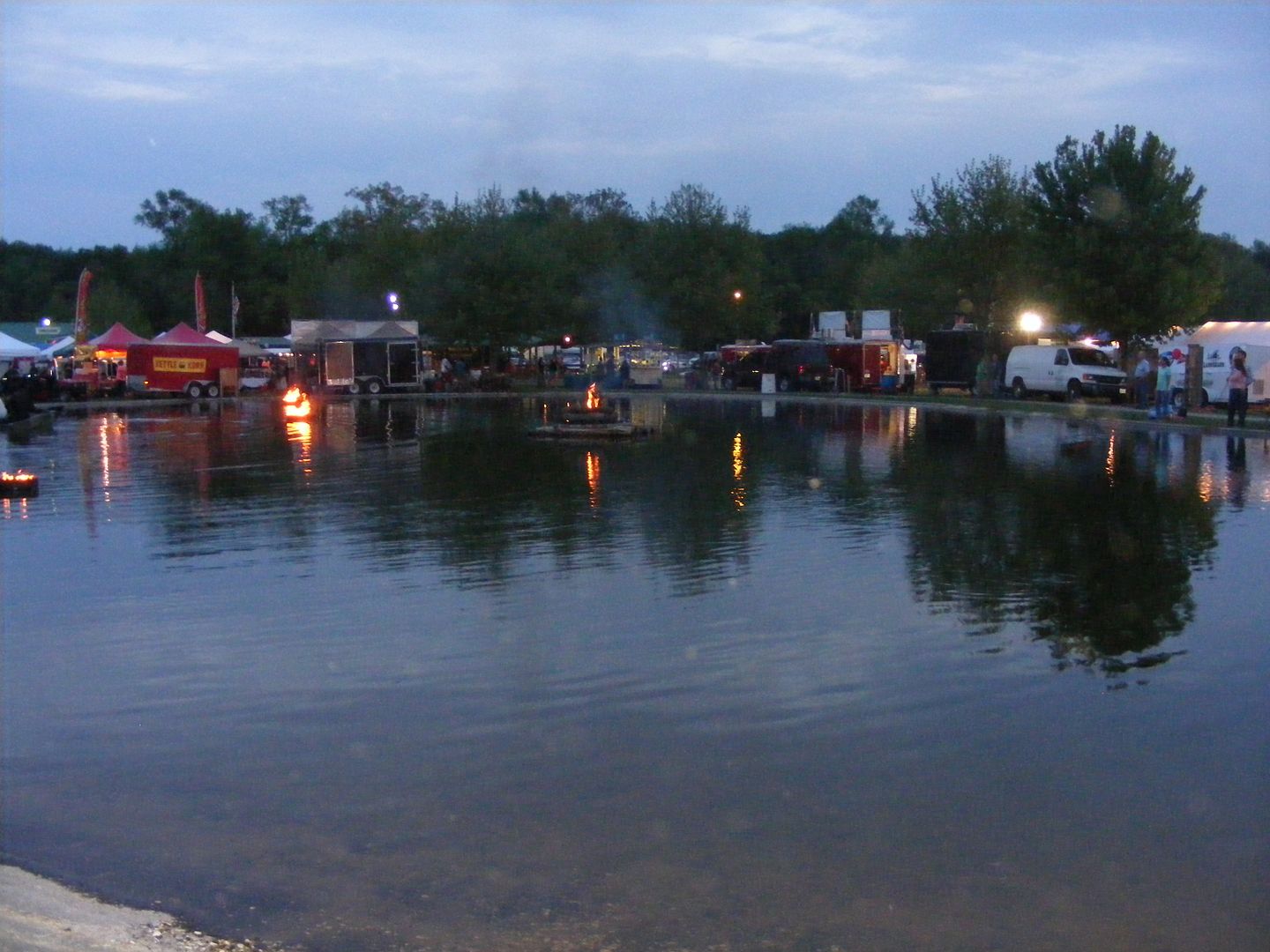 So we went back and finally got our food. Here's what I had.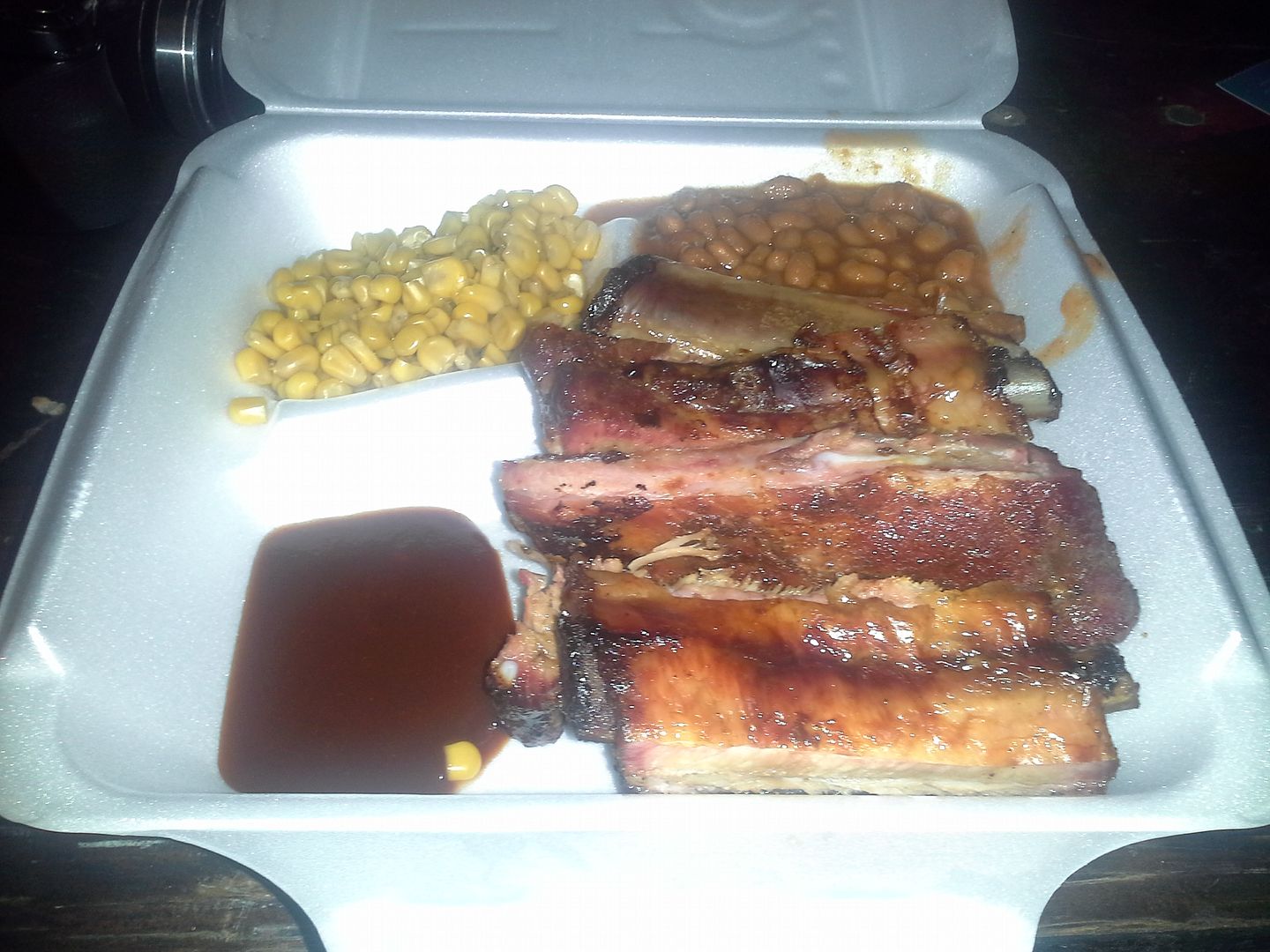 Aside from the last couple, I thought the ribs were just okay and not great. The last two were done just right and I liked their sauce, but overall I have had better there – one batch from a Florida-based vendor who didn't show and another victimized by the food court fiasco a couple years back. Now those were good North Carolina-style ribs.
By the time we finished eating, the food court was mainly deserted.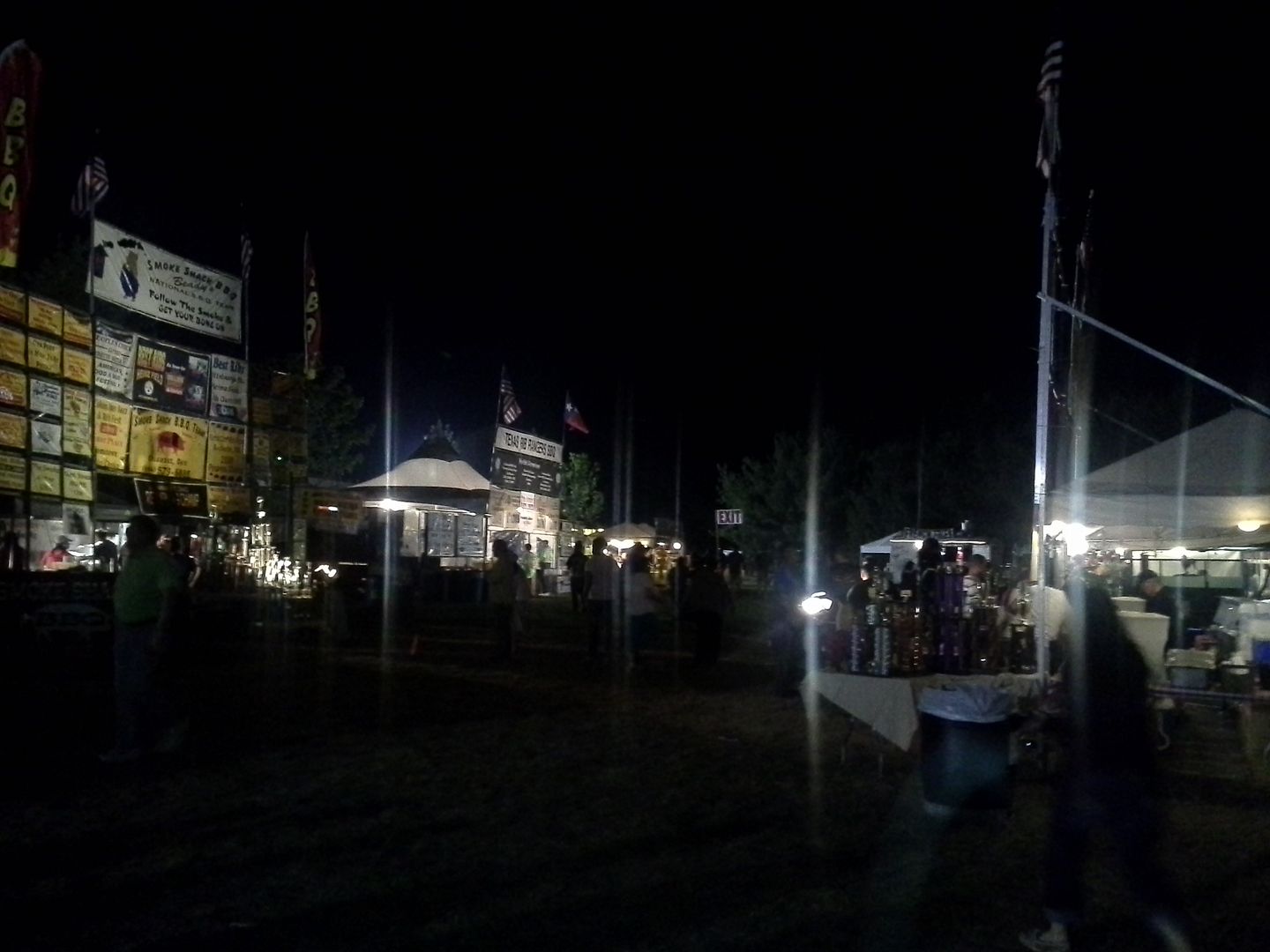 But the pond reflecting the lights was pretty. We were actually walking back to the stage to get my shots for the Weekend of Local Rock post when I took this.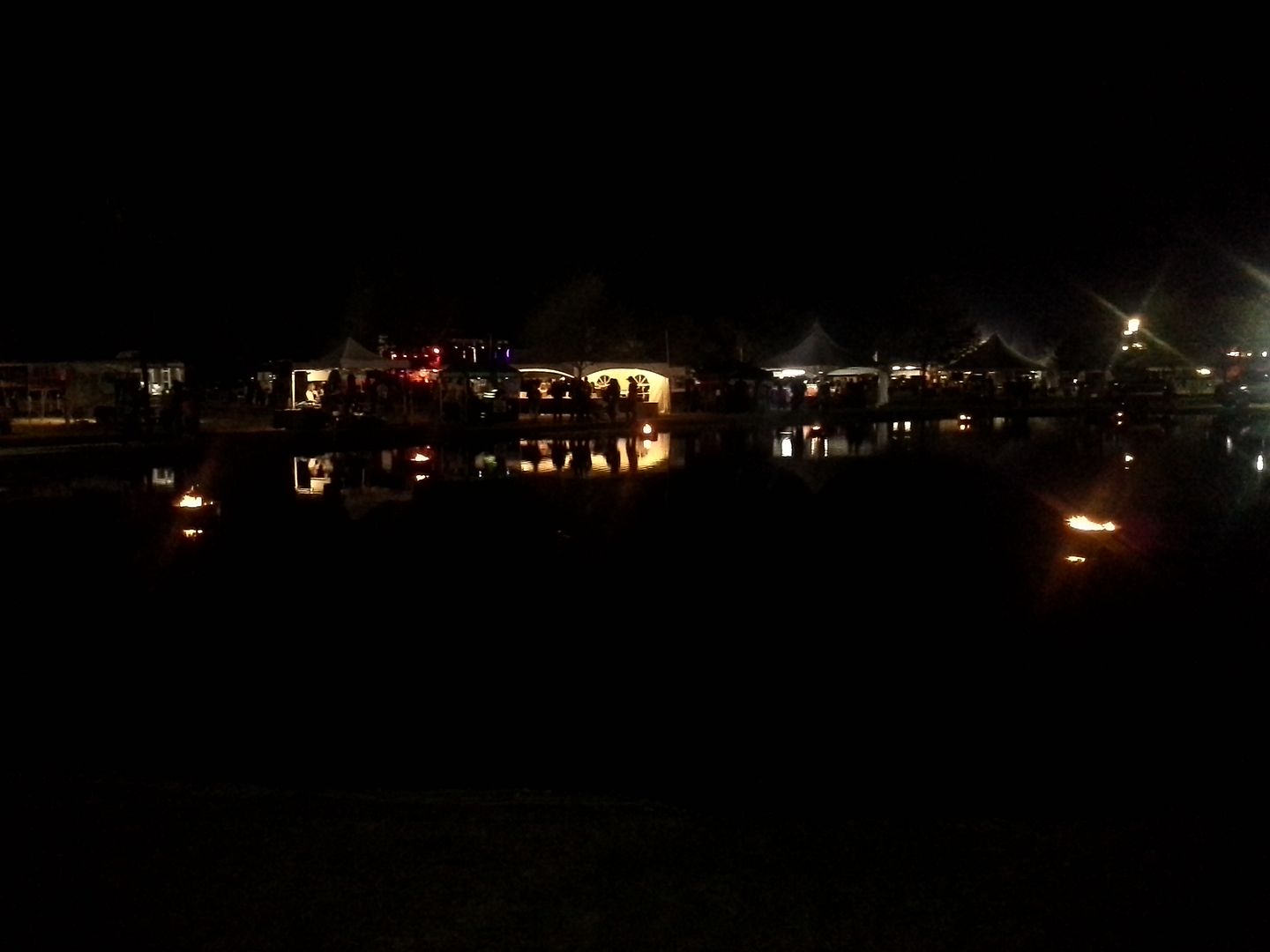 My last shot hearkens back to the early days of Pork in the Park when they featured a Sunday car show. I just liked the Stingray and we were parked a few spots away. It was a good test shot for the camera.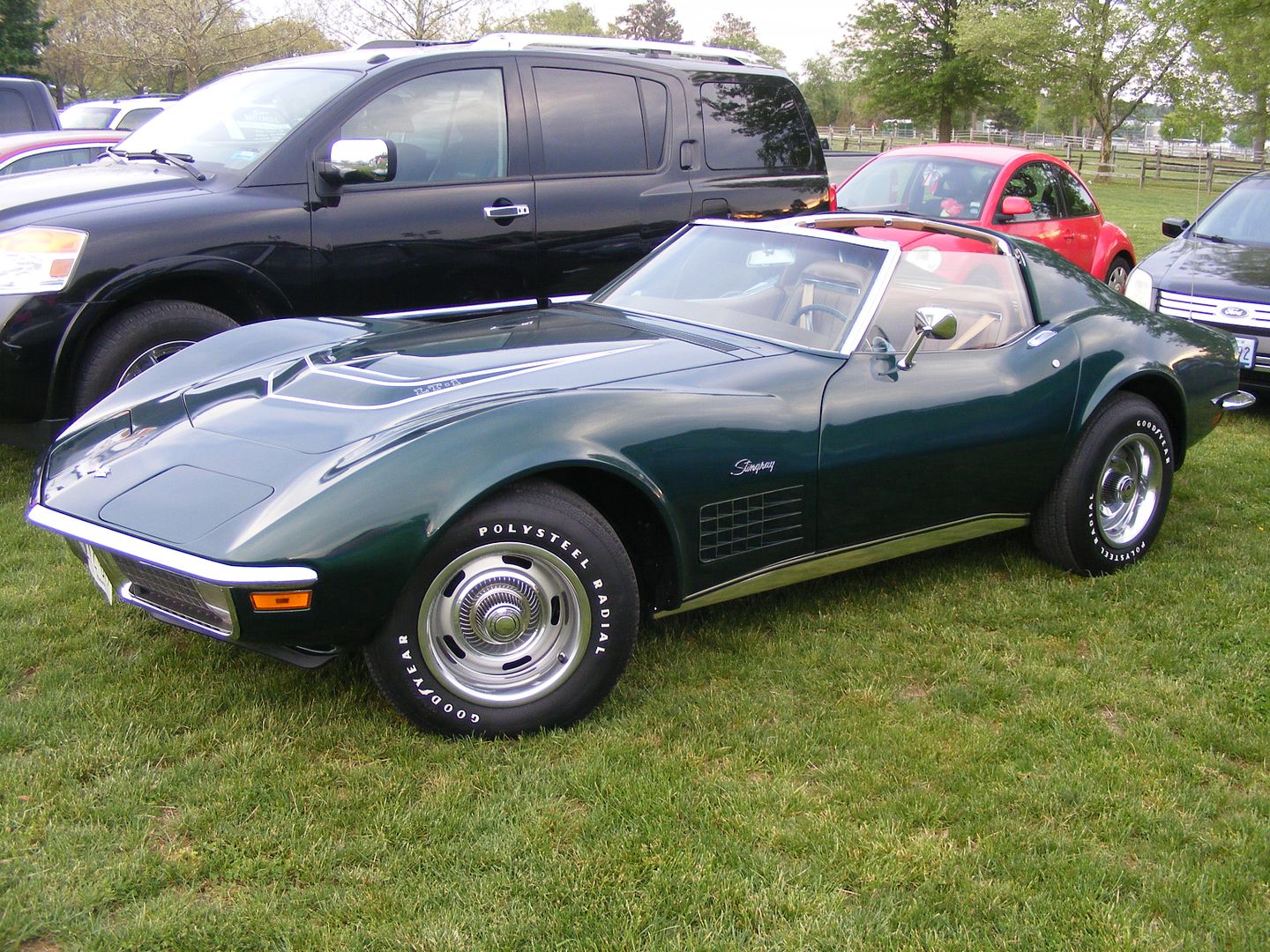 Honestly, I'm hoping the change to May is not a permanent one because Easter will be back to its "normal" time slot for the next few years. The drastic decline in competitors has to be traceable to the later date, although the complaints about the new $7 entry fee were loud as well. There was also a VIP tent added to the mix, but I thought that was too far away from the action to be viable.
As of this writing I don't know if the plan will be to hold it in May again next year or go back to the likelier date of April 17-19, 2015. As long as it doesn't snow we'll be okay.
Apparently the Maryland State Education Association has some worries about the prospects of two of our local candidates. Almost six months out from the elections and look what I got in the mail yesterday: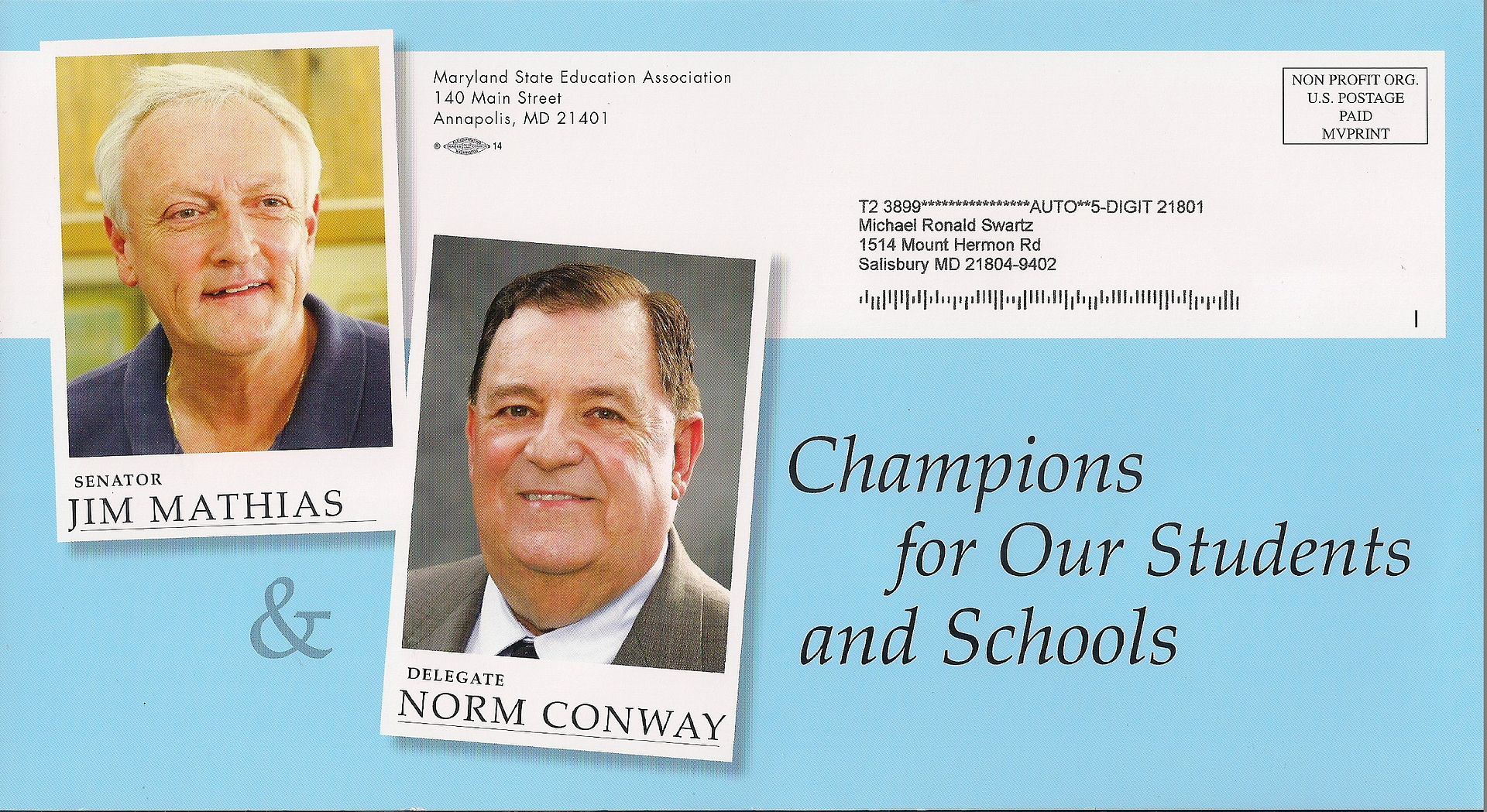 Given that, out of over 150 MSEA-endorsed candidates across the state, the body only "recommended" five Republicans (including Christopher Adams locally) one can come to the conclusion the MSEA is pretty much a shill group for liberals. Although Chris is a fine candidate, the fact that the MSEA endorsed a Wicomico Republican could perhaps be traced to the ongoing fight about disassociation by the local bargaining unit. Nor was an MSEA mailing put out on his behalf, at least not that I'm aware of.
There are a couple things I can tell from this mailer: one is that it came from Board of Election records based on the fact it has my full name like my voter registration does. And it's bipartisan, as a number of Republicans I know have reported receiving it; most likely it went to the truly consistent voters. Something tells me that various groups are going to try and convince voters that Mathias and Conway are practically the second and third comings of Ronald Reagan, but with a softer side – that's why the MSEA is stressing how these two are backing education. That is, though, if you consider throwing money at the issue as backing education.
For example, let's consider that first claim about "record investments in our schools." In Conway's case, let's not forget that he was a prime mover back in 2012 behind legislation to circumvent Wicomico County's revenue cap in order to increase the county's share of education funding. (Conway was a co-sponsor of a similar House bill.) This had the potential of leaving the county $14 million short in their FY2013 budget, and directly led to an income tax increase reluctantly passed by our County Council. Norm voted for both versions of the bill in the House. (Mathias was absent when the Senate bill was voted on.) Those "record investments" had to come from somewhere and a large share came from the pockets of those in District 38 here in Wicomico County. Overturning the will of county voters? Way to be "standing up for Wicomico County," Norm.
And then we have the aspect of pre-kindergarten. While the state's goal seems to be cradle-to-grave control, the bill in question only expands pre-kindergarten to those who meet certain income guidelines, at an annual cost of no less than $4.3 million. Moreover, there is no guarantee that any local children would be impacted – but it provides 160 more potential MSEA union members because the bill mandates an average 1 teacher to 10 student ratio. Of course, both Conway and Mathias voted for the bill – what's a little $4.3 million mandate in the grand scheme of things?
While it's an apples-to-oranges comparison to some extent, the question of the effectiveness of Head Start also leads to questioning whether a formalized school setting does much good for four-year-olds. I guess we'll spend lots of taxpayer dollars to find out.
Scrutiny is also due regarding the "larger voice in how new curriculum is implemented," a claim based on passage of HB1164. It doesn't matter how loud we speak, because money is talking louder – and there's going to be a lot of it needed to enact Common Core standards and testing. This is from the fiscal note for HB1164:
Finally, the full cost to administer PARCC is still unknown. In July 2013, PARCC announced that the summative math and reading tests would cost $29.50 per student. This is a little less than the $32 per student Maryland currently spends on assessments, but it does not reflect several other formative tests PARCC is developing that Maryland may select or the technology infrastructure required in every school to handle the capacity and network requirements to administer the computer-based assessments. Many schools do not have sufficient technology infrastructure to meet these requirements. MSDE is in the process of assessing the technology readiness of Maryland's schools. The local school systems identified over $100 million in needed technology improvements to implement PARCC online. MSDE has contracted with Education Superhighway, a consulting firm, to evaluate the technology gap to implement PARCC online by the 2016-2017 school year. Several states, most recently Georgia and Oklahoma, have recently left the PARCC consortium over cost concerns. There are also long-term budget implications for maintenance and operational costs of assessment administration upon the termination of federal RTTT grant funds to the State and to PARCC. (Emphasis mine.)
In other words, we are once again buying a pig in a poke. Note also that the phrase "Common Core" was excised from the bill after first reading because its reputation precedes it now.
Basically what this bill did was allow Martin O'Malley (and his House and Senate minions) to designate a number of "yes men" who will invariably come to the conclusion that we need more money to throw at the problem. But in reading the bill I fail to see how we in Wicomico County will get a "larger voice," even if one of those appointed happens to be, say, a Norm Conway or Jim Mathias. It won't help.
The mailer urges us to call Senator Mathias and Delegate Conway to "thank them for their leadership on education issues and their work to keep our public schools #1 in the country." It's a way of skirting the election law since they're not openly advocating a vote on their behalf – nothing new here, as conservatives use the same method.
But how about calling them and asking why they really aren't supporting Maryland's school-aged children? Why didn't they advocate for parent empowerment bills which didn't even sniff a real committee vote (it was withdrawn in 2012) in three consecutive sessions this term? Ask them if money shouldn't be following the child regardless of where a parent decides to send them to school, or teach them at home? And while Senator Mathias has been of assistance in the matter, we all should ask Norm Conway why he won't stand up for true accountability and support the right of Wicomico County voters to select their own Board of Education?
Ask yourself: are they protecting the schools as the mailer says, or protecting the children by allowing parents to do their job? There truly is a difference.
It seems to be the question on the minds of many people, including gubernatorial candidate Larry Hogan. His campaign noted on Wednesday that:
Gubernatorial candidate Larry Hogan this evening said the following of today's Gallop (sic) poll that half of all Maryland residents would leave if they could, worse sentiment than all but two states.

"We know from Change Maryland's Taxpayer Migration Study that under Martin O'Malley and Anthony Brown, more than 6,500 businesses and 31,000 residents fled Maryland's crushing taxes, fees, tolls and regulations.  Now, we learn that nearly half of Maryland residents would leave our state if they could.

 This tragic situation is the direct result of the failed policies of Martin O'Malley, Anthony Brown and Doug Gansler and one-party control in Annapolis.  The only way to make Maryland a state where people not only want to live but can afford to live again is to end the reckless fiscal policies of the past eight years."
The two states cited as being ahead of Maryland in this Gallup Poll were Illinois at 50% and Connecticut with 49% – Maryland was third at 47%. None of our neighboring states made the top or bottom 10 in the survey release.
So the logical next question I had was whether people are acting on this desire to vacate our premises, and in a number of areas they are. For the most part, what they have in common is that the nine counties where I found slow to nonexistent growth – or even a decline – is that they are among Maryland's most rural. (Baltimore City also makes this list, and it shares many of the same economic problems as its rural brethren.) This data is gleaned from Census Bureau estimates of population in both 2012 and 2013, compared with the official 2010 count.
Out of 23 counties and Baltimore City, the state's population grew at a modest 2.7% clip between 2010 and 2013. But five counties lost population overall: Allegany and Garrett in western Maryland, and Caroline, Kent, and Somerset on the Eastern Shore. Others which lost population between 2012 and 2013, according to Census estimates, were Baltimore City and Queen Anne's and Talbot counties on the Eastern Shore.
There was very slow growth (less than 1% between 2010 and 2013) in Carroll, Dorchester, and Worcester counties, the latter two also representing the Eastern Shore. While no county on the Eastern Shore matched Maryland's overall growth, Wicomico came the closest at 2.2% and is now barely 1,000 citizens smaller than Cecil County, the largest of the nine Eastern Shore counties.
Perhaps it's a little easier to see the reason if you compare unemployment data over the last several years with the growth (or loss) in population. All five counties which lost population overall have an unemployment rate persistently above state average, with most of the rest experiencing slow growth or a loss between 2012 and 2013 also suffering from above-average rates. (Carroll and Queen Anne's counties are the two exceptions; however, other bedroom suburb counties such as Charles, Howard, and Harford counties are still growing.)
It all presents a sort of vicious cycle: people leave because they perceive a lack of opportunity, which leads to other employers closing up shop and people leaving as the economic pie shrinks yet again. It's been my contention that the state's onerous policies on growth and the environment, particularly in more or less undeveloped areas like the Eastern Shore, are retarding the potential of these areas to grow on their own so people look for greener pastures. Those who are raised in rural areas are either heading to the more developed areas of the state or abandoning it entirely.
One thing I haven't heard a lot of discussion about during this gubernatorial campaign is the concept of local control. Maybe they haven't expanded on this yet, but the range of solutions I hear from all of the candidates is one of a top-down nature. Certainly there is a place for action from the state, particularly on tax and fiscal policies. But where is the passion for restoring local control? I hear a lot about this on the educational front thanks to Common Core, but what about other areas like planning and zoning? Where is the push to let the counties be their own tiny laboratories of policy experiment such as the states were meant to be before the federal government decided to run the whole ball of wax over the last 20 to 25 years?
I know better than to expect such rhetoric from the Democratic side of the aisle, because their sole intention seems to be consolidating government at the expense of the common man, creating in average Joes the serf-like dependence on those for whom power is the ultimate aphrodisiac. So it's up to the conservatives in the race to explain how they would have the state step aside and allow those rural counties which seem to be the biggest victims of state policy to flourish like some of their more urban counterparts.
Meanwhile, Richard Falknor at Blue Ridge Forum suggests his own bottoms-up approach.
I wasn't sure just what I was going to write on tonight, but thanks to Charles Lollar I have some blog fodder. It's the kind of thing that happens when the race establishes a front-runner and those who aren't king of the mountain try and climb up the hill.
Here's what Charles Lollar had to say regarding Larry Hogan's comments, quoted in the Washington Post, about his plan for "prudent" tax cuts:
All the Democrat candidates agree with Larry on this, that we should be "timid" in cutting taxes and putting government on a diet. Lt. Governor Anthony Brown has said the state "can't afford" even a modest reduction in the corporate tax.

Ken and I believe on the contrary that the time is over for Republicans to advocate tinkering around the edges of our bloated state budget, our confiscatory tax policies, and our corrupt and inefficient state government.

It is time for bold reforms that go to the core of our problems here in Maryland. That is why Ken and I turned to Dr. Art Laffer, who helped turn around our national economy in the 1980s, to vet our plan to eliminate the state income tax.

We have looked at the numbers, and we know we can achieve this step by step over the next five years, without putting at risk the services Maryland citizens expect their state government to provide.

Government is overhead on the economy. When you tax income, you reduce economic activity. Our objective is to restore economic vitality to Maryland, so families and small businesses will want to come here, invest, and grow.
Lollar and Timmerman are also vowing to eliminate the "rain tax," the death tax, and the latest increases in the gasoline tax. So let's look at what is at stake.
It's difficult to quantify what chucking the "rain tax" would actually save because it does not affect all Maryland citizens equally. Sitting in Wicomico County, I pay no "rain tax" because our county hasn't been forced to adopt one. Annual rates for counties which were mandated to adopt the fee range from one penny to $170.84, depending on location. Of course, we could go into why we are forced to come up with this when other states in the Chesapeake Bay watershed successfully fought the mandate, but that's for another time.
As far as eliminating the "death tax" goes, according to the fiscal note for this year's House Bill 739, which set in motion a four-year process to recouple Maryland's estate and inheritance taxes with federal law, these two taxes combine to create approximately $200 million a year in revenue for the state – a significant amount, but barely 1/2% of the state's FY2015 budget. In short, we could easily eliminate this as a rounding error.
The gasoline tax, however, is another matter. By the end of Lollar's first term, the increased tax is expected to bring $685 million in annual revenue, not counting the roughly $700-800 million the existing tax has taken in annually over the last decade. The intent of increasing the tax was to build light rail in Baltimore and metro Washington – note that by FY2019, O'Malley's budget projected the Maryland Transit Authority would be allocated nearly as much as the State Highway Administration receives (page 33 here). Currently the MTA gets about 56 cents for every dollar that goes to SHA; by FY2019 it would be 92 cents. Just keeping the MTA at its current 56 cent rate to SHA for FY2019 would save about $405.5 million; reducing them to the 25 cents per dollar MTA/SHA rate exhibited in the FY2007 budget (Bob Ehrlich's last, see page 19) would save $752.7 million. Guess what? There's your gas tax increase.
In looking at the two example budgets, which happen to be the final ones presented by the respective governors, it's remarkable that income tax has remained a fairly constant portion of the revenue. Its share was 23% of Bob Ehrlich's $29.6 billion FY2007 budget and 22% of Martin O'Malley's $39.3 billion FY2015 proposal. (In terms of real money, though, the income tax increase is $1.999 billion, from $6.552 billion to $8.551 billion.) Over time, we have to figure out what to cut and how to grow the economy to backfill $8.551 billion in revenues if the state income tax goes away.
But let's assume we can hold the budget where it is, rather than grow it at a 5% annual rate as Martin O'Malley has been doing for the last few years – a trend we could easily assume Anthony Brown would continue. Rather than looking at a $47.8 billion FY2019 budget, $8.5 billion higher than today's, we would be in a position where other revenue sources could indeed grow to obviate the need for an income tax. Even as people prosper and have more income, the state would get a cut from increased sales tax revenue and perhaps even additional property taxes as housing becomes more valuable in a growing, thriving state.
Yet all of this is academic to a degree. Even if Republicans split 50-50 on all the contested races this year in the Maryland General Assembly, they would remain the minority by 91-50 in the House of Delegates and 29-18 in the Senate. Most of the Republicans who won would be replacing the centrists of the Democratic delegation, so those remaining Democrats would be farther left than ever. We would need Reaganesque leadership to shepherd tax cuts through that body, particularly after those aggrieved Democratic constituencies begin taking a haircut on the budget. (If you thought the grumbling about the "doomsday budget" from the Left was bad, the caterwauling on this would be deafening.) If Charles Lollar (or, for that matter, David Craig, who is also suggesting the elimination of the income tax) can get it done, the prospects are there for voters to further reward both them and the Republicans in general in 2018 – an important election because the winners will draw the next set of redistricting lines.
So I would prepare to be a little disappointed if you're expecting our income taxes to magically disappear the moment Charles Lollar is sworn into office. However, he makes a good point in that we should be making bold initiatives, because being cautious isn't really getting us anywhere. If you're going down, go out with your guns blazing and don't spare any bullets.
In light of some updated information, I've decided to revise this piece slightly. My point should have been made a touch more artfully.
The law of unintended consequences strikes again.
It took over a month for this to come to my attention, since the original Bay Journal article by Tom Horton came out on March 6 and movement may have occurred since. Be that as it may, the article seems to want to heap blame on the county as much as the state – problem is the county is now following rules dictated by Annapolis, in essence losing its identity.
Here are the issues, as laid out by Horton:
(Farm owner Ted Wycall's) plan was to increase sales and production to boost his income – "about what a (Wicomico) county teacher makes," enough to live on, but not to retire, or pay the latest $8,000 tractor repair. He would have moved his 54-foot-square market onto 60 acres that link his farm to a busy road, where more customers would stop.

But highway officials said he'd have to spend $50,000 for a "deceleration lane" for his roadside market, never mind that nearby crossroads don't have any.

He could avoid that by running an access drive off a side road; but the impervious surface of that driveway, plus that of his market building, would entail stormwater pollution expenditures of more than $20,000, plus weekly paperwork he has no time for.

He'd actually be removing more impervious surface (old farm buildings) than he'd create; but because those buildings predate stormwater regulations, he'd get no credit for that, the Maryland Department of the Environment confirmed.

A state-of-the-art septic tank to handle wastes would be $15,000 or more. They can be built for much less, but regulations require such systems be certified. This has winnowed the field to a few outfits that provide only top-of-the-line units.

Ted's requests to substitute a waterless, composting toilet, used extensively by groups like the Chesapeake Bay Foundation and National Park Service, were rejected by the county.

So was his argument that new greenhouses he needs to expand on his current farm be exempted from stormwater rules: "You are a developer," said a dismissive e-mail from a county official.
By my count that is two state agencies and probably two different areas of county government involved.
While I've never patronized Wycall's roadside stand, I have often wondered how it stays in business because I notice when I drive by it there aren't many customers. (Coming from the south I often cut through "the forest" from Pocomoke, so I eventually drive by the farm's Nutters Cross Road location. Problem is not many others drive there, aside from local traffic.) I gather his idea was to build a new facility to front on Snow Hill Road, which is Maryland Route 12. Because it would be new, it is supposed to comply with all these rules surely the bulk of Horton's readership supported upon enactment. Bear in mind as well that Wicomico doesn't yet have the "rain tax" which would likely hit Wycall hard just as he completed his upgrades because we're probably at the front of the line for its expansion.
Yet the Greenbranch Organic Farm situation is not drastically different than that of any other business owner who wants to expand – it only attracted Horton's attention because this was a more "noble" calling than that of the average poultry producer a mile or two away. (In fact, it was groups with that same mindset who tried to bankrupt a local poultry farmer just a few miles from Wycall for making a simple error in sludge storage where the state fined him a modest amount.) If that other farmer wanted to expand his chicken operation, the same regulations would apply but Horton might not mind so much then.
In an era of 20 to 30 years ago, the county would have made Wycall's life easier. The light traffic count of his expanded operation would be handled by attentive driving and perhaps a slightly wider shoulder on the highway, a run-of-the-mill septic tank would have been just fine, and no worries about impervious surface because chances are a gravel parking lot would have been perfectly acceptable. (It probably still would be except for the handicapped spaces federal law now dictates.) Since then, in its effort at assuming complete control over our lives justified as one of "saving the Bay," businesses now have to pony up the extra cash and effort to do all which was asked of Wycall and much more. It's intriguing that the Wycalls are considering packing up and moving to Montana, where "there are almost no rules." In terms of being friendly to business, it can't be much more clear than that.
Yet the denizens of Radical Green who read this will only shrug their shoulders and blame the county for being a bunch of redneck hicks who bend over backwards for Big Poultry but won't give this heroic little guy and his acorn-rooting pigs a break, this before advocating to expand some of these regulations to other waterways like Lake Erie.
It's a shame that the Wycalls are facing such difficulty with their situation – if they want to run an organic farm and people are willing to pay a premium for the privilege, let's just hope for their sake the market is there. But for the intended audience of Horton's piece, it's another reminder that it really is true that you reap what you sow.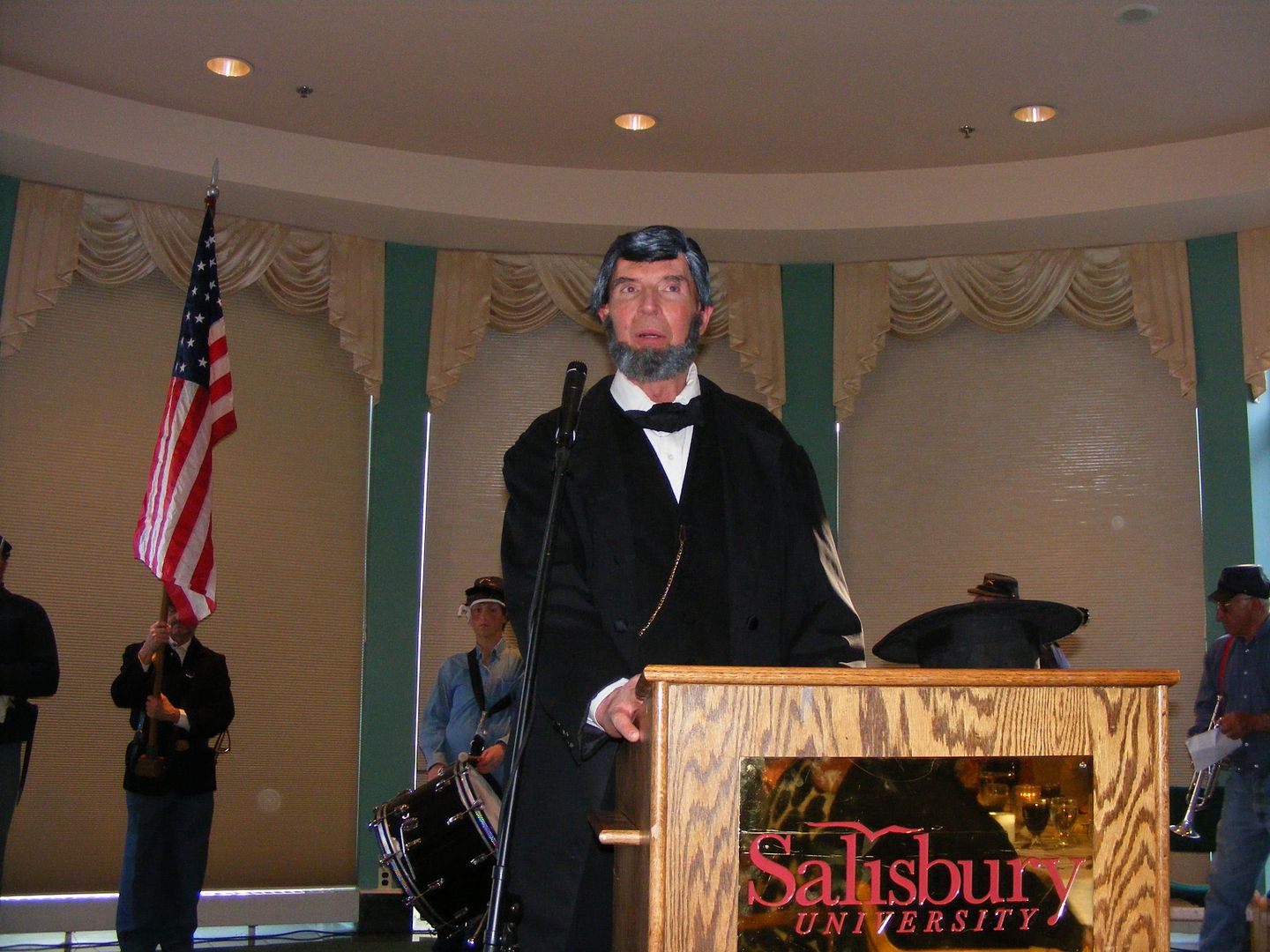 It wouldn't be a Wicomico County Lincoln Day Dinner without the guest of honor, now would it?
But it was that and much more as about 100 people enjoyed the festivities last night in Salisbury. I was a little disappointed in the attendance, but those who missed the affair missed some stirring words from both our four featured speakers – the GOP gubernatorial candidates – save Jeannie Haddaway pinch-hitting for David Craig, who was in Frederick tonight – and Delegate Mike McDermott.
Our event is set up so guests have an opportunity to talk to candidates before and after the proceedings. So before dinner was underway, acquaintances were made and renewed, such as Delegate Ron George speaking with the newly-goateed Delegate Charles Otto.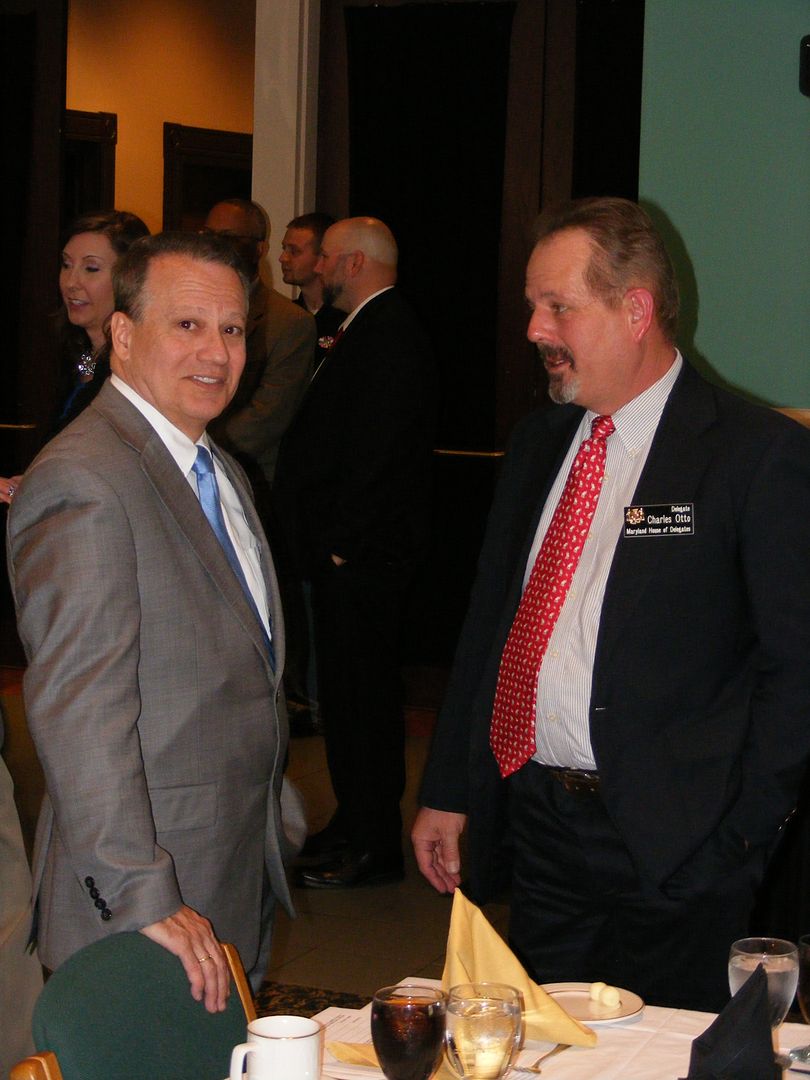 I like that look on Charles. Meanwhile, Larry Hogan and wife Yumi spoke to Wicomico County Council member Joe Holloway. I believe fellow Council member Bob Culver is back to camera.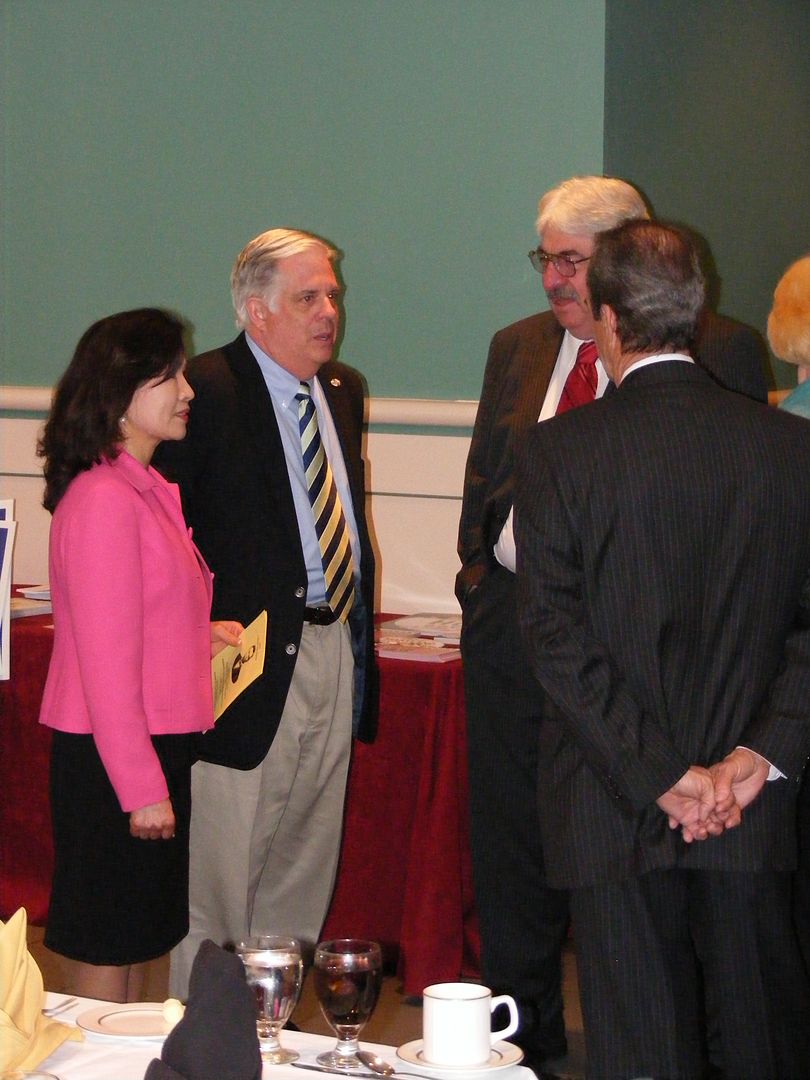 As I noted earlier, Jeannie Haddaway was taking the place of David Craig and visiting her alma mater. In the background is Larry Hogan's LG pick, Boyd Rutherford.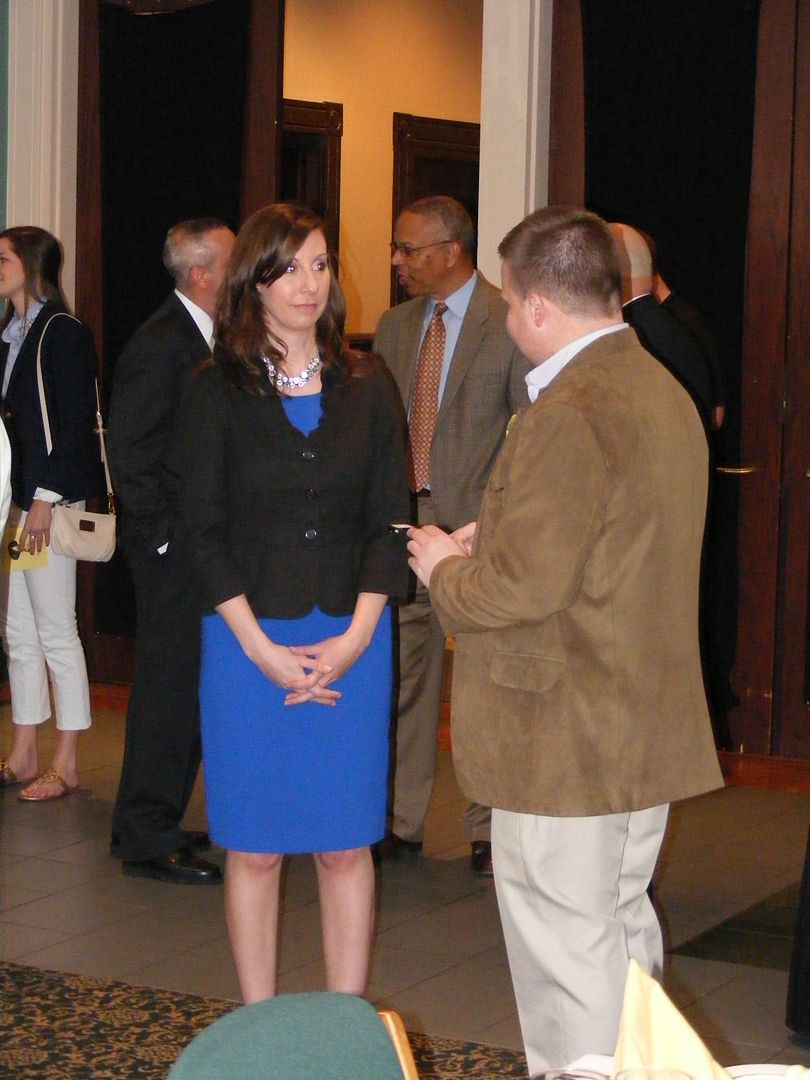 Candidates were also taking advantage of the space provided for literature and signs.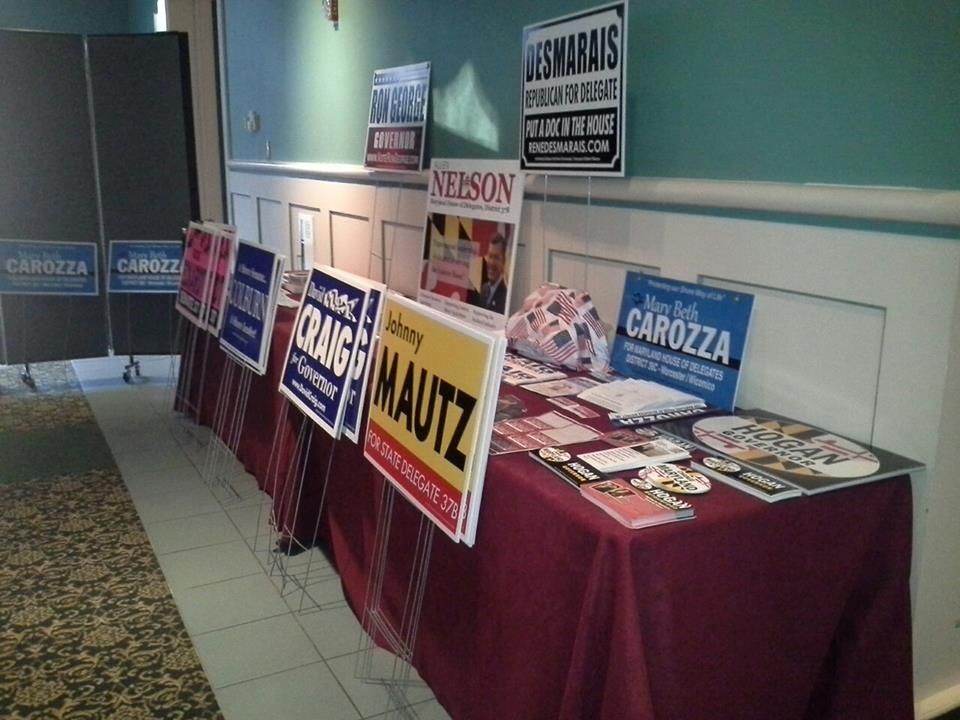 Things began to get going when the Union troops and band arrived in the room.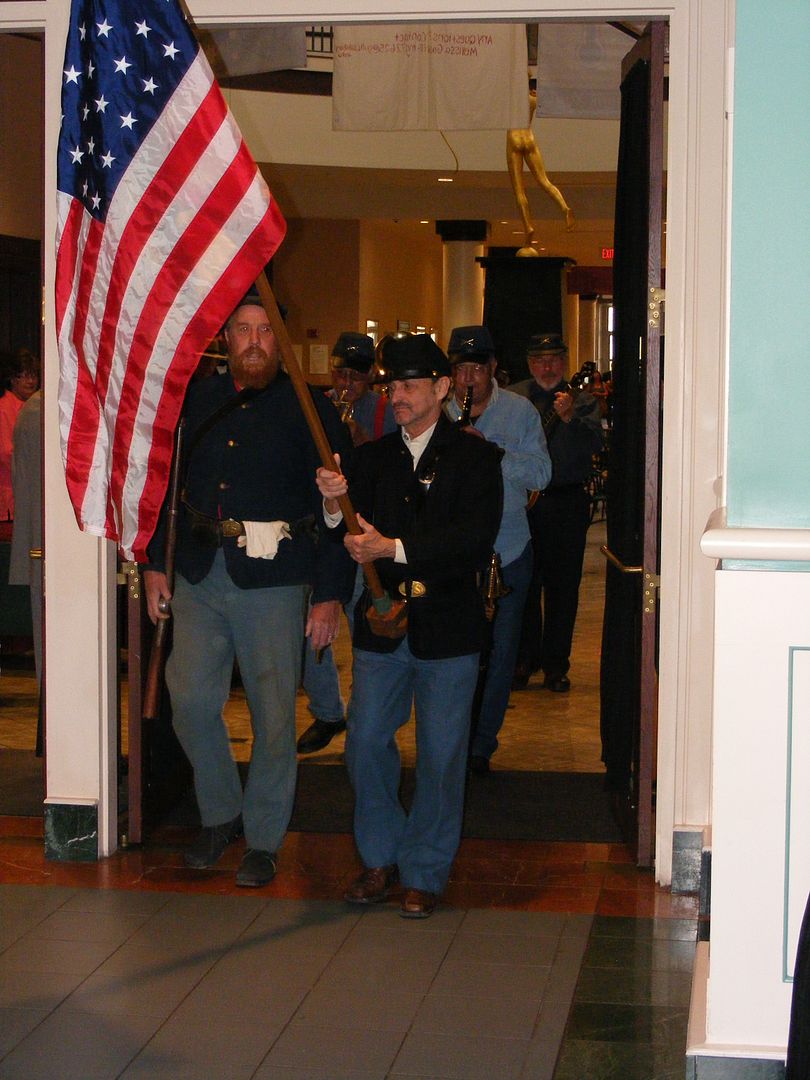 This heralded the arrival of our sixteenth president, who is a popular subject. In this case, it was with Senator Rich Colburn (left) and John and Gail Bartkovich. Gail is the outgoing Council member from District 3, while the good doctor John was our county chair for several years.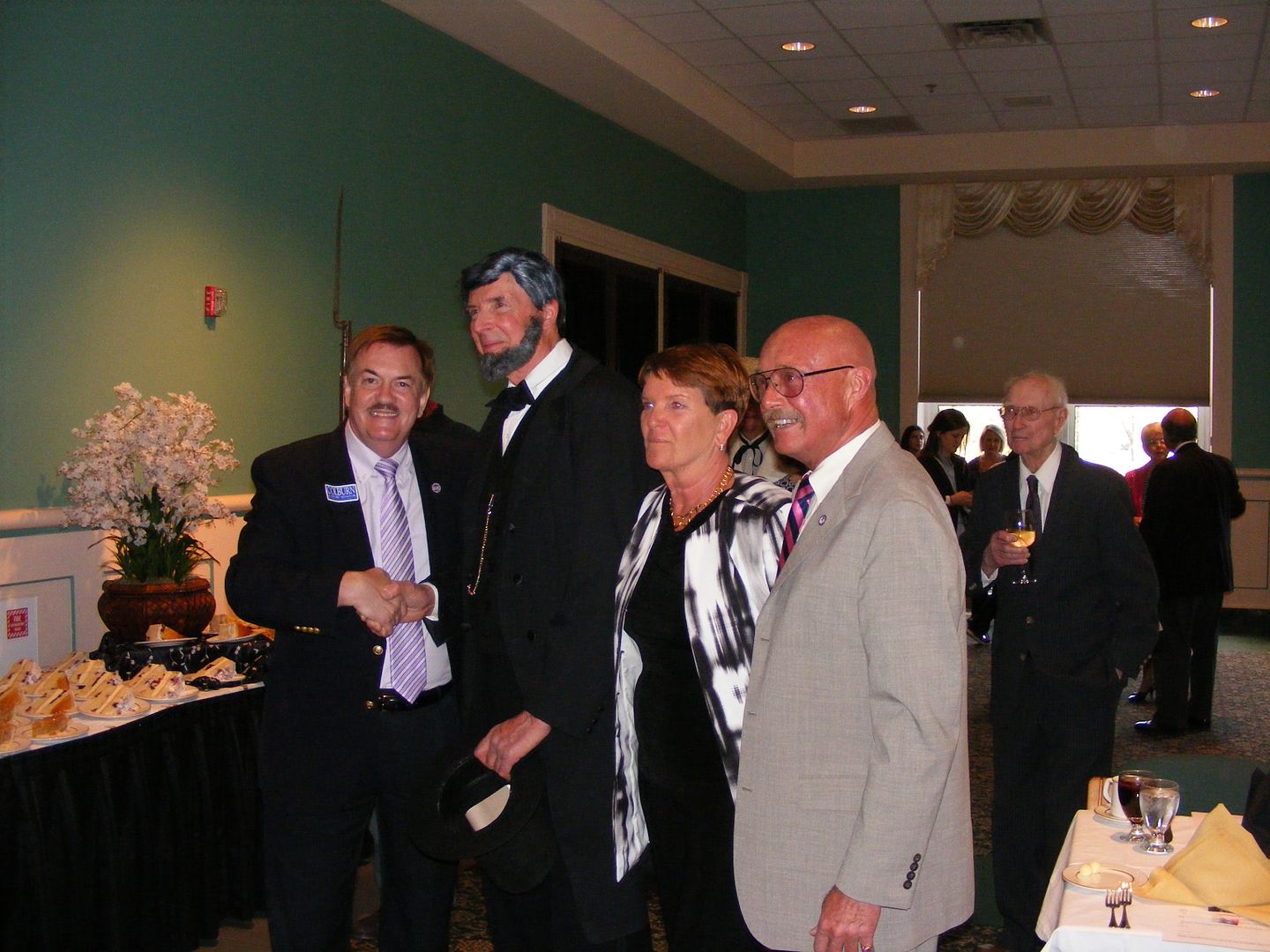 One new wrinkle we added this year was a Union band, described by Lincoln as "the Eastern Shore detachment of the 3rd Maryland Irregular Regimental Band," which played traditional music during the prelude to the ceremonies.
The troops sat behind Lincoln as he made his remarks, with a little banjo accompaniment toward the end.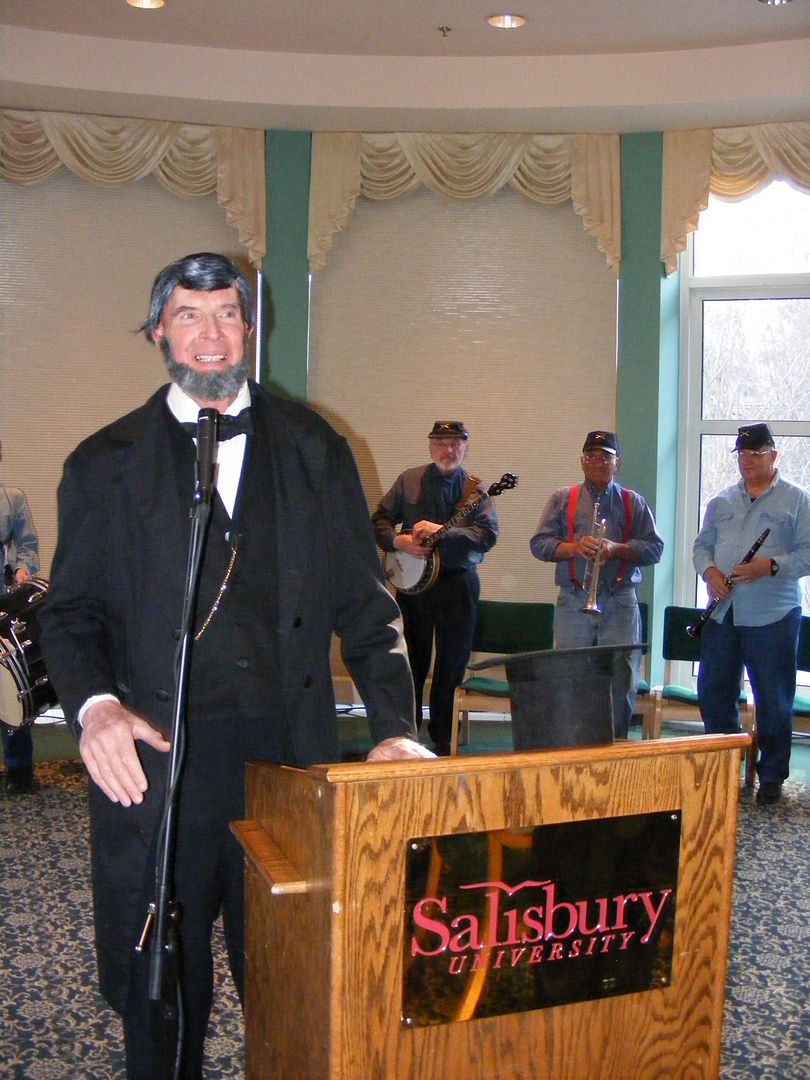 As he always does, Lincoln made remarks which tried to use the words of yesterday to relate to today's world, leading off with a tale about General George McClellan, one which he concluded by stating the case "the lunatics are running the asylum."
"Our greatest enemy is voter apathy," he continued. "It cheats honest citizens."
And just as the British Empire sparked a revolution by resorting to tyranny, Lincoln called the modern situation "mental torture." Now, "A lying tyrant is in control," Lincoln added, "We need to be a stumbling block to tyrants." But he ended on a hopeful note, believing "America shall not pass away."
Our county Chair Dave Parker then secured the floor for a number of announcements as well as praise for one outgoing member of our Central Committee.
First of all, we learned that there will be a gubernatorial debate among the GOP candidates here on May 31, at Salisbury University. Once the June 24 primary is history, we will convene for the Wicomico County Republican Club Crab Feast on September 6.
But the huge event was the one slated for September 27. After twice being unsuccessful at getting a Lincoln Day date, we got the next best thing: Lt. Col. Allen West will be appearing in Salisbury for a series of events September 27. Those who attend Central Committee or Wicomico County Republican Club functions already know this, but we put out the formal word tonight at Lincoln Day.
Before we heard from the gubernatorial candidates, we also took a few moments to honor one of the few Republicans in Maryland whose Presidential vote has truly counted – this man served on the Electoral College from Maryland in 1972 for Nixon and 1984 for Reagan. For the better part of five decades Blan Harcum has been a fixture in Wicomico County GOP politics, but after this election he will take a well-deserved retirement from the Central Committee. "I've enjoyed every minute of it," said Blan about his tenure.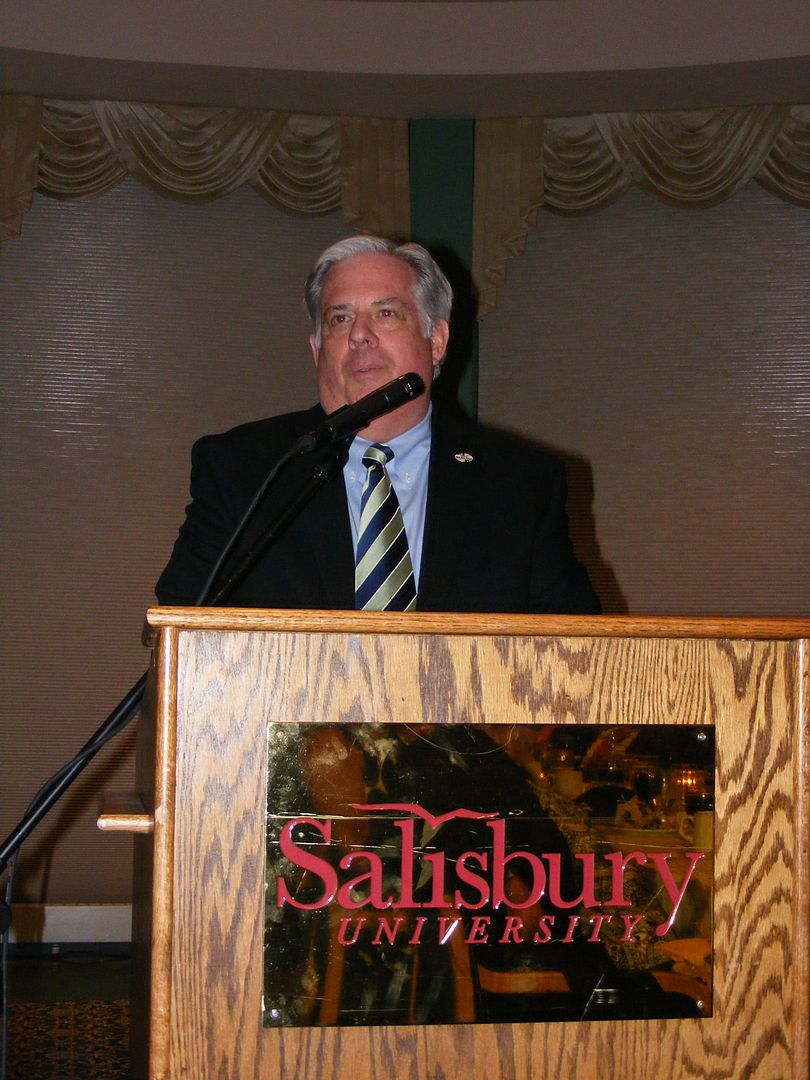 And as it turns out, Larry Hogan has known Blan "for a long, long time." He drew the opening slot among our four, and in doing so decided to play up his experience in both the private sector and executive branch under former governor Bob Ehrlich. "I've spent a lifetime challenging the status quo," Hogan said, accusing our current leaders of "actually causing the problems." Rather than "be something," he wanted to do something about them and that was why he decided to run.
Naturally, Hogan spoke about Change Maryland, noting that it "successfully changed the dialogue in this state." He could sense the frustration with the "huge disconnect" between the people and their government as well as the belief the state was heading in the wrong direction. Regarding the "arrogant, out of touch monopoly" in Annapolis, he believed it was "about time the politicians in Annapolis listened to the rest of us."
As he has often done in his stump speeches, Hogan returned to three main points: creating jobs, helping out the middle class, and getting government off our backs. He related his day in Salisbury, with stops in several area businesses as well as a Little League opening day and the downtown Easter Egg hunt.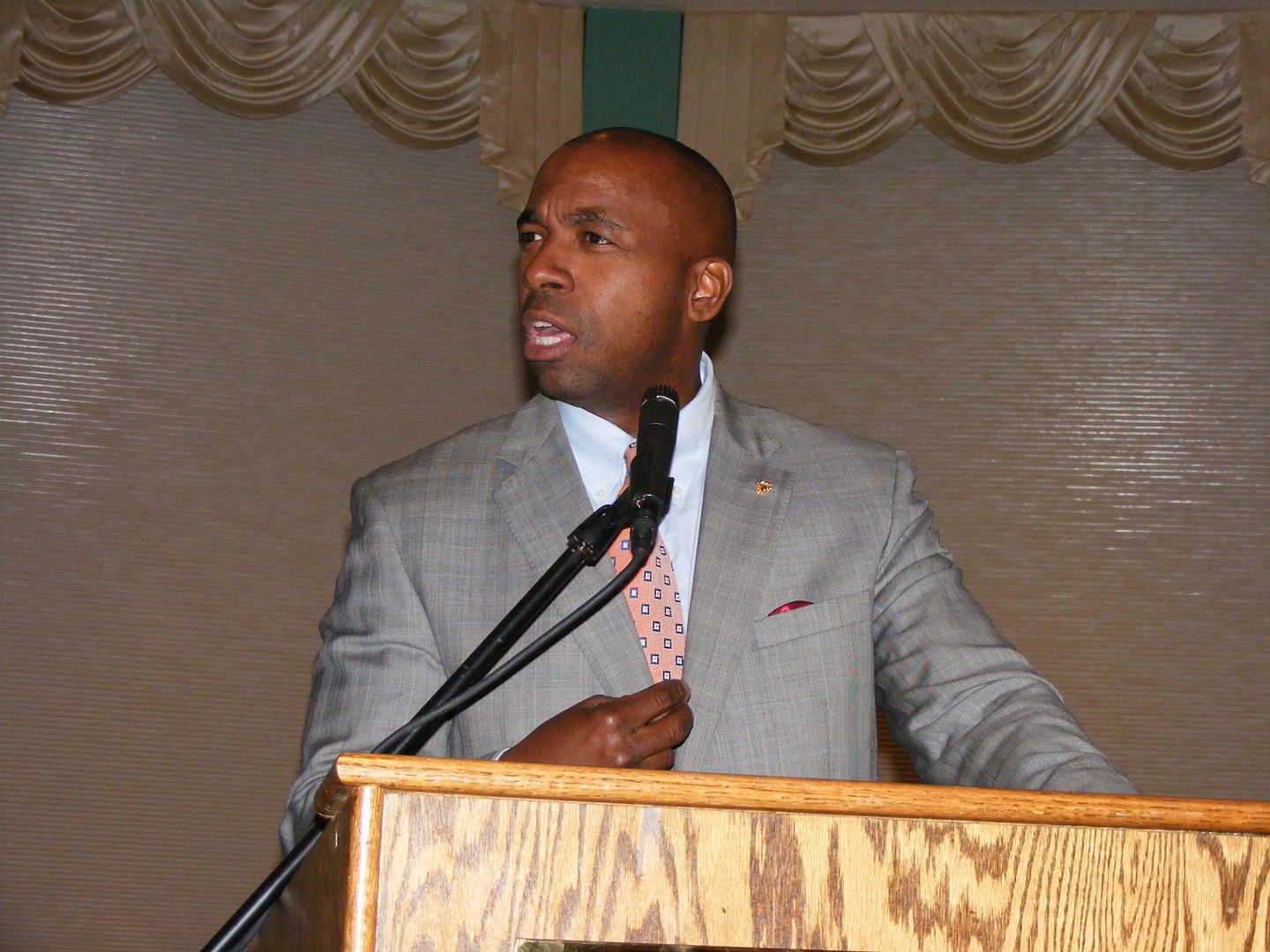 Charles Lollar also told us about his day, one spent taking the fight to Democratic strongholds and crossing paths with Democrat Anthony Brown on three occasions, debating him once. He was inducted into the 100 Black Men of Prince George's County, heard Brown say at a Howard County forum that "Maryland is doing fine" – while 1 out of 3 in portions of Baltimore are jobless – and went to a Veterans for Democracy meeting back in Charles County where he was "disinvited" to speak because of "political pressure" his name has brought. On top of that, his second daughter is going to her first prom tonight. "I'm not doing this for me…we're doing this for you," said Charles.
But his message to the Republicans was that whoever the nominee for governor may be, he has to have the "intestinal fortitude and integrity" to speak our convictions. His basic agenda would be one of economic solvency, installing a Taxpayer's Bill of Rights to slow budget growth, and eventually eliminating the personal income tax – a proposal which got him the support of economist Arthur Laffer.
He knew it would be difficult, but concluded that "I don't play politics very well, but I do enjoy a good fight every once in awhile." Whoever wins the primary has to care about the ideals of the minority community to earn their votes, Charles stated in closing.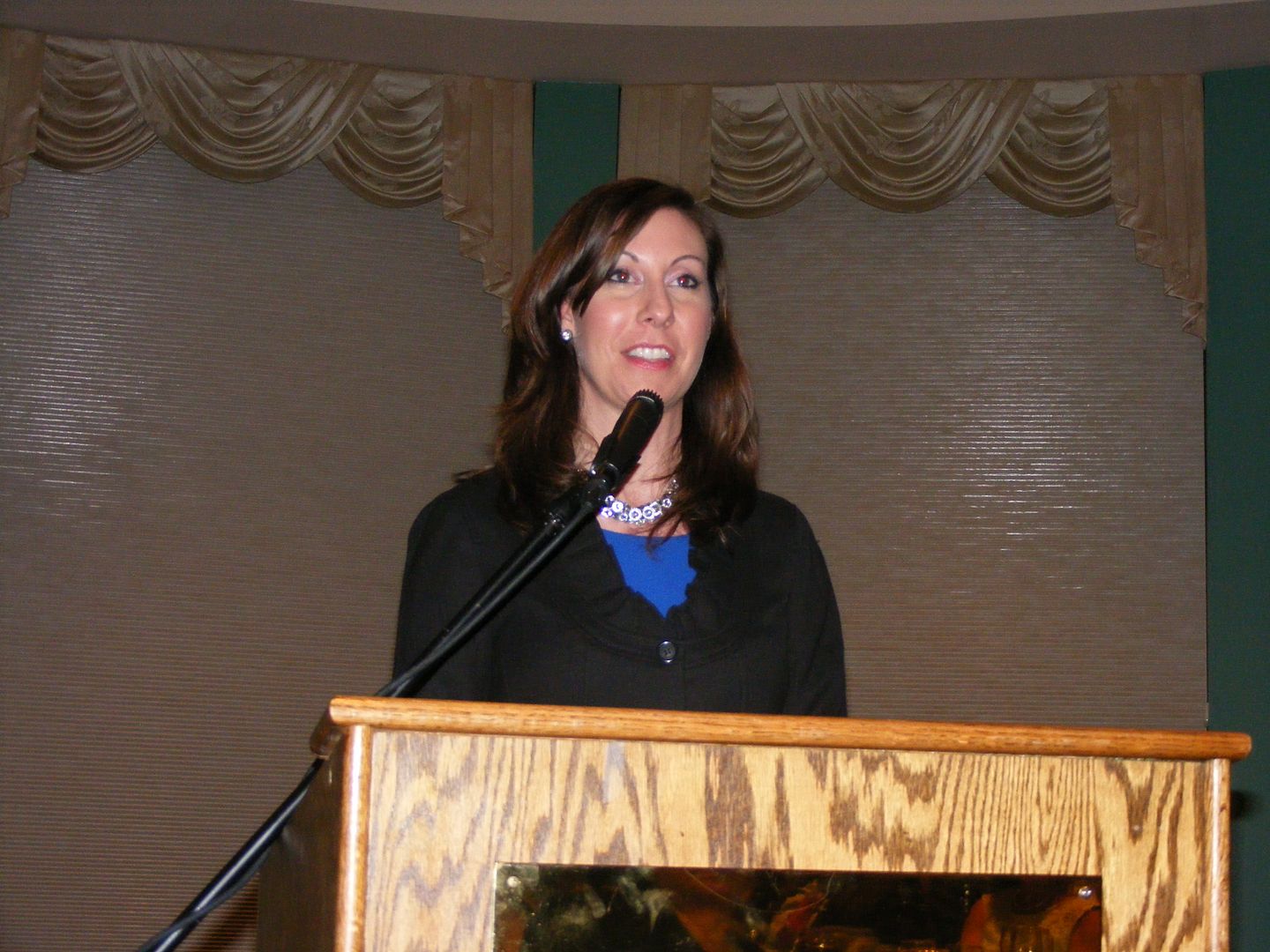 Representing David Craig, who couldn't be here tonight but was instead over in Frederick County, was his lieutenant governor candidate Jeannie Haddaway. We're out "covering the state as much as we could," she explained. Reflecting on the recent General Assembly session, Haddaway remarked that "there are people in Annapolis fighting for you." Some of the more controversial bills only passed by slim majorities, added Jeannie, because Democrats are reluctant to vote for them but have to contend with their "top-down agenda." Thanks to what's gone on the last few years, "our state is in really bad shape," said Jeannie.
She corrected Larry Hogan's remark about private sector experience, noting David Craig worked in a factory when not teaching and her own work as a small business owner. Their priority would be to straighten out the budget then "put money back in your pocket" through elimination of the income tax.
Haddaway pointed out 40 percent of Democrats were undecided, perhaps because they didn't like the options and may consider a Republican who would "try something different." And even in heavily Democratic districts, Craig had won. "We have won collectively 14 general elections," she said. "Whoever turns out is going to win this election." She promised that if Craig won and she became the state's first Eastern Shore lieutenant governor, "the Eastern Shore will be forgotten no more."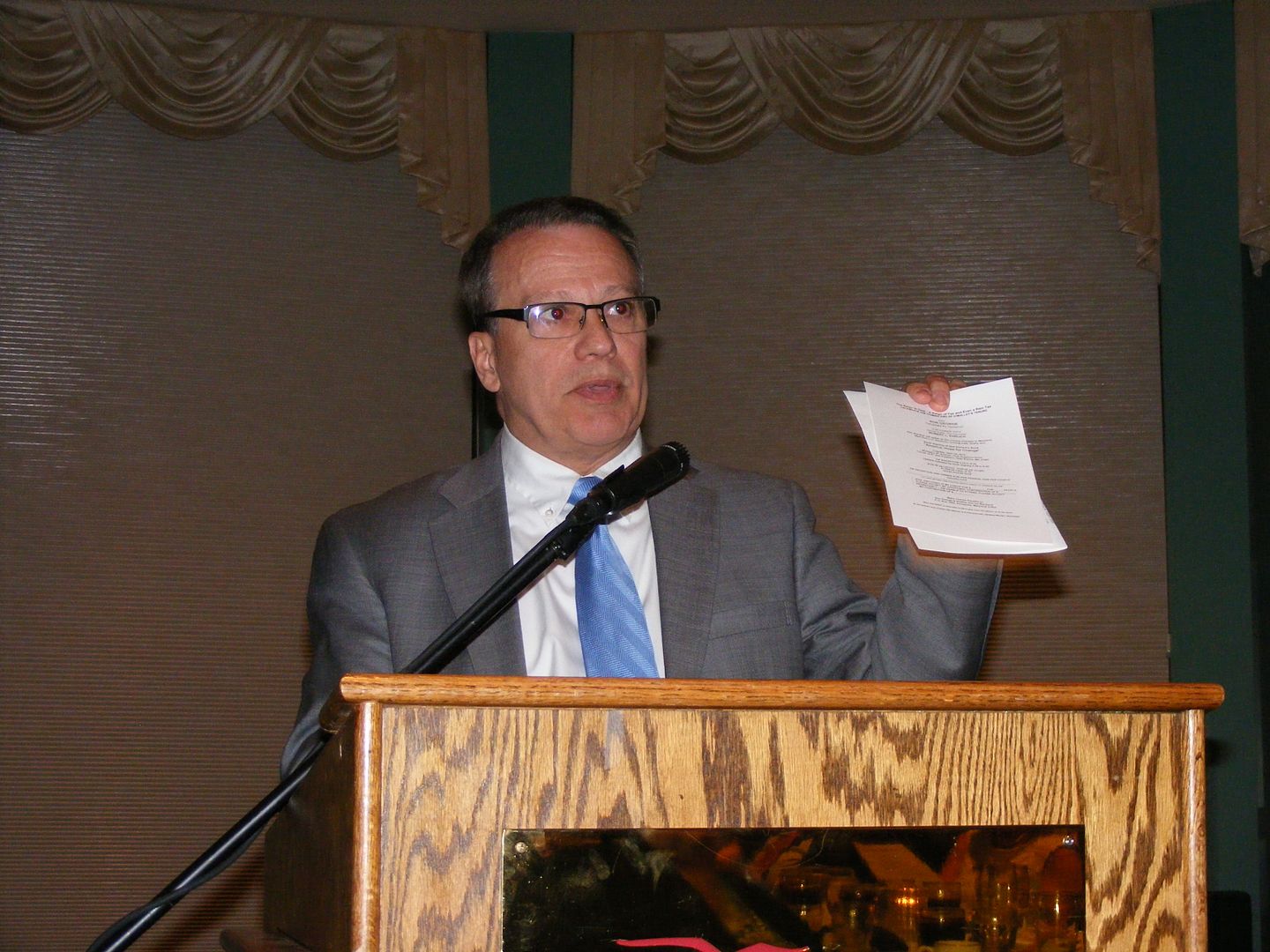 While he was holding up the flyer for an upcoming event in Ocean City in the photo above, Ron George opened up by discussing running mate Shelley Aloi – like many of us, I met her for the first time tonight. (She and Ron happened to sit at our table, along with our next speaker and his wife and the Parkers.)
Ron spent much of his time talking about the General Assembly: "I felt like I needed Rolaids constantly," remarked George – but considered it an "honor" to serve with our Republican "warriors." His pitch was combining his business experience with time served at the "front line" of issues as a member of the General Assembly – one who formed the Doctor's Caucus "to build consensus" and a related group called the Physician's Advisory. That group had uncovered waste within the exchange and the failures of health care contractor Maximus early on.
Ron also spoke about his work on the electoral process, closing a loophole for the next cycle so a donor couldn't form multiple LLCs just to circumvent campaign finance limits. Audits, too, were another major part of his platform since he'd found where Prince George's County "totally misused" $400 million. "That kind of waste has got to stop."
George went over a couple parts of his ten-point promise, one which "will fix the drain that Baltimore is" and strive to rebuild the state's manufacturing base in small communities like ours. "I cannot cut welfare payments unless I have those entry-level, mid-level jobs," said Ron.
He also made an announcement about a Monday event to be held in conjunction with Dan Bongino and David Craig, endorsing Anthony Brown for governor…of Connecticut. "How's that (health care) working out for us?" added Jeannie Haddaway.
But the rhetorical storm was brewing.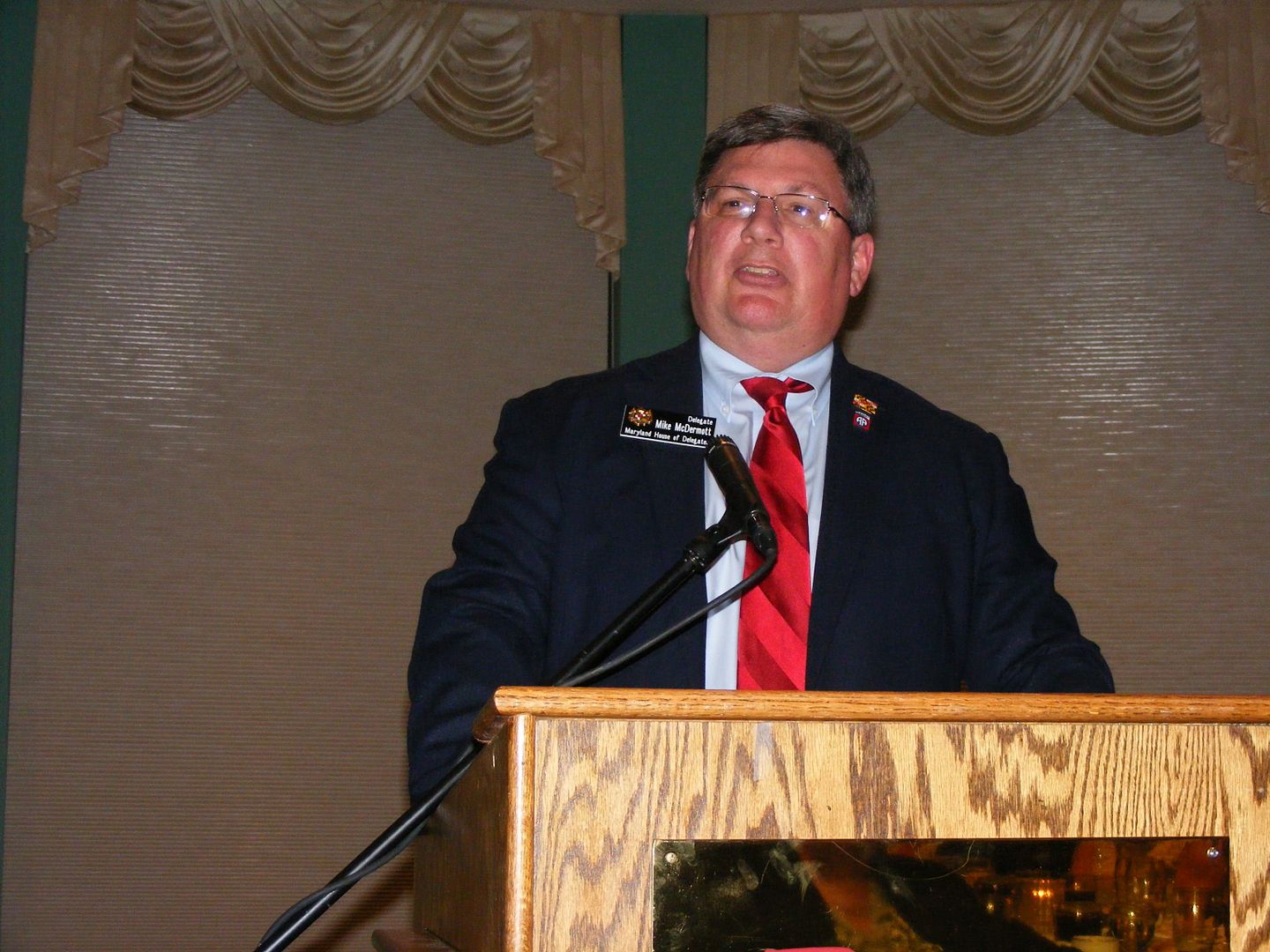 You knew Delegate Mike McDermott was working on a stemwinder when he noted, "the problem with Democrat math is that they follow Common Core logic." This after he noted losing the two GOP Senators in 2010, including the seat he seeks, "opened up the floodgates of hell on the social side." This didn't count the pilfering of various trust funds or the "blank check" to uncovered patients for the budget.
But once he got going on the "outrage" on the bathroom bill, it was on. "It should be unacceptable to all Marylanders," he said. We gave each gubernatorial candidate ten minutes – Mike was still going strong after fifteen.
"The tragedy of Maryland politics can be turned around," he said. "Don't send a governor to the governor's mansion without sending them reinforcements" of five Senators. His voice rising, McDermott made the case that North Carolina "worked on making government work for the people" after the GOP took over and raised its business friendliness rating from 46th to 17th in two years. "They've brought that state back! It can happen here."
"If we can't make the case for change this year," Mike thundered, "the Republican Party can never make it."
"We can take Wicomico County by storm! If there was ever a county which needed good leadership and change, it's this one. I'm tired of being up there, and being in a welfare county…I challenge you to take it back," an emotional McDermott concluded. He had to dial it back some for the benediction that he delivered.
Our friends in Worcester County have the chance to have a great team in Annapolis: Mike McDermott in the Senate, and Mary Beth Carozza and Charles Otto in the House.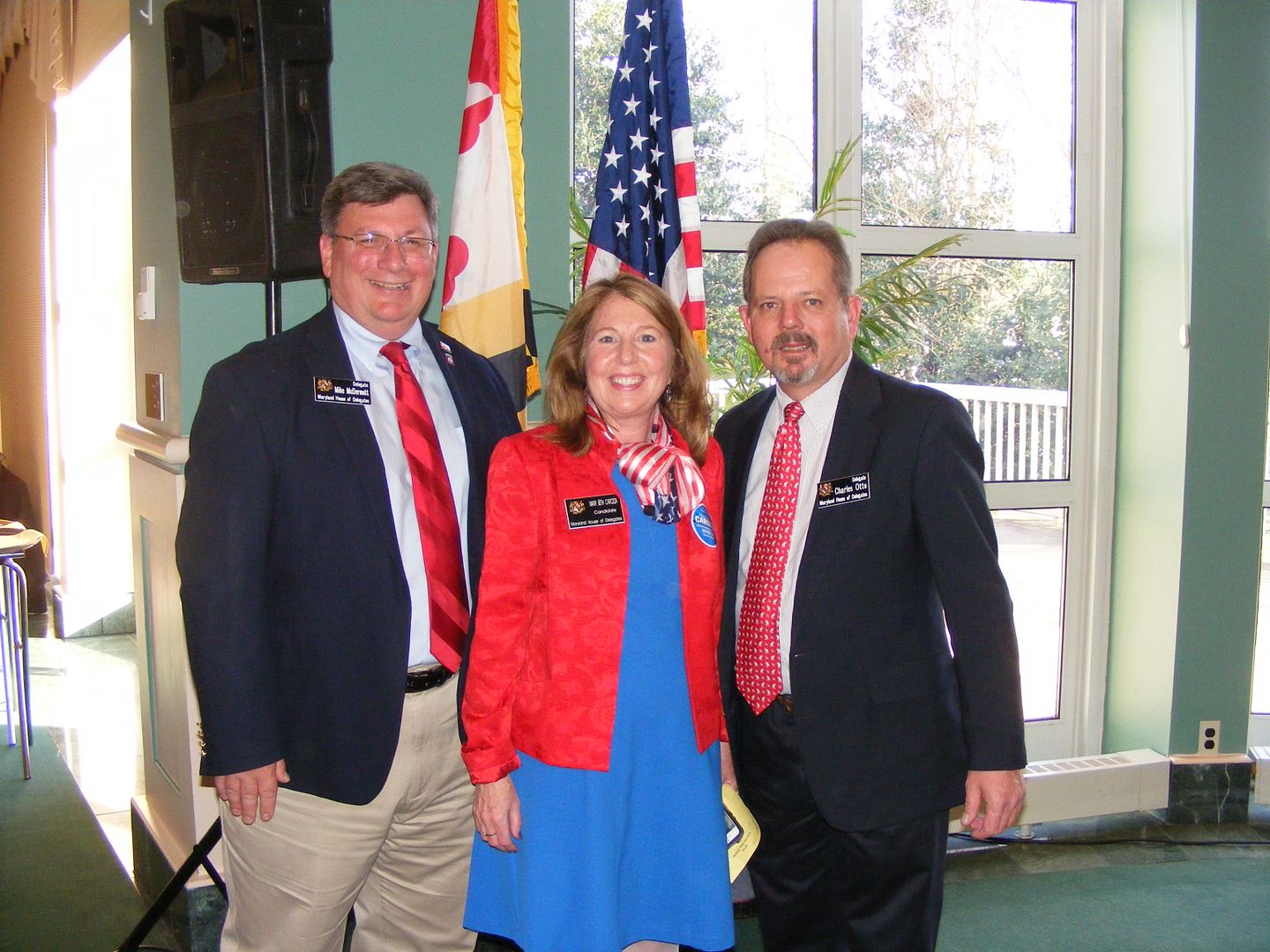 So ended another Lincoln Day Dinner. It wasn't quite what we bargained for when we started planning it last year, but those who were there were treated to a good event nonetheless.
Last night the Wicomico County chapter of the NAACP held a candidate forum in the historical Chipman Cultural Center near downtown Salisbury. I snapped this photo last night for Facebook and as you can see it was in close quarters.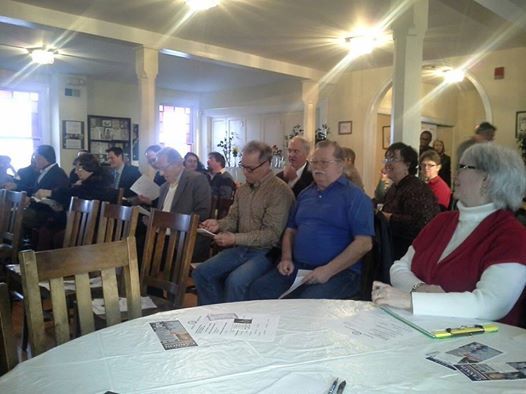 The event featured most of those running for County Executive and the seven County Council seats, with a handful of exceptions I'll note in my second part. What I've decided to do in part 1 is summarize what each of the County Executive candidates said, with a little bit of opinion as needed.
As has normally been the case, Orville Penn was last night's moderator and he asked questions with an eye toward the minority perspective – in one case, asking the County Executive candidates for a specific commitment to placing minorities in paid policy positions.
The evening began, though, with remarks and an invocation from local NAACP leader Mary Ashanti, who reminded us that the questions we submitted from the audience "won't offend or insult the candidates." This was an issue during last year's municipal primary forum.
We heard from the County Executive candidates first, with both Bob Culver and incumbent Rick Pollitt there to answer questions. Since Culver spoke first, I'll begin with him.
Culver, who currently serves on County Council in an at-large position and ran unsuccessfully for County Executive in 2006, make his case quite simply: "I feel like the county is (going in) the wrong direction." While we didn't need to replicate the successes of other counties, we did have two necessary items on the to-do list: maintain our status as the #1 agricultural county in the state and create jobs. "Teach young people how to work," said Culver.
So when he was pressed about hiring minorities, Culver noted there had to be some effort on their part as well. Getting an education and showing a "desire to get ahead" were key. "Everybody should be valued on their knowledge and education," Culver added.
Crime was an issue as well. Bob seemed to assign more blame to the victim of a recent shooting involving a Maryland State Police officer in Delmar, calling it "truly a shame," but noting "you don't go to a state police barracks with marijuana in your car." He also conceded there will be bad people and "we can't cure all the ills in the world," even though we have an outstanding sheriff and State's Attorney.
Turning to the subject of a recent audit of our Board of Education, Bob took Pollitt's decription of it as "troubling" and added "troubling is not the right word for it." Culver stated those who read the audit "will be appalled." He advocated giving the Board no more than required for maintenance of effort until they managed their finances properly, but also wanted the children to be as technologically advanced as possible.
"We've got to get out and get jobs." That was Bob's initial answer to the question on the County Executive's role in job creation. That gave Culver the opening to discuss his small business experience. He also stressed teaching kids how to work – perhaps in a WPA-style program – but he added the county is not here to create jobs, only to be an enabler in job creation.
Incumbent Rick Pollitt is running for a third term as the county's first (and thus far only) County Executive. He pointed out the difference between him and Culver would be in their respective approaches. His was one of stressing relationships.
But since the office was created in 2006, the county has seen a severe recession which has "redefined the rules" and created "a new normal." We needed to get out of the "silo mentality" and leverage other areas of government to succeed.
As far as minority recruitment, Pollitt stated his goal all along has been to have government "reflect the face of the county." But it wasn't just diversity in racial or gender terms, but also in geography as well. "We didn't want to have everything in Wicomico County run by old white men who live in Salisbury," said Rick. Pollitt added that he tries to recruit diversely, including in outlets tailored to minority readership, But in the most recent major opening for the Department of Public Works, no minorities applied. And when the question was continued to elicit a specific commitment, Pollitt pointed out "experience shows the pool can be shallow."
On the whole, though, Rick was willing to create a context where diversity is encouraged.
When it came to crime, the current executive made the case that we have to deal with the root causes. We are not among Maryland's wealthy counties, he added. One thing he was working on, though, was the rate of recidivism, trying to find "those people that could be saved." There he was consulting with activist Ron Pagano, who you will hear from in Part 2 as a candidate for County Council in District 5.
As I stated before, Pollitt found the Board of Education audit "troubling," but also believed many of the expenses were legitimate. "Clearly there needs to be a tightening up of the accounting," conceded Rick. Pollitt added that an upcoming efficiency study report from the Sage Policy Group would be of great assistance in creating the FY2015 budget.
On job creation, though, Rick believed "it's something we've got a pretty good record on." He also thought that an "upside" of going through the recession is that "it's given us time to step back and take a good hard look at who we are and who we want to be." But the way out of the doldrums is through economic development.
Some of his successes in creating a positive business environment, though, have been to decouple the personal property tax rate from the real property tax rate so that businesses have saved money on their tax bills, eliminating the inventory tax over a five-year period, and making a manufaturer's tax exemption automatic. "We are putting together the climate" for businesses to succeed, opined Rick.
In their closing statements, the two candidates played off each other, since they have known one another since the seventh grade.
Culver noted that while he disagreed with the means, he also thought he and Pollitt had several points of agreement, too. He pledged to help Wicomico County grow and expand it to the next generation.
Pollitt thanked Culver for generating more interest in the office, and noted he was approaching this like a job application. Philosophically, Pollitt said "my basic pattern is gettting people engaged." He reminded those in attendance that his job was the result of people losing confidence in their leadership and seeking a new alternative. It wasn't just "rights" as citizens, though, but there were duties and obligations incumbent upon us as well to be involved. Finally, Rick saw the seeking of "collaborative dialogue" as the key difference between himself and Culver.
Since I have a post already set for tomorrow, I will look at the County Council hopefuls on Sunday.
It's been quite awhile since we've had a local TEA Party event in Wicomico County, but the hiatus appears to be ending – not with a typical rally, but with an author who's advocating a more robust military. From Greg Belcher, who is organizing the event:
Billy and Karen Vaughn are the parents of fallen Navy SEAL Team VI member, Aaron Carson Vaughn. The downing of a chopper (call sign Extortion 17) carrying thirty fearless American warriors was the day Aaron's life ended and the day their lives began again.

As Billy and Karen began searching for answers their eyes were opened to vile atrocities being played out on America's military. They've now become advocates for our war fighters, exposing the criminal Rules of Engagement, which have unnecessarily cost so many American soldiers their lives. Billy has authored the book "Betrayed" detailing the days, weeks and months after his son's death, as he began compiling this devastating information.

The Vaughns spend a considerable amount of time on Capitol Hill, and have shared their story on countless local, state and national radio outlets. They've made many appearances on Fox & Friends, as well as Beck TV, The Huckabee Show, Hannity's America, The Today Show, The Andrew Wilkow Show, The Willis Report, The Kelly File, Geraldo at Large, and more.

Their mission statement: Our defenders deserve to be defended. The burden of their covering rests on us, the patriots of this nation. It is imperative that we stand together and demand change. "Let them fight or bring them home."
Billy Vaughn will be making the appearance at Adam's Taphouse Grill (most people still know it as Adam's Ribs) on Fruitland Boulevard in Fruitland on April 1 at 6 p.m.
Obviously Vaughn will be discussing the book, but there are other insights which can and should be gleaned from this appearance.
First of all, we can determine if  there is still interest in the Afghanistan conflict, which for our part is being wound down as we speak. Once it was the "good war" all those who were opposed to our excursion into Iraq thought we should be pursuing, but it's apparent that was just a smokescreen. Once Barack Obama spiked the football of Osama bin Laden's demise (at the hand of many of those killed on Extortion 17) the question was: how useful were those guys? The conspiracy theorist could posit that having a lot of heroes who could point out just how uninvolved Barack Obama really was cast their die for them.
This may also show where the libertarian, Ron Paul wing of the TEA Party movement – the one which believes we shouldn't be involved in the affairs of far-off countries with little to no national interest at stake – might not play well with the element that believes the battle against radical Islam is truly the Long War I've occasionally written about, a battle without clear borders or defined enemies.
But as the rebirth of the local TEA Party, this could be a good kickoff. Most indeed believe America should have a strong defense which fights to win, not to not offend local populations. As the Vaughns ask:
Don't you want to know what went so terribly wrong in our military strategy that the single largest loss of life in Naval Special Warfare HISTORY came at the hands of a 14 year-old Afghan farmer? AND…the SECOND largest loss of life in Naval Special Warfare HISTORY ALSO came at the hands of a young Afghan goat herder. The dialogue MUST begin.
One of the upcoming points for that dialogue will be next Tuesday in Fruitland. And for my friends up Cecil County way, Billy Vaughn will be the guest at the Cecil County Patriots meeting on Thursday, April 3rd. That meeting will be held at the Cecil County Administration Building in Elkton starting at 7 p.m.
It's not just frustrated and disgruntled members of the public who are looking to bring their government to a local level closer to the people, rebelling against what they consider outsized influence from Washington and the various state capitals. In the case of the Wicomico County Education Association (WCEA) – a bargaining unit representing teachers and various other school employees in this semi-rural outpost of the Eastern Shore of Maryland – their aim is to break away from the much larger Maryland State Education Association (MSEA), making the case in an open letter from WCEA president Kelly Stephenson to the MSEA and community that:
In the years I have been representing WCEA, several things have become clear for all to see. First, many school employees believe MSEA has not represented them properly over the last decade and find it ironic that your people only show up when the $537,000 dues money is at risk. It is clear that you and your people on the "other side of the bridge" have a different agenda from those of us on this side of the bridge. Wicomico County, to most of us, is like a family – WCEA will work out our problems for the betterment of all – not just for the betterment of the Annapolis elite. In short, WCEA Board has heard repeatedly that your organization's presence is not seen as a plus for our community.
And those fighting words serve to buttress one point: MSEA representation is expensive for the average teacher in Wicomico County. Depending on salary and position, annual dues can range from $197.28 to $598.50. Supporters claim the WCEA proposal would shave up to $260 off that cost.
But controversy has been brewing for several years, and heads were turned in 2012 when it was learned that an embezzlement case in adjacent Worcester County was handled internally by MSEA and the local association rather than alerting authorities at the time of discovery back in 2009 – the thefts occurred over a three-year period before that. Meanwhile, complaints began to pile up in Wicomico County about ineffective representation services, a lack of support in negotiations, concerns about the political direction and activities of the state union – which endorsed Democratic Lt. Gov. Anthony Brown a year ahead of this November's election and commissioned polls to tout his lead – and constantly increasing dues, particularly when union leadership was making far more than the average Wicomico County teacher.
Exasperated, WCEA members started a petition drive to change the local unit's bylaws and remove the provision requiring concurrent membership in the MSEA and National Education Association (NEA), citing the concern that membership rolls were dwindling because many potential members simply could not afford the dues. Local leadership has been careful to stress that WCEA members may still be members of MSEA/NEA if desired – although apparently the MSEA begs to differ:
It is difficult to understand why the MSEA leadership has suggested they would not welcome you in the future to be a member of MSEA if WCEA chooses to disaffiliate when the information on the MSEA website tells a different story. From the MSEA website under FAQs:

"Q: How do I join MSEA?

A: If you are employed in professional education work for any school district in the state of Maryland, are a student or retired educator, or work for an accredited institution of higher education, you are eligible to become a member of MSEA as well as your local association and NEA."
The WCEA goes on to say that many of its benefits would continue even without MSEA membership – and in some cases, strictly local representation can provide members a better deal, particularly when it comes to legal representation and similar services. The WCEA also reminded its members that they are the legally recognized bargaining unit for the teachers and staff, soliciting a local attorney to verify that there is no legal connection between the WCEA and MSEA – only the membership requirement in the WCEA bylaws.
All this back-and-forth is leading up to a vote of the WCEA membership slated for April 28-29; a balloting which is expected to be close and rather divisive. Some opponents of the change are skeptical that a WCEA which "goes it alone" would be powerful enough to stand up to the local Board of Education, which by state law is appointed by a representative of Democratic Gov. Martin O'Malley and thus holds a 4-3 Democratic majority. The current teachers' contract, which was signed last year, runs through June 30, 2016; however, health insurance coverage and other fringe benefits can be revisited on an annual basis if both sides agree.
But even if the opponents of the bylaws change prevail, it's obvious that there are serious misgivings between the Wicomico County rank-and-file and the state union, just as there's a great deal of skepticism from the residents of the state's Eastern Shore about the goings-on within state government in general. Chesapeake Bay is much more than a body of water dividing the state geographically; it also seems to separate the two sides in politics and their all-around attitude towards life. Politically, the Eastern Shore sends a significant share of the state's minority Republicans to Annapolis and most of its counties are dominated by the GOP; moreover, the denizens of those areas east of the Chesapeake seem to take a perverse pride in being what one former governor called the state's outhouse. (The actual term was more, shall we say, descriptive.)
So this election should be closely watched as a test case. If the local Wicomico County bargaining unit can convince their teachers that breaking away from the MSEA is to their benefit, it may encourage a number of the other counties in the state to consider a similar move, perhaps costing the MSEA several million dollars in dues they would otherwise collect. While $537,000 may not be a lot when it comes to a union's budget –  the county's dues only cover four "average" MSEA employees – it can still be spread around to a host of state and federal elected officials, and it's that political purchasing power MSEA worries most about losing.