Today I'm going to look at the financial status of a race with one incumbent taking on a underfunded challenger.
It seems like Delegate Addie Eckardt won the more difficult election by ousting incumbent Senator Richard Colburn in the June 24 primary. Her victory left her accounts depleted but at this point she's still in a far better financial position than her challenger Christopher Robinson, who ran for the same seat in 2010 and lost by a 59-41 margin to Colburn.
Here are the numbers. I've noticed some issues with my Google Docs but these files can also be downloaded for reference.
The first thing which may grab you is the huge amount of money Eckardt has already spent – since 2013, she's spent over $73,000 just to get through the bitterly-contested primary, practically wiping out her previous cushion coming into the campaign. In February, before she opted to switch races and challenge Colburn, I pointed out Addie had over $44,000 on hand. (At that point, neither Robinson nor Eckardt were in the running for a Senate seat. Christopher Robinson was a filing-deadline substitution for Cheryl Everman, who officially dropped out of the race February 21 but had ceased campaigning weeks before that.) So while she's raised a fairly significant amount, Addie has gone through about twice as much.
Robinson has an anomaly of sorts regarding his financial records. Instead of being a constant process through the present day, his initial 2014 report had to go back through the wrapup of his 2010 campaign so much of his campaign funding was actually donated back in 2011. There's also the "other" $8,000-plus, for which Robinson explains:
This is to offset the expense made to clear the outstanding obligations that were paid via in-kind contributions to the campaign reported in this report.
As I read it, this was to clear up his 2010 debt, and although Robinson kept his campaign finance entity active through 2014, he filed affidavits of limited contributions and expenses until the first pre-primary report this year, signifying he neither raised nor spent a total of $1,000 for his campaign.
Unlike the District 38 Senate race, though, there is little PAC money involved and most of the funding comes from within the district. Robinson's high out-of-district take is skewed by a pair of large contributions out of the less than $8,000 he's raised overall. As far as spending goes, most of Robinson's money is going to media as one would expect in such a rural, spread-out district.
Robinson's is a far less ambitious media buy than Eckardt's though. Because she had a contested primary to win, she spent heavily in media: a total of $5,903.70 to several local newspapers and $10,967.78 to various local radio stations. Interestingly enough, most of the remaining media money went to Igoe Associates, a company which rubbed some Republicans the wrong way in 2012 when it assisted independent Senate candidate Rob Sobhani.
Eckardt has some other curious ledger items as well. For example, the transfer from other slates comes from the remaining money from the demise of the Shore Team Slate. which also explains a returned contribution of $266.67 to cover an unpaid bill due from that entity. The transfer out went to the House 2014 Victory Slate, which presumably is set up to assist would-be House members with their campaigns.
One other line item which is sure to cause heartburn in some quarters is the $6,600 she spent with Public Opinion Strategies for a poll. It's a significant part of the "other" category.
On the other hand, Eckardt seems to do well with fundraising without spending a lot of money on it. Just $1,753.91 in fundraising expenses have netted her over $30,000 in individual contributions, and much of that was spent on her annual fundraiser.
It will be interesting to see how this race develops in a financial sense. Given Addie Eckardt's name recognition in the district, most of which she's represented for the last 20 years, she shouldn't need as much financial support as a new candidate would but the fact she only has a few thousand more dollars to spend than her Democratic opponent is a little surprising.
As I write this, Wicomico County Republicans were slated to host a gala to formally open their headquarters. But all that was pushed aside by an event which occurred last Thursday – the sudden, tragic passing of Sylvia "Cookie" Harris, wife of our Congressman and leader in the Maryland pro-life community.
With services for Cookie Harris this weekend, one of the three local political events slated for today have been pushed back to next Sunday. The only event that remained on the schedule was a fundraiser for Delegate candidate Christopher Adams, which was tied into the Shorebirds game this evening and couldn't be changed as their season ends tomorrow; meanwhile, a fundraiser for County Executive candidate Bob Culver which was to feature Harris is being rescheduled with a date to be announced.
I bring all this up because it's a reminder that nothing is a given in politics (or life in general, for that matter.) In my life I've seen people 17 points down in a poll 10 days before Election Day come out a winner, the sea change in political attitude that occurred from the events of 9/11, and other instances where conventional wisdom was turned on its head in a matter of days or hours.
It got me to thinking about the GOP-sponsored poll from a couple weeks ago that showed Larry Hogan was making a race of it, despite the fact that most national observers already have Anthony Brown ready to measure for new drapes at Government House because Maryland is a "blue" state, don'cha know. In terms of voter registration, it is, but a lot can happen between now and November to convince people Hogan deserves a shot.
By the same token, one can look at the massive difference in funding between Democratic incumbent state Senator Jim Mathias and his Republican challenger Delegate Mike McDermott. Yet when you see the sources of that funding, it's worth asking why these people are paying so much to keep him in office? The same can be said of Delegate Norm Conway, but the conventional wisdom holds that both will be re-elected because they're "really nice guys" who "bring home the bacon." Still, anything can happen between now and Election Day and these two may fall out of favor among their constituents.
In all honesty, I could have written this without the tragic circumstances surrounding the passing of Cookie Harris, and I certainly join the many who have extended their thoughts and prayers toward the Harris family during this time. It's also a shock to the state's pro-life community, which lost far too much ground over Mrs. Harris's lifetime. But all involved will heal with time, and the world will return to its way for everyone – the events postponed today will be resumed at a later date. Yet it serves as a good reminder.
The message here is to take absolutely nothing for granted, not just in a political sense but in life itself. The message I often hear when someone passes is that the deceased wouldn't have cared for all the tears and sadness by mourners because they lived their life in the best way they knew how, no regrets. It was up to us to do the same as the truest way to honor their memory.
And as it says on the sidebar of my website: never, never, never give up. Whatever life throws at us, we can overcome.
While it's at a point in his career where there's little political fallout, it's still interesting to note that retiring Democratic Delegate John Wood, Jr. of St. Mary's County has endorsed GOP standardbearer Larry Hogan for governor over his own party's Anthony Brown. The story on TheBayNet.com by Dick Myers notes that Wood also endorsed Bob Ehrlich and has endorsed the Republican seeking to replace him in Annapolis.
Wood is one of the few Democrats who would regularly buck his party in Annapolis, and was a six-time winner of what I called the Top (Blue) Dog Award from the monoblogue Accountability Project. That award goes to "the Democrat who ranks the highest in my ratings, showing signs that there is a small but rarely-seen centrist element to the Maryland Democratic Party. It's the way the aisle should be crossed." Wood had a lifetime 46 rating on the mAP, by far the best of any Democrat and slightly better than retiring Republican Robert Costa, who finished with a 44 rating.
It proves that the 15% of Democrats who expressed a preference for Hogan in a recent internal Hogan poll are a legitimate part of the electorate, receptive to the fiscally sound message Hogan is trying to put out. Thar number is clear improvement from a July CBS News/New York Times poll where just 8% of Democratic voters favored Hogan. Obviously given the vast gulf of registration numbers between Democrats and Republicans in Maryland it's essential that some Democrats like Wood cross the aisle to back Hogan. To buttress that fact, there are dozens of "Democrats for Hogan" stickers available at our headquarters.
So welcome aboard, Delegate Wood. And bring a few other thoughtful souls to our side.
A few weeks ago I promised to start once again looking into where our candidates get their money.
The first race I wanted to delve into on the financial end was the District 38 Senate race between incumbent Democrat Jim Mathias and challenger Republican Delegate Mike McDermott. As you'll see, Mathias has the clear financial advantage.
This file is something I composed as a composite which includes all four financial reports due since the beginning of 2014 – the 2013 annual, the two pre-primary reports, and now the first pre-general report.
So we can see that, in this race, incumbent Democrat Jim Mathias has raised a lot of money compared to his opponent, who is also an incumbent in the House of Delegates. Mike McDermott was more or less forced to run for a different office thanks to being squeezed into a single-member district with fellow Delegate Charles Otto by Democratic gerrymandering.
Where did the money come from? More than most others whose financial forms I've studied, Mathias gets a lot of donations from ticket sales, presumably to his relatively frequent fundraisers both in the Ocean City area and occasionally across the bridge. Almost 2/3 of his income came that way, with most of the rest being PAC contributions. Having looked as well at the records of his fellow Democrat incumbent Delegate Norm Conway, it's apparent that PACs are very happy to give plenty of money to Democratic incumbents, but not so much to Republicans because Mike McDermott has negligible PAC money compared to Jim Mathias.
Moreover, there are a lot of big-money donors from Ocean City (and beyond) who have opened up their wallets for Jim Mathias, while only a handful are supporting McDermott. Given the huge disparity in money allotted to fundraising – for every dollar McDermott has spent on fundraising, Mathias has forked over $17.30 – it's small wonder there's a big gap in cash on hand.
It's also worth mentioning that nearly half of Mathias's total spending has gone to one entity – Rice Consulting of Bel Air, a frequent client of Maryland Democrats. Whether directly or as a pass-thru to other entities, Mathias gave $37,320.16 to Rice Consulting out of $78,388.97 spent.
McDermott has used a pair of outside consultants: Campaign On out of Owings Mills for $3,087 and Scott and Associates of Annapolis for $5,000. That represents about 40% of McDermott's spending, but it's going to media rather than fundraising and "strategic incumbency protection," which are Rice Consulting's specialties. Personally, I'd prefer strategic taxpayer and citizen protections.
It's also worth pointing out that several current and former Annapolis and Baltimore Democratic elected officials have chipped in for Mathias from their campaign accounts:
retired Delegate Ann Marie Doory: $100
District 6 Delegate and State Senate candidate John Olszewski, Jr.: $150
District 11 Delegate Dan Morhaim: $250
retiring Baltimore County Councilman John Olszewski, Sr.: $450
retiring Delegate Brian McHale: $1,000
District 40 State Senator Catherine Pugh: $1,000
retiring Delegate James Hubbard: $2,000
retired Senator (and onetime Congressional candidate) Rob Garagiola: $2,250
District 13 Delegate and State Senate candidate Guy Guzzone: $6,000
The only elected official contributing to McDermott's side thus far is Wicomico County Republican Central Committee-elect member Greg Belcher, who donated $154.18 in closing his election account.
So it's very obvious that Maryland Democrats and their patrons are throwing the kitchen sink into keeping this seat. Mathias has a war chest which will likely land him some television time and allow him to once again carpetbomb the district with full-color mailings which obfuscate his real record.
But it's also a fact that Mathias only won one of the three counties in the 38th District last time, winning in Worcester County by just enough to overcome his deficits in Somerset and Wicomico counties. He outspent Republican opponent Michael James $300,835.32 to $225,556.44 in the process, so indications are he will be able to spend the same amount (or more) this time.
Next up will be a look at the Senate race in District 37. My plan is to do each local district on a Tuesday or Wednesday, so look for the other Senate race after Labor Day.
It was just about this time in 2010 that Bob Ehrlich had his last positive poll – a Rasmussen Poll had the Maryland race tied at 47-47. Granted, the former election calendar dictated a primary was still to come but it was presumed early on (particularly as the state party had its thumb on the scale) that Ehrlich would be the nominee.
But as time wore on and people began to pay attention, the thought of returning to the era of Ehrlich seemed to turn voters off, as the race which was single-digits until mid-October turned suddenly and forcefully Martin O'Malley's way in the end, as he won going away by 14 points. This blowout for O'Malley had a few coattails as well, as the GOP lost two Maryland Senate seats (but gained six House of Delegates seats, solace in an otherwise contrarian election here in Maryland given the 2010 national TEA Party wave.)
We have no idea if the same will hold true with different players in 2014, but the Maryland GOP was pleased to release a poll which showed the race between Larry Hogan and Anthony Brown was within the margin of error. Granted, it was from a Republican pollster and perhaps slightly oversampled Republicans but the results still have some merit.
As the OnMessage, Inc. pollsters write:
The ballot currently stands at 45% for Brown, 42% for Hogan, 4% for Libertarian Shawn Quinn and 9% undecided. In deep blue Maryland, that signals real trouble for Governor O'Malley's right hand man. More importantly, Independents favor Hogan by 8 points with a quarter still undecided. That's remarkable considering that Hogan is still unknown to most Independents with an image of 27% favorable and 14% unfavorable. But Independents know Brown better and don't particularly like what they see. Brown's image among Independents currently stands at 32% favorable to 39% unfavorable.
I can easily gather two things about this race: one is that Shawn Quinn will get 1% if he's lucky, and the other three percent will likely break toward Hogan by a 2:1 margin. It's also an axiom that undecideds tend to break for the challenger; despite the fact the seat is an open seat Brown as LG has to be considered the incumbent. It's a scenario which could be a repeat of the 1994 gubernatorial race.
Insofar as the numbers go, the sample used by OnMessage is a 51-32 D-R split, which oversamples registered Republicans by about five points. However, if Republicans are motivated to turn out and Democrats are dispirited, that turnout model may not be bad. And when just 51% of Democrats feel the state is on the right track (while 64% of independents and 88% of Republicans think things are going the wrong way) the motivation should be on the GOP side.
It's also worth mentioning that Brown is already leaking 15% of Democratic votes to Hogan while just 3% of Republicans back Brown. The only reliable constituency Anthony Brown has is the black vote, which is at an 87-5 margin – hence the Michael Peroutka scare tactics being used as a dog whistle to minority voters.
Even though it's a Republican poll, the trend has to be a little disturbing to Democrats. Earlier in the summer, Brown had a massive lead over Hogan – up 18 in a June Washington Post poll, and up 13 in separate July CBS News and Rasmussen polls – so to see that melt away to no worse than single digits has to shake up the Brown campaign. It explains why they're throwing the kitchen sink at Hogan on social issues, trying to distract attention from Brown's pitiful and puny record of political accomplishments.
Obviously the fight in this election will be how well Hogan can stick to his message of fiscal responsibility. Now that the primary is over, we don't have to fight on degrees of difference so when the Democrats try and change the subject I'm not going to allow it. It's time for fiscal responsibility and competence, and Maryland Democrats over the last eight years have shown little of either.
First, the setup: one of the many e-mails I've received beseeching me for donations. It asks "Are you on this list, Michael?"
Michael,

Chairman Walden just sent me a list of NRCC Members for 2014, and I don't see your name.

I know you've been one of NRCC's most loyal supporters since the start, this just can't be right.

You donated in the past in defense of a Republican House Majority, but not yet this year.

It's getting urgent with 80 days until Election Day. We need you now more than ever. We're working to stop the Obama campaign machine in its tracks – BUT we can't do it without you.

In order to combat the $374 MILLION that Democrats are spending this cycle, we need grassroots supporters like you to renew your support for Republicans across the country today.

Together we'll rally families and workers to stop President Obama's disastrous Big Government Agenda – and advance better solutions for a brighter future.

Please don't wait another moment. Renew your NRCC membership today with a gift of $10.

And, if you renew by tonight at midnight, I will triple your donation, so your gift of $10 will have an impact of $30.

Thanks,

John Boehner
Speaker of the House
Let's clear a few things up. I don't think I've ever given a penny to the NRCC, so they're pulling that one out of their rear end.
But more importantly, what have you really done to "stop President Obama's disastrous Big Government Agenda?" Have you defunded Obamacare or told the EPA where to go? How about impeaching some of the lesser members of the administration? Of course not, because your consultants said it would drive away independents, as if most of them will vote in a non-Presidential race anyway.
And then you have what this duly-elected Congressional nominee wrote yesterday:
I just pulled over about 2 hours into a trip to Allegany County to write this. I think it's time.

Have you heard of the National Republican Congressional Committee (NRCC)? They exist to allegedly help Republican candidates get elected to congress. Do you know that it's been months since my victory in the Republican primary in Maryland and I haven't heard a peep from either them or the RNC?

Do these establishmentarians think it's easy running as a Republican in deep-blue Maryland? Do they think that after years of having OUR party nearly taken over by cronyists, interventionists, purveyors of bad policies like TARP and grotesque levels of government spending, that outsiders like me have it easy?

I can barely knock on an Independent's or a non-white-male-voter's door without being thrown off their porch. Do you feel that you've mastered the message and it's really people like me who are the problem? Who do you think is fighting this battle? It's certainly not you. We're the ones at the doors, where it matters.

What's your reason for ignoring me, and the many others fighting for this magical country's tomorrows? Do I not fit into your box? Is it my youth, my message, or is it that I haven't firmly planted my lips on your rear-end?

I'm a Republican because I believe liberty matters and we should not surrender OUR party to cronyists and connected-insiders. We built this house and you don't get to burglarize it and keep the spoils. If elected Democrats want to monopolize unlimited government and evaporating liberty then go join them in their house but stay out of ours.

Finally, thanks to the grassroots who have accepted me as one of their own, despite my recent entrance into the political arena. It's your sweat and positive energy that keeps me going despite the willful ignorance of so many on the inside. It's you that matters. Thank you so much.
Really? You at the NRCC ask me for money and don't support a guy like this? Well, perhaps I have an idea why Dan Bongino and others like him get the shaft. I won't blockquote the whole thing, but a piece by Dr. Steven J. Allen of the Capital Research Center is worth reading in order to get a peek into what I think is the mindset of the NRCC and "establishment" Republicans at large.
But the problem isn't just Washington. Just look at what the Democrats have tried to stick on Larry Hogan with the help of a most compliant media. From a Michael Dresser piece in the Sun:
"The No. 1 priority is to expose Larry Hogan as a conservative, knee-jerk Republican who doesn't support universal pre-K and doesn't support a woman's right to choose, doesn't support increasing the minimum wage but instead supports giving billion-dollar tax giveaways to the largest corporations," (Anthony Brown campaign manager Justin) Schall said.
Needless to say, there was no follow-up as to why universal pre-K is so vital (Head Start has been shown to be ineffective after grade 3), proof that Hogan isn't pro-choice, and, frankly, why Brown thinks we should be confiscating tax money from our largest employers – you know, those people who create jobs that have value rather than push paper?
Unfortunately, this is what Hogan's side had to say.
"We obviously have to get our message out to a broad segment of the population. We have to lay out a clear vision of what we want to accomplish," (Hogan campaign manager Steve) Crim said. "It's a humanization. It's showing people that Larry does care about everyone."
I didn't know that was a question. I would contend that Anthony Brown only cares about the special interests bankrolling his campaign. So why is it implied that the Republicans don't care about everyone? I deeply resent that implication.
Or read this lead paragraph from John Wagner in the Washington Post:
To hear Maryland Democrats tell it, a victory for Republican gubernatorial nominee Larry Hogan could lead to the legalization of additional assault rifles, new limits on women's access to contraception and the clock being turned back on gay rights.
Prove it. Come on, Maryland Democrats, let me see the legislation Larry Hogan has proposed to do just that. Put up or shut up. Unfortunately, Larry plays along to an extent:
"It seems like every other day, we're getting some off-the-wall attack on something that no one cares about," Hogan said. "They're trying to make me into a right-wing, tea party Republican."
Trust me, Maryland, if only…but he's the best we have to work with.
It's time for a little attitude. Later in the Post piece, the whole Michael Peroutka affair is brought up, and look who went dumpster-diving for that minor little issue:
The Brown campaign e-mailed reporters about the secessionist views of Michael Peroutka, a Republican council candidate in Anne Arundel, where Hogan lives. Hogan promptly responded by saying Peroutka's views have no place in politics. An aide said that Hogan and Peroutka have no relationship. (Emphasis mine.)
Divert from important issues much? The Brown campaign is worried about a local County Council race? I think I'd worry more about the $150 million or so of taxpayer dollars you wasted on a balky website than one person's personal views, which wouldn't affect how he served the public in his capacity anyway.
There are a lot of fed-up people out here in the real world. They're tired of struggling to make ends meet while watching the borders and the law be ignored, their taxes constantly go up while government cronies prosper, and being told their conventional, Judeo-Christian views of morality are politically incorrect and intolerant. I'm sick of it, too.
I have a number of friends who are Democrats. A lot are great people, and perhaps there are places we share political common ground. But to blame Republicans for the problems affecting this state and nation is the height of folly, considering who's been in charge recently. Simply put, the Democratic prescription is not making the patient better; instead, Uncle Sam is more infected and weakened than he was when the Democrats took over Congress in 2007 and the White House two years later.
The real truth is out there beyond the headlines. Talk to the people, and they will tell you just what I said a couple paragraphs above. Maybe the political consultants and hucksters who keep putting out constant e-mail appeals for my money (trust me, it comes from both sides) are getting a cut, but I say we ignore them and just give to our favored candidates. (Okay, I will make an exception for the state GOP, if only to keep their lights on and phone working.)
I think somewhere we lost our way, and the world needs good leaders on par with our Founding Fathers to steer us back. Just wish I knew who they were, because when I look at a lot of those people who would deign to be our national leaders I see a load of snake oil salesmen.
I'm probably going to drive my Republican friends nuts here, but I think this guy has a point.
Last night I saw this among the posts on my Facebook feed:
What do you think you will hear Saturday from Brown and Hogan?

Brown will tell you about his folks and the one year he served. He will replay everything that O'Malley has done has if he had something to do with it.

Hogan will simply bash Brown for every problem in the state.

If Quinn had been allowed to speak you would hear about term limits, lower taxes, better schools, reformed tax codes and regulations, restored rights and power being given back to the people. Do you see why they can not let Quinn to be heard? November you decide, a self serving governor or an open, honest and people caring governor. They can't stop you from voting for the best possible governor.
Of course, the author of this piece was Libertarian candidate for governor Shawn Quinn, who wasn't invited to the MACO forum to speak and will lead a small protest to that fact Saturday morning.
Come out on Saturday in Ocean City and help me protest this apparent anti-citizen group. We will get pictures of who is supporting this government-controlled Association and let you see who is abusing their office.
Obviously I come from a Republican perspective, but I have given the Libertarians a little ink in the past (like this when the 2010 campaign began.) So it's nothing necessarily new, even though I do believe they take more votes away from Republicans than Democrats. (Conversely, the Green Party takes mainly from the Democrats, which may be why they haven't put up a 2014 candidate.)
I can understand that there are candidates who will be on the ballot but get a tiny percentage of the vote, but it's interesting how they're treated by the media. Until he was tossed off the ballot, Brian Vaeth and his likely 1-2 percent of the vote was often included in Republican debates; on the other hand, only the three main Democratic candidates got the spotlight while the other three (Ralph Jaffe, Charles Smith, and Cindy Walsh) were ignored. It begs the question of whether their combined 2.8% was a factor of not having popular viewpoints or being ignored by most media. (Jaffe and Smith, however, fall into the perennial candidate category. On the other hand, Walsh ran to the left of Heather Mizeur, who she called "a nice person (who) will serve as an establishment neo-liberal." I think Walsh would have been great in the debates, and she got half that 2.8%.)
There's no question that Quinn will fall far short of being the next governor. Susan Gaztanaga got 0.8% of the vote in 2010, which set the high-water mark for the Libertarians in Maryland. They didn't field a 2006 candidate, and Spear Lancaster scored 0.68% of the electorate in 2002. Getting to 1% would be enough of an achievement.
But even though there's little chance Quinn will win, I think he should be included in debates. I think it would be educational for the others to respond to some of the points the Libertarian brings up on his issue page, like this one:
The largest percentage of welfare tax dollars goes to pay the salaries of welfare workers and government overhead expenses, only a fraction of these monies actually make it into the hands of the needy. Throughout history private charities and groups do a better and more efficient job of helping the truly needy get back on their feet. A priority for our administration will be working to transfer these much needed services to the private sector and assist them in creating programs to put people back in the work force instead of continuing to perpetuate the meager handouts which force the needy into government dependency.
In turn, there needs to be some questioning of Quinn as to how he would perform some of these policy changes with a General Assembly practically (if not physically) devoid of his party.
But that's the great thing about a debate of ideas – too bad we won't get one anytime soon.
I saw this when it originally came out, but Michael Hausam at the IJReview website basically took Dan Bongino's recent "us vs. them" Facebook post and shared it for the whole internet to see – and that was a good thing. Read it, then come back here for my thoughts.
What has truly gotten this nation into trouble is the political class. Think about how Washington works these days:
It is a culture which uses the force of law to extract your hard-earned money in such a way that you really don't notice it anymore. You may grumble when you see all the deductions in your check due to backup withholding but just try getting them to stop.
That money is supposed to go toward addressing the various problems we have in society. Whether you agree with these purposes or not, funding goes to the military, dollars go to running the judicial system, money goes to providing all of the entitlements politicians have passed over the years, and so forth. But the Catch-22 is that solving the problem would make the agency, bureau, or whatever group superfluous and/or unnecessary and all those who work there would have to find honest work. Can't have that.
Yet all that paper being pushed really doesn't produce anything, Now one may argue that constructing infrastructure is something government does to produce worth, but most of the time it's a private contractor doing the work – they're just being paid with public funds. Government is generally in the service business as opposed to creating things of worth like automobiles, fields of corn, or extraction of minerals – and thank God for that.
In any case, there are a group of people within that culture whose aim in life, it seems, is to skate along as a "political consultant" and tell candidates who may or may not have been earnest people to begin with just how to fool people into believing they are one of them.
It's been several months since I've spoken to Dan; since he's running for office on the other end of the state I have been simply observing from afar for the most part. Having said what he did on Facebook and now beyond, it's no wonder he's filled in for Sean Hannity and Mark Levin on their radio shows – the question is always whether the glitz and glamour of the Beltway would affect him as it has so many other promising conservatives. Granted, he's been inside that bubble (so to speak, as indeed he has) for several years so there is the unique perspective. To turn a phrase, we have to elect him to see what's inside him and I have no problem with that. I think I can trust Dan to do what's right, even with his taste of the life inside.
But perhaps I'm not a "real" person either, since I follow politics more closely than probably 99% of other people and write about it more than 99% of that select group. Take my county of 100,000 people and I'm one of maybe 1,000 who follow the political events closely and, yes, there are maybe 10 of us who write a lot about it. Yet in my position I have to interact with the non-political world on a daily basis and I intentionally write about other things to stay grounded in reality and keep what little sanity I have.
My biggest fear is that those who claim to be outsiders will reach the pinnacles of power and prove to be no better than those they replaced. (As The Who sang, "Meet the new boss, same as the old boss.") One argument within the TEA Party movement is whether it's gotten too much like the rest of Washington, just with a different set of hucksters getting rich from it. Being on an e-mail list isn't about discussions of policy, but appeals like this:
The clock is ticking… and there are now less than 100 days left before Election Day.

That means less than 100 days to door knock, make phone calls and attend community events to earn the vote of citizens in Maryland's 6th Congressional District.

Every day counts.

And that's where you come in. I need to finalize our grassroots strategy for the next 95 days. We need to budget our campaign expenses for the final 3 months of this race.

Will you help us finalize our budget before the end of the month by sending $25, $50, $100 or more before MIDNIGHT tonight?

We must budget for media buys, purchasing lawn signs, bumper stickers, campaign materials — even small items like pizza for volunteers!
In case you're wondering, that's from Dan's campaign. Now I don't begrudge Bongino looking for money because he needs it – at least with him you're donating to a candidate and not necessarily a consultant. I'm probably on a couple hundred different e-mail lists like Dan's because I'm a blogger and follow politics. (The Democrat ones are sometimes laugh-out-loud funny and good blog fodder.) And yes, I do mention it at times when a politician forms his own PAC and tries to get in on that game.
The biggest problem the TEA Party movement has is that they can't elect everyone at the same time. 2010 was a good example – they picked up all those House seats but didn't take over the Senate because only part of the body was up for election. Then it only takes one bad election (like 2012) to muck up the works for another half-decade. In 2014 they can take over the Senate but we're still stuck with Barack Obama's phone and pen.
And it's the people they don't elect who create an even bigger problem. A true rightsizing of the federal government would probably incite riots throughout the Capital region as thousands and thousands of government workers suddenly found themselves without a paycheck. Unemployment in Maryland would probably be double-digits overnight. But while some have the courage to tell the political class to hit the road, their numbers are few compared to the thousands who occupy official Washington and have created their own job security by doing just enough to stay fully funded.
They've long since bought the Democrat party lock, stock, and barrel and I'm not so sure the GOP's not on the payroll, either. That's the problem with people – too many can be bought.
Of all the states in the union, South Dakota is not one where I have a ton of readership – maybe one or two a month wander by here from the Mount Rushmore State. But I have somehow found my way to the mailing list of their Democratic U.S. Senate candidate Rick Weiland, and if his e-mails are any indication, the dreaded Koch brothers aren't just the obsession of Harry Reid. Get a load of this:
"Americans for Prosperity," a dark money front group for the Koch Brothers, have quietly set up shop in South Dakota in an effort to exert big money control of South Dakota's United States Senate seat.

The Washington Post reported over the weekend, "Americans for Prosperity, the on-the-ground wing of the network of conservative organizations spearheaded by the billionaire industrialists Charles and David Koch, will open new state chapters in South Dakota and Alaska in coming weeks, the group's president said."

"Big Money is becoming increasingly concerned that our town-to-town grassroots campaign to take our country back from groups like the Koch Brothers and other billionaires and big corporations is working. And, as a result, South Dakotans will be "subjected to a never-ending stream of negative television advertisements," said Sioux Falls small businessman and US Senate candidate Rick Weiland.

Weiland challenged Republican nominee to work with him to keep so-called "Dark Money" groups out of South Dakota. "Mike, this is an opportunity for both of us to show we can be leaders. Let's sign a pledge and agree to keep billionaires from buying these elections," Weiland said. (Link added.)
I'm less than impressed, particularly since the South Dakota version of AFP really doesn't have a full site and their Facebook page has 11 likes. Then again, they have a state chapter and Maryland doesn't anymore. That's a very, very quiet setting up of shop, though.
But it sounds to me like AFP is trying to do something the Republican Party doesn't seem to be doing otherwise – trying to mobilize action on a local level. Something Weiland didn't quote from the Post story:
Building AFP's presence in new states, (AFP president Tim) Phillips said, is one of the lessons the group took away from the 2012 elections, when Democratic efforts to organize voters proved far better than the GOP's turnout operations.
Sounds like the old "50 state strategy" to me, although for now AFP hasn't returned to Maryland. Guess we have to do it ourselves.
My point is that Democrats seem to be desperate to attack anyone who has money and wishes to donate to conservative causes because they sure can't run on their record. The seat Weiland is aiming for is one held by a retiring Democrat, Sen. Tim Johnson. Polling is still rather scarce, but Weiland – who's threatening to move into the "perennial candidate" category with another loss – trails in the state's polls by about 15 points, with former Gov. Mike Rounds, the Republican, leading, and a third candidate, former Sen. Larry Pressler, in the race as a centrist independent and behind Weiland by about 10 points. No wonder Weiland is blaming AFP, since he's lost any prospect of running to the center. Moreover, there's no question Democrats are fighting elsewhere to save seats.
But this tale also provides a good transition to something I've been meaning to do for awhile. How much "dark money" is in our local politics? And by that I mean how much do our candidates here on the Lower Shore get from elsewhere? Now that we have just two entrants in most races, it should be easier to see where the money came from pre-primary and can serve as a lead-in to the next report due August 26. Look for these updates in coming weeks.
If we would only be so lucky to get some conservative counterweight around these parts to all the special interests which seem to be funneling money toward the Democrats. But we will have to make do with what we have, which is the right position on most issues. Many of our folks have been out knocking on doors and engaging in the retail politics which will have to beat the 30-second commercials and expensive full-color mailers the other side will surely try to fool us with. Let's keep those tricks from working this time.
Update: As if on cue, Michelle Malkin has this piece on a major-league lefty contributor. But you won't hear anything from the rest of the media on the eeeeevil Democracy Alliance, nor will John Boehner begin screeching about them.
Once again, thousands came to Crisfield and heeded this advice.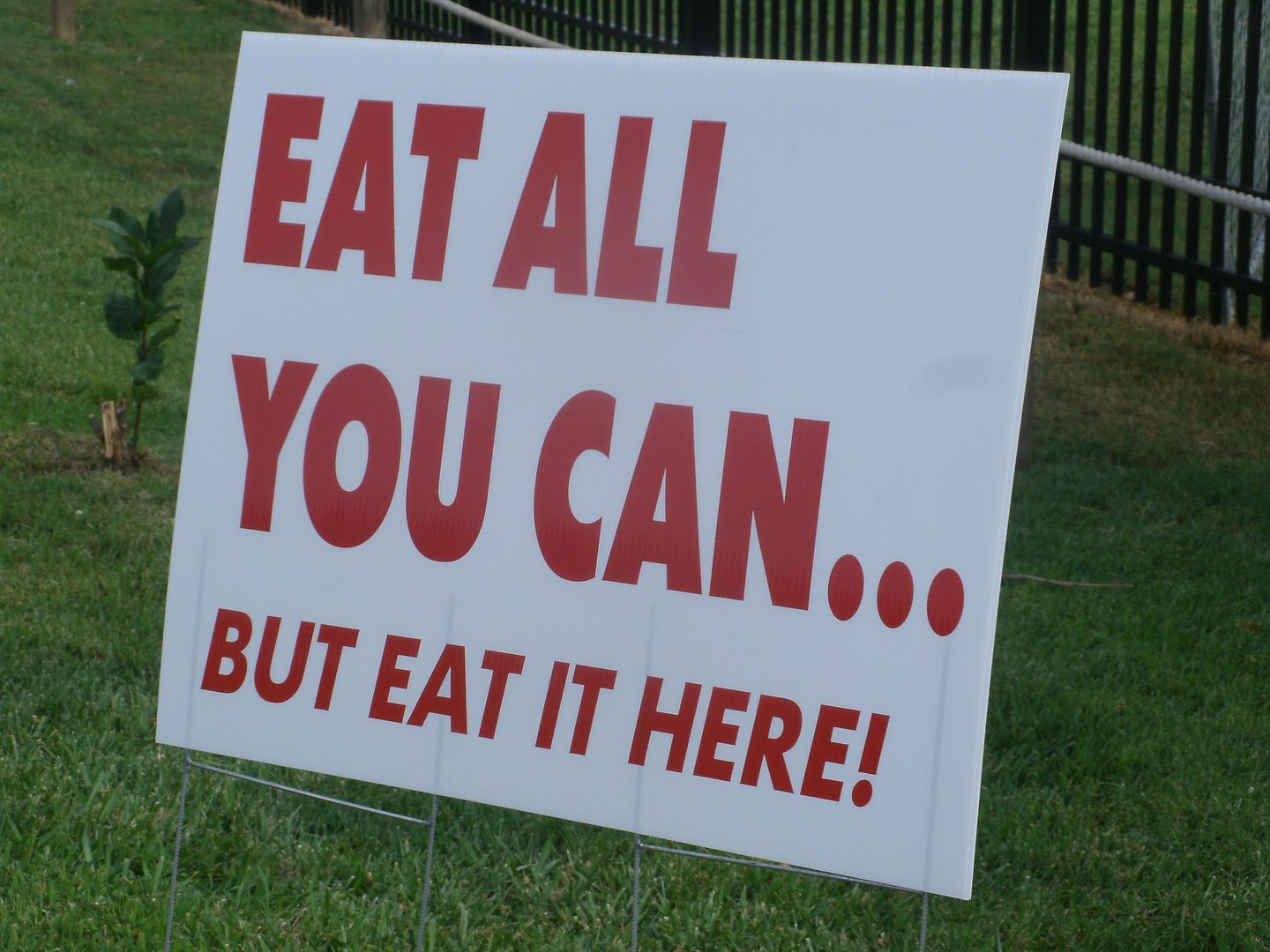 Somers Cove Marina was set up a little differently this year, but the real difference was that the attendees didn't soak through their clothes this year – instead, the day was cloudy but relatively comfortable, with only a small touch of humidity. Most years this setup – by a local engineering firm, naturally – would be oh so handy. But not so much this year.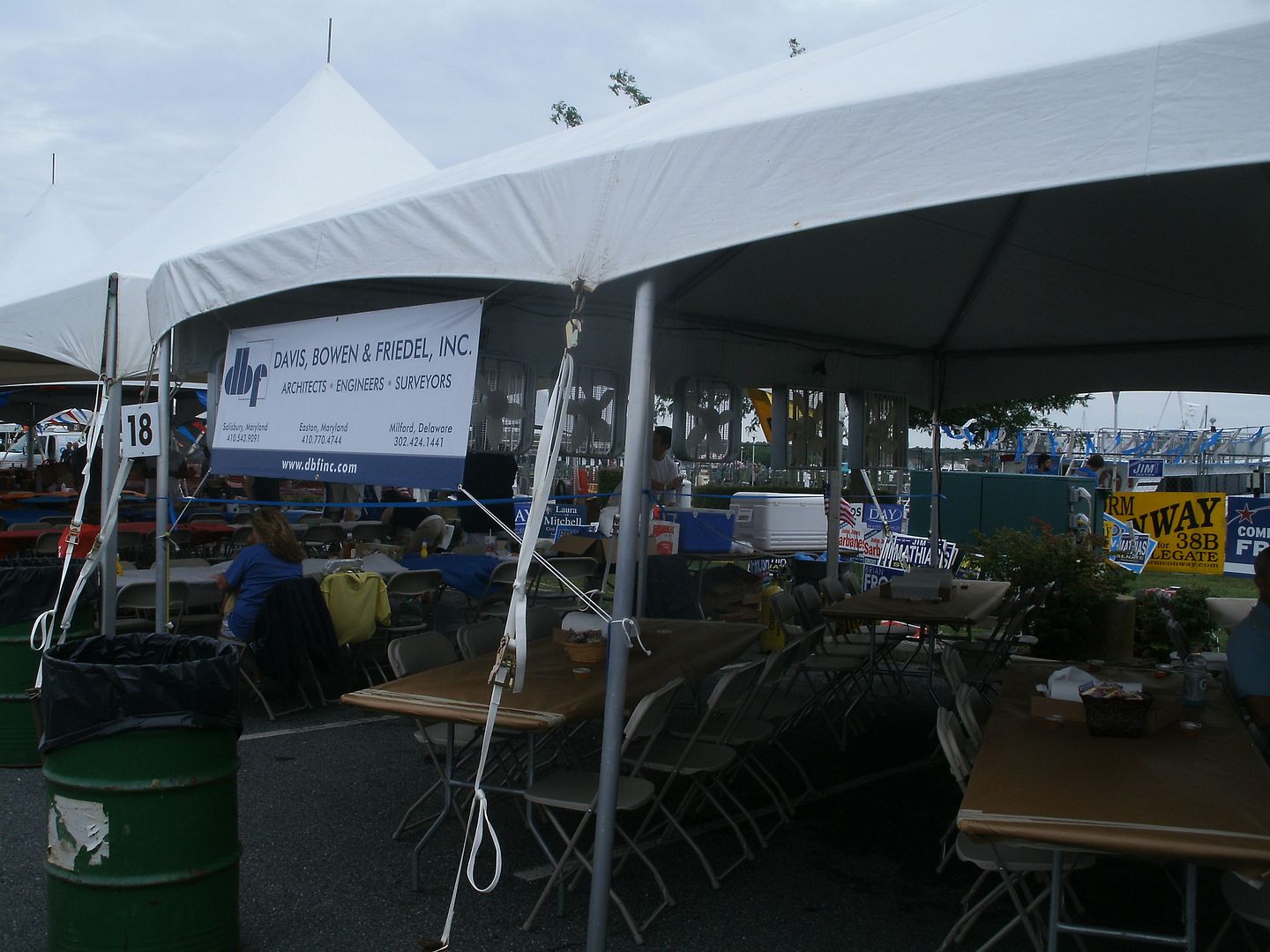 One key difference in the arrangement this year was the prominence of this tent.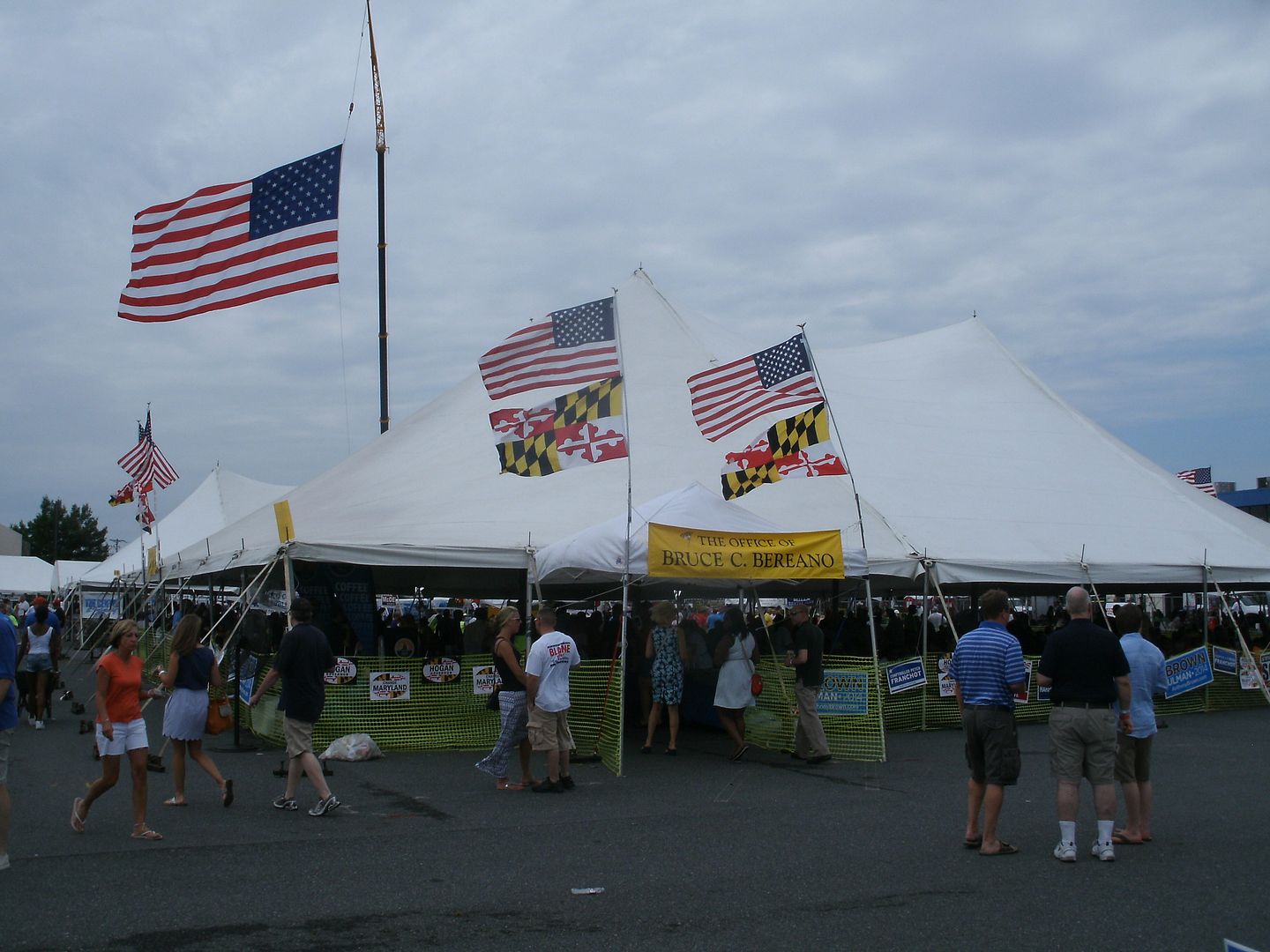 Annapolis lobbyist Bruce Bereano always has a crowded party, and it's a bipartisan affair.
The GOP tent this time was set up behind Bruce's, and it was a hub of activity for the Republican side. A lot of local and state hopefuls were there at some point.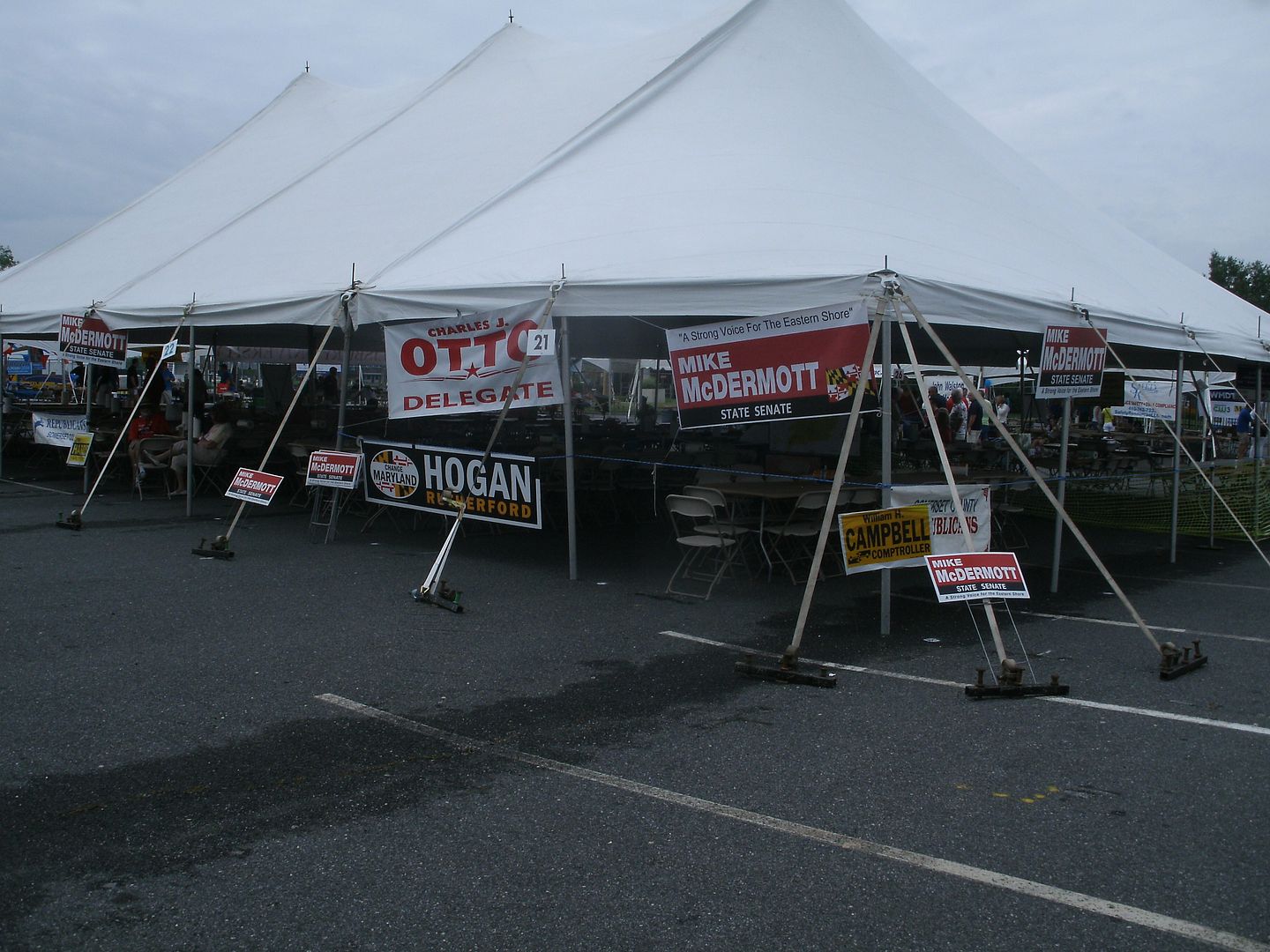 GOP gubernatorial candidate Larry Hogan decided to have his own space, which ended up by the side entrance.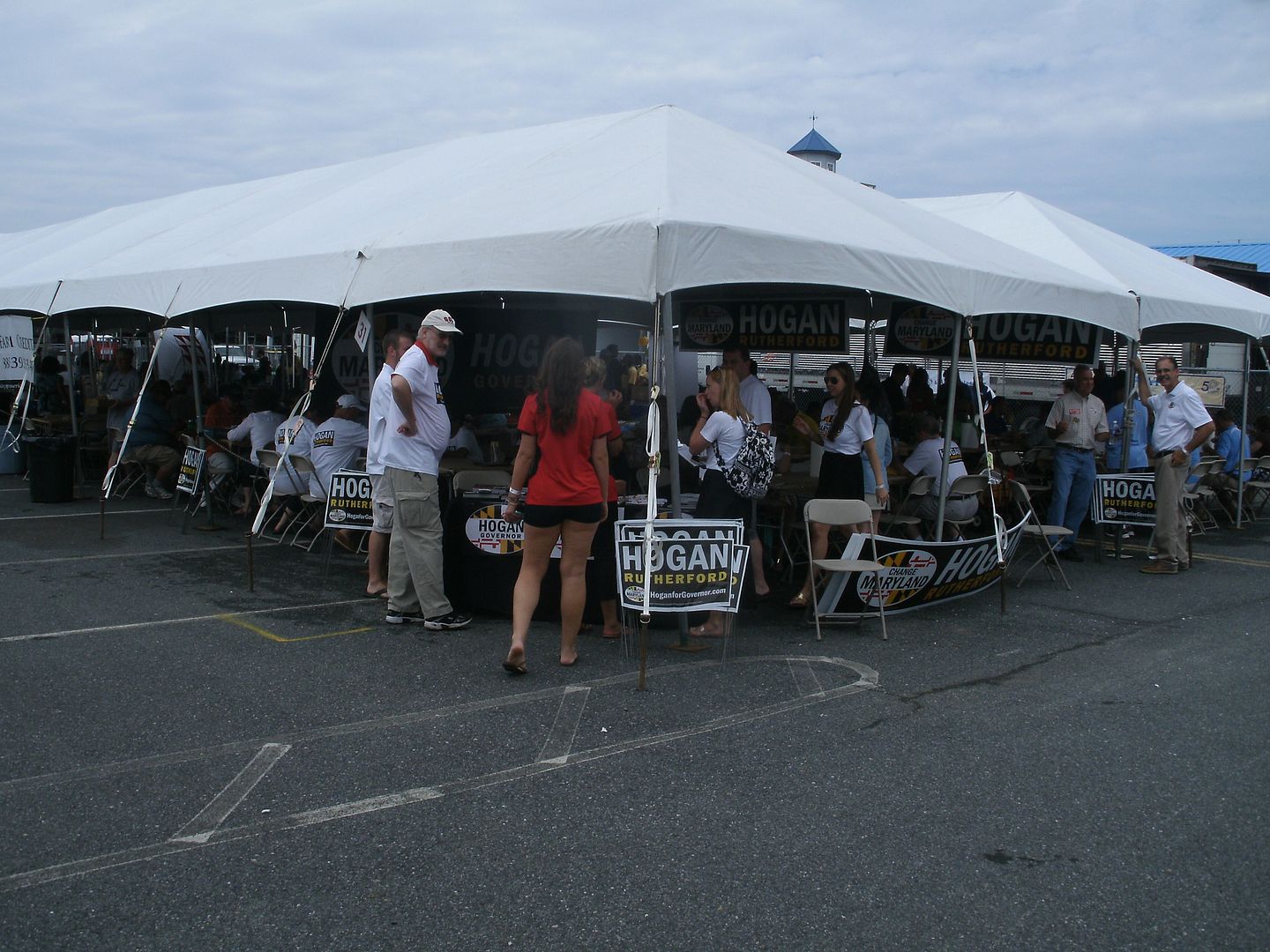 On the other side of the Republican tent and just around the corner, the Democrats were set up close to their usual rear location along the waterfront. Salisbury mayor Jim Ireton was holding court there. (He's in the white at the center, in shades.)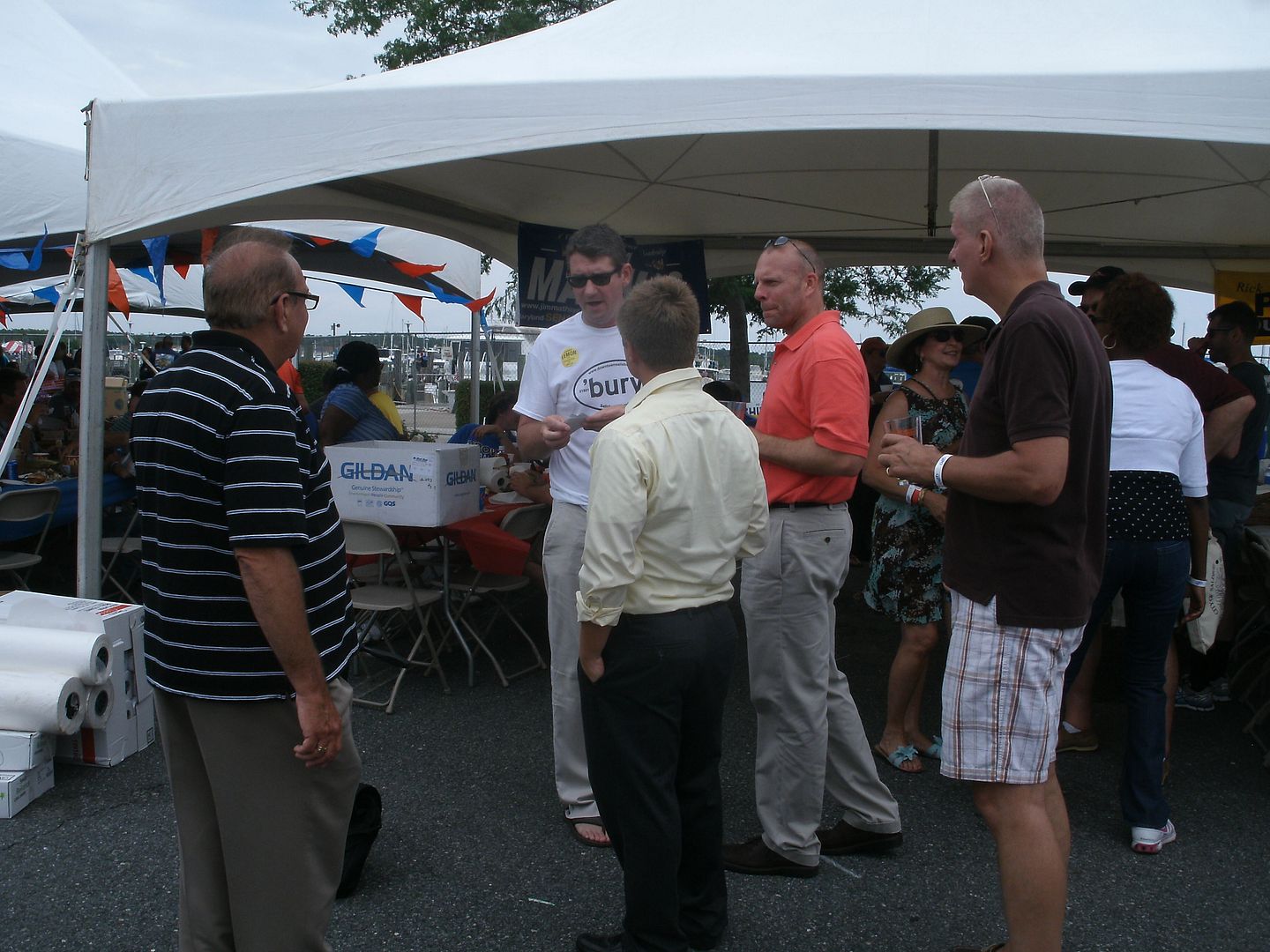 By and large, though, most of those in attendance were interested in one thing. See the light blue lean-to to the left of the Sysco trailers in the photo below? That's where the crabs were being served, and the line indeed stretched that far back 15 minutes before the announced noon opening – they really start serving about 11:30 or so.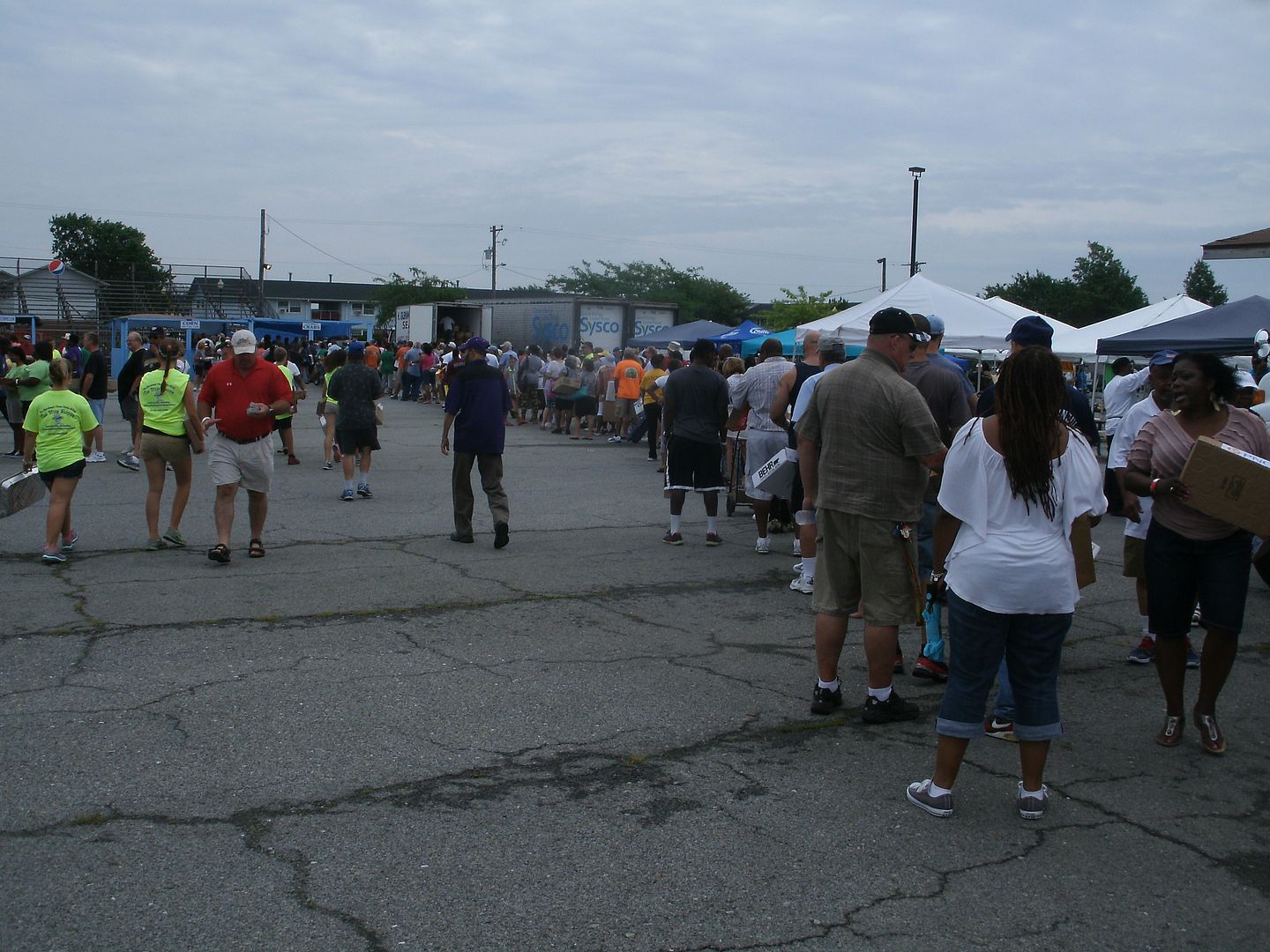 I think the longest wait I had was about 10 minutes for the Boardwalk fries. As it turns out, I'm not a crab eater – but I like the fried clams and the fish sandwiches. Oh, and there's a few politicians there too, but I'll get to that in due course because I can find the political in a lot of things – except perhaps this.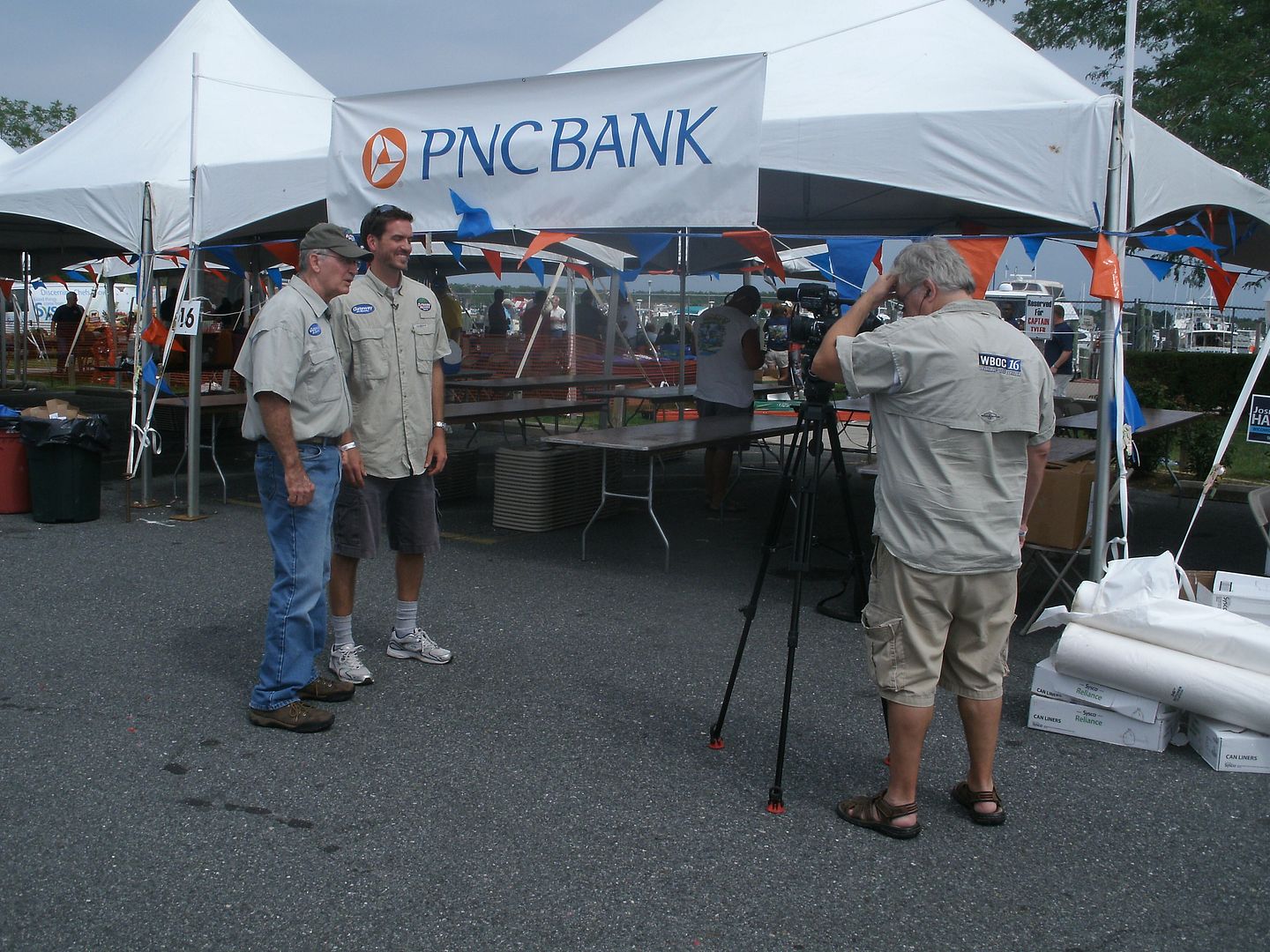 The hosts of a locally-produced show called "Outdoors Delmarva" always seem to find time to tape a segment here.
Another local business I always find at Tawes made a very classy, and apolitical, gesture this year.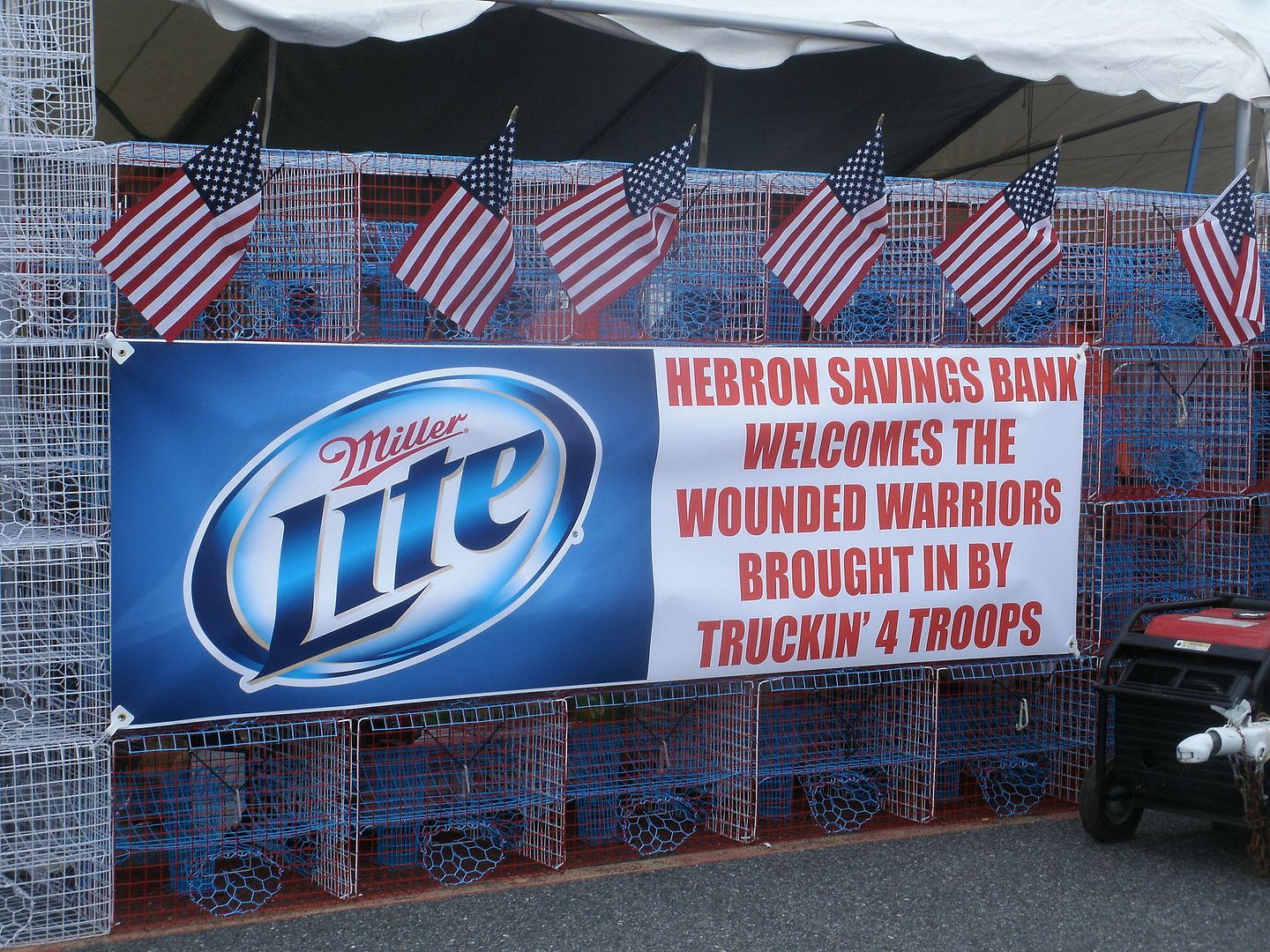 But I do find the irony in some things. For example, those of you familiar with the Hudson case may appreciate some here.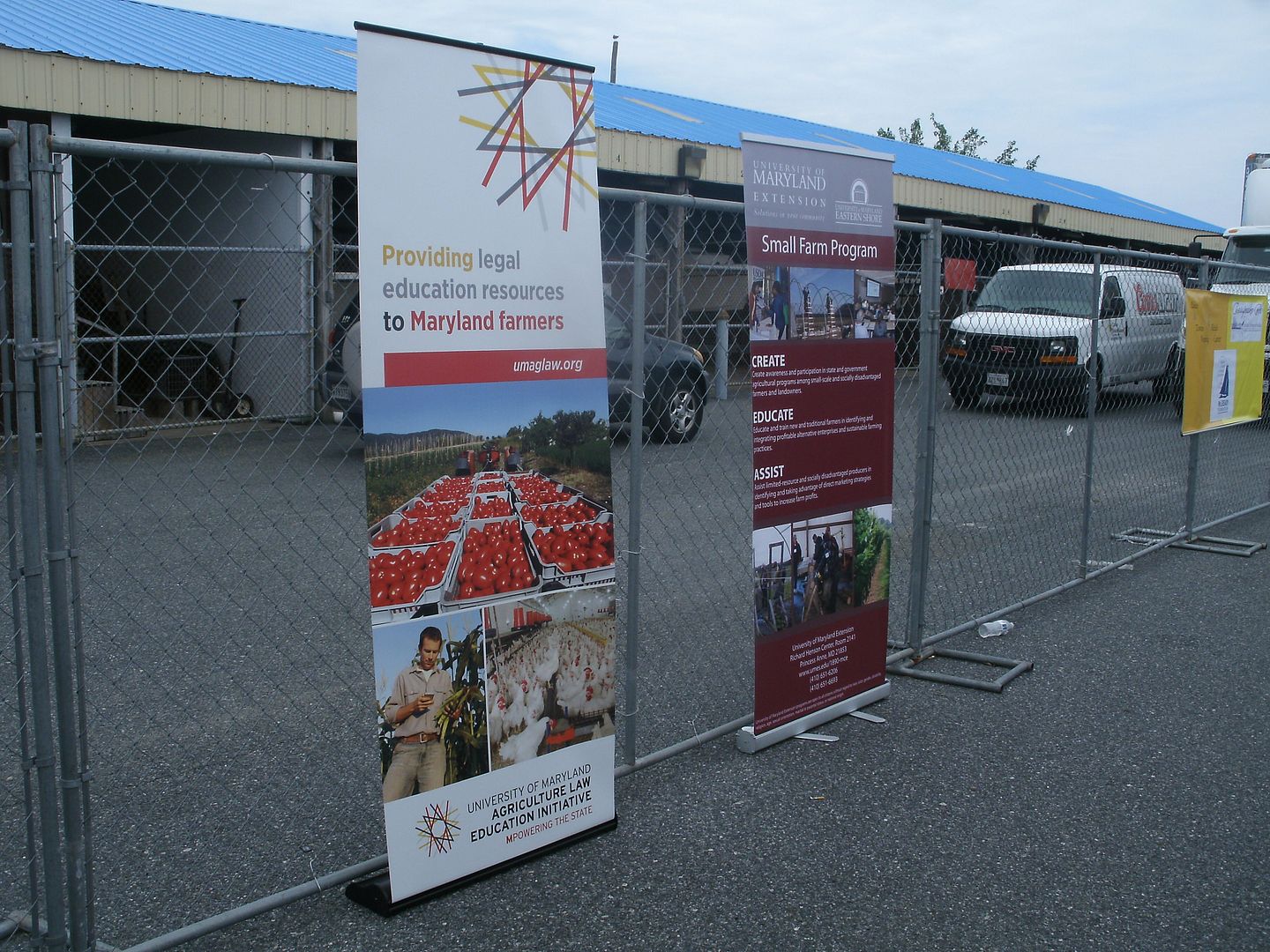 It seems to me the UM law school was on the other side of the fence before, as opposed to this group, part of the Clean Chesapeake Coalition, which tends to take agriculture's side as well as that of local government.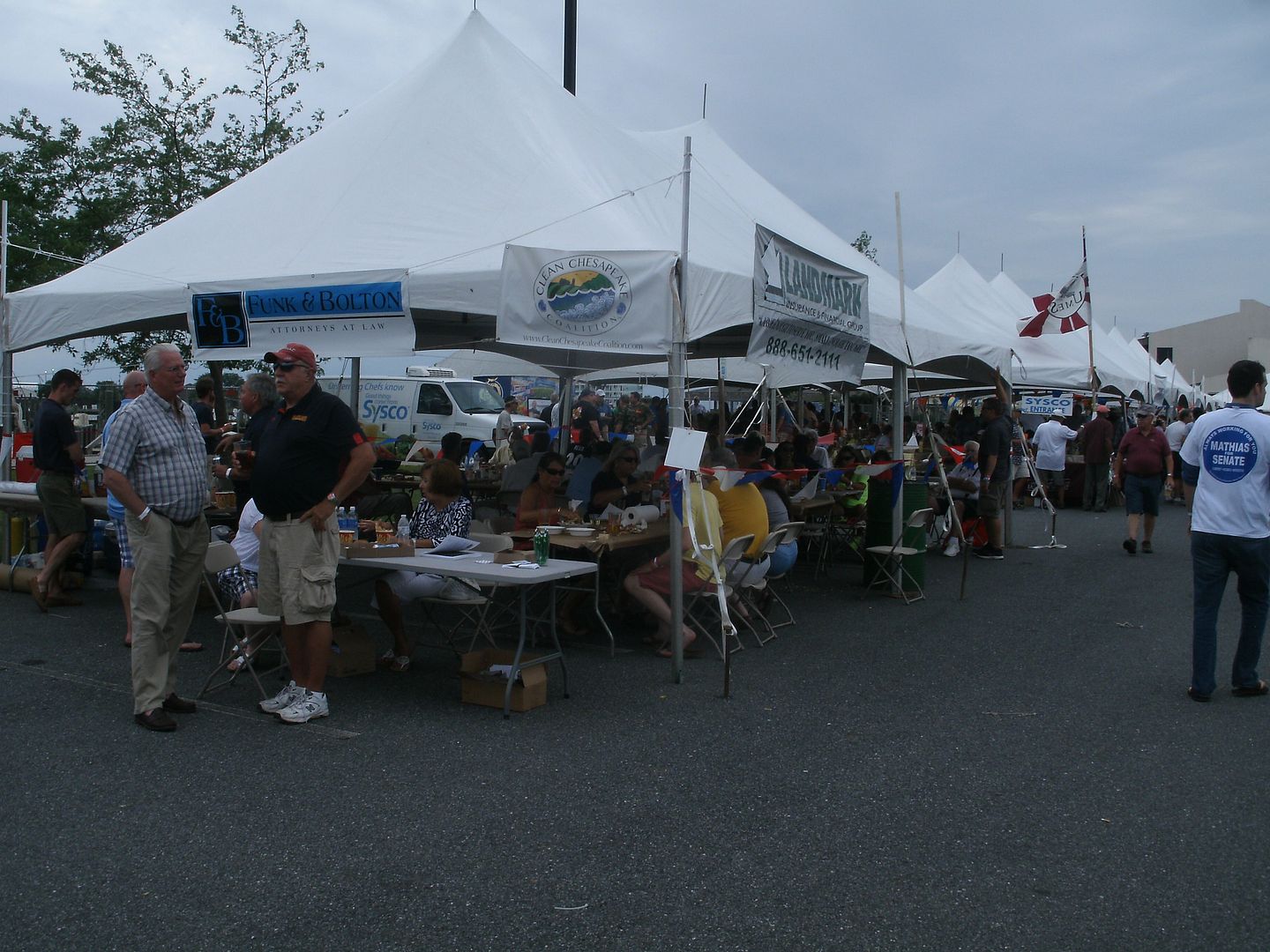 One other thing worth pointing out is the media frenzy this event creates. Here's Delegate (and Senate candidate) Mike McDermott being interviewed. Wonder how much they actually used?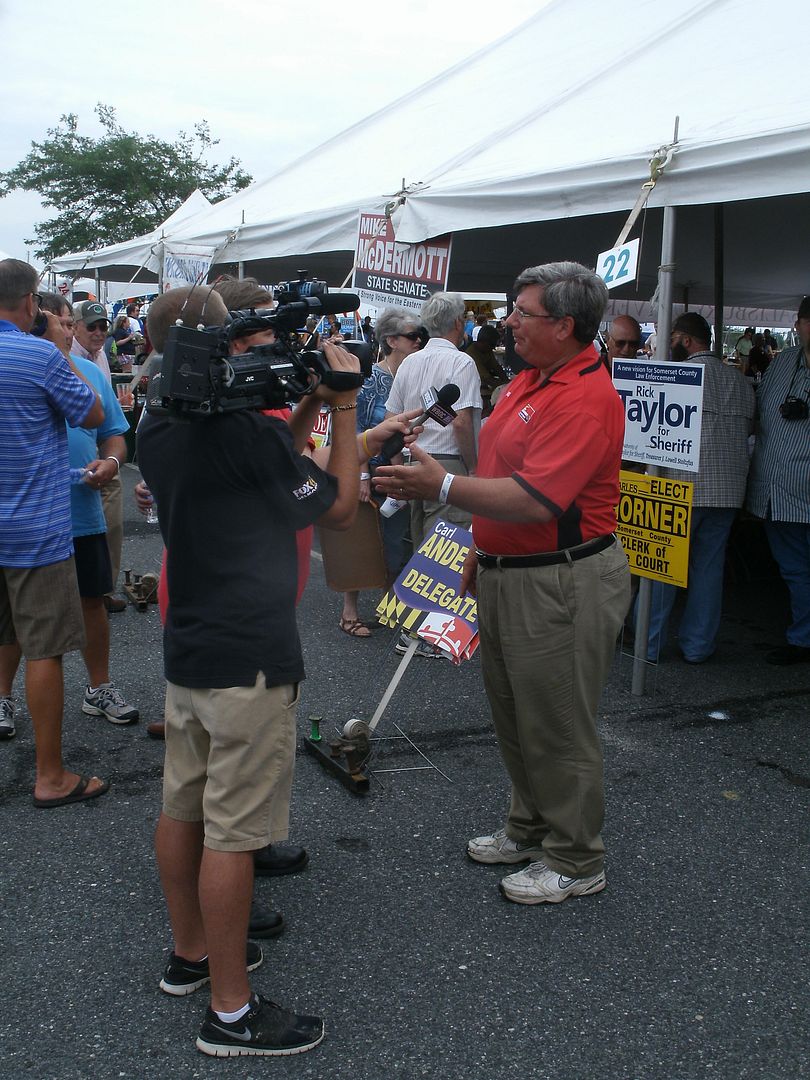 Most of the excitement occurs when the top members of the respective tickets arrive. Hogan had the tent but didn't come until the event was well underway. His entrance was rather modest.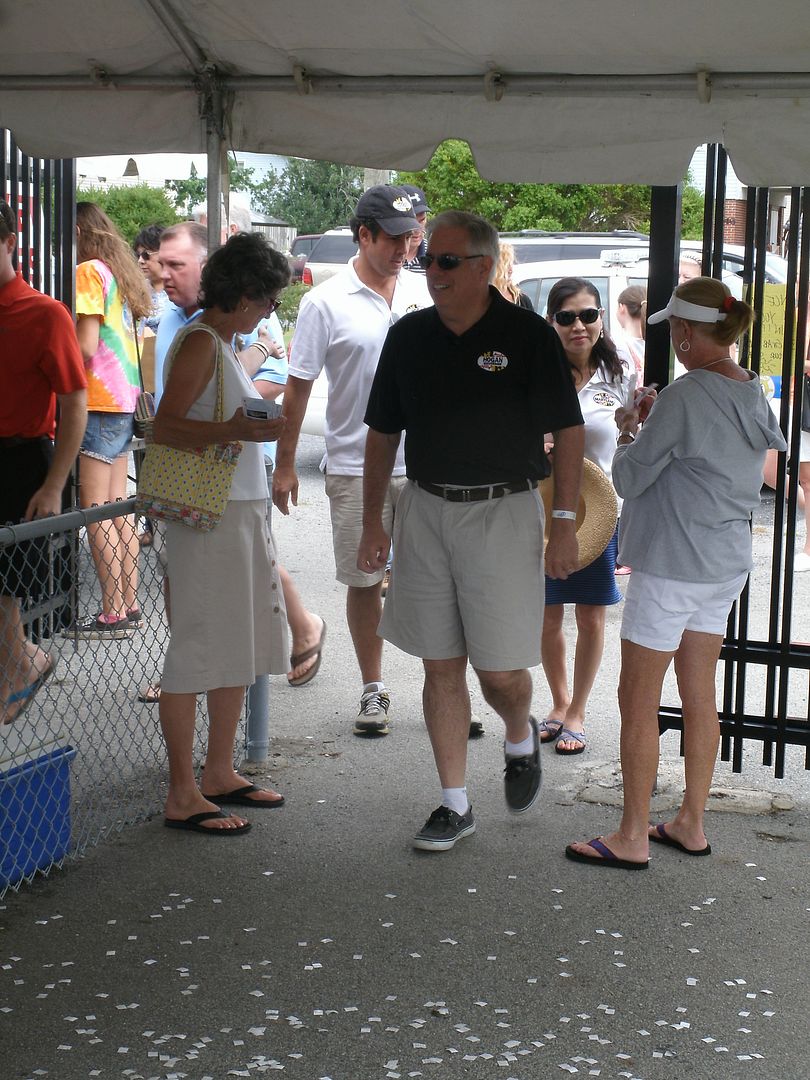 Oh, did I tell you pretty much everyone in the tent was waiting for him?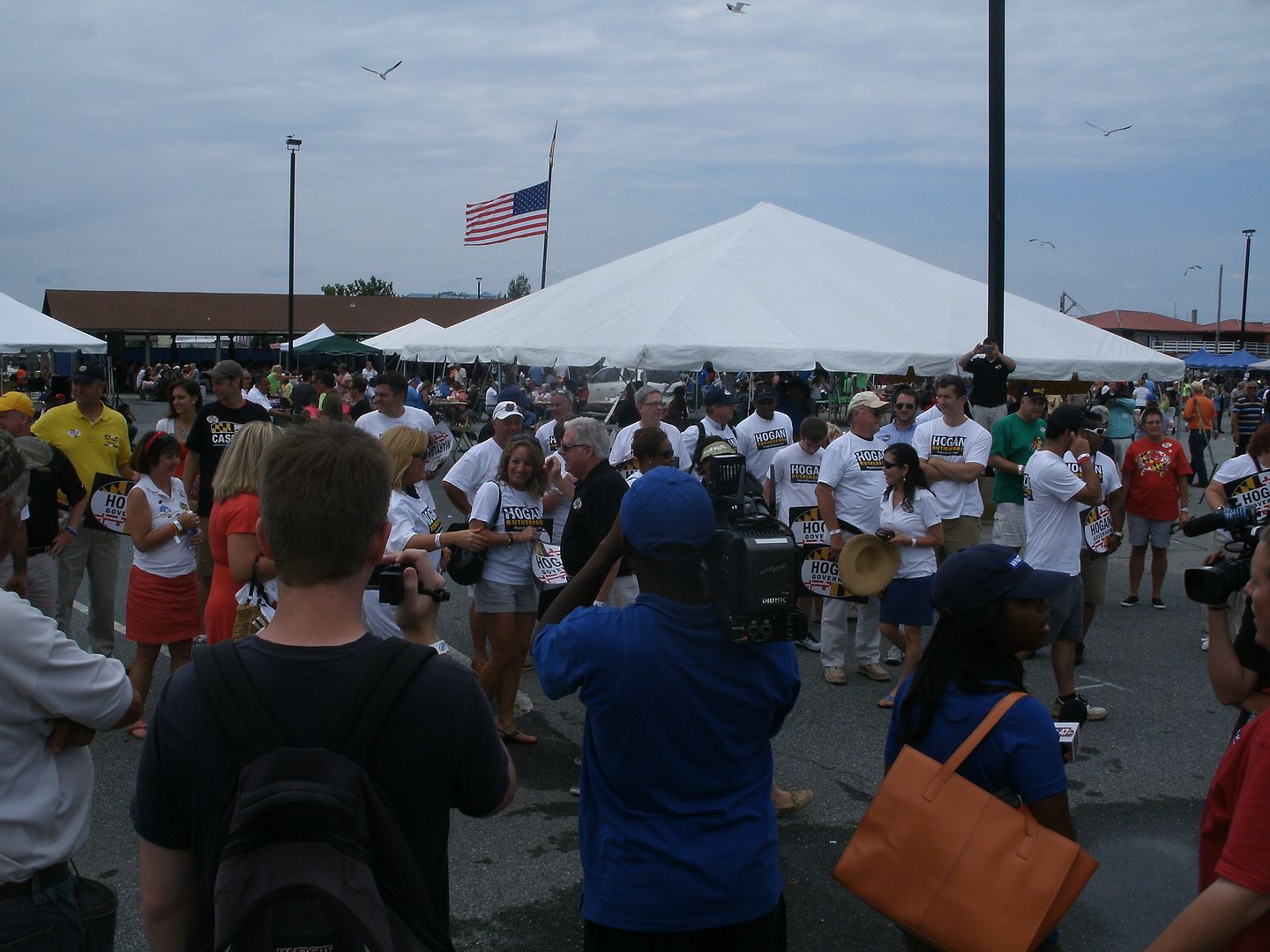 Naturally, everyone wanted to get their quote from him – perhaps even the tracker from the Brown campaign. I'm told Hogan has one.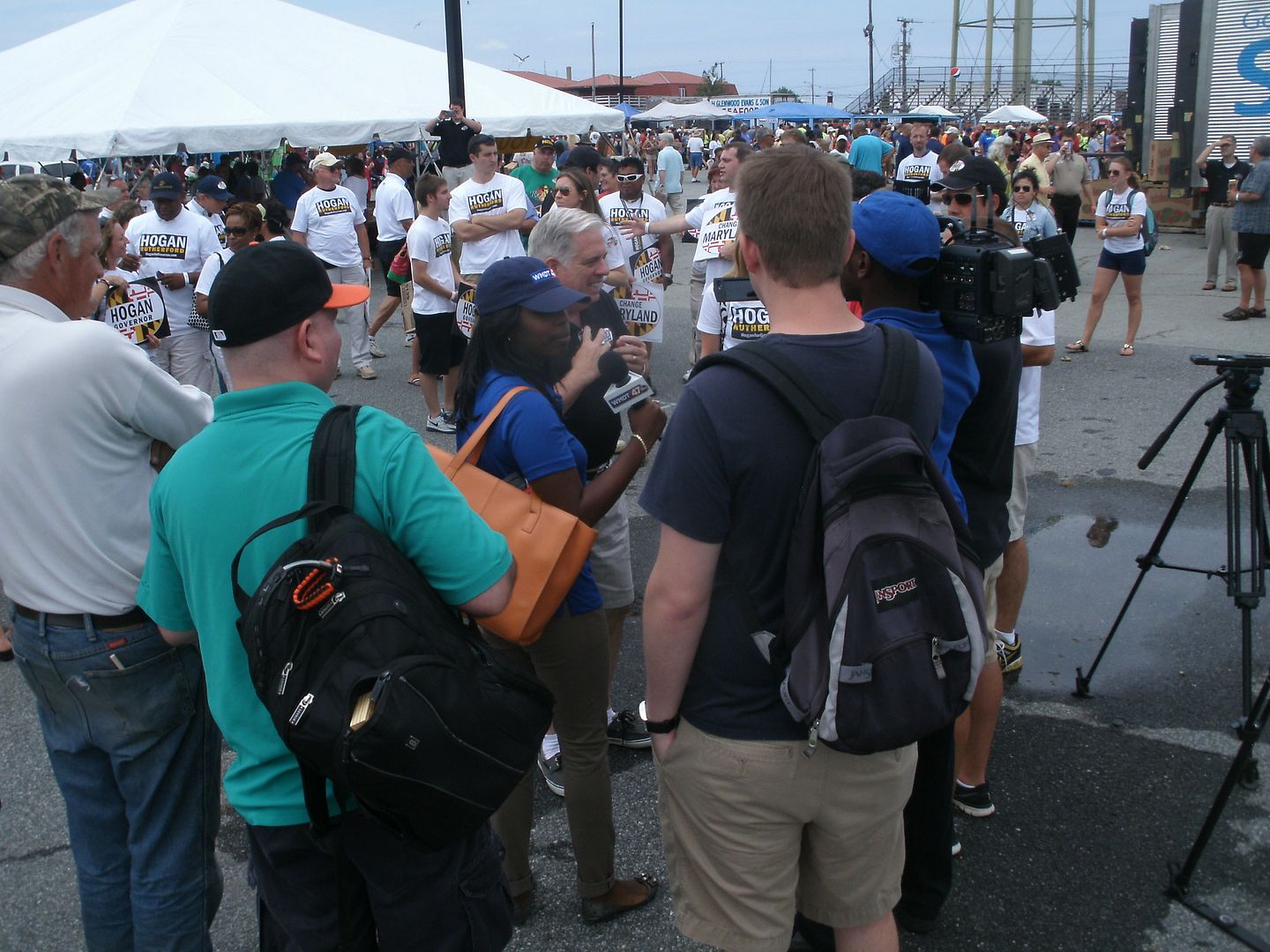 While I've been critical of the Hogan campaign throughout, the way their team handled today was outstanding. This was the first stop I noticed him making after all the interviews were through.
In case you can't read the sign above, it's the tent of the Somerset County Economic Development Commission. To me, that was the perfect place to be seen.
They took a little time to meet and greet; they being both Hogan and running mate Boyd Rutherford. But the point was that I didn't see them walking around much – instead they were engaging voters.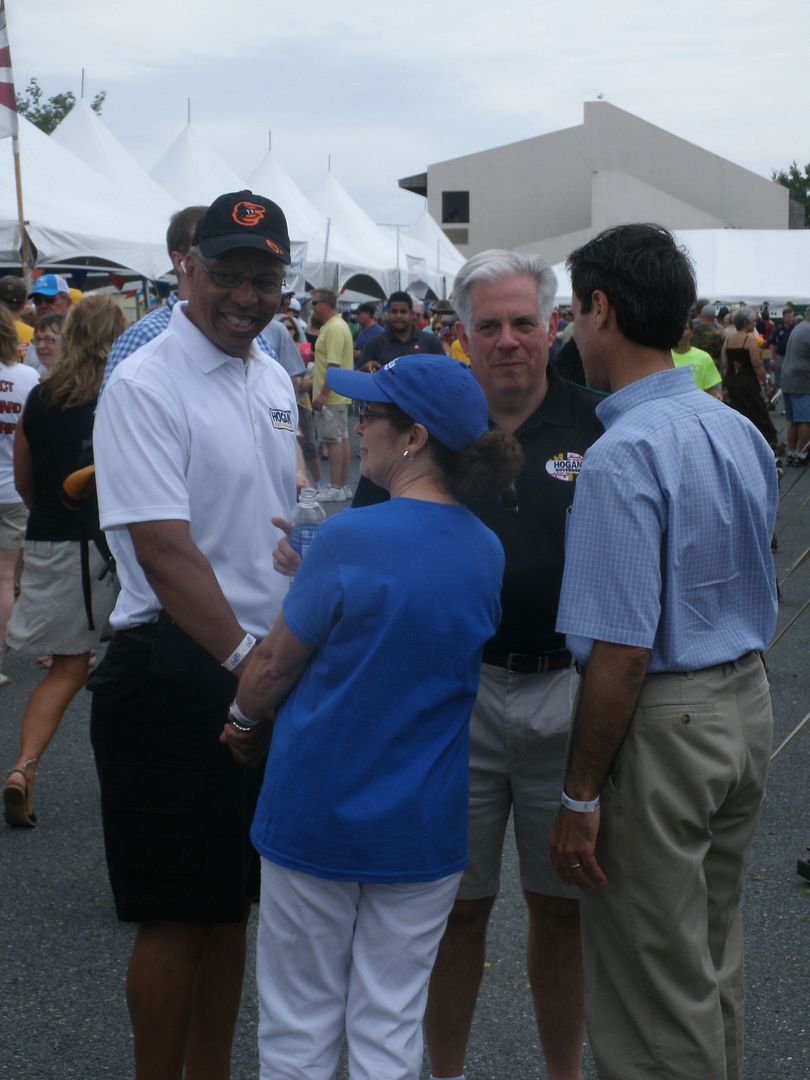 As I noted earlier, there were a number of other politicos there, but the statewide Democrats were not well-represented. I did see their AG nominee Brian Frosh. He's the small guy in the center, violating the Don Murphy rule about not wearing white.
Notably absent, though, was the top of their ticket, Anthony Brown. It's odd because he's been here a few times.
One guy who wouldn't dare miss this is local Delegate Charles Otto (center.) His Democratic opponent is the just-replaced former mayor of Crisfield, which certainly made for interesting retail politics for them.
A guy who lost his primary, Muir Boda (left) was out supporting those who won – and yes, Johnny Mautz was in the house. Muir's with Democratic Wicomico County Council candidate Josh Hastings (right.)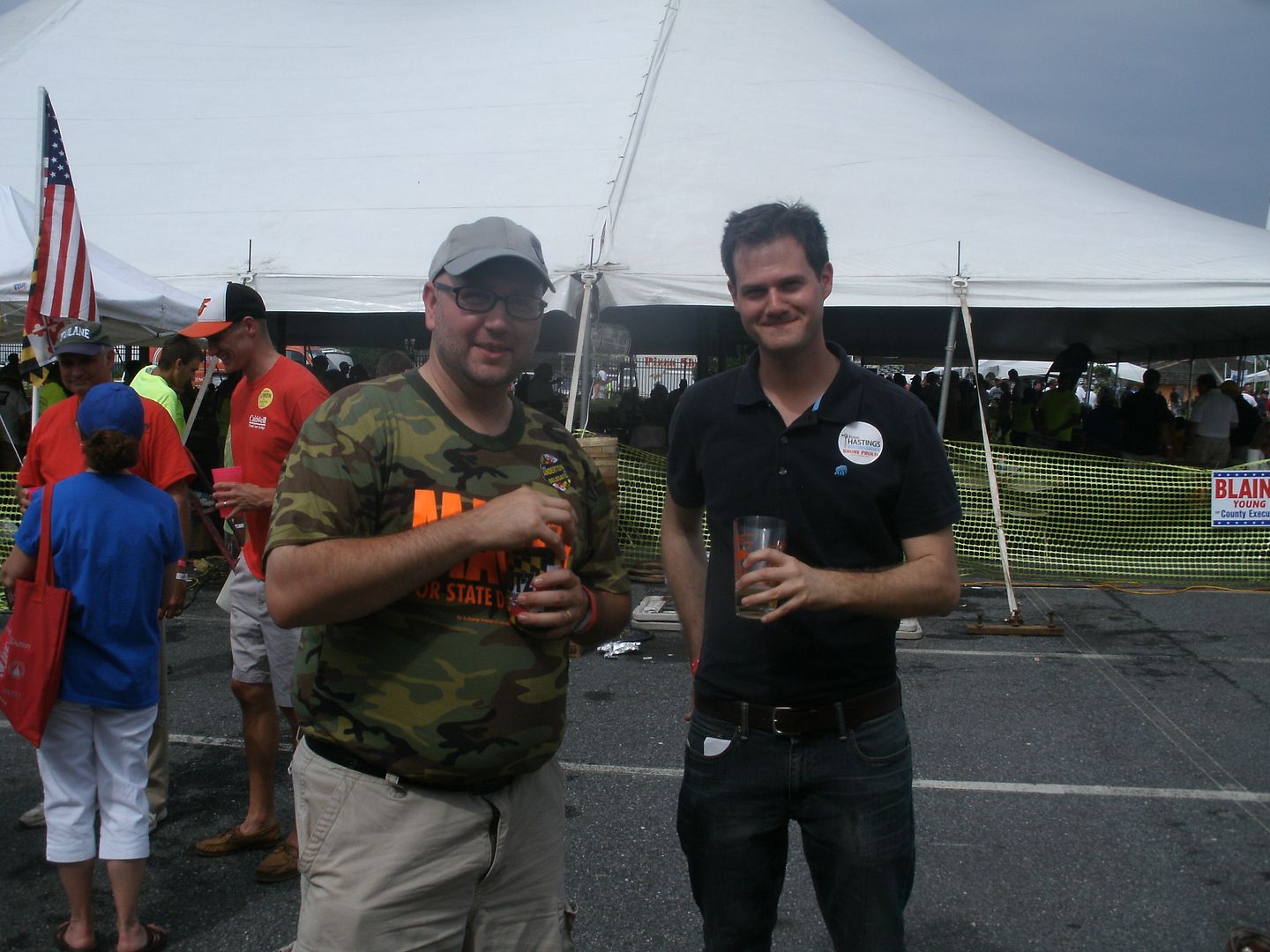 All told, there were a lot of people there. I took this panoramic shot about quarter to three, which is just before those who had their fill begin to trickle out.

One other difference was not seeing all the Red Maryland crew there, although I did speak to Duane Keenan, who does a radio show on their network. Another media guy trying to drum up business was Phil Tran, who you couldn't help but notice.
The other new media people I saw there were Jackie Wellfonder – although she hasn't blogged about her experiences yet, she did burn up Twitter – and Jonathan Taylor of Lower Eastern Shore News, who has his own photo spread.
But as the event came to an end, we know that by week's end Somers Cove will be back to normal.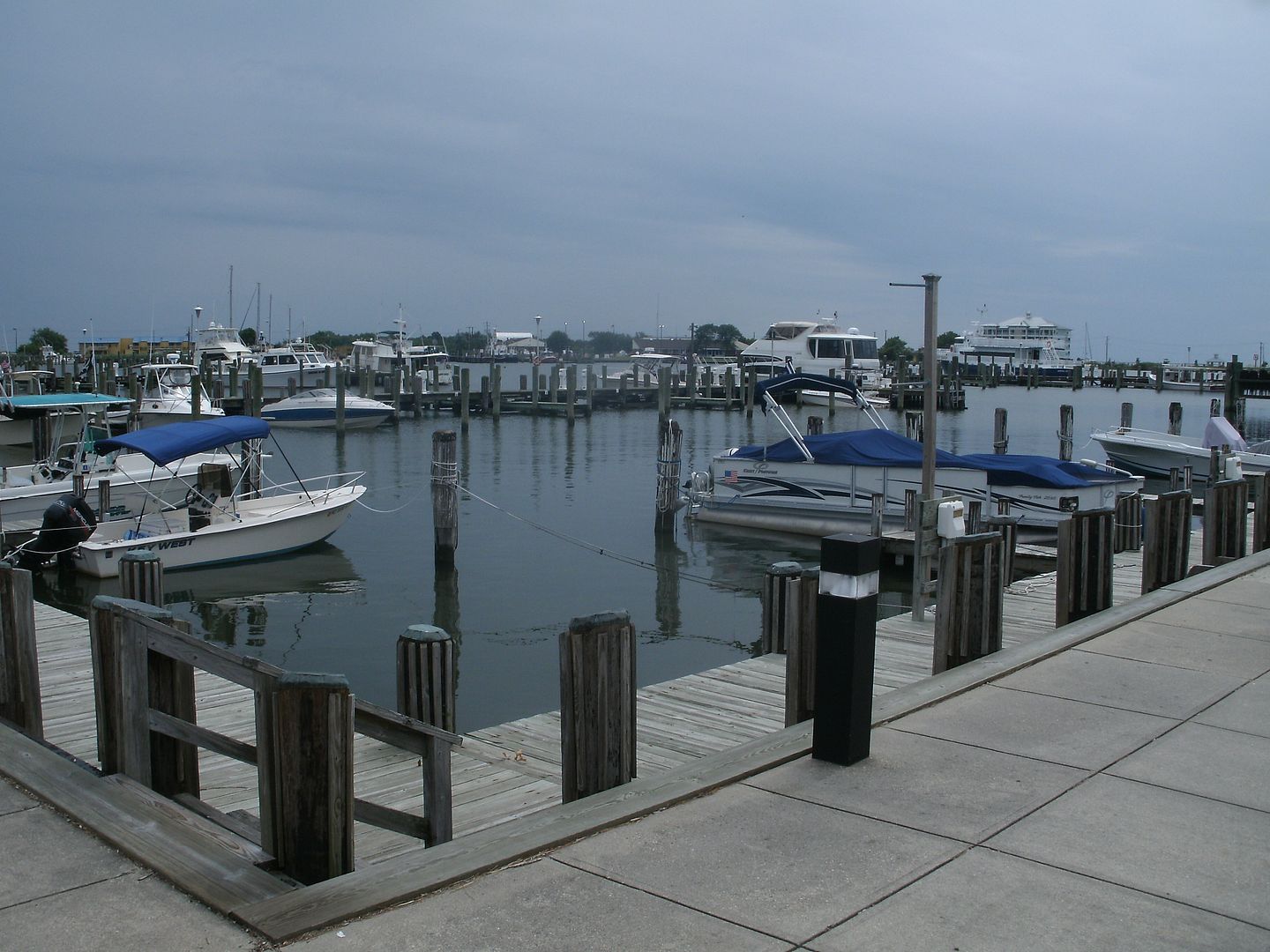 In 2015 the Tawes event should be good for sizing up the lone statewide race in 2016. While Barbara Mikulski has given no indication on whether she will retire, the soon-to-be 78-year-old senior Maryland Senator may not like being in the minority come next year and could decide to call it a career. We should know by next July.
Crisfield is the southernmost town in Maryland, but one day per summer it becomes the state's political capital. Anyone familiar with Maryland politics knows that a summer tradition is standing around on the blacktop at Somers Cove Marina waiting for crabs and watching politicians try to create a show of support. But this year's affair promises to be somewhat different than ones in years past, perhaps getting the feel of one held the year after the previous gubernatorial election.
This is because, for the first time, we already know for sure who the nominees will be. In years past we had a primary just weeks away but that's no more. So Anthony Brown will be there, presumably with a cadre of blue-shirted volunteers who will head straight to the AFSCME tent. Larry Hogan's posse will arrive at some point and the question will be how much smaller will his be, as it always seems Republican groups are smaller.
If things hold as they have over the past few years, there will be a steady stream of traffic going by the GOP tent, if only because Bruce Bereano's bipartisan party is generally right across the walkway; meanwhile, the Democrats will hole up in the opposite corner by the cove, near a place I generally go to get some shade as I walk around. The only difference is that shade may not be such a requirement – the forecast for Crisfield tomorrow is for temperatures only in the upper 70s but a chance of rain throughout the afternoon after a stormy early morning. It could affect the business portion of the event, as a number of local businesses use this as a party for their employees and clients. (It's not just politicians having a good time – I have some beer pong photos from a few years back. I was not a participant.)
I have no insight as to how ticket sales are doing, aside from knowing we sold most of our allotment. I do know this will be the ninth straight one I've gone to (beginning in 2006) and a lot of things have stayed pretty constant. Something worth noting from 2006 is that then-Governor Ehrlich skipped the event – and lost. Martin O'Malley didn't skip the event in 2006 and 2010, and won.
But instead of blast-furnace hot as is usual, we may be drowned rat wet. Fortunately, there are tents but those cardboard box halves may come in handy as makeshift umbrellas. (Pro tip: don't forget the box half, although occasionally campaigns will be one step ahead and bring a bunch. It's a good place to use old bumper stickers.)
In any event, be looking for me. I got my ticket last week and will be there with my little camera taking pictures as I have for most of the last several years. I have a lot of good memories of Tawes and met some fine people, so there's no reason to stop going now.
I've heard a lot of talk about nominees who are RINOs and sitting out the election because so-and-so won the primary and they don't want to vote for the "lesser of two evils," and it always amazes me because this doesn't happen on the other side. Here's a case in point from a fawning AP story by Steve LeBlanc about Senator (and potential Presidential candidate) Elizabeth Warren.
Now, Warren is continuing her fundraising efforts, with a planned Monday event with West Virginia Democratic Senate hopeful Natalie Tennant. Tennant, West Virginia's secretary of state, is vying with U.S. Rep. Shelley Moore Capito for the seat held by retiring Democratic Sen. Jay Rockefeller. Capito is favored and holds a hefty cash advantage.

Capito's campaign has also been quick to target Warren, calling her "one of the staunchest opponents of coal and West Virginia's way of life."

Warren has conceded that she and Tennant — who, like (Kentucky Democrat Senate nominee Alison Lundergan) Grimes, has criticized Obama's plans to limit carbon emissions from the coal industry — don't agree on everything, but can come together on economic issues facing struggling families.
So it's obvious that the Democrats have their own 80/20 rule, but unlike some on our side they don't take their ball and go home based on the non-conformance of the 20.
We had our primary, and at the top of the ticket there were 57% who voted for someone else besides our nominee – many of those live here on the Eastern Shore, where David Craig received 49.6% of the vote and carried seven of the nine counties. There can be a case made that Craig's running mate, Eastern Shore native and resident Jeannie Haddaway-Riccio, was a huge factor in his success here, but the fact remains that this area I live in was one of the two areas Hogan was weakest (the other being southern Maryland, where Charles Lollar resides.) These are votes Hogan will need, and surely many will migrate his way because he's the Republican nominee.
On the other hand, Anthony Brown got a majority of the Democratic vote and carried all but a few counties. Those three on the Eastern Shore, plus Carroll County, aren't places Brown would expect to win in November anyway – except perhaps Kent County, which was the lone county Heather Mizeur won and which only backed Mitt Romney by a scant 28 votes in 2012.
The path to victory for any statewide Republican candidate is simple, because Bob Ehrlich did this in 2002 – roll up huge margins in the rural areas and hold your own in the I-95 corridor. Ehrlich won several rural counties with over 70% of the vote in 2002, and got 24%, 38%, and 23% in Baltimore City, Montgomery County, and Prince George's County, respectively. When that formula didn't happen in 2006, he lost.
Granted, demographic changes and other factors may not allow Larry Hogan to pick up 65% of the vote in Anne Arundel County, 61% in Baltimore County, or 56% in Charles County, but it's possible he does slightly better in Prince George's and may hold some of those other areas. Turnout is key, and we know the media will do its utmost to paint Anthony Brown as anything other than an incompetent administrator and uninspiring candidate – as the natural successor to Martin O'Malley, who has done a wonderful job further transforming this state into a liberal's Utopian dream at the expense of working Maryland families, one would have expected Brown to have picked up at least 60% of the Democratic primary vote.
Yet you can bet your bottom dollar that even the most diehard Mizeur and Gansler supporters may hold their nose but will still push that spot on the screen next to Anthony Brown's name. They may have several points of contention with Brown on key issues, but the other side will push those aside to maintain power.
Perhaps Natalie Tennant over in West Virginia had misgivings for a moment about inviting Elizabeth Warren for a fundraiser, but she realized that there is a segment of her would-be supporters who would gladly contribute more to her campaign to meet Senator Warren, despite the fact they are on opposite sides of a particular issue. To Warren, the end goal of holding that seat in her party's hands and maintaining a Democrat-controlled Senate was more important than conformity with the one place where Tennant may go against leftist orthodoxy.
If we're to upset the apple cart here in Maryland, we have to deal with the obvious flaws in Larry Hogan's philosophy and platform at the most opportune time – when he takes office.