For three years, the folks at Thumbtack.com, a service for entrepreneurs looking to trumpet their wares, has partnered with the Kauffman Foundation to produce a Small Business Friendliness Survey for much of the country. I've referred to this survey before on several occasions.
Out of 38 states which had enough data to analyze, Maryland falls in a range between 25th and 27th with a "C-" rating, placing it in a group with Michigan and Wisconsin. While it rated top grades (an A+) for training and networking programs, it had only one other good grade – a B+ in ease of hiring – and several D+ grades in regulations, tax code, licensing, environmental, and zoning.
There are a couple caveats to bear in mind for Maryland's grade. There aren't a whole lot of businesses surveyed, and the written responses came from a small area of the state representing Montgomery, Prince George's, Howard, Frederick, and Baltimore counties as well as Baltimore City. Those are the areas which generally represent the Democratic strongholds of the state, which leads me to wonder whether the grades are inflated because the responses tend to skew toward a liberal population or whether their frustration level is such because they are conservatives in a liberal state. Regardless, you have a number of survey answers like this one from Severn:
Maryland is all about taxing entrepreneurs and driving them to other states.
To be fair, there were a lot of positive responses, too, like this one from Hyattsville:
I have no complaints. The state of Maryland does a very good job in providing incentives for small business owners like myself to continue to conduct business.
If you hold your cursor over a dot on the page, you can read the good and bad reviews – by my count there are 32.
But to me this is a good primer for politicians to read – real responses from real business people who are hustling daily. And you can easily compare notes with a state like Texas, where responses were plentiful (at least from the urban Dallas, Houston, Austin, and San Antonio areas) and the grades were outstanding across the board – Texas was the lone state to not have any B grades whatsoever, just straight A's. (Virginia was also in a fairly elite category as well, along with Idaho and Utah.) That's a very useful facet of this survey in my eyes.
Having three years of data to work with can be telling as well. Out of ten sub-categories the survey measured, Maryland slipped in eight of them between 2013 and 2014. (Only the "training and networking" improved, while "employment, labor, and hiring" stayed put. These were the two best categories for Maryland.)
It is a legitimate question to ask, though, whether the frequent talk over the last couple years about how bad Maryland businesses have it has become a self-fulfilling prophecy insofar as these survey responses are concerned. While there's obviously been changes in law and regulation, they didn't seem as bad as some of the grade drops may seem to indicate. But then these are the people in the trenches.
With the timing of the survey, I suspect it will be taken next year in the opening weeks of either the Hogan or Brown administration, and the responses may hold a key to what we can expect over the next few years as far as businesses see Maryland.
We were warned about this all along, but everyone seems shocked that gun maker Beretta has followed through and decided to relocate its production to a new plant in Tennessee next year. The loss of 160 manufacturing jobs from its Accokeek plant will be the gain, once production ramps up, of Gallatin, a town which is a few miles outside Nashville and is about the same size as Salisbury. Here's what Maryland is losing, from Beretta's release:
Beretta U.S.A. anticipates that the Gallatin, Tennessee facility will involve $45 million of investment in building and equipment and the employment of around 300 employees during the next five years.
It's worth noting that Beretta is not the only gun manufacturer potentially leaving Maryland. LWRC of Cambridge said last year "we simply couldn't do business here" if the gun law passed, with 300 jobs at stake. Rumors of a purchase of LWRC by Colt were rampant earlier this year,  yet while no formal announcement has been made the Bob Owens piece I'm citing is useful as a reminder of what such a company means to a rural area.
Needless to say, Larry Hogan had the expected reaction on Beretta's plight. Yet the question isn't one of "high taxes and punitive regulations" so much as it's a question of repealing a knee-jerk law passed in the aftermath of the Sandy Hook shooting – not that any law was going to stop Adam Lanza anyway, nor does this law stop a single homicide in Maryland. It was all feelgood legislation from the start; unfortunately, the powers that be chose not to back the referendum route which would have placed the law on the ballot at the same time as many who voted for it.
To change Maryland's fate in this respect, not only does the state have to improve on its business friendliness but it also has to find the political will to overturn its onerous gun laws like 2013′s Senate Bill 281. Elections mean things, and not only do we need a governor willing to backtrack on this mistake but also enough of a General Assembly coalition to get a bill through the legislature. That part may be the most difficult, because getting to just 50 Republicans in the House and 19 in the Senate would be a minor miracle – yet Republicans need 71 and 24, respectively, to actually control the chambers. It's mathematically doable but the odds of hitting the Powerball are probably much better.
So say goodbye to Beretta's production, and know that it won't be missed at all by the Democrats in Annapolis.
Editor's note: These were originally prepared for my American Certified Sausage Grinder blog as two different pieces but not used there. It's a good opportunity to introduce readers who haven't gone there to check it out (although I have to ask – why haven't you already?) to the somewhat different style I employ there. Think of it as a sampler plate.
Last Thursday – a day early due to the Independence Day holiday – the Bureau of Labor Statistics announced the June unemployment rate had decreased to 6.1%, which is the lowest rate in nearly six years. A total of 288,000 jobs were added in June; in addition, an extra 29,000 jobs were added in adjustments to April and May's figures.
All this should be good news, but manufacturing jobs only increased by 16,000 over the period. This brought the ire of Alliance for American Manufacturing president Scott Paul, who complained that:
While the low-wage recovery progresses full bore, the June jobs report shows that high-wage job growth is at a standstill. Manufacturing accounted for only 5.6 percent of job growth in June, far below its weight in the wider economy. Construction job growth was even slower.

Looking for a reason why? It's all about public policy. Our growing trade deficit with China, currency manipulation by overseas competitors, and a paucity of investment in infrastructure are leaving factory jobs at a virtual standstill. President Obama's vision of creating 1 million new manufacturing job during his second term is way off track.
According to AAM, the total manufacturing job growth over Obama's second term stands at 156,000 – far short of the pace necessary to achieve a million new jobs before 2017. That pessimism extends to the public at large, as a Rasmussen Poll indicated just 23% of Americans believed the unemployment rate will be lower next year.
On the other hand, writing at the Shopfloor blog, economist Chad Mowtray of the National Association of Manufacturers took a more optimistic view, calling the report "mostly positive news." And while he stressed that wages were increasing at a solid clip, he also pointed out that labor force participation rates were still a source of worry.
Strangely enough, a report on exports for May also came out Thursday, as the Commerce Department announced U.S. exports of goods and services hit a record $195.5 billion high. Many in the steel industry – as well as dozens in Congress – are awaiting next week's determination on possible dumping penalties against South Korea, while other exporters are lobbying for Congress to act on re-authorization of the Export-Import Bank before the September 30 deadline. Going forward, these determinations could affect future unemployment numbers as well as prospects for those who want to make things in America.
On a state level, though, the news was better.
In order to make things in America, workers are needed. And recently released employment data from the Bureau of Labor Statistics shows manufacturing employment was up year-over-year in May in 44 of the 50 states. (Page 17 here.)
With all the winners, though, it may be time to ask about the losers. The six laggards in the field were Alaska (down 1,800 jobs), California (down 1,400 jobs), Georgia (down 900 jobs), Kansas (down 1,700 jobs), Maryland (down 600 jobs), and North Carolina (down 300 jobs).
Alaska is an interesting case as it reflects in part the fortunes of its oil industry – just a few short years ago it was the only state gaining manufacturing jobs long-term over the decade from 2001-11. But a steady decline in oil production has hampered its local economy, and the state lost nearly 13% of its manufacturing jobs over the last year.
The other significant loser is Kansas, but a regional university's study predicts an upswing in manufacturing employment over the next three months.
Out of the six where manufacturing employment declined, there is no clear political or labor pattern which can be discerned. Four of the six states have legislatures controlled by Republicans, but that's fairly proportionate to the 28-17 advantage Republicans have overall. Three of the six are right-to-work states, which also reflects the close 24-26 split between our national composition of right-to-work vs. forced unionism states.
Conversely, the states which did quite well over the last year tended to be the ones bordering the Great Lakes. Minnesota (up 4,400 jobs), Wisconsin (up 1,400 jobs), Illinois (up 900 jobs), Indiana (up 2,900 jobs), Michigan (up 8,500 jobs), Ohio (up 5,800 jobs), Pennsylvania (up 3,100 jobs), and New York (up 600 jobs) all benefited, with Michigan's first-in-the-nation increase by itself making up for the six states which lost workers. It appears a healthier auto industry is leading the charge.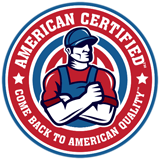 I had a varied palette of posts last week at my Sausage Grinder blog, touching on such diverse subjects as immigration, business climate, and entitlements. Segregated from each other, they may not make as much sense to the whole but the idea behind the site is to look at regulatory aspects and how they affect the practice of "made in America."
Let me begin by noting that my AC cohort Ed Braxton may have stepped on my toes a little bit, but his contribution was a nice look at the sheer volume of regulations businesses in our nation have to deal with on a federal level. One Congressman is trying to SCRUB all that away. (The bill text is here.)
Those regulations, at all levels of government whether federal, state, or local, are chipping away at the perception business owners have about the local business atmosphere. For the third consecutive year, the website thumbtack.com partnered with the Kaufmann Foundation to gauge business friendliness – and the results were an overall disappointment. With states like Maryland and Delaware already shut down legislatively for the year, relief is nowhere in sight.
Meanwhile, with the number of Congressional calendar days for the 113th Congress dwindling to a precious few, there's really not much action we could expect on the federal level; moreover, that time limit will also stop us from addressing entitlements like Social Security. I thought the "big, smelly elephant in the room" characterization was apt, particularly as we've let it linger for nearly a decade without a serious crack at reform.
There is an added bonus this week. I noticed two pieces I sent in over the Independence Day holiday weren't picked up – not sure if my editor missed them because he was out or just what happened. (I do a lot of AC work on the weekends, so it should have been nothing unusual.) Since they actually relate with each other, and I don't believe in letting good writing go to waste, I will post them – slightly modified for flow, of course – here this evening.
And don't worry – my editor has three new pieces I wrote yesterday, on hot-button issues, to help fill the AC site. They should be up this coming week.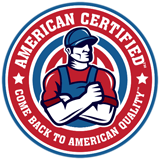 It was a short workweek, but I had plenty to say on the pages of my Sausage Grinder blog, and plenty more is already in the pipeline for next week.
So let me begin with a story I've been following on those pages, as the fate of the eighty-year old Export-Import Bank of the United States hangs on the Congressional balance. The Senate is promising a vote, but the House might not follow suit.
Congress is also being buttonholed by a group of manufacturers – this was the AC post I alluded to in a piece I wrote here on monoblogue a week ago. In this case, over 500 representatives of American manufacturing converged on Congress in an effort to lobby for change. It was all part of a Manufacturing Summit sponsored by the National Association of Manufacturers.
Something else I wrote on in another venue, this time the Patriot Post, was also the subject of a piece for my AC site. However, the angle of the story was different for each piece so you may want to see the differences in style I work with. Illegal immigration is a sore subject with me because I believe in fair play, and those who circumvent the system to gain advantage of those who do things the right way should be made to pay a penalty – personally I think they need to go back and start over again.
As I noted, I have a bunch in the pipeline for next week, including employment data and a commonly used business index. I also noticed one article I wrote wasn't in the rotation, so I may use it next week if they don't.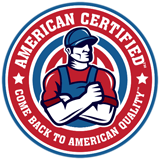 I knew this would be a slow week for me because of the election, so I only had a couple posts for American Certified this week. But they were important because they were on a subject near and dear to manufacturers' hearts – financing.
First, though, I want to point out something my AC colleague Ed Braxton put together on high tax rates and how they affect us on a global scale. Ed points out that many of our competitors across the globe have relented on corporate taxation, a practice which encourages multinational corporations to park their profits elsewhere.
As I promised a week ago, my two-part series on the Ex-Im Bank's fate was put up over the last week. I decided to devote part one to what its proponents have to say, with the opponents' case discussed in part two. Personally, I'm not convinced that we need to reauthorize the institution, particularly in an era where government is already trying to get its tentacles into myriad areas of financing.
One product already made in America, and probably getting its financing from private sources, is the Clif bar. These energy bars got a glowing review from my AC cohort George Pitsakis in his latest piece. However, I have one bone to pick with George – he notes how the company has gone green but I'm wondering how much was on their own and how much incentive was dangled in front of them. If they can make a superior American-made product in a competitive marketplace, though, more power to them.
I've already put a couple items in the pipeline for next week and will work on more in the next few days.
The last time I did this I went top to bottom in the polls, so today I'll reverse the order, It's also because I liked the first item best. Indeed, in this instance Ron George really was the only candidate who got it right. He pointed out a recent AP story about the loss of manufacturing jobs and how that has hit Reading, PA hard, then noted:
This weekend's Associated Press (June 15, 2014) report proved Ron George is the only candidate in this race who was right about the central missing component for fixing Maryland's economy and closing the income gap. Ron is the only candidate who has made manufacturing a key component of his Maryland economic portfolio. With Maryland's tax climate ranked dead last in the nation for new capital intensive manufacturing firms and 46th for labor intensive manufacturing firms, it's no surprise Maryland's GDP growth is 0%. At every step of this campaign, Ron has provided the most comprehensive, free market oriented plan.
Indeed this is true. I believe the emphasis on manufacturing jobs has been the strength of Ron's campaign, and it's sort of unfortunate he hasn't had the best opportunity to get the message out. Yet there's also an educational aspect to it as well because people see manufacturing as a job for lower-class people, not realizing one can make a good living working with their hands. Ron is probably a little biased due to his avocation of making things, but he puts in the honest work to be successful.
Local voters will get a chance to speak with Charles Lollar at a meet-and-greet this Saturday evening at what's now called Adam's Taphouse Grille along the main drag in Fruitland. The event will run from 5-7 p.m. and feature light hors d'oeuvres and a cash bar. Adam's has very good food, so that will be a plus. And as the event organizer notes:
Take this opportunity to meet Charles and learn about his position on the issues and his plans as Governor of Maryland! This is the last opportunity before the primary vote to get to know the candidate.
I'm taking that to mean this will be Lollar's last trip to this part of Maryland. The Eastern Shore is heavily Republican, but let's face it: between the nine counties we have 111,986 Republicans and that's fewer than any one of Anne Arundel, Baltimore, or Montgomery counties.
Fortunately for us, David Craig has a running mate from these parts, and she recently taped a commercial presumably intended for our cable and broadcast media markets.
It's basically a reminder that Jeannie's an Eastern Shore native, and doesn't delve into policy specifics. But it is a reminder that she does well on television.
Larry Hogan also has two more days on the Eastern Shore as part of his bus tour, covering the Upper Shore today and Wicomico County tomorrow (although he had an event here in Wicomico last week as well.) His Change Maryland campaign is pleased with the social media bump his campaign has received from the tour:
In the past week, we've had nearly 700,000 people following along with our bus tour on our social media pages – a new record! We can truly feel the momentum building and we couldn't be more humbled or excited by the incredible support. Thanks to everyone who has liked or commented, come out to see us on the road, and helped us to spread our message statewide!
Obviously not all are Hogan voters, and perhaps many don't even reside in Maryland. It's what over $16,000 and counting on Facebook will get for you, I suppose. But the bus looks sharp.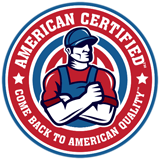 Wouldn't you know it: I begin a series only to bump it in week 2 because of MDGOP debate coverage. So this will truly be two weeks in review, but I'm sure you really don't mind.
I begin by asking the question: can America keep making things? I found an interesting perspective on the question and added my own thoughts. But I also found that workers, STEM-based or not, should be flexible and highly-trained. (And while it doesn't pertain directly to AC, I was pleased that one of our gubernatorial candidates has the same line of thinking.)
In order for our manufacturing economy to succeed, though, we need to have others around the world play fair. Unfortunately, not only China has been caught cheating on trade, with them and other countries threatening up to 500,000 steel jobs, but right here at home one group of American manufacturers is concerned that federal regulators unfairly have them in their crosshairs as well.
Longtime readers know as well that I'm excited about America's ongoing energy boom, and in this case I look at how manufacturing can benefit, with a little help from regulators. And while the EPA is trying to do away with the coal industry through onerous regulations, Congress on the other hand is trying to rein in that body run amok with accountability and transparency.
I'm sure in the next couple days – since the unemployment rate is always released on a Friday, for weekend analysis – we will get spin on it, but this is another pre-launch piece I wrote last month on May's unemployment numbers.
*********
On the first Friday of this month, analysts cheered the new low unemployment number of 6.3 percent, a low not seen in nearly six years. Moreover, the economy added 288,000 jobs – although that news was tempered by a labor force participation drop of more than 800,000 workers.
Yet out of those 288,000 jobs, just 12,000 were added in the manufacturing sector. That was "surprisingly weak," according to Alliance for American Manufacturing (AAM) president Scott Paul. The AAM, an advocacy group backed mainly by the United Steelworkers union, contends that 5.8 million jobs could eventually be created by stopping currency manipulation by China, citing a recent Economic Policy Institute report which called the practice the "primary cause" of our trade deficit.
On a similar front, economist Chad Mowbray, who writes for the Shopfloor blog for the National Association of Manufacturers, detailed a number of "nagging challenges" for American manufacturers, leading off with the weak 0.1% first quarter GDP growth announced last week. (Editor's note: that number has since been revised to a negative 1 percent growth.) Mowbray added that high marginal tax rates and uncertainty about health care costs could be factoring into the slow market growth.
In all these cases, policymakers in Washington are at loggerheads on how to proceed. A bill to deal with the currency manipulation was introduced last year and has bipartisan support, but mainly from Democrats. Unfortunately, that side seems to be placing more time and effort into trying to increase the minimum wage, which is a political nonstarter and is thought by many, including the nonpartisan CBO, to be a job killer. Republicans seem to be content with introducing bills to tweak around the edges on both tax reform and health care, but know there's little chance of them advancing through the Senate, particularly six months before the midterm elections.
The situation, then, remains a challenging one. If, as some analysts have cited, the weather played a factor in slow economic growth, that excuse will dissipate in the summer sun. The question of whether the May jobs report was a mirage or portends better things is important, but there's little doubt that if the manufacturing sector lags behind any recovery it will impede our progress going forward.
*********
It's been a busy week, but I'll keep monitoring the manufacturing market.
Normally on Memorial Day I recount the events of our county's Memorial Day service, which is generally a rather brief ceremony of about a half-hour that I regularly attend. In it, current and retired living members of the military pay homage to those 190 men and women from Wicomico County killed on the field of battle since World War I.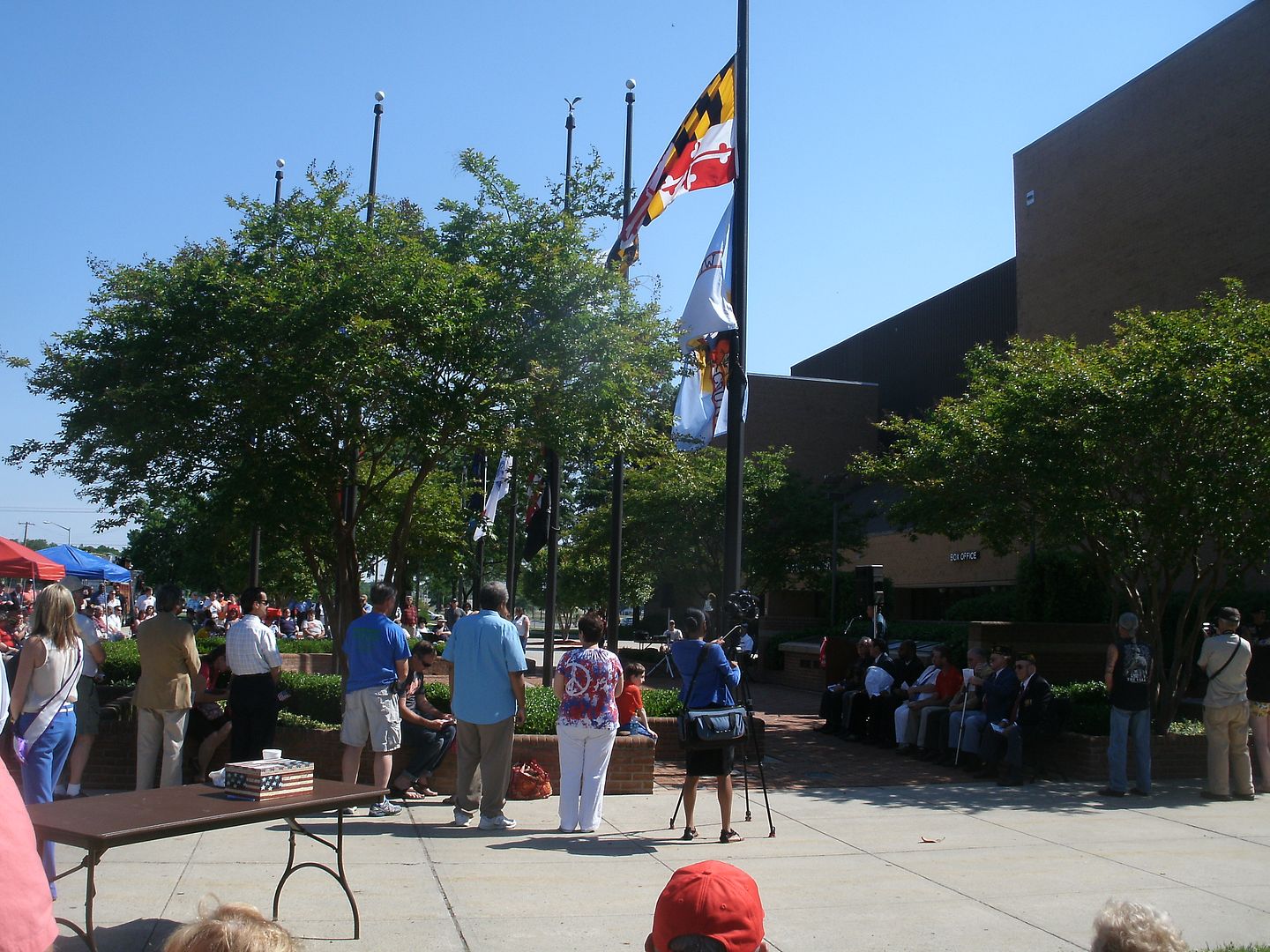 But this evening, as the sun sets on another Memorial Day weekend, I would like to look forward. This is intended in no way whatsoever to dismiss the memory of those who sacrificed. Yet on Memorial Day 2015 some among us will once again wring our hands and fret that the majority of the populace treats Memorial Day as just an excuse to kick off summer with a three-day weekend.
For the better part of a century, Memorial Day was generally assigned the date of May 30. Whichever day of the week it fell on, people paused to remember the fallen – and at the time it was changed by an act of Congress in 1968 (taking effect in 1971) we were in the midst of a war in which many thousands of Americans were killed. Perhaps it's a change in attitude as the memories of massive worldwide conflict perish with the last generation that fought in a major two-front war, but in the years since war has seemed to become that event which occupies the news cycle for a period of days when major incidents occur then fades back into the noise of everyday life.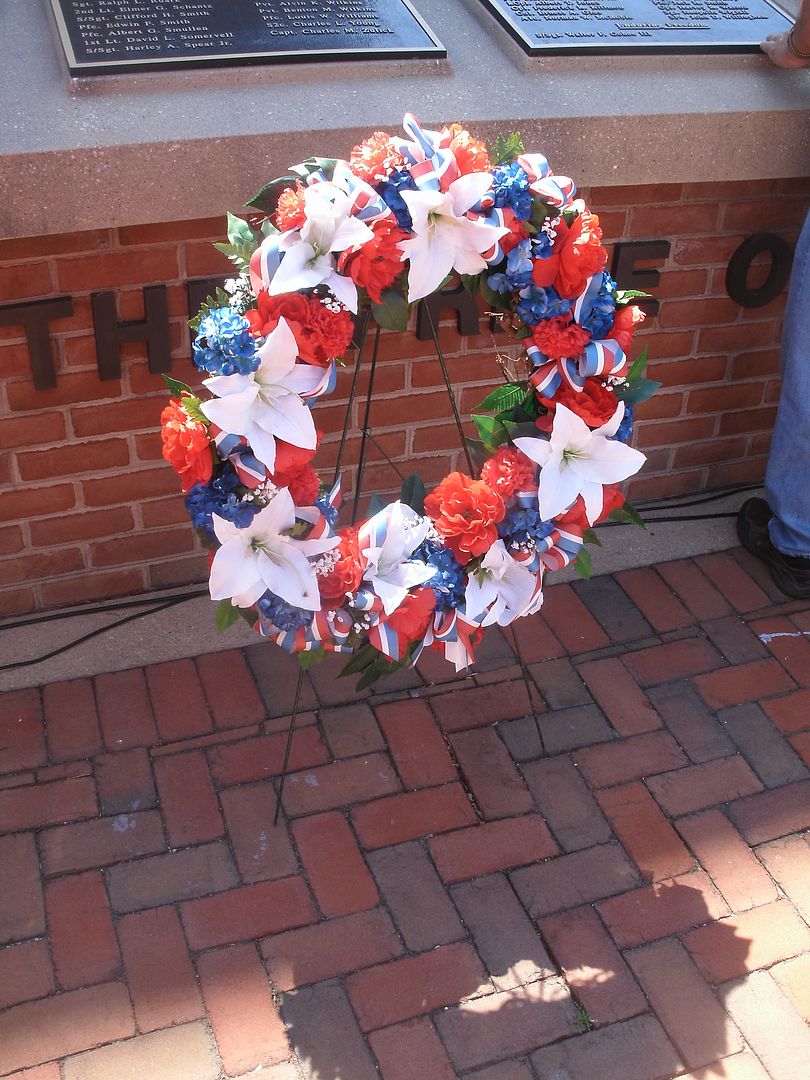 It pains me to see the memory of those who perished be reduced to what amounts to a three-day party by many of those who may well be consigned to a life of slavery without the efforts of those who fought and died.
And don't get me wrong – while some may argue I'm not in a position to speak because I didn't serve in the military, being fortunate enough to come of age in a time of relative peace and prosperity under Ronald Reagan, I still feel my opinion is valid as a citizen of a great nation in danger of losing its moorings. If we can deal with the fact that Independence Day remains on July 4 and Veterans Day is always November 11, I think Memorial Day should return to May 30 regardless of the day of the week it falls on. That beloved three-day weekend would have still been in effect this year as the 30th falls on a Friday, but I think the purpose of the day has been diluted because it's always placed on a Monday. There's no doubt those in the tourism industry and retailers who think the three-day weekend jumpstarts summer sales will scream bloody murder, but they can make do.
So as you prepare for the shortened work week, think about what returning to a specific day may mean for the aspects of patriotism, love of country, and appreciation of sacrifice.
It wasn't my personal campaign, but having a couple political events scheduled the same day and a few extra dollars in my bank account (thanks to new advertisers) allowed me to make some of these gatherings and assist these great candidates.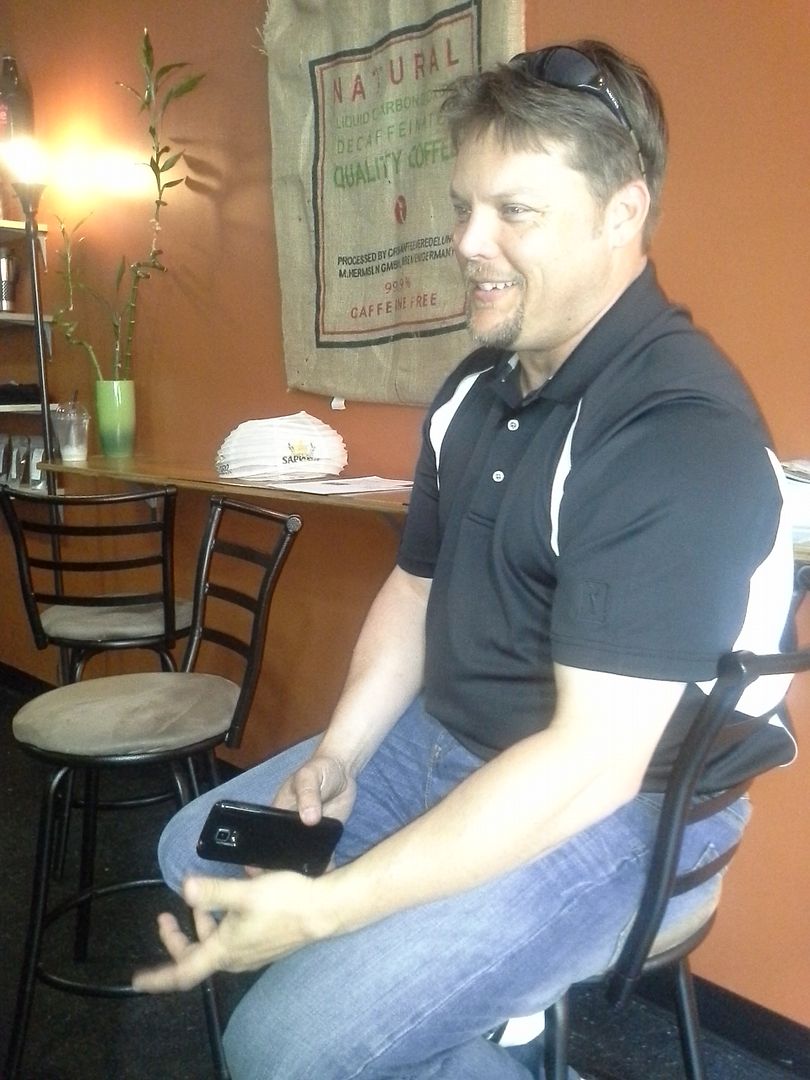 For example, District 38B candidate Carl Anderton, Jr. held court downtown at Main Roots Coffee with a few supporters and friends. It was a relatively intimate gathering as it served as a way station between a parade in Mardela and door knocking in the morning and an afternoon Vietnam veterans event in Salisbury.
The parade was the beginning of the day for these two candidates, Christopher Adams of District 37B (holding the Coke) and District 2 County Council candidate Marc Kilmer. You'll see Marc again in a few paragraphs.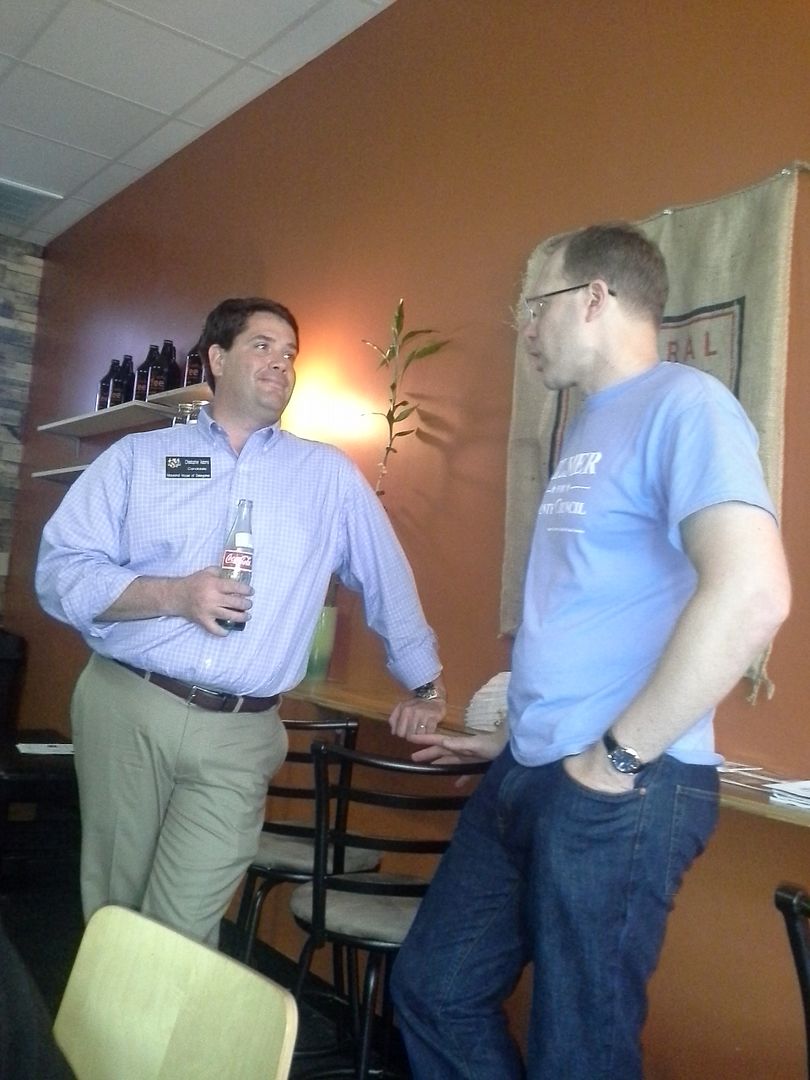 Carl made sure to thank me for telling the truth about the MSEA Conway/Mathias flyer, although another attendee brought up the irony that the budget Conway and Mathias voted for also robbed millions promised to teacher pensions. The discussion was interesting and it allowed me to meet and speak with a person I'd not previously met who is a fan of this site.
I also spoke to Jackie Wellfonder, who introduced me to Tweetdeck. Maybe I'll start making heads and tails of Twitter now, although the 140 characters is a problem for me. Consider that the previous sentence was just a little over 140 characters by itself and you'll see my issue.
This afternoon's event was the latest of a series of coffees Anderton has had at Main Roots, which ironically lies a short distance outside Carl's crazy-quilt gerrymandered district.
But the story isn't over yet, as I went home for a couple hours before heading over to my Central Committee cohort Bob Laun's new place to be greeted by this spread.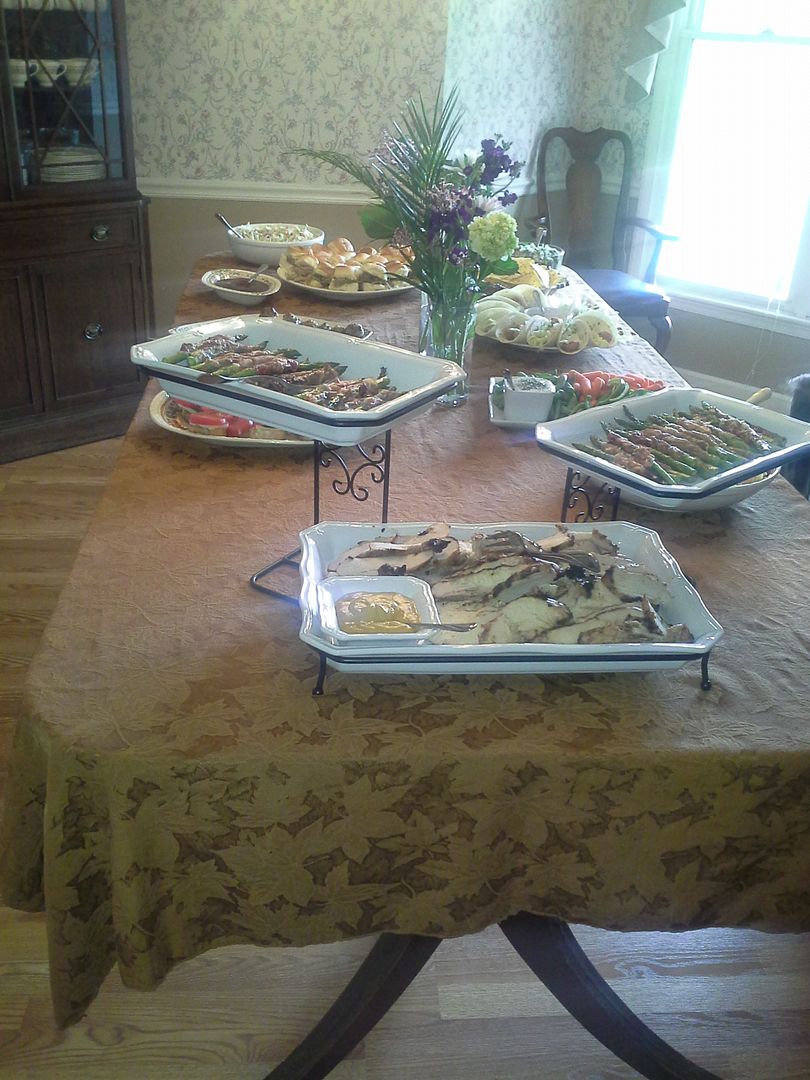 I'm told that Bob and his lady friend prepared it all themselves. Complements to the chefs – it sure beat rubber chicken.
The event was on behalf of Marc Kilmer and drew about 30 people. It would have drawn one more but he couldn't make it and I was told to relay a message to Marc and crew, which I did. (I know the sender reads this site, so I can be cryptic like that and know it was received.)
Unlike some other fundraising events, there weren't formal remarks by the host – instead, Marc smartly circulated between the gatherings which naturally sprung up in various areas inside and outside the house. Having two young children to look out for helps in that regard as well.
I did catch up to Kilmer, who's on the left in this photo, with host Laun in the center and Delmar Commissioner Bunky Luffman on the right. Bunky is Anderton's campaign manager so I saw him at both events, too – same goes for Anderton, Shawn Jester, Jackie Wellfonder, Christopher Adams, and Muir Boda.
As I noted, many of those there had also been at the Mardela parade in the morning, so we were regaled by tales of several candidates and how they fared there.
While there wasn't anything earth-shattering said at either event, I did get a good quote from Anderton at his coffee. We were discussing how I was frustrated about Larry Hogan's reticence to address more than a few issues, and I noted I wasn't a one-issue guy. Carl isn't either: "I'm not a one-issue guy, I'm an eighty-issue guy," he said, referring to the number of tax and fee increases we've endured over the last several years.
And while it's not necessarily related, watch me tie this in to my point. I was walking over to Main Roots from where I parked down Main Street, when I saw this development.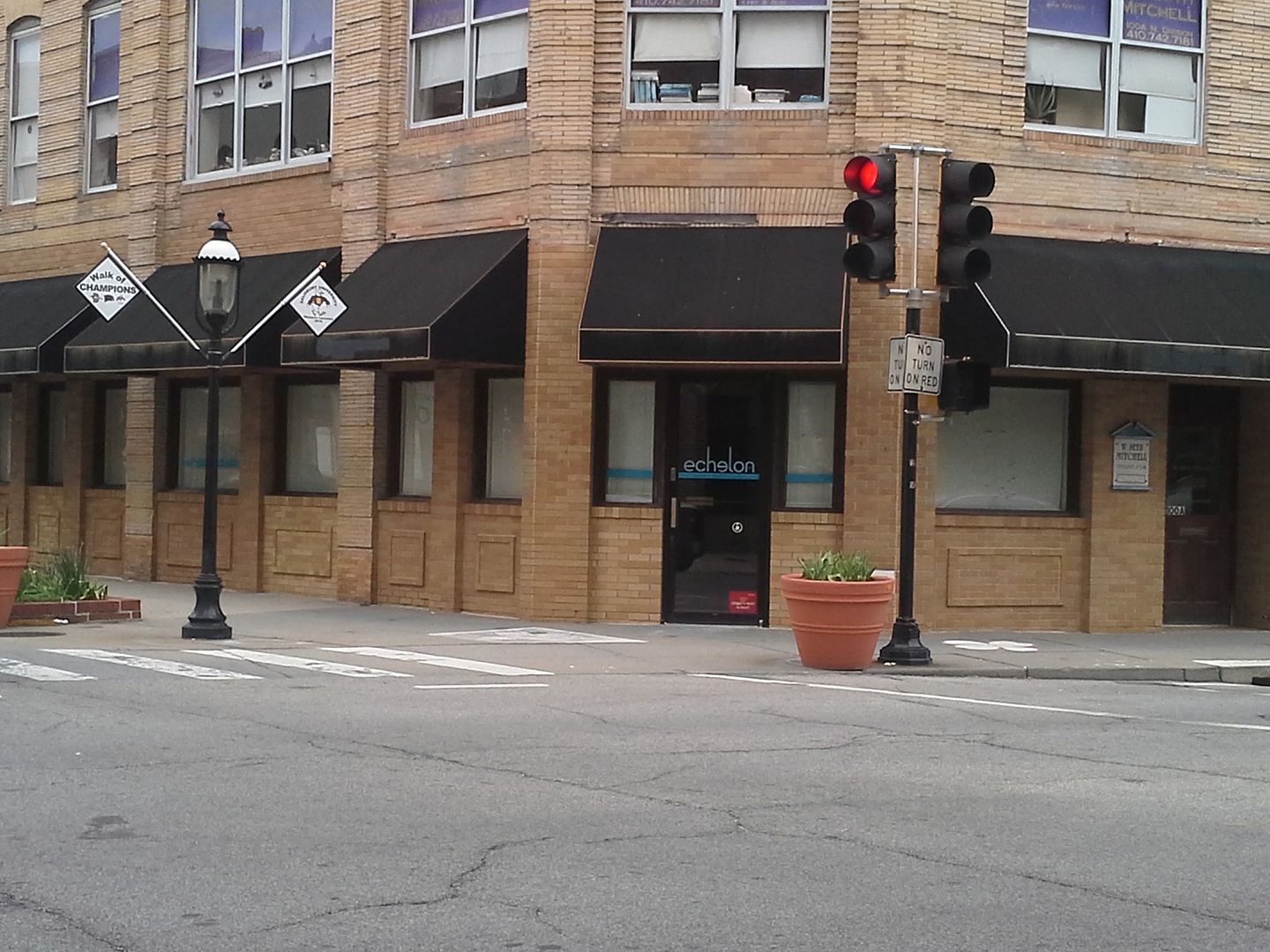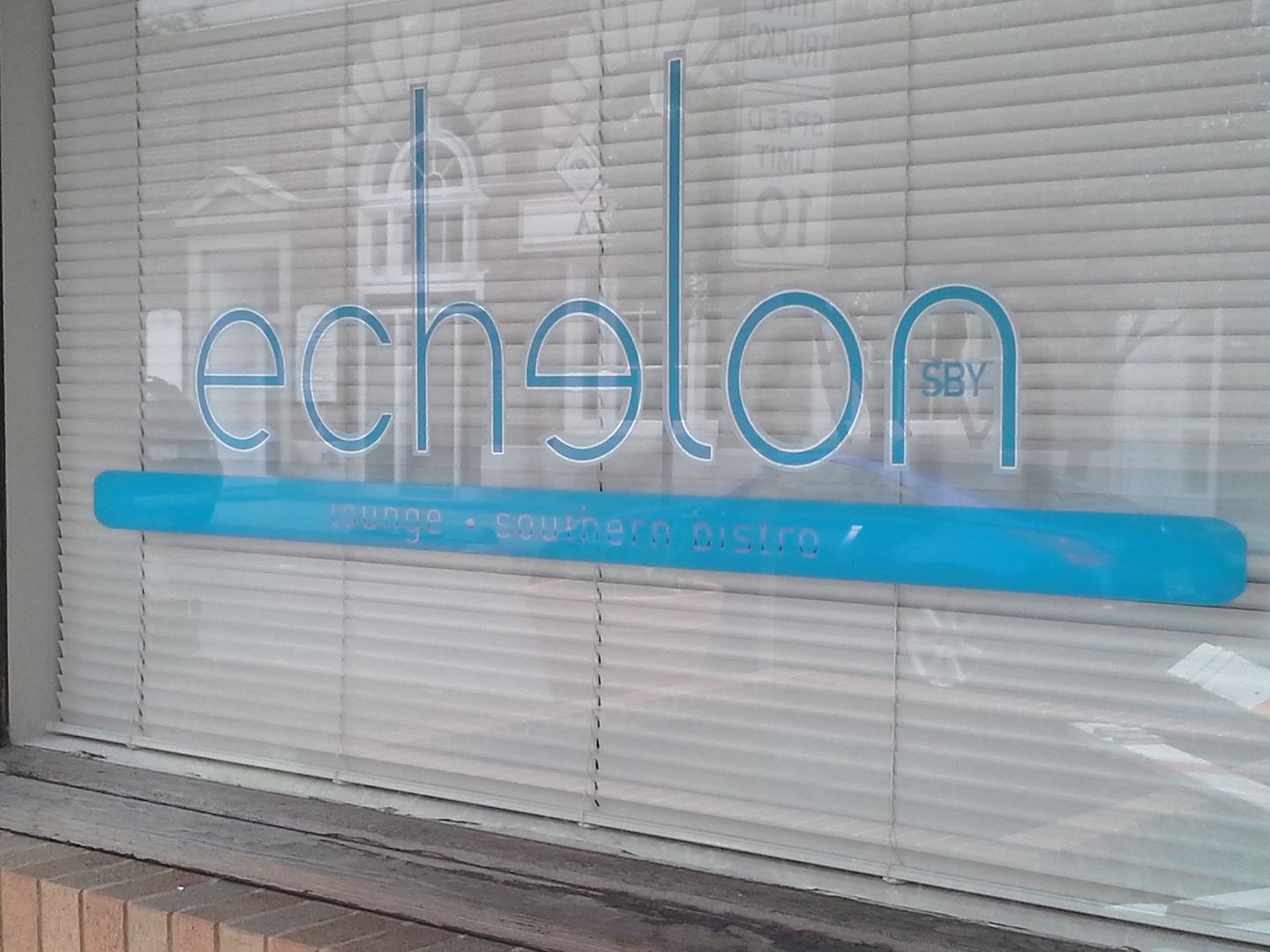 If that building looks familiar to my readers, let me remind you of where I was on a Third Friday two years ago. Ironically, I wrote then about another failed restaurant that begat yet another failure before its current iteration as Roadie Joe's.
But we face a choice this year. Surely the owner of this new enterprise has tied his dreams – and probably a fair share of borrowed money – into this forthcoming restaurant, slated to open in June per this piece at the One Salisbury blog. (That's how I knew to look for it.) There's no doubt the business will sink or swim on the quality of its food and service, but the question is how much of an incentive or boost can the state and local government give this entrepreneur by assisting him as needed, staying out of the way the rest of the time, and not penalizing him if he's successful by punitive taxation? After all, he could have just as easily opened in Delaware.
If we stay on the same old path we've trod over the last eight years, it's likely to act as an economic headwind which will make success far more elusive. But going in a different direction might just open the door enough for him to break through and make Echelon a success. Those candidates I supported today – and other conservatives of like mind – will be the ones who can help him be successful if the other ingredients are present.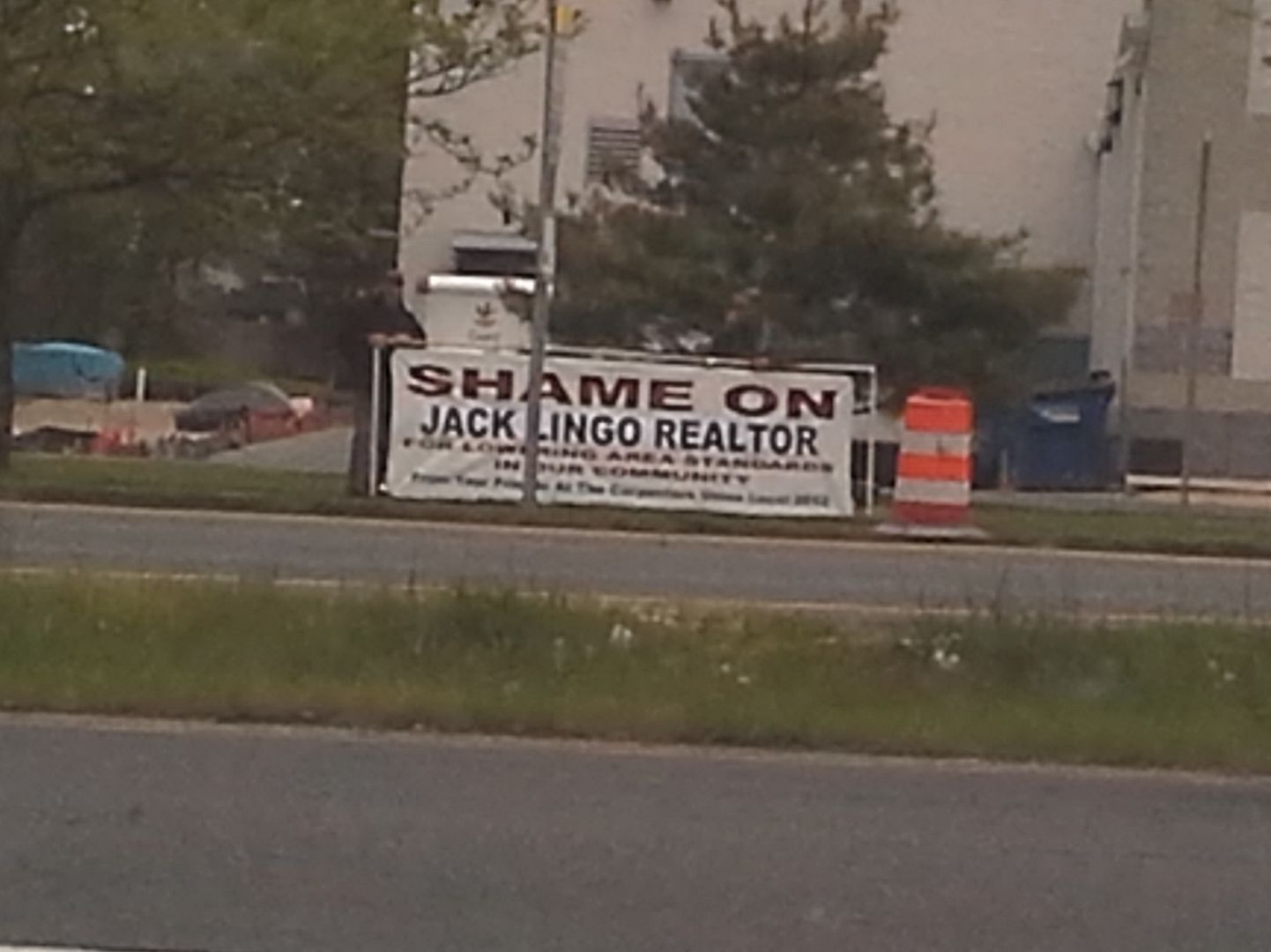 It's getting to be as predictable as the swallows returning to Capistrano; in fact, I alluded to this occurring a few weeks ago but I didn't know where it would be. Little did I know that traveling up Coastal Highway outside Rehoboth Beach I would see the friendly neighborhood Carpenters Local 2012 complaining once again about a company lowering area standards. I'm guessing that the realty company named actually owns the nearby building being renovated as their offices are in Rehoboth Beach proper.
I suppose it's a good sign that only a couple of guys were manning the picket, and they weren't going to be there much longer because it was about to rain – in fact, coming out of my next destination I was caught in a sudden shower. That was a minor slowdown in what seems to be quite a bit of construction going on around Sussex County, although Salisbury has its share of building right now as well; there are a couple of small retail projects being erected along North Salisbury Boulevard as well as two reasonably large apartment complexes in the same part of town and the new artists' housing just outside downtown. It's not looking like the peak of activity a decade ago, but at least there is some pent-up movement being made.
Naturally one can argue where the market for new housing and retail would come from given the number of vacant houses and storefronts around town, and the reality is that something that's showing its age will probably lose its market share to the newer construction. It may be that the new retail construction being built adjacent to the current Greene Turtle location may have several vacancies next door as the Turtle was reportedly relocating down the road to the former Famous Dave's restaurant and Barnes and Noble has been dogged by whispers about its demise. Even Sussex County acknowledges that abandoned properties are becoming an issue.
So where does the Carpenters Local fit in? Obviously they feel as if they're not getting enough of a cut. Unfortunately for them, the construction market is not such that wages can be sought as they were during the boom times, plus they have a fairly new training center from which their graduates need work. (It goes back to the point I've made about the best aspect of union carpenters is their training.) If jobs can't be had, there's little point in setting aside time and effort to be trained in a trade.
To ensure enough work for everyone, we need to first grow good-paying jobs here – not through artificial means like raising the minimum wage, a tactic which only leads to inflation because no additional value is created from the labor, but by securing the means and methods to increase value. I like to use energy exploration as an example because there are private investors willing to create jobs where none existed in order to make a profit for themselves – of course, the workers are going to invest their wages into things they need, in turn creating new jobs. It's how America was built.
Standing around holding up a picket sign really doesn't create a lot of value.
I know our Republican gubernatorial candidates have been talking at length about business climate in Maryland, but last night I saw a devastating chart which shows the result of bad national policy, compiled by the generally liberal Brookings Institution and found on the post at the Independent Journal Review.
When you open the chart up (because my links generally open in a new tab) you'll notice that the firm entry line had been ahead of the firm exit line until they met in the latter part of 2008. And while the Brookings data only covers through the end of 2011, I'm pretty sure the situation is no better now given the situation with Obamacare.
In contrast, the chart seemed to have its widest positive gap in the mid-1980s, right in the sweet spot of the Reagan presidency and just after two tax cuts.
To be honest, there's not a whole lot of incentive out there to create a business. It's very hard to get capital because lenders are finding it more lucrative to play financial games among themselves to make a profit, and larger would-be competitors are busy trying to rewrite the rules to limit competition. For an example of this, study the story of ride-sharing service Uber and how it has to put up with the taxi cartels in large cities. The same might be said of e-cigarettes, which are being categorized (and banned) like regular cigarettes despite the fact the "smoke" is much less hazardous. Something tells me Big Tobacco is behind the scenes somewhere in this e-cig controversy and states will become much more amenable to the product once they receive a more hefty cut.
Finally, if you succeed all it gets you is a higher tax bracket. It's like the old saying: no good deed goes unpunished. So the idea is to make being good less of a punishment, and perhaps a return to the successful policies of the Reagan era would be a beginning.