I don't know our governor's position on Senate Bill 190, dubbed by some as the "travel tax," but no less than Grover Norquist of Americans for Tax Reform is urging a veto. His organization has sent a letter (detailed at the previous link) to Governor Hogan asking him to reject this bill that was passed by both chambers during the session. As they explain:
This legislation would disparately impact the Maryland travel industry by apply the Maryland sales tax to online travel agents, brick and mortar travel agents, wedding planners, tour operators, and other service providers. With summer almost here, and tourism season gearing up, a new tax would hurt many small businesses in Maryland who rely on tourism for revenue.
Interestingly, the ATR letter quotes local Delegate Christopher Adams, who cites the hundreds of travel agents who would be affected by the bill. On the other hand, his Senator, Addie Eckardt, was the only GOP sponsor of the bill and lone GOP Senator to vote in its favor.
Perhaps the best explanation of the legalese of the bill comes from its Fiscal Note:
Online travel companies (OTCs) typically obtain access to hotel inventory (rooms) through contractual agreements with hotels. OTCs pay a discounted rate for these hotel rooms that they sell (as room rentals), and then retain certain fees that are part of the total price paid by customers. The purchaser of the room rental is typically charged the same rate as the person would be if the hotel room rental was purchased directly from the hotel. The issue that has arisen in recent years is the definition of taxable price that state and local sales and use taxes and hotel rental taxes are to be based on. OTCs have typically been paying and remitting these taxes based on the reduced rate that they pay for the hotel rooms; however, states and local jurisdictions have been arguing in court that these taxes should be collected on the total room rate paid, which is the base for which the taxes would have been imposed if a customer rented the hotel room directly from the hotel.
As I understand it and to create an example, let's say a hotel room rents at $150 per night to the general public. An OTC comes to the hotel and says they will rent the remaining lot of rooms for $75 apiece – obviously the hotel profits by not having to deal with unsold inventory for the night while the OTC can provide a discount to the standard rack rate and still make money. Everybody wins – but the state.
The contention is that OTCs are paying room taxes based on the $75 rate, while the state believes they should be paying based on the $150 rate. That's what this law would provide for, and while some jurisdictions in the state have come to agreements with the OTCs (and there is a court case on the subject pending) this law would force OTCs to pay taxes based on the higher rate, eating into their bottom line for dubious overall benefit. The Travelocity vs. Comptroller case cited by the Fiscal Note involves $6 million over eight years; even if Travelocity is accounting for just 10 percent of the overall market the amount in question is only a few million dollars out of a $40 billion budget.
If Hogan vetoes the bill, the margin in the House is close enough to make it very possible a veto would be sustained as it passed in the House of Delegates by an 84-56 margin – one vote short of 3/5. Delegate James Proctor could be the swing vote since he was absent from the original balloting.
Because Maryland law allows the governor to sign bills well after the legislative session has concluded, it's quite likely that Hogan can wait as long as he needs to make the decision. While this bill is dubbed the "travel tax," there is the complication of Marriott possibly moving from Maryland that Hogan may have to consider.
But the idea of electing Hogan was that of no new taxes, regardless of whether this is a "clarification" or not. Let the court case take its course, and veto the bill. It's another vote that is likely to find its way to the monoblogue Accountability Project.
Now that the shoe is on the other foot for the first time in eight years, thousands were interested in how newly-inaugurated Governor Larry Hogan assessed the state of our state. And it didn't take long for him to assess that:
But while our assets are many, and our people are strong and hopeful, their state is simply not as strong as it could be – or as it should be.
Yet in reading through the speech, I didn't see it as a negative in any way. Instead, Hogan proposed a number of solutions which, instead of spending money or growing government, generally worked in the opposite direction. Breaking the laundry list into eleven parts, it's easy to summarize the Hogan plan for year one:
Analyzing and enacting portions of the upcoming Augustine Commission report on business competitiveness. The idea here is to make Maryland more business-friendly and hopefully wean the state's economy off a long-term dependence on federal government jobs.
Restructure government to be more efficient and effective, using the new faces placed at many of the Cabinet-level departments.
Legislation repealing the "rain tax." This may get some serious opposition from the environmentalist groups who believe this is a fair way to pay for Bay restoration efforts, even though the fees were set by county and only affected ten of 24 county-level jurisdictions.
Legislation proposed to exempt military, police, fire, and other first responder pensions from state income taxes. Eventually Hogan would like this to cover all retirement income. It's an effort to improve Maryland's dismal standing and reputation as a place not to retire.
Legislation to exempt the first $10,000 of personal property from taxation, a move Hogan claims would eliminate the tax for half of Maryland businesses.
Legislation to repeal the automatic gasoline tax increases baked into the Transportation Infrastructure Investment Act of 2013.
Restoring the local share of Highway User Revenues, a sore spot among the state's rural counties in particular.
On education, strengthening the charter school laws. More controversial will be the oft-tried BOAST tax credit, which gives a tax credit to those who contribute to parochial or private schools. Hogan noted previous iterations have passed the Senate only to fail in the House.
Hogan has already shelved the Phosphorus Management Tool, and called for farmers and environmentalists to work on a better, more equitable solution. He also promised to address the "long-ignored impact of upstream polluters," including the problems at Conowingo Dam.
An executive order to deal with the heroin epidemic. Lieutenant Governor Boyd Rutherford has been tasked with this issue.
Reinstating the Fair Campaign Financing Act fund by bringing back the checkoff on the tax returns, and also establishing a commission to examine the state's redistricting process via executive order. If I have the time, I'd love to serve on that one because we really do need to reform the system.
Certainly it's not the strongly conservative agenda some may prefer, but I would consider it a good first step. Much of the reform will have to go through the General Assembly, and perhaps the strategy is that of picking off just enough Democrats on various issues to build an ever-shifting coalition with the Republicans. The fifty Republicans in the House and 14 in the Senate would be joined by one group of Democrats who consider education reform a must, but may not agree with Hogan's approach to cleaning up the Bay. Yet some Democrats may like that idea, but won't budge on changing the gas tax – and so on and so forth. Just as long as Larry gets 71 votes in the House and 24 in the Senate, the means do not matter.
Because of the nature of how our state's political process, the honeymoon for Hogan was barely existent. He had to have a budget mere hours after taking office, and some legislation he probably wouldn't support was already being discussed in the General Assembly. Obviously Larry was working in a shadow government of sorts as he awaited inauguration, but once he took the reins that horse quickly accelerated to full gallop.
So while it's not necessarily less government, at least Larry is working on making things more efficient and streamlined. Hopefully we can get it to such a level that it wouldn't be missed when the reductions occur. That's the next logical step.
It's not quite a GO Friday, but relatively close. I'm going to point out a piece on the Manufacture This blog, which is a product of the Alliance for American Manufacturing. In it, they note: "We asked Americans in manufacturing about the State of the Union. Here's what they said." The post excerpts from interviews with 10 Americans about how they assess the current economic situation; of course, most are worried about some of the pet issues AAM talks about and advocates for as well.
Jobs, opportunity, and a growing economy are what middle-class families want President Obama to speak to during Tuesday's State of the Union address. The faces in the Alliance for American Manufacturing's (AAM) "Manufacturing State of the Union Box" will not be in Washington for the speech. Instead, they will watch from home or work, hoping President Obama will offer solutions on issues that matter to them, including manufacturing jobs that afford them a middle-class lifestyle.
Quite honestly, the AAM's leftward bias shows through in that statement because it's highly likely both the Republican and TEA Party responses will advance possible solutions for what ails the middle class as well. In fact, I would be brash enough to state that government is not the solution at all – getting it out of the way as much as possible seems to me a more likely prescription to cure an ailing economy. Let entrepreneurs of all stripes thrive, workers have the freedom to work in a union shop without joining the union, and minimize regulations so that more labor is spent being productive than reactive. Somehow, though, I don't think these will be addressed in either the State of the Union speech or its responses, although the TEA Party one may come relatively close. Unfortunately, not a lot of people will see it because viewership for the SotU is relatively light to begin with and the patience of most Americans with Barack Obama wears thin quickly.
So it will be interesting to follow the reaction of the AAM ten after the speech on Tuesday, and whether they paid any attention to the Republican or TEA Party responses.
The big news around these parts today was the announcement that Labinal Power Systems would be closing its Salisbury plant and consolidating operations in Texas. Gone will be an estimated 600 jobs as the plant phases out operations over the next two years.
On top of that, there are rumors that both of the April tourist draws to Salisbury – the annual Salisbury Festival and Pork in the Park – have been scrubbed for 2015. While another local blogger swears this is not true and the Salisbury Festival is simply being repositioned to the fall, one has to ask how that would fit into an October already crowded with other local events. (As for Pork in the Park, my understanding is that it was a money loser as the county had to plow too much into it up front for its continued survival.)
Salisbury's downtown has been doing well with the increased popularity of 3rd Friday, a successful New Year's Eve event, the upcoming opening of Headquarters Live - an entertainment venue which is the remodeled former Fire Station 16 – and a popular Thursday – Saturday night trolley service connecting these venues with nearby Salisbury University, but other parts of town haven't done as well over the last year. The closing of Labinal decreases further the traffic to a once-booming part of the outskirts of Salisbury that formerly boasted the old Salisbury Mall, torn down several years ago for a development that never got off the ground.
Everything is cyclical, of course, and one example is the development around the SU campus. But losing these Labinal jobs would be a major blow to a county already on a long losing streak when it comes to year-over-year jobs. And the problem with such a long transition to a shutdown (almost two full years) is that lag time is going to be longer than some potential employers want to wait for the facility.
We all better hope that Maryland becomes a lot more business-friendly over the next two years. It's ironic that Senator Mikulski made a big deal out of a large federal contract secured for the facility just weeks before the announced move to Texas. Call it Rick Perry's revenge.
In the quest to get America back to making things, it was good news to find that manufacturers added 17,000 jobs in December. That brought the 2014 growth in that sector to 186,000, continuing the steady growth in that sector since the job market hit bottom there in 2009-10. When you consider that 2012 predictions saw the manufacturing sector losing jobs through this decade, having a very positive number nearly halfway through is a good sign.
Naturally Barack Obama tried to take some credit for this during a speech at a Ford plant near Detroit last week. As I noted in a piece I wrote for the Patriot Post, it's ironic that the plant was idled due to slow sales of hybrids and small cars built there, but the auto industry has played a part in the resurgence of manufacturing jobs in America. This is particularly true in the construction and expansion of "transplant" auto plants in the South by a number of foreign automakers.
But there has been criticism of Obama from his political peers. As a carryover from my American Certified days I often quote Scott Paul, the president of the Alliance for American Manufacturing, because his organization is strongly influenced by Big Labor and presumably supported Obama in both his elections. Yet Paul is none too happy with Obama's progress:
Manufacturing job growth slowed to 17,000 in December, which portends some of the challenges an overly strong dollar, weak global demand, and high goods trade deficits may bring in 2015. While President Obama is touting factory job gains and our Congressional leaders are looking for ways to rebuild the middle class, what's missing for manufacturing is good policy.

Congress and the president need to hold China and Japan accountable for currency manipulation and mercantilism, and invest in our infrastructure. New innovation institutes are a good thing, but their presence alone won't bring manufacturing back. And as the president enters the final half of his second term, he's falling way behind his goal to create one million new manufacturing jobs.
The innovation institutes Paul refers to are public-private partnerships being created around the country in various fields, in the most recent case advanced composites. But Obama lags behind on his promised 1 million new manufacturing jobs for this term as it nears the halfway mark as he's created just 283,000. It's great if you're one of those newly employed workers, but his policies are leaving a lot of chips on the table. In fact, National Association of Manufacturers economist Chad Moutray frets that:
…manufacturers still face a number of challenges, ranging from slowing global growth to a still-cautious consumer to the prospect of increased interest rates. With the start of the 114th Congress, manufacturers are optimistic that there will be positive developments on various critical pro-growth measures, including comprehensive tax reform, trade promotion authority and a long-term reauthorization of the Export-Import Bank, and focusing on important infrastructure priorities like building the Keystone XL pipeline and addressing the solvency of the Highway Trust Fund.
While manufacturers would like to see these measures, attaining some of them may be tough sledding in a conservative Congress. There are a number of representatives and conservative groups who don't want to give the President fast track trade authority, wish to see the Export-Import Bank mothballed out of existence, and will not consider increasing the federal gasoline tax – an action for which Moutray uses the euphemism "addressing the solvency of the Highway Trust Fund." These actions may benefit the large manufacturers but won't help the bread and butter industries solely serving the domestic market like the 24-employee machining shop or the plastics plant that employs 80.
Turning to the state level, our local manufacturing (so to speak) of poultry has a big week coming up. On Wednesday morning, the final deadline to submit new regulations to the Maryland Register for the January 23 printing will pass. You may recall that the December 1, 2014 Maryland Register featured the new Phosphorus Management Tool regulations as proposed (page 1432 overall, page 18 on the PDF file.) The new regulations were not in the January 9 edition, so January 23 may be the last chance to get these published under the O'Malley administration due to the deadline being set in MOM's waning days.
Yet I'm hearing the rumors that a legislative bill is in the works, to be introduced in the coming days by liberal Democrats from across the bridge. Doing this legislatively would perhaps buy a few months for local farmers because such a bill would probably take effect in the first of October if not for the almost certain veto from Governor Hogan. If Democrats hold together, though, they would have enough votes to override the veto in January 2016, at which time the bill would belatedly take effect. Still, it will be difficult to stop such a bill given the lack of Republicans and common-sense Democrats in the General Assembly. To sustain a Hogan veto would take 57 House members and 19 Senators, necessitating seven Democrats in the House and five in the Senate to join all the Republicans.
We haven't received the data yet to know whether the installation of Bob Culver as County Executive was enough to break an 11-month job losing streak year-over-year here in Wicomico County, but his task would be that much tougher with these regulations put in place.
The outburst of cold weather during the first few days of January was the result of a meteorological anomaly which happened to occur on the same days for two years in a row. The polar vortex which occurred on January 6 and 7 in 2014 struck again with full force on those same dates this year, and the cold weather proved to reinforce a point made by a surprising beneficiary.
According to the American Wind Energy Association, which advocates for wind power as an alternative source of energy, consumers saved $1 billion in the 2014 polar vortex thanks to the availability of wind power. As they note:
Wind energy does this by protecting against spikes in the price of other fuels in the Mid-Atlantic and Great Lakes states. While other power plants failed in last January's extreme cold or faced skyrocketing prices for fuel, wind energy continued producing electricity with zero fuel cost, not only keeping the lights on but also keeping money in consumers' pockets.

With extreme cold now gripping much of the Eastern U.S., wind energy is once again helping to keep the lights on and protecting consumers against energy price spikes by diversifying the nation's electricity mix. This is a repeat of the value wind energy provided to consumers during the "Polar Vortex" event exactly one year ago (Wednesday.)
Further, I also learned that the amount of electrical power created by wind reached an all-time high in two regions of the country overnight Tuesday night. Yes, it was blowing hard the other day so wind turbines were at their maximum effect and production.
In the last 24 hours wind set a new output record for the MidContinent ISO (MISO) and for the Southwest Power Pool (SPP), an area that covers much of the Midwest. Wind also performed at near-record levels in the PJM market (PJM).
Overnight on January 6-7, the MISO experienced a record 11,725 MW of wind production while the SPP region added another 7,625 MW – between the two, they powered 15 million homes. AWEA also claimed "near-record" production in the PJM area, which includes our region. In some areas, wind power was a far more significant provider during the event than its overall 4 percent share of the market.
Yet while wind power has made some significant achievements, no story is complete without pointing out a couple of realities: wind energy is not as reliable as fossil fuels, and its distribution pattern in this country makes it a tenuous backup plan for some regions, such as the southeastern part of the country. Negligible wind energy production exists there because of unfavorable conditions.
The reason wind power was so useful in this instance of cold weather was that natural gas has to serve two masters when it's cold: electricity generation which occurs all year and home heating for the winter. With the difficulty in building the infrastructure needed to move our abundant supply of natural gas to markets in some areas of the country, the spot price surged. AWEA's $1 billion assertion was based on that price spike for natural gas.
Because of the fickle nature of wind power, it's interesting to note that PJM keeps a constant eye on the output of its wind turbines and their predicted effects. As of the moment I write this, the wind turbines are producing 4,424 megawatts, which is slightly below the 4,585 megawatts forecast. To meet needs other sources will have to come into play if they're not already accounted for.
The economics of wind are fickle as well. While the on-again, off-again nature of the Wind Production Tax Credit of 2.3 cents per kilowatt-hour produced has affected the building of turbines – opponents consider them a handout both to the industry and Wall Street – state government mandates for clean energy prop up the demand. Without the prescribed mandates from states like Maryland, which has a current goal of 10% of its energy source generation from wind and other renewables, it's likely the wind energy industry would be non-existent in America.
But its legitimacy was bolstered from a surprising source this week. Each year, the American Petroleum Institute puts out a State of American Energy Report, and for the first time it addressed a number of alternative energy sources including wind power. As Jack Gerard of API puts it:
Rather than focus solely on the oil and natural gas industry, API this year is pleased to partner with organizations representing various energy sectors to highlight the contributions of each toward America's current and future economic wellbeing, and collectively stress the importance of adopting a lasting "all of the above" energy strategy.
In their section of the API report, AWEA notes that potentially 35 percent of America's electricity could be created from wind power by 2050. Of course, there are questions about the health risks of living near a wind turbine which will merit further study, but it is relatively convenient that most of the best places for wind production are in sparsely-populated areas.
If you subscribe to the "all of the above" energy strategy, you may be setting a place at the table for wind energy. Certainly it won't serve all of our needs as well as the versatile roster of fossil fuels has over the years, and it may have to navigate a brave new world without the tax credits that have built the industry up over the last two decades – in fact, I think it should. Logic would dictate that, since the fuel is free of charge, the only cost should be the infrastructure, transmission, and occasional maintenance and monitoring, so who needs a tax break?
We won't always have a polar vortex, but if the wind energy industry is where its backers say it is, we won't need one to make wind a good choice. Let's put it on a level playing field and see how it fares.
It was somewhat lost during the holiday week, but Larry Hogan made the case to the Baltimore Sun that the city of Baltimore needs to take its place once again as Maryland's economic driver, rather than "declining."
I know that many, many people around here consider the city of Baltimore an economic sinkhole that sucks up an outsized proportion of our state's tax money, and to some extent that is true. But once upon a time – just a generation or two ago – the city of Baltimore was thriving while the capital region of Montgomery and Prince George's counties were still sleepy, relatively rural backwaters. Baltimore City was the state's largest jurisdiction until the late 1980s, but now that distinction belongs to Montgomery County while Baltimore City is fourth. Combined, the capital region of Montgomery and Prince George's counties is now nearly 30% larger than the combined Baltimore city and county.
Yet what made Baltimore grow was that people made things there, shipped them around the country and world from its railroad hub and its port, and settled in the region as middle-class workers who could raise families without necessarily securing a college education. In other words, it was a blue-collar city much like Detroit, Cleveland, Chicago, or other Rust Belt towns. On the other hand, the fuel to the capital region's growth is an ever-expanding federal government and some of its associated suppliers and contractors. While Baltimore took a lot of things and added value to them in some way, too much of the work done by denizens of the capital region amounts to pushing paper, metaphorically digging holes here to fill them up there.
I doubt that we will ever get to a point where thousands of Baltimore citizens are "makin' Thunderbirds" as the old Bob Seger song goes – or even the GM minivans they cranked out there for over two decades at the former Baltimore Assembly plant. But with the right conditions, marketing, and incentives (but not subsidies) I think it is possible to put a lot of that region's workforce back into positions where they add value, using the relatively inexpensive energy produced in the region to aid the process. I was also pleased to see that Larry Hogan was looking to revisit the weak charter school laws which saddle Maryland's educational system, but there needs to be an emphasis placed on vocational and technical education to create the type of workforce needed to make things efficiently in the way a liberal arts major just can't. These reforms can go hand-in-hand.
I've already suggested that we jumpstart business in Maryland by doing away with the corporate income tax, which only provides for a small piece of the budget and could help create an environment where the returns from other taxes and economic activity from those who find work in the state could easily justify the "investment" in our businesses. But why not try another experiment?
As a general rule, unemployment is higher than the state average in Baltimore City, the Eastern Shore, and the western counties of Maryland. All of these areas could use an economic shot in the arm, but the influence of Big Labor is felt most in Baltimore City. I think it would be a good idea to write a bill creating "right-to-work zones" in these three areas of the state that have higher unemployment than the state average, with the law being written in such a way that it sunsets in ten years – unless it works so well that it could be expanded to the rest of the state and made permanent, as I'm confident it would. Think of it as at least a small temporary incentive for employers to create jobs in these areas, based on the success right-to-work states have in attracting industry.
All of Maryland should be putting out the impression that we are open for business, but it's only natural that with its existing transportation infrastructure and available industrial land, Baltimore can lead the effort. Too much of our state's money falls into the category of wealth transfer as opposed to wealth creation. But it doesn't have to be that way, and in order to create a more economically viable Maryland I agree: we need to get Baltimore's economic engine back on track.
It was good news in November for manufacturers, at least as expressed on the employment front – based on the November jobs report and revisions to previous reports, the sector gained 48,000 workers over that timeframe.
Naturally, manufacturing supporters were cheered by the news, with the union-backed Alliance for American Manufacturing (AAM) noting that Barack Obama is now over 1/4 of the way to his promise of a million new manufacturing jobs in his second term, while economist Chad Mowbray of the National Association of Manufacturers (NAM) trade group pointed out robust growth in new orders was beginning to translate into new employees.
However, both groups saw some clouds among the silver linings. In the case of AAM, their complaint was the "failure to stop currency manipulation by China and Japan" while NAM cited "headwinds such as rising health care costs and regulatory burdens."
Each complaint has some validity, but for the majority of manufacturers the specter of operational costs is a key deterrent to expansion or even staying in business. While it's not manufacturing in a traditional sense – and certainly applies on a more limited scale than federal edicts which can overturn an entire industry – one example could be how the local processing of chicken would take a blow from ill-advised state phosphorus regulations that have the potential to drive the poultry business to different areas of the country. Needless to say, such a result would be devastating to this part of the state, leaving just tourism and some limited local services to provide the employment to support our region.
And while I'm mentioning Maryland politics, I may as well make one other pronouncement here. As I followed his gubernatorial campaign for a year, I paid attention to how Ron George studied and shared his thoughts on the prospect of making things in Maryland. I hope Larry Hogan can utilize Ron's passion and expertise in his administration. While we would love to score an auto plant or other similarly large employer in this area of the state, a more realistic goal might be to, as Ron stressed during his campaign, fill up the existing facilities and areas several towns on the Eastern Shore have already laid out for manufacturing. To use a local example, adding 100 jobs for Wicomico County residents would immediately shave 0.2% off our unemployment rate, not to mention bring up the standard of living for everyone else.
A week ago yesterday we celebrated Small Business Saturday, but the best way to support them (other than shopping there) would be to make their lives easier by calling off the government regulator's dogs and encouraging them to grow so that sometime down the road we can be the manufacturing power we once were.
While Ben Carson made a splash on the GOP side by strongly hinting he was in the 2016 Presidential fray, he stopped short of actually launching an exploratory committee. The first major candidate – at least one who has a shot at being in the top couple tiers, anyway – to form an exploratory committee is Democrat Jim Webb, the former Reagan administration official who later became a Democratic senator from Virginia. Daniel Larison at The American Conservative has some thoughts on this challenge to presumptive nominee Hillary Clinton, but Webb has his own explanation at his newly-christened website.
And while it's probably the longest of shots to oppose the Clinton machine, Webb does have somewhat of an opening according to Harry Enten at fivethirtyeight.com. He points out that Hillary's support is weakest in the political center, where Webb's pro-military but populist message may resonate. As David Freedlander writes at the Daily Beast:
And Clinton, (Webb's) aides insist, is a non-factor.

"It ain't about Hillary," said Mudcat Saunders, a longtime Virginia strategist who worked on Webb's Senate campaign. "It's about bring the American dream to the forefront once again for working people and small business. The working people and small business – they haven't had any representation in years. And they know it.

Americans want to do something about this coin-operated government."
In a lot of respects, Webb hearkens back to the old Democratic party, the one which was just as liberal as it is today but was pro-military and pro-American. Ronald Reagan led those voters to the Republican Party and many of them stayed. For those who hang on to their faith in the old-style Democratic party and the song and dance about their support for the working man – the sort of Democrat who still resides mainly in rural areas like this one – Webb may be an appealing option. Take this excerpt from his introductory video as an example, one where Webb points out that he's no stranger to long-shot campaigns since he defeated George Allen in 2006 to win his one term as Senator.
With enough financial support to conduct a first-class campaign, I have no doubt that we can put these issues squarely before the American people and gain their support. The 2016 election is two years away, but serious campaigning will begin very soon. The first primaries are about a year away. Your early support will be crucial as I evaluate whether we might overcome what many commentators see as nearly impossible odds.

We are starting with very little funding and no full-time staff, but I've been here before. In February, 2006 I announced for the Senate only nine months before the election against an entrenched incumbent. We had no money and no staff. We were more than 30 points behind in the polls. I promised to work on the same themes I am putting before you now: reorient our national security policy, work toward true economic fairness and social justice, and demand good governance, including a proper balance between the Presidency and the Congress. We won. And despite the paralysis in our government, we delivered on these promises, in measurable, lasting ways.

In 2007, I gave the response to President Bush's State of the Union address. I put economic fairness for our working people and small business owners at the front of my response, noting the immense and ever-growing disparities in income between corporate executives and those who do the hard work. When I graduated from college the average corporate CEO made twenty times what his workers made. Today that number is greater than 300 times. The inequalities between top and bottom in our country are greater than at any time in the last hundred years. And the disparities between those at the very top and the rest of our society have only grown larger since the economic crash of late 2008 and early 2009.
With over 30,000 views in the first few days, the video is indeed portraying a very populist message that would appeal to the vast number of voters who fall for the class envy trap. (Dirty little secret: CEO pay is much higher now because many are paid in large part with stock options, thanks to the push a couple decades ago to more directly tie CEO salaries to company profitability and financial performance. In terms of actual salary, the ratio is far lower.)
It's doubtful that Jim Webb is the obstacle to an eventual Hillary coronation that Barack Obama was in 2008, and at this point he's probably in the same low tier of probability that Martin O'Malley rests on, well behind Joe Biden and miles in arrears to Hillary. But it wouldn't surprise me to see Jim in the mid-single digits in early polls as an outsider who has military experience, as opposed to most others in the Democratic field. He may be the catalyst for another Operation Chaos on the Democratic side.
This time next week bleary-eyed shoppers may already be ready to call it a day at a time when most normally arrive for work.
Playing on the theme of "black Friday," the Patriot Voices advocacy group is seeking to make that shopping day a "red, white, and blue Friday" by encouraging shoppers to buy American. The "Made in the USA Christmas Challenge" is one that promotes both American-based manufacturing and small businesses by also promoting Small Business Saturday the following day. Patriot Voices founder and former Senator Rick Santorum noted:
This Christmas season, millions of hard-working families are struggling to make ends meet.  If we hope to lift up all Americans, we must first support those families and the jobs they hold.  This means supporting American companies and American-made products at the check-out line.  While our effort may be small in the grand scheme of the holidays, everyone must do their part to making sure we support our family, friends, and neighbors.
The folks at Patriot Voices also added:
The 2nd annual Patriot Voices "Made in the USA" Christmas Challenge will bring attention to the need to buy American-made goods and shop at local small businesses this holiday season.  Senator Santorum will encourage Patriot Voices members and Americans around the country to sign a pledge to shop locally and buy American made goods this Christmas.
Oddly enough, in doing a bit of research I found Santorum sought this pledge in 2012, which either makes this the third rendition or means they skipped 2013. Regardless, it's a pretty good idea.
For several months I've placed an emphasis on manufacturing jobs, believing it's a great way to grow the economy and also return our country to a position of prominence in the world such that we had during the Greatest Generation, a time when we produced our way to victory in a world war. This is a continuation of that effort and it's a worthwhile one. (It also doesn't hurt that I know a good source for finding American-made products, one which just happens to be based in Santorum's home state.)
Realistically, it would be difficult to get everything on your Christmas list "made in America." In particular, those loss leader electronics which will be fought over on Thanksgiving night and/or the wee hours of Friday morning when stores open are generally made overseas. Unfortunately, we don't make Xbox or PS4 consoles here nor do we produce most tablets, iPhones, or other such gadgets. I don't think this has to be a permanent problem, though – it just takes some sound reworking of tax and regulation policies along the lines of that which Rick has supported in the past. Those philosophies led a lot of people in the Midwest and South to vote for Santorum in 2012 – even I did after my top choice(s) dropped out of the running.
Honestly, I'm not much of a shopper. But those who power-shop are encouraged to join in this effort because the job you could create might be that of your neighbor or family member. A new opportunity for a struggling breadwinner can be the greatest gift of all.
Since I parted ways with American Certified a few months ago, I haven't followed the manufacturing world as much as I had while writing for them. But they still hold an important place in our economy and the question needs to be asked: are you a manufacturing voter?
This video was put out by the National Association of Manufacturers, which has a full-size spread just in time for this year's election. They stress seven key issues:
Immigration

The immigration system in the United States is broken. Comprehensive reform will strengthen U.S. economic and national security and ensure that manufacturers' workforce needs are met, without displacing American workers.

Energy

Energy is poised to be a significant competitive advantage for manufacturing in the United States. In fact, the United States enjoys a slight advantage on energy costs compared to our major trading partners. The United States can widen this gap and enhance our energy security.

Labor

In recent years, the nation's time-tested labor law system has faced significant challenges. The National Labor Relations Board, for example, has issued rules and orders that undermine employer flexibility and chill workplace relations. U.S. labor laws should safeguard the rights of employees and employers.

Workforce

Nearly 12 million men and women work in manufacturing in the United States. This workforce can grow significantly if manufacturers can find workers with the skills needed for the modern manufacturing workplace. Today, 600,000 manufacturing jobs are unfilled because of this skills gap.

Trade

To thrive in the global economy, manufacturers need trade policies that make the United States a better place from which to export. Manufacturers thrive when they can compete in open markets abroad.

Infrastructure

Manufacturers rely on a strong infrastructure to move people, products and ideas. Unfortunately, the nation's infrastructure is out of date and resting on the legacy of a bygone era. To compete in the 21st-century economy, the United States must invest in and modernize our infrastructure in ways that encourage economic growth, job creation and increased competitiveness.

Tax Reform

Manufacturers in the United States face a significant disadvantage in the global competition for investment and jobs. In fact, it is 20 percent more expensive to manufacture in this country compared to our major trading partners and that excludes the cost of labor. Taxes drive this cost disadvantage.
I'm not sure whether their idea for immigration reform matches up with mine; presumably they operate under the incorrect belief that there aren't enough qualified Americans to do the specialized engineering they need. But in a broad sense, what assists manufacturing would probably help the economy at large.
And our Congressman Andy Harris seems to agree with NAM's approach – so much so that he scores a perfect 100 percent on their voter guide. By a wide margin, he has the best record of any Maryland or Delaware House member.
Yet this approach is also needed on a local scale as well. While Maryland state representatives can't do a great deal with some issues that require federal input, they can pave the way on issues like tax reform, energy, job training, and infrastructure to put more Marylanders to work making things.
Lowering the corporate tax rate (or even eliminating it) would be a great step, as would opening up Maryland to fracking, promoting technical and vocational education as part of an overall broad "money follows the child" educational reform, and dumping inefficient light rail boondoggles like the Purple Line and Red Line in favor of creating alternative routes for through trucks, another Bay crossing from southern Maryland to the lower Shore, and upgrading the U.S. 13 corridor through Delaware – these are all worthy ideas for real investment.
Those who vote for manufacturing should keep that platform in mind when those candidates get to Annapolis and Washington.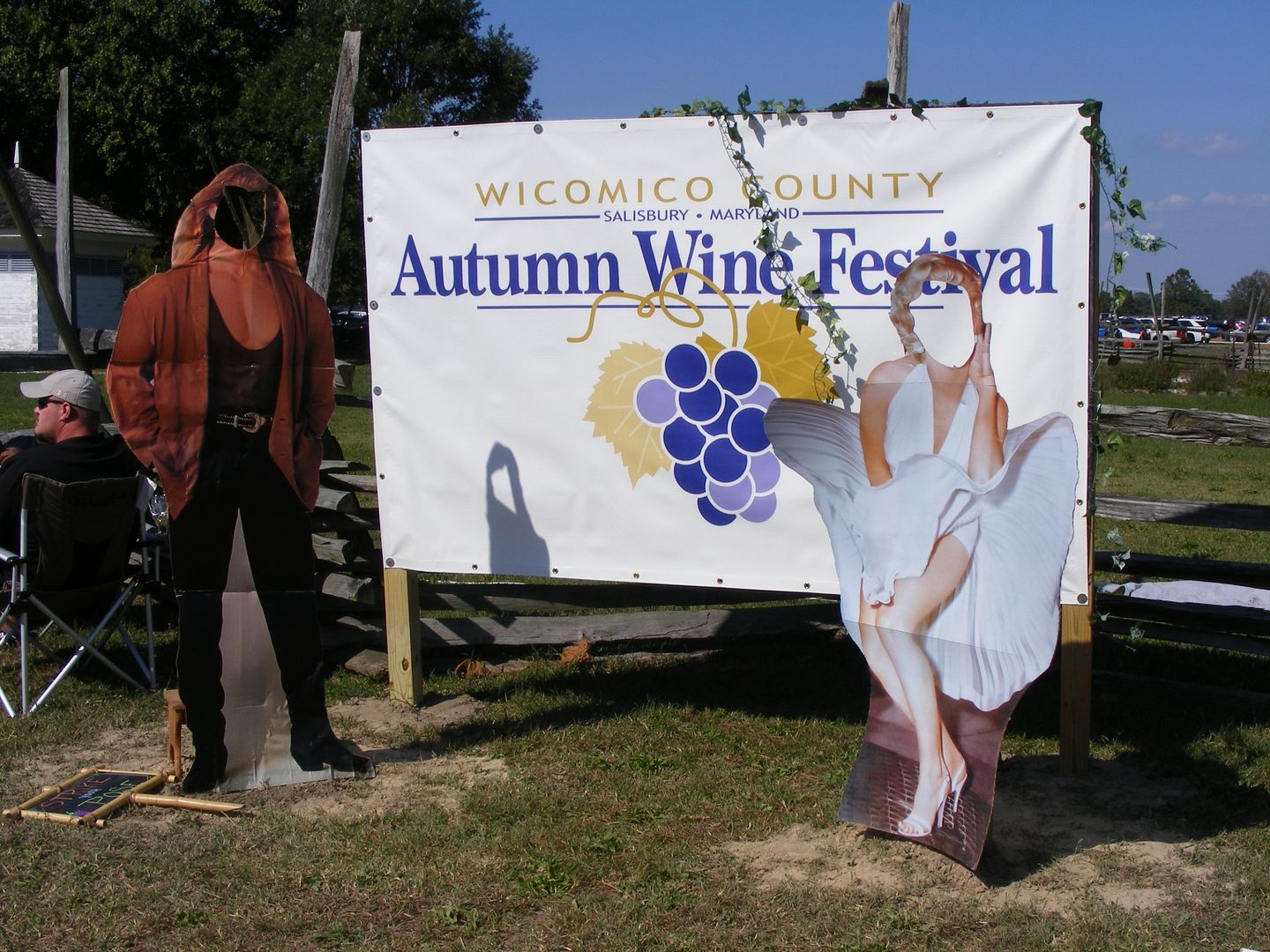 Yet again I was found at Pemberton Historical Park for an event involving potent potables. But this one was more like work for me because I'm simply not a wine drinker – didn't have a drop. Yet I did take a few photos.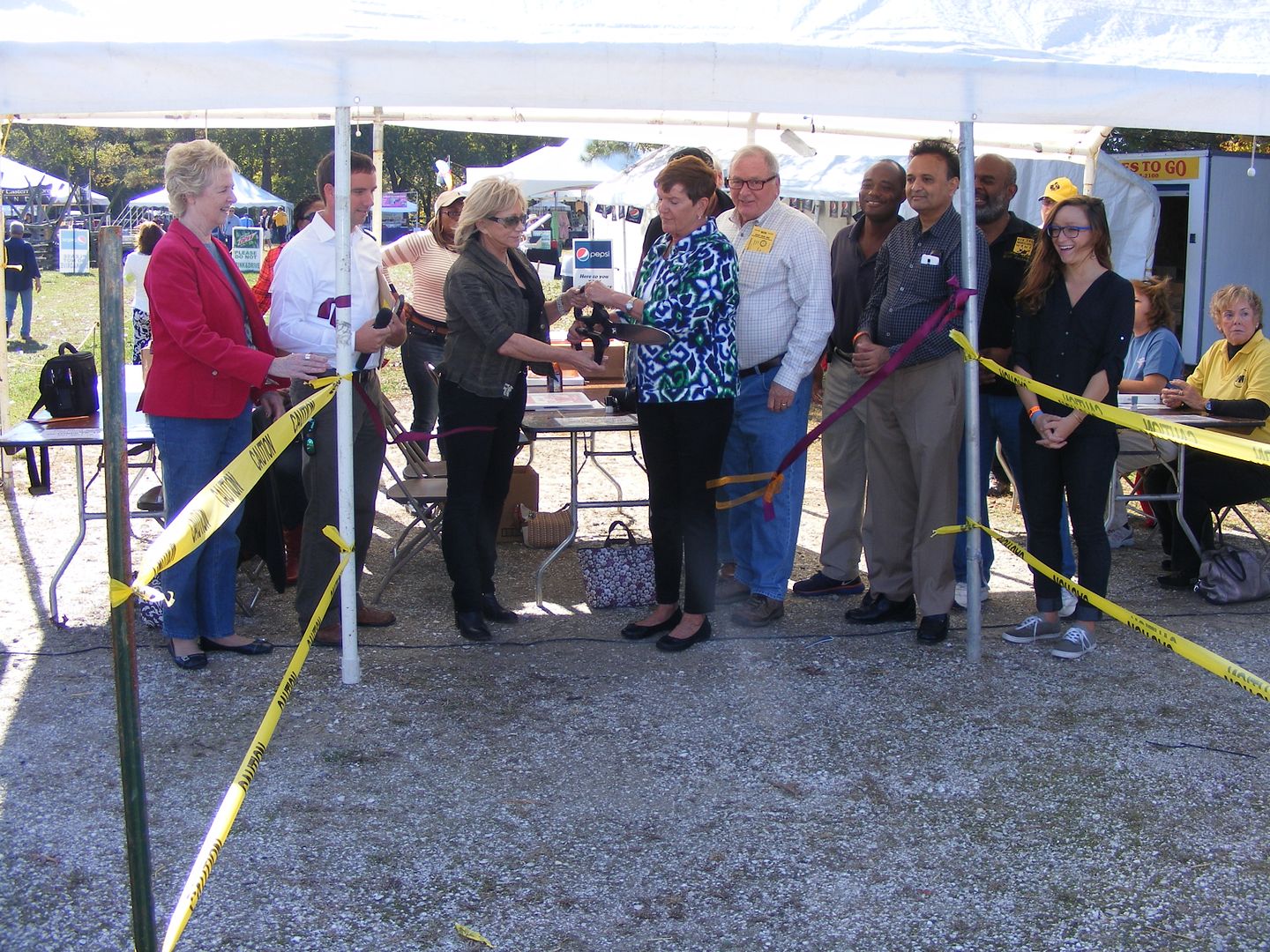 So once the ribbon was cut by (among others) County Council members Matt Holloway, Stevie Prettyman, Gail Bartkovich, and John Hall, we were underway. I was really there for our Republican booth.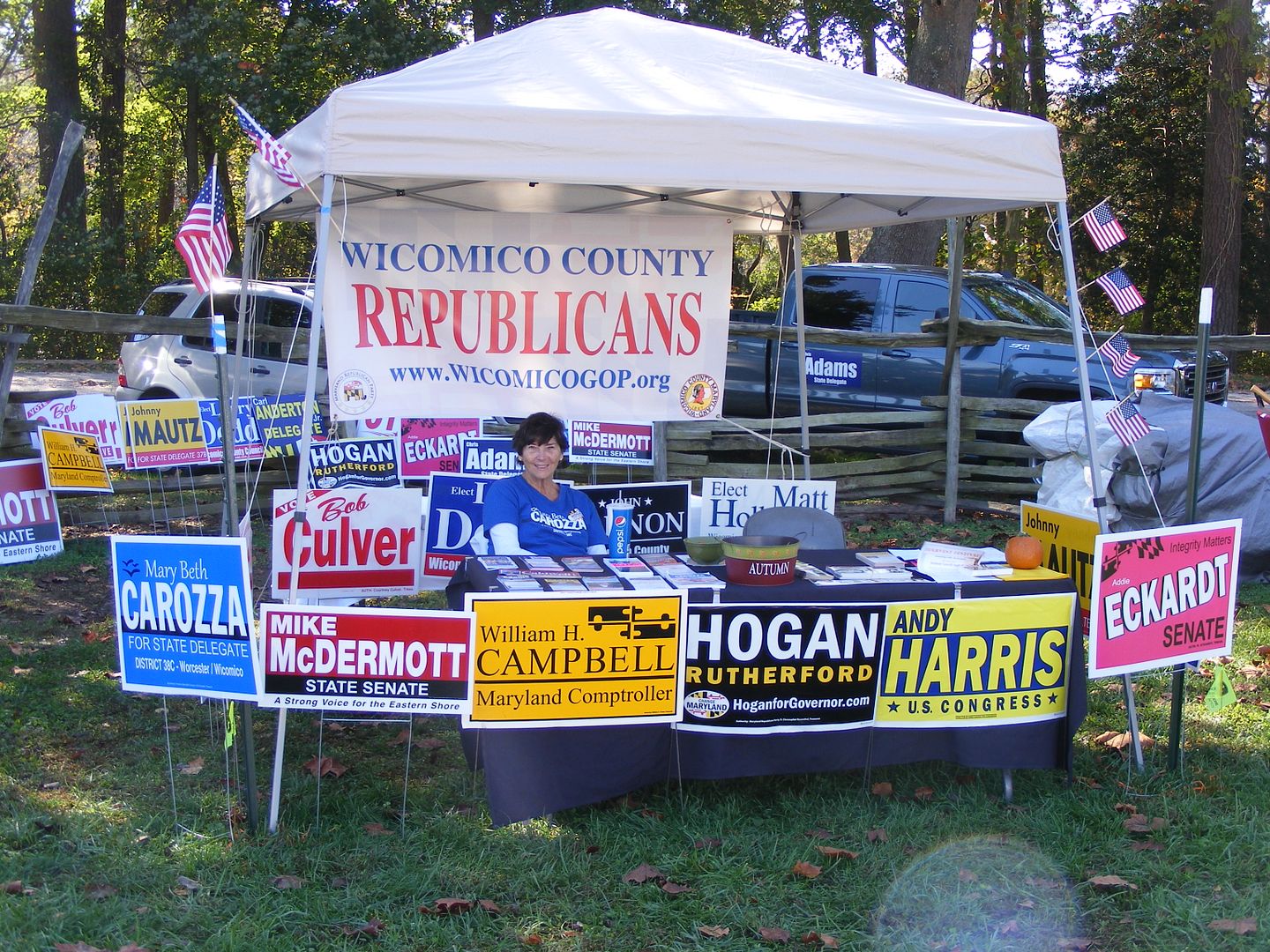 Carol Rose is a big fan of monoblogue and now she's famous. Actually it gives me an opportunity to thank a whole crew of people who helped out for at least part of a day for the two events: Jackie Wellfonder, Shawn Jester, Carol Rose, Greg Belcher, Linda Luffman, Phil Adkins, David Warren, and Larry Dodd, who you'll see in a little while. Jim Jester didn't sit with us, but he was valuable for helping me to set up and take down for each event. That's a job in and of itself.
But I wasn't the only person helping get out the vote. Circuit Court judge candidate M.J. Caldwell had his own space.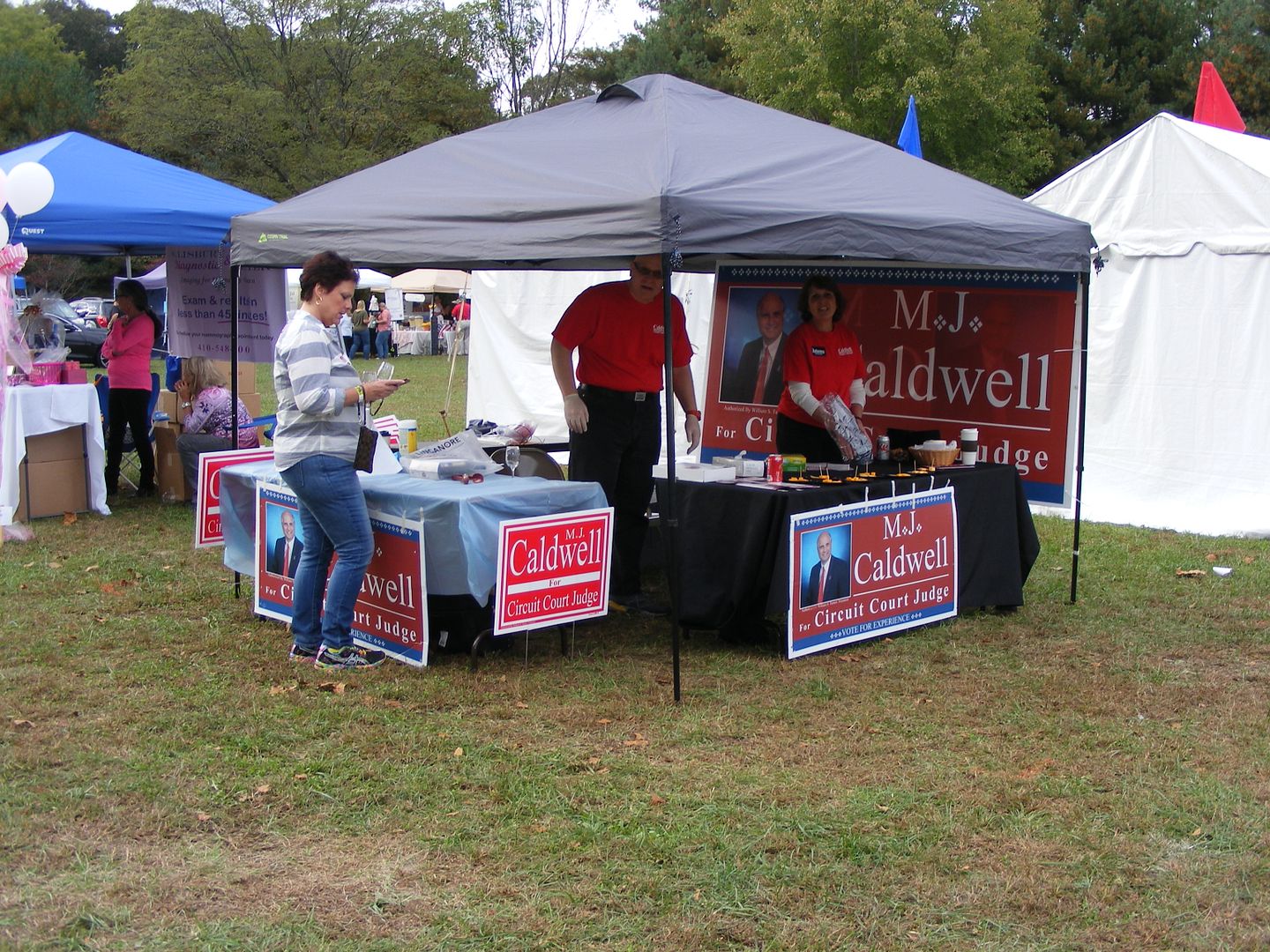 These were the Ritz crackers with cheese. Sunday visitors got the upgrade to Triscuits.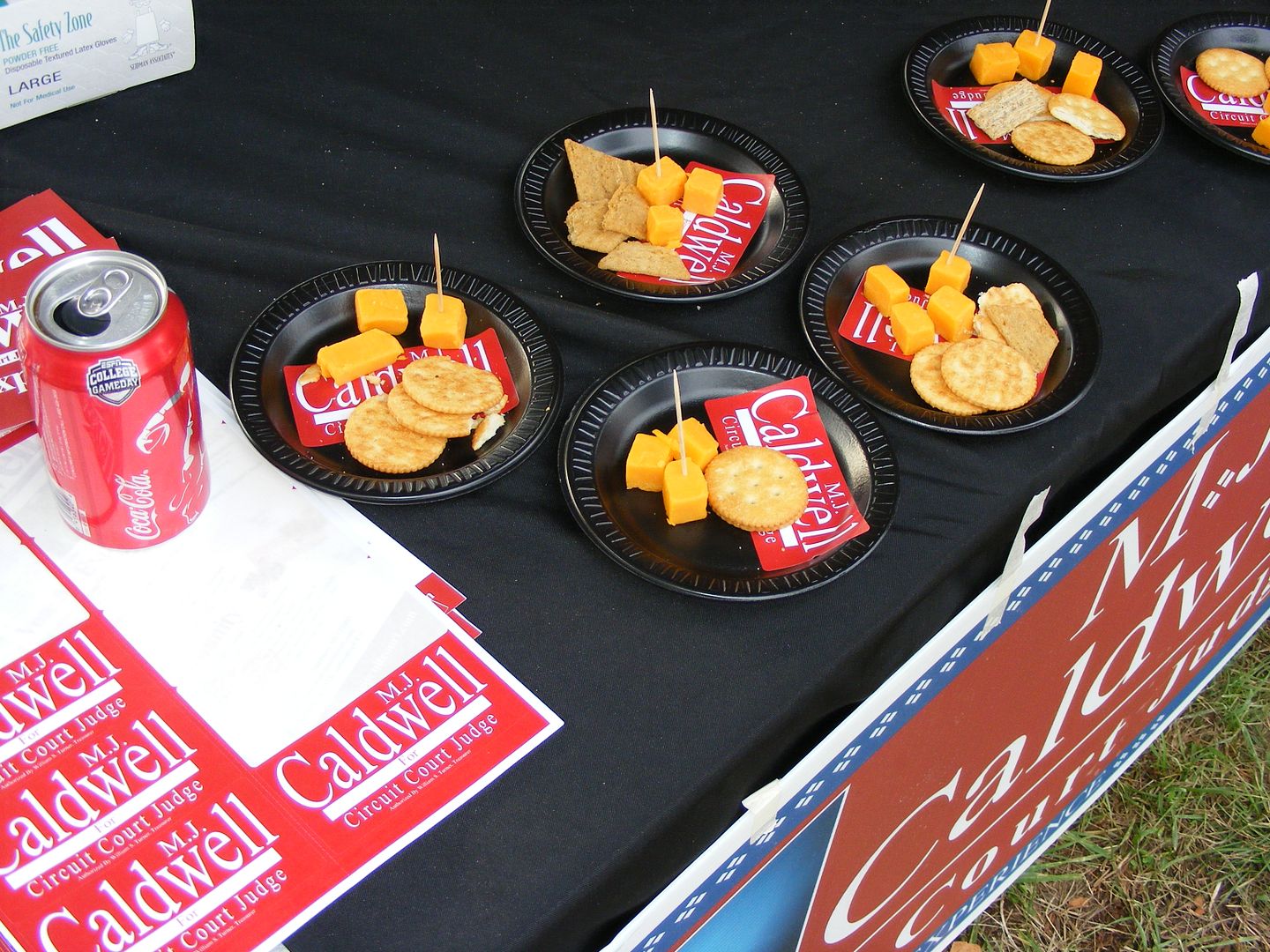 On the other side of the aisle (literally) were our friends, the Democrats. Pete Evans was there most of the weekend, and as I noted this morning I spoke to Delegate candidate Rod Benjamin for a bit while I was there. I also saw Laura Mitchell from afar.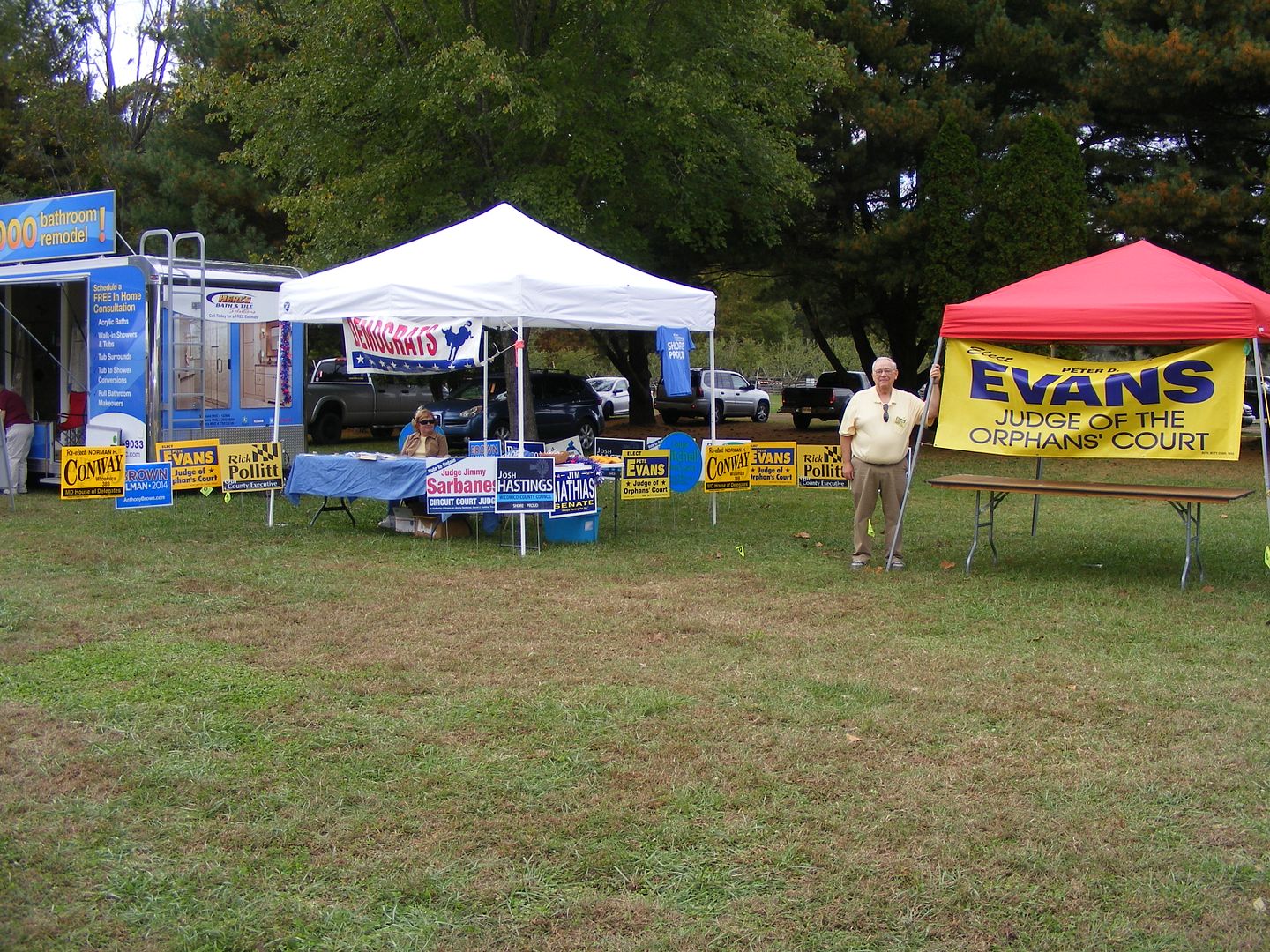 I was a lot closer to Mike McDermott and Chris Adams, who stopped by Saturday to try and collect votes.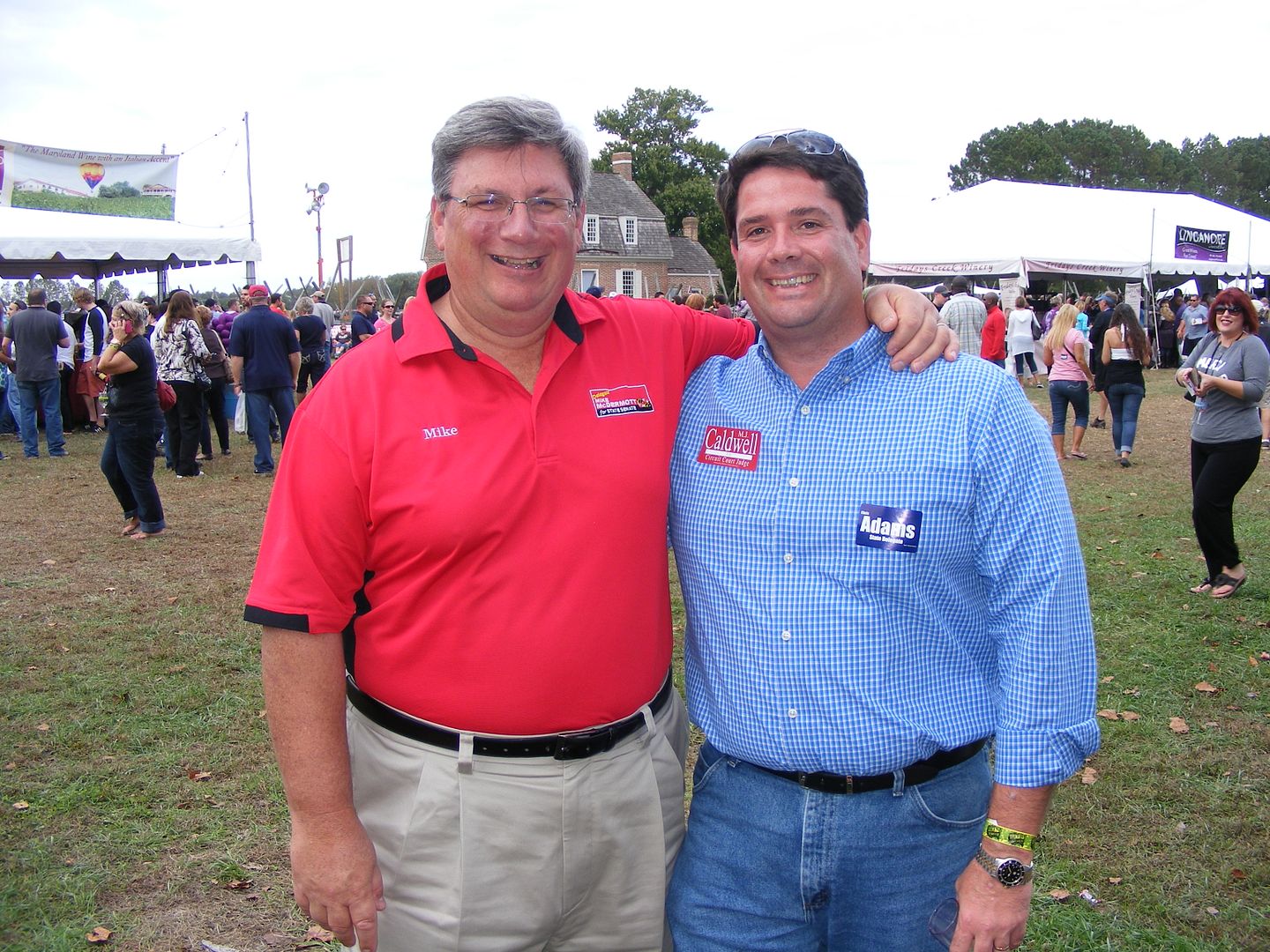 As I noted, District 3 contender Larry Dodd was by on Sunday checking out my neighboring tent while helping man the table.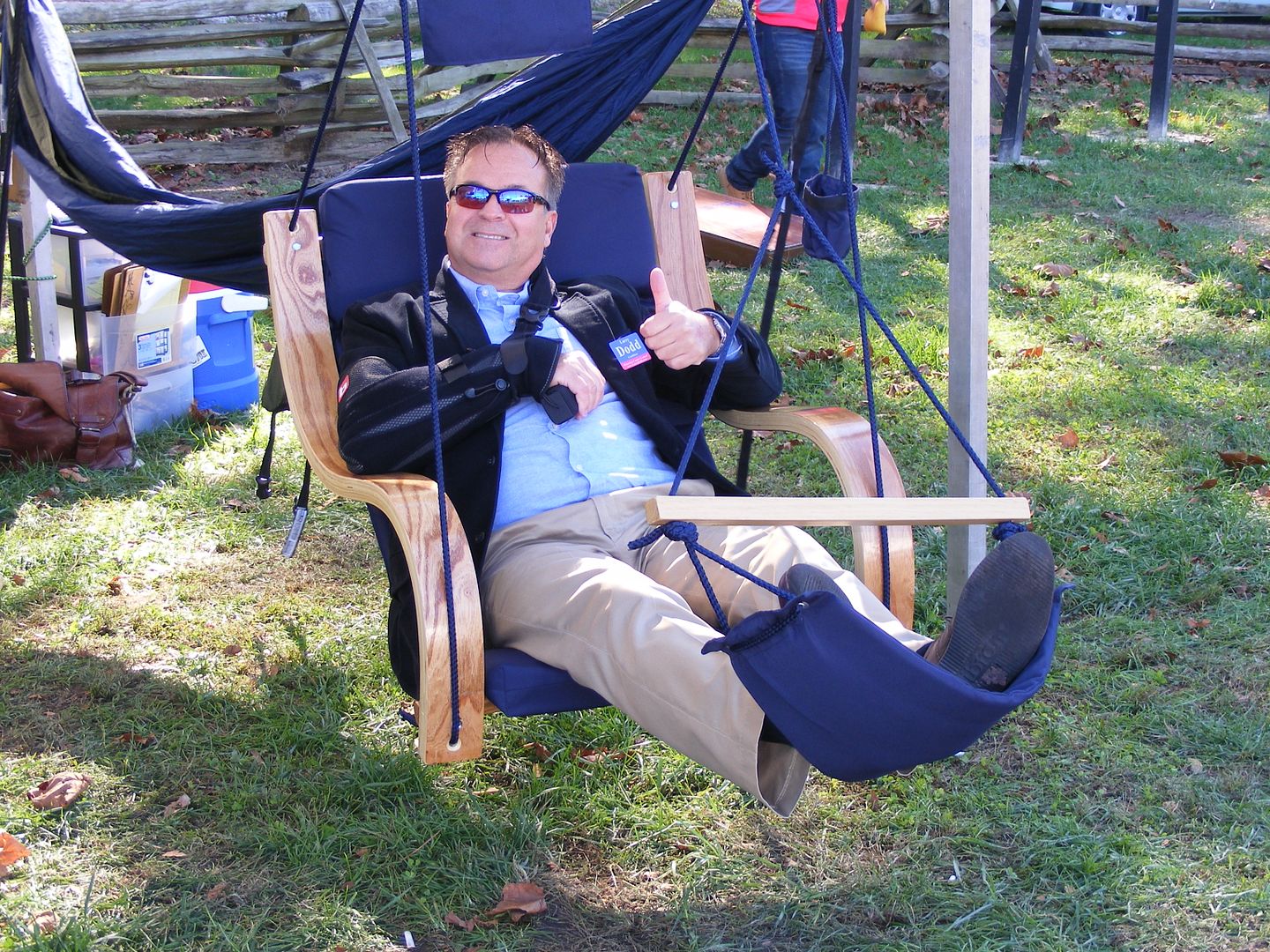 It's worth pointing out that attendance between Saturday and Sunday was like night and day. While I took these from different vantage points, the time of day was pretty close between the Saturday photo on top and the Sunday one at the bottom.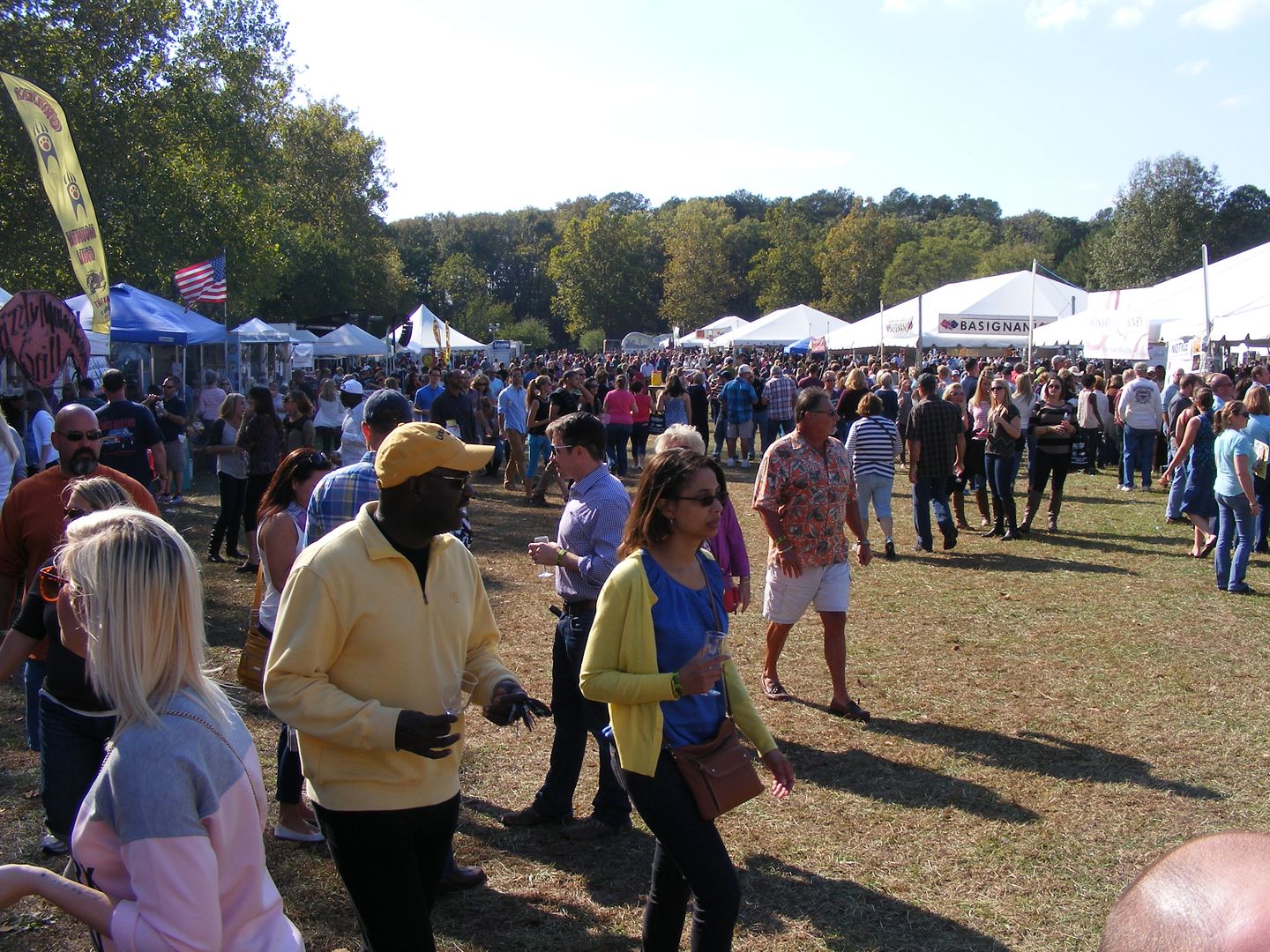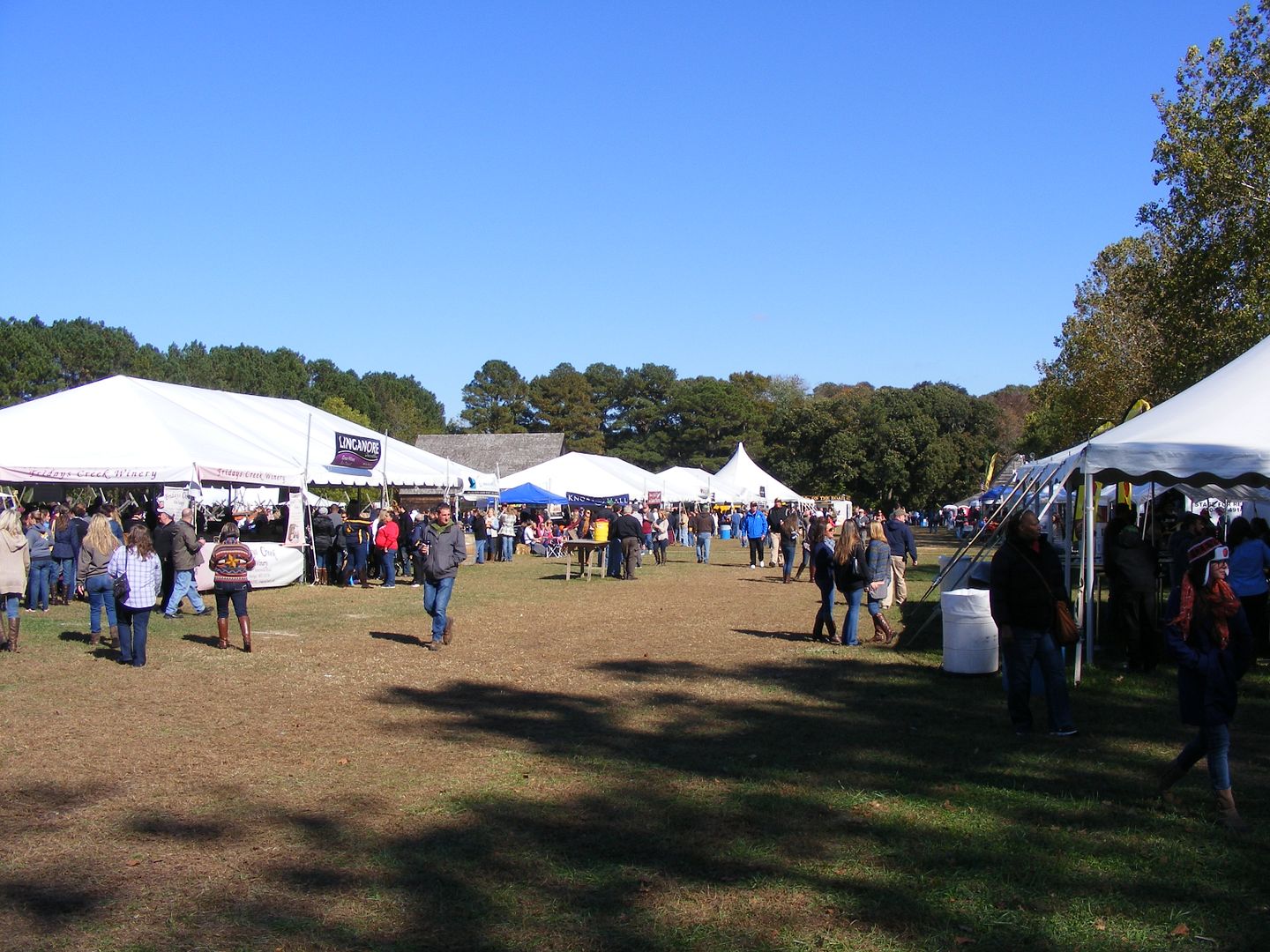 Something else a little different was the use of one space. On Saturday, the top photo shows a VIP area. On Sunday it was converted to an artisan's tent with some of their wares put out.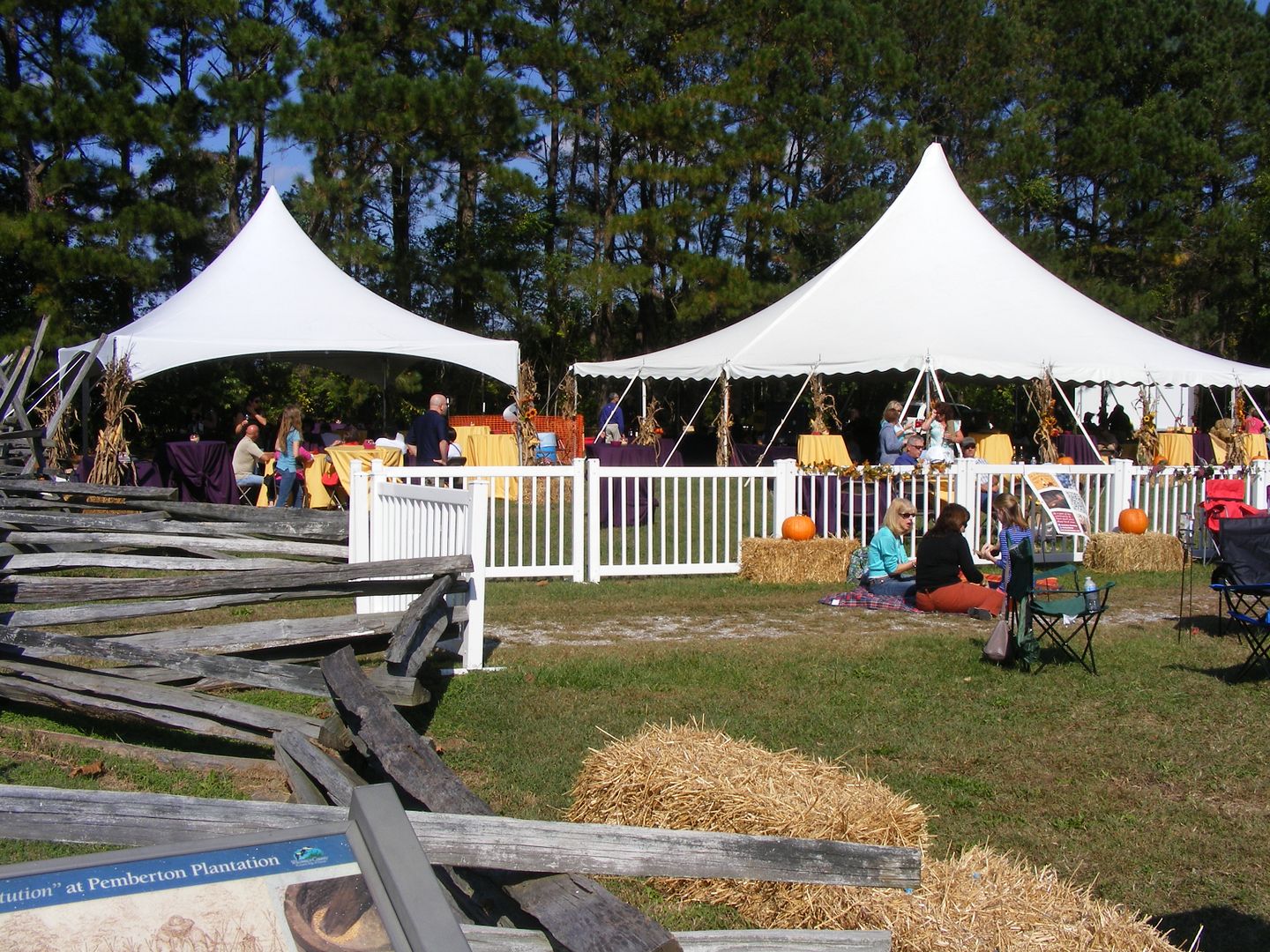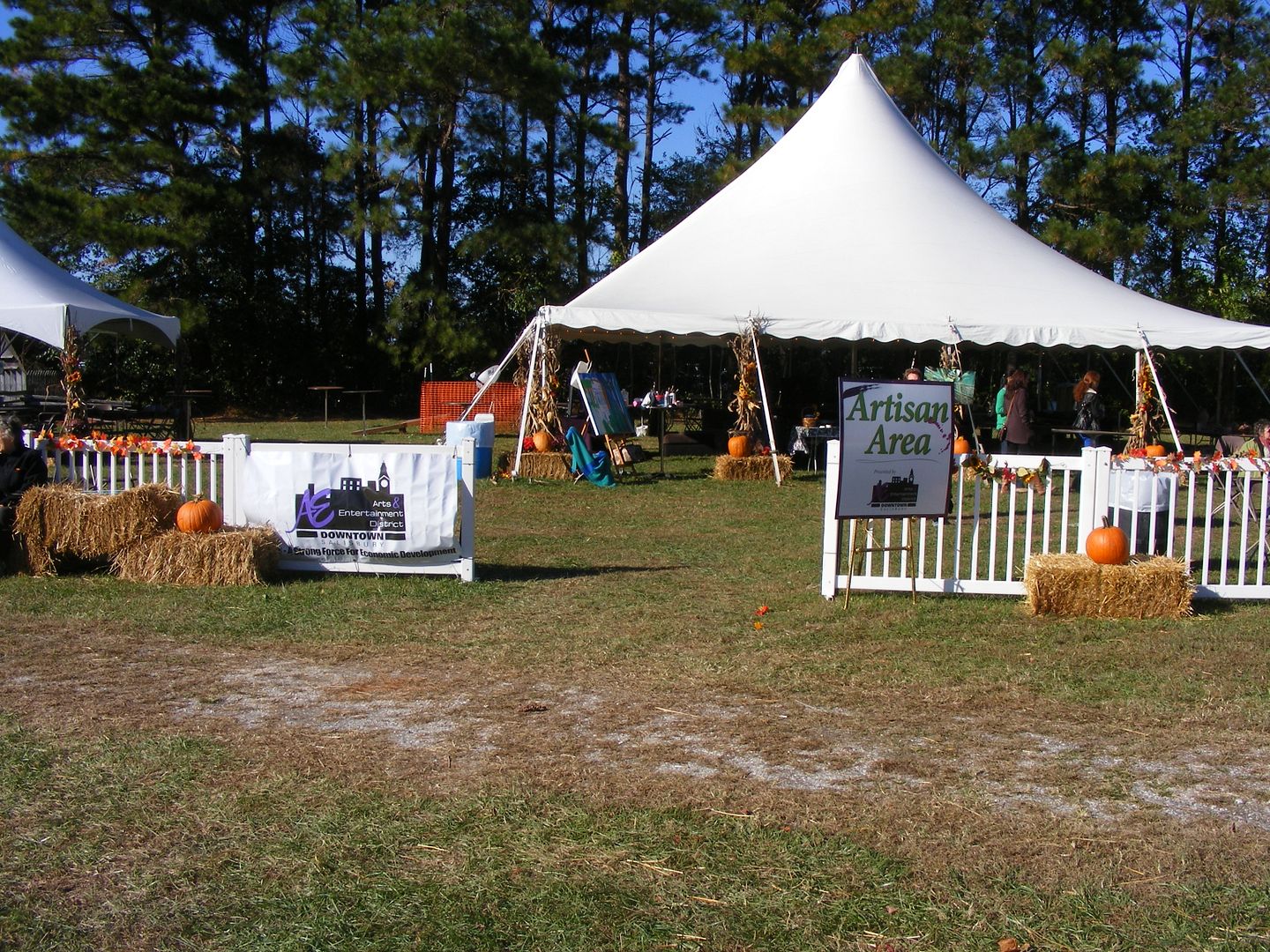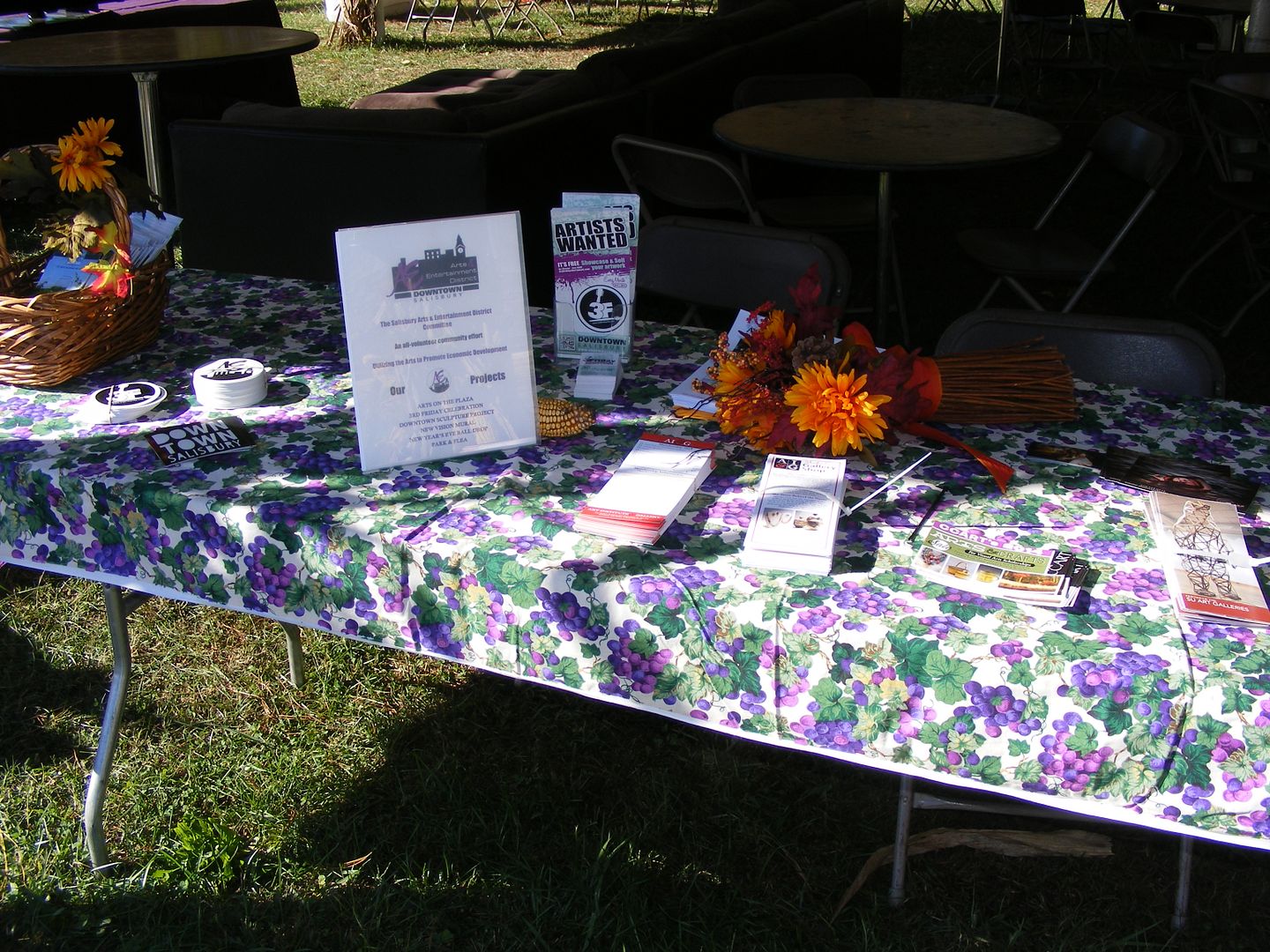 For a few extra dollars on Saturday, you got the nicely appointed tables, a bigscreen TV, a large sectional sofa, and private restrooms. With the exception of the tables, they kept those things on Sunday but very few were there.
Of course, the weather had a lot to do with the spotty Sunday attendance. While it was in the 70s and balmy Saturday, a chilly, cloudy morning and gusting gales on Sunday reminded me again why I call it the Autumn Wind Festival. And those gusts created havoc at the other political tents, oddly enough.
M.J. Caldwell's tent reared up on two legs before being corralled. But as David Warren saw with his photo, the Democrats weren't as fortunate.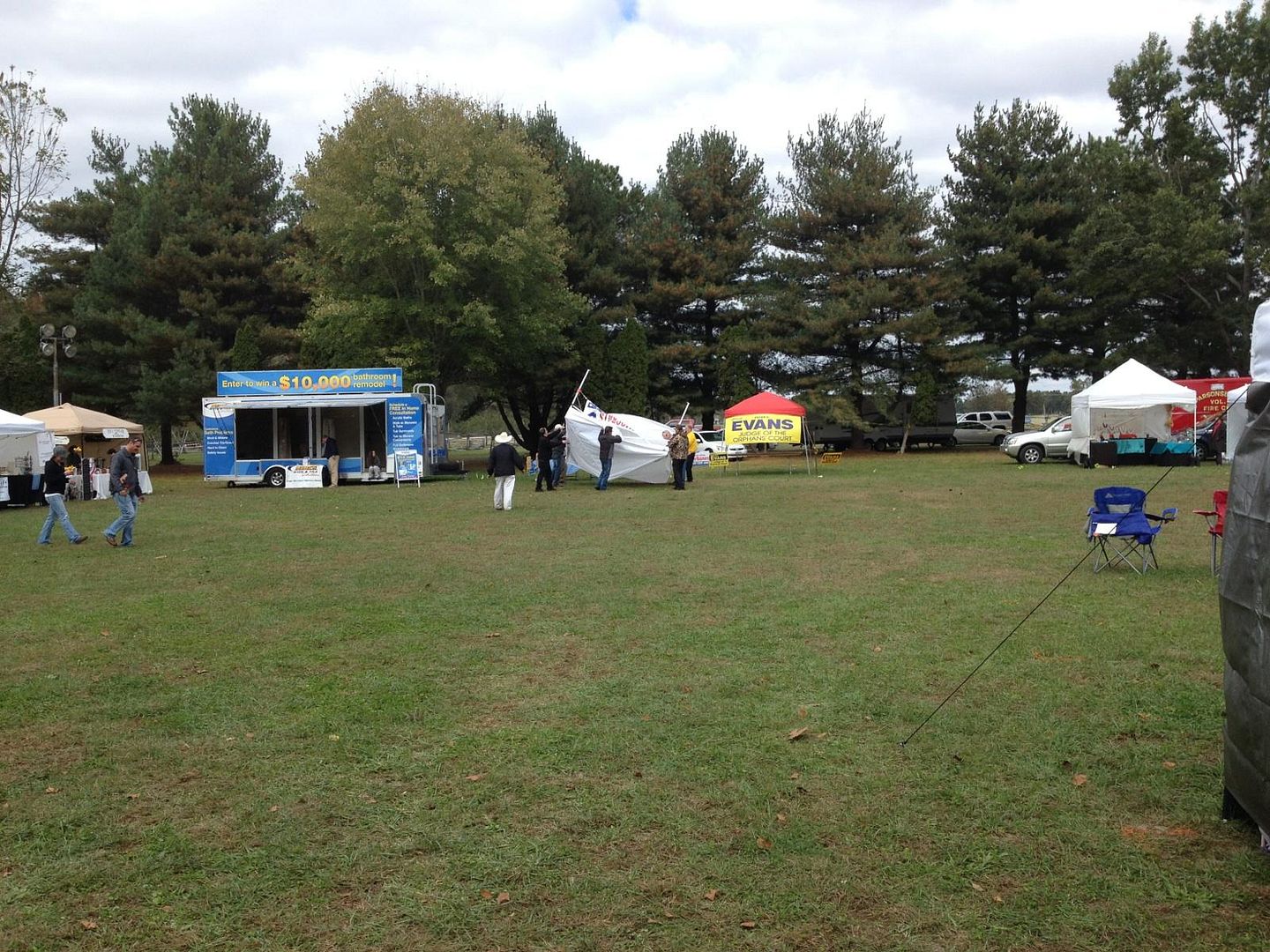 You'll notice how devoid of people this end of the festival appeared on Sunday. Unfortunately for a lot of vendors, it was that way Saturday, too. I took this about 3:45, just at the end of the peak time.
While a few were playing games and some watched the college football – granted, the television tent was a little busier on Sunday afternoon for the Ravens game – there was another place people stayed.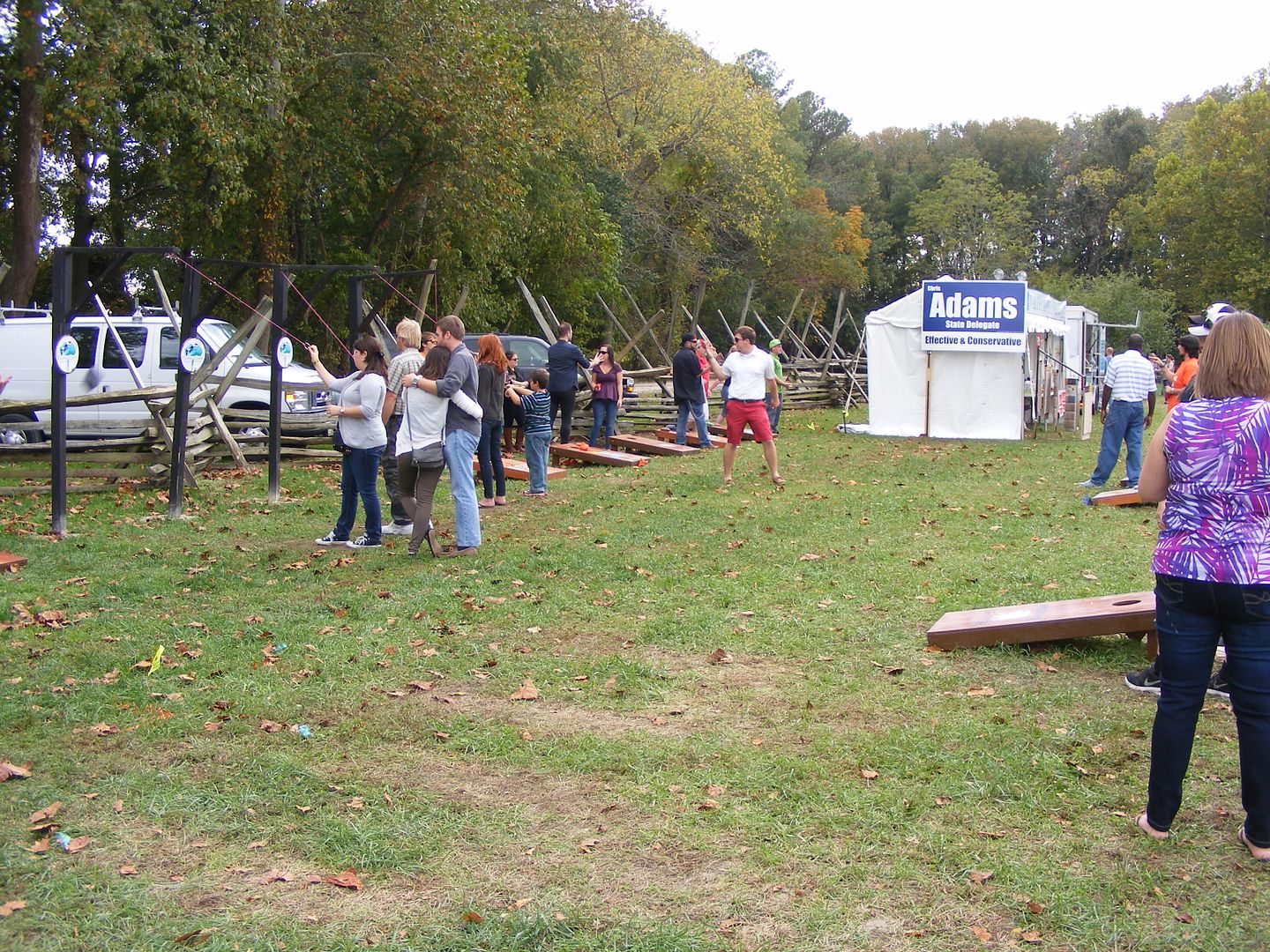 Bear in mind I took the next picture Sunday, with the smaller crowd.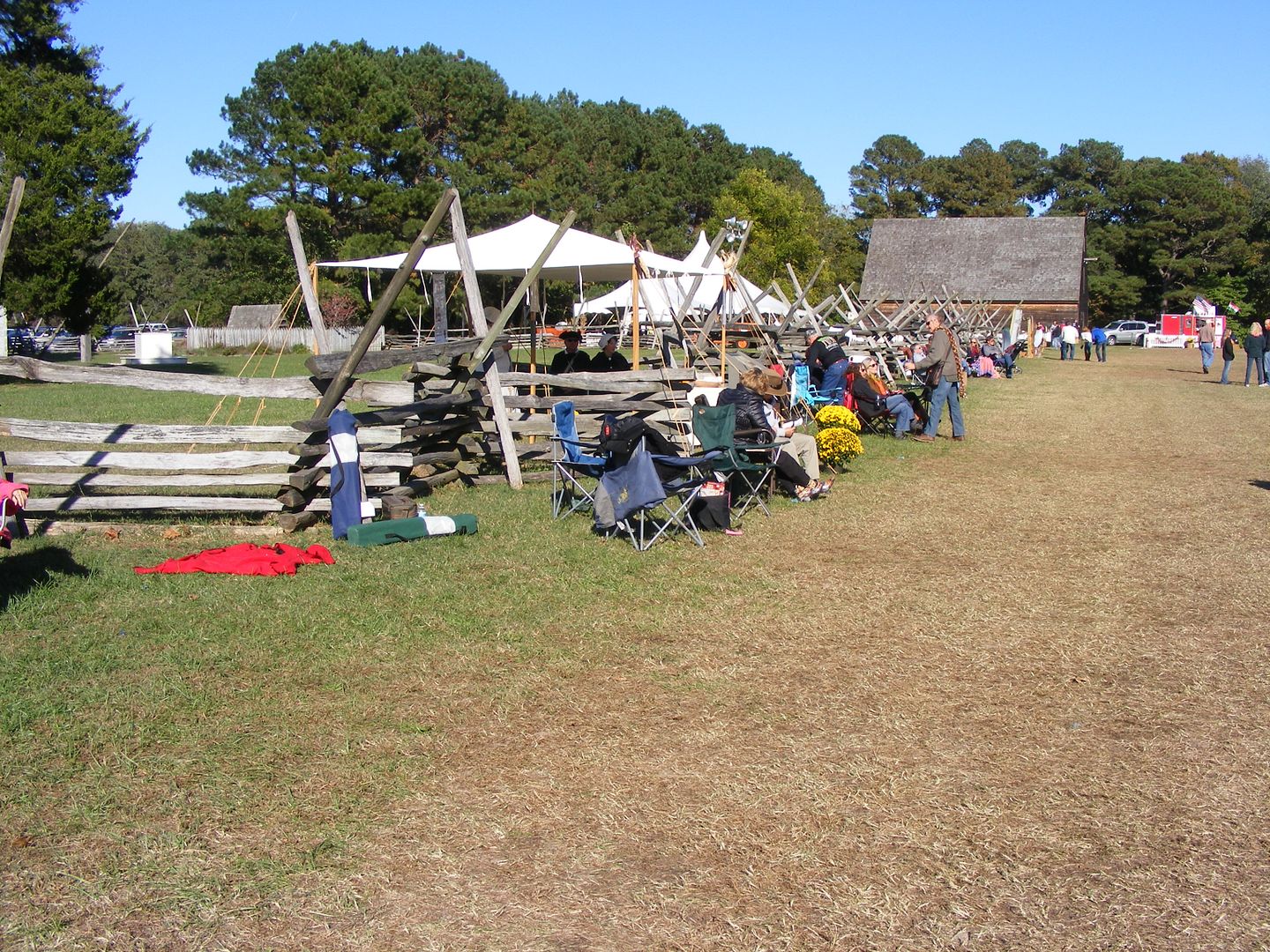 Practically every section of this fence had a group staked out. They were close to the wine tents, lucky ones had a view of the stage, and they had their chairs for the duration. With the layout of the event, it was tough on the vendors beyond the last tent – we were lucky enough to be on the back side of it so at least we had some traffic.
If you noticed the chair Larry Dodd was sitting in, it was part of a collection from this vendor.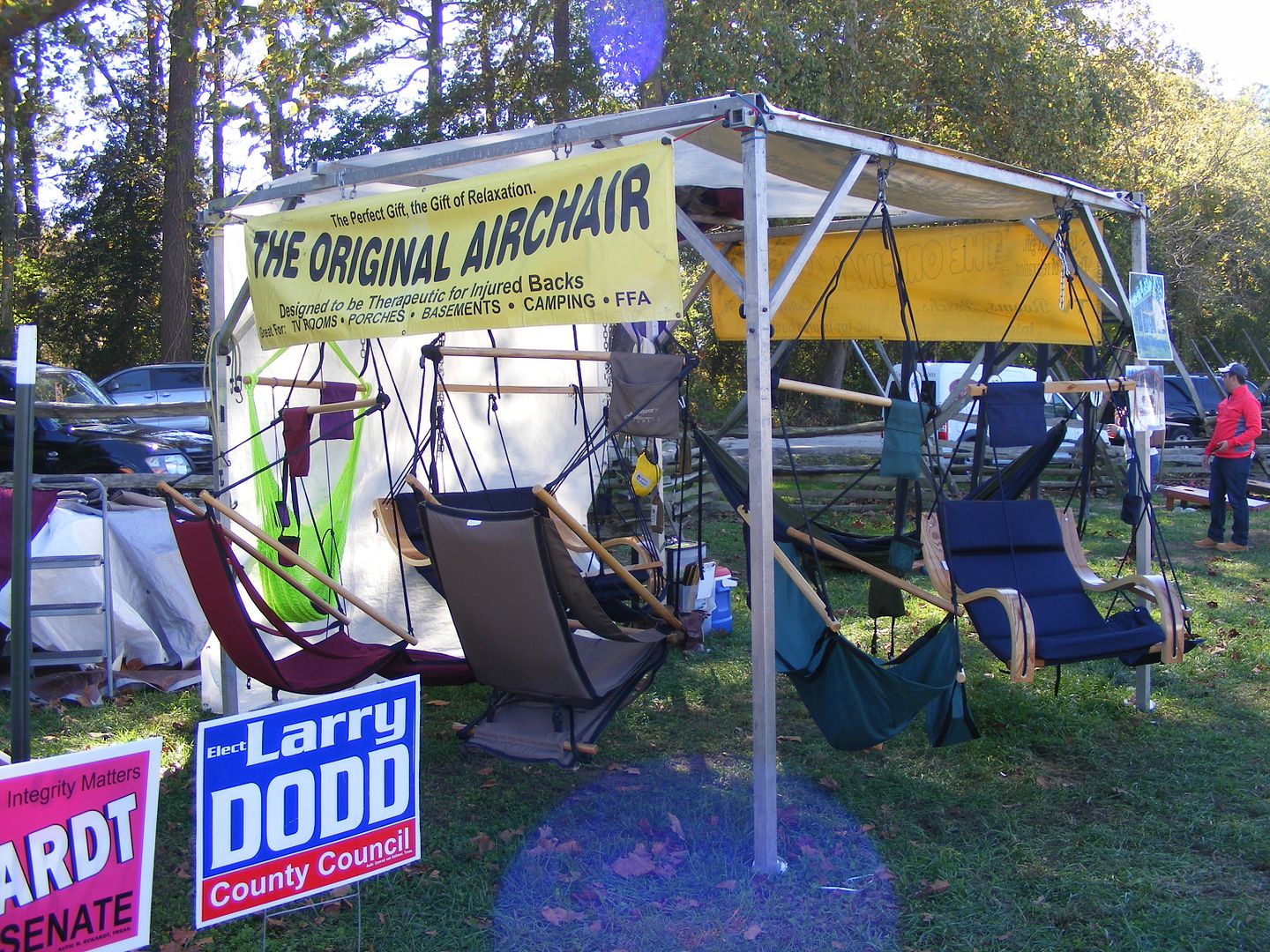 They have an interesting story since this couple, who I presume are married, traveled from Ohio to the AWF – apparently they do several similar shows a year around the country with the next one in Texas.
So if you wondering who the couple in the Cleveland Browns gear was, there's your answer. And the chairs seem to be fairly comfortable based on my limited experience of sitting in one for five minutes, so why not give them a plug as thanks? Besides, at $139.95 I figure a year's free advertising on my site is a fair trade for an air chair. (Never hurts to ask!)
Of course, my better half might prefer the Gollywobbler.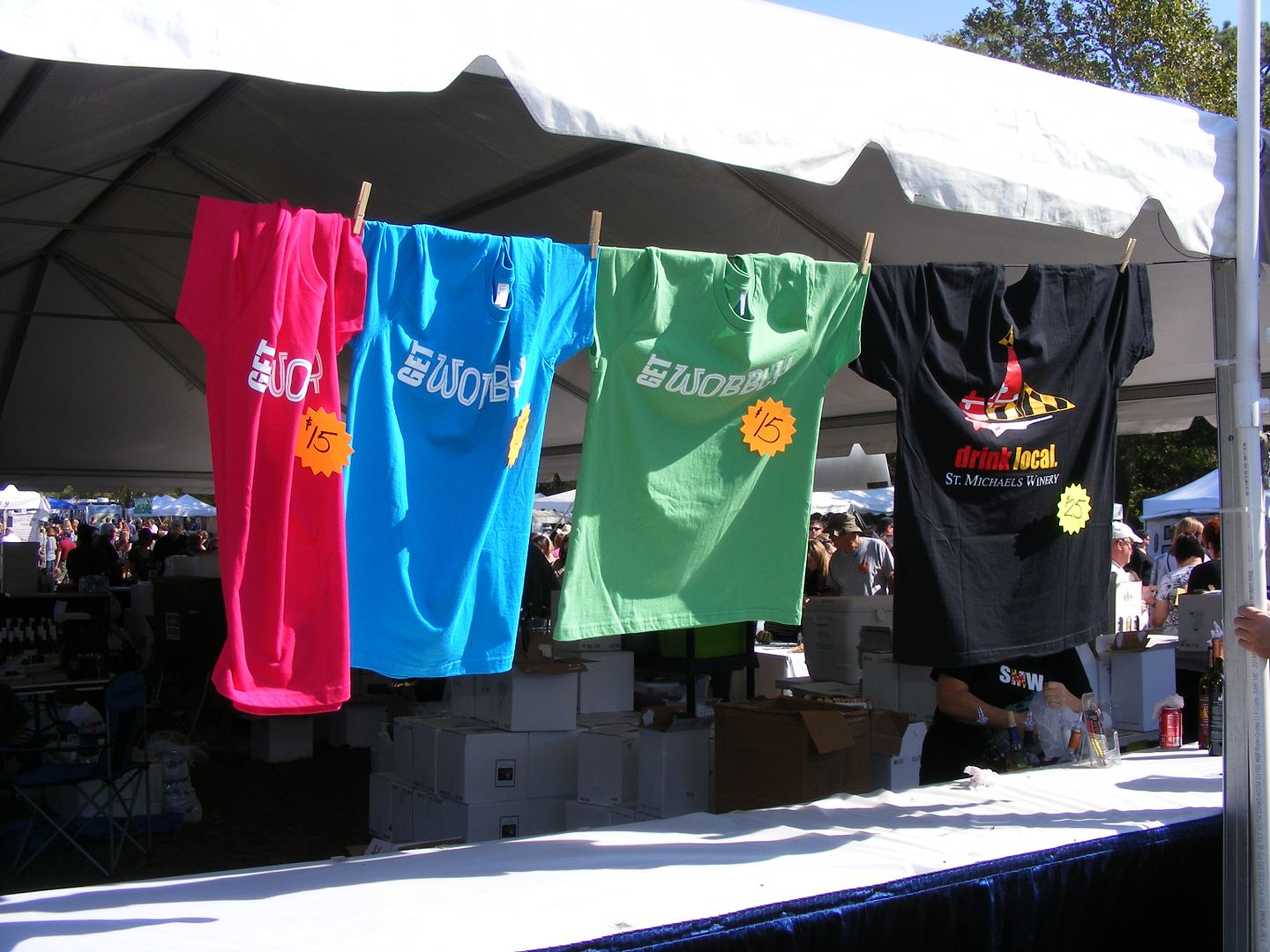 That was fairly good marketing, but not as unique as this tagline.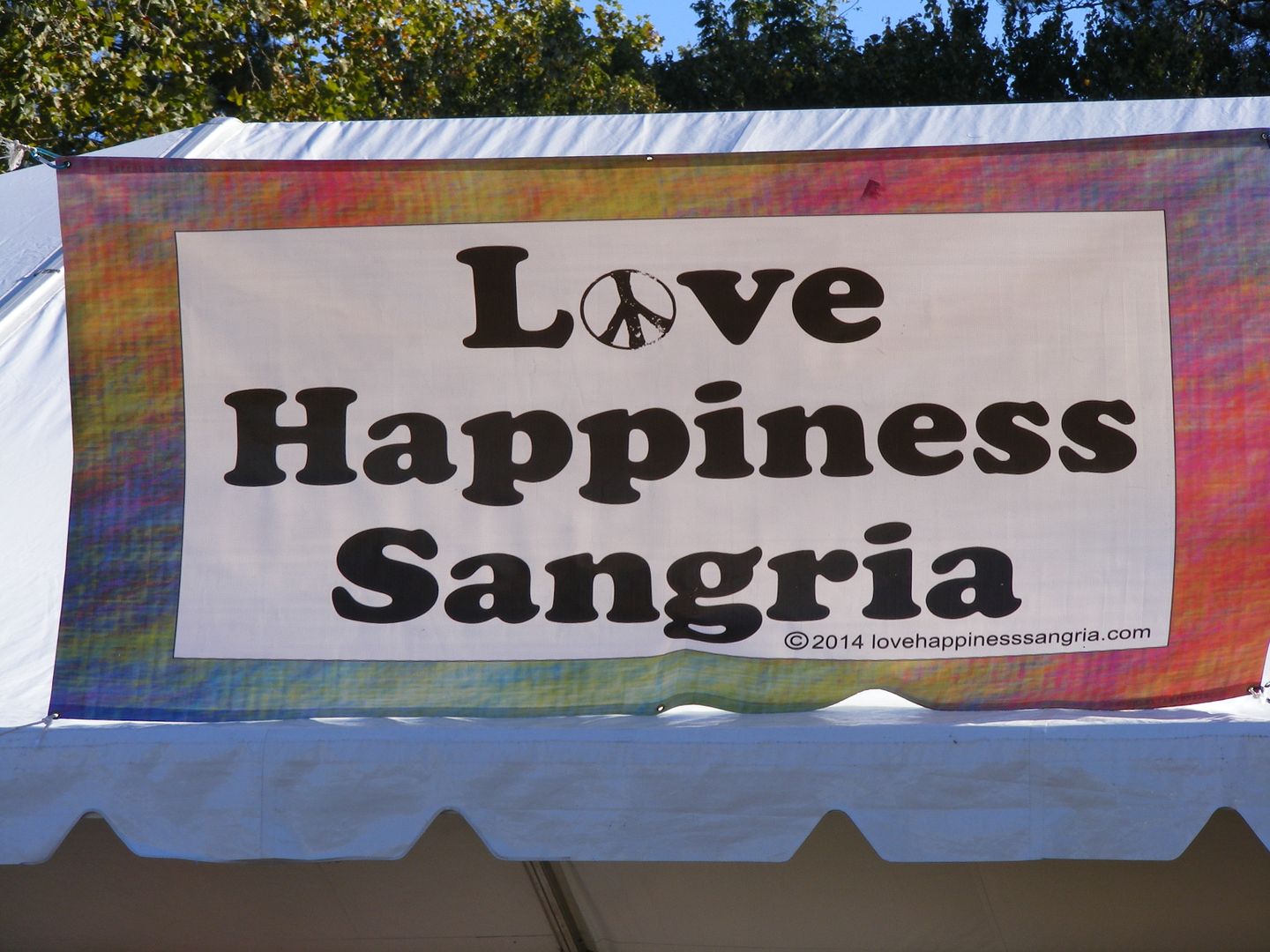 And since I had the hop head from last week, why not the grape guy?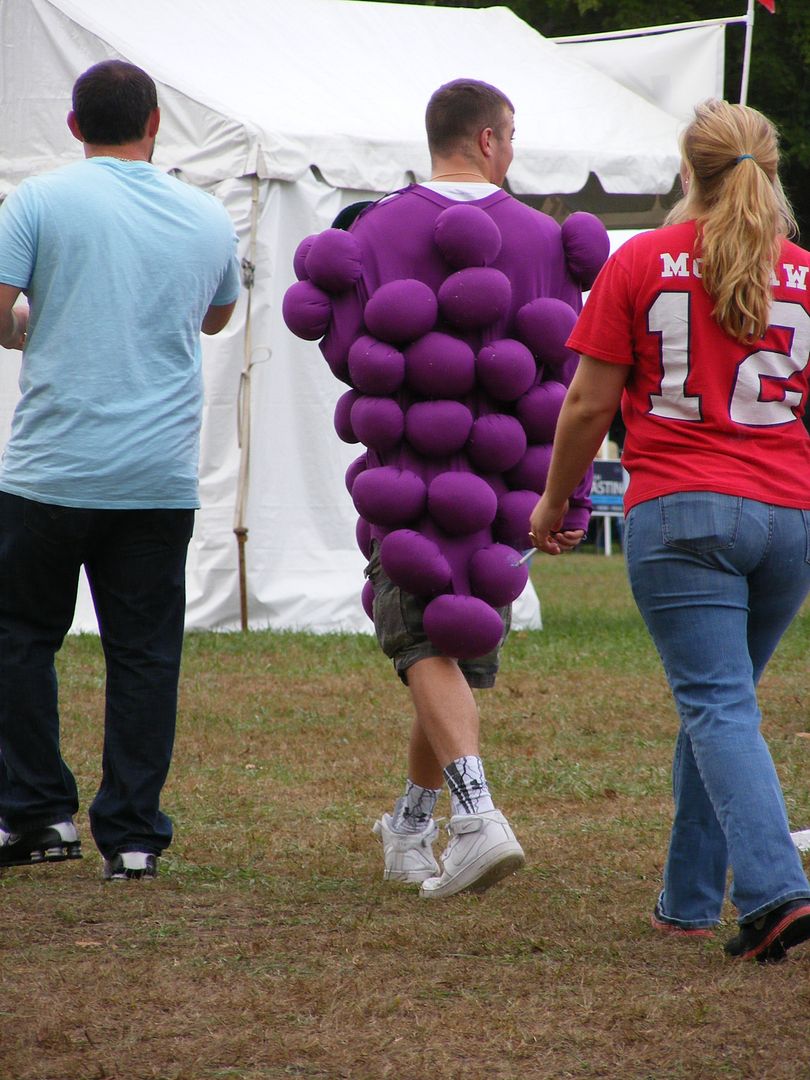 Still, I favor the more traditional. I really liked the usage of the barrel.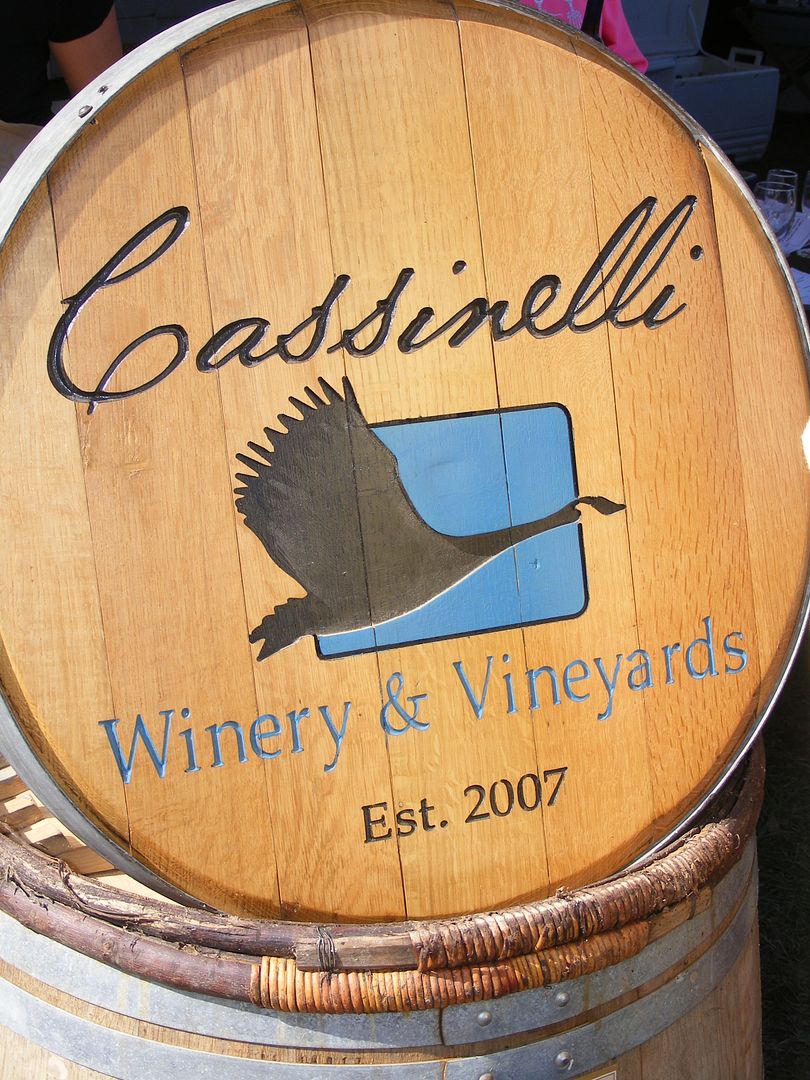 And, of course, the more colorful the bottles in the sunshine, the more likely it is I'll use the shot. The Winery at Olney gets that honor this year.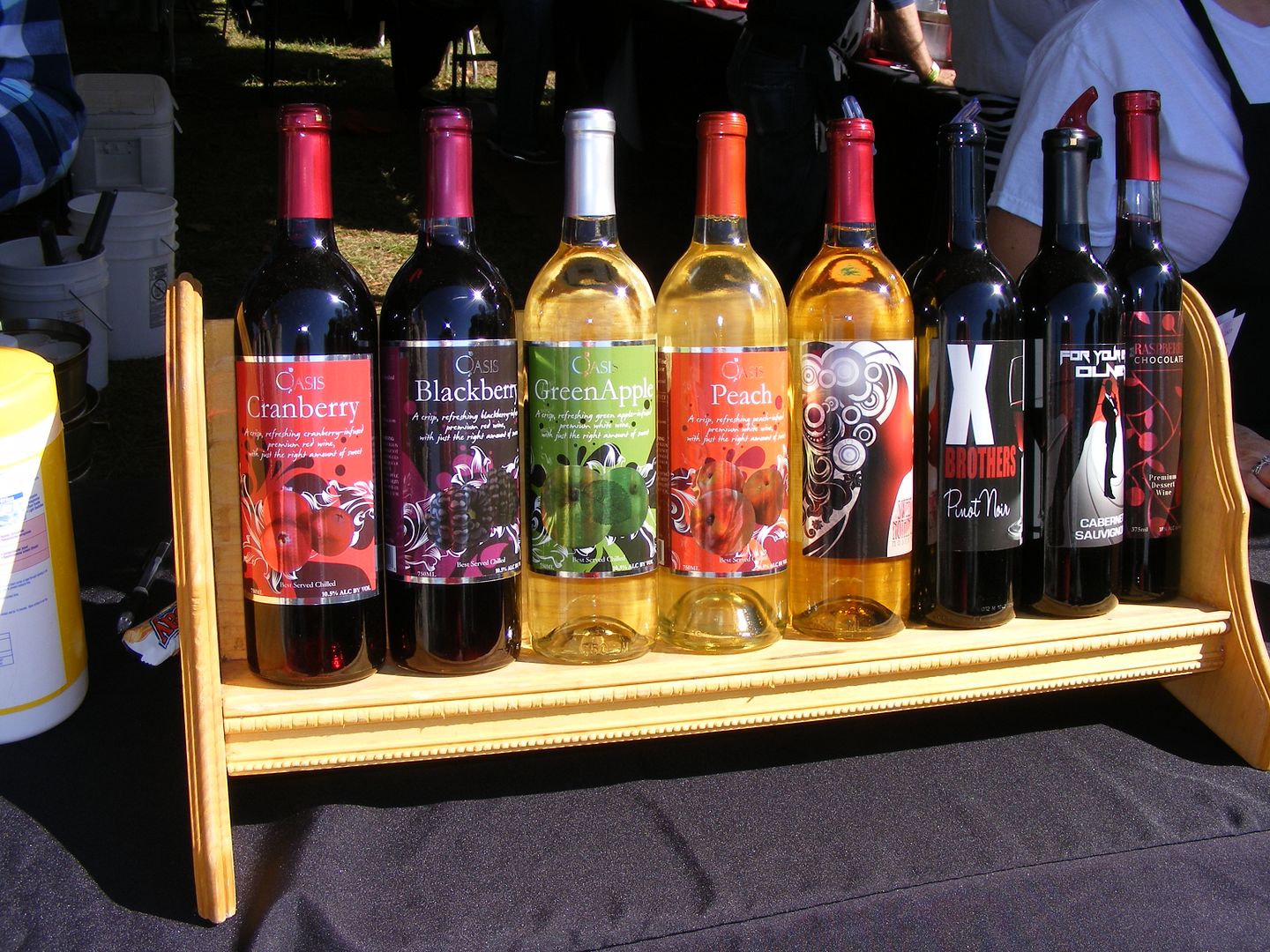 But as a vendor, I want to close with my two cents. For those at the south end of the festival, it was pretty brutal. One thing about the layout they use is that 80% of the people can conceivably cluster around the four large tents and the stage in the middle all day. I saw a few people who brought their lunch so they were all set aside from the bathroom breaks.
What I would suggest is a two-stage setup like the Good Beer Festival employs, because it may entice a little more churn in the crowd. Yes, you will get your campers but they may be more inclined to move during an hour break between bands than a 30-minute one.
I'm sure we'll be back next year, even though it's pretty much an off-year election (except for the city of Salisbury, which will be in campaign mode.) We may have a little Presidential material as well as those who may run for the Senate, but we won't have a lot to give out. I would like a little more traffic, though.