Commentary by Marita Noon
Ford Motor Company made headlines on Wednesday, September 9, when, during an investor conference, CEO Mark Fields told attendees that it will invest $1.6 billion building a manufacturing plant in San Luis Potosi, Mexico, and will move all of its small car production there during the next two to three years.
The announcement was hardly news as Ford has been talking about the shift for more than a year. But in the throes of an election that has both candidates decrying companies that send jobs to low-wage countries, the decision was an invitation for attention. The next day, during a speech in Flint, MI, Donald Trump declared that it was: "horrible." He's previously called the proposed move "an absolute disgrace" and promised to punish Ford with a 35 percent tariff on cars made in Mexico that are then sold in America – which he believes will prevent them from moving production out of the U.S.
No one wants American jobs to go away – and Ford plans to build more profitable vehicles in the plants that currently produce the Focus and C-Max small cars. It claims it is not going anywhere and that the U.S. is its home. Reports do indicate that no jobs at the Wayne, MI, plant will be lost, as it will likely be converted to building the new mid-size Ranger pick-up truck and, possibly, a new Bronco compact sport-utility.
But there's more to the story that isn't generally being addressed.
Earlier this year, Fields told CNBC: "We're always going to invest where it makes sense for business."
Obviously, it no longer makes "sense" to invest in small car production in America. Most of the news surrounding the move to Mexico addressed the benefit of low-cost labor. According to the Detroit Free Press: "The industry has known for decades that domestic manufacturers struggle to make a profit on small cars." In Slate's MoneyBox blog, Jordan Weissmann says: "You can protest that Ford should find a way to consistently churn out profits while manufacturing small cars at home, but that's easier said than done."
The number of auto jobs in Mexico is up 40 percent from 2008, while they are only up in the U.S. by 15 percent over the same period. Reuters reports: "American automakers pay Mexican workers $8 to 10 an hour, including benefits." By comparison, Ford's labor costs average $57 per hour at home.
Even with the huge labor cost differential, American car companies' trucks and SUVs are profitable to manufacture in the U.S. and they are the vehicles Americans want to buy – which should raise the question: Why do car companies make small cars when they can't make them profitably? The answer is the story not being addressed in the current coverage of Ford. And this is where Trump could, possibly, change the outcome.
In a free-market world, companies that want to stay in business should stop activities that lose money and focus on those that make money. Yet the Big Three automakers continue to produce small cars that for years have made little, if any, money.
Business Insider explains: "If Ford is going to keep them around, it needs to address the profit problem. Americans don't want to buy small vehicles at the moment (actually, they almost never want to buy small cars), so Ford's only rationale for continuing to build them is to satisfy the more stringent fuel-economy standards in the future." Those fuel standards are called CAFE - which stands for Corporate Average Fuel Economy. In short, it means that car companies can only sell the bigger vehicles that Americans want if it also produces cars that achieve very high fuel efficiency (including electric vehicles, in which Ford is investing heavily) that results in an "average" of the mandated miles per gallon – which is now 54.5 by 2025.
Merrill Matthews, Ph.D., a resident scholar with the Institute for Policy Innovation, blames the Ford move on, along with other draconian government policies, the CAFE standards: "The CAFE standards, which began in 1975, require auto manufacturers to meet government-imposed fuel economy standards across a fleet of cars. In order to meet those standards, which have been dramatically increased under President Obama, carmakers have to make light, inexpensive cars with high fuel economy to offset their trucks and SUVs with lower fuel economy. And electric cars really help their fuel economy balance. So the companies make minimally or even unprofitable small cars and electric vehicles so they can sell their popular and profitable large products – and hope for a profit in the end. By moving their small cars to Mexico, which has skilled but cheaper labor, Ford hopes to break even or make a little profit off of them."
While the CAFE standards have increased dramatically under the Obama administration, and have also increased costs for consumers, most people don't realize that they are not set in stone. Brad Plumer, senior editor for VOX.com outlines the options: "A new president can revise them, up or down. These CAFE (corporate average fuel economy) rules are scheduled to come up for a midterm review in 2017. At that point, automakers may lobby to allow the standards to rise more slowly – particularly if sales of fuel-efficient vehicles have been sluggish due to low oil prices. Green groups, meanwhile, could push to make the standards stricter, or to have them keep increasing past 2025, to push vehicle emissions down even further."
A President Trump could, perhaps, by promising to allow car companies to make whatever kind of cars they want to make, entice Ford to keep its money in America – though, admittedly, there are other factors (such as trade deals) that make manufacturing small cars attractive in Mexico. CAFE is just one of the many policies that make doing business difficult in America.
Revising the CAFE standards, which could reduce the cost of future cars and would remove government intrusion from vehicle selection, is something Trump can do that would make doing business in America "make sense" again for U.S. car companies. For all business, let's make America a place where it makes sense to invest.
The author of Energy Freedom, Marita Noon serves as the executive director for Energy Makes America Great Inc., and the companion educational organization, the Citizens' Alliance for Responsible Energy (CARE). She hosts a weekly radio program: America's Voice for Energy - which expands on the content of her weekly column. Follow her @EnergyRabbit.
Commentary by Marita Noon
If you get your news from the mainstream media, you likely think the views expressed by the environmental activists represent the majority of Americans. After all, their highly visible protests against the Keystone pipeline – sit-ins in front of the White House, locking themselves to the White House fence and then being arrested for it, and parading down the National Mall carrying a huge inflated tube emblazoned with the words: "Just say no to Keystone" – were effective. Despite repeated polling that showed a majority of Americans supported the pipeline, with a small minority opposed, the loud theatrics of the anti-fossil fuel crowd eventually won out. After years of stall tactics, President Obama finally bowed to their demands and said no to the job-creating infrastructure project.
Earlier this year, the usual group of suspects, led by well-known anti-fracking activist Bill McKibben, planned a "global wave of resistance" called BreakFree2016 - scheduled to take place from May 3-15 – on six continents. The event's website announced the various activities, including an appearance and speech by McKibben, a Vermont resident, at the Colorado rally that promised: the "largest mass mobilizations for climate action in the history of Colorado." It confirmed that there would be "civil disobedience."
Did you hear about it? Probably not.
A news report of the planned Colorado activities said: "And on May 14, 350 Colorado is planning a day of speeches, live music and activities protesting oil and gas developments close to neighborhoods and schools in Thornton. The goal is to draw 1,000 people to the upcoming events." The website, post-event, states: "about 800 people joined the action throughout the day" with "about 30-40 people" still there at the end of the day for the dramatic "frack-site" invasion. Yet, as even their own Facebook page photos indicate, not even 100 were present for the big McKibben speech. Without vendors and media, he may have had no audience at all.
After flying in to Denver, and then being driven to the protest site in a limousine, McKibben jetted off to Los Angeles, California, where he was joined by the greens' "Daddy Warbucks," billionaire political campaign donor Tom Steyer – with much the same results: a few hundred protesting fossil fuels and, as Energy In Depth reported, "the very social and economic underpinnings of liberal democracy." The typical anti-everything protestors were present – but only a few.
In Iowa, as I addressed last week, a meeting of the Bakken Pipeline Resistance Coalition – which according to the organizer includes those with "concerns about the impact it could have on the environment, farmers who worry about their cropland and religious groups who view expanding use of fossil fuels as a moral issue because of climate change" – expected a crowd of 200. Instead, according to the Ottumwa Courier, "only 40 or so were seated when the meeting began. Others trickled in as the meeting progressed."
Now, Colorado is ground zero for "one of the biggest environmental fights in the country this year," as Lauren Petrie, Rocky Mountain region director for Food and Water Watch, a Washington, D.C.-based group advocating for safety in food production and oil and gas production, called it. Two ballot initiatives, 75 and 78, have the potential to, according to Colorado regulators, "effectively halt new oil and gas development in as much as 90 percent of the state." In order to get the initiatives on the ballot, 98,492 valid signatures needed to be turned into the Colorado Secretary of State by August 8 – no later than 3:00 p.m.
In June, The Tribune reported that Tricia Olson, who has pumped in most of the funding for a group backing initiatives 75 and 78, hoped to "collect 160,000 signatures to account for the invalid signatures that inevitably pop up." (Politico just announced: "recent campaign finance reports were filed with the Colorado secretary of state, the Sierra Club gave $150,000, making it the largest single reported contributor to the anti-fracking effort.")
Because the Colorado Supreme Court, in a unanimous decision on May 2, declared local fracking limits "invalid and unenforceable," as state law trumps local ordinances, Olson sees the ballot initiatives as their "last ditch effort."
On Monday, August 8, exercising stagecraft, at 2:30 p.m., dozens of supporters emptied a U-Haul truck and delivered box after box of signatures to the Secretary of State's office. They celebrated their "victory." 350 Colorado, one of the groups behind the measures, proclaimed: "We did it! Over 100,000 signatures delivered on initiatives to limit fracking!" – not the 160,000 originally hoped for, and likely not enough to get on the ballot in November.
By CBS Denver's accounting about 105,000 signatures were turned in – most in half empty boxes. Lynn Bartels, Colorado Secretary of State Communications Director, tweeted: "Proponents of fracking measures turned in lots of boxes with very few petitions in them." Once the petitions were consolidated, there were roughly 50 empty boxes. Simon Lomax, an associate energy policy analyst with the conservative Independence Institute in Denver and a consultant who advises pro-business groups, said: "To make it look more impressive they added a bunch of empty boxes, or boxes with very few petitions. It just sort of shows, these groups don't do substance, they just do deceptive publicity stunts."
On CBS Denver, former Secretary of State Scott Gessler explained that since you need about 98,000 signatures to get on the ballot because, for a variety of reasons, at least 30 percent are rejected, you need to submit at least 140,000. He says that for the 105,000 signatures turned in to qualify would be "unprecedented," something that "has never occurred in Colorado for a ballot initiative." According to Gessler, the effort is "doomed" – though we will not know for sure until next month when the final counts are released.
Noted election reporter and national affairs columnist for the National Review, John Fund, told me: "If there is enough public support for an issue to get the votes needed to pass, getting a surplus of signatures to get it on the ballot is an easy task."
Many Democrats, including Governor John Hickenlooper, support hydraulic fracturing and have come out against the ballot initiatives. Politico posits that because mainstream environmentalists "fear that their movement will suffer a demoralizing defeat if the two proposals make it in front of the voters," they "hope the ballot initiatives will die instead."  Additionally, "A decisive referendum on oil and gas production would increase calls for [Hillary] Clinton to explicitly take a side." She's previously aligned with 75 and 78 – which could spoil her attempts to attract moderate Republicans she'll need to win the state.
Despite their drama and declared "victory," it doesn't seem that the Colorado anti-fossil fuel crowd has enough signatures, or support, to make it onto the November ballot. They may be loud, but, alas, they are few.
The author of Energy Freedom, Marita Noon serves as the executive director for Energy Makes America Great Inc., and the companion educational organization, the Citizens' Alliance for Responsible Energy (CARE). She hosts a weekly radio program: America's Voice for Energy - which expands on the content of her weekly column. Follow her @EnergyRabbit.
Commentary by Marita Noon
Final federal approval for what is being called the "new Keystone" came from the Army Corps of Engineers on July 26 – allowing the pipeline to move forward. The 1,168-mile long Dakota Access Pipeline (DAPL), also called the Bakken Pipeline, is comparable in length to the Keystone XL. It will cross four states and carry 450,000 barrels of oil a day from North Dakota to a transfer terminal in Illinois where it will connect with other pipelines and be taken to refineries.
The $3.8 billion dollar project has pitted environmentalists against economic interests.
During the Keystone fight, outspoken opponent Jane Kleeb, founder of Bold Nebraska, said: "In America we should be focused on making sure that the oil in North Dakota, Oklahoma, and others, in Montana, that that oil is getting to market." Now, thanks to DAPL, America's oil will have a safer way to get "to market" – freeing up as many as 750 train cars a day to transport corn, soybeans, and grain. However, as soon as DAPL came on the scene, they moved the marker, and environmental opposition was mounted. Bold Iowa, a group that shares a website with Kleeb's Bold Nebraska, says it has members willing to risk arrest in "nonviolent protests." They are also training monitors to report any environmental violations or hazards.
On August 1, nine pieces of heavy equipment – excavators and bulldozers – were set on fire at three different DAPL construction sites, causing $3 million in damage. At the time of this writing, no arrests have been made. Additionally, protestors have gathered on the grounds of the North Dakota Capitol, calling for Governor Jack Dalrymple and legislators to put a halt to construction of the pipeline until their lawsuits are addressed.
On its "Stop the Bakken Pipeline" page, the Iowa Sierra Club posted: "A new pipeline will delay the US transition to clean and renewable energy and more fuel-efficient vehicles. The United States needs to move away from fossil fuel extractions and to energy sources that have less impact on climate change."
The Club's position sounds a lot like Hillary Clinton's. When she finally came out against Keystone, she said: "We need to be transitioning from fossil fuels to clean energy." She called the pipeline "a distraction from important work we have to do on climate change."
Opposition, however, is not as broad-based as the environmental groups had hoped for. At an April meeting of the Bakken Pipeline Resistance Coalition in Iowa, organizers were disappointed. Chairs were set up for 200, but only about 40 "trickled in." In the four states the pipeline will cross, more than 90 percent, on average, of the landowners signed the voluntary easement agreements.
At its peak, the DAPL's construction is expected to involve as many as 4,000 workers in each state and will require the purchase of $200 million in American-made heavy construction and related equipment from Caterpillar, Deere, and Vermeer.
Cory Bryson, Business Agent for Laborers Local 563 reports: "We've been inundated with calls from all over the country from people wanting to work on this pipeline project. Mainline pipeline projects like Dakota Access provide excellent working opportunities for our members and tremendous wages. The Laborers excel at this work." No wonder men and women want to travel to the pipeline's locale, some workers, most without college degrees, brag about banking $2,000-5,000 a week.
In Illinois, the Jacksonville Area Chamber of Commerce has assembled hundreds of packets with information including restaurants, health-care facilities, RV sites, and laundromats. Executive Director Lisa Musch reports that her office has been receiving calls for months from people looking for rental properties. Teriann Gutierrez, owner of Buena Vista Farms, a resort-campground, and a retired plastics engineer, says: "I've been full since the beginning of April." She told me the boost in population is bringing a lot of money into the community that has been hit hard with the loss of manufacturing jobs. DAPL is putting a lot of local people to work. Gutierrez is very thankful as the boom means she'll be able to pay down debt.
"Like any major construction project, the DAPL will create, and more importantly maintain, high paying American jobs throughout the supply chain and throughout the nation," North Dakota's at-large Congressman Kevin Cramer said. "I've seen the crews that work on building the line and they take great pride in their craft. They spend money in local, usually rural, communities throughout the route. The steel suppliers and equipment manufacturers and distributors are just a few of the links in the chain. Everybody from fry cooks to hotel owners to financers are affected. Perhaps, most importantly, in a low price crude market, the economics of moving oil by the most efficient and safe manner possible preserves jobs on the production side of the equation as well."
While DAPL is already creating lots of jobs, it is just one of many pipeline projects in the works that could be bringing much needed economic development to other communities and high-paying jobs for American workers. Gutierrez explained that, according to the workers staying at Buena Vista Farms: "The hardest thing is getting the permits. The long process holds up jobs." Apparently, many of them made reservations but, then, had to delay them – and delay starting to work on the pipeline – because the permits hadn't been approved as expected. It doesn't have to be that way. Under President Obama, permitting for oil-and-gas activity has been slow-walked. Jobs have been held up.
Donald Trump has made clear that he'll support pipelines and said he'll invite TransCanada to reapply for the Keystone permit. On the other side, Clinton opposed Keystone and supports moving away from fossil fuels. Secretary of State John Kerry, Clinton's successor, has implied that with "some 300 pipelines" we really don't need any more. He said: "it's not as if we're pipeline-less." A Clinton administration would likely extend the Obama delay tactic.
Whichever candidate wins in November will appoint agency heads who support his or her views – thus driving the policy direction.
Like Gutierrez, union members are grateful for the jobs. Last week, Dave Barnett, Pipeline Representative for the United Association of Journeymen and Apprentices of the Plumbing and Pipefitting Industry, told me: "We are pleased that the thousands of job opportunities associated with these projects are being decided on their need and merits, not on political pressures by extremists as the Keystone XL was."
Whether the thousands of additional job opportunities materialize depends on American voters. Will we vote for pipelines that fuel the American economy and transport our natural resources safely and cheaply? Or, will we block job creation and economic development by voting with the environmentalists who want to "keep it in the ground?" In less than 100 days, we'll have the answer to these important questions.
The author of Energy Freedom, Marita Noon serves as the executive director for Energy Makes America Great Inc., and the companion educational organization, the Citizens' Alliance for Responsible Energy (CARE). She hosts a weekly radio program: America's Voice for Energy - which expands on the content of her weekly column. Follow her @EnergyRabbit.
Over the last couple days there has been quite the buzz about Salisbury becoming home to professional hockey at long last, since the alcohol restrictions on the Wicomico Youth and Civic Center are no longer in effect. One story on the WBOC-TV website quotes an official with the Federal Hockey League, which is a lower-level minor league comparable to an independent league in baseball as teams are not affiliated as farm clubs for a particular NHL team. According to Andrew Richards of the FHL, "for a team to survive, each game would generally need to see 1,200 to 1,500 attendees at roughly $10 per ticket."
It's interesting that this post will come right after my Shorebird of the Week post; however, I am a much more casual hockey fan than I am a baseball fan. I lived in Toledo, a city with a longstanding minor league hockey history dating back to the 1940s, and attended one or two games over the years (as opposed to perhaps fifty Mud Hen games.) Yet the criteria Richards uses is definitely doable if people are willing to spend a little bit more than they would for a Shorebirds game.
However, if Salisbury wants to have a successful hockey franchise, the FHL may not be the place to be. Formed in 2010, the league has suffered some serious growing pains to get to its current 7-team status. (Six clubs played in 2015-16; a seventh team in St. Clair Shores, Michigan is an expansion team for 2016-17 and the eighth team out of Watertown, New York is supposed to return from a one-year "hiatus" this fall.) The other serious contender would be the Southern Professional Hockey League, a ten-team league that is several years older and seems to be more established. They have an eleventh team that is taking a year off in 2016-17 due to renovations to its arena, so Salisbury would be a good fit as a twelfth team for the 2017-18 season.
But travel would also be somewhat more of a concern for an SPHL franchise – while Salisbury is not in the geographic center of either loop, the closest SPHL team would be in Roanoke, Virginia, which is about six hours away. Its other franchises are in Tennessee, North Carolina, two in Georgia, Alabama, Florida, Mississippi, Illinois, and Indiana. On the other hand, there are two FHL teams about five hours away, in Danbury, Connecticut and Brewster, New York. There are other teams in New York and New Hampshire, but the western side of the FHL is Midwest-based with franchises in Ohio, Michigan (2), and Illinois.
Attendance-wise, though, Salisbury could be one of the more successful FHL teams. Both the SPHL and FHL give host teams 28 games, but attendance at SPHL games is comparable to the South Atlantic League in minor league baseball, where teams average between 2,000 to 3,000 a contest. Using Richards' formula, none of the six FHL teams that played last year would be a success: the closest two were Danville, Illinois, which averaged 1,120 and Port Huron, Michigan, which drew 1,044 per game. The other four ranged from 243 to 774 per game, which meant half-empty (or even cavernously vacant, in Dayton's case) arenas. Unfortunately for Salisbury, the more successful FHL teams tend to be in the Midwest so we may not have close rivals; moreover, I'd have serious concerns about the entire league going belly-up, which may be why they are pursuing our area so hard thanks to a reasonably-sized arena and presumably hockey-starved market. (They obviously factor in the thousands of NY/NJ/PA retirees living less than an hour away in Sussex County and Ocean Pines.)
So nothing is official yet. But to paraphrase Ben Franklin, we may get ourselves a hockey team – if we can keep it.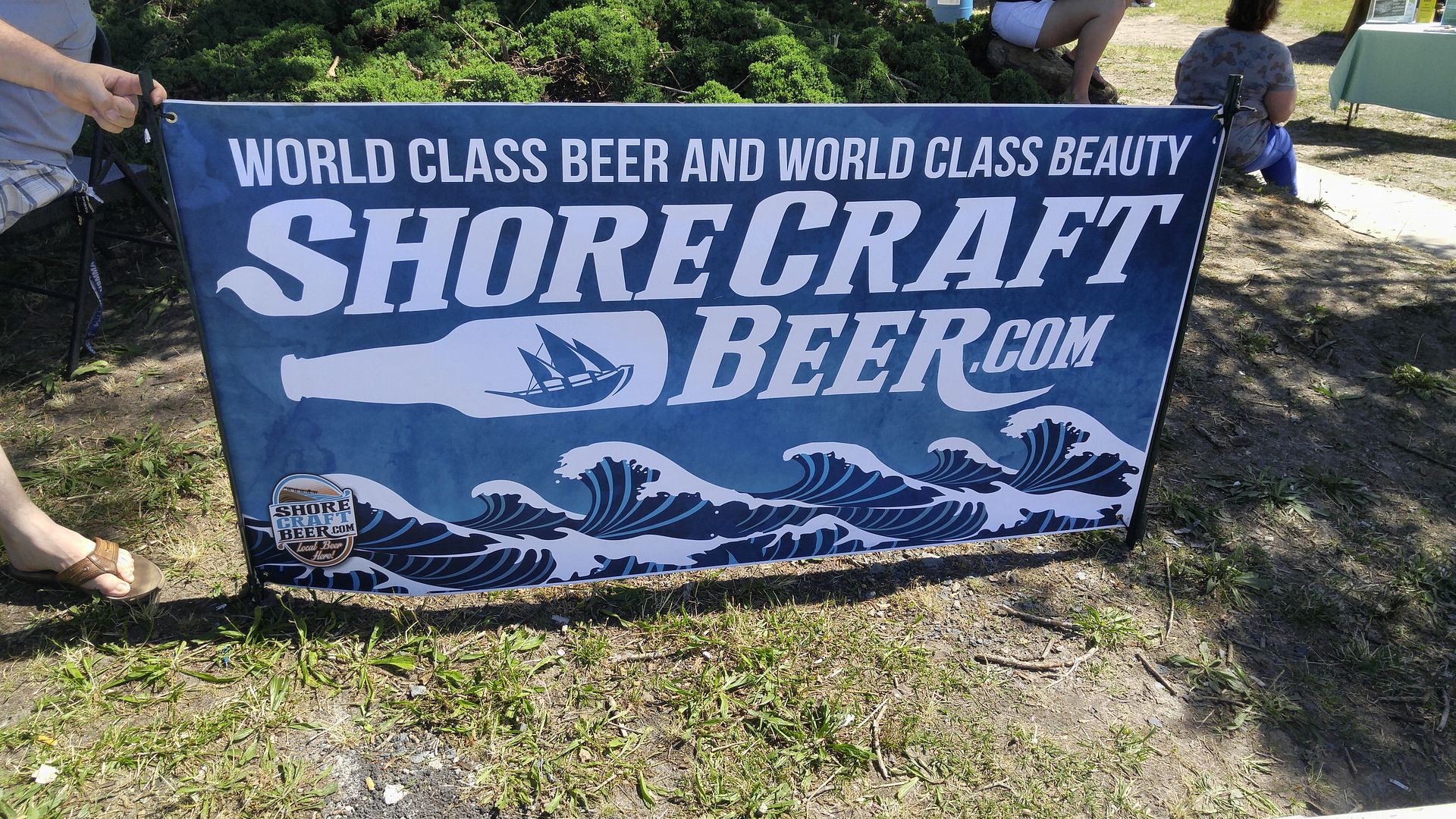 It was a perfect day to be downtown and try a few local craft beers, so I went to the inaugural Salisbury Shore Craft Beer Festival (SSCBF) held downtown along the Riverwalk. (The Salisbury designation distinguishes it from a similar event with the same sponsor in Ocean City, the first of which was held last October.) It was also billed as a "Riverwalk Celebration" and while they are renovating it, there's still some work in progress.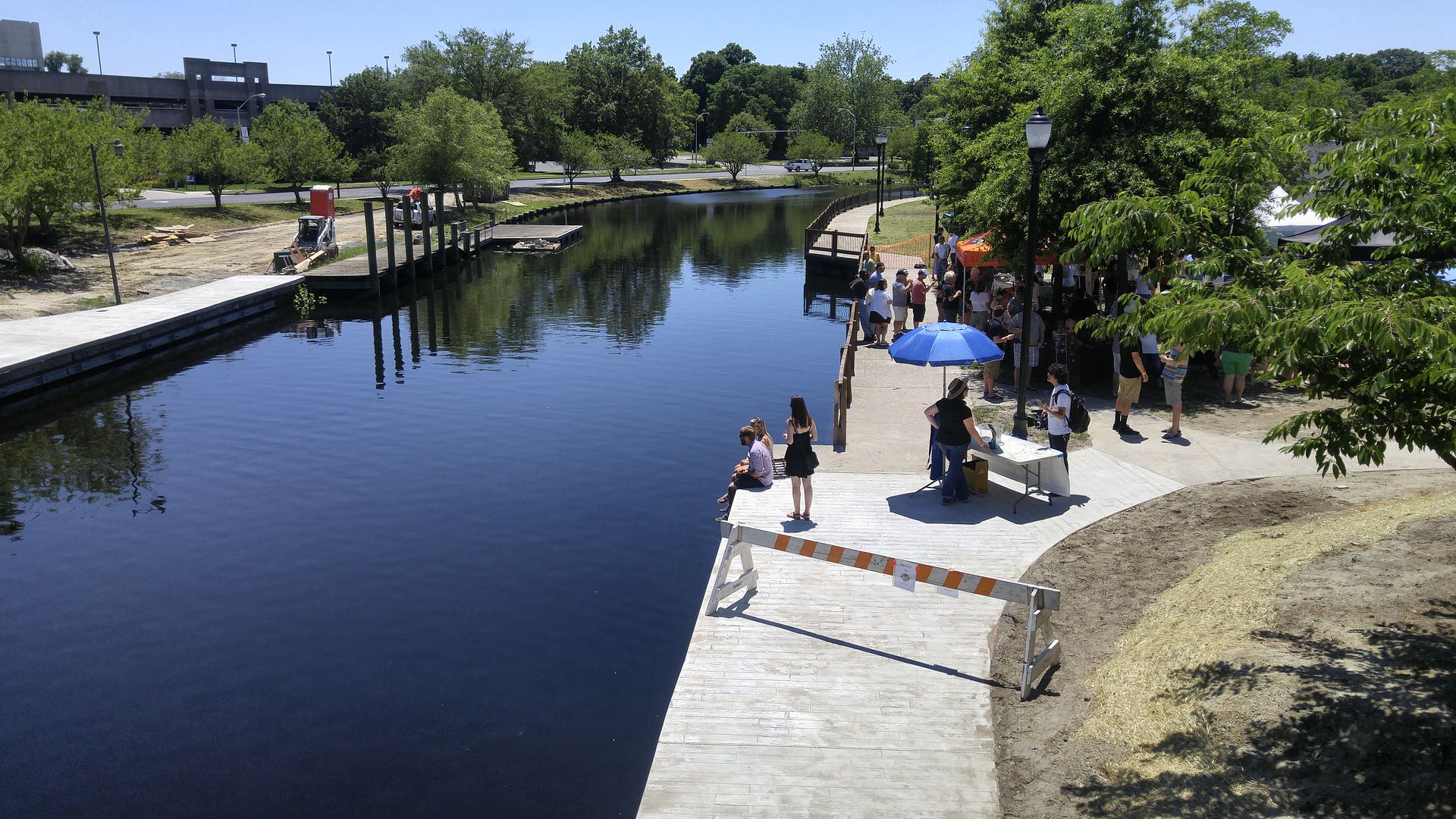 To be fair, I was looking west from the Division Street bridge and most of the Riverwalk lies east of the structure. But this was the site chosen for the festival.
Early on I thought the crowd was a little bit meager. I took this photo about 2:00, a half-hour after the gates were opened for general admission. (VIP ticket holders could get in at 12:30.)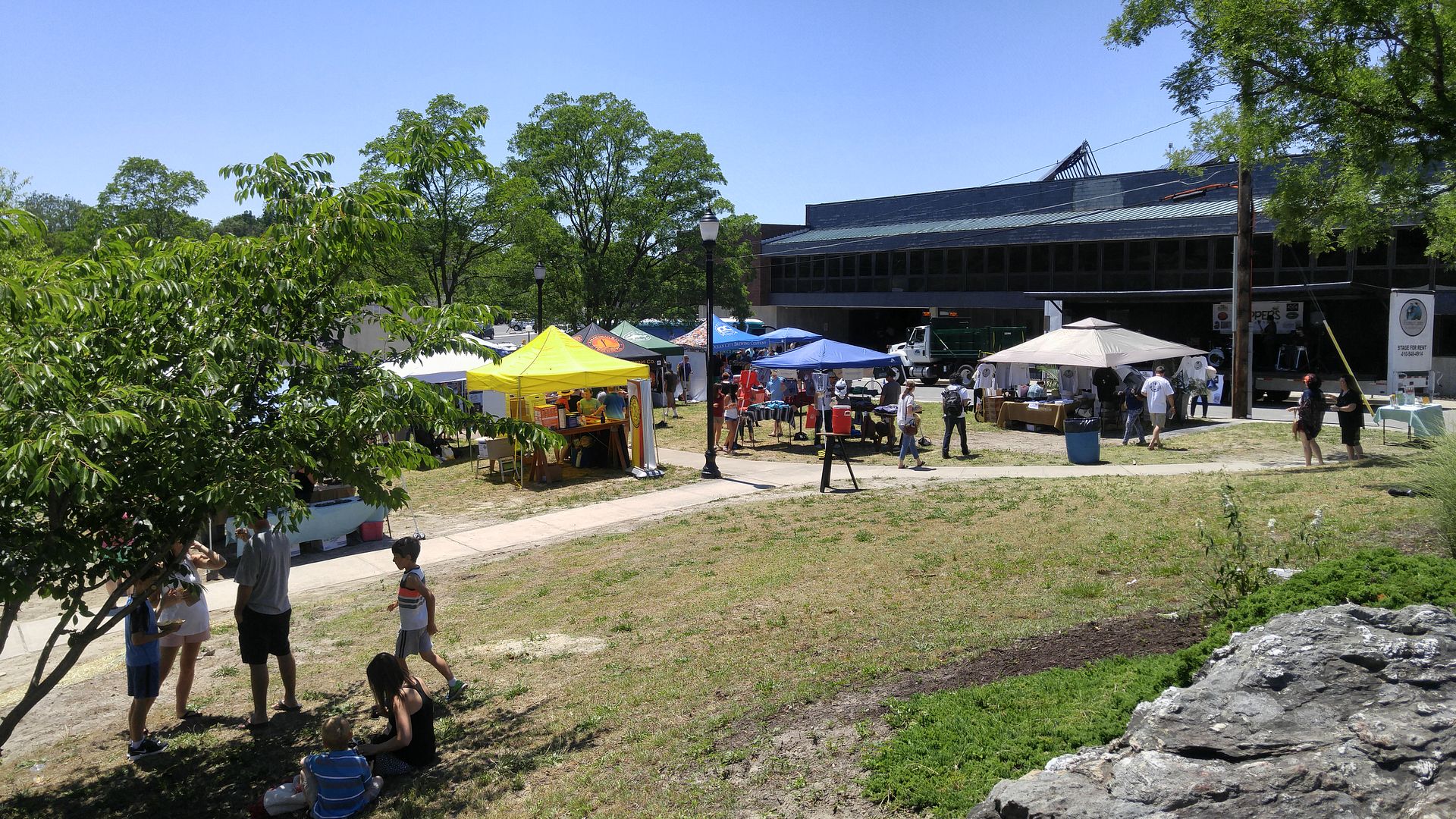 One area where the festival will have room to grow is the food selection. The Division Street bridge served as a mini-food court.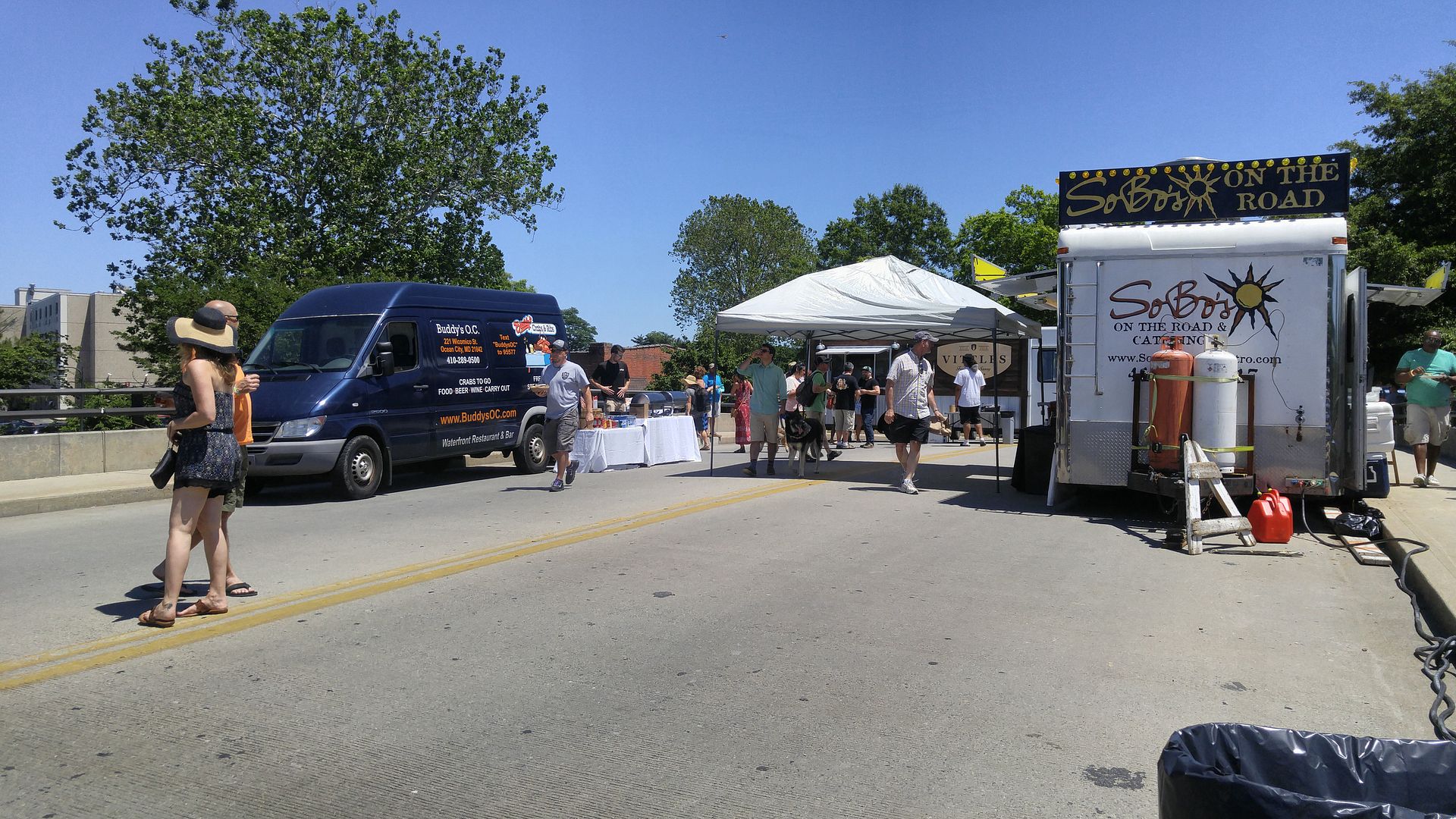 As time went on, though, the crowds thickened a little bit. This photo was taken from along the river looking toward the stage.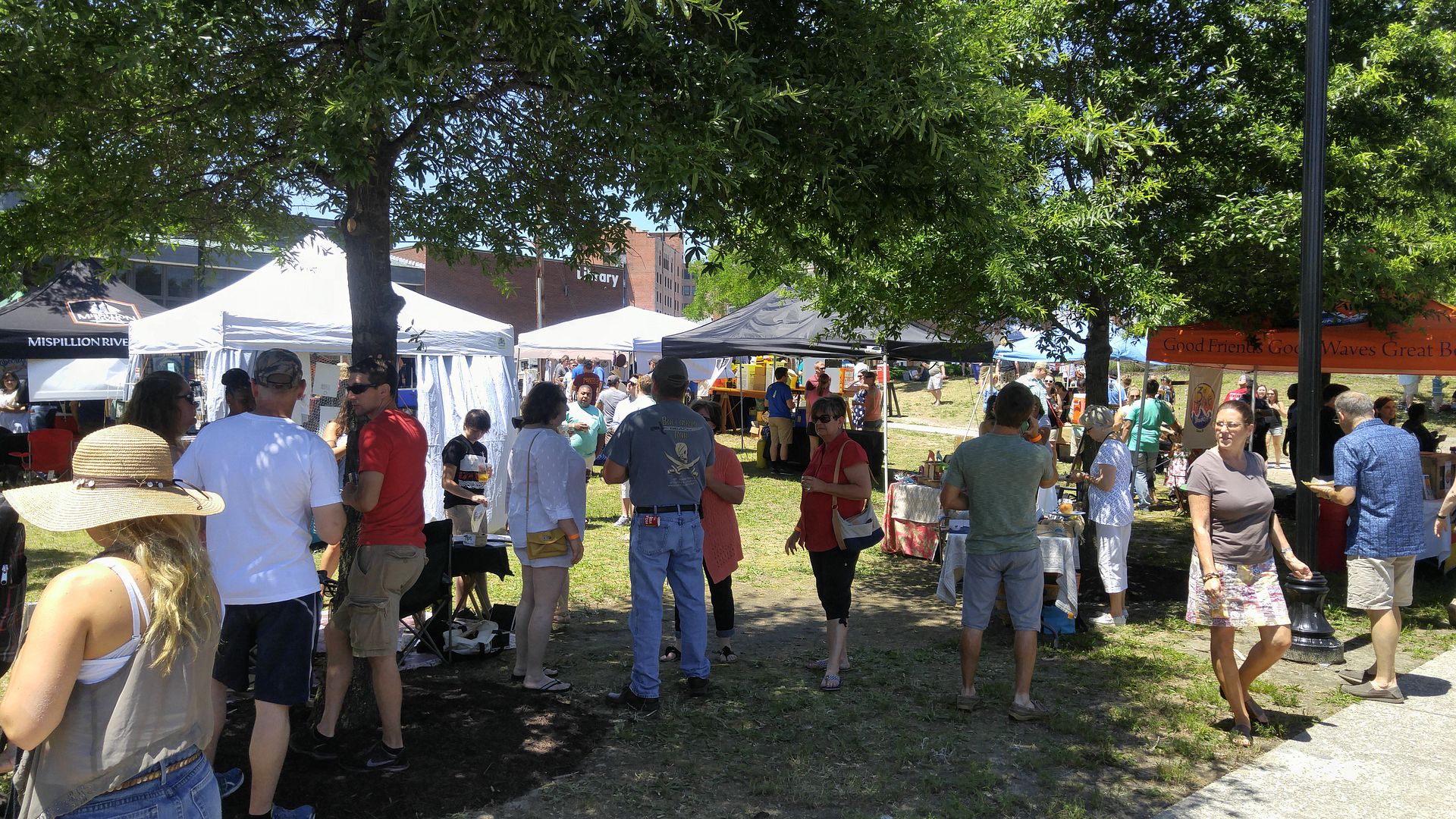 One thing that I got to take advantage of was making my first visit to Headquarters Live, which was a nice place to sit down. There wasn't a tent with picnic tables set up on the main festival site.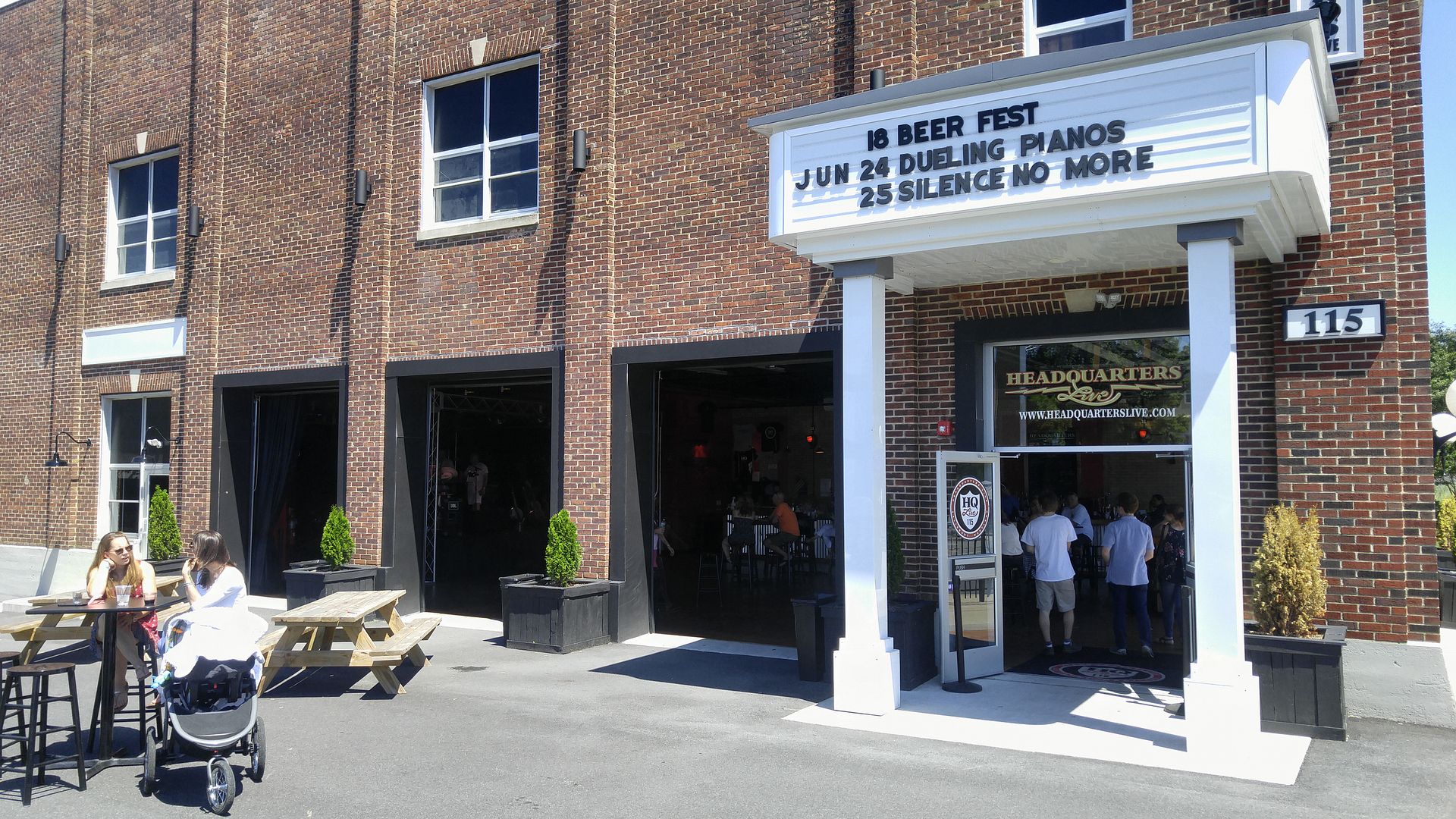 Now if you had the entry in the pool that said the first band I would see there would be called Billy Earl and the Pink Flamingos, you would be right – but I would have called you nuts.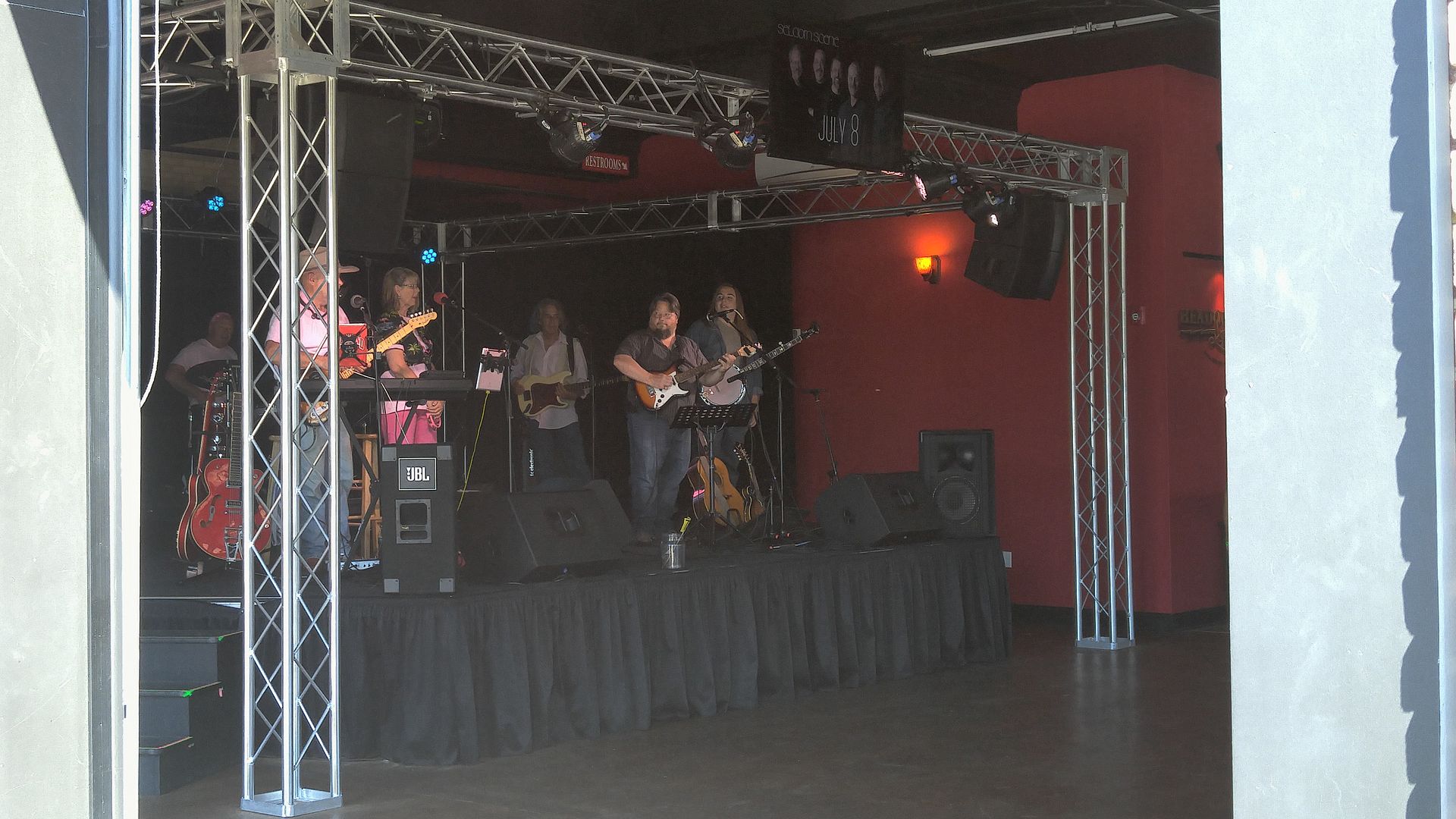 I'll have much more on them as well as Eastern Electric on the mobile stage when I do a "Weekend of local rock" post later this week, but suffice to say Headquarters Live is a smaller venue than I imagined. Yet the festival was shrewd in tying the outdoor stage and indoor venue together, with a separate wristband for each. This gives them a logical area for expansion beyond the small parcel that was used across Division Street and along the river.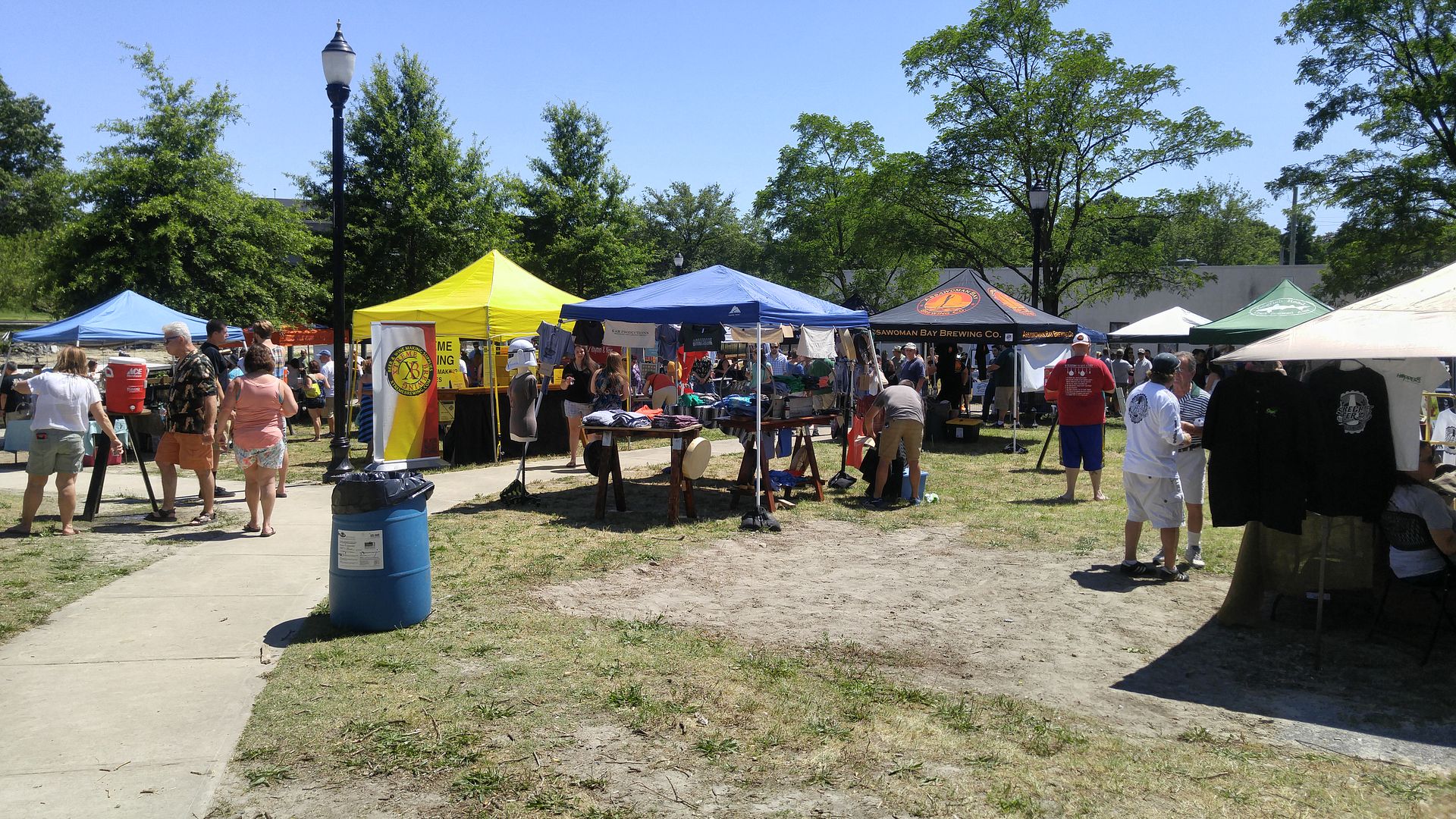 As it was, there was a comfortable amount of people in the park where you didn't feel like you were tripping over anyone yet there was enough to give the event some energy. Unlike the Good Beer Festival, which is held in a secluded location outside of town, people could readily walk in from outside but they could not sample the beer. Another asset was the fact that it was all local breweries – none of those mainstream brewers that are still considered crafters like Sam Adams or Blue Moon which come to the Good Beer Festival from afar. This will limit the event's size to some extent as the area can only support so many breweries and expanding to markets farther and farther away will run them into stiff competition from their local crafters. There were twelve area breweries represented at the SSCBF, pouring around 30 beers as well as a couple of tea concoctions.
I think the event was rather successful considering it was held at a time when few other events off the beach seem to succeed. Most of our larger local festivals actually occur during what's considered "shoulder season" before Memorial Day or after Labor Day. (April and October are the favored months.) In this case, the SSCBF was up against the OC Air Show and the end of the Firefly Music Festival as well as at a time when Salisbury University isn't in regular session, so there were a lot of distractions. It may succeed a little more a week earlier or a week later, but this isn't a bad summer event.
So we will see what happens next year and find out how much more of the Riverwalk they take advantage of.
I have a sneaking hunch that my friend Rick Manning of Americans for Limited Government (ALG) and Donald Trump may not see eye to eye on what constitutes "limited" government should Trump be elected, but one thing ALG is encouraging Trump to pursue is a more America-centric policy on trade.
On Monday ALG released a letter they sent to Trump thanking him for "giving voice to the reality that the deals negotiated by our leaders are anything but free trade or good for America."
Manning cited two examples of poor trade practice in his letter, with the first singling out the struggles one American shoe maker endures in competing with Nike:
The average Vietnamese worker makes $150 a month, virtual slave wages.  But the average Vietnamese textile worker who makes shoes earns even less, in fact, about 30 percent less down to $100 a month according to Vietnamonline.com. While this is good for Nike, which doesn't actually make any of its hundred dollar plus tennis shoes here in America, it is bad for their competitor, New Balance, which employs 900 Americans in Massachusetts and Maine making footwear.
Let me step in for a minute (pun intended.) I happen to prefer New Balance shoes for a simple reason: it is far easier for me to find their shoes in the wide width I need because I wear 4E wide shoes for my duck feet. New Balance seems to have their finger on the pulse of the American market better than Nike, which outsources their production to the cheapest possible outposts. (It shows in their quality, too. I've been disappointed in the couple pairs of Nikes I've owned.) But Nike has a far bigger market share thanks to the power of marketing, if not necessarily the quality of their shoes.
Manning goes on to cite a second imbalance he's hoping Trump may address:
Another egregious example of American policy being out of whack is the area of agricultural subsidies and trade.  A specific example is the much maligned U.S. sugar policy, which is in place to offset massive sugar subsidization by producers like Brazil, Thailand and India.  These countries' subsidies and trade-distorting policies have wrecked the world sugar market and could drive the U.S. industry out of business.
Over the years Life Savers, Dum-Dums and other candy products have seen their production relocated to Canada or Mexico – not because of labor costs but the cost of sugar. Since the ingredient is the major proportion of the product, it only makes sense to find the cheapest alternative. Manning cites one proposal to address this:
However, there is a solution for someone with a hard-nosed desire to get the best deal for the American people and end agriculture subsidies.  U.S. Rep. Ted Yoho (R-Fla.) has introduced legislation that would end the U.S. sugar program when the U.S. gets other nations to do the same through the World Trade Organization.  Yoho's approach, making the end of our sugar policy contingent upon our competitors eliminating their subsidies, too, gives the President a powerful tool to use as a cudgel over world-wide agricultural competitor's heads, because Congress would have already done its work.
The ALG letter also goes on to talk about ending Chinese currency manipulation, which is a familiar complaint from manufacturing groups as well. But Manning is adamant about manufacturing's place in the American economy. "Rebuilding a robust domestic manufacturing sector is important to restoring America's economic leadership in the world, and in doing so, providing hope to our nation that tomorrow will once again be better than today," concluded Manning. And he's right.
But trade is only one part of the equation. We have to encourage more businesses to create jobs by not making it mandatory they give 35 cents of every dollar back in taxes. While Trump addressed this in his tax plan by cutting corporate rates to 15 percent, he has several provisos such as a "one-time deemed repatriation of corporate cash," and ending deferral on corporate income earned abroad. Bear in mind as well Trump admitted that his tax plan as presented is his "optimal plan," but subject to negotiation – so the rate may be higher, the "one-time" repatriation may become annual, and it may be tied to other non-productive policies such as a minimum wage hike. Regulations are another issue which Trump is vague about, telling CNBC he wanted to scrap "a slew" of them, but not being specific.
Trump, however, is also talking about our own currency manipulation, questioning the wisdom of a strong dollar. Having a weaker dollar would tend to be protectionist policy, making imports more expensive but allowing our products to be more competitive elsewhere. By the same token, it would encourage international visitors while making American trips abroad more expensive. But it also could enhance inflation.
If Trump wins the election, it's truly anyone's guess what effect he will have on the economy. He could be the boost we need to get back to 4-5% annual growth we haven't seen since the Clinton-Gingrich tech boom era of the 1990s or he could make us long for actual growth instead of depression. It's truly anyone's guess, and one piece of the puzzle will be how the market reacts to Trump's more protectionist policies.
Commentary by Marita Noon
When the name Resolute was chosen in 2011, after the merger of Bowater and Abitibi-Consolidated, the Canadian company, a global leader in the forest products industry and the largest producer of newsprint in the world, likely didn't know what a harbinger it was. Today, it stands alone, set in purpose, with firmness and determination. Displaying the rare courage to stand up to the typical environmental extremists' campaign of misinformation and shaming designed to shut it down, Resolute Forest Products is fighting back.
Many people are probably unaware of the shakedown tactics used by groups whose touchy-feely names belie their true goals.
Like most companies, Resolute originally went along. As Peter Foster explains in the Financial Post: "a cabal of radical environmental non-governmental organizations, ENGOs – including Greenpeace, ForestEthics and the David Suzuki Foundation – agreed to stop their campaigns of customer harassment in return for the members of the Forest Products Association of Canada, FPAC, agreeing to sanitize a swathe of the Canadian Boreal forest, and to 'consult' on development plans. Astonishingly, governments played no part." The result was the Canadian Boreal Forest Agreement. The ENGOs ultimately aspired to put the majority of the Boreal forest off limits – ending economic development. Regarding the Greenpeace-promoted concept of "intact forest landscape protection," Laurent Lessard, Quebec's Minister of Forest, Wildlife and Parks, says it threatens "absolutely devastating" economic implications.
Resolute had been a major supporter of the Agreement and has participated in other efforts between ENGOs and industry to work out differences. Despite that, using a campaign of lies and intimidation, ENGOs have constantly attacked Resolute. At one point, in 2012, the false claims were so egregious, Resolute threatened legal action against Greenpeace – which garnered an unprecedented apology and retraction from Greenpeace. However, they came back with vengeance. Greenpeace continued to publicize the same false statements and dubbed Resolute a Boreal forest "destroyer."
Engaged in a war without violence, Greenpeace has since attacked Rite-Aid Pharmacy for "getting millions of pounds of paper from controversial logging giant Resolute Forest Products," calling Resolute: "a company with a history of environmental destruction." Greenpeace was successful with a similar harassment campaign against Best Buy. Resolute was the company's primary paper supplier, but due to the shaming, Best Buy announced it would seek other sources. Greenpeace has no plans to stop the tactic. Other targeted companies include Canadian Tire (a retailer with more than 1700 outlets), Home Depot and Office Depot, Proctor & Gamble and 3M. Foster reports: "Greenpeace itself has calculated that its campaigns have cost Resolute at least $100 million."
Somewhere between the Greenpeace retraction and May 2013, an epiphany – similar to what occurred between the president of the U.S. and the space alien in the movie Independence Day – must have taken place. In the clip, the captured alien is choking someone with its tentacle and the president is trying to negotiate with it. He tries to reason with the alien and suggests that they could "coexist." He asks the alien what it wants them to do. The alien simply responds: "die." Resolute must have realized that no matter how many agreements it might sign, the global network of ENGOs come back with more and more rigid requirements until the tentacles choke the company out.
On May 23, 2013, Resolute filed a lawsuit against Greenpeace claiming it damaged the company's "business, goodwill and reputation." The suit asserts defamation, malicious falsehood and intentional interference with economic relations and seeks damages of $5 million as well as punitive damages of $2 million, plus costs. Greenpeace says the suit "is an effort to subdue Greenpeace into silence and send a message to other groups that they should stay quiet." It believes the suit should have been thrown out, but despite several attempts, the Judge has disagreed and allowed unflattering accusations about Greenpeace's global law-breaking activities to remain.
While the Canadian lawsuit makes its way through the courts and the appeals process, Resolute has just taken another bold step to defend itself against the green bully's attacks.
On May 31, Resolute took a page from the ENGO's playbook and, in the United States District Court for the Southern District of Georgia, filed a civil RICO (Racketeer Influenced and Corrupt Organizations) suit against Greenpeace and a number of its associates who, though they claim to be independent, act cooperatively. The RICO Act intended to deal with the mob as a loose organization, or "enterprise," with a pattern of activity and common nefarious purposes, such as extortion. (Greenpeace has asked the Justice Department to use the RICO Act to investigate oil companies and organizations that sow doubts about the risks of climate change.)
The 100-page complaint alleges that Greenpeace and its affiliates are a RICO "enterprise." According to the Resolute news release, it describes the deliberate falsity of the malicious and defamatory accusations the enterprise has made and details how, to support its false accusations, "Greenpeace has fabricated evidence and events, including, for example, staged photos falsely purporting to show Resolute logging in prohibited areas."  The suit also calls Greenpeace a "global fraud" out to line its pockets with money from donors and says that "maximizing donations, not saving the environment, is Greenpeace's true objective." Additionally, it cites admissions by Greenpeace's leadership that it "emotionalizes" issues to manipulate audiences.
In the U.S. lawsuit, Resolute is seeking compensatory damages in an amount to be proven at trial, as well as treble and punitive damages.
Patrick Moore, one of the original founders of Greenpeace, is disappointed that the group that originally wanted to help, is now an extortion racket. He told me: "I am very proud to have played a small role in helping Resolute deal with these lying blackmailers and extortionists."
Discovery in both the Canadian and U.S. lawsuits will open up records and could well peel back the moralist tone to expose a global job-destroying, anti-development agenda. For too long ENGOs have been allowed free rein over regulating natural resources in what is really economic warfare on workers.
At a recent meeting, the Canadian Council of Forest Ministers, according to Foster, "acknowledged that it was time to stand up and recognize 'the significant economic implication of misinformation'" – though one has to wonder what took them so long.
Resolute is counter-punching the green bullies – and it's about time. Just ask the coal miners in West Virginia or the farmers in Central California who are wild with enthusiasm for the Trump candidacy that promises to end the regressive regulations and return the U.S. to economic strength.
Hopefully other companies will now tune into the public's change in attitude and, with firmness and determination, will, also, fight back to protect shareholders and workers.
The author of Energy Freedom, Marita Noon serves as the executive director for Energy Makes America Great Inc., and the companion educational organization, the Citizens' Alliance for Responsible Energy (CARE). She hosts a weekly radio program: America's Voice for Energy - which expands on the content of her weekly column. Follow her @EnergyRabbit.
Commentary by Marita Noon
All of us loved less-than $2 a gallon at the pump. AAA reports: "Americans paid cheapest quarterly gas prices in 12 years" – which resulted in savings of nearly $10 billion compared to the same period last year. However, oil (and, therefore gasoline) has been creeping upward since the February low – topping $45 a barrel, a high for the year. And that could be a good thing.
While low prices at the pump have been a boon to consumers, the plunge in oil prices has been a bust for American producers.
You may not care about "big oil," but there's still reason to be positive about the rising prices.
There are several causes for uptick. First is the weaker U.S. dollar. As oil is traded in dollars, a weaker dollar means that it takes more of them to buy the same amount of oil.
Additionally, we are heading into a busy summer driving season and refineries are switching to the more expensive "summer blend." The switch typically means a brief shut down for maintenance – which reduces the gasoline supply. Summer driving increases demand.
Globally, oil production is down due to a workers' strike in Kuwait that took about 1.3 million barrels a day of production offline, and disruptions in Iraq, Nigeria, Venezuela, and the North Sea. Former investment advisor and financial writer Tony Daltorio writes: "That brought the total to roughly 3 million barrels a day that were offline." In the U.S., according to the Wall Street Journal (WSJ), "oil production has fallen below 9 million barrels a day in recent weeks, down from a peak of 9.7 million barrels a day last April."
These are all supply issues that can easily be eradicated with increased production – such as recently threatened by Saudi Arabia's Deputy Crown Prince Mohammed bin Salman. Additionally, in the U.S., reports Bloomberg: "Drilled, uncompleted wells could return 500,000 barrels a day back to the market." The potential for increased production has many, including Daltorio, predicting a fall in price from current levels.
Consumers like lower prices, but they signal economic concerns as the price of oil is directly connected to the global economy.
In February, a Citibank strategist warned that due to the extended oil price collapse, the global economy "appears to be trapped in a death spiral." Eric Sharpe, Publisher at Energy Ink Magazine, states: "Citi's assessment is clear, and easy to understand: weak global growth results in continued depressed oil prices as demand weakens under over-supply."
This is why I posit higher prices are a good thing for everyone, not just the oil industry.
Simple economics are based on a supply vs. demand formula. So far, I've mostly addressed the supply side. But a careful read of the forecasts indicates an increase in the demand side. Sharpe points out: "The single most important factor for the stabilization of oil prices is for demand to outpace growth which it has not done for over two years. Though demand growth is slow, it is still climbing."
On April 23, the Financial Times reported that commodities, led by oil, rallied "on signs of stronger growth" that bolstered demand. It also referenced: "better housing and infrastructure demand after China's economy rebounded in March."
On April 27, in a story about the price of oil hitting "another 2016 high," WSJ addressed the fact that the Federal Reserve officials "left interest rates unchanged." The last time the same decision was made, the statement included language that indicated the global economic and financial conditions posed risks to their outlook. This time, that was removed – "signaling less concern about risks posed to the U.S. Economy by global financial conditions." In WSJ, Robert Yawger, director of the futures division at Mizuho Securities USA, is quoted as saying: "The elimination of international elements in the language may mean that the market feels that the international situation is improving, and we'll get a bit of demand from emerging markets which wasn't there."
Additionally, Phil Flynn, Sr. Market Analyst at the PRICE Futures Group, in his daily energy report, on April 22, wrote: "Demand is busting out all over." He explains: "Low gas prices are causing a buying frenzy at the pump as gasoline demand in the month of March hit an all-time record high." He continues: "it's not just gasoline demand, it is oil demand all over. Not just here in the United States but also in China. China reported that crude-oil imports in March were up a whopping 21.6% from last year coming in close to 7.7 million barrels a day. …China's demand for imported oil is stronger than it has ever been." He also addressed; "the strongest ever volume increase in Indian demand."
There is growing demand.
"The market is coming in better balance," Jason Gammel, an analyst at Jefferies, stated, according to the WSJ. "We maintain the view that the current oversupply will flip into an undersupply in the second half of the year."
While this is good news for the oil industry, it is also good for everyone – even though it means higher prices at the pump. If this optimistic view is correct, it means the global economy – despite the bad economic news on the American front – may be heading toward a net positive; that it is not "trapped in a death spiral."
A growing economy needs energy and that is why higher demand – that equals higher prices – is good for everyone.
The author of Energy Freedom, Marita Noon serves as the executive director for Energy Makes America Great Inc., and the companion educational organization, the Citizens' Alliance for Responsible Energy (CARE). She hosts a weekly radio program: America's Voice for Energy - which expands on the content of her weekly column. Follow her @EnergyRabbit.
It was back to the basics once again for this once-premier regional event, which is still chugging along in its thirteenth year. What better way to celebrate the weekend of Earth Day than eating some of its tastier creatures cooked over a charcoal fire?
For the second time, though, there was no KCBS competition element. However, there was a competition wrapping up just as we arrived regarding which of the four competitors selling pulled pork had the best, along with a local craft beer pairing. Actually it sounded like a pretty good deal for $10 and it's a pity I missed it.
There was still a pretty good food court, though, dubbed "Pig Out Alley" with some out-of-towners hawking their barbecued wares.
The guys from Smoke Shack BBQ were hard at work keeping up with demand.
There seems to be a psychological effect where the place with the longest line is thought to have the best ribs. As it turned out, Kim stayed in the Smoke Shack line for about a half-hour while I walked across the way to get mine from the former Salisbury denizen Famous Dave's, strolling right up to the counter and ordering. Maybe that's why their location here only lasted a couple years.
So this is what I got.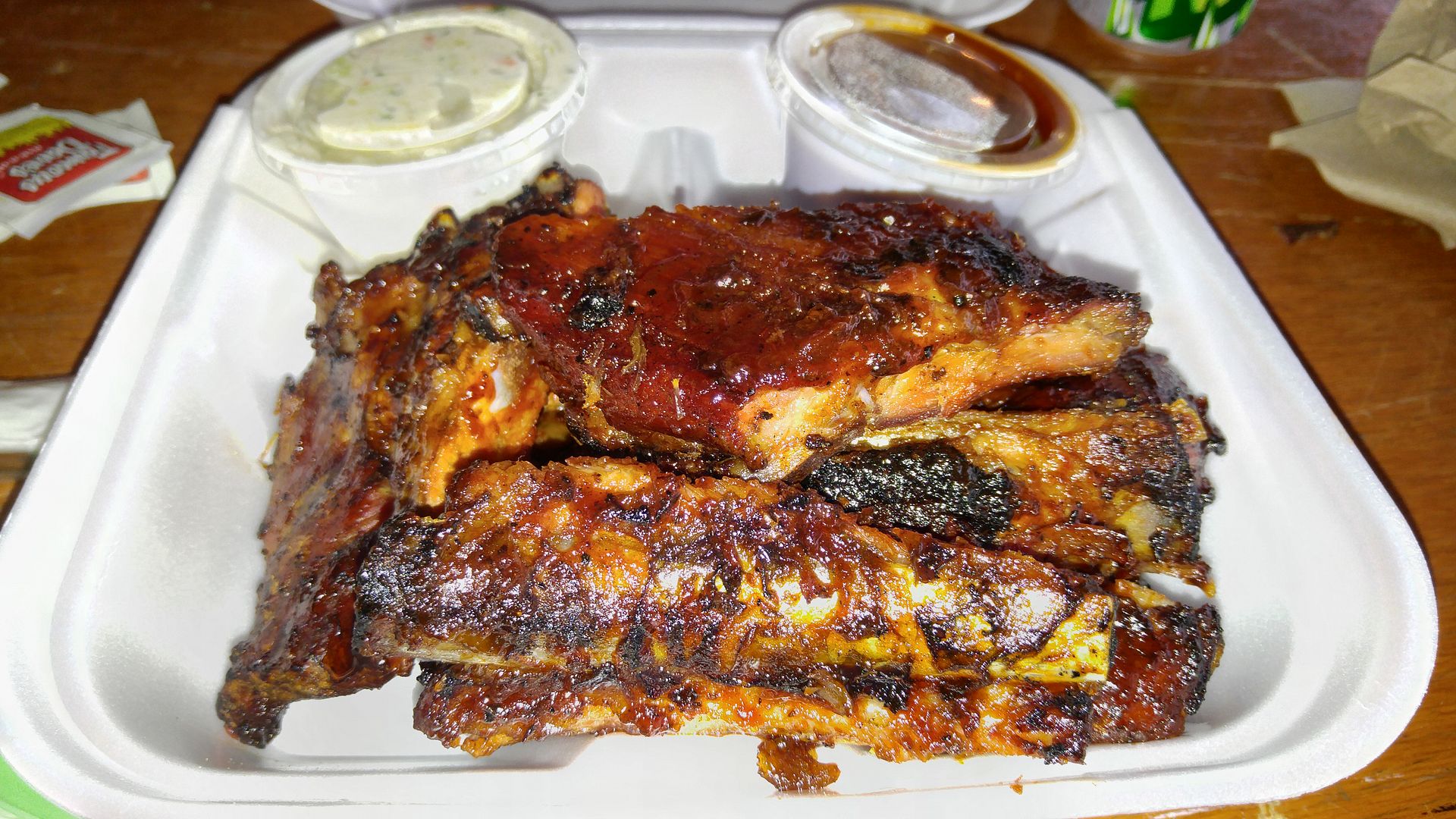 Funny thing: both Kim and I agreed that the Famous Dave's ribs were better. Smoke Shack was somewhat pricier as well, but that comes with the territory I suppose. We could have gotten Hess's ribs as well, for they didn't have a long line either. But as I recall we had theirs last year, when Pork in the Park nearly failed.
Nicer weather helped with the attendance, which seemed to be improved from 2015. It wasn't to the level of past years but perhaps they can rebuild the festival.
One holdover from 2015 was the kids court, with the row of bouncy houses.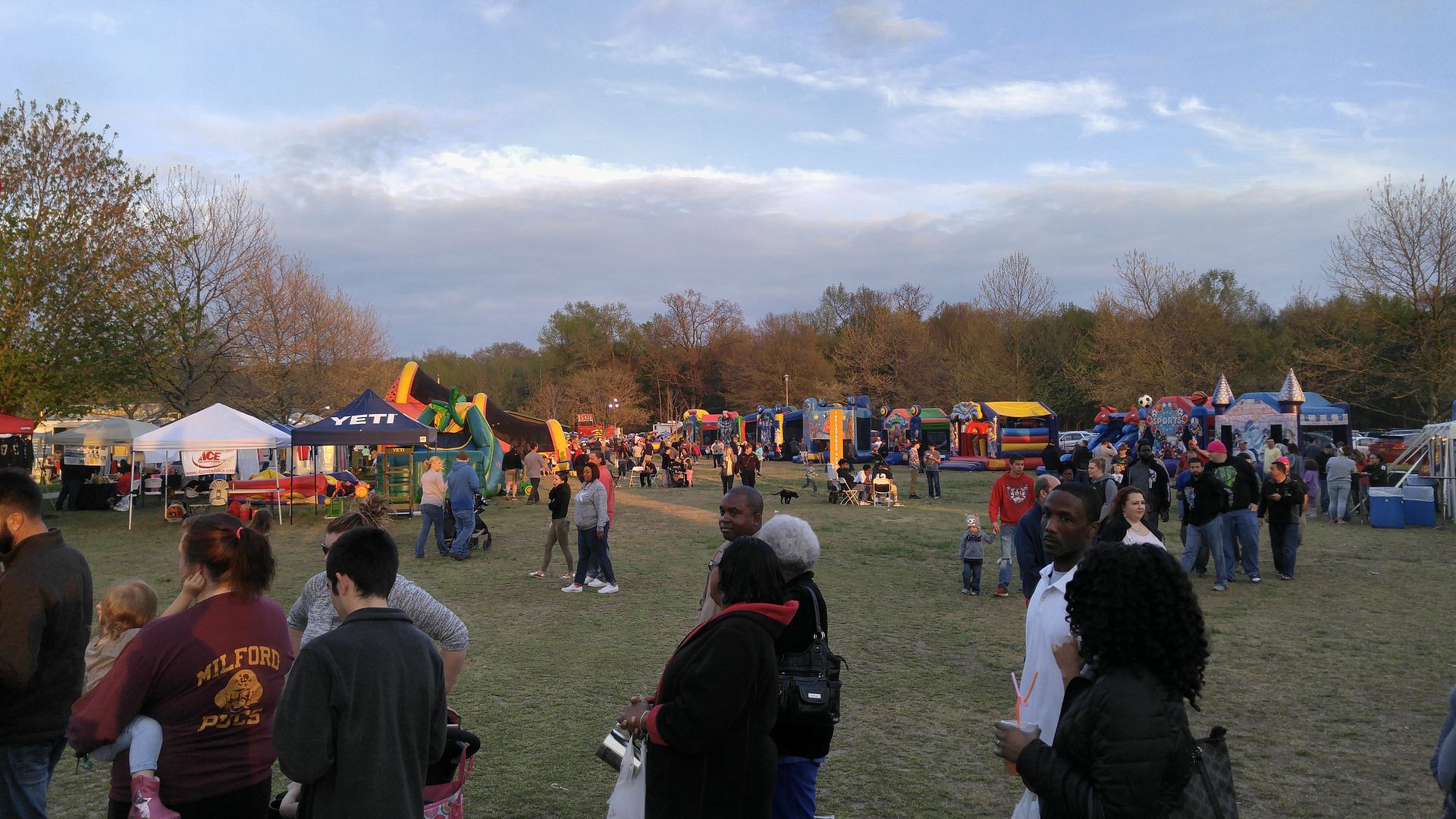 It was actually a pretty good arrangement, as they separated the kids zone from the beer tent and other adult areas. It wasn't like you couldn't hear the band, which was wrapping up as we got there.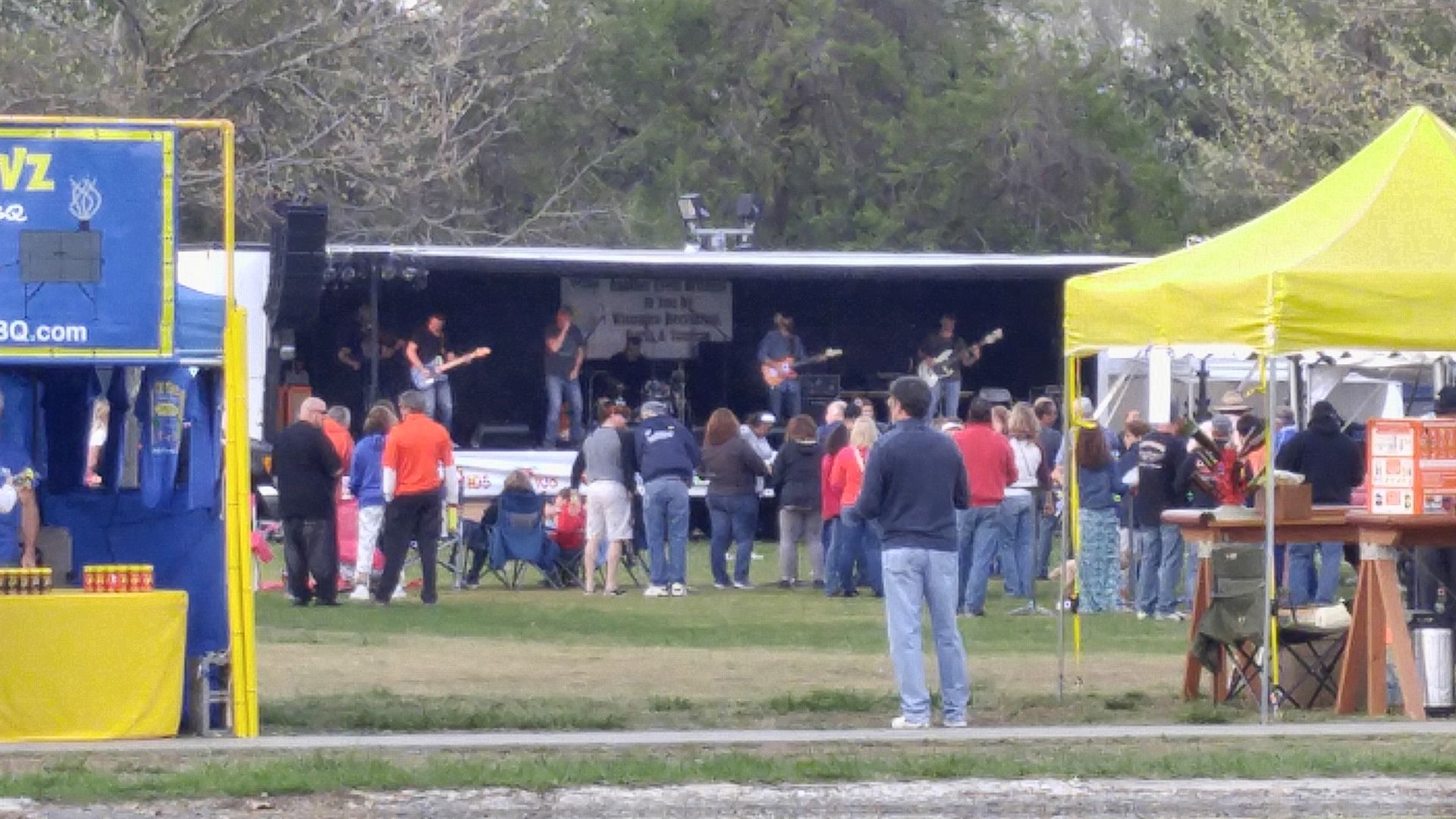 According to the entertainment page of the PitP website the band was Delta Spur, a country cover band. Since I'm not into country, they didn't do a lot for me until they ended the show with some Lynard Skynard (that one I recognized.) But it looks like quite a few were into them.
One thing new they were trying was Balloonville, where you could check out these balloons and perhaps take a (tethered) ride in one, for a price.
I would have to say that this year's rendition is improved over last year's, but whether it can turn the corner without the competition element remains to be seen. It's worth noting that most of the banners various rib vendors use to commemorate their victories are several years old – seems that the number of these competitions have waned as tastes move away from everything barbecued and onto other culinary options. Perhaps someone somewhere has a banner that brags about winning Pork in the Park, but that's not happening this year.
But if you don't mind paying a little extra for some good ribs, this isn't a bad place to bring the family if you're around Salisbury. They have the kids' area so the little ones can blow off steam and it's only $3 to get in for the adults. It's a beautiful day on Delmarva as well – aside from some rain yesterday afternoon, they lucked out with the weather. You have until 5:00 today.
So come on out and see if we can make it bigger and better for 2017.
Over the last few years I have seen the American worker become more and more an endangered species. Sure, there are jobs out there but fewer and fewer of them involve making stuff. Last month the Alliance for American Manufacturing (AAM) glumly noted that manufacturing jobs were off an astounding 29,000 in March. As AAM's Scott Paul noted:
With 29,000 manufacturing jobs lost last month, it is clear this issue isn't going away anytime soon. China's massive industrial overcapacity, currency manipulation, and our growing China trade deficit continue to tip the scales, and it's laid-off U.S. factory workers who pay the price. That's not right. American manufacturers can outcompete anyone in the world, but they need a level playing field.
As I have pointed out before, AAM is an outgrowth of the steel industry, particularly the steelworkers' union. So their perspective leans toward protectionism to a point where they regularly accuse China of cheating us on trade through both currency manipulation and their "dumping" tons of steel on the market. One Illinois steel worker they quoted put the latter charge thusly:
For the past 38 years, I've been a steelworker at U.S. Steel Granite City Works in Granite City, Illinois.

I'm proud of the work my 2,000 colleagues and I do at the mill. We produce a high-quality product that's used in automobiles, construction and energy exploration. In one case, we even made a grade of steel for a major automaker that no other mill had been able to produce!

But right now we need your help.

Because of unfair trade, 1,500 of my coworkers are currently laid off. They don't know when they'll be called back – or even if they'll be called back.

Granite City isn't the only place coping with layoffs. More than 1,000 people who work at the U.S. Steel Fairfield Tubular Operations in Alabama are laid off. Nearly 350 folks at U.S. Steel Keetac in Minnesota also are out of work, as are hundreds of people at facilities in places like Colorado and Oregon.

All told, more than 13,500 steelworkers are facing layoffs - and the list is growing.

(snip)

We're facing an unprecedented onslaught of dumped steel from countries like China, which is producing way more steel than it can use. That steel is heavily subsidized by China's government, which also doesn't require its companies to abide by strict labor or environmental laws. China needs to get rid of its steel, so it dumps it into our market at a rock-bottom price.

That's not fair to American steelmakers and workers, who compete in an open market.

And steelworkers aren't the only ones who deal with the burden of unfair trade.

I can't stop anywhere in town without being asked about the layoffs. When so many workers are forced to tighten their belt, it impacts everyone - from restaurants to grocery stores to retail.
Fair trade groups such as the Manufacturers for Trade Enforcement now oppose China's possible ascension to a "market economy" for trading purposes by our Commerce Department, while AAM also questions China's effect on our national security as steelworkers lose their jobs:
Plant closures, mass layoffs, and the loss of key technology and manufacturing know-how are sure to follow unless we act.

Moreover, with the loss of U.S. steelmaking capabilities comes a dangerous dependence on these same potentially hostile foreign governments to supply the steel products necessary to equip our military, respond to disasters, and modernize our increasingly fragile infrastructure.
This has actually been a concern for several years. In some respects the concerns about steel parallel our oil crisis, when we lost the ability to supply our own needs and became vulnerable to OPEC's embargoes in the 1970s. Having lived through that as a child and seeing how it affected our economy, I have issues with the greatest country in the world becoming such a disposable society that we forget how to be self-sufficient. We should have never put ourselves in a position where, for so many of those devices and conveniences that make our lives easier and promote commerce, we depend on a nation that points missiles at us.
That's not to say everything is bad news, though. As Bryan Riley shows in the Daily Signal, foreign investment in America far outstrips what we invest overseas. And while it's true Carrier is moving 2,100 jobs from Indiana to Mexico, Riley argues that the net effect will be less as foreign automakers Toyota, Honda, and Subaru are adding a total of 1,600 jobs around the state. Riley adds:
While Carrier has been called "greedy" for moving to Mexico, no one in Indiana is calling Toyota, Honda, or Subaru greedy for choosing to invest in the United States.

(snip)

In total, over 2 million American manufacturing workers are employed by foreign-owned companies. And while American companies have invested over $700 billion in foreign production facilities since 2000, foreign-owned companies have invested over $1.3 trillion in the U. S. manufacturing operations during the same time frame.

The result: a $614 billion manufacturing investment "surplus" for the United States from 2000 to 2015.
Granted, the year 2000 may have been an artificial and arbitrary deadline considering the exodus of manufacturing jobs from our shores began decades earlier, but there are thousands of Americans who work for foreign-owned companies in all sectors – heck, most people who drink a non-craft beer are supporting American workers toiling for a foreign-owned conglomerate.
Still, we should be doing all we can to promote the old-fashioned art of making things here. There were millions of families around the country (including mine) where there was only one breadwinner (Mom stayed at home) who could still achieve middle-class status because they made good money while creating the products America needed. (In my dad's case it was concrete block and other cement products. That plant has long been out of business, sadly.) Now that's all but impossible, as the norm has become two-earner families who can barely keep up with expenses, living paycheck to paycheck. By the time I was in high school, our family was one of those, too.
Perhaps the boom times of the last half of the twentieth century were bound to come to an end sometime, but we should be doing our best to bring them back by allowing workers and companies to create and enhance the value of raw products as much as possible. To use a simplistic example of building a car: we create value for iron ore by extracting it somewhere in the upper Midwest, add value by shipping it by ship down the lake to a steel mill in Indiana, further enhance it by processing it into steel there before shipping it again via truck or rail to a Toledo auto plant, then create even more value by its becoming the fender to a new Jeep, which again is placed on truck or a railcar to deliver to your local dealer. Each step in the process creates a little bit more value from that chunk of rocks once buried underground to the new Wrangler sitting at the dealership, meanwhile helping to create a better standard of living for hundreds of employees in the process.
But somewhere a few decades back we decided it was cheaper to have someone else do it – iron ore from one of a host of countries may or may not be processed there, but it goes to Japan or Korea and they build the cars. Granted, their success led them to put assembly plants here in America but I'd like to keep the process more in-house where we can.
Just because there's a global economy doesn't mean we in America have to settle for second best. But it does mean America needs new, fresh leadership that believes in American exceptionalism and wants to create the conditions where we can once again prosper.
By Cathy Keim
Editor's note: This piece began life as a comment to the Refugee Resettlement Watch blog which eventually became a post there. Cathy has taken this opportunity to revise and extend her remarks, adding it to her occasional series on immigration.
The (slightly reworked) title comes from Refugee Resettlement Watch's Ann Corcoran.
When I talk to people about the hit that American citizens are taking by companies hiring immigrants, both legal and illegal, they always come back with the statement that the American citizens do not want to work, have a poor work ethic, are not dependable, etc. My guess is that this might well be the case because we have paid people to not work, making it an option with no stigma attached.
In the past, it was terrible to be on welfare or unemployment. Remember the movie "Cinderella Man"? The lead character, heavyweight boxing champion James J. Braddock, returned to the government office and paid back the welfare money when he could finally earn enough money to feed his family. That was during the Great Depression less than one hundred years ago.
My fear is that the government has done such a good job of destroying the working class family by introducing welfare which required that the man not be in the household that we now have a deeply embedded culture of single parent families, drifting children, and no concept of a work ethic. The result is employers using the lack of work ethic as an excuse to not hire Americans, but to go for hard-working foreigners.
Remember that the employers have tax benefits involved in hiring foreigners. Also, the foreigners cannot argue with the employer because if they lose their job, then they must go home if they are here on the H-1B or H-2B visas. If they are illegal, they have no recourse. This makes for a diligent, compliant workforce.
The employer doesn't have to pay higher wages, so the taxpayer picks up the additional social costs due to low-paying jobs. The schools have to educate in many languages, the hospital ER takes care of the sick, and subsidized housing is swamped. The costs of absorbing huge numbers of foreign workers are not small.
When a school system has to hire scores of ESL teachers to handle the influx of non-English speaking children, the taxpayer is paying for that. When the hospital has to hire translators to be able to understand their patients, then the citizen absorbs that cost. When the city zoning codes are overwhelmed with twenty or more unrelated people living in a house, then the neighborhood suffers. When remittances are sent back to the homeland to the tune of millions of dollars, then our economy suffers.
When Mexico and other countries send us their poorest, they remove the pressure to improve their own society by exporting their problems to us.
In addition to all of these problems, the local community suffers the double hit of paying unemployment/welfare to their own citizens and all the social costs associated with reducing people to a dependent class.
The employer pockets the extra earnings gained by paying lower wages and collecting tax benefits. In the case of hiring refugees, the employer gets to feel good about himself for helping people fleeing oppression. Perhaps some of our employers should try to feel good about helping fellow Americans have a job that will enable them to break out of the cycle of dependence.
We can thank our elites in DC for the many bad decisions that have led to this disaster that has taken several generations to reach its current epic proportions. A final blow is that the lack of worth that comes with being a non-working dependent class leads to additional social problems.
My hypothesis is that the current heroin epidemic that the government is trying to stem can be linked back to the broken family and jobless lifestyle of our formerly working-class citizens. I know that heroin is ravaging children from all classes, but it is particularly bad on the people that have no hope and see no way out.
Being hungry is a powerful motivator to work. Our Pilgrim forefathers tried to use the community approach when they first arrived in the New World. They almost starved. Once they switched to each family having their own land and raising their own crops, they were much more successful.
I realize that the switch to using our own citizens to work instead of being unemployed would be a painful transition for the employers and the employed. The government would have to remove itself from the process and let people in the local community work this out.
The minimum wage laws forced upon us by the government reduce the entry-level jobs that teenagers once used to learn how to work. In fact, we are going to lose more fast food entry-level jobs as the industry moves to automated ordering to bypass the minimum wage laws.
The H-2B visa workers have reduced the summer jobs for our teens. Something as simple as starting school after Labor Day weekend could enable more teens to fill the summer job needs of the tourist industry.
We have sedentary teens that could use some lawn work to build muscle and slim down. Instead, we import foreigners to cut grass.
The short-term benefits are obviously working as we increase our visa limits and bring in more refugees, despite not being able to vet them for safety issues. But what are the long term issues?
We should be preaching the joys of independence, not depending on the government to support us. We should be encouraging our youth to work hard rather than think that college is going to provide a cushy job. That expensive degree is more likely to be a weight around their neck due to the loans they took out than to help them have access to a good job.
The need for limited government intervention is never more obvious than in our current skewed employment numbers. Crony capitalism is not free enterprise. The UN choosing refugees for us and big business depending on cheap labor that is essentially a new form of indentured servitude is not what America needs.
The easy fix of importing cheap labor may seem like a good idea, but the price we are paying as a nation is not cheap and not easy. It is time for a moratorium on immigration across the board while we sort out these issues.
Originally I was going to add some of these items to my "odds and ends" post but decided to promote the idea to a post of its own. I have a lot of things which I can neatly tie together.
It's now been a decade since America's economy even grew at a 3% rate, as Rick Manning pointed out a few weeks ago. While he lays a lot of the blame for what he later termed an 8.9% "real" unemployment rate on government regulation and policy, other industry groups like the U.S. Business & Industry Council (USBIC) and Alliance for American Manufacturing (AAM) point the blame squarely at China. First is USBIC President Kevin Kearns:
Can anyone doubt that America's trading relationship with Beijing is a one-sided, one-way catastrophe for the American economy? Our massive trade deficit with China represents a constant outflow of jobs and productive capacity to a country that refuses to play by the rules of world trade. It's been 15 years since China joined the World Trade Organization. There can be no doubt that America's experiment in so-called 'free trade' with China is a miserable failure.
AAM's President Scott Paul:
Now we have even more evidence as to why voters are deeply concerned about China and its impact on the American economy. Our trade deficit with China in 2015 again surged to record levels, and that helps explain the struggles we've seen in manufacturing recently – particularly in critical sectors like the steel industry.

The 29,000 factory jobs gained in January is good news, but it's certainly no indication of an upward trend. Many dangers persist, including a strong dollar, China's economic weakness, and its massive industrial overcapacity. It strikes me as an inopportune time to be pushing a Trans-Pacific Partnership that is projected to cost America more than 121,000 factory jobs, according to the Peterson Institute of International Economics.
So just how do we compete? There's no question that 40 years of buildup and advantages accrued by foreign competitors in the areas of lower wages, lack of regulation, and outright cheating more than make up for the millions of dollars in shipping costs required to ship cargo across the Pacific to the American consumer market. The relics and ruins of our Rust Belt convey the depth of the opportunities squandered. If we can't beat them on price, we have to beat them on quality and be smarter than they are.
One thing I've noticed about the Senate race is that several GOP candidates are focusing on the manufacturing sector as a ticket to the state's prosperity. For example, Rich Douglas had this to say the exodus of jobs to Mexico and about his platform:
Ten thousand jobs lost in Maryland alone.  That's what Texas businessman Ross Perot meant when he predicted a "giant sucking sound" of U.S. factories moving to Mexico after Congress approved the North American Free Trade Agreement (NAFTA).  If elected to the U.S. Senate from Maryland in November, I will work to bring them back.

The "sucking sound" was real.  In the mid-1980s I lived and worked in Ciudad Juarez, Mexico, across the river from El Paso, Texas.  The Juarez of my memory is a vast collection of big-box factories in the desert, bearing well-known U.S. names.  Jobs lost from the U.S.

(snip)

Citizens with a path forward to jobs, homes, and a future remain in school, avoid drugs, do not riot, and keep their unborn children.  Maryland needs factories and jobs.  A way to attract them is to send the right people to Congress.  What sets me apart from the rest of the Senate field?  Experience and scars earned in markets where U.S. ethics are mocked.  Experience with U.S.-imposed hurdles to U.S. exports.  Experience with the human cost of free trade.
But Douglas is not alone. It turns out fellow candidate Chrys Kefalas is a vice-president at the National Association of Manufacturers, which again is urging people to be manufacturing voters:
Notes Kefalas on his social media page:
I'm all about manufacturing more jobs in Maryland and the U.S. And that means fighting so that companies like Under Armour and small businesses can bring more jobs to Maryland. I will.
Adds yet another Senate hopeful, Dave Wallace:
Many will remember when Marylanders proudly made steel, Chevys and many other quality products and enjoyed a prosperous life. Today our infrastructure and job prospect are crumbling, and high taxes and regulations are driving away the jobs and investments we need.
While this is a promising beginning, Wallace remains short on details. But it's better than nothing, as I'm not finding where the other major candidate, Kathy Szeliga, addresses manufacturing at all.
Actually, I take that back. Nothing is better than this mess that punishes achieving businesses and expands the government's role at a time when they need to stand down and let the market grow. Remember, doing it this way has led to a "lost decade" of slow-to-no economic growth.
Since this part of the state isn't dependent on government jobs to survive – but could use an economic shot in the arm to diversify from the poultry and tourism industries – it seems like we would be an ideal location to be the place to make things. The cost of living is fairly decent, the area is nice, and there are a lot of people who are willing to put in a little bit of elbow grease to get things moving. All they need is for the state to let them compete, and even though a Senator doesn't necessarily guide state policy he or she can lead by example.