It was good news in November for manufacturers, at least as expressed on the employment front – based on the November jobs report and revisions to previous reports, the sector gained 48,000 workers over that timeframe.
Naturally, manufacturing supporters were cheered by the news, with the union-backed Alliance for American Manufacturing (AAM) noting that Barack Obama is now over 1/4 of the way to his promise of a million new manufacturing jobs in his second term, while economist Chad Mowbray of the National Association of Manufacturers (NAM) trade group pointed out robust growth in new orders was beginning to translate into new employees.
However, both groups saw some clouds among the silver linings. In the case of AAM, their complaint was the "failure to stop currency manipulation by China and Japan" while NAM cited "headwinds such as rising health care costs and regulatory burdens."
Each complaint has some validity, but for the majority of manufacturers the specter of operational costs is a key deterrent to expansion or even staying in business. While it's not manufacturing in a traditional sense – and certainly applies on a more limited scale than federal edicts which can overturn an entire industry – one example could be how the local processing of chicken would take a blow from ill-advised state phosphorus regulations that have the potential to drive the poultry business to different areas of the country. Needless to say, such a result would be devastating to this part of the state, leaving just tourism and some limited local services to provide the employment to support our region.
And while I'm mentioning Maryland politics, I may as well make one other pronouncement here. As I followed his gubernatorial campaign for a year, I paid attention to how Ron George studied and shared his thoughts on the prospect of making things in Maryland. I hope Larry Hogan can utilize Ron's passion and expertise in his administration. While we would love to score an auto plant or other similarly large employer in this area of the state, a more realistic goal might be to, as Ron stressed during his campaign, fill up the existing facilities and areas several towns on the Eastern Shore have already laid out for manufacturing. To use a local example, adding 100 jobs for Wicomico County residents would immediately shave 0.2% off our unemployment rate, not to mention bring up the standard of living for everyone else.
A week ago yesterday we celebrated Small Business Saturday, but the best way to support them (other than shopping there) would be to make their lives easier by calling off the government regulator's dogs and encouraging them to grow so that sometime down the road we can be the manufacturing power we once were.
While Ben Carson made a splash on the GOP side by strongly hinting he was in the 2016 Presidential fray, he stopped short of actually launching an exploratory committee. The first major candidate – at least one who has a shot at being in the top couple tiers, anyway – to form an exploratory committee is Democrat Jim Webb, the former Reagan administration official who later became a Democratic senator from Virginia. Daniel Larison at The American Conservative has some thoughts on this challenge to presumptive nominee Hillary Clinton, but Webb has his own explanation at his newly-christened website.
And while it's probably the longest of shots to oppose the Clinton machine, Webb does have somewhat of an opening according to Harry Enten at fivethirtyeight.com. He points out that Hillary's support is weakest in the political center, where Webb's pro-military but populist message may resonate. As David Freedlander writes at the Daily Beast:
And Clinton, (Webb's) aides insist, is a non-factor.

"It ain't about Hillary," said Mudcat Saunders, a longtime Virginia strategist who worked on Webb's Senate campaign. "It's about bring the American dream to the forefront once again for working people and small business. The working people and small business – they haven't had any representation in years. And they know it.

Americans want to do something about this coin-operated government."
In a lot of respects, Webb hearkens back to the old Democratic party, the one which was just as liberal as it is today but was pro-military and pro-American. Ronald Reagan led those voters to the Republican Party and many of them stayed. For those who hang on to their faith in the old-style Democratic party and the song and dance about their support for the working man – the sort of Democrat who still resides mainly in rural areas like this one – Webb may be an appealing option. Take this excerpt from his introductory video as an example, one where Webb points out that he's no stranger to long-shot campaigns since he defeated George Allen in 2006 to win his one term as Senator.
With enough financial support to conduct a first-class campaign, I have no doubt that we can put these issues squarely before the American people and gain their support. The 2016 election is two years away, but serious campaigning will begin very soon. The first primaries are about a year away. Your early support will be crucial as I evaluate whether we might overcome what many commentators see as nearly impossible odds.

We are starting with very little funding and no full-time staff, but I've been here before. In February, 2006 I announced for the Senate only nine months before the election against an entrenched incumbent. We had no money and no staff. We were more than 30 points behind in the polls. I promised to work on the same themes I am putting before you now: reorient our national security policy, work toward true economic fairness and social justice, and demand good governance, including a proper balance between the Presidency and the Congress. We won. And despite the paralysis in our government, we delivered on these promises, in measurable, lasting ways.

In 2007, I gave the response to President Bush's State of the Union address. I put economic fairness for our working people and small business owners at the front of my response, noting the immense and ever-growing disparities in income between corporate executives and those who do the hard work. When I graduated from college the average corporate CEO made twenty times what his workers made. Today that number is greater than 300 times. The inequalities between top and bottom in our country are greater than at any time in the last hundred years. And the disparities between those at the very top and the rest of our society have only grown larger since the economic crash of late 2008 and early 2009.
With over 30,000 views in the first few days, the video is indeed portraying a very populist message that would appeal to the vast number of voters who fall for the class envy trap. (Dirty little secret: CEO pay is much higher now because many are paid in large part with stock options, thanks to the push a couple decades ago to more directly tie CEO salaries to company profitability and financial performance. In terms of actual salary, the ratio is far lower.)
It's doubtful that Jim Webb is the obstacle to an eventual Hillary coronation that Barack Obama was in 2008, and at this point he's probably in the same low tier of probability that Martin O'Malley rests on, well behind Joe Biden and miles in arrears to Hillary. But it wouldn't surprise me to see Jim in the mid-single digits in early polls as an outsider who has military experience, as opposed to most others in the Democratic field. He may be the catalyst for another Operation Chaos on the Democratic side.
This time next week bleary-eyed shoppers may already be ready to call it a day at a time when most normally arrive for work.
Playing on the theme of "black Friday," the Patriot Voices advocacy group is seeking to make that shopping day a "red, white, and blue Friday" by encouraging shoppers to buy American. The "Made in the USA Christmas Challenge" is one that promotes both American-based manufacturing and small businesses by also promoting Small Business Saturday the following day. Patriot Voices founder and former Senator Rick Santorum noted:
This Christmas season, millions of hard-working families are struggling to make ends meet.  If we hope to lift up all Americans, we must first support those families and the jobs they hold.  This means supporting American companies and American-made products at the check-out line.  While our effort may be small in the grand scheme of the holidays, everyone must do their part to making sure we support our family, friends, and neighbors.
The folks at Patriot Voices also added:
The 2nd annual Patriot Voices "Made in the USA" Christmas Challenge will bring attention to the need to buy American-made goods and shop at local small businesses this holiday season.  Senator Santorum will encourage Patriot Voices members and Americans around the country to sign a pledge to shop locally and buy American made goods this Christmas.
Oddly enough, in doing a bit of research I found Santorum sought this pledge in 2012, which either makes this the third rendition or means they skipped 2013. Regardless, it's a pretty good idea.
For several months I've placed an emphasis on manufacturing jobs, believing it's a great way to grow the economy and also return our country to a position of prominence in the world such that we had during the Greatest Generation, a time when we produced our way to victory in a world war. This is a continuation of that effort and it's a worthwhile one. (It also doesn't hurt that I know a good source for finding American-made products, one which just happens to be based in Santorum's home state.)
Realistically, it would be difficult to get everything on your Christmas list "made in America." In particular, those loss leader electronics which will be fought over on Thanksgiving night and/or the wee hours of Friday morning when stores open are generally made overseas. Unfortunately, we don't make Xbox or PS4 consoles here nor do we produce most tablets, iPhones, or other such gadgets. I don't think this has to be a permanent problem, though – it just takes some sound reworking of tax and regulation policies along the lines of that which Rick has supported in the past. Those philosophies led a lot of people in the Midwest and South to vote for Santorum in 2012 – even I did after my top choice(s) dropped out of the running.
Honestly, I'm not much of a shopper. But those who power-shop are encouraged to join in this effort because the job you could create might be that of your neighbor or family member. A new opportunity for a struggling breadwinner can be the greatest gift of all.
Since I parted ways with American Certified a few months ago, I haven't followed the manufacturing world as much as I had while writing for them. But they still hold an important place in our economy and the question needs to be asked: are you a manufacturing voter?
This video was put out by the National Association of Manufacturers, which has a full-size spread just in time for this year's election. They stress seven key issues:
Immigration

The immigration system in the United States is broken. Comprehensive reform will strengthen U.S. economic and national security and ensure that manufacturers' workforce needs are met, without displacing American workers.

Energy

Energy is poised to be a significant competitive advantage for manufacturing in the United States. In fact, the United States enjoys a slight advantage on energy costs compared to our major trading partners. The United States can widen this gap and enhance our energy security.

Labor

In recent years, the nation's time-tested labor law system has faced significant challenges. The National Labor Relations Board, for example, has issued rules and orders that undermine employer flexibility and chill workplace relations. U.S. labor laws should safeguard the rights of employees and employers.

Workforce

Nearly 12 million men and women work in manufacturing in the United States. This workforce can grow significantly if manufacturers can find workers with the skills needed for the modern manufacturing workplace. Today, 600,000 manufacturing jobs are unfilled because of this skills gap.

Trade

To thrive in the global economy, manufacturers need trade policies that make the United States a better place from which to export. Manufacturers thrive when they can compete in open markets abroad.

Infrastructure

Manufacturers rely on a strong infrastructure to move people, products and ideas. Unfortunately, the nation's infrastructure is out of date and resting on the legacy of a bygone era. To compete in the 21st-century economy, the United States must invest in and modernize our infrastructure in ways that encourage economic growth, job creation and increased competitiveness.

Tax Reform

Manufacturers in the United States face a significant disadvantage in the global competition for investment and jobs. In fact, it is 20 percent more expensive to manufacture in this country compared to our major trading partners and that excludes the cost of labor. Taxes drive this cost disadvantage.
I'm not sure whether their idea for immigration reform matches up with mine; presumably they operate under the incorrect belief that there aren't enough qualified Americans to do the specialized engineering they need. But in a broad sense, what assists manufacturing would probably help the economy at large.
And our Congressman Andy Harris seems to agree with NAM's approach – so much so that he scores a perfect 100 percent on their voter guide. By a wide margin, he has the best record of any Maryland or Delaware House member.
Yet this approach is also needed on a local scale as well. While Maryland state representatives can't do a great deal with some issues that require federal input, they can pave the way on issues like tax reform, energy, job training, and infrastructure to put more Marylanders to work making things.
Lowering the corporate tax rate (or even eliminating it) would be a great step, as would opening up Maryland to fracking, promoting technical and vocational education as part of an overall broad "money follows the child" educational reform, and dumping inefficient light rail boondoggles like the Purple Line and Red Line in favor of creating alternative routes for through trucks, another Bay crossing from southern Maryland to the lower Shore, and upgrading the U.S. 13 corridor through Delaware – these are all worthy ideas for real investment.
Those who vote for manufacturing should keep that platform in mind when those candidates get to Annapolis and Washington.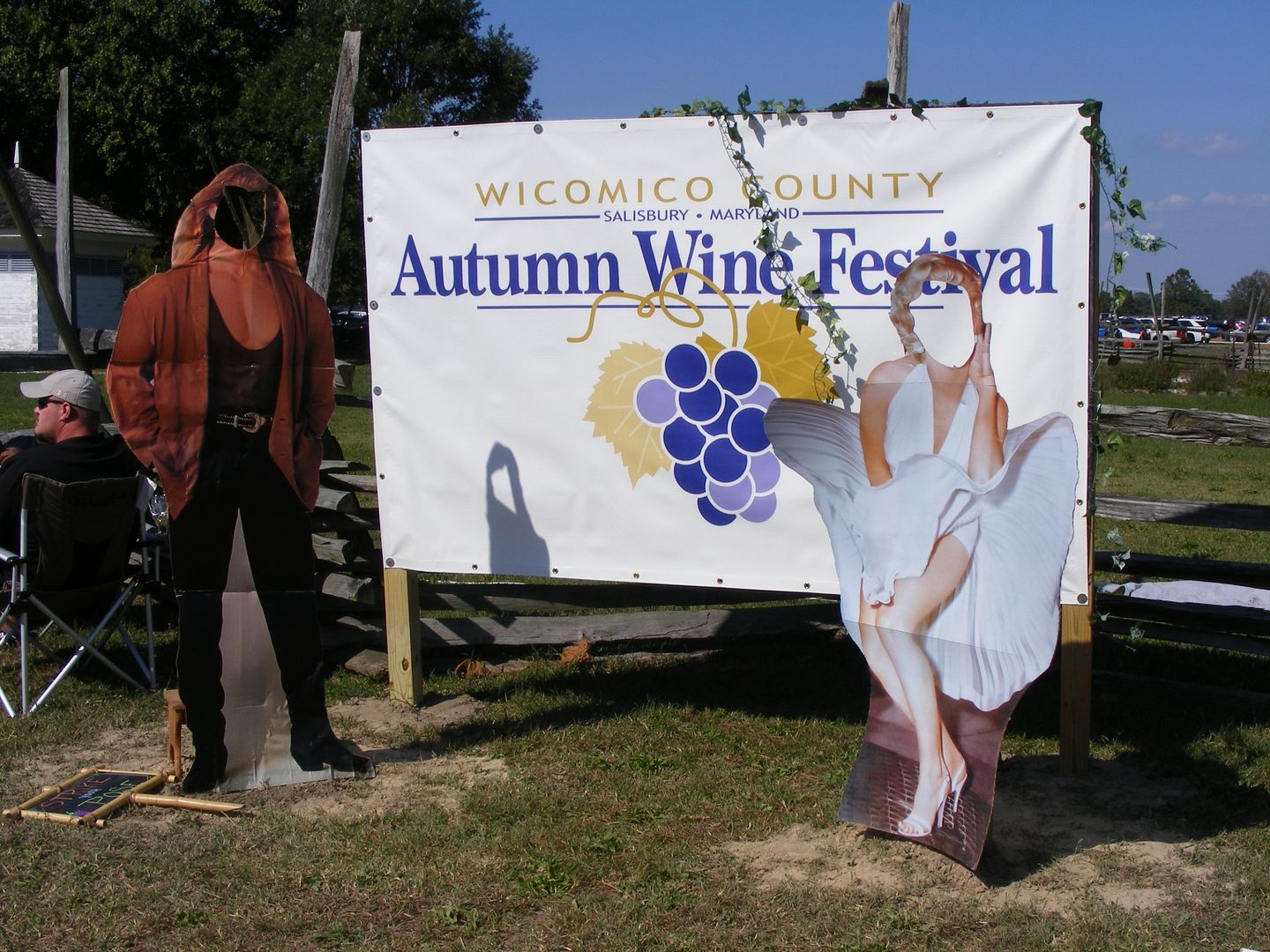 Yet again I was found at Pemberton Historical Park for an event involving potent potables. But this one was more like work for me because I'm simply not a wine drinker – didn't have a drop. Yet I did take a few photos.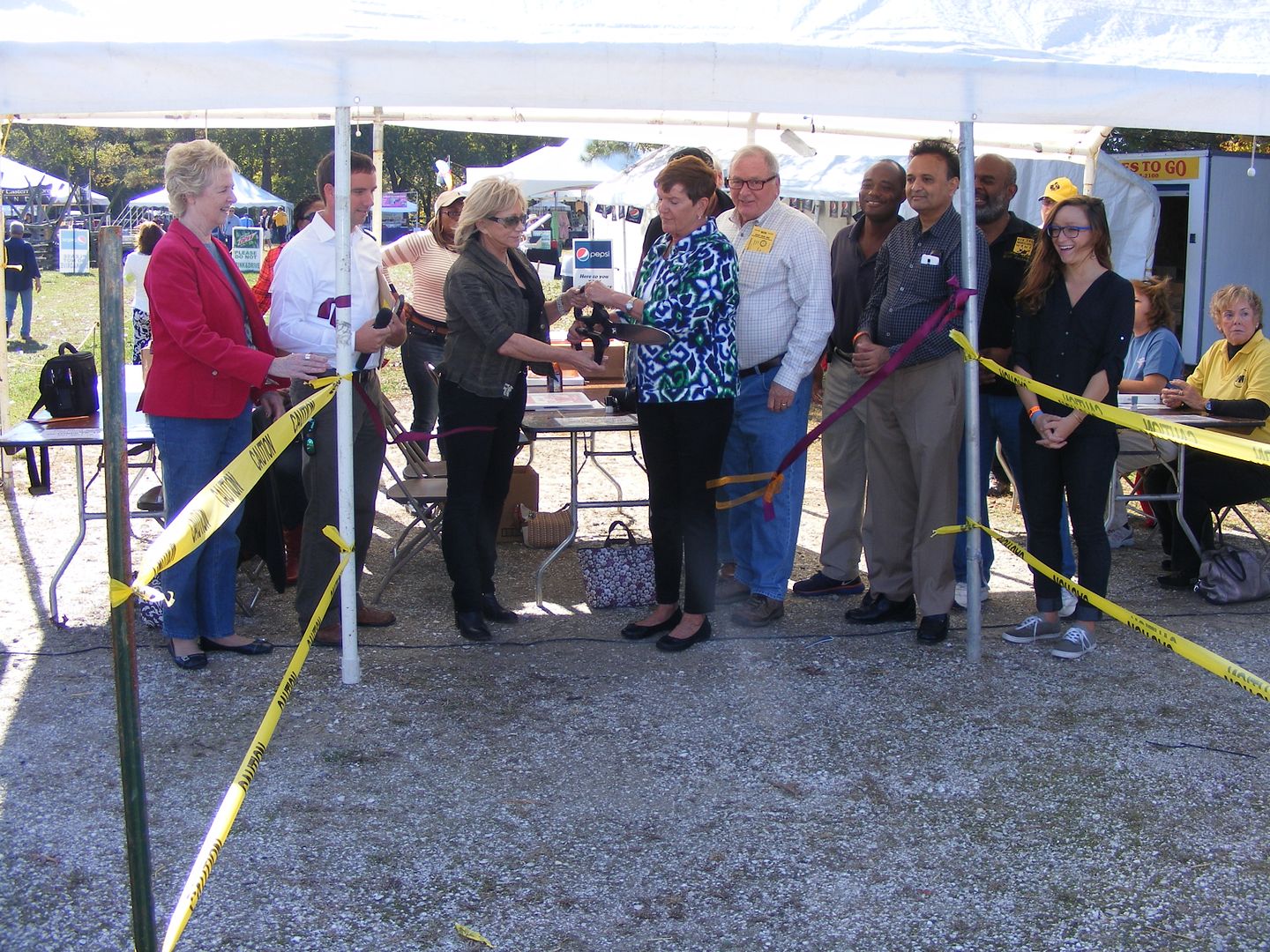 So once the ribbon was cut by (among others) County Council members Matt Holloway, Stevie Prettyman, Gail Bartkovich, and John Hall, we were underway. I was really there for our Republican booth.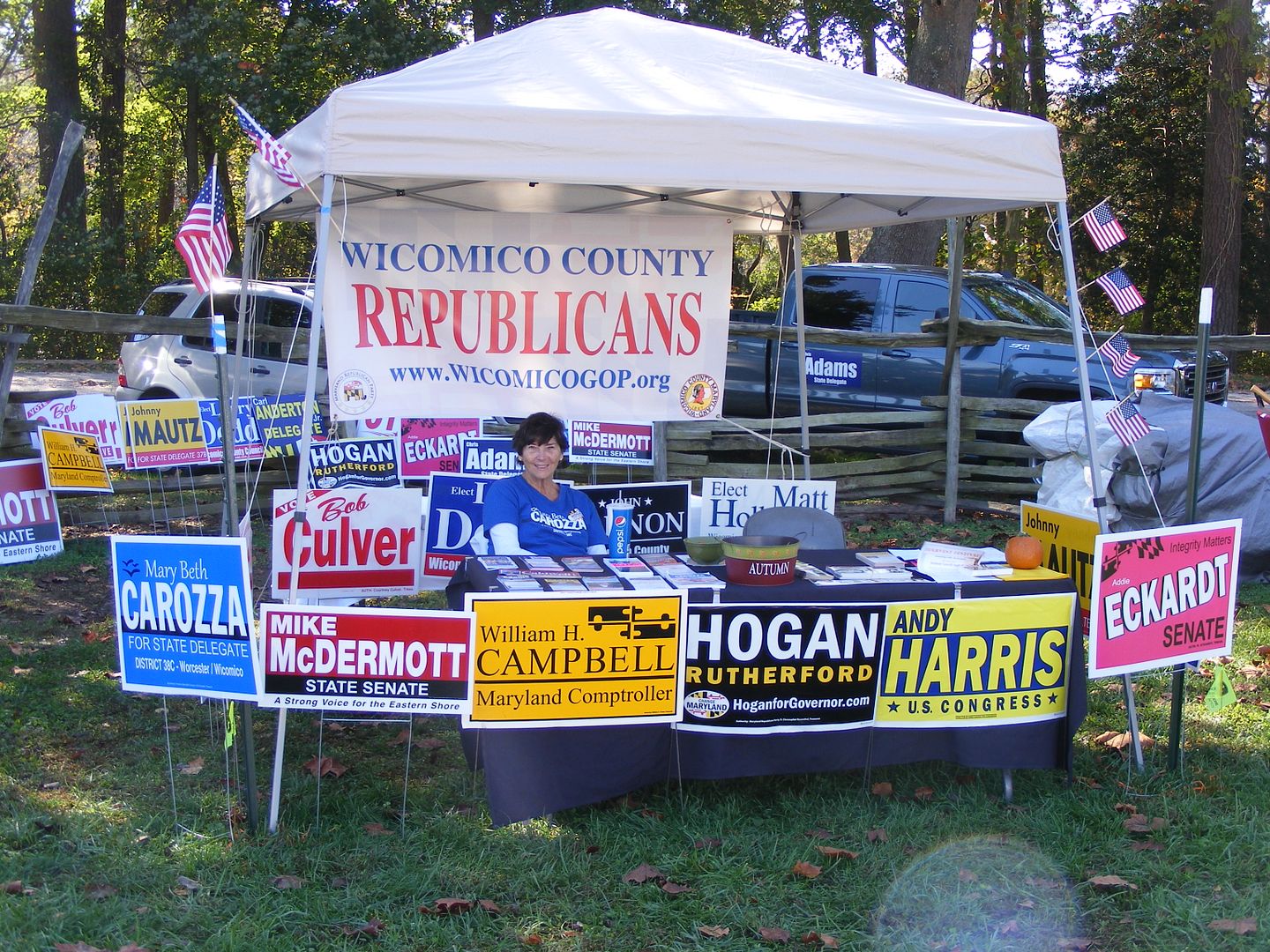 Carol Rose is a big fan of monoblogue and now she's famous. Actually it gives me an opportunity to thank a whole crew of people who helped out for at least part of a day for the two events: Jackie Wellfonder, Shawn Jester, Carol Rose, Greg Belcher, Linda Luffman, Phil Adkins, David Warren, and Larry Dodd, who you'll see in a little while. Jim Jester didn't sit with us, but he was valuable for helping me to set up and take down for each event. That's a job in and of itself.
But I wasn't the only person helping get out the vote. Circuit Court judge candidate M.J. Caldwell had his own space.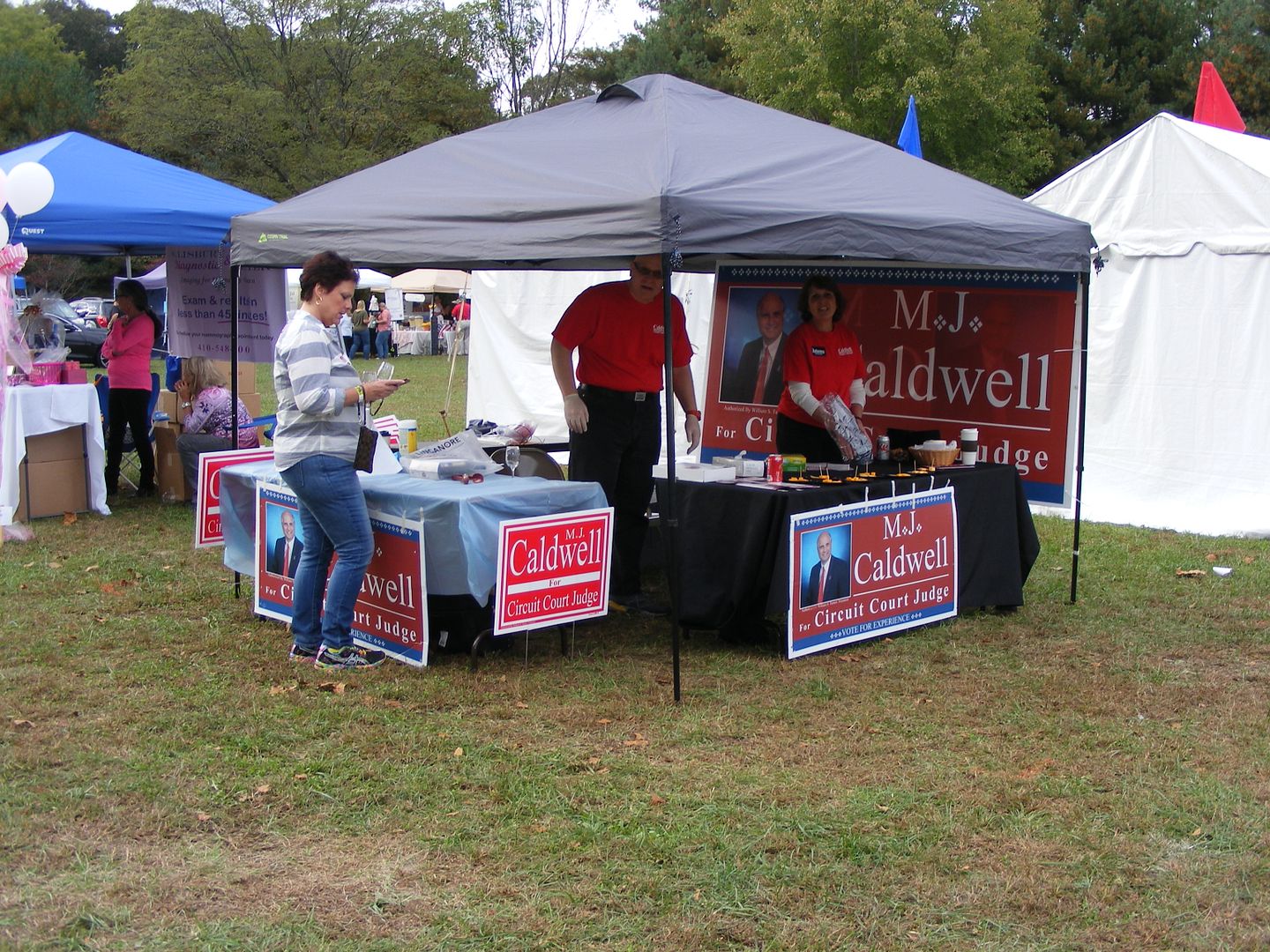 These were the Ritz crackers with cheese. Sunday visitors got the upgrade to Triscuits.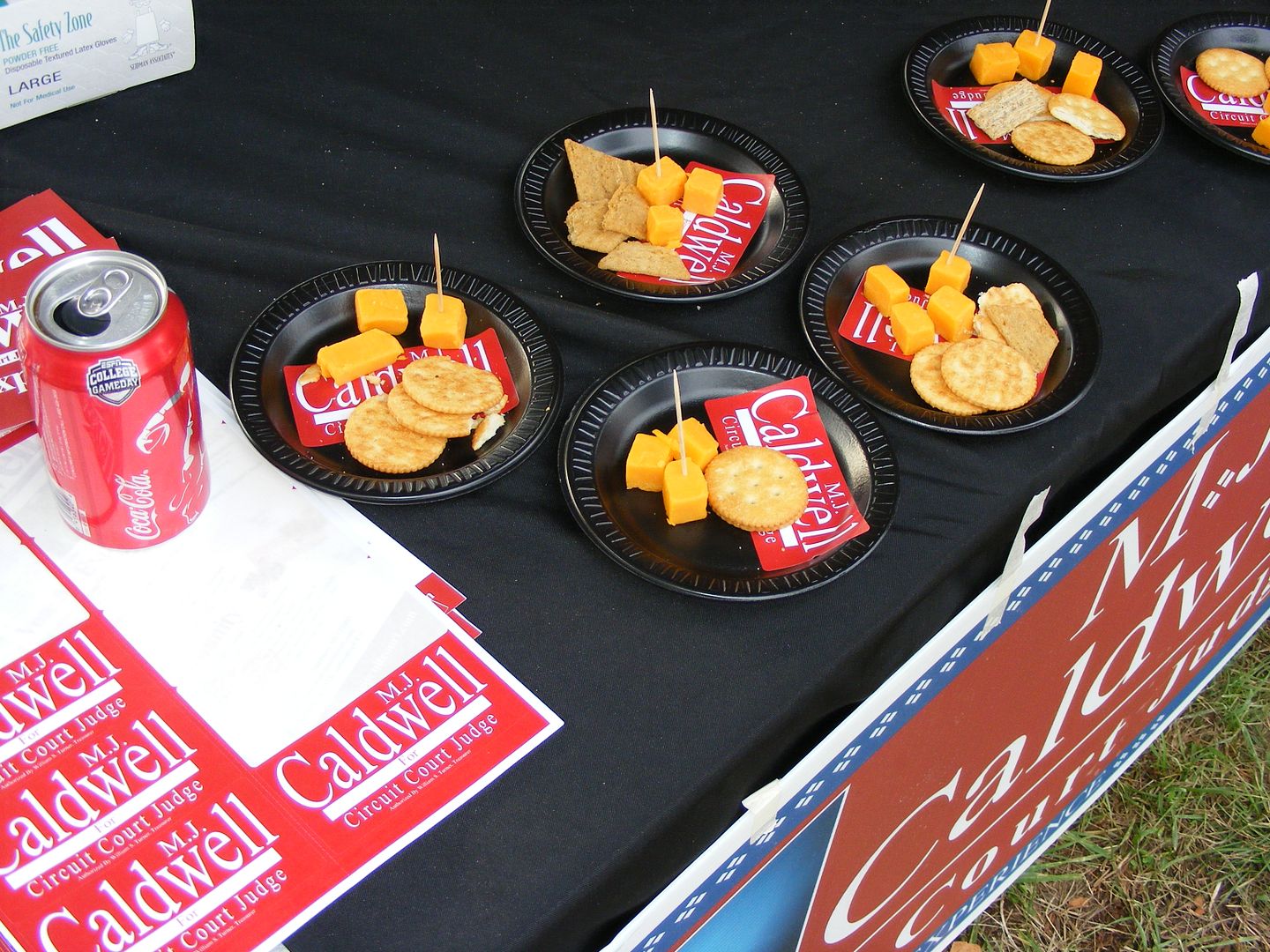 On the other side of the aisle (literally) were our friends, the Democrats. Pete Evans was there most of the weekend, and as I noted this morning I spoke to Delegate candidate Rod Benjamin for a bit while I was there. I also saw Laura Mitchell from afar.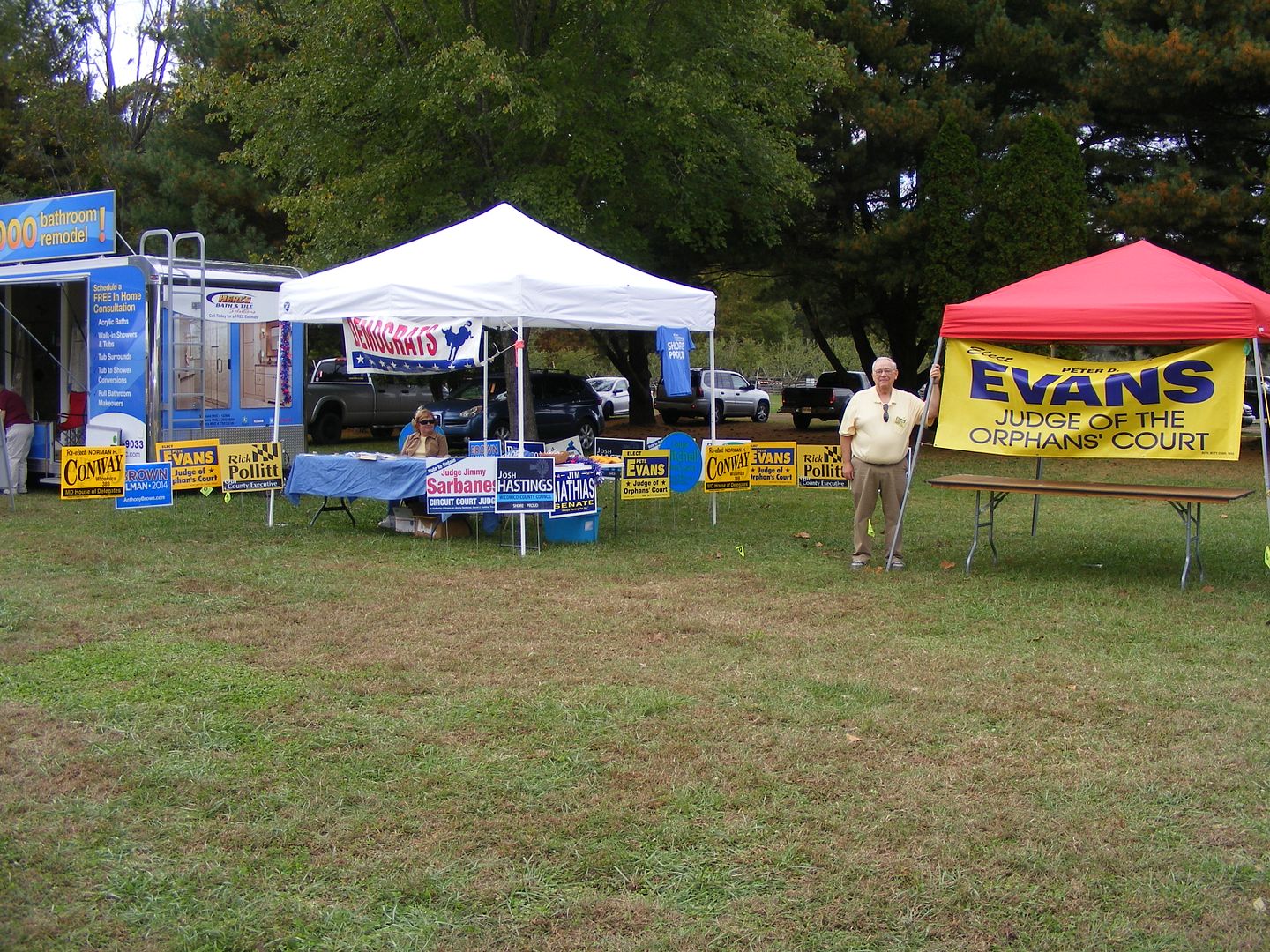 I was a lot closer to Mike McDermott and Chris Adams, who stopped by Saturday to try and collect votes.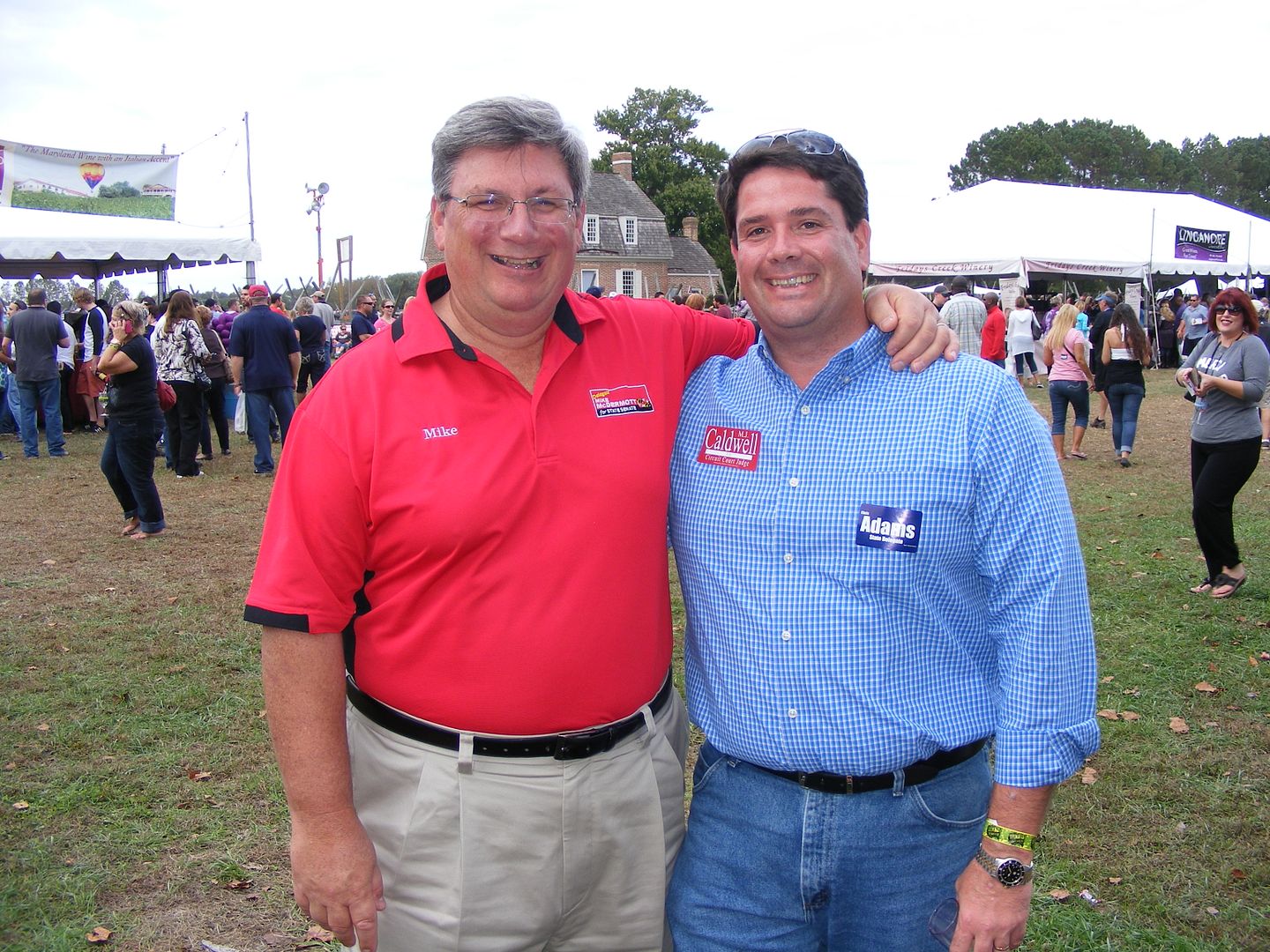 As I noted, District 3 contender Larry Dodd was by on Sunday checking out my neighboring tent while helping man the table.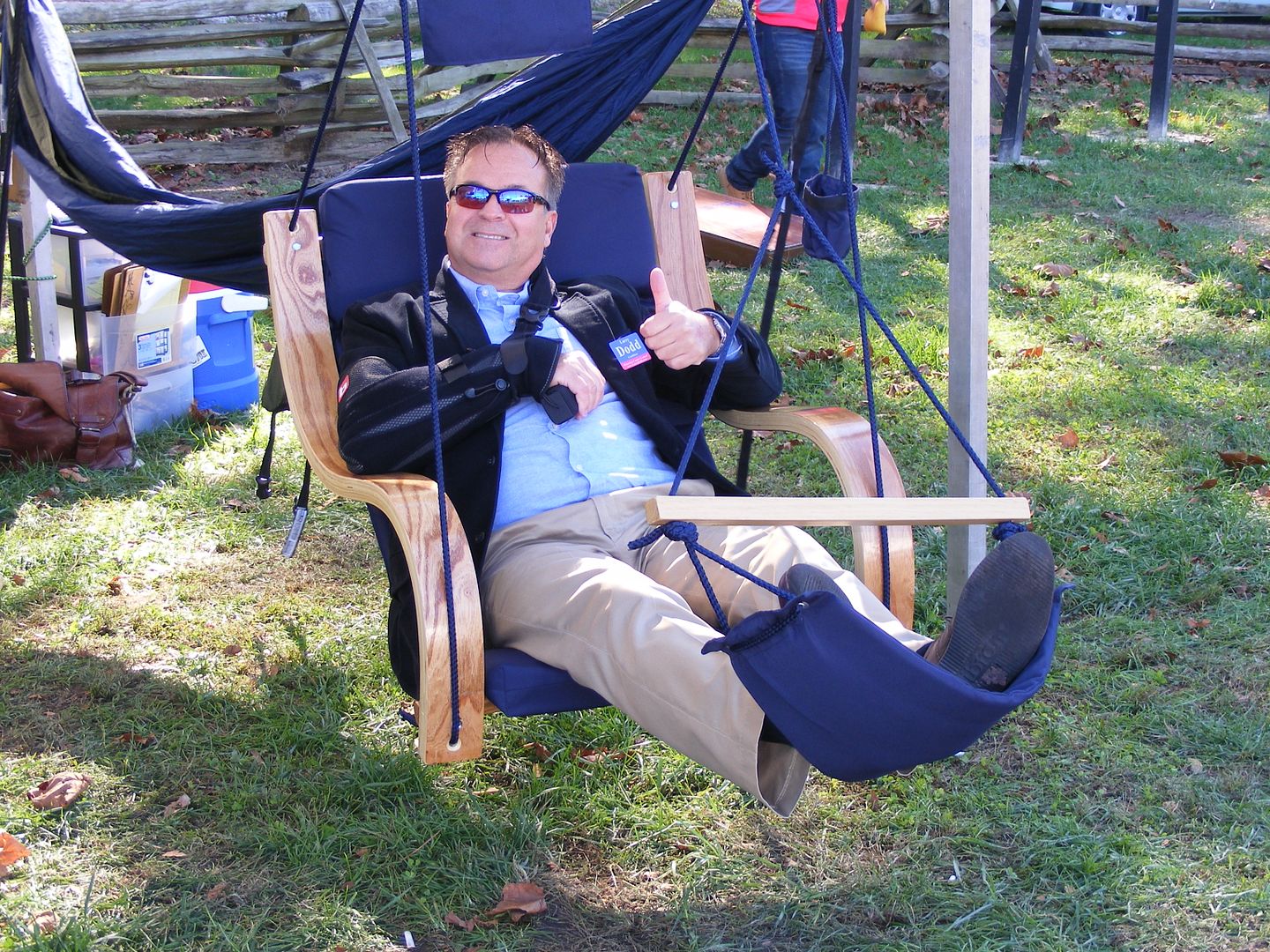 It's worth pointing out that attendance between Saturday and Sunday was like night and day. While I took these from different vantage points, the time of day was pretty close between the Saturday photo on top and the Sunday one at the bottom.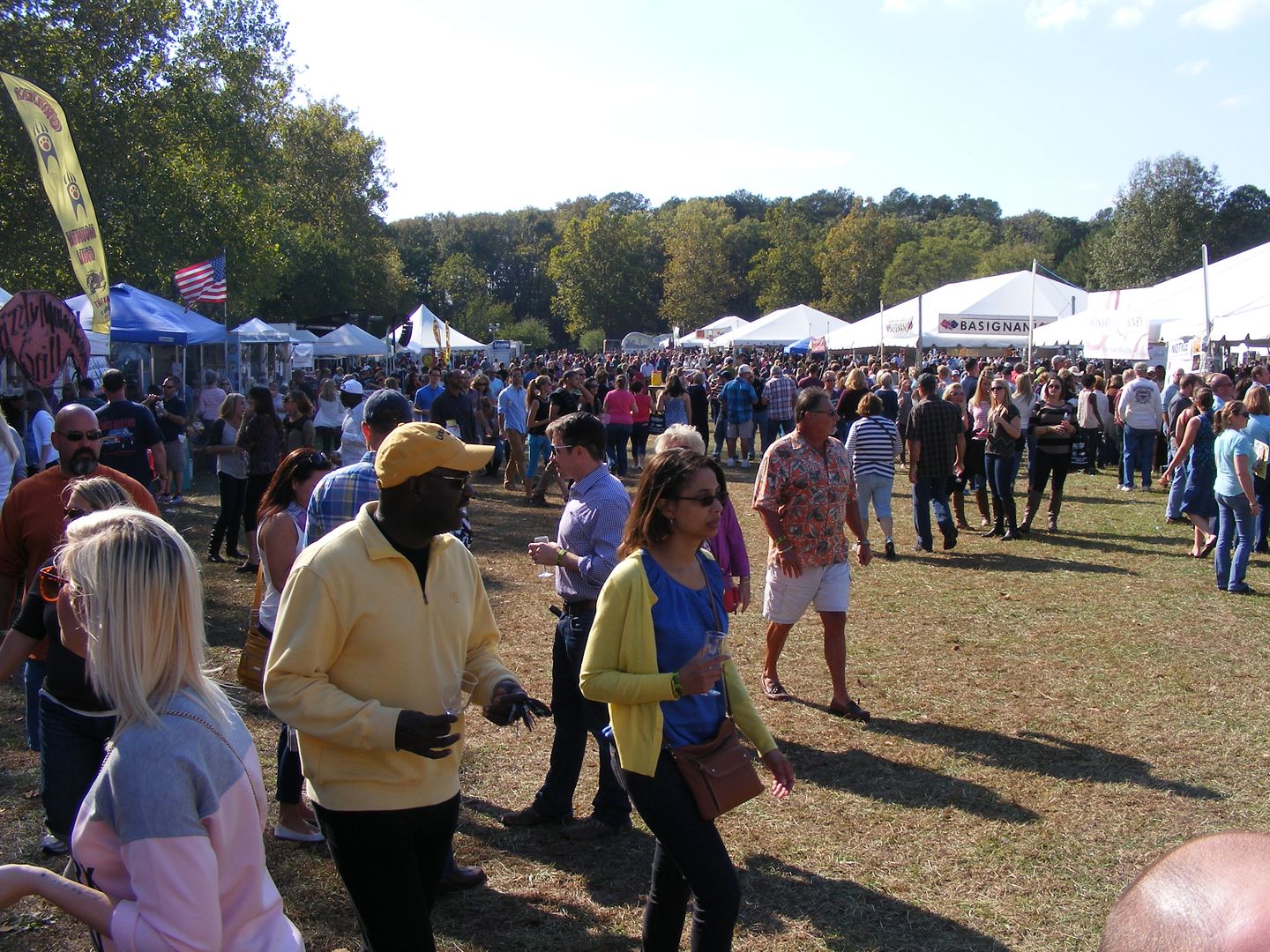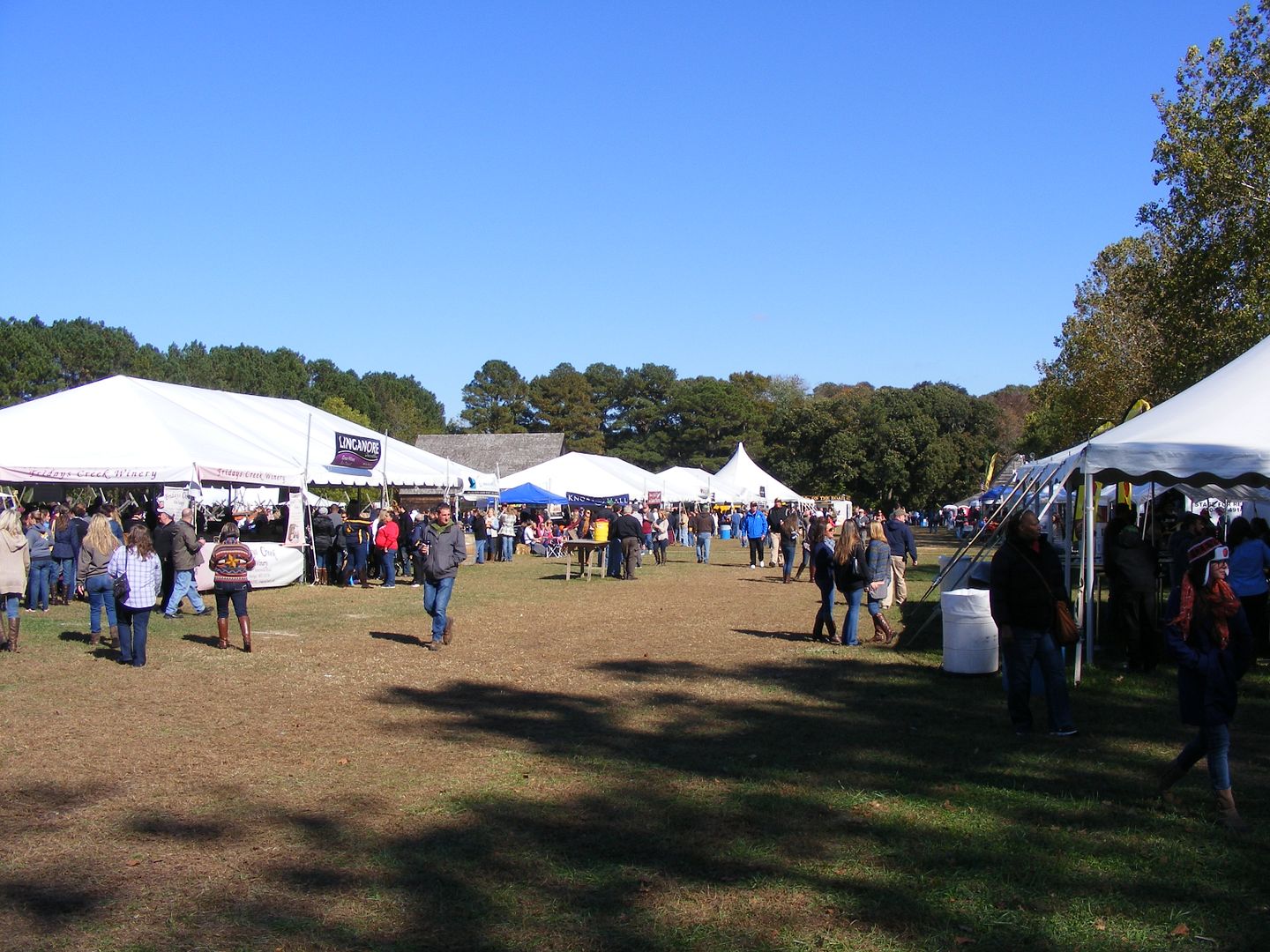 Something else a little different was the use of one space. On Saturday, the top photo shows a VIP area. On Sunday it was converted to an artisan's tent with some of their wares put out.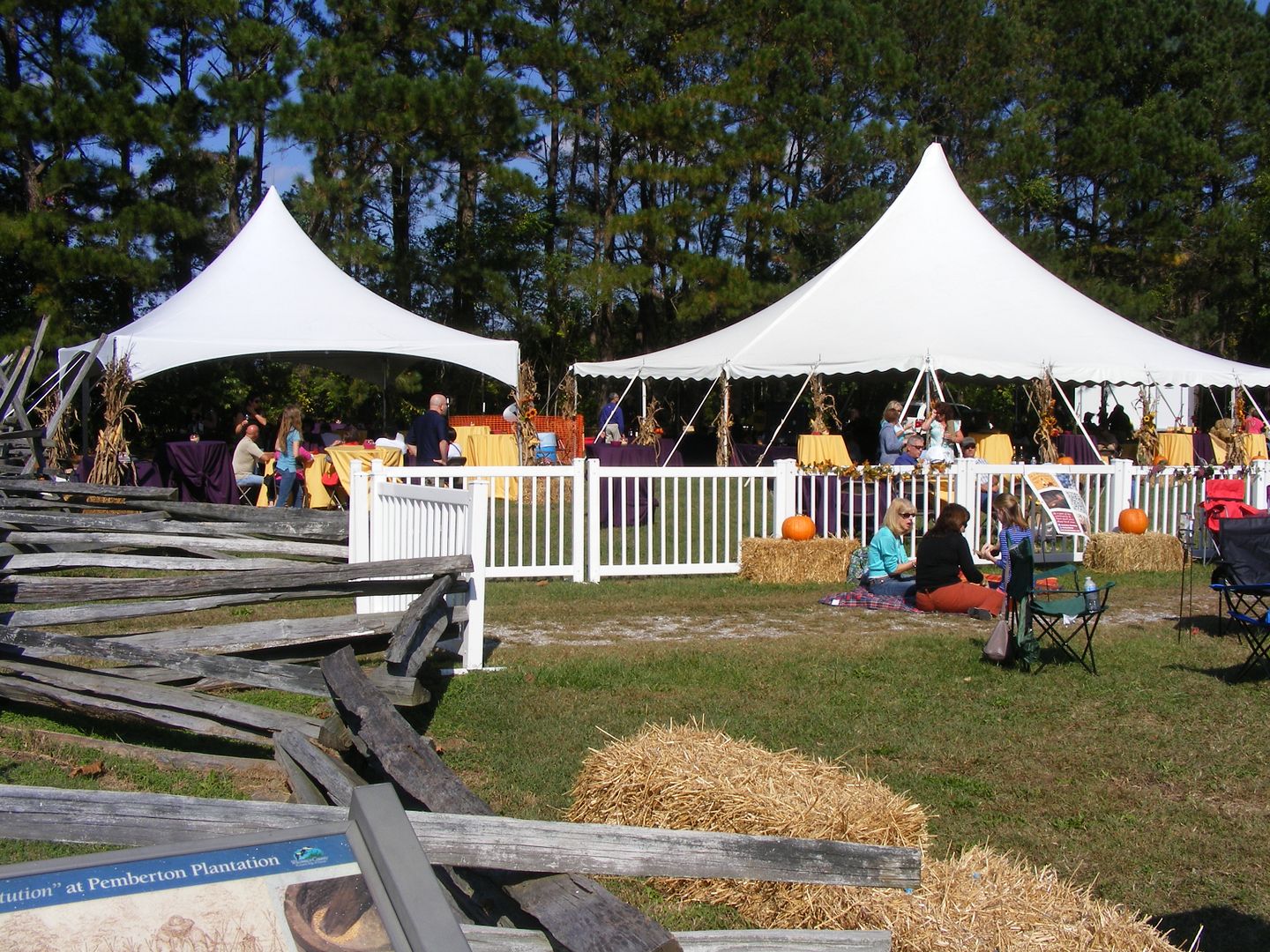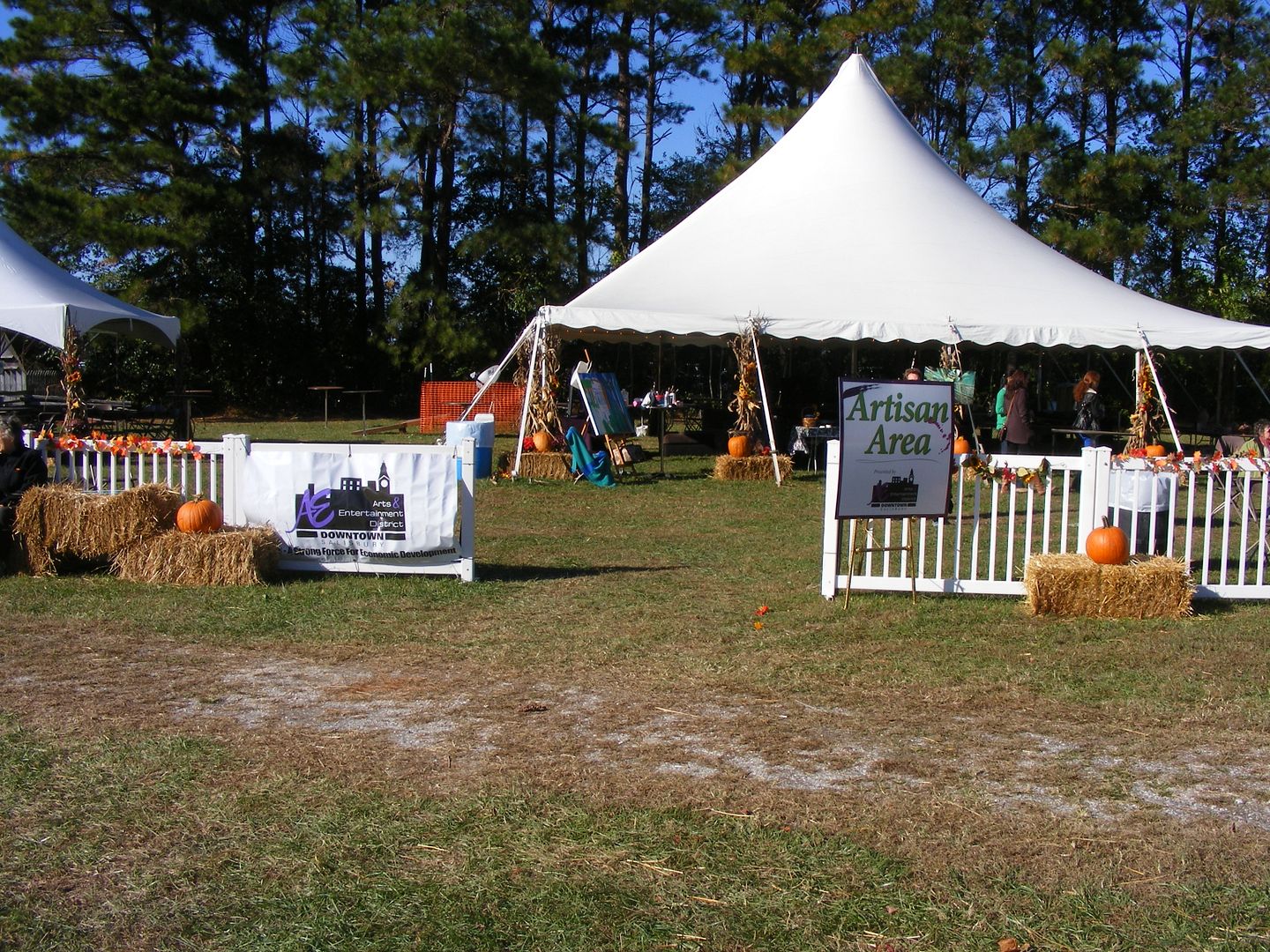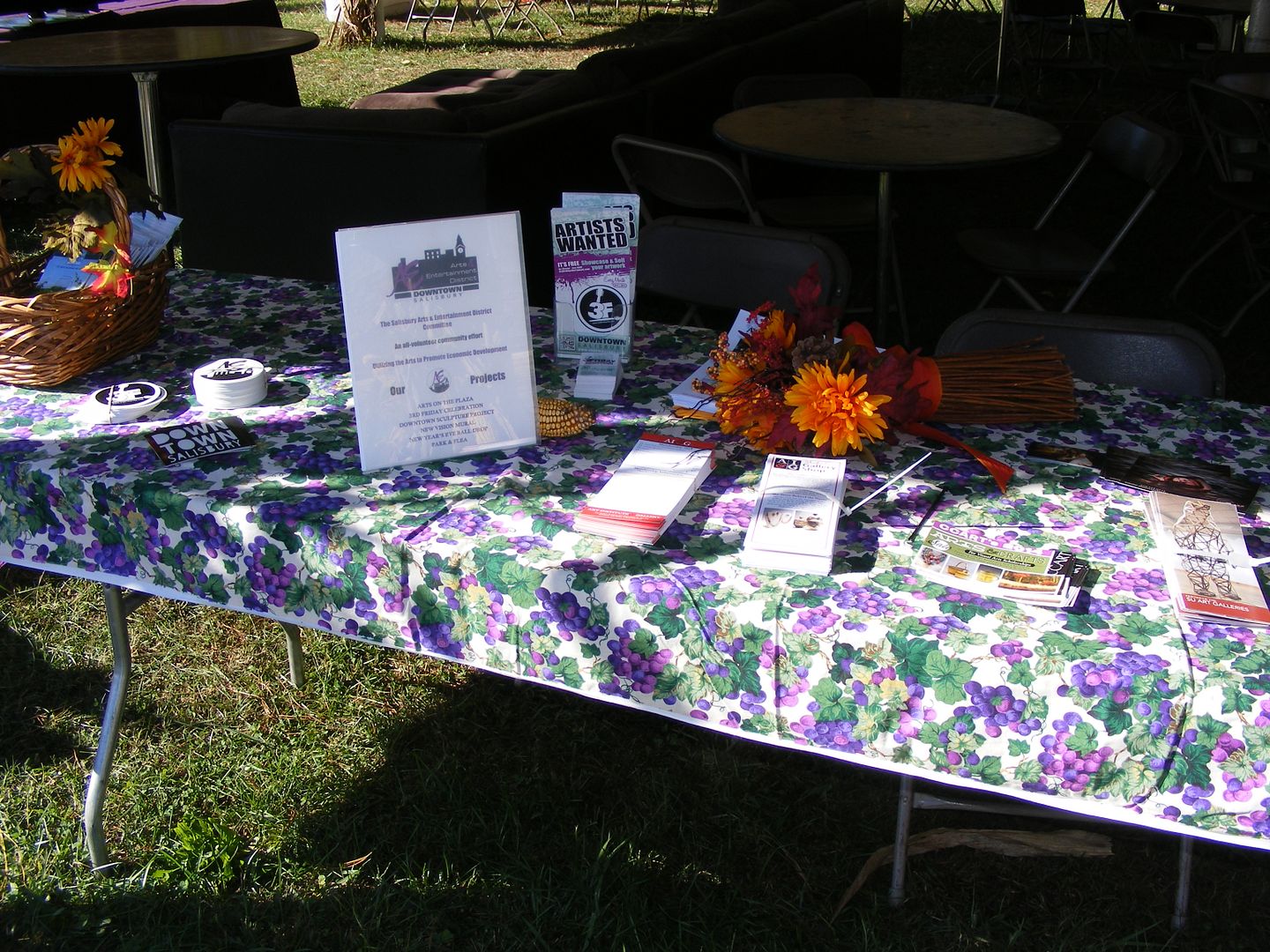 For a few extra dollars on Saturday, you got the nicely appointed tables, a bigscreen TV, a large sectional sofa, and private restrooms. With the exception of the tables, they kept those things on Sunday but very few were there.
Of course, the weather had a lot to do with the spotty Sunday attendance. While it was in the 70s and balmy Saturday, a chilly, cloudy morning and gusting gales on Sunday reminded me again why I call it the Autumn Wind Festival. And those gusts created havoc at the other political tents, oddly enough.
M.J. Caldwell's tent reared up on two legs before being corralled. But as David Warren saw with his photo, the Democrats weren't as fortunate.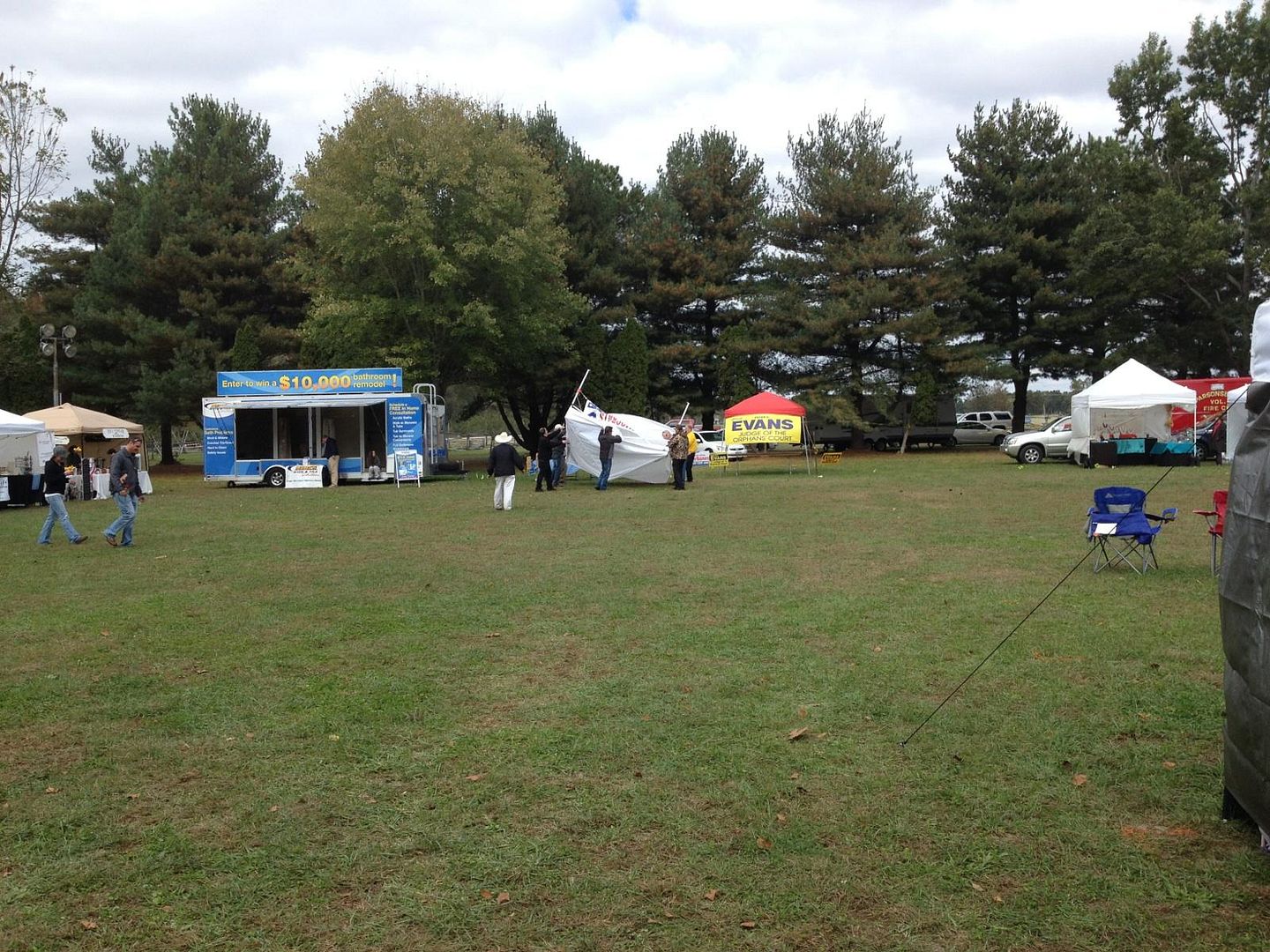 You'll notice how devoid of people this end of the festival appeared on Sunday. Unfortunately for a lot of vendors, it was that way Saturday, too. I took this about 3:45, just at the end of the peak time.
While a few were playing games and some watched the college football – granted, the television tent was a little busier on Sunday afternoon for the Ravens game – there was another place people stayed.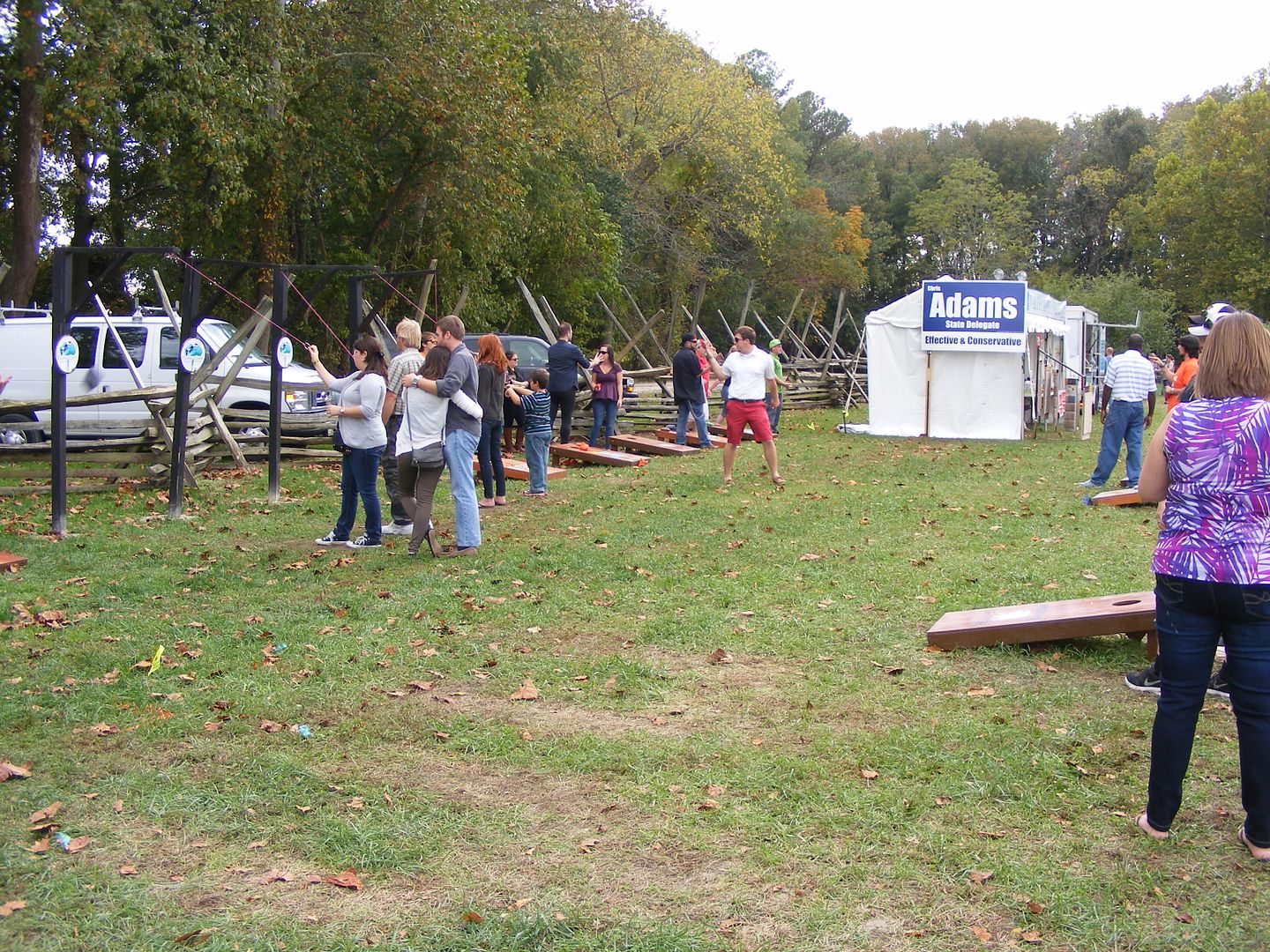 Bear in mind I took the next picture Sunday, with the smaller crowd.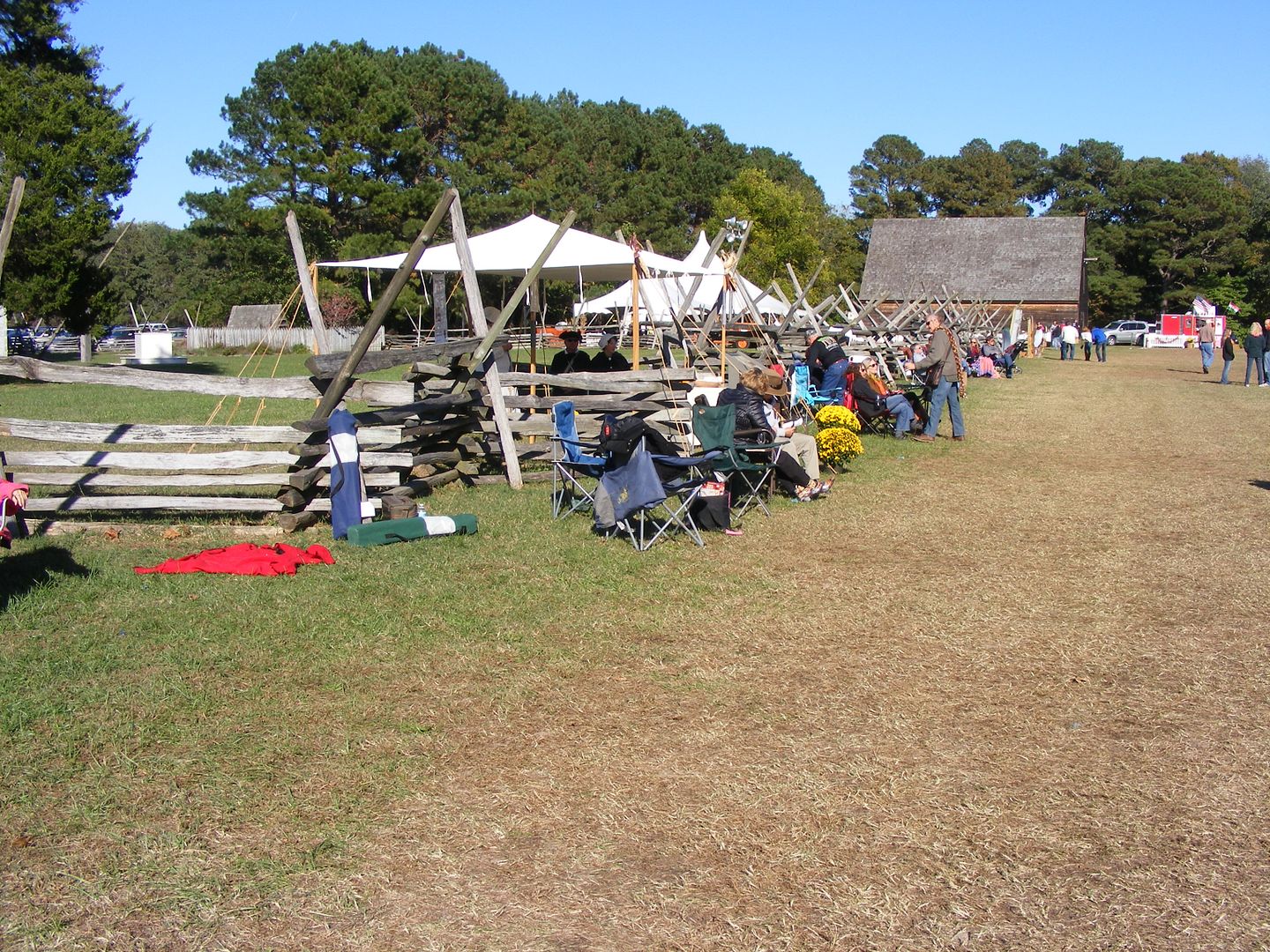 Practically every section of this fence had a group staked out. They were close to the wine tents, lucky ones had a view of the stage, and they had their chairs for the duration. With the layout of the event, it was tough on the vendors beyond the last tent – we were lucky enough to be on the back side of it so at least we had some traffic.
If you noticed the chair Larry Dodd was sitting in, it was part of a collection from this vendor.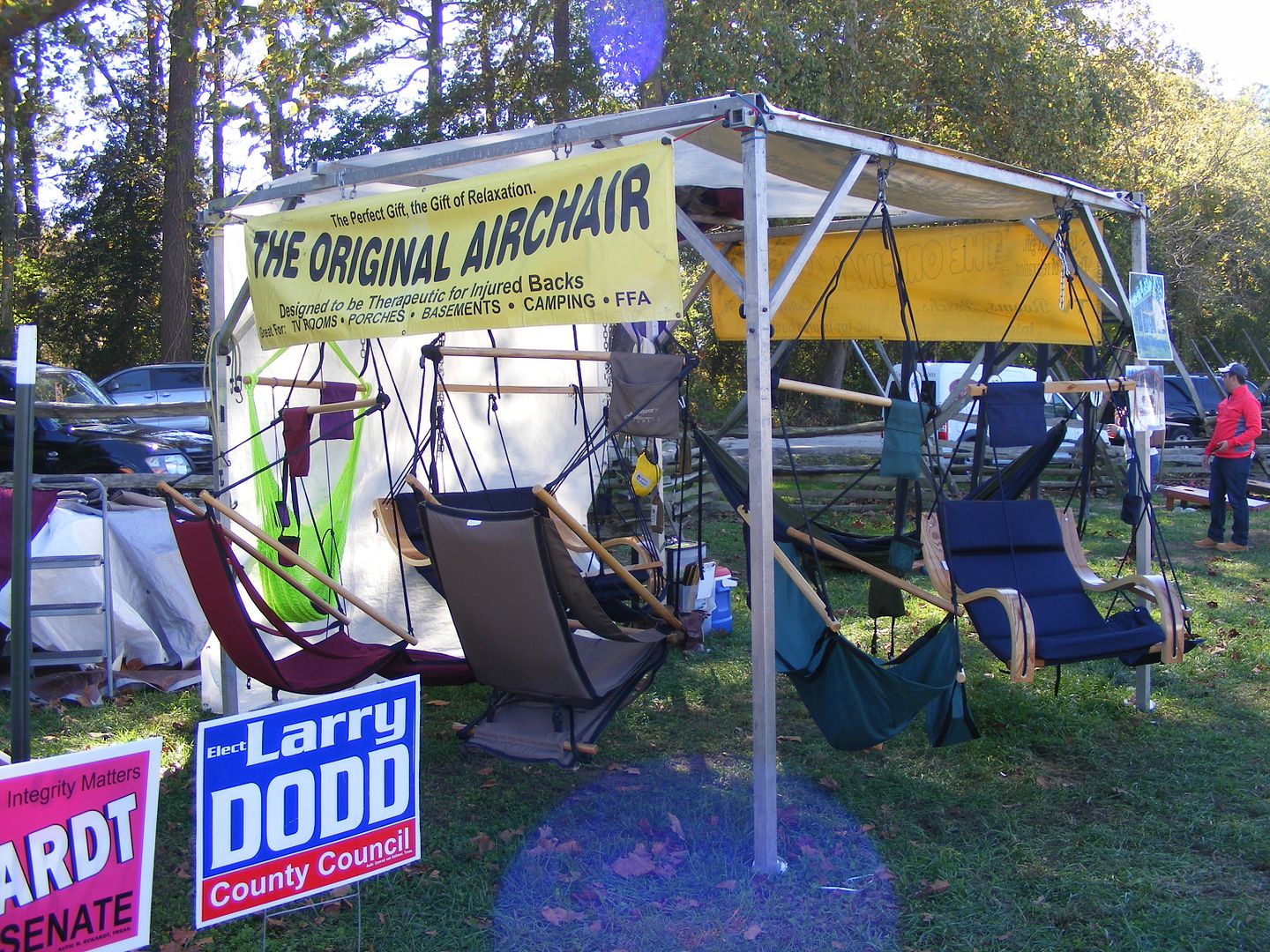 They have an interesting story since this couple, who I presume are married, traveled from Ohio to the AWF – apparently they do several similar shows a year around the country with the next one in Texas.
So if you wondering who the couple in the Cleveland Browns gear was, there's your answer. And the chairs seem to be fairly comfortable based on my limited experience of sitting in one for five minutes, so why not give them a plug as thanks? Besides, at $139.95 I figure a year's free advertising on my site is a fair trade for an air chair. (Never hurts to ask!)
Of course, my better half might prefer the Gollywobbler.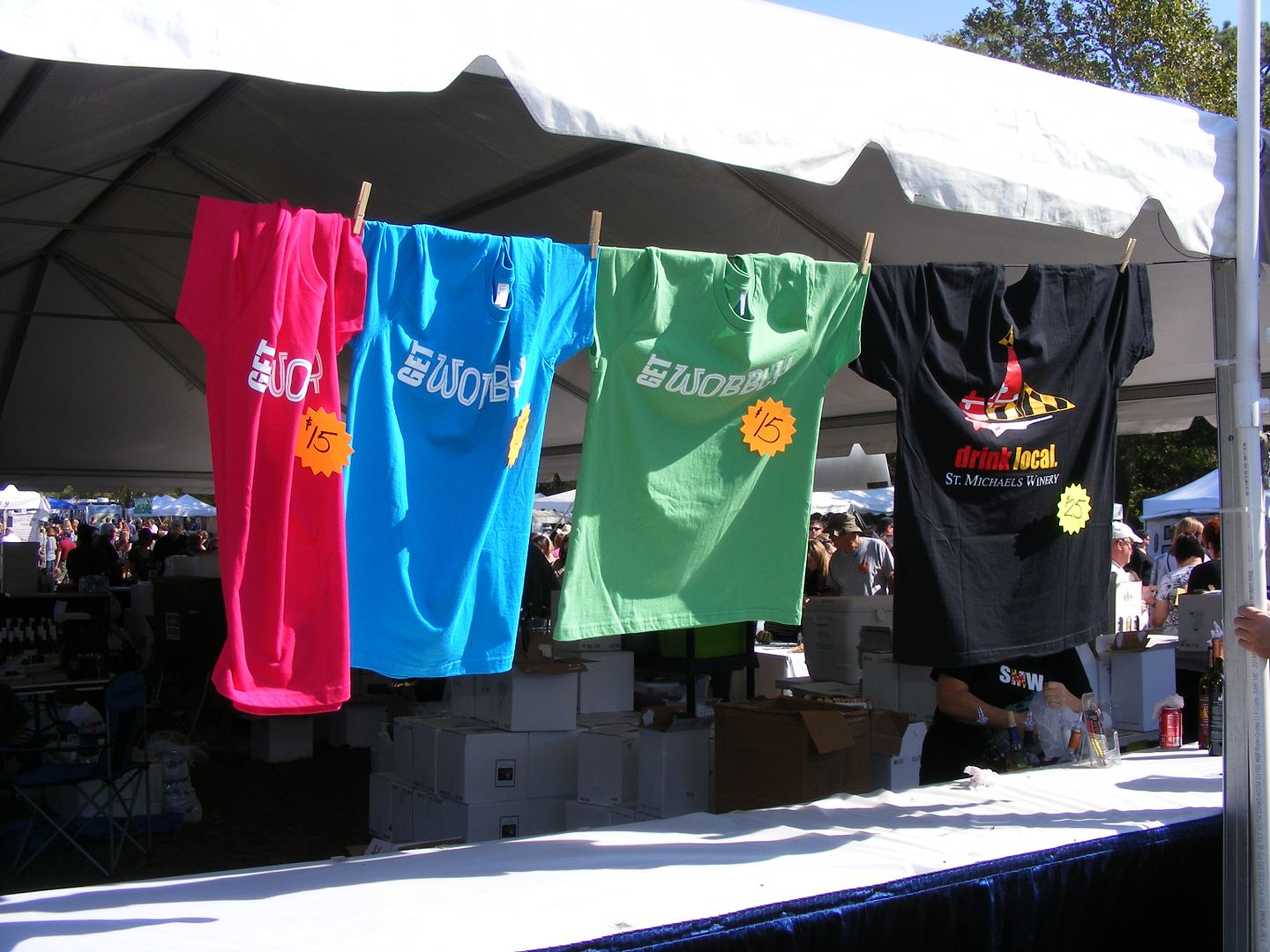 That was fairly good marketing, but not as unique as this tagline.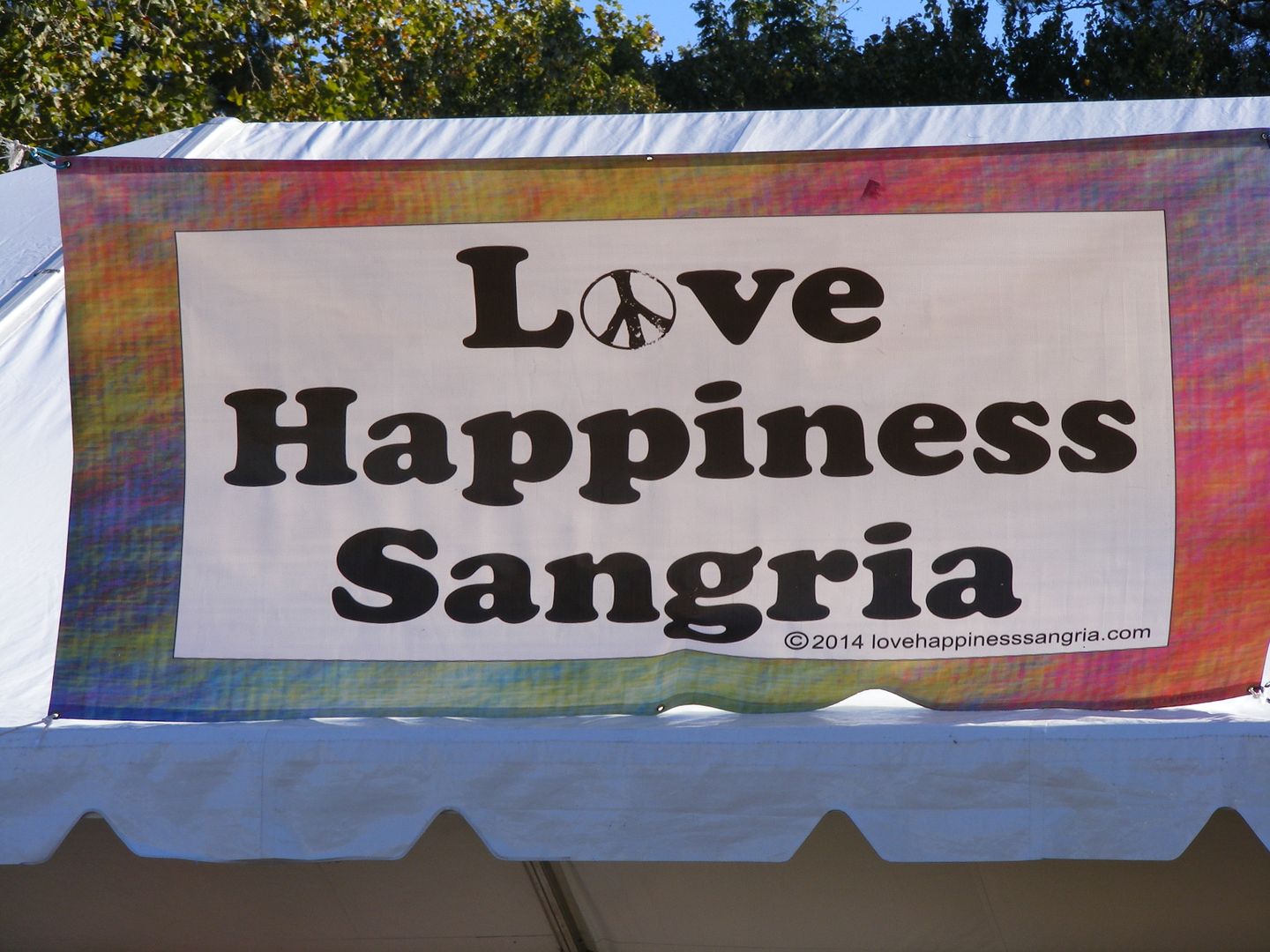 And since I had the hop head from last week, why not the grape guy?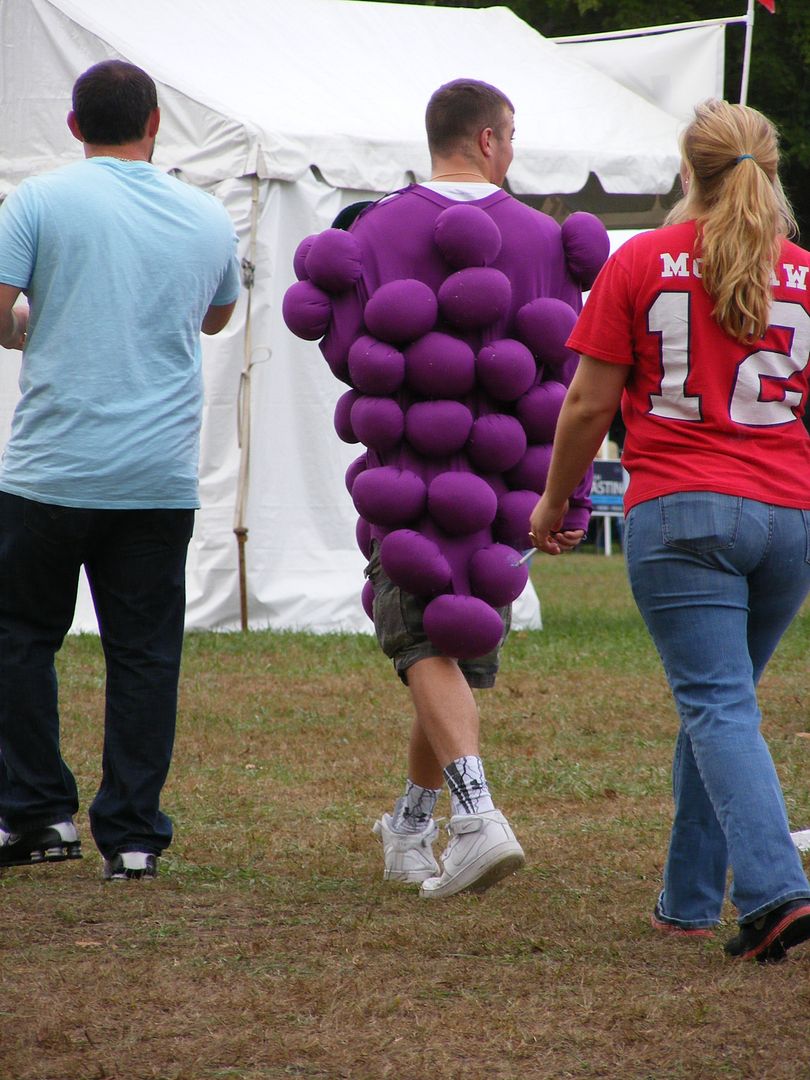 Still, I favor the more traditional. I really liked the usage of the barrel.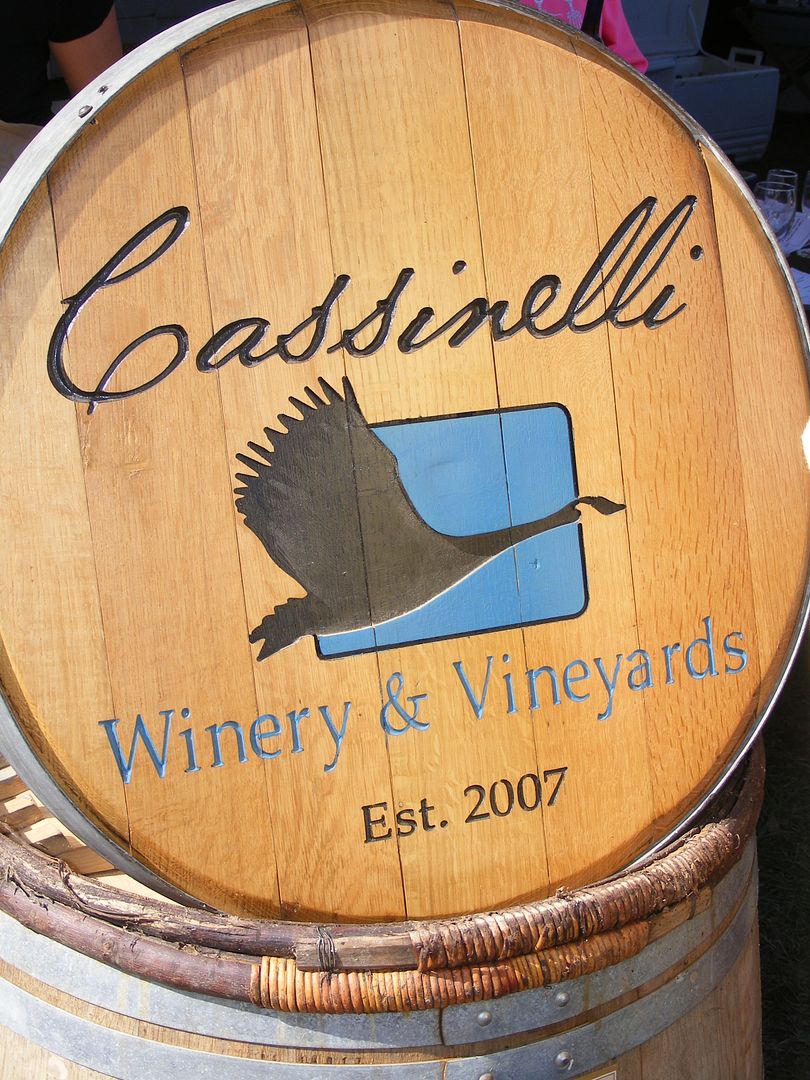 And, of course, the more colorful the bottles in the sunshine, the more likely it is I'll use the shot. The Winery at Olney gets that honor this year.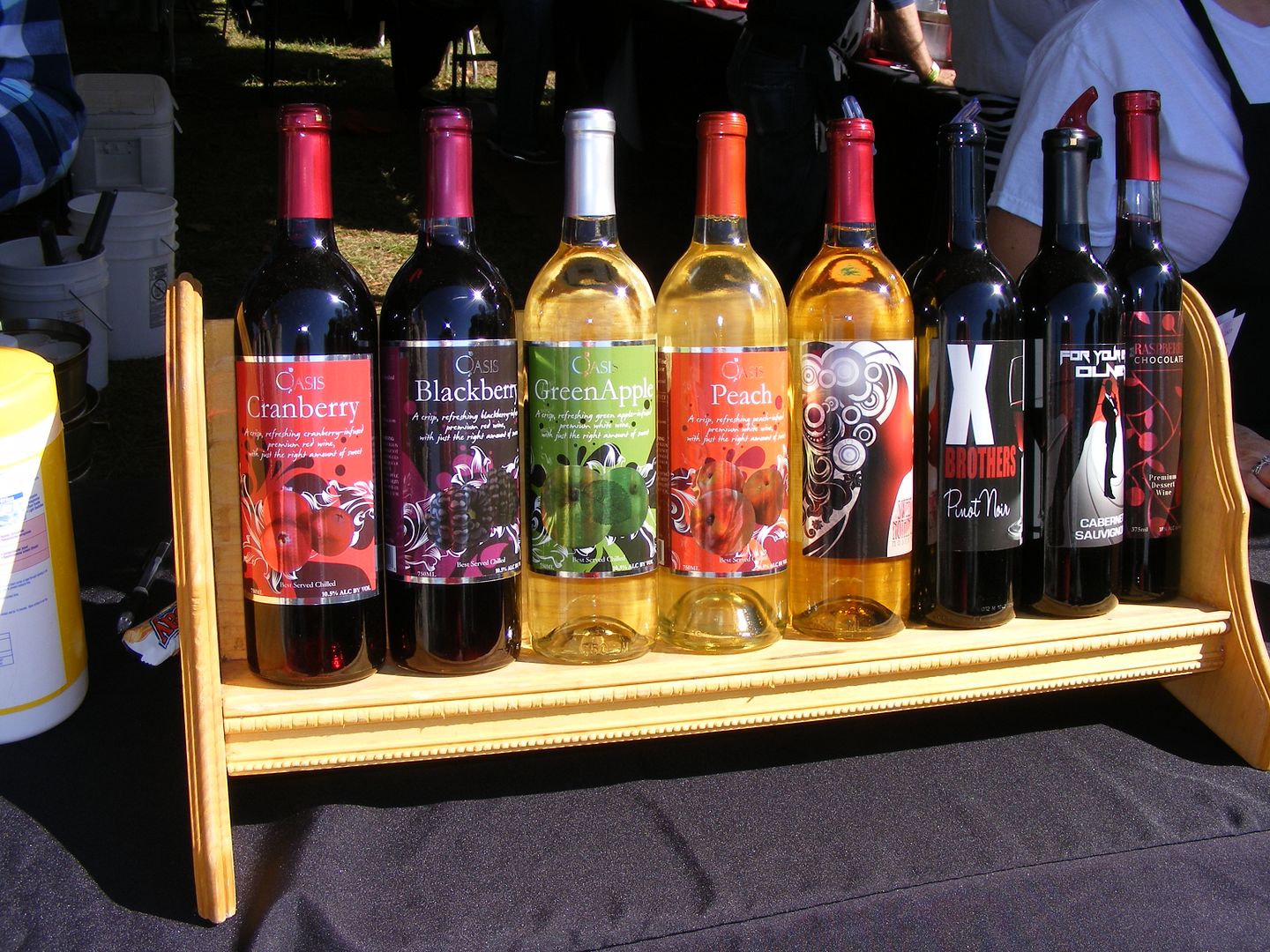 But as a vendor, I want to close with my two cents. For those at the south end of the festival, it was pretty brutal. One thing about the layout they use is that 80% of the people can conceivably cluster around the four large tents and the stage in the middle all day. I saw a few people who brought their lunch so they were all set aside from the bathroom breaks.
What I would suggest is a two-stage setup like the Good Beer Festival employs, because it may entice a little more churn in the crowd. Yes, you will get your campers but they may be more inclined to move during an hour break between bands than a 30-minute one.
I'm sure we'll be back next year, even though it's pretty much an off-year election (except for the city of Salisbury, which will be in campaign mode.) We may have a little Presidential material as well as those who may run for the Senate, but we won't have a lot to give out. I would like a little more traffic, though.
As I was down a computer over the weekend thanks to the need for maintenance and a new part, I didn't get a chance to talk about last Friday's National Manufacturing Day; a day which coincided with the disappointing news that only 4,000 jobs were added in that sector last month (out of 248,000 total.) An industry insider I often cited when I did my American Certified blog is Scott Paul, president of the union-backed Alliance for American Manufacturing. His take:
The past two months show manufacturing job gains have again stalled, at least temporarily. Numbers like these are a blow to the president's goal of 1 million new manufacturing jobs in his second term. A large and persistent trade deficit and a paucity of investment in infrastructure are two obstacles that stand in the way of actual progress.
AAM measures the progress toward that goal of one million, and current numbers place the additional manufacturing jobs at a puny 189,000. The total actually retreated thanks to negative revisions in July and August reports, but has not eclipsed 200,000 yet at a point when Obama is nearing the halfway mark to his term.
So again one has to ask the question: why isn't the manufacturing that used to support a solid middle-class band of Americans coming back home? Are we not able to supply workers who Barack Obama noted last week are "not just punching in and pounding rivets anymore; you're coding computers and you're guiding robots. You're mastering 3D printing. And these jobs require some higher education or technical training." Perhaps the push toward getting everyone into a four-year college in order to get that liberal arts degree is affecting workforce readiness, but that's only one part of the answer.
I have never been able to figure out just how it can be that a company moves to China to make money. The most obvious answer would seem to be the extremely cheap labor cost. One figure I found pegged Chinese manufacturing wages at 46,431 yuan annually, which is roughly $7,429 per year. Obviously that is significantly less than even our minimum wage would be ($15,080 a year) and the vast majority of factory workers make well above minimum wage. But there's also the time and expense of shipping products back to market to consider, risks which could be mitigated to some extent by manufacturing locally but apparently those costs don't affect the ledger sheet enough to bring a lot of the manufacturing we've lost back here. "Made in China" is still a familiar sight on consumer products.
But there's still a large piece of the pie which we can help ourselves to locally, even without the protectionist trade theory AAM supports. America as a whole and Maryland in particular have some significant assets in place, but there's so much room for improvement if the will to make these changes can be found. Tax policy on both the federal and state level can be made into a far smaller impediment, as would a more hands-off regulatory approach. And new infrastructure can be put in place within the transportation realm to make it easier for our products to get to the East Coast market of which we occupy the southern fringe.
Yet as a nation and state we continue to work in the opposite direction, and somehow are amazed that the results aren't what we thought we would get. We're on a pace well short of that million-job goal, and adding 4,000 a month won't get us there. The number should be upwards of 20,000 a month on a normal pace and we're going to need 30,000 a month the rest of the way to meet the goal. Put another way, we would need to open 10 new Chattanooga Volkswagen assembly plants a month, or each month add 300 more modest facilities employing 100 apiece. Public policy being what it is today, that's not going to happen and it's a shame.
It took the better part of a century to make America into a manufacturing power, and perhaps three decades to erode away our advantages. But if we put our nose to the grindstone, the next generation of Americans may bring us back to where we were.
Due to the need to comply with the law that states a business with a presence in the state must collect sales tax, for Maryland residents today is the final day of shopping on Amazon tax-free. The opening of a distribution center in Baltimore made the change necessary.
This affects me to a small extent because I've been an Amazon Associate site for a number of years. I doubt I would be the one to collect sales tax, but I'm sure my small cut of the action won't be increased by the extra six percent things on Amazon will cost to Maryland residents. (In fact, government will be making more money than I do in most cases.) In the past, though, Amazon has ended associate programs in states where they collect sales tax, so it's very possible that this little revenue stream of mine will go away effective tomorrow.  (At the moment, it appears that it will not.) It might be great for people who found a job in one of these Baltimore distribution centers, but those of us who made a little bit of coin in this manner aren't happy.
On another front, it would be interesting to know how many people with relatives or close friends in Delaware that they visit frequently will be simply slapping their address on the shipping label, although I suppose having a method of payment with a Maryland billing address may bring up the charge as well. Surely we all know someone who went to Delaware to purchase a big-ticket item in order to avoid paying a couple hundred extra dollars in sales tax to Maryland, so I have no doubt people may do the same thing for Amazon. With Delaware being so close and most in this area knowing someone who lives there I would suspect this will become a bit of a trend.
In the meantime, the box on my right sidebar awaits – get while the gettin's good.
To be perfectly frank and honest, this could be a very short entry because I read last year's version and the wish list is exactly the same. Attendance was up 3,358 from last season's all-time low, but we filled three more dates (65 openings vs. 62) so the average attendance per opening declined by 102 patrons, or 3 percent. Out of the last ten years (where records are handily accessible) the average is the third-lowest.
It's interesting to me that the team's support has deviated so little over the last decade despite the poor economy we've been saddled with, arguably since around 2007. From 2009 to 2011 the average plummeted 14%, but that's the extent of the difference as the Shorebirds have averaged no fewer than 3,072 per game nor any more than 3,576 per contest in that span of a decade. Over the course of a year that translates to about 35,000 extra fans but we're always at the mercy of the elements – I'm sure Shorebirds GM Chris Bitters prays for the stormy weather to hit here during roadtrips, or at the very worst on a Thursday night when maybe 1,500 are rattling around the stadium.
Instead, what happened this year was that storms seemed to hit on the nights fireworks or other events were scheduled – witness the August weekend where two games were lost due to wet grounds. If I recall correctly, the first was Faith and Family Night (always a packed house) and the other day was the Float for the Fund date where local celebrities scoop root beer floats for the Shorebirds' charity. Both had to be rescheduled, and that's a hassle. It's why we had Sunday evening fireworks on Labor Day weekend.
As it turned out, many of the games I attended were at the tail end of the schedule and I just got the sense that a lot of people around the place were relieved the season was almost over. On the other hand, I wish we had back the old Maryland Fall League (which existed for one year, 1998) and its Delmarva Rockfish.
But since I have no new complaints, I want to bring up a couple points.
Consider, for example, that the Shorebirds will be celebrating their twentieth season next year. Although they're not the oldest franchise in the South Atlantic League (eight of the other thirteen are longer-established), Perdue Stadium is roughly in the middle of its expected lifespan in this day and age. Seventeen of the thirty major league parks were opened in 1996 or later, with one of those (in Atlanta) already slated for replacement in the next few years.
A new stadium is not in the cards anytime soon for us, and the prospect of a downtown stadium like many other cities have doesn't seem to fit Salisbury. But there should be some thought given to long-range planning for a new facility, perhaps in the same location. Once there were plans to replace the Civic Center with a new building next door to Perdue Stadium so it could share parking and I think that's a superb idea. Many communities have adopted the idea of having sports facilities share those same common resources – Baltimore, Philadelphia, and Detroit are just a few examples where NFL teams exist close by their MLB counterparts. It may be a problem once or twice a season, but generally the arrangement works well. Similarly, my birthplace of Toledo did the same with its Huntington Center – home of the Walleye hockey team – which is just a block from Fifth Third Field and the Mud Hens. Between the two, there's only one "dead" month – the Mud Hens play from April-September while the Walleye play from October-April.
I understand that the focus of Salisbury city leaders is the revitalization of downtown, but there's potential for another entertainment district on the outskirts of town. As part of extending water lines to the area just down Hobbs Road from the stadium, parcels of land along Hobbs were annexed to the city a few years ago – so development would be a shot in the arm for our town.
The to-do list I've had for Perdue Stadium and the Shorebirds' operations is one thing, but it wouldn't hurt attendance to make the area around Perdue Stadium more than just a one-stop destination. The concessionaires of Ovations may lose a portion of their sales in the short run, but that could be made up if we get back to the days of 250 or even 300 thousand making it out to see the Shorebirds. We've done well to keep a team 20 years, but there are always greener pastures beckoning. Let's work to keep the Shorebirds here for generations to come.
After a tough stretch for Big Labor, this Labor Day finds some good news for them in the New York Times, of all places. It seems that union membership in the New York region is on the upswing, according to a study by two professors at the City University of New York Graduate Center. The pair credit more work in the construction sector as well as gains in the hotel industry.
Needless to say, these particular jobs are somewhat cyclical and can be lost at the drop of a hat. (Just ask thousands of Atlantic City casino workers whose employers close after this weekend.) But any good news is manna from heaven for Big Labor.
I also noted in reading the Times piece that the two professors who did the study, Ruth Milkman and Stephanie Luce, downplayed the impact of fast food workers and their attempts to organize. Yet in a separate op-ed in the Louisville Courier-Journal, Kentucky AFL-CIO head Bill Londrigan singled out the fast food industry as one where workers:
…have labored long and hard and not benefited in a satisfactory manner from the fruits of their labor. They have been pushed too far. The pendulum has swung too far away from workers, the poor, elderly, children and those that need the help of others for their survival.
The problem they have, though, is that fast-food workers are very replaceable. And Londrigan has to throw in an obligatory whine:
The rich have gotten too rich and the poor too poor and the rest squeezed in the declining middle.
Take your class envy card someplace else. I'll agree that it is getting harder and harder for the middle class to get by, but it's not necessarily that the rich are getting richer in general – it's the rich who use the power of government for rent-seeking and weeding out potential competition. The unions don't mind so much when the UAW benefits from a General Motors or Chrysler bailout, but just let various local politicians speak out negatively about the prospect of a unionized Volkswagen plant in Tennessee and suddenly government is the bad guy.
Perhaps unions aren't completely to blame for the long, slow decline of American manufacturing over the last 50 years, but they haven't necessarily helped the cause, either. Collective bargaining for the workers of one company is one thing, but enacting protectionist policies to discourage competition or discouraging productivity with onerous work rules are completely different animals. Some of the local unions have wised up, but too many just exist to collect worker dues and pay off politicians.
On a day to celebrate American labor, I stand for the right to work.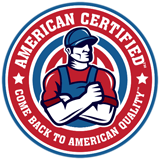 I didn't get as much in as I would have liked, but as promised I did speak to some trade issues last week.
In the meantime, my AC cohort Ed Braxton continued his look at how manufacturing is moving beyond labor. In the first decade of the 21st century, a net of 5 million workers exited the manufacturing field; meanwhile, the composition of those who remained began to change.
This actually goes hand-in-glove with something I featured a few weeks ago, summarizing a report where the authors' contention was that the standard tool of future manufacturing workers wouldn't be a wrench but an iPad. While there will always be a need for human hands to make certain things, the lack of physical activity required for manufacturing many common objects shows the need for brains exceeds the need for brawn.
My editor Sean Keefe is now part of the writing team, with his first piece being an interview with an American brush maker. Interestingly enough, one piece of advice Alan Schechter of Gordon Brush Manufacturing Company had: "Have a strong voice to your politicians to support American made." That brings me to my two pieces for the week.
The kernel of one post began as a remark Andy Harris made at his recent town hall meeting. I think I'd heard it before, but the fact that Russia halted imports of American agricultural products in response to our sanctions for their bad behavior in Ukraine reminded me that "made in America" still has to serve a global market, and trade wars hurt all of us. Yet trying to put these pacts together and iron out differences is akin to herding cats, particularly when a dozen nations sit around the table and Congress is feeling left out. Both are the case with the proposed Trans-Pacific Partnership.
So it was a somewhat slow week, although late last week I read that one story I've followed for awhile has reached a resolution. There's also some movement in the energy sector that may spur a story, too.
I haven't decided yet if I'm going to bury my next AC review on Labor Day weekend or wait two weeks, so sit tight. I guess it depends how much I write over the next week – hopefully it will be a productive one in all aspects.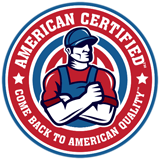 I put together a few things this week, and what's apparent to me is that the political world doesn't really take a break in August.
Take for example the late-session attempt to promote "Buy American." Does it really have a chance in Congress before the session ends? Probably not, but it keeps Ohio Sen. Sherrod Brown in the headlines and the favor of his friends in organized labor.
But labor should be more concerned about some of the points brought up by my AC cohort Ed Braxton in two articles this week, particularly if his assertion that manufacturing is moving beyond labor is correct. But he also contends that American-made is gaining credibility again in the global marketplace.
On the other hand, we seem to have an Environmental Protection Agency which is bound and determined to drive jobs back overseas. Coal miners and their allies came out in force to recent EPA hearings in Pittsburgh, driven by a proposed standard which they contend would all but wipe out their industry. As a buttress to their contention, it was also revealed that a separate EPA effort to reduce ozone standards to as low as 60 parts per billion (from a current level of 75 parts per billion, established in 2008) would cost the American economy dearly. Perhaps the worst thing is that the EPA doesn't even know itself how compliance can be attained.
Having sat down and written a couple pieces for next week, I can tell you trade will be on my radar screen. As is often the case, politics will play a role there but you'll have to wait and see how I interpreted it.
Many years ago, when I was a mere political babe in the woods, I volunteered to help out a candidate by the name of Maggie Thurber. At the time, she was running for a full term as Clerk of Courts in my former home of Lucas County, Ohio, having won the office in a huge upset two years earlier. She went on to win that election and one more, plus serve a term as a County Commissioner before leaving politics.
She parlayed that political success into a stint as a radio host and also has blogged for several years at a site called Thurber's Thoughts, although now that seems to be used as additional material for her work on Ohio Watchdog (a subsite of Watchdog Wire.) And that's where I pick up the story.
I happened to come across a piece she wrote regarding the "Live the Wage" challenge, something set up by this website. This movement is backed by the same people who connived Maryland into raising its minimum wage earlier this year.
The premise of this challenge was to buy groceries and gas on $77 a week, which was the amount deemed to be left over once taxes and housing expenses are paid. Thurber writes that:
Former Ohio Gov. Ted Strickland gave up. He started on a Sunday, but ran out of money by Thursday, he explained in a column for Politico. He said he skipped meals to save money and ate smaller, less healthy meals.

"Because fresh fruits and vegetables are hard to find at a price within a minimum wage budget, I turned to bread, peanut butter, bananas and bologna more than anything else," he wrote. "That was what I could find when I took this budget to the grocery story (sic) last Sunday. And that's why I ate lunch from the McDonald's dollar menu."

U.S. Rep. Tim Ryan, D-Ohio, spent his money foolishly, paying $7 for sardines and crackers, $5 for a Burger King Whopper, $2 for a cup of coffee and his "last couple of dollars to buy trail mix," he explained on his Facebook page.
It's obvious to me Strickland and Ryan didn't take this seriously; otherwise they would have done as well as Thurber and her husband did. She bought a week's worth of gasoline for $44 (using points from her local Kroger grocery store) and spent $82.83 on a basic menu of groceries for the week, with a couple splurge items. As for the leftover money?
We approached the challenge as if we had both lost our jobs and taken minimum wage jobs to get by. Under this scenario, we'd have some items on hand, like paper towels, detergent, aspirin, condiments and corn to make popcorn for snacks.

But with $27.17 remaining in our budget, or going without our two splurge items, we'd be able to purchase those supplies as we needed.
Of course, the banshees came out of the woodwork in the comments section and shrieked that she should live like this for a year or so before talking. Well, these (very well-paid) politicians didn't even try hard to make it through a week – what does that say about their compassion, let alone their eating and cooking habits?
As I noted above, Thurber expanded on this Ohio Watchdog piece on her own site, which gave politicians a new challenge:
Don't you think it's funny that no one ever tries to live like a small business owner for week? To feel what it's like to try to make a payroll, deal with government forms and mandates, handle local government rules and regulations, deal with happy and angry customers, supervise a work staff, promote your business, do the accounting and somehow find time for family and friends and an actual life outside of work?

One day in the life of small business owner is much more difficult and stressful than trying to live on $77 a week.

That's the reality of this ridiculousness – and that's why the whole "live the wage" publicity sham is such a travesty.
I talk about business climate a lot on this site because, as a state, Maryland is far too dependent on one industry – the federal government. In that, it mirrors the city of my birth which is overly reliant on the auto industry. But in catering to the auto industry you at least do things which benefit other businesses around the state, and overall Ohio is a diverse state with several distinct metro areas as well as a significant rural component.
In contrast, Maryland seems to work only toward enriching government and those businesses connected to government by hook or crook. So raising the minimum wage was no big deal to most of Maryland – it's a world of almost automatic annual raises and the job security one receives when you work for a government which rarely, if ever, cuts itself. People can shoulder that burden more easily along the I-95 corridor.
But when you come out to the forgotten parts of Maryland, a minimum wage raise means jobs lost – there's no other way around it. There were efforts to waive or slow down the increase for counties here on the Eastern Shore, but they were rebuffed in the General Assembly.
And if you think buying groceries on minimum wage is difficult, just try it being unemployed. That's going to be the result of these shortsighted policies once the political stunts and game playing are forgotten.