I'm not much in a writing mood tonight, what with all the bad news of late. But I did have an observation on what I guess I can call the "Trump effect." Maybe it's coarsening our national dialogue, but it's also leading to bold statements.
For example, last week Louisiana governor (and presidential candidate) Bobby Jindal caught word of a Planned Parenthood protest in front of his residence. The state gave notice earlier this month that it was cancelling Planned Parenthood's state Medicaid funding, so organizers who opposed the cuts were holding a rally. Well, that is until this happened, as his campaign detailed.
Maybe it inspired Planned Parenthood to try their own tactics to drive away protestors.
But the question is whether this brash technique by Jindal, who is somewhere between low single digits and an asterisk in the polls, would be something he would have done a year or two ago before the heat of a Presidential campaign. As I detailed a few weeks ago, Jindal doesn't have to prove his pro-life bonafides. Yet the views his video has received in two days barely matched the attendance Trump had in one recent rally, and as I've said before someplace Trump shares something in common with the NASCAR audience waiting for the eighteen-car pileup. Admit it: you watched the Fox debate for that reason.
What Jindal did sort of walks the tightrope between appropriate and beyond the pale. Maybe it was just overkill because there were only a couple dozen protestors on Planned Parenthood's behalf.
I think there are a number of things that save the day for Jindal: one is that it was a relatively understated display. In fact, he may have helped spread the word on those Center for Medical Progress videos a little bit, but they weren't the gaudy, almost over-the-top photos associated with certain aspects of the pro-life movement.
Second, in the time I've been studying the candidates, Jindal has consistently scored well. Something like this may be a little bit of showing off but it is in line with his core beliefs.
Finally, it was effective. Whether Jindal can win in court or not, he has made his own good-faith effort to defund Planned Parenthood. That's a popular place to be with voters.
Aside from the cop being at our rally in Easton and the perceived slanting of coverage, our efforts were more or less the norm. It would be nice if Bobby Jindal helped put the defund effort on the map.
It was via a roundabout route, but we finally heard from the man who's presumptively Salisbury's next mayor, Jake Day. Because Jake had another place to be this evening – the Salisbury City Council meeting that he ran as their president – we had a succession of speakers to fill the time. It was interesting to note that several of these speakers dropped in as our meeting was going on, which told me they were looking forward to hearing what Jake had to say.
But we began as we always do, with the Lord's Prayer, Pledge of Allegiance, and introduction of distinguished guests, all done by our first vice-president Muir Boda, who filled in for our under-the-weather president Shawn Jester. We then did the swearing in of new second vice-president Dave Snyder, who pledged to be "a very good listener" and work to recruit 100 new GOP voters and new club members.
I took a little time to thank people for helping out at the Wicomico County Fair, as did Dave. My one suggestion was to perhaps look into a spot for outside next year.
In a Central Committee report, Mark McIver called the elected school board "one of the biggest things on our plate." He added there was a new initiative called "We Decide" that was a non-partisan group to back an all-elected school board, and related the urging from County Council that we should participate in these hearings. It was going to be "an 8-week push."
Mark Edney added his two cents, informing us that there will be an initiative this fall to address the issue of vacancies in the General Assembly through the state party's bylaws. Noting the issues faced by Carroll County, Edney intoned that it was "important that we get this right" because members of both parties in the General Assembly sought to take away the power local Central Committees had to choose successors.
Joe Ollinger updated us on the Crab Feast, which had most of the items in place except a silent auction coordinator. It's still on schedule for September 12 at Schumaker Park.
Speaking of food, Muir Boda announced his own, more modest event this Saturday at Doverdale Park. His community barbecue was slated for 3-5 p.m. but volunteers could show up at 2:00. Boda remarked he had three opponents in the election, so getting out the vote was paramount.
He also commented that the proposed city curfew was a "big issue" but questioned whether it would be enforceable given current resources and the spread-out geography of Salisbury. By itself, a curfew "won't solve youth crime," Muir said.
Senator Addie Eckardt, who had arrived after we began, spoke briefly about her upcoming annual bike ride through the district that will cover Wicomico County on Thursday. She also praised Governor Hogan, who has "put a great team together." It would help government become, as she put it, more responsive and cost-effective.
Delegate Christopher Adams remarked about his attendance at the defund Planned Parenthood rally in Easton as well as a stop last week at Wallops Island in Virginia. They were expecting to resume launches at the pad damaged in an explosion last fall by March, he said.
Looking forward, though, he wanted to concentrate on regulatory reform, as some needed changes could be done more easily through that avenue than through the legislative process.
Fellow Delegate Johnny Mautz predicted "a really busy session" next year but expressed his disappointment in getting a low 25% score from the League of Conservation Voters. I looked up the floor votes they scored: two were anti-fracking measures and the other was the "repeal" of the rain tax sponsored by Mike Miller. So pro-business was not going to meet pro-environmnet with the LCV.
Bunky Luffman stood in for Delegate Carl Anderton, commenting to an earlier point made about regulation by bringing up the sprinkler mandate that is halting construction locally. One local developer lost a builder who refused to build more dwellings – they weren't able to make money with the mandate and additional costs.
Most of the legislators had come late to hear Jake Day, who spoke for about 15 minutes and answered questions for another 20. Apologizing both for being late and a lack of sleep as a new dad, Day told us he was "very excited" about becoming mayor. As a Council member he was pursuing a pro-business agenda, but noted "I have found a roadblock in the current administration." Like the state of Maryland, his effort would be to attract business: "I want us to be competitive," said Day, citing Delaware under Jack Markell as a "more friendly and welcoming environment." Perdue's decision to move some of its corporate operations to Delaware "sent a message," said Jake. "The economy will be first and foremost on my mind each day." His idea was to grow jobs "locally and organically,"
One area he saw as a job creator was downtown, for which revitalization was important to Jake. It's "part of the renaissance" of Salisbury, said Day. He criticized the "lack of active leadership from the top" and sought a City Council that was cordial, but aggressive. He also announced the intention to continue divesting the city's surface parking lots, believing successful downtowns do better with infill rather than surface parking.
Crime was another top issue. Day observed that criminal activity was starting at a younger and younger age, so the city could have to "pick up where the parents left off."
It was an enlightening address, but the questions were good, too. The first one out of the chute was about the "rain tax." Jake disagreed with the state mandate, but believed it was necessary for a city which had ignored the issue for over a century. He was willing, though, to reduce property tax rates and scrap the city's inventory tax to help even things out.
And when I asked why the city couldn't use its water and sewer fund surplus, Day said the surplus was being depleted too quickly. Basically the relief would be short-term at best.
Corollary to that initial question was a discussion about the closing of Labinal, which will cost the city hundreds of jobs. While the popular opinion was that the state's difficult business climate drove them away, Day said the answer was more simple: Texas (and Mexico) were closer to their main customer base, and Salisbury mainly served military clients whose contracts were winding down.
A second concern was the issue with fire service. Rather than the "big mistake" of giving ultimatums through the media, Jake was working closely with county officials in coming up with a long-term solution. He conceded it probably wouldn't be all the city wanted, but noted that he and County Executive Bob Culver were "working well together." The key was making things more fair in a way that doesn't alienate non-city residents.
Our wastewater treatment plant was the subject of a question. Calling its saga "a scar on Salisbury's history," Day announced the next phase of renovations would begin in October. Bunky Luffman, who formerly worked at the plant, pointed out it had reduced the amounts of nitrogen and phosphorou, but not enough to meet more stringent state standards that changed midstream.
A final questioner tested Day on his "number one challenge – is my (business) location safe?" Crime was a concern for local businesses, and "a lot of solutions to our challenges are economic," Jake said. He vowed to show leadership and compile more data on the current conditions.
We finally let Jake go, so that Boda could announce our next meeting would be September 28. Hopefully it will be as chock-full of information as this one was.
By Cathy Keim
Editor's note: Last night, as I was finishing my article on yesterday's rally in Easton, I received an e-mail from Cathy with this piece, which she called "How the Media Distorts a Pro-Life Rally."
Read on and I will have more thoughts at the end.
Yesterday 128 protesters gathered at the Planned Parenthood facility in Easton, Maryland, from 9 to 11 a.m., while thousands of protesters gathered in front of about 300 PP facilities across the nation. According to the Planned Parenthood website, they have about 700 facilities total. So what, you say.
That information that I just wrote took a few seconds to obtain online, but the WBOC reporter that covered the protest in Easton managed to get the first sentence of her article incorrect.
Pro-life protests happened in front of all Planned Parenthood clinics nationwide Saturday afternoon calling for federal defunding of the nonprofit.
Notice that it states that protests happened in front of all PP clinics on Saturday afternoon. According to my math, 300 protests do not cover 700 facilities, nor is 9 to 11 a.m. an afternoon event.
After reading the first sentence, I knew that we were not going to get unbiased coverage for our event and I was correct.
Next comes a quote from "authority," the interim president and CEO of Maryland's Planned Parenthood, Dr. Amina Chaudhry:
Planned Parenthood's medical providers and staff are the best in the country. We have the highest professional standards, and we take swift action if we are ever aware of an instance where those standards aren't being met.
There is no evidence to back the claims; in fact, the whole protest was over the videos which showed evidence of quite the opposite nature. But her assertions are allowed to stand and are followed by a quote from a protester whose profession and qualifications are not noted.
But protestors including David Smith of Parsonsburg, are convinced Planned Parenthood is practicing body and organ harvesting, without actually having seen said videos.

"There are several videos out there and I have not seen them, but we really believe from what I understand that once anyone sees those videos, they're just so horrific," said Smith.
The reporter took her time and asked many protestors for statements until she found the perfect one from a protester who had not actually seen the videos. It was disingenuous of her to troll about for that quote when there were numerous protestors that could have addressed the videos.
In fact, although I introduced myself to her and was clearly in charge of the event, she did not ask me a single question.
Next the reporter returns to her "authority" for an attack on the "right wing extremists."
Chaudhry further explained in a statement that the attacks on the nonprofit are steered by right-wing extremist agendas.

"Extremists who oppose Planned Parenthood's mission and services are making outrageous and completely false claims. They are engaged in a fraud, and other claims they've made have been discredited and disproven.

The group behind these videos has close ties with organizations and individuals who have been linked to the firebombing of abortion clinics and threats to the physical safety of doctors who provide abortion. The real agenda of these baseless attacks has become totally clear: to ban abortion and limit women's access to reproductive health care at Planned Parenthood. The vast majority of the public rejects this extreme political agenda and rejects the fraudulent campaign behind it."
In a few sentences, the group of peaceful citizens who came to stand up for the right of the unborn baby to live rather than be killed in the womb and sold for profit was turned into extremists that support firebombing abortion clinics and threatening doctors.
If you take the time to watch the videos, which I have, you will see doctors casually talking about altering the abortion procedure so that they can acquire better fetal tissues to sell for profit. Changing an operation in order to get fetal hearts, lungs, livers, etc. undamaged is illegal in itself.
Who is the extremist here? The peaceful protestor who wants the baby to be able to live or the doctor who is cheerfully describing how they destroy the baby in the most profitable way? Another doctor describes turning the baby into the breech presentation so that they can deliver the fetus without crushing its skull. It is better for selling to have the whole baby undamaged, except that the baby is dead, of course.
The reporter does admit that this protest is unprecedented in scope. Never have so many protestors joined in so many places simultaneously, but she quickly recovers with a closing statement that:
(A) number of state agency officials in Georgia, Massachusetts, Indiana, South Dakota and Florida have investigated Planned Parenthood clinics there and have not found any evidence of illegal activity.
There are about 700 PP facilities in the country. It is entirely plausible that not every facility is involved in the baby parts for profit scheme. The fact that some clinics have not been proven guilty, does not prove all of them innocent.
How biased these reporters are! All protestors are linked to firebombing clinics, but not all PP facilities are linked to selling baby parts.
It has been my experience, that whenever I have had the misfortune to be interviewed or take part in an activity where reporters cover the event, the coverage is almost always inaccurate, incorrect, and often completely biased.
That was certainly the case for today's coverage of the #ProtestPP rally in Easton yesterday. It's not just yesterday, though – CNS News has tracked the coverage devoted to the scandal so far, and, shall we say, it is lacking.
Here is a link to a Washington Post piece on the #ProtestPP events that shows a more evenhanded approach.
Compare the two and see for yourself the difference. Our local WBOC report should be filed under opinion pieces.
Editor's note redux: The Post piece wasn't perfect either but was better.
But when are we going to drop the pretext that mainstream reporters are unbiased, yet folks like us who write for the "pajamas media" are unworthy of trust because we have a slant? I will cheerfully admit I see things through the lens of a conservative.
I was asked by Cathy to come along to document the event and take photos (it doesn't hurt that I am pro-life myself, though.) I think I could have done a better job in some respects, but I believe I did what journalists are supposed to do – create an account of what really happened there. It's why I took the time to video and upload the statements of both Andy Harris and Mike Smigiel.
It reminded me of how the initial TEA Party rallies were covered. If those who create the "news" don't agree with your narrative it's dropped down the memory hole.
I think the better approach for WBOC would have been to place the opposing view at the end, sort of like the State of the Union does.
I also think we should all thank Cathy for her efforts. But like they said during the rally, this is not a one-day thing – so there's time for the media to get it right.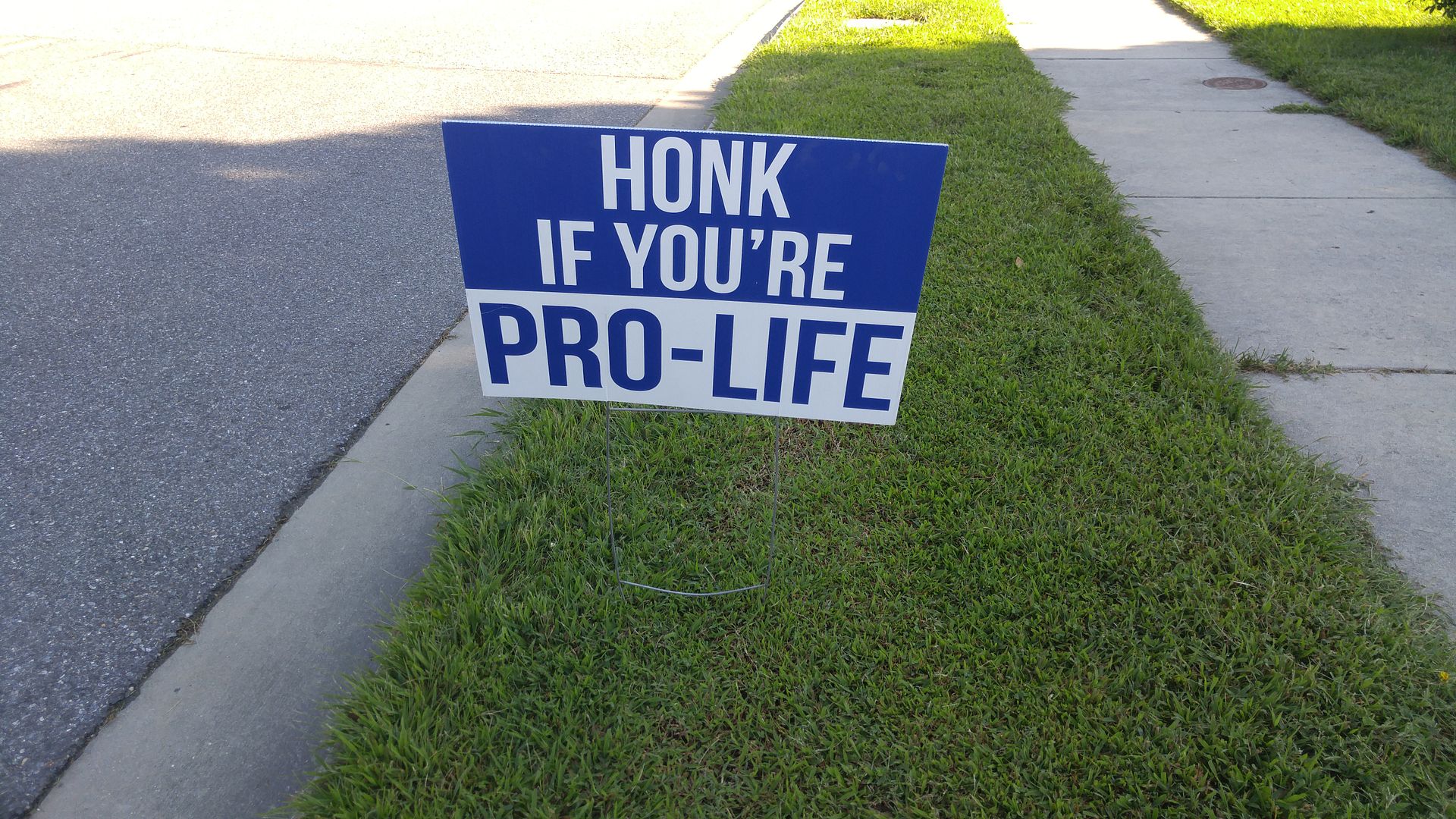 This morning I got up with the sun to help cover one of around 300 coordinated local rallies aimed at defunding Planned Parenthood in the wake of their sale of baby parts exposed in a series of investigative videos from the Center for Medical Progress.
The Easton site was selected because Salisbury's office had closed last spring. And while detractors claim the facility, which is located in a nondescript office complex with several other tenants, doesn't do any abortions, they still support the overall brand.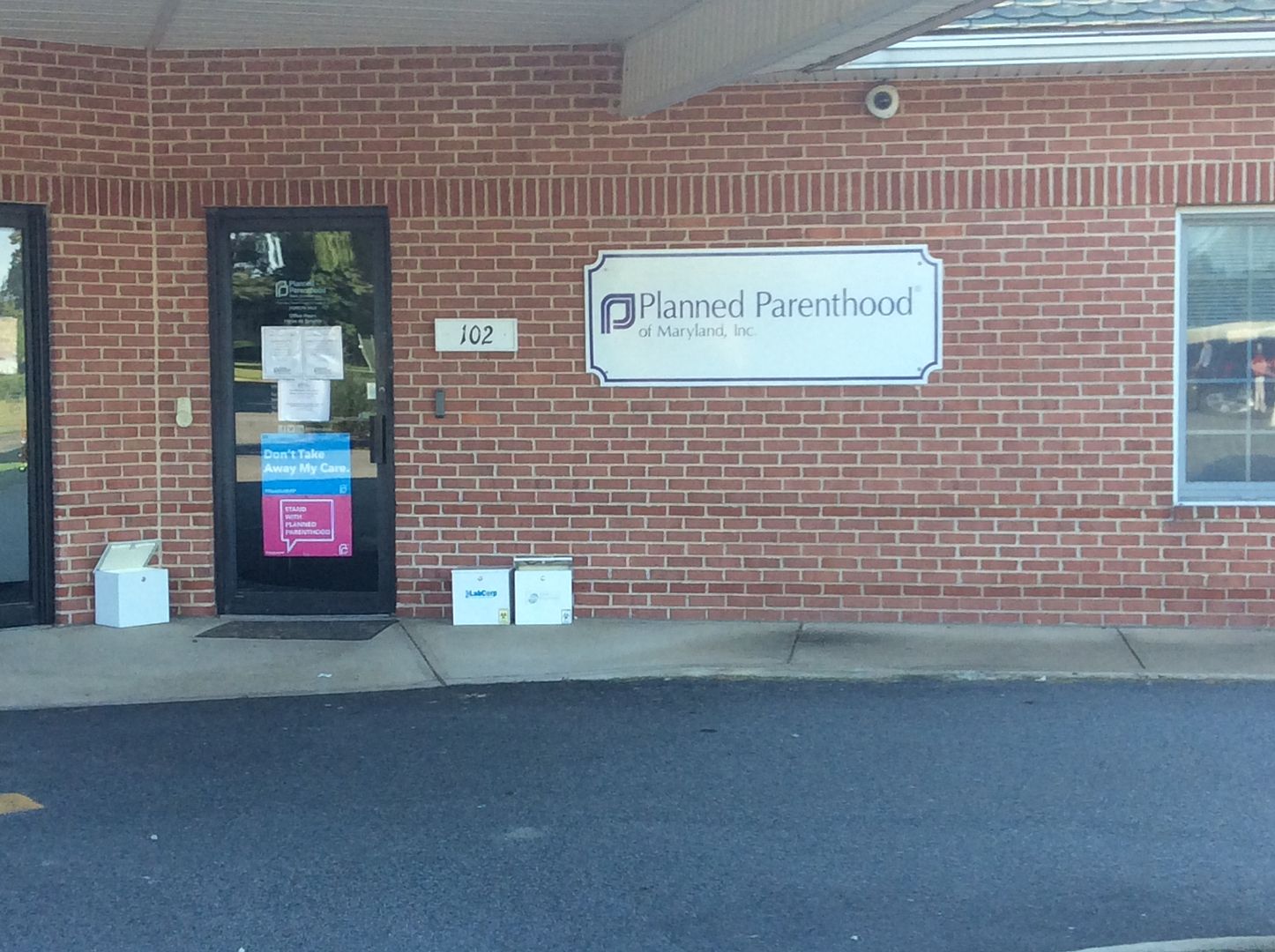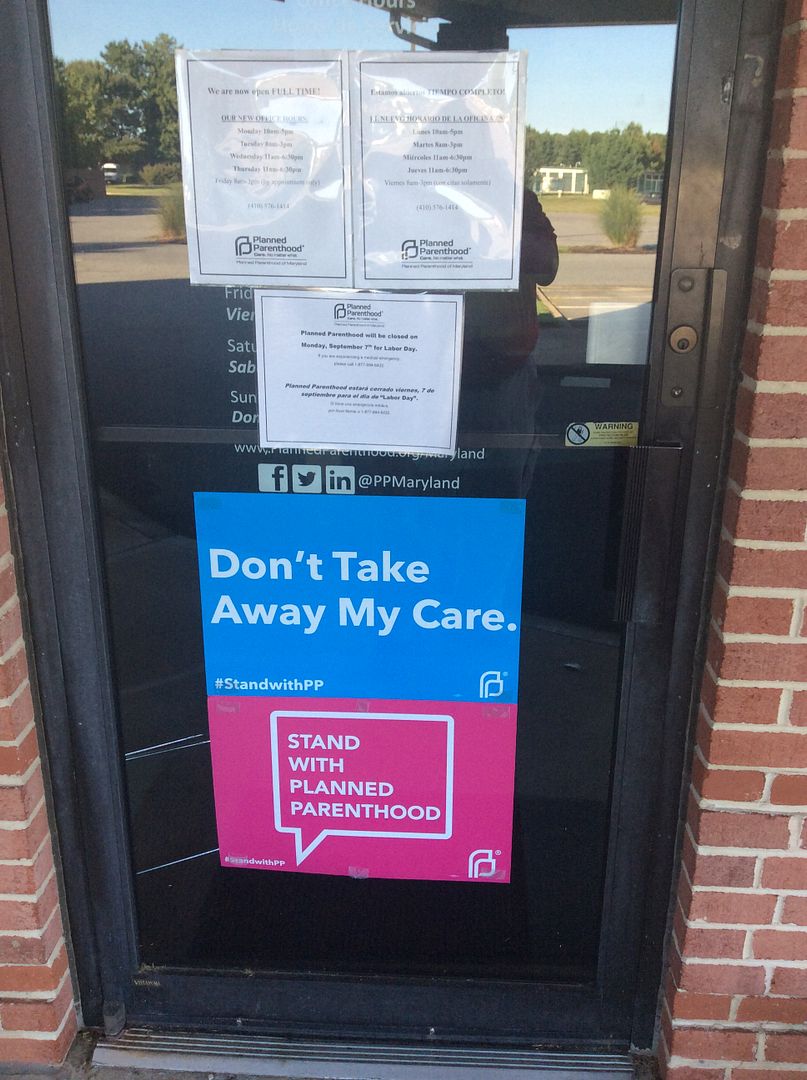 As you will hear in a bit, the facility is not the only one which provides its services. Plenty of care is available and accessible. (It's ironic the facility was closed today, but the protests were intentionally scheduled for off-hours.)
The rally began at 9 a.m. with about 50 people lined along the street in front of the facility.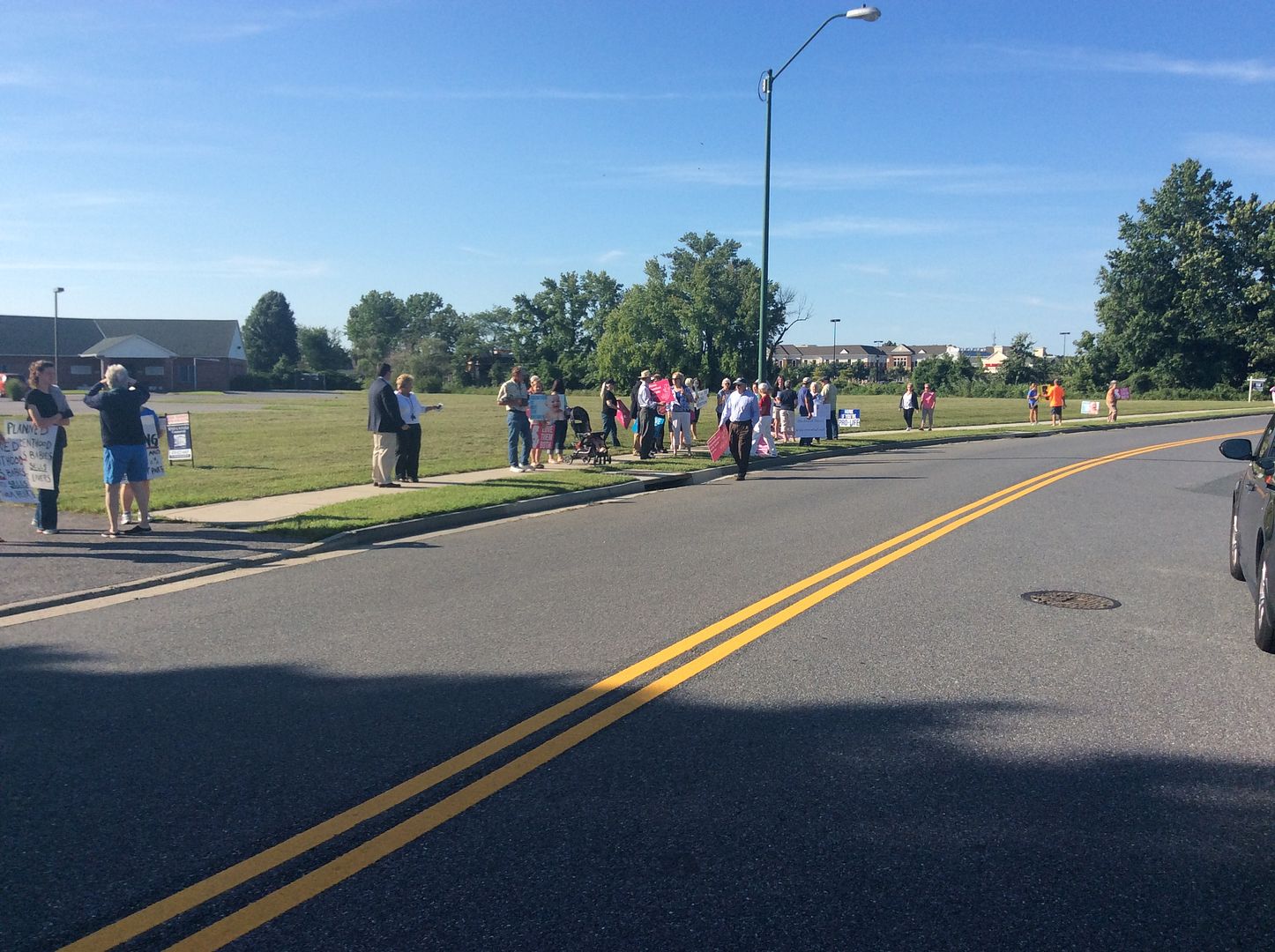 In all, there were a dozen speakers, mainly representing the pastoral community. We had clergy representing churches from Berlin to Centreville and several points in between. First up was Keith Myer, from Harvest Baptist in Salisbury.
As he spoke, the gathering was growing, spilling into the front yard of the facility and later across the street.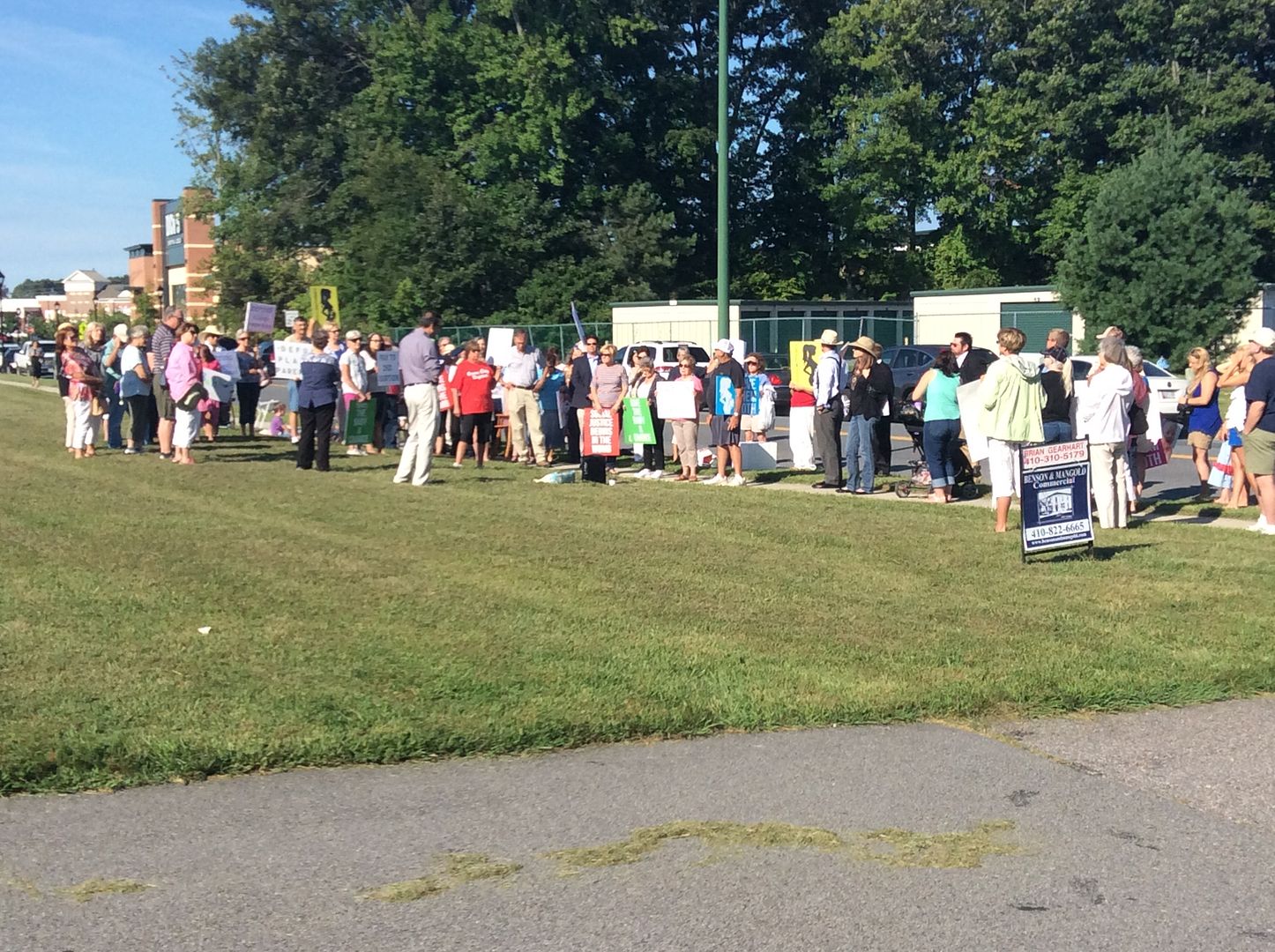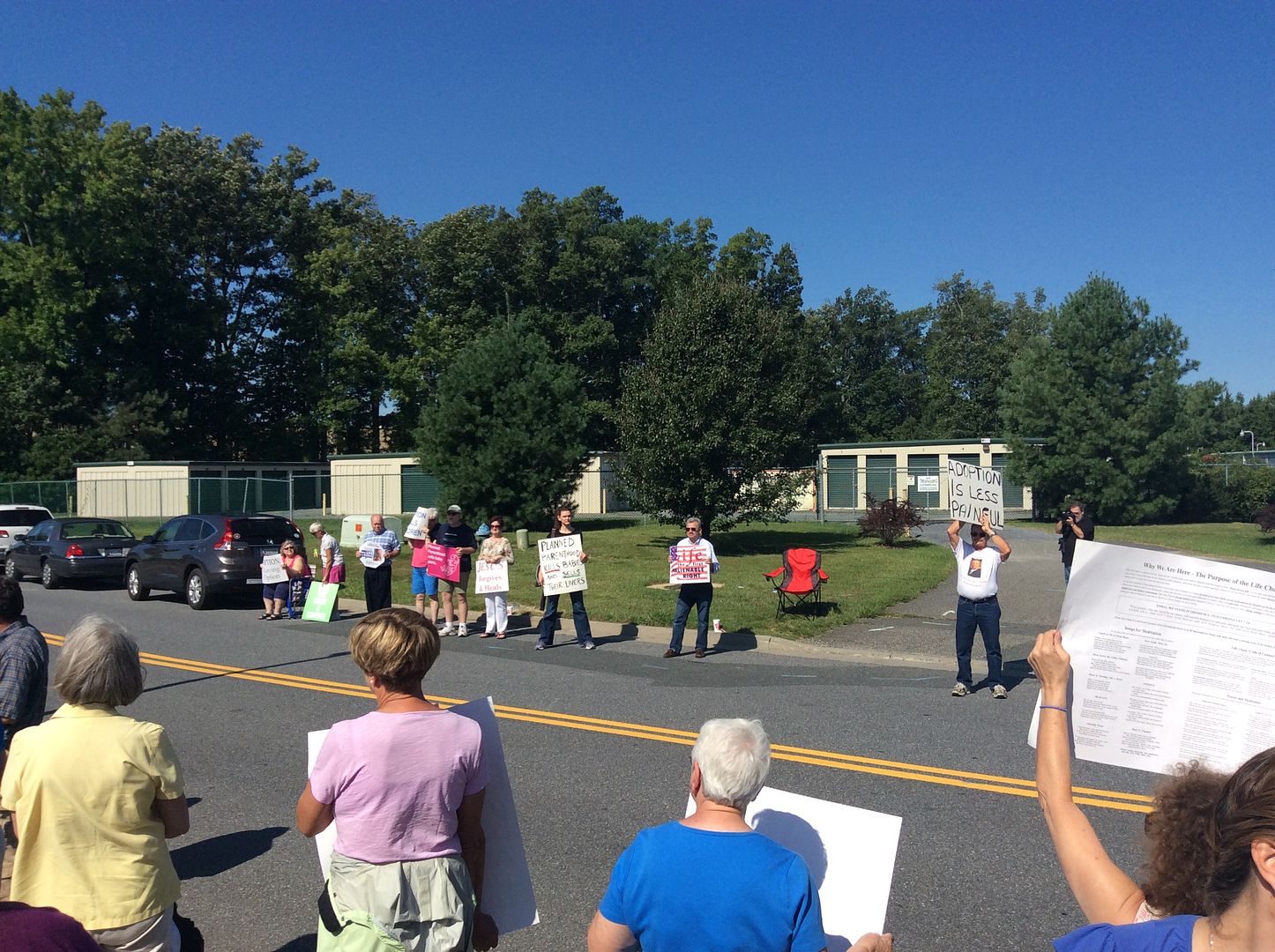 Another Wicomico County minister who spoke was Shawn Seldon, who represents a church in the small hamlet of Tyaskin.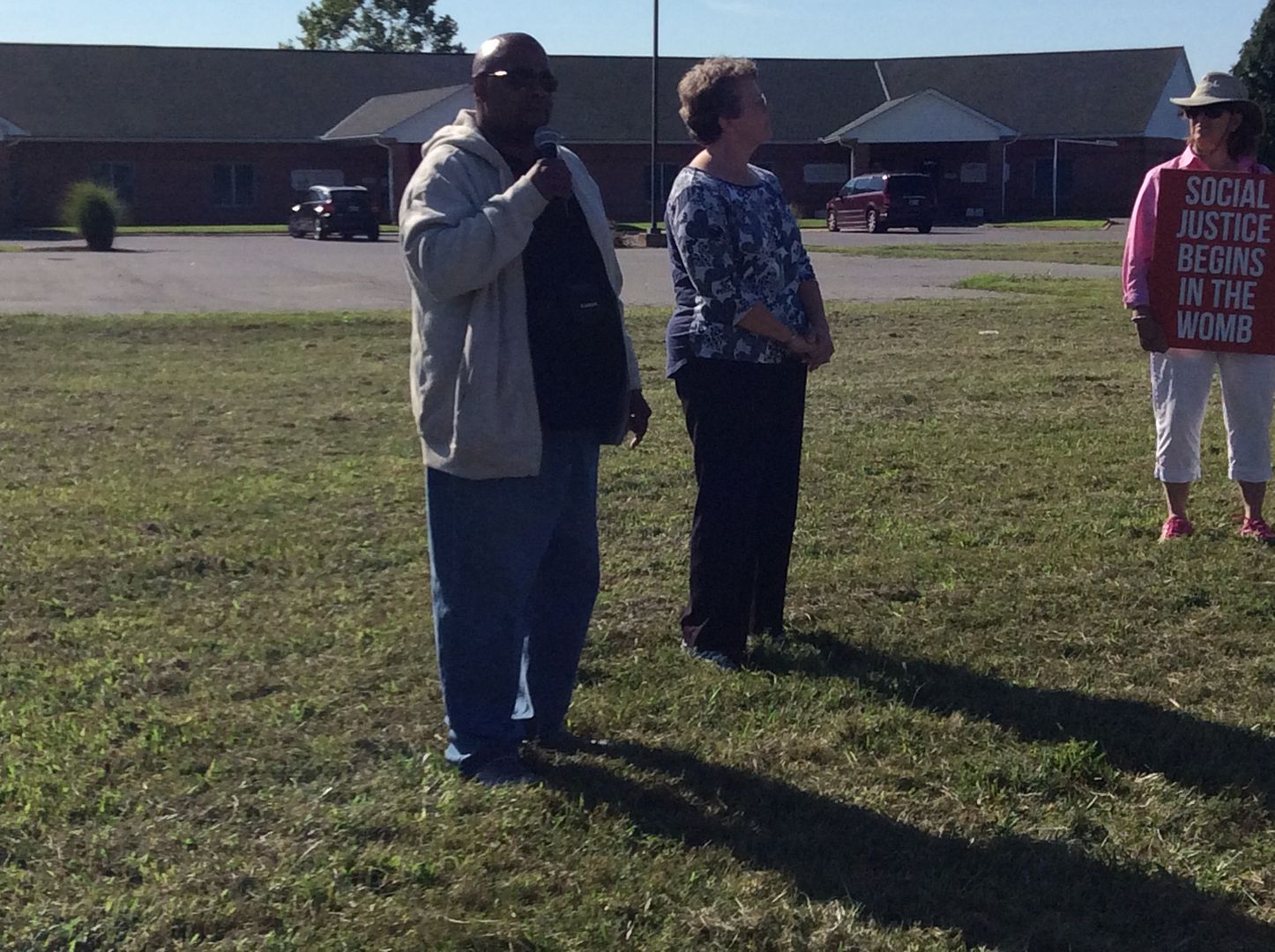 He lamented Planned Parenthood as "the largest morgue in the country." But when it came to those on the other side, it was not our job to cast stones but instead "love the hell right out of it," he said.
If the Seldon name rings a bell, it should because his wife Jackie runs the Eastern Shore Pregnancy Center here in Salisbury. Both she and her counterpart from the Choices Pregnancy Center in Easton were there.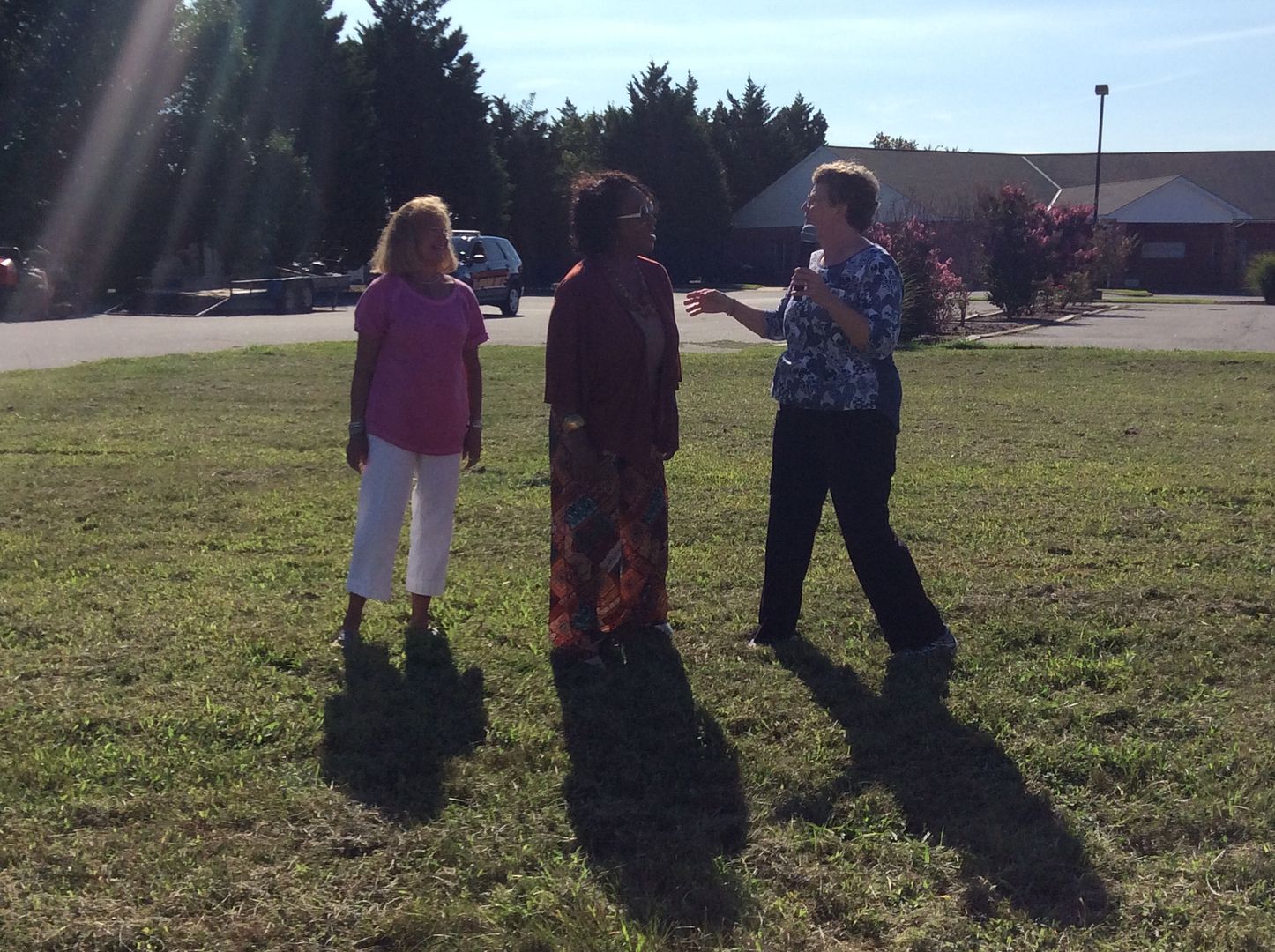 Jackie noted that when women come to her center and take advantage of their services, "things change in the ultrasound room." They see that their baby is not a tissue mass, but a living human being developed in the womb.
Unfortunately, I didn't get photos of all of the pastors but I did get a number of quotes. For example, John Abbott of Faith Baptist in Berlin reminded us that "thou shall not kill" means you don't kill innocent life. Chris Williams of Covenant Family Church in Centreville added that, "our hearts should be broken as a nation," and called abortion "the antithesis of the good news of the gospel."
Also representing his congregation was Eric Olson of the Oasis Covenant Fellowship in Easton, who spoke early as I was taking photos. We also heard from Barbara Kelly, a post-abortion counselor who told us "abortion doesn't have to happen." She added that women come to her decades after their procedures, a "trauma" that happens as they grow old and wistfully think about the child they never had.
The only minor bit of controversy came when the lone tenant who was open at the time, a pediatrician's office, asked us to move back onto the sidewalk. As you'll see in the videos, we were larger than the right-of-way.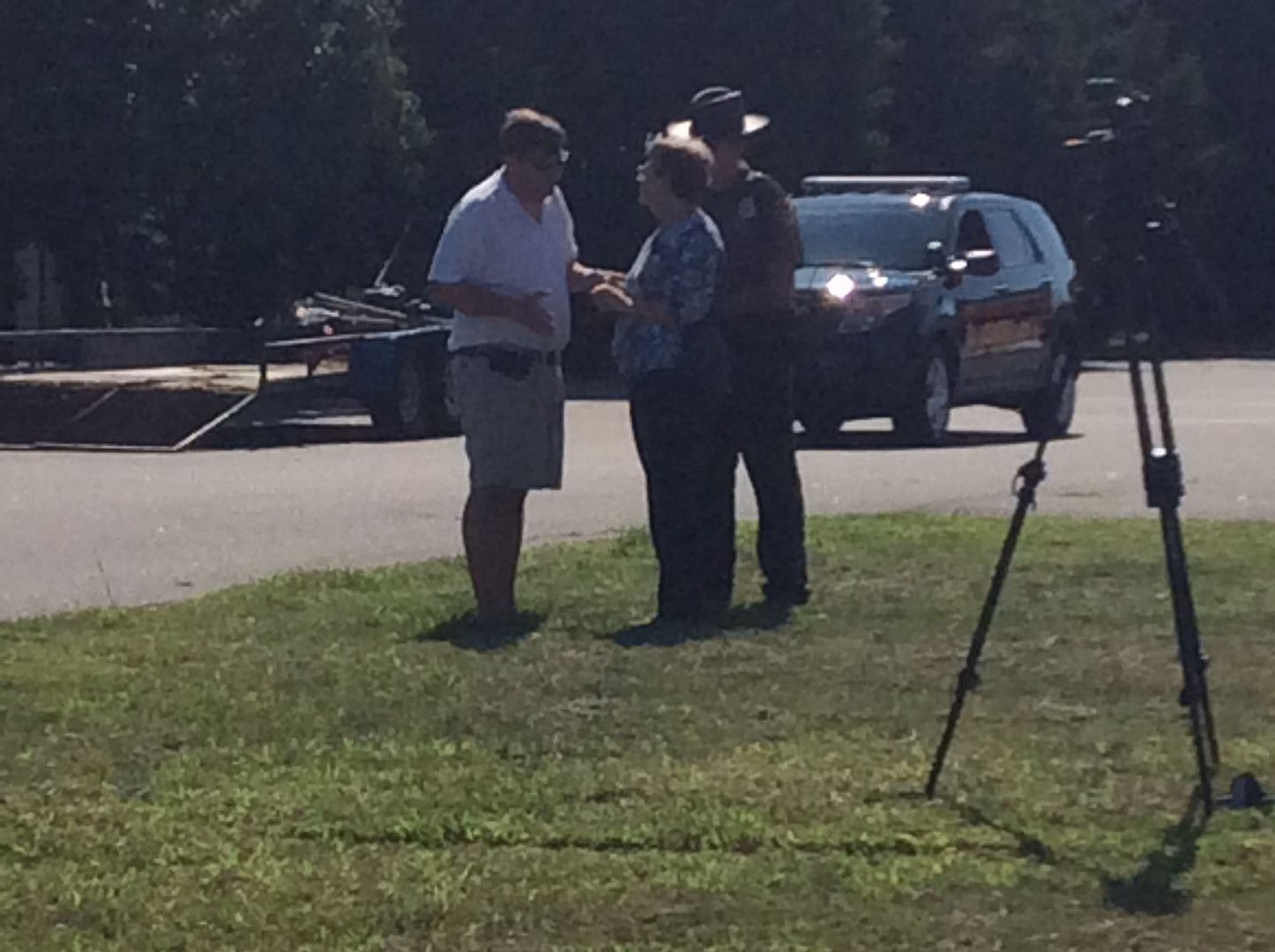 I think their issue was twofold: supposedly people were cancelling appointments this morning and "the children are upset." I suspect it was parents who simply didn't want to face the facts.
So our last speakers, pastor Jason Shelton of Providence Presbyterian Church in Salisbury and the lady representing Talbot Right to Life (who secured the permit for the event) did their speaking from the street.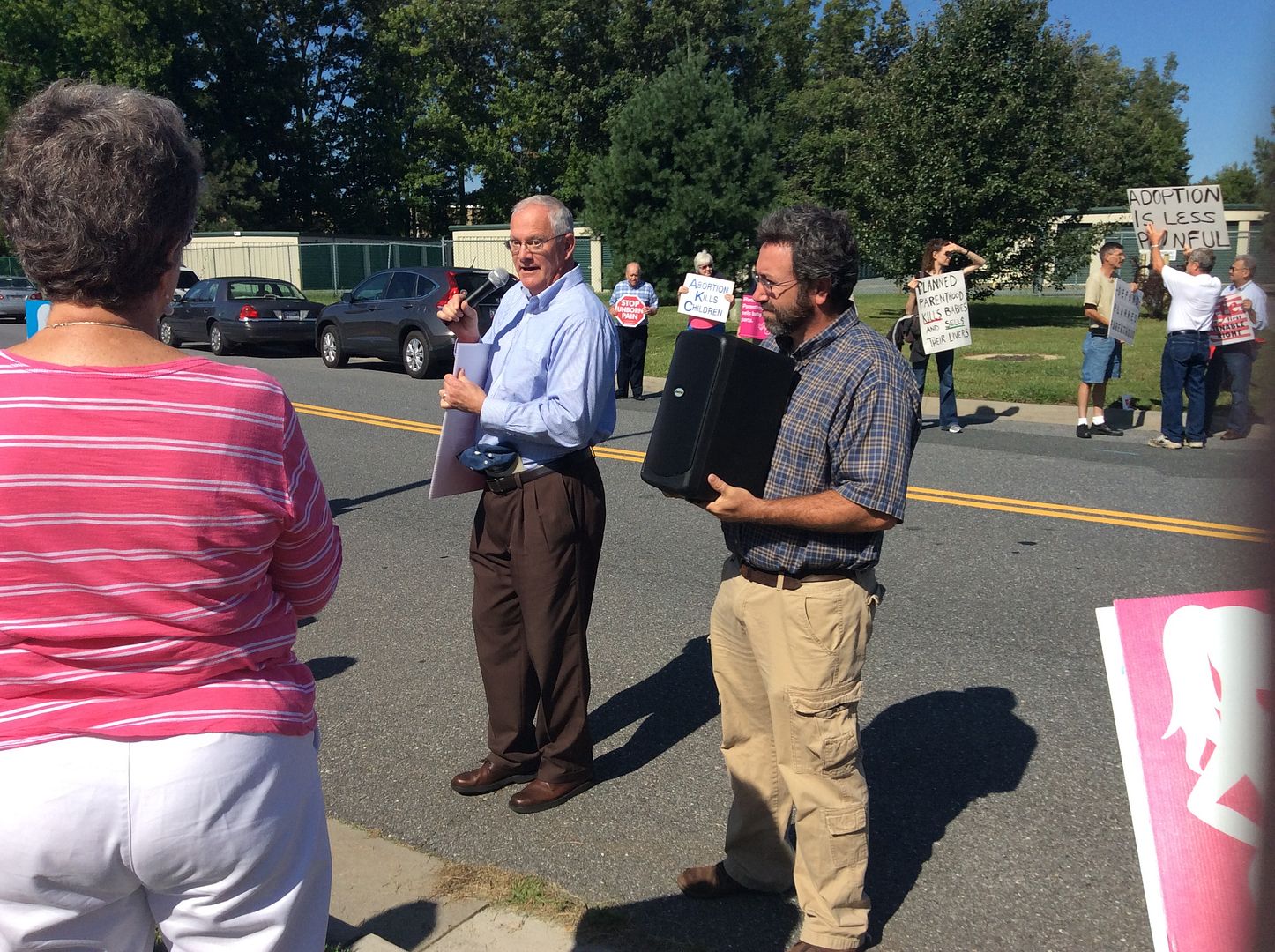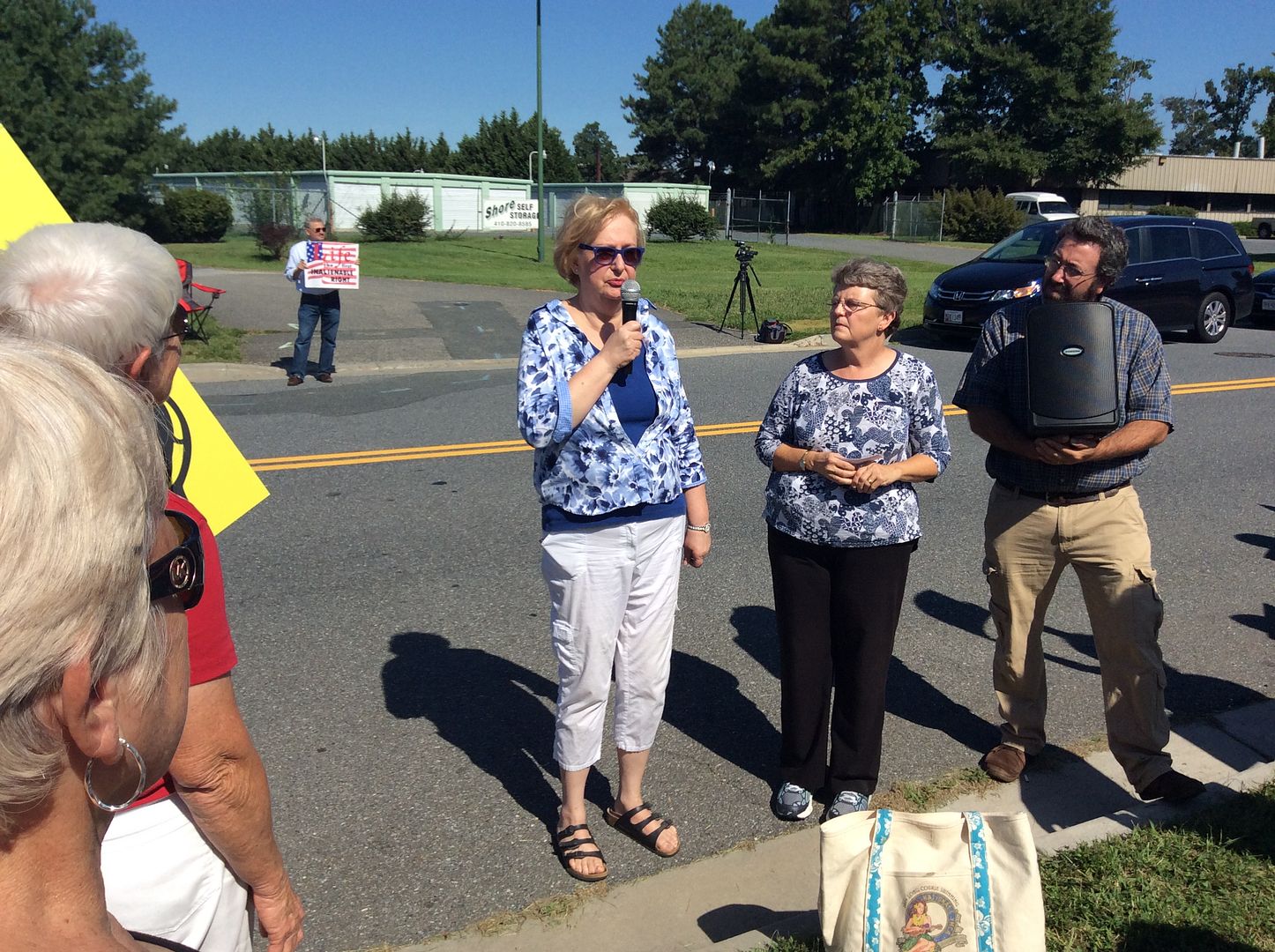 Sheldon cited heavily from 2 Timothy 3, adding that we have become "a bloody and callous people."
I noted above that we had politicians as well. One who spoke was local Delegate Christopher Adams.
Citing his own experience with his kids, Delegate Adams opined that "parenthood means life" and described the connection between abortion and profit as "disgusting and immoral." He continued that we weren't on the slippery slope here in Maryland, but "the bottom of the chasm."
There were two other political speakers of note, who both happen to seek the same office. Congressman Andy Harris spoke early on, followed a few turns later by challenger and former Delegate Mike Smigiel. I fired up my moribund Youtube page to share the videos of their remarks, Harris first.
To his credit, Smigiel and his aide Cody Leach stayed for the whole thing.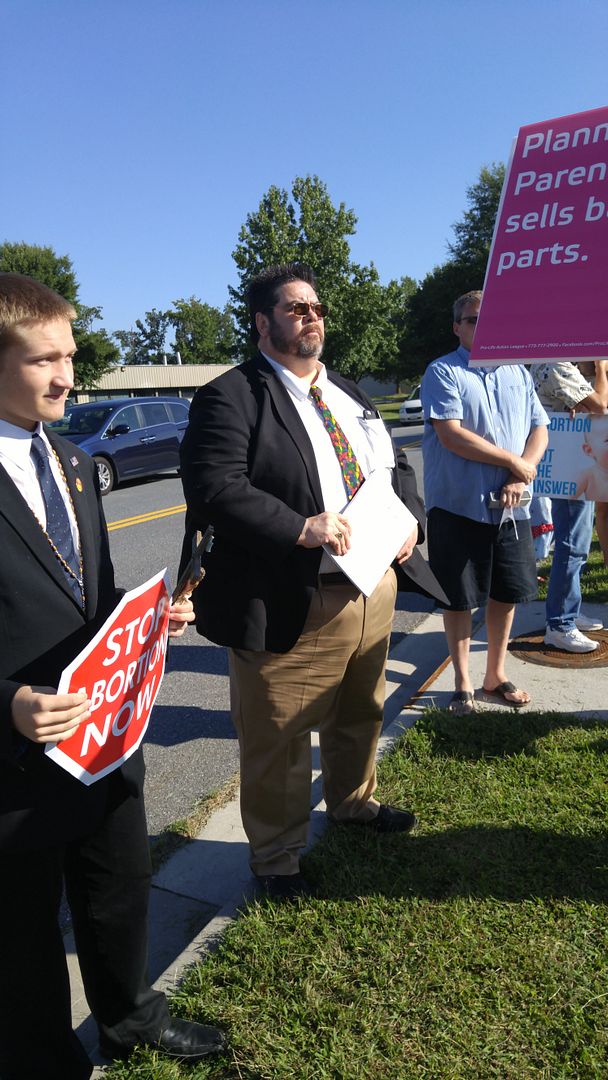 As with a rally such as this, there were a number of good signs. You'll see a number of pink ones which remind us Planned Parenthood sells baby parts, but there were other descriptive ones too.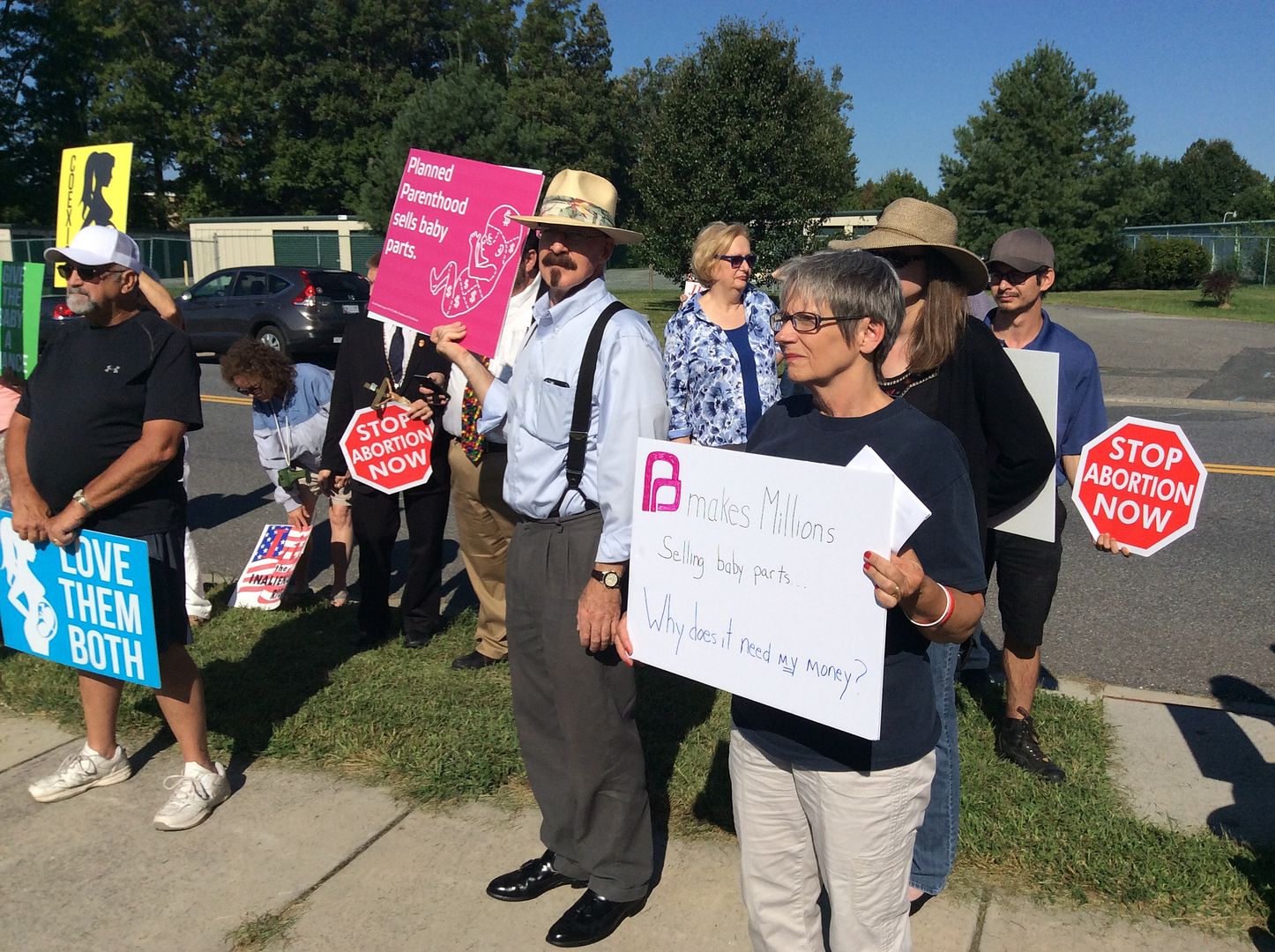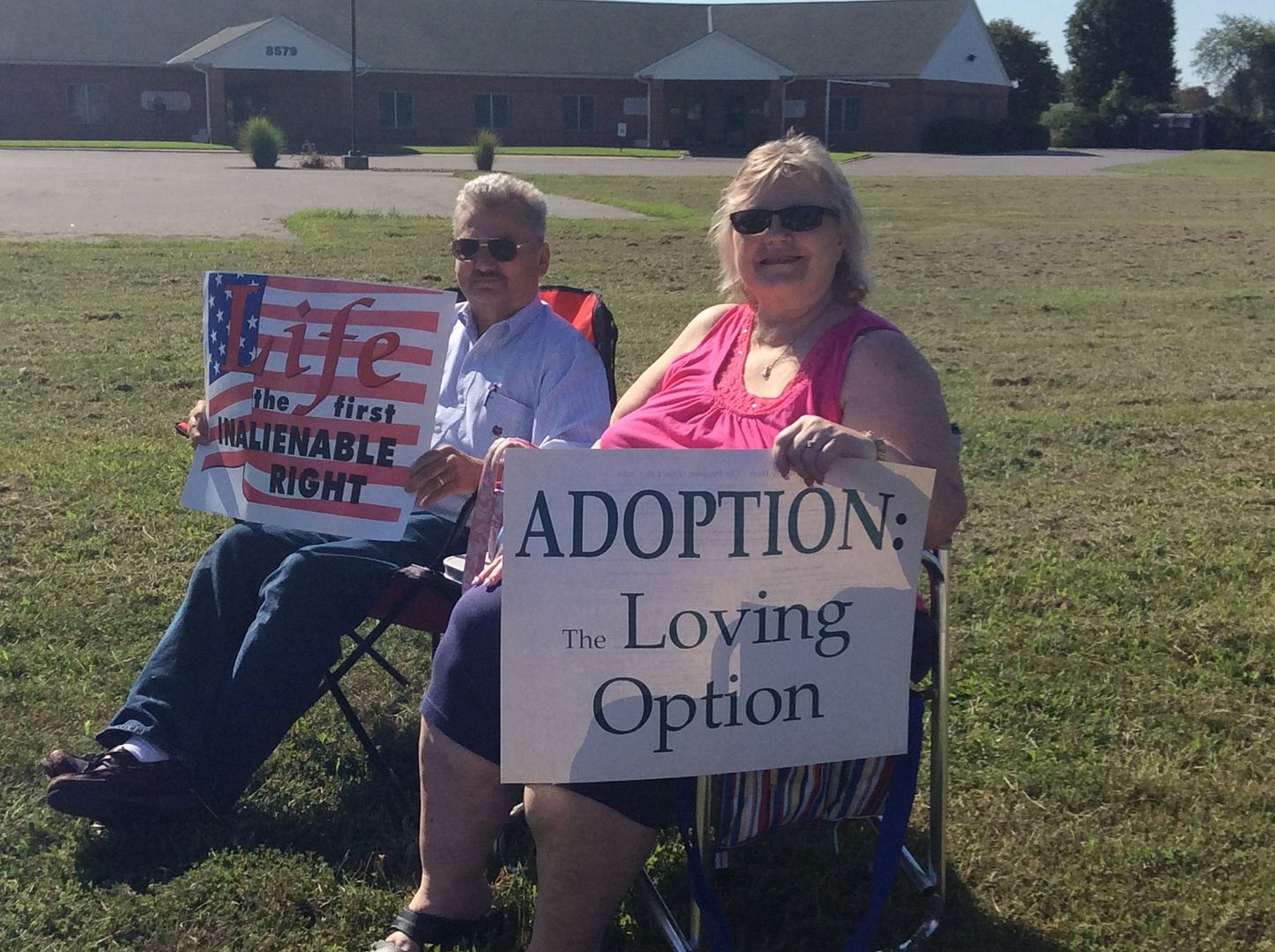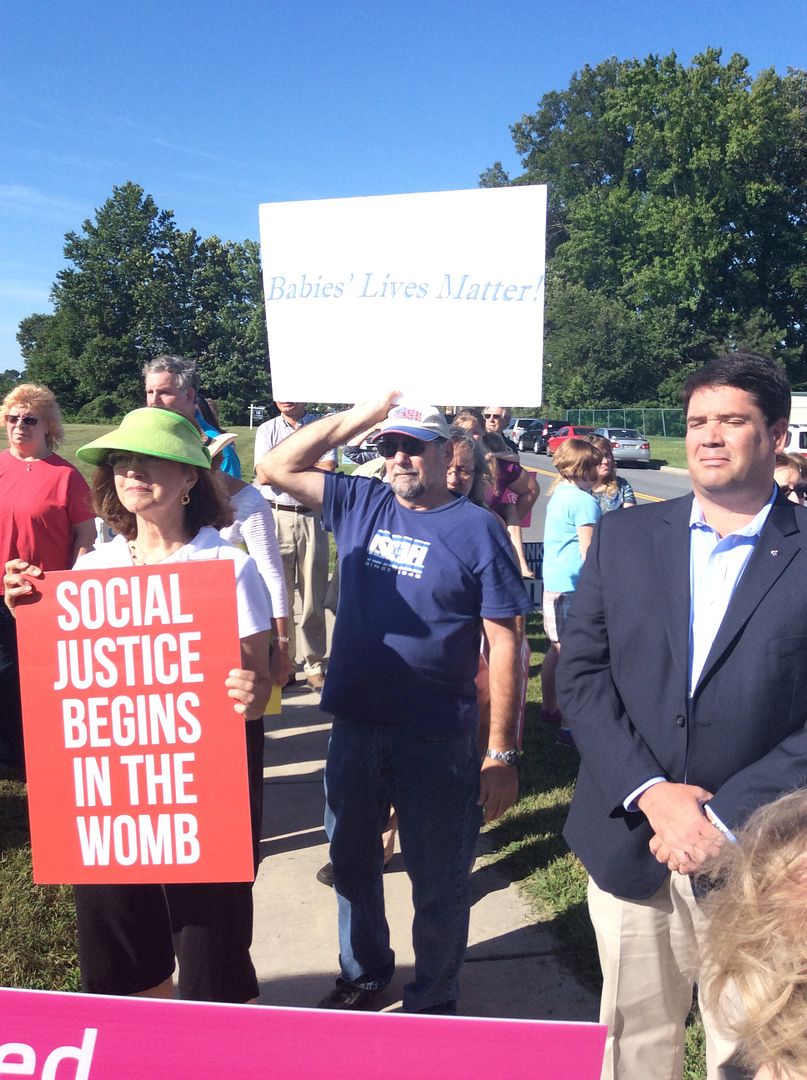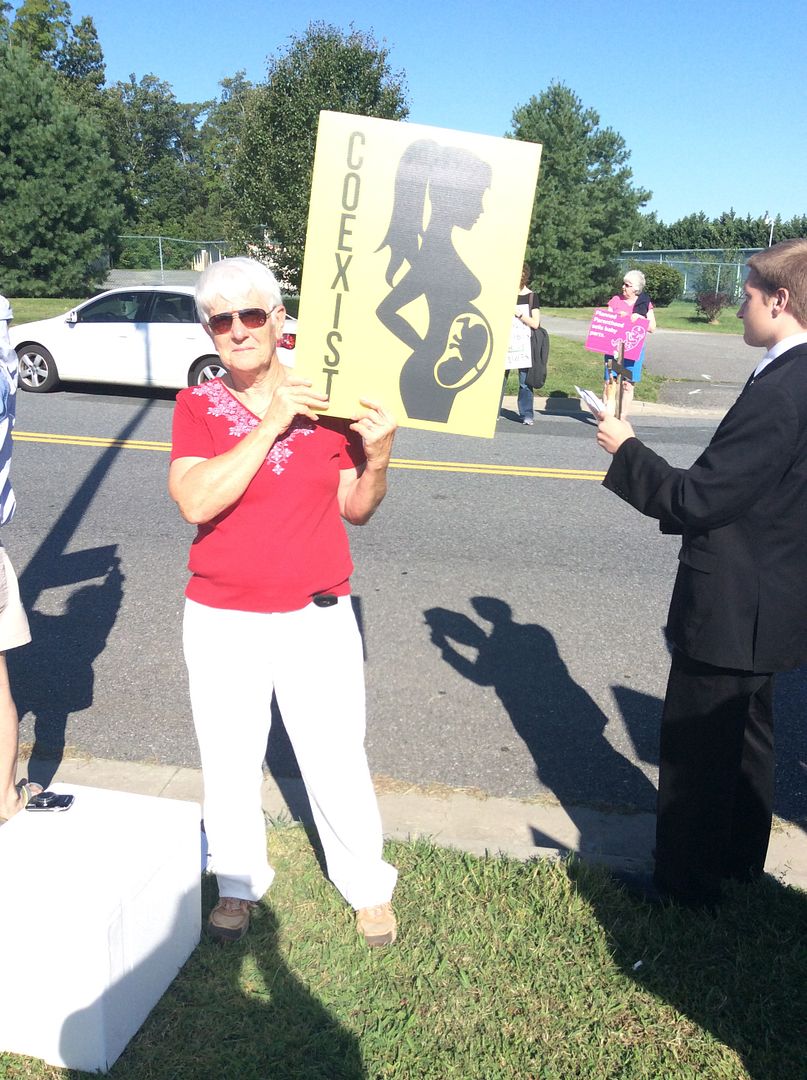 The fine folks from Worcester County opted to take a group photo.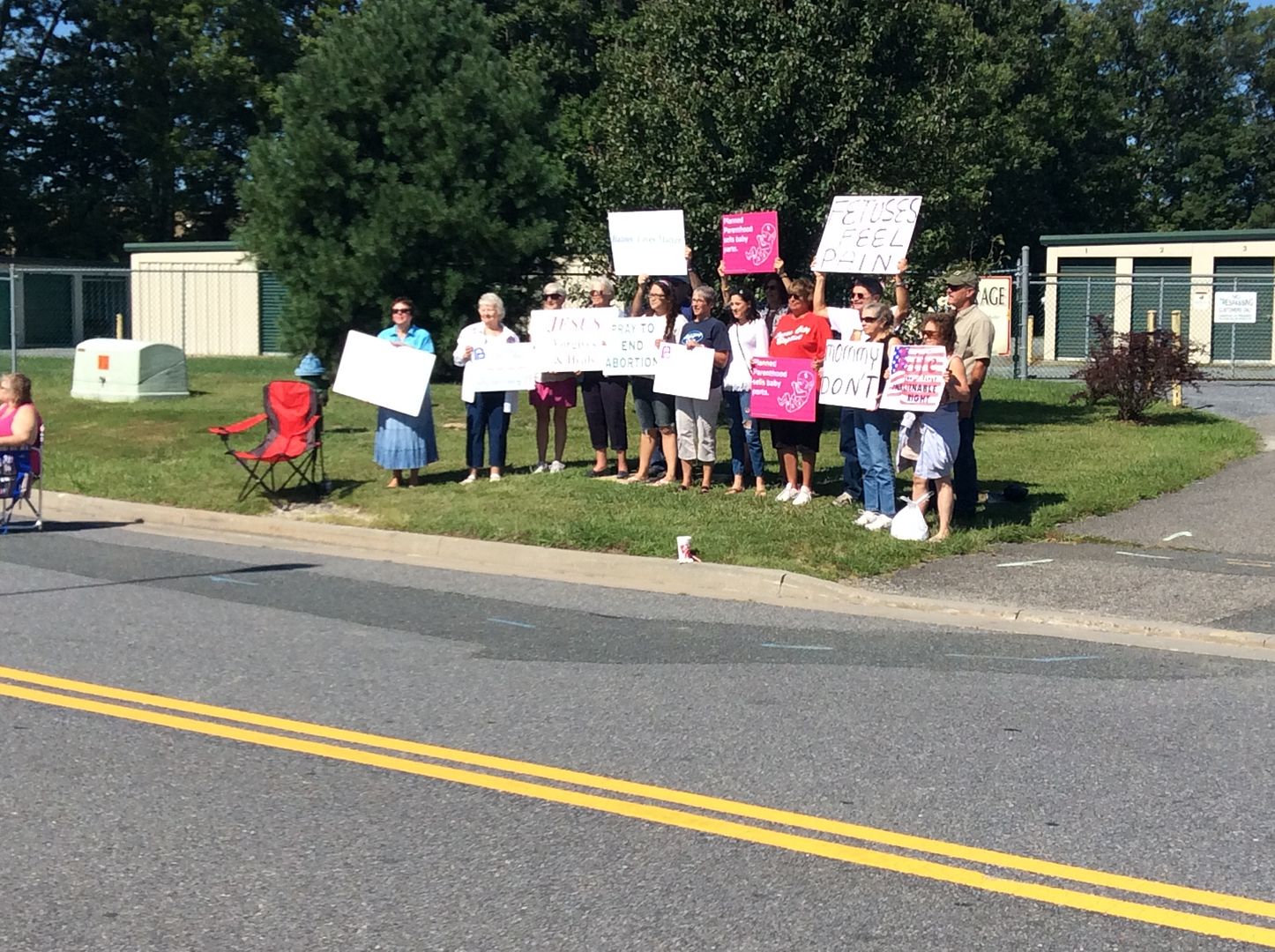 Fortunately, there was some media there to spread the word (besides me.)
Nicole Edenedo of WBOC-TV filed this report, which managed to avoid me until the very end when it showed my good side. It was interesting observing her work – I guess reporters don't bring cameramen anymore, and she did well memorizing her wrap at the end that she repeated to herself a couple times.
From what I was told, yet another CMP video was released today. With 300 protests scheduled nationwide today, even if they only averaged the 125 or so we had that's 37,500 people who came out on a summer weekend to make their displeasure known.
You may have noticed a police car in the background of my videos. Despite the fact we were on a quiet street and had a rally Myer described as one where we were "calm, peaceful, left no trash, respected the police, stayed consistent with the time allotted for the protest, stayed out of the street, and didn't damage any property," we had an officer spend his morning watching us. I suppose it was SOP given the chance of a counter-protest, but none was to be found.
As I noted, the only issue was that we were too many for the sidewalk. My colleague Cathy Keim took the lead in getting this together, with a lot of help and maybe a dash or two of divine providence, and as such deserves kudos.
This is the first step along a road that leads first to the defunding of Planned Parenthood by the federal government but ends when abortions are no longer commonly accepted as the law of the land. Remember, even Hillary Clinton said abortions should be "rare." I just disagree that they are "safe" – especially for the unborn – and their legality should be at the very most a state matter.
The best time to be pro-choice is making the choice not to create kids if you're not ready or willing to take the responsibility. As a method of birth control, it's worth remembering that, unless you are destined to carry the son of God, abstinence works every time.
Coming in next in importance to me as the sixth of my ten pet issues in taxation. This may be the simplest to explain of all the issues because I don't think there is a candidate among the 17 Republicans who wants to increase them.
However, if you ask me – and since I write this blog and you have read this far I'm going to presume you want my opinion – my preference is for a consumption-based tax like the FairTax. It creates a scenario where we have the most control over how much we pay while encouraging saving and allowing us to take home much more of our paycheck. My second choice, if I had to maintain an income-based tax scheme, would be a flat tax with a low rate and limited deductions. Sure, the tax preparer lobby would scream but they deserve to. It should not take me the better part of a weekend to compile the paperwork and prepare two tax returns, but as it stands now I have to.
As for corporate taxes, I would be amenable to a low rate of perhaps 10 percent. Right now our rate is more than triple that.
So let's take a look at where candidates stand and how many of 10 points they gather. Alas, none get ten because there's none talking about the very important step of repealing the Sixteenth Amendment.
If I am reading Rand Paul's "Fair and Flat Tax Plan" correctly, it has a relatively low rate for everyone but more importantly eliminates the FICA tax. Practically all working Americans would get a quick raise.
It takes the income-based tax about as far as it can go, but also has a better chance of being accepted by the public.
Total score for Paul – 9.0 of 10.
While he hasn't really addressed what he would do as President, I'm giving Bobby Jindal high marks for two reasons. One is that, over nearly two terms as governor of Louisiana, he's been highly resistant to increasing taxes as well as taking a meat ax to the state's budget. Could he become the second coming of Calvin Coolidge at a federal level?
On the one hand, he was a backer of Rick Perry's 2012 flat tax plan, but on the other hand he attempted (alas, unsuccessfully) to bring a version of the FairTax to Louisiana. That basically leaves a swing between 9 points and seven so I took the middle course.
Total score for Jindal – 8.0 of 10.
He's been on record as supporting the FairTax, so Mike Huckabee is at the top of the heap. The only problem is that we don't know the needed rate. We also don't know what we will see with corporate tax rates, which may be because they are eliminated with the FairTax.
Unfortunately, Huckabee was criticized for his taxation record in office so I'm reticent to give him a really high score.
Total score for Huckabee – 7.5 of 10.
Combine the support of a Forbesian flat tax with the record of cutting taxes John Kasich has put together and he has a relatively strong case for improving taxation. In Ohio, he proposed an idea to eliminate income taxes for business owners, but make up the revenue through a higher corporate tax, additional sin taxes, and a sales tax increase. Although Art Laffer liked Kasich's idea, I see it as a sort of Frankenstein hybrid of both income and sales taxes when we need to eliminate one in favor of the other.
Total score for Kasich – 6.0 of 10.
Ben Carson is looking for a tax system which is "fairer, simpler, and more equitable" with a call for "wholesale tax reform." His idea is loosely based on Biblical tithing, which is generally considered a 10 percent tax; however, he conceded that the rate may have to start higher and work down over time to stay revenue-neutral. He's also alluded to reducing the corporate tax rate, although it may not drop to 10% either.
The idea of eliminating the progressive tax has merit, though. It just may prove politically difficult to weather all the harpies who think their tax breaks are too important to eliminate – that should be a circus worth watching. The next step for Carson is learning that revenue-neutral is not necessarily what we need because government is not God.
Total score for Carson – 5.5 of 10.
"I will abolish the IRS," says Ted Cruz. At one point, he was going to do it with the FairTax but more recently he's lowered his sights to a flat tax with a few popular deductions, such as charitable contributions and the mortgage interest deduction. We don't know just what rate Cruz is proposing for individuals, but he is on record that a 15% corporate tax rate would be acceptable.
I'm a little disappointed that he backed away from the FairTax for political expedience, for true leadership would bring people around to the merits of the issue.
Total score for Cruz – 5.5 of 10.
More or less, the one platform plank that Jim Gilmore has shared so far is the Growth Code, a plan to reduce individual taxes to three brackets of 10 to 25 percent while eliminating taxes on capital gains and other investment income. He would also reduce corporate taxes to 15%. It's a good start, but I would like to see an end to progressive taxes altogether.
Total score for Gilmore – 5.0 of 10.
Much like others in this portion of this summary, Marco Rubio has a simpler two-bracket system he first unveiled last year with Senator Mike Lee of Utah. Since then the brackets have been firmed at 15 and 25 percent, with a 25% corporate tax. The rates fall between Gilmore's and Perry's, so Rubio's score will, too.
Total score for Rubio – 4.9 of 10.
Rick Perry hasn't revised his 2012 tax plan yet. It was a plan that gave people the option to pay a 20% flat tax on a specific year's return or stay with the old system, which would eventually be phased out. He would also reduce corporate taxes to 20% as well.
Although the plan was endorsed by Bobby Jindal at the time, Bobby moved on in the correct direction. Until I find out otherwise, I have to assume this is the Perry plan and it's just average.
Total score for Perry – 4.8 of 10.
I've been waiting for Rick Santorum to reveal his economic plan for weeks. Supposedly it will be reflective of the one from his 2012 campaign, which is fairly similar to those other hopefuls in the 4-to-5 point range. While rates may change, though, I don't think the complexity goes away. So we work back to square one.
Total score for Santorum – 4.6 of 10.
On his website, Chris Christie keeps it simple, calling for "creating a flatter, fairer, and simpler individual income tax system and keep returns simpler by reducing deductions and giveaways." He also advocates for a 25% corporate tax rate, which is an improvement to about average among industrialized nations.
Listen, anything to help can be considered a victory but those from this point down the candidates either just tinker around the edges or even make things worse.
Total score for Christie – 4.5 of 10.
He cut taxes in Wisconsin, but Scott Walker only wants to turn the clock back to the 1980s, expressing an interest in reviving the tax reforms Ronald Reagan put in place. This is all well and good, but to be honest we aren't all that far off where Reagan was in comparison to where we were when he took over for Jimmy Carter. So it's not all that impressive to me in a crowded field.
Total score for Walker – 4.2 of 10.
In his announcement speech, Jeb Bush alluded to creating "a vastly simpler system" with fewer rates. But some complain that Bush was no longer willing to participate in a "grand bargain" to reduce the deficit by taking a small tax increase for supposed cuts. (If only his dad had ignored that siren song, Hillary Rodham would be an activist lawyer for some far left-wing group and Bill Clinton would be another in a long line of Democratic presidential losers free to cat around at will.)
At any rate, his vagueness on the subject bothers me so he doesn't score all that well.
Total score for Bush – 4.0 of 10.
Lindsey Graham is all over the map. He's been for a flat tax, which would qualify for the "simpler" scheme he seeks if not the "fairer" that leftist critics who love the current super-progressive system don't want. Lindsey also advocates for lower corporate tax rates.
But he falls victim to the same mentality plaguing Jeb Bush, thinking Democrats would actually cut spending if he raised taxes – even, as he clains, it would only be certain deductions. That's just the start of hard-working Americans being rolled anew.
Total score for Graham – 3.5 of 10.
I'm looking forward to how Donald Trump puts H&R Block out of business. Until then, I can't give him a good score.
Total score for Trump – 2.0 of 10.
George Pataki favors scrapping the tax code, but who among this group doesn't? Described as a governor who started out as a serious fiscal conservative, he devolved into just another big spender by the end. What worries me, though, is that he's considering raising corporate tax rates to pay for infrastructure. That's a guaranteed job killer.
Total score for Pataki – 1.0 of 10.
Carly Fiorina wants a "transparent and fair" tax code and released a lot of returns to make her point. But that's it. This makes it hard to take her seriously.
Total score for Fiorina – 0.5 of 10.
Next on the docket, for eleven valuable points, is immigration. That may provide some sharp differences.
For many years the Wicomico County Republicans have been proud participants in the Wicomico County Farm and Home Show. But after last year's sparsely-attended rendition, it was decided a change was needed.
In reading last year's feature, the comment was made that they needed more people to help out. Enter the Salisbury Chamber of Commerce, who had the rights to the old Delmarva Chicken Festival, and the re-christened Wicomico County Fair was reborn in its 79th year. So how did it go?
There was still a lot of tradition there…
…but they kept what was good about the old event and added a lot more.
One of those holdovers drew a lot of spectators on Saturday evening, as they kept the Cowboy Mounted Shooting event.
The idea is to shoot the balloons off the cones in as quickly as possible. On a horse. I suppose it's a little easier on us humans than to run through the sand ourselves and do it, and a better spectator sport.
As I said last year, though, it would be interesting to get a more full-fledged competition. Maybe next year.
But there was a lot which was new and improved. One thing dragged out of mothballs was the giant frying pan made famous at the Chicken Festival.
I'm sure this sponsor has been there all along, but the chicken tie-in was surely encouraging for them.
The fair also included a "beer garden" for the first time, although it was more of a standard food court. Ice cream was among the favorites, and you couldn't miss the rhythmic sound of this motor they used for churning.
This area, however, also presented a opportunity to vastly expand the musical entertainment as a number of local bands played the fair. The Barren Creek Band was among those that played Friday evening.
On Saturday night Red No Blue was the opener for Petting Hendrix. They were wrapping up as I was leaving.
Another area that was a noticeable draw was the variety of kids' activities. Those kids who exhibit goats, sheep, or cattle need to have a little playtime, too. It was more than my cell phone could get in one shot.
Truth be told, given the nice weather and the additional interest, those exhibitors who used to be inside but were outside this time around – such as the National Aquarium and Maryland Right to Life – likely had more traffic than the Republican Club had inside the exhibit hall.
One thing I didn't get a picture of was their display, but the club did. It's not a state election year so we didn't have a lot to stack up.
I thought this sign belonged there, though.
Since both of them are Republicans, we could lay claim to it but it was actually the county's sign that was placed across from us.
Finally, speaking of judging, there seemed to be more entries this year in the photography contest. I entered a handful of photos but no ribbons for me this time. Maybe next year.
But if I were to give out ribbons for most improved local event, I think the Wicomico County Fair would be a recipient. I'm glad there was some new life breathed into this venerable event and hope its 80th edition next year will be even bigger and better.
The fifth portion of my look at the GOP field looks at trade and job creation. Those that have the best ideas will qualify for nine points. This category has the potential to be very hit or miss, however. So allow me to set some of the guidelines I am looking for.
When I speak about trade, my goal is that of having free trade that is fair for all parties. With the criticism that's been leveled at the Trans-Pacific Partnership, for example, I don't necessarily consider it fair trade. I'm also leery of fast-track authority, although I may well feel better about it with a conservative in charge.
As for job creation, I'm looking for specific ideas which don't involve lowering taxes because that will fall under taxation, which is a later segment in my dossier series. But taking a meat axe to regulation would be fine, as would creating the conditions under which a workforce can thrive. It will be somewhat tough to score this segment, so the more information made available the better it is for a candidate.
Bobby Jindal gets it, and is not afraid to let people know about it. The formula must work because he is a job-producing governor.
For Bobby, it begins with the power of energy, but it doesn't stop there. Free trade is fine if we have a good negotiator on our side, but right now we don't so there's no need for a Trans-Pacific Partnership yet. And the minimum wage is a smokescreen when we should be looking for more. My only concern is that he is still open to an increase when the idea should be one of the market determining the wage. But that's a minor blemish on an otherwise solid category for Jindal.
Total score for Jindal – 8.4 of 9.
There is also great promise with Ted Cruz. If he can do those things he ran for Senate on we would be in fine shape. Removing regulations on energy and spreading the truth on the minimum wage bolster a sound agenda. Yes, he flipped on Obamatrade but he came to his senses in time – and trade is one of his specialties. He seems to be an intelligent, passionate advocate for the working man.
Total score for Cruz – 8.1 of 9.
There's a lot to like about Rick Perry on the subject of job creation – his state created a lot of them during Rick's tenure. While he had the energy boom to thank for much of it, his principles of low taxes and predictable regulations would hold the nation in good stead.
But I hesitate a little bit from giving him a higher score because just as he quickly backpedaled from being a supporter of trade promotion authority to an opponent simply based on Barack Obama's lack of negotiating skills and secrecy, he has walked back his complete (and correct) opposition to any federal minimum wage to just not wanting a hike.
He will be in the top tier of this category, though, as he sounds most of the right notes. Now if he could just stay in the race…
Total score for Perry – 7.2 of 9.
In Congress, Rand Paul has sponsored legislation to give Congress move oversight on regulations and worked against additional trade promotion authority and the Trans-Pacific Partnership. And he would rather lift all the boats than increase the minimum wage.
Yet the most interesting piece in his job creation toolbox is the Economic Freedom Zone, an idea he claims to have borrowed from the late Jack Kemp. It sounds good in theory, but my beef with it is that it is targeted to specific areas. For a guy who seems like he would be against government picking winners and losers, this seems to be an unusual move. It's sort of like having a big-ticket business right across the border from sales-tax free Delaware, where you watch the competition take advantage of government edict.
Total score for Paul – 6.5 of 9.
Rick Santorum has a leg up on some of the competition because he devotes a portion of his economic plan to restoring manufacturing to America. It's a proposal that includes the idea that regulations are too severe but, more importantly, speaks about the aspect of fair trade by opening up new markets if they play fair. He came out against the TPP as well as fast-track, noting he voted against NAFTA.
But a good plan is muddled by Rick's support of a higher minimum wage. I suppose that is the difference between populist and conservative, but what he may gain in pandering to a few he would lose when their jobs went away. He's also been promising his economic plan was a few weeks away on his website, so I'm tired of waiting.
Total score for Santorum – 6.3 of 9.
I find the trade and job creation ideas of Lindsey Graham interesting: "a clenched fist and an open hand…you choose" when it comes to trade, and backing one minimum wage increase while opposing a more recent one.
The entire reason he jumped up to this level came out of one idea of his:
The most costly and far-reaching federal regulations should be subject to sunset provisions, so that there is a built-in process to ensure that they are subject to review, cost-effectiveness analysis, and accountability.  Those regulations that cannot stand up to scrutiny or are no longer essential should be eliminated.
I have called for sunset provisions for far more than simple regulations, but just bringing up this concept separated him from the middle of the pack.
Total score for Graham – 6.0 of 9.
As someone who has worked exclusively in the private sector, Carly Fiorina knows something about job creation – although her critics point to HP's job losses. And they may dispute her claim that regulations don't go away because there are some exceptions that prove the rule. But she is right on the trade front and minimum wage, which are plusses.
Total score for Fiorina – 5.6 of 9.
I give credit to Chris Christie for making my job easier by creating his economic plan, which is a mixed bag of good ideas and near-misses. (Chief among them is the idea of reducing payroll taxes only for those over 62 and below 25, which would likely hurt those at the cusp of those ages.) I also find the mistrust of Barack Obama on trade good to hear, especially when Christie wants to revisit NAFTA.
But he's squishy on minimum wage, and that holds him back somewhat.
Total score for Christie – 5.2 of 9.
Scott Walker has the tag line of "Let's get to work" on his website, but I had to go elsewhere to find his ideas on job creation. It was noted that his record may look subpar but his state started from a better position and doesn't get the benefit of the energy boom with the exception of being home to some of the best fracking sand available. While he used several conventional ideas that can work on a state level, such as investment in job training, he doesn't really have a broad national plan. Presumably he would be a leader in nationalizing right-to-work, but we don't know that – but we know he correctly thinks the minimum wage is "lame."
Walker supports the TPP and the trade promotion authority that goes with it. To me that is "lame" and deducts from his score in the category.
Total score for Walker – 5.0 of 9.
Ben Carson brings a unique approach to this question. I'll get the bad part out of the way first – he supports a minimum wage increase. But he came out early against Obamatrade and is interested in curtailing the regulatory state in surprising ways.
I also think he has some moral authority for his message on work, which is one I agree with. He also has a healthy skepticism about the current economic state, which will play well with his conservative base. He can serve as an example so I placed him a tick above some peers who I grade about the same.
Total score for Carson – 4.6 of 9.
Jeb Bush falls in the middle thanks to support of Obamatrade coupled with the idea of state minimum wages. But was the audience of Wall Street banking executives the right one to advocate for financial reform? I don't think Main Street trusts Wall Street just yet, which is why Jeb lands in the middle.
Total score for Bush – 4.5 of 9.
For Mike Huckabee I see a lot of obfuscation. His populist approach is fine, with the philosophy of working for a "maximum wage" admirable. But it's vague, and he won't commit to saying no to an increase in the minimum because he signed one as governor.
On the trade front, though, he opposes trade promotion authority. It's not a bad platform, just not that great in a crowded field.
Total score for Huckabee – 4.5 of 9.
The ideas of Marco Rubio trend along the same lines as Scott Walker, but without the executive action. His job creation platform refers mainly to taxation and education, with just a nod toward regulatory reform.
Meanwhile, his opposition to increasing the minimum wage is tempered by his support for "Obamatrade." My fear is that he will fold on the minimum wage to do his cherished college financial aid reforms, since the two can go hand-in-hand.
Total score for Rubio – 4.5 of 9.
For John Kasich, it's an interesting mix: he runs a state that privatized its Department of Development, but wants to place a steep tax increase on a particular job creator. He supported NAFTA but doesn't want to see workers get the shaft. And his state has a minimum wage which automatically increases even though he opposed this in Washington. (Our DNC "hacktivists" claim Kasich believes it should be a state matter, which is the correct stance. I don't link to them.) On the whole, I would like him to do better.
Total score for Kasich – 4.0 of 9.
Many of the more conventional ideas above are also in George Pataki's playbook, and he has done them: rolled back regulations in New York, vetoed a minimum wage increase, and has the idea of increasing manufacturing jobs. But he's uncertain on the TPP. And a lot has changed in a decade.
With so little to go by, it's hard to give him a high score.
Total score for Pataki – 4.0 of 9.
"I will be the greatest jobs president that God has ever created," says Donald Trump. He continually cries that China, Mexico, and Japan are "killing us" economically. But would a 25% tariff on Chinese goods, as he's proposed before, be the answer? Some say it would start a trade war we couldn't win, but others think China is manipulating its currency by an even greater factor. To the good side, though, he's not in favor of a minimum wage increase.
So far, though, Donald hasn't fleshed out his overall jobs program. Being a businessman makes him an expert of sorts in the subject, but could he deal with a Congress that's more obstinate than his employees?
Total score for Trump – 2.7 of 9.
Much as I'd like to know about Jim Gilmore, his recent entry in the race sort of limits his potential. Although it's couched as job creation, his Growth Code will play more in the taxation category. So I can't give him many points.
Total score for Gilmore – 2.0 of 9.
Next on tap is a fairly simple and straightforward subject – taxation. It will be worth ten points.
Donald Trump took a lot of criticism from all sides last night, so this little bit of piling on won't make much of a dent in his self-esteem. But Scott Paul of the Alliance for American Manufacturing found another reason to diss on The Donald:
Love him or hate him, Donald Trump is never shy in front of the camera, and his appearance at tonight's first big GOP presidential debate will be must-see TV – especially because he takes a hard line on unfair trade with China.

Here's one question I'd love to hear him answer: Why aren't any of his Trump-branded goods made in America?

(snip)

During his campaign announcement speech and plenty of times since on the stump, Donald Trump has blamed China and Mexico for the loss of American manufacturing jobs. But, again, his own Trump-branded stuff is made overseas.

Trump certainly talks tough on China, jobs, and trade, but he doesn't back it up with his own actions – while many manufacturers fight to Make it in America in spite of the odds.
I don't believe Scott Paul is related to Rand, by the way. But this Paul's statement is actually a valid point to make, particularly when Trump makes a loser out of America by manufacturing his goods elsewhere.
The AAM has also vowed to check on the other candidates as well, although they seem to be a bit behind. One notable omission on the Democratic side is Martin O'Malley. I did a cursory check of his website, though, and found he has no merchandise store. (Now I feel like I need a shower, though.)
When there are millions of dollars flowing through a campaign, there shouldn't be a question about making the goods in America where possible. Given the fact most campaign merchandise comes from the apparel and printing industry it should not be hard to find these items. (Surely my old friends at American Certified can help with that.) Naturally Democrats prefer to have all their items come from union shops, while Republicans have their own list of favored suppliers. On a local level, we know which businesses are owned by Republicans so we try and steer business their way.
Like it or not, political campaigns are a multi-billion dollar business – especially on the Presidential level. So why not keep that money flowing in American hands? Hopefully the Alliance for American Manufacturing will be pleased with the level of American products they find in the various campaigns.
It also reminds me to plug my dossier series, as trade and job creation is next on the schedule. I am shooting for early next week with that one.
Perusing social media last night, I saw that Delegate Christopher Adams linked to an article by Bob Zimberoff in the Easton Star-Democrat. Since I have a website, I'm revising and extending my remarks in my comments therein.
Zimberoff's article talked about the rush to get building permits in Caroline County. It wasn't thanks to a business boom or new economic opportunity – terms for which neither apply in the Eastern Shore's sole landlocked county – but a deadline builders were rushing to meet.
(Developer Blaine) Williamson wasn't the only one to hurry to get a permit. In all of 2014, the Caroline County Department of Planning and Codes issued 40 total permits for construction of new residential units. In 2013, 34 permits were issued.

Already in 2015, 46 permits have been issued in Caroline as of June 30. Of those 46 permits, 30 were issued in June. According to Sara Visintainer, chief of staff for the Caroline County Commissioners Office, another 30 applicants started the permitting process in June but failed to receive permits because of financial burden or other considerations.
Every few years, the state of Maryland adopts the most current editions of several building codes, including the International Residential Code. While the code has mandated that new homes have fire sprinkler systems, previously counties were able to opt out of the requirement. (I thought I had written about one such effort before, and it turns out I was right.) Apparently that exemption is no longer allowed, and it's sending a chill throughout the housing industry. I return to the Star-Democrat:
At Williamson Acres, modest starter homes list for $150,000 to $160,000.

"That's the market value. That's all I can sell them for," Williamson said. "It costs so much to build them now, I'm not making much money. When you add the sprinklers on, I would actually be losing money."

(snip)

With five vacant lots and three permits to build, Williamson said he intends to leave two lots undeveloped until regulations change or the housing market improves. Even with the BAT septic mandate, Williamson could profit $5,000 to $10,000 from selling new homes, but the sprinkler mandate effectively eliminated a chance at financial gain.

"I'm not going to build a house knowingly losing money on it," he said. "The sprinklers are the straw that broke the camel's back."
So here is the situation. You will have a rush of construction over the next few months as those houses which got their permits prior to June 30 get built out, but then in a few months the market will slide as the dearth of new permits takes hold. In other words, this artificial boom will be short-lived.
My previous piece on the controversy here in Wicomico County back in 2011 noted the dubious benefits against the costs of the home sprinkler systems, but there is also the issue of how the cost may discourage rural development because it's more expensive to use a well as a source as opposed to a municipal water system. To Radical Green, though, that's a feature and not a bug, and you can bet your bottom dollar those who write the codes are squarely in the Radical Green camp – after all, those who believe we can build our way to absolute safety regardless of cost would also be the most fervent believers in the nanny state. We obviously want some element of safety and energy efficiency in our construction, but there comes a point when cost outweighs benefit and in a single-family residential setting sprinkler systems can be a deal-breaker.
Delegate Adams and his counterparts will be well-served in attempting to restore the exemption counties used to enjoy. Something tells me it wasn't the rural legislators and regulators who took the exemption out, so you can call this a side skirmish in the War on Rural Maryland.
This week is the week many of us get our bad news. Yes, health insurance premiums are going up again.
While I haven't been at my new job long enough to really compare rates and coverage, we were informed ours was increasing by an unspecified percentage – I think it's in the 5 to 10 percent range if my memory of the old rates serves. Meanwhile, my fiance's employer is seeing increases of between 10 and 13 percent, depending on plan.
Knowing that, I pulled out a calculator and did some quick number-crunching. Based on a 10 percent increase and her rates for a family plan, I deduced the annual deduction would increase by over $1,100.
Now stop and think for a minute. In these days of tight belts but comparatively low inflation otherwise, the average wage-earner gets an increase of 3% this year. Let's say you are a median wage-earner in this region, which is just under $40,000 – I'll make it 40 large for easy figuring. If you figure that 3 percent raise is $1,200, it means almost all of that raise was swallowed by your insurance increase. So much for that vaunted $2,500 annual premium decrease.
And so much for your family vacation, putting aside money for college, and those nice little extras. Add in the increasing deductibles and co-pays and it seems like you got no raise at all – in fact, you may wonder how you will make it through a month when everything seems to be increasing by 3% a month. (Granted, we are catching a break with gas prices edging back down – a $1 decrease per gallon is like a tax-free $400 to $600 annual raise.)
Now I don't blame the insurance companies because they have to keep themselves in business at a time when there are more and more mandates placed on them. (For example, I'm sure a few pennies of that increase go to covering in-vitro fertilization for same-sex couples, which this month became yet another mandate under state law.)
So if you're wondering why you can't seem to get ahead, this little bit of basic math may be an explanation.
Do you recall the "new" water-saving toilets that you had to flush twice to get the job done? Don't look now, but Rick Manning tells us that "technology" is coming to dishwashers:
What could go wrong?

Nothing so long as homeowners don't mind grunge baked onto their dishes due to the failure to have sufficient water to clean off the food.  No matter how much Cascade and JetDry you put into the system, not enough water means disgusting baked on egg, and other delights.

The purported reason for the water limitations is to cut those dreaded greenhouse emissions to comply with Obama's on-going global warming jihad.  In Obama's Ivory Tower world, it is inconceivable that a dishwasher that doesn't actually get dishes clean might cause people to take alternative action.  The most likely of which is to use much more water by hand washing every dish before it goes into the dishwasher and effectively only use the appliance for killing bacteria through the high heat drying process.  Or, perhaps people could go full Madge, and only hand wash dishes rendering the modern appliance and convenience useless.
The idea is to wash a full load of dishes in 3.1 gallons of water. As of 2012 an Energy Star dishwasher uses 4.25 or fewer gallons so we are going through all this to save perhaps 300 gallons of water a year, or about 10-12 average showers.
Of course, as Manning points out, this assumes a dishwasher gets all the items rinsed off and doesn't bake it on but good. In our household we generally pre-rinse dishes to lend the dishwasher a hand, so that doesn't really change our strategy. But when I was single I didn't bother because, after all, that's what the dishwasher was for!
There is a time when returns diminish to almost nothing. Sometimes I think the EPA believes in their heart of hearts that the optimum amount of water needed in a dishwasher would be zero, but that's impossible unless you can clean the dishes with pixie dust and blow the debris away with unicorn farts.
The dishwasher is supposed to be a labor-saving device, and I know: for over a decade I lived in a house where the dishwasher was my two hands. There was really nowhere to place one in our kitchen. So it is a benefit to be able to use somewhat less water to do dishes – after you fill one side of the sink with a gallon or two of sudsy water and run the tap when it comes time to rinse on the other side it's likely you'll use 8 to 10 gallons of water. Thus, a dishwasher is an improvement both in water efficiency and time, because who wants to stand and do dishes for a half-hour?
That's not to say that the market won't demand a less thirsty dishwasher, but that should be up to the market. When low-flow toilets originally came out, there was a black market as consumers who could make the drive went to Canada to buy the good old-fashioned 3-gallon models. By next year, that old underground railroad may be back again to provide dishwashers that do it right the first time.
Follow the money. Someone did and a whole slew of America's corporate giants had some 'splainin to do.
Over the past few days, the Heritage Foundation's Daily Signal website has followed a story where a website called Second Vote tracked corporate donations to Planned Parenthood, notorious alleged purveyor of aborted baby parts. Three of the 41 immediately denied they donated to the organization nor did they match employee contributions, while others downplayed their role by protesting Planned Parenthood was a 501 (c)(3) like any other eligible group and it was up to employees to contribute. By week's end, Planned Parenthood eliminated this lightning rod for criticism by pulling the entire corporate donor list.
It would be an interesting study, though, to figure out whether these companies have any restrictions at all on giving to pro-life groups – that is, when they can actually receive 501(c)(3) status the IRS is reticent to give out. Perhaps pro-lifers should adopt the tactic of this group, which is more politically correct and has both 501(c)(3) and 501(c)(4) status as two "separate" entities. Or maybe they can be "engaged in education, training, organizing, action, and coalition building" as this 501(c)(3) is. Somehow I doubt the IRS gave them any issues.
Maybe the biggest objection on this whole front is that our tax dollars help Planned Parenthood carry out its mission – even if they can't legally spend the money on providing abortions, surely they are using it to pay the staff who does the service and they can use the medical equipment in a number of other procedures. If they just happen to be abortions where they avoid doing things in a "crunchy" manner, so be it.
What it all comes down to is that Planned Parenthood would come to a lot less grief if they just got out of the abortion business. After all, its defenders say that only about 3% of its procedures are abortions, so it would be like a 3% budget cut, wouldn't it? You wouldn't miss three measly percent and the staff would have plenty to do to keep them busy, right?
Obviously I don't see this occurring, despite the fact its founder has been associated with the 20th century eugenics movement. Margaret Sanger was in favor of contraception "to be used in poverty stricken slums, jungles and among the most ignorant people." Considering the outsized proportion of minority abortions to their overall numbers, she may be attaining her wish.
Body parts, though, don't reflect poverty, upbringing, or ignorance. They seem to have a value regardless of source, so why can't we give a value to the lives snuffed out for their ghoulish harvest? Obviously corporations concerned about their image already have, if only to avoid the bad optics of being associated with abortion these days.