By Cathy Keim
Due to the Paris attacks a week ago Friday, immigration is a hot topic – especially the Refugee Resettlement Program which brings in about 65,000 refugees annually Now it is being primed to bring in 10,000 Syrians or more this year.
About 30 governors have requested that Syrian refugees not be admitted to their states. Speaker Paul Ryan is bringing a proposal to the House to stop admitting Syrian refugees. This sudden light shining on the Refugee Resettlement Program caused the Volunteer Agencies (VOLAGS) to have a conference call last week to tell the press how safe the program is.
I joined in on the call and heard some interesting information. The VOLAGS were condescending, insulting, and deceptive in their information but also attempted to tug at the heartstrings with sad stories and shame anyone who questioned bringing Syrians into the USA.
Keep in mind that the VOLAGS are paid by the head to bring the refugees in and to get them settled somewhere. Several of the VOLAGS have religious names such as Church World Service and Lutheran Immigration and Refugee Services, but they cannot share their faith because they are supported in the 90%+ range by federal tax dollars. So one has to ask why is a "religious" organization working as a government contractor when that explicitly rules out any ability to share their religious faith with the refugee? They might as well remove the deceptive "religious" title.
I missed the first few minutes of the call, but when I joined the reporters were being assured that many refugees have been resettled for many years and we have never had an incident so our record is good. In fact, the VOLAG representative stated that their refugees are vetted much more thoroughly than other visa holders such as students, tourists, and businessmen. Hold that thought, as we will come back to it.
Addressing the governors' moves to refuse refugees, the representative stated that the refugees are legal residents so they can move wherever they want. The governors cannot stop them once they are in the country. Later she stated that refugees must always inform Homeland Security of their new address every time they move until they become citizens, but they can move wherever they wish. (Many do migrate a second time to be closer to family or other of their countrymen. Baltimore has had a difficult time retaining the refugees that they have brought in to repopulate the inner city.)
A reporter asked if the VOLAGS keep crime statistics on the refugees. The representative cheerfully replied, "No, but I can count on one hand the crimes committed by refugees and I have worked with them for years!" This is an astonishing claim since Ann Corcoran at Refugee Resettlement Watch frequently reports on crime issues among refugees.
The spokeswoman sneered at Texas and Alabama for saying they didn't want any Syrian refugees. She said Texas had received 238 refugees in 3 years and Alabama had received 105 refugees last year, which had an insignificant impact in her words. She compared states denying access to state services with George Wallace refusing to integrate the University of Alabama.
The reps said that the poor attitude exhibited by these governors would have a negative impact on how the refugee community interfaces with the community. Here was the example given: In Minneapolis – St. Paul where they have a huge Somali population, they have had problems with refugees trying to travel abroad to fight. The FBI meets regularly with the community and has a good rapport with them, so the families contact the FBI to stop their young men when they try to leave to fight. If the governors keep acting in an unwelcoming way, this kind of trust with be disrupted!
Wow, that is a real success story. Young men that have been raised most or all of their lives in America want to go abroad to join the jihadists, but mom calls the FBI to keep them home. Why do I not find that comforting?
In a bid for sympathy that had a threatening edge to it, the rep told how these refugees have suffered greatly due to terror and war. It is wrong to deny them the ability to join family members in the states these governors represent. Prohibiting them from joining families that are already here working, paying taxes, and being good neighbors is wrong, but these are survivors won't be stopped. They will join their families no matter what the governors said.
The final threat was that these refugees have been through so much and have had to wait for so long in refugee camps, that if the process is delayed anymore then they may just undertake the risky trek to Europe rather than wait for America to let them in. The trek is dangerous and it will be our fault if they don't survive it.
She also pointed out that we couldn't deny access just to Syrians. How can you tell if they are Syrian, not Lebanese, or Jordanian? This implies that if we try, then they will just declare themselves to be from another country and who can tell? That seems to refute the thorough vetting claims, but we won't quibble here.
Now let's address a few points that the VOLAGS didn't mention.
It appears that out of 2 million Christians and 80,000 Yazidis in Syria, the Refugee Resettlement Program has brought in 53 Christians and 1 Yazidi and less than 10 Druze, Baha'is and Zoroastrians combined. The reason for this is that the UN High Commissioner for Refugees decides which refugees come to the USA. The UNHCR chooses refugees from people that are in the camps that they sponsor. The minorities do not dare go to those camps because the other inhabitants will persecute them, thus they have no access to apply to the refugee program. Now you know why we are not helping the persecuted Christians.
Here is another interesting fact. If we bring a refugee to the USA, it will cost about $64,000 to take care of him for five years, but it would only cost about $5,300 for five years if he relocated in his native region, thus we could help twelve times as many people for the same cost. Since our money is limited, would it not be better to spend it more wisely?
Now back to those student visas that the rep so correctly pointed out as being dangerously unvetted. The numbers of foreign students are huge.
The Institute of International Education recently wrote regarding student visas for the academic year of 2014/2015. Here are some highlights:
974,926 foreign students were admitted for this past academic year, almost double the overall level before 9/11.
After China, India, and South Korea, the leading country of origin is Saudi Arabia with 59,945 student visas. In addition, we took in 10,724 from Turkey, 11, 338 from Iran, and 9,034 from Kuwait.
Using the 44 predominantly Muslim countries we identified in our piece on green cards from Muslim countries, I counted 156,781 student visas from those same predominantly Muslim countries. This means that Muslims likely account for 16% of the foreign students, and that doesn't include India. Roughly 10% of the Indian population is Muslim and we bring in a whopping 138,000 students from there.
Is there any wonder why U.S. college campuses are replicas of some European countries in terms of the anti-Jewish activity and pro-Palestinian activism?
Even more amazing is that in 2010 President Obama unilaterally shut down the National Security Exit-Entry Registration System (NSEERS), which was implemented after 9/11 to properly vet and track those who come here from risky countries on a student visa.
Daniel Horowitz asks,
(W)hat is tolerant about importing an ideology that is stridently intolerant, incompatible with democracy, and promotes ethnic and religious supremacism? What is humanitarian about transforming America into Europe where Jews, ironically and tragically, are forced to flee because of the growing Islamic intolerance?
We need to pause immigration and take the time to have this discussion rather than continuing heedlessly onward with ever increasing numbers of unassimilated immigrants.
Political junkies know the first Friday of the month will generally bring the unemployment rate and job creation numbers from the previous month. As of Friday, the government told us we were at 5% unemployment for the first time since the Bush years, when economists talked us into a recession. (This was back when tepid job growth actually increased the unemployment rate. Of course, people blamed the president at the time.)
Be that as it may, though, there were no net manufacturing jobs created during the month, a fact which concerned pro-manufacturing organizations like my old friends at the Alliance for American Manufacturing. To quote their president, Scott Paul:
Underneath the euphoria over a good topline employment number is this fact: Manufacturing hasn't gained a single net job since January. 

That's terrible news for our economy. The effects of China's industrial overcapacity can be seen in waves of layoffs in American steel, aluminum, and other manufacturing sectors. This weakness in factory hiring comes at a very inconvenient time for the proponents of the TPP, which analysts predicted will widen our record manufacturing trade deficit. (Emphasis in original.)
Regarding the TPP, the U.S Business & Industry Council (USBIC), an advocacy organization for small businesses, said in a statement that the TPP is full of "special deals" for multinational businesses. USBIC president Kevin Kearns:
The TPP is anything but the free trade agreement it purports to be.  The use of the term 'free trade' is simply a codeword designed to attract the support of Congressional Republicans who lurch zombie-like to support anything so labeled, without examining the fine print.

A real free-trade deal could be written on a single sheet of paper, with commitments to remove all tariffs and non-tariff barriers of any kind.
Over at the National Association of Manufacturers (NAM), writer Linda Dempsey demanded a thorough review of TPP's provisions. All this makes it clear that manufacturers are wary about the effects of this trade deal. I also covered some of the other potential pitfalls on Friday for my weekly Patriot Post piece, which leads me to wonder: just who the heck is for the deal?
Well, actually, NAM is part of a broad coalition of business interests seeking the deal, which makes it less of a Main Street vs. Wall Street issue and mote of a tug-of-war between union interest in protectionism and businesses after free trade. But one question worth asking (as Kearns does) is why we need over 5,000 pages of agreement to clear the trade docket? One can also ponder what benefits we really get as the largest partner by far – it's not a coalition of equals by any stretch of the imagination, although depending on the source the per capita GDP has been measured slightly higher than ours for partners Australia and Singapore.
If there was ever a case where the devil is in the details, this may be the one. I noted in Friday's article that time is not of the essence – the 12 nations have up to two years to ratify the agreement, with only 6 (one being the United States) being enough to enable it under certain conditions. (It boils down to we have veto power, and Japan also might depending on the direction of its GDP compared to the dozen as a whole. The Japanese are close to the 15% of total TPP GDP needed to sink the deal if they don't pass it. By the way, we have a roughly 65% share so we are by far the biggest frog in this little pond.)
The concept of free trade works best among equals. Unfortunately, there aren't many peers at the level of the United States so you get the complexity of the TPP, which I won't dare profess to understand. Just on gut instinct I think the acronym KISS is in order here but when it comes to modern government it seems we can only weave tangled webs.
We knew awhile back that Jake Day would Salisbury's next mayor several months ago when the filing deadline came and went with him as the only candidate in the field. The only question was whether he would get a City Council friendly to his interests, and the answer is somewhat mixed.
With the redistricting set up as it was, it was possible somewhere between one and three incumbents would be elected, as well as the possibility the outgoing mayor would hang around as a Council member. When the smoke cleared tonight, we got the old mayor and two incumbents – one of them, though, is incumbent only a few months as he was appointed to a vacancy last year.
The previous (outgoing) edition of City Council was Day as president, Laura Mitchell as vice-president, and Jack Heath, Shanie Shields, and Tim Spies. We know Day advanced to mayor, while Mitchell was unopposed for her District 5 seat – the only two getting a free pass.
Redistricting lumped Heath and Spies into the same District 3, with Heath getting the victory tonight. Meanwhile, District 1 incumbent Shanie Shields lost her rematch from 2013 with April Jackson, who got 48% of a three-way vote.
In District 4, Jim Ireton prevailed by 53 votes over newcomer Roger Mazzullo, but Muir Boda blew out the field in District 2 – he only got 80 votes but everyone else combined for just 57. Yes, turnout was terrible – initial totals indicate just 1,414 voters bothered to show out of 13,455 registered. Of course, the lack of a mayor's race – or any race in District 5, which is the largest district in terms of voters – did the most to dampen turnout on what was otherwise a gorgeous day to go to the polls.
With the exception of District 4 I think the Council will be an improvement. Interestingly enough, the newly elected Councilman announced on WBOC-TV he's already considering another race, perhaps seeking the Democratic nomination for Congress next year. Honestly, for his sake I hope Jim Ireton is kidding because I think the rest of Council is willing to be the work horses rather than the show horse.
A couple other things about the changeover – the composition of the body gets a shade younger because Boda's relative youth outweighs the age increase between Day and Ireton, who is a dozen years older, and Jackson being a few years younger than Shields. Boda also marks the first elected Republican since Louise Smith served from 2007-11.
So if there's anything I foresee among City Council, I suspect there will be some tension between former mayor Ireton and new mayor Day. I'm sure there is precedent for former Salisbury mayors returning to government; however, my limited experience with the city means Day is only the third mayor I've lived under in 11 years. Previous mayor Barrie Parsons Tilghman has largely avoided the spotlight since she left office in 2009. Whether it's Ireton's atrocious rent control idea, his high-strung personality, or his jihad against those who invest in the city as landlords, Jim may be the sand in the gears when it comes to moving Salisbury forward.
With the new rules, the city is now set until 2019 – no more alternating elections in the spring of odd-numbered years. It will make 2017 rather quiet around these parts until the latter half when state campaigns get going.
On a personal note, those who advertised with me went 1-for-2, and while Muir Boda lapped the field I would say getting 44% as a novice candidate against an incumbent mayor with built-in name recognition as Roger Mazzullo did counts as a moral victory. So if you want to increase your market share, you may consider giving this website a try.
Unless there's a write-in campaign I'm unaware of, Tuesday will be the coronation for Jake Day as Salisbury mayor. But the question is what sort of City Council will he work with?
With the revamped five-district Council map,  the deck was shuffled for the composition of City Council. Two incumbents were placed in the same district, while two of the new districts have no incumbent. Thus, City Council will have no more than three holdovers but it is possible that only one incumbent could survive, and that's only because she is unopposed.
Publicly I'm sure Jake would be tight-lipped about who he would prefer from each district. Obviously he has worked with the incumbents but there may be some challengers who more align with his economic plan. (I had to look up just what "place-based economic development" was, though.)
It seems to me that Day will be able to lead effectively, but I suspect if Jim Ireton is elected to City Council it may result in more butting of heads between a mayor and former mayor, particularly on issues Ireton has advocated like rent control. Will Ireton try to promote his own failed agenda from a Council seat?
In the next few years, assuming current trends continue, Salisbury will be the county seat of the Eastern Shore's largest county. We are gaining on the current leader, Cecil County.
For the longest time Salisbury has billed itself as the "crossroads of Delmarva." But the city is at a crossroads itself – as Day himself points out, "we have been slow to recover from the recent recession." Perhaps we have assets to leverage, but the other thing we need is a leader to tell Annapolis we could use a little help in some areas and to back off in others.
Regardless of who is elected to City Council, Day continues a generational turnover in county leadership positions. With the exception of Delegate Mary Beth Carozza, all of our county's representative Delegates were born in the 1970s and all of them are in their first terms in Annapolis. If you want change in Salisbury, well, we are going to get it.
This story came on my radar yesterday, but while I was sitting at home tonight it came to my thinking how our landscape will be affected. Apparently Walgreens and Rite Aid are merging, which means the local landscape that changed when Rite Aid bought Eckerd a few years back will change again.
In my old job I had to visit all of the Rite Aids from Salisbury and U.S. 13 east to Ocean City and from Lewes, Delaware to Exmore, Virginia – 21 in all, including a couple that were built or significantly remodeled during the couple years I stopped by on a monthly basis. In some of these towns and locations the Rite Aid stores moved into former Eckerd locations, leaving the old building just down the road as a vacant reminder. Two in particular, the former Rite Aids on Civic Avenue in Salisbury and in Seaford, have sat empty for about eight years since the two chains merged in 2007.
Now we have the same potential with Walgreens. In the local area they have five stores: two in Salisbury and one apiece in Ocean Pines, Delmar, Delaware, and Laurel, Delaware. Of the two Salisbury Walgreens stores, one sits a block away from a competing Rite Aid while the other is about a mile down Mt. Hermon Road from its respective Rite Aid (which was an Eckerd) – the long-shuttered former Rite Aid I noted earlier sits about halfway between them.
The Walgreens in Ocean Pines is a stone's throw away from the Rite Aid that was just renovated earlier this year, while the competing Delmar locations sit catty-corner at the intersection of U.S. 13 and Line Road – Walgreens in Delaware and Rite Aid in Maryland. It's hard to imagine two locations in the small town of Laurel co-existing, either.
Simply put, these communities will soon have a vacant building on their hands. Whether it's brand new like Ocean Pines would invariably be or an older facility, in many of these cases these are freestanding buildings which few seem to have a use for – hence, the long-term vacancies.
The modern pharmacy isn't just the place where you get prescriptions filled anymore. Most of the Rite Aids I serviced had a modest grocery section included as well as cleaning supplies, toys, and a plethora of HBA products to complement the pills of all sorts. For these box stores, then, we need out of the box thinking. It wouldn't surprise me if we got a deal on one for a 2016 Republican headquarters, since we seem to inhabit empty storefronts every two years. The South Salisbury location would be good for traffic, as we've been in that area a couple times before.
Yet it's another sign of the times, and while I can't say I'm surprised it's sad to think of all those adversely affected by the store closings soon to come. I know some good Rite Aid folks who may be a little nervous now.
After a delay of a month caused by a trial that resulted in a conviction, we got to hear from Matt Maciarello tonight as our featured speaker. So we did the usual Lord's Prayer, Pledge of Allegiance, and roster of distinguished guests before received the treasurer's report.
Matt went over the two key issues we're having – juvenile crime and the opioid epidemic. Most of his time was spent talking about the latter, although he noted specific information on overdoses was hard to come by due to HIPAA restrictions. It was possible to deduce this information from other factors, though.
Noting that "you can't arrest your way out of the problem,"  Maciarello pointed out that the county had what he described as an "opioid reduction officer," who was tasked with, among other things, figuring out what other states were doing. One example Matt used was the TROSA program in North Carolina, where rehabbing addicts were both treated and taught one of five trades.
Closer to home Matt wanted to see a 24-hour call center established so those in need could be connected to resources like available treatment beds. He also wanted to differentiate the legal approach to those who sold heroin for profit as opposed to those who sold it to feed their habits, although the idea was to get both off the streets. He also advocated for better coordination of treatment, explaining that support shouldn't end when a patient leaves the center. Many people need methadone treatment for months or even years afterward, he added.
Yet there was a compassionate side to the approach. Matt believed we needed to "take away the shame from opioid addiction" because it's touched a lot of lives and people shouldn't be discouraged from getting help. Many times the problem began with over-prescription of legal drugs or kids accessing their parents' medication, Eventually this can lead to heroin addiction, which is dangerous because of how the drug is "cut" with other compounds.
Juveniles were also a concern for Maciarello, who noted we have "a critical mass of anti-social teens."  Matt seemed a little frustrated with the current juvenile system, which he had "broad philosophical issues" with. A different path he spent some time encouraging was that of mentoring, for which there is a critical need based on a lengthy waiting list of youth looking for one. Even an hour a week can make a difference, said Matt! and he encouraged the club to be a leader in that regard. We were pleased to learn County Executive Bob Culver was on board with this idea, as Culver revealed some employee policy changes to accommodate the need were in the works.
Opioids accounted for about 70 percent of the crime problem, but overall Matt's goal was "to set the model for the state" on reversing the problem.
All that was a tough act for City Council candidate Roger Mazzullo to follow, so he stuck more to his pro-business agenda. He wanted to work with the new mayor on bringing jobs and industry to the city through incentives; however, he also mentioned the desire to address youth crime through more activities for the youth. As a neophyte politician, Roger was "impressed" with the cooperation between law enforcement and the community; in turn, Maciarello praised Mazzullo for being the one candidate to meet with him and raise "thoughtful questions."
One thing I asked, based on the marketing experience he touted, was what strengths he could use to sell Salisbury. He emphasized the rural feel of the area, but the subject somehow came atound to specific stores like Harris Teeter or Redner's, specifically to fill the old Giant/Super Fresh location near the north Walmart. (Personally I think Redner's would be the better fit there but I could envision either.) And you can count Mazzullo among those who want a Cracker Barrel. Still, he added "I believe in local (business)," adding he was less than impressed with his opponent's business record as mayor.
After all that, the reports were fairly anti-climactic. On behalf of the Central Committee, Mark McIver reminded us the Lincoln Day Dinner was in less than two weeks, and we were looking for silent auction items. Thus, we secured a one-hour tennis lesson courtesy of Delegate Mary Beth Carozza (who as I recall played collegiately) and a surfing lesson from Matt Maciarello. Delegate Carl Anderton didn't have a lesson to give, but a guided tour of the State House was a good substitute.
Alison Pulcher spoke on behalf of HERO Day, which will also occur on November 7. The main events are a 5k run and dog walk, but other events and speakers would also liven up the festivities.
I gave a brief synopsis of the fall festivals, taking the time to thank my volunteers, and also reminded the group we will need to establish a Nominations Committee by next month to select possible officers for next year. Finally, Joe Ollingrr asked if we could resume getting registration reports from the Board of Elections.
Truly, it was one of our more informative meetings of the year. The next one is slated for November 23, the Monday before Thanksgiving. It will be the final WCRC meeting of 2015.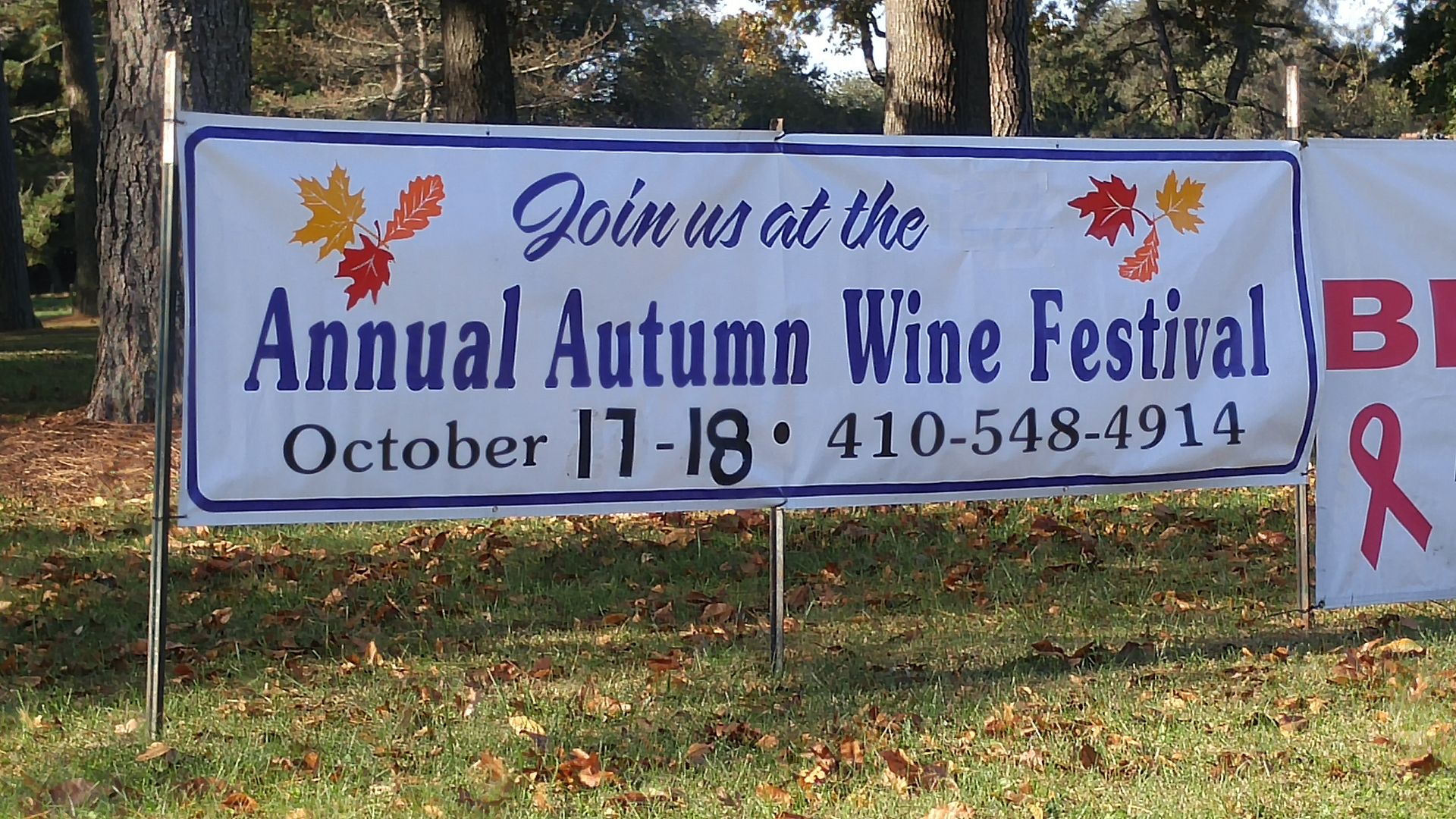 For the thirteenth year, Wicomico County hosted the Autumn Wine Festival on the grounds of Pemberton Manor.
There was one notable difference in this year's event as opposed to previous ones, even at the ribbon cutting.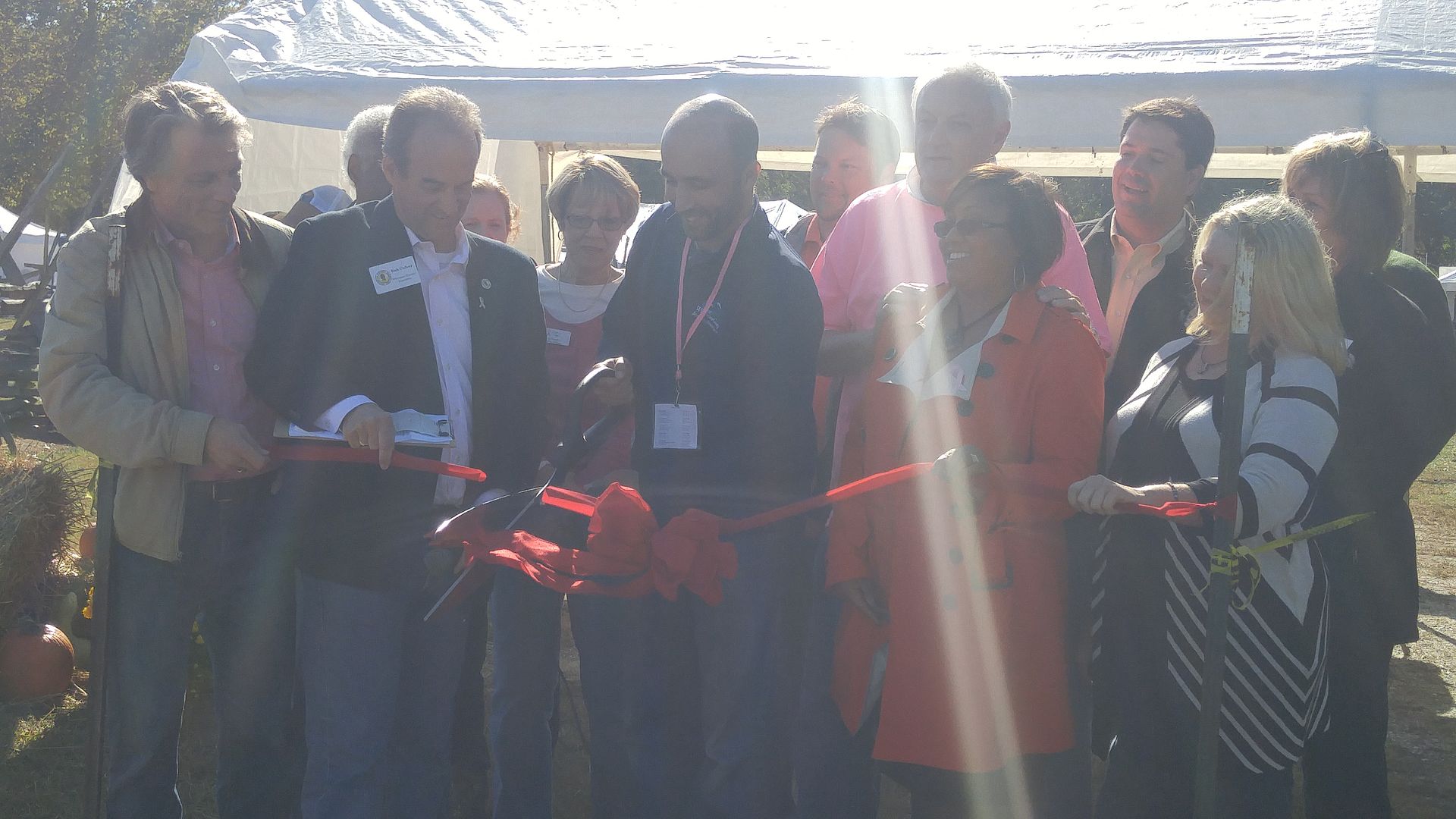 It was the usual assortment of politicians, but in addition to Senator Jim Mathias in the pink shirt, there were members of the Women Supporting Women group making sure we remembered October is Breast Cancer Awareness Month. This as if the entrance sign wasn't enough.
Then you had this raffle table up front.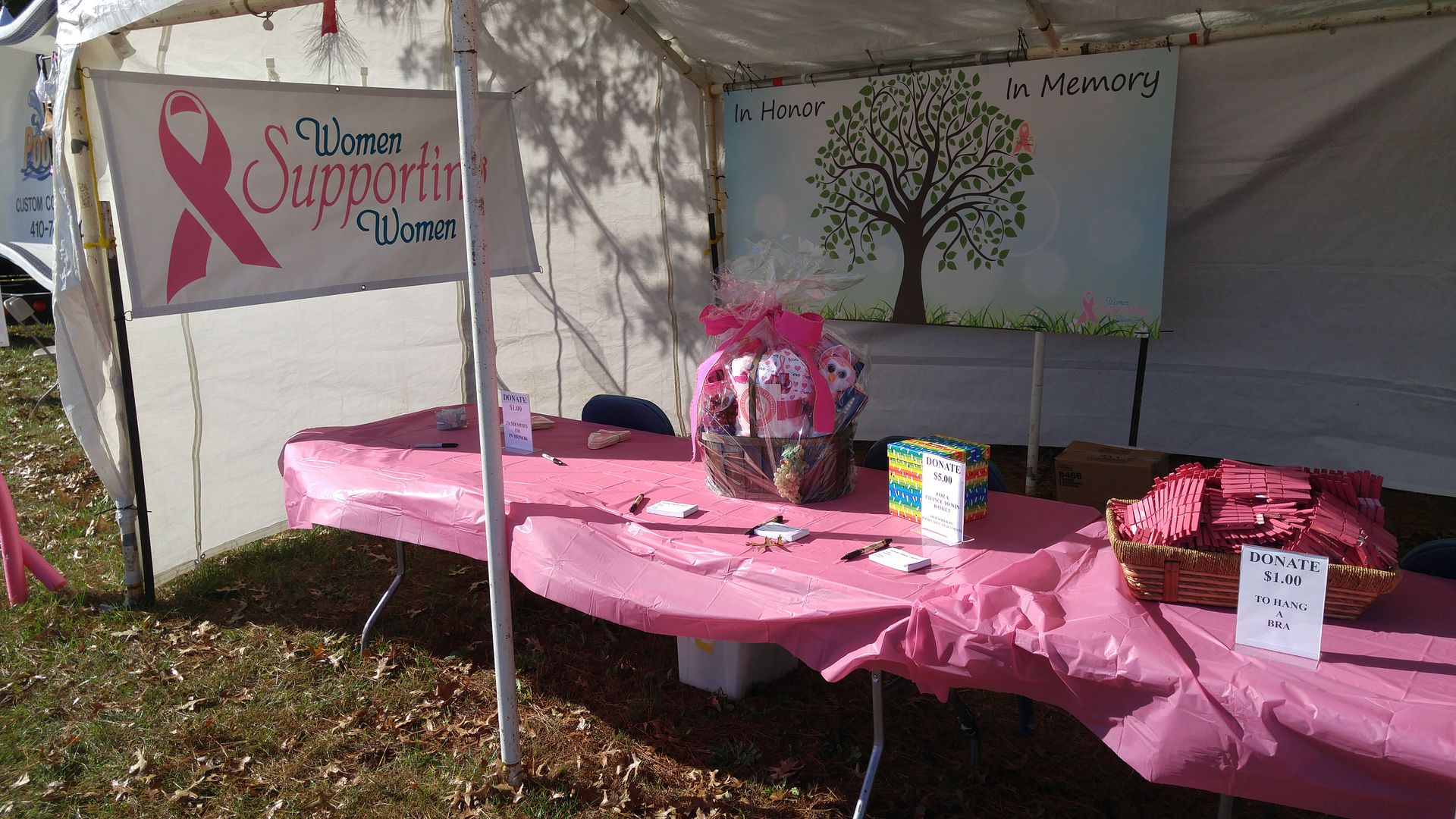 If you wanted to buy a bottle of wine, they were there.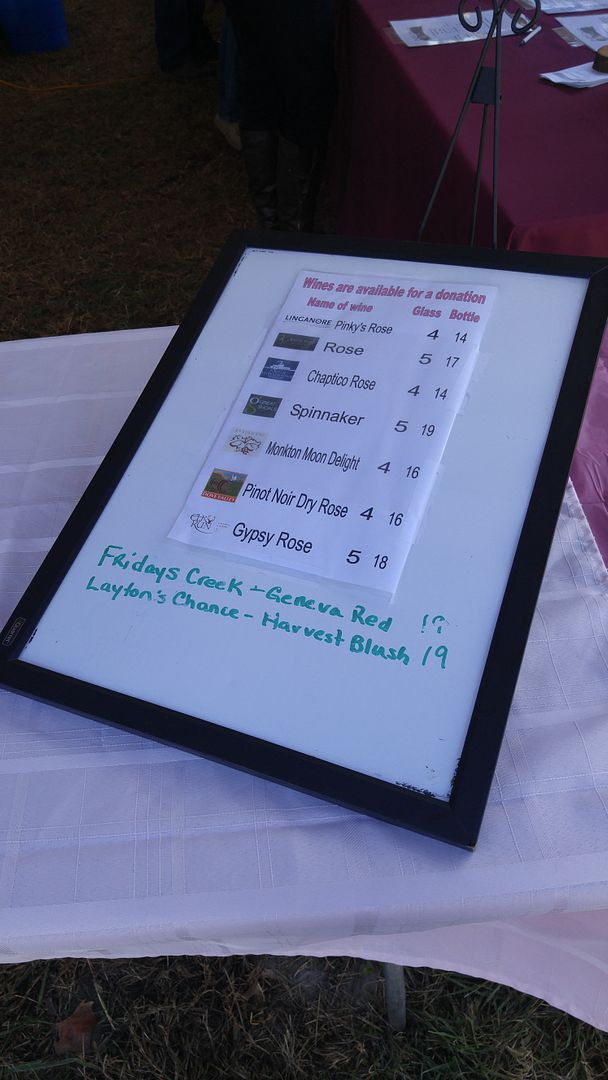 They were selling merchandise, too.
You could even make a game of it.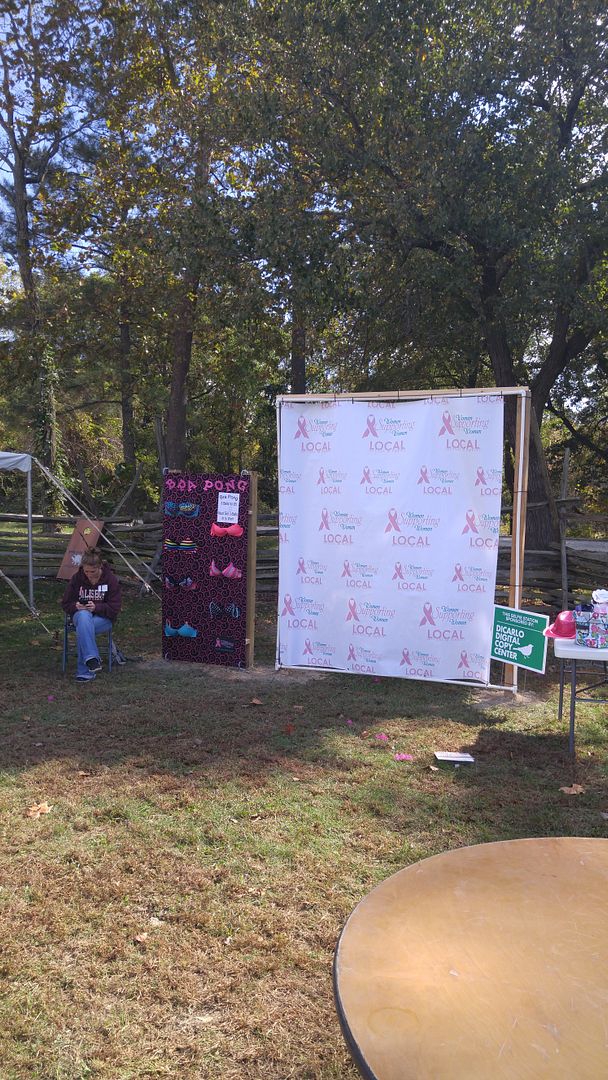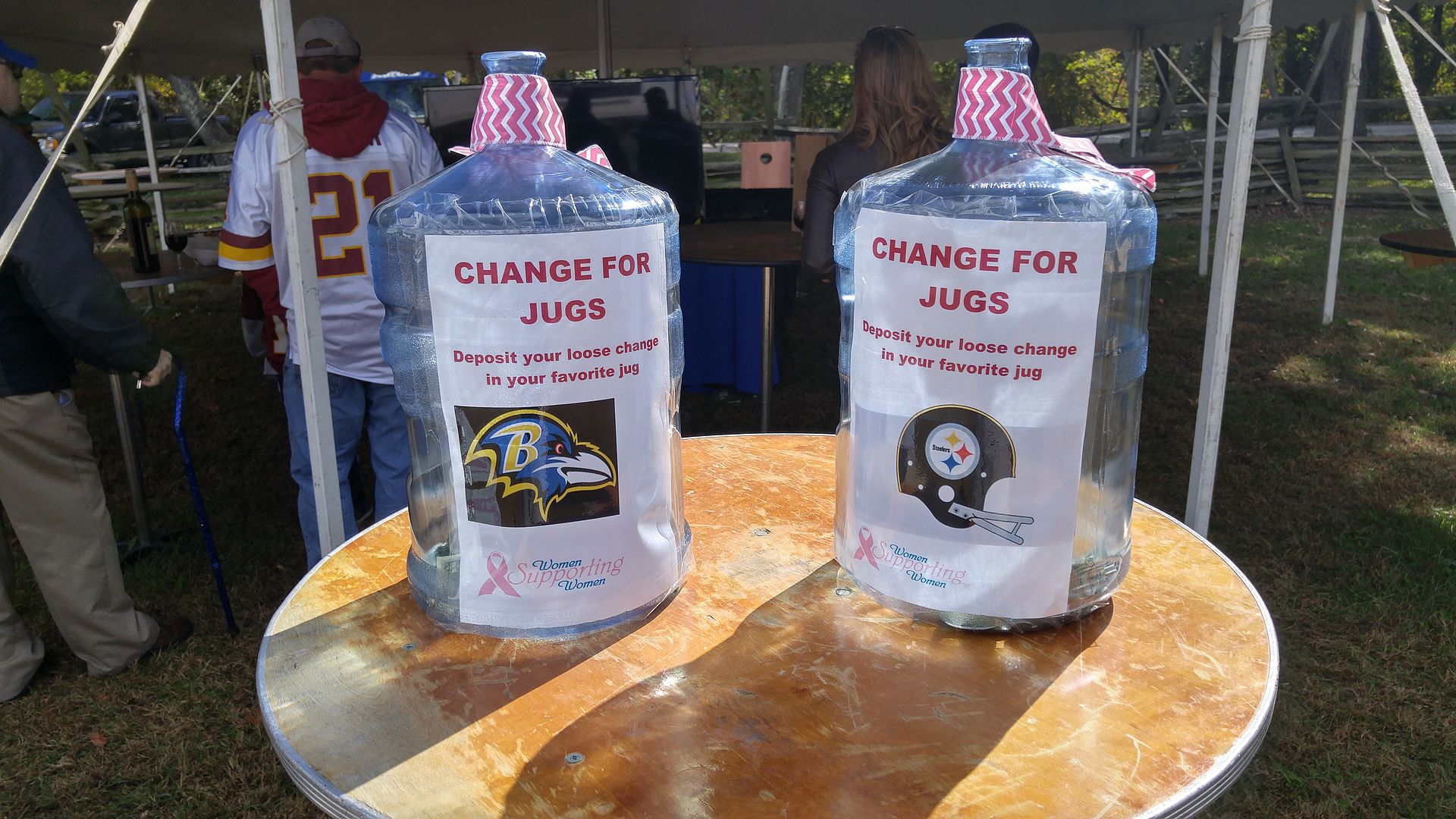 Listen, I get it. When the attendance at the event appears to be 60-70% female it's a good marketing play. But it may be a little hypocritical to use the AWF based on one recent study. Nor is there nearly the push for lung cancer or prostate cancer awareness despite their similar incidence. Just adding perspective, folks.
It seemed to me as well the crowd was a little thinner. I like taking crowd shots to watch the evolution, as the four shots from Saturday taken from about 12:30 to 3:30 show.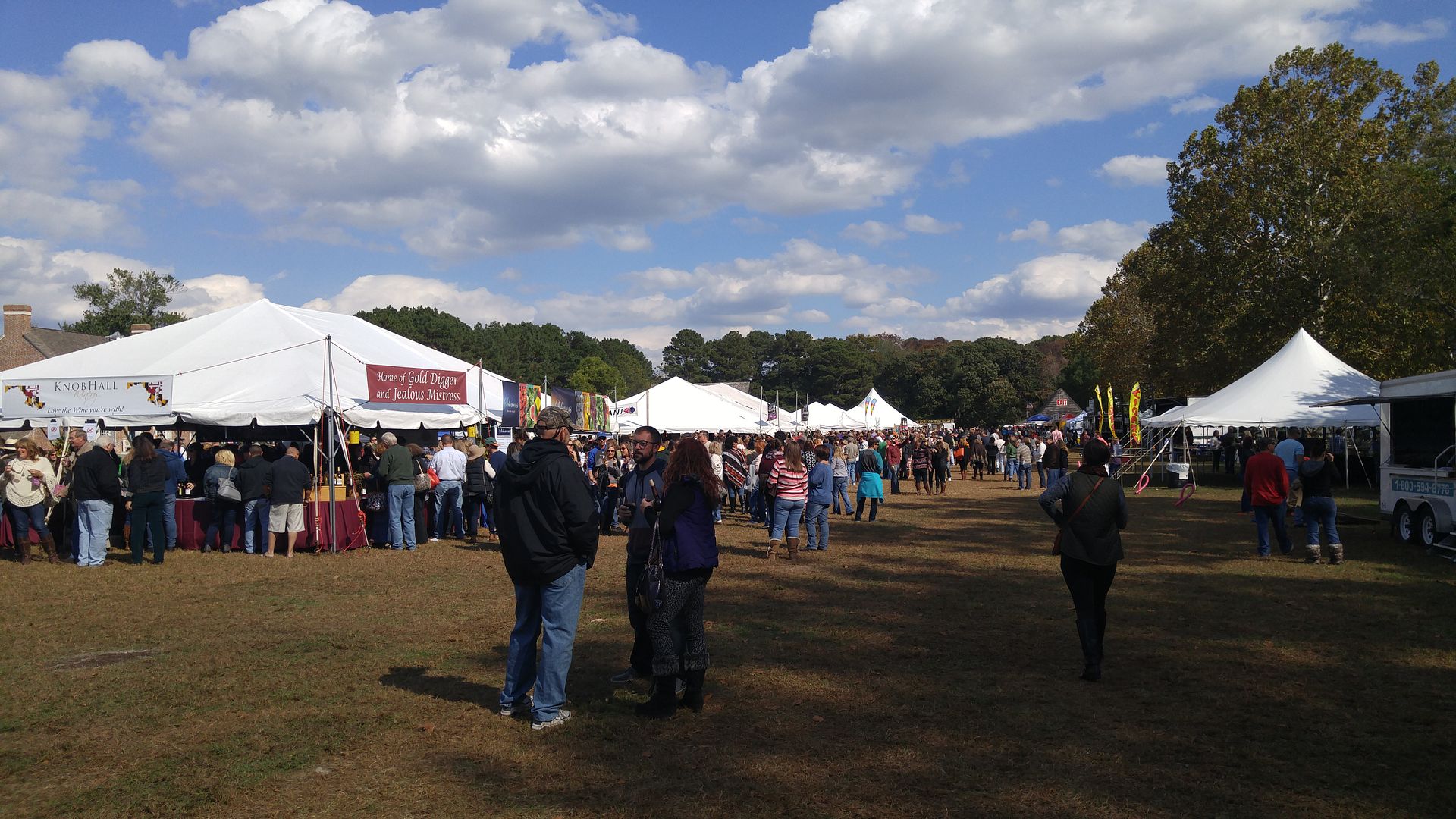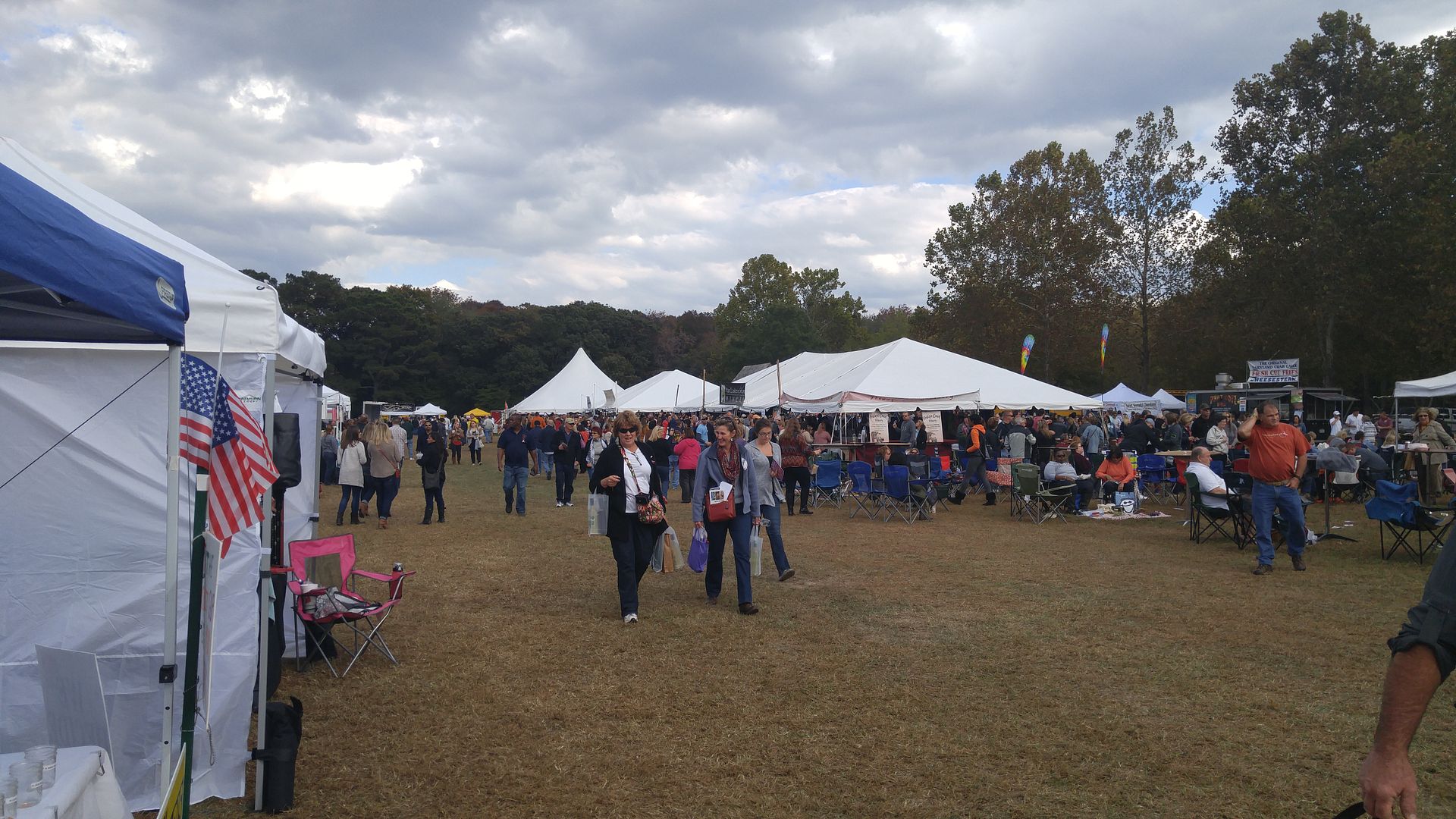 Today with the brisk weather and a couple spotty showers, it was fairly slow. The shot below was taken at 1:30.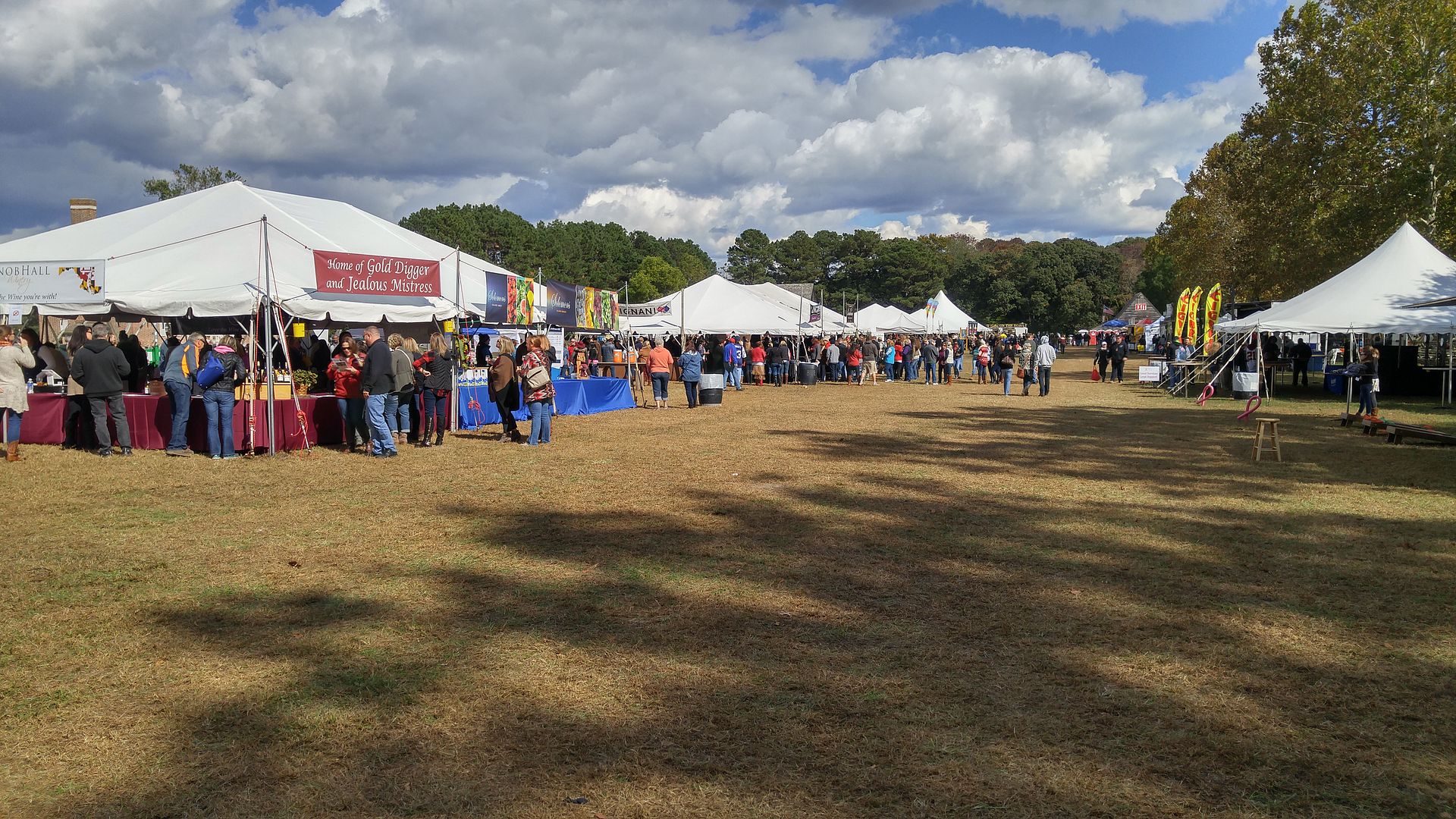 By 2:45 the end tent farthest from the stage and food area was all but deserted.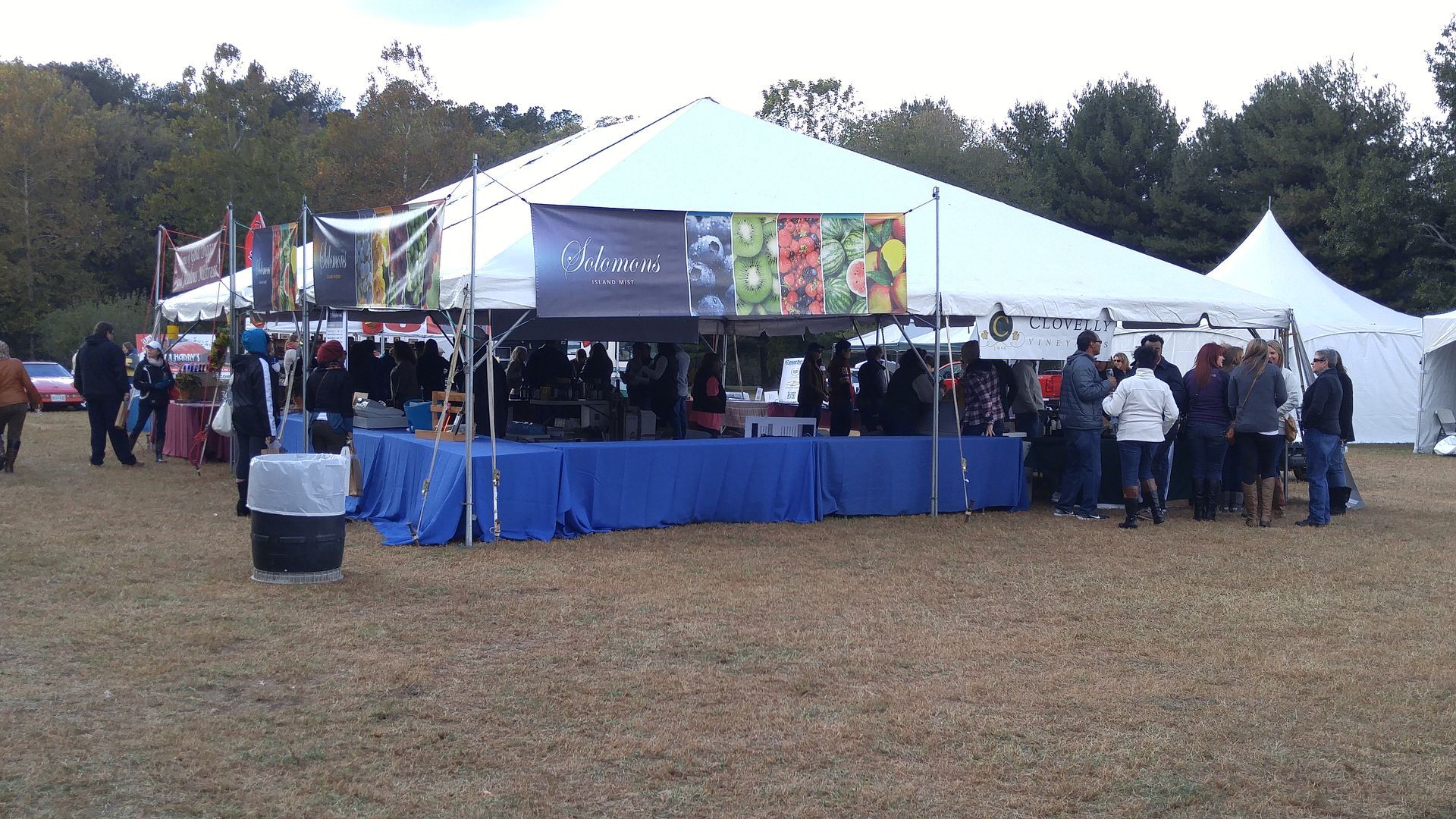 At least one vendor pulled up stakes early based on this sparse gathering. There was still over an hour left at the time.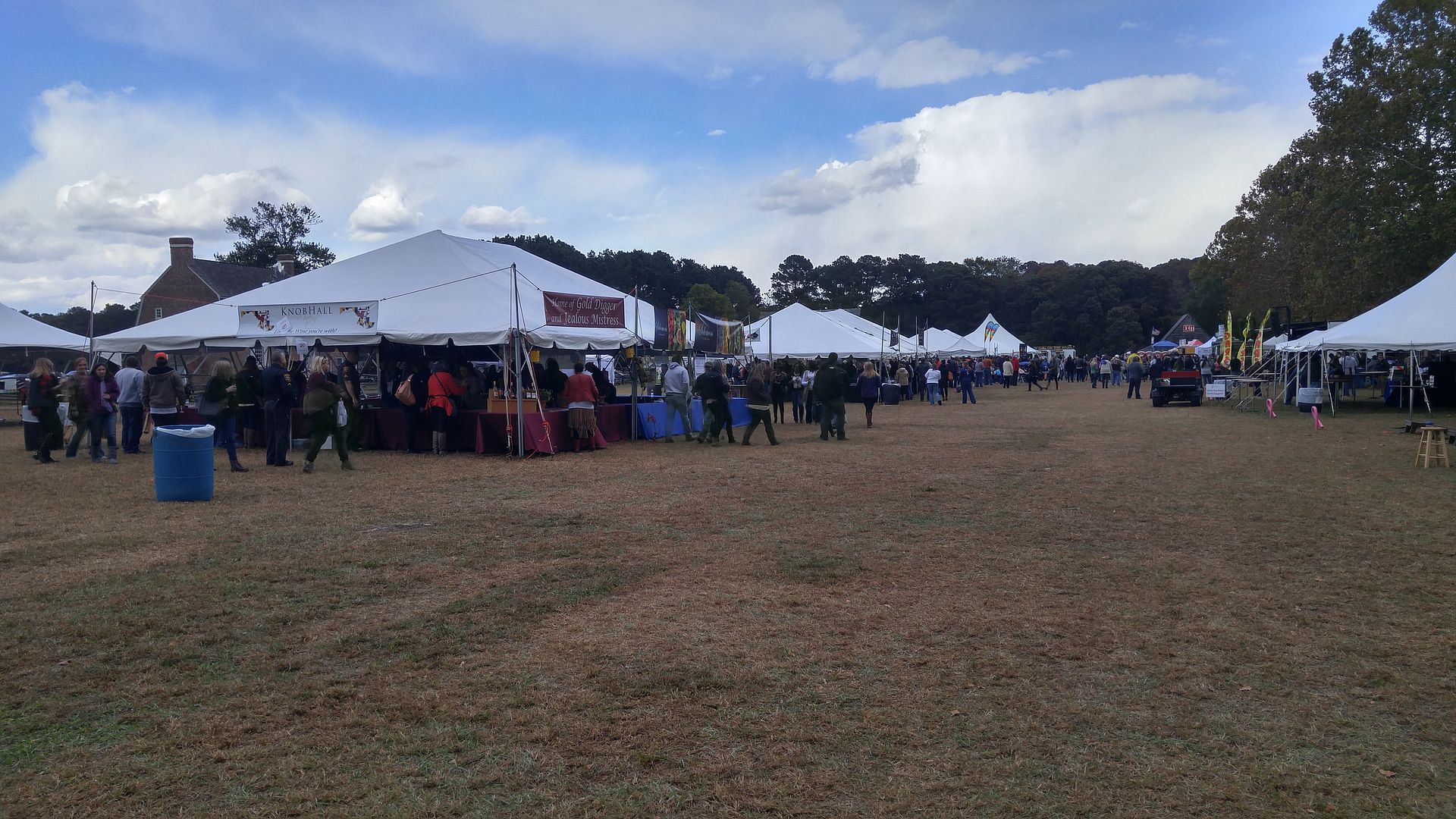 Just the couple businesses I spoke to would have liked better sales.
There were some other nice touches, though, The VIP section for the Wine Festival is much larger than the one for its beer-based counterpart.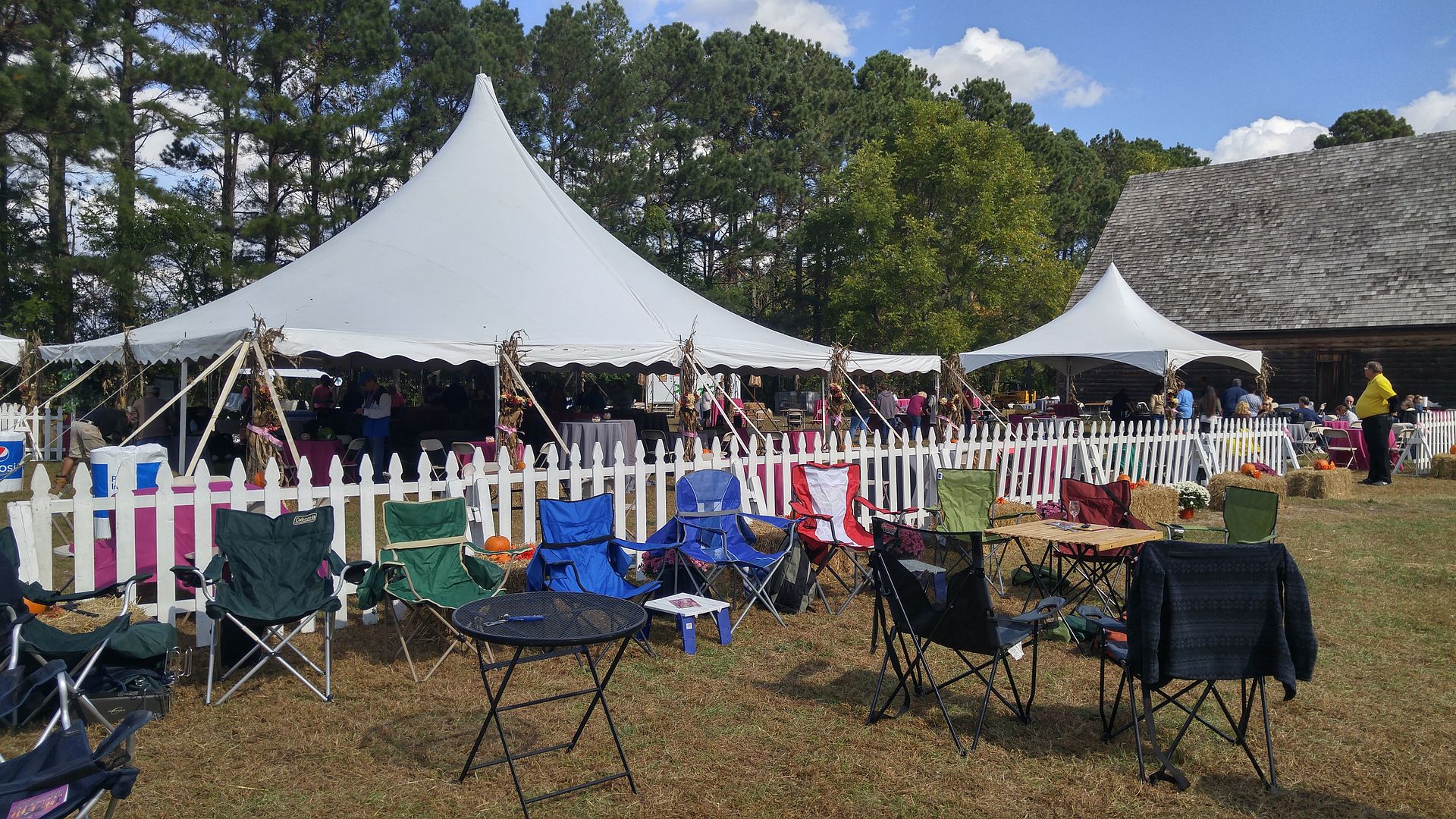 On Sunday it becomes an artisan section where they can sell their wares.
As always, we Republicans were there too.
Like last week, we did a "corn poll," but this time we had a different winner as Donald Trump prevailed. Participation was significantly less this week, though.
I generally have a few favorites in the marketing department and a bottle photo to conclude with. Based on the number of stickers I saw with this logo they were a hit.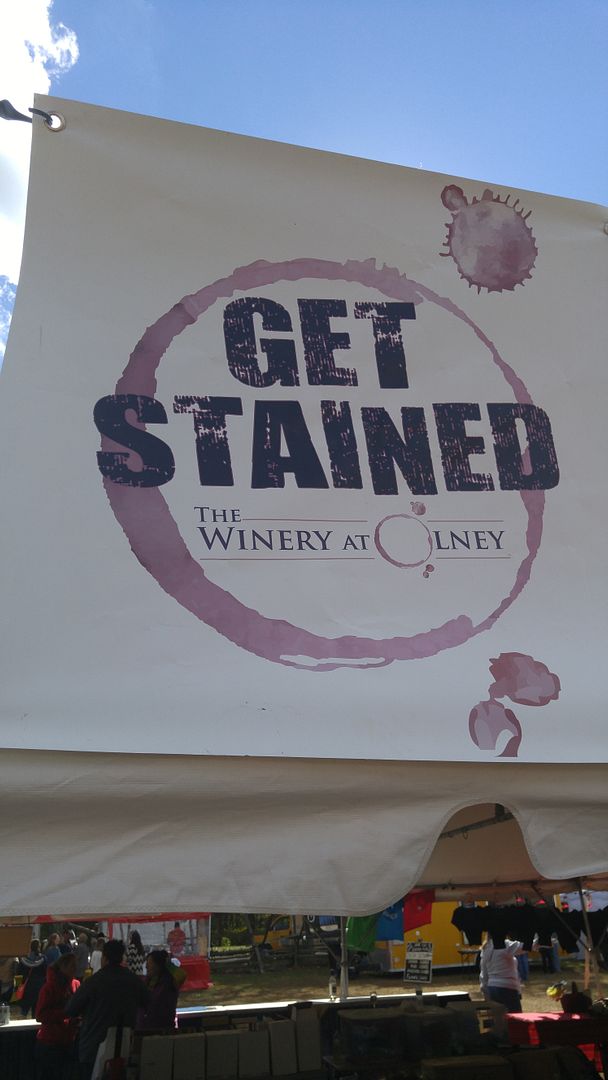 St. Michael's Winery does the Gollywobbler, the subject of the shirt below. What I didn't know is that they're next door to the St. Michael's brewery. Can you say road trip?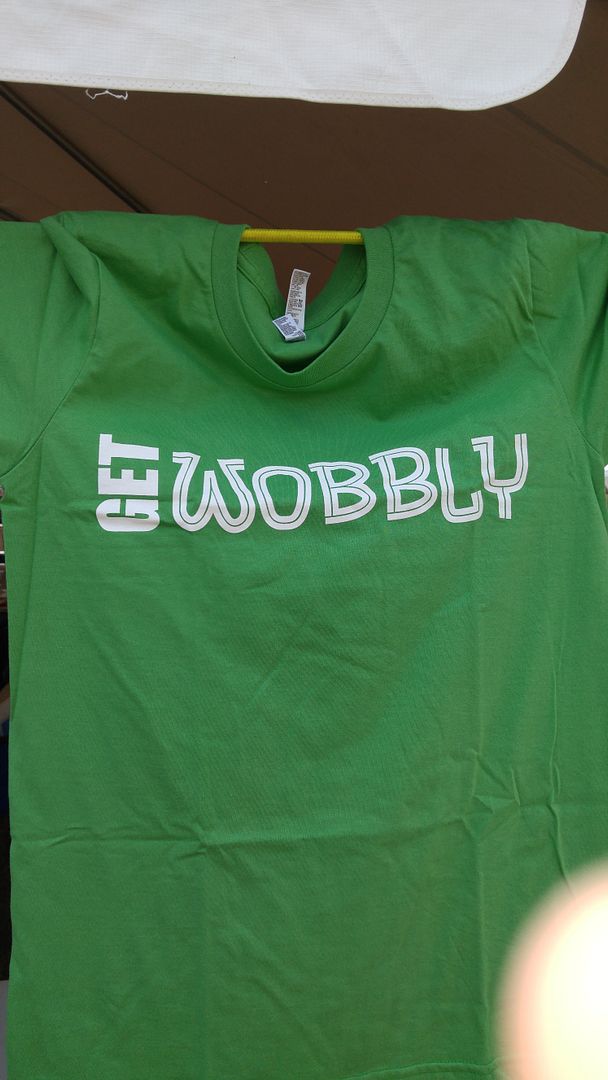 Finally, the bottle shot brought to you by sunshine and Linganore.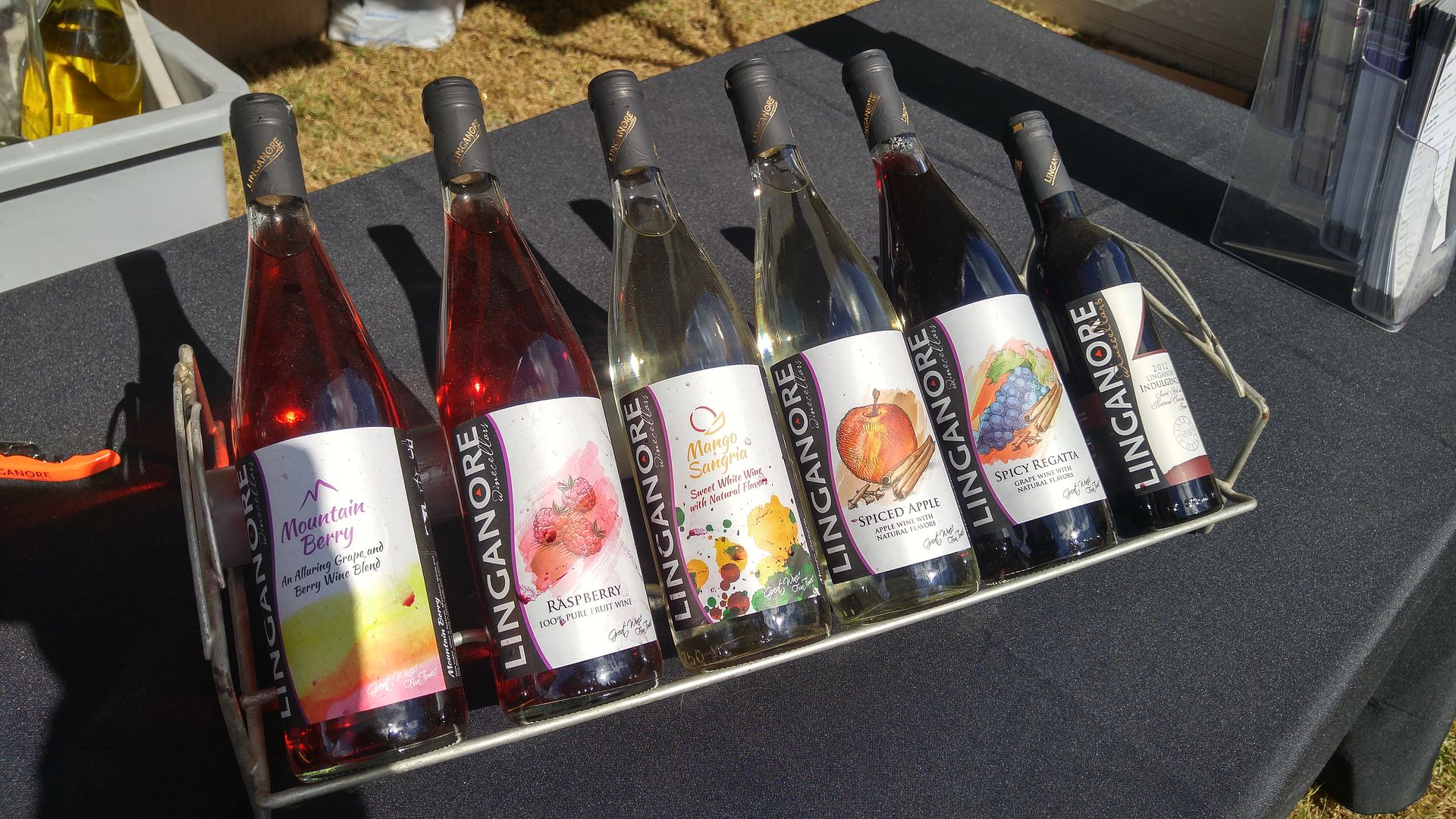 Hopefully the weather will be warmer next year!
A recent poll by the Washington Post brought gasps of surprise from Republicans – even in a state where registered Republicans are outnumbered by better than 2-to-1 by their Democratic counterparts, the people of Maryland approve of Larry Hogan's performance by a margin of 61% to 22% disapproval. Since a similar poll taken shortly after Hogan took office, he has gained 19 points in the approval department by pulling in a large percentage of those who previously had no opinion and even whittling the disapproves from 24% to 22%.
All those are encouraging signs, particularly as the Post points out Hogan is nine points up on Martin O'Malley at a similar juncture and back in the territory Bob Ehrlich enjoyed early on.
Of course, the Democrats retort that a portion of the goodwill is based on Hogan's ongoing treatment for non-Hodgkin's lymphoma, with his last round wrapping up. Hogan's newly bald head is regularly featured on social media as a constant reminder of his treatment, something which he's parlayed into a lot of good press coverage.
Insofar as policy goes, though, Hogan has gone pretty much down the center of the road. The incoming governor whose initial act of significance was to pull unpopular phosphorus regulations from being published in the Maryland Register ended up compromising on less stringent measures in order to avoid a veto fight over a legislative version of the O'Malley regulations. Days later, his first budget made some unpopular "cuts" (read: more modest increases in spending than the opposition was conditioned to expect) but still was larger than the previous year's.
On the transportation front, Hogan pulled the Red Line in Baltimore but decided to keep the Purple Line in the suburbs of Washington provided the local governments paid more for it. He used the money saved from the Red Line to fund needed highway projects and also figured out a way to reduce the tolls in Maryland. Unfortunately, we still have the higher gas taxes passed by Martin O'Malley to pay for the Purple Line and planned Red Line.
In a number of ways, Hogan has achieved his level of popularity to working around the edges. The makeup of the General Assembly is such that Hogan had a number of bills that passed where he allowed them to become law without his signature. It was probably a political calculation of the likelihood of whether his veto would hold and if the hill was vital enough to die on politically. Both sides seemed to be feeling each other out in a cautious session – save the doomed effort to roll back the "rain tax," Hogan's legislative agenda had a focus on economic development that was to some extent left over from the O'Malley administration's half-hearted attempts to address the state's awful business climate.
The question for Maryland Republicans going forward is just how much conservatism they want to push. Those in the party who disapprove of Hogan generally fall into either or both of the two categories of wanting fewer gun restrictions or better leadership on social issues – naturally, the Democrats tried to use both as wedge issues against Hogan and failed.
Maybe a better way to frame this is to question whether the Republican caucus in the General Assembly will create its own legislative agenda for next year or just ride along with Hogan's. One thing I have noticed over the years is that there are several legislators who introduce bills in the General Assembly but we don't seem to have a platform we follow – it's like every man for himself.
Perhaps next session the GOP should pick out eight to ten important, conservative bills and work like hell to get them passed, bypassing the committee if necessary. (For example, had they done that on the original "rain tax" bill, they could have forced a floor vote on sustaining it, putting Democrats on the record as favoring it.) They can even be repeal bills of O'Malley legislation – after all, if Hogan is rolling back O'Malley's toll hikes and Red Line boondoggle, we should hope he will ditch items like the "septic bill" and PlanMaryland.
If you have 61% of the public behind you, it's time to grab a bully pulpit and make needed change.
Who will stand in the gap? That was the question asked in a presentation by Texas pastor Charles Flowers as he keynoted the eleventh annual Labor of Love fundraising banquet to benefit the Eastern Shore Pregnancy Center. Despite being plagued by some technical gremlins, Flowers presented a message mainly based on Proverbs 24:11, which oddly enough was the same verse used by Cathy Keim in her post the other day.
Flowers was introduced by local pastor David Diskin, who appealed to Christians to stand against abortion. We have to support life, Diskin added, despite living in a nation that overall has "slapped the hand of God."
Pastor Flowers agreed. "We are in a day of adversity," said Flowers, before asking who would deliver those drawn to death. He noted that the government had no interest in it, considering they were giving half a billion dollars to Planned Parenthood.
And regardless of the educators present that Flowers called "beacons of light" in our public schools, theirs was a "Godless field" as well. Even churches couldn't fill the need as they were being pulled in many directions in their ministry. It was up to us to, as he put it, "trade babies for paper."
Now before I continue with Pastor Flowers, it's worth stating that the ESPC served over 350 women last year. Director Jackie Seldon relayed the story of one young woman and her boyfriend who were set on terminating the pregnancy until they saw the ultrasound. She changed her mind, and the boyfriend turned from passive observer to a guy who wanted a girl "so I can spoil her." That's the sort of success story they managed to achieve 50 times in the last year and their goal for this coming year was to make it to 85.
So the calculation of the paper needed to trade for each baby was $1,200. It's a goal of about $100,000 overall.
Thus, despite the fact the government was against us, explained Flowers, we were called upon to answer to a higher law even at the price of civil disobedience. He cited the Hebrew midwives Shiphrah and Puah, who fibbed in Exodus 1:19 that Hebrew women were stronger and delivered babies more quickly than Egyptian women, thus they could not follow Pharaoh's order to execute Hebrew boys. "God places the value of life extremely high," added Flowers, and challenged us to do the same.
There's no doubt that in our secular society, where a child is but an expression of "choice" rather than a living human for whom the mother and father should take responsibility and (hopefully) bring up in a Godly manner, many have strayed from assigning a high value to life. There were close to 200 people at the dinner, but that is a small portion of the local population – I pray it's but a small fraction of those around here who value life.
Even without the visual aid, Flowers illustrated the impact of nearly 60 million abortions. As he read off a list of states, he asked everyone who was born there or had parents or grandparents from there to stand. The last one was Maryland, so most stood. Regardless, if you took the 25 smallest states in population and imagined them wiped out, you've reached the number of babies aborted in the country since Roe v. Wade. (In political terms, it's generally those states that only have 3 to 8 electoral votes. Those who support Planned Parenthood may not be against that since the bulk are loyal to the GOP.)
As I stated above, the goal is an ambitious one. We didn't get there tonight, but if you count what the sponsors gave (nearly $8,000 based on the minimums listed in the program) and the amount donated and pledged tonight, they made significant progress of over $63,000. At $1,200 per, they have already made their budget for saving 50 babies, but more can and should be done.
If you are pro-life like me, or just want to assist a noble cause, the ESPC is always looking for both compassionate volunteers who can spare time as well as those who want to trade paper for babies. It may not be the most popular or politically correct cause, but it is a rightful one.
I received an amusing e-mail missive this evening from the Washington Times, and it suited me well because I didn't really want to discuss politics after last night's debate I didn't watch. Seems it only took them 33 years and over a billion dollars to finally have a profitable month. And if you go to their website – which is the reason they are even close to being in the black, since the print edition is a money pit – you'll find the reason: it's almost as bad as the Examiner site for annoying ads. (Having once written for examiner.com I can vouch that money doesn't spread much among those who provide content.)
Reading that and realizing I'm only weeks away from the decade mark of doing this site made me ponder my profitability. While it's not making me rich, my site does make me a modest profit mainly thanks to compensated posts and the handful of political ads I accept. (I don't want to guess my hourly rate on doing this, though, because I'm sure it's expressed in millage, not even pennies.)
Yet it took from about the time I graduated high school to now for the Washington Times to make money. This despite the fact they had a niche in the market that was otherwise mostly unfilled as a right-leaning print outfit. It sort of makes me wonder about whether I have the patience of Job in developing this site further given the fact I work full-time outside the home.
While that was the case for the first three years I did this site, too, the big difference is now being in a family rather than single. It takes time to be the soon-to-be husband and stepdad, and that lack of available time was one reason I brought Cathy on board.
But let's talk profit. I still think this site is the right venue for certain non-political advertisers who want to reach a regional audience. It's been some time since I checked my Google Analytics, but historically I have had an audience all across Maryland, with some play in D.C. as well. Maybe you have a niche of your own that seeks customers who are more intelligent and discerning. I think this could be the ticket.
In strict terms of how much I pay for the server vs. revenue, this has been a net winner for most of the last ten years. But I want to help you succeed, too.
For six consecutive years I've been a part of the Good Beer Festival. After getting its legs under it and enduring a couple years of subpar weather in 2013 and 2014, the hopes were high for a banner event.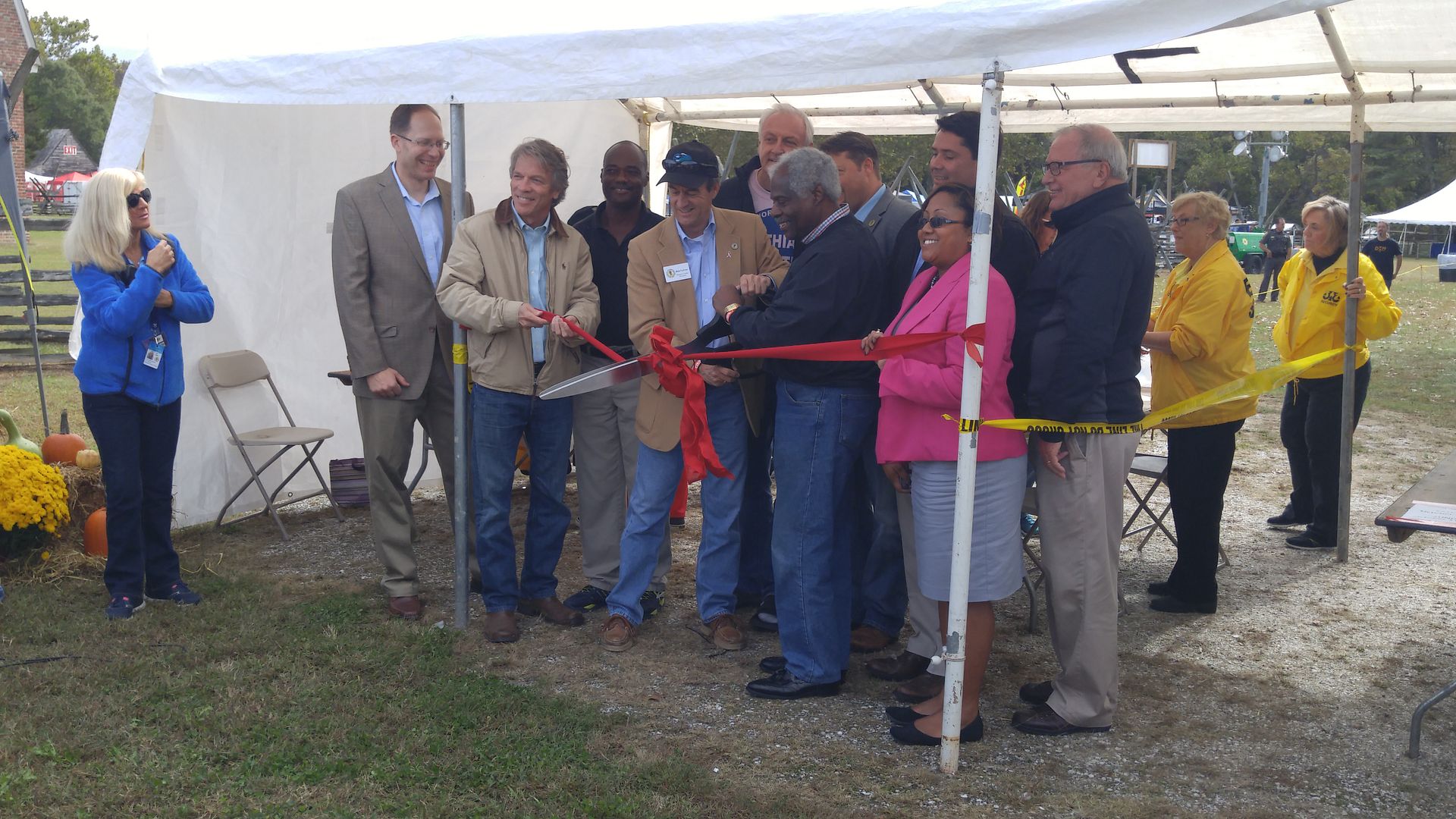 They didn't take credit for the weather, but as always a number of local politicians crowded around the ribbon cutting. Accompanied by the fine folks of Wicomico County's Recreation and Parks were (from left to right) County Councilman Marc Kilmer, County Council President John Cannon, County Executive Bob Culver, Senator Jim Mathias (in back), Delegates Carl Anderton (in back), Christopher Adams, and Sheree Sample-Hughes, and County Councilman John Hall.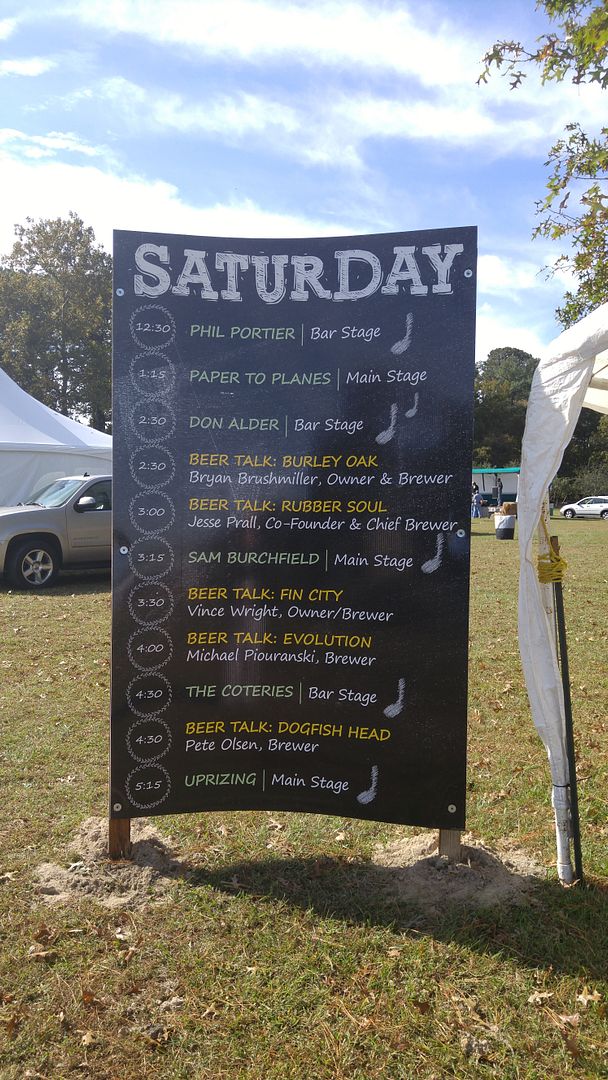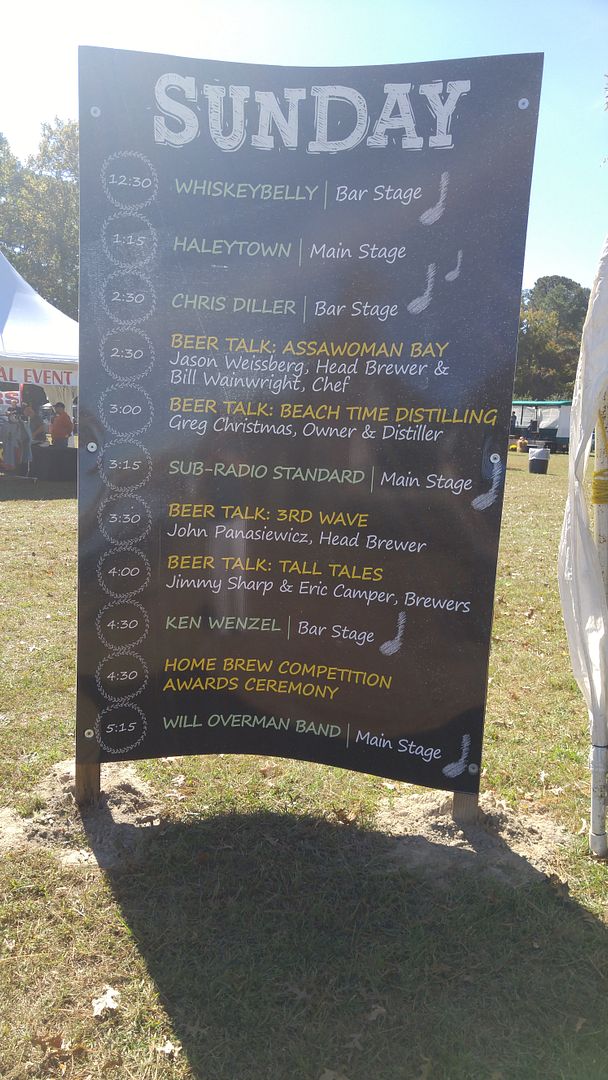 One thing I liked was the schedule boards they added to alert those who came to the GBF to the various events going on that day. The event is focusing more and more on the home brewers, so the talks from local brewers were popular with that set.
As usual, Saturday drew the larger crowd. I took the photos at 1:30 and 3:30.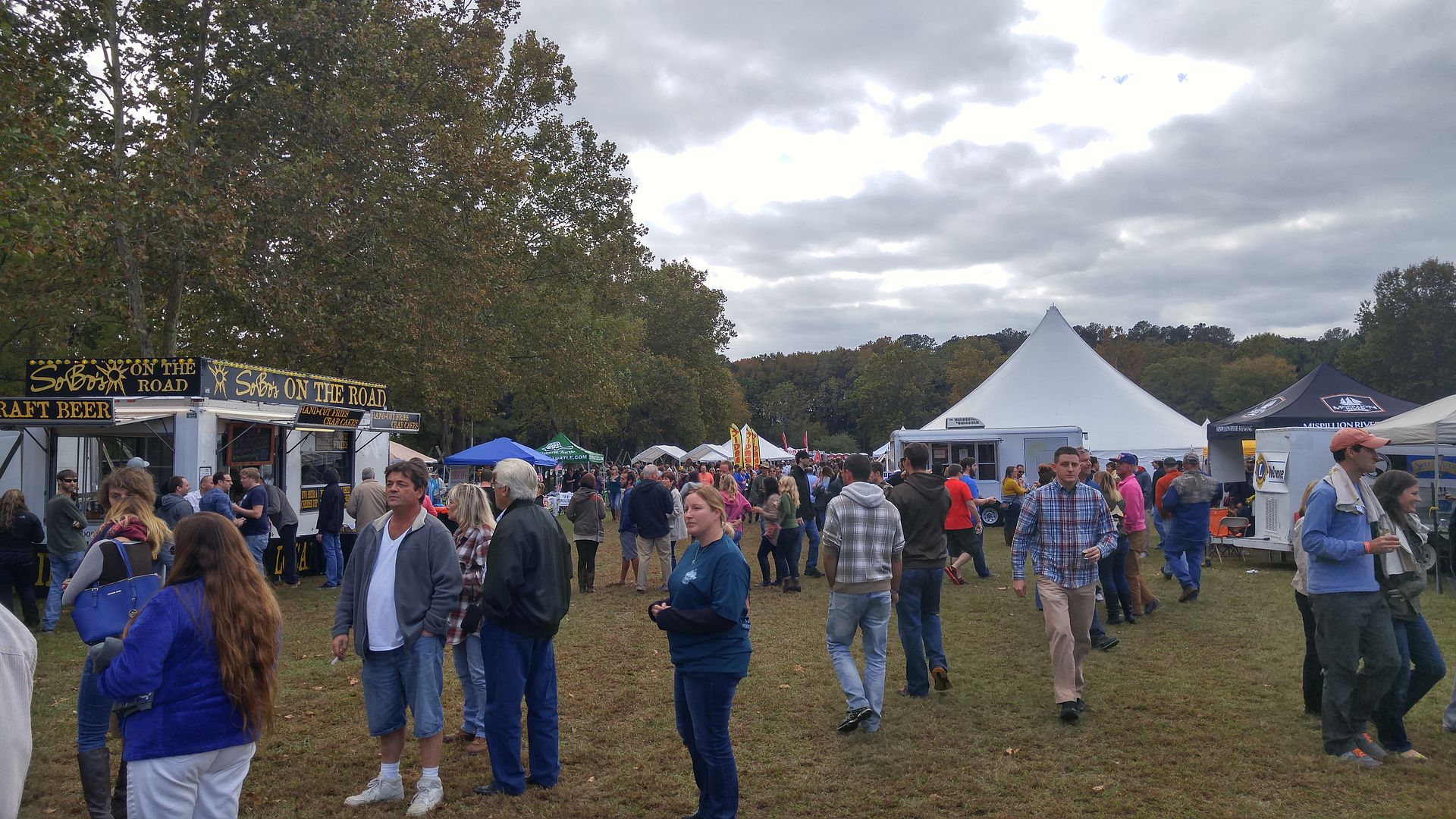 It didn't seem quite as busy as last year, but not for lack of trying. Ever try human foosball?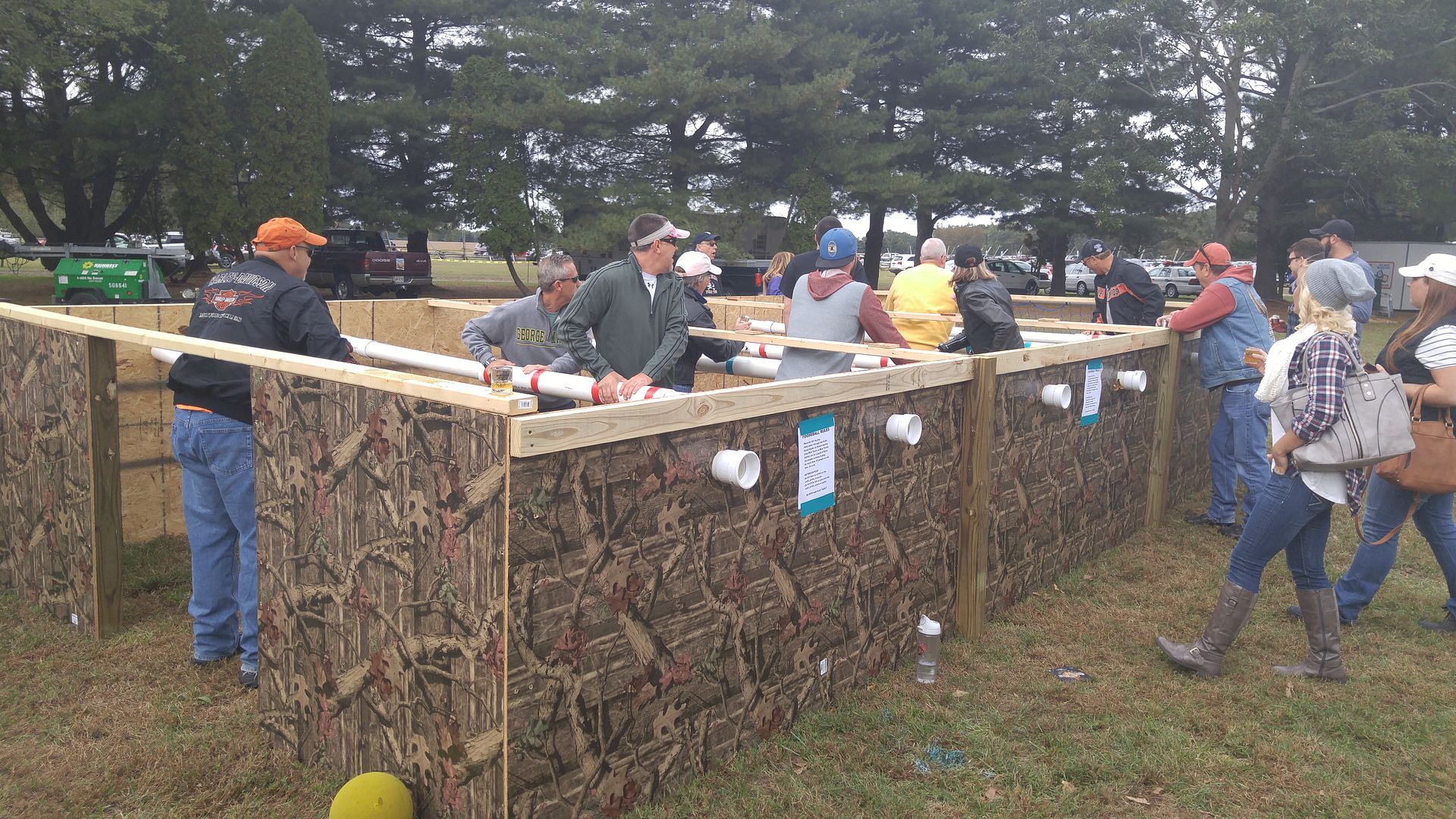 Looked like fun, although it was a little cutthroat. On the other hand, the VIP tent seemed like it needed a little something – like people.
The local beer area is always a favorite, though. It features the ever-amusing chalkboards.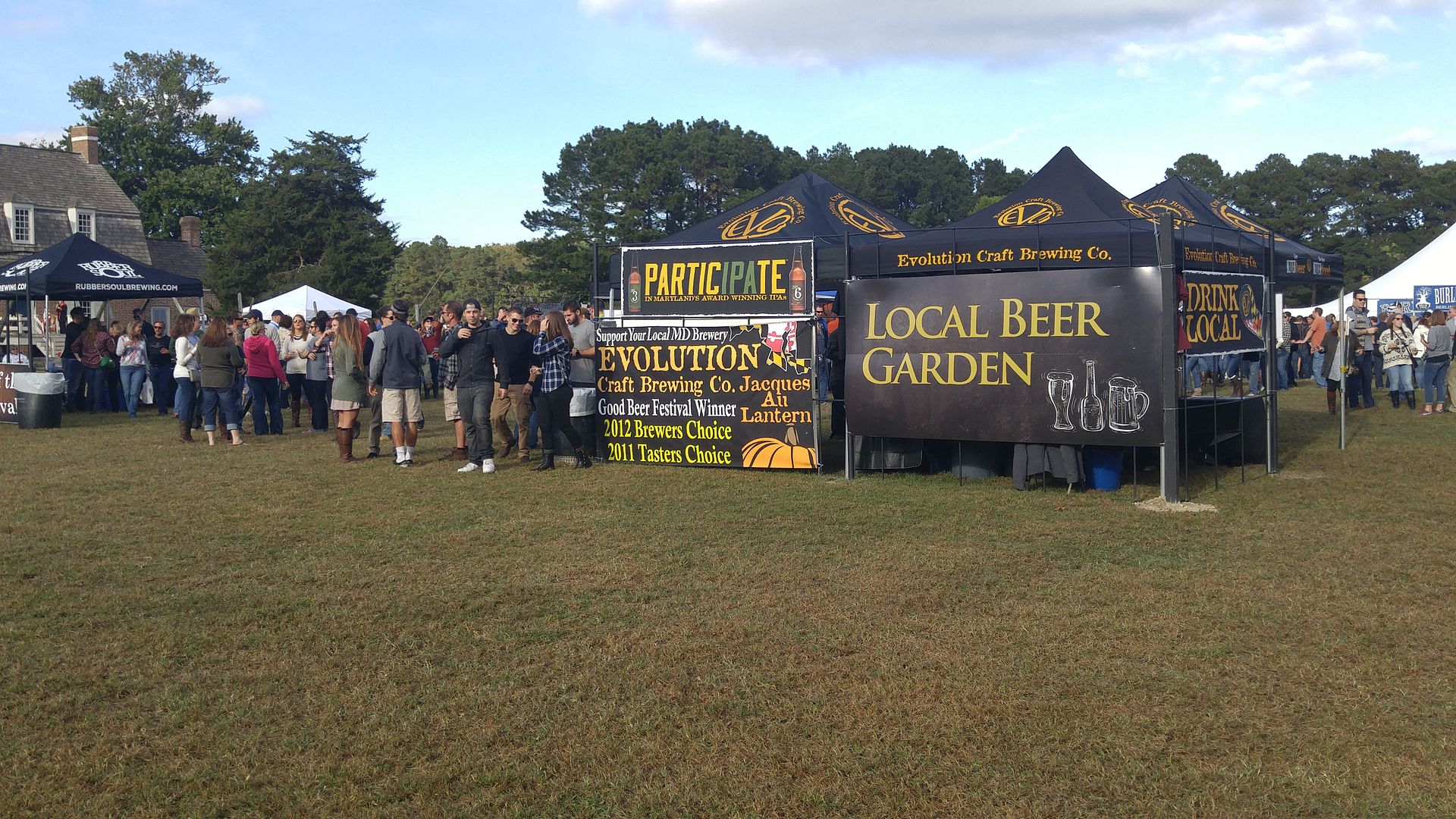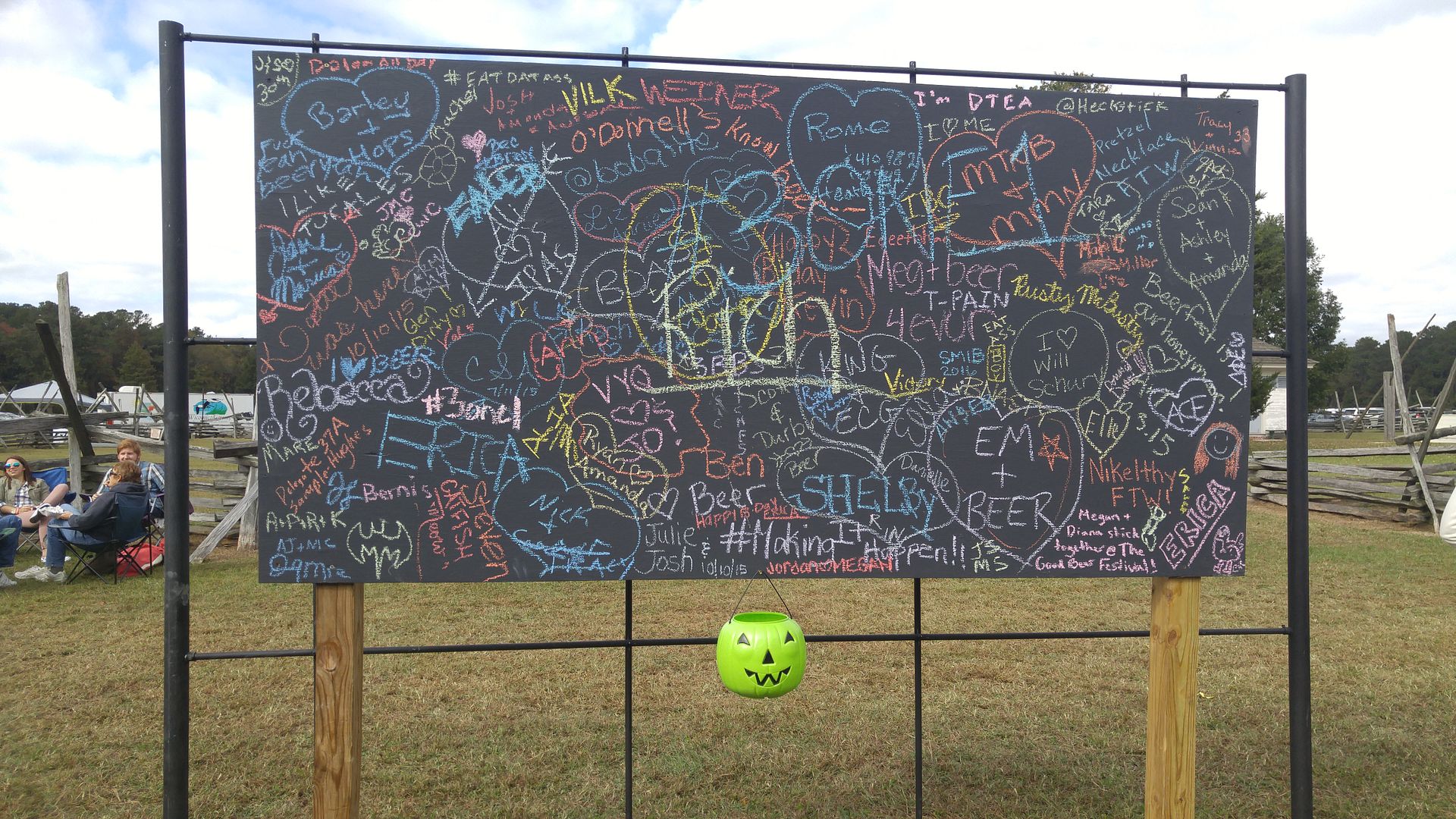 So went Saturday. As you may have noticed, Sunday was a clear, lovely day. But the crowd was far smaller.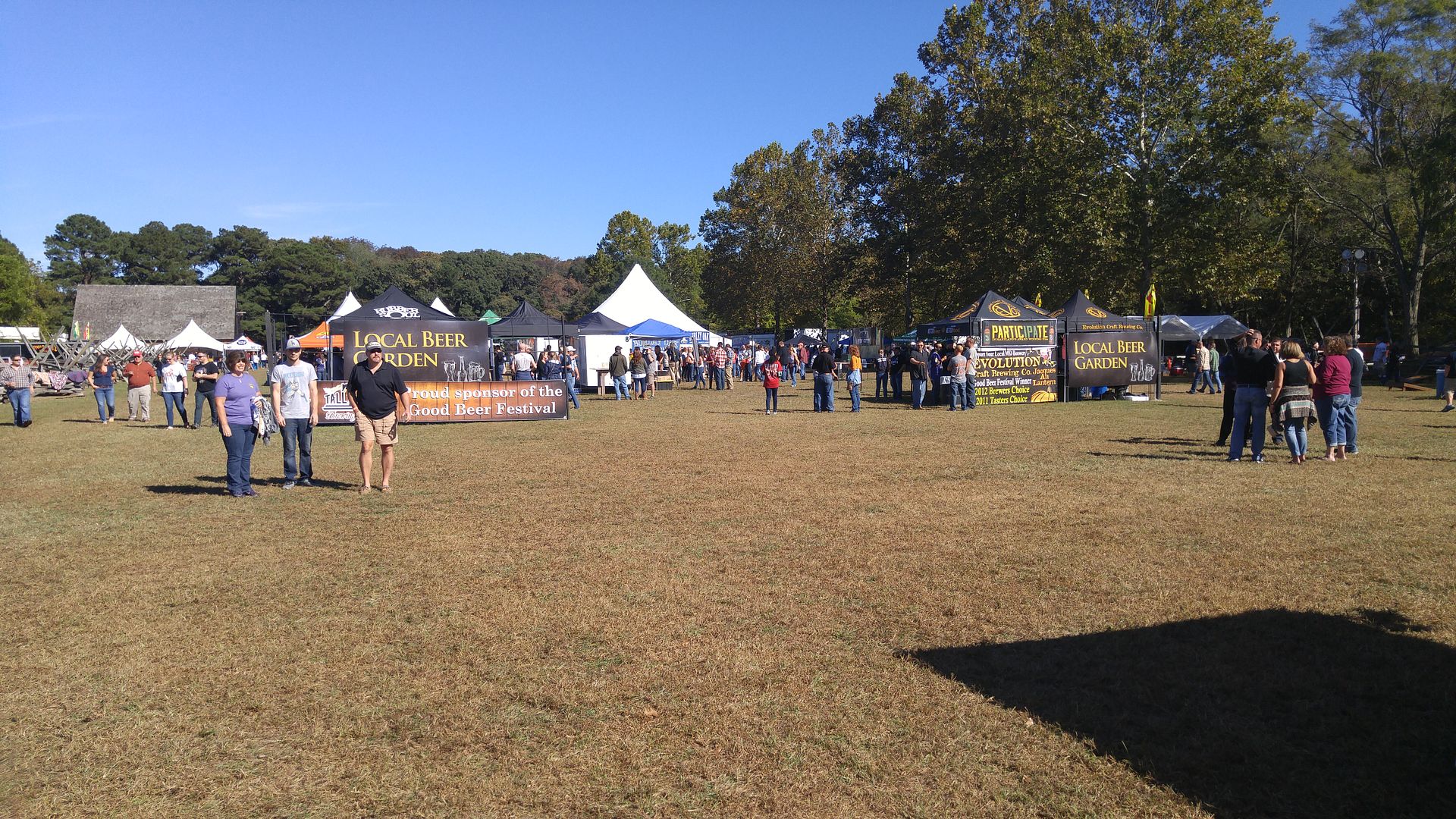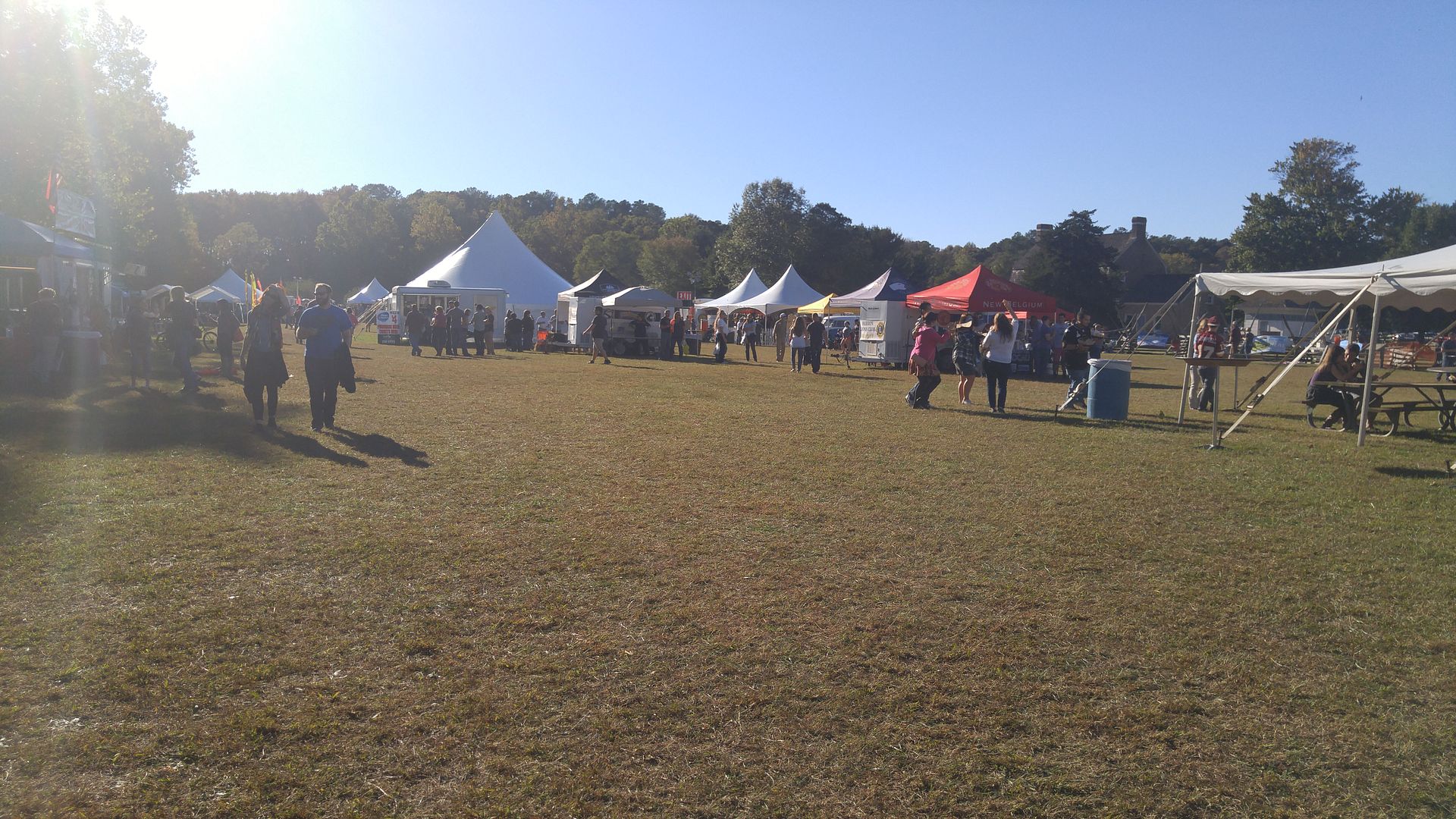 Granted, I took these photos a little later in the day, but the attendance was probably half or less. Personally, I liked not having to deal with the larger crowds.
As long as they stopped by our tent…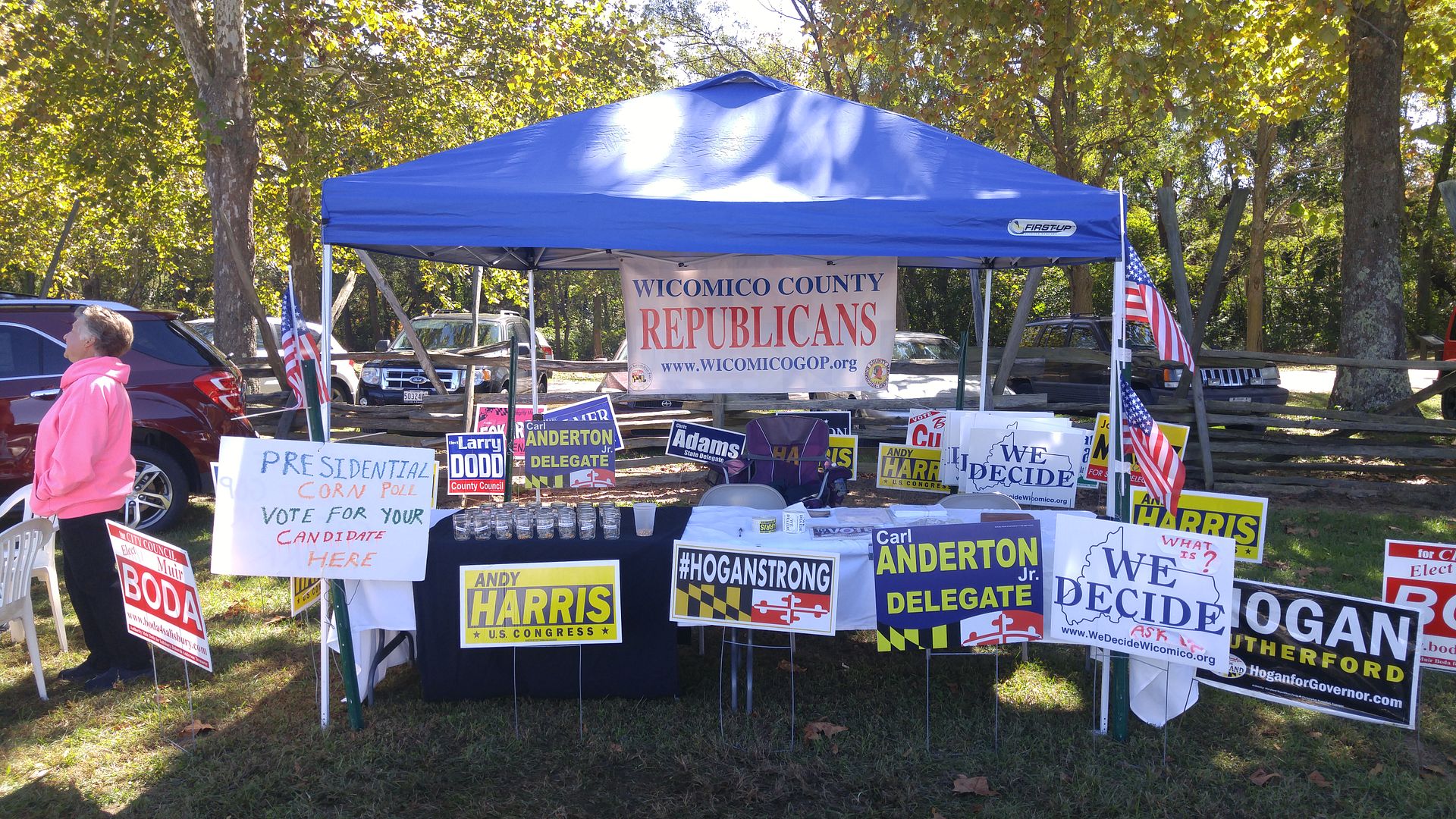 …and participated in our corn poll.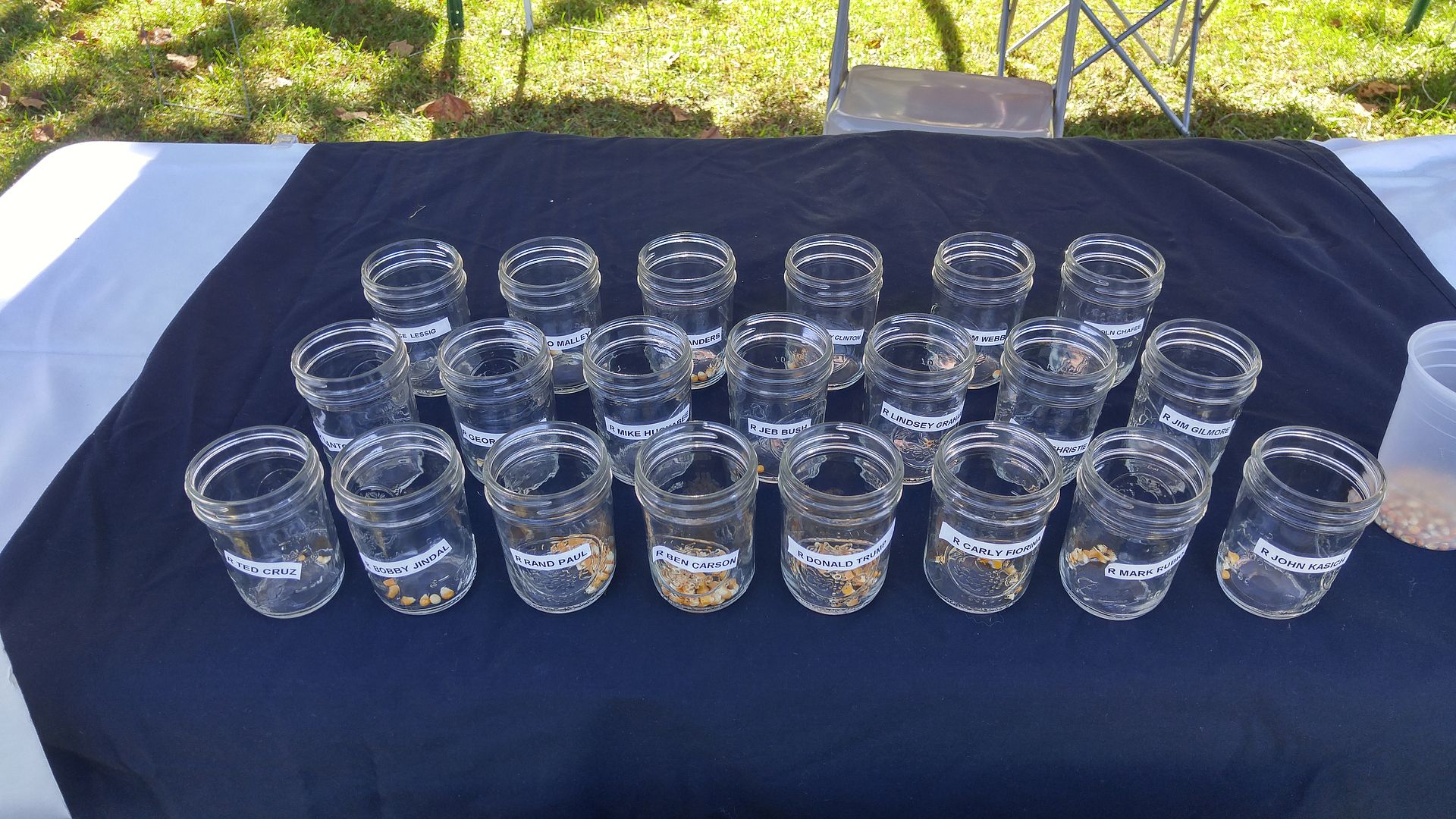 Those who had the fullest Mason jars were Ben Carson and Donald Trump.
This was the perspective we had, as the sun was setting on another edition of the GBF.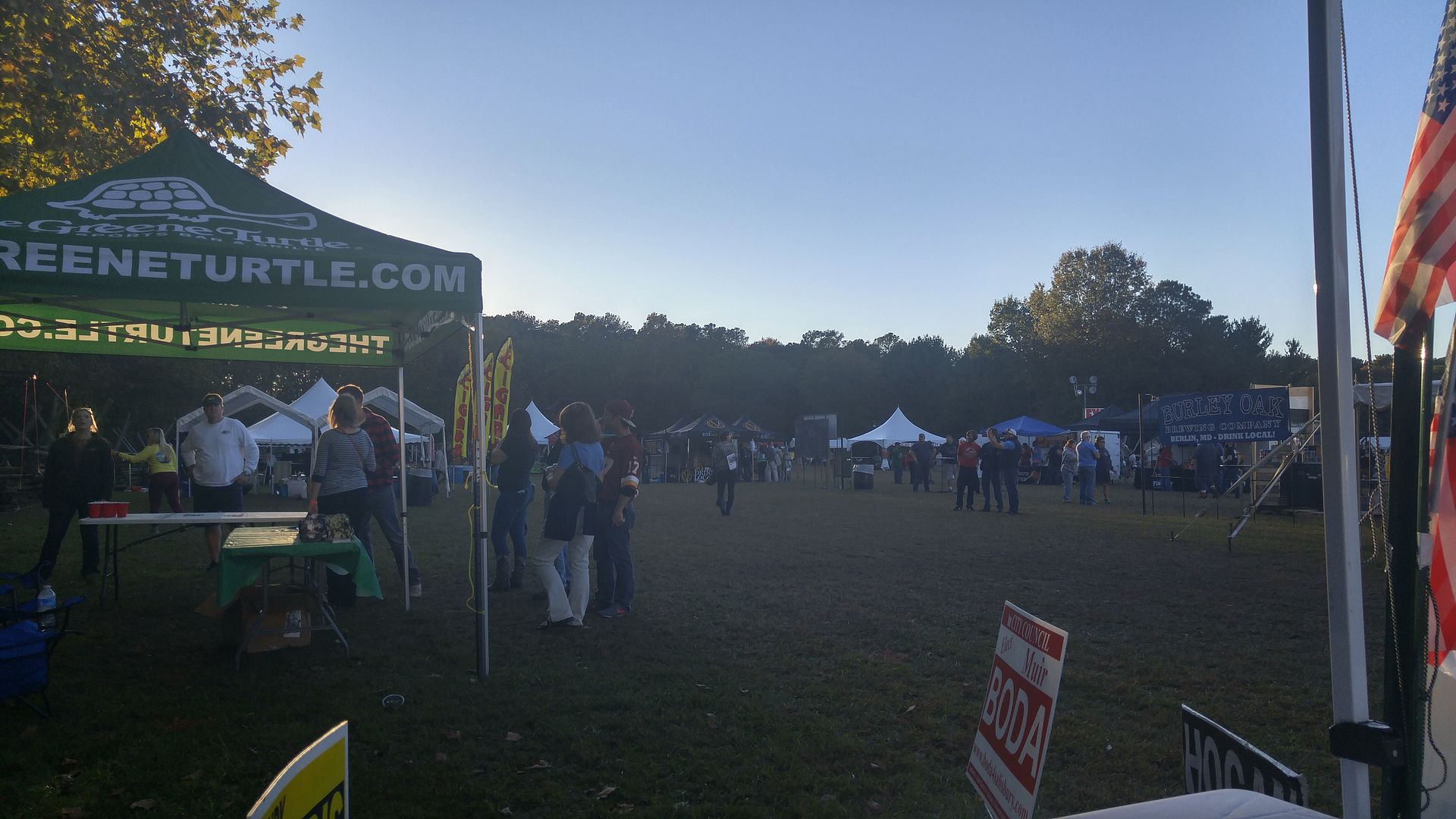 So I close with this photo, just because I liked it.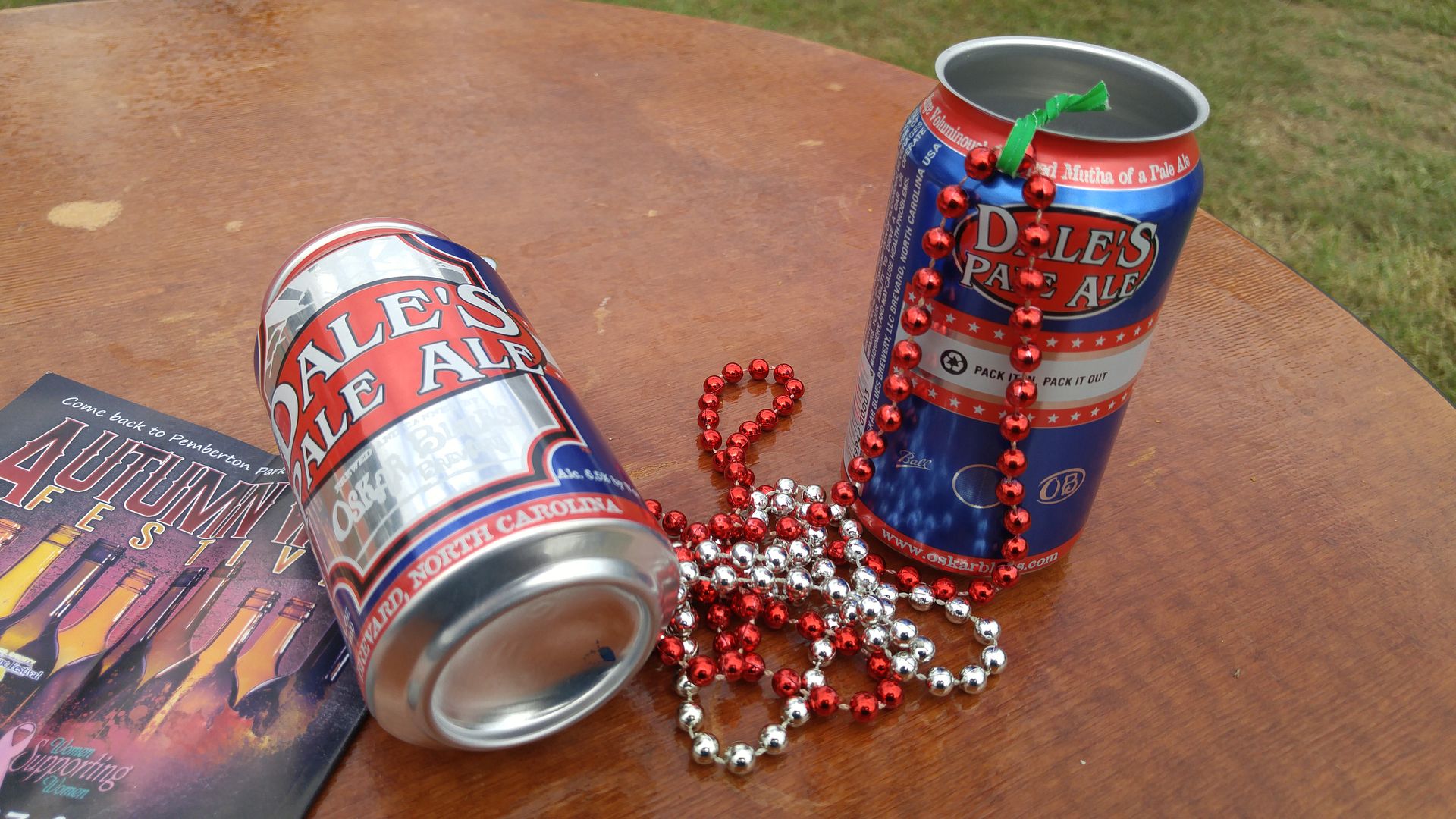 In a few days I'll do my look at the bands of the GBF.
By Cathy Keim
Deliver those who are drawn toward death,
And hold back those stumbling to the slaughter.
If you say, "Surely we did not know this,"
Does not He who weighs the hearts consider it?
He who keeps your soul, does He not know it?
And will He not render to each man according to his deeds?
Proverbs 24:11-12
On Saturday, October 10, 2015, over 20,000 protestors turned out at 290 Planned Parenthood facilities across the nation to protest the selling of baby parts for profit. The protestors were against abortion, but were highlighting the gruesome practice of harvesting baby organs to sell for research. The availability of large numbers of aborted babies at Planned Parenthood facilities make for a profitable secondary business of supplying fetal organs and tissue to researchers, including the National Institutes of Health.
Although this is not a new phenomenon, it was brought to public attention by the videos released by the Center for Medical Progress, which led to Congressional investigations and the call to defund Planned Parenthood. So far, Congress has been unsuccessful in their quest to defund Planned Parenthood. Citizens are continuing to protest to keep the pressure on Congress to act.
This issue contributed to the resignation of Speaker John Boehner and it continues to reverberate in DC as hearings drag on and there is an effort to use reconciliation to force a bill through to the president's desk. President Obama has said that he will veto any bill that defunds Planned Parenthood, and there are not the votes in the Senate to override a veto. This has led to talks of a government shutdown if the House refuses to fund the government over this issue.
Please note that it is the President that will shut the government down by refusing to accept the bill that the House sent to him, because he wants PP funded.
The new Speaker will have to face this problem right away as the continuing resolution (CR) that was passed under John Boehner will expire in December. We are heading towards a showdown anyway, because the President has indicated that he will not accept another CR.
We have not had a budget passed in years. The government has been lurching along on CR after CR. The President is in a rush to spend more and is chaffing under sequestration. The House needs a Speaker that will hold the line on spending, including a government shutdown if that is what it takes.
So, while the 20,000 protestors across the nation were protesting abortion and fetal tissue harvesting for profit, they were also part of the struggle between government factions. We cannot say the struggle is between Republicans and Democrats, because that is not the case. This is a struggle between Republicans that defend life and conservative values and Republicans that are working with the Democrats as part of the elites that rule over us.
The Democrats are united in their totalitarian quest to rule over us. They use their technique of dividing people into victim minority groups that pay allegiance to them for taking care of them to control and manipulate their followers.
The Republicans have not been able to consolidate the control of their base sufficiently to shut down all opposition. The conservative faction, while not the majority, is still large enough to bring down the Speaker and to cause occasional upsets like with the amnesty issue. The Chamber of Commerce funded, crony capitalist GOP faction despises the conservative base, but cannot quite break free yet.
Over and above the political factions are the media who decide what to report or not report. If you hold a protest and nobody reports on it, then did it really happen?
Here are pictures of the protest in Easton.
Almost all of the forty-four participants came to the first protest on August 22 and returned because they are convicted by the knowledge that babies are being sacrificed for human convenience and profit. We stood on the sidewalk with our signs and prayed for the abortionists and staff that work at the facility and the women that come for abortions to have a change of heart. The clinic was not open on Saturday, so we did not see any workers or clients.
Despite our peaceful gathering, many people think of pro-life activists as wild-eyed dangerous crazies because of the media's depictions, which frequently tar all pro-lifers as doctor killers and abortion clinic bombers.
This Washington Post article reports that
a charter school was concerned when a PP facility was going to be located next to them. "Many parents worry that they will have to explain graphic images of aborted fetuses and the ideological underpinnings of one of the country's most contentious debates to their young children," wrote reporter Michael Alison Chandler.
Actually, at the first protest in Easton on August 22, that is exactly what happened. The pediatric clinic next to the PP facility was open during the protest. The pediatricians came out to complain that our signs were scaring their patients. We did not have any graphic photos, but they complained about a sign that said, "Abortion kills babies." I mentioned to the pediatrician that we were trying to save babies so that they would have more patients. He shamefacedly acknowledged that we were pleading for babies to be spared a gruesome death.
A final nod to the uneven playing field that pro-life protestors face is the reality that big money is deployed against them. Planned Parenthood is a "non-profit" which pays it president, Cecile Richards, a salary of $590,000. Planned Parenthood receives over a half billion dollars in federal funding as well as millions more in state funding.
According to the Free Beacon, "Planned Parenthood has supported the Democratic party in the past. It poured $18 million into outside spending groups in 2014 and 2012, according to the Center for Responsive Politics. Most of its nearly $6 million in direct contributions since 1990 have gone to Democrats. Every Democratic candidate except for (Jim) Webb has benefitted from this cash influx at the federal level. (Bernie) Sanders and (Lincoln) Chafee have received nearly $25,000 combined over the course of their careers."
How much of our tax dollars are being used against us to buy the politicians' protection? This is the typical cycle of the tax dollars funding an organization that then donates exclusively to the Democrat party to protect them.
Interestingly enough, this runs in the family. Cecile Richards is married to Kirk Adams, who just stepped down as Executive Vice President of the Service Employees International Union, SEIU. His last reported salary was only $229,880, so his wife was out earning him by a significant amount. More importantly, in the last presidential election, the Wall Street Journal reported that the SEIU donated over $70 million to Democrat candidates and knocked on millions of doors campaigning for them.
This, then, is a David vs. Goliath battle. The ordinary Americans that are calling for an end to the merciless killing of our smallest citizens are fighting against a taxpayer funded giant organization that pays protection money to our leaders.
But take heart: David won with God's help.