In light of some updated information, I've decided to revise this piece slightly. My point should have been made a touch more artfully.
The law of unintended consequences strikes again.
It took over a month for this to come to my attention, since the original Bay Journal article by Tom Horton came out on March 6 and movement may have occurred since. Be that as it may, the article seems to want to heap blame on the county as much as the state – problem is the county is now following rules dictated by Annapolis, in essence losing its identity.
Here are the issues, as laid out by Horton:
(Farm owner Ted Wycall's) plan was to increase sales and production to boost his income – "about what a (Wicomico) county teacher makes," enough to live on, but not to retire, or pay the latest $8,000 tractor repair. He would have moved his 54-foot-square market onto 60 acres that link his farm to a busy road, where more customers would stop.

But highway officials said he'd have to spend $50,000 for a "deceleration lane" for his roadside market, never mind that nearby crossroads don't have any.

He could avoid that by running an access drive off a side road; but the impervious surface of that driveway, plus that of his market building, would entail stormwater pollution expenditures of more than $20,000, plus weekly paperwork he has no time for.

He'd actually be removing more impervious surface (old farm buildings) than he'd create; but because those buildings predate stormwater regulations, he'd get no credit for that, the Maryland Department of the Environment confirmed.

A state-of-the-art septic tank to handle wastes would be $15,000 or more. They can be built for much less, but regulations require such systems be certified. This has winnowed the field to a few outfits that provide only top-of-the-line units.

Ted's requests to substitute a waterless, composting toilet, used extensively by groups like the Chesapeake Bay Foundation and National Park Service, were rejected by the county.

So was his argument that new greenhouses he needs to expand on his current farm be exempted from stormwater rules: "You are a developer," said a dismissive e-mail from a county official.
By my count that is two state agencies and probably two different areas of county government involved.
While I've never patronized Wycall's roadside stand, I have often wondered how it stays in business because I notice when I drive by it there aren't many customers. (Coming from the south I often cut through "the forest" from Pocomoke, so I eventually drive by the farm's Nutters Cross Road location. Problem is not many others drive there, aside from local traffic.) I gather his idea was to build a new facility to front on Snow Hill Road, which is Maryland Route 12. Because it would be new, it is supposed to comply with all these rules surely the bulk of Horton's readership supported upon enactment. Bear in mind as well that Wicomico doesn't yet have the "rain tax" which would likely hit Wycall hard just as he completed his upgrades because we're probably at the front of the line for its expansion.
Yet the Greenbranch Organic Farm situation is not drastically different than that of any other business owner who wants to expand – it only attracted Horton's attention because this was a more "noble" calling than that of the average poultry producer a mile or two away. (In fact, it was groups with that same mindset who tried to bankrupt a local poultry farmer just a few miles from Wycall for making a simple error in sludge storage where the state fined him a modest amount.) If that other farmer wanted to expand his chicken operation, the same regulations would apply but Horton might not mind so much then.
In an era of 20 to 30 years ago, the county would have made Wycall's life easier. The light traffic count of his expanded operation would be handled by attentive driving and perhaps a slightly wider shoulder on the highway, a run-of-the-mill septic tank would have been just fine, and no worries about impervious surface because chances are a gravel parking lot would have been perfectly acceptable. (It probably still would be except for the handicapped spaces federal law now dictates.) Since then, in its effort at assuming complete control over our lives justified as one of "saving the Bay," businesses now have to pony up the extra cash and effort to do all which was asked of Wycall and much more. It's intriguing that the Wycalls are considering packing up and moving to Montana, where "there are almost no rules." In terms of being friendly to business, it can't be much more clear than that.
Yet the denizens of Radical Green who read this will only shrug their shoulders and blame the county for being a bunch of redneck hicks who bend over backwards for Big Poultry but won't give this heroic little guy and his acorn-rooting pigs a break, this before advocating to expand some of these regulations to other waterways like Lake Erie.
It's a shame that the Wycalls are facing such difficulty with their situation – if they want to run an organic farm and people are willing to pay a premium for the privilege, let's just hope for their sake the market is there. But for the intended audience of Horton's piece, it's another reminder that it really is true that you reap what you sow.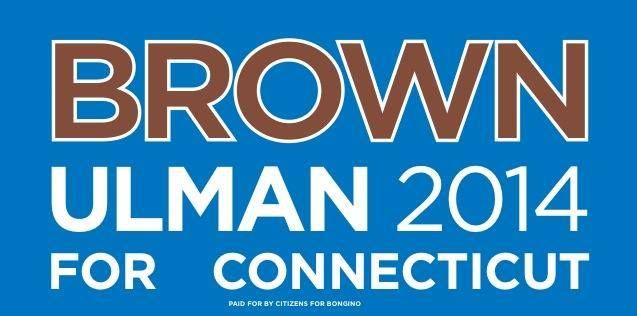 It's unfortunate the press conference wasn't a couple weeks earlier, because the announcement had all the makings of a great April Fool's joke. Unfortunately, the joke has been on Maryland taxpayers so earlier today Congressional candidate Dan Bongino and gubernatorial candidates David Craig and Ron George made their endorsement of Anthony Brown for governor of the Nutmeg State, Connecticut.
Having it on April Fool's Day may have helped with media coverage, though. The main rags of the Baltimore Sun and Washington Post didn't give the rally any coverage aside (at least not yet) with the only mention a three-day old piece in the Sun.
Be that as it may, I get the point that the tongues were firmly in cheek this morning. Then again, people like me only represent maybe one percent of the electorate and aside from perhaps a slight thought about the monetary aspect of the money blown on the initial iteration of the Maryland Health Connection website, those who have maintained their health insurance throughout may just shrug their shoulders. We're all used to government boondoggles. The joke may be lost on them.
In an effort to make news out of this, Ron George put out a release noting "Ron George joins Dan Bongino to Endorse Brown/Ulman for Connecticut." The first paragraph packs most of the punch:
When Obamacare was rammed through a partisan Democratic Congress, no one was happier than Maryland Lieutenant Governor Anthony Brown. He leapt at the opportunity to get out from behind his boss' shadow and prove why he was the most capable candidate for the next Governor of Maryland. Two years and $260 million taxpayer dollars later, Anthony Brown is dodging any and all responsibility for the failed Maryland Health Exchange and is part of an administration that is actively covering up this massive scandal. Anthony Brown's solution to the mess he created is simply to spend hundreds of millions more in taxpayer dollars to adopt the "Connecticut" model of government-run health insurance.
Naturally, Ron didn't mention David Craig, who was also there – as shown on his Facebook page.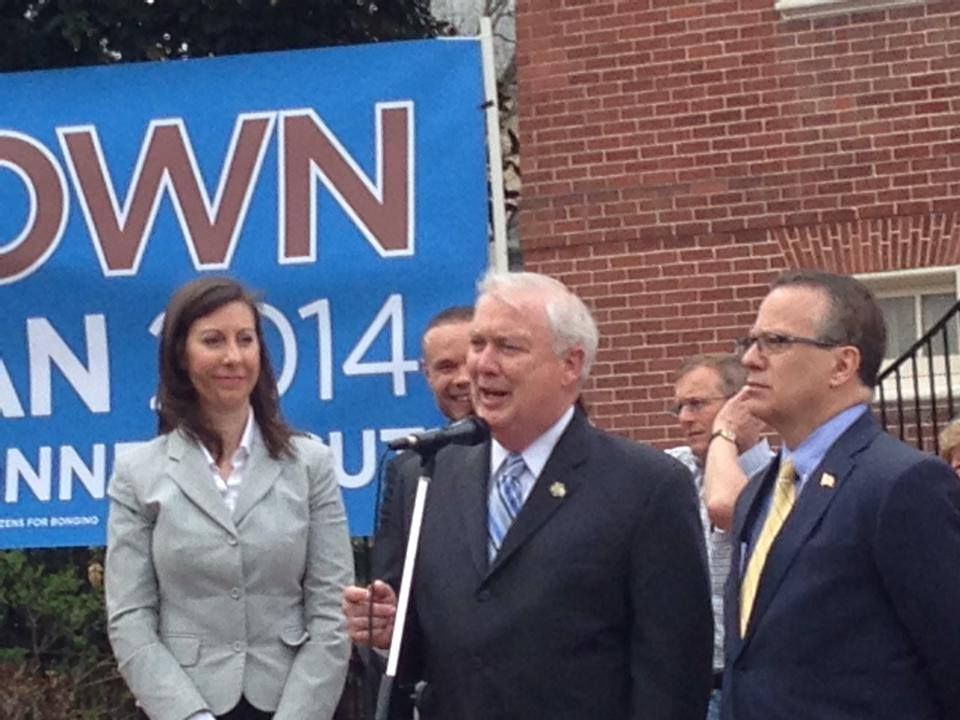 Honestly, I'm not sure this is more than a blip on the radar. But as time goes on, the question which really should be asked is whether the Connecticut system, which was designed for a state roughly half Maryland's size, will fit out of the box. More importantly, where will the extra millions needed to make this work come from? We're already a long way in the hole just to buy the original pig in the poke, so what will give? Will it be insurance rates, reimbursements to providers, or the old standby of sticking it to future generations by raiding other funds and bonding to backfill the hole?
It's almost too bad Doug Gansler didn't stop by to make it a bipartisan backing of Brown for governor of Connecticut. Instead, he's choosing to spend a little money on a simple website which asks the question "did Anthony Brown come clean today?' (It's also handy for gathering contact information via the attached "petition.")
If we really wanted to improve the prospects for those who rely on health insurance coverage in Maryland, how about talking about measures which could open the market up more? After all, Barack Obama allowed some to keep their "substandard" plan that they liked, so what are the standards now? Make everything available, from bare-bones catastrophic coverage on the one side to something that pays for two hangnails a month among the other elements of a "Cadillac plan" on the other, and the market will find its level. I'll bet it doesn't waste millions of our tax dollars, either.
Update: Added David Craig:
Today's announcement was an opportunity to highlight the failed policies of the last seven years and Anthony Brown's inability to successfully lead Maryland's healthcare exchange.

Jeannie and I believe the best solution to this disaster is for Anthony Brown to resign like Kathleen Sebelius, the former HHS Secretary.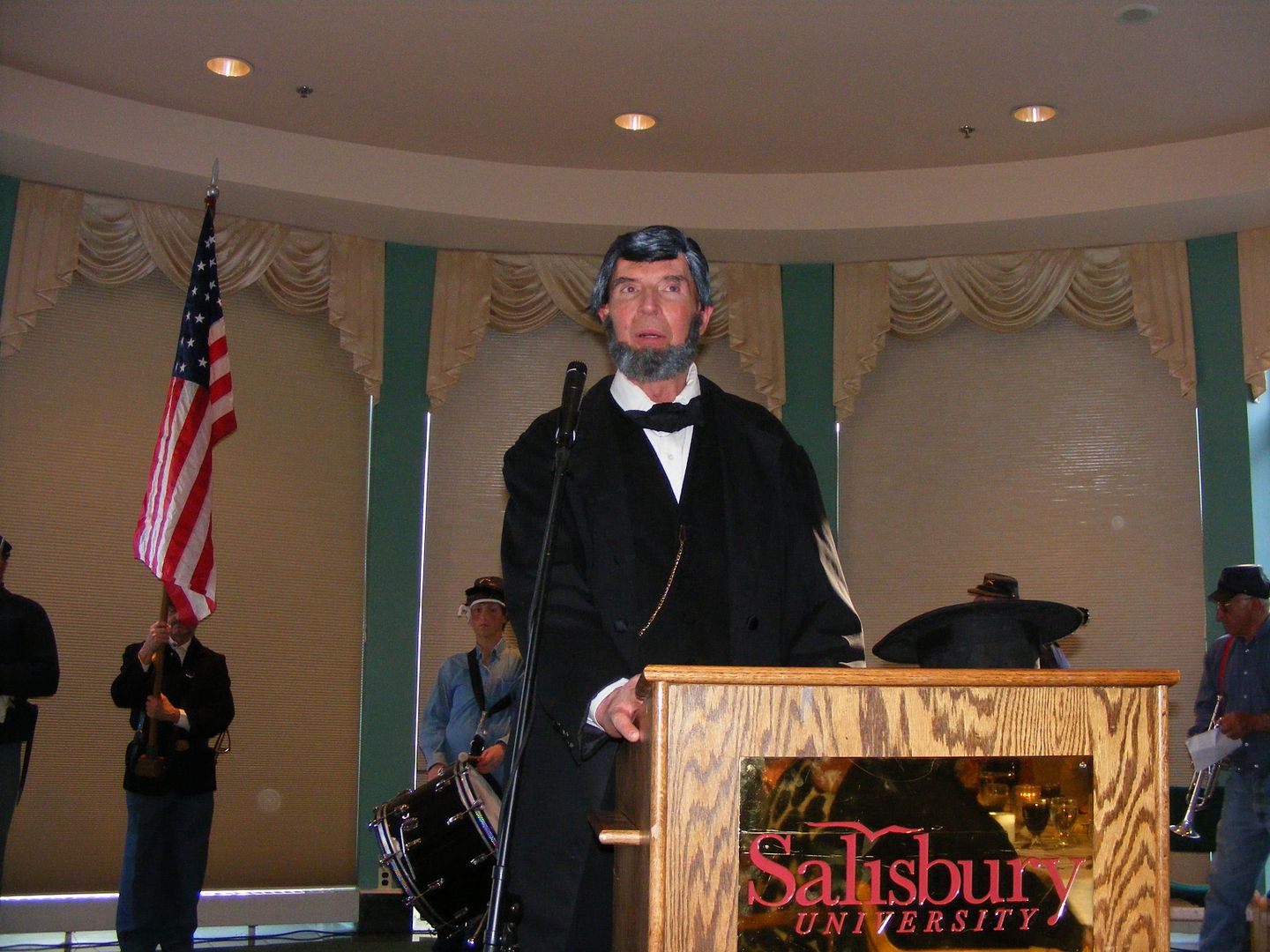 It wouldn't be a Wicomico County Lincoln Day Dinner without the guest of honor, now would it?
But it was that and much more as about 100 people enjoyed the festivities last night in Salisbury. I was a little disappointed in the attendance, but those who missed the affair missed some stirring words from both our four featured speakers – the GOP gubernatorial candidates – save Jeannie Haddaway pinch-hitting for David Craig, who was in Frederick tonight – and Delegate Mike McDermott.
Our event is set up so guests have an opportunity to talk to candidates before and after the proceedings. So before dinner was underway, acquaintances were made and renewed, such as Delegate Ron George speaking with the newly-goateed Delegate Charles Otto.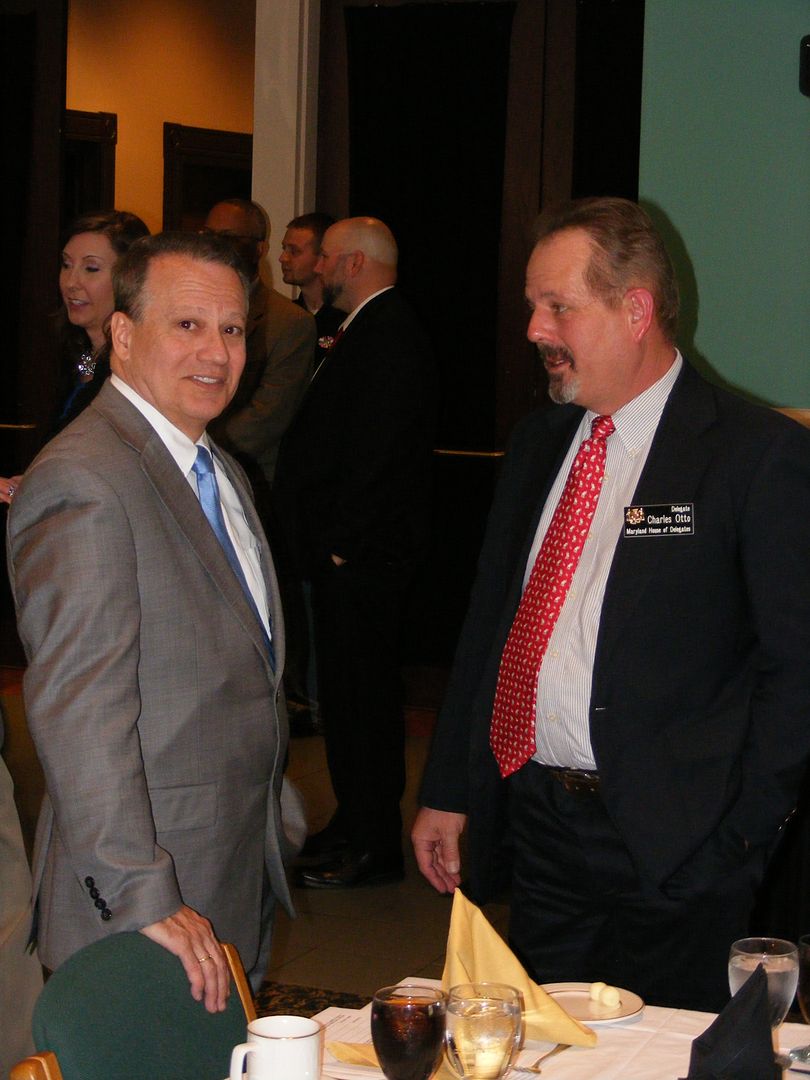 I like that look on Charles. Meanwhile, Larry Hogan and wife Yumi spoke to Wicomico County Council member Joe Holloway. I believe fellow Council member Bob Culver is back to camera.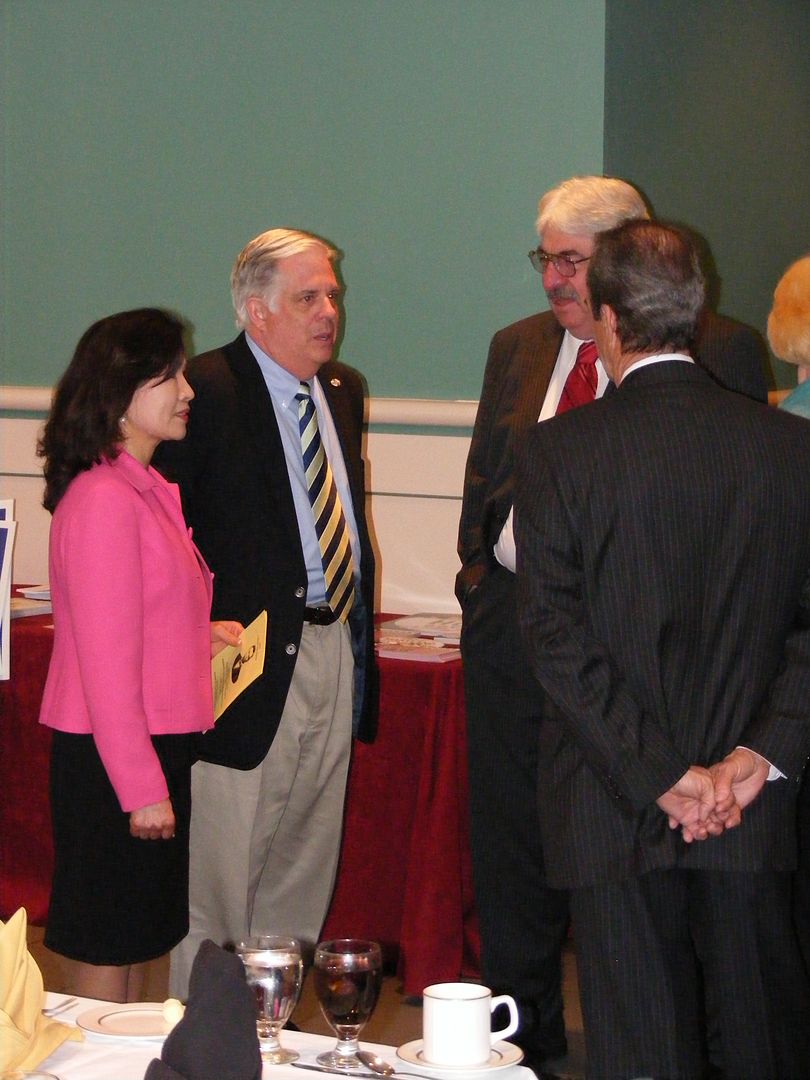 As I noted earlier, Jeannie Haddaway was taking the place of David Craig and visiting her alma mater. In the background is Larry Hogan's LG pick, Boyd Rutherford.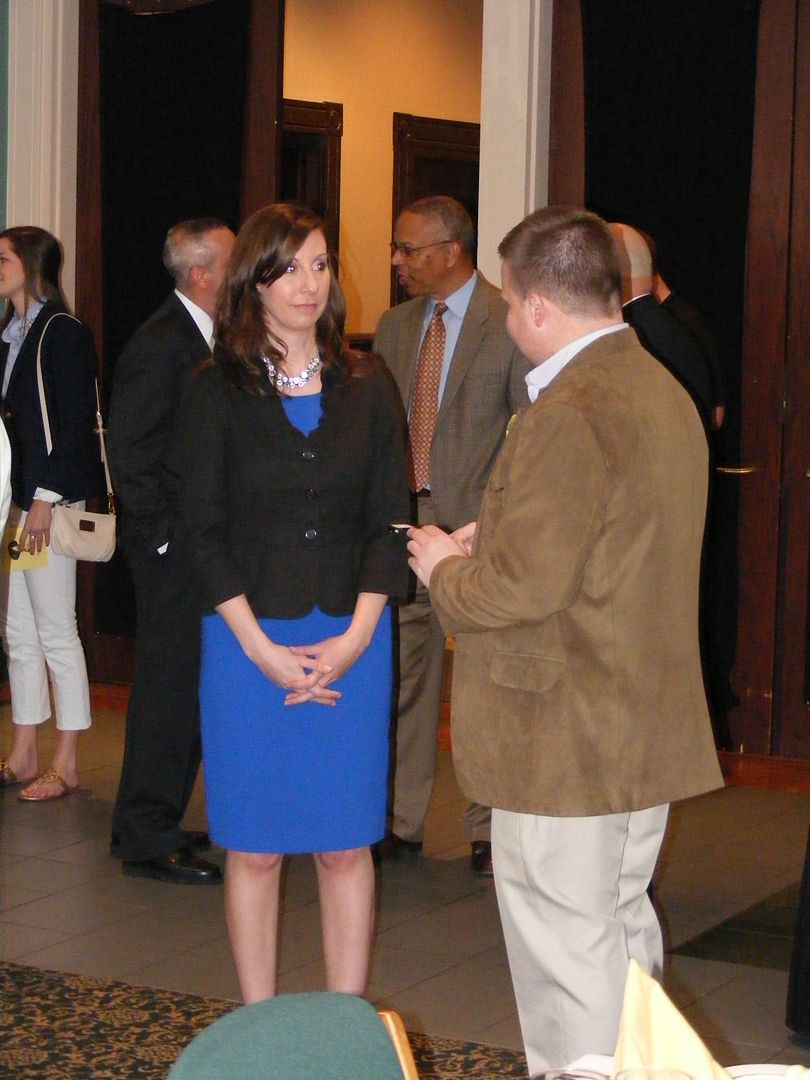 Candidates were also taking advantage of the space provided for literature and signs.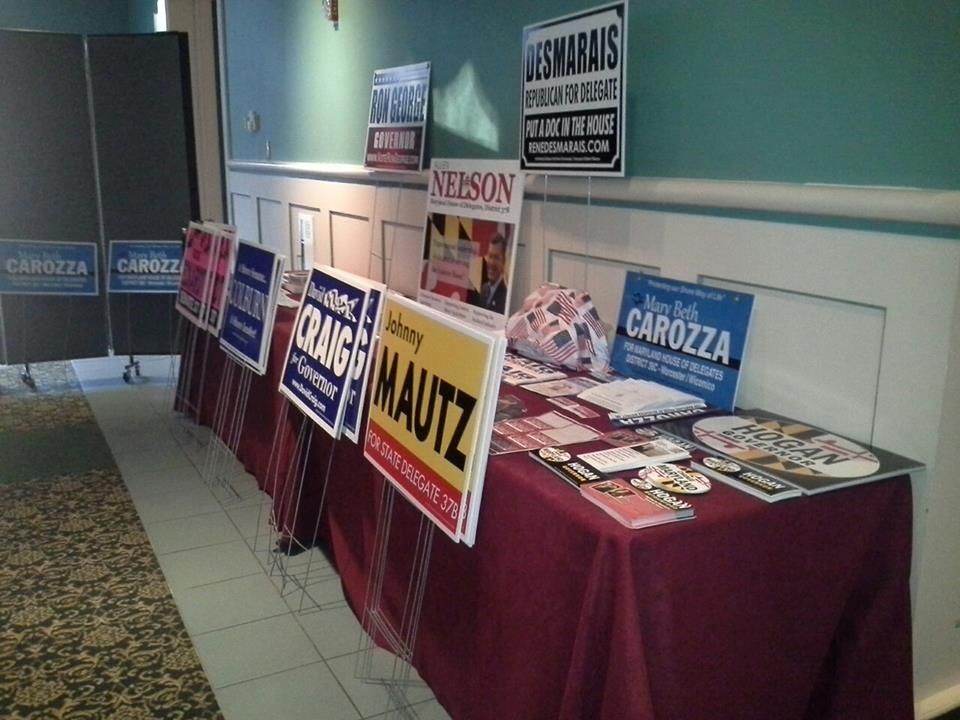 Things began to get going when the Union troops and band arrived in the room.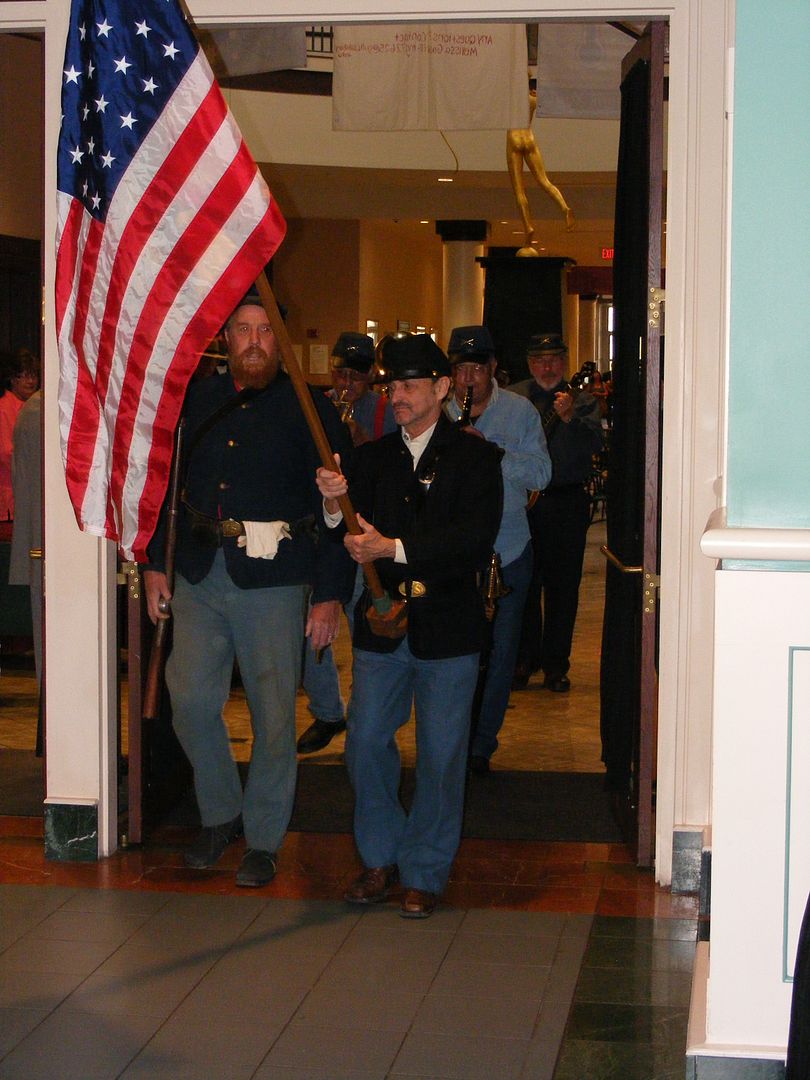 This heralded the arrival of our sixteenth president, who is a popular subject. In this case, it was with Senator Rich Colburn (left) and John and Gail Bartkovich. Gail is the outgoing Council member from District 3, while the good doctor John was our county chair for several years.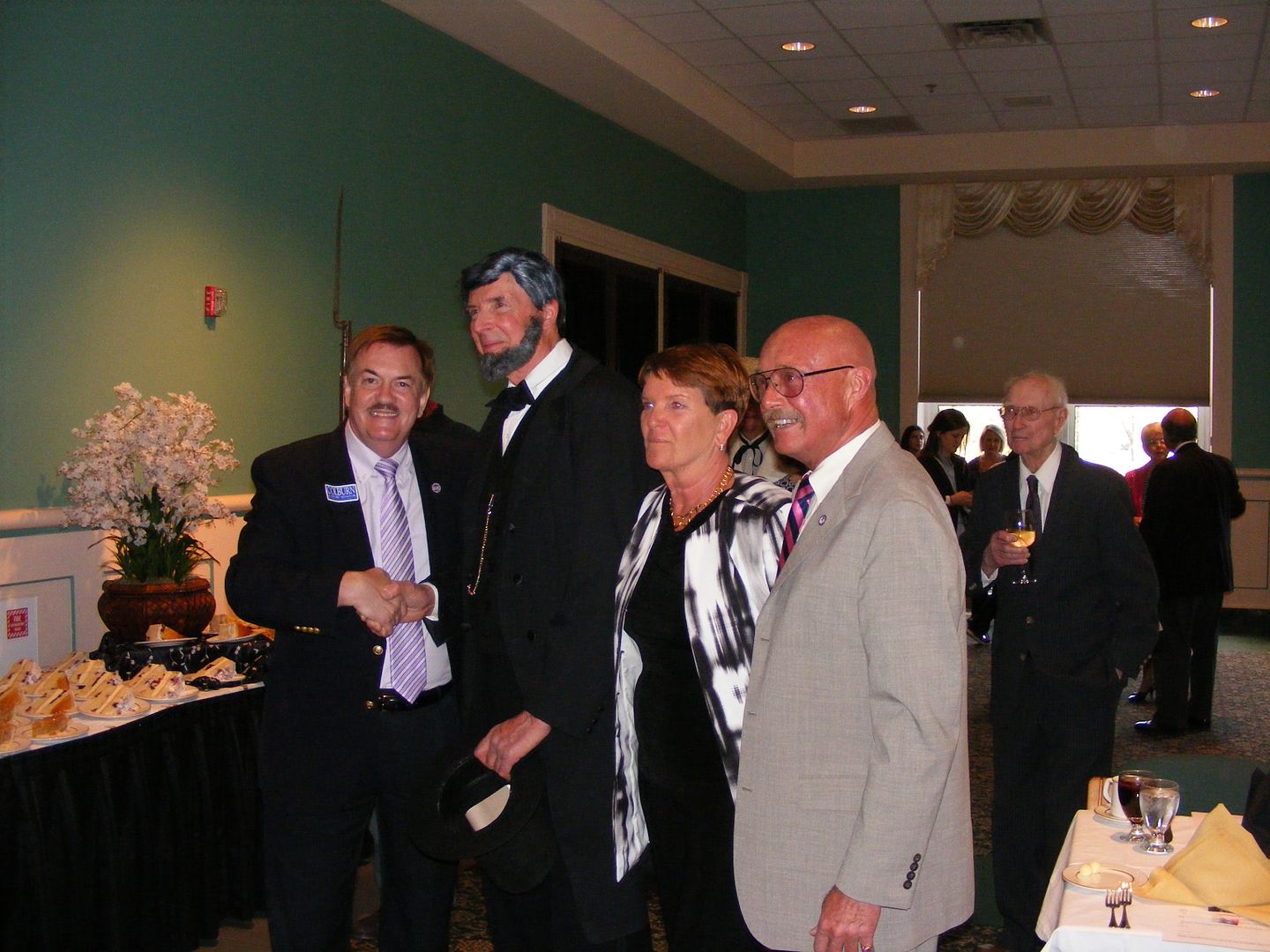 One new wrinkle we added this year was a Union band, described by Lincoln as "the Eastern Shore detachment of the 3rd Maryland Irregular Regimental Band," which played traditional music during the prelude to the ceremonies.
The troops sat behind Lincoln as he made his remarks, with a little banjo accompaniment toward the end.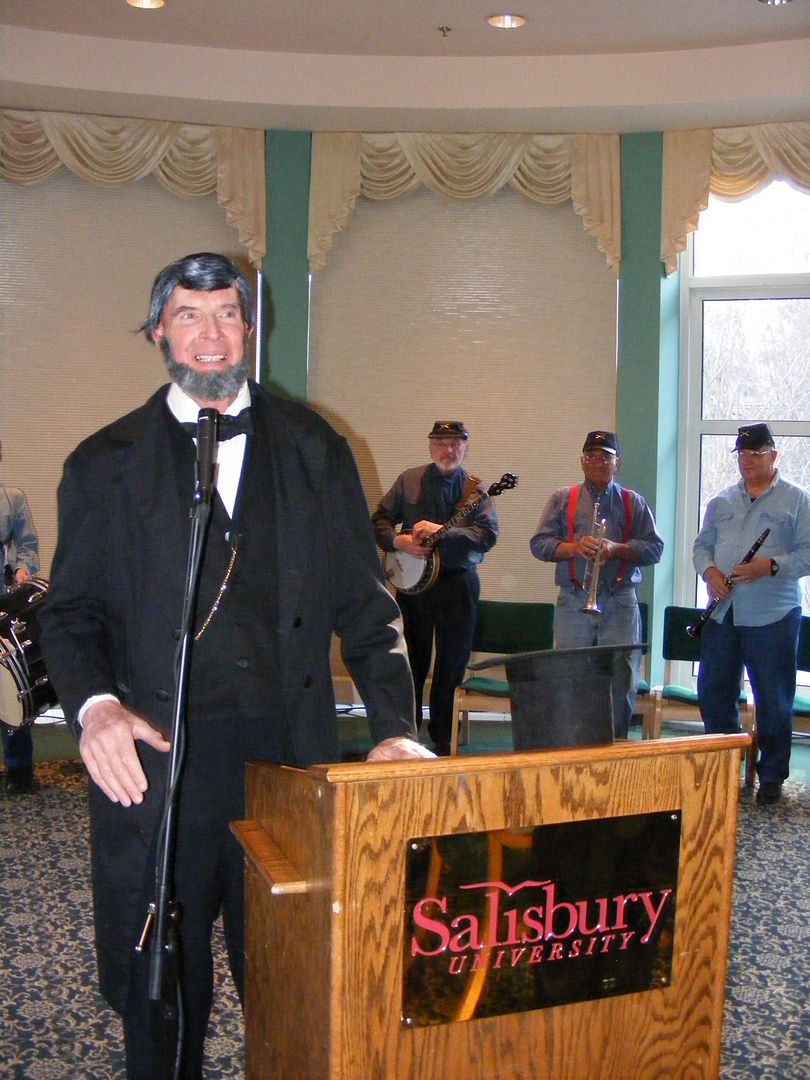 As he always does, Lincoln made remarks which tried to use the words of yesterday to relate to today's world, leading off with a tale about General George McClellan, one which he concluded by stating the case "the lunatics are running the asylum."
"Our greatest enemy is voter apathy," he continued. "It cheats honest citizens."
And just as the British Empire sparked a revolution by resorting to tyranny, Lincoln called the modern situation "mental torture." Now, "A lying tyrant is in control," Lincoln added, "We need to be a stumbling block to tyrants." But he ended on a hopeful note, believing "America shall not pass away."
Our county Chair Dave Parker then secured the floor for a number of announcements as well as praise for one outgoing member of our Central Committee.
First of all, we learned that there will be a gubernatorial debate among the GOP candidates here on May 31, at Salisbury University. Once the June 24 primary is history, we will convene for the Wicomico County Republican Club Crab Feast on September 6.
But the huge event was the one slated for September 27. After twice being unsuccessful at getting a Lincoln Day date, we got the next best thing: Lt. Col. Allen West will be appearing in Salisbury for a series of events September 27. Those who attend Central Committee or Wicomico County Republican Club functions already know this, but we put out the formal word tonight at Lincoln Day.
Before we heard from the gubernatorial candidates, we also took a few moments to honor one of the few Republicans in Maryland whose Presidential vote has truly counted – this man served on the Electoral College from Maryland in 1972 for Nixon and 1984 for Reagan. For the better part of five decades Blan Harcum has been a fixture in Wicomico County GOP politics, but after this election he will take a well-deserved retirement from the Central Committee. "I've enjoyed every minute of it," said Blan about his tenure.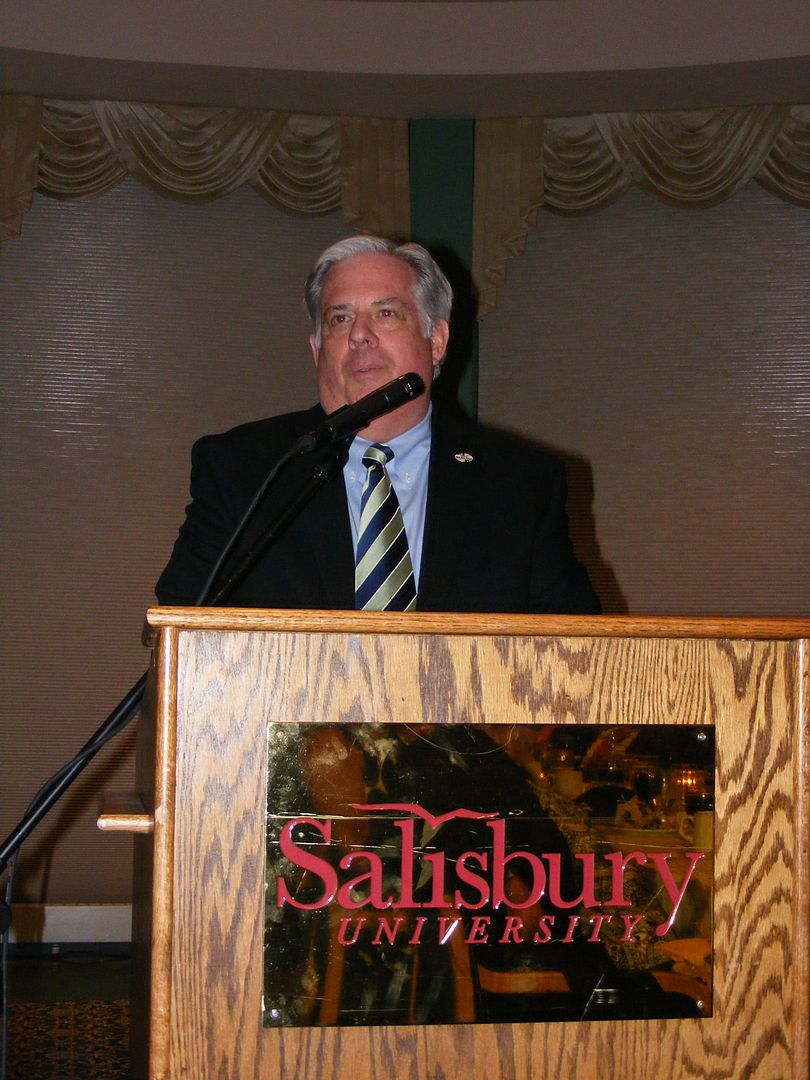 And as it turns out, Larry Hogan has known Blan "for a long, long time." He drew the opening slot among our four, and in doing so decided to play up his experience in both the private sector and executive branch under former governor Bob Ehrlich. "I've spent a lifetime challenging the status quo," Hogan said, accusing our current leaders of "actually causing the problems." Rather than "be something," he wanted to do something about them and that was why he decided to run.
Naturally, Hogan spoke about Change Maryland, noting that it "successfully changed the dialogue in this state." He could sense the frustration with the "huge disconnect" between the people and their government as well as the belief the state was heading in the wrong direction. Regarding the "arrogant, out of touch monopoly" in Annapolis, he believed it was "about time the politicians in Annapolis listened to the rest of us."
As he has often done in his stump speeches, Hogan returned to three main points: creating jobs, helping out the middle class, and getting government off our backs. He related his day in Salisbury, with stops in several area businesses as well as a Little League opening day and the downtown Easter Egg hunt.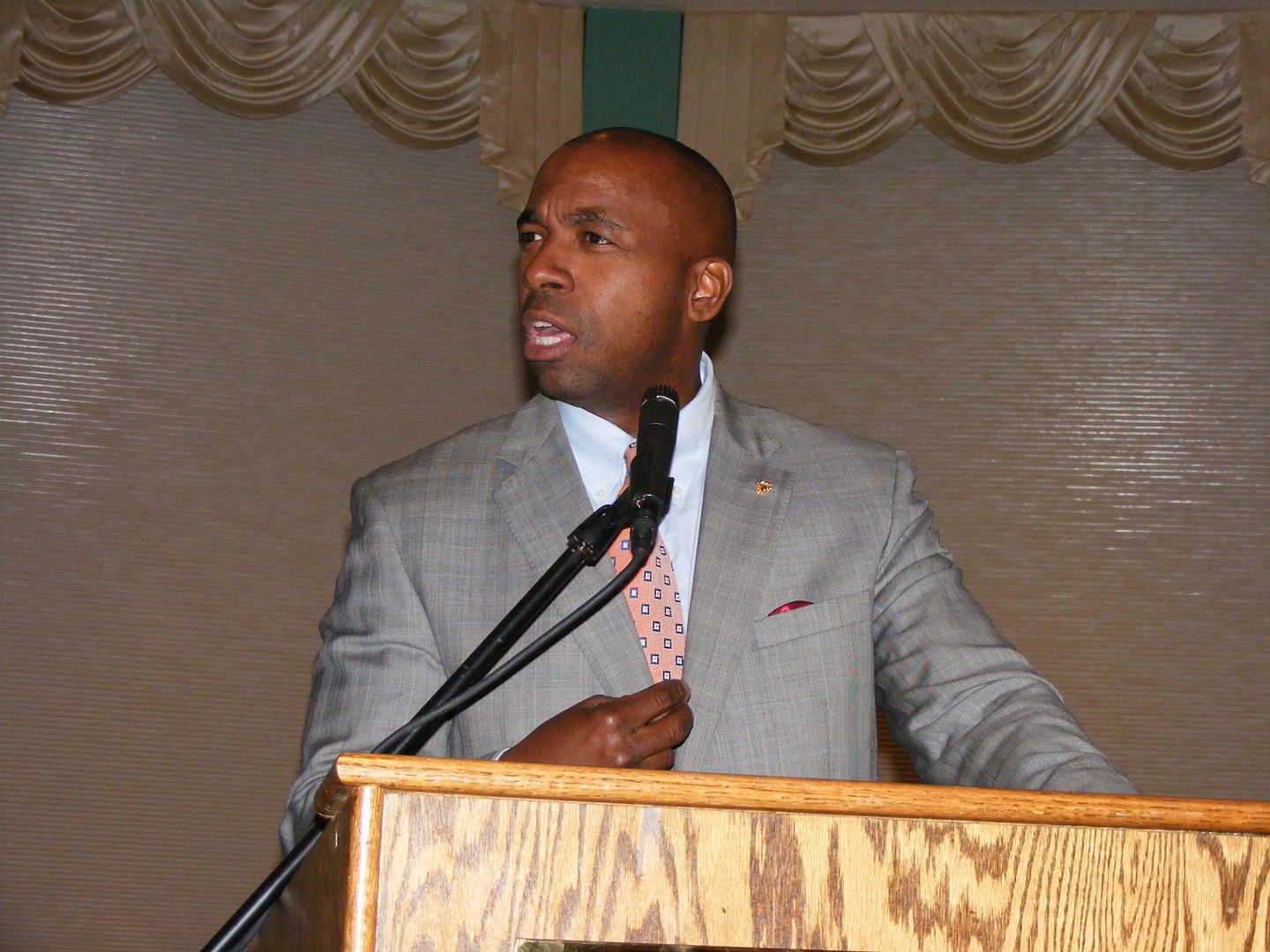 Charles Lollar also told us about his day, one spent taking the fight to Democratic strongholds and crossing paths with Democrat Anthony Brown on three occasions, debating him once. He was inducted into the 100 Black Men of Prince George's County, heard Brown say at a Howard County forum that "Maryland is doing fine" – while 1 out of 3 in portions of Baltimore are jobless – and went to a Veterans for Democracy meeting back in Charles County where he was "disinvited" to speak because of "political pressure" his name has brought. On top of that, his second daughter is going to her first prom tonight. "I'm not doing this for me…we're doing this for you," said Charles.
But his message to the Republicans was that whoever the nominee for governor may be, he has to have the "intestinal fortitude and integrity" to speak our convictions. His basic agenda would be one of economic solvency, installing a Taxpayer's Bill of Rights to slow budget growth, and eventually eliminating the personal income tax – a proposal which got him the support of economist Arthur Laffer.
He knew it would be difficult, but concluded that "I don't play politics very well, but I do enjoy a good fight every once in awhile." Whoever wins the primary has to care about the ideals of the minority community to earn their votes, Charles stated in closing.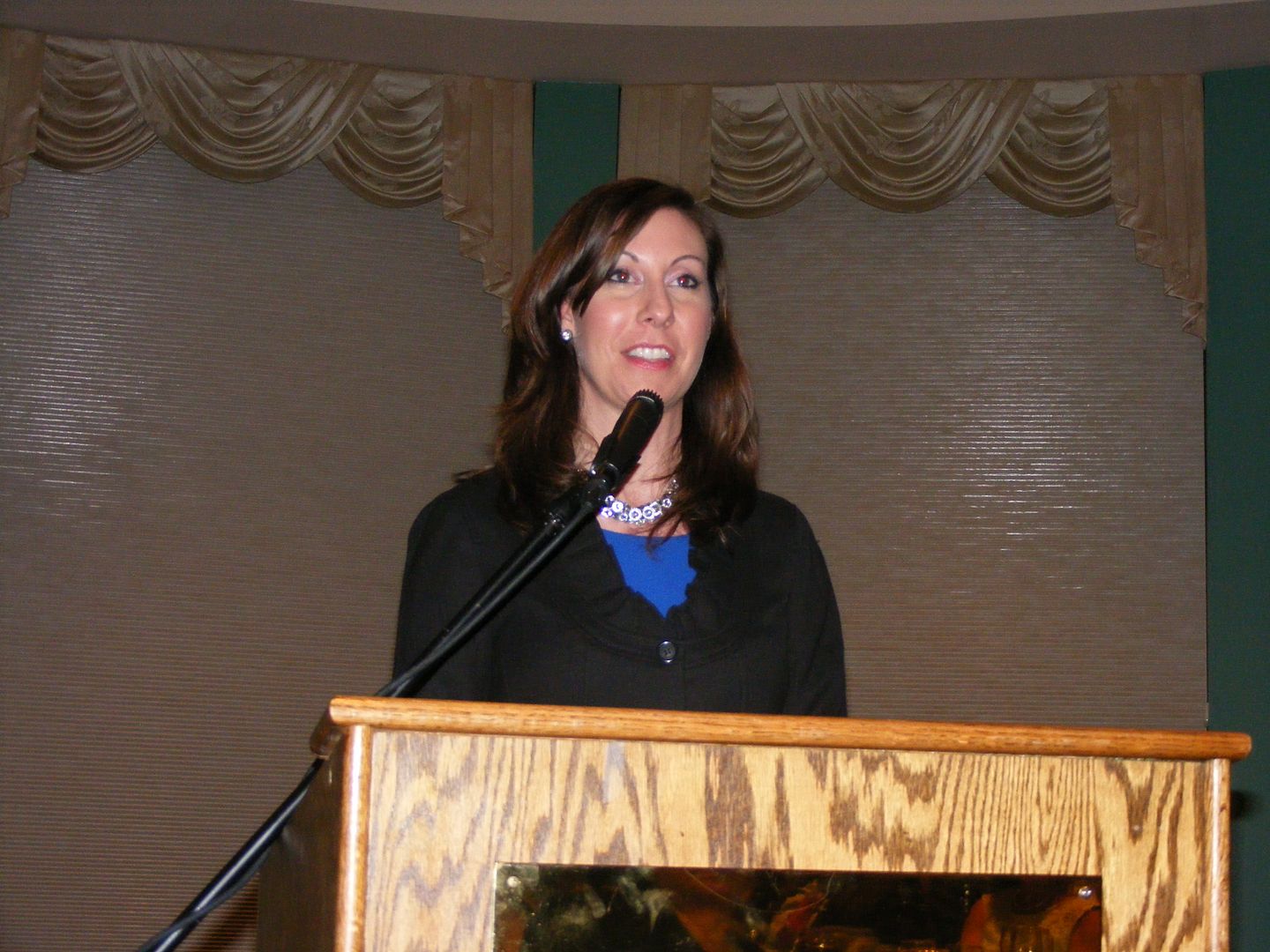 Representing David Craig, who couldn't be here tonight but was instead over in Frederick County, was his lieutenant governor candidate Jeannie Haddaway. We're out "covering the state as much as we could," she explained. Reflecting on the recent General Assembly session, Haddaway remarked that "there are people in Annapolis fighting for you." Some of the more controversial bills only passed by slim majorities, added Jeannie, because Democrats are reluctant to vote for them but have to contend with their "top-down agenda." Thanks to what's gone on the last few years, "our state is in really bad shape," said Jeannie.
She corrected Larry Hogan's remark about private sector experience, noting David Craig worked in a factory when not teaching and her own work as a small business owner. Their priority would be to straighten out the budget then "put money back in your pocket" through elimination of the income tax.
Haddaway pointed out 40 percent of Democrats were undecided, perhaps because they didn't like the options and may consider a Republican who would "try something different." And even in heavily Democratic districts, Craig had won. "We have won collectively 14 general elections," she said. "Whoever turns out is going to win this election." She promised that if Craig won and she became the state's first Eastern Shore lieutenant governor, "the Eastern Shore will be forgotten no more."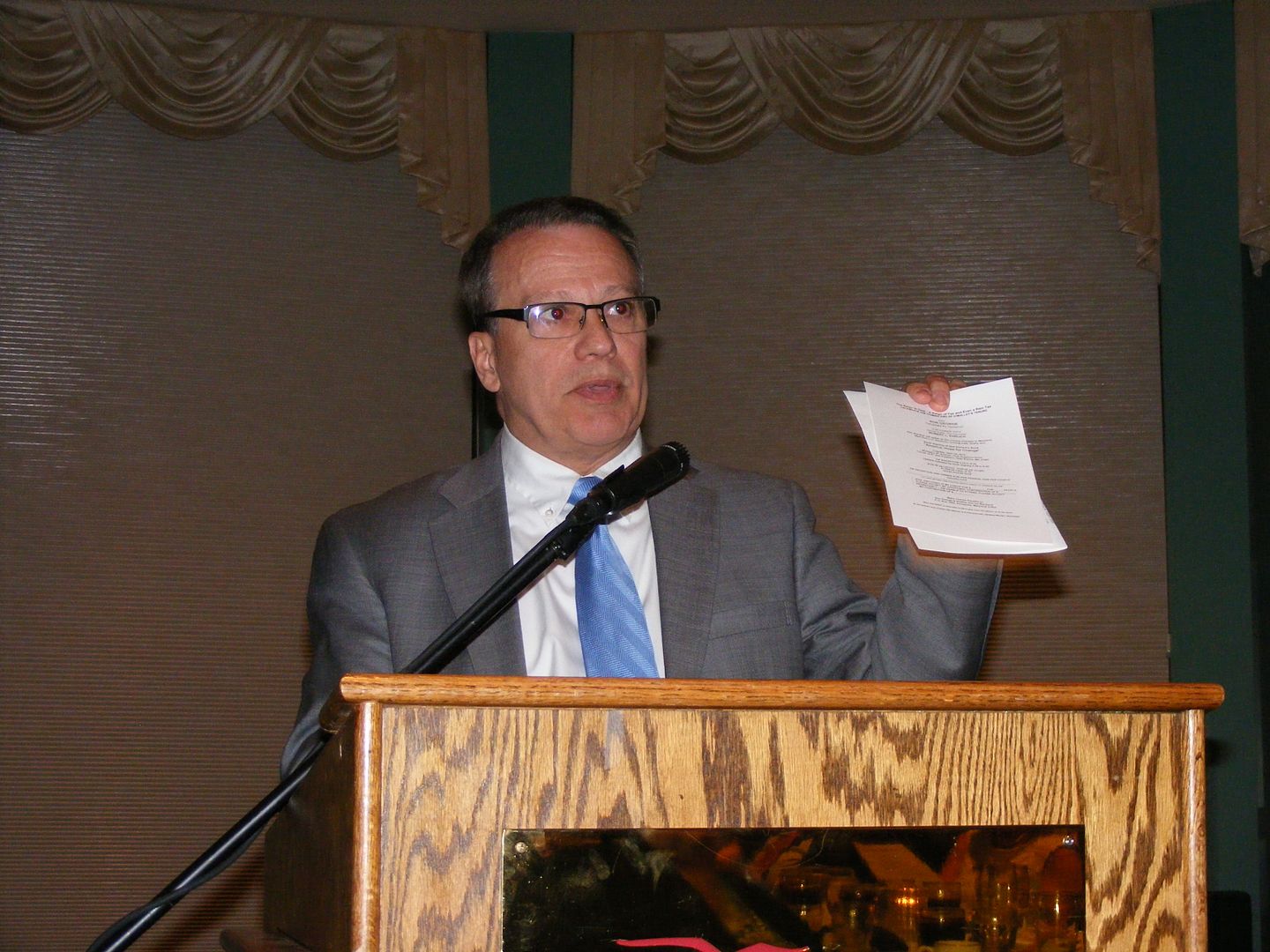 While he was holding up the flyer for an upcoming event in Ocean City in the photo above, Ron George opened up by discussing running mate Shelley Aloi – like many of us, I met her for the first time tonight. (She and Ron happened to sit at our table, along with our next speaker and his wife and the Parkers.)
Ron spent much of his time talking about the General Assembly: "I felt like I needed Rolaids constantly," remarked George – but considered it an "honor" to serve with our Republican "warriors." His pitch was combining his business experience with time served at the "front line" of issues as a member of the General Assembly – one who formed the Doctor's Caucus "to build consensus" and a related group called the Physician's Advisory. That group had uncovered waste within the exchange and the failures of health care contractor Maximus early on.
Ron also spoke about his work on the electoral process, closing a loophole for the next cycle so a donor couldn't form multiple LLCs just to circumvent campaign finance limits. Audits, too, were another major part of his platform since he'd found where Prince George's County "totally misused" $400 million. "That kind of waste has got to stop."
George went over a couple parts of his ten-point promise, one which "will fix the drain that Baltimore is" and strive to rebuild the state's manufacturing base in small communities like ours. "I cannot cut welfare payments unless I have those entry-level, mid-level jobs," said Ron.
He also made an announcement about a Monday event to be held in conjunction with Dan Bongino and David Craig, endorsing Anthony Brown for governor…of Connecticut. "How's that (health care) working out for us?" added Jeannie Haddaway.
But the rhetorical storm was brewing.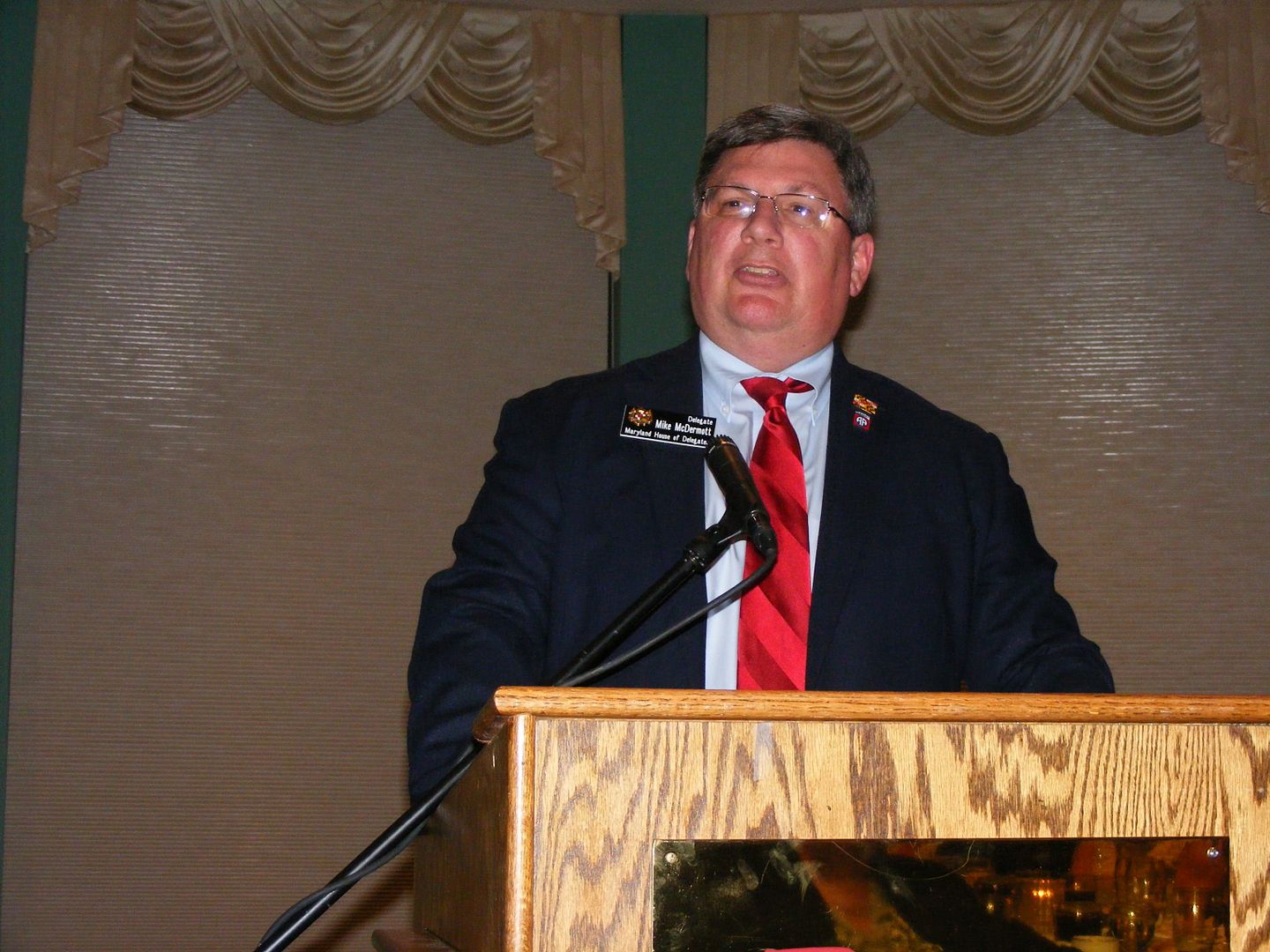 You knew Delegate Mike McDermott was working on a stemwinder when he noted, "the problem with Democrat math is that they follow Common Core logic." This after he noted losing the two GOP Senators in 2010, including the seat he seeks, "opened up the floodgates of hell on the social side." This didn't count the pilfering of various trust funds or the "blank check" to uncovered patients for the budget.
But once he got going on the "outrage" on the bathroom bill, it was on. "It should be unacceptable to all Marylanders," he said. We gave each gubernatorial candidate ten minutes – Mike was still going strong after fifteen.
"The tragedy of Maryland politics can be turned around," he said. "Don't send a governor to the governor's mansion without sending them reinforcements" of five Senators. His voice rising, McDermott made the case that North Carolina "worked on making government work for the people" after the GOP took over and raised its business friendliness rating from 46th to 17th in two years. "They've brought that state back! It can happen here."
"If we can't make the case for change this year," Mike thundered, "the Republican Party can never make it."
"We can take Wicomico County by storm! If there was ever a county which needed good leadership and change, it's this one. I'm tired of being up there, and being in a welfare county…I challenge you to take it back," an emotional McDermott concluded. He had to dial it back some for the benediction that he delivered.
Our friends in Worcester County have the chance to have a great team in Annapolis: Mike McDermott in the Senate, and Mary Beth Carozza and Charles Otto in the House.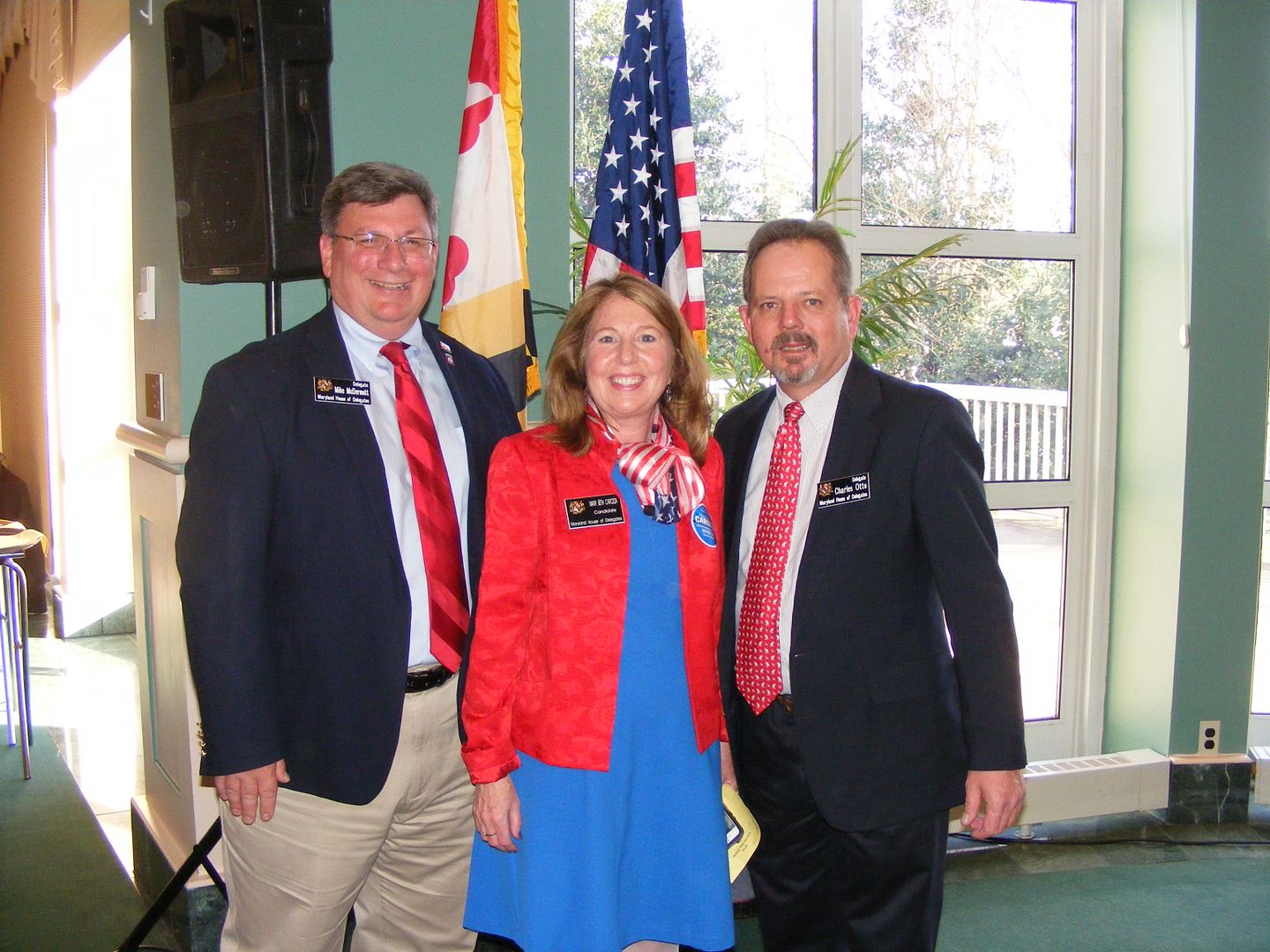 So ended another Lincoln Day Dinner. It wasn't quite what we bargained for when we started planning it last year, but those who were there were treated to a good event nonetheless.
Writing recently about the concept of "prevailing wage," two-time gubernatorial candidate Ellen Sauerbrey used the letter to the editor to praise her apparent choice for governor, David Craig. Here's the letter in its entirety, as posted on Southern Maryland News Net. I received it as an e-mail under Craig's campaign letterhead.
I want to point out a specific passage for comment, in particular the one where Sauerbrey speaks about Craig himself and attributes statements to him.
The 2014 General Assembly has passed legislation to apply the prevailing wage to additional local government projects that receive partial state funding. The prevailing wage which is essentially the union wage, artificially inflates labor costs by ab (sic) estimated 30% to 50%.

I commend Harford County Executive and Gubernatorial candidate David Craig for speaking out on the impact of the new law on his county, as well as the impact of prevailing wages on the state budget. Every local elected official concerned about getting the most value on public projects should want to let the market determine employee wages as is done in the private sector. County Executive Craig points out that the prevailing wage adds an additional $30 million cost to his county's $300 million capital budget for school construction.
It may not surprise you that I have some familiarity with school construction. In the 1990s, thanks to a court decision, the state of Ohio went on a multi-billion dollar spending binge to construct new schools in practically every one of Ohio's 600-plus school districts. (I spent seven years working for an architectural firm which specialized in schools, although I had left that company before the boom in school construction began.) In 1997 the state created an exemption to prevailing wage regulations for schools, and in that debate numbers similar to the 30 to 50 percent savings were bandied about by proponents of the measure eliminating prevailing wage.
Also mandated at the time, however, was a report to be delivered five years later, in 2002. In this report, the research indicated savings were more in the ten percent range. While that is a great savings to the taxpayer, it's not the panacea proponents were anticipating when the bill was passed. Granted, with the vast volume of work going on at the time there was less incentive for low bids – perhaps an economic climate such as today's would yield more significant savings.
While Sauerbrey uses the hyperbole of the 50 percent savings in her letter, it should be pointed out that David Craig's statement within seems to ring true – out of $300 million, the $30 million addition seems to line up with the data from Ohio's study.
But regardless of the actual savings, there is a philosophical argument to be made against the concept of an artificially-created "prevailing" wage, simply because it doesn't necessarily reflect the true conditions of the actual labor market. I can completely understand the contention that projects completed under prevailing wage (more often than not by union shops) have a better quality to them, as one advantage of using union tradesmen borne out in my experience is that they are better trained, so the question is one of whether they are worth the premium. In some cases I would say yes, but I'm not sure schools are structures complex enough to justify the extra cost – certainly not to the extent of a health care facility or technology-heavy factory where fit and finish can be most important.
I also find it interesting that on the one hand Democrats tend to be for cherished union giveaways like prevailing wage, but do nothing on the other but encourage illegal aliens to come in and undercut the market for construction labor. I haven't seen them yet this spring, but sooner or later somewhere on Delmarva there will be three or four union carpenters holding up the "shame on" banner because someone hired non-union labor most likely mainly made up of illegal aliens. And what else do those hapless guys have to do?
In a perfect world, many advocacy groups agree that the Davis-Bacon Act which spawned the concept of prevailing wage would be repealed. (At one time even the General Accounting Office argued for repeal.) There is even a bill in the House of Representatives to do the same, although no action has been taken on it since introduction. (And why not?) Eliminating the federal law may well trigger some states to do away with their own versions, although if you assume Maryland politics will remain as they're currently composed for the next couple decades you won't find us on that list. (As I pointed out yesterday, we threaten liberals' existence on the government teat and they know it.)
But it should be a job for General Assembly Republicans to try and roll back this year's changes in the next session. In the meantime, while 10 percent may not seem like a lot, imagine a ten percent cut in the state budget – it would roll our expenditures back to FY2013 levels and just about negate the need for our sales tax, which is 11% of revenue according to our most recent budget. That wouldn't be a rollback to 5%, it would be eliminating the whole enchilada to match Delaware. Or we could cut our income taxes in half.
Ten percent is a lot, even in the limited realm of state construction, and to me it's better that the people have it than the government. In the case of the capital budget, it's less bonding we have to pass along to our children. So let's hope a Governor Craig would have the stiff spine to fight for such a change to prevailing wage, even if Ellen Sauerbrey was a little overly optimistic on its effects.
Returning once again to a familiar role of thorn in the side and burr under the saddle, Change Maryland and Larry Hogan took the occasion of the final legislative session under Martin O'Malley to remind us of his underwhelming record of "accomplishments" over the last long eight years, wrapped up in one release. All we needed was the bow, as Change Maryland remarked that:
They broke promises to state workers by diverting $200,000,000 from pension funds to plug their budget gap.
They've eviscerated local arts funding to hike the film tax credit for Hollywood millionaires.
They raided the Transportation Trust Fund then raised gas taxes to pay for mass transit.
They hiked income taxes on families, small business and large employers.
They blew $125,000,000 of our tax dollars on a health exchange website that still doesn't work and was never needed in the first place; today, more Marylanders lack health insurance than when O'Malley-Brown took office.
More than 73,000 residents have had their health insurance policies cancelled and tens of thousands more have seen massive increases in their premiums and deductibles.
They put the teacher union bosses that bankroll their political machine ahead of students, parents and classroom teachers.
They've badly mismanaged the education budget, as a result inner city schools are falling farther behind, state SAT scores are down and elementary school reading aptitude is flat. And, even the teacher union said their rollout of Common Core was a mismanaged "train wreck."
Their job-destroying tax hikes on the so-called rich and small businesses – those individuals earning $100k or more – backfired, missing revenue projections.
Some entry level jobs will pay a little more but there will be fewer of them.
There's a federal investigation into the Anthony Brown Health Exchange but state lawmakers aren't issuing their findings until well after the primaries.
Thousands of employers are now "paying their fair share" in taxes albeit to Virginia and the Carolinas; about 6,500 companies have left Maryland taking with them more than 100,000 jobs.
Likewise, more than 31,000 Maryland residents left for more affordable states, taking $1.7 billion each year out of our economy; among these were thousands of seniors on fixed incomes who can no longer afford to retire near their families.
It costs you more when it rains and more again when you drive to the beach.
Describing the O'Malley era as one where, "(i)n nearly every quality of life measurement our state is worse off than it was seven years ago… even areas that showed modest improvement came at a horrendous financial cost due (to) Martin O'Malley and Anthony Brown's mismanagement and one-party rule in Annapolis," it's clear that Hogan isn't too enamored with the last seven years.
But while Hogan strives to "get the government off our backs and out of our pockets so we can grow the private sector, put people back to work and turn our economy around," we're more or less supposed to take his word for it. Obviously some of these items he complains about from the outside will be ones he may well find useful when he takes over the governor's chair. For example, he (or anyone else for that matter) will have to figure out how to backfill the pension funds, live with the increasing minimum wage (which, for all his charms, he won't be able to get the General Assembly Democrats to rescind), and roll back taxes and fees to previous levels yet keep the budget in balance. That aspect may actually be the easiest because he would set the budget. Unfortunately, we're stuck with Obamacare for at least the first two years of anyone's term, and probably longer.
However, I have a prediction for you. If the budget gets smaller – or even if it's level-funded – you will hear a howling like you've never heard before from the special interests, press, and Democrats (but I repeat myself) who will be out marching in the streets against the heartless Republicans. Remember why we had a Special Session a couple years ago? It was because we passed a "doomsday budget" that was "only" $700 million higher than the previous one, and despite GOP objection we ended up raising spending another $500 million. Again, that was with a budget increase! Heaven help us if we actually proposed spending less money!
So those we elect in 2014 need to be ready and be stiff of spine because those Annapolis fat cats are going to come after us. We threaten their existence on the government teat and they know it. Having a $125 million boondoggle of a health exchange isn't helping, which is why that scandal is being swept under the rug just as fast as the broom can collect the dirt.
In this part of the state we have some opportunities to chip away at the Democrats' overall advantage. We'll have to wait until 2018 to win back the District 37A seat – which will be held for the time being by a woman who I predict will have the same reliably far-left voting record as her predecessor – but aside from that we can speak our piece by ejecting two members of the General Assembly who will occasionally vote the right way when they get the hall pass to do so, but can be replaced by two members who we know will stand up for our interests. We can confound the Democrats' cynical redistricting ploys by elevating Mike McDermott to the Senate and getting the fresh new ideas of Maryland Municipal League president Carl Anderton, Jr. into the House of Delegates.
Changing the state means pulling our weight, and the Eastern Shore can do most of its part by leaving just one Democrat east of the Chesapeake for the next four years.
What inspired me to write this piece was the recent demise of the Salisbury Famous Dave's location, which closed up shop after only about a half-decade in business. It's the second significant restaurant in that area of town to close in the last year or so, with the locally owned Zia's eatery folding its tents in January 2013. That site was rumored to be the location for a much-desired new Cracker Barrel and the Zia's building was torn down, but now it's just an empty lot. In the case of the former Famous Dave's, reportedly the lease will be taken over by the Greene Turtle – of course, that may mean another empty storefront in that area of town as there's already a Greene Turtle just down the road in a nearby strip shopping center.
Of course, that's not to say that end of town is dying – new apartments and shops are being built and other formerly vacant storefronts are being occupied. But I thought this case study would be interesting on three levels.
First of all, the story on the closing of Famous Dave's noted that about 45 employees would be affected. Was one factor in the decision to close up shop the prospect of thousands more in overhead costs thanks to a higher minimum wage and continuing enactment of Obamacare? Probably not, but the already thin profit margin for some restaurant owners is bound to become even skinnier with these changes. Areas with borderline economic indicators like Salisbury may see more turnover than most.
But I also pondered the thought of whether tastes themselves were changing, and if America's love affair with barbecue was passing its peak. (Not here, though: if you follow me on Facebook, you know I like my ribs.) When I think of how the eatery business has its cycles, I often think of the rise and fall of Chi-Chi's. Now maybe this was just a Midwest phenomenon and bypassed this part of the country, but for about a decade a quarter-century ago it seemed like every "casual dining" restaurant wanted to be like Chi-Chi's. I happened to work next door to one and that place was always packed – lunch, dinner, you name it. But by the end of the 1990s the chain was already in decline and it was gone by 2004. Surely the death blow was a hepatitis outbreak traced to one of their restaurants, but Chi-Chi's was already in trouble because diners' tastes had changed. Chi-Chi's was simply passe – they were flocking to other similar chains like Chili's or Applebee's, both of which have tried to change their menu and outward image over the last decade in an effort to stay relevant. The way I look at it, they learned from the mistakes Chi-Chi's made.
Finally, I took a look at Salisbury itself. I really owe you all a post given the amount of ink used on me a week or two back, but in this case the thought occurred to me that, while Salisbury seems to be doing okay on that side of town despite the inordinate amount of business turnover – and don't forget the Salisbury J.C. Penney store will be a casualty of that mainstay's woes by next month – we seem to have a laser-like focus on restoring the downtown area. But as long as the local economy is stagnant or even slowly shrinking, any success downtown will likely be damaging to other commercial centers like the north end of town. Obviously downtown lost its luster when the original Salisbury Mall was built in the late 1960s, and commerce shifted to the east side of town near the old mall – only to move again to the northern edges when the Centre of Salisbury was completed in the late 1980s, (The former Salisbury Mall is no more, razed a few years back for a mixed-use development which never materialized.) We didn't grow the local economy enough to allow all three to thrive, so they cannibalized each other in turn.
The key to making Salisbury a success is growth. If an area doesn't grow, it dies – and if it gets complacent and stops competing, it doesn't grow. I'm sure Famous Dave's thought it had their niche pretty much sealed up, but either they stopped marketing it or they quit trying to please the customer. Multiply that by Zia's, J.C. Penney, the owners of the Salisbury Mall – you get the picture?
It's hard to think a couple decades ahead, but we have to do that. Consider the market for chicken – will people still have a taste for it in a generation? Maybe dark meat will become the new sensation, and all those who centered their marketing around the chicken breast will have to go back to the drawing board. I heard a lot of talk about Wallops Island in the recent NAACP forum, but what was it twenty years ago but a remote outpost – the real space action was in Florida. Perhaps in two decades it will be the terminal for space tourism, or it may all be a mirage of abandoned facilities because someone found it more advantageous to fire rockets someplace else.
In other words, I think a push in the proper direction is a must for any of these situations. And to me, resting on our laurels, or worse – turning up our nose at development for fear we'll become another Columbia – is a surefire way to make our area look like a rural version of Detroit. We must do better than that.
On Friday I discussed the portion of the forum dealing with the aspirants for County Executive, so today I turn my attention to those running for the seven County Council seats. A total of 15 people are running for these seats, and 13 of them stated their case on Thursday night. Just as a reminder, the forum was hosted by the Wicomico County NAACP and its president, Mary Ashanti, and moderated by Orville Penn, a veteran of these affairs.
I'll begin with the four who are running for two at-large seats – in order of presentation they are John Cannon, Laura Mitchell, Matt Holloway, and Muir Boda. They dealt with a little different set of questions, being queried about the prospects of funding the Chipman Center where the forum was held, the merits of an elected school board, an increase in the minimum wage, and thoughts on a race relations commission.
John Cannon served on the County Council as an at-large member from 2006-10 before an unsuccessful run for state delegate pushed him off the political stage. He agreed job growth and restoring our economic base would be "important goals to set," believing that the pieces, such as the local universities and Peninsula Regional Medical Center, were in place and would be "the one tide which would raise all boats."
Obviously John was kidding when he told moderator Orville Penn that "we'll give you the Taj Mahal here" when referring to the Chipman Center, but he used that question as a springboard to state the case that the state had "absolutely ripped our budget" over the last few years through reductions in highway user money and passing along teacher pensions, among other things. We would have to figure out how to raise money on our own, continued John, and job growth was key. "We're not going to increase taxes," said Cannon, but if we can improve the economic situation we can "look after citizens as a whole" and try to find resources for needs such as the Chipman Center.
"I would like to see an elected school board," said Cannon. He respected the Board of Education's work, but would like to see more accountability because he was concerned about their audit. Moreover, while spending for the rest of government was perpetually on the chopping block during his previous tenure on County Council, he "never felt as if the school board was really on board to make the same cuts that they should have been doing."
As for the minimum wage, Cannon asserted that at least one of two things would occur if the minimum was raised, if not both: overall price inflation and cuts in hours and jobs. He reminded the audience that the CBO predicted at least 500,000 jobs lost nationwide if the national minimum was increased to $10.10 an hour and that only 19% of the individuals below poverty level would be helped. The alternative, John continued, was an increase in the earned income tax credit, whether at the state or federal level.
A commission on race relation "would be a great idea," Cannon said. He advocated "asset building," where all local resources are brought together to address the issue. He concluded his remarks by noting that serving on the Council heightens awareness and is like getting a "master's degree in all areas."
A current elected official in a similar office is seeking a Council seat as well. Laura Mitchell was elected to Salisbury City Council in 2011 and is running from the cover of that seat for a county post. But in addressing those who believe government should be run like a business, she said, "really, you don't, because businesses are there to make a profit, and we don't want our government to make a profit. They should do exactly what their mandate is." She's tried to instill that in the city and wants to bring it to the county.
"There is a role for the county to play" in restoring the Chipman Center, said Laura. It could be the "connector" for funding and volunteers, but she agreed there is some responsibility for the city and county.
Regarding the school board, Mitchell told those assembled that "as far as I would be willing to go is a hybrid" school board with both appointees and elected members. Rather than being more accountable, she thought those elected would be more beholden to their donors and not the students. She argued that there's a balance with an appointed board, and that members who serve at the pleasure of the Governor could be more easily removed as opposed to conducting a recall election.
Laura was in support of a minimum wage increase, asserting many who would be helped were single mothers; furthermore, "minimum wage needs to keep pace with inflation…it would be at about $10.40 had it kept pace." As for employers, "this is one of those costs of doing business," said Mitchell, lumping it in with other costs such as materials. She argued that it would be better to raise the minimum, otherwise "it's more beneficial for them to sit home and collect a check (because) they can't afford to go to work."
A race relations committee was a great idea, but the need was larger than just a committee would provide. "It is our job to start that conversation," she added. But with several different organizations chasing the same goal, an "asset map" would be helpful in determining a course of action, although the existing Safe Streets program is already working in that direction.
After remarking how she loves learning new things, Mitchell concluded that while she loves what they've been able to do at the city level, she's run into some "stumbling blocks" on the county side – we needed more partnerships between the county and municipalities.
Of the two current at-large members of County Council, only Matt Holloway is seeking re-election as Bob Culver is running for County Executive. He originally ran in 2010 to provide a perspective from the agricultural community, stressing property rights. In the time since he's come on board, he's become the "bridge builder," believing the relationship with the County Executive "is stronger than it's ever been," as is our relationship with the state. Matt also touted his membership on two governor-appointed committees, the Sustainable Growth Commission and the Critical Areas Commission. "I bring a lot of things to the table," said Matt.
Restoring historic buildings was one of the county's functions, remarked Matt regarding the Chipman Center, much like the county has an interest in keeping up the Pemberton estate and the old courthouse, which is in need of renovations. County government "could play a role" in resoring Chipman.
Matt also favored an elected school board, touching on Mitchell's objection because he felt it would be a good thing if members felt like they owed someone. "They would feel like they're responsible to the taxpayer," said Matt. "It's about accountability." He was okay with a hybrid board as an interim step.
In discussing the minimum wage increase, though, Matt conceded the county has little role. But an increase "could be very detrimental" to the climate they were trying to create with recent tax reforms. "I don't think the time is right," said Matt.
Matt argued that many of the current committees formed by the Council were already diverse, but before establishing a citizens' race relations committee, we should get the key players together and "come up with a game plan first." He concluded in his closing remarks that he had helped the minority community by improving education, law enforcement, and business.
Muir Boda is no stranger to the ballot; this is his fourth run for elective office after bids for Salisbury City Council in 2009 and 2011 and Congress in 2012.
But he saw they key issues as a three-legged stool, with curtailing crime, providing educational opportunity, and improving the economic climate being the three legs. "All three have to work," said Boda.
In restoring the Chipman Center, Boda would support a partnership between the county, city, and Community Foundation – they would be "the avenue we could go through first." They could help raise the appropriate funds.
While Boda also preferred an elected school board, he also had a stipulation for a hybrid model where appointees would be determined locally rather than by Annapolis, which has no local accountability.
Since Muir has a position where he works with a lot of younger workers who make minimum wage, he could point out that there were a lot of things they could not legally do, such as run machinery. They were only useful in certain positions. Small businesses would cut positions and hours, he argued. "We have to understand what entry-level positions are to companies," added Boda.
Boda returned to his three-legged stool analogy in describing his thoughts on race relations, citing the High Point initiative as well. "Everything has to be seamless…if you have skyrocketing crime rates, it's going to affect companies that want to come here and invest in our community," said Muir. "This (commission) is one piece of the puzzle." He got to buttress his points because he gave his closing statement immediately after his answer to the previous question.
Compared to the lengthy segment dealing with the at-large Council candidates, the district races were quite brief.
In District 1, two of the three contenders came to discuss the issues.
McKinley Hayward was making his second try at the District 1 Council seat, having lost in the 2006 primary to current seatholder Sheree Sample-Hughes. If elected, he said, "I don't want to be a political figure, I want to be a working figure for Wicomico County."
When asked what the three biggest challenges to Wicomico County were, Hayward cited four: "empowering our community through jobs, education, housing, and employment." Creating a good job which would enable workers to invest in their own homes was his goal, and Hayward saw high-tech jobs as the ticket. "I want Rick Pollitt to hear this – we need to invest in our future," Hayward said. "Fruitland had a vision," he continued, but what about the Mardela end of the county? Thousands go to Ocean City every weekend, but "we don't get a dime of that money."
The key to doing that would be encouraging vocational education and on-the-job training. "You could be a barber and be successful – every man in here has to get a haircut," exclaimed Hayward.  He went on, "Every kid that graduates from high school should graduate with a resume."
As for the idea of a race relations committee, McKinley didn't know if that would solve the problem. He saw it as something more deep-seated.
"I run a playground during the summer at Lake Street," he said. "My kids see a policeman, they run from him…the only time a black kid sees a policeman, he thinks he's coming to arrest someone." It's a "stigma" we need to get out of in Wicomico County, added Hayward. But if he wins, "no one's going to be safe" in government because he would do what he feels is best for the county.
One of two opponents for Hayward, Ernest Davis, cited his experience with the Maryland State Police and two businesses he's created, along with his belief that "I'm a working person" as part of his calling card. His key issues were education, economic growth, and agriculture. This worked out well with the next question, where Davis expanded on these issues, particularly in agriculture. He warned that phosphorus regulations could hurt the local agricultural industry, leading to dire consequences. We also needed to promote our county's educational institutions and proximity to Wallops Island. "That thing is growing leaps and bounds," Davis added.
Davis also advocated bringing all the parties to the table in dealing with race relations, rather than pulling in several different directions.
But returning to his three main points for his close, Ernest believed that, "Wicomico needs to start tooting its own horn (and) standing on its own two feet."
The third candidate in the District 1 race, Marvin Ames, was absent from the forum. Similarly, District 2 candidate Kirby Travers missed the affair, giving Marc Kilmer an opportunity to go through his first forum without any opposition.
So Marc got to speak about those things he wanted to accomplish in making the county better for his two young children: education, having a safe community, and jobs.
The District 3 race had all three contenders, and drawing first blood for them was former County Council member Larry Dodd, who served there from 2002-06. Since 2009 he's been a member of the Wicomico County Board of Education. It was in that vein he noted, "I'm here for your kids and the future of Wicmico County."
In discussing job creation, Dodd made the case that "I believe in smaller government," but maintained that education, crime control, and economic development were indeed legitimate functions of government. He praised the local vocational programs and the efforts in place to control crime, but the key was keeping kids in school.
Common Core was an issue which was brought up, but Dodd conceded it can't be scrapped because "it's state mandated." But "we are working to make it better and usable," said Larry.
Dodd chose to close in part by thanking current District 3 Council member Gail Bartkovich for her service, touting his experience and skills and pointing out "I'm invested in this community."
In contrast, Josh Hastings was making his first run for office. His background is mainly in the land protection and environmental fields, including the Rural Maryland Council and a stint in the office of the chair of the Maryland Senate's Education, Health, and Environmental Affairs Committee. "I'm here to protect our farms and our rural industries," said Hastings, who would build on relationships across the state and the Shore.
Hastings didn't believe it was the role of government to create jobs; rather, it's the council and executive's job to use dollars wisely and efficiently. But he felt they should have a say in how an area looks and grows.
He also admitted he didn't know enough about Common Core to have an opinion, but would listen to the teachers.
Josh concluded that it should be possible to be the number one county in the number one state for education. We also needed to build upon what makes us special and unique, and he would "continue to build the relationships" to assist in that.
After two unsuccessful runs for County Executive, Tom Taylor decided to try for the legislative branch this time. To begin, he claimed that he "wanted to represent the largest minority in Wicomico County – the individual." People needed to realize that Annapolis is taking our local representation away – "things are getting out of your control…we have to get control of these things."
Taylor had an interesting take on job creation as well. "It's not the role of government to make sure everyone has a job," said Tom. "The role of the government is to protect individual rights and property, and protect people so they can create these jobs." Just give businesses the opportunity to create jobs by minimizing government intrusion, said Tom.
When it came to the core curriculum, Taylor was blunt. "I don't like my son and his education being an experiment in social engineering." Instead, we have to rubber-stamp everything which comes from Annapolis. His goal was to maximize classroom spending.
If elected, concluded Taylor, he vowed to fight for our Constitutional and property rights. "I've taken it to Annapolis before," Tom said. "I'm more of a pit bull than the lovable person you see here." We should accomplish our goals without the fear of government intrusion.
Our final segment combined both Districts 4 and 5 because District 4 Council member John Hall is unopposed for a full term.
Hall assessed the current situation thusly: "There is a light at the end of the tunnel, and my job is not to extend the length of the tunnel."
The first question for the group was on racial disparity in jobs and housing, and Hall agreed "we have racial and economic disparities." While we could have committees and asset maps, "education is going to be the key." There should be more opportunities for the 36% of Wicomico County residents who are minorities. And when asked how the Board of Education could be more efficient, Hall advocated for an elected board.
But in his conclusion, John conceded "we're living in a difficult time." He also asked people to be "role models, not roadblocks."
Representing District 5 since 2006, Joe Holloway reminded us that "we started in the recession." And among those tough decisions to slice up the financial pie, finding out about the Board of Education audit was "very disappointing." He even was surprised to agree with the Daily Times assessment of the situation as a "financial failure."
Assistance in getting jobs back would come from reducing the impact fees, which now seems to have the County Executive on board because much of that housing growth was going to Sussex County, Delaware. As for raising the minimum wage, "I have a little problem with raising the minimum wage." It's a "training ground," he continued. Moreover, the salaries of those who make a little bit over the minimum would have to go up as well. "I see a big jump in unemployment," Joe said. He hoped that $10.10 was just a negotiating ploy and a lesser amount would be acceptable.
"It's no secret I support an elected school board," continued Joe. And it was an issue where, despite the fact that those things the Board of Education was spending on were within their policies, Joe reminded us he had "caught hell" for bringing up these same problems five years ago. An elected school board would be a good "first step."
And after picking on the school board, in his conclusion Joe decided "to pick on Annapolis a little bit." He warned that "if we're not careful, Annapolis is going to run the poultry industry off the Eastern Shore…we will be a ghost town." Everyone in county government was on board with that, and while the idea of job creation was great we need to consider how to keep the jobs we have. "We're not sitting up there twiddling our thumbs," concluded Joe.
Ron Pagano had a different tack on many issues. As an job creator and advocate for the disabled, among other groups, he wanted to provide equal opportunity, better housing, and improved public transportation, which was a cause dear to him. He wanted to keep our kids here, as "our kids should always be part of our vision."
Ron also vowed to "talk to anyone about job creation," but differed from most of the others in supporting a "fair" minimum wage. "$7.25 an hour is not enough to raise a family, let alone doing anything outside buying bread and milk," said Pagano. A smaller minimum also drives up the cost of the SNAP program, he argued.
He also took a moment to express his support of a "biracial commission," recalling a similar organization existed in the days when U.S. 13 and U.S. 50 were built and that era's "tearing apart of neighborhoods."
Pagano agreed the Board of Education audit "isn't pretty," but wanted to see what the Sage Policy Group report had to say. But he defended the Board, stating "as an attorney, I always knew there was two sides to every story." He was against an elected board, saying "the problem with an elected board is that no one wants to run," particularly with the financial disclosure reports required. He also pointed out the "balance" between parties.
He summed up by revisiting job creation. "I want to focus on bringing jobs to this community," noting that Wor-Wic Community College will customize training programs to various companies. Ron also sought to establish partnerships, particularly with NASA Wallops: "I personally will go to NASA Wallops and speak to the director there – I'll speak to whoever wants to create jobs here." Given that we have job creators like Jubilant Cadista – which, Ron noted, has created 300 local jobs in the last 7 years and is on track for 200 more – "obviously there is something about Wicomico County that appealed to Jubilant Cadista, and we can appeal to others as well. I will promise you I will bring jobs to the county," Pagano concluded.
After 2 1/2 hours, the forum came to a close and the 60 to 70 people who crammed into the room went their separate ways. Among those offices covered in the event, the fields for county executive and County Council Districts 2 and 5 are set since only one from each party filed. District 1 will be decided in the Democratic primary since no Republican filed, and District 4′s John Hall is unopposed. Out of all those there, only one District 3 aspirant and one for at-large will be eliminated.
But the event was useful in staking out some positions, and there will likely be several more forums for candidates to attend in upcoming weeks.
Last night the Wicomico County chapter of the NAACP held a candidate forum in the historical Chipman Cultural Center near downtown Salisbury. I snapped this photo last night for Facebook and as you can see it was in close quarters.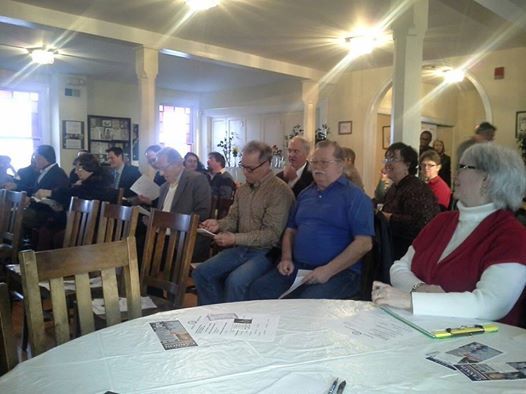 The event featured most of those running for County Executive and the seven County Council seats, with a handful of exceptions I'll note in my second part. What I've decided to do in part 1 is summarize what each of the County Executive candidates said, with a little bit of opinion as needed.
As has normally been the case, Orville Penn was last night's moderator and he asked questions with an eye toward the minority perspective – in one case, asking the County Executive candidates for a specific commitment to placing minorities in paid policy positions.
The evening began, though, with remarks and an invocation from local NAACP leader Mary Ashanti, who reminded us that the questions we submitted from the audience "won't offend or insult the candidates." This was an issue during last year's municipal primary forum.
We heard from the County Executive candidates first, with both Bob Culver and incumbent Rick Pollitt there to answer questions. Since Culver spoke first, I'll begin with him.
Culver, who currently serves on County Council in an at-large position and ran unsuccessfully for County Executive in 2006, make his case quite simply: "I feel like the county is (going in) the wrong direction." While we didn't need to replicate the successes of other counties, we did have two necessary items on the to-do list: maintain our status as the #1 agricultural county in the state and create jobs. "Teach young people how to work," said Culver.
So when he was pressed about hiring minorities, Culver noted there had to be some effort on their part as well. Getting an education and showing a "desire to get ahead" were key. "Everybody should be valued on their knowledge and education," Culver added.
Crime was an issue as well. Bob seemed to assign more blame to the victim of a recent shooting involving a Maryland State Police officer in Delmar, calling it "truly a shame," but noting "you don't go to a state police barracks with marijuana in your car." He also conceded there will be bad people and "we can't cure all the ills in the world," even though we have an outstanding sheriff and State's Attorney.
Turning to the subject of a recent audit of our Board of Education, Bob took Pollitt's decription of it as "troubling" and added "troubling is not the right word for it." Culver stated those who read the audit "will be appalled." He advocated giving the Board no more than required for maintenance of effort until they managed their finances properly, but also wanted the children to be as technologically advanced as possible.
"We've got to get out and get jobs." That was Bob's initial answer to the question on the County Executive's role in job creation. That gave Culver the opening to discuss his small business experience. He also stressed teaching kids how to work – perhaps in a WPA-style program – but he added the county is not here to create jobs, only to be an enabler in job creation.
Incumbent Rick Pollitt is running for a third term as the county's first (and thus far only) County Executive. He pointed out the difference between him and Culver would be in their respective approaches. His was one of stressing relationships.
But since the office was created in 2006, the county has seen a severe recession which has "redefined the rules" and created "a new normal." We needed to get out of the "silo mentality" and leverage other areas of government to succeed.
As far as minority recruitment, Pollitt stated his goal all along has been to have government "reflect the face of the county." But it wasn't just diversity in racial or gender terms, but also in geography as well. "We didn't want to have everything in Wicomico County run by old white men who live in Salisbury," said Rick. Pollitt added that he tries to recruit diversely, including in outlets tailored to minority readership, But in the most recent major opening for the Department of Public Works, no minorities applied. And when the question was continued to elicit a specific commitment, Pollitt pointed out "experience shows the pool can be shallow."
On the whole, though, Rick was willing to create a context where diversity is encouraged.
When it came to crime, the current executive made the case that we have to deal with the root causes. We are not among Maryland's wealthy counties, he added. One thing he was working on, though, was the rate of recidivism, trying to find "those people that could be saved." There he was consulting with activist Ron Pagano, who you will hear from in Part 2 as a candidate for County Council in District 5.
As I stated before, Pollitt found the Board of Education audit "troubling," but also believed many of the expenses were legitimate. "Clearly there needs to be a tightening up of the accounting," conceded Rick. Pollitt added that an upcoming efficiency study report from the Sage Policy Group would be of great assistance in creating the FY2015 budget.
On job creation, though, Rick believed "it's something we've got a pretty good record on." He also thought that an "upside" of going through the recession is that "it's given us time to step back and take a good hard look at who we are and who we want to be." But the way out of the doldrums is through economic development.
Some of his successes in creating a positive business environment, though, have been to decouple the personal property tax rate from the real property tax rate so that businesses have saved money on their tax bills, eliminating the inventory tax over a five-year period, and making a manufaturer's tax exemption automatic. "We are putting together the climate" for businesses to succeed, opined Rick.
In their closing statements, the two candidates played off each other, since they have known one another since the seventh grade.
Culver noted that while he disagreed with the means, he also thought he and Pollitt had several points of agreement, too. He pledged to help Wicomico County grow and expand it to the next generation.
Pollitt thanked Culver for generating more interest in the office, and noted he was approaching this like a job application. Philosophically, Pollitt said "my basic pattern is gettting people engaged." He reminded those in attendance that his job was the result of people losing confidence in their leadership and seeking a new alternative. It wasn't just "rights" as citizens, though, but there were duties and obligations incumbent upon us as well to be involved. Finally, Rick saw the seeking of "collaborative dialogue" as the key difference between himself and Culver.
Since I have a post already set for tomorrow, I will look at the County Council hopefuls on Sunday.
In life there is a difference between saying and doing. In this case neither protagonist, unfortunately, is in a position where they can do much more than talk and advocate but it is interesting to see what the two men in question have to say about a paticular situation.
First I'll point out the talker:
More and more of our friends and neighbors are unemployed and our state economy remains stalled. Clearly, the economic policies of Martin O'Malley and Anthony Brown have failed, and it's time for new leadership and a new direction in Annapolis.

The O'Malley/Brown Administration continues to drive taxpayers and job creators from Maryland and into the arms of better run, lower cost states.
Those were the words of gubernatiorial candidate Larry Hogan, whose campaign went on to point out that 9,800 Marylanders were furloughed in January and the state endured its worst year of job creation since the recession ended in 2009. (At least for some parts of the state, the question of whether we are back in one is open for debate.)
I will give some credit to Larry for beginning to round out a platform which doesn't simply bash the incumbent and his heir apparent for tax increases or cite his group's social media prowess:
Hogan, a business leader and former Maryland state cabinet secretary, favors a pro-growth agenda that combines reigning (sic) in Annapolis spending, jump starting the economy by cutting taxes on workers and their employers, and aggressively courting larger employers which in recent years have left Maryland for Virginia and other states.
We're still a little vague as to specifics, but the ideas are mostly right out of the conservative playbook and certainly won't hurt. I'm ever-so-slightly leery of the "cutting taxes on workers and their employers" line because that suggests only a targeted tax cut rather than the flattening (or complete elimination) of rates we need, but we'll see where Larry goes with this one.
On the other hand – and I really wish he had said it a month ago, because it would have went perfectly with this post – David Craig has a grand idea:
Harford County Executive and Maryland Governor Candidate David Craig called on incumbent Governor Martin O'Malley to push the Obama Administration to complete a final regulatory review to enable a facility in southern Maryland to export liquefied natural gas. The issue takes on greater urgency as the Ukraine and several European countries seek long-term solutions to reduce dependence on Russian energy exports.

"Now is not the time for dithering and red tape," said Craig. "Maryland is on the verge of being only the second state in the country to export liquefied natural gas and our proximity to the Marcellus Shale, and the Atlantic Ocean and existing infrastructure gives us a competitive advantage that nobody else has. Maryland can attract thousands of energy sector jobs and help assert U.S. influence in the crisis in the Ukraine. But we must act now."

Ambassadors to the U.S. from Hungary, Poland and the Czech and Slovak republics wrote House Speaker John Boehner last week that U.S. "natural gas would be much welcome in Central and Eastern Europe, and Congressional action to expedite [liquefied natural gas] exports to America's allies would come at a critically important time for the region."

The U.S. Department of Energy has approved just six export licenses for LNG projects, including Cove Point, since 2011. Dominion Resources-owned Cove Point, in Lusby, MD, is one of about 20 U.S. projects that want to export LNG. Of those, only one, in Louisiana, has full federal permitting.

Delays in Maryland are coming on multiple fronts. Political support among the O'Malley-Brown Administration is non-existent. Gubernatorial candidate and legislator Heather Mizeur is leading the charge in outright opposition to the project, while Lt. Gov. and front-runner candidate Anthony Brown promotes "environmental justice," a left-wing social movement that attempts to stifle energy exploration wherever politically-favored constituencies may object. The other democratic gubernatorial candidate, the current Attorney General, is opposed to timely approval of the project. Apart from general statements about the importance of developing jobs and traditional forms of energy, GOP primary candidates for Governor have heretofore not yet articulated positions on the issue. (Links added.)
Given my interest in energy-related issues, I can't believe I missed that originally – the release has been out about a week – but I'm glad David Craig is coming out on the right side of this issue. As I pointed out last month, Dominion Resources, the operator of the Cove Point facility, estimated that 4,000 construction jobs and 14,600 permanent positions could be created through this $3.5 billion investment. Those could be 14,600 people paying taxes and investing in our communities rather than wondering what comes next after the unemployment runs out or making plans to escape Maryland for greener pastures like Virginia, the Carolinas, Florida, or Texas. Democrats often talk about making "investments" with our tax dollars, well, here's an investment that the private sector is willing to make and government is mad because they can't control who receives it. Let's throw them a pity party: awwwwwwww….
Running mate Jeannie Haddaway made another good point in that statement:
Instead of picking winners and losers and subsidizing the most expensive options such as wind energy, we should be taking advantage of our existing resources and diversifying in a way that is meaningful to our economy and to job creation.

The choice is clear, the opportunity is now.
I look at it this way: if there were a market for wind energy, we would already have plenty of infrastructure out there. But the fact we have to subsidize its meager presence and carve out market share for it tells me wind is an economic loser overall. Just like solar energy, it's only as reliable as atmospheric conditions allow it to be. And while solar and wind are considered "green" energy, the birds being cooked or bats being exterminated might beg to differ.
So we can exacerbate the unemployment problem or we can put the people in place to help create jobs. It's your choice, Maryland.
Because of the snow, it's sort of a slow news day today. So I was looking for something interesting to comment on and found out that the practice of fracking can now retire, as it's reached the ripe old age of 65. From Energy Tomorrow:
We celebrate the first commercial use of hydraulic fracturing 65 years ago on March 17, 1949, conducted by Halliburton in Stephens County, Okla., and Archer County, Texas. But the roots of the fracking story stretch back to the 1860s. In a 2010 article for the Society of Petroleum Engineers' Journal of Petroleum Technology (JPT), NSI Technologies' Carl Montgomery and Michael Smith write that energy pioneers experimented with oil well "shooting" that would "rubblize" oil-bearing rock to increase flows. Various methodologies were used to fracture rock formations over the years until Stanolind Oil, a division of Standard Oil of Indiana, conducted the first experimental "hydrafrac" in 1947 in Kansas. It involved pumping fluid carrying "propping agents" at high pressure into a well to create fractures that could be held open to free oil and natural gas in the rock.
People have freaked out over this technology over the last half-decade since the oil and natural gas industry embraced it to bring new life to old fields as well as other places where energy exploration was previously deemed economically unworthy due to quantities thought not to be worth the trouble. Yet the root technology was decades old; the confluence of evolving technique with the increase in oil prices to a point where fracking could be cost-effective gave the impetus to the industry. Truthfully, when oil was $15 a barrel and being pumped like crazy in the Middle East a couple decades ago, there wasn't much demand for domestic supplies.
On the other hand, natural gas that ran about $4 per thousand cubic feet in 1981 only costs about $9 per thousand cubic feet now (although seasonal fluctuations are more severe.) Since that's not far off the increased cost of living from then to now, this technology has enabled the natural gas market to hold serve despite increased demand from electricity generation, which receives a much better rate than the residential figures I cited. Granted, the recent surge began around the time when natural gas for residential use hit its all-time peak of $20.77 per thousand cubic feet in the summer of 2008, but opening up export markets can make additional fields profitable while stabilizing prices.
Now there is an element of truth to the argument naysayers in the manufacturing and chemical industries make about the potential that exporting LNG to other countries would increase prices here, although I doubt they would triple as claimed. But let's explore once again the alternative scenario, one which I alluded to a couple paragraphs back.
Oil companies were laying people off and shutting down wells when prices were $15 to $20 a barrel because there was no way to run many of the old wells profitably. Some seem to forget that entrepreneurs go into business to make a profit, so they can make a living. Just like Staples is lopping off a couple hundred of its lagging retail performers, these companies idled wells which were losing money. In one respect it was great because gasoline went back under a dollar per gallon (remember that?) but that was a short-lived phenomenon which ended about the time of the first Gulf War – meanwhile, it took several more years for the oil industry to recover. Like it or not, that's a vital cog of the American economy just like automakers and other manufacturers, who can use the incentive of energy which is reliable and still relatively inexpensive to create jobs.
So the ideal this time would be to maintain a fairly steady and predictable price while expanding the supply and maintaining those wells which are in operation so they stay economically viable. But if it weren't for fracking, we would be in the situation of having to import a greater and greater share of our energy, a policy which would quickly drive up prices and perhaps exacerbate our national economic slowdown to a recessionary point once again. A modest increase in energy prices would be a small price to pay for the creation of thousands of jobs with private-sector investment – and who knows, maybe the predicted price increase won't come. But I'll bet the jobs would.
I've had a piece by Newt Gingrich in my inbox for a few days, but I knew sometime I would get to it. The piece is relatively evergreen as op-eds go so I just figured when the time came I would contribute some of my thoughts – well, the time is now since you're reading this.
In Newt's new book, called Breakout: Pioneers of the Future, Prison Guards of the Past, and the Epic Battle That Will Decide America's Fate, he describes those who would hold on to tradition for its own sake as the "prison guards of the past." The two cases in point he described in the piece I kept around were Google's driverless cars and "coding boot camps" where top programmers conduct intensive training programs designed to encourage employment at some of the best companies in the field – where they can perhaps work on the driverless car or other breakthroughs.
As always, there's a fly in the ointment – whether it's the National Highway Traffic Safety Administration's fear bordering on paranoia about these Google autos zipping around without some sort of new regulation to cover them or the California Bureau for Private Postsecondary Education fretting that these would-be hackers aren't getting the well-rounded politically correct education the state seems to demand, bureaucrats have to get their grubby little fingers into the pie. My question is: what exactly would they contribute?
I've often stated the case that government is a solution, but it rarely addresses the correct problem. It's obviously in Google's best interest to put out a usable and safe product such as the one which they are testing right now, just like it's in the best interest of those who run "coding boot camps" to educate their students in the best way possible to assume the demanding task of writing millions of lines of code. (They probably could have written the Obamacare website in a couple weeks, made it work, and saved taxpayers hundreds of millions of dollars in the process.) Snark aside, just think of the possibilities these present if left unfettered by government interference, in particular that of the driverless car.
As someone who sits behind the wheel for several hours every week doing his outside job, imagine how much more productive I could be with a good internet connection as, for example, I make my weekly drive around my various stops on the Eastern Shore of Virginia. Suddenly I may more enjoy that trip I occasionally have to make to Cape Charles for calls there. And what if we could make it so cars could traverse the rural interstates safely at a higher speed, say 120 miles per hour? Then we wouldn't need the high-speed rail boondoggle, and politically correct urban planners can't have that. To me, a car equals freedom because you're not a slave to another's timetable, whether bus, train, or airplane. Sure, it will take a decade or two for a driverless car to become affordable for the average person but there may come a point – even in my lifetime – where the car with a driver may only be seen at the NASCAR track.
The problem with the idea of using government to solve a problem is their lack of incentive to find a lasting solution. If we ended poverty or, to use an issue hitting closer to home, cleaned up Chesapeake Bay to a state where you couldn't dive in without running into the aquaculture that's in abundance, would the government regulators say "our work is done here" and go away? Not on your life – then they would have to get honest jobs. Left to government's own devices, we will never end the "war on poverty" or finish cleaning Chesapeake Bay because there's too much taxpayer- or donor-supplied money at stake.
Yesterday I was thinking about freedom, and it dawned on me that we cannot have absolute freedom because that would be anarchy – everyone would live for their own self-interest and it would deteriorate into a simple game of "survival of the fittest." But we also could not have absolute tyranny because at least the tyrant would have his or her own free will, even if he or she is the only individual so unconstrained. In all societies, we have some sort of rule of law, but the difference is in who calls the shots and whether things are set in stone or as capricious as the weather on a particular day. We are at war with Eastasia, and have always been at war with Eastasia; that is, until someone decides we're at war with Eurasia.
It seems to me that the sweet spot in a society would be one where there are some fairly simple rules (the Ten Commandments and Constitution as written come to mind) but aside from that people have the freedom to live their lives as they see fit. Google wants to make a driverless car? On balance, it seems to me the benefits far outweigh the costs to certain other areas in the transportation industry. Software makers want good coders? All they seem to be hurting is the feelings of the government which can't regulate them into their approved little box.
I've always admired Newt Gingrich – maybe not so much politically, but for the fact he seems to be thinking a generation or two ahead. I try to do the same here, as this blog and (especially) my book aren't always for the here and now, but to look into the future and see possibilities. I may not always be right, but I try to learn as I go along.
The key going forward is to impress upon society at large that they have a purpose. We can advance under a system which has brought the world prosperity, or backslide into the tyranny mankind has known for most of its miserable existence. It's still our choice, but the window is closing fast. Those "prison guards of the past" are aptly named, for this nation was born from tyranny and of late it's devolving in that direction unless we can break the chains.
David Craig is claiming to be the first to launch a series of radio ads touting his "glide path" tax plan, in which he exhorts Marylanders to "vote yourself a raise." Give a listen to the one-minute version.
In the release which accompanies this video rendition of Craig's ad, though, it notes that the spots are 30 seconds long. I'm not sure what portion of the long-form version they kept, but the ads are now supposedly running on two Baltimore radio stations, WBAL-AM and WCBM-AM. Obviously I don't know what sort of buy they made, or how much they paid, but my guess is that they spent a little more than the $5 a spot Red Maryland Radio is charging – and presumably have a far larger audience, depending on placement. If they are on during Rush Limbaugh, yeah, that's a big audience.
I like the touch of the female narrator, which will contrast with the mainly male hosts and attempt to soften Craig's image. He already comes across as the grandfatherly type given his age and demeanor – that may compare favorably with the rock-star image our current governor has.
As Craig's campaign points out:
This is the first, paid-media buy by any of the gubernatorial candidates and begins a month-long radio campaign that promotes a bold plan to lower taxes burden on hard-working families, and finally does something to keep Maryland citizens and businesses from moving out of state.

Ending the personal income tax is only one part of our plan to turn back the onslaught of insane new taxes and tax increases created over the past eight years by the O'Malley-Brown administration.
Obviously they also add:
And as always, to keep these radio ads running and ultimately change the ultra-liberal, one-party culture of Annapolis we will need your financial support.
All of the candidates are far short of the social media juggernaut which is Change Maryland – in comparison, David Craig is by far the piker with just 4,620 "likes." But Craig used that Facebook platform today to talk finance:
It comes as no surprise that Maryland will see a decrease in projected revenues in FY15. The O'Malley/Brown administration through their failed economic policies have once again opted to kick the can down the road. Maryland's working and middle-class have been asked to bear the burden of their mistakes for the last 7 years; as a result, many have fled the state because life in Maryland has become unaffordable.

Under our administration, Jeannie and I will provide real substantive tax relief for all Marylanders and balance our budget by ending uncontrolled spending. We will make Maryland affordable once again.
I suppose the key question which occurs to me is whether placing the state on a "glide path" will be enough relief for those beaten and battered Marylanders who are ready to throw in the towel and head for greener pastures. Craig's idea isn't quite as aggressive as the competing tax plan by Charles Lollar, who believes the additional sales tax and economic activity will make up the difference. So while they are waiting for a second term of David Craig, how many will go to those places which already feature all these tax advantages?
Whether it's the competition or just getting more familiar with the levers of state government, it is encouraging to see David getting more bold with many of his ideas. Perhaps he can shake that moderate image enough to get through the GOP primary, and I'm sure that's where the radio ads are aimed.