Commentary by Marita Noon
Proponents of green energy like to point out how the costs have come down – and they have. Though renewable energy, such as wind and solar, are not expected to equal fossil fuel costs anytime in the near future and recent growth has been propped up by mandates and tax incentives. But there are other, more subtle aspects of the Obama Administration's efforts that have had negative impacts that are not felt for years after the policies are implemented. By then, it will be too late to do much about them.
We know that the push toward renewables has hurt the coal industry. As Hillary Clinton gleefully exclaimed: "we're going to put a whole lot of coal miners and coal companies out of business." We are already seeing this happen all over the country. Dozens of coal mining companies have gone bankrupt since President Obama took office and those that are still functioning are doing so with far fewer workers.
One such mine is in the Four Corners region of New Mexico – the San Juan Mine – which is one of the largest underground coal mines in the world. It has been a "top employer" in the region. Westmoreland Coal Company purchased the mine from BHP Billiton, with the sale completed on February 1, 2016. At the time, the mine employed more than 400 people. Shortly thereafter, 11 salaried staff lost their jobs and on June 16, another 85 workers – both salaried and hourly – were laid off. Which, according to the Albuquerque Journal, were "necessary because the San Juan Generating Station, which uses all the mine's coal, plans to retire two of its four units as part of a negotiated agreement among plant operator Public Service Company of New Mexico [PNM], the Environmental Protection Agency, the Navajo Nation, and the state of New Mexico."
The "agreement" to shut down half the power plant – thereby cutting the immediate need for coal – is the result of the EPA's 2011 Regional Haze Program that, according to a report from the U.S. Chamber of Commerce, "seeks to remedy visibility impairment at federal National Parks and Wilderness Areas." This, the report states, "is an aesthetic regulation, and not a public health standard" – though the results will be undetectable to the human eye. For this, nearly a quarter of the mine's workforce has been terminated.
The Albuquerque Journal cites Westmoreland's executive vice president, Joe Micheletti, as being unwilling to "comment on whether he expected to see more layoffs in the coming months." It also states that PNM has promised "not to lay off any employees at the stations as a result of the unit closures" – though through attrition employment is down 20 percent from two years ago.
The reality is, anti-fossil fuel groups like the Sierra Club, wanted the entire plant shut down. In 2018, PNM will have to plead their case before the Public Regulatory Commission to keep the San Juan Generating Station functioning past 2022. PNM is currently considering a plan for meeting its needs for electricity without it. If the plant closes, all jobs, approximately 800, at both the mine and the generating station will be gone – greatly impacting the local economy.
Obama's far-reaching green energy policies are insidious – hurting consumers in ways we don't even think of. On June 10, Stephen Yurek, president and CEO of the Air-Conditioning, Heating and Refrigeration Institute (AHRI), gave testimony before the U.S. House of Representatives Subcommittee on Energy and Power. He addressed the nearly 40-year old Energy Policy and Conservation Act (EPCA) – which, he said, "has not been updated to reflect new technologies and economic realities" and "has been misapplied by the Department of Energy [DOE]." The Obama Administration has run amuck in its application of EPCA – issuing regulation after regulation. Yurek backs this up by pointing out the difference in the Clinton and Obama administrations: "While the Clinton Administration's DOE issued just six major efficiency rules during his eight years in office, the Obama Administration's DOE issued eight major efficiency rules in 2014 alone – a record according to the Office of Information and Regulatory Affairs. And DOE's Unified Agenda indicate that between 2015 and the end of the administration, 11 additional major efficiency rules can be expected to be issued."
These rules, Yurek explained, "use unrealistic assumptions" to create "higher efficiency levels than are economically justified for consumers." He encourages Congress to force the DOE to "consider the real-world cumulative impact of product efficiency standards among agencies, businesses, and consumers" and suggests that "as DOE promulgates rules according to an accelerated regulatory schedule, necessary constructive dialogue falls by the wayside."
Yurek summarizes: "An endless cycle of efficiency rulemakings continues to have an adverse impact on our global competitiveness and the American jobs we create." This practice hurts consumers as "When new products and equipment cost more than consumers can afford, they find alternatives, some of which compromise their comfort and safety, while saving less energy or none at all or in some cases using more energy."
In the name of energy efficiency, on December 6, 2013, Obama issued a memorandum ordering federal buildings to triple renewable energy use. He declared: "Today I am establishing new goals for renewable energy as well as new energy-management practices." Now, nearly three years later, we get a taste of what his federal building initiative is costing taxpayers.
On June 16, 2016, the Federal Housing Finance Agency's (FHFA) Office of Inspector General released a report - precipitated by an anonymous hotline complaint - on the 53 percent cost escalation at Fannie Mae's extravagant new downtown DC building. As a result of the financial crisis, mortgage giant Fannie Mae received a bailout of $116.1 billion in taxpayer funds and FHFA now serves as the conservator over Fannie Mae. The Inspector General found that no one in the FHFA Division of Conservatorship "was aware of the 53% increase in the estimated build-out costs for Fannie Mae's new office space."
"Because Fannie Mae is an entity in the conservatorship of the U.S. government," the report states: "FHFA, as conservator, will need to assess the anticipated efficiencies of specific proposed features against estimated costs of those features and determine whether the efficiencies warrant the costs." The watchdog report found the ballooning costs created "significant financial and reputational risks."
Addressing the excessive cost, Rep. Scott Garrett (R-NJ), chairman of the House subcommittee with oversight over Fannie Mae, said: "Like a child with a credit card in a toy store, the bureaucrats at Fannie Mae just couldn't help themselves. After being forced to bail out the GSE's [Government-Sponsored Enterprises] to the tune of nearly $200 billion [which includes Freddie Mac], American taxpayers now get the news that they are underwriting lavish spending at Fannie Mae's new downtown Washington, D.C. headquarters. So while Americans around the country are living paycheck to paycheck, Washington insiders are blowing through budgets by designing glass enclosed bridges and rooftop decks."
In response to the call for "immediate, sustained comprehensive oversight from FHFA," Melvin L. Watt, FHFA director, defended himself. In the face of the Inspector General's caustic criticism, he claimed that many of the upfront investments would save money over time. Watt's memorandum only offers two such examples and one is more efficient lighting. He claims: "upfitting space with more expensive LED lighting instead of less expensive fluorescent lighting would result in significantly cheaper operating costs." The other example he provided was window shades.
These are just three recent examples of Obama Administration policies that were put in place years before the resulting job losses and costs to consumers and taxpayers are felt. Gratefully, for now, the Supreme Court put a stay on one of his most intrusive and expensive programs – the Clean Power Plan. But there are plenty of little rulemakings, programs, and memorandums that will still be impacting jobs and increasing costs long after he is out of office.
The author of Energy Freedom, Marita Noon serves as the executive director for Energy Makes America Great Inc., and the companion educational organization, the Citizens' Alliance for Responsible Energy (CARE). She hosts a weekly radio program: America's Voice for Energy - which expands on the content of her weekly column. Follow her @EnergyRabbit.
Back in 2013 I wrote about a company called Ethical Electric, noting that the electricity supplier was charging a premium to help out progressive causes. Well, the other day I received a solicitation from a group called Clean Energy Option and after a little digging I found out it was Ethical Electric that was doing business as (d/b/a) Clean Energy Option. Seems to be less than ethical to change their name, but it's likely a marketing thing.
Yet thanks to that 2013 piece I wrote for Watchdog Wire, I found out that Ethical Electric was charging 10.14 cents per kilowatt-hour (kWh) at the time, which was a fair-sized premium over the 8.89 cents per kWh Delmarva Power (my utility) was charging back then. That 14% difference meant the average bill would be about $12.60 higher per month for an average home that used 900 kWh monthly. I don't know about you, but I'm sure I would cry foul if my electric bill was going up $150 a year, since that's what it translates to.
It just so happened that the Clean Energy solicitation followed my latest Delmarva Power bill by a couple days so my bill was handy. Over the last two-plus years, my Delmarva Power rates haven't changed a whole lot as the "rate to compare" was 9.01 cents per kWh. In 2 1/2 years I've endured an annual rate increase far less than 1% as the total hike was 1.35%. (I also found out in researching this piece that I can get even lower rates by switching my supplier to another of several companies that are in that business. Some are "green" companies like Clean Energy Option, most are not.)
On the other hand, the teaser rate for Ethical Electric's Clean Energy Option has swelled to 11.6 cents per kWh, which is a rate hike of 14.4% overall and about 6% per year. Most likely this rate will jump again after the three-month special rate ends – after all, what business would promote a higher initial cost? The premium that was once 14% has now doubled to 28%, despite the fact people are bending over backwards to install new solar farms and wind turbines around the region. As Clean Energy Option euphemistically puts the answer to the question "What will happen to my electricity bills?":
In short, supporting new renewable energy development costs a little more than delivering polluting energy. That's because the energy you are choosing is better for you and the planet.
("Better for you" may not be true for a person within sensing range of the low-frequency sound emitted by wind turbines, but I digress.)
There's obviously something at work here to drive the cost of "regular" electricity down while wind and solar continue to increase. I suspect that something is the low cost of natural gas, which is used more frequently as an energy source to create electricity and is relatively cheap. Ironically, this economic fact is doing almost as much damage to the coal industry as Obama's EPA regulations.
So don't be fooled to the tune of $23 a month or nearly $280 a year. Keep the money in your pocket and stick with what is most reliable. Or, if you really want to put that money to work, use it to support elected officials who will stand up to the environmentalist lobby and remove these silly mandates and carveouts for the otherwise unsustainable green energy racket.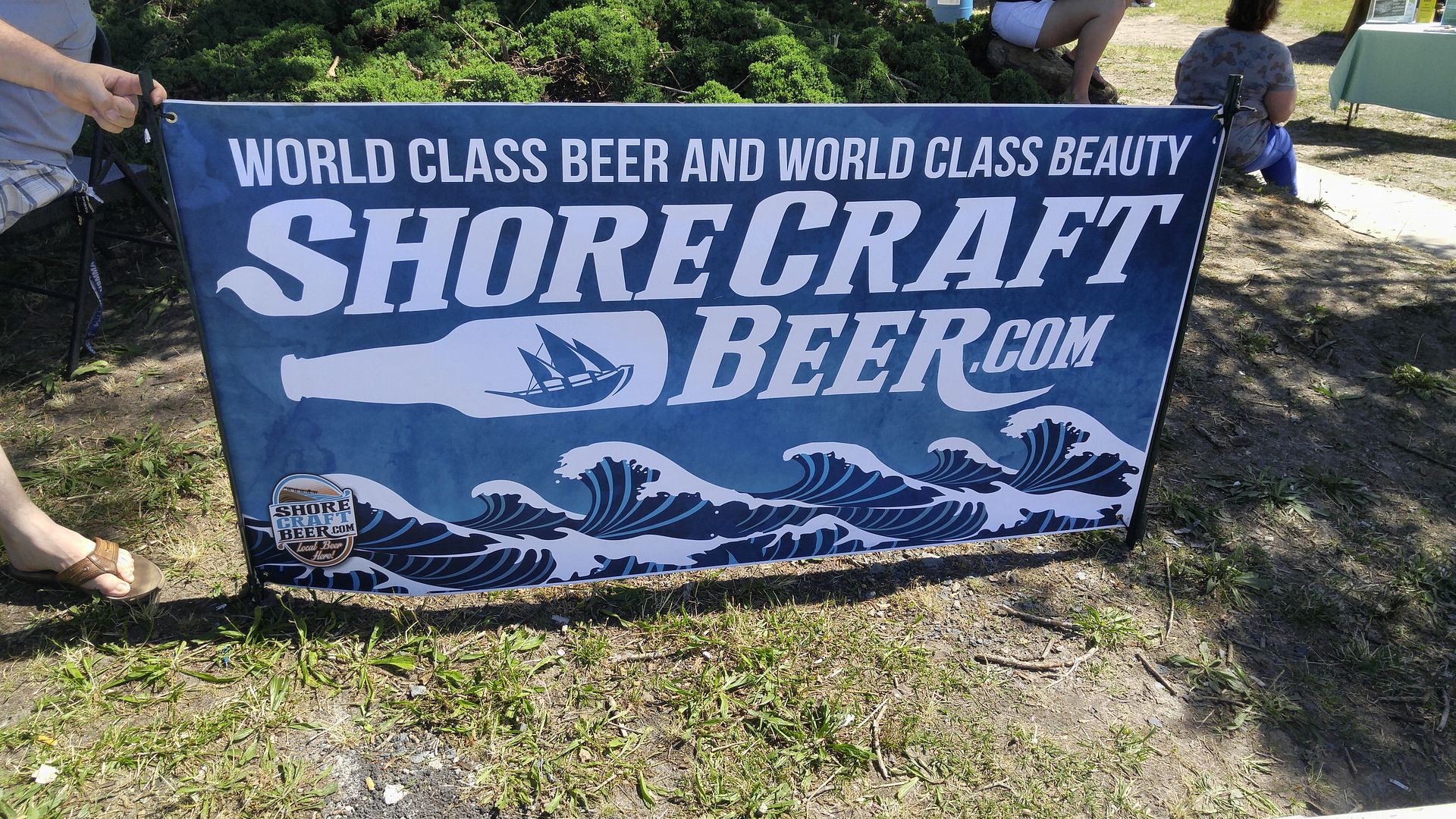 It was a perfect day to be downtown and try a few local craft beers, so I went to the inaugural Salisbury Shore Craft Beer Festival (SSCBF) held downtown along the Riverwalk. (The Salisbury designation distinguishes it from a similar event with the same sponsor in Ocean City, the first of which was held last October.) It was also billed as a "Riverwalk Celebration" and while they are renovating it, there's still some work in progress.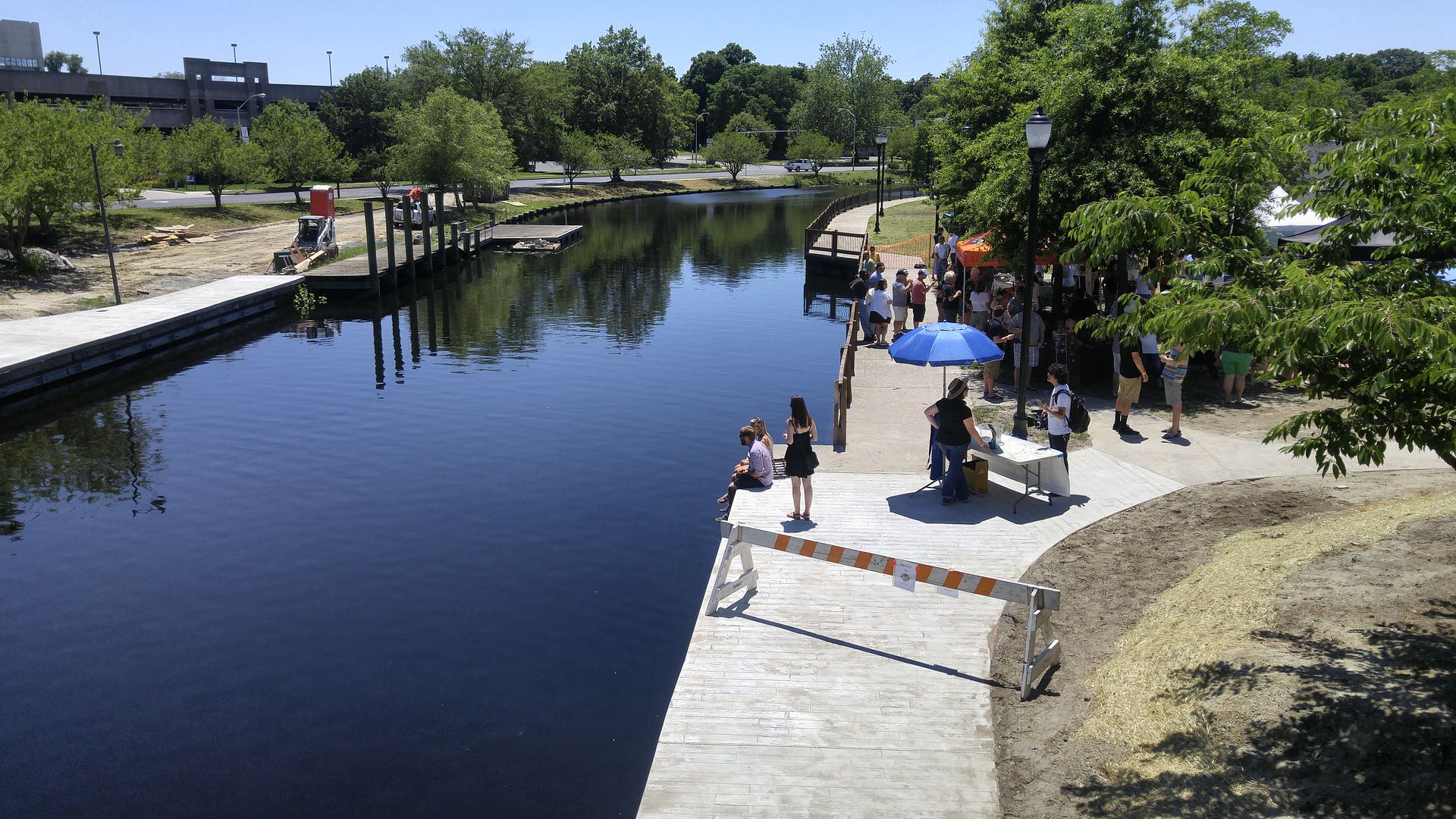 To be fair, I was looking west from the Division Street bridge and most of the Riverwalk lies east of the structure. But this was the site chosen for the festival.
Early on I thought the crowd was a little bit meager. I took this photo about 2:00, a half-hour after the gates were opened for general admission. (VIP ticket holders could get in at 12:30.)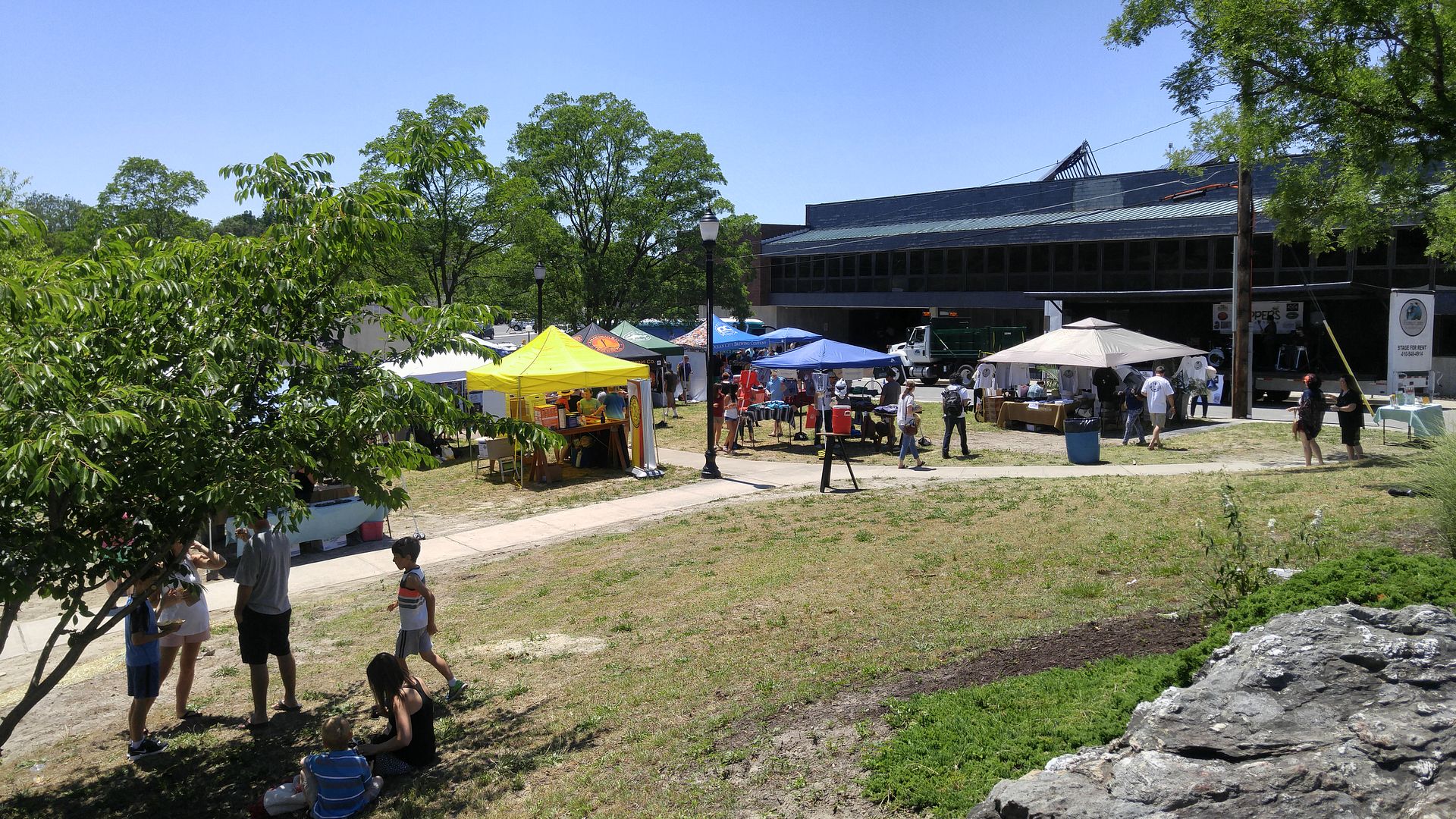 One area where the festival will have room to grow is the food selection. The Division Street bridge served as a mini-food court.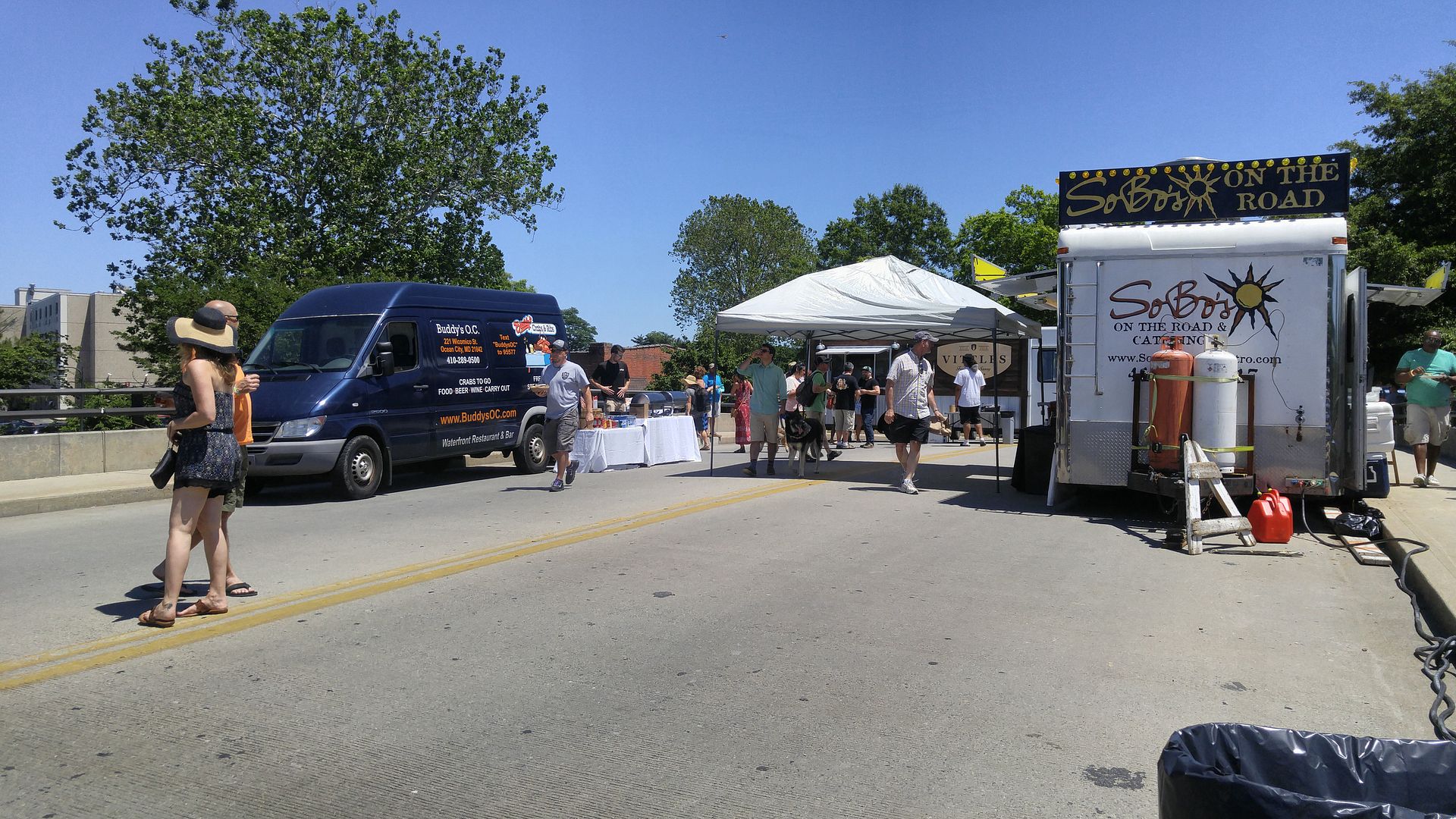 As time went on, though, the crowds thickened a little bit. This photo was taken from along the river looking toward the stage.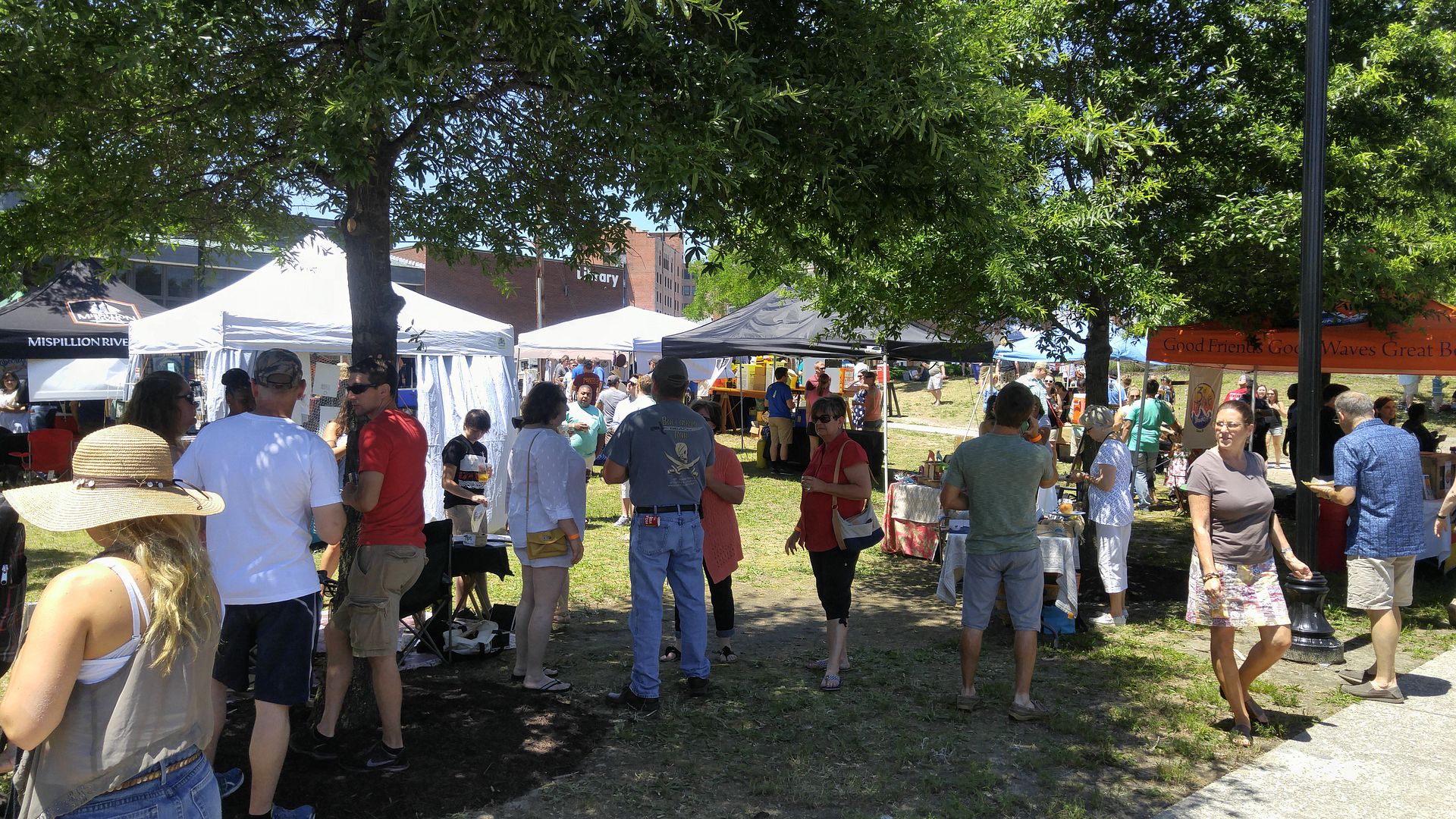 One thing that I got to take advantage of was making my first visit to Headquarters Live, which was a nice place to sit down. There wasn't a tent with picnic tables set up on the main festival site.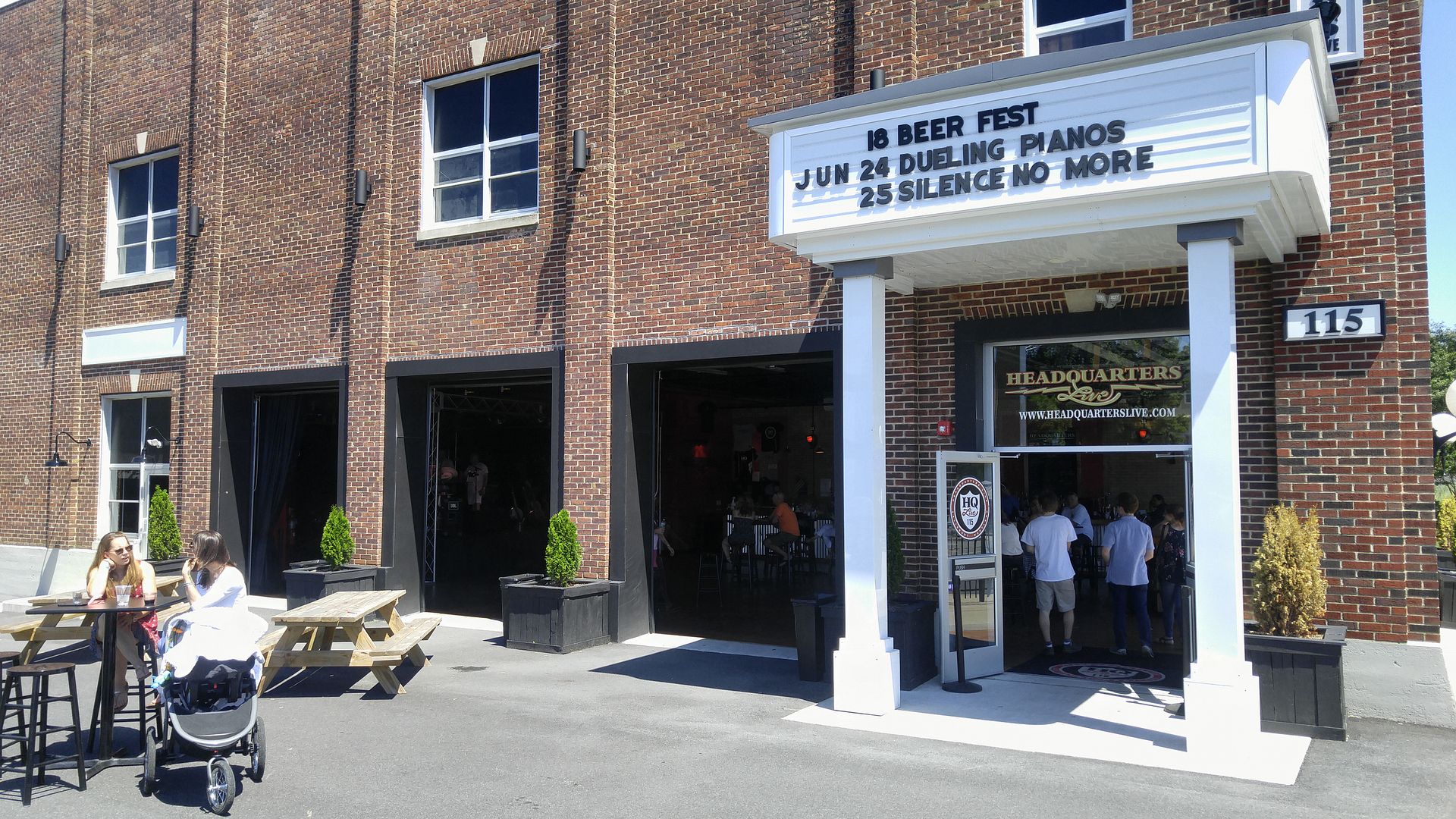 Now if you had the entry in the pool that said the first band I would see there would be called Billy Earl and the Pink Flamingos, you would be right – but I would have called you nuts.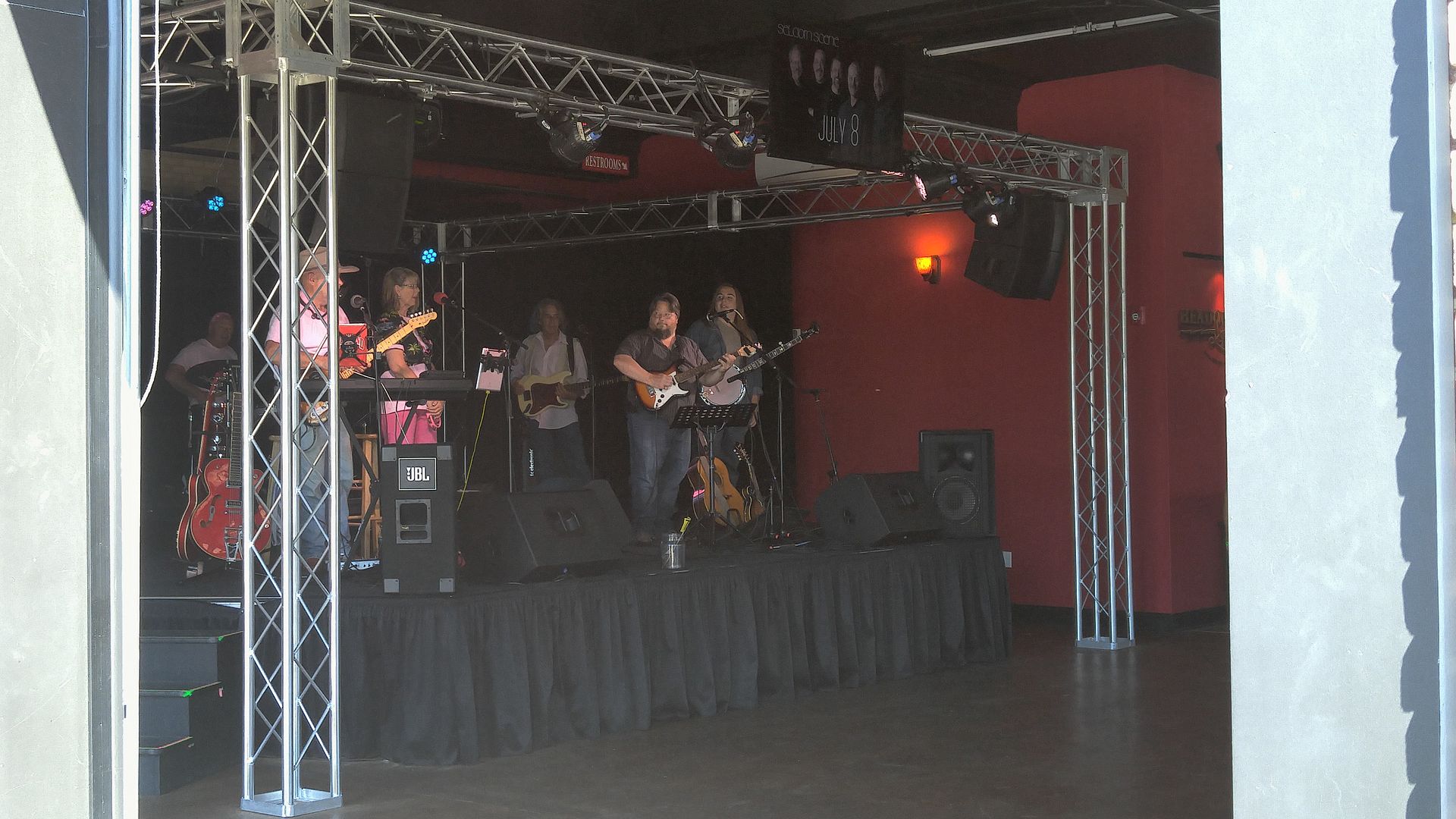 I'll have much more on them as well as Eastern Electric on the mobile stage when I do a "Weekend of local rock" post later this week, but suffice to say Headquarters Live is a smaller venue than I imagined. Yet the festival was shrewd in tying the outdoor stage and indoor venue together, with a separate wristband for each. This gives them a logical area for expansion beyond the small parcel that was used across Division Street and along the river.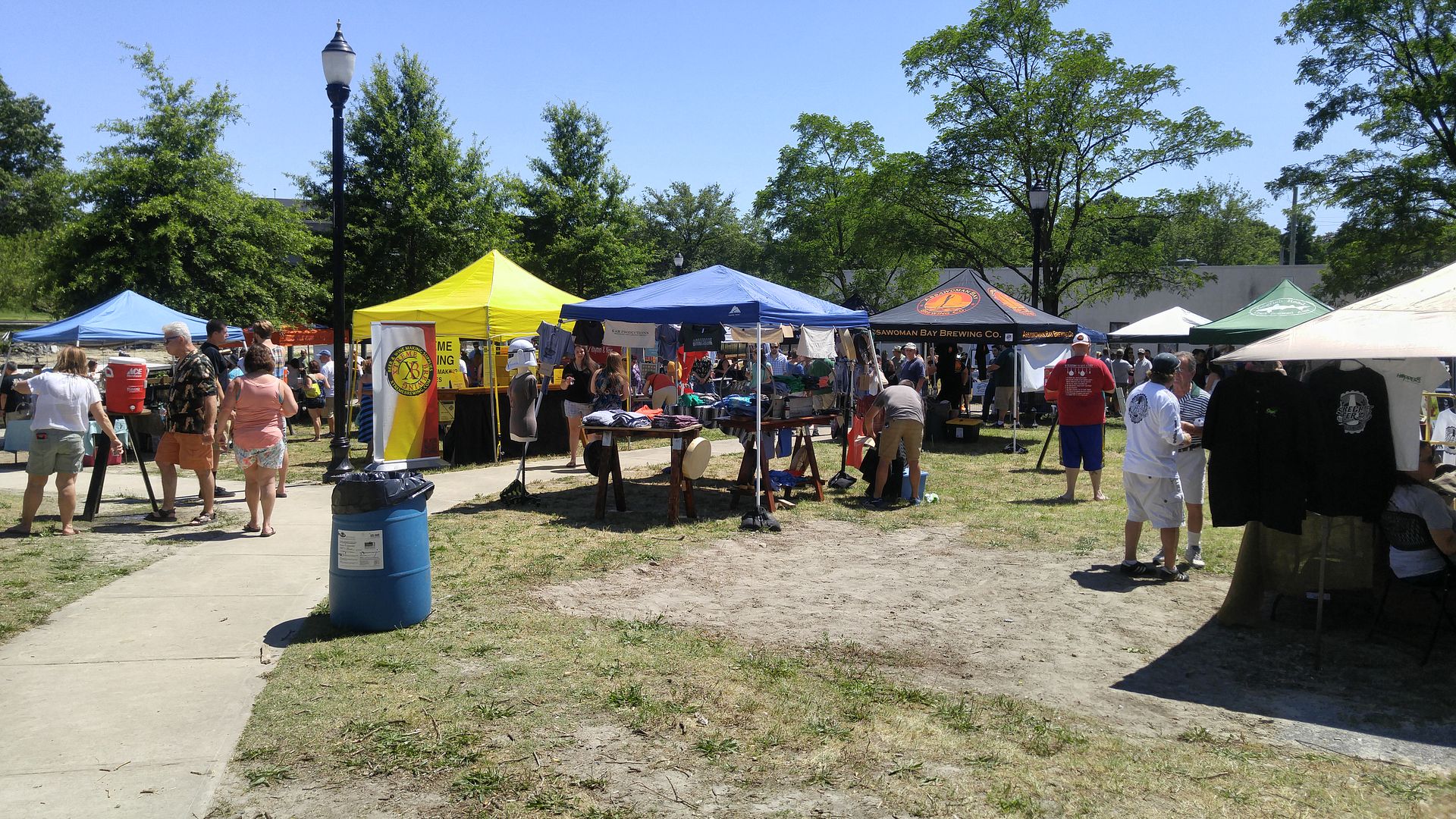 As it was, there was a comfortable amount of people in the park where you didn't feel like you were tripping over anyone yet there was enough to give the event some energy. Unlike the Good Beer Festival, which is held in a secluded location outside of town, people could readily walk in from outside but they could not sample the beer. Another asset was the fact that it was all local breweries – none of those mainstream brewers that are still considered crafters like Sam Adams or Blue Moon which come to the Good Beer Festival from afar. This will limit the event's size to some extent as the area can only support so many breweries and expanding to markets farther and farther away will run them into stiff competition from their local crafters. There were twelve area breweries represented at the SSCBF, pouring around 30 beers as well as a couple of tea concoctions.
I think the event was rather successful considering it was held at a time when few other events off the beach seem to succeed. Most of our larger local festivals actually occur during what's considered "shoulder season" before Memorial Day or after Labor Day. (April and October are the favored months.) In this case, the SSCBF was up against the OC Air Show and the end of the Firefly Music Festival as well as at a time when Salisbury University isn't in regular session, so there were a lot of distractions. It may succeed a little more a week earlier or a week later, but this isn't a bad summer event.
So we will see what happens next year and find out how much more of the Riverwalk they take advantage of.
In the interest of not letting good writing go to waste, allow me to direct you to the Patriot Post today. I truly enjoyed writing on my assigned topic this week, but wanted to share a couple other thoughts with you. It's a good time for some reminders.
Over the years I have done this website, I have made the energy industry somewhat of a focus. It began with a friendship with Jane Van Ryan, who used to work for API before she left there a few years back. She encouraged me to do a little bit of research on the topic and quickly I was reminded that oil was the economic lifeblood of our country and the better and cheaper energy would be, the better off our economy would be. Being the logical sort of person I am, it was easy to figure out that coal, oil, and natural gas were definitely more reliable than wind that may not blow or sun that only shines between 9 and 15 hours a day – assuming, of course, a cloudless sky. So I believed in the idea that our future could be more secure if we use our natural resources we were blessed with.
On the other hand, there are those who want to tilt the playing field toward what they consider "renewable" resources. Green energy has been the beneficiary of not just direct subsidies, but carveouts in the market designed to make sure there is a place for these (otherwise useless) solar panel fields and wind turbines to send their energy. The market has been bent every which way for decades, although I'm sure many would argue that the oil industry got the initial benefits when we built thousands of miles of highways. For the most part, though, the pathways were already there – we just improved them to allow goods and people access from coast to coast in a matter of three to four days. It was as easy as stopping at the gas station every few hundred miles.
My columnist Marita Noon gets it too, which is why I run her column weekly. She was talking about wind turbines this week, which led one of my more liberal readers to note that there are a lot of places which welcome wind turbines. He mentioned Germany, but the love for wind turbines there is far from universal and the subsidies still won't make offshore wind palatable.
I just look at things through a logical lens. A century ago, windmills powered individual farms but they were scrapped once rural electrification took hold in the 1930s - that was a more reliable source. So why are we going back to that less reliable technology when we have the reliability of coal, oil, and natural gas? Seems to me that "free" electricity in the form of solar or wind power costs a lot more than we think.
Commentary by Marita Noon
Last month's wind-turbine fire near Palm Springs, CA, that dropped burning debris on the barren ground below, serves as a reminder of just one of the many reasons why people don't want to live near the towering steel structures. In this case, no one was hurt as the motor fire was in a remote, unincorporated area of Palm Springs. But imagine if it was located just hundreds of feet from your back door – as they are in many locations – and the burning debris was raining down into your yard where your children were playing or onto your roof while you are sleeping.
Other reasons no one wants them nearby include the health impacts. Last month, Dave Langrud, of Alden, MN, sent a six-page, detailed complaint to the Minnesota Public Regulatory Commission. In it, he states: "Wisconsin Power and Light constructed the Bent Tree Wind Farm surrounding my home. There are 19 turbines within one mile and 5 within ½ mile. Both my wife and I have had difficulty sleeping in our home since the turbines started operating. If we leave the area, we don't have this problem. The turbines have also caused severe headaches for my wife. She didn't have this problem before the turbines, and this isn't a problem for her when we spend time away from our home and away from the turbines. When we are home, the problems return."
In response to another recent ongoing complaints at multiple Minnesota wind projects about the proximity of the turbines to residences, commissioners from the Minnesota Department of Health, Department of Commerce, and Pollution Control Agency acknowledged that regarding permitting and setbacks, "the noise standard was not promulgated with wind turbine-like noise in mind. It addresses audible noise, not infrasound. As such, it is not a perfect measure to use in determining noise-related set-backs between wind turbines and residences." Yet, it is the "measure" that is used. The Commissioners also acknowledged: "At present there is no available funding to conduct such studies."
Langrud's letter addresses property values. He asks: "How do we get a fair price if we sell in order to save our health?" But recent studies prove that it isn't just those forced to live in the shadows of the turbines whose property values are diminished. Waterfront properties that have offshore wind turbines in their viewshed would have a "big impact on coastal tourism," according to a study from North Carolina State University. The April 2016 report in Science Daily states: "if turbines are built close to shore, most people said they would choose a different vacation location where they wouldn't have to see turbines." The economic impact to the coastal communities is estimated to be "$31 million dollars over 20 years."
A similar study done in Henderson, NY, found a proposed wind project could have "a total loss in property value of up to about $40 million because of the view of turbines." An interesting feature of the NY study, not addressed in the NC one is how the loss in property taxes, due to reduced values, will be made up. The Watertown Daily Times points out that most of the homes whose values "would fall sharply due to the view of turbines" are "assessed above $1 million." It states: "homes in the $200,000 range without a view of turbines would probably see an increase in property taxes to make up for the overall drop in property values." Robert E. Ashodian, a local resident is quoted as saying: "If property values go down and the town isn't going to spend less money, the tax rate is going to go significantly up for all of the homeowners who aren't impacted." Henderson Supervisor John J. Calkin expressed concern over the "devastating impact" the wind project would have on the town and school district.
Offshore wind turbines were supposed to offer a visual benefit, but they, obviously, bring their own set of problems.
The Financial Times reports: "Building wind farms out at sea, rather than on land where critics say they are an eyesore, has made these power stations a less contentious form of clean energy … But it also makes them dearer than most other power stations and many EU governments face pressure to cut green subsidies that opponents say raise electricity prices and make some industries uncompetitive." The higher cost argument is what has caused Denmark – known as the international poster child for green energy and the first to venture into offshore wind power – to abandon the policies that subsidized the turbines. Cancelling the coastal wind turbines is said to "save the country around 7 billion Krones ($1 billion)." According to Bloomberg: "The center-right government of [Prime Minister] Lars Loekke Rasmussen wants to scrap an electricity tax that has helped subsidize wind turbines since 1998." The Danish People's Party, the largest group in the ruling bloc, is part of the "policy about-face." Party leader Kristian Thulesen Dahl says: "You have to remember this is a billion-figure cost that we're passing on to the Danes." She added: "We also have a responsibility to discuss the costs we impose on Danes over the next 10 years."
Germany is facing similar problems with its green energy policies. Energy Digital magazine points out that Germany's rapid expansion of green energy has "driven up electricity costs and placed a strain on the grid." As a result, Germany has capped wind power expansion. In fact, subsidies – which drove the growth in renewable energy – are being cut throughout Europe. Bloomberg states: "Europe is falling out of love with renewables."
Then, there are the U.S. utility companies who are forced to buy the more expensive wind-generated electricity due to an abused – but little known in the public – 1978 law that was intended to help the U.S. renewable energy industry get on its feet. The Public Utility Regulatory Policies Act (PURPA) was designed to give smaller power players an entry into the market. If wind-turbine projects meet the guidelines, utilities must buy the electricity generated at "often above-market" costs. Instead, in many cases, big projects, owned by one company, get divided up into different parcels with unique project names, but are still owned by the major developer. Energy Biz magazine reports: "PacifiCorp, for one, estimates that such abuses will cost its customers up to $1.1 billion in the coming decade by locking the company into unneeded electricity contracts at rates up to 43-percent higher than market price." It quotes John Rainbolt, federal affairs chief for Wisconsin-based Alliant Energy: "Our customers essentially pay for PURPA power at 20-percent higher-than-market-based wind prices." Led by Senator Lisa Murkowski (R-AK), Rep. Fred Upton (R-MI) and Rep. Ed Whitfield (R-KY) a move is underway in Congress to review the nearly 40-year old legislation.
So, residents who live near wind turbines don't want wind turbines. Nor do residents and renters who have them in the viewshed, governments looking to cut costs, utility companies, or ratepayers. And we haven't even mentioned those who want to protect birds and bats. Scientific American just addressed the concern that "Bat killings by wind energy turbines continue." It claims: "wind turbines are, by far, the largest cause of bat mortality around the world" and this includes three species of bats listed – or being considered for listing – under the Endangered Species Act. Bats are important because they eat insects and, therefore, save farmers billions of dollars in pest control each year. Scientific American reports that in addition to dead hawks and eagles found under the wind turbines are thousands of bats.
Who does want wind turbines?
Wind turbine manufacturers, the American Wind Energy Association, and the crony capitalists who benefit from the tax breaks and subsidies – which Robert Bryce, author of Power Hungry and Smaller Faster Lighter Denser Cheaper, reports total more than $176 billion "given to the biggest players in U.S. wind industry." He states that the growth in wind energy capacity has "not been fueled by consumer demand, but by billions of dollars' worth of taxpayer money." To address those who defend rent-seeking wind turbines and squawk about the favorable tax treatment the oil and gas sector gets, Bryce points out: "on an energy equivalent basis, wind energy's subsidy is nearly three times the current market prices of natural gas." Even billionaire Warren Buffett acknowledged that the only reason his companies are in the wind business is: "We get a tax credit if we build a lot of wind farms."
If no one but the rent-seeking crony capitalists want wind turbines, why must people like Minnesota's Langrud have to endure them? Because the wind energy lobby is powerful and "green energy" sounded good decades ago when the pro green-energy policies like PURPA were enacted. However, as the Bloomberg story on Demark points out: wind power is "a mature industry that no longer needs state aid." Unfortunately, in December 2015, Congress extended the wind energy tax credits through 2021. But tweaks, such as reforming PURPA, can take place and a new president could totally change the energy emphasis – which would be good, because, it seems, no one really wants wind turbines.
The author of Energy Freedom, Marita Noon serves as the executive director for Energy Makes America Great Inc., and the companion educational organization, the Citizens' Alliance for Responsible Energy (CARE). She hosts a weekly radio program: America's Voice for Energy – which expands on the content of her weekly column. Follow her @EnergyRabbit.
In yesterday's Salisbury Independent, County Councilman Marc Kilmer discussed his concerns about a tuition assistance program proposed by community leaders and supported by County Executive Bob Culver. The aim of this Wor-Wic College proposal would be to assist Wicomico County high school students by supplementing their available financial aid, with an estimated cost once the program is underway of $665,000 annually.
One of the examples cited by the backers of the Wor-Wic Economic Impact Scholarship is that of Garrett County at the far western end of Maryland, which has a similar program. I'm sure those on County Council have seen this document, but the Garrett County Commissioners have produced a (somewhat dated) report on the Garrett County Scholarship Program, which they began way back in 2006 – so the 2014 report had several years' worth of data to evaluate its success.
A couple things to bear in mind are that Garrett County is not one of the wealthier counties in Maryland, and in terms of its economic strength it would fit in well with the rural counties of the Eastern Shore. As the report authors note, the county is in a transition "from an economy traditionally based on agriculture, forest products, and mining to a more diversified economy based on tourism, commerce, light industry, and construction." But it is also far smaller than Wicomico County in terms of population, with just over 30,000 people – imagine the city of Salisbury (but not the outskirts and densely populated nearby incorporated and unincorporated areas) spread out in a far larger geographic area, as Garrett is the second-largest county in the state when it comes to land area. It doesn't have a large populated area, either, as the largest towns of Mountain Lake Park and Oakland (the county seat) hover around 2,000 residents apiece.
According to the commissioners' report, between 1/3 and 2/5 of the eligible students in the county took advantage of the program, but in raw numbers the total was less impressive: from a fall 2008 peak of 138 recipients, the number declined over the next several years to a low of 79 in the fall of 2013 (the last year detailed by the report.) Yet the program comes with a significant cost due to some of its qualities: for FY2013 the price tag was $427,365 and for FY2017 the county has budgeted $500,000. However, the county also assists students who are dual-enrolled in one of its two high schools and Garrett College as well as a handful who are enrolled in non-degree certificate programs, as well as encouraging students to take more than the minimum 12 credit hours to maintain eligibility. They pick up that tab.
While the programs as envisioned here in Wicomico County and the Garrett County program have somewhat of an apples-to-oranges comparison to them, I think it's fair to say that the local proposal is probably going to cost more than envisioned. Expanding the Garrett scholarship to non-degree certificate programs, while a sound idea, is an example of the mission creep that often occurs with the government getting involved. It's also worth pointing out a spike in costs came when Garrett College tuition increased significantly in 2009.
Unfortunately, the one relevant piece of data we don't have is whether these scholarship recipients remained to take (or create) jobs in the Garrett County region. According to state records, though, the workforce in Garrett has actually declined from 15,666 to 14,475 over the last decade (April 2006 – April 2016) for a drop of 7.6%. Conversely, Wicomico County declined from 49,566 to 47,504 in that same period, for a decrease of 4.2% – so by that measure the Garrett County program may not be very successful. (Yet the Garrett unemployment rate has only risen from 4.7% to 5.7% in comparison to a jump from 3.7% to 6% in Wicomico.)
One way of expressing the cost of this program is to equate it to property taxes. For each penny of property tax, Wicomico County collects about $570,000 (this is assuming I am reading the budget correctly, of course. But it sounds about right based on my experience.) So this would be a little over a penny out of the 95 cents or so the county collects out of every $100 of property valuation. The owner of a house assessed at $200,000 would pay about $20 a year toward this goal. If that seems worth it to give students a break, then support the scholarship program.
But if I may make a couple suggestions: I think the total expenditure should be capped and given out on a first come, first served basis. I understand not everyone makes snap decisions well, but in order to be fiscally responsible we can't let this mushroom beyond its small percentage of the county budget. I would also reserve a number of slots for certificate programs Wor-Wic offers, similar to that element of Garrett's program. Since a P-TECH school is not yet in the cards for Wicomico County, this can be the next best thing if done correctly.
It's not likely any member of my family will take advantage of the program, but Kilmer is right to be a little skeptical of it at this stage. The county did set aside the money to begin the program once the questions are answered, though, so it's possible an upcoming high school class will be the first to have this option.
I have a sneaking hunch that my friend Rick Manning of Americans for Limited Government (ALG) and Donald Trump may not see eye to eye on what constitutes "limited" government should Trump be elected, but one thing ALG is encouraging Trump to pursue is a more America-centric policy on trade.
On Monday ALG released a letter they sent to Trump thanking him for "giving voice to the reality that the deals negotiated by our leaders are anything but free trade or good for America."
Manning cited two examples of poor trade practice in his letter, with the first singling out the struggles one American shoe maker endures in competing with Nike:
The average Vietnamese worker makes $150 a month, virtual slave wages.  But the average Vietnamese textile worker who makes shoes earns even less, in fact, about 30 percent less down to $100 a month according to Vietnamonline.com. While this is good for Nike, which doesn't actually make any of its hundred dollar plus tennis shoes here in America, it is bad for their competitor, New Balance, which employs 900 Americans in Massachusetts and Maine making footwear.
Let me step in for a minute (pun intended.) I happen to prefer New Balance shoes for a simple reason: it is far easier for me to find their shoes in the wide width I need because I wear 4E wide shoes for my duck feet. New Balance seems to have their finger on the pulse of the American market better than Nike, which outsources their production to the cheapest possible outposts. (It shows in their quality, too. I've been disappointed in the couple pairs of Nikes I've owned.) But Nike has a far bigger market share thanks to the power of marketing, if not necessarily the quality of their shoes.
Manning goes on to cite a second imbalance he's hoping Trump may address:
Another egregious example of American policy being out of whack is the area of agricultural subsidies and trade.  A specific example is the much maligned U.S. sugar policy, which is in place to offset massive sugar subsidization by producers like Brazil, Thailand and India.  These countries' subsidies and trade-distorting policies have wrecked the world sugar market and could drive the U.S. industry out of business.
Over the years Life Savers, Dum-Dums and other candy products have seen their production relocated to Canada or Mexico – not because of labor costs but the cost of sugar. Since the ingredient is the major proportion of the product, it only makes sense to find the cheapest alternative. Manning cites one proposal to address this:
However, there is a solution for someone with a hard-nosed desire to get the best deal for the American people and end agriculture subsidies.  U.S. Rep. Ted Yoho (R-Fla.) has introduced legislation that would end the U.S. sugar program when the U.S. gets other nations to do the same through the World Trade Organization.  Yoho's approach, making the end of our sugar policy contingent upon our competitors eliminating their subsidies, too, gives the President a powerful tool to use as a cudgel over world-wide agricultural competitor's heads, because Congress would have already done its work.
The ALG letter also goes on to talk about ending Chinese currency manipulation, which is a familiar complaint from manufacturing groups as well. But Manning is adamant about manufacturing's place in the American economy. "Rebuilding a robust domestic manufacturing sector is important to restoring America's economic leadership in the world, and in doing so, providing hope to our nation that tomorrow will once again be better than today," concluded Manning. And he's right.
But trade is only one part of the equation. We have to encourage more businesses to create jobs by not making it mandatory they give 35 cents of every dollar back in taxes. While Trump addressed this in his tax plan by cutting corporate rates to 15 percent, he has several provisos such as a "one-time deemed repatriation of corporate cash," and ending deferral on corporate income earned abroad. Bear in mind as well Trump admitted that his tax plan as presented is his "optimal plan," but subject to negotiation – so the rate may be higher, the "one-time" repatriation may become annual, and it may be tied to other non-productive policies such as a minimum wage hike. Regulations are another issue which Trump is vague about, telling CNBC he wanted to scrap "a slew" of them, but not being specific.
Trump, however, is also talking about our own currency manipulation, questioning the wisdom of a strong dollar. Having a weaker dollar would tend to be protectionist policy, making imports more expensive but allowing our products to be more competitive elsewhere. By the same token, it would encourage international visitors while making American trips abroad more expensive. But it also could enhance inflation.
If Trump wins the election, it's truly anyone's guess what effect he will have on the economy. He could be the boost we need to get back to 4-5% annual growth we haven't seen since the Clinton-Gingrich tech boom era of the 1990s or he could make us long for actual growth instead of depression. It's truly anyone's guess, and one piece of the puzzle will be how the market reacts to Trump's more protectionist policies.
Commentary by Marita Noon
When the name Resolute was chosen in 2011, after the merger of Bowater and Abitibi-Consolidated, the Canadian company, a global leader in the forest products industry and the largest producer of newsprint in the world, likely didn't know what a harbinger it was. Today, it stands alone, set in purpose, with firmness and determination. Displaying the rare courage to stand up to the typical environmental extremists' campaign of misinformation and shaming designed to shut it down, Resolute Forest Products is fighting back.
Many people are probably unaware of the shakedown tactics used by groups whose touchy-feely names belie their true goals.
Like most companies, Resolute originally went along. As Peter Foster explains in the Financial Post: "a cabal of radical environmental non-governmental organizations, ENGOs – including Greenpeace, ForestEthics and the David Suzuki Foundation – agreed to stop their campaigns of customer harassment in return for the members of the Forest Products Association of Canada, FPAC, agreeing to sanitize a swathe of the Canadian Boreal forest, and to 'consult' on development plans. Astonishingly, governments played no part." The result was the Canadian Boreal Forest Agreement. The ENGOs ultimately aspired to put the majority of the Boreal forest off limits – ending economic development. Regarding the Greenpeace-promoted concept of "intact forest landscape protection," Laurent Lessard, Quebec's Minister of Forest, Wildlife and Parks, says it threatens "absolutely devastating" economic implications.
Resolute had been a major supporter of the Agreement and has participated in other efforts between ENGOs and industry to work out differences. Despite that, using a campaign of lies and intimidation, ENGOs have constantly attacked Resolute. At one point, in 2012, the false claims were so egregious, Resolute threatened legal action against Greenpeace – which garnered an unprecedented apology and retraction from Greenpeace. However, they came back with vengeance. Greenpeace continued to publicize the same false statements and dubbed Resolute a Boreal forest "destroyer."
Engaged in a war without violence, Greenpeace has since attacked Rite-Aid Pharmacy for "getting millions of pounds of paper from controversial logging giant Resolute Forest Products," calling Resolute: "a company with a history of environmental destruction." Greenpeace was successful with a similar harassment campaign against Best Buy. Resolute was the company's primary paper supplier, but due to the shaming, Best Buy announced it would seek other sources. Greenpeace has no plans to stop the tactic. Other targeted companies include Canadian Tire (a retailer with more than 1700 outlets), Home Depot and Office Depot, Proctor & Gamble and 3M. Foster reports: "Greenpeace itself has calculated that its campaigns have cost Resolute at least $100 million."
Somewhere between the Greenpeace retraction and May 2013, an epiphany – similar to what occurred between the president of the U.S. and the space alien in the movie Independence Day – must have taken place. In the clip, the captured alien is choking someone with its tentacle and the president is trying to negotiate with it. He tries to reason with the alien and suggests that they could "coexist." He asks the alien what it wants them to do. The alien simply responds: "die." Resolute must have realized that no matter how many agreements it might sign, the global network of ENGOs come back with more and more rigid requirements until the tentacles choke the company out.
On May 23, 2013, Resolute filed a lawsuit against Greenpeace claiming it damaged the company's "business, goodwill and reputation." The suit asserts defamation, malicious falsehood and intentional interference with economic relations and seeks damages of $5 million as well as punitive damages of $2 million, plus costs. Greenpeace says the suit "is an effort to subdue Greenpeace into silence and send a message to other groups that they should stay quiet." It believes the suit should have been thrown out, but despite several attempts, the Judge has disagreed and allowed unflattering accusations about Greenpeace's global law-breaking activities to remain.
While the Canadian lawsuit makes its way through the courts and the appeals process, Resolute has just taken another bold step to defend itself against the green bully's attacks.
On May 31, Resolute took a page from the ENGO's playbook and, in the United States District Court for the Southern District of Georgia, filed a civil RICO (Racketeer Influenced and Corrupt Organizations) suit against Greenpeace and a number of its associates who, though they claim to be independent, act cooperatively. The RICO Act intended to deal with the mob as a loose organization, or "enterprise," with a pattern of activity and common nefarious purposes, such as extortion. (Greenpeace has asked the Justice Department to use the RICO Act to investigate oil companies and organizations that sow doubts about the risks of climate change.)
The 100-page complaint alleges that Greenpeace and its affiliates are a RICO "enterprise." According to the Resolute news release, it describes the deliberate falsity of the malicious and defamatory accusations the enterprise has made and details how, to support its false accusations, "Greenpeace has fabricated evidence and events, including, for example, staged photos falsely purporting to show Resolute logging in prohibited areas."  The suit also calls Greenpeace a "global fraud" out to line its pockets with money from donors and says that "maximizing donations, not saving the environment, is Greenpeace's true objective." Additionally, it cites admissions by Greenpeace's leadership that it "emotionalizes" issues to manipulate audiences.
In the U.S. lawsuit, Resolute is seeking compensatory damages in an amount to be proven at trial, as well as treble and punitive damages.
Patrick Moore, one of the original founders of Greenpeace, is disappointed that the group that originally wanted to help, is now an extortion racket. He told me: "I am very proud to have played a small role in helping Resolute deal with these lying blackmailers and extortionists."
Discovery in both the Canadian and U.S. lawsuits will open up records and could well peel back the moralist tone to expose a global job-destroying, anti-development agenda. For too long ENGOs have been allowed free rein over regulating natural resources in what is really economic warfare on workers.
At a recent meeting, the Canadian Council of Forest Ministers, according to Foster, "acknowledged that it was time to stand up and recognize 'the significant economic implication of misinformation'" – though one has to wonder what took them so long.
Resolute is counter-punching the green bullies – and it's about time. Just ask the coal miners in West Virginia or the farmers in Central California who are wild with enthusiasm for the Trump candidacy that promises to end the regressive regulations and return the U.S. to economic strength.
Hopefully other companies will now tune into the public's change in attitude and, with firmness and determination, will, also, fight back to protect shareholders and workers.
The author of Energy Freedom, Marita Noon serves as the executive director for Energy Makes America Great Inc., and the companion educational organization, the Citizens' Alliance for Responsible Energy (CARE). She hosts a weekly radio program: America's Voice for Energy - which expands on the content of her weekly column. Follow her @EnergyRabbit.
I have generally associated Friday afternoon before a holiday weekend news dumps with the party of our current President, but Governor Hogan took advantage of the impending holiday weekend to announce he's allowing 39 Senate and 45 House bills to become law without his signature. Hogan is vetoing just six bills at the end of this session, with two of them being crossfiled versions of a bill that would increase renewable energy mandates that will be featured on my monoblogue Accountability Project. In his veto letter for HB1106/SB921, Hogan conceded the idea was sound but that this measure took things too far when ratepayers are already shelling out a collective $104 million in compliance fees in 2014, the last year for which data was available.
The renewable portfolio standard wasn't the only mAP bill Hogan vetoed – two other ones had to do with transportation and the fallout from Hogan's decision to pull the plug on Baltimore's Red Line. Back in April, Hogan vetoed the infamous Maryland Open Transportation Investment Decision Act of 2016 only to have General Assembly Democrats rise up and override him. The veto vote was the one I used for the HB1013 slot of the mAP.
Hogan also chastised General Assembly Democrats for their support of SB907, which would have mandated a $75 million annual payment toward a replacement for the Harry W. Nice Memorial Bridge, which carries U.S. 301 over the Potomac River between Maryland and Virginia. Hogan noted that this project is already in the pipeline, calling the legislation "absolutely unnecessary." This will also be an mAP vote.
A third bill that I didn't use as an mAP vote – but which also deals with transportation – was HB1010, which would have created the Maryland Transit Administration Oversight and Planning Board. Governor Hogan called it "a sophomoric attack on sound transportation policy," noting also that the board would be stacked with members from the urban counties.
The other two bills Hogan vetoed were comparatively minor. One dealt with a proposed mixed-use project at Morgan State University in Baltimore, while the other claimed the proposed Maryland Education Development Collaborative ran afoul of the state constitution by placing General Assembly members in a position where they would be doing executive functions.
I'm sure some part of the equation whether Hogan vetoed the bills or not had to do with the likelihood of a veto being sustained, so here are the margins of passage for each of these bills:
HB1106: House 92-46, Senate 32-14. Override possible by 11 votes in House, 5 in the Senate.
SB921: Senate 31-14, House 91-48. Override possible by 5 votes in Senate, 9 in House.
SB907: Senate 33-12, House 90-50. Override possible by 7 votes in Senate, 7 in House.
HB1010: House 87-51, Senate 28-19. Override possible by 6 votes in House, but Senate can uphold veto if all 19 maintain their votes.
SB540 (Morgan State): Senate 41-0, House 113-22. Override likely: Senate would need to find 19 votes and House 35.
SB910 (MEDC) passed without objection in both houses, but will likely have GOP support for a veto. If so, they need 5 Senate Democrats or 7 House Democrats to join them.
Given those results, I'm quite disappointed Hogan didn't veto more bills. Not only does it put Democrats on record opposing a popular centrist governor, but it also slows down the General Assembly and hopefully makes the more centrist members of the majority rethink their support of bad legislation. It was pointed out to me recently that Hogan won 71 legislative districts but only 50 Republicans were elected to the House – thus, in theory the GOP can get a majority for the first time in generations in 2018. Dream big. (Sometime I should look into this claim.)
One other issue with this is that Hogan's slow veto deliberations removed any opportunity to petition the most egregious legislation to referendum. However, I say this knowing that we aren't taking advantage when opportunity knocks – I honestly believe felon voting should have been petitioned to referendum (as an act this year thanks to the veto override vote, it could have.)  Let's see if 80 percent really oppose it.
So it will turn out that the vast majority of bills on my mAP – all of which I opposed for the floor vote – will become law anyway. I think we're reaching way too far across the aisle in this state considering how little we get in return, so in my view Hogan should have really played hardball. At some point a number of these bills are going to bite us, but now we won't even get the luxury of a repreieve for a few months. Thanks, Larry.
Commentary by Marita Noon
(Editor's note: since Marita was "not in love with" the original title and encouraged those who run her work to rename this piece, I changed it to what you see above.)
The Renewable Fuel Standard (RFS) – also known as the ethanol mandate – was passed by Congress in 2005 and expanded in 2007. Regardless of market conditions, it required ever-increasing quantities of biofuel be blended into the nation's gasoline supply – though the Environmental Protection Agency (EPA) does have the flexibility to make some adjustments based on conditions, such as availability and infrastructure.
At the time of its passage, it was unfathomable that a decade later Americans would be consuming less gasoline, not more. Instead of requiring a set, or even growing, percentage of ethanol be used, the law called for an increasing amount of gallons – which has created unforeseen complications.
Since the law was passed, due to increased fuel efficiency and a generally sluggish economy (meaning fewer people are driving to and from work every day) we've been using less gasoline, not more. Requiring more and more ethanol in less and less gasoline is not what the original law intended.
It was believed that the RFS would help achieve energy independence and reduce CO2 emissions – both ideas from a different era.
The RFS was passed at the low point of a decades long decline in U.S. oil production. At the time, no one knew that the trend line would totally reverse due to American ingenuity and the innovations of horizontal drilling and hydraulic fracturing that have unleashed the new era of abundance. Additionally, it was believed that corn-based fuel (which is the primary source for ethanol in the U.S.) would reduce carbon dioxide emissions – though the results have been questionable at best.
Since the RFS became law, numerous studies have been done to determine the environmental benefit of ethanol over gasoline – many of which conclude that ethanol is actually more detrimental than gasoline. At a recent House Oversight Committee hearing, John DeCicco, a research professor at the University of Michigan's Energy Institute, said, according to Morning Consult, "the studies assuming biofuels are carbon neutral are flawed." Morning Consult reports: "he has found ethanol's net emissions to be as much as 70 percent higher than traditional gasoline."
Ethanol has an unlikely collection of opponents. Addressing ads put out by the ethanol lobby positing that only "big oil" wants to end the ethanol mandate, FactCheck.org disputes the claim: "Several environmental groups oppose it as well. So does a wide coalition that includes restaurant owners concerned about upward pressure on food prices and boat manufacturers upset at the problems that ethanol can cause in marine engines."
Despite the controversy, the EPA claims the RFS is a "success." Janet McCabe, acting assistant administrator for EPA's Office of Air and Radiation, says: it "has driven biofuel production and use in the U.S. to levels higher than any other nation. This administration is committed to keeping the RFS program on track, spurring continued growth in biofuel production and use, and achieving the climate and energy independence benefits that Congress envisioned from this program."
With this in mind, it is no surprise that the biofuel industry – which wouldn't exist without the ethanol mandate – was unhappy when, on May 18, the EPA released its biofuel blending requirements for 2017. Using its ability to make adjustments, the EPA announcement was less than the law required, but more than the market demands. The Wall Street Journal (WSJ) states; "EPA officials said they were seeking to strike a balance between Congress's goal of using more ethanol and the realities of the current fuel market and infrastructure." Instead, no one was happy.
In Biomass Magazine, McCabe defends the action: "The fact that Congress chose to mandate increasing and substantial amounts of renewable fuel clearly signals that it intended the RFS program to create incentives to increase renewable fuel supplies and overcome constraints in the market. The standards we are proposing would provide those incentives."
Chet Thompson, president of American Fuel & Petrochemical Manufacturers, which represents refineries regulated under the standard, responded: "EPA's proposal threatens to force consumers to use more biofuel than vehicles, engines and fueling infrastructure can handle." He says: "the proposed volumes still go beyond marketplace realities."
In contrast, a statement from Chip Bowling, president of the National Corn Growers Association said: "In the past, the EPA has cited a lack of fuel infrastructure as one reason for failing to follow statute. Our corn farmers and the ethanol industry have responded. Over the past year, we've invested millions of dollars along with the U.S. Department of Agriculture's Biofuel Infrastructure Partnership to accelerate public and private investment in new ethanol pumps and fuel infrastructure. The fact is, today's driver has more access than ever to renewable fuel choices."
Regarding the EPA's May 18 decision, DeCicco told me: "The EPA is trying to pick an economic middle road between the proponents and the opponents. But, through the RFS, the environment has been run off the road. Contrary to what has been promoted by the Department of Energy and some other government agencies, biofuels make CO2 emissions worse rather than better."
At the aforementioned House hearing, Representative Jim Jordan's (R-OH) opening statement called the RFS "a classic example of what happens when you get a bunch of politicians together who think they're smarter than the marketplace."
Frank Macchiarola, downstream director at the American Petroleum Institute, is calling on Congress to "repeal or significantly reform the RFS." He asserts: "Members on both sides of the aisle agree this program is a failure, and we are stepping up our call for Congress to act."
Proving Macchiarola's point, before the 2017 requirements were released, on May 10, U.S. Representatives Bill Flores (R-TX), Peter Welch (D-VT), Bob Goodlatte (R-VA), Jim Costa (D-CA), Steve Womack (R-AR), and Cedric Richmond (D-LA) introduced bipartisan RFS reform legislation. The Food and Fuel Consumer Protection Act, H.R. 5180, limits the RFS mandate to levels that our nation's cars, trucks, boats and other small engines can safely accommodate. The bill "directs EPA to consider current market realities and cap the maximum volume of ethanol blended into the transportation fuel supply at 9.7 percent of projected gasoline demand." Following the news, the bill's cosponsors issued a statement calling the RFS "unsustainable."
It is time to get back to allowing the free market – not Congress, not unelected bureaucrats, not mandates, not artificially spurred growth in a chosen industry – to determine our fuel choices. Because ethanol is an effective octane-boosting additive, it will always have market demand. Farmers who've invested in it will not be driven out of business. The Food and Fuel Consumer Protection Act, while not repealing the RFS outright (which would be tough to pass), offers a reasonable fix to well-intended, but flawed legislation.
The author of Energy Freedom, Marita Noon serves as the executive director for Energy Makes America Great Inc., and the companion educational organization, the Citizens' Alliance for Responsible Energy (CARE). She hosts a weekly radio program: America's Voice for Energy – which expands on the content of her weekly column. Follow her @EnergyRabbit.
The fact that Memorial Day occurs on a somewhat rare fifth Monday of the month this year provided the WCRC with an "extra" meeting this year, and they took advantage by scheduling something that's becoming a tradition: the annual Legislative Wrapup. All six Republican members of our local delegation (from Districts 37 and 38) were invited – but thanks to a number of calendar conflicts, only two of them came. It was ladies' night for the delegation as Delegate Mary Beth Carozza and Senator Addie Eckardt gave their accounts of the recently completed session. (Delegate Chris Adams made the attempt to stop by, but came just after we wrapped up.)
So once we did our usual Lord's Prayer, Pledge of Allegiance, and introduction of distinguished guests, Eckardt got the meeting underway by praising the state's $42 billion budget, which needed no new taxes for balance. The reason for this was that the Hogan cabinet was finding more efficiencies in their respective departments, enabling the state to become more business-friendly. One way they were doing this was through fee reduction, although Eckardt noted that some Democrats were fretting that fees were getting too low. Yet the budget allowed for a reduction in the structural deficit and did not feature a BRFA, the omnibus bill where spending mandates are often buried. This year's spending had "full transparency," said Addie.
But the push to reduce taxation was one goal of the Augustine Commission, explained Addie. Sadly, the broader tax reform package could not pass thanks to the question of passing a package mandating expanded paid sick leave - despite the fact changes to the earned income tax credit would have helped thousands of working Maryland families that I thought the majority party deigned to represent.
On the other side of that Augustine coin, Addie continued, was the idea of being responsive to constituents; to "change the tenor of government." This went with a drive to bring things to the county level, as Addie noted "local control is important to me."
One complaint Eckardt had about the session was the "crusade to get the Red Line back." It led to the passage of what's known as the "Maryland Open Transportation Investment Decision Act of 2016." (I call it the "Revenge for Not Funding the Red Line in Baltimore" Act.) While the bill overall is terrible, Eckardt noted it was amended somewhat to give local jurisdictions a little more priority.
And while she was pleased Wicomico County would be receiving an additional $8.7 million from the state for various projects, Addie was more passionate about a series of initiatives to bolster mental health and combat addiction around the state. She was also happy to see the Justice Reinvestment Act pass, which was a bipartisan effort at criminal justice reform. The state was also doing more to address mental and behavioral health, particularly since she claimed later in the evening it took someone who was addicted and incarcerated two years to re-integrate fully. This led to a discussion about what the state and local governments were doing to deal with the issue of homelessness, to which Muir Boda revealed the city of Salisbury would be embarking on a Housing First program modeled after one in the state of Utah.
Between Eckardt's main presentation and the later discussion about mental and behavioral health issues, we heard Delegate Carozza's perspective. She began by praising the club for being a group of workers and doers when it came to advocacy, with the optimistic view that "this is our time…Governor Hogan is turning the state around." But that was a process which would take at least eight years, said Mary Beth. As an aside, she also believed that Kathy Szeliga was "the candidate that can win" the U.S. Senate seat, which would also lay the groundwork for Larry Hogan's re-election campaign.
Both she and Eckardt, added Carozza, were in the position to support the budget thanks to their respective committees. They could succeed making suggestions for "walling off" funds for supplemental budget proposals, of which there were two or three each year. And while this budget allowed for what Carozza termed "a well-rounded tax package," only a minor tax break for Northrop Grumman made it through. But the "good news" out of that was that it was making Mike Busch and Mike Miller talk about tax relief, making it a stronger possibility we may see some in 2017.
As for some of her priorities, Carozza was happy to see the bomb threat bill she sponsored make it through the General Assembly in its second try. (A similar proposal was introduced by then-Delegate Mike McDermott in 2013, said Mary Beth.) She commented about how the broad community support, combined with the "sense of urgency" provided by a series of bomb threats making the news earlier this year, allowed the bill to pass easily. Another bill she was happy to shepherd through was the ABLE bill, which allows the disabled to save money for dealing with their medical-related expenses without jeopardizing their means-tested benefits.
She also stressed that killing bad bills was a part of the job as well, citing the defeat of the poultry litter and "farmer's rights" bills where she praised Delegates Carl Anderton and Charles Otto as they "led the charge" against those measures. Mary Beth also took the unusual step of personally testifying against the assisted suicide bill and worked to amend the sick leave bill to exempt more seasonal employees. On that bill, she predicted "we're going to see it again next session."
Even after hearing all that information, we had some business to do, like the treasurer's report and Central Committee report that Dave Parker delivered. He called the recent state convention the "get over it, people" convention, noting the party seemed pretty well unified afterward. Even local radio host Don Rush had difficulty finding disunity among a group of Republicans who were his guests last Friday, Parker added. On the other hand, "Hillary can't close the deal" on the Democratic side.
I added my two cents about the convention to his report, pointing out the National Committeeman race was perhaps the biggest bone of contention and that was relatively minor. But the Fall Convention may be interesting because we will be electing a new Chair, and the question is whether it will be someone who will work more for Larry Hogan's re-election or to bolster the GOP numbers in the General Assembly. A Hogan win, I added, would make redistricting the key focus for the second term – personally, I think we should strive for single-member districts and Eckardt agreed based on its impact to minorities.
Shelli Neal updated us on the Greater Wicomico Republican Women, who would be holding their next meeting June 16 at Adam's Taphouse. They had two tickets to the Tawes Crab and Clam Bake in Crisfield to raffle off as part of a membership meeting for the newly-christened organization.
Another fairly new creation was the Wicomico Teenage Republicans, which had "a great start of a club" according to Nate Sansom. While their next meeting was slated for this coming Friday, they planned on taking a summer break and reconvening in August once school started back up. With a group of "passionate people, happy to be involved," Sansom believed his group would focus on statewide campaigns like Kathy Szeliga's as well as the local We Decide Wicomico campaign for an elected school board.
Representing the statewide College Republicans, their Chair Patty Miller was hoping to reach each county Central Committee at one of their meetings over the next few months and "see what they need from us." Her first stop will be this week in Calvert County.
Jim Jester reminded us the Crab Feast would be September 10, but stressed the need for more volunteers – particularly to handle admissions and the silent auction.
Shawn Jester pointed out the WCRC Scholarship winners had a brief story in the Daily Times. But, since the subject was volunteering, he was also looking for people to help out at Third Friday, which we missed this month because no one was available. On that note, a signup sheet was passed around. (We will also need help for upcoming events such as the Wicomico County Fair, Good Beer Festival, and Autumn Wine Festival.)
After all that discussion, and seeing that we had a legislative update where the topic wasn't addressed, I added one thing to the conversation. General Assembly Democrats sponsored a large number of bills this year that mandated spending. To me, this is an effort to handcuff Larry Hogan when it comes to budgeting but also leaves less room for tax reform. Many of these bills may become law without Hogan's signature, but they will be law just the same. It's an issue that I think needs a strategy to address, perhaps a reverse BRFA to eliminate mandates.
We are going to try and get the guys who didn't show up this month to come to our June meeting, so stay tuned. It will be June 27.
Back on Tuesday I promoted Marita Noon's most recent column on social media with the promise to do a Maryland-centric follow up "If I think about it this week." (I planned to all along, but sometimes I forget so I figured I better cover myself.) Anyway, the passage that piqued my interest was this one:
In California, where (billionaire and liberal Democrat political backer Tom Steyer) has been a generous supporter of green energy policies, he helped pass Senate Bill 350 that calls for 50 percent renewable energy by 2030. California's current mandate is 33 percent by 2020 – which California's three investor-owned utilities are, reportedly, "already well on their way to meeting." It is no surprise that California already has some of the highest electricity rates in the country. Analysis released last week found that states with policies supporting green energy have much higher power prices.
In doing research for the monoblogue Accountability Project, which I am in the process of completing now, I stumbled across two bills which dovetail nicely with both this article and another recent commentary by Noon regarding solar power mandates and incentives. I'll tackle the latter issue first.
For several years the state of Maryland has mandated a certain percentage of electrical power be derived from renewable sources, with a proposed new version of the law (HB1106/SB921)retaining the 13.1% share required for 2017 but increasing the carveout for solar energy from 0.95% to 1.15%. This bill also proposed that the share of both renewables and solar power increase at an accelerating rate, eventually ratcheting up the requirements to 25% and 2.5%, respectively. While that would be great news for the solar industry, it would be bad news for consumers – according to the information provided with these bills the increase in monthly electric bills to an average consumer if this measure is enacted could be as much as $3.06 per month by 2020. However, Maryland's Department of Legislative Services cautions (page 7 of the Fiscal and Policy Note) predicting this increase can only be "for illustrative purposes" because of all the factors involved.
The reason behind the rate increases is the payment to the state called the Alternative Compliance Payment (ACP), which also is affected by the bill. The proposal actually would decrease slightly the ACP for all renewable energy sources except solar from 4 cents to 3.75 cents per kilowatt-hour, or, in a more practical term, from $40 per megawatt-hour (MWh) to $37.50 per MWh. (An average home is considered to use 1 megawatt-hour of electricity per month.) It also gives utilities a temporary break on the solar energy carveout, where the fee for a shortfall would decrease from a scheduled $200 per MWh in 2017 and 2018 to $195 and $175 for 2017 and 2018, respectively. The fee would increase in the out years, however.
When the Fiscal Note predicts that the state itself would incur an additional $2.2 million in electrical costs by 2021, it's obvious that this proposal would be a costly one for consumers. At this point the bill is in limbo, as it was passed by both the House of Delegates and Senate but has not been signed or vetoed yet by Governor Larry Hogan.
Now let's turn to the most recent commentary from Noon, where she notes California will mandate 50 percent renewables 14 years hence. Unfortunately, Maryland is not that far behind them as they just enacted SB323, which will take effect in October. Instead of letting this silly notion that our little state can actually do something about climate change by reducing our energy consumption expire – as it would have with no action - this bill instead maintained a 25% by 2020 mandate and increased the mandated energy reduction to 40% by 2030. As an analysis Noon used in her piece shows, Maryland is among the states with the highest electricity bills and follies such as these are a reason why.
Don't get me wrong: I am definitely for energy efficiency, but it should be in terms of consumer choice rather than government fiat. Those who create and pass the laws rarely embark on any sort of dynamic cost/benefit analysis for their policies, so in this case they're not considering the effect on ratepayers and job creators in balance with the very dubious pie-in-the-sky notion of affecting our climate. (After all, if it was once warm enough to have the polar expanse of Greenland actually be green, as it was around the turn of the previous millennium – well before the Industrial Revolution or the car-happy society we inhabit now – then how much effect do we really have?) We can hardly predict with any certainly the weather two weeks from now, so why should we trust the accuracy and inerrancy of a climate forecast for 2050 when it's used as an excuse for confiscatory policy that indirectly benefits those making the forecast?
As I brought up the monoblogue Accountability Project earlier, it shall be noted that the votes on both these bills will be used for this year's mAP. It's a shame that just 39 Delegates out of 141 and only two (yes, two!) Senators out of 47 have the potential for getting both these votes correct. Maryland has a relatively powerful environmental lobby thanks to its straddling of Chesapeake Bay, but these were cases where the state's budding attempt to be more business-friendly and hopefully end its economic reliance on big government should have held sway. While Governor Hogan erred in signing the climate change folly, he can do a more concrete favor for businesses and ratepayers by vetoing HB1106/SB921 and creating a proposal to sunset the ACP for next year's session.
And while we are at making energy policy, I encourage Governor Hogan to follow the lead of his friend and cohort New Jersey Governor Chris Christie and remove Maryland from the membership rolls of the Regional Greenhouse Gas Initiative. Utilities (and their ratepayers) will thank him from getting us out from under that wealth transfer boondoggle.