I have generally associated Friday afternoon before a holiday weekend news dumps with the party of our current President, but Governor Hogan took advantage of the impending holiday weekend to announce he's allowing 39 Senate and 45 House bills to become law without his signature. Hogan is vetoing just six bills at the end of this session, with two of them being crossfiled versions of a bill that would increase renewable energy mandates that will be featured on my monoblogue Accountability Project. In his veto letter for HB1106/SB921, Hogan conceded the idea was sound but that this measure took things too far when ratepayers are already shelling out a collective $104 million in compliance fees in 2014, the last year for which data was available.
The renewable portfolio standard wasn't the only mAP bill Hogan vetoed – two other ones had to do with transportation and the fallout from Hogan's decision to pull the plug on Baltimore's Red Line. Back in April, Hogan vetoed the infamous Maryland Open Transportation Investment Decision Act of 2016 only to have General Assembly Democrats rise up and override him. The veto vote was the one I used for the HB1013 slot of the mAP.
Hogan also chastised General Assembly Democrats for their support of SB907, which would have mandated a $75 million annual payment toward a replacement for the Harry W. Nice Memorial Bridge, which carries U.S. 301 over the Potomac River between Maryland and Virginia. Hogan noted that this project is already in the pipeline, calling the legislation "absolutely unnecessary." This will also be an mAP vote.
A third bill that I didn't use as an mAP vote – but which also deals with transportation – was HB1010, which would have created the Maryland Transit Administration Oversight and Planning Board. Governor Hogan called it "a sophomoric attack on sound transportation policy," noting also that the board would be stacked with members from the urban counties.
The other two bills Hogan vetoed were comparatively minor. One dealt with a proposed mixed-use project at Morgan State University in Baltimore, while the other claimed the proposed Maryland Education Development Collaborative ran afoul of the state constitution by placing General Assembly members in a position where they would be doing executive functions.
I'm sure some part of the equation whether Hogan vetoed the bills or not had to do with the likelihood of a veto being sustained, so here are the margins of passage for each of these bills:
HB1106: House 92-46, Senate 32-14. Override possible by 11 votes in House, 5 in the Senate.
SB921: Senate 31-14, House 91-48. Override possible by 5 votes in Senate, 9 in House.
SB907: Senate 33-12, House 90-50. Override possible by 7 votes in Senate, 7 in House.
HB1010: House 87-51, Senate 28-19. Override possible by 6 votes in House, but Senate can uphold veto if all 19 maintain their votes.
SB540 (Morgan State): Senate 41-0, House 113-22. Override likely: Senate would need to find 19 votes and House 35.
SB910 (MEDC) passed without objection in both houses, but will likely have GOP support for a veto. If so, they need 5 Senate Democrats or 7 House Democrats to join them.
Given those results, I'm quite disappointed Hogan didn't veto more bills. Not only does it put Democrats on record opposing a popular centrist governor, but it also slows down the General Assembly and hopefully makes the more centrist members of the majority rethink their support of bad legislation. It was pointed out to me recently that Hogan won 71 legislative districts but only 50 Republicans were elected to the House – thus, in theory the GOP can get a majority for the first time in generations in 2018. Dream big. (Sometime I should look into this claim.)
One other issue with this is that Hogan's slow veto deliberations removed any opportunity to petition the most egregious legislation to referendum. However, I say this knowing that we aren't taking advantage when opportunity knocks – I honestly believe felon voting should have been petitioned to referendum (as an act this year thanks to the veto override vote, it could have.)  Let's see if 80 percent really oppose it.
So it will turn out that the vast majority of bills on my mAP – all of which I opposed for the floor vote – will become law anyway. I think we're reaching way too far across the aisle in this state considering how little we get in return, so in my view Hogan should have really played hardball. At some point a number of these bills are going to bite us, but now we won't even get the luxury of a repreieve for a few months. Thanks, Larry.
Commentary by Marita Noon
(Editor's note: since Marita was "not in love with" the original title and encouraged those who run her work to rename this piece, I changed it to what you see above.)
The Renewable Fuel Standard (RFS) – also known as the ethanol mandate – was passed by Congress in 2005 and expanded in 2007. Regardless of market conditions, it required ever-increasing quantities of biofuel be blended into the nation's gasoline supply – though the Environmental Protection Agency (EPA) does have the flexibility to make some adjustments based on conditions, such as availability and infrastructure.
At the time of its passage, it was unfathomable that a decade later Americans would be consuming less gasoline, not more. Instead of requiring a set, or even growing, percentage of ethanol be used, the law called for an increasing amount of gallons – which has created unforeseen complications.
Since the law was passed, due to increased fuel efficiency and a generally sluggish economy (meaning fewer people are driving to and from work every day) we've been using less gasoline, not more. Requiring more and more ethanol in less and less gasoline is not what the original law intended.
It was believed that the RFS would help achieve energy independence and reduce CO2 emissions – both ideas from a different era.
The RFS was passed at the low point of a decades long decline in U.S. oil production. At the time, no one knew that the trend line would totally reverse due to American ingenuity and the innovations of horizontal drilling and hydraulic fracturing that have unleashed the new era of abundance. Additionally, it was believed that corn-based fuel (which is the primary source for ethanol in the U.S.) would reduce carbon dioxide emissions – though the results have been questionable at best.
Since the RFS became law, numerous studies have been done to determine the environmental benefit of ethanol over gasoline – many of which conclude that ethanol is actually more detrimental than gasoline. At a recent House Oversight Committee hearing, John DeCicco, a research professor at the University of Michigan's Energy Institute, said, according to Morning Consult, "the studies assuming biofuels are carbon neutral are flawed." Morning Consult reports: "he has found ethanol's net emissions to be as much as 70 percent higher than traditional gasoline."
Ethanol has an unlikely collection of opponents. Addressing ads put out by the ethanol lobby positing that only "big oil" wants to end the ethanol mandate, FactCheck.org disputes the claim: "Several environmental groups oppose it as well. So does a wide coalition that includes restaurant owners concerned about upward pressure on food prices and boat manufacturers upset at the problems that ethanol can cause in marine engines."
Despite the controversy, the EPA claims the RFS is a "success." Janet McCabe, acting assistant administrator for EPA's Office of Air and Radiation, says: it "has driven biofuel production and use in the U.S. to levels higher than any other nation. This administration is committed to keeping the RFS program on track, spurring continued growth in biofuel production and use, and achieving the climate and energy independence benefits that Congress envisioned from this program."
With this in mind, it is no surprise that the biofuel industry – which wouldn't exist without the ethanol mandate – was unhappy when, on May 18, the EPA released its biofuel blending requirements for 2017. Using its ability to make adjustments, the EPA announcement was less than the law required, but more than the market demands. The Wall Street Journal (WSJ) states; "EPA officials said they were seeking to strike a balance between Congress's goal of using more ethanol and the realities of the current fuel market and infrastructure." Instead, no one was happy.
In Biomass Magazine, McCabe defends the action: "The fact that Congress chose to mandate increasing and substantial amounts of renewable fuel clearly signals that it intended the RFS program to create incentives to increase renewable fuel supplies and overcome constraints in the market. The standards we are proposing would provide those incentives."
Chet Thompson, president of American Fuel & Petrochemical Manufacturers, which represents refineries regulated under the standard, responded: "EPA's proposal threatens to force consumers to use more biofuel than vehicles, engines and fueling infrastructure can handle." He says: "the proposed volumes still go beyond marketplace realities."
In contrast, a statement from Chip Bowling, president of the National Corn Growers Association said: "In the past, the EPA has cited a lack of fuel infrastructure as one reason for failing to follow statute. Our corn farmers and the ethanol industry have responded. Over the past year, we've invested millions of dollars along with the U.S. Department of Agriculture's Biofuel Infrastructure Partnership to accelerate public and private investment in new ethanol pumps and fuel infrastructure. The fact is, today's driver has more access than ever to renewable fuel choices."
Regarding the EPA's May 18 decision, DeCicco told me: "The EPA is trying to pick an economic middle road between the proponents and the opponents. But, through the RFS, the environment has been run off the road. Contrary to what has been promoted by the Department of Energy and some other government agencies, biofuels make CO2 emissions worse rather than better."
At the aforementioned House hearing, Representative Jim Jordan's (R-OH) opening statement called the RFS "a classic example of what happens when you get a bunch of politicians together who think they're smarter than the marketplace."
Frank Macchiarola, downstream director at the American Petroleum Institute, is calling on Congress to "repeal or significantly reform the RFS." He asserts: "Members on both sides of the aisle agree this program is a failure, and we are stepping up our call for Congress to act."
Proving Macchiarola's point, before the 2017 requirements were released, on May 10, U.S. Representatives Bill Flores (R-TX), Peter Welch (D-VT), Bob Goodlatte (R-VA), Jim Costa (D-CA), Steve Womack (R-AR), and Cedric Richmond (D-LA) introduced bipartisan RFS reform legislation. The Food and Fuel Consumer Protection Act, H.R. 5180, limits the RFS mandate to levels that our nation's cars, trucks, boats and other small engines can safely accommodate. The bill "directs EPA to consider current market realities and cap the maximum volume of ethanol blended into the transportation fuel supply at 9.7 percent of projected gasoline demand." Following the news, the bill's cosponsors issued a statement calling the RFS "unsustainable."
It is time to get back to allowing the free market – not Congress, not unelected bureaucrats, not mandates, not artificially spurred growth in a chosen industry – to determine our fuel choices. Because ethanol is an effective octane-boosting additive, it will always have market demand. Farmers who've invested in it will not be driven out of business. The Food and Fuel Consumer Protection Act, while not repealing the RFS outright (which would be tough to pass), offers a reasonable fix to well-intended, but flawed legislation.
The author of Energy Freedom, Marita Noon serves as the executive director for Energy Makes America Great Inc., and the companion educational organization, the Citizens' Alliance for Responsible Energy (CARE). She hosts a weekly radio program: America's Voice for Energy – which expands on the content of her weekly column. Follow her @EnergyRabbit.
The fact that Memorial Day occurs on a somewhat rare fifth Monday of the month this year provided the WCRC with an "extra" meeting this year, and they took advantage by scheduling something that's becoming a tradition: the annual Legislative Wrapup. All six Republican members of our local delegation (from Districts 37 and 38) were invited – but thanks to a number of calendar conflicts, only two of them came. It was ladies' night for the delegation as Delegate Mary Beth Carozza and Senator Addie Eckardt gave their accounts of the recently completed session. (Delegate Chris Adams made the attempt to stop by, but came just after we wrapped up.)
So once we did our usual Lord's Prayer, Pledge of Allegiance, and introduction of distinguished guests, Eckardt got the meeting underway by praising the state's $42 billion budget, which needed no new taxes for balance. The reason for this was that the Hogan cabinet was finding more efficiencies in their respective departments, enabling the state to become more business-friendly. One way they were doing this was through fee reduction, although Eckardt noted that some Democrats were fretting that fees were getting too low. Yet the budget allowed for a reduction in the structural deficit and did not feature a BRFA, the omnibus bill where spending mandates are often buried. This year's spending had "full transparency," said Addie.
But the push to reduce taxation was one goal of the Augustine Commission, explained Addie. Sadly, the broader tax reform package could not pass thanks to the question of passing a package mandating expanded paid sick leave - despite the fact changes to the earned income tax credit would have helped thousands of working Maryland families that I thought the majority party deigned to represent.
On the other side of that Augustine coin, Addie continued, was the idea of being responsive to constituents; to "change the tenor of government." This went with a drive to bring things to the county level, as Addie noted "local control is important to me."
One complaint Eckardt had about the session was the "crusade to get the Red Line back." It led to the passage of what's known as the "Maryland Open Transportation Investment Decision Act of 2016." (I call it the "Revenge for Not Funding the Red Line in Baltimore" Act.) While the bill overall is terrible, Eckardt noted it was amended somewhat to give local jurisdictions a little more priority.
And while she was pleased Wicomico County would be receiving an additional $8.7 million from the state for various projects, Addie was more passionate about a series of initiatives to bolster mental health and combat addiction around the state. She was also happy to see the Justice Reinvestment Act pass, which was a bipartisan effort at criminal justice reform. The state was also doing more to address mental and behavioral health, particularly since she claimed later in the evening it took someone who was addicted and incarcerated two years to re-integrate fully. This led to a discussion about what the state and local governments were doing to deal with the issue of homelessness, to which Muir Boda revealed the city of Salisbury would be embarking on a Housing First program modeled after one in the state of Utah.
Between Eckardt's main presentation and the later discussion about mental and behavioral health issues, we heard Delegate Carozza's perspective. She began by praising the club for being a group of workers and doers when it came to advocacy, with the optimistic view that "this is our time…Governor Hogan is turning the state around." But that was a process which would take at least eight years, said Mary Beth. As an aside, she also believed that Kathy Szeliga was "the candidate that can win" the U.S. Senate seat, which would also lay the groundwork for Larry Hogan's re-election campaign.
Both she and Eckardt, added Carozza, were in the position to support the budget thanks to their respective committees. They could succeed making suggestions for "walling off" funds for supplemental budget proposals, of which there were two or three each year. And while this budget allowed for what Carozza termed "a well-rounded tax package," only a minor tax break for Northrop Grumman made it through. But the "good news" out of that was that it was making Mike Busch and Mike Miller talk about tax relief, making it a stronger possibility we may see some in 2017.
As for some of her priorities, Carozza was happy to see the bomb threat bill she sponsored make it through the General Assembly in its second try. (A similar proposal was introduced by then-Delegate Mike McDermott in 2013, said Mary Beth.) She commented about how the broad community support, combined with the "sense of urgency" provided by a series of bomb threats making the news earlier this year, allowed the bill to pass easily. Another bill she was happy to shepherd through was the ABLE bill, which allows the disabled to save money for dealing with their medical-related expenses without jeopardizing their means-tested benefits.
She also stressed that killing bad bills was a part of the job as well, citing the defeat of the poultry litter and "farmer's rights" bills where she praised Delegates Carl Anderton and Charles Otto as they "led the charge" against those measures. Mary Beth also took the unusual step of personally testifying against the assisted suicide bill and worked to amend the sick leave bill to exempt more seasonal employees. On that bill, she predicted "we're going to see it again next session."
Even after hearing all that information, we had some business to do, like the treasurer's report and Central Committee report that Dave Parker delivered. He called the recent state convention the "get over it, people" convention, noting the party seemed pretty well unified afterward. Even local radio host Don Rush had difficulty finding disunity among a group of Republicans who were his guests last Friday, Parker added. On the other hand, "Hillary can't close the deal" on the Democratic side.
I added my two cents about the convention to his report, pointing out the National Committeeman race was perhaps the biggest bone of contention and that was relatively minor. But the Fall Convention may be interesting because we will be electing a new Chair, and the question is whether it will be someone who will work more for Larry Hogan's re-election or to bolster the GOP numbers in the General Assembly. A Hogan win, I added, would make redistricting the key focus for the second term – personally, I think we should strive for single-member districts and Eckardt agreed based on its impact to minorities.
Shelli Neal updated us on the Greater Wicomico Republican Women, who would be holding their next meeting June 16 at Adam's Taphouse. They had two tickets to the Tawes Crab and Clam Bake in Crisfield to raffle off as part of a membership meeting for the newly-christened organization.
Another fairly new creation was the Wicomico Teenage Republicans, which had "a great start of a club" according to Nate Sansom. While their next meeting was slated for this coming Friday, they planned on taking a summer break and reconvening in August once school started back up. With a group of "passionate people, happy to be involved," Sansom believed his group would focus on statewide campaigns like Kathy Szeliga's as well as the local We Decide Wicomico campaign for an elected school board.
Representing the statewide College Republicans, their Chair Patty Miller was hoping to reach each county Central Committee at one of their meetings over the next few months and "see what they need from us." Her first stop will be this week in Calvert County.
Jim Jester reminded us the Crab Feast would be September 10, but stressed the need for more volunteers – particularly to handle admissions and the silent auction.
Shawn Jester pointed out the WCRC Scholarship winners had a brief story in the Daily Times. But, since the subject was volunteering, he was also looking for people to help out at Third Friday, which we missed this month because no one was available. On that note, a signup sheet was passed around. (We will also need help for upcoming events such as the Wicomico County Fair, Good Beer Festival, and Autumn Wine Festival.)
After all that discussion, and seeing that we had a legislative update where the topic wasn't addressed, I added one thing to the conversation. General Assembly Democrats sponsored a large number of bills this year that mandated spending. To me, this is an effort to handcuff Larry Hogan when it comes to budgeting but also leaves less room for tax reform. Many of these bills may become law without Hogan's signature, but they will be law just the same. It's an issue that I think needs a strategy to address, perhaps a reverse BRFA to eliminate mandates.
We are going to try and get the guys who didn't show up this month to come to our June meeting, so stay tuned. It will be June 27.
Back on Tuesday I promoted Marita Noon's most recent column on social media with the promise to do a Maryland-centric follow up "If I think about it this week." (I planned to all along, but sometimes I forget so I figured I better cover myself.) Anyway, the passage that piqued my interest was this one:
In California, where (billionaire and liberal Democrat political backer Tom Steyer) has been a generous supporter of green energy policies, he helped pass Senate Bill 350 that calls for 50 percent renewable energy by 2030. California's current mandate is 33 percent by 2020 – which California's three investor-owned utilities are, reportedly, "already well on their way to meeting." It is no surprise that California already has some of the highest electricity rates in the country. Analysis released last week found that states with policies supporting green energy have much higher power prices.
In doing research for the monoblogue Accountability Project, which I am in the process of completing now, I stumbled across two bills which dovetail nicely with both this article and another recent commentary by Noon regarding solar power mandates and incentives. I'll tackle the latter issue first.
For several years the state of Maryland has mandated a certain percentage of electrical power be derived from renewable sources, with a proposed new version of the law (HB1106/SB921)retaining the 13.1% share required for 2017 but increasing the carveout for solar energy from 0.95% to 1.15%. This bill also proposed that the share of both renewables and solar power increase at an accelerating rate, eventually ratcheting up the requirements to 25% and 2.5%, respectively. While that would be great news for the solar industry, it would be bad news for consumers – according to the information provided with these bills the increase in monthly electric bills to an average consumer if this measure is enacted could be as much as $3.06 per month by 2020. However, Maryland's Department of Legislative Services cautions (page 7 of the Fiscal and Policy Note) predicting this increase can only be "for illustrative purposes" because of all the factors involved.
The reason behind the rate increases is the payment to the state called the Alternative Compliance Payment (ACP), which also is affected by the bill. The proposal actually would decrease slightly the ACP for all renewable energy sources except solar from 4 cents to 3.75 cents per kilowatt-hour, or, in a more practical term, from $40 per megawatt-hour (MWh) to $37.50 per MWh. (An average home is considered to use 1 megawatt-hour of electricity per month.) It also gives utilities a temporary break on the solar energy carveout, where the fee for a shortfall would decrease from a scheduled $200 per MWh in 2017 and 2018 to $195 and $175 for 2017 and 2018, respectively. The fee would increase in the out years, however.
When the Fiscal Note predicts that the state itself would incur an additional $2.2 million in electrical costs by 2021, it's obvious that this proposal would be a costly one for consumers. At this point the bill is in limbo, as it was passed by both the House of Delegates and Senate but has not been signed or vetoed yet by Governor Larry Hogan.
Now let's turn to the most recent commentary from Noon, where she notes California will mandate 50 percent renewables 14 years hence. Unfortunately, Maryland is not that far behind them as they just enacted SB323, which will take effect in October. Instead of letting this silly notion that our little state can actually do something about climate change by reducing our energy consumption expire – as it would have with no action - this bill instead maintained a 25% by 2020 mandate and increased the mandated energy reduction to 40% by 2030. As an analysis Noon used in her piece shows, Maryland is among the states with the highest electricity bills and follies such as these are a reason why.
Don't get me wrong: I am definitely for energy efficiency, but it should be in terms of consumer choice rather than government fiat. Those who create and pass the laws rarely embark on any sort of dynamic cost/benefit analysis for their policies, so in this case they're not considering the effect on ratepayers and job creators in balance with the very dubious pie-in-the-sky notion of affecting our climate. (After all, if it was once warm enough to have the polar expanse of Greenland actually be green, as it was around the turn of the previous millennium – well before the Industrial Revolution or the car-happy society we inhabit now – then how much effect do we really have?) We can hardly predict with any certainly the weather two weeks from now, so why should we trust the accuracy and inerrancy of a climate forecast for 2050 when it's used as an excuse for confiscatory policy that indirectly benefits those making the forecast?
As I brought up the monoblogue Accountability Project earlier, it shall be noted that the votes on both these bills will be used for this year's mAP. It's a shame that just 39 Delegates out of 141 and only two (yes, two!) Senators out of 47 have the potential for getting both these votes correct. Maryland has a relatively powerful environmental lobby thanks to its straddling of Chesapeake Bay, but these were cases where the state's budding attempt to be more business-friendly and hopefully end its economic reliance on big government should have held sway. While Governor Hogan erred in signing the climate change folly, he can do a more concrete favor for businesses and ratepayers by vetoing HB1106/SB921 and creating a proposal to sunset the ACP for next year's session.
And while we are at making energy policy, I encourage Governor Hogan to follow the lead of his friend and cohort New Jersey Governor Chris Christie and remove Maryland from the membership rolls of the Regional Greenhouse Gas Initiative. Utilities (and their ratepayers) will thank him from getting us out from under that wealth transfer boondoggle.
Perhaps the National Rifle Association is now in the "lesser of two evils" camp.
You know, we used to rag on John Kerry for being for something before he voted against it, but I suppose the passage of time grants Donald Trump the privilege of being for an assault weapons ban when it was all the rage two decades ago and now getting the endorsement of the NRA much earlier in the campaign than Mitt Romney did four years ago, according to Fox News:
The NRA's endorsement comes significantly earlier in the election cycle than previous endorsements by the group. The group did not endorse 2012 GOP nominee Mitt Romney until October 2012.

However, officials told Fox News ahead of the announcement there is an excitement for Trump among their members that they did not see for Romney or 2008 nominee Sen. John McCain, R-Ariz.
I'll grant that I am a Second Amendment advocate who is not a member of the NRA, but it is worth pointing out that the group endorses solely on their perception of how candidates will stand up for the Second Amendment and gun owners' rights. It's very likely Hillary Clinton will be a gun-grabber and certainly the so-called "assault weapons" ban will return to our law books if she's elected. Trump fed into that when he said, "Crooked Hillary is the most anti-gun, anti-Second Amendment candidate…She wants to take your guns away from you, just remember that."
But it has to be asked whether the NRA is just hoping to keep the status quo, which as it turns out makes the NRA a lot of money – over $300 million, according to this report on their 2014 tax filing. With Trump I don't foresee any rolling back of restrictions, and given his tendency to walk back previous statements (like his Supreme Court short list) I have to wonder if the NRA was thinking more about its bottom line in seeing a lot of "Trumpkins" becoming new members than advancement on a more true interpretation of the Second Amendment. That whole "shall not be infringed" thing seems to be violated regularly.
This is particularly the case when the NRA's rival, Gun Owners of America, recently posted an article blasting Trump for donating $25,000 to Terry McAuliffe when he first ran for governor of Virginia in 2009 - seven years later, after winning in his second try, McAuliffe allowed 200,000 convicted felons to register to vote. Writer John Velleco concludes:
If McAuliffe's unconstitutional action is not overturned, it will make it that much tougher for ANY Republican to win in the Old Dominion–a key state on the road to the presidency–as the new voters "thank" McAuliffe by voting for Hillary.

Ironically, while Trump brags about his "deal making" prowess, it is that wheeling-and-dealing that has now made it all the easier for an anti-gun Democrat to win an important state like Virginia in November.

Trump does not seem to grasp that making deals in politics is not the same as in real estate, where you can have a win-win outcome.

When you sit down at the table with Terry McAuliffe, Nancy Pelosi or Chuck Schumer to negotiate on, say, a gun bill, it's a zero-sum game for them.  The discussion will always end up being how many of our rights will we lose.

A "compromise" to an anti-gunner is a ban on "certain" semi-automatic firearms, instead of a ban all semi-automatics.  A 3-day waiting period verses seven days.

They're not interested in compromise.  They're only interested in our side selling out, and for how much.

We know Donald J. Trump doesn't understand the gun issue.  He supported an "assault weapons" ban before he opposed it and just last year he endorsed the notion that people on a secret government "watch list" should be barred from owning guns.

Trump is bragging about the "deals he'll make" specifically with Chuck Schumer and Nancy Pelosi.  In that negotiation, our gun rights could very well be the bargaining chips.
In other words, Velleco shares one of my biggest concerns about Trump – as a Republican, he's sure not going to negotiate with conservatives. Perhaps some of the more strident advocates of the Second Amendment will be convinced to jump on board the Trump train with word that he's the NRA's chosen candidate, but there are a lot of races where the NRA has preferred incumbents who were worse for the nation on an overall basis. Most people can fathom that Hillary is a gun grabber and they didn't need the NRA to tell them that.
Commentary by Marita Noon
Any comprehensive review of green energy and its politics and policies has to include the name of wealthy liberal Tom Steyer – who has been called the environmental movement's new "Daddy Warbucks."  Having made his billions from his tenure atop Farallon Capital Management – much of it from coal projects around the world – Steyer apparently had an environmental epiphany and now wants to atone for his past sins by trying to save the planet from manmade climate change.
He is using his wallet to try to elect candidates who will promote policies and energy plans that agree with him. And that plan is "green." As I've previously reported, he spent nearly $75 million in the 2014 midterms and intends to top that for the 2016 election cycle. Steyer - a long-time donor to Democratic causes - was a 2008 Hillary Clinton supporter. After her campaign failed, he emerged as a bundler for Obama in 2008 and again in 2012. Additionally, Steyer is a Clinton Foundation donor, and last year, at his San Francisco home, he held an expensive fundraiser for Clinton's 2016 presidential run.
Along with researcher Christine Lakatos, whose Green Corruption File was recently praised on the Michael Savage Show, I've repeatedly addressed Steyer's involvement through our work on President Obama's Green-Energy Crony-Corruption Scandal. Anytime there is a pot of government money available for green energy, as Lakatos found, Steyer's name seems to be attached to it. Some of the most noteworthy include: Sungevity, ElectraTherm, and Project Frog – all funded by Greener Capital (now EFW Capital), which is a venture firm that invests in renewable energy, with Steyer as a known financial backer.
Steyer claims to have "no self-interest" in his political activism. The Los Angeles Times quotes him as saying: "We're doing something we think is good for everyone." Yet, as Forbes columnist Loren Steffy points out, he is spending his fortune lobbying for "short term political gains" rather than into research and development "aimed at making renewables economically viable."
While he may say what he is doing is good for everyone, the policies he's pushing are good for him – not for "everyone." The Washington Post called him: "The man who has Obama's ear when it comes to energy and climate change." In California, where he has been a generous supporter of green energy policies, he helped pass Senate Bill 350 that calls for 50 percent renewable energy by 2030. California's current mandate is 33 percent by 2020 – which California's three investor-owned utilities are, reportedly, "already well on their way to meeting." It is no surprise that California already has some of the highest electricity rates in the country. Analysis released last week found that states with policies supporting green energy have much higher power prices. In October, Steyer spent six figures for an ad campaign calling for the next president to adopt a national energy policy similar to California's: "50 percent clean energy mix in the U.S. by 2030″ – which will raise everyone's rates.
With Steyer's various green-energy investments, these rate-increasing plans are good for him but bad for everyone else – especially those who can least afford it. And, it is the less affluent, I recently learned, he's targeting with predatory loans for solar panels through Kilowatt Financial, LLC, (KWF) – a company that listed him as "manager" on corporate documents. KWF recently merged with Clean Power Finance and became "Spruce." The financing structure used, according to the Wall Street Journal (WSJ), allows "homeowners to get solar systems at no upfront cost and then to pay monthly for the use of the power generated. Homeowners end up saving on their total electricity use, while financing companies get steady revenue over 20 years." WSJ, points out, the KWF financing can be offered to "people who wouldn't be approved otherwise."
In the KWF model, contracted payments come from homeowners and "create a steady and reliable income stream, part of which is owned by its venture investors, including Kleiner Perkins." About the arrangement, KWF chairman and Chief Executive Daniel Pillmer said: "Kleiner Perkins will make a lot of money." Apparently, the money to be made is from selling the loans that are then securitized on Wall Street – much like the "sub-prime" mortgage crisis that offered loans to people who couldn't qualify with "traditional lenders." KWF's website brags: "We support financing terms for almost every customer and provide ways for dealers to participate in the pricing process to generate even more approvals and create even lower consumer rates." KWF offers "Instant Approvals, even for customers with lower credit scores" and "Same-as-Cash and Deferred Payment Offers." In these types of payment plans, a low rate is usually offered in the beginning and increases retroactively if all the terms of the loan are not met.
In this model, the homeowners don't actually own the solar systems – which means KWF receives the benefit of the federal tax incentives, such as the 30 percent federal "Investment Tax Credit," designed to benefit the owner of the solar system.
It is practices like this that have drawn the ire of Congress. Several congressional Democrats sent a letter to the Consumer Financial Protection Bureau that warned about the similarities between the solar industry and what led to the subprime mortgage crisis: "easy initial financial terms, increased demand and a rapidly expanding industry." These factors create a high risk potential that could, ultimately, be harmful to consumers. Similarly, Republicans sent a letter to the Federal Trade Commission that noted pressure from Wall Street is reportedly leading companies who use "potentially deceptive sales tactics" – which doesn't sound like it is something that is "good for everyone."
Yet, it is these very types of finance products, promoted by Steyer's Kilowatt Financial that Greentech Media reports are "doing well."
While Steyer claims to want to give everyone a "fair shake," his pet policies increase costs for everyone, and offer a hand-shake for Wall Street. Steyer and his billionaire buddies win, "everyone" else loses. This is how the green-energy crony-corruption scandal works: the political pals profit while the taxpayers get fleeced.
The author of Energy Freedom, Marita Noon serves as the executive director for Energy Makes America Great Inc., and the companion educational organization, the Citizens' Alliance for Responsible Energy (CARE). She hosts a weekly radio program: America's Voice for Energy - which expands on the content of her weekly column. Follow her @EnergyRabbit.
Commentary by Marita Noon
On Monday, May 2 the Colorado Supreme Court ruled on what the New York Times (NYT) called: "a lengthy battle for energy production." The court's unanimous decision to strike down two cities' limits on fracking is a victory for oil-and-gas companies and a "disappointment" to anti-fossil-fuel activists. Several states, including Colorado's neighbors, New Mexico and Texas, have faced similar anti-oil-and-gas initiatives that have also been shot down.
The Colorado Supreme Court reached the same conclusion as the lower court: the fracking bans put in place by Fort Collins and Longmont are "invalid and unenforceable" because state law trumps the local ordinances. A report from Colorado Public Radio states: "The ruling will have an impact on other Front Range communities – including Broomfield, Lafayette, and Boulder – that have approved restrictions on fracking. The court clearly said that these efforts are illegal."
The consequences of the decision are "comparatively small," according to NYT, as the land now opened up for exploration represents only a fraction of Colorado's oil-and-gas development. "More significant, said experts on both sides of the conflict, is that the rulings shut down future efforts to stop fracking in local jurisdictions." Colorado Attorney General Cynthia Coffman said that she fears the ruling will not end the divisive debate. "Instead some activists will continue to push anti-development initiatives undermining the state's record of local cooperation on these policy issues."
The NYT points out: "Spurred by the rise of hydraulic fracturing, Colorado has become one of the nation's largest producers of oil and gas. The state has more than 50,000 active oil and gas wells."
According to a press release, the Colorado Petroleum Council "welcomed the decisions for upholding the state's primacy in overseeing oil and natural gas permitting and curtailing 'arbitrary bans' on fracking that could cost local jobs, deprive state and local governments of tax revenue and limit access to energy resources."
Upon hearing the news, I tweeted: "Great news! Colorado Supreme Court Strikes Down Local Fracking Bans." Almost immediately, @AllNewSux responded: "@energyrabbit Hooray…now we can all drink poisoned water here in Colorado!"
What is @AllNewSux thinking? He is regurgitating outdated propaganda as study after study – though funders are disappointed with the results – determine, as did the three-year study by the University of Cincinnati released in February: "hydraulic fracturing of oil and gas wells … does not contaminate ground water."
The University of Cincinnati study, reports the Free Press Standard: "aimed to measure methane and its sources in groundwater before, during and after the onset of fracking." It concluded, "dissolved methane was detected in all sampled wells, however, no relationship was found between the methane concentration and proximity to natural gas wells." The results of the study were released by Dr. Amy Townsend-Small, the lead researcher, during a February 4 meeting of the Carroll County Concerned Citizens in Carrollton, OH – part of a coalition of anti-fracking groups. Townsend-Small stated: "We haven't seen anything to show that wells have been contaminated by fracking." Her revelations must have been a shock to the group whose pre-meeting promotion included this comment: "We saw the debate about fracking's impact on groundwater methane in Pennsylvania and the results of failing to have predrilling or baseline data for comparisons. Dr. Townsend-Small's study provides landowners with that baseline data and helps to differentiate shale sources from non-shale sources of methane."
The Free Press Standard asked Townsend-Small about plans to "publicize the results." She said there were "no plans to do so." Why? "I am really sad to say this, but some of our funders, the groups that had given us funding in the past, were a little disappointed in our results. They feel that fracking is scary and so they were hoping this data could lead to a reason to ban it."
Just a few months earlier, October 2015, a Yale study, reported in Nature World News, came to the same conclusion: "Fracking does not contaminate drinking water." The article, which ties in an earlier EPA report, states: "Yale researchers have confirmed that hydraulic fracturing – also known as 'fracking' – does not contaminate drinking water. The process of extracting natural gas from deep underground wells using water has been given a bad reputation when it comes to the impact it has on water resources but Yale researchers recently disproved this myth in a new study that confirms a previous report by the Environmental Protection Agency (EPA) conducted earlier this year."
Then there is the 2014 research from Duke University's Nicholas School of the Environment that found: "(The) gas data appear to rule out gas contamination by upward migration from depth through overlying geological strata triggered by horizontal drilling or hydraulic fracturing." Addressing the study, Hoppy Kercheval, in the West Virginia MetroNews, said: "Fracking opponents should be held accountable as well, and this new research illustrates some of their alarmist proclamations are just wrong."
In 2013, the "highlights" of a study on the Fayetteville Shale in north-central Arkansas announced: "No relationship between methane and salinity in groundwater and shale-gas wells."
A year earlier, an EPA study that sampled well water at 61 homes in the famed Dimock, PA area, and "found health concerns in only five of them." According to the Washington Times, "drilling is not the root of the problems in Dimock" as "the substances found include arsenic, barium and manganese, all of which are naturally occurring."
The aforementioned studies don't include myriad comments from public officials stating the same thing.
Perhaps, this preponderance of evidence is what caused so-called expert Anthony Ingraffea to base his recent testimony at the federal trial regarding whether Cabot Oil & Gas was a "nuisance to two families" on "speculation." In its coverage of the "sparsely attended" February 2016 trial, Philly.com points out: the plaintiffs were "unable to establish that chemicals from hydraulic fracturing got into their water, or that the drilling caused illness." Coverage at the conclusion of the trial added: the plaintiffs "maintained that the methane contamination disrupted their lives and deprived them of the enjoyment of their property."
During the trial, the plaintiff's expert witnesses, both known anti-drilling activists, each acknowledged that they had no direct proof of claims they were there to support. Under cross-examination, hydrogeologist Paul Rubin admitted that he had not identified a specific pathway from any of Cabot's natural gas wells to the plaintiff's water supply. Regarding his "theory" about causation of the plaintiff's allegedly impacted water, Ingraffea, was asked: "In fact, you're going to tell me I think or I'll ask you that's speculation on your part, it is not?" He responded: "You can call it that, sure." The questioning continued: "You don't have any direct proof of that, right?" Ingraffea agreed that he didn't have direct proof and said his theory was "most likely" the cause.
Additionally, the trial discovered that the plaintiff's water troubles actually began months before Cabot began drilling nearby. The judge repeatedly called out the plaintiff's attorney for going "over the line." U.S. Magistrate Judge Martin C. Carlson dismissed the property damage claim against Cabot, because as Philly.com reports: "the plaintiffs introduced no evidence that their property values had been affected." Additionally, one of the plaintiffs, Scott Ely, "spent $700,000 to build his 7,000-square-foot home – after the water went bad." Carlson, however, ruled that the plaintiffs had "elicited enough evidence that Cabot had been a nuisance." A jury awarded $4.24 million to the two families based on nuisance.
Anti-fracking activists, like @AllNewSux, likely point to the award (which is being appealed) and see it as proof that fracking contaminates ground water. Though, a careful read reveals that no such evidence was found – only the "most likely," theory, and speculation common among anti-fossil fuel claims.
One has to wonder how many more studies and court cases have to be carried out before the fear mongering and activist community finally stop wasting public money to kill jobs and raise energy costs.
The author of Energy Freedom, Marita Noon serves as the executive director for Energy Makes America Great Inc., and the companion educational organization, the Citizens' Alliance for Responsible Energy (CARE). She hosts a weekly radio program: America's Voice for Energy – which expands on the content of her weekly column. Follow her @EnergyRabbit.
Those who actually watched and paid attention would have known this days or weeks before I did, but this morning I received an e-mail announcing the demise of PJTV, the video arm of the PJ Media internet site. The reason I didn't pay attention is because if I've watched PJTV a half-dozen times, that would have been accidental – not to say that it was or wasn't quality work, but I'm the type of person who would rather read the State of the Union speech than waste an hour watching it. Movies and television really don't interest me all that much, although I'm fine with watching a ballgame on the tube. And thanks to the power of the internet, the PJTV contributors will still be getting their message out on their own.
Still, I have a soft spot for PJ Media (which used to be Pajamas Media) because, once upon a time, I was a contributor to their site. (I was their Maryland state correspondent for the 2010 election, since we were considered a possible swing state with a key gubernatorial election, and also contributed a handful of articles like this one in the months afterward. They paid very well for the latter.)
But the site has changed since I was last contributed there. While it was once primarily political, in recent years it's gone to a more general-interest site where increasing emphasis is placed on non-electoral areas like parenting, faith, and lifestyle. (It still features one of my favorite writers, Victor Davis Hanson, though.) Presumably the more or less modest amount of advertising they have on the PJMedia site (which has improved itself graphically over the years, evolving to a relatively clean design that reminds me of the of the homepage I have with the Microsoft Edge internet browser I use) is enough to pay their bills.
On the other hand, the PJTV side was a little confusing because it was a mix of free and subscriber content. Obviously the subscription base wasn't enough to justify the continued expense, as a Daily Beast story by Lloyd Grove (which references the ubiquitous unnamed "former employees and outside observers") claims:
Several former employees and outside observers described the two enterprises as money-losing ventures whose advertising revenue and online traffic—8.3 million unique visitors in the first quarter of 2016 for PJMedia.com, according to a Google analytics tracking figure provided by a PJ Media spokesperson—were hampered because much of PJ TV's content was behind a paywall and available only to subscribers. (The spokesperson declined to specify the number of subscribers, explaining that the information is proprietary).
8.3 million unique visitors in a quarter translates out to about 92,000 a day. Even being generous and saying 10% were PJTV subscribers, that's only 9,200 daily viewers and you have a hard time getting advertisers with that audience.
And having written recently about Erick Erickson's struggles to get The Resurgent off the ground (which doesn't feature its own video channel and may have to scrap its subscriber-based model, much to my disappointment) it's becoming clear that the political audience is becoming so fragmented and fatigued that they are just tuning out. This particular cycle has become less about issues and more about celebrity, and it's very hard to compete with that with political commentary even if it is on the humorous side.
Naturally the creation and demise of enterprises on the internet is nothing new, and survival is tough - I have outwitted, outplayed, and outlasted probably thousands of political sites over the years, but at some future time the end will come to this one as well. There are a number of websites and ideas that I have been a part of, such as Red County, Conservative Weekly, and American Certified, which failed to last. All of them reached a point where the time and effort placed into keeping up the website as opposed to other, more productive pursuits outweighed the satisfaction (or revenue) one got from creating the content. I decided early on this would not be all political because if it had been it wouldn't have made it two years, and even on my site I have started and stopped various features when they became too much of a burden. For example, spending three hours transcribing a phone interview every week because the software to do it wasn't affordable to me led to the demise of Ten Questions.
When I was much younger, half a lifetime ago, MTV was blamed for shortening the attention span of youth to a point where their education was suffering. Johnny couldn't read because he was not interested in a 50-minute English class. Perhaps the same is happening to long-form entertainment such as a TV network, such that PJTV was.
But the real issue is that we are spoiled: the internet is more or less free, although you pay a provider to place you there. What I think PJTV has become the latest to find is why should people pay for content when they can get comparable entertainment for nothing? I don't have that answer because, if I did, this wouldn't be an enterprise which probably pays me millage per hour to create. (Is this an appropriate moment to remind people I have a "donate" button?)
With the absolute mass of content now available thanks to the World Wide Web, there really is no such thing as "must-see TV" anymore. PJTV won't be the last to learn that lesson.
Commentary by Marita Noon
All of us loved less-than $2 a gallon at the pump. AAA reports: "Americans paid cheapest quarterly gas prices in 12 years" – which resulted in savings of nearly $10 billion compared to the same period last year. However, oil (and, therefore gasoline) has been creeping upward since the February low – topping $45 a barrel, a high for the year. And that could be a good thing.
While low prices at the pump have been a boon to consumers, the plunge in oil prices has been a bust for American producers.
You may not care about "big oil," but there's still reason to be positive about the rising prices.
There are several causes for uptick. First is the weaker U.S. dollar. As oil is traded in dollars, a weaker dollar means that it takes more of them to buy the same amount of oil.
Additionally, we are heading into a busy summer driving season and refineries are switching to the more expensive "summer blend." The switch typically means a brief shut down for maintenance – which reduces the gasoline supply. Summer driving increases demand.
Globally, oil production is down due to a workers' strike in Kuwait that took about 1.3 million barrels a day of production offline, and disruptions in Iraq, Nigeria, Venezuela, and the North Sea. Former investment advisor and financial writer Tony Daltorio writes: "That brought the total to roughly 3 million barrels a day that were offline." In the U.S., according to the Wall Street Journal (WSJ), "oil production has fallen below 9 million barrels a day in recent weeks, down from a peak of 9.7 million barrels a day last April."
These are all supply issues that can easily be eradicated with increased production – such as recently threatened by Saudi Arabia's Deputy Crown Prince Mohammed bin Salman. Additionally, in the U.S., reports Bloomberg: "Drilled, uncompleted wells could return 500,000 barrels a day back to the market." The potential for increased production has many, including Daltorio, predicting a fall in price from current levels.
Consumers like lower prices, but they signal economic concerns as the price of oil is directly connected to the global economy.
In February, a Citibank strategist warned that due to the extended oil price collapse, the global economy "appears to be trapped in a death spiral." Eric Sharpe, Publisher at Energy Ink Magazine, states: "Citi's assessment is clear, and easy to understand: weak global growth results in continued depressed oil prices as demand weakens under over-supply."
This is why I posit higher prices are a good thing for everyone, not just the oil industry.
Simple economics are based on a supply vs. demand formula. So far, I've mostly addressed the supply side. But a careful read of the forecasts indicates an increase in the demand side. Sharpe points out: "The single most important factor for the stabilization of oil prices is for demand to outpace growth which it has not done for over two years. Though demand growth is slow, it is still climbing."
On April 23, the Financial Times reported that commodities, led by oil, rallied "on signs of stronger growth" that bolstered demand. It also referenced: "better housing and infrastructure demand after China's economy rebounded in March."
On April 27, in a story about the price of oil hitting "another 2016 high," WSJ addressed the fact that the Federal Reserve officials "left interest rates unchanged." The last time the same decision was made, the statement included language that indicated the global economic and financial conditions posed risks to their outlook. This time, that was removed – "signaling less concern about risks posed to the U.S. Economy by global financial conditions." In WSJ, Robert Yawger, director of the futures division at Mizuho Securities USA, is quoted as saying: "The elimination of international elements in the language may mean that the market feels that the international situation is improving, and we'll get a bit of demand from emerging markets which wasn't there."
Additionally, Phil Flynn, Sr. Market Analyst at the PRICE Futures Group, in his daily energy report, on April 22, wrote: "Demand is busting out all over." He explains: "Low gas prices are causing a buying frenzy at the pump as gasoline demand in the month of March hit an all-time record high." He continues: "it's not just gasoline demand, it is oil demand all over. Not just here in the United States but also in China. China reported that crude-oil imports in March were up a whopping 21.6% from last year coming in close to 7.7 million barrels a day. …China's demand for imported oil is stronger than it has ever been." He also addressed; "the strongest ever volume increase in Indian demand."
There is growing demand.
"The market is coming in better balance," Jason Gammel, an analyst at Jefferies, stated, according to the WSJ. "We maintain the view that the current oversupply will flip into an undersupply in the second half of the year."
While this is good news for the oil industry, it is also good for everyone – even though it means higher prices at the pump. If this optimistic view is correct, it means the global economy – despite the bad economic news on the American front – may be heading toward a net positive; that it is not "trapped in a death spiral."
A growing economy needs energy and that is why higher demand – that equals higher prices – is good for everyone.
The author of Energy Freedom, Marita Noon serves as the executive director for Energy Makes America Great Inc., and the companion educational organization, the Citizens' Alliance for Responsible Energy (CARE). She hosts a weekly radio program: America's Voice for Energy - which expands on the content of her weekly column. Follow her @EnergyRabbit.
My final primary endorsement comes in a race that, for me, has come down to the wire: do I go for the known conservative quantity that's part of one of the most unpopular institutions in the country or do I go for one of the upstarts in a hope to bring about change or a more libertarian direction?
Well, the answer became a little easier as I looked into two of the four GOP candidates. Both Jonathan Goff, who challenged Andy Harris in 2014 and got the 22% of the anti-Harris vote in that primary, and Sean Jackson have expressed their support for Donald Trump so that eliminates them automatically as not conservative.
Yet despite the entry of Goff and Jackson, the Congressional race has been figured all along as a two-man contest between Harris and former Delegate Mike Smigiel.
We pretty much know the backstory on Andy Harris: he served in the Maryland State Senate for a decade before challenging incumbent Republican Congressman Wayne Gilchrest in 2008. The problem with Wayne, as Harris and many others saw in the district, was that Gilchrest was too centrist for a conservative district. Harris ended up winning a contentious primary, alienating enough Gilchrest supporters in the process that Democrat Frank Kratovil (who Gilchrest eventually endorsed) won by a narrow plurality in the Obama wave election of 2008. (A Libertarian candidate took 2.5% of the vote, denying Kratovil a majority.)
Harris finished out his term in the State Senate as he plotted to challenge Kratovil, who served as a "blue dog" Democrat (case in point: he voted against Obamacare.) Winning a far less acrimonious GOP primary in 2010 over businessman Rob Fisher, Harris went on to defeat Kratovil by 12 points in the first TEA Party wave election of 2010. Since then Harris hasn't been seriously challenged in either the primary or general elections, winning with 63.4% of the vote in 2012 and 70.4% in 2014 after Goff challenged him in the primary.
While Democrat Jim Ireton may think he has a shot against Harris, it's very likely that Tuesday's election is the deciding factor in who will be our representative to the 115th Congress. But Mike Smigiel is the first serious candidate with a pedigree to challenge for the First District seat since Harris and State Senator E.J. Pipkin, among others, both took on Wayne Gilchrest in 2008.
Like Harris, Smigiel served for 12 years in the Maryland General Assembly but he served in the House of Delegates, representing the upper Eastern Shore. This factor is an important one in determining who will be the better candidate, as their terms of service overlapped from 2003-2010. Smigiel ran for re-election in the 2014 primary, but finished fourth in a seven-person field. It's worth noting that four of the District 36 contenders were from Smigiel's Cecil County, which may have sapped his electoral strength – or reflected a dissatisfaction with Mike's approach. Only one of them could have advanced, so in effect they cannibalized the primary vote.
Mike's case for unseating Harris has evolved from an undertone of dissatisfaction from those who supported Harris for the seat. They say that Andy is not a fighter or a leader in the conservative movement, and long for a more libertarian Congressman perhaps in the mold of Justin Amash or Thomas Massie. To that end, Smigiel has advocated his case for a Constitutional, limited government, often waving his copy of the Constitution in a debate or forum session. His campaign has focused to a great extent on a number of Congressional votes that Harris has cast, particularly the 2014 CRomnibus bill.
In looking at this race, it should be pointed out that I saw Smigiel's libertarian approach as an asset; however, I felt the strong emphasis on Harris's voting record masked some of the real truth.
A key difference between the legislative process in Maryland and the federal sausage-grinding we find in Washington is that Congressional legislation is not limited to a single issue as Maryland's is. You can take the CRomnibus bill as an example, as it was a compromise hammered out between the various factions of Congress. That's not to say Harris made the correct vote, but Smigiel is counting on a bit of ignorance in how the system works. I could say the same thing about Smigiel since he voted for the first O'Malley budget while Harris voted no.
So let's talk about voting records, shall we? Because voting in a federal legislature is not the same as voting on state matters, we have an apples-to-oranges comparison between Harris and Smigiel. But over the eight years both men served in the General Assembly, a more apples-to-apples approach is possible.
Since 2007, I have done the monoblogue Accountability Project, so it covers the last four years that Harris and Smigiel served together. As an aggregate, I found that Smigiel voted as I would have 77.7% of the time, or 101 times out of 130. On the other hand, Harris was "correct" 89.1% of the time, or 122 times out of 137.
I even went back and found three years' worth of data on the old Maryland Accountability Project that mine continued. While the author perhaps had a different standard of what he considered "conservative," in each of those three years (2003-2005) Harris had a higher score: 84%-60% in 2003, 80%-75% in 2004, and 84%-83% in 2005. (The 2006 results were not available for the House, but Harris only scored 65% in the Senate – so Smigiel may have prevailed that year.)
Yet these are not "clean" comparisons, either, because in my case I hadn't streamlined the process of doing the mAP yet. (Since 2011, both House and Senate ratings are based on the same bills.) So I went back and tried to locate the cases in my work where Harris and Smigiel voted the opposite way. There were a handful that over time have mattered less, but I would like to point out a few items that Harris favored and Smigiel opposed, since Mike has attacked Andy's record:
Smart, Green, and Growing – Maryland Sustainable Growth Commission (2010) – replaced a task force with the MSGC, an O'Malley-sponsored bill.
Higher Education Investment Fund – Tuition Stabilization and Funding (2010) – a spending mandate O'Malley also sought.
Greenhouse Gas Emissions Reduction Act of 2009 – this was a horrible bill that established and codified carbon reductions into state law.
One can definitely argue that Harris was trying to soften his image with these votes, since they came after his unsuccessful 2008 run.
But there is another side: those bills that Smigiel favored and Harris opposed:
Other Tobacco Products Licenses (2010) – required separate licenses for those who sell cigars, snuff, or pipe tobacco. Harris was one of just 7 in the MGA to oppose this.
High Performance Buildings Act – Applicable to Community College Capital Projects (2010) – required LEED Silver or above ratings.
Regional Greenhouse Gas Initiative – Maryland Strategic Energy Investment Program (2008) – an O'Malley bill to spend RGGI money.
Environment – Water Management Administration – Wetlands and Waterways Program Fees (2008) – established a fee of up to $7,500 an acre for certain developments.
Chesapeake and Atlantic Coastal Bays Critical Area Protection Program – Administrative and Enforcement Provisions (2008) – additional mandates on local government.
High Performance Buildings Act (2008) – the precursor to the 2010 act above.
Maryland Clean Cars Act of 2007 – an O'Malley bill requiring California emissions for Maryland cars, which added cost to new cars.
Higher Education – Tuition Affordability Act of 2007 – another O'Malley bill that extended an artificial tuition freeze.
Electricity – Net Energy Metering – Renewable Energy Portfolio Standard – Solar Energy (2007) - a good old-fashioned carveout, picking a winner.
It seems to me there's a major difference on environmental issues between Smigiel and Harris, and while that may not matter so much at a federal level my belief that "green is the new red" leads me to think that Smigiel's pro-liberty case isn't as airtight as we are led to believe.
I can go all night looking at voting records, but there is one other thing I'd like to point out.
Last week I criticized Smigiel for spending part of the weekend before the primary at a cannabis convention, a stance he took exception to in a private message to me. Without divulging the full conversation, which I assumed was just for my private use, the upshot was that he argued there were going to be fundraising benefits for him as well as possible job creation in the 1st District. I can buy that argument, but if it hinges on him winning the primary Job One has to be getting the votes.
So it was interesting that a friend of mine shared a card her daughter received, which looks like the one below.
My friend speculated the card was targeted to a certain age group of Millennials since her daughter was the only one in the house to receive it. Yet the card isn't from Mike's campaign but instead an organization called 420 USA PAC, which advocates for cannabis legalization.
Of course, my personal stance is not all that far from Mike's, but we also have two laboratories of democracy in Colorado and Washington state to see how the legalization of marijuana plays out. Smigiel argues the District of Columbia cannabis initiative is a state's rights issue but should know that in the Constitution Congress is responsible to "exercise exclusive Legislation in all cases whatsoever" over the District per Article I, Section 8. So Harris performed some oversight.
On the other hand I can vouch for Andy being in the district over the weekend. Perhaps this is a classic conservative vs. libertarian matchup, although both men are well-accepted in the pro-life community.
This has been an endorsement I have had to think long and hard about; luckily it's a case where I could easily work for the other gentleman if he will have me.
But I have decided that Andy Harris deserves another term in Congress. Saying that, though, it's obvious people will be watching and if I were Mike Smigiel I wouldn't dismiss trying again in 2018 because we could use his kind of voice in Congress as well. Think of the next two years as a probationary period for Harris.
So allow me to review my three endorsements for the major races.
For President, I urge you to vote for the remaining true conservative in the race, Ted Cruz. He has six people running for Delegate and Alternate Delegate who need your votes as well (although my friend Muir Boda is on the ballot, too.)
For U.S. Senate, I had a hard time deciding between Dave Wallace and Richard Douglas, but the backbone Richard Douglas has shown earned him my endorsement and vote.
And finally, retain Andy Harris as our Congressman.
Just don't forget to vote Tuesday. It's up to us to begin turning Maryland into a more conservative state – not just trying to teach the benefits of conservatism to an audience charitably described as skeptical but making sure we vote in the right manner as well.
It was back to the basics once again for this once-premier regional event, which is still chugging along in its thirteenth year. What better way to celebrate the weekend of Earth Day than eating some of its tastier creatures cooked over a charcoal fire?
For the second time, though, there was no KCBS competition element. However, there was a competition wrapping up just as we arrived regarding which of the four competitors selling pulled pork had the best, along with a local craft beer pairing. Actually it sounded like a pretty good deal for $10 and it's a pity I missed it.
There was still a pretty good food court, though, dubbed "Pig Out Alley" with some out-of-towners hawking their barbecued wares.
The guys from Smoke Shack BBQ were hard at work keeping up with demand.
There seems to be a psychological effect where the place with the longest line is thought to have the best ribs. As it turned out, Kim stayed in the Smoke Shack line for about a half-hour while I walked across the way to get mine from the former Salisbury denizen Famous Dave's, strolling right up to the counter and ordering. Maybe that's why their location here only lasted a couple years.
So this is what I got.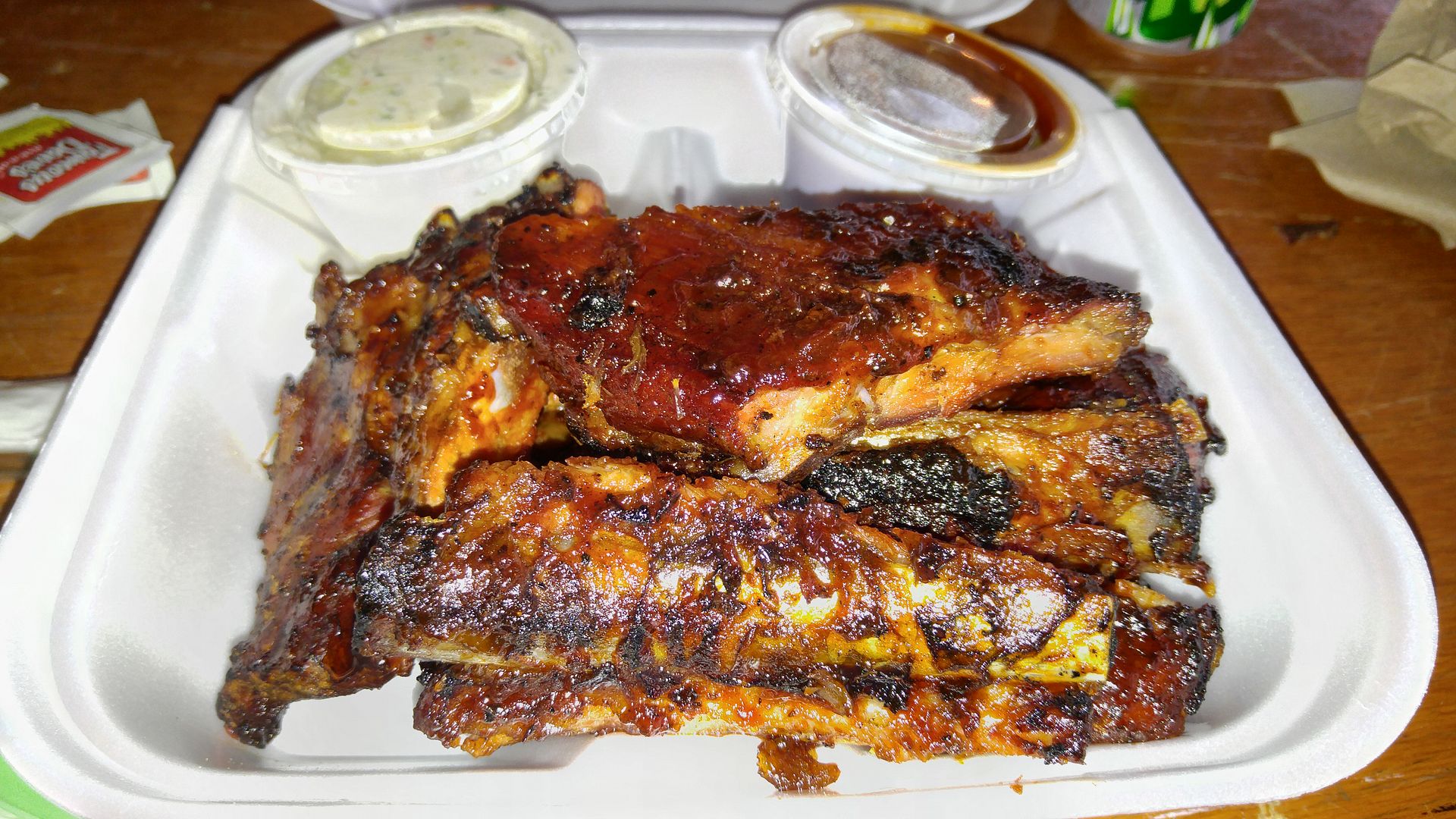 Funny thing: both Kim and I agreed that the Famous Dave's ribs were better. Smoke Shack was somewhat pricier as well, but that comes with the territory I suppose. We could have gotten Hess's ribs as well, for they didn't have a long line either. But as I recall we had theirs last year, when Pork in the Park nearly failed.
Nicer weather helped with the attendance, which seemed to be improved from 2015. It wasn't to the level of past years but perhaps they can rebuild the festival.
One holdover from 2015 was the kids court, with the row of bouncy houses.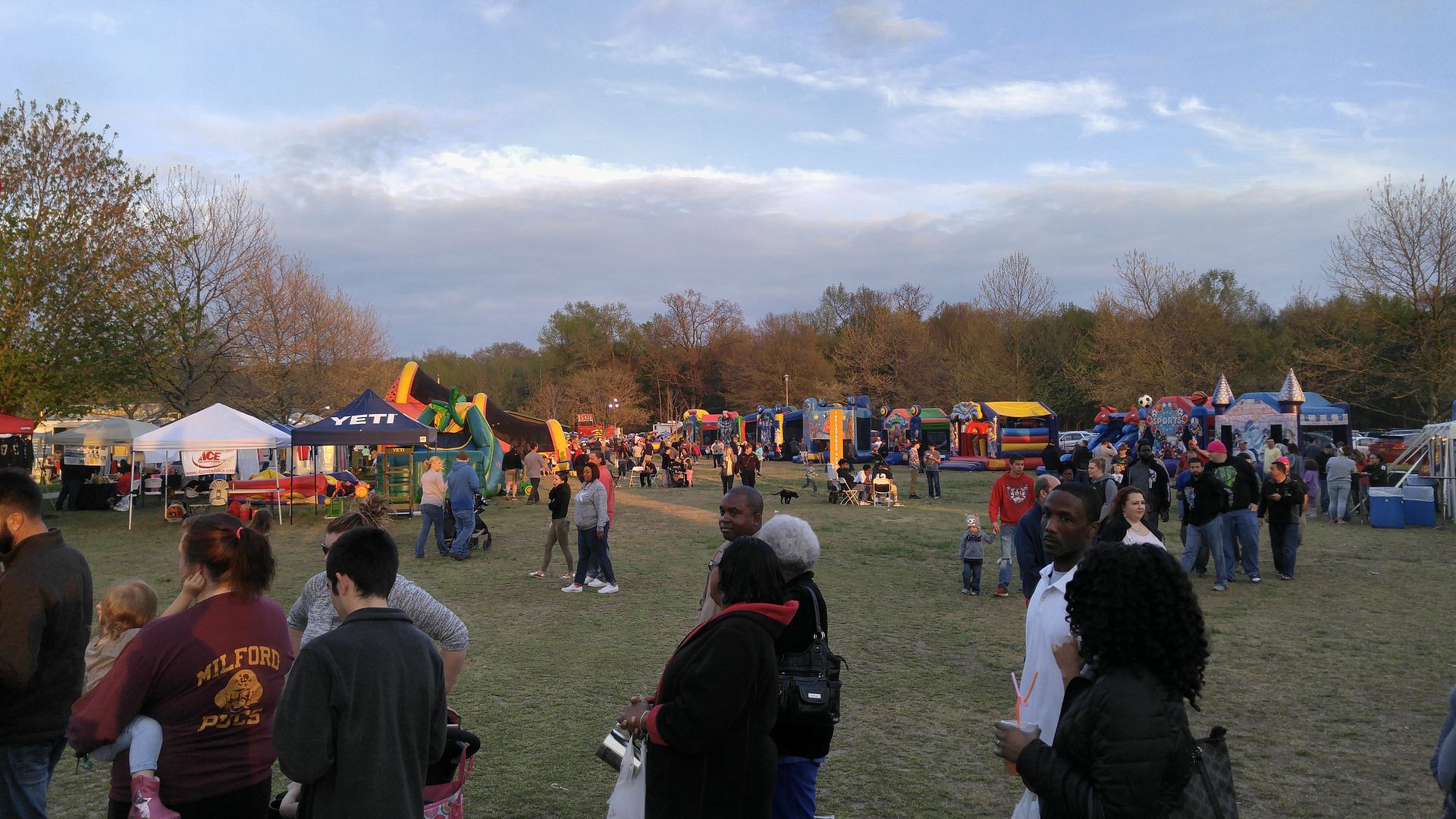 It was actually a pretty good arrangement, as they separated the kids zone from the beer tent and other adult areas. It wasn't like you couldn't hear the band, which was wrapping up as we got there.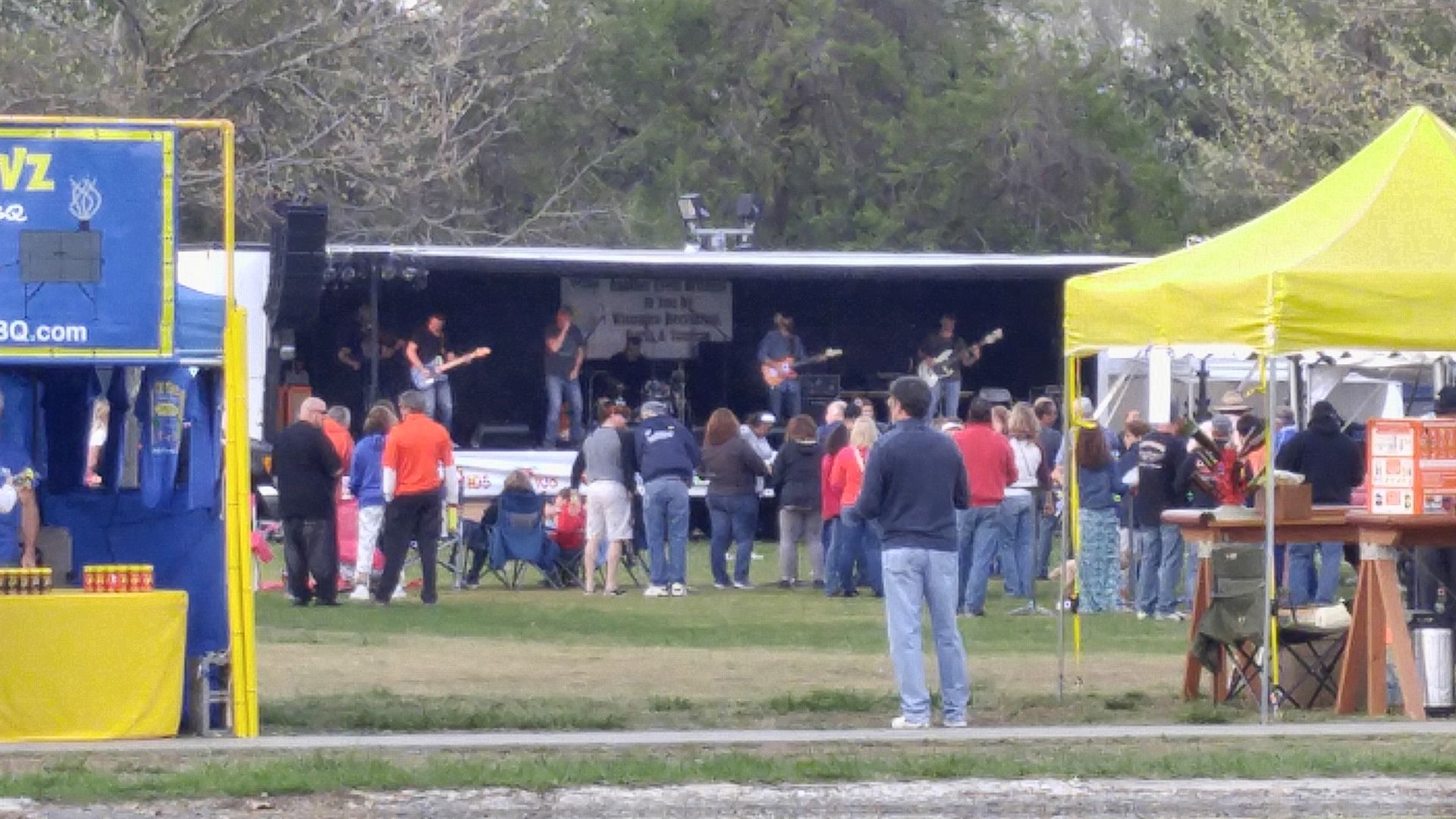 According to the entertainment page of the PitP website the band was Delta Spur, a country cover band. Since I'm not into country, they didn't do a lot for me until they ended the show with some Lynard Skynard (that one I recognized.) But it looks like quite a few were into them.
One thing new they were trying was Balloonville, where you could check out these balloons and perhaps take a (tethered) ride in one, for a price.
I would have to say that this year's rendition is improved over last year's, but whether it can turn the corner without the competition element remains to be seen. It's worth noting that most of the banners various rib vendors use to commemorate their victories are several years old – seems that the number of these competitions have waned as tastes move away from everything barbecued and onto other culinary options. Perhaps someone somewhere has a banner that brags about winning Pork in the Park, but that's not happening this year.
But if you don't mind paying a little extra for some good ribs, this isn't a bad place to bring the family if you're around Salisbury. They have the kids' area so the little ones can blow off steam and it's only $3 to get in for the adults. It's a beautiful day on Delmarva as well – aside from some rain yesterday afternoon, they lucked out with the weather. You have until 5:00 today.
So come on out and see if we can make it bigger and better for 2017.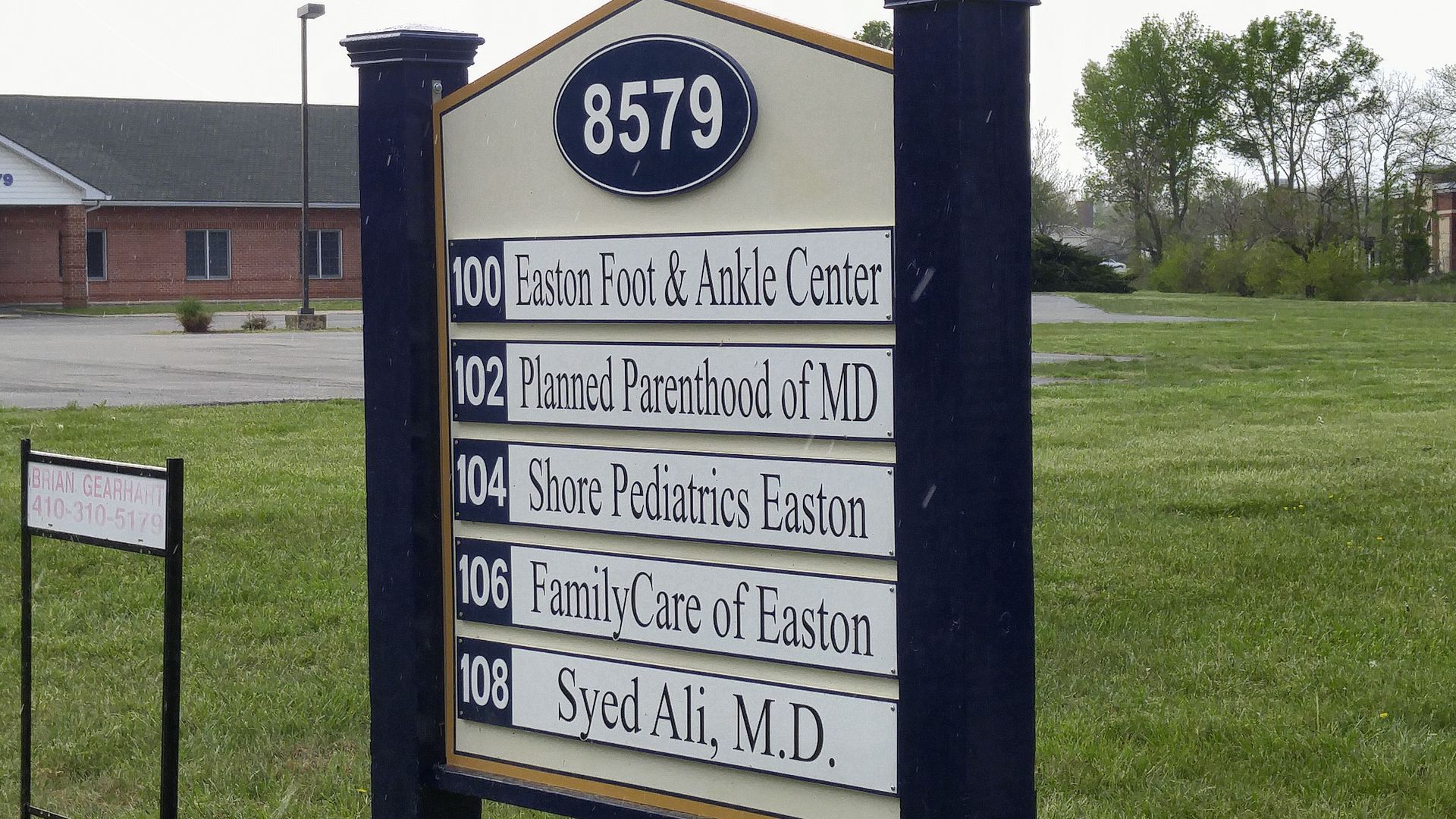 Over the last several months the news media has moved on from last year's hot story about Planned Parenthood selling body parts and otherwise profiting off the misery of women who abort their pregnancies in the name of "choice." It was the reason we gathered last August and October.
But in order to stand aside the annual tradition of mourning the miscarriage of justice otherwise known as Roe v. Wade each January on the anniversary of the 1973 Supreme Court decision, the advocacy group ProtestPP decided the fourth Saturday in April would be a good time to hold an annual protest.
So our little gathering in Easton was one of 200 scheduled around the nation today.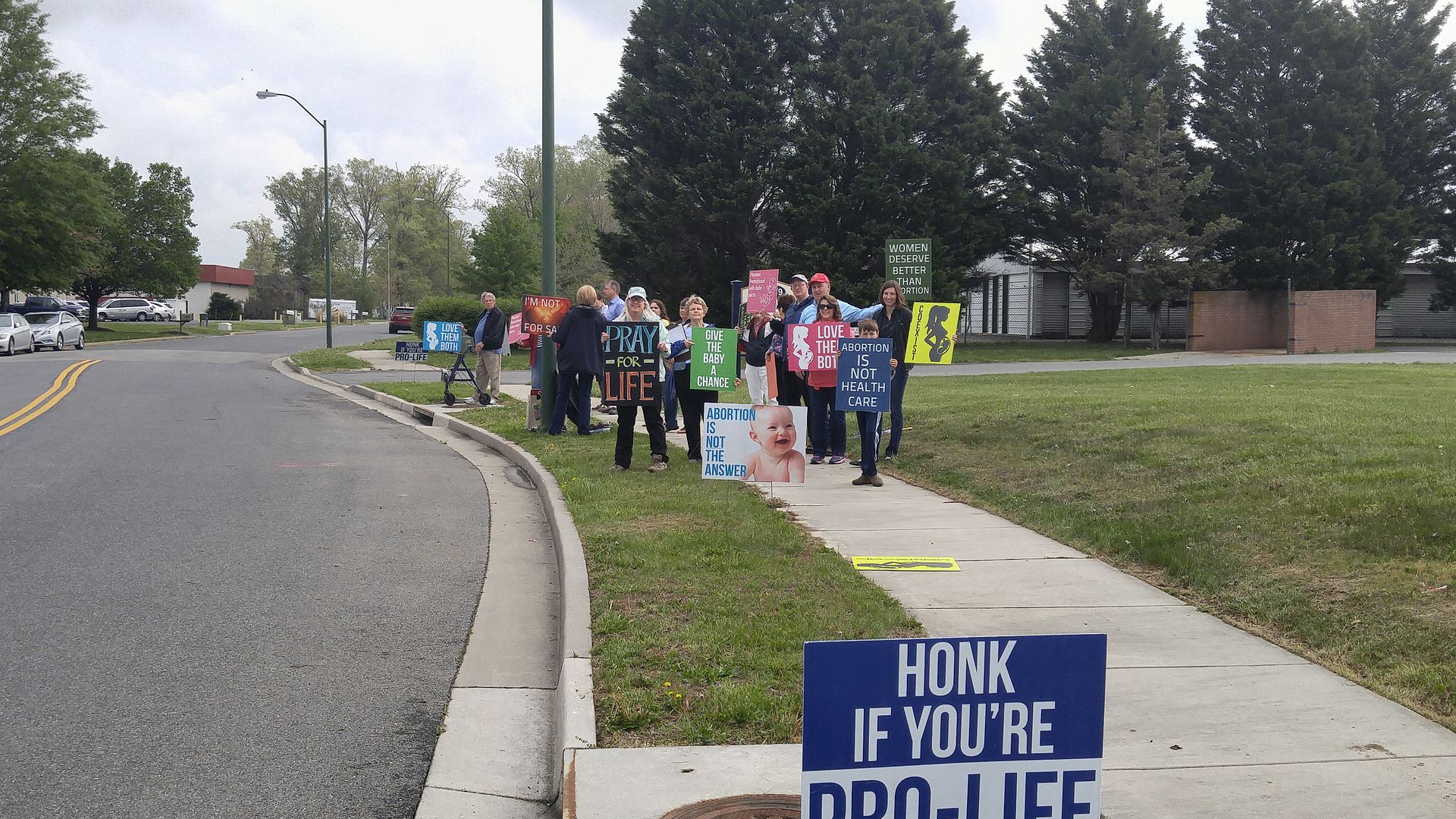 As opposed to the August rally, not only was the Planned Parenthood office closed but so were all the other businesses in the small office complex. So it was a very quiet gathering – even the police car only drove by a couple of times.
Yet we also had a very distinguished guest, one familiar to the Maryland pro-life community.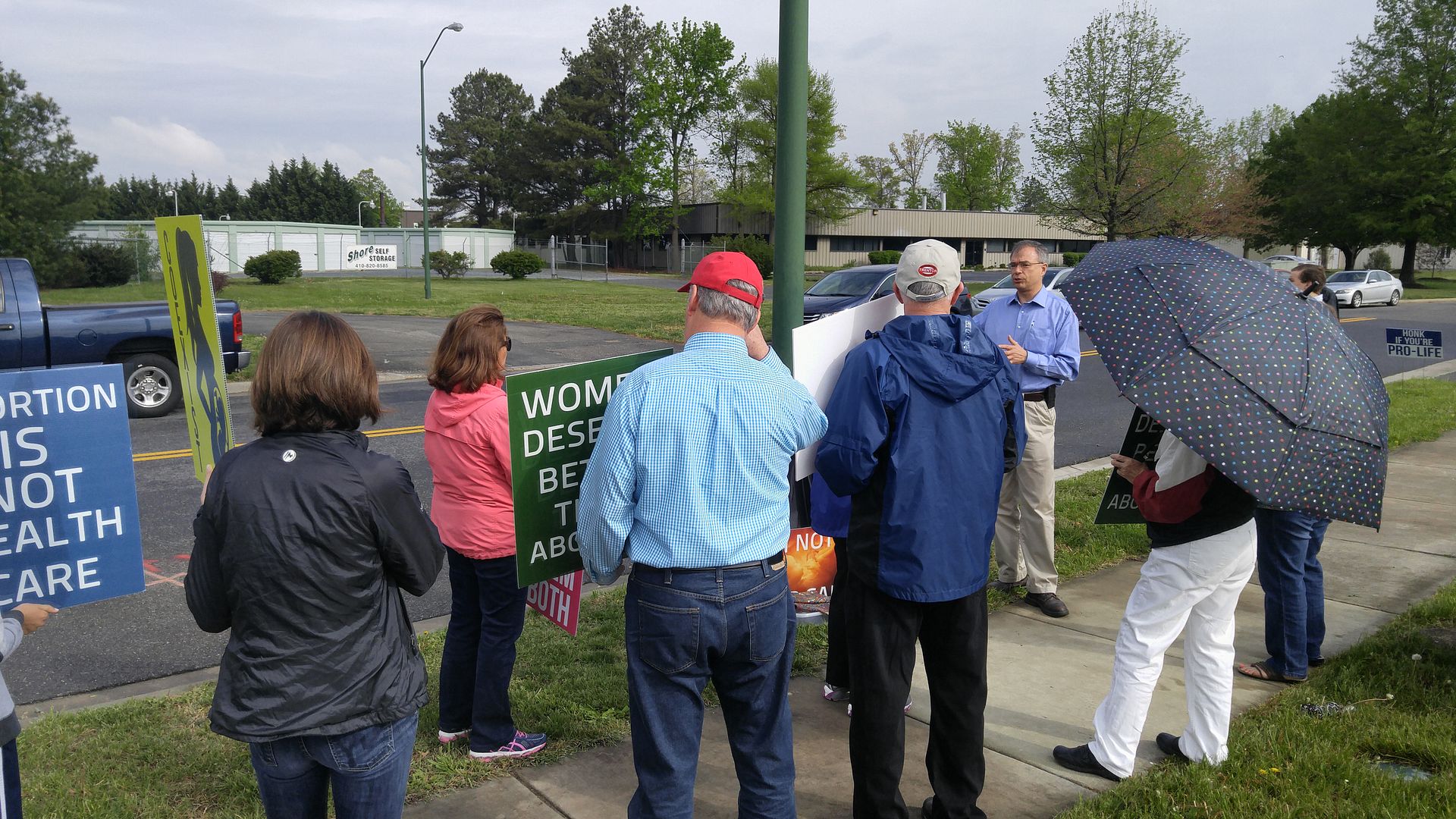 Three days before his primary, Congressman Andy Harris took over an hour out of his day to spend it with our merry little pro-life band. In informal remarks Harris revealed that, in relation to the Planned Parenthood scandal, "the stuff we are finding (in their investigation) is unbelievable." He added that, "Clearly, Planned Parenthood made a profit." There was also interest in bringing David Daleiden before Congress to hear his testimony on the issue, said Harris.
Most of Andy's time, though, was spent in private conversation answering questions and concerns from the twenty people who attended the Easton protest. Indeed, the number paled in comparison to August's turnout or even October's, according to Cathy Keim, who I accompanied to the event. Yet even though the number of those wishing to put an end to abortion on demand was small, the reaction was generally positive from the people driving by on the side street: most who gave any indication of paying attention gave us the thumbs-up or honked their horns. Of course, there was the Volvo driver who gave us the thumbs-down and the young college-age girl who flipped us the bird, but that's to be expected. There was no organized opposition.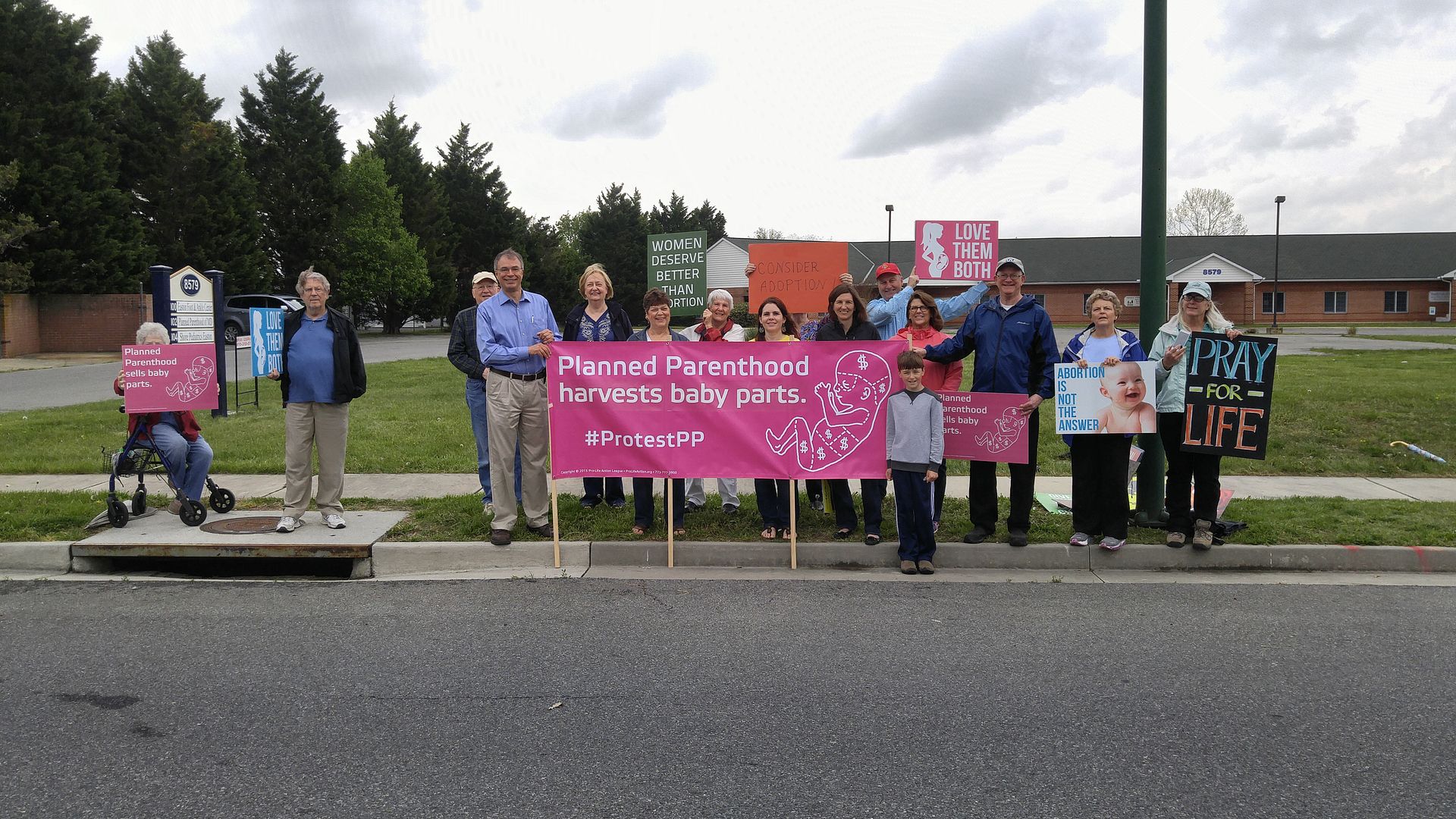 Think of the group above as a beginning, the alumni, if you will, of the Easton branch of the pro-life movement. It's realistic to think that we could double or triple the number next year as word begins to spread that the fourth Saturday in April is a day to celebrate life.
Postscript: I neglected to add in the original rendition that we also heard a closing prayer from Pastor Jason Shelton of Providence Presbyterian Church of Salisbury. Reading from the Book of Matthew, Shelton noted that "Blessed are they that mourn: for they shall be comforted." He commented on the "hard, callous world" that we in the pro-life movement are up against, but prayed that we would soon not have to make this trek to Easton.