For three years, the folks at Thumbtack.com, a service for entrepreneurs looking to trumpet their wares, has partnered with the Kauffman Foundation to produce a Small Business Friendliness Survey for much of the country. I've referred to this survey before on several occasions.
Out of 38 states which had enough data to analyze, Maryland falls in a range between 25th and 27th with a "C-" rating, placing it in a group with Michigan and Wisconsin. While it rated top grades (an A+) for training and networking programs, it had only one other good grade – a B+ in ease of hiring – and several D+ grades in regulations, tax code, licensing, environmental, and zoning.
There are a couple caveats to bear in mind for Maryland's grade. There aren't a whole lot of businesses surveyed, and the written responses came from a small area of the state representing Montgomery, Prince George's, Howard, Frederick, and Baltimore counties as well as Baltimore City. Those are the areas which generally represent the Democratic strongholds of the state, which leads me to wonder whether the grades are inflated because the responses tend to skew toward a liberal population or whether their frustration level is such because they are conservatives in a liberal state. Regardless, you have a number of survey answers like this one from Severn:
Maryland is all about taxing entrepreneurs and driving them to other states.
To be fair, there were a lot of positive responses, too, like this one from Hyattsville:
I have no complaints. The state of Maryland does a very good job in providing incentives for small business owners like myself to continue to conduct business.
If you hold your cursor over a dot on the page, you can read the good and bad reviews – by my count there are 32.
But to me this is a good primer for politicians to read – real responses from real business people who are hustling daily. And you can easily compare notes with a state like Texas, where responses were plentiful (at least from the urban Dallas, Houston, Austin, and San Antonio areas) and the grades were outstanding across the board – Texas was the lone state to not have any B grades whatsoever, just straight A's. (Virginia was also in a fairly elite category as well, along with Idaho and Utah.) That's a very useful facet of this survey in my eyes.
Having three years of data to work with can be telling as well. Out of ten sub-categories the survey measured, Maryland slipped in eight of them between 2013 and 2014. (Only the "training and networking" improved, while "employment, labor, and hiring" stayed put. These were the two best categories for Maryland.)
It is a legitimate question to ask, though, whether the frequent talk over the last couple years about how bad Maryland businesses have it has become a self-fulfilling prophecy insofar as these survey responses are concerned. While there's obviously been changes in law and regulation, they didn't seem as bad as some of the grade drops may seem to indicate. But then these are the people in the trenches.
With the timing of the survey, I suspect it will be taken next year in the opening weeks of either the Hogan or Brown administration, and the responses may hold a key to what we can expect over the next few years as far as businesses see Maryland.
Although Jenna Johnson's Washington Post piece described Governor Martin O'Malley as "brusque…terse and often lack(ing) patience" during a Board of Public Works meeting, that meeting still netted Dominion Resources another small step toward investing $3.8 billion into upgrading their Cove Point facility by allowing them a tidal wetlands license. O'Malley joined Comptroller Peter Franchot and Treasurer Nancy Kopp in approving the permit, leaving only federal authorities in the way. The permit was for a temporary pier to offload construction supplies for the project, which environmentalists fear will lead to further extraction of natural gas in the region for export.
To me, it wasn't a vote O'Malley wanted to take, and he really didn't have to – his vote against would have only made it a 2-1 decision. But to do otherwise would have left another black mark on his administration's legacy of making Maryland one of the states most unfriendly to business in the nation, even though the permit would have gone through.
And it's not like environmentalists aren't winning the war despite losing that battle – the prospect of fracking in Western Maryland is growing dimmer by the day given some market saturation and the outlandish regulations proposed for drilling – never mind the possible benefits that would bring. But O'Malley had to disappoint the few hundred who are passionately opposing the remodeling of the LNG terminal in Calvert County.
At this point, though, it's all about promoting the legacy and let's face it: are the environmentalists going to vote for Larry Hogan? Well, there is that slight possibility but when the Washington AFL-CIO and other trade unions support Cove Point, O'Malley can't afford to alienate that group. That's hundreds or even thousands of motivated voters he has to keep in the Anthony Brown camp. So Martin O'Malley will hold his nose and vote for Cove Point, all the while hoping that his buddies at the EPA or somewhere else in the federal government will bail him out by turning thumbs-down on the project at a late stage. After all, if they can stall the Keystone XL pipeline for this long, pushing back a project just a few miles outside Washington, D.C. is almost a no-brainer to them.
So when Martin O'Malley acts like a petulant child in a meeting because he knows he has to take an unpopular vote, we shouldn't feel any sympathy for him. He's left a whole lot on the table insofar as benefiting from our American energy boom goes and he knows it.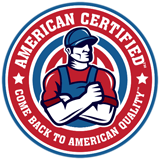 Thought I was missing something this morning. Oh well, it gave my previous post a little time to breathe.
Actually, I had a busy week outside the AC realm – actually, outside the entire realm of writing. Running around for the outside job will do that to you.
Fortunately, my slack was picked up around the AC world. Take, for example, the news that Volkswagen's new SUV will be made in America – more specifically, at the Chattanooga plant that just became unionized via the back door. So it's good news for the plant and perhaps better news for American consumers, even those residing locally as we have a relatively new Volkswagen dealership.
While German-based VW brings more production to America, though, others are considering the opposite move. AC colleague Ed Braxton reveals one reason why in his look at high domestic business tax rates, but the practice of tax inversion has led to a call from the Obama administration for "economic patriotism." (I got to expand on this a little bit on the Patriot Post as well.)
But whether it's Volkswagens coming in or businesses moving out, infrastructure remains a concern. Barack Obama's recent stop in Wilmington was the site of his unfortunate Malaysian Flight MH17 comment, but it was originally intended as the backdrop for a new infrastructure initiative and announcement of an upcoming summit on the subject, all thanks to the I-495 bridge debacle.
(When you think about it, though, we really have to give credit to those up in Delaware who discovered the issue and are addressing it. You may recall a couple other interstate bridge collapses in recent years with tragic results.)
Next week should be a more fruitful week, although Washington will soon be in vacation mode. I'm sure I can find something to write about.
If you go to the gas pump, you've probably noticed the little sign that says the blend is "10% ethanol." For several years, the EPA has mandated a certain amount of ethanol be used to slake America's thirst for gasoline, with a 10% blend of ethanol being just enough to cover the mandate. Unfortunately, with less gasoline being necessary to meet demand thanks to both a stagnant economy and more fuel-efficient cars, the mandated amount of ethanol isn't being used anymore. I noted the other day that the oil companies were calling on the EPA to scrap the proposed mandate increase this year.
When I wrote that I wasn't aware that a movement is out there to not just stop at E-15 but go all the way to E-30. Oddly enough, I saw a piece from Rick Weiland, who I referred to in my dark money post, which brought it to my attention. (Damn, that dude has made it on here twice in one week. After he loses that race, he'll probably move to Maryland and run with his newfound name recognition here.) So I did a quick bit of research and found there is a movement out there which believes E-30 is actually the optimum amount of ethanol to take best advantage of its attributes. Weiland is obviously driving a vehicle tuned to that specification and there are actual service stations which have the blend in his region – in both cases, the average motorist isn't usually going to have that condition. A check of this site revealed no such stations around Delmarva, so it wouldn't do us much good.
Needless to say, what the market won't do government will force. So Senate Democrats are pushing the EPA to increase the mandate, meaning that they'll artificially create a market for higher ethanol blends. (Flex-fuel cars are supposed to be able to handle E-15, but they've never been a popular option because they're not as fuel-efficient running an E-15 blend. It's telling that you see a lot of government cars with that option, but not a lot of private cars.)
But let's say the mandated number of gallons increases. The scarcity will be in the E-10 or straight gasoline which smaller motors need to run properly; in addition, the cost of anything which consumes or has corn as an ingredient will rise. It's why so many different groups advocated for a smaller ethanol mandate.
If we really wanted to do something to use less gasoline, it makes more sense to me to impose part of the Pickens Plan. Now I don't think wind power is the way to go because it's not as reliable as fossil fuels, but I think running fleets on natural gas is a fairly good idea for the reasons they state. To me, using food as fuel for automobiles doesn't make a whole lot of sense – and yes, I know Brazil uses sugar cane for their ethanol. Brazil can use all the sugar cane it wants.
But I look closer to home, and our chicken farmers want their feed to be as inexpensive as possible. Corn growers already have plenty of mouths to feed, so they really don't need to fill our gas tanks, too.
We were warned about this all along, but everyone seems shocked that gun maker Beretta has followed through and decided to relocate its production to a new plant in Tennessee next year. The loss of 160 manufacturing jobs from its Accokeek plant will be the gain, once production ramps up, of Gallatin, a town which is a few miles outside Nashville and is about the same size as Salisbury. Here's what Maryland is losing, from Beretta's release:
Beretta U.S.A. anticipates that the Gallatin, Tennessee facility will involve $45 million of investment in building and equipment and the employment of around 300 employees during the next five years.
It's worth noting that Beretta is not the only gun manufacturer potentially leaving Maryland. LWRC of Cambridge said last year "we simply couldn't do business here" if the gun law passed, with 300 jobs at stake. Rumors of a purchase of LWRC by Colt were rampant earlier this year,  yet while no formal announcement has been made the Bob Owens piece I'm citing is useful as a reminder of what such a company means to a rural area.
Needless to say, Larry Hogan had the expected reaction on Beretta's plight. Yet the question isn't one of "high taxes and punitive regulations" so much as it's a question of repealing a knee-jerk law passed in the aftermath of the Sandy Hook shooting – not that any law was going to stop Adam Lanza anyway, nor does this law stop a single homicide in Maryland. It was all feelgood legislation from the start; unfortunately, the powers that be chose not to back the referendum route which would have placed the law on the ballot at the same time as many who voted for it.
To change Maryland's fate in this respect, not only does the state have to improve on its business friendliness but it also has to find the political will to overturn its onerous gun laws like 2013′s Senate Bill 281. Elections mean things, and not only do we need a governor willing to backtrack on this mistake but also enough of a General Assembly coalition to get a bill through the legislature. That part may be the most difficult, because getting to just 50 Republicans in the House and 19 in the Senate would be a minor miracle – yet Republicans need 71 and 24, respectively, to actually control the chambers. It's mathematically doable but the odds of hitting the Powerball are probably much better.
So say goodbye to Beretta's production, and know that it won't be missed at all by the Democrats in Annapolis.
It's been awhile since I wrote about the energy industry but things are always happening there and I decided to take a peek because of some items I've spied in daily updates I receive from the American Petroleum Institute. I like to know what's going on in important growth industries which profoundly affect our daily lives.
As one might expect, API CEO Jack Gerard is a leading spokesperson against what he calls Barack Obama's "irrational" energy policy. It makes sense when you consider that the United States is now the world's leading producer of both natural gas and oil, thanks in large part to recent advancements in fracking technology which have revitalized the once-moribund American energy industry. Speaking before an audience in New Orleans, Gerard noted:
The choice before us is whether we pursue an American future of energy abundance, self-sufficiency and global leadership or take a step back to the era of American energy scarcity, dependence and economic uncertainty.

It is that simple.
There's a clear benefit to having the abundant resources we do. I was only nine years old when the first oil crisis hit in 1973, but I remember the long gas lines and jump in prices. If you consider the long-term effects in policy and marketing, such as the adoption of fuel economy standards and the push toward smaller cars, ask yourself what may have happened if we hadn't become so dependent on Middle Eastern oil. Would we have had the resulting mid-1970s recession?
Obviously we have recessionary conditions now in spite of the current oil boom, but there's a valid argument that opening up the spigots (so to speak) and allowing more extraction would push the economy into more consistent growth.
Another example of an irrational energy policy is our continued ethanol mandate, about which API is asking for another cutout of a mandated increase. The EPA decided not to change the allotment for this year, but needs to finalize the rule.
To me, there are two telling facts about this story: one is that API has given up on legislative relief from Congress and appealed directly to the EPA, which speaks volumes about the transition of our supposedly limited government into a fiefdom unto itself.
The second is the sheer volume of interests on the side of eliminating the mandates entirely – everyone from motorcyclists who complain about ethanol's deleterious effects on their engines (as is the case for other small engines from boating to lawn equipment) to the poultry producers who have seen corn prices artificially propped up due to the amount of corn necessary for creating ethanol and even environmental groups who fret that the corn-based product is actually worse for the environment. Obviously the corn growers love the price support, though, and farmers have their own determined lobbyists who would love to see an even higher ethanol blend called E-15 allowed.
API and other ethanol opponents are hinging their future hopes on a more business-friendly Congress in the next term, though.
Irrational energy policy on the state level may occur after this fall in Colorado, a state which has taken advantage of the energy boom but may fall prey to the scare tactics environmentalists use to portray fracking in a negative light. There Governor John Hickenlooper, a Democrat, sees his state's energy success being threatened by a petition drive to place further restrictions on fracking on their November ballot. Hickenlooper is quoted in Bloomberg as pointing out, "(t)hese measures risk thousands and thousands of jobs and billions in investment and hundreds of millions of dollars in state tax revenue."
I found this interesting because the proposed restrictions would prohibit drilling within 2,000 feet of structures, a change which energy companies complain would "effectively ban" fracking in the state. Their current restriction is 500 feet.
Now something which came out the other day to little fanfare was a draft report outlining some of Maryland's proposed fracking regulations. The original recommendation, based on other states' best practices by the University of Maryland Center for Environmental Science, Appalachian Laboratory, was for a 500-foot setback from wells. That guidance was expanded by the Department of Natural Resources and Maryland Department of the Environment to – you guessed it – 2,000 feet. (Page 18-20 here shows the recommended DNR/MDE changes.) In short, these regulations are intended to "effectively ban" fracking in Maryland to the detriment of not just our far western counties, but any of the regions of the state (including the Eastern Shore) that have shale deposits underneath. Talk about an "irrational" energy policy!
So here's the deal: Maryland wants to depend more and more on methods of generating electricity which lack reliability and increase cost to consumers. Yes, that's sounds like "smart, green, and growing" to me – not too bright, costing more green, and growing the desire of businesses to leave the state to find a place where energy exploration and extraction is encouraged and rates therefore are cheaper.
I know the Hogan administration would want a "balanced approach" to energy in the state, but I would have to hope part of that balance is returning to the best practices suggested by UMCES and not the onerous restrictions which would effectively ban fracking in the state.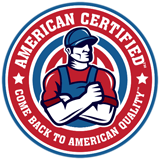 It was a varied palette of items written about on my American Certified blog, The Sausage Grinder. Maybe it was a little more like scrapple. Regardless, I made several contributions to the discourse.
For most of the spring and summer, I've been following a sort of obscure Commerce Department case regarding allegations of Korean dumping of a processed steel piping product called Oil Country Tubular Goods – it's strange that Korea is an OCTG producer when it has little oil. They made a decision favoring American steelworkers, which got positive reaction from a variety of interests.
One of those I quoted in the Commerce piece was the leader of the steelworkers' union. His fellows at the United Auto Workers got an unexpected surprise from Volkswagen, which let the UAW in the back door despite workers at the Chattanooga plant voting against the UAW in February.
The concept of economic patriotism was brought out last week in a letter from Treasury Secretary Jack Lew, who pressed Congress to do something about the practice of tax inversion, where companies transfer assets overseas to take advantage of lower tax rates. While I didn't bring up the argument in my piece, locally it's just like the practice of stores selling big-ticket items locating just across the Delaware line so they can advertise their "no sales tax" prices and hope to increase volume accordingly.
Finally, I restated the obvious: Obamacare rates will go up in 2015. In a government takeover of the health insurance industry, did you really expect otherwise?
As always, I'm working on new stuff for next week, with other stories to follow.
Once again, thousands came to Crisfield and heeded this advice.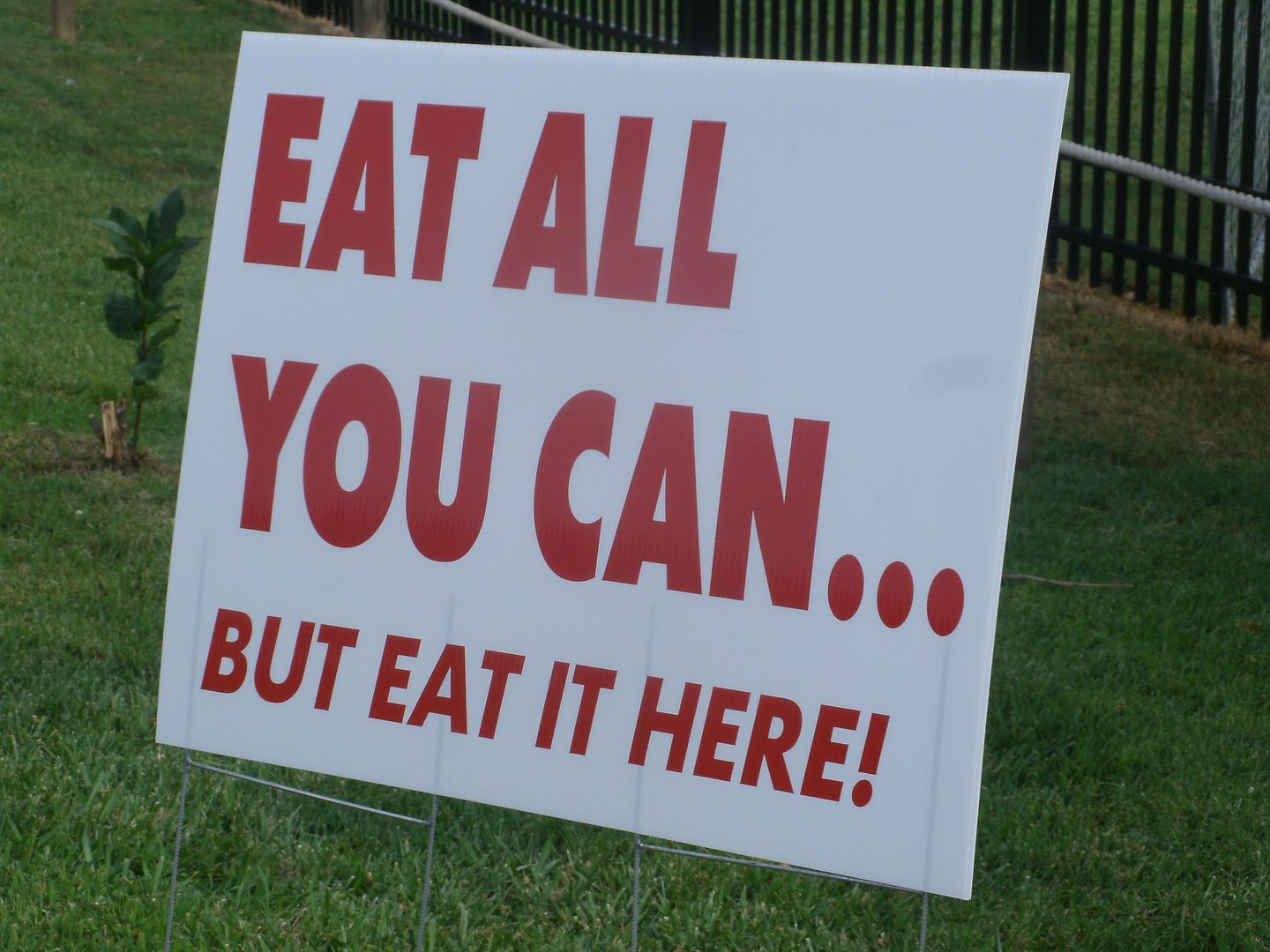 Somers Cove Marina was set up a little differently this year, but the real difference was that the attendees didn't soak through their clothes this year – instead, the day was cloudy but relatively comfortable, with only a small touch of humidity. Most years this setup – by a local engineering firm, naturally – would be oh so handy. But not so much this year.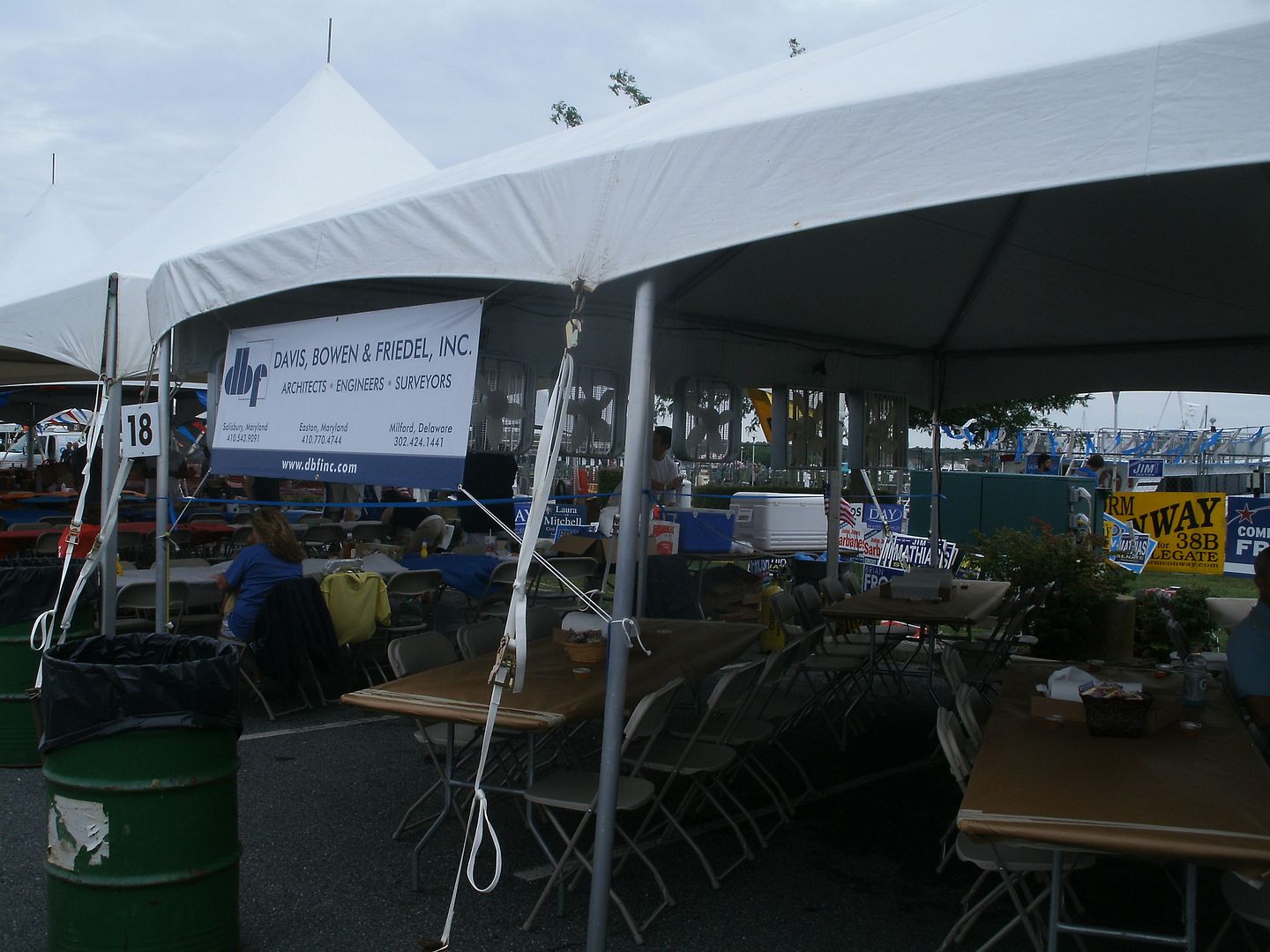 One key difference in the arrangement this year was the prominence of this tent.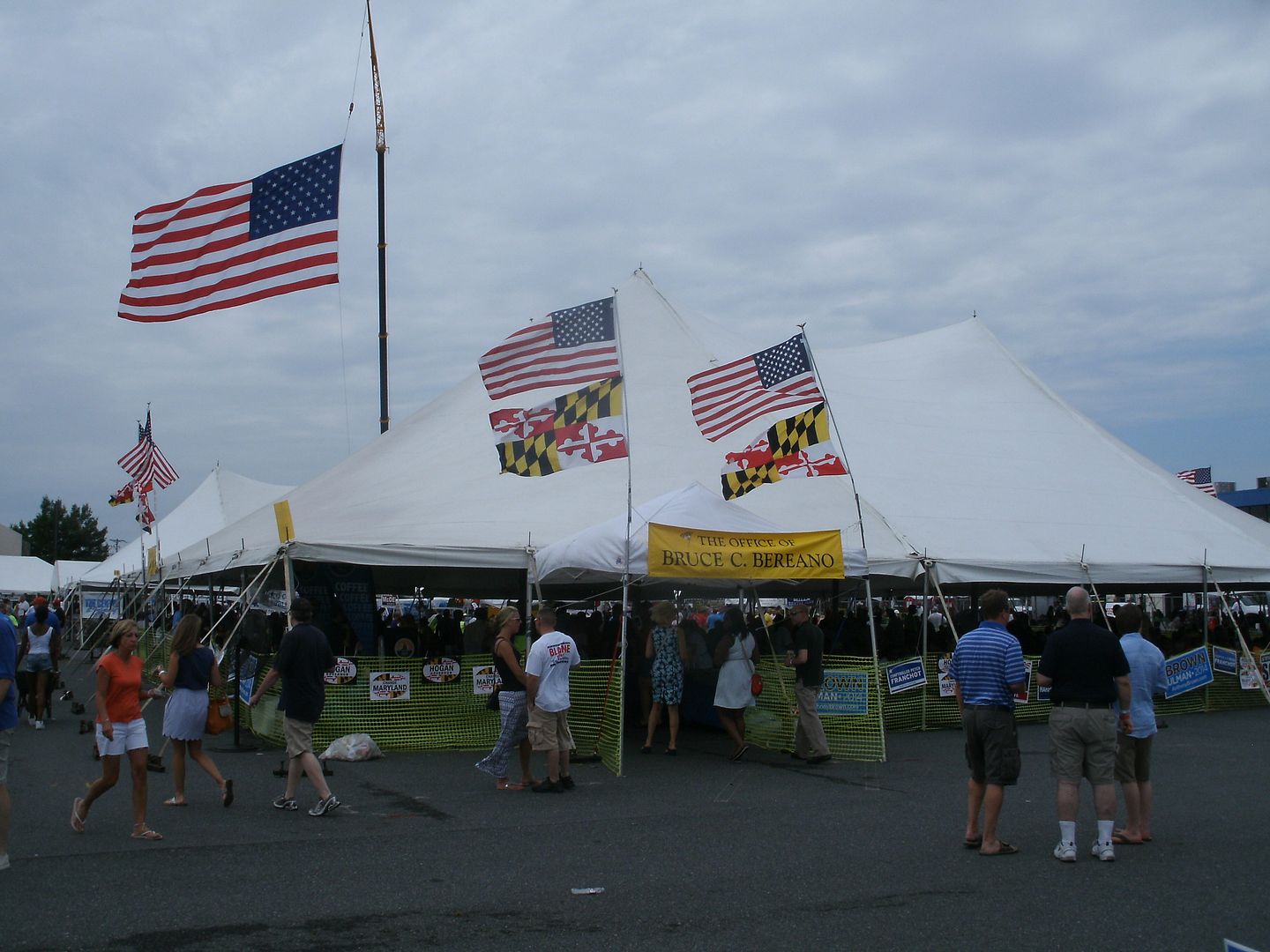 Annapolis lobbyist Bruce Bereano always has a crowded party, and it's a bipartisan affair.
The GOP tent this time was set up behind Bruce's, and it was a hub of activity for the Republican side. A lot of local and state hopefuls were there at some point.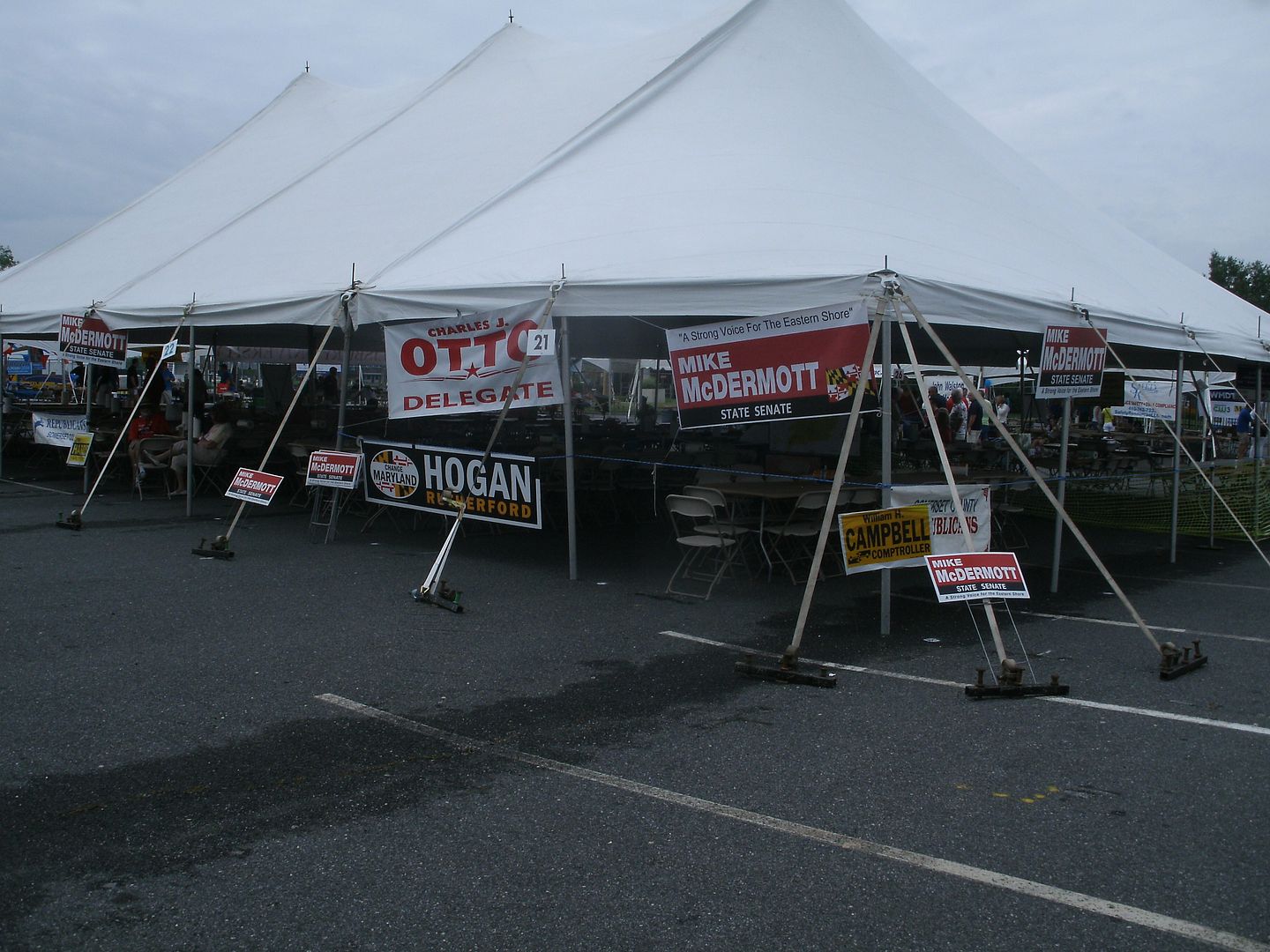 GOP gubernatorial candidate Larry Hogan decided to have his own space, which ended up by the side entrance.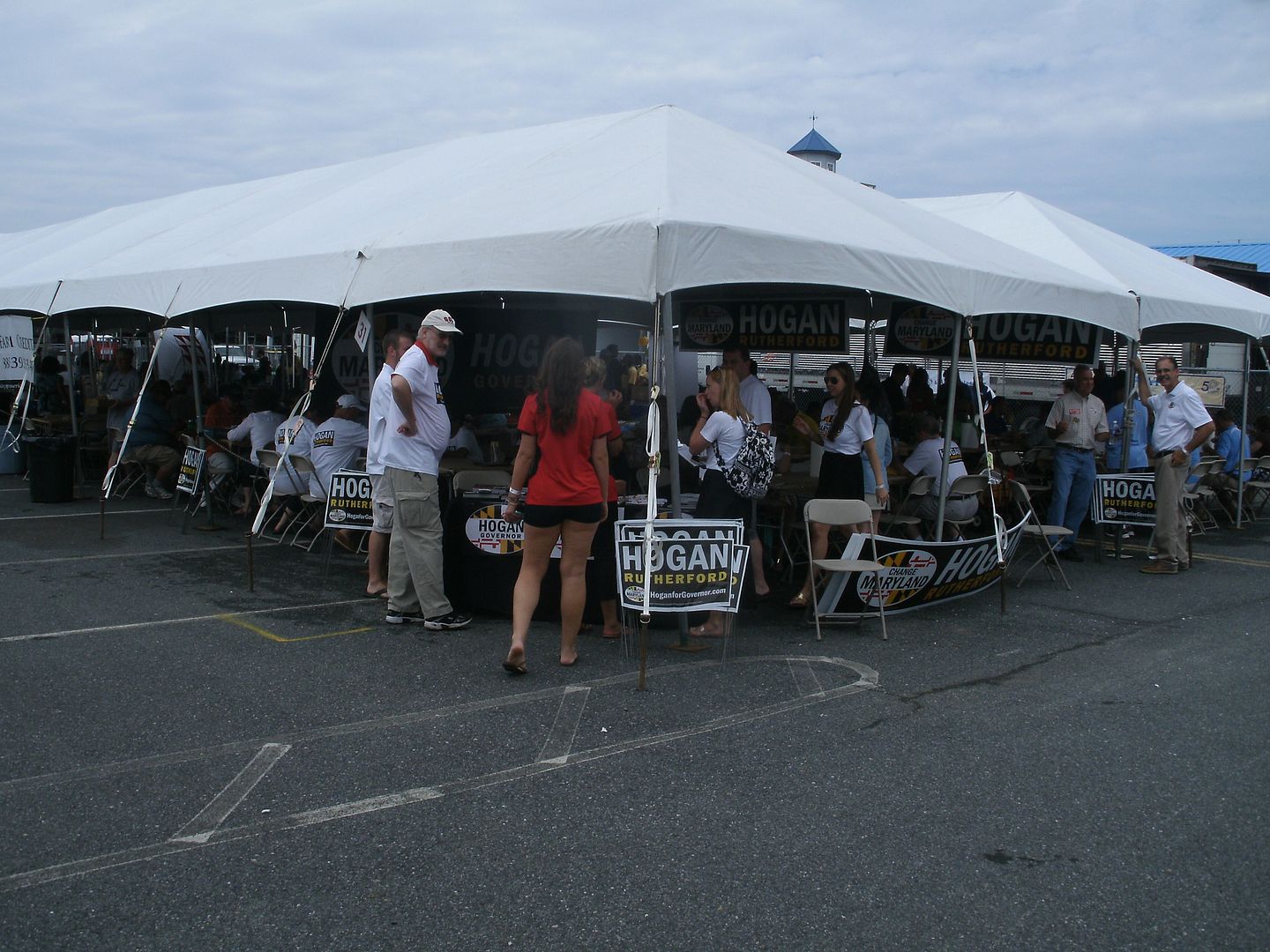 On the other side of the Republican tent and just around the corner, the Democrats were set up close to their usual rear location along the waterfront. Salisbury mayor Jim Ireton was holding court there. (He's in the white at the center, in shades.)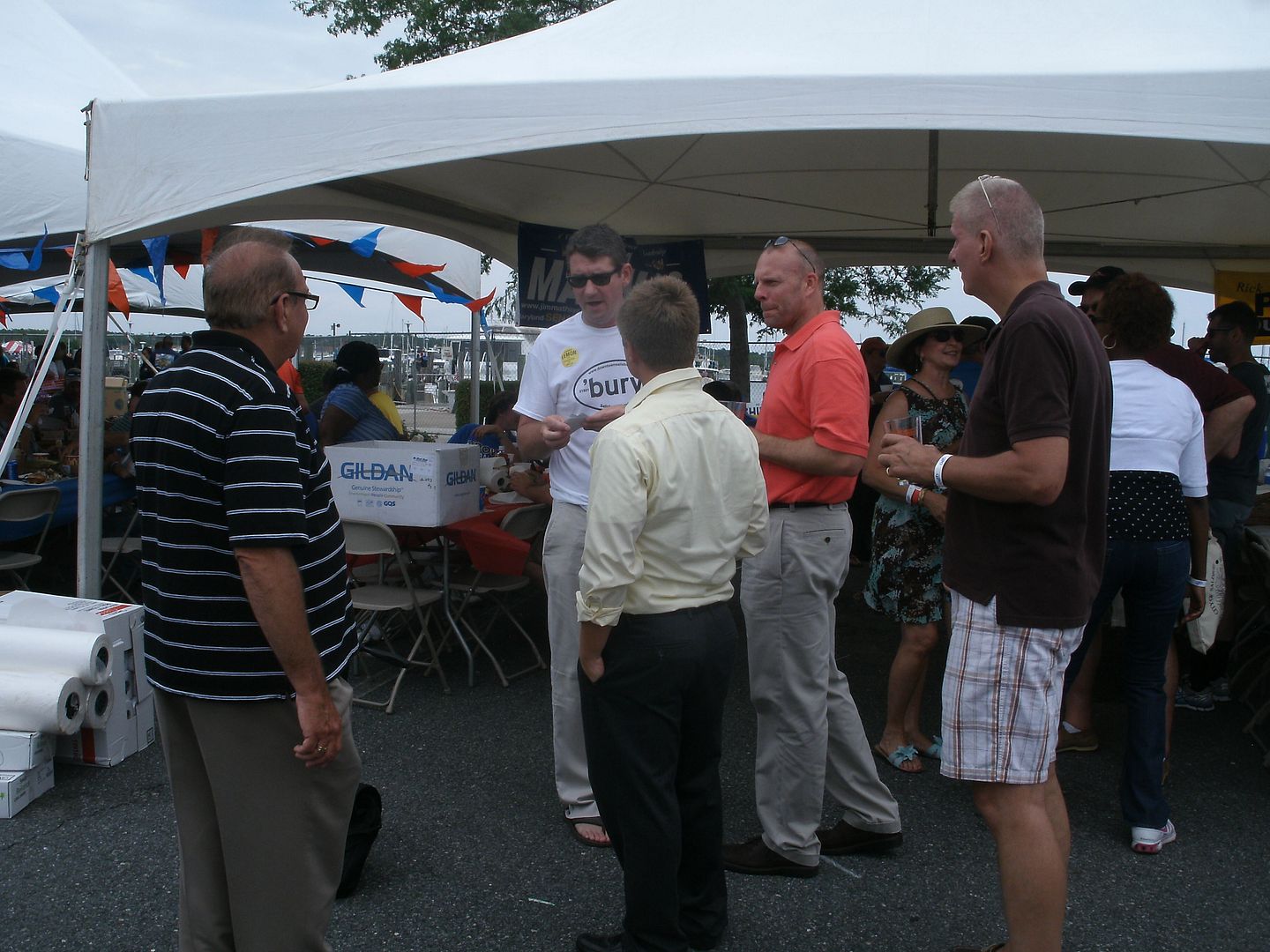 By and large, though, most of those in attendance were interested in one thing. See the light blue lean-to to the left of the Sysco trailers in the photo below? That's where the crabs were being served, and the line indeed stretched that far back 15 minutes before the announced noon opening – they really start serving about 11:30 or so.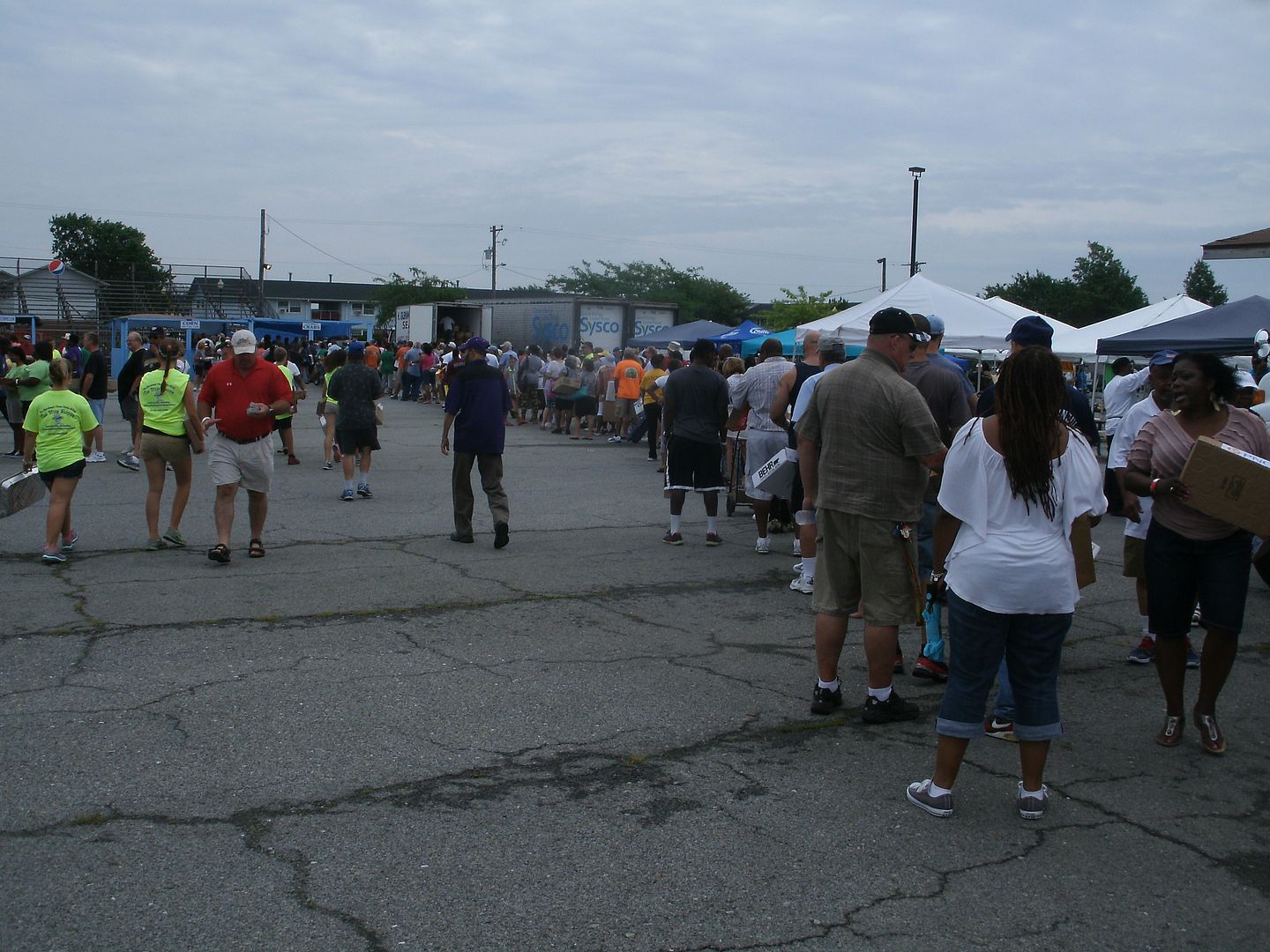 I think the longest wait I had was about 10 minutes for the Boardwalk fries. As it turns out, I'm not a crab eater – but I like the fried clams and the fish sandwiches. Oh, and there's a few politicians there too, but I'll get to that in due course because I can find the political in a lot of things – except perhaps this.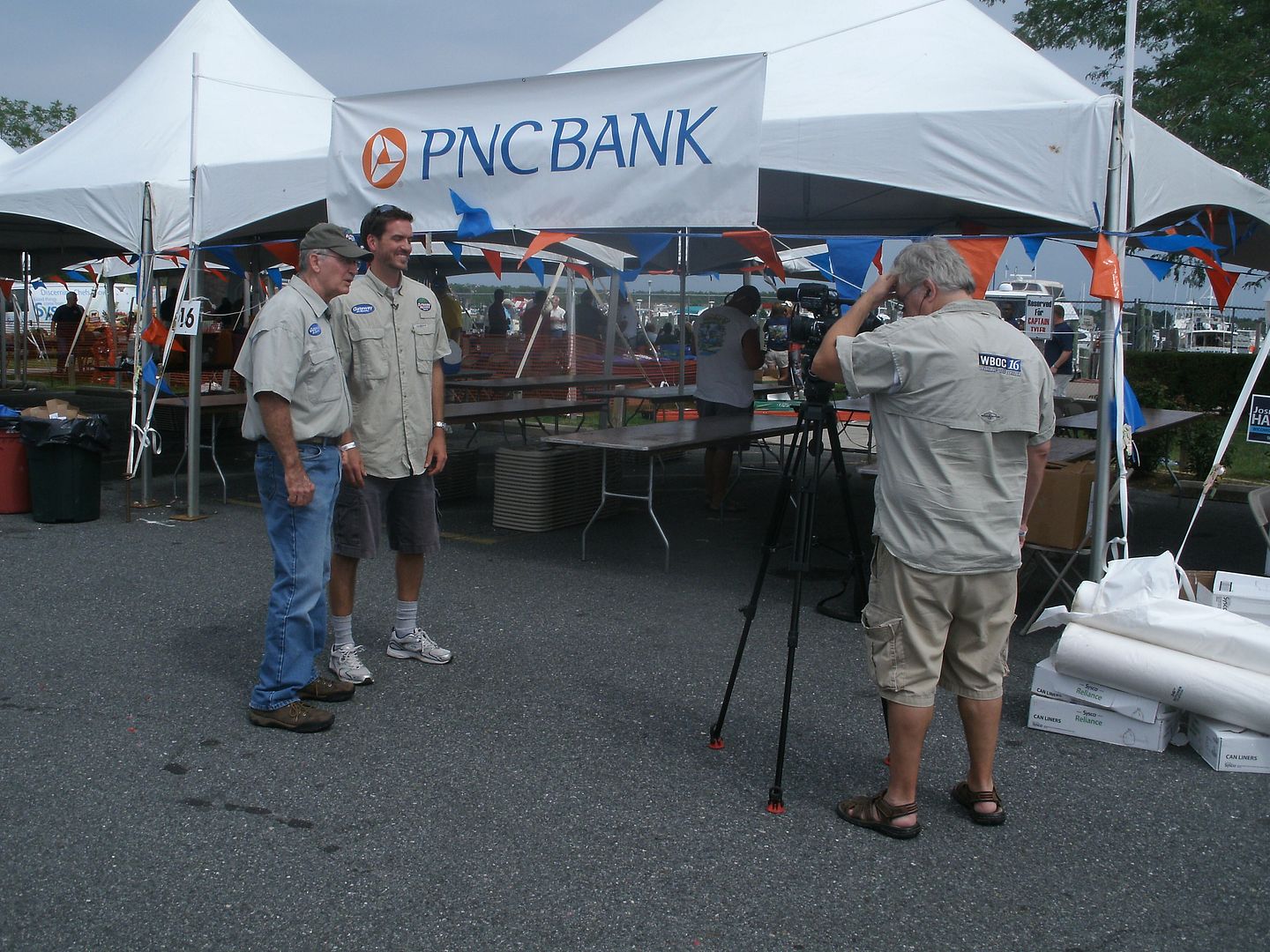 The hosts of a locally-produced show called "Outdoors Delmarva" always seem to find time to tape a segment here.
Another local business I always find at Tawes made a very classy, and apolitical, gesture this year.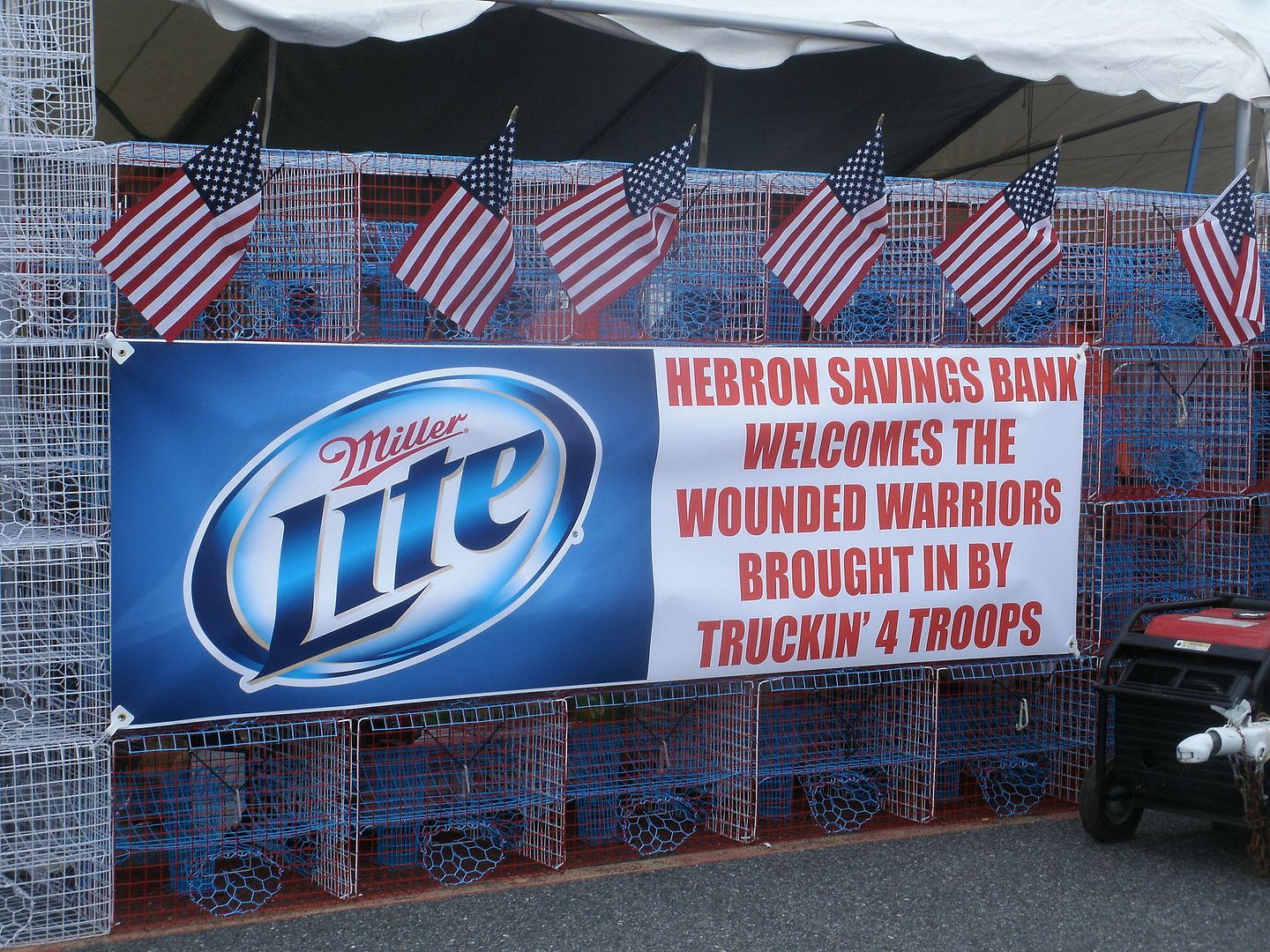 But I do find the irony in some things. For example, those of you familiar with the Hudson case may appreciate some here.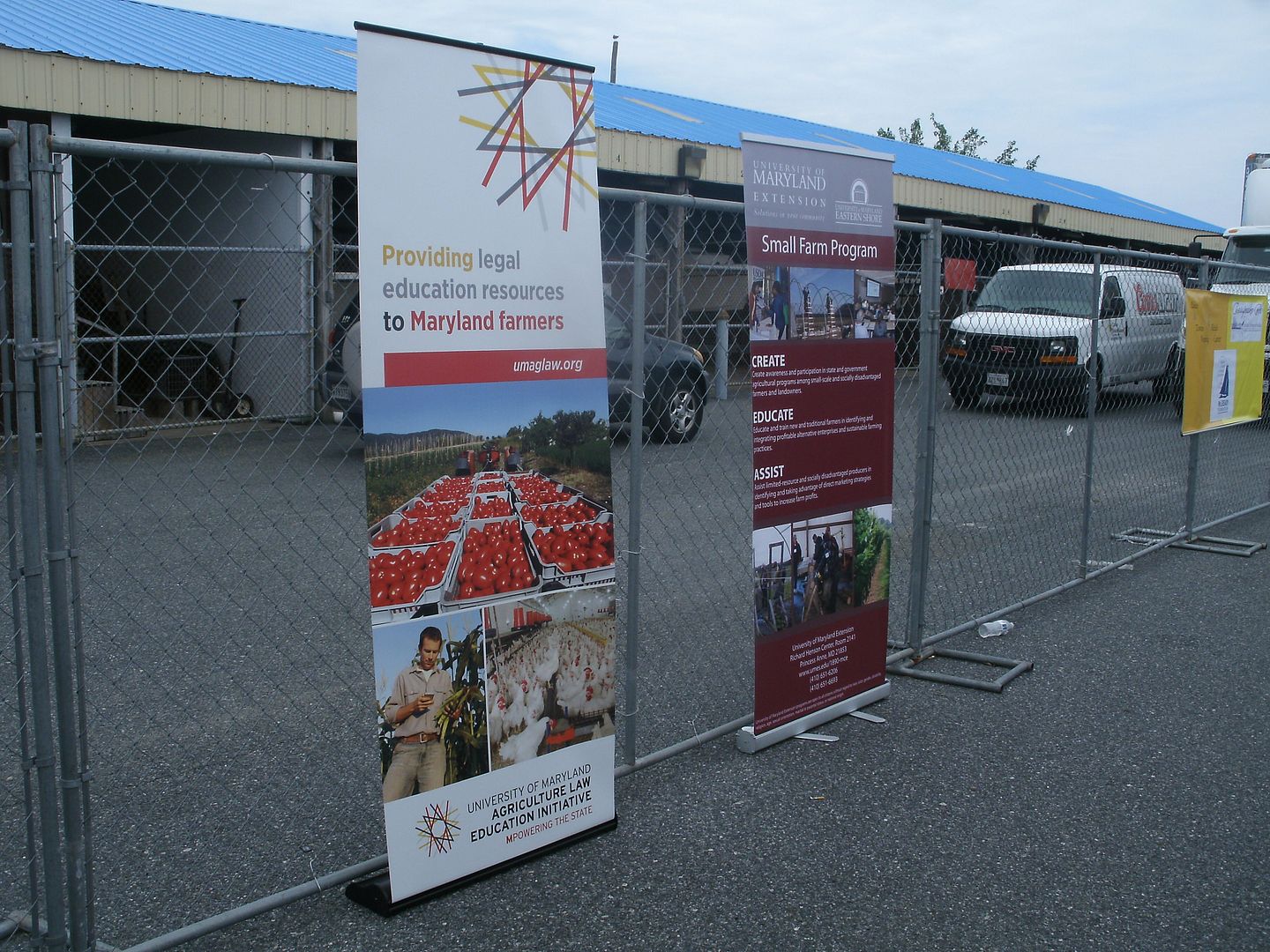 It seems to me the UM law school was on the other side of the fence before, as opposed to this group, part of the Clean Chesapeake Coalition, which tends to take agriculture's side as well as that of local government.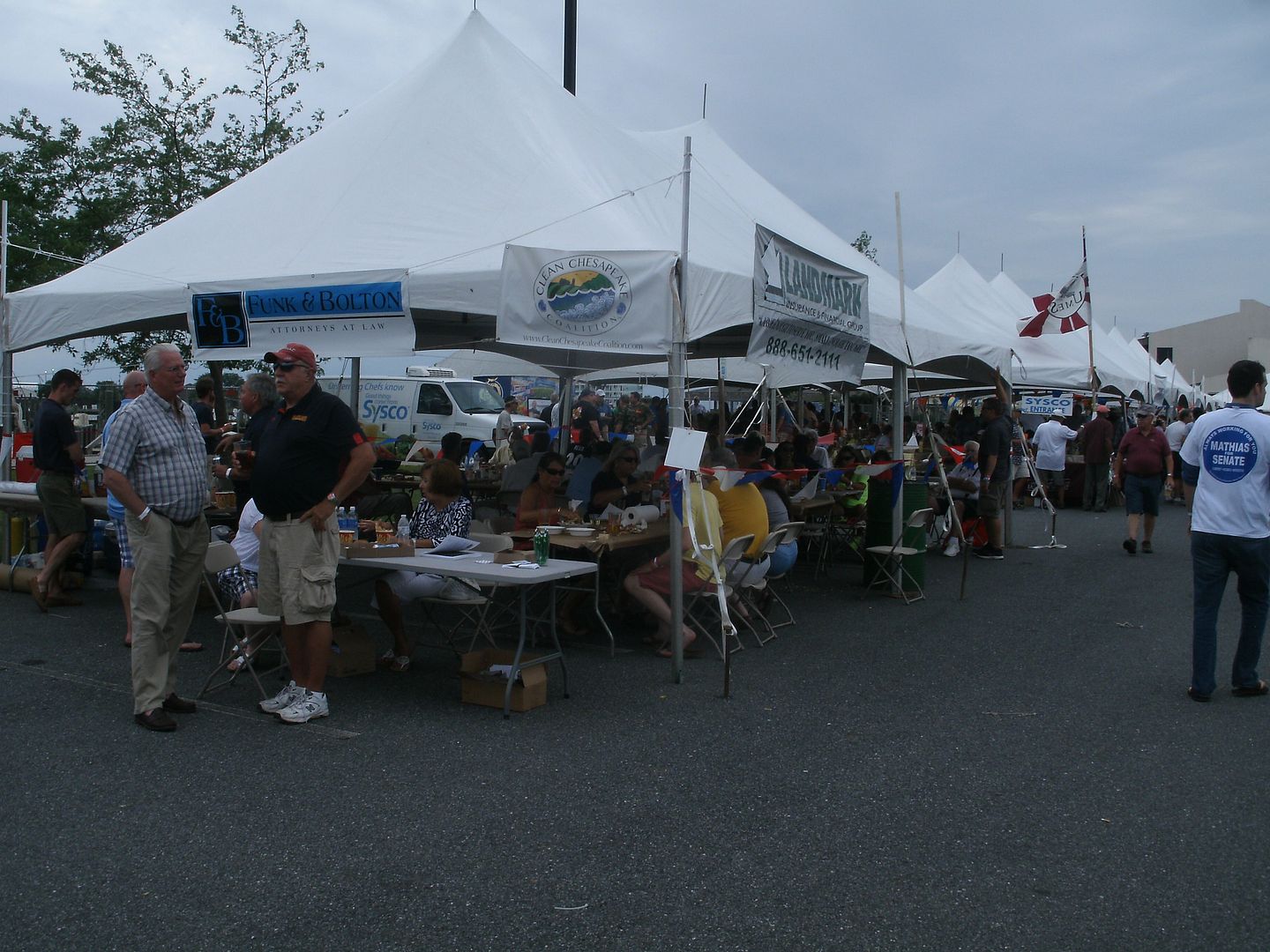 One other thing worth pointing out is the media frenzy this event creates. Here's Delegate (and Senate candidate) Mike McDermott being interviewed. Wonder how much they actually used?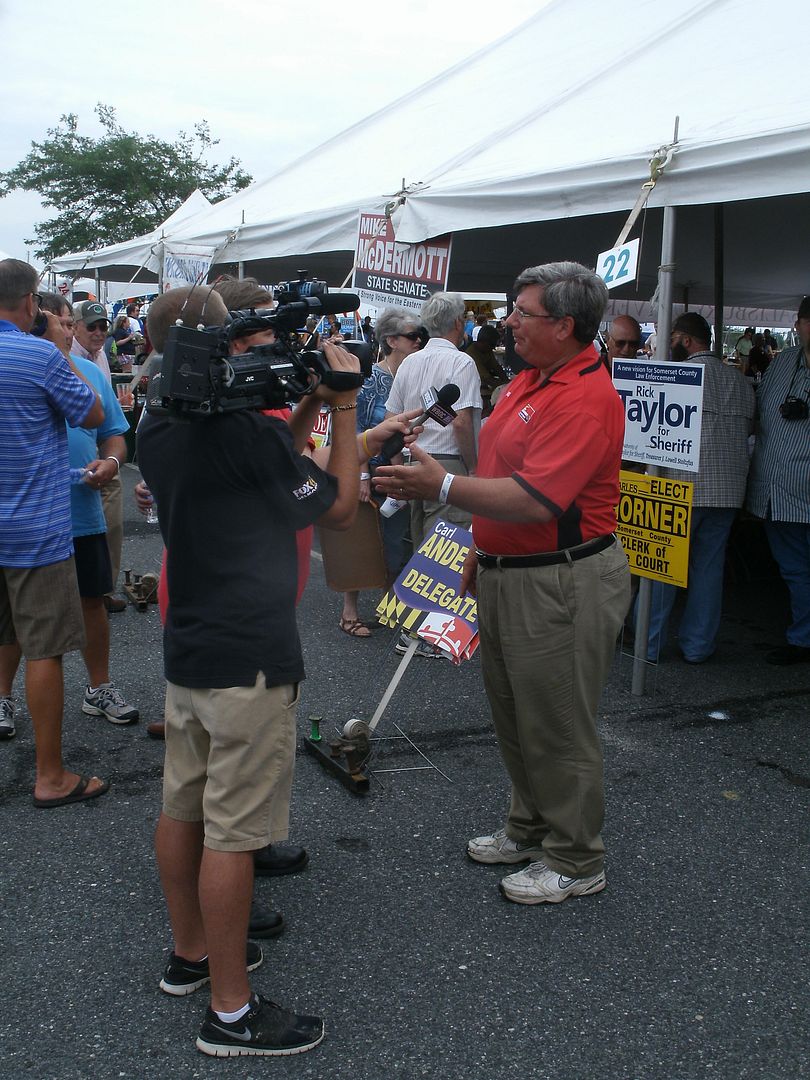 Most of the excitement occurs when the top members of the respective tickets arrive. Hogan had the tent but didn't come until the event was well underway. His entrance was rather modest.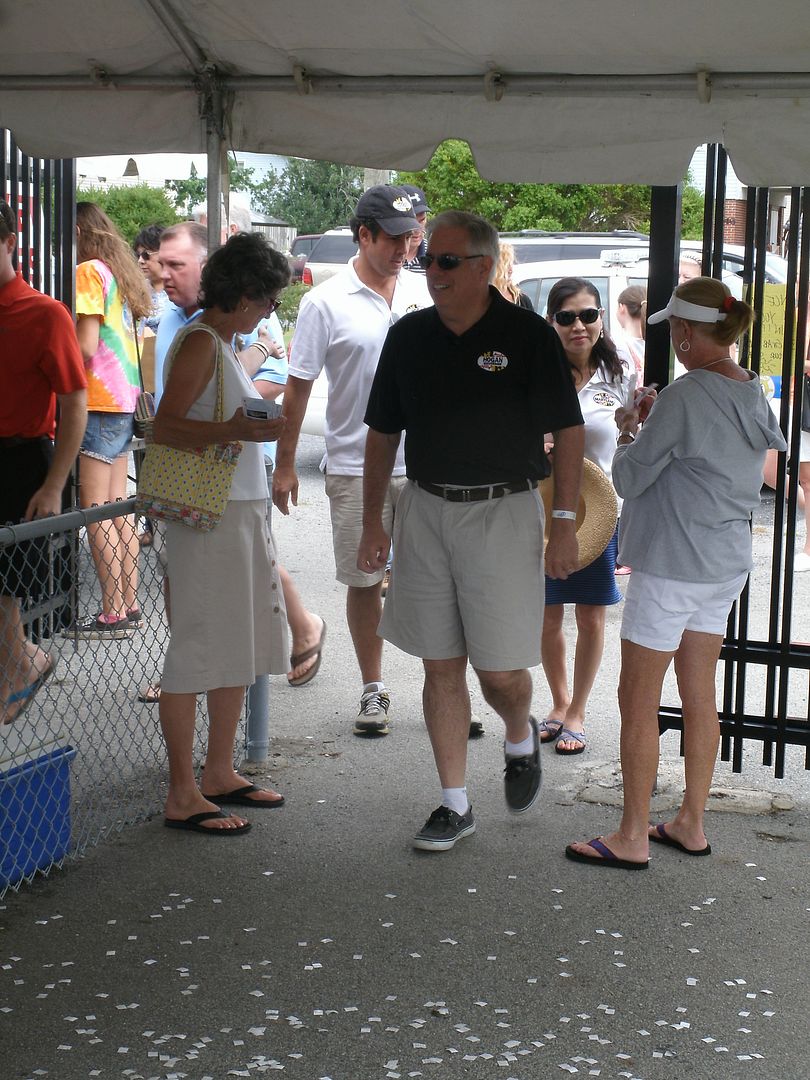 Oh, did I tell you pretty much everyone in the tent was waiting for him?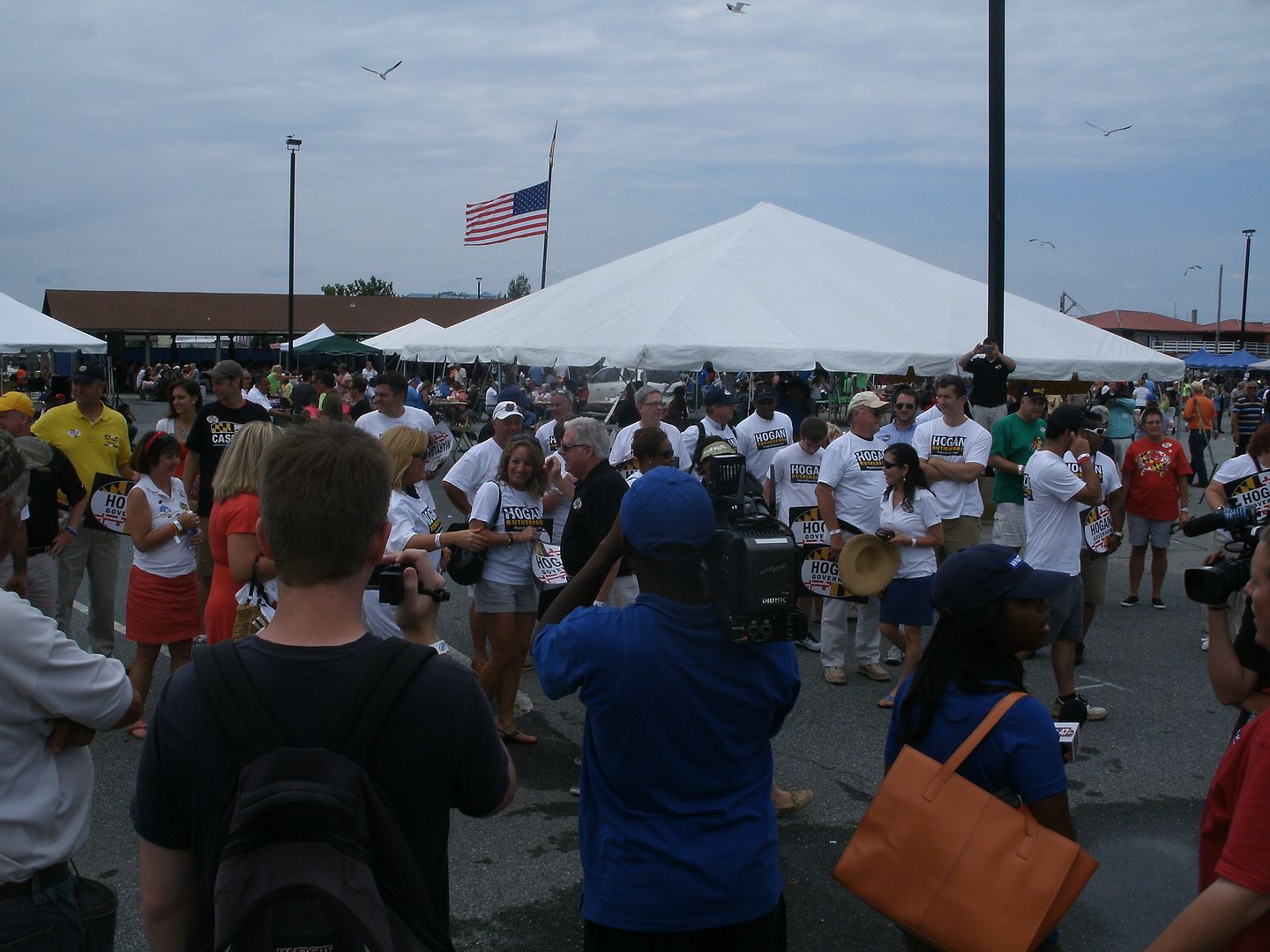 Naturally, everyone wanted to get their quote from him – perhaps even the tracker from the Brown campaign. I'm told Hogan has one.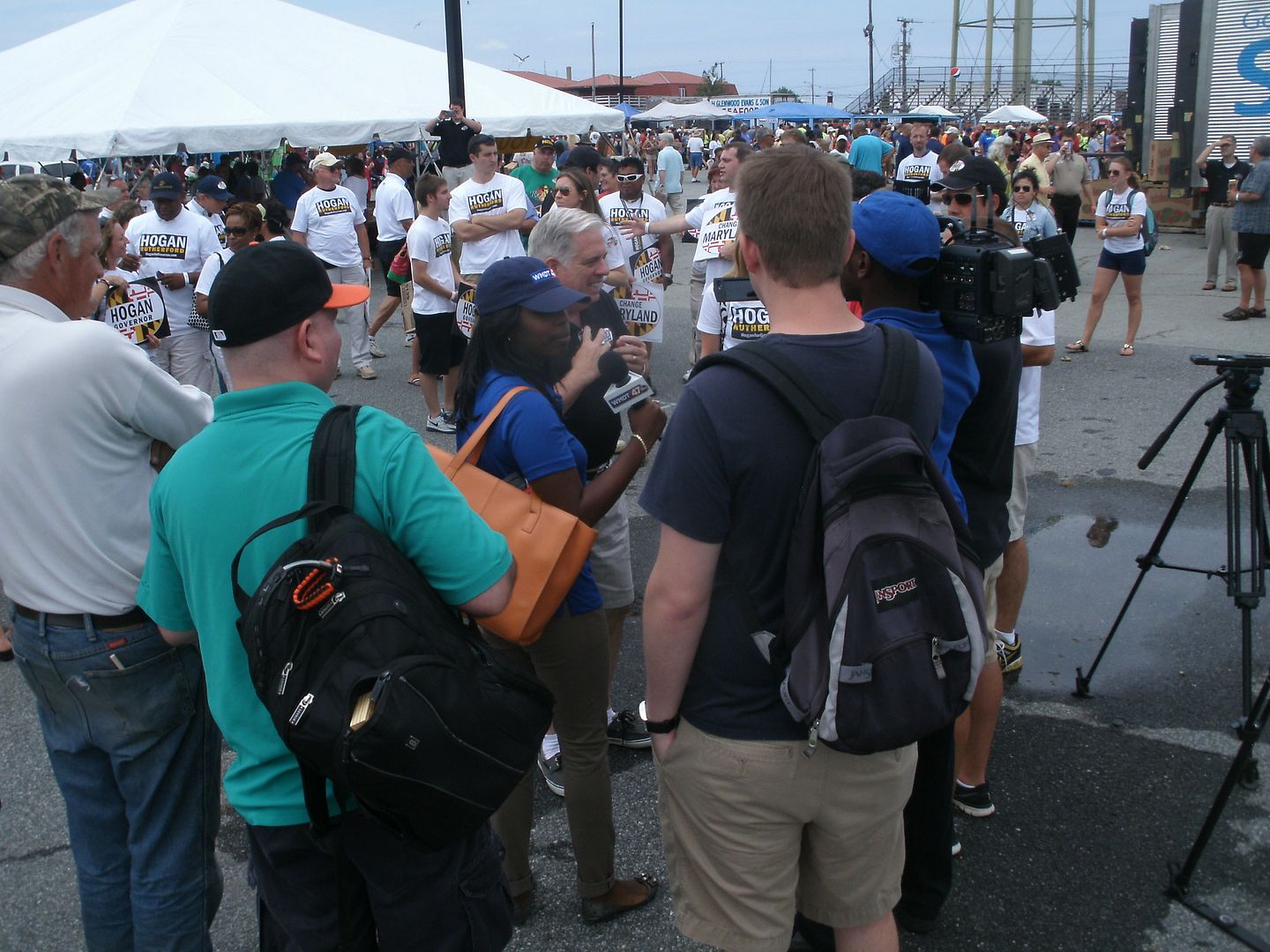 While I've been critical of the Hogan campaign throughout, the way their team handled today was outstanding. This was the first stop I noticed him making after all the interviews were through.
In case you can't read the sign above, it's the tent of the Somerset County Economic Development Commission. To me, that was the perfect place to be seen.
They took a little time to meet and greet; they being both Hogan and running mate Boyd Rutherford. But the point was that I didn't see them walking around much – instead they were engaging voters.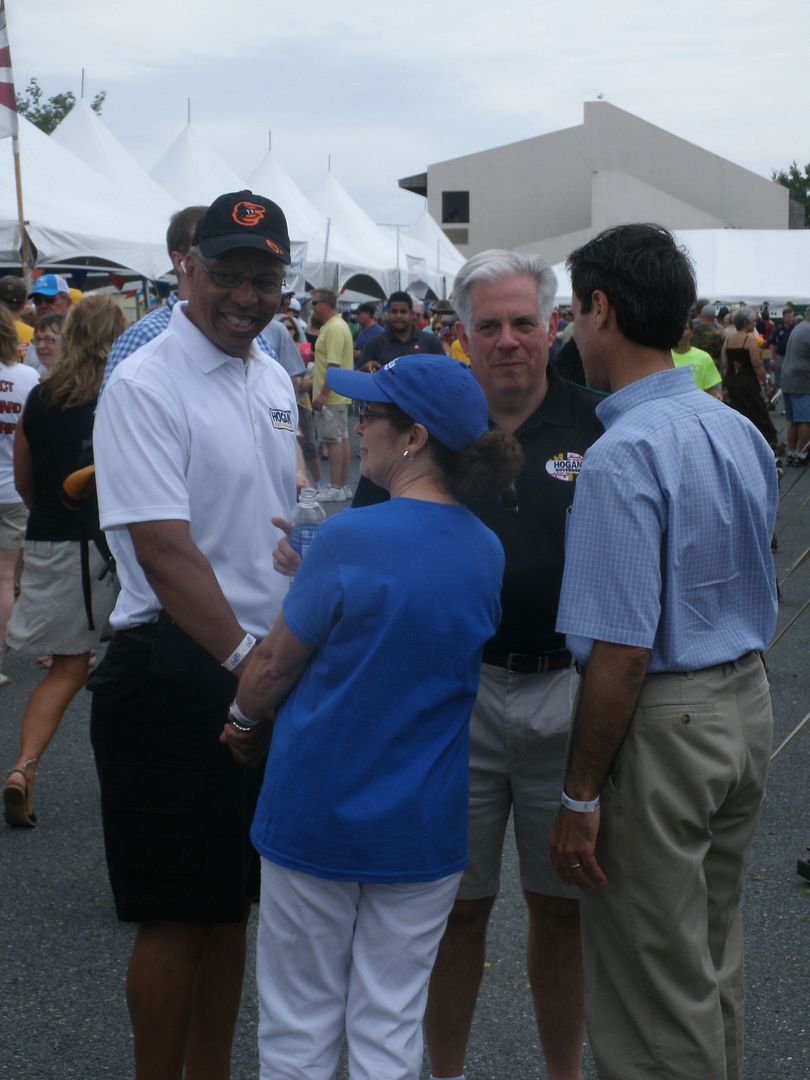 As I noted earlier, there were a number of other politicos there, but the statewide Democrats were not well-represented. I did see their AG nominee Brian Frosh. He's the small guy in the center, violating the Don Murphy rule about not wearing white.
Notably absent, though, was the top of their ticket, Anthony Brown. It's odd because he's been here a few times.
One guy who wouldn't dare miss this is local Delegate Charles Otto (center.) His Democratic opponent is the just-replaced former mayor of Crisfield, which certainly made for interesting retail politics for them.
A guy who lost his primary, Muir Boda (left) was out supporting those who won – and yes, Johnny Mautz was in the house. Muir's with Democratic Wicomico County Council candidate Josh Hastings (right.)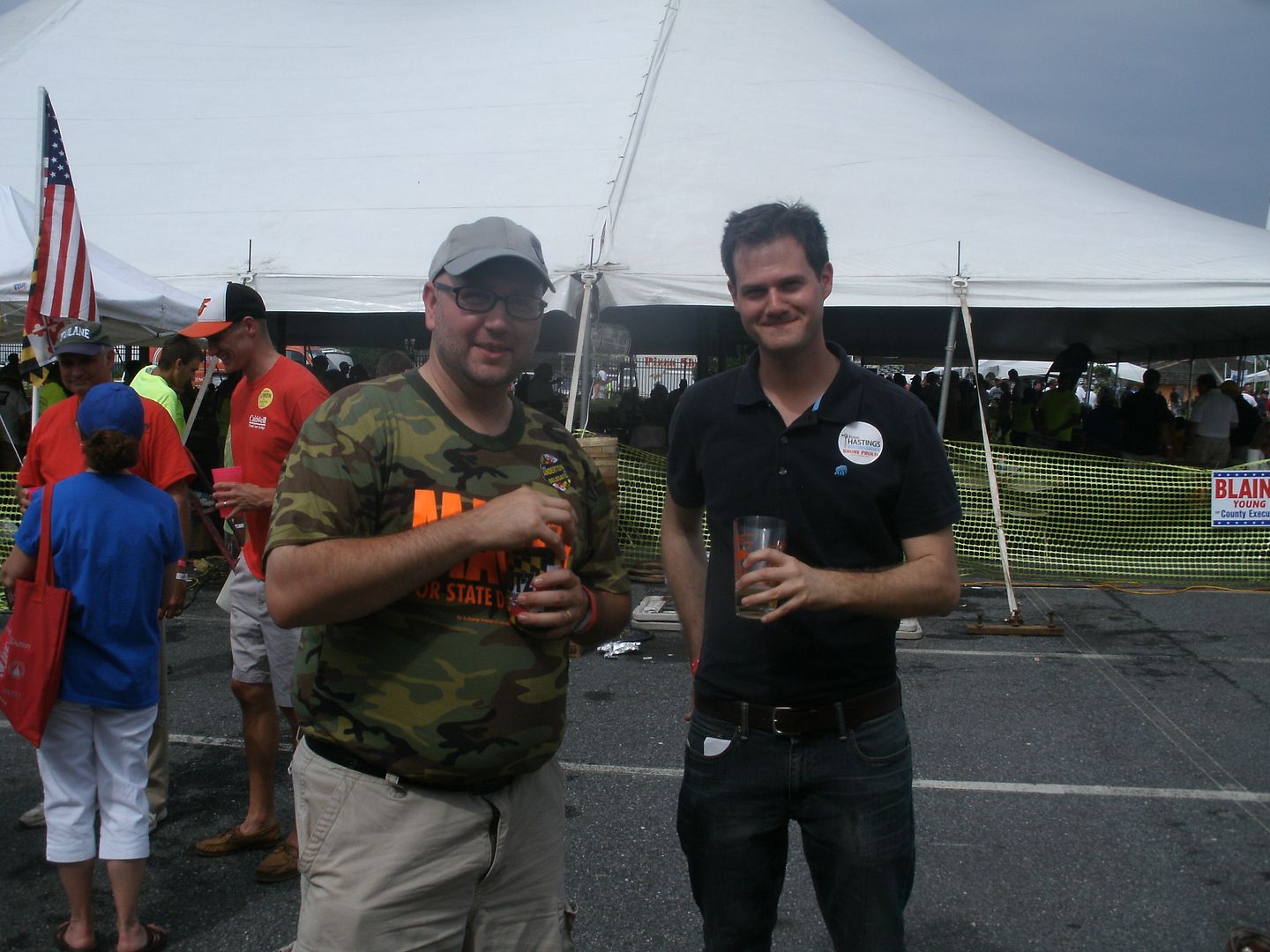 All told, there were a lot of people there. I took this panoramic shot about quarter to three, which is just before those who had their fill begin to trickle out.

One other difference was not seeing all the Red Maryland crew there, although I did speak to Duane Keenan, who does a radio show on their network. Another media guy trying to drum up business was Phil Tran, who you couldn't help but notice.
The other new media people I saw there were Jackie Wellfonder – although she hasn't blogged about her experiences yet, she did burn up Twitter – and Jonathan Taylor of Lower Eastern Shore News, who has his own photo spread.
But as the event came to an end, we know that by week's end Somers Cove will be back to normal.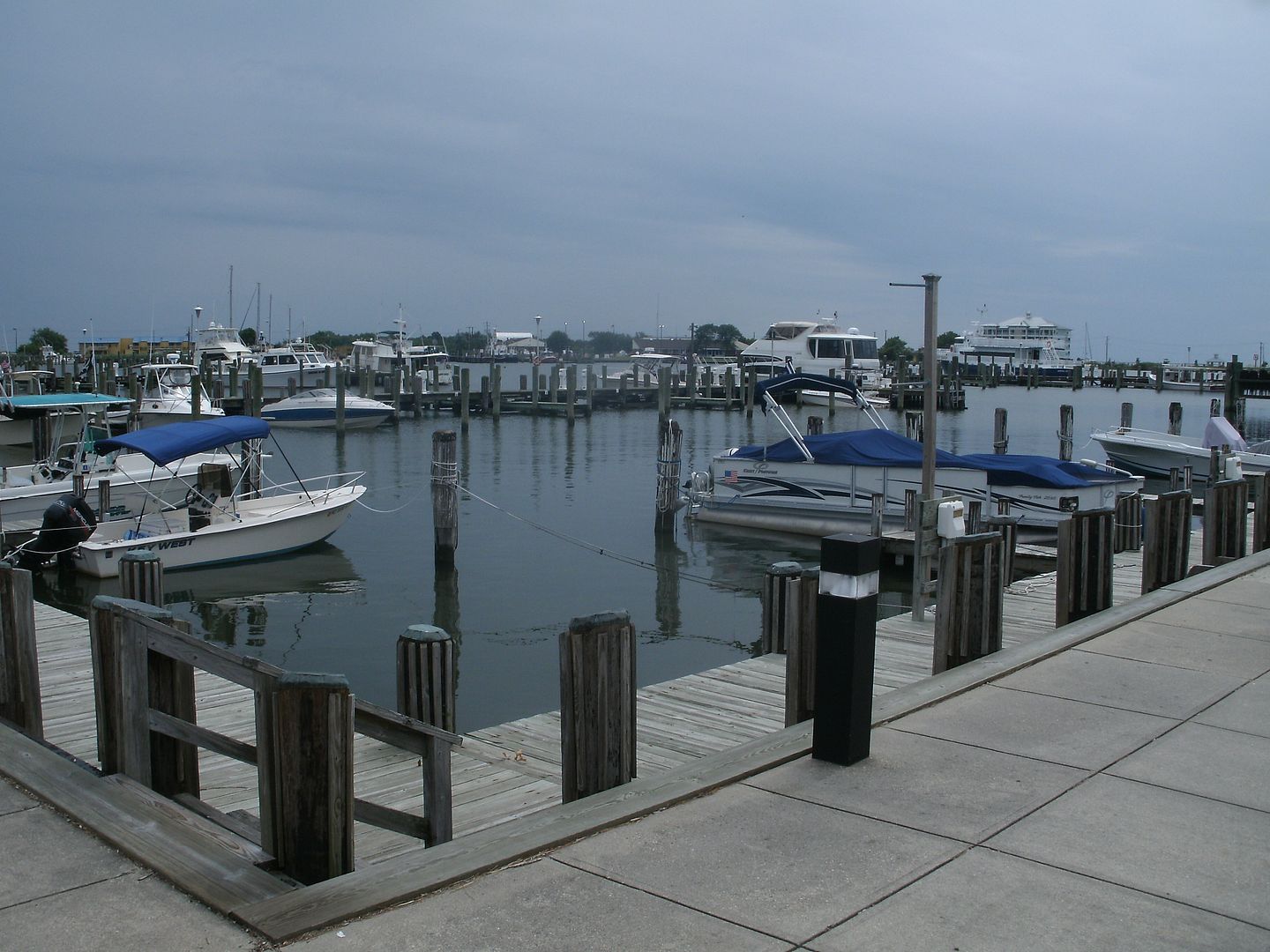 In 2015 the Tawes event should be good for sizing up the lone statewide race in 2016. While Barbara Mikulski has given no indication on whether she will retire, the soon-to-be 78-year-old senior Maryland Senator may not like being in the minority come next year and could decide to call it a career. We should know by next July.
Crisfield is the southernmost town in Maryland, but one day per summer it becomes the state's political capital. Anyone familiar with Maryland politics knows that a summer tradition is standing around on the blacktop at Somers Cove Marina waiting for crabs and watching politicians try to create a show of support. But this year's affair promises to be somewhat different than ones in years past, perhaps getting the feel of one held the year after the previous gubernatorial election.
This is because, for the first time, we already know for sure who the nominees will be. In years past we had a primary just weeks away but that's no more. So Anthony Brown will be there, presumably with a cadre of blue-shirted volunteers who will head straight to the AFSCME tent. Larry Hogan's posse will arrive at some point and the question will be how much smaller will his be, as it always seems Republican groups are smaller.
If things hold as they have over the past few years, there will be a steady stream of traffic going by the GOP tent, if only because Bruce Bereano's bipartisan party is generally right across the walkway; meanwhile, the Democrats will hole up in the opposite corner by the cove, near a place I generally go to get some shade as I walk around. The only difference is that shade may not be such a requirement – the forecast for Crisfield tomorrow is for temperatures only in the upper 70s but a chance of rain throughout the afternoon after a stormy early morning. It could affect the business portion of the event, as a number of local businesses use this as a party for their employees and clients. (It's not just politicians having a good time – I have some beer pong photos from a few years back. I was not a participant.)
I have no insight as to how ticket sales are doing, aside from knowing we sold most of our allotment. I do know this will be the ninth straight one I've gone to (beginning in 2006) and a lot of things have stayed pretty constant. Something worth noting from 2006 is that then-Governor Ehrlich skipped the event – and lost. Martin O'Malley didn't skip the event in 2006 and 2010, and won.
But instead of blast-furnace hot as is usual, we may be drowned rat wet. Fortunately, there are tents but those cardboard box halves may come in handy as makeshift umbrellas. (Pro tip: don't forget the box half, although occasionally campaigns will be one step ahead and bring a bunch. It's a good place to use old bumper stickers.)
In any event, be looking for me. I got my ticket last week and will be there with my little camera taking pictures as I have for most of the last several years. I have a lot of good memories of Tawes and met some fine people, so there's no reason to stop going now.
Editor's note: These were originally prepared for my American Certified Sausage Grinder blog as two different pieces but not used there. It's a good opportunity to introduce readers who haven't gone there to check it out (although I have to ask – why haven't you already?) to the somewhat different style I employ there. Think of it as a sampler plate.
Last Thursday – a day early due to the Independence Day holiday – the Bureau of Labor Statistics announced the June unemployment rate had decreased to 6.1%, which is the lowest rate in nearly six years. A total of 288,000 jobs were added in June; in addition, an extra 29,000 jobs were added in adjustments to April and May's figures.
All this should be good news, but manufacturing jobs only increased by 16,000 over the period. This brought the ire of Alliance for American Manufacturing president Scott Paul, who complained that:
While the low-wage recovery progresses full bore, the June jobs report shows that high-wage job growth is at a standstill. Manufacturing accounted for only 5.6 percent of job growth in June, far below its weight in the wider economy. Construction job growth was even slower.

Looking for a reason why? It's all about public policy. Our growing trade deficit with China, currency manipulation by overseas competitors, and a paucity of investment in infrastructure are leaving factory jobs at a virtual standstill. President Obama's vision of creating 1 million new manufacturing job during his second term is way off track.
According to AAM, the total manufacturing job growth over Obama's second term stands at 156,000 – far short of the pace necessary to achieve a million new jobs before 2017. That pessimism extends to the public at large, as a Rasmussen Poll indicated just 23% of Americans believed the unemployment rate will be lower next year.
On the other hand, writing at the Shopfloor blog, economist Chad Mowtray of the National Association of Manufacturers took a more optimistic view, calling the report "mostly positive news." And while he stressed that wages were increasing at a solid clip, he also pointed out that labor force participation rates were still a source of worry.
Strangely enough, a report on exports for May also came out Thursday, as the Commerce Department announced U.S. exports of goods and services hit a record $195.5 billion high. Many in the steel industry – as well as dozens in Congress – are awaiting next week's determination on possible dumping penalties against South Korea, while other exporters are lobbying for Congress to act on re-authorization of the Export-Import Bank before the September 30 deadline. Going forward, these determinations could affect future unemployment numbers as well as prospects for those who want to make things in America.
On a state level, though, the news was better.
In order to make things in America, workers are needed. And recently released employment data from the Bureau of Labor Statistics shows manufacturing employment was up year-over-year in May in 44 of the 50 states. (Page 17 here.)
With all the winners, though, it may be time to ask about the losers. The six laggards in the field were Alaska (down 1,800 jobs), California (down 1,400 jobs), Georgia (down 900 jobs), Kansas (down 1,700 jobs), Maryland (down 600 jobs), and North Carolina (down 300 jobs).
Alaska is an interesting case as it reflects in part the fortunes of its oil industry – just a few short years ago it was the only state gaining manufacturing jobs long-term over the decade from 2001-11. But a steady decline in oil production has hampered its local economy, and the state lost nearly 13% of its manufacturing jobs over the last year.
The other significant loser is Kansas, but a regional university's study predicts an upswing in manufacturing employment over the next three months.
Out of the six where manufacturing employment declined, there is no clear political or labor pattern which can be discerned. Four of the six states have legislatures controlled by Republicans, but that's fairly proportionate to the 28-17 advantage Republicans have overall. Three of the six are right-to-work states, which also reflects the close 24-26 split between our national composition of right-to-work vs. forced unionism states.
Conversely, the states which did quite well over the last year tended to be the ones bordering the Great Lakes. Minnesota (up 4,400 jobs), Wisconsin (up 1,400 jobs), Illinois (up 900 jobs), Indiana (up 2,900 jobs), Michigan (up 8,500 jobs), Ohio (up 5,800 jobs), Pennsylvania (up 3,100 jobs), and New York (up 600 jobs) all benefited, with Michigan's first-in-the-nation increase by itself making up for the six states which lost workers. It appears a healthier auto industry is leading the charge.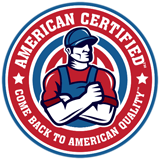 I had a varied palette of posts last week at my Sausage Grinder blog, touching on such diverse subjects as immigration, business climate, and entitlements. Segregated from each other, they may not make as much sense to the whole but the idea behind the site is to look at regulatory aspects and how they affect the practice of "made in America."
Let me begin by noting that my AC cohort Ed Braxton may have stepped on my toes a little bit, but his contribution was a nice look at the sheer volume of regulations businesses in our nation have to deal with on a federal level. One Congressman is trying to SCRUB all that away. (The bill text is here.)
Those regulations, at all levels of government whether federal, state, or local, are chipping away at the perception business owners have about the local business atmosphere. For the third consecutive year, the website thumbtack.com partnered with the Kaufmann Foundation to gauge business friendliness – and the results were an overall disappointment. With states like Maryland and Delaware already shut down legislatively for the year, relief is nowhere in sight.
Meanwhile, with the number of Congressional calendar days for the 113th Congress dwindling to a precious few, there's really not much action we could expect on the federal level; moreover, that time limit will also stop us from addressing entitlements like Social Security. I thought the "big, smelly elephant in the room" characterization was apt, particularly as we've let it linger for nearly a decade without a serious crack at reform.
There is an added bonus this week. I noticed two pieces I sent in over the Independence Day holiday weren't picked up – not sure if my editor missed them because he was out or just what happened. (I do a lot of AC work on the weekends, so it should have been nothing unusual.) Since they actually relate with each other, and I don't believe in letting good writing go to waste, I will post them – slightly modified for flow, of course – here this evening.
And don't worry – my editor has three new pieces I wrote yesterday, on hot-button issues, to help fill the AC site. They should be up this coming week.
To me, it was good news from the RNC: the 2016 GOP convention is slated for Cleveland. For those of us on the East Coast, it's a city within driving distance and in my case I would have a ready-made place to stay because part of my family lives there. The "mistake on the lake" could achieve the daily double as well, since the Democrats also have their eye on Cleveland for their convention – if so, it will be the first time in 44 years both parties have held their convention in the same city, with Miami being the site of both 1972 conventions. Cleveland last hosted a national convention in 1936, when Republicans picked Alf Landon to face Franklin Roosevelt. (They also hosted the 1924 GOP convention, which nominated President Calvin Coolidge for a full term.)
But to me it's a milestone of a city going through the pains of revitalization, A few weeks ago, on my Sausage Grinder blog, I wrote a piece reviewing a study done in Cleveland about how the city is attracting more and more young workers. Frustrated by high real estate prices on the coasts and finding good jobs in the "eds and meds" fields, Cleveland is becoming a destination of choice around the region. Yes, that Cleveland.
If the GOP wants to send a message about their vision for America, they should focus on the process Cleveland is using for its rebirth. The city is a laboratory to study mistakes made and methods which work, as it serves as a microcosm of sorts for the country at large. Built up in an era when brains and brawn were needed in equal supply to create the goods which helped a young America prosper and witness to an exodus to both its suburbs and more favorable regions which all but killed the city, Cleveland can still be a survivor. As I wrote in my piece, Cleveland is a place "where manufacturing is in the blood." I think making things in America again is the key to a national renaissance.
Certainly Dallas and Kansas City, Cleveland's two main opponents in the fight to be convention host, have their own stories to tell. But there's a political factor to consider: Texas and Missouri have been fairly safe Republican territory over the last several elections, but Ohio has gone with the winning Presidential candidate a remarkable 13 elections in a row – so any Republican advantage there can be vital. On a state level, the GOP has been dominant for much of the last quarter-century, albeit with less-than-conservative politicians occupying the governor's chair – George Voinovich, Bob Taft, and John Kasich have left a lot to be desired insofar as the conservative movement is concerned. But if Kasich secures re-election this year, he will be the fourth two-term Republican governor in a row stretching back to the days of James Rhodes, who served four non-consecutive terms beginning in 1963.
So if I'm blessed enough to get an opportunity to cover the proceedings – or even be a delegate or alternate – I think it would be fun to give the perspective of a transplanted Ohioan. It's something I can scratch off my bucket list in fairly familiar surroundings.