Commentary by Marita Noon
In his less-than-enthusiastic endorsement of Hillary Clinton as the Democrat's choice for President, Sen. Bernie Sanders decried "Greed, recklessness, and illegal behavior" and declared that we couldn't let "billionaires buy elections." Perhaps his opposition research team discovered what we have about Clinton's connections with the very entities he despises: Wall Street – which he's accused of "gambling trillions in risky financial instruments;" and "huge financial institutions" that he says: "simply have too much economic and political power over this country."
Wall Street and its "huge financial institutions" are Clinton allies – supporting both her campaign and donating big bucks to the Clinton Foundation.
In the batch of Democrat National Committee (DNC) emails WikiLeaks made public on July 23, DNC Research Associate Jeremy Berns tells his colleagues: "She [Clinton] doesn't want the people knowing about her relationships on Wall Street." He adds: "She wants to achieve consistency and the best way to do that is to keep the people ignorant."
For the past four years, I've collaborated with citizen activist/researcher Christine Lakatos (she's been at it for six years) on what we've called: President Obama's green-energy crony-corruption scandal. Together we've produced the single largest body of work on the topic. In her blog, the Green Corruption Files, she posts her exhaustive research – what I affectionately refer to as the drink-from-the-fire-hydrant version. I, then, use her research to draft an overview that is appropriate for the casual reader.
More recently, our efforts have morphed to include the Democrats' presidential nominee, as Lakatos found the same people are her "wealthy cronies," too.
In Lakatos' most-recent, and final Green Corruption File, released on July 19, she states: "While there are numerous ways you can 'buy access to the Clintons,' I'm only going to connect the dots to the Green Gangsters, which we've already established are rich political pals of President Obama, as well as other high-ranking Democrats and their allies, who were awarded hundreds of billions of 'green' taxpayer cash."
Her lengthy report is "devoted to proving beyond a reasonable doubt that the Democrat presumptive presidential nominee, Hillary Rodham Clinton, is not on only in bed with Big Money (Wall Street, the Uber-Rich, special interests groups and lobbyists) and Dark Money (Super PACS and Secret Cash), she's also bankrolled and is in cahoots with – directly and through her husband and her family foundation – the wealthy Green Gangsters, who are robbing U.S. taxpayers in order to 'save the planet.'"
While the dozens of pages prove the involvement of names you know – like former vice president Al Gore, former Governor Bill Richardson, and billionaire donors Tom Steyer and Warren Buffett, and names you likely don't know: David Crane, John Doerr, Pat Stryker, and Steve Westly – I've chosen to highlight the Clinton's Wall Street connections that have benefited from the green deals that were cut in the Obama White House and that will continue on if Clinton wins.
Lakatos points out: "Clinton's 'ambitious renewable energy plans' move far beyond Obama's green mission that has been rife with crony capitalism, corporate welfare, and corruption." Along with more climate rules, she "wants an open tab for green energy." Remember the DNC's official platform includes: "the goal of producing 100 percent of electricity from renewable sources by 2050″ and "a call for the Justice Department to investigate fossil fuel companies for misleading the public on climate change."
Three Wall Street names of my limited-word-count focus are Goldman Sachs, Citigroup, and Bank of America. Each is a top-contributing Clinton campaign supporter and a Clinton Foundation donor. They have benefited from the hundreds of billions in taxpayers dollars given out for green energy projects through the Obama Administration. All three have expectations that Clinton will continue the green programs put in place by the Obama administration.
Goldman Sachs – donated between $1 million to $5 million and the Goldman Sachs Philanthropy Fund has contributed between $250,000 to $500,000 to the Clinton Foundation.
As Lakatos pointed out in previous reports, Goldman Sachs is connected, via various roles, to at least 14 companies and/or projects that won green taxpayer cash – a tab that exceeded $8.5 billion. One specific example: Goldman is credited as the "exclusive financial adviser" for the now bankrupt Solyndra ($570.4 million loss). Then there is now-bankrupt SunEdison – an early Goldman Sachs investment. SunEdison received $1.5 billion in federal and state subsidies. And, in 2010, Goldman Sachs handled the IPO of government winner, Tesla Motors that was awarded $465 million from the Department Of Energy (DOE) ATVM program – they got much more if you factor in the state and local subsides: $2,406,805,253 to be exact. Also, according to Goldman, "In May 2013, [they] helped raise over $1 billion in new financing for Tesla Motors."
Citigroup/Citi Foundation – donated between $1 million to $5 million to the Clinton Foundation.
This big bank is connected to approximately $16 billion of taxpayer money. Lakatos, in 2013, reported that Citi was actively involved in securing the 1703/1705 DOE loans; was a direct investor; and/or served as an underwriter for the initial public offering (IPO) of at least 16 of Citi's clients that received some form of government subsidies. One green company where Citi is a major investor is SolarCity, which has been subsidized through various stimulus funds, grants and federal tax breaks at the tune equaling almost $1.5 billion. Billionaire Elon Musk is CEO of Tesla and Chairman at SolarCity. He's a Clinton Foundation donor ($25 million to $50 million) and Hillary supporter, too.
Bank of America/Bank of America Foundation – donated between $500,000 to $1 million to the Clinton Foundation.
Bank of America, amongst other green efforts, participated in Project Amp – a four-year, $2.6 billion project to place solar panels on rooftops in 28 states. At the time, the Wall Street Journal reported: "Bank of America Merrill Lynch unit will provide $1.4 billion in loans for the project," of which "the financing is part of Bank of America's plan to put $20 billion of capital to work in renewable energy, conservation and other clean technologies that address climate change." In the final days of the DOE loan program (September 2011), the DOE awarded a partial guarantee of $1.4 billion loan to Project Amp. According to a press release, Bank of America increased its second environmental business initiative from $50 billion to $125 billion in low-carbon business by 2025 through lending, investing, capital raising, advisory services and developing financing solutions for clients around the world.
It's important to remember that climate change – which is the foundation of the green agenda – is part of the Clinton Foundation's mission statement: "In communities across the globe, our programs are proving that we can confront the debilitating effects of climate change in a way that makes sense for governments, businesses, and economies." Additionally, the Foundation's coffers were enriched when Clinton and her State Department staff solicited contributions from foreign governments to the Clinton Global Initiative, as we detailed in our coverage of her clean cookstove campaign.
In addition to Clinton's obvious Wall Street connections, one of the many startling realizations that can be gleaned from the report on Hillary's Horrendous Hypocrisy, is the fact that these companies – some of which would not be in existence without the grants and tax credits – that received millions in taxpayer dollars, took our money and gave it to the Clinton Foundation and to the Clinton Campaign. As was the case with Clinton Foundation donor/campaign fundraiser George Kaiser, these billionaires are making lucrative profits, at taxpayer expense, from bankrupted green companies like Solyndra.
In short, we, the taxpayers, are subsidizing the well-connected millionaires and billionaires – and Hillary Clinton is part of all of it. Meanwhile, she admonishes the average American to combat climate change by driving less and reducing our personal use of electricity.
Bernie Sanders was right to be alarmed. Huge financial institutions do have too much political power. Wall Street billionaires are trying to buy Clinton the White House. In return, she'll be sure their green energy investments pay off for them by demanding that America go green.
The author of Energy Freedom, Marita Noon serves as the executive director for Energy Makes America Great Inc., and the companion educational organization, the Citizens' Alliance for Responsible Energy (CARE). She hosts a weekly radio program: America's Voice for Energy - which expands on the content of her weekly column. Follow her @EnergyRabbit.
On several occasions, since my brief dalliance with a company and website called American Certified - which, alas, is no longer in business – I have cited a group I first ran across around that timeframe called the Alliance for American Manufacturing (AAM.) I have also pointed out that their perspective comes from their backing, as it is a conglomeration mainly composed of unionized steel manufacturers – so I always assumed they were more in line with the Democratic Party than the Republicans, which traditionally have been more in favor of free trade rather than protectionism.
So I had an e-mail in my back pocket that I was going to mention in a piece like this. Originally it laid out AAM's plans for both conventions, but I received an updated version of their plans for the Democratic convention confirming that's where the effort would be.
Here was their slate for the GOP in Cleveland:
AAM is hosting the Keep it Made in America tent, a space located just outside the Quicken Loans arena where we are chatting with convention-goers about ways to grow American manufacturing jobs. We also are speaking at a number of state delegation breakfasts, sharing with local, state and national lawmakers the issues that we think must be on their policy agendas.
AAM president Scott Paul added in a blog post last week:
(T)rade and the atrophy of middle-income factory jobs are dominating the national political discussion. Trump talks about it constantly. But he's not alone, and this is the first time in the post-World War II era that we've seen both party candidates take the issue so seriously.

It's better late than never. Before you write off Trump's bellicose "45 percent tariff" rhetoric as low-brow protectionism - or find the change of heart on the Trans-Pacific Partnership that Hillary Clinton experienced on the trail a little too politically convenient - keep in in mind that a lot of our fellow Americans agree with this sentiment. They certainly do here in Ohio.
The logic behind free trade, though, is that nations benefit when value is maximized and it may be possible to add more value to a product in another location than it is in America. Yet the AAM argues – correctly to an extent – that nations like China take advantage of the rules by not dealing fairly through a policy of subsidizing industries and currency manipulation.
On the other hand, though, AAM will certainly be pulling out all the stops for the Democrats in Philadelphia, including what they describe as a "scene-setting Town Hall meeting":
The Alliance for American Manufacturing (AAM) is hosting a conversation about why these issues matter for our economy, our children's future and our politics today.

Recent focus group and polling data show these topics are driving voters' decisions on which candidate to select. Both Hilary Clinton and Donald Trump have been aggressive in defining their plans for trade and manufacturing.

Confirmed Speakers Include:

Gene Sperling, key economic adviser to Hillary Clinton
Leo Gerard, president of the United Steelworkers
Rep. John Garamendi (D-CA 3rd District)
Mark Mellman, award-winning pollster for Democratic leaders
Scott Paul, president of the Alliance for American Manufacturing
Mike Langford, president of the Utility Workers Union of America
Tom Conway, international vice president of the United Steelworkers
This to me represents less of an exchange of information as it would be an echo chamber.
Protectionism and punishing corporations that choose to offshore manufacturing is one possible answer, of course. But the thing I always think about when this conversation comes up is the East German Trabant automobile that was hopelessly stuck decades behind the times when Germany finally reunited in 1990. Because it had a protected market, what incentive did Trabant have for improvement?
Unfortunately, a short-sighted government-centered approach that saw manufacturers as cash cows for big government and favored the big guys over leaner, hungrier start-ups through regulation too burdensome for smaller competitors to withstand has done as much (or more) to curtail American manufacturing as our trade policies have. While I certainly don't believe many of our larger trade agreements were tailored to suit our interests enough, for the most part it's the complexity of the deals and how they worked out exceptions for certain industries and players that is the issue. If we simply said "we won't tariff your stuff if you don't tariff ours" and both sides stuck to it, eventually the market would find its own level. America should be able to use the advantages of a predictable legal system, well-educated workforce, abundant sources of energy, and outstanding transportation network, but they are negated by the policies in place that I describe above.
The generation of my grandparents won World War II by being able to produce within our borders much of the material and equipment needed to keep a two-front fighting force going. Can anyone honestly say we could do that today? I don't wish us to be on a war footing, but I'm convinced America can be a place that makes things again. It's a simple matter of policy over protectionism, and adopting a hands-off approach at the federal level (yes, there's that limited government idea of mine again) would be the best course of action. I just don't think AAM would be willing to listen to that argument.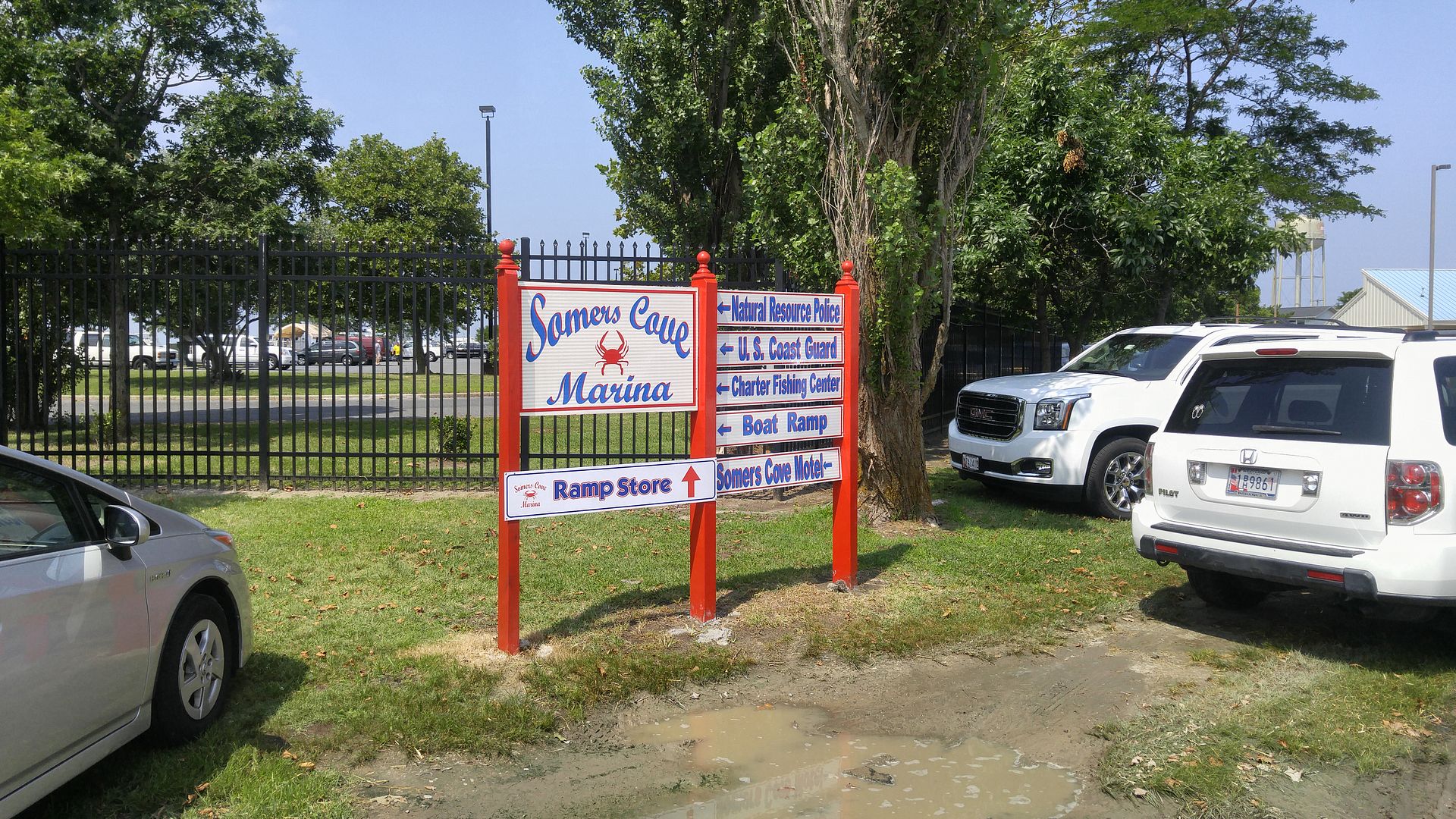 It was awful tempting to jump on into that water, but several thousand people managed to sweat their way through another hot Tawes Crab and Clam Bake. While Republicans tend to have a little more presence in the area, some of the Tawes regulars were absent because the event coincided this year with the Republican National Convention in Cleveland.
That convention minted the GOP Presidential nominee, who seemed to be pretty popular.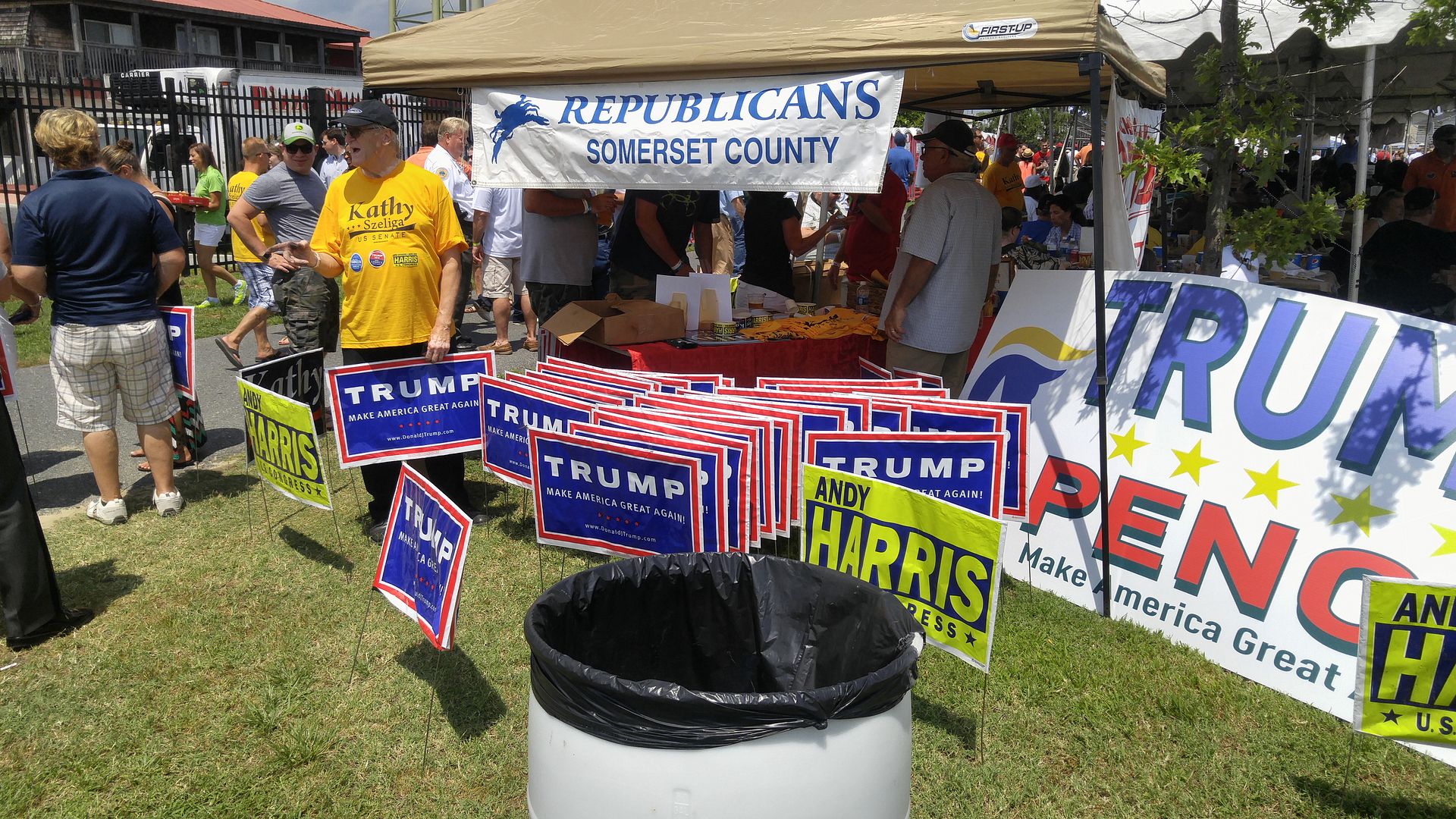 That group of signs dwindled little by little, as Trump adorned a number of tents. On the other hand, there were far fewer Hillary signs – but the Democrats also had their crowded space.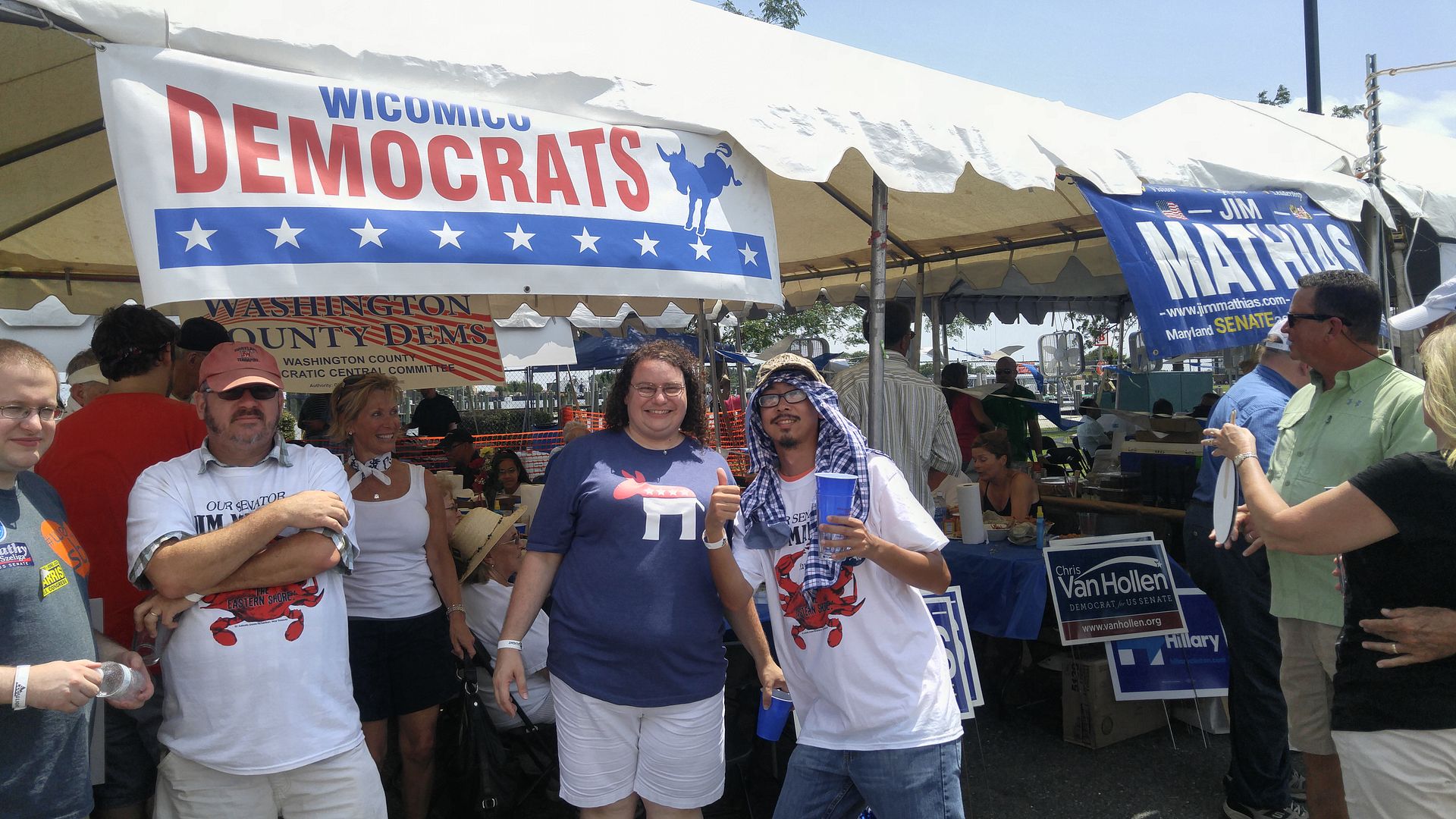 Sarah Meyers (in the blue shirt) is a friend of mine, and she was tearing her hair out as the coordinator there because they overbooked the space. (You may see her at the Democratic Convention next week, as she will be there as a page.) By the same token, the Somerset Republicans only went with one tent as well and it was packed, too. So both parties had close quarters.
Yet the businesses seemed to have ample space. I didn't peek into every tent, but many of them (as well as businesses lining State Route 413 into Crisfield) had a simple message: welcome Governor Hogan.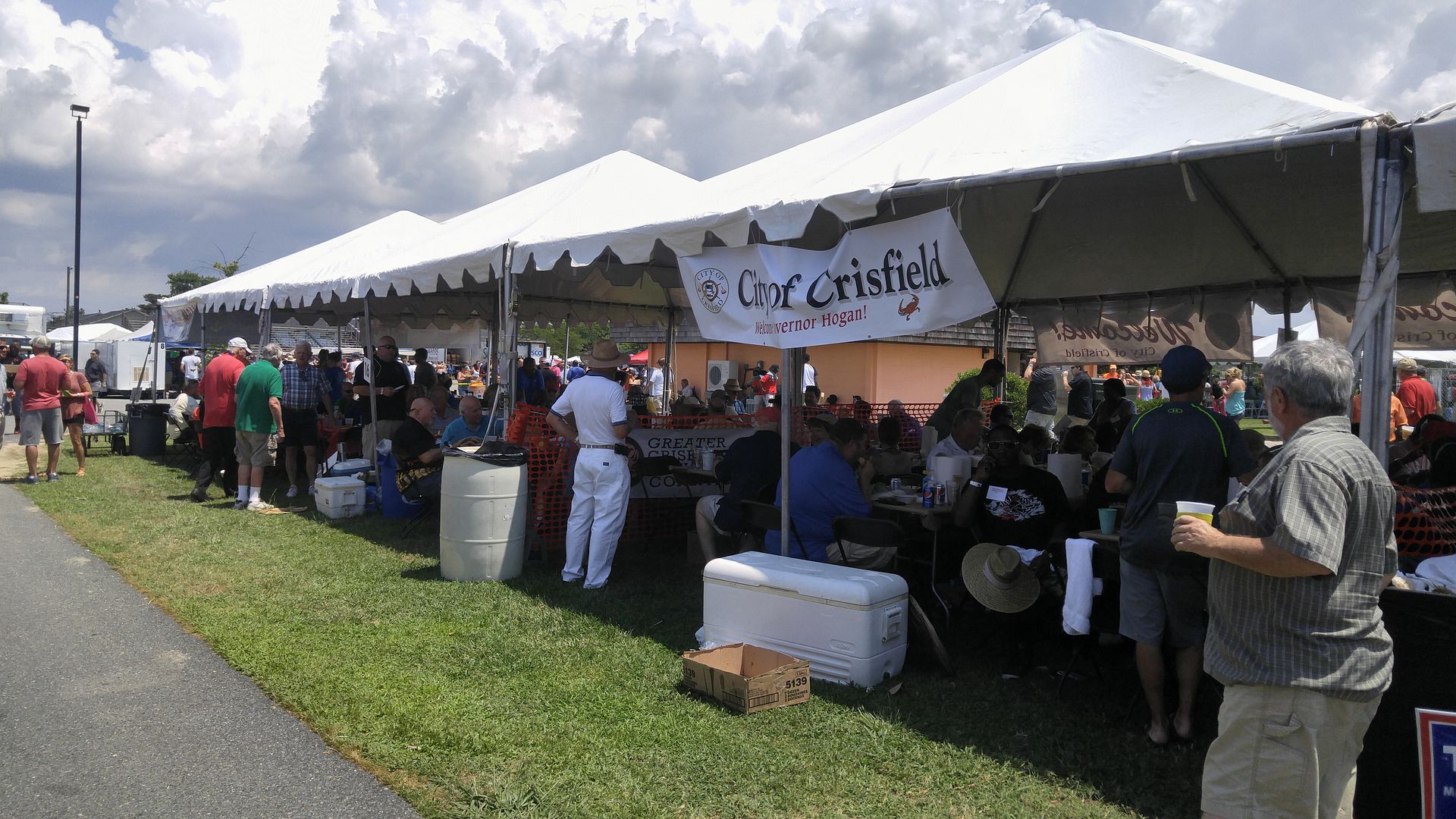 Even lobbyist Bruce Bereano, who always has the largest space, got into that act.
Yet among those businesses I did pick out I found an odd juxtaposition there, particularly under the auspices of the local economic development commission.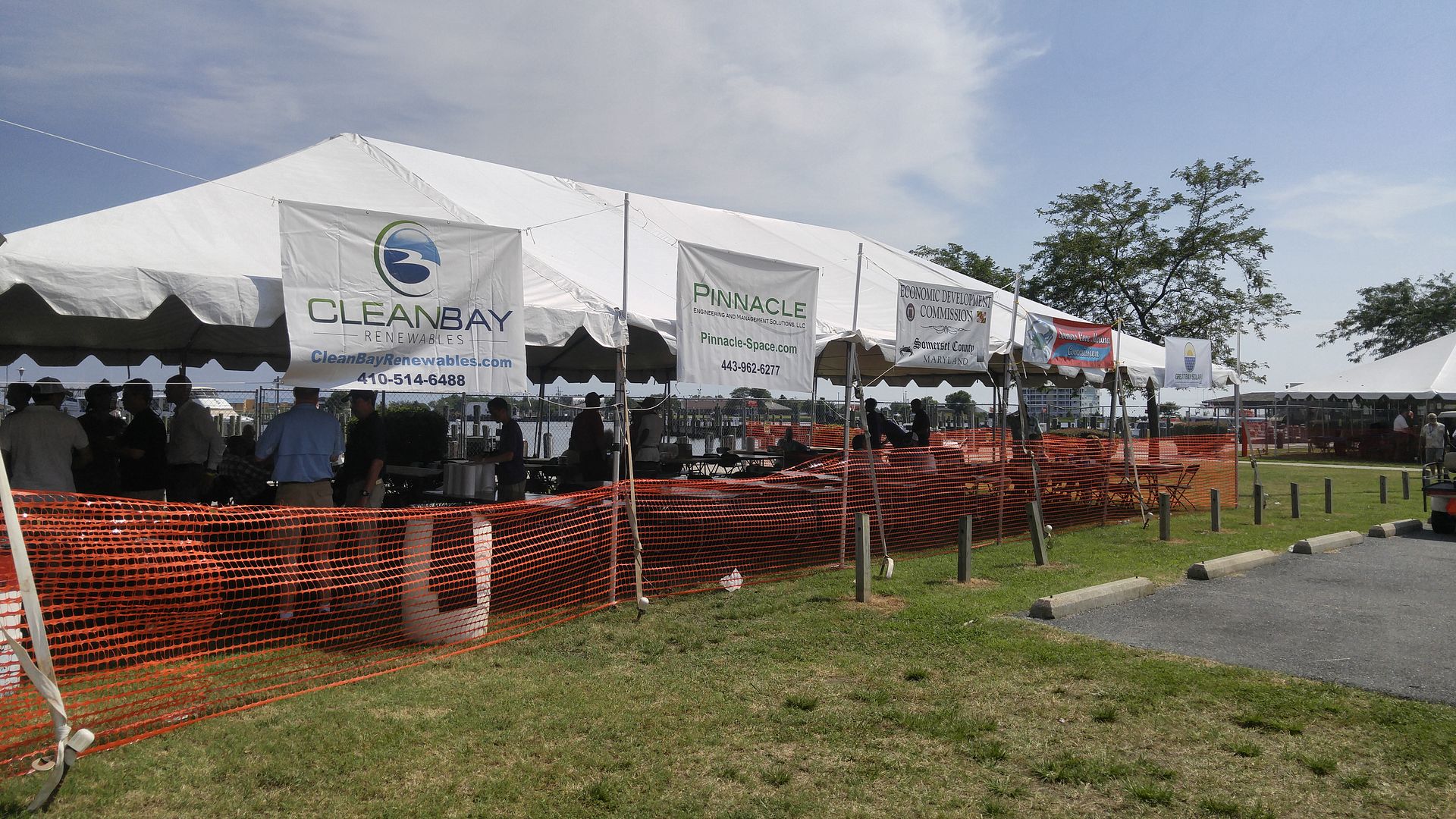 In order, these businesses are Cleanbay Renewables, which is a chicken waste recycling firm, Pinnacle Engineering, which services NASA, the Somers Cove Marina Commission, and Great Bay Solar I. The last is interesting because this project was originally supposed to be wind turbines, but objections to the siting of the turbine towers from the Navy forced the company to go solar, making lemonade out of lemons. With the exception of Pinnacle, the state has sort of forced the market for the other two businesses.
Yet on the other side was a law firm that objects to the approach the state is using to clean Chesapeake Bay through its Clean Chesapeake Coalition. They believe much of the problem comes from the sediment that leaches out from behind Conowingo Dam in severe storms.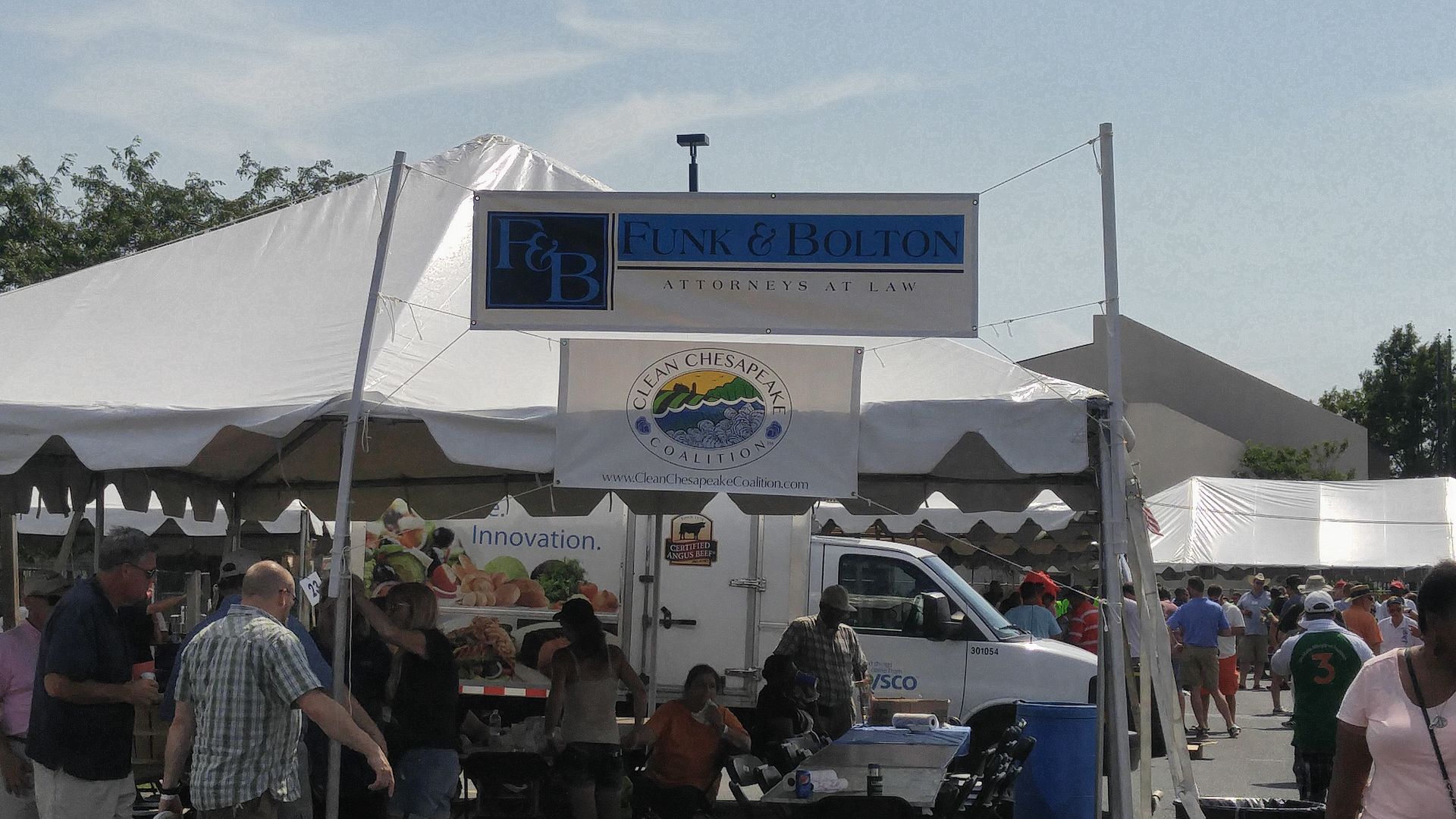 I happen to think the CCC has a pretty good case.
Speaking of business, the food business did pretty well there. Almost too well.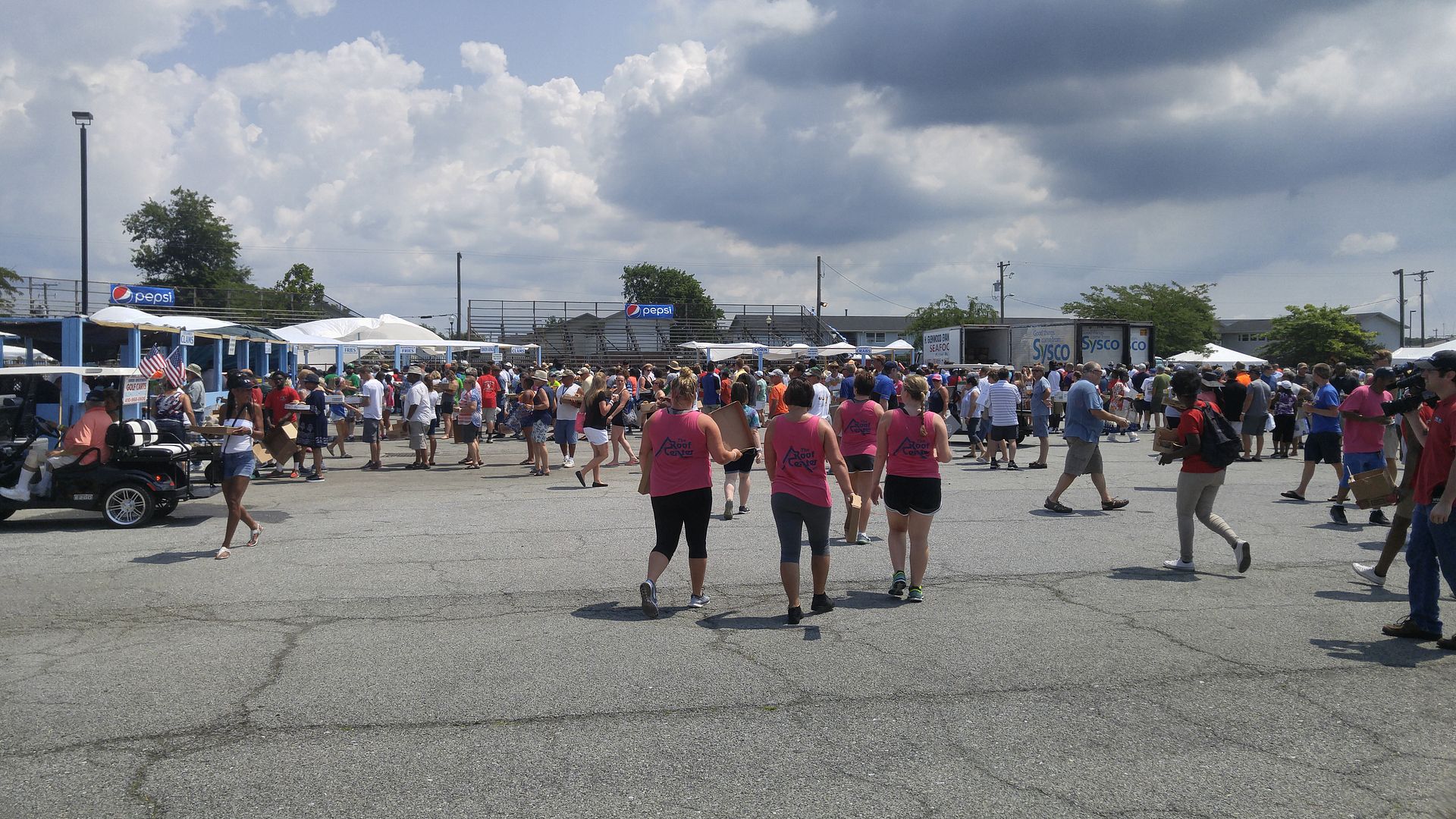 According to my cell phone camera, which took all my photos today, I took that picture at 12:01 as I walked over to get in line for food. Here is the end result, 46 minutes and four lines later.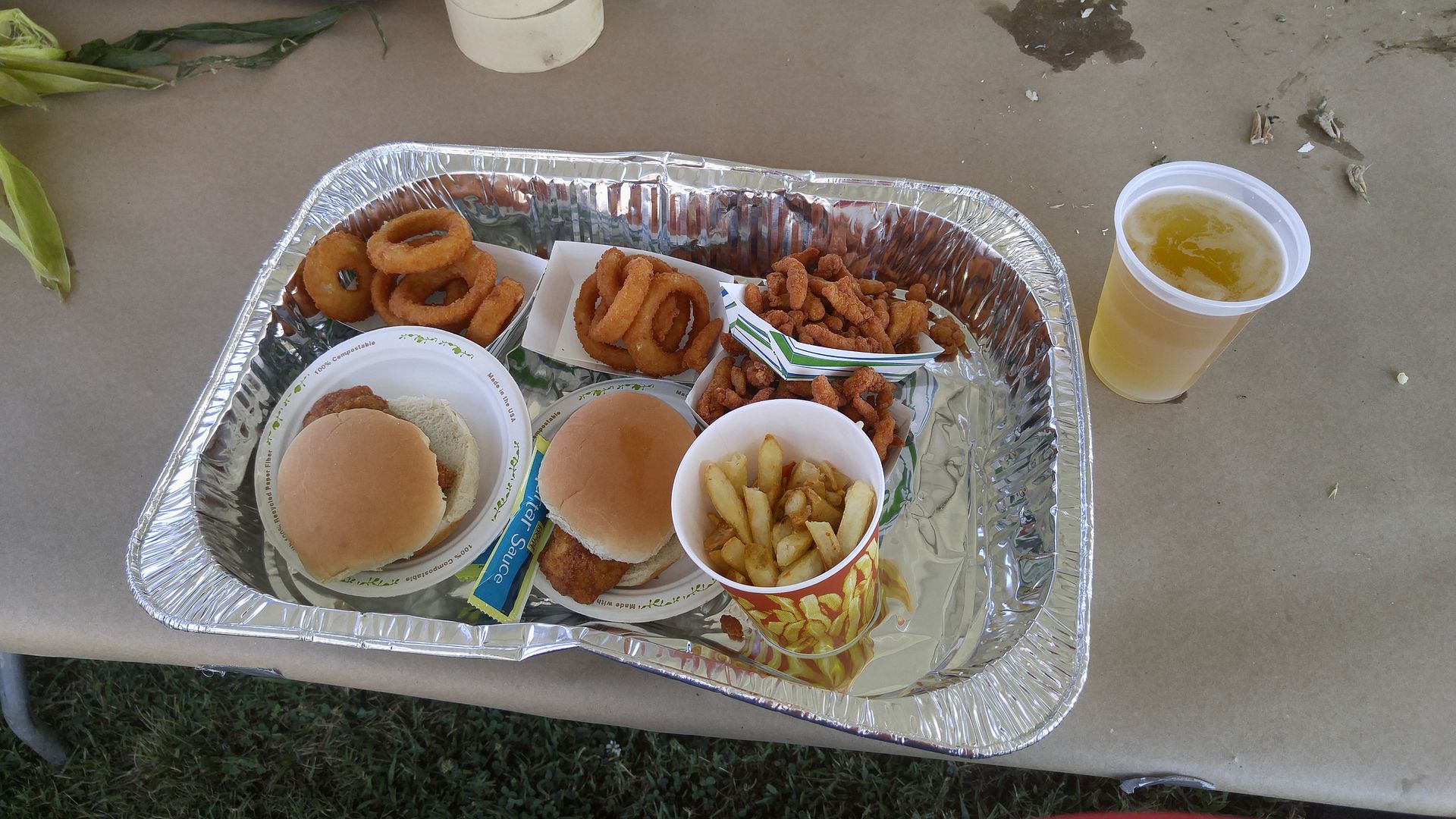 I actually asked for the onion rings as I inched closer to the front of the French fry line. And I certainly don't fault the crew because they worked hard, even toward the end when I snapped this.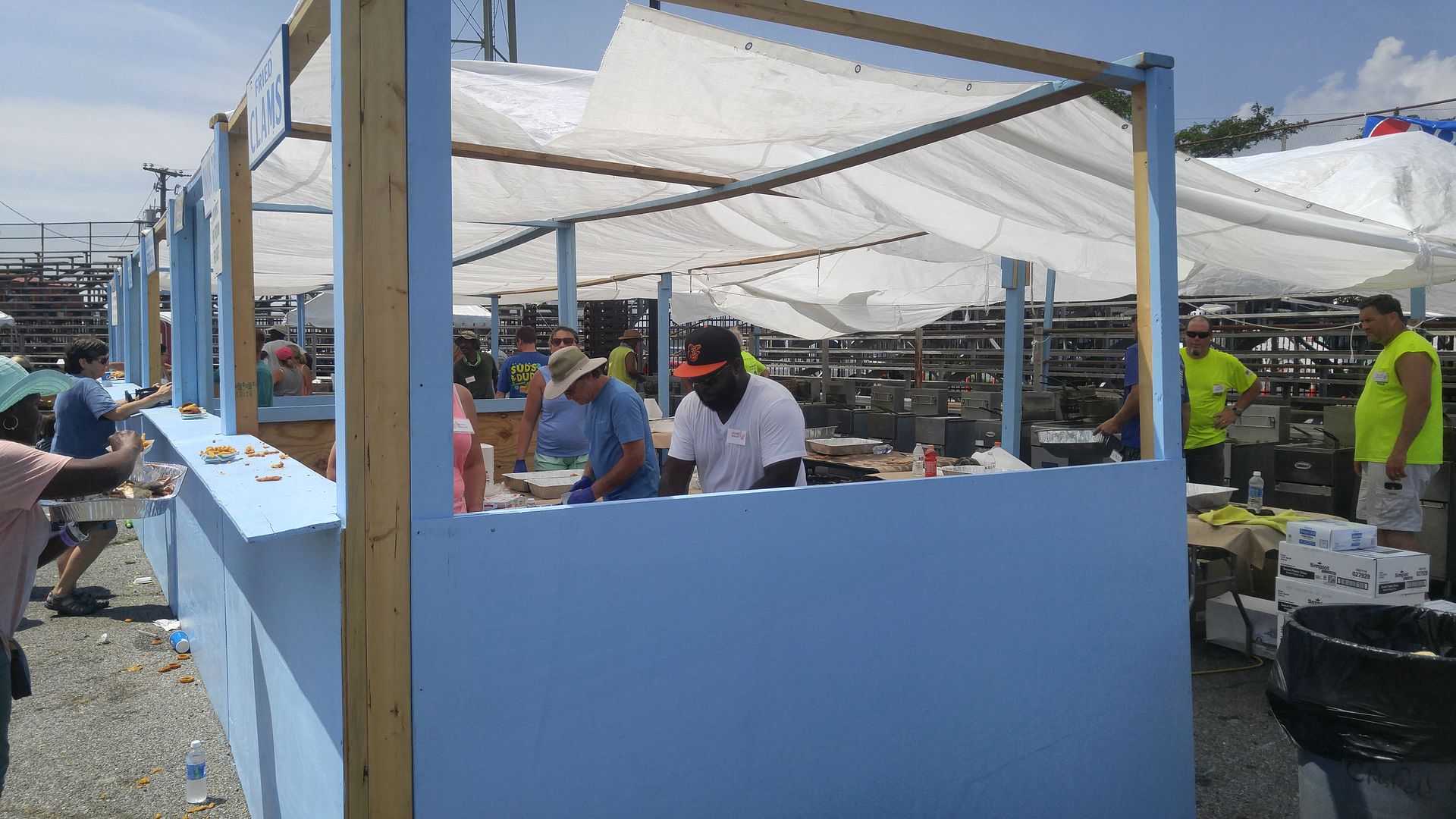 I think the issue is the increasing use of "runners" who get multiple orders of food and slow down the lines. It seemed like every third person in line was one, which meant those who just wanted to fend for themselves had to wait.
The guy who didn't have to wait in line was Governor Larry Hogan, because I don't think he ate a bite.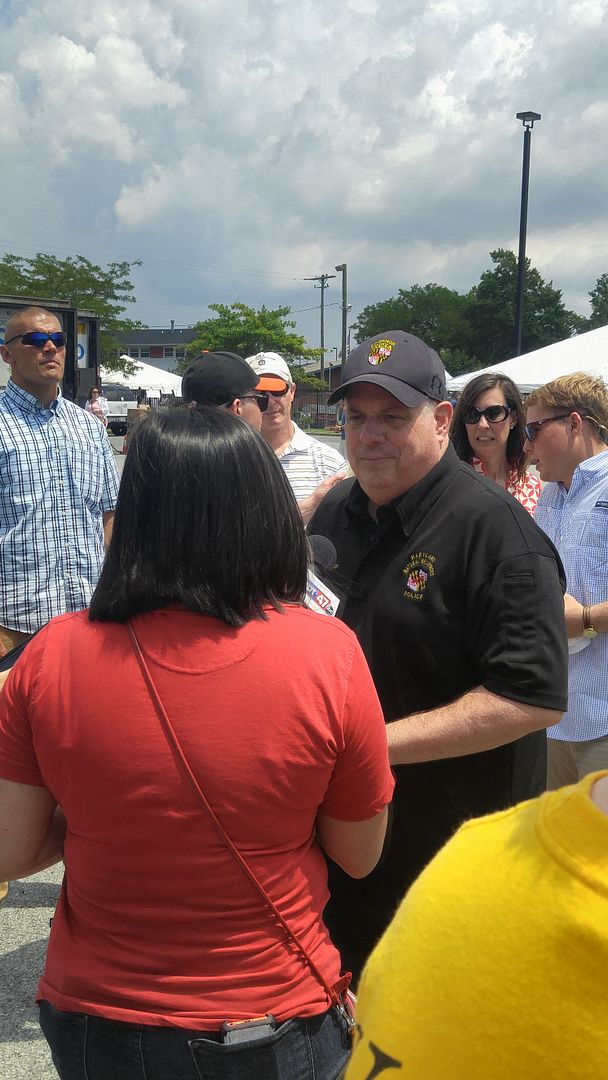 This is a second segment of time lapse. I took this photo above in the area where the food lines were at 1:57 p.m. Now, let me ask you: where's Hogan?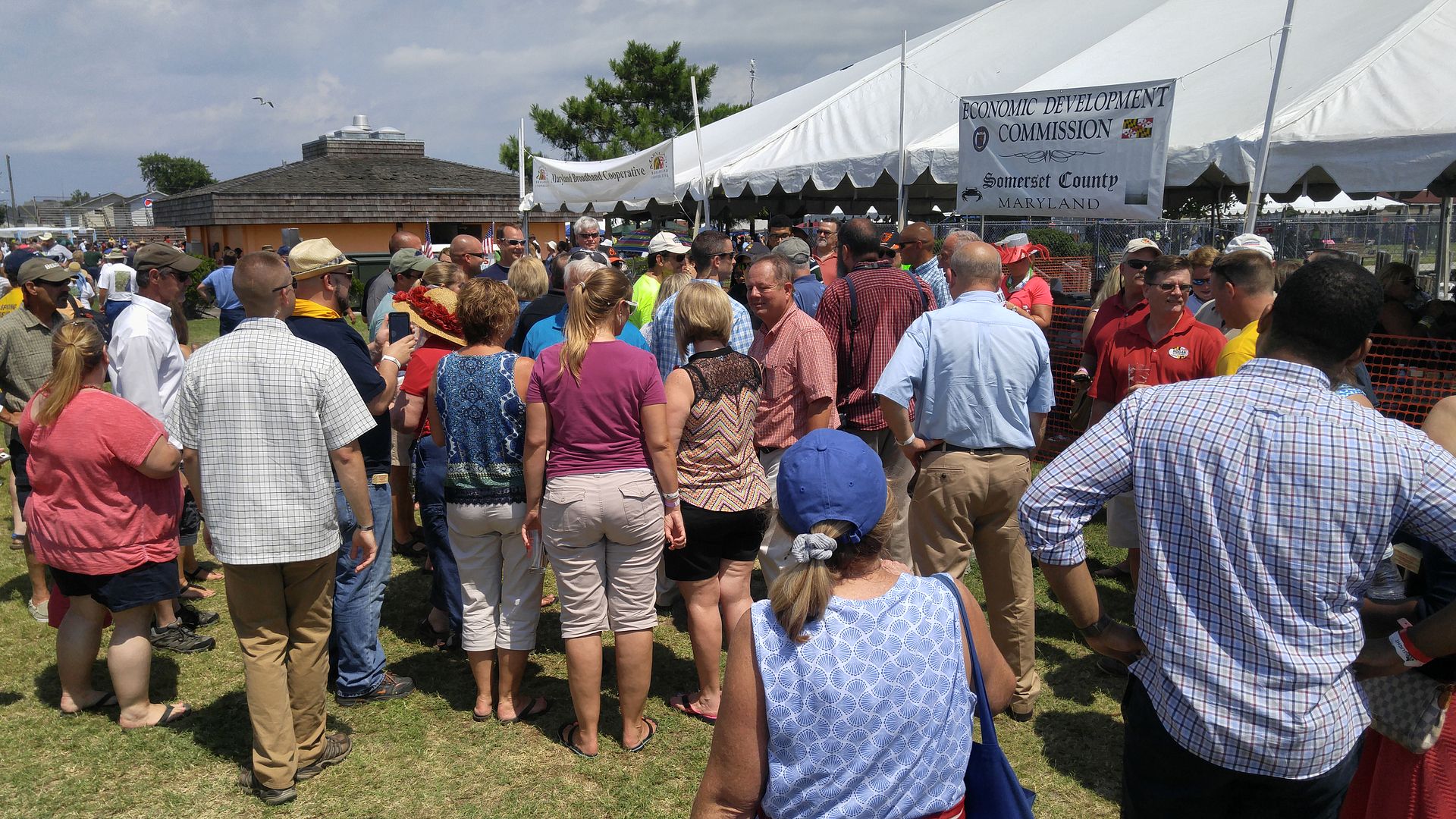 He's barely visible in the center of the photo, obscured by Delegate Charles Otto in the pinkish shirt. In 35 minutes he had advanced maybe 80 yards thanks to the crush of well-wishers who wanted to shake his hand, have a photo with him (although he suggested it in a number of cases) and perhaps say their piece. I was in the latter group as I wanted to thank him for his stance on the Presidential election. Larry commented that he had noticed the reception I've received on social media a couple times as it echoed a lot of what he had seen on his.
Stay strong, Governor.
The two major-party candidates for U.S. Senator were also there. Now I missed Democrat Chris Van Hollen – perhaps because I didn't recognize him walking around – but I did get a glimpse of Kathy Szeliga from the GOP.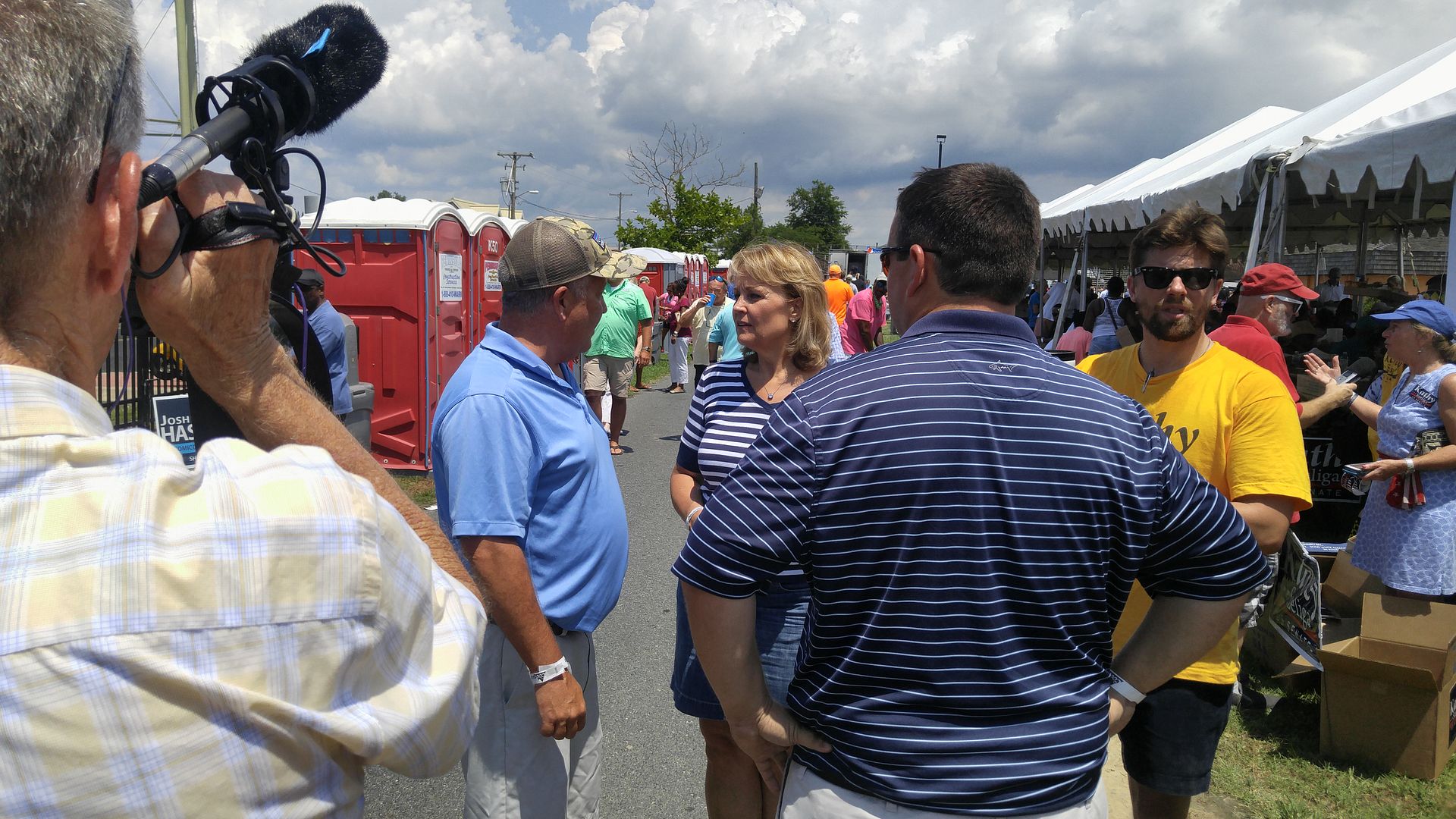 Of the people I saw and photographed, she was one of the few I didn't speak to at least a little bit. I don't blame her – our paths just didn't cross but once.
Of course, a few locals managed to be in front of my camera, such as Delegate Mary Beth Carozza, who brought her family and a batch of others from Worcester County.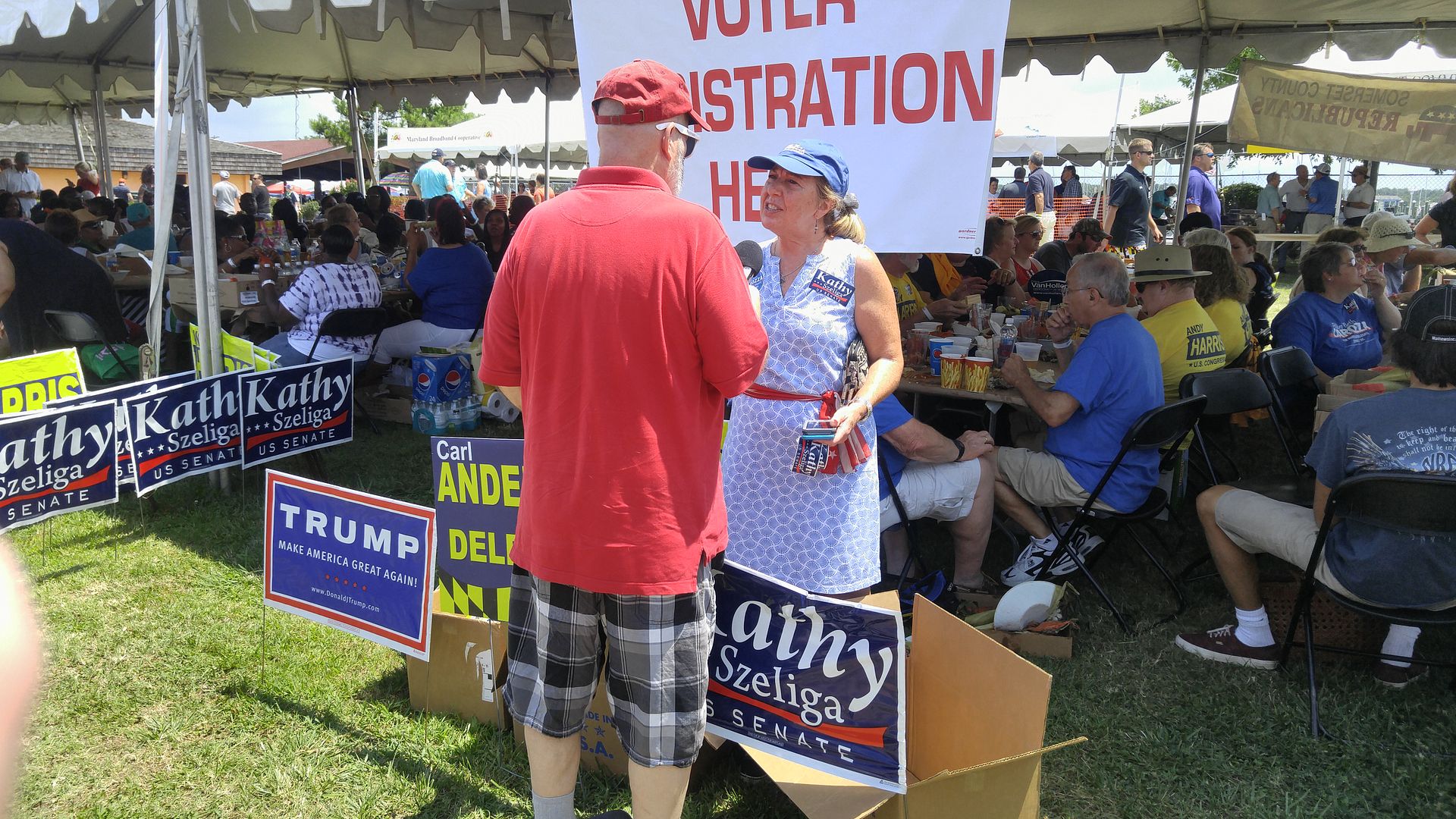 She was speaking to Duane Keenan from Red Maryland.
The other half of Worcester County must have come with Senator Jim Mathias, who had a number of folks with a matching shirt to his. He was a little peaked by the time I took the moment to thank him for his assistance with the school board election bill.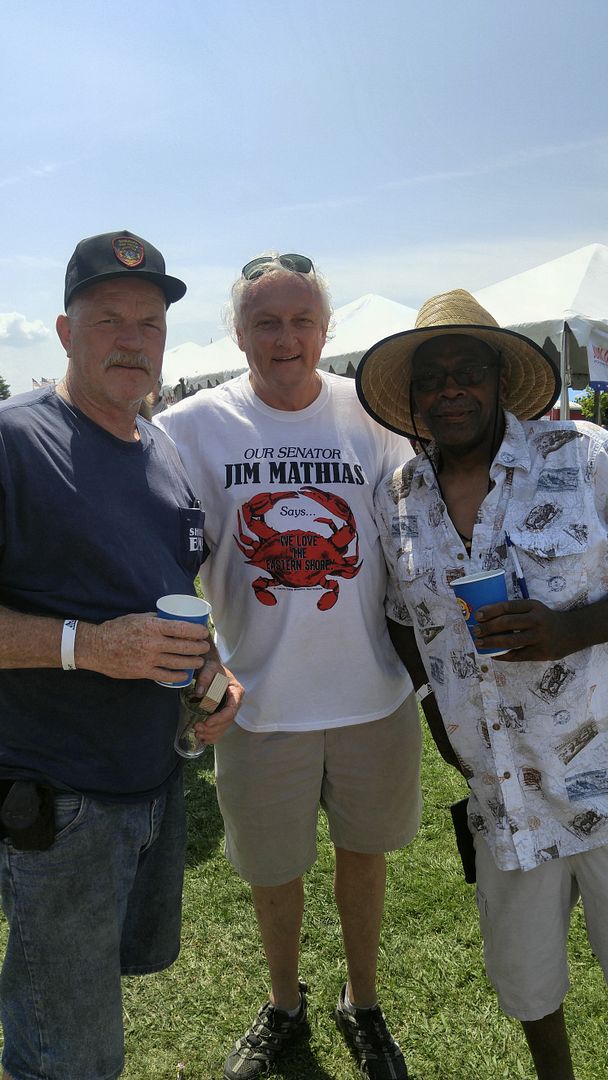 Yet while we had hot and cold running politicians there, we also had a lot of media asking questions. I noted Duane Keenan above, but here's Ovetta Wiggins of the Washington Post (right) speaking to Jackie Wellfonder. Jackie made the cut in Ovetta's story.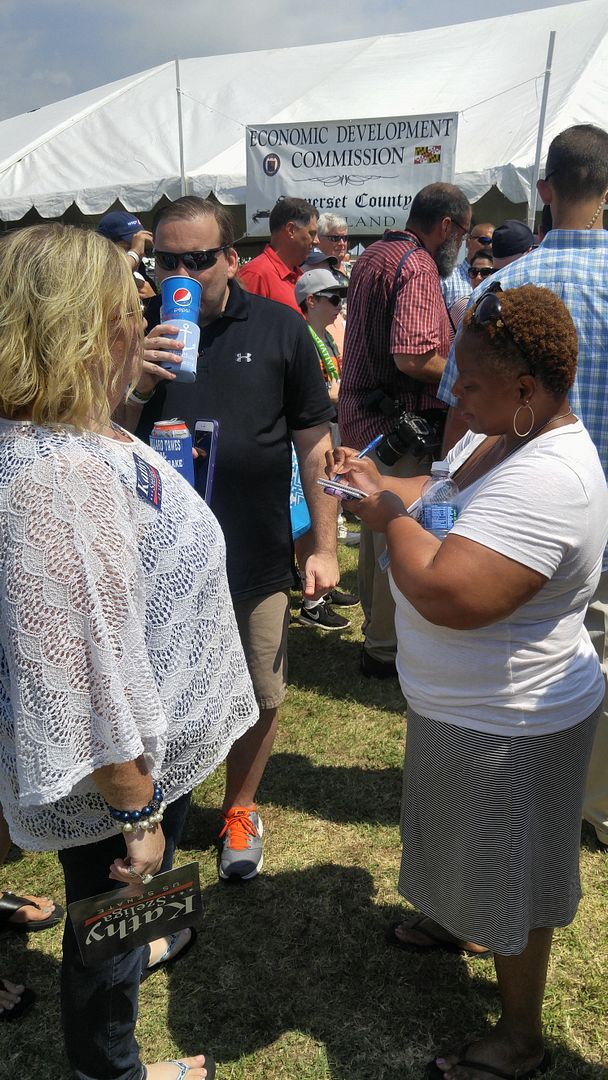 I also had the pleasure of meeting Mike Bradley, who hosts WGMD's morning show out of Lewes, Delaware. Since his station covers a fair amount of the lower Shore in its signal, he was interviewing some of the local players. It's a very good show that I catch once I cross into Delaware on my way to work.
And it could be that the Tawes event is becoming one for the greater Delmarva area. A delegation of elected officials from the First State included Representative Tim Dukes, who covers the Laurel and Delmar areas in his 40th District.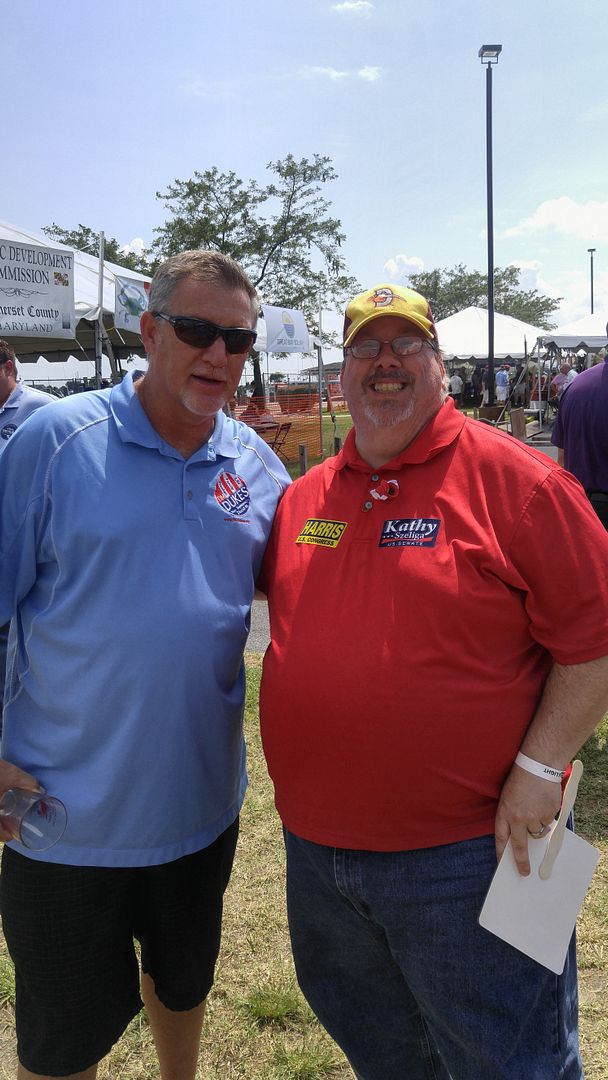 The reason I'm in the photo on the right: it was taken by Dukes' fellow representative (and Minority Leader in the Delaware House) Danny Short of Seaford. Since we're neighbors with Delaware it was nice to see some of their elected officials, too.
In that respect, this coverage was a little lacking because I did a lot of walking and talking to a number of nice folks from around the state. I want to say I overheard Jackie Wellfonder say this, but Tawes really is "like a big 'ol family reunion." We don't often see a lot of politicians travel across the bridge but for attending Tawes, so you have to say hello and speak your piece when you can.
If you haven't figured it out by now, I'm one of those Republicans who occupies the #NeverTrump camp.
Before I go any further, let me explain some basic math to you: 0+0 = 0. My not voting for Trump does not add one to Hillary Clinton's column because I'm not voting for her, either. By the theory some on the Trump bandwagon are using to criticize #NeverTrump, my not voting for Hillary should add one to his total. But it won't. I will vote for someone who I feel is the most qualified on the ballot, rather than the lesser of two searing-hot evils.
This election was supposed to be the repudiation of the Obama big-government, strongly executive agenda. Unfortunately, unless the GOP comes to its senses next week, frees the delegates, and comes up with a good conservative candidate, they will sink like the Titanic in November.
But I don't come by my distaste for Trump lightly. While he has some redeeming qualities that could conceivably come into play on the slim chance he's elected, there is the sense in my mind that he takes the ideal of limited government and wrests it from the domain of the GOP, leaving both major parties as two sides of the same worthless coin.
It's likely you recall that I based my original endorsement (of Bobby Jindal, who is backing Trump but has been quiet about it) on the field's positions on ten items, with a sliding scale of importance assigned to each:
Education
Second Amendment
Energy
Social Issues
Trade and job creation
Taxation
Immigration
Foreign Policy
Entitlements
Role of Government
So I went back and reminded myself. To avoid this being overly long, I'm doing the first five in this part with part 2 hosting the second half.
On education, Trump claims to be for local control and against Common Core, which is an orthodox Republican view. But even though he would "cut it way, way, way down" he doesn't support the complete elimination of the Department of Education. He does have a good point in reversing the trend toward the government being a student loan lender, pushing it back to the banks and other lending institutions where it traditionally rested.
The problem with his approach is that it doesn't go far enough. Other candidates vowed to finish the job Ronald Reagan vowed to start by eliminating the Department of Education. To me, the federal government has no place on education – states and localities should set standards and run their school systems as they see fit. But any attempt to wean local school districts off the crack of federal funding will be met with howls of protest and Trump fails to impress me as someone who will follow through with these promises. After all, Trump did say education was one of the top three functions of government. "The government can lead it, but it should be privately done." I'm confused, too.
Trump seems to be a Second Amendment guy as he did get the NRA endorsement. But the chairman of Gun Owners of America was not as quick to praise The Donald based on his past statements. And again, the idea is not just to enforce the laws on the books but get rid of some of the most egregious, let alone get to "shall not be infringed." But wouldn't someone who is on the no-fly list in error be having their rights infringed? This observer asks the question.
And then we have the subject of energy. Now Trump went to North Dakota – a major oil producing state – and promoted his "America First" energy plan. In it, he promised "Any regulation that is outdated, unnecessary, bad for workers, or contrary to the national interest will be scrapped." But when he was in Iowa campaigning a few months earlier he threw his support behind a wasteful ethanol subsidy and carveout. So which is it? And would he allow Sarah Palin to sunset the Department of Energy?
On to social issues: Trump says he is pro-life and would defund Planned Parenthood, but how will he restore a "culture of life"? We don't have that specific. Nor will be stand against the troubling idea of leaving people free to use the bathroom they feel like using – this despite claiming gay marriage should be left to the states – or is it the "law of the land"? (By that same token, so is abortion as it was based on a SCOTUS decision, too.)
So do you get the idea so far that I trust him about as far as I can throw him based on mixed messages and inconsistent policies? Once again, the idea here in the upcoming term was to reverse the tide of bigger, more intrusive government – but I don't detect the same sort of impetus from Trump that I received from the candidates I favored. And to me, what would make America great again is for us to return to being good – at least in terms of re-adopting the Judeo-Christian values we've gotten away from after ousting God from the public square. I don't see "Two Corinthians" but three marriages Trump as being a spiritual leader in the manner of a Reagan or George W. Bush, even insofar as being decent human beings.
And lastly for this evening, I'd like to talk about Trump on trade and job creation. Since history isn't taught well, we tend to believe the Great Depression was the end result of the 1929 stock market crash. But there's a convincing argument made that rural America took the biggest hit thanks to the effects of the Smoot-Hawley tariff of 1930. Granted, the world is a lot different and more interconnected now, but American farmers produce a lot of exports (as do chicken growers locally, as the products in demand overseas complement nicely with what we consume here.) Certainly a renegotiation of our current and proposed trade pacts is in order, but would Trump walk away from the table or just angle for any deal? And would he be against Trade Promotion Authority like he was as a candidate when he's the president negotiating the pact? I doubt it.
And given the amount of union rank-and-file backing he seems to have, it's no wonder he hasn't come out more strongly for right-to-work laws, barely mentioning it during the campaign.
To many, Trump's views on these subjects are on the outside of the range that's acceptable to the standard GOP. And are they to the right of Hillary Clinton? For the most part, yes – but that assumes that he's a man of his word and his business dealings suggest otherwise.
So in part 2 I will discuss the more important five issues on my scaling system, and this is where Trump really begins to sound like Hillary.
Commentary by Marita Noon
Death Valley, California, is known as "the hottest place on earth." But, if you hear the news that the "Hottest Place on Earth Has Record-Breaking Hot June" – when "temperatures exceeded average June temperatures by about 6 °F" – it might be easy to ascribe the heat to alarmist claims of climate change. While Southern California was experiencing power outages due to a heat wave, Death Valley hit 126 °F – though the previous June high was 129 °F on June 30, 2013, and Death Valley holds the highest officially recorded temperature on the planet: 134 °F on July 10, 1913.
Yes, it is a hot summer for most of the U.S. – but that was predicted by WeatherBELL's Joe Bastardi who, on Groundhog Day, referenced El Niño and said: "we may have the hottest summer since 2012." Dr. Roy Spencer, Principal Research Scientist at the University of Alabama in Huntsville, explains: "it is usually the second calendar year of an El Niño event that is the warmest." The current El Niño event made 2015 "the 3rd warmest year in the satellite record" – records, which have been kept for 38 years (all three of the hottest years were during an El Niño event). The 2015-16 El Niño is one of the strongest on record.
El Niño is a natural weather pattern first discovered centuries ago by Peruvian fisherman who noticed that the ocean would often warm late in the year. They called the phenomenon El Niño, after the Christ Child. "Modern researchers," according to Bloomberg, "came to realize its importance to global weather in the 1960s, when they recognized the link between warm surface water and corresponding atmospheric changes."
El Niño usually means warmer or milder winters and cooler summers in the U.S. – which has been bad for producers of America's natural gas, as less has been needed for heating and air conditioning. Describing the winter of 2015-16, one account said: "warm, wet or even 'what winter?'" This past winter's milder temperatures coincided with abundant output from shale formations, that continued to grow through last winter, and, as reported by Natural Gas Intelligence (NGI): "collapsed natural gas prices to the lowest levels since 1999." As a result, wholesale electricity prices also tumbled.
The trend away from coal for power generation has previously helped natural gas producers, as the increased production easily met strengthening demand. However, that demand has slowed as, according to NGI: "most U.S. regions that could switch out of coal on economic terms have already done so."
While the warmer winter and oversupply condition coincided to drive natural gas prices to their lowest levels in almost 17 years, weather and supply are now driving them back up.
El Niño patterns are usually followed by what is called La Niña – which happens as the ocean temperatures cool. La Niña generally takes place three months, or as much as twelve months, after an El Niño cycle. A report from CNBC, back in January, projected that this year's El Niño would "fade by May-July" – which is what we are seeing and that is causing the hotter, drier summer. The Browning World Climate Bulletin says: "The factors that cooled so much of North America in April and May are retreating and the hot marine air masses will surge inland." Likewise, NGI States: "The El Niño event that led to record North American winter temperatures has made way for the transition to La Niña, which usually results in hotter-than-normal summer temperatures."
Addressing these weather patterns, Bloomberg cites Kevin Trenberth, distinguished senior scientist at the National Center for Atmospheric Research in Boulder, Colorado, as saying: "The cycles occur every two or three years on average and help regulate the temperature of the Earth, as the equatorial Pacific absorbs the heat of the sun during the El Niño and then releases it into the atmosphere. That can create a La Niña: a 'recharge state' when 'the whole Earth is cooler than it was before this started.'"
While experts differ on the exact timing, most expect La Niña to form as early as July or as late as December – or even January. Trenberth explains: "La Niña is more like a strong case of 'normal.' If a region is typically dry, it could become arid in a La Niña. If it's usually wet, there may be floods." Which translates to a colder, and more volatile, than average winter – though predictions are for drier and warmer in the southwest U.S. Reports indicate that a strong La Niña could push more polar vortexes down into the U.S. and typically a strong El Niño, as we've just experienced, is followed by a strong La Niña.
On June 29, the Financial Times announced: "US natural gas prices have leapt 30 per cent this month as hot weather boost demand for air-conditioning and slowing supplies point to a gradually tightening market." It adds: "After years with prices in the doldrums, US gas output has also begun to level off."
The hot summer, according to Bastardi, will continue with widespread warmth through the fall – with the Northeast and Midwest possibly hitting 90 °F into October. Then, going from one extreme to the other, when winter hits, it is expected to be, as previously addressed, colder-than-normal across the Northwest, Upper Midwest, and Northeast.
These conditions create higher cooling and heating demand for natural gas. And that, coinciding with reduced supply, will give a boost to U.S. natural gas prices – rebalancing the market and bringing price recovery.
For investors, Bloomberg states: "Seeing as North American Winters are expecting to be stronger with La Niña, SocGen [Societe Generale Corporate & Investment Banking] recommends investing in natural gas." The Price Group's Phil Flynn, seen daily on the Fox Business Network, concurs. He told me that in the rush to convert electricity generation to natural gas, we are now in a place, unlike the winter of 2014, where there are not enough coal-fueled power plants to fill the demand gap. The idea was that with global warming, winters would remain mild, but with the naturally occurring La Niña cycle, and the projected cold winter, we are facing high demand at a time when natural gas production is "getting ready to fall off a cliff." With reduced supply and pipeline constraints, natural gas may not be able to meet all of the demand. He is encouraging his clients into natural gas.
For consumers this may mean that, because wholesale electricity prices strongly correlate to natural gas prices, power supply costs could be impacted – resulting in higher utility bills. Because of low natural gas prices, homeowners have not felt the full hit of higher cost renewables – but that could be changing as we head into a La Niña winter.
The author of Energy Freedom, Marita Noon serves as the executive director for Energy Makes America Great Inc., and the companion educational organization, the Citizens' Alliance for Responsible Energy (CARE). She hosts a weekly radio program: America's Voice for Energy - which expands on the content of her weekly column. Follow her @EnergyRabbit.
Commentary by Marita Noon
Throughout the past four years, climate change activists have been secretly coordinating with one another regarding ways to prosecute individuals, organizations, and companies that are their ideological foes. They met to develop a strategy to use RICO (Racketeer Influenced and Corrupt Organizations Act), which was intended to provide stronger weapons for prosecuting organized crime, against those who speak out against the Obama administration's war on fossil fuels.
More recently, the activists, including Naomi Oreskes and Bill McKibben, have coordinated with Attorneys General (AG) culminating with a March 29 press conference, led by New York AG Eric Schneiderman and joined by former Vice President Al Gore. There the "unprecedented coalition" – as Schneiderman's press release called it – was announced: the newly formed AGs for Clean Power. Though "vague" on their specific plans, 17 AGs (16 Democrats and 1 Independent) have, as the Huffington Post reported: "committed to pursuing an all-levers approach" to, as Gore said: "hold to account those commercial interests that have been, according to the best available evidence, deceiving the American people, communicating in a fraudulent way."
ExxonMobil has been the first and most obvious target. While the RICO Act is federal legislation passed in 1970, more than two dozen states have "Baby RICO" laws – which are, according to InsideClimateNews.org, "broader than the federal version."
Four different investigations claiming that Exxon conspired to cover up its understanding of climate science have been launched. Schneiderman was the first. Last November, he issued a subpoena demanding: "that ExxonMobil Corporation give investigators documents spanning four decades of research findings and communications about climate change." In January, the Los Angeles Times announced: "California Atty. Gen. Kamala D. Harris is investigating whether Exxon Mobil Corp. repeatedly lied to the public and its shareholders about the risk to its business from climate change – and whether such actions could amount to securities fraud and violations of environmental laws." On April 19, Massachusetts AG Maura Healey opened an investigation to seek "information regarding whether Exxon may have misled consumers and/or investors with respect to the impact of fossil fuels on climate change, and climate change-driven risks to Exxon's business." Just days after the March 29 press conference, Virgin Islands' AG Claude Walker, in his demand for records, became the first to cite the racketeering law to "probe Exxon over its longtime denial of climate change and its products' role in it." Additionally, he listed roughly 100 academic institutions and free market think tanks in his subpoena. The National Review reports that Walker promised a "transformational" use of his prosecutorial powers in the global-warming crusade. Separately, Walker also subpoenaed records from the respected Washington DC think tank, the Competitive Enterprise Institute (CEI). Schneiderman and Healey have also requested records from research and advocacy groups. Harris, who is running for the Senate seat to be vacated by retiring Senator Barbara Boxer (D-CA), "isn't expected to do much in terms of investigating Exxon," according to the Daily Caller.
The Free Beacon references "internal documents" stating that the goals of the larger campaign are:
"delegitimize [ExxonMobil] as a political actor,"
"force officials to disassociate themselves from Exxon,"
"drive divestment from Exxon," and
"to drive Exxon & climate into center of 2016 election."
The Wall Street Journal (WSJ) adds:
"to establish in the public's mind that Exxon is a corrupt institution that has pushed humanity (and all creation) toward climate chaos and grave harm."
Despite the attacks on Exxon, WSJ quotes Lee Wasserman, director of the Rockefeller Family Fund – one of the foundations behind the crusade – as saying: "It's not really about Exxon." Instead: "It's about helping the larger public understand the urgencies of finding climate solutions."
Senator Sheldon Whitehouse (D-RI), who has long advocated that the Department of Justice (DOJ) investigate whether Exxon and other fossil fuel companies violated the RICO statute by disputing the role of fossil fuel burning in global warming, at a recent hearing, asked Attorney General Loretta Lynch if she'd considered using RICO against fossil fuel companies. She replied: "This matter has been discussed. We have received information about it and have referred it to the FBI to consider whether or not it meets the criteria for which we could take action on."
WSJ reports: "The new legal theory has yet to gain momentum within the Justice Department, according to officials familiar with internal discussions. But after prodding by lawmakers, the Federal Bureau of Investigation is conducting a preliminary review."
Even legal scholars, such as Columbia Law School professor Merritt B. Fox, who, according to Reuters, agrees with the importance of climate change, expressed skepticism about the legal strategy of the prosecutors: "The market was well supplied with information about climate change from a variety of sources." Reuters adds: "investors get information on climate change from many sources and Exxon would probably not be able to alter the 'total mix' of publically available information." Similarly, Pat Parenteau, a professor of environmental law at the Vermont Law School, is quoted by InsideClimateNews.org: "Hopefully there is something more than unsubstantiated suspicion to support this." Parenteau explains: "The most serious question is whether the attorney general [Walker] has any basis to suspect that Exxon has engaged in activities that violate the statutes about obtaining money by false pretense and fraud." In WSJ, David Uhlmann, a university of Michigan law professor and former federal crimes prosecutor, expressed concern regarding the ability to establish "clear culpability for global warming." The reporting says: "Millions of individuals contribute with their use of fossil fuels, while national governments have done little despite knowing the risks." Uhlmann states: "Exxon should have been far more forthright about the risks associated with climate change, but all of us are culpable for our collective failure to change."
Then there are the opponents. WSJ points out: "Both sides see this as a pivotal moment in a growing campaign by environmentalists to deploy a legal strategy used against tobacco companies in the 1990s by arguing that oil companies have long hidden what they know about climate change."
Late last month, five Republican Senators sent a letter to Lynch demanding that: "the DOJ immediately cease its ongoing use of law enforcement to stifle private debate on one of the most controversial issues of our time – climate change."
William Perry Pendley, whose group, the Mountain States Legal Foundation, is named in Walker's subpoena, told me the effort by environmental groups is: "an abuse of power that we haven't seen in this country since Woodrow Wilson." His foundation, according to the Washington Times, has "long acknowledged that Exxon is one of its many funders." Pendley says: "accepting funding from Exxon and disagreeing with Greenpeace on the causes and extent of climate change are not crimes. What we are accused of saying is: 'Maybe there isn't global warming, maybe it's not caused by man, and maybe your solution won't work. It will be too expensive and drive us into poverty.'"
Ronald Bailey, science correspondent for the Reason Foundation – also named in Walker's subpoena – said, according to the Washington Times: "These subpoenas are a huge step in using courts to silence people who hold views that differ from those of powerful government officials."
CEI, the organization singled out for Walker's separate subpoena, issued the following statement from president Ken Lassman: "All Americans have the right to support causes they believe in and the CEI subpoena is an abuse of the legal system and an effort to intimidate and silence individuals who disagree with certain attorneys general on the climate debate. Disagreeing with a government official is not a crime; abusing government power to take away Americans' rights is."
I know this to be true as my organization, though not featured on Walker's list, is still a victim. We had some essential funding in place that would have allowed us to continue for months without extreme financial stress. However the DC policy shop that was to provide the support for our efforts, pulled it as a result of the AG's campaign. I was told that the funding was approved, but that when I wrote my April 25 column on the film Climate Hustle – which questions the science behind the politically correct narrative of manmade catastrophic climate change – the board got cold feet because they, too, are one of the organizations on the list. At first, I wanted to quit, as without the funding I couldn't continue. But then, I got mad. I realized that if I stopped doing what I do, these AGs would win – which is their goal. Indirectly, they attempted to silence me. I am grateful for individuals and companies who believe in my work and who have stepped up to fill the funding gap - at least for a few months.
Those of us who've been attacked are not the only ones who saw the flaw of the AG's crusade. Exxon and CEI have filed lawsuits against the accusers. Exxon claimed that the subpoenas "violated constitutional amendments on free speech, unreasonable search and seizure and equal protection." As a result, last week, Walker withdrew his subpoenas and Healey, reports the Daily Caller, has "agreed to an abeyance of the subpoena, meaning her office won't enforce the subpoena until all legal appeals are exhausted, which may take a couple of years."
In a big victory for free speech, The Hill states: "The withdrawal closes a major chapter in the drive by liberals and environmentalists to punish Exxon over allegations that it knew decades ago that fossil fuels were causing climate change but denied it publically."
In response to the "retreat," Representative Lamar Smith (R-TX), Chairman of the House Committee on Science and Technology said: it "confirms what my committee has known all along – these legal actions were conceived and driven by environmental groups with an extreme political agenda and no actual regard for the law." His statement added: "Companies, nonprofit organizations and scientists deserve the ability to pursue research free from intimidation and threat of prosecution."
The Heartland Institute, for which I serve as an "expert" on energy issues, is also on the "list." Its president, Joe Bast, told me: "because there is a lively debate over the causes and consequences of climate change, this litigation has First Amendment implications." He added: "It is not the possibility of harm to the public that led the AGs and DOJ to decide to enter into a wickedly complicated scientific debate, but the possibility of harm to the current administration in the White House. Their objective is to silence opposition by ExxonMobil and CEI (and other nonprofit organizations similar to CEI) to this administration's draconian energy policies."
Where these attacks on free speech go next remains to be seen. But as Texas AG Ken Paxton said in response to Walker's withdrawal: "In America, we have the freedom to disagree, and we do not legally prosecute people just because their opinion is different from ours."
May free speech reign and scientific inquiry prevail. True science welcomes a challenge because it can stand up to it – while political correctness must silence challenge.
The author of Energy Freedom, Marita Noon serves as the executive director for Energy Makes America Great Inc., and the companion educational organization, the Citizens' Alliance for Responsible Energy (CARE). She hosts a weekly radio program: America's Voice for Energy - which expands on the content of her weekly column. Follow her @EnergyRabbit.
There is a group out there called Created Equal that has piqued my interest since they fight for those who truly have no choice because their right to life is denied to them by their mother's decision to abort her pregnancy. Based out of Columbus, Ohio, they realize that ground zero for their fight will be later this month in Cleveland at the Republican National Convention, so they embarked on a short tour of Ohio to gather support.
The release Created Equal put out about it reminded me again why I'm here on Delmarva, which at least has a little common sense.
On June 16-17, #OperationRNC conducted a state-wide tour of Ohio. Troy Newman of Operation Rescue, Rev. Patrick Mahoney of the Christian Defense Coalition, and Mark Harrington of Created Equal were joined by other Ohio pro-life leaders in Columbus, Cincinnati, Dayton, Toledo and Cleveland.
Three of the four media coverage items they used were from Toledo: two from television and one by The Blade, which is Toledo's primary newspaper. (Not to be confused with the Washington Blade, an LGBT-centric publication.) As it was described by The Blade, there were 20 on the pro-life side and 30 on the pro-abortion side. I suppose that's only fair since Toledo has long since ceded itself to the whims of the Democrat Party and their Planned Parenthood outlet is downtown, not in the suburbs where more of the conservatives live.
But what did the Created Equal side want?
Activists are requesting that $540,000,000 currently given to Planned Parenthood be redirected to 13,000 federally licensed health clinics which provide true comprehensive women's health care. These clinics provide a greater variety of services and choices to women than Planned Parenthood and are not under federal investigation.

The DNC is calling for a repeal of the Hyde Amendment and instead include the funding of abortion on demand in their party platform. Pro-lifers need to counter by demanding that the GOP defund Planned Parenthood.
So we are not advocating here for overturning Roe v. Wade nor telling Texas to advise the Supreme Court to butt out of their business as they tried to prevent the very coat-hanger, Gosnell-style abortions I thought the pro-choice crowd was also trying to prevent by enhancing standards for facilities where abortions are performed. (Wasn't the pro-choicers' mantra "safe, legal, and rare" abortions? They had their wish in Texas.)
All they are asking at this point is to defund an organization that has many (but not all) locations performing abortions, and instead distribute the money to those that provide more comprehensive women's health services. Given the figures stated, each local organization would receive an average of about $41,000 – for a group like the Eastern Shore Pregnancy Center, that would be a huge boost in enabling them to do more services. (Assuming, of course, they would wish to collect government money – many self-respecting providers make a point of refusing it.)
While Donald Trump has said he will defund Planned Parenthood, he's in the camp of them not necessarily being the enemy. From February:
Yes, because as long as they do the abortion I am not for funding Planned Parenthood but they do cervical cancer work. They do a lot of good things for women but as long as they're involved with the abortions, as you know they say it's 3% of their work, some people say it's 10%, some people say it's 8%, I hear all different percentages but it doesn't matter. As long as they're involved with abortion, as far as I'm concerned forget it, I wouldn't fund them regardless. But they do do other good work. You look at cervical cancer. I've had women tell me they do some excellent work so I think you also have to put that into account but I would defund Planned Parenthood because of their view and the fact of their work on abortion.
Sorry, I'm not convinced that defunding Planned Parenthood wouldn't be a bargaining chip for Trump - I was much more comfortable with the pro-life stance of most of the remaining GOP field. Remember, in practically every community PP serves there are other entities providing similar, if not overlapping, services. So why should PP get so much from taxpayers?
Being pro-life is a stance that should unite libertarians and social conservatives: protecting the right to life is not only the Christian thing to do but is also the ultimate in liberty. Indeed, being a parent is also a responsibility but if one isn't ready to take it on there are other options available which preserve the unborn baby's life. At least one political party should do even more to relate these irrefutable facts.
Over the last couple days there has been quite the buzz about Salisbury becoming home to professional hockey at long last, since the alcohol restrictions on the Wicomico Youth and Civic Center are no longer in effect. One story on the WBOC-TV website quotes an official with the Federal Hockey League, which is a lower-level minor league comparable to an independent league in baseball as teams are not affiliated as farm clubs for a particular NHL team. According to Andrew Richards of the FHL, "for a team to survive, each game would generally need to see 1,200 to 1,500 attendees at roughly $10 per ticket."
It's interesting that this post will come right after my Shorebird of the Week post; however, I am a much more casual hockey fan than I am a baseball fan. I lived in Toledo, a city with a longstanding minor league hockey history dating back to the 1940s, and attended one or two games over the years (as opposed to perhaps fifty Mud Hen games.) Yet the criteria Richards uses is definitely doable if people are willing to spend a little bit more than they would for a Shorebirds game.
However, if Salisbury wants to have a successful hockey franchise, the FHL may not be the place to be. Formed in 2010, the league has suffered some serious growing pains to get to its current 7-team status. (Six clubs played in 2015-16; a seventh team in St. Clair Shores, Michigan is an expansion team for 2016-17 and the eighth team out of Watertown, New York is supposed to return from a one-year "hiatus" this fall.) The other serious contender would be the Southern Professional Hockey League, a ten-team league that is several years older and seems to be more established. They have an eleventh team that is taking a year off in 2016-17 due to renovations to its arena, so Salisbury would be a good fit as a twelfth team for the 2017-18 season.
But travel would also be somewhat more of a concern for an SPHL franchise – while Salisbury is not in the geographic center of either loop, the closest SPHL team would be in Roanoke, Virginia, which is about six hours away. Its other franchises are in Tennessee, North Carolina, two in Georgia, Alabama, Florida, Mississippi, Illinois, and Indiana. On the other hand, there are two FHL teams about five hours away, in Danbury, Connecticut and Brewster, New York. There are other teams in New York and New Hampshire, but the western side of the FHL is Midwest-based with franchises in Ohio, Michigan (2), and Illinois.
Attendance-wise, though, Salisbury could be one of the more successful FHL teams. Both the SPHL and FHL give host teams 28 games, but attendance at SPHL games is comparable to the South Atlantic League in minor league baseball, where teams average between 2,000 to 3,000 a contest. Using Richards' formula, none of the six FHL teams that played last year would be a success: the closest two were Danville, Illinois, which averaged 1,120 and Port Huron, Michigan, which drew 1,044 per game. The other four ranged from 243 to 774 per game, which meant half-empty (or even cavernously vacant, in Dayton's case) arenas. Unfortunately for Salisbury, the more successful FHL teams tend to be in the Midwest so we may not have close rivals; moreover, I'd have serious concerns about the entire league going belly-up, which may be why they are pursuing our area so hard thanks to a reasonably-sized arena and presumably hockey-starved market. (They obviously factor in the thousands of NY/NJ/PA retirees living less than an hour away in Sussex County and Ocean Pines.)
So nothing is official yet. But to paraphrase Ben Franklin, we may get ourselves a hockey team – if we can keep it.
Commentary by Marita Noon
"California's largest utility and environmental groups announced a deal Tuesday [June 21] to shutter the last nuclear power plant in the state." This statement from the Associated Press reporting about the announced closure of the Diablo Canyon nuclear power plant should startle you. The news about shutting down California's last operating nuclear power plant, especially after Pacific Gas & Electric Co. (PG&E) had sought a 20-year extension of the operating licenses for the two reactors, is disappointing – not startling. What should pique your ire is that the "negotiated proposal," as the Wall Street Journal (WSJ) called it, is between the utility company and environmental groups – with no mention of the regulators elected to insure that consumers have efficient, effective and economical electricity.
Who put the environmental groups in charge? Not the California voters. But unelected environmental groups – and their bureaucratic friends in various government agencies – have been dictating energy policy for the most of the past decade. Regarding the "negotiated proposal," WSJ points out: "The agreement wades deeply into intricate energy procurement, environmental and rate-setting matters that are normally the exclusive jurisdiction of state agencies."
California has a goal of generating half of its electricity from renewable sources by 2030 and environmental groups are calling for the state officials to replace Diablo's generating capacity with "renewable power sources." Realize that this one nuclear power plant provides twice as much electricity as all of California's solar panels combined.
Bloomberg Intelligence analysts' research concluded that PG&E "would need 10,500 megawatts of new solar installations to replace all of Diablo Canyon's output" and that, without including potential costs of new transmission lines or back-up resources for solar, will cost $15 billion – with totals, including decommissioning, estimated at $20 billion.
The Bloomberg report states: "PG&E will ask that customers make up any shortfall."
Actual costs, Bloomberg says: "could be lower because the company expects to compensate for lower demand and replace only part of the production." Why will there be lower demand? The WSJ explains: "the plan calls for new power sources to furnish only a portion of the electricity that Diablo Canyon generates, assuming that greater energy efficiency in the future will also curb some power demand."
All of this is announced while California is experiencing, and expecting more, blackouts due to "a record demand for energy" and because "there just aren't enough gas pipelines for what's needed," according to CNN Money. "Southern California," reports WSJ, "is vulnerable to energy disruptions because it relies on a complex web of electric transmission lines, gas pipelines and gas storage facilities – all running like clockwork – to get enough electricity. If any piece is disabled, it can mean electricity shortages. Gas is the state's chief fuel for power generation, not coal. But the pipelines can only bring in about 3 billion cubic feet of working gas a day into Southern California, below the daily demand, which gets as high as 5.7 billion cubic feet."
California's Independent System Operator, which runs the state's power grid, therefore, has warned of "significant risk" that there may not be enough natural gas which could result in "outages for as many as 14 summer days." CNN Money reports: "Natural gas has played a bigger role for California as the state has tried to phase out coal and nuclear power" – environmental groups oppose the use of all of these three power sources.
It is expected that Diablo Canyon's generating capacity will, in part, be replaced with more natural gas – which is good news for fracking. Eric Schmitt, vice president of operations for the California Independent System Operator, said: "California needs more flexibility in how it generates power so it can balance fluctuating output from wind and solar projects. Gas plants can be turned off and on quickly."
As coal-fueled electricity has been outlawed in California, and environmental groups have pushed to close nuclear power plants, and routinely block any new proposed natural gas pipelines, black outs will become frequent. California's energy demand doesn't match solar power's production.
This dilemma makes "energy efficiency" a key component of the environmental groups' decrees – which parallels the European Union's (EU) policies that were a part of Britain's "exit" decision (known as "Brexit").
When the EU's energy efficiency standards for small appliances were first proposed, then German EU energy commissioner, Gunther Oettinger, according to the Telegraph, said: "All EU countries agree energy efficiency is the most effective method to reduce energy consumption and dependence on imports and to improve the climate. Therefore there needs to be mandatory consumption limits for small electrical appliances." In 2014, the EU, in the name of energy efficiency, sparked public outcry in Britain when it banned powerful vacuum cleaners with motors above 1600 watts. It then proposed to "ban high powered kettles and toasters" as part of the "Eco-design Directive" aimed at reducing the energy consumption of products.
The EU's Eco-design Directive's specific requirements are to be published as "Implementing Measures" – which, according to Conformance.co.uk, are made "as European Law Commission Regulations." It explains that this process allows the directives to "enter into force in all the member states without requiring a transcription process in their National Law. Thus they can be issued much more quickly than the usual Directive Process."
When the EU's high-powered toaster/tea-kettle ban was announced, it became "a lightning rod for public anger at perceived meddling by Brussels" – which was seen as "intruding too much into citizens' daily lives." When the ban was announced, retailers reported a spike, as high as 95 percent, in toaster and electric tea-kettle sales. The European overreach became such ammunition in Britain's Brexit referendum, that Brussels stalled the ban until after the election and engaged in a now-failed public relations exercise with "green campaigners" to speak out in favor of the toaster and tea-kettle regulations that were believed to have "considerable energy saving potential."
The Brits didn't buy it. It is reported that top of the list for "leave" voters were "EU Rules and Regulations." Matthew Elliot, chief executive of the Vote Leave campaign said: "If we vote remain we will be powerless to prevent an avalanche of EU regulations that Brussels is delaying until after the referendum."
Brussels' toaster and tea-kettle ban, which were perceived as an assault on the British staples, has been called "bonkers" and "too barmy to be true." Specifically addressing the ban, Elliot said: "The EU now interferes with so many aspects of our lives, from our breakfast to our borders." David Coburn, a UK Independence party MEP from Scotland, who recently bought a new toaster and tea kettle grumbled: "I think I must have bought a euro-toaster, I have to put bread in it five times and it's still pale and pasty. Perhaps it's powered by windmills. And the kettle? Watching a kettle boil has never been so boring."
While energy efficiency directives banning Keurig coffee makers would be more likely to draw similar ridicule from Californians, there is a lesson to be learned from the Brexit decision: too much regulation results in referendums to overturn them. It is widely believed that, with Brexit and new leadership, many of the EU's environmental regulations, including the Paris Climate Agreement, will be adjusted or abandoned.
More and more Americans are reaching the same conclusion as our British cousins about the overreach of rules and regulations. As Coburn concluded: "What we want is to let the free market reign, not this diktat by bureaucrat."
The author of Energy Freedom, Marita Noon serves as the executive director for Energy Makes America Great Inc., and the companion educational organization, the Citizens' Alliance for Responsible Energy (CARE). She hosts a weekly radio program: America's Voice for Energy - which expands on the content of her weekly column. Follow her @EnergyRabbit.
Commentary by Marita Noon
Proponents of green energy like to point out how the costs have come down – and they have. Though renewable energy, such as wind and solar, are not expected to equal fossil fuel costs anytime in the near future and recent growth has been propped up by mandates and tax incentives. But there are other, more subtle aspects of the Obama Administration's efforts that have had negative impacts that are not felt for years after the policies are implemented. By then, it will be too late to do much about them.
We know that the push toward renewables has hurt the coal industry. As Hillary Clinton gleefully exclaimed: "we're going to put a whole lot of coal miners and coal companies out of business." We are already seeing this happen all over the country. Dozens of coal mining companies have gone bankrupt since President Obama took office and those that are still functioning are doing so with far fewer workers.
One such mine is in the Four Corners region of New Mexico – the San Juan Mine – which is one of the largest underground coal mines in the world. It has been a "top employer" in the region. Westmoreland Coal Company purchased the mine from BHP Billiton, with the sale completed on February 1, 2016. At the time, the mine employed more than 400 people. Shortly thereafter, 11 salaried staff lost their jobs and on June 16, another 85 workers – both salaried and hourly – were laid off. Which, according to the Albuquerque Journal, were "necessary because the San Juan Generating Station, which uses all the mine's coal, plans to retire two of its four units as part of a negotiated agreement among plant operator Public Service Company of New Mexico [PNM], the Environmental Protection Agency, the Navajo Nation, and the state of New Mexico."
The "agreement" to shut down half the power plant – thereby cutting the immediate need for coal – is the result of the EPA's 2011 Regional Haze Program that, according to a report from the U.S. Chamber of Commerce, "seeks to remedy visibility impairment at federal National Parks and Wilderness Areas." This, the report states, "is an aesthetic regulation, and not a public health standard" – though the results will be undetectable to the human eye. For this, nearly a quarter of the mine's workforce has been terminated.
The Albuquerque Journal cites Westmoreland's executive vice president, Joe Micheletti, as being unwilling to "comment on whether he expected to see more layoffs in the coming months." It also states that PNM has promised "not to lay off any employees at the stations as a result of the unit closures" – though through attrition employment is down 20 percent from two years ago.
The reality is, anti-fossil fuel groups like the Sierra Club, wanted the entire plant shut down. In 2018, PNM will have to plead their case before the Public Regulatory Commission to keep the San Juan Generating Station functioning past 2022. PNM is currently considering a plan for meeting its needs for electricity without it. If the plant closes, all jobs, approximately 800, at both the mine and the generating station will be gone – greatly impacting the local economy.
Obama's far-reaching green energy policies are insidious – hurting consumers in ways we don't even think of. On June 10, Stephen Yurek, president and CEO of the Air-Conditioning, Heating and Refrigeration Institute (AHRI), gave testimony before the U.S. House of Representatives Subcommittee on Energy and Power. He addressed the nearly 40-year old Energy Policy and Conservation Act (EPCA) – which, he said, "has not been updated to reflect new technologies and economic realities" and "has been misapplied by the Department of Energy [DOE]." The Obama Administration has run amuck in its application of EPCA – issuing regulation after regulation. Yurek backs this up by pointing out the difference in the Clinton and Obama administrations: "While the Clinton Administration's DOE issued just six major efficiency rules during his eight years in office, the Obama Administration's DOE issued eight major efficiency rules in 2014 alone – a record according to the Office of Information and Regulatory Affairs. And DOE's Unified Agenda indicate that between 2015 and the end of the administration, 11 additional major efficiency rules can be expected to be issued."
These rules, Yurek explained, "use unrealistic assumptions" to create "higher efficiency levels than are economically justified for consumers." He encourages Congress to force the DOE to "consider the real-world cumulative impact of product efficiency standards among agencies, businesses, and consumers" and suggests that "as DOE promulgates rules according to an accelerated regulatory schedule, necessary constructive dialogue falls by the wayside."
Yurek summarizes: "An endless cycle of efficiency rulemakings continues to have an adverse impact on our global competitiveness and the American jobs we create." This practice hurts consumers as "When new products and equipment cost more than consumers can afford, they find alternatives, some of which compromise their comfort and safety, while saving less energy or none at all or in some cases using more energy."
In the name of energy efficiency, on December 6, 2013, Obama issued a memorandum ordering federal buildings to triple renewable energy use. He declared: "Today I am establishing new goals for renewable energy as well as new energy-management practices." Now, nearly three years later, we get a taste of what his federal building initiative is costing taxpayers.
On June 16, 2016, the Federal Housing Finance Agency's (FHFA) Office of Inspector General released a report - precipitated by an anonymous hotline complaint - on the 53 percent cost escalation at Fannie Mae's extravagant new downtown DC building. As a result of the financial crisis, mortgage giant Fannie Mae received a bailout of $116.1 billion in taxpayer funds and FHFA now serves as the conservator over Fannie Mae. The Inspector General found that no one in the FHFA Division of Conservatorship "was aware of the 53% increase in the estimated build-out costs for Fannie Mae's new office space."
"Because Fannie Mae is an entity in the conservatorship of the U.S. government," the report states: "FHFA, as conservator, will need to assess the anticipated efficiencies of specific proposed features against estimated costs of those features and determine whether the efficiencies warrant the costs." The watchdog report found the ballooning costs created "significant financial and reputational risks."
Addressing the excessive cost, Rep. Scott Garrett (R-NJ), chairman of the House subcommittee with oversight over Fannie Mae, said: "Like a child with a credit card in a toy store, the bureaucrats at Fannie Mae just couldn't help themselves. After being forced to bail out the GSE's [Government-Sponsored Enterprises] to the tune of nearly $200 billion [which includes Freddie Mac], American taxpayers now get the news that they are underwriting lavish spending at Fannie Mae's new downtown Washington, D.C. headquarters. So while Americans around the country are living paycheck to paycheck, Washington insiders are blowing through budgets by designing glass enclosed bridges and rooftop decks."
In response to the call for "immediate, sustained comprehensive oversight from FHFA," Melvin L. Watt, FHFA director, defended himself. In the face of the Inspector General's caustic criticism, he claimed that many of the upfront investments would save money over time. Watt's memorandum only offers two such examples and one is more efficient lighting. He claims: "upfitting space with more expensive LED lighting instead of less expensive fluorescent lighting would result in significantly cheaper operating costs." The other example he provided was window shades.
These are just three recent examples of Obama Administration policies that were put in place years before the resulting job losses and costs to consumers and taxpayers are felt. Gratefully, for now, the Supreme Court put a stay on one of his most intrusive and expensive programs – the Clean Power Plan. But there are plenty of little rulemakings, programs, and memorandums that will still be impacting jobs and increasing costs long after he is out of office.
The author of Energy Freedom, Marita Noon serves as the executive director for Energy Makes America Great Inc., and the companion educational organization, the Citizens' Alliance for Responsible Energy (CARE). She hosts a weekly radio program: America's Voice for Energy - which expands on the content of her weekly column. Follow her @EnergyRabbit.
Back in 2013 I wrote about a company called Ethical Electric, noting that the electricity supplier was charging a premium to help out progressive causes. Well, the other day I received a solicitation from a group called Clean Energy Option and after a little digging I found out it was Ethical Electric that was doing business as (d/b/a) Clean Energy Option. Seems to be less than ethical to change their name, but it's likely a marketing thing.
Yet thanks to that 2013 piece I wrote for Watchdog Wire, I found out that Ethical Electric was charging 10.14 cents per kilowatt-hour (kWh) at the time, which was a fair-sized premium over the 8.89 cents per kWh Delmarva Power (my utility) was charging back then. That 14% difference meant the average bill would be about $12.60 higher per month for an average home that used 900 kWh monthly. I don't know about you, but I'm sure I would cry foul if my electric bill was going up $150 a year, since that's what it translates to.
It just so happened that the Clean Energy solicitation followed my latest Delmarva Power bill by a couple days so my bill was handy. Over the last two-plus years, my Delmarva Power rates haven't changed a whole lot as the "rate to compare" was 9.01 cents per kWh. In 2 1/2 years I've endured an annual rate increase far less than 1% as the total hike was 1.35%. (I also found out in researching this piece that I can get even lower rates by switching my supplier to another of several companies that are in that business. Some are "green" companies like Clean Energy Option, most are not.)
On the other hand, the teaser rate for Ethical Electric's Clean Energy Option has swelled to 11.6 cents per kWh, which is a rate hike of 14.4% overall and about 6% per year. Most likely this rate will jump again after the three-month special rate ends – after all, what business would promote a higher initial cost? The premium that was once 14% has now doubled to 28%, despite the fact people are bending over backwards to install new solar farms and wind turbines around the region. As Clean Energy Option euphemistically puts the answer to the question "What will happen to my electricity bills?":
In short, supporting new renewable energy development costs a little more than delivering polluting energy. That's because the energy you are choosing is better for you and the planet.
("Better for you" may not be true for a person within sensing range of the low-frequency sound emitted by wind turbines, but I digress.)
There's obviously something at work here to drive the cost of "regular" electricity down while wind and solar continue to increase. I suspect that something is the low cost of natural gas, which is used more frequently as an energy source to create electricity and is relatively cheap. Ironically, this economic fact is doing almost as much damage to the coal industry as Obama's EPA regulations.
So don't be fooled to the tune of $23 a month or nearly $280 a year. Keep the money in your pocket and stick with what is most reliable. Or, if you really want to put that money to work, use it to support elected officials who will stand up to the environmentalist lobby and remove these silly mandates and carveouts for the otherwise unsustainable green energy racket.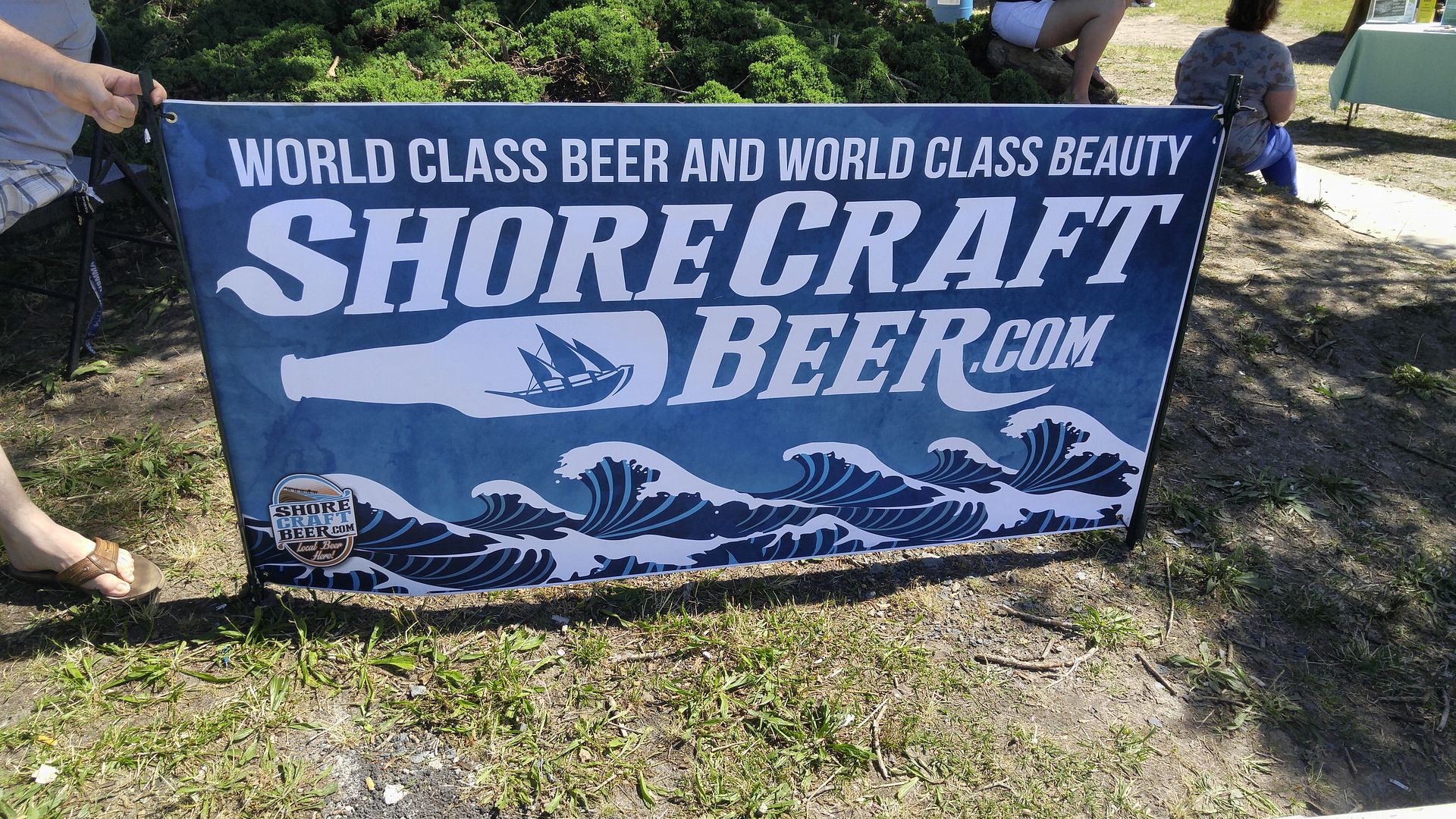 It was a perfect day to be downtown and try a few local craft beers, so I went to the inaugural Salisbury Shore Craft Beer Festival (SSCBF) held downtown along the Riverwalk. (The Salisbury designation distinguishes it from a similar event with the same sponsor in Ocean City, the first of which was held last October.) It was also billed as a "Riverwalk Celebration" and while they are renovating it, there's still some work in progress.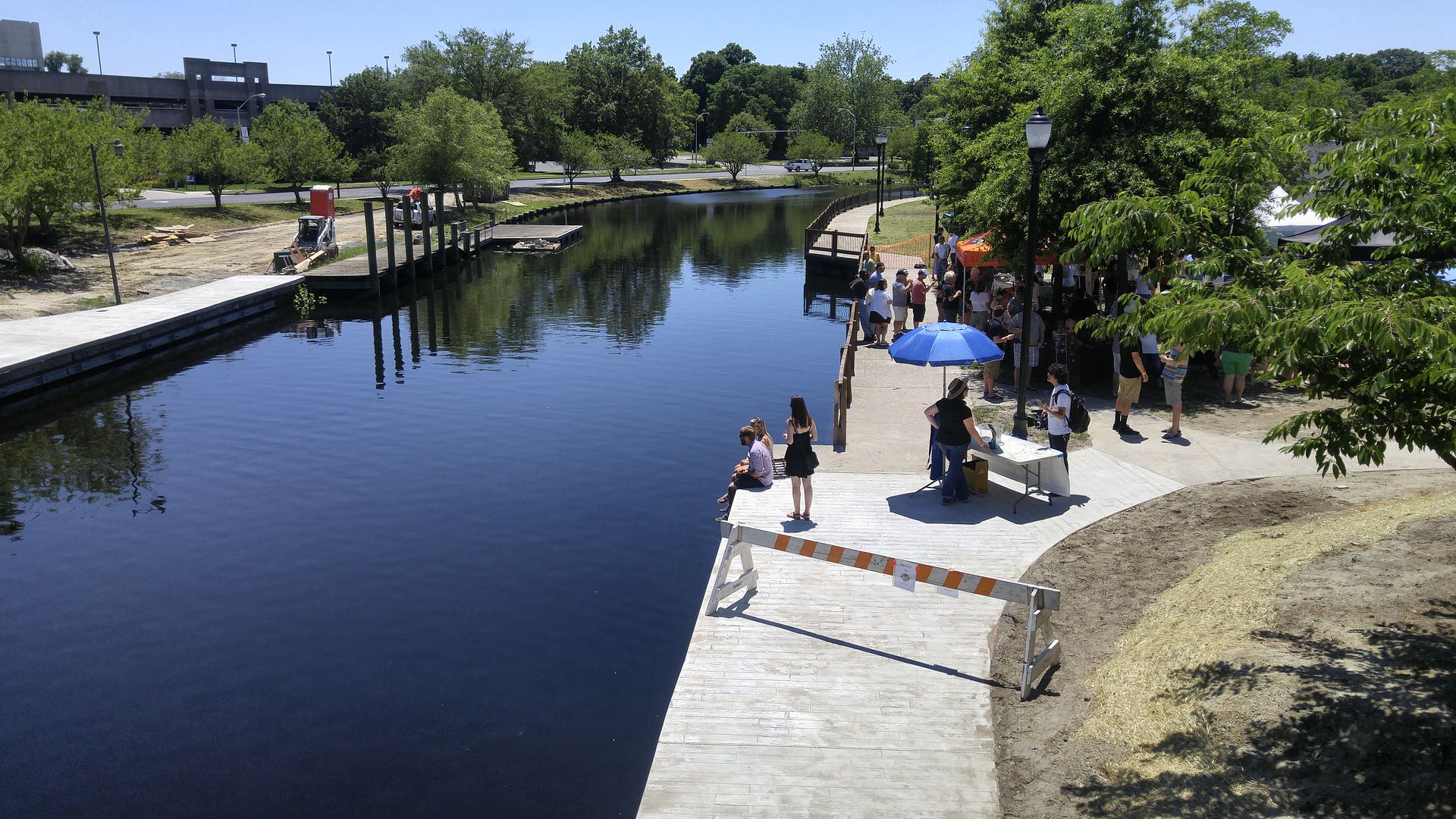 To be fair, I was looking west from the Division Street bridge and most of the Riverwalk lies east of the structure. But this was the site chosen for the festival.
Early on I thought the crowd was a little bit meager. I took this photo about 2:00, a half-hour after the gates were opened for general admission. (VIP ticket holders could get in at 12:30.)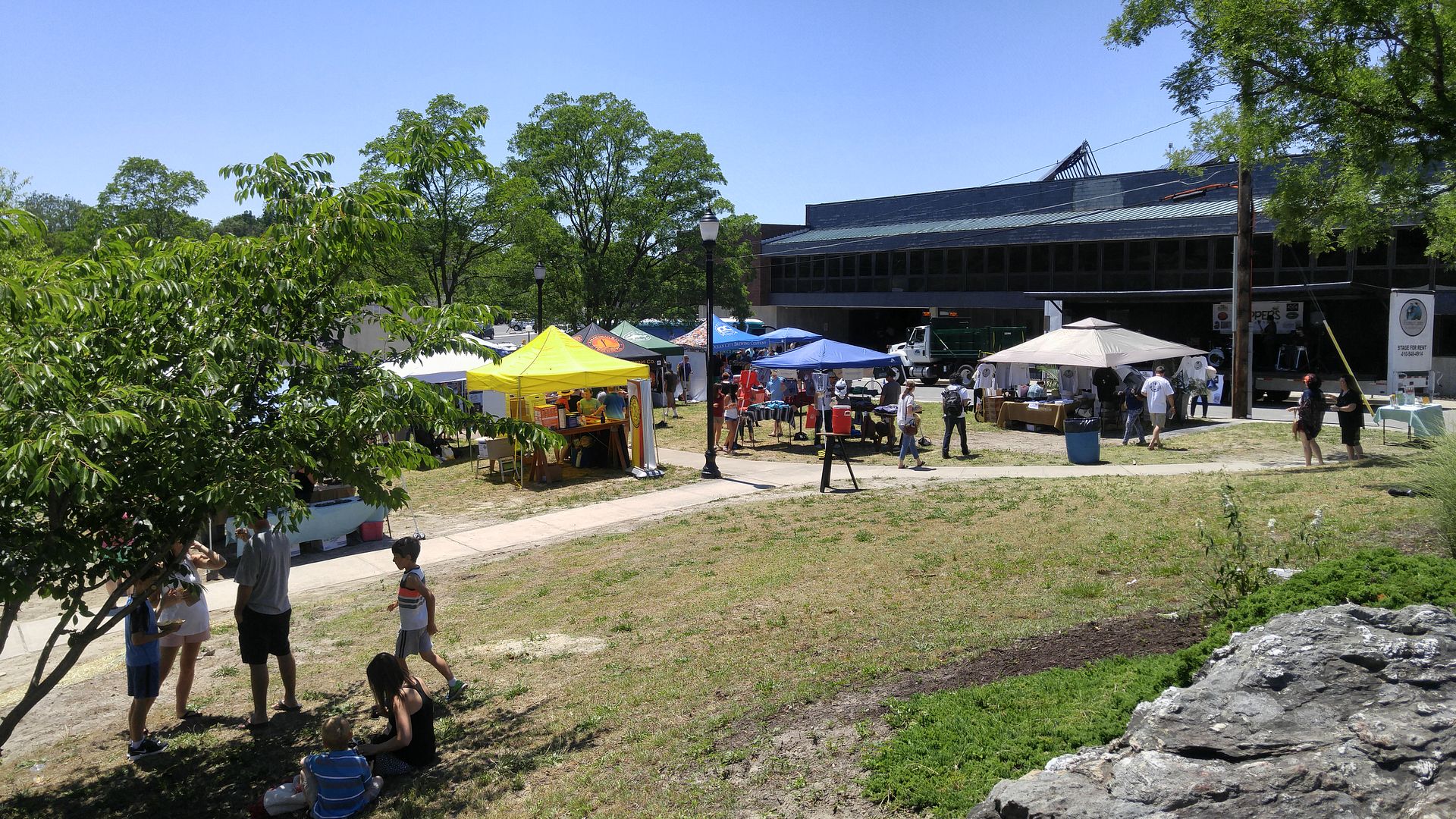 One area where the festival will have room to grow is the food selection. The Division Street bridge served as a mini-food court.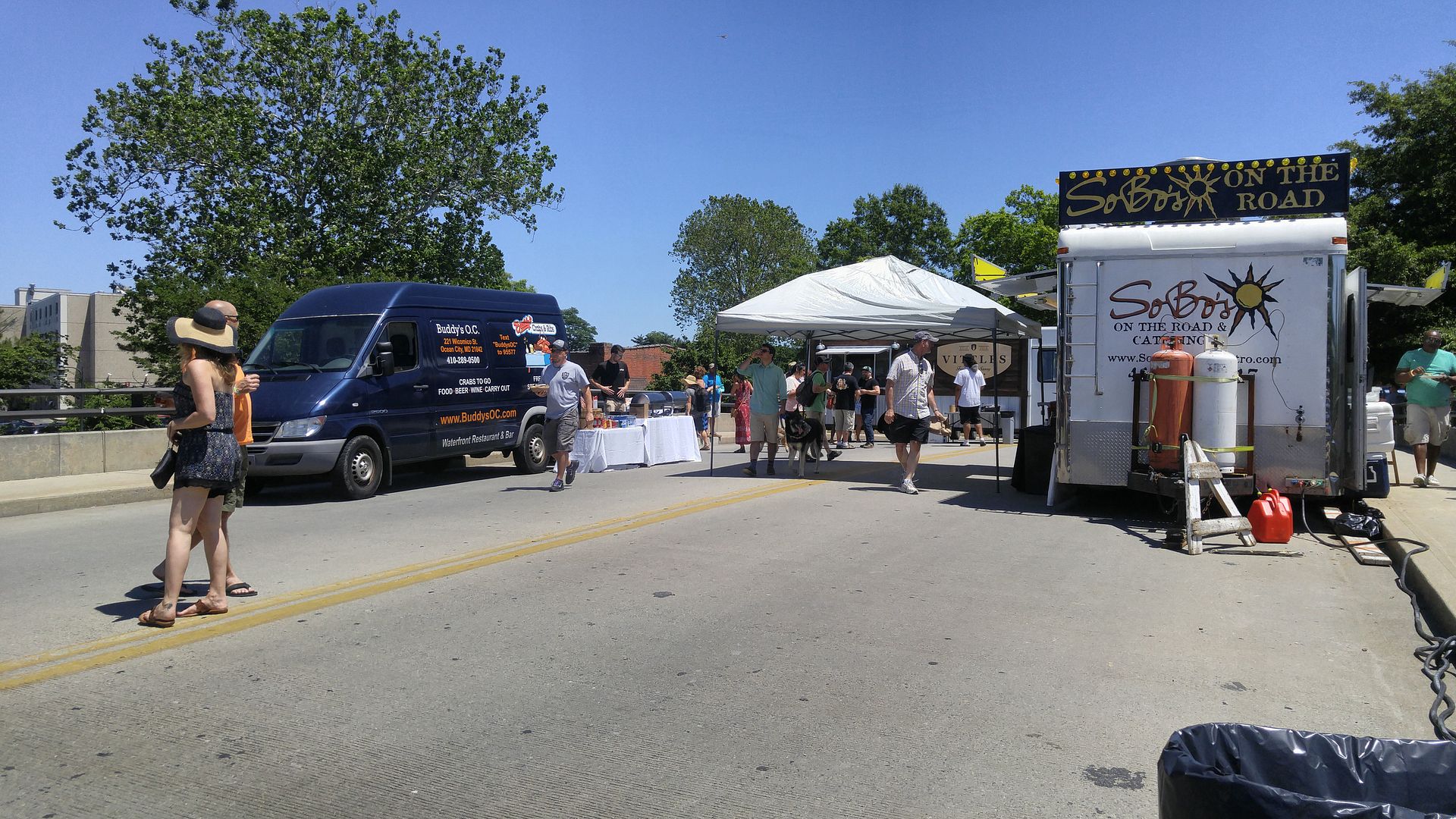 As time went on, though, the crowds thickened a little bit. This photo was taken from along the river looking toward the stage.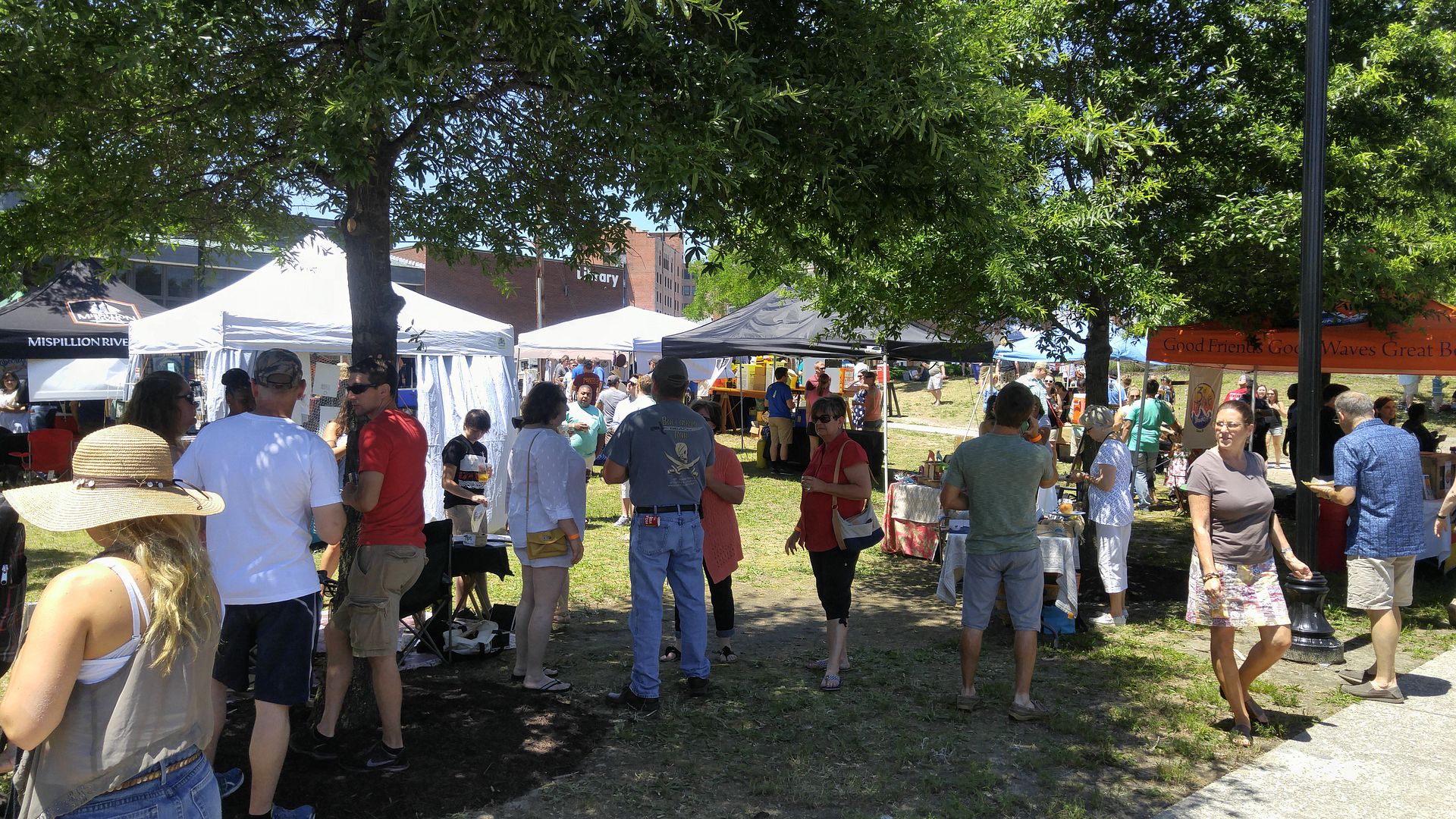 One thing that I got to take advantage of was making my first visit to Headquarters Live, which was a nice place to sit down. There wasn't a tent with picnic tables set up on the main festival site.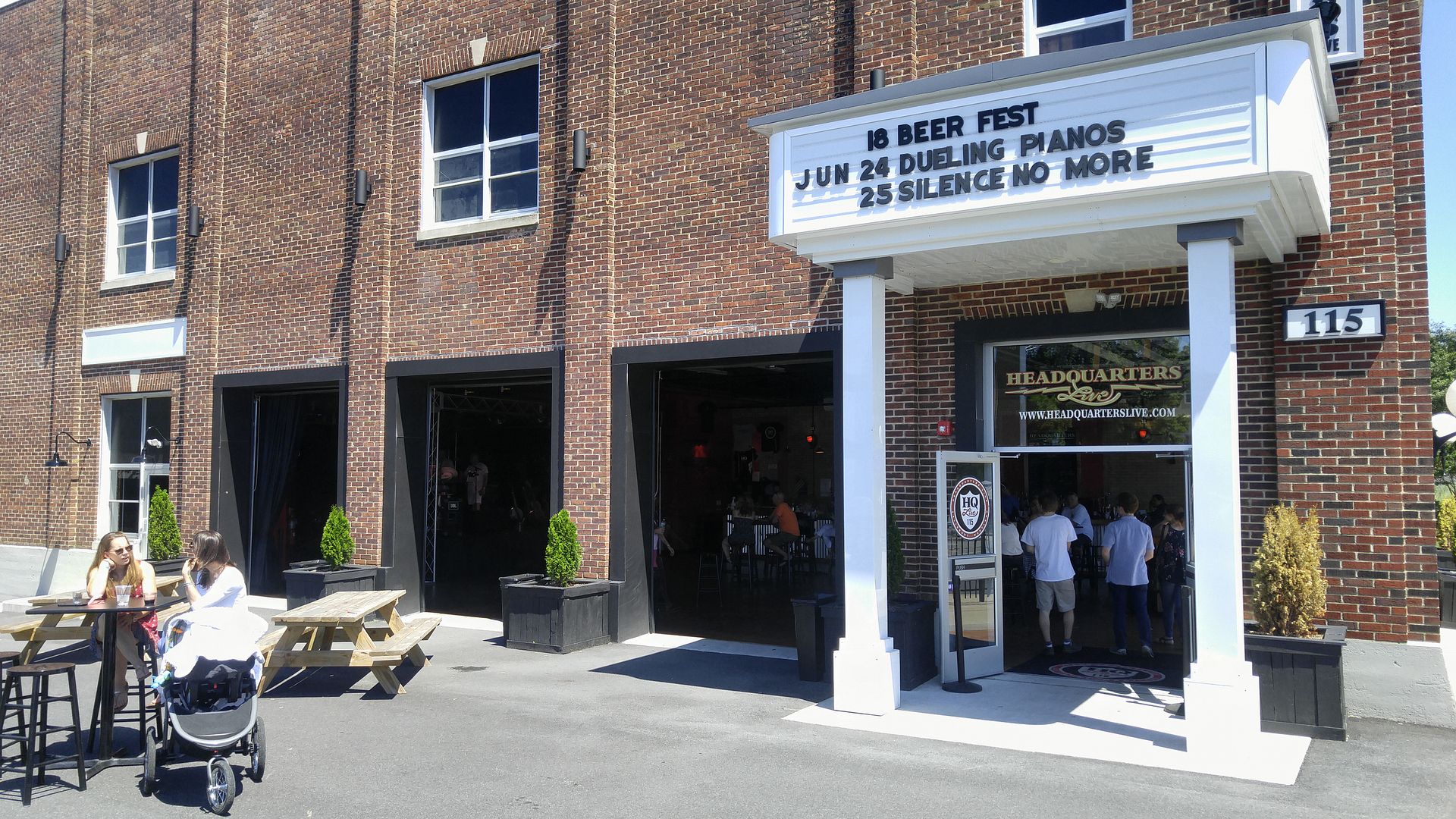 Now if you had the entry in the pool that said the first band I would see there would be called Billy Earl and the Pink Flamingos, you would be right – but I would have called you nuts.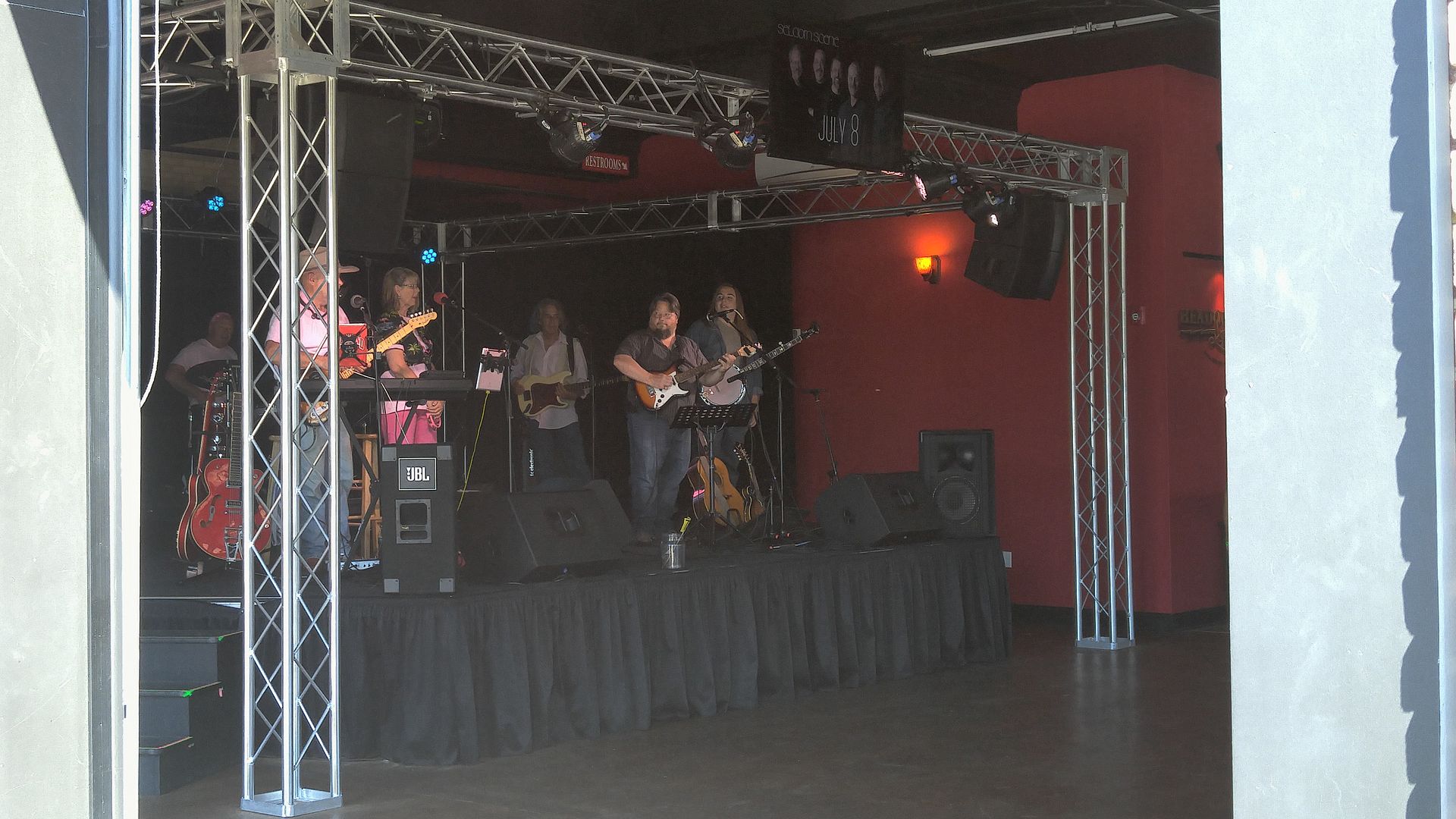 I'll have much more on them as well as Eastern Electric on the mobile stage when I do a "Weekend of local rock" post later this week, but suffice to say Headquarters Live is a smaller venue than I imagined. Yet the festival was shrewd in tying the outdoor stage and indoor venue together, with a separate wristband for each. This gives them a logical area for expansion beyond the small parcel that was used across Division Street and along the river.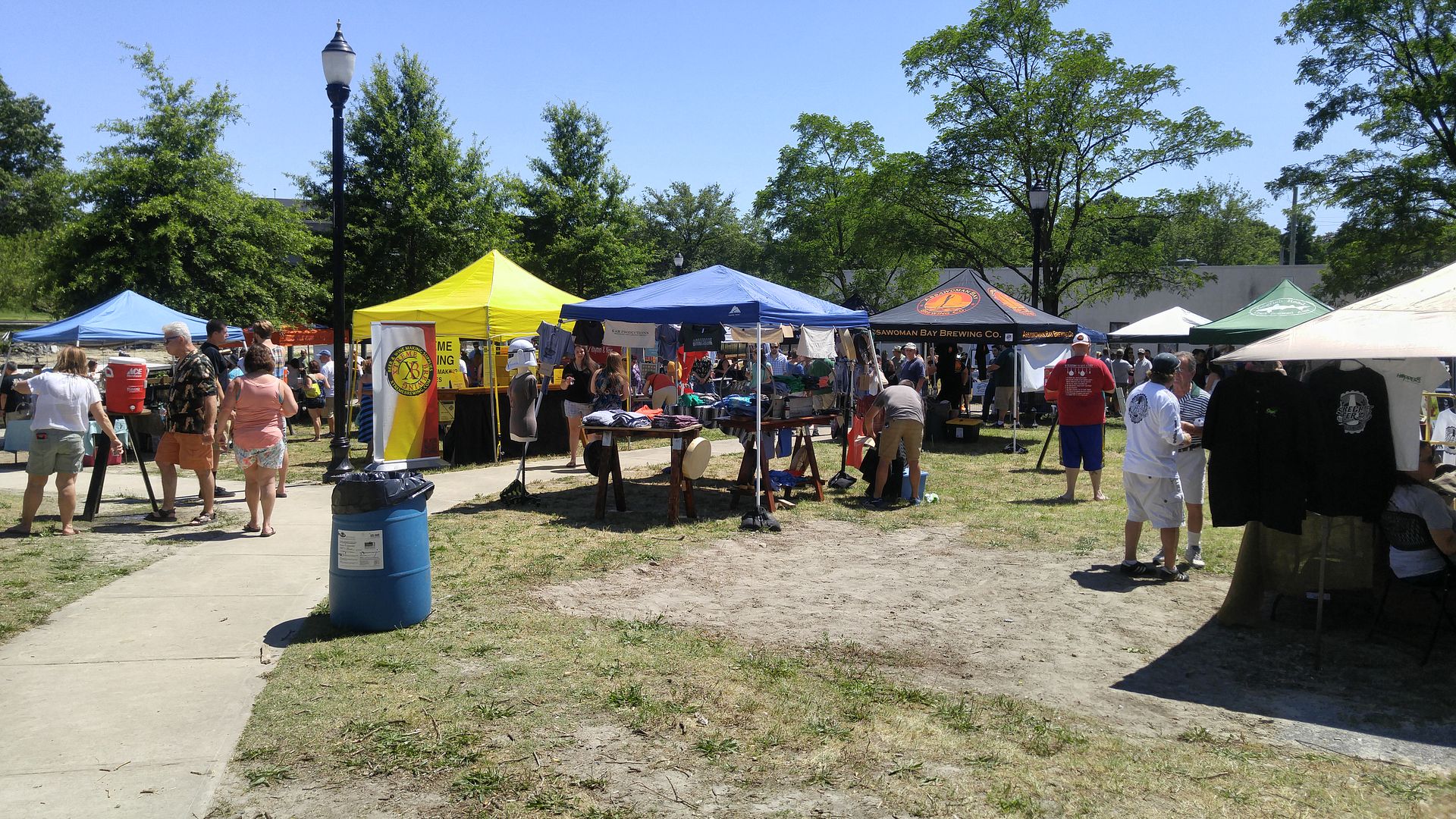 As it was, there was a comfortable amount of people in the park where you didn't feel like you were tripping over anyone yet there was enough to give the event some energy. Unlike the Good Beer Festival, which is held in a secluded location outside of town, people could readily walk in from outside but they could not sample the beer. Another asset was the fact that it was all local breweries – none of those mainstream brewers that are still considered crafters like Sam Adams or Blue Moon which come to the Good Beer Festival from afar. This will limit the event's size to some extent as the area can only support so many breweries and expanding to markets farther and farther away will run them into stiff competition from their local crafters. There were twelve area breweries represented at the SSCBF, pouring around 30 beers as well as a couple of tea concoctions.
I think the event was rather successful considering it was held at a time when few other events off the beach seem to succeed. Most of our larger local festivals actually occur during what's considered "shoulder season" before Memorial Day or after Labor Day. (April and October are the favored months.) In this case, the SSCBF was up against the OC Air Show and the end of the Firefly Music Festival as well as at a time when Salisbury University isn't in regular session, so there were a lot of distractions. It may succeed a little more a week earlier or a week later, but this isn't a bad summer event.
So we will see what happens next year and find out how much more of the Riverwalk they take advantage of.