My final primary endorsement comes in a race that, for me, has come down to the wire: do I go for the known conservative quantity that's part of one of the most unpopular institutions in the country or do I go for one of the upstarts in a hope to bring about change or a more libertarian direction?
Well, the answer became a little easier as I looked into two of the four GOP candidates. Both Jonathan Goff, who challenged Andy Harris in 2014 and got the 22% of the anti-Harris vote in that primary, and Sean Jackson have expressed their support for Donald Trump so that eliminates them automatically as not conservative.
Yet despite the entry of Goff and Jackson, the Congressional race has been figured all along as a two-man contest between Harris and former Delegate Mike Smigiel.
We pretty much know the backstory on Andy Harris: he served in the Maryland State Senate for a decade before challenging incumbent Republican Congressman Wayne Gilchrest in 2008. The problem with Wayne, as Harris and many others saw in the district, was that Gilchrest was too centrist for a conservative district. Harris ended up winning a contentious primary, alienating enough Gilchrest supporters in the process that Democrat Frank Kratovil (who Gilchrest eventually endorsed) won by a narrow plurality in the Obama wave election of 2008. (A Libertarian candidate took 2.5% of the vote, denying Kratovil a majority.)
Harris finished out his term in the State Senate as he plotted to challenge Kratovil, who served as a "blue dog" Democrat (case in point: he voted against Obamacare.) Winning a far less acrimonious GOP primary in 2010 over businessman Rob Fisher, Harris went on to defeat Kratovil by 12 points in the first TEA Party wave election of 2010. Since then Harris hasn't been seriously challenged in either the primary or general elections, winning with 63.4% of the vote in 2012 and 70.4% in 2014 after Goff challenged him in the primary.
While Democrat Jim Ireton may think he has a shot against Harris, it's very likely that Tuesday's election is the deciding factor in who will be our representative to the 115th Congress. But Mike Smigiel is the first serious candidate with a pedigree to challenge for the First District seat since Harris and State Senator E.J. Pipkin, among others, both took on Wayne Gilchrest in 2008.
Like Harris, Smigiel served for 12 years in the Maryland General Assembly but he served in the House of Delegates, representing the upper Eastern Shore. This factor is an important one in determining who will be the better candidate, as their terms of service overlapped from 2003-2010. Smigiel ran for re-election in the 2014 primary, but finished fourth in a seven-person field. It's worth noting that four of the District 36 contenders were from Smigiel's Cecil County, which may have sapped his electoral strength – or reflected a dissatisfaction with Mike's approach. Only one of them could have advanced, so in effect they cannibalized the primary vote.
Mike's case for unseating Harris has evolved from an undertone of dissatisfaction from those who supported Harris for the seat. They say that Andy is not a fighter or a leader in the conservative movement, and long for a more libertarian Congressman perhaps in the mold of Justin Amash or Thomas Massie. To that end, Smigiel has advocated his case for a Constitutional, limited government, often waving his copy of the Constitution in a debate or forum session. His campaign has focused to a great extent on a number of Congressional votes that Harris has cast, particularly the 2014 CRomnibus bill.
In looking at this race, it should be pointed out that I saw Smigiel's libertarian approach as an asset; however, I felt the strong emphasis on Harris's voting record masked some of the real truth.
A key difference between the legislative process in Maryland and the federal sausage-grinding we find in Washington is that Congressional legislation is not limited to a single issue as Maryland's is. You can take the CRomnibus bill as an example, as it was a compromise hammered out between the various factions of Congress. That's not to say Harris made the correct vote, but Smigiel is counting on a bit of ignorance in how the system works. I could say the same thing about Smigiel since he voted for the first O'Malley budget while Harris voted no.
So let's talk about voting records, shall we? Because voting in a federal legislature is not the same as voting on state matters, we have an apples-to-oranges comparison between Harris and Smigiel. But over the eight years both men served in the General Assembly, a more apples-to-apples approach is possible.
Since 2007, I have done the monoblogue Accountability Project, so it covers the last four years that Harris and Smigiel served together. As an aggregate, I found that Smigiel voted as I would have 77.7% of the time, or 101 times out of 130. On the other hand, Harris was "correct" 89.1% of the time, or 122 times out of 137.
I even went back and found three years' worth of data on the old Maryland Accountability Project that mine continued. While the author perhaps had a different standard of what he considered "conservative," in each of those three years (2003-2005) Harris had a higher score: 84%-60% in 2003, 80%-75% in 2004, and 84%-83% in 2005. (The 2006 results were not available for the House, but Harris only scored 65% in the Senate – so Smigiel may have prevailed that year.)
Yet these are not "clean" comparisons, either, because in my case I hadn't streamlined the process of doing the mAP yet. (Since 2011, both House and Senate ratings are based on the same bills.) So I went back and tried to locate the cases in my work where Harris and Smigiel voted the opposite way. There were a handful that over time have mattered less, but I would like to point out a few items that Harris favored and Smigiel opposed, since Mike has attacked Andy's record:
Smart, Green, and Growing – Maryland Sustainable Growth Commission (2010) – replaced a task force with the MSGC, an O'Malley-sponsored bill.
Higher Education Investment Fund – Tuition Stabilization and Funding (2010) – a spending mandate O'Malley also sought.
Greenhouse Gas Emissions Reduction Act of 2009 – this was a horrible bill that established and codified carbon reductions into state law.
One can definitely argue that Harris was trying to soften his image with these votes, since they came after his unsuccessful 2008 run.
But there is another side: those bills that Smigiel favored and Harris opposed:
Other Tobacco Products Licenses (2010) – required separate licenses for those who sell cigars, snuff, or pipe tobacco. Harris was one of just 7 in the MGA to oppose this.
High Performance Buildings Act – Applicable to Community College Capital Projects (2010) – required LEED Silver or above ratings.
Regional Greenhouse Gas Initiative – Maryland Strategic Energy Investment Program (2008) – an O'Malley bill to spend RGGI money.
Environment – Water Management Administration – Wetlands and Waterways Program Fees (2008) – established a fee of up to $7,500 an acre for certain developments.
Chesapeake and Atlantic Coastal Bays Critical Area Protection Program – Administrative and Enforcement Provisions (2008) – additional mandates on local government.
High Performance Buildings Act (2008) – the precursor to the 2010 act above.
Maryland Clean Cars Act of 2007 – an O'Malley bill requiring California emissions for Maryland cars, which added cost to new cars.
Higher Education – Tuition Affordability Act of 2007 – another O'Malley bill that extended an artificial tuition freeze.
Electricity – Net Energy Metering – Renewable Energy Portfolio Standard – Solar Energy (2007) - a good old-fashioned carveout, picking a winner.
It seems to me there's a major difference on environmental issues between Smigiel and Harris, and while that may not matter so much at a federal level my belief that "green is the new red" leads me to think that Smigiel's pro-liberty case isn't as airtight as we are led to believe.
I can go all night looking at voting records, but there is one other thing I'd like to point out.
Last week I criticized Smigiel for spending part of the weekend before the primary at a cannabis convention, a stance he took exception to in a private message to me. Without divulging the full conversation, which I assumed was just for my private use, the upshot was that he argued there were going to be fundraising benefits for him as well as possible job creation in the 1st District. I can buy that argument, but if it hinges on him winning the primary Job One has to be getting the votes.
So it was interesting that a friend of mine shared a card her daughter received, which looks like the one below.
My friend speculated the card was targeted to a certain age group of Millennials since her daughter was the only one in the house to receive it. Yet the card isn't from Mike's campaign but instead an organization called 420 USA PAC, which advocates for cannabis legalization.
Of course, my personal stance is not all that far from Mike's, but we also have two laboratories of democracy in Colorado and Washington state to see how the legalization of marijuana plays out. Smigiel argues the District of Columbia cannabis initiative is a state's rights issue but should know that in the Constitution Congress is responsible to "exercise exclusive Legislation in all cases whatsoever" over the District per Article I, Section 8. So Harris performed some oversight.
On the other hand I can vouch for Andy being in the district over the weekend. Perhaps this is a classic conservative vs. libertarian matchup, although both men are well-accepted in the pro-life community.
This has been an endorsement I have had to think long and hard about; luckily it's a case where I could easily work for the other gentleman if he will have me.
But I have decided that Andy Harris deserves another term in Congress. Saying that, though, it's obvious people will be watching and if I were Mike Smigiel I wouldn't dismiss trying again in 2018 because we could use his kind of voice in Congress as well. Think of the next two years as a probationary period for Harris.
So allow me to review my three endorsements for the major races.
For President, I urge you to vote for the remaining true conservative in the race, Ted Cruz. He has six people running for Delegate and Alternate Delegate who need your votes as well (although my friend Muir Boda is on the ballot, too.)
For U.S. Senate, I had a hard time deciding between Dave Wallace and Richard Douglas, but the backbone Richard Douglas has shown earned him my endorsement and vote.
And finally, retain Andy Harris as our Congressman.
Just don't forget to vote Tuesday. It's up to us to begin turning Maryland into a more conservative state – not just trying to teach the benefits of conservatism to an audience charitably described as skeptical but making sure we vote in the right manner as well.
It was back to the basics once again for this once-premier regional event, which is still chugging along in its thirteenth year. What better way to celebrate the weekend of Earth Day than eating some of its tastier creatures cooked over a charcoal fire?
For the second time, though, there was no KCBS competition element. However, there was a competition wrapping up just as we arrived regarding which of the four competitors selling pulled pork had the best, along with a local craft beer pairing. Actually it sounded like a pretty good deal for $10 and it's a pity I missed it.
There was still a pretty good food court, though, dubbed "Pig Out Alley" with some out-of-towners hawking their barbecued wares.
The guys from Smoke Shack BBQ were hard at work keeping up with demand.
There seems to be a psychological effect where the place with the longest line is thought to have the best ribs. As it turned out, Kim stayed in the Smoke Shack line for about a half-hour while I walked across the way to get mine from the former Salisbury denizen Famous Dave's, strolling right up to the counter and ordering. Maybe that's why their location here only lasted a couple years.
So this is what I got.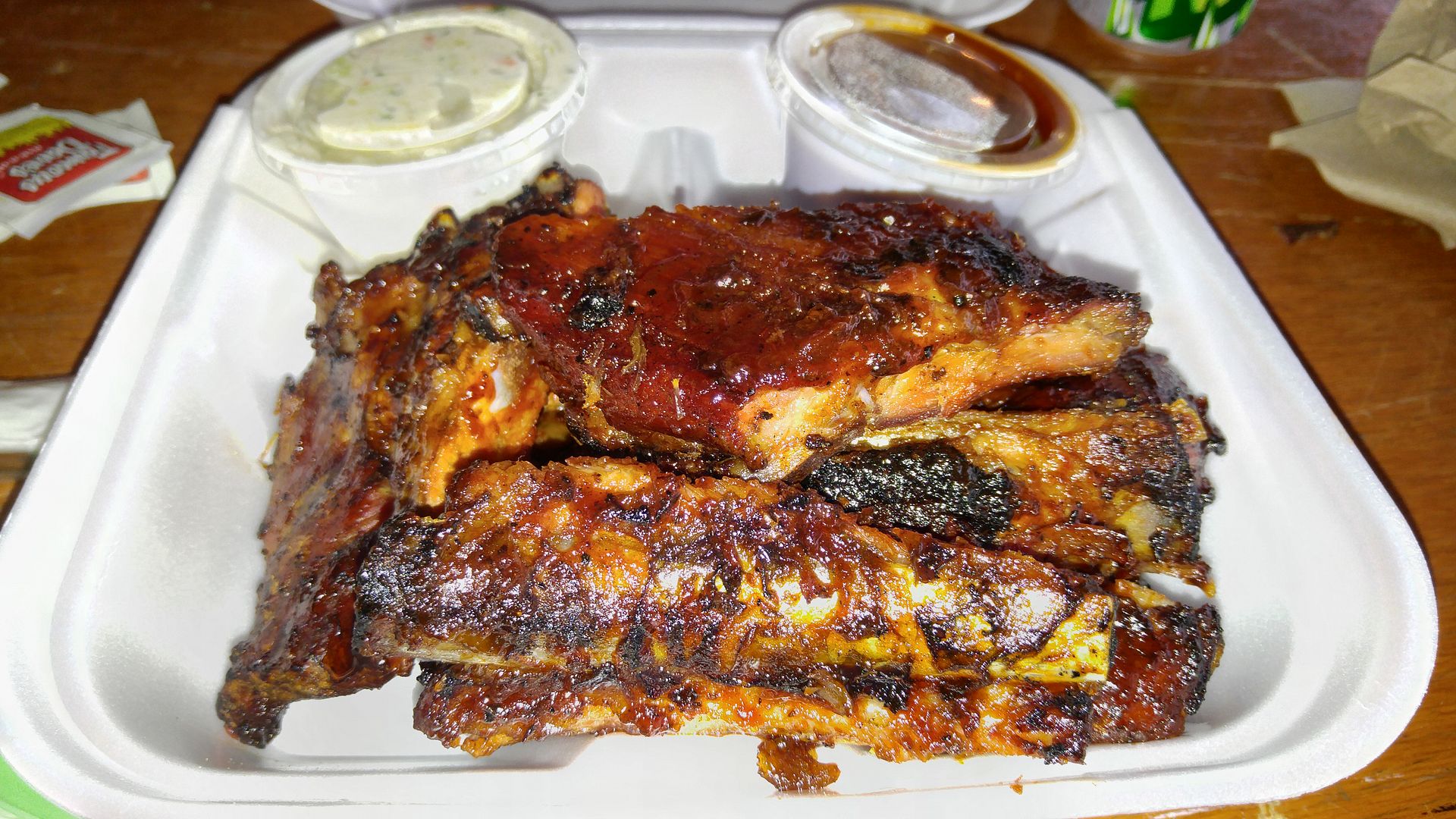 Funny thing: both Kim and I agreed that the Famous Dave's ribs were better. Smoke Shack was somewhat pricier as well, but that comes with the territory I suppose. We could have gotten Hess's ribs as well, for they didn't have a long line either. But as I recall we had theirs last year, when Pork in the Park nearly failed.
Nicer weather helped with the attendance, which seemed to be improved from 2015. It wasn't to the level of past years but perhaps they can rebuild the festival.
One holdover from 2015 was the kids court, with the row of bouncy houses.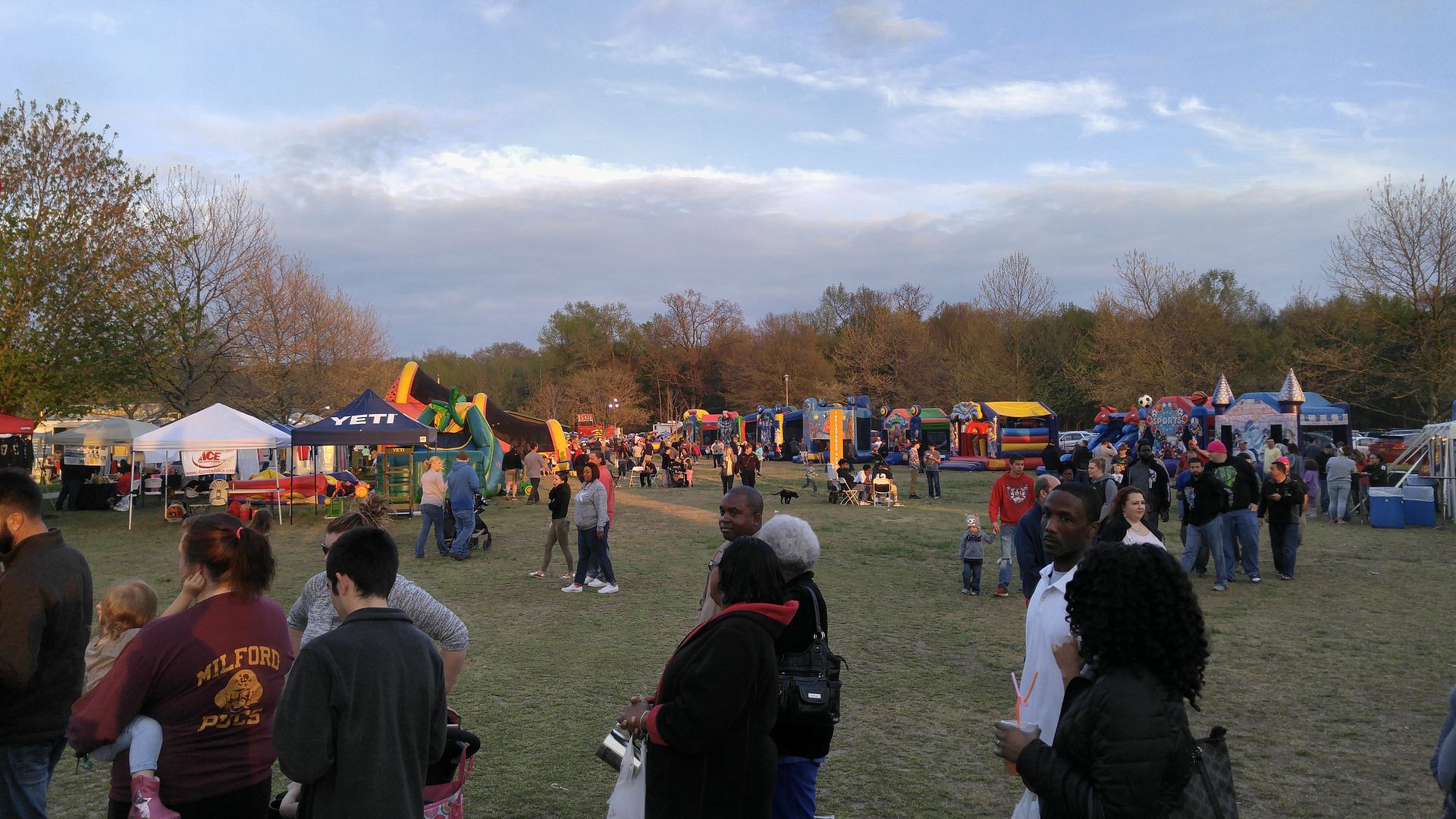 It was actually a pretty good arrangement, as they separated the kids zone from the beer tent and other adult areas. It wasn't like you couldn't hear the band, which was wrapping up as we got there.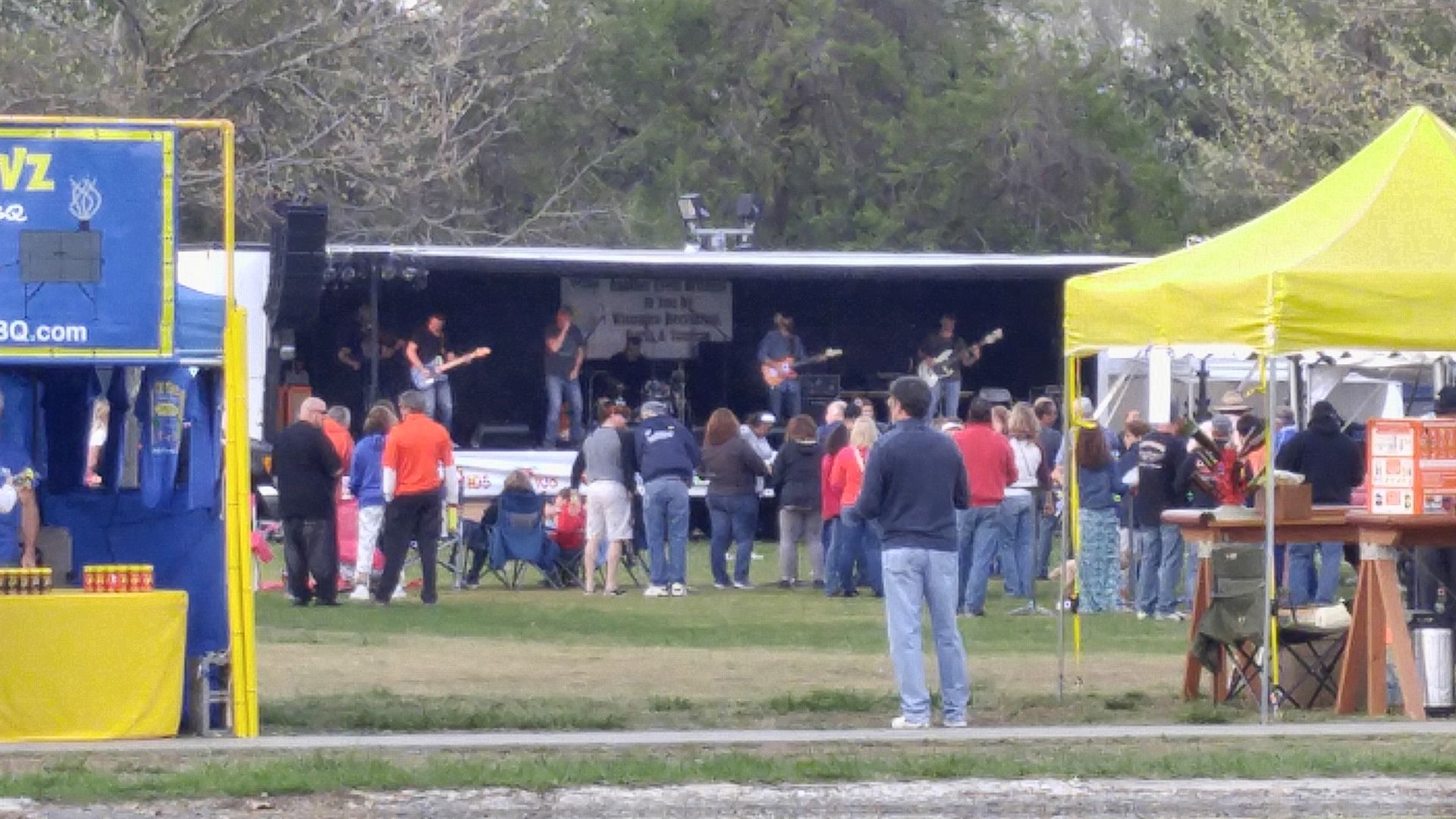 According to the entertainment page of the PitP website the band was Delta Spur, a country cover band. Since I'm not into country, they didn't do a lot for me until they ended the show with some Lynard Skynard (that one I recognized.) But it looks like quite a few were into them.
One thing new they were trying was Balloonville, where you could check out these balloons and perhaps take a (tethered) ride in one, for a price.
I would have to say that this year's rendition is improved over last year's, but whether it can turn the corner without the competition element remains to be seen. It's worth noting that most of the banners various rib vendors use to commemorate their victories are several years old – seems that the number of these competitions have waned as tastes move away from everything barbecued and onto other culinary options. Perhaps someone somewhere has a banner that brags about winning Pork in the Park, but that's not happening this year.
But if you don't mind paying a little extra for some good ribs, this isn't a bad place to bring the family if you're around Salisbury. They have the kids' area so the little ones can blow off steam and it's only $3 to get in for the adults. It's a beautiful day on Delmarva as well – aside from some rain yesterday afternoon, they lucked out with the weather. You have until 5:00 today.
So come on out and see if we can make it bigger and better for 2017.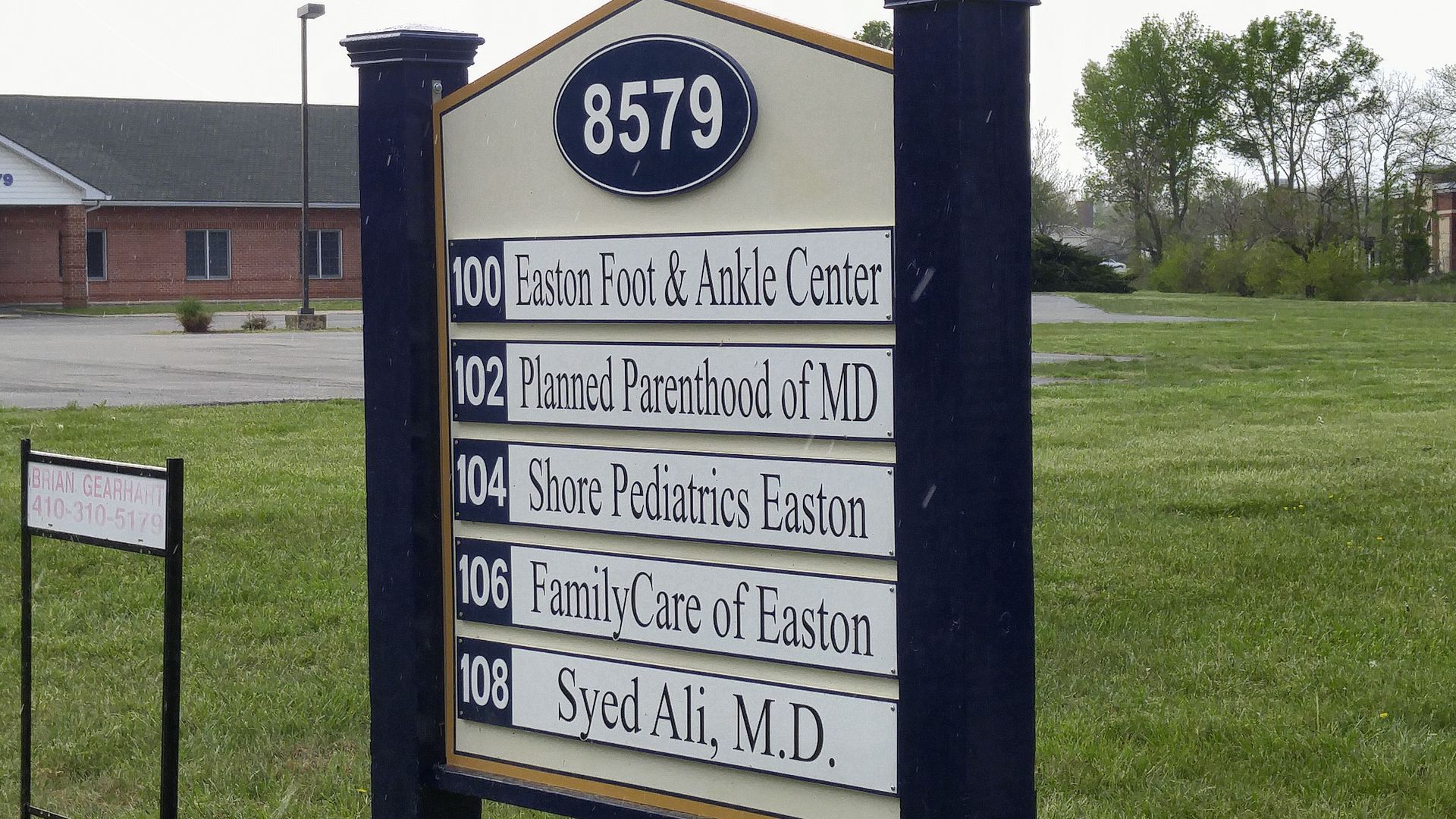 Over the last several months the news media has moved on from last year's hot story about Planned Parenthood selling body parts and otherwise profiting off the misery of women who abort their pregnancies in the name of "choice." It was the reason we gathered last August and October.
But in order to stand aside the annual tradition of mourning the miscarriage of justice otherwise known as Roe v. Wade each January on the anniversary of the 1973 Supreme Court decision, the advocacy group ProtestPP decided the fourth Saturday in April would be a good time to hold an annual protest.
So our little gathering in Easton was one of 200 scheduled around the nation today.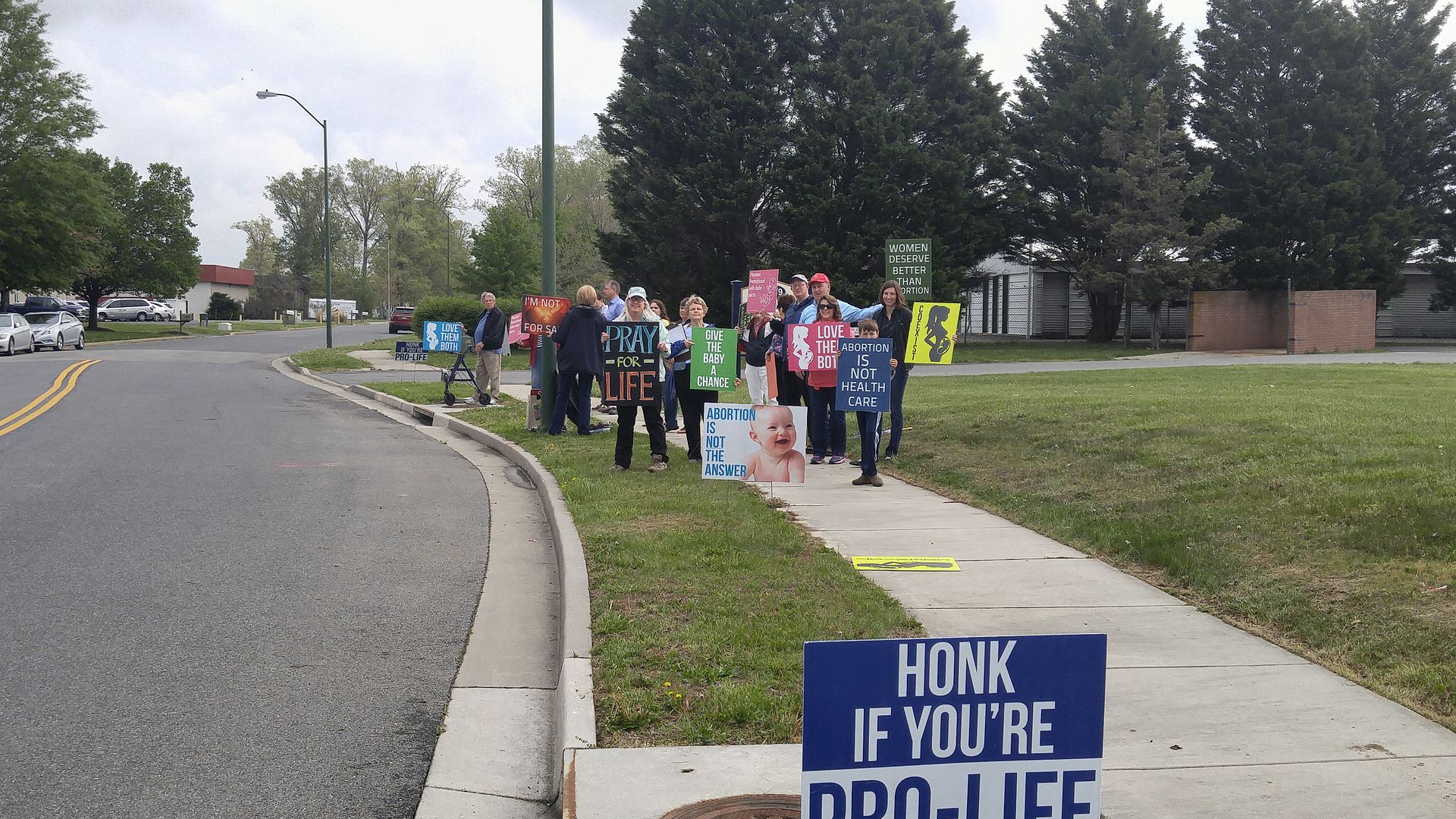 As opposed to the August rally, not only was the Planned Parenthood office closed but so were all the other businesses in the small office complex. So it was a very quiet gathering – even the police car only drove by a couple of times.
Yet we also had a very distinguished guest, one familiar to the Maryland pro-life community.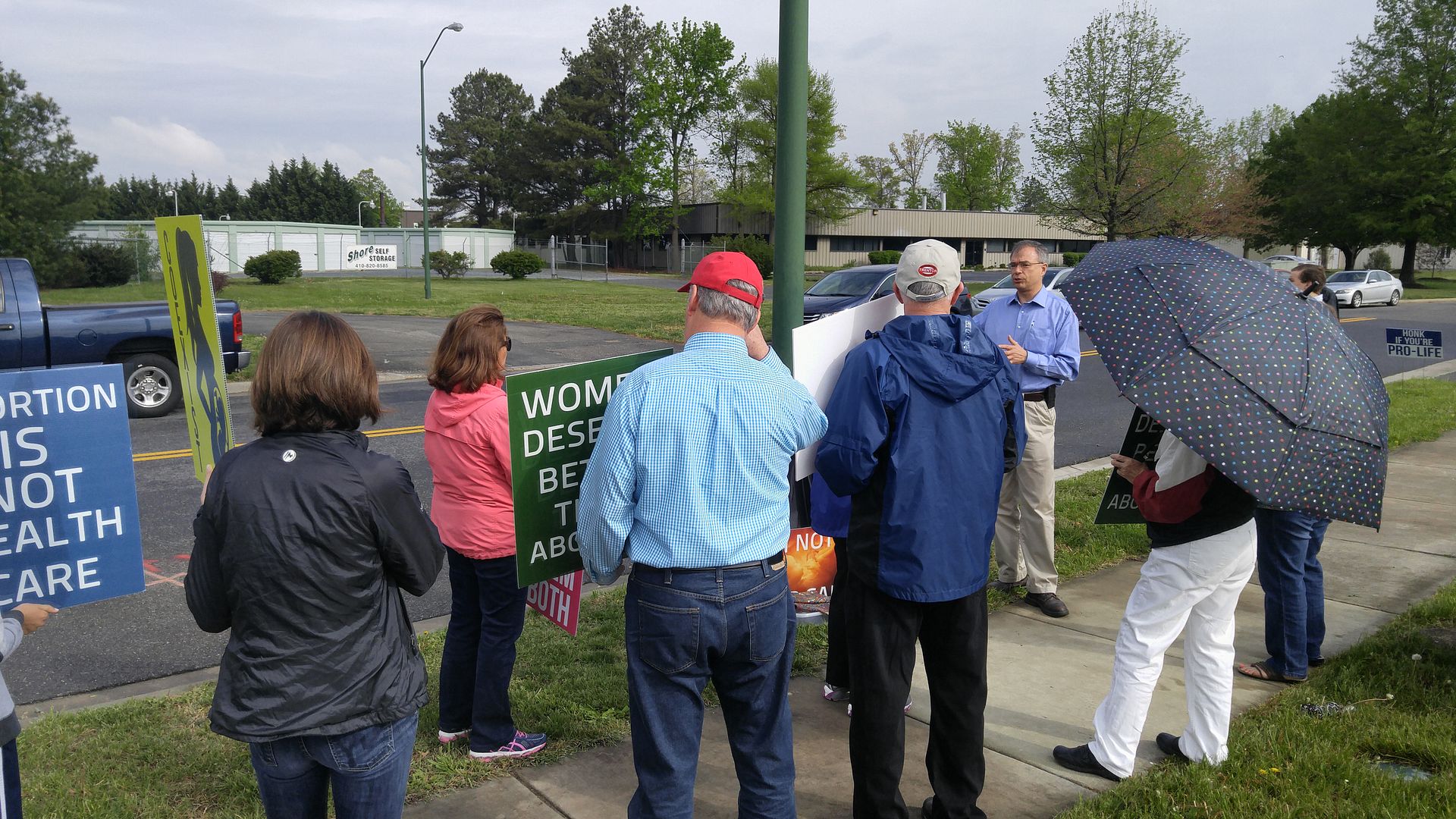 Three days before his primary, Congressman Andy Harris took over an hour out of his day to spend it with our merry little pro-life band. In informal remarks Harris revealed that, in relation to the Planned Parenthood scandal, "the stuff we are finding (in their investigation) is unbelievable." He added that, "Clearly, Planned Parenthood made a profit." There was also interest in bringing David Daleiden before Congress to hear his testimony on the issue, said Harris.
Most of Andy's time, though, was spent in private conversation answering questions and concerns from the twenty people who attended the Easton protest. Indeed, the number paled in comparison to August's turnout or even October's, according to Cathy Keim, who I accompanied to the event. Yet even though the number of those wishing to put an end to abortion on demand was small, the reaction was generally positive from the people driving by on the side street: most who gave any indication of paying attention gave us the thumbs-up or honked their horns. Of course, there was the Volvo driver who gave us the thumbs-down and the young college-age girl who flipped us the bird, but that's to be expected. There was no organized opposition.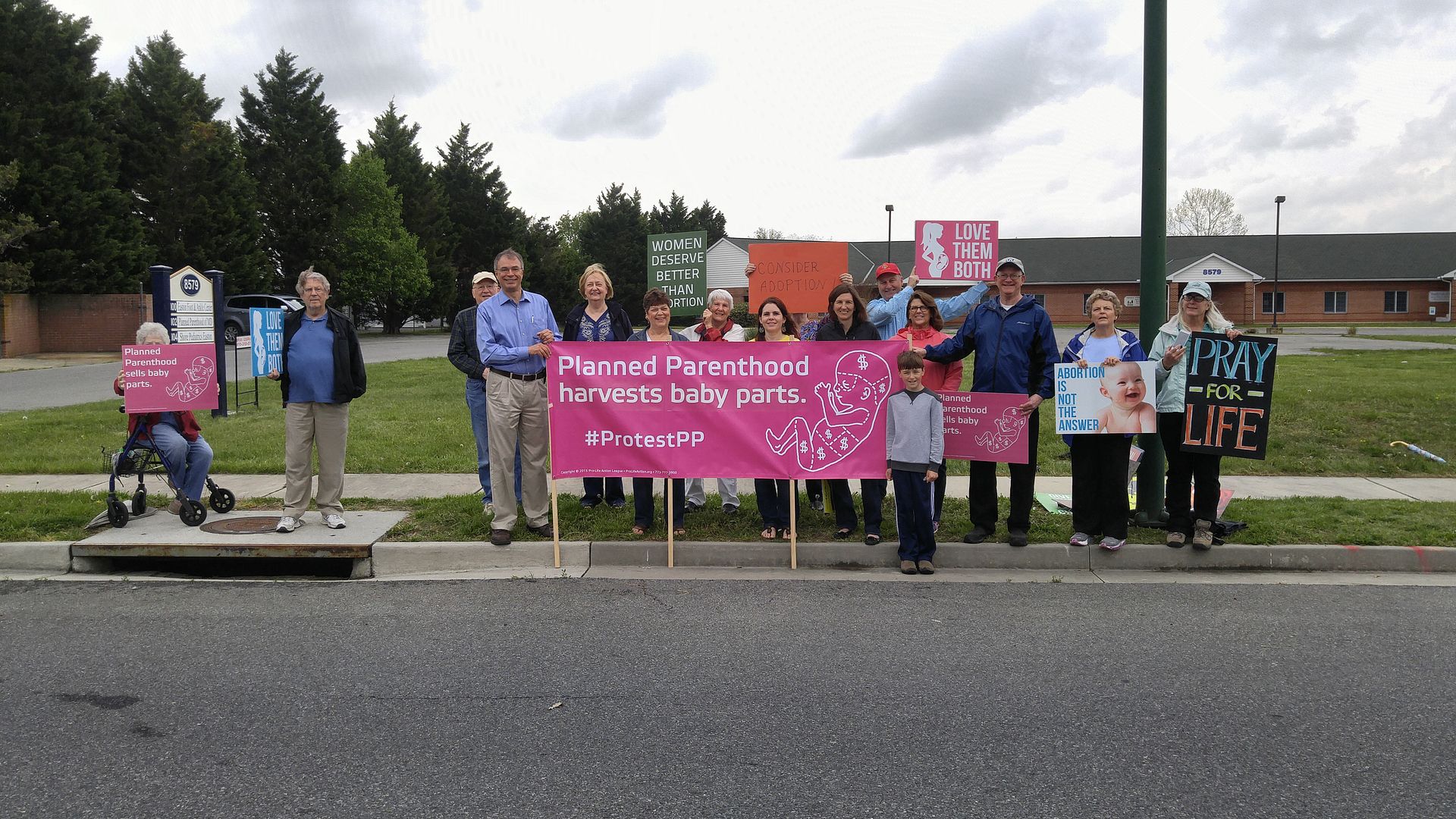 Think of the group above as a beginning, the alumni, if you will, of the Easton branch of the pro-life movement. It's realistic to think that we could double or triple the number next year as word begins to spread that the fourth Saturday in April is a day to celebrate life.
Postscript: I neglected to add in the original rendition that we also heard a closing prayer from Pastor Jason Shelton of Providence Presbyterian Church of Salisbury. Reading from the Book of Matthew, Shelton noted that "Blessed are they that mourn: for they shall be comforted." He commented on the "hard, callous world" that we in the pro-life movement are up against, but prayed that we would soon not have to make this trek to Easton.
If any post I've ever done deserved to be put up on 4/20, it's this one. But suffice to say there are times when the perfect becomes the enemy of the good, and for Congressional candidate Mike Smigiel that point may have been reached.
On Monday I received a press release from the Smigiel campaign promoting his appearance as a featured speaker at the National Cannabis Festival, an event to be held Saturday in Washington, D.C. Held for the first time this year, the Cannabis Festival promotes itself as:
More than just a festival, NCF is a chance to connect with members of the cannabis community and industry from across the country while enjoying a full day of music, games, delicious food and drink.
In the release, there was a rationale provided for Smigiel's remarks:
The Maryland 1st District Congressional Race is of national importance and serves as a barometer to gauge the mood of the country regarding removal of barriers for the cannabis industry. (Andy) Harris is seeking re-election in a tough primary that Marylanders will be voting in on April 26th, and Del. Smigiel has released polling that suggests that when voters know of Harris' votes, including his actions with cannabis prohibition, residents will not vote for Harris at an overwhelming majority.  Industry supporters are upset because Congress renewed the prohibition on the District's government from spending any funds to set up a legal market for marijuana distribution and taxation, a move lead by Congressman Harris. There is a deep seeded negative sentiment against Rep. Harris as he is seen as an exemplification of the worst of big government overreach when he interfered with District voters' attempt to follow Colorado, Washington State and others in exercising political autonomy with Initiative 71. The initiative appeared on the ballot and was approved by voters, only to have Rep. Harris successfully lead the effort to block the District government's implementation efforts. Since that time, several unintended consequences have resulted from Rep. Harris' paternalism.

The District is still unable to tax and or otherwise control the manufacturing and distribution of marijuana thus is losing out on tens of millions of dollars of new tax revenue.

Harris' vote against the District not only exemplifies the overreach of big government it is also indicative of an arrogance where elected servants of our government presume to have a better understanding of our needs than we, the electorate do. The ramifications are far reaching throughout Maryland's 1st District as well, affecting opportunities for the development of agricultural crops, business, and also resulted in a boycott of Ocean City, Maryland.
I get all that argument (aside from the state's rights argument, since the District of Columbia is not a state), but perhaps the weekend before the election is not the best time to be hanging out with a crowd that few in the First District would identify with. Even worse is the idea of promoting recreational drug use (and let's get real, most of the support for the "cannabis industry" isn't so we can produce more industrial hemp) at a time when the local headlines often shout about yet another death by drug overdose. Simply put, the optics are really bad on this one. What may grab you another handful of votes among those who are passionate about the issue will turn off a lot of people who are already concerned about the impact of drugs on crime and on society at large.
And in what may be the sharpest 180 degree turn ever in politics, the chances are pretty good (since he appeared at last August's rendition) that Smigiel will spent at least some of his morning protesting Planned Parenthood in Easton since that event is also Saturday. (Harris may also make an appearance for that same reason.) I don't think the devout pro-life crowd would much approve of the National Cannabis Festival, and in the case of abortion Harris can claim pro-life groups' support despite the objections Smigiel puts up.
There is definitely a libertarian streak in me that likes how Smigiel looks at certain issues, and he's made his campaign into one that is a near-constant diatribe about what he feels is the hypocrisy between Andy Harris the campaigner and speaker and Andy Harris the Washington insider Congressman. A lot of that is legitimate, but the question is just how much of that comes with the territory. Unfortunately, purists seldom make it far in politics, especially on the conservative side.
Yet in making his point about how Harris is not a Tenth Amendment kind of guy, Smigiel is taking the time that I feel would be better served in the district trying to win votes in what's already an uphill battle. I know Mike's been working hard for nearly a year to make his case to the people of the First District, but unless there's a fundraising element involved in his Washington trip (and I highly doubt this) in my opinion it's an unforced error to spend valuable time just before the primary to tell the cannabis industry how bad Andy Harris is.
Despite what Jim Ireton might believe, the election for the First District seat occurs April 26. If Mike Smgiel loses a close election, I suppose he will have the cold comfort of losing on a particular principle.
Commentary by Marita Noon
Friday, April 22, will mark the 47th Earth Day. You may think it is all about planting trees and cleaning up neighborhoods. But this year's anniversary will be closer to its radical roots than, perhaps, any other since its founding in 1970. Considered the birth of the environmental movement, the first Earth Day took place during the height of America's counterculture era. According to EarthDay.org, it gave voice to an "emerging consciousness, channeling the energy of the anti-war protest movement and putting environmental concerns on the front page."
We did need to clean up our act. At that time "littering" wasn't part of our vocabulary, The air in the Southern California valley where I grew up was often so thick with smog we couldn't see the surrounding mountains.
Thankfully, that has changed.
Look around your community. You'll likely see green trees, blue skies, and bodies of water sparkling in the sunshine. With the success of the environmental movement, its supporters, and the nonprofit groups it spawned, had to become ever more radical to stay relevant.
Environmentalism has changed.
The morphing of the movement may be most evident in Earth Day 2016 – which some are calling "the most important Earth Day in history."
This year, on April 22, in a high-level celebration at the United Nations headquarters in New York, the Paris Climate Agreement will officially be signed. Thirty days after its signing by at least 55 countries that represent 55 percent of global greenhouse gas emissions, the agreement will take effect – committing countries to establishing individual targets for emission reductions with the expectation that they will be reviewed and updated every five years.
While news reports of Earth Day 2016 will likely depict dancing in the streets, those who can look past the headlines will see a dire picture – one in which more than 10 percent of a household's income is spent on energy costs; one of "green energy poverty."
To meet the non-binding commitments President Obama made last December in Paris, he is counting on, among many domestic regulations, the Clean Power Plan (CPP).
Last week, on the Senate floor, Senator Jim Inhofe (R-OK), chairman of the Senate Environment and Public Works Committee, delivered remarks in advance of Earth Day on the unattainability of the U.S. climate commitments. He said: "The Clean Power Plan is the centerpiece of the president's promise to the international community that the U.S. will cut greenhouse gas emissions by 26 to 28 percent." It would "cause double digit electricity price increases in 40 states" and "would prevent struggling communities from accessing reliable and affordable fuel sources, which could eventually lead to poor families choosing between putting healthy food on the table or turning their heater on in the winter."
The Heritage Foundation has just released a report on the devastating economic costs of the Paris Climate Agreement, which it calls "a push for un-development for the industrialized world and a major obstacle for growth for the developing world." Because global warming regulations "stifle the use of the most efficient and inexpensive forms of electricity, businesses as well as households will incur higher electricity costs." The report concludes: "restricting energy production to meet targets like those of the Paris agreement will significantly harm the U.S. economy. Bureaucratically administered mandates, taxes, and special interest subsidies will drive family incomes down by thousands of dollars per year, drive up energy costs, and eliminate hundreds of thousands of jobs. All of these costs would be incurred to achieve only trivial and theoretical impacts on global warming."
Real world experience bears out the both Inhofe's observations and the Heritage Foundation's conclusions.
Germany is one of the best examples of green energy poverty as the country has some of the most aggressive greenhouse gas reduction programs that offer generous subsidies for any company producing green energy. Based on an extensive study done by green energy believers in 2014, I addressed the program's overall result: raised costs and raised emissions. I stated: "After reading the entire 80-page white paper, I was struck with three distinct observations. The German experiment has raised energy costs to households and business, the subsidies are unsustainable, and, as a result, without intervention, the energy supply is unstable." At that time, I concluded: "The high prices disproportionately hurt the poor, giving birth to the new phrase: 'energy poverty.'"
More recently, others have come to the same conclusion (read here and here). On April 13, the Wall Street Journal (WSJ) opined: "Germany's 16-year-old Energiewende, or energy transformation, already has wrecked the country's energy market in its quest to wean the economy off fossil fuels and nuclear power. Traditional power plants, including those that burn cleaner gas, have been closing left and right while soaring electricity prices push industries overseas and bankrupt households. Job losses run to the tens of thousands." Meanwhile, emissions over the past seven years have increased. Last month, Mike Shellenberger, President, Environmental Progress and Time magazine "Hero of the Environment," tweeted: "people really want to believe good things about Germany's energy shift, but … its emissions rose." WSJ concludes: "The market distortions caused by overreliance on expensive but undependable power already have pushed German utilities to rely more on cheap and dirty coal-fired power plants to make up the shortfall when renewable sources can't meet demand."
Germany is not alone.
The U.K., according to Reuters, is facing "fuel poverty." The report states: "The government is also under pressure to curb rising energy bills with 2.3 million of Britain's 27 million households deemed fuel poor, meaning the cost of heating their homes leaves them with income below the poverty line." Another account covers the U.K.'s cuts to solar subsidies, saying: "The government says the changes were necessary to protect bill payers, as the solar incentives are levied on household energy bills."
The Netherlands, which is already behind in meeting its green energy targets, has, according to the Washington Post, had to build three new coal-fueled power plants – in part, at least, to power the high percentage of electric cars. Additionally, the country has hundreds of wind turbines that are operating at a loss and are in danger of being demolished. A report states: "Subsidies for generating wind energy are in many cases no longer cost-effective. Smaller, older windmills in particular are running at a loss, but even newer mills are struggling to be profitable with insufficient subsidies."
Bringing it closer to home, there is über-green California – where billionaire activist Tom Steyer aggressively pushes green energy policies. Headlines tout California has the most expensive market for retail gasoline nationwide. But, according to the Institute for Energy Research, it also has some of the highest electricity prices in the country – "about 40 percent higher than the national average." A 2012 report from the Manhattan Institute, states that about one million California households were living in "energy poverty"- with Latinos and African Americans being the hardest hit. With the Golden State's headlong rush toward lower carbon-dioxide emissions and greater use of renewables, the energy poverty figure is surely much higher today.
This week, as you hear commentators celebrate "the most important Earth Day in history" and the global significance of the signing of the Paris Climate Agreement, remember the result of policies similar to CPP: green energy poverty. Use these stories (there are many more) to talk to your friends. Make this "Green Energy Poverty Week" and share it: #GEPW.
We, however, do not need to be doomed to green energy poverty. There is some good news.
First, the Paris Climate Agreement is non-binding. Even Todd Stern, U.S. climate envoy, acknowledged in the Huffington Post: "What Paris does is put in place a structure that will encourage countries to increase their targets every five years." While the requisite number of countries will likely sign it before the election of the next president, the only enforcement mechanism is political shaming. Even if it was legally binding, as was the Koyto Protocol, Reason Magazine points out what happened to countries, like Canada and Japan, which "violated their solemn treaty obligations" – NOTHING. The Heritage report adds: "History, however, gives little confidence that such compliance will even occur. For instance, China is building 350 coal-fired power plants, and has plans for another 800."
Then there is the legal delay to the implementation of the CPP – which, thanks to a Supreme Court decision earlier this year, will be tied up in courts for at least the next two years. Inhofe stated: "Without the central component of (Obama's) international climate agenda, achieving the promises made in Paris are mere pipe dreams."
"President Obama's climate pledge is unobtainable and it stands no chance of succeeding in the United States," Inhofe said. "For the sake of the economic well-being of America, that's a good thing."
The author of Energy Freedom, Marita Noon serves as the executive director for Energy Makes America Great Inc., and the companion educational organization, the Citizens' Alliance for Responsible Energy (CARE). She hosts a weekly radio program: America's Voice for Energy—which expands on the content of her weekly column. Follow her @EnergyRabbit.
Over the last few years I have seen the American worker become more and more an endangered species. Sure, there are jobs out there but fewer and fewer of them involve making stuff. Last month the Alliance for American Manufacturing (AAM) glumly noted that manufacturing jobs were off an astounding 29,000 in March. As AAM's Scott Paul noted:
With 29,000 manufacturing jobs lost last month, it is clear this issue isn't going away anytime soon. China's massive industrial overcapacity, currency manipulation, and our growing China trade deficit continue to tip the scales, and it's laid-off U.S. factory workers who pay the price. That's not right. American manufacturers can outcompete anyone in the world, but they need a level playing field.
As I have pointed out before, AAM is an outgrowth of the steel industry, particularly the steelworkers' union. So their perspective leans toward protectionism to a point where they regularly accuse China of cheating us on trade through both currency manipulation and their "dumping" tons of steel on the market. One Illinois steel worker they quoted put the latter charge thusly:
For the past 38 years, I've been a steelworker at U.S. Steel Granite City Works in Granite City, Illinois.

I'm proud of the work my 2,000 colleagues and I do at the mill. We produce a high-quality product that's used in automobiles, construction and energy exploration. In one case, we even made a grade of steel for a major automaker that no other mill had been able to produce!

But right now we need your help.

Because of unfair trade, 1,500 of my coworkers are currently laid off. They don't know when they'll be called back – or even if they'll be called back.

Granite City isn't the only place coping with layoffs. More than 1,000 people who work at the U.S. Steel Fairfield Tubular Operations in Alabama are laid off. Nearly 350 folks at U.S. Steel Keetac in Minnesota also are out of work, as are hundreds of people at facilities in places like Colorado and Oregon.

All told, more than 13,500 steelworkers are facing layoffs - and the list is growing.

(snip)

We're facing an unprecedented onslaught of dumped steel from countries like China, which is producing way more steel than it can use. That steel is heavily subsidized by China's government, which also doesn't require its companies to abide by strict labor or environmental laws. China needs to get rid of its steel, so it dumps it into our market at a rock-bottom price.

That's not fair to American steelmakers and workers, who compete in an open market.

And steelworkers aren't the only ones who deal with the burden of unfair trade.

I can't stop anywhere in town without being asked about the layoffs. When so many workers are forced to tighten their belt, it impacts everyone - from restaurants to grocery stores to retail.
Fair trade groups such as the Manufacturers for Trade Enforcement now oppose China's possible ascension to a "market economy" for trading purposes by our Commerce Department, while AAM also questions China's effect on our national security as steelworkers lose their jobs:
Plant closures, mass layoffs, and the loss of key technology and manufacturing know-how are sure to follow unless we act.

Moreover, with the loss of U.S. steelmaking capabilities comes a dangerous dependence on these same potentially hostile foreign governments to supply the steel products necessary to equip our military, respond to disasters, and modernize our increasingly fragile infrastructure.
This has actually been a concern for several years. In some respects the concerns about steel parallel our oil crisis, when we lost the ability to supply our own needs and became vulnerable to OPEC's embargoes in the 1970s. Having lived through that as a child and seeing how it affected our economy, I have issues with the greatest country in the world becoming such a disposable society that we forget how to be self-sufficient. We should have never put ourselves in a position where, for so many of those devices and conveniences that make our lives easier and promote commerce, we depend on a nation that points missiles at us.
That's not to say everything is bad news, though. As Bryan Riley shows in the Daily Signal, foreign investment in America far outstrips what we invest overseas. And while it's true Carrier is moving 2,100 jobs from Indiana to Mexico, Riley argues that the net effect will be less as foreign automakers Toyota, Honda, and Subaru are adding a total of 1,600 jobs around the state. Riley adds:
While Carrier has been called "greedy" for moving to Mexico, no one in Indiana is calling Toyota, Honda, or Subaru greedy for choosing to invest in the United States.

(snip)

In total, over 2 million American manufacturing workers are employed by foreign-owned companies. And while American companies have invested over $700 billion in foreign production facilities since 2000, foreign-owned companies have invested over $1.3 trillion in the U. S. manufacturing operations during the same time frame.

The result: a $614 billion manufacturing investment "surplus" for the United States from 2000 to 2015.
Granted, the year 2000 may have been an artificial and arbitrary deadline considering the exodus of manufacturing jobs from our shores began decades earlier, but there are thousands of Americans who work for foreign-owned companies in all sectors – heck, most people who drink a non-craft beer are supporting American workers toiling for a foreign-owned conglomerate.
Still, we should be doing all we can to promote the old-fashioned art of making things here. There were millions of families around the country (including mine) where there was only one breadwinner (Mom stayed at home) who could still achieve middle-class status because they made good money while creating the products America needed. (In my dad's case it was concrete block and other cement products. That plant has long been out of business, sadly.) Now that's all but impossible, as the norm has become two-earner families who can barely keep up with expenses, living paycheck to paycheck. By the time I was in high school, our family was one of those, too.
Perhaps the boom times of the last half of the twentieth century were bound to come to an end sometime, but we should be doing our best to bring them back by allowing workers and companies to create and enhance the value of raw products as much as possible. To use a simplistic example of building a car: we create value for iron ore by extracting it somewhere in the upper Midwest, add value by shipping it by ship down the lake to a steel mill in Indiana, further enhance it by processing it into steel there before shipping it again via truck or rail to a Toledo auto plant, then create even more value by its becoming the fender to a new Jeep, which again is placed on truck or a railcar to deliver to your local dealer. Each step in the process creates a little bit more value from that chunk of rocks once buried underground to the new Wrangler sitting at the dealership, meanwhile helping to create a better standard of living for hundreds of employees in the process.
But somewhere a few decades back we decided it was cheaper to have someone else do it – iron ore from one of a host of countries may or may not be processed there, but it goes to Japan or Korea and they build the cars. Granted, their success led them to put assembly plants here in America but I'd like to keep the process more in-house where we can.
Just because there's a global economy doesn't mean we in America have to settle for second best. But it does mean America needs new, fresh leadership that believes in American exceptionalism and wants to create the conditions where we can once again prosper.
Commentary by Marita Noon
In this election cycle, we hear a lot about the "establishment." Most people are not really sure who they are, but they are sure that they do not like them. The anger toward the establishment is not party specific and has propelled two unlikely candidates: Donald Trump on the Republican side and Senator Bernie Sanders for the Democrats.
The faithful following these outsiders may be more about "the grassroots trying to teach the establishment a lesson," as Gary Bauer posited last month, than about affection for either man. In an InfoWars video, reporter Richard Reeves, at the University of Texas in Austin speaks to Wyatt, a young man who'd just voted for Sanders. Wyatt indicates that most of his fellow students likely voted for Sanders as well. The surprise is his comment about the students' second choice: "Donald Trump."  Why? He's not "establishment." Wyatt admits he didn't consider voting for anyone else – just Sanders and Trump.
The establishment has been slow to grasp the public's rejection of an increasingly distrusted political class.
However one might define the "establishment," it certainly includes long-time Washington politicians like Senators Harry Reid (D-NV), Bill Nelson (D-FL), Ron Wyden (D-OR), John Thune (R-SD), Orrin Hatch (R-UT), and Mitch McConnell (R-KY) – who have just engaged in the exact tactics that have fed the voter frustration aimed at them. Avoiding a vigorous debate, they are using a must-pass bill to sneak through millions in totally unrelated taxpayer giveaways to special interests in the renewable energy industry – and they hope voters won't notice.
The bill is the Federal Aviation Administration (FAA) Reauthorization Act. On April 6, using an unrelated House bill (H.R. 636) that will serve as the legislative shell for the Senate's FAA measure (S. 2658), the Senate began consideration to reauthorize the FAA for 18 months. It is expected that the bill will be voted on this week, followed by the House – which will take it up when it is back in session.
Funding for the FAA expired in September and received a 6-month extension – which expired again on March 31. Avoiding a shutdown, Congress passed another extension that President Obama signed on March 30. This legislation authorized federal spending on aviation and related aviation taxes through mid-July 2016.
Both the House and Senate have been grappling with a multi-year aviation bill. Now, FAA reauthorization only has about two weeks to be debated and approved before it will be shoved aside to make way for budget proceedings. One major point of conflict is the renewable energy tax breaks. Because the Senate FAA bill includes a tax title, it is open to unrelated tax amendments.
Many renewable energy tax credits were extended in the omnibus spending package that was passed late last year, but Democrats claim that in the chaos of last minute negotiations, some were "unintentionally" left out. According to Morning Consult, Thune said: "This is what [Democrats] always viewed as the best opportunity to get some of these things that were left out of last year's extender bill." Senate Minority Leader Reid announced: "the inclusion of the provisions is a requirement for the legislation to move forward."
While many Republicans opposed the addition of the renewable energy tax credits, provisions supporting investments in fuel cells, geothermal and biomass were included in the Senate negotiations. Addressing the Senate's scramble to "settle on a cohesive strategy" regarding attaching the renewable energy tax breaks to the bill, Politico reports: "House Republicans have made it clear they're not interested in renewing any of the expired tax provisions this year." The bill's coverage in Roter Daily states: "key Republicans have already warned fellow House members to oppose a deal on tax extenders if it comes out of the Senate, saying they have consistently failed to promote economic growth and create jobs."
As we have seen with the recent demise of government-funded, green-energy projects, such tax credits and subsidies have repeatedly failed to deliver on their promises of long-term job creation and economic viability. It is for this reason that, on April 5, a coalition of more than 30 organizations sent a letter to the Senate Finance Committee expressing our deep opposition to the proposal. The letter, of which I am a signatory, states: "Congress considered the matter of expiring tax provisions less than 4 months ago. … It should also be noted that Congress extended significantly favorable tax treatment to renewable energy in omnibus appropriation legislation that accompanied the aforementioned tax extender package."
Andrew Langer, President of the Institute for Liberty, who also signed the letter, explains his position: "In December, Congress purposefully allowed a series of tax credits for so-called 'green' energies to expire. This was not some mere oversight as some have alleged, but a purposeful recognition that as the energy landscape has changed, the need to extend some two dozen of these credits was unwarranted. Others were allowed to continue – but roughly $1.5 billion were not."
If you believe, as all the signatories to the letter do, that American taxpayers shouldn't have to prop up large, well-connected special interests through tax handouts, carve outs, and loopholes using unsustainable Washington spending, please let your representatives know now. Please urge Senate offices to oppose keeping in the tax extenders, and encourage House offices to oppose adding in extenders.
With our national debt totaling more than $19 trillion, the last thing we need is more corporate welfare. But our legislators are slow to learn. Senate Republicans, like Thune, who is the lead negotiator for the Republicans, have worked with the Democrats to include the renewable energy tax credits. Thune stated: "We're listening to them and we're working for them."
No wonder the electorate is angry. But Washington politicians don't get it. While a battle rages over who will be the next president, unfazed, the establishment continues on.
Langer concludes: "the political ramifications are clear, as history has taught us. Republicans who give in to cronyism, who give in to profligate spending… they get nothing in the end. Worse, they do considerable damage to the concept that Republicans are the party of lower spending and less government. In a political cycle where the future is entirely uncertain for Republicans at all levels, those who are pushing for these tax breaks do their colleagues no great service."
Join us in educating the "establishment" by calling them and telling them: "No more green pork!" #GreenPork
The author of Energy Freedom, Marita Noon serves as the executive director for Energy Makes America Great Inc., and the companion educational organization, the Citizens' Alliance for Responsible Energy (CARE). She hosts a weekly radio program: America's Voice for Energy—which expands on the content of her weekly column. Follow her @EnergyRabbit.
Dear Erick:
To begin, I'd like to thank you and Bill Blankschaen for writing You Will Be Made to Care. I was pleased to be selected as one of those who received an advance copy for review, and even more pleased with the final result. Again, I was "intrigued by the direction that it went and by the emotions this book took me through as I read through it." So congratulations for its success, and know that many of us appreciate you bringing up this necessary discussion as subsequent events have placed religious freedom squarely in the headlines again.
At around the same time as YWBMTC was in its final stages of editing and initial promotion, you were embarking on a journey which interested me as a blogger: trying to succeed with a sponsorship-based advertising system. As I wrote on January 11:
I've been impressed with (Erickson's) new website, one which I can read without being overrun by annoying pop-up ads and false story breaks that only serve to increase page view count (in order to extort more money from would-be advertisers.) On Thursday he had a candid assessment of how his website was doing and so far he seems to be successful. Good news for those of us who value content over clickbait.
Thus, I was pleased to see a couple weeks back that your venture was growing, with a doubling of readership and significant increases in areas that you are trying to stress, such as listenership to your radio show and engagement with elected officials. I'll grant that over time this may level off, but I think you have a long way to go until you reach that plateau given that you are still in the startup stages.
But there is one aspect of your three-month assessment that troubles me:
Our advertising model is very unique among conservative websites and, frankly, may come to an end as I'm struggling to fill sponsorships going forward. But it has been so different I'm actually getting attacked for it. (Emphasis mine.)
I was cheered somewhat that you then wrote:
But I have to try to work on that area to beef up sponsorships. What I do know is that it works. Several of the advertisers tell me they saw an uptick in donations, sign ups, and volunteers through their sponsoring the Resurgent. That makes me hopeful we will be able to keep this going a while, particularly as my radio presence keeps growing.
Now I realize that, compared to your site, mine is small potatoes: my page views in a good year might equal yours for a weekday. I also know that, while by necessity and God-given talent in my chosen field I work outside of media to help put food on my table, you are using The Resurgent and your radio show to put food on yours. You have a lot more skin in the game with your website than I do, as I'm just a part-time blogger. But I'm using my venue and an open letter format because I want to share my thoughts with you as well as encourage readers to go to your site, helping it to succeed. I believe in what you are trying to accomplish.
So I'm imploring you to stay the course on this sponsorship-based model as long as you can because I think it will eventually succeed and hopefully lead others to follow. I never felt comfortable with having the clickbait links when they were on my site, but it seemed to be the only way to get a modest revenue stream going. I'm praying The Resurgent changes that and provides an example to follow for other high-readership sites.
For about a decade I have worked as a remote contributing writer for a publication that has a donation-based revenue model with no advertisements, the Patriot Post. Like you, they have struggled to make their expenses over the last few years but by the grace of God they are still going. If their website can go two decades with the support of their readership carrying them through I think it's possible for your enterprise to prosper as well with the weekly sponsors you are cultivating – with the results you're getting they should become repeat business.
One thing we have in common is that we have both run websites for over a decade, so you know as well as I do the ebb and flow of working in the political commentary field. You picked a good time to make a successful debut, so my hope is this successful beginning prepared you well for the trials and tribulations still to come once the political season is over and interest wanes.
Again, I want to express my hope you can stay with your sponsorship-based model and keep the clickbait and pop-ups away from The Resurgent. While we both pray for a resurgence of faith to overspread our country, our little corner of the internet can use something worth following as well.
Sincerely,
Michael Swartz
Salisbury, Maryland
Commentary by Marita Noon
The past couple of weeks have highlighted the folly of the energy policies favored by left-leaning advocacy agencies that, rather than allowing consumers and markets to choose, require government mandates and subsidies. Three major, but very different, solar entities – that would not exist without such political preference – are now facing demise. Even with the benefit of tax credits, low-interest loans, and cash grants that state and federal governments have bestowed on them, the solar industry is struggling.
We've seen Abengoa – which I've followed for years – file for bankruptcy.
Ivanpah, the world's biggest solar power tower project in the California desert, is threatened with closure due to underperformance.
Then there is SunEdison, the biggest renewable energy developer in the world. It's on the verge of bankruptcy as its stock price plunged from more than $30 to below $.50 – a more than 90 percent drop in the past year.
All of these recent failures magnify the solar industry's black eye that first swelled up nearly five years ago with the Solyndra bankruptcy.
Worried about self-preservation, and acting in its own best interest – rather than that of consumers specifically, and America in general – industry groups have sprung up to defend the favored-status energy policies and attack anyone who disagrees with the incentive-payment business model. Two such groups are TASC and TUSK – both of which are founded and funded by solar panel powerhouses SolarCity and SunRun with involvement from smaller solar companies (SolarCity recently parted ways with TASC).
The Alliance for Solar Choice (TASC) is run by the lead lobbyists for the two big companies – both have obvious Democrat Party connections.
Bryan Miller is Senior Vice President, Public Policy & Power Markets at Sunrun (a position he took in January 2013) and is President and co-chair of TASC (May 2013). His LinkedIn page shows that he's worked for the National Finance Committee for Obama for America and was Finance Coordinator/Field Organizer for Clinton-Gore '96. He's also served as s senior political appointee in the Obama Administration and ran an unsuccessful 2008 bid for election to Florida's House of Representatives, District 83.
Co-chair John Stanton is Executive Vice President, Policy & Markets at SolarCity. In that role, he, according to the company website, "oversees SolarCity's work with international, federal, state and local government organizations on a wide range of policy issues." Previously, Stanton was Executive Vice President and General Counsel for the Solar Energy Industries Association (SEIA) – the national trade association for industries that support the development of solar power – with which he oversaw legal and government affairs for the association. There he played a pivotal role in the 8-year extension of the solar investment tax credit. He was also legislative counsel for the Environmental Protection Agency under the Clinton administration.
A news report about the founding of TASC states: "First and foremost, the group will work to protect net-energy metering (NEM) rules in the 43 states that have them."
On March 25, the Wall Street Journal reported: "two dozen states are weighing changes to their incentives for rooftop solar…incentive payments have been the backbone of home solar firms' business model." In the past several months, Nevada and Hawaii have ended their NEM programs. TASC has responded with lawsuits. In Hawaii, TASC's case has already been dismissed with a report stating: the judge's "ruling in favor of the Defendants has eviscerated TASC's claims." Last year, Louisiana capped its "among the most generous in the country" solar tax credit. Arizona Public Service was the trailblazer in modifying generous solar policies when, in 2013, the Arizona Corporation Commission approved a fixed charge for solar customers.
As one of the first states to challenge the generous NEM policies, Arizona is still a battleground. That's where TASC formed another group: TUSK - which stands for Tell Utilities Solar won't be Killed. Lobbyist and former U.S. Congressman Barry Goldwater, Jr. was brought in to give a Republican face to the industry's advocacy. TUSK even has an elephant, the Republican mascot, as part of its logo. The TUSK home page states: "Republicans want the freedom to make the best choice and the competition to drive down rates" – true, but a core value of the Republican Party is allowing the free markets to work rather than governments picking winners and losers.
While registered in Arizona, TUSK has recently been active in other states – including Nevada, Oklahoma, and Michigan.
The reoccurring theme in the TASC/TUSK campaign is to connect the word "kill" with "solar" – though the NEM modification efforts don't intend to kill solar. Instead, they aim to adjust the "incentive payments" to make them more equitable. However, without the favors, as was seen in Nevada, rooftop solar isn't economical on its own. Companies refuse to play when the game is not stacked in their favor.
TASC and TUSK are just two of the ways the rooftop solar industry – also known as a "coalition of rent seekers and welfare queens," as Louisiana's largest conservative blog, The Hayride, called them in the midst of that state's solar wars – is trying to protect its preferential policies. It has other tricks in its playbook.
In addition to the specific industry groups like TASC, TUSK and SEIA, third party organizations like the Energy and Policy Institute (EPI) are engaged to intimidate public officials and academics. EPI, run by Gabe Elsner, is considered a dark money group with no legal existence. It can be assumed to be an extension of what is known as the Checks & Balances Project (CB&P) – which was founded to investigate organizations and policymakers that do not support government programs and subsidies for renewable energy. CB&P has received funding from SolarCity. Elsner joined CB&P in 2011 – where he served as Director - and then, two years later, left to found EPI – which C&BP calls: "a pro-clean energy website." EPI produces material to attack established energy interests and discredit anyone who doesn't support rooftop solar subsidies. I have been a target of Elsner's efforts.
Then there is the Solar Foundation – closely allied with SEIA and government solar advocacy programs – which publishes a yearly report on solar employment trends across the country. Solar employers self-report the jobs numbers via phone/email surveys and the numbers are, then, extrapolated to estimate industry jobs nationwide. Though the reports achieve questionable results, threats of job loss have proven to be an effective way to pressure state and federal lawmakers to continue the industry's favorable policies – such as NEM.
Together, these groups have a coordinated campaign to produce public opinion polling that is used to convince politicians of NEM's public support. Such cases can be found in Maine, Nevada, New Hampshire, Colorado, and Kansas. They gather signatures from solar advocates and use them to influence legislators and commissioners. They engage in regulatory and rate proceedings – often creating, as I've experienced, an overwhelming presence with mob-like support from tee-shirt-wearing, sign-waving advocates. They run ads calling attempts to modify solar's generous NEM policies a "tax" on solar and, as previously mentioned, attack utilities for trying to "kill solar." If this combined campaign isn't fruitful, and NEM policies are changed, lawsuits, such as those in Hawaii and Nevada, are filed.
This policy protection process may seem no different from those engaged by any industry – as most have trade associations and advocacy groups that promote their cause. Remember "Beef, it's what's for dinner" and "Pork, the other white meat"? Few are truly independent and self-preservation is a natural instinct.
Yes, even the fossil fuel industry has, for example, the American Petroleum Institute, the Independent Petroleum Association of America, the National Mining Association, and the American Coalition for Clean Coal Electricity. And there are advocacy groups who support various limited-government, free-market positions, as Miller recently accused.
The difference is that fossil fuels provide, and have been providing, America with efficient, effective, and economical energy. Its abundance has lowered costs for consumers and increased America's energy security. Advocates are not fighting for special favors that allow this natural resource to survive, but are rather attempting to push back on new rules and regulations aimed at driving it out of business.
By comparison, the solar advocacy efforts are, as acknowledged by TASC: "First and foremost, the group will work to protect net-energy metering (NEM) rules," as without them – and the other politically correct policies – rooftop solar energy doesn't make economic sense. Because rooftop solar power isn't efficient or effective, its major selling point is supposed savings that are achieved for a few, while costing all tax- and rate-payers.
With the potential of a change in political winds – remember the solar supporters all seem to be left-leaning, big government believers who want higher energy prices – the campaign for America's energy future is embedded in the presidential election.
Will big government pick the winners and losers, or will free markets allow the survival of the best energy sources for individual circumstances?
The author of Energy Freedom, Marita Noon serves as the executive director for Energy Makes America Great Inc., and the companion educational organization, the Citizens' Alliance for Responsible Energy (CARE). She hosts a weekly radio program: America's Voice for Energy—which expands on the content of her weekly column. Follow her @EnergyRabbit.
Commentary by Marita Noon
Hillary Clinton's "trustworthiness" problem is fed by a long history of "varying credibility," as a recent Politico story delineated, including cattle-futures trading, law firm billing records, muddled sniper fire recollections and e-mail use.
While providing pertinent points, the Politico list is just a sampling.
One missing item on the "mistrust" litany is a project she reportedly cooked up as Secretary of State, but that was shaped by her family foundation. State Department staff sent official emails to solicit funds from foreign governments.
The project sounds innocent enough: "to save lives, improve livelihoods, empower women, and combat climate change." What miracle product can do all that? A cookstove. Yes, that is correct – a cookstove. This is not the product of "as seen on TV" wizardry, nor is it the latest in high-efficiency appliances.
There's something fishy when governments throughout the world (including the U.S), corporations (including Bank of America, Goldman Sachs, and Johnson & Johnson), and Ted Turner's UN Foundation and the Clinton Global Initiative are involved as they are with the Global Alliance for Clean Cookstoves (Alliance).
No one would begrudge corporations giving to a philanthropic effort, but we would probably feel differently about our own tax dollars going to the project Clinton is hawking – especially when the project is, by most accounts, an epic fail.
The Alliance claims to provide a solution to the "fourth worst overall health risk factor in developing countries." Its website's "Frequently Asked Questions" download states: "Exposure to smoke from traditional cookstoves and open fires – the primary means of cooking and heating for nearly three billion people in the developing world – causes 1.9 million premature deaths annually with women and young children most affected." Not only that, but "Reliance on biomass for cooking and heating increases pressure on local resources" as women and children "forage for fuel." Additionally, "inefficient cookstoves contribute to climate change through emissions of greenhouse gases."
To remedy this problem, it would make sense for the well-funded public-private partnership to use its money and influence to help build natural-gas-fueled power plants and infrastructure to bring electricity to the developing world. But that was not Clinton's idea.
On September 21, 2010, the world first became aware of Clinton's brainchild – though she may have stolen the idea from India's National Biomass Cookstoves Initiative that made headlines around the world in the summer of 2010. The Secretary of State announced the Alliance at the Annual Meeting of the Clinton Global Initiative (GCI) – with the Clinton Foundation being one of the "Strategic Partnerships and Alliances." By November 2014, at the "Inaugural Cookstoves Futures Summit" it was announced that more than $400 million had been raised for the project. As co-host of the meeting, Clinton exclaimed: "We have to redouble our efforts to get more clean and efficient products in the hands and homes of families everywhere. … We can rededicate ourselves to doing everything we can to help more people in more places to breathe more easily, work more safely and live healthier lives." In her memoir, Hard Choices, she brags about her role in the Alliance: "I was delighted by the scope and speed of the progress [the Global Alliance for Clean Cookstoves] made around the world."
"Progress" in the Alliance can be attributed to her influence as Secretary of State. Before the announcement of the Alliance, Kris Balderston, who served as her special representative for global partnerships, on his state.gov account pressured Norway to join. They obliged with a commitment for a $600,000 "down payment." Apparently, as emails revealed, the country wanted to be part of the launch: "They wanted to move quickly for the CGI announcement." (Note: Norway is a major donor to the Clinton Foundation.) Once Norway signed on, France and Finland were expected to follow suit. While traveling the globe, on the taxpayers' dime, Clinton recruited more partners.
All big charity programs have celebrity spokespersons – the Alliance has actress Julia Roberts and chef Jose Andres – but Clinton was much more. She is credited with the program's birth. While Secretary of State, it was "on the top of her agenda." Once retiring from her official duties, Clinton became the Chair of the Alliance's Leadership Council – where she still serves.
If you don't know the rules, this may seem like petty politics. However, as Kathleen Clark, a law professor at Washington University in St. Louis and an expert on ethics in government, in the Washington Times cites the Code of Federal Regulations on the use of public office for private gain: "an employee shall not use his public office for his own private gain, for the endorsement of any product, service or enterprise, or for the private gain of friends, relatives or persons with whom the employee is affiliated in a nongovernmental capacity, including nonprofit organizations of which the employee is an officer or member."
While at best, Clinton's clean cookstove campaign seems slimy, and may be illegal, one might cast a blind eye if the program achieved its aggrandizing goals.
These so-called "clean cookstoves," even by the Alliance's own literature, "may last for several years" – yet only 20 percent, according to a survey cited in the Washington Post (WP), are still in use after two years. While the Alliance has reportedly "helped drive more that 28 million stoves into the field," most do not meet the World Health Organization's guidelines for indoor emissions. The WP states: "The vast majority of the stoves burn wood, charcoal, animal dung or agricultural waste – and aren't, therefore, nearly as healthy as promised." While "some perform well in the lab," others "crack or break under constant heat."
In her book, A River Runs Again, journalist Meera Subramanian chronicled cookstove use in India. The WP reports: "She found that women had stopped using the stoves because they didn't like the design or because the stoves broke, burned more wood (not less, as intended) or didn't get foods hot enough."
Defending the Alliance's effort, Radha Muthiah, CEO of the Alliance, says: "There may not be the greatest health benefit, but there's certainly a good environmental benefit, and it will save them more time" and create "livelihood and empowerment opportunities."
Distributing stoves that "we know will kill people" has been called "unethical." Rema Hanna, the Harvard economist who led "Up in Smoke" - which WP calls "the most extensive field study to date on this subject" – says: "it makes no sense to 'push more stoves into the world that people are not going to use.'" Citing a recent publication in the American Economic Journal: Economic Policy, David Kreutzer, Senior Research Fellow, Energy Economics and Climate Change at The Heritage Foundation, reports: "there were no long-term (after four years) health benefits from clean cook stoves. After two years, smoke inhalation was not at all different, and by the fourth year, nearly one-third of the households had so little use for the new stoves that they actually destroyed them."
Rather than burning biomass, experts believe that gas, electricity, or both would be better at protecting health. Kreutzer agrees: "These cookstoves seem to be substitutes for efforts to provide affordable modern power to those in need" – which he says condemn so many of the poor to continuing energy poverty. Sadly, Alliance members oppose projects that would provide low-cost power to these poor households.
You have to wonder, if these cookstoves – which are more like a hibachi grill than a stove and cost about $25 – don't achieve the stated goals, why is Clinton such a proponent? As Christine Lakatos, whom I have worked with on dozens of green-energy, crony-corruption reports, and who alerted me to this dirty story, found in her Green Corruption File report, Alliance work was a high priority during Clinton's time as Secretary of State. The project spanned eleven federal agencies and, so far, totals more than $114 million.
Her involvement complicates her "trustworthiness" concerns and risks, as the Washington Times points out: "Raising questions about where she drew the line between official business and aiding the family charity run by her husband and daughter."
The answer to Clinton's involvement, and the conflict of interest with her role at the State Department and "aiding the family charity," deserves further investigation by someone with better access, and a bigger budget, than Lakatos or I have. But a hint can be found on the Alliances' own website: carbon credits. It states: "In addition to being one of the fastest growing offset types in the voluntary market, cookstoves credits are selling for some of the highest prices observed in the voluntary carbon market."
If Clinton becomes president, her energy policies will likely enact a cap-and-trade system or a carbon tax—which would suddenly make her cookstove project profitable.  Rather than helping bring modern power to the world's poor, she's, as Kreutzer calls it, "prolonging energy poverty for millions upon millions in the developing world." And that is the dirty story behind Clinton's clean cookstove campaign.
The author of Energy Freedom, Marita Noon serves as the executive director for Energy Makes America Great Inc., and the companion educational organization, the Citizens' Alliance for Responsible Energy (CARE). She hosts a weekly radio program: America's Voice for Energy - which expands on the content of her weekly column. Follow her @EnergyRabbit.
It was double-barreled action at last night's Wicomico County Republican Club meeting, perhaps appropriate because one of the speakers was Second Amendment advocate and Congressional hopeful Mike Smigiel. He was joined by a fellow challenger seeking the open United States Senate seat from Maryland, Dave Wallace.
Because we had out-of-town speakers, we quickly went through the usual business of reciting the Lord's Prayer, Pledge of Allegiance, and introducing the elected officials and distinguished guests among us. I noted the February minutes were online, and treasurer-elect Muir Boda gave us a financial update.
Because Wallace was the first to arrive, he spoke first.
As an opening statement, Wallace vowed to represent all of Maryland "for the first time in 30 years." He pointed out that "we've been going (in) the wrong direction," so it was time to "alter our course until you get it just right." Instead of the government's favored cure of increasing taxes and regulations, Wallace advocated for what he termed a "maximum wage" that government can't supply.
Wallace spoke at length about the Reagan years in his remarks, adding that he knew a number of his associates and opining in response to a question that we "needed a Jack Kemp model" for a Senator. He contrasted himself with prospective opponent Chris Van Hollen, who Wallace challenged for Congress in 2014, calling Van Hollen the "superfailure" of the supercommittee that, among other things, cut the defense budget. Echoing Reagan on the topic, Dave noted he believed in peace through strength.
Yet one topic Wallace expounded more at length on was a subject where I think Reagan erred, immigration. Dave stated his belief that the situation at the border now contributed to the drug problem; moreover, Wallace stated that up to 15% of the Syrian refugees were embedded by ISIS, and added that on his website was a petition calling on Congress to confront the refugee problem. If immigration wasn't dealt with, said Wallace, we'll end up with an America where we won't want to raise our kids – this was a problem of culture and values.
On topics brought up by the audience, Wallace established his limited-government argument with a call to reduce the federal involvement in education, vowing to eliminate the Department of Education and saying "Common Core has got to go." He thought that it's not the role of the federal government to enforce the rules of education, but rightfully was that of the states. Additionally, rather than the "apple" that represents the preferred politicians of the teachers' unions, Wallace believed candidates on the conservative side should use a school bus as their logo.
Shifting gears to the oversight responsibility of Congress, Wallace chided the body for not doing that job. He called for the heads of all 180 welfare programs to be brought before Congress to justify their programs' existence.
Wallace concluded that Maryland needs someone in the Senate who will partner with Larry Hogan, and rather than the supply-side economics associated with Reagan conservatism Wallace envisioned a model based on production and ability to work that would lift our economy.
Later, when the conversation turned to a bill regarding forced unionization in Maryland, Dave added that he supported a federal right-to-work bill and would sponsor it in the next Congress. Dave believed that in right-to-work states, "unions were more concerned and responsive."
The winner of an award for "upholding the Constitution," Mike Smigiel spent 12 years in the Maryland House of Delegates, including the creation of the TEA Party Caucus. In his last four, Smigiel remarked, he shared office space and a desk in the chamber with local Delegate Mike McDermott, with whom he made "a pretty strong team."
Yet the reason Smigiel sought the Congressional seat was his disgust with the voting record of the incumbent. Calling it a vote for funding Obamacare, executive amnesty, and abortion, Mike blasted the Republican leadership and Andy Harris for supporting the CRomnibus bill in 2014. He remarked that Democrats don't settle or think they can't accomplish their goals, but Republicans in Congress give up their principles far too easily.
Other bills that Smigiel hammered Harris about were an in-state tuition for illegal immigrants bill both voted on in the Maryland General Assembly as well as a bill regarding country of origin labeling – Harris backed a bill that allowed companies to not label for country of origin, about which Smigiel asked if you wouldn't like to know if your chicken you thought was locally produced was instead imported from China.
(While the bill seems to be anti-consumer, it is worth noting that it is a response to a WTO complaint from Canada.)
Other Harris measures that angered Smigiel was a bill which he alleged became part of the Trans-Pacific Partnership agreement, and Harris's support of a bill opposed by state regulators who want Exelon Energy to meet certain conditions before their permit to operate the Conowingo Dam is renewed for over 40 years.
On the other hand, during the eight years of the O'Malley administration Mike sued them three times for actions he considered unconstitutional. In one case regarding a $1.5 billion budget item, the state court ruled against him quickly but took five years to render their formal opinion because the "question is too political." When it comes to matters such as these, "you stand on principle and you fight," said Smigiel.
Those principles are embodied in Article I, Section 8 of the Constitution, copies of which Smigiel passed out before he began speaking. But Congress was seeing its authority usurped by "a potentate President," added Mike, who said he would be the guy to shout out "you lie!" His principle was that of "the Constitution first, always." We needed to have the government run in accordance with the Constitution; to that end, Smigiel advocated for single-subject bills that would make legislating easier to understand.
I asked him a question which addressed a tactic the presumptive Democratic nominee for the seat, Jim Ireton, was using of painting Harris as a do-nothing Congressman. Smigiel reminded us that he had worked across the aisle with Heather Mizeur on a pre-natal care bill that got mothers care they needed while saving thousands of abortions, as well as decriminalization of marijuana legislation.
That ended the speaking portion of the program, although both Wallace and Smigiel stuck around to talk with the voters once we finished our business.
In his Central Committee report, Mark McIver announced we were still seeking applicants for the Board of Education seats opening up later this summer. He also distributed a proof copy of a mailing to be sent out to unaffiliated and certain Democrat voters reminding them that they can still change their voter registration until April 5th. The mailing is a joint effort between the Central Committee and Republican Club.
Updating us on the Ted Cruz campaign, Julie Brewington assessed that "things are going pretty well." They are looking for volunteers to make phone calls as well as some local sign locations. Dave Wallace chimed in to say he was also looking for the same thing locally. He had brought a few yard signs and shirts as well.
(Unfortunately, the ones on the bottom left didn't end up in the garbage. #NeverTrump.)
Shelli Neal, who was speaking for Jackie Wellfonder on behalf of Senate candidate Kathy Szeliga, announced they would be knocking on doors soon.
In club news, Woody Willing announced our scholarship winners had been selected and would be introduced next month. Jim Jester told us that he would be coordinating this year's Crab Feast, for which we needed to nail down the date and location.
Finally. John Palmer from the Board of Education revealed that Dr. Donna Hanlon would be the new Wicomico County superintendent of schools. and one of her first challenges would be redistricting.
So the candidates said their piece, the audience got their questions in, and we will roll along up to next month's meeting on April 25 with a speaker to be determined. Chances are this will be our legislative wrapup meeting.
Commentary by Marita Noon
By now, most people probably know about one of Secretary Hillary Clinton's biggest campaign gaffes to date: "we're going to put a lot of coal miners and coal companies out of business." As soon as I heard it, I tweeted: "Imagine a presidential candidate running for office based on putting people out of work?"
I wasn't the only one shocked by the uncharacteristic clarity of her statement. Lacking the usual political-speak, her comments were all the more surprising in that they were not made at a fundraiser in billionaire environmental donor Tom Steyer's posh San Francisco living room. They were made in Ohio – coal country, where coal production in 2015 was down 22 percent – at a nationally televised CNN town hall and just hours before the important state's primary election.
In response, Christian Palich, President of the Ohio Coal Association sent this: "Hillary Clinton's callous statements about coal miners, struggling under the weight of a hostile administration, are reprehensible and will not be forgotten. The way Secretary Clinton spoke so nonchalantly about destroying the way of life for America's coal families was chilling. Come tomorrow, or next November, Ohioans in coal country will vote to keep their jobs and not for the unemployment line."
US News reports that Democrats in the coal states of Wyoming, West Virginia, Kentucky, and Ohio have tried to "distance themselves from Clinton's comments." Former Ohio Governor Ted Strickland, a Clinton ally who handily won his party's primary election for Senator, called her slip, "unartful." Senator Joe Manchin (D-WV), who, last April, endorsed Clinton, took issue with her comments and contacted her campaign.
Facing the backlash, and in damage-control mode, Clinton sent a letter to Manchin: "Simply put, I was mistaken."
But was she? I don't think so.
Though her comments may have been "unartful" and, arguably, poorly timed, I believe they reflect private conversations and campaign strategy. It may be no coincidence that rumors of President Obama's tepid support for Clinton – though the White House denies endorsing her – surfaced after her killing coal comments.
First, it is clear that Clinton needs President Obama's endorsement. She needs him to generate excitement for her lackluster campaign – something Democrat voters are not feeling for her as they did for him. She needs his campaign machine to get out the votes.
But, he needs her just as much – his legacy hangs on her election. Because so much of what he's done has been by executive action, his legacy can just as easily be undone – as every remaining Republican candidate would likely do.  Obama is, reportedly, committed to "a hard campaign of legacy preservation." He is ready to "raise money to fill Democratic coffers and target the key communities that would make up a winning coalition for the party, including blacks, Latinos, educated single women and young voters, to encourage them to go to the polls."
Following the voluntary climate agreement in Paris, Politico stated: "Barack Obama wants to be remembered as the president who saved the world from climate change." For this legacy to stick, all of his anti-fossil fuel policies must stay intact. To get his endorsement, a Democrat presidential candidate must embrace what he started and promise to "build upon President Obama's legacy of environmental protections and climate action," as Clinton has.
While Obama frequently claims to support an "all of the above" energy policy, actions speak louder than words. From his 2009 stimulus bill throwing billions at speculative green energy projects, his killing coal efforts, his stand that we can't drill our way to low gas prices, his rejection of the Keystone pipeline, and his threat to veto a bill to lift the oil export ban – just to name a few – he obviously meant "none of the below."
The White House denies a "war on coal." In December, after the Paris climate agreement was signed, former Deputy Assistant to the President for Energy and Climate Change, Heather Zichal, defended Obama's green platform: "Nobody's screaming that their energy bills are on fire; jobs have not been lost."
Bill Bissett, President of the Kentucky Coal Association called Zichal's comments: "insulting and inaccurate." He told me: "The Obama Administration and its allies have an intentional blind spot to the economic and social damage that their anti-coal policies are causing in the United States and especially in coal country. The top coal producing states in our nation not only benefit from the extraction of coal, but all of us benefit greatly from having low kilowatt-per-hour rates. But that economic advantage is eroding as Obama does everything in his power, and against the will of Congress, to move the United States away from coal production and use." He added: "More than 8,000 Kentucky coal miners have lost their jobs since Obama took office and countless other Kentuckians have lost their livelihoods through indirect and induced job loss due to his anti-coal agenda. And, yes, our electricity rates are increasing in Kentucky as our country moves away from coal."
"Ms. Zichal and the administration can spin it any way they like but no one outside of their fringe enviro friends is clamoring for their energy policies," said Mike Duncan, President of the American Coalition for Clean Coal Electricity.
While much of the electricity price increases associated with the Obama Administration will only be seen later, the fact is, according to an Energy Information Agency data set, the increase in retail electricity prices since 2008 is 12.8 percent.
Clinton's anti-coal comments got all the press. But she didn't stop there. Almost under her breath, a few sentences later, she added: "We've got to move away from coal and all of the other fossil fuels" – more pandering for Obama's much needed (and, so far, withheld) endorsement.
But how realistic is the Democrat's goal of moving away from coal and all the other fossil fuels?
"Unlikely," according to new research from the University of Chicago. The authors wanted a different answer. Like Clinton, and Obama, they believe fossil fuel use is driving "disruptive climate change" that will lead to "dramatic threats to human well-being" and a "dystopian future." Reading the 22 pages of the report on their findings, one can almost feel their dismay.
Yet, after discussing "supply theory" – which posits the world will run out of inexpensive fossil fuels – they state: "If the past 35 years is (sic) any guide, not only should we not expect to run out of fossil fuels anytime soon, we should not expect to have less fossil fuels in the future than we do now. In short, the world is likely to be awash in fossil fuels for decades and perhaps even centuries to come." Complicating matters, the authors acknowledge: "a substantial penetration of electric vehicles would reduce demand for oil. Provided that the supply curve for oil is upward sloping (as it is in almost all markets), this drop in demand would translate to lower oil prices, making gasoline vehicles more attractive."
Then, on "demand theory" – the economy will stop demanding fossil fuels as alternatives become more cost competitive – they lament: "In the medium-run of the next few decades, none of these alternatives seem to have the potential based on their production costs (that is without the government policies to raise the costs of carbon emissions) to reduce the use of fossil fuels below these projections." Additionally, they conclude: "Alternative sources of clean energy like solar and wind power, which can be used to both generate electricity and to fuel electric vehicles, have seen substantial progress in reducing costs, but at least in the short- and middle-term, they are unlikely to play a major role in base-load electrical capacity or in replacing petroleum-fueled internal combustion engines."
While the authors support "activist and aggressive policy choices…to drive reductions in the consumption of fossil fuels and greenhouse gas emissions," they reluctantly admit the proposed solutions are not apt to be the answer they seek. "Even if countries were to enact policies that raised the cost of fossil fuels, like a carbon tax or cap-and-trade system for carbon emissions, history suggests that technology will work in the opposite direction by reducing costs of extracting fossil fuels and shifting their supply curves out."
Perhaps, before Clinton – who accuses anyone who doesn't agree with her climate alarmist view as ignoring the science – makes mistakes, like declaring that she'll put coal miners and coal companies out of business, she should check the science behind her claims to "move away from coal and all the other fossil fuels."
Making her March 13 comments seem even more foolish, the following days cast a shadow over the specter of funding more speculative solar power, as she's proposed to do. Three stimulus-funded solar failures made big headlines.
On Wednesday, March 16, the Wall Street Journal (WSJ)  announced that the massive $2.2 billion ($1.5 billion in federal loans according to WSJ, but other research shows more) Ivanpah Solar Electric Generating System may be forced to shut down because it has failed to produce the expected power. What it has produced: "fetched about $200 a mega-watt hour on average during summer months," while "power from natural-gas plants went for $35 a mega-watt hour on average in California's wholesale market."
On the same day, SunEdison's troubles worsened. After the company acquired stimulus-funded First Wind last year, it became "the leading renewable energy developer in the world." Now, its "mounting financial woes" resulted in another delay to the filing of its annual reports. The company's stock, according to WSJ, has "lost 67% over the past three months and 91% over the past year." It "slid another 16% to $1.73 in premarket trading."
The next day, March 17, the New York Times declared that Abengoa, the Spanish company hailed as "the world leader in a technology known as solar thermal, with operations from Algeria to Latin America" has gone from "industry darling to financial invalid." I've written repeatedly on Abenoga – which is on the verge of becoming "the largest bankruptcy in Spanish corporate history." Note: Abengoa was the second largest recipient of U.S. taxpayer dollars – more than $3 billion - from the green energy portion of Obama's 2009 stimulus package.
It appears Clinton's energy policies are aimed at trying to make winners out of losers. How can she help it? That is what the Democrat Party is trying to do with her.
Hopefully, voters know better. But then, as the University of Chicago's study's closing words remind us: "hope is too infrequently a successful strategy."
The author of Energy Freedom, Marita Noon serves as the executive director for Energy Makes America Great Inc., and the companion educational organization, the Citizens' Alliance for Responsible Energy (CARE). She hosts a weekly radio program: America's Voice for Energy—which expands on the content of her weekly column. Follow her @EnergyRabbit.