Well, that went over like a lead balloon.
Susan Canfora at the Salisbury Independent did a nice job wrapping up what seems like a one-sided hearing on the rent stabilization matter.
But the question from Councilman Tim Spies deserves an answer – why did this come up weeks before the election? I have a couple theories on this, one involving the immediate future election and one three years hence.
In the immediate election, he needs to make sure he has turnout among his base. A significant portion of Ireton's district is either in minority areas or lives in rental housing so he has an issue he can bring up on the campaign trail.
But the real payoff, I feel, is in 2018. Jim needs to stand behind a progressive agenda to contrast him with his likely opponent, Delegate Carl Anderton. I'm not saying the agenda has to be enacted, just proposed.
And Jim's now in a good position to blame failures on someone else while taking credit for successes. For example, if downtown revitalization continues under the Day administration, he'll be quick to say he got the ball rolling but if things go south Jim can toss the new mayor under the bus. (This also holds true if Jim decides to square off with County Executive Bob Culver, but I think Delegate is the more likely play.) I think this is the best explanation why Jim didn't seek another mayoral term – if he thought he had the record to beat Jake Day he would have.
There were a lot of holes in Ireton's rental plan; for starters it only affected single dwelling units and not multi-family complexes. It would also put landlords in the perverse position of arguing for a higher assessment in order to be able to charge more rent.
So now this goes on the "mayor's list." That is interesting because that's Ireton's list for another few weeks before Day gets it. I'm not sure how long of a list he has, but let's not cross that one off as an accomplishment anytime soon.
When I wrote my brief little synopsis on Friday regarding manufacturing, I noted in my promotion that it made me think of former gubernatorial (and future State Senate) candidate Ron George, for whom the most appealing part of his campaign was the emphasis on bringing industry back to Maryland.  In response Ron wrote:
Your article is spot on. Note also the companies that are taking their manufacturing jobs out of China and bringing them home to many southern and midwest pro business states. Our Maryland midsize cities need it back.

Governor Larry Hogan needs help by voters in these areas pushing representatives and candidates for low taxes for manufacturing at the state and local level. The increase of the number of new workers paying the payroll tax will itself greatly increase state and local revenues. Keep it up Michael Swartz.
So I decided to revise and extend my remarks. Those of you who have read here awhile probably have a good idea about what I'm going to say, but I do have new readers all the time so a refresher is in order.
I have no doubt that Maryland can compete for businesses large and small once they eliminate the mindset that employers are cash cows to be milked dry for revenue and embrace the thought that their main goal is to be profitable. I definitely show my age and home state bias, but the mantra I grew up with under Ohio Gov. James Rhodes was that "profit is not a dirty word in Ohio" and to get there we wanted people to make things, just as this 1966 advertisement in my hometown newspaper states. Those things Rhodes touted a half-century ago are still valid today for attracting industry – low taxes, financial incentives, a well-trained workforce, and easy transportation. Plus aren't we the land of pleasant living?
In the first case, Maryland can make a splash at the cost of three cents per dollar of state spending by completely eliminating the corporate tax. Even if it were phased out over a two- or three-year period, the fact that progress is being made should vault Maryland higher on those business-friendliness lists those whose business is to attract business refer to.
As for financial incentives, I'm leery about having the state in the investment business because I don't believe they should pick winners or losers. At this time, though, they already have the Maryland Venture Fund although it's geared more toward startups.
Supposedly Maryland has the best educational system in the country, although I'm a little skeptical of that claim based on some of the recent graduates I've seen. One thing we need to focus more on, though, is the idea that vocational education can be valued as much as college prep. Maybe Johnny and Susie's parents think otherwise, but even "A" students sometimes show not all high school students are college material.
But people with the aptitude to run machinery, know how to tinker and fix things, and are good with their hands don't need a degree from State U to succeed – and oftentimes have the advantage of not being thousands in debt. To be perfectly frank, to succeed in my chosen profession of architecture one should not need a college degree if they are willing to spend several years learning the craft from the bottom up as one of my former employers did. Somehow they have picked up the idea that five to six years of college schooling plus a couple years in an intern development program is the only way to create good architects, and that's simply not so. This is why money should follow the child, so they can explore the maximum number of educational options out there.
Finally, there's the aspect of transportation. Maryland is a state in a great location, but in our case on the Eastern Shore we have the lousy luck of a large body of water limiting our ground-based options. We can either go north through a tangle of traffic lights and small towns along U.S. 13 north or go south through a different gauntlet of traffic lights and small towns. Of course, any improvement to that situation requires the assistance of Delaware or Virginia.
Yet the alternative of going west remains with a third Bay Bridge span. Environmentalists can stop reading after this sentence because I will give them a stroke over the next paragraph – just pick it back up two grafs down.
To me, the best place for a third span runs between Dorchester and Calvert counties, southwest of Cambridge along Maryland Route 16. Obviously roadway improvements would need to be made, but imagine the ease it would bring for traveling between Southern Maryland and the Eastern Shore. No longer would it be an arduous three-hour journey to travel perhaps 50 to 60 miles west as the crow flies. Would it go through some environmentally fragile areas? Yes. But I believe the benefits would outweigh the costs.
I know people will complain that bringing industrial development to Maryland in general and the Eastern Shore in particular would ruin the rural lifestyle, but lifestyle is what you make of it. The carrying capacity of the Delmarva Penninsula is probably at least double its population; a number that will increase with advancements in technology. Regardless, we are nowhere near the density of the I-95 corridor and that should remain the case for the foreseeable future.
I've often said that if an area doesn't grow, it dies. I used to use North Dakota as my poster child for this until they got an energy boom and began attracting people seeking work in a lucrative field. While Maryland can get some benefits from doing the same and allowing fracking, perhaps the best way to make their mark is to adopt the old Ohio mantra that profit is indeed not a dirty word and take the bold steps needed to shake its anti-business reputation.
To enjoy the land of pleasant living, you have to be able to make one.
It's been a crusade of mine to encourage the rebirth of American manufacturing – unfortunately, we seem to be going the wrong way, according to the union-backed Alliance for American Manufacturing. Holding Barack Obama to his promise for one million new manufacturing jobs in his second term, the net gain has fallen with the September employment results and the August revision to 370,000. Even if you consider that their figure is a net figure, we're still way short of one million jobs created.
Overall, the job market is creating about 200,000 jobs per month – slower than last year, but still positive growth. Unfortunately, it's barely exceeding population growth.
You may ask yourself, though – why the emphasis on manufacturing in these quarters, particularly when you work in a service industry? To me, the answer is simple: economic growth is achieved when we add value to the overall economy. Sure, you can print money until the printing presses break but that just adds paper and not value.
Consider the iPad I'm writing this on. Originally it was a number of raw materials extracted from the ground. The first addition of value came when they were extracted, but a far larger one came when the component parts were created. A further increase in value came from the assembly process, which made the iPad into something usable by a member of the public. At that point, a little extra was added in shipping it to the venue of retail.
While I can't ascertain where the raw materials came from, the iPad is manufactured overseas and shipped to the American market. Supposedly Apple has moved some production here, but not for iPads.
I don't want to get bogged down in those nuts-and-bolts, but suffice to say that I think manufacturing adds more value per dollar invested than service industries. Certainly it can be fickle – the fanfare associated with this early '70s plant expansion died quickly when a national recession shuttered it within a couple years – but more often than not good jobs are provided.
We are better off when we make stuff. China may be cheaper, but is it better? How many times have you purchased some Chinese-made trinket only to scrap it in a couple years because it was assembled in a shoddy manner with substandard parts? America used to be better than that, and I want to see us return there.
Facing his final few months as Salisbury's mayor, Jim Ireton decided to be Santa Claus. You know the old adage about a democracy lasting until the people figuring out how they can vote themselves a piece of the treasury? This is really a proposal for the 2018 Ireton campaign.
In a Facebook posting, the mayor explained his reasoning.
Today I announced that I will forward to the City Council a Rent Stabilization Initiative aimed at bringing rents in Salisbury into line with national averages. This is a common sense step which will have very real results for residents who find themselves living paycheck-to-paycheck, struggling to make unnecessarily exorbitant rent payments. I was asked by someone earlier today "Why now?"

Here's why:

59% of renting households are cost burdened, and 36% of households are severely cost burdened, i.e. paying 50% or more. This means that over 1,600 Salisbury households are paying between 30% and 50% of their income for rental housing costs, and an additional 2,700 households are paying over 50% of their income for rental costs.
The lack of affordable housing in Salisbury has a quantifiable negative impact on our local economy. High cost burden means households are spending less on food, transportation, health care, and apparel, while accruing little-to-no wealth. If housing was affordable for all renting households, an additional eight million dollars a year would make its way back into the local economy.
From 2000-2008 rents rose dramatically, over taking the national average, as a result of increased energy costs and a doubling of the average home price.

If we want and expect to do better for the people in this City who are hurting the most, then we cannot shrink from this tough discussion -and I can tell you that I won't. Our residents pay far too much for the quality of the rentals that they live in, and far too many of them are severely cost-burdened. In the end, renters know when they are paying too much in rent; it's when there's no money left on the 2nd of the month. We have tried endlessly for 30 years to address the problem of the greed of the rental industry in Salisbury. This Rent Stabilization Program is good for our residents, good for the local economy, and will allow the City to get a return on the investment it makes in its citizens.
It's small wonder that there's a chorus of renters who agree. They think they are getting something for nothing but what they will get are fewer choices or more substandard dwellings.
But let's look at some of these claims. Ireton says that a large percentage of renting households are overburdened. However, his proposal only addresses individual houses, not multi-family dwellings, so only some portion of the population would benefit. We aren't given the number who would actually be affected.
And I still can't quite wrap my head around how additional money makes it into the local economy, because it's not really additional money. The renters aren't making any additional money on the deal. Granted, they may gain some choice on where to spend it but this is pretty much a zero-sum game.
Ireton is playing the old class envy card here, pitting poor, struggling renters against a class of businesses his allies derisively refer to as "slumlords." It's a convenient target to evoke sympathy, but one tends to forget that these businesses and individual homeowners are also investors in the community. The $8 million the renters save isn't just sitting in their pockets – they are paying workers to oversee their properties, spending money on upkeep, or, as individual homeowners who depend on rental income, they buy food, transportation, health care, and apparel too.
Let's imagine for a moment that this initiative passes – and given the current composition of City Council I could see three votes to make it happen. What incentive is there for people to invest in housing if the return is arbitrarily limited by the assessed value of the house, something that's determined on a triennial basis? Once a house is maxed out on rent, in effect the price is frozen for the remainder of the three years unless the city benevolently changes the formula.
In the meantime, the decrease in money coming in makes investment less worthwhile, so housing prices will sag. Arguably that's good for renters who may want to purchase a house, but the house they get may not be in as good of repair as it could have been because less money came in to make repairs, just the essentials to keep it up to code. It's the small mom-and-pop investor businesses which would be hurt the most by this law because the rental companies can increase the rent on those dwellings they own outside the city limits.
The solution for homeowners may be that of subdividing larger houses into apartments where possible. Certainly that's not an elegant solution and I suspect the various housing boards may look a lot more severely at these efforts because it's a way of skirting a bad law.
It's just the latest chapter in the Ireton war on landlords. He may think he can bring Salisbury up from poverty but instead it will just change the distribution of wealth slightly, eventually make affordable housing more scarce, and discourage investment – or, as Ireton calls it, "greed."
My friend Muir Boda has his own thoughts on the process, and notes that College Park dropped its program a couple years ago. I agree with his main point, though: instead of using government to bring one class down in the attempt to raise another, why not try to add value by attracting the kind of economic development which can make fewer households "cost burdened."
Perhaps that should have been Ireton's plan all along.
It's been a tough year for Big Labor. From the worker freedom side, states are switching over to right-to-work status which gives the working man the ability to put hundreds of dollars more in their pockets annually by reducing or eliminating the forced payment of union dues. Meanwhile, the environmental lobby has grabbed the attention of the Obama administration from the left, meaning no Keystone XL pipeline the Teamsters support and a more rapid demise of the United Mine Workers union thanks to EPA regulations discouraging the use of coal. Ironically, Big Labor has allies on both those environmental issues in the Republican Party they rail against while shoveling millions to those who support the environmentalists.
But today I want to take a brief look at the former issue. In the next few months, there's a good chance that Missouri could join the ranks of right-to-work states despite the fact it has a Democratic governor – the GOP has significant majorities in both houses of its legislature so it's merely a matter of intestinal fortitude on their part.
After that, though, the pickings are far more slim. Most of the remaining closed-shop states have either a Democrat-controlled legislature – which means any right-to-work legislation is dead on arrival, as is annually the case in Maryland – or a Democratic governor who won't sign it and knows the votes aren't there to override. That eliminates most of the states which toil under closed shops.
A couple exceptions to this are Alaska and Ohio, but these states aren't promising for different reasons. Alaska has a Republican-controlled legislature and a governor who is a Republican-turned-independent who ran on a unity ticket with the Democratic nominee to defeat former GOP Gov. Sean Parnell. But there's no real push to adopt such legislation as it appears the energy industry, which is the state's predominant private employer, is comfortable with the closed shops.
On the other hand, Ohio tried to pass right-to-work reforms in 2011 but they were overturned via referendum that same year. In an election year with solely local offices on the ballot, Big Labor was able to mobilize its army of volunteers and fool enough of the others to win a sizable victory. And while the dire predictions that the defeat of right-to-work would make Gov. John Kasich a one-term governor didn't pan out, the current Presidential candidate has no appetite to go through that fight again. Moreover, GOP members of the Ohio legislature aren't going to risk anything that could enhance Democratic turnout in a state Republicans need to carry in 2016.
So the fight in Missouri may be the last right-to-work battleground for awhile. It may be Labor Day of 2017 before we get significant movement one way or the other.
Before Donald Trump supposedly made this an issue, I decided that immigration was one of my highest-priority issues in selecting a presidential candidate.
In the last few decades our nation has wrestled with the question of what to do with the hordes who sneak across our southern border or simply decide when the time is up on their legally-acquired visa that they're not going anywhere. Perhaps Ronald Reagan's biggest mistake was signing the Simpson-Mazzoli Act, for while he believed that, "Future generations of Americans will be thankful for our efforts to humanely regain control of our borders and thereby preserve the value of one of the most sacred possessions of our people: American citizenship," the inverse has occurred. Our borders are a sieve and millions who believe a second amnesty is around the corner have swarmed to our land, doubling down by having "anchor babies" who are considered citizens via a faulty interpretation of the Fourteenth Amendment.
So let's talk about that aspect. Oddly enough, a story (from NBC News, of all places) discussed how several of the candidates felt about ending birthright citizenship. Mostl are in favor of ending the practice:
Ben Carson: Reportedly told a Phoenix rally that birthright citizenship "doesn't make sense to me."
Chris Christie: it "needs to be re-examined."
Ted Cruz: "as a policy matter (it) doesn't make sense," he said last week on "Face The Nation."
Lindsey Graham: "I think it's a mistake."
Mike Huckabee: once against it, but recently told radio host Hugh Hewitt he was now open to it.
Bobby Jindal: "We need to end birthright citizenship for illegal immigrants."
Rand Paul: proposed a Constitutional amendment to end the practice.
Rick Santorum: "(an) enticement (that) should be ended."
Donald Trump: "biggest magnet for illegal immigrants."
Those who would leave it as is:
Jeb Bush: "I don't support revoking it."
Carly Fiorina: we should put our energy into border security.
Jim Gilmore: Quoted in the Richmond Times-Dispatch, "every person born in this country has the right to citizenship."
John Kasich: Once a supporter of revoking birthright citizenship, now says, "we're gonna welcome you to a path of legalization."
George Pataki: "I don't support amending the Constitution to kick out kids who were born here."
Rick Perry: If the border is secured, it "becomes inconsequential," as quoted in the Dallas News two weeks ago.
Marco Rubio: won't repeal the Fourteenth Amendment, but is open to not allowing the practice.
Scott Walker: Apparently has moved out of the "end birthright citizenship" camp.
As regards the actual process of dealing with illegal immigrants, the naysayers would tell you we can't deport all 20 million of them. Maybe not, but we could at least get rid of the criminals and turn up the heat on employers who knowingly hire illegal aliens. I see nothing wrong with E-Verify as a starting point, as long as it can be done quickly. We also need visa reform to keep better tabs on those who are our guests. And while it goes without saying we need to secure our border with Mexico, the question is how best to do it. One big problem is that a significant part of the border is a river and I don't think sharks will live in fresh water. (Yes, I am joking.) But we should build a sturdy fence, whether Mexico pays for it or not. We were promised as much a decade ago.
But the biggest sticking point is amnesty. We are in this situation because amnesty once was granted so the precedent is there. Anyone who has shown up illegally over the last 30 years now feels entitled to all the benefits because, if we did it once, we can do it again. If we do the 20 million who are here will become 50 million, all expecting the next amnesty and "path to citizenship." To me, the path to citizenship begins by going back to their country of origin but, because of birthright citizenship, those anchor babies became their golden tickets which allow them to stay. To me that's wrong and unfair to those doing it the right way.
Imigration is an issue that, frankly, may make the person who has to be the bad guy plunge in the opinion polls. And it's certain that the Beltway Republicans will whine and complain about losing the Latino vote, but it's not necessarily true that a hard line on immigration will significantly hurt us with less than 10 percent of the electorate. (Yes, that is all we are talking about.)
So how do the candidates do? Some speak to the issue directly on their campaign websites while others remain less direct.
In his first effort at comprehensive policy creation, Donald Trump has hit the sweet spot. While there may be a few places I think are unworkable, it is a great template to follow in both proposal and attention to detail. It's no wonder his popularity is increasing; obviously this category is a gigantic step up for him.
Total points for Trump – 10.5 of 11.
It's not quite to the standard that Trump set, but Rick Santorum has a good, basic outline of his immigration policy ready for inspection and it correctly hits most of my highlights.
Total score for Santorum – 9.0 of 11.
Border security is paramount for Rand Paul, who has his own plan that's mindful of civil liberties. One thing I like about it is the idea of not having a national identity card. The only drawback may be that it's sort of a go-slow approach because we're not securing the border that quickly. On the whole, though, it's worth a look.
Total score for Paul – 7.7 of 11.
Bobby Jindal doesn't have his immigration policy spelled out as those above him do, aside from the typical "secure the borders" rhetoric and a desire for people to follow the law. But as a first-generation American, he makes a brilliant point about assimilating that others aren't making. Even he Americanized his name as Bobby is the nickname he adopted as a child. It sure beats Piyush.
Total score for Jindal – 7.5 of 11.
For a guy who was the governor of a border state, I thought Rick Perry was a little evasive in this interview. Of course, if I assume Perry goes with his record as governor he does better than the guy who signed a Texas version of the DREAM Act. So he's going to score better than average but not really at the top of the heap.
Total score for Perry – 7.5 of 11.
Ted Cruz has a relatively simple view on immigration: "legal good, illegal bad." I applaud his insistence on following the rule of law, but am scratching my head as to why he wanted to quintuple the number of H-1B visas at a time when companies are flouting the existing rules and favoring foreign workers over Americans.
Total score for Cruz – 7.4 of 11.
Assuming that something he wrote last November is still valid, Ben Carson has a somewhat unique approach to the illegal immigration issue: a guest worker program. And while he stresses those who wish to be guest workers should apply from their country of origin, my fear is that the Chamber of Commerce types who want ultra-cheap labor will get the return home portion of the idea scrapped. After all, what employer will really want to hold a job for someone for months while they go through that process?
Total score for Carson – 5.1 of 11.
Being for stopping illegal immigration is one thing. But Mike Huckabee has a somewhat vague, fuzzy plan to do so after securing the border. And as someone who at times seems to pander to the crowd, I'm not as trusting in Huckabee as I would others in the field.
Total points for Huckabee – 5.0 of 11.
Jim Gilmore starts out so well, with a nice, relatively comprehensive summary of his policy. I totally support deporting the criminal illegal aliens among us, but the problem is – and perhaps I am misunderstanding it – he would allow illegals here to continue working in place. I think they need to return home and get in line. Otherwise, there are some decent points as Gilmore's campaign finally begins to flesh things out.
Total score for Gilmore – 4.5 of 11.
Securing the border is key to Scott Walker, who has turned heads by bringing up a border fence with Canada, too. Supposedly he is moving toward more of a hardline stance on immigration, but he has been all over the map even during the campaign and the fact he doesn't discuss it as an issue on his campaign site is evidence he wants to play both sides against the middle. I'm not convinced.
Total points for Walker – 3.5 of 11.
Now that I've seen some of Carly Fiorina's "Answers," I get that she wants to secure the borders first. But it's also a copout to blame both parties for a lack of political will over the last 25 years. What I want to know is how you will overcome that inertia.
Total points for Fiorina – 3.0 of 11.
It's described as a "moderate" approach to immigration, but while Chris Christie says he's no longer for amnesty, he's also not supportive of an enhanced border fence. He would rather work to dry up sources of employment, which is fine for those coming to work but not those who wish to have anchor babies or conduct criminal activity.
Total score for Christie – 2.5 of 11.
The bottom five are all for giving illegals some sort of legal status. Way to encourage another 50 million of them, guys.
"Don't send me a(n immigration reform) bill without a pathway to citizenship or I will veto it," said Lindsey Graham. Well, they don't call him "Grahamnesty" for nothing, and if it weren't for at least getting it on birthright citizenship nothing is what he would get for this category.
Total score for Graham – 2.0 of 11.
Marco Rubio will tell you he's for several aspects of combatting illegal immigration: the border security, E-verify, and so forth. But he's another who is hard to pin down because he doesn't highlight immigration on his site, so I have to base my thoughts on him on his coming out against the Trump plan, supporting a large increase in H-1B visas as well as legal status for illegals after a decade, and most of all being part of the Gang of Eight.
Total score for Rubio – 1.5 of 11.
Jeb Bush visited the border, whined about how much the Trump plan is big government, then said we need to give illegals "a vigorous path to earned legal status where people…work and not receive federal government benefits." Do you honestly think such a program will last five years before the work requirement is waived? Please.
Total score for Bush – 0.0 of 11.
John Kasich stops short of granting them citizenship, but is squarely in the camp of legalizing the illegals, which he would "prefer." I prefer someone interested in the rule of law, not emotion.
Total score for Kasich – 0.0 of 11.
George Pataki would grant amnesty to illegal immigrants. I don't care what he says about securing the border because by allowing law-breakers a path to citizenship if they have no criminal record and do 200 hours of community service he has forfeited any respectability on this issue. Do you honestly think bureaucrats will check all these criminal records and verify the community service? It's called a rubber stamp, and patently unfair to thosr who did it right.
Total score for Pataki – 0.0 of 11.
The next topic is one I've had in previous elections, but in a different form. Instead of just looking at the Long War against radical Islam, I'm expanding it to look at foreign policy in general, for 12 points.
For several years I have cited an annual survey of business friendliness put together by thumbtack.com. It was useful in illustrating how poor the Maryland business climate was.
Unfortunately, year one of the Hogan administration finds the state in a deeper hole, narrowly missing the bottom five of the 36 states for which the survey had sufficient data to compile. It is noteworthy, however, to point out Baltimore's grade basically drove the state grade so they may bear a significant share of the blame.
As for what the survey asked and found specifically:
Small business owners found Maryland to be one of the least friendly states for microenterprise, though they widely approved of local training opportunities, according to Thumbtack's annual Small Business Friendliness Survey.

Nearly 18,000 U.S. small business owners responded to the survey, including 442 in Maryland. The study asked respondents to rate their state and city governments across a broad range of policy factors. Thumbtack then evaluated states and cities against one another along more than a dozen metrics.

"Small business owners on Thumbtack have consistently told us that they welcome support from their governments but are frequently frustrated by unnecessary bureaucratic obstacles," said Jon Lieber, Chief Economist of Thumbtack. "Maryland offers decent programs to support business owners directly, but they tell us the regulatory environment is just too hard for them to understand and navigate."

"The taxes here are high," commented a property manager in Baltimore. "There is no support from the government, especially the housing office."
Here's where entrepreneurs will pin their hopes on the new Regulatory Review Commission, which should try and reach out to as many of these businesses as possible to get suggestions.
The biggest problems with our state insofar as this subject goes is that its grade is getting worse – declining from a C- last year to its D+ this time – and Virginia got an A on the same survey. (Delaware had fewer than the 50 responses needed to get a grade.) Business owners hated the state in particular for its environmental and zoning regulations and government friendliness, both of which were given big fat Fs from those surveyed. (The former category also gets a "see, now what have I been telling you for the better part of a decade" from this writer.)
If a state is going to brag that it's "open for business" it needs to be better than a D+ state. The work on regulatory reform should be in tandem with other avenues toward success like lowering the corporate tax rate (or, even better, figuring out a way to cut three cents out of every dollar in state spending and scrapping it entirely) and telling the liberals in Annapolis who keep whining about the need for combined reporting to pound sand. Another proposal I would have is adoping the proposed moratorium on new Chesapeake Bay regulations until the sediment at Conowingo Dam is addressed,
We have models for success all around the country so why should we be 31st out of 36? I can't fault Larry Hogan for a lack of effort or his difficult circumstances, but we need leadership in this regard and if it means telling the people the truth about where the problems lie (hint: they hold 124 seats in the General Assembly) so be it.
I'm not much in a writing mood tonight, what with all the bad news of late. But I did have an observation on what I guess I can call the "Trump effect." Maybe it's coarsening our national dialogue, but it's also leading to bold statements.
For example, last week Louisiana governor (and presidential candidate) Bobby Jindal caught word of a Planned Parenthood protest in front of his residence. The state gave notice earlier this month that it was cancelling Planned Parenthood's state Medicaid funding, so organizers who opposed the cuts were holding a rally. Well, that is until this happened, as his campaign detailed.
Maybe it inspired Planned Parenthood to try their own tactics to drive away protestors.
But the question is whether this brash technique by Jindal, who is somewhere between low single digits and an asterisk in the polls, would be something he would have done a year or two ago before the heat of a Presidential campaign. As I detailed a few weeks ago, Jindal doesn't have to prove his pro-life bonafides. Yet the views his video has received in two days barely matched the attendance Trump had in one recent rally, and as I've said before someplace Trump shares something in common with the NASCAR audience waiting for the eighteen-car pileup. Admit it: you watched the Fox debate for that reason.
What Jindal did sort of walks the tightrope between appropriate and beyond the pale. Maybe it was just overkill because there were only a couple dozen protestors on Planned Parenthood's behalf.
I think there are a number of things that save the day for Jindal: one is that it was a relatively understated display. In fact, he may have helped spread the word on those Center for Medical Progress videos a little bit, but they weren't the gaudy, almost over-the-top photos associated with certain aspects of the pro-life movement.
Second, in the time I've been studying the candidates, Jindal has consistently scored well. Something like this may be a little bit of showing off but it is in line with his core beliefs.
Finally, it was effective. Whether Jindal can win in court or not, he has made his own good-faith effort to defund Planned Parenthood. That's a popular place to be with voters.
Aside from the cop being at our rally in Easton and the perceived slanting of coverage, our efforts were more or less the norm. It would be nice if Bobby Jindal helped put the defund effort on the map.
It was via a roundabout route, but we finally heard from the man who's presumptively Salisbury's next mayor, Jake Day. Because Jake had another place to be this evening – the Salisbury City Council meeting that he ran as their president – we had a succession of speakers to fill the time. It was interesting to note that several of these speakers dropped in as our meeting was going on, which told me they were looking forward to hearing what Jake had to say.
But we began as we always do, with the Lord's Prayer, Pledge of Allegiance, and introduction of distinguished guests, all done by our first vice-president Muir Boda, who filled in for our under-the-weather president Shawn Jester. We then did the swearing in of new second vice-president Dave Snyder, who pledged to be "a very good listener" and work to recruit 100 new GOP voters and new club members.
I took a little time to thank people for helping out at the Wicomico County Fair, as did Dave. My one suggestion was to perhaps look into a spot for outside next year.
In a Central Committee report, Mark McIver called the elected school board "one of the biggest things on our plate." He added there was a new initiative called "We Decide" that was a non-partisan group to back an all-elected school board, and related the urging from County Council that we should participate in these hearings. It was going to be "an 8-week push."
Mark Edney added his two cents, informing us that there will be an initiative this fall to address the issue of vacancies in the General Assembly through the state party's bylaws. Noting the issues faced by Carroll County, Edney intoned that it was "important that we get this right" because members of both parties in the General Assembly sought to take away the power local Central Committees had to choose successors.
Joe Ollinger updated us on the Crab Feast, which had most of the items in place except a silent auction coordinator. It's still on schedule for September 12 at Schumaker Park.
Speaking of food, Muir Boda announced his own, more modest event this Saturday at Doverdale Park. His community barbecue was slated for 3-5 p.m. but volunteers could show up at 2:00. Boda remarked he had three opponents in the election, so getting out the vote was paramount.
He also commented that the proposed city curfew was a "big issue" but questioned whether it would be enforceable given current resources and the spread-out geography of Salisbury. By itself, a curfew "won't solve youth crime," Muir said.
Senator Addie Eckardt, who had arrived after we began, spoke briefly about her upcoming annual bike ride through the district that will cover Wicomico County on Thursday. She also praised Governor Hogan, who has "put a great team together." It would help government become, as she put it, more responsive and cost-effective.
Delegate Christopher Adams remarked about his attendance at the defund Planned Parenthood rally in Easton as well as a stop last week at Wallops Island in Virginia. They were expecting to resume launches at the pad damaged in an explosion last fall by March, he said.
Looking forward, though, he wanted to concentrate on regulatory reform, as some needed changes could be done more easily through that avenue than through the legislative process.
Fellow Delegate Johnny Mautz predicted "a really busy session" next year but expressed his disappointment in getting a low 25% score from the League of Conservation Voters. I looked up the floor votes they scored: two were anti-fracking measures and the other was the "repeal" of the rain tax sponsored by Mike Miller. So pro-business was not going to meet pro-environmnet with the LCV.
Bunky Luffman stood in for Delegate Carl Anderton, commenting to an earlier point made about regulation by bringing up the sprinkler mandate that is halting construction locally. One local developer lost a builder who refused to build more dwellings – they weren't able to make money with the mandate and additional costs.
Most of the legislators had come late to hear Jake Day, who spoke for about 15 minutes and answered questions for another 20. Apologizing both for being late and a lack of sleep as a new dad, Day told us he was "very excited" about becoming mayor. As a Council member he was pursuing a pro-business agenda, but noted "I have found a roadblock in the current administration." Like the state of Maryland, his effort would be to attract business: "I want us to be competitive," said Day, citing Delaware under Jack Markell as a "more friendly and welcoming environment." Perdue's decision to move some of its corporate operations to Delaware "sent a message," said Jake. "The economy will be first and foremost on my mind each day." His idea was to grow jobs "locally and organically,"
One area he saw as a job creator was downtown, for which revitalization was important to Jake. It's "part of the renaissance" of Salisbury, said Day. He criticized the "lack of active leadership from the top" and sought a City Council that was cordial, but aggressive. He also announced the intention to continue divesting the city's surface parking lots, believing successful downtowns do better with infill rather than surface parking.
Crime was another top issue. Day observed that criminal activity was starting at a younger and younger age, so the city could have to "pick up where the parents left off."
It was an enlightening address, but the questions were good, too. The first one out of the chute was about the "rain tax." Jake disagreed with the state mandate, but believed it was necessary for a city which had ignored the issue for over a century. He was willing, though, to reduce property tax rates and scrap the city's inventory tax to help even things out.
And when I asked why the city couldn't use its water and sewer fund surplus, Day said the surplus was being depleted too quickly. Basically the relief would be short-term at best.
Corollary to that initial question was a discussion about the closing of Labinal, which will cost the city hundreds of jobs. While the popular opinion was that the state's difficult business climate drove them away, Day said the answer was more simple: Texas (and Mexico) were closer to their main customer base, and Salisbury mainly served military clients whose contracts were winding down.
A second concern was the issue with fire service. Rather than the "big mistake" of giving ultimatums through the media, Jake was working closely with county officials in coming up with a long-term solution. He conceded it probably wouldn't be all the city wanted, but noted that he and County Executive Bob Culver were "working well together." The key was making things more fair in a way that doesn't alienate non-city residents.
Our wastewater treatment plant was the subject of a question. Calling its saga "a scar on Salisbury's history," Day announced the next phase of renovations would begin in October. Bunky Luffman, who formerly worked at the plant, pointed out it had reduced the amounts of nitrogen and phosphorou, but not enough to meet more stringent state standards that changed midstream.
A final questioner tested Day on his "number one challenge – is my (business) location safe?" Crime was a concern for local businesses, and "a lot of solutions to our challenges are economic," Jake said. He vowed to show leadership and compile more data on the current conditions.
We finally let Jake go, so that Boda could announce our next meeting would be September 28. Hopefully it will be as chock-full of information as this one was.
By Cathy Keim
Editor's note: Last night, as I was finishing my article on yesterday's rally in Easton, I received an e-mail from Cathy with this piece, which she called "How the Media Distorts a Pro-Life Rally."
Read on and I will have more thoughts at the end.
Yesterday 128 protesters gathered at the Planned Parenthood facility in Easton, Maryland, from 9 to 11 a.m., while thousands of protesters gathered in front of about 300 PP facilities across the nation. According to the Planned Parenthood website, they have about 700 facilities total. So what, you say.
That information that I just wrote took a few seconds to obtain online, but the WBOC reporter that covered the protest in Easton managed to get the first sentence of her article incorrect.
Pro-life protests happened in front of all Planned Parenthood clinics nationwide Saturday afternoon calling for federal defunding of the nonprofit.
Notice that it states that protests happened in front of all PP clinics on Saturday afternoon. According to my math, 300 protests do not cover 700 facilities, nor is 9 to 11 a.m. an afternoon event.
After reading the first sentence, I knew that we were not going to get unbiased coverage for our event and I was correct.
Next comes a quote from "authority," the interim president and CEO of Maryland's Planned Parenthood, Dr. Amina Chaudhry:
Planned Parenthood's medical providers and staff are the best in the country. We have the highest professional standards, and we take swift action if we are ever aware of an instance where those standards aren't being met.
There is no evidence to back the claims; in fact, the whole protest was over the videos which showed evidence of quite the opposite nature. But her assertions are allowed to stand and are followed by a quote from a protester whose profession and qualifications are not noted.
But protestors including David Smith of Parsonsburg, are convinced Planned Parenthood is practicing body and organ harvesting, without actually having seen said videos.

"There are several videos out there and I have not seen them, but we really believe from what I understand that once anyone sees those videos, they're just so horrific," said Smith.
The reporter took her time and asked many protestors for statements until she found the perfect one from a protester who had not actually seen the videos. It was disingenuous of her to troll about for that quote when there were numerous protestors that could have addressed the videos.
In fact, although I introduced myself to her and was clearly in charge of the event, she did not ask me a single question.
Next the reporter returns to her "authority" for an attack on the "right wing extremists."
Chaudhry further explained in a statement that the attacks on the nonprofit are steered by right-wing extremist agendas.

"Extremists who oppose Planned Parenthood's mission and services are making outrageous and completely false claims. They are engaged in a fraud, and other claims they've made have been discredited and disproven.

The group behind these videos has close ties with organizations and individuals who have been linked to the firebombing of abortion clinics and threats to the physical safety of doctors who provide abortion. The real agenda of these baseless attacks has become totally clear: to ban abortion and limit women's access to reproductive health care at Planned Parenthood. The vast majority of the public rejects this extreme political agenda and rejects the fraudulent campaign behind it."
In a few sentences, the group of peaceful citizens who came to stand up for the right of the unborn baby to live rather than be killed in the womb and sold for profit was turned into extremists that support firebombing abortion clinics and threatening doctors.
If you take the time to watch the videos, which I have, you will see doctors casually talking about altering the abortion procedure so that they can acquire better fetal tissues to sell for profit. Changing an operation in order to get fetal hearts, lungs, livers, etc. undamaged is illegal in itself.
Who is the extremist here? The peaceful protestor who wants the baby to be able to live or the doctor who is cheerfully describing how they destroy the baby in the most profitable way? Another doctor describes turning the baby into the breech presentation so that they can deliver the fetus without crushing its skull. It is better for selling to have the whole baby undamaged, except that the baby is dead, of course.
The reporter does admit that this protest is unprecedented in scope. Never have so many protestors joined in so many places simultaneously, but she quickly recovers with a closing statement that:
(A) number of state agency officials in Georgia, Massachusetts, Indiana, South Dakota and Florida have investigated Planned Parenthood clinics there and have not found any evidence of illegal activity.
There are about 700 PP facilities in the country. It is entirely plausible that not every facility is involved in the baby parts for profit scheme. The fact that some clinics have not been proven guilty, does not prove all of them innocent.
How biased these reporters are! All protestors are linked to firebombing clinics, but not all PP facilities are linked to selling baby parts.
It has been my experience, that whenever I have had the misfortune to be interviewed or take part in an activity where reporters cover the event, the coverage is almost always inaccurate, incorrect, and often completely biased.
That was certainly the case for today's coverage of the #ProtestPP rally in Easton yesterday. It's not just yesterday, though – CNS News has tracked the coverage devoted to the scandal so far, and, shall we say, it is lacking.
Here is a link to a Washington Post piece on the #ProtestPP events that shows a more evenhanded approach.
Compare the two and see for yourself the difference. Our local WBOC report should be filed under opinion pieces.
Editor's note redux: The Post piece wasn't perfect either but was better.
But when are we going to drop the pretext that mainstream reporters are unbiased, yet folks like us who write for the "pajamas media" are unworthy of trust because we have a slant? I will cheerfully admit I see things through the lens of a conservative.
I was asked by Cathy to come along to document the event and take photos (it doesn't hurt that I am pro-life myself, though.) I think I could have done a better job in some respects, but I believe I did what journalists are supposed to do – create an account of what really happened there. It's why I took the time to video and upload the statements of both Andy Harris and Mike Smigiel.
It reminded me of how the initial TEA Party rallies were covered. If those who create the "news" don't agree with your narrative it's dropped down the memory hole.
I think the better approach for WBOC would have been to place the opposing view at the end, sort of like the State of the Union does.
I also think we should all thank Cathy for her efforts. But like they said during the rally, this is not a one-day thing – so there's time for the media to get it right.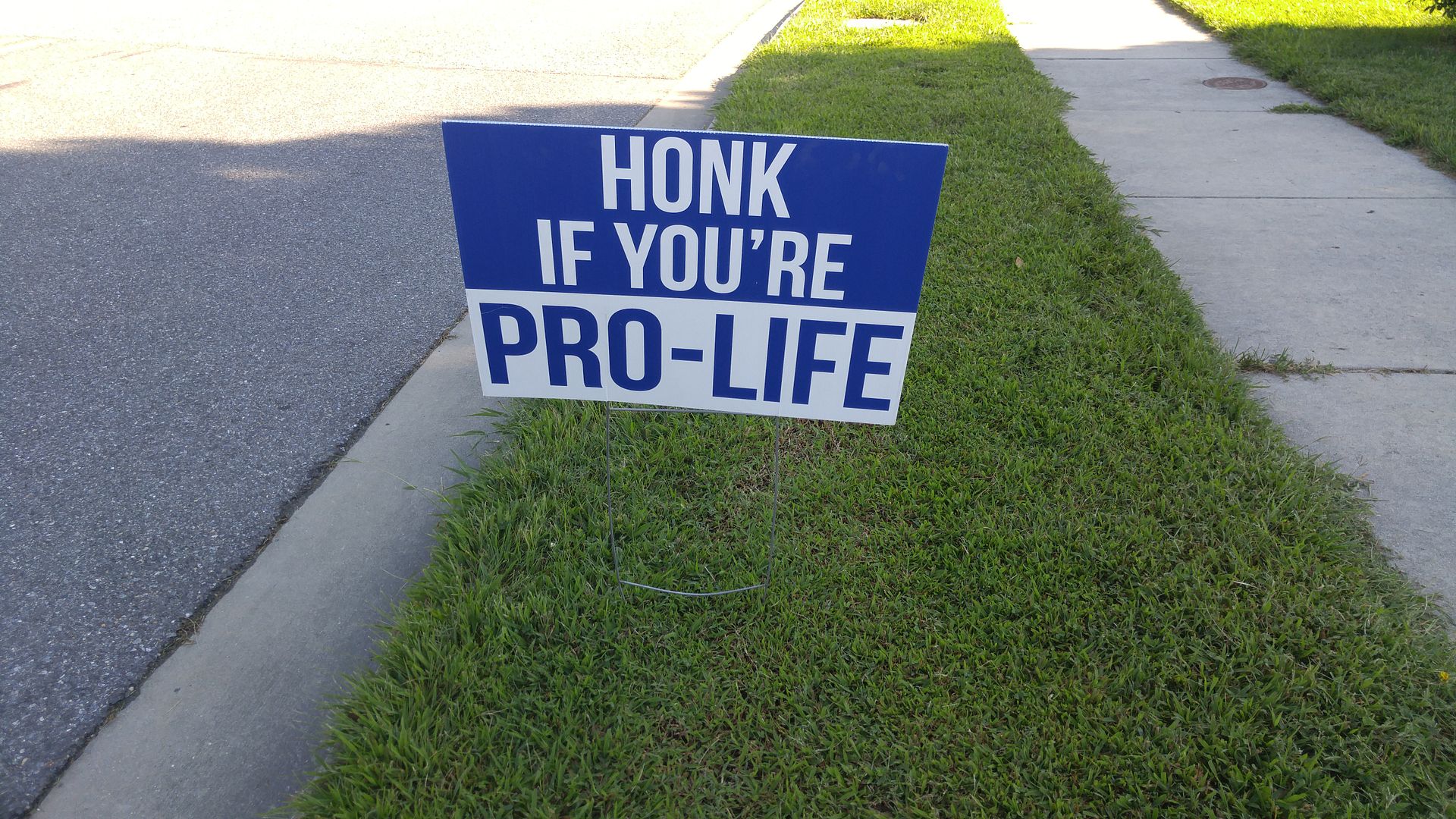 This morning I got up with the sun to help cover one of around 300 coordinated local rallies aimed at defunding Planned Parenthood in the wake of their sale of baby parts exposed in a series of investigative videos from the Center for Medical Progress.
The Easton site was selected because Salisbury's office had closed last spring. And while detractors claim the facility, which is located in a nondescript office complex with several other tenants, doesn't do any abortions, they still support the overall brand.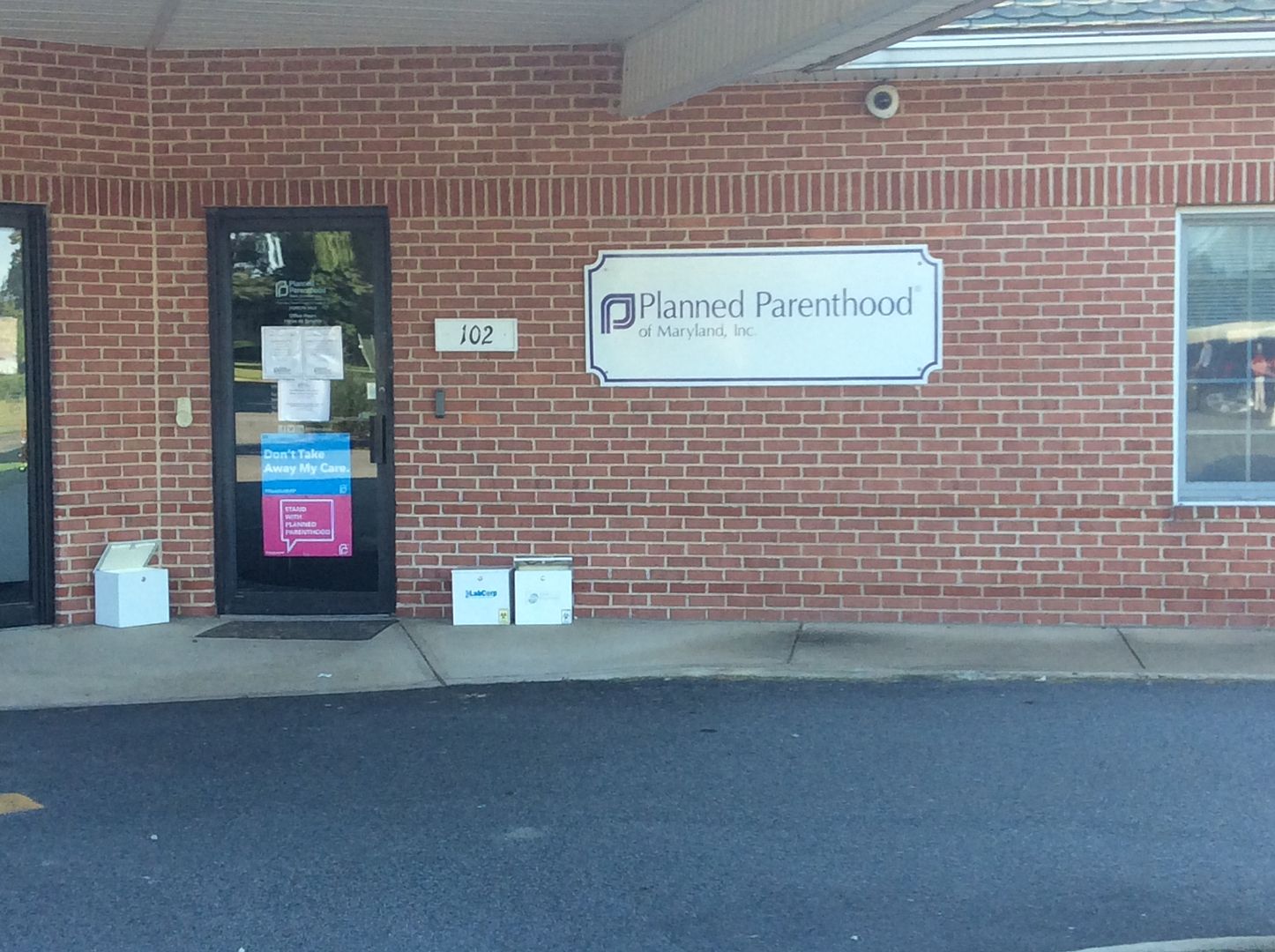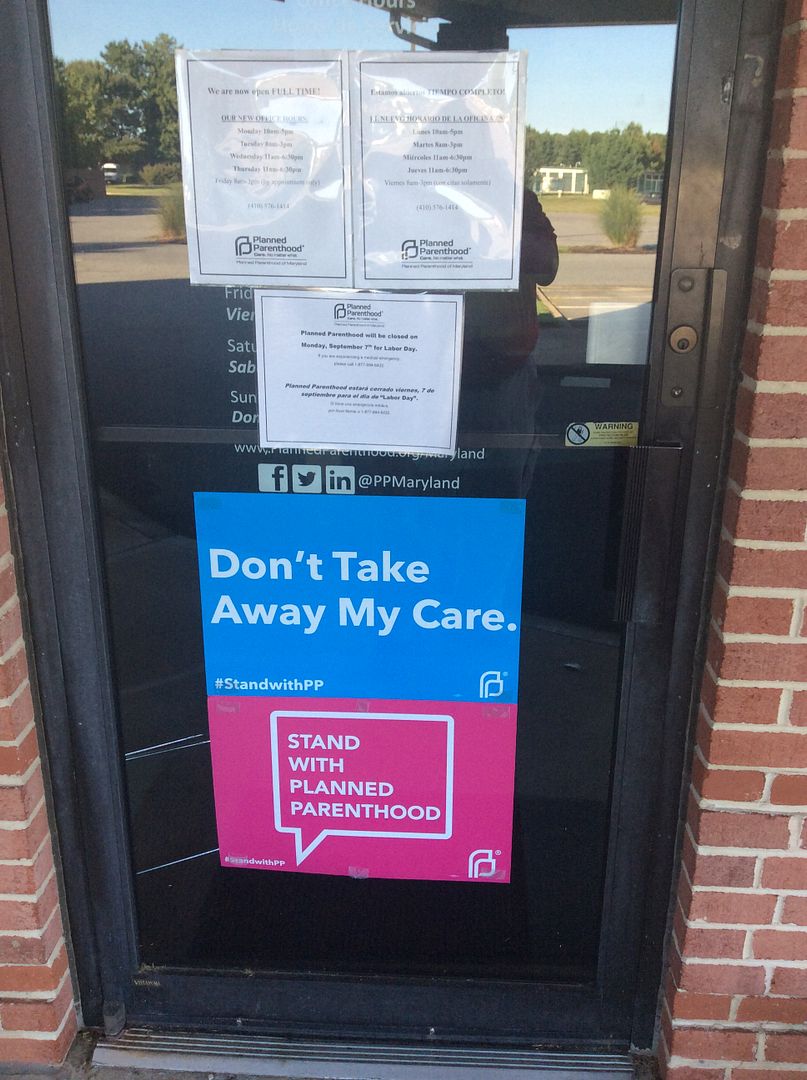 As you will hear in a bit, the facility is not the only one which provides its services. Plenty of care is available and accessible. (It's ironic the facility was closed today, but the protests were intentionally scheduled for off-hours.)
The rally began at 9 a.m. with about 50 people lined along the street in front of the facility.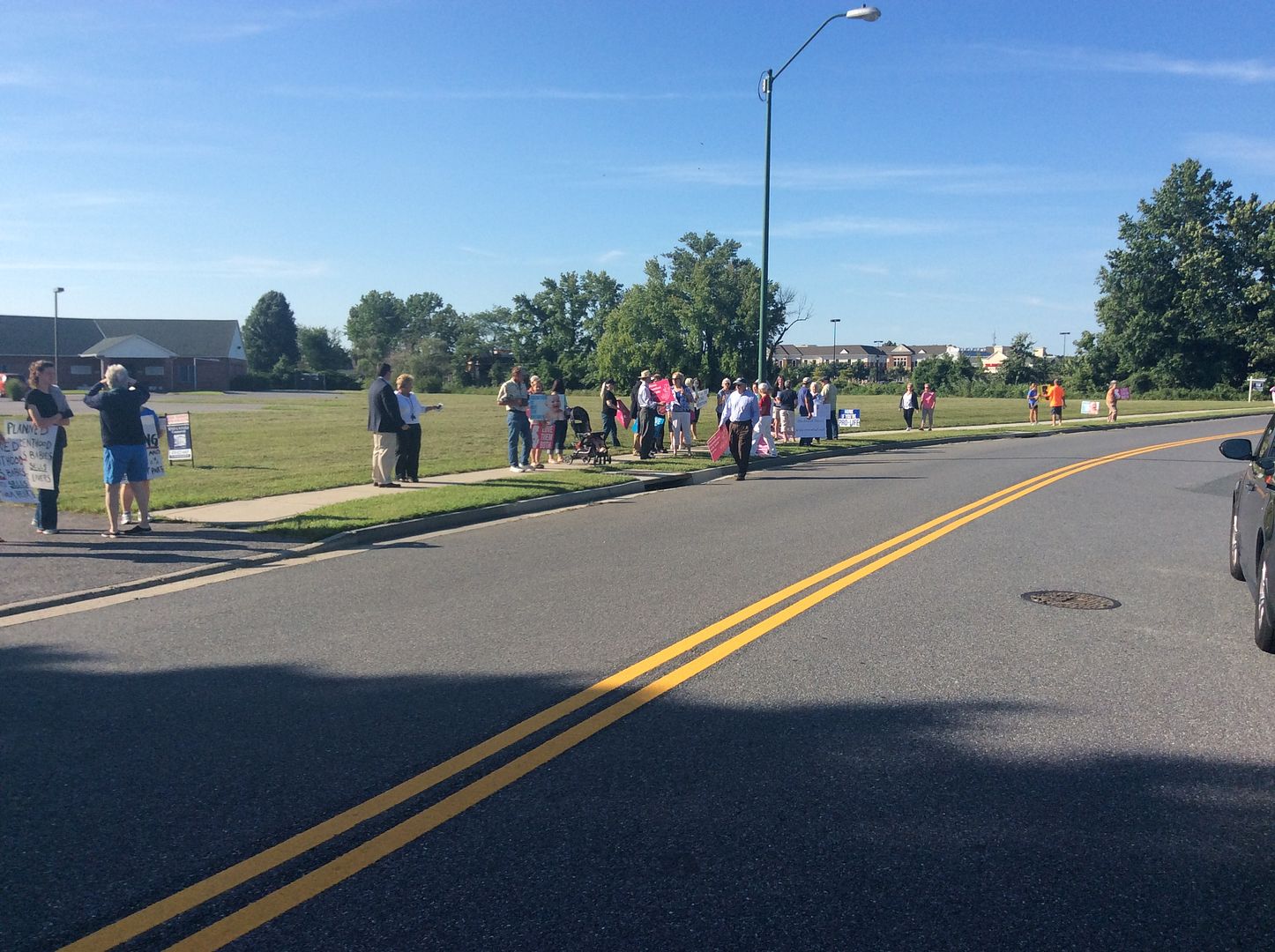 In all, there were a dozen speakers, mainly representing the pastoral community. We had clergy representing churches from Berlin to Centreville and several points in between. First up was Keith Myer, from Harvest Baptist in Salisbury.
As he spoke, the gathering was growing, spilling into the front yard of the facility and later across the street.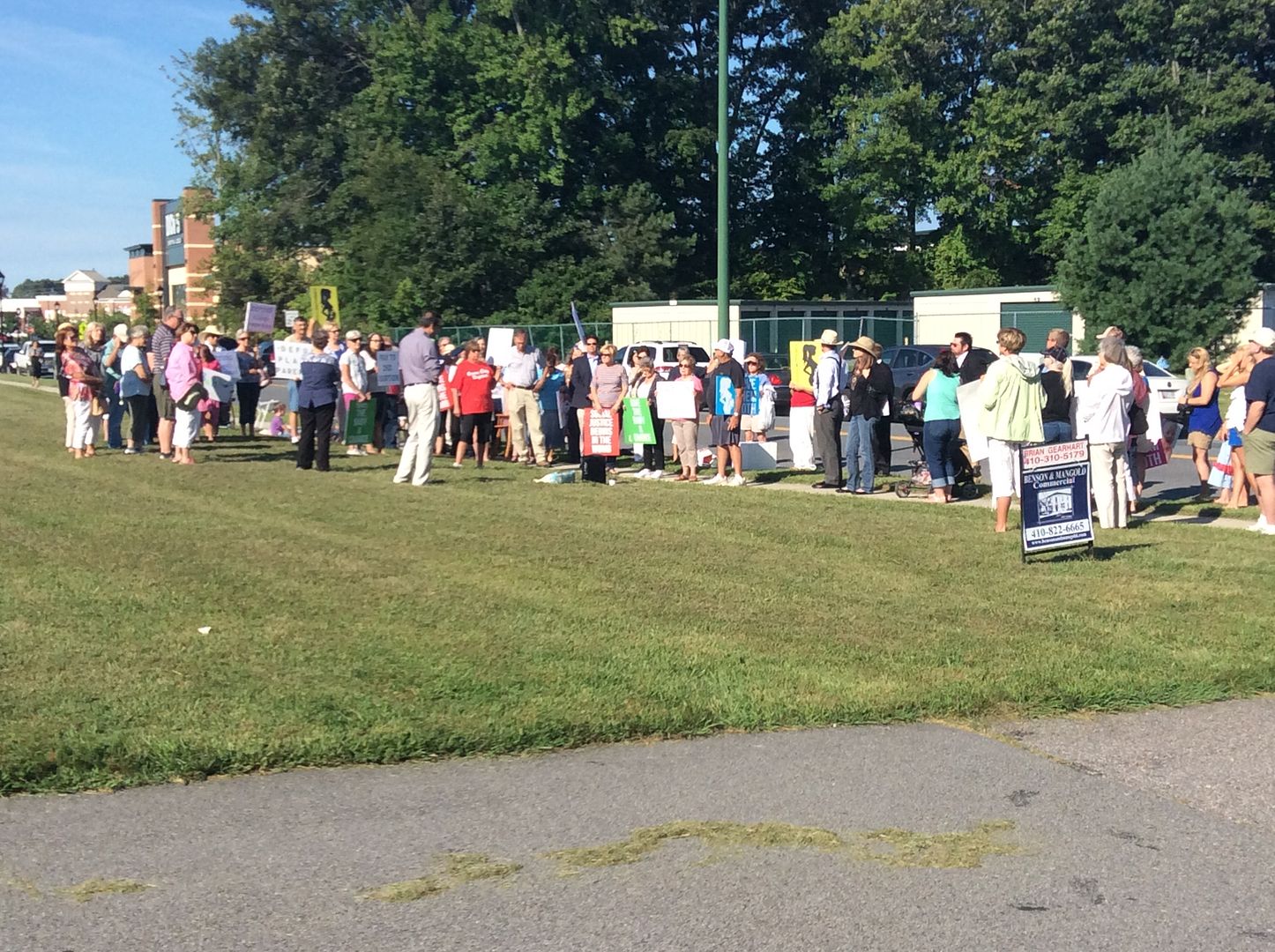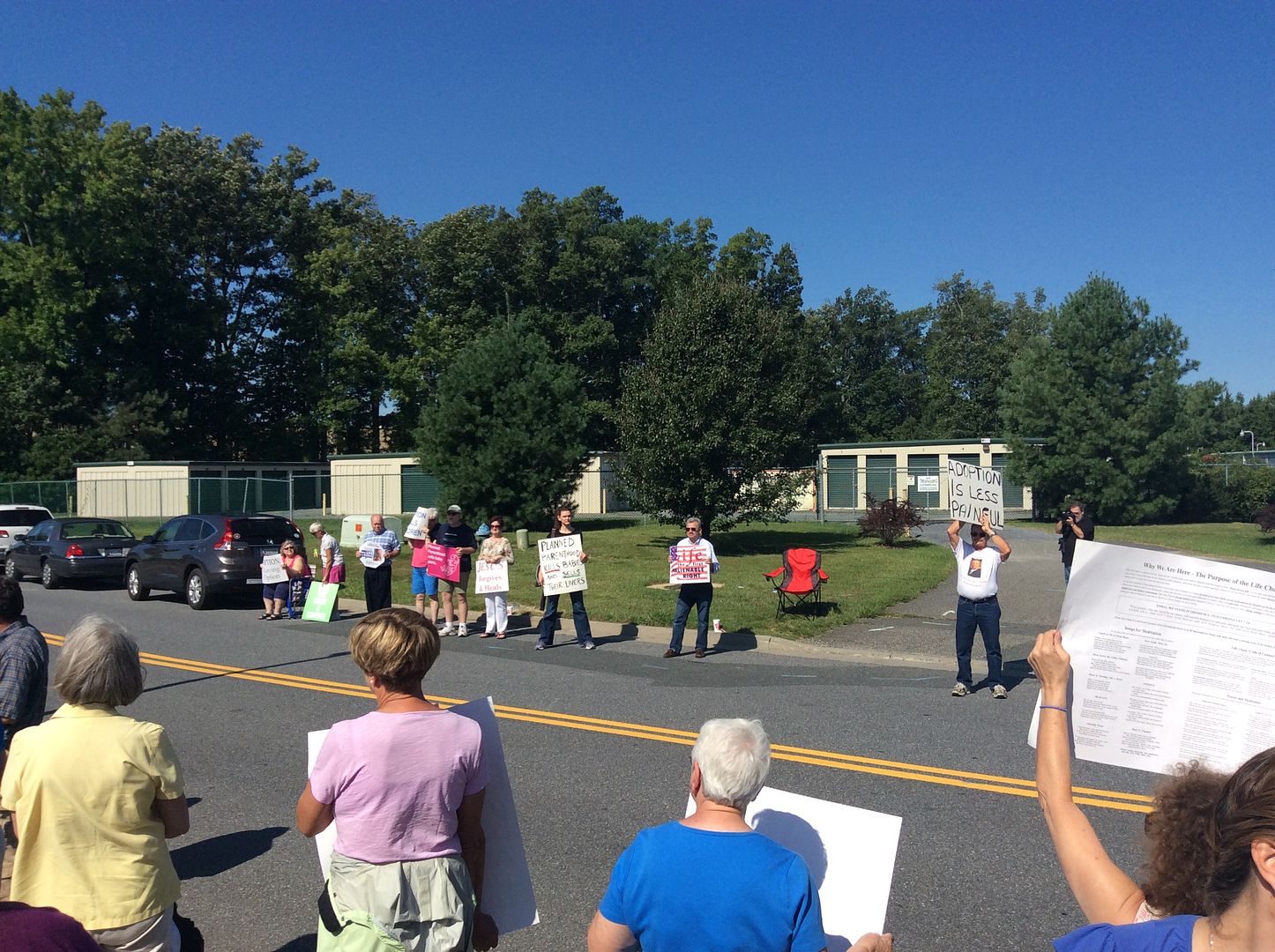 Another Wicomico County minister who spoke was Shawn Seldon, who represents a church in the small hamlet of Tyaskin.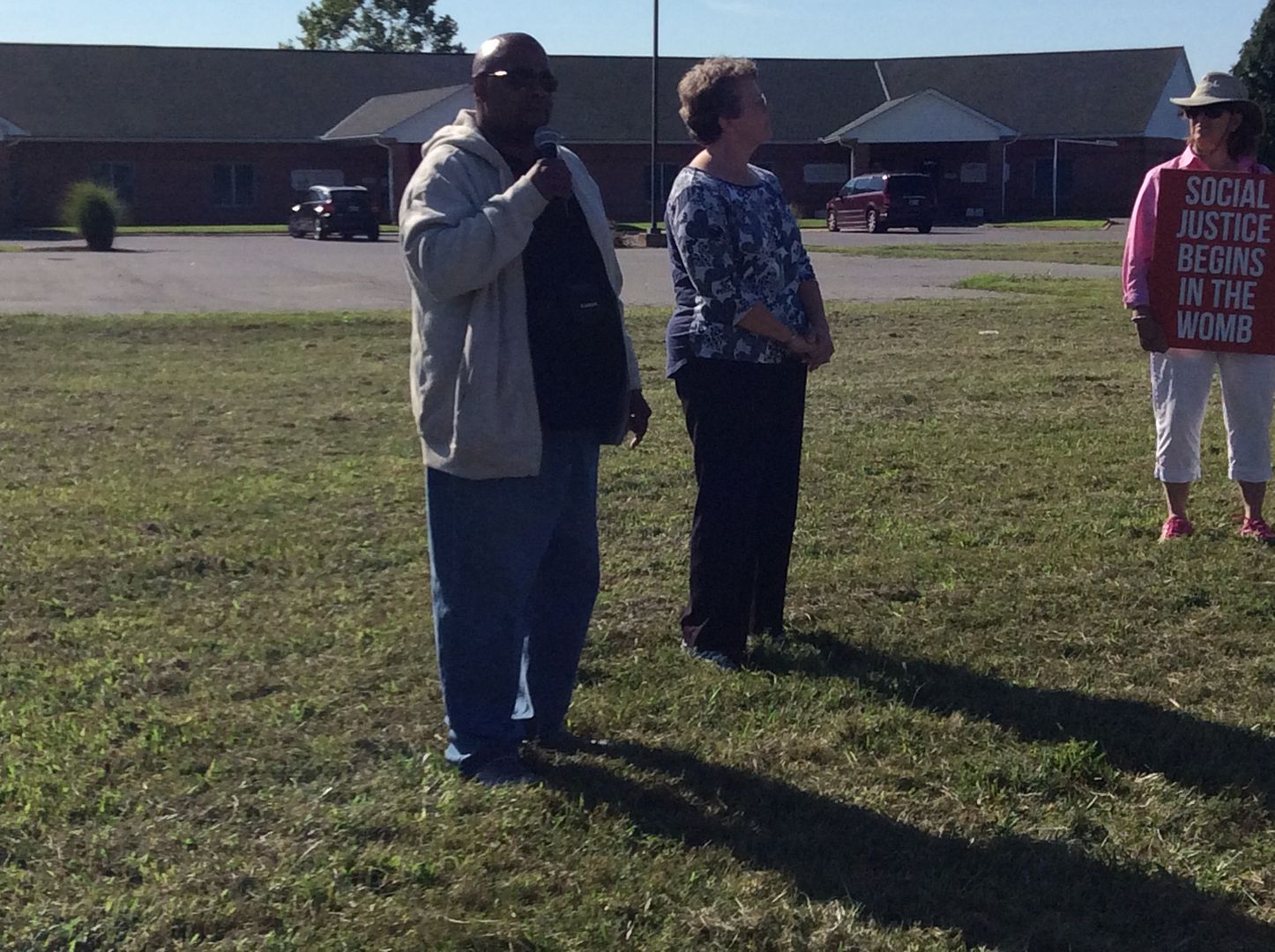 He lamented Planned Parenthood as "the largest morgue in the country." But when it came to those on the other side, it was not our job to cast stones but instead "love the hell right out of it," he said.
If the Seldon name rings a bell, it should because his wife Jackie runs the Eastern Shore Pregnancy Center here in Salisbury. Both she and her counterpart from the Choices Pregnancy Center in Easton were there.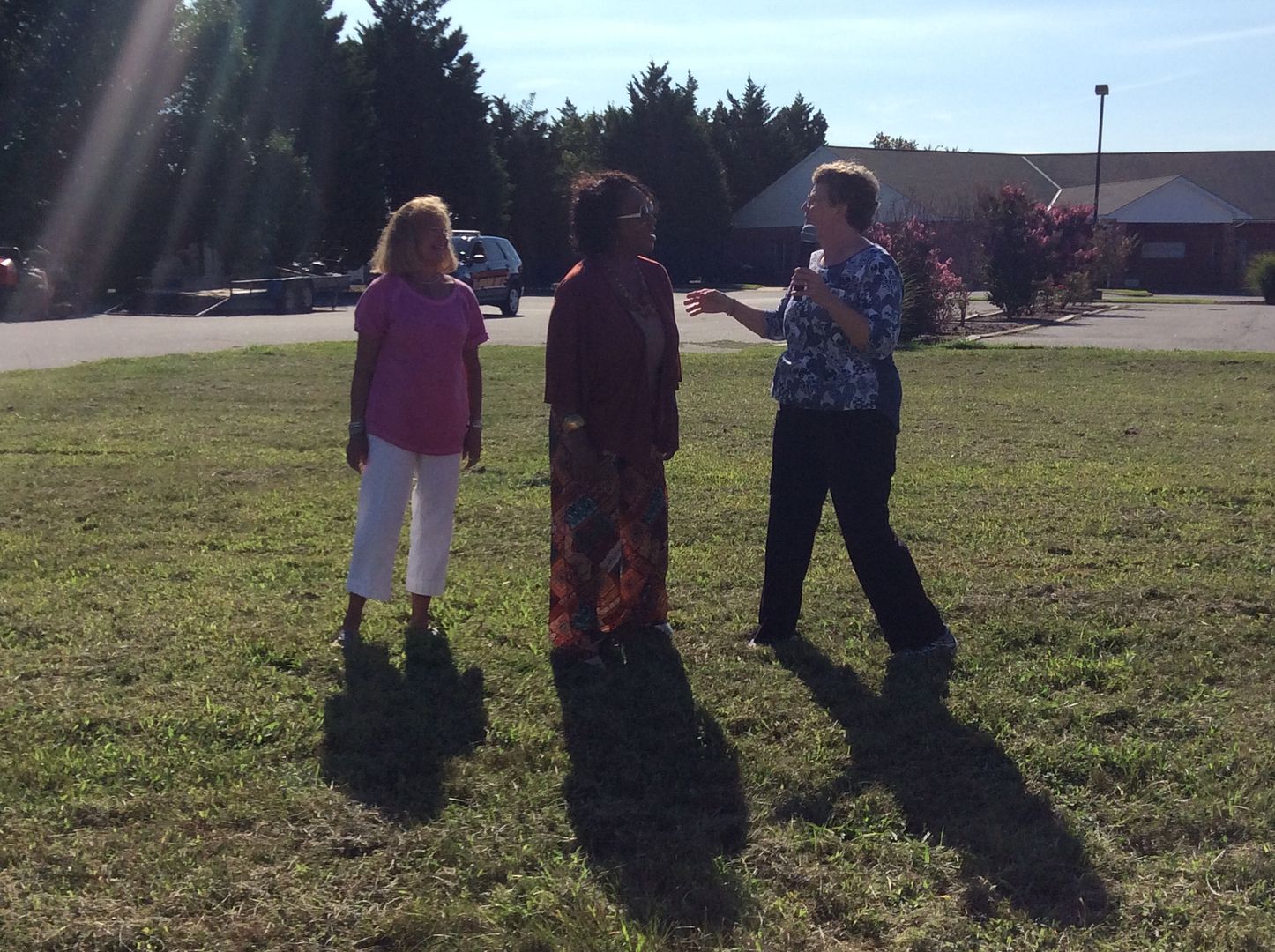 Jackie noted that when women come to her center and take advantage of their services, "things change in the ultrasound room." They see that their baby is not a tissue mass, but a living human being developed in the womb.
Unfortunately, I didn't get photos of all of the pastors but I did get a number of quotes. For example, John Abbott of Faith Baptist in Berlin reminded us that "thou shall not kill" means you don't kill innocent life. Chris Williams of Covenant Family Church in Centreville added that, "our hearts should be broken as a nation," and called abortion "the antithesis of the good news of the gospel."
Also representing his congregation was Eric Olson of the Oasis Covenant Fellowship in Easton, who spoke early as I was taking photos. We also heard from Barbara Kelly, a post-abortion counselor who told us "abortion doesn't have to happen." She added that women come to her decades after their procedures, a "trauma" that happens as they grow old and wistfully think about the child they never had.
The only minor bit of controversy came when the lone tenant who was open at the time, a pediatrician's office, asked us to move back onto the sidewalk. As you'll see in the videos, we were larger than the right-of-way.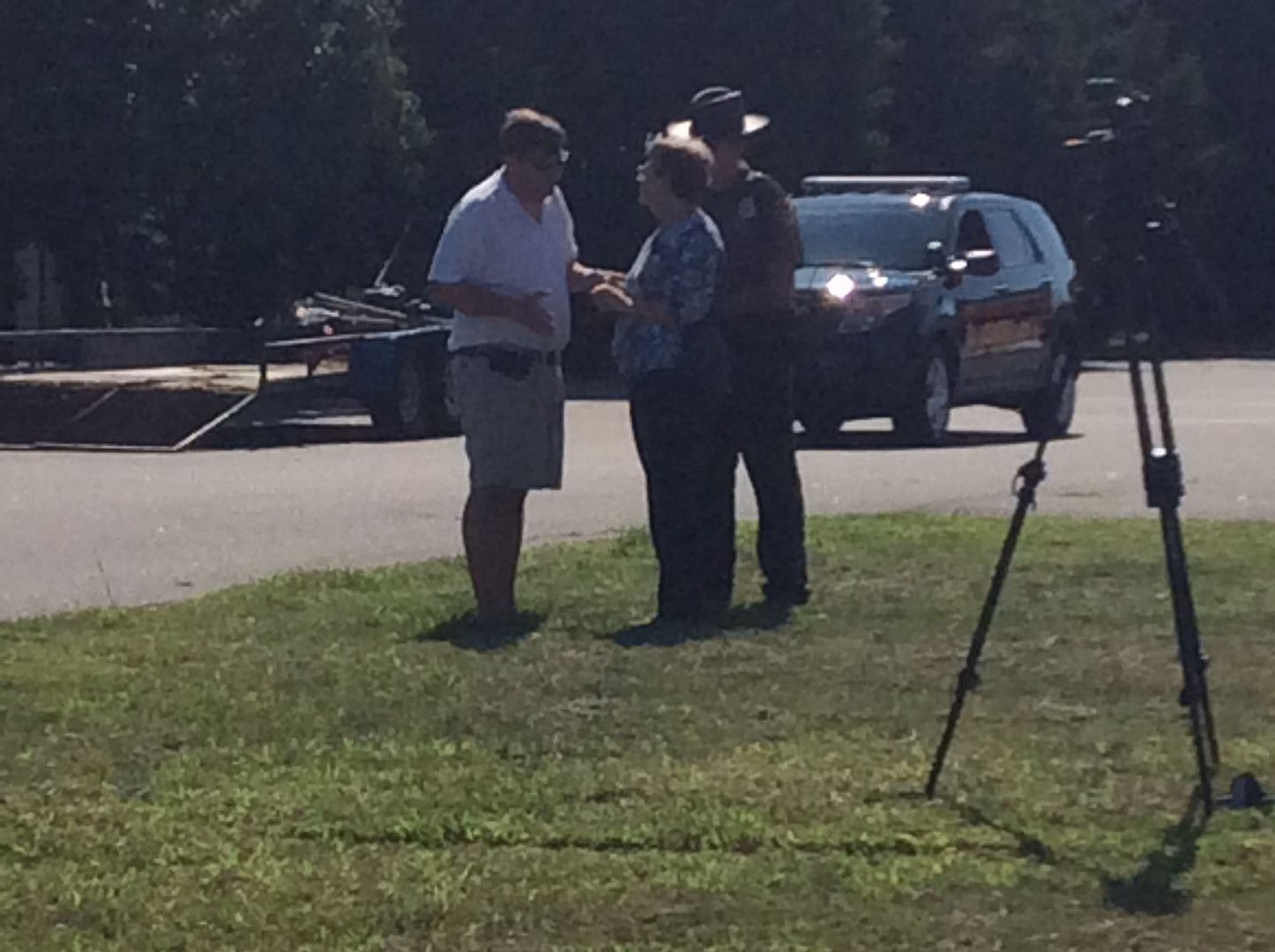 I think their issue was twofold: supposedly people were cancelling appointments this morning and "the children are upset." I suspect it was parents who simply didn't want to face the facts.
So our last speakers, pastor Jason Shelton of Providence Presbyterian Church in Salisbury and the lady representing Talbot Right to Life (who secured the permit for the event) did their speaking from the street.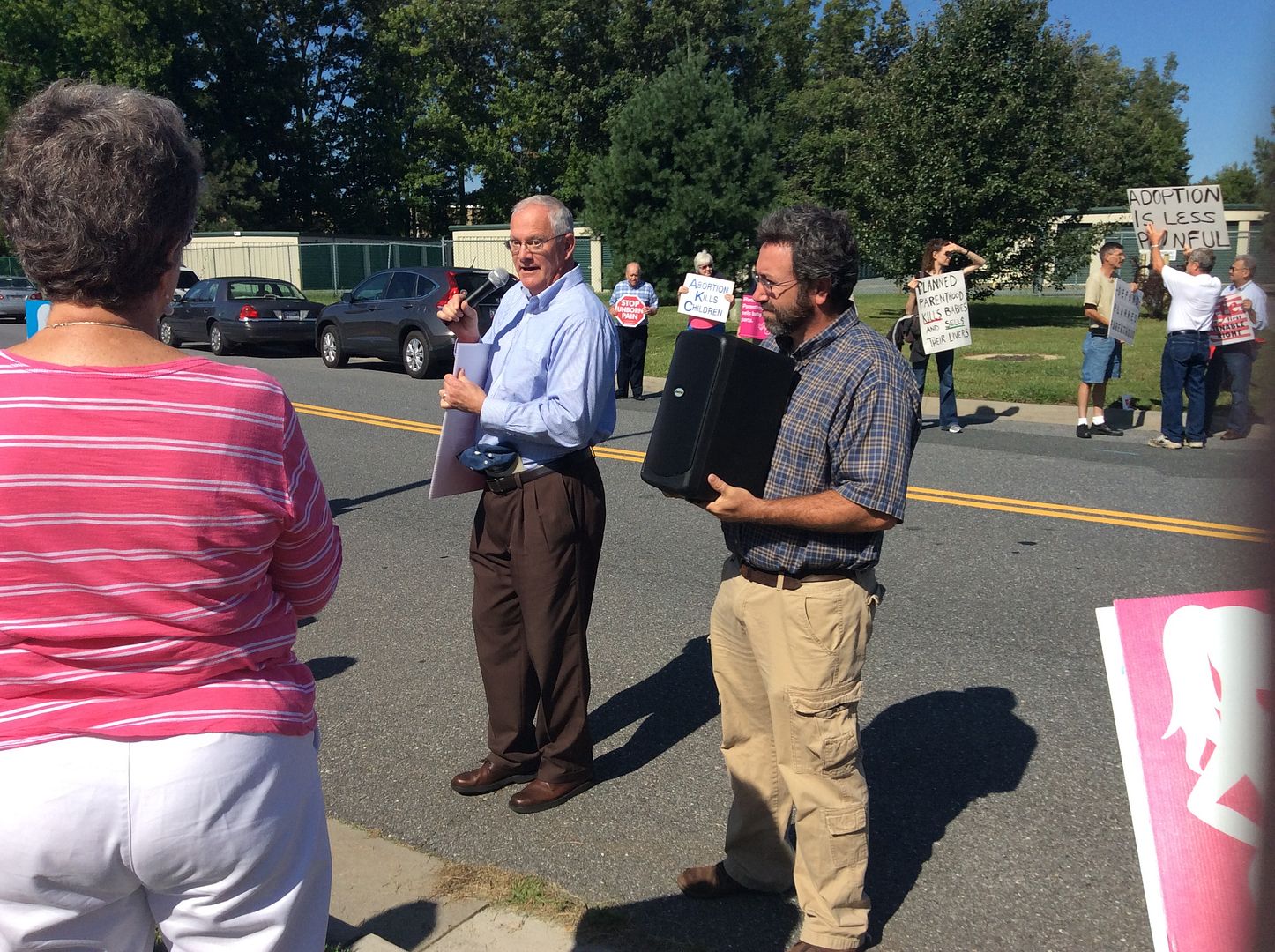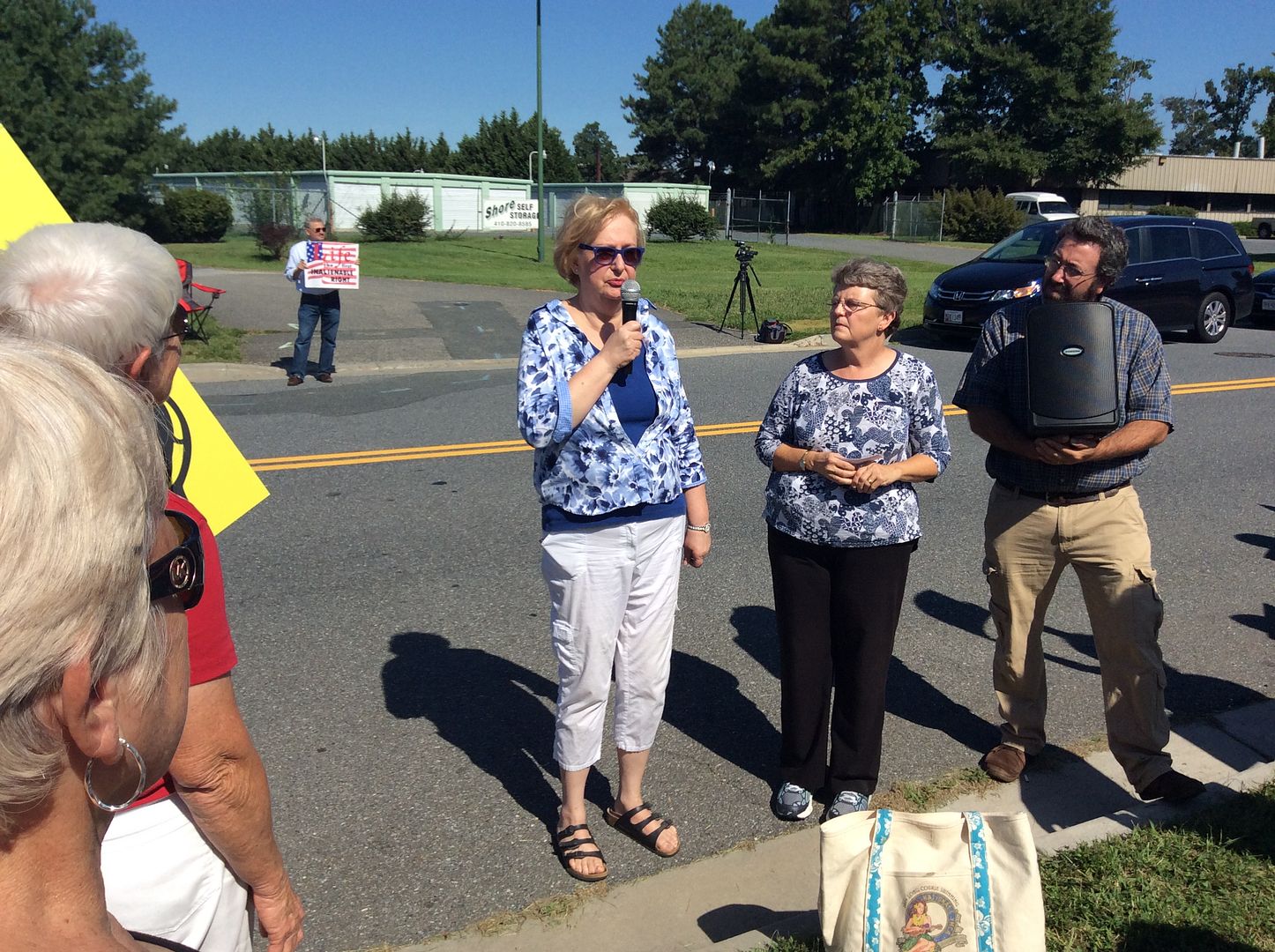 Sheldon cited heavily from 2 Timothy 3, adding that we have become "a bloody and callous people."
I noted above that we had politicians as well. One who spoke was local Delegate Christopher Adams.
Citing his own experience with his kids, Delegate Adams opined that "parenthood means life" and described the connection between abortion and profit as "disgusting and immoral." He continued that we weren't on the slippery slope here in Maryland, but "the bottom of the chasm."
There were two other political speakers of note, who both happen to seek the same office. Congressman Andy Harris spoke early on, followed a few turns later by challenger and former Delegate Mike Smigiel. I fired up my moribund Youtube page to share the videos of their remarks, Harris first.
To his credit, Smigiel and his aide Cody Leach stayed for the whole thing.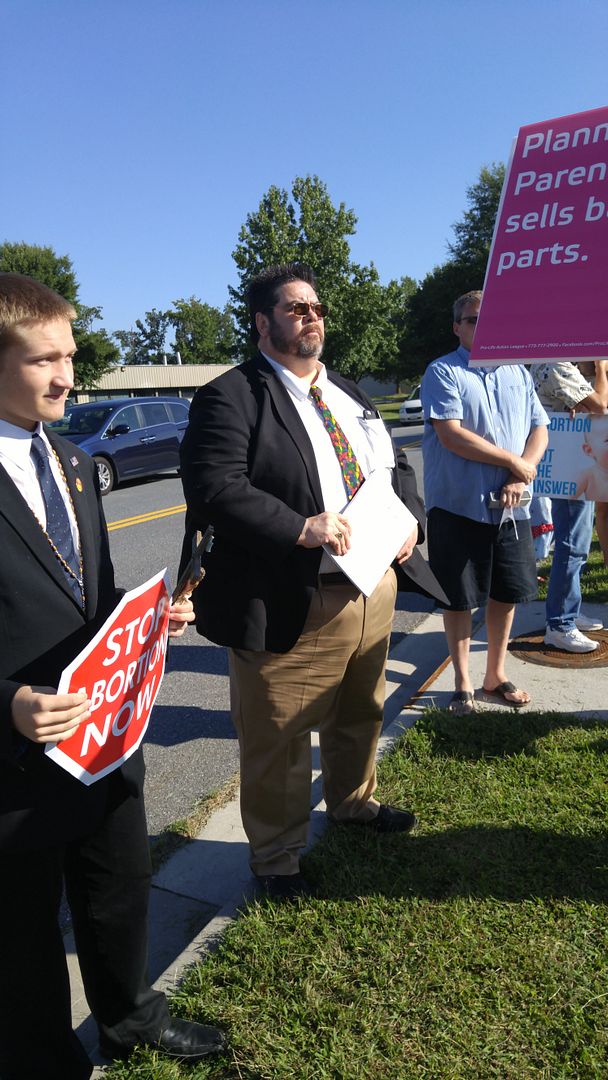 As with a rally such as this, there were a number of good signs. You'll see a number of pink ones which remind us Planned Parenthood sells baby parts, but there were other descriptive ones too.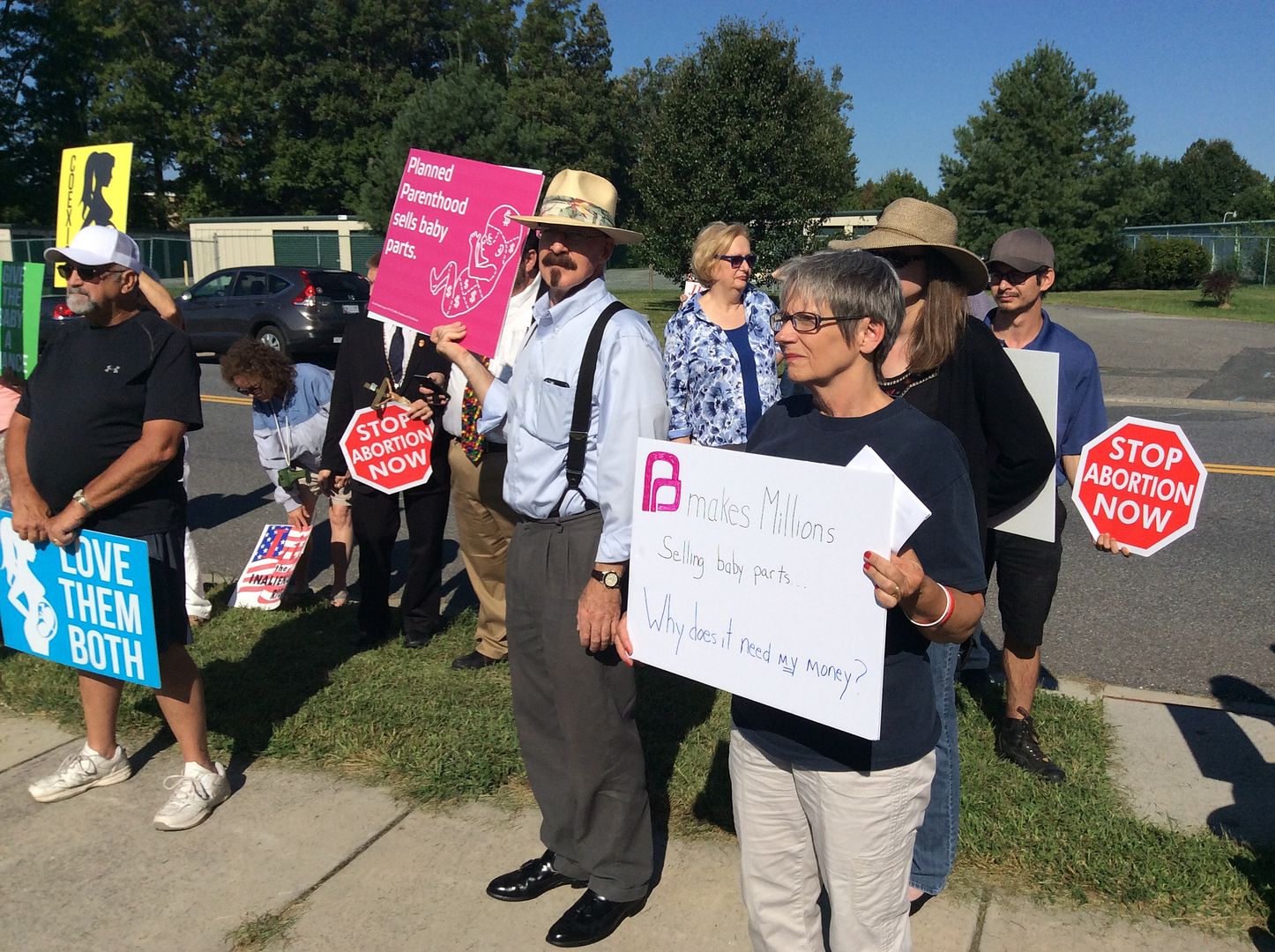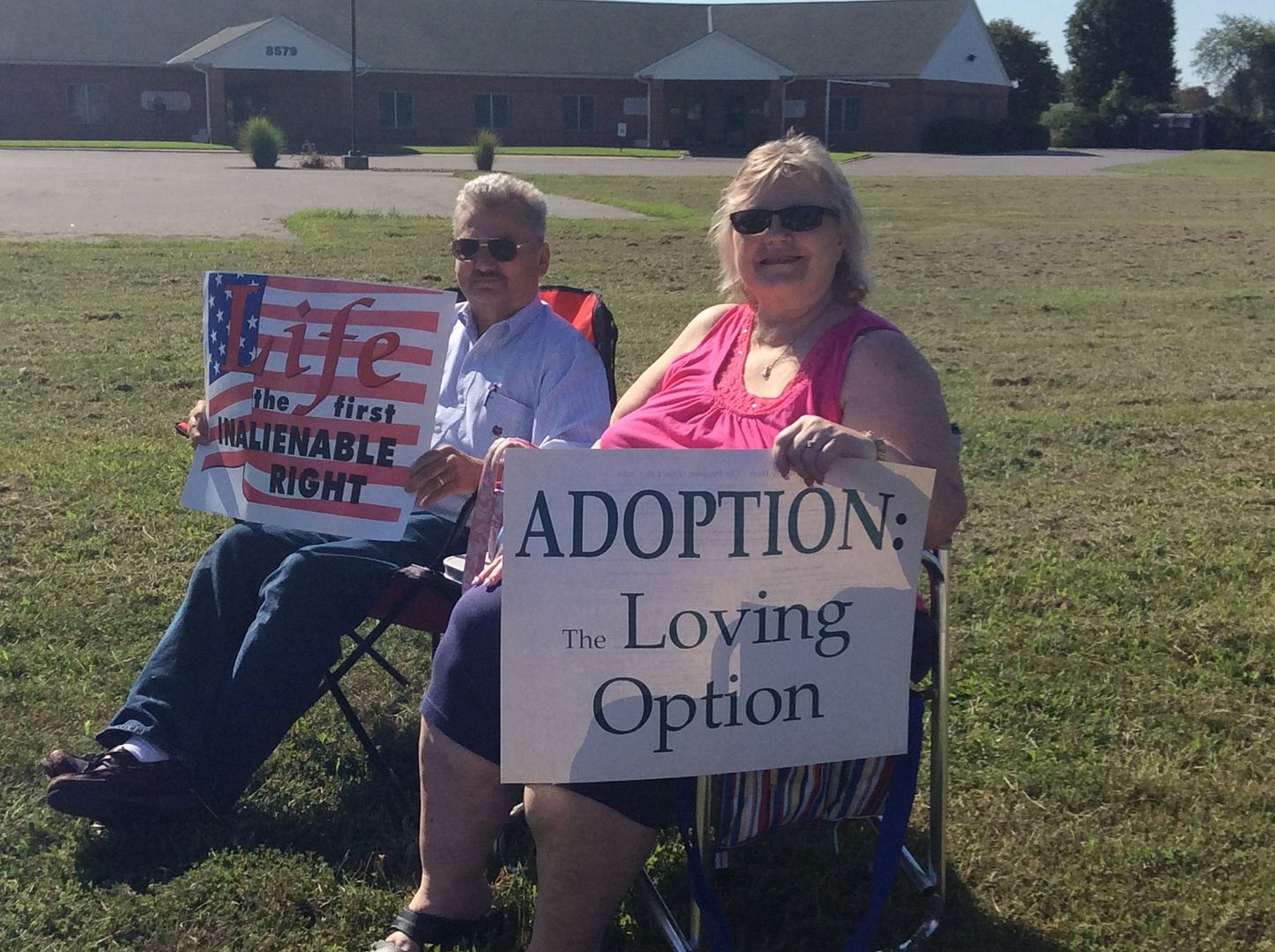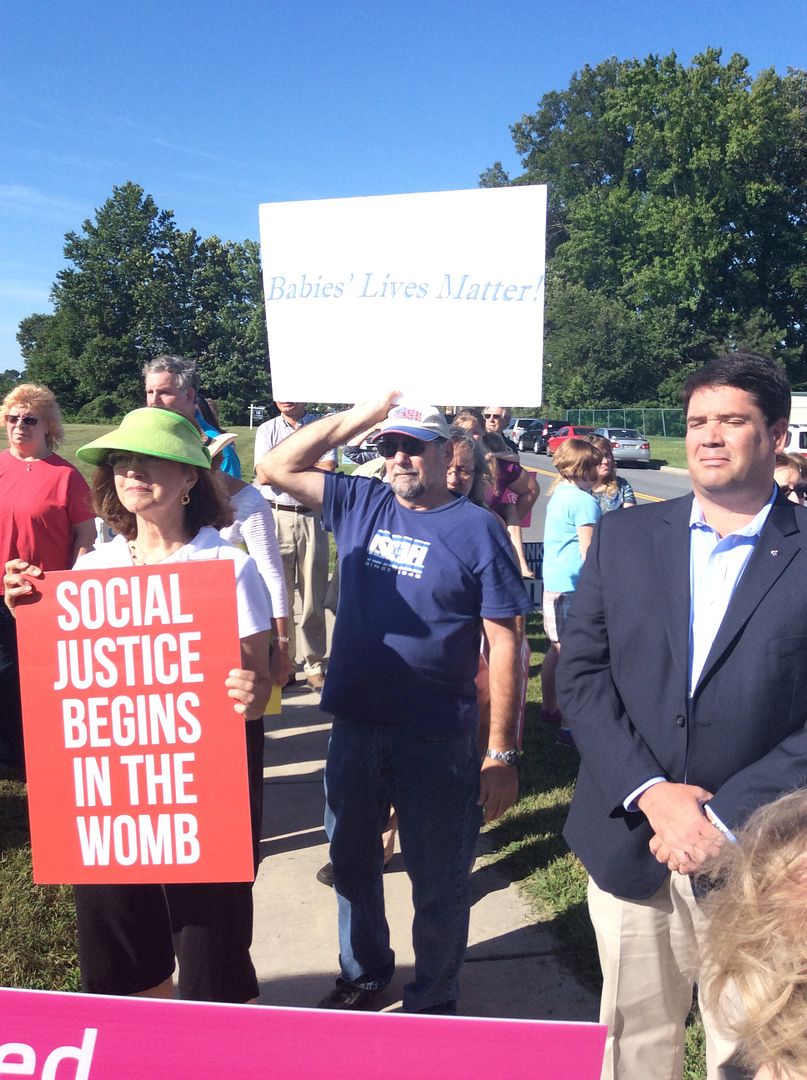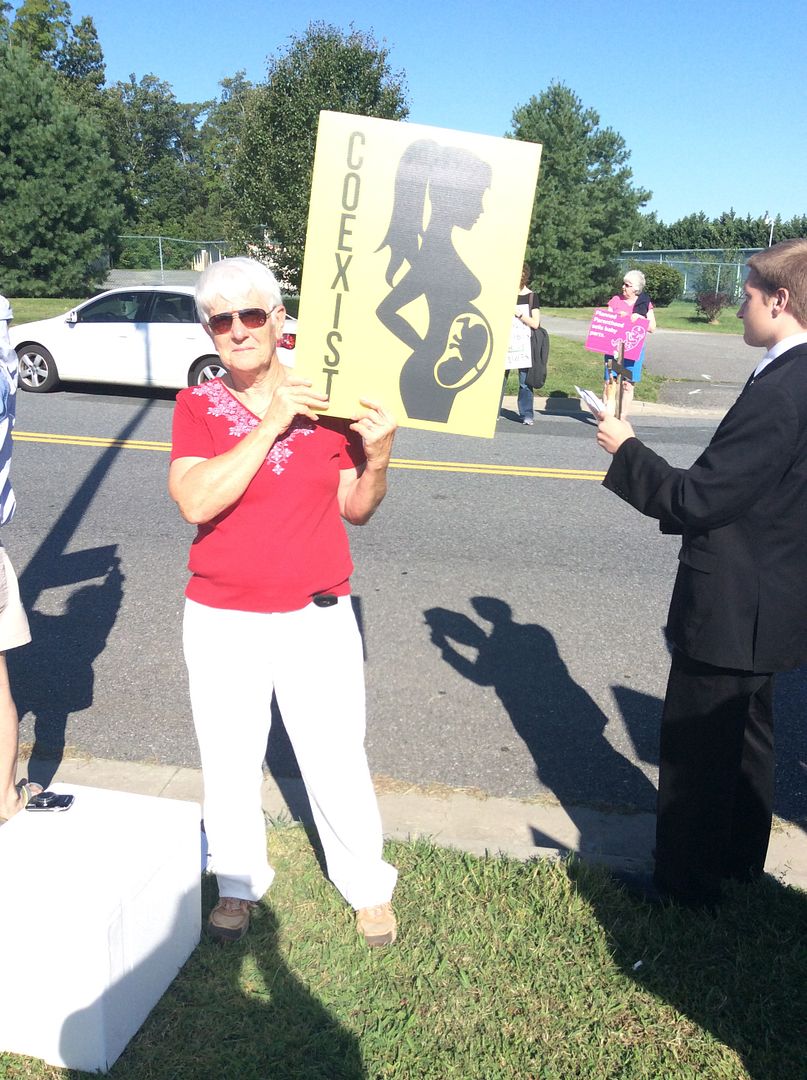 The fine folks from Worcester County opted to take a group photo.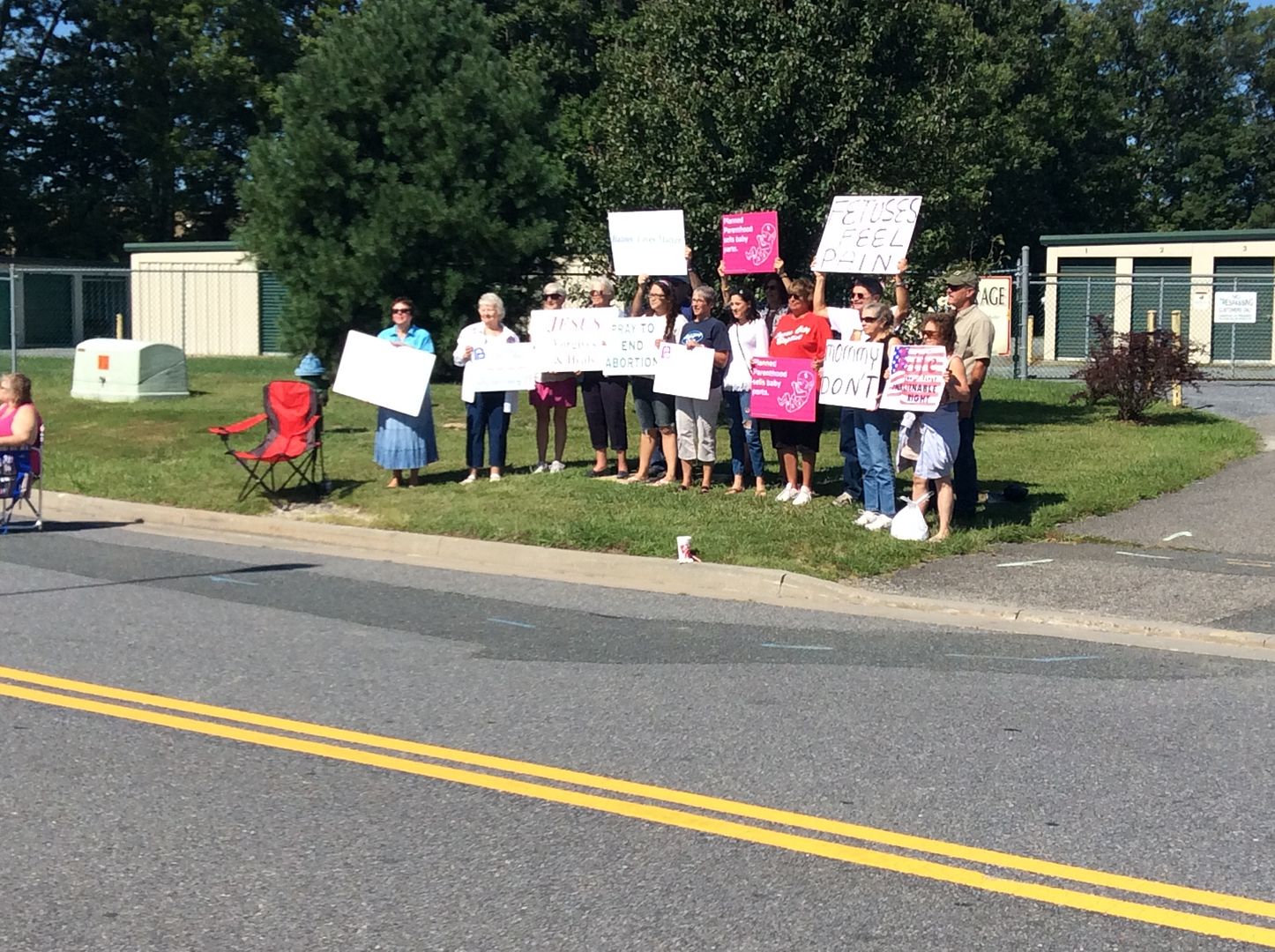 Fortunately, there was some media there to spread the word (besides me.)
Nicole Edenedo of WBOC-TV filed this report, which managed to avoid me until the very end when it showed my good side. It was interesting observing her work – I guess reporters don't bring cameramen anymore, and she did well memorizing her wrap at the end that she repeated to herself a couple times.
From what I was told, yet another CMP video was released today. With 300 protests scheduled nationwide today, even if they only averaged the 125 or so we had that's 37,500 people who came out on a summer weekend to make their displeasure known.
You may have noticed a police car in the background of my videos. Despite the fact we were on a quiet street and had a rally Myer described as one where we were "calm, peaceful, left no trash, respected the police, stayed consistent with the time allotted for the protest, stayed out of the street, and didn't damage any property," we had an officer spend his morning watching us. I suppose it was SOP given the chance of a counter-protest, but none was to be found.
As I noted, the only issue was that we were too many for the sidewalk. My colleague Cathy Keim took the lead in getting this together, with a lot of help and maybe a dash or two of divine providence, and as such deserves kudos.
This is the first step along a road that leads first to the defunding of Planned Parenthood by the federal government but ends when abortions are no longer commonly accepted as the law of the land. Remember, even Hillary Clinton said abortions should be "rare." I just disagree that they are "safe" – especially for the unborn – and their legality should be at the very most a state matter.
The best time to be pro-choice is making the choice not to create kids if you're not ready or willing to take the responsibility. As a method of birth control, it's worth remembering that, unless you are destined to carry the son of God, abstinence works every time.
Coming in next in importance to me as the sixth of my ten pet issues in taxation. This may be the simplest to explain of all the issues because I don't think there is a candidate among the 17 Republicans who wants to increase them.
However, if you ask me – and since I write this blog and you have read this far I'm going to presume you want my opinion – my preference is for a consumption-based tax like the FairTax. It creates a scenario where we have the most control over how much we pay while encouraging saving and allowing us to take home much more of our paycheck. My second choice, if I had to maintain an income-based tax scheme, would be a flat tax with a low rate and limited deductions. Sure, the tax preparer lobby would scream but they deserve to. It should not take me the better part of a weekend to compile the paperwork and prepare two tax returns, but as it stands now I have to.
As for corporate taxes, I would be amenable to a low rate of perhaps 10 percent. Right now our rate is more than triple that.
So let's take a look at where candidates stand and how many of 10 points they gather. Alas, none get ten because there's none talking about the very important step of repealing the Sixteenth Amendment.
If I am reading Rand Paul's "Fair and Flat Tax Plan" correctly, it has a relatively low rate for everyone but more importantly eliminates the FICA tax. Practically all working Americans would get a quick raise.
It takes the income-based tax about as far as it can go, but also has a better chance of being accepted by the public.
Total score for Paul – 9.0 of 10.
While he hasn't really addressed what he would do as President, I'm giving Bobby Jindal high marks for two reasons. One is that, over nearly two terms as governor of Louisiana, he's been highly resistant to increasing taxes as well as taking a meat ax to the state's budget. Could he become the second coming of Calvin Coolidge at a federal level?
On the one hand, he was a backer of Rick Perry's 2012 flat tax plan, but on the other hand he attempted (alas, unsuccessfully) to bring a version of the FairTax to Louisiana. That basically leaves a swing between 9 points and seven so I took the middle course.
Total score for Jindal – 8.0 of 10.
He's been on record as supporting the FairTax, so Mike Huckabee is at the top of the heap. The only problem is that we don't know the needed rate. We also don't know what we will see with corporate tax rates, which may be because they are eliminated with the FairTax.
Unfortunately, Huckabee was criticized for his taxation record in office so I'm reticent to give him a really high score.
Total score for Huckabee – 7.5 of 10.
Combine the support of a Forbesian flat tax with the record of cutting taxes John Kasich has put together and he has a relatively strong case for improving taxation. In Ohio, he proposed an idea to eliminate income taxes for business owners, but make up the revenue through a higher corporate tax, additional sin taxes, and a sales tax increase. Although Art Laffer liked Kasich's idea, I see it as a sort of Frankenstein hybrid of both income and sales taxes when we need to eliminate one in favor of the other.
Total score for Kasich – 6.0 of 10.
Ben Carson is looking for a tax system which is "fairer, simpler, and more equitable" with a call for "wholesale tax reform." His idea is loosely based on Biblical tithing, which is generally considered a 10 percent tax; however, he conceded that the rate may have to start higher and work down over time to stay revenue-neutral. He's also alluded to reducing the corporate tax rate, although it may not drop to 10% either.
The idea of eliminating the progressive tax has merit, though. It just may prove politically difficult to weather all the harpies who think their tax breaks are too important to eliminate – that should be a circus worth watching. The next step for Carson is learning that revenue-neutral is not necessarily what we need because government is not God.
Total score for Carson – 5.5 of 10.
"I will abolish the IRS," says Ted Cruz. At one point, he was going to do it with the FairTax but more recently he's lowered his sights to a flat tax with a few popular deductions, such as charitable contributions and the mortgage interest deduction. We don't know just what rate Cruz is proposing for individuals, but he is on record that a 15% corporate tax rate would be acceptable.
I'm a little disappointed that he backed away from the FairTax for political expedience, for true leadership would bring people around to the merits of the issue.
Total score for Cruz – 5.5 of 10.
More or less, the one platform plank that Jim Gilmore has shared so far is the Growth Code, a plan to reduce individual taxes to three brackets of 10 to 25 percent while eliminating taxes on capital gains and other investment income. He would also reduce corporate taxes to 15%. It's a good start, but I would like to see an end to progressive taxes altogether.
Total score for Gilmore – 5.0 of 10.
Much like others in this portion of this summary, Marco Rubio has a simpler two-bracket system he first unveiled last year with Senator Mike Lee of Utah. Since then the brackets have been firmed at 15 and 25 percent, with a 25% corporate tax. The rates fall between Gilmore's and Perry's, so Rubio's score will, too.
Total score for Rubio – 4.9 of 10.
Rick Perry hasn't revised his 2012 tax plan yet. It was a plan that gave people the option to pay a 20% flat tax on a specific year's return or stay with the old system, which would eventually be phased out. He would also reduce corporate taxes to 20% as well.
Although the plan was endorsed by Bobby Jindal at the time, Bobby moved on in the correct direction. Until I find out otherwise, I have to assume this is the Perry plan and it's just average.
Total score for Perry – 4.8 of 10.
I've been waiting for Rick Santorum to reveal his economic plan for weeks. Supposedly it will be reflective of the one from his 2012 campaign, which is fairly similar to those other hopefuls in the 4-to-5 point range. While rates may change, though, I don't think the complexity goes away. So we work back to square one.
Total score for Santorum – 4.6 of 10.
On his website, Chris Christie keeps it simple, calling for "creating a flatter, fairer, and simpler individual income tax system and keep returns simpler by reducing deductions and giveaways." He also advocates for a 25% corporate tax rate, which is an improvement to about average among industrialized nations.
Listen, anything to help can be considered a victory but those from this point down the candidates either just tinker around the edges or even make things worse.
Total score for Christie – 4.5 of 10.
He cut taxes in Wisconsin, but Scott Walker only wants to turn the clock back to the 1980s, expressing an interest in reviving the tax reforms Ronald Reagan put in place. This is all well and good, but to be honest we aren't all that far off where Reagan was in comparison to where we were when he took over for Jimmy Carter. So it's not all that impressive to me in a crowded field.
Total score for Walker – 4.2 of 10.
In his announcement speech, Jeb Bush alluded to creating "a vastly simpler system" with fewer rates. But some complain that Bush was no longer willing to participate in a "grand bargain" to reduce the deficit by taking a small tax increase for supposed cuts. (If only his dad had ignored that siren song, Hillary Rodham would be an activist lawyer for some far left-wing group and Bill Clinton would be another in a long line of Democratic presidential losers free to cat around at will.)
At any rate, his vagueness on the subject bothers me so he doesn't score all that well.
Total score for Bush – 4.0 of 10.
Lindsey Graham is all over the map. He's been for a flat tax, which would qualify for the "simpler" scheme he seeks if not the "fairer" that leftist critics who love the current super-progressive system don't want. Lindsey also advocates for lower corporate tax rates.
But he falls victim to the same mentality plaguing Jeb Bush, thinking Democrats would actually cut spending if he raised taxes – even, as he clains, it would only be certain deductions. That's just the start of hard-working Americans being rolled anew.
Total score for Graham – 3.5 of 10.
I'm looking forward to how Donald Trump puts H&R Block out of business. Until then, I can't give him a good score.
Total score for Trump – 2.0 of 10.
George Pataki favors scrapping the tax code, but who among this group doesn't? Described as a governor who started out as a serious fiscal conservative, he devolved into just another big spender by the end. What worries me, though, is that he's considering raising corporate tax rates to pay for infrastructure. That's a guaranteed job killer.
Total score for Pataki – 1.0 of 10.
Carly Fiorina wants a "transparent and fair" tax code and released a lot of returns to make her point. But that's it. This makes it hard to take her seriously.
Total score for Fiorina – 0.5 of 10.
Postscript 9/26: Since Fiorina has since advocated for a simpler system that reduces revenue, I'm adding 1.5 points to her score. She should at least match Trump here.
Next on the docket, for eleven valuable points, is immigration. That may provide some sharp differences.