This week is the week many of us get our bad news. Yes, health insurance premiums are going up again.
While I haven't been at my new job long enough to really compare rates and coverage, we were informed ours was increasing by an unspecified percentage – I think it's in the 5 to 10 percent range if my memory of the old rates serves. Meanwhile, my fiance's employer is seeing increases of between 10 and 13 percent, depending on plan.
Knowing that, I pulled out a calculator and did some quick number-crunching. Based on a 10 percent increase and her rates for a family plan, I deduced the annual deduction would increase by over $1,100.
Now stop and think for a minute. In these days of tight belts but comparatively low inflation otherwise, the average wage-earner gets an increase of 3% this year. Let's say you are a median wage-earner in this region, which is just under $40,000 – I'll make it 40 large for easy figuring. If you figure that 3 percent raise is $1,200, it means almost all of that raise was swallowed by your insurance increase. So much for that vaunted $2,500 annual premium decrease.
And so much for your family vacation, putting aside money for college, and those nice little extras. Add in the increasing deductibles and co-pays and it seems like you got no raise at all – in fact, you may wonder how you will make it through a month when everything seems to be increasing by 3% a month. (Granted, we are catching a break with gas prices edging back down – a $1 decrease per gallon is like a tax-free $400 to $600 annual raise.)
Now I don't blame the insurance companies because they have to keep themselves in business at a time when there are more and more mandates placed on them. (For example, I'm sure a few pennies of that increase go to covering in-vitro fertilization for same-sex couples, which this month became yet another mandate under state law.)
So if you're wondering why you can't seem to get ahead, this little bit of basic math may be an explanation.
Do you recall the "new" water-saving toilets that you had to flush twice to get the job done? Don't look now, but Rick Manning tells us that "technology" is coming to dishwashers:
What could go wrong?

Nothing so long as homeowners don't mind grunge baked onto their dishes due to the failure to have sufficient water to clean off the food.  No matter how much Cascade and JetDry you put into the system, not enough water means disgusting baked on egg, and other delights.

The purported reason for the water limitations is to cut those dreaded greenhouse emissions to comply with Obama's on-going global warming jihad.  In Obama's Ivory Tower world, it is inconceivable that a dishwasher that doesn't actually get dishes clean might cause people to take alternative action.  The most likely of which is to use much more water by hand washing every dish before it goes into the dishwasher and effectively only use the appliance for killing bacteria through the high heat drying process.  Or, perhaps people could go full Madge, and only hand wash dishes rendering the modern appliance and convenience useless.
The idea is to wash a full load of dishes in 3.1 gallons of water. As of 2012 an Energy Star dishwasher uses 4.25 or fewer gallons so we are going through all this to save perhaps 300 gallons of water a year, or about 10-12 average showers.
Of course, as Manning points out, this assumes a dishwasher gets all the items rinsed off and doesn't bake it on but good. In our household we generally pre-rinse dishes to lend the dishwasher a hand, so that doesn't really change our strategy. But when I was single I didn't bother because, after all, that's what the dishwasher was for!
There is a time when returns diminish to almost nothing. Sometimes I think the EPA believes in their heart of hearts that the optimum amount of water needed in a dishwasher would be zero, but that's impossible unless you can clean the dishes with pixie dust and blow the debris away with unicorn farts.
The dishwasher is supposed to be a labor-saving device, and I know: for over a decade I lived in a house where the dishwasher was my two hands. There was really nowhere to place one in our kitchen. So it is a benefit to be able to use somewhat less water to do dishes – after you fill one side of the sink with a gallon or two of sudsy water and run the tap when it comes time to rinse on the other side it's likely you'll use 8 to 10 gallons of water. Thus, a dishwasher is an improvement both in water efficiency and time, because who wants to stand and do dishes for a half-hour?
That's not to say that the market won't demand a less thirsty dishwasher, but that should be up to the market. When low-flow toilets originally came out, there was a black market as consumers who could make the drive went to Canada to buy the good old-fashioned 3-gallon models. By next year, that old underground railroad may be back again to provide dishwashers that do it right the first time.
Follow the money. Someone did and a whole slew of America's corporate giants had some 'splainin to do.
Over the past few days, the Heritage Foundation's Daily Signal website has followed a story where a website called Second Vote tracked corporate donations to Planned Parenthood, notorious alleged purveyor of aborted baby parts. Three of the 41 immediately denied they donated to the organization nor did they match employee contributions, while others downplayed their role by protesting Planned Parenthood was a 501 (c)(3) like any other eligible group and it was up to employees to contribute. By week's end, Planned Parenthood eliminated this lightning rod for criticism by pulling the entire corporate donor list.
It would be an interesting study, though, to figure out whether these companies have any restrictions at all on giving to pro-life groups – that is, when they can actually receive 501(c)(3) status the IRS is reticent to give out. Perhaps pro-lifers should adopt the tactic of this group, which is more politically correct and has both 501(c)(3) and 501(c)(4) status as two "separate" entities. Or maybe they can be "engaged in education, training, organizing, action, and coalition building" as this 501(c)(3) is. Somehow I doubt the IRS gave them any issues.
Maybe the biggest objection on this whole front is that our tax dollars help Planned Parenthood carry out its mission – even if they can't legally spend the money on providing abortions, surely they are using it to pay the staff who does the service and they can use the medical equipment in a number of other procedures. If they just happen to be abortions where they avoid doing things in a "crunchy" manner, so be it.
What it all comes down to is that Planned Parenthood would come to a lot less grief if they just got out of the abortion business. After all, its defenders say that only about 3% of its procedures are abortions, so it would be like a 3% budget cut, wouldn't it? You wouldn't miss three measly percent and the staff would have plenty to do to keep them busy, right?
Obviously I don't see this occurring, despite the fact its founder has been associated with the 20th century eugenics movement. Margaret Sanger was in favor of contraception "to be used in poverty stricken slums, jungles and among the most ignorant people." Considering the outsized proportion of minority abortions to their overall numbers, she may be attaining her wish.
Body parts, though, don't reflect poverty, upbringing, or ignorance. They seem to have a value regardless of source, so why can't we give a value to the lives snuffed out for their ghoulish harvest? Obviously corporations concerned about their image already have, if only to avoid the bad optics of being associated with abortion these days.
Third out of my ten priority issues for the 2016 candidates is energy, where candidates can score up to seven points with an agreeable policy. You're likely asking what would be agreeable to me, so here is a quick primer.
As you likely know from reading this site regularly, I'm in favor of letting the market determine what is efficient and inexpensive. Since oil is plentiful and relatively cheap within our shores, I think we need to allow exploration wherever possible including offshore areas currently off-limits. The same goes for natural gas, with hydraulic fracturing being a proven technique to extract both oil and natural gas. It should be encouraged, including the infrastructure needed to more safely transport it – yes, that means build the Keystone XL pipeline.
Maybe the best way to put it is that I advocate a "most-of-the-above" energy policy. Those items which are exceptions would be federal subsidies for the solar and wind industries, which should be made to compete on a more level playing field. We need to also dump the Renewable Fuel Standard because it makes no sense to grow food to turn into fuel. This may not make me a lot of friends in the corn industry, but it's time to end the failed experiment.
I also have nothing against the coal industry, so let them keep mining and burning coal.
Now that you get the idea of where I stand, where do the candidates stand?
There are a couple more specific resources that I used for this exercise. On the wind energy Production Tax Credit (PTC), the Huffington Post blogger Heather Taylor-Miesle shared the following, with some assistance from the League of Conservation Voters:
I also leaned on a well-done Ballotpedia article for many of these candidates, as well as their campaign websites. This gives me an idea of just how much they are committed to energy as a topic for the campaign.
But I honestly wish every candidate would cover every issue as thoroughly as Bobby Jindal presents his energy platform. Even the title is optimistic: "Organizing Around Abundance." There's not much at all to dislike within it, either. I spent a very productive half-hour reading through the report and if he doesn't win the Presidency we should at least make Jindal the Secretary of Energy. The next President has the blueprint dropped into his or her lap right here.
Total score for Jindal – 6.9 of 7.
Ted Cruz couches his energy policy as one of jobs and opportunity, and in that respect he is right on. He voted to end wind subsidies, and told an Iowa crowd in the middle of corn country that ethanol subsidies had to go. His Ballotpedia energy profile lists any number of bills he co-sponsored to assist in deregulating the energy industry. The only question is how well he would be able to use his bully pulpit, but there's not a lot to dislike about the Cruz approach so I give it high marks.
Total score for Cruz – 6.6 of 7.
Claiming to want a free-market approach seemed to take a back seat for Rand Paul when he wanted to win votes in Iowa. Going to E15 full-time would be a disaster, but he supports it.
Listen, if he wants to live a sustainable lifestyle on his own time that's cool but "well thought-out regulations" is generally an oxymoron to the highest degree. So while I like his stances on encouraging drilling and exporting oil and natural gas, Rand comes in a cut below the top tier.
Total score for Paul – 5.0 of 7.
On his state level, Rick Perry has presided over a boom in most energy sectors, although some accuse him of lagging on solar. He signed a modest renewable energy portfolio, which thanks to abundant wind resources is covered – at a cost of several dollars a month on state electric bills.
But Perry, surprisingly, doesn't have an energy policy spelled out. I know he's fracking-friendly and supports exporting of oil, but the key unanswered question is just how far he would allow a state-centered approach to go if it gets in the way of his overall goals. Are state's rights that paramount?
Total score for Perry – 4.2 of 7.
While Lindsey Graham voted recently to end the PTC, there are areas of his energy program which cause me concern. (He gets kudos for wrapping it up in one easy-to-digest package, though. It's more than most of his counterparts put up.) The nagging thought I have is about "investing in cutting-edge technologies." Did we not learn a lesson with Solyndra? And in the back of my mind, I wonder if he still believes this after seeing five years of the fracking boom?
Total score for Graham – 3.6 of 7.
It's always revealing to see who the Left dislikes most, and Scott Walker was declared as the "worst candidate for the environment." This was basically because he didn't fall in with Radical Green. He seems to remind them of Snidely Whiplash, even cutting funding for a renewable energy research center. Yet on a state level he has kept a number of programs going, even though he was also worried about the effects of wind turbines on health.
But I saw the flip-flop on the RFS, and that hurt his chances with me. Nor does he delve into energy on his website.
Total score for Walker – 3.5 of 7.
Mike Huckabee is all over the map on energy. He won't commit one way or the other on wind, has gone from ethanol supporter to opponent depending on venue and audience, but says we should exploit "anything and everything" when it comes to domestic energy. I like the ideas of relaxing export and exploration restrictions on oil and natural gas, but suspect that green energy subsidies won't be going away soon as he once backed cap-and-trade. He would be better than some others, and I like the America-first attitude, but he falls short of the top tier with his indecisiveness.
Total score for Huckabee – 2.7 of 7.
You would think Jeb Bush would be very good on energy given his family's interest in oil. But he has a go-slow approach in several areas, including the delayed phaseout of the PTC and a call for "rational" restrictions on fracking – remember, "rational" is always in the eye of the beholder. He is in favor of finishing Keystone XL and opening federal lands to drilling, which is a minor plus, but also endorsed a national goal of 25% renewable energy by 2025 – that would be a job-killer. I'm just afraid a Bush administration would be a repeat of his brother's, where we were saddled with programs such as the Renewable Fuel Standard (which he wants to keep) and regulatory demise of inexpensive incandescent light bulbs.
Total score for Bush – 2.5 of 7.
While George Pataki deserves some credit for advocating an end to New York's fracking ban and correctly feels that wind subsidies need to be blown away, what worries me are his thoughts on ethanol. I think the jury is still out on "clean," but while corn-based ethanol is relatively renewable and American-made, I would rather eat my corn than put it in my gas tank. I can't eat tar sands or sweet light crude.
Like Bush above, Pataki also signed the "25 in '25″ pledge, so I don't think he gets that the market should lead, not government.
Total score for Pataki – 2.5 of 7.
Chris Christie has a very mixed record – great for items like pulling out of the RGGI boondoggle that Martin O'Malley entangled us into, but in the same breath he banned new coal-fired power plants in the state. After putting out a one-year moratorium on fracking, he at least came to his senses 2 years later and vetoed a fracking ban. Offshore wind projects are stalled, but he has high hopes for solar. Rationalizing our approach to regulations and lifting the ban on exporting crude oil are positives, but not going after some of the biggest hurdles to a free energy market negates these campaign planks.
As a whole, though, he's less trustworthy than Bush but hangs around that same level.
Total score for Christie – 2.3 of 7.
Making news on how his views have changed on the climate is the bulk of my look into Marco Rubio's policies. At one time he voted for looking into a cap-and-trade program for Florida, but claims he was never really for it. At that time he had a lot of green-friendly ideas, so I don't know where he stands now. It's a trust issue.
Total score for Rubio – 2.0 of 7.
Carly Fiorina has slim pickings when it comes to energy; however, her vow to eliminate the PTC by 2020 is at odds with the "all-of-the-above" approach she championed in 2010. More recently she's tried to convince skeptical audiences we can innovate our way out of climate change, but that innovation once included support for a cap-and-trade program once proposed by John McCain. I just don't see a whole lot of consistency and the lack of an issues page on her site makes it even worse.
Total score for Fiorina – 1.5 of 7.
John Kasich is new to the race, and as such has no energy platform on his website. But several discouraging acts of late give me pause: an effort to increase taxes on energy producers coupled with the reversal of an earlier decision to allow fracking on state lands outweigh positive moves to freeze the state's renewable energy portfolio requirements and place prudent tabs on wind turbine siting. I see more of the same leftward drift with Kasich.
Total score for Kasich – 1.4 of 7.
While he isn't opposed to fracking, the pandering Rick Santorum did in Iowa at the feet of King Corn made me wonder if he wouldn't do the same on other issues. He once voted against the PTC but Iowa is also a leader in wind, so who knows what he will say next. Will he really stand up to the EPA? You would think a candidate from a fracking state would say more on his website and in general about energy, but Rick doesn't.
Total score for Santorum – 1.4 of 7.
Okay, we know Donald Trump understands the economic benefits of fracking and loathes wind and solar power. But I have no idea what this will do with policy. All the hullabaloo over immigration and John McCain isn't helping either.
Total score for Trump – 0.5 of 7.
You may have noticed an omission among the group atop the post when it came to wind. Quite frankly Ben Carson is a non-entity when it comes to energy issues. Aside from a vague reference to "developing our natural energy resources," the biggest indicator I could find is this piece where he claims in one breath he wants a free energy market, but makes the exception for not just E-15, but E-30. If you want to lose the boat owner vote you just succeeded wildly.
Total score for Carson – 0.0 of 7. (Yes, that is a goose egg.)
It used to be that Social Security was the "third rail" of politics – touch it and you're dead. But now I think social issues have become that for the GOP; nevertheless that is my next topic.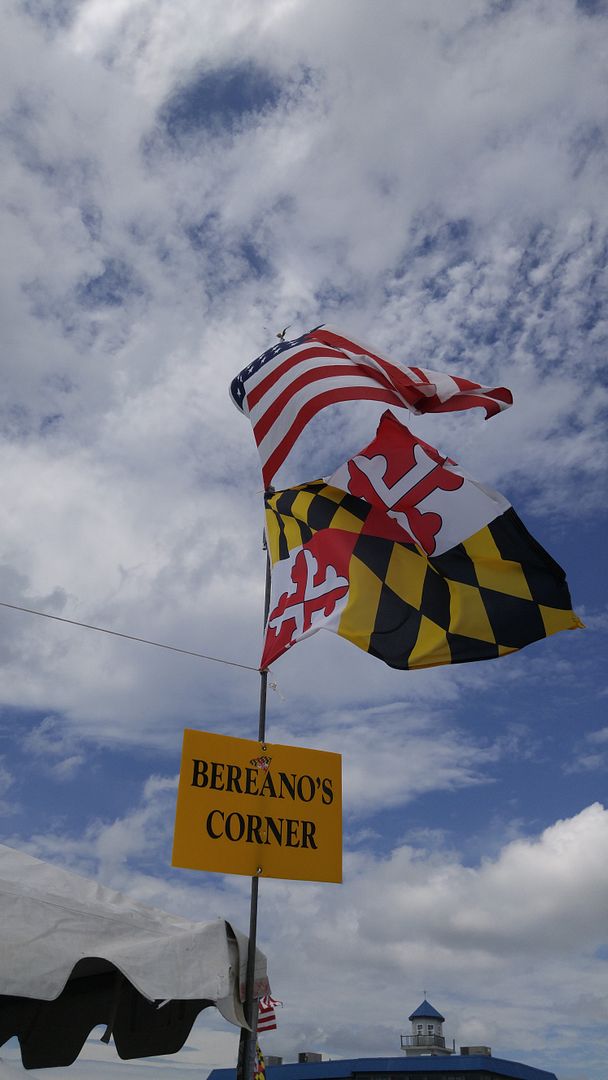 Bereano's Corner was in roughly the same location, but there was a lot of strangeness about this year's event.
Our tent was in a new location. Some liked the idea of being along the marina, but the traffic walking by wasn't as brisk as we had when we were in the middle, next to Bereano.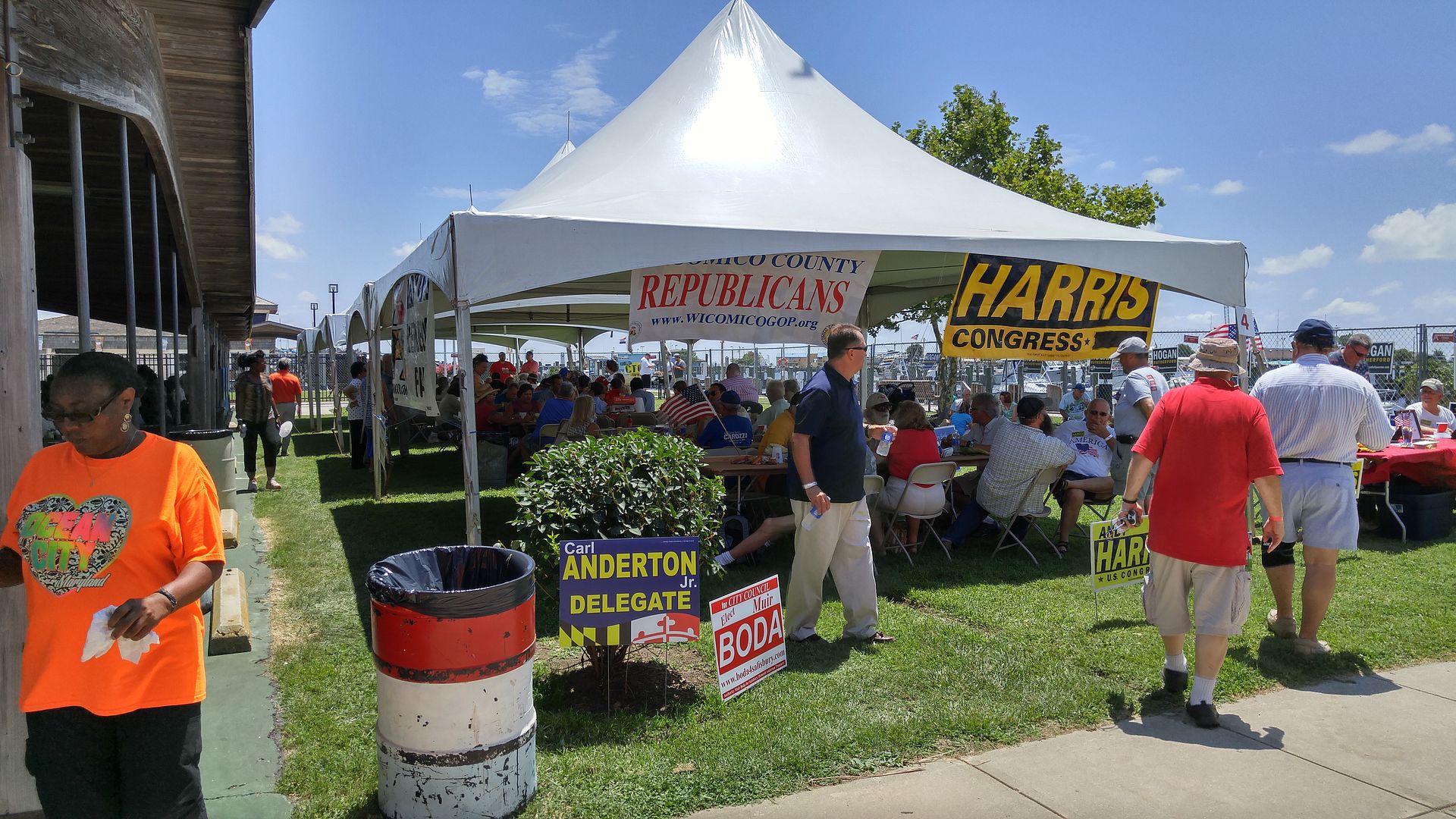 It did have a great space for signage that many took advantage of.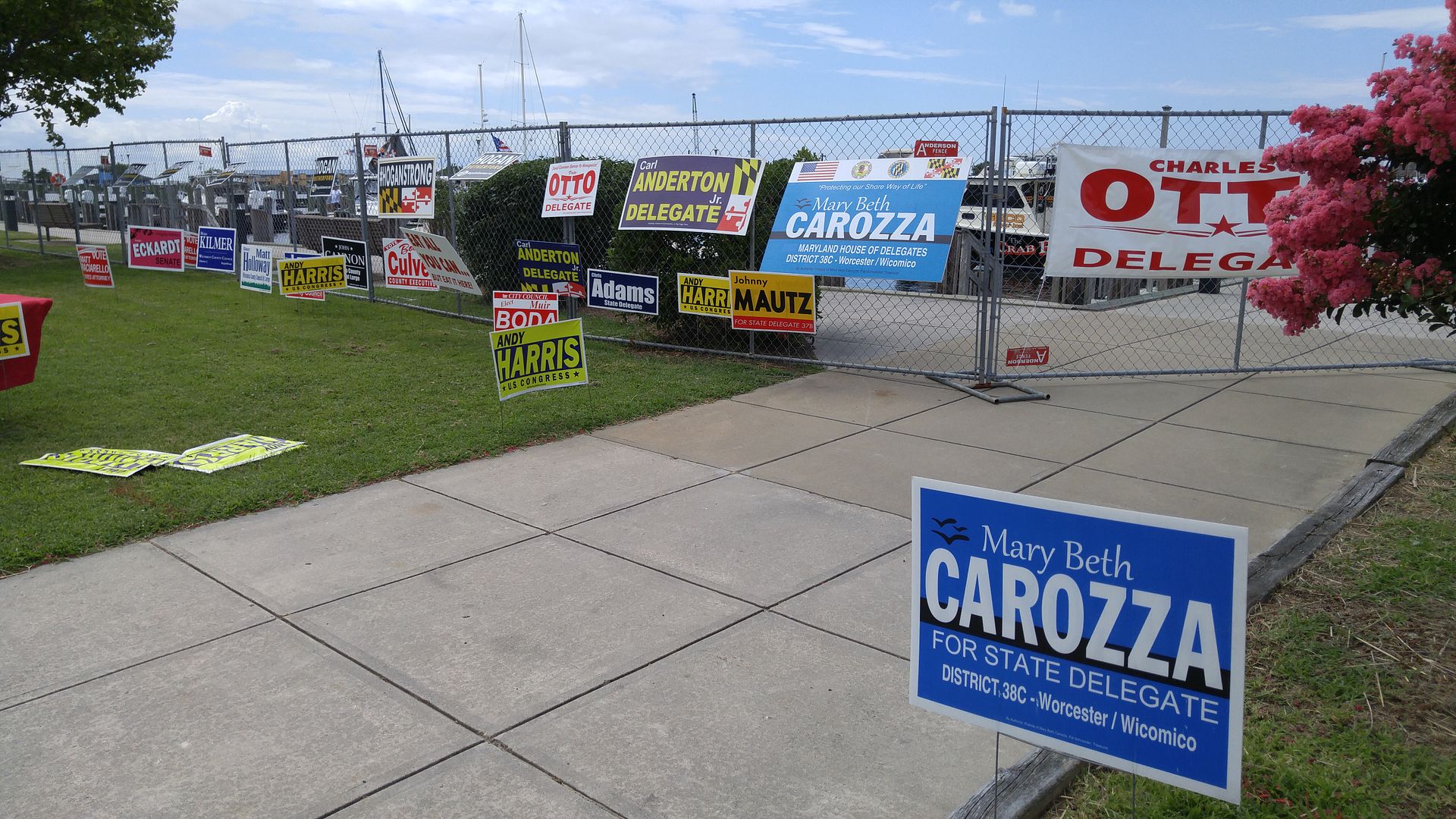 Being on the grass, we also had our share of bloodsucking biting flies. Speaking of bloodsuckers, the Democrats were less than thrilled with their location as well. Normally they have been the corner tent in this line.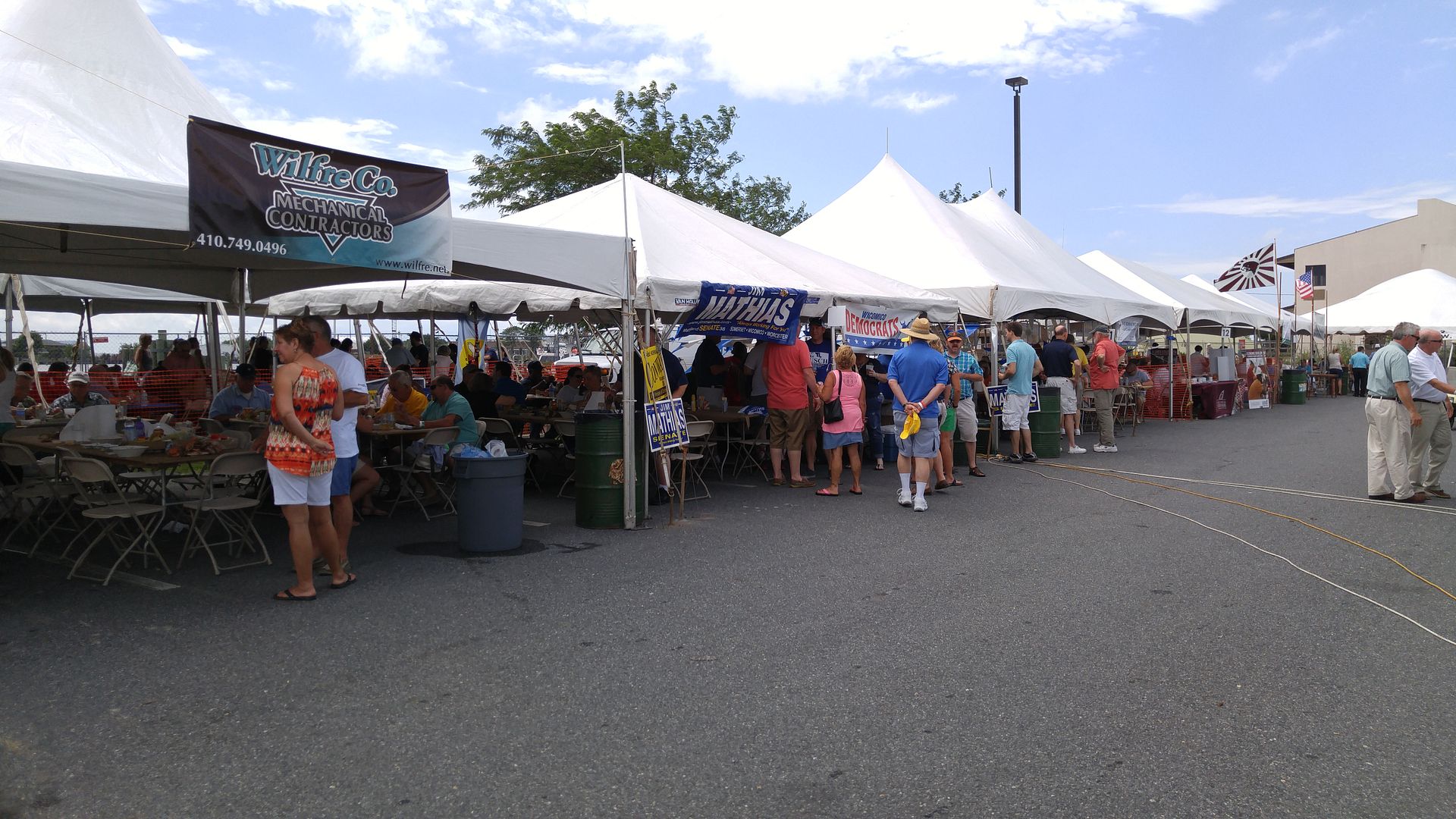 But they did have the keg, not that I had anything from it. They also had an interesting table within.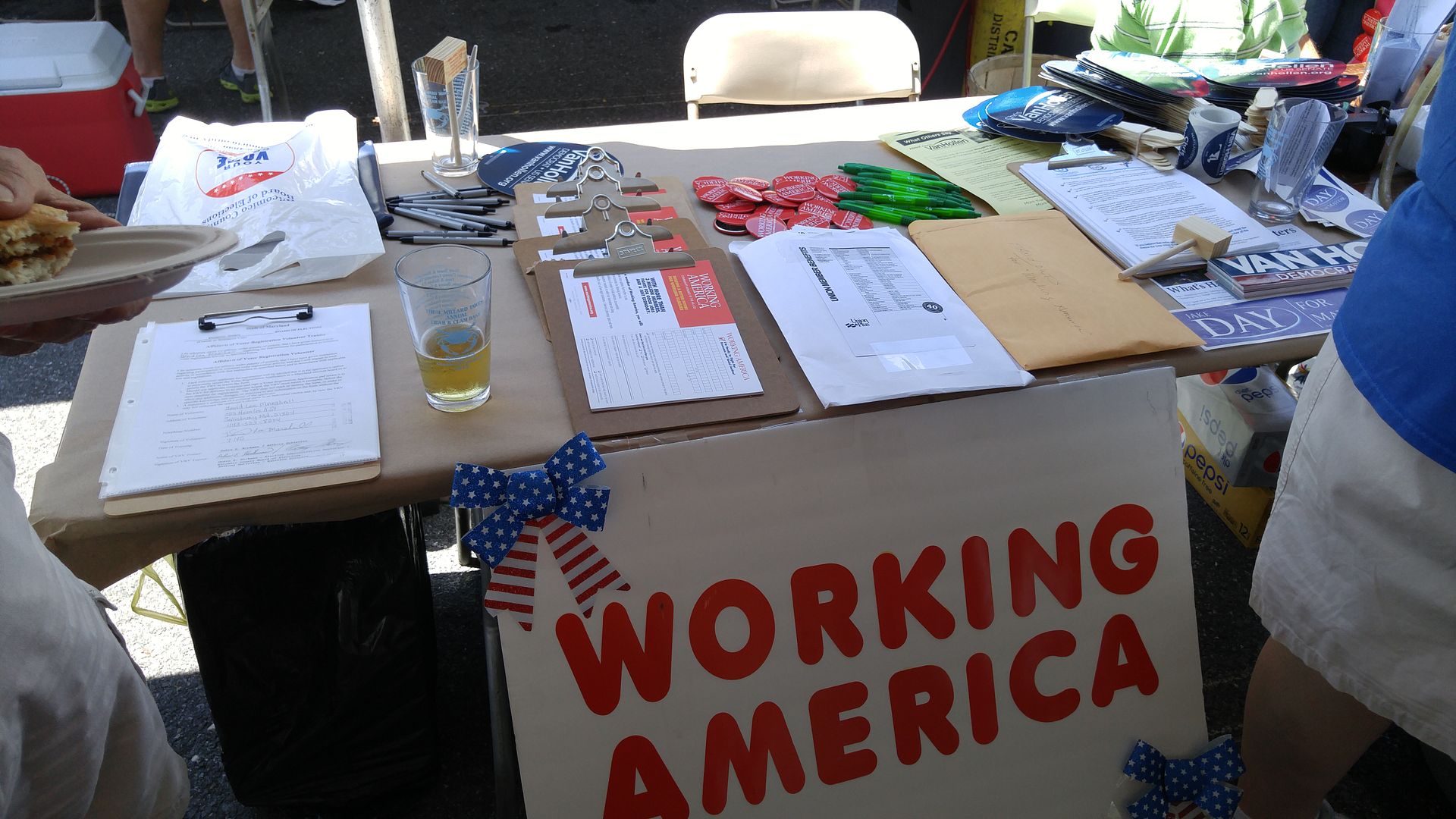 While I am part of working America I'm not a member of this AFL-CIO affiliated organization, so it's no surprise to find them in the Democrats' tent. There were a handful of folks walking around with their red shirts on, but Big Labor didn't have the presence here they did during the O'Malley years. Maybe they are laying low until next year.
There were quite a few businesses there, although it was a different mix than I recall from previous years.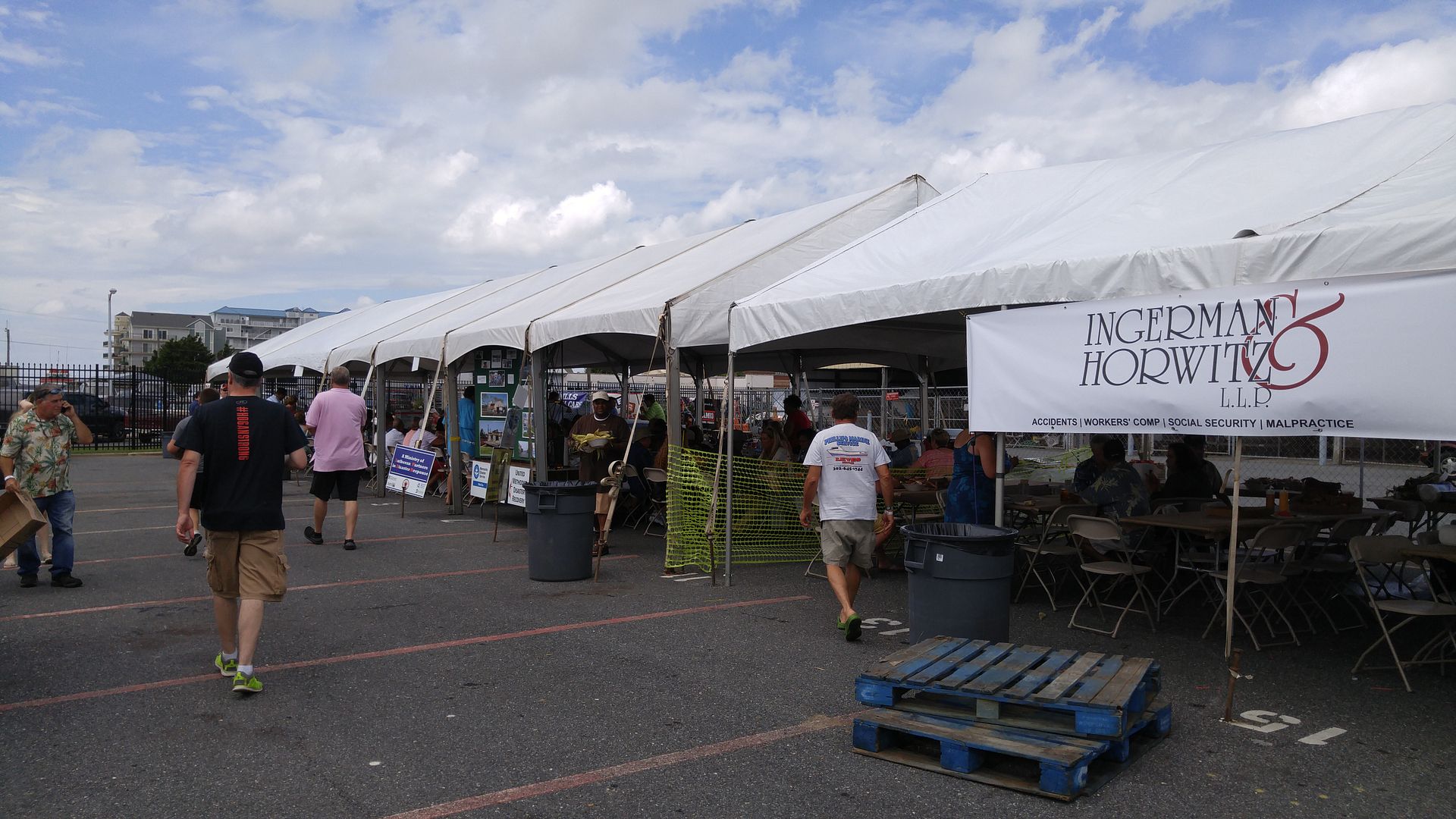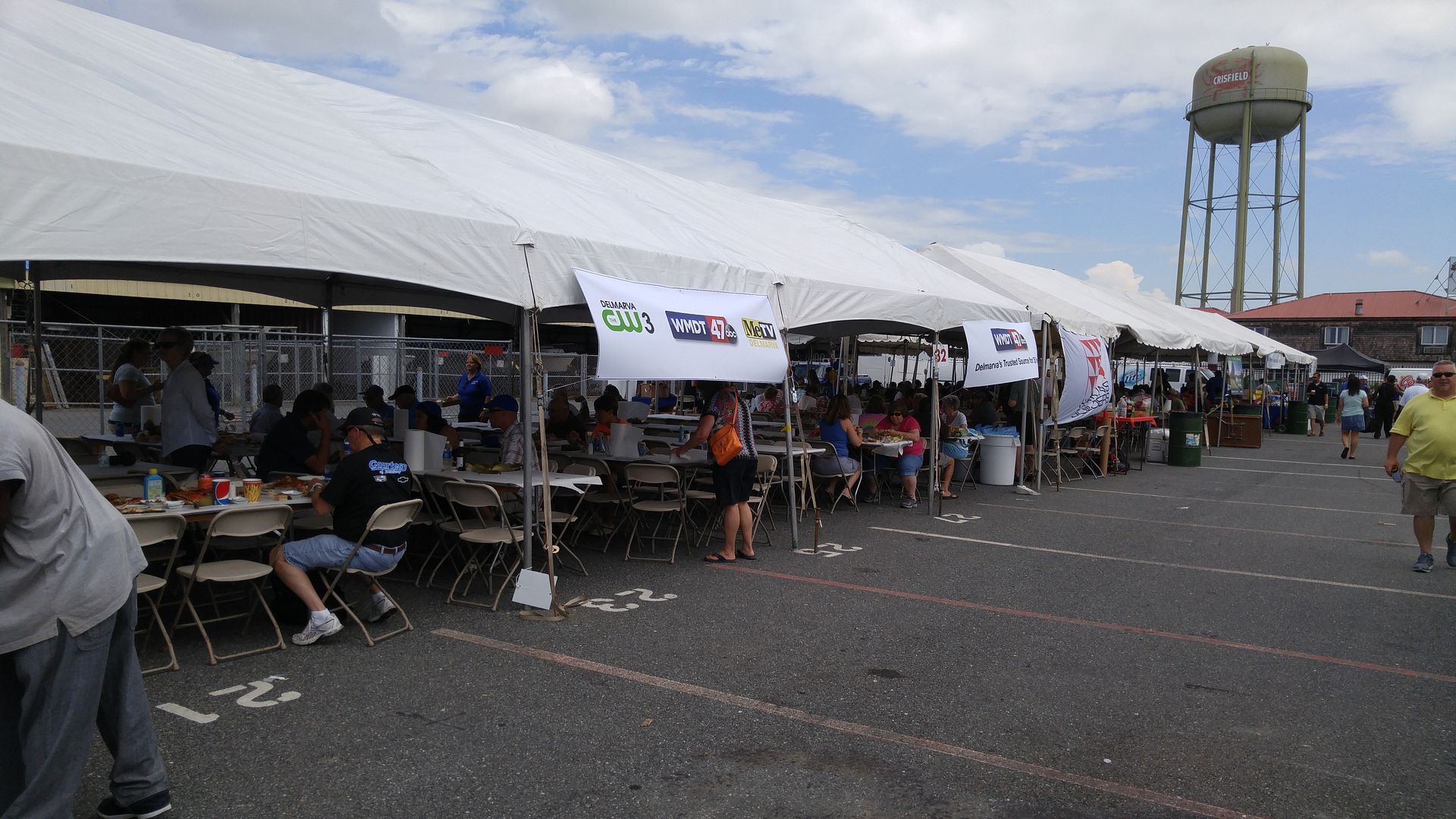 Some enterprising youth took the occasion to be their own business people. Those in orange were "runners" and on their shirts it read they were working for tips.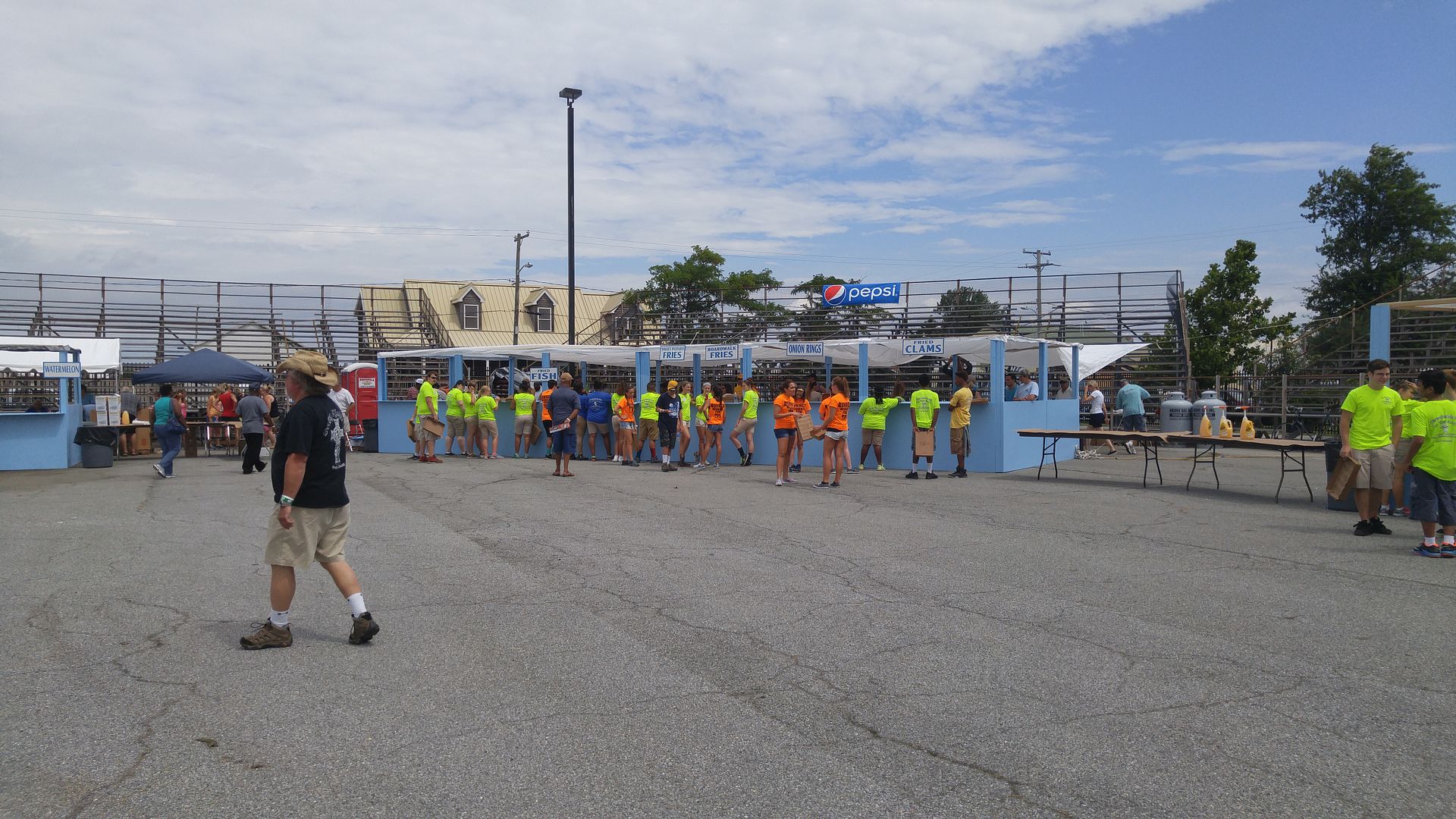 Hopefully they made more money than those who annually charge $10 or $20 for parking in their yard. I don't think business was as brisk for them because attendance seemed off from last year.
Government and public entities were well-represented, too. Interesting how the environmentalists are cozy with the economic development group.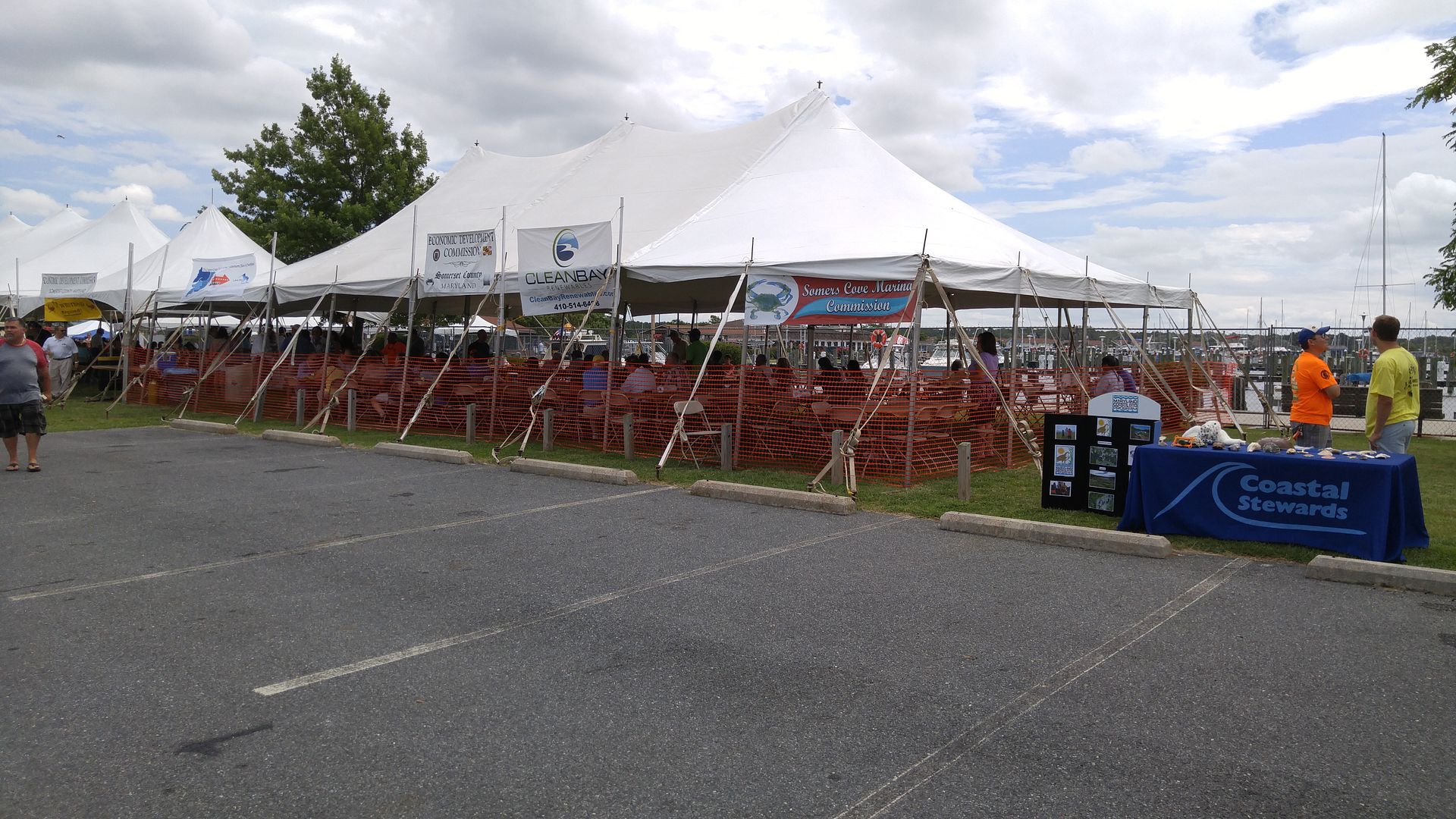 I think the University of Maryland – Eastern Shore was next to the Democrats, but Salisbury University was really trying to make a splash.
While there were a lot of differences in this year's rendition of Tawes, some things never change. Lobbyist Bruce Bereano always has the biggest tent.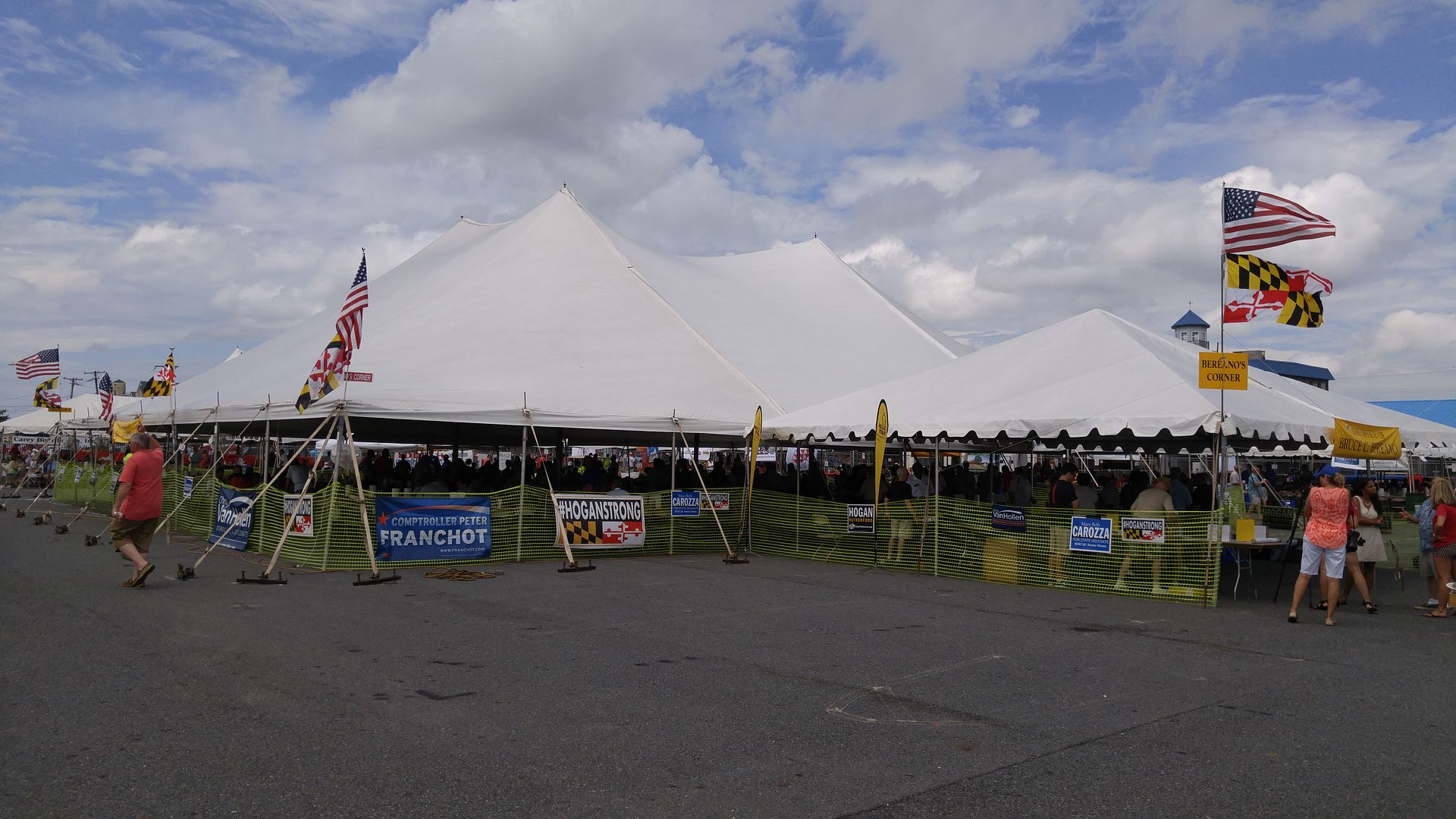 Another constant is a ton of good food, particularly of the fried variety. This was my spread.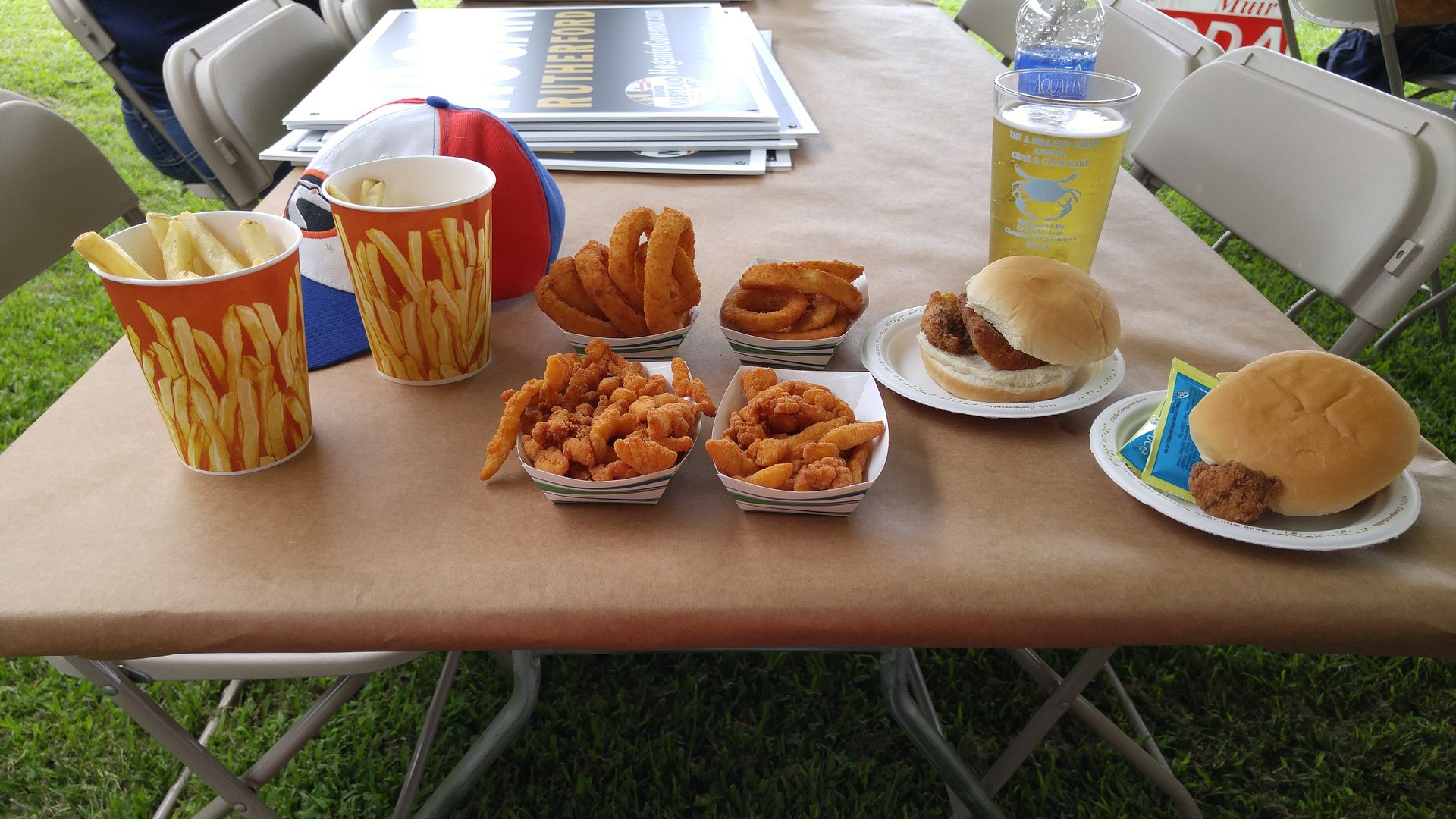 Not a salad in sight – in my dietary defense, I skipped breakfast. But it was all very good, aside from a little lack of fileting on one of the sandwiches. It was a trifle bony.
(No, I don't like crabs – so don't ask.)
This event also draws media like the food on the ground draws seagulls. Here's Delegate Carl Anderton being interviewed by local television.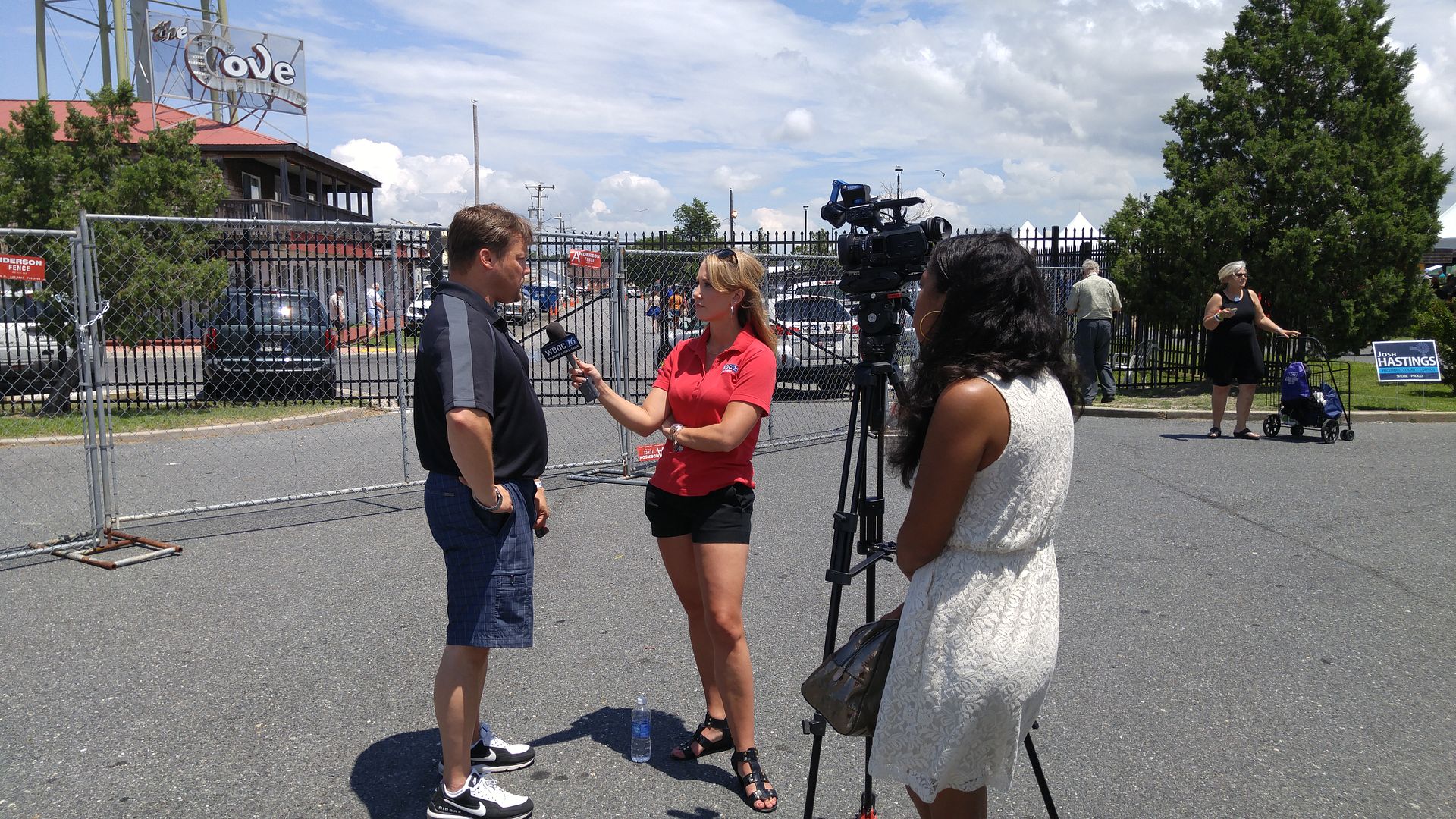 Both local Salisbury stations were there doing live shots and interviews.
And while the faces may change, the political aspect never does. You have the newcomers trying to make a good first impression, like U.S. Senate hopeful Chrys Kefalas and his millennial posse.
By the way, I had to look up that Kefalas is 35 because he appears a decade younger.
You have old hands looking for new positions, like Congressional candidate Mike Smigiel (in the center). He had a batch of "I Like Mike" buttons.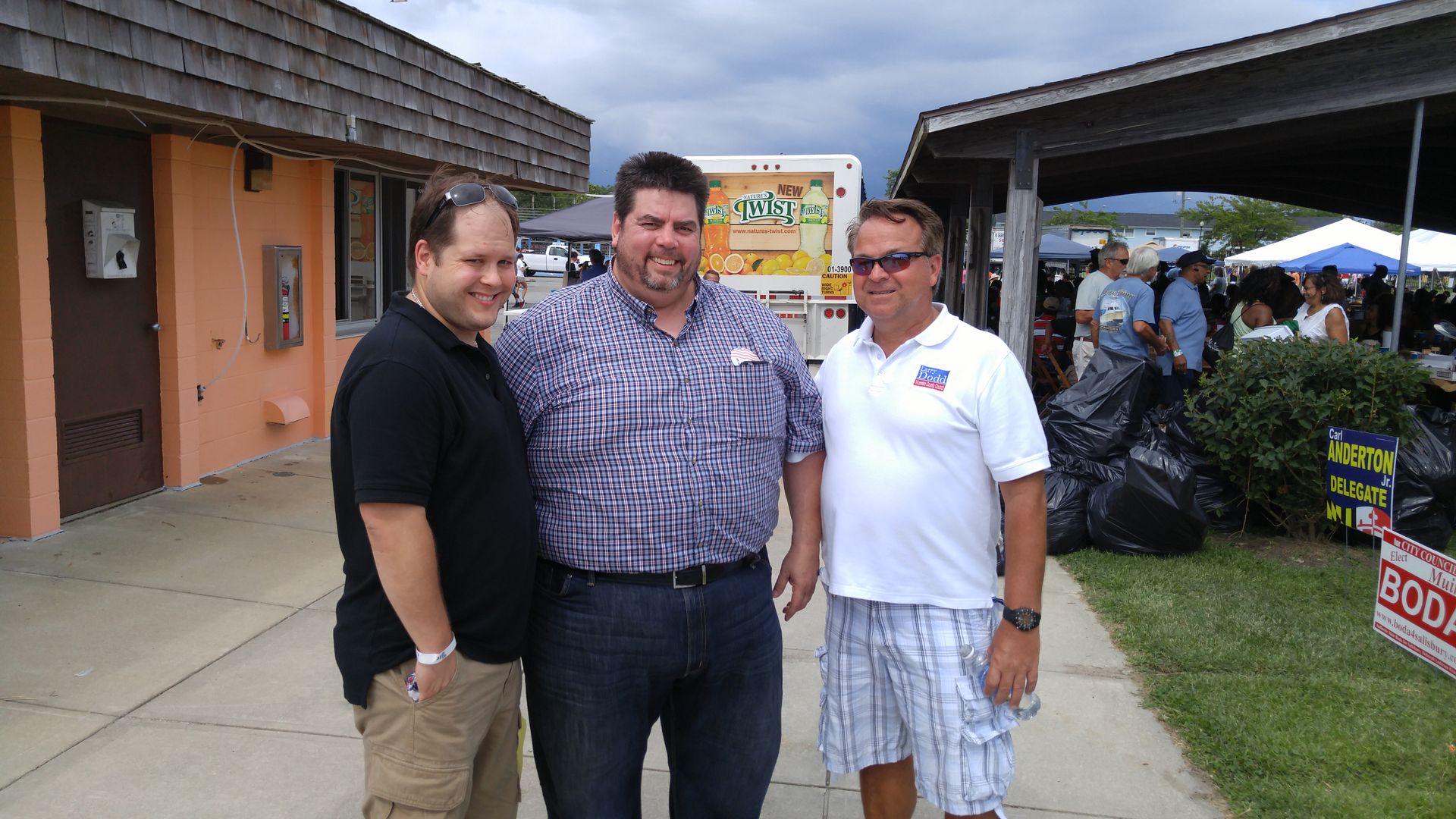 County Councilman Larry Dodd is on the right, and I apologize for not recalling the gentleman on the left's name.
And then there were established officeholders like my 2015 monoblogue Accountability Project Legislator of the Year, State Senator Justin Ready. He's talking to Jackie Wellfonder, who probably has some sort of social media record for photos with the most officeholders and general friends of hers.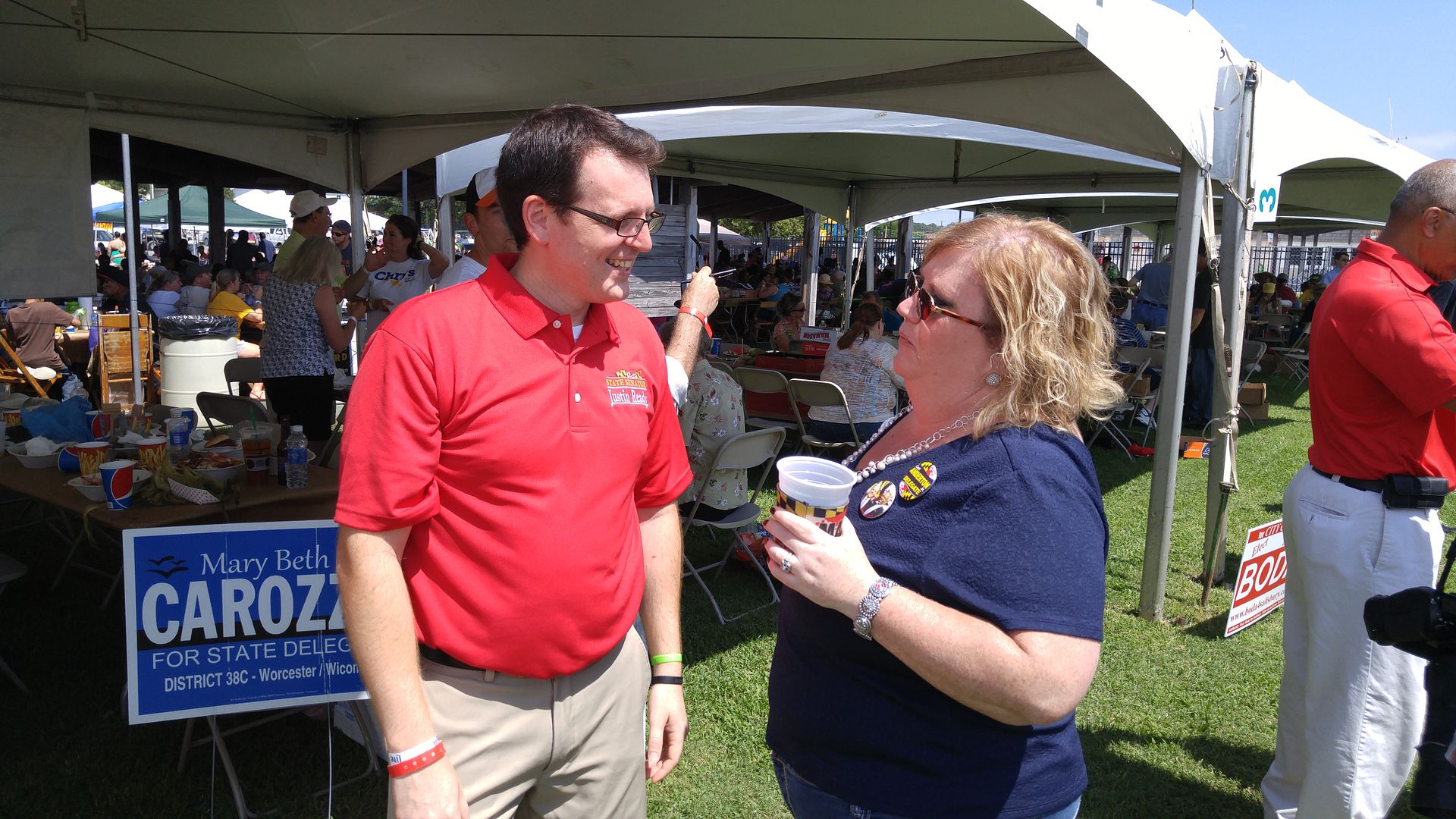 I think I've already seen her picture with our Lieutenant Governor, Boyd Rutherford. He's the distinguished-looking guy in the center.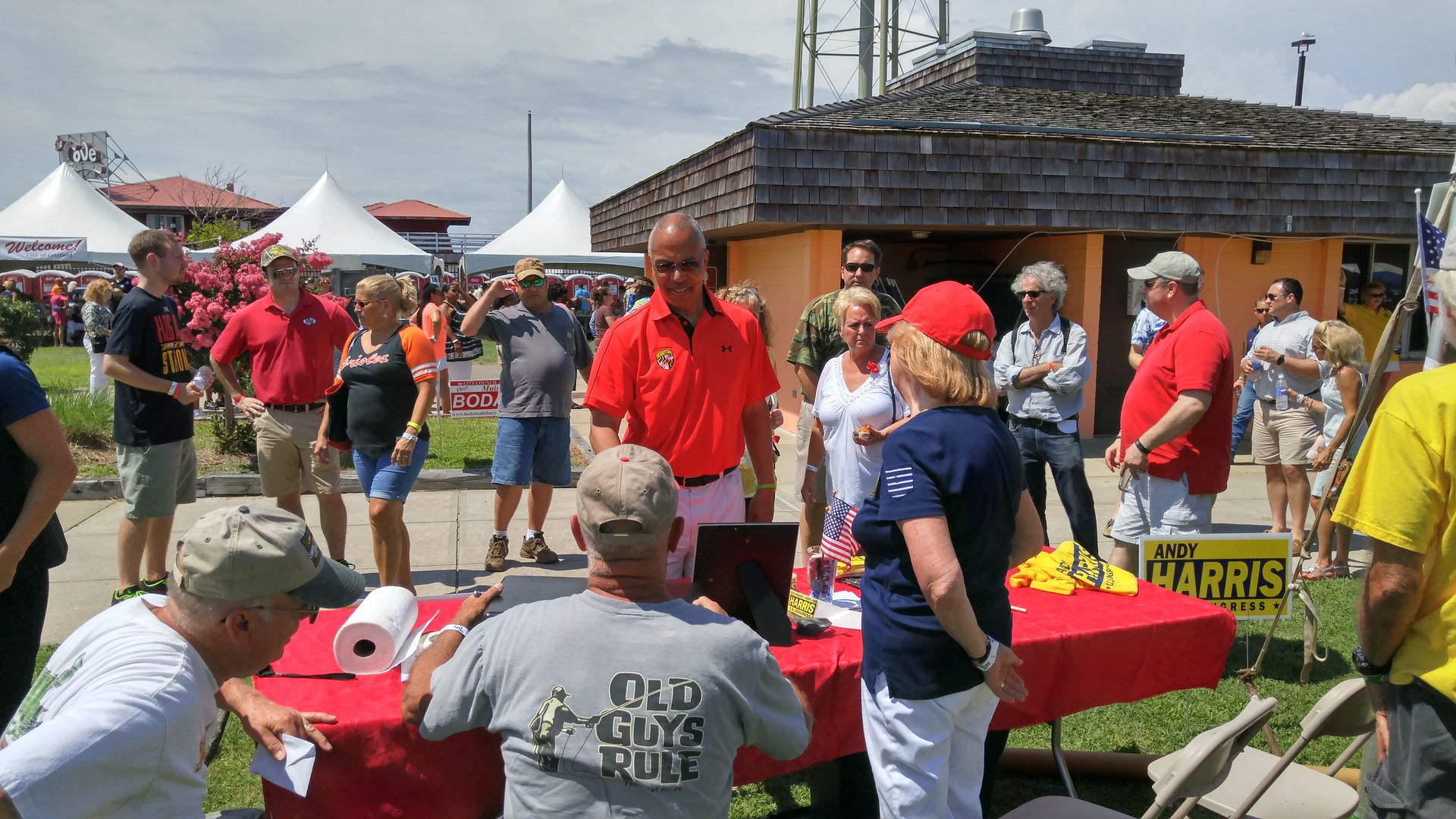 One final difference was the weather. While it was relatively comfortable, with a gentle breeze, the clouds rolled in toward the end.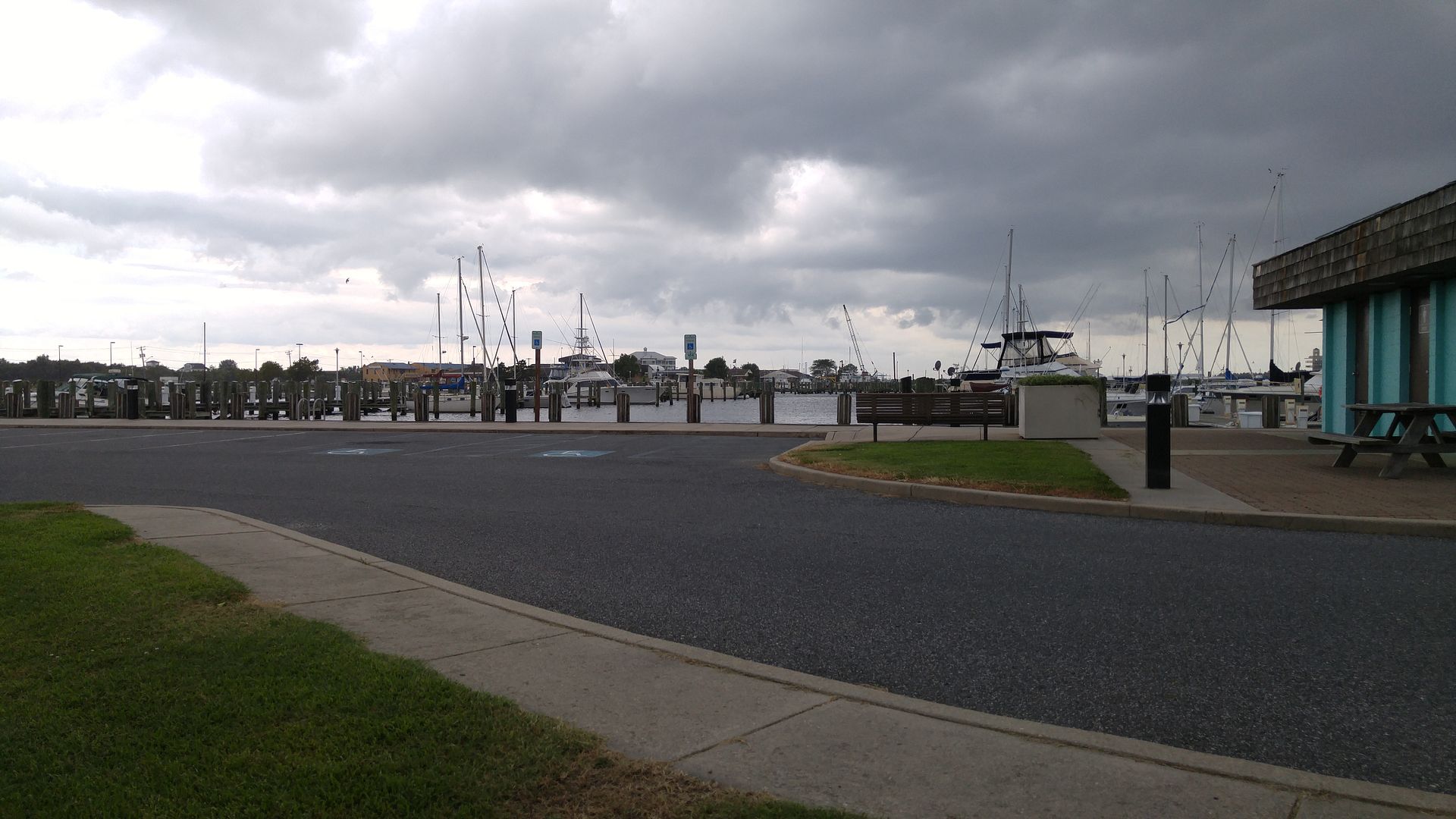 I left about 20 minutes before the scheduled 4:00 close, and by the time I got to my car about 1/2 mile away it was raining lightly. Before I got out of Crisfield it let loose and poured, so those who stayed to the bitter end either got under a tent or looked like drowned rats (or both.)
It was a fitting end to an event which was good, but perhaps a little off kilter. In fact, I was discussing the future of this gathering with someone who compared it to the Salisbury Festival – a venerable event that didn't change and eventually withered away. Since the cost went up this year (to $45 a ticket) we'll see how it affects the plans for next year.
As for me, I'd like the center location back.
I harbor no illusions that my post from the other day regarding the declining optimism of Maryland business owners goaded him into action, but today Governor Hogan announced the formation of a Regulatory Review Commission (RRC), charged over the next three years with "(f)ixing our burdensome antiquated, broken and out-of-control regulatory environment in Maryland." The ten members of the RRC are volunteering their time to "focus like a laser beam on these issues", said Hogan.
It's interesting that the Democrats are claiming the Augustine Commission (which was created in the waning months of Martin O'Malley's second term) was intended to address these issues and saying Hogan shouldn't need three years to address the problem. How soon they forget that Larry's Change Maryland organization was convening business summits over the last three years to gain the business perspective, not to mention the fact it was their administration which put out a number of these job-strangling regulations in the first place.
To me it's just sour grapes. Ask yourself: had Anthony Brown won, would curtailing regulations be a priority? Thought not. The Augustine Commission report would have been filed and ignored.
But I hope the RRC has the latitude to go beyond just regulations and into other areas like taxation and, more importantly, looking into where other states succeed. Take a state like Texas, where hundreds of thousands of jobs have been created (as a net gain over jobs lost, not as a one-for-one swap) over the last decade. What attracts these entrepreneurs and leaders, and what assets can Maryland use to emulate their gains? Granted, a good portion of the Lone Star State's gain came from abundant energy resources that Maryland can't match, but there are other areas we may be able to do as well or better if we make that a goal. Unfortunately, over the last eight years our state took its cues from states like California and New York, places where capital and population have been fleeing.
Another question is just how cooperative these Democrats, who are already trying to take credit for the little bit done in 2015, will be to the RRC's agenda as they submit their findings.
Take the "rain tax" as an example – a Democrat introduced the vastly watered-down bill that eventually passed, so they will surely henceforth try and take credit for ending the "rain tax." But the mandate for affected counties to have a watershed protection and restoration fund did not go away (page 4 here) – it's just up to the county to fill it, and most will likely retain some version of the "rain tax." The actual repeal of the "rain tax" on this Hogan-sponsored bill was killed in committee by the Democrats therein on a straight party-line vote. (I used that vote as one of the committee votes on the monoblogue Accountability Project.) So it's a fairly safe bet the Democrats are only paying lip service to the issue of regulations now because to them more is better – that's how they've run Annapolis for most of the decade I've lived here and probably my whole life before that.
So the RRC can't just exist in a vacuum. Now that Larry Hogan has experienced the way Democrats in the General Assembly basically gave the finger to his mandate, he will need in the coming months and years to take a page from the Reagan handbook and go straight to the people. Democrats may claim the last election was about "divided government" but the motivation was clearly behind a more conservative direction for the state.
While I would have preferred a more rapid formation for the RRC, this is a definite feather in the cap for Larry Hogan. Let's hope that it's not just for show but instead gives us an agenda even the Democrats can't stop.
It was apparent from the start that Jake Day was a guy in a hurry. Not content to learn the ropes as a member of Salisbury City Council, he ascended directly to its leadership. So I'm not really surprised that he made his expected run for mayor of Salisbury official earlier tonight at Headquarters Live.
Yet there are some things which stick out about Day's agenda and record which I find to be of concern. It's possible he may have addressed these in his remarks, since I was not at the event, and he may certainly feel free to comment here. But I would like to know first of all what he plans to do to keep up Salisbury's neighborhoods and not create a city full of red-headed stepchildren to the spoiled brat of downtown. Certainly downtown development has a place in the city's renewal but there are other avenues worth considering too.
Granted, downtown revitalization was Pillar 1, Strategy 1 of his original vision for Salisbury from two years ago but there are about 95% or more of the city's residents who live in the rest of the city so their needs have to be kept in mind as well.
Another question I have is what will become of the "rain tax" he and most of the rest of City Council (save District 3′s Jack Heath) voted for last year. What specific projects will the money go to, and is there a point when the job will be completed, negating its need? I understand he has a multi-decade goal in mind, but there are a lot of blanks instead of answers on how to get from point A to point B.
One thing the Daily Times story alludes to is the possibility of a race between Day and current Mayor Jim Ireton; however, I don't see that happening. The simple reason is that if Ireton wanted to secure another term he would have made his intentions known already. I know we have more than a month before the filing deadline but the word on the street is that Ireton wants to switch jobs with Day and run for a County Council seat in his District 4.
If it's a race between Ireton and Day for mayor, certainly the city would be better off with the more even-keeled Day at the helm. Ireton's bullying style is wearing thin.
But I want to keep my powder dry for the time being and see if a more conservative, business-minded candidate emerges. So don't include me in the hoopla surrounding Day just yet.
While a small minority of us celebrated a certain type of "pride" last month, I think we all can agree that we are Americans and should be proud of that fact. (If you're not, I'm sort of surprised you're reading here.)
Yet while our President lit the White House in various colors up in the wake of Obergefell v. Hodges, he didn't extend that privilege to the nation he leads by keeping the red and blue lamps around to give it a festive feel on Saturday night. Nor will you get the media to say much of anything good about American exceptionalism, and according to my friend Rick Manning at NetRightDaily that's a shame:
Many of the same people who defended the right of miscreants to burn the American flag, now argue that the American flag should be torn from the flag pole as it offends some who come from other cultures. They argue that the government should act to stop the free exercise of religion by virtue of declaring contrary points of view to be "hate speech."  They argue for the government to impose a personal freedom from being exposed to ideas that they disagree with, so they can maintain a safe zone bubble.

Rather than the free exchanges of ideas that have helped America grow strong, they want a government imposed monopoly of ideas that coincides with their limited understanding of the world.

This is the battle that America has just begun to wake up to.  A national discussion that goes to the root of who we will be in the future, and those whose base argument is that government determines what rights individuals have naturally are trying to silence those who believe that individual freedoms are protected from the government rather than defined by it.

The idea of America is freedom to do, speak and take action without the shackles of a federal government overlord is at risk.  The underlying, guiding assumption of our nation's history that the government did not bestow rights, so the government cannot take them away is being challenged.

This very revolutionary concept that has brought our nation to being the greatest the world has ever known is in imminent danger.  Should we, as a people, accede to those who wish to rule us by agreeing with their premise that rights are fungible and the government is the grantor of whatever freedom it chooses to allow, America will no longer be exceptional or unique.  Our nation will slip back into the norm of history, being ruled without rights with the people taking whatever crumbs that fall out of our master's hands rather than striving for their own dreams.

This is why I have joined with others in celebrating July as America Proud month.  A month dedicated to educating and discussing those God-given freedoms that make our nation unique, and American Exceptionalism real.
Honestly I think it should be a twelve-month operation, but what do I know? I'm just a dumb hick 'murican.
And it's truly not a partisan issue. In the old days you may have had differences on the extent of government, but politics stopped at the water's edge and when the chips were down we were all proud to be American regardless of whether we were rich or poor, immigrant or native, or whatever nationality they shared. We had that for about a week after 9/11 but once the remains were extracted and the mourning complete we went right back to some blaming America first.
You won't see the media pushing this sort of pride, though. America Proud is a low-budget operation that's basically a Facebook page and a hashtag, with the real chance all will be forgotten once August rolls around and the patriotic fervor surrounding July 4th dies away. Next week we will start to be inundated with back-to-school marketing, and that's the mindset people will quickly fall into despite the fact school is still 4 to 6 weeks away for most kids.
So be #AmericaProud this month, but don't forget the other eleven months of the year either.
It's only one survey of 280 small (perhaps micro-scale) businesses in Maryland, but a recent poll conducted by a company which should be familiar to regular readers calls into question the effectiveness of Larry Hogan's efforts at improvement in Maryland's business climate in his first few months in office.
In cooperation with the Kauffman Foundation, Thumbtack.com has done annual, quarterly, and now monthly surveys of small business sentiment around the country. (I've written about their surveys on business friendliness in the past.) While it comes in a more graphical form than I can readily share here, some items I gleaned from the most recent Maryland and national data follow:
In terms of revenue and overall financial outlooks, Maryland businesses are less positive than the rest of the nation in the former and fall right at the national mean for the latter. The good news, though, is that over 70% of these businesses have a positive outlook over the next quarter.
Less than half, however, rate their financial situation as "very good" or "somewhat good." Maryland's total is 45.9% compared to 48.1% nationwide.
Maryland businesses are more pessimistic about profitability than their national peers; still, over 60% think they will do better. On the other hand, their perception on business conditions is actually better than the national average – 53.4% in Maryland think they will be better in three months' time, while only 51.9% nationally share that outlook.
Finally, 24% of Maryland micro-businesses anticipate hiring over the next three months, while just 22.1% do nationwide. But while only 2.1% of businesses nationwide thought they would need to furlough workers, that percentage was 2.5% in Maryland.
As I noted above, this data was compiled at different intervals. Until March, this was done as a quarterly survey; now it is monthly. But one asset of this approach is that I can go back to the beginning of the year, and in their release accompanying the information Thumbtack.com noted:
In June, respondents nationwide indicated reduced optimism about the economy for the third month in a row, though sentiment about current and future conditions continues to be higher than that reported one year ago.

Key findings for Maryland include:

Maryland small businesses reported a sharp decline across each of the metrics tracked by Thumbtack, with the strongest declines coming in their expectations about future financial conditions and the economy.
Maryland experienced one of the largest overall business sentiment declines in the country in June; the state is now below the regional and national averages for small-business sentiment and ranks 30th overall nationwide.
Sentiment is still higher than it was one year ago, reflecting a broad-based increase in perceptions of economic conditions by small businesses across the country.
For the second month in a row, small businesses nationally expressed increasing pessimism about future economic conditions, which have been the largest contributors to the decline in overall sentiment.
Thus, it sounds like Maryland is reflective of a national trend.
But it's also worth noting that the 2015Q1 survey showed broadly higher numbers across the board – revenue outlook has declined 10.9 points, financial outlook 5.2 points, profitability 11 points, and business conditions 8 points.
In addition, those who thought they may be hiring declined from 26% to 24.1%. Only the respondents' assessment of their financial condition stayed relatively unchanged, declining just 1/10 of a point.
Unfortunately, these were the types of numbers we came to expect in the O'Malley administration. Obviously Hogan apologists would argue that their guy has been in office less than six months and it takes time to turn the ship of state around. And they would be correct, as the Augustine Commission agenda sailed through the General Assembly with its effective date in October.
Yet to me much of that was a simple rearrangement of deck chairs on the Titanic. While we can't do a whole lot about the national economic climate, one thing Maryland could have done was allow these entrepreneurs to keep a little more of their money by reducing personal income tax rates; meanwhile, they could accommodate the entire elimination of corporate taxes with modest budget cuts of 3% or less. (The corporate tax brings in just over $1 billion of a $40 billion budget.) This would encourage larger businesses to consider Maryland for their growth and create more spinoff work for these micro-businesses.
Think of it this way under my scenario – Justin relocates from New York to work at the new Maryland corporate headquarters of XYZ Company, which was attracted here by the zero corporate tax rate as well as the other benefits Maryland brings. He needs a guy to fix his laptop, someone to watch the kids while Justin and Mrs. Justin are at work, and so on and so forth. Imagine what 250 Justins can do for a community and how many extra jobs they create. (I'm sure someone somewhere has done a study on this but today I'll work without a net.)
The point is that addressing regulation and red tape is great, but the financial incentive has to be there as well. Among states with flat corporate tax rates, Maryland ranks among the highest. On a personal income level, Maryland's rates appear to be a little better but that doesn't add in the local county tax. (Granted, other states may also have the same practice.)
Let's just say this: with an agenda that includes financial incentives as well as some cooperation from thoughtful Democrats in the Maryland General Assembly, by this time next year we can have a far more optimistic business community and in a few months after that they can better enjoy the results of hard work because the state takes a smaller cut.
We weren't really paying a whole lot of attention in these parts, but today Bobby Jindal became what he hopes is the lucky 13th candidate to seek the Republican nomination for President. And it didn't take long for our friends, the Democrat "hacktivists," to take a few potshots in an e-mail titled "Bobby Jindal for president? Really?":
Take a look at our Bobby Jindal primer:

He's one of the least popular governors in the country: Under his failed leadership, nearly 1 in every 5 people in Louisiana lives in poverty.
He's one of the architects of the scheme to turn Medicare into a voucher system.
He will say anything to please the Tea Party base, like denying climate science and championing extremists like the guy from Duck Dynasty.
Really, that's all you've got? Granted, Jindal doesn't have overwhelming approval numbers in Louisiana – earlier this year, he was polling in the 20s at home, but had significant positive ratings elsewhere. Jindal was popular enough to win 66% of the vote in his 2011 re-election campaign, though. It's not unheard of for a governor to lose polling momentum in a second term as he had 50 percent approval two years ago. And if failed leadership involves cleaning up a corrupt state, I'll take some in Maryland.
As for the poverty rate, it is roughly the same in Louisiana as it was in 2000. Under governors of both parties it has stayed around 20 percent, with the low point occurring under Jindal's watch in 2010. In those terms it is not too distinct from its southern peers.
It's worth noting that the same poll that had Jindal at 50 percent also polled on his decision not to expand Medicaid. And don't let them fool you: nothing would happen to Medicare until 2024 at the earliest, and, as Paul Ryan explains, this is a program to allow more choice. We know the Democrat hacktivists think they know what's best for us but I like having choices, thank you.
But I loved that last bullet point. I don't believe the climate "science" either because there's too much money at stake for those who parrot the government line to state otherwise; moreover, there are the inconvenient truths that the Earth has been warmer and cooler than it is today for extended periods before the industrial revolution. In short, we don't have a damn thing to do with it but people want us to think so in order to tax and control us. Yet it's working, so don't tell anyone it's a con.
And "that guy from Duck Dynasty" happens to be a pretty successful Louisiana-based businessman. You could be friends with worse people, like suspected child molesters. To the extent Phil Robertson is "extreme" is the extent he is God-fearing.
With all that, I'm starting to like Jindal a little more. Really. Let's face it: the Democrats have nothing except the scandal-plagued Clinton family and the walking failure that is Barack Obama. They can't even get Jim Webb on the same page.
So if you need a good laugh, just wait for the Democratic "hacktivists" to speak up. You'll get one.
Yesterday I posted on Third Friday, a monthly event that's become so successful that it spawned a similar spin-off called First Saturday and may have pushed downtown redevelopment over the hump. Similarly, there are some new businesses and apartments going up on the northern edge of the city along U.S. 13, and even the venerable Centre of Salisbury – venerable as a 27-year-old mall can be, I suppose – has the promise of something Salisbury has longed for, a Cracker Barrel restaurant. It's slated to be built in the parking lot outside the abandoned J.C. Penney store. (Shoot, I was happy when Buffalo Wild Wings finally made it here from Ohio.)
But there is one prime area that has all the ingredients needed for success – plenty of traffic, good visibility, and reliable city utilities. Yet it sits vacant and unused because its plans for development came along at a bad time.
Several years ago, before my unplanned exile from the building industry, I helped draw up a proposed project which would have established a third attraction for Salisbury. Obviously we know the Centre of Salisbury was a retail destination point and at the time the downtown area was being discussed as something which, as it turns out, it is in the process of becoming – a place where visual and performing arts serves as the draw, along with a handful of local eateries.
But the plot of land just south of Perdue Stadium had its own node, with a guaranteed gathering of anywhere from 500 hardy, weather-tested souls to overflow crowds of over 8,000 people 60 to 65 times a year during the spring and summer. Add in the thousands of travelers driving by and there was the potential for a destination of its own; close enough to the beach to be a viable alternative for budget-concious travelers looking for something with a slower pace, yet with the attractions to enjoy a summer evening without the need for driving around.
As originally envisioned, the development had several key elements for success: office space for workday usage, restaurants for both travelers and those seeking a place to have a business or casual lunch, and lodging for those who wanted to have an anchor point to explore the area yet not have to deal with beach crowds. Its misfortune was beginning the development process at a time when we were entering the Great Recession of 2007-whenever. (Some may argue the area is still in one based on employment numbers.)
One other proposal envisioned for the site was the construction of a new Civic Center on the opposite side of the Perdue Stadium parking lot. Besides the obvious plentiful parking available, a new Civic Center would have the advantages of making beer sales at events possible (a deed restriction for the property of the current Wicomico Youth and Civic Center prohibits alcohol sales as a condition of having it donated to the county for its use) and could be configured for more seating than the current arena to attract larger acts.
Any action on that, however, is several years to a decade away. Yet the county is putting money into 20-year-old Perdue Stadium and the owners of the Delmarva Shorebirds are committing themselves to another two decades as the station's prime tenant. In short, the main attractions aren't going anywhere.
Yet this valuable land sits as a part of Salisbury time and economics seemingly forgot.
I understand the emphasis our city fathers have placed on revitalizing downtown and trying to make it a close-by gathering place for both young professionals and Salisbury University students. With a transit system already in place to ferry students from campus to downtown several nights a week and grand plans to spruce up the Business Route 13 corridor from SU to the east edge of downtown, city visionaries and elected officials have it covered. Meanwhile, the part of town encompassing the Centre of Salisbury up toward Delmar seems to be doing just fine although admittedly some of that retail may be getting long in the tooth and due for upgrades. The closing of J.C. Penney was just another pockmark on a facility which may need its own transformation in the next decade lest it suffer the fate of the old Salisbury Mall it replaced.
But that rebirth can be set on the back burner for now. Downtown development may be the place where the cool kids go, but there are other assets Salisbury can put in play with the proper foresight and investment. Imagine what could be there now if things had proceeded a decade ago, and work to make it a reality in the next few years. The infrastructure is already there thanks to the aborted previous plans, so let's get this diamond in the rough to shine.
That, in a nutshell, was the story of my Third Friday.
I got home from work, changed my clothes, and walked out to my car. Felt a sprinkle, pulled out my phone, looked at the radar picture and saw this tiny orange, yellow, and green blob arriving.
Man, did it pour when I got downtown. I walked through a river to get there as people were scrambling to get their treasures under cover. So by the time I arrived it was pretty much cleared out.
At that point I decided to find my Delegate's new office. It's a modest little room above Roadie Joe's downtown, but he had some good folks in there for its grand opening: County Councilmen Larry Dodd and Marc Kilmer stopped by as did Salisbury City Council candidate Muir Boda, who made it official today as he filed. I didn't get a very good picture of the Carl Anderton district office, but my friends Jackie Wellfonder and Julie Brewington did. Find them on social media.
A few of those aforementioned folks were downstairs grabbing dinner as Dark Gold Jazz was playing. So I sat in with them: the dinner eaters, not the band. (Although I own a guitar, I can't play an instrument to save my life.)
They did about the longest version of "Hey Joe" I've ever heard. I don't drink all that fast but I swear I drank half my beer during the song. Luckily, I like the tune so it worked.
But as people drifted off to other locales like Headquarters Live, I took a few minutes to stroll the Plaza.
The sky was still rather turbulent as I left.
It's funny because Kim was in Ocean City this evening with the kids (daughter and friend) and it looked nice and sunny there from the video I saw. Welcome to Delmarva, huh? From what I heard, though, 3F was rather packed before the rains came.
So it wasn't exactly the Third Friday I planned but it was nice to catch up with some old friends nonetheless.
Editor's note: Read more