As I write this, Wicomico County Republicans were slated to host a gala to formally open their headquarters. But all that was pushed aside by an event which occurred last Thursday – the sudden, tragic passing of Sylvia "Cookie" Harris, wife of our Congressman and leader in the Maryland pro-life community.
With services for Cookie Harris this weekend, one of the three local political events slated for today have been pushed back to next Sunday. The only event that remained on the schedule was a fundraiser for Delegate candidate Christopher Adams, which was tied into the Shorebirds game this evening and couldn't be changed as their season ends tomorrow; meanwhile, a fundraiser for County Executive candidate Bob Culver which was to feature Harris is being rescheduled with a date to be announced.
I bring all this up because it's a reminder that nothing is a given in politics (or life in general, for that matter.) In my life I've seen people 17 points down in a poll 10 days before Election Day come out a winner, the sea change in political attitude that occurred from the events of 9/11, and other instances where conventional wisdom was turned on its head in a matter of days or hours.
It got me to thinking about the GOP-sponsored poll from a couple weeks ago that showed Larry Hogan was making a race of it, despite the fact that most national observers already have Anthony Brown ready to measure for new drapes at Government House because Maryland is a "blue" state, don'cha know. In terms of voter registration, it is, but a lot can happen between now and November to convince people Hogan deserves a shot.
By the same token, one can look at the massive difference in funding between Democratic incumbent state Senator Jim Mathias and his Republican challenger Delegate Mike McDermott. Yet when you see the sources of that funding, it's worth asking why these people are paying so much to keep him in office? The same can be said of Delegate Norm Conway, but the conventional wisdom holds that both will be re-elected because they're "really nice guys" who "bring home the bacon." Still, anything can happen between now and Election Day and these two may fall out of favor among their constituents.
In all honesty, I could have written this without the tragic circumstances surrounding the passing of Cookie Harris, and I certainly join the many who have extended their thoughts and prayers toward the Harris family during this time. It's also a shock to the state's pro-life community, which lost far too much ground over Mrs. Harris's lifetime. But all involved will heal with time, and the world will return to its way for everyone – the events postponed today will be resumed at a later date. Yet it serves as a good reminder.
The message here is to take absolutely nothing for granted, not just in a political sense but in life itself. The message I often hear when someone passes is that the deceased wouldn't have cared for all the tears and sadness by mourners because they lived their life in the best way they knew how, no regrets. It was up to us to do the same as the truest way to honor their memory.
And as it says on the sidebar of my website: never, never, never give up. Whatever life throws at us, we can overcome.
While it's at a point in his career where there's little political fallout, it's still interesting to note that retiring Democratic Delegate John Wood, Jr. of St. Mary's County has endorsed GOP standardbearer Larry Hogan for governor over his own party's Anthony Brown. The story on TheBayNet.com by Dick Myers notes that Wood also endorsed Bob Ehrlich and has endorsed the Republican seeking to replace him in Annapolis.
Wood is one of the few Democrats who would regularly buck his party in Annapolis, and was a six-time winner of what I called the Top (Blue) Dog Award from the monoblogue Accountability Project. That award goes to "the Democrat who ranks the highest in my ratings, showing signs that there is a small but rarely-seen centrist element to the Maryland Democratic Party. It's the way the aisle should be crossed." Wood had a lifetime 46 rating on the mAP, by far the best of any Democrat and slightly better than retiring Republican Robert Costa, who finished with a 44 rating.
It proves that the 15% of Democrats who expressed a preference for Hogan in a recent internal Hogan poll are a legitimate part of the electorate, receptive to the fiscally sound message Hogan is trying to put out. Thar number is clear improvement from a July CBS News/New York Times poll where just 8% of Democratic voters favored Hogan. Obviously given the vast gulf of registration numbers between Democrats and Republicans in Maryland it's essential that some Democrats like Wood cross the aisle to back Hogan. To buttress that fact, there are dozens of "Democrats for Hogan" stickers available at our headquarters.
So welcome aboard, Delegate Wood. And bring a few other thoughtful souls to our side.
A few weeks ago I promised to start once again looking into where our candidates get their money.
The first race I wanted to delve into on the financial end was the District 38 Senate race between incumbent Democrat Jim Mathias and challenger Republican Delegate Mike McDermott. As you'll see, Mathias has the clear financial advantage.
This file is something I composed as a composite which includes all four financial reports due since the beginning of 2014 – the 2013 annual, the two pre-primary reports, and now the first pre-general report.
So we can see that, in this race, incumbent Democrat Jim Mathias has raised a lot of money compared to his opponent, who is also an incumbent in the House of Delegates. Mike McDermott was more or less forced to run for a different office thanks to being squeezed into a single-member district with fellow Delegate Charles Otto by Democratic gerrymandering.
Where did the money come from? More than most others whose financial forms I've studied, Mathias gets a lot of donations from ticket sales, presumably to his relatively frequent fundraisers both in the Ocean City area and occasionally across the bridge. Almost 2/3 of his income came that way, with most of the rest being PAC contributions. Having looked as well at the records of his fellow Democrat incumbent Delegate Norm Conway, it's apparent that PACs are very happy to give plenty of money to Democratic incumbents, but not so much to Republicans because Mike McDermott has negligible PAC money compared to Jim Mathias.
Moreover, there are a lot of big-money donors from Ocean City (and beyond) who have opened up their wallets for Jim Mathias, while only a handful are supporting McDermott. Given the huge disparity in money allotted to fundraising – for every dollar McDermott has spent on fundraising, Mathias has forked over $17.30 – it's small wonder there's a big gap in cash on hand.
It's also worth mentioning that nearly half of Mathias's total spending has gone to one entity – Rice Consulting of Bel Air, a frequent client of Maryland Democrats. Whether directly or as a pass-thru to other entities, Mathias gave $37,320.16 to Rice Consulting out of $78,388.97 spent.
McDermott has used a pair of outside consultants: Campaign On out of Owings Mills for $3,087 and Scott and Associates of Annapolis for $5,000. That represents about 40% of McDermott's spending, but it's going to media rather than fundraising and "strategic incumbency protection," which are Rice Consulting's specialties. Personally, I'd prefer strategic taxpayer and citizen protections.
It's also worth pointing out that several current and former Annapolis and Baltimore Democratic elected officials have chipped in for Mathias from their campaign accounts:
retired Delegate Ann Marie Doory: $100
District 6 Delegate and State Senate candidate John Olszewski, Jr.: $150
District 11 Delegate Dan Morhaim: $250
retiring Baltimore County Councilman John Olszewski, Sr.: $450
retiring Delegate Brian McHale: $1,000
District 40 State Senator Catherine Pugh: $1,000
retiring Delegate James Hubbard: $2,000
retired Senator (and onetime Congressional candidate) Rob Garagiola: $2,250
District 13 Delegate and State Senate candidate Guy Guzzone: $6,000
The only elected official contributing to McDermott's side thus far is Wicomico County Republican Central Committee-elect member Greg Belcher, who donated $154.18 in closing his election account.
So it's very obvious that Maryland Democrats and their patrons are throwing the kitchen sink into keeping this seat. Mathias has a war chest which will likely land him some television time and allow him to once again carpetbomb the district with full-color mailings which obfuscate his real record.
But it's also a fact that Mathias only won one of the three counties in the 38th District last time, winning in Worcester County by just enough to overcome his deficits in Somerset and Wicomico counties. He outspent Republican opponent Michael James $300,835.32 to $225,556.44 in the process, so indications are he will be able to spend the same amount (or more) this time.
Next up will be a look at the Senate race in District 37. My plan is to do each local district on a Tuesday or Wednesday, so look for the other Senate race after Labor Day.
It may not have been such a bad idea at the time, but the thought of adding corn-based ethanol to automotive fuel to stretch the oil supply seems rather silly in retrospect given our recent prowess in finding new supplies of black gold. In 2005, under the George W. Bush administration and a Republican Congress, the EPA was given the first Renewable Fuels Standard (RFS) mandate to include ethanol in motor fuel. It was at a time when many still believed in the theory of "peak oil" and determined we had to look past this resource in order to meet our growing needs.
Fast-forward to the present day and we find that, because of issues with decreased consumption of gasoline combined with increasing statutory requirements for the inclusion of ethanol in automotive fuel, the EPA took the unprecedented step of reducing its mandated amount of ethanol for this year; meanwhile, the RFS which was supposed to come out in November of last year is still on the EPA drawing board.
In reading a summary of energy news I receive daily from the American Petroleum Institute, it was revealed that retailers and other petroleum marketers have their own concerns about the prospect of E15 fuel being approved for use in order to achieve the mandated amount of ethanol required for these increasing RFS numbers.
Naturally, this is from the perspective of what's derided as Big Oil – on the other side, you have officials in corn-producing states beseeching Barack Obama to stand firm on these standards, while desperately attempting to secure infrastructure to provide the even higher E85 blend for flexfuel vehicles, such as the "I-75 Green Corridor" which has a lot of gaps.
The whole flexfuel idea was popularized a few years ago by a group I gave some pixels to during the $4 a gallon price surge called NozzleRage, which was the brainchild of another group called the Center for Security Policy – their goal in creating yet a third group called Citizens for Energy Freedom was to mandate cars be equipped as flexfuel vehicles. Even though it's essentially a free option, there are few takers for flexfuel cars as they occupy a tiny proportion of the market – about 1 in 20 cars sold are flexfuel cars (although that number is higher for government vehicles.)
Obviously the hope for ethanol proponents is to expand the number of facilities where E85 can be purchased in order to eliminate the need to go to an unpopular E15 blend while simultaneously being able to ratchet up the RFS figures. If even 15 percent of the cars can run on E85 and the price is competitive, then corn growers would be happy. (Never mind the folly of using food for fuel.)
Personally, though, I'm hoping they scrap the RFS altogether. It was an idea which may have had merit (and a lot of Congressional backing from farm states) a half-decade ago, but we can do better because our oil supplies are much more plentiful thanks to new technology. That's not to say that technology can't eventually be in place to use another source for ethanol (like the sugar cane Brazil uses for its much more prevalent ethanol market) but how about letting the market decide?
And while it's unrelated to ethanol, I thought it was worth devoting a paragraph or two to note that North Carolina – hardly a conservative state – is getting closer to finishing the rulemaking process for fracking in the state. Most noteworthy to me in my cursory reading of the rules is that North Carolina is looking at a fairly sane setback distance from various impediments – nothing more than 650 feet. They also seem to lean heavily on industry standards.
On the other hand, Maryland was looking to set rules which would require a completely arbitrary 2,000 foot setback and require plans for all wells proposed by a drilling company, rather than single wells. In short, we would do to fracking in Maryland what Barack Obama is doing to the coal industry nationwide – strangle it with unneeded and capricious regulations. That should not stand in either case.
It's been my philosophy that an area which doesn't grow will die. It may take a while, but killing growth will sooner or later kill the economic viability of a city, county, region, state, or nation. Putting silly regulations in place because a minority believes the debunked hype about a safe process is a surefire way to kill a vital region in the state, not to mention impede the possibility of prosperity elsewhere. We can do much better when common sense prevails.
Safely ensconced in our new headquarters, the Wicomico County Republican Club held its first official meeting there, with the special guest speaker being State's Attorney Matt Maciarello. Matt has the enviable position of needing one vote for another four-year term because he's unopposed.
Before we heard from Matt, though, we had the usual Lord's Prayer, Pledge of Allegiance, and introduction of distinguished guests, a list which included our state party Chair Diana Waterman. We also received a brief update from Larry Hogan's regional coordinator Joe Schanno, who was pressed for time. He noted the need for volunteer help for the Hogan campaign, and pointed out the recent poll results that showed the race within the margin of error.
We also learned Larry would be here on Sunday for a series of events: the official opening of our headquarters from 2 to 4 p.m. followed by a fundraiser for District 37B hopeful Christopher Adams at Perdue Stadium from 4 to 8 and an appearance at a fundraiser for County Executive challenger Bob Culver from 5 to 9 at a private residence. There may be some other visits with local businesses added to the schedule, said Schanno.
After Joe wrapped up, we introduced Matt Maciarello. He recounted that when he took office in 2011 it was about the same time as Salisbury police chief Barbara Duncan was selected, a time when "crime was out of control." But with Duncan and Sheriff Mike Lewis, they planned a line of attack on the spiraling situation. Matt's areas of interest in that regard, naturally, were the district and circuit courts, although there's also a children's advocacy center and drug task force.
It's the latter item which creates much of our problem, said Maciarello. He claimed that there's "one (fatal heroin) overdose a week in Wicomico County" and surmised that the appetite for opioid drugs "fuels a lot of crime."
In combating crime, Matt also noted he's been an advocate on the legislative level, monitoring legislation and providing input, both as testimony and direct discussions with legislators. After a bill is passed, his office provides roll call training to street officers to make sure they understand new and revised laws.
Much of his time of late, said Matt, has been spent compiling and writing reports on a pair of recent police-involved shootings, reports he personally wrote and took the time to talk with the families of the victims about the reports if they were inclined to discuss them.
But he concluded by stating that citizens have a choice on where to live, and the perception that a place is safe is important to an area's well-being.
Matt then answered questions, many of which queried him about gun laws. A recent profile of Sheriff Lewis as one who would refuse to enforce federal gun laws led to a discussion on nullification, which he felt was "more symbolic than anything." On that subject, "I want to be on solid legal ground" – for example, what exactly would be nullified? So while he felt parts of the Firearm Safety Act were "clearly unconstitutional," he believed opponents should get the advice from a Constitutional scholar before proceeding in order to pick and choose the best points for a legal counterattack.
Asked for a definition of "good and substantial" cause, Maciarello said, "I personally believe the burden should be on the state."
He also spoke about the relationship with the local NAACP given some recent tensions, explaining that "I see my role…as a public safety job. You have to represent justice." He's tried to be as transparent as possible in all his office's dealings.
Jackie Wellfonder, who had attended the previous forum with several GOP candidates, noted that "we had an interesting dialogue." The GOP presence was "a first step."
After I gave the treasurer's report in the absence of our regular treasurer, Jackie gave her formal president's report, gushing that the headquarters has done "a complete 180″ from the state it was in when we took it over. She pointed out that donations would be welcome to help defray the expenses, and volunteers to man the phones and greet visitors would be great as well once we get the ball rolling on Sunday.
She also read a thank-you card from Elizabeth Mills, one of our two WCRC scholarship recipients.
David Warren, who is in charge of the headquarters, remarked again about the "once in a lifetime chance" we have to win seats in District 38.
He gave way to Diana Waterman, who commented about the ease of operating the "very user-friendly" phone system, and urged us to "step out of your comfort zone." She also talked up the September 27 Allen West event and announced our Super Saturday would be October 4, just before the Andy Harris Bull Roast in Queen Anne's County.
Dave Parker gave the Central Committee report, giving more details on the Allen West Patriot's Dinner and repeating the information on the October 4th events.
It was then time to hear from some of the candidates in attendance.
Speaking on behalf of Larry Hogan's campaign, Ann Suthowski revealed he would have a fundraiser featuring Chris Christie in Bethesda and there would be a day for LG candidate Boyd Rutherford in this area as well as for Hogan. She was looking for sign locations and letters to the editor as well.
Jackie Wellfonder spoke again, this time on Chris Adams's behalf. She repeated the information about his Perdue Stadium fundraiser as well as the Bob Culver gathering that will also feature Andy Harris.
County Council candidate Larry Dodd acknowledged he took a little break after the primary, but pointed out while his opponent claims to be "moderate" he was really "100 percent Democrat."
Johnny Mautz of District 37B introduced his local campaign coordinator and promoted three events: fundraisers for him in St. Michael's and Easton on September 20 and 21, respectively, and a Larry Hogan event at Sailwinds Park in Cambridge on September 28. The Easton event he's holding has as a special guest author and commentator S.E. Cupp.
Carol Rose spoke on behalf of Mary Beth Carozza and announced her fundraiser would be held at Frontier Town near Ocean City on September 7. She also noted a Worcester County TEA Party event featuring Carozza along with the other three Republican District 38 candidates was "fantastic."
Marc Kilmer was pleased to have finally met his opponent. But on a more serious note, he was ready to resume doorknocking and was looking for volunteers to help at the Sharptown Heritage Days parade on September 20.
Muir Boda wasn't a Republican candidate anymore, but revealed he was one of a dozen applicants for the vacant Salisbury City Council position. We will probably know Wednesday who will fill the unexpired term of Terry Cohen, he said.
We also heard from the unopposed County Councilman John Hall, who said his campaign was "going just swimmingly" and received an update on the September 6 WCRC Crab Feast.
So after one piece of new business, our formal meeting was done. But many stayed around for this. (Photo by Jackie Wellfonder.)

The Ice Bucket Challenge got another "victim" and this time it was MDGOP chair Diana Waterman. I guess "water" is appropriate in this case.
I'm not sure how we'll top this in September, but someone else will have to let you know. I get a personal day from the next meeting, and those of you who know me well will know the reason why.
It was just about this time in 2010 that Bob Ehrlich had his last positive poll – a Rasmussen Poll had the Maryland race tied at 47-47. Granted, the former election calendar dictated a primary was still to come but it was presumed early on (particularly as the state party had its thumb on the scale) that Ehrlich would be the nominee.
But as time wore on and people began to pay attention, the thought of returning to the era of Ehrlich seemed to turn voters off, as the race which was single-digits until mid-October turned suddenly and forcefully Martin O'Malley's way in the end, as he won going away by 14 points. This blowout for O'Malley had a few coattails as well, as the GOP lost two Maryland Senate seats (but gained six House of Delegates seats, solace in an otherwise contrarian election here in Maryland given the 2010 national TEA Party wave.)
We have no idea if the same will hold true with different players in 2014, but the Maryland GOP was pleased to release a poll which showed the race between Larry Hogan and Anthony Brown was within the margin of error. Granted, it was from a Republican pollster and perhaps slightly oversampled Republicans but the results still have some merit.
As the OnMessage, Inc. pollsters write:
The ballot currently stands at 45% for Brown, 42% for Hogan, 4% for Libertarian Shawn Quinn and 9% undecided. In deep blue Maryland, that signals real trouble for Governor O'Malley's right hand man. More importantly, Independents favor Hogan by 8 points with a quarter still undecided. That's remarkable considering that Hogan is still unknown to most Independents with an image of 27% favorable and 14% unfavorable. But Independents know Brown better and don't particularly like what they see. Brown's image among Independents currently stands at 32% favorable to 39% unfavorable.
I can easily gather two things about this race: one is that Shawn Quinn will get 1% if he's lucky, and the other three percent will likely break toward Hogan by a 2:1 margin. It's also an axiom that undecideds tend to break for the challenger; despite the fact the seat is an open seat Brown as LG has to be considered the incumbent. It's a scenario which could be a repeat of the 1994 gubernatorial race.
Insofar as the numbers go, the sample used by OnMessage is a 51-32 D-R split, which oversamples registered Republicans by about five points. However, if Republicans are motivated to turn out and Democrats are dispirited, that turnout model may not be bad. And when just 51% of Democrats feel the state is on the right track (while 64% of independents and 88% of Republicans think things are going the wrong way) the motivation should be on the GOP side.
It's also worth mentioning that Brown is already leaking 15% of Democratic votes to Hogan while just 3% of Republicans back Brown. The only reliable constituency Anthony Brown has is the black vote, which is at an 87-5 margin – hence the Michael Peroutka scare tactics being used as a dog whistle to minority voters.
Even though it's a Republican poll, the trend has to be a little disturbing to Democrats. Earlier in the summer, Brown had a massive lead over Hogan – up 18 in a June Washington Post poll, and up 13 in separate July CBS News and Rasmussen polls – so to see that melt away to no worse than single digits has to shake up the Brown campaign. It explains why they're throwing the kitchen sink at Hogan on social issues, trying to distract attention from Brown's pitiful and puny record of political accomplishments.
Obviously the fight in this election will be how well Hogan can stick to his message of fiscal responsibility. Now that the primary is over, we don't have to fight on degrees of difference so when the Democrats try and change the subject I'm not going to allow it. It's time for fiscal responsibility and competence, and Maryland Democrats over the last eight years have shown little of either.
Yesterday, in my thoughts on an unrelated subject, I alluded to the massive loss of jobs in Maryland. Turns out it was worse than I thought – based on the unrevised Bureau of Labor Statistics totals, 16,286 fewer people in Maryland were working in July than June, adding 10,057 to the ranks of the unemployed.
The state compiles this data for Wicomico County as well, and I thought it would be instructive to note the June totals for the last several years. It's worth noting that employment here normally tops out in July, with June usually a close second. The numbers are readily available for the period 2009-14, which covers the trough of the recession and the recovery.
So here are the June totals since 2009:
2009 – 49,271 employed, 4,556 unemployed (8.5%)
2010 – 49,548 employed, 4,856 unemployed (8.9%)
2011 – 49,160 employed, 5,030 unemployed (9.3%)
2012 – 49,585 employed, 4,759 unemployed (8.8%)
2013 – 48,991 employed, 4,526 unemployed (8.5%)
2014 – 48,760 employed, 3,964 unemployed (7.5%)
Over the five-year period, the unemployment rate went down 1 percent, but the number employed also went down by 511.
Just as a comparison to use a (generally) worst-case scenario, here are January numbers:
2009 – 47,015 employed, 4,722 unemployed (9.1%)
2010 – 45,526 employed, 5,669 unemployed (11.1%)
2011 – 46,838 employed, 5,393 unemployed (10.3%)
2012 – 46,758 employed, 5,178 unemployed (10.0%)
2013 – 46,806 employed, 5,066 unemployed (9.8%)
2014 – 46,711 employed, 4,338 unemployed (8.5%)
Over that five-year period in the month which is generally the nadir for local employment, we still lost 304 jobs although the rate deceased 0.6 percent.
But it's estimated that Wicomico County gained 2,163 people between the census in April, 2010 and the 2013 estimate. So how are those people supporting themselves on 300 to 500 fewer jobs?
The title of this piece comes from a tagline and hashtag that District 38B candidate Carl Anderton, Jr. has been using during his campaign. While state numbers have fluctuated due in large part to changes at the federal level, the number of jobs in this area really doesn't depend on the mood of the federal government. Instead, much of it is influenced by the policies at the state level and, judging by the figures, it's pretty obvious that what's being tried isn't working – particularly if you're one of those who had a job and lost it.
It's often forgotten that the government doesn't necessarily produce anything nor does it create value. Even in cases where infrastructure is being improved (such as the airport runway I described a few days back) the actual work is contracted out to a private company. But that private company has to follow additional rules and regulations to access that federal money, ones which may not apply in a truly private transaction – oftentimes there is a prevailing wage provision, for example. Meanwhile, we also have to pay the bureaucrats who reviewed the grant application, wrote the specifications, and so forth. The airport is receiving $5.53 million, but it may have cost taxpayers $7-8 million with the overhead involved.
Simply put, the Washington bureaucrats served as a conduit and a filter, meaning they received their cut first. Sure, this project will create a handful of construction jobs but imagine what the overhead could have done. It's pretty much the same when Annapolis or local government is involved, since they get their cues from higher levels.
There are a number of economic drivers which this area relies on: agriculture (particularly poultry, with the feed stock being an integral part of this), tourism, and to a small extent, technology (thanks to spillover from Wallops Island.) Here's where we really need help from the state:
improving transportation by using the gas tax we pay to actually build the needed bypasses and through routes to make access easier for tourists and getting goods to market more efficiently for producers;
leaving alone our true environmentalists, the farmers, by allowing them to use their land as they see fit and reforming the transfer of development rights to a generational term rather than perpetual;
creating a sales tax-free zone to allow us to compete directly with Delaware for retail sales;
finally, putting an end to blaming farmers for environmental problems and looking at common-sense solutions for cleaning the Chesapeake Bay. Work on the problems we know we have and put a moratorium on new regulations until we can determine how well the ones we have in place work.
Larry Hogan addresses some of the problem in his new video:
But the other side of that is reining in the Maryland Department of the Environment and Chesapeake Bay Foundation, neither of which Hogan addresses. That's okay, though; I'd rather not telegraph those sorts of moves.
I have often seen complaints from the other side (of both the Bay and the political spectrum) that we on the Eastern Shore take more from the state than we give to them. For the sake of the argument, let's say that's true.
One has to ask, then, why this is the state of affairs? The people of the Eastern Shore seem like the hard-working, prideful sort who don't like the thought of handouts. All we want is a chance to shine and do what we do best – left to our own devices, we can prosper and lead the state.
But there are those who like the Eastern Shore just as it is, preferring it remain rural and backward so they can look down on us and refer to us as the state's "shithouse" as they fly through on the way to their beachfront Ocean City condo. Those are the people who need to be on the outside looking in politically in order for us to succeed.
As more proof that Democrats in Maryland are bereft of good ideas – or, for that matter, any clue on how to turn this state around – I bring you the continuing Michael Peroutka saga.
Fresh off his screed about the Maryland GOP and illegal immigration, onetime columnist Barry Rascovar has unearthed a new bogeyman in the person of Peroutka, devoting an entire column to rehashed opinions about how frightening Peroutka's Christian Reconstructionist views are – a "bizarre view of government," as Rascovar writes. Peroutka "could be the nail in the coffin for the Republican Party's hopes of winning over independents and conservative-leaning Democrats," writes Rascovar. Like he honestly cares about the fate of the GOP? Truthfully, I think the people are smart enough to see through this ploy for what it is, the last refuge of scoundrels.
Naturally, a group of Democrats has put together their own anti-Peroutka website, emblazoned with the Confederate flag. As Len Lazarick writes at Maryland Reporter:
Anne Arundel County Council member Jamie Benoit and a prominent Democratic lawyer have launched a political action committee and website called StopPeroutka.com "dedicated to educating voters on the theocratic policies and bigoted national network of Michael Peroutka," a Republican running for Anne Arundel County Council in District 5.

Benoit is term-limited and this is not his district.

Dan Clements, an Annapolis resident who is former president of the Maryland Trial Lawyers Association and active in many Democratic political campaigns, is the treasurer of StopPertoutka.com, which filed its paperwork 10 days ago.
So it's an outgoing Anne Arundel County council member and a trial lawyer who are worried about a county council race while Rome is burning – from February through July this year, Maryland has shed 16,600 jobs, 14,500 more people are unemployed, and the largest employment sector remains government. All this is from the Bureau of Labor Statistics, yet Democrats from Anthony Brown on down are completely concerned about one candidate's views.
If Michael Peroutka wins, he will be just one of seven members on Anne Arundel County Council. He's already become one of 13 members of the Republican Central Committee in Anne Arundel County, but will be a minor cog in the 300 or so who make up the state Central Committee. It's not exactly great odds if you're looking to build up a theocracy, now is it?
So I'm going to restate what I think should have been made clear a month ago when the subject first came up:
While I don't personally agree with the League of the South's views on secession, the fact that Democrats are using this national issue in a local race speaks volumes about what they're worried about come November. As a local Council member, Peroutka will have little influence on broad cultural and spiritual context nationally, although one has to ask why our opponents would disagree about reminding our people that we were "endowed by their Creator with certain unalienable Rights."
Rather, the focus should be on the important issues where the opposition regularly falls short: addressing a "rain tax" which is unfairly penalizing certain counties of the one state which has rolled over to federal demands rather than standing up and asserting a shared solution proportionate to the cause of the problem, rightsizing a local government which can be more efficient in its services while minimizing its reach into people's pockets, and, above all, listening to the people and not the siren song of a state government too powerful for its own good, one where the opposition has fiddled while this great state burned under a stalled economy and terrible business climate.
As long as Peroutka can be a trusted public servant who devotes his time and effort to the people of his district while advocating for the causes he's placed on his platform, his affiliations are his business. It is a local matter and I trust the voters of his district will judge the candidates accordingly.
So when the other side asks about Michael Peroutka's views, ask them if they're as important as the desire of any of the 14,500 recently unemployed people in the state to get a job. Either that retort shuts them up, or if they continue you know they have nothing.
It's not a whole lot, but it is ours. Over the weekend another Wicomico Farm and Home Show – the 78th annual – was put in the books. As has been the case the last several years, I was there to help with the Republican table.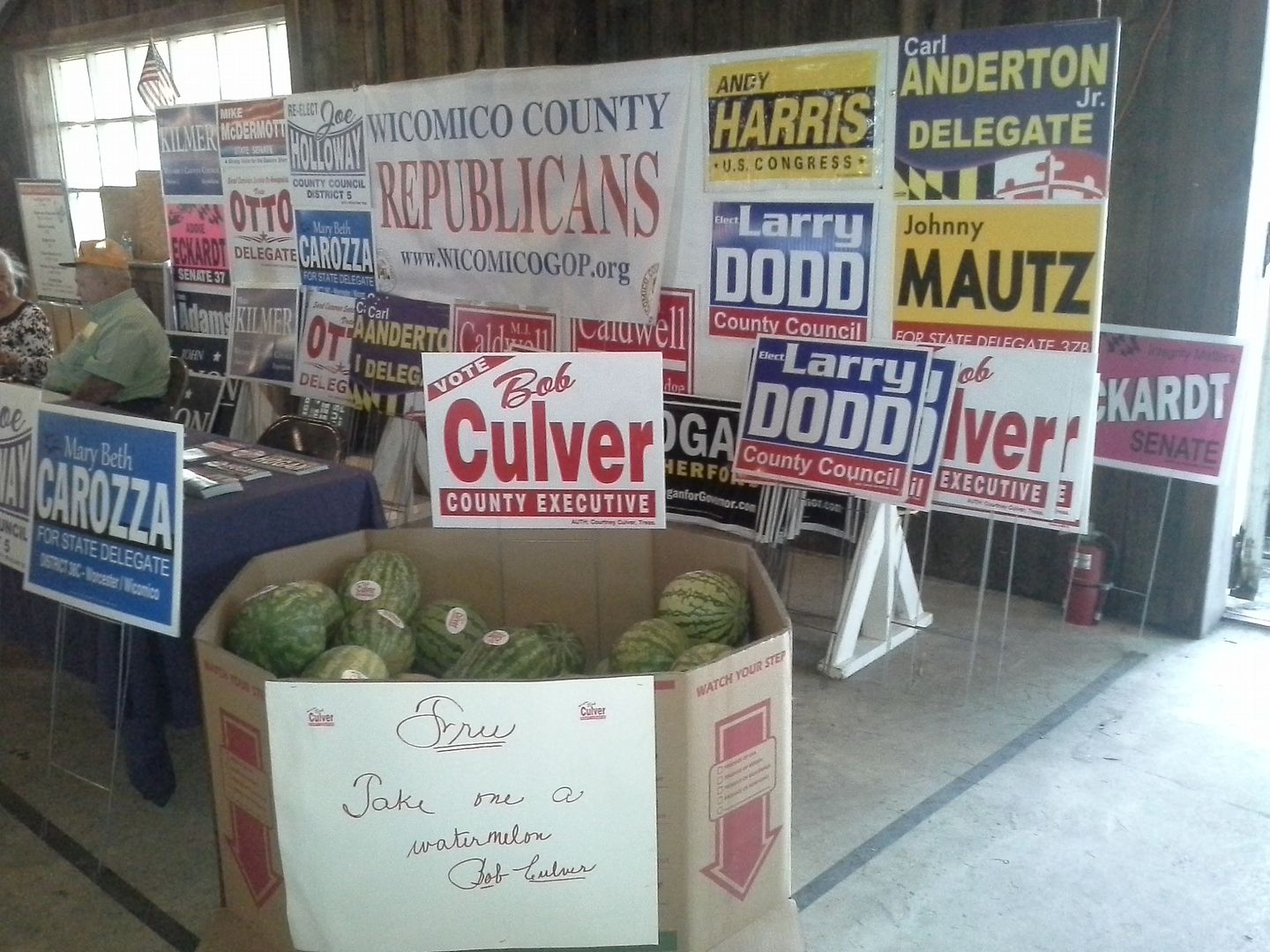 Of course, the indispensable part of the program was sitting at the table when I took that shot. Blan Harcum was one of many volunteers who helped out, though, so thanks to Helen, Marc, Jim, Woody, Leonard, Ann, and anyone else who spent some time there.
Some of the candidates stopped by over the weekend as well. Thursday afternoon brought two County Council members and a third who wants to join that body.
Marc Kilmer (left) is running to represent District 2 on County Council, and as he noted it's the most rural district of the five. Arguably, Joe Holloway (right) represents the second-most rural district in District 5, while Bob Culver (center) is currently an at-large member who is now trying for County Executive. His watermelons were a hit.
I didn't stay too long Thursday; my main job was to get set up and check on the photos we entered. (More on that in a bit.)
So when I came back Saturday, I wanted to see what else was going on around the WHFS, beginning with the exhibit hall.
It was dominated by one feature, which returned from last year.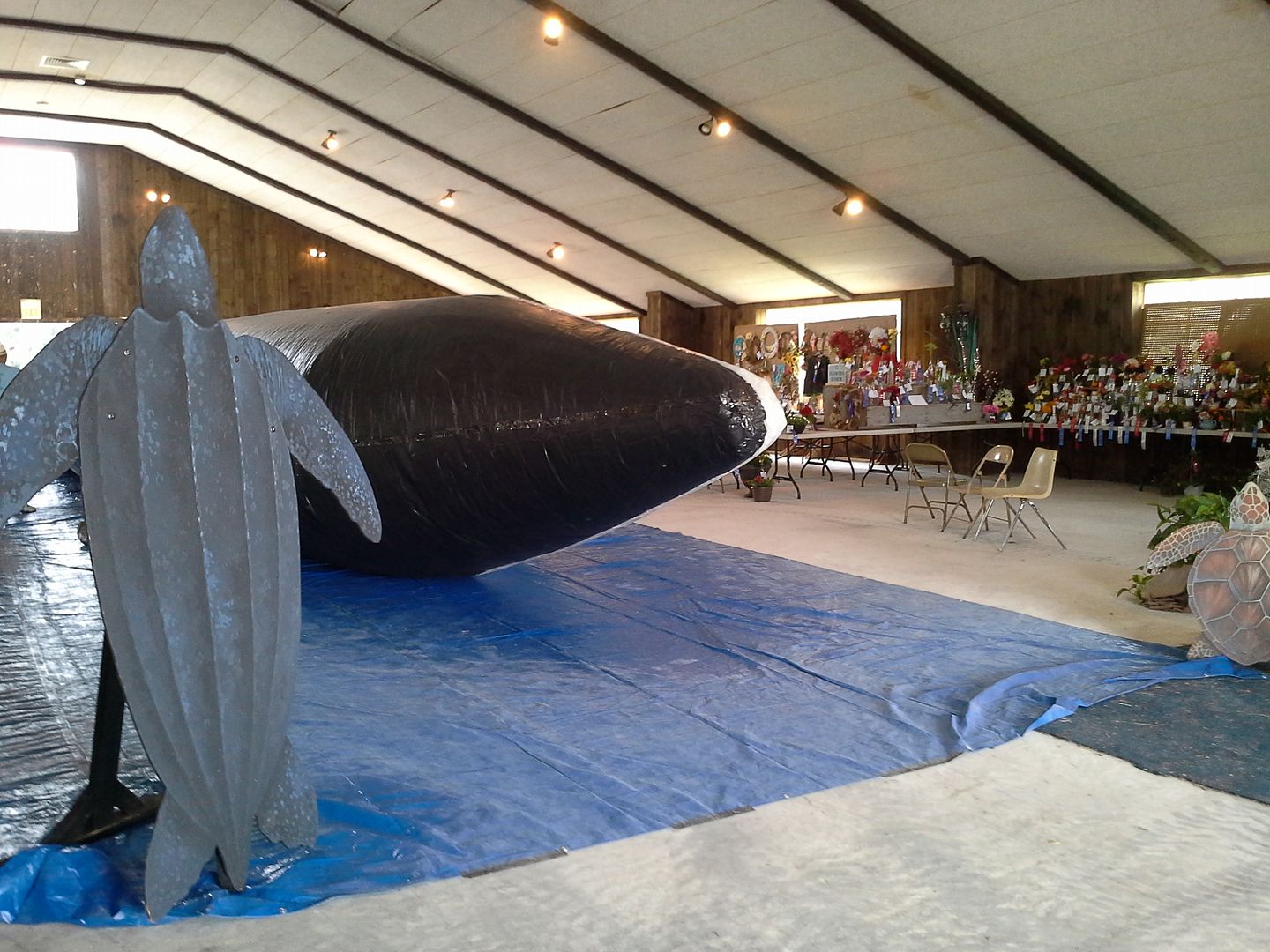 The National Aquarium brought back its inflatable whale, along with a table and accompanying signage.
In a similar vein but parked outside was the Phillips Wharf Environmental Center bus.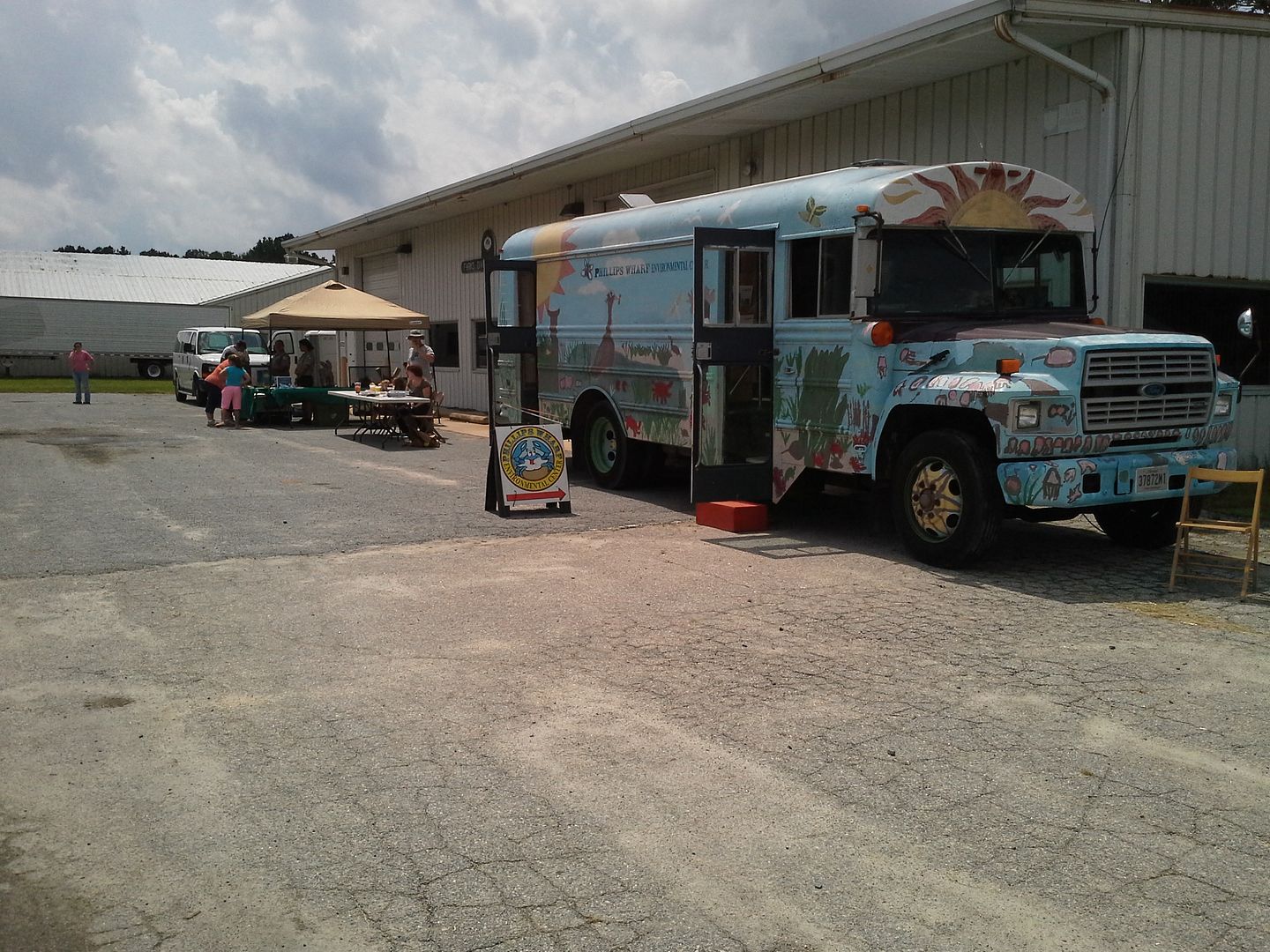 But the main purpose of the show was to highlight the farms and crafts of Wicomico County. On the farm side, there were all sorts of barnyard animals, such as these.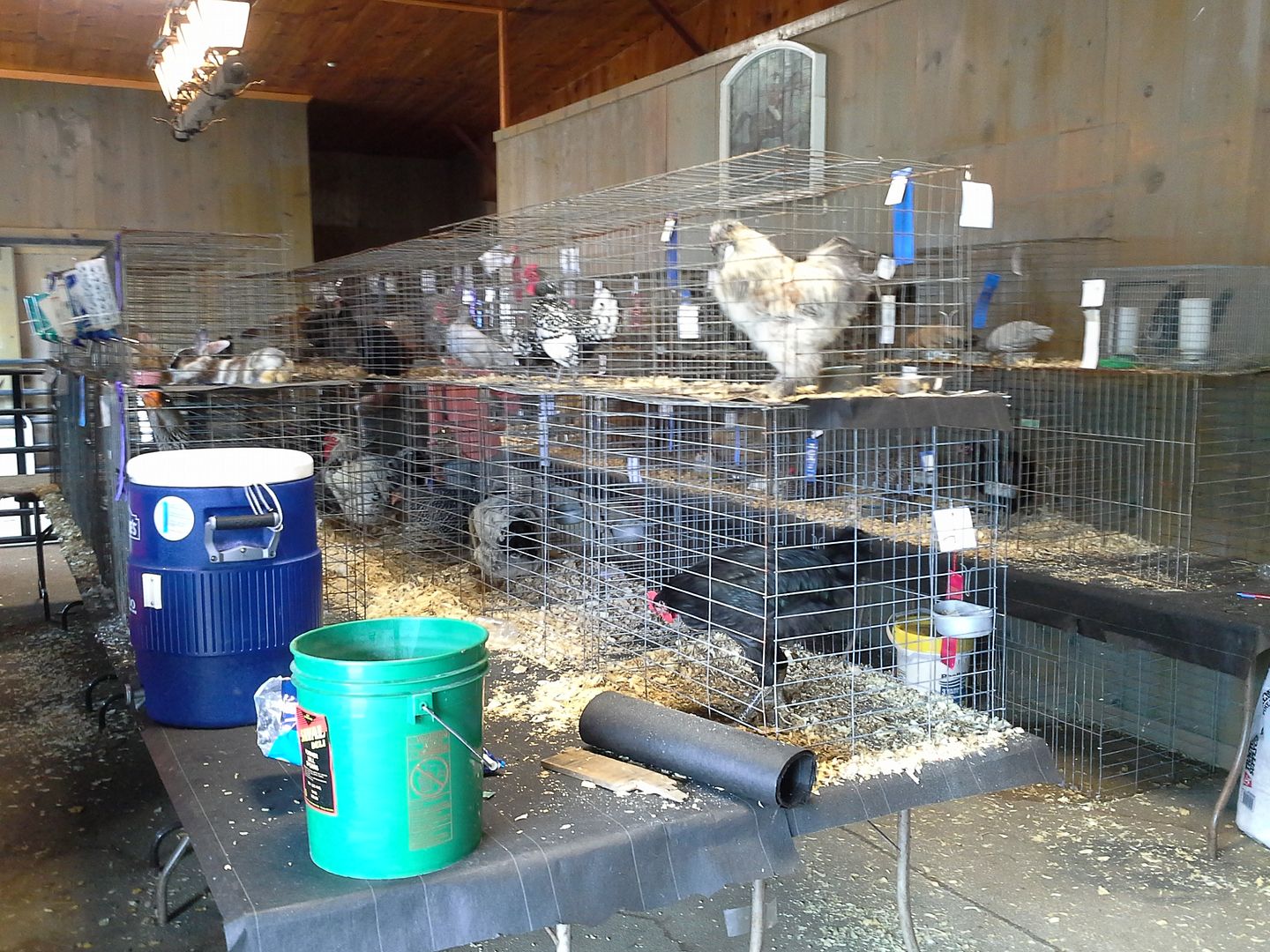 Just outside there, nervous contestants waited as their animals were judged. I think these guys were done, though.
On the inside of the exhibit hall, there were crafts and hobbies galore. I can see why this quilt won, although the best in show was very nice too.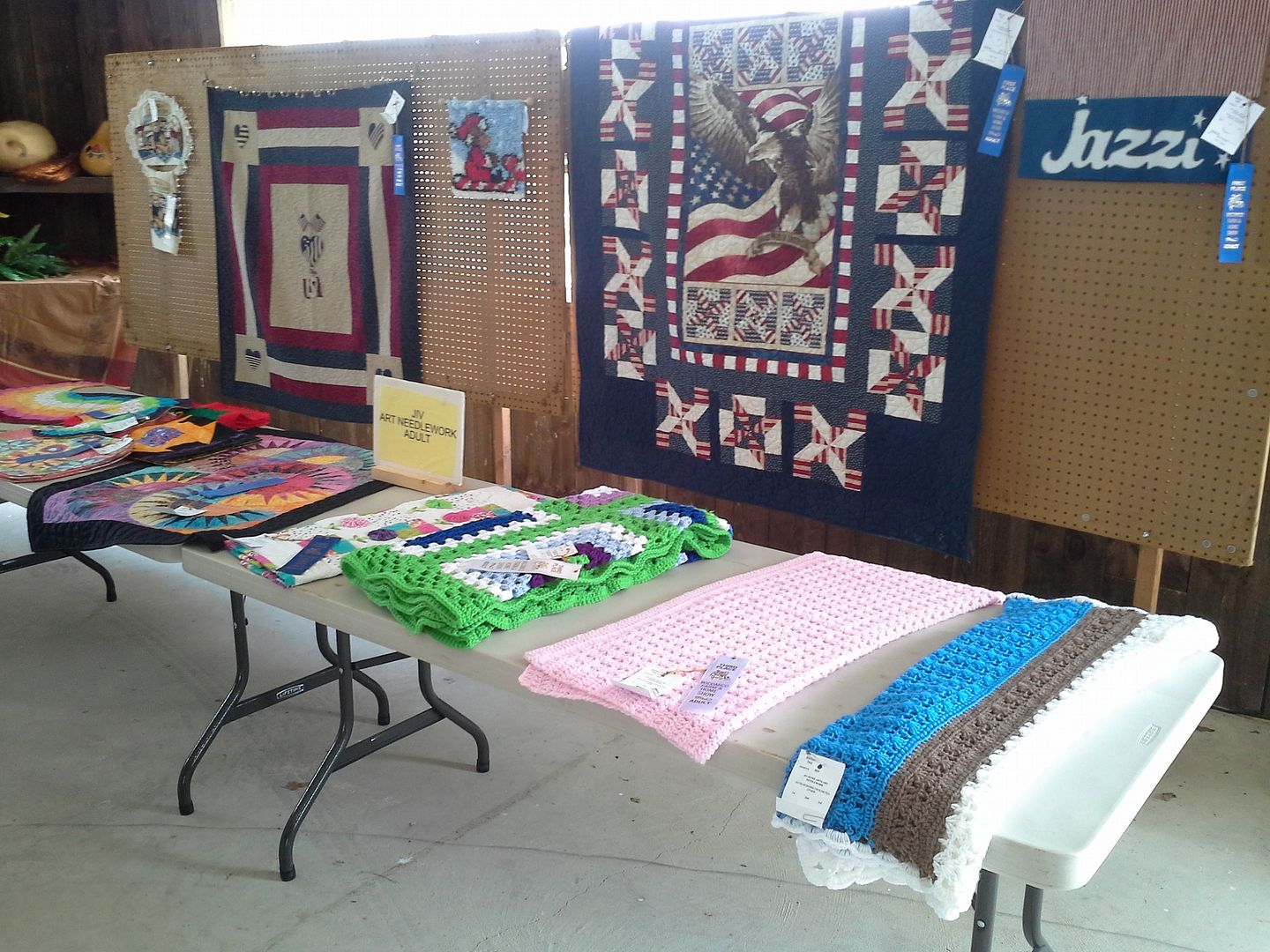 Fortunately, it wasn't just these attractions. The kids had their own little tractor pull, although there wasn't a version for the big kids this year like there was last time.
Not that they didn't have tractors around.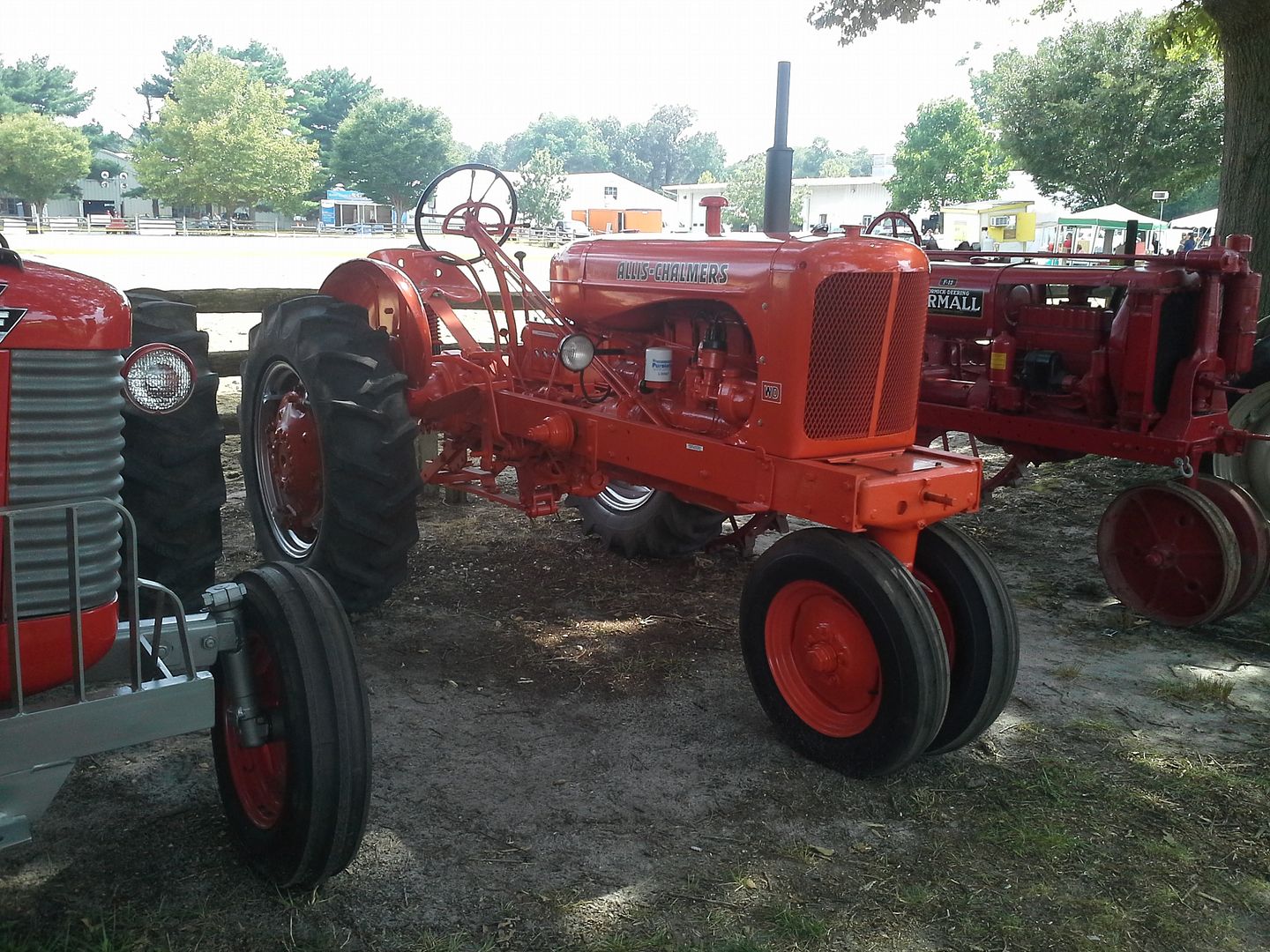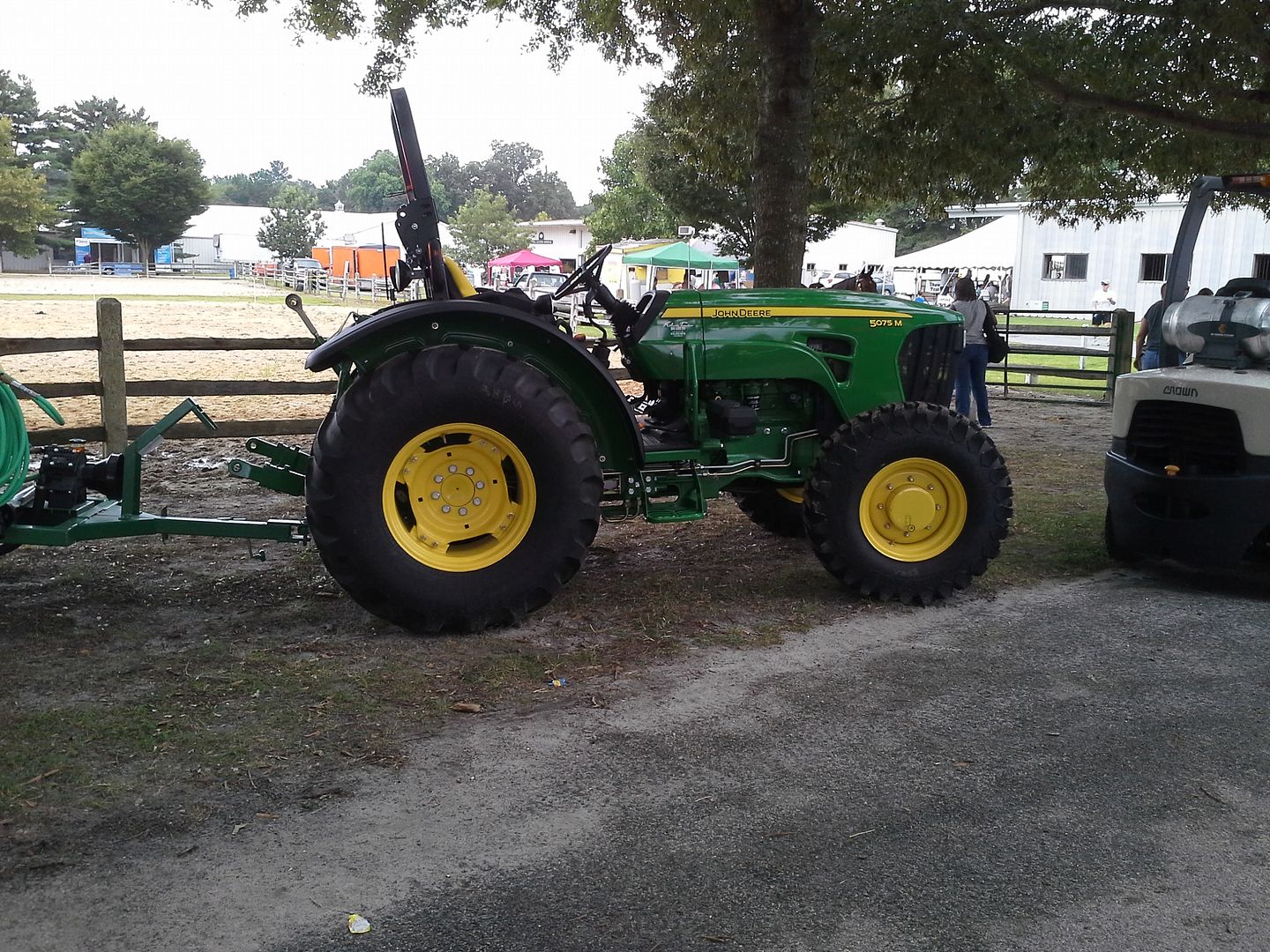 I'm sure the old ones are priceless to the owners, but I was floored to find out a similar tractor to the one I pictured (a Case/IH model as opposed to a John Deere) can run well north of $35,000.
As they did last year, there was a car show – one with its share of trucks, naturally.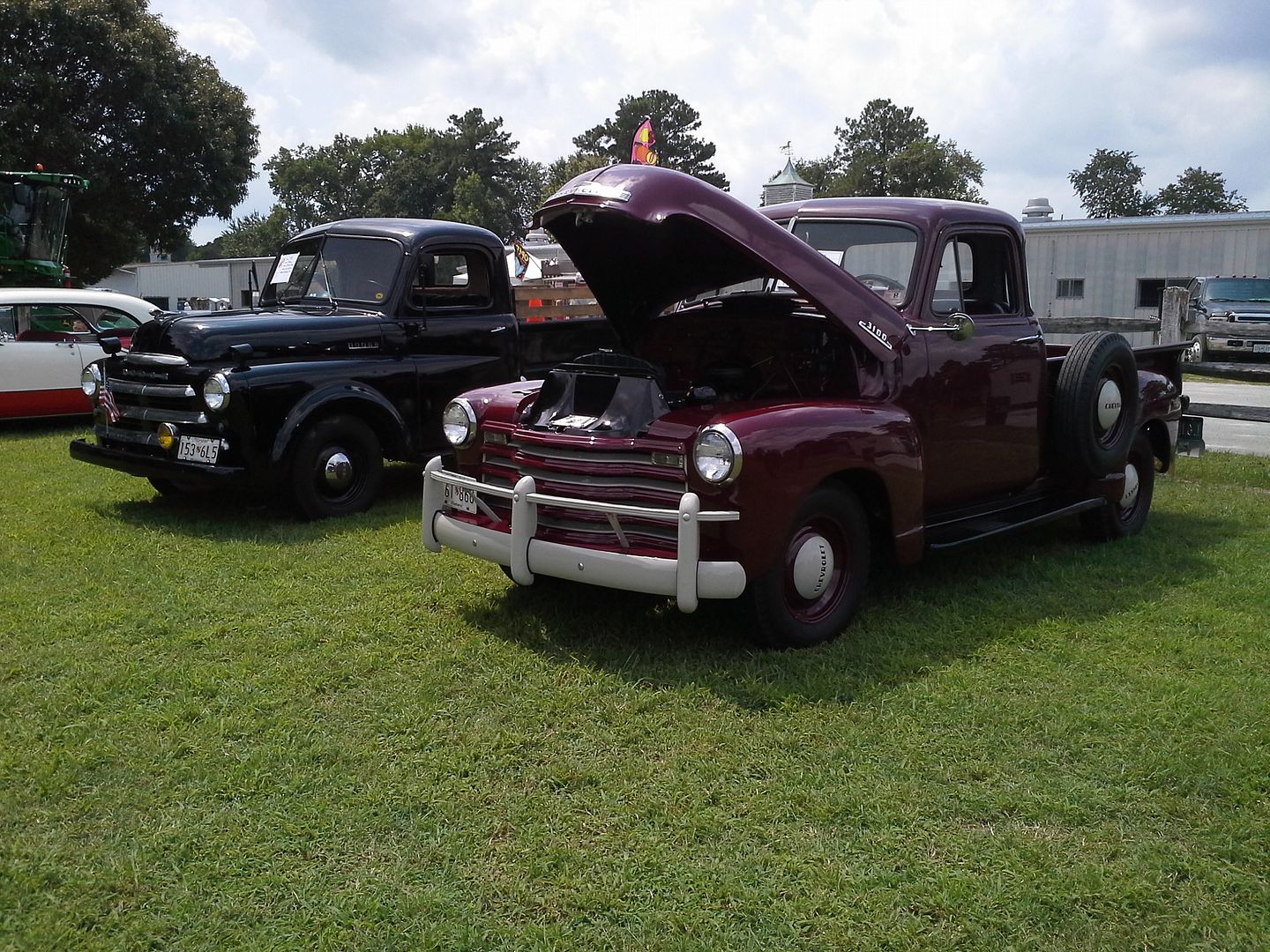 But the most interesting truck to me was this – one of the two military-themed trucks in the show.
The directional sign is supposed to resemble the one from the old TV show M*A*S*H, and it indeed includes Toledo in honor of Corporal Max Klinger. Actor Jamie Farr is a Toledo native.
This was a nice touch as well.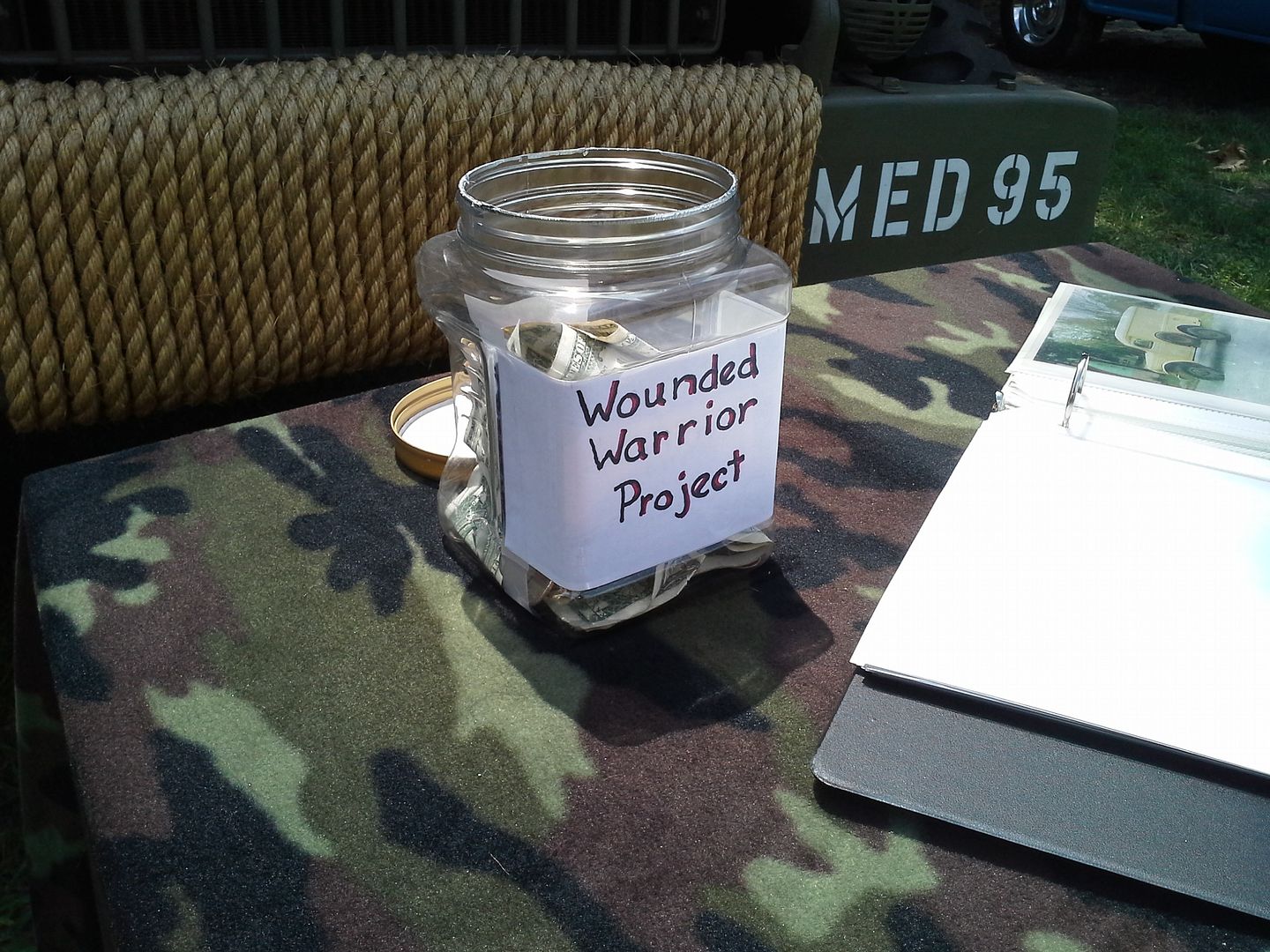 There was plenty of action in the horse pen, with an exhibition of Cowboy Mounted Shooting.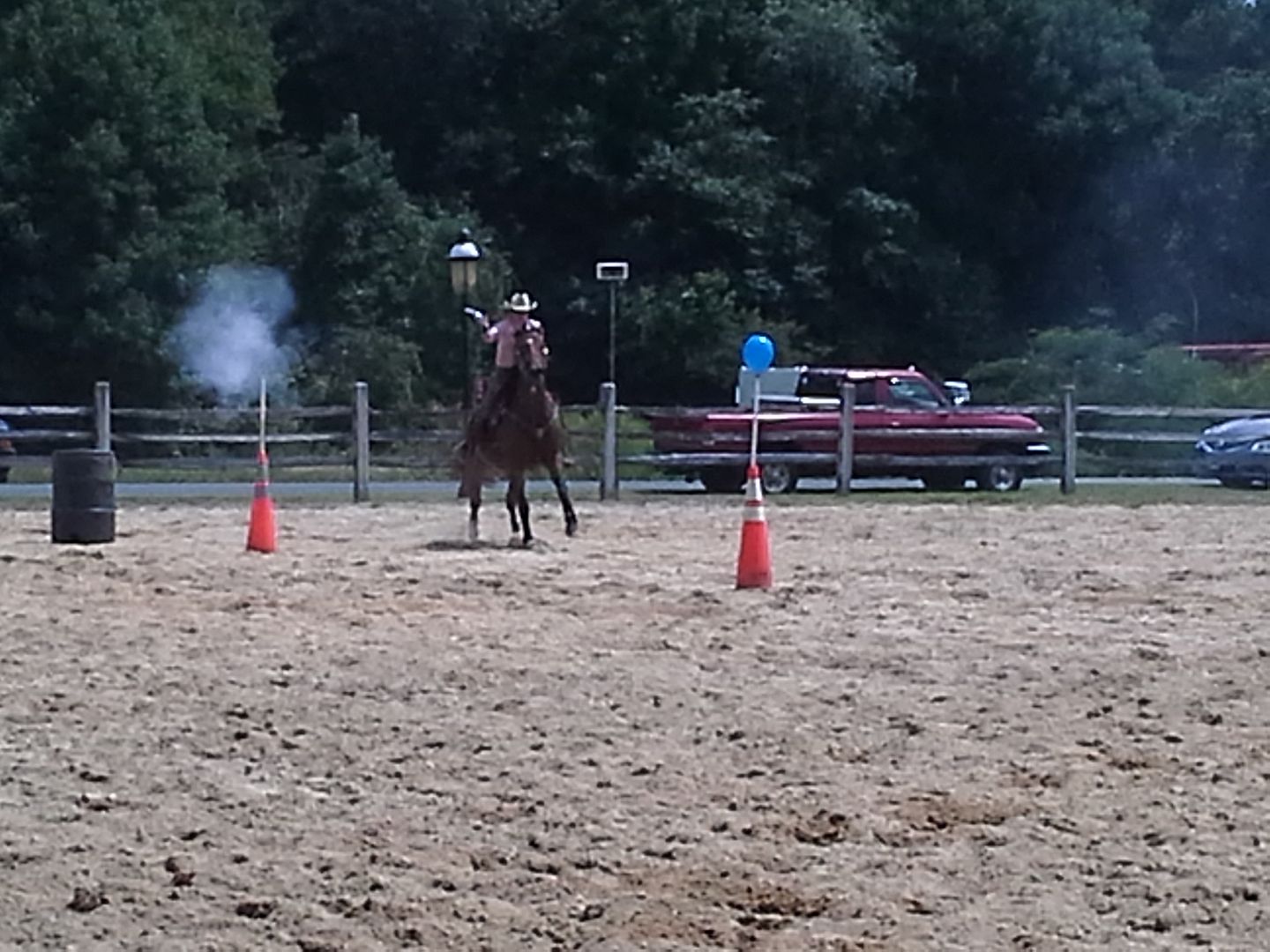 CMS is supposedly a fast-growing sport, with seven to ten new people signing up daily. It combines the agility of barrel racing with the accuracy of shooting – competitors try to shoot each of ten balloons on a preset course, with time penalties for missing a balloon or knocking a post over. Among the participants in this exhibition was the reigning Ohio state champion, who's from Delaware but recently won the title in a competition in Wooster, Ohio. (By the way, the bullets are modified theatrical blanks.)
It would be interesting to see if they could get a real, sanctioned competition here next year. Unfortunately, the organizers really didn't have much in the way of activities during the late afternoon hours leading up to the awards.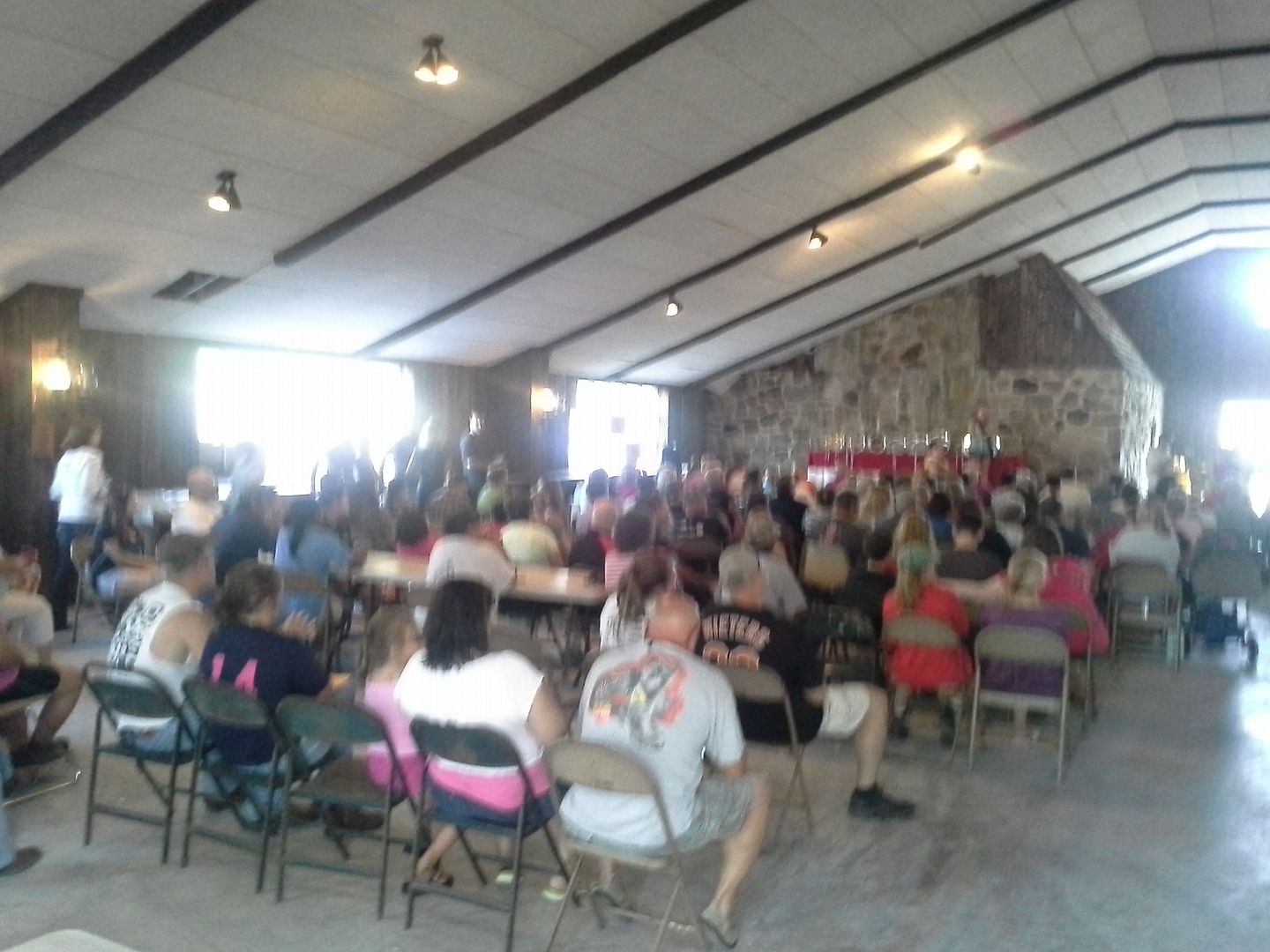 One of those awards came right back to my household, as my fiance Kim won Best of Show in black-and-white photography. And if you recall that old tractor I pictured above, my photo of the slightly-less restored version from last year won me a second place ribbon in its category. (Yes, I took it at the 2013 WFHS but didn't use it in the post.) Not bad for a rookie who only entered three photos – although Kim and her daughter Kassie both had more first place ribbons than I had photos.
For next year, I'm sure the Wicomico GOP will have a presence, although it will be more muted after the 2014 election. If the creek don't rise I'll have some pictures and hopefully they'll attract more events. The 2016 rendition will be the 80th annual so it's time to build momentum.
First, the setup: one of the many e-mails I've received beseeching me for donations. It asks "Are you on this list, Michael?"
Michael,

Chairman Walden just sent me a list of NRCC Members for 2014, and I don't see your name.

I know you've been one of NRCC's most loyal supporters since the start, this just can't be right.

You donated in the past in defense of a Republican House Majority, but not yet this year.

It's getting urgent with 80 days until Election Day. We need you now more than ever. We're working to stop the Obama campaign machine in its tracks – BUT we can't do it without you.

In order to combat the $374 MILLION that Democrats are spending this cycle, we need grassroots supporters like you to renew your support for Republicans across the country today.

Together we'll rally families and workers to stop President Obama's disastrous Big Government Agenda – and advance better solutions for a brighter future.

Please don't wait another moment. Renew your NRCC membership today with a gift of $10.

And, if you renew by tonight at midnight, I will triple your donation, so your gift of $10 will have an impact of $30.

Thanks,

John Boehner
Speaker of the House
Let's clear a few things up. I don't think I've ever given a penny to the NRCC, so they're pulling that one out of their rear end.
But more importantly, what have you really done to "stop President Obama's disastrous Big Government Agenda?" Have you defunded Obamacare or told the EPA where to go? How about impeaching some of the lesser members of the administration? Of course not, because your consultants said it would drive away independents, as if most of them will vote in a non-Presidential race anyway.
And then you have what this duly-elected Congressional nominee wrote yesterday:
I just pulled over about 2 hours into a trip to Allegany County to write this. I think it's time.

Have you heard of the National Republican Congressional Committee (NRCC)? They exist to allegedly help Republican candidates get elected to congress. Do you know that it's been months since my victory in the Republican primary in Maryland and I haven't heard a peep from either them or the RNC?

Do these establishmentarians think it's easy running as a Republican in deep-blue Maryland? Do they think that after years of having OUR party nearly taken over by cronyists, interventionists, purveyors of bad policies like TARP and grotesque levels of government spending, that outsiders like me have it easy?

I can barely knock on an Independent's or a non-white-male-voter's door without being thrown off their porch. Do you feel that you've mastered the message and it's really people like me who are the problem? Who do you think is fighting this battle? It's certainly not you. We're the ones at the doors, where it matters.

What's your reason for ignoring me, and the many others fighting for this magical country's tomorrows? Do I not fit into your box? Is it my youth, my message, or is it that I haven't firmly planted my lips on your rear-end?

I'm a Republican because I believe liberty matters and we should not surrender OUR party to cronyists and connected-insiders. We built this house and you don't get to burglarize it and keep the spoils. If elected Democrats want to monopolize unlimited government and evaporating liberty then go join them in their house but stay out of ours.

Finally, thanks to the grassroots who have accepted me as one of their own, despite my recent entrance into the political arena. It's your sweat and positive energy that keeps me going despite the willful ignorance of so many on the inside. It's you that matters. Thank you so much.
Really? You at the NRCC ask me for money and don't support a guy like this? Well, perhaps I have an idea why Dan Bongino and others like him get the shaft. I won't blockquote the whole thing, but a piece by Dr. Steven J. Allen of the Capital Research Center is worth reading in order to get a peek into what I think is the mindset of the NRCC and "establishment" Republicans at large.
But the problem isn't just Washington. Just look at what the Democrats have tried to stick on Larry Hogan with the help of a most compliant media. From a Michael Dresser piece in the Sun:
"The No. 1 priority is to expose Larry Hogan as a conservative, knee-jerk Republican who doesn't support universal pre-K and doesn't support a woman's right to choose, doesn't support increasing the minimum wage but instead supports giving billion-dollar tax giveaways to the largest corporations," (Anthony Brown campaign manager Justin) Schall said.
Needless to say, there was no follow-up as to why universal pre-K is so vital (Head Start has been shown to be ineffective after grade 3), proof that Hogan isn't pro-choice, and, frankly, why Brown thinks we should be confiscating tax money from our largest employers – you know, those people who create jobs that have value rather than push paper?
Unfortunately, this is what Hogan's side had to say.
"We obviously have to get our message out to a broad segment of the population. We have to lay out a clear vision of what we want to accomplish," (Hogan campaign manager Steve) Crim said. "It's a humanization. It's showing people that Larry does care about everyone."
I didn't know that was a question. I would contend that Anthony Brown only cares about the special interests bankrolling his campaign. So why is it implied that the Republicans don't care about everyone? I deeply resent that implication.
Or read this lead paragraph from John Wagner in the Washington Post:
To hear Maryland Democrats tell it, a victory for Republican gubernatorial nominee Larry Hogan could lead to the legalization of additional assault rifles, new limits on women's access to contraception and the clock being turned back on gay rights.
Prove it. Come on, Maryland Democrats, let me see the legislation Larry Hogan has proposed to do just that. Put up or shut up. Unfortunately, Larry plays along to an extent:
"It seems like every other day, we're getting some off-the-wall attack on something that no one cares about," Hogan said. "They're trying to make me into a right-wing, tea party Republican."
Trust me, Maryland, if only…but he's the best we have to work with.
It's time for a little attitude. Later in the Post piece, the whole Michael Peroutka affair is brought up, and look who went dumpster-diving for that minor little issue:
The Brown campaign e-mailed reporters about the secessionist views of Michael Peroutka, a Republican council candidate in Anne Arundel, where Hogan lives. Hogan promptly responded by saying Peroutka's views have no place in politics. An aide said that Hogan and Peroutka have no relationship. (Emphasis mine.)
Divert from important issues much? The Brown campaign is worried about a local County Council race? I think I'd worry more about the $150 million or so of taxpayer dollars you wasted on a balky website than one person's personal views, which wouldn't affect how he served the public in his capacity anyway.
There are a lot of fed-up people out here in the real world. They're tired of struggling to make ends meet while watching the borders and the law be ignored, their taxes constantly go up while government cronies prosper, and being told their conventional, Judeo-Christian views of morality are politically incorrect and intolerant. I'm sick of it, too.
I have a number of friends who are Democrats. A lot are great people, and perhaps there are places we share political common ground. But to blame Republicans for the problems affecting this state and nation is the height of folly, considering who's been in charge recently. Simply put, the Democratic prescription is not making the patient better; instead, Uncle Sam is more infected and weakened than he was when the Democrats took over Congress in 2007 and the White House two years later.
The real truth is out there beyond the headlines. Talk to the people, and they will tell you just what I said a couple paragraphs above. Maybe the political consultants and hucksters who keep putting out constant e-mail appeals for my money (trust me, it comes from both sides) are getting a cut, but I say we ignore them and just give to our favored candidates. (Okay, I will make an exception for the state GOP, if only to keep their lights on and phone working.)
I think somewhere we lost our way, and the world needs good leaders on par with our Founding Fathers to steer us back. Just wish I knew who they were, because when I look at a lot of those people who would deign to be our national leaders I see a load of snake oil salesmen.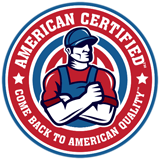 I put together a few things this week, and what's apparent to me is that the political world doesn't really take a break in August.
Take for example the late-session attempt to promote "Buy American." Does it really have a chance in Congress before the session ends? Probably not, but it keeps Ohio Sen. Sherrod Brown in the headlines and the favor of his friends in organized labor.
But labor should be more concerned about some of the points brought up by my AC cohort Ed Braxton in two articles this week, particularly if his assertion that manufacturing is moving beyond labor is correct. But he also contends that American-made is gaining credibility again in the global marketplace.
On the other hand, we seem to have an Environmental Protection Agency which is bound and determined to drive jobs back overseas. Coal miners and their allies came out in force to recent EPA hearings in Pittsburgh, driven by a proposed standard which they contend would all but wipe out their industry. As a buttress to their contention, it was also revealed that a separate EPA effort to reduce ozone standards to as low as 60 parts per billion (from a current level of 75 parts per billion, established in 2008) would cost the American economy dearly. Perhaps the worst thing is that the EPA doesn't even know itself how compliance can be attained.
Having sat down and written a couple pieces for next week, I can tell you trade will be on my radar screen. As is often the case, politics will play a role there but you'll have to wait and see how I interpreted it.
Perhaps it's a case of sour grapes because he wasn't asked to the photo-op and his opponent was, but Mike McDermott makes the case that the three politicians plastered across a recent edition of the Daily Times are "posers" in more ways than one.
Here's a little of what McDermott had to say:
What is disturbing is when politicians stand up in front of the public, hold up those giant prop checks, and, in turn, hand them over to a local group or official as if it came out of their personal bank account. This is the great ruse of politicians and it is all done with (other people's money.)

US Senator Ben Cardin poses with a Cheshire Cat grin holding a "check" signed by "U.S. Treasury" and takes a bow for a runway project that is simply part of ongoing improvements and upgrades at an airport that we pay for! To add more irony to the mix, Cardin and Jim Mathias pose with the check standing with a US Airways Turboprop in the background. After all, it is that private sector company (US Airways) who pays fees and taxes along with every passenger who flies in and out of the SBY terminal that have foot the bill for that runway. Heck, we even pay for the politician's flights when they use the runway!

Taking credit is what politicians do best. Especially in an election year. Are we to believe that a state senator holds sway over the Federal government? No way! However, as a means of political control and illusion, whenever the Democrat power brokers show up with one of those checks they wrote on our account, they always put their arm around their local democrat politicians and infer that they had something to do with it. We saw the same thing in Crisfield following the devastation of Sandy. Frankly, it is shameless.

It is no different with school construction allocations or highway money; all of these things are projects on a list that are placed on a timeline. When their turn comes up, we will hear how hard the politician worked to aid in the process, but it is all just smoke and mirrors.

Ben Cardin and Jim Mathias had little to do with the decision to improve upon a runway at SBY. They simply acted as government couriers. After all, when someone sends you a beautiful bouquet of flowers, do you fall all over yourself thanking the delivery person from the florist for the thoughtful gift?
After reading the Daily Times report from Phil Davis, one thing jumped out at me:
Federal aviation inspectors have encouraged the airport to apply for the grant to renovate the runway for the past seven years, said Bryant, as the airport has been written up in each of those seven years for "maintenance issues" with the runway.
So they have known this is a problem with the "alternate" runway – the one which runs more north to south – since 2007, which rather neatly coincides with the tenure of office of both Cardin and Mathias. One would think if these officeholders had so much pull that this would have been addressed several years ago, rather than the airport be written up for seven straight years. Maybe now the airport won't lose money as it has this year, with just under $1.13 million in revenues reported for the first eleven months of FY2014 vs. just over $917,000 in revenue. It still needs a lot of work.
In all honesty, it doesn't matter about the particular project – what does matter is that Jim Mathias and Laura Mitchell received some media attention for something they had little to do with, but looks good for campaign literature.
And that's the problem with a lot of our politicians. They participate in the photo-op, ribbon-cutting, or groundbreaking which implies that they actually had something to do with the new enterprise, but in reality it's often the capitalist who's either risking their own wealth or having it taken from them to pay for the project. That's not to say this airport runway improvement won't do the area good, but McDermott's point that it's really the private sector who is paying the freight (with only a select few getting the benefit) is a valid one. Moreover, one has to ask how many other public facilities elsewhere benefited from our money because their representatives had more pull.
It's a question of priorities, and for those in the photo-op it appears their priority is maintaining their elected position. We can do better.