Yesterday, in my thoughts on an unrelated subject, I alluded to the massive loss of jobs in Maryland. Turns out it was worse than I thought – based on the unrevised Bureau of Labor Statistics totals, 16,286 fewer people in Maryland were working in July than June, adding 10,057 to the ranks of the unemployed.
The state compiles this data for Wicomico County as well, and I thought it would be instructive to note the June totals for the last several years. It's worth noting that employment here normally tops out in July, with June usually a close second. The numbers are readily available for the period 2009-14, which covers the trough of the recession and the recovery.
So here are the June totals since 2009:
2009 – 49,271 employed, 4,556 unemployed (8.5%)
2010 – 49,548 employed, 4,856 unemployed (8.9%)
2011 – 49,160 employed, 5,030 unemployed (9.3%)
2012 – 49,585 employed, 4,759 unemployed (8.8%)
2013 – 48,991 employed, 4,526 unemployed (8.5%)
2014 – 48,760 employed, 3,964 unemployed (7.5%)
Over the five-year period, the unemployment rate went down 1 percent, but the number employed also went down by 511.
Just as a comparison to use a (generally) worst-case scenario, here are January numbers:
2009 – 47,015 employed, 4,722 unemployed (9.1%)
2010 – 45,526 employed, 5,669 unemployed (11.1%)
2011 – 46,838 employed, 5,393 unemployed (10.3%)
2012 – 46,758 employed, 5,178 unemployed (10.0%)
2013 – 46,806 employed, 5,066 unemployed (9.8%)
2014 – 46,711 employed, 4,338 unemployed (8.5%)
Over that five-year period in the month which is generally the nadir for local employment, we still lost 304 jobs although the rate deceased 0.6 percent.
But it's estimated that Wicomico County gained 2,163 people between the census in April, 2010 and the 2013 estimate. So how are those people supporting themselves on 300 to 500 fewer jobs?
The title of this piece comes from a tagline and hashtag that District 38B candidate Carl Anderton, Jr. has been using during his campaign. While state numbers have fluctuated due in large part to changes at the federal level, the number of jobs in this area really doesn't depend on the mood of the federal government. Instead, much of it is influenced by the policies at the state level and, judging by the figures, it's pretty obvious that what's being tried isn't working – particularly if you're one of those who had a job and lost it.
It's often forgotten that the government doesn't necessarily produce anything nor does it create value. Even in cases where infrastructure is being improved (such as the airport runway I described a few days back) the actual work is contracted out to a private company. But that private company has to follow additional rules and regulations to access that federal money, ones which may not apply in a truly private transaction – oftentimes there is a prevailing wage provision, for example. Meanwhile, we also have to pay the bureaucrats who reviewed the grant application, wrote the specifications, and so forth. The airport is receiving $5.53 million, but it may have cost taxpayers $7-8 million with the overhead involved.
Simply put, the Washington bureaucrats served as a conduit and a filter, meaning they received their cut first. Sure, this project will create a handful of construction jobs but imagine what the overhead could have done. It's pretty much the same when Annapolis or local government is involved, since they get their cues from higher levels.
There are a number of economic drivers which this area relies on: agriculture (particularly poultry, with the feed stock being an integral part of this), tourism, and to a small extent, technology (thanks to spillover from Wallops Island.) Here's where we really need help from the state:
improving transportation by using the gas tax we pay to actually build the needed bypasses and through routes to make access easier for tourists and getting goods to market more efficiently for producers;
leaving alone our true environmentalists, the farmers, by allowing them to use their land as they see fit and reforming the transfer of development rights to a generational term rather than perpetual;
creating a sales tax-free zone to allow us to compete directly with Delaware for retail sales;
finally, putting an end to blaming farmers for environmental problems and looking at common-sense solutions for cleaning the Chesapeake Bay. Work on the problems we know we have and put a moratorium on new regulations until we can determine how well the ones we have in place work.
Larry Hogan addresses some of the problem in his new video:
But the other side of that is reining in the Maryland Department of the Environment and Chesapeake Bay Foundation, neither of which Hogan addresses. That's okay, though; I'd rather not telegraph those sorts of moves.
I have often seen complaints from the other side (of both the Bay and the political spectrum) that we on the Eastern Shore take more from the state than we give to them. For the sake of the argument, let's say that's true.
One has to ask, then, why this is the state of affairs? The people of the Eastern Shore seem like the hard-working, prideful sort who don't like the thought of handouts. All we want is a chance to shine and do what we do best – left to our own devices, we can prosper and lead the state.
But there are those who like the Eastern Shore just as it is, preferring it remain rural and backward so they can look down on us and refer to us as the state's "shithouse" as they fly through on the way to their beachfront Ocean City condo. Those are the people who need to be on the outside looking in politically in order for us to succeed.
As more proof that Democrats in Maryland are bereft of good ideas – or, for that matter, any clue on how to turn this state around – I bring you the continuing Michael Peroutka saga.
Fresh off his screed about the Maryland GOP and illegal immigration, onetime columnist Barry Rascovar has unearthed a new bogeyman in the person of Peroutka, devoting an entire column to rehashed opinions about how frightening Peroutka's Christian Reconstructionist views are – a "bizarre view of government," as Rascovar writes. Peroutka "could be the nail in the coffin for the Republican Party's hopes of winning over independents and conservative-leaning Democrats," writes Rascovar. Like he honestly cares about the fate of the GOP? Truthfully, I think the people are smart enough to see through this ploy for what it is, the last refuge of scoundrels.
Naturally, a group of Democrats has put together their own anti-Peroutka website, emblazoned with the Confederate flag. As Len Lazarick writes at Maryland Reporter:
Anne Arundel County Council member Jamie Benoit and a prominent Democratic lawyer have launched a political action committee and website called StopPeroutka.com "dedicated to educating voters on the theocratic policies and bigoted national network of Michael Peroutka," a Republican running for Anne Arundel County Council in District 5.

Benoit is term-limited and this is not his district.

Dan Clements, an Annapolis resident who is former president of the Maryland Trial Lawyers Association and active in many Democratic political campaigns, is the treasurer of StopPertoutka.com, which filed its paperwork 10 days ago.
So it's an outgoing Anne Arundel County council member and a trial lawyer who are worried about a county council race while Rome is burning – from February through July this year, Maryland has shed 16,600 jobs, 14,500 more people are unemployed, and the largest employment sector remains government. All this is from the Bureau of Labor Statistics, yet Democrats from Anthony Brown on down are completely concerned about one candidate's views.
If Michael Peroutka wins, he will be just one of seven members on Anne Arundel County Council. He's already become one of 13 members of the Republican Central Committee in Anne Arundel County, but will be a minor cog in the 300 or so who make up the state Central Committee. It's not exactly great odds if you're looking to build up a theocracy, now is it?
So I'm going to restate what I think should have been made clear a month ago when the subject first came up:
While I don't personally agree with the League of the South's views on secession, the fact that Democrats are using this national issue in a local race speaks volumes about what they're worried about come November. As a local Council member, Peroutka will have little influence on broad cultural and spiritual context nationally, although one has to ask why our opponents would disagree about reminding our people that we were "endowed by their Creator with certain unalienable Rights."
Rather, the focus should be on the important issues where the opposition regularly falls short: addressing a "rain tax" which is unfairly penalizing certain counties of the one state which has rolled over to federal demands rather than standing up and asserting a shared solution proportionate to the cause of the problem, rightsizing a local government which can be more efficient in its services while minimizing its reach into people's pockets, and, above all, listening to the people and not the siren song of a state government too powerful for its own good, one where the opposition has fiddled while this great state burned under a stalled economy and terrible business climate.
As long as Peroutka can be a trusted public servant who devotes his time and effort to the people of his district while advocating for the causes he's placed on his platform, his affiliations are his business. It is a local matter and I trust the voters of his district will judge the candidates accordingly.
So when the other side asks about Michael Peroutka's views, ask them if they're as important as the desire of any of the 14,500 recently unemployed people in the state to get a job. Either that retort shuts them up, or if they continue you know they have nothing.
It's not a whole lot, but it is ours. Over the weekend another Wicomico Farm and Home Show – the 78th annual – was put in the books. As has been the case the last several years, I was there to help with the Republican table.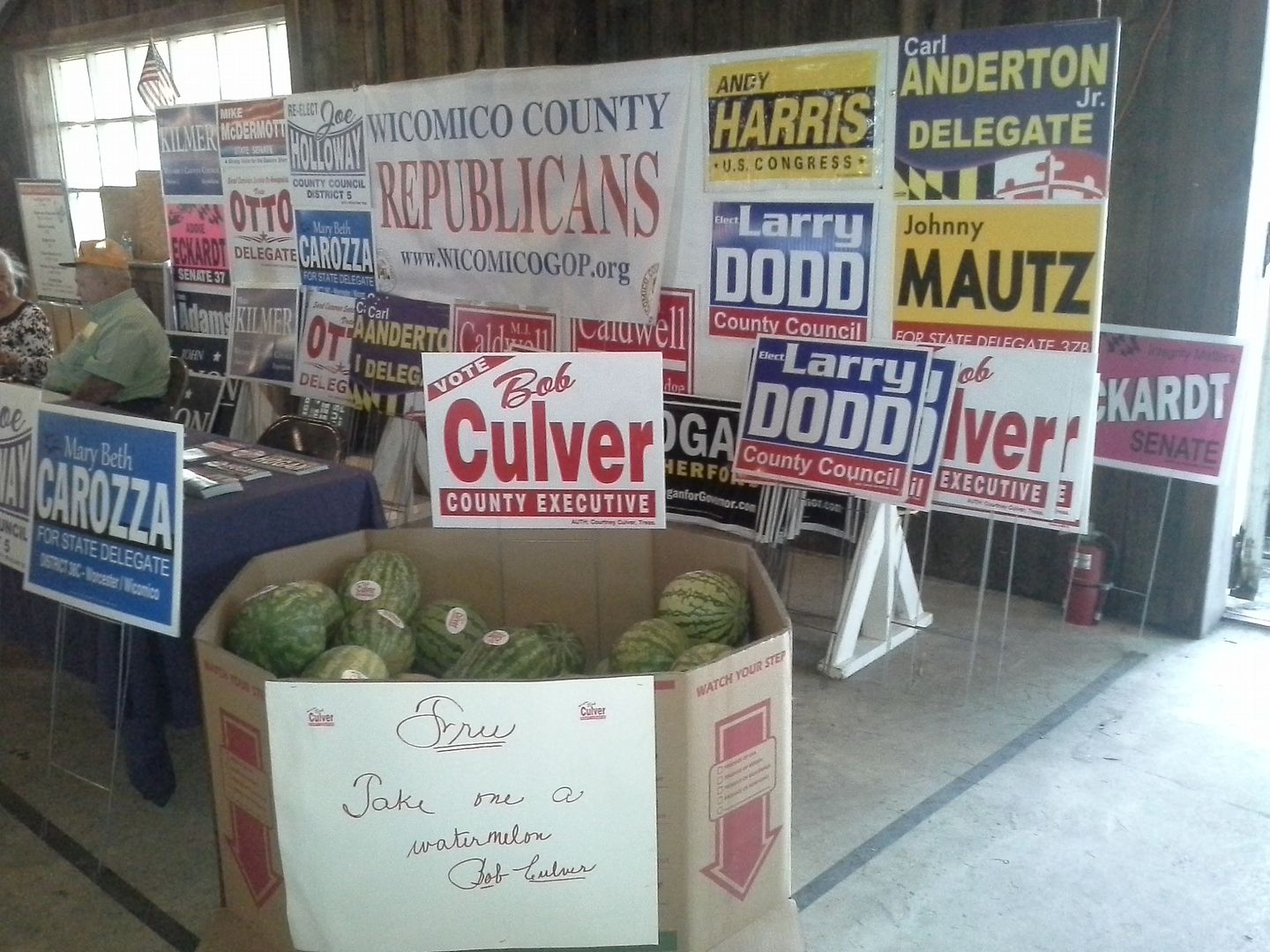 Of course, the indispensable part of the program was sitting at the table when I took that shot. Blan Harcum was one of many volunteers who helped out, though, so thanks to Helen, Marc, Jim, Woody, Leonard, Ann, and anyone else who spent some time there.
Some of the candidates stopped by over the weekend as well. Thursday afternoon brought two County Council members and a third who wants to join that body.
Marc Kilmer (left) is running to represent District 2 on County Council, and as he noted it's the most rural district of the five. Arguably, Joe Holloway (right) represents the second-most rural district in District 5, while Bob Culver (center) is currently an at-large member who is now trying for County Executive. His watermelons were a hit.
I didn't stay too long Thursday; my main job was to get set up and check on the photos we entered. (More on that in a bit.)
So when I came back Saturday, I wanted to see what else was going on around the WHFS, beginning with the exhibit hall.
It was dominated by one feature, which returned from last year.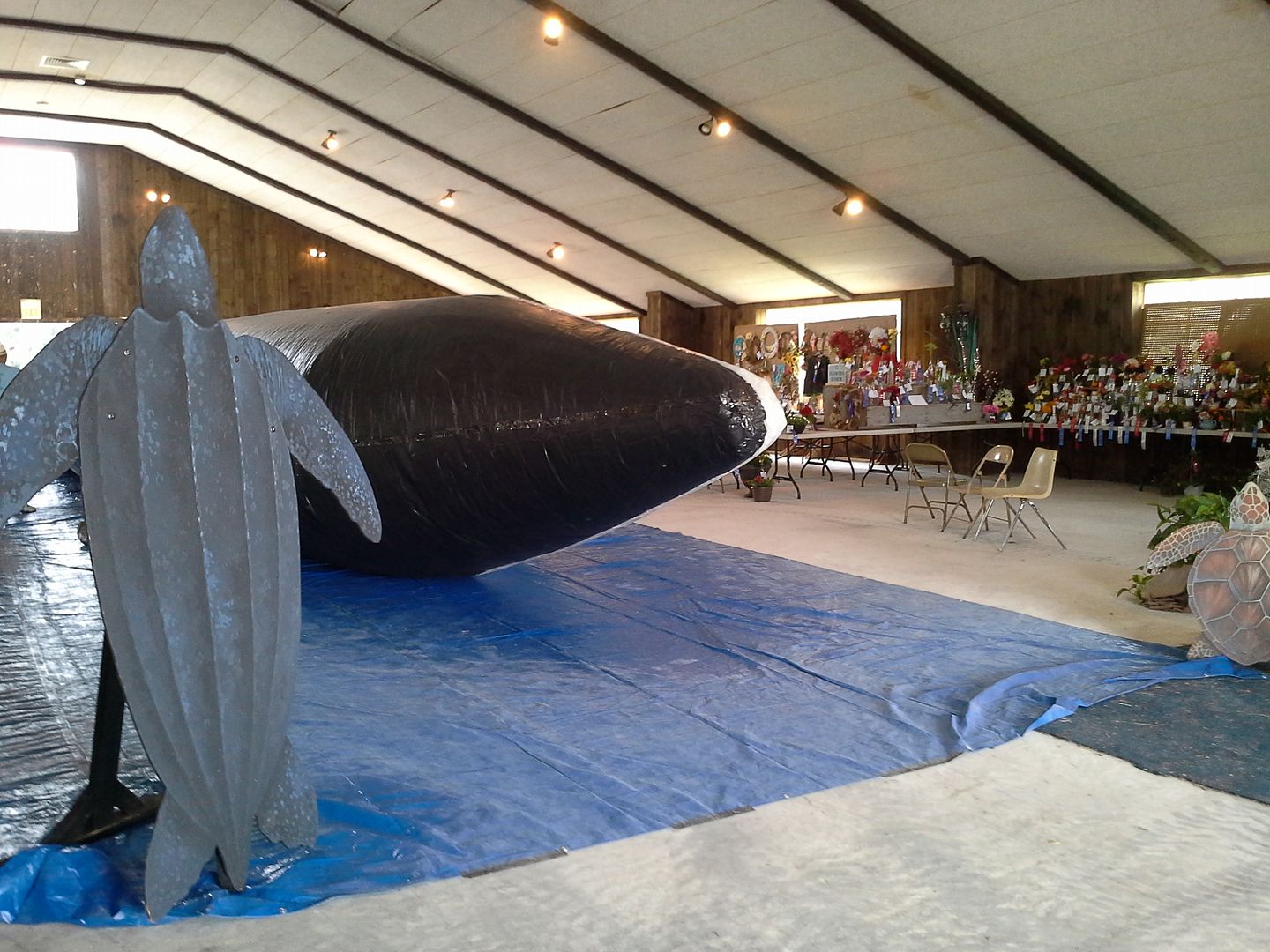 The National Aquarium brought back its inflatable whale, along with a table and accompanying signage.
In a similar vein but parked outside was the Phillips Wharf Environmental Center bus.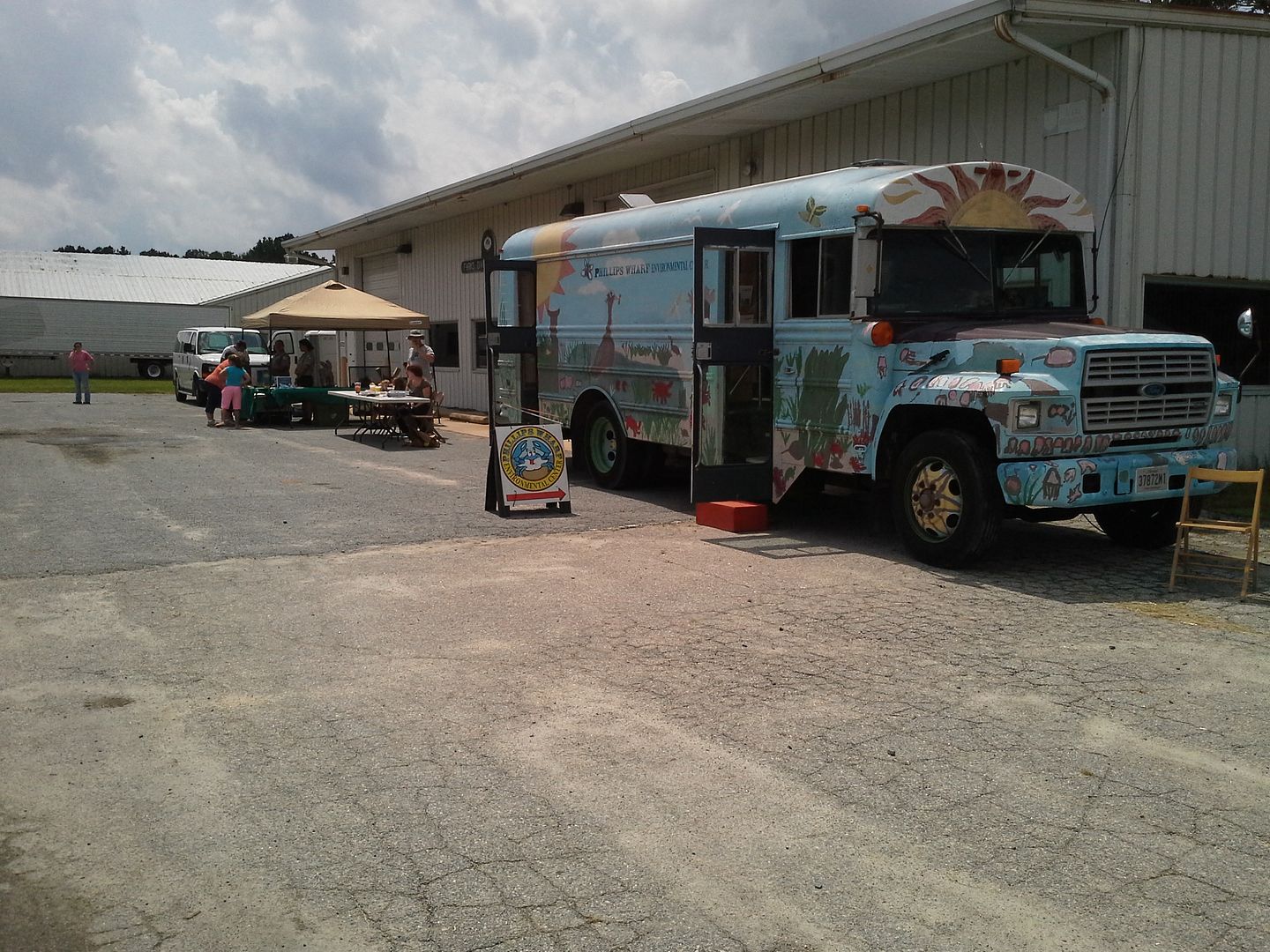 But the main purpose of the show was to highlight the farms and crafts of Wicomico County. On the farm side, there were all sorts of barnyard animals, such as these.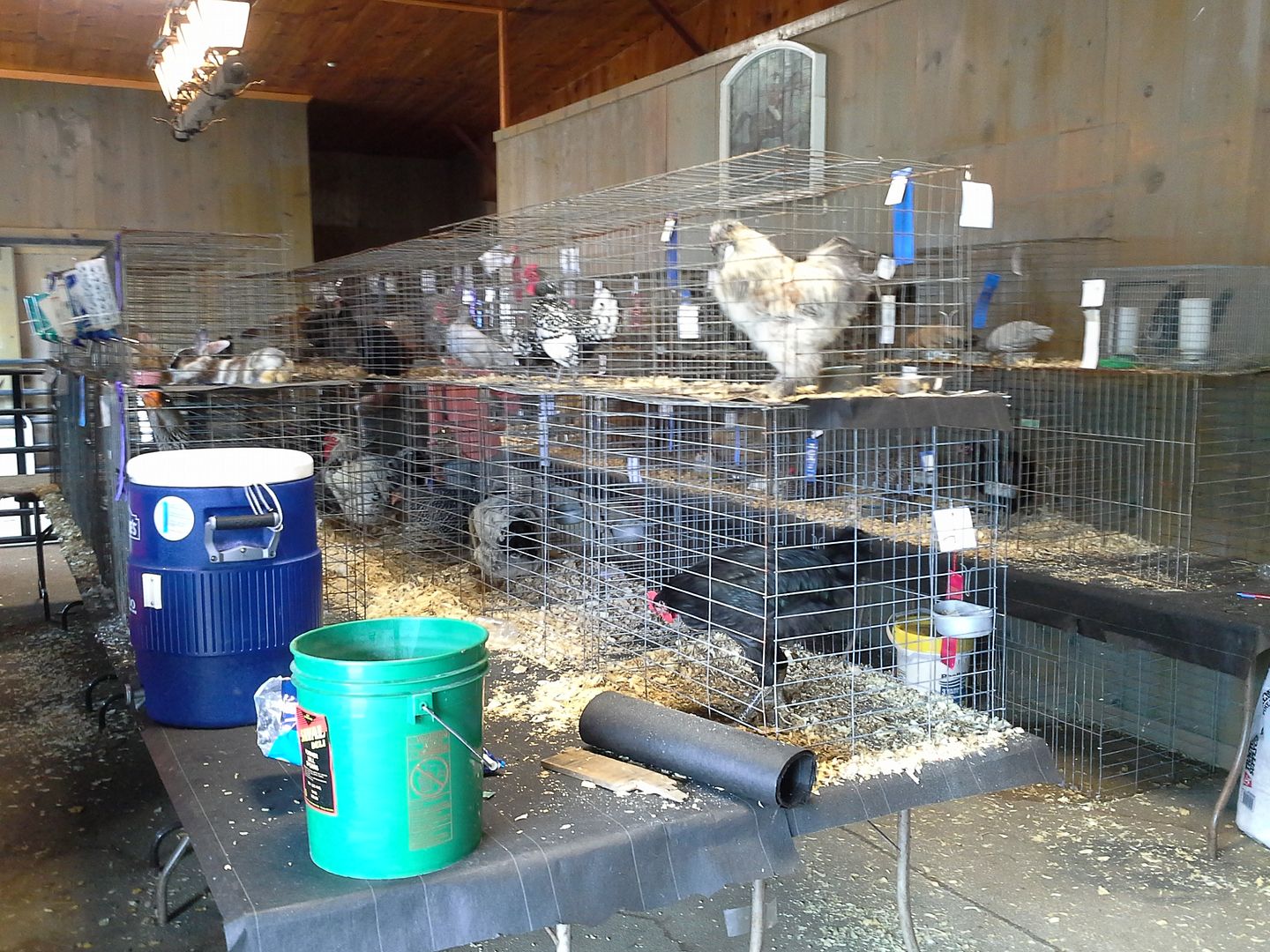 Just outside there, nervous contestants waited as their animals were judged. I think these guys were done, though.
On the inside of the exhibit hall, there were crafts and hobbies galore. I can see why this quilt won, although the best in show was very nice too.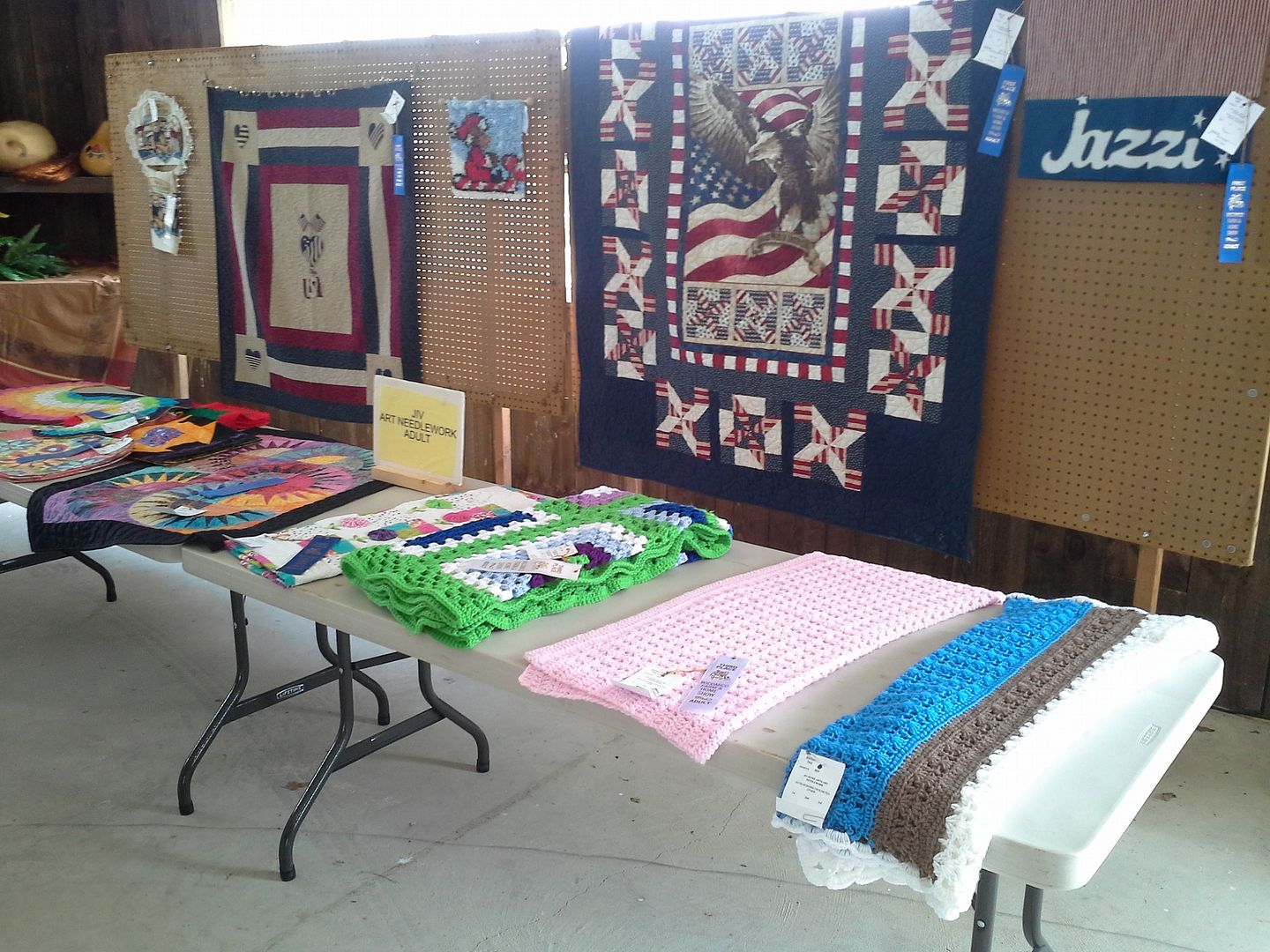 Fortunately, it wasn't just these attractions. The kids had their own little tractor pull, although there wasn't a version for the big kids this year like there was last time.
Not that they didn't have tractors around.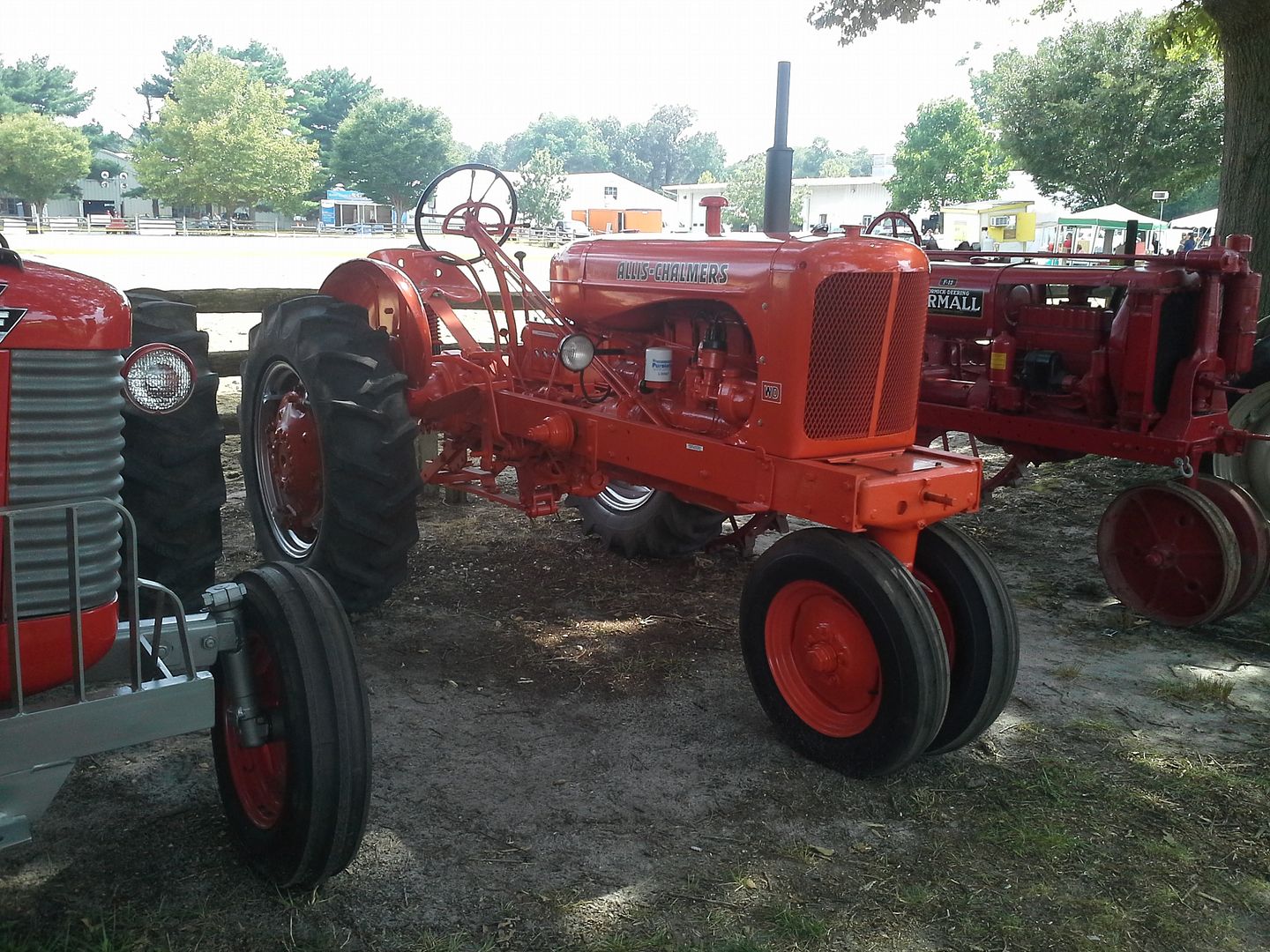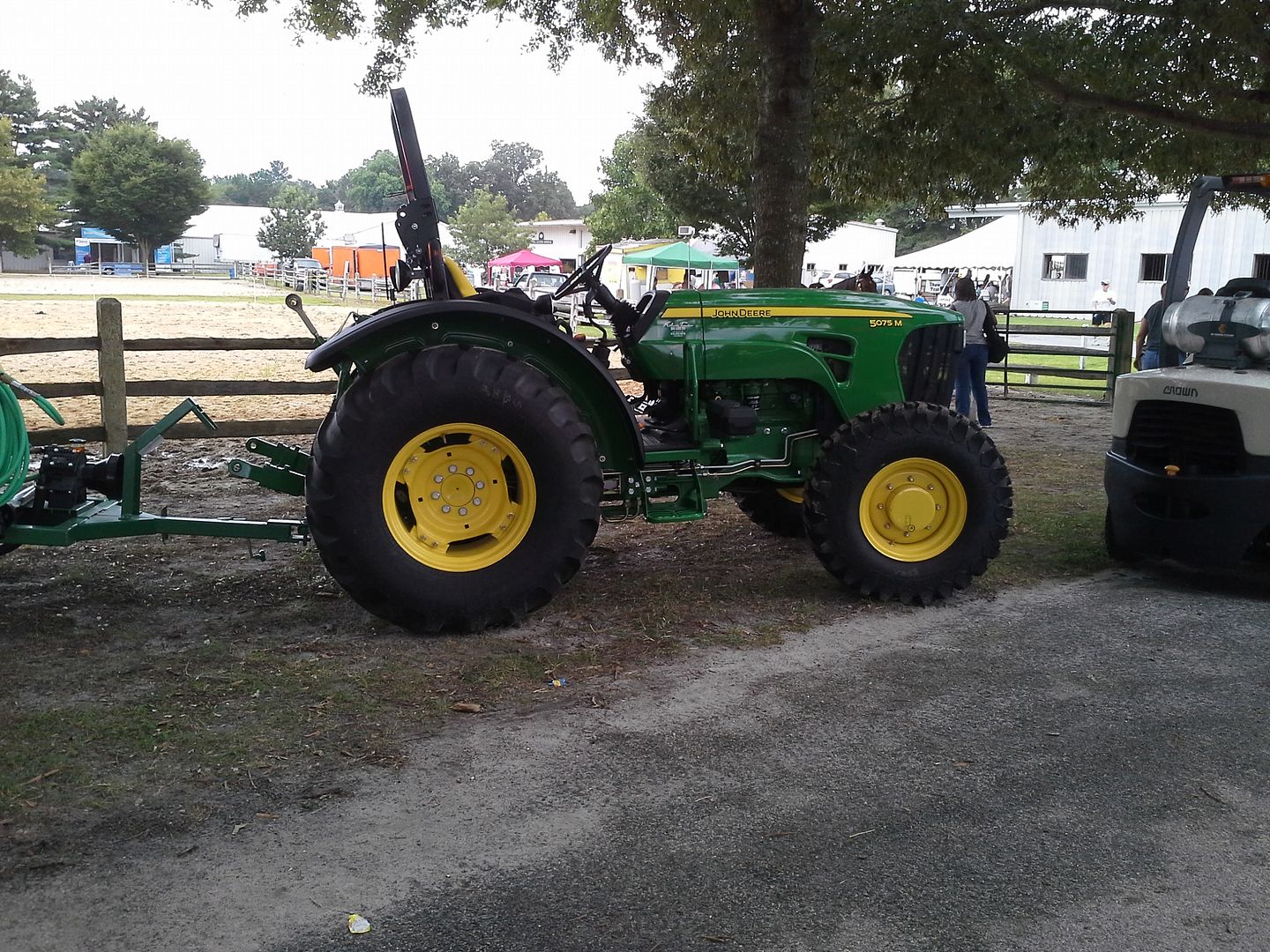 I'm sure the old ones are priceless to the owners, but I was floored to find out a similar tractor to the one I pictured (a Case/IH model as opposed to a John Deere) can run well north of $35,000.
As they did last year, there was a car show – one with its share of trucks, naturally.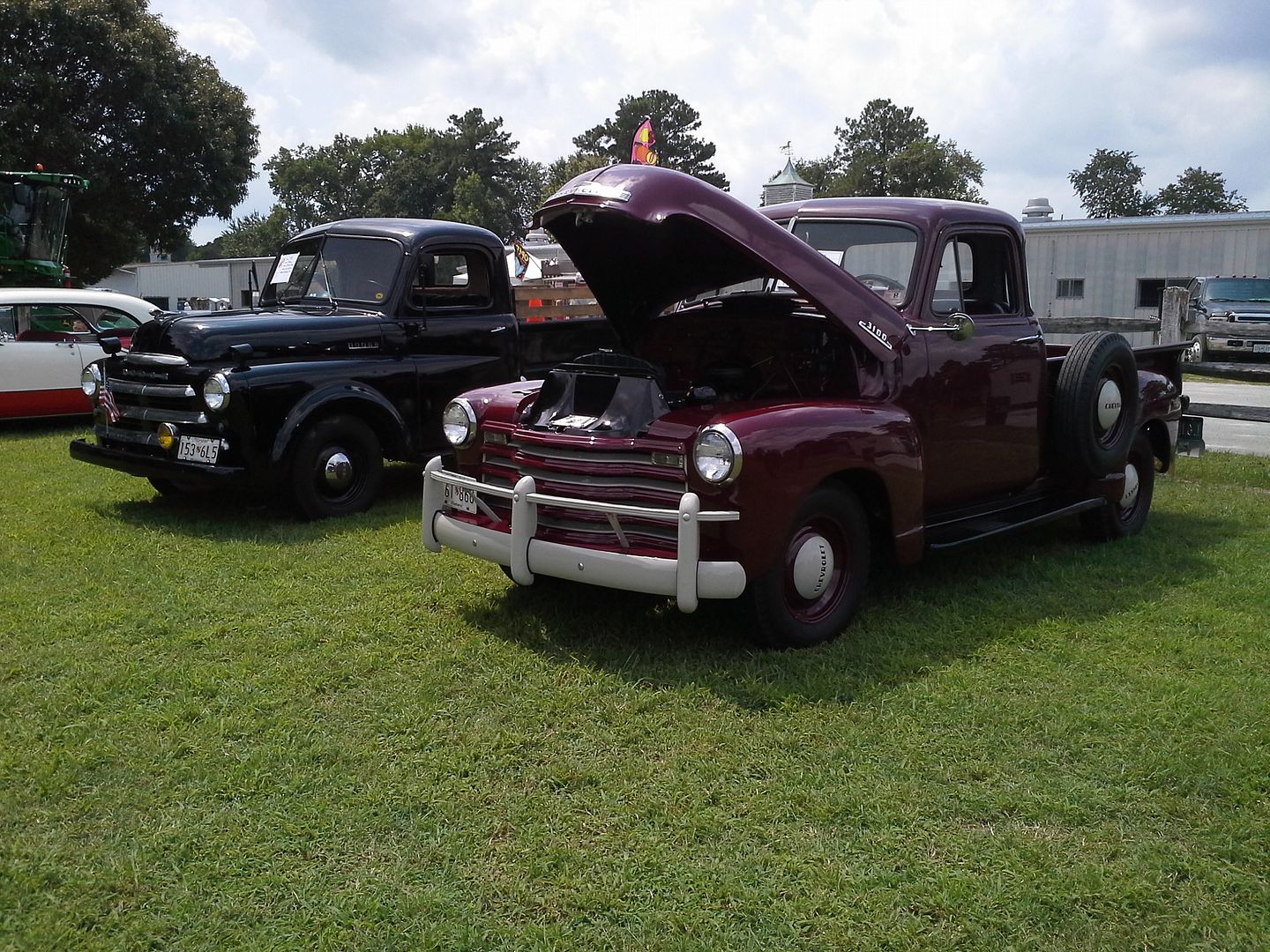 But the most interesting truck to me was this – one of the two military-themed trucks in the show.
The directional sign is supposed to resemble the one from the old TV show M*A*S*H, and it indeed includes Toledo in honor of Corporal Max Klinger. Actor Jamie Farr is a Toledo native.
This was a nice touch as well.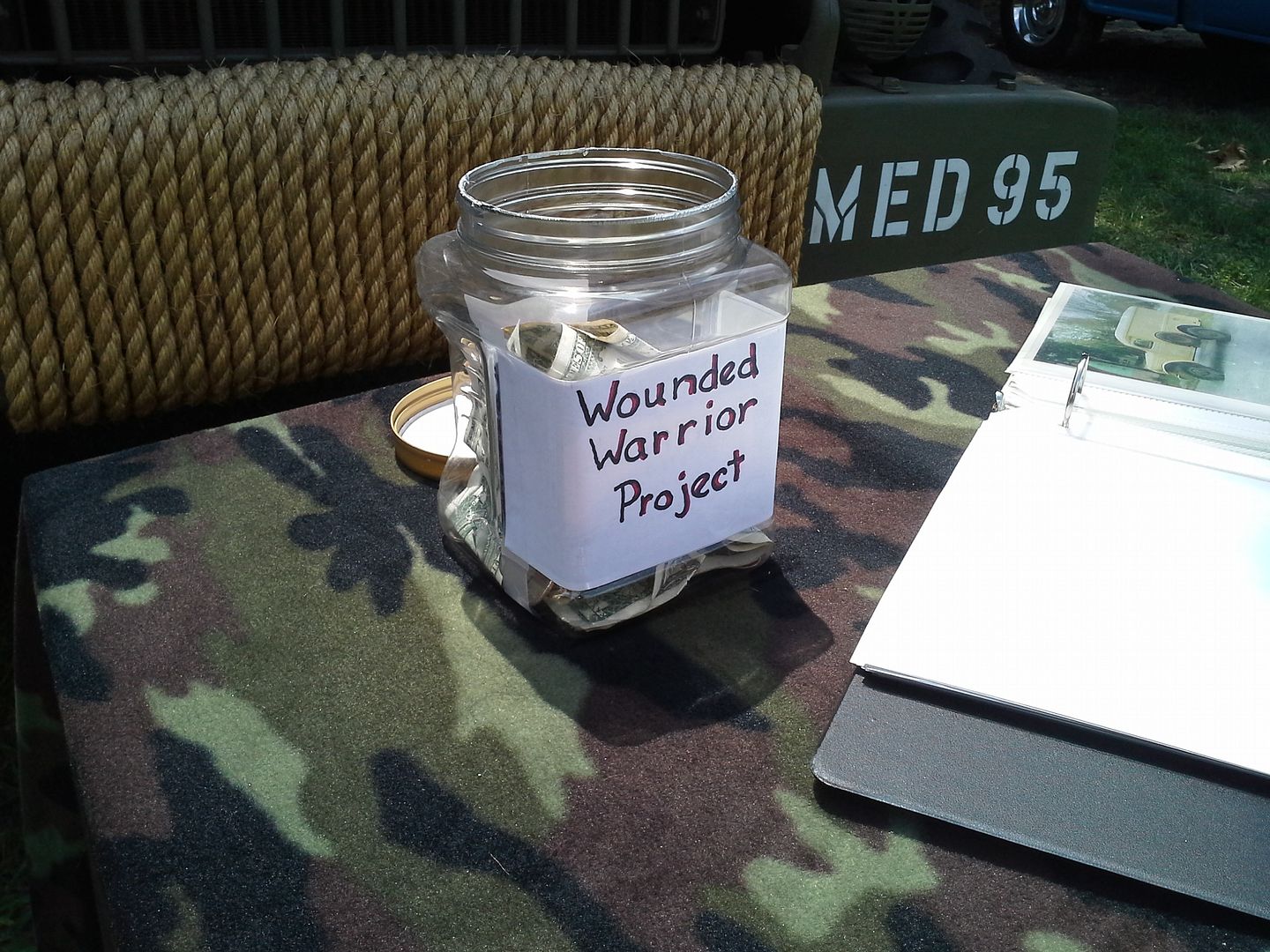 There was plenty of action in the horse pen, with an exhibition of Cowboy Mounted Shooting.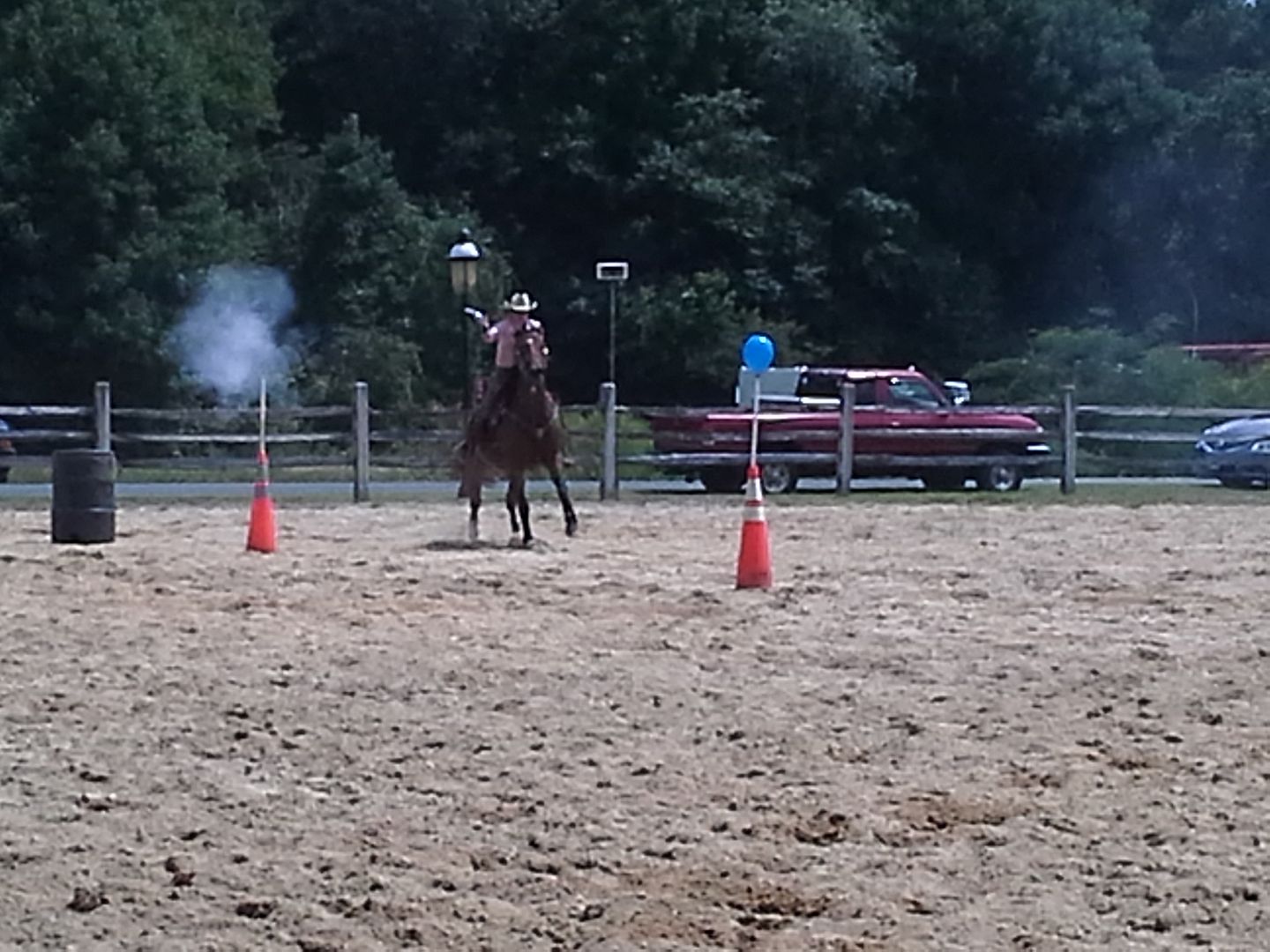 CMS is supposedly a fast-growing sport, with seven to ten new people signing up daily. It combines the agility of barrel racing with the accuracy of shooting – competitors try to shoot each of ten balloons on a preset course, with time penalties for missing a balloon or knocking a post over. Among the participants in this exhibition was the reigning Ohio state champion, who's from Delaware but recently won the title in a competition in Wooster, Ohio. (By the way, the bullets are modified theatrical blanks.)
It would be interesting to see if they could get a real, sanctioned competition here next year. Unfortunately, the organizers really didn't have much in the way of activities during the late afternoon hours leading up to the awards.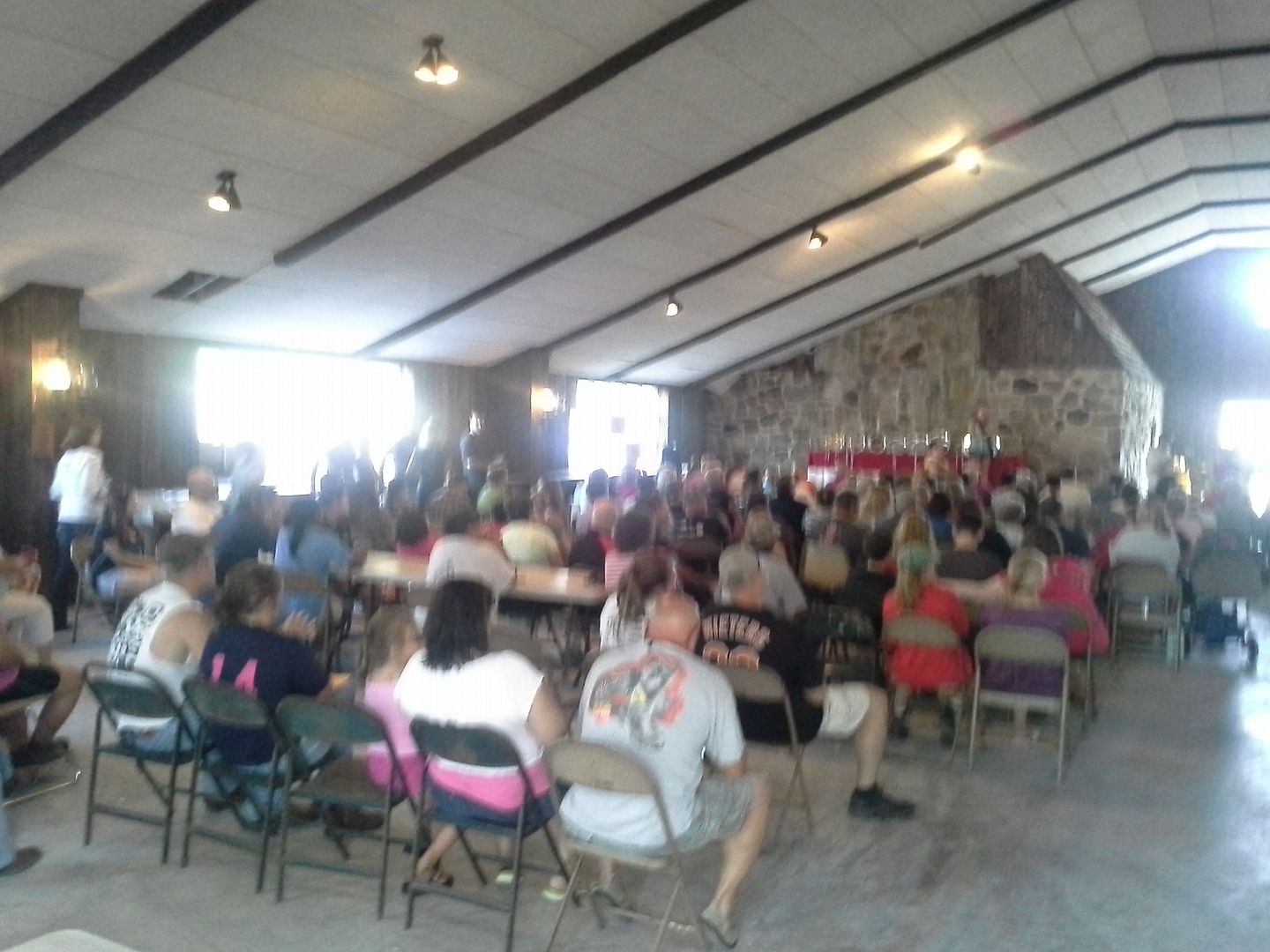 One of those awards came right back to my household, as my fiance Kim won Best of Show in black-and-white photography. And if you recall that old tractor I pictured above, my photo of the slightly-less restored version from last year won me a second place ribbon in its category. (Yes, I took it at the 2013 WFHS but didn't use it in the post.) Not bad for a rookie who only entered three photos – although Kim and her daughter Kassie both had more first place ribbons than I had photos.
For next year, I'm sure the Wicomico GOP will have a presence, although it will be more muted after the 2014 election. If the creek don't rise I'll have some pictures and hopefully they'll attract more events. The 2016 rendition will be the 80th annual so it's time to build momentum.
First, the setup: one of the many e-mails I've received beseeching me for donations. It asks "Are you on this list, Michael?"
Michael,

Chairman Walden just sent me a list of NRCC Members for 2014, and I don't see your name.

I know you've been one of NRCC's most loyal supporters since the start, this just can't be right.

You donated in the past in defense of a Republican House Majority, but not yet this year.

It's getting urgent with 80 days until Election Day. We need you now more than ever. We're working to stop the Obama campaign machine in its tracks – BUT we can't do it without you.

In order to combat the $374 MILLION that Democrats are spending this cycle, we need grassroots supporters like you to renew your support for Republicans across the country today.

Together we'll rally families and workers to stop President Obama's disastrous Big Government Agenda – and advance better solutions for a brighter future.

Please don't wait another moment. Renew your NRCC membership today with a gift of $10.

And, if you renew by tonight at midnight, I will triple your donation, so your gift of $10 will have an impact of $30.

Thanks,

John Boehner
Speaker of the House
Let's clear a few things up. I don't think I've ever given a penny to the NRCC, so they're pulling that one out of their rear end.
But more importantly, what have you really done to "stop President Obama's disastrous Big Government Agenda?" Have you defunded Obamacare or told the EPA where to go? How about impeaching some of the lesser members of the administration? Of course not, because your consultants said it would drive away independents, as if most of them will vote in a non-Presidential race anyway.
And then you have what this duly-elected Congressional nominee wrote yesterday:
I just pulled over about 2 hours into a trip to Allegany County to write this. I think it's time.

Have you heard of the National Republican Congressional Committee (NRCC)? They exist to allegedly help Republican candidates get elected to congress. Do you know that it's been months since my victory in the Republican primary in Maryland and I haven't heard a peep from either them or the RNC?

Do these establishmentarians think it's easy running as a Republican in deep-blue Maryland? Do they think that after years of having OUR party nearly taken over by cronyists, interventionists, purveyors of bad policies like TARP and grotesque levels of government spending, that outsiders like me have it easy?

I can barely knock on an Independent's or a non-white-male-voter's door without being thrown off their porch. Do you feel that you've mastered the message and it's really people like me who are the problem? Who do you think is fighting this battle? It's certainly not you. We're the ones at the doors, where it matters.

What's your reason for ignoring me, and the many others fighting for this magical country's tomorrows? Do I not fit into your box? Is it my youth, my message, or is it that I haven't firmly planted my lips on your rear-end?

I'm a Republican because I believe liberty matters and we should not surrender OUR party to cronyists and connected-insiders. We built this house and you don't get to burglarize it and keep the spoils. If elected Democrats want to monopolize unlimited government and evaporating liberty then go join them in their house but stay out of ours.

Finally, thanks to the grassroots who have accepted me as one of their own, despite my recent entrance into the political arena. It's your sweat and positive energy that keeps me going despite the willful ignorance of so many on the inside. It's you that matters. Thank you so much.
Really? You at the NRCC ask me for money and don't support a guy like this? Well, perhaps I have an idea why Dan Bongino and others like him get the shaft. I won't blockquote the whole thing, but a piece by Dr. Steven J. Allen of the Capital Research Center is worth reading in order to get a peek into what I think is the mindset of the NRCC and "establishment" Republicans at large.
But the problem isn't just Washington. Just look at what the Democrats have tried to stick on Larry Hogan with the help of a most compliant media. From a Michael Dresser piece in the Sun:
"The No. 1 priority is to expose Larry Hogan as a conservative, knee-jerk Republican who doesn't support universal pre-K and doesn't support a woman's right to choose, doesn't support increasing the minimum wage but instead supports giving billion-dollar tax giveaways to the largest corporations," (Anthony Brown campaign manager Justin) Schall said.
Needless to say, there was no follow-up as to why universal pre-K is so vital (Head Start has been shown to be ineffective after grade 3), proof that Hogan isn't pro-choice, and, frankly, why Brown thinks we should be confiscating tax money from our largest employers – you know, those people who create jobs that have value rather than push paper?
Unfortunately, this is what Hogan's side had to say.
"We obviously have to get our message out to a broad segment of the population. We have to lay out a clear vision of what we want to accomplish," (Hogan campaign manager Steve) Crim said. "It's a humanization. It's showing people that Larry does care about everyone."
I didn't know that was a question. I would contend that Anthony Brown only cares about the special interests bankrolling his campaign. So why is it implied that the Republicans don't care about everyone? I deeply resent that implication.
Or read this lead paragraph from John Wagner in the Washington Post:
To hear Maryland Democrats tell it, a victory for Republican gubernatorial nominee Larry Hogan could lead to the legalization of additional assault rifles, new limits on women's access to contraception and the clock being turned back on gay rights.
Prove it. Come on, Maryland Democrats, let me see the legislation Larry Hogan has proposed to do just that. Put up or shut up. Unfortunately, Larry plays along to an extent:
"It seems like every other day, we're getting some off-the-wall attack on something that no one cares about," Hogan said. "They're trying to make me into a right-wing, tea party Republican."
Trust me, Maryland, if only…but he's the best we have to work with.
It's time for a little attitude. Later in the Post piece, the whole Michael Peroutka affair is brought up, and look who went dumpster-diving for that minor little issue:
The Brown campaign e-mailed reporters about the secessionist views of Michael Peroutka, a Republican council candidate in Anne Arundel, where Hogan lives. Hogan promptly responded by saying Peroutka's views have no place in politics. An aide said that Hogan and Peroutka have no relationship. (Emphasis mine.)
Divert from important issues much? The Brown campaign is worried about a local County Council race? I think I'd worry more about the $150 million or so of taxpayer dollars you wasted on a balky website than one person's personal views, which wouldn't affect how he served the public in his capacity anyway.
There are a lot of fed-up people out here in the real world. They're tired of struggling to make ends meet while watching the borders and the law be ignored, their taxes constantly go up while government cronies prosper, and being told their conventional, Judeo-Christian views of morality are politically incorrect and intolerant. I'm sick of it, too.
I have a number of friends who are Democrats. A lot are great people, and perhaps there are places we share political common ground. But to blame Republicans for the problems affecting this state and nation is the height of folly, considering who's been in charge recently. Simply put, the Democratic prescription is not making the patient better; instead, Uncle Sam is more infected and weakened than he was when the Democrats took over Congress in 2007 and the White House two years later.
The real truth is out there beyond the headlines. Talk to the people, and they will tell you just what I said a couple paragraphs above. Maybe the political consultants and hucksters who keep putting out constant e-mail appeals for my money (trust me, it comes from both sides) are getting a cut, but I say we ignore them and just give to our favored candidates. (Okay, I will make an exception for the state GOP, if only to keep their lights on and phone working.)
I think somewhere we lost our way, and the world needs good leaders on par with our Founding Fathers to steer us back. Just wish I knew who they were, because when I look at a lot of those people who would deign to be our national leaders I see a load of snake oil salesmen.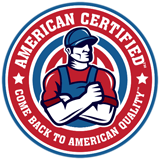 I put together a few things this week, and what's apparent to me is that the political world doesn't really take a break in August.
Take for example the late-session attempt to promote "Buy American." Does it really have a chance in Congress before the session ends? Probably not, but it keeps Ohio Sen. Sherrod Brown in the headlines and the favor of his friends in organized labor.
But labor should be more concerned about some of the points brought up by my AC cohort Ed Braxton in two articles this week, particularly if his assertion that manufacturing is moving beyond labor is correct. But he also contends that American-made is gaining credibility again in the global marketplace.
On the other hand, we seem to have an Environmental Protection Agency which is bound and determined to drive jobs back overseas. Coal miners and their allies came out in force to recent EPA hearings in Pittsburgh, driven by a proposed standard which they contend would all but wipe out their industry. As a buttress to their contention, it was also revealed that a separate EPA effort to reduce ozone standards to as low as 60 parts per billion (from a current level of 75 parts per billion, established in 2008) would cost the American economy dearly. Perhaps the worst thing is that the EPA doesn't even know itself how compliance can be attained.
Having sat down and written a couple pieces for next week, I can tell you trade will be on my radar screen. As is often the case, politics will play a role there but you'll have to wait and see how I interpreted it.
Perhaps it's a case of sour grapes because he wasn't asked to the photo-op and his opponent was, but Mike McDermott makes the case that the three politicians plastered across a recent edition of the Daily Times are "posers" in more ways than one.
Here's a little of what McDermott had to say:
What is disturbing is when politicians stand up in front of the public, hold up those giant prop checks, and, in turn, hand them over to a local group or official as if it came out of their personal bank account. This is the great ruse of politicians and it is all done with (other people's money.)

US Senator Ben Cardin poses with a Cheshire Cat grin holding a "check" signed by "U.S. Treasury" and takes a bow for a runway project that is simply part of ongoing improvements and upgrades at an airport that we pay for! To add more irony to the mix, Cardin and Jim Mathias pose with the check standing with a US Airways Turboprop in the background. After all, it is that private sector company (US Airways) who pays fees and taxes along with every passenger who flies in and out of the SBY terminal that have foot the bill for that runway. Heck, we even pay for the politician's flights when they use the runway!

Taking credit is what politicians do best. Especially in an election year. Are we to believe that a state senator holds sway over the Federal government? No way! However, as a means of political control and illusion, whenever the Democrat power brokers show up with one of those checks they wrote on our account, they always put their arm around their local democrat politicians and infer that they had something to do with it. We saw the same thing in Crisfield following the devastation of Sandy. Frankly, it is shameless.

It is no different with school construction allocations or highway money; all of these things are projects on a list that are placed on a timeline. When their turn comes up, we will hear how hard the politician worked to aid in the process, but it is all just smoke and mirrors.

Ben Cardin and Jim Mathias had little to do with the decision to improve upon a runway at SBY. They simply acted as government couriers. After all, when someone sends you a beautiful bouquet of flowers, do you fall all over yourself thanking the delivery person from the florist for the thoughtful gift?
After reading the Daily Times report from Phil Davis, one thing jumped out at me:
Federal aviation inspectors have encouraged the airport to apply for the grant to renovate the runway for the past seven years, said Bryant, as the airport has been written up in each of those seven years for "maintenance issues" with the runway.
So they have known this is a problem with the "alternate" runway – the one which runs more north to south – since 2007, which rather neatly coincides with the tenure of office of both Cardin and Mathias. One would think if these officeholders had so much pull that this would have been addressed several years ago, rather than the airport be written up for seven straight years. Maybe now the airport won't lose money as it has this year, with just under $1.13 million in revenues reported for the first eleven months of FY2014 vs. just over $917,000 in revenue. It still needs a lot of work.
In all honesty, it doesn't matter about the particular project – what does matter is that Jim Mathias and Laura Mitchell received some media attention for something they had little to do with, but looks good for campaign literature.
And that's the problem with a lot of our politicians. They participate in the photo-op, ribbon-cutting, or groundbreaking which implies that they actually had something to do with the new enterprise, but in reality it's often the capitalist who's either risking their own wealth or having it taken from them to pay for the project. That's not to say this airport runway improvement won't do the area good, but McDermott's point that it's really the private sector who is paying the freight (with only a select few getting the benefit) is a valid one. Moreover, one has to ask how many other public facilities elsewhere benefited from our money because their representatives had more pull.
It's a question of priorities, and for those in the photo-op it appears their priority is maintaining their elected position. We can do better.
I'm probably going to drive my Republican friends nuts here, but I think this guy has a point.
Last night I saw this among the posts on my Facebook feed:
What do you think you will hear Saturday from Brown and Hogan?

Brown will tell you about his folks and the one year he served. He will replay everything that O'Malley has done has if he had something to do with it.

Hogan will simply bash Brown for every problem in the state.

If Quinn had been allowed to speak you would hear about term limits, lower taxes, better schools, reformed tax codes and regulations, restored rights and power being given back to the people. Do you see why they can not let Quinn to be heard? November you decide, a self serving governor or an open, honest and people caring governor. They can't stop you from voting for the best possible governor.
Of course, the author of this piece was Libertarian candidate for governor Shawn Quinn, who wasn't invited to the MACO forum to speak and will lead a small protest to that fact Saturday morning.
Come out on Saturday in Ocean City and help me protest this apparent anti-citizen group. We will get pictures of who is supporting this government-controlled Association and let you see who is abusing their office.
Obviously I come from a Republican perspective, but I have given the Libertarians a little ink in the past (like this when the 2010 campaign began.) So it's nothing necessarily new, even though I do believe they take more votes away from Republicans than Democrats. (Conversely, the Green Party takes mainly from the Democrats, which may be why they haven't put up a 2014 candidate.)
I can understand that there are candidates who will be on the ballot but get a tiny percentage of the vote, but it's interesting how they're treated by the media. Until he was tossed off the ballot, Brian Vaeth and his likely 1-2 percent of the vote was often included in Republican debates; on the other hand, only the three main Democratic candidates got the spotlight while the other three (Ralph Jaffe, Charles Smith, and Cindy Walsh) were ignored. It begs the question of whether their combined 2.8% was a factor of not having popular viewpoints or being ignored by most media. (Jaffe and Smith, however, fall into the perennial candidate category. On the other hand, Walsh ran to the left of Heather Mizeur, who she called "a nice person (who) will serve as an establishment neo-liberal." I think Walsh would have been great in the debates, and she got half that 2.8%.)
There's no question that Quinn will fall far short of being the next governor. Susan Gaztanaga got 0.8% of the vote in 2010, which set the high-water mark for the Libertarians in Maryland. They didn't field a 2006 candidate, and Spear Lancaster scored 0.68% of the electorate in 2002. Getting to 1% would be enough of an achievement.
But even though there's little chance Quinn will win, I think he should be included in debates. I think it would be educational for the others to respond to some of the points the Libertarian brings up on his issue page, like this one:
The largest percentage of welfare tax dollars goes to pay the salaries of welfare workers and government overhead expenses, only a fraction of these monies actually make it into the hands of the needy. Throughout history private charities and groups do a better and more efficient job of helping the truly needy get back on their feet. A priority for our administration will be working to transfer these much needed services to the private sector and assist them in creating programs to put people back in the work force instead of continuing to perpetuate the meager handouts which force the needy into government dependency.
In turn, there needs to be some questioning of Quinn as to how he would perform some of these policy changes with a General Assembly practically (if not physically) devoid of his party.
But that's the great thing about a debate of ideas – too bad we won't get one anytime soon.
As you can see, the state of Maryland is once again exhibiting its generosity by not charging sales tax this week on clothing and certain other goods. (I took the picture at my local Walmart, actually to send to Kim as a reminder.)
I've often advocated for the reduction or elimination of the sales tax – at least for those counties on the Eastern Shore – as a way to compete with nearby Delaware, which charges no sales tax. However, unlike my recent idea of ridding ourselves of the corporate income tax, which raises about $1 billion annually, I realize it would be a lot more difficult for the state to rescind the sales tax entirely. The state expects over $4.4 billion a year from the sales tax – about 11% of revenue – so getting rid of that would be a lot less likely. The sales tax is the third-largest revenue stream for Maryland, behind the individual income tax and the 27% of our revenue we receive from Uncle Sam.
But would it be a bad thing to make the Eastern Shore a tax-free zone? Obviously I can hear from here the wailing and gnashing of teeth from those of you on the other side of the bridge, but when you think about it the chances are pretty good those from the Western Shore have to pay a toll to get over here anyway. So why not give yourselves that break?
In rough terms, the Eastern Shore is 1/10 of the state's population, so in theory it would cost the state $440 million a year to exempt the Eastern Shore from the sales tax. I'll assume we do a little better than that given the tourism attraction of Ocean City and several close outlet malls, so call it $500 million. Certainly the state can figure out a way to excise 1% or so from its budget, with the additional income and jobs created for people on this side of the Bay making a significant dent into that perceived loss to the state. That's borne out in part by what Comptroller Peter Franchot told the Daily Times – lost revenue from exempt items is partially made up by extra non-exempt items purchased. By that same token, the sales tax loss would come back in the form of extra gasoline tax collected, more income tax from increased employment, and other revenue from enhanced economic activity.
We've tried to exempt ourselves from the sales tax increases before, but all those General Assembly members from the other side of the Bay want us to pay our fair share – never mind we are already taxed, regulated, and dictated to death over here. We carved out certain parts of the state to pay a "rain tax" so why not go the other way and allow some counties the economic relief?
When Larry Hogan is trying to figure out some of the taxes he can cut to assist hard-working Marylanders, why can't he do those of us who have to compete with Delaware a favor and make this part of the state a sales tax-free zone? You just might bring some business back from Delaware as a bonus.
This will be a fun little post.
In an effort to have further blog fodder (and sometimes a good laugh) I'm on the mailing list of the Democratic National Committee.
So on Saturday I received an e-mail with the subject line "Getting to know you." I found out a couple neat little tidbits about that "powerful, dedicated community" on that side of the spectrum:
853,185 have been on their e-mail list for five years. I think I'm one of them, but that number seems surprisingly low. They must cull their list based on response/open rate.
11 people signed up as Barack Obama and "think they are pretty funny." Hey, with the history of failed hard drives around Washington, D.C. perhaps Barack Obama was being intentionally redundant or he simply wanted to tailor the message to his multiple favorite vacation spots.
And they "consider me a critical part of their team." Well, I am pretty critical about their intentions, motives, and methods of operation.
But the idea behind the e-mail was to flesh out the information they have on me. I actually trashed the e-mail then decided to bring it back because I was curious what they wanted to know. Truthfully, I was disappointed.
They already had my first and last name, along with my e-mail address (duh!) And of course, they know I live in the 21804 zip code so things are pegged to Maryland. The character string attached to the link has all that, along with the particular e-mail date they would harvest the information from.
So those things are spotted. The next information they wanted was my phone number. Since most people use cell phones, there was also an opt-in checkbox to receive "periodic automated text messages and calls on my mobile number from the DNC."
The next items were my birthday and gender. I'm thinking they are going to tailor specific messages to specific people – if I had put down "female" my e-mail would be filled with items dealing with the so-called "war on women." Older folks would certainly be given the usual scare tactics about cuts to Social Security and Medicare, although it's likely their targeting is a little more sophisticated. It will be interesting in my case to see how messages change when I make it to a half-century next month and slide into a different age category.
The next item asked where I primarily got my news: internet news sites, newspapers and magazines, TV, social networks like Facebook or Twitter, e-mail, or friends and family. It's surprising they ask this considering they cater to the low-information crowd.
Finally, they asked where I go for my updates on Democratic candidates and races: the DNC, local campaigns in my community, the state Democratic party, the DCCC (House Democrats), the DSCC (Senate Democrats), the Democratic Governors Association, or friends and family. Interestingly, the DNC Services Corporation didn't include the local news or internet.
Obviously I get similar e-mails from the Republican side as well. But one thing they often ask for that these Democrats don't are the issues I'm most interested in. To me, that would seem like a missed opportunity for the other side until you figure out that they are on the wrong side of practically everything, and often focus on issues of little actual importance: witness the whole "Redskins" name controversy, for example. If thousands of people came back and said we needed to do something about securing the border, those Democrats have no solution.
So they didn't get anything else out of me: just name, rank, and serial number. Maybe "Barack Obama" needs to transform into a 25-year-old woman just to see what kind of soap they try to sell her.
It was a fairly packed house at the Veterans of Foreign Wars Post 194 in Salisbury as Congressman Andy Harris held the second of four proposed town hall meetings in the district. After speaking in Easton on Wednesday, many of those same topics came up last night.
But the first order of business was recognition. After pointing out that unemployment among veterans was higher than the average – "I can't figure that out," Harris said – Andy presented a Congressional Citation to Chris Eccleston, who operates Delmarva Veteran Builders, a local construction firm which specializes in giving veterans job opportunities upon return to civilian life.
Once that presentation was out of the way, Harris introduced his "three things of great concern."
As opposed to past negativity about the situation, Andy considered the declining deficit as a piece of good news, noting that federal spending had been fairly level for the last three years. The annual deficit is down $550 billion from its peak, although the aim of the House is to eventually bring the budget back to balance. Andy, however, conceded that the "House's goal is to balance the budget in ten years." So while it was still important, Andy wasn't as concerned about this as he was the following three.
He also said there was "good news on the energy side," pointing out we now produce more oil than we import and should be the leading world producer of both oil and natural gas by year's end. The oil production was helped by technology which allowed what he called secondary and tertiary production from existing wells, as opposed to the primary production from new drilling.
On the other hand, Harris believed that, "in terms of immigration, the system is broken."
"The border is just not being enforced," he added, noting that Texas Governor Rick Perry has called out his state's National Guard to assist with border security. In legislation recently passed by the House, added Harris, funding was included for governors who, like Perry, decide to call up their National Guard to address the situation.
"We can't afford to have a border that's not secure," explained Harris.
The news was equally troubling on the foreign policy front. "The world is more dangerous now than it was six years ago (before Obama took office)," said Harris. It wasn't just the Middle East, either – Andy touched upon the Chinese carriers now patrolling the South China Sea, well outside their territorial waters.
And while we were reaping the effects of our decrease in defense spending, Andy continued, we were also suffering from a lack of trust. Our allies could now doubt our sincerity based on recent actions.
After expressing his main concerns, Andy took questions from the audience. As my editorial license, I'm going to cluster them into areas of concern – on top of the list was our most recent crisis.
Immigration. Many of the questions dealt with various aspects and concerns from those attending about the situation on our southern border and the resettlement of "unaccompanied children."
Much of the problem could be traced to the passage of a 2008 bill intended to counter human trafficking. Andy noted that the law as written provided the assumption that children from certain Central American countries were being brought for the sex trade, which was a problem at the time. It was estimated that perhaps 2,000 children a year would be affected, with the idea being that these children would get a hearing to ascertain their status.
Unfortunately, the crush of those claiming status under this law and the DACA order signed by Barack Obama in 2012 means that the waiting period for these hearings is anywhere from 18-60 months – and only 46% of those called show up, Andy said. One third of them are "granted status," he added.
"We should close the loophole," said Harris. "I don't see how you get out of the problem without changing the law." We also needed more judges on a temporary basis to expedite the hearing schedule.
A solution the House could offer to rescind Obama's order would be that of defunding the executive action, for which there was a bill. And while some were pessimistic about such action given the Senate, Harris stated that the Senate could agree to "a compromise deal over a much larger package." My concern would be what we would have to trade away.
Andy also pointed out that the resettlement of these children was more or less being done without telling local officials, noting when the Westminster facility was being considered the word came down late on a Thursday afternoon in a week the House wasn't in session on Friday. It eventually led to the question about those being placed in Maryland.
When asked how many were in the First District, Harris conceded he had "no idea…nobody's telling us."  But he continued by saying, "your school system will be affected," adding that many of these children can't read or write in Spanish, let alone English.
And the fact that these children aren't necessarily being screened, vaccinated, or quarantined if necessary was also troubling to Harris. "The CDC is cognizant of it," said Harris, who had spoken himself with the CDC head. Of course, the children are but a small portion of those crossing – perhaps 10 percent, said Harris.
"The real solution is you have to secure the American border," concluded Harris. Rapid hearing and swift repatriation would send the message to parents in the host countries that it's not worth the expense and risk to send children northward to America.
The VA situation. Given that the town hall meeting was being held in a VFW hall, there were concerns aplenty about the state of the Veterans Administration and its health care.
As part of a VA reform bill which recently passed and the VA has 90 days to implement, veterans who live over 40 miles from a VA facility are supposed to have the option of a private physician to address their needs. But Harris pointed out there was some interpretation involved based on whether the VA would extend that standard to an appropriate facility for the type of care needed – for example, something only handled in Baltimore. Harris hoped the interpretation would allow veterans on the Lower Shore to use closer local facilities, for which our local regional medical center could be a substitute provider, rather than make them travel to Baltimore because there was a VA clinic inside the 40-mile range but it couldn't address the need. "They regulate, and we have to watch them," said Andy.
The ultimate goal was "to make the VA system compete," said Harris.
Entitlements. On a related note, one questioner asked about protecting Social Security and Medicare.
Andy believed that "you can't change the law retroactively," meaning that the status quo should prevail for those 55 and older. On the other hand, those in the younger generation "don't expect all of it," so the time was now to begin the discussion on preserving what benefits we can. The question was no longer if we got to zero in Social Security and Medicare, but when – Social Security tax receipts peaked two years ago and were now slowly declining . "We know the figures," added Andy.
The system is "not sustainable…shame on us" in Congress for not addressing it.
Foreign policy. There were a couple questions which dealt with this topic, one on Ukraine and one on defunding Hamas.
Regarding Ukraine, one piece of "bad news" which could affect us locally was Russia's decision to halt chicken imports from America. Their preference for dark meat nicely complemented our love of white meat, so while it wasn't a large market it was an important one.
But in the geopolitical sense, Harris was relatively blunt. "We let it all go too far (and) should have put a stop to this in Crimea." Andy pointed out that Ukraine gave up its nuclear weapons in the Budapest Memorandum, which we were a party to along with Great Britain, Russia, and Ukraine. As expected, Russia violated its end of the deal, but Harris noted "I don't know where it ends."
As for defunding Hamas, the House did so in its FY2015 budget. In it is a provision that states if Hamas is included in a Palestinian Authority government, we would withhold funding from them.
Andy added that he was "disappointed" in the administration's lack of Israel support, and blasted Hamas for "purposefully aiming (their rockets) into civilian areas – that's terrorism." He added, "The war was started by Hamas…Israel has to end it."
Impeachment/lawsuit vs. Obama. It actually started as a comment from the audience while Harris was explaining his answer to the immigration issue and Westminster situation.
"I think Obama is an enemy of the country," it was said. And when Andy pointed out he was duly elected as President, stating, "nobody is claiming (Obama) wasn't elected fair and square," the audible murmur in the audience indicated otherwise.
But Andy believed suing Obama over his lack of adherence to the Constitution was the best choice. "Let the Supreme Court decide," he said, as the proper procedure for changing law was supposed to lead through Congress. He would not vote for impeachment, but would rather the lawsuit run its course. I don't think that was the popular sentiment of those assembled.
Term limits. This was actually the first question out of the chute, and Andy was clear about the questioner's desire to see them enacted: "I couldn't agree with you more," said Harris. He bemoaned the lack of co-sponsors to a Joint Resolution he introduced last year holding both Senators and members of Congress to 12-year limits. "Part of the problem is that people view it as a lifetime job," said Andy. Most agree term limits are necessary, so Andy held out hope that the 2014 campaign will bring out a new "Contract With America" promising a vote on the issue.
Common Core: It was actually asked as an awareness question regarding the new AP history framework, to which Harris could only promise to "look into this." But there was language being considered for the appropriations bills which stated the federal government couldn't provide incentives to adopt Common Core, as they did for Race to the Top federal funding.
Transportation/energy. Answering a question about bringing light rail to this area, Harris opined it was "some of the least efficient ways to transport people."  He preferred a surface transportation system, such as busses, because they're more flexible – if the development doesn't follow the rail system, there's no chance of adjusting it to suit.
On the related subject of energy, Harris believed it was easier to produce fossil fuels while researching the next generation of energy harnessing, such as fusion or hydrogen cells. At this point, "fossil fuels are the coin of the realm," Harris said.
Maximizing our resources also provides us an opportunity to counter Russia's "ability to use energy for bad ends." He also warned that Canada would either send its crude to us through the Keystone XL pipeline or ship it to China.
Manufacturing. Finally, we'll get to the question I asked about making things in Maryland and America.
Andy began his answer by referring to the practice of tax inversion, which has made news lately. He blamed our "horrendous" corporate tax rates for being an incentive for companies to stray offshore, or even just across the border to Canada (which has a 15% corporate tax rate compared to our 35%.) "We live in a global environment," said Andy, so the obvious solution was to cut our corporate tax rates.
Rather, Washington was thinking about trying to make the practice more difficult. Harris feared it would encourage more inversions.
Other steps to getting things made in America were to continue promoting cheap energy – as methane is the basis for many plastic products, having an abundant supply would be crucial in that area of production. We could also work on scrapping some of the over-regulation plaguing our job creators.
After the hourlong forum, Andy stayed around for more questions and answers. I thought the give-and-take was excellent, and it's a shame more local media wasn't there.
I saw this when it originally came out, but Michael Hausam at the IJReview website basically took Dan Bongino's recent "us vs. them" Facebook post and shared it for the whole internet to see – and that was a good thing. Read it, then come back here for my thoughts.
What has truly gotten this nation into trouble is the political class. Think about how Washington works these days:
It is a culture which uses the force of law to extract your hard-earned money in such a way that you really don't notice it anymore. You may grumble when you see all the deductions in your check due to backup withholding but just try getting them to stop.
That money is supposed to go toward addressing the various problems we have in society. Whether you agree with these purposes or not, funding goes to the military, dollars go to running the judicial system, money goes to providing all of the entitlements politicians have passed over the years, and so forth. But the Catch-22 is that solving the problem would make the agency, bureau, or whatever group superfluous and/or unnecessary and all those who work there would have to find honest work. Can't have that.
Yet all that paper being pushed really doesn't produce anything, Now one may argue that constructing infrastructure is something government does to produce worth, but most of the time it's a private contractor doing the work – they're just being paid with public funds. Government is generally in the service business as opposed to creating things of worth like automobiles, fields of corn, or extraction of minerals – and thank God for that.
In any case, there are a group of people within that culture whose aim in life, it seems, is to skate along as a "political consultant" and tell candidates who may or may not have been earnest people to begin with just how to fool people into believing they are one of them.
It's been several months since I've spoken to Dan; since he's running for office on the other end of the state I have been simply observing from afar for the most part. Having said what he did on Facebook and now beyond, it's no wonder he's filled in for Sean Hannity and Mark Levin on their radio shows – the question is always whether the glitz and glamour of the Beltway would affect him as it has so many other promising conservatives. Granted, he's been inside that bubble (so to speak, as indeed he has) for several years so there is the unique perspective. To turn a phrase, we have to elect him to see what's inside him and I have no problem with that. I think I can trust Dan to do what's right, even with his taste of the life inside.
But perhaps I'm not a "real" person either, since I follow politics more closely than probably 99% of other people and write about it more than 99% of that select group. Take my county of 100,000 people and I'm one of maybe 1,000 who follow the political events closely and, yes, there are maybe 10 of us who write a lot about it. Yet in my position I have to interact with the non-political world on a daily basis and I intentionally write about other things to stay grounded in reality and keep what little sanity I have.
My biggest fear is that those who claim to be outsiders will reach the pinnacles of power and prove to be no better than those they replaced. (As The Who sang, "Meet the new boss, same as the old boss.") One argument within the TEA Party movement is whether it's gotten too much like the rest of Washington, just with a different set of hucksters getting rich from it. Being on an e-mail list isn't about discussions of policy, but appeals like this:
The clock is ticking… and there are now less than 100 days left before Election Day.

That means less than 100 days to door knock, make phone calls and attend community events to earn the vote of citizens in Maryland's 6th Congressional District.

Every day counts.

And that's where you come in. I need to finalize our grassroots strategy for the next 95 days. We need to budget our campaign expenses for the final 3 months of this race.

Will you help us finalize our budget before the end of the month by sending $25, $50, $100 or more before MIDNIGHT tonight?

We must budget for media buys, purchasing lawn signs, bumper stickers, campaign materials — even small items like pizza for volunteers!
In case you're wondering, that's from Dan's campaign. Now I don't begrudge Bongino looking for money because he needs it – at least with him you're donating to a candidate and not necessarily a consultant. I'm probably on a couple hundred different e-mail lists like Dan's because I'm a blogger and follow politics. (The Democrat ones are sometimes laugh-out-loud funny and good blog fodder.) And yes, I do mention it at times when a politician forms his own PAC and tries to get in on that game.
The biggest problem the TEA Party movement has is that they can't elect everyone at the same time. 2010 was a good example – they picked up all those House seats but didn't take over the Senate because only part of the body was up for election. Then it only takes one bad election (like 2012) to muck up the works for another half-decade. In 2014 they can take over the Senate but we're still stuck with Barack Obama's phone and pen.
And it's the people they don't elect who create an even bigger problem. A true rightsizing of the federal government would probably incite riots throughout the Capital region as thousands and thousands of government workers suddenly found themselves without a paycheck. Unemployment in Maryland would probably be double-digits overnight. But while some have the courage to tell the political class to hit the road, their numbers are few compared to the thousands who occupy official Washington and have created their own job security by doing just enough to stay fully funded.
They've long since bought the Democrat party lock, stock, and barrel and I'm not so sure the GOP's not on the payroll, either. That's the problem with people – too many can be bought.
Fortunately, we are about five months (and one election) away from the "90 days of terror" which comprises a regular session of the Maryland General Assembly. We have no idea yet just who will be representing us in Annapolis, but there is one agenda item a familiar group is out to stop in its tracks.
As Bob Willick of Maryland Liberty PAC puts it:
Maryland Liberty PAC is ramping up efforts to drive a stake in the heart of the proposed VMT tax before it gains any more traction.
Their aim is to pass a bill prohibiting the practice, similar to one which was introduced last year but went nowhere. In that effort, they have compiled a half-page flyer and video describing their reasons for concern.
Aside from blaming a few current and former legislators for their votes on the Greenhouse Gas Reduction Act of 2009 – indeed, a poor vote but just one – the video does a nice job of illustrating what the bureaucrats of the state have wrought and why it should be stopped.
But let's leave aside the peak-hour tolls and tracking just for a moment and look at the impact a simple VMT might have.
Let's say you work here in Salisbury but choose to live in a rural part of Wicomico County, such as around Tyaskin or Powellville. Every day you may drive 20 to 30 miles round trip to work, plus there are those 15 to 20 mile round trips for grocery shopping, taking the kids for extracurricular activities, and the like. It would be easy to put 20,000 to 25,000 miles annually on your car and if a VMT is set for every mile above some artificial limit such as 10,000 miles it could run into several hundred dollars a year, almost regardless of what kind of car you own. (Chances are certain models would be exempted from a VMT, regardless of how useful they are to one's needs.)
The VMT became seriously discussed when the effects of the fuel economy standards adopted by the federal government in the wake of the 1970s oil embargoes became painfully obvious. As cars became more efficient, they used less gasoline so a per-gallon tax became less and less lucrative. If you drive 20,000 miles a year in a car that gets 40 miles to the gallon, you're only using 500 gallons of gas a year as opposed to a 20 MPG car that takes in 1,000 gallons. At a federal gasoline tax of 18.4 cents per gallon, that's a "cost" to Uncle Sam of $92 a year for being a "good citizen" and purchasing a more efficient car. As they often say, "no good deed goes unpunished," so with the advent of GPS tracking systems it became more possible to accurately gauge a car's true mileage and perhaps make up all of that $92 or even more.
As I see it, though, the VMT tax is just a small part of a larger drive to decouple people from their cars. Maryland is doing little to enhance the traffic situation in parts of the state insofar as highway work is concerned. Sure, they may replace the occasional bridge or repave a perfectly good highway, but the bulk of their transportation money and effort is going to be concentrated on two boondoggles called the Red Line and Purple Line. Before that, it was the ICC toll road, which should serve as a signal for what's to come: variable tolls based on time of day, collected by electronic means with an EZPass or – for a "service fee" – a bill sent to the car's registered owner. I predict this same "makeover" will be on the Bay Bridge within the next decade, with sky-high tolls at rush hour and on weekends.
Obviously this process of enhancing specific, politically correct traffic is well underway – witness the HOT lanes in urban areas or proposed "transitways" for busses only. Maybe that's great for urban dwellers, but that doesn't help people trying to get into Ocean City or through Cambridge or Easton at the height of tourist season. Forget the logic of building another Bay Bridge connecting southern Maryland and Dorchester County to save motorists coming from the Washington area time and hassle.
There's no question we need to invest money in our transportation infrastructure. The problem with Maryland is that it seeks to create demand where none exists and ignores logical extensions of the existing overburdened system in the name of addressing a "global warming" problem we couldn't change if we tried.
The idea of the VMT should be the first thing scrapped, but let's not stop there. It's time to give up on the folly of reducing our greenhouse gas output because that equates to reducing our standard of living as well as our liberty.
By the way, since I'm on the subject of boondoggles like the Red Line, Purple Line, and VMT, I've been meaning to work this editorial on ethanol by my Patriot Post cohort Mark Alexander in for a few days. Here's a good chance to read it.