Originally I was going to add some of these items to my "odds and ends" post but decided to promote the idea to a post of its own. I have a lot of things which I can neatly tie together.
It's now been a decade since America's economy even grew at a 3% rate, as Rick Manning pointed out a few weeks ago. While he lays a lot of the blame for what he later termed an 8.9% "real" unemployment rate on government regulation and policy, other industry groups like the U.S. Business & Industry Council (USBIC) and Alliance for American Manufacturing (AAM) point the blame squarely at China. First is USBIC President Kevin Kearns:
Can anyone doubt that America's trading relationship with Beijing is a one-sided, one-way catastrophe for the American economy? Our massive trade deficit with China represents a constant outflow of jobs and productive capacity to a country that refuses to play by the rules of world trade. It's been 15 years since China joined the World Trade Organization. There can be no doubt that America's experiment in so-called 'free trade' with China is a miserable failure.
AAM's President Scott Paul:
Now we have even more evidence as to why voters are deeply concerned about China and its impact on the American economy. Our trade deficit with China in 2015 again surged to record levels, and that helps explain the struggles we've seen in manufacturing recently – particularly in critical sectors like the steel industry.

The 29,000 factory jobs gained in January is good news, but it's certainly no indication of an upward trend. Many dangers persist, including a strong dollar, China's economic weakness, and its massive industrial overcapacity. It strikes me as an inopportune time to be pushing a Trans-Pacific Partnership that is projected to cost America more than 121,000 factory jobs, according to the Peterson Institute of International Economics.
So just how do we compete? There's no question that 40 years of buildup and advantages accrued by foreign competitors in the areas of lower wages, lack of regulation, and outright cheating more than make up for the millions of dollars in shipping costs required to ship cargo across the Pacific to the American consumer market. The relics and ruins of our Rust Belt convey the depth of the opportunities squandered. If we can't beat them on price, we have to beat them on quality and be smarter than they are.
One thing I've noticed about the Senate race is that several GOP candidates are focusing on the manufacturing sector as a ticket to the state's prosperity. For example, Rich Douglas had this to say the exodus of jobs to Mexico and about his platform:
Ten thousand jobs lost in Maryland alone.  That's what Texas businessman Ross Perot meant when he predicted a "giant sucking sound" of U.S. factories moving to Mexico after Congress approved the North American Free Trade Agreement (NAFTA).  If elected to the U.S. Senate from Maryland in November, I will work to bring them back.

The "sucking sound" was real.  In the mid-1980s I lived and worked in Ciudad Juarez, Mexico, across the river from El Paso, Texas.  The Juarez of my memory is a vast collection of big-box factories in the desert, bearing well-known U.S. names.  Jobs lost from the U.S.

(snip)

Citizens with a path forward to jobs, homes, and a future remain in school, avoid drugs, do not riot, and keep their unborn children.  Maryland needs factories and jobs.  A way to attract them is to send the right people to Congress.  What sets me apart from the rest of the Senate field?  Experience and scars earned in markets where U.S. ethics are mocked.  Experience with U.S.-imposed hurdles to U.S. exports.  Experience with the human cost of free trade.
But Douglas is not alone. It turns out fellow candidate Chrys Kefalas is a vice-president at the National Association of Manufacturers, which again is urging people to be manufacturing voters:
Notes Kefalas on his social media page:
I'm all about manufacturing more jobs in Maryland and the U.S. And that means fighting so that companies like Under Armour and small businesses can bring more jobs to Maryland. I will.
Adds yet another Senate hopeful, Dave Wallace:
Many will remember when Marylanders proudly made steel, Chevys and many other quality products and enjoyed a prosperous life. Today our infrastructure and job prospect are crumbling, and high taxes and regulations are driving away the jobs and investments we need.
While this is a promising beginning, Wallace remains short on details. But it's better than nothing, as I'm not finding where the other major candidate, Kathy Szeliga, addresses manufacturing at all.
Actually, I take that back. Nothing is better than this mess that punishes achieving businesses and expands the government's role at a time when they need to stand down and let the market grow. Remember, doing it this way has led to a "lost decade" of slow-to-no economic growth.
Since this part of the state isn't dependent on government jobs to survive – but could use an economic shot in the arm to diversify from the poultry and tourism industries – it seems like we would be an ideal location to be the place to make things. The cost of living is fairly decent, the area is nice, and there are a lot of people who are willing to put in a little bit of elbow grease to get things moving. All they need is for the state to let them compete, and even though a Senator doesn't necessarily guide state policy he or she can lead by example.
There are still a few days to the primary, but I'm using the occasion of Greg Holmes's entry to the Republican U.S. Senate race and check how the field is shaping up. (And if you say "who?" you're not alone – Holmes was one of the also-rans in 2014′s Fourth Congressional District primary.)
Having done this political thing for a few years, I know that there are usually 10 or so Republicans who run for U.S. Senate in any given cycle. My first election here was 2006, the year Michael Steele was the overwhelming choice of the state party (and accordingly won 87 percent of the vote.) Despite that, there were 10 people on the GOP primary ballot, nine of whom split the other 13 percent of the vote. (With an open seat, that was a scrum on the Democratic side – they had 18 running.)
As of this writing, though, we are only at eight running on the GOP side and Holmes would be nine – so we should be in the ballpark for an average election. On the other hand, the open seat on the Democratic side isn't bringing out nearly as many – just nine have signed up for the Democrats, with at least four being the perennial candidates who rarely get more than 1% of the vote.
Of those nine Republicans, most have some sort of electoral history: Holmes and John Graziani both ran for the same Congressional seat in 2014, while Dave Wallace was the Republican nominee against Democrat Chris Van Hollen that same year. Richard Douglas was a Senate candidate in 2012 and Richard Shawver was in 2006, but Kathy Szeliga is the only one who's won a legislative position as a Delegate in the Maryland General Assembly. It appears Chrys Kefalas, Lynn Richardson, and Anthony Seda are first-time candidates.
So while Szeliga probably has the greatest name recognition, followed by Douglas, it is a relatively wide open race. If someone were to do favorability numbers on the GOP side right now, I doubt any one of the candidates would be over 20% favorable, with the vast majority saying "never heard of them." I myself didn't know many of these people were in the race until I looked tonight.
Meanwhile, in looking at our First District, it's still a four-person race on the GOP side where incumbent Andy Harris is joined by 2014 challenger Jonathan Goff, first-time candidate Sean Jackson, and former Delegate Mike Smigiel. Jim Ireton hasn't filed yet, so Joe Werner (who ran for the seat in 2008) is the only candidate so far on the Democratic side.
I think there will be between one and three more in each of the aforementioned races by the time Wednesday's filing deadline expires. But I am sort of surprised that we're not seeing as many candidates up and down the ballot this year.
Once again I have a potpourri of items that I think need between a couple sentences and three paragraphs, so here goes.
Over the last few months I have followed the saga of atheists who have tried to have the Bladensburg Peace Cross removed thanks to attorney and second-time U.S. Senate candidate Richard Douglas. Early last week a federal judge dismissed the case in a brief, two-page order, although the plaintiffs promised to appeal. Douglas called the decision "a good day for liberty," and I tend to agree. Kudos to the good barrister for lending a hand.
Something Douglas has stressed in his populist campaign is the plight of the working man. So while manufacturing jobs held relatively steady over the last couple months, those who advocate for manufacturing thought the job report was rather bleak. "It's the latest evidence that manufacturing in America is at or near a state of recession," said Alliance for American Manufacturing (AAM) head Scott Paul. "While much of the service sector is growing albeit with low wages, our goods-producing economy is struggling under the yoke of global weakness and China's massive industrial overcapacity."
That imbalance with China was also the subject of print ads sponsored by another industry group, the U.S. Business & Industry Council.
Their point is simple: there were no currency manipulation provisions included. While China, which has a long-standing reputation for the practice, is not a part of the TPP, other members have also been accused of similar tricks. The USBIC apparently desires a united front among many of China's regional trading partners.
Those who can't find jobs often need government assistance such as food stamps (now known as SNAP.) But the state of Maine recently grabbed the notice of the Daily Signal for a proposal to ban the purchase of junk food and pop with EBT cards. Certainly to some it would border on nanny statism, but the state argues that:
"Our current food stamp policy lets water in one end of the boat while bailing out the other," said DHHS Commissioner Mary Mayhew. "If we're going to spend millions on nutrition education for food stamp recipients, we should stop giving them money to buy candy and soda. Maine is facing an obesity epidemic, especially among its low-income population, and we should be solving that problem rather than enabling it."
In short, if you wish to gorge yourself on Skittles and Mountain Dew, find a job and get off the dole. Maine has cracked down on welfare programs since Governor Paul LePage took office – maybe Larry Hogan should pay attention.
Someone in Hogan's administration got the hot water turned up on him, as the James O'Keefe video I talked about a few days back had the sequel. Now we know his deputy isn't particularly into martial fidelity, but then again we sort of factor that into the equation anymore. This guy named Clinton was elected president for doing far worse, so perhaps being on the large end of the Project Veritas telescope will be a resume enhancer for this liberal deputy AG.
Chances are, though, soon Thiruvendran "Thiru" Vignarajah will be ignored by the media, sort of like what we're advised to do by columnist, fill-in radio host, and would-be Congressman Dan Bongino regarding Barack Obama. Whether it's gun control, border security, Syrian refugees, or simply his method of leadership, America is better going in the opposite direction our feckless President desires us to go. Simple advice that's worth the read, as Dan often is.
Yet Obama's government is still powerful and has the capacity to make peoples' lives miserable. Take the Internal Revenue Service and a new proposed rule that will ask nonprofits to keep Social Security numbers for donors who give more than $250. Tonya Tiffany of MDCAN got her moment of fame as an advocate against this regulation.
Those who are interested in stating their case have until December 16 to go here and give their opinion. Operations which only have sporadic activities and run on a shoestring would be most affected, and MDCAN falls under that umbrella as their primary activity is the Turning the Tides conference each January.
As they argue:
The IRS wants to make non-profit organizations responsible for storing and reporting the Social Security Numbers for anyone who donates more than $250. This will burden the non-profits financially as well as increase your chances of having your identity stolen. It could also make it easier for the IRS to target organizations based on politics and move on to also targeting the private individuals who support those organizations.
On the latter point, I think back to the emotion surrounding donations to the side supporting Proposition 8 in California some years back (in favor of traditional marriage.) Even years later, those who chose to donate in its favor had to deal with its fallout. Instead of harassment from a group, though, imagine the full weight of the government harassing donors. The system isn't really broken so there's no need to fix it.
There's no need to fix my e-mailbox, either. While it's not completely empty, the remaining items deserve more of a hearing. Look for these in the next few days.
It's been almost three years since this was a regular feature on my site, but it appears I may have to bring this back to deal with all the stuff that I receive and deem to be somewhat newsworthy - just not enough to devote an entire post to. Ideally I can use it to clean out an e-mail box that gets too full of stuff that otherwise sits for awhile. As always, we'll see how it goes but it's been long enough that I had to go look up where I was in the series.
If you recall when I discussed the state convention last week, Maryland National Committeeman Louis Pope was pleased with the national GOP's fiscal situation and it was also announced that the state party was finally out of debt. So it's interesting to find out our national Democratic counterparts are doing what they do best: spending money they don't have. Even with Martin O'Malley still in the race, they can't just raise taxes to cover the difference.
It's doubtful that Hillary's campaign will be hurt, but Democrats are also salivating over retaking the Senate as the seats won by the GOP in the first TEA Party wave of 2010 come up for re-election in a Presidential year. That's where a shortfall could come into play.
Speaking of the state convention, the sponsor of the amendment which actually stripped the voting rights of three auxiliary organizations now questions his own standing in introducing the amendment in the first place. It's the ultimate in do-overs, but we have to ask whether he would have been as honest had the proposal passed.
Now Tony Campbell wants a special convention to right what was made wrong.
In discussing this with a former Chair, one thing that I learned is that seldom does an individual vote matter on the Executive Committee – there is rarely a time when a vote is close enough to make a difference. The only instance he could think of where a vote was close like that was the vote of no confidence in former Chair Jim Pelura back in 2009. That was still a relatively lopsided vote, 20 to 10, but the county chairs only voted 14 to 10. It was the six leadership and auxiliary votes that padded the margin.
(It's also a rare time of late that I cite the balky and ad-bloated Red Maryland site, but you'll notice the reason for the exception.)
So I think we should deal with this in due course. Perhaps we can do like we do for government "shutdowns" and give the auxiliary organizations their votes later as back votes once we rectify the situation, as I know we will.
Staying with the Maryland GOP, a few days back I received a list of 61 Republican leaders throughout the state who are backing Delegate Kathy Szeliga in her U.S. Senate bid. As you may expect, there are a lot of General Assembly members on the list: locally it includes Delegates Christopher Adams, Carl Anderton, Mary Beth Carozza, and Charles Otto as well as Senator Addie Eckardt and County Executive Bob Culver. 42 of 50 Republican Delegates and 13 of 14 GOP Senators are on the list. (George Edwards of western Maryland is the recalcitrant Senator.)
But I noticed one name among the local delegation was missing: it looks like Delegate Johnny Mautz has kept his powder dry for the moment. I can't figure out if he just didn't want to sign or if he's backing someone else – with his Congressional staffer connections, he would be a logical backer of Richard Douglas. Just grist for the mill.
I haven't even started to make my mind up on the race, but I will say Kathy has a long way to go to get my support – if only because her campaign website is still bare-bones a couple weeks after she jumped into the fray. That's the type of lack of attention to detail that can sink a campaign.
Ethanol hasn't been in the news much lately, but I thought it was worth pointing out that one of my favorite energy writers, Marita Noon, recently detailed how Ben Carson has moved to the right side of the issue. API's Linda Rozett adds her two cents as well, making the case that dairy subsidies didn't work out well so neither are ethanol carveouts creating the desired effects. Look, when we have plenty of oil there's no real need to use food for fuel, despite what the corn growers who are enjoying the artificial price support may say.
Of course, people like me who believe food shouldn't be used as fuel tend to fall into the category of climate change "deniers." The folks at Organizing Against America For Action are excited about events in Paris. (Not the Friday the 13th ones, although this could be just as detrimental to millions.) In an e-mail exhorting supporters to "call out" skeptics, they say:
Remember when getting an elected official to even mention carbon pollution or climate change was a big deal? We've come a long way.

Today, the momentum for action has never been greater. Climate change denial in America is at an all-time low, and hundreds of companies have come out to support rules on power plant pollution. As if that wasn't enough, religious leaders like Pope Francis are insisting that there is a moral obligation to address climate change.

In just two weeks, more than 160 nations, representing more than 90 percent of the world's carbon pollution, are joining together for an international conference to tackle climate change, while we still can.
I dare them to call me out. YOU ARE A FRAUD. We've been holding steady on global temperature since the turn of the millennium, and if anything the indications are we are getting colder, not warmer. Throttling back the economies of the developed world will only weaken the rest of the planet.
Yet there are people talking common sense:
Climate change deniers are trying to spoil this big moment by undermining America's commitment to act on climate change.

Some senators, like James Inhofe and Mitch McConnell, are going out of their way to undermine American commitments. Senator Inhofe, famous for bringing a snowball onto the Senate floor as proof that climate change doesn't exist, has committed to crash the talks and be a "one-man truth squad," telling the international negotiators how little he believes in climate science.

Senator Inhofe isn't alone. Back at home, climate change deniers in both chambers of Congress are working to overturn the carbon pollution standards for power plants.
Good. I hope they succeed in overturning the job-killing restrictions. Just call me the Republican uncle, except I can do more than recite talking points.
Killing – not of jobs, but of fellow public housing residents – may not be out of the realm of the 6,000 drug convicts the Obama administration is releasing, and thanks to Judicial Watch we also know that they will be welcomed into public housing. I will grant that probably 99% of them will be more or less model citizens, but that still leaves a few dozen miscreants to cause trouble. I think Judicial Watch has reason to be concerned, as do those residents who get them as neighbors. Perhaps the same sort of notice granted when sex offenders move nearby is in order, at least to start. Call it a probationary period.
Finally, let's end on a happier note. I wrote about a similar event last year, but over the weekend we were encouraged to participate in the Made in the USA Christmas Challenge by the Patriot Voices advocacy group. While most of the electronics we use are made overseas, it is possible to purchase gifts made in America. (One familiar group has some suggestions.)
It's worth noting, though – as of this writing, just 116 have signed up at Patriot Voices. That's not very many patriots, so hopefully more people than that are conscious of the advantages of supporting our businesses.
So there you have it – you are more informed and I have a clean inbox. I love it when a plan comes together.
A new day dawned yesterday after a night of partying I described in part 1. Too bad it was about the last time we got to see the sun.
Instead, I went down to grab breakfast and remarks fron three U.S. Senate candidates. It should be noted that a fourth, Anthony Seda, "has never reached out" to the MDGOP, according to Diana Waterman.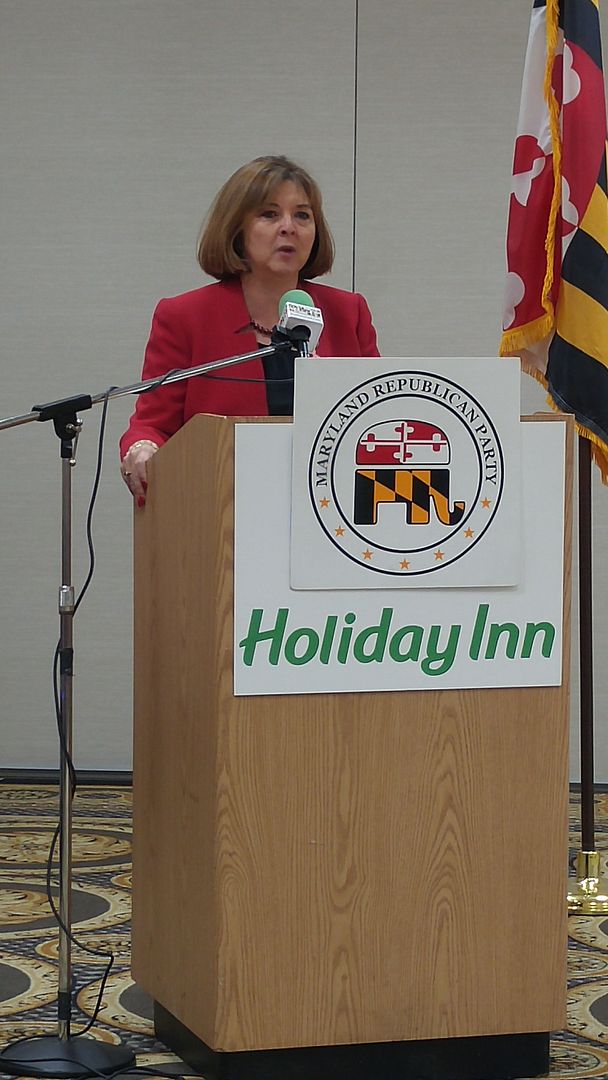 After an opening prayer where Delegate Deb Rey prayed that we "cruise to victory," we did the speeches in alphabetical order. This meant Richard Douglas spoke first.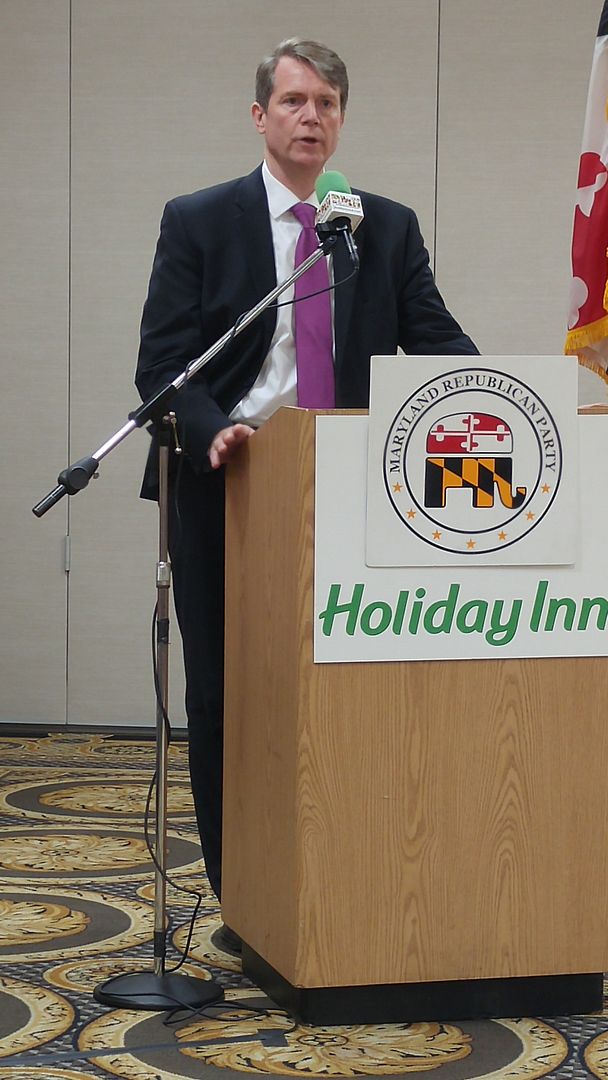 Richard noted the news was still filled with images from Paris, Belgium, and Mali, saying it underscores that "terrorism…remains a concern." He added that the authorization to use military force passed after 9/11 remains in effect today.
He added that growing up abroad made incidents like the building of the Berlin Wall and Cuban missile crisis "indelibly etched in my mind." But he assured us we are stronger than Russia – we just have a leadership problem. No one is pushing back on Russia, China, or Iran, he continued.
Douglas pivoted to domestic issues with a mention of the Bladensburg Cross, a court case he's assisting on and one for which he predicted "we'll take the wood to the humanists." It led into his thought that the job of a Senator was not to pontificate, but to act. In Maryland, it meant not just doing what he could at the federal level to eliminate the rain tax and entice industry. One example of the latter was the Howard Street Tunnel, which is too shallow to accommodate double-decker rail cars. It's a problem the current Senator has had 30 years to address.
"People who have three squares a day…don't riot," Douglas noted. With foreign policy experience and what could be described as a populist agenda, Douglas vowed "I intend to go to the Senate to make that place better."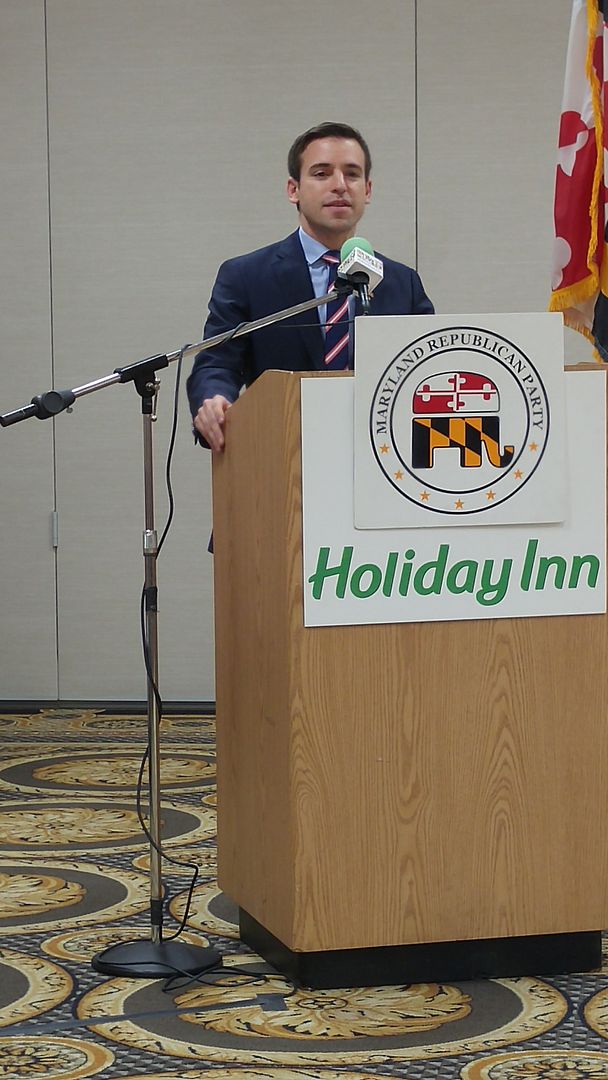 The son of Greek immigrants, Chrys Kefalas opened by saying, "I'm a story that's brought to you courtesy of the American Dream." He then detailed a life of precocious entrepreneurship as a teenage business owner who parlayed that success into law school and eventually jobs with Bob Ehrlich, both as Congressman and as governor. One of his accomplishments with the Ehrlich administration was pioneering criminal justice reform.
After a stint at the Eric Holder Justice Department working on a "smart on crime" initiative, Kefalas is now a vice-president at the National Association of Manufacturers. "Manufacturing is coming back," said Chrys. America has the advantages of innovative and productive workers as well as affordable energy. Taxes and regulations were holding us back, he explained.
Yet he was quick to recognize "you are the ones who are going to make the party strong…the campaign is about you."
Kefalas added that the task of the nominee is to win, and he would do so with his positive vision. In this "once-in-a-generation opportunity" to win the seat, Kefalas believed "I can get more Democratic crossover support than anyone else in the primary."
"We need to expand the map in Maryland," he continued. Through him "we have a path to victory."
Kefalas concluded by noting his recent engagement, stating "I am a gay Republican." But "we move our country in a better direction when we are together."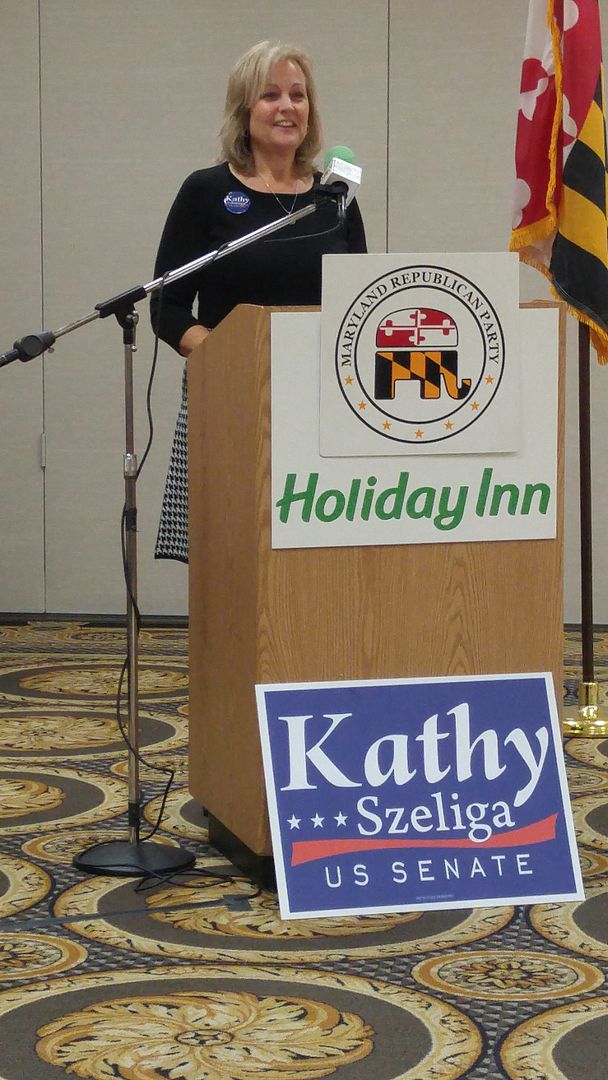 Kathy Szeliga emphasized her working-class background and that she and her husband Mark "believed in the American Dream." For most of her life she'd played the various roles working moms did.
But Kathy stressed her more recent past, talking about how she and fellow Delegate Nic Kipke "brought some new ideas to Annapolis." She also learned how to work across the aisle there.
With a new governor, Szeliga added, things were moving in the right direction – for example, we "repealed that darn rain tax." (Actually, we only eliminated the 'shall' but kept the onus on counties to pay for the improvements.)
As for her Senate run, Kathy believed "there was a time that Congress worked," but now government is too big, too gridlocked, and too distant. Indeed, "now is the time to turn Washington around…the American Dream is fading."
Her pet issues if elected would be quality of life, security, and schools. Most of her remaining time was spent discussing the security aspect, noting that "terrorism is real…we must remain vigilant." She vowed to support law enforcement as well.
Addressing her prospective opponents Chris Van Hollen and Donna Edwards, Szeliga opined they don't understand the dangers we face from "radical Islam terrorists."
In closing, Kathy pointed out her initial run of 61 endorsements and stated, "together we're gonna get this done in 2016."
So after Diana Waterman thanked her "three amazing candidates," I had some time to spend in the exhibit hall before the morning session.
There I ran into Tanya Tiffany from MDCAN.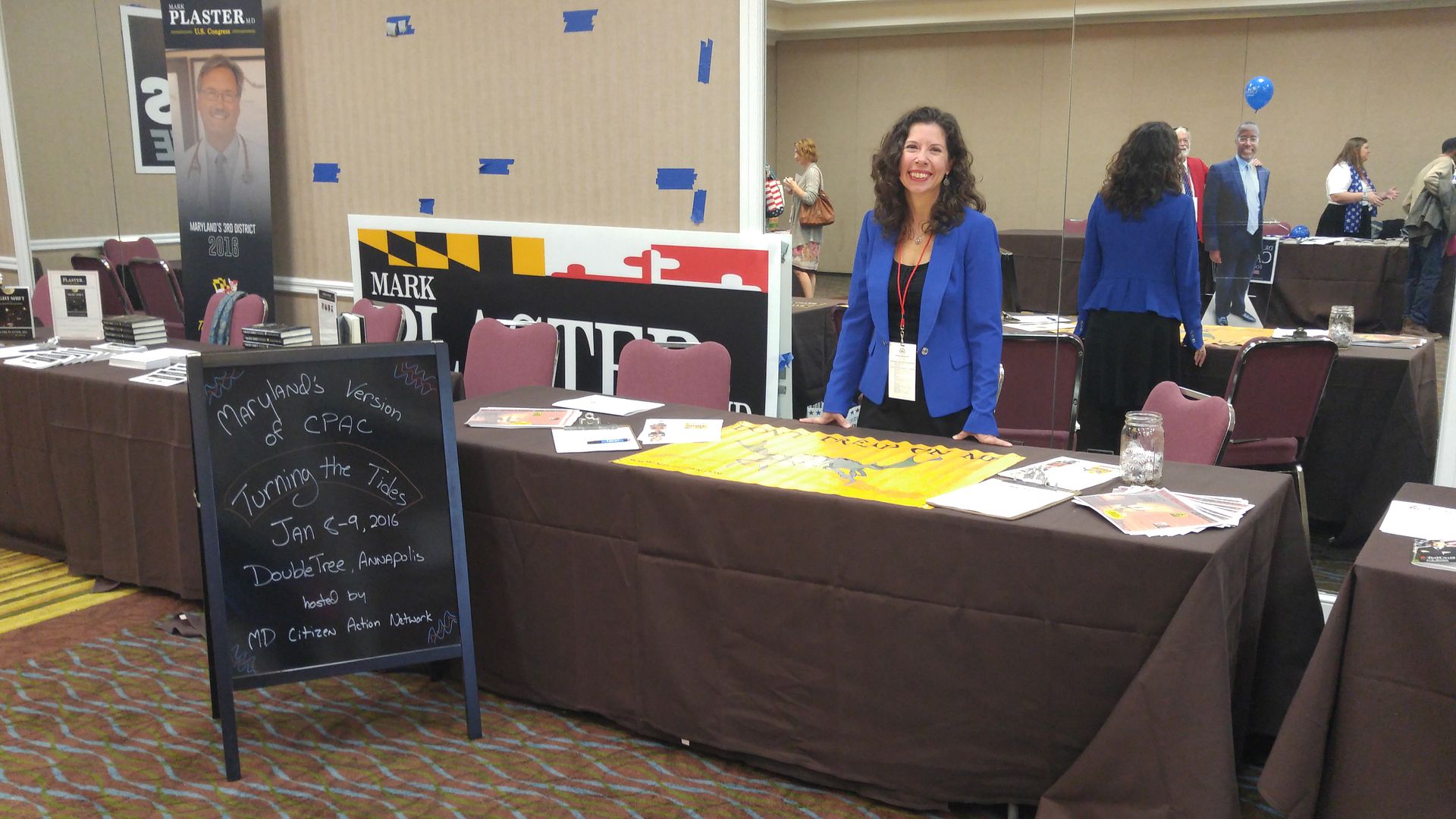 It's a good moment to remind readers about the upcoming Turning the Tides Conference coming up January 8-9, 2016. I asked her if they would have a Blogger's Row as in past editions and she said they were looking for a sponsor. They're also changing the format a little bit to be more like previous editions, so it should be informative and more like "Maryland's version of CPAC."
With the convention opening, we were welcomed by Senator Steve Waugh.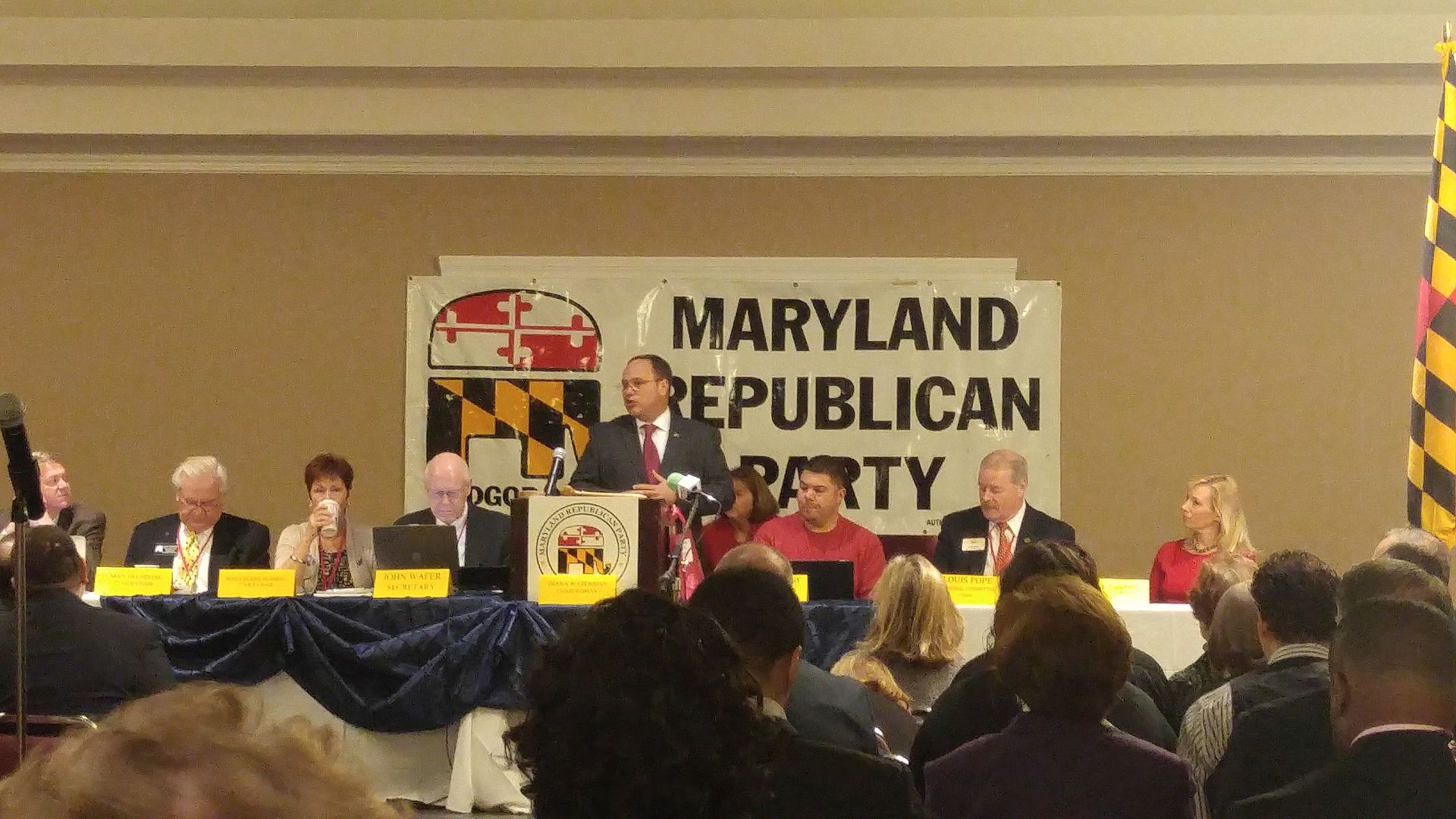 In his remarks, Waugh focused on the fact this part of Maryland "gave freedom of religion to the world" with the passage of the Tolerance Act in 1649. In the here and now, Waugh believed Governor Hogan "made the perfect call" regarding Syrian refugees, noting "you must ensure our safety."
In another bit of history, Waugh pointed out that 15 years ago Calvert and St. Mary's counties were about 2-1 Democrat but now both have a GOP majority.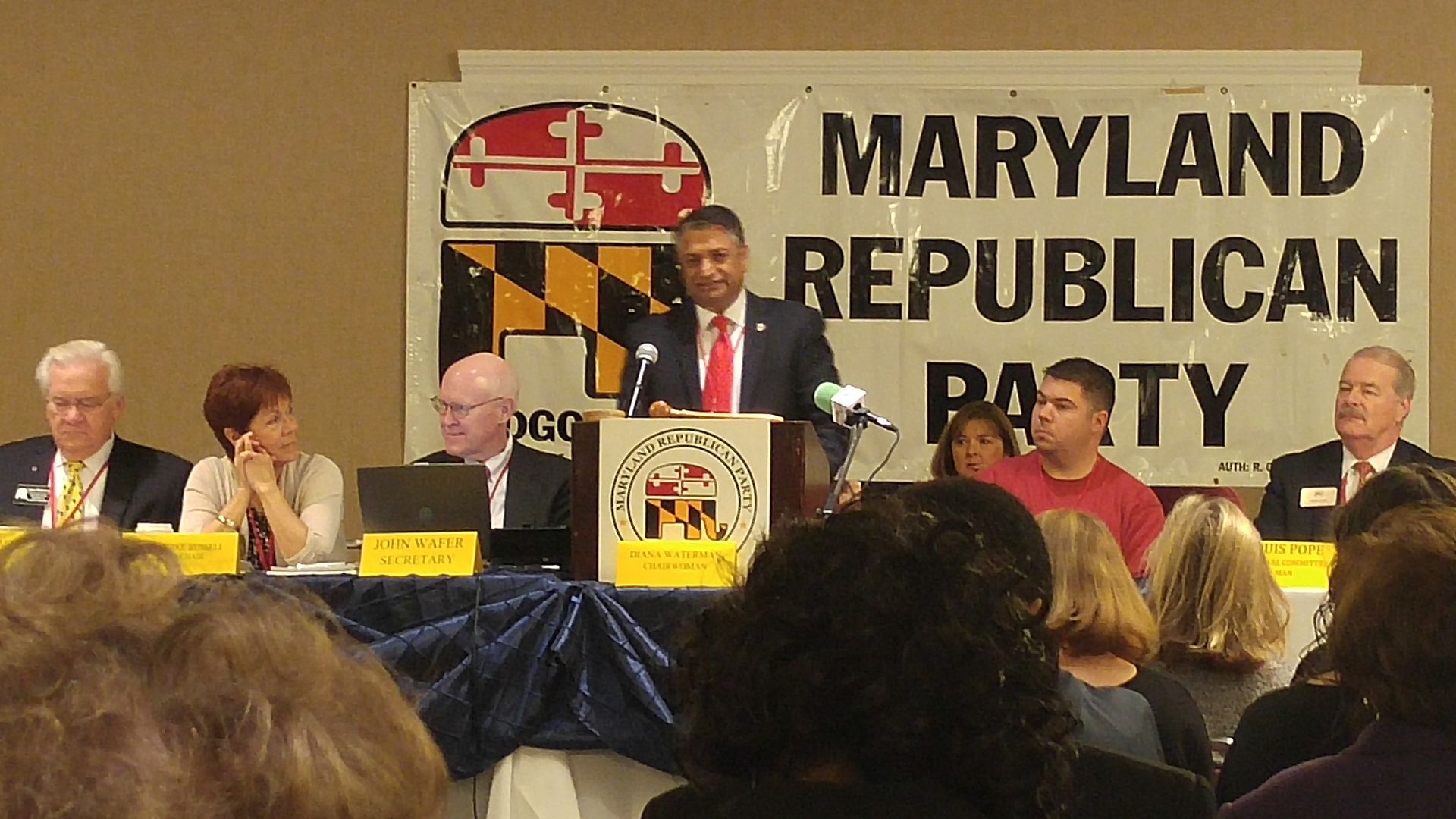 Since Larry Hogan was at the RGA meeting and Boyd Rutherford had a previous personal engagement, it fell to Secretaty of Human Resources Sam Malhotra to extend the governor's greetings. He went through a laundry list of accomplishments by the administration over its first year, but concluded with the remark "I can't wait for the next seven years." He believed we were in the process of changing Maryland from deep blue to "baby blue" to purple to red.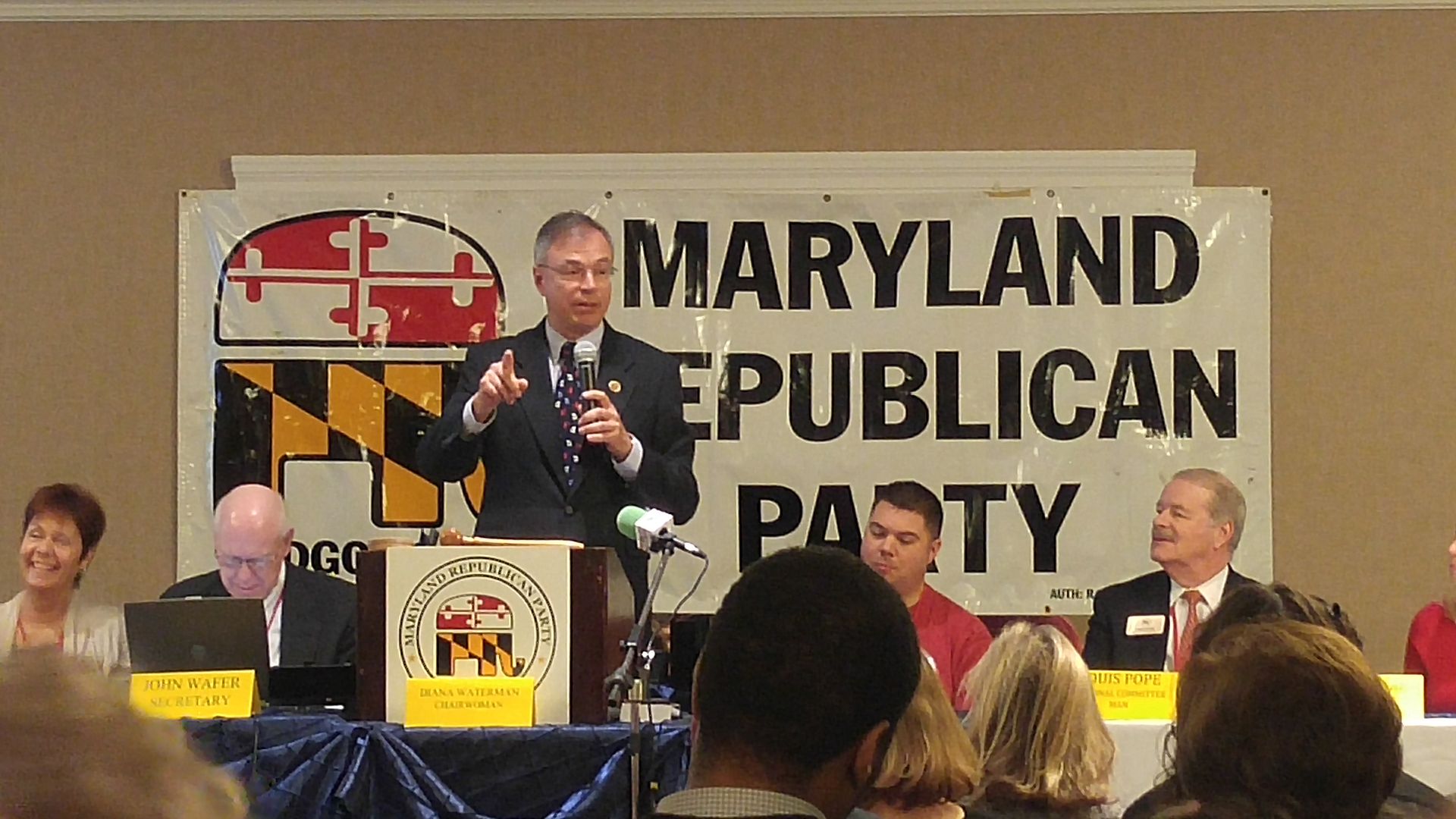 Congressman Andy Harris supplemented Malhotra's remarks by saying he'd work hard to get five more Senators in Larry's second term. "What a difference a year makes," he added, also maintaining "this is not a deep blue state."
As far as Congressional leadership, Harris believed it was the right time to change leadership. Paul Ryan can deliver our message, as opposed to John Boehner. "I don't believe he communicated well," said Harris. Andy also believed Speaker Ryan had his priorities in order, putting family first. "It doesn't take a village, it takes a family," said Harris.
Turning to the economy, the Congressman was waiting for the "last shoe to drop," meaning an inevitable interest rate hike. If rates rise to their historical rate of 2 1/2% it would mean $500 billion a year in interest payments alone – more than we spend on defense. "The economy is not going to get better" under Barack Obama, he added.
Obama's administration is also promoting the message that law enforcement "is our enemy." Yet this is a time where we had a real enemy. "What Paris showed us is that 9/11 is not over," said Andy. Add in the Russian airliner and the Mali attack, and it was no wonder France took action. Hollande "figured it out" that Obama wouldn't take charge. "This is a setback to him," explained Harris.
The narrative that ISIS is contained falls flat to Harris as well. "ISIS is here in the United States," said Harris. "We have to declare war on ISIS." Moreover, "we have to fight the war on ISIS as a war to win."
Looking back to the state party, Harris believed we were on a roll and the Democrats were worried. Now we have to recognize the importance of local elections and raise money for the local Central Committees. "Only 350 days until Election Day," Harris concluded.
We then heard from Steve Waugh again, who gave the Senate portion of the legislative update. "The magic number today is 19," he said, referring to the number of Senators required to sustain a veto.
He predicted the next session "will be all about Baltimore," adding that the budget will also come through the Senate this year. Other items to watch out for: paid sick leave, body cameras for police, K-12 education funding, a bottle tax, and "death with dignity." We also have to figure out how to come up with over $1 billion to service O'Malley's debt, Waugh added.
While the Democrats would try to sandbag Governor Hogan by laying traps for him to spring in 2018, Waugh advised us to "stay focused on the message."
Wearing her Delegate hat, Kathy Szeliga urged us to join the Governor's press list so we could spread the word about his successes. She harped on the $17,000 per pupil Baltimore City Schools spends, saying we were committed to education but also to accountability. How much is enough?, asked Szeliga.
She added there were some successes from the House on the Second Amendment as we ended ballistic fingerprinting, made it easier for armored car personnel to get permits, and removed some accessories from the SB281 ban list.
Finally, Kathy urged us to "answer back" to Democratic fundraising.
Shifting gears, we heard from Lucas Boyce of the RNC regarding their new philosophy to "engage, embrace, entrust" and the Republican Leadership Institute. Diana Waterman was working to bring some RLI graduates to work here in Maryland.
Boyce wrapped up the morning session, so we adjourned for two seminars and lunch. The first seminar I went to featured Nicolee Ambrose.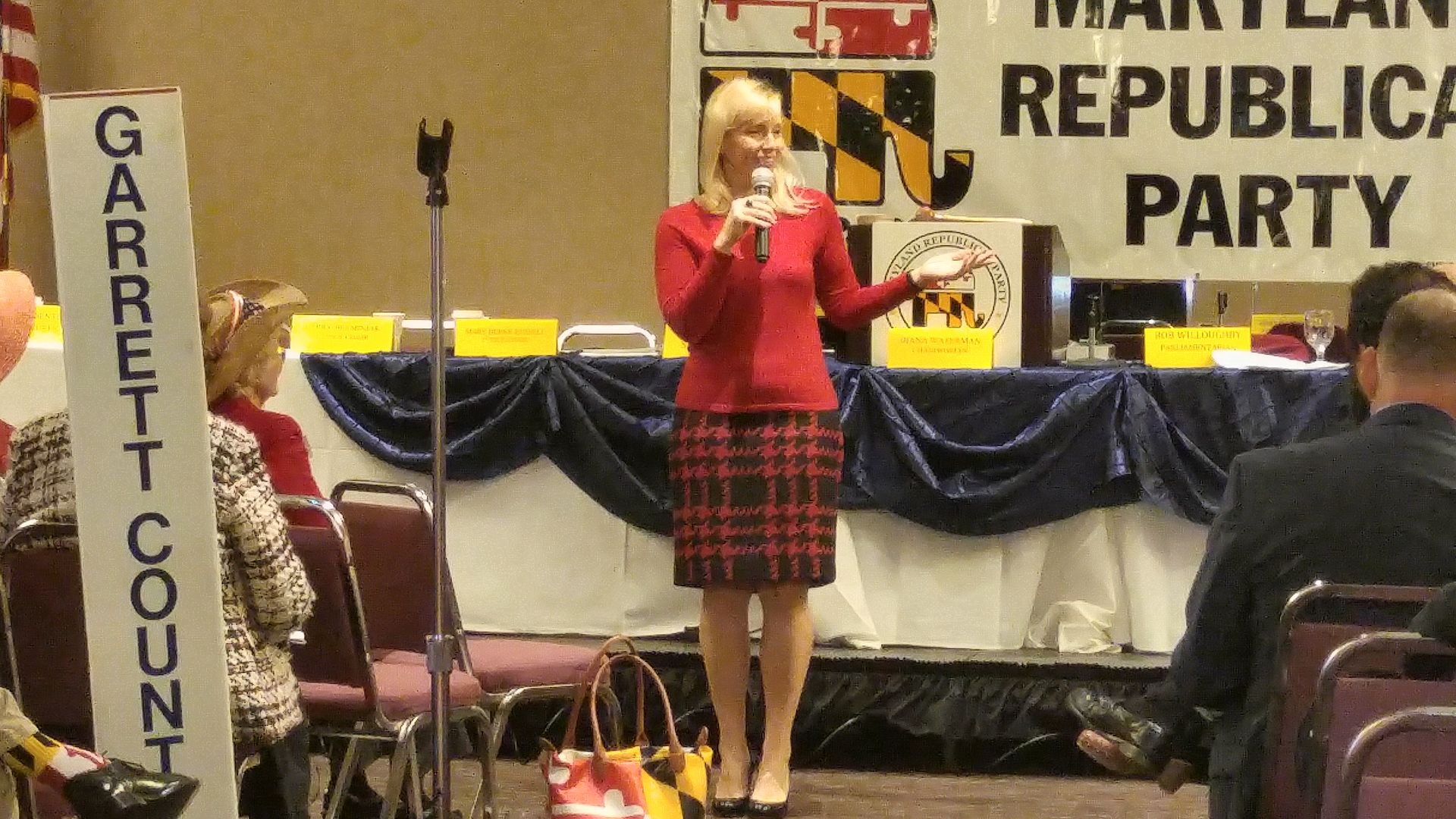 There we discussed two somewhat disparate but vital topics: grassroots organizing and public speaking. On the latter, we did a pair of "American Idol" style auditions where "contestants" were judged and advised on a two-minute speech. It's really hard to talk for two minutes.
I didn't take a photo at the second one, but Justin Ready spoke on some of these same topics and more.
Not taking Justin's photo means I have a cleaner lead into the National Committeewoman's report Nicolee delivered to start the afternoon.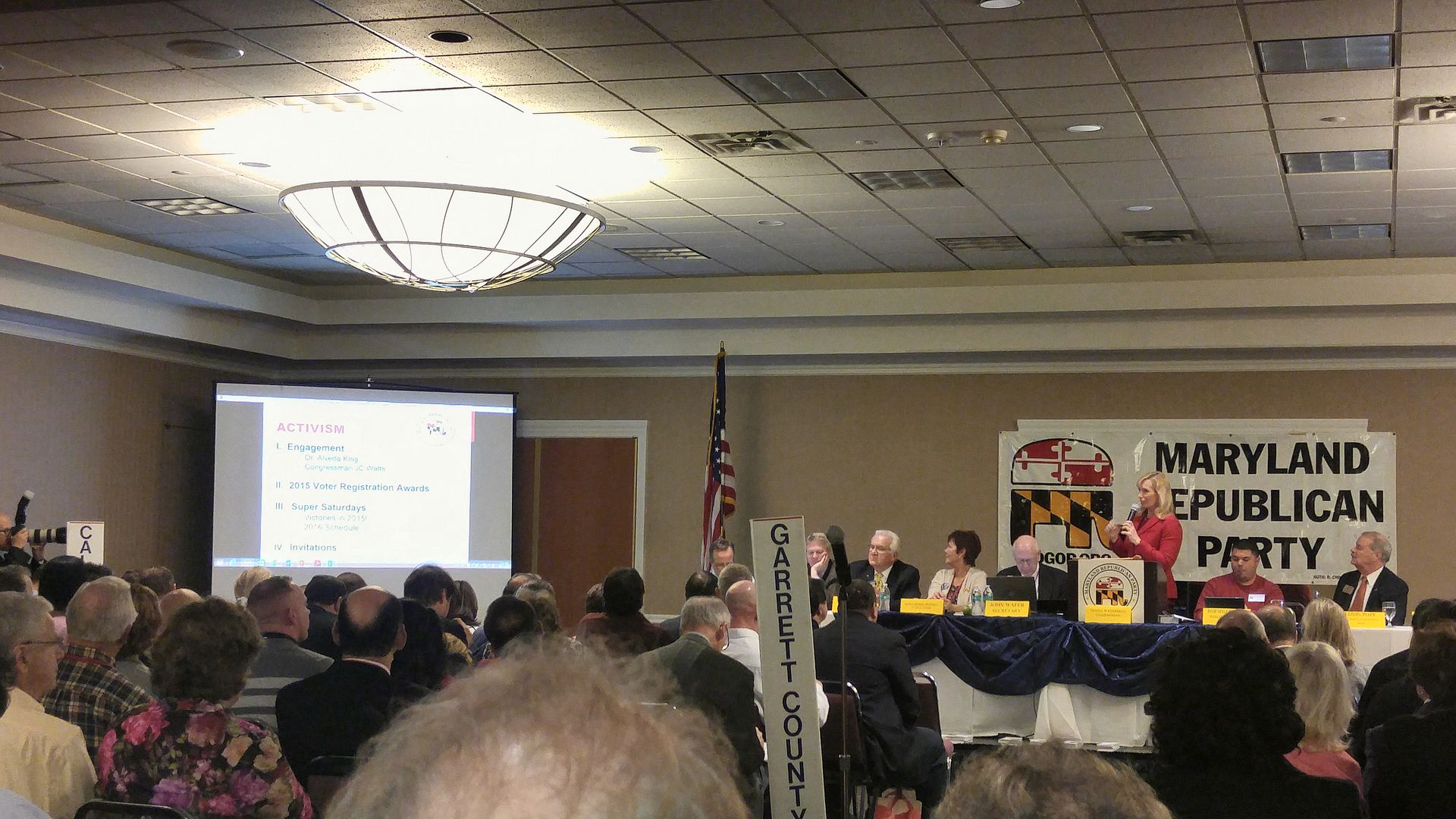 Nicolee pointed out some of our engagement events featuring Alveda King and J.C. Watts in Baltimore City, adding that getting Republican totals to 25% there makes us a red state. She also announced the winners of our voter registration contest for various-sized counties.
Ambrose was happy about going "2 for 2″ with her Super Saturdays, winning with both Michael Esteve in Bowie and Muir Boda right here in Salisbury. "This man was an animal" when it came to door-knocking, said Ambrose of Boda. She also praised Patrick McGrady for winning for mayor in Aberdeen.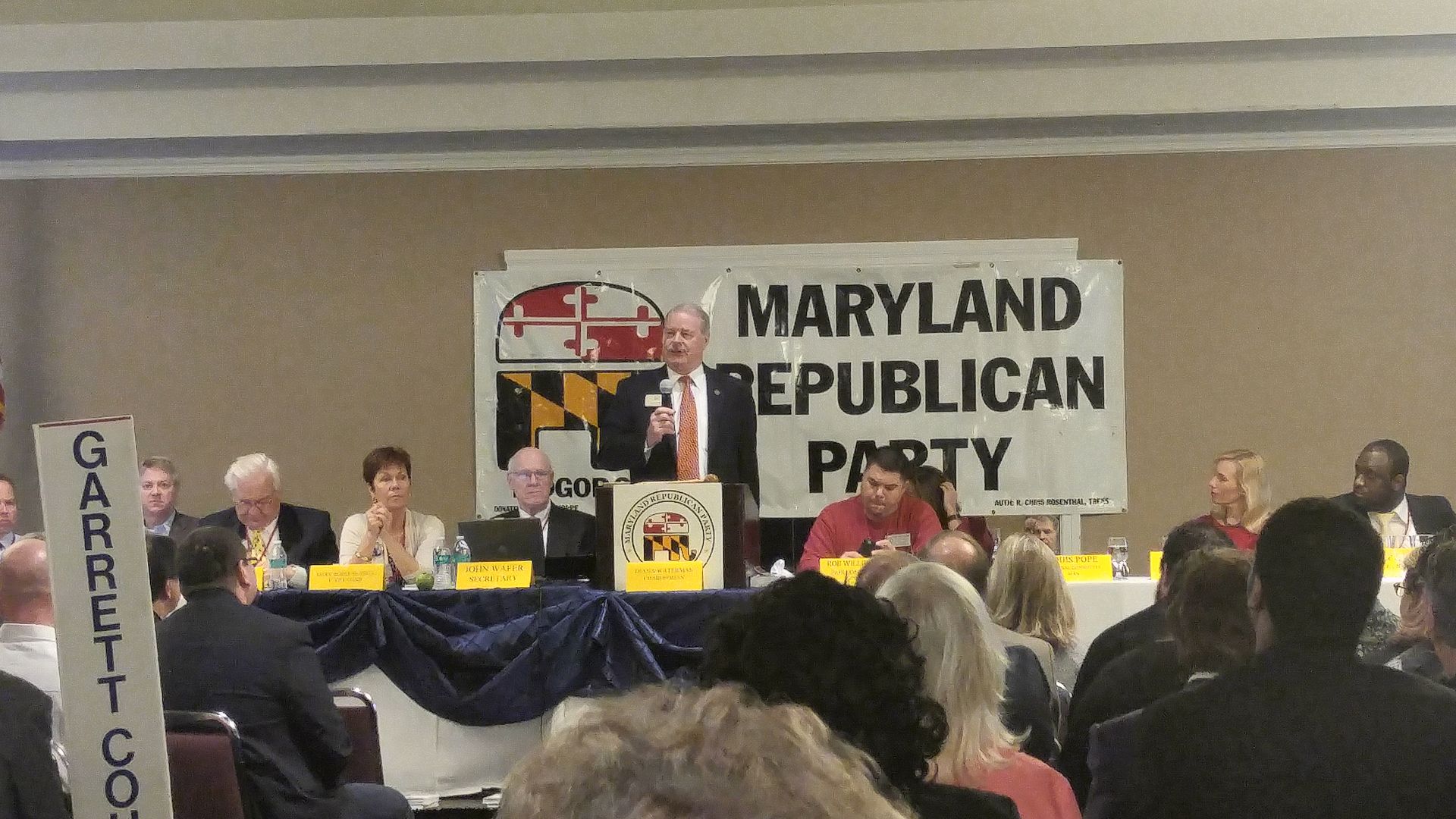 A man who hosted a "phenomenal" house party, according to Diana Waterman, Louis Pope gave the National Committeeman's report.
He focused more on the national scene, saying the RNC was "far more viable" than at any other point in history. And although this success wasn't being picked up by the mainstream media, the ground game was "going exceedingly well…our turnout machine is working." Now we had 32 GOP governors, added Pope.
Noting the CNBC debate showed "how unbelievably biased" the media is, Pope opined the primary season would be over by April 30. After that, it was "absolutely essential" that we come together. "Next year's election will be a battle royal," said Pope. The RNC has "a very deep playbook" on Hillary, Louis added.
On a local level, Pope urged the Central Committee members to raise money this year for the 2018 elections, since there's not much competition for funding. This year's campaign, though, will require "sweat equity," said Pope.
We heard a quick report from College Republican Chair Christine McElroy, detailing their successes – including the Salisbury University CRs co-sponsoring our Lincoln Day Dinner. But she also revealed the sad fact that 77% of millennials could not identify even one of their home state Senators.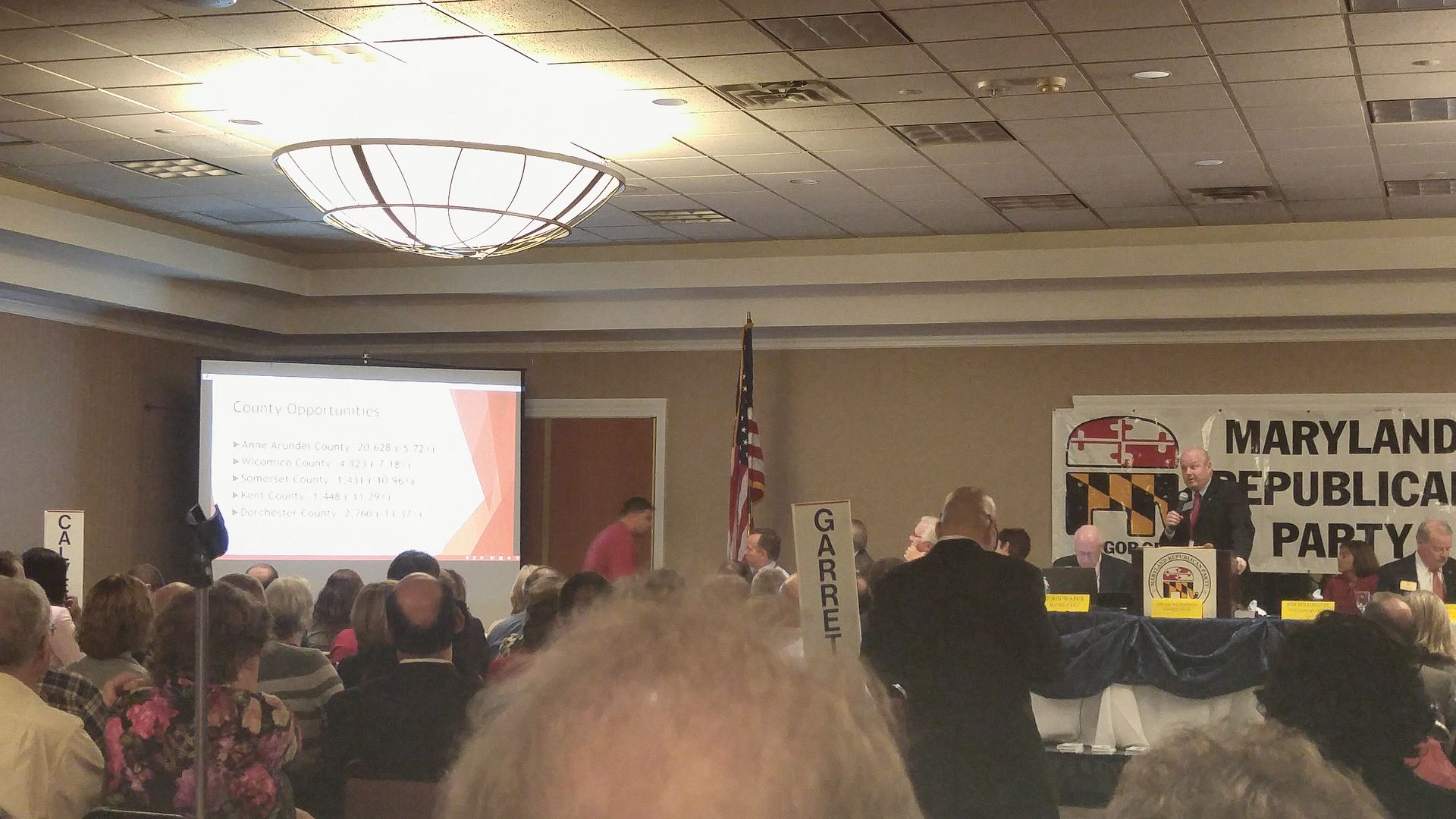 Party Executive Director Joe Cluster went over voter registration, pointing out the five counties (including Wicomico) where the GOP is closest to overtaking Democrats. "The numbers are moving in our direction," said Cluster. He also touched on goals for precinct captains, opportunities to help Governor Hogan on boards and commissions, and the Baltimore city elections.
In her Chair's report, Diana Waterman paid tribute to the late Frank McCabe, for whom the party would have a dinner later that evening. But she stressed the need to pass the first bylaws amendment, believing if we fail to adopt this the General Assembly will take the right away. "It is for your protection," said Diana.
First we had to deal with one resolution in support of a Constitutional amendment to reform redistricting. It passed by a voice vote, with just one or two objections.
In introducing the first bylaw amendment, Mark Edney of Wicomico County stressed that "we have a problem with the process." The proposal provides a process but is not specific.
While there was spirited debate on both sides, in the end the measure had enough votes to pass. On the weighted voting scale it was 369-170, which exceeded the 2/3 majority required. (In terms of actual people, the vote was 182-85. Only Baltimore City, Frederick, Queen Anne's, and Washington counties had a majority objecting.) All nine in Wicomico County voted in favor, although I believe we will create our own specific guidelines.
On the "loser pays" amendment, an attempt to change it to cover both sides was proposed but was superseded by a motion to table the amendment, which passed with a resounding voice vote.
And then we had bylaw amendment #3. I thought it would pass with little objection, but the fireworks began right away. Most of the argument centered on whether the Black Republican group was established enough – those arguing against the amendment frequently referred to the Young Republicans, which reached a low point in chapters and membership shortly after getting an Executive Committee vote.
At first we voted on a motion to recommit to the Bylaws Committee, which drew the argument that it came from that committee. But Heather Olsen explained that the committee got this at the last minute and only checks for conformance, not on merits. In the end, the motion to recommit failed 217-324, or 114-156 in bodies. Wicomico was split 5-4 against recommitting.
Then we tried to table it, but that motion was rejected by voice vote.
The next move was to amend the bylaw to strip the voting rights from every one of the auxiliary organizations. That started new debarte, including a motion to continue debate that lost soundly in a voice vote.
The final motion to amend passed 359-178, with the amended bylaw change passing 408-83. (Body counts were 178-91 and 206-41.) Only Calvert, St. Mary's, Wicomico, and Worcester voted against both.
Once that vote was in, the bylaws committee report was done "after 2 hours and 3 minutes." Before we adjourned, Diana Waterman told us it should never be said we don't allow enough debate.
But I suspect the debate will go on. I'll have more thoughts later this week.
Oh, and another thing. We did a straw poll, with Ted Cruz the winner.
Ted Cruz – 62 votes (24%)
Marco Rubio – 52 (20%)
Donald Trump – 49 (19%)
Ben Carson – 26 (10%)
Carly Fiorina – 18 (7%)
Rand Paul – 15 (6%)
Chris Christie – 14 (5%)
John Kasich – 12 (5%)
Jeb Bush – 11 (4%)
Mike Huckabee – 2 (1%)
Rick Santorum – 2 (1%)
(All work and no play? You can skip to part 2.)
As I said before, like the prodigal son I have returned.
I counted 26 pictures in my folder. As a rule of thumb I try to keep pictorial posts under 20 so you get two parts, with this covering Friday night and part 2 looking at Saturday. While the latter was more contentious, there was some news from Friday night that I will get to in due course.
Upon arriving and checking in, I was greeted by a Ted Cruz volunteer and a cute two-girl welcoming crew. Bad time for a glitch on the cell phone camera, but it set the tone for the evening.
They were gone by the time I went down to register, but in the adjacent room I saw Ben Carson. Well, sort of.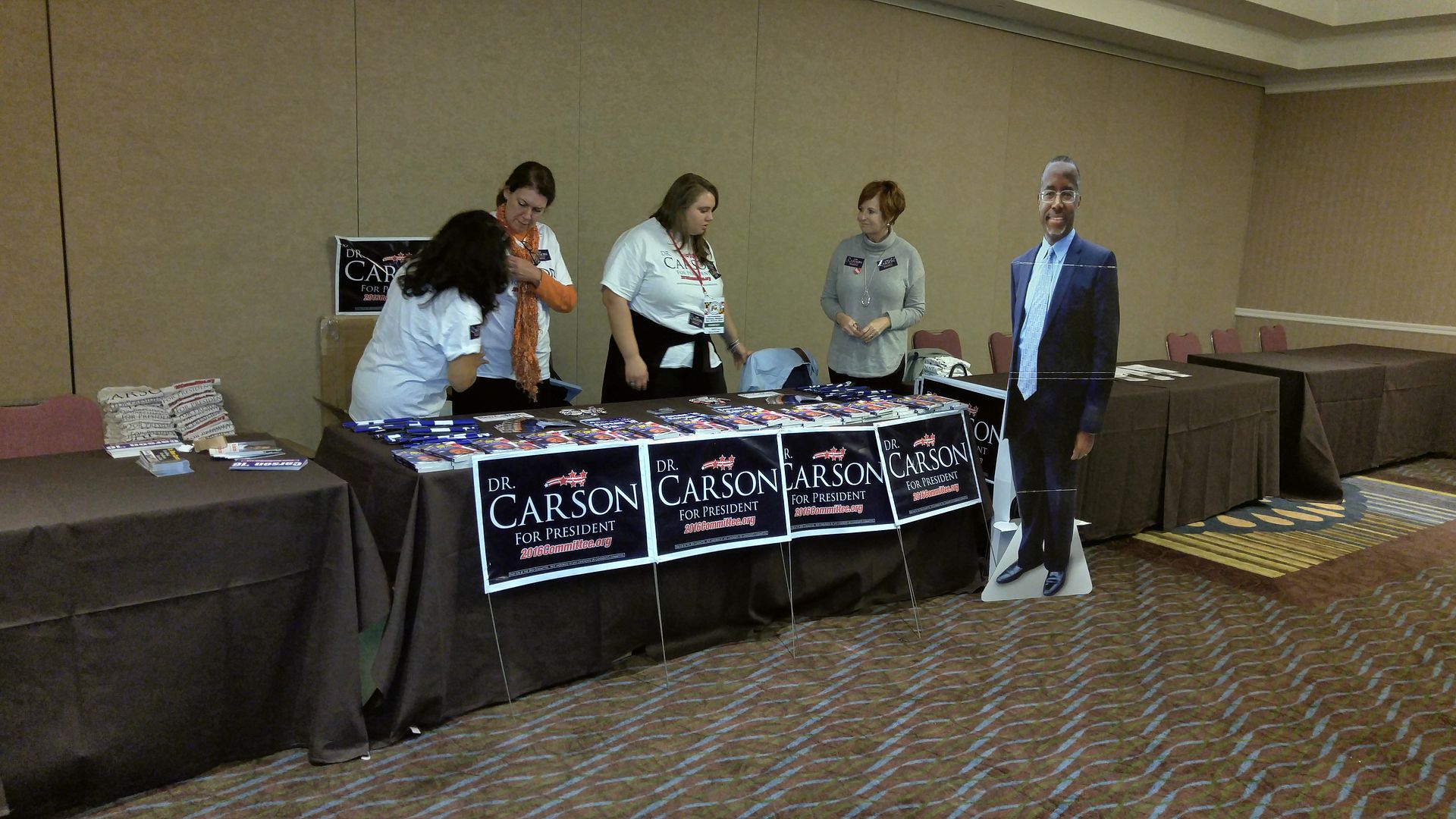 You could meet his son at one of the suites, though. I just wasn't sure where that was so, alas, it was one I missed. (I guess the younger Carson did, too.)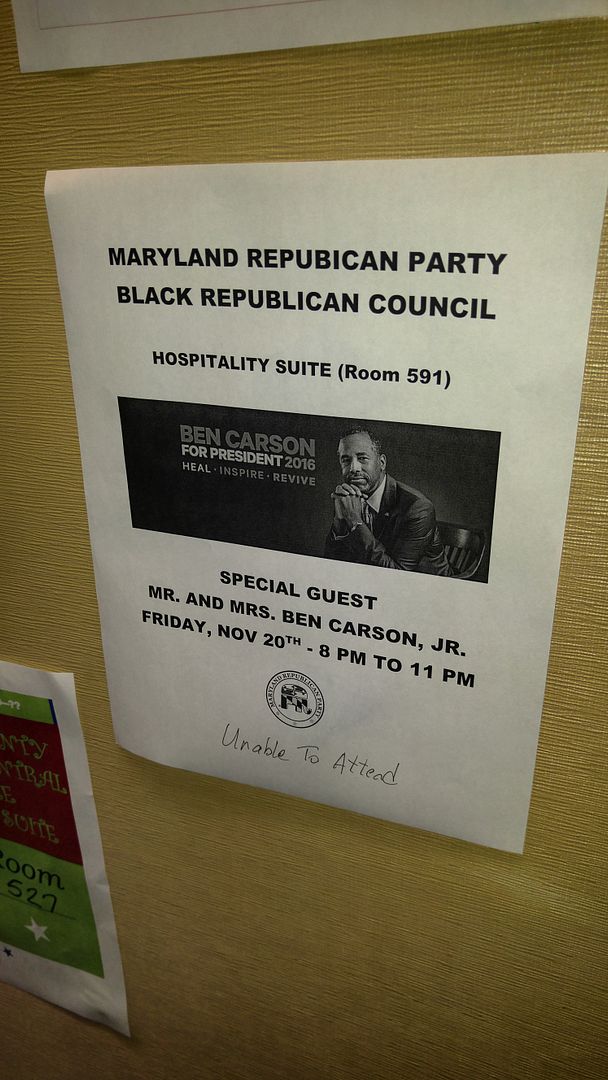 I didn't stay in the exhibit room too long. Most suites don't start right away so I usually attend the Executive Committee meeting to see what's news.
Most of it is devoted to reports that are repeated to one extent or another during the Saturday session, but I did learn the party was working on another Student Legislative Day for kids around the state.
The best tidbit came from State Senator Bryan Simonaire, who, after relating how working with Governor Hogan was "tremendous" – in part because there were no tax increases on the floor for the first time in 10 years – he revealed a piece of legislation he was considering. (I think Bryan forgot the "travel tax" Hogan vetoed and the increased court fees he adopted. But I digress.)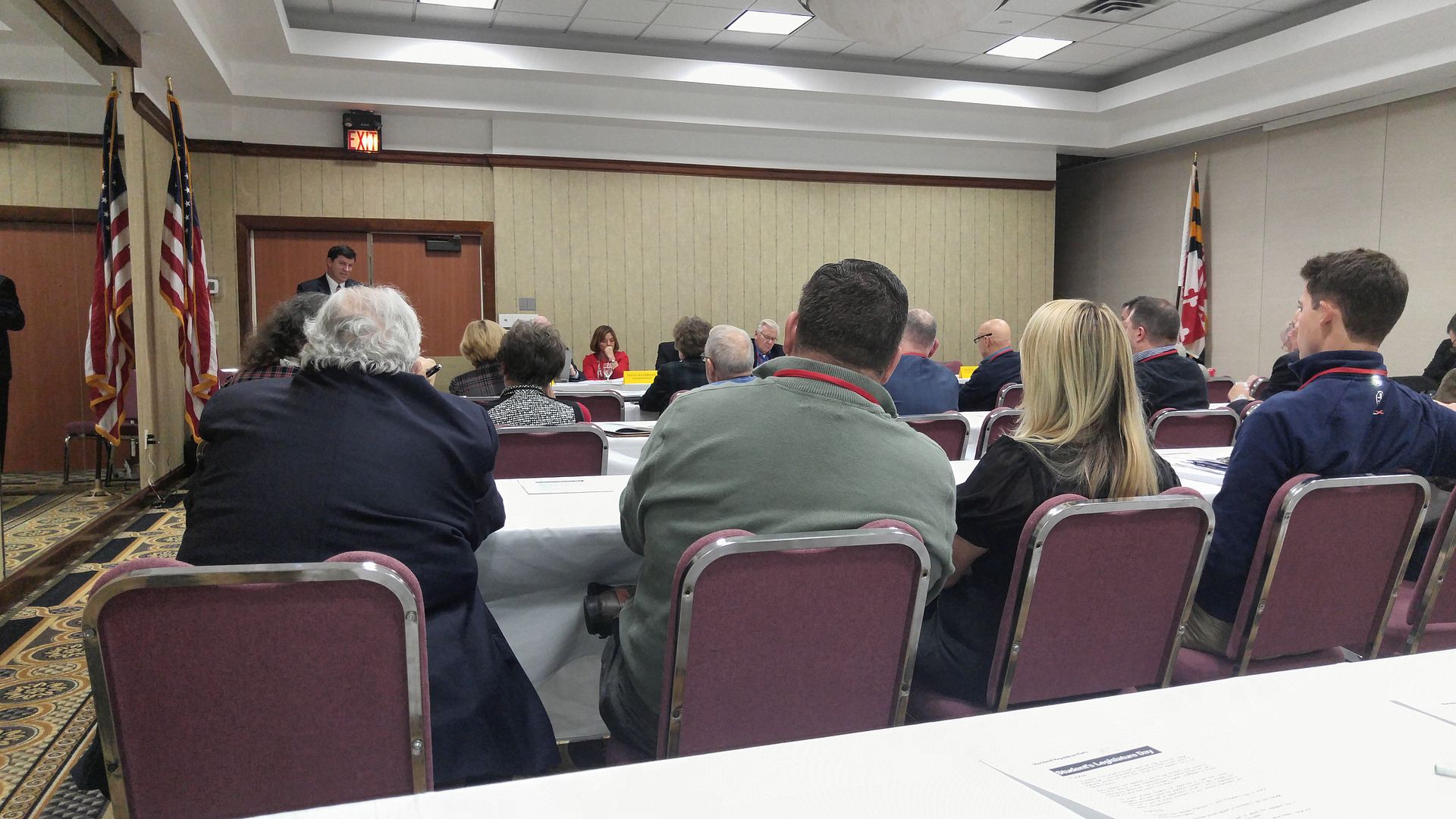 Bryan went over some of the pros and cons he had heard about changing the date Republican Central Committee members take office. By law, we don't start until after the General Election that occurs after the primary. This made sense with the old September primary, but leaves a long lame-duck period from a June primary.
Yet many of the county chairs argued "five months was no big deal" and added that it was unfair to those who weren't coming back to end their term before the election they were working toward. They wanted the members who weren't coming back to stay on. The proposal was "a solution to a problem that doesn't exist," added one party officer.
Despite the criticism from the county chairs, most of whom objected in a show of hands, Simonaire appreciated the dialogue but stated, "I am moving forward with it."
A couple folks we did not hear from on Saturday gave reports. Ivan Garcia-Hidalgo, who now heads the Maryland Heritage Council, explained his goal was to change the narrative that "Republicans are racist" and convince Hispanics their "natural home" is the Republican Party.
Meanwhile, Kory Boone of the Maryland Young Republicans was pleased to report that they had grown to seven chapters with new ones in St. Mary's and Prince George's counties.
Speaking of St. Mary's County, their District 29 suite was the first hospitality suite I stopped by. I was hungry to try some "SoMD stuffed ham."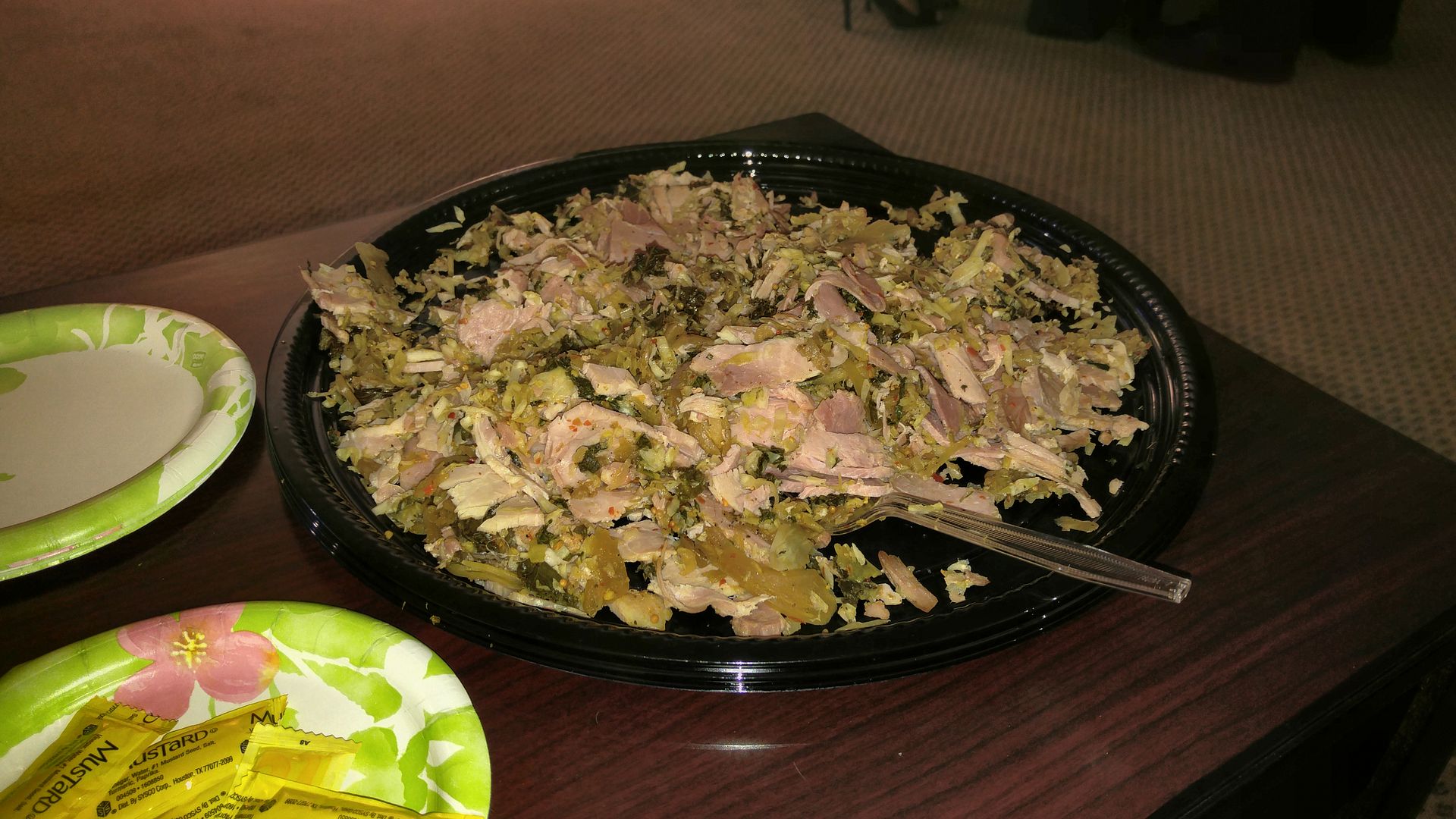 The District 29 delegation was there, including Delegate Deb Rey.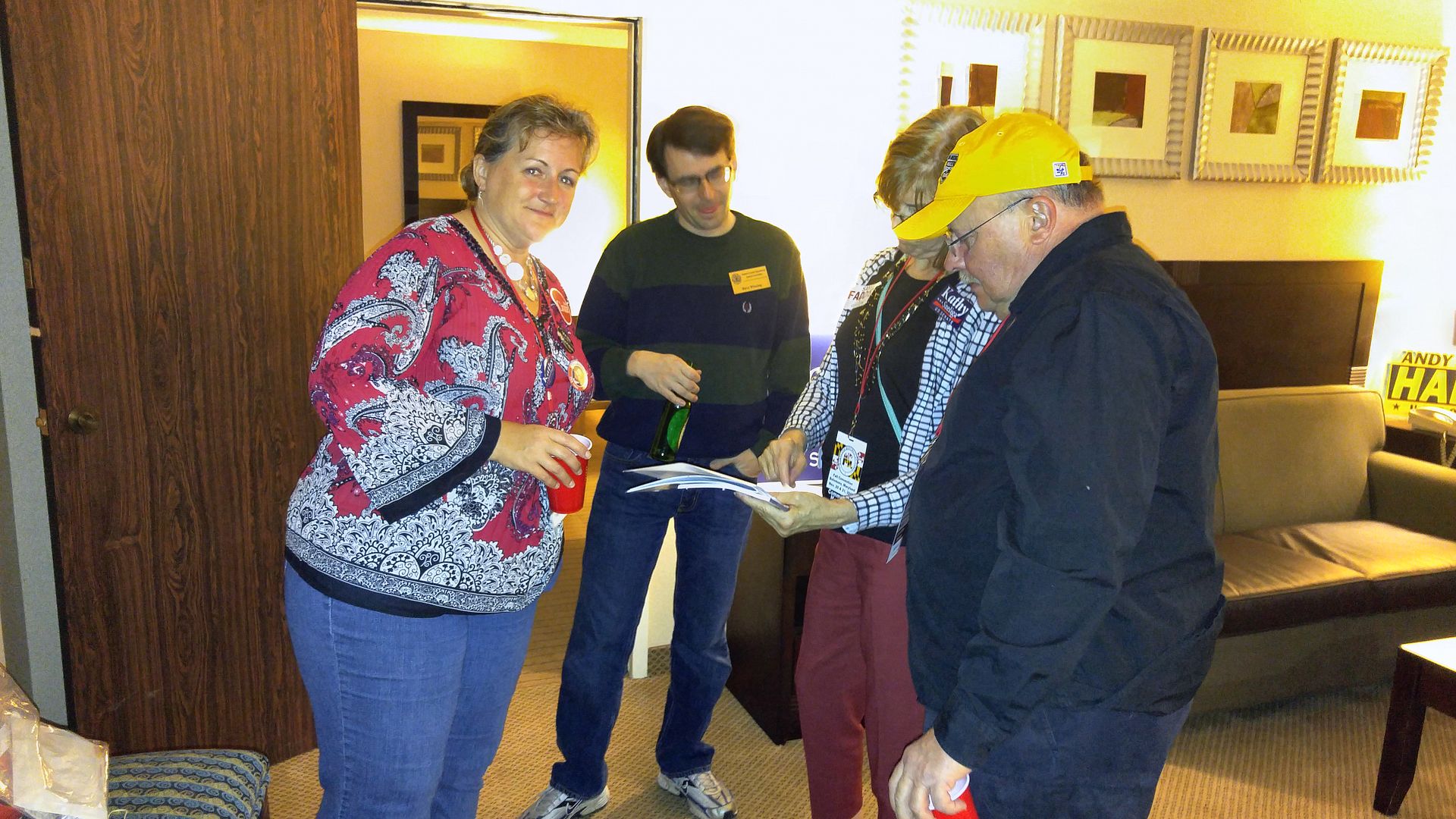 She was selling raffle tickets for a Beretta rifle as a fundraiser, to be drawn at another fundraiser on January 7. (That week or so will be busy for our General Assembly members, who can't do fundraisers during the 90 days of session.)
Having my helping of ham, I could go get some seafood at Richard Douglas's Senate suite. There were a number taking part, and to be honest it was better than the pizza next door at the Montgomery County suite.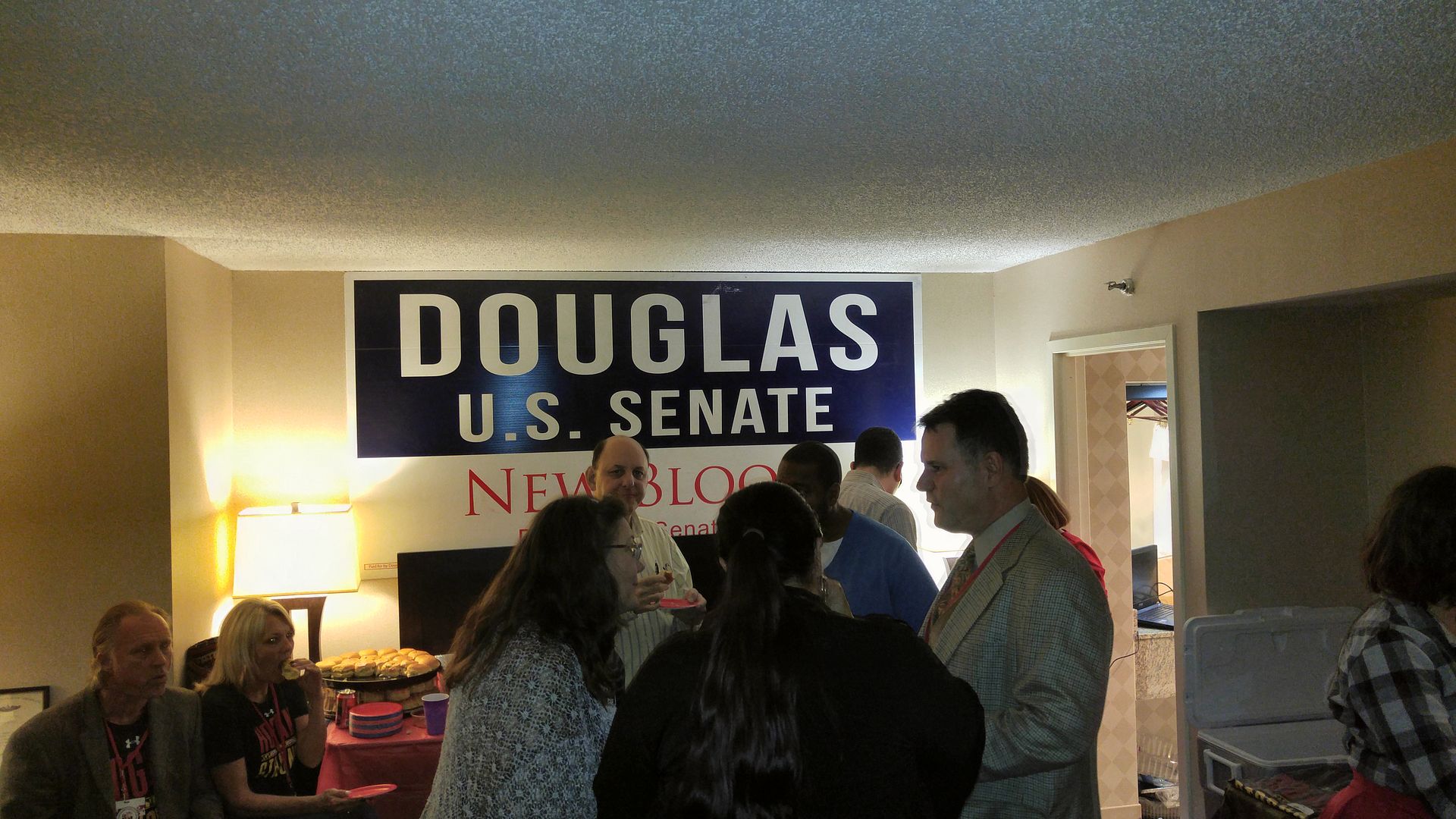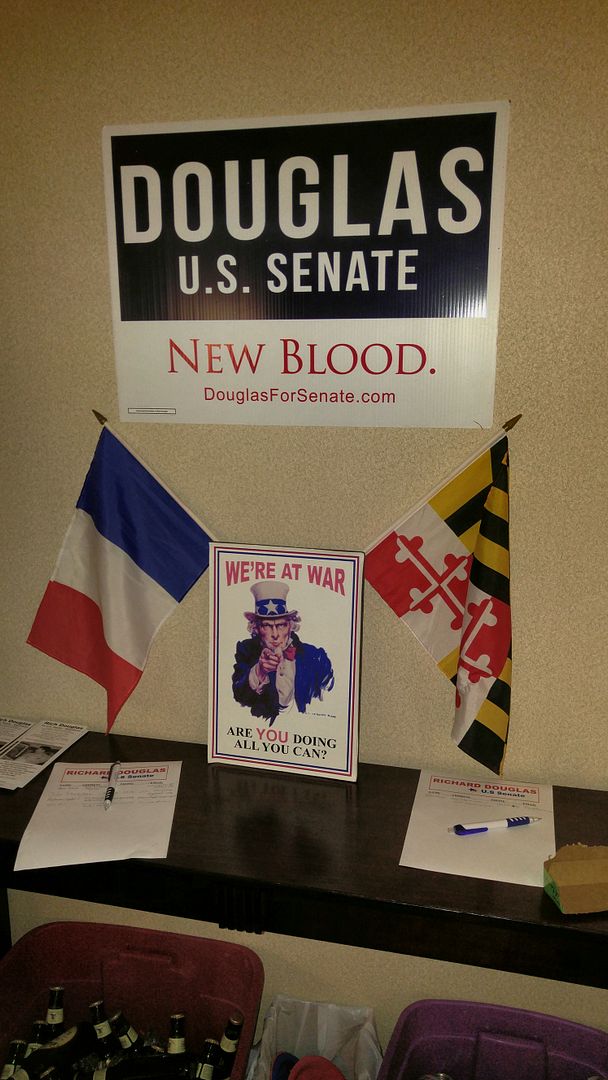 If Douglas wants to be the "new blood," one of those he has to beat was directly upstairs in a suite she was sharing with Andy Harris.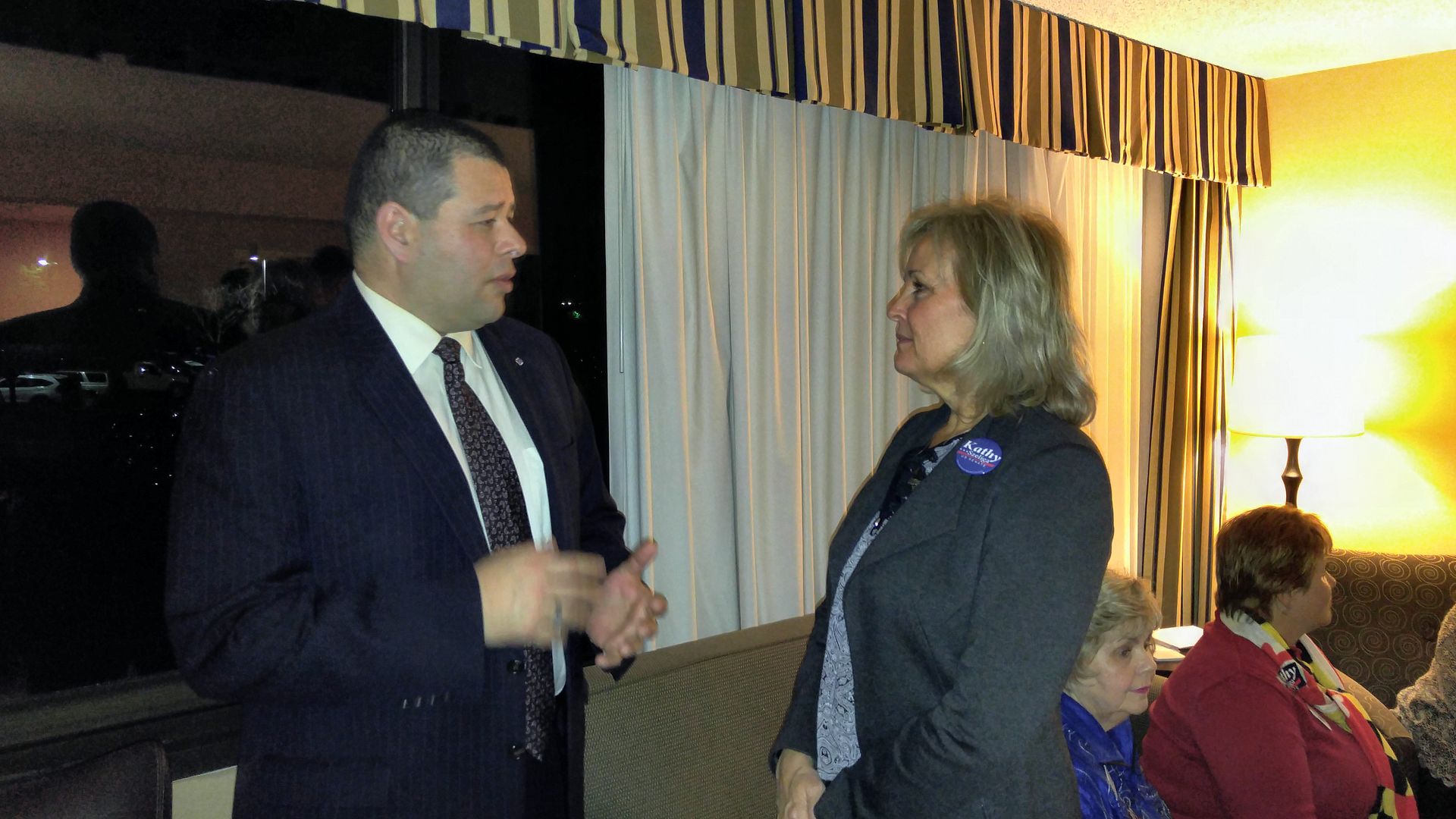 Along with the Congressman, Szeliga was there talking to the aforementioned Ivan Garcia-Hidalgo. I did mention to her that I was sad about missing her trip to Salisbury, but noted my cohort Cathy Keim covered it well for me. Hopefully Szeliga will be back here soon.
Just across a short hallway was the suite belonging to the Ted Cruz campaign.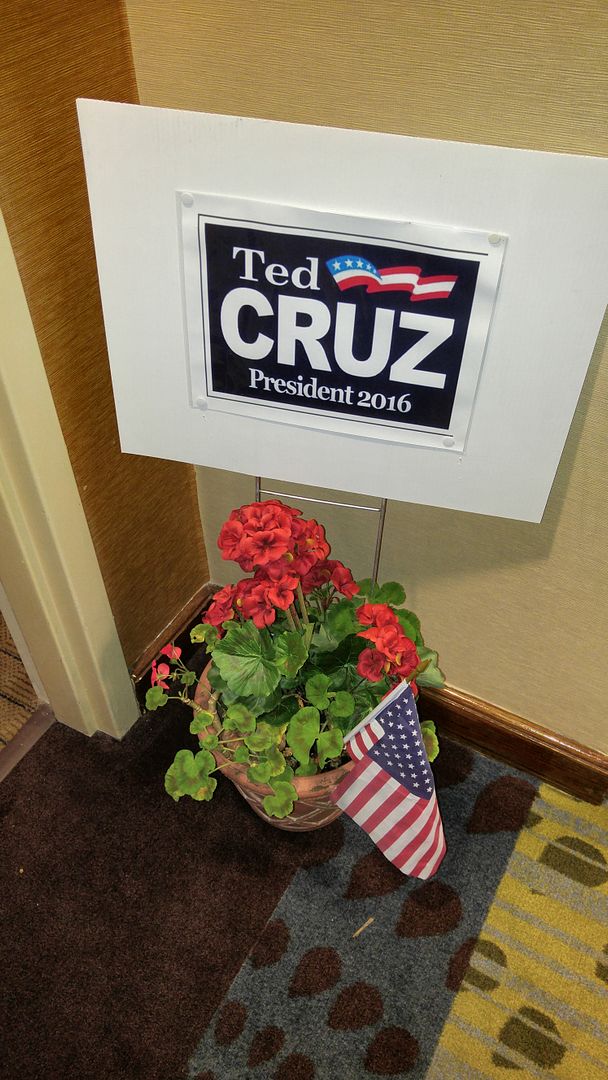 Let's get this out of the way: now that Bobby Jindal is out, among the remaining GOP field I would lean most toward Ted Cruz. They also had outstanding chili there. I just hope their field people are up to the task.
Their suite wasn't very busy, either – not like Marco Rubio's.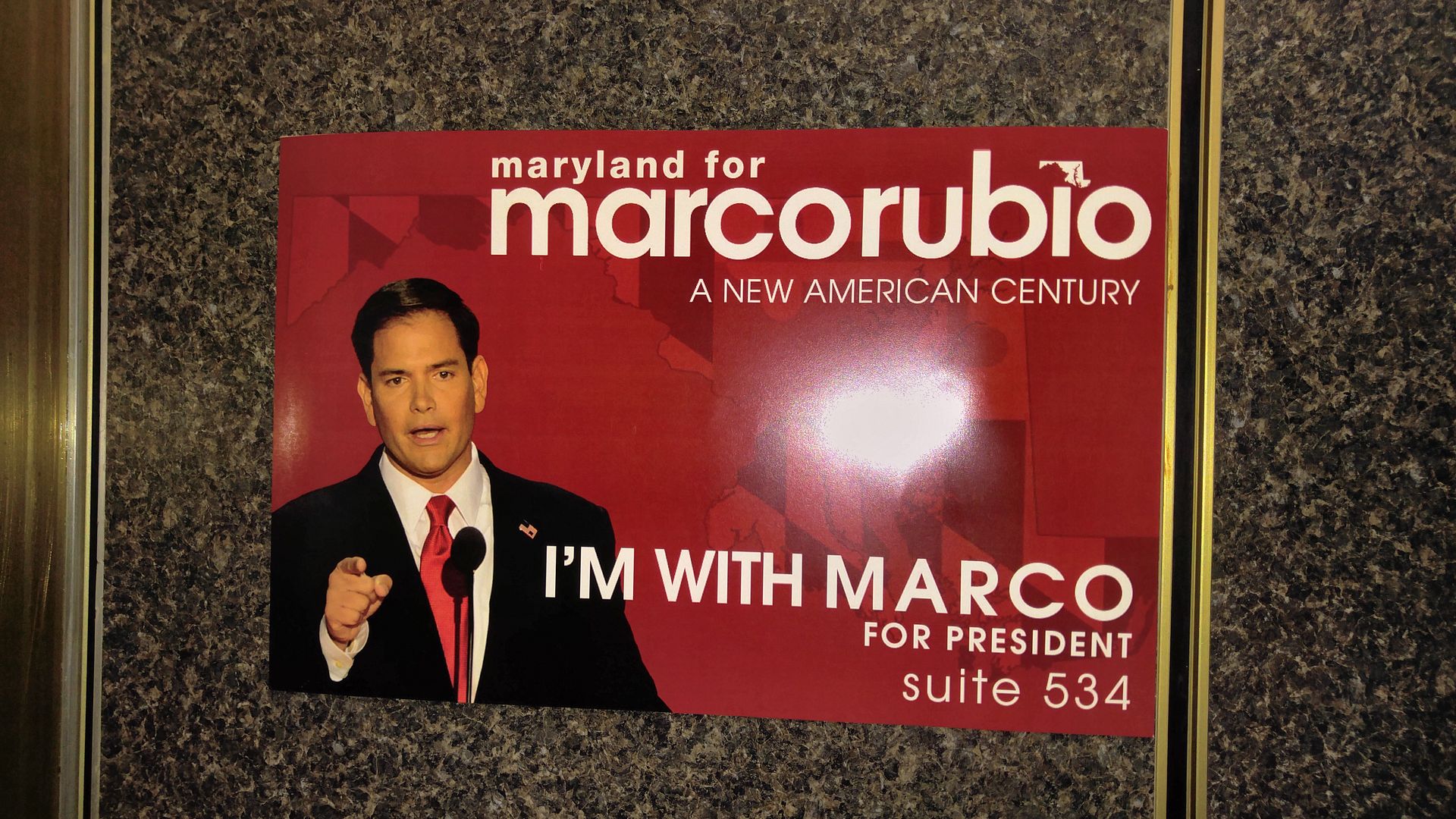 My photo doesn't do their gathering justice.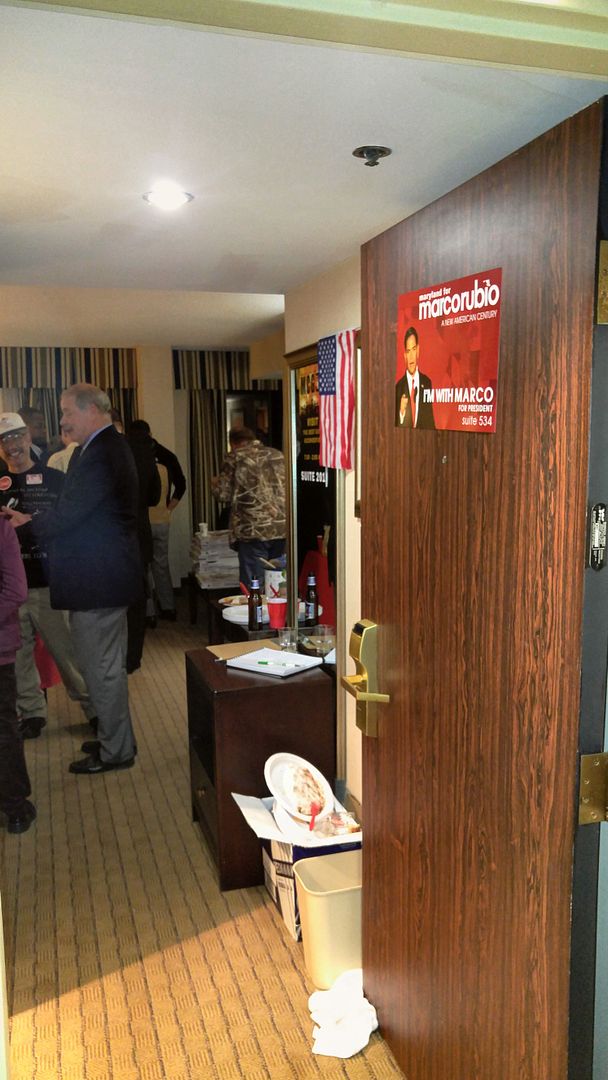 I get the sense that Rubio is the "establishment" choice now that Jeb's campaign is cratering. Maybe that's just me, but it's my gut instinct.
In taking so long to go through the suites I did and renew some acquaintances, I missed the ones on my floor – one of which belonged to this guy.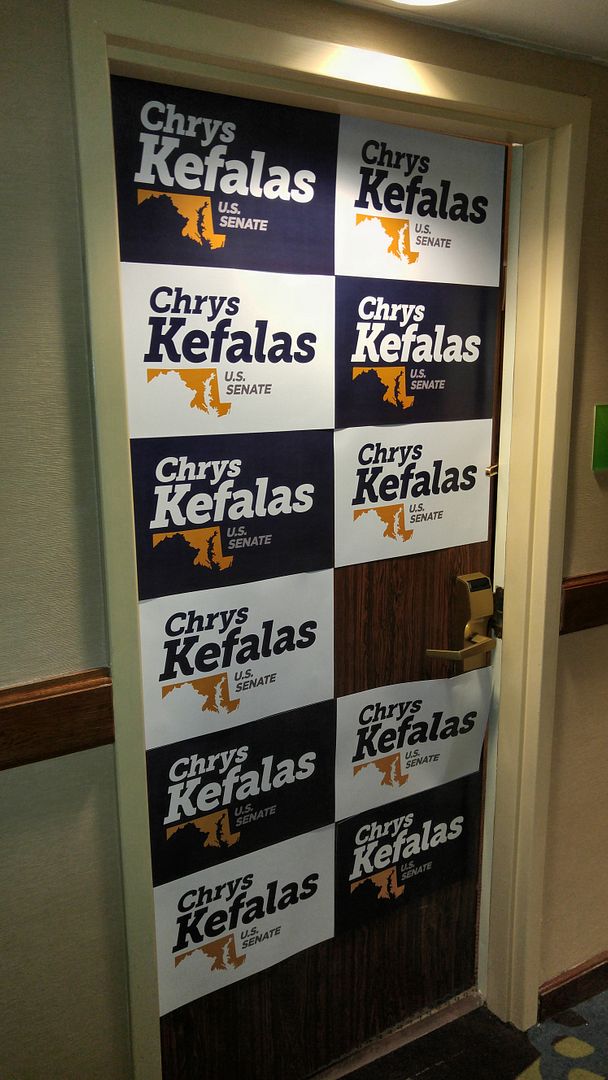 So it was not a slight on my part, as my plan was to do the ones on my floor last. Most of them respected the 11:00 or so closing time to get cleaned up and allow the neighbors some sleep, so I was just too late.
Since they were winding down, going to bed is what I did. In part 2 this evening I look at Saturday.
It's been awhile since I was entitled to go to the state convention, but what a few hundred Wicomico County voters tried to do was undone by a much smaller number last month, so I have returned like the prodigal son.
My first convention back will be in Solomons, which as I recall was the home of my favorite convention, the spring 2012 one where we elected Nicolee Ambrose as National Committeewoman in a contentious vote over Audrey Scott. This one will probably not have the same amount of angst, although we may see issues with the three bylaw amendments on the docket.
The first is a lengthy proposal to create a process for Central Committees to fill legislative vacancies. After the debacles we saw last year as Governor Hogan picked members of the General Assembly to fill out his cabinet and lead departments, it became a priority to come up with a way of doing so lest the General Assembly take our power away (which still could happen.)
In a nutshell, the amendment allows a county to create its own process but leaves as a default the state-prescribed method. In looking it over briefly, the fight may be over the call to submit "name(s)" to the Governor, as some would prefer the Central Committee submit just one name as was custom until the most recent round of appointments.
That controversy led to the second bylaws amendment, which a perverse sort of "loser pays" arrangement for entities taking legal action against the state party, just like Carroll County did last year. I think this one will create the loudest arguments, to be honest.
Third is a proposal to give the Maryland Black Republican Council full voting status on the Executive Committee. If so, they would join the Maryland Federation of Republican Women, the Maryland Federation of Young Republicans, and the Maryland Federation of College Republicans as voting members of that committee. (Conversely, the Teenage Republicans and Heritage Council are non-voting members.) As I recall, we had a lot of rancor about giving the YRs and CRs an Executive Committee vote a couple years ago, in a voice vote that was literally cast as we were being ushered out the door. So we'll see.
The one resolution that I'm aware of (barring others introduced from the floor for our consideration) deals with the redistricting commission, so that should be no issue. I don't think there's 10 percent of the party that likes the way we do it now.
But all work and no play makes Republicans a cranky bunch. Fortunately, unlike the last couple conventions I attended, we will have no shortage of hospitality suites to check out.
A list sent out by the state party shows no less than a dozen different suites. While the host counties of Calvert and St. Mary's and Montgomery County have their parties, the headlining parties will be competing affairs between supporters of Ted Cruz and Marco Rubio. Not to be left out, all three major U.S. Senate hopefuls – Richard Douglas, Chrys Kefalas, and Kathy Szeliga, who is piggybacking with Congressman Andy Harris – will have suites on separate floors. Add in local Congressional candidate Charles "Sam" Faddis and the aforementioned Black Republican Council, throw in a couple wild card suites, and it should be a fun evening tonight.
Naturally some of the conservative blogosphere will be there, so we'll see what sort of coverage we can drum up. Whether the era of good feelings brought on by Larry Hogan's election will subside this time or wait until spring when we elect a new National Committeeman and National Committeewoman along with slates of convention delegates and alternates remains to be seen.
For now I'm just going to enjoy the moment because, I hate to admit, I sort of missed these gatherings during my hiatus. Glad to be back.
Beginning a three-day announcement tour in Annapolis yesterday, Delegate Kathy Szeliga made what many considered the worst-kept secret in Maryland politics official: she's tossing her hat into the ring for a seat in the United States Senate. But it's not just any seat: if you believe the Washington Post, it's the Mikulski seat.
Regardless, she becomes the first elected Republican to seek the seat, which will probably draw a crowd: ten years ago, the last time an open Senate seat came up, nearly thirty hopefuls – elected officials and perennial candidates alike – took their shot at the brass ring. Eventually surviving the primaries were Rep. Ben Cardin and Lt. Gov. Michael Steele, with Cardin prevailing by ten points on Election Day.
The 2016 version of this scrum may bring three Democratic House members together, as Donna Edwards and Chris Van Hollen are already in and Elijah Cummings is thinking about it. (In turn, this will make next year's General Assembly session interesting as several state legislative members consider the vacated seats.) On the other hand, the GOP side is currently occupied by Richard Douglas, who ran in 2012 but finished second in the primary behind Dan Bongino, onetime Ehrlich administration lawyer Chrys Kefalas, disabled Navy veteran Anthony Seda, and Szeliga. There is also the possibility Harford County Executive (and former State Senator) Barry Glassman may get in, according to this piece at Maryland Reporter.
Some suspected Maryland's lone Republican member of Congress, Andy Harris, would make a bid but it appears he's backing his onetime chief of staff. "I know her to be a tough, smart woman from Baltimore who's not afraid to take on the political establishment to get real results for Maryland families," said Harris in a statement.
Meanwhile, it didn't take long for the candidate to fire up the e-mail appeals. If this is her basic message, she seems to riding the populist wave (as opposed to full-throated conservatism.) Here's a sample.
We have a paralyzed government incapable of solving even our most basic needs. I for one can no longer standby (sic) waiting for those we've sent to Washington to solve our problems, because they haven't. And I'm not naïve enough to think I can just ride into the Senate on a white horse and do it all by myself. It's going to take a lot of new people who aren't professional politicians to step up – average citizens with college degrees and others without. Goodness knows, they can't be any worse than the gang running things now!

Deep in our hearts, most of us – regardless of political preferences – believe in the promise of America and the power of the American Dream. We are agents of change motivated by our love of God, family, state and country. We want to rediscover a way of life as it used to be; when things really did work.

I want to serve in the US Senate to champion those forgotten Americans who are decent, responsible citizens yearning for the opportunity to work hard, pay the bills, raise a family, live a full life and yes, dream again what we seem to be losing – the American dream.
Unfortunately, when she comes to Salisbury tomorrow I can't be there, so I'm doing the next best thing and sending my cub reporter. I think Cathy will give me the coverage I need as a vital race begins to take better shape.
It's not that I haven't expected Rich Douglas to jump into the Maryland U.S. Senate race. But after a steady diet of discussing foreign policy, Rich made the leap with a populist appeal:
Today, millions of American workers — hourly, salaried, union, non-union, or jobless — face an unprecedented crisis: Congress has become their adversary rather than their defender. A Congress too compromised or indifferent to restore the American workforce to a place of honor on our nation's priority list undermines the liberty, livelihood, and security of us all.

In Congress, sheltered Maryland incumbents have thrown American workers to the wolves. Some of these Maryland career politicians even applauded in April when U.S. Rep. Luis Gutierrez said that Marylanders who are worried about uninvited foreign workers are 'enemies of the community.' Americans deserve better. They deserve unswerving loyalty from Congress. I am announcing for the Senate because too many Maryland incumbents are disloyal to voters.

Larry Hogan's 2014 victory set the stage for improvements in Maryland to American worker conditions. To move ahead, Maryland requires a new team on Capitol Hill. I am convinced that Maryland has the wherewithal to overtake Texas in job creation, unless the political machine which brought Maryland rats, riots, and the rain tax smothers urgently-needed reform.

In 2016, voters have the power to challenge that machine. Maryland can send a seasoned, common-sense Republican veteran to the Senate who is eager to challenge career politicians making American workers outcasts in their own country.
So instead of dwelling on the numerous foreign policy failures of the Senate and Obama administration, Douglas is going with a blue-collar persona. Among the items on his issues page is a statement, "Marylanders losing their homes at tax auctions aren't thinking about ISIS." It seems to me he's learned from his 2012 run, but again he's probably going to face a younger, more dynamic opponent in Chrys Kefalas. Douglas is 58, Kefalas is 35.
Kefalas is also counting on a populist appeal, stressing his work for the National Association of Manufacturers over his work in government for the Justice Department and Ehrlich administration. Obviously more will enter the race, but most of them will be the common rabble who fill out the ballot every two years. It's not uncommon for GOP voters to see ten or more names on the ballot, but the burning question is just how many of them will be elected officials running from cover.
Like last time, the key for the top two contenders will be how they deal in their opponent's arena. Douglas takes the advantage in foreign policy, so how the candidates deal with pocketbook issues will be the subject of scrutiny.
Over the last few months Richard Douglas has quietly been exploring a run for the U.S Senate. In an e-mail he sent out to supporters, though, he took aim at those he may be working with as well as Barack Obama.
In two paragraphs he expertly dissected the problem:
The President wished to avoid congressional review altogether. But the Corker-Cardin concession of the Senate's treaty prerogatives was seen in the White House as a palatable alternative. Why? Because Corker-Cardin puts the success or failure of congressional action into the hands of Chris Van Hollen, Ben Cardin, and other reliable Obama yes-men in the House and Senate. By passing Corker-Cardin instead of demanding Senate treaty review, the Republican-led Congress marginalized itself.

How could any of this happen? Because the Republican-led Congress – the Senate in particular – allowed it to happen by not using its powers, during the seven months it had the chance, to defend its equities and change the President's behavior. Beginning in January, the Republican-led Congress should have brought action on the President's legislative priorities to a screeching halt until he wised up. Instead, Congress enacted those priorities.
Running against Congress seems to be the norm today for both parties, as the current leaders seem to be the gang who can't shoot straight. Unfortunately, we have one side who is afraid of a government shutdown they would be blamed for and the other side takes advantage of their fears. So you have the group of spineless jellyfish who pass for majority leadership in Congress.
Douglas doesn't have the bluster of Donald Trump, but he has foreign policy expertise in spades based on years of working in that area. It's no wonder John Bolton is willing to put his name and reputation on the line for Douglas.
At this time, foreign policy is not the key issue on the table for 2016. But it lies at the heart of a number of peripheral issues such as the Trans-Pacific Partnership and accusations of currency manipulation by China, the continuing saga of illegal immigration at our southern border, and the Keystone XL pipeline, to name a few. We may not be in an overt war in Iraq, Ukraine, or Syria, but there is pressure to stand by our allies, including Israel, instead of making overtures to old enemies Iran or Cuba.
The tone of his entire e-mail makes it clear that he's expecting Chris Van Hollen to be the Democratic Senate opponent, which is probably the conventional wisdom. Van Hollen has been a reliable party man and helped to raise a lot of money, but can you name any singular House achievements of his? With this message, Richard makes clear he can be a leading voice on the Senate's traditional role in guiding foreign policy – and not a moment too soon.
Every so often the name of Richard Douglas pops up on my site or in my e-mail box. Of late it's been because of his defense of the Bladensburg Peace Cross, but he was a much more frequent subject in those days when he ran a spirited race for the U.S. Senate nomination in 2012. While Dan Bongino eventually won, I was impressed as well with Douglas and would have happily backed him had he prevailed.
The latest item to come to my attention, though, is a clear indication that Douglas considers the 2012 effort as unfinished business, and he is again using the star power of Ambassador John Bolton to fund a Senate exploratory committee at a reception July 16 in Washington, D.C.
Would-be backers should be cautioned, though, that exploring without committing has occurred before with Douglas. In late 2013 Republicans were delighted to see his interest in running for Attorney General only to back away in January of 2014. It may have been a missed opportunity for the Maryland GOP, but honestly the Senate seat would likely be a better fit for Douglas anyway based on his background.
If you believe that knowledge of foreign policy is the starting point in creating a good Senator, then Douglas would be a good choice and the backing of Bolton emphasizes that point. While both he and previously announced candidate Chrys Kefalas share a legal background, Kefalas has worked mainly on domestic and social issues.
I would have to assume that the question of whether Douglas makes his campaign formal will depend greatly on how much he raises with Bolton. Certainly there are some donors out there who backed him before but Richard basically financed his own effort last time, and that's not going to cut it for an open seat where the leading Democratic contender had over a million dollars on hand back in March. Douglas has the advantage of experience in running statewide – and that's a modest plus – but a guy like Chris Van Hollen will simply run a Congressional front porch campaign and just carpetbomb the media markets with 30-second ads running against the Confederate flag and those racist, homophobe hayseed hicks who will scream "Second Amendment!" until it is pulled from their cold, dead hands in front of their tax-shirking church.
In short, the exploration needs to be smiling and dialing. Of course, if all hell breaks out around the world because of events those like Douglas and Bolton have warned us about we have a fighting chance. I figure we will know all we need to know by summer's end.
Over a year ago, the wheels of justice began rolling with a lawsuit questioning whether the Bladensburg Peace Cross inappropriately established religion. In the ensuing months, the claims and counterclaims have trickled in, and onetime Maryland U.S. Senate candidate Richard Douglas has occasionally kept me (and others) updated on the process.
But now the case has taken an interesting turn:
Question: Should the federal courts allow comfortable white atheists to use the suffering of black Americans as a battering ram to force their opinions on all Americans?

Answer: We're about to find out, with the Bladensburg Memorial WWI Peace Cross case.

Earlier this month, the atheists filed an "expert witness" opinion about the Memorial. In their opinion, the "expert" chosen by the atheists pulled the Ku Klux Klan card, associating the Memorial Peace Cross with the Klan and its racist ideology.

It is not the first time in this case that the atheists have hijacked black suffering in America to force their views upon the rest of us. In their initial complaint in federal court, the atheists attacked the Memorial Peace Cross on two fronts: first, under the "Establishment Clause" of the First Amendment to the Constitution ; and second, under Title 42, United States Code, section 1983 (42 USC 1983).

42 USC 1983 dates to the aftermath of the Civil War. It was one of the so-called "Klan Acts" enacted by Congress to protect newly-freed black people from mistreatment by state and local governments. Today the atheists are trying to use 42 USC 1983 it to dismantle the Peace Cross. So much for congressional intent.

In my judgment, playing the Ku Klux Klan card is an atheist "Hail Mary" pass (with apologies to Our Lady) to try and rescue what is in my judgment a doomed lawsuit. By pulling the KKK card, they have drawn a line in the sand and dared federal Judge Deborah Chasenow to step across.

In 2015 the Bladensburg WWI Memorial Peace Cross has about as much to do with the Klan as the guillotine has to do with modern humanism. Pulling the KKK card to attack the Memorial is the next-to-last refuge of a scoundrel. Let's see if this group of privileged white malcontents gets away with it.
Knowing the political climate in Maryland, they just might. Bear in mind that this case has dragged on for over a year, and it's fortunate that Douglas is assisting the defendants on a pro bono basis.
But it's always fascinating to me to see what else Douglas is up to, and it turns out he has a couple other irons in the fire.
One is a PAC he created called the Job Homes Future PAC, which, as its mission, "aims to put the American workforce back where it belongs:   in first place on our nation's priority list.  It is time to pick a fight with Congress on behalf of the American workforce." (Emphasis in original.) As in many cases I've seen over the years, I suspect this may be the prelude to a political run.
Further evidence comes in a cryptic comment left on Richard's Facebook page after he appeared before the Charles County Republican Central Committee in April:
Great having you join us. I really enjoyed your words to us. I totally agree with your positions and look forward to supporting your campaign to give Maryland a responsive representative in 2016. Hoyer must go.
It's interesting that, while no one has filed the FEC campaign finance paperwork to challenge Steny Hoyer on the GOP side, two candidates are already on the GOP primary ballot – Mark Arness, who lost in the 2014 GOP primary to Chris Chaffee, and Charles Faddis, a former CIA officer for whom Congress runs in the family – his grandfather, also named Charles, was a House member in the World War II era. So Richard would be joining in a contested race should he choose that route, but neither of the two have raised a significant amount of money yet. With the recent entrance of Chrys Kefalas into the race, the Senate nomination would also be contested should Douglas choose that route again.
Of course, Richard may also choose to stay on the civilian side as he's become a reasonably in-demand political commentator based on his experiences with luminaries like Senator Jesse Helms and with foreign policy and the role of the Senate.
In any case, he will be one to watch as 2016 approaches and this court case reaches its conclusion in the federal district court.