For some reason the vibe seemed a little different to me this time around – maybe it's because this is the first one I've attended as an erstwhile political participant. But at 10:00 I rolled into town and got my ticket (this was a first, too – more on that in a bit) so I started looking around while I was there. Immediately I found there was still one constant.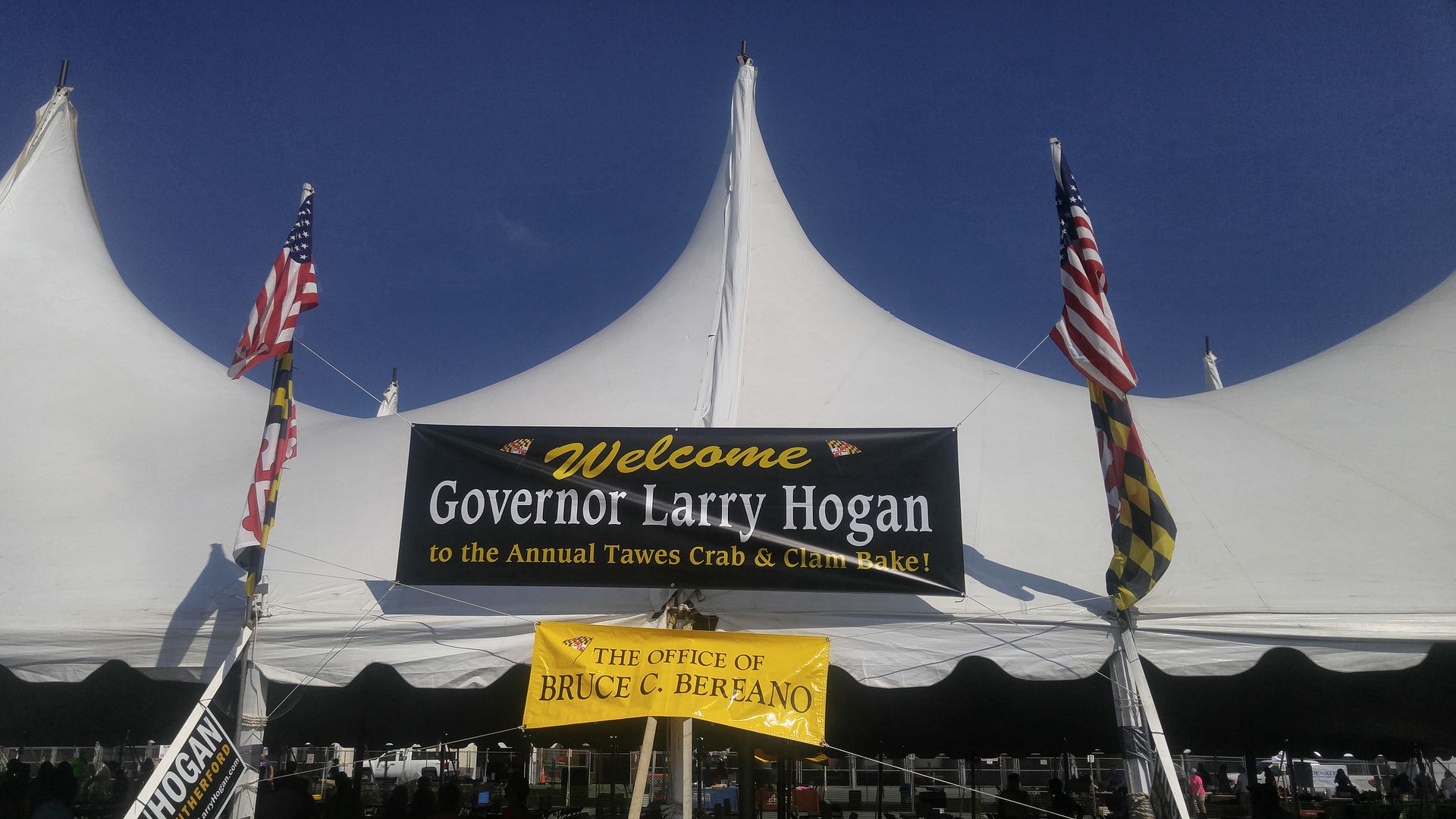 Bruce Bereano probably brings half the people down there, and I'm not kidding. If you consider that the political people are a significant draw to this festival, and his massive tent is annually chock-full of Annapolis movers and shakers, one has to wonder just what would be left if he ever pulled up stakes. Would they have a crowd like this?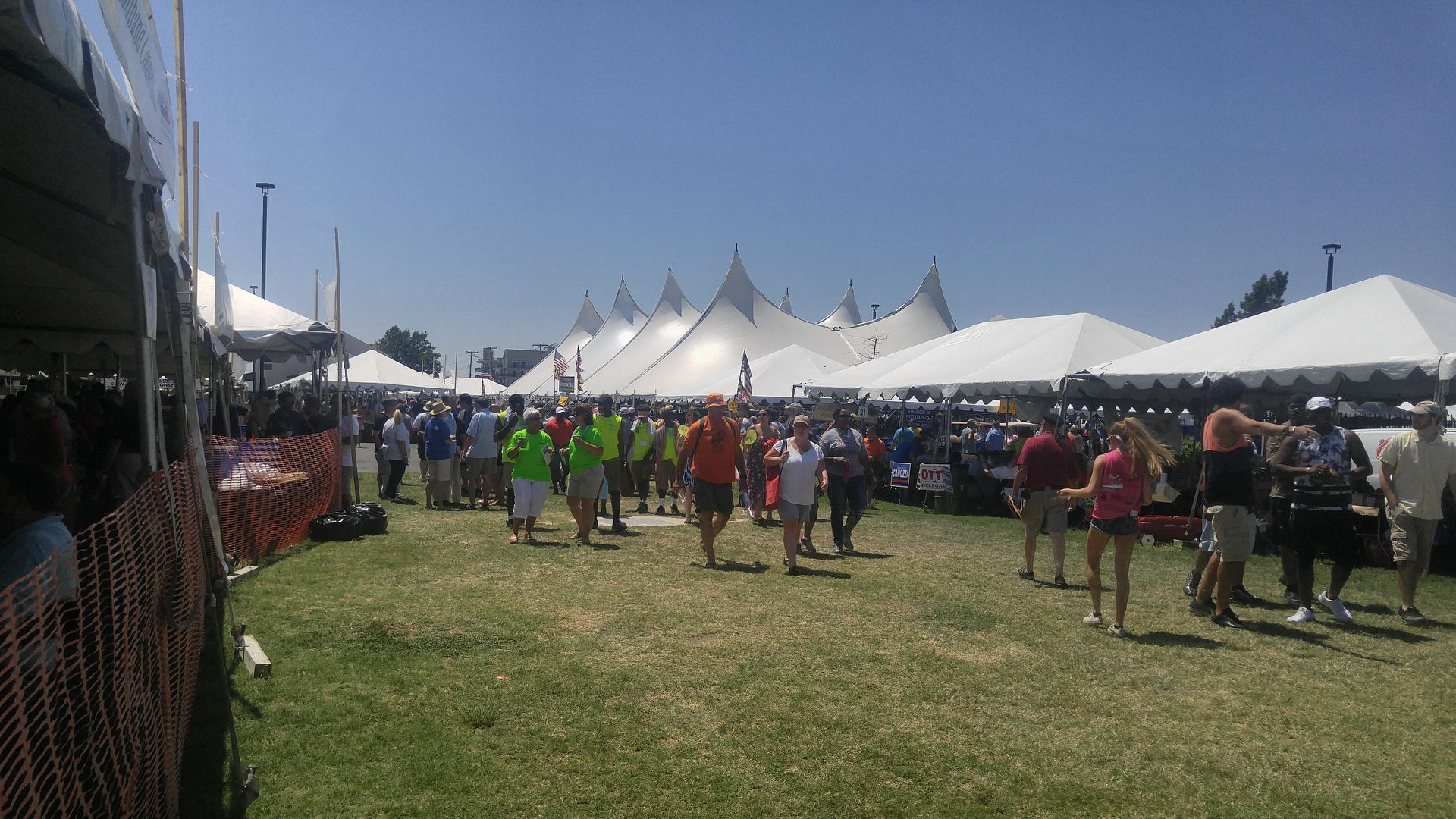 But the Crisfield Chamber of Commerce (as event sponsor) has its own ideas on VIP treatment.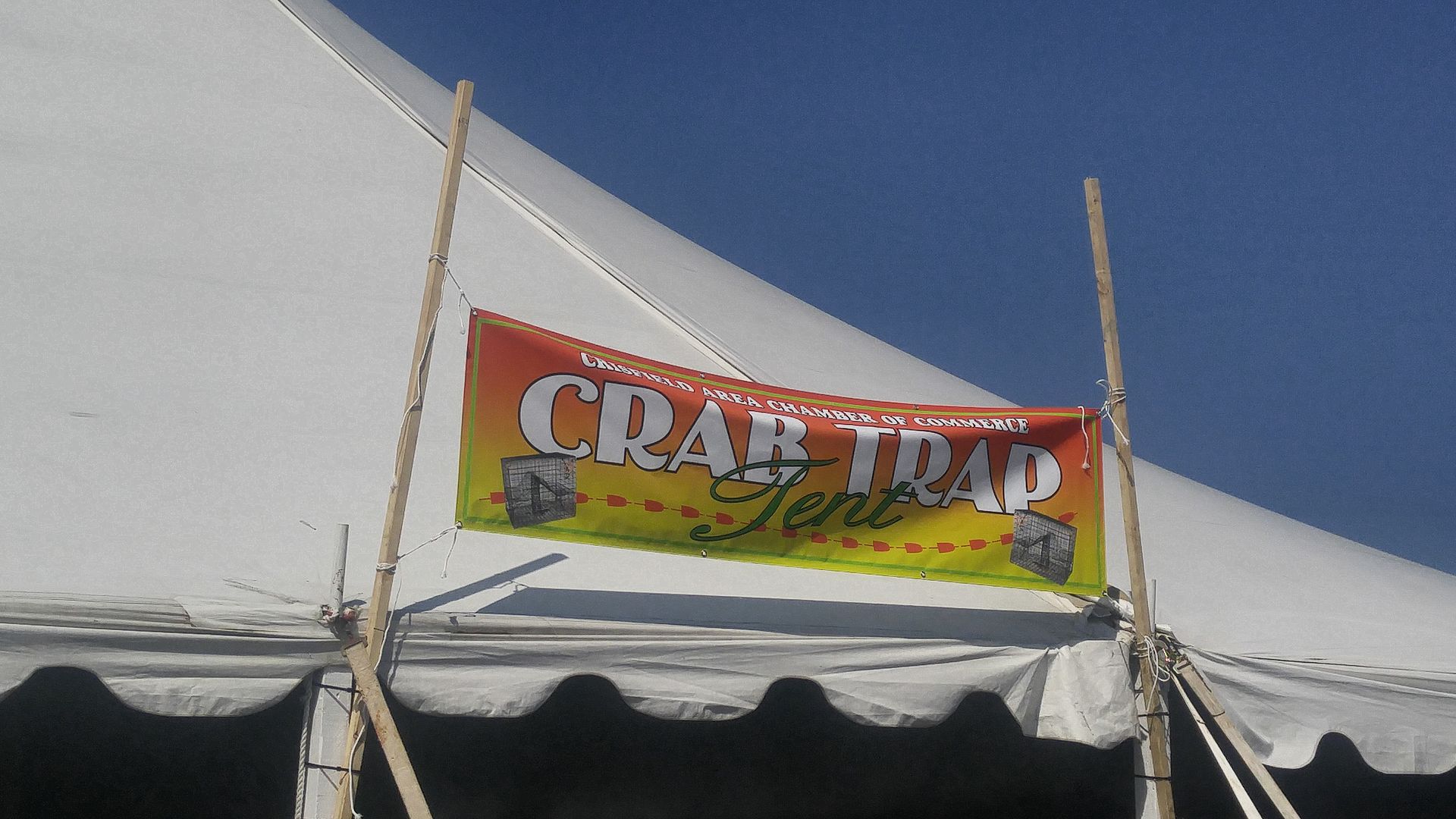 For an additional $15 fee on top of the ticket price, you could get access to this tent with its amenities. It was an answer to some of the corporate tents that were doing this anyway. Many of those were still doing their thing.
Most of the people were already in line at 11:30 waiting on lunch. While the ticket says 12, if you wait until then you're waiting for food.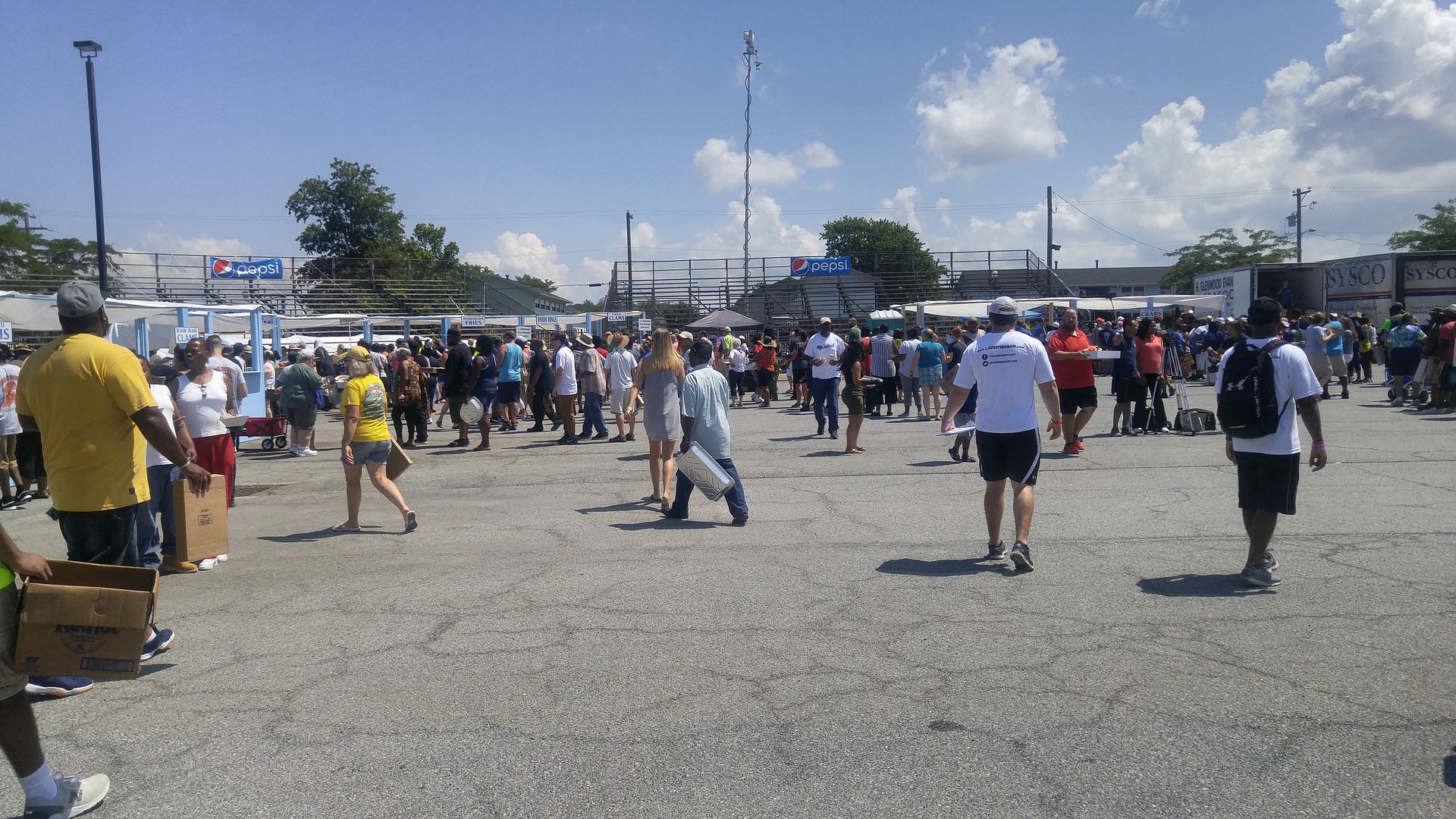 But let's face it: the media doesn't really come here to see food lines, although that's where I found this crew from Channel 47, WMDT-TV.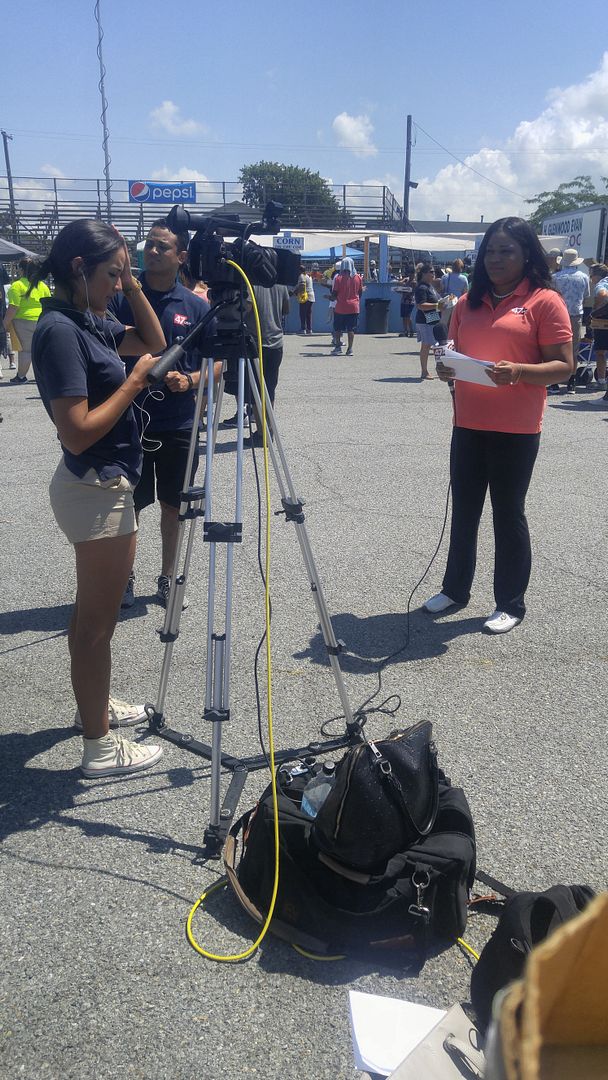 No, the real draw for this edition was the potential 2018 candidates. Until the last couple cycles, odd-numbered years were somewhat sleepy because the campaigns weren't really underway yet, while the even-numbered years saw Tawes fall on a date less than two months before the primary. That's now flipped on its head because the primary was moved up to June, so this is the last Tawes before the 2018 primary. So several contenders were out scouring for votes – none, I would say, moreso than this guy.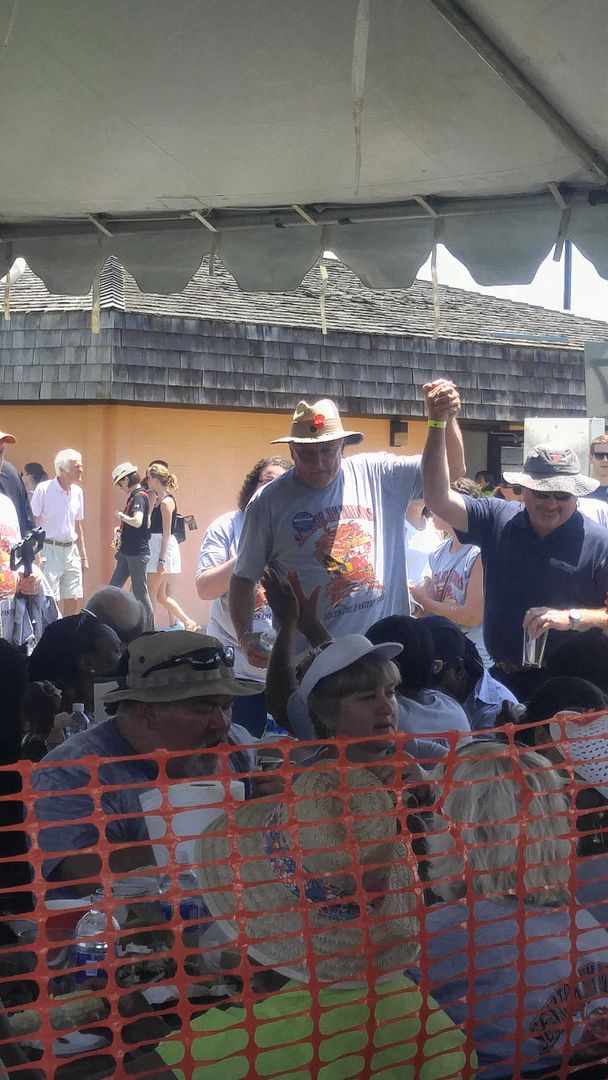 State Senator Jim Mathias (standing, in the gray shirt) has a huge target on his back that's far larger than the logo on the front. He is the one Democrat Senator on the Eastern Shore, and the GOP sees his seat as a prime candidate for taking over next year as they need to flip five Senate seats to assure themselves the numbers to sustain Larry Hogan's vetoes.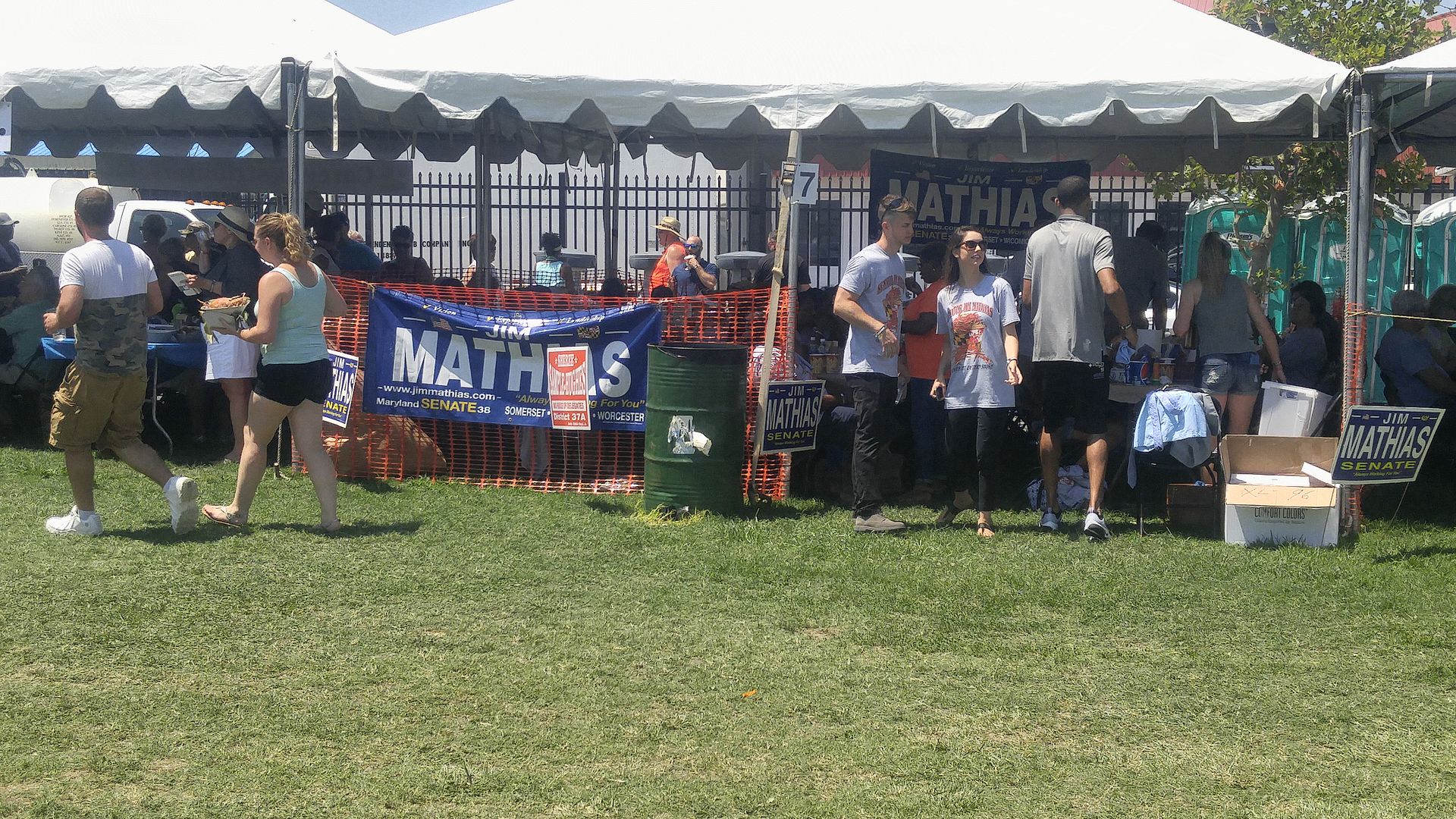 To that end, Mathias was the one candidate who had his own supporter tent. To me, that was interesting because most of the local Democrats that I know spent their time milling around the Mathias tent (wearing their own gray shirts) and didn't hang out at the "regular" Democrat party tent.
Just a couple spots over from Mathias was the Somerset GOP tent.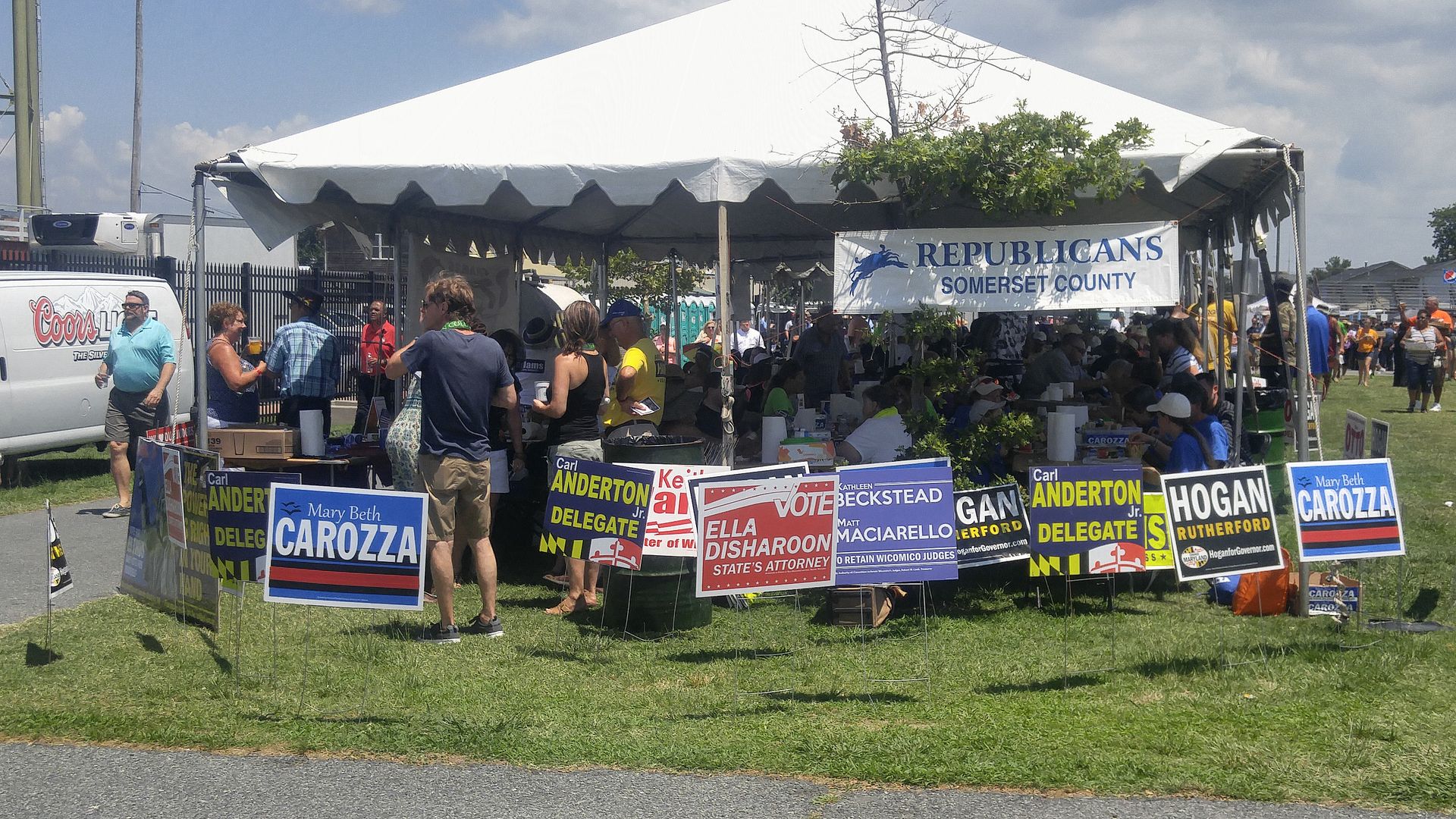 Now you'll notice I said Somerset. For whatever reason, Wicomico's Republicans chose not to participate this year and there were few of my former cohorts to be found. Since that's how I used to get my tickets, I had to make alternate arrangements this time. That's not to say there weren't Wicomico County Republicans there such as County Executive Bob Culver, Judge Matt Maciarello, Salisbury City Councilman Muir Boda, and many others – just not the Central Committee.
Closer to their usual back corner spot were the Democrats.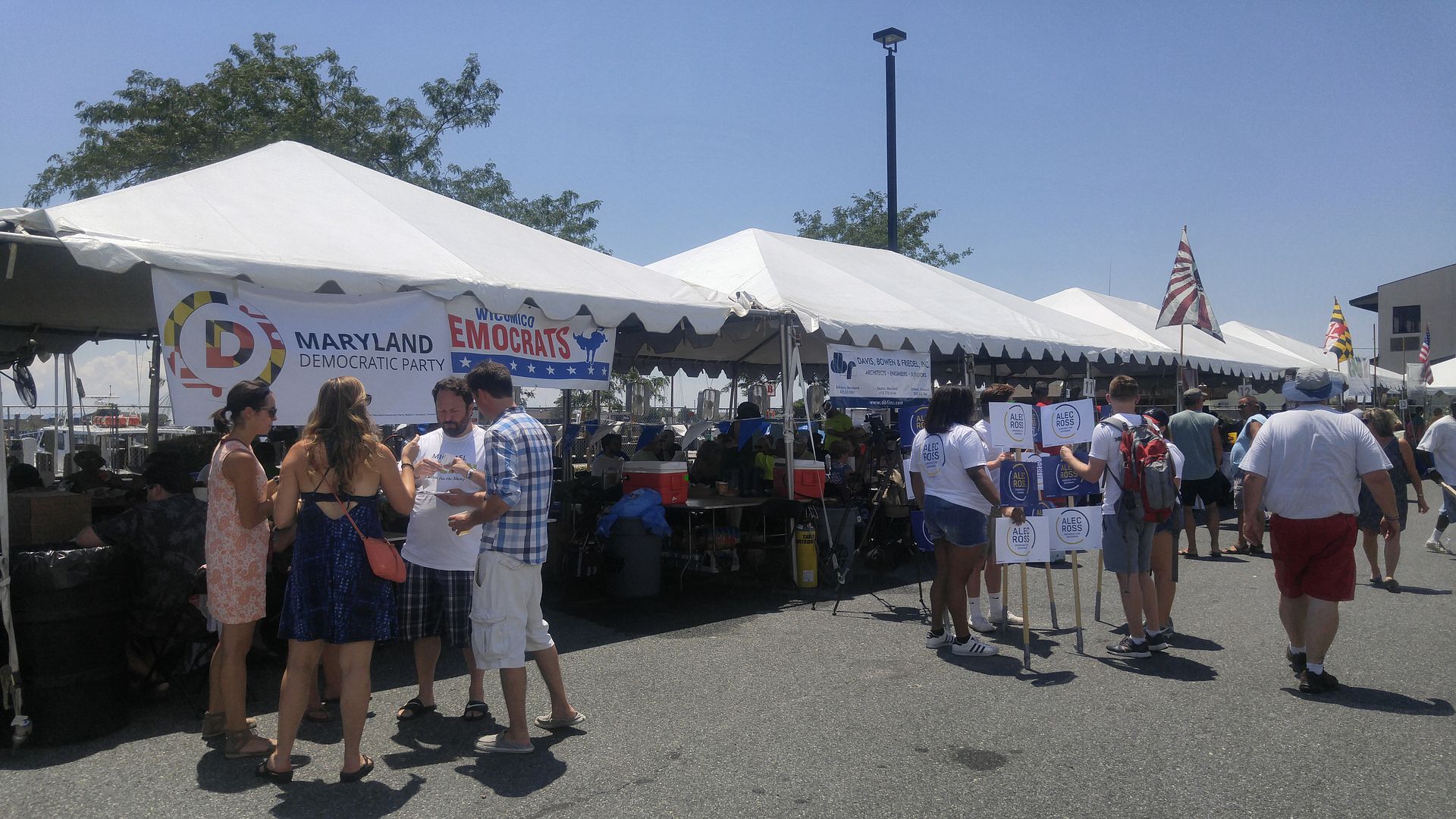 Their focus seemed to be more on the larger races, as even their state chair Kathleen Matthews was there. Here she's speaking with Crisfield mayor Kim Lawson.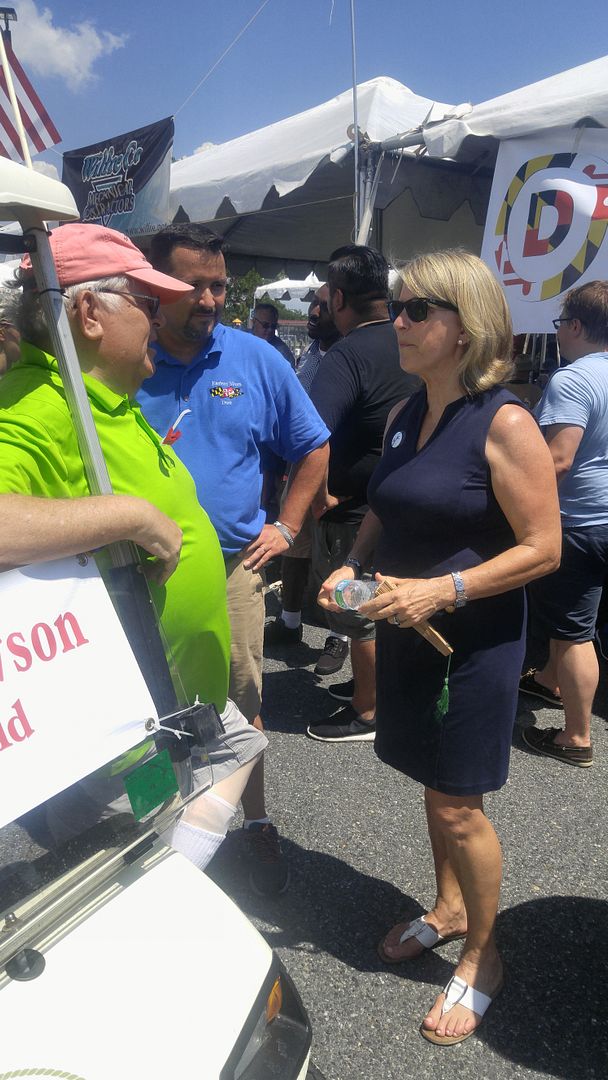 (Lawson has a smart-aleck sense of humor I can appreciate. When a photographer introduced herself as being from the Sun, he thanked her for making it a little cooler here than back home. I got it right away, she looked befuddled.)
The small posse you may have noticed in the original photo of the Democrats' tent belonged to gubernatorial candidate Alec Ross, who eventually caught up to them at the tent.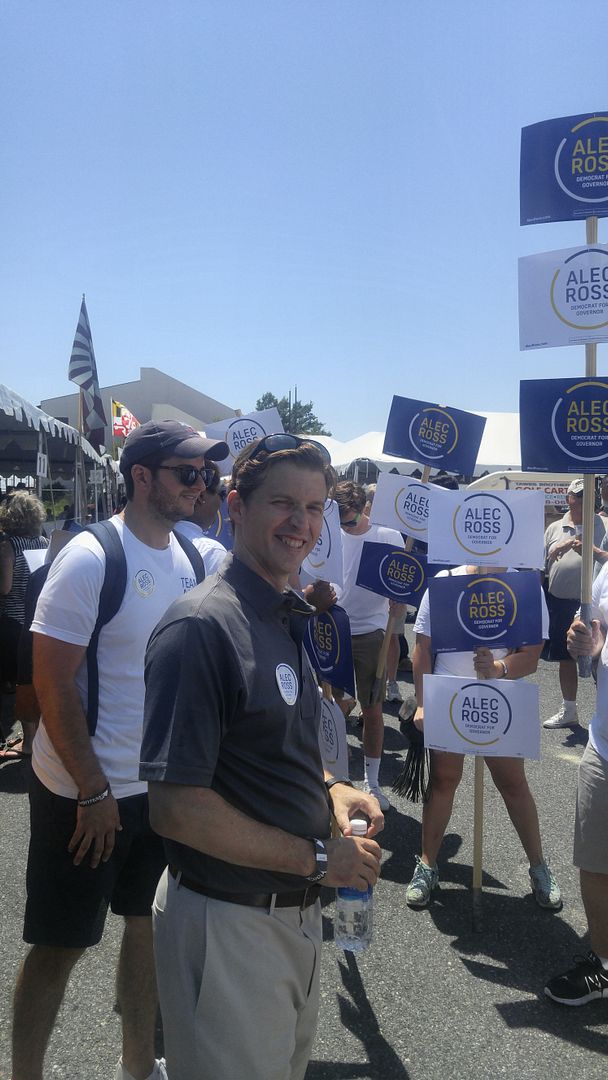 I asked Ross what he would do differently than the current governor, and he said he would focus more on education. One thing I agreed with him on was something he called a Democratic "failure" – focusing too much on preparing kids for college when some aren't college material and would be better suited for vocational training. But he limits himself in the palette of school improvement and choice to public and charter schools, whereas I believe money should follow the child regardless. Ross also has this pie-in-the-sky scheme about government credit to working moms for child care which I may not quite be grasping, but one assumes that all moms want to work. I think some may feel they have to work but would rather be stay-at-home moms.
The thing that stuck out at me was his saying that when two people disagree, at least one of them is thinking. You be the judge of who ponders more.
But the Democrats' field for the top spot is getting so crowded that I got about five steps from talking to Ross and saw State Senator Richard Madaleno, another candidate.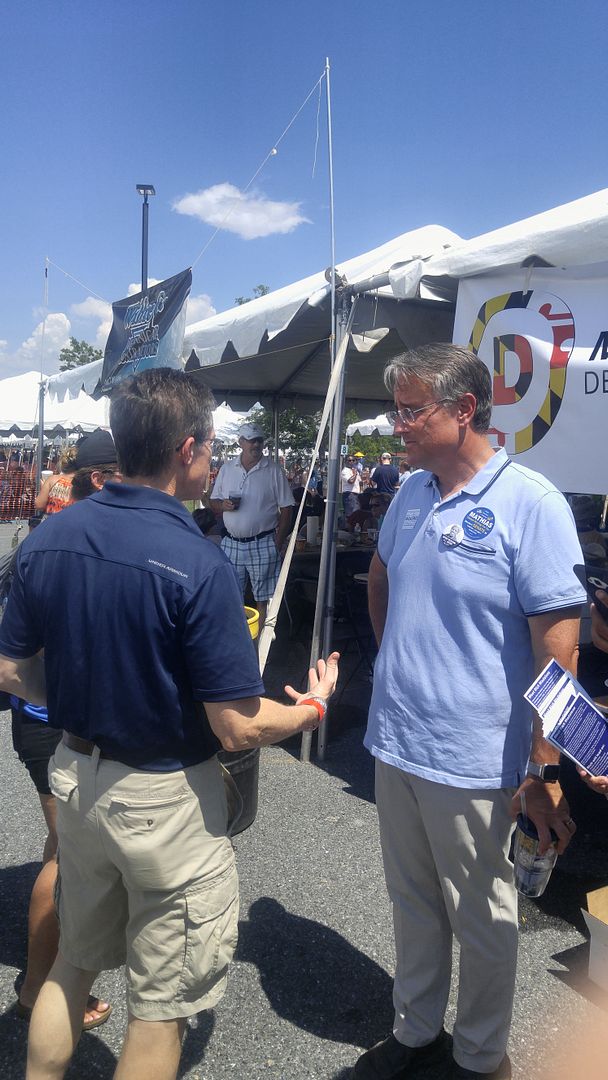 Having done the monoblogue Accountability Project for a decade now, I pretty much know where Madaleno stands on issues – but I was handed a palm card anyway. Indeed, he's running as a "progressive."
And then there's this guy. I didn't realize he was talking to the state chair Matthews at the time, but I wonder if she was begging him to get in the governor's race or stay out of it. I suspect state Comptroller Peter Franchot is probably happy where he is.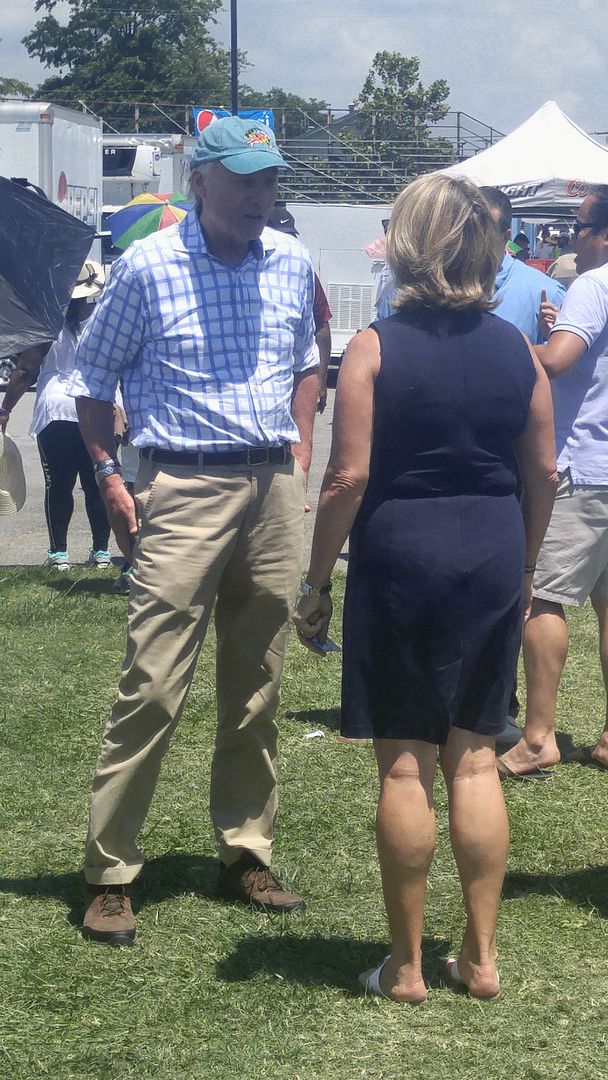 Franchot is probably happy because he works so well with this guy, the undisputed star of the show.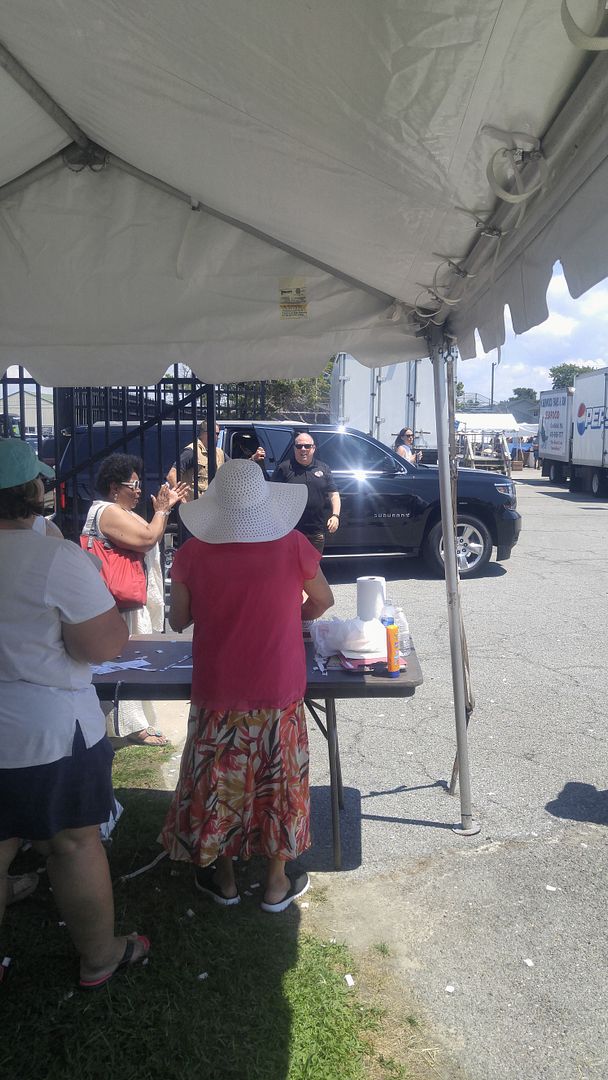 This turned out to be a pretty cool photo because I was standing in just the right spot to see his car swoop around the corner, come to a halt, and watch the trooper open the door for Governor Hogan to emerge.
If you follow me on social media you already saw this one.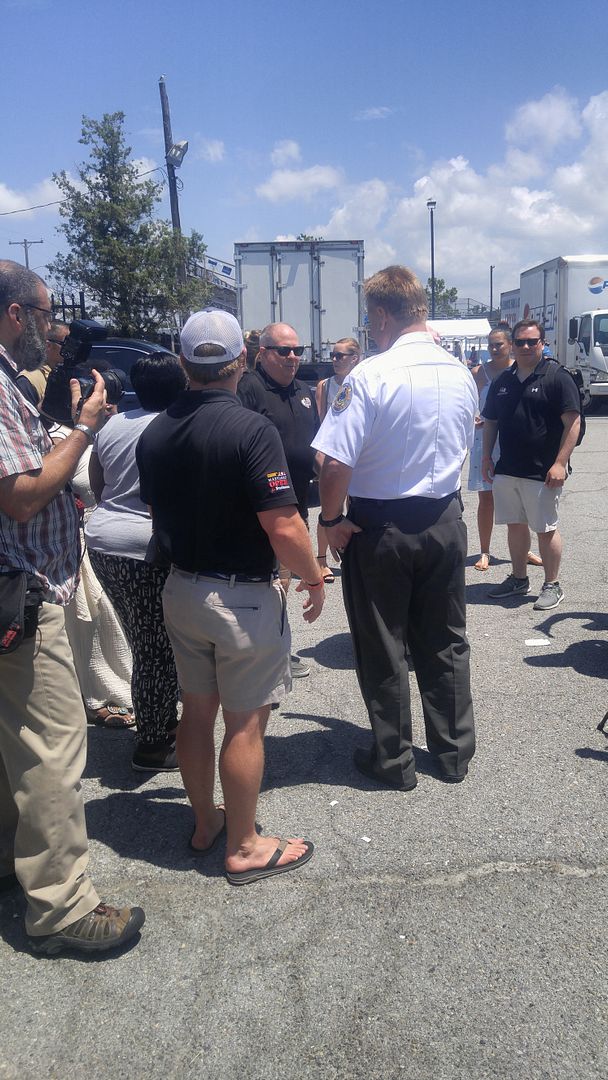 Say what you will, and Lord knows I don't agree with him on everything: but Governor Larry Hogan was treated like a rock star at this gathering, to a point where he could barely make it 50 yards in a half-hour.
This would have been of no use.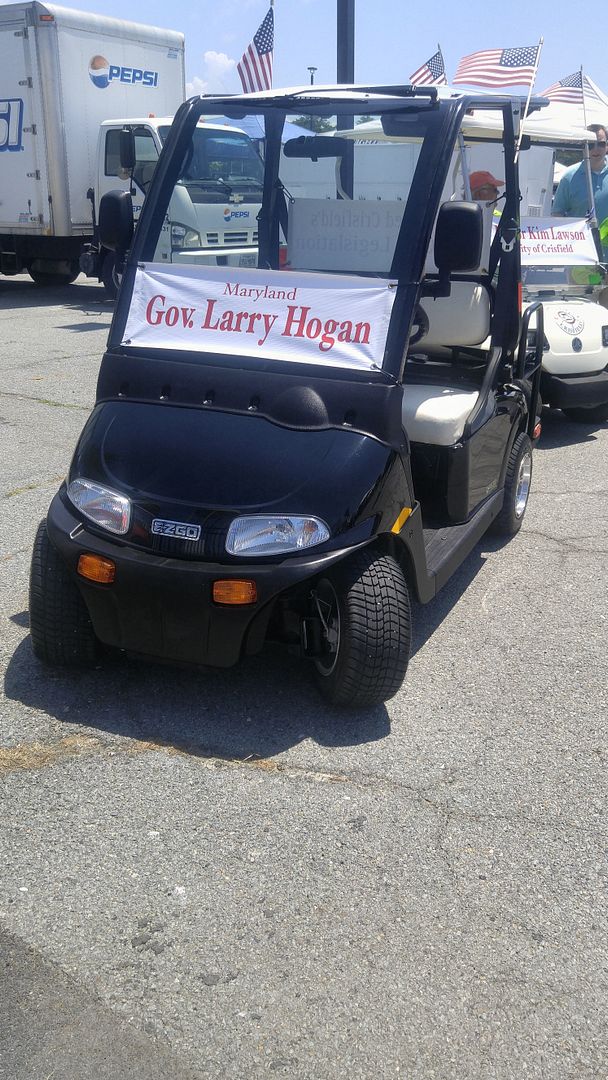 I said my quick hello to Larry moments before WBOC grabbed him for an interview, and that's fine with me.
Here are two ladies who were probably glad he was there, too.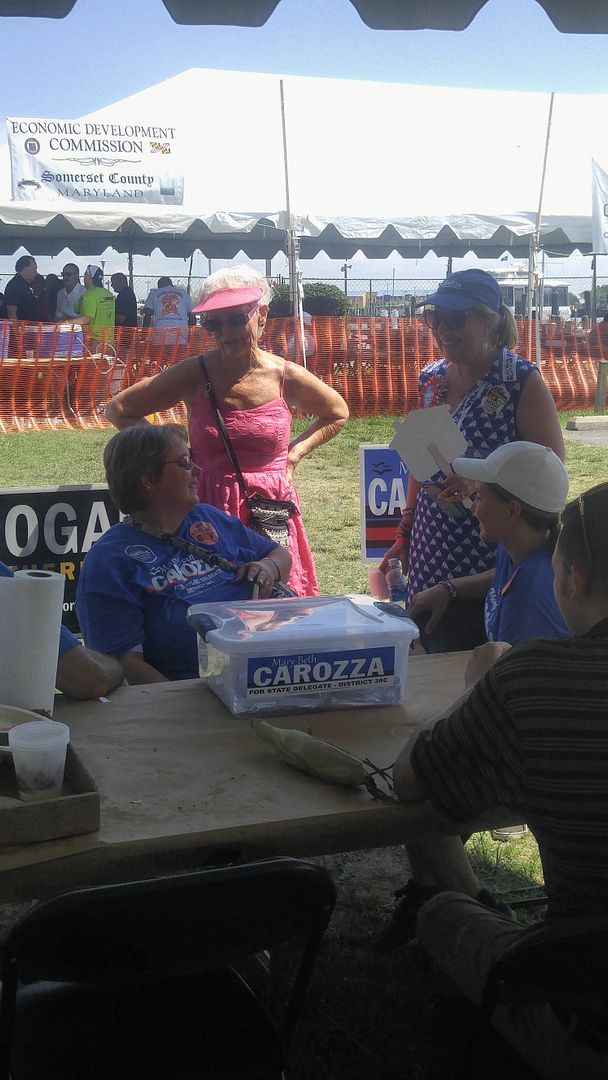 In her usual pink was State Senator Addie Eckardt, while Delegate Mary Beth Carozza was in her campaign blue. And since Carozza told me she treasures my observations, here are a couple.
First of all, it's obvious that Jim Mathias is running scared because why else would he spend the big money on a tent and dozens of shirts for the volunteers that showed up (plus others who may have asked)? Not that he doesn't have a lot of money – the special interests across the bridge make sure of that – but Mathias has to realize there is some disconnect between his rhetoric and his voting record. And he's not prepping for a major challenge from Ed Tinus.
A second observation is that most of the Mathias signs I saw driving down there were flanked by signs for Sheree Sample-Hughes, and you don't do that for a Delegate seat you were unopposed for the first time you ran. Something tells me Sheree has a higher goal in mind, but it may not one worth pursuing unless the circumstances were right.
One thing I found out from the Democrat chair Matthews is that at least two people are in the running against Andy Harris and were there. I didn't get to speak with Michael Pullen, but I did get to chat for a bit with Allison Galbraith.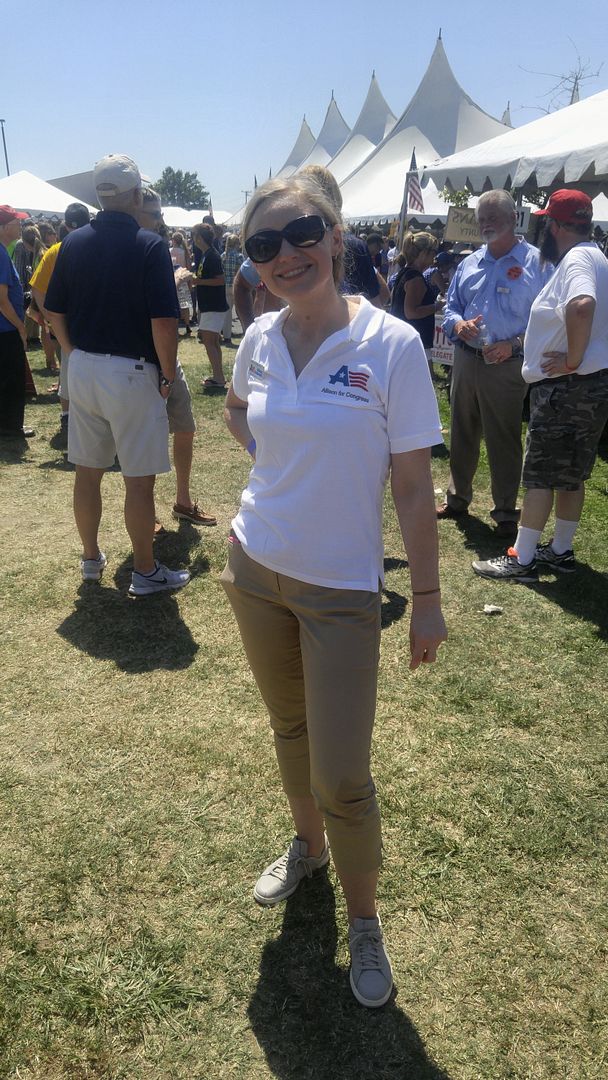 So when I asked her what she would do differently than Andy Harris, the basic response was what wouldn't she do differently? We talked a little bit about defense, entitlements, and health care. Now she is against government waste (as am I) but I think my idea of waste is somewhat different. She also claimed to have saved some sum of money based on her previous work, but I reminded her she would be one of 435 and there seems to be a "I'll scratch your back if you scratch mine" mentality in Congress. (I should have asked her who she would pattern herself after as a Congresswoman.)
But in the end, I was hot, sweaty, sunburned, and dog tired. I will say, though, that despite the rancor that seems to be pervasive in our world these days when it comes to politics most of the people in Crisfield got along just fine. I think I was very bipartisan in speaking since I talked to many GOP friends and met some of these Democrat candidates I didn't know so I had an idea who they were. And who knows? I haven't checked yet, but I may be on the Sun's website – that same photographer Lawson joked with took my photo later while I was asking Ross questions and got my info.
By the time we do this next year, we will know who's running for office and the campaigning will be more serious. So will the eating for the 50% that don't care about politics and never wander by Bereano's massive setup. As long as the Tawes event can cater to both they should be okay.
The other day I noticed on social media that our Congressman, Andy Harris, had put up a post explaining his vote for Trumpcare 2.0, the "repeal and replace" bill for Obamacare. (Most people refer to it as the American Health Care Act, or AHCA.) At the time I saw this there were 1,043 comments on his post and probably 80 to 90 percent of them were negative. I can guarantee you that 80 to 90 percent of his district doesn't oppose his vote, but thanks to this so-called "Indivisible" movement we are seeing some of the most seriously squeaky wheels get the grease that comes from taking 30 seconds to write the linguistic equivalent of "you suck!" on his wall. So I took about five to ten minutes to write my response, because there was a little research involved.
1,043 comments, mostly from people who probably didn't vote for Andy in the first place, vowing he's going to lose in 2018. Y'all need about 139,000 more folks.

In terms of repealing the disaster known as Obamacare, this was the correct vote, We have a long way to go in the process and it's way too early to say what will happen in the Senate (except that regardless of what it is, Maryland's Senators will vote no.)

Oh, and by the way, I just checked out that Allison whats-her-name and if she's praising NARAL she's not getting too far in this district. Most of us stand for life.

Also, since you are on the subject of town halls up and down the thread, could you get those aforementioned Senators down here to have one? Interesting how I never hear anyone clamoring for that.
I have to admit I was only being semi-flippant when it came to "Allison whats-her-name" because I had closed my window and honestly didn't feel like looking it up. Her name is actually Allison Galbraith and she makes her living from, of all things, steering companies to government contracts. I kid you not.
But to begin this piece I want to address the two people who replied directly to my comment, whose names are Gail Jankowski and Bill Schwartz. I'm going to quote their opening sentences here, ladies first.
Gail: We will get MORE than enough votes to replace him because more and more constituents are learning just how negatively this AHCA will affect them!

Bill: Maryland is a Blue State and we need to ensure that the first district is fairly represented.
I'm sure Gail and Bill are nice enough people, and in her case she gets bonus points for (at least presumably, judging by the surname) marrying into a Polish family. (By the same token, I won't take any points from Bill just because his ancestors insisted on unnecessary consonants.) But they seem to have a slim knowledge of political reality.
What the vast majority of people "know" about the AHCA comes from the talking points being fed to them from the media, which isn't exactly a set of unbiased observers. But the 2018 campaign won't begin in earnest for another 15 to 16 months, and what I've found out over the years, Gail, is that the issue you may think will drive the electorate this far out isn't always the one that is front and center by the time people really begin to pay attention, let alone when votes are cast. The big difference between the era of the TEA Party eight years ago in the Obama administration and the Indivisible movement now is, while both are having a discussion about health care as a topic in the off-year before the election – although Obamacare was more dominant in the fall and winter of 2009 – the economy was much, much worse back then. If the economy is in good shape come the fall of 2018, the AHCA will be a minor issue by comparison. People generally vote with their pocketbooks, and the reason the 2010 election was such a wave was the pent-up outrage at an administration that addressed health care before job creation and the economy. (The sticker shock effects of Obamacare were the reason for the 2014 wave election, since it took effect in earnest that year.)
So if the economy remains in decent shape, the AHCA will be so minor of a concern by then that Andy Harris will once again get his 60-65% of the vote and cruise to victory. You see, Bill, Maryland is indeed (and unfortunately) such a blue state that our previous governor and the Democrats got greedy – or at least as greedy as their incumbent Democrat Congressmen would allow them to be. I've made this point before, but if the composition of the First Congressional District were the same in 2008 as it became in 2012, Andy Harris would be on his fifth term. By erasing the northern half of Carroll County from the previous configuration of the Sixth Congressional District and adding it to the First, it assured whoever the GOP puts up in the First District will win because the plurality of the state's Republican voters now reside in the First, and it's by a factor of almost 50% more than any other district. So based on the electorate of the district the First is fairly represented. (The rest of the state? Well, they are just poorly represented, but I'm working on that.)
So now let me turn to another aspect of social media. My friend Sarah Meyers, who describes herself as a proud moderate Democrat (and is a member of our county's central committee) was distraught about the passage of the American Health Care Act, claiming, "The Republican House just voted to allow insurance companies to deny me healthcare."
Now I'll set aside the false conflation of actually having health care provided and paying for it, since there are other methods of doing so out there, but my response essentially noted that she is in the minority of people who are net beneficiaries of the ACA in terms of paying less. Those who get their insurance through their employer are paying far more, a fact that she chalked up to the "greed" of the insurance companies. But the "greed" is tempered by the fact that group insurers have to pay out 80 to 85 percent of their premium income on medical care, leaving the remainder for "administration, marketing, and profit." Since neither administration nor marketing are free, one can presume these insurers are not rolling in profit. This "medical loss ratio" is part of the ACA and may be one reason why insurers are dropping out of the business.
One of the next arguments I got was that the ACA "saves lives," presumably because those who could not afford insurance or were no longer being tossed off for the various reasons of pre-existing conditions, lifetime limits, and so forth were being covered. But the evidence of this is anecdotal at best, and rather dubious in the amount of inference that has to be made. It truly depends on the source, but the best scholarly guess is a net wash. Even some of the partisans concede it's a bogus argument. And while there's always the emotional appeal of someone who can come out and claim they are a survivor because they had health insurance through Obamacare, it's pretty difficult to speak with someone who didn't because Obamacare made their deductible too expensive.
The most radical solution offered up was the old single-payer bromide, from local leftist Chuck Cook:
Single payer is the only solution, and it has been proven to work in every single industrialized first world nation on the planet… except ours. We are the outlier due to conservative ideology that honors the wealth of billionaires over the health of children.
Uh…..no. Honestly, we're very close to having a single-payer system in place here given the lack of competition in many places and tight regulations on the health insurance industry in terms of how much they can make, what they must cover, and how they conduct their business. Basically it would be a Medicare/Medicaid for All system and you can just ask a doctor (whose Medicare reimbursement increased a whopping 0.24% this year, with Medicaid reimbursement being a fraction thereof) how they like it or check out study outcomes, as the left-leaning Kaiser Family Foundation did recently, noting…
Multiple studies, though not all, have documented improvements in beneficiaries' self-reported health, reduced stress and anxiety, and improved quality of life following Medicaid expansions. The Oregon Health Insurance Experiment, which used a research design that is considered the gold standard, compared the experience of adults who gained and adults who did not gain Medicaid coverage through a lottery that allocated a limited number of new Medicaid "slots" for low-income uninsured adults in the state. The study found that Medicaid improved self-reported mental health and reduced clinically observed rates of depression by 30% relative to the uninsured group. The findings related to impacts on physical health were mixed. Medicaid increased the detection of diabetes and use of diabetes medication, but did not have a statistically significant effect on control of diabetes, high blood pressure, or high cholesterol. The researchers note that the study did not have sufficient statistical power to detect changes in these measures, and also that factors including missed diagnosis and inappropriate or ineffective treatments, among others, could mitigate the impact of coverage on clinical outcomes.
…to see if this meets your definition of "proven to work." For me it's lacking.
I think both sides agree, though, that the problems with the system are defined simply: access and cost. The government's solution was twofold: one side was to force everyone into the insurance market whether they wanted to be or not (hence, the "shared responsibility payment") so that the healthy people would balance out the sick and the other side was to try and make preventative care cost nothing out of pocket, but the problem with that is doctors aren't going to work for free because they have families to feed, too. And thanks to all of the billing and coding concerns we have with modern government medicine, a good percentage of the staff in any doctor's office is the overhead required to deal with billing and not there for patient care. (It's akin to the number of administrators in a school system who don't educate children.) In other words, "free" is the extra $2,000 on your deductible or $40 a week out of your paycheck.
One analogy often used as a comparison to health insurance is auto insurance, which is also mandatory in most states (New Hampshire is the lone holdout.) However, when you buy auto insurance it does not cover oil changes, new tires, and other mechanical issues. Similarly, the original intent of health insurance was to cover the medical bills in case you were hospitalized, as opposed to supplemental insurance like AFLAC which covers other expenses.
The idea of insurance is that of calculating and sharing risk among as many participants as possible. Let's say you have a group of 1,000 40-year-olds whose lives are all insured for $100,000 and you know four of them will die on the average in a given year. You then know your premium pool will have to be set to $400,000 plus an amount set aside for the off-chance of a year where more than 4 die, plus administrative expenses, plus a little for shareholders. If you assume those other expenses total $300,000, then each participant would pay $700 a year to be insured for $100,000 if they die, which they may find is a prudent and affordable hedge against that risk as they have families to support. It would be impossible for a group of 2 or 10 to be able to do this, but over a thousand people it's very attainable.
However, what we now have with health insurance isn't truly insurance because there is so much mandated coverage and the risks are highly unpredictable. Nor are they being shared among all the participants equally because some are paying themselves through their employer, some are being subsidized for their coverage by the government, and others are completely on the government dime. Because a large amount of the money comes from funds never seen by the buyers (deducted from their checks, or just plain subsidized) they don't much care what treatment costs, just their premiums and deductibles.
So let me return to the car insurance analogy. You have to have car insurance, and it has to be minimum coverage, but after that the market is relatively free and there are a whole lot of competitors. If you get tired of Allstate because they raised your rates 50% for no good reason, there's always Progressive. When Flo gets too annoying, Jake from State Farm will be happy to help. If you don't like them, we have local independent agents. They compete on price, coverage, and service – so why can't that be the case with true health insurance, too? And what I mean by "true health insurance" is that you select what you want to cover from the options provided by the companies, or you can skip it altogether. (Or, the option for employers to provide group coverage can be left in place as well, as I'll get to in a moment.)
I can already hear the Sarah Meyerses of the world screaming "but pre-existing conditions!" Yes, there can be high-risk pools created for those at the state level, or even groups of states can create a compact to make the pool even larger and share the cost among more people. If states want to create incentives for employers to provide insurance, that's fair game as well. I happen to think the Tenth Amendment is the part of the Constitution that's supposed to be most flexible, allowing states to do a large number of things that should be off-limits to the federal government. I may or may not agree with them, but that is their right to do so. There's very little need for federal involvement in health care at all – certainly nowhere near the amount we have now.
I'm sorry to break this to Chuck Cook, but the United States isn't like the rest of the "industrialized first world." We are a constitutional republic where the federal government is intended to be limited, not maximized and in control of everything. (It's also worth mentioning that the wealth of our billionaires – and the talent of a lot of other, less well-to-do American people – is quite often freely given to assist in promoting the health of people both here in America and around the world. Here's a great local example.) So the idea that we don't have single-payer health care is one of those rare things that's still a feature of ours and not a bug. That's not to say it can't stand some serious improvement, though.
Let's just see if we can't make it more in conformance with what our great American experiment in liberty is supposed to be all about, mmmmkay?
It has now made national news that the townhall meeting held by Andy Harris up at Chesapeake College turned into a loud protest brought on by the local, so-called "Indivisible" groups. (Even more amusing is their reaction when Harris called out one woman who continued to be disruptive. It's from a page called "Shareblue" which is trying to be the Breitbart of the regressive Left.) Now I have attended Harris townhalls in the past (here are three examples; unfortunately two of them no longer have the photos) and they have often began with PowerPoint presentations – this is nothing new. But it seemed like the fringe Left wanted blood, so they reacted accordingly.
In some other forum I made the point that we never get to hear from the other side. Maybe I just don't find out about it because I'm not on the radical left e-mail list, but it seems to me that our Senators rarely hold townhall meetings and when they do they are in politically safe (for them) areas like Silver Spring.
Yet the argument from the Left is that they are simply doing what members of the TEA Party did during the initial Obamacare debate in 2009. (The "Indivisible" crowd claims to be using the same tactics the TEA Party did.) I will grant the TEA Party stepped out of bounds on a few occasions – one case in point was this protest* in front of then-Congressman Frank Kratovil's Salisbury office in July of 2009 that I covered (which remains one of the most commented-upon posts I've ever done here) – but when it came to a townhall setting, yes, we showed our passion. In comparison to the new alt-Left, though, we were well-behaved.
Then again, local conservatives have had to put up with disruptions from the Left for awhile so perhaps this isn't a new phenomenon.
As evidence of the difference, I attended a meeting set up by Senator Cardin in August of 2009. It wasn't initially intended as a true townhall meeting because its target audience was seniors, but a few of those in the local TEA Party (including me) managed to secure tickets – the 100 or so there could have easily been double or triple if the room were set to accommodate them. This explains how the meeting came to be:
Originally the meeting was set up back in March and wasn't intended to be a town hall; however, once the health care controversy blew up this became a hot ticket. The intention was to get the perspective of residents who are over 50 and live on the Lower Shore, and the ground rules were pretty strict. There would be no questions during Senator Cardin's presentation, the ratio would be one question for a GraySHORE member for each one from a non-member, and questions would have a 30-second limit.

In the welcoming remarks, it was noted that the state as a whole is getting younger but the Eastern Shore is aging. While the state is a "net exporter of seniors" at least 7 of the 9 Shore counties are net importers. We are also older and poorer than the state at-large. The idea behind GraySHORE was to brief elected officials with policy recommendations.

Something I found intriguing was the mention of Senator Cardin's career. He has been our Senator since 2007, but served in Congress since 1987 and was a member of Maryland's General Assembly for almost two decades before that – he was first elected in 1966. Basically, Senator Cardin fits the definition of a professional politician and I thought that was worth mentioning before I got too far.

When Senator Cardin came up, he noted that he was skipping the slide show to get to the questions. He also commented that this size group was a "manageable" group for dialogue.

As he had on prior occasions, the Senator couched the health care question as one of "what happens if we do nothing?" Health care costs were rising faster than income and would double in the next decade. As well, Cardin gave that mythical 46 million uninsured figure as part of his case and claimed that it cost each of us "an extra $11,000 per year to pay for (those not covered)."

The idea behind reform was to bring down costs through wellness and prevention and through better recordkeeping, while creating individual and employer mandates through the bill. It would provide a "level playing field" for private insurers and remove the caps on coverage, but above all reform "must reduce costs and be paid for." Cardin compared the idea to Medicare, which has worked "extremely well" over its lifespan and was put into place because insurers wouldn't cover the elderly or disabled. (Emphasis added for this post.)
It should also be pointed out that most of the TEA Party objections centered on policy and not necessarily personality. Bear in mind that the first TEA Party protests were over the stimulus proposal because the bill that eventually came to be known as Obamacare (which used as its shell a bill passed in the House but completely gutted by the Senate in order to satisfy the Constitutional requirement that bills dealing with revenue had to come from the House – a legislative sleight-of-hand if there ever was one) hadn't been introduced yet. That came later on in the summer. So at the time this was done there were a number of competing bills for the Senate to consider.
And did the TEA Party raise a ruckus over that summer? Certainly, and they asked a lot of questions. But listen to how this went down. My guess is that the context of this video is one where it was taken after some townhall event or other public appearance by Kratovil. The questions are certainly pointed, but the key is that the audience is listening to Frank's side of the story. They may not believe it, but they are being respectful. Now imagine if the lot at Chesapeake College were to be in that same situation with Harris – I doubt Andy would get a word in edgewise.
In truth, I think the "Indivisible" group would have began no matter which Republican secured the nomination and won the election – out of the field of contenders for the 2016 GOP nomination Donald Trump was probably the second-most philosophically close to the left (with onetime New York governor George Pataki, a pro-choice Republican, the only one being closer.) Remember, Trump is the one that added the "replace" to repeal of Obamacare.
I will grant that several of Trump's Cabinet choices are relatively conservative, but for the most part they are also outsiders and I think he was looking more for that aspect of "draining the swamp" by intentionally selecting people outside the Beltway axis than selecting those who are for rightsizing government. But the leftists would likely be out in some force for John Kasich, Marco Rubio, Jeb Bush, et. al. - just not to this extent. About the only two 2016 aspirants who would have attracted as much ire as Trump would have been Ted Cruz (because he would have governed from a truly conservative philosophy) and Scott Walker (based on what happened in Wisconsin.) Maybe Bobby Jindal would have been a third.
But here's a message for those who believe Andy Harris can be toppled in 2018: Go ahead and nominate the most radical leftist you want to Congress, and you will watch Harris spank him or her by 20 to 25 points. Thanks to your favorite former governor, this district basically has the bulk of Republicans in Maryland and considering Andy had almost 80% of the primary vote (over a candidate with legislative experience, a previously unsuccessful candidate, and one other "regular" person) I don't think you will get too far.
And I know you will point to Frank Kratovil's 2008 victory over Harris as proof a Democrat can win here but bear in mind that the redrawn district took away the portion of Anne Arundel County Harris won by about 3,000 votes and added Carroll County, where Republican Roscoe Bartlett won by a nearly 2-to-1 margin, or 25,000 votes. Even though the First District doesn't take in all of Carroll County, I think that with the post-2010 First District Harris would have won in 2008 with over 50% of the vote.
Your caterwauling doesn't help your cause. And if you want to use the TEA Party as your measuring stick, it's worth noting that their success was really fairly limited insofar as national electoral results go. The problem with those on the far Left is that they are trying to sell the same stuff that didn't work for their other "answers" to the TEA Party like the Coffee Party, Occupy Wall Street, and so forth, and most Americans don't buy it. They wanted repeal without replacement, immigration laws to be followed and the border secured, regulatory agencies reined in, and – most especially – they didn't want a third Obama term via Hillary Clinton.
Of all the things that fuel the Indivisible movement, they can't get over the fact that under the rules in place Hillary lost despite getting more votes. Well, to borrow a phrase from another liberal movement, it's time for you all to move on.
__________
*As longtime readers know, many of my photo archives were lost with the demise of an Adobe website where I used to link to them rather than place them on my website server – at the time my storage there was limited. In a stroke of remarkable fortune, this Kratovil protest piece was on the front page of my site when the Wayback Machine did its occasional archive so I recovered these photos earlier today – the post is once again complete and coherent.
By Cathy Keim
Michael mentioned a serious problem in his Monday post, "At throats", which is that we are no longer able to talk to our fellow citizens if their political bent is different than ours. I have been pondering this problem for some time without coming to any conclusions as to how to fix the issue.
Two events Tuesday illustrated the problem. First, I received a phone call that evening from Congressman Andy Harris inviting me to a tele-townhall if I would just stay on the phone. I joined the teleconference and what I heard was interesting because of the shift from previous townhalls that I have attended. I'll admit that I have not been to a townhall in a while, but they used to be similar in that the questions from the audience were directed at pushing Harris to the right on issues. The tele-townhall last night fielded questions that were decidedly geared towards pushing Harris to the left.
One lady flat out asked Rep. Harris when he was going to impeach President Trump. Others inquired about funding for Planned Parenthood, stating that they did not want it cut. Another questioned Trump's connection to Russia and the election. Another question was about the Affordable Care Act (ACA) and once again, the person asking was not in support of repealing it.
There was also the questioner who implied that Harris was dodging his duties by having tele-townhalls instead of holding in-person events. Andy explained once again, as he has repeatedly over the last few weeks, that he would resume holding townhalls in person once the GOP plan for repealing and replacing ACA was made public for discussion. (Editor's note: one is tentatively scheduled for the Easton area on March 31.)
Rep. Harris patiently and competently fielded the questions. He explained that President Trump was the duly elected president with a large Electoral College majority and that a month into his administration was premature for discussing impeachment. He pointed out that Planned Parenthood (PP) provides only one item that other health care facilities do not provide and that is abortion. All the other functions of PP could be provided by existing health care facilities. He also pointed out that PP separates out each service that they provide so that they can appear to be doing much more health care than abortions. For example, if a woman comes in for an exam which includes a pap smear, a physical exam, and a prescription for birth control pills, this would be counted as three separate services even though it was all included in the one visit. This is how they inflate their record for health care services in comparison to the abortions they provide.
Finally, he explained that the false divide between giving government funds to PP that could only be used for health services, but not abortions, is obviously a sleight-of-hand trick. My explanation of this is: Anyone can see that if I give you money to spend on your gas bill, but not on your electric bill, that you will say fine, no problem. You can now use the money that you would have spent on your gas bill to pay your electric bill and I will be happy that you didn't use my money on your electric bill. This robbing Peter to pay Paul does not sit well with citizens that do not want to pay for abortions.
One person stated quite bluntly that he preferred that abortions be subsidized because unwanted children would grow up to be in prison and that would cost him more to pay for 15 years of prison than the cost of an abortion. Congressman Harris made the case for life in the face of this common argument for death.
After the teleconference call concluded, I watched President Trump address Congress.
The women in white were grouped together to make their statement of disapproval for President Trump. While their stated reason for dressing in white was to align themselves with the suffragettes that fought for the right to vote, the real reason that the feminists are against Trump is because they are afraid that he will take away their ability to seek an abortion at any point in a pregnancy.
Even when he made statements that were appealing to a broad section of Americans to come together, the women in white sat on their hands. A few of them even made thumbs down gestures to show their disapproval for the president.
Overall, I felt that President Trump made an appeal to all sectors of our country to come together and work to make America a better place. If he is successful in his efforts to encourage the economy, then many will put aside their differences and be pleased that the nation's economy is stronger.
This may buy the Trump administration some breathing room, but there is a strong contingent of unhappy people that will not be dissuaded from praying for the demise of Trump no matter how well the economy hums along. This anti-Trump group comes from both the left and the right, making for strange bedfellows indeed.
As a Tea Party participant, I can vouch for our desire to strengthen our nation, to protect and live by our Constitution, and to leave our nation strong for our children and grandchildren.
The forces that are gathering to oppose the Trump administration as evidenced in the Harris tele-townhall and the President's address to Congress are being presented as a grassroots outpouring like the Tea Party, but are very different in their outlook. They are pro-big government, pro-death, pro-regulation, and pro-big spending.
To Michael's point about being at each other's throats, I don't see any way to get these two groups together any time soon. Their visions of America are so different that they really cannot coexist, and the die is cast in a way that we will inexorably move toward one or the other. The Trump administration will have to fight for every inch of ground it seizes from the entrenched bureaucracy, and since the GOP elites have not shown the desire to fight for the win up to now it will be interesting to watch and see if they will finally join the struggle.
There was a little bit of play in the news over the last few days about the refusal of Congressman Andy Harris to hold a live townhall meeting, instead opting to hold "tele-townhall" meetings where constituents in certain parts of the district can be on a conference call with their concerns. Naturally, the handful of liberals and Obamacare lovers (but I repeat myself) are calling Harris a chicken who's afraid to come before those he represents. (And they know about calling Harris chicken. This is an oldie but goodie.)
So I had a comment on social media about this.
The (Daily Times) letter writer is misrepresenting the idea of why Andy Harris is holding back on in-person townhall meetings. First, it's been stated in news reports that he wants to have a GOP replacement plan in place before he discusses the subject in an open forum, which makes sense in that respect – anything else is purely speculative. Obviously there is sentiment for keeping the ACA around, but there are also some who want the repeal without the replace.

And it's also worth pointing out that Harris, far from being "a paid tool of the pharmaceutical industry," received more in individual donations during the last election cycle than PAC donations. 62.5% of his contributions were individual, according to FEC records. Compare this to a Congressman like Steny Hoyer, who received only 28.2% of contributions from individuals, and ask yourself who's being bought and paid for by special interests.
Yes, the writer tossed that Big Pharma tidbit in, so I had to set things straight once again.
Speaking of setting things straight, there is a pro-Obamacare group who is putting together a series of what could be called "empty chair" townhall meetings through the First District. Since they already knew Andy's stance on having townhalls under the logical circumstance of not having a bill to discuss, what better way of sandbagging him than to have meetings and making him out to be afraid to face his constituents?
Yet I am quite confused about the one in Salisbury, which is scheduled for sometime this Friday. (One Facebook page says 3 p.m. but the other info says 6 p.m. Of course, they must know my calendar because I have a church event so I can't make it.) If it's at 6 p.m. there's a pretty good chance the media will cover it.
But since the true intent of these sponsors is not just to keep the Affordable Care Act around, but allow it to morph into their true dream of single-payer, cradle-to-early-grave government health care for the masses (imagine the VA and its issues on steroids) it may be a good idea for some of the folks who provided the opposition at last Saturday's pro-illegal immigration rally to show up at this event and ask our own questions about the not-so-Affordable Care Act. I'd like to have their excuses for why it's failed in its intention to insure all Americans, why the exchanges set up in state after state have gone bankrupt, and why the insurance that's been deemed acceptable has to cover so much when many in the market were pleased with their catastrophic-event plans? I'm sure you can think of others, not to mention that obvious lie about being able to keep your plan and doctor.
Anyway, we know the Left is still completely butthurt over Donald Trump becoming President – so much so that they are taking inspiration from the TEA Party.
I sort of stumbled across this site, which is a clearinghouse of town hall events held by members of Congress. It sounds innocent enough, and yes there is a public service aspect to it. But if you go to their "about" page, you find the real idea is distributing "a practical guide for resisting the Trump agenda." So I downloaded my own copy of the "Indivisible Guide" for reference, and right up front the writers admit the following:
The authors of this guide are former congressional staffers who witnessed the rise of the Tea Party. We saw these activists take on a popular president with a mandate for change and a supermajority in Congress. We saw them organize locally and convince their own MoCs to reject President Obama's agenda. Their ideas were wrong, cruel, and tinged with racism — and they won.

We believe that protecting our values, our neighbors, and ourselves will require mounting a similar resistance to the Trump agenda — but a resistance built on the values of inclusion, tolerance, and fairness. Trump is not popular. He does not have a mandate. He does not have large congressional majorities. If a small minority in the Tea Party could stop President Obama, then we the majority can stop a petty tyrant named Trump.

To this end, the following chapters offer a step-by-step guide for individuals, groups, and organizations looking to replicate the Tea Party's success in getting Congress to listen to a small, vocal, dedicated group of constituents. The guide is intended to be equally useful for stiffening Democratic spines and weakening pro-Trump Republican resolve.
Of course, an event like Friday's isn't quite the same as a Congressional townhall because the panelists aren't worried about re-election – and quite frankly, the vast majority of those who will be there wouldn't vote for Andy anyway. In this case, the idea is to sow just that little bit of doubt in the minds of those who are otherwise strictly given a dose of propaganda. Notice that the event is targeting to a community that is more dependent on Obamacare and government assistance than most.
In this day and age of trying to eradicate the Obama agenda against America, the left is fighting the rear-guard action they didn't think they would have to. The fun thing about the Indivisible page is their "action page" where "Actions are listed provided their hosts agree to resist Trump's agenda; focus on local, defensive congressional advocacy; and embrace progressive values." Front and center on this page are these area events, so the truth is out.
So let me ask a question: where's their complaints about our esteemed Senators? Where is their local townhall meeting?
Perhaps the "silent majority" that elected Donald Trump better start speaking up.
On Wednesday night I put up a relatively quick post handicapping the various officer races for Maryland Republican Party leadership. But there was one person I may have missed, and his name is Gary Collins.
Over the last few days his social media has been on fire because he had noted his thought about trying for the brass ring, but deciding against it – only to find a lot of people want him to consider it anyway. It seems to me there can be floor nominations (although my recollection is rusty on this) so he may have something of a support base if he decides to try.
Back in the summer, though, Gary was one of the strongest Trumpkin voices screaming for my resignation, and I suppose he eventually got his wish because I did. Now he has to be careful what he wished for, though, because I'm going to give him (and anyone else who seeks the top spot) some free advice from an outsider who was once on the inside. It's not so much on how to be chair of the party as it is a general treatise on philosophy. So here goes.
There are two numbers for the new Chair to remember: 818,890 and 1,677,926. The former number is the Democratic vote in 2014, and the latter in 2016. We can't count on a weak Democrat that the party can't get excited about to run in 2018, and you can be sure that the other party will be trying to tie the person who only won in 2014 by about 65,000 votes to the guy who lost two years later, in large part from Democrats and independents voting against him as opposed to being for their own flawed nominee, by over 700,000 votes. (You can fairly say that 1/3 of Hillary's popular vote margin came from this state.) This is true even though Larry Hogan didn't support Donald Trump and reportedly didn't vote for him.
Thus, job one for the party Chair is to re-elect the governor and job 1A is to get him more help. You may not like it, and the chances are reasonably good the winner supported Trump from early on. But not everything Trump says or does will play well here, especially when 2/5 of the voters live in the Capital region.
Legislatively, this will be the year in the cycle the General Assembly majority is most aggressive. You can bet that paid sick leave will pass and they will dare Hogan to veto it. Even other crazy stuff like the "chicken tax" and a renewed push for the O'Malley-era phosphorus regulations have a decent chance of passing – both to burnish the far-left legacy of ambitious Democrats and to attempt to embarrass Governor Hogan. Meanwhile, if it's an administration-sponsored bill you can be certain the committee chairs have standing orders to throw it in their desk drawers and lose the key. (Of course, identical Democrat-sponsored legislation will have a chance at passing, provided they get all the credit.) Bear in mind that 2017 will be aggressive because 2018 is an election year and the filing deadline will again likely be during session – so those who wish to move up in the ranks may keep their powder dry on the most extreme issues next session until they see who wins that fall.
Conservatives have a lot to lose. Larry Hogan is not a doctrinaire conservative, but he needs a second term for one big reason – sort of like the rationale of keeping the Supreme Court that #NeverTrump people were constantly subjected to. It's the redistricting, stupid. They got rid of Roscoe Bartlett by adding thousands of Montgomery County voters to the Sixth District (while diluting the former Sixth District voters into the Eighth or packing them into the First) so the next target will be Andy Harris. If you subtracted out the four Lower Shore counties from his district and pushed it over into Baltimore City, you would only lose a little in the Democratic Third and Seventh Districts but pick up the First. The Lower Shore voters would be well outnumbered by PG and Charles County as part of the Fifth District (such a district split is not unprecedented.) Democrats dreamed about this last time out, and they want no part of an independent redistricting commission.
One place to play offense: vulnerable Democrat Senators. I live in Jim Mathias's district, and it's very interesting how much more of an advocate he was for an elected school board after 2014. He's always tried to play up his somewhat centrist (compared to most Democrats. anyway) voting record, and I suspect there are a handful of other D's who may try to do the same. Don't let them get away with it, because over years of doing the monoblogue Accountability Project I've found (with a couple rare exceptions) that even the worst Republican is superior to the best Democrat as far as voting is concerned.
So whoever wins Saturday can feel free to use these ideas. As for me, I have far better plans for my weekend – I'll wave in the general direction in Frederick as we go by. Fair warning: comment moderation may be slow or non-existent.
I'm sure that many millions of people like me who stayed up until almost 3 this morning (yet had to get up and go to work) were of several minds: anything from watching a slow-motion trainwreck to openly savoring the bitterness coming from the hearts of the so-called "experts" who predicted a massive blowout loss for Donald Trump. And until the last maybe week to 10 days I was among that group, but it seems there is a reservoir of support Trump could keep tapping into that other Republicans could not.
That subject is one I will get to in due course (that being part two) but for the moment I just want to work through my series of predictions and see if my crystal ball has been fixed. Just as I reeled them out from national to local, I will wind them backward to wrap them up.
And just as an aside, while early voting had historically high turnout, the reason will end up being that people just wanted to wash their hands of this election.
I think that panned out to a fair extent. Turnout is lining up to be right around or perhaps slightly below where it was in 2012, depending on how many absentees or provisional ballots there were. Including early voting, Maryland brought out a little over 2.5 million voters. Considering the state has about 300,000 more voters in this cycle, I think the turnout percentage will decrease or stay about where it was – the timing of votes was what shifted.
Across the border, I fear Delaware will vote for more of the same then wonder why their state isn't getting better. Basically the state will have the same political composition with different names on the nameplates in Congress and state executive offices – not that Sussex County agreed with it, but they will be outvoted as usual by the New Castle Democrat machine.
In the state of Delaware, Hillary Clinton beat Donald Trump by a 53%-42% margin, Democrat Congressional hopeful Lisa Blunt Rochester won 56%-41% over Republican Hans Reigle. and in all three state government races, the Democrats won by almost identical margins: 58%-39%, 59%-41%, and 59%-41%. Aside from an extra 10,000 or so votes cast in the governor's race to accommodate the Green and Libertarian candidates, the Democrats' totals were all within 2,000 votes and the GOP within 2,500.
But if you break it down by county and the city of Wilmington, you find that Hillary won 84.8% in Wilmington, 59.4% in the rest of New Castle County, 44.9% in Kent County, and 37.2% in Sussex County. The problem is New Castle County's Hillary votes were more than the combined overall total of either Sussex or Kent County. Sussex only went 41% for Rochester, 45% for governor-elect John Carney, 47% for lieutenant governor-elect Bethany Hall-Long, and 40% for new insurance commissioner Trinidad Navarro. Going forward they need to keep statewide Democrats in the 20s in Sussex County, but that may be a tall task as those who retire there generally come from Democratic core states and apparently don't change their voting patterns.
On the questions, I believe Question 1 will get in the neighborhood of 80% statewide but maybe 75% here. The biggest controversy will be that Question A's Option 2 will win a plurality of the vote but not quite a majority – a spirited Democrat effort will pull Option 2 down to 48% but Option 1 will get just 32%, with 20% opting for the hybrid. Otherwise, all the charter amendments will pass by healthy margins of 65 to 80 percent in favor.
Question 1 got 73.6% here (so I was close) but I underestimated the statewide wisdom to some extent, as the partisan measure passed on a 72-28 margin overall (as opposed to 80%.) I was just 3 percentage points off on Question A but Option 2 managed a slight 51% majority rather than a plurality. The Democrats probably got a late start in backing Option 1 because it underperformed my estimate by 7 points while the hybrid Option 3 outperformed by 5 points. The other questions ranged from 63 to 77 percent in favor, so I was in the ballpark. Maybe my public opposition brought them down 2 to 3 percent each.
Andy Harris will be returned to Congress, but not by as much as previous years. He will get 60.7% of the vote both overall and in Wicomico County, but Joe Werner's 35.9% of the vote districtwide will shrink to 33.8% here. The Libertarian Matt Beers will have 3.2% districtwide but do somewhat better here, with 5.2% support in Wicomico County.
I was somewhat correct with Harris. He got 7% better than I predicted districtwide, but I was correct that he did decline slightly from 2014, when he was a shade over 70%. That extra came from Werner as he came up 7.9% short of what I thought he would and Matt Beers came in 1% better at 4.2%. Here in Wicomico, though, I was much closer: Harris underperformed my guess by 1.7% while Werner jumped 3.3%. The Libertarian Beers came in 1.5% less here. It's worth noting, though, that the Libertarians' share of the vote has increased slightly with each election they participate in – back in 2008 they had 2.5%, in 2010 3.8%, in 2012 3.8% (but Muir Boda came close to edging the write-in Democratic candidate here in Wicomico with 5.9% vs. 6%) and now 4.2%.
Looking at the U.S. Senate race, I think that Chris Van Hollen wins no more than eight counties but those will be enough to propel him to victory with 61.1% of the vote, compared to Kathy Szeliga's 37.8%. Margaret Flowers will get 0.6% and various write-ins the rest. Wicomico will be one Szeliga wins, but not quite as strongly as Trump – she gets 59.3% of the vote while Van Hollen has 40.3% and Flowers 0.2%.
Van Hollen won just six counties, but unfortunately for Szeliga they included the four biggest so she was trounced. I gave Van Hollen about 1% more credit than he deserved, but Szeliga got no benefit as she was 1.4% short. All the underage went to Flowers, who grabbed over fivefold the share I predicted at 3.2%. Just as some on the right may give Libertarians the vote in a race they know is safe (I've done this several times in the past) I think those well out on the left figured it wouldn't hurt to push the Flowers total up. But when Szeliga undercuts my modest expectations (to have a shot, she really had to be in the 75% range here and elsewhere on the Eastern Shore) by a full 5.7%, it's a short wait for a concession speech. Van Hollen only lost our supposedly conservative county by 10.4 points (and beat my guess by about 3 points) but a shocker was that Flowers did about as well here as she did statewide. I thought she would be lucky to get 100 votes locally; she picked up 1,163.
I'm going to stop with that because I want to see the write-in votes for President before I comment on that race. But I will say that I am shocked at the number of write-in votes, as over 40,000 were cast statewide. I'm sure many of these won't be counted, but it won't be 85% of them like it was in 2012. I may have been overly pessimistic on Evan McMullin, Darrell Castle, Tom Hoefling, and so forth as they may split 15 to 20 thousand votes (although McMullin will get the lion's share.) We won't know for a few days, though, and when we do I will pick up with the second part regarding the Presidential race.
In years past, our Central Committee used to make a gentlemen's bet on the election results and I was often the one who prevailed. But I seem to recall I had a rough go of it the last couple times out and these days I have no idea if my crystal ball is broken or not. Undaunted, here are my slightly educated guesses on how this election will turn out locally, statewide, and nationally.
First of all, national turnout will be about 124 million votes, which will be down from 2012 but not as bad as I once predicted.
The important race: Hillary Clinton will pull out a fairly close popular vote race by 1 or 2 points nationwide, but fails to eclipse 50 percent just like her husband. However, there is a highly distinct possibility we may live the 2000 election all over again: the Electoral College very well could finish 279-259 Trump and the straw that breaks Hillary Clinton's back will be losing Florida. Trump will win 30 states but Florida will be the dagger the GOP regains to defeat Hillary. Also from the 2012 map Trump will regain Colorado, Iowa, Nevada, New Hampshire, and Ohio for the GOP, plus one Electoral College vote in Maine. (That one vote in Maine could be key if Florida and Pennsylvania trade places, with the former going to Clinton and the latter Trump. If Trump takes one Congressional district in Maine he would prevail 270-268, but if that elector decides to go with the other three Maine electors it becomes a tie.)
The reasons neither candidate breaks 50 percent: about 4.5% for Gary Johnson, 1.5% for Jill Stein, and various write-in candidates will split roughly 2% of the vote. This means Hillary beats Trump by something like 46-45 or 47-45. But if Hillary wins in the Electoral College by keeping Florida (or another close state like North Carolina or Ohio), by dawn on Wednesday the caterwauling about #NeverTrump begins, conveniently forgetting that not only was Trump a weak candidate propped up by initial incessant and fawning media coverage that (as if by magic) turned more negative when he won the nomination, but Gary Johnson and Jill Stein took enough from Hillary to deny her a majority, too.
The suspense will be much less in Maryland, where Trump will lose but not as badly as polls once suggested. Out of 2.6 million votes cast (again, down slightly from 2012) Hillary will get 56.1% and Trump 38.7%. Among the rest, Gary Johnson will get 3.3%, Jill Stein will pick up 1.2%, and write-ins the rest. Evan McMullin will get the majority of counted write-in votes, eclipsing the 5,000 mark statewide. I think Darrell Castle comes in next with around 1,100, which almost triples the 2012 Constitution Party candidates Virgil Goode and James Clymer (both ran under that banner as the party had split factions.) This would be astounding when you consider there were over 10,000 write-in votes cast in 2012 but most of those weren't counted. (The actual top vote-getter among write-ins back in 2012 was Santa Claus with 625 – Goode was second.) Thanks to McMullin, though, this year the stigma behind write-ins will be broken somewhat.
On the Wicomico County level, Donald Trump will carry the county with ease, with 63.7% of the vote compared to 32.8% for Hillary. Gary Johnson will hover around 2.3% here and Jill Stein at 0.4%; in fact, Evan McMullin will beat her by getting 0.6% of the vote. Of the other 100 or so votes, I figure Darrell Castle gets about 45.
Looking at the U.S. Senate race, I think that Chris Van Hollen wins no more than eight counties but those will be enough to propel him to victory with 61.1% of the vote, compared to Kathy Szeliga's 37.8%. Margaret Flowers will get 0.6% and various write-ins the rest. Wicomico will be one Szeliga wins, but not quite as strongly as Trump – she gets 59.3% of the vote while Van Hollen has 40.3% and Flowers 0.2%. Not backing Trump will give Szeliga a larger undervote than normal, while Van Hollen may actually exceed Hillary as independents split their tickets.
Andy Harris will be returned to Congress, but not by as much as previous years. He will get 60.7% of the vote both overall and in Wicomico County, but Joe Werner's 35.9% of the vote districtwide will shrink to 33.8% here. The Libertarian Matt Beers will have 3.2% districtwide but do somewhat better here, with 5.2% support in Wicomico County. Because of the nature of the First District, don't be surprised if Harris runs slightly ahead of Trump (mainly across the Bay.) The Maryland Congressional delegation will remain 7-1 Democrat, with Amie Hoeber and Mark Plaster coming the closest to ousting the incumbents but losing by single-digits.
On the questions, I believe Question 1 will get in the neighborhood of 80% statewide but maybe 75% here. The biggest controversy will be that Question A's Option 2 will win a plurality of the vote but not quite a majority – a spirited Democrat effort will pull Option 2 down to 48% but Option 1 will get just 32%, with 20% opting for the hybrid. Otherwise, all the charter amendments will pass by healthy margins of 65 to 80 percent in favor.
Across the border, I fear Delaware will vote for more of the same then wonder why their state isn't getting better. Basically the state will have the same political composition with different names on the nameplates in Congress and state executive offices – not that Sussex County agreed with it, but they will be outvoted as usual by the New Castle Democrat machine.
So that's my take on how it will go – do readers have ideas of their own? And just as an aside, while early voting had historically high turnout, the reason will end up being that people just wanted to wash their hands of this election. Voting a week early enabled many to tune the election out – they did their civic duty and now could get on with life.
We will see on Wednesday how shocked and surprised I am. I was certainly shocked with the state-by-state figuring I did to predict a 2000 repeat.
In 2004, Wicomico County voters adopted a system of government that would be led by a county executive, scrapping the former system where County Council had both legislative and executive powers. One reaction from this: all four of the incumbent Democratic members of County Council opted not to run for re-election in 2006; however, the first County Executive elected was Democrat Rick Pollitt.
In 2014, we had the first transfer of power between parties as GOP standard-bearer Bob Culver ousted Pollitt, who was running for a third term. At the same time, County Council maintained the 6-1 GOP edge it had received in 2010 – that was an increase from the 4-3 control they won in 2006 with only two members from the previous Council surviving the election.
So you can perhaps chalk it up to management style, or maybe the turnover on County Council over the last eight years has placed a crop of people on there who long for the old system, but Wicomico County voters are facing a bewildering array of issues on their ballot. So let's start with the no-brainers.
Question 1 is a statewide issue that compels the Governor to appoint a new Comptroller or Attorney General from the same party as the one most recently elected and provides for a special election in a Presidential year if the vacancy occurs soon enough.
You'll notice that this was never a problem until a Republican was elected to the governor's chair. In fact, the last time the state had a Republican AG was in the term of Republican Governor Theodore McKeldin (1951-1959), who appointed Edward Rollins to the post to finish out the term of Hall Hammond, a Democrat elected in 1950 and promoted to the state Court of Appeals. As for Comptroller, it has exclusively been a Democrat's position for well over a century. But maybe we could use a Libertarian as Comptroller or a Constitution Party member as Attorney General – until either can break the two-party duopoly, though, we would likely be stuck with liberal Democrats.
So because of the cynicism in addressing a problem (that really wasn't) for strictly partisan reasons, I urge a vote AGAINST Question 1.
Question A, for Wicomico County voters, addresses the composition of the Wicomico County Board of Education. For years I have advocated for an elected school board, and after eliminating the political obstacles in the 2014 election, the path was cleared for voters to address the issue in the first three-way referendum in recent memory. Option 1 is to maintain the current appointed system, Option 2 is for a fully elected board, one each representing the five County Council districts and two at-large elected by all county residents (the same makeup as our current County Council), and Option 3 is for a hybrid board of five elected (one from each Council district) and two appointed by a locally-created board with confirmation from County Council.
Once again the cynical local Democrats have cast their lot with the fully-appointed Option 1, which provides no shortage of irony considering it's the least democratic process. It seemed more logical that they would be for Option 3, which was the fallback position many preferred in the hearings conducted in the summer of 2015, before the enabling legislation passed earlier this year. But to maximize accountability, the best choice by far is Option 2 – a Wicomico County Board of Education with five members elected by district and two members elected at-large.
Now it gets very confusing. There are nine county charter amendments on the ballot, and to me their net effect seems to be that of reducing the power of the county executive and shifting it to County Council. I wasn't here for the 2004 vote, but it seems obvious to me that the county wanted a strong leader and a legislative County Council.
Let's begin with Question B and its related cousin, Question D. Both would require a special election: Question B to fill a vacancy in the County Council, and Question D for the County Executive. However, either vacancy would only be filled in this manner if it occurred within the first year or so of the term, which seems to me a rather pointless change. Having gone through this process as a Central Committee member back in 2011 (to fill the vacancy created by the passing of Bob Caldwell) I can tell you that a special election would do no better and cost the taxpayers money to boot. Thus, the proper vote is AGAINST both Question B and Question D. (Editor's note: Councilman Marc Kilmer clarifies the intent of these questions in comments below, but I still think the ballot language is misleading. Their idea of a "special election" coincides with the scheduled primary and general elections, which is not made completely clear in the ballot summary.)
Question C deals with vacancies as well, but it's a common-sense measure to extend the time allotted for filling positions from 30 to 45 days and have them submitted at a legislative session. This extension makes sense as County Council only meets twice a month, and having gone through the Caldwell vacancy the extra time is good for getting things right. Vote FOR Question C.
Question E removes the authority of the County Executive to select a temporary successor and assigns the task automatically to the Director of Administration. While it's likely he or she would do so anyway, the option should remain open for the head of our government to choose. We do not have a vice-executive here, so why create one? Vote AGAINST Question E.
Question F deals with the idea of "acting" appointments, and limits their term to 90 days unless Council chooses to re-appoint them. Since the idea of "acting" is that of being temporary, this proposal makes more sense than most of the others. Three months is generally suitable to find a permanent replacement, or determine that the "acting" head can handle the job, so go ahead and vote FOR Question F.
The final four questions seem to me very nit-picky, and obviously County Council's reaction to not getting their way on various issues.
For example, Question G gives a specific definition to "reorganization" which is much more restrictive toward the County Executive. As I see it, this is a separation of powers issue and it's strange that we went nearly ten years without ever having to deal with this problem. So I call on voters to say they are AGAINST Question G.
Questions H and I most likely are a reaction to the County Council's desire to have its own lawyer. Currently the County Attorney represents both the County Council and County Executive, but Council wanted to change that. I see no reason to do so, nor do I see the logic behind forcing the County Executive to recognize a personnel system established by Council as authorized by this change. Thus, we should vote AGAINST Questions H and I. (Editor's note: Again, see Kilmer's comments below. By charter my assertion is correct in who the County Attorney represents; but in the county today there is an "acting" County Attorney while Council retains its own, which they are entitled to do. I see no reason to change the system if Question F is passed.)
Finally, we have Question J, and that's the one I was most on the fence about. But what weighed my decision in the end was that the County Executive is responsible for the budget, so if County Council decides to cut something out it should be the County Executive's call as to where the money goes rather than simply placed in a particular account. For that reason, a vote AGAINST Question J is the appropriate one.
So this is the monoblogue-approved ballot for Wicomico County voters. We all face the same questions and issues.
For President – write in Darrell Castle/Scott Bradley
For U.S. Senator – Kathy Szeliga
For Congress – I did not make a formal endorsement. If you like Andy Harris, vote for him; if not, vote for the Libertarian Matt Beers.
Judge – Based on the fact Dan Friedman was an O'Malley appointee, vote AGAINST his continuance in office.
Question 1 – AGAINST
Question A – Option 2, the fully elected school board
Question B – AGAINST
Question C – FOR
Question D – AGAINST
Question E – AGAINST
Question F – FOR
Question G – AGAINST
Question H – AGAINST
Question I – AGAINST
Question J – AGAINST
For those of you across the line in Delaware, I weighed in on your state races as well.
Before I wrap up, I just ask that you all pray we make the best choices. We all have to live with what we decide, so choose wisely. After the election, it will be time to create the understanding many among us lack when it comes to making these selections because, in a lot of cases, we all have botched the process badly.
A nation divided against itself cannot stand.
This is the first of a few overview posts I plan on writing for local Maryland and Delaware races of importance. The reason I selected this race first is that there are only three candidates in the running – no write-in candidates have entered this race. Makes for an easy start.
So without further ado, here are the three men running for this office, listed in alphabetical order. Information is gleaned in large part from the respective websites.
Matt Beers (Libertarian Party)
Key facts: Beers is from Cecil County, making him the closest to a native Eastern Shoreman in the race. He is 26 years old, a Navy veteran and current reservist, and works for Cecil County Public Schools. This is his first run for federal office, and his run marks the return of the Libertarians to the District 1 ballot after none ran in 2014. (Current Salisbury City Council Vice-President Muir Boda was the last Libertarian to run for the seat in 2012.)
Key issues: Economy, National Security, National Debt, Taxes, Two-Party System
Thoughts: Matt seems to be running a very orthodox Libertarian campaign with regard to smaller government and a relatively isolationist foreign policy. He seems to be staying away from the social issues, which is probably a good idea in a conservative district if he remains on that part of the Libertarian line that favors a more liberal view on abortion, same-sex marriage, marijuana legalization, and so forth.
It would be interesting to see what Michael Smigiel has to say about Matt's campaign since they seemed to have relatively similar philosophies. (Beers was a guest on Mike's internet radio show back in July so I guess I can find out.) And while Smigiel only received 10.7% of the vote in the GOP primary, if all those votes transferred over to Beers it would get him most of the way to the vote total Boda received in 2012. It likely won't affect the result, but getting 5% of the vote isn't out of the question for Matt.
Andy Harris (Republican Party, incumbent)
Key facts: Harris is seeking his fourth term in Congress, where he has designs of becoming the leader of the Republican Study Committee. He also serves on the House Appropriations Committee. Harris is 59 years old and served as a State Senator for 12 years in the Baltimore area before winning the seat in 2010. After losing in his first Congressional bid in 2008 to Democrat Frank Kratovil by less than 3,000 votes, he avenged that defeat with a 12-point win in the 2010 midterms. Harris is an anesthesiologist by trade and served in the Navy Medical Corps.
Andy was perhaps the most prominent elected official to endorse Ben Carson in the GOP primary; after Carson withdrew Harris eventually followed him in backing nominee Donald Trump.
Key issues: Health Care, Economy and Jobs, Energy, Debt and Government Spending, Taxes, Education, Immigration, Social Security, Medicare, Financial Security
Thoughts: While it's not too difficult to be the most conservative member of the Maryland delegation when you are the lone Republican, Andy is among the top 10 percent in many of the conservative rating systems that are out there. But in reading his stance on issues, it seems to me he's moved back a little bit into "tinker around the edges" territory on several, entitlements, energy, and education being among them. Perhaps that's simply from knowing how the system operates and what we can realistically get, but I wouldn't mind a little more leadership on actual rightsizing of government. Maybe getting the RSC gig will help in that regard, but it also may make him a little more "establishment" as well.
As evidenced by the primary results, there is a percentage of Republicans who aren't happy with Andy. It won't be enough to tip the race, but it could keep him in the 60s for his share of the vote.
Joe Werner (Democrat Party)
Key facts: Werner is an attorney who lives in Harford County but practices in Washington, D.C. After a lengthy political hiatus, Werner jumped into the 2016 Democratic primary and upset former Salisbury mayor Jim Ireton for the nomination. In two previous runs for federal office, Werner finished 17th of 18 candidates running for the Democratic nomination to the U.S. Senate in 2006 (behind winner Ben Cardin) and was fourth of four who sought the 2008 District 1 bid that Frank Kratovil received. Werner is 56 years old, and has spent much of his legal career concentrating on the areas of family and children.
Key issues: Taxes, Halting Corruption, Trade Policies, National Safety
Thoughts: Werner exhibits a mixed bag of philosophies, with moderately conservative lip service to term limits, gun rights, the military, and certain areas of taxation contrasted by the usual progressive screeds about campaign finance reform, the $15 minimum wage, adoption of a value-added tax ("a tax most other nations have"), and the effects of free trade. And while none of these candidates have a website that will knock your socks off, Werner's reads like it was written by someone with no understanding of the political system or even the office he is running for. (My guess is that the copy was written overseas.) The small percentage of leftists in the district will back him, but it's a much less interesting race than it would have been with Ireton involved.
Personally, I'm leaning toward Andy but would be interested in knowing a little more about where the Libertarian Beers stands on other issues. Now that I'm off the Central Committee I can admit I voted for my friend Muir Boda in 2012 and maybe – just maybe – I may go Libertarian again. With the nature of the First District, it's a similar free vote to that for President in Maryland. Honestly I'll be curious to see whether Harris outpolls Donald Trump or not in this district.
So until I do a little more vetting of Matt Beers, I will withhold an endorsement in this race.
As a Republican in Maryland, there are two things you have to account for in a statewide race: you have a smaller pool of party regulars in the voting bank when compared to the Democrat in the race and you will have less money and free media than the Democrat has at his or her disposal. These have been givens throughout the modern political era, and it's a rare Republican who can overcome them.
But I think the idea of playing up just how low-budget a campaign is (against a well-funded Washington insider) doesn't work well as a serious campaign ad. I'm going to share Kathy Szeliga's ad so you can judge whether she plays this shtick (as well as the motorcycle riding angle) too much.
In truth, when I looked up the latest FEC reports (as of June 30), Van Hollen only had about a 2-to-1 cash on hand advantage on Szeliga, with $566,795 on hand. Admittedly, Van Hollen had definitely churned through a lot more money than Szeliga over the previous 15 months covered in his report, but he was also trying to fend off a well-known challenger for the Democratic nomination in Fourth District Congressman Donna Edwards.
And Kathy was determined to squeeze her nickels:
Our fundraising has been going well, but we didn't want to waste a dime, so we shot the ad on an iPhone – saving the campaign thousands of dollars. And TV ads are expensive, so we decided to buy cable and focus on a strong social media push.
She would need more than a strong social media push, though: her 17,126 Facebook likes trail Van Hollen's 21,333, while the margin is even worse on Twitter: Szeliga has just 2,349 followers compared to 28,780 Twitter followers for Van Hollen. (Of course, Chris has more of a national profile as a Congressman so that should be expected. As evidence, current Senator Barb Mikulski has 48,683 followers while Andy Harris has 6,281.)
But since the Democrat is afraid to debate in the hinterlands of the state (or include the third candidate in the race, Green Party candidate Margaret Flowers), perhaps the ante needs to be increased. This is what you really need to know about Chris Van Hollen: a description from his campaign website but edited for more truthfulness by this writer. Normally this would be a blockquote but I have it in normal text to make the edits (deletions struck through, additions in italics) more clear.
**********
Chris Van Hollen has been described as "one of those rare leaders who runs for office because he wants to DO something, not because he wants to BE something." Yet it's what he has done that should trouble the hardworking Marylanders he's trying to win over.
This sentiment captures Chris's approach to public service, an approach that he will bring to the U.S. Senate to fight – and win – for Marylanders who depend on the ever-expanding federal government to deal with on the challenges we face today.
Government-dependent Maryland families can count on Chris to be their champion – because that's what he has been doing for over two decades. As for the rest of you, well, you are correctly described by our Presidential nominee as the "basket of deplorables" because you don't share my 'progressive' vision.
Chris was first elected to public office in 1990, when he campaigned for the Maryland House of Delegates as part of the 'Choice Team,' which unseated an a pro-life incumbent opposed to women's reproductive rights. So I have spent 26 of my 57 years on this planet in public office, and as you will see later on I was groomed for this practically from birth.
In Annapolis, Chris quickly earned a reputation as a champion for progressive causes and a talented legislator who was not afraid to take on blame powerful special interests for problems we in government created – like the NRA, Big Oil, and Big Tobacco – on behalf of hardworking families. I just didn't let on that the NRA never pulled the trigger on a murder victim in Baltimore, Big Oil makes a fraction of the profit for putting in all the work compared to the ever-increasing bonanza we take in with every gallon, and we don't have the guts to actually ban tobacco because we need their tax (and settlement) money.
He led successful fights to make Maryland the first state to require infringe with built-in safety trigger locks on handguns, ban the prospective job creation of oil drilling around the Chesapeake Bay, and prevent tobacco companies from peddling cigarettes to our kids, taking credit even though sales to minors have been illegal for decades. Chris also negotiated an historic tax increase in funding for all Maryland schools. Just don't ask me to increase the choices you have to educate your children by allowing that money to follow your child.
Time Magazine said Chris was "a hero to environmentalists, education groups and gun control advocates." The Baltimore Sun called him "effective" and "tenacious" and the Washington Post dubbed him "one of the most accomplished members of the General Assembly." If you were a special interest that depended on a continual government gravy train, I was definitely your "fair-haired boy."
In 2002 Chris was elected to Congress on a wave of grassroots special interest support, ousting a 16-year Republican incumbent thanks in large part to some creative redistricting. There he brought the same brand of can-do activism socialist failure with him. He led the successful effort to stop big banks from reaping outrageous profits from having student loans as part of their loan portfolio - instead, we made sure Uncle Sam got that piece of the action and rigged the game so that even bankruptcy cannot save most graduates who can't find a job to pay their loans from - and was also credited with helping Democrats win back control of the House in 2006, just in time to steer the national economy into the rocks.  He became a Democratic leader and played a key role in the passage of the Affordable Care Act perpetual annual increase in health insurance rates and deductibles, the Wall Street Reform protection law, and the Economic Recovery Act that helped rebuild our shattered economy has helped saddle us with the worst recovery from recession in the last century.
When the Republicans took over the House in 2010, Chris's colleagues elected him to lead the battle against the Tea Party budget sanity. In that role he has been leading the fight to protect Medicare and Social Security from GOP budget attacks necessary reforms and protect vital investments in education, transportation, medical research and programs for the most needy. We have to buy those votes somehow and grease the right palms – debt is only a number anyway, right?
Chris has also unveiled a comprehensive plan to address one of the greatest challenges of our time – growing inequality in America.  His 'Action Plan to Grow the Paychecks of All, Not Just the Wealth of a Few'  Redistribute Even More Wealth and Create More Government Dependency' has been called a forward-looking blueprint for building an economy a government behemoth that works for everyone the ruling class inside the Beltway.
In the Senate Chris will continue to fight for against bold measures to revive the promise that every individual has the chance to climb the ladder of opportunity and lead a successful and fulfilling life. We Democrats can't let an individual be successful on his or her own, particularly if he or she is a minority.
The son of a Baltimore native, Chris's involvement in social justice and political action began at an early age. Chris's mom and dad were both dedicated public servants, and growing up he saw their strong commitment to making the world a better place.  As a student, he joined efforts to end Apartheid in South Africa and stop the nuclear arms race. And while Chris put himself through law school at night, he worked as a Congressional aide and then as an advisor to Maryland Governor William Donald Schaefer. So in my adult life I have never held a private-sector job or signed a paycheck. But I'm fighting for you because I am down with your struggle to balance a household budget when both parents are working multiple jobs!
Chris and his wife, Katherine, live in Kensington where they have raised their three children.
**********
The above is somewhat tongue-in-cheek, but along the line in this campaign I am very tempted to look at some of the local races on a more issue-by-issue basis, a "compare and contrast" if you will. I have no doubt that Chris Van Hollen is well to the left of most hardworking Maryland families.
But if Kathy Szeliga is as conservative as she says, perhaps we should downplay the "Washington insider" angle a bit because that's not going to play inside the Beltway. The latest voter registration numbers tell the tale: just between the two counties directly bordering Washington, D.C. we find 31% of all state voters. Add in the close-by counties of Charles and Howard and the number edges close to 40%. Put another way, 2 in 5 Maryland voters have some degree of connection to the seat of federal government – even if they don't work directly for Uncle Sam, their area was built on the economic impact of the government bureaucrat.
So the real question has to be about real solutions. Van Hollen cites a lot of things he has worked on, but one has to ask if the work he has done has actually solved the problem. Intentions might be grand for putting together a political webpage, but they don't fly in the real world.
Even if you go back to his earliest days, consider these checklist items: as a youth, Van Hollen worked to stop apartheid in South Africa and against nuclear arms proliferation. Unfortunately, the transition away from apartheid also led to the decline of South Africa as a nation – just like a number of American inner cities in the 1950s and 1960s the nation was a victim of white flight because among those who were liberated were too many who used the occasion to settle scores instead of living peacefully as may have occurred with a slower transition. And that youthful resistance against nuclear proliferation yielded to political partisanship when Van Hollen supported the Iranian nuclear agreement. Perhaps the proliferation he sought to end was only our own.
Or ponder the effects of the policies Van Hollen backed in the General Assembly. Trigger locks became required for all guns sold in Maryland, so there's already an extra expense. And I seriously doubt the bad guys have one on their guns, so if some citizen is shot and killed because they couldn't disengage a trigger lock in order to defend themselves, will Van Hollen apologize or believe more legislation is needed?
And like many liberal policies, Chris took the first step and his cohorts have walked them a mile. We went from banning oil drilling in the Chesapeake (which may not be economically viable anyway, but we have no way of finding out) to thwarting the state's efforts to drill for its proven natural gas reserves in the Marcellus Shale region (as well as other prospective areas including Annapolis and parts of the Eastern Shore.) That cost the state hundreds of possible jobs. Meanwhile, the state of Maryland perpetuates the hypocrisy of encouraging people to stop smoking with a small portion of the taxes they rake in with every pack – a sum that "progressives" annually want to increase as one of the state's most regressive taxes.
Nor should we forget the policies Van Hollen has supported over the last eight years. Just ask around whether your friend in conversation feels they are better off with their health coverage, or if the economy is really doing well for them. If they have student loans, ask them what they think of the price of college. In all these areas, government that considers meddling as its task has made things worse for the rest of us in Maryland.
These are the questions Kathy Szeliga should be asking, rather than joking about her low-budget campaign. The aggressor sets the rules, and to win over the voters the candidate has to define the opponent for them. My definition of Chris Van Hollen is that he's part of the problem, so the task is to make sure voters know that before explaining the solution.
By Cathy Keim
Congress headed back to work right after the Labor Day weekend. This will be the last opportunity for the Republican controlled House and Senate to finally find their legs and stand up to President Obama's out of control executive overreach. Sadly, I do not expect them to even try based on their previous performances.
With the presidential election looming in November, wouldn't this be a great time for the House to remember that they control the purse strings? If they do not put the money in the budget that they will be approving in September, then they can bring programs to a screeching halt. Their fear of a government shutdown renders them incapable of using the only instrument left to stop a president run amok.
Our national debt is now over $19.5 trillion, but still our Congress cannot find it in themselves to defund anything that the president demands.
Obamacare is collapsing, as it was meant to do from the beginning, to force us into a single-payer national health scheme. Watching the United Kingdom struggle with their broken system should give our leaders the encouragement to stop this, but instead they have funded the demise of our health care.
The Iran deal has been shown to be a disaster with our government trading money for hostages and Iran increasingly ready to harass our Navy ships.
Or how about the president's giveaway of our internet to China, Russia, and Iran!
Ann Corcoran has released a new video called "Changing America by Changing Its People." In under five minutes, Ann explains the Refugee Resettlement Program and how it can be stopped. You guessed it! This program that was started by Joe Biden and Ted Kennedy could be halted by defunding it. All the Voluntary Agencies (VOLAGS) that are bringing in the refugees are funded with your tax dollars.
Many of the VOLAGS have religious names, but they are not allowed to speak the name of Christ to the refugees they import. They are on the government payroll as private contractors and thus are prohibited from proselytizing. Why would Christian and Jewish groups bring in thousands of Muslims who are bound by their religion to make every effort to institute sharia law instead of living under our Constitution? People whose religion teaches them to hate Jews and Christians and to subjugate or kill them? I have not been able to come up with a reasonable explanation for that.
Since the Democrats cannot get Americans to willingly agree to their progressive Utopian scheme, then they will overwhelm the current Americans with imported people that they hope to keep voting Democrat forever.
If our Congress would defund some programs, another one that could bear careful scrutiny would be the food stamp program. Once again, Ann Corcoran on her blog Refugee Resettlement Watch pulls together the information that is out there, but that our Congressional watchdogs don't bother to notice. Baltimore, Maryland gets unflattering attention again for a huge food stamp fraud bust. Buffalo, New York, makes the news with this convenience store operator getting charged with fraud. The local convenience store operators buy the EBT cards from the food stamp recipients for 50% of the face value. Instead of food, the customer gets cash and the owner takes the other 50% to buy items to resell at his store. Sweet deal if you can get it, right?
I do not know if any of the convenience store owners are refugees, but Ann points out that their clientele most likely includes refugees: Senator Jeff Sessions of Alabama stated on his website last September that more than 90% of recent Middle Eastern refugees are on food stamps and almost 70% are on cash welfare.
Put these statistics together with this interesting statement:
[T]he Koran encourage Muslims to collect jizya – blood tax – from kafirs, the non-Muslims, and welfare is looked upon as jizya. Collecting money from non-Muslims is considered a legal entitlement since the kafir is not entitled to any land or laws of their own anywhere, meaning their presence on a land or country of their own is a "theft" of "occupation" of what should be Muslim land.
Defrauding the welfare system becomes a type of jihad against the welcoming host country.
The list could go on and on with all the missed opportunities to block an imperial presidency and to recalibrate the separation of powers equation. What better time to grandstand against the president's failed policies than the last session while the GOP still has control of both houses of Congress? Use every platform available to broadcast the deficiencies of the current administration that would be continued by the next Democrat president. Give speeches, hold hearings, give interviews, and hold the failed policies up to the public view during the entire budget process instead of acquiescing to the agenda and rubber stamping another omnibus spending bill.
Unfortunately, Paul Ryan and the House leadership don't see the situation like I do. According to The Hill:
Members of the conservative House Freedom Caucus are pushing to extend government funding into early 2017, wary of a massive bipartisan spending deal in the lame-duck. But GOP leaders and House Democrats are already laying the groundwork for a short-term continuing resolution, or CR, that will set up a vote on a catch-all spending bill right before the holidays.
Once again, the GOP will cave, even if it means passing the omnibus bill with Democrat votes just like the last CRomnibus budget vote. And when they cave, they will not show the fortitude to fight to cut the funding for refugee resettlement, or any other item that President Obama desires.
The GOP leadership is already signaling defeat when "Rep. Tom Cole (R-Okla.), a senior appropriator and leadership ally, dismissed the Freedom group's approach, saying it's backed by Republicans who would rather create 'some sort of massive showdown crisis.'"
We don't even try to mount an offense. The House leadership has already begun attacking the conservatives in their own party before the session even opens. The leadership seems to think that the election is going to be a disaster, so they need to do the best deal now. It appears that they have already given up on maintaining control of the Senate and winning the presidency.
It is interesting that Paul Ryan would think that he can get a better deal with a lame duck President Obama rather than Trump or Clinton. Let's see where Andy Harris goes on this budget vote.
What is particularly galling about this whole sham of not passing budget bills until the last minute so that they can all be rolled into one huge omnibus bill and rammed through is that the American people are being played by their elected representatives. This process of not functioning in order to push through a monstrosity has been perfected by our Congressional leaders as a means to keep the status quo. Since everything keeps being funded at previous levels, nothing ever changes. The American citizen is being played. This is why there is a revolt brewing. There is discontent on every side. The leaders will not be able to keep this scam going forever.