By Cathy Keim
John Boehner hit the Sunday morning TV circuit to explain why he is resigning and to spin his past performances. In addition, the various media are adding their spin and giving advice as to how to proceed. After reading through a variety of reports, it seems pretty well decided that:
John Boehner did the best he could under the circumstances.
Congress never really had the ability to stop the Obama agenda.
The conservatives/Tea Party types that caused this ruckus should go away.
House Majority Leader Kevin McCarthy will be the next speaker.
One can go farther and depending on the source conclude that:
Our nation has grown too large to govern as a republic.
Christians should withdraw to enclaves because it is all going to the dogs.
There is no turning back from the path of destruction that we are on.
Before you give up hope and head for the hills with your guns, ammo, Bibles, and food, let us take a quick review of the comment sections of the same articles.
I do not read the comments on some sites because they are merely vile epithets interspersed with poor spelling, but other sites actually have rousing comment sections. There are many Americans that are still interested in the American Experiment and in their Christian faith. They are not giving up. Nor should we.
We need to think about the battlefield before we proceed. Rep. Peter Roskam (R-IL) says:
If we launch headfirst into leadership elections like this is a typical succession, without ever taking the time to diagnose our current ailments, we won't heal the fractures in a Conference that has thus far proved unleadable. Simply reshuffling the deck won't serve our members, and it especially won't help our next slate of leaders who will be tasked with producing better results than our leaders have so far been able to achieve.
Kudos to Rep. Roskam for identifying the need to come up with a coherent strategy to unite the GOP. The current fracture between the leadership and the base is not going to disappear, especially if Boehner uses his last 30 days as Speaker to push through a clean CR as is rumored. (He did.) If the House replaces Boehner with McCarthy it will be viewed as the leadership ignoring the base once again. It is possible that McCarthy would acknowledge the desires of the base more than Boehner did, but it would be a long road to prove this and to gain the trust of the base.
We have entered into a dangerous time for the country with an expanded imperial presidency unfettered by the legislative branch and supported by the judicial branch. This president rules by executive order, regulations, and selective enforcing of the laws.
Congress has allowed this because under Pelosi and Reid they agreed with Obama's agenda. The citizens expressed their strong disapproval by dismissing first Pelosi and then Reid by decisive victories in the House and the Senate. Those victories at the elections have never translated into victories in rolling back the president's fundamental changes. This has led to extreme disappointment and anger amongst the base. The passage of the CRomnibus bill is a recent example of this outrage. Rep. Harris said we needed to just pass the CRomnibus so that we could focus on this year's budget. We didn't have time to fight over the previous budget, because we needed to look ahead. Fast forward. Now we are looking at another CR. Hmmm, we didn't fight last time so that we could work on doing it right this time, so now let's just pass another clean CR so we can focus on the next one?
We have been handed that line just a few too many times. They say we will hold the line on that debt ceiling; no, at the budget; no, back to the debt ceiling. The bait and switch doesn't work once people realize that it is happening.
Congress under its present failed leadership has tried one too many times to blame everything on anything except themselves. Like a drug addict in rehab, they need to get clean, and face their inner demons. They were elected to serve their country, not to become rich, powerful men and women addicted to their status and in need of the next cash transfusion from their donors/masters.
The GOP leadership really cannot afford to kick this can down the road now. In the progressive movement, they are facing a ruthless, effective opposition that will stop at nothing to achieve total control of every aspect of our lives.
Housing and transportation zoning codes: Agenda 21 takes care of that.
Education: Common Core destroys that.
Family: Changes to marriage and social mores finishes that off.
Freedom of Religion: Reduced to a personal faith only to be expressed inside the church building, and only as long as they don't get political.
Government medical care: We have you covered, but that doesn't ensure access to care.
We are well on our way to a totalitarian state and the progressives will not stop until they get there or are decisively defeated, not just pushed back for an election cycle or two.
Now, GOP leadership, do I have your attention? Your base understands and is extremely motivated to stop the fundamental transformation that is taking place in this country. We are no longer deceived by your show votes.
I suggest that instead of sneering at your base, the leadership of the GOP should take a brief time to reflect on the course of the nation and come to a plan of action that will encourage its base and present the proper explanations which can be ably defended by many of the presidential candidates as to why we need to defund Planned Parenthood, stop the flood of immigrants that we are not assimilating, and change our foreign policies, particularly our policy towards Iran.
Carly Fiorina is not backing down on the evil that is Planned Parenthood as revealed by the Center for Medical Progress's videos. Congress should join her by forcing a vote on defunding PP and making the President veto it. Show the videos so that the President and his followers are exposed for supporting selling butchered baby organs.
Ted Cruz is standing alone on the floor of the Senate calling out the failed leadership on their collusion in funding Planned Parenthood and the Iran deal.
Ben Carson is not retreating from his statements about a Muslim president.
Many of our candidates are showing themselves to be fearless in presenting their ideas. This should be a lesson to our present failed leadership.
Do not go onto the battlefield without a strategy to win. Once you start, stand by your principles, and go for victory.
The only flaw in this advice is that it assumes that our current leadership is operating on principles when it sadly seems that they are doing the bidding of the highest donors. This is the most plausible theory to explain why the GOP keeps siding with the progressive agenda when it coalesces around the goals of crony capitalism rather than their base. If so, they need to reform or find themselves cast aside like Boehner. Revolutions can pick up momentum. The outsiders may just lead the base to true victory.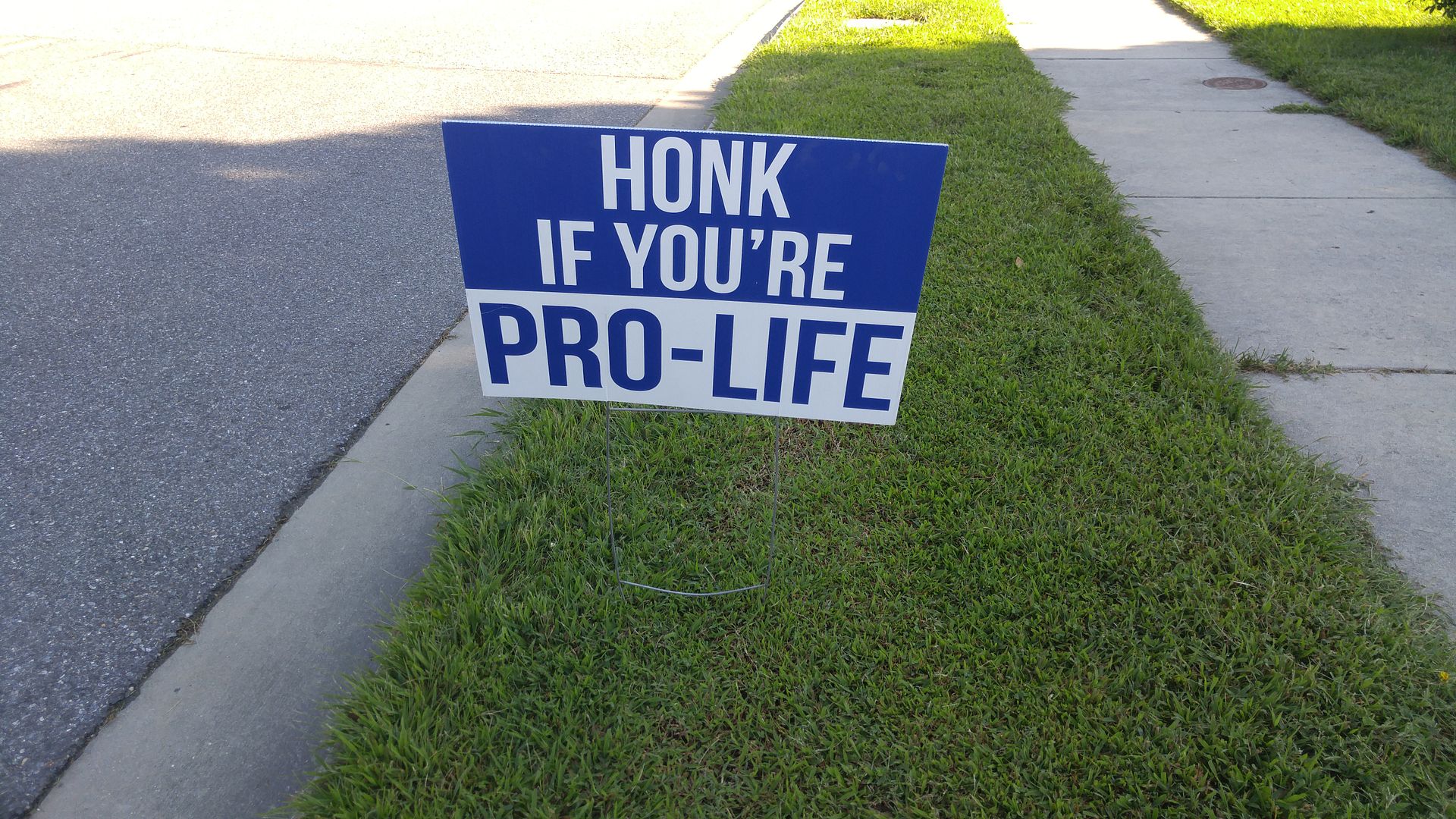 This morning I got up with the sun to help cover one of around 300 coordinated local rallies aimed at defunding Planned Parenthood in the wake of their sale of baby parts exposed in a series of investigative videos from the Center for Medical Progress.
The Easton site was selected because Salisbury's office had closed last spring. And while detractors claim the facility, which is located in a nondescript office complex with several other tenants, doesn't do any abortions, they still support the overall brand.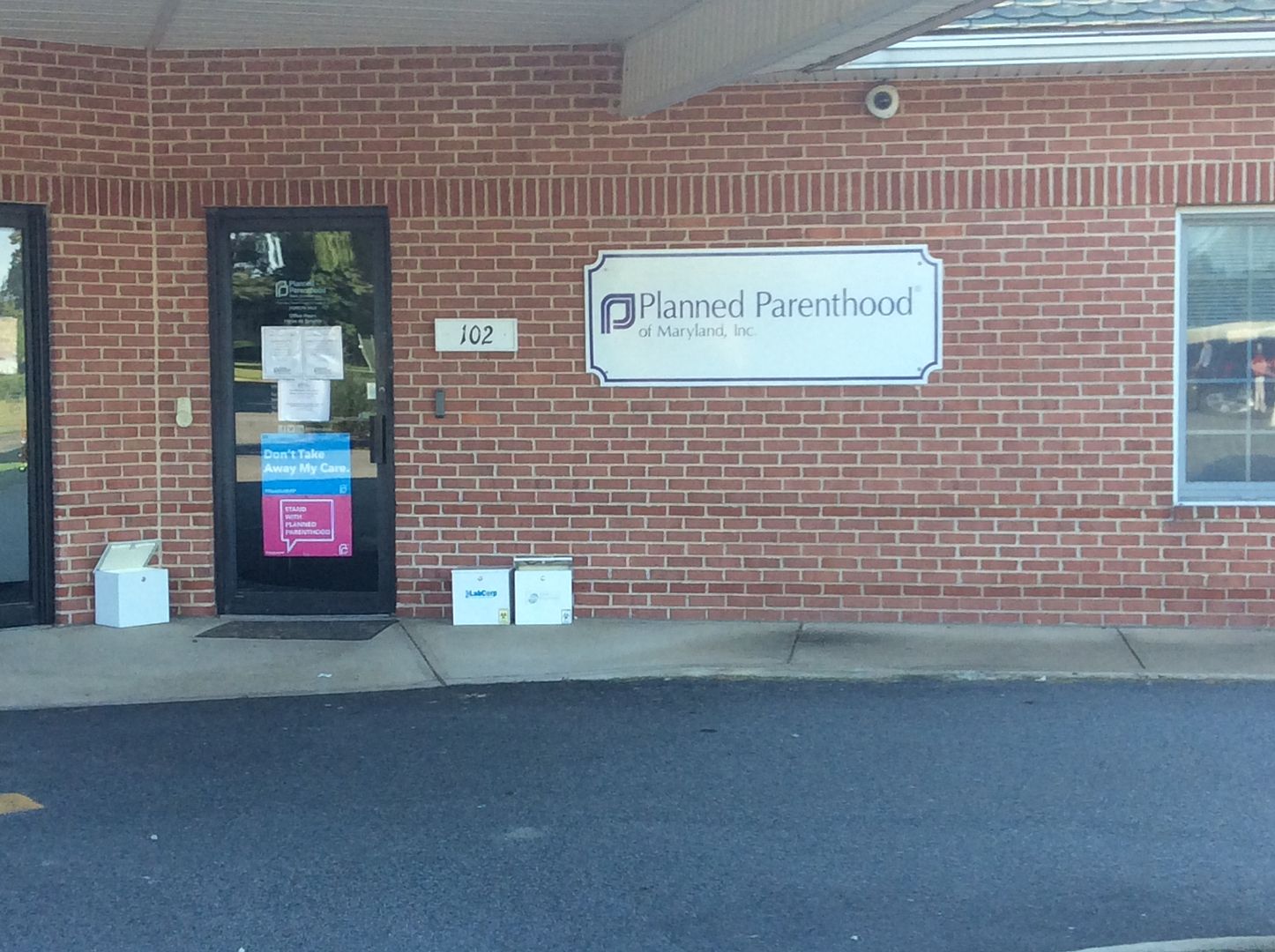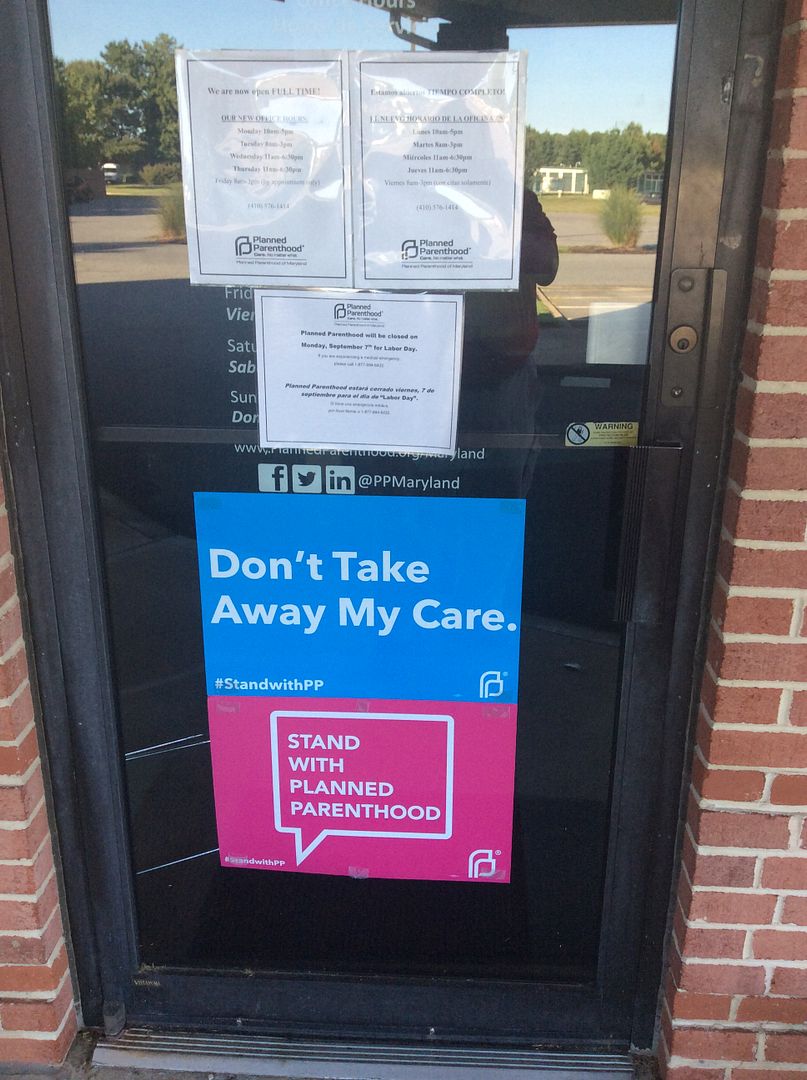 As you will hear in a bit, the facility is not the only one which provides its services. Plenty of care is available and accessible. (It's ironic the facility was closed today, but the protests were intentionally scheduled for off-hours.)
The rally began at 9 a.m. with about 50 people lined along the street in front of the facility.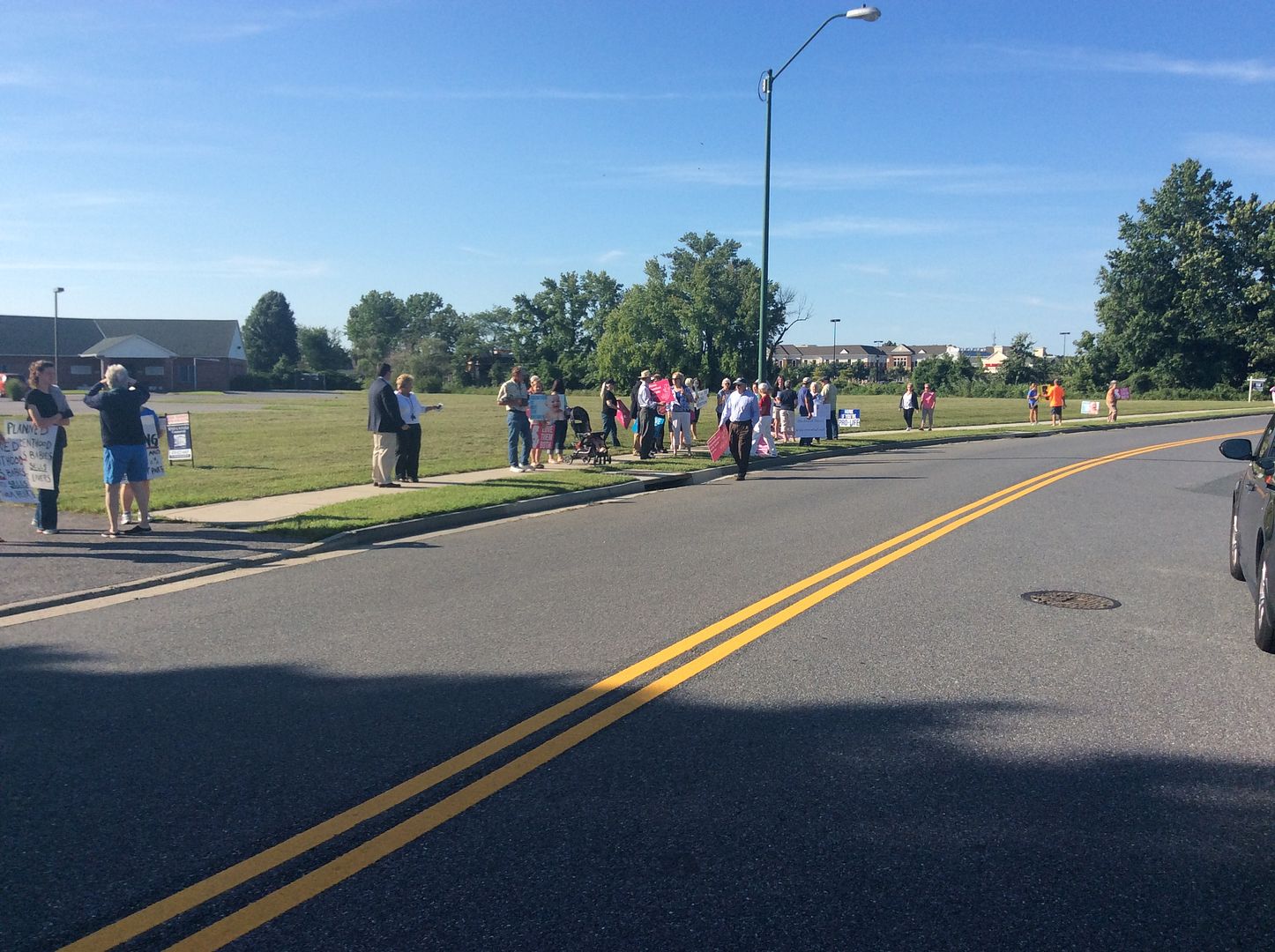 In all, there were a dozen speakers, mainly representing the pastoral community. We had clergy representing churches from Berlin to Centreville and several points in between. First up was Keith Myer, from Harvest Baptist in Salisbury.
As he spoke, the gathering was growing, spilling into the front yard of the facility and later across the street.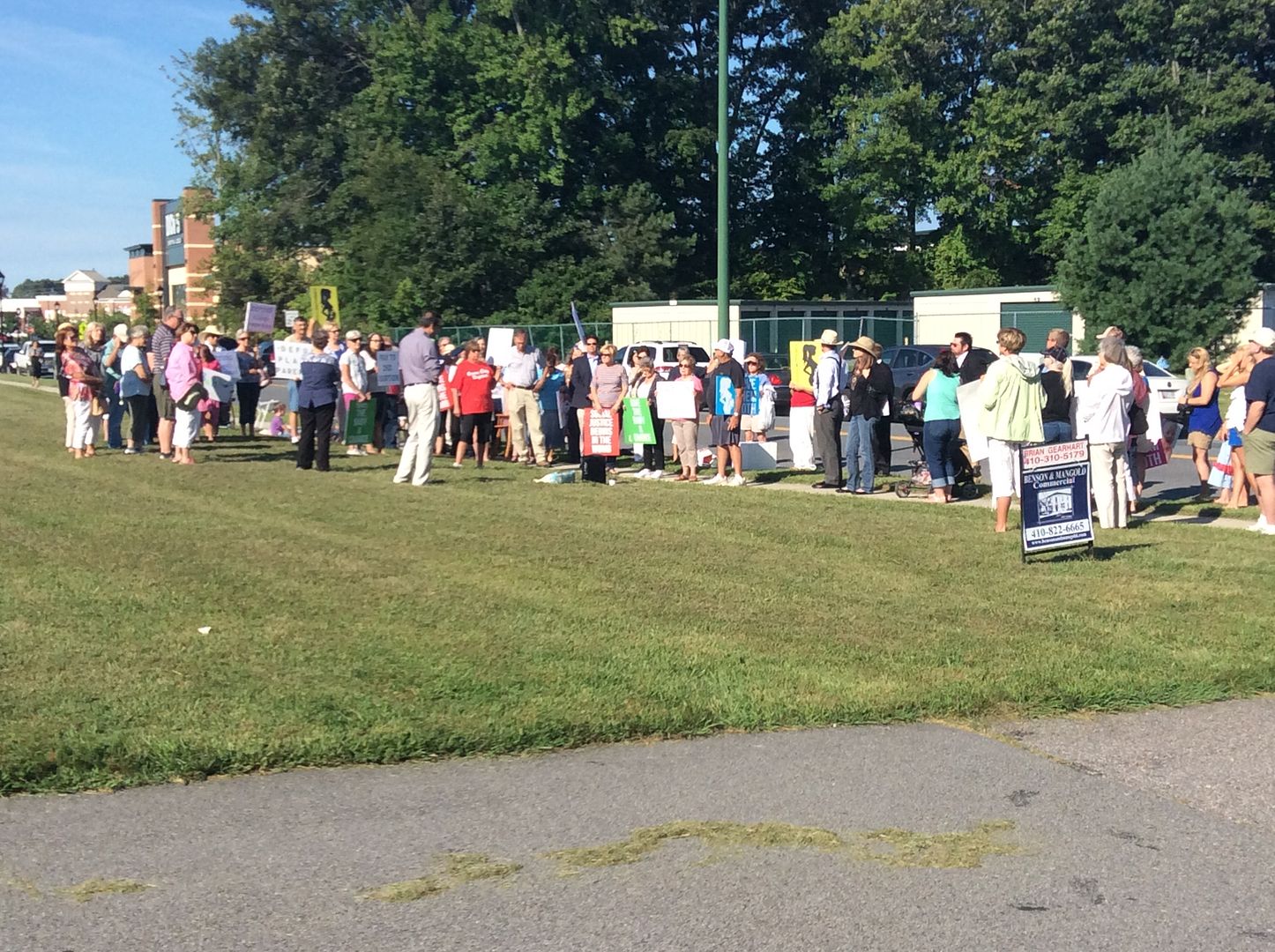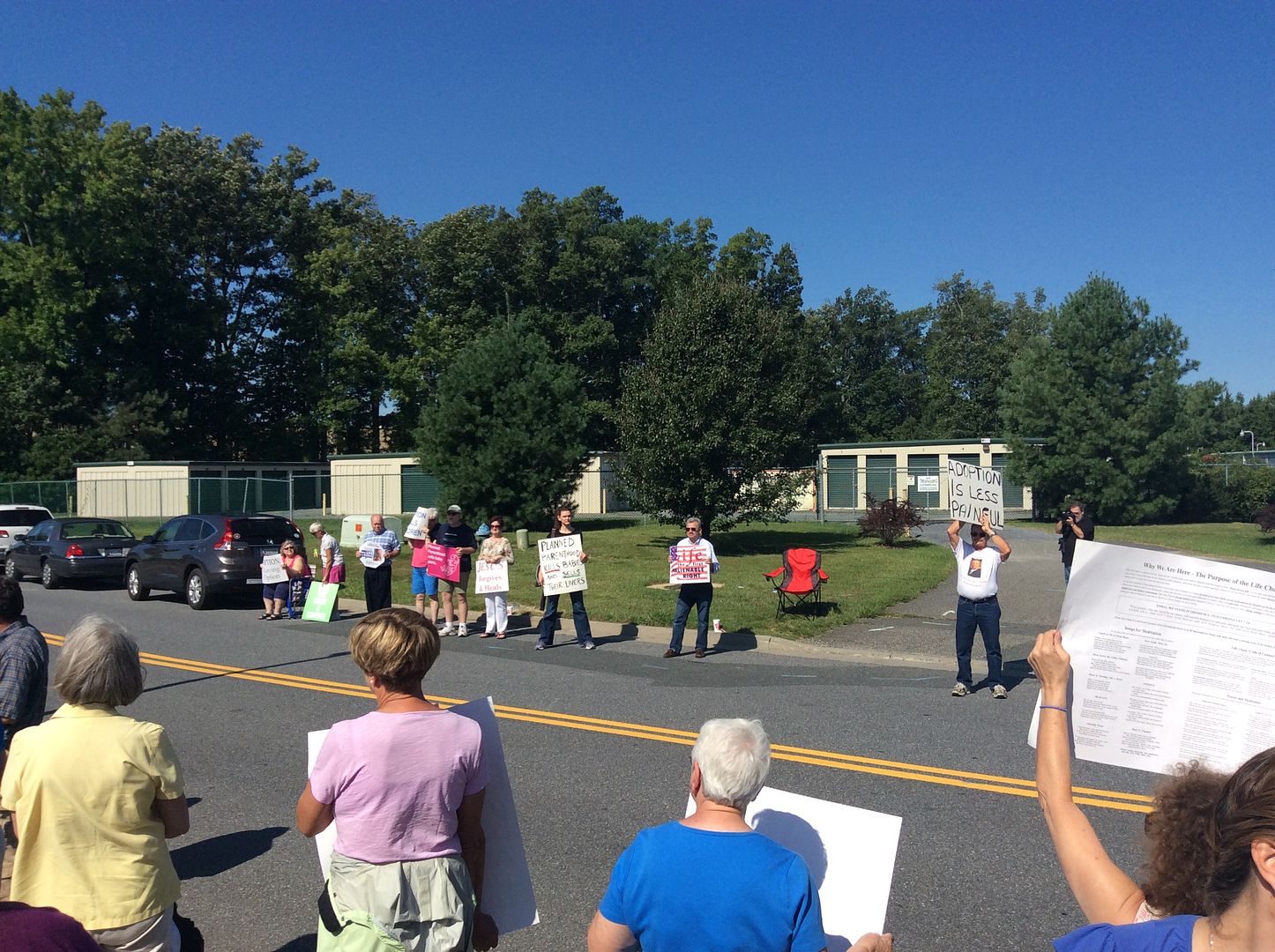 Another Wicomico County minister who spoke was Shawn Seldon, who represents a church in the small hamlet of Tyaskin.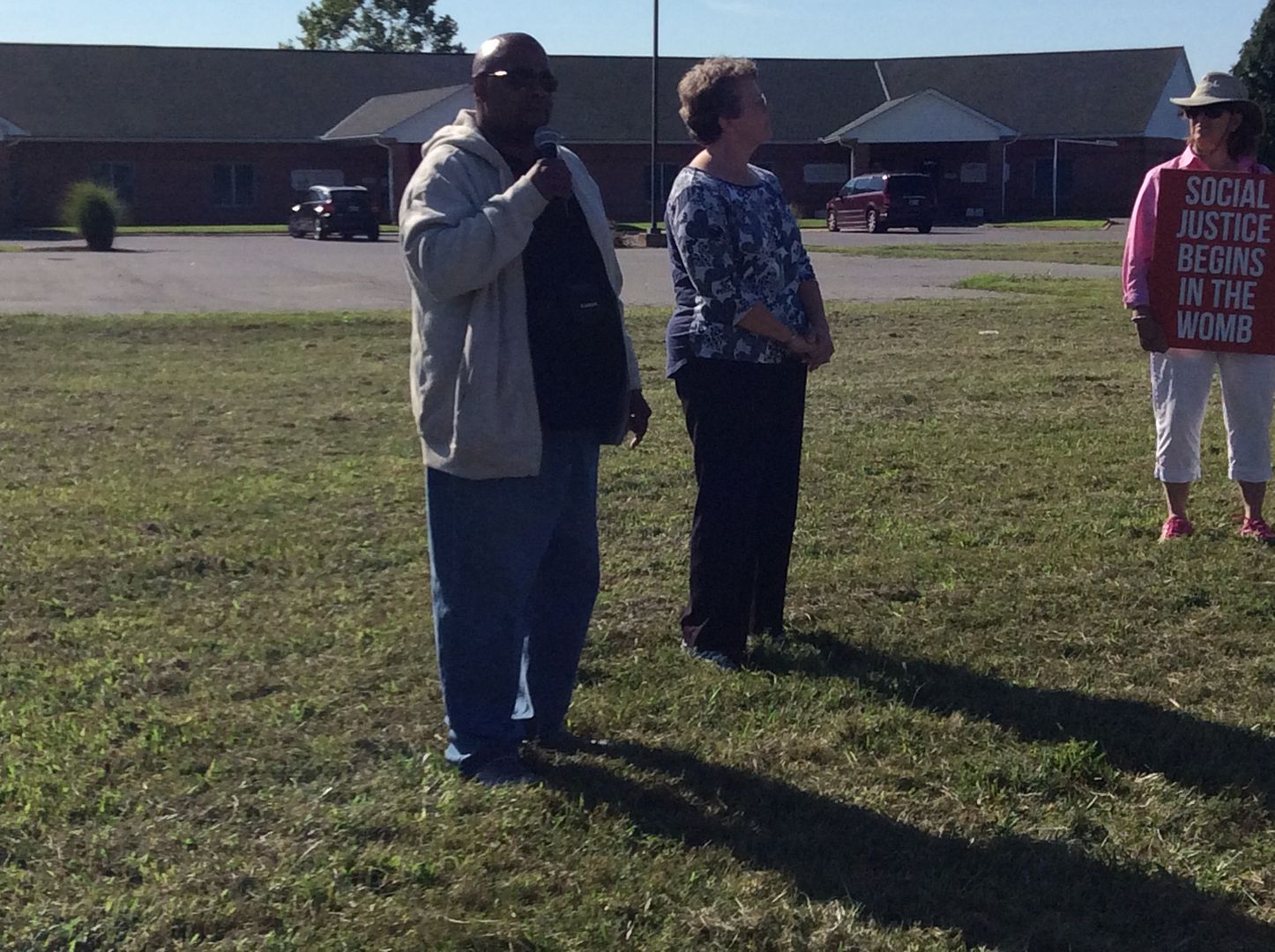 He lamented Planned Parenthood as "the largest morgue in the country." But when it came to those on the other side, it was not our job to cast stones but instead "love the hell right out of it," he said.
If the Seldon name rings a bell, it should because his wife Jackie runs the Eastern Shore Pregnancy Center here in Salisbury. Both she and her counterpart from the Choices Pregnancy Center in Easton were there.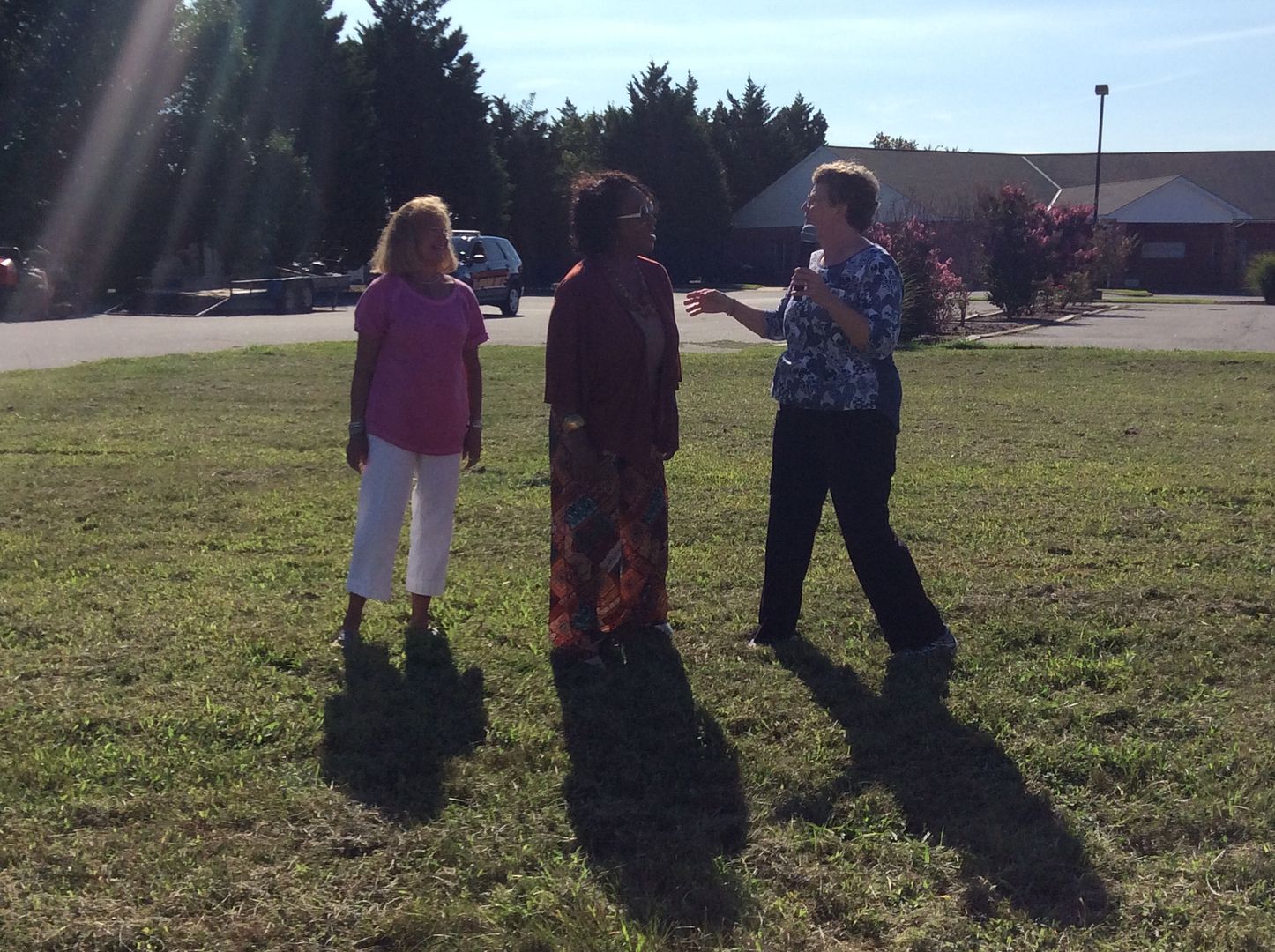 Jackie noted that when women come to her center and take advantage of their services, "things change in the ultrasound room." They see that their baby is not a tissue mass, but a living human being developed in the womb.
Unfortunately, I didn't get photos of all of the pastors but I did get a number of quotes. For example, John Abbott of Faith Baptist in Berlin reminded us that "thou shall not kill" means you don't kill innocent life. Chris Williams of Covenant Family Church in Centreville added that, "our hearts should be broken as a nation," and called abortion "the antithesis of the good news of the gospel."
Also representing his congregation was Eric Olson of the Oasis Covenant Fellowship in Easton, who spoke early as I was taking photos. We also heard from Barbara Kelly, a post-abortion counselor who told us "abortion doesn't have to happen." She added that women come to her decades after their procedures, a "trauma" that happens as they grow old and wistfully think about the child they never had.
The only minor bit of controversy came when the lone tenant who was open at the time, a pediatrician's office, asked us to move back onto the sidewalk. As you'll see in the videos, we were larger than the right-of-way.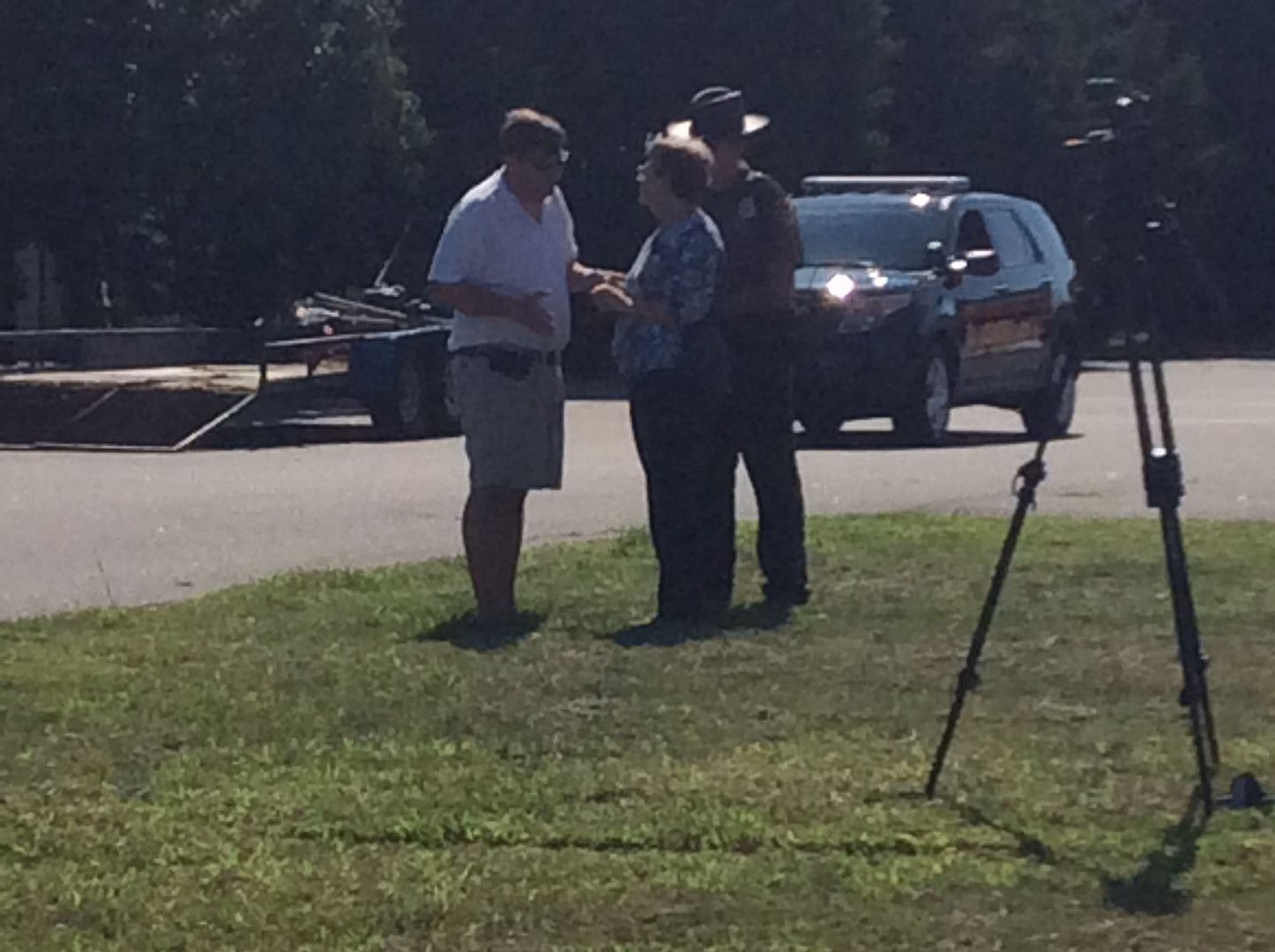 I think their issue was twofold: supposedly people were cancelling appointments this morning and "the children are upset." I suspect it was parents who simply didn't want to face the facts.
So our last speakers, pastor Jason Shelton of Providence Presbyterian Church in Salisbury and the lady representing Talbot Right to Life (who secured the permit for the event) did their speaking from the street.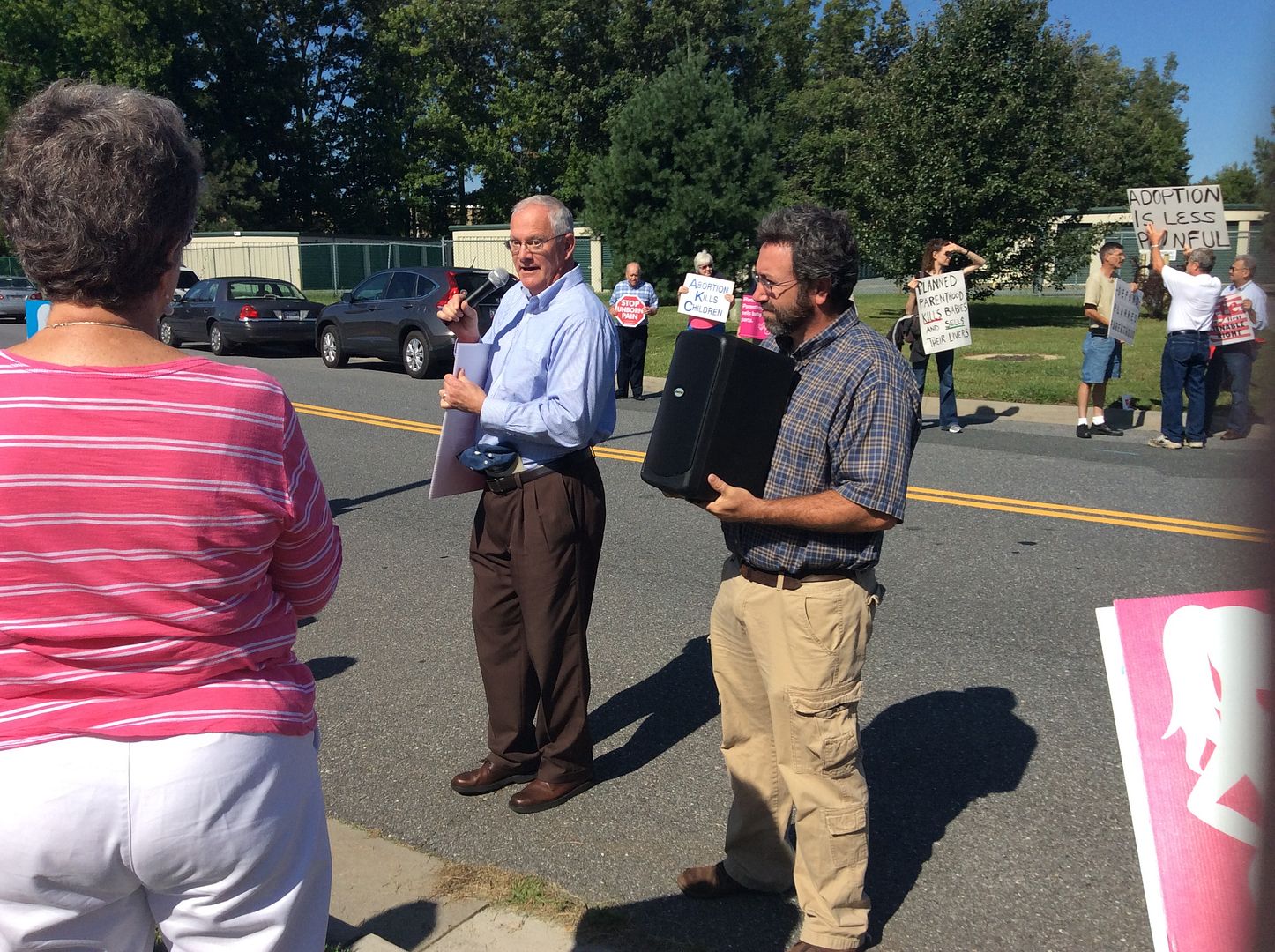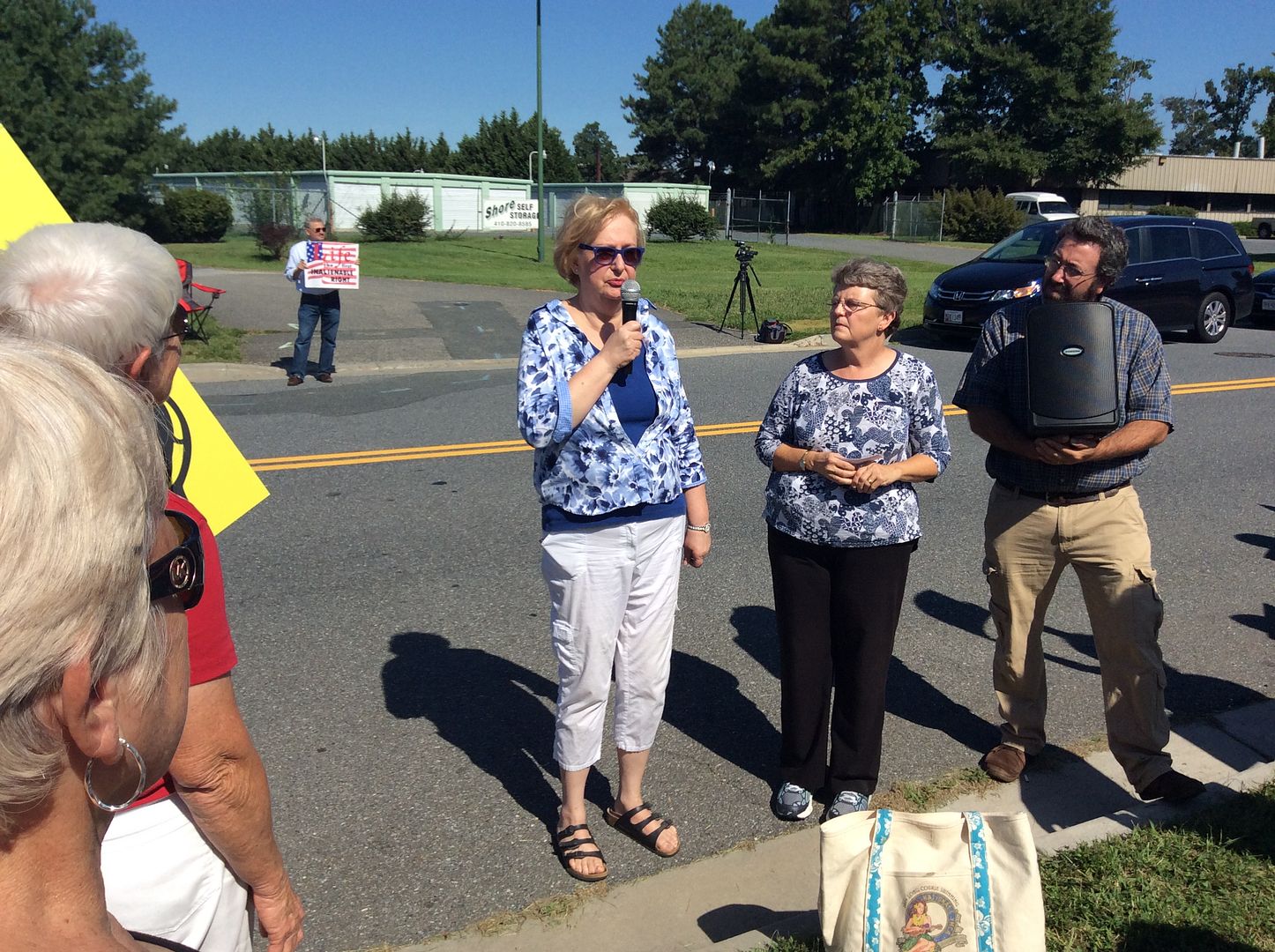 Sheldon cited heavily from 2 Timothy 3, adding that we have become "a bloody and callous people."
I noted above that we had politicians as well. One who spoke was local Delegate Christopher Adams.
Citing his own experience with his kids, Delegate Adams opined that "parenthood means life" and described the connection between abortion and profit as "disgusting and immoral." He continued that we weren't on the slippery slope here in Maryland, but "the bottom of the chasm."
There were two other political speakers of note, who both happen to seek the same office. Congressman Andy Harris spoke early on, followed a few turns later by challenger and former Delegate Mike Smigiel. I fired up my moribund Youtube page to share the videos of their remarks, Harris first.
To his credit, Smigiel and his aide Cody Leach stayed for the whole thing.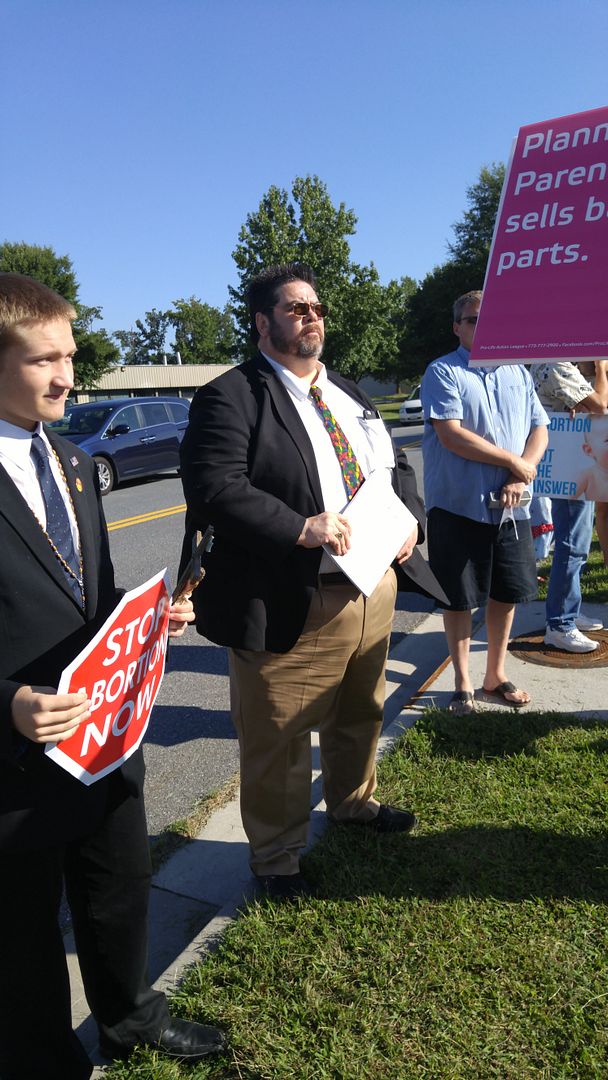 As with a rally such as this, there were a number of good signs. You'll see a number of pink ones which remind us Planned Parenthood sells baby parts, but there were other descriptive ones too.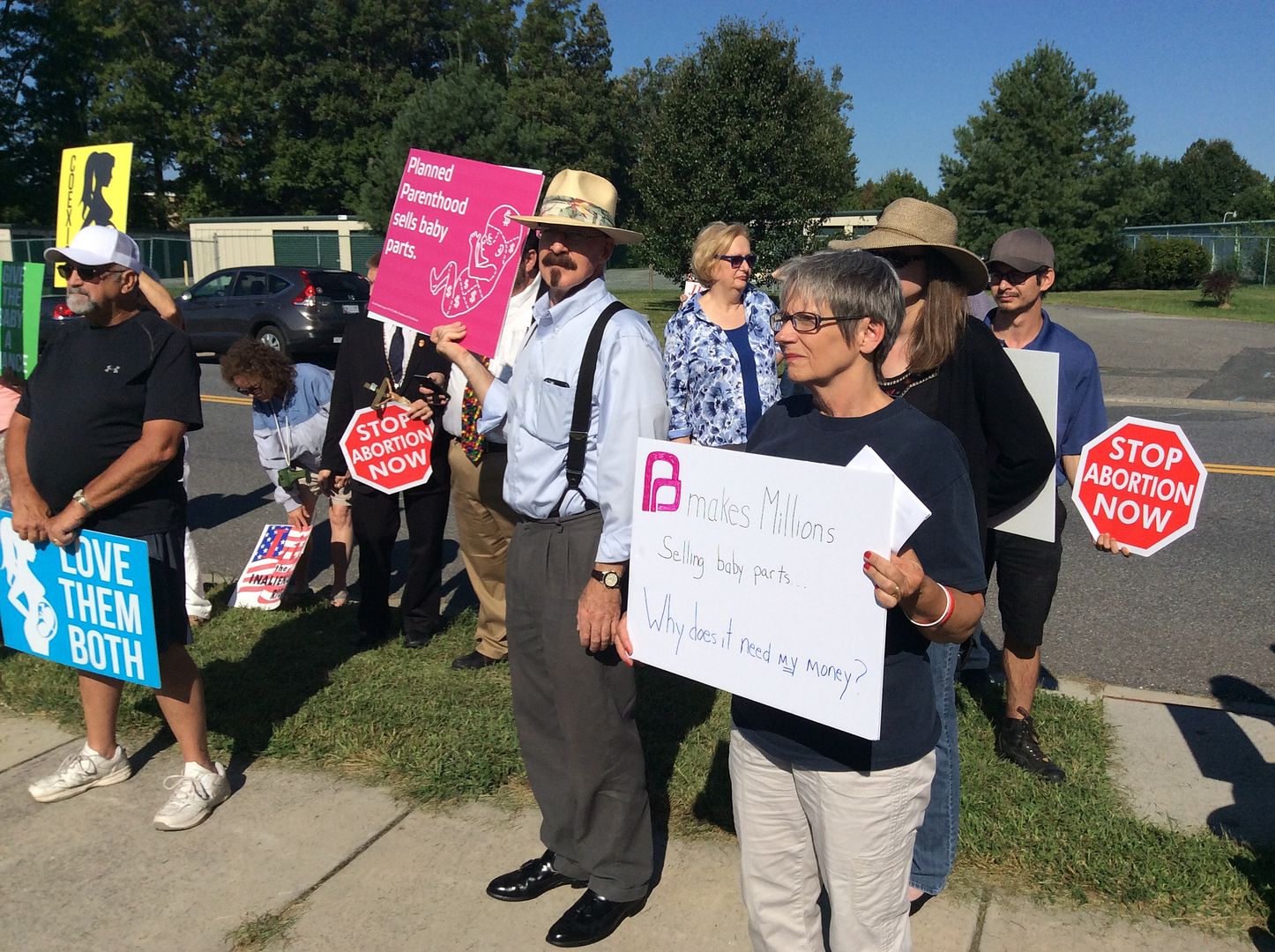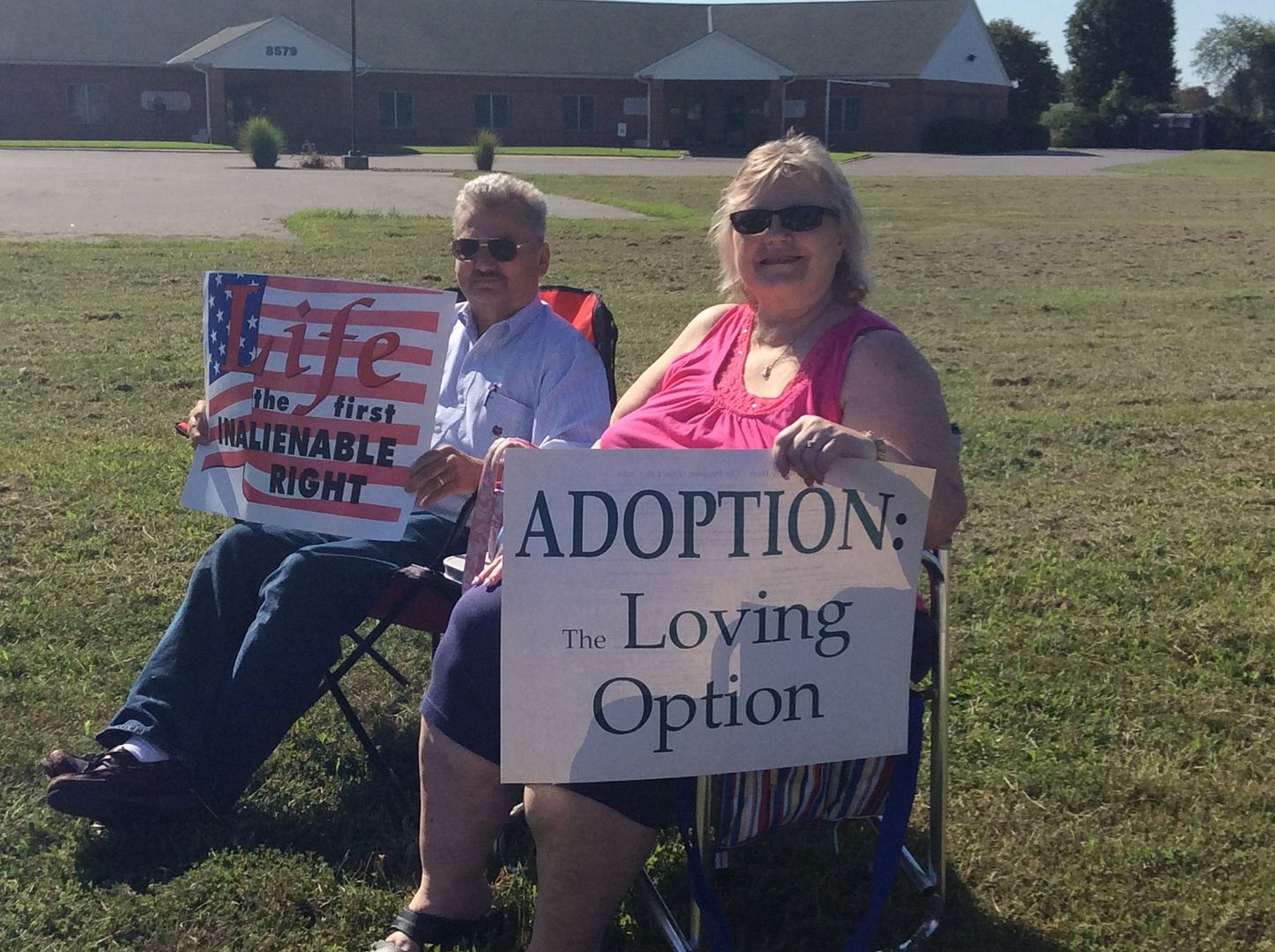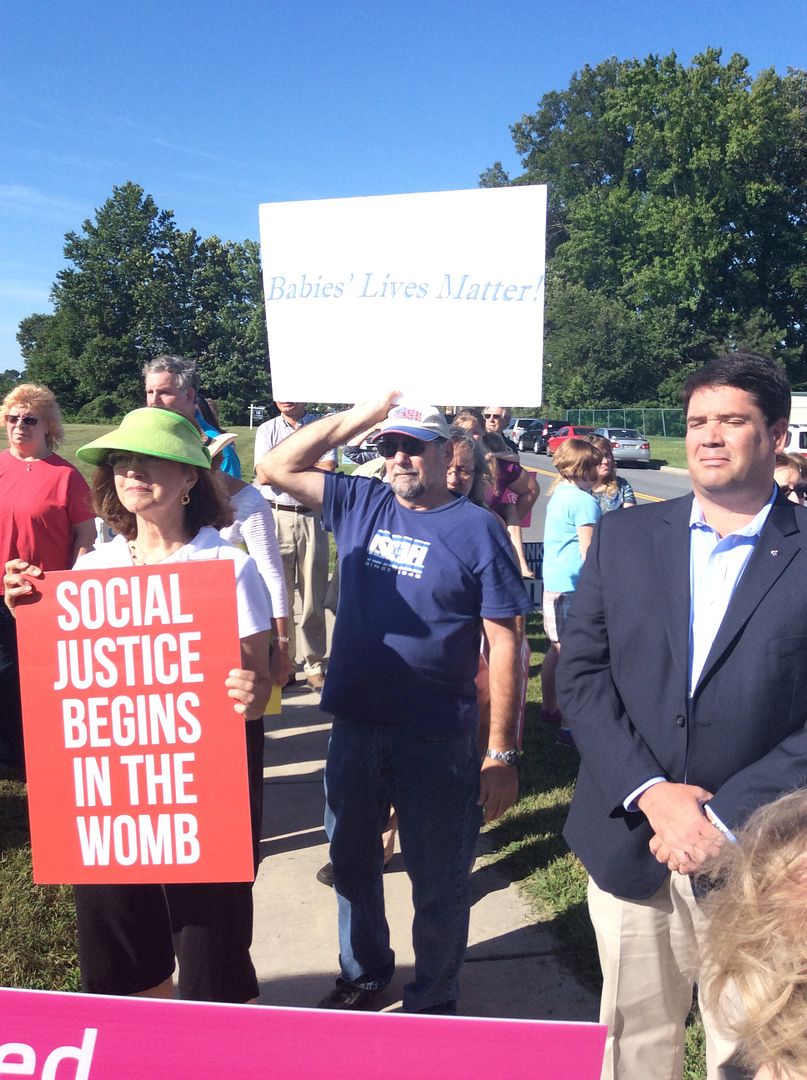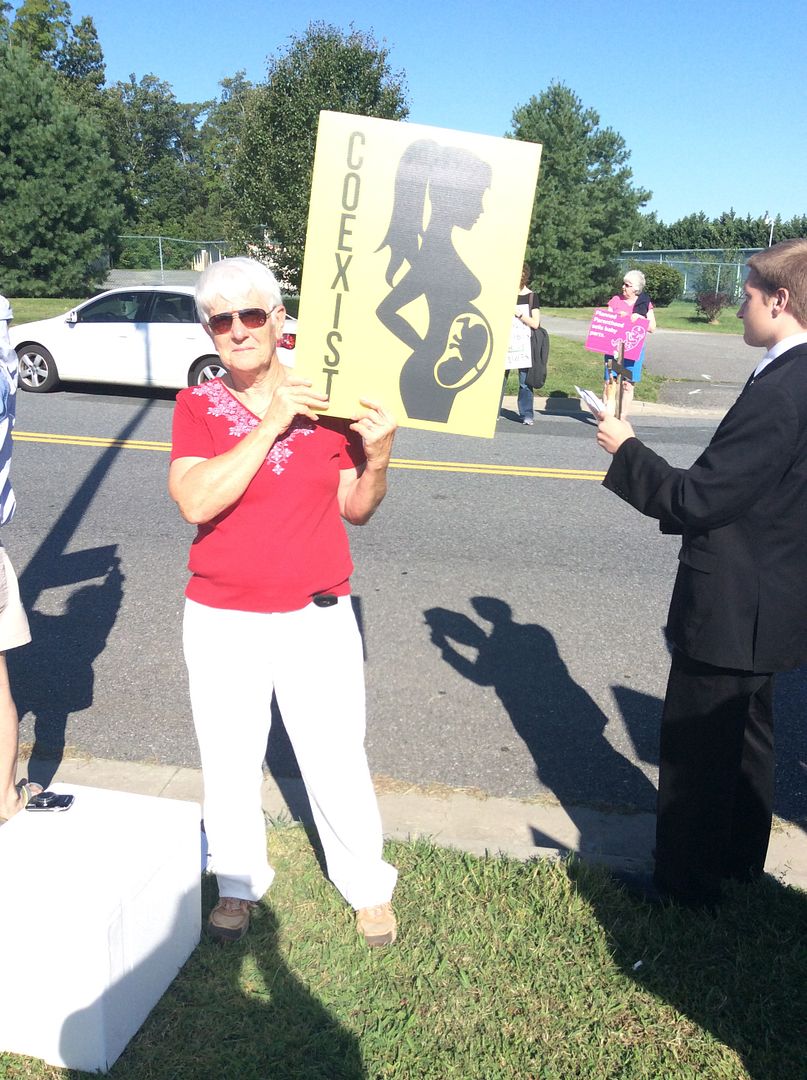 The fine folks from Worcester County opted to take a group photo.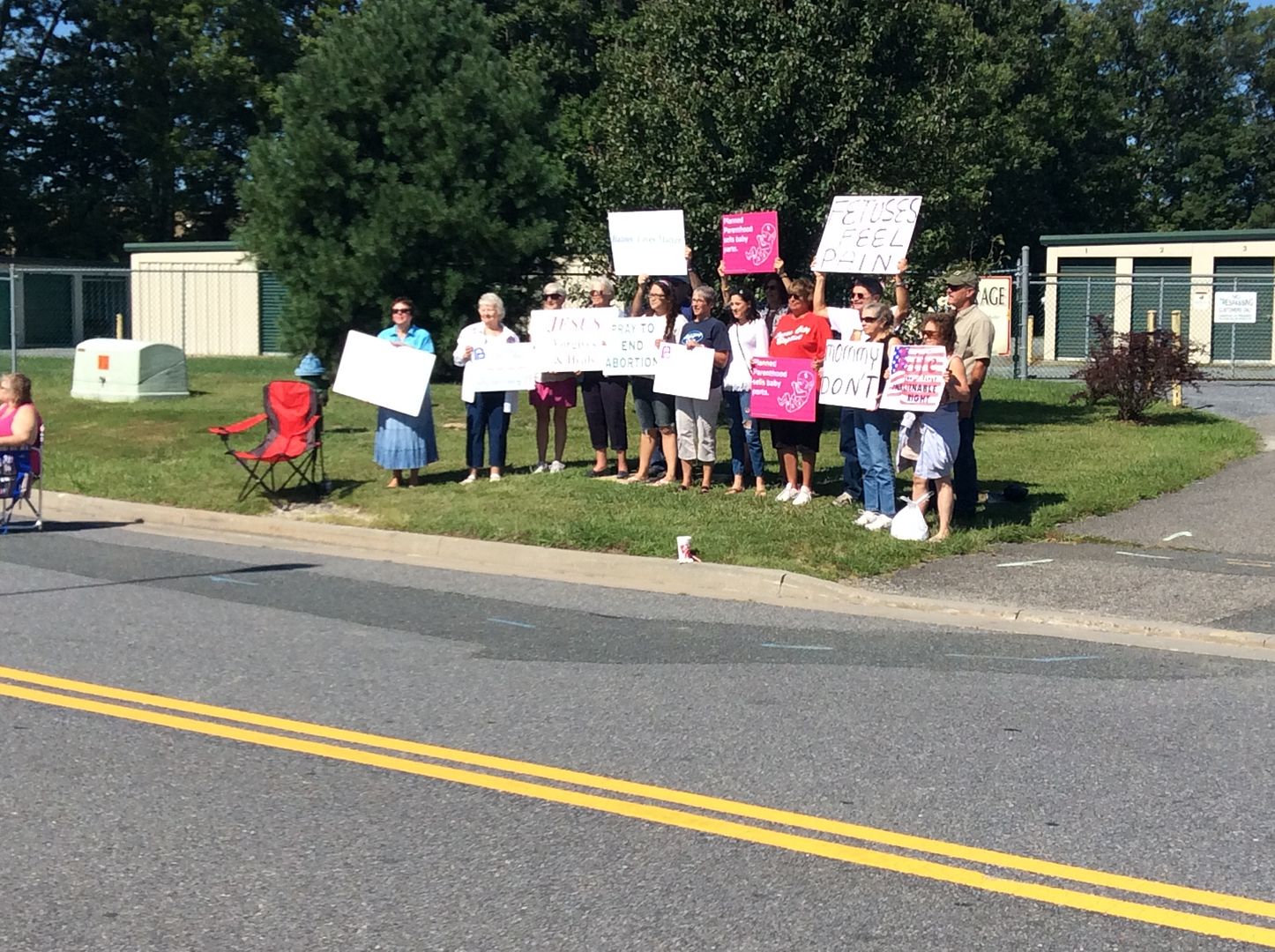 Fortunately, there was some media there to spread the word (besides me.)
Nicole Edenedo of WBOC-TV filed this report, which managed to avoid me until the very end when it showed my good side. It was interesting observing her work – I guess reporters don't bring cameramen anymore, and she did well memorizing her wrap at the end that she repeated to herself a couple times.
From what I was told, yet another CMP video was released today. With 300 protests scheduled nationwide today, even if they only averaged the 125 or so we had that's 37,500 people who came out on a summer weekend to make their displeasure known.
You may have noticed a police car in the background of my videos. Despite the fact we were on a quiet street and had a rally Myer described as one where we were "calm, peaceful, left no trash, respected the police, stayed consistent with the time allotted for the protest, stayed out of the street, and didn't damage any property," we had an officer spend his morning watching us. I suppose it was SOP given the chance of a counter-protest, but none was to be found.
As I noted, the only issue was that we were too many for the sidewalk. My colleague Cathy Keim took the lead in getting this together, with a lot of help and maybe a dash or two of divine providence, and as such deserves kudos.
This is the first step along a road that leads first to the defunding of Planned Parenthood by the federal government but ends when abortions are no longer commonly accepted as the law of the land. Remember, even Hillary Clinton said abortions should be "rare." I just disagree that they are "safe" – especially for the unborn – and their legality should be at the very most a state matter.
The best time to be pro-choice is making the choice not to create kids if you're not ready or willing to take the responsibility. As a method of birth control, it's worth remembering that, unless you are destined to carry the son of God, abstinence works every time.
By Cathy Keim
On July 8, 2015, the House passed HR 5, the Student Success Act, which is the reauthorization of No Child Left Behind (NCLB). This behemoth of a bill weighing in at 800 pages will guarantee that every child that graduates from high school is ready to attend college or start in the workforce without remediation. Yes, you read that correctly.
The hubris of our Washington elite putting into law that every child that graduates from high school will need no remediation is amazing. Just that one statement alone assures me that the 800 pages are filled with bureaucratic overreach.
What kind of measures must be in place to assure that grandiose statement? This is the same government that cannot get patients seen at the VA hospitals in a timely fashion, yet they are proclaiming that every child that graduates from high school in these United States will be stamped proficient to advance to the next step of their lives by the Department of Education.
I can think of only one way that they might even pretend that this could be true and that would be by dumbing down the system so that more children could meet the criteria, but even that is not going to convince me that the government can achieve their goal.
Just try to think of anything in real life that can be achieved 100% of the time. You can't come up with much, can you? (Remember that NCLB declared that there would be 100% proficiency in reading and math in the entire US school system by 2014.) You can check out American Principles in Action's 24 points for plenty of details on why this is a terrible bill.
HR 5 was brought up in February 2015, but was pulled because the Republican leadership could not get the votes to pass it. They have used the time tested ruse of bringing it back in the summer when parents are not paying attention to school issues.
It narrowly passed, 218 to 213, with every Democrat voting no, and 27 courageous Republicans joining them. This is similar to the TPA battle where a few Republicans joined the Democrats in opposing another awful bill.
Of course, their reasons for opposing were completely different, just like the TPA fight. Once again it gives me pause when I find myself on the same side as the Democrats.
One of the reasons given for conservatives voting for HR 5 was that the Senate version, SB 1177, the Every Child Achieves Act, (ECAA) is even worse. The reasoning goes that by voting for HR 5 it preempts the Senate version, so that even if the Senate passes their bill, it will be forced into conference rather than the Senate bill coming directly to the House.
From past experience we all know that what comes out of the conference back room will very likely be worse than what went in.
Andy Harris voted yes on HR 5. I called his office to inquire what his reasons were for voting yes, but I have not received an answer yet.
I called Senators Cardin and Mikulski's offices to inquire if they had any statements out about this bill. Senator Cardin's office said that he supports the bill in general, but is concerned about the Title I funding following the child since it might allow money to go to schools that don't need it rather than to the schools originally intended.
(Editor's note: one selling point given for the SSA is that it would allow certain parents who have children in failing schools a choice in where to send their children for their education, although the choices are limited to just public and public charter schools. This is the meaning between the lines of Cardin's remarks.)
Senator Mikulski's office said she did not have a statement out yet, but that she is against No Child Left Behind. Since ECAA is a reauthorization for NCLB, which actually expands it, we will just have to see how she decides to vote.
Generally speaking the Democrats seem to be against this bill due to the Title I funding shift potential and also because they fear it could lead to universal vouchers.
The Republican leadership crows that HR 5 is returning education issues back to state control. If so, why do they need 800 pages to do this?
The Senate should take this bill up in the coming weeks, so please call your senators and explain to them why they should vote no. Their offices need to be bombarded with parents telling them to not expand on No Child Left Behind.
However, the best reason is the one given by former Delegate Michael Smigiel, who is running for Congress in the First Congressional District. When I asked him whether he would support HR 5 he replied, "I would do away with the Federal involvement in education as it is not authorized by the Constitution. The individual States should determine educational standards for their own States. I led the fight against Common Core and argue and voted against No Child Left Behind."
While that is the correct reason for opposing ECAA, our current leadership is not impressed by the concept. Until we can elect sufficient Constitutionalists to represent us, we will have to rely on a massive phone campaign to get the attention of the DC crowd.
It was 2009, and Americans were still captivated by a shiny and new (or articulate, bright, and clean, if you prefer) President. Yet deep in the nether lands of liberalism there were people already thinking about how to maximize the political gains they could make. In November of that year I wrote about a scheme dubbed the "10-0 project" where Maryland Democrats would gerrymander their way to having all eight Congressional seats by pairing up the few Republican strongholds in the state with large Democratic enclaves, such as wrapping the First District into Baltimore City. The person who developed that plan bragged how it split the McCain voters out so that no district had more than 40 percent McCain support.
While the redistricting plan developed after the 2010 census wasn't quite that extreme, there were still some of the shenanigans of rerouting the Sixth District toward Washington, D.C. to pave the way for that district to turn Democrat (canceling out the GOP strongholds west of Frederick) and dissecting other heavily GOP areas in Carroll and Anne Arundel counties into multiple districts. They also made the First District a nearly impenetrable Republican fortress, an R+13 district in a state which is nominally D+26.
But while we are past the halfway mark to the 2020 census, there are still those out there who believe the state's Congressional lines were drawn for partisan advantage rather than true representation. Last week a number of plaintiffs – one from each Congressional district – utilizing the assistance of Judicial Watch filed a federal lawsuit alleging the current setup "harms all Maryland voters, regardless of their party preferences or how they would vote in a particular election, by giving State legislators the power to make choices regarding the State's congressional delegation that only the voters should make."
As relief, the suit seeks to have the current districts tossed out and a new district plan drawn which better conforms to the Polsby-Popper compactness test. As it stands currently, Maryland has the worst score of any state, but the plaintiffs allege (through a map they created) that significant improvements can be made. (Unfortunately their map is somewhat confusing because the district numbers assigned on it are quite different than the ones in use now. As an aside, if this map were adopted we would likely be placed in the equivalent of the Fifth Congressional District while both Andy Harris and GOP challenger Michael Smigiel would land in what's basically our Second Congressional District shifted more to the north and east.) Regardless, the plan appears to keep more counties and areas together rather than the Rorschach test we have now.
While Judicial Watch has stepped in, though, it's obvious that the battle will be an uphill one. As the suit notes, this is not the first time there has been an objection to the Congressional redistricting plan, and the current scheme was maintained through a misleading referendum in 2012. Thus, the chances for success aren't very good.
But this should come with a parallel effort to change the system once and for all by putting it into the hands of an independent commission comprised of citizens from each district or even each county. As an example of this, Wicomico County had a commission to redraw County Council districts and its end product had few complaints regarding compactness or gerrymandering. (The most unusually-shaped district here is the one mandated to be majority-minority.) Let them come up with the maps away from the General Assembly and have our legislature give them a simple up-or-down vote. The same goes for state legislative districts, which also should become exclusively single-member districts – no more jungle elections where the top two or three get in.
In our case, unless it sees significant growth, the Eastern Shore will likely always have to share its Congressman with someone else. But that someone else should be close and accessible neighbors – surely the folks in Carroll County are nice people but they really don't belong in our Congressional district. If we have to take some of Harford and Baltimore counties to make up the population that's understandable.
Maybe in the next Census I'll draw a real map that shows the way it should be done. But if Judicial Watch somehow gets its way I can always move that timetable a little closer.
By Cathy Keim
Trade Promotion Authority (TPA) is alive and well due to political shenanigans to keep it going. When the Trade Adjustment Assistance (TAA) bill was voted down by Democrats hoping to block TPA, the game was supposed to end. However, Speaker Boehner is determined to work with Majority Leader McConnell in the Senate to present fast track to the president.
Part of what makes this so confusing is that the Republican-controlled House and Senate are working overtime to present the Democratic president the gift that he has been longing for: more authority to pursue multiple trade bills with Congress only able to vote the deal up or down. Why would the Republicans be feverishly pursuing this goal?
The obvious answer is that free trade is so important that any way of achieving it is worth making any sacrifice. That may be what they are telling you, but it just isn't true. There are plenty of ways that this deal could lock the US into untenable trade agreements. Currency manipulation, immigration, patent and copyright issues are just a few of the areas that could turn against American workers.
Even when you look at the Maryland delegation's votes, you will see strange bedfellows. First, take our two senators who split on the issue. I cannot find a statement by Senator Mikulski about her vote, but she voted no. Since she is not running for office again, she does not have to worry about offending the president.
Senator Cardin voted yes after he introduced an AIPAC backed amendment. AIPAC states:
On April 22, the Senate Finance Committee voted unanimously to include an amendment targeting harmful anti-Israel trade and commercial practices in the "Fast Track" Trade Promotion Authority bill. The amendment, authored by Sens. Ben Cardin (D-MD) and Rob Portman (R-OH), addresses efforts by foreign governments to boycott, divest from and sanction Israel. It also directs that one of the principal American objectives in upcoming trade negotiations will be to discourage trading partners from taking actions that would limit U.S.-Israel commerce.
I can understand why Senator Cardin would want to defend Israel when the current administration has shown real hostility towards them, but one has to ask if this is shortsighted on the Senator's part. Giving the same administration fast track authority when the president has shown little interest in adhering to any restraints put upon him, may in the long run turn out worse for Israel. Perhaps Senator Cardin would do better to vote no and stop the whole fast track process.
Only one other representative from Maryland voted yes on TPA and that was Congressman John Delaney of the 6th Congressional District. He stated in a press release that:
Right now, two things are happening: 1) Congress is considering a bipartisan agreement that instructs the President on trade negotiations and begins the deliberation process for a new accord and 2) China is working on their own regional trade agreement. I support giving President Obama Trade Promotion Authority because it will give the President the tools he needs to negotiate the best trade deal for America and our workers. For the first time, the bipartisan Trade Promotion Authority package includes groundbreaking environmental and labor standards and provides unprecedented human rights protections. The Trade Promotion Authority Package gives President Obama new ways to enforce these standards to make sure we're not having a race to the bottom that drags American workers down. So it's either going to be our country setting the terms for trade or it's going to be China. I want our country, our government and this President setting the terms of international trade, not China.
Congressman Harris of the 1st Congressional District voted no. His Facebook page states:
Thousands of citizens in Maryland's First District contacted my office regarding bills on trade that were recently considered in the House. Today, I voted against the Trade Promotional Authority (TPA) bill for a second time. Representing your views are of the utmost importance to me and it is truly an honor to serve the people in the First District.
He did not listen to his constituents about CRomnibus or voting out Boehner as Speaker of the House, but this time he heard us loud and clear and responded as we asked. I wonder if that is because former Delegate Mike Smigiel has announced that he is opposing Andy in the primary next April?
Representatives Donna Edwards (4th District) and Chris Van Hollen Jr. (8th District) are both running for the Senate seat being vacated by Barbara Mikulski. Edwards is running to the left and Van Hollen is obliged to move left too. Van Hollen explains his reasons in a letter to Rep. Levin.
He lists multiple concerns such as currency manipulation, increased investor lawsuits, workers' rights, environmental issues and more as his reasons for voting no.
Representatives Ruppersberger, Sarbanes, Edwards, and Cummings all signed a letter to President Obama explaining why they were voting no on TPA.
For some time, members of Congress have urged your administration to engage in broader and deeper consultations with members of the full range of committees of Congress whose jurisdiction touches on the numerous issues being negotiated.

(snip)

Beyond traditional tariff issues, these include policies related to labor, patent and copyright, land use, food, agriculture and product standards, natural resources, the environment, professional licensing, competition, state-owned enterprises and government procurement policies, as well as financial, healthcare, energy, e-commerce, telecommunications and other service sector regulations.

(snip)

Congress, not the Executive Branch, must determine when an agreement meets the objectives Congress sets in the exercise of its Article I-8 exclusive constitutional authority to set the terms of trade.
Representative Steny Hoyer is the Minority Whip. He voted against TPA because:
Trade Promotion Authority legislation lays the foundation for how we approach trade policy as part of our overall economic strategy, and we cannot look at trade simply on its own. We must consider all the elements that affect American workers and jobs.

(snip)

Our workers deserve policies that boost our competitiveness and place us at an advantage in global markets, making it easier for them to get ahead.
He then lists a whole smorgasbord of expensive programs that he wants for the workers.
The reasons for the votes cast vary from constituent demands, to fear of China, to wanting more spending, to defending Israel and to pursuing a Senate seat. Some of the reasons I can agree with while others, like wanting the Export-Import Bank renewed, are not acceptable. However, on this important vote I am happy to have the Democrats join with as many Republicans as will stand against TPA.
Keep on calling and prodding your senators to vote against TPA. The cloture vote is expected today, with the final vote coming tomorrow. If the bill survives cloture, it will likely pass, so the ball is now in the Senate's court.
As it turned out we didn't have a speaker for tonight's meeting so the agenda was on the light side. Still, there was plenty of discussion at our gathering.
We did the Lord's Prayer and Pledge of Allegiance as we always do, but in between we had a silent moment of prayer for Governor Hogan. I had not heard the news about his cancer diagnosis, so I was quite shocked. It was definitely a somber way to begin the meeting.
With no speaker, we jumped to Julie Brewington's Central Committee report. She recounted our appointments to the Board of Elections and Board of Education and revealed we were in the process of working on a fundraising event. We were also seeking a mayoral candidate for Salisbury as the filing deadline approaches in August.
Representing Somerset County's GOP was Matthew Adams, who came up to sell tickets to the Tawes Crab and Clam Bake. Readers of mine know all about this annual event, which this year has increased its ticket price to $45. Between the state party and our two counties, we have half of one of the large tents for a total of 120 tickets. Adams expressed his interest in having Andy Harris make an appearance, but we were at the mercy of the House voting schedule for that one. Harris may be able to do a morning event, though. (I would assume that Harris's primary opponent, Michael Smigiel, already has Tawes on his calendar just as Harris was able to do when Frank Kratovil held the seat.)
We also got the pleasure of meeting Patty Miller, who is the incoming president of the Salisbury University College Republicans. Their big task this year, said Miller, was to recruit new members. When asked about the atmosphere on campus Miller admitted that it was hard to overcome the liberal bias of the faculty, but it helped that many students came from rural areas. Adams noted that a good percentage of SU students come from Somerset County and was hoping to use them to gain inroads into UMES.
Some good news came from Muir Boda, who announced the beer license for the Crab Feast on September 12 should be secured this week. The issue was our non-profit status, which was resolved by (of all people) the IRS. Boda was working with Josh Hastings of the Democratic Club, who have the same issue with their event, so there is bpiartisan cooperation around here. He also announced he had filed for City Council last week.
Another upcoming event is the Wicomico County Fair in August, and we were in the process of getting our space there. Dave Snyder asked about voter registration and we encouraged him to do so.
Our most recent appointees to the Board of Education were then asked to speak, as their first meetinnd wg will occur tomorrow morning. And while the reaction to John Palmer's appointment was "righteously fearful," according to Julie Brewington, Joe Ollinger struck a more optimistic tone – although he admitted "public education is a tough job." But it's not a money issue, he added.
Some of his ideas for change were efforts to instill more discipline in the schools while encouraging more respect for the public school teachers. But he also wished to move as much responsibility as possible to the local board, hoping the state would cede some power.
One other item on the club's agenda is a new officer. Since Joe Collins took a position on the Board of Elections, he can't serve as an officer for the WCRC. Dave Snyder volunteered to be nominated but we would like to have other candidates step up, too.
Marc Kilmer filled us in on the public hearing process for an elected school board. Five hearings will be held beginning in September – wonder where they got that idea? It was also suggested that we hold a straw poll at the Wicomico County Fair to gauge support.
Marc also was lauded by Joe Ollinger for how he explained how he came u with his votes, and it was incumbent upon us to demand that same forthrightness from the others on County Council.
Shawn Jester passed along word from Delegate Carl Anderton that his district office was now open. We also learned from Cathy Keim that we would be using the optical scanner machines beginning in 2016. Of course, that brings a headache because the machines and paper ballots have to be kept in a conditioned space the county doesn't have yet, so they will have to lease or build one.
Next month we will have two speakers. It's no surprise that our old friend Jeannie Haddaway-Riccio is coming to address us, but having Jake Day speak is definitely different. He sought us out, though, and we'll give him the forum on July 27.
It's been a topic of discussion on this website for about a year, but those who believe the Export-Import Bank of the United States is simply a hotbed for crony capitalism and a classic example of government picking winners and losers restored a supporter in Andy Harris.
From our friends at Heritage Action:
Over the past month, momentum has grown for allowing the Export-Import Bank to expire.  It is now clear the bank will not be reauthorized by June 30th.  Additionally, conservatives leaders and caucuses will fight any efforts to revive the bank, which is a slush fund for the government to pick favorites and give taxpayer dollars to a handful of well-connected special interests. Last month, the 170-member Republican Study Committee joined the 40-member House Freedom Caucus in official opposition to the bank.  They are joined by the House Majority Leader, Majority Whip and eight prominent chairmen.  What's more, Senator Mike Lee made clear conservatives will (use the) procedural tools available to ensure a reauthorization effort is not on autopilot and will entail a lot of floor time.
Indeed, Harris is on the Heritage Action list. But his opposition is nothing new as he voted against Ex-Im's last reauthorization in 2012. That was a rather lonely position as Andy was one of only 93 members (all Republicans) to say no to Ex-Im.
But that's not to say that Ex-Im is dead by any means. Giving it new life could be one of those items attached to a "must-pass" bill, as Kathleen Miller at Bloomberg notes:
In the House, Paul Ryan, the Wisconsin Republican who is chairman of the Ways and Means Committee, said he won't let the bank's reauthorization be attached to a measure that would speed consideration of trade agreements.

"Ex-Im Bank will not be included in any of these trade deals," Ryan, who opposes the bank, said last week. "We are not doing that."

That leaves supporters searching for must-pass legislation to carry the reauthorization, something that Ex-Im opponents would be reluctant to vote against even if it means extending the bank's charter.
Or the reauthorization may be used as a wedge issue by factions in either party to extract concessions. Like any government program, Ex-Im has had its demise predicted before only to survive unscathed, like a cockroach after nuclear holocaust.
I'll believe it's dead when I see its lifeless corpse.
By the way, I reached out to Harris's primary opponent, former Delegate Mike Smigiel, but he did not reply to my inquiry.
The question is worth asking: Do you really want Congress to give this administration fast track on a secret trade deal?
I received a phone call earlier this week from Grover Norquist's organization, Americans for Tax Reform, urging me to tell my congressman that I want him to vote for the trade promotion authority (TPA) because it will be good for America and bring jobs. I let them connect me to Congressman Harris' office and then told the staffer that I was adamantly opposed to TPA.
I found it very interesting that Grover Norquist would be pushing this legislation. What does it have to do with tax reform? At his website he has an op-ed posted that paints a rosy picture of all the advantages of trade. While I agree that trade is important, I find myself wondering what is behind his support? He didn't mention taxes at all.
Norquist has a record of pushing immigration reform, saying that people are an asset, not a liability.
I do not see people as a liability, but I can see that allowing millions of illegal immigrants into our work force would displace American workers.
Ask yourself why should a citizen support giving this president more authority to expedite an enormous piece of legislation, the Trans-Pacific Partnership (TPP), that is so secret that only people with security clearances are allowed to read it. It is kept under lock and key. The representatives can go in to read it, but they cannot take any notes out.
This sounds like something that we have to pass to find out what is in it! That has worked out well for us previously, hasn't it?
Even more mind-boggling is that this is a "living" agreement. It can be changed in the future, but the changes would not come before Congress. You have to trust your president a lot to give away all Congressional oversight. Not only that, but the other countries in this enormous agreement could decide to admit another country to the agreement or to change the rules, but once again, Congress would have no opportunity to block any of these future changes once they pass TPA.
Congress would have a chance to review the deal, but their hands would be tied by not being able to amend it, they would have a very short time to discuss it, and it would only require 51 votes in the Senate to pass rather than the normal 60.
The lack of transparency and mistrust of our leaders is enough to make me skeptical of increased executive authority. But it gets better.
Senator Jeff Sessions, who chairs a senate immigration panel, issued an alert which begins:
Congress has the responsibility to ensure that any international trade agreement entered into by the United States must serve the national interest, not merely the interests of those crafting the proposal in secret. It must improve the quality of life, the earnings, and the per-capita wealth of everyday working Americans. The sustained long-term loss of middle class jobs and incomes should compel all lawmakers to apply added scrutiny to a "fast-track" procedure wherein Congress would yield its legislative powers and allow the White House to implement one of largest global financial agreements in our history—comprising at least 12 nations and nearly 40 percent of the world's GDP. The request for fast-track also comes at a time when the Administration has established a recurring pattern of sidestepping the law, the Congress, and the Constitution in order to repeal sovereign protections for U.S. workers in deference to favored financial and political allies.
Then he lists five problems with the current legislation, which subsequently did pass the Senate and is now before the House.
Consolidation Of Power In The Executive Branch.
Increased Trade Deficits.
Ceding Sovereign Authority To International Powers.
Currency Manipulation.
Immigration Increases.
Please read his alert for all the details, but lets just look at the immigration issue since Michael touched on it Monday.
Immigration is bound to be a big topic in the upcoming presidential election. If TPA and TPP pass, some objectors have said that it would allow free movement of workers amongst the nations in the agreement just as workers are allowed to move around the EU. That would mean that the USA would not be able to refuse to let workers into our country.
Senator Sessions added in a later release that:
Fast-track includes negotiating objectives to remove barriers to services that could easily be used by the Administration to justify the expansion of foreign worker programs. There is also an entire chapter on "Temporary Entry" in TPP, which could be used to facilitate the admission of more temporary foreign workers into the United States. Even if immigration or temporary entry prohibitions were included in fast track, the negotiating objectives laid out by fast track are not binding on the Administration. If any future trade deal, TPP or otherwise, contains language that paves the way for more foreign workers, members will be powerless to strike the offending provision. Additionally, the "living agreement" provision allows for subsequent amendments to the trade agreement after its initial implementation, creating an altogether new avenue for changes to foreign worker programs. Finally, the President has refused to foreclose the possibility of using executive actions or side agreements to facilitate foreign worker expansions, as he did with South Korea as part of the recent South Korean trade deal. In short, fast-track creates broad new avenues for the White House to bring in more foreign workers – whether in the light of day, or behind closed doors no one can open – while giving up for six years the meaningful ability of Congress to do anything about it.
Immigration is bound to be a big topic in the upcoming presidential election. The lawsuit brought by 26 states against the executive overreach on immigration has slowed things down enough to buy some time to debate this issue during the presidential campaign season.
Immigration and Common Core need to be brought up at every chance so that we can see where the candidates really stand on these issues. We need to push hard to get the truth out of the candidates and to convince them that we will hold them accountable should we decide to put them in office.
Between illegal immigration, the refugee resettlement programs which bring in 70,000 people a year from some of the most vocal enemies of our country, and work visas that are hard to track to actually know how many are here, we need to take a breather on immigration. I would welcome the candidate that would say we need time to assimilate those immigrants that are legally here, to build a fence to stop the madness on our southern border, and to screen any potential refugees to see if they are jihadists posing as refugees to gain access to America.
Let's do our best to find that candidate and then to get him or her elected! In the meantime, call your congressman and tell them to vote NO on TPA.
By Cathy Keim and Michael Swartz
Here is a question for our loyal readers: Now that it is mid-May, do you think that the GOP elites in Washington, D.C. have fulfilled their campaign pledges to stop President Obama's fundamental change of our country?
Michael and I have voted no on that question and to make our point we have signed the Open Letter to Congress: Interim Assessment from the Citizens' Mandate. (Our signatures are on page 5.)
I wrote about the original Citizens' Mandate on monoblogue back in February. After working hard on the 2014 elections, many of us felt great relief when the GOP won by a landslide. That feeling was quickly replaced by a sense of betrayal with the passage of the CRomnibus budget and the retaining of John Boehner as Speaker of the House. The Citizens' Mandate was a call to the GOP leadership to remember their campaign promises and to fulfill their obligations to their voters.
Instead, as the organizers of the mandate stated:
Contrary to the Republicans' self-assessment of their first 100 days… more than 100 conservative leaders, in only 72 hours of signature collection, have given the Republican Congress a poor assessment on the members' performance in their first 132 days in control of the legislative branch.
Among the actions by the GOP Cathy and I disagreed with, they:
Funded executive amnesty;
Continued Obamacare;
Jeopardized national security (by not addressing illegal immigration);
Ceded away treaty power on a nuke deal with Iran;
Continued excessive federal spending;
Undermined faith-based agenda;
Helped Obama (by confirming Loretta Lynch as Attorney General);
Continued federal education;
Punished conservative champions (through changing committee assignments), and;
Neglected congressional oversight.
While Congress is doing some things right, there's a tremendous amount of untapped potential we are missing out on. It's a reason that other vocal critics such as Richard and Susan Falknor of Blue Ridge Forum, Carroll County GOP Central Committee member Kathy Fuller, and former Delegate Michael Smigiel (who is running for Congress against the incumbent Andy Harris), and conservative commentator Dan Bongino have signed on. Bongino was quoted in the release, noting:
It's way past time to reinvigorate our party and set forth a set of guiding principles. For too long we've been lost in partisan games while forgetting that, in the end, it's the ideas that will take us to a better tomorrow.
Some may argue that Barack Obama received his electoral mandate in 2012, but it's just as valid (if not moreso) to make the point that a course correction had become necessary and the results showed the message was sent emphatically in 2014.
Our call is for Congress to translate that message in legislation and oversight. Certainly there's the prospect of veto after veto, but rather than get the reputation as a "do-nothing Congress" put the onus on the President to respond and – whatever you do – don't cede any more power to the Executive Branch. We don't want to have to sign an updated letter in the fall, so get busy.
For those who don't know, the Maryland Republican Party had its convention "downy ocean" on Friday and Saturday.
They certainly can go upscale now that we occupy the governor's office.
Doesn't seem that long ago we couldn't scrape up convention sponsors, let alone "Governor's Circle" or "Chairman's Circle."
Since I didn't have a proxy, nor could I attend anyway because I had work to do for a new employer, I decided to do the Friday night drop-in. To allocate a couple lines from an old Bob Seger song: "I headed east because I felt the change would do me good – see some old friends, good for the soul."
Unfortunately, poolside at the Princess Royale isn't great for photos. But truth be told, I wasn't much into documenting the night anyway. I was having too much fun chatting up folks like my old "partner in crime" Heather Olsen, being a radio guest for Ryan Miner, and talking shop with some others. I did take a few various shots with the cell phone, but they don't rise to the level of worth commenting on because most are dark or somewhat tiresome.
But I did receive some flak from on high about the piece I wrote Friday, being scolded because I didn't know the whole story. Yet this bears one question: what would Joe Burns – or those four members of the Carroll County RCC who opposed the change to submitting multiple names – gain from lying or embellishing the truth? Conversely, if they are right, what does the "good old boy establishment" wing of the MDGOP lose? The ability for cronyism at will?
There's no doubt that Joe's idea of a properly working MDGOP is different than that of the leadership, and it's probably a far cry than mine. But it's my understanding that Diana Waterman chose to address this at the very end of the convention, after the expected move by the Resolutions Committee to not report any resolutions out. Been there, done that. As always, we have plenty of time for rehashes of what's going on with the various party leaders, but not enough time to put some simmering issues to rest. I'd love to have some input from those on Resolutions to know why nothing made the cut.
Going forward, though, this is something which needs clarity. Either we allow the governor to have his way simply because he has an "R" behind his name or we have consistency in rules. After all, there was no do-over on any of the other General Assembly nominees.
One other thought I had, thanks to the presence of Don Murphy, was his belief that "you must be present to win." Where was everyone who is considering a 2016 U.S. Senate bid? Besides Andy Harris, who had a hospitality suite upstairs, away from the pool, I wasn't aware anyone else hosted a suite. Perhaps they were on the downlow, but now that session is over you would think we would have some movement. We already know a couple of the players lined up on the other side.
From what I heard, the party will be back in Annapolis Solomons this fall so I'm sure all those Senate hopefuls will be out of the woodwork by then – along with the umpteen GOP presidential hopefuls (more specifically, their Maryland proxies.) Hopefully we can be arguing over the merits of Dan Bongino vs. Andy Harris vs. Laura Neuman for Senate and all those who wish to clean up Barack Obama's disaster because we will have some resolution and direction on the subjects currently at hand.
And who knows? I might just get a proxy for that one, or I might not. It was a beautiful Saturday afternoon for all but two things: working (which is what I did) or arguing politics. I only missed it a little bit, which isn't bad considering.
It might be a good idea this fall, though, to bump the Resolutions Committee report to the front of the agenda – and bring some popcorn.
By Cathy Keim
The failure of Congress to hold President Obama accountable for his increasingly aggressive executive overreach is about to make them irrelevant. They have reneged on their oaths to protect and defend the Constitution of the United States. The protection against a tyrant that our Founders put into our Constitution was the separation of powers. Congress has abdicated their responsibility to resist and stop illegal actions by this president particularly by the power of the purse.
Back on January 6, 2015, in response to pressure from many angry constituents over his vote to re-elect John Boehner as Speaker of the House, Andy Harris posted the following on his Facebook page:
In November, Speaker Boehner was re-nominated by the Republican House Conference without a single opponent stepping forward. That was the appropriate time for an alternative to step forward and be considered by House Republicans. Today's vote on the House floor was simply whether Nancy Pelosi or John Boehner was going to be Speaker of the House. I hope that we can now move forward and work with the Senate to pass common-sense conservative policies. If Speaker Boehner does not deliver on his promises, a Republican House Conference can be called by 50 members and I would join in that call. (Emphasis mine.)

I have no problem standing up for conservative principles to the Speaker and Republican leadership, such as my vote against the reauthorization of the Patriot Act, as well as my votes against the Ryan-Murray budget deal and debt ceiling increases. Please know that I will continue to fight for conservative values and Maryland's First District in the 114th Congress.
So, I am asking, "Congressman Harris, Speaker Boehner has clearly failed miserably at stopping the executive amnesty overreach. What are you going to do about it?"
The loss of jobs to illegal immigrants, the cost of welfare benefits, Social Security payments for older people that have not paid into the system, tax credits from the IRS for the previous three years amounting to thousands of dollars, etc. etc. The costs are extremely high both in taxpayer dollars expended and in stress to our citizens that cannot find jobs.
Congressman Harris, the damage from this illegal amnesty is far reaching. Again, I urge: please tell us what you plan to do about it.
P.S. Governor Hogan, our state budget is already in the red. This amnesty is going to cause additional drains on our taxpayers. Maryland joined in supporting the executive overreach prior to you being sworn in, but I cannot find any statement from you to say that you disagree with the amnesty.
In a "friend of the court" brief filed Monday, attorneys general from 12 states and the District of Columbia threw their backing behind the president's executive actions, which could help nearly 5 million undocumented immigrants who currently live in the U.S., allowing them to seek work without fear of deportation.

Officials from 12 states – Washington, California, Connecticut, Hawaii, Illinois, Iowa, Maryland, Massachusetts, New Mexico, New York, Oregon and Vermont – and the District of Columbia filed the brief Monday in the U.S. District Court for the Southern District of Texas.
In fact, according to WorldNetDaily, your press secretary ducked questions on the subject when asked.
By Cathy Keim
I thought that we would have a one-week reprieve to fight the Department of Homeland Security (DHS) funding showdown, but Boehner and the House caved today. Boehner passed the clean funding bill with 182 Democrats and 75 Republicans voting yes and 167 Republicans voting no.
We can take a moment to look at what the struggle was about. At its most basic level we had about 50 to 55 Congressmen and a handful of Senators that were fighting to stop the illegal amnesty overreach of the President. These few are men of principle that were standing for the rule of law that is the only protection the states have against federal dereliction of duty. At PJ Media, Andy McCarthy says:
The federal usurpation of the states' capacity to defend themselves makes Congress responsible for the security and economic welfare of the states. Toward that end, Congress has enacted laws to protect the states against the wages of illegal immigration – the threats posed to public safety, to social services underwritten by state taxpayers, to the job market, and to the rule of law. These are the kinds of laws the states would enact themselves, and would enforce in a manner consistent with local conditions and sensibilities, if the federal government had not gobbled up their powers.

Those congressional laws are the states' only defense. Those laws are what President Obama, through his illegal executive actions, is eviscerating. Therefore, Congress not only has an obligation to protect the institution of Congress, the legislative authority of which President Obama is usurping. Congress also has an extraordinary duty to defend the security of the states, which federal law has rendered defenseless.

Republicans should stop talking about this lawless amnesty as if it is only Obama's decree. From the point of view of the states, the offense is coming from the federal government – not just the president. Congressional Republicans are a part of that government. They have their own constitutional obligations. If they aid and abet the president's shredding of immigration laws that are meant to protect the states, then they are betraying the states and their citizens every bit as much as the president is. (emphasis mine)
The federal government has extended its control over the immigration laws and regulations so that no state can protect itself from the effects of immigration. Notice that I said immigration, not just illegal immigration.
It is time to take note that our federal government has been bringing in thousands of immigrants legally by deeming them refugees. Since they are classified as refugees, they are entitled to all the welfare benefits immediately upon entering the USA. In addition, these refugees are placed around the country (called seeding) so that they can change the very fabric of our nation. The states are not allowed to refuse these refugees, but they are required to pay for the additional costs due to increased school enrollments, health care costs, housing, etc.
There are reports that the illegal immigrants that this amnesty covers will be deemed refugees so that they can collect the benefits that they otherwise would not be eligible for.
Many, if not most, of the current refugees are Muslims, including refugees from Syria. We are completely unable to ascertain whether these refugees are actually fleeing for their lives or whether they are coming into our country for the purpose of jihad. At this time, we have not been giving priority to Christian refugees despite the brutal persecution that is occurring in the Middle East.
The State Department assures us that the refugees are vetted to weed out any danger. This is the same State Department that cannot state that ISIS is a radical Islamist organization.
If you want to do due diligence on the refugee resettlement problem, then you must go to Refugee Resettlement Watch and start reading what Ann Corcoran has been blogging about for years.
We need to demand that our leaders stop the flow of immigrants, both legal and illegal, into our country to give us time to assess who is coming. We really do not know how many illegal and legal immigrants are here. We have no idea whether they are assimilating into our way of life. There are dangerous indicators that assimilation is not occurring as it did with previous immigrant waves due to the multi-cultural mania that pervades our schools and media.
I was told last week that some students at our local high school will not even stand to say the Pledge of Allegiance to our flag. If we cannot get our homegrown youth to exercise rudimentary allegiance, then why would we think that we can assimilate masses of people from societies that loathe our way of life?
Now, back to the DHS debacle. We needed our Republican leaders to use the power of the purse to shut down Obama's illegal amnesty. They had the ability to do this. The House could have refused to give one penny to pay for the illegal amnesty. If the Senate continued to refuse to pass a bill that would provide funding for DHS, but not fund the illegal portions, then the House should not have budged. They should have stood their ground and let the DHS shut down.
About 200,000 of the 230,000 DHS employees are essential, so they would have shown up for work anyway. Andy McCarthy points out:
Homeland security in the United States is more than adequately provided for by the hundreds of billions of dollars that continue to be spent each year — and that Congress has already approved for this year — on the Justice Department, the FBI, the 17-agency intelligence community, the armed forces, and state and local police forces.
Boehner, Andy Harris and the other GOP congressmen should have found the courage to join the bold few men of principle that are standing up for us. You can see who voted no on the final vote on Friday by going here. These were the men that were standing on principle that Obama's amnesty was unconstitutional.
Today Andy Harris voted no for the DHS bill, but it was too late. Boehner passed it with Democrat votes. The betrayal is complete. Andy Harris will tell us that he voted no and and that should be good enough for us. Do not fall for the final vote tally. You must look at the whole episode. The Republicans that voted no to the DHS funding bill today should now do what they should have done in January: vote John Boehner out as Speaker.