By Cathy Keim and Michael Swartz
Here is a question for our loyal readers: Now that it is mid-May, do you think that the GOP elites in Washington, D.C. have fulfilled their campaign pledges to stop President Obama's fundamental change of our country?
Michael and I have voted no on that question and to make our point we have signed the Open Letter to Congress: Interim Assessment from the Citizens' Mandate. (Our signatures are on page 5.)
I wrote about the original Citizens' Mandate on monoblogue back in February. After working hard on the 2014 elections, many of us felt great relief when the GOP won by a landslide. That feeling was quickly replaced by a sense of betrayal with the passage of the CRomnibus budget and the retaining of John Boehner as Speaker of the House. The Citizens' Mandate was a call to the GOP leadership to remember their campaign promises and to fulfill their obligations to their voters.
Instead, as the organizers of the mandate stated:
Contrary to the Republicans' self-assessment of their first 100 days… more than 100 conservative leaders, in only 72 hours of signature collection, have given the Republican Congress a poor assessment on the members' performance in their first 132 days in control of the legislative branch.
Among the actions by the GOP Cathy and I disagreed with, they:
Funded executive amnesty;
Continued Obamacare;
Jeopardized national security (by not addressing illegal immigration);
Ceded away treaty power on a nuke deal with Iran;
Continued excessive federal spending;
Undermined faith-based agenda;
Helped Obama (by confirming Loretta Lynch as Attorney General);
Continued federal education;
Punished conservative champions (through changing committee assignments), and;
Neglected congressional oversight.
While Congress is doing some things right, there's a tremendous amount of untapped potential we are missing out on. It's a reason that other vocal critics such as Richard and Susan Falknor of Blue Ridge Forum, Carroll County GOP Central Committee member Kathy Fuller, and former Delegate Michael Smigiel (who is running for Congress against the incumbent Andy Harris), and conservative commentator Dan Bongino have signed on. Bongino was quoted in the release, noting:
It's way past time to reinvigorate our party and set forth a set of guiding principles. For too long we've been lost in partisan games while forgetting that, in the end, it's the ideas that will take us to a better tomorrow.
Some may argue that Barack Obama received his electoral mandate in 2012, but it's just as valid (if not moreso) to make the point that a course correction had become necessary and the results showed the message was sent emphatically in 2014.
Our call is for Congress to translate that message in legislation and oversight. Certainly there's the prospect of veto after veto, but rather than get the reputation as a "do-nothing Congress" put the onus on the President to respond and – whatever you do – don't cede any more power to the Executive Branch. We don't want to have to sign an updated letter in the fall, so get busy.
For those who don't know, the Maryland Republican Party had its convention "downy ocean" on Friday and Saturday.
They certainly can go upscale now that we occupy the governor's office.
Doesn't seem that long ago we couldn't scrape up convention sponsors, let alone "Governor's Circle" or "Chairman's Circle."
Since I didn't have a proxy, nor could I attend anyway because I had work to do for a new employer, I decided to do the Friday night drop-in. To allocate a couple lines from an old Bob Seger song: "I headed east because I felt the change would do me good – see some old friends, good for the soul."
Unfortunately, poolside at the Princess Royale isn't great for photos. But truth be told, I wasn't much into documenting the night anyway. I was having too much fun chatting up folks like my old "partner in crime" Heather Olsen, being a radio guest for Ryan Miner, and talking shop with some others. I did take a few various shots with the cell phone, but they don't rise to the level of worth commenting on because most are dark or somewhat tiresome.
But I did receive some flak from on high about the piece I wrote Friday, being scolded because I didn't know the whole story. Yet this bears one question: what would Joe Burns – or those four members of the Carroll County RCC who opposed the change to submitting multiple names – gain from lying or embellishing the truth? Conversely, if they are right, what does the "good old boy establishment" wing of the MDGOP lose? The ability for cronyism at will?
There's no doubt that Joe's idea of a properly working MDGOP is different than that of the leadership, and it's probably a far cry than mine. But it's my understanding that Diana Waterman chose to address this at the very end of the convention, after the expected move by the Resolutions Committee to not report any resolutions out. Been there, done that. As always, we have plenty of time for rehashes of what's going on with the various party leaders, but not enough time to put some simmering issues to rest. I'd love to have some input from those on Resolutions to know why nothing made the cut.
Going forward, though, this is something which needs clarity. Either we allow the governor to have his way simply because he has an "R" behind his name or we have consistency in rules. After all, there was no do-over on any of the other General Assembly nominees.
One other thought I had, thanks to the presence of Don Murphy, was his belief that "you must be present to win." Where was everyone who is considering a 2016 U.S. Senate bid? Besides Andy Harris, who had a hospitality suite upstairs, away from the pool, I wasn't aware anyone else hosted a suite. Perhaps they were on the downlow, but now that session is over you would think we would have some movement. We already know a couple of the players lined up on the other side.
From what I heard, the party will be back in Annapolis Solomons this fall so I'm sure all those Senate hopefuls will be out of the woodwork by then – along with the umpteen GOP presidential hopefuls (more specifically, their Maryland proxies.) Hopefully we can be arguing over the merits of Dan Bongino vs. Andy Harris vs. Laura Neuman for Senate and all those who wish to clean up Barack Obama's disaster because we will have some resolution and direction on the subjects currently at hand.
And who knows? I might just get a proxy for that one, or I might not. It was a beautiful Saturday afternoon for all but two things: working (which is what I did) or arguing politics. I only missed it a little bit, which isn't bad considering.
It might be a good idea this fall, though, to bump the Resolutions Committee report to the front of the agenda – and bring some popcorn.
By Cathy Keim
The failure of Congress to hold President Obama accountable for his increasingly aggressive executive overreach is about to make them irrelevant. They have reneged on their oaths to protect and defend the Constitution of the United States. The protection against a tyrant that our Founders put into our Constitution was the separation of powers. Congress has abdicated their responsibility to resist and stop illegal actions by this president particularly by the power of the purse.
Back on January 6, 2015, in response to pressure from many angry constituents over his vote to re-elect John Boehner as Speaker of the House, Andy Harris posted the following on his Facebook page:
In November, Speaker Boehner was re-nominated by the Republican House Conference without a single opponent stepping forward. That was the appropriate time for an alternative to step forward and be considered by House Republicans. Today's vote on the House floor was simply whether Nancy Pelosi or John Boehner was going to be Speaker of the House. I hope that we can now move forward and work with the Senate to pass common-sense conservative policies. If Speaker Boehner does not deliver on his promises, a Republican House Conference can be called by 50 members and I would join in that call. (Emphasis mine.)

I have no problem standing up for conservative principles to the Speaker and Republican leadership, such as my vote against the reauthorization of the Patriot Act, as well as my votes against the Ryan-Murray budget deal and debt ceiling increases. Please know that I will continue to fight for conservative values and Maryland's First District in the 114th Congress.
So, I am asking, "Congressman Harris, Speaker Boehner has clearly failed miserably at stopping the executive amnesty overreach. What are you going to do about it?"
The loss of jobs to illegal immigrants, the cost of welfare benefits, Social Security payments for older people that have not paid into the system, tax credits from the IRS for the previous three years amounting to thousands of dollars, etc. etc. The costs are extremely high both in taxpayer dollars expended and in stress to our citizens that cannot find jobs.
Congressman Harris, the damage from this illegal amnesty is far reaching. Again, I urge: please tell us what you plan to do about it.
P.S. Governor Hogan, our state budget is already in the red. This amnesty is going to cause additional drains on our taxpayers. Maryland joined in supporting the executive overreach prior to you being sworn in, but I cannot find any statement from you to say that you disagree with the amnesty.
In a "friend of the court" brief filed Monday, attorneys general from 12 states and the District of Columbia threw their backing behind the president's executive actions, which could help nearly 5 million undocumented immigrants who currently live in the U.S., allowing them to seek work without fear of deportation.

Officials from 12 states – Washington, California, Connecticut, Hawaii, Illinois, Iowa, Maryland, Massachusetts, New Mexico, New York, Oregon and Vermont – and the District of Columbia filed the brief Monday in the U.S. District Court for the Southern District of Texas.
In fact, according to WorldNetDaily, your press secretary ducked questions on the subject when asked.
By Cathy Keim
I thought that we would have a one-week reprieve to fight the Department of Homeland Security (DHS) funding showdown, but Boehner and the House caved today. Boehner passed the clean funding bill with 182 Democrats and 75 Republicans voting yes and 167 Republicans voting no.
We can take a moment to look at what the struggle was about. At its most basic level we had about 50 to 55 Congressmen and a handful of Senators that were fighting to stop the illegal amnesty overreach of the President. These few are men of principle that were standing for the rule of law that is the only protection the states have against federal dereliction of duty. At PJ Media, Andy McCarthy says:
The federal usurpation of the states' capacity to defend themselves makes Congress responsible for the security and economic welfare of the states. Toward that end, Congress has enacted laws to protect the states against the wages of illegal immigration – the threats posed to public safety, to social services underwritten by state taxpayers, to the job market, and to the rule of law. These are the kinds of laws the states would enact themselves, and would enforce in a manner consistent with local conditions and sensibilities, if the federal government had not gobbled up their powers.

Those congressional laws are the states' only defense. Those laws are what President Obama, through his illegal executive actions, is eviscerating. Therefore, Congress not only has an obligation to protect the institution of Congress, the legislative authority of which President Obama is usurping. Congress also has an extraordinary duty to defend the security of the states, which federal law has rendered defenseless.

Republicans should stop talking about this lawless amnesty as if it is only Obama's decree. From the point of view of the states, the offense is coming from the federal government – not just the president. Congressional Republicans are a part of that government. They have their own constitutional obligations. If they aid and abet the president's shredding of immigration laws that are meant to protect the states, then they are betraying the states and their citizens every bit as much as the president is. (emphasis mine)
The federal government has extended its control over the immigration laws and regulations so that no state can protect itself from the effects of immigration. Notice that I said immigration, not just illegal immigration.
It is time to take note that our federal government has been bringing in thousands of immigrants legally by deeming them refugees. Since they are classified as refugees, they are entitled to all the welfare benefits immediately upon entering the USA. In addition, these refugees are placed around the country (called seeding) so that they can change the very fabric of our nation. The states are not allowed to refuse these refugees, but they are required to pay for the additional costs due to increased school enrollments, health care costs, housing, etc.
There are reports that the illegal immigrants that this amnesty covers will be deemed refugees so that they can collect the benefits that they otherwise would not be eligible for.
Many, if not most, of the current refugees are Muslims, including refugees from Syria. We are completely unable to ascertain whether these refugees are actually fleeing for their lives or whether they are coming into our country for the purpose of jihad. At this time, we have not been giving priority to Christian refugees despite the brutal persecution that is occurring in the Middle East.
The State Department assures us that the refugees are vetted to weed out any danger. This is the same State Department that cannot state that ISIS is a radical Islamist organization.
If you want to do due diligence on the refugee resettlement problem, then you must go to Refugee Resettlement Watch and start reading what Ann Corcoran has been blogging about for years.
We need to demand that our leaders stop the flow of immigrants, both legal and illegal, into our country to give us time to assess who is coming. We really do not know how many illegal and legal immigrants are here. We have no idea whether they are assimilating into our way of life. There are dangerous indicators that assimilation is not occurring as it did with previous immigrant waves due to the multi-cultural mania that pervades our schools and media.
I was told last week that some students at our local high school will not even stand to say the Pledge of Allegiance to our flag. If we cannot get our homegrown youth to exercise rudimentary allegiance, then why would we think that we can assimilate masses of people from societies that loathe our way of life?
Now, back to the DHS debacle. We needed our Republican leaders to use the power of the purse to shut down Obama's illegal amnesty. They had the ability to do this. The House could have refused to give one penny to pay for the illegal amnesty. If the Senate continued to refuse to pass a bill that would provide funding for DHS, but not fund the illegal portions, then the House should not have budged. They should have stood their ground and let the DHS shut down.
About 200,000 of the 230,000 DHS employees are essential, so they would have shown up for work anyway. Andy McCarthy points out:
Homeland security in the United States is more than adequately provided for by the hundreds of billions of dollars that continue to be spent each year — and that Congress has already approved for this year — on the Justice Department, the FBI, the 17-agency intelligence community, the armed forces, and state and local police forces.
Boehner, Andy Harris and the other GOP congressmen should have found the courage to join the bold few men of principle that are standing up for us. You can see who voted no on the final vote on Friday by going here. These were the men that were standing on principle that Obama's amnesty was unconstitutional.
Today Andy Harris voted no for the DHS bill, but it was too late. Boehner passed it with Democrat votes. The betrayal is complete. Andy Harris will tell us that he voted no and and that should be good enough for us. Do not fall for the final vote tally. You must look at the whole episode. The Republicans that voted no to the DHS funding bill today should now do what they should have done in January: vote John Boehner out as Speaker.
I have to admit I was shocked as anyone else to hear Barbara Mikulski was not seeking re-election. Although I figured she was closer to the end of her tenure than the beginning, I would have thought she would privately anoint a successor. In that respect it would have been a good landing spot for Martin O'Malley if Anthony Brown won the governorship, giving O'Malley a leg up on the 2016 Senate race once it became clear his Presidential bid was going nowhere fast. Sadly for the former governor, Larry Hogan won.
But among the blizzard of reaction from mainstream state news outlets and other political commentators, there are several things to keep in mind. First of all, this opening in a statewide race would favor those with plenty of money and a team in place. It doesn't have to be a person who has run statewide, and because this election allows members of the Maryland General Assembly to "run from cover" because their seats aren't involved in the election, it's very possible a few may take a shot.
Secondly – and perhaps more importantly from a "bench" standpoint – if you assume that at least three or four sitting Congressmen decide to make a run for the seat, the same rules apply. Consider, if you will, an Andy Harris run on the Republican side – how many local elected officials would be interested in that seat as it suddenly opens? You could imagine Jeannie Haddaway-Riccio taking a shot, along with politicians from the other side of the Bay in Harris's district. Multiply that by three or four Congressional districts and the prospect for several changes in the General Assembly for the second half of Larry Hogan's term is significantly higher.
Yet in any of these cases, the decisions will have to be made early, probably no later than June. And that's not just for the Senate seat, but those who may see themselves on the lower rung of the ladder in the House. Once those dominoes begin to fall, there's no telling how far the stack could reach because it will all depend on who wins the respective primaries.
But just as the 2014 election proved to create a tremendous shakeup in the House of Delegates, the 2016 election may be cataclysmic for the state's Congressional delegation. Even if just three or four run for office, the effect would be huge given that no more than two seats of the ten have changed hands in any recent election. The effect may be similar to 1986, when Mikulski first won office and several other Congressional seats picked up new faces (however, that was also a state election year, unlike 2016.)
So rather than try and predict the parlor game of who will run, the point of this piece is to remind people of the importance of a strong political bench. You have one seat that is a six-year term with no term limits and (quite honestly) not a lot of responsibility when you compare it to the governor's chair. The last time this opportunity came up was 2006, but that was a year when state office holders had to weigh the odds of emerging from a crowded field against the certainty of re-election – not so a decade later.
The question isn't so much who, but how many. It wouldn't surprise me if the 2006 total of 28 aspirants isn't surpassed in 2016. Most of them will be no-names or perennial candidates with no shot, but there will be some turnover in our Congressional delegation because of this sudden opening.
Needless to say, many conservatives around the country are disappointed (but not surprised) that the House of Representatives they elected to be the counterweight to Barack Obama decided to elect as its Speaker an insider who has shown little fortitude in fighting for the cause of limited government.
Included in that number who re-elected Boehner as Speaker was our own representative, Andy Harris. He took to social media to explain why, but I think it's relevant to express my thoughts on why his assessment was incorrect by dividing his statement into portions.
In November, Speaker Boehner was re-nominated by the Republican House Conference without a single opponent stepping forward. That was the appropriate time for an alternative to step forward and be considered by House Republicans.
A lot changed in two months. The House vote occurred on November 13, before Barack Obama followed through on his pledge to take executive action on immigration and before the CRomnibus bill was voted on – in fact, the idea was hatched around that time. It was his handling of these two events and unwillingness to take a stand which included any slim prospect of a government shutdown which angered a number of conservatives. Too many things were taken off the table.
So the timing argument isn't one which holds water with me.
Today's vote on the House floor was simply whether Nancy Pelosi or John Boehner was going to be Speaker of the House.
Wrong. There was no chance Pelosi was going to be Speaker. The idea was to bring a second ballot in the hopes that Boehner would see the light, withdraw his name, and allow a compromise candidate to emerge. As Erick Erickson wrote, fellow Ohioan Jim Jordan may have been that guy.
I hope that we can now move forward and work with the Senate to pass common-sense conservative policies. If Speaker Boehner does not deliver on his promises, a Republican House Conference can be called by 50 members and I would join in that call.
Color me extremely, extremely skeptical on that one. We have a four-year track record of a lack of leadership and of kicking multiple cans down the road. And I can already see the excuses.
Over the summer: "We can't call a conference now – we're in the middle of working on the FY2016 budget and it would be a distraction."
Come next fall: "We can't call a conference now because it would handicap our nominee in 2016. The media would have a field day."
In 2016: "It's too close to the election, we can't risk the infighting and distractions." And so on. It would be a waiting game where they would hope to outlast our side.
I have no problem standing up for conservative principles to the Speaker and Republican leadership, such as my vote against the reauthorization of the Patriot Act, as well as my votes against the Ryan-Murray budget deal and debt ceiling increases.
But you voted for the CRomnibus, while civil libertarians dislike your vote for CISPA and FISA, so both these items you cite are somewhat mixed bags on the whole.
Please know that I will continue to fight for conservative values and Maryland's First District in the 114th Congress.
You're not off to a good start.
I go back to something I highlighted in a previous post on this subject, which reprinted a letter from the Wicomico Society of Patriots:
I am aware that it is potentially politically dangerous for Andy Harris to vote against Boehner. If Boehner were to win anyway, then he can retaliate by removing people from their prestigious positions. Andy Harris is on the appropriations committee, one of the most powerful committees. However, we did not vote for Andy Harris so that he could protect his political power in DC. We voted for Andy Harris to stop the Obama agenda. Boehner has been completely ineffectual in stopping Obama.
Sadly. John Boehner is the kind of leader who would be so petty as to punish conservative opponents – whose constituencies are the backbone of the Republican Party – so he's no leader at all. If only he would exhibit the same backbone to the opposition. It will be worth checking out what happens to the 25 Republicans who did not support Boehner – locally Rep. Scott Rigell, who represents the Eastern Shore of Virginia, was among those opposed.
As for Harris, the questions have to be asked: is this the first major signal of the slide toward the center exhibited by those who have become comfortable inside the Beltway? And how much of an effect will it have on his 2016 prospects? It's early but if there's a sentiment underneath the surface that says a more conservative alternative would get the grassroots support that is needed to overcome Andy's financial advantage – basically, that campaign would have to begin in the next few weeks given the 2016 primary is tentatively scheduled for April 5.
It's clear that in its current configuration the First District is a Republican stronghold as Harris won in 2012 with 63% of the vote only to breach the 70% threshold in November – yet against a completely unknown, underfunded, and outclassed opponent Harris got just 78% of the primary vote in 2014. (Harris was unopposed in the primary in 2012 and beat Rob Fisher with 67% in 2010.) So Harris does have his detractors and hasn't faced a "name" Republican opponent since his primary win (with 43%) over then-Congressman Wayne Gilchrest and fellow State Senator E.J. Pipkin.
There's also been the sentiment that the Eastern Shore needs "one of ours" in the House. While Harris is not a stranger to the Eastern Shore, one part of the reason we were represented by Frank Kratovil for two years was Frank's successful case that he had "Eastern Shore values" because he lived here (albeit as a come-here who lived almost within sight of the Bay Bridge.)
Perhaps the two saving graces that Andy will have is distance from the election and the slight chance that Boehner figures out the reason we elected more Republicans to the House. But that light you might see looking toward Washington is that of a whole lot of bridges burning.
It's not quite as momentous as the 1920 election, where Warren G. Harding made my title part of his post-World War sloganeering, but today the holidays are now behind us, we return to the five-day workweek, and the political world awakens from its slumber later this week as Congress returns to session. (Maryland politicians will wait another week, as the second Wednesday in January falls at its latest possible date, the 14th.) Soon we will begin to see if the solutions that were promised to the voters will be the agenda for the new sessions.
But there are other aspects of "normalcy" we are beginning to see as well, as the power brokers jockey for position in the Republican Party. Case in point: the hue and cry put up by supporters of the next-highest primary vote-getter in the process of selecting a replacement for Delegate Kelly Schulz, who was tapped by Governor-elect Hogan to be his Secretary of Labor, Licensing, and Regulation. It was up to the Frederick County Republican Central Committee to select three people for a final interview process out of the sixteen applicants, and the three they selected were Barrie Ciliberti, a former delegate from Montgomery County who finished fifth in the primary (the top three advanced); Paul Stull, a former delegate who lost to Schulz in the 2010 Republican primary, closing a 16-year run in the House, and Chris Glass, Sr.
Wendi Peters, who finished fourth in the primary, did not get the nod to move on. Her sin? Not being on a slate with Senator-elect Michael Hough, Delegate Kathy Afzali, Delegate-elect David Vogt, and Ciliberti. Instead, she was a supporter of losing Senator David Brinkley – yet she had the backing of Schulz for the seat. A Central Committee chaired by JoeyLynn Hough made the selections.
I've been around this block a time or two. As a member of a Central Committee, our focus in selecting replacements was on whether the new person would be relatively conservative and also electable for the next term. Admittedly, we've had at least one swing and miss in this regard but the County Council chose not to select our committee's top vote-getter for a 2011 vacancy. In the instance of picking a Delegate – which we had to help Somerset County do when Page Elmore passed away in 2010 – it occurred at a time when we didn't want to influence a primary campaign in progress, so we agreed to select his wife Carolyn to finish the term.
In Frederick County's case, an argument could be made for the former Delegates but personally I would have preferred someone younger than their late seventies, which is the case for both Ciliberti and Stull. But ignoring the voters who picked Peters as the highest vote-getter that didn't advance – as well as the choice of the Delegate who is leaving the seat to replace her – seems to me a slap in the face to those voters over petty politics and a disservice to the Republicans they purport to represent. It's a battle which reminds me of the entirety of the District 36 fiasco back in 2013 when Senator E.J. Pipkin resigned.
On a national level, this is reflected in the grassroots movement to dump John Boehner as Speaker of the House. Take as an example an e-mail I received from the Wicomico Patriots:
Now it is time to engage again as Congress returns on Tuesday to swear in the members and to vote for Speaker of the House. Please call or write an email to Andy Harris encouraging him to vote for a new speaker. It only takes 29 congressmen to block Boehner's re-election as speaker. Once he is blocked, the opportunity is there for a new person to step up.

I am aware that it is potentially politically dangerous for Andy Harris to vote against Boehner. If Boehner were to win anyway, then he can retaliate by removing people from their prestigious positions. Andy Harris is on the appropriations committee, one of the most powerful committees. However, we did not vote for Andy Harris so that he could protect his political power in DC. We voted for Andy Harris to stop the Obama agenda. Boehner has been completely ineffectual in stopping Obama.

So, Andy Harris, will you listen to the people who got you elected and take the difficult step of voting against Boehner or will you continue to follow him?

Your CRomnibus vote was very discouraging to your conservative base. Do we really think that you and Boehner will suddenly get the courage to block the funding of Homeland Security in February? Do you think that blocking funding for that is easier than refusing the whole 1000 page monstrosity called cromnibus?

No, the excuses keep coming as the can is kicked down the road over and over again. Now is the time for you to stand up and fight for us.

Please do contact Andy Harris at: (202) 225-5311. (Emphasis mine.)
And here's my own message to the Congressman:
For too long we have heard excuse after excuse from your leadership, accompanied by the promise to fight at the next critical juncture. If the Republicans want to be the opposition party they were elected by We the People to be, then they need to show some opposition on Obamacare, on securing the border and addressing executive actions further encouraging the torrent of illegal immigration, and on spending beyond our means. Collectively, you will be painted as a "do-nothing Congress" by the President, Democrats, and media (but I repeat myself) anyway so just pass those common-sense measures and dare Obama to veto them.
In short, we want a Speaker of the House with the backbone to stand up to Barack Obama so we demand you withhold your vote from John Boehner. It's worth pointing out that a 2016 Congressional run from a conservative member of the Maryland General Assembly is possible and doable – just as you did against a sitting Wayne Gilchrest when you were first nominated in 2008. Certainly there would be a monetary disadvantage for the challenger, but in my opinion no one should be immune from a serious primary challenge – particularly if he or she isn't listening to the wishes of the district being represented. A poll cited by Jim Geraghty of National Review Online shows 60% of Republicans would "probably" or "definitely" replace Boehner as Speaker. Even as an Ohio native, count me as a "definite."
These are two stories to keep your eye on in the coming days. Why do I get a sinking feeling they won't end well for the good guys?
For the four years he has been in office, Andy Harris has generally enjoyed the support of his conservative Eastern Shore constituents. He's not had a serious primary challenge since he was elected and garnered over 70% of the vote in 2014 against Democrat Bill Tilghman, whose centrist posture was well right of mainstream Democrats but far out of step with the district.
But since that resounding November victory, Andy's actions in Congress during the lame duck session have earned him further enmity from the strong libertarian wing of the party and alienated conservatives as well.
By inserting a provision into the so-called CRomnibus bill preventing the District of Columbia from enacting its Proposition 71 marijuana legalization, Harris again became the target of District residents and leaders who demanded a tourism boycott of Andy's Eastern Shore district earlier this summer. Accusations of being in the pocket of Big Pharma followed, but Harris defended the role of Congress spelled out in the Constitution [Article 1, Section 8] as overseer of the District's affairs.
Yet while the libertarians of the Shore make up a small slice of the constituency – a Libertarian candidate ran in the First District for three successive elections from 2008-12, but never received even 5% of the vote – the conservatives are upset about Andy's vote in favor of CRomnibus. That segment of the electorate is Andy's bread and butter.
In the TEA Party community, there are whispers about who could challenge Andy from the right, as several feel he is on the same glide path that Wayne Gilchrest took during his long Congressional career. His 2008 primary defeat (by Harris) came after a bitter campaign where Andy stuck the "liberal" tag successfully on the longtime pol as well as fellow Maryland Senate opponent E. J. Pipkin.
Ironically, a politician long allied with Pipkin could be a prospect to make that challenge. Michael Smigiel, a delegate who was defeated in the 2014 District 36 GOP primary, is popular among the TEA Party community for his strong Second Amendment stance. But it would be difficult for anyone to raise the money Andy has at his disposal and Harris has bolstered his profile among local elected officials and the state Republican party by being generous with his campaign funds through A Great Maryland PAC.
It's also worth mentioning for context that CRomnibus is probably roughly the same deal which would have been made if the budget were completed in regular order, given the partisan divide between the House and Senate.
Instead, while most functions of the government will continue through next September, the Department of Homeland Security budget has a February expiration date. This sets up a showdown between Congress and Barack Obama regarding the latter's executive actions to give de facto amnesty to millions of illegal aliens; however, some hardliners already feel the damage is done.
In response to a lengthy Facebook post by Harris explaining his CRomnibus stance, though, local activists summed up the frustration TEA party activists felt, noting:
"(Harris) does a nice job of listing those riders and amendments that might seem to gain the approbation of the conservative and Republican audiences, while omitting anything that might serve as a balance – what effectively was the PRICE paid for what was had, the PRICE of 'compromise.'"
"It is rather sad that Andy thinks that he can list a few paltry gains and that will make us overlook the whole thousand page monstrosity. The obvious question is that if he got in a few tidbits that he wanted, then who else got in their tidbits and what are those?  I would imagine that they will far outweigh any small gains that he is bragging about."
These activists agree one way Harris could help to restore his image would be to take the lead in the conservative grassroots push to replace John Boehner as Speaker of the House. Bear in mind that this could come at some cost as Andy serves on the Appropriations Committee and a Boehner victory over any challenger for whom Andy shows support could bring repercussions such as the stripping of his position there, but on balance I believe a potential sacrifice such as that is worth the opportunity to have a stronger conservative leader as Speaker. It's a sentiment shared by commentators at American Thinker, WorldNetDaily, and RedState.
On November 4, people hungry for real change went to the polls to reject the Democratic Senate and place Republicans firmly in control of Congress. The events leading to the CRonmibus, though, shook the confidence that Washington would depart from its business-as-usual benefits to the ruling class by allowing the outgoing defeated members one last hurrah. While all of this blame cannot be laid at the feet of John Boehner, there is a mood in this country that a strong counterbalance is needed to the increasing use of Executive Branch power by Barack Obama, particularly on immigration and Obamacare. The fear of many conservatives, particularly those in the First District, is that John Boehner doesn't have the spine to rein in the executive.
Just like in 2008, when Andy Harris first ran for Congress, the potential is there in 2016 for state elected officials to "run from cover" as their Delegate or Senate seats aren't on the ballot. During the similar 2012 election, 7 members of the Maryland General Assembly ran for Congress – one for the Senate and six for various Congressional seats. While none were successful overall, two won their party primary and ran through November.
No member of Congress is universally loved, and being a representative at any level of government means you won't please everyone. But there's a growing number who want Andy Harris to be a conservative leader and not just talk a good game.
It's definitely a peripheral story to the overall House adoption of CRomnibus, but one provision which was passed in the bill prohibited the District of Columbia from enacting a recently-passed district referendum allowing the decriminalization of marijuana. Because the District isn't one of the 50 states, Andy Harris remarked that the supporters of the law could leave. As quoted in Politico:
"That's the way the Constitution was written," Rep. Andy Harris of Maryland said in an interview Wednesday. "If they don't like that oversight, move outside of the federal district to one of the 50 states that is not covered by the jurisdiction of Congress as a whole."
Needless to say, Harris's Facebook page is littered with protests – not about his vote on the overall CRomnibus, which he voted in favor of – but about the vote against pot, presumably from District residents who didn't care for his vote and claim he's in the pocket of Big Pharma. Ironically, most of these comments are on a post alerting constituents to the opportunity for public comment on fee increases at Assateague National Seashore.
Yet this re-ignited a thought I've had before – one which wouldn't necessarily make Republicans happy, but one which I think would more truly reflect the intent of our Constitution. In Article 1, Section 8 it established one of the duties of Congress as:
To exercise exclusive legislation in all cases whatsoever, over such District (not exceeding ten miles square) as may, by cessation of particular states, and the acceptance of Congress, become the seat of government of the United States…
The key is the portion in parentheses, While the District was originally laid out as the maximum ten miles square, carved out of Maryland and Virginia, the Virginia portion was retroceded to the commonwealth in 1847. But since many government functions exist outside the District, the question becomes one of whether the District in its current form has outlived its usefulness. For decades denizens of the District have griped about "taxation without representation."
Because the Constitution only dictates a maximum size and not a minimum size, perhaps the solution lies in retroceding all but the immediate seats and symbols of government – the White House, the Capitol, the National Mall, and various memorials – back to the state of Maryland, with the city of Washington having the same status with its Maryland affairs as does Baltimore City. Instead of a half-million or so, living in the District would only apply to a handful of citizens. This could be made effective in 2020 so there would be time for transition and Congressional and local representation could be redetermined for the somewhat larger state of Maryland. The effect would be similar to the Vatican City as part of the overall city of Rome.
Naturally Republicans in Maryland and nationally would be dismayed because the advantage in voter registration and representation already enjoyed by Maryland Democrats would be enhanced. But if we want to make the pot-smokers happy that they aren't under the control of Congress – which really shouldn't be concerned about the affairs of a city of a half-million in a population of over 300 million – perhaps this is the better solution.
It's a better solution than making the District the 51st state, as some have wanted, or simply giving in and elevating their status by allowing them a House member and two Senators. The intent was creating the seat of government, not a state which would be placed above others by virtue of being the national capital. While we've ignored the Constitution numerous times over the nation's history, here's a chance to restore the intent of the Founders.
Update: I should mention that Harris gave his side of the marijuana story in the Washington Post today.
A few days ago I, along with other Central Committee members and "interested parties," received a memo from the Congressional campaign of Andy Harris. While the information I received probably isn't public knowledge in its format, it is possible to find all of the facts provided through diligent searching and I believe revealing a little bit of it will help me to make a larger point.
In this memo, Harris outlines the "work (the campaign) did this cycle for candidates in Maryland and around the nation." Just before the election we found out about A Great Maryland PAC and some of the assistance it gave in promoting candidates or pointing out flaws in the record of incumbent Democrats, but Harris did more – a lot more. As the memo explains:
On the Eastern Shore, maximum contributions through the Andy Harris campaign and Chesapeake PAC were made to delegate candidates Carl Anderton and Kevin Hornberger, both of whom defeated long-time Democrat stalwarts. Carl defeated 28 year incumbent Norm Conway, who also is the Chairman of the House Appropriations Committee, in a Wicomico County based district. Kevin defeated 16 year incumbent David Rudolph, who is the Vice Chair of the Economic Matters Committee, in a Cecil County district. Every seat on the Shore other than the democratically drawn majority-minority district is now held by Republicans. The lone Democrat State Senator on the Shore, Jim Mathias, regrettably, barely held on to his seat despite investments of time and financial resources in the race. All three delegate seats in his State Senate district went Republican, but Mathias held on by the skin of his teeth.

Another big highlight on the Shore was the defeat of Democrat Wicomico County Executive Rick Pollitt by Republican Bob Culver. Congressman Harris donated significantly to Bob's campaign, and Culver was able to pull it out. In addition to these Democrat-held seats, four candidates running in open seats and supported by Harris were able to put their races away with ease. Mary Beth Carozza (Worcester) won 74% in her single member district. Chris Adams (Wicomico) and Johnny Mautz (Talbot) each doubled the amount of votes received by their Democratic challengers. Jay Jacobs (Kent), Steve Arentz (Queen Anne's) and Jeff Ghrist (Caroline) all ran strong victorious delegate campaigns. With the election of Jeff Ghrist, Caroline County has for the first time in decades a resident delegate.

Every Republican Delegate or Senate candidate who represents a part of the First District received some level of financial support from Congressman Harris.
A good illustration of the impact outside help can make is found with Anderton's race. Throughout the campaign. incumbent Norm Conway's bankroll fluctuated in a range of $75,000 to $100,000 on hand. With most candidates, it's difficult to overcome that much of a financial disadvantage; indeed, it turned out Carl was outspent in the race by more than 4 to 1. While Anderton put in a tremendous amount of sweat equity, having the money to wage a little bit of a media campaign and not completely cede the airwaves made a big difference.
But another local race illustrates the problem a statewide minority party has. That "skin of the teeth" victory by Jim Mathias also was won at great cost – like Anderton, Republican challenger Mike McDermott was outspent by better than 4 to 1. For Mathias, though, the victory was won on the airwaves as he spent $268,850 over the last month at a company called Screen Strategies, which is a really big gun in that it's worked for several statewide Democratic campaigns and leftist interest groups, including anti-traditional marriage and pro-abortion entities. On just that firm alone, Mathias spent 2.3 times what Mike McDermott spent on his entire campaign. And since it's a more far-flung Senate district – as opposed to the relatively compact confines of House District 38B in the immediate Salisbury metro area – the impact of media is much greater because no candidate can be everywhere in three counties every day.
What the Maryland Republican Party needs is more people to pull in money like Harris does and spread it around. While Democrats have a registration majority of roughly 2 to 1 over Republicans and 56% of the overall electorate, they hold a margin larger than their proportion in the Maryland Senate and prior to this year's election did the same in the House – and that's not to mention their 9 to 1 advantage in Maryland's Congressional delegation. When Jim Mathias and Norm Conway needed financial help, their party and interests were able to provide it. Unfortunately, it's only because of Andy Harris that the First District is the one portion of the state where the GOP can counter this – the rest of the state exists more or less on its own. The loss of Dan Bongino in the Sixth Congressional District was troubling because that end of the state could have received the same assistance down the road.
One big, big problem with the Republican Party in Maryland is that they can't fill out their ballot throughout the state, and even in certain county races. While Republicans have outdone their registration disadvantage in Wicomico County for the past several years, we still could not find candidates willing to go after two open seats, one for Delegate and one for County Council, in majority-minority districts. Granted, one only became open when the current Delegate withdrew at the last possible minute AFTER the filing deadline, but the GOP still could add a name to the ballot for a few days afterward. We tried, but no one would make that commitment. Now that people are becoming aware they could get at least a little financial help, though, that problem could be solved in 2018.
Though they have an uphill battle at best, those sacrificial lambs serve a noble purpose by making the Democrats spend money on their campaigns, money that they can't send off to a vulnerable fellow candidate someplace else in the state – as many "safe" Democrats did to help Mathias. With few exceptions, Democrats found people willing to carry their banner in Republican-held areas so we had to pay some attention to them.
And there's always the possibility of catching lightning in a bottle because once in awhile miracles happen – everyone and their brother thought District 38B was gerrymandered into a safe seat for Norm Conway, but the voters proved otherwise.
Those District 38B voters were better informed because they have a Congressman who's willing to not just vote conservatively in Congress, but help in building a viable conservative movement in Maryland. In the meantime, state Republicans could stand some lessons from Carl on how to win an uphill battle.
Since I parted ways with American Certified a few months ago, I haven't followed the manufacturing world as much as I had while writing for them. But they still hold an important place in our economy and the question needs to be asked: are you a manufacturing voter?
This video was put out by the National Association of Manufacturers, which has a full-size spread just in time for this year's election. They stress seven key issues:
Immigration

The immigration system in the United States is broken. Comprehensive reform will strengthen U.S. economic and national security and ensure that manufacturers' workforce needs are met, without displacing American workers.

Energy

Energy is poised to be a significant competitive advantage for manufacturing in the United States. In fact, the United States enjoys a slight advantage on energy costs compared to our major trading partners. The United States can widen this gap and enhance our energy security.

Labor

In recent years, the nation's time-tested labor law system has faced significant challenges. The National Labor Relations Board, for example, has issued rules and orders that undermine employer flexibility and chill workplace relations. U.S. labor laws should safeguard the rights of employees and employers.

Workforce

Nearly 12 million men and women work in manufacturing in the United States. This workforce can grow significantly if manufacturers can find workers with the skills needed for the modern manufacturing workplace. Today, 600,000 manufacturing jobs are unfilled because of this skills gap.

Trade

To thrive in the global economy, manufacturers need trade policies that make the United States a better place from which to export. Manufacturers thrive when they can compete in open markets abroad.

Infrastructure

Manufacturers rely on a strong infrastructure to move people, products and ideas. Unfortunately, the nation's infrastructure is out of date and resting on the legacy of a bygone era. To compete in the 21st-century economy, the United States must invest in and modernize our infrastructure in ways that encourage economic growth, job creation and increased competitiveness.

Tax Reform

Manufacturers in the United States face a significant disadvantage in the global competition for investment and jobs. In fact, it is 20 percent more expensive to manufacture in this country compared to our major trading partners and that excludes the cost of labor. Taxes drive this cost disadvantage.
I'm not sure whether their idea for immigration reform matches up with mine; presumably they operate under the incorrect belief that there aren't enough qualified Americans to do the specialized engineering they need. But in a broad sense, what assists manufacturing would probably help the economy at large.
And our Congressman Andy Harris seems to agree with NAM's approach – so much so that he scores a perfect 100 percent on their voter guide. By a wide margin, he has the best record of any Maryland or Delaware House member.
Yet this approach is also needed on a local scale as well. While Maryland state representatives can't do a great deal with some issues that require federal input, they can pave the way on issues like tax reform, energy, job training, and infrastructure to put more Marylanders to work making things.
Lowering the corporate tax rate (or even eliminating it) would be a great step, as would opening up Maryland to fracking, promoting technical and vocational education as part of an overall broad "money follows the child" educational reform, and dumping inefficient light rail boondoggles like the Purple Line and Red Line in favor of creating alternative routes for through trucks, another Bay crossing from southern Maryland to the lower Shore, and upgrading the U.S. 13 corridor through Delaware – these are all worthy ideas for real investment.
Those who vote for manufacturing should keep that platform in mind when those candidates get to Annapolis and Washington.
Most newspapers will use their Sunday edition before the election to either make the most key endorsement, such as for governor or president, or summarize their endorsements into a ballot guide for voters.
I'm not a newspaper, but I have a news source. And I'm urging you (all of you, including the ten friends you drag to the polls) to march right into that ballot box, look for every Republican name on it, and check that box right next to it – making sure, of course, that the ballot summary agrees with your steady diet of Republicans and doesn't show a "calibration error."
Let's begin from the top. Does this state really need a third term of Martin O'Malley? Thought not.
I will grant that Larry Hogan wasn't my first – or second – choice for the GOP nomination, but I also have to admit as well he has run about as good of a campaign as a Republican can run statewide in Maryland and picked up national attention for it. Yes, I would like him to be stronger on the Second Amendment and I cringed when I heard him say no to addressing social issues, but the overall electorate in this state is still conditioned to believe that there's a right to privacy and gay marriage is no big deal. They need a little work yet. Let's at least get someone who won't be completely hostile to those interests like Anthony Brown would be.
(And yes, I hear the Libertarians caterwauling in the corner. When you get to double-digits with a candidate, we'll talk.)
Actually, though, I must say some bloggers have a point about the Libertarian candidate for AG, Leo Dymowski. But the election is about more than the failed "war on drugs" – although I agree with that particular assessment, I would also like the AG to fight on other issues. Unfortunately, the late start Republican Jeffrey Pritzker got means the chances are good that we'll have to endure four years of gun-grabbing Brian Frosh; however, every vote counts and stranger things have happened.
For 2018, though, I think a county-level State's Attorney needs to make that step up. It's something Matt Maciarello should consider.
And we have a more than qualified Comptroller candidate in William Campbell. My main mission in two festivals was, every time I came across a Maryland voter from outside our county, to push the candidacy of one Bill Campbell. Everyone knew who Larry Hogan was but not enough knew of this fine gentleman. If Maryland voters have a clue they will choose Campbell.
And then we have local races. Frankly, I'm not too worried about Andy Harris although it would be helpful for Sixth District voters to add Dan Bongino to the GOP roster at the federal level. But there's a lot at stake on the General Assembly front.
Try as we might, we had to concede the District 37A seat for this term to Sheree Sample-Hughes. If she gets more than single digits on the monoblogue Accountability Project I will be shocked. Otherwise in District 37, you know its a conservative district when even one of the Democrats is running on a platform of lower taxes and less government. But why have conservative-lite when the real thing is attainable?
Even if we sweep those three District 37 seats, though, we don't really gain anything because three of the four representatives are already Republican. But in District 38 we can reclaim the Senate seat lost in 2010 to a liberal Democrat and take over a seat in the House of Delegates to bring us closer to that magic number of 47, where, as I understand it, we can work around Democrat-controlled committees. (A Hogan win may make that necessary more often.) Aside from that splotch of blue in our county we can work on for 2018, I'd like the Eastern Shore painted red, gaining the one Senate seat and one House seat we can contribute to the GOP effort statewide.
And then we have Wicomico County, which needs a strong leader in Bob Culver. We've done eight years with the affable bureaucrat Rick Pollitt, but those eight years have seen our county backslide economically. We can blame the national economy to some extent, but other surrounding counties seem to be succeeding – so why haven't we?
Unfortunately, the problem Culver has is that two of the Republicans who will likely be on County Council are already stabbing him in the back. With one Democrat assured of victory in Council District 1, it makes the County Council races very important. We know District 5′s Joe Holloway is a conservative who will win and Marc Kilmer in District 2 has an excellent chance to join him, but the John Cannon vs. Laura Mitchell race is a key along with Larry Dodd vs. Josh Hastings in District 3. Both Democrats are trying to convince voters they'll be fiscal hawks, but don't be fooled. We need the 6-1 Republican majority to have a potential 4-3 conservative majority behind Bob as he tries to right the ship. Finding good local candidates is a priority for 2018 as well.
As for the issues on the ballot, I've already urged a vote AGAINST Question 1 because it's a weak excuse for a lockbox and Maryland taxpayers deserve better: send it packing and insist on a 3/4 majority provision to be voted on in 2016. On Question 2, I think on balance it's a good idea but it will also demand vigilance, as Election Integrity Maryland's Cathy Kelleher points out in a Sun editorial opposing the question.
Lastly, I must say this is the time for conservative voters to shine. The fact that early voting had as many Republicans as Democrats by percentage statewide and by raw numbers on the Lower Shore (despite a registration disadvantage of about 10 percent) indicates the GOP is more keenly interested in this election. But I want to run a few numbers, with the photo below telling the tale.
For this exercise, I used the voter proportions illustrated in the recent Gonzales Research poll, which is probably a fairly realistic model. I assumed undecided voters would remain in proportion with their trend (as opposed to breaking for the challenger) and left 1% for other candidates, write-ins, etc. (I also didn't figure in the 50,000 or so registered to minor parties – if they vote they'll not influence the result significantly.)
The sheet on the left is my calculations using a Bob Ehrlich Republican turnout from 2002, 68% of Republicans.
The sheet on the right is the same calculations for Democrats and the unaffiliated, but assuming a turnout like we saw in the Presidential election two years ago, when 78% of Republicans came out – even though Maryland was considered a lost cause for Mitt Romney.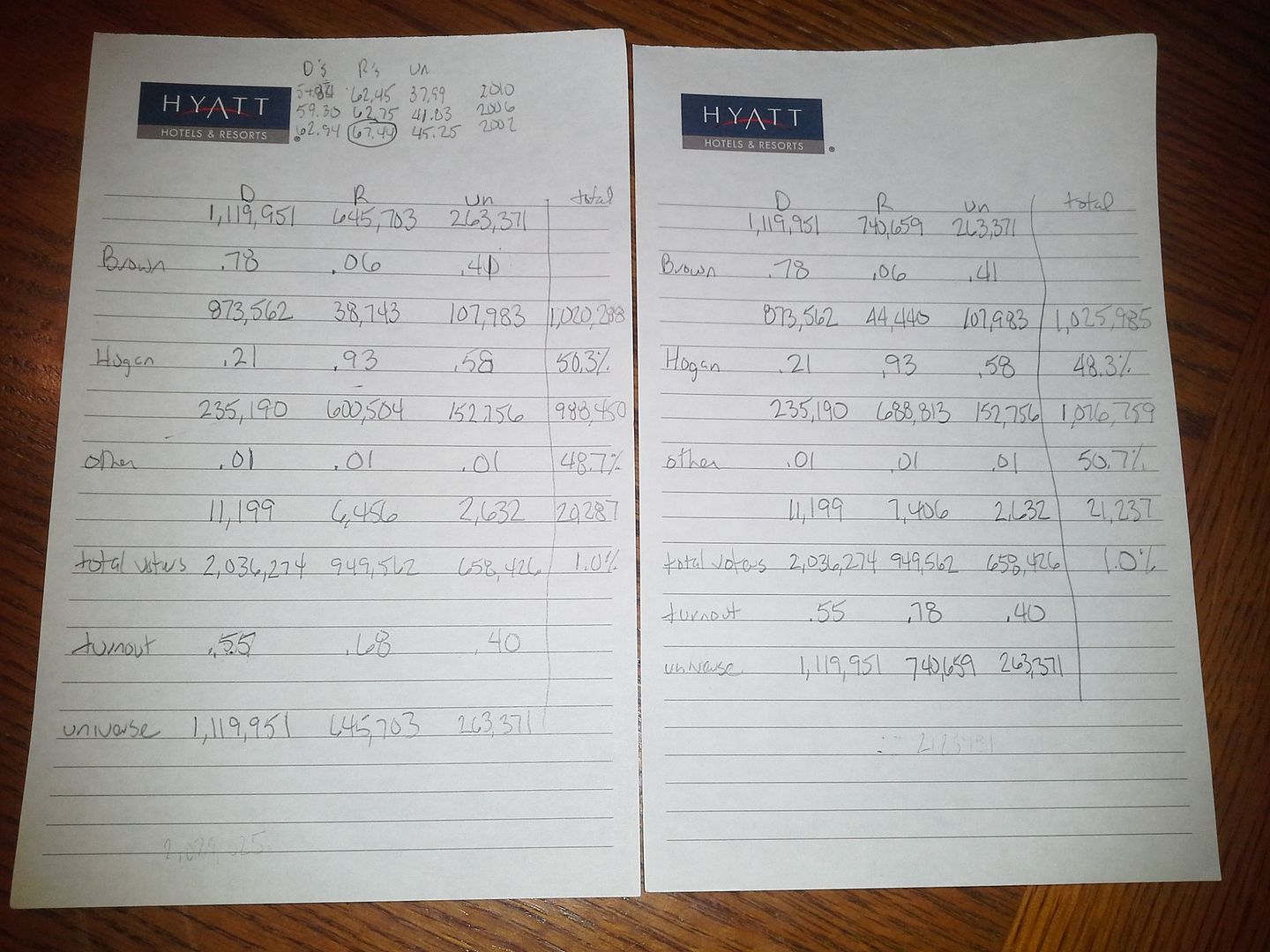 Indeed, we turn from crushing disappointment to "winner, winner, chicken dinner" simply by getting an extra 1 in 10 Republicans to turn out.
If Republicans turned out like that for an election which was an almost foregone conclusion in this state, hopefully this simple calculation will provide the incentive to Maryland Republicans to come out in a gubernatorial election where they have a shot to sneak away with a close victory!
Early voting numbers were encouraging, but Tuesday it will be time to finish the job.
Update: Hey, I missed a key set of races. It's not a partisan race, but M.J. Caldwell is a far more qualified jurist than the guy Martin O'Malley picked based on his last name. And speaking of O'Malley picks, there are two others on our ballot who we can remove from office and perhaps allow for the first crop of Larry Hogan appointees. So vote "no" on continuance in office for Kevin Arthur and Andrea Leahy.