We don't always hold a meeting in July, but since it is an election year and we like to give candidates a chance to update us on their platform, the Wicomico County Republican Club heard from the guy who predicted "I'm going to be your next County Executive."
Obviously the voters will have their say on this in November, but Bob Culver laid out a compelling case for himself once we got through the usual business of the Lord's Prayer, Pledge of Allegiance, and introduction of distinguished guests. The latter list was somewhat shorter now that the primary is over. We also heard the Treasurer's report and got a quick update from our President Jackie Wellfonder.
Welffonder revealed that "we do have a headquarters, finally." Once the building is turned over for our use and a few minor modifications made in the way of utilities, we should be up and running soon. It's the former Mister Paul's Legacy on North Salisbury Boulevard.
She also introduced the man who would be running the headquarters, David Warren. In this cycle he's done work for the Ron George and David Brinkley campaigns, but instead of taking up an offer to go back to the Midwest (he worked for the RNC in Youngstown, Ohio in the 2012 election and had an offer to go work in Michigan this time) he came here because "I view this as a huge opportunity…(District) 38 is a very winnable district." He was also complementary to Jackie, citing her as "one of the reasons I stayed."
Wellfonder, for her part, called Warren "an asset to us because of his experience."
We then turned the meeting over to Culver, who vowed to "bring back a government you can trust…government needs to work for you."
If elected, his missions would be to sustain and diversify our local economy, improve workforce training and skills while recruiting within Maryland for new employers, and insuring the proper infrastructure – not just physical infrastructure, but including the environment and education as well. He also noted that our community is judged by how they take care of the elderly and less fortunate. And, as music to my ears, he wanted County Council to send him a proposal for an elected school board he could sign on to.
But while he won't necessarily clean house, he did want to do things differently in various county departments. He would work more closely with Council on the budget, though, and try to change the "sense of entitlement" in certain quarters of government. Culver also promised to work toward a term limit for County Executive, believing two terms was plenty.
In Dave Parker's absence, I read a Central Committee report he submitted. It talked at length about the upcoming Allen West Patriot's Dinner on September 27, although we were also trying to work with the state on a Super Saturday the week before or after.
With fewer candidates because the primary weeded many of them out, we only had a few updates. A common theme was their door-knocking as most were getting out in the community. We heard from Circuit Court Judge candidate M.J. Caldwell, County Councilman Joe Holloway from District 5, County Council District 2 hopeful Marc Kilmer, County Council District 3 candidate Larry Dodd, and Delmar Mayor and Delegate aspirant Carl Anderton, Jr.
Another concern raised by some was how some opponents will get outside financial support, even on a more local level.
Tom Taylor brought up that candidates can take advantage of PAC-14, the local cable access channel, and discuss issues with host Phil Tilghman.
Shawn Jester mentioned some recent events Andy Harris was involved in, including the District of Columbia marijuana controversy and the Eastern Shore boycott that "fizzled out" as well as the possibility of housing illegal aliens in Westminster, which won't happen. Harris also sponsored a well-attended event in Worcester County dealing with emergency preparedness.
Plans for the Crab Feast were moving along, but more volunteers were sought, said Joe Ollinger. The event will be held September 6 at Schumaker Pond.
With that and the reminder we next meet August 25, we broke into our usual post-game kibitzing. Most of the people stick around for that, so when you consider we have a pre-event social time at Cellar Door Tavern and linger for awhile afterward, it makes for a full evening. Those who are Wicomico County Republicans and want to get engaged in the local political scene should make a Monday night of it next time.
I'm not on the Jim Ireton e-mail list, but a friend of mine forwarded this to me. The reference is to a Baltimore Sun editorial which ran on Monday.
From: Jim Ireton <jimiretonformayor@gmail.com>
Date: July 9, 2014 at 1:50:45 PM EDT
To: undisclosed-recipients:;
Subject: You might find this interesting about Andy Harris….

I saw this in today's Baltimore Sun and thought you might find it interesting, too.

http://www.baltimoresun.com/news/opinion/editorial/bs-ed-harris-20140707,0,4748548.story

It concerns his actions against the residents of Washington, D.C.:

"There are several notable elements in this imbroglio. First, anyone who believes that Dr. Harris might change his mind because of a potential economic threat to his district doesn't know Dr. Harris, a man not given to self-doubt or the concerns of others. This is someone who actively fights against efforts by the EPA to reduce pollution flowing into the Chesapeake Bay and to forestall the effects of climate change and rising sea levels, either of which would be far more ruinous to his waterfront district than a mere summer boycott.

More remarkable is that Dr. Harris, a reliable Club For Growth and tea party acolyte who so often preaches against an overbearing federal government, is so proud to have thwarted the will of District residents. The decriminalization measure has the support of 80 percent of the populace, according to a recent poll."

-Jim
It may have been just idle chatter, but at the bottom of the e-mail was the authority line: "Authority: Ireton for Maryland. William C. Duck, Jr., Treasurer." Before Jim can worry about 2016, though, there is the matter of getting through another election in Salisbury; however, at this early stage no opponent for Ireton has stepped forward.
Despite only being the mayor of a relatively small city, Ireton has been attracting notice in progressive Maryland circles. There was the rumor last summer that Doug Gansler had Ireton on his short list for his running mate; he eventually selected Delegate Jolene Ivey. The "Ireton for Maryland" campaign account is still active, although he has filed what are known as ALCEs for the filing deadlines this year, affirming he has neither raised nor spent $1,000 over the preceding periods since his last full filing back in January. At that point Ireton had $1,384.68 in his account, much of that from the transfer of over $2,100 from his mayoral campaign. He supplemented this income with a fundraiser on his behalf last November, spending several hundred dollars on attending and supporting various Maryland political causes and events.
But to make a run against Harris, Ireton would have to open a federal account and no move in that direction has been made.
The entire incident surrounding the Sun editorial centers around an amendment Harris made to the District of Columbia's budget preventing the funding of a measure decriminalizing marijuana. In response, outgoing District mayor Vincent Gray and local advocacy groups called on District residents to boycott the Eastern Shore as a vacation destination. (Judging by some of what I saw on July 4th, the call wasn't heeded.)
To an extent, I actually disagree with Harris. Although it's not a true state's rights issue because the District of Columbia is not a state and depends on Congress to dictate its budget, I would tend to favor allowing them as much local control as possible. Decriminalizing marijuana is not the Constitutional issue that, say, an overly restrictive gun law would be. It doesn't bother me that Maryland did it, and it wouldn't bother me if the District of Columbia did, either. Decriminalization is a somewhat sensible middle ground between the outright ban some states still have and the larger steps taken by Colorado and Washington state. If those two states can find success in accommodating the legal and recreational use of marijuana with the prospect of ill effects from overuse, the idea may spread. If not, the window will close on advocates just like Prohibition did once it was discovered that criminal activity skyrocketed as people willingly ignored the ban.
Yet the Sun doesn't hide its disdain for Andy, either:
House Republicans have long made kicking District government around a veritable sport and, as Del. Eleanor Holmes Norton has observed, often do so to raise their standing among conservatives. And that would be classic Andy Harris — to confidently impose his will on others with a breathtaking level of moral certitude. As a state senator, his one-man crusade against students screening X-rated movies at the University of Maryland College Park five years ago included an unsuccessful effort to tie state funding to the development of a college "porn policy."

In Annapolis, however, Dr. Harris was mostly a preening pest who made sanctimonious speeches on the Senate floor that annoyed even his GOP colleagues. In Washington, he's among enough like-minded right-wing zealots to cause real trouble. Those who make their living in the tourist trade on the Eastern Shore are just collateral damage, victims of a congressman's runaway ego. The self-serving amendment is likely to be tossed out by the Democratically-controlled Senate; a cure for the district's bigger problems can only be achieved by its voters in November.
Actually, the Sun is right in one respect – we can cure many of our district's bigger problems by getting rid of the current Annapolis regime in November, replacing them with people who have respect for our way of life and our values. For that, though, we need cooperation from elsewhere in the state.
But I think the "runaway ego" is exhibited by a newspaper which becomes more shrill as its readership fades away, yet still deigning to exhibit the sheer condescension to posit that Congress can do a thing about climate change and the supposed rise in sea levels which would follow. (Given recent temperature trends, I'd say Harris has a point.) Even if I don't agree with him on this particular issue (as well as a handful of others) I still believe having about 400 carbon copies of Andy Harris in Congress would help turn this country in the right direction.
To be honest, I took these photos on Tuesday intending to add them to my coverage – then promptly forgot and posted it anyway. But it doesn't hurt to have a second look back before moving forward. There's really not going to be a lot of fresh news until after the Independence Day holiday anyway, plus it also proves the adage that every picture tells a story.
So I'm going to lead with this one I also posted to Facebook.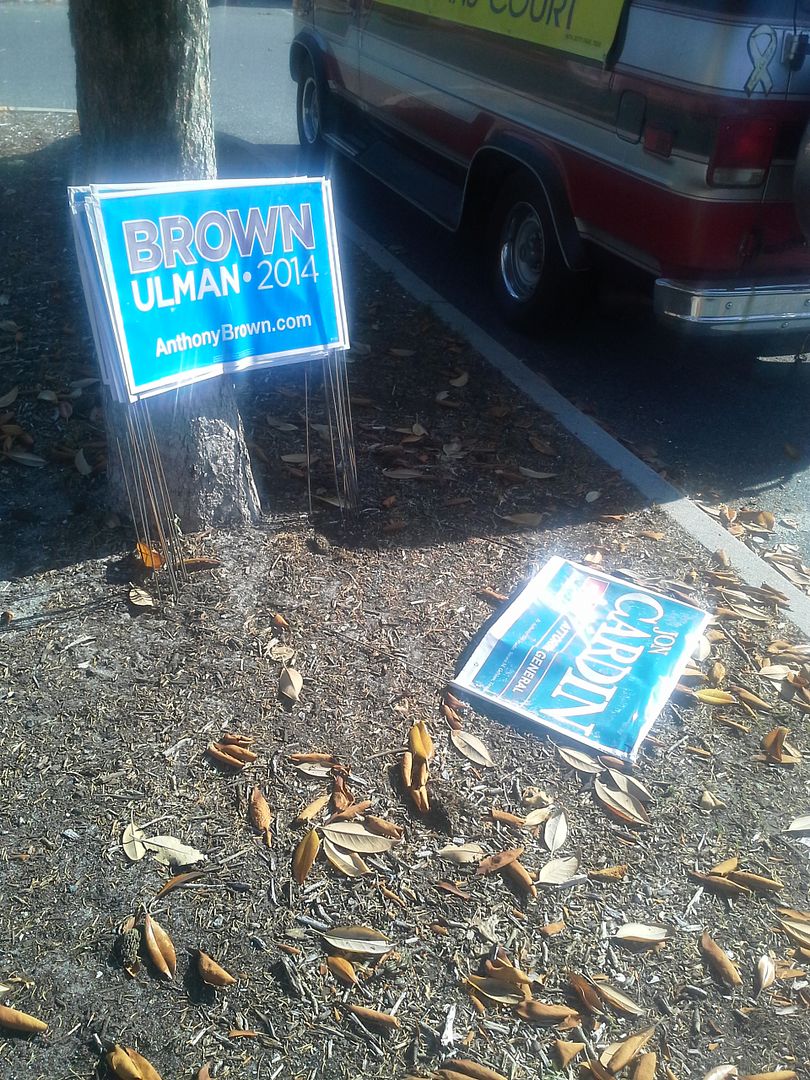 It's interesting to see this pile of Anthony Brown signs, which as I recall were pretty much all of the Brown signs I saw. Now one person suggested that they were originally set within the 100′ limit then relocated against the tree, which is possible – but I doubt it. Instead, my thought was someone left the pile of signs earlier that day or the previous night intending to have the first volunteer at the site place them in the morning – sort of like someone decided to have a insurance exchange website intending to have the thing actually work and not waste millions of dollars.
If you don't get the small details, the large stuff bites you in the ass.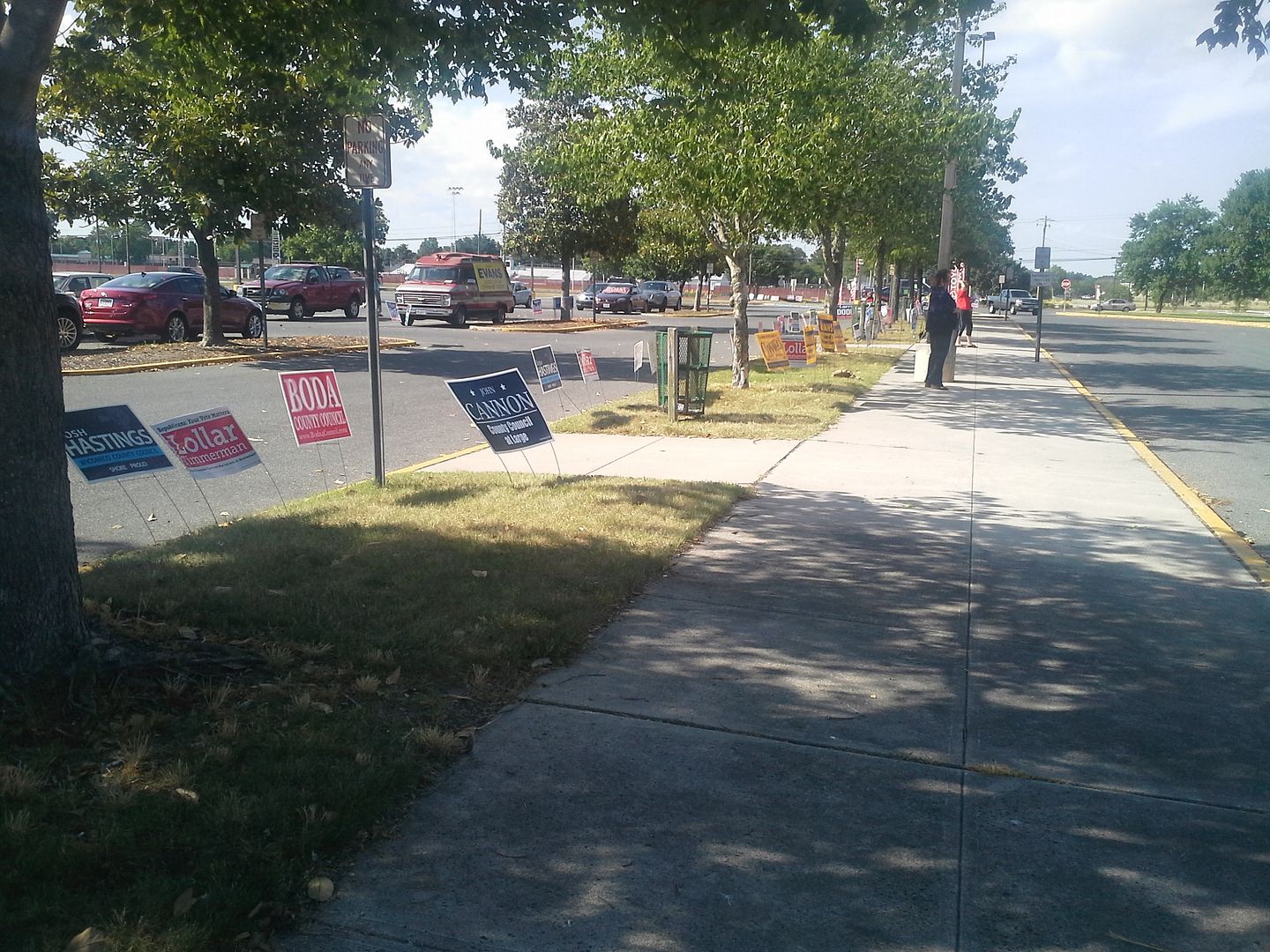 Speaking of signage, I did not count how many signs were out there on the grounds of the Civic Center, but I would suggest the ratio was perilously close to one for every other voter. Interest seemed to be quite low.
I took that picture about 5:00 after I arrived about 4:30. (This was an election day I had to work – I couldn't alter my schedule enough to avoid it.) There were literally three people working the polls when I got there – M.J. Caldwell's wife Pam, a lady representing Circuit Court appointee Jimmy Sarbanes, and Jim Jester, who was doing double duty with an Andy Harris shirt and Mike McDermott sign. This is one of the busier polling places in the county, and only three people were there.
If I saw 100 people vote in the time I was there, it was a lot.
Speaking of M.J. Caldwell, the Republican voters of this county need an education. I would expect about 60-65% of Democrats to blindly support someone named Sarbanes, but 43% of Republicans? Really? Someone selected not on qualifications, but on name recognition by a political hack governor we can't stand? Get real. That has to turn around in November.
Even the news coverage was lackadaisical. Channel 47 did a live remote, but they never came out to talk with us. They probably showed the pictures of an all-but-empty polling place to an audience which can be charitably described as second-best in the market.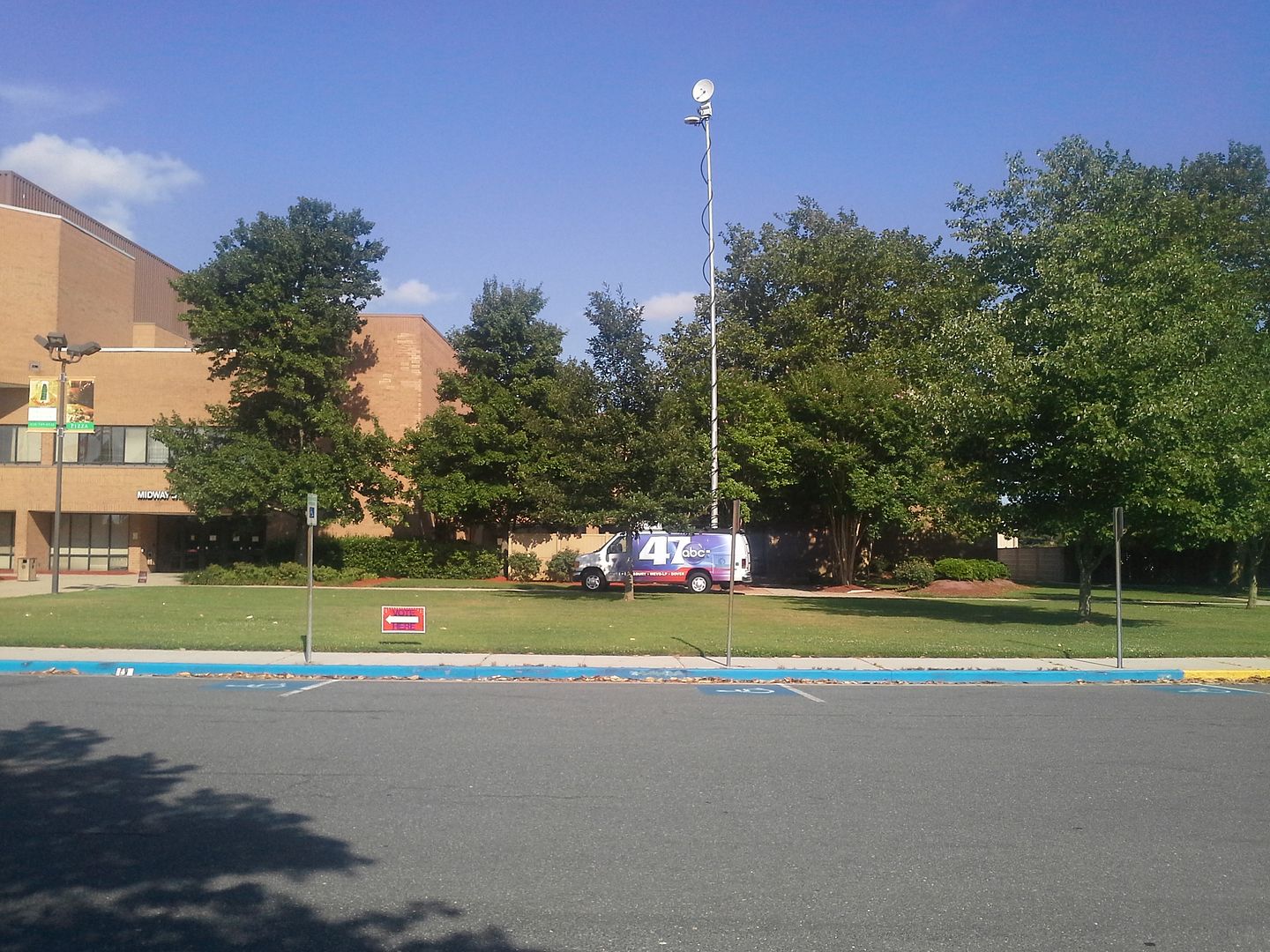 In terms of poll workers, it did pick up after a time. Jackie Wellfonder came along to work this poll.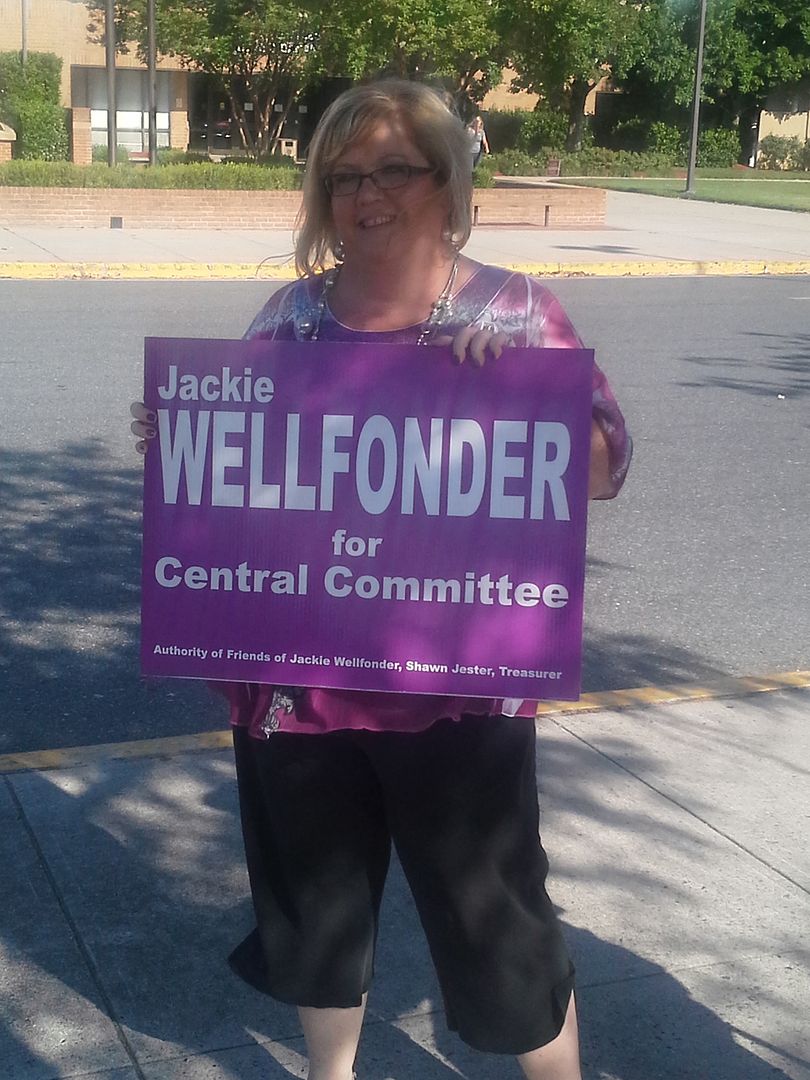 Turned out the face-to-face didn't do either of us much good because we got about the same amount of votes, and that wasn't enough.
Josh Hastings was unopposed in his primary, so all he had to do was await the winner on the GOP side.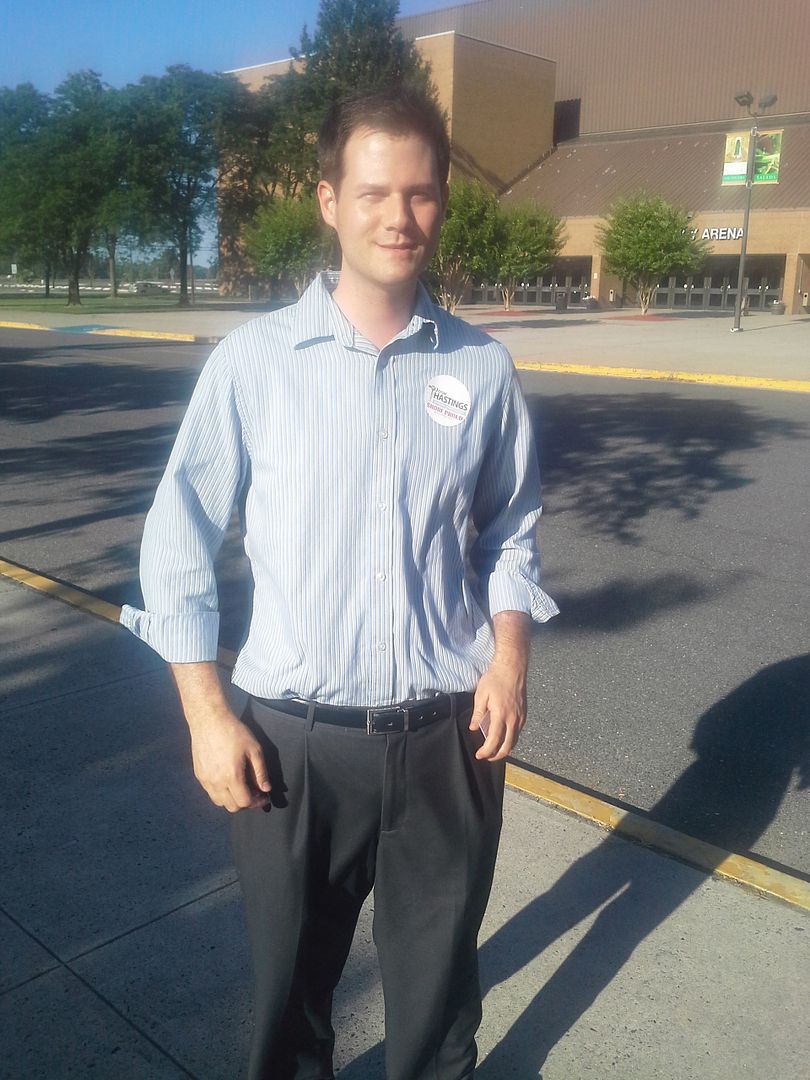 His opponent will be Larry Dodd, who had someone there eventually but he wasn't the social type.
Having worked polls a few times here, I know that after about 7:00 it's pretty well done for the night. So there were a gaggle of people with Hastings who got to talking down the way on the Democratic side, and a few of us for the GOP. It's not like we had voters to convince, as maybe 20 stopped by during the last hour.
At the very end, Carl Anderton dropped by to retrieve his signs as did Jim Mathias. They had a nice conversation, although I didn't get a picture. I was even bipartisan and helped Jim pick up some of the Democrats' signs.
I was in a group which went on to The Cellar Door to check on the returns, but it wasn't really a good night for most of us as you now know.
There were a couple things I learned, though. First and foremost is that Facebook is worthless as a campaign aid unless you want to pay through the nose. Social media isn't really social anymore; it's become commercialized like everything else. I had 60 likes for my Facebook page, which isn't much but it at least gives me insight on how my posts did. (By comparison, Jackie Wellfonder also had a similar page and got 100 likes – but about 60 fewer votes.)
I placed a total of 41 posts on the page, although there was one I shared multiple times. My total reach was 2,718 – it's about 66 per post. Ironically, my best post insofar as Facebook is concerned is the last one I think of as my concession speech, which reached 298 people. A little late, don't you think? But if you figure a good number of those 66 per post see my stuff time after time, it's not all that efficient for the investment.
I didn't have thousands of dollars laying around to get my Facebook page up to 100,000 likes as Change Maryland did, and we only know about the last 30,000 or so because the campaign paid for those – Change Maryland was close to 70,000 when Hogan made it official. So who knows how much he paid for that promotion? More than I had in my pocket.
Anyway, social media isn't really the way to go. But what is?
The second thing I found out is that the public seems to be unmotivated to find out what people really stand for. In race after race, I saw that those who spelled out their platform in the most complete manner lost to those who were a mystery to voters but had name recognition. It also didn't necessarily matter how hard you worked – if John Cannon or Matt Holloway went door-to-door I didn't hear about it, but Muir Boda did and got 18% of the vote to show for it. Tyler Harwood went door-to-door with Greg Belcher (in the same group which at times featured Carl Anderton, Marc Kilmer, and Boda) and finished dead last for Central Committee (Greg was 8th.) Hard work wasn't its own reward, and no good deed went unpunished – or so it seemed. (Nope, Marc corrected me – it was just his lit, not him.)
In short, I'm not sure I did my job very well on a local level. If I have a mission to educate voters, it looks like I have to work a little harder on it – and so I shall. I suppose the one thing about being a lame duck is that I have no election to worry about anymore, so I can speak my mind perhaps a little moreso than political correctness may dictate.
One source of relief is that I have a smaller range of people to keep up with for November. I think we could have done somewhat better coming out of this primary, but at least now I know whose feet I'll have to keep to the fire and who I should be able to count on with a minimum of supervision.
The Maryland Liberty PAC is at it again.
It's funny because I generally agree with these folks, but I can't let their continued leap of logic stand. Here's some of what we know so far:
In 2009, Jeannie Haddaway-Riccio voted in favor of the Greenhouse Gas Emissions Reduction Act of 2009.
A few months later, I wrote in that edition of the monoblogue Accountability Project: "Someday I'm confident that future generations will look back and wonder about the folly of such a bill thinking it would actually impact the climate. In the meantime we have to reduce our emissions to 75% of 2006 levels in eleven years. I know – let's throw out all of the industry and job creation!" Needless to say, I was against the bill.
A couple years later, the Maryland Climate Action Plan was released. This is the document cited by those who insist that Haddaway-Riccio (and others I'll shortly detail) were responsible for the proposed implementation of the VMT.
This is what the Climate Action Plan says about the VMT:
This policy option addresses transportation pricing and travel demand management incentive programs. It also tests the associated potential GHG reduction benefits of alternate funding sources for GHG beneficial programs. These strategies amplify GHG emission reductions from other strategies by supporting Smart Growth, transit, and bike and pedestrian investments. The draft MDOT policy design, developed by the pricing working group in Phase I, considers four strategy areas combined with an education component for state and local officials. (Emphasis mine.)

The detailed definitions of the four strategy areas are listed below:

Maryland motor fuel taxes or VMT fees – There are two primary options for consideration: (1) an increase in the per gallon motor fuel tax consistent with alternatives under consideration by the Blue Ribbon Commission on Maryland Transportation Funding, and (2) establish a GHG emission-based road user fee (or VMT fee) statewide by 2020 in addition to existing motor fuel taxes. Both options would create additional revenue that could be used to fund transportation improvements and systems operations to help meet Maryland GHG reduction goals.
Congestion Pricing and Managed Lanes – Establish as a local pricing option in urban areas that charges motorists more to use a roadway, bridge or tunnel during peak periods, with revenues used to fund transportation improvements and systems operations to help meet Maryland GHG reduction goals.
Parking Impact Fees and Parking Management – Establish parking pricing policies that ensure effective use of urban street space. Provision of off-street parking should be regulated and managed with appropriate impact fees, taxes, incentives, and regulations.
Employer Commute Incentives – Strengthen employer commute incentive programs by increasing marketing and financial and/or tax based incentives for employers, schools, and universities to encourage walking, biking, public transportation usage, carpooling, and teleworking.
The working group noted consisted (according to the report) of people from four groups:
The Working Groups provided technical guidance and included local representation though the participation of the Baltimore Metropolitan Council (BMC), the Metropolitan Washington Council of Governments (MWCOG), Montgomery County and the City of Baltimore.
They met in the early part of 2009, pretty much simultaneously with the bill's debate and passage, but there was no real way of knowing whether the VMT proposal would make the final cut until the report's release two years later.
It's a way of stretching the truth, so I'm curious why those who made a big deal out of Jeannie Haddaway-Riccio voting for the GGRA don't say the same about David Brinkley, Richard Colburn, Barry Glassman, Andy Harris, Susan Aumann, Addie Eckardt, and Steve Schuh. All of them, along with the departed E.J. Pipkin and Richard Weldon, departing Bill Frank, and late Page Elmore, voted for the GGRA. Surprised?
Listen, I still say it was a bad vote. But this is why it pays to do your own homework, and also why one mustn't make the perfect the enemy of the good. The Maryland Liberty PAC had Rand Paul for a recent fundraiser, but did they account for his pro-amnesty stance? Or is the Maryland Liberty PAC now in favor of illegal immigration? (Or, for that matter since Rand is doing a July event for them, is the Maryland GOP itself pro-amnesty?)
It seems to me that's the same sort of stretch MDLPAC and others make when saying Jeannie Haddaway backs a VMT. And of the group of Republicans above, Aumann and Schuh co-sponsored an anti-VMT measure. Does that cleanse them of their previous sins? You can do this with any politician who holds legislative office (as you'll read further in part 2 tomorrow), which is why outsiders can look so temptingly good.
I went and looked at the issues, one by one, to make my decision. It was a measured decision, not made because of hype or because I was a follower of a particular candidate. So while it disappointed me that Haddaway voted this way (which I knew about back in 2009), I took the 20% or so bad with the 80% or so good.
In part 2 tomorrow I will look at another candidate.
For those of you who consider abortion a key campaign issue, it will interest you to know that Maryland Right to Life has endorsed just two area candidates, both Republican and both from District 38. MDRTL endorsed over 60 candidates in Congressional and state races from across Maryland, with all but 5 being Republicans.
The two local candidates passing muster with the pro-life group are District 38 Senate candidate (and current Delegate) Mike McDermott and District 38C candidate Mary Beth Carozza. Considering one of the main goals of MDRTL is…
During each General Assembly, we monitor all legislation and take a position either for or against any proposed bill that may impact on human life. In addition, we work with pro-life legislators to propose bills to protect unborn children and their mothers, as well as other vulnerable members of the human family.
…they obviously want more troops to help fight those battles. Just under half (29 of 62) of those endorsed already serve in the General Assembly or Congress. On the latter front it was no surprise Andy Harris received the MDRTL nod, but so did Dan Bongino and Corrogan Vaughn.
One interesting note was that MRTL endorsed State Senator David Brinkley, who has come under fire from a competing pro-life advocacy group called the Maryland Pro-Life Alliance. His sin was not voting for a long-ago procedural move on a proposed ban on partial-birth abortions.
The MRTL has had a relatively modest agenda in this state, given the fact the deck is stacked so badly against them in the General Assembly, but I think it is possible to get some victories on the pro-life front if the right governor is elected. That modesty extends to the group's political action committee. which only had a balance of $3,899.09 in January and filed an ALCE for the latest reporting period, claiming it neither raised nor spent an amount exceeding $1,000.
But it has a reasonable number of voters who can help in a close election, and last time out the GOP lost some nailbiters. Every little bit helps.
As has often been the case, I am splitting this into two parts. One will come out today and one tomorrow, since the news is of the sort that it will keep. Always leave them wanting more.
Anyway, my traveling companion Dave Parker and I arrived in Bethesda in the pouring rain, and after checking in I retreated to my room with a view…well, sort of I guess.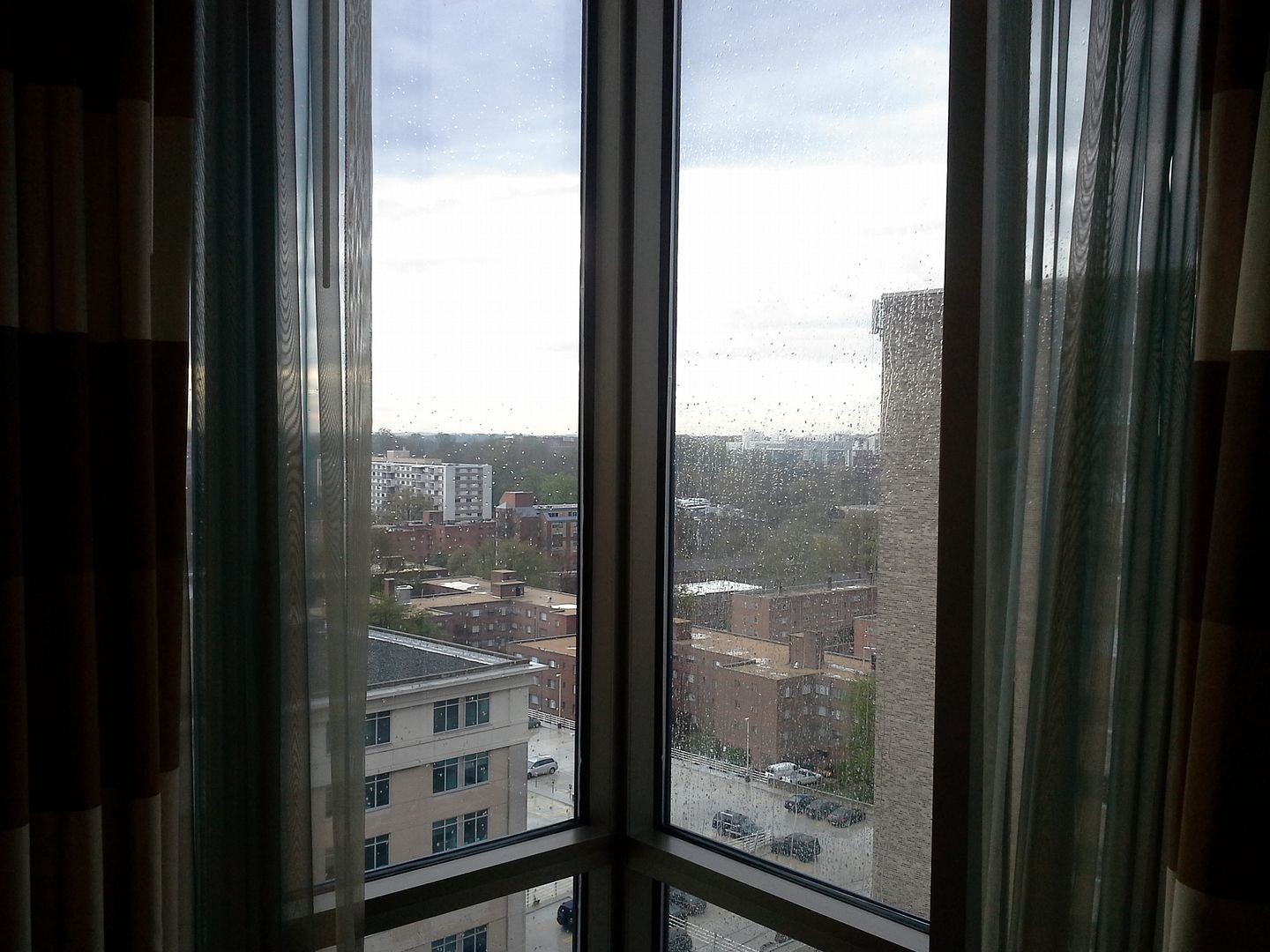 It was almost a three-hour trip, so when I got myself unpacked it was just about time to get registered for the convention and go to the Executive Committee meeting.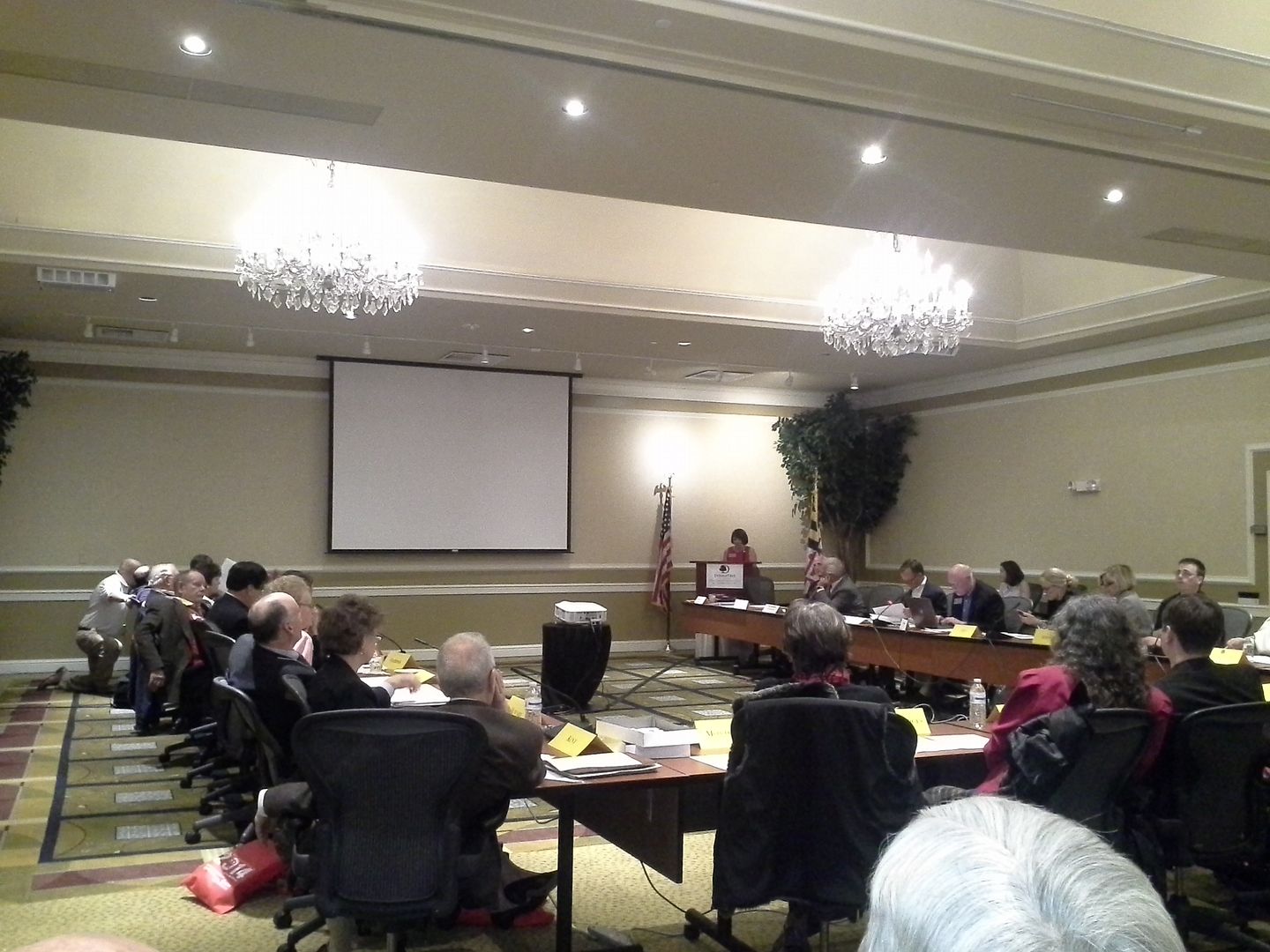 After MDGOP Chair Diana Waterman informed us she was "excited" about filling out the statewide ballot, she began on the subjects she would stress over and over during the event: turnout and unity. We would have had a Republican governor over the last four years if we had turned out our base, said Diana.
We also learned who would be the speaker at the annual Red, White, and Blue Dinner June 19 at Turf Valley. I Tweeted the news:
RWB dinner for #MDReps June 19 – Rep. Trey Gowdy featured speaker.

— Michael Swartz (@monoblogueUS) April 25, 2014
Diana then introduced party executive director Joe Cluster, who remarked "this state is tired of Martin O'Malley and Barack Obama," based on their approval numbers sagging below 50 percent. He also predicted that, "incumbent Republicans will do very well in this election." It was the "chance of a lifetime to really put a dent in the Democrats," Cluster added. While the Treasurer's Report was its usual depressing self, we were doing slightly better than expected on fundraising. It's no secret the party is still carrying some debt, though. Waterman added that members could help by participating in the Old Line Club, where people could pledge as little as $8.25 a month to assist the party.
Diana also announced that there would be no open primary committee business on this convention agenda – we would address it after the 2014 election. She also announced the state Board of Elections denied a bid for online absentee ballots and same-day registration.
Cluster returned to the microphone later to talk about Andy Harris being "very supportive of the party" and began to speak about him not having a credible opponent. But Waterman cautioned that she would have a "very frank discussion" if Central Committees acted in a manner backing one contender over others. "We do not take favorites" in the primary, Diana warned. It was fine for individual members to do so, depending on local bylaws, but this cannot be done as a committee unless there's only one contender. "I'd much rather have one candidate in every race," she added, but conceded this wasn't always possible.
We also discussed the proposed bylaw amendment for regional chairs and conventions. It was not recommended for approval by the Bylaws Committee, who held a conference call on it, but sponsor Kevin Waterman planned to bring it up from the floor. And while Diana Waterman believed it was "vitally important" to have regional chairs, the Bylaws Committee considered it a "distraction." One county chair remarked, "if there was a call for (regional conventions), we would already do it." Most of us already knew it was Diana's birthday, but a surprise awaited as I Tweeted:
We get a cake for Executive Committee – it's @DianaWaterman's birthday.

— Michael Swartz (@monoblogueUS) April 25, 2014
That pretty much marked the end of the open part of the meeting, as a brief closed session was held – it took place while I wandered one floor down to check this out.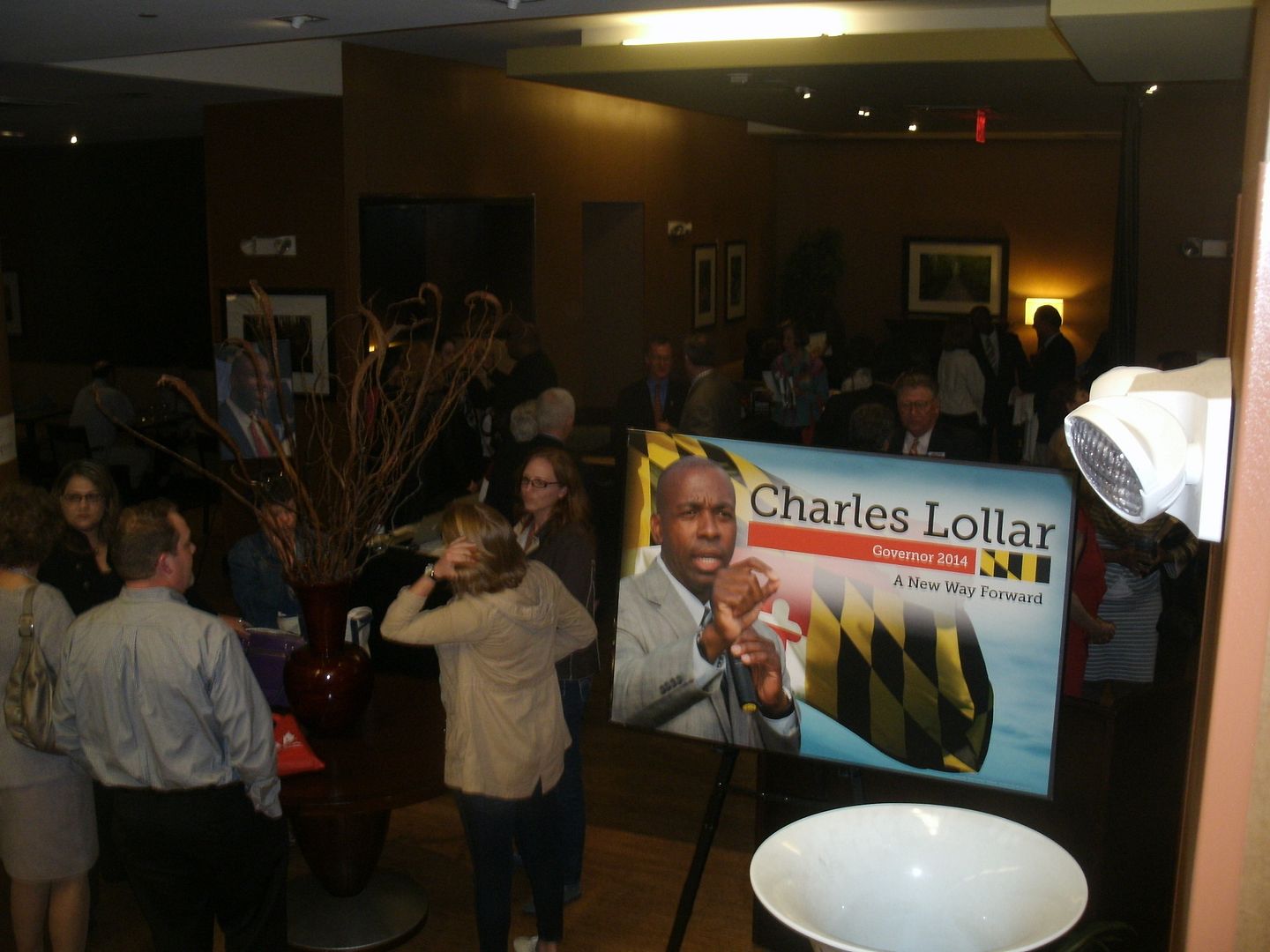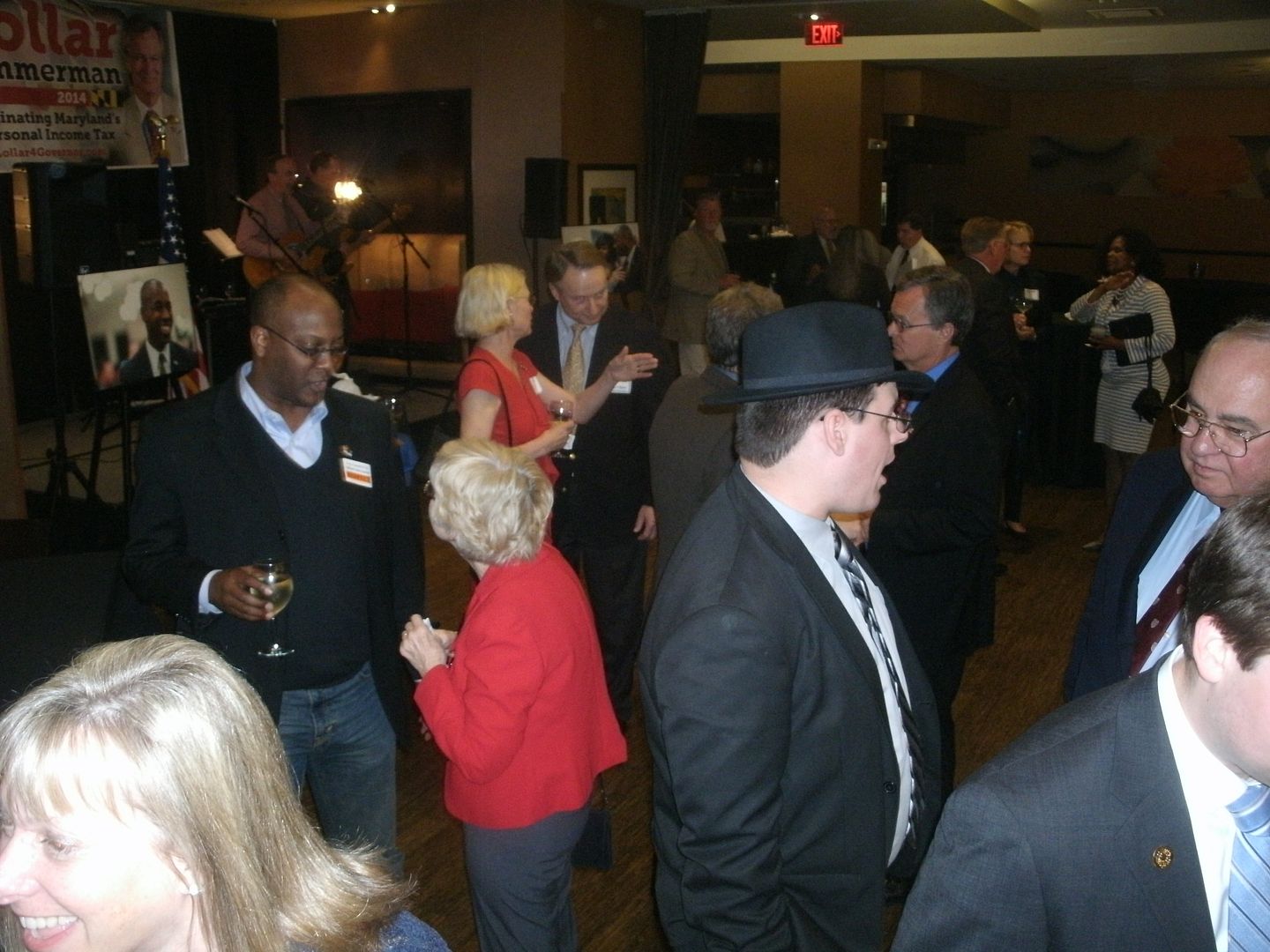 They even had a two-piece band for entertainment, mostly classic rock from what I could hear.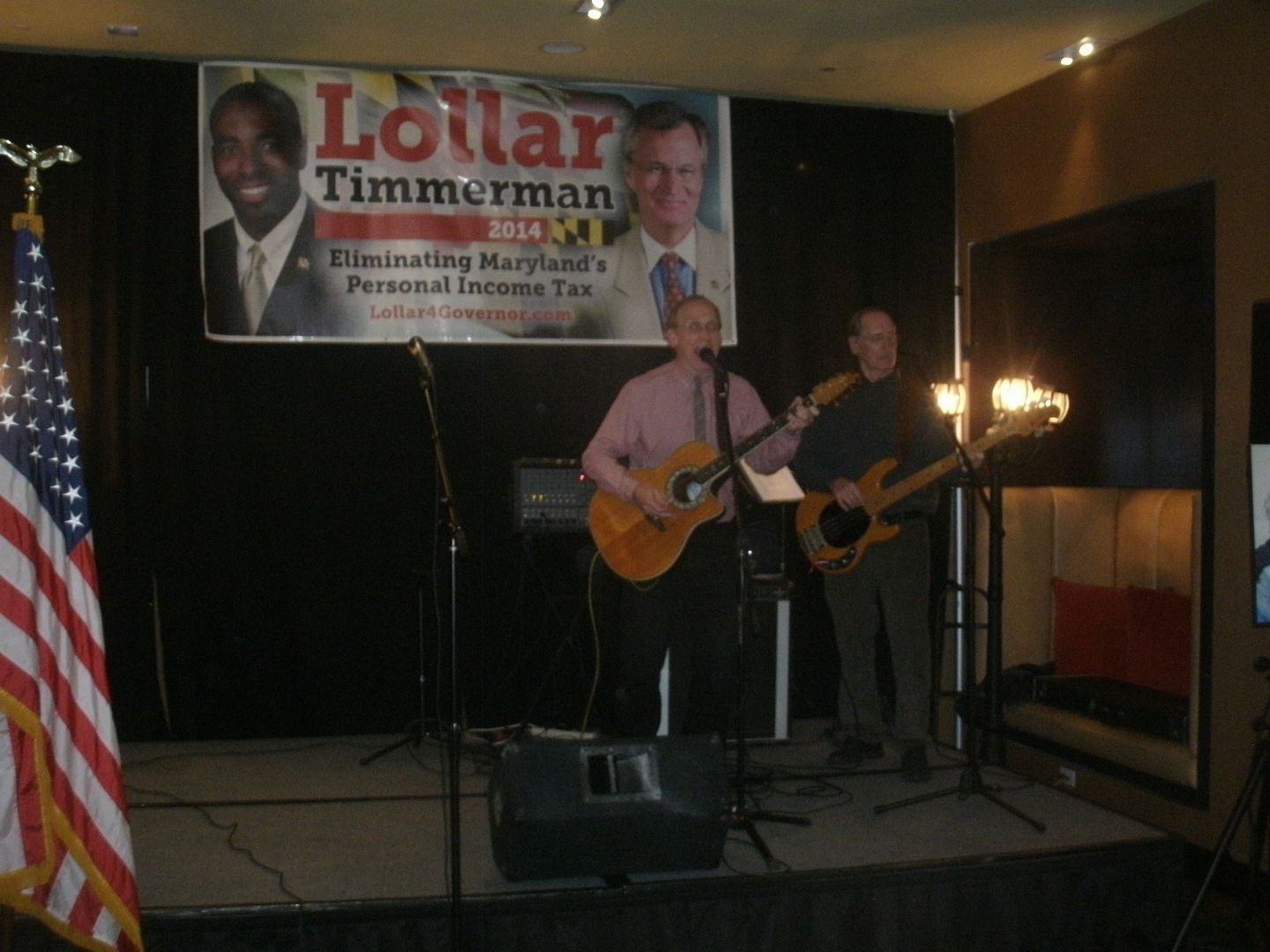 I actually meant to take this photo of Charles Lollar hanging in the back meeting with campaign staffers, but it evolved into a conversation about engaging voters on the other side of the aisle after I noted he looked a little tired. You be the judge.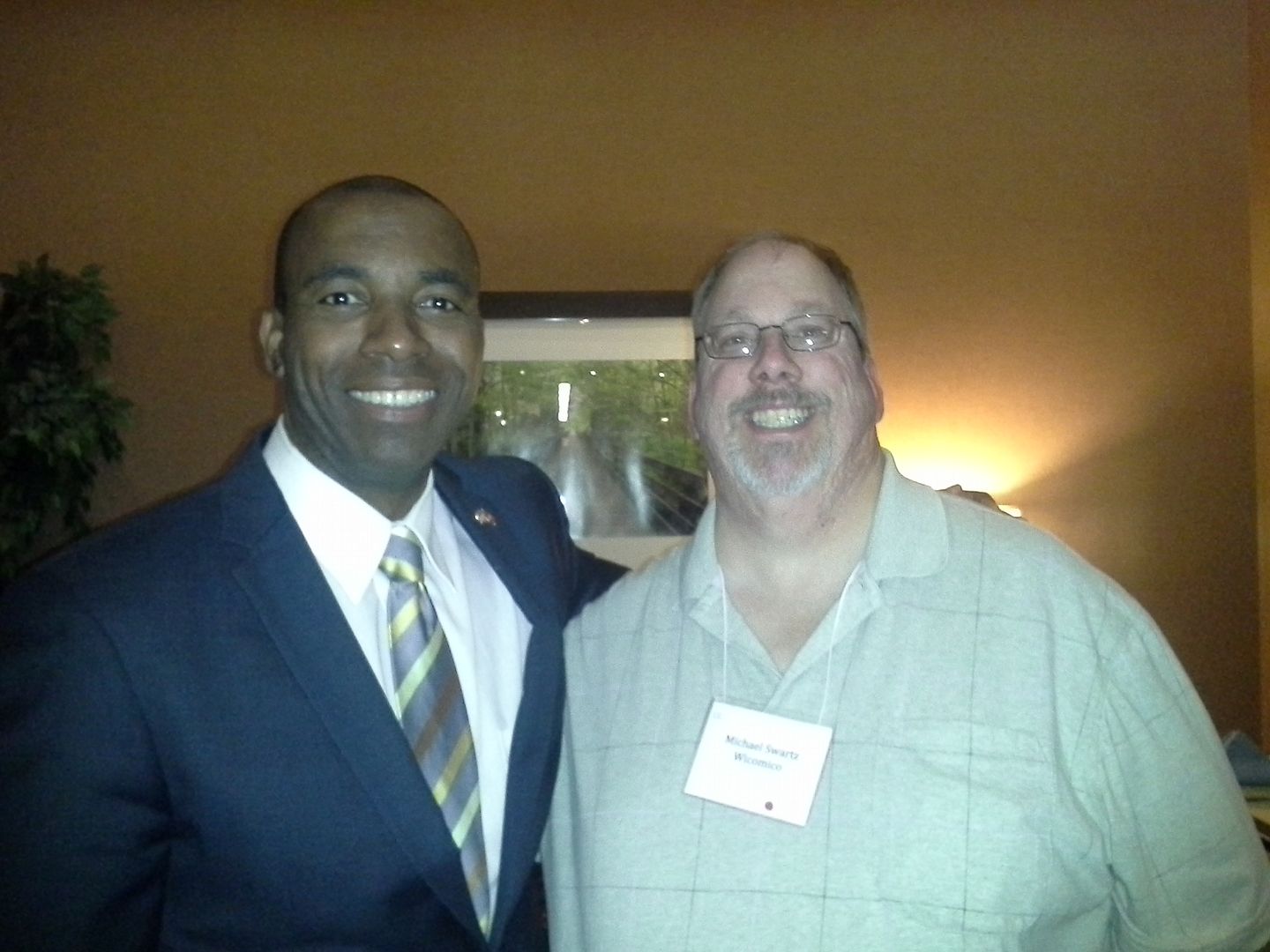 Charles told me he considered the event a success, and it was a lively affair while it lasted.
But before I went upstairs to see what else was up, I ran into another statewide candidate.
Not literally, of course – since Shelley Aloi is a karate expert that may be a sure way to get hurt. I just figured it was one way to document who was there among statewide candidates. (If you look closely at the second Lollar photo you'll see his running mate Ken Timmerman and Comptroller candidate Bill Campbell also enjoying themselves, so they are covered.)
There were a number of interesting vendors in the lobby.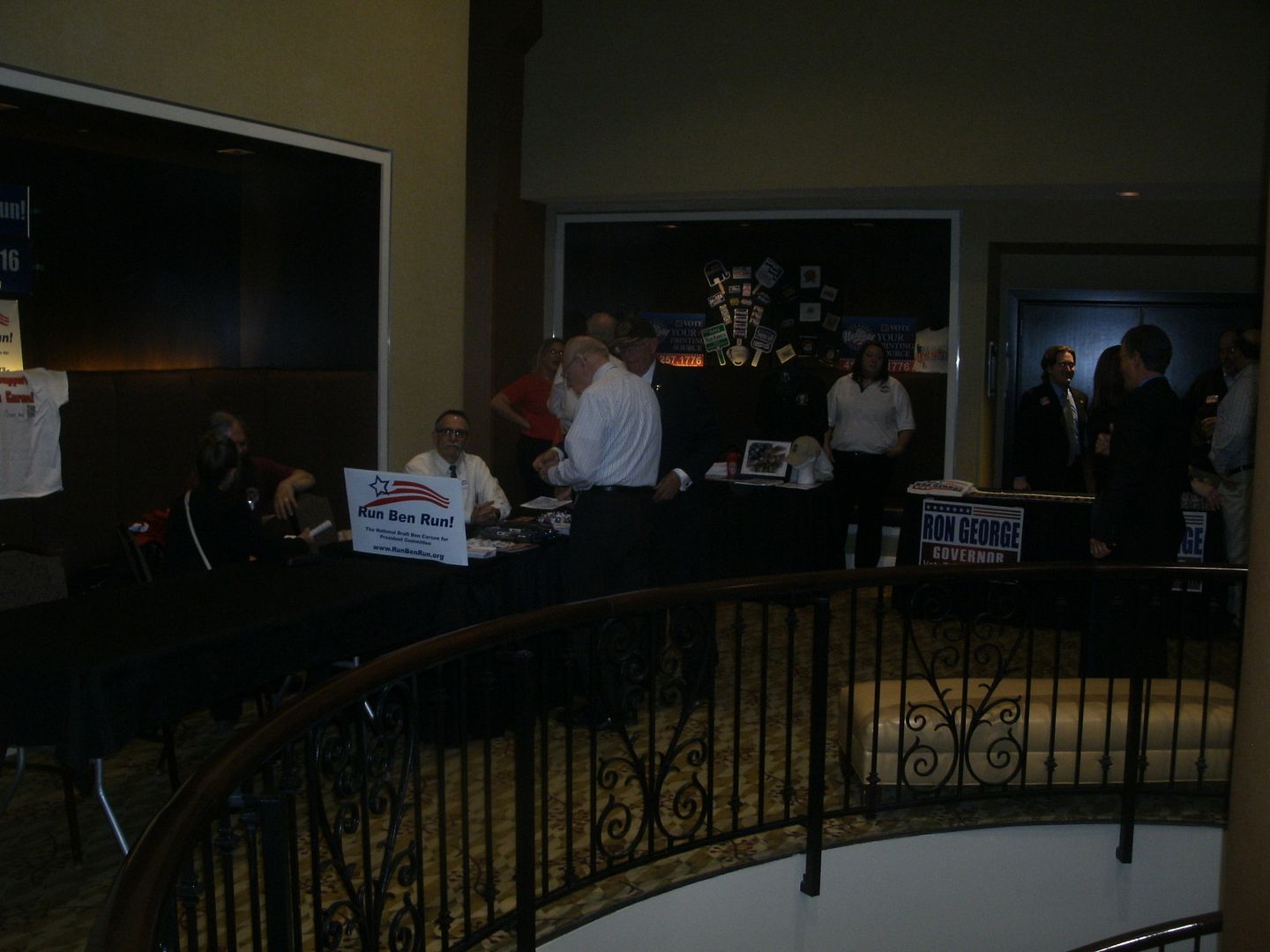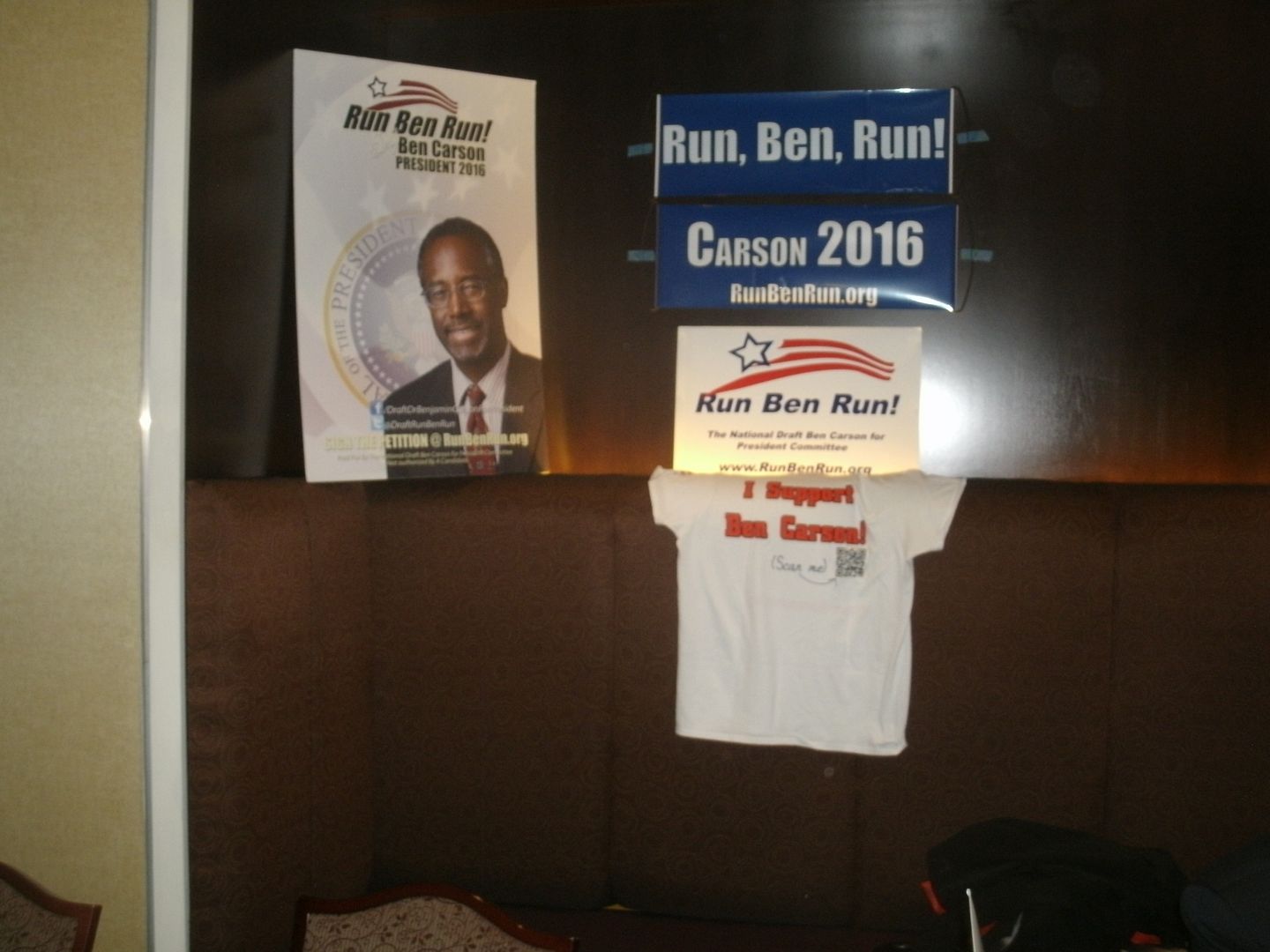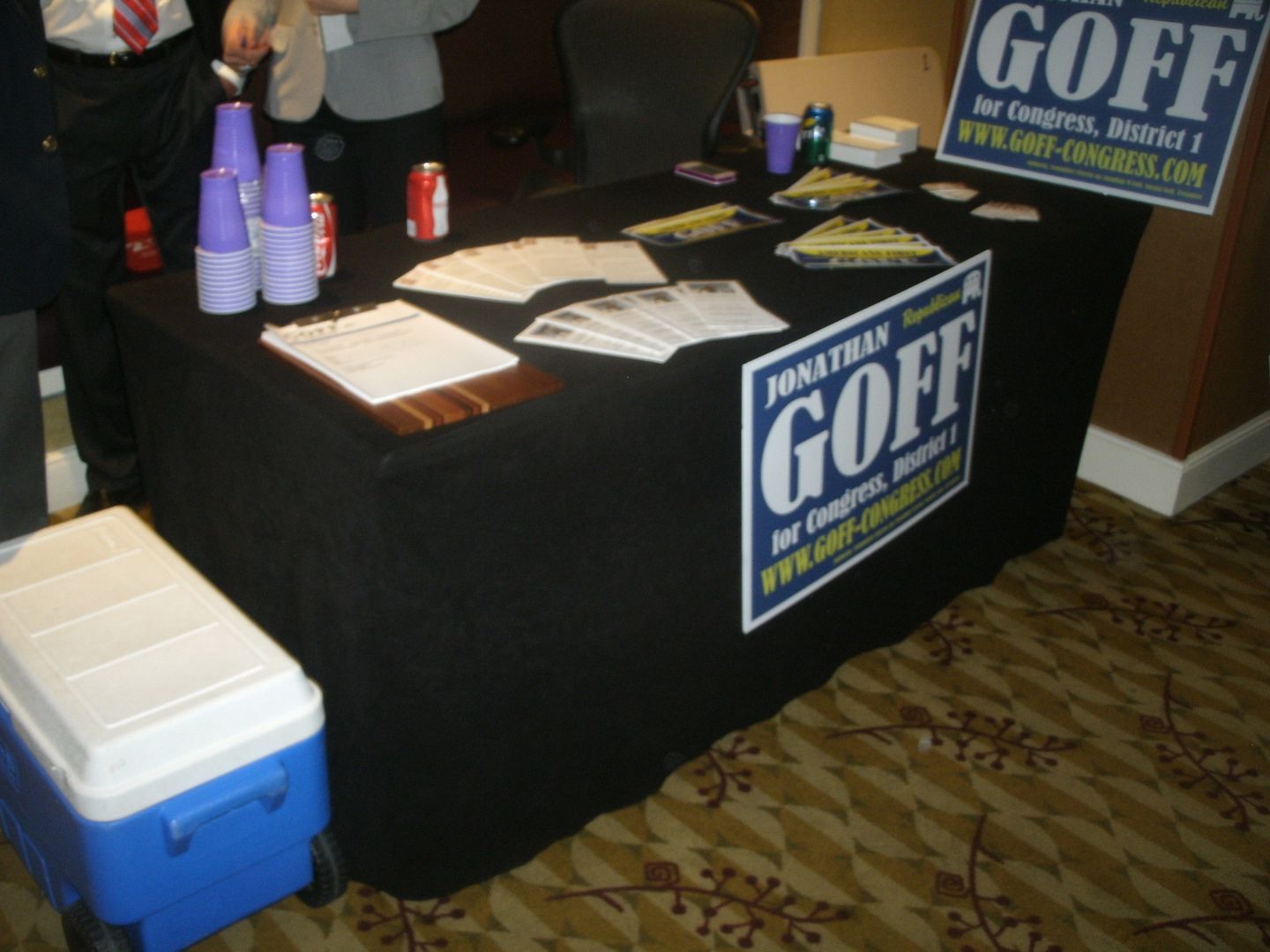 As you might be able to see, there were the usual campaign-related sellers there, but there was also a table of supporters for a draft Dr. Ben Carson for president movement as well as a table for First District Congressional candidate Jonathan Goff, who is running against the aforementioned Andy Harris for the nomination.
I also realized that the Maryland Liberty Caucus was holding their own party down the hall, although it appeared to be winding down as I arrived.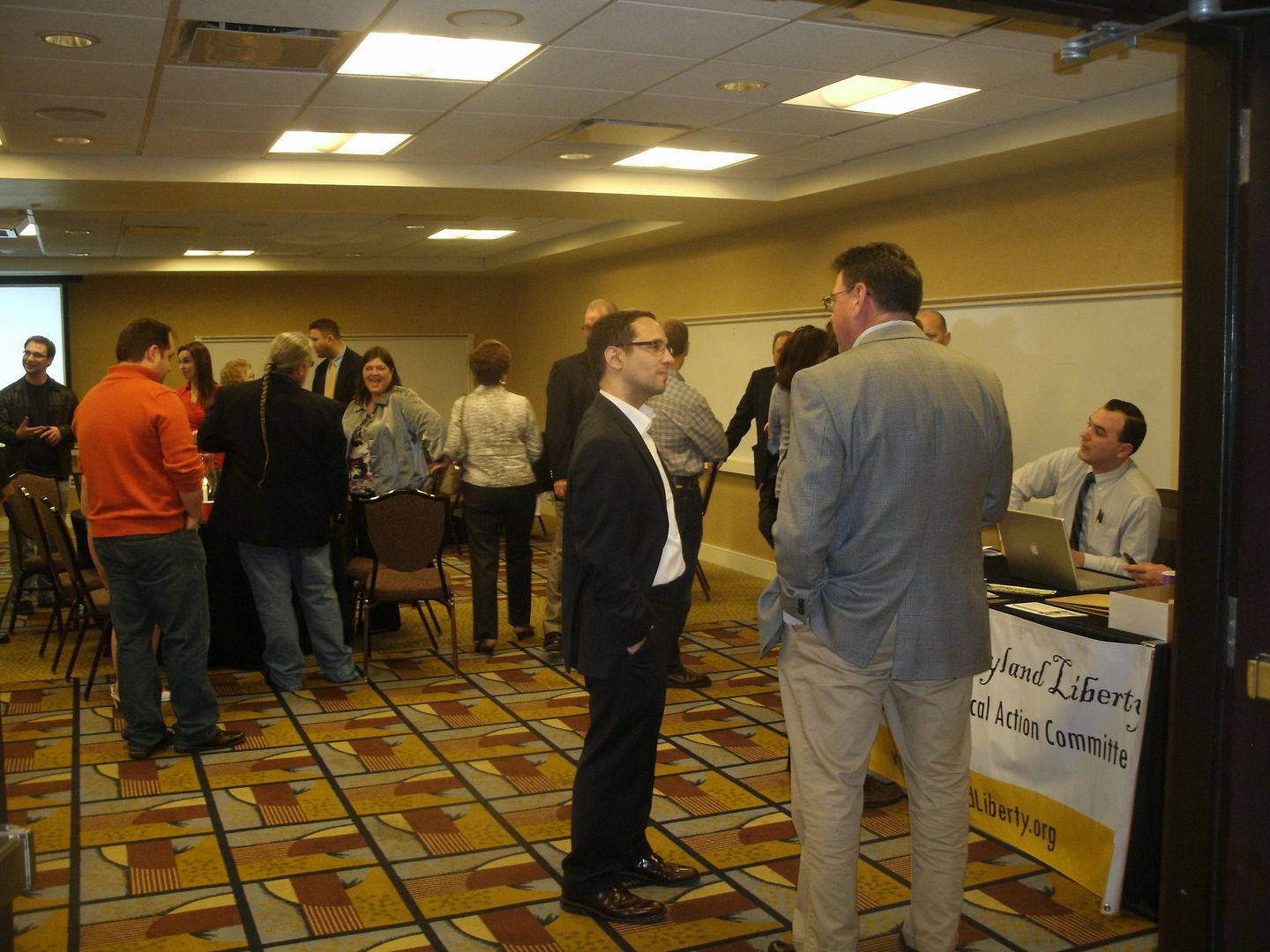 Yet there still seems to be a strong pro-liberty streak in our party.
So I finally went upstairs and decided to work my way up, which led me to find this in the elevator.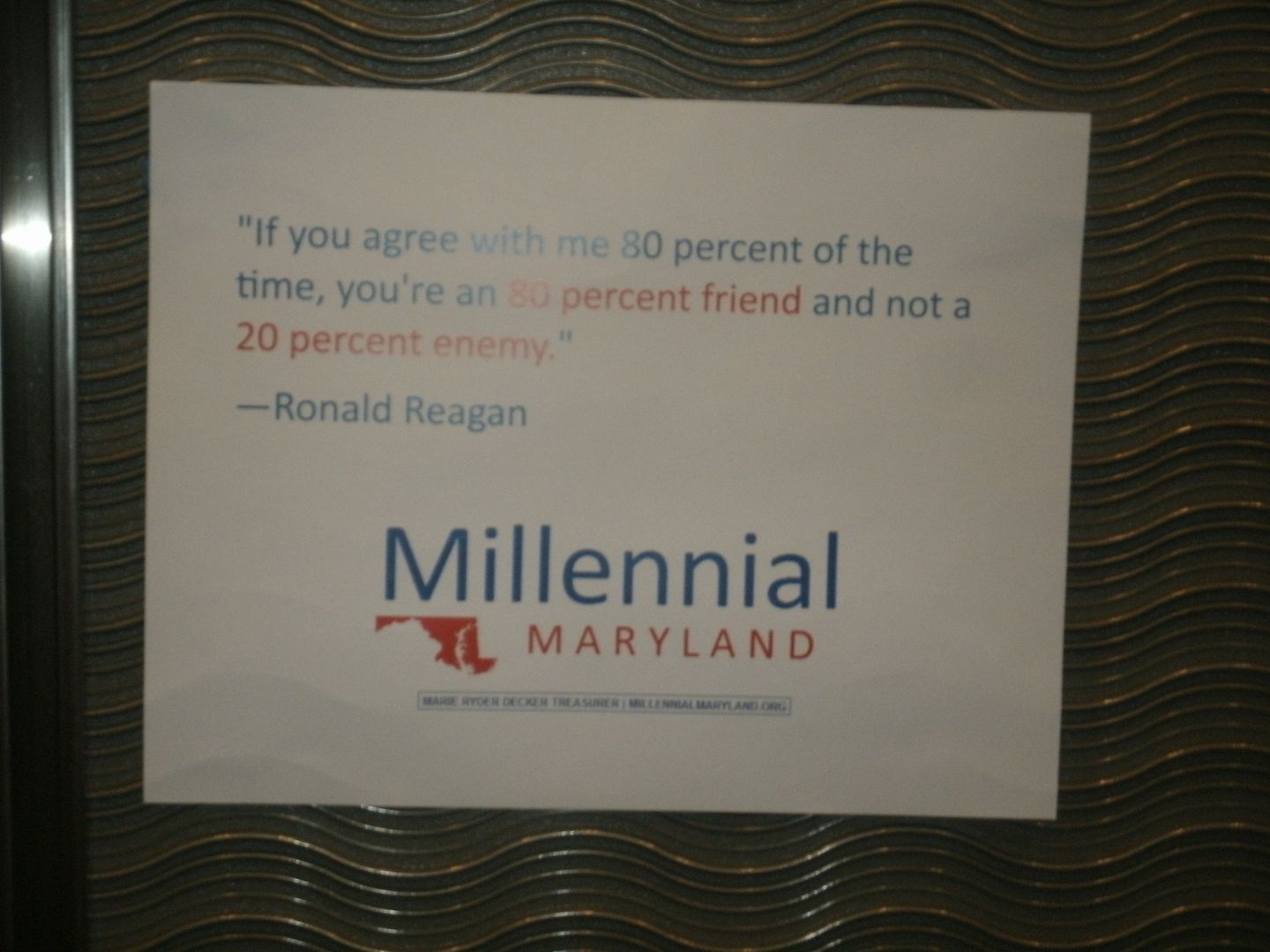 On Saturday, we all found a handout at our chairs detailing what Millennial Maryland really stood for:
We represent all Republicans, the old-white-straight-Christian males, and, well, all the others. We're here to show that Republicans are listening to gays, to immigrants, to black and Latino Americans, to those concerned about the environment, education, and the poor. We represent the GOP in all its diversity, and while we may be more moderate at times than some, we would never advocate excluding someone for disagreeing with us. We're here to make the tent bigger, more diverse, and more electable.
Judge for yourself whether that would be the case. Onetime MDGOP Chair candidate Mike Esteve is the head of this group.
My first stop after getting off the elevator was the MoCo suite. Very crowded.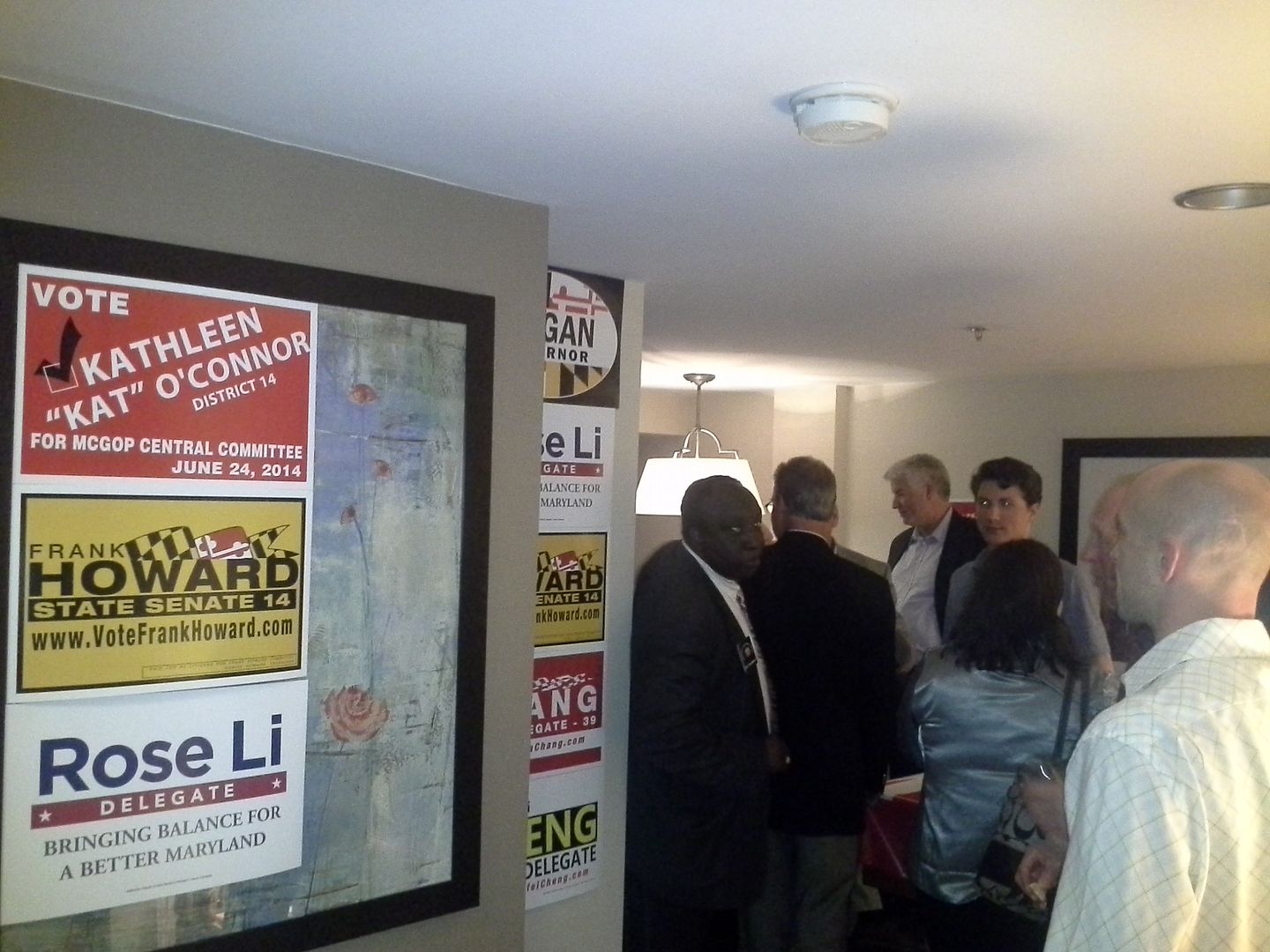 So I went up two floors to find an equally lively David Craig suite.
@DavidCraig2014 has the lively space right now since @Charles_Lollar shut down for the night. #MDReps

— Michael Swartz (@monoblogueUS) April 26, 2014
But in the back corner I found Lieutenant Governor candidate Jeannie Haddaway and a man seeking to replace her, Dr. Rene Desmarais, having an enlightening discussion.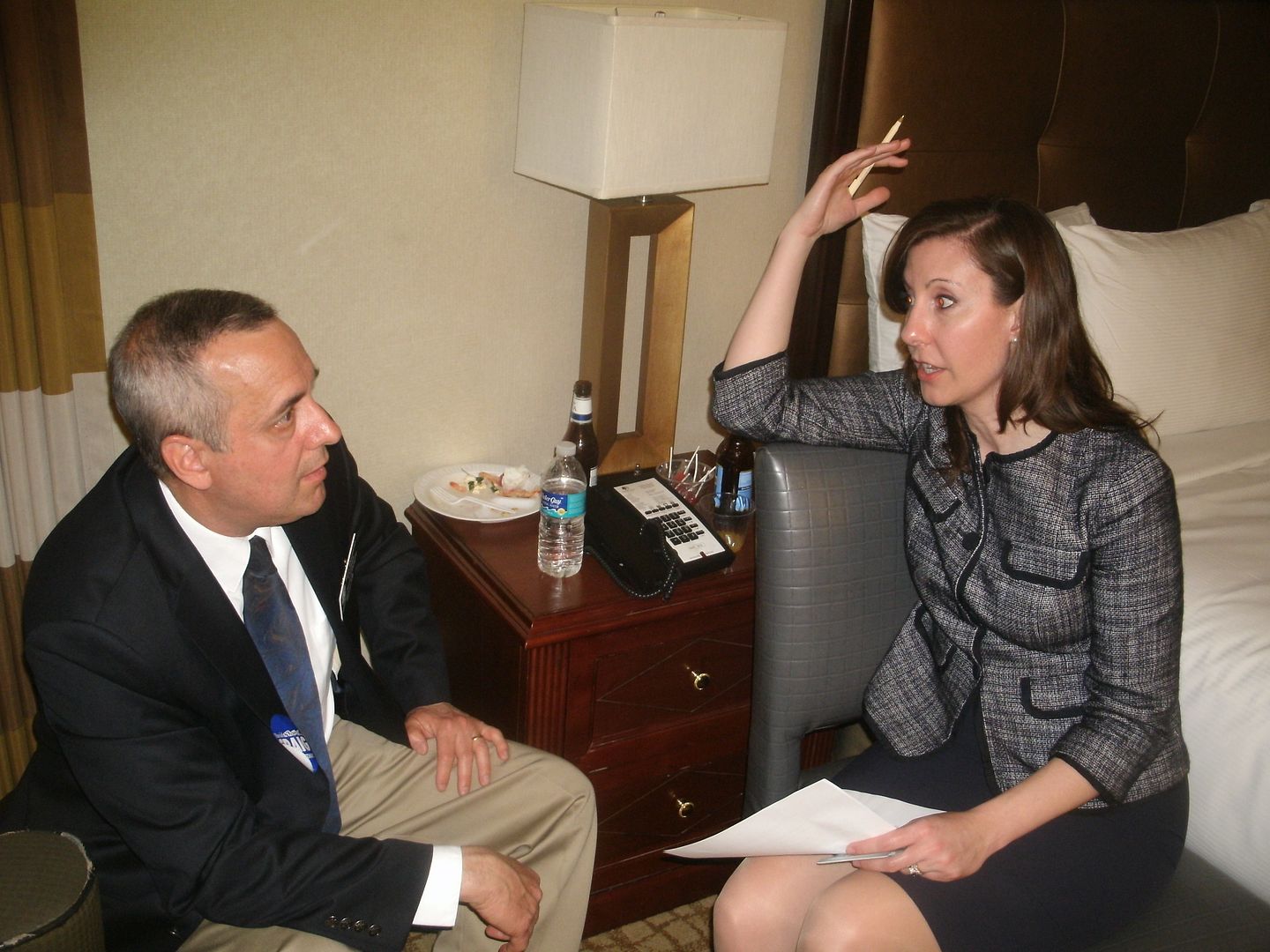 They were gracious enough to add to my collection of candidates, as did David Craig.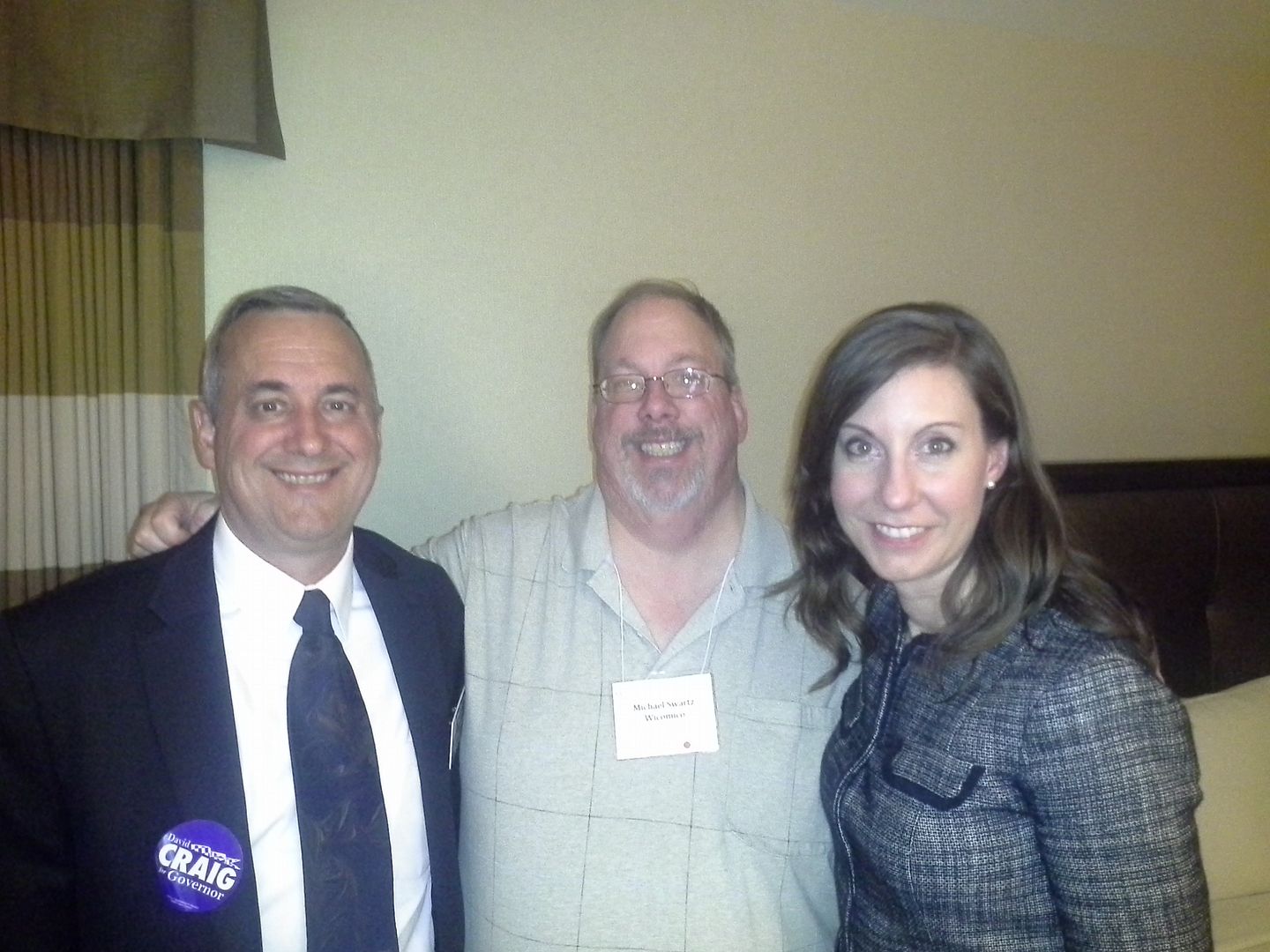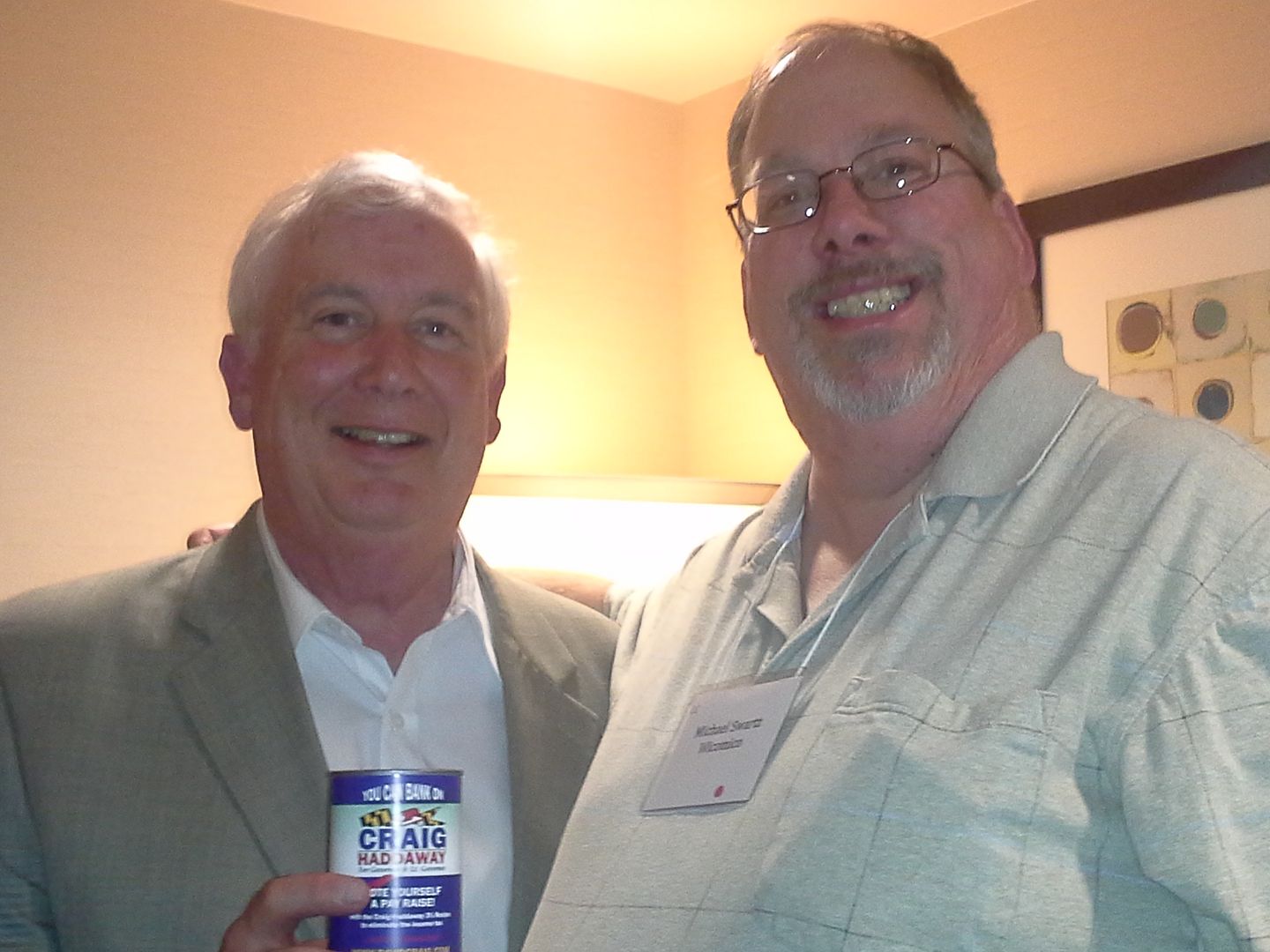 The mini-bank Craig was holding came with a few pennies inside so it would rattle. He was giving them away as trinkets.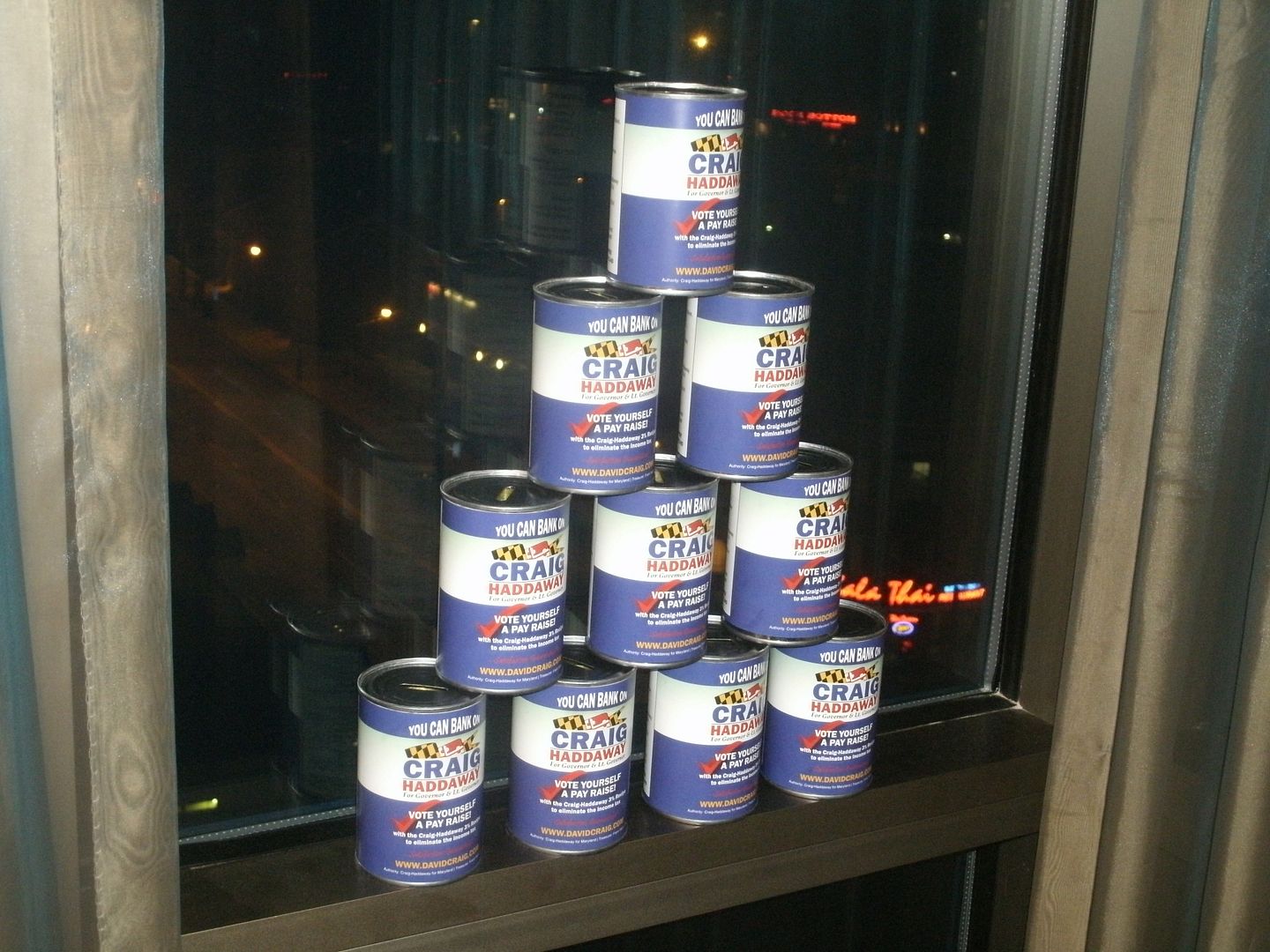 After those good photos, I wandered upstairs to the last suite, that of Eugene Craig III and the Young Conservatives. Things were starting to wind down.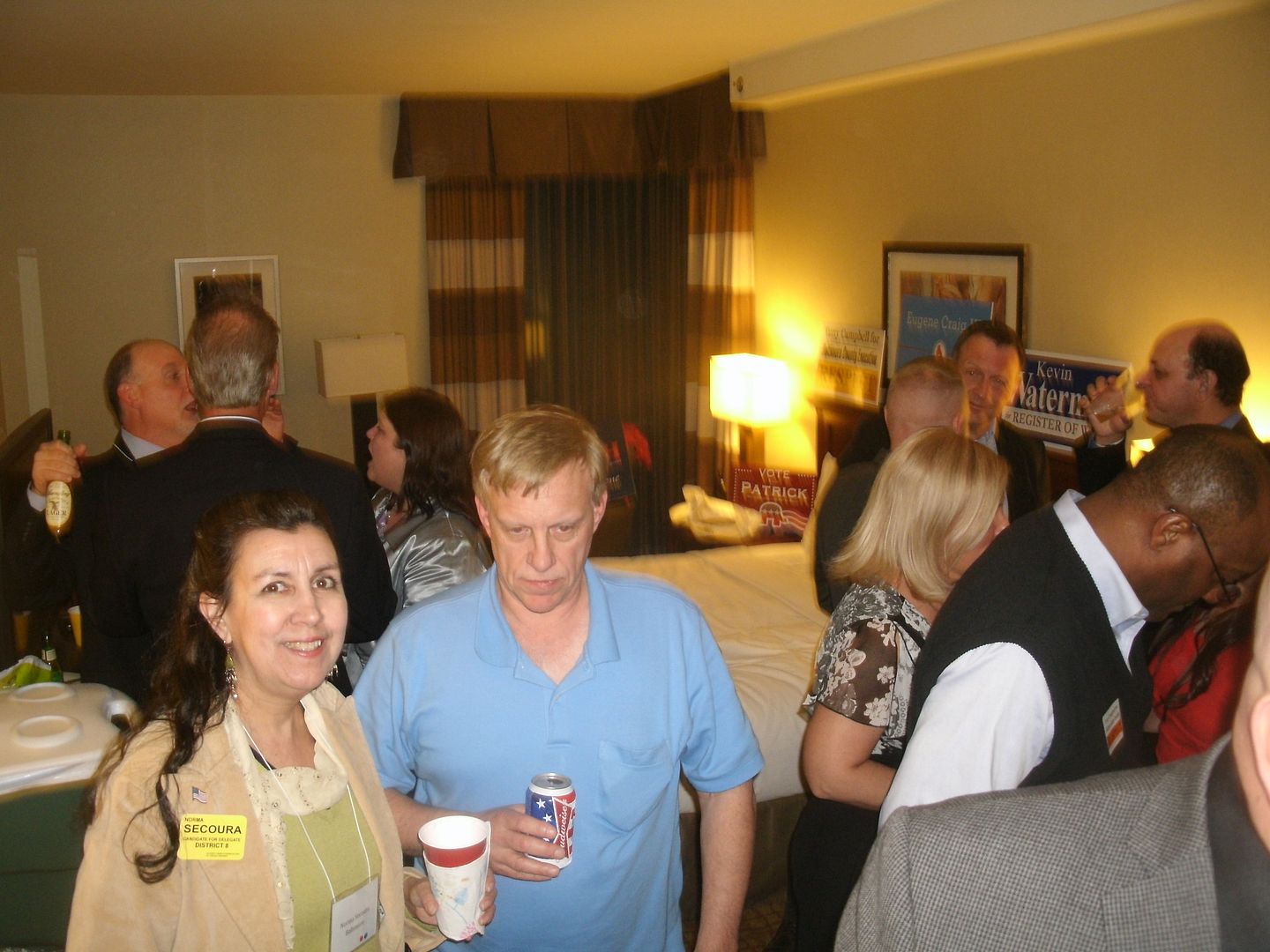 I think David Craig's was the best suite, simply because it had the best food – had I made it to the Young Conservatives suite earlier, though, I may have been persuaded otherwise. With so few party suites, food was a little harder to come by as the night wore on.
So I made it to bed about midnight or a little after, which is about the time I'm wrapping up this post. For the evening I will complete part 2 detailing many of Saturday's events.
If I didn't give enough attention to the former Senator-turned-party-chair-turned-Congressional candidate (twice) I think I will now. But at the intersection of familiar former radio personalities from my hometown and party chairs who were my second or third choice for the job, along comes this podcast from Mark Standriff and the Tea Party Express, telling me, "This candidate is a movement conservative."
In this week's "On the Campaign Trail" podcast, we are joined by Alex Mooney. Alex discusses his campaign for the U.S. Congress in West Virginia's 2nd District where he hopes to replace the seat vacated by Republican Shelley Moore Capito.

Alex Mooney is exactly the kind of Constitutional conservative that will bring the voice of the working class to Washington, D.C. He is a proven conservative champion who will never back down in the face of President Obama's war on coal and will stand strong against the EPA's radical anti-coal agenda.

Alex talks about his experience as a Maryland state senator and how it compares to his current campaign, as well as Obamacare, Obama's war on coal, the recent debt ceiling deal, and states rights.
As I've pointed out in the past, Mooney had a very conservative voting record while he was in the Maryland Senate, and for want of 1,045 votes would probably either be running again for State Senate in Maryland, or more likely trying again for a Congressional seat from our Sixth District. (He also could have pulled an E.J. Pipkin and resigned mid-term to do what he's doing now.) In any case, the carpetbagging aspect of Mooney's run was ignored in Standriff's line of questioning, which is too bad. I think if Mark were still doing the radio show it may have come up.
All this leads me to ponder whether the TEA Party Express will be helping Maryland candidates like Dan Bongino, who perhaps could have used it in his last run. While the TPX has done eight national bus tours and a handful of regional ones, Maryland is one of just five states to have never drawn a stop. (For obvious reasons, Alaska and Hawaii are two of the others, as are Vermont and Idaho.) That may not be in the cards anymore, as the TPX hasn't done a bus tour since 2012, but it would be nice to see some support.
Apparently Andy Harris likes the guy, though. And why shouldn't he? They served together in the Maryland Senate for the same three terms, and where Mooney had the second most conservative voting record, Harris was number one.
For the first time since he won a contested Republican primary in 2010 over Rob Fisher, Andy Harris will have a GOP challenger in the primary. Jonathan Goff, Jr. is a Fallston resident whose nascent campaign features the key issues of foreign policy and immigration, with the sentiment that:
I have never seen this Government so bad. I have been sending emails and calling Washington just about every week. There are lights on, but there is nobody home. They just don't listen to "we the people" and there is no common sense.
All that is fine and to a great extent I agree. But there are some questions I have about the wisdom of his political philosophy, as well as proofreading skills. This is taken verbatim from his website's home page:
80% of America's energey comes from America, leaving 20% outsourced. The remaining 20% is manipulating out fuel prices. If our Government can allow private oil companies to extract oil on America's lands and waterways, refine it and reach record profits, then why can't we have our Government extract and refine American owned oil and sell it only to American owned businesses and citizens with no loop holes.
As I often say, proofreading is your friend. But more importantly, the question I have is: when the federal government can't seem to handle the health care industry, why would we trust them with the energy industry? Goff doesn't seem to understand that the oil company profits – large as they may be – pale in comparison to the tax burden government places on each and every gallon of gasoline. Interestingly, his header graphic depicts a gasoline nozzle sucking up dollar bills.
But it's not like Andy Harris is on top of his game, either. It appears his campaign site hasn't been updated since the 2012 election, although the issues page should still be relevant. Obviously the two Democratic challengers are keeping their sites more current, particularly first-time candidate Bill Tilghman.
In effect, the Republican primary will serve as a referendum on how Andy Harris is doing with Republicans. Despite a few unpopular votes, it's likely he'll have little trouble making it through the primary unless Goff vastly steps up his game.
I didn't realize it at the time – although I had an inkling it may happen – but stepping into the question of how people should have reacted at the Friday townhall meeting up in Bel Air sponsored by Andy Harris provoked yet another war of words between factions in what is arguably Maryland's hotbed county of political intrigue despite its relatively small size. Yes, it's a battle between the Cecil Campaign for Liberty and the Cecil County Patriots.
But there's a political reality I want to share with a wider audience which may not follow every comment made on Facebook. I wrote this under the post I made promoting my piece from yesterday, after one respondent advised me to rethink my guiding philosophical principles:
And if (Andy Harris) repeats the behavior – even if he doesn't – you find a primary opponent. See McConnell, Mitch. I don't need to rethink guiding principles, you need the dose of reality. If you can find the primary opponent for Andy Harris in a month and he/she can get enough support to win, more power to you. If this person is in line with my values, I'll vote that way. I've always said incumbents don't deserve a free ride, which runs counter to most political thinking in the party because they tend to want to dictate how the offices are parceled out and whose "turn" it is.

But here is the situation on the ground: Harris has no primary opppnent. There will probably be a Libertarian in the race but he/she will be lucky to sniff 5% of the vote. We live in an R+13 district so Harris will probably win easily just based on rank-and-file Rs. Look how he did in 2012 with an Obama-infused turnout (admittedly, also with a scandal-crippled D opponent.)

I said in the piece I didn't agree with the vote, and obviously there are a number who do not. But he picked a pretty good time to make a mistake – too late to get a very viable primary opponent and early enough that this one vote will likely be forgotten.

The original intent of the two pieces I cited was to promote attendance at a particular town hall meeting.
Now I don't know if anyone asked about the vote at the townhall, nor did he allude to it on his Facebook page. Apparently he put out a statement, quoted by Gannett's Nicole Gaudiano, that the deal "preserved many of the conservative fiscal policy goals of the last three years, while restoring full pension benefits to our disabled veterans and military family survivors."  But there are already a number of groups who put the black mark next to his name because he voted for it (such as Heritage Action or the Club for Growth) and it's likely they will have it in their back pocket if needed. I'm sure it's a little bit galling to the Club For Growth since they backed his initial 2008 campaign so heavily.
If people are going to get mad at Harris, they should also be mad at the bulk of the Republican caucus in the House because the bill passed with just 64 Republicans (and three Democrats) objecting. 166 Republicans, including Harris, said yes. Obviously that doesn't excuse his vote, but in the true art of compromise there were things both sides absolutely hated about the bill.
Yet in a political sense, the Republicans probably feel like they scored a victory because the government is funded through the remainder of the fiscal year, which should all but eliminate the politically unpopular possibility of a government shutdown. Now the key will be working on the budget in regular order as opposed to dropping another omnibus bomb on an unsuspecting American public. Once the House does its job, the onus will be on the Senate to pass a budget rather than perpetuate this never-ending cycle of continuing resolutions. Believe it or not, that's how our nation did things until 2009.
Sometimes politics makes strange bedfellows. Take, for instance, the Cecil County Campaign for Liberty and the Cecil County Republican Party.
On Friday I received separate e-mail messages from Bob Willick of the C4L and the county's Republican Chair Chris Zeauskas imploring me to attend a town hall meeting in Bel Air featuring our Congressman, Andy Harris. In no uncertain terms, though, the two political leaders were upset that Harris voted for the omnibus budget bill. (I'm not thrilled about it, either.)
But what I noticed about the dueling e-mails was their reliance on a single set of themes. Notice that both used the examples of Rep. Barbara Lee and Paul Riechoff of Iraq and Afghanistan Veterans of America to make their case, and they share a lot of similar bullet points.
Of course, I didn't get to the townhall meeting last night to find out what was said – perhaps some of my readers from in and around Bel Air can clue me in because this coverage was rather tepid – but one point Harrishad previously made in his defense was a provision for the Eastern Shore's seafood industry.
Even one of Andy's Democratic opponents was skeptical. Bill Tilghman posted on his Facebook page:
Tonight the House of Representatives passed a bipartisan Omnibus appropriations bill that funds the government through September. This is a good thing, but it will be only temporary if partisanship reigns supreme in the future. A journey of a thousand miles starts with a single step.
Yet, while these e-mails use a lot of the same rhetoric, there is a point made in both which bears repeating. Willick lamented the changes Washington seems to make:
Andy Harris pledged to us that he would change Washington. Instead – it changed him.
Zeauskas, though, was far more lengthy in his criticism:
The last thing this Country and the State of Maryland needs is another politician that will place their political aspirations over principle.

And it doesn't matter whether it's a Republican or Democrat.

If our Republican Party stands for nothing, that's bad.

But what's worse?

A Republican Party that stands for exactly the same thing as the Democrats.

The greatest lie ever told in politics is that good people are obligated to support the lesser of two evils.

I joined our Republican Party because I was inspired by our principles and ideas.

Freedom is an inspirational idea.

When we don't fight for our principles we drive people away from our Party.

Think about it.

After this vote for Obamacare, how many people are motivated to put everything on the line to help Andy Harris next election?

How many Tea Party activists will be motivated to donate and volunteer for Rep. Harris?

As an elected Republican official, how am I going to rally the troops to fight for a Big Government Republican?

Voting for Obamacare and spending hikes isn't the way to grow the Republican Party.

(snip)

I can't look someone from Cecil County in the eyes and explain away Andy Harris's vote.

How could any elected official, especially a Republican, vote to fund a bungled roll out of Obamacare, to continue the destruction of the American healthcare system?

I'm embarrassed today for our Party.

As an elected Republican Party official, it's my job to promote our Republican Party, but I won't promote Obamacare or give cover to a Republican who votes for this.

Too many families are being hurt by this radical government action.

We deserve better.

And we expect better from our only Republican Congressman here in Maryland.
Now this point I can completely see, since there are times our elected Republican officials in our county seem to lose their way. But unless and until they draw a primary opponent, we are pretty much stuck with them. In the case of Harris, do you honestly think Tilghman or fellow Democrat John LaFerla would vote no to this?
I think a big part of the problem with the Republicans in Washington is that they are scared of the wrong thing. I can almost guarantee you that, in the back of Andy's mind, there's that memory of how much Republicans were blamed for the government shutdown last October and all the supposed ill effects of the sequester before that. So when the deal was made, his calculation (with the inclusion of the seafood worker provision) was that it was the best deal we could get and the country would not have to go through this whole nightmare for a second time next month.
Now I'm sure the political junkies are yelling at their computer that I'm wrong, but I also realize that 90-plus percent of voters aren't that much into politics and they get their news from sources who are quick to blame Republicans for all the nation's ills. In that respect, I think Andy has gone Washington but he's still a long way from Wayne Gilchrest territory – as the de facto leader of Maryland Republicans, I believe the thinking was he's going to have to appeal to the center a little bit to help his fellows out come November.
I don't think this justifies the poor vote, but since we have no other options our best course is to give him the courage to return to the form he had in the Maryland Senate, where he would occasionally stand alone on the side of right. Perhaps giving him some Republican company from Maryland next year will be of assistance.
And if Andy wants my space to explain himself, I can always use guest opinion.
It should come as no surprise that a grassroots group which has over the years strongly backed our Congressman, Andy Harris, would give him high marks for his overall voting pattern. But Americans for Prosperity and their Federal Affairs Manager Chrissy Hanson wanted to make sure I got the word.
Now that the first year of the 113th Congress has come to an end, it seems like a good time to look back and take notice of how our Representatives and Senators voted. Americans for Prosperity ranks members of Congress based on their votes in favor of economic freedom, and thus, a better, brighter, more prosperous future.
Interestingly enough, though, while Andy's 2013 score was solid, his rating for 2014 probably went down yesterday when he voted for the omibus spending bill which funds a large part of the government for the remainder of this fiscal year, through September 30. It did on the continuing Heritage Action scorecard, where Harris only rates an 83% score. In either case, though, Harris has tended to land on the edge of the top 50 rated members of Congress, both House and Senate.
In this day and age of instant gratification and accountability, it's notable that many organizations take the time to track these Congressional votes and rate representatives. But these can be deceptive as well – for example, Harris actually has a worse rating than Sen. Marco Rubio (who's best known for working with Democrats in trying to reform immigration into an amnesty program) and is only a few points ahead of Senate Minority Leader Mitch McConnell, who's been painted as an ineffective leader of the resistance and faces a strong primary challenge from Matt Bevin – so much so that McConnell has an attack website against his Republican opponent.
The point is that any scoring system can make for a flawed look at a politico, because sometimes actions are more important than votes and not every issue is of equal importance. To use Rubio as an example, he may be voting the correct way on economic issues but most have still not forgiven him for working with the pro-amnesty portion of the party on immigration.
In general I'm satisfied with how Andy Harris votes – when he served in the Maryland Senate he was one of only two legislators who have ever achieved a perfect monoblogue Accountability Project score of 100 in a particular session. I'm a very difficult taskmaster. So it goes without saying I was an early Harris Congressional supporter and remain so, given the lack of credible and better opposition in our district, at least until 2022. (This is because he set a 12-year term limit on himself.)
If I could wave a magic wand and get hundreds more members of Congress like Andy Harris, I'd take it in a second. We would be so much better off, regardless of the scores he's assigned.
Because the General Assembly session begins next Wednesday, a number of local and statewide politicians who cannot legally raise money during the session are cramming fundraisers into the last few days before the session begins. Originally I was going to focus on a luncheon fundraiser being held in Ocean City by Delegate (and Senate candidate) Mike McDermott on Monday which will feature Congressman Andy Harris.
But at the same time at the BWI Marriott, Delegate (and gubernatorial candidate) Ron George will host what he calls a "Pre-Session Business Legislative Luncheon" with Anirban Basu of the Sage Policy Group. As is the case for McDermott, Ron's hosting a fundraiser, and an important one. While others in the gubernatorial race on both sides can still raise funds through various means, Ron would be stymied for 90 days – unless he went through an unusual route, one which fellow Delegate Heather Mizeur is already taking.
A loophole in state campaign finance laws allows guberatorial candidates who accept public financing to raise their "seed money" during the legislative session, and Ron is reportedly considering the idea. It would place a spending cap on his campaign (as it would Mizeur's) but where Mizeur would be dwarfed in spending by her Democratic primary counterparts who already have millions to spend, George wouldn't be overwhelmed by the amounts his competitors are expected to raise in the primary.
Campaign finance of a different sort has grabbed the headlines of late, but while Ron George is within his legal right to do so why does he feel like he's perhaps forced to dip into taxpayer funds to run a campaign? The flip side of pay-to-play – besides limiting the government in an effort to starve the beast – is that I think there should be no restrictions on political giving except one, that being rapid disclosure. This would eliminate the artificial wall of separation between a politician in session and fundraising – do you honestly think a large donor isn't going to expect his back scratched whether he gives on September 1 when the legislature is off or on March 1 during session?
Interestingly, the campaign finance reform George sponsored last year will allow counties to have their own public campaign financing (see page 39 here). So we may be dealing with more taxpayer financing of campaigns in the future, and not less. Yet we'll still be stuck with the slow campaign finance reporting process where, for example, a contribution made January 1, 2012 isn't reported until mid-January the next year. Granted, the reporting pace is faster during election years but still runs weeks to months behind.
We have an internet – why not use it and put campaign treasurers to work supplying us information we can use in a timely fashion?