On Saturday I was alerted to a story by John Fritze in the Baltimore Sun regarding Andy Harris and his attempt to level the playing field a little bit in Maryland politics by creating a superPAC called A Great Maryland PAC. According to the Sun, Harris donated $150,000 to the PAC, which turned right around and put out a commercial depicting Jim Mathias, Norm Conway, Martin O'Malley and Barack Obama as "liberal peas in a pod."
I don't have a copy of the spot to show you at the moment, but the theme seems similar to one Harris used in the 2008 primary against former State Senator E. J. Pipkin and onetime Congressman Wayne Gilchrest.
What's funny to me, though, is the Democrats' reaction, like from Jim Mathias:
"I don't think it's right," said Mathias, who said he had no idea who was behind the television spot. "People's freedom of speech — I support that with my every breath — but if you're going to make these kinds of accusations, I think there should be accountability."
Funny you should talk about that, Jim – I've been holding you accountable for your votes for years, and I'm glad to finally have a little help. So come clean about where you received your campaign funding (hint: it's a lot of special interests.)
Harris has been a savior to Republicans around the state, with significant donations to several candidates as well as the state party – in total, including the seed money for the A Great Maryland PAC, Harris is over $300,000 in campaign contributions – and that's good news for conservatives around the state.
Hopefully he'll need to collect more to give to more incumbent recipients next time around.
Today is the day that tiny percentage of Maryland registered voters who actually do this begin going to the polls for early voting. I know some of my party cohorts will be out at the Civic Center campaigning for the Republican ticket, and needless to say it's a straight R year for me.
But there are races I'm much more passionate about than others, so let's go through the list and I'll tell you what I think. That IS why you come here, isn't it? If my number 16 race doesn't come out I won't be all that upset, but if the top half-dozen or so go the wrong way I'll be pissed. These are the 16 items on my specimen ballot – I live in House District 38B and Wicomico County Council District 3, which is one of only two of the five districts to have a contested race.
Carl Anderton, Jr. for Delegate, District 38B. I am really tired of my poor representation in Annapolis from Norm Conway. He votes for every bloated budget, (almost) every conformity with Obamacare, every accommodation to Big Labor, and a number of other dreadful things as well: in 2011 he voted for the Congressional redistricting that made our state a laughingstock but in committee he helped kill provisions to allow referendums on tax increases and proof of lawful presence before collecting benefits. In 2012 he voted to saddle new homeowners with the added expense of sprinklers, but he saddled the rest of us with the rain tax, tier maps, and the key to getting around our county's revenue cap by mandating maintenance of effort spending. Granted, once in awhile he votes the right way but why lose on three or four issues to gain one? Republicans and pro-Wicomico Democrats: don't fall for the hype of potentially losing a committee chair – even though Norm is a fairly nice guy, if he were all that powerful we would be the richest county in the state and we are far from that. It's definitely time for some new blood to get us back to work. Chances of success: about 50-50.
Mike McDermott for Senate, District 38. Really, this should be 1-a but my function won't let me do that. Jim Mathias may vote a little better than Norm Conway, but I would rather have someone who's a thorn in the side of the current Annapolis majority – who went out of their way to lump him into a district with another sitting Delegate – than a backbencher. What better way to thumb your nose at those who believe the Eastern Shore is the state's "shithouse" (in more ways than one) than to foil their political intentions? If I can pick up 60 points on the monoblogue Accountability Project by changing my representation, you know the answer is yes. This is another race where conservatives need to come home and not cross the aisle, because Jim's few blind squirrel votes aren't worth the overall pain. Chances of success: about 50-50.
Bob Culver for County Executive.  Our county has stumbled and staggered through this so-called recovery with the incumbent Rick Pollitt, a self-described bureaucrat, in charge. Don't forget that Rick whined about the revenue cap for the first three years in office and promised a zero-based budget I haven't seen yet. After eight years, it's time for a change in tactics and Bob can be a fresh set of eyes to address our declining number of employed. I know Bob may rub some the wrong way but I'm willing to overlook that because, to me, re-electing Rick Pollitt is the definition of insanity for Wicomico County. Chances of success: I would say about 40-50 percent.
M.J. Caldwell for Circuit Court Judge. To me, this is a perplexing case. Here you have an experienced attorney who knows his way around a courtroom taking on a person whose claim to fame is his last name – if it were Swartz, he'd still be at his old firm. But because people still know the Sarbanes name in this area, the newly-appointed "incumbent" got the gig. I was extremely disappointed and somewhat disgusted to see that Caldwell only won the Republican primary with 57 percent of the vote – people, do your homework! Caldwell would be a good judge. Chances of success: about 1 in 3 unless Republicans shape up.
William Campbell for Comptroller. You'll notice Peter Franchot has played up his fiscal watchdog tendencies in this campaign, but I think that if Larry Hogan becomes governor we need Bill to keep him grounded and make the Board of Public Works work in a conservative direction for the first time in…well, ever. Unfortunately, Bill has little money to get his message out and Franchot's too scared to debate him. One problem with Larry Hogan taking public financing is that the Maryland GOP is spending maximum time and effort fundraising for Larry instead of helping these downballot races. Chances of success: alas, probably less than 1 percent.
Larry Hogan for Governor. All politics is local, so I think the state race can take care of itself. But I hope that Hogan has enough coattails to bring in a dozen Delegates and half-dozen new Senators, including the two mentioned above. While I hated his primary campaign, I have to admit Hogan's done a good job in the general election round. But will it be enough? Polls suggest it might. Chances of success: about 50-50.
Larry Dodd for District 3 Council. The thing that bothers me about his opponent is that, for all his "aw, shucks" demeanor, he's been exposed to a large number of anti-property rights zealots. He worked for Joan Carter Conway, the Senate's EHEA Chair, and not only does she have a lifetime mAP rating of 4 (yes, that's really bad) but she has passed a lot of bad legislation through her committee over the last several years – something Josh fails to mention. But I will give Josh Hastings his due: he's campaigning hard, knocked on my door and has worked harder for the seat than Dodd has. It would be a shame to succeed a good, conservative Councilwoman in Gail Bartkovich with a liberal who may have grown up on a farm but has spent his politically formative years more readily influenced by Baltimore City and Annapolis. Chances of success: about 35 to 40 percent.
John Cannon for at-large County Council. While his voting record has often been a disappointment, he was one of the two who got through the primary. I have more hope for him becoming a conservative stalwart, though, than I do for his fellow Republican. Chances of success: around 60 percent.
Voting against Question 1. I've stated my reasons for opposition before, but most of the money is backing it and referendum items rarely fail. Chances of success: less than 10 percent.
Jeffrey Pritzker for Attorney General. We are really in trouble, folks. We could have had one of our good county state's attorneys (or my personal favorite, Jim Rutledge) step up but instead we got Pritzker, who I have never met. When I see prominent conservative-leaning bloggers backing the Libertarian in the race, it can't be much of a campaign. That's a shame, because there's more to the campaign than legalizing pot. And losing this seat means the gun-grabbing Brian Frosh will be our Attorney General. Chances of success: even less than Campbell's sub-1 percent shot.
Matt Holloway for at-large County Council. There are many holes in his voting record as well, but winning the primary makes him the odds-on favorite to not be third on November 4. So I guess I'll have to wonder how often he'll cave for another four years. Chances of success: over 80 percent.
Andy Harris for Congress. No muss, no fuss. Have you heard a word about Bill Tilghman? The one thing you can say about Bill is that at least we haven't caught him voting twice. This race is perhaps the closest thing to an automatic win for our side – when even the Daily Times has to endorse you, it's a good sign. Chances of success: over 95 percent.
Voting against Andrea Leahy as a Special Appeals Judge. Similar to the election involving Jimmy Sarbanes, Judge Leahy is up for election because she was appointed by Martin O'Malley in March. I looked at her profile and wasn't impressed, but it's rare a judge is tossed out. I would love to see who Larry Hogan would appoint, but if Leahy lost Martin O'Malley would rush another appointee through – and he or she would sit until 2016. Chances of success: in the single-digits.
Voting against Kevin Arthur as a Special Appeals Judge. His profile is better than Leahy's but, still, he is an O'Malley appointee. Chances of success: in the single-digits.
Grover Cantwell for Orphan's Court Judge. I have never met the guy, yet he wants my vote. This is a part of the ballot where those who get listed first (the Democrats) have the advantage because they've all been on the ballot before. Chances of success: perhaps 1 in 3.
Voting for Question 2. I can get behind this proposal, which allows charter counties like Wicomico the option to have special elections to fill County Council seats. Having gone through the process of filling such a vacancy, I think it should be opened up despite the risk of losing a GOP seat to a Democrat. Chances of success: over 90 percent.
So this is how I think my local election will go. As for some other contested county races I'm supporting, in order of likelihood of success:
Addie Eckardt for Senate, District 37. The hard part for her was winning the primary. Sure, there may be some diehard Colburn supporters out there but their other choice is a guy he beat by 20 points last time around. Chances of success: 95 percent.
Mary Beth Carozza for Delegate, District 38C. Having an opponent who wears a "Ban Assault Weapons" t-shirt to an Andy Harris townhall event provides an immediate advantage in this area. But Mary Beth has been working since the summer of 2013 on this race, and that hard work is on the verge of paying off. Chances of success: 95 percent.
Marc Kilmer for District 2 Council. When your opponent threatens to go to court for winning, you know you're in good shape. But Marc has taken nothing for granted, works hard, and has a fairly solid Republican district. Chances of success: at least 80 percent.
Christopher Adams for Delegate, District 37B. He wasn't the top vote-getter in any county, but he's run a solid campaign and the dynamics of the race give him a better path to victory than fellow Republican contender Johnny Mautz. Chances of success: a solid 75 percent.
Johnny Mautz for Delegate, District 37B. By far the top primary vote-getter, the one drawback is that he has to finish ahead of Keasha Haythe because both hail from Talbot County and there's a limit of one per county. If he were second to her in the overall voting, he would lose and the third-place finisher moves up. With that in mind, I give him just ever-so-slightly less favorable odds. Chances of success: a solid 74.9 percent.
My advice to every contender in the last two weeks: run like you are five points behind. See you at the polls!
I have a friend that's tired of seeing this commercial for Jim Mathias because, as she said, "I feel like I've seen this same Jim Mathias commercial a million and four times already." So it's time for me to expand it and tell you what he's really saying.
The ad cuts through a number of different scenes from around the area. Most of it is shot in a restaurant but there are stills from a number of outdoor scenes, inside a firehouse, and so forth.
The script is rather simple.
Mathias: Hi, I'm Jim Mathias, your Senator. In Annapolis, I make SURE we get heard and get results for the Eastern Shore. I fight for lower taxes and less regulation so our businesses thrive, make money, and hire more people.

When we need to repair a bridge like a Pocomoke, make our roads safer like Route 113, or improve our schools like James M. Bennett, I get the job done. I'm asking you for your vote so that we can continue to preserve our way of life on the Eastern Shore.
So let's go through this a little at a time.
Hi, I'm Jim Mathias, your Senator.
Not by choice, and certainly not by voting record.
In Annapolis, I make SURE we get heard and get results for the Eastern Shore.
That can be taken any number of ways, but based on the fact we have higher unemployment and slower growth than the state as a whole, I'm not sure you're getting them to listen or give us the desired results.
I fight for lower taxes and less regulation so our businesses thrive, make money, and hire more people.
Now wait a second. You've voted for 11 of the 12 total state funding items since you've become Senator – all four operating budgets, all four capital budgets, and three of the four BRFA bills – 2012 being the exception. In that year, you waited until the Special Session to vote for that BRFA, which was the one that shifted teacher pensions to the counties. Seeing as that the budgets you voted for were increases over the previous year, wouldn't it follow that revenue had to come from somewhere?
It seems you don't have a lot of influence on your party since they keep voting for the tax hikes and regulation, yet many of them give you campaign financing. And as I referenced above, when compared to other parts of the state, businesses aren't hiring more people so it's doubtful they're thriving or making money.
When we need to repair a bridge like a Pocomoke…
Interesting you should bring that up. According to the SHA, the Pocomoke River bridge project was paid for by the gas tax increase you opposed, yet it's been in the pipeline for a few years. From the minutes of the Somerset County Roads Commission, November 15, 2011:
Commissioner (Charles F.) Fisher then asked about the status of the Pocomoke River bridge. Mr. Drewer (Donnie Drewer, SHA district engineer) stated that the north bound side deck will be replaced and a latex overlay will be placed over the south bound lanes. The project is slated to be funded with FY2013-2014 funding.
FY2013 began July 1, 2012, so the project ended up being almost two years behind schedule.
It's noted that Mathias was present at that Somerset County meeting so if he was fighting as hard as he states, wouldn't that bridge be finished by now? Instead, the SHA added it to their FY2013-18 plan, which reveals that of the $17.2 million cost, the federal government covers almost $13.8 million. (Page 447 of this exceedingly large file shows it.) So maybe Andy Harris deserves more credit.
…make our roads safer like Route 113…
This is a project which has spanned decades, with original studies dating from the 1970s and off-and-on construction over the last 20 years. So there's not much Mathias has really done for it. It's actually been dedicated to the man Mathias was appointed to replace in the House, Bennett Bozman.
…or improve our schools like James M. Bennett, I get the job done.
Actually, much of the money for improving the Bennett Middle School – which I assume is the one he's talking about since the high school was under construction when he became Senator – comes from Wicomico County taxpayers, who are the recipients of millions in debt to build the new school after two members of Wicomico County Council caved to a vocal support group and changed their initial vote against the bonds. The state money wasn't coming until the Council bowed to the "Bennett babes."
The job that was done was placing those children who will eventually attend the new BMS in debt.
I'm asking you for your vote so that we can continue to preserve our way of life on the Eastern Shore.
There are a lot of things worth preserving on the Eastern Shore. But for all the rhetoric, I come back to something I wrote four years ago when Mathias took advantage of the retirement of Republican Senator Lowell Stoltzfus to jump from the House to the Senate:
There's a reason that I get day after day of mailings from Jim Mathias explaining how, despite his Baltimore roots, he's an Eastern Shore conservative at heart (today it's being against "liberals" and for the death penalty.) Annapolis Democrats wouldn't be backing him if he weren't useful to them – they know the score and the fact they need Republicans to have fewer than 19 Senate seats to keep them meaningless. He will be no such thing as a loose cannon.
In order for the state of Maryland to be a true two-party state and keep in check the appetite of the liberals who have been running our state into the ground for God knows how long, Republicans need to maintain at least 2/5 of the Senate, or 19 of the 47 seats. (Getting 19 Senate seats is paramount because that can sustain a filibuster.) The GOP got to 14 seats in 2006, only to lose two in 2010 – one of them being to Jim Mathias. Prior to that, the 38th District Senate seat had been Republican for nearly 30 years, which matched the conservative nature of the district.
I won't deny that Jim Mathias has a more moderate voting record than most Democrats in Maryland, and on certain issues he will vote with Republicans, such as overt tax increases or the gun law. But these seem to be the exceptions to the rule, and now Jim is casting himself as someone who got pork for the district. Going along to get along, with the exception of votes where the hall pass to vote against the party line because the votes are already there, is one thing.
But in order to "preserve our way of life on the Eastern Shore" we need a reliable conservative voice to reflect the conservative area and that's not Jim Mathias.
I've been seeing some comment about a blog post recently penned by outgoing Delegate Michael Smigiel regarding the Maryland GOP not assisting Mike McDermott in his Maryland Senate run against Jim Mathias. There are two damning allegations therein, so I'll speak to both.
First, we have the financial angle:
The Republican Party found it possible just two years ago to support three Republicans running for local county council seats to the tune of $40,000 in a Cecil County race! Now in a pivotal State Senate Race they can not offer the same support? Correct that, they can not offer any support? Even if the party claims financial inability, where are the dollars from Congressman Harris who two years ago gave $40,000 to the party to help those local candidates? Where is the help from the State Senators who have no challengers in their races but have tens of thousands of dollars in their war chests?
I know Smigiel has some sour grapes against certain Cecil County Republicans, but a quick check of campaign finance records finds only a few thousand dollars in contributions to these candidates from the local Republican club and Central Committee – nowhere near $40,000.
As for Andy Harris, he's already assisted Delegate candidate Carl Anderton (as have others) and it may be he's going to chip into McDermott's cause as well.
But the last sentence of Smigiel's is a valid question, particularly in light of his next paragraphs.
Republican State Senators have been told by the Democrat Senate President, "If you get in the McDermott v. Mathias race, you will be punished." So Republican Senators with the ability and the desire to help are not helping because of a concern over their own political comfort. Shame on any Senator in a position to help who fails to help out of fear they may be punished by the Democrat Senate President.

I call it Political cowardice to kowtow to the Democrat leadership on the decision of whom the Republicans should support for election to State wide office.

The Party and individual members of the Senate need to stand up to Democrat leadership and show they will not be intimidated into allowing the Democrat leadership to keep the growth of the Republican party stifled. Rhetoric about freedom and liberty rings hollow when you fail to stand up to tyranny when confronted with it in government. Republican Senators need to stand up and be counted. If you have no opponent and have tens of thousands of dollars in the bank you need to donate to and assist in every way possible in elected fellow Republicans. If you are threatened with loss of your committee seat or any other punishment by the Senate President, then make it public and double your efforts on behalf of the Republican candidate.
So is this a Senate or a fiefdom? Bear in mind that Senate President Mike Miller (Maryland's version of Harry Reid) has a Republican opponent himself, Jesse Peed. Those of you reading this in District 27 should note accordingly.
I did take a peek at Smigiel's last filing, which was the May filing, and it showed he had about $21,000 remaining in his account (with loans outstanding.) Obviously we have nothing newer to go by, but I haven't seen any transfers out from his account yet.
Now I don't know anything about the inner workings of the Maryland General Assembly but I do know bullshit when I smell it. Simply put, the way those bodies are conducted during the 90 days of terror we endure each year reeks to high heaven. Bills which would do a lot of good are stashed in the desk drawers of committee heads, arms are twisted in grotesque ways to get other less palatable bills to pass, and the public's voice is often ignored.
Thus, it doesn't really surprise me that such a punishment threat as Smigiel alleges might exist, but we need someone to stand up and say so. There are some who are no longer in office who could verify such statements because I'm sure these threats aren't new. Maybe Senator Simonaire would have something to say since he was the lone voice of opposition to Miller's re-election as Senate President.
As for the would-be Senator McDermott, he's come out with some interesting items of his own lately. I had intended to take a look at them, but there's one thing I need to put it all together so it can wait a few days. It's all good.
It's hard to knock out someone who's been in politics for over half of their life, but in District 38B Delegate Norm Conway, who at 72 years of age has held elective office since 1974, has a challenger in 41-year-old Delmar Mayor Carl Anderton, Jr. (Put another way, Anderton was but a mere toddler when Conway was first elected.) It's also hard to knock out someone who has as much in the campaign bank as Norm does, but Carl is getting some help on that front as well.
There's no question that Conway has many of the same financial traits as fellow Democrat Jim Mathias: a plethora of businesses and PACs support his effort to remain in the House of Delegates. But it's interesting to note that, after putting in a spate of local contributions dated January 7 of this year to be placed in the 2013 report (from a January 5 fundraiser in Willards, which ironically is now outside his district) and comply with the law prohibiting fundraising during session, Conway's local contributions have all but dried up since that January accounting. Conway has raised less than $5,000 in individual contributions since the January report, with significant money coming from Rickman Firstfield Associates ($1,000) and PGA One Charles Center, L.P. ($2,000.) Rickman Firstfield is connected to William Rickman, who owns Ocean Downs and has been implicated in skirting Maryland's ban on casino owners donating to political candidates. PGA One Charles Center works back to asbestos lawyer Peter Angelos, owner of the Baltimore Orioles.
It's worth asking why they care about a local Delegate race, particularly since 96.4% of Conway's individual contributions since his January report have come from outside the 218xx zip code area.
In that light, Anderton's is for all intents and purposes a local effort: no PAC money and only a small percentage out of the district. Granted, the largest single donation comes from the vast coffers of Congressman Andy Harris, who gave $4,000, but that pales in comparison to PAC money finding its way to Conway. Others who have helped out Anderton are fellow Delegate hopeful Christopher Adams in District 37B, Wicomico County Council candidate Marc Kilmer, and Anne Arundel County Councilman Jerry Walker. Politicians have also transferred money to Conway: Wicomico County Council candidate Ernest Davis, Delegate Patrick Hogan (a Republican), and Baltimore County Executive Kevin Kamenetz have chipped in.
But a consistent 25 to 35 percent of Conway's take comes from Maryland PACs, with some of the largest contributors being the Baltimore Gas and Electric PAC ($1,000), Comcast PAC of Maryland ($1,000), Health Policy Leadership Alliance, the PAC of the Maryland Hospital Association ($1,000), Medical PAC Maryland ($1,000), SEIU Local 500 PAC ($1,000), Maryland Realtors PAC ($1,300), and the biggest by far: MSEA's Fund for Children and Public Education PAC – the teacher's union gave Norm a cool $5,150.
So it's sort of telling in a way that Conway spent a tremendous amount of money on fundraising, spending over $17,000 to create just over $41,000 in individual contributions with events in Salisbury, Willards, and Annapolis. (For the Annapolis one he used our old "incumbency protection" friends at Rice Consulting, which received $4,361.93 for their trouble.) Meanwhile, the $15,880 on media was actually for billboard advertising with Clear Channel.
Conversely, Anderton seemed to have a lot more bang for his buck when it came to fundraising, spending $1,156.48 to generate $12,966.01 in individual contributions. EVO was his choice for venue, as he spent the entire sum there. All told, it's worth pointing out that since the January report Anderton has outraised Conway $10,366.01 to $8,462.50 – granted, there were 90 days where Conway could not fundraise but practically all of the local money over the timeframe has gone to the challenger. (As full disclosure, I've chipped $10 into the Anderton effort although I didn't attend a formal fundraiser.)
I was driving home yesterday along U.S. 50 when I noticed a Conway billboard – whether it's the one he paid $15,880 for or one subsequent is not important. But on it Conway cited his "Eastern Shore Values" as a reason to be re-elected, so it's funny that most of the money he's used to pay for it comes from people who likely don't share those values because they live in Annapolis or other parts of the state. Food for thought.
Next week I wrap up the series with a look at the District 37 House races. I'm just going to do one post and look at all five contenders.
After a week's delay caused by the untimely passing of Sylvia "Cookie" Harris, wife of our esteemed Congressman, we finally opened our local Republican headquarters to a crowd of about 75 people.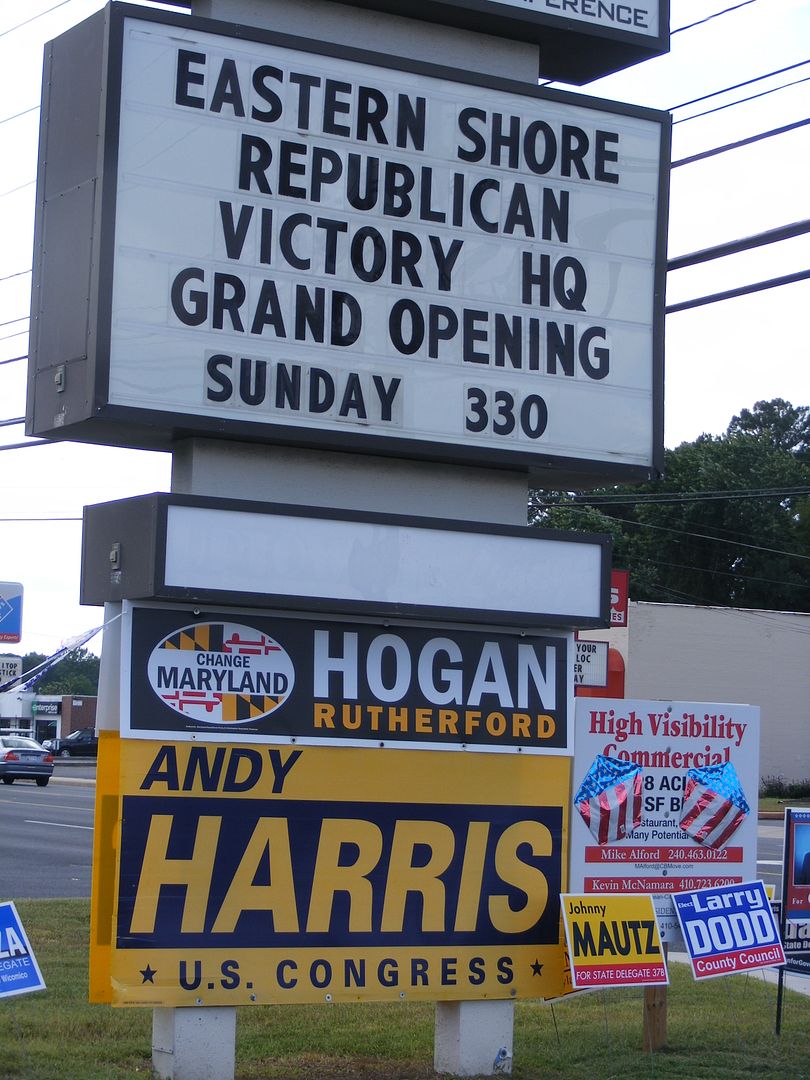 The old Mister Paul's Legacy had been spruced up after several months of inactivity for a new purpose: to assist in getting local Republican candidates into office.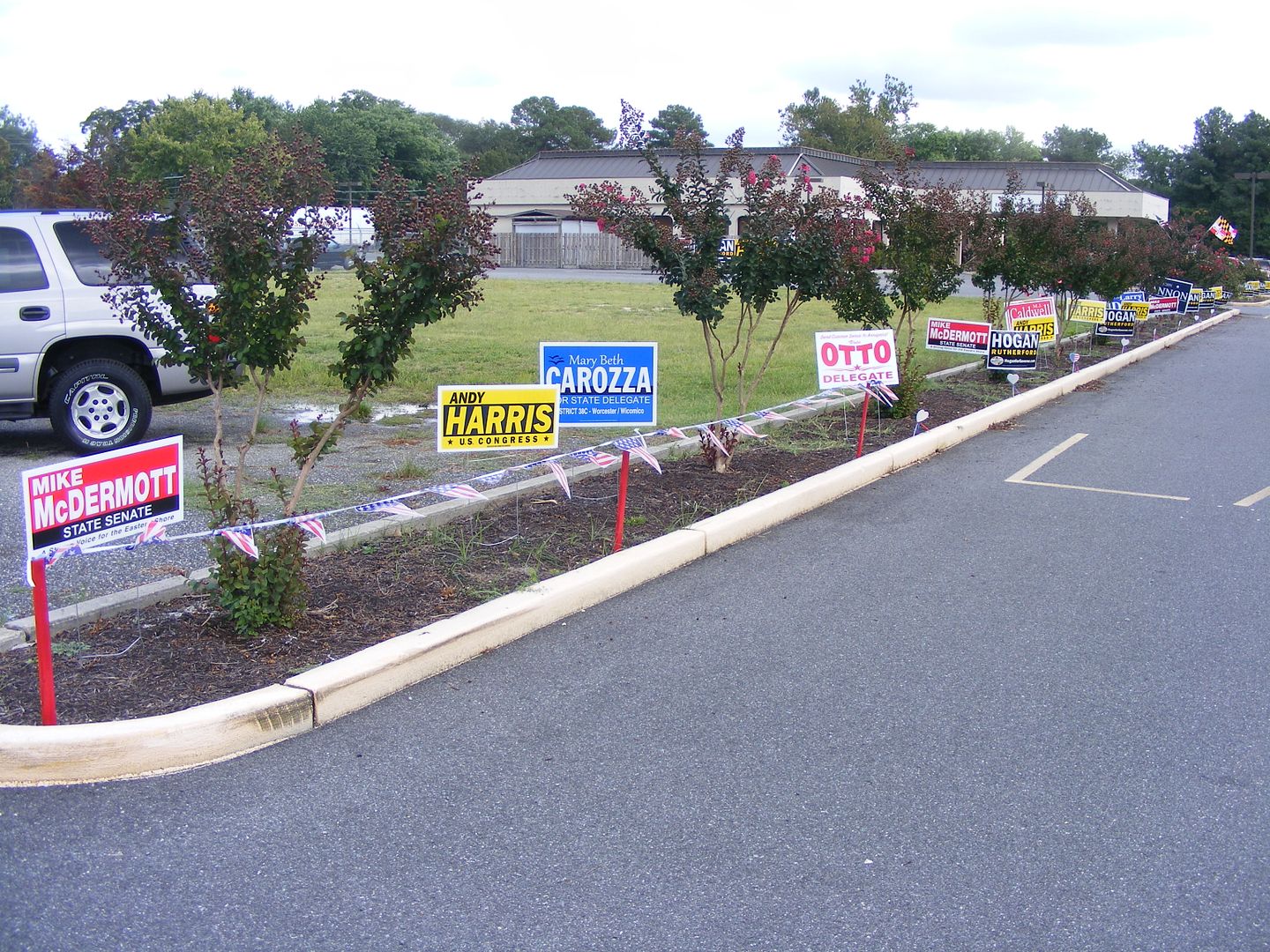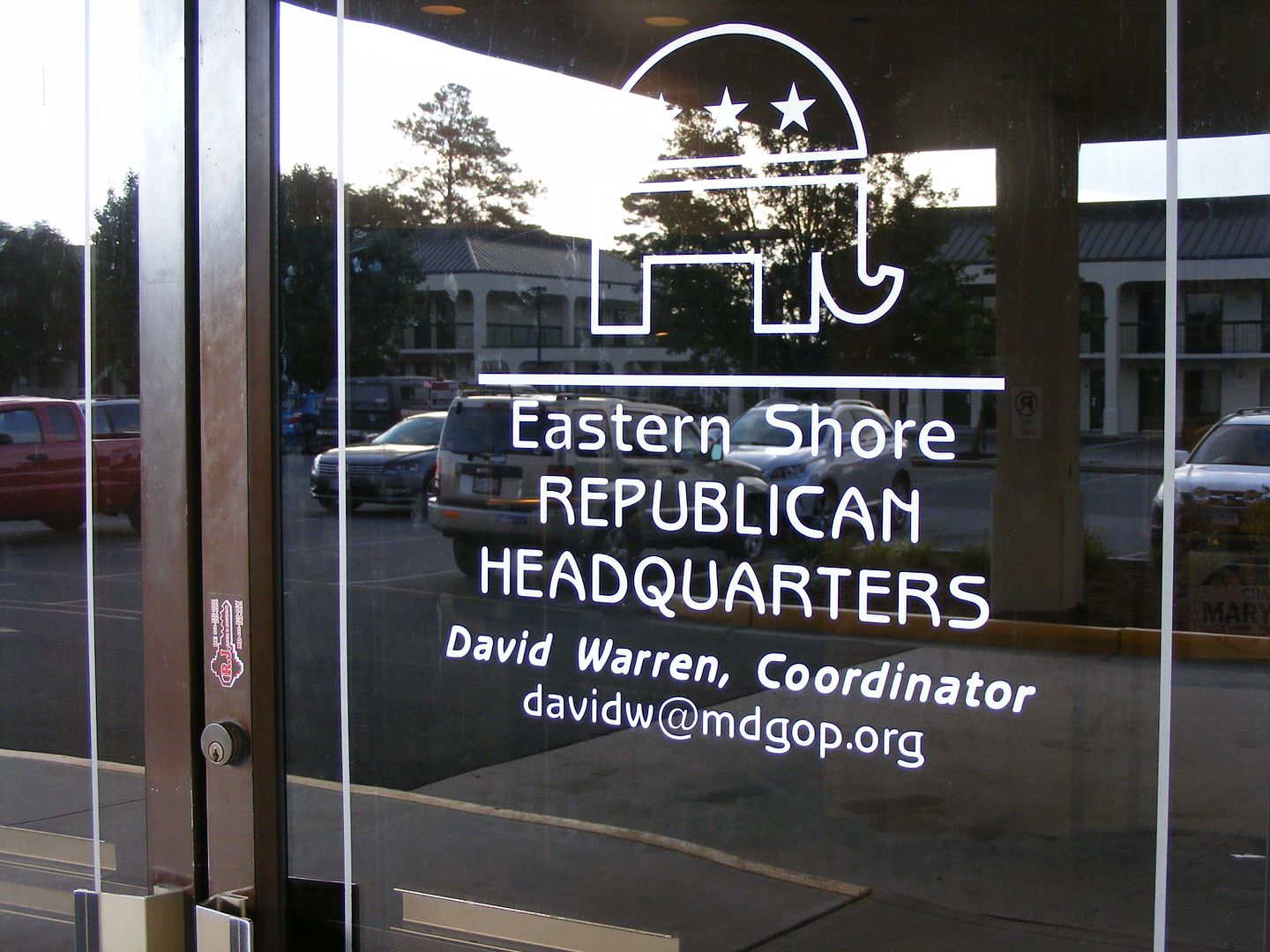 Of course, a number of candidates and elected officials were there, along with supporters. Inside there were signs and information for all the local hopefuls who had dropped anything off, as well as a table for the top of the ticket.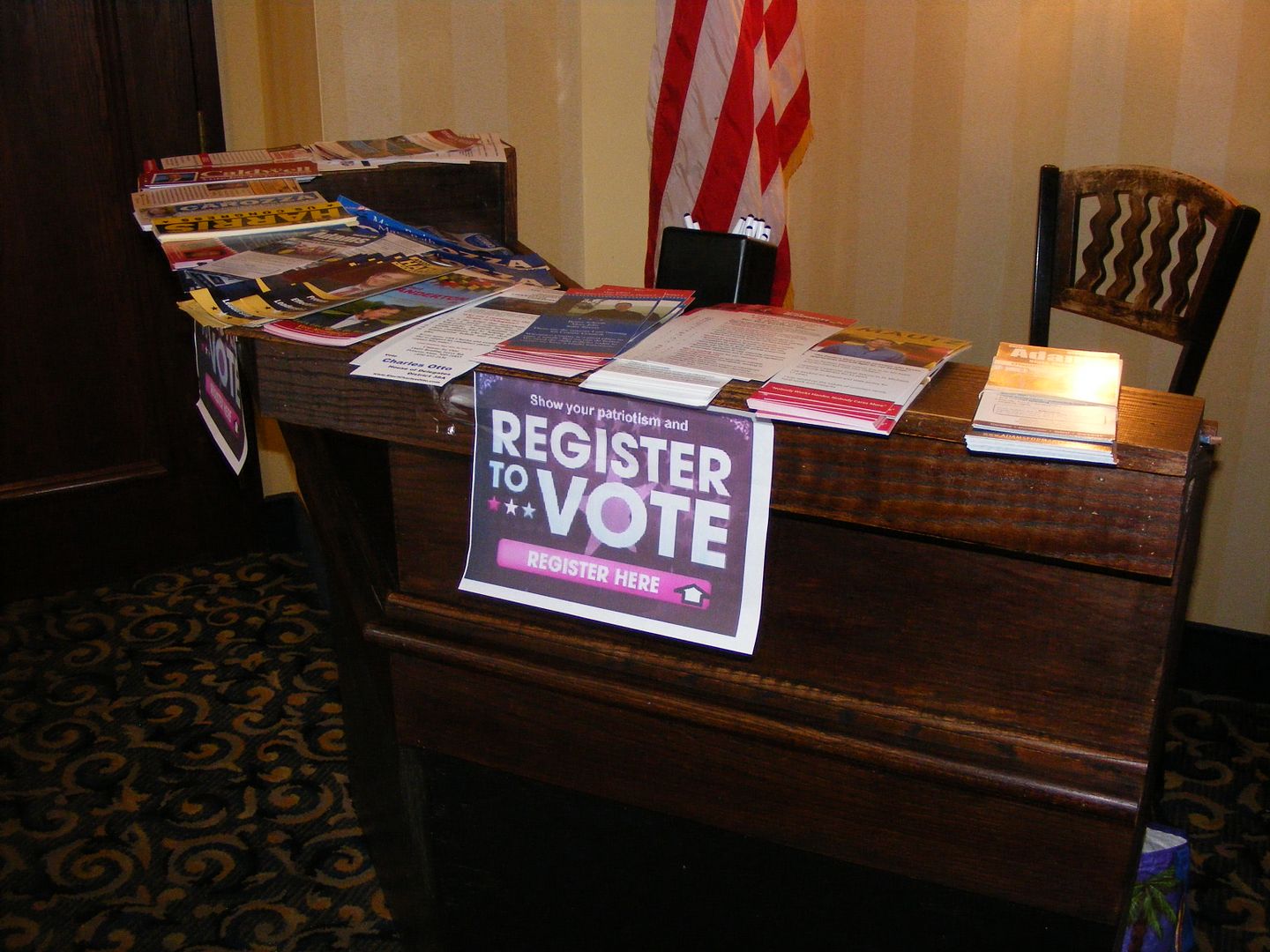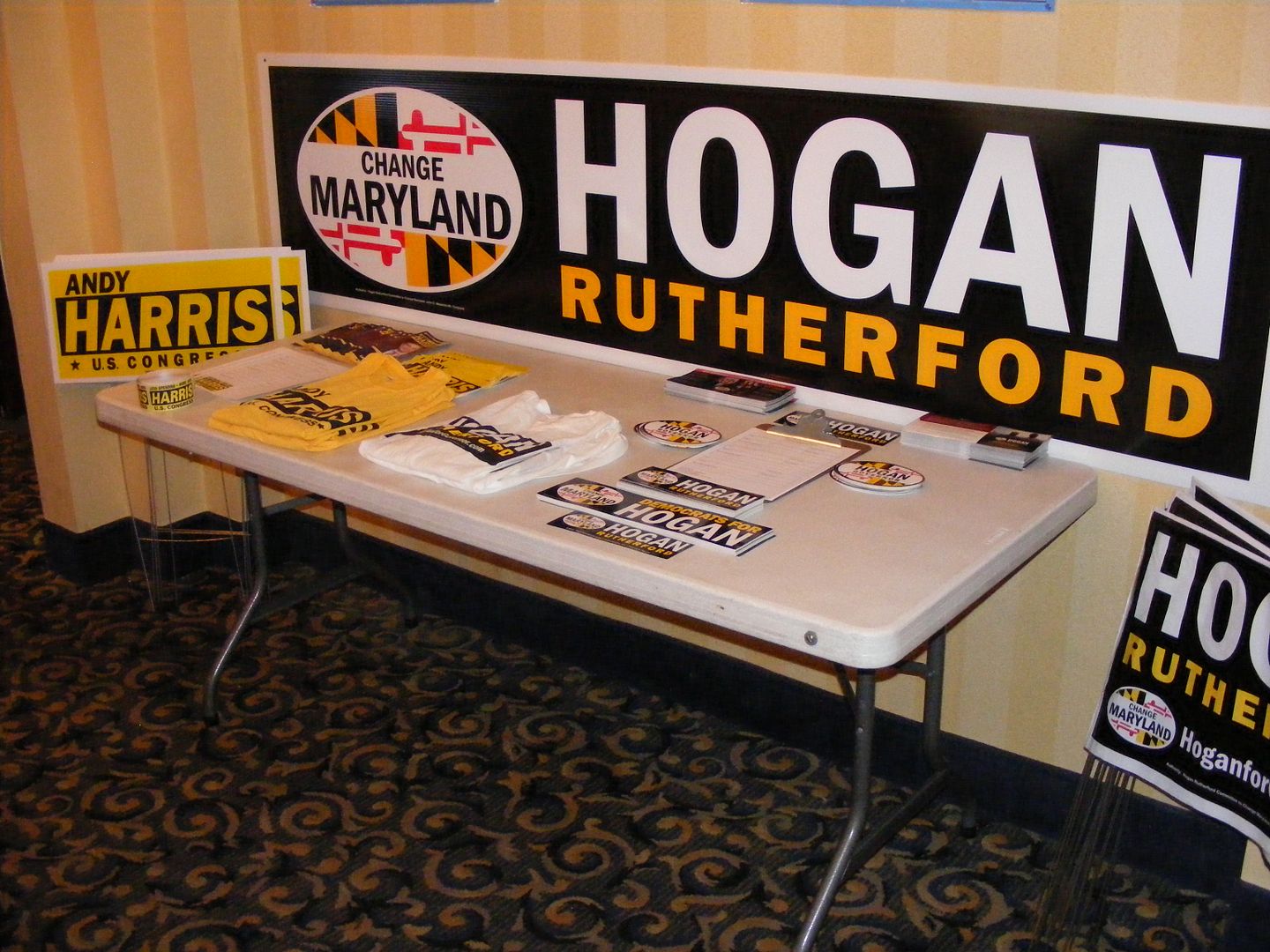 And while the star of the show was rightfully going to be gubernatorial candidate Larry Hogan, local folks were indeed showing a lot of passion for their favored downticket candidates.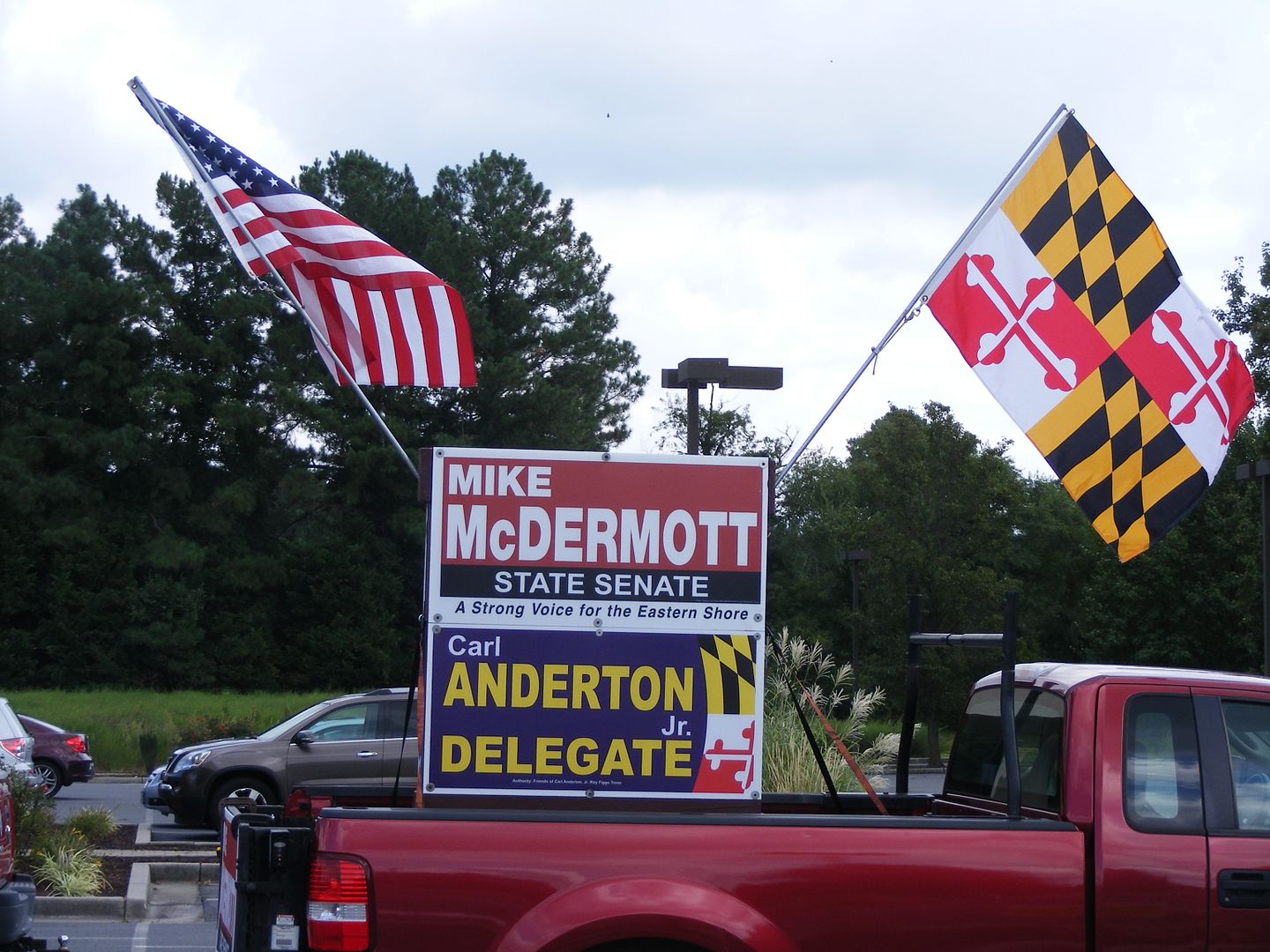 There was even love for our volunteers spread around inside with little messages like this.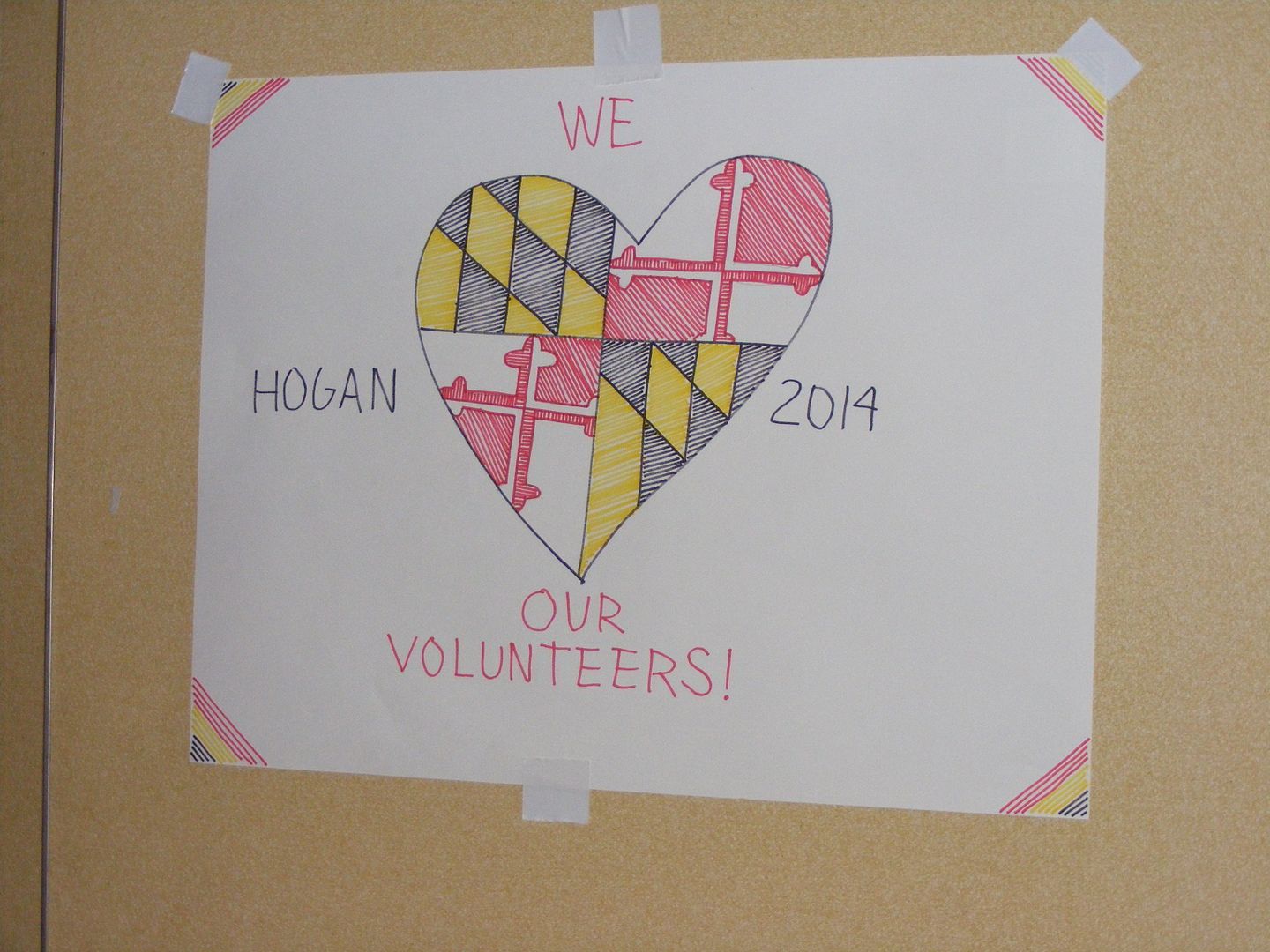 Our presentation began, though, with an emotional update from Mark McIver on how Andy Harris was doing after the sudden passing of his wife. The "terminal optimist" was holding up all right and was getting ready to once again make himself available to help local Republicans emerge victorious. It led up to a moment of silence for both Cookie Harris and Dr. John Mautz, the father of District 37B Delegate candidate Johnny Mautz. The elder Mautz, an Easton dentist, died suddenly yesterday morning.
Wicomico County Republican Club president Jackie Wellfonder had the honor of introducing the guests of honor.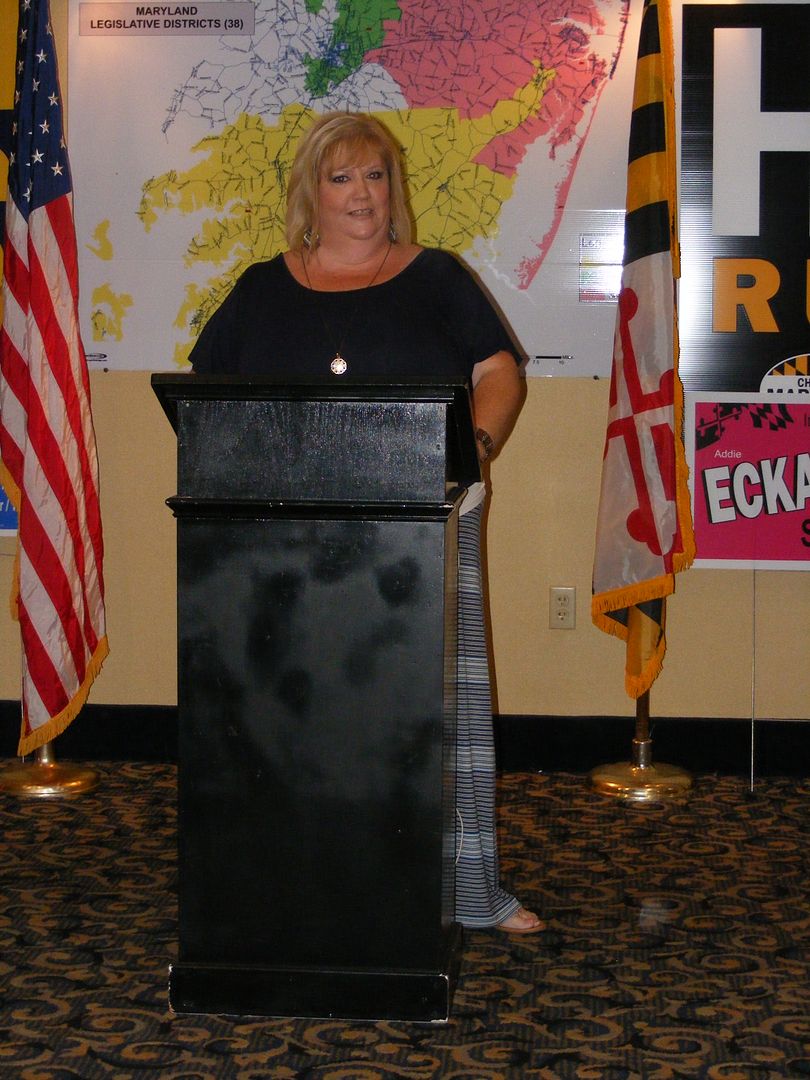 We actually went in reverse of the common political ceremony, because Larry Hogan spoke first.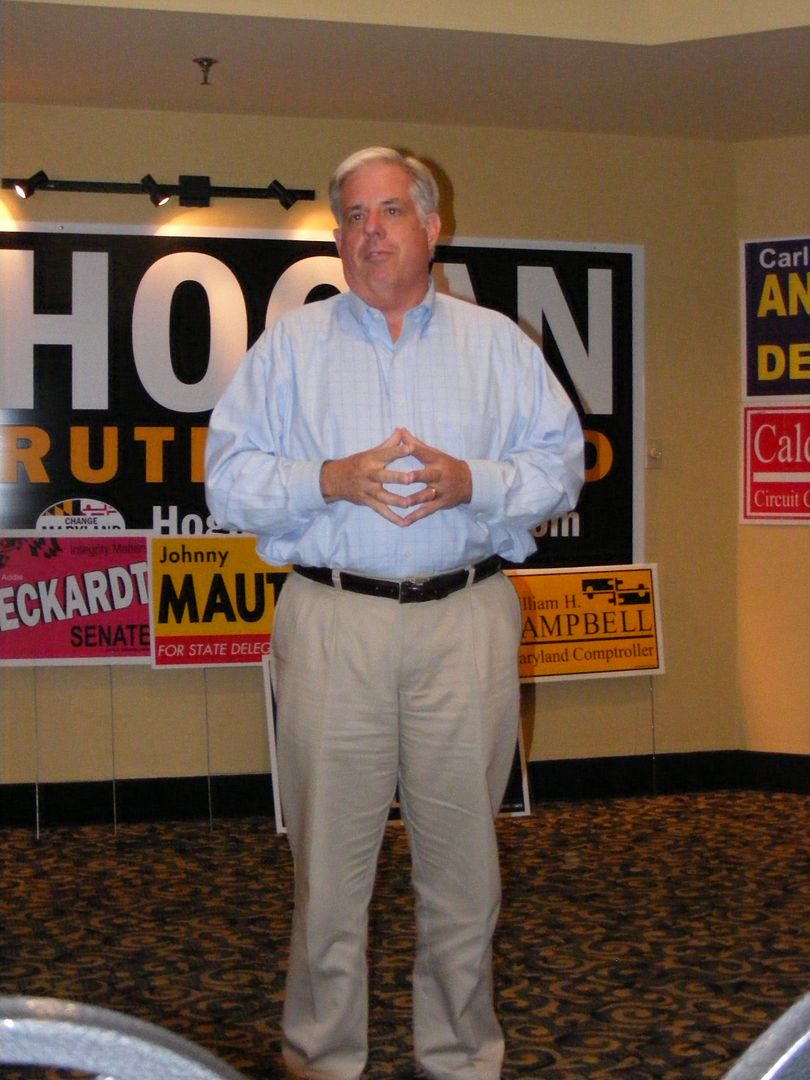 Eschewing the safety of the podium, Hogan complemented the local workers for putting together the "nicest and most luxurious" headquarters in the state. Not bad praise from a guy who rides around in this: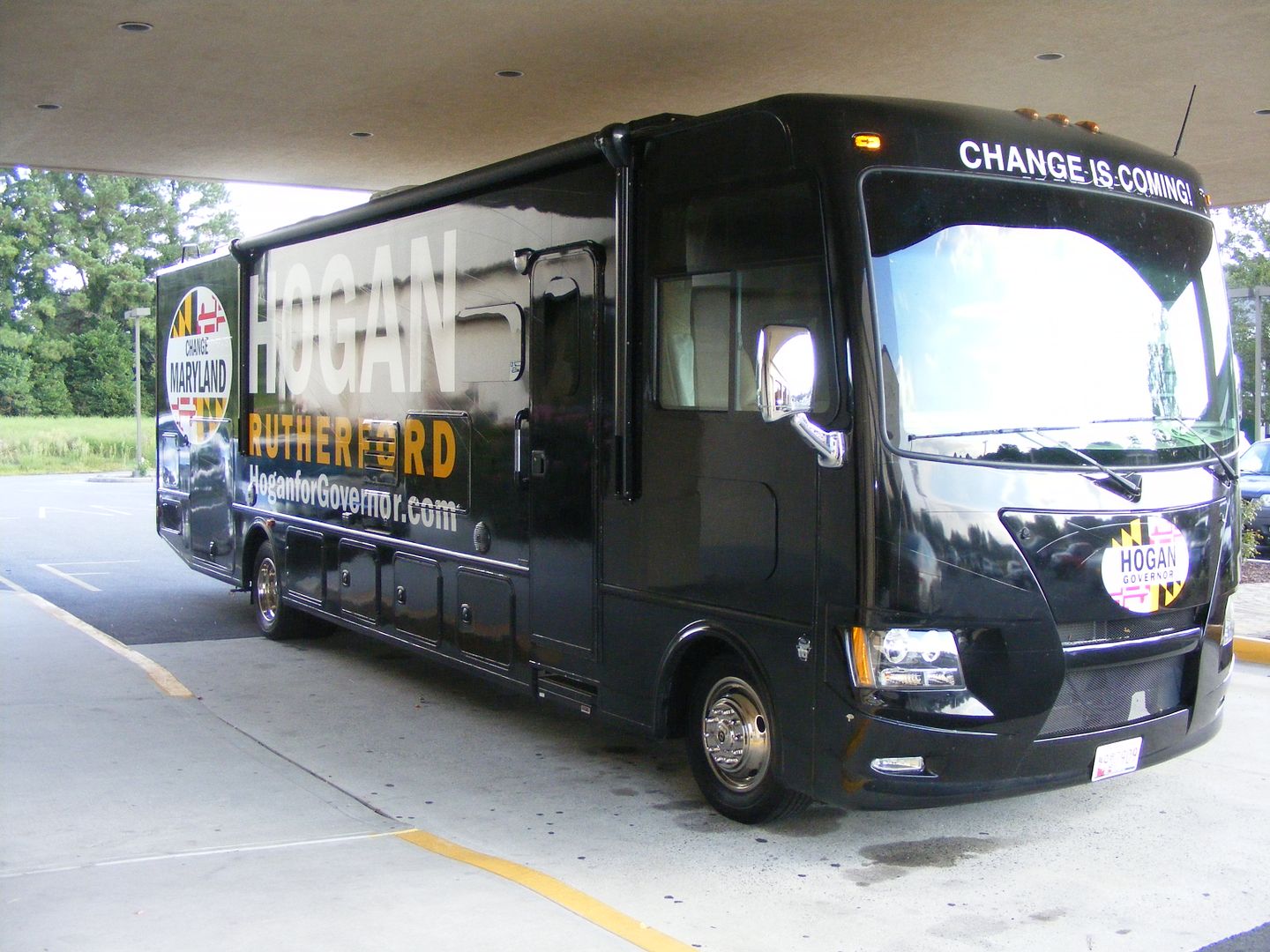 (By the way, it does have a Maryland license plate. I checked.)
Hogan went on to stress that "this is a team effort" and that "this victory center is here to try and elect great Republicans."
And while he called the reaction and response to his campaign "tremendous" Larry also pointed out the feedback from the minority community, noting that in Baltimore City he often heard the refrain "no one cares about us" and that politicians don't come to the area for their input.
It led into his bread and butter message: that after 40 tax hikes and zero economic growth – a statistic Larry called "simply unacceptable" – things were so bad that the majority of Marylanders were fed up with the direction things were going. He cited a recent poll which stated 71% of Marylanders think taxes are too high and 62% would like the state to go in a different direction. His hottest giveaway item was "Democrats for Hogan" stickers, said Larry.
Our voters were angry, Larry explained, while theirs are complacent. "We're driving some big turnouts," he continued. And while he thought of his campaign as the air force, he realized that what we were doing was trying to provide the infantry for the fight. We can "send a loud and clear message" if we all work together, Hogan concluded.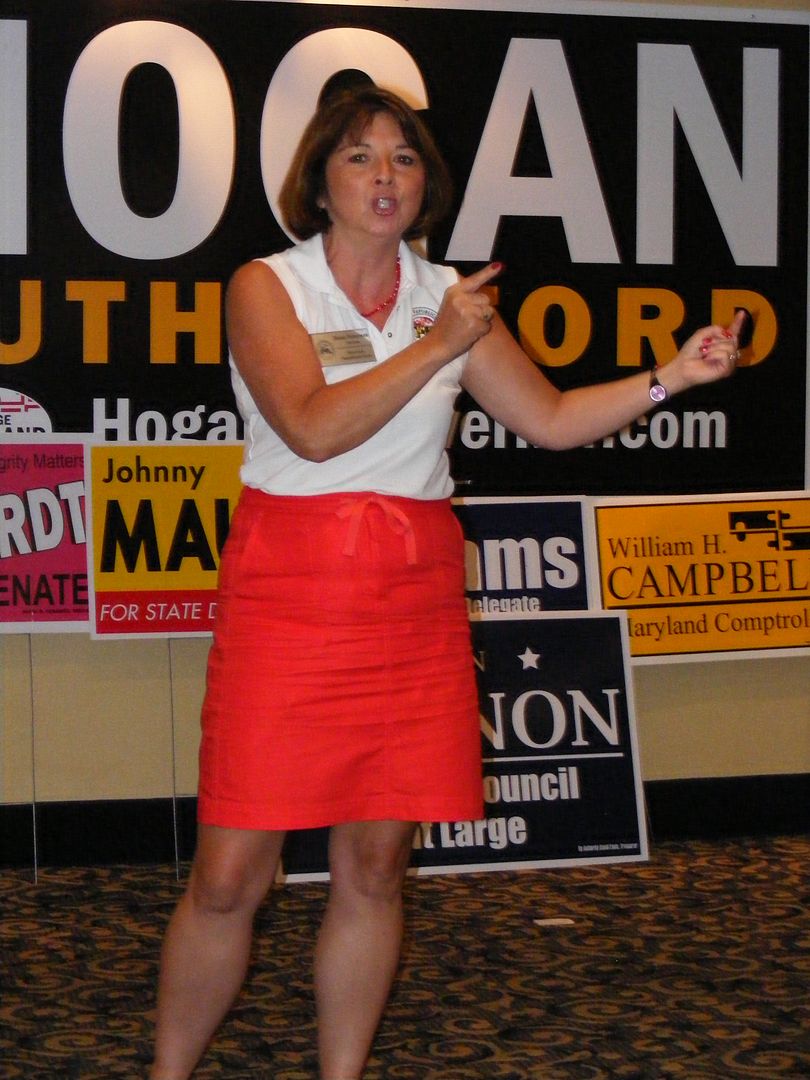 We had heard a lot of what state party Chair Diana Waterman had to say when she appeared at our recent Republican Club meeting.
But Diana wanted us to get as much turnout as we could, even if it meant going against the principle of opposing early voting. "Embrace it and make it ours," she said. Our candidates were "strong" and "ready to serve," but "as Larry said it's all about turning out our vote." We needed to get past the old saying about not discussing politics with our neighbors and instead pester them to vote, and vote for our side.
Had David Warren alerted me to what he would do with the Coke can, I would have grabbed a shot of him with the visual aid.
But Warren made the case that he said no one else had adequately made. That can of Coke, he pointed out as he popped the top, was something not available on Howard County property because Howard County Executive (and Brown running mate) Ken Ulman had placed a ban on sugary drinks. "Imagine Ken Ulman and Anthony Brown doing your health care," the Howard County native warned.
David focused on local races as well, bringing up a recent visit by three people from the Frederick area who had driven three hours here to help our folks out. As he pointed to the signs festooned on the wall behind him, he stated that "your guys represent you. The other guys represent Annapolis." He also warned that "we don't do this in 2014, we're done." It was also important to re-elect Larry in 2018 so we controlled redistricting, David added.
Today was a day to "eat, drink, and do selfies" but we had to step away from our comfort zone and work hard for the last 58 days of the campaign, Warren concluded.
Speaking of selfies, a number of candidates got to pose with Larry before he left. But first we had the official ribbon cutting.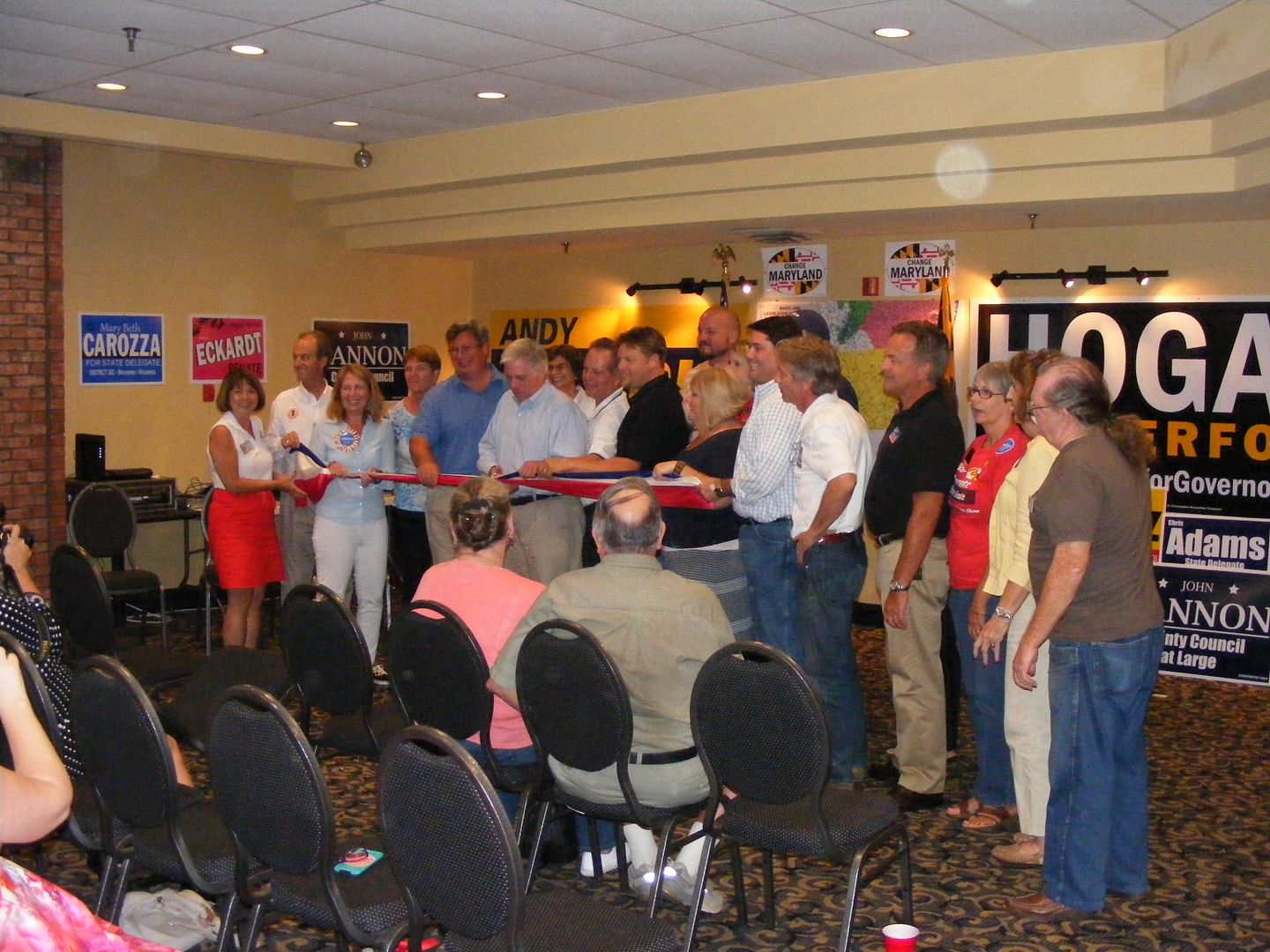 The one shot of the several that I took that I decided to use here was the District 38 team. I encourage you to send these folks to Annapolis! From left to right it's District 38C candidate Mary Beth Carozza, Delegate and District 38 Senate candidate Mike McDermott, Larry Hogan, District 38B candidate Carl Anderton, Jr., and Delegate Charles Otto of District 38A.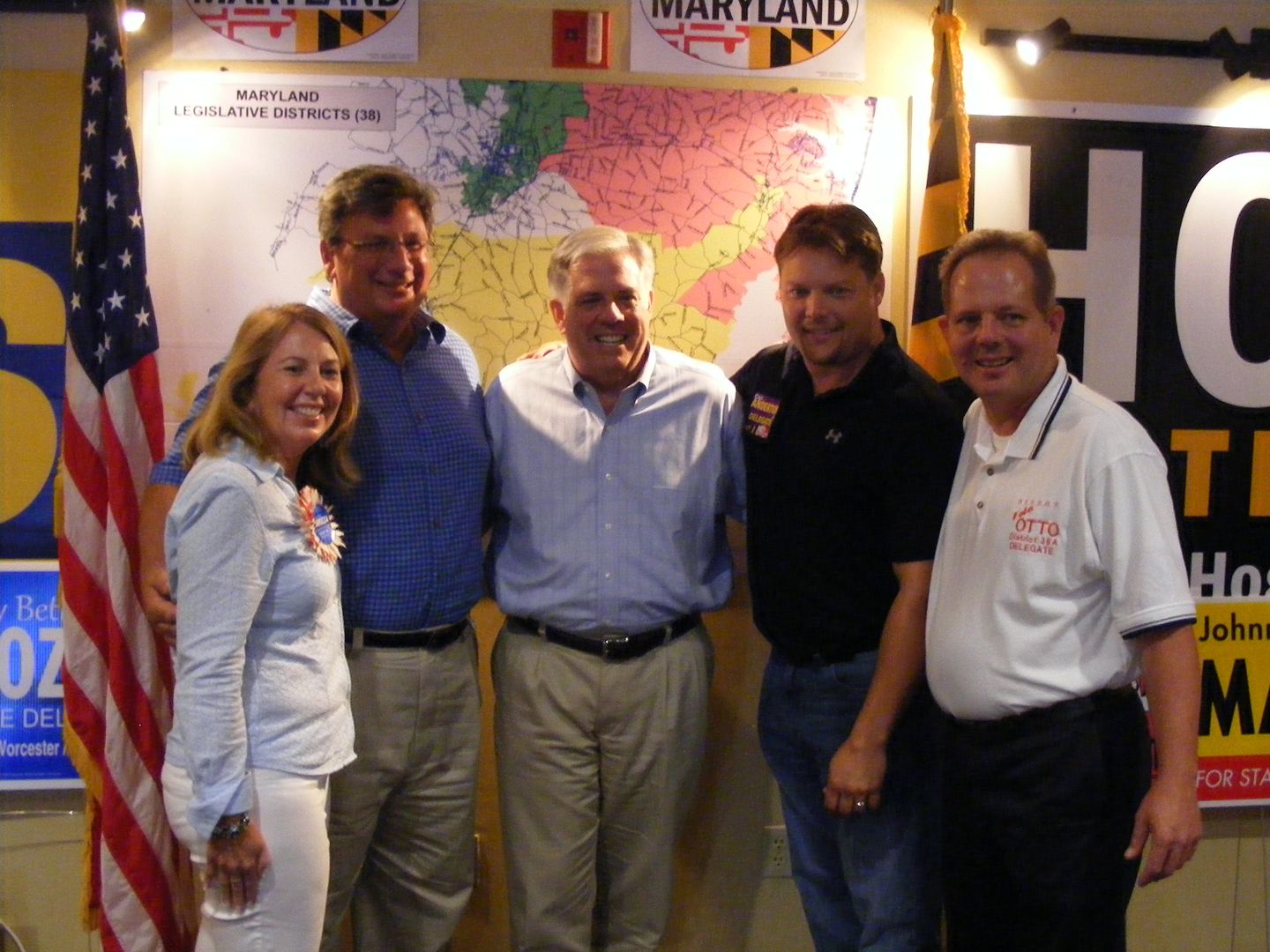 But the last one was special. Forty years ago, said Hogan, Blan Harcum helped Hogan's father on his campaign, so he makes it a point to renew acquaintances when here in Wicomico County.
So the headquarters is off to a good start. But after the food, drink, and selfies we need volunteers to help run the shop but more importantly assist with the campaigns. The headquarters is open 10-8 on weekdays and 10-7 on Saturday, according to Warren.
To borrow a phrase from a local candidate, let's get back to work.
As I write this, Wicomico County Republicans were slated to host a gala to formally open their headquarters. But all that was pushed aside by an event which occurred last Thursday – the sudden, tragic passing of Sylvia "Cookie" Harris, wife of our Congressman and leader in the Maryland pro-life community.
With services for Cookie Harris this weekend, one of the three local political events slated for today have been pushed back to next Sunday. The only event that remained on the schedule was a fundraiser for Delegate candidate Christopher Adams, which was tied into the Shorebirds game this evening and couldn't be changed as their season ends tomorrow; meanwhile, a fundraiser for County Executive candidate Bob Culver which was to feature Harris is being rescheduled with a date to be announced.
I bring all this up because it's a reminder that nothing is a given in politics (or life in general, for that matter.) In my life I've seen people 17 points down in a poll 10 days before Election Day come out a winner, the sea change in political attitude that occurred from the events of 9/11, and other instances where conventional wisdom was turned on its head in a matter of days or hours.
It got me to thinking about the GOP-sponsored poll from a couple weeks ago that showed Larry Hogan was making a race of it, despite the fact that most national observers already have Anthony Brown ready to measure for new drapes at Government House because Maryland is a "blue" state, don'cha know. In terms of voter registration, it is, but a lot can happen between now and November to convince people Hogan deserves a shot.
By the same token, one can look at the massive difference in funding between Democratic incumbent state Senator Jim Mathias and his Republican challenger Delegate Mike McDermott. Yet when you see the sources of that funding, it's worth asking why these people are paying so much to keep him in office? The same can be said of Delegate Norm Conway, but the conventional wisdom holds that both will be re-elected because they're "really nice guys" who "bring home the bacon." Still, anything can happen between now and Election Day and these two may fall out of favor among their constituents.
In all honesty, I could have written this without the tragic circumstances surrounding the passing of Cookie Harris, and I certainly join the many who have extended their thoughts and prayers toward the Harris family during this time. It's also a shock to the state's pro-life community, which lost far too much ground over Mrs. Harris's lifetime. But all involved will heal with time, and the world will return to its way for everyone – the events postponed today will be resumed at a later date. Yet it serves as a good reminder.
The message here is to take absolutely nothing for granted, not just in a political sense but in life itself. The message I often hear when someone passes is that the deceased wouldn't have cared for all the tears and sadness by mourners because they lived their life in the best way they knew how, no regrets. It was up to us to do the same as the truest way to honor their memory.
And as it says on the sidebar of my website: never, never, never give up. Whatever life throws at us, we can overcome.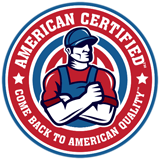 I didn't get as much in as I would have liked, but as promised I did speak to some trade issues last week.
In the meantime, my AC cohort Ed Braxton continued his look at how manufacturing is moving beyond labor. In the first decade of the 21st century, a net of 5 million workers exited the manufacturing field; meanwhile, the composition of those who remained began to change.
This actually goes hand-in-glove with something I featured a few weeks ago, summarizing a report where the authors' contention was that the standard tool of future manufacturing workers wouldn't be a wrench but an iPad. While there will always be a need for human hands to make certain things, the lack of physical activity required for manufacturing many common objects shows the need for brains exceeds the need for brawn.
My editor Sean Keefe is now part of the writing team, with his first piece being an interview with an American brush maker. Interestingly enough, one piece of advice Alan Schechter of Gordon Brush Manufacturing Company had: "Have a strong voice to your politicians to support American made." That brings me to my two pieces for the week.
The kernel of one post began as a remark Andy Harris made at his recent town hall meeting. I think I'd heard it before, but the fact that Russia halted imports of American agricultural products in response to our sanctions for their bad behavior in Ukraine reminded me that "made in America" still has to serve a global market, and trade wars hurt all of us. Yet trying to put these pacts together and iron out differences is akin to herding cats, particularly when a dozen nations sit around the table and Congress is feeling left out. Both are the case with the proposed Trans-Pacific Partnership.
So it was a somewhat slow week, although late last week I read that one story I've followed for awhile has reached a resolution. There's also some movement in the energy sector that may spur a story, too.
I haven't decided yet if I'm going to bury my next AC review on Labor Day weekend or wait two weeks, so sit tight. I guess it depends how much I write over the next week – hopefully it will be a productive one in all aspects.
I don't have a poll to show you, but I do have a website.
Today I was alerted to the existence of a new political website which makes the case that the next Congressman from the First District should be a woman: Jeannie Haddaway-Riccio. Gleaned in large part from her recent run for lieutenant governor on the David Craig ticket and set up to resemble an actual campaign site, the website is the brainchild of political activist Phil Tran. Tran points out that current Congressman Andy Harris is voluntarily term-limiting himself and believes Haddaway-Riccio would be the best logical successor.
I decided to start a movement. In the event that Congressman Andy Harris decides to voluntarily limit his terms, we need to have a formidable successor ready to go. That successor is Delegate Jeannie Haddaway!

Jeannie Haddaway is a great role model for young women (and men alike!). She will serve Maryland's Eastern Shore and the Baltimore suburbs with grace and dignity in a Congress that desperately needs such qualities.

Plan ahead or plan to fail. Please sign the petition to draft Jeannie Haddaway for Congress! We are also selling shirts to support the movement!
(I know David Craig didn't use the full name, but I prefer to refer to her with the married professional variation she used for the House of Delegates, Jeannie Haddaway-Riccio.)
It's fun to note that Tran has both 2016 and 2022 listed as the prospective dates for the campaign, and each presents different opportunities – as do other points on the calendar, as I'll illustrate.
First, though, it's my understanding that Andy Harris would stay in Congress twelve years – under his proposed Constitutional amendment, Congressional members would be limited to twelve consecutive years. I think the three terms statement is a misunderstanding since I was told twelve years at the time Andy ran the first time for Congress, and had personally asked him for clarification since. Twelve years was always the answer I received. But there are a lot of other ways Jeannie could go in the interim.
Let's look at 2016 for a second. It's a Presidential year, so there won't be a lot on the ballot. While I hope Andy Harris gets some Congressional help this year, it's likely he will either remain the lone Maryland Republican federal elected official or perhaps have Dan Bongino as second fiddle if the Sixth District votes in its best interest. (Obviously, if Maryland voted in its best interest they would have a full GOP delegation, but I'm talking in real terms.) In any case, I don't think Harris is leaving after just three terms.
But there is an intriguing race which could develop. Remember in early 2010 when the rumor that Barbara Mikulski was passing on re-election caught fire? Well, with the increasingly likely prospect of Republicans taking over the Senate, and the fact Mikulski's not getting any younger (she will turn 80 a few months before the 2016 election) it could lead to an open Senate seat for the first time since 2006. Needless to say, every Democrat in the state and their brother (and sister) will be salivating at the chance for the brass ring, but who else is on the GOP bench that has run statewide? You could say Bob Ehrlich, but he's been rejected twice by statewide voters.
Jeannie Haddaway-Riccio as the Republican Senate nominee in an open-seat scenario, particularly if the Democrats have a bloody primary because most are running from cover? Maybe she's not as conservative a candidate as I'd prefer, but I think she's electable in Maryland and it's a move that would make sense if she wanted another statewide bid. She would also have the advantage of needing less time to ramp up a campaign since it's likely Mikulski would wait until the last minute to announce her intentions to the world.
If Jeannie wanted to wait until 2018, she would have even more options. One would hope that she doesn't have to worry about a run for governor because Larry Hogan is the incumbent, but the possibility of a match against Anthony Brown is there. Unfortunately, no Democrat governor has lost a re-election bid in Maryland in about forever (okay, actually 1950 – and ironically, William Preston Lane lost over tax increases) so that may not be the best play.
After running for office statewide, it would perhaps be seen as a demotion to run locally, but there's the chance Addie Eckardt may only want one Senate term as she will be in her mid-70s by that point. Granted, we will hopefully have two new GOP Delegates who could move up if Eckardt wants just one bite of the apple, but my suspicion is that 2018 was always eyed as the time Jeannie would make the jump. A win there could keep her in the limelight for 2022, when Harris would be through his twelve years, the 2014 gubernatorial winner would be term-limited out of office, and – if Mikulski finally decided to retire at the age of 86 – that Senate seat would be again up for grabs.
Another possibility for 2018 would be to take on Ben Cardin in a Senate race, but assuming Ben wants to stay on he would be tough to beat – although, at 75 years of age and perhaps in the minority he may decide to ride off into the sunset as well.
It's clear that Jeannie's selection as David Craig's running mate opened a lot of eyes around the state (and brought out a few long knives) so it's no wonder Phil Tran is promoting her as a possibility for higher office. She isn't the longest-tenured or most conservative Republican candidate in the state, but she has the right experience and didn't hurt the Craig ticket, which simply didn't have the resources to compete against a deep-pocketed opponent who made no critical mistakes.
Running for lieutenant governor didn't turn out to be a success short-term, but it's obvious a lot of people now think highly of her long-term prospects.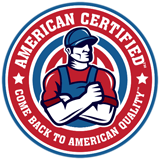 Thanks to a slow week a few days back I skipped an installment of my AC week in review – but I've come back with some new stuff.
On Friday I posted a piece about Andy Harris's Salisbury town hall meeting. It was intended to be a followup of sorts to this piece I posted at the AC site regarding questions which should be asked at these gatherings – and as you hopefully read Friday, my question in that vein was indeed answered by the Congressman.
Oddly enough, the answer to my question at that town hall touched on a concern expressed by my AC blogmate Ed Braxton, who wrote about America's high tax rates in a piece he did a week ago. But in a seeming contradiction, Ed penned a piece dealing with the decline in the necessity for manufacturing labor because workers today are much more productive than our forefathers were, while I noted that manufacturing employment was on the upswing last month.
One thing I didn't ask Andy Harris about was his inclination to support the Ex-Im Bank, a saga which has played out over the last few months as some manufacturers would like to keep it going while conservatives consider it a piece of corporate cronyism. There aren't too many session days left before the September 30 deadline, a fact I mentioned in this piece from last week.
There is one more item I wrote last week, and I'm hoping it gets on the site early next week because it looked at the recent EPA power plant emissions hearings in Pittsburgh. Regardless, it's a topic which deserves comment and the opportunity is still there.
As I recall, there are a couple other stories I've been following which reach milestones as well. We may learn the fate of the OCTG complaint against South Korea this week, and there's movement elsewhere on the trade front, too. I might see about writing a piece on something I learned Thursday night as well.
So hopefully my next installment will be chock full of good information. Generally I spend time on the weekends writing for AC so it's ready early in the week. Looks like I may be busy.
It was a fairly packed house at the Veterans of Foreign Wars Post 194 in Salisbury as Congressman Andy Harris held the second of four proposed town hall meetings in the district. After speaking in Easton on Wednesday, many of those same topics came up last night.
But the first order of business was recognition. After pointing out that unemployment among veterans was higher than the average – "I can't figure that out," Harris said – Andy presented a Congressional Citation to Chris Eccleston, who operates Delmarva Veteran Builders, a local construction firm which specializes in giving veterans job opportunities upon return to civilian life.
Once that presentation was out of the way, Harris introduced his "three things of great concern."
As opposed to past negativity about the situation, Andy considered the declining deficit as a piece of good news, noting that federal spending had been fairly level for the last three years. The annual deficit is down $550 billion from its peak, although the aim of the House is to eventually bring the budget back to balance. Andy, however, conceded that the "House's goal is to balance the budget in ten years." So while it was still important, Andy wasn't as concerned about this as he was the following three.
He also said there was "good news on the energy side," pointing out we now produce more oil than we import and should be the leading world producer of both oil and natural gas by year's end. The oil production was helped by technology which allowed what he called secondary and tertiary production from existing wells, as opposed to the primary production from new drilling.
On the other hand, Harris believed that, "in terms of immigration, the system is broken."
"The border is just not being enforced," he added, noting that Texas Governor Rick Perry has called out his state's National Guard to assist with border security. In legislation recently passed by the House, added Harris, funding was included for governors who, like Perry, decide to call up their National Guard to address the situation.
"We can't afford to have a border that's not secure," explained Harris.
The news was equally troubling on the foreign policy front. "The world is more dangerous now than it was six years ago (before Obama took office)," said Harris. It wasn't just the Middle East, either – Andy touched upon the Chinese carriers now patrolling the South China Sea, well outside their territorial waters.
And while we were reaping the effects of our decrease in defense spending, Andy continued, we were also suffering from a lack of trust. Our allies could now doubt our sincerity based on recent actions.
After expressing his main concerns, Andy took questions from the audience. As my editorial license, I'm going to cluster them into areas of concern – on top of the list was our most recent crisis.
Immigration. Many of the questions dealt with various aspects and concerns from those attending about the situation on our southern border and the resettlement of "unaccompanied children."
Much of the problem could be traced to the passage of a 2008 bill intended to counter human trafficking. Andy noted that the law as written provided the assumption that children from certain Central American countries were being brought for the sex trade, which was a problem at the time. It was estimated that perhaps 2,000 children a year would be affected, with the idea being that these children would get a hearing to ascertain their status.
Unfortunately, the crush of those claiming status under this law and the DACA order signed by Barack Obama in 2012 means that the waiting period for these hearings is anywhere from 18-60 months – and only 46% of those called show up, Andy said. One third of them are "granted status," he added.
"We should close the loophole," said Harris. "I don't see how you get out of the problem without changing the law." We also needed more judges on a temporary basis to expedite the hearing schedule.
A solution the House could offer to rescind Obama's order would be that of defunding the executive action, for which there was a bill. And while some were pessimistic about such action given the Senate, Harris stated that the Senate could agree to "a compromise deal over a much larger package." My concern would be what we would have to trade away.
Andy also pointed out that the resettlement of these children was more or less being done without telling local officials, noting when the Westminster facility was being considered the word came down late on a Thursday afternoon in a week the House wasn't in session on Friday. It eventually led to the question about those being placed in Maryland.
When asked how many were in the First District, Harris conceded he had "no idea…nobody's telling us."  But he continued by saying, "your school system will be affected," adding that many of these children can't read or write in Spanish, let alone English.
And the fact that these children aren't necessarily being screened, vaccinated, or quarantined if necessary was also troubling to Harris. "The CDC is cognizant of it," said Harris, who had spoken himself with the CDC head. Of course, the children are but a small portion of those crossing – perhaps 10 percent, said Harris.
"The real solution is you have to secure the American border," concluded Harris. Rapid hearing and swift repatriation would send the message to parents in the host countries that it's not worth the expense and risk to send children northward to America.
The VA situation. Given that the town hall meeting was being held in a VFW hall, there were concerns aplenty about the state of the Veterans Administration and its health care.
As part of a VA reform bill which recently passed and the VA has 90 days to implement, veterans who live over 40 miles from a VA facility are supposed to have the option of a private physician to address their needs. But Harris pointed out there was some interpretation involved based on whether the VA would extend that standard to an appropriate facility for the type of care needed – for example, something only handled in Baltimore. Harris hoped the interpretation would allow veterans on the Lower Shore to use closer local facilities, for which our local regional medical center could be a substitute provider, rather than make them travel to Baltimore because there was a VA clinic inside the 40-mile range but it couldn't address the need. "They regulate, and we have to watch them," said Andy.
The ultimate goal was "to make the VA system compete," said Harris.
Entitlements. On a related note, one questioner asked about protecting Social Security and Medicare.
Andy believed that "you can't change the law retroactively," meaning that the status quo should prevail for those 55 and older. On the other hand, those in the younger generation "don't expect all of it," so the time was now to begin the discussion on preserving what benefits we can. The question was no longer if we got to zero in Social Security and Medicare, but when – Social Security tax receipts peaked two years ago and were now slowly declining . "We know the figures," added Andy.
The system is "not sustainable…shame on us" in Congress for not addressing it.
Foreign policy. There were a couple questions which dealt with this topic, one on Ukraine and one on defunding Hamas.
Regarding Ukraine, one piece of "bad news" which could affect us locally was Russia's decision to halt chicken imports from America. Their preference for dark meat nicely complemented our love of white meat, so while it wasn't a large market it was an important one.
But in the geopolitical sense, Harris was relatively blunt. "We let it all go too far (and) should have put a stop to this in Crimea." Andy pointed out that Ukraine gave up its nuclear weapons in the Budapest Memorandum, which we were a party to along with Great Britain, Russia, and Ukraine. As expected, Russia violated its end of the deal, but Harris noted "I don't know where it ends."
As for defunding Hamas, the House did so in its FY2015 budget. In it is a provision that states if Hamas is included in a Palestinian Authority government, we would withhold funding from them.
Andy added that he was "disappointed" in the administration's lack of Israel support, and blasted Hamas for "purposefully aiming (their rockets) into civilian areas – that's terrorism." He added, "The war was started by Hamas…Israel has to end it."
Impeachment/lawsuit vs. Obama. It actually started as a comment from the audience while Harris was explaining his answer to the immigration issue and Westminster situation.
"I think Obama is an enemy of the country," it was said. And when Andy pointed out he was duly elected as President, stating, "nobody is claiming (Obama) wasn't elected fair and square," the audible murmur in the audience indicated otherwise.
But Andy believed suing Obama over his lack of adherence to the Constitution was the best choice. "Let the Supreme Court decide," he said, as the proper procedure for changing law was supposed to lead through Congress. He would not vote for impeachment, but would rather the lawsuit run its course. I don't think that was the popular sentiment of those assembled.
Term limits. This was actually the first question out of the chute, and Andy was clear about the questioner's desire to see them enacted: "I couldn't agree with you more," said Harris. He bemoaned the lack of co-sponsors to a Joint Resolution he introduced last year holding both Senators and members of Congress to 12-year limits. "Part of the problem is that people view it as a lifetime job," said Andy. Most agree term limits are necessary, so Andy held out hope that the 2014 campaign will bring out a new "Contract With America" promising a vote on the issue.
Common Core: It was actually asked as an awareness question regarding the new AP history framework, to which Harris could only promise to "look into this." But there was language being considered for the appropriations bills which stated the federal government couldn't provide incentives to adopt Common Core, as they did for Race to the Top federal funding.
Transportation/energy. Answering a question about bringing light rail to this area, Harris opined it was "some of the least efficient ways to transport people."  He preferred a surface transportation system, such as busses, because they're more flexible – if the development doesn't follow the rail system, there's no chance of adjusting it to suit.
On the related subject of energy, Harris believed it was easier to produce fossil fuels while researching the next generation of energy harnessing, such as fusion or hydrogen cells. At this point, "fossil fuels are the coin of the realm," Harris said.
Maximizing our resources also provides us an opportunity to counter Russia's "ability to use energy for bad ends." He also warned that Canada would either send its crude to us through the Keystone XL pipeline or ship it to China.
Manufacturing. Finally, we'll get to the question I asked about making things in Maryland and America.
Andy began his answer by referring to the practice of tax inversion, which has made news lately. He blamed our "horrendous" corporate tax rates for being an incentive for companies to stray offshore, or even just across the border to Canada (which has a 15% corporate tax rate compared to our 35%.) "We live in a global environment," said Andy, so the obvious solution was to cut our corporate tax rates.
Rather, Washington was thinking about trying to make the practice more difficult. Harris feared it would encourage more inversions.
Other steps to getting things made in America were to continue promoting cheap energy – as methane is the basis for many plastic products, having an abundant supply would be crucial in that area of production. We could also work on scrapping some of the over-regulation plaguing our job creators.
After the hourlong forum, Andy stayed around for more questions and answers. I thought the give-and-take was excellent, and it's a shame more local media wasn't there.
We don't always hold a meeting in July, but since it is an election year and we like to give candidates a chance to update us on their platform, the Wicomico County Republican Club heard from the guy who predicted "I'm going to be your next County Executive."
Obviously the voters will have their say on this in November, but Bob Culver laid out a compelling case for himself once we got through the usual business of the Lord's Prayer, Pledge of Allegiance, and introduction of distinguished guests. The latter list was somewhat shorter now that the primary is over. We also heard the Treasurer's report and got a quick update from our President Jackie Wellfonder.
Welffonder revealed that "we do have a headquarters, finally." Once the building is turned over for our use and a few minor modifications made in the way of utilities, we should be up and running soon. It's the former Mister Paul's Legacy on North Salisbury Boulevard.
She also introduced the man who would be running the headquarters, David Warren. In this cycle he's done work for the Ron George and David Brinkley campaigns, but instead of taking up an offer to go back to the Midwest (he worked for the RNC in Youngstown, Ohio in the 2012 election and had an offer to go work in Michigan this time) he came here because "I view this as a huge opportunity…(District) 38 is a very winnable district." He was also complementary to Jackie, citing her as "one of the reasons I stayed."
Wellfonder, for her part, called Warren "an asset to us because of his experience."
We then turned the meeting over to Culver, who vowed to "bring back a government you can trust…government needs to work for you."
If elected, his missions would be to sustain and diversify our local economy, improve workforce training and skills while recruiting within Maryland for new employers, and insuring the proper infrastructure – not just physical infrastructure, but including the environment and education as well. He also noted that our community is judged by how they take care of the elderly and less fortunate. And, as music to my ears, he wanted County Council to send him a proposal for an elected school board he could sign on to.
But while he won't necessarily clean house, he did want to do things differently in various county departments. He would work more closely with Council on the budget, though, and try to change the "sense of entitlement" in certain quarters of government. Culver also promised to work toward a term limit for County Executive, believing two terms was plenty.
In Dave Parker's absence, I read a Central Committee report he submitted. It talked at length about the upcoming Allen West Patriot's Dinner on September 27, although we were also trying to work with the state on a Super Saturday the week before or after.
With fewer candidates because the primary weeded many of them out, we only had a few updates. A common theme was their door-knocking as most were getting out in the community. We heard from Circuit Court Judge candidate M.J. Caldwell, County Councilman Joe Holloway from District 5, County Council District 2 hopeful Marc Kilmer, County Council District 3 candidate Larry Dodd, and Delmar Mayor and Delegate aspirant Carl Anderton, Jr.
Another concern raised by some was how some opponents will get outside financial support, even on a more local level.
Tom Taylor brought up that candidates can take advantage of PAC-14, the local cable access channel, and discuss issues with host Phil Tilghman.
Shawn Jester mentioned some recent events Andy Harris was involved in, including the District of Columbia marijuana controversy and the Eastern Shore boycott that "fizzled out" as well as the possibility of housing illegal aliens in Westminster, which won't happen. Harris also sponsored a well-attended event in Worcester County dealing with emergency preparedness.
Plans for the Crab Feast were moving along, but more volunteers were sought, said Joe Ollinger. The event will be held September 6 at Schumaker Pond.
With that and the reminder we next meet August 25, we broke into our usual post-game kibitzing. Most of the people stick around for that, so when you consider we have a pre-event social time at Cellar Door Tavern and linger for awhile afterward, it makes for a full evening. Those who are Wicomico County Republicans and want to get engaged in the local political scene should make a Monday night of it next time.