I got an interesting e-mail the other day – not necessarily for the content, but who it was from and what it may represent.
After the 2012 Republican primary campaign wrapped up, a number of the also-rans decided to form political groups or super PACs to keep their names out there, continue compiling e-mail lists, and – most importantly – keep the money coming in. Two good examples are Rick Santorum's Patriot Voices group he formed shortly after withdrawing and the American Legacy PAC Newt Gingrich is wrapped up in.
But as we begin to inch toward the 2016 campaign, the Republican field is (hopefully) looking beyond the retreads from past elections, and the potential first-time candidates are numerous. Sure, you have your share of governors like, for example, Chris Christie, Bobby Jindal, Mike Pence, and Scott Walker, along with a number of those already in Washington like Senators Ted Cruz and Rand Paul, who has began the slog by winning a couple key straw polls.
Yet there's always something about a campaign: the issues you may think will be the hot-button issues a couple years in advance rarely turn out to be; heck, even six months is a political lifetime. But Barack Obama's foreign policy weaknesses, which were successfully swept under the rug for 2012, seem to be much more prominent of late. It's interesting how the race to enroll people by the March 31 deadline for Obamacare and the entirety of the debacle itself still hasn't quite been able to succeed in pushing the Russia/Crimea/Ukraine situation off the front pages, no matter how hard the Obama admnistration tries to mash that "reset" button.
So yesterday, thanks to the always-growing number of people who seem to have my e-mail address on file, I found out that former Ambassador John Bolton created a PAC last year. He was looking for donations, of course, but one has to ask whether the time has arrived for a foreign policy hawk to assume the Commander-in-Chief's position? I can't answer the question, of course, but it's relevant to ask because Bolton drew 3% of the vote at the Northeast Republican Leadership Conference. Granted, that's not in the league of the aforementioned Paul, Christie, et. al. but it's three times better than Martin O'Malley is doing in Iowa and everyone knows MOM's gunning for the White House sooner or later. Like O'Malley, Bolton is even a Maryland native.
Maybe what got me to thinking Bolton may make a run is the PAC website. Its look and feel gives me the impression that it's a couple little tweaks from being the John Bolton for President website. Instead of featuring candidates the PAC may be helping, it's focused completely on Bolton himself – not a bad thing, but why have the pretense?
At the risk of being called a neocon, I don't think it would be a bad thing for Bolton to make a run and create a referendum on our foreign policy. Obviously John was there during the George W. Bush years when we were hip-deep in Iraq and Afghanistan, but unfortunately it's beginning to appear all that blood and treasure was for naught because we left before the job was (or will be) done. In both cases, we stopped short of annihilating the enemy with overwhelming force as we did in World War II. (Arguably, this is true of all our conflicts in the post-atomic era – well, maybe Grenada turned out pretty good.)
Unfortunately, those who have opposed us since the Vietnam era have learned that our resolve is only as good as the news cycle allows it to be. One would think after 9/11 we would see the Long War through but it doesn't appear our current Commander-in-Chief is interested in victory or even rules of engagement which would allow the possibility because someone here may be offended. In the interim, much damage has been done to both our military and our national psyche, and Hillary Clinton won't be the right person to fix it – for one thing, she wouldn't hire John Bolton, PAC or no PAC.
I've had a piece by Newt Gingrich in my inbox for a few days, but I knew sometime I would get to it. The piece is relatively evergreen as op-eds go so I just figured when the time came I would contribute some of my thoughts – well, the time is now since you're reading this.
In Newt's new book, called Breakout: Pioneers of the Future, Prison Guards of the Past, and the Epic Battle That Will Decide America's Fate, he describes those who would hold on to tradition for its own sake as the "prison guards of the past." The two cases in point he described in the piece I kept around were Google's driverless cars and "coding boot camps" where top programmers conduct intensive training programs designed to encourage employment at some of the best companies in the field – where they can perhaps work on the driverless car or other breakthroughs.
As always, there's a fly in the ointment – whether it's the National Highway Traffic Safety Administration's fear bordering on paranoia about these Google autos zipping around without some sort of new regulation to cover them or the California Bureau for Private Postsecondary Education fretting that these would-be hackers aren't getting the well-rounded politically correct education the state seems to demand, bureaucrats have to get their grubby little fingers into the pie. My question is: what exactly would they contribute?
I've often stated the case that government is a solution, but it rarely addresses the correct problem. It's obviously in Google's best interest to put out a usable and safe product such as the one which they are testing right now, just like it's in the best interest of those who run "coding boot camps" to educate their students in the best way possible to assume the demanding task of writing millions of lines of code. (They probably could have written the Obamacare website in a couple weeks, made it work, and saved taxpayers hundreds of millions of dollars in the process.) Snark aside, just think of the possibilities these present if left unfettered by government interference, in particular that of the driverless car.
As someone who sits behind the wheel for several hours every week doing his outside job, imagine how much more productive I could be with a good internet connection as, for example, I make my weekly drive around my various stops on the Eastern Shore of Virginia. Suddenly I may more enjoy that trip I occasionally have to make to Cape Charles for calls there. And what if we could make it so cars could traverse the rural interstates safely at a higher speed, say 120 miles per hour? Then we wouldn't need the high-speed rail boondoggle, and politically correct urban planners can't have that. To me, a car equals freedom because you're not a slave to another's timetable, whether bus, train, or airplane. Sure, it will take a decade or two for a driverless car to become affordable for the average person but there may come a point – even in my lifetime – where the car with a driver may only be seen at the NASCAR track.
The problem with the idea of using government to solve a problem is their lack of incentive to find a lasting solution. If we ended poverty or, to use an issue hitting closer to home, cleaned up Chesapeake Bay to a state where you couldn't dive in without running into the aquaculture that's in abundance, would the government regulators say "our work is done here" and go away? Not on your life – then they would have to get honest jobs. Left to government's own devices, we will never end the "war on poverty" or finish cleaning Chesapeake Bay because there's too much taxpayer- or donor-supplied money at stake.
Yesterday I was thinking about freedom, and it dawned on me that we cannot have absolute freedom because that would be anarchy – everyone would live for their own self-interest and it would deteriorate into a simple game of "survival of the fittest." But we also could not have absolute tyranny because at least the tyrant would have his or her own free will, even if he or she is the only individual so unconstrained. In all societies, we have some sort of rule of law, but the difference is in who calls the shots and whether things are set in stone or as capricious as the weather on a particular day. We are at war with Eastasia, and have always been at war with Eastasia; that is, until someone decides we're at war with Eurasia.
It seems to me that the sweet spot in a society would be one where there are some fairly simple rules (the Ten Commandments and Constitution as written come to mind) but aside from that people have the freedom to live their lives as they see fit. Google wants to make a driverless car? On balance, it seems to me the benefits far outweigh the costs to certain other areas in the transportation industry. Software makers want good coders? All they seem to be hurting is the feelings of the government which can't regulate them into their approved little box.
I've always admired Newt Gingrich – maybe not so much politically, but for the fact he seems to be thinking a generation or two ahead. I try to do the same here, as this blog and (especially) my book aren't always for the here and now, but to look into the future and see possibilities. I may not always be right, but I try to learn as I go along.
The key going forward is to impress upon society at large that they have a purpose. We can advance under a system which has brought the world prosperity, or backslide into the tyranny mankind has known for most of its miserable existence. It's still our choice, but the window is closing fast. Those "prison guards of the past" are aptly named, for this nation was born from tyranny and of late it's devolving in that direction unless we can break the chains.
At this time of year many counties are scrambling to find speakers for their annual political dinners, whether they're the Lincoln or Reagan Day events Republicans hold or Jefferson-Jackson dinners for Democrats. However, the Maryland Liberty PAC has scored a coup by securing libertarian favorite Senator Rand Paul for their upcoming event.

Obviously being close to Washington, D.C. assisted the Maryland Liberty PAC in their effort, but having Rand Paul as a keynoter may bring more interest to the group than the buzz about securing former VP candidate Paul Ryan to speak at the 2013 Red, White, and Blue Dinner sponsored by the Maryland Republican Party last June. The worrisome trend for Maryland Republicans: reports seem to indicate attendance at the event has declined markedly in recent years – while 400 came to see Ryan, close to 700 came for Mitt Romney in 2010 and for Newt Gingrich in 2009. Gingrich also spoke there in 2011, while Karl Rove and Grover Norquist have also addressed recent RWB gatherings. Although the attendance goals expressed by the MLPAC are somewhat more modest, in the range of 150 to 200, it may be a sign that allegiances in the continuing MDGOP struggle between establishment and grassroots may be shifting. All the Liberty PAC needs is the group which has tuned out the mainstream GOP over the last few years to be successful.
MLPAC chairman Patrick McGrady added in a release that:
It is widely rumored that Dr. Paul will run for President of the United States in 2016.

March 26th is your opportunity to meet this rising star within the Republican Party.

Maryland Liberty PAC is committed to building a 21st Century Republican Party that brings new ideas and new people to the cause for liberty in our country.

Rand Paul is one of those new voices who presents a bold, conservative message that's appealing to millions and millions of Americans.

The proceeds from this event will continue to support Maryland Liberty PAC's ongoing efforts to

Build the statewide liberty movement
Train new activists on effective tactics
Mobilize the grassroots around liberty issues
Hold leftist politicians accountable

Don't miss your chance to build the cause for liberty in Maryland and celebrate an instrumental leader in the movement.
But it's interesting to me that the MLPAC wants to work within the framework of the Republican Party, considering the fact they and their subgroup the Maryland Pro-Life Alliance – particularly the latter – tend to aim their fire at recalcitrant Republican members of the General Assembly as opposed to Democrats.
Moreover, the money raised may not go to the candidates and causes more mainstream Republicans may want to support. Unlike most PACs, the MLPAC doesn't directly support candidates. Indeed, a look at their campaign finance reports shows they've never transferred any money to candidates and have endorsed just one local candidate in their history. Much of what they've raised so far has gone to political education, as expressed in their frequent e-mail blast campaigns against members of the General Assembly or advocacy for or against certain bills (particularly the 2012 Septic Bill and 2013 gun control legislation) in session, with most of the rest going toward fundraising expenses.
According to McGrady, that trend will continue. "We are primarily focused on issue advocacy and informing the public about voting records of politicians on those issues," he said. McGrady went on to add that they wanted a price point which was "attainable for everybody," and I would say $30 to hear Rand Paul accomplishes the goal – although the hourlong VIP session is more conventionally priced at $200 a head. Dirty little secret: that and the sponsorships are where the money is really made.
This show of support from Rand Paul may put a little spring in the step of Maryland's "tireless, irate minority" and give them more impetus to change hearts and minds. It should be a fun event, nonetheless, and the question of whether any of those who attend are Republican elected officials and candidates will be something to check for the next financial report.
First of all, I want to give the tip of the hat to Joe Steffen for noticing this. Admittedly, he was skeptical of the very first line – and so was I – but I don't perceive that Joe Steffen and Larry Hogan are on each other's Christmas card lists so I wanted to read the Hogan op-ed for myself. Granted, I was floored enough to ask "really?" in reaction to Joe's Facebook post.
Obviously I have some comments, but I think this lays out where the Hogan campaign is going – a populist assault on the Annapolis "establishment." Yet Hogan isn't exactly an outsider to that clique because he was Secretary of Appointments under Bob Ehrlich, and deferred a 2010 gubernatorial run in order to clear the way for the "establishment" choice in Bob Ehrlich. I find that a mixed message based on the messenger.
Having said that, though, a continuance of the ongoing criticism of the current majority party from Change Maryland since its 2011 inception wouldn't be a bad thing. The trick will be fleshing out the alternative, and Hogan's "Third Way" speaks to revisions in the way we govern ourselves through inclusiveness, transparency, and efficiency. In that latter realm he actually covers many of the same points Ron George has brought up with his campaign promise of auditing the state government.
Hogan concludes with a promise of "a renewed focus on building Maryland's private sector and business climate." I would hope that would be the first priority, not a throwaway line at the end of an op-ed.
But I think the parts of Hogan's op-ed which bother conservatives in Maryland the most are the invocation of Bill Clinton as a model and the implication that we need a Clinton-esque "Third Way." Admittedly, Hogan seems to be basing his campaign on the populist appeal of being "bipartisan," always stressing that a large number of Democrats and independents support Change Maryland. There's no doubt we need at least some of each to win since the majority of Maryland voters haven't yet seen the folly of being so heavily registered with a majority party which places their pursuit of power over the needs of the average Marylander, thereby regularly voting for that legislative majority against their self-interest.
Yet Hogan's Clinton "Third Way" invocation bears the reminder that many of his signature achievements such as welfare reform, federal budgets with a modest surplus, and overall prosperity came from the period where he dealt with the Gingrich-led Republican Congress which dragged him kicking and screaming into enacting these changes. Left to his own devices and a Democratic majority in Congress, we would have had massive budget deficits and Hillarycare, since that's the path we were on until the Contract With America and the 1994 midterms interceded. Bill Clinton also reaped the benefits from a natural economic recovery after the recession of 1990-91, with unemployment peaking in mid-1992.
The question, then, is whether a "Third Way" is possible in Maryland, or even desirable. As Change Maryland has shown, the progressives who run this state are bereft of ideas which don't involve tax increases, more power concentrated in Annapolis, deprivation of personal liberty, or some combination of the three. I'd be more inclined to follow the conservative alternative than "attempt to synthesize what some regarded as the best ideas of the left and the right" because the left, in my humble opinion, has nothing which can be considered a "best idea." We've tried their way at both the state and (arguably) a national level since 2007 and we see where we are.
Over the next week we will hopefully get more of a glimpse behind the curtain of a Hogan administration, but based on initial rhetoric those who really wish to change Maryland for the better could be a little disappointed. Hopefully my initial impression is misplaced.
It was a little scary when I glanced at the subject line of the e-mail: wasn't Newt Gingrich a flop as a Presidential candidate? And isn't a little soon to be discussing 2016, really?
Upon further inspection, though, I found that Republicans can be carpetbaggers, too:
As a former senior staffer on Newt's 2012 presidential campaign, I am leading the effort to convince Newt Gingrich to run for U.S. Senate and building a winning grassroots campaign for when he does.

So far, the initial push has been a resounding success. We've had tens of thousands of grassroots activists across the country sign the petition to Draft NEWT.

In fact, the campaign has been so successful that we've generated significant positive press attention from the Washington Times and many national political papers. Now, we are looking for our second wave as we continue to drum up support for the Draft NEWT movement and build a winning ground game.
The gentleman who's on the sending end of this is named Andrew Hemingway. It sounds like he's pining for a job in the nascent Newt campaign:
If we generate enough signatures and enough financial support, we will be able to get Newt into the race with an overwhelming grassroots base of support.

If we are successful, Newt will go to the Senate and work with Ted Cruz and Rand Paul to restore and uphold our Second and Tenth Amendment rights, balance the budget, abolish Obamacare, and put a stop to Barack Obama's liberal second term agenda.

With Republicans on the edge of retaking power in the US Senate, a Newt victory could be the win that puts Republicans over the edge. How great would it be to know that your efforts helped Draft Newt, elect Newt, and retake the U.S. Senate?
I suppose the reason I thought this was a 2016 effort was because awhile back I told you about a bid to get Judge Andrew Napolitano off the sidelines and into the 2016 presidential race. Obviously Maryland had its recent movement to draft Charles Lollar into the gubernatorial race bear fruit as well. But would the commonwealth of Virginia take kindly to an outsider running for Senate?
Because Newt didn't qualify for the Virginia presidential primary last year, it's hard to gauge what sort of support he would have had in the state. But judging by the fact the Draft Newt Facebook page has 17 likes and the Twitter page has but 7 followers, I don't imagine the petition is too far along – meanwhile, time is wasting. Granted, things are a little different in Virginia because they conduct state elections in odd-numbered years so they're in the midst of a heated gubernatorial campaign as we speak, but once the holidays are over you would hope Newt would be ready to go. So far, though, Gingrich seems more interested in life off the campaign trail.
But if Crossfire gets cancelled, I suppose Newt will have some free time on his hands. I think Virginia Republicans are on their own with this one.
On Monday another former Presidential candidate tries to become a media maven.
In and of itself, that's not unusual as several of the alsorans have taken to the new media in various ways: Newt Gingrich has Gingrich Productions, which works in the realms of film and literature. Rick Santorum founded Patriot Voices as an advocacy group, but one which offers a movie called "Our Sacred Honor." Perhaps the closest to doing multimedia is Herman Cain, but the ambitious "new online network of programming designed to give you the other side of popular culture, politics, entertainment" of CainTV has seemed to devolve into a mix of regular short videos and written commentary to go along with Herman's nationally-syndicated radio show.
Yet the idea is still appealing, and on Monday Ron Paul will debut what he calls the Ron Paul Channel. There he promises:
When the Ron Paul Channel launches, we'll take mainstream media by storm. No advertisers, no corporate agenda — just the truth delivered exclusively to subscribers like you.
From the looks of it, there will be at least some daily programming on the Ron Paul Channel beginning tomorrow – perhaps not a 24/7 setup like a cable news network, but having an exclusively online presence also saves in the overhead of actually securing a channel on cable or satellite, as Glenn Beck has done. Similarly, another alternative news network targeting the conservative audience is the TEA Party News Network, which is comprised of videos of their personalities on other news sources.
Trying a more conventional route, however, is One America News, which went on the air in July and runs constant programming to around 10 million cable-equipped homes. Their alliance with the Washington Times lends them some gravitas but may lead to a perception that they're a knockoff of Fox News.
But Ron Paul has a rabidly loyal following that these other outlets don't, with the possible exception of Beck. So what kind of audience can such a channel expect?
Let's look at some numbers.
In 2012, according to Wikipedia, Ron Paul received 2,095,795 votes. However, there are perhaps 10 percent of these voters who would be the most militant followers and that's the base one can expect to at least look at the RPC. So we're down to 210,000 homes and maybe 10 percent of that crowd would be using the RPC as their primary news source daily. I think 21,000 viewers daily is a fairly decent estimate of their potential audience to start if all goes well and the programming is of sufficient quality. It may seem like a lot but it pales in comparison to what the cable networks reach, even on a summer weekend.
(As a point of comparison, the social media presence of the RPC has fewer than 13,000 followers right now between Facebook and Twitter. So I may not be far off base.)
It's worth mentioning, though, that the RPC won't be looking for sponsors, but subscribers. To me, that implies a monetary component which could be a few dollars a month or more for enhanced access. Obviously I could be wrong, and I hope I am because one would think that spreading the truth according to Ron Paul would be done in such a way to make it as accessible as possible.
A channel run by moneybombs? I suppose it's possible; after all, we've found over the last half-decade or more that Dr. Paul is a pretty good marketer.
Last week, in another story sort of buried in the runup to the Tawes event, the fine folks at Change Maryland hit the 50,000 "like" mark on Facebook. (Today it appears they have surpassed 51,000.) It bears recalling that in the spring of 2012 they were just at 12,000 – although I noted at the time their cake was much more optimistic. Perhaps by the spring convention of 2014 that extra zero will come in handy.
It seems the rule of thumb is that their membership grew in year two at a rate twice as fast as it did in Change Maryland's first year – if this continues they would be in the 115,000 range by this time next year. But is that too optimistic of a goal?
The bread and butter of Change Maryland has been its strident opposition of Martin O'Malley's numerous tax hikes and pointing out his incompetence at job creation, especially when compared to peer states. But having covered many of those revenue enhancements now – and knowing 2014 is an election year for his anointed successor, Lt. Gov. Anthony Brown – the process of raising taxes may come to a halt. Bear in mind as well that most of O'Malley's increases are now occurring automatically like clockwork; for example, the sales tax charged on gasoline increases in July during both 2014 and 2015.
A second item affecting Hogan's organization is a change in personnel. Jim Pettit, who worked with Change Maryland during its run to 50,000, recently joined the campaign of gubernatorial candidate David Craig. Perhaps this is a good time for a transition, knowing that much of the issue advocacy occurs during and immediately after the General Assembly session, but I don't discount the experience Pettit brought to the table. He's been replaced by Matt Proud, who has plenty of political experience for a youngster and may bring some youthful enthusiasm to the effort, but will still need a little time to transition into the task.
But what does having 50,000 Facebook followers really mean? Change Maryland explains:
(Change Maryland) has built a dominating presence on social media with more people engaged online than the Maryland Democratic Party, the Maryland Republican Party and all of the potential statewide candidates of either party, added together. Change Maryland's Facebook page has a total weekly reach of over 341,153 people. No other citizen group in the state has ever accomplished what Change Maryland has, in just over two years.
So they are influencing over 300,000 people of all political stripes with a fiscally conservative message. But will founder Larry Hogan upset the apple cart by making his own bid for Governor? Hogan was coy at Tawes, being quoted in an AP story as noting:
I just think it's very, very early to be here in the hot, dog days of July the year before the election to be out campaigning. At some point, we might have to take a serious look at it. I don't think we would do that for quite some time, though.
The way I interpret that is the question of whether Michael Steele jumps into the race later on. None of the others on the GOP side could reasonably be interpreted as Bob Ehrlich loyalists in the way Hogan or Steele would be.
In some respects Hogan is faced with a similar question Newt Gingrich faced in 2008: fresh off the formation of American Solutions, Newt had to decide whether to jump into the presidential race or continue to grow his group. He eventually decided to take a pass on the 2008 race, choosing to maintain his American Solutions leadership role. Conversely, once Newt decided to enter the 2012 presidential race his group withered on the vine.
If Change Maryland becomes interpreted as a campaign entity for Larry Hogan's gubernatorial bid, its influence would wane. But if Hogan becomes a kingmaker of sorts, using his organization to promote candidates with a fiscally responsible track record in the same manner Sarah Palin lends her hand to certain conservative hopefuls on a national scale (such as Dan Bongino) he could retain his following and influence the 2014 election up and down the line.
There's no question Maryland needs a change from the liberal philosophy dragging the state down, and Hogan's group is succeeding in getting out the message. The next step is motivating these disciples to action, and we won't know the success of that mission until November of 2014.
It doesn't seem like this issue will ever die.
You might recall that after our Maryland GOP Spring Convention earlier this year I posted a piece critiquing the thoughts of Don Murphy, a former Delegate and longtime party activist who has been fighting a crusade for many years to open up the Republican primary to unaffiliated voters, perhaps with the idea of welcoming them to the party eventually. His reasoning seemed sound: a number of like-minded Northeastern states open their primaries because they have a plurality of unaffiliated voters.
But the MDGOP appears to be interested in revisiting the process, as Erin Cox writes in the Baltimore Sun, and it may set us up for yet another contentious convention this fall in Annapolis. And while Brian Griffiths uses the evidence of past election results in his post on Red Maryland today, I honestly believe that's a little bit of a red herring argument.
In Maryland today, the registration numbers lay out as follows (from the June report):
Democrats: 2,073,619 (55.6%)

Republicans: 959,120 (25.7%)
minor parties – Libertarian, Green, Americans Elect, and other unrecognized: 59,644 (1.6%)
unaffiliated: 636,716 (17.1%)
Four years ago at the same point in the cycle, the percentages weren't a lot different. There are now 300,000 more voters in Maryland, but numerically they line up similarly:
Democrats: 1,942,336 (56.9%)

Republicans: 909,848 (26.7%)
minor parties and other unrecognized: 80,034 (2.3%)
unaffiliated: 478,817 (14.0%)
A number of the unaffiliated are likely former Independents, which is no longer a separate category.
And I'm sure some fret that eventually the unaffiliated will catch up to the Republicans – a 3% gain every four years coupled with a 1% loss in Republicans would put that date sometime early next decade. My contention, however, is that there are a significant proportion of Democrats who are so because their primary is the only race they can vote on.
But opening up the GOP primary to unaffiliated voters isn't going to be enough of a draw for voters who have no local Republican candidates on the ballot for whom to vote. For example, in Prince George's County's 2010 primary – perhaps the most unbalanced in the state – once you departed the federal and statewide races there were exactly zero contested GOP races at the legislative level and just two local races (both for Central Committee seats) where the GOP had more contenders than winners. I admire the Prince George's GOP for their efforts (my "partner in crime" Heather Olsen hails from there) but what would help them more than anything are candidates willing to stand up and hoist the GOP banner. Allowing unaffiliated voters into the GOP primary wouldn't change the game.
Now I'm sure those who favor the idea will argue I used the most extreme example. Yet even if every single voter not connected with the Democratic Party decided to become a Republican, AND we could attract the 10 percent or so of Democrats statewide who are affiliated that way because their daddy was a Democrat but vote straight-ticket Republican – we're still a minority. Barely, but still looking at a deficit and up against the hardcore elements of a power-drunk party.
Personally, though, I think the idea seems to come up when the Republicans are threatening to run conservative candidates for office. When I was living in Ohio, their Republican Party always seemed to anoint the most moderate candidate and overtly try and eliminate any more conservative primary competition for that person. And what did we get? Sixteen years of ruining the Republican brand with tax-and-spend governors, particularly Bob Taft. (Unfortunately, John Kasich isn't doing much better now that he's been spooked by the unions.)
Here in Maryland, the talk of opening up the primary died down when Bob Ehrlich won and through the three cycles where he was the all-but-endorsed choice of the Maryland GOP apparatus there was no chatter about adding unaffiliated voters to the mix. But now that we have a more spirited competition between several good candidates, the powers-that-be are presumably trying to make sure the most moderate, "electable" candidate prevails. As a conservative, pro-liberty Marylander who would like to see a governor tell the Democrats it's his way or the highway, I would like a leader and not someone who sticks his finger up to see which way the wind is blowing. Mitt Romney and John McCain were supposed to be "electable" in a way that Rick Santorum, Newt Gingrich, Mike Huckabee, et. al. were not.
If unaffiliated voters want to vote in a primary, it's very easy to change your registration to Republican. Get good candidates worth voting for and they will come.
Update: A non-scientific poll by Jackie Wellfonder at Raging Against the Rhetoric found that support was perfectly mixed: 44% for, 44% against, and 12% undecided out of 75 who responded.
Earlier this week my friend and colleague Jackie Wellfonder did a piece about two possible entrants to the 2014 Maryland GOP gubernatorial chase, Michael Steele and Larry Hogan. While I've written about Steele's bid in regards to how it would affect the race, I've sort of dismissed Hogan's chances for two reasons.
One reason is reminiscent of why Newt Gingrich didn't run for president in 2008 – at the time, Newt was getting American Solutions off the ground and couldn't legally maintain his leadership role with that group while participating in an exploratory committee. While the rules are probably different in Maryland, Hogan's role as leader of Change Maryland – a group he regularly touts as nonpartisan – may have to be ceded should he decide to get into the race for governor.
Wellfonder, though, makes the point an upcoming fundraiser Hogan is hosting on Change Maryland's behalf could be an opportunity to announce, and the timing would be correct. But this might also be a little deceptive, since those who attend may be interested in helping Change Maryland financially but may not necessarily be as willing to support a Hogan gubernatorial bid; in fact, this sort of speculation might just keep would-be supporters who back other candidates away.
In truth, insuring that fundraiser's success given the important role Change Maryland is playing in Maryland's conservative movement is a pretty compelling reason itself to end the speculation and announce he would take a pass on 2014. But the other reason I had mentally checked Larry off the list was shown here, on page 3:
I first accessed this file back in January, at a time I was trying to line up an interview with Larry for my moribund Ten Question Tuesday segment. It was still on my computer here because I don't clean out my "downloads" folder. But it was an "aha!" moment of sorts, particularly when you figure $325,000 is a sizable chunk of change from anyone's personal funds outside of Warren Buffett or Bill Gates.
However, I found out last night there's more to the story. In fact, the 2012 campaign finance report I cited was later corrected because Hogan paid off the loans in 2010 once he wound down the exploratory committee. (Page 5 on both documents.)
The original 2012 report I saw back in January and filed in July of 2011 was what I based my mistaken assumption on. Now one could come back and say that Hogan and his treasurer filed a false report, but it's worth pointing out that these were corrected several months ago, not at a time when public outcry demanded it. It may have been as simple as forgetting to eliminate the last page from the filed report, since generally reports have to be carried over from one reporting period to the next; perhaps the state Board of Elections noticed the discrepancy and alerted Hogan's campaign treasurer to it as they reviewed all the 2012 information.
In short, someone made a mistake, it was fixed, no harm no foul. This should be a non-issue, and I bring it up only to explain some of the reasoning I had all but dismissed Hogan as a 2014 candidate. In fact, one could use this to argue he believed strongly enough in the state to put that much of a personal stake in the race, even as he promised to withdraw if Bob Ehrlich ran. (Never mind the formation of Change Maryland and all the time and effort Larry surely puts into it.)
Given the already-crowded field and the possibility Michael Steele could indeed get into the race, I'm still fairly convinced Larry Hogan will be happy to remain on the sidelines. However, should he decide to run it will be with a clean slate financially.
Since I took nearly 100 pictures and 36 made the final cut, I decided to make this a two-part post.
Recently having done a stint at the Turning the Tides Conference, I thought I had a little bit of an idea in what to expect from CPAC. But the entirety of the Gaylord Conference Center and the number of celebrities speaking and milling around tells me that I missed a lot when I missed the first two days of the gathering. Yet the one day I managed to be here was well worth my time in learning from and meeting those who move and shake the conservative world.
Walking into the Potomac ballroom I was blown away by the expanse of the venue. Sure, we have some decently-sized conference rooms for our 300-person gatherings for the Maryland Republican Party, but this room could hold a sporting event. If anything, the stage made the speaker look small.
The first speaker I heard upon my arrival and the recitation of the Pledge of Allegiance and invocation was TEA Party pioneer Jenny Beth Martin, who repeated the case I've been pleading since the most recent incarnation of the pro-liberty movement was born: conservatives are for limited government, fiscal responsibility, and a thriving free market. Instead, Martin said, they are "mocked, marginalized, and maligned."
She also added that we're headed to bankruptcy, with an Affordable Care Act which is "unaffordable, callous, and cruel."
"The reality today is grim and heartbreaking," Martin added.
She concluded by asserting, in a rising voice, that liberty will endure – if we fight for freedom. "Our Constitution is worth fighting for, because freedom is worth fighting for."
Rep. Steve King of Iowa followed Jenny Beth to the podium and made the case that "Obamacare has got to go…we can't let up." It erodes our vitality and is an "unconstitutional taking," according to King. He also criticized the immigration initiatives because, as King claimed, 2 out of 3 illegal aliens are Democrats "and the Democrats know this."
King called on us to "restore the pillars of American exceptionalism…we've got a country to rebuild together."
I should point out that I had pictures of these two speakers and they didn't make the cut. But this guy made the cut.
Wisconsin is a state which has a leader, said emcee Charlie Kirk, founder of Turning Point USA, and Governor Scott Walker detailed a number of ways he's indeed led.
Harkening back to recent initiatives, Walker noted welfare reform and tax reform originated in the states. And just as the states created the federal government, the 30 states with GOP governors – most of which also have Republican-led legislatures – can improvise with good, conservative ideas. But Walker made the point that "to be successful, we have to be optimistic, relevant, and courageous." It's obviously working in Wisconsin, where 93 percent of the state said it was heading in the right direction. "We're the ones who care about fixing things," he added.
Walker was ready with a number of examples of poor policy, like the first-year Milwaukee teacher who was selected as their teacher of the year but furloughed because she was at the bottom of the seniority chain. His union reforms eliminated that problem. The overall idea, continued Walker, was to replace the narrative that a successful government was one which created dependents with one which made the case that government works when it assists people to wean themselves off dependence by making it easier to get a job.
"In America, we celebrate the Fourth of July, not April 15," shouted Walker. "We believe in the people, not the government!"
And then came Newt – a guy who only needs one name to convey who I'm speaking about.
Gingrich addressed the concept of government needing to be pioneers of the future, and get out of being prisoners of the past. As a movement our contrast with President Obama "couldn't be more vivid."
But he saved withering criticism for the "Republican establishment class," which "couldn't be more wrong." Holding up a candle and light bulb, Newt chided Washington as "being prisoners of the past…they're all trapped in the age of candles." Both parties in Washington are blind to the future, though.
Interestingly enough, Newt promoted a book by a liberal author, the former mayor of San Francisco and now lieutenant governor of California, Gavin Newsom. But Citizenville was a book "every conservative should read" because it promoted a more active citizenry. Gingrich used the analogy of the Facebook game Farmville, with the idea being earning rewards for public-spirited achievement rather than planting virtual crops.
Newt also took a swipe at the establishment wing of the party, saying that since 1976 "the dominant wing (of the GOP) has learned nothing." Nor should we be strictly the anti-Obama movement, said Newt.
The powerful morning lineup of featured speakers concluded with Minnesota Congresswoman Michele Bachmann, the 2012 Presidential hopeful whose campaign flamed out after a great summer of 2011.
She explained about the TEA Party movement "we love people in this country…we want everyone to succeed in this country." As key parts of that success, Michele believed there were a lot of goals we could accomplish "if we put our minds to it" such as cutting the price of gasoline to $2 a gallon, preserving our Second Amendment rights "for your sister and your mother," and most ambitiously finding a cure for Alzheimer's Disease in the next decade. The key wasn't big government, she argued, but "big innovation."
Bachamnn also chided the inefficiencies of government, pointing out that for every $10 spent on food stamps only $3 goes to recipients while the other $7 goes to bureaucrats. She also dubbed the Obama presidency as "a life of excess."
In the hardest-hitting portion of her remarks, Michele savaged Barack Obama for the "shameful incident" of Benghazi. "This is a story of not caring," Bachmann said. Because (Tyrone Woods and Glen Doherty, the two ex-Navy SEALs killed at Benghazi) cared, they defied orders and they chose to go to the aid of their brothers…they fought for our country."
As the attack raged on, "they continued to radio their government begging for help," charged Bachmann, "and that help never came." This despite the fact President Obama knew of the attack within its first hour, she continued.
"A war was raging in Benghazi for hours, and all we know is that our President went AWOL," she continued to a chorus of boos and catcalls for Obama. "No one knows to this day where the President was."
Of all the Saturday speeches I heard, Bachmann's was perhaps the most critical of Barack Obama.
After she finished, I decided to skip the next panel and head out to explore a little. I hadn't really had the chance to walk around as I arrived shortly before the proceedings began. It was a crowded lobby to be sure.
This space also featured the famous "Radio Row" I'd only heard about, although on a Saturday morning it wasn't as busy.
The TEA Party Patriots were busy doing a radio show, though. (Actually, it may have been just before or just after this video was done. The blond gentleman in the background of my picture is Jim Hoft of Gateway Pundit.)
There were a few television broadcasts in various stages of production, such as those of Hot Air.
Also working on content was the TEA Party News Network, who thankfully sponsored the internet access (more on that in part 2.)
Further down Radio Row, another start-up operation was making itself known to the broadcasting world.
Later in the day, it was announced that One America News Network would make its debut July 4 of this year. "We will be the platform for the conservative message," said OANN's Graham Ledger. He cautioned, though, that cable systems "will resist putting on a conservative news network."
Once I made my way down the hall and down a level, I was at the entrance of the exhibit hall. I didn't count them, but there were probably over 100 groups exhibiting their wares. By the time I was through, the swag bag I received at the entrance was very full (I took the picture when I got home.)
The exhibit hall was fairly expansive as well.
Here was a group I think needs further investigation. Unfortunately, there was no one there to explain the concept to me. From what I gather, it's a database of conservative companies to support.
Another group I'd love to have seen a representative of was this one. Maybe their volunteer (or intern) had an encounter with some union thugs.
I got to talk with this group, though. They represent an outfit I've referenced a lot over the years.
A newer but very nice organization has been referenced on this site since its formation. Unfortunately, in missing Friday I missed a chance to talk with its founder.
Someone else who might be on the 2016 ballot had some unofficial help. These were placed on a side table, but not many were wearing them that I saw.
There was also an area in the exhibit hall for book signings. When I was down there, Newt and Callista Gingrich were signing their tomes with Ellis the Elephant looking on.
Some people simply took the opportunity to relax and take a quick break in the CPAC Lounge. They could watch the action upstairs on the monitors.
Just like them, I'm going to rhetorically relax and take a break, since this seems like a nice dividing point. Part 2 will be up tomorrow morning.
If the Good's Lord willing and the creek don't rise, by the time you read this I will be at CPAC. It's been a goal of mine to go, and even though I'm not getting the full three-day experience (in part due to my outside job) there will be plenty enough to do in one day. Among the bright conservative lights I'll be sharing my Saturday with are Governor Scott Walker, former Speaker Newt Gingrich, Rep. Michele Bachmann, former Governor Sarah Palin, Mayor Mia Love, and Senator Ted Cruz. Not too shabby, huh?
I'll have my laptop with me, so hopefully I will be able to provide coverage while I'm there. You may also want to follow me on Twitter as I update. My job will be to give you a taste of my experiences, since I really don't know what to expect. It may be overwhelming but it surely should be exciting. I'm also hoping to meet a lot of my blogging cohorts there.
Tomorrow I will see what my notes and pictures look like and give you my impressions in pictures and text.
I covered the events of Saturday morning in part 1, so if you enjoyed the "lunch break" I pick up the events with one of the most popular conservative politicians in Maryland.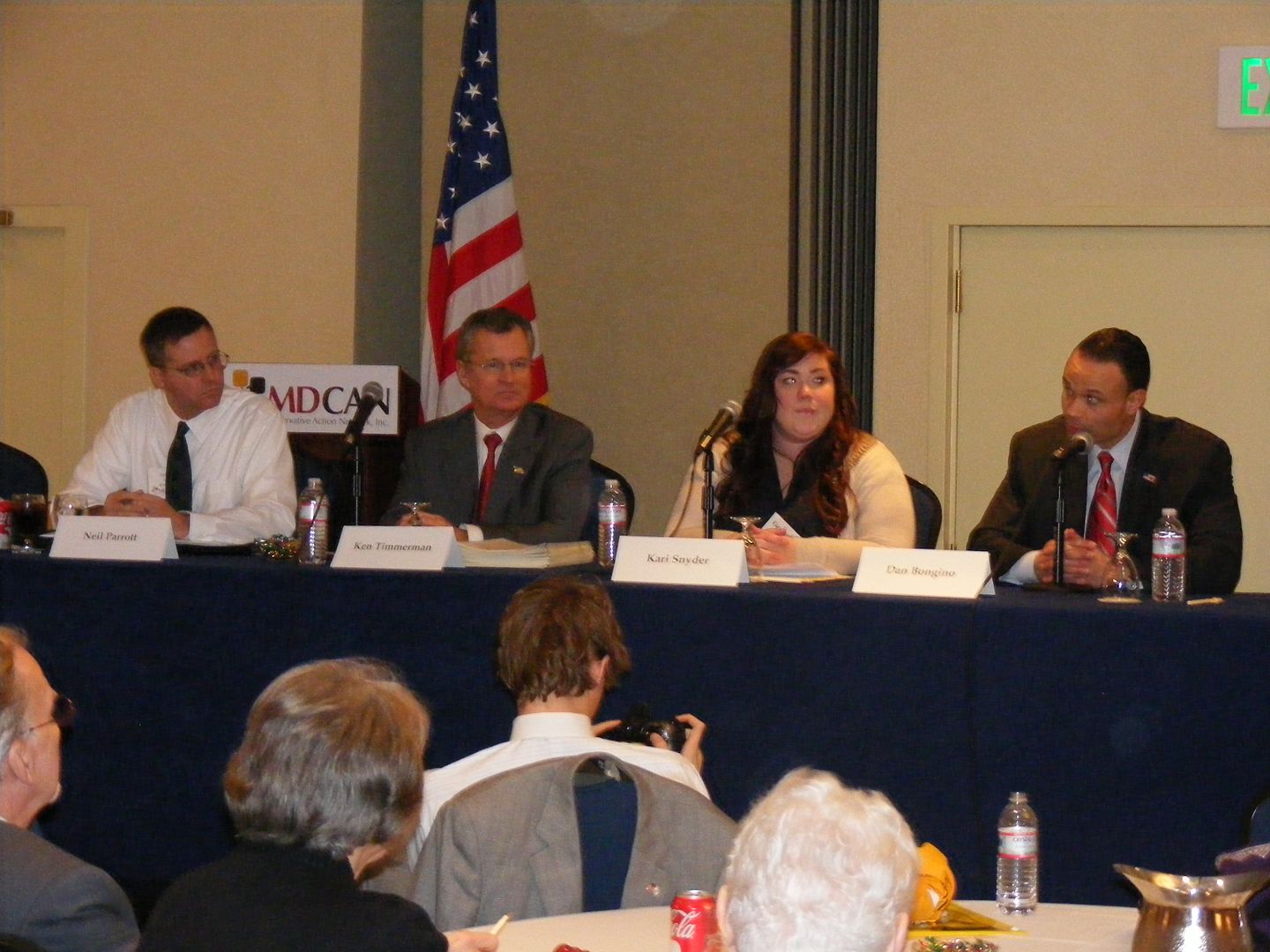 Yes, on the far right of the picture is Dan Bongino. He was the star attraction of a panel discussion called "Changing the Ground Game in Maryland." Moderated by Kari Snyder, the other participants were 2012 Congressional candidate and author Ken Timmerman and Delegate Neil Parrott.
As he stated in his interview here, Bongino had some definite criticism of the MDGOP's efforts and suggestions for improvements. For example, "if you're not registering voters at the gun shows in Maryland in the next two months, you should be arrested for political malpractice."
Obviously Dan harped on the voter registration aspect – "they're kicking our butts" – and how badly we were trounced there, although not to the extent he did in our conversation. But he also spent a lot of his time on the concept of message vs. marketing, rhetorically asking "do you know what the most dangerous branch of government is right now? The media!" Dan also restated the point that "(Barack Obama) ran on our message."
"We've never had a message problem," continued Dan. "We've always had a marketing problem."
Meanwhile, the effects of economic neglect are apparent in Baltimore. "Baltimore City is in a catastrophic economy. There is no economy in Baltimore City," added Bongino.
Another facet lost in this recent campaign was the school choice issue. He called on us to "isolate and humiliate every one of our opponents" who don't support the issue. "It is the civil rights issue of our day," Dan stressed. Yet he had the awareness to realize "we're in the echo chamber now…action matters."
After Bongino received a standing ovation both at the introduction and the close, Ken Timmerman had the unenviable task of following Dan. He chose to focus on his race with Chris Van Hollen, noting that opposition research is very important. Van Hollen "did not know what hit him" when portions of his record were released, so much so that he stopped doing joint appearances.
Other observations made by Timmerman were somewhat obvious to us: first, "Democrats will not vote Democrat lite," and second, "the media is not our friend….don't let them get away with anything." (The easily ascertained evidence of that was the camera crews showing up for the protest outside.)
Ken also spoke on the role of the Maryland (and national) GOP, stating that "They didn't give me any assistance to speak of." It would have been helpful to get good, reliable voter data, for example. Timmerman also warned that "it's easy to introduce malicious software into these electronic voting machines." The technology simply isn't secure.
Timmerman also made the statement that "we have to start with trench warfare" in the Maryland General Assembly and "hit their core beliefs." Ken then went through a list of proposed bills, many of which I noted to myself have been tried. "It doesn't matter if they fail," he went on to say, because "we force them to engage." It provided a nice transition to Neil Parrott's remarks.
However, Neil began by rehashing the previous ballot initiative campaign, saying "we won by getting (them) on the ballot." He went over the several steps to get a referendum on the ballot: approval of the ballot language by the Board of Elections, gathering of signatures, the inevitable defense in court, and finally the writing of the language by the Secretary of State – often that can require another trip to the judicial system to clean up misleading statements, like 2012′s Question 5 on gerrymandering which alluded to the Constitution, making it sound like the ballot issue had that imprimatur.
The one thing missing was any sort of campaigning. One obvious problem was a lack of funding; for example on Question 4 we were outspent $1.7 million to $60,000. All that money allowed the proponents of Question 4 to successfully shift the narrative from one of illegality to one of "fairness." "We need to reinvent MDPetitions.com," Parrott explained.
One other well-taken point by Parrott was that Question 7 "sucked the oxygen out of the room." More money was spent on that than the 2010 governor's race.
Activists were well-aware of most of these facts, though. The next session turned our focus to energy issues.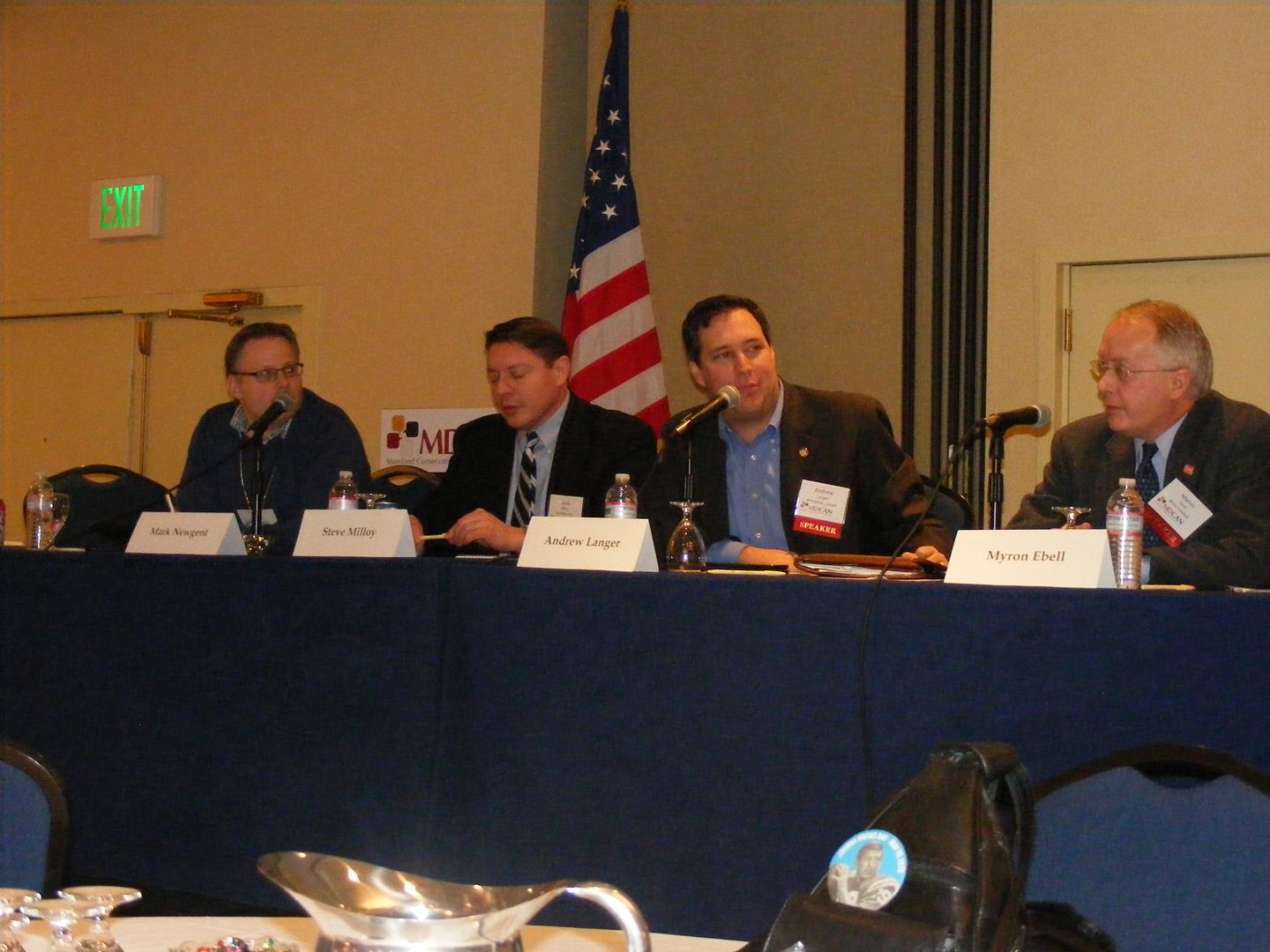 Moderator Andrew Langer of the Institute for Liberty was joined on this panel by journalist Mark Newgent, blogger of Junkscience.com Steve Milloy, and Myron Ebell of the Competitive Enterprise Institute – a source which regularly appears on this page.
Newgent opened by making a salient point: despite the push by the O'Malley administration and the adoption of ill-advised renewable portfolio standard goals, the 1.6% of electricity provided by renewable sources at the turn of the century was now a punier 1.3% as of 2010. Mark also explained that the purchase of a "renewable energy credit" was a purchase of "absolutely nothing," but it was a fine excuse for crony capitalism. Sometimes it even had a negative effect, like a (now-expired) federal tax credit for the usage of the "black liquor" by-product of the wood pulping process; one which produces more carbon dioxide than burning coal or natural gas because they mix black liquor with diesel fuel to burn it.
Newgent followed the money to the Town Creek Foundation, an Easton-based environmental organization. "We're up against some stiff competition,' he added.
"This is the game that's going on," Mark concluded.
Milloy derided the concept of global warming as an excuse to advance policy. "They don't want to know anything about science," he opined. But the small number of people on our side concerned with environmental issues had to deal with a swarm of so-called experts on the Left. "Their fondest dream is to saddle the country with some sort of climate legislation that enables them to have control of the economy," said Steve. "Climate is the best scam they've ever worked."
One statement I enjoyed was Milloy's call to rip your 'Save the Bay' plates off your car. The point was that there's nothing we can do about carbon dioxide emissions, or to fix the Bay, so save your $20.
CEI's Ebell bluntly assessed that "the (energy) myths are winning; in particular, they're winning in states like Maryland." But there was some good news: unlike other states, there was very little potential for vastly more expensive wind or solar power here in Maryland. Other states had much more ambitious schedules for renewable standards; for example, California's goal is 33 percent renewables by 2020. As a result, "they've already driven out most of the manufacturing in their state," said Ebell.
"This is the level of intelligence you're dealing with…you should be shocked, but you should also be really angry," he added.
But the problem with any renewable source of power, explained Myron, was that they weren't terribly reliable. Wind costs more because you also had to build a natural gas plant for the 3/4 of the time the wind didn't blow, particularly in the summer when demand was higher but winds were generally calmer.
Even on the oil front, Myron noted that the 3% of the proven reserves it's claimed we have is a number so low simply because we can't explore many other areas which could potentially have large reserves, such as the North Slope of Alaska.
Speaking of energy, my friend Jackie Wellfonder happened to return with some goodies about this time.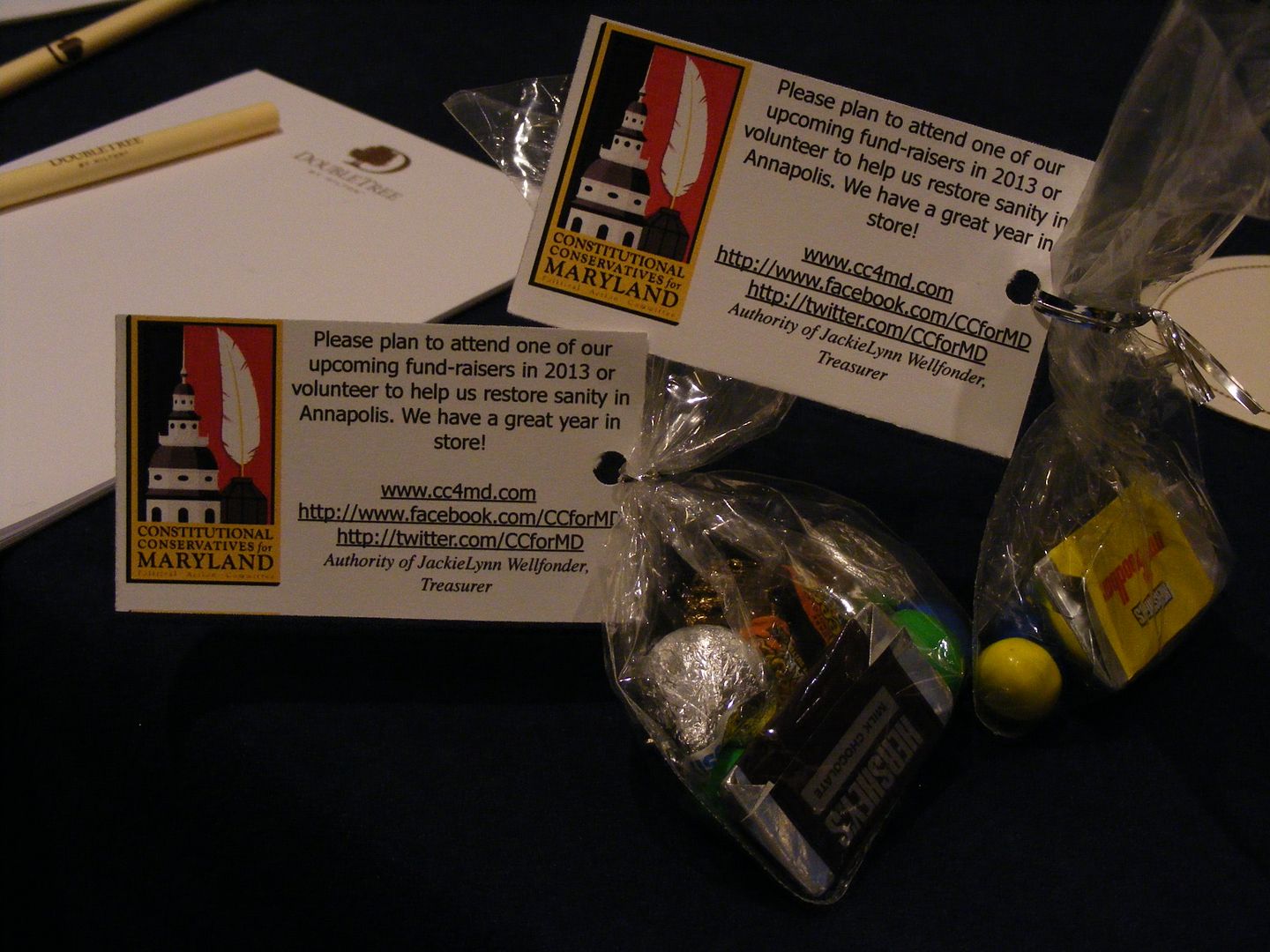 These were handed out at the CC4MD table, an organization for which Jackie serves as treasurer. She must have sensed that I like my chocolate.
As opposed to me not being cheated out of some goodies, the next group was dubbed "The Cheated Generation."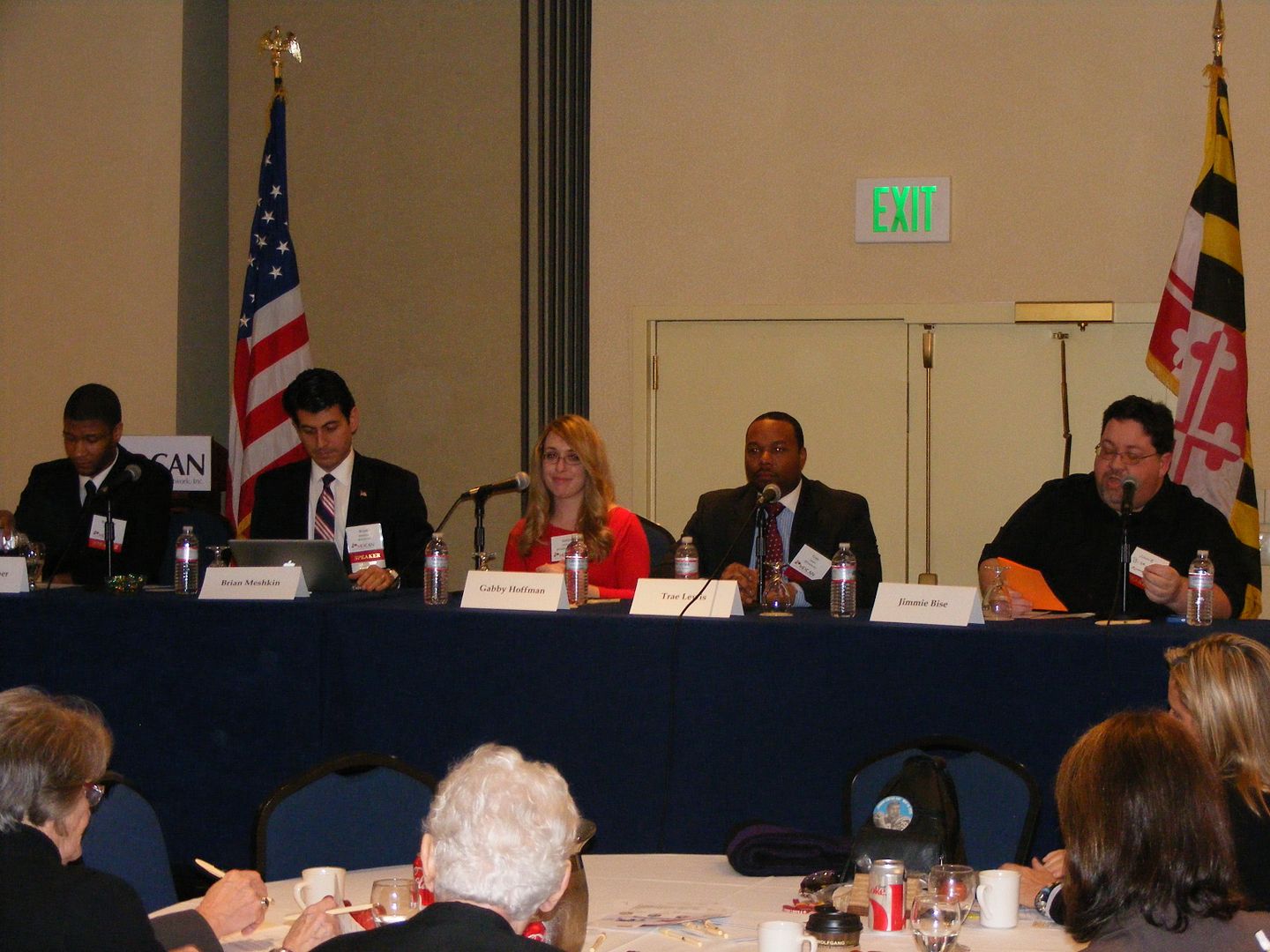 Blogger and radio host Jimmie Bise was the moderator for this group, which included Gabby Hoffman of the Leadership Institute, Baltimore Area Young Republican president Trae Lewis, Brandon Cooper, a campaign coordinator for Dan Bongino, and businessman Brian Meshkin.
Bise opened his segment a little differently, urging people to turn on their cellphones and spread the word on social media using the #TTT13 hashtag for Twitter. (I did, quite a bit.) He added that entitlements are shifting the cost burden from older Americans to the youth, from a group which can't afford this because, among other things, there's $1 trillion in college debt.
Cooper opened up the remarks by remarking on a handout he passed around, one which explained the economic realities younger people face. These mainly stem from student loans, which hamper the average student to the tune of $23,300. "Government spent $500 million on student loans in 1978; $115.6 billion in 2012," the handout revealed. Brandon went on to add that, because the federal government was now the sole distributor of student loans, there were no more price control incentives.
Brian Meshkin chastised the government's tendency from our kids to pay for "selfish excesses." As the only elected Republican in Howard County (a member of the school board) he told us that "education was a huge, huge winning issue."
"No child should be held back by the street they live on," said Meshkin to raucous applause.
There was more cheering as Gabby Hoffman revealed her story as the daughter of Lithuanian immigrants, parents who were now seeing "too many parallels" to the situation they grew up under in the former Soviet Union. And she saved severe criticism for Sandra Fluke, who she called a "repugnant human being…no young woman should look up to that trash." Obviously it followed that Hoffman also believed that giving up on social conservatism was "a completely BS move."
But her message overall was blunt: if you don't learn from communism's failures, we will have it in America. We have to scare young people with the truth, Hoffman concluded.
Trae Lewis began by giving us some bad news: if Martin O'Malley is the Democratic nominee in 2016, we are likely spotting him 215 electoral votes. (Actually, we are doing so regardless of the nominee.) The reason: "he's hitting us where we ain't," meaning the urban centers of America. "The American city is the epitome of what liberal leadership will do for this country," warned Lewis, and there's no reason not to harp on wedge issues like school choice.
"You can't turn a tide from the middle of the ocean," Trae pointed out, "you have to start at the shore and work your way out."
That wrapped up the "cheated youth" segment, but there were several other "cheated" groups. With so many speakers and panels and only a one-day timeframe, there were bound to be some issues which received less coverage so we had what was called the "coalition round-up." This had representatives of groups focusing on immigration, election integrity, the General Assembly, school choice, pro-life issues, and the Second Amendment.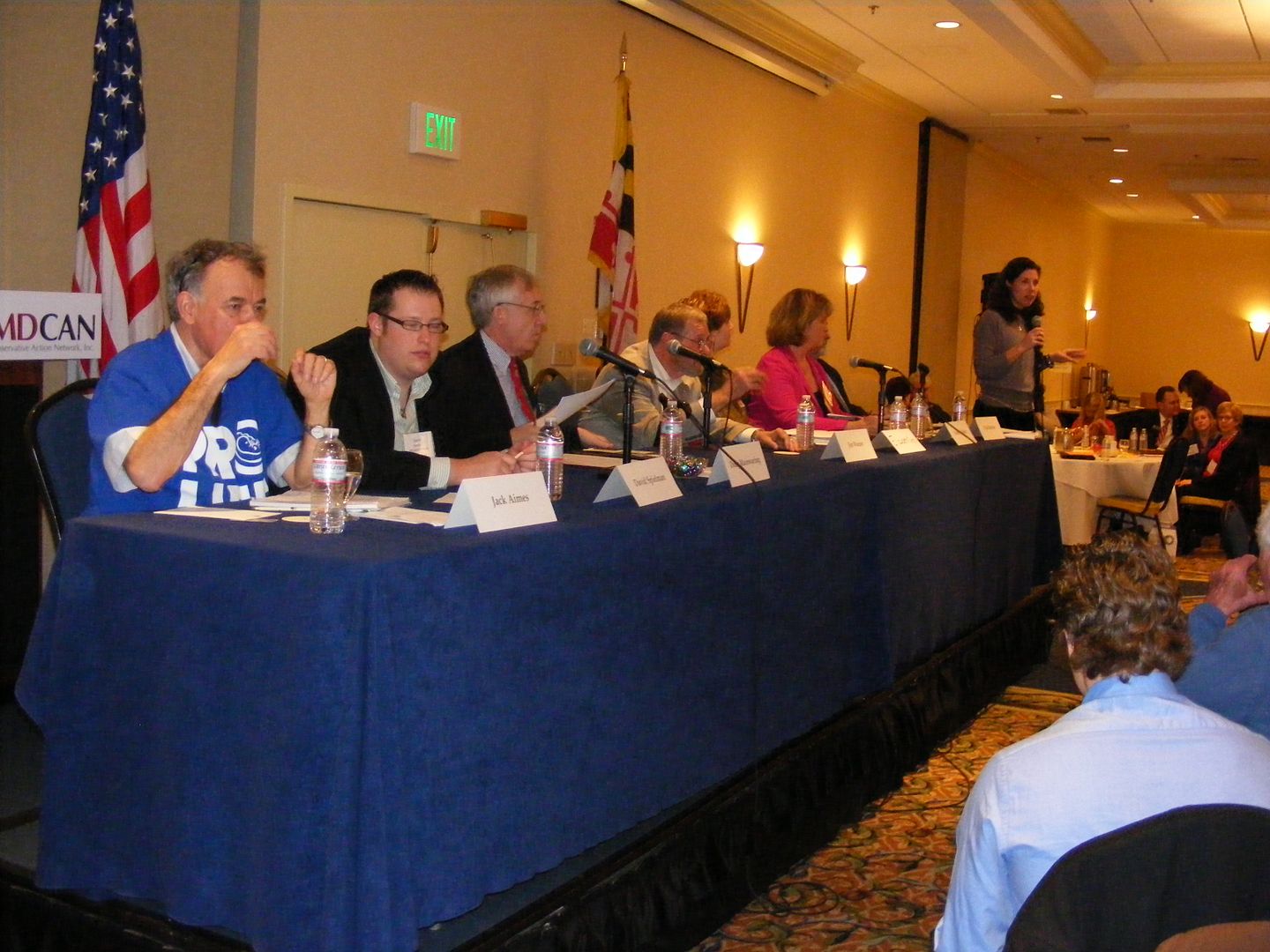 While much of his ground was covered by previous presenters, Paul Mendez of Help Save Maryland repeated the fact that 90,000 more people in Maryland voted against Question 4 than voted for Mitt Romney. And there was an economic benefit even in failure: not only did they delay the implementation of the bill by over a year – saving Maryland taxpayers thousands – over $1 million was pumped in from out of state to pass Question 4.
Cathy Kelleher of Election Integrity Maryland gave a short history of the group, which was inspired to begin after activist Anita MonCrief appeared at the first Turning the Tides conference in 2011. It "started with four people at a kitchen table," but after pointing out thousands of voter roll irregularities over the last year EIM could claim the success of removing 15,000 1,500 dead people from Maryland voter rolls. (Thanks to Cathy for pointing out my overexuberant typo.)
On the flip side of the electoral process was the legislative process, and Elizabeth Meyers introduced her Maryland Legislative Watch group to the audience. This group of volunteers (of which I'm one) reviews every bill introduced to the General Assembly to determine if it's an anti-liberty bill.
While activist and writer Doug Mainwaring wasn't affiliated with a particular pro-traditional marriage group, he worked closely with them in an effort to defeat Question 6. And when asked how an openly gay man can possibly be against same-sex marriage, he quipped "You're an adult. You have children. How can you possibly be a liberal?" Needless to say, Doug brought down the house with that remark.
But Doug was concerned that Republicans and conservatives "are crumbling on this issue." Some examples were National Review, the Washington Times, and Newt Gingrich.
David Spielman, the outreach coordinator for National School Choice Week, told us he was "giddy" about all the school choice talk at this forum. But the problem we had was deeper than just one issue, for Spielman assessed that "Obama was talking to everyone; we were talking to ourselves…we were outmatched, we were beaten."
School choice will take outreach, he continued, but so far over 3500 events had been held over the period School Choice Week had been celebrated. (The 2013 edition begins January 27, but there are no events on Delmarva.)
Jack Ames of Defend Life, who was wearing a shirt emblazoned with the pro-life message he said was free for the asking, but with the promise it would be worn in public regularly, claimed that most people are philosophically pro-life, they're just not actively pro-life. Still, "we're literally killing God's creation." The Defend Life organization, he went on to say, works in three main areas: a lecture tour with several speakers which is available for groups, a magazine, and the "Face the Truth" tours, which feature photos of aborted fetuses. He urged pro-life activists to "be fearless" and do what we can to embarrass Martin O'Malley. (Isn't he Catholic? Wonder how he reconciles his pro-abortion stance in his church?)
Finally, decorated Vietnam veteran and retired NRA attorney Jim Warner gave a roundup of the Second Amendment. He also gave us some sage advice: the only way to stop a bad person with a gun is to have a good person with a gun. Finally, we should "tell the Marxists to go to hell!," Warner shouted.
The "words of encouragement" to wrap up this long day were delivered by 2010 U.S. Senate candidate Jim Rutledge, who took the stage to the chant of "A-G, A-G!" Many (myself included) would like to see Rutledge make a run for Attorney General in 2014.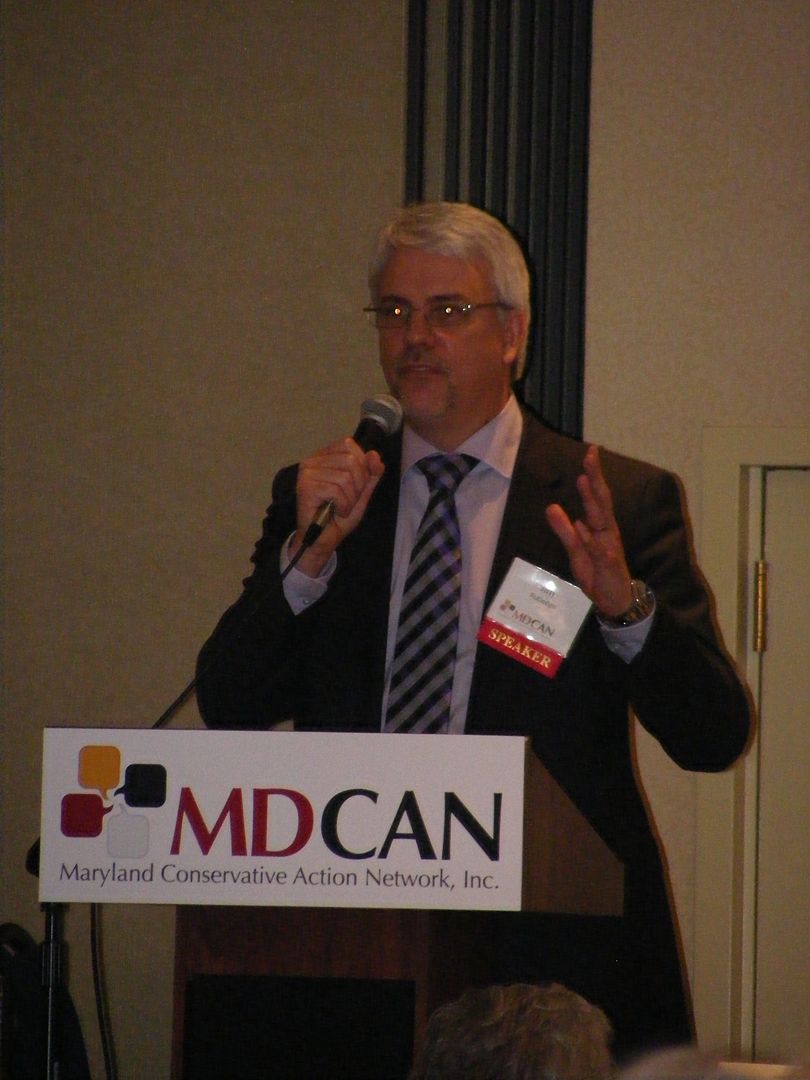 Rutledge pointed out that "a storm…cannot be avoided. We're getting ready to learn some very profound, painful lessons. And that lesson is this: unlimited, centralized power cannot coexist with liberty." Jim blasted the concept of machine politics, one which Maryland had lived under "for far too long." Baltimore City was "a great example" of this; a philosophy where Jim postulated that the machine asks "what you've done to serve the machine?"
On the other hand, liberty asks what your rulers have done for you, Jim thundered in his distinctive, appealing style. Yet too many in Washington, D.C. are "uncomfortable promoting liberty." To that he strongly asserted, "Washington, D.C. cannot fix Washington, D.C."
Meanwhile, Maryland is no better: "We're on our own in this state," said Jim.
There's no doubt that Rutledge was a good choice to motivate the crowd and renew their spirit. It's too bad he's not utilized by the Republican party here in Maryland, but his may be a case of alienating the wrong insiders.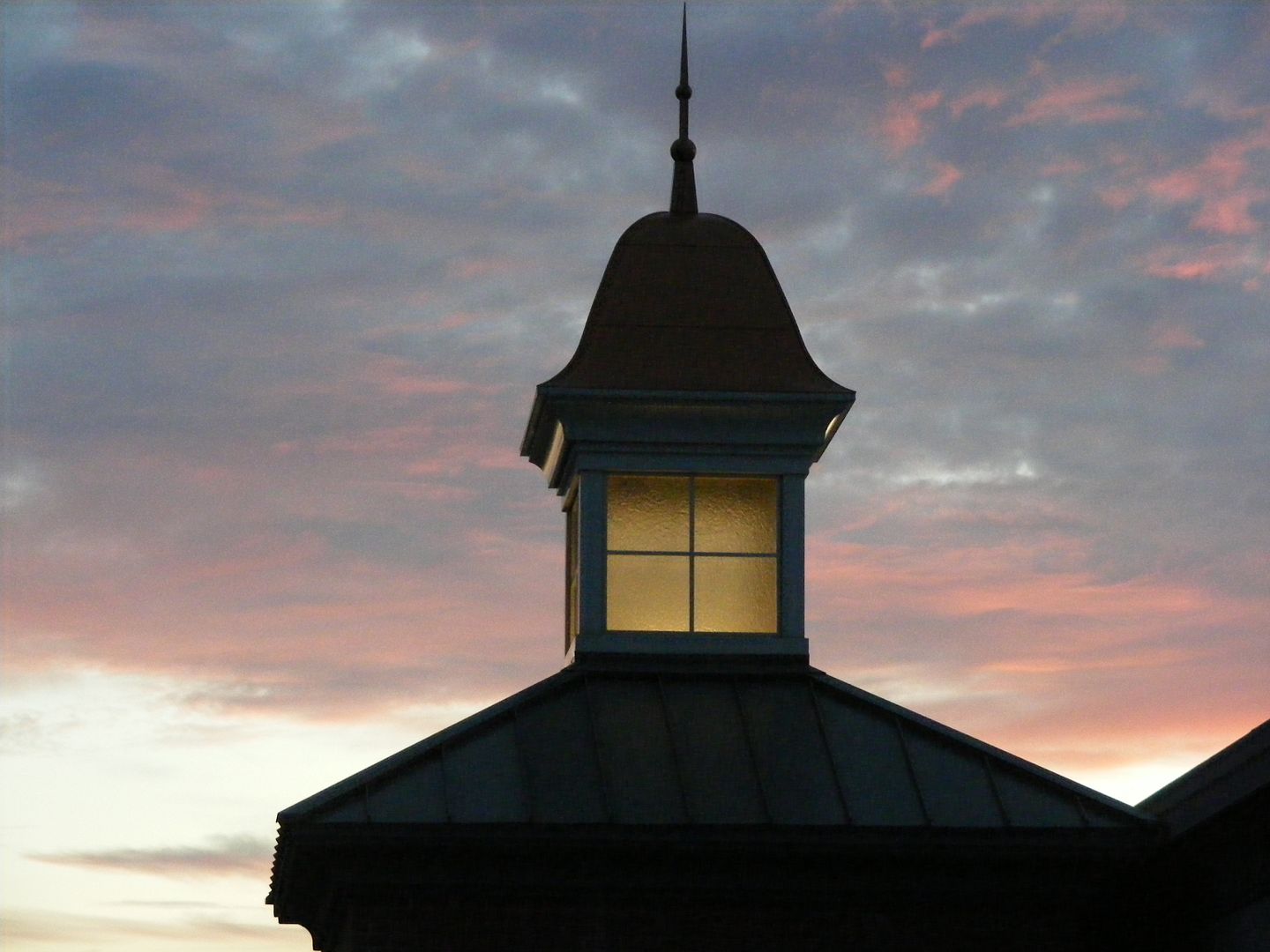 Finally, the day was done. Well, there was a Happy Hour sponsored by the Conservative Action Network, Conservative Victory PAC, Constitutional Conservatives for Maryland PAC, and the Montgomery County Federation of Republican Women. I was also cheered to see some of the Maryland GOP leadership dropped by, as First Vice Chair Diana Waterman and National Committeewoman Nicolee Ambrose were present for at least part of an event where the party wasn't always shown in the best light.
But the question is one of continuing the effort beyond the walls of the Doubletree Hotel. There were perhaps 300 of us who attended the event, but, for example, in 2010 1,044,961 voters were foolish enough to re-elect Martin O'Malley. On the other hand, only 67,364 Republicans voted for the more conservative Brian Murphy in the primary election and just 74,404 voted for the aforementioned Rutledge in his Senate bid. Indeed, we have a problem with our message insofar as not enough people are making the educated, real world proven choice of conservatism.
Yet if 300 people can both reach one voter a month and, in turn, convince that voter to reach one other voter a month, the force multiplier will get us to the 1.2 million votes we will need in 2014. But we have to step beyond preaching to the choir and get in the faces of the opposition. Stop being afraid.
Several people at the conference, both speakers and in general conversation, suggested reading and studying how the Democrats succeeded in several areas, with the closest parallel being the state of Colorado. Obviously they had the weaker message, but the better techniques of making people believe in voting against their interests. So it's our job to remind Maryland voters that the government which is large enough to give you everything is also powerful enough to take it away – don't say we didn't warn you when the excrement hits the fan.