It's not the most glamorous pair of positions, but every four years the Maryland Republican Party elects two of its three representatives to the Republican National Committee. The positions of National Committeeman (NCM) and National Committeewoman (NCW) are the two most powerful in the state when it comes to the nuts-and-bolts of national GOP politics.
Too often, states have used these positions to reward veteran movers and shakers in the party, and there was a drive four years ago to do just that as former MDGOP Chair Audrey Scott thought she could waltz right into the NCW post to succeed longtime activist (and a former MDGOP Chair herself) Joyce Lyons Terhes – fortunately, there was a good candidate opposing her in Nicolee Ambrose and the resulting breath of fresh air from her election breathed new life into a moribund and stale state party organization.
As it turns out, Ambrose and another party veteran, NCM Louis Pope, tag team in their reports during our semi-annual state conventions. Ambrose tends to talk about voter registration, campaigning, and GOTV efforts on a state and local level while Pope generally looks at the national GOP perspective and their fundraising. Pope has spent three terms in the NCM position, and while I wasn't here for his initial election he did have opposition for re-election last time around. But the crush of endorsements from other party leaders as well as a somewhat lackluster campaign from his opponent meant Pope was re-elected handily.
I first became suspicious about the prospects of there once again being an opponent for Louis when the letters began arriving a couple months ago. The first one came from Pope, but other party leaders have typed out snail mail and sent it to me beseeching me to stay the course and once again elect Louis Pope as NCM. I didn't know who the opponent would be, but these forces appeared to be quite worried. (Conversely, aside from Nicolee's letter to me, I have not seen a single thing pleading for her re-election – so she could well be unopposed, or the state establishment has another candidate in mind.)
So a week or so ago I was checking my junk mail when I saw an e-mail note from the leader of the group whose name liberals spit out as an epithet because of a famous Supreme Court case, Citizens United. In this note from David Bossie I found out he was the NCM opponent in question, and immediately this turned Maryland's NCM race from a standard-grade party election to something with a more national profile. In the introductory letter, Bossie noted:
The Maryland Republican Party needs new blood. I bring to the table the ability to raise Maryland's profile by bringing in high-level GOP leaders from across the country to raise money for the Maryland GOP's efforts. Just in the past year, I secured Donald Trump for the party's "Red, White, and Blue" dinner, and also helped bring into Maryland Senators Mike Lee (R-UT) and Tom Cotton (R-AR), as well as former Speaker Newt Gingrich to headline events for Republican candidates and elected officials.
Say what you will about Trump as a presidential candidate, but he provided a profitable RWB Dinner from the accounts I have seen.
Through our experience trying to secure Lt. Col. Allen West to do a dinner and fundraiser here for our local party, we have found out it's hard work to get the caliber of speaker we feel is worthy of a county of 100,000 residents. Certainly we could get Louis Pope to attend the affair - he's been to our LDD a few times over twelve years, and in looking at his giving history I believe he has made it at least once to each county's LDD over his tenure. Attending the county's dinner is a nice gesture of support.
Moreover, Pope has regularly conducted seminars at our state conventions on fundraising, and has been ready with helpful suggestions on how to write fundraising letters and other tricks of the fundraising trade. He's also a regular host of party events at his Howard County home.
But in speaking to David this morning with some questions about how the smaller counties such as ours could benefit from his tenure, I brought up the LDD as a fundraising standby most counties employ. It got me to imagine: what sort of attendance could you get for a Lincoln Day Dinner here with a Mike Lee or Tom Cotton? These two men, and many other heroes of the conservative movement, are on Bossie's Rolodex. As he noted, there's a big difference between just buying the ticket and helping secure the person drawing the ticket buyers.
More importantly, I think the NCM position needs the same kick in the pants that Ambrose has given on her side of the equation. She's not been afraid to lead or speak out if circumstances dictate, such as her stance on changing party rules almost immediately after taking office. It's notable that Pope was on the side of the status quo in that case, and while the NCM and NCW positions have served to become de facto party leadership in the state alongside the Chair position, at their heart they are legislative positions. The NCW and NCM are supposed to do the bidding of Maryland Republicans at the national level just as Andy Harris is supposed to in Congress. Admittedly, I have less information to go on regarding that aspect of the job but my instinct tells me Bossie would be a little bit less "establishment" and a little more "grassroots." We know where Pope has stood as he's worked his way up the party hierarchy, maintaining the status quo.
Louis Pope has given us twelve years as National Committeeman, and it's a tenure he can look back on as a net positive for the Maryland Republican Party. But given the successful change in direction that was made through the election of Nicolee Ambrose as NCW in 2012, I think lightning can strike twice at a point where we will need to focus on the twin tasks of re-electing Larry Hogan and (more importantly) getting more conservatives and Republicans in the Maryland General Assembly. If two people can be the ones to bring these races to the attention of the national party, I believe it will be the two I vote for two weeks hence.
So I'm urging my fellow Central Committee members around the state to re-elect Nicolee Ambrose as our National Committeewoman and, more importantly, bring some new blood to the state leadership by electing David Bossie as National Committeeman. I appreciate Louis Pope and what he's done for us as a state party, but twelve years is enough.
With less than two weeks to go, a gathering that was described as "modest" but yet "pretty full the whole time I was there" opened up the local Donald Trump campaign office this evening. (I wasn't among that number.) Those who support The Donald were likely cheered by the news that a Monmouth University Poll conducted over the last three days showed Trump opening up a 20-point lead in the state, with 47% support over John Kasich at 27% – Kasich's most recent showing has placed him in second place in the newly refigured RCP average ahead of Ted Cruz.
Monmouth also broke down its results by Congressional district to some extent, finding that a combination of the First District and Fifth District has over 50% Trump support with 54% for Trump, 24% for Kasich, and just 11% for Cruz. And here I thought I lived in a conservative Congressional district.
So if current results hold up, Donald Trump will probably win 100% of Maryland's 38 delegates with around 45 to 50 percent of the vote. Somehow I don't think Trump will complain about the rules here, but I really think you won't catch Ted Cruz whining – not just because he's above all that drama (unlike a certain candidate who didn't contest Colorado so he got what he put into it) but also since he may have an ace in the hole.
For Ted Cruz, the idea going forward is to perform well enough to stop Donald Trump from getting 1,237 first-ballot delegates at the Republican National Convention in Cleveland. If the convention goes to a second ballot, all bets will be off because some delegates will no longer be bound to their candidates and can vote their conscience. Maryland's delegates have to wait until a third ballot to get in on the action, but it's worth remembering that back at our Fall Convention we had a straw poll and Ted Cruz won it. (Marco Rubio was second, Trump third, and John Kasich eighth.)
After April 26 we will know who the 24 elected Congressional district delegates and alternates will be; presumably all of them will be for Trump (although there may be a couple vacancies here and there because I don't think Trump filled every slot statewide.) So the scene will shift to the state party convention May 14, and here's where it can get interesting.
I have been through two Delegate/Alternate Delegate elections (2008 and 2012) but by the time we had our convention the race was long since decided so the idea was one of a "unity slate." However, this time I could see two and perhaps three competing slates with backers of Trump, Cruz, and maybe Kasich playing the odds that the national convention will go multiple ballots. It's almost certain that these Presidential campaigns will be wining and dining voters at the convention, something unheard of at our confabs – and who knows, perhaps one of these candidates will stop by to campaign in person. (The only primary the following Tuesday is in Oregon.)
Perhaps the #NeverTrump strain is not as deep in Maryland as it is elsewhere, but if there's a healthy dose of it at the state convention we may see some good come out of this after all.
Since the first round did so well and there's more to write about anyway I think I'll revise and extend my earlier remarks. I suppose I will begin with the front-runner according to the Washington Post poll from earlier this week.
So we know now that Kathy Szeliga has indeed debuted her television spot, at least online. (I haven't seen it on broadcast yet.) More on that in a moment, but if you weren't already sure she was the "establishment" candidate, the fact the Maryland GOP's executive director made a "small donation" to the tune of $250 to her campaign might just change your mind. (For someone like me, that's not "small.")
Now about that commercial, which continues Kathy's narrative that she would bring change to Washington. It's basically an introduction piece that I think will have one lasting impact: "oh yeah, she's the candidate that rides the motorcycle." To each his or her own, I guess. Since this race is still a lot about name recognition, every little bit helps.
I do want to bring one other voice into the discussion on Szeliga, although it can extend to other candidates as well. Richard Falknor at Blue Ridge Forum (who was kind enough to link the last Senate piece) states:
Maryland Republicans should insist on clear answers from whoever is their standard bearer for United States Senator. The optimistic tone of delegate Szeliga's campaign message is praiseworthy, but she must support it by articulating thoughtful positions on vital matters. Many Maryland voters of all flavors will respect blunt answers in these times of grave peril to our land.
Unfortunately, as I pointed out in my original treatise, Szeliga is one of two top candidates who don't have an "issues" page on their website. (Chrys Kefalas, who is second at the moment, is the other.) A quick check of their websites reveals both Donna Edwards and Chris Van Hollen have relatively extensive issues pages, so one could ask what our frontrunners are hiding. I suppose they remember that it more or less worked for Larry Hogan, who frustrated me by having a skimpy issues page as well. Perhaps many of us now know why.
So it's interesting that Chrys Kefalas is now trying to corner the market on the tagline "Larry Hogan Republican," as he plays up his experience in Maryland's previous GOP administration. Of course, the perspective is somewhat different as Larry is an executive while Chrys would be a legislator, but you can't argue with a 70% approval rating, can you? It seems the top two candidates are trying to out-Hogan the other as far as invoking the name (and perhaps political philosophy.)
It's been more quiet on the Richard Douglas front, although he is chiming in on several Obama administration foreign policy decisions. His latest is his "hunch" that a lame-duck Barack Obama will pardon American criminals hiding out in Cuba. But if I can clear my docket I may see Richard tomorrow morning at the Somerset County GOP breakfast – he sent an e-mail to me today inviting me to come. It will be interesting to see how much of his presentation (if he makes one) will be devoted to foreign policy and how much goes to pocketbook issues.
Recently I completed the Facebook five-pack as I "liked" Joe Hooe's campaign page there. Not much new under the sun there, but it did pique my curiosity. I don't think Hooe's page has been around very long, but it got me thinking about social media. All five top contenders have a Senate campaign page – so how many followers do they have? Here you go:
Kathy Szeliga – 7,126
Chrys Kefalas – 5,553
Dave Wallace – 2,895
Richard Douglas – 2,039
Joe Hooe – 439
Granted, Dave Wallace could have carried his page over from his 2014 campaign and renamed it, but still that's very good for a guy who's not even polled. It's a very tenuous connection based on this possibility, but if you assume from Szeliga's number of Facebook followers that one polling point is equal to 475 followers (a formula which works fairly close for Kefalas as well) then Wallace should be at about 6 or 7 percent. I have noticed he engages his Facebook followers more than most, and I've been setting some of the doubters straight on energy issues there. He's not hurt his position regarding the horserace as little has changed for me over the week; however, I'm hoping I make it down to Princess Anne in time to speak with Douglas tomorrow.
So that's where I stand for now as I work on making a final endorsement on April 17.
We're still six weeks away from the Maryland Republican Party Spring Convention, to be held May 14 in Annapolis, and much of the interest in the event will be driven by the selection of eleven at-large Delegates and Alternate Delegates to the national convention in Cleveland. Since Maryland's primary will be completed, not only will we know which aspirants advanced from each of the state's eight Congressional districts, but we will also have a clearer picture of whether a first-ballot victory is still mathematically possible for Ted Cruz or Donald Trump. By then, just 375 delegates will remain to be determined (from primaries in Oregon, Washington, California, Montana, New Jersey, New Mexico, and South Dakota) with the lion's share awarded by the June 7 primaries.
Yet those who become Delegate at the state primary will be bound to vote for the statewide winner. Polling has been scarce in Maryland for the GOP, as the last major poll came out a month ago and included Marco Rubio and his 14% of the vote. At that point, Trump led Cruz 34-25, with Kasich at 18. Following the trend, Maryland may be a state where Trump wins with only about 40% of the vote but Cruz picks off a Congressional district or two to gain a few delegates. But The Donald will get the lion's share as it stands now, meaning some of the alternate delegates could come into play. (If I'm a Cruz backer I'm refusing to vote for Trump.)
So a lot of the interest will come from that demolition derby of a race, which normally draws 20 to 25 names for each. (In 2008, I was one of about 23 who ran and I was second or third from the bottom. Name recognition goes a long, long way in the race.)
But at the Spring Convention we will also be selecting our next National Committeeman and National Committeewoman, who will take office after the November election and help to select the next RNC Chair in January 2017. As a Central Committee member, I have already received a handful of appeals on the races where both incumbents, Louis Pope for the men and Nicolee Ambrose for the women, are running again. Several weeks ago I got the letter from Nicolee that she was running, and I'm unaware of any challengers. Aside from her letter announcing her bid for re-election, my mailboxes have been empty on the race – and that may be a good thing, since Nicolee has been out front with her party-building efforts. Here in Salisbury I'm sure Muir Boda would be in agreement that she deserves support for another term.
On the other hand, today I got my third letter from one of the party's old guard beseeching me to vote for Louis Pope, who has also sent me a letter asking for support. Apparently he will have an opponent come May 14 so I suspect my mailbox will be full of these appeals from names I know.
Back in 2012 we had that same kind of race for National Committeewoman, with the exception that it was an open seat as incumbent NCW Joyce Terhes decided to retire. The party leadership and "establishment" was backing Audrey Scott, who had ridden in to "rescue" a bankrupt Maryland GOP as Chair in 2009 after former Chair Jim Pelura resigned. Ambrose appealed to a different sector of the party, and the clash between the two came down to a close, emotional vote at the Spring 2012 convention. (Worth noting: Pope was re-elected handily at that same convention over Anne Arundel County Republican Scott Shaffer.) Incumbency seems to have its advantages, but I haven't received the same outpouring of support from party regulars for Ambrose.
Our representatives on the RNC are just a small part of a 168-member body (three from each state and certain territories) but they also represent us in regional matters as well. Over the last term, Ambrose has taken charge of grassroots organization and GOTV efforts while Pope has portrayed himself as a fundraising expert. Granted, the state GOP (which includes Chair Diana Waterman) has been successful insofar as electing Governor Hogan and increasing the number of Republican elected officials, but perhaps not so much on moving the needle on key issues. (Just as an aside, Waterman's term will come to an end this fall, meaning we will have a Chair election then. A few years ago we adopted two-year terms for the Chair to match the national Republican Party.) With the national mood registering against establishment candidates of all parties, one has to ask how far the "throw the bums out" mentality will go when it comes to state party affairs.
It should be a fun convention; that is, if fun is defined by being on pins and needles the whole time like I was four years ago when I strongly backed Ambrose. We'll see what the next few weeks brings.
I normally don't go into great detail when it comes to internal Central Committee business, but I had already broached the subject when I covered the recent Maryland GOP convention. Moreover, I'm a representative of the county GOP voters so I think it's only fair to bring my thoughts and opinions on this particular subject out to the public, as it will be debated in the General Assembly and eventually affect the representation of all Republicans in the state. Here Republicans have a forum for response should they choose to.
In the Executive Committee meeting we had as part of our November convention, Senator Bryan Simonaire went over his proposal to change the date new Central Committee members are sworn in. More recently he sent a letter to Central Committee members asking for their input. Simonaire stated in his letter that the change in inauguration of Central Committee members dates from the mid-1980s, when the period was changed from about a week after the primary (then held in September) to after the November election (as it has remained.) With the change in our primary date from September to late June, it leaves a long lame duck period for those who chose not to run or were defeated for re-election. Bryan seems to think the will of the voters was expressed in June and should be reflected more quickly.
In a perfect world, the primary would not have been moved back quite so far – to me, a mid-August primary date would have been appropriate for the federal regulations and better compressed the political season. But we are stuck with late June and the five-month interim between election and swearing-in.
Yet this doesn't bother me for two reasons. First of all, voters in the many districts where one party or the other is either unopposed or has token opposition already have to wait from June to January for new representation. A local example was Delegate Sheree Sample-Hughes, who won her seat when no one stepped up to challenge her (granted, the incumbent waited until immediately after the filing deadline to withdraw and leave her as the only candidate in the race.) She was the Delegate-in-waiting for most of a year before she actually took office.
Secondly, and corollary to this, is the theory that most of the campaign experience comes from those who had been in office for the prior three-plus years. We recruited the candidates and had given them advice and support, experience which a new member might not have. Simonaire points out that the majority of those who seek re-election win, but speaking as a member of the minority that didn't I was glad my term extended through the November election. It allowed us to bring the new members up to speed, giving them a little bit of on-the-job training for the next cycle. On our group we only turned over three people, with two choosing not to run and one losing in the primary.
When we elect people assuming they will serve from the beginning of a term or session it seems a little unfair to stagger the terms of the Central Committee members that far off the remaining state political offices. We may be elected in the primary, but the idea is to be the representatives of the Republican Party and the job of the Central Committee is to help elect Republicans.
Given how the state runs its electoral cycle, and even though it defies logic to some extent, I think we should keep things the way they are.
In the wake of comments many believed exposed Donald Trump as a religious bigot, there was condemnation on both sides. But what happens if he wins the Republican nomination in a deeply divided GOP? Maybe my fellow blogger and Central Committee member from Howard County Dave Wissing gives us a clue. He took to social media yesterday to state:
I usually keep my political posts to a minimum, but after today it has reached the point where I can't stay quiet any longer. As a lifetime Republican who has always supported Republicans for President, I will not support Donald Trump for President should he get the Republican nomination and will work to defeat him. If this costs me my position on the Central Committee, so be it.

More in my party should be saying this.
I'm not going to look at this from the standpoint of whether what Trump said was right or wrong. Instead it brings up the question of whether members of the Central Committee are supposed to blindly follow the party, even if they nominate a person who would seemingly represent the worst possible face of the party.
In the past we have had discussions about something we dubbed the "David Duke rule," named for the white supremacist who was successful enough to finish second in Louisiana's 1991 gubernatorial "jungle" primary. Duke ran as a rump Republican against party-switching incumbent Buddy Roemer and former scandal-tainted governor Edwin Edwards, who eventually won a fourth non-consecutive term over Duke. Duke was shunned by practically every elected Republican in the country up to and including President George H.W. Bush, who backed the Democrat Edwards. While my philosophy is to trust the wisdom of the voters, sometimes circumstance forces you to turn your back on a candidate. For many, including Wissing, this seems to be the case with Trump.
Nor does every Central Committee have a loyalty clause.
In reviewing our county's bylaws, making a statement like Wissing's is not automatically grounds for removal. Instead, the only grounds for removal is that of missing meetings or conventions. Further, in our case, a 2/3 vote of the committee would be enough to not endorse Trump (or any other candidate) as far as our county is concerned. If Howard County's rules are similar, those calling for Wissing's resignation are out of order despite his proclamation.
Yet there is the average Trump supporter to consider. He or she tends to be the working class voter that Republicans constantly try to keep from defecting to the Democrat Party where they came from to vote first for Ronald Reagan. I know a few Trump supporters who like his tough-talking rhetoric, if not his record of political accomplishment, and they're bound and determined to see him become President.
They can't seem to move the Trump needle over 25 to 30 percent in the polls, though. There are still over a dozen candidates in the race, but eventually more will drop out and support will coalesce behind other challengers who may eventually replace Trump as the frontrunner. This may solve the immediate problem but create a second one – disheartened Trump supporters who stay home rather than vote for another Republican.
There is a piece in the Onion that satirically illustrates the perils of underestimating The Donald, though. Things that may sink another's campaign seem to energize Trump supporters even more. The trick may be to interest them if Trump falls short.
It's been almost three years since this was a regular feature on my site, but it appears I may have to bring this back to deal with all the stuff that I receive and deem to be somewhat newsworthy - just not enough to devote an entire post to. Ideally I can use it to clean out an e-mail box that gets too full of stuff that otherwise sits for awhile. As always, we'll see how it goes but it's been long enough that I had to go look up where I was in the series.
If you recall when I discussed the state convention last week, Maryland National Committeeman Louis Pope was pleased with the national GOP's fiscal situation and it was also announced that the state party was finally out of debt. So it's interesting to find out our national Democratic counterparts are doing what they do best: spending money they don't have. Even with Martin O'Malley still in the race, they can't just raise taxes to cover the difference.
It's doubtful that Hillary's campaign will be hurt, but Democrats are also salivating over retaking the Senate as the seats won by the GOP in the first TEA Party wave of 2010 come up for re-election in a Presidential year. That's where a shortfall could come into play.
Speaking of the state convention, the sponsor of the amendment which actually stripped the voting rights of three auxiliary organizations now questions his own standing in introducing the amendment in the first place. It's the ultimate in do-overs, but we have to ask whether he would have been as honest had the proposal passed.
Now Tony Campbell wants a special convention to right what was made wrong.
In discussing this with a former Chair, one thing that I learned is that seldom does an individual vote matter on the Executive Committee – there is rarely a time when a vote is close enough to make a difference. The only instance he could think of where a vote was close like that was the vote of no confidence in former Chair Jim Pelura back in 2009. That was still a relatively lopsided vote, 20 to 10, but the county chairs only voted 14 to 10. It was the six leadership and auxiliary votes that padded the margin.
(It's also a rare time of late that I cite the balky and ad-bloated Red Maryland site, but you'll notice the reason for the exception.)
So I think we should deal with this in due course. Perhaps we can do like we do for government "shutdowns" and give the auxiliary organizations their votes later as back votes once we rectify the situation, as I know we will.
Staying with the Maryland GOP, a few days back I received a list of 61 Republican leaders throughout the state who are backing Delegate Kathy Szeliga in her U.S. Senate bid. As you may expect, there are a lot of General Assembly members on the list: locally it includes Delegates Christopher Adams, Carl Anderton, Mary Beth Carozza, and Charles Otto as well as Senator Addie Eckardt and County Executive Bob Culver. 42 of 50 Republican Delegates and 13 of 14 GOP Senators are on the list. (George Edwards of western Maryland is the recalcitrant Senator.)
But I noticed one name among the local delegation was missing: it looks like Delegate Johnny Mautz has kept his powder dry for the moment. I can't figure out if he just didn't want to sign or if he's backing someone else – with his Congressional staffer connections, he would be a logical backer of Richard Douglas. Just grist for the mill.
I haven't even started to make my mind up on the race, but I will say Kathy has a long way to go to get my support – if only because her campaign website is still bare-bones a couple weeks after she jumped into the fray. That's the type of lack of attention to detail that can sink a campaign.
Ethanol hasn't been in the news much lately, but I thought it was worth pointing out that one of my favorite energy writers, Marita Noon, recently detailed how Ben Carson has moved to the right side of the issue. API's Linda Rozett adds her two cents as well, making the case that dairy subsidies didn't work out well so neither are ethanol carveouts creating the desired effects. Look, when we have plenty of oil there's no real need to use food for fuel, despite what the corn growers who are enjoying the artificial price support may say.
Of course, people like me who believe food shouldn't be used as fuel tend to fall into the category of climate change "deniers." The folks at Organizing Against America For Action are excited about events in Paris. (Not the Friday the 13th ones, although this could be just as detrimental to millions.) In an e-mail exhorting supporters to "call out" skeptics, they say:
Remember when getting an elected official to even mention carbon pollution or climate change was a big deal? We've come a long way.

Today, the momentum for action has never been greater. Climate change denial in America is at an all-time low, and hundreds of companies have come out to support rules on power plant pollution. As if that wasn't enough, religious leaders like Pope Francis are insisting that there is a moral obligation to address climate change.

In just two weeks, more than 160 nations, representing more than 90 percent of the world's carbon pollution, are joining together for an international conference to tackle climate change, while we still can.
I dare them to call me out. YOU ARE A FRAUD. We've been holding steady on global temperature since the turn of the millennium, and if anything the indications are we are getting colder, not warmer. Throttling back the economies of the developed world will only weaken the rest of the planet.
Yet there are people talking common sense:
Climate change deniers are trying to spoil this big moment by undermining America's commitment to act on climate change.

Some senators, like James Inhofe and Mitch McConnell, are going out of their way to undermine American commitments. Senator Inhofe, famous for bringing a snowball onto the Senate floor as proof that climate change doesn't exist, has committed to crash the talks and be a "one-man truth squad," telling the international negotiators how little he believes in climate science.

Senator Inhofe isn't alone. Back at home, climate change deniers in both chambers of Congress are working to overturn the carbon pollution standards for power plants.
Good. I hope they succeed in overturning the job-killing restrictions. Just call me the Republican uncle, except I can do more than recite talking points.
Killing – not of jobs, but of fellow public housing residents – may not be out of the realm of the 6,000 drug convicts the Obama administration is releasing, and thanks to Judicial Watch we also know that they will be welcomed into public housing. I will grant that probably 99% of them will be more or less model citizens, but that still leaves a few dozen miscreants to cause trouble. I think Judicial Watch has reason to be concerned, as do those residents who get them as neighbors. Perhaps the same sort of notice granted when sex offenders move nearby is in order, at least to start. Call it a probationary period.
Finally, let's end on a happier note. I wrote about a similar event last year, but over the weekend we were encouraged to participate in the Made in the USA Christmas Challenge by the Patriot Voices advocacy group. While most of the electronics we use are made overseas, it is possible to purchase gifts made in America. (One familiar group has some suggestions.)
It's worth noting, though – as of this writing, just 116 have signed up at Patriot Voices. That's not very many patriots, so hopefully more people than that are conscious of the advantages of supporting our businesses.
So there you have it – you are more informed and I have a clean inbox. I love it when a plan comes together.
In proof that even I, a veteran of nearly 20 state party conventions, can be blindsided by political events therein, I give you Exhibit A: the Black Republican bylaws amendment. And here I thought the second one that was tabled rather quickly would be the one with the loudest argument.
But the fact that this was the second-to-last piece of business (besides revealing the straw poll that no one seems to care about because Ted Cruz won) makes for a lot of bitter feelings on the social media I've seen. So I thought some perspective was in order.
One thing I understood about the outcome is that it's supposed to be temporary. The idea is, just like the state party that streamlined the process of filling vacancies in the General Assembly at this convention, at some future gathering they will debate just what groups will qualify for inclusion on the state's executive committee and which receives a vote on the body. To me, it's a conversation which really should have occurred when we were instead rushed out the door a couple years ago.
One argument that's been made against expanding the vote is that the county chairs on the Executive Committee are there by virtue of the electorate. (Not necessarly true given midterm appointments, but more often than not it is so.) On the other hand, they argue, representatives of the other groups are selected from within.
The poster child for the argument against the inclusion of the auxiliary groups are the Young Republicans. Although they are on the comeback trail thanks to new leadership, they secured their vote on the Executive Committee despite losing chapters and membership over several years.
But it also begs a pair of questions: what constitutes success for a particular group? Will they go by paid members, chapters, or some magic combination of both? With age-restricted groups such as the Teenage, College, or Young Republicans, the ebb and flow of membership is common – for example, next year the CRs will need a new president because their current leader is a college senior.
Personally, I would have been fine with giving the Black Republican Council a vote – as long as the other two voteless groups got one, too. Since that wasn't an option I thought this was the next-best route.
I don't have a copy of the bylaws of each of each organization, but I suspect the state party chair doesn't get a vote on their board. We appreciate the voice each have, but perhaps rather than arguing over who gets a vote and who doesn't maybe we have the best possible situation for now.
(All work and no play? You can skip to part 2.)
As I said before, like the prodigal son I have returned.
I counted 26 pictures in my folder. As a rule of thumb I try to keep pictorial posts under 20 so you get two parts, with this covering Friday night and part 2 looking at Saturday. While the latter was more contentious, there was some news from Friday night that I will get to in due course.
Upon arriving and checking in, I was greeted by a Ted Cruz volunteer and a cute two-girl welcoming crew. Bad time for a glitch on the cell phone camera, but it set the tone for the evening.
They were gone by the time I went down to register, but in the adjacent room I saw Ben Carson. Well, sort of.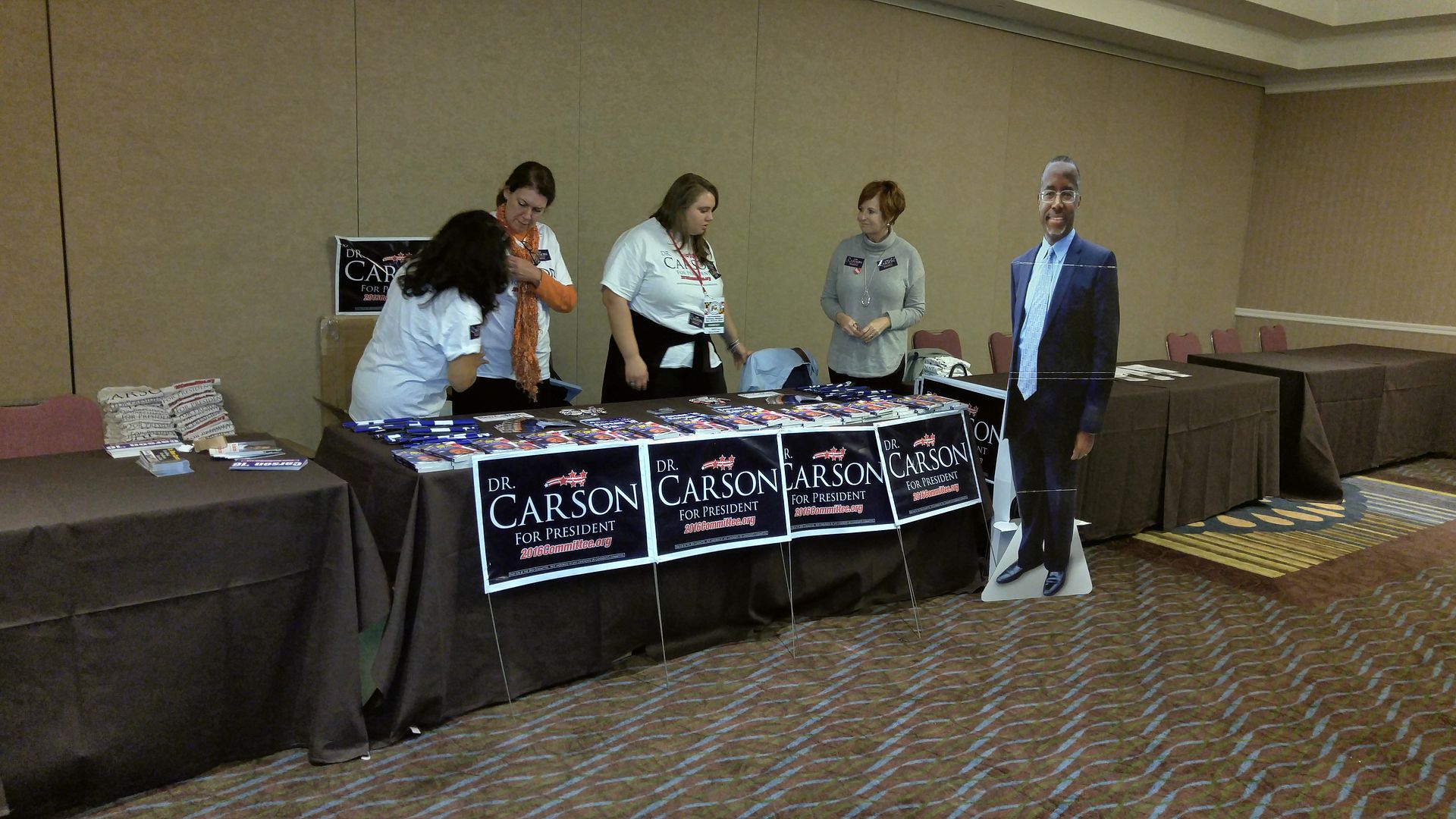 You could meet his son at one of the suites, though. I just wasn't sure where that was so, alas, it was one I missed. (I guess the younger Carson did, too.)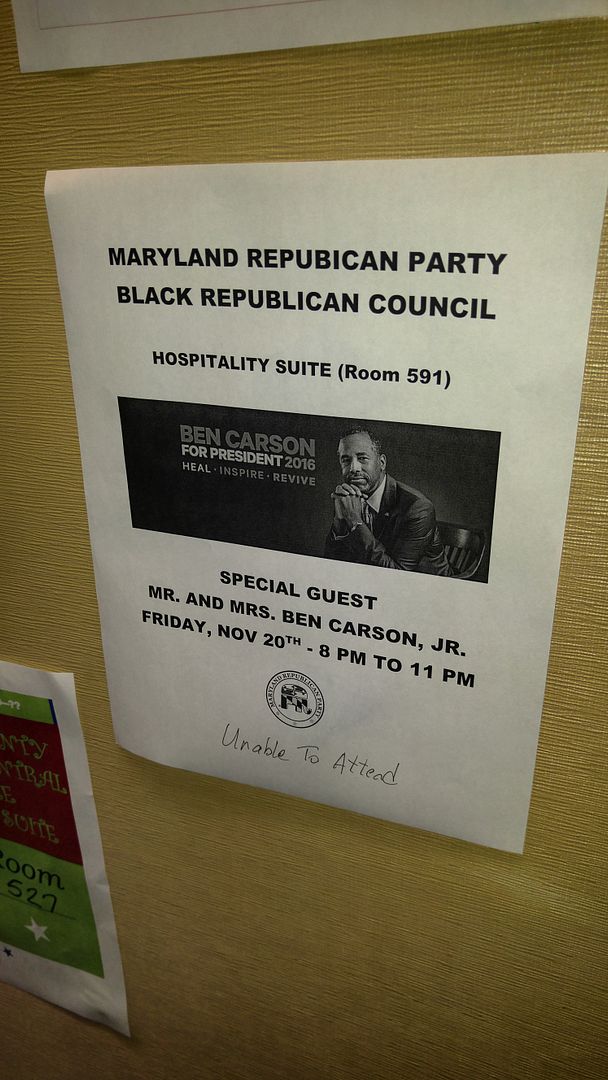 I didn't stay in the exhibit room too long. Most suites don't start right away so I usually attend the Executive Committee meeting to see what's news.
Most of it is devoted to reports that are repeated to one extent or another during the Saturday session, but I did learn the party was working on another Student Legislative Day for kids around the state.
The best tidbit came from State Senator Bryan Simonaire, who, after relating how working with Governor Hogan was "tremendous" – in part because there were no tax increases on the floor for the first time in 10 years – he revealed a piece of legislation he was considering. (I think Bryan forgot the "travel tax" Hogan vetoed and the increased court fees he adopted. But I digress.)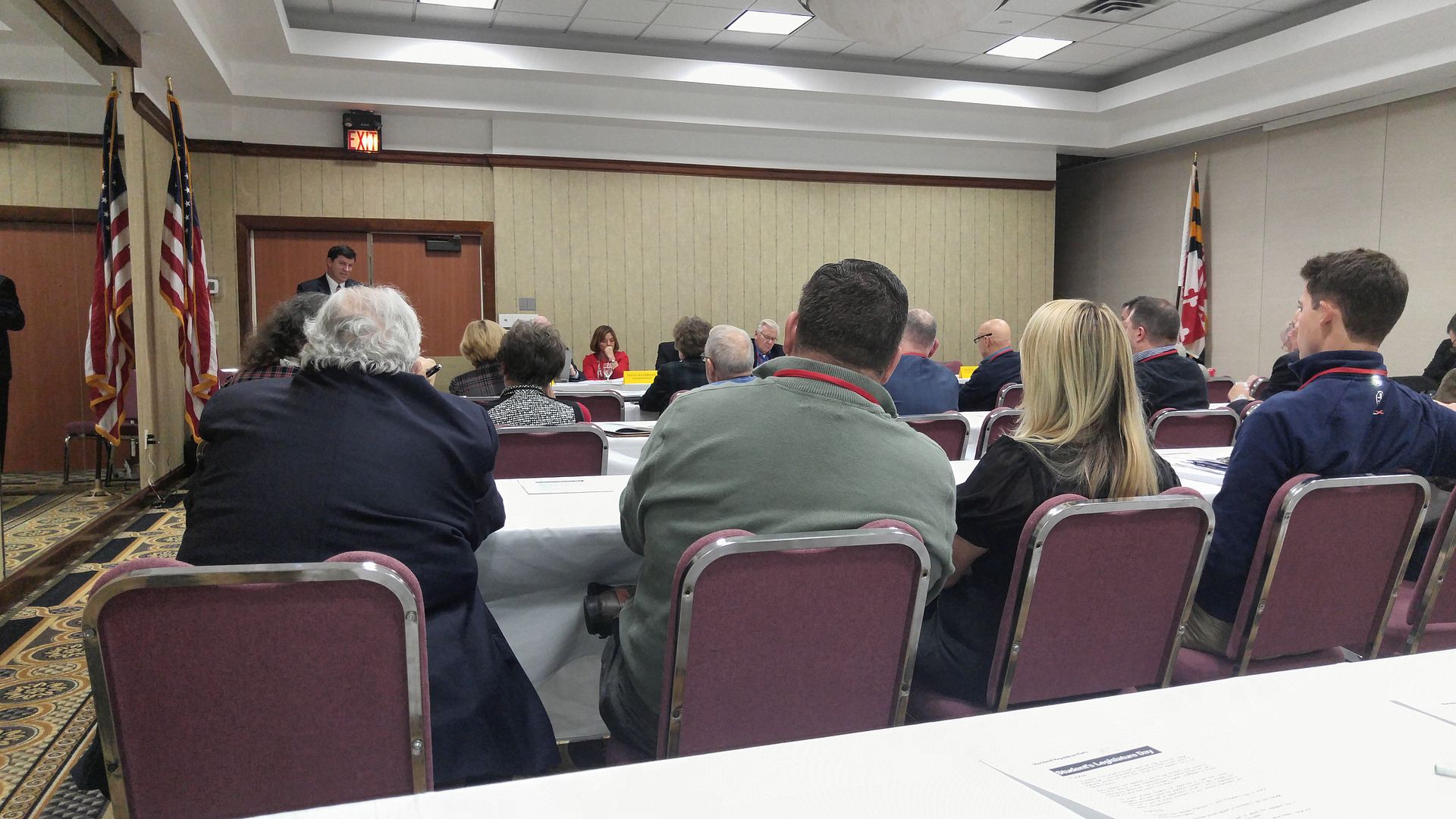 Bryan went over some of the pros and cons he had heard about changing the date Republican Central Committee members take office. By law, we don't start until after the General Election that occurs after the primary. This made sense with the old September primary, but leaves a long lame-duck period from a June primary.
Yet many of the county chairs argued "five months was no big deal" and added that it was unfair to those who weren't coming back to end their term before the election they were working toward. They wanted the members who weren't coming back to stay on. The proposal was "a solution to a problem that doesn't exist," added one party officer.
Despite the criticism from the county chairs, most of whom objected in a show of hands, Simonaire appreciated the dialogue but stated, "I am moving forward with it."
A couple folks we did not hear from on Saturday gave reports. Ivan Garcia-Hidalgo, who now heads the Maryland Heritage Council, explained his goal was to change the narrative that "Republicans are racist" and convince Hispanics their "natural home" is the Republican Party.
Meanwhile, Kory Boone of the Maryland Young Republicans was pleased to report that they had grown to seven chapters with new ones in St. Mary's and Prince George's counties.
Speaking of St. Mary's County, their District 29 suite was the first hospitality suite I stopped by. I was hungry to try some "SoMD stuffed ham."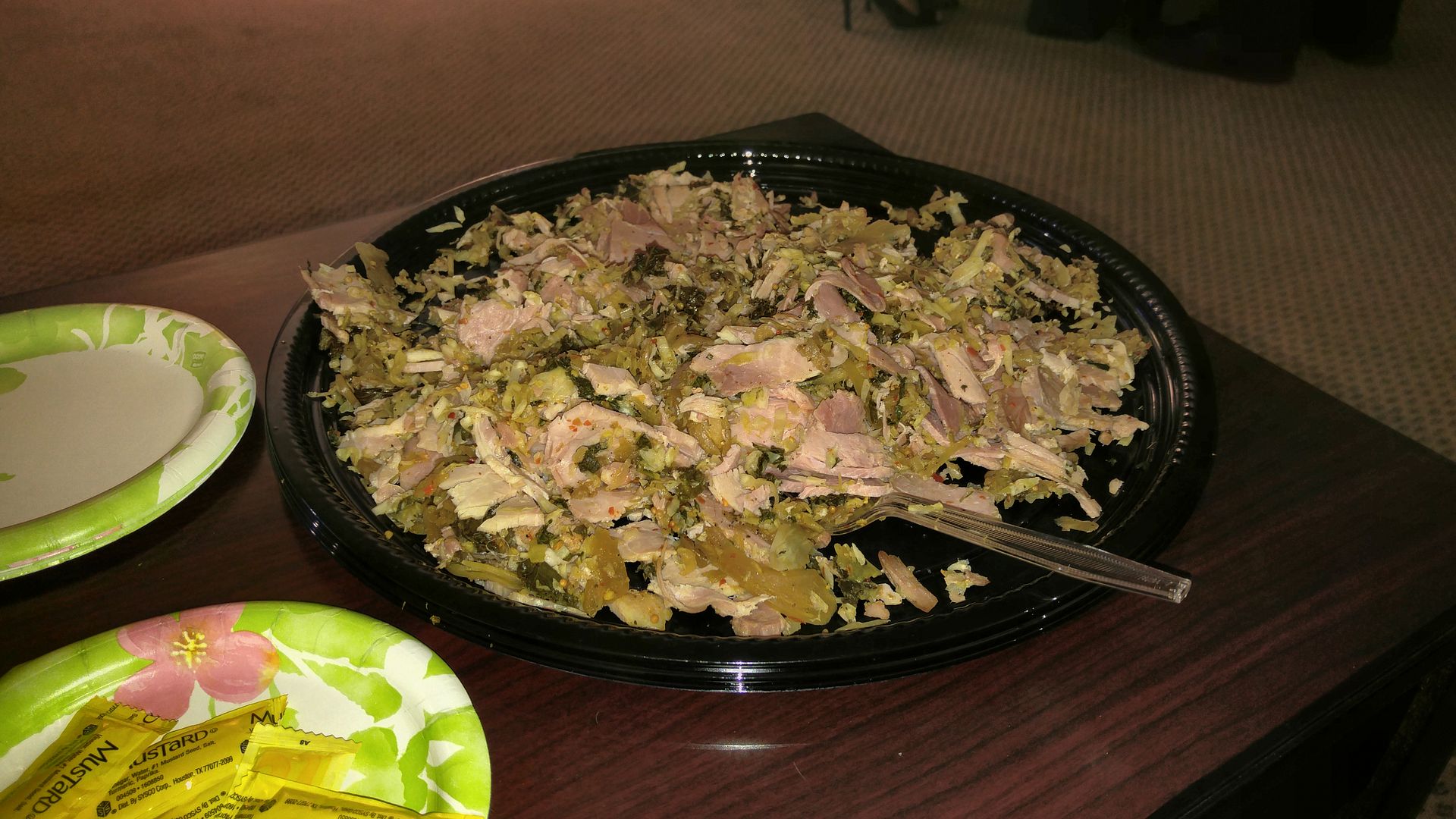 The District 29 delegation was there, including Delegate Deb Rey.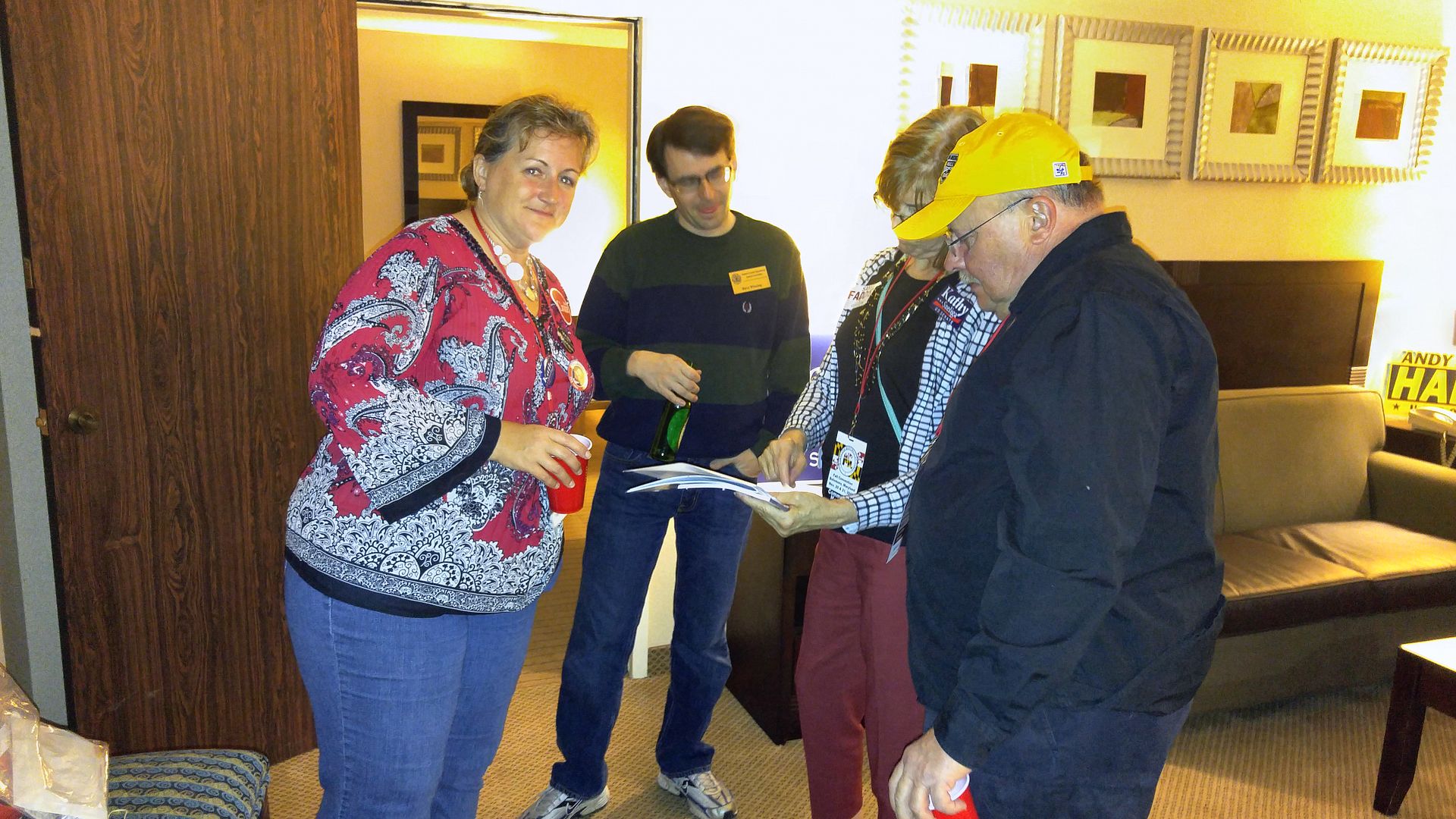 She was selling raffle tickets for a Beretta rifle as a fundraiser, to be drawn at another fundraiser on January 7. (That week or so will be busy for our General Assembly members, who can't do fundraisers during the 90 days of session.)
Having my helping of ham, I could go get some seafood at Richard Douglas's Senate suite. There were a number taking part, and to be honest it was better than the pizza next door at the Montgomery County suite.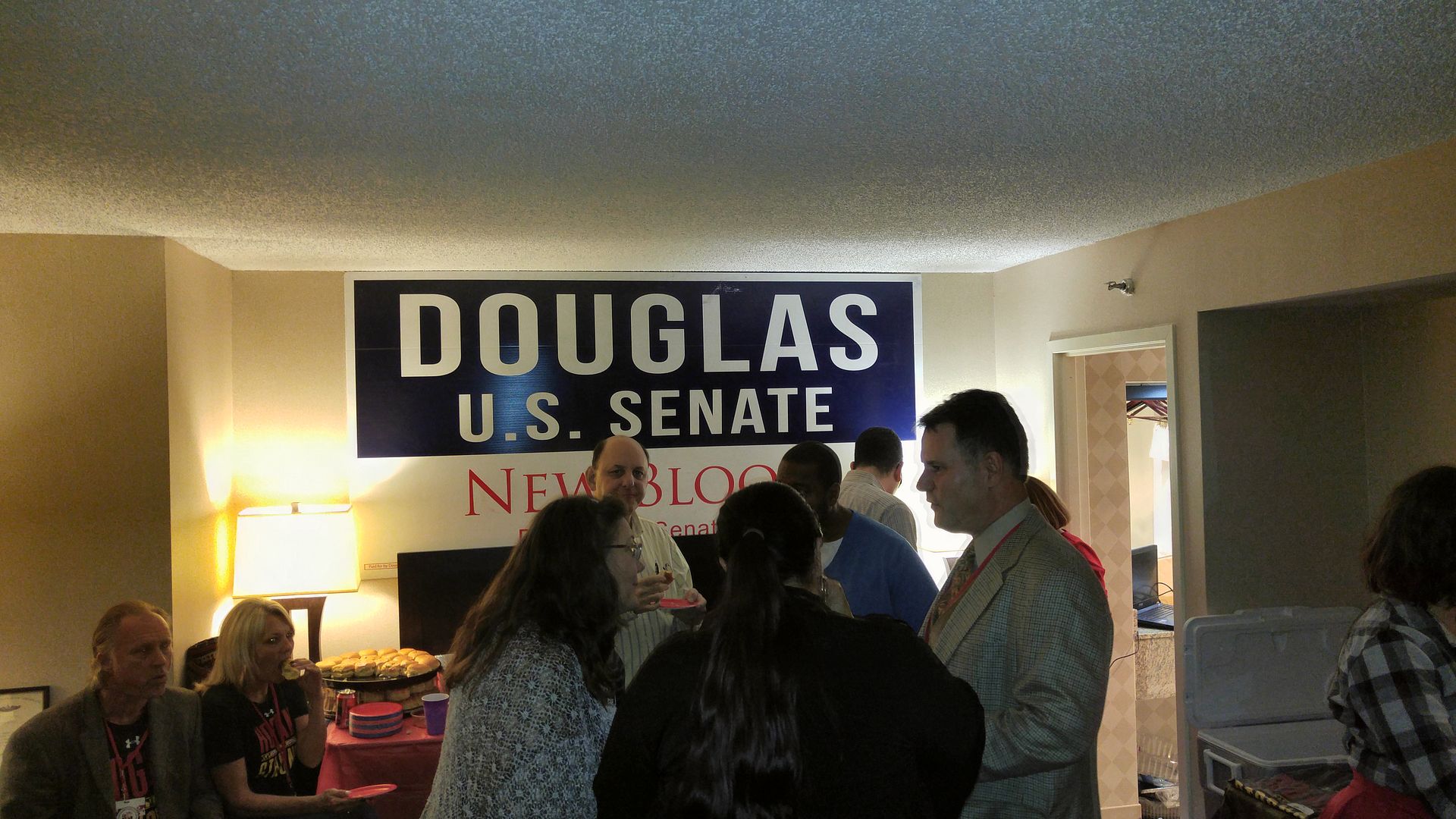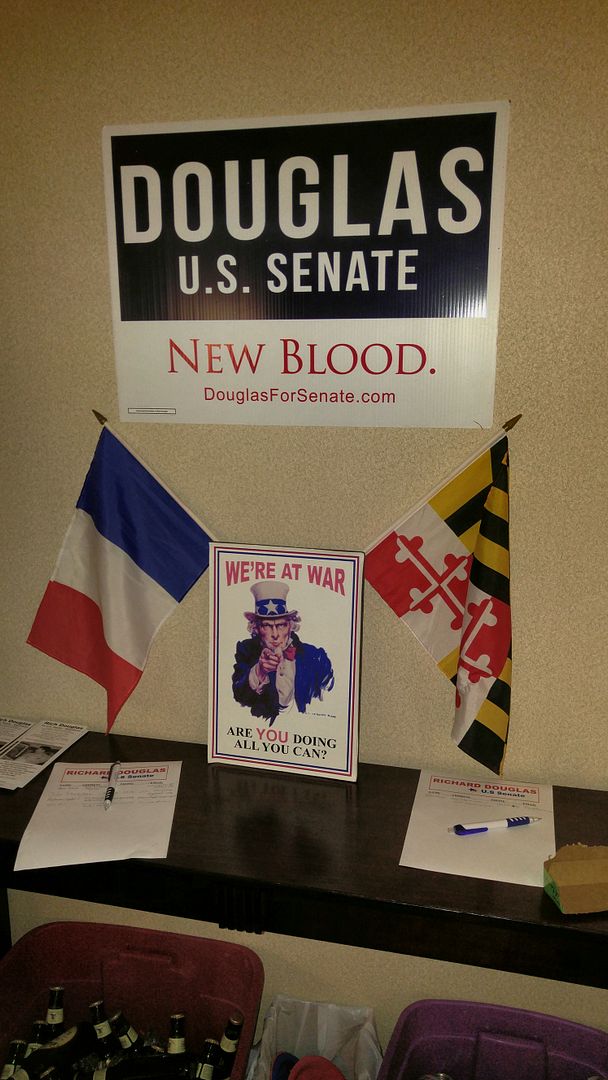 If Douglas wants to be the "new blood," one of those he has to beat was directly upstairs in a suite she was sharing with Andy Harris.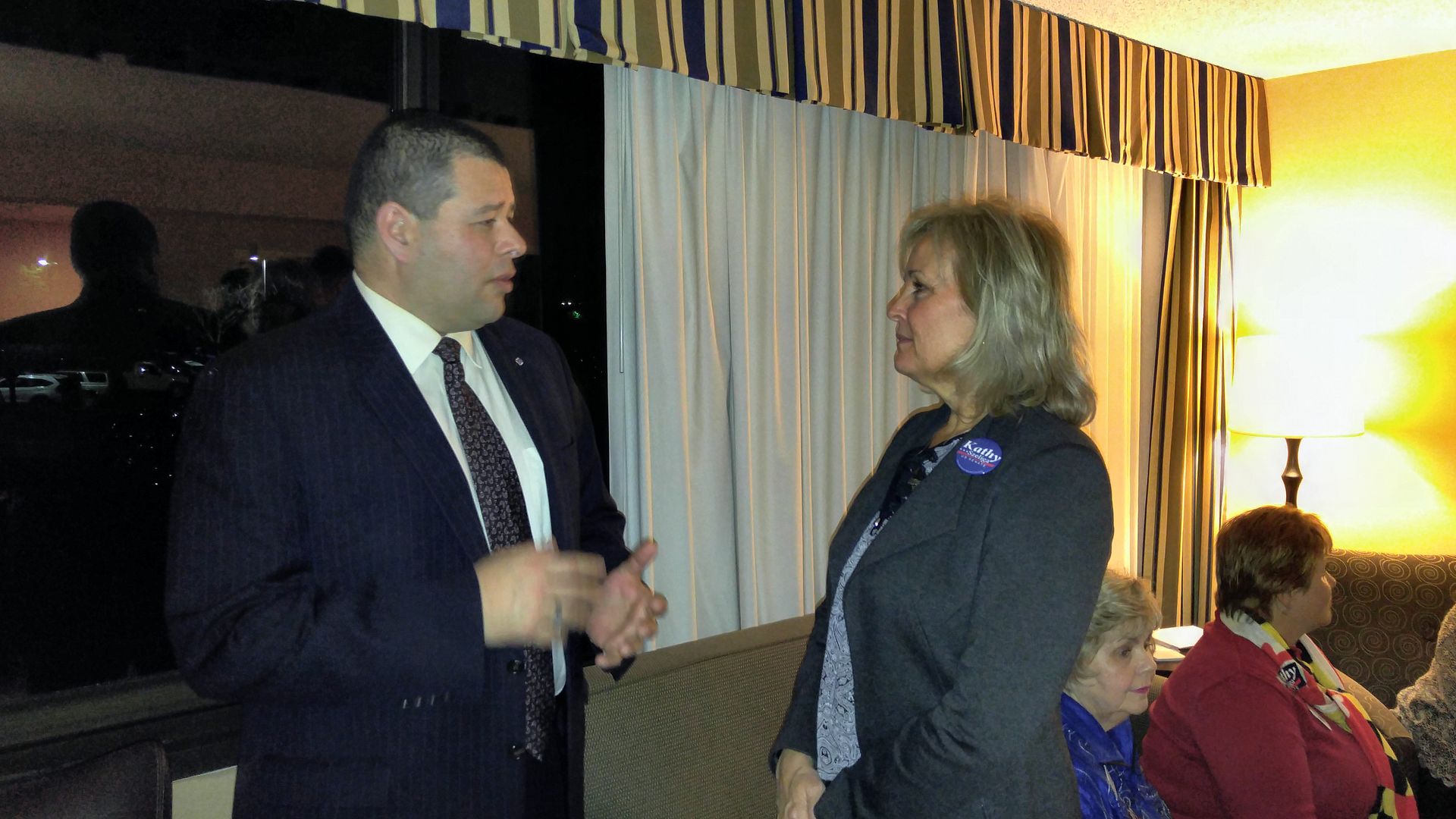 Along with the Congressman, Szeliga was there talking to the aforementioned Ivan Garcia-Hidalgo. I did mention to her that I was sad about missing her trip to Salisbury, but noted my cohort Cathy Keim covered it well for me. Hopefully Szeliga will be back here soon.
Just across a short hallway was the suite belonging to the Ted Cruz campaign.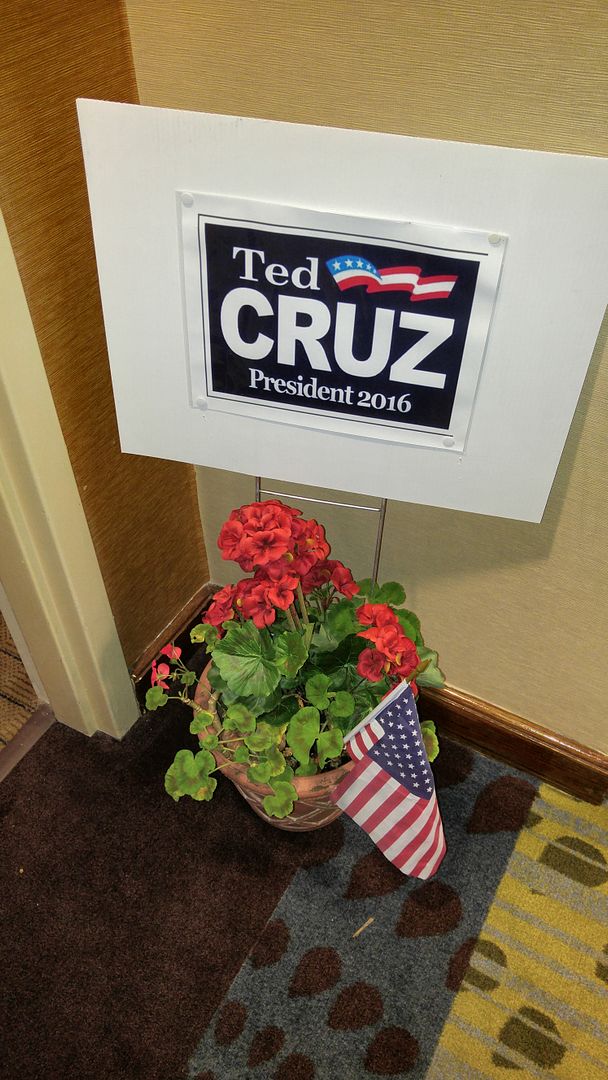 Let's get this out of the way: now that Bobby Jindal is out, among the remaining GOP field I would lean most toward Ted Cruz. They also had outstanding chili there. I just hope their field people are up to the task.
Their suite wasn't very busy, either – not like Marco Rubio's.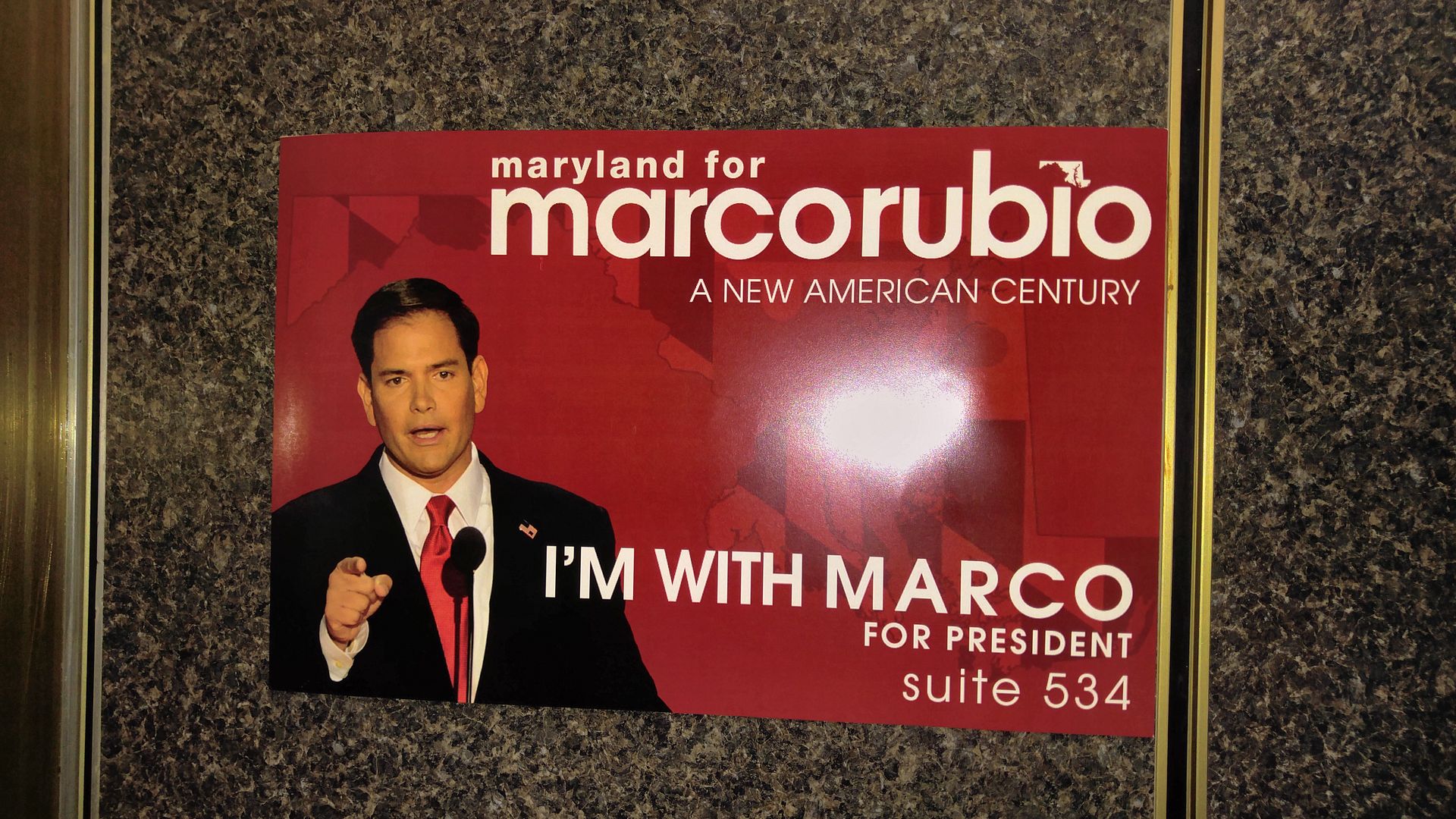 My photo doesn't do their gathering justice.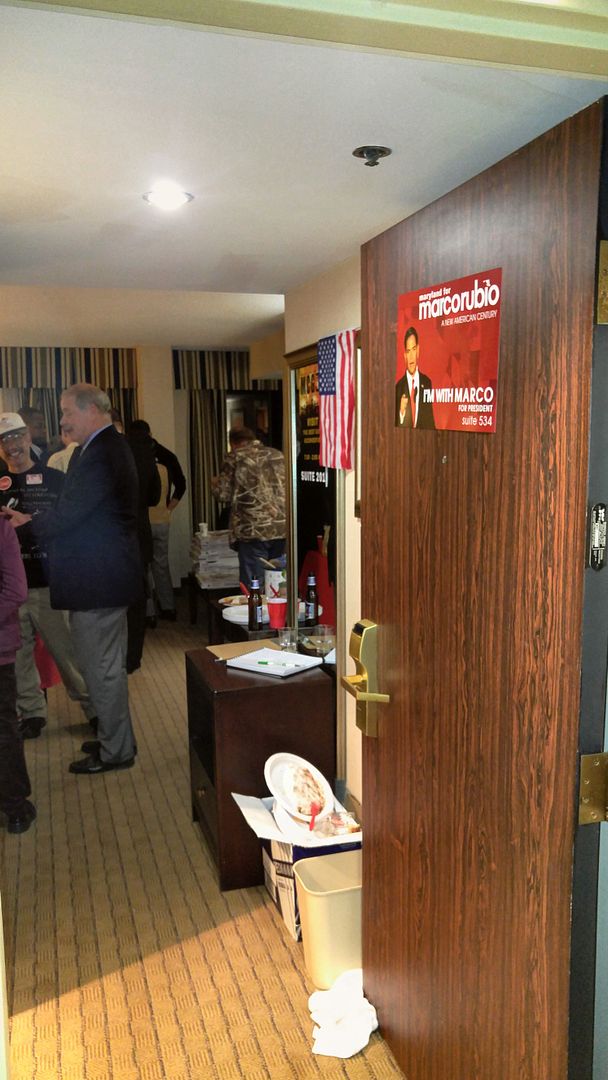 I get the sense that Rubio is the "establishment" choice now that Jeb's campaign is cratering. Maybe that's just me, but it's my gut instinct.
In taking so long to go through the suites I did and renew some acquaintances, I missed the ones on my floor – one of which belonged to this guy.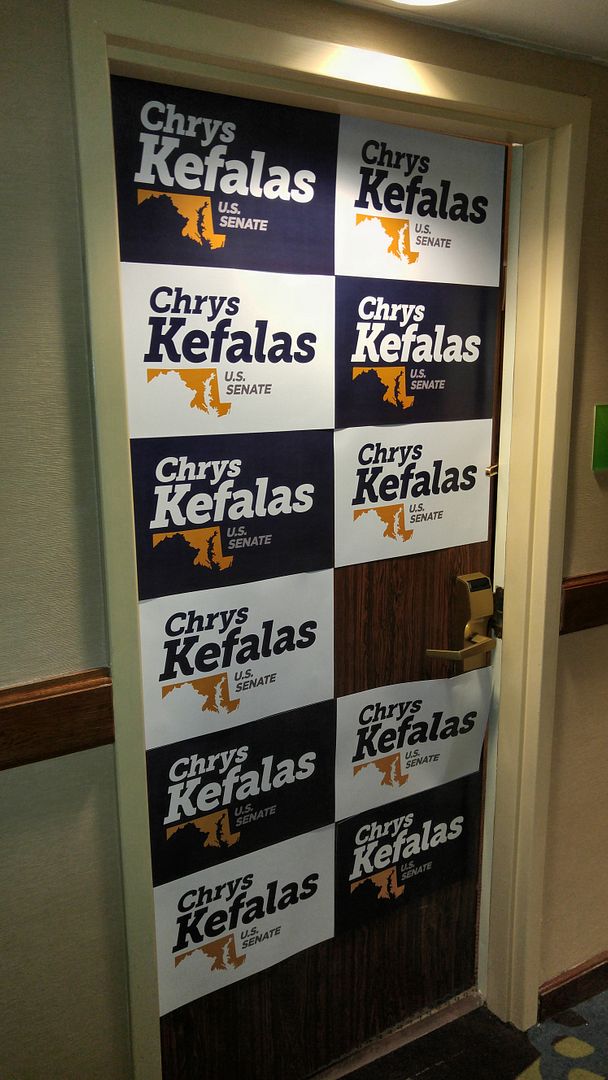 So it was not a slight on my part, as my plan was to do the ones on my floor last. Most of them respected the 11:00 or so closing time to get cleaned up and allow the neighbors some sleep, so I was just too late.
Since they were winding down, going to bed is what I did. In part 2 this evening I look at Saturday.
It's been awhile since I was entitled to go to the state convention, but what a few hundred Wicomico County voters tried to do was undone by a much smaller number last month, so I have returned like the prodigal son.
My first convention back will be in Solomons, which as I recall was the home of my favorite convention, the spring 2012 one where we elected Nicolee Ambrose as National Committeewoman in a contentious vote over Audrey Scott. This one will probably not have the same amount of angst, although we may see issues with the three bylaw amendments on the docket.
The first is a lengthy proposal to create a process for Central Committees to fill legislative vacancies. After the debacles we saw last year as Governor Hogan picked members of the General Assembly to fill out his cabinet and lead departments, it became a priority to come up with a way of doing so lest the General Assembly take our power away (which still could happen.)
In a nutshell, the amendment allows a county to create its own process but leaves as a default the state-prescribed method. In looking it over briefly, the fight may be over the call to submit "name(s)" to the Governor, as some would prefer the Central Committee submit just one name as was custom until the most recent round of appointments.
That controversy led to the second bylaws amendment, which a perverse sort of "loser pays" arrangement for entities taking legal action against the state party, just like Carroll County did last year. I think this one will create the loudest arguments, to be honest.
Third is a proposal to give the Maryland Black Republican Council full voting status on the Executive Committee. If so, they would join the Maryland Federation of Republican Women, the Maryland Federation of Young Republicans, and the Maryland Federation of College Republicans as voting members of that committee. (Conversely, the Teenage Republicans and Heritage Council are non-voting members.) As I recall, we had a lot of rancor about giving the YRs and CRs an Executive Committee vote a couple years ago, in a voice vote that was literally cast as we were being ushered out the door. So we'll see.
The one resolution that I'm aware of (barring others introduced from the floor for our consideration) deals with the redistricting commission, so that should be no issue. I don't think there's 10 percent of the party that likes the way we do it now.
But all work and no play makes Republicans a cranky bunch. Fortunately, unlike the last couple conventions I attended, we will have no shortage of hospitality suites to check out.
A list sent out by the state party shows no less than a dozen different suites. While the host counties of Calvert and St. Mary's and Montgomery County have their parties, the headlining parties will be competing affairs between supporters of Ted Cruz and Marco Rubio. Not to be left out, all three major U.S. Senate hopefuls – Richard Douglas, Chrys Kefalas, and Kathy Szeliga, who is piggybacking with Congressman Andy Harris – will have suites on separate floors. Add in local Congressional candidate Charles "Sam" Faddis and the aforementioned Black Republican Council, throw in a couple wild card suites, and it should be a fun evening tonight.
Naturally some of the conservative blogosphere will be there, so we'll see what sort of coverage we can drum up. Whether the era of good feelings brought on by Larry Hogan's election will subside this time or wait until spring when we elect a new National Committeeman and National Committeewoman along with slates of convention delegates and alternates remains to be seen.
For now I'm just going to enjoy the moment because, I hate to admit, I sort of missed these gatherings during my hiatus. Glad to be back.
As if last year's election results weren't enough evidence that the Maryland Republican Party is leading a charmed life, look what happens when you schedule your largest fundraiser of the year with Donald Trump as your guest speaker: he decides to announce a presidential run just days before his scheduled appearance. It goes without saying that the media attention and kudos Baltimore County received from having fellow candidate Senator Rand Paul will also accrue to the state party. If the party draws a full house, I'm sure someone will try and take the credit for being smart enough to grab Trump as a speaker.
Yet there are also the possibilities that the room won't be all that packed, Trump will deliver a horrific stump speech, or one of his hairs will slide out of place. Nor is it unprecedented to have a presidential aspirant at the event – Newt Gingrich was on the campaign trail when he keynoted the 2011 event. Maybe "the Donald" will actually start putting together an issues page for his campaign website based on what he reveals to the Maryland GOP next week, and hopefully we don't find out he's all sizzle and no steak when it comes to politics.
But the nice thing about all these happy coincidences is that Maryland may actually matter in the presidential sweepstakes. It's not likely the field will be more than two to four by the time our primary rolls around on April 26, but we do have proximity to the major media markets. And while the attention is certainly on the early states like Iowa and New Hampshire, it's a good time for campaigns to get their volunteers in order.
The question, though, is what Trump's somewhat unexpected entry (after talking about running for several previous election cycles then backing away) means for the rest of the field.
Obviously we have the celebrity aspect to consider. Besides a bank account ample enough to self-fund a presidential run which could cost the winner $1 billion, the thing Trump brings to the race is instant name recognition – love him or hate him, one does not have to be a policy wonk to know the name. Political junkies like me know who John Kasich, Bobby Jindal, and Lindsey Graham are, but the average guy on the street is only aware of two presidential candidates: Hillary Clinton and (maybe) Jeb Bush. With Trump the GOP has star power, enough that few are talking about Jeb Bush's formal entry into the fray yesterday.
That's also important given the "top ten" debate rules in place for this cycle on the GOP side. While I had a better idea of multiple debates with randomly-selected groups of 5 to 7 apiece, there are now 12 formal entrants with Bobby Jindal slated to make it official next week and fellow governors Chris Christie and John Kasich still making noises about climbing into this free-for-all. Based on simple name recognition Trump should make that top ten easily and he better know how to deal with being on television.
The debate rule may be the key in culling the field before the summer is out. Those who are already starved for attention because they have no poll traction will probably see their campaigns wither on the vine because they can't get into the debates.
And if Donald Trump alienates enough people, all his money won't be able to buy him a spot. That will be the reason to watch his campaign as it unfolds, beginning next week with the Maryland GOP.
For those who don't know, the Maryland Republican Party had its convention "downy ocean" on Friday and Saturday.
They certainly can go upscale now that we occupy the governor's office.
Doesn't seem that long ago we couldn't scrape up convention sponsors, let alone "Governor's Circle" or "Chairman's Circle."
Since I didn't have a proxy, nor could I attend anyway because I had work to do for a new employer, I decided to do the Friday night drop-in. To allocate a couple lines from an old Bob Seger song: "I headed east because I felt the change would do me good – see some old friends, good for the soul."
Unfortunately, poolside at the Princess Royale isn't great for photos. But truth be told, I wasn't much into documenting the night anyway. I was having too much fun chatting up folks like my old "partner in crime" Heather Olsen, being a radio guest for Ryan Miner, and talking shop with some others. I did take a few various shots with the cell phone, but they don't rise to the level of worth commenting on because most are dark or somewhat tiresome.
But I did receive some flak from on high about the piece I wrote Friday, being scolded because I didn't know the whole story. Yet this bears one question: what would Joe Burns – or those four members of the Carroll County RCC who opposed the change to submitting multiple names – gain from lying or embellishing the truth? Conversely, if they are right, what does the "good old boy establishment" wing of the MDGOP lose? The ability for cronyism at will?
There's no doubt that Joe's idea of a properly working MDGOP is different than that of the leadership, and it's probably a far cry than mine. But it's my understanding that Diana Waterman chose to address this at the very end of the convention, after the expected move by the Resolutions Committee to not report any resolutions out. Been there, done that. As always, we have plenty of time for rehashes of what's going on with the various party leaders, but not enough time to put some simmering issues to rest. I'd love to have some input from those on Resolutions to know why nothing made the cut.
Going forward, though, this is something which needs clarity. Either we allow the governor to have his way simply because he has an "R" behind his name or we have consistency in rules. After all, there was no do-over on any of the other General Assembly nominees.
One other thought I had, thanks to the presence of Don Murphy, was his belief that "you must be present to win." Where was everyone who is considering a 2016 U.S. Senate bid? Besides Andy Harris, who had a hospitality suite upstairs, away from the pool, I wasn't aware anyone else hosted a suite. Perhaps they were on the downlow, but now that session is over you would think we would have some movement. We already know a couple of the players lined up on the other side.
From what I heard, the party will be back in Annapolis Solomons this fall so I'm sure all those Senate hopefuls will be out of the woodwork by then – along with the umpteen GOP presidential hopefuls (more specifically, their Maryland proxies.) Hopefully we can be arguing over the merits of Dan Bongino vs. Andy Harris vs. Laura Neuman for Senate and all those who wish to clean up Barack Obama's disaster because we will have some resolution and direction on the subjects currently at hand.
And who knows? I might just get a proxy for that one, or I might not. It was a beautiful Saturday afternoon for all but two things: working (which is what I did) or arguing politics. I only missed it a little bit, which isn't bad considering.
It might be a good idea this fall, though, to bump the Resolutions Committee report to the front of the agenda – and bring some popcorn.