I'll go a little more in-depth later about the Coastal Association of Realtors/Salisbury Independent candidate forum over the coming days, but there are two key takeaways involving Delegate Norm Conway.
The first is the public apology made by Carl Anderton to Conway regarding the recent release of a flyer depicting Conway in a ski mask. He devoted the main portion of this opening remarks to his mea culpa.
I had a great opening speech prepared – I thought about it all day driving in the rain, but I need to do something, need to correct a wrong and this is how I was raised: to do the right thing and put everything aside for what's right.

And I want to apologize to you, Mister Conway for a mailer that was sent out, apparently on behalf of me – if that was on behalf of me, I wish it would stop. It was tasteless, shameful, and disgusting and I apologize to you on behalf of whoever sent that.
Anderton went on to say that he had contacted the state Republican party and expressed his disappointment, as he was seeking to run a clean campaign based on the facts and issues.
But just a few hours after the debate, another photo came out.
The car has a House of Delegates plate on it and one can easily read the Conway sticker. Obviously there are a few possible explanations for this, but unless Mrs. Conway was there and needs the designation it's pretty likely that the car was in a spot most people couldn't take without a fine. Joe Steffen came to his own conclusion.
Without going too deeply into the content of the forum, though, I wanted to pass along some of my observations.
For one thing, the event lasted 2 1/2 hours and featured a total of 15 candidates – six from District 37, four from District 38, and five in Wicomico County at-large races. Notably missing were the two District 38C candidates (although Judy Davis was in attendance) and the two running for Senate in District 38; on the other hand, both District 38A candidates were there despite the fact their district no longer covers Wicomico County. Regardless, the high number of candidates made for too few questions – I think the event should have played out over two nights as it did in 2010.
Maybe it was just me being tired, but to me I didn't pick up a great deal of variety among the answers. Even the Democrats pretty much tried to sound conservative, but we know better how they will fare in Annapolis (or in county government.) I'll still write up a summary on this, but the unusual nature of some of the questions made me scratch my head.
So look for that over the coming days as my plate is filling up. I just wanted to jot down some initial thoughts this morning.
A couple months ago, the Maryland Republican Party designated yesterday as a Super Saturday for Wicomico County, a day where the MDGOP increased its emphasis on door-to-door and other voter contacts for local candidates. As a culmination to the day, the Eastern Shore Victory Headquarters was the setting for a fundraiser and appreciation party.
Among the state party luminaries who attended the after-party were state party Chair Diana Waterman and National Committeewoman Nicolee Ambrose.
Ambrose noted this area was one of a handful the state party was targeting this time around, with well over 1,000 voter contacts made on this day both from headquarters and door-to-door.
Introducing the candidate was the guy who took Anderton's seat on the Delmar Commission when Anderton became mayor, Bunky Luffman. He told the crowd that Carl "builds consensus" for getting things done and reminded us that Anderton spoke to "chicken tax" sponsor Delegate Shane Robinson, leading to an eventual withdrawal of the House bill. Being Maryland Municipal League head gave Carl a measure of influence.
With that intro, Carl addressed the group.
Among the ideas Anderton spoke about were the prospect of addressing the tax differential, which would require enabling legislation that hasn't been a priority for the incumbent. Another issue where Norm Conway was "a crutch" to keep it from happening is an elected school board. In short, Conway has "failed us miserably time and time again."
He also noted Peter Franchot's case that a large property tax increase will need to be made, blaming the massive debt increase Conway has supported over the years.
While it was his fundraiser, Carl yielded the floor to his special guest, Delegate Jeannie Haddaway-Riccio.
Jeannie recalled that the 2010 election saw House Republicans in Maryland gain six seats, or one for each committee. "We were starting to effect change," she said, particularly on the sub-committees – so the Democrats started doing more work at the committee level where GOP strength was diluted. She added that our side wins the floor debates, but can't win the votes – so having delegates like Carl would help in that regard.
Jeannie was also a popular photo subject. I got a couple as she posed with Muir Boda in the top photo and the host in the bottom.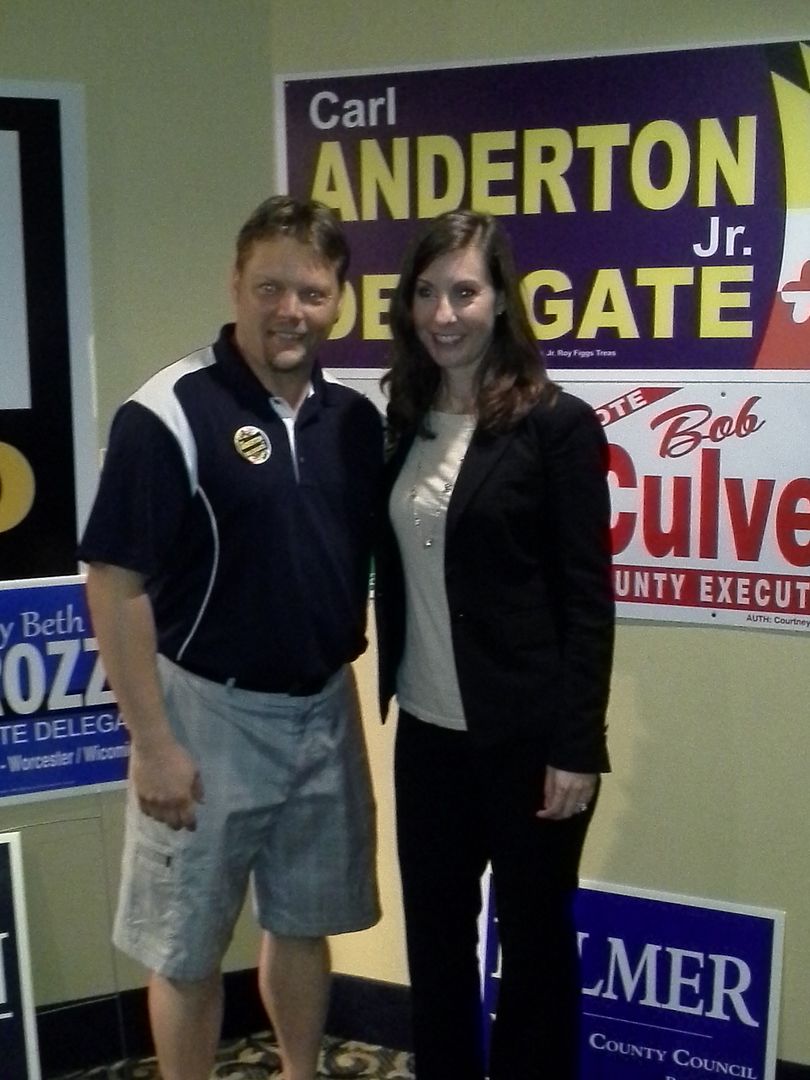 Yet the work wasn't done. Looking at Carl's Facebook page, he noted that they were still hard at work building signs at 10:30 at night. To beat a well-funded incumbent, the workday is long.
We'd built up the event for months, so it was no surprise we filled the room for our first-ever Patriot's Dinner featuring former Congressman, author, fill-in radio host, and most importantly Lt. Col. Allen West. It was the culmination of an afternoon of events which featured a reception with Republican youths from around the area, VIP events for West's Guardian Fund and the Maryland Republican Party, and the dinner itself.
West promised to speak for about 25 minutes and answer questions afterward, directing his remarks toward the "criticality" of our situation. He first asked if this was really the home of the brave when we outsource our fight against Islamic terrorists to the Free Syrian Army while decimating our military capability to levels unseen since before World War II. West pointed out that Barack Obama was bombing his seventh country, but chided Congress for its lack of bravery because "no one is asking if we are at war."
"If someone is dropping a bomb on my head, we are at war," said West, continuing that Congress was failing its Constitutional obligation to declare war. West was very critical of both Barack Obama and outgoing Attorney General Eric Holder, calling them "the two biggest violators of the Constitution."
West went out to state that in many respects, we we not keeping our Republic, as Benjamin Franklin warned us we had to, but sliding into a monarchy. We need people who would be the "loyal opposition" to tyranny, added the Colonel. Moreover, we're failing to meet this challenge because we aren't educating ourselves on how to keep this republic. Even the verbiage has been altered, as West later went on to talk about the co-opting of the word "liberal," noting "true conservatives are classical liberals."
Turning to the state of the Republican Party, Allen explained that the sole reason for the GOP's founding wasn't to abolish slavery but to maintain Thomas Jefferson's words that "all men are created equal." Unlike the era of its founding and its shackles of physical bondage, the black population today was under the "shackles of economic hardship," a condition West termed was "even worse than physical bondage." The letters G, O, and P should stand for growth, opportunity, and promise, said West. "We believe in equality of opportunity."
West also had harsh words for the welfare state. There should be a safety net, he opined, but that safety net "is meant to bounce you back up." Instead it's become a hammock, and like all hammocks over time it begins to rot and eventually will collapse under the weight.
Allen also made the case that the promise of America was to keep us safe. He decried the "cowards" who preach political correctness, maintaining the argument that "political correctness will only get you killed."
Finally, West challenged the group. "I'm pointing a finger into your chest," he said. "Stop being worried about them calling you names." He challenged us to engage 5 of our more liberal friends and set a goal of changing the minds of three. Noting Barack Obama has only a 40 percent approval rating, he called those 40 percent the "stuck on stupid folks," lastly repeating Franklin's assertion that "you have a republic, if you can keep it."
After the standing ovation, West took questions. Naturally the first one asked if he would consider being Vice-President, to which West replied "if God determines I will be in that position."
On a question relating to our military, West repeated his point that we are in "one of the weakest states we have seen," adding that, "the world is Machiavellian." West compared the release of Army Pvt. Bowe Bergdahl – "in the socialist mind, Bowe Bergdahl is a hero" – to the fate of Marine Sgt. Andrew Tahmooressi, who has languished in a Mexican jail since April for accidentally bringing a gun into the country. West criticized the fact Tahmooressi wasn't brought up in the June meeting between Barack Obama and Mexican President Enrique Pena Nieto, thundering that he'd demand Tahmooressi, along with his gun and his car, back in the country before Nieto was let in.
The next questioner wondered if it was too late to reverse this tide, with West noting we're "almost at the tipping point." Allen added that there's "no self-esteem (gained) from sitting in the hammock." Instead, we needed leaders to emerge like Dan Bongino, who West's Guardian Fund is supporting because Bongino "has a lot of fight in him."
Two questions about the state of our monetary system followed, dealing with the prospective collapse of the dollar and its effect on gold and silver. West pointed out that, in his belief, "we do not have a free-market economy," feeling instead that "the bubble is coming" because of a circular exchange of money primed by the continual printing of dollars. He felt there was a strong possibility that if a Republican in elected in 2016, the Federal Reserve will suddenly end this practice just to do damage to the economy under a Republican president. West also opined we may have to return to the gold standard.
When asked about the lack of bold leadership, Allen made it simple: "Start electing them." Pointing to the candidates at the head table, he added, "start building your farm team." We need to communicate our ideas with the American people, West added, noting that the other side "plays chess while we play checkers." Referring to the campaign placed against him in his 2012 Congressional re-election bid – a race made difficult because Florida Republicans redistricted him to a new district – West also believed that "if I'm their number one target, I feel good about it."
The piece of advice he would give about minority outreach? "Talk to them about who they really are," said Allen, who also challenged their mindset about rights, asking if not God, who do your inalienable rights come from? It led into the final question about education, where West made the case that "the most important elected position is school board" and couldn't believe ours was appointed. West also believed the time had come to establish more of our own universities, using Hillsdale College and Liberty University as examples to follow.
As part of the leadup to West's speech, he was presented with a Benghazi bracelet by Bev Bigler of the Worcester County Republican Central Committee. The poem "The Battling Boys of Benghazi" was also included with the program.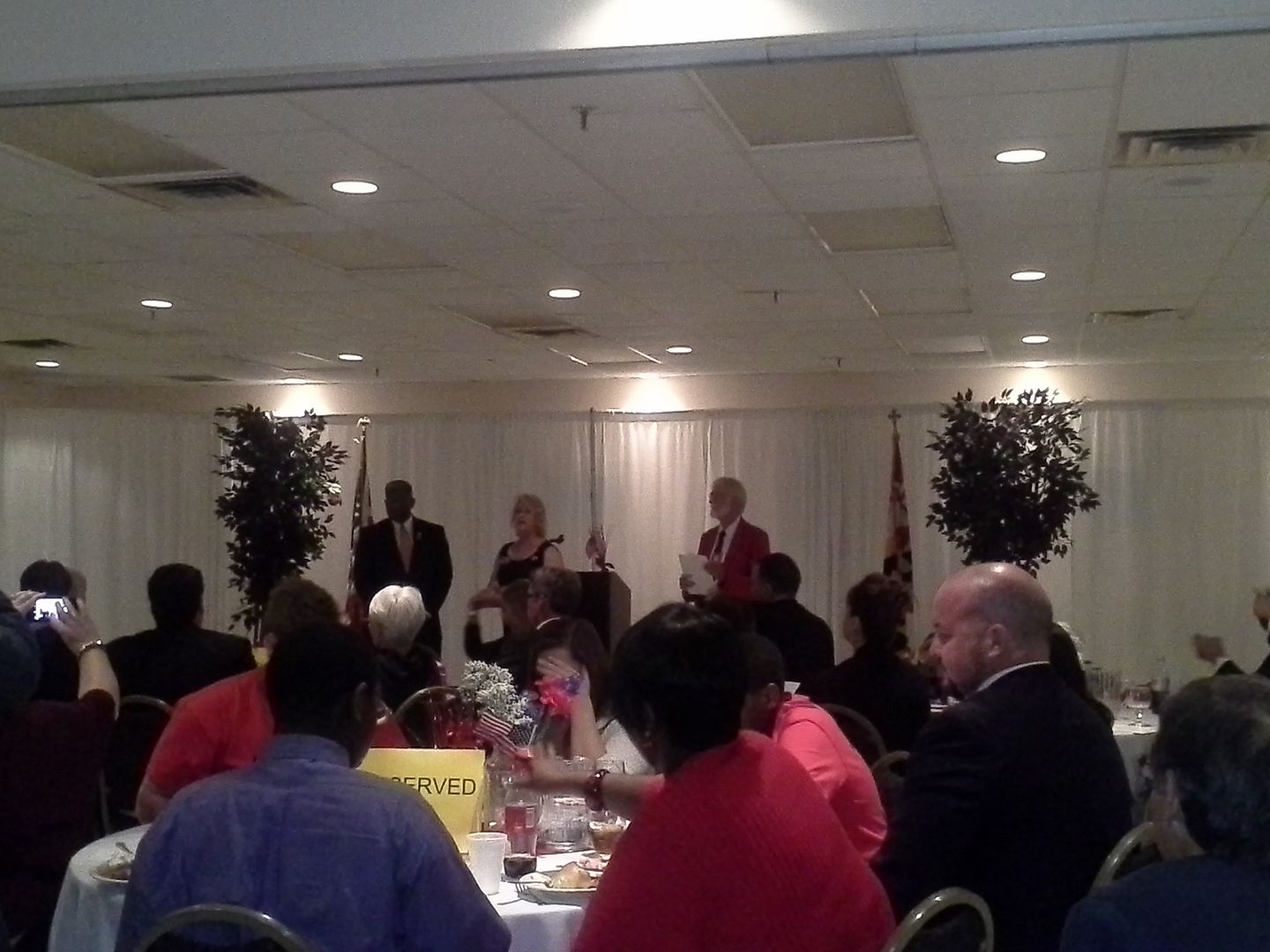 This was part of their effort to keep the Benghazi incident (and subsequent questions about a coverup) fresh in mind.
A number of elected officials and candidates took time out of their busy schedules to attend the proceedings, with some taking advantage of the moment to pose with Lt. Col. West. It was interesting to have a contingent from southern Maryland there, with those clad in red at the table in the preceding picture's foreground part of the campaign team of District 27 State Senator candidate Jesse Peed. (Peed has the uphill battle of taking on Senate President Mike Miller, a man who desperately needs to be retired.)
So the months of preparation, back-and-forth communication between the several parties involved, and last-minute scrambling to get the details just so made for an entertaining and informative evening. There may be a thing or two for me to add to this post, but I think I can speak for the Central Committee in saying that we enjoyed the living daylights out of it, but are glad it's over so we can focus on the election.
I've written and researched a lot this week (and already laid some groundwork for next week) so this will be short, sweet, and to the point.
Yesterday I got an e-mail announcing a local event:
Michael –

Please join us Sunday (9/7/14) at 4:00pm for the Grand Opening of our Lower Shore HQ!

HOGAN FOR GOVERNOR HQ
4:00PM
1801 North Salisbury Blvd
Salisbury, MD 21801

Stop by and see Larry and pick up your Hogan supplies!
As a member of the Central Committee, I've been referring to this building as the Lower Shore Victory Center, or just "headquarters" or "Mister Paul's" (the former occupant.) The Wicomico County Republican Club calls it the "Eastern Shore Victory Headquarters." Did I miss something?
Do Republicans want Larry Hogan to win? Well, all but three percent of them did in a recent poll. But the last time we had a Republican governor, there was something missing: party development. All of the effort and money went toward getting Bob Ehrlich re-elected and not so much in candidate grooming and local campaigns which could have used the help. So we ended up with a debt-ridden party without a bench, and I'm not interested in a repeat of that mistake.
So I have a problem with being invited to the "Hogan for Governor" headquarters, even though that will be one of its primary functions. To a lot of local people, it's more important to elect Addie Eckardt and Mike McDermott to the State Senate, Carl Anderton, Jr., Christopher Adams, and Johnny Mautz to become our newest Delegates, and Bob Culver as our County Executive. Many of my friends are pounding the pavement for those races, figuring Hogan can take care of himself – so why is he looking for all the credit? (It also just dawned on me that it would be a complete turnover in those particular positions, something sorely needed.)
Maybe it's just bad optics to me. But it's worth remembering that Hogan didn't win this county, David Craig did.
So I'm hoping that when Larry comes down, he will refer to it properly as an Eastern Shore Victory Headquarters and not "his" headquarters. When you need 65-70% of the local vote to have a chance, a little respect goes a long way.
And while I'm thinking about Hogan, a few words about his fundraiser with Chris Christie. Do I agree with Chris Christie on a lot of issues? In a Presidential sense, not really. Does it bother me that Larry Hogan is bringing him to Maryland to fundraise? Absolutely not. Christie isn't my cup of tea, but if it raises a lot of money that's good for everyone.
On the other hand, Allen West is more my cup of tea and he'll be here later this month. So save the date of September 27 and your pennies because these events will be helping three different entities: West's Guardian PAC (which is supporting, among others, Dan Bongino), the state GOP, and the local party units.
It was just about this time in 2010 that Bob Ehrlich had his last positive poll – a Rasmussen Poll had the Maryland race tied at 47-47. Granted, the former election calendar dictated a primary was still to come but it was presumed early on (particularly as the state party had its thumb on the scale) that Ehrlich would be the nominee.
But as time wore on and people began to pay attention, the thought of returning to the era of Ehrlich seemed to turn voters off, as the race which was single-digits until mid-October turned suddenly and forcefully Martin O'Malley's way in the end, as he won going away by 14 points. This blowout for O'Malley had a few coattails as well, as the GOP lost two Maryland Senate seats (but gained six House of Delegates seats, solace in an otherwise contrarian election here in Maryland given the 2010 national TEA Party wave.)
We have no idea if the same will hold true with different players in 2014, but the Maryland GOP was pleased to release a poll which showed the race between Larry Hogan and Anthony Brown was within the margin of error. Granted, it was from a Republican pollster and perhaps slightly oversampled Republicans but the results still have some merit.
As the OnMessage, Inc. pollsters write:
The ballot currently stands at 45% for Brown, 42% for Hogan, 4% for Libertarian Shawn Quinn and 9% undecided. In deep blue Maryland, that signals real trouble for Governor O'Malley's right hand man. More importantly, Independents favor Hogan by 8 points with a quarter still undecided. That's remarkable considering that Hogan is still unknown to most Independents with an image of 27% favorable and 14% unfavorable. But Independents know Brown better and don't particularly like what they see. Brown's image among Independents currently stands at 32% favorable to 39% unfavorable.
I can easily gather two things about this race: one is that Shawn Quinn will get 1% if he's lucky, and the other three percent will likely break toward Hogan by a 2:1 margin. It's also an axiom that undecideds tend to break for the challenger; despite the fact the seat is an open seat Brown as LG has to be considered the incumbent. It's a scenario which could be a repeat of the 1994 gubernatorial race.
Insofar as the numbers go, the sample used by OnMessage is a 51-32 D-R split, which oversamples registered Republicans by about five points. However, if Republicans are motivated to turn out and Democrats are dispirited, that turnout model may not be bad. And when just 51% of Democrats feel the state is on the right track (while 64% of independents and 88% of Republicans think things are going the wrong way) the motivation should be on the GOP side.
It's also worth mentioning that Brown is already leaking 15% of Democratic votes to Hogan while just 3% of Republicans back Brown. The only reliable constituency Anthony Brown has is the black vote, which is at an 87-5 margin – hence the Michael Peroutka scare tactics being used as a dog whistle to minority voters.
Even though it's a Republican poll, the trend has to be a little disturbing to Democrats. Earlier in the summer, Brown had a massive lead over Hogan – up 18 in a June Washington Post poll, and up 13 in separate July CBS News and Rasmussen polls – so to see that melt away to no worse than single digits has to shake up the Brown campaign. It explains why they're throwing the kitchen sink at Hogan on social issues, trying to distract attention from Brown's pitiful and puny record of political accomplishments.
Obviously the fight in this election will be how well Hogan can stick to his message of fiscal responsibility. Now that the primary is over, we don't have to fight on degrees of difference so when the Democrats try and change the subject I'm not going to allow it. It's time for fiscal responsibility and competence, and Maryland Democrats over the last eight years have shown little of either.
I've heard a lot of talk about nominees who are RINOs and sitting out the election because so-and-so won the primary and they don't want to vote for the "lesser of two evils," and it always amazes me because this doesn't happen on the other side. Here's a case in point from a fawning AP story by Steve LeBlanc about Senator (and potential Presidential candidate) Elizabeth Warren.
Now, Warren is continuing her fundraising efforts, with a planned Monday event with West Virginia Democratic Senate hopeful Natalie Tennant. Tennant, West Virginia's secretary of state, is vying with U.S. Rep. Shelley Moore Capito for the seat held by retiring Democratic Sen. Jay Rockefeller. Capito is favored and holds a hefty cash advantage.

Capito's campaign has also been quick to target Warren, calling her "one of the staunchest opponents of coal and West Virginia's way of life."

Warren has conceded that she and Tennant — who, like (Kentucky Democrat Senate nominee Alison Lundergan) Grimes, has criticized Obama's plans to limit carbon emissions from the coal industry — don't agree on everything, but can come together on economic issues facing struggling families.
So it's obvious that the Democrats have their own 80/20 rule, but unlike some on our side they don't take their ball and go home based on the non-conformance of the 20.
We had our primary, and at the top of the ticket there were 57% who voted for someone else besides our nominee – many of those live here on the Eastern Shore, where David Craig received 49.6% of the vote and carried seven of the nine counties. There can be a case made that Craig's running mate, Eastern Shore native and resident Jeannie Haddaway-Riccio, was a huge factor in his success here, but the fact remains that this area I live in was one of the two areas Hogan was weakest (the other being southern Maryland, where Charles Lollar resides.) These are votes Hogan will need, and surely many will migrate his way because he's the Republican nominee.
On the other hand, Anthony Brown got a majority of the Democratic vote and carried all but a few counties. Those three on the Eastern Shore, plus Carroll County, aren't places Brown would expect to win in November anyway – except perhaps Kent County, which was the lone county Heather Mizeur won and which only backed Mitt Romney by a scant 28 votes in 2012.
The path to victory for any statewide Republican candidate is simple, because Bob Ehrlich did this in 2002 – roll up huge margins in the rural areas and hold your own in the I-95 corridor. Ehrlich won several rural counties with over 70% of the vote in 2002, and got 24%, 38%, and 23% in Baltimore City, Montgomery County, and Prince George's County, respectively. When that formula didn't happen in 2006, he lost.
Granted, demographic changes and other factors may not allow Larry Hogan to pick up 65% of the vote in Anne Arundel County, 61% in Baltimore County, or 56% in Charles County, but it's possible he does slightly better in Prince George's and may hold some of those other areas. Turnout is key, and we know the media will do its utmost to paint Anthony Brown as anything other than an incompetent administrator and uninspiring candidate – as the natural successor to Martin O'Malley, who has done a wonderful job further transforming this state into a liberal's Utopian dream at the expense of working Maryland families, one would have expected Brown to have picked up at least 60% of the Democratic primary vote.
Yet you can bet your bottom dollar that even the most diehard Mizeur and Gansler supporters may hold their nose but will still push that spot on the screen next to Anthony Brown's name. They may have several points of contention with Brown on key issues, but the other side will push those aside to maintain power.
Perhaps Natalie Tennant over in West Virginia had misgivings for a moment about inviting Elizabeth Warren for a fundraiser, but she realized that there is a segment of her would-be supporters who would gladly contribute more to her campaign to meet Senator Warren, despite the fact they are on opposite sides of a particular issue. To Warren, the end goal of holding that seat in her party's hands and maintaining a Democrat-controlled Senate was more important than conformity with the one place where Tennant may go against leftist orthodoxy.
If we're to upset the apple cart here in Maryland, we have to deal with the obvious flaws in Larry Hogan's philosophy and platform at the most opportune time – when he takes office.
I'm breaking into my normal Sunday to bring you the latest polling on this race.
While it's not precisely what Maryland Republicans are hoping for, there is a little crack as the Hogan electoral door is slightly ajar. Bear in mind that a projected matchup polled by the Washington Post last month had Brown leading 51-33, so his support is retreating while Hogan's has grown. Perhaps people are realizing what I wrote last month on Brown's lead:
It's a counter-intuitive result when you look deeper into the poll's questions to find that Democrats want the next governor to lead the state in a different direction from Martin O'Malley by a 58-34 margin. Yet they have given Anthony Brown a significant primary lead and would presumably back him in the general election.
Then again, it's very rare that Maryland votes in its own best interests anyway – they would rather genuflect to an all-encompassing government which distributes crumbs in an arbitrary and capricious manner, depending on the favored status of prospective recipients, than breathe the air of freedom and opportunity for all. But there's always a first time, and as for the rest some areas of the state still have common sense.
So Hogan has picked up a little bit, but more importantly Brown has been driven under the 50% mark. Conventional wisdom holds that an incumbent under 50 percent is in trouble, so this should be added motivation for conservatives to work for an upset.
In the drive to unify a party after a contentious primary in certain quarters, state party Chair Diana Waterman put out a message at once congratulatory to the primary winners and conciliatory to the losers. It was the standard boilerplate stuff until I ran across this passage:
There has been much said and debated in social gatherings and on Facebook about "Party over Principle or Principle over Party." I do not believe that supporting the elected nominees of our Party and following your principles are mutually exclusive. While a candidate may not agree with you on 100% of the issues, they will always be more in line with your beliefs than the liberal Democrat will ever be. We must elect more Republicans if we want to have any hope of challenging the stranglehold of the Liberals in Annapolis!

Our only hope to be victorious on November 4th is TO UNITE. Not voting for the Republican in the General is the same as casting a vote for their Democrat opponent. Do not give the Democrats one iota more of an advantage over our candidates. (Emphasis in original.)
Those who have followed Maryland politics for awhile know why the subject comes up; if not, it came from a video put out some years back when Audrey Scott was running the show.
In general I agree with Diana on this one because she's exactly correct. In a universe where there are a finite number of votes out there and one entity already has a numerical advantage, all other entities do themselves a disservice by not participating because their decision makes it even easier for the majority to prevail. If I have a classroom with 20 votes and 11 support Jack, six support Jill, and the other three blow with the wind, but find only about 10 of those members actually participate, it's a reasonable assumption that if those six supporting Jill hold together – and vote – they have a fighting chance to win.
Excluding the Central Committee race, I had three contested races and I didn't vote for a single winner; in fact, those who voted for all winners in all races are probably few and far between. So unless you're one of those fortunate souls – and that number was immediately trimmed by 57% in the gubernatorial race because that many voted for someone other than winner Larry Hogan – you will have to make some compromises in order to vote Republican. (David Craig handily carried Wicomico County, though, so in that sense I voted for one winner.)
But something I've studied over the years is the big, big difference between Republicans and Democrats in this state. As I noted Monday, the fiscal difference between a guy who believes there is $1.75 billion in fraud and waste to be had in the state budget and a guy who wants to spend additional millions and could grow the budget as much as $16 billion over four years is stark. I understand the whole "lesser of two evils" argument, but there are only two people with a realistic chance of winning and the stand has to be made sooner or later. Larry Hogan wasn't my dream candidate, and I suspect we would have to watch him like a hawk to make sure he doesn't drift over the political center line, but given the choice between him and Anthony Brown it's a no-brainer. Those who backed Martin O'Malley because they didn't like how centrist Bob Ehrlich was and thought we needed to be taught a lesson – well, class was dismissed.
I repeat again: this is an "all hands on deck" election. Even adding up the totals for all four GOP gubernatorial candidates, the sum doesn't match the vote total Anthony Brown got in a contested Democratic primary, so it's obvious there's work to be done. You know it and I know it, but the labor needs to be put in.
Yet I'm going to encourage you to take an evening off on July 17 and spend it with a Congressman who knows a little something about agriculture. The Dorchester County Lincoln Day Dinner features Rep. Frank Lucas, who is the Chairman of the House Agriculture Committee. He will be speaking to the gathering, which will be held at the East New Market Fire Hall in that community east of Cambridge. Tickets are $70, but the menu promises to be outstanding.
It was perhaps one of the more uneventful WCRC meetings in some time, because we chose not to feature a speaker and not much business transpired. Sure, we had the usual Lord's Prayer, Pledge of Allegiance, and Treasurer's Report, but most of the time was given to those final appeals from all the candidates in the room.
However, we were introduced to two bright and talented young Republicans, as Shadi Jahelka of Mardela High School and Elizabeth Mills from Delmar High School were introduced as our Wicomico County Republican Club scholarship winners. Jahelka plans to continue her studies at the Maryland Institute College of Art, while Mills will be attending Potomac State College in West Virginia.
In a brief President's Report, Jackie Wellfonder noted we were still looking for a headquarters. And "headquarters is a mess," said Dave Parker to open his Central Committee report. A couple places we were interested in have fallen through, so we could have to move off the Route 13 corridor we've been on for several cycles.
In better news, Parker attended the state Red, White, and Blue Dinner with a mixture of people from Wicomico and Worcester counties. He also pointed out that he had tickets to the Tawes Crab and Clam Bake next month.
Dave also put in his plug for Circuit Court Judge candidate M.J. Caldwell, correctly pointing out "the difference is experience."
At that point, we made the rounds of over twenty candidates and representatives, who we gave just 2 minutes to make their case. Many of them were those sharing the ballot with me for Central Committee, so let me take this opportunity to wish them good luck. Mark McIver said it best in his remarks: "I can't say enough about how well our committee ran," adding it was considered by others to be "very functional."
Representing David Craig's campaign, Joe Schanno made an important plea himself: "After tomorrow, we're all on the same team."
Essentially the only other business was the announcement by Joe Ollinger that he had tickets for the WCRC Crab Feast September 6 and was looking for volunteers to help out, and a point I brought up about integrating social media into our solicitations for help for upcoming events such as the Farm and Home Show, Good Beer Festival, and Autumn Wine Festival.
In fact, we were done in less than an hour, although many stayed around to work on distributing signs for tomorrow's election. There are 31 polling places in Wicomico County, so the goal was to cover all of them with the appropriate signs.
We have five weeks until our next meeting, which will be on July 28.
Last night (because by the time I finish this it will be Sunday) the four Republican gubernatorial candidates got together at Salisbury University to discuss their vision for the state, an event which was televised locally and will be made available statewide at a future time.
With only one hour to discuss issues, a 2-minute time limit on answers, and questions written by the local Chamber of Commerce – the event was moderated by their executive director, Ernie Colburn – the questions were somewhat predictable given the bread and butter of these campaigns deals with their perception of the state's sluggish economy. The time constraints only allowed for five questions after a two-minute opening statement and prior to a 70-second close. The five questions had to do with the tax increases and structural deficit, creating a business-friendly tax code, addressing the challenges in attracting jobs, a seat at the table for the Eastern Shore, and restoring highway user funds. I would have liked one more directly addressing agriculture, but we didn't get the opportunity to write the questions.
One other weakness with the format of the debate is that the candidates were placed in alphabetical order, which is fine, but initial responses were not properly rotated. Charles Lollar either answered questions first or last, as did David Craig, while Ron George and Larry Hogan had the benefit of hearing at least one answer. In this narrative, I will discuss the candidates in order of their opening statement, which happens to be alphabetical order beginning with the Harford County Executive.
First of all, David Craig perhaps had the best-organized presence there, which included running mate Jeannie Haddaway. Some of Craig's blue-clad staff were there, but many others had Craig lapel stickers advocating his support of concealed carry. They all sat in one section of the audience, a section which I sat immediately behind. They also had an event close by the University beforehand, so David made a day of it.
In his opening statement, Craig made sure to mention his running mate and her ties to SU, from which she graduated. "Jeannie and I are very much alike," said Craig, referring to their respective families' long history in Maryland. "I want the twelfth generation (of Craigs) to still live in Maryland," said David.
He stressed his experience in balancing nine budgets when addressing the structural deficit, pointing out that he had reduced taxes and cut spending during his tenure. Craig would not kick pension or health care benefits down the road as he implied the current administration has done, instead proposing more "paygo" projects funded from existing revenues rather than bonding, specifically noting casino proceeds as one source. (It bears noting that it would take a legislative act to do so, as casino proceed percentages are set by the General Assembly and the plurality of nearly 50 percent is supposed to go to education. So this could be construed by others as "cutting education.")
In adopting a more business-friendly tax code, David pointed out we shouldn't be taking the dollars in the first place. He proposed slashing the business tax rate from 8.25% to 4% in stages, but also explained that many businesses such as S-corps use a personal tax form to report their business income. He also wanted to address the sales tax, gasoline tax, and tolls.
Craig also remarked that Harford County had gained 8,000 jobs at a time the state was losing them, but his focus wouldn't be so much on bringing jobs in as it would be keeping them here. "Just 25 percent of businesses are hiring" right now, said Dave, and he would address this by getting a more proactive Department of Economic Development and expanding broadband capabilities. We would not be Silicon Valley, said Craig, but we could be "Silicon Bay."
In terms of giving the Eastern Shore a seat at the table, Craig played up his decision to secure Jeannie Haddaway as his running mate. "The Craig-Haddaway ticket is going to have someone (from the Shore) who will always be on the second floor, not just at the table." He continued by saying Haddaway gave up a safe seat in the House of Delegates to try and benefit her region.
Craig also vowed no money to the Red Line or Purple Line and promised that counties will get their highway user funds back in the first year of a Craig administration.
He closed by taking a subtle jab at opponent Larry Hogan, saying that we didn't need to change Maryland, "just change what's on the second floor." Between him and Jeannie Haddaway, they were 14-0 in beating Democrats, he concluded.
Overall, I thought Craig gave a solid, steady performance. He rightfully played up the presence of Haddaway on the ticket, although I suppose if you were watching from other parts of the state it could be seen as pandering to some extent. Yet of all the running mates, she's probably the most qualified to succeed David if the unthinkable should happen.
Ron George was blunt in his opening statement: "This is about the economy…the other side has not solved one problem." The facts were ominous, as he told us about 73,000 unemployed Marylanders and a manufacturing sector "still stuck in the recession." He was a working man, with a career and business he interrupted to serve his fellow citizens.
Ron would address the structural deficit by combating waste through independent audits and putting together a Spending Affordability Commission that doesn't paint such a rosy outlook – they predicted 4.5% GDP growth in FY14 and 6% next year. "These rosy forecasts have got to stop," said Ron. He would also address the state's bond situation, where debt service costs the state over $1 billion a year.
But he was realistic enough to realize "I can't go in there as a king," meaning he can't just change government overnight. But what we could change, he would – "I'm guaranteeing you the things I'm saying," said George. Yet he made an excellent point about the challenges to attracting jobs by asking why we look down on the tradesman, instead emphasizing the four-year degree? There's no focus on that sort of education, Ron added. Being a guy who has an interest in "made in America," this was one of the two highlights of Ron's night insofar as I was concerned, with the other coming in the next question.
After Ron talked about the Eastern Shore being "in my blood," he addressed such items as more state money for tourism (with a proposed slogan – "the Maryland Eastern Shore: life as it should be" – bringing back the canning business, protecting farms, expanding broadband, and reducing sales tax on this side of the Bay. But the best idea went back over 50 years, to a time when each Eastern Shore county had its own State Senator. "I think we need to have a Constitutional Congress in this state and go back to something that makes it fair for the Eastern Shore and the rural areas," said Ron. And while I said 48 Senators (two from each county) I still think it's an outstanding idea.
Ron used the highway user fund question a little differently, making the case that he would be "a governor for all of Maryland" and that helping Baltimore City would assist the rest of the state. But he would repeal the automatic increases in the gasoline tax and instead of a "reactive" transportation plan his would be proactive.
He concluded by promising to be a "hard worker" as governor and to treat all fairly, while also mentioning a little about running mate Shelley Aloi, who was also at the event.
Something I've observed about Ron, though, is that he comes across as ill at ease in a public speaking situation. He also rattled off a lot of numbers in his presentation, and perhaps sealed his image as a policy wonk because he's also the only candidate who wears glasses. I noticed him looking down reading a lot, instead of looking at the camera. He also had very little presence at the event, which led to his only getting a smattering of applause after questions rather than a rousing ovation. I have no doubt he would be a hard-working governor – and as a policy wonk type myself I loved a few of his ideas and goals – but he's going to have to overcome a lot to get there.
I was surprised that Larry Hogan didn't have a larger presence there as well. In his opening he alluded to three recent visits to Salisbury University before settling into the familiar bromides of not desiring to be something, but to do something and being fed up with politics as usual. He also brought back the oft-repeated refrain of the state being on the wrong track and the emphasis on jobs, the middle class, and restoring the economy.
Of course, in the first question Larry brought up the $9.5 billion in new taxes, but pointed out that he worked for an administration which finished with a cash surplus that's now once again a structural deficit eight years later. He would cut spending first, then roll back taxes where he could. Recently, Hogan added, he put out a plan to address $1.75 billion just by enacting existing recommendations.
Another familiar Hogan theme was that of our state being 41st of 50 in business-friendliness. Our corporate tax rate was "not competitive," personal taxes were too high, and regulations too stringent. He would eliminate the hostile attitude and vowed "Maryland will be open for business again."
After another regular reprisal of those things we've lost in terms of businesses, Larry made the case that there's been "no discernible response" from Annapolis. He asked how an administration could be pro-jobs yet anti-business?
As far as the Eastern Shore goes, Hogan called the current administration "openly hostile" to the Shore, adding that he spoke to Jim Perdue, who told Larry he "feels like they are attacking our business."
"There's been a war on rural Maryland," Hogan added.
Larry then made a statement some have already jumped on, saying "I agree with David; I think Jeannie (Haddaway) is terrific. I actually appointed Jeannie to the legislature and if I'm lucky enough to be governor then I'd think she'd make a terrific ombudsman and maybe liaison for the Eastern Shore." He then added that the Shore is "not the only place neglected."
In that respect, Larry is probably correct because each area of the state has needs not being addressed, But as a whole our part of the state is the poorest and tends to have higher unemployment. It could easily be argued we're already in a recession.
He then promised to restore the highway user fund cuts that were "devastating" to local governments, perhaps by chopping away at the 53% of transport dollars spent on mass transit.
Hogan warned in his close that this was the "last chance to turn this state around," this being "a fight for Maryland's future."
As a whole, Hogan's performance came across to me as "meh." The problem is that I've heard it all before, and this particular debate format and questioning lent itself to Hogan's perceived strengths. Yet he never hit anything out of the park.
Although he appeared a little tired and troubled, Charles Lollar spoke with the most passion, generally motioning with his arms as he spoke. (Since I couldn't watch the feed, I don't know if this was seen at home.) Once he made the case that the state is going in the wrong direction, he mentioned that even the Democratic strongholds of Montgomery and Prince George's counties and Baltimore City believe "the course is wrong." He claimed his economic plan had the approval of Dr. Arthur Laffer and his health care plan won favor from Dr. Ben Carson, but vowed to "aggressively look for non-partisan solutions."
So when Lollar stated that spending had jumped 36% over the last eight years (including $2.3 billion this year), he announced his intention for a taxpayers' bill of rights (or TABOR) law to hold spending in check and to phase out the income tax in five years. "How would you love to wake up in five years, in 2019 in Maryland, and not have a personal income tax that you have to pay?" he asked.
He repeated the Laffer endorsement in his next answer, as well as the TABOR reference, but added that our legislature and governor doesn't understand business. "We have a governor who hasn't had a job in 28 years," Lollar quipped. But he also dropped a bombshell on the group by proposing term limits. "It's time for us to get rid of the career politicians," he opined. Me? I love the idea, but it also has to come with the discipline of keeping the non-elected regulatory state in check.
Lollar pledged his running mate, Ken Timmerman, would address the challenge of attracting jobs by using his investigative skills to focus on waste and the 84 new taxes and fees. He also made the case that the biggest challenge to business is simply staying in business.
Charles wanted to "make the Eastern Shore a priority," noting that we don't get a good return on our tax dollars and would rather just be left alone by regulators. They're "tired of being picked on," said Lollar. He also brought up the Hudson lawsuit.
As for the highway user funds, Charles promised to stop the Red and Purple Lines, which were enacted under "reckless leadership." He also wanted an "enforceable lockbox" over the funding.
Lollar got the last word in the debate, saying the job calls for real leadership. So he urged voters to "think this thing through" and that he had "found nonpartisan solutions…and already has 'Democrats for Lollar' organizations in Montgomery, Prince George's, and Baltimore City."
I'm sure Charles may have gained himself some converts around the state with his performance, which was surprisingly strong. Unlike Ron George or even Larry Hogan, Charles seems to thrive in a debate format such as this because he is a passionate speaker. He did fall into the Hogan trap of repeating some points several times, but overall it was a strong, compelling performance.
However, there were a few issues with Lollar's day today. I happened to be sitting amid a few Lollar backers and they were disappointed by the lack of local support at his earlier gathering. Others I spoke to earlier today bemoaned his campaign's lack of direction. But he's the only one who has brought concepts like a TABOR and term limits into the conversation – these are broad-based conservative points of view, as is lowering the income tax to extinction.
So as for who "won" the debate, I would say it's Lollar and Craig who did best, with George and Hogan lagging behind. But now I'm a little closer to determining who I will endorse and it will probably be made public in one week.
Hey, if Roch Kubatko can do it, I figure I can too. There were a few things I wanted to discuss in the post-convention aftermath.
One storyline was the low number of hospitality suites and rooms there were. Generally there are six to eight separate parties going on during a typical Friday night at the convention, but in this case I think two closed up shop relatively early so the other three became the centers of action. So it seemed to me that there was a crush of people for about an hour or so, but things cleared out pretty quickly after most of the food was consumed.
But I heard a grumble that the reason there were so few suites was the high price the MDGOP was charging. But since they don't get a cut of any of the room-sized suites, their only recourse is to charge a premium price for the lobby spaces. Gubernatorial candidates seem to be willing to pay, though: last spring it was Blaine Young taking the spacious lobby of Timonium, in November they had Larry Hogan use the main space of the Annapolis Doubletree, and this time Charles Lollar took the Bethesda Doubletree restaurant.
In November I would imagine at least one Chair candidate using a large space, but that event will likely return to the higher number of rooms common to previous conventions as various party office hopefuls try to gain advantage.
Similarly, I don't recall there being so few vendors. Maybe it was the way they were set up, but it seemed to me that previous conventions had more tables out. Yet as I noted in my main story, there were a number of counties well under-represented – nowhere close to preventing a quorum, but Diana Waterman pointed out in her remarks that a large number had registered on Saturday morning; more than expected. She had a right to be upset, but I think with so many proxies this couldn't be helped.
Speaking of proxies, they were blamed for Charles Lollar winning the MDGOP Straw Poll. Here's a press release Lollar put out:
The Lollar-Timmerman team for Governor and Lieutenant Governor of Maryland won a key straw poll today at the conclusion of the Maryland State Republican Party convention in Bethesda.

Today's straw poll at the Party's spring convention marks the last gathering of the State GOP leadership before the June 24 gubernatorial primary. Elected representatives from all 23 counties and Baltimore City cast their votes in today's poll in favor of the Lollar-Timmerman team.

"We are grateful for this tremendous show of support from the elected leadership of the Maryland GOP," said gubernatorial candidate Charles Lollar, a Charles County businessman and reserve officer in the U.S. Marine Corps.

"Today's poll results mirror the sentiment we have been hearing from grass roots supporters across the state," Lollar added.

Conservative Carroll County Commissioner Richard Rothschild enthusiastically endorsed the Lollar-Timmerman ticket on Friday night. "Everywhere I go, people have told me they are supporting Lollar-Timmerman," Commissioner Rothschild said. "Those are the only names I hear."

Both Lollar and Timmerman were attending other events on Saturday, but delegates at the state party convention erupted in cheers, jumping to their feet when they heard the results.

This latest straw poll victory from central committee members from across the state follows on the heels of a victory at the annual convention of the Maryland Federation of Republican Women in Calvert County.

The Lollar-Timmerman team has also won three successive Montgomery County GOP straw polls, including one on March 26 following the only debate where all four GOP gubernatorial candidates showed up.

"Ken and I thank you for your support and we will not let you down as we march to victory in November," Lollar said.
I don't recall the "jumping to their feet" part, but it was somewhat of a surprise to hear Lollar won. However, he didn't mention that it was far from an overwhelming victory – if all the undecideds came down for third-place finisher David Craig, he would have won. The only one who finished poorly was Ron George; coincidentally or not, he was barely visible at this convention. Shelley Aloi was well-meaning and worked hard, but Ron's table was unstaffed and volunteer sheet almost blank when I saw it Saturday.
We do know, though, that the party faithful who care enough to come to the convention have much more decisiveness about the race than a group of relatively random respondents selected for the St. Mary's College Maryland Poll. The big winner in that poll was Mr. Undecided – nearly seven of ten hadn't made up their minds yet. In that poll Larry Hogan leads by a somewhat comfortable margin, but at just 16 percent of the vote – a total of 43 votes out of 270, which wasn't much larger than the room full of party activists.
Put another way, even Charles Lollar or Ron George has to convince just 34 more voters out of that remaining sample than Larry Hogan does to prevail. If either can start raising money, it's doable.
On another subject, perhaps Don Murphy was right when he remarked that local candidates should have been out knocking on doors rather than at the convention. There were a handful of such candidates there who were pressed into service as Central Committee members or proxies, but I saw few General Assembly members about Bethesda over the weekend. Maybe they showed for the dinner, but they weren't even there Friday night for schmoozing so they were likely following Murphy's advice.
We also found out the next convention will be December 5-6 at Turf Valley, the site of our Fall 2012 convention/wake. Let's hope for Maryland's sake history doesn't repeat itself.
We didn't have our president, who got struck in traffic returning from across the Bay, and our slated speaker had a conflict and sent his regrets. Even the treasurer had to take a rain check on the meeting. Yet the remainder of us persevered and we had our last meeting until the day before the June 24 primary hearing from a number of candidates who may well reach the end of the electoral road that day.
But Shawn Jester did a fine enough job running the meeting – with a little help from his right-hand man – that we learned a few things along the way and made a couple decisions.
With no speaker, once the formalities of doing the Lord's Prayer, Pledge of Allegiance, and welcoming of guests were out of the way, we immediately cut to Dave Parker's Central Committee report.
Parker told us that one of our own received an award from the state party, and as if on cue our Charles Carroll Award winner strode in the door. For a half-century of service, the state GOP honored Wicomico County's "Mr. Republican" Blan Harcum. It was the "highlight of the convention," said Parker. Harcum later added that it was "invigorating" to see so many new people in Bethesda.
But a lot of other things went on as well: the resolution condemning HB1513 was approved by unanimous consent, which was a rare time the procedure was done correctly, said Dave. He added that Diana Waterman helped play a part in the bill's demise. Dave also assessed the bid for regional chairs as "not ready for prime time," although it had been tried on a couple prior occasions. All in all, Parker called it "a good convention."
Dave then passed out the flyer for the Allen West event in September, and explained how things would work that day – at least tentatively. We don't know the sequence of West's events before and after ours, so those details need to be firmed up.
Although it was not as well attended as we would have liked, Parker also called our Lincoln Day Dinner "successful." It highlighted the "best crop I've ever seen" running for office.
I interrupted the flow a little bit by asking a question whether we should try to schedule a Super Saturday based on the West visit, figuring it would be a draw for other counties. The reason I brought it up at this meeting was that I knew we wouldn't have a WCRC meeting for almost two months, so they should be aware if it comes up as a Central Committee issue.
Yet there were a number of events on the horizon for the post-primary summer, said Dave: the Tawes Crab and Clam Bake and our Farm and Home Show topped the list, with the WCRC Crab Feast coming in the weekend after Labor Day (as we were reminded later.) We also needed to set up our headquarters with some new volunteers. Before the primary, the MDGOP is sponsoring a forum on May 31, to be televised by WMDT-TV, Channel 47.
One other missing ingredient we needed to begin work on, concluded Parker, was a "get people to the polls" plan. Woody Willing pointed out early voting was June 12-18 at the Civic Center.
From there, we heard from all the candidates in the room regarding their campaigns. Among the door-knocking, fundraisers, and events, there were a few highlights.
Dr. Mark Edney, who is running for Central Committee and was one of our proxy carriers, remarked about his "great weekend at the convention" and the "ton of energy" there. He also raved about Sunday's event for Mary Beth Carozza that he attended.
Delegate Charles Otto, who serves with scheduled speaker Mike McDermott in the House of Delegates, asked us to remember he still represents Wicomico County until the second Wednesday in January. He noted that at least 56 of the 141 Delegates next year will be new, as the others either retired or sought new positions, also assessing the state faced "challenging times" because they were increasing spending 4.8% while revenues were only increased 1.8%.
Dr. Rene Desmarais, a candidate for Delegate in District 37B, remarked on his interesting weekend as well. He was at the convention Friday night before departing to a medical conference on Saturday where he heard from four gubernatorial candidates, plus Jeannie Haddaway representing David Craig. While he said the Republicans all did a very good job, Desmarais called Doug Gansler "incoherent" and noted Anthony Brown made promises for the next 8 years he couldn't keep over the last 8 – Brown also refused to answer questions, added Rene.
Circuit Court candidate M.J. Caldwell was late – he had come from a First Baptist Christian Church meeting with over 600 people on police concerns. He pointed out the vast gulf of experience between himself and his recently-appointed opponent, and stated he was "highly recommended" by the state bar – a distinction his opponent did not share.
(Personally I think if the guy's last name were Jones he wouldn't have sniffed a judgeship.)
Introducing himself to the group, District 37B hopeful Allen Nelson made the case that Martin O'Malley was a "scary individual" who was painting industries as villains. He brought up what he thought was a better idea – in Delaware, farmers have significant input in creating regulations.
Two events brought up by candidates will be held the same day, May 10: District 38B candidate Carl Anderton, Jr. is hosting a meet-and-greet at Main Roots Coffee and County Council District 2′s Marc Kilmer will have his event later at the residence of Bob Laun. Anderton also touted the new balanced budget for Delmar, which came with no tax or fee increases.
Carl also believed his leadership of the Maryland Municipal League was a "great experience." And when challenged later about what to tell a Republican Norm Conway supporter, Carl pledged to speak with this gentleman himself.
Speaking for the David Craig campaign, Ann Suthowski said that the gubernatorial candidate will kick off a day in Salisbury Thursday at the annual Prayer Breakfast before meeting with public safety officials and granting a pair of media interviews.
With the candidates covered, we reviewed some past events.
Shawn Jester believed the Salisbury Festival was "a fantastic event" but it brought up the need for a new party banner to replace one that's several years old and looks it. We voted to do just that.
And on a question which was brought up by membership, we decided not to take a formal position on city redistricting, although a few members who spoke up (including me) supported the five-district idea. It brought up a brief discussion about candidate recruitment, with Larry Dodd conceding "we fell asleep at the wheel" for a couple cycles. Our next chance will be the fall of 2015.
First, however, we have to get through this cycle. Because our usual fourth Monday falls on Memorial Day next month, as is common, we will not meet again until primary eve June 23. Attendance may be back to normal as candidates will be working the streets hard for last-minute votes.