After he lost the 2012 Senatorial primary to Dan Bongino, Richard Douglas has kept a somewhat low profile. Eschewing a possible run for Attorney General this year, Douglas has instead focused on particular issues such as the Bladensburg Peace Cross earlier this year and his latest, a criticism of Maryland's two sitting Senators for a lack of action on freeing Marylander Alan Gross from a Cuban prison.
In today's Daily Record (11/19), I was astonished to read the Capital News Service whitewash of the Maryland U.S. congressional delegation's record of failure on Alan Gross.

Marylander Gross remains in a Cuban jail because Maryland's weak, irresolute U.S. Senators have done precisely nothing to force our weak, irresolute President to make Cuba howl. Senators Ben Cardin and Barbara Mikulski have used none of the tools available to majority-party senators, or in Mikulski's case, to the chair of the Senate's most powerful standing committee, to bludgeon the Obama White House into meaningful action to free their fellow Marylander.

To try to force presidential action, Cardin and Mikulski could easily have blocked Obama legislative priorities, Obama executive nominations, treaties, senior bureaucratic promotion lists, and spending bills. But they didn't, and these are glaring omissions in the Capitol Hill playbook. They confirm that Cardin and Mikulski have pulled their punches with their ideological teammate in the White House.

Whitewash can't conceal the truth. Maryland's U.S. Senators and the White House have shown weakness and a lack of resolve on Mr. Gross. That same brand of weakness and lack of resolve helped put Russian troops in Ukraine, and allows Islamist terrorists to murder Americans almost at will.

In January, the new Republican majority in the Senate could finally force President Obama to break a sweat over Alan Gross, five long years into his imprisonment. We'll see. But what a pity that Maryland's U.S. Senators, clucking furiously on the sidelines, have utterly failed to use the tools which the Framers gave them to force Obama to do his job.
Douglas was quite critical of Cardin in his 2012 run, but hadn't really had much need to be critical of Maryland's senior Senator. It's Mikulski's seat which will be at stake in 2016, though, and Douglas's statewide experience may lead some to ask whether he's thinking of challenging Mikulski. With the Senate political landscape being almost exactly the opposite of 2014′s (where Republicans will have at least 24 seats to defend against just 10 for Democrats) the chance to pull an upset in Maryland is intriguing in the wake of Larry Hogan's win.
Naturally, the prospect of a rematch of the two top GOP contenders from 2012 means Dan Bongino will be in the conversation as a possible contender. But will Bongino want to undergo yet another campaign, the third one in five years?
With the experience Douglas boasts as a former Chief Counsel of the Senate Foreign Relations Committee, and former General Counsel of the Senate Intelligence Committee, in an election where cleaning up Barack Obama's foreign policy messes may be a key issue, the prospect of someone with Richard's expertise going up against Mikulski – or a new Democrat should Barb decide to retire – is quite interesting. Surely we will see in the coming months if it's a race Richard wants to run.
In 2012, Maryland voters foolishly rejected a bid to overturn in-state tuition for illegal aliens despite the fact thousands of voters signed a petition to bring it to referendum. Its passage further cemented Maryland's reputation as a "sanctuary state," where illegal aliens already had an easy time getting drivers' licenses and (allegedly) illegally voting in elections.
So it's not too comforting reading a report from the Center for Immigration Studies detailing a few abuses of birthright citizenship or finding from the same source that immigrant families account for 42% of Medicaid growth since 2011. Naturally, the CIS is biased against unfettered immigration, so one would expect these types of reports from them.
Yet if you look and listen around this area and see all the Spanish-language entities – whether storefronts, media, or just conversations on the street – there's no question any change is simply locking the barn door after the horse got out. This was something of a culture shock to me moving down here, knowing I was a thousand miles from the southern border. But the local labor market, with its heavy emphasis on agriculture and poultry processing, provides the low-wage jobs immigrants flocked here to take. And as they came, their influence expanded outward into the construction industry and other areas where day labor is valued.
And while this area of Maryland and Delaware is actually below-average insofar as Hispanic population goes on a national scale, there are some enclaves like Georgetown where a high number of Hispanics have settled. Moreover, Census data is a little bit of a trailing indicator as local school districts have somewhat higher Hispanic kindergarten enrollment than the census population may indicate.
But the problem isn't necessarily one of those who are here, but those who are promised to come if amnesty becomes the law (or lack thereof) for the land. There are only so many low-skill, low-wage jobs available in the region, jobs which can't support a reasonable lifestyle. If the families of those who are already here get extended by the addition of other relatives, though, the support will have to come from somewhere. Someone has to pay for the additional schools, services, and assistance these newcomers will require. Unfortunately, most local and state budgets are already strained.
If the idea is to create a perpetual underclass that's dependent on government, full amnesty is the way to go. But I'd rather reward those who do things the right way than the ones who game the system and catch a lucky break when we turn a blind eye. If we are to be a nation of laws, we need to do immigration reform in such a way that those who came illegally don't use it to their advantage. Crime is not supposed to pay.
It's been a great month for Maryland Republicans, and after a few weeks to finish the counting of both our votes and our blessings on Thanksgiving, the party will meet early next month to elect its new leadership.
Unlike the last few times we have done this (I say "we" because I was a part of the process for eight years) the convention mood should be pretty joyous. Consider the situations where we've had this election in recent years I've been involved:
In 2006 we elected Jim Pelura in the wake of losing the governor's race and taking a step backward nationally.
In 2009 Audrey Scott was picked to finish Pelura's four-year term at a time when the party was broke, desperate, and suffered from infighting over Jim's activist role while he was Chair.
In 2010 we lost the governor's race again after a contested primary, missing out on the TEA Party wave which otherwise swept the country with the exception of getting back the First District Congressional seat. Alex Mooney won based on a platform of improving the party's fiscal situation.
In early 2013, Diana Waterman ascended to the position as the previous First Vice-Chair, taking over a party riven by discord between TEA Party conservatives and more moderate members. Mooney's promise of financial health had not come true, so the party was forced to downsize its headquarters in an effort to maintain solvency.
I did a little reading of my archives over the last few minutes in order to rehash the 2010 race (which was decided a week later than this year's convention will be) and it's interesting to note I spent the better part of a month talking about the race and its various players last time. Granted, we were talking about an open seat since Audrey Scott didn't want another term, but the success of 2014 means a lot of people should be happy with the current leadership.
Moreover, there is a slightly different dynamic at play this time around – by-law changes a few years back mean the recently-concluded term of Mooney/Waterman was the final four-year term for a party Chair. As of this election, the new Chair will be in office for just two years, through the Fall Convention in 2016.
This gives the party an opportunity to split the four-year cycle into two logical halves. The first half should be devoted to something which was done fairly well in this cycle with a few exceptions – candidate recruitment and growing the party. Once we see the 2016 results and know the health of the national party, we can go to more of a re-elect Hogan mode with fundraising being the main idea. Personally, I think Diana deserves the opportunity to lead over the next two years, while the Hogan administration can have its selection for years 3 and 4. The 2018 election will be important to our side as the winner controls redistricting, so egregious gerrymanders such as the Third and Sixth Congressional Districts can be addressed once the 2020 census is complete.
Unless I hold a proxy for the convention I won't have a direct say in the matter but I think the Maryland GOP would be well-served to avoid a divisive fight in this convention and work toward making inroads into more Democratic-controlled areas by identifying and recruiting good candidates, volunteers, and financial supporters for the 2018 cycle. I see no need to make a change if Diana Waterman wants the job for another two years.
Update: Going by her reply to my Facebook post promoting this piece, she's in.
In a proposal that's wrong on so many levels, the Baltimore City Council passed a surprise measure to ban plastic grocery bags beginning next April, according to the Baltimore Sun and their reporters Yvonne Wenger and Luke Broadwater. Perhaps most interesting to me was the fact they were originally going to slap a nickel fee on each bag but changed their mind based on election results:
Baltimore Councilman James B. Kraft, the bill's sponsor, said he backed off the idea of charging a fee for plastic bags after last week's election. He noted the victory of Gov.-elect Larry Hogan, a Republican who frequently criticized Democrats for passing too many taxes and fees.

"Last week's election around the country showed us two things: People care about progressive issues; and they do not want to pay any more taxes or fees. We got the message," Kraft said.
Naturally, the ban would induce an additional cost on businesses because paper bags are more expensive than plastic ones.
I actually heard about this a week or so ago. I'm on the mailing list of a company called Edelman Digital Public Affairs, and one of their clients is a plastic bag manufacturer, Novolex. They're a little behind the times with this page, but apparently the proposed ban caught a lot of people off guard.
Yet a bag tax isn't unprecedented in the region. Washington, D.C. put a nickel-per-bag tax out in 2010, and Maryland legislators considered this same measure shortly afterward. There wasn't a push to ban them outright until now, though.
Can plastic grocery bags cause unsightly litter? Yes. But on balance they are far more useful than paper bags and more sanitary than reusable bags that have to be washed occasionally. (Frugal people like us haven't bought a liner for our little wastepaper baskets in years because plastic grocery bags work just fine, so we are recycling.)
To me, it's just another intrusion of the nanny state, and an indication that Baltimore City Council has its priorities wrong: with joblessness, crime, and failing schools plaguing the city, you're worried about plastic bags? Yet with its margin of passage in this reading, even an expected mayoral veto would do no good.
Hopefully cooler heads will prevail next week, but I'm not holding my breath.
I tell you, it's the mundane things I do…
Last night I was setting up the 2015 monoblogue Accountability Project charts, to save me a little work come next spring. (One key change: I'm going to alphabetical order to make it so, so much easier to compile votes since the state legislative chart lists tallies alphabetically.) Something I note on the mAP is the "years of service" and there are a lot of people who will have "1″ next to their name.
In the House of Delegates, there will be a whopping 58 rookie legislators, while the Senate will boast three rookies. Out of those 61, which make up almost a third of the General Assembly as 29 are Republicans and 32 are Democrats, it's worth noting that all three Senate rookies come from the GOP, which has changed over half its 12 members that were elected in 2010 in expanding back to the 14 they had from 2006-10.
While the GOP House caucus is at a modern high of 50 members, over half of them will be new to the General Assembly. Just on a local level, the District 38 delegation has two rookies while District 37 has three. Between the primary and general elections, the three local politicians who have 20 or more years in the General Assembly were whittled to one (newly-minted Senator Addie Eckardt.) Next in seniority is Senator Jim Mathias, who was first appointed to the House in 2006, then Delegate Charles Otto, who won re-election last week for a second term.
The learning curve for all these newbies will be steep, but it will be fascinating to see if they come up with new and better bills than the old veterans have done over the last eight years. Another interesting angle will be the bills sponsored by the Speaker and Senate President – since the governor cannot introduce a bill, it's normally introduced by the Speaker or President "by request" of the administration – here's one example. Imagine a tax cut bill being introduced by a Democrat – but that will be the case as Governor-elect Hogan outlines a legislative agenda.
(Another thing to watch is whether Martin O'Malley will leave some sponsored bills as parting gifts walking out the door, since the General Assembly reconvenes a couple weeks before the inauguration of Larry Hogan. Honestly, I doubt it.)
This will be an exciting time to watch the General Assembly.
Yesterday we received word that the unemployment rate dropped again, with another month of job growth in the 200,000 range. It's not the Reagan recovery of the 1980s – when we had 15 straight months of job growth in 1983-84 that would put this latest number to shame, including a whopping 1,115,000 jobs created in September 1983 – but it is a reasonably decent run.
Yet just as manufacturing didn't share in the Reagan-era gains as much as other sectors did (in fact, it lost some ground), the second Obama term has also fallen well short of manufacturing growth goals. I've discussed this group and its job tally before both here and on my former American Certified site, but the Alliance for American Manufacturing tracks progress toward the one million manufacturing jobs Barack Obama promised in his second term.
AAM's president Scott Paul isn't all that pleased about it, either.
The good news is that manufacturing jobs have grown over the past few months. The bad news is that they haven't grown fast enough. I'm very concerned that a surge of imports from China and a paucity of public investment in infrastructure will continue to hamper the great potential of the productive sector of our economy.

Hopes of achieving the White House goal of 1 million new jobs in the Administration's final term are fading fast. Without some progress on the trade deficit and a long-term infrastructure plan, I don't see that changing. No doubt the economic anxiety that many Americans still feel is compounded by stagnant wage growth and diminished opportunities for middle class careers.
Two of the key issues AAM harps on are, indeed, currency manipulation and infrastructure investment, although they also took time recently to praise Obama's manufacturing initiatives and chastise Walmart for their 'buy American' effort because much of it comes in the form of produce and groceries. Around these parts, we don't really mind that emphasis because we produce a lot of American-grown poultry so if Walmart is willing to invest in us we're happy to provide. (Then again, that promised distribution center would be nice too.) Of course, AAM is backed in part by the steelworkers' union so one can reasonably assume their view is the center-left's perspective.
Even so, the group is useful because it makes some valid points. And I think we should have some focus on creating manufacturing jobs in Maryland, as the defunct gubernatorial campaign of outgoing Delegate Ron George tried to do.
Thus, I think the incoming Hogan/Rutherford administration should make it a goal to create 50,000 new manufacturing jobs in Maryland over his first four-year term – if he succeeds, you better believe he deserves a second. According to BLS figures, as of September an estimated 103,000 people are employed in manufacturing in Maryland. But if you look at past data, it's not unprecedented to have 150,000 (as late as November 2002) or even 200,000 (as late as June 1990) working in the field. And when you take the confluence of a state that is supposedly #1 in education and combine it with the proximity to both major markets and inexpensive energy sources, there's no reason we should have lost 30,000 jobs in the manufacturing sector under Martin O'Malley – or 16,000 under Bob Ehrlich, for that matter.
But how do you turn things around in four years? Maryland has to make people notice they are open for business, and there are some radical proposals I have to help with that turnaround.
First of all, rather than tweak around the edges with lowering the corporate tax rate, why not just eliminate it altogether? The revenue to the state from that toll is $1.011 billion in FY2015, which is far less than the annual budgetary increase has been. Would that not send a message that we are serious about job growth and immediately improve our status as a business-friendly state?
The next proposals are somewhat more controversial. To the extent we are allowed by the federal government and its environmental regulations, those who choose to invest in the state and create jobs should have an easier path to getting environmental permits and zoning approvals. Even if a moratorium is temporary, making it easier to deal with MDE regulations would encourage job creation. Most of Maryland's towns and cities already have industrial sites available, but we shouldn't discourage construction in rural areas if a job creator needs more space.
We've also heard about the construction of the Purple Line in Montgomery and Prince George's counties and the Red Line in Baltimore - combined, the two are expected to fetch a price tag of $5.33 billion. For that sum, it seems to me we could build a lot of interstate highway – even if this $4 million per mile figure is low (and it would be 1,267 miles of highway based on the combined cost of the Red Line and Purple Line) we could do a lot to assist in moving goods through and from Maryland, whether by finishing the originally envisioned I-97 through to the Potomac (and with Virginia's assistance, to I-95 near Richmond) or enlisting Virginia and Delaware's help in improving the U.S. 13/58 corridor to interstate standards to provide a secondary route around Richmond, Washington, and Baltimore.
Once we eliminate the onerous restrictions proposed for fracking and begin to open up the western end of the state for exploration, and (dare I say it?) work on making Maryland a right-to-work state like Virginia – or even creating right-to-work zones in certain rural counties like the Eastern Shore and Maryland's western panhandle – the potential is there to indeed create those 50,000 manufacturing jobs – and a lot more! It just takes a leader with foresight and the cajones to appeal to the Democrats in the General Assembly as well as a Republican Party unafraid to take it to the streets in the districts of recalcitrant members of Maryland's obstructionist majority party.
But even if we only create 40,000 or 25,000 manufacturing jobs through these policies, the state would be better-positioned to compete for a lot of other jobs as well, and the need is great. For too long this state has put its economic eggs in the federal government's basket and there's a changing mood about the need for an expansive presence inside the Beltway. Rightsizing the federal government means Maryland has to come up with another plan, and this one has proven to be a success time and time again across the nation.
Do you remember when we debated early voting and how it was going to increase turnout?
This election cycle gave us the first opportunity to compare two cycles and see what the trends have become. I'm sure supporters of early voting were hoping to see the slow slide in turnout come to an end this cycle, but it appears the problem wasn't solved by adding several days of balloting.
Here was the turnout, by county, in 2010. I decided to go highest to lowest.
Queen Anne's – 67.43%
Kent – 66.79%
Talbot – 65.20%
Harford – 63.82%
Anne Arundel – 61.71%
Worcester – 61.10%
Carroll – 60.99%
Howard – 60.88%
Dorchester – 60.71%
Somerset – 59.34%
Baltimore Co. – 58.92%
Calvert – 57.37%
Caroline – 56.35%
Frederick – 55.34%
Wicomico – 55.34%
St. Mary's – 54.05%
Garrett – 53.49%
Allegany – 52.99%
Charles – 52.57%
Montgomery – 51.38%
Cecil – 50.76%
Washington – 49.20%
Prince George's – 45.17%
Baltimore City – 45.02%
Statewide average was 54.02%.
I'm assuming that this year's count has returned absentees included; if not it may bump up an extra percent. But 2014 turnout is abysmal.
Kent – 58.91% (off 7.88%)
Queen Anne's – 57.01% (off 10.42%)
Talbot – 56.70% (off 8.50%)
Carroll – 55.44% (off 5.55%)
Harford – 53.93% (off 9.89%)
Calvert – 53.07% (off 4.30%)
Howard – 52.16% (off 8.72%)
Frederick – 51.36% (off 3.98%)
Worcester – 51.13% (off 9.97%)
Dorchester – 49.16% (off 11.55%)
Anne Arundel – 49.15% (off 12.56%)
Somerset – 49.02% (off 10.32%)
Baltimore Co. – 48.87% (off 10.05%)
St. Mary's – 48.76% (off 5.29%)
Caroline – 48.57% (off 7.78%)
Allegany – 46.95% (off 6.04%)
Garrett – 46.25% (off 7.24%)
Charles – 45.66% (off 6.91%)
Wicomico – 43.76% (off 11.58%)
Cecil – 42.19% (off 8.57%)
Washington – 41.64% (off 7.56%)
Montgomery – 38.92% (off 12.46%)
Prince George's – 38.03% (off 7.14%)
Baltimore City – 35.57% (off 9.45%)
So the best performer "only" dropped 3.98% thanks to a hot County Executive race while the worst fell 12.46%. Overall, the statewide turnout was an abysmal 44.72%.
And when Anthony Brown could only win four counties, including the three worst performers for overall turnout (plus Charles County, which wasn't a hotbed either), you knew his campaign was in trouble. The far left is already blaming him for running a bad campaign, but Larry Hogan found a better message and I'll bet when the party breakdown comes out the GOP turnout numbers will only be off 5 points or less from 2010. Part of that, as it turns out, was their utilization of early voting – but the top counties for early voting were generally the top ones for overall turnout anyway.
But back to the main subject. It's now been demonstrated through three election cycles that all early voting is doing is spreading out fewer and fewer voters over more days. And while we haven't seen the fraud I thought would happen so far, all bets are off once same-day registration becomes possible next time. Even so, I don't think early voting is helping turnout, so if turnout in 2016 turns out lower once again it may be time to scrap the idea in time for 2018. Just don't fund early voting for that election and pass the legislation necessary to place a repeal of Article I, Section 3(b) on the 2018 ballot.
Ironically, my fiance and I voted early this year. I didn't like to have to do it, but I found it was easier than getting an absentee ballot. But as we walked right in and noticed there were a half-dozen people and ten or so voting machines sitting idle, I wondered what this convenience was costing me as a taxpayer. There were 4,945 early voters in my county at a polling place which was open for a total of 80 extra hours – by my public school math, that's a little over 1 voter per minute. Is that really worth the cost? (Even worse, Somerset County had just 1,263 early voters so they only had perhaps 15 per hour.)
Perhaps what's really needed are better candidates, but there's not always much we can do about that.
So now that you know where I was on Election Night (thanks to Muir Boda) let me shine some light on our party. I'm the guy in the McDermott shirt; hopefully it wasn't a jinx.
Unlike a lot of elections past, I did not work a poll. My outside job had tasks which a) had to be covered Tuesday and b) were up in Dover. I didn't even get home until almost 8:00; fortunately knowing this a couple weeks in advance I could hold my nose and vote early.
Since I wanted a table to write notes on I sat next to Dr. Rene Desmarais, who has admirably remained in the fray despite his primary election loss. I hope the Hogan administration can use his health care expertise. He's the guy at the laptop in the checkered shirt.
Taking my seat for a few minutes was Mike McDermott, who was anxiously looking at results and drawing attention.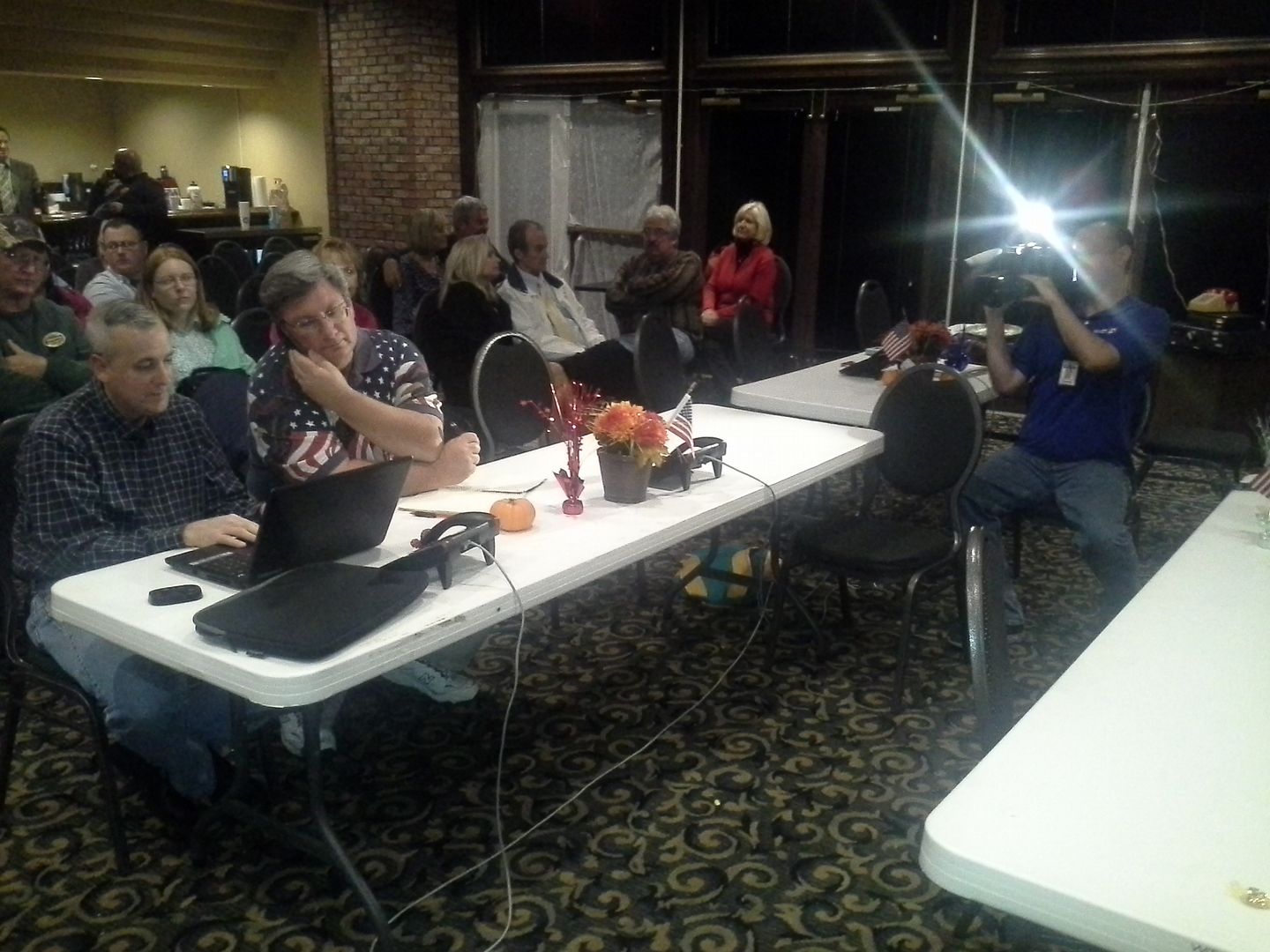 Mike didn't stay all that long. I figure he went home to see his supporters and share the bad news with them, since it was obvious from the get-go he wasn't doing all that well. It turned out that Wicomico was the only one of the three counties Mike won, and it's a margin which is pending absentees. The difference between Michael James in 2010 and Mike in 2014 seems to be that McDermott did poorly in Somerset County, which James carried but Mike lost by almost 700 votes.
Obviously there were a lot of people who craved information. Bob Culver (center, in white) and Joe Holloway (right) were awaiting results.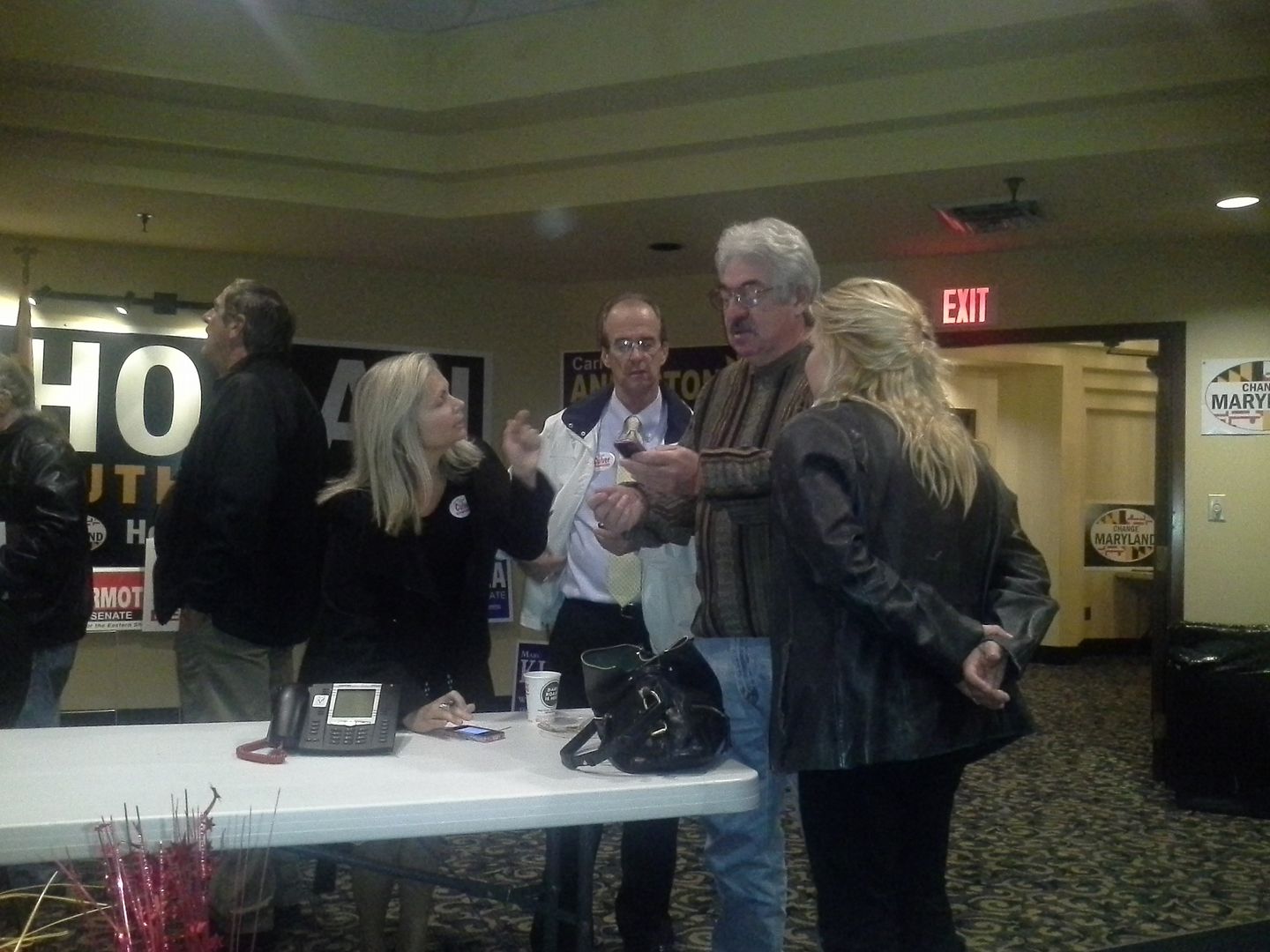 As it turned out, Culver erased a slight early voting disadvantage to rout incumbent County Executive Rick Pollitt by almost 3,000 votes, with just under 56% all told. Holloway had much less to worry about as his Democratic opponent withdrew after the primary and was not replaced by the local party.
The two pictured there were the conservative backbone of the local County Council, and hopefully two newcomers are going to maintain the proper direction.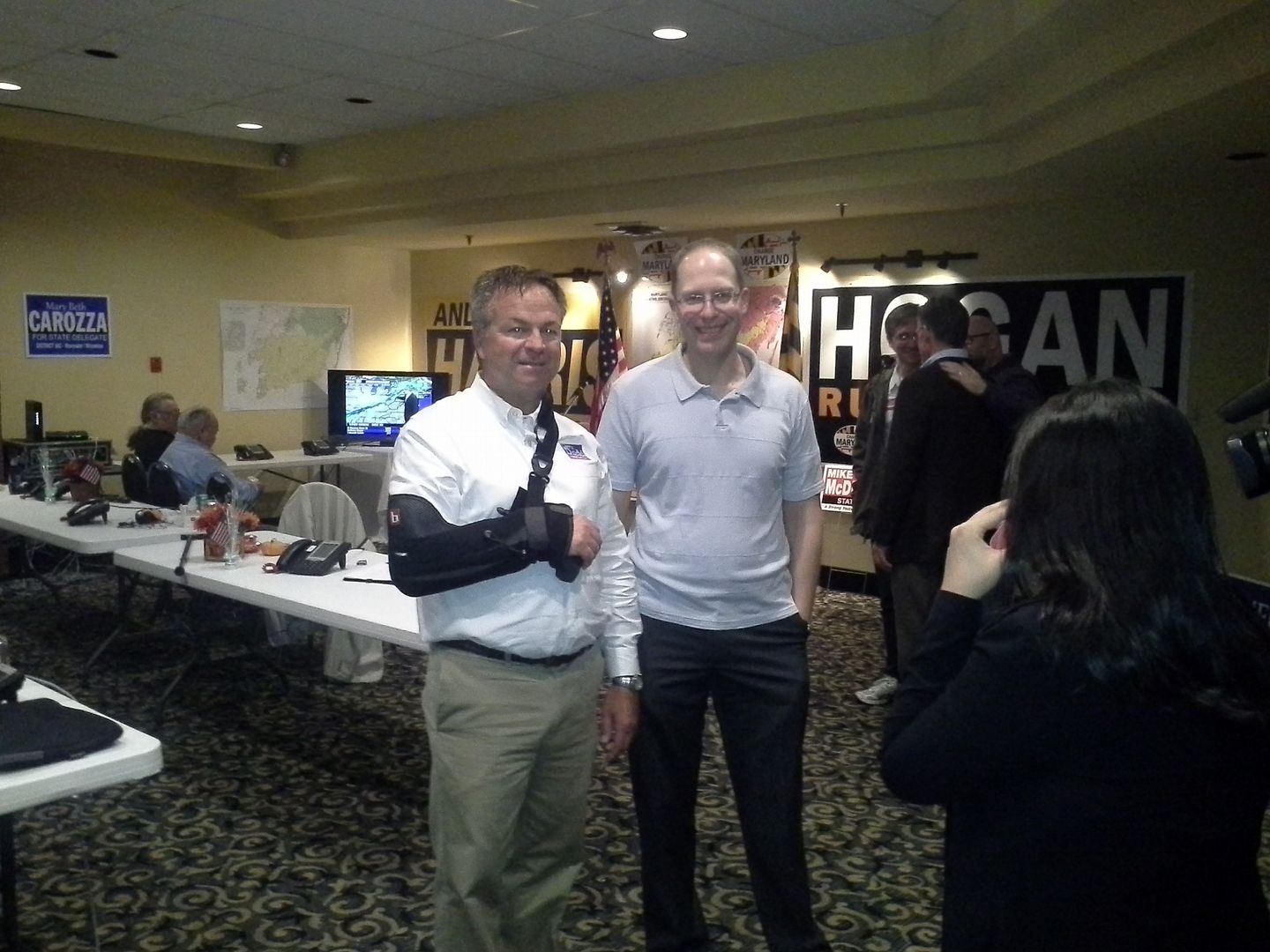 Larry Dodd (in the arm sling) and Marc Kilmer are two of the three "new" Republican members of County Council, although Dodd represented District 5 for 4 years before Joe Holloway defeated him in the 2006 primary. Similarly, John Cannon left County Council after one term in 2010 to run unsuccessfully for a seat in the House of Delegates before winning again last night. Thus, Marc Kilmer is one of just two "new" County Council members; the other being lone Democrat Ernest Davis, who was unopposed for the District 1 seat.
As it turned out, County Council maintained its 6-1 Republican edge. But there are definite things to look out for, as two of those Republicans openly backed Rick Pollitt for County Executive.
I don't think Matt Holloway or John Hall will be opposed to the elected school board Republicans in Wicomico County have sought for years, only to be thwarted by Rick Pollitt and (especially) Norm Conway. Both those obstacles are no more; to his credit Jim Mathias has been supportive of the idea in the past and a Senate bill for the elected school board passed there in 2011. (Conway sponsored a House bill that passed in 2011, but did not in 2012 – nor did a Senate bill that year. No action was taken in 2013 or 2014.)
But Pollitt was quick to point out in debates and forums that four of the six Republicans voted for his latest budget. Two of them, Gail Bartkovich and Stevie Prettyman, did not seek another term, but Matt Holloway and John Hall were the other two. Beginning with the FY2016 budget, it may be a battle to get four votes on County Council if Matt Holloway and Hall maintain their big-spending ways.
I would also love to see the county's speed cameras become a thing of the past, as Culver was the lone voice of reason to vote against their adoption. It's called excising that line item from the budget.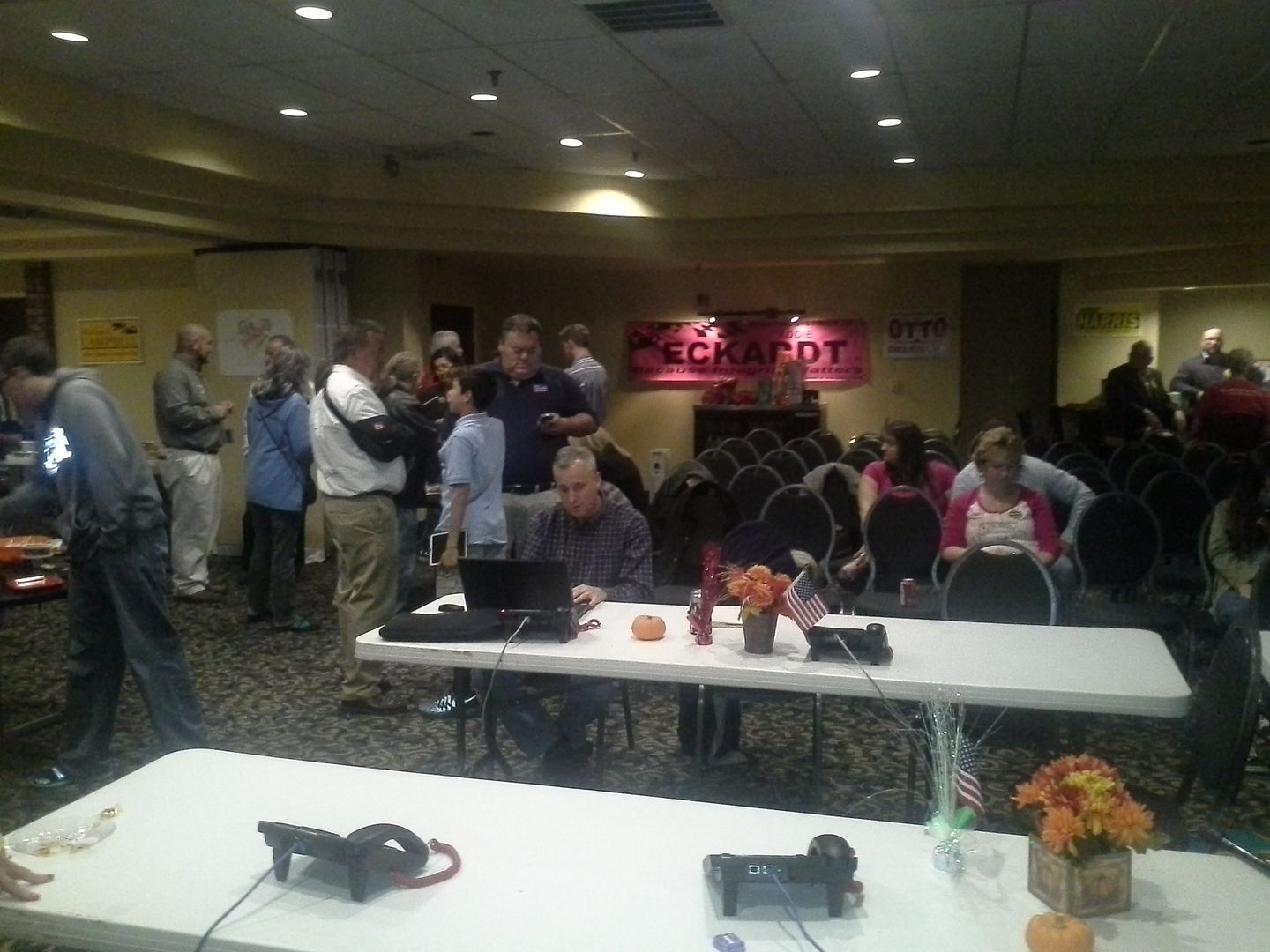 The party itself was relatively well-attended, although I'm certain some candidates had their own gatherings. At its peak there were probably 50-60 people in the house.
But while the news was good on the county front, there's no doubt the star of the show was one Carl Anderton, Jr.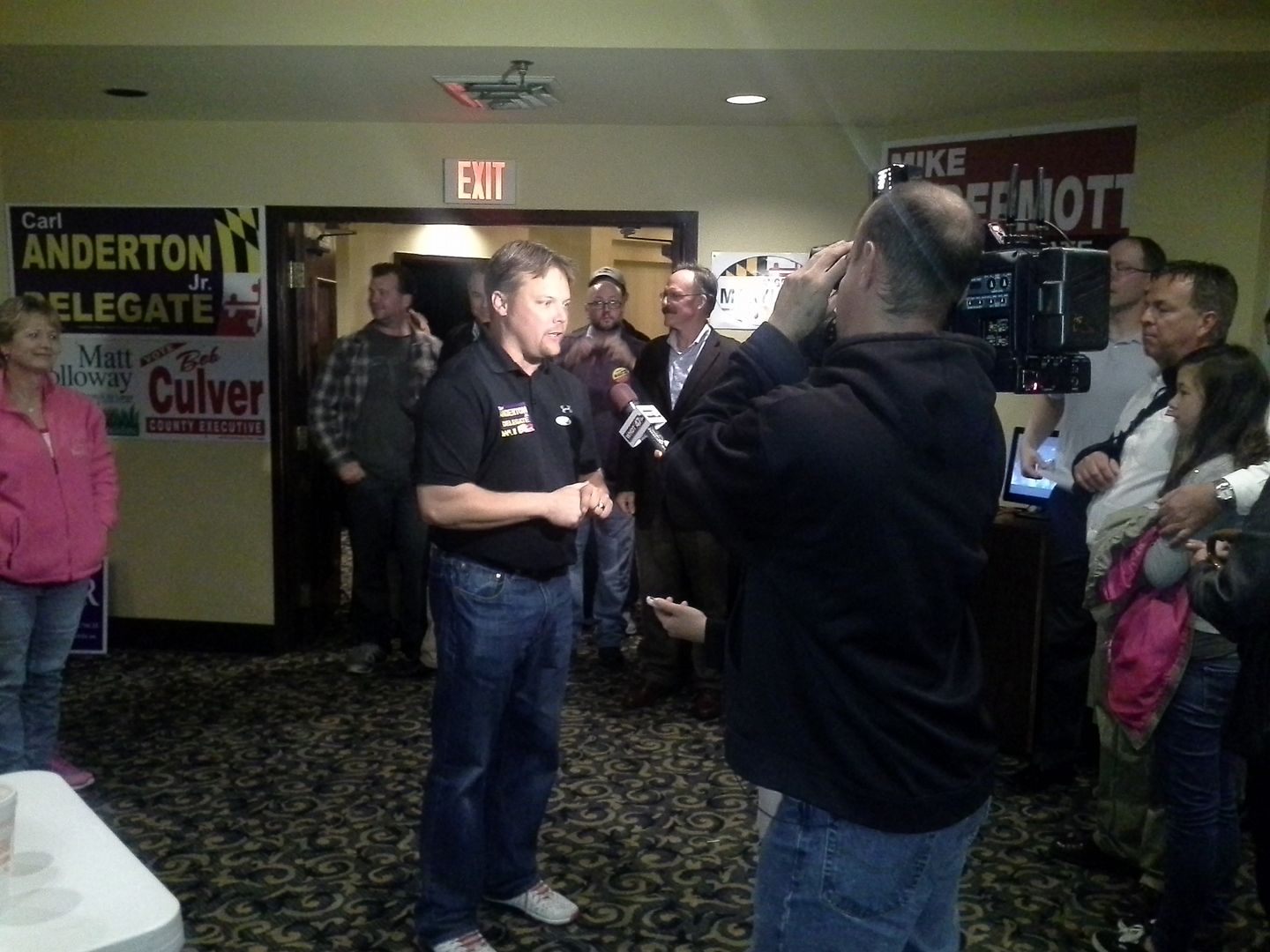 At 9:45 Bunky Luffman, Anderton's campaign manager, sidled up to me and predicted, "I think we've got it." He explained a particular precinct where they were hoping to get 30% of the vote came in down by just 89 votes.
Anderton's win, though, was just the tip of the iceberg. A lot of Titanic Democrats went down last night (with lifetime monoblogue Accountability Project scores shown):
After six terms, longtime Blue Dog Democrat Delegate Kevin Kelly in District 1B (mAP = 40) lost to Jason Buckel.
Delegate John Donoghue (mAP = 9), also a 24-year veteran, was ousted in District 2B by Brett Wilson.
In District 6, 9-year incumbent Delegate John Olszewski, Jr. (mAP = 16) lost his bid for the Senate seat held for 48 years by Norman Stone, Jr. (mAP = 28). Three-term Delegate Michael Weir, Jr. (mAP = 28) was also knocked off.
Longtime District 29 Senator (and onetime Congressman) Roy Dyson (mAP = 26) lost his bid for a sixth term to Steve Waugh. In that same district, 15-year veteran John Bohanon (mAP = 6) trails Deb Rey by 115 votes with absentees to count.
District 34′s Senate seat stayed in GOP hands as Bob Cassilly defeated Delegate Mary-Dulany James (mAP =14), who leaves after 16 years.
In District 35A, 20-year incumbent David Rudolph (mAP = 17) lost to Kevin Hornberger.
And we know about 28-year incumbent and committee Chair Norm Conway (mAP = 6) who lost to Anderton.
Most of the damage, though, came from the ranks of "moderate" Democrats. According to the monoblogue Accountability Project, these were the top 10 Democrats and here's how they did.
Delegate John Wood, Jr. – retired, endorsed Larry Hogan.
Delegate Kevin Kelly – lost re-election.
Delegate Joseph "Sonny" Minnick – retired.
Senator Norman Stone – retired.
Delegate Michael Weir, Jr. – lost re-election.
Senator James DeGrange – won with 59% of vote.
Senator Jim Mathias – won with 52% of vote.
Senator Roy Dyson – lost re-election.
Senator John Astle – won with 51% of the vote.
Senator James Brochin – won with 52% of the vote.
Six out of the 10 won't be back and only one of the remaining four won convincingly. Not knowing how most of those who defeated these incumbents will vote, the chances are the divide between the two parties will become more pronounced. Only a couple hardline Democrats (those 10 or less on the mAP) were losers last night, while McDermott was the only Republican to lose in the general election. In the respect that Democrats managed to get rid of two perpetual thorns in their side through redistricting (Mike McDermott and Don Dwyer) it was a success, but the GOP still picked up more seats than they did before the new districts were drawn in 2010.
So the stage is set for what should be a very intriguing (and hopefully, prosperous for this county and state) four-year term.
Finally, I want to go through a little of my thinking on these races. I was perhaps less optimistic than most about the outcomes because I figured Democratic turnout would be about where it was four years ago. But as it happens, turnout is going to be about 46%, which is a significant decline from the 54% posted in 2010. If the Democratic turnout followed that pattern it was about 10% less than I figured it would be, and those that were passionate enough to show up may likely have cast a number of votes for the GOP.
Simply put, the Democratic base didn't show up. Whether it was disillusionment with the candidates or just a general apathy, it looks like the GOP filled the void, to the benefit of the state.
After it was all over, I spoke a little bit with David Warren, who came down here to run the Eastern Shore Victory Headquarters.
He pointed out two key factors that led to Hogan's win: money from the RNC and Republican Governor's Association, and the help – both financially and in volunteers – from the College Republicans, from the national level to all the phone calls made by the local Salisbury University CRs. "Teenagers and college kids get it," said Warren.
David also praised the work of state party Chair Diana Waterman and Executive Director Joe Cluster, saying "what they did was phenomenal." Similar praise was heaped by Warren onto Andy Harris, who put a lot of money into these local races and helped level the playing field.
Finally, I have one more statement. Eight years ago, it was said that:
(GOP leaders are) "going to be flying high, but we're going to get together and we're going to shoot them down. We're going to bury them face down in the ground, and it'll be 10 years before they crawl out again."
I think we're two years early, Mike Miller. Suck on that.
Next Monday, nearly a week after the election, the time will come to formally bring down the curtain on my eight-year tenure as a voting member of the Wicomico County Republican Central Committee. As of now, the plan is to meet at the Chamber of Commerce and have the incoming group elect their chair and officers. It's a little different than four years ago, but we have a member who is heavily involved with poll watching and may not be finished until late in the evening. So we decided last night to wait a week, although I would have rather gotten it over with.
I originally wrote the following on my (now private) campaign page back on June 12, when early voting for the primary began, and updated it as the days went on so it would come up on the Facebook wall each day. It was intended as my platform for the next four years on the Central Committee but as it turned out I fell a few hundred votes short in my last campaign. The finality hit me the other day as my treasurer and I finally closed the campaign account.
Even though I didn't get another four-year term, I believe the items which were on my to-do list are ones which should be followed by my successors. There are indications we will have success this cycle, but some of these items should be attempted regardless of the results today.
**********
Now we've begun the actual voting process, the culmination of a campaign which began for me when I filed back in February. I could only imagine how it is to toil for 18 months or more to win a regional or statewide office, and several candidates have gone that long in their quest. The beginning of the end of my quest for a third (and final) term on the Wicomico County Republican Central Committee opened last Thursday morning at the Civic Center when the polls opened.
Bear in mind that, win or lose, my current term doesn't end until the polls close on November 4, 2014. We all have a single-minded goal to win as many elections as we can for local Republicans, particularly in races where we can unseat longtime Democrats like Rick Pollitt, Norm Conway and Jim Mathias. With that said, while I'm pleased with a lot of what I've done over the last eight years, I have some unfinished business I'd like to attend to over the next four.
First and foremost, candidate recruitment has to step up. We have a good team in place right now, but there are some holes we need to fill around the county, and a particular focus for the next four years is finding people willing to participate at the community level in towns like Salisbury, Delmar, Fruitland, and the others around the county. These local elections are stepping stones for eventual candidates, but they're also the place where prospective campaign managers and treasurers can learn the ropes as well. This even extends to recruiting for other appointed posts such as zoning boards and similar local openings which can use a dose of conservatism. I would like to see a well-connected member of our group be the point person for knowing which openings can be filled and looking for the right people to apply.
A second focus is the quest for an elected school board in Wicomico County. Obviously we can go a long way toward that goal by making a couple changes in our elected officials this year, since Rick Pollitt and Norm Conway have been the roadblocks in place over the last four years. If not, we have to aggressively pursue other avenues such as a petition drive. We believe the county should join much of the rest of Maryland in pursuing that course; personally I think we could model it on our existing County Council districts.
Lastly, there should be better organization at the precinct level. Now that we'll have an idea of just where precinct lines will be, the next step is to seek out and find local leaders who can work at the grassroots level. It's a role which can evolve, but as an example when I led a precinct over a decade ago I printed and distributed a quarterly newsletter to my GOP constituents alerting them to candidates and issues we as a party were promoting. Some of us are already developing databases which can be of assistance in this regard.
Don't forget you can vote for up to nine of us. I can work with any of the other twelve on the ballot, but the key for me is making it into the top nine once again. In 2010 I made it by just 30 votes and I wouldn't be surprised if things are that close again.
You can make the difference. Ask yourself: what other candidates have spelled out their agenda to such a degree? Only a few of us bothered to fill out the League of Women Voters questionnaire, but I've not been shy about saying exactly where I stood on the issues.
So this is my case. I'm asking for and would appreciate your support between now and June 24.
**********
One thing which amazes me still is that we made it through an entire term without turnover, which to me proved we took our role seriously. So the three new members – Dr. Greg Belcher, Julie Brewington, and Dr. Mark Edney, who have all been relatively active in the Central Committee meetings or Republican circles over the last few years – have a tough act to follow. I wish them success.
As for me, there has been sentiment within the group that they want to keep me around as Secretary, which can be done because it's allowed to be a non-voting position. I could participate and record meetings, but would not have a vote. At this point I'm willing to do so; however, there are a few party-related burdens I have which I'd like to divest myself from and I'll discuss those with the group in due course.
Finally, it turns out to be a happy accident that I will reach a milestone tomorrow, so after the votes are counted tonight I can take stock of where I am personally and professionally and plan accordingly. I'm sure you will be here to find out.
Since I parted ways with American Certified a few months ago, I haven't followed the manufacturing world as much as I had while writing for them. But they still hold an important place in our economy and the question needs to be asked: are you a manufacturing voter?
This video was put out by the National Association of Manufacturers, which has a full-size spread just in time for this year's election. They stress seven key issues:
Immigration

The immigration system in the United States is broken. Comprehensive reform will strengthen U.S. economic and national security and ensure that manufacturers' workforce needs are met, without displacing American workers.

Energy

Energy is poised to be a significant competitive advantage for manufacturing in the United States. In fact, the United States enjoys a slight advantage on energy costs compared to our major trading partners. The United States can widen this gap and enhance our energy security.

Labor

In recent years, the nation's time-tested labor law system has faced significant challenges. The National Labor Relations Board, for example, has issued rules and orders that undermine employer flexibility and chill workplace relations. U.S. labor laws should safeguard the rights of employees and employers.

Workforce

Nearly 12 million men and women work in manufacturing in the United States. This workforce can grow significantly if manufacturers can find workers with the skills needed for the modern manufacturing workplace. Today, 600,000 manufacturing jobs are unfilled because of this skills gap.

Trade

To thrive in the global economy, manufacturers need trade policies that make the United States a better place from which to export. Manufacturers thrive when they can compete in open markets abroad.

Infrastructure

Manufacturers rely on a strong infrastructure to move people, products and ideas. Unfortunately, the nation's infrastructure is out of date and resting on the legacy of a bygone era. To compete in the 21st-century economy, the United States must invest in and modernize our infrastructure in ways that encourage economic growth, job creation and increased competitiveness.

Tax Reform

Manufacturers in the United States face a significant disadvantage in the global competition for investment and jobs. In fact, it is 20 percent more expensive to manufacture in this country compared to our major trading partners and that excludes the cost of labor. Taxes drive this cost disadvantage.
I'm not sure whether their idea for immigration reform matches up with mine; presumably they operate under the incorrect belief that there aren't enough qualified Americans to do the specialized engineering they need. But in a broad sense, what assists manufacturing would probably help the economy at large.
And our Congressman Andy Harris seems to agree with NAM's approach – so much so that he scores a perfect 100 percent on their voter guide. By a wide margin, he has the best record of any Maryland or Delaware House member.
Yet this approach is also needed on a local scale as well. While Maryland state representatives can't do a great deal with some issues that require federal input, they can pave the way on issues like tax reform, energy, job training, and infrastructure to put more Marylanders to work making things.
Lowering the corporate tax rate (or even eliminating it) would be a great step, as would opening up Maryland to fracking, promoting technical and vocational education as part of an overall broad "money follows the child" educational reform, and dumping inefficient light rail boondoggles like the Purple Line and Red Line in favor of creating alternative routes for through trucks, another Bay crossing from southern Maryland to the lower Shore, and upgrading the U.S. 13 corridor through Delaware – these are all worthy ideas for real investment.
Those who vote for manufacturing should keep that platform in mind when those candidates get to Annapolis and Washington.
Most newspapers will use their Sunday edition before the election to either make the most key endorsement, such as for governor or president, or summarize their endorsements into a ballot guide for voters.
I'm not a newspaper, but I have a news source. And I'm urging you (all of you, including the ten friends you drag to the polls) to march right into that ballot box, look for every Republican name on it, and check that box right next to it – making sure, of course, that the ballot summary agrees with your steady diet of Republicans and doesn't show a "calibration error."
Let's begin from the top. Does this state really need a third term of Martin O'Malley? Thought not.
I will grant that Larry Hogan wasn't my first – or second – choice for the GOP nomination, but I also have to admit as well he has run about as good of a campaign as a Republican can run statewide in Maryland and picked up national attention for it. Yes, I would like him to be stronger on the Second Amendment and I cringed when I heard him say no to addressing social issues, but the overall electorate in this state is still conditioned to believe that there's a right to privacy and gay marriage is no big deal. They need a little work yet. Let's at least get someone who won't be completely hostile to those interests like Anthony Brown would be.
(And yes, I hear the Libertarians caterwauling in the corner. When you get to double-digits with a candidate, we'll talk.)
Actually, though, I must say some bloggers have a point about the Libertarian candidate for AG, Leo Dymowski. But the election is about more than the failed "war on drugs" – although I agree with that particular assessment, I would also like the AG to fight on other issues. Unfortunately, the late start Republican Jeffrey Pritzker got means the chances are good that we'll have to endure four years of gun-grabbing Brian Frosh; however, every vote counts and stranger things have happened.
For 2018, though, I think a county-level State's Attorney needs to make that step up. It's something Matt Maciarello should consider.
And we have a more than qualified Comptroller candidate in William Campbell. My main mission in two festivals was, every time I came across a Maryland voter from outside our county, to push the candidacy of one Bill Campbell. Everyone knew who Larry Hogan was but not enough knew of this fine gentleman. If Maryland voters have a clue they will choose Campbell.
And then we have local races. Frankly, I'm not too worried about Andy Harris although it would be helpful for Sixth District voters to add Dan Bongino to the GOP roster at the federal level. But there's a lot at stake on the General Assembly front.
Try as we might, we had to concede the District 37A seat for this term to Sheree Sample-Hughes. If she gets more than single digits on the monoblogue Accountability Project I will be shocked. Otherwise in District 37, you know its a conservative district when even one of the Democrats is running on a platform of lower taxes and less government. But why have conservative-lite when the real thing is attainable?
Even if we sweep those three District 37 seats, though, we don't really gain anything because three of the four representatives are already Republican. But in District 38 we can reclaim the Senate seat lost in 2010 to a liberal Democrat and take over a seat in the House of Delegates to bring us closer to that magic number of 47, where, as I understand it, we can work around Democrat-controlled committees. (A Hogan win may make that necessary more often.) Aside from that splotch of blue in our county we can work on for 2018, I'd like the Eastern Shore painted red, gaining the one Senate seat and one House seat we can contribute to the GOP effort statewide.
And then we have Wicomico County, which needs a strong leader in Bob Culver. We've done eight years with the affable bureaucrat Rick Pollitt, but those eight years have seen our county backslide economically. We can blame the national economy to some extent, but other surrounding counties seem to be succeeding – so why haven't we?
Unfortunately, the problem Culver has is that two of the Republicans who will likely be on County Council are already stabbing him in the back. With one Democrat assured of victory in Council District 1, it makes the County Council races very important. We know District 5′s Joe Holloway is a conservative who will win and Marc Kilmer in District 2 has an excellent chance to join him, but the John Cannon vs. Laura Mitchell race is a key along with Larry Dodd vs. Josh Hastings in District 3. Both Democrats are trying to convince voters they'll be fiscal hawks, but don't be fooled. We need the 6-1 Republican majority to have a potential 4-3 conservative majority behind Bob as he tries to right the ship. Finding good local candidates is a priority for 2018 as well.
As for the issues on the ballot, I've already urged a vote AGAINST Question 1 because it's a weak excuse for a lockbox and Maryland taxpayers deserve better: send it packing and insist on a 3/4 majority provision to be voted on in 2016. On Question 2, I think on balance it's a good idea but it will also demand vigilance, as Election Integrity Maryland's Cathy Kelleher points out in a Sun editorial opposing the question.
Lastly, I must say this is the time for conservative voters to shine. The fact that early voting had as many Republicans as Democrats by percentage statewide and by raw numbers on the Lower Shore (despite a registration disadvantage of about 10 percent) indicates the GOP is more keenly interested in this election. But I want to run a few numbers, with the photo below telling the tale.
For this exercise, I used the voter proportions illustrated in the recent Gonzales Research poll, which is probably a fairly realistic model. I assumed undecided voters would remain in proportion with their trend (as opposed to breaking for the challenger) and left 1% for other candidates, write-ins, etc. (I also didn't figure in the 50,000 or so registered to minor parties – if they vote they'll not influence the result significantly.)
The sheet on the left is my calculations using a Bob Ehrlich Republican turnout from 2002, 68% of Republicans.
The sheet on the right is the same calculations for Democrats and the unaffiliated, but assuming a turnout like we saw in the Presidential election two years ago, when 78% of Republicans came out – even though Maryland was considered a lost cause for Mitt Romney.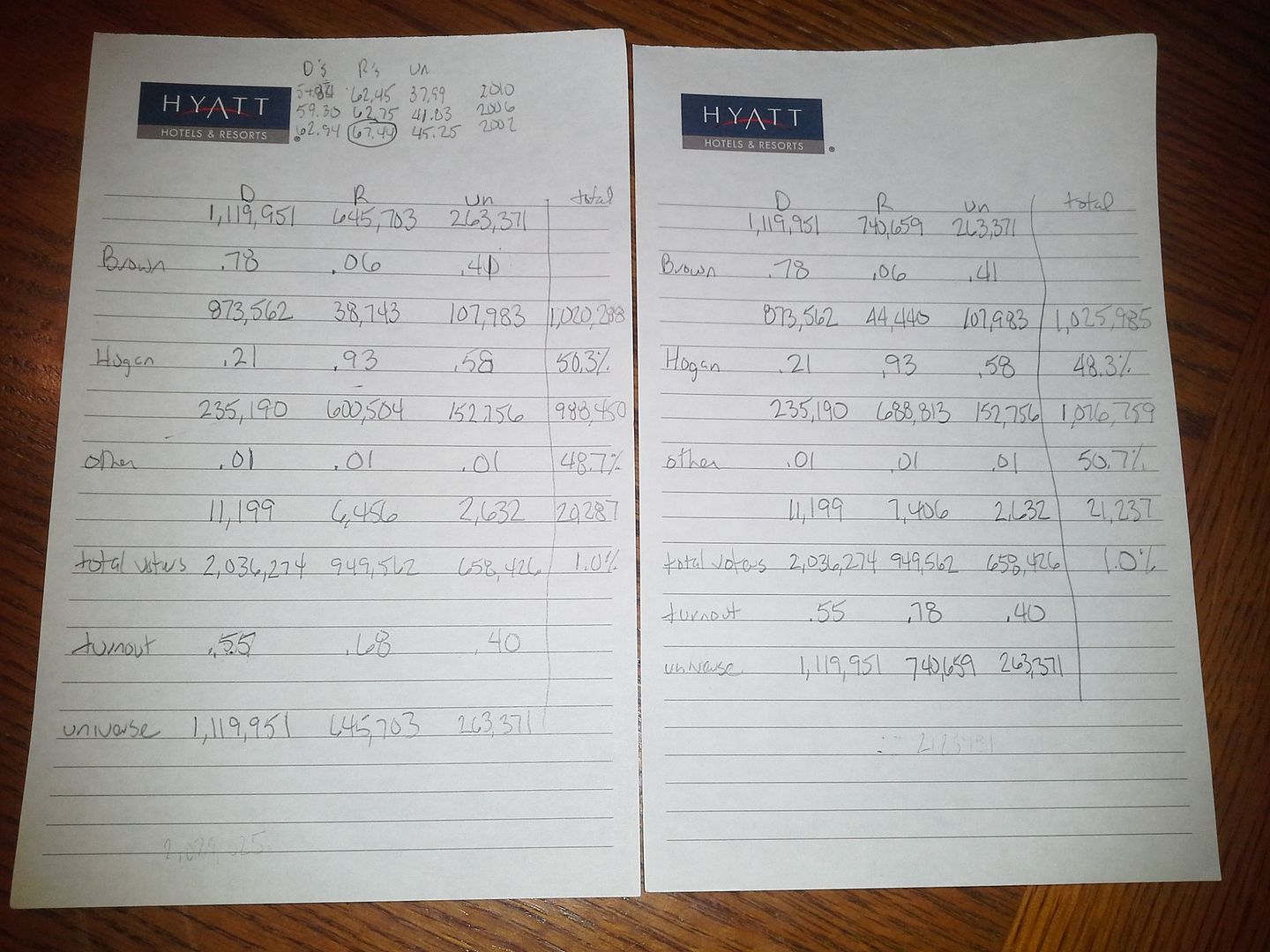 Indeed, we turn from crushing disappointment to "winner, winner, chicken dinner" simply by getting an extra 1 in 10 Republicans to turn out.
If Republicans turned out like that for an election which was an almost foregone conclusion in this state, hopefully this simple calculation will provide the incentive to Maryland Republicans to come out in a gubernatorial election where they have a shot to sneak away with a close victory!
Early voting numbers were encouraging, but Tuesday it will be time to finish the job.
Update: Hey, I missed a key set of races. It's not a partisan race, but M.J. Caldwell is a far more qualified jurist than the guy Martin O'Malley picked based on his last name. And speaking of O'Malley picks, there are two others on our ballot who we can remove from office and perhaps allow for the first crop of Larry Hogan appointees. So vote "no" on continuance in office for Kevin Arthur and Andrea Leahy.
This letter was sent to me by incoming Central Committee member Dr. Greg Belcher. His concern was an e-mail sent out by Tamara Lee-Brooks, the county's Public Information Officer, to her county e-mail address list.
**********
Wicomico County residents should be informed about recent events involving the County Executive and his staff.
It has come to my attention that on October 17 the Wicomico County Public Information Officer sent an e-mail message to various persons announcing a joint press conference to be held by Anthony Brown, Rick Pollitt (Brown's local campaign manager), and the mayor of Salisbury to criticize Brown's opponent, Larry Hogan. In her e-mail Ms. Lee-Brooks stated that she "was asked to forward" the announcement but did not identify by whom. However, Mr. Pollitt is her superior, in essence if not directly.
It is my understanding that such a communication is a clear violation of the County's ethics law by Ms. Lee-Brooks, and more significantly the supervisor who ordered it, reasonably assumed to be Mr. Pollitt or another member of his staff. Using public resources (and personnel) for partisan political purposes is strictly prohibited by the law.
Other conduct by Mr. Pollitt and/or members of his staff deserves the voters' consideration, as well. It has been reported that County vehicles are being used for personal matters, including visiting a local bar and grill. And – in response to Freedom of Information requests – it has been disclosed that Mr. Pollitt has used his County credit card to buy personal groceries on more than one occasion and pay for meals at restaurants. Such conduct is unacceptable, even if Mr. Pollitt promptly reimbursed the County. This, too, is a likely violation of the County's ethics law.
A complaint is being filed with the County's Ethics Commission asking for appropriate sanction for matters discussed above. That body should investigate the charges and act appropriately in advance of November 4.
**********
This is the text of the e-mail sent by Lee-Brooks, who added she was "asked to forward for your attention."
FOR ADVISORY PURPOSES
Friday, October 17, 2014
Contact:
Jerid Kurtz: 443-297-7702
JeridKurtz@AnthonyBrown.com

Press Office: 240-478-6488
Press@AnthonyBrown.com

FRIDAY: Anthony Brown, Rick Pollitt, Jim Ireton to Hold Press Conference on Harm Larry Hogan's $450 Million Cut to School Construction Would Cause to the Eastern Shore

Hogan's "Savings Plan" includes a $450 Million Cut to School Construction Funding that Would Threaten Projects – like Bennett Middle School- Throughout the Eastern Shore

Upper Marlboro, MD – On Friday at 11:00 a.m., Lt. Governor Anthony Brown, Wicomico County Executive Rick Pollitt, and Salisbury Mayor Jim Ireton will hold a press conference to discuss the harm that Republican Larry Hogan's $450 million cut to school construction would have on the Eastern Shore.

These cuts are contained in Hogan's so-called savings plan — a plan whose numbers the Baltimore Sun noted "don't add up."

Hogan's proposed $450 million cut to school construction could put projects like the construction of Bennett Middle School out of reach for many communities along the Eastern Shore. For the next four years, counties across the Eastern Shore have requested millions in state funding for repairs and renovations in order to modernize their classrooms and deal with overcrowding. But school construction cuts could put all of these local projects at risk.

What:
Press Conference to discuss the harm Larry Hogan's $450 million cut to school construction would cause to the Eastern Shore's public schools.

When:
Friday, October 17th at 11:00 a.m.

Where:
Outside of Bennett Middle School
523 South Division Street, Fruitland, MD
Click here for a map.
It's worth pointing out that the State Ethics Commission has already deemed this letter improper, but for some strange reason none of the local media is very interested in that fact.
In response, county Republican Party Chairman Dave Parker has today asked the county attorney to investigate:
I am deeply concerned that recent actions by elected and appointed Wicomico County officials were in direct violation of §37, the Wicomico County Ethics Law – and likely also the Maryland Ethics law.

The Brown/Ulman gubernatorial campaign recently scheduled a "press conference" in Salisbury claiming "to discuss" Hogan's alleged plan to make a $450 million cut to school construction on the Eastern Shore. That alleged cut is clearly part of the political dialog which typically occurs during campaigns for office, and as such is clearly more a scare tactic than a reliable statement of fact. At best it is a partisan political disagreement.

However, as the attached email indicates, Tamara Lee-Brooks, the Wicomico Public Information Officer, honored a request (from an unnamed source) to forward the announcement of Brown's press conference, and Matt Creamer, the Wicomico County Council Administrator, further forwarded this request (as a media advisory). Members of the media consequently reported this so-called press conference, apparently actually attended by Brown. Regardless of the number of individuals to whom this request was forwarded, the County time and other County resources consumed are what are what I believe were unethical.

As I understand the law, because these were obviously partisan political actions in support of the Brown/Ulman campaign, using County Offices, County email, and County employee time to forward Brown's announcement were are all violations of ethics laws. Because County Executive Rick Pollitt is not only ultimately responsible for supervising Tamara Lee-Brooks but because he also serves as Brown's local campaign manager, an investigation will likely identify others who used County resources to promote the Brown/Ulman campaign.

Accordingly, with this letter I am, in accordance with instructions I received from your office by telephone, herewith submitting to you a formal ethics complaint for you to deliver to the Wicomico County Ethics Commission for their action. Moreover, I'm requesting that the Commission first thoroughly investigate, then determine and publicly identify and announce both what ethical violations have taken place (and by whom) and what corrective measures will be taken to prevent similar violations in the future.

On the other hand, if overt partisan political activity using County time and resources is not a violation of law, then please so inform me, in writing, that this is the case, citing the appropriate legal authorities.
It's highly unlikely at this late date that any resolution will occur before Tuesday, but this is just another example of shoddy ethics in Wicomico County government.
Yet these scare tactics from local and state Democrats – in lieu of a record of success from nominee and Lt. Gov. Anthony Brown – are par for the course. Sensible voters know Bennett Middle School will be finished and other projects will probably get their funding. It's worth pointing out as well that there may be some cost savings on individual projects which could make a big difference that Larry Hogan could – and should – get behind, such as eliminating the need to comply with LEED Silver standards and prevailing wage for school construction (as Ohio did some years ago.)
Of course, the real change which should be made in Maryland education creates a prospect that scares the living bejeezus out of Maryland Democrats and their wholly owned subsidiary, the Maryland State Education Association. That would be a program of money following the child regardless of schooling situation, forcing public schools to compete on a level playing field with charter, for-profit, and faith-based educational institutions as well as making homeschooling more affordable.
So it's not a surprise that Democrats circle the wagons around school construction because it's not the buildings that are being threatened, it's the power structure.