Well, that went over like a lead balloon.
Susan Canfora at the Salisbury Independent did a nice job wrapping up what seems like a one-sided hearing on the rent stabilization matter.
But the question from Councilman Tim Spies deserves an answer – why did this come up weeks before the election? I have a couple theories on this, one involving the immediate future election and one three years hence.
In the immediate election, he needs to make sure he has turnout among his base. A significant portion of Ireton's district is either in minority areas or lives in rental housing so he has an issue he can bring up on the campaign trail.
But the real payoff, I feel, is in 2018. Jim needs to stand behind a progressive agenda to contrast him with his likely opponent, Delegate Carl Anderton. I'm not saying the agenda has to be enacted, just proposed.
And Jim's now in a good position to blame failures on someone else while taking credit for successes. For example, if downtown revitalization continues under the Day administration, he'll be quick to say he got the ball rolling but if things go south Jim can toss the new mayor under the bus. (This also holds true if Jim decides to square off with County Executive Bob Culver, but I think Delegate is the more likely play.) I think this is the best explanation why Jim didn't seek another mayoral term – if he thought he had the record to beat Jake Day he would have.
There were a lot of holes in Ireton's rental plan; for starters it only affected single dwelling units and not multi-family complexes. It would also put landlords in the perverse position of arguing for a higher assessment in order to be able to charge more rent.
So now this goes on the "mayor's list." That is interesting because that's Ireton's list for another few weeks before Day gets it. I'm not sure how long of a list he has, but let's not cross that one off as an accomplishment anytime soon.
Last night Wicomico County Council held its third of four scheduled public hearings on the concept of an elected Board of Education. I arrived about 20 minutes late, so I didn't hear all the testimony presented. Yet I felt I really didn't have to because there are really only two sides as opposed to three options.
I had a few things to say, so I rattled off the following testimony before the hearing. Having had a day to ponder it some more, I wish to add a few thoughts; hence my testimony as written is blockquoted.
As I have been hearing the back-and-forth over whether Wicomico County should adopt an elected school board, the word I continue to hear over and over from opponents is "diversity." Supposedly the only way to maintain this standard is for some number of members to be appointed in order to create the balance they're obviously not trusting voters to produce.
The opposition seems to now be conceding the ground to securing a hybrid board with five elected and two appointed. I think they figure they can elect one minority (or maybe two) from the five districts and browbeat whoever does the appointments into selecting two more so that the minority can become a majority on the board. At a few points we were informed that minority students are now 52% of the district, which I guess makes whites the minority now.
The point is they don't trust the voters.
It's noteworthy to me that the diversity they seek seems to be centered on one quality, and that is skin color. One observation on that, though, is that for them the diversity ends there – seldom does it extend to other factors. In a political sense, the community in question is perhaps the least diverse out there.

Let's consider one set of facts. It would not be a shock that the black vote for President Obama was 95% in 2008 and 93% in 2012 – they were understandably pleased that their long route to racial equality had finally culminated in the chance to elect our first mixed-race president. But how does that explain the 88% who voted for John Kerry, the 90% for Al Gore, the 83 and 84% for Bill Clinton, and so on back decades?
If you wonder why Hispanics are a sought-after minority electoral group while blacks aren't, consider that the Hispanic vote is much more evenly split. If blacks only went 75% Democratic, suddenly the Democrats might pay more attention to their needs instead of taking them for granted.
On the other hand, just on a personal level I would be more than happy with five or six Clarence Thomases on the Supreme Court. Clone for me a sufficient number of Tim Scotts and Mia Loves and I might be more pleased with Congress. To me Dr. Ben Carson would be a solid choice as President. Sadly, people with a particular political viewpoint such as theirs tend to be mocked and chastised by members of their own community as not being true to their race.

I have no problem being represented by a minority but it seems the minority community is distrustful of the opposite, which I believe refutes their argument for diversity.

Furthermore, minority candidates have won countywide elections – they had a platform and viewpoint acceptable to all the voters. It's been done before, and it can be done again through the electoral process.
I suspect that wasn't what the minority group that made up about half the audience wanted to hear, but sometimes the truth hurts. So they really hated the next line, but this is how I assess the situation:
All of this diversity talk is a smokescreen to assure that arguably the least diverse group around gets a free pass onto the Board of Education.
Yeah, they didn't like "free pass" but is that not how it would work? It seems to be expected that if the elected four who aren't in the majority-minority district are white, at least one if not both appointees would be black. You know there would be an uproar if the two appointees were white.
Conversely, securing an elected board of education increases the chances of getting a diverse group in the arena of ideas – it would likely be a.place where educators, involved parents, and concerned citizens from all walks of life would come together with thoughts on educational improvement rather than a political agenda. Certainly there is the prospect of an elected board of education being a political springboard for an ambitious candidate, but it's worked that way as an appointed body, too.
The idea to me is to have a group who will be faithful and careful stewards of our tax money as well as promoting policies that work to better educate our kids, whether state-approved or not.
There was a woman who testified after me – I didn't get her name but she has a special-needs child and no political connections. As the system stands she has no voice, but I think she could be elected. One thing about our current board is that only one of the seven has kids currently in our schools.
So I would prefer a fully-elected school board, without the hybrid option. It seems like the counties which have come along last (for whatever reason) in the long, evolutionary process of switching from appointed school board to elected ones here in Maryland are being forced to compromise into adopting a hybrid model because the powers that be in Annapolis just don't want to let go and recede power. Each of the three counties bordering Wicomico have fully elected school boards, so we just want what our neighbors have instead of an unnecessarily complex system that doesn't serve our purposes well.
It seems like it's the politicians and media who want hybrid boards to replace appointed ones the most – just look at Chicago or New Haven. But the small town of Mishawaka, Indiana overwhelmingly embraced the appointed to hybrid idea. Wonder how it was sold to them – or if they only had that choice? Politicians apparently know best in Utah, where their state school board is elected but a proposal for a hybrid was heard. (Their diversity was rural vs. urban.)
In 2016, when I go in to cast my vote for president, I want to be faced with a simple choice farther down the ballot: do you support or oppose a fully-elected school board for Wicomico County? I think the answer will be a resounding yes for an elected board, and it will be the right answer to move this county forward.
If it comes to a vote, I would support a fully elected school board. But the story of how Caroline County got its hybrid board is illustrative – basically, they were only given the hybrid option. Since Caroline County didn't have a large enough minority group to create a district for themselves, the squeakiest wheels used the next best thing – the minority head of the Senate committee that heard the bill.
It may be time to consider the next step, and that involves talking some sense into the two people in Annapolis who run the respective Senate and House committees that hear the bill. If you thought having local roadblocks like Rick Pollitt, Norm Conway, and Rudy Cane was bad, imagine being stymied by two committee chairs we don't even cast a vote for.
We have pretty much heard the arguments, and despite the clear advantages of full accountability that an elected board brings I think one sentence I uttered rings true: the powers that be in Annapolis just don't want to let go and recede power. We'll see if they prove me wrong.
It wasn't the meeting we expected, but still turned out to be informative.
We had scheduled State's Attorney Matt Maciarello to be our speaker, but with a pending trial Matt needed to burn a little midnight oil. So we were left with some reports instead. As one member put it, having members of several local groups meant we could always have an interesting meeting.
So once we took care of the usual opening business, we got a Central Committee report from Ann Suthowski. She reminded us the Lincoln Day Dinner was slated for November 7. When asked why it was so late in the year, Dave Parker noted it was originally planned that way to attempt to get Governor Hogan to speak, but his ongoing cancer treatments thwarted that idea. However, since Lieutenant Governor Boyd Rutherford has a daughter who attends Salisbury University, it was hoped he may appear. Suthowski wondered if he was being considered as a commencement speaker since his daughter would be graduating this year.
Suthowski also revealed there was an opening on the Central Committee, with Parker adding action to fill the vacancy could occur as soon as their next meeting October 5.
Bunky Luffman, speaking on Delegate Carl Anderton's behalf, announced he would hold an event Thursday evening at Evolution Brewing. It was to celebrate the first day of the "Evo Bill" that allowed Wicomico County breweries such as Evolution and Tall Tales to double their output yet keep their particular licenses.
Anderton is also planning a anniversary celebration November 4, said Luffman. When he won his initial election last year, the results weren't official until late in the evening so they wanted to have a more proper celebration for his supporters.
As part of his own campaign, Muir Boda is getting some help from around the state with a Super Saturday planned for October 17. He'll get assistance from various volunteers from the state party and Maryland Young Republicans.
On the We Decide Wicomico front (the grassroots effort to secure an elected Board of Education) Dave Snyder reviewed the first two public hearings, the second of which in Delmar had a "pitiful" turnout, according to another observer who was there. Nevertheless, they were pressing on for the third which was held tonight at First Baptist Church. (I'll have some observations on that tomorrow.) Snyder also added he sought to speak to the local PTAs but was turned down until such time when a referendum was on the ballot.
When asked about media, the feeling among several members was that the Daily Times was doing "nothing" but the Independent was doing a good job pushing it. The hearings are also taped for broadcast on the local access channel PAC14.
County Councilman Marc Kilmer opined that a hybrid vs. elected question can be on the ballot. But Don Coffin cautioned that we should "keep it simple," adding "our country was founded to have elected officials." Dave Parker added that we needed a provision for replacing members as well. "I want the best people," said Parker.
But Kilmer pointed out this "has to be acceptable to the majority of legislators in Annapolis." It was also revealed by Bunky Luffman that there was no precedent for a three-way referendum such as an appointed vs. hybrid vs. elected would be. We were also told that Wicomico's legislation last year was modeled on a version Prince George's County used.
Turning to the Crab Feast, it was no surprise that the poor weather soaked the bottom line, Attendance and silent auction proceeds were down markedly from 2014, which was the run up to the election. One suggestion made for next year was to get a better sound system so people at the outside tables could hear.
I then discussed the upcoming Good Beer and Autumn Wine festivals, and we broached the idea of getting our Christmas Party organized.
Before we left, we learned from Joe Ollinger that the school board was working on a search for a new superintendent and wanted to finish by next March. There was also the news that the school system was being investigated by the Justice Department for disparity of discipline.
The next meeting will be October 26.
Facing his final few months as Salisbury's mayor, Jim Ireton decided to be Santa Claus. You know the old adage about a democracy lasting until the people figuring out how they can vote themselves a piece of the treasury? This is really a proposal for the 2018 Ireton campaign.
In a Facebook posting, the mayor explained his reasoning.
Today I announced that I will forward to the City Council a Rent Stabilization Initiative aimed at bringing rents in Salisbury into line with national averages. This is a common sense step which will have very real results for residents who find themselves living paycheck-to-paycheck, struggling to make unnecessarily exorbitant rent payments. I was asked by someone earlier today "Why now?"

Here's why:

59% of renting households are cost burdened, and 36% of households are severely cost burdened, i.e. paying 50% or more. This means that over 1,600 Salisbury households are paying between 30% and 50% of their income for rental housing costs, and an additional 2,700 households are paying over 50% of their income for rental costs.
The lack of affordable housing in Salisbury has a quantifiable negative impact on our local economy. High cost burden means households are spending less on food, transportation, health care, and apparel, while accruing little-to-no wealth. If housing was affordable for all renting households, an additional eight million dollars a year would make its way back into the local economy.
From 2000-2008 rents rose dramatically, over taking the national average, as a result of increased energy costs and a doubling of the average home price.

If we want and expect to do better for the people in this City who are hurting the most, then we cannot shrink from this tough discussion -and I can tell you that I won't. Our residents pay far too much for the quality of the rentals that they live in, and far too many of them are severely cost-burdened. In the end, renters know when they are paying too much in rent; it's when there's no money left on the 2nd of the month. We have tried endlessly for 30 years to address the problem of the greed of the rental industry in Salisbury. This Rent Stabilization Program is good for our residents, good for the local economy, and will allow the City to get a return on the investment it makes in its citizens.
It's small wonder that there's a chorus of renters who agree. They think they are getting something for nothing but what they will get are fewer choices or more substandard dwellings.
But let's look at some of these claims. Ireton says that a large percentage of renting households are overburdened. However, his proposal only addresses individual houses, not multi-family dwellings, so only some portion of the population would benefit. We aren't given the number who would actually be affected.
And I still can't quite wrap my head around how additional money makes it into the local economy, because it's not really additional money. The renters aren't making any additional money on the deal. Granted, they may gain some choice on where to spend it but this is pretty much a zero-sum game.
Ireton is playing the old class envy card here, pitting poor, struggling renters against a class of businesses his allies derisively refer to as "slumlords." It's a convenient target to evoke sympathy, but one tends to forget that these businesses and individual homeowners are also investors in the community. The $8 million the renters save isn't just sitting in their pockets – they are paying workers to oversee their properties, spending money on upkeep, or, as individual homeowners who depend on rental income, they buy food, transportation, health care, and apparel too.
Let's imagine for a moment that this initiative passes – and given the current composition of City Council I could see three votes to make it happen. What incentive is there for people to invest in housing if the return is arbitrarily limited by the assessed value of the house, something that's determined on a triennial basis? Once a house is maxed out on rent, in effect the price is frozen for the remainder of the three years unless the city benevolently changes the formula.
In the meantime, the decrease in money coming in makes investment less worthwhile, so housing prices will sag. Arguably that's good for renters who may want to purchase a house, but the house they get may not be in as good of repair as it could have been because less money came in to make repairs, just the essentials to keep it up to code. It's the small mom-and-pop investor businesses which would be hurt the most by this law because the rental companies can increase the rent on those dwellings they own outside the city limits.
The solution for homeowners may be that of subdividing larger houses into apartments where possible. Certainly that's not an elegant solution and I suspect the various housing boards may look a lot more severely at these efforts because it's a way of skirting a bad law.
It's just the latest chapter in the Ireton war on landlords. He may think he can bring Salisbury up from poverty but instead it will just change the distribution of wealth slightly, eventually make affordable housing more scarce, and discourage investment – or, as Ireton calls it, "greed."
My friend Muir Boda has his own thoughts on the process, and notes that College Park dropped its program a couple years ago. I agree with his main point, though: instead of using government to bring one class down in the attempt to raise another, why not try to add value by attracting the kind of economic development which can make fewer households "cost burdened."
Perhaps that should have been Ireton's plan all along.
A couple weeks ago I covered the first of four hearings on the potential for an elected school board. At that time I pledged to add some history and context to my remarks from the other day.
First of all, the recent history of the attempt to get an elected school board has both a local component and a state component. I was elected to the Republican Central Committee in 2006, and one item which we agreed to pursue was an elected school board. Unfortunately, the composition of county government at the time didn't lend itself to further action on the subject. It wasn't until the election in 2010, when a GOP supermajority was elected to County Council, that local legislative action occurred.
In both 2011 and 2012, the County Council passed legislation on a 6-1 party-line vote to ask the Maryland General Assembly for the enabling legislation for a referendum question to be set before voters. It would simply ask whether voters wanted to adopt an elected school board.
The 2011 version of the bill, HB1324/SB981, was sponsored by six local Delegates and both local Senators, and each version passed its respective legislative body overwhelmingly – the only "nay" vote came from Delegate Nathaniel Oaks of Baltimore City. SB981 passed both houses, but the amended House version did not return to the Senate for a vote.
In the House, the Ways and Means Committee amended the bill in a curious way. They revised the referendum question to read, "Are you against changing the changing the current method of selection of the members of the Wicomico County Board of Education of appointment by the governor?" It seems the idea was to confuse the voter.
The next year HB966/SB99 was introduced by the four Republican delegates and both Senators. This time, though, the bills did not progress beyond the hearing stage.
In 2013 and 2014, no legislation was passed locally nor was any introduced in the General Assembly. The feeling was that there were three roadblocks to the process: Rudy Cane, Norm Conway, and Rick Pollitt. None of those three survived the 2014 election, so we were hopeful the process would be on its way once 2015 began.
There were two key differences in the 2015 version of the bill, though. In an effort to foster a united front, County Council allowed for the idea of a hybrid elected/appointed board of five elected and two appointed by the County Executive with approval from the County Council. Indeed, that version passed 7-0 and was sent up in February.
But the bill was stalled in committee, with the problem determined to be the lack of having both Senators on board. Senator Mathias requested more hearings and public input on the issue, so County Council has arranged the four hearings with plenty of time to pre-file a bill once the hearings are over.
It's been pointed out frequently that Wicomico County is one of the few without an elected board. Back in 2002 just half of Maryland's counties had an elected school board. Since then, Caroline, Cecil, Dorchester, Harford, Prince George's, Somerset, and Talbot counties have switched over to elected (or mostly-elected) boards, while Anne Arundel County now has retention elections for its appointed members.
So the precedent for change is certainly there on the Shore and around the state. A number of counties have been allowed to proceed with their wishes over the last dozen years, but there always seems to be a roadblock when it comes to us. It is long past time to clear the way for us to decide as so many others in the state get to.
I am aware there are naysayers who say it doesn't matter who is on the school board for the tune is called in Annapolis. But we have some creative folks around here who may figure out a few alternatives to really help our schools become better, and I don't think they would have a prayer of being appointed through the process in place. Let them make the case to the parents who vote, not the faceless bureaucrats in Annapolis.
Tonight I had a choice: expand once again on a topic I wrote about for today's Patriot Post or go to Third Friday and see the sights. Our military prowess is important, but this one was more fun.
Hundreds of people agreed with me. The first photo was taken looking west from Division Street while the second was from within the Plaza. They were taken perhaps 20 minutes apart.
I hadn't taken ten steps into the Plaza when I saw City Council member Laura Mitchell and husband Miguel heading out. Seems like Third Friday is the place for people I know. But I wasn't really expecting this guy, who's about 30 miles from being "downy o'shun."
Yes, that's former Delegate Don Murphy hanging out with current Delegate Carl Anderton and Jackie Wellfonder, at whose behest I took the photo.
But there were two people looking for votes at tables. One was mayoral candidate Jake Day, who has no one on the ballot against him, and the other was Muir Boda.
He had a well-stocked table, but then Muir's been a Third Friday fan for a long time.
One element which contributes to its success is the music. This month The Larks were playing on the Plaza.
That photo came out pretty well for being taken in the twilight. The earlier sunset made the event finish after dark.
And as it was winding down, it was plain to see that a block of Division Street was one giant sidewalk chalk canvas. They probably had 200 boxes scattered around Third Friday; fortunately, there's not much chance of rain although there is a 100% chance of traffic rolling over the colorful street.
Tonight was the second-to-last outdoor Third Friday of the year, although there will be outdoor events associated with it from time to time over the winter months. Throughout this year, it seems the crowds have been excellent and the city is trying to expand on the success with First Saturday and the trolley between Salisbury University and downtown which runs on weekend nights.
With all that is going on this weekend around the region, Third Friday seems to be holding its own. Salisbury's had its share of bad news over the last decade, but this golden goose continues to produce each warm-weather month.
I am struck by the difference between two recent meetings.
Last week I covered the first hearing regarding the prospect of an elected school board. Yesterday I also read a story by Susan Canfora in the Salisbury Independent about the city's rejection of a park land donation sought by the county.
In the former case, the arguments for and against were delivered in a relatively quiet room, but those who were out to save the forest burst into applause with each speaker on their side and cheered when the measure died for a lack of a motion. Canfora's report noted that the City Council meeting was standing room only, with more people spilling into the hallway. Having been to that venue before, I know the room can get 80 to 100 people in it if you all inhale and exhale the right way.
Of course, there was resolution in the county's case – the city said no to the donation. On the other hand, the process of getting an elected school board is in the early stages of its latest iteration. So in that respect I am doing a little bit of an apples-to-oranges comparison, but I did see a useful tool in understanding the approach one side may choose in the school board debate.
Those who favored the expansion of the ball fields grounded their argument in economic terms. They could cite concrete facts and forecasts of how much impact these tournaments have locally, in dollars, cents, and jobs. Softball tournaments bring in hundreds of players each summer, and those participants have to eat, sleep, and play someplace.
Conversely, those supporting the forest played to the emotions of the audience and City Council. Suddenly that 35 acre plot of land was a magnet for low-impact tourism and a vital part of the natural beauty of Wicomico County. Just for sake of reference, 35 acres covers about 1/16 of a square mile. The Centre of Salisbury sits on about 58 acres, so this forest plot is barely half the size of that parcel.
Those same appeals to emotion come out when opponents of an elected school board bemoan the loss of "diversity" they are sure would come about with an elected board.
It's always intrigued me that those who wail loudest about diversity are the least diverse of any group – sure, they may fill quotas with every possible variation of outward appearance and behavior trait under the sun, but when it comes to diversity of thought: forget about it! It's the side that's afraid to hold presidential candidate debates because their standard-bearer, the one who fills the "woman" quota their party wants to check the box of, might have to actually defend her record (or lack thereof.)
But let me back up the focus. To me, diversity is for ideas, which is why legislative bodies often split along party lines. I highly doubt the NAACP, the teachers' union, or any of the other opponents of an elected school board will stop trying to participate in the process when an elected board finally comes to fruition. They will certainly have a slate of candidates, and those candidates will probably have a monetary advantage in their respective races. On the other hand, I would certainly push for the most conservative school board possible. Hopefully I get more victories than the other side, but I doubt either will have a clean sweep and it may be there are times they have to meet somewhere around halfway.
Regardless of what Don Fitzgerald may claim, there is some cronyism involved with the current system. Rarely does a complete political outsider get a seat on the school board because the current system has as its judge and jury political insiders up and down the line. (The same would hold true with a nominating commission.) The best chance for a concerned citizen would seem to be the electoral process, particularly since the system as envisioned would rely mainly on districts of about 20,000 people – not an unmanageable size for a small, well-organized campaign. Granted, there may be times when running countywide could be an advantage but my suspicion is that those couple spots will be filled with current board members who already have name recognition.
If there's one lesson I want the class to remember, it's this: you can easily figure out which side has the facts and which side runs on emotion. Diversity is the reddest of herrings, so don't let them fool you into thinking their idea of the concept is anymore than skin-deep.
Last Thursday about 40 people gathered at the Wicomico Youth and Civic Center to speak out on the prospects of an elected school board for Wicomico County. When I saw the full parking lot I thought I would never get a seat; alas, most of them were here for a kids consignment sale going on simultaneously at the venue. I took the photo as I walked in and the crowd only increased a little bit.
But the County Council presented a number of options available, broken down into three categories: fully elected, a hybrid of elected and appointed members, or the status quo of a fully-appointed board.
Further subdivision of the elected option provided for either a five-member elected board based strictly on County Council districts or a seven-member elected board with five district plus two at-large to mimic our County Council. Meanwhile, the hybrid option would have five members elected from the County Council districts with the other two appointed by either the governor, the County Executive, or a nominating commission. That nominating commission could direct the governor on which members are acceptable in an all-appointed option or we could stay with the current system of appointment.
Out of 22 who spoke, 14 preferred an all-elected option. Woody Willing addressed the diversity concern, stating "there's no better way to have diversity than electing seven people." Ann Suthowski, who was "in favor of a 100 percent elected school board," pointed out that four of the seven members work or worked in education, three lived within a mile of each other while the eastern and western ends of the county were not represented, and as far as she could ascertain only one member was under 60 years of age with kids in school.
Turning to Senator Jim Mathias, at whose behest the hearings were scheduled, Suthowski concluded that elected school boards were good enough for the other two counties he represented, so why not Wicomico?
Others who backed the elected board saw it as a way to promote fiscal accountability. Kay Gibson bemoaned her lack of choice in the matter when half her property tax dollars went to education – as she put it, being "taxed without representation."
Transparency and parental involvement were also common themes. Dr. Mark Edney called an elected school board the "most transparent, democratic approach," as opposed to the "secretive, crony-driven process" we had in place. Dave Parker stayed on that theme, revealing that a previous Appointments Secretary told him, "we don't much care who (the Central Committee) interviews."
"I like this governor," added Parker, "but I don't want him selecting my school board."
Involvement was key to Donnie Scholl, who thought an elected board would "maximize parental involvement."
But the handful who preferred the hybrid or appointed boards had their reasons. Kelsey Maddox said "if I had to choose, I would say hybrid." She rejected the notion that the 90 or more percent of counties with elected boards had the best system simply by virtue of the sheer numbers.
Current WCBOE president Don Fitzgerald was in the "if it ain't broke, don't fix it" camp. He also bellowed that the current school board has "worked hard in this community" and that he was no crony.
Most of the elected board naysayers, though, circled their wagons around the diversity concept. Gary Hammer, who heads the local teachers' union, said his body was not against an elected board but previous proposals "did not account for diversity." He believed there should be more than a yes-or-no choice between elected and appointed. Another former board member, Jon Sherwell, added that "effectively, an appointed board can be diverse." He also questioned some of the assumptions made by the We Decide Wicomico group and others, arguing that he was appointed despite being unaffiliated.
Local NAACP head Mary Ashanti added that the appointed board has "given us an opportunity" and remarked "the issue for me is how it will be written in the referendum." But whether it will get that far may be up to Delegate Sheree Sample-Hughes, who warned that the Ways and Means Committee in the House was interested in preserving diversity and having public input. (No one in our local delegation sits on that committee, which heard last year's bill.)
As it turned out, about half of those present spoke, although Sample-Hughes was the only legislator to testify. No one on County Council chose to add remarks, nor did Senator Mathias or Delegates Carl Anderton and Mary Beth Carozza, who also listened in.
The next hearing will be at the Delmar Elementary School on Foskey Lane next Tuesday, September 22. I won't be there so sometime in the next few days I will have a message for that hearing. When it comes out, feel free to share.
Subtitled, the year of the monsoon.
I found this year I took very few pictures compared to past years. Some of that was the weather, where the skies gushed forth just before our slated 1 p.m. start. It forced us all under the pavilion but those on the outside rows were still soaked.
This also meant the silent auction was ruined. We ended up with a live auction later.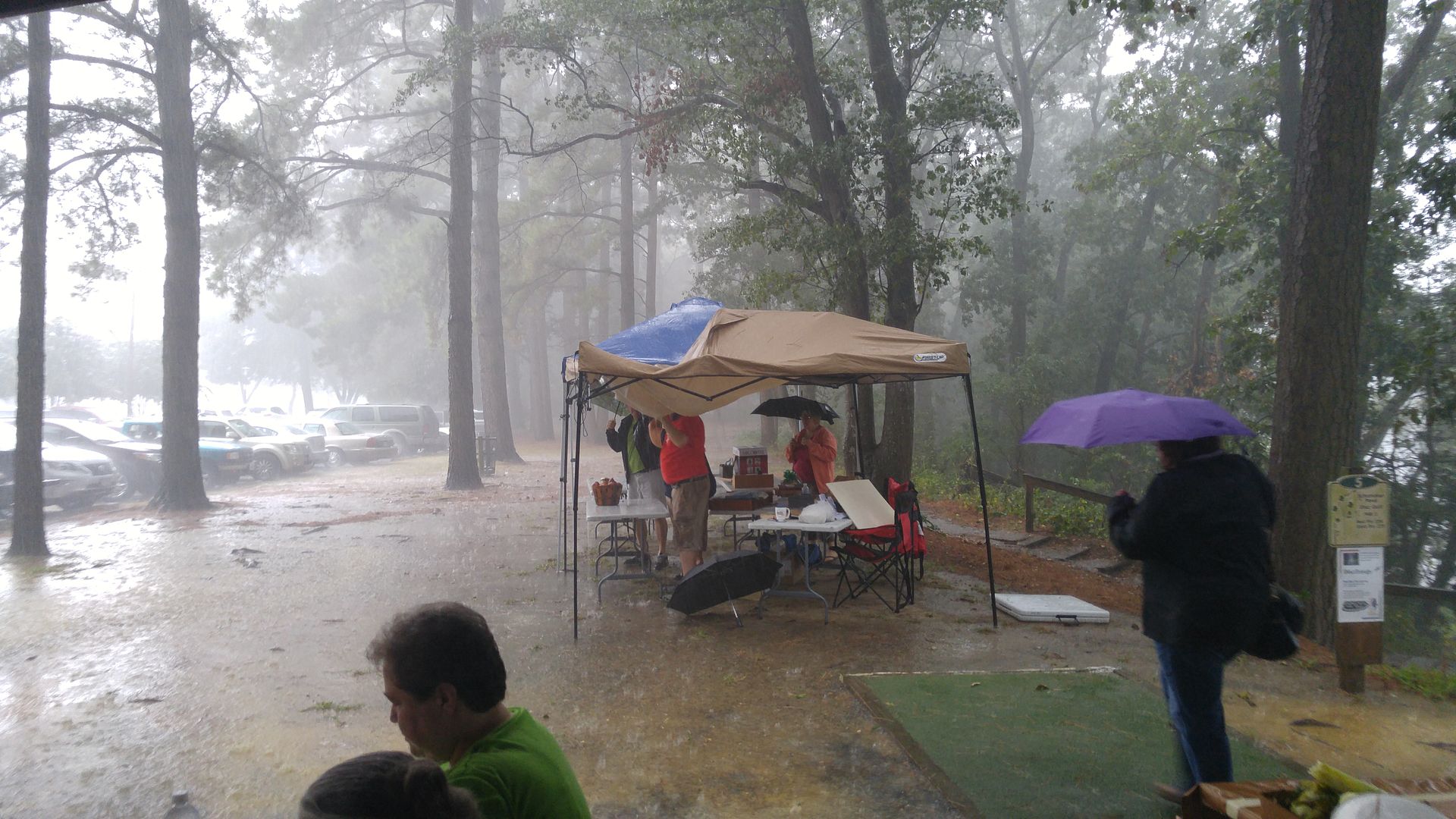 Yet the pouring rain didn't spoil everything. We made a special presentation to Jim Jester, our club's volunteer of the year. A plaque is one thing, but a fine cigar can be quite another. Both were kept dry.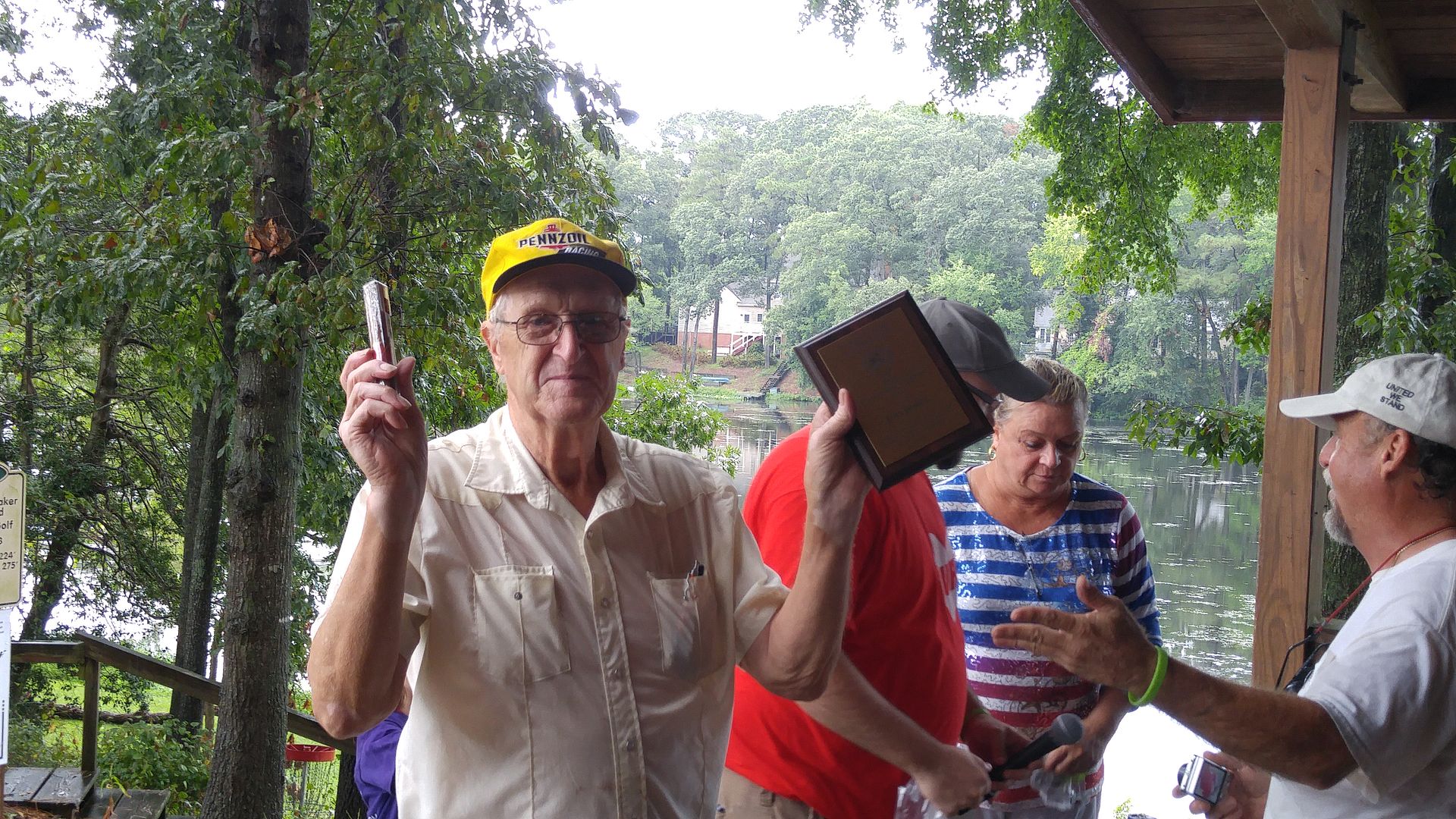 And the crabs apparently were good because we had to do a quick order for another three or four bushels. (The crab eaters at my table gave them good reviews.) The corn also went fast, but at least some of the produce was donated.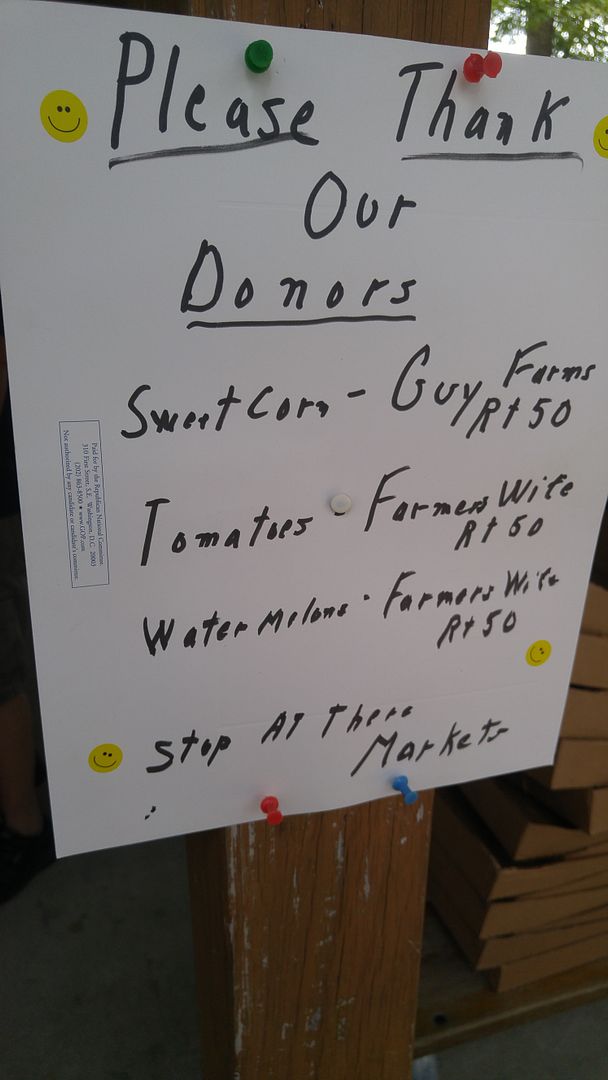 While the elected officials didn't speak formally, most made the rounds of the event. Being early in the term, they didn't need to campaign, but the awareness group We Decide Wicomico had a number of yard signs.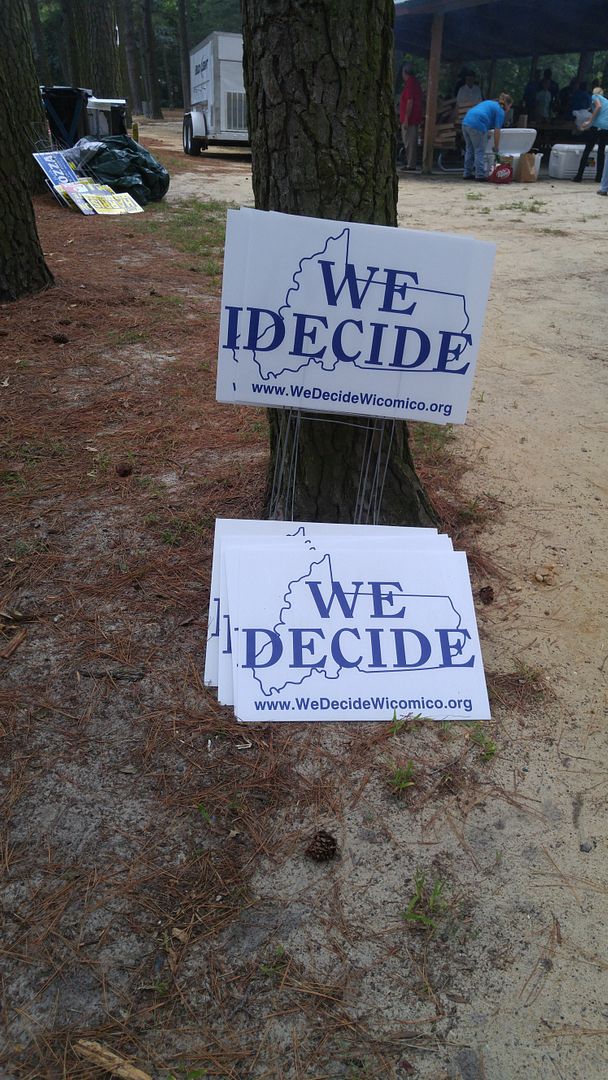 There were a lot of elected officials there, but I think the award for coming the farthest goes to Johnny Mautz. I grabbed the photo from Julie Brewington since she tagged me in it.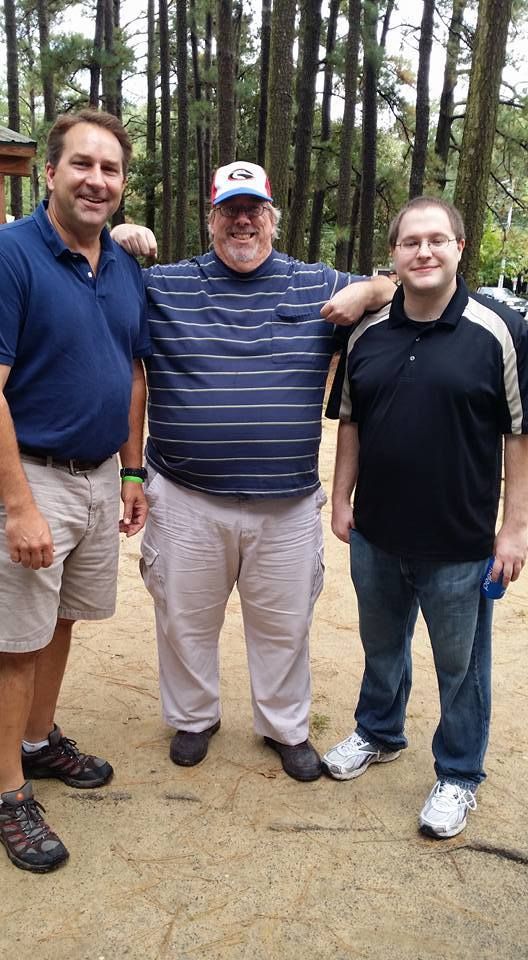 We also had Senator Addie Eckardt, Delegates Carl Anderton, Mary Beth Carozza, and Charles Otto, and a host of local pols from County Executive Bob Culver on down. But the most surprising no-show to me was Congressional candidate Mike Smigiel, who I figured would drop by. Granted, a Congressional district has a lot going on during any given Saturday but there was nothing I noticed on his calendar except a missed opportunity.
Hopefully the 2016 version will avoid the monsoon and make a lot of money for the club. Once the rain left, it wasn't a bad afternoon and some people ventured to the outside tables. Let's if we can't fill the outside tables as we have before and have a lucrative silent auction.
While the pace of a political campaign is often frenetic, the passage of Labor Day has long been understood as the point people begin to pay attention. For a normal middle-class family it means the kids are back in school, vacations are memories, and the routine is back underway. Most people have some sort of election in the fall, and while it's a statewide election year in a handful of states, the general rule for odd-numbered years such as this is that municipal and local elections are contested.
So years ago, when I first got my start in politics, I helped out local campaigns for several different offices, from mayor and city council to municipal judge and clerk of courts. Similarly, here in Salisbury where I live there is a municipal election, although about 1/5 of residents won't have much of a reason to turn out because their particular district has an uncontested race just as the mayor's race does. Otherwise, there are 2 to 4 people seeking City Council seats from each district.
In looking at the field, it is comprised mainly of those who have ran before, whether successfully or not. But there are a  few who haven't ran and they are finding out the hard way what it takes to compete. Theoretically, however, there could be four political newcomers elected to City Council although the odds of a complete "throw the bums out" mentality aren't that great. You may not like the system at large but your person isn't necessarily the scoundrel everyone else makes the group out to be. Quite honestly, there are people who walk into the polling place and vote for the name they know without any clue about what that person stands for. I'm trying to decrease that number but it's a slow process.
In the next few weeks, though, there is another electoral battle shaping up – just not in the traditional sense. Thursday will be the first of four public hearings concerning the adoption of an elected board of education here in Wicomico County – round one will be held at the Wicomico Youth and Civic Center beginning at 6 p.m. Out of Maryland's 23 counties and Baltimore City, Wicomico is one of just three without an elected school board and, unless the rules are changed locally, will become the only one where the process is handled completely outside the county's jurisdiction. (The other two counties have – or are in the process of creating – local nominating commissions for their appointed boards.)
It's a local issue that bears watching, particularly as the Wicomico County Board of Education handles more money than the county's overall budget yet is rigidly controlled as to its partisanship and often has the situation where a member of one party is appointed by the administration of the opposite. Those who aren't aware of the situation should be willing to listen beginning Thusday night. It's time to get serious.
For several years I have cited an annual survey of business friendliness put together by thumbtack.com. It was useful in illustrating how poor the Maryland business climate was.
Unfortunately, year one of the Hogan administration finds the state in a deeper hole, narrowly missing the bottom five of the 36 states for which the survey had sufficient data to compile. It is noteworthy, however, to point out Baltimore's grade basically drove the state grade so they may bear a significant share of the blame.
As for what the survey asked and found specifically:
Small business owners found Maryland to be one of the least friendly states for microenterprise, though they widely approved of local training opportunities, according to Thumbtack's annual Small Business Friendliness Survey.

Nearly 18,000 U.S. small business owners responded to the survey, including 442 in Maryland. The study asked respondents to rate their state and city governments across a broad range of policy factors. Thumbtack then evaluated states and cities against one another along more than a dozen metrics.

"Small business owners on Thumbtack have consistently told us that they welcome support from their governments but are frequently frustrated by unnecessary bureaucratic obstacles," said Jon Lieber, Chief Economist of Thumbtack. "Maryland offers decent programs to support business owners directly, but they tell us the regulatory environment is just too hard for them to understand and navigate."

"The taxes here are high," commented a property manager in Baltimore. "There is no support from the government, especially the housing office."
Here's where entrepreneurs will pin their hopes on the new Regulatory Review Commission, which should try and reach out to as many of these businesses as possible to get suggestions.
The biggest problems with our state insofar as this subject goes is that its grade is getting worse – declining from a C- last year to its D+ this time – and Virginia got an A on the same survey. (Delaware had fewer than the 50 responses needed to get a grade.) Business owners hated the state in particular for its environmental and zoning regulations and government friendliness, both of which were given big fat Fs from those surveyed. (The former category also gets a "see, now what have I been telling you for the better part of a decade" from this writer.)
If a state is going to brag that it's "open for business" it needs to be better than a D+ state. The work on regulatory reform should be in tandem with other avenues toward success like lowering the corporate tax rate (or, even better, figuring out a way to cut three cents out of every dollar in state spending and scrapping it entirely) and telling the liberals in Annapolis who keep whining about the need for combined reporting to pound sand. Another proposal I would have is adoping the proposed moratorium on new Chesapeake Bay regulations until the sediment at Conowingo Dam is addressed,
We have models for success all around the country so why should we be 31st out of 36? I can't fault Larry Hogan for a lack of effort or his difficult circumstances, but we need leadership in this regard and if it means telling the people the truth about where the problems lie (hint: they hold 124 seats in the General Assembly) so be it.
Yesterday was a pleasant day for a barbecue, and as it turned out City Council candidate Muir Boda had one. In the space of a half-hour Doverdale Park went from abandoned to buzzing with activity – and I'm not just talking about other candidates who dropped by to engage with that working-class neighborhood. Once the DJ got going, people began to show.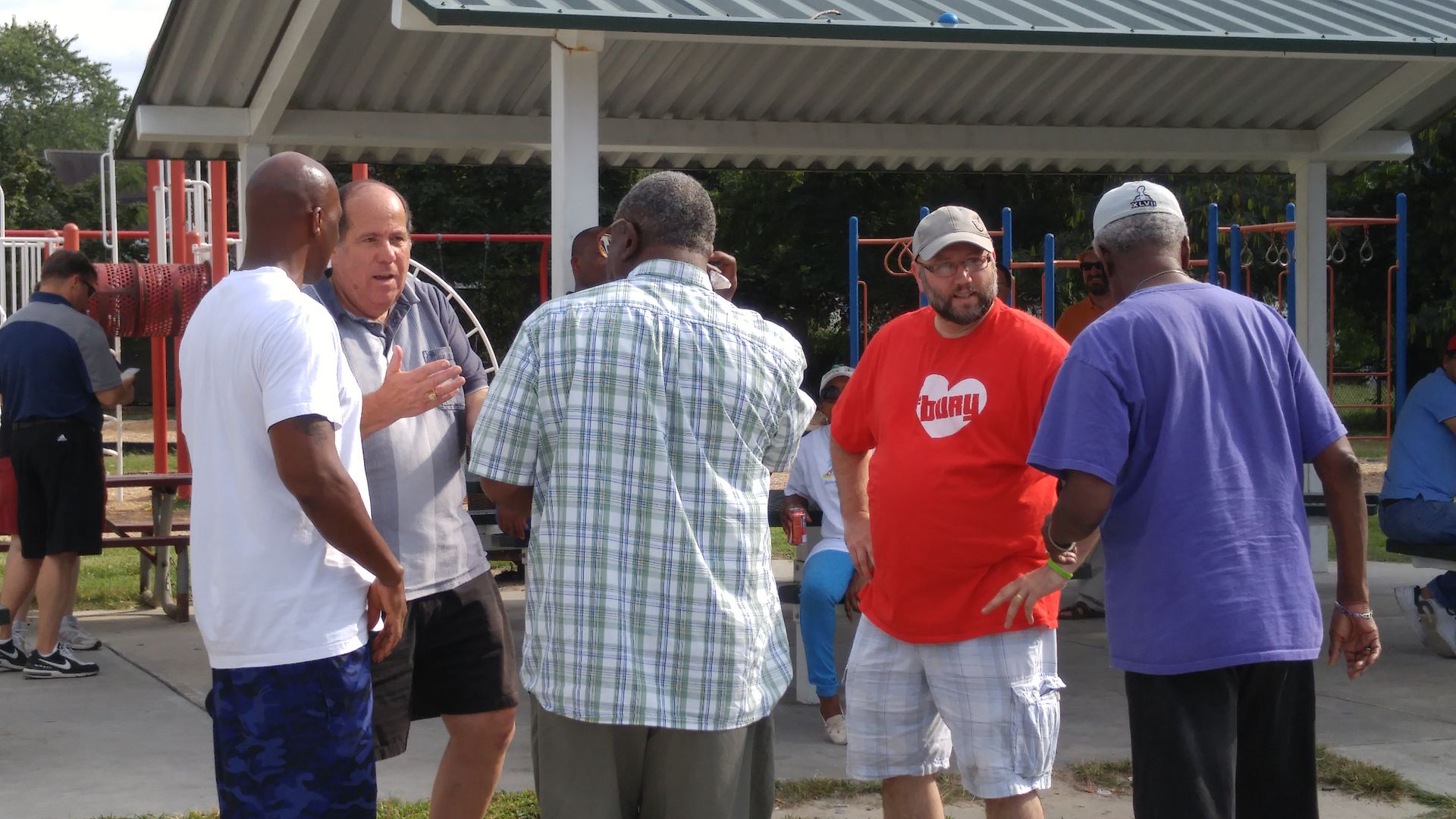 Boda is running in City Council District 2, but as the map is drawn many areas are a short walk from the adjacent District 4. It is the district where outgoing Mayor Jim Ireton is running for City Council, but opponent Roger Mazzullo was there meeting and greeting voters. Doverdale Park is actually in that district, with Boda's on the other side of Decatur Street.
Mazzullo had a table full of items with his name on them, but very little further information. This display was there for the cuteness factor.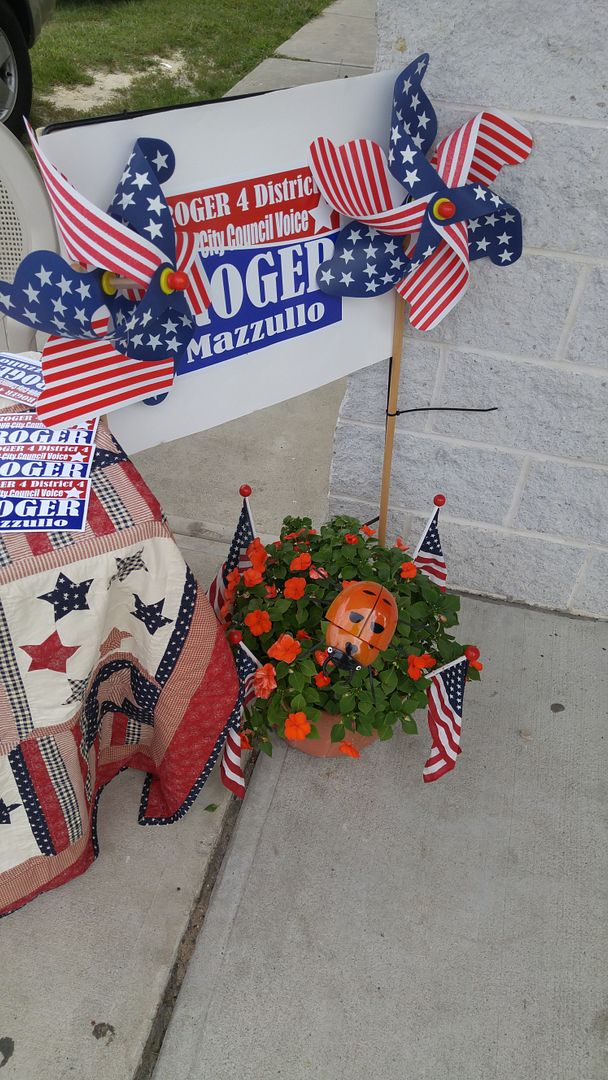 In talking to Roger, I gathered his concern was economic development and jobs, as both he and his wife operate businesses. Ironically, both do most of their business outside Salisbury on a regional and national level.
As the event went on, I noticed there were three types of people. Some came for the free food and left, while the kids naturally ate and drank while playing basketball or riding their bikes. But a select few stayed and chatted with others there in the park's modest picnic pavilion.
Those who did stick around found a number of fellow City Council candidates and others who wanted to hear this neighborhood's concerns. Boda and Muzzullo stuck around for the whole thing, but Delegate Carl Anderton was there as were April Jackson from District 1 and Laura Mitchell from District 5. Barring a write-in campaign, she is unopposed for re-election but was there for a good hour or so hearing from folks.
I'm not a great judge of crowds, but I would guess 75 to 100 people came by. Of course, not all of them were voters – and in hindsight, speaking as a Central Committee member, there should have been someone to register voters there – but it created a good impression and Boda has to because he lives just down the street from there. So those are his neighbors he hosted.
While we contemplate how many billions – yes, billions with a "b" – the Presidential candidates will spend on mass media, it's nice to get a reminder that Tip O'Neill's adage that "all politics is local" still rings true.