While it can be dismissed as an internal push poll, given its conclusion that Larry Hogan "is well positioned heading into the final week," or the final add of, "Having the resources to go toe-to-toe with Brown on TV will be crucial in turning his current lead into a victory on Election Day," a survey by pollster Wilson Perkins Allen Opinion Research has buoyed the Hogan camp and led to another upcoming visit from New Jersey Governor Chris Christie this coming Sunday evening at Patapsco Arena in Baltimore.
Yet other polls suggest a significant Brown lead, most particularly a YouGov poll which has stubbornly put Brown up by double-digits every month (and is computed in the RCP average.) Not added to the RCP total, though, is a survey by Gonzales Research which showed the race was far closer and as an added benefit gives the breakdown of expected turnout.
One could even argue that the "calibration error" problems with voting machines – which only seem to be turning Republican votes to Democratic ones, and not vice versa – is the sign of a party desperate to hold on to the governor's chair. (A source tells me here in Wicomico County, at least one early voting machine was put out of service after the error was replicated on it. The personnel at the early voting center were reluctant to get involved, according to my insider.) Add to that the allegation of non-citizen voting and it's no wonder Republicans are sweating out the prospect of the same fishiness which plagued the 1994 gubernatorial election some swear was stolen from Ellen Sauerbrey.
Yet as the old adage says, you just have to beat them by more than they can cheat.
There's no question that Democrats are less enthused about this election than they have been in the past. But let's go back and look at some key numbers from 2010, the second Ehrlich-O'Malley rumble.
As I said, I really like Gonzales polling because they give an honest breakdown and analysis. In October 2010 their poll had Martin O'Malley with a 47-42 advantage over Bob Ehrlich – a race that O'Malley eventually ran away with. In fact, out of the last several polls this was the one which gave the last fading hope of an Ehrlich upset.
But there were some warning signs – for example, Ehrlich's 17% support among Democrats "won't do it," said Gonzales, nor would the 8-point advantage in the Baltimore suburbs. In the recent Gonzales survey, Hogan doesn't do a whole lot better among Democrats than Ehrlich (19-73 for Hogan vs. 17-72 for Ehrlich) but is significantly stronger in the Baltimore suburbs (55-37 Hogan vs. 49-41 Ehrlich.) On the other hand, Brown does a little better in the Washington suburbs at 70-25 (vs. O'Malley's 65-25) but Hogan counteracts this with a strong showing among the growing unaffiliated ranks (46-32 Hogan vs. 42-36 Ehrlich.)
To me, the truth is somewhere in between the five-point Hogan lead in the WPA poll and the 2 points Gonzales has him down, probably closer to the latter. All I know is I think it will be close and every vote will have to be carefully scrutinized by the person casting it. (My source also told me there may be a robocall put out to remind Republicans to check their ballot before leaving.)
Yet the idea isn't just to be satisfied with a Republican governor – we need to give him plenty of help and local voters can oust a number of thorns in the conservative side next week. Let's paint the Eastern Shore red from Cecil to Somerset, from the Bay Bridge to Ocean City.
After a tremendously busy last few days, I'm finally able to catch my breath a little bit and take stock of where we are.
At the top of my site since last Thursday is the reporting on early voting trends. To me, this is key because it's not something Republicans have adapted to despite the pleas from the state party – until this year. As a whole in the state, Republicans and Democrats are utilizing early voting at the same rate which indicates turnout may be a tick or two better than expected for the GOP. And remember, polling is released based on a turnout model that they attempt to predict will hold true for the election, but there are so many variables. At this stage weather doesn't appear as it will be a factor, though.
I just finished downloading the last of the pre-election financial reports for most of those on the ballot locally in contested races. There may be a minor scandal here because I noticed District 37B candidate Rod Benjamin didn't have a report on file yet – he's submitted affidavits of limited contributions and expenditures through his campaign, but still has to file timely or face a $20 daily fine that comes out of his own pocket. In the last few days before the election I'll distill the numbers and see if any new trends develop.
By now I'm sure you've heard about the irregularities in voting machines in some areas; a phenomenon addressed by the state Board of Elections. But how about irregularities in support? Some local Republicans are outraged about two photos which have appeared on Facebook.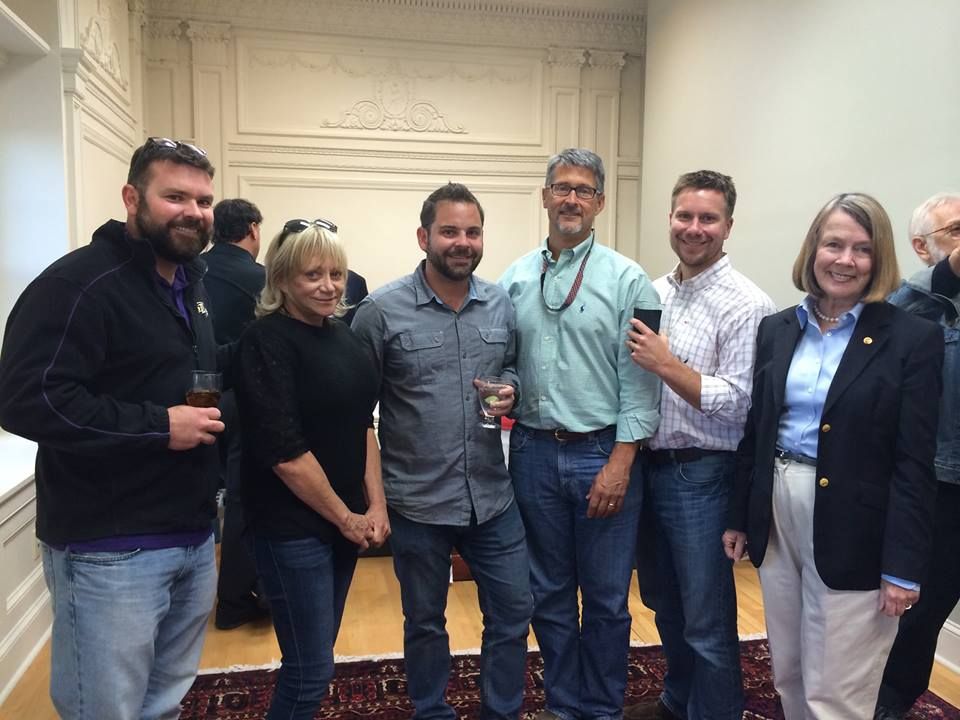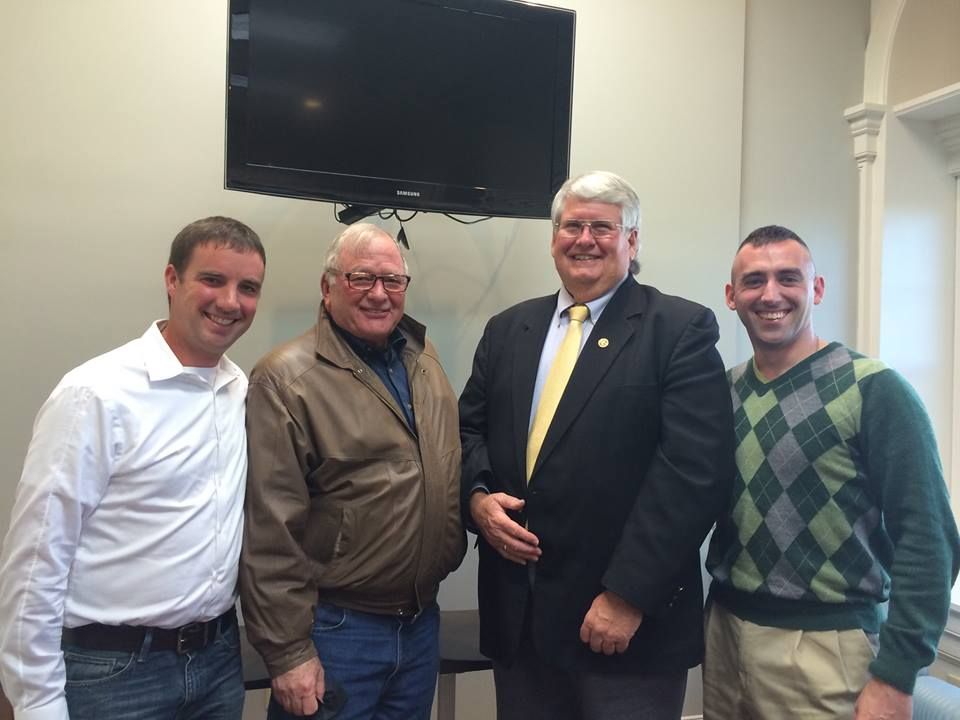 The photos were reportedly taken at a recent fundraiser for current Wicomico County Executive Rick Pollitt, who is a Democrat. In the top photo second from left is outgoing County Council member Stevie Prettyman. In the bottom photo is, left to right, County Council members Matt Holloway and John Hall along with Pollitt and Salisbury City Council president Jake Day. All three Council members pictured are Republicans, a trio which generally votes opposite Republican County Executive candidate Bob Culver (who is one of two to consistently oppose Pollitt.) While Prettyman is leaving, Holloway is in a good position to be re-elected since only one Democrat filed for two at-large posts, and Hall is unopposed for a District 4 Council seat.
My take on this: of course I'm disappointed with these Republicans attending a fundraiser for a Democrat, but the time to address this will be 2018 primary. Just file it in the memory bank.
And then we have this which just came to my attention from the Maryland Pro-Life Alliance.

Contrast that, if you will, to opponent Mike McDermott's support for pro-life causes such as the recent Eastern Shore Pregnancy Center dinner.
Jim Mathias has spent thousands of dollars – much of it money from PACs and out-of-district – trying to convince District 38 voters he's "always working for you." But the question is whether simply voting for or against a particular issue is "working." As a member of the majority party, he's in the position where his negative vote can be made with little consequence except to placate the people back home. He doesn't stick his neck out and publicly testify at a pro-Second Amendment rally or participate in a pro-life march, despite the fact his district would welcome that with open arms. We're just supposed to count the effort and not the results.
But there are more important items to deal with – I'm watching Game 7 of the World Series.
On Saturday I was alerted to a story by John Fritze in the Baltimore Sun regarding Andy Harris and his attempt to level the playing field a little bit in Maryland politics by creating a superPAC called A Great Maryland PAC. According to the Sun, Harris donated $150,000 to the PAC, which turned right around and put out a commercial depicting Jim Mathias, Norm Conway, Martin O'Malley and Barack Obama as "liberal peas in a pod."
I don't have a copy of the spot to show you at the moment, but the theme seems similar to one Harris used in the 2008 primary against former State Senator E. J. Pipkin and onetime Congressman Wayne Gilchrest.
What's funny to me, though, is the Democrats' reaction, like from Jim Mathias:
"I don't think it's right," said Mathias, who said he had no idea who was behind the television spot. "People's freedom of speech — I support that with my every breath — but if you're going to make these kinds of accusations, I think there should be accountability."
Funny you should talk about that, Jim – I've been holding you accountable for your votes for years, and I'm glad to finally have a little help. So come clean about where you received your campaign funding (hint: it's a lot of special interests.)
Harris has been a savior to Republicans around the state, with significant donations to several candidates as well as the state party – in total, including the seed money for the A Great Maryland PAC, Harris is over $300,000 in campaign contributions – and that's good news for conservatives around the state.
Hopefully he'll need to collect more to give to more incumbent recipients next time around.
Back in June, I noted that two local officeseekers who did not have a primary challenge garnered the backing of Maryland Right to Life. Last week I found out two more local candidates who survived a primary also got MDRTL's blessing: Addie Eckardt in Senate District 37 and Christopher Adams in District 37B. They join Mike McDermott and Mary Beth Carozza as endorsed candidates.
Whatever progress the pro-life movement makes in Maryland, though, will be determined more by who holds the governor's chair. It's worth pointing out that Anthony Brown has thrown the kitchen sink at Larry Hogan trying to make voters believe that Hogan wants women barefoot and pregnant. It's a charge which Hogan's used a surrogate to deny:
The transcript of the key passage in the video follows:
My name is Amie Shank and I am supporting Larry Hogan for Governor. One big selling point for me with Larry Hogan is the fact that he will not change any current Maryland law when it comes to important social issues.
Well, he doesn't have to change Maryland law, just add a few other ones to make sure mothers-to-be are informed of the ramifications of their "choice" and make it more likely any procedures are done in a facility befitting the process of invasive medical procedures (as Texas has tried to do.)
And let's put it this way: in this part of the state where sanity seems to rule for the most part, candidates can use their MDRTL endorsement as a badge of honor. Even the handful of Republicans who didn't receive this endorsement, though, are quite likely to be pro-life even if they don't have the blessing of Maryland Right to Life.
As for the Democrats, certainly the local ones may also be pro-life. But they're not doing much to change the Annapolis mindset and they're not voting in a manner which would lead one to believe they are pro-life. So while it may be a disappointing four years with Larry Hogan, a groundswell of public support may get him to move in the proper direction. Conversely, we will lose more ground with Anthony Brown.
If you subscribe to the theory that the most motivated voters will be there with bells on when early voting starts, it appears that statewide Republicans are slightly more enthused than Democrats. I'm going to update this daily, so the post will be stuck to the top. Newer content will be below this post.
Update, Thursday 10/30: The race is almost tied between Democrats and Republicans (by percentage) statewide, as the two sides are 0.02% apart (7.35 to 7.33). Democrats maintain that slight edge statewide, but the GOP is still ahead locally by wide margins:
Dorchester: Republicans 7.52%, Democrats 6.12%
Somerset: Republicans 9.58%, Democrats 7.86%
Wicomico: Republicans 8.90%, Democrats 7.43%
Worcester: Republicans 10.01%, Democrats 8.18%
Republicans on the Lower Shore maintained a raw advantage for the day at the polls by a 678-671 count.
**********
Update, Wednesday 10/29: Democrats extended their lead on a statewide basis 6.04% – 5.97%. But the GOP maintains its edge in local counties:
Dorchester: Republicans 6.12%, Democrats 5.11%
Somerset: Republicans 8.26%, Democrats 6.63%
Wicomico: Republicans 7.55%, Democrats 6.15%
Worcester: Republicans 8.35%, Democrats 7.04%
Republicans on the Lower Shore maintained a raw advantage for the day at the polls by a 671-621 count. And there are some incredible totals among some counties: both parties in Kent and Queen Anne's counties are already over 10% turnout, but Talbot County Republicans have already eclipsed the 15 percent mark with the Democrats not far behind at 12.46 percent. Obviously that part of the Eastern Shore has embraced early voting, while the western end of the state seems to lag with Allegany and Washington counties well below average.
**********
Update, Tuesday 10/28: Democrats still lead by a slim margin on a statewide basis 4.80% – 4.76%. But the GOP maintains its edge in local counties:
Dorchester: Republicans 4.91%, Democrats 4.24%
Somerset: Republicans 6.45%, Democrats 5.57%
Wicomico: Republicans 6.10%, Democrats 5.00%
Worcester: Republicans 6.96%, Democrats 5.86%
All but one of the Eastern Shore counties have Republicans leading Democrats (Kent is the exception), and Wicomico joined Worcester as the second-highest GOP margin in the state behind Talbot County at this juncture. Republicans added a county as well and now lead by percentage in 15 of the state's 23 counties. Republicans on the Lower Shore regained a raw advantage for the day at the polls by a 624-606 count.
I was doing some research on 2010 election turnout and it looks like turnout is tracking about the same as it did back then, at least locally.
**********
Update, Monday 10/27: At the halfway point of the eight days (through Sunday), Democrats finally edged ahead on a statewide basis 3.58% – 3.56%. But the GOP maintains its edge in local counties:
Dorchester: Republicans 3.72%, Democrats 3.31%
Somerset: Republicans 4.92%, Democrats 4.59%
Wicomico: Republicans 4.73%, Democrats 3.91%
Worcester: Republicans 5.68%, Democrats 4.68%
All but one of the Eastern Shore counties have Republicans leading Democrats (Kent is the exception), and Worcester remains the second-highest GOP margin in the state behind Talbot County at this juncture. Republicans lead by percentage in 14 of the state's 23 counties and the Eastern Shore sha 8 of these 14. But local Democrats won this day at the polls by a 332-304 count.
**********
Update, Sunday 10/26: On a slow Saturday for voting overall, Democrats came back to close the statewide gap; it's now 3.11% – 3.08%. New totals for local counties:
Dorchester: Republicans 3.43%, Democrats 2.96%
Somerset: Republicans 4.21%, Democrats 3.90%
Wicomico: Republicans 4.03%, Democrats 3.35%
Worcester: Republicans 4.94%, Democrats 3.91%
All but one of the Eastern Shore counties have Republicans leading Democrats (Kent is the exception), and Worcester has the second-highest GOP margin in the state behind Talbot County at this juncture. But for the second straight day, local Republicans outpaced Democrats at the polls by a 342-331 count.
**********
Update, Saturday 10/25: The GOP extended its lead in the state to 2.56% – 2.47% partly on the strength of solid gains on the lower Shore. All four of these counties added to Republican gains, with the raw number of Republicans actually exceeding Democrats on Friday by a 750-697 count. New totals:
Dorchester: Republicans 3.11%, Democrats 2.57%
Somerset: Republicans 3.66%, Democrats 3.32%
Wicomico: Republicans 3.15%, Democrats 2.69%
Worcester: Republicans 4.17%, Democrats 3.30%
**********
1.34% of GOP voters statewide made it to early voting compared to 1.31% of Democrats, but this marks the first time Republican turnout as a percentage outstripped Democrat turnout on the first day of balloting in a general election. In the Presidential election of 2012, 2.56% of Democrats came out compared to 1.68% of Republicans, and that advantage grew greater with each passing day. Meanwhile, 2010 saw Democrats edge Republicans on the first day by 1.04% to 1% on their way to an overall advantage of just under 1 percent. So a Republican advantage at this juncture could spell good news for their candidates.
However, on the Lower Shore Republicans have a distinct advantage in turnout percentage and nearly eclipsed the Democrats – who hold a registration advantage in all four counties – in terms of raw numbers. Democrats held a slight 939-892 advantage in first-day turnout. (For the four counties overall, Democrats lead in registration 56,462 to 46,862.)
Dorchester: Republicans 1.66%, Democrats 1.49%
Somerset: Republicans 2.37%, Democrats 2.17%
Wicomico: Republicans 1.54%, Democrats 1.49%
Worcester: Republicans 2.39%, Democrats 1.86%
The turnout is brisk in legislative District 38C, where 2.02% of voters turned out on the first day and made it the fourth-best rate in the state. In Wicomico County, District 38B leads the way with 1.62% while, ironically, District 38C performs the worst at 0.82% – perhaps due to distance from the county's lone early voting polling place in Salisbury. Reportedly, candidates from both parties are hitting this Wicomico County location hard and the Republicans are set up there with a table.
But on a state and local basis, this has to be encouraging to Republicans who didn't adopt early voting originally but have been encouraged by party brass to take advantage of it to make sure their votes were cast in this important election. If Republicans can hang with Democrats in terms of percentage of early voters, it may be their Election Day turnout will push them to a better overall showing than expected, making the turnout models pollsters use overly optimistic toward Democrats.
Today is the day that tiny percentage of Maryland registered voters who actually do this begin going to the polls for early voting. I know some of my party cohorts will be out at the Civic Center campaigning for the Republican ticket, and needless to say it's a straight R year for me.
But there are races I'm much more passionate about than others, so let's go through the list and I'll tell you what I think. That IS why you come here, isn't it? If my number 16 race doesn't come out I won't be all that upset, but if the top half-dozen or so go the wrong way I'll be pissed. These are the 16 items on my specimen ballot – I live in House District 38B and Wicomico County Council District 3, which is one of only two of the five districts to have a contested race.
Carl Anderton, Jr. for Delegate, District 38B. I am really tired of my poor representation in Annapolis from Norm Conway. He votes for every bloated budget, (almost) every conformity with Obamacare, every accommodation to Big Labor, and a number of other dreadful things as well: in 2011 he voted for the Congressional redistricting that made our state a laughingstock but in committee he helped kill provisions to allow referendums on tax increases and proof of lawful presence before collecting benefits. In 2012 he voted to saddle new homeowners with the added expense of sprinklers, but he saddled the rest of us with the rain tax, tier maps, and the key to getting around our county's revenue cap by mandating maintenance of effort spending. Granted, once in awhile he votes the right way but why lose on three or four issues to gain one? Republicans and pro-Wicomico Democrats: don't fall for the hype of potentially losing a committee chair – even though Norm is a fairly nice guy, if he were all that powerful we would be the richest county in the state and we are far from that. It's definitely time for some new blood to get us back to work. Chances of success: about 50-50.
Mike McDermott for Senate, District 38. Really, this should be 1-a but my function won't let me do that. Jim Mathias may vote a little better than Norm Conway, but I would rather have someone who's a thorn in the side of the current Annapolis majority – who went out of their way to lump him into a district with another sitting Delegate – than a backbencher. What better way to thumb your nose at those who believe the Eastern Shore is the state's "shithouse" (in more ways than one) than to foil their political intentions? If I can pick up 60 points on the monoblogue Accountability Project by changing my representation, you know the answer is yes. This is another race where conservatives need to come home and not cross the aisle, because Jim's few blind squirrel votes aren't worth the overall pain. Chances of success: about 50-50.
Bob Culver for County Executive.  Our county has stumbled and staggered through this so-called recovery with the incumbent Rick Pollitt, a self-described bureaucrat, in charge. Don't forget that Rick whined about the revenue cap for the first three years in office and promised a zero-based budget I haven't seen yet. After eight years, it's time for a change in tactics and Bob can be a fresh set of eyes to address our declining number of employed. I know Bob may rub some the wrong way but I'm willing to overlook that because, to me, re-electing Rick Pollitt is the definition of insanity for Wicomico County. Chances of success: I would say about 40-50 percent.
M.J. Caldwell for Circuit Court Judge. To me, this is a perplexing case. Here you have an experienced attorney who knows his way around a courtroom taking on a person whose claim to fame is his last name – if it were Swartz, he'd still be at his old firm. But because people still know the Sarbanes name in this area, the newly-appointed "incumbent" got the gig. I was extremely disappointed and somewhat disgusted to see that Caldwell only won the Republican primary with 57 percent of the vote – people, do your homework! Caldwell would be a good judge. Chances of success: about 1 in 3 unless Republicans shape up.
William Campbell for Comptroller. You'll notice Peter Franchot has played up his fiscal watchdog tendencies in this campaign, but I think that if Larry Hogan becomes governor we need Bill to keep him grounded and make the Board of Public Works work in a conservative direction for the first time in…well, ever. Unfortunately, Bill has little money to get his message out and Franchot's too scared to debate him. One problem with Larry Hogan taking public financing is that the Maryland GOP is spending maximum time and effort fundraising for Larry instead of helping these downballot races. Chances of success: alas, probably less than 1 percent.
Larry Hogan for Governor. All politics is local, so I think the state race can take care of itself. But I hope that Hogan has enough coattails to bring in a dozen Delegates and half-dozen new Senators, including the two mentioned above. While I hated his primary campaign, I have to admit Hogan's done a good job in the general election round. But will it be enough? Polls suggest it might. Chances of success: about 50-50.
Larry Dodd for District 3 Council. The thing that bothers me about his opponent is that, for all his "aw, shucks" demeanor, he's been exposed to a large number of anti-property rights zealots. He worked for Joan Carter Conway, the Senate's EHEA Chair, and not only does she have a lifetime mAP rating of 4 (yes, that's really bad) but she has passed a lot of bad legislation through her committee over the last several years – something Josh fails to mention. But I will give Josh Hastings his due: he's campaigning hard, knocked on my door and has worked harder for the seat than Dodd has. It would be a shame to succeed a good, conservative Councilwoman in Gail Bartkovich with a liberal who may have grown up on a farm but has spent his politically formative years more readily influenced by Baltimore City and Annapolis. Chances of success: about 35 to 40 percent.
John Cannon for at-large County Council. While his voting record has often been a disappointment, he was one of the two who got through the primary. I have more hope for him becoming a conservative stalwart, though, than I do for his fellow Republican. Chances of success: around 60 percent.
Voting against Question 1. I've stated my reasons for opposition before, but most of the money is backing it and referendum items rarely fail. Chances of success: less than 10 percent.
Jeffrey Pritzker for Attorney General. We are really in trouble, folks. We could have had one of our good county state's attorneys (or my personal favorite, Jim Rutledge) step up but instead we got Pritzker, who I have never met. When I see prominent conservative-leaning bloggers backing the Libertarian in the race, it can't be much of a campaign. That's a shame, because there's more to the campaign than legalizing pot. And losing this seat means the gun-grabbing Brian Frosh will be our Attorney General. Chances of success: even less than Campbell's sub-1 percent shot.
Matt Holloway for at-large County Council. There are many holes in his voting record as well, but winning the primary makes him the odds-on favorite to not be third on November 4. So I guess I'll have to wonder how often he'll cave for another four years. Chances of success: over 80 percent.
Andy Harris for Congress. No muss, no fuss. Have you heard a word about Bill Tilghman? The one thing you can say about Bill is that at least we haven't caught him voting twice. This race is perhaps the closest thing to an automatic win for our side – when even the Daily Times has to endorse you, it's a good sign. Chances of success: over 95 percent.
Voting against Andrea Leahy as a Special Appeals Judge. Similar to the election involving Jimmy Sarbanes, Judge Leahy is up for election because she was appointed by Martin O'Malley in March. I looked at her profile and wasn't impressed, but it's rare a judge is tossed out. I would love to see who Larry Hogan would appoint, but if Leahy lost Martin O'Malley would rush another appointee through – and he or she would sit until 2016. Chances of success: in the single-digits.
Voting against Kevin Arthur as a Special Appeals Judge. His profile is better than Leahy's but, still, he is an O'Malley appointee. Chances of success: in the single-digits.
Grover Cantwell for Orphan's Court Judge. I have never met the guy, yet he wants my vote. This is a part of the ballot where those who get listed first (the Democrats) have the advantage because they've all been on the ballot before. Chances of success: perhaps 1 in 3.
Voting for Question 2. I can get behind this proposal, which allows charter counties like Wicomico the option to have special elections to fill County Council seats. Having gone through the process of filling such a vacancy, I think it should be opened up despite the risk of losing a GOP seat to a Democrat. Chances of success: over 90 percent.
So this is how I think my local election will go. As for some other contested county races I'm supporting, in order of likelihood of success:
Addie Eckardt for Senate, District 37. The hard part for her was winning the primary. Sure, there may be some diehard Colburn supporters out there but their other choice is a guy he beat by 20 points last time around. Chances of success: 95 percent.
Mary Beth Carozza for Delegate, District 38C. Having an opponent who wears a "Ban Assault Weapons" t-shirt to an Andy Harris townhall event provides an immediate advantage in this area. But Mary Beth has been working since the summer of 2013 on this race, and that hard work is on the verge of paying off. Chances of success: 95 percent.
Marc Kilmer for District 2 Council. When your opponent threatens to go to court for winning, you know you're in good shape. But Marc has taken nothing for granted, works hard, and has a fairly solid Republican district. Chances of success: at least 80 percent.
Christopher Adams for Delegate, District 37B. He wasn't the top vote-getter in any county, but he's run a solid campaign and the dynamics of the race give him a better path to victory than fellow Republican contender Johnny Mautz. Chances of success: a solid 75 percent.
Johnny Mautz for Delegate, District 37B. By far the top primary vote-getter, the one drawback is that he has to finish ahead of Keasha Haythe because both hail from Talbot County and there's a limit of one per county. If he were second to her in the overall voting, he would lose and the third-place finisher moves up. With that in mind, I give him just ever-so-slightly less favorable odds. Chances of success: a solid 74.9 percent.
My advice to every contender in the last two weeks: run like you are five points behind. See you at the polls!
Yesterday I discussed what was said by the county-level candidates at this forum, so today I'm covering the six hopefuls who represented District 37: Addie Eckardt and Chris Robinson for the Senate seat, and Christopher Adams, Rod Benjamin, Keasha Haythe, and Johnny Mautz for District 37B.
Of the two seeking the Senate seat, Eckardt has by far the most political experience as she was elected as a Delegate in 1994, serving in the House ever since. At the eleventh hour this cycle she dropped her quest for a sixth House term and jumped into the Senate race, defeating longtime incumbent Senator Richard Colburn in a bitterly-contested primary. Robinson, on the other hand, is making his second straight bid for the Senate seat after losing to Colburn in 2010. He could be considered a perennial candidate as he's also run unsuccessfully for Congress in 2008 and 2006, twice finishing second in the First District primary. Chris was also a last-minute addition after original Democratic candidate Cheryl Everman withdrew.
Their first question had to do with the retirement climate in Maryland, which is bad, but relevant to the district as a number of retirees live along the Chesapeake Bay. Eckardt properly noted the state's poor showing in rankings of best states to retire in, but added that we needed to look at tax policy across the board, along with addressing the "duplicative nature" of our regulatory system.
After stating that "our jurisdiction is no different than any other jurisdiction," Robinson agreed that we had to "ratchet back" spending and not raise taxes. But on the second question about the Affordable Care Act, Chris made the case that "it hasn't worked its way through the country," and while the rollout of the state exchange was "botched" he thought the emphasis on preventative care was worthwhile. "Give this process a chance," he concluded.
Eckardt told us that the "good news" about the state's adoption of Obamacare was the Medicaid expansion, which she believed should have been done first before the exchanges. With it being done in its present manner, premiums were up and employers were dropping coverage. She believed the states needed to promote change at the federal level.
When asked about key real estate issues, Addie wanted to bring together mortgage holders and first time homebuyers by conducting an inventory of tax sales and foreclosures. Meanwhile, Robinson wished to "put points on the board" by making towns exciting and vibrant, calling on builders to create quality homes.
I found Robinson's closing statement to be intriguing, as he said he was "inspired" by Rick Pollitt and Norm Conway. "I want to be just like them," he said. Eckardt stressed the power of communication to solve problems, and pledged to be focused and deliberate.
To be honest, I didn't see Robinson saying or doing anything which would suggest he'll do much better than the 40 percent he got last time against Colburn. He tried to portray himself as a fiscal conservative, but in this region it's tough to out-conservative the Republicans.
In contrast to the veteran presence of Eckardt and the perennial candidate in Chris Robinson for the Senate race, the House of Delegates will have two new representatives. Those representatives will have to pay attention to southern and western Wicomico County, which has felt underrepresented in the past based on the thrust of the opening question.
As it turns out, Christopher Adams is from Wicomico, so he stated the obvious: he will be a resident delegate, focusing on our municipalities and business. That business background led him to pledge that "my customers will be my constituents," regardless of where they live in the district. But he also stressed that we have to start "winning the argument" against the Democrats.
Keasha Haythe replied that she was used to working across county lines as an economic development director, so working with Wicomico County residents wouldn't be an issue. Similarly, Rod Benjamin pointed out the similarities between his home area in Church Creek and the area of western Wicomico County.
Johnny Mautz noted that he had spent a lot of time in Wicomico County and would work with its local and municipal governments.
This quartet got perhaps the strangest question of the night, one which asked about the effects of climate change and flooding.
Mautz indicated his belief that the state should help flood-prone landowners, but reminded us the flood insurance rates are based on federal mandates.
Benjamin also believed the flood insurance cost was "unfair." And climate change? "Truth is, I don't know what the truth is," he said, noting that he'd seen some extreme tides recently.
Haythe believed we needed to be proactive about the sea level rise, stating it's already affecting the planned Harriet Tubman visitor center.
But Chris Adams turned the question on its head, taking issue with subsidized government interference. The Eastern Shore, he said, "should be pro-growth, pro-construction." He also objected to the federal government turning a significant part of Dorchester County into a national park, warning that it would adversely affect private property owners in the area who would lose their rights.
Adams stayed in that vein during the "realtor" question, making the case that Sussex County, Delaware was the prime beneficiary of Maryland's mistakes, which include a prospective 64% property tax increase because of our state's growing debt. He pledged to be business-friendly, saying "I'm about jobs."
Haythe thought a path to success for realtors involved taking advantage of state and federal programs, and leaning on pros (like herself) who know how to create jobs.
Land use was "a large concern" to Johnny Mautz, as were taxes.
Benjamin was asked a little later on about this question, and made the case that local control of issues is preferred. He also offered that the "tier system is better than the smart growth system." He also proposed a Startup Maryland program, based on a program Wicomico County already has in place for tax abatement.
Later, in his closing statement, Rod told us all we had homework: tell others about what was said tonight. He repeated a mantra of "reduce taxes, reduce government."
Reducing taxes was also on the agenda of Johnny Mautz, who told us "my word is my bond."
Keashe Haythe encouraged us to consider both her track record of results and her "human American platform."
Finally, Christopher Adams begged Annapolis to "leave us to our Shore way of life."
To me, this was the weakest link in the debate. The questions were relatively uninspiring and most of the answers were fairly rote. One interesting aspect of the House of Delegates discussion was that Rod Benjamin was openly trying to sound as conservative as the Republicans. (In fact, I ran into him at the Autumn Wine Festival and his tone was relatively the same.) On the other hand, Keasha Haythe wanted to make us believe that an economic development director could create jobs.
Yet I did a quick bit of research into Dorchester County's job creation and retention since 2009, and it shows their labor force has declined by 921 people in five years, with 554 fewer unemployed but 367 fewer actually working. Since she began her job in 2008, Dorchester isn't doing all that well and one could argue it's state policies holding her back – policies which emanate from her party. Perhaps it's something which a woman who's worked in the public sector for over a decade may not understand.
On the other hand, Adams and Mautz both run businesses so they have created jobs and added value. (Both also support this local blog.)
To me, it was telling that almost all of the candidates tried to convince the crowd of their conservatism. It was much the same in District 38, although there were a disappointing number of omissions. More on that tomorrow.
As I noted the other day when I broached the subject, more than a dozen candidates shared the stage for a forum sponsored in part by the Coastal Association of Realtors and the Salisbury Independent newspaper. In this first part, I'll discuss some of what the county candidates said.
First, the contenders:
For County Executive, two-term incumbent Rick Pollitt faced off with challenger County Councilman Bob Culver. Pollitt was elected in 2006 as Wicomico County's first County Executive and narrowly won re-election over Republican Joe Ollinger in 2010. Bob Culver lost in a three-way Republican primary in 2006 for County Executive to eventual nominee Ron Alessi and B.J. Corbin before rebounding to win an at-large County Council seat in 2010.
Culver's seat is being sought by two who join Republican Matt Holloway in attempting to win one of the two at-large County Council posts. Holloway was elected to County Council in the same 2010 election that brought Culver back; ironically those seats opened up because the two incumbents decided not to continue. One of those two was John Cannon, who unsuccessfully ran for the General Assembly in 2010 after one term on the County Council from 2006-10. Now John seeks a return after a four-year hiatus, noting that being a Council member was his "lifeblood."
The lone Democrat seeking one of the two at-large seats is current Salisbury City Council member Laura Mitchell. Mitchell has served on the City Council since being elected in 2011.
(While there are 7 contenders for the five district Council seats, the forum only covered the pair of countywide posts.)
In the County Executive race, the two contenders disagree on a lot but agree that they would have "stark contrasts" in their approaches to governing. For example, when asked what the most pressing issue was, Culver was blunt: it was the loss of jobs over the last 18 months. (In the July 2013-July 2014 period, BLS statistics show Wicomico County lost 429 jobs as its labor force fell by 649.)
On the other hand, Pollitt asserted we were still in a recession and pleaded that "we have to rebuild our community." He went on to describe how the needed to "leverage assets" like Wallops Island, Virginia, the port of Salisbury, and the Salisbury-Wicomico Economic Development organization. It was part of a required overall strategy for the "new normal," added Pollitt.
When it came to whether additional tax increases would be required, Pollitt pointed out that the property tax rates had to increase just to stay even – four cents of the five cent increase this year simply brought us back to constant yield, with the other penny being allowed under the revenue cap. Four of of six Republicans voted for this tax increase, which was the "only responsible thing" to do.
Culver wasn't one of those Republicans, though. He contended the county needed to go back to zero-based budgeting and trim the fat one step at a time. "Right now the time is not for a tax increase," said Bob. "We have to do it from a business aspect."
Another bone of contention came in the question about how best to assist realtors. Culver argued that dropping the county's impact fee had resulted in 54 new homes being built in Wicomico County, and pointed out that there was only 16% of the county's land mass which could be developed and we had just 3 percent to go.
Pollitt shot back that the impact fee change was part of the overall budget Culver opposed, restated that government needs to provide services and reminded us that five of the seven Council members had been correct in voting for the budget.
Rick closed with a familiar theme of "building community," noting as well his role as the Maryland Rural Counties Coalition legislative chair and in the Clean Chesapeake Coalition. The more plain-spoken Culver repeated his assertion that "I think Wicomico County government is broken."
If you look at it stylistically, Pollitt is a sharper debater. But the approach he's taken over the last few years has been pragmatic by circumstance rather than by choice. And since the zero-based budgeting Pollitt did as city manager of Fruitland and promised early on doesn't appear to be the case now – because it's a campaign issue – and he whined early on in his tenure about the voter-installed revenue cap,  one wonders what the budget and tax rate would be if not for the recession.
Rick Pollitt often talks about what he calls "quality of life" issues. But it has to be asked whether our quality of life is better when job numbers are going the wrong way.
The County Council members were asked a different set of questions. One of them was on how to take the good things happening in downtown Salisbury and jump start the area outside the metro core and the other dealt with thoughts on the comprehensive plan.
John Cannon got first shot at the former question, and he opened by praising the "refreshing" leadership of Salisbury City Council president Jake Day. But he believed the county had the responsibility to create its own environment for growth, and Cannon wanted to bring together the major players on a quarterly basis.
As far as tier maps went, John believed it was an argument of local vs. state control and was hoping for relief with the new administration, presumably a Larry Hogan one. He also advocated for enhanced transfer of development rights and perhaps even a wastewater treatment authority. He also noted that he had pushed for a reduction in impact fees six years ago when he was on County Council.
Matt Holloway outlined some of the accomplishments the county has achieved since he came on board: decoupling the personal property tax rate from the real property tax rate, phasing out the inventory tax, and making the manufacturer's tax exemption automatic. He suggested a focus on public relations and enhancing our one-man economic development team.
Holloway also believed the comprehensive plan needed a "fresh set of eyes" with his goal being that of not impacting property values. But Matt cautioned that the state "has the trump card" under the law. They could help us with our septic issues, however.
Because she is on City Council, the initial question was right in Laura Mitchell's wheelhouse: "That is why I'm running." She wanted to translate Salisbury's excitement to the county and talk about the positive things. She also thought the idea of an EDU bank, which allocates unused sewage capacity that developers donate back to the city, had merit on a countywide level.
Unfortunately, while it is "convoluted, to say the least," Mitchell dropped the ball on even a rudimentary understanding of the tier maps. She advocated for infill development and sustainable growth, while addressing the double taxation and foreclosure issues in response to the realtors' question.
Mitchell stressed her accounting background and budgeting experience as the key reasons to vote for her, portraying herself as sort of a budget nerd. But I found it interesting that the city budget had increased for three years in a row before finally declining this year. It's still almost 7% higher than it was in FY2011, when she won election. (The first budget she would have approved would have been FY2012.)
And while you can't expect expertise on every issue, her befuddlement on the tier maps was a bad sign.
It's interesting that tier maps are an issue in this county, which now labors under the state's default position that lots of any size can't be subdivided into more than seven lots. Unfortunately, no county has found someone aggrieved enough by this terrible law that they could have standing to sue for the law's nullification. (It's doubtful the Democrats in the General Assembly would consider a repeal such as that tried in 2013.) Much as I'd love to force the state to pound sand, I'm not an injured party.
But there can be steps taken in the right direction. If we must have a tier map, the amount of land placed off-limits to development should be minimized because to do otherwise is an infringement on private property rights.
And while downtown development is indeed encouraging, the best way to replicate it isn't to precisely duplicate it. While entertainment districts are nice, we need more industrial districts, more transportation hubs, and more encouragement of overall development. We shouldn't shackle ourselves to one approach, either – if Chesapeake Shipbuilding, which isn't exactly a glamorous company but a useful one that actually is seeking tradesmen, needs something to create another 150 jobs, that should take priority over yet another entertainment venue that may create 20 or 30.
Part 2 tomorrow will look at District 37 races.
I'll go a little more in-depth later about the Coastal Association of Realtors/Salisbury Independent candidate forum over the coming days, but there are two key takeaways involving Delegate Norm Conway.
The first is the public apology made by Carl Anderton to Conway regarding the recent release of a flyer depicting Conway in a ski mask. He devoted the main portion of this opening remarks to his mea culpa.
I had a great opening speech prepared – I thought about it all day driving in the rain, but I need to do something, need to correct a wrong and this is how I was raised: to do the right thing and put everything aside for what's right.

And I want to apologize to you, Mister Conway for a mailer that was sent out, apparently on behalf of me – if that was on behalf of me, I wish it would stop. It was tasteless, shameful, and disgusting and I apologize to you on behalf of whoever sent that.
Anderton went on to say that he had contacted the state Republican party and expressed his disappointment, as he was seeking to run a clean campaign based on the facts and issues.
But just a few hours after the debate, another photo came out.
The car has a House of Delegates plate on it and one can easily read the Conway sticker. Obviously there are a few possible explanations for this, but unless Mrs. Conway was there and needs the designation it's pretty likely that the car was in a spot most people couldn't take without a fine. Joe Steffen came to his own conclusion.
Without going too deeply into the content of the forum, though, I wanted to pass along some of my observations.
For one thing, the event lasted 2 1/2 hours and featured a total of 15 candidates – six from District 37, four from District 38, and five in Wicomico County at-large races. Notably missing were the two District 38C candidates (although Judy Davis was in attendance) and the two running for Senate in District 38; on the other hand, both District 38A candidates were there despite the fact their district no longer covers Wicomico County. Regardless, the high number of candidates made for too few questions – I think the event should have played out over two nights as it did in 2010.
Maybe it was just me being tired, but to me I didn't pick up a great deal of variety among the answers. Even the Democrats pretty much tried to sound conservative, but we know better how they will fare in Annapolis (or in county government.) I'll still write up a summary on this, but the unusual nature of some of the questions made me scratch my head.
So look for that over the coming days as my plate is filling up. I just wanted to jot down some initial thoughts this morning.
Yesterday the Constitutional Conservatives for Maryland PAC announced seven endorsements for the 2014 campaign. All seven of these candidates are Republicans and they are seeking office in most corners of the state, so I will cover them in district order. As a hint to what they are up against, I'm featuring the lifetime monoblogue Accountability Project (mAP) score for incumbents.
Robin Grammer, District 6. This Baltimore County district elected three Democrats in 2010 but only Michael Weir, Jr. (mAP = 28), who is seeking his fourth term, decided to run again. (John Olszewski, Jr. decided to run for the Senate seat of retiring Senator Norman Stone and Joseph "Sonny" Minnick opted to retire.) So two of the seats are open in a district which has elected moderate Democrats and just might be amenable to the GOP alternative.
Gordon Bull, District 12. Sliced between Baltimore and Howard counties, this used to be a 2/1 split district. But all three incumbent Democrats, who had a combined 52 years in office, decided to get out so the opening is there. Not the easiest territory but hopefully the district's conservative voters can unite and sneak Bull into the top three.
Michael Ostroff, District 14. Ostroff certainly has a tough race. All three incumbents are running again: Anne Kaiser (mAP = 3), Eric Luedtke (mAP = 2), and Craig Zucker (mAP = 3) are in the race. But for Luedtke and Zucker, this is their first bid for re-election so the jury could be out on them – Ostroff provides a conservative alternative for MoCo voters.
Philip Parenti, District 27B. Some could write this race off because it's in Prince George's County, but a significant part of the 27B district lies in Calvert County, much friendlier to Republicans. It's the eastern half of the old two-member District 27A, but shifted even a little more eastward into Calvert. Moreover, Parenti is up against a newcomer rather than an incumbent – James Proctor, Jr. is running in adjacent District 27A while Joseph Vallario, Jr. was redistricted himself to District 23B. So this is a winnable race as well.
Deb Rey, District 29B. St. Mary's County has been trending more Republican over the last four years and the opponent is 15-year veteran John Bohanon, Jr. (mAP = 6). True, her section of the 29th district at the southern tip of St. Mary's County has a Democratic voter advantage – but so does Wicomico County and we see how Republicans do there. This is a case where the Delegate may be a mismatch for the district in terms of voting record.
Sid Saab, District 33. Saab is in the catbird seat among these contenders. Two of the three incumbents in the newly-restored District 33 (it was a split district) are Republicans who have represented Anne Arundel County well – Tony McConkey (mAP = 82) and Cathy Vitale (mAP = 80) decided to stay on, while Robert Costa (mAP = 44) opted to leave after three terms. It created the opening for Saab, who should hopefully score about as well as McConkey and Vitale, if not better.
Carl Anderton, Jr., District 38B. Most of my readers should be familiar with Anderton, who's running against a 28-year incumbent in Norm Conway (mAP = 6.) State Democrats tried to assist Conway by excising most of the geography of his old district, removing Republican-heavy Worcester County entirely and centering it in the Salisbury metro area. Voter registration would suggest it's a leaning-Democratic district but in terms of registered voters it's also the third-smallest in the state – so the candidate who can motivate best has an advantage and Carl is working extremely hard.
While this PAC isn't wealthy by any means, they can throw a few hundred dollars into the coffers of each of these candidates should they so choose. But it's more important to spread the word about these worthy conservative alternatives – imagine what the General Assembly would be like if all six won and pushed the GOP numbers tantalizingly close to 50. Even getting to 47 would be a victory as they could get around the committee process if all stick together.
So those who bought raffle tickets from the group should be pleased with the results.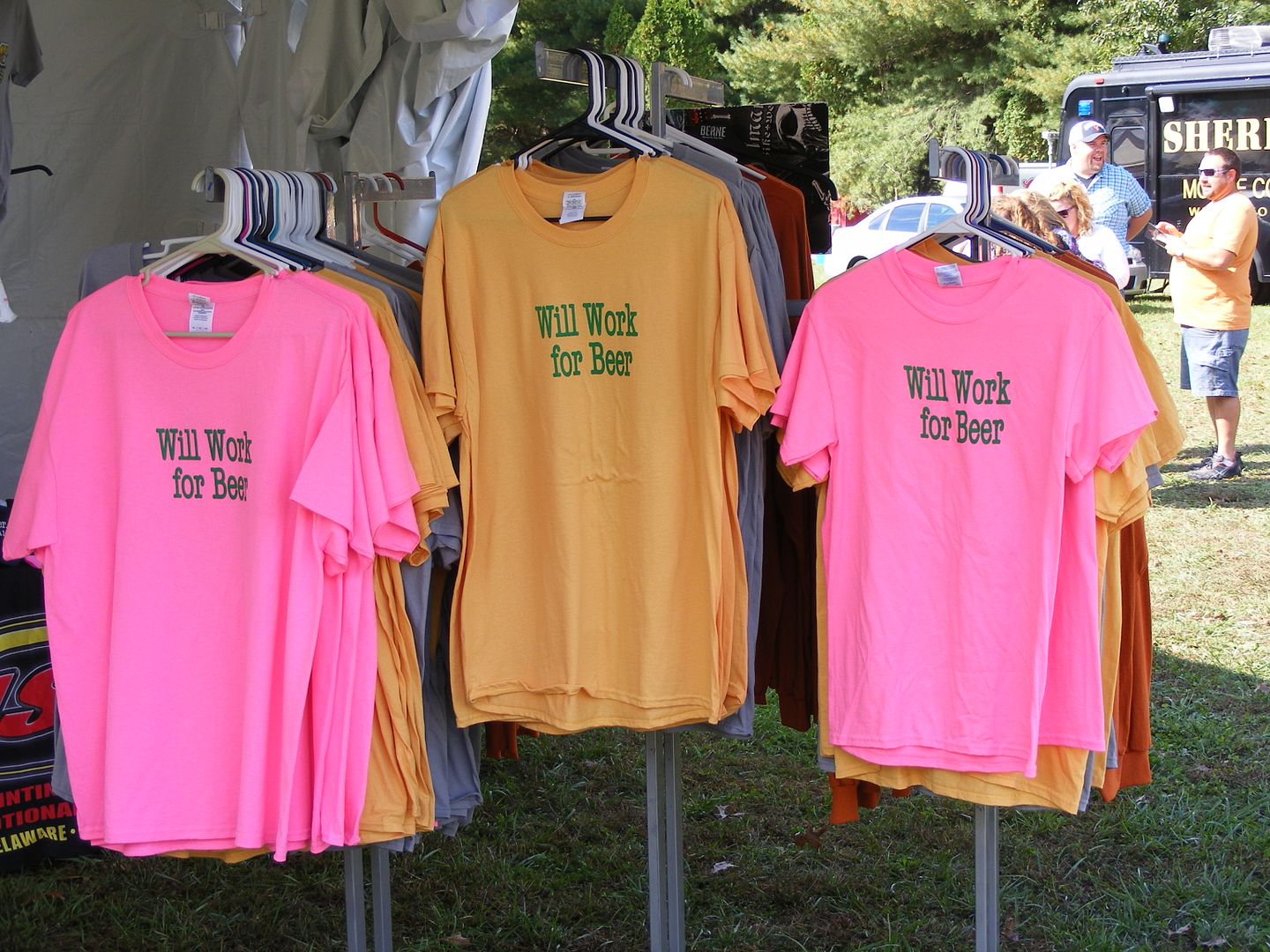 Plagued once again by poor weather on its bigger day (Saturday) nonetheless hardy beer enthusiasts from around the region gathered to sample a few swigs and generally celebrate all things beer.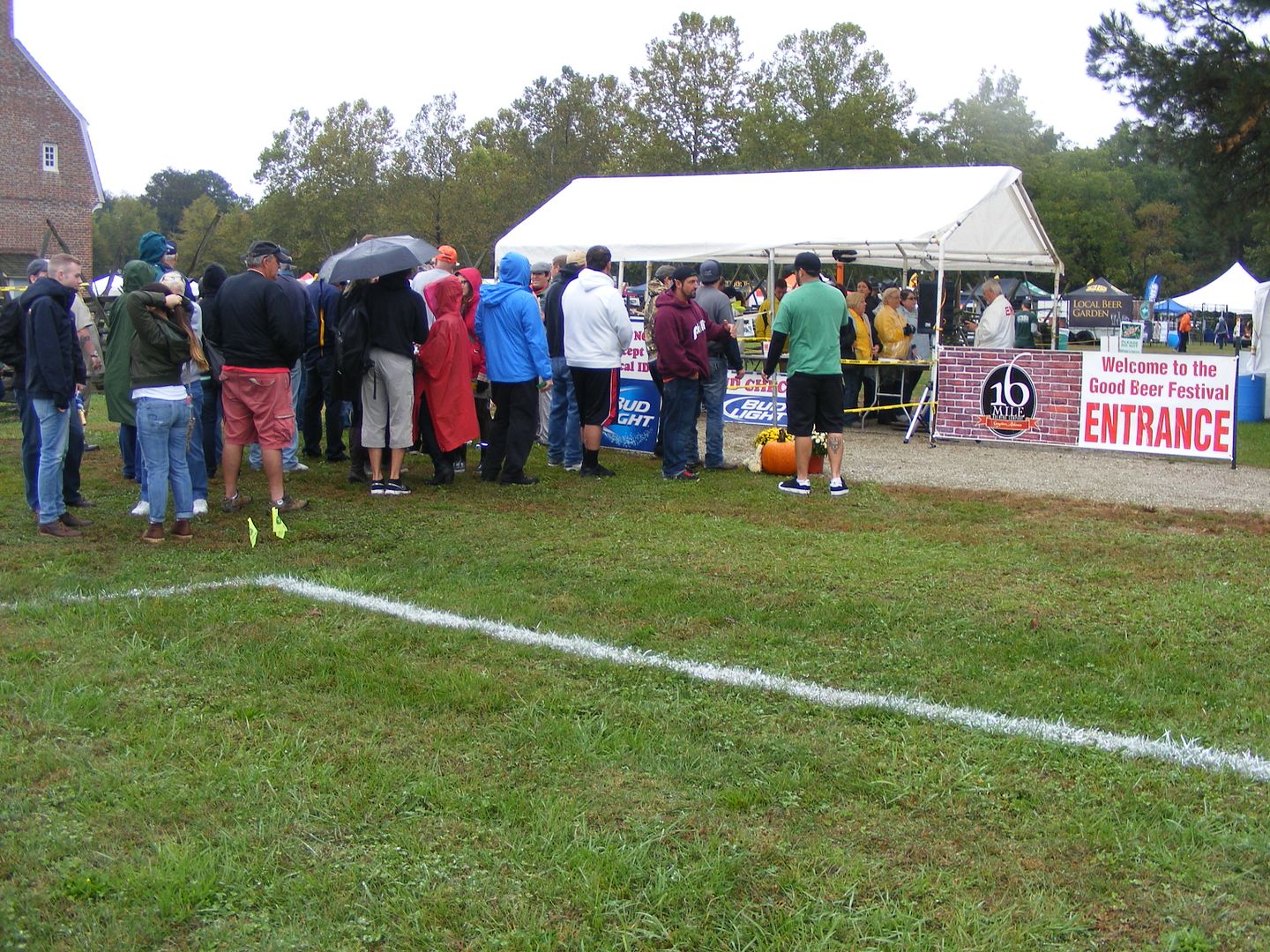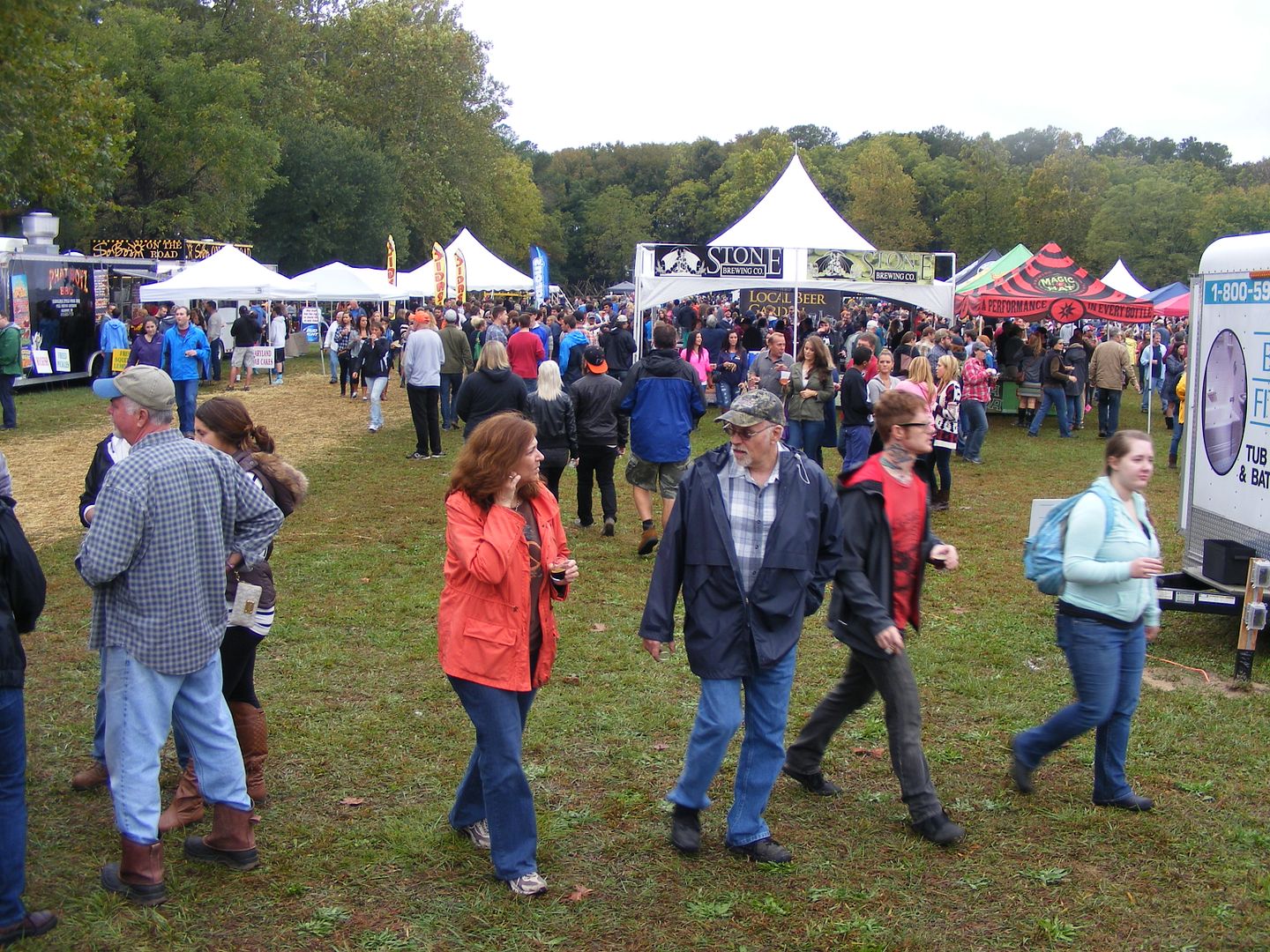 Did I mention the weather was subpar? At least we salvaged one decent day, unlike last year.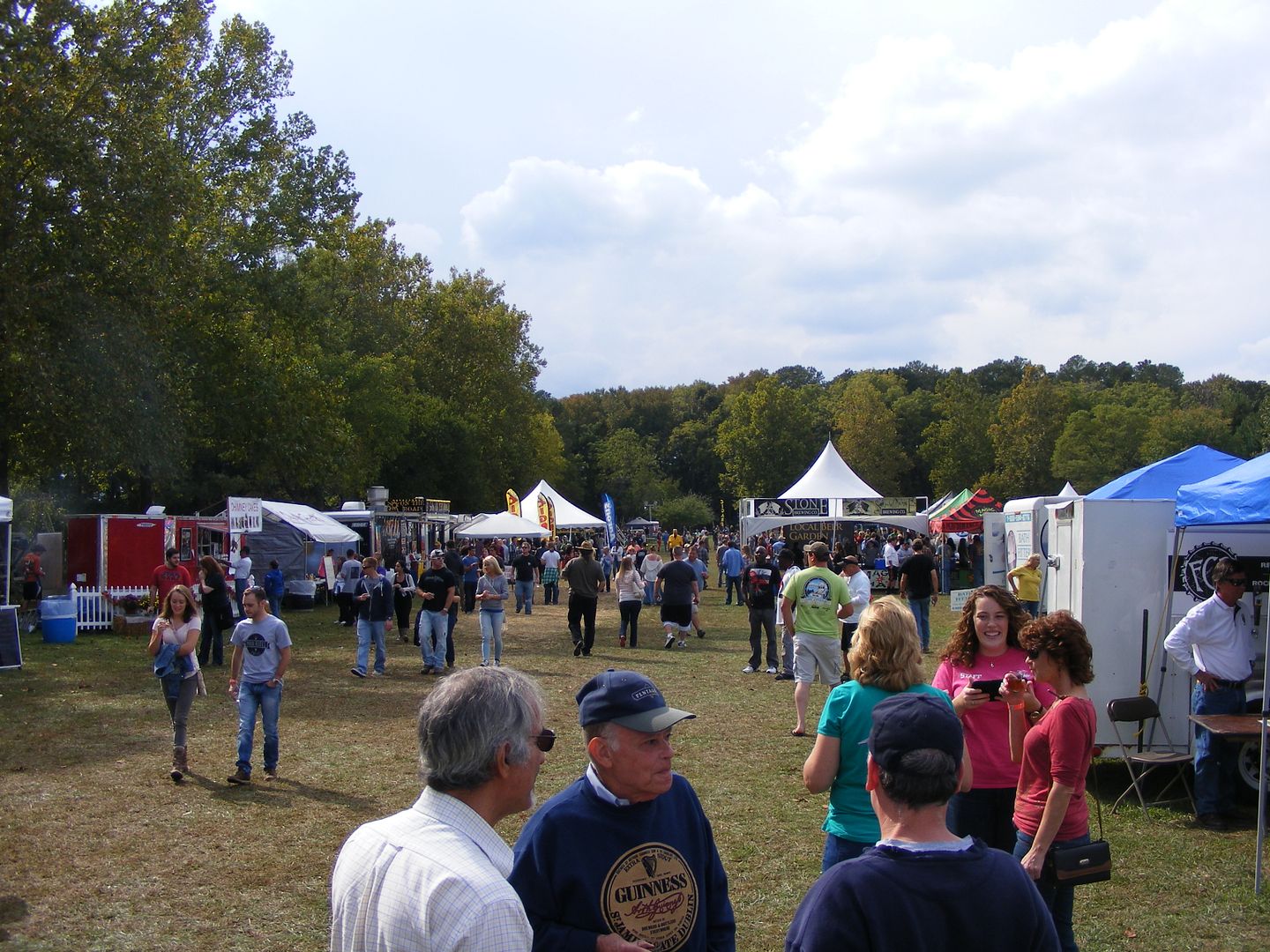 Unlike last year's effort, though, there weren't a whole lot of new wrinkles. Coming back for another year, for example, was the home brewer's competition and dedicated area.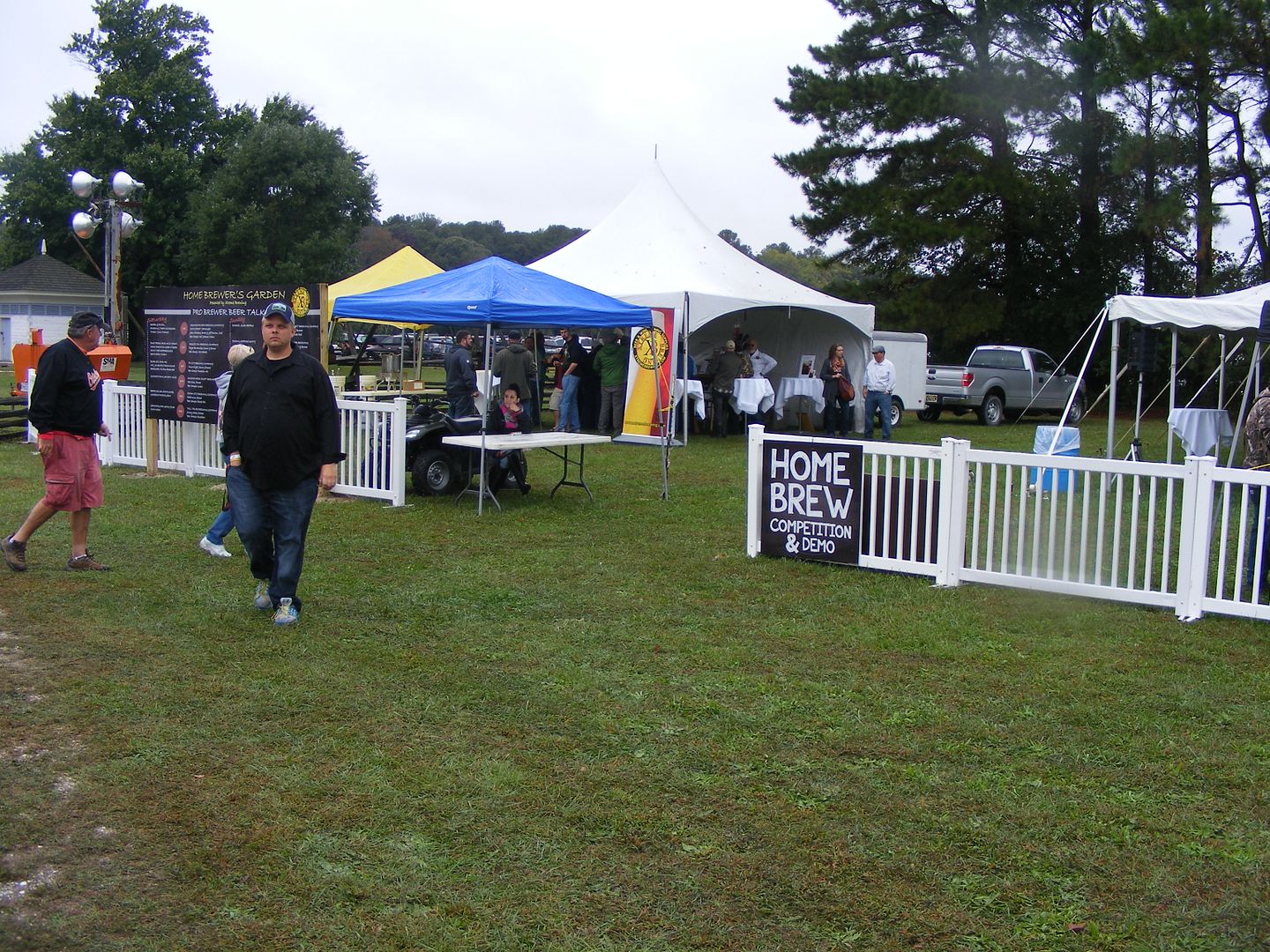 Another old favorite kept around was the TV lounge, where people cheered on the Ravens and Orioles on Sunday.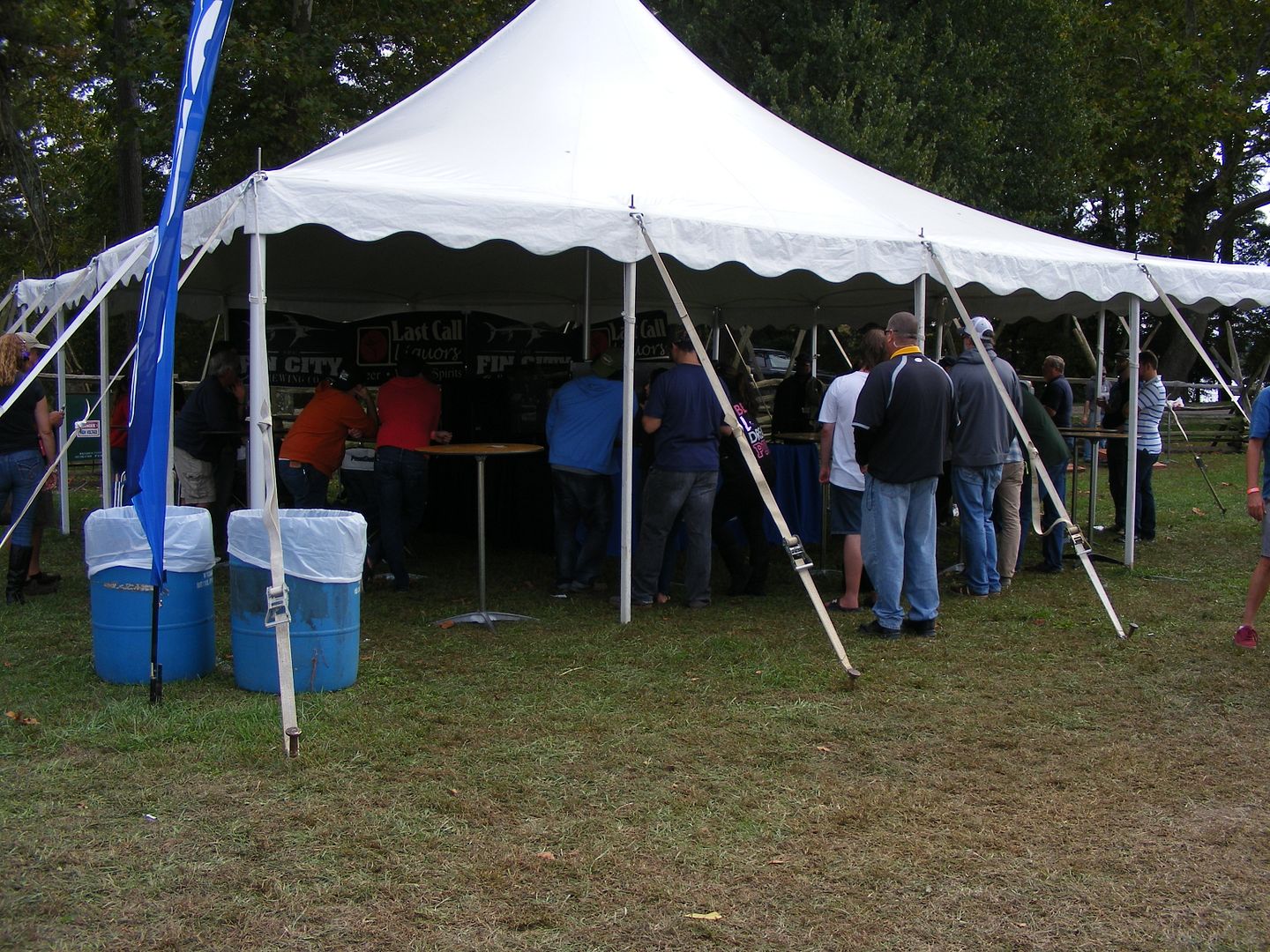 Close by were the cornhole games and that maddening peg hook test of skill.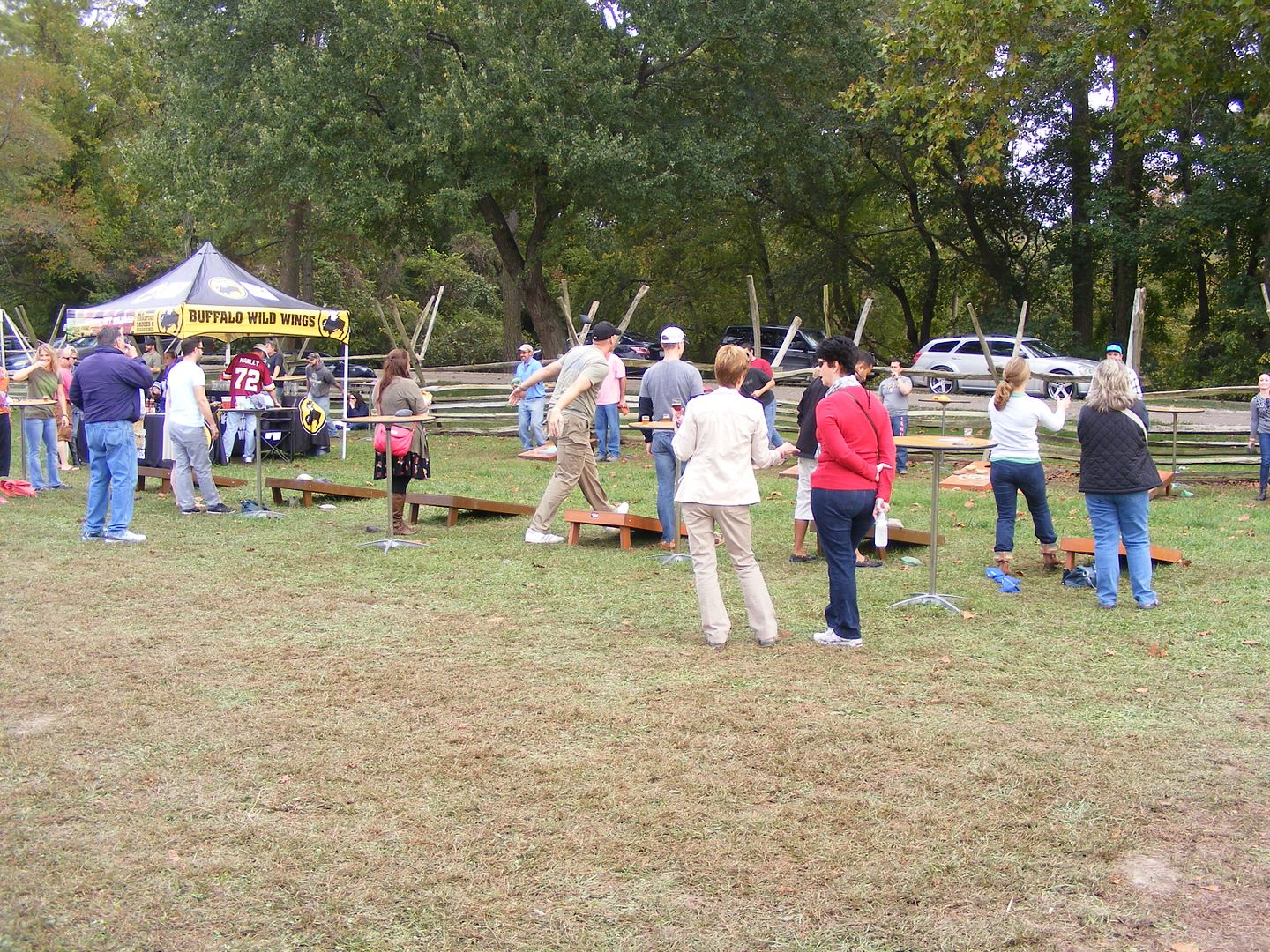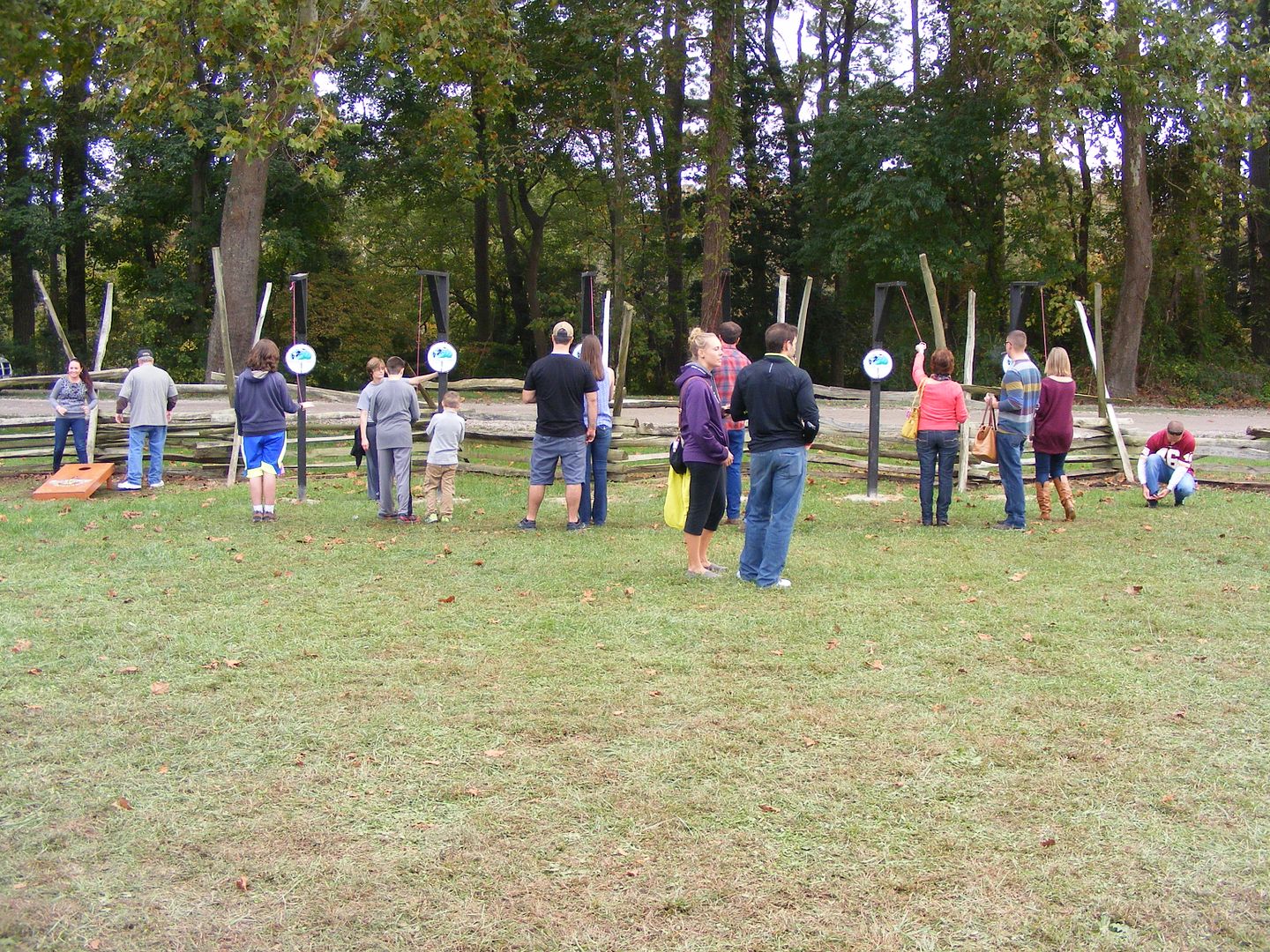 Once the skies cleared for Sunday, those in attendance could (and did) express themselves.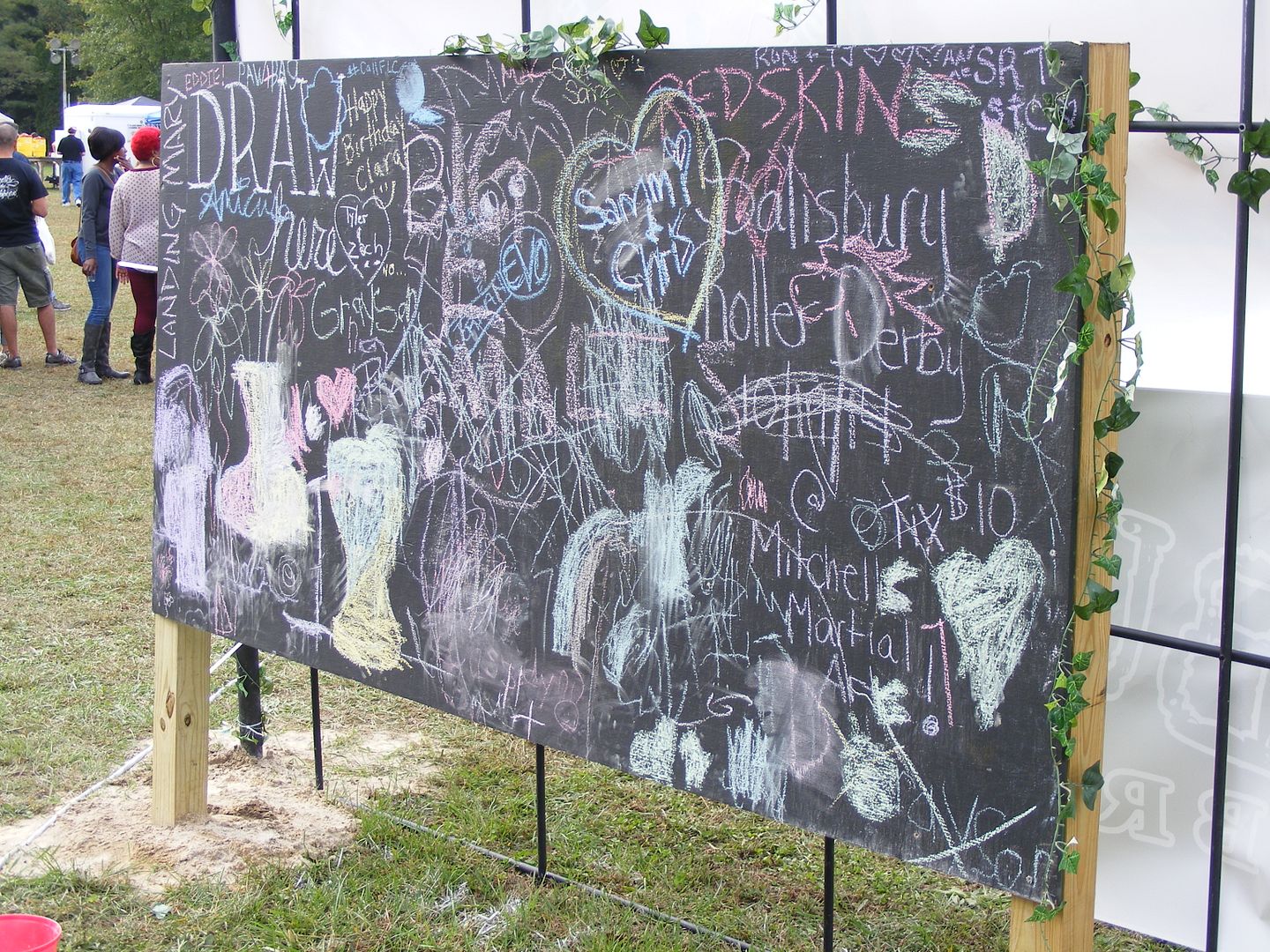 Those chalkboards were mounted aside the local beer garden, which had an interesting occupant.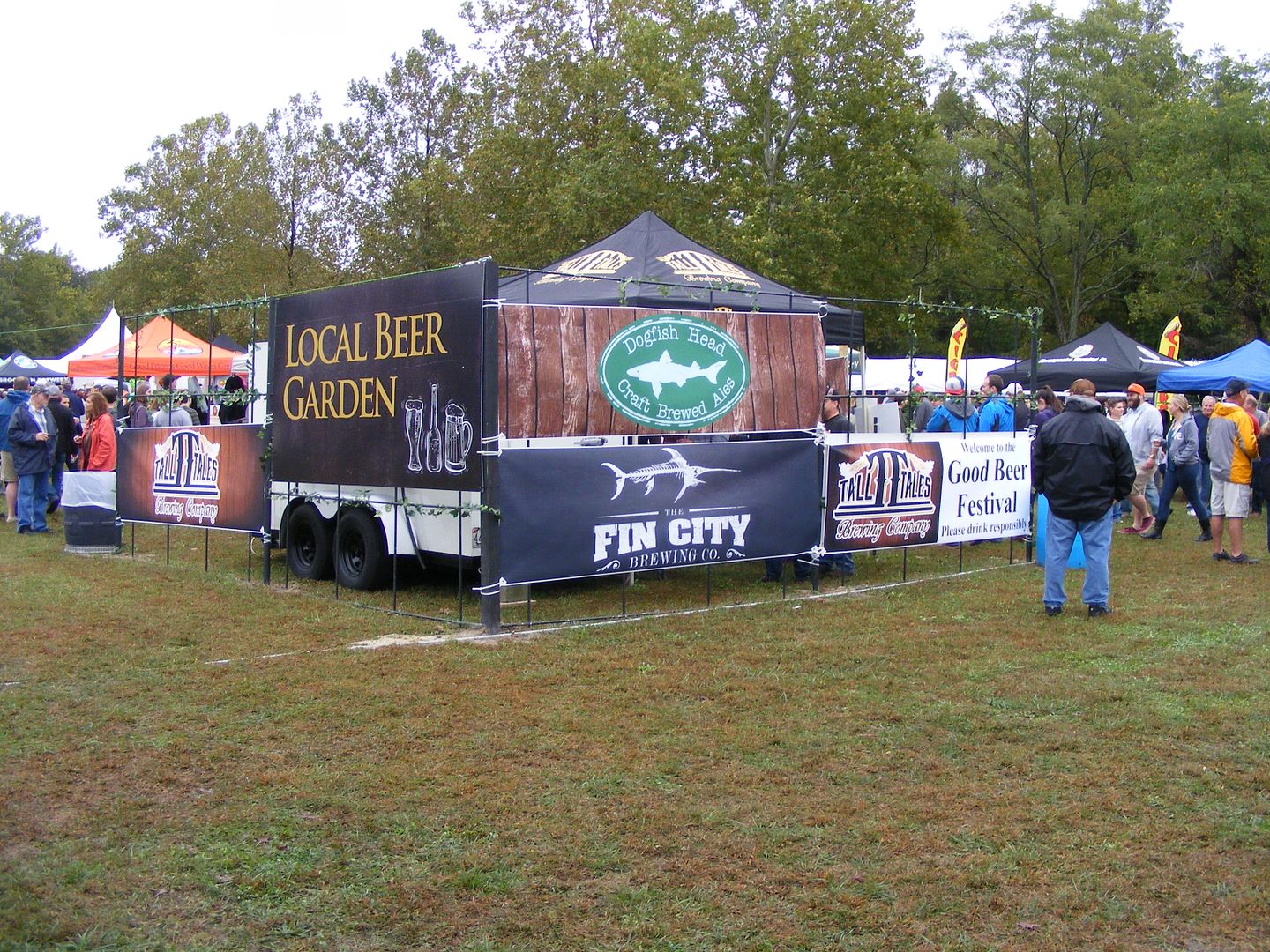 Perhaps Backshore Brewery (from Ocean City) was here last year but I don't recall the old VW Microbus.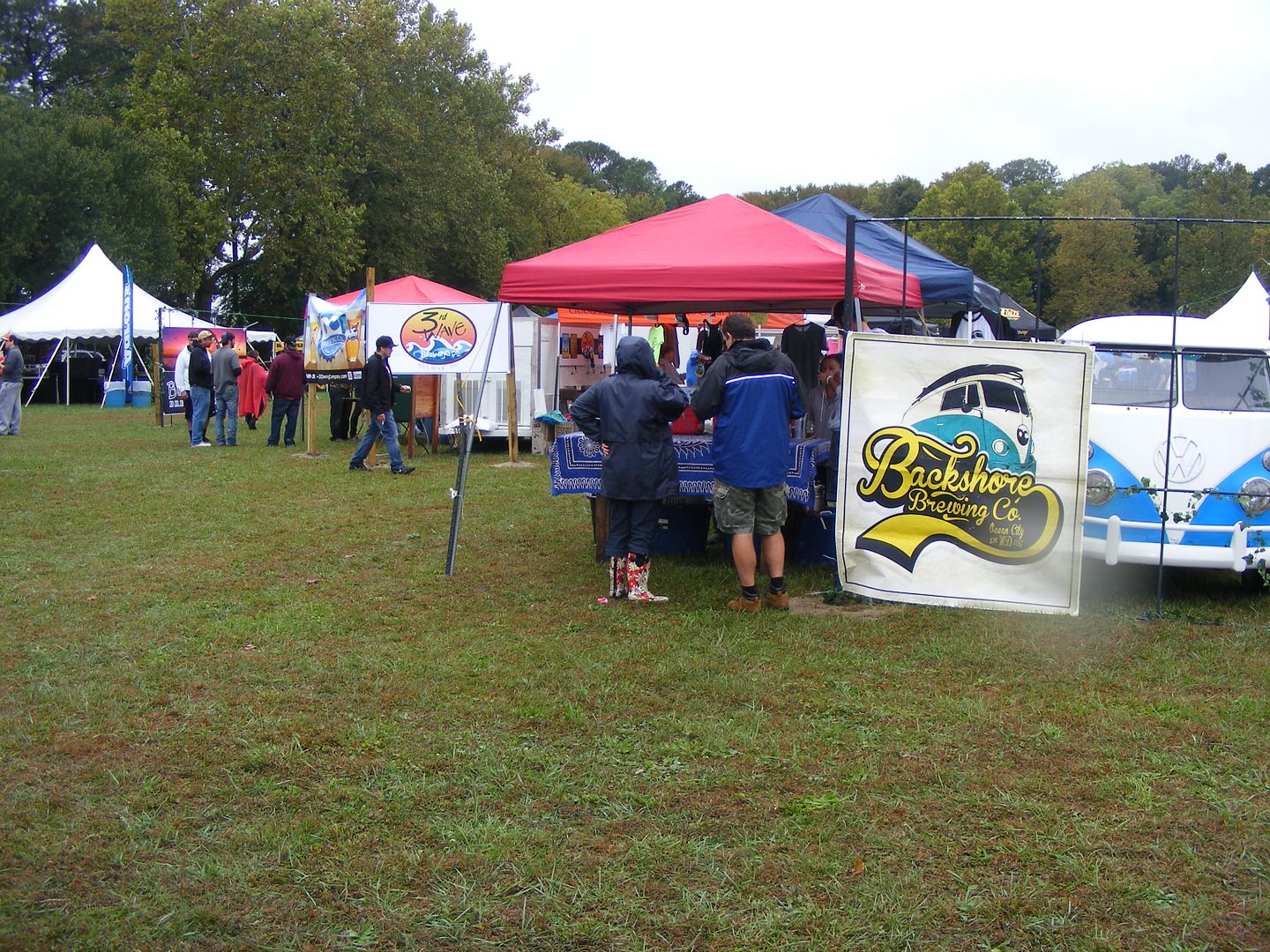 They also win the monoblogue prize for the best beer name. That and $4 would have secured a pint, I guess.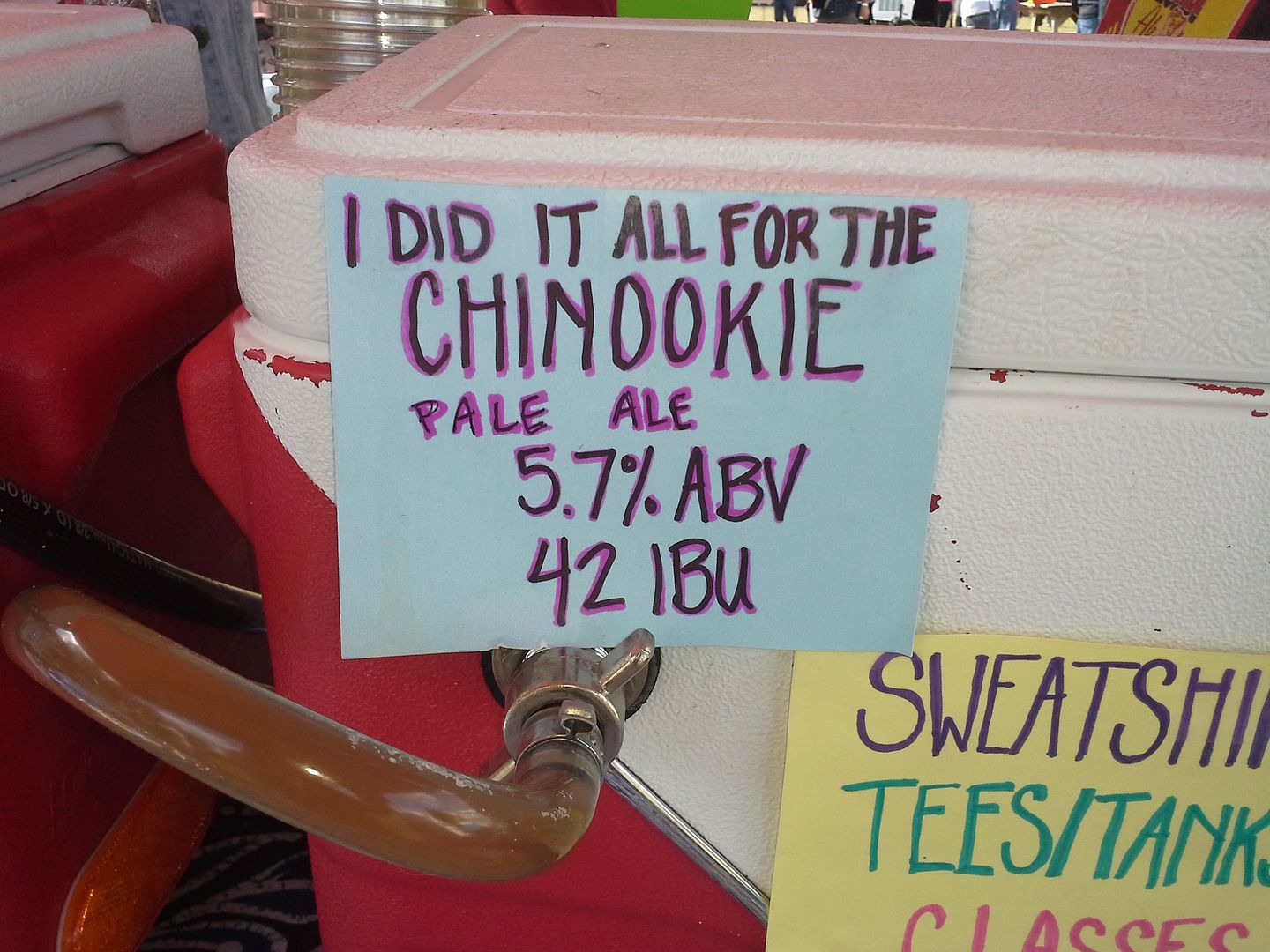 Yes, I did try it and I thought it was pretty good. But their Boardwalk Blonde Ale was one of my two favorites along with the Shotgun Betty Ale from Lonerider Brewing, which I think came from North Carolina.
Perhaps pale ales weren't this guy's style, but it's what I prefer. I just wanted the shot of his hat, a style I saw on a couple people over the two days. I didn't notice anyone selling them.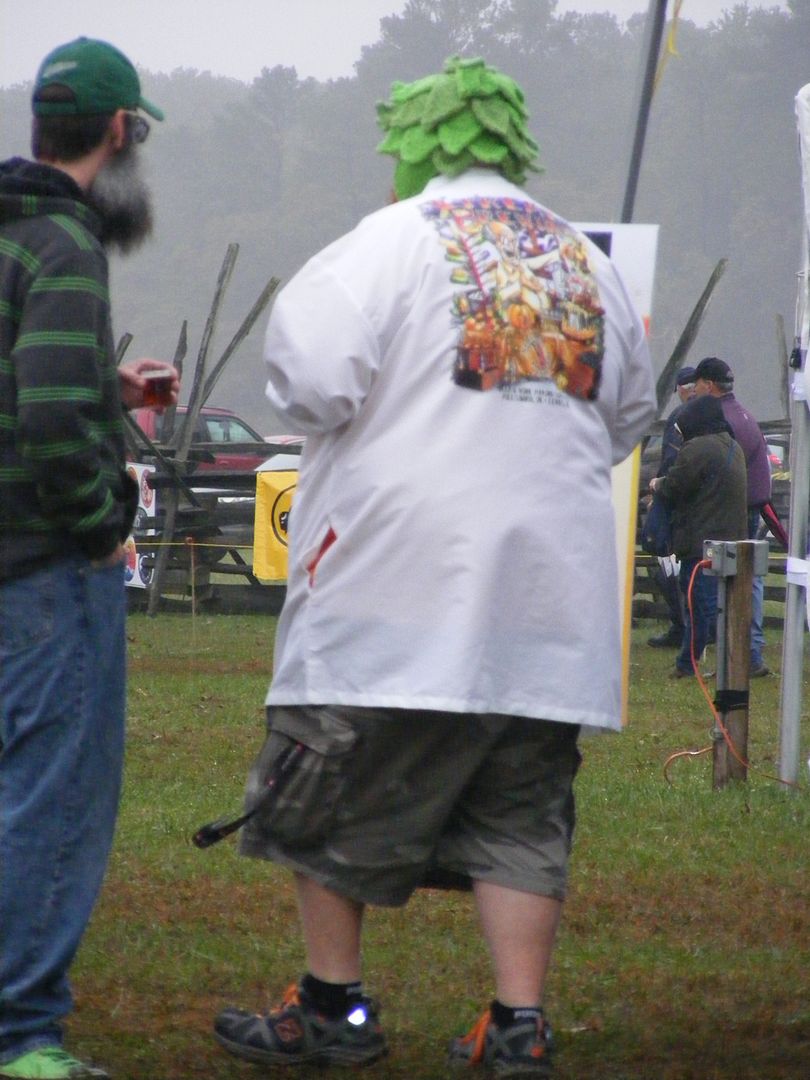 Another local brewer, though, was angling for donations to a different cause.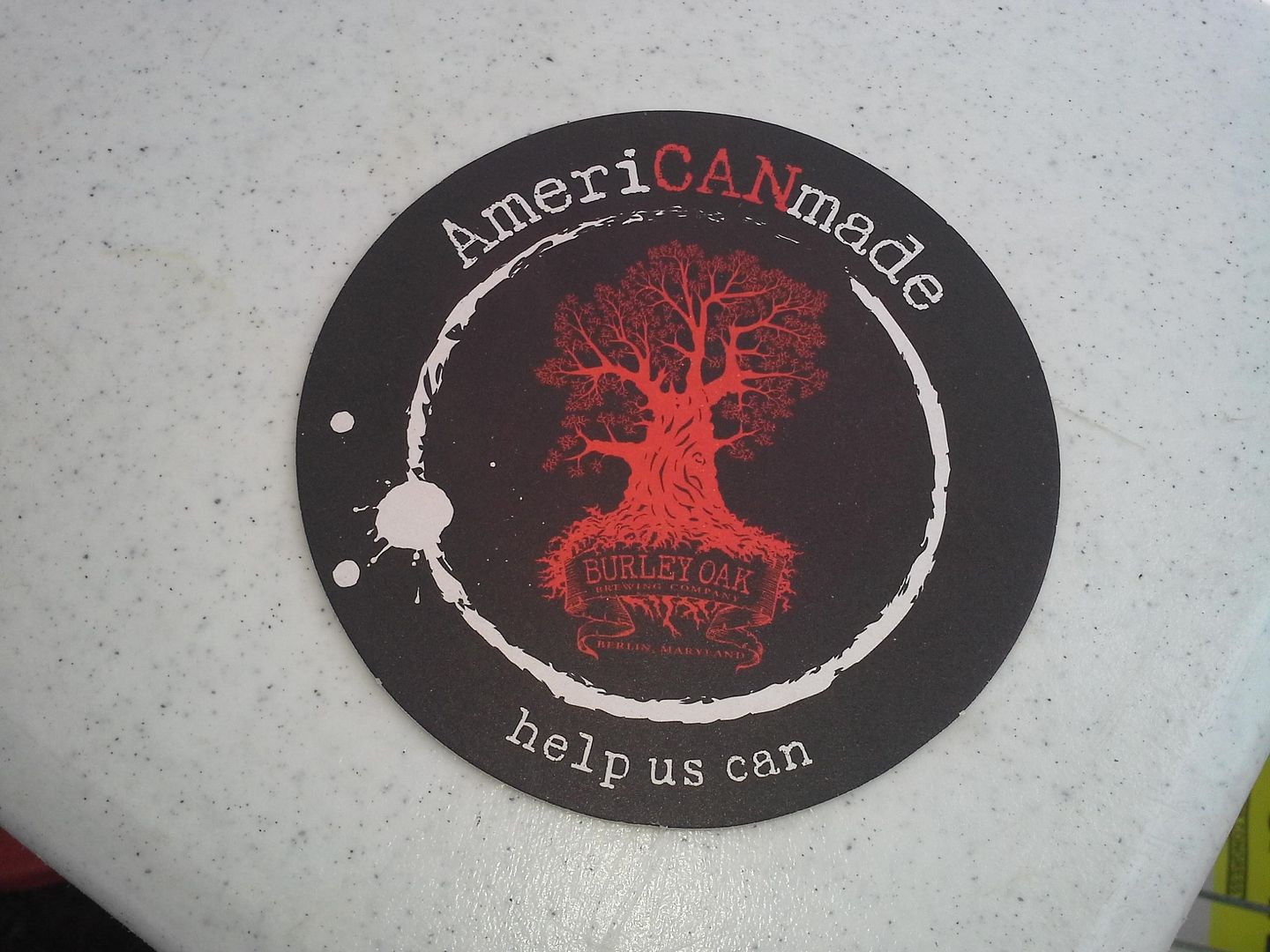 Burley Oak is doing a Kickstarter campaign to enable the canning of its beer – as it turns out, they achieved their goal. But the coasters were a nice reminder and quite useful, since that coaster is under my drink (alas, diet Pepsi) as I sit here.
Oh, did I mention I was there for political reasons?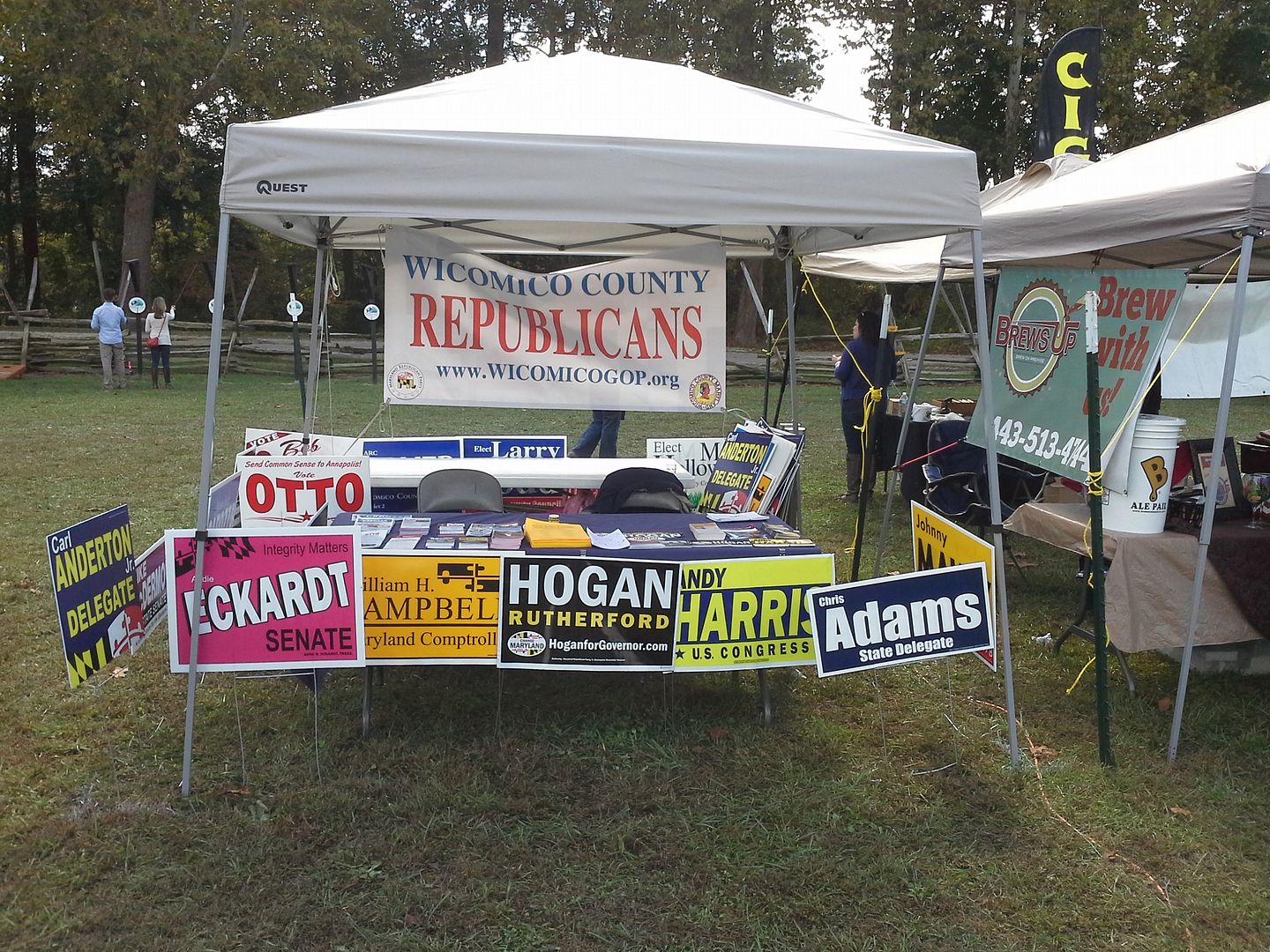 It wasn't quite dripping with political types as the last time we were in a local election year (the first rendition of the GBF back in 2010) but some of the local political incumbents came to cut the ribbon Saturday.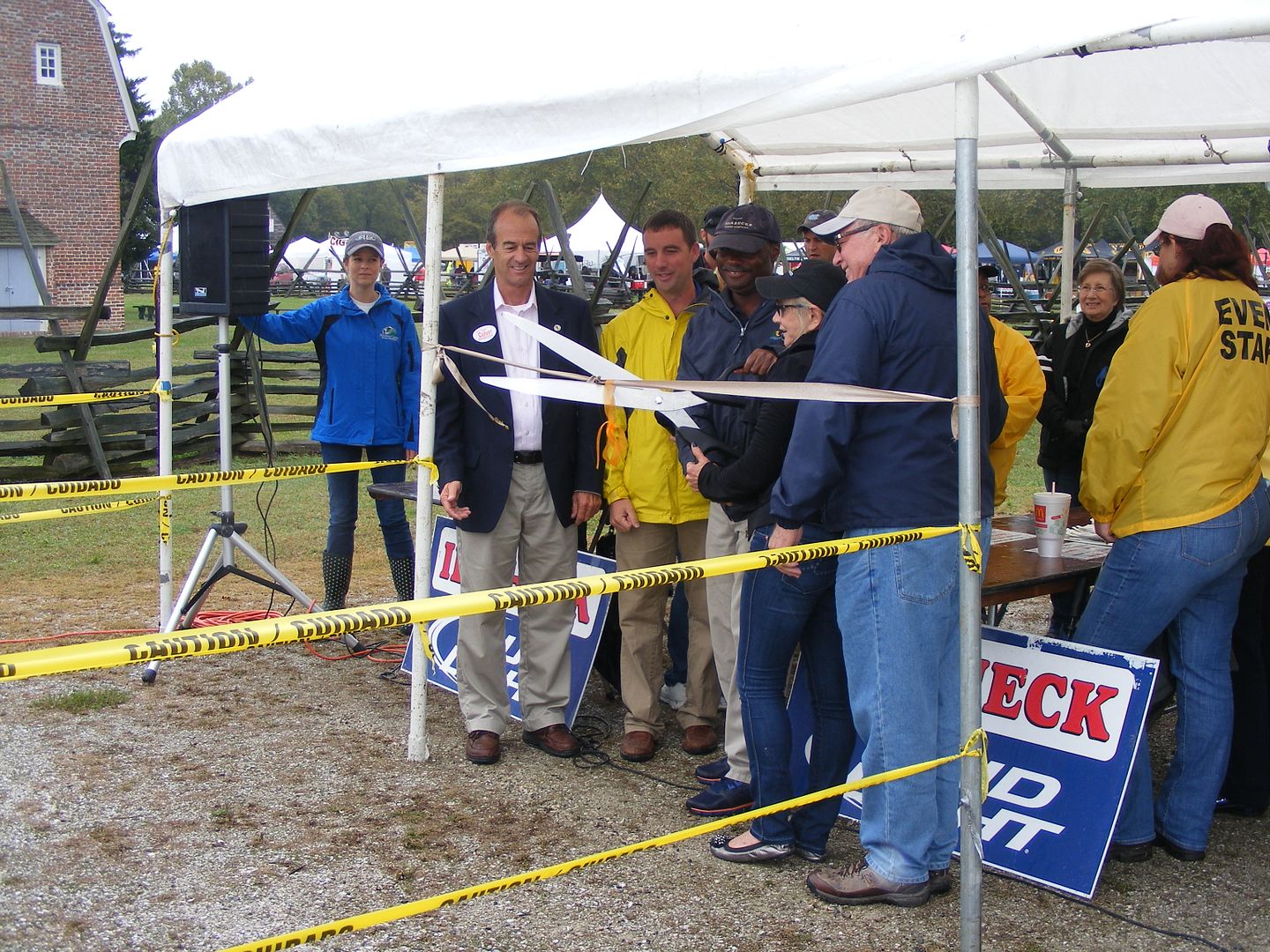 Doing the honors in this instance were four members of County Council: Bob Culver, Matt Holloway, Stevie Prettyman, and John Hall. Culver was around on both days to press the flesh for a County Executive run, but he was pretty much the only one there.
Yet the reception at our tent was quite good and I handed out a lot of items. My emphasis, particularly with out-of-town people who were interested in Larry Hogan items, was on promoting William Campbell for Comptroller and Jeffrey Pritzker for Attorney General. Those statewide downballot races are very important as well.
And despite the rain attendance held steady, described as just under 3,000. It's good exposure and this year there wasn't much obnoxious behavior. In short, a good time was had by all.
Oh, and about that top picture? I'm not averse to bartering advertising space for a monthly supply…just saying.
I have a friend that's tired of seeing this commercial for Jim Mathias because, as she said, "I feel like I've seen this same Jim Mathias commercial a million and four times already." So it's time for me to expand it and tell you what he's really saying.
The ad cuts through a number of different scenes from around the area. Most of it is shot in a restaurant but there are stills from a number of outdoor scenes, inside a firehouse, and so forth.
The script is rather simple.
Mathias: Hi, I'm Jim Mathias, your Senator. In Annapolis, I make SURE we get heard and get results for the Eastern Shore. I fight for lower taxes and less regulation so our businesses thrive, make money, and hire more people.

When we need to repair a bridge like a Pocomoke, make our roads safer like Route 113, or improve our schools like James M. Bennett, I get the job done. I'm asking you for your vote so that we can continue to preserve our way of life on the Eastern Shore.
So let's go through this a little at a time.
Hi, I'm Jim Mathias, your Senator.
Not by choice, and certainly not by voting record.
In Annapolis, I make SURE we get heard and get results for the Eastern Shore.
That can be taken any number of ways, but based on the fact we have higher unemployment and slower growth than the state as a whole, I'm not sure you're getting them to listen or give us the desired results.
I fight for lower taxes and less regulation so our businesses thrive, make money, and hire more people.
Now wait a second. You've voted for 11 of the 12 total state funding items since you've become Senator – all four operating budgets, all four capital budgets, and three of the four BRFA bills – 2012 being the exception. In that year, you waited until the Special Session to vote for that BRFA, which was the one that shifted teacher pensions to the counties. Seeing as that the budgets you voted for were increases over the previous year, wouldn't it follow that revenue had to come from somewhere?
It seems you don't have a lot of influence on your party since they keep voting for the tax hikes and regulation, yet many of them give you campaign financing. And as I referenced above, when compared to other parts of the state, businesses aren't hiring more people so it's doubtful they're thriving or making money.
When we need to repair a bridge like a Pocomoke…
Interesting you should bring that up. According to the SHA, the Pocomoke River bridge project was paid for by the gas tax increase you opposed, yet it's been in the pipeline for a few years. From the minutes of the Somerset County Roads Commission, November 15, 2011:
Commissioner (Charles F.) Fisher then asked about the status of the Pocomoke River bridge. Mr. Drewer (Donnie Drewer, SHA district engineer) stated that the north bound side deck will be replaced and a latex overlay will be placed over the south bound lanes. The project is slated to be funded with FY2013-2014 funding.
FY2013 began July 1, 2012, so the project ended up being almost two years behind schedule.
It's noted that Mathias was present at that Somerset County meeting so if he was fighting as hard as he states, wouldn't that bridge be finished by now? Instead, the SHA added it to their FY2013-18 plan, which reveals that of the $17.2 million cost, the federal government covers almost $13.8 million. (Page 447 of this exceedingly large file shows it.) So maybe Andy Harris deserves more credit.
…make our roads safer like Route 113…
This is a project which has spanned decades, with original studies dating from the 1970s and off-and-on construction over the last 20 years. So there's not much Mathias has really done for it. It's actually been dedicated to the man Mathias was appointed to replace in the House, Bennett Bozman.
…or improve our schools like James M. Bennett, I get the job done.
Actually, much of the money for improving the Bennett Middle School – which I assume is the one he's talking about since the high school was under construction when he became Senator – comes from Wicomico County taxpayers, who are the recipients of millions in debt to build the new school after two members of Wicomico County Council caved to a vocal support group and changed their initial vote against the bonds. The state money wasn't coming until the Council bowed to the "Bennett babes."
The job that was done was placing those children who will eventually attend the new BMS in debt.
I'm asking you for your vote so that we can continue to preserve our way of life on the Eastern Shore.
There are a lot of things worth preserving on the Eastern Shore. But for all the rhetoric, I come back to something I wrote four years ago when Mathias took advantage of the retirement of Republican Senator Lowell Stoltzfus to jump from the House to the Senate:
There's a reason that I get day after day of mailings from Jim Mathias explaining how, despite his Baltimore roots, he's an Eastern Shore conservative at heart (today it's being against "liberals" and for the death penalty.) Annapolis Democrats wouldn't be backing him if he weren't useful to them – they know the score and the fact they need Republicans to have fewer than 19 Senate seats to keep them meaningless. He will be no such thing as a loose cannon.
In order for the state of Maryland to be a true two-party state and keep in check the appetite of the liberals who have been running our state into the ground for God knows how long, Republicans need to maintain at least 2/5 of the Senate, or 19 of the 47 seats. (Getting 19 Senate seats is paramount because that can sustain a filibuster.) The GOP got to 14 seats in 2006, only to lose two in 2010 – one of them being to Jim Mathias. Prior to that, the 38th District Senate seat had been Republican for nearly 30 years, which matched the conservative nature of the district.
I won't deny that Jim Mathias has a more moderate voting record than most Democrats in Maryland, and on certain issues he will vote with Republicans, such as overt tax increases or the gun law. But these seem to be the exceptions to the rule, and now Jim is casting himself as someone who got pork for the district. Going along to get along, with the exception of votes where the hall pass to vote against the party line because the votes are already there, is one thing.
But in order to "preserve our way of life on the Eastern Shore" we need a reliable conservative voice to reflect the conservative area and that's not Jim Mathias.