Beginning a three-day announcement tour in Annapolis yesterday, Delegate Kathy Szeliga made what many considered the worst-kept secret in Maryland politics official: she's tossing her hat into the ring for a seat in the United States Senate. But it's not just any seat: if you believe the Washington Post, it's the Mikulski seat.
Regardless, she becomes the first elected Republican to seek the seat, which will probably draw a crowd: ten years ago, the last time an open Senate seat came up, nearly thirty hopefuls – elected officials and perennial candidates alike – took their shot at the brass ring. Eventually surviving the primaries were Rep. Ben Cardin and Lt. Gov. Michael Steele, with Cardin prevailing by ten points on Election Day.
The 2016 version of this scrum may bring three Democratic House members together, as Donna Edwards and Chris Van Hollen are already in and Elijah Cummings is thinking about it. (In turn, this will make next year's General Assembly session interesting as several state legislative members consider the vacated seats.) On the other hand, the GOP side is currently occupied by Richard Douglas, who ran in 2012 but finished second in the primary behind Dan Bongino, onetime Ehrlich administration lawyer Chrys Kefalas, disabled Navy veteran Anthony Seda, and Szeliga. There is also the possibility Harford County Executive (and former State Senator) Barry Glassman may get in, according to this piece at Maryland Reporter.
Some suspected Maryland's lone Republican member of Congress, Andy Harris, would make a bid but it appears he's backing his onetime chief of staff. "I know her to be a tough, smart woman from Baltimore who's not afraid to take on the political establishment to get real results for Maryland families," said Harris in a statement.
Meanwhile, it didn't take long for the candidate to fire up the e-mail appeals. If this is her basic message, she seems to riding the populist wave (as opposed to full-throated conservatism.) Here's a sample.
We have a paralyzed government incapable of solving even our most basic needs. I for one can no longer standby (sic) waiting for those we've sent to Washington to solve our problems, because they haven't. And I'm not naïve enough to think I can just ride into the Senate on a white horse and do it all by myself. It's going to take a lot of new people who aren't professional politicians to step up – average citizens with college degrees and others without. Goodness knows, they can't be any worse than the gang running things now!

Deep in our hearts, most of us – regardless of political preferences – believe in the promise of America and the power of the American Dream. We are agents of change motivated by our love of God, family, state and country. We want to rediscover a way of life as it used to be; when things really did work.

I want to serve in the US Senate to champion those forgotten Americans who are decent, responsible citizens yearning for the opportunity to work hard, pay the bills, raise a family, live a full life and yes, dream again what we seem to be losing – the American dream.
Unfortunately, when she comes to Salisbury tomorrow I can't be there, so I'm doing the next best thing and sending my cub reporter. I think Cathy will give me the coverage I need as a vital race begins to take better shape.
By Cathy Keim
On July 8, 2015, the House passed HR 5, the Student Success Act, which is the reauthorization of No Child Left Behind (NCLB). This behemoth of a bill weighing in at 800 pages will guarantee that every child that graduates from high school is ready to attend college or start in the workforce without remediation. Yes, you read that correctly.
The hubris of our Washington elite putting into law that every child that graduates from high school will need no remediation is amazing. Just that one statement alone assures me that the 800 pages are filled with bureaucratic overreach.
What kind of measures must be in place to assure that grandiose statement? This is the same government that cannot get patients seen at the VA hospitals in a timely fashion, yet they are proclaiming that every child that graduates from high school in these United States will be stamped proficient to advance to the next step of their lives by the Department of Education.
I can think of only one way that they might even pretend that this could be true and that would be by dumbing down the system so that more children could meet the criteria, but even that is not going to convince me that the government can achieve their goal.
Just try to think of anything in real life that can be achieved 100% of the time. You can't come up with much, can you? (Remember that NCLB declared that there would be 100% proficiency in reading and math in the entire US school system by 2014.) You can check out American Principles in Action's 24 points for plenty of details on why this is a terrible bill.
HR 5 was brought up in February 2015, but was pulled because the Republican leadership could not get the votes to pass it. They have used the time tested ruse of bringing it back in the summer when parents are not paying attention to school issues.
It narrowly passed, 218 to 213, with every Democrat voting no, and 27 courageous Republicans joining them. This is similar to the TPA battle where a few Republicans joined the Democrats in opposing another awful bill.
Of course, their reasons for opposing were completely different, just like the TPA fight. Once again it gives me pause when I find myself on the same side as the Democrats.
One of the reasons given for conservatives voting for HR 5 was that the Senate version, SB 1177, the Every Child Achieves Act, (ECAA) is even worse. The reasoning goes that by voting for HR 5 it preempts the Senate version, so that even if the Senate passes their bill, it will be forced into conference rather than the Senate bill coming directly to the House.
From past experience we all know that what comes out of the conference back room will very likely be worse than what went in.
Andy Harris voted yes on HR 5. I called his office to inquire what his reasons were for voting yes, but I have not received an answer yet.
I called Senators Cardin and Mikulski's offices to inquire if they had any statements out about this bill. Senator Cardin's office said that he supports the bill in general, but is concerned about the Title I funding following the child since it might allow money to go to schools that don't need it rather than to the schools originally intended.
(Editor's note: one selling point given for the SSA is that it would allow certain parents who have children in failing schools a choice in where to send their children for their education, although the choices are limited to just public and public charter schools. This is the meaning between the lines of Cardin's remarks.)
Senator Mikulski's office said she did not have a statement out yet, but that she is against No Child Left Behind. Since ECAA is a reauthorization for NCLB, which actually expands it, we will just have to see how she decides to vote.
Generally speaking the Democrats seem to be against this bill due to the Title I funding shift potential and also because they fear it could lead to universal vouchers.
The Republican leadership crows that HR 5 is returning education issues back to state control. If so, why do they need 800 pages to do this?
The Senate should take this bill up in the coming weeks, so please call your senators and explain to them why they should vote no. Their offices need to be bombarded with parents telling them to not expand on No Child Left Behind.
However, the best reason is the one given by former Delegate Michael Smigiel, who is running for Congress in the First Congressional District. When I asked him whether he would support HR 5 he replied, "I would do away with the Federal involvement in education as it is not authorized by the Constitution. The individual States should determine educational standards for their own States. I led the fight against Common Core and argue and voted against No Child Left Behind."
While that is the correct reason for opposing ECAA, our current leadership is not impressed by the concept. Until we can elect sufficient Constitutionalists to represent us, we will have to rely on a massive phone campaign to get the attention of the DC crowd.
By Cathy Keim
Trade Promotion Authority (TPA) is alive and well due to political shenanigans to keep it going. When the Trade Adjustment Assistance (TAA) bill was voted down by Democrats hoping to block TPA, the game was supposed to end. However, Speaker Boehner is determined to work with Majority Leader McConnell in the Senate to present fast track to the president.
Part of what makes this so confusing is that the Republican-controlled House and Senate are working overtime to present the Democratic president the gift that he has been longing for: more authority to pursue multiple trade bills with Congress only able to vote the deal up or down. Why would the Republicans be feverishly pursuing this goal?
The obvious answer is that free trade is so important that any way of achieving it is worth making any sacrifice. That may be what they are telling you, but it just isn't true. There are plenty of ways that this deal could lock the US into untenable trade agreements. Currency manipulation, immigration, patent and copyright issues are just a few of the areas that could turn against American workers.
Even when you look at the Maryland delegation's votes, you will see strange bedfellows. First, take our two senators who split on the issue. I cannot find a statement by Senator Mikulski about her vote, but she voted no. Since she is not running for office again, she does not have to worry about offending the president.
Senator Cardin voted yes after he introduced an AIPAC backed amendment. AIPAC states:
On April 22, the Senate Finance Committee voted unanimously to include an amendment targeting harmful anti-Israel trade and commercial practices in the "Fast Track" Trade Promotion Authority bill. The amendment, authored by Sens. Ben Cardin (D-MD) and Rob Portman (R-OH), addresses efforts by foreign governments to boycott, divest from and sanction Israel. It also directs that one of the principal American objectives in upcoming trade negotiations will be to discourage trading partners from taking actions that would limit U.S.-Israel commerce.
I can understand why Senator Cardin would want to defend Israel when the current administration has shown real hostility towards them, but one has to ask if this is shortsighted on the Senator's part. Giving the same administration fast track authority when the president has shown little interest in adhering to any restraints put upon him, may in the long run turn out worse for Israel. Perhaps Senator Cardin would do better to vote no and stop the whole fast track process.
Only one other representative from Maryland voted yes on TPA and that was Congressman John Delaney of the 6th Congressional District. He stated in a press release that:
Right now, two things are happening: 1) Congress is considering a bipartisan agreement that instructs the President on trade negotiations and begins the deliberation process for a new accord and 2) China is working on their own regional trade agreement. I support giving President Obama Trade Promotion Authority because it will give the President the tools he needs to negotiate the best trade deal for America and our workers. For the first time, the bipartisan Trade Promotion Authority package includes groundbreaking environmental and labor standards and provides unprecedented human rights protections. The Trade Promotion Authority Package gives President Obama new ways to enforce these standards to make sure we're not having a race to the bottom that drags American workers down. So it's either going to be our country setting the terms for trade or it's going to be China. I want our country, our government and this President setting the terms of international trade, not China.
Congressman Harris of the 1st Congressional District voted no. His Facebook page states:
Thousands of citizens in Maryland's First District contacted my office regarding bills on trade that were recently considered in the House. Today, I voted against the Trade Promotional Authority (TPA) bill for a second time. Representing your views are of the utmost importance to me and it is truly an honor to serve the people in the First District.
He did not listen to his constituents about CRomnibus or voting out Boehner as Speaker of the House, but this time he heard us loud and clear and responded as we asked. I wonder if that is because former Delegate Mike Smigiel has announced that he is opposing Andy in the primary next April?
Representatives Donna Edwards (4th District) and Chris Van Hollen Jr. (8th District) are both running for the Senate seat being vacated by Barbara Mikulski. Edwards is running to the left and Van Hollen is obliged to move left too. Van Hollen explains his reasons in a letter to Rep. Levin.
He lists multiple concerns such as currency manipulation, increased investor lawsuits, workers' rights, environmental issues and more as his reasons for voting no.
Representatives Ruppersberger, Sarbanes, Edwards, and Cummings all signed a letter to President Obama explaining why they were voting no on TPA.
For some time, members of Congress have urged your administration to engage in broader and deeper consultations with members of the full range of committees of Congress whose jurisdiction touches on the numerous issues being negotiated.

(snip)

Beyond traditional tariff issues, these include policies related to labor, patent and copyright, land use, food, agriculture and product standards, natural resources, the environment, professional licensing, competition, state-owned enterprises and government procurement policies, as well as financial, healthcare, energy, e-commerce, telecommunications and other service sector regulations.

(snip)

Congress, not the Executive Branch, must determine when an agreement meets the objectives Congress sets in the exercise of its Article I-8 exclusive constitutional authority to set the terms of trade.
Representative Steny Hoyer is the Minority Whip. He voted against TPA because:
Trade Promotion Authority legislation lays the foundation for how we approach trade policy as part of our overall economic strategy, and we cannot look at trade simply on its own. We must consider all the elements that affect American workers and jobs.

(snip)

Our workers deserve policies that boost our competitiveness and place us at an advantage in global markets, making it easier for them to get ahead.
He then lists a whole smorgasbord of expensive programs that he wants for the workers.
The reasons for the votes cast vary from constituent demands, to fear of China, to wanting more spending, to defending Israel and to pursuing a Senate seat. Some of the reasons I can agree with while others, like wanting the Export-Import Bank renewed, are not acceptable. However, on this important vote I am happy to have the Democrats join with as many Republicans as will stand against TPA.
Keep on calling and prodding your senators to vote against TPA. The cloture vote is expected today, with the final vote coming tomorrow. If the bill survives cloture, it will likely pass, so the ball is now in the Senate's court.
By this time tomorrow, the GOP presidential field will be three aspirants larger than it was over the weekend.
Dr. Ben Carson and former HP head Carly Fiorina formally made it official today, while 2008 candidate and former Arkansas governor Mike Huckabee is expected to throw his hat back in the ring tomorrow. So what does that mean for the field at large?
We've known Carson was going to run for several months, and though there's some local sentiment which wishes he would instead pursue the Republican nomination for Maryland's open U.S. Senate seat currently held by the retiring Barb Mikulski, a run for the Oval Office has been on Carson's radar ever since he first attracted notice at the National Prayer Breakfast a couple years ago. Anyway, his run is already priced into the market, so to speak, so the Carson cadre will continue supporting their candidate as he holds the "outsider" position in the race.
In 2008 and 2012, those who believed a businessman should be the one to run the country needed to look no further than Mitt Romney. While he's not running in 2016, there is another business executive who is (and at this point, his name is not Donald Trump.) Carly Fiorina also makes the case that the best way to combat Hillary Clinton is to nominate a female to run against her.
This is a legitimate argument, but the question is whether it's compelling enough to give her any traction in the race. Fiorina's lone political experience was losing a Senate race in California, and while losing a race in a tough state doesn't disqualify her, it brings up whether she can win.
And then we have Mike Huckabee, who I actually voted for in 2008 as the last somewhat conservative alternative standing to John McCain. Yet there must be a sense out there that the world has passed him by, and the conventional wisdom is that he fights for the same social conservative voters that gravitate to Ted Cruz. Granted, the one thing he has that Cruz does not is executive experience but I suspect more than a few people think of Huckabee more as a huckster than a politician, given his seven years away from the active political stage.
As it stands, I think the second tier is filling out nicely. But like American Pharaoh needed seventeen other horses to run against to earn the roses at the Kentucky Derby, the front-runners Jeb Bush, Scott Walker, Cruz, and Marco Rubio need a field to sharpen their campaigns. Then again, one in awhile the longshot wins and several Presidential nominees were thought to have no shot at victory in the early stages of their campaign. That description fits this guy named Obama in 2007, but let's hope the 2016 version can undo all his damage and then some.
When Barbara Mikulski announced she wouldn't seek another term the other day, one thing I pointed out was the effect on downticket races for Congress. Sure enough, we already have two members of Maryland's Congressional delegation signaling their intent to run – Eighth District Congressman Chris Van Hollen and Fourth District Congresswoman Donna Edwards have indicated they are in, although in Edwards' case she's looking to expand her reach as a Senator.
Edwards' gaffe-tastic logo error may be a sign of how things will go in the race to succeed her, particularly as the man who "ran" the weakest statewide Democratic race in recent memory decided he wants in on the race. Yes, Anthony Brown has his sights set on a Congressional seat to replace Edwards.
I will grant that running in a Congressional race in one's home county is a much easier push than running a statewide race with no real political record to speak of save eight years in the House of Delegates and eight years riding on the coattails of Martin O'Malley. But Brown took a race that was all but conceded to him at the beginning of 2014 (and even after the primary in June) and imploded thanks to a poor campaign and woeful lack of accomplishment. In Democratic circles, though, that's a resume enhancement so one would have to make Brown an odds-on favorite.
Yet there is also the matter of a $500,000 loan to his unsuccessful gubernatorial campaign by the Laborers' Political League Educational Fund as well as over $30,000 in other unpaid bills Brown owed as of his last financial report. I'm definitely not an expert on campaign finance, but ask yourself: would you give a campaign contribution to a guy who's racked up so much debt needing to be repaid?
Fortunately for Brown, for all intents and purposes the Democratic primary is the election in that district - Edwards won both general elections in the current Fourth District with over 70 percent of the vote. But he will certainly have to fend off a number of challengers to make it through the primary and job one for the other challengers will be to remind voters how Brown gacked up a shoo-in gubernatorial race by running an incompetent campaign.
It would be a lot harder for Brown to lose the Fourth District race to a Republican, but losing to the GOP is something with which he has familiarity. I would be very surprised if establishment Democrats in that district back Brown.
I have to admit I was shocked as anyone else to hear Barbara Mikulski was not seeking re-election. Although I figured she was closer to the end of her tenure than the beginning, I would have thought she would privately anoint a successor. In that respect it would have been a good landing spot for Martin O'Malley if Anthony Brown won the governorship, giving O'Malley a leg up on the 2016 Senate race once it became clear his Presidential bid was going nowhere fast. Sadly for the former governor, Larry Hogan won.
But among the blizzard of reaction from mainstream state news outlets and other political commentators, there are several things to keep in mind. First of all, this opening in a statewide race would favor those with plenty of money and a team in place. It doesn't have to be a person who has run statewide, and because this election allows members of the Maryland General Assembly to "run from cover" because their seats aren't involved in the election, it's very possible a few may take a shot.
Secondly – and perhaps more importantly from a "bench" standpoint – if you assume that at least three or four sitting Congressmen decide to make a run for the seat, the same rules apply. Consider, if you will, an Andy Harris run on the Republican side – how many local elected officials would be interested in that seat as it suddenly opens? You could imagine Jeannie Haddaway-Riccio taking a shot, along with politicians from the other side of the Bay in Harris's district. Multiply that by three or four Congressional districts and the prospect for several changes in the General Assembly for the second half of Larry Hogan's term is significantly higher.
Yet in any of these cases, the decisions will have to be made early, probably no later than June. And that's not just for the Senate seat, but those who may see themselves on the lower rung of the ladder in the House. Once those dominoes begin to fall, there's no telling how far the stack could reach because it will all depend on who wins the respective primaries.
But just as the 2014 election proved to create a tremendous shakeup in the House of Delegates, the 2016 election may be cataclysmic for the state's Congressional delegation. Even if just three or four run for office, the effect would be huge given that no more than two seats of the ten have changed hands in any recent election. The effect may be similar to 1986, when Mikulski first won office and several other Congressional seats picked up new faces (however, that was also a state election year, unlike 2016.)
So rather than try and predict the parlor game of who will run, the point of this piece is to remind people of the importance of a strong political bench. You have one seat that is a six-year term with no term limits and (quite honestly) not a lot of responsibility when you compare it to the governor's chair. The last time this opportunity came up was 2006, but that was a year when state office holders had to weigh the odds of emerging from a crowded field against the certainty of re-election – not so a decade later.
The question isn't so much who, but how many. It wouldn't surprise me if the 2006 total of 28 aspirants isn't surpassed in 2016. Most of them will be no-names or perennial candidates with no shot, but there will be some turnover in our Congressional delegation because of this sudden opening.
To be perfectly honest and up front about it, I have not listened to the subject of this post, as my life and items are still in some disarray after our recent move. (This includes my headphones, which are in some box somewhere.)
But last week Dan Bongino released the second of what is now a weekly series of podcasts. And given the fact he's used the political world and running for office twice in the last two federal cycles to make a name for himself in the media world, I wanted to use this post to ponder whether if we would see Bongino go three-for-three with the 2016 U.S. Senate race or a rematch with John Delaney in Maryland's Sixth District.
Let's look at a little history first. At this time four years ago, no one outside of the world of the Secret Service and law enforcement knew who Dan Bongino was. But in the spring of 2011 he made the decision to begin his political career with a run for the U.S. Senate seat in Maryland, and with an engaging personality and conservative stands on many issues, Bongino made enough of a name for himself to win a crowded primary and the right to face incumbent Ben Cardin.  While Bongino had some good fortune in the fact no former candidate like Eric Wargotz or Michael Steele, regionally known officeholder like Pat McDonough, or former governor Bob Ehrlich decided to jump into the race, it's likely he weighed all these possibilities and had an idea they would skip the race before he got in.
Something Bongino succeeded in doing with his 2012 Senate race, though, was nationalizing his effort. In most northeastern states, a Republican running for a statewide office against long odds would attract little notice outside the state, but Bongino made waves with his race once he received a Sarah Palin endorsement. His 2014 Congressional effort continued on the same path.
But something else we learned about Bongino was that he was a natural at broadcasting. Over the last few years he's graduated from occasional guest to guest host, taking over for both Sean Hannity and Mark Levin on occasion. If he ever lands a spot sitting in for Rush Limbaugh we'll know he's in the big leagues.
So it brings up the question for a multimedia player like Bongino: what's in it for him to make a 2016 run?
Bongino is in a spot in Maryland similar to the one which Sarah Palin occupies nationally. Dan's support for a candidate is looked upon with approval from a large number of conservative voters in Maryland, just like a Palin endorsement appeals to a particular subset of voters nationwide. Both, however, are becoming more well-known in media circles than for accomplishments in office (which is a shame on Palin's part, since she has been elected several times.)
If Bongino runs again and loses again, will that tarnish his standing among conservatives who can't point to electoral success on his part? On the other hand, will he feel that the media exposure he's gaining is going to put him over the top? With just a few hundred plays on his Soundcloud (I cannot discern how his iTunes podcasts are doing) it's a nice outlet but not one which gets him a lot of exposure like a guest-hosting slot would give.
Over the next few months, the 2016 races will begin to take shape. I would expect at least a couple members of the Maryland General Assembly to run from cover for federal positions but not to announce their intentions until later this summer. Those who have less name recognition will probably start in the next month or so since the primary is less than 14 months away – depending on how the Presidential race shakes out, we may see more attention paid to the downticket races like U.S. Senate.
If I were to take my educated guess, I think Dan is going to pass on 2016 unless the Senate seat becomes open through the retirement of Barb Mikulski. With 2016 being a Presidential year, turnout will be more like the 2012 turnout and that tends to favor Democrats in this state.
On the other hand, 2018 creates a host of possibilities on both a state and federal level, giving Dan more options should he decide to jump in a race.
Once I get my stuff together I will take about 45 minutes and listen to what Dan has to say – chances are I will enjoy it. But my thoughts always work to the next cycle and all the possibilities within. If the question is whether Dan Bongino will be in the mix, I think the answer is yes. I'm just not sure where one of the many young guns the Maryland GOP has will fit in.
In writing a future post, I got kind of curious about the field for the 2016 U.S. Senate race Maryland will have. It's presumed Barb Mikulski, the 30-year incumbent who will be a new octogenarian by the time the election is decided, will run for yet another term but there's this former governor who might be looking for a new gig once his quixotic attempt at the Oval Office peters out.
In either case, there's been very little talk on the Republican side about trying for a Hogan-style upset in another statewide race. But there is a candidate who's already filed with an interesting approach; one which has a slim potential of upsetting the apple cart like Rob Sobhani did in 2012.
I say it's a slim potential because Greg Dorsey, the candidate in question, is fresh off a write-in campaign for Delegate where he gathered 128 votes in District 43 – a scant 0.2% of the vote that placed him 139 votes behind the aggregate total of all the other write-ins. His candidacy was the minor speed bump on the highway to victory for the three Democrats who were on the ballot.
Dorsey, however, is an avowed and unapologetic unaffiliated candidate, one who has created what he calls The Unaffiliated Movement of America. In decrying "the system" Greg postulates that:
Our two party system seems to be played out like a sporting event.  There is a red team and there is a blue team, and each time they collectively step onto the playing field (ie., voting on and creating legislation), their team goal is to win at all cost, to take the victory and retain league dominance.  They sometimes win fairly and by the rules, and sometimes they cheat.  A quick rib strike here, a calf/achilles stomp there, aggressive trash talking, jersey holding, you name it, and all behind the referee's line of vision even though the spectators have a clear view.  And sometimes, with impulsive and subjective emotions on the line, a player will blatantly cheat with such malicious intent that they are penalized and removed from the game.
I'm sort of guessing Dorsey is a soccer player based on the analogy, but this is an increasingly widespread view. I'll grant that promoting a book by Jesse Ventura on his site isn't going to win Dorsey a ton of converts on this side of the fence, but if nothing else Ventura stands as a blueprint for an unaffiliated candidate to be elected.
I used Sobhani as an example because, for Dorsey to get on the ballot he would have to use the same petition approach and solicit the signatures of 1% of Maryland's registered voters – that would be roughly 40,000 signatures required. In essence, Sobhani self-financed that part of his campaign which presumably Dorsey cannot do – otherwise he probably would have been on the District 43 ballot (and may have stood a slim chance of winning with no Republicans on the ballot given his conservative-leaning platform.)
It may take time on the GOP side, but considering the 2016 ballot will be just like the 2012 ballot (primarily federal races, including a Senate seat) we may see one or two ambitious members of the Maryland General Assembly try a statewide run from the cover of a legislative seat. Recent examples of this are State Senator C. Anthony Muse running against Ben Cardin in the 2012 Democratic primary and former State Senator E.J. Pipkin getting the GOP nomination in 2004 but losing to Mikulski in November. I could see at least one General Assembly Republican giving it a go, and maybe there will be a Democrat who sticks his or her neck out - on that front all bets are off if Mikulski decides to retire.
So it may be later this spring before the race begins to take shape, but there's not a lot of time to waste as the primary will be April 5, 2016. Dorsey may be first to file but I suspect he will have a lot of company by the filing deadline next January.
The big news around these parts today was the announcement that Labinal Power Systems would be closing its Salisbury plant and consolidating operations in Texas. Gone will be an estimated 600 jobs as the plant phases out operations over the next two years.
On top of that, there are rumors that both of the April tourist draws to Salisbury – the annual Salisbury Festival and Pork in the Park – have been scrubbed for 2015. While another local blogger swears this is not true and the Salisbury Festival is simply being repositioned to the fall, one has to ask how that would fit into an October already crowded with other local events. (As for Pork in the Park, my understanding is that it was a money loser as the county had to plow too much into it up front for its continued survival.)
Salisbury's downtown has been doing well with the increased popularity of 3rd Friday, a successful New Year's Eve event, the upcoming opening of Headquarters Live - an entertainment venue which is the remodeled former Fire Station 16 – and a popular Thursday – Saturday night trolley service connecting these venues with nearby Salisbury University, but other parts of town haven't done as well over the last year. The closing of Labinal decreases further the traffic to a once-booming part of the outskirts of Salisbury that formerly boasted the old Salisbury Mall, torn down several years ago for a development that never got off the ground.
Everything is cyclical, of course, and one example is the development around the SU campus. But losing these Labinal jobs would be a major blow to a county already on a long losing streak when it comes to year-over-year jobs. And the problem with such a long transition to a shutdown (almost two full years) is that lag time is going to be longer than some potential employers want to wait for the facility.
We all better hope that Maryland becomes a lot more business-friendly over the next two years. It's ironic that Senator Mikulski made a big deal out of a large federal contract secured for the facility just weeks before the announced move to Texas. Call it Rick Perry's revenge.
After he lost the 2012 Senatorial primary to Dan Bongino, Richard Douglas has kept a somewhat low profile. Eschewing a possible run for Attorney General this year, Douglas has instead focused on particular issues such as the Bladensburg Peace Cross earlier this year and his latest, a criticism of Maryland's two sitting Senators for a lack of action on freeing Marylander Alan Gross from a Cuban prison.
In today's Daily Record (11/19), I was astonished to read the Capital News Service whitewash of the Maryland U.S. congressional delegation's record of failure on Alan Gross.

Marylander Gross remains in a Cuban jail because Maryland's weak, irresolute U.S. Senators have done precisely nothing to force our weak, irresolute President to make Cuba howl. Senators Ben Cardin and Barbara Mikulski have used none of the tools available to majority-party senators, or in Mikulski's case, to the chair of the Senate's most powerful standing committee, to bludgeon the Obama White House into meaningful action to free their fellow Marylander.

To try to force presidential action, Cardin and Mikulski could easily have blocked Obama legislative priorities, Obama executive nominations, treaties, senior bureaucratic promotion lists, and spending bills. But they didn't, and these are glaring omissions in the Capitol Hill playbook. They confirm that Cardin and Mikulski have pulled their punches with their ideological teammate in the White House.

Whitewash can't conceal the truth. Maryland's U.S. Senators and the White House have shown weakness and a lack of resolve on Mr. Gross. That same brand of weakness and lack of resolve helped put Russian troops in Ukraine, and allows Islamist terrorists to murder Americans almost at will.

In January, the new Republican majority in the Senate could finally force President Obama to break a sweat over Alan Gross, five long years into his imprisonment. We'll see. But what a pity that Maryland's U.S. Senators, clucking furiously on the sidelines, have utterly failed to use the tools which the Framers gave them to force Obama to do his job.
Douglas was quite critical of Cardin in his 2012 run, but hadn't really had much need to be critical of Maryland's senior Senator. It's Mikulski's seat which will be at stake in 2016, though, and Douglas's statewide experience may lead some to ask whether he's thinking of challenging Mikulski. With the Senate political landscape being almost exactly the opposite of 2014′s (where Republicans will have at least 24 seats to defend against just 10 for Democrats) the chance to pull an upset in Maryland is intriguing in the wake of Larry Hogan's win.
Naturally, the prospect of a rematch of the two top GOP contenders from 2012 means Dan Bongino will be in the conversation as a possible contender. But will Bongino want to undergo yet another campaign, the third one in five years?
With the experience Douglas boasts as a former Chief Counsel of the Senate Foreign Relations Committee, and former General Counsel of the Senate Intelligence Committee, in an election where cleaning up Barack Obama's foreign policy messes may be a key issue, the prospect of someone with Richard's expertise going up against Mikulski – or a new Democrat should Barb decide to retire – is quite interesting. Surely we will see in the coming months if it's a race Richard wants to run.
I don't have a poll to show you, but I do have a website.
Today I was alerted to the existence of a new political website which makes the case that the next Congressman from the First District should be a woman: Jeannie Haddaway-Riccio. Gleaned in large part from her recent run for lieutenant governor on the David Craig ticket and set up to resemble an actual campaign site, the website is the brainchild of political activist Phil Tran. Tran points out that current Congressman Andy Harris is voluntarily term-limiting himself and believes Haddaway-Riccio would be the best logical successor.
I decided to start a movement. In the event that Congressman Andy Harris decides to voluntarily limit his terms, we need to have a formidable successor ready to go. That successor is Delegate Jeannie Haddaway!

Jeannie Haddaway is a great role model for young women (and men alike!). She will serve Maryland's Eastern Shore and the Baltimore suburbs with grace and dignity in a Congress that desperately needs such qualities.

Plan ahead or plan to fail. Please sign the petition to draft Jeannie Haddaway for Congress! We are also selling shirts to support the movement!
(I know David Craig didn't use the full name, but I prefer to refer to her with the married professional variation she used for the House of Delegates, Jeannie Haddaway-Riccio.)
It's fun to note that Tran has both 2016 and 2022 listed as the prospective dates for the campaign, and each presents different opportunities – as do other points on the calendar, as I'll illustrate.
First, though, it's my understanding that Andy Harris would stay in Congress twelve years – under his proposed Constitutional amendment, Congressional members would be limited to twelve consecutive years. I think the three terms statement is a misunderstanding since I was told twelve years at the time Andy ran the first time for Congress, and had personally asked him for clarification since. Twelve years was always the answer I received. But there are a lot of other ways Jeannie could go in the interim.
Let's look at 2016 for a second. It's a Presidential year, so there won't be a lot on the ballot. While I hope Andy Harris gets some Congressional help this year, it's likely he will either remain the lone Maryland Republican federal elected official or perhaps have Dan Bongino as second fiddle if the Sixth District votes in its best interest. (Obviously, if Maryland voted in its best interest they would have a full GOP delegation, but I'm talking in real terms.) In any case, I don't think Harris is leaving after just three terms.
But there is an intriguing race which could develop. Remember in early 2010 when the rumor that Barbara Mikulski was passing on re-election caught fire? Well, with the increasingly likely prospect of Republicans taking over the Senate, and the fact Mikulski's not getting any younger (she will turn 80 a few months before the 2016 election) it could lead to an open Senate seat for the first time since 2006. Needless to say, every Democrat in the state and their brother (and sister) will be salivating at the chance for the brass ring, but who else is on the GOP bench that has run statewide? You could say Bob Ehrlich, but he's been rejected twice by statewide voters.
Jeannie Haddaway-Riccio as the Republican Senate nominee in an open-seat scenario, particularly if the Democrats have a bloody primary because most are running from cover? Maybe she's not as conservative a candidate as I'd prefer, but I think she's electable in Maryland and it's a move that would make sense if she wanted another statewide bid. She would also have the advantage of needing less time to ramp up a campaign since it's likely Mikulski would wait until the last minute to announce her intentions to the world.
If Jeannie wanted to wait until 2018, she would have even more options. One would hope that she doesn't have to worry about a run for governor because Larry Hogan is the incumbent, but the possibility of a match against Anthony Brown is there. Unfortunately, no Democrat governor has lost a re-election bid in Maryland in about forever (okay, actually 1950 – and ironically, William Preston Lane lost over tax increases) so that may not be the best play.
After running for office statewide, it would perhaps be seen as a demotion to run locally, but there's the chance Addie Eckardt may only want one Senate term as she will be in her mid-70s by that point. Granted, we will hopefully have two new GOP Delegates who could move up if Eckardt wants just one bite of the apple, but my suspicion is that 2018 was always eyed as the time Jeannie would make the jump. A win there could keep her in the limelight for 2022, when Harris would be through his twelve years, the 2014 gubernatorial winner would be term-limited out of office, and – if Mikulski finally decided to retire at the age of 86 – that Senate seat would be again up for grabs.
Another possibility for 2018 would be to take on Ben Cardin in a Senate race, but assuming Ben wants to stay on he would be tough to beat – although, at 75 years of age and perhaps in the minority he may decide to ride off into the sunset as well.
It's clear that Jeannie's selection as David Craig's running mate opened a lot of eyes around the state (and brought out a few long knives) so it's no wonder Phil Tran is promoting her as a possibility for higher office. She isn't the longest-tenured or most conservative Republican candidate in the state, but she has the right experience and didn't hurt the Craig ticket, which simply didn't have the resources to compete against a deep-pocketed opponent who made no critical mistakes.
Running for lieutenant governor didn't turn out to be a success short-term, but it's obvious a lot of people now think highly of her long-term prospects.
Once again, thousands came to Crisfield and heeded this advice.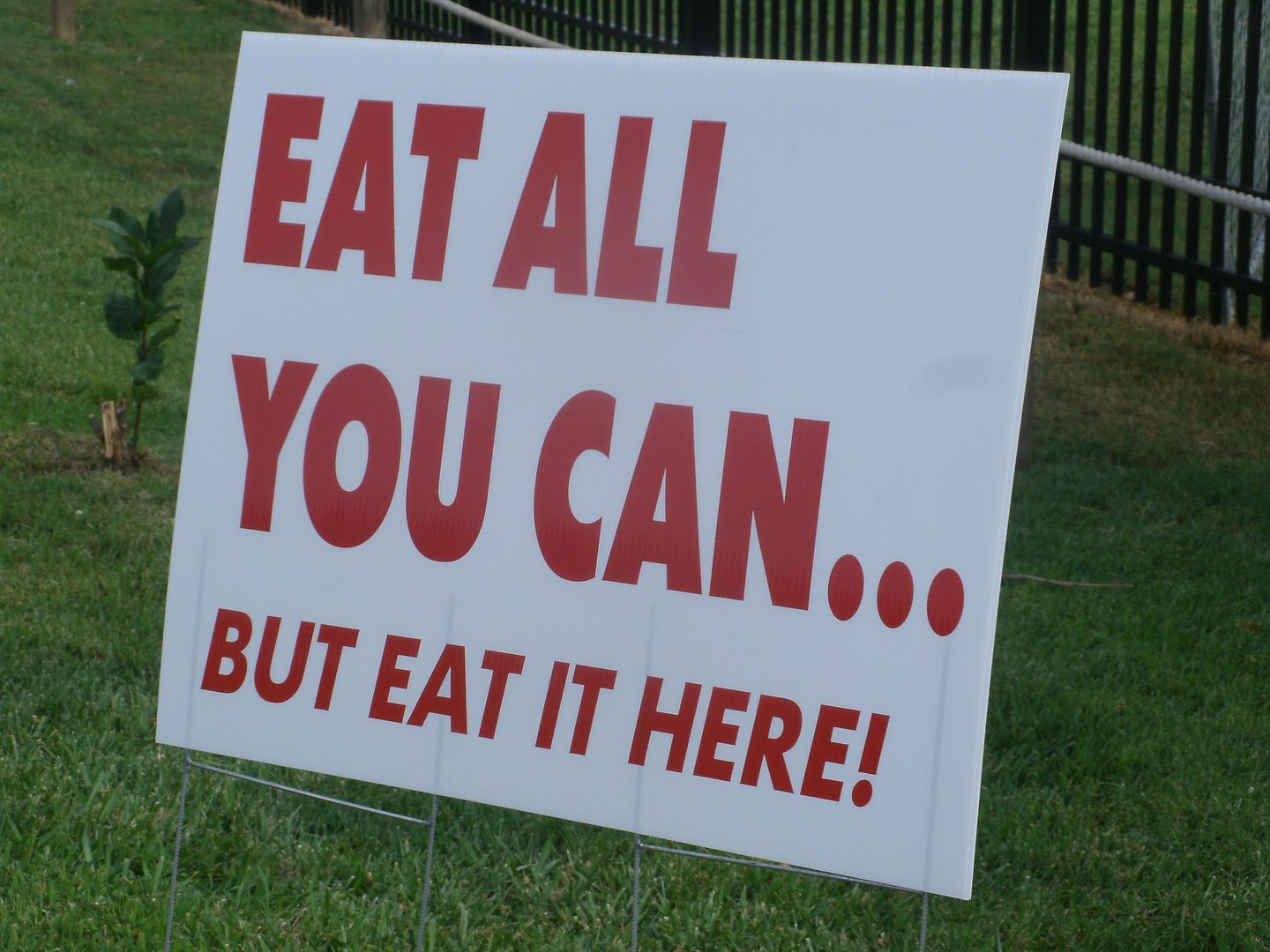 Somers Cove Marina was set up a little differently this year, but the real difference was that the attendees didn't soak through their clothes this year – instead, the day was cloudy but relatively comfortable, with only a small touch of humidity. Most years this setup – by a local engineering firm, naturally – would be oh so handy. But not so much this year.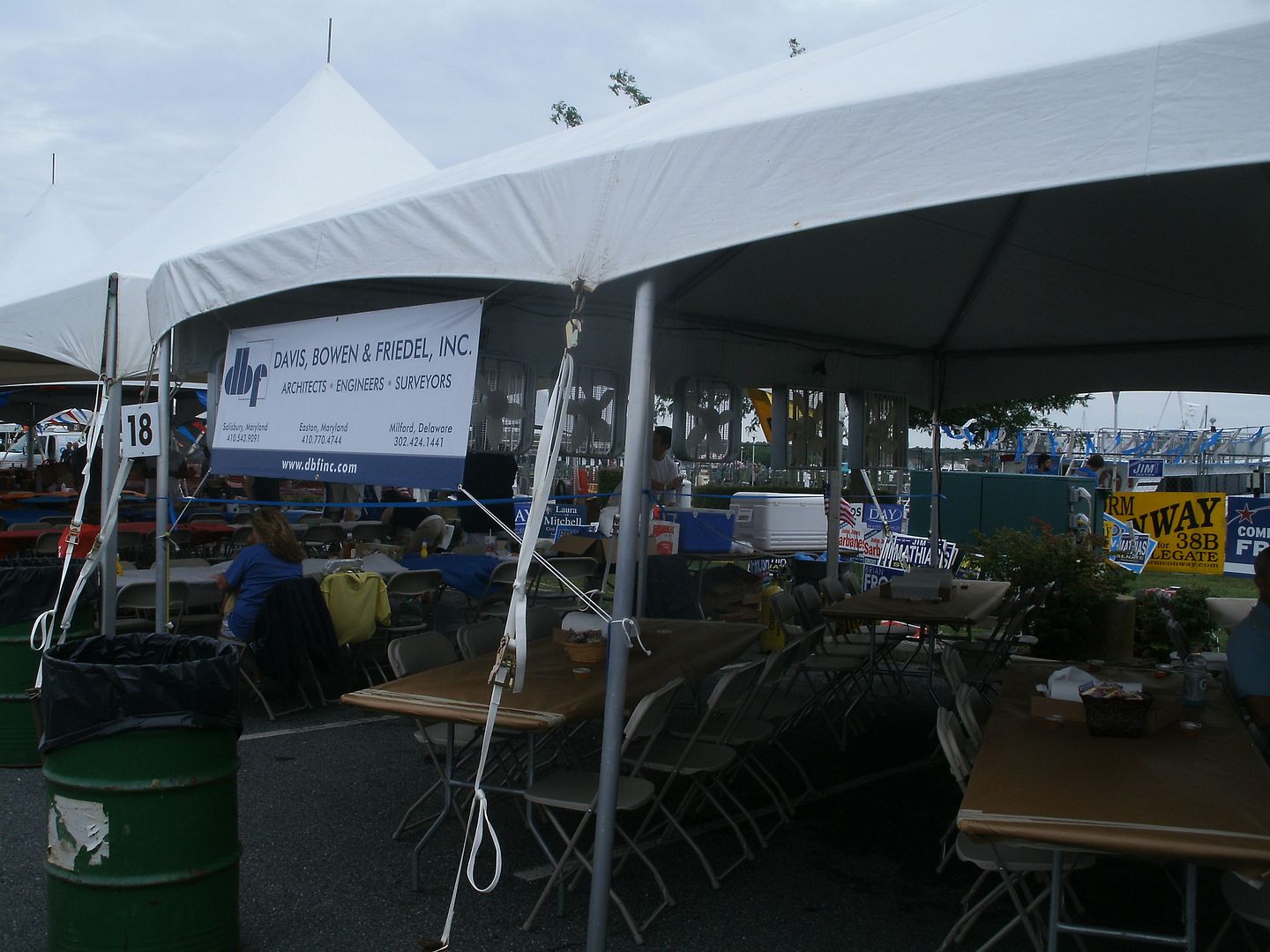 One key difference in the arrangement this year was the prominence of this tent.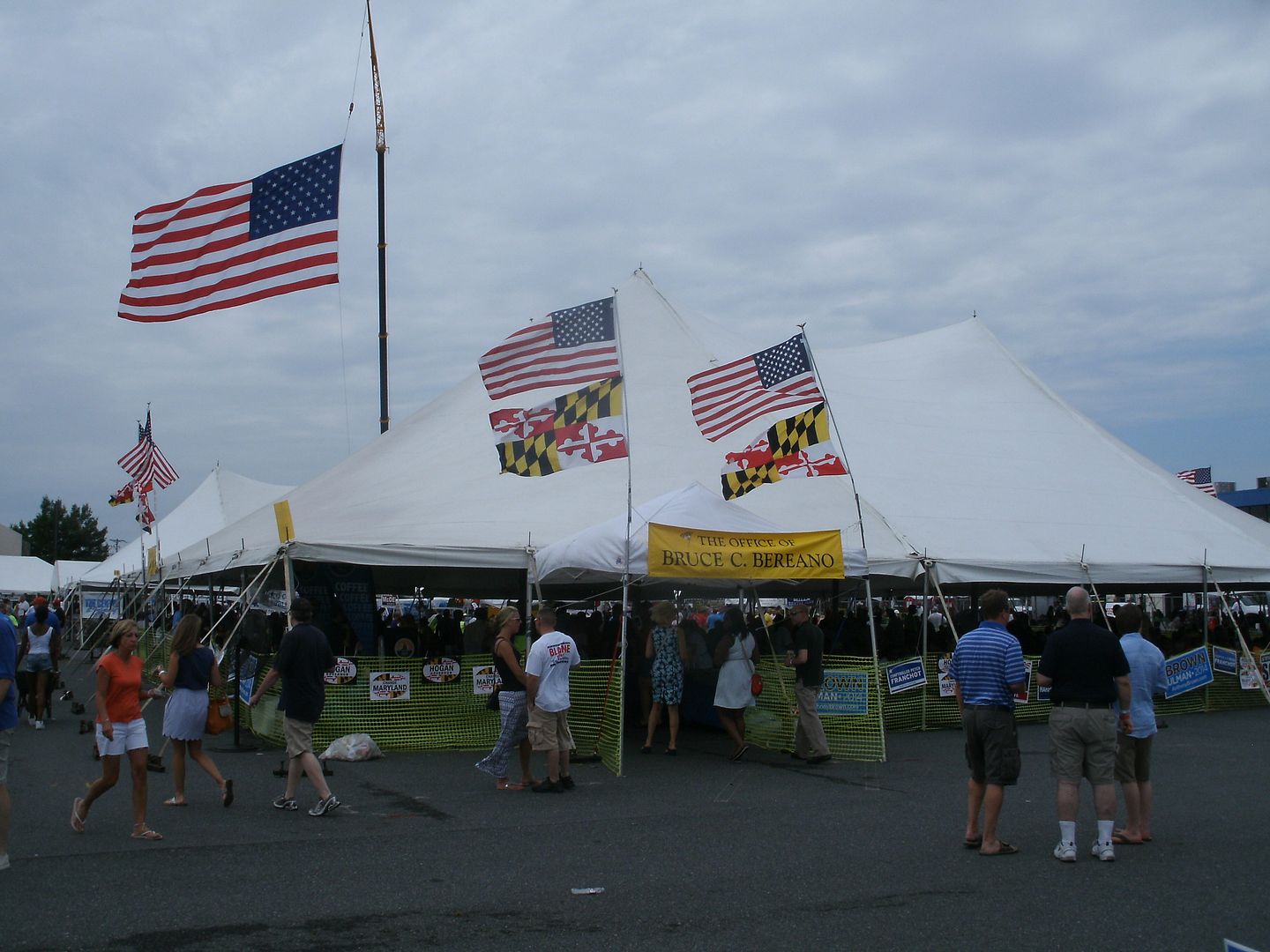 Annapolis lobbyist Bruce Bereano always has a crowded party, and it's a bipartisan affair.
The GOP tent this time was set up behind Bruce's, and it was a hub of activity for the Republican side. A lot of local and state hopefuls were there at some point.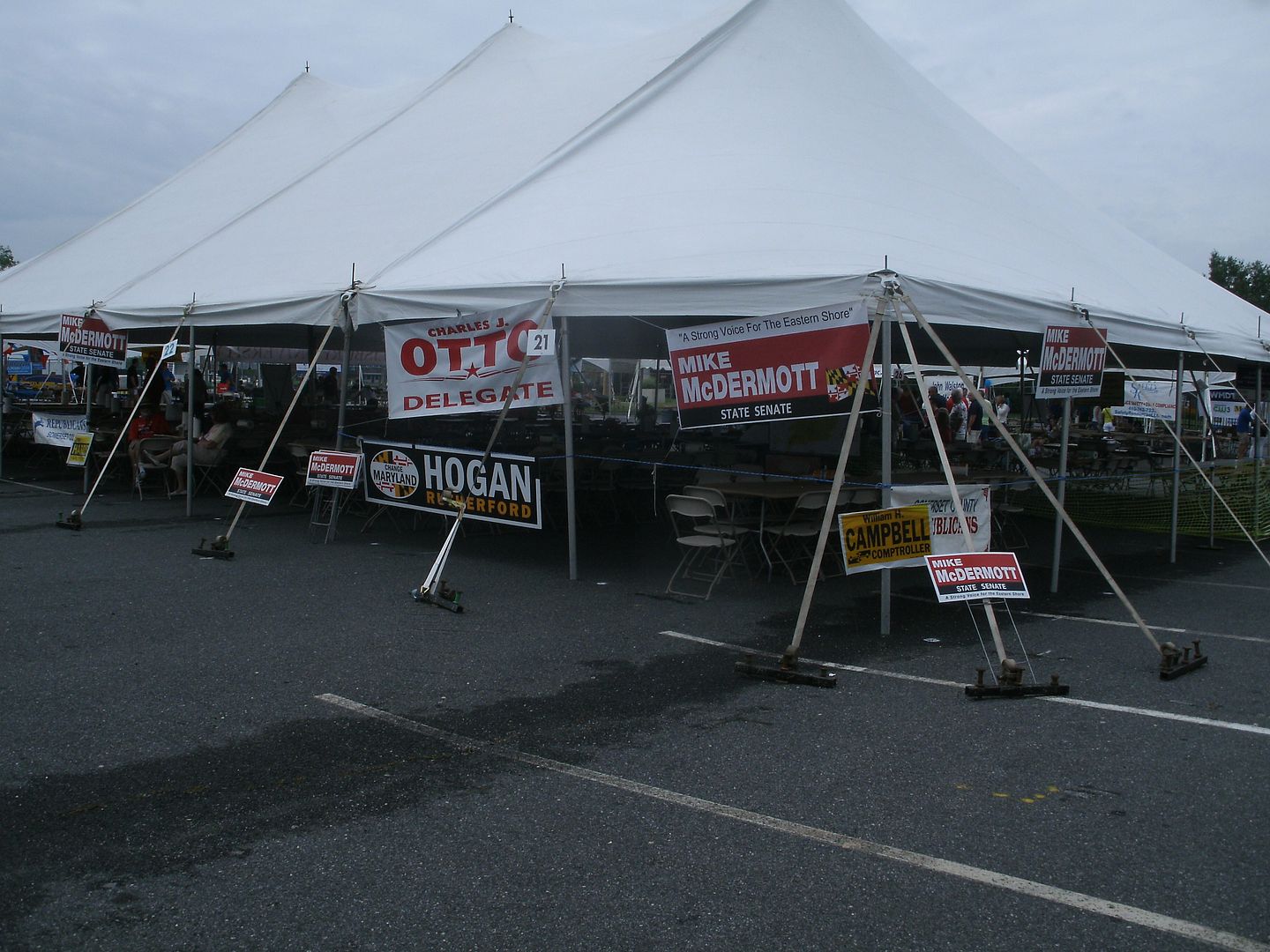 GOP gubernatorial candidate Larry Hogan decided to have his own space, which ended up by the side entrance.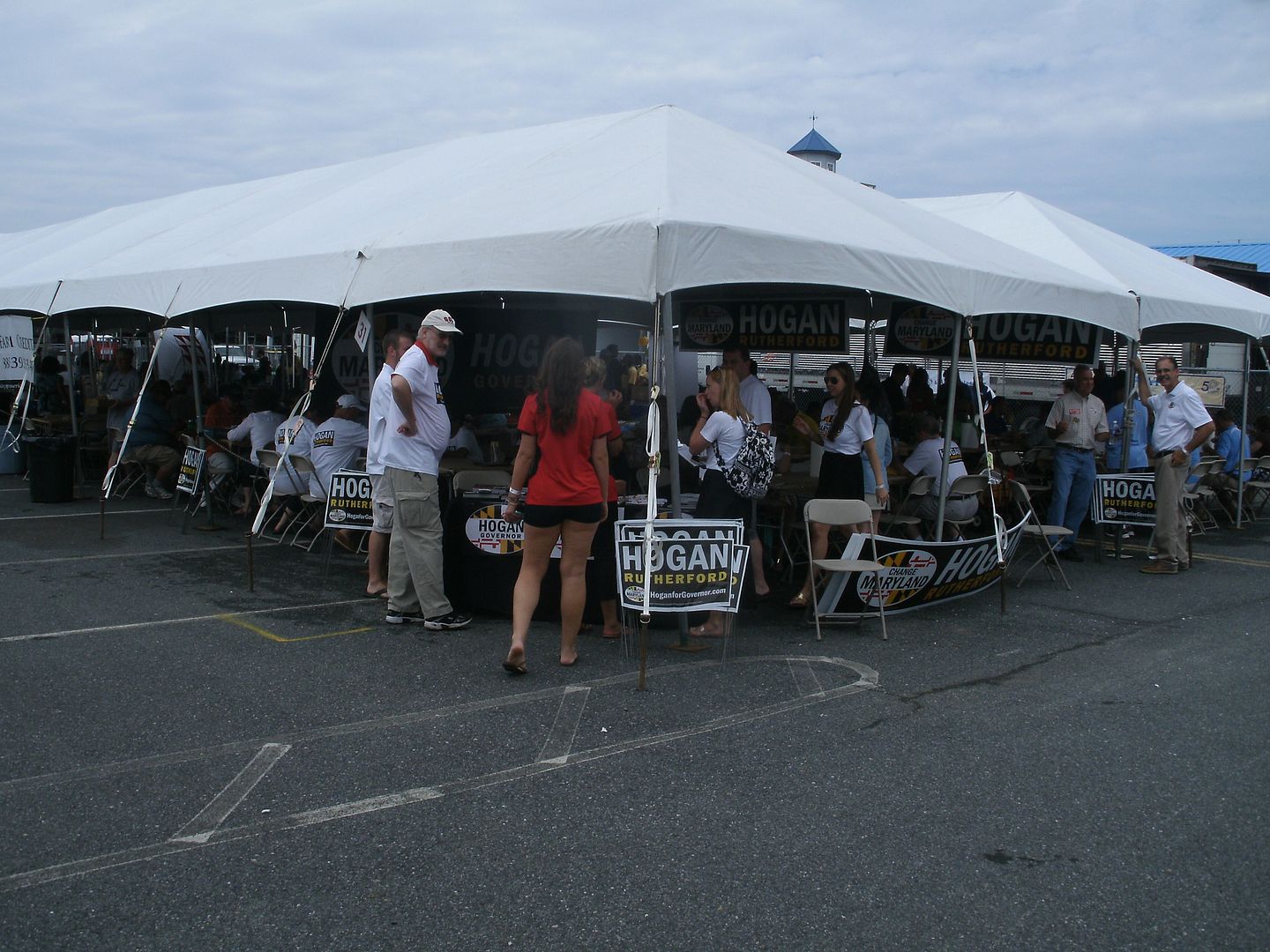 On the other side of the Republican tent and just around the corner, the Democrats were set up close to their usual rear location along the waterfront. Salisbury mayor Jim Ireton was holding court there. (He's in the white at the center, in shades.)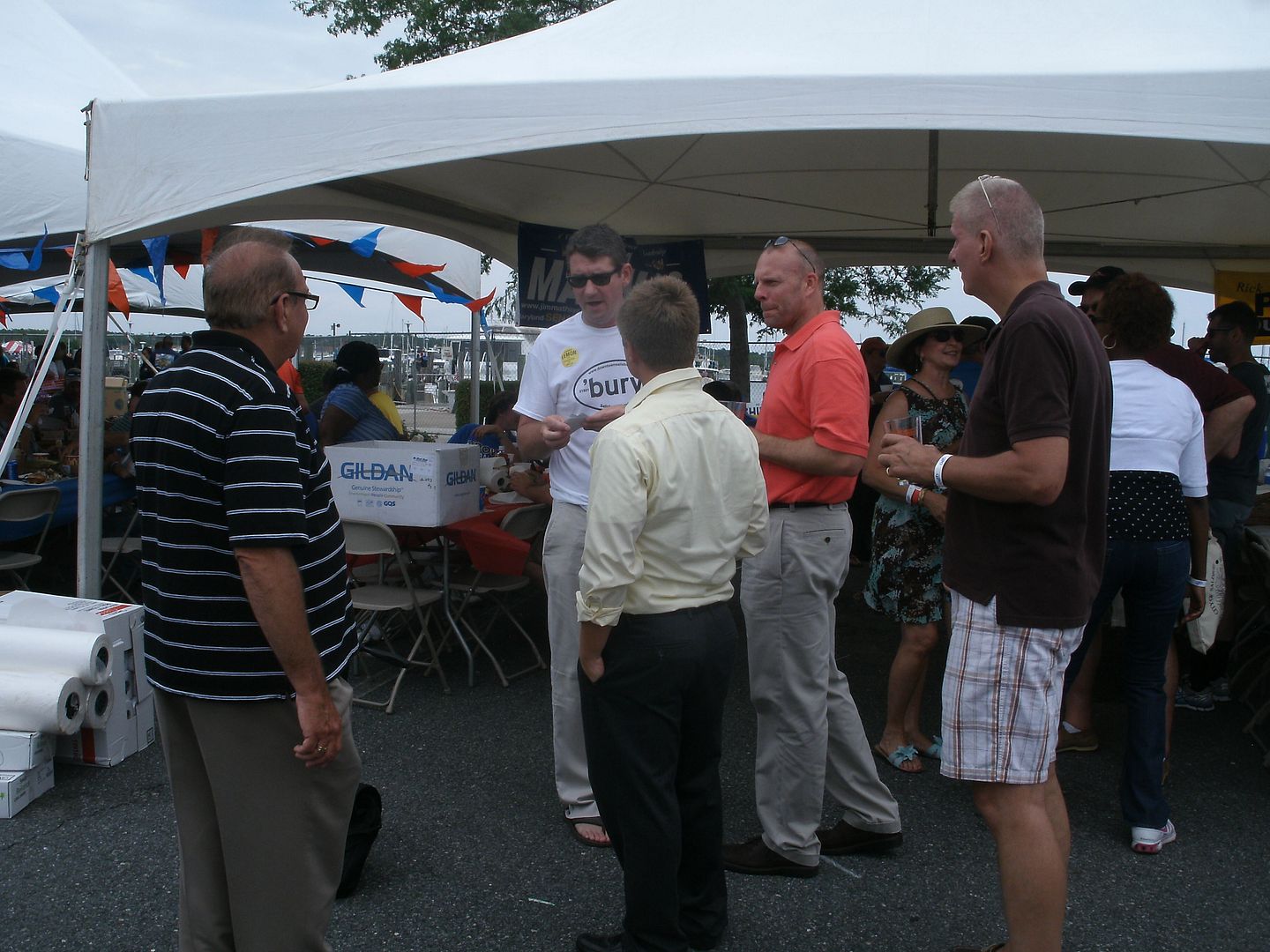 By and large, though, most of those in attendance were interested in one thing. See the light blue lean-to to the left of the Sysco trailers in the photo below? That's where the crabs were being served, and the line indeed stretched that far back 15 minutes before the announced noon opening – they really start serving about 11:30 or so.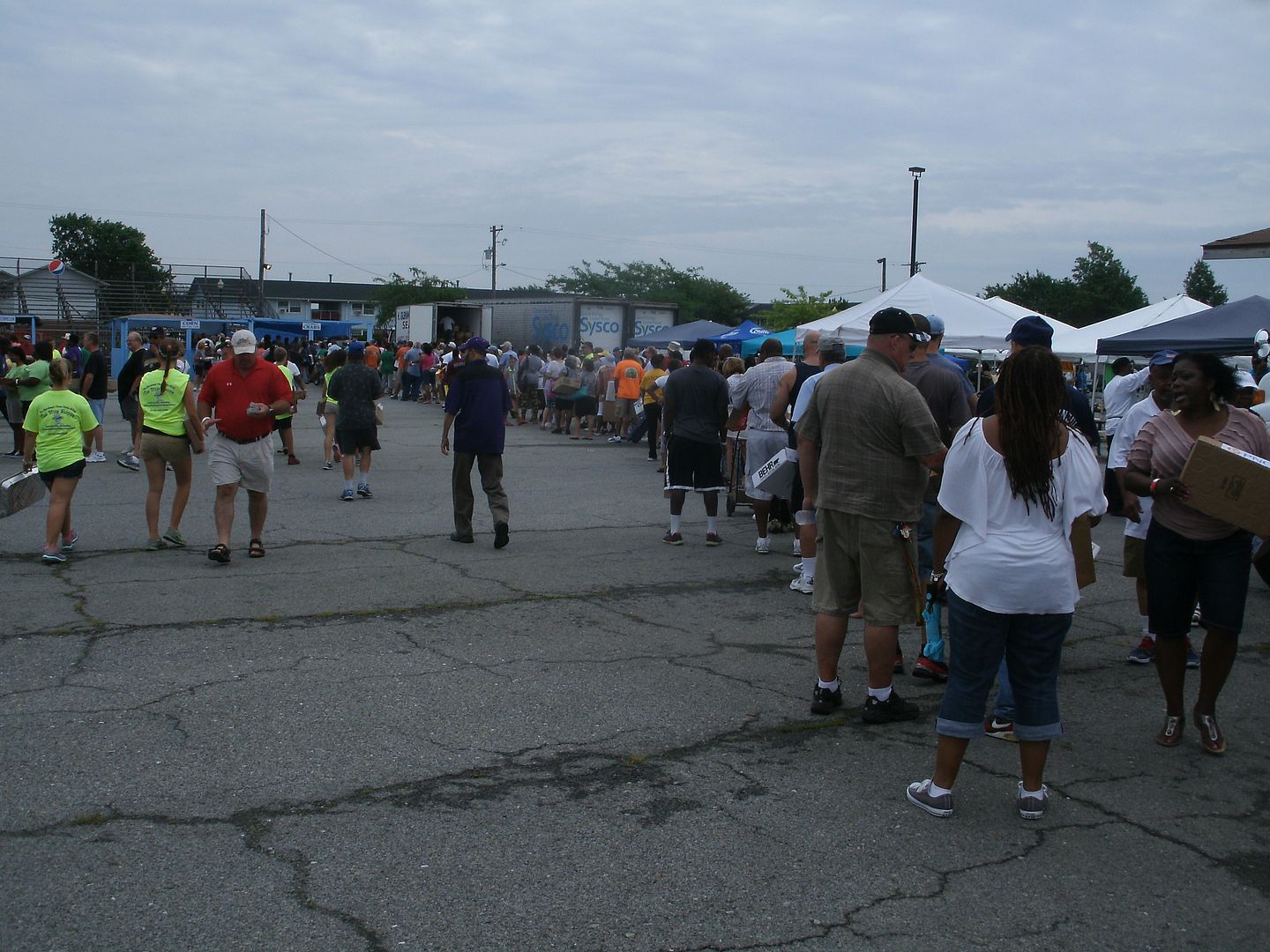 I think the longest wait I had was about 10 minutes for the Boardwalk fries. As it turns out, I'm not a crab eater – but I like the fried clams and the fish sandwiches. Oh, and there's a few politicians there too, but I'll get to that in due course because I can find the political in a lot of things – except perhaps this.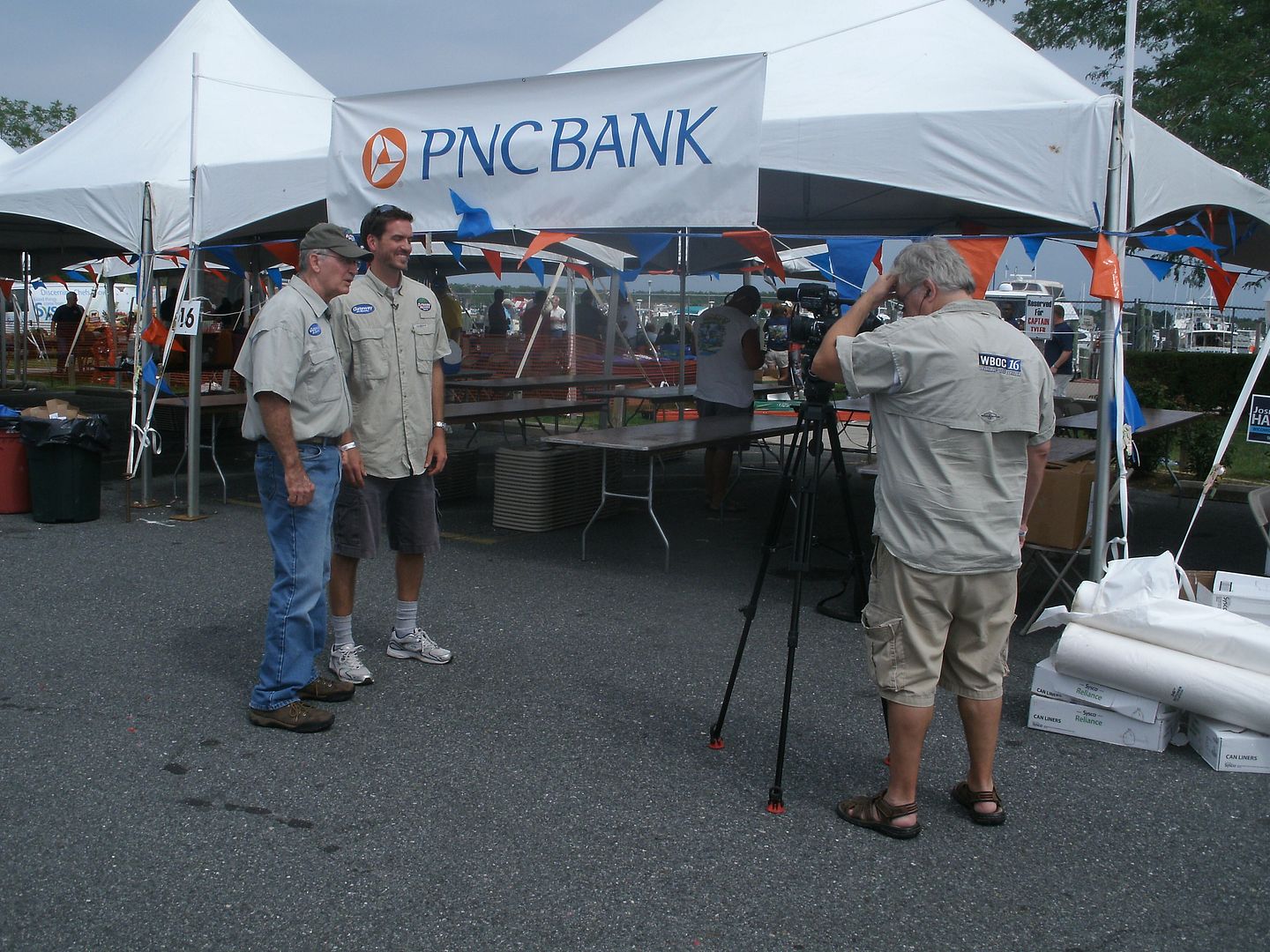 The hosts of a locally-produced show called "Outdoors Delmarva" always seem to find time to tape a segment here.
Another local business I always find at Tawes made a very classy, and apolitical, gesture this year.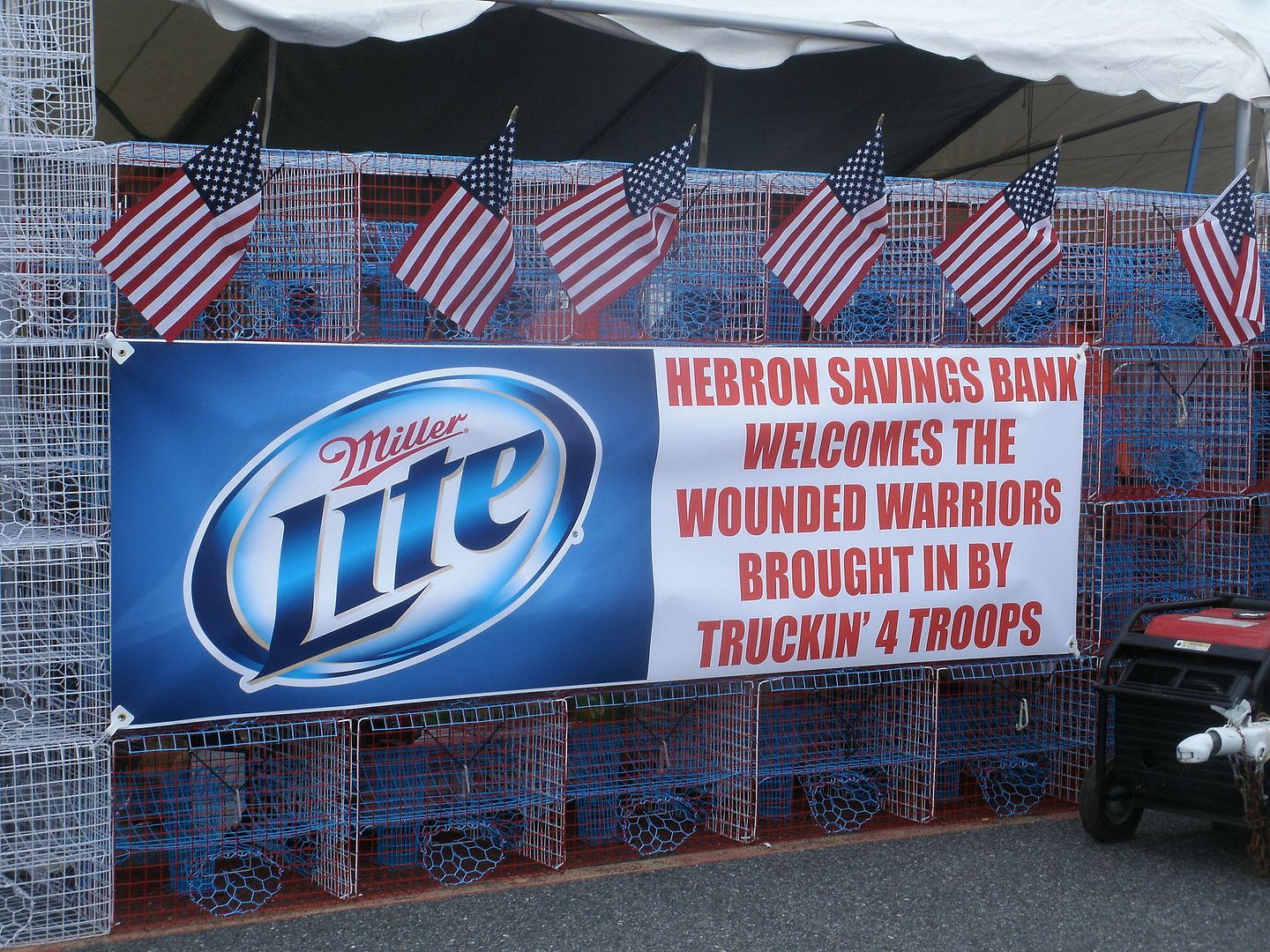 But I do find the irony in some things. For example, those of you familiar with the Hudson case may appreciate some here.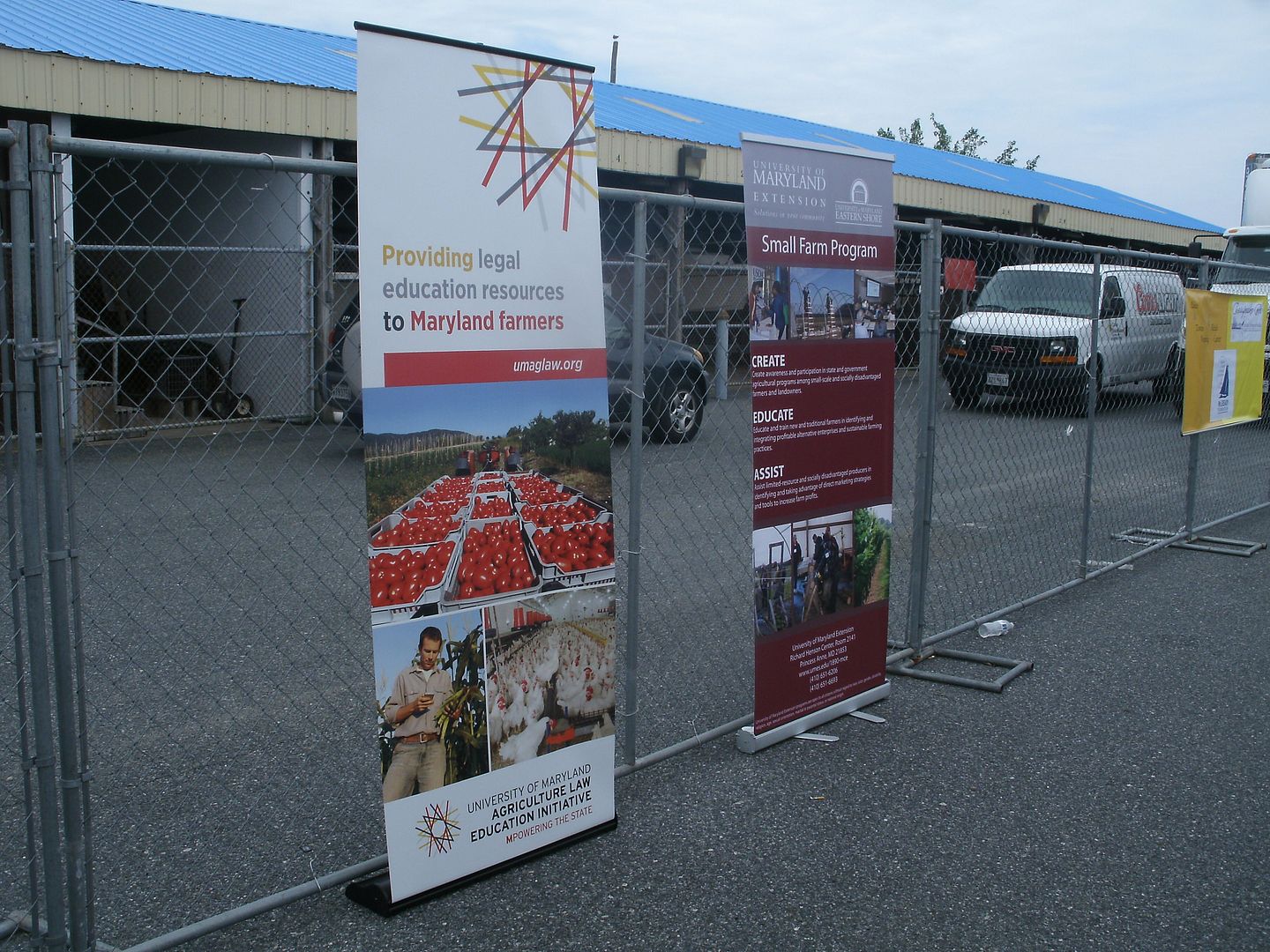 It seems to me the UM law school was on the other side of the fence before, as opposed to this group, part of the Clean Chesapeake Coalition, which tends to take agriculture's side as well as that of local government.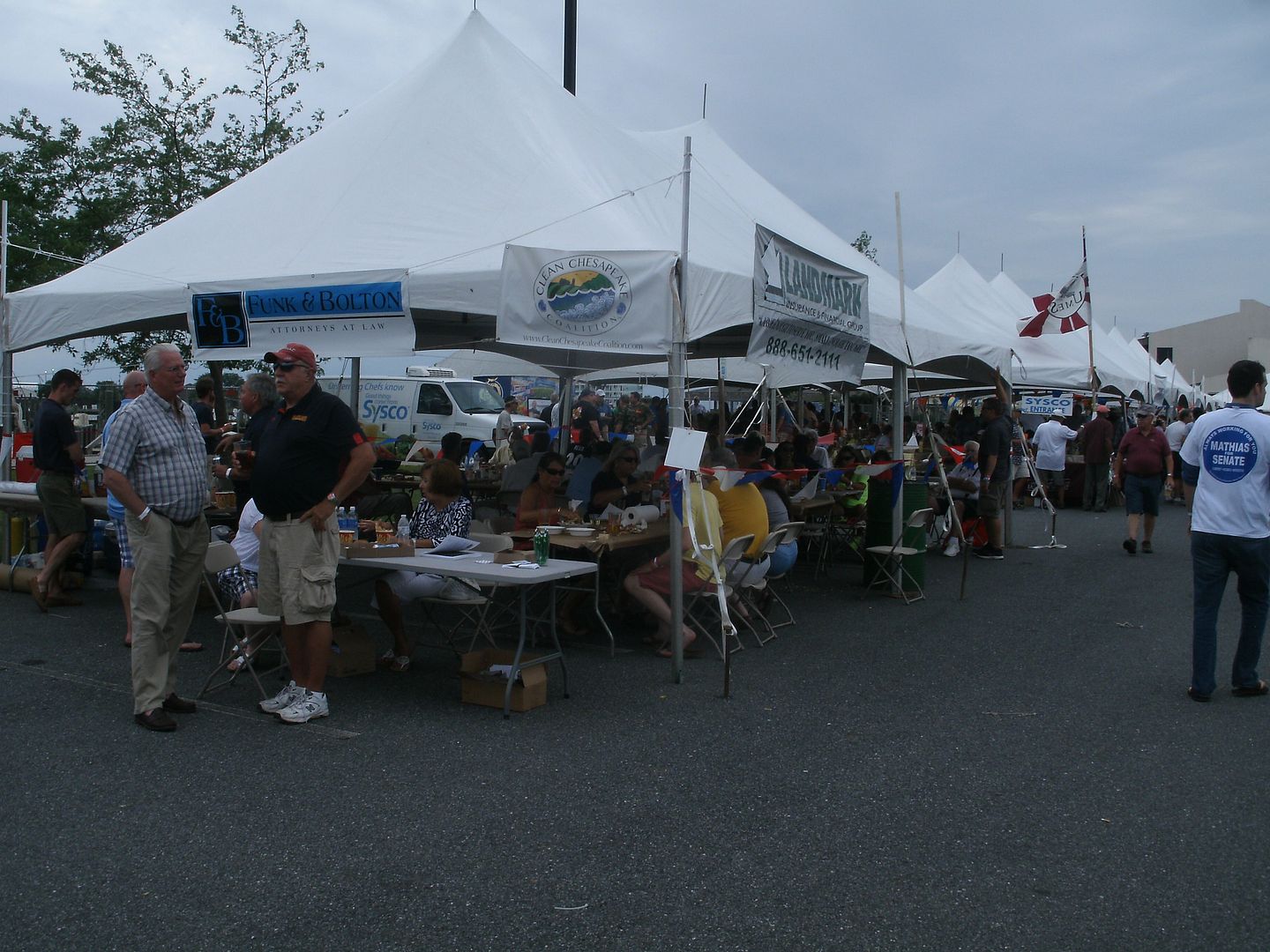 One other thing worth pointing out is the media frenzy this event creates. Here's Delegate (and Senate candidate) Mike McDermott being interviewed. Wonder how much they actually used?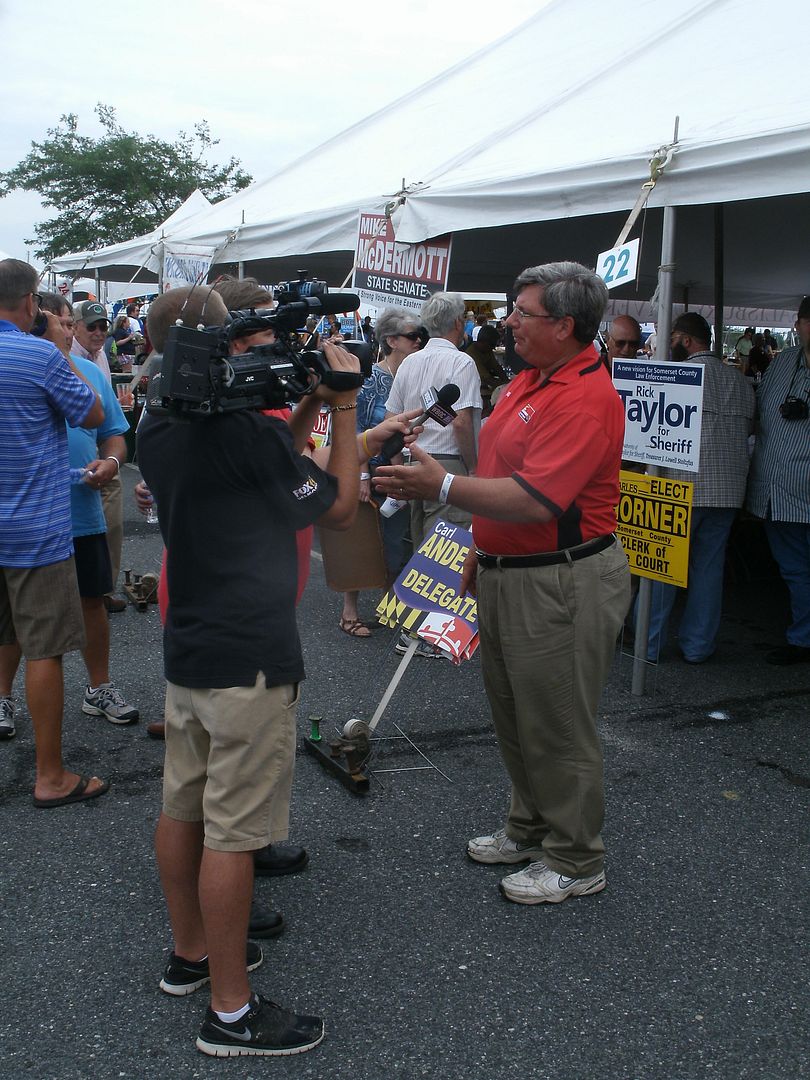 Most of the excitement occurs when the top members of the respective tickets arrive. Hogan had the tent but didn't come until the event was well underway. His entrance was rather modest.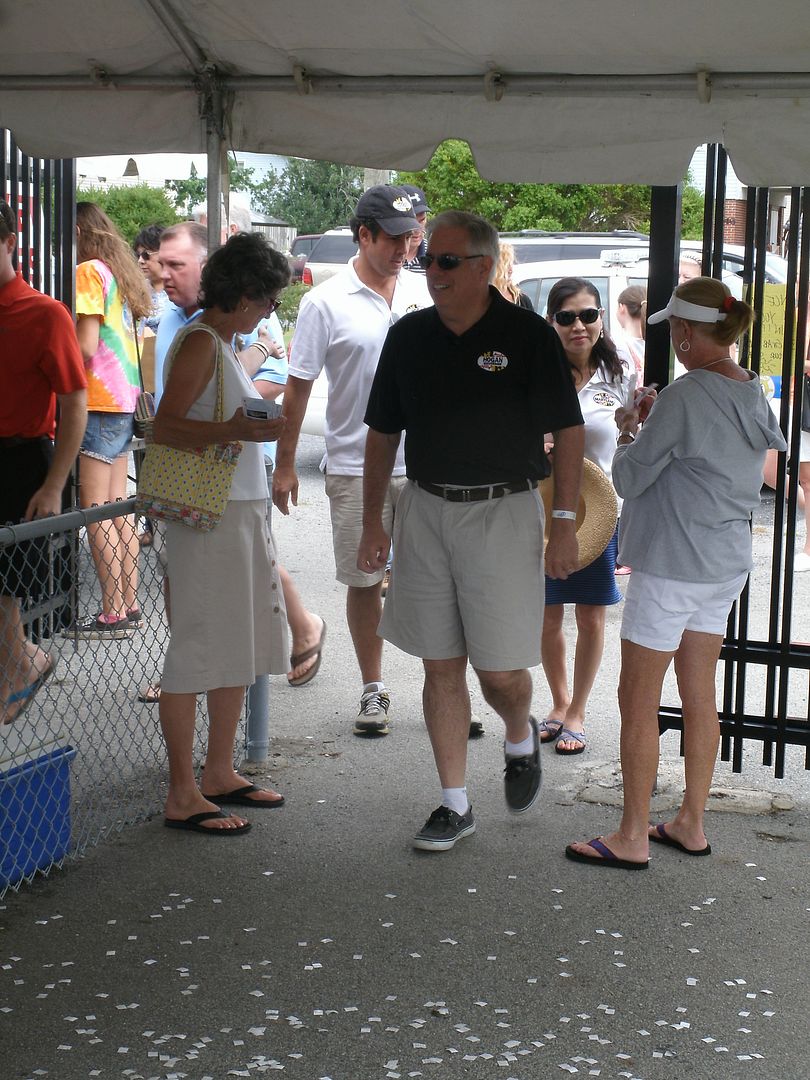 Oh, did I tell you pretty much everyone in the tent was waiting for him?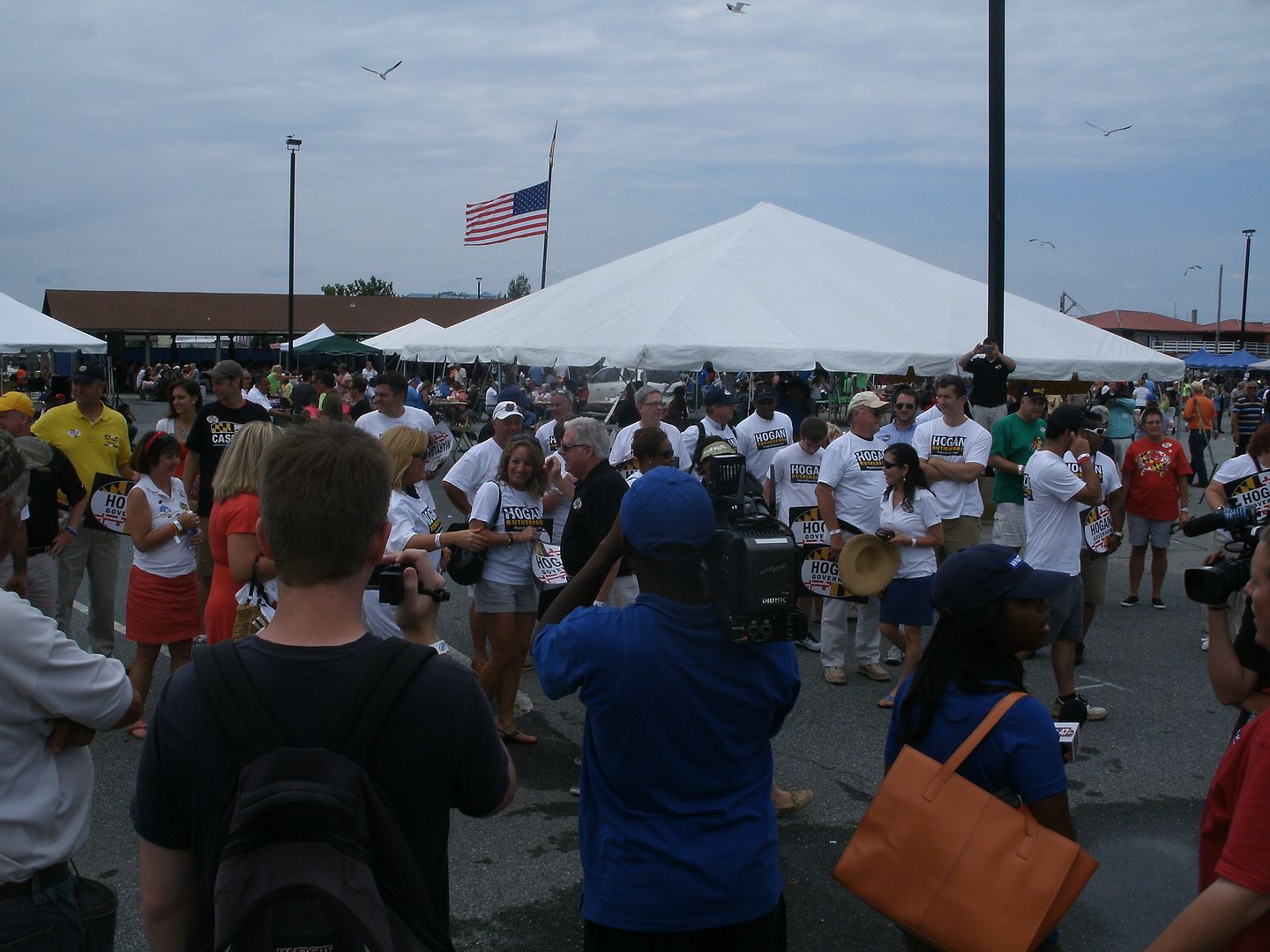 Naturally, everyone wanted to get their quote from him – perhaps even the tracker from the Brown campaign. I'm told Hogan has one.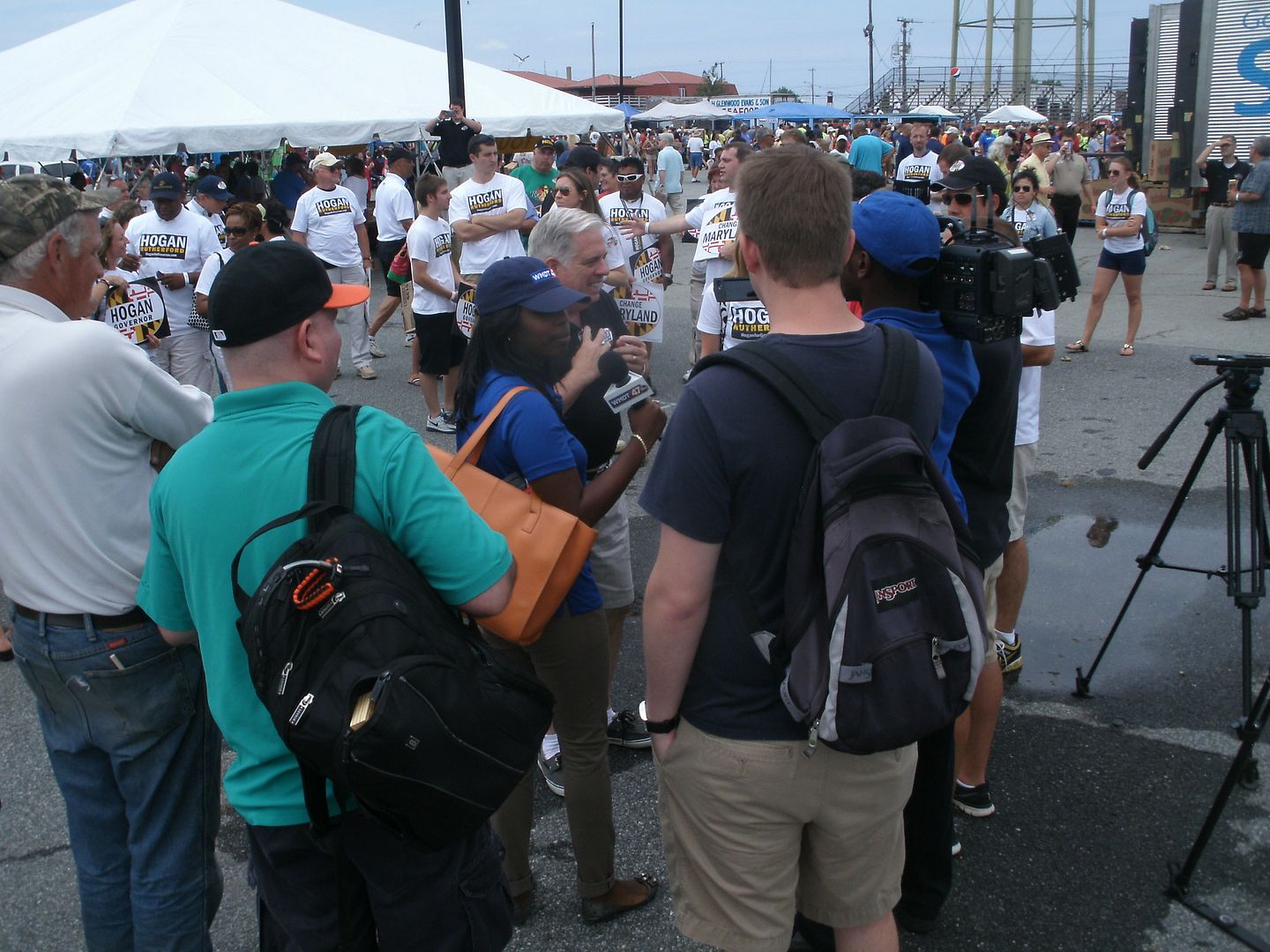 While I've been critical of the Hogan campaign throughout, the way their team handled today was outstanding. This was the first stop I noticed him making after all the interviews were through.
In case you can't read the sign above, it's the tent of the Somerset County Economic Development Commission. To me, that was the perfect place to be seen.
They took a little time to meet and greet; they being both Hogan and running mate Boyd Rutherford. But the point was that I didn't see them walking around much – instead they were engaging voters.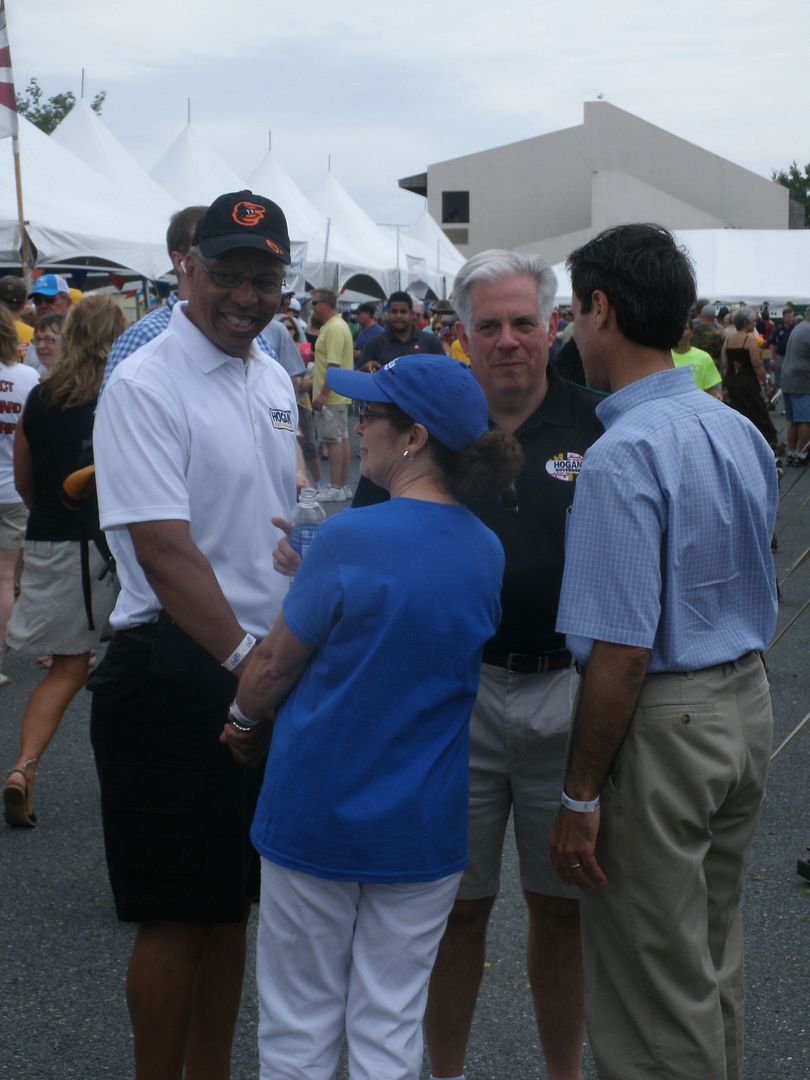 As I noted earlier, there were a number of other politicos there, but the statewide Democrats were not well-represented. I did see their AG nominee Brian Frosh. He's the small guy in the center, violating the Don Murphy rule about not wearing white.
Notably absent, though, was the top of their ticket, Anthony Brown. It's odd because he's been here a few times.
One guy who wouldn't dare miss this is local Delegate Charles Otto (center.) His Democratic opponent is the just-replaced former mayor of Crisfield, which certainly made for interesting retail politics for them.
A guy who lost his primary, Muir Boda (left) was out supporting those who won – and yes, Johnny Mautz was in the house. Muir's with Democratic Wicomico County Council candidate Josh Hastings (right.)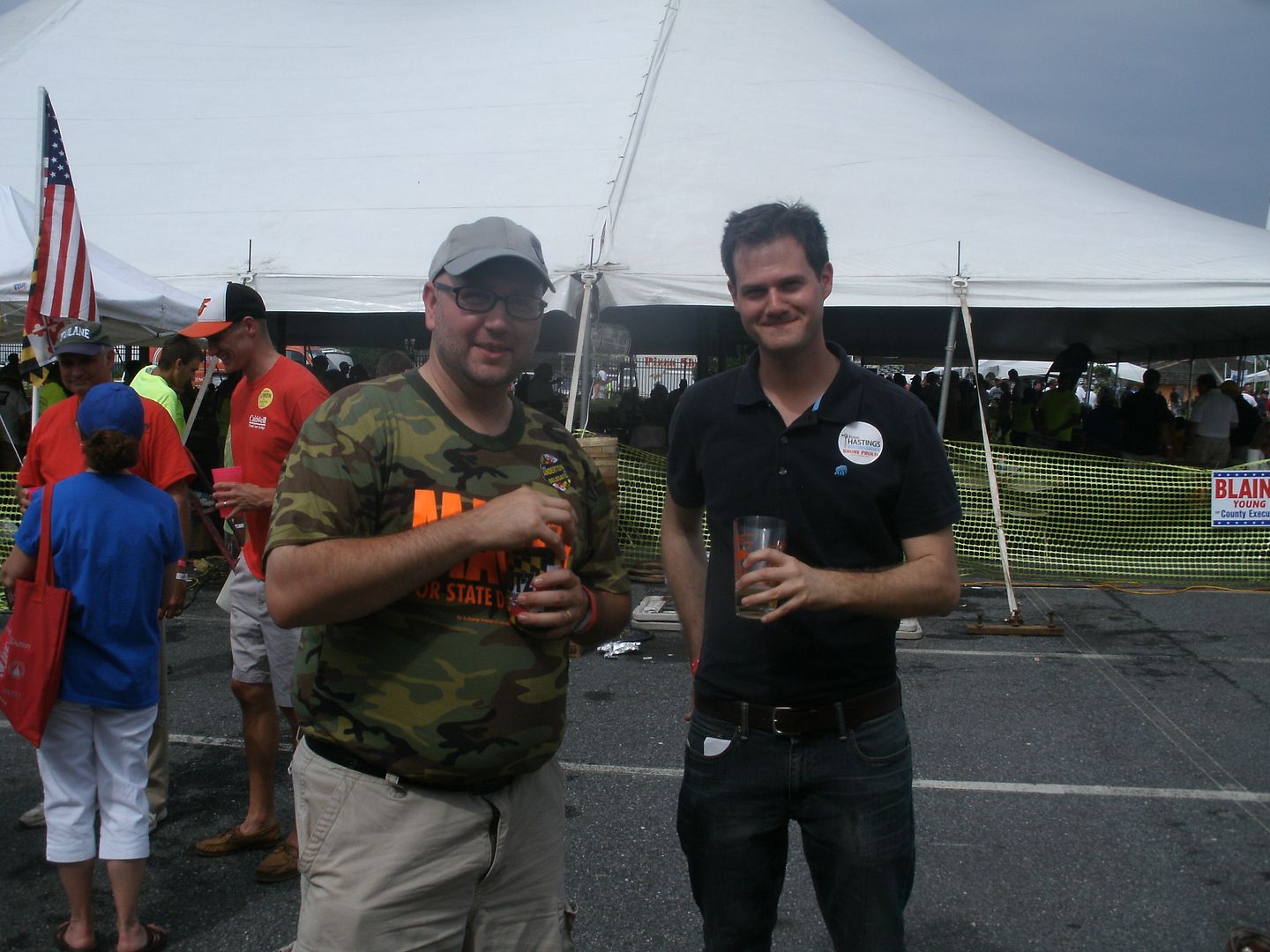 All told, there were a lot of people there. I took this panoramic shot about quarter to three, which is just before those who had their fill begin to trickle out.

One other difference was not seeing all the Red Maryland crew there, although I did speak to Duane Keenan, who does a radio show on their network. Another media guy trying to drum up business was Phil Tran, who you couldn't help but notice.
The other new media people I saw there were Jackie Wellfonder – although she hasn't blogged about her experiences yet, she did burn up Twitter – and Jonathan Taylor of Lower Eastern Shore News, who has his own photo spread.
But as the event came to an end, we know that by week's end Somers Cove will be back to normal.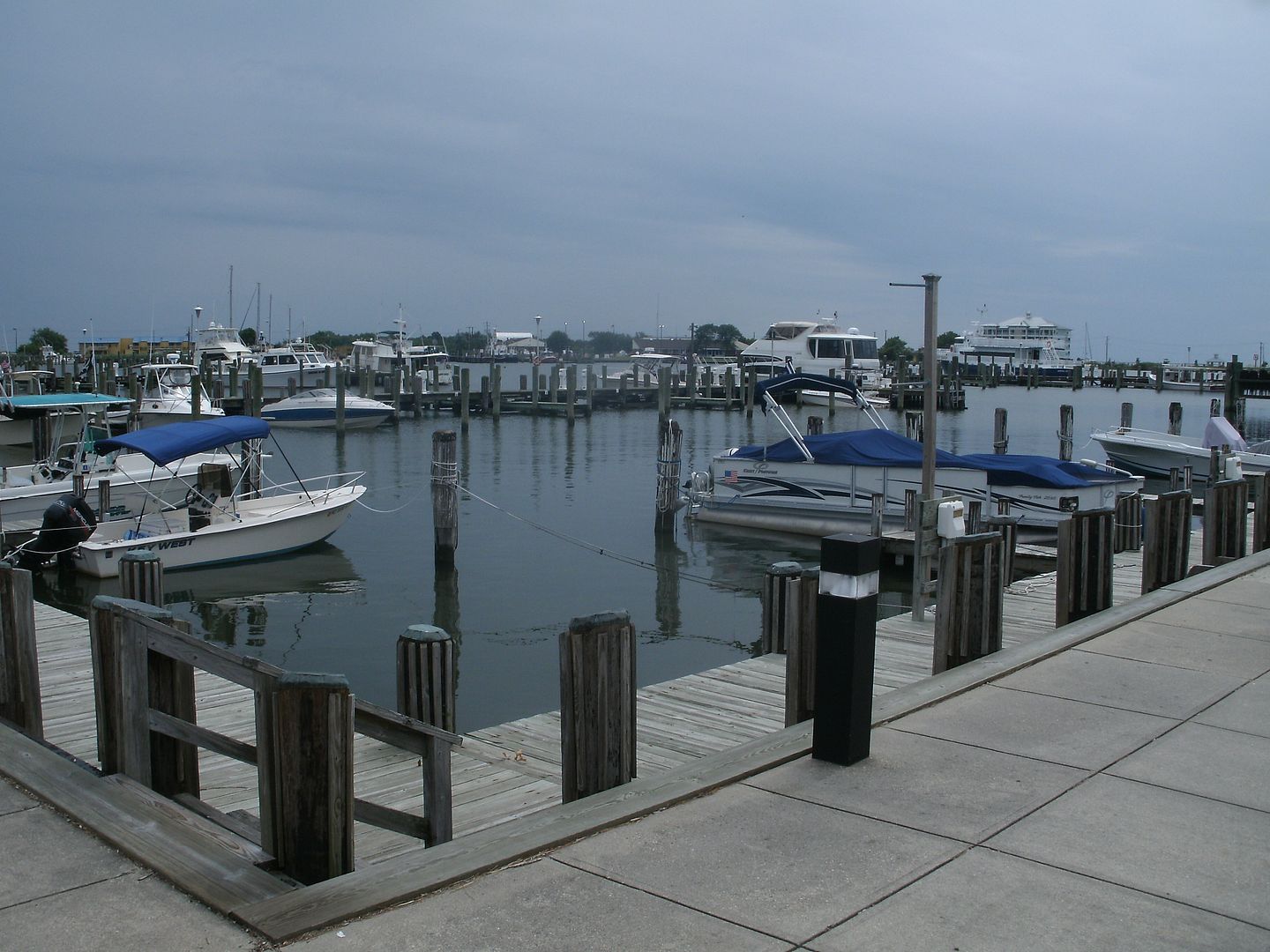 In 2015 the Tawes event should be good for sizing up the lone statewide race in 2016. While Barbara Mikulski has given no indication on whether she will retire, the soon-to-be 78-year-old senior Maryland Senator may not like being in the minority come next year and could decide to call it a career. We should know by next July.