After a week's delay caused by the untimely passing of Sylvia "Cookie" Harris, wife of our esteemed Congressman, we finally opened our local Republican headquarters to a crowd of about 75 people.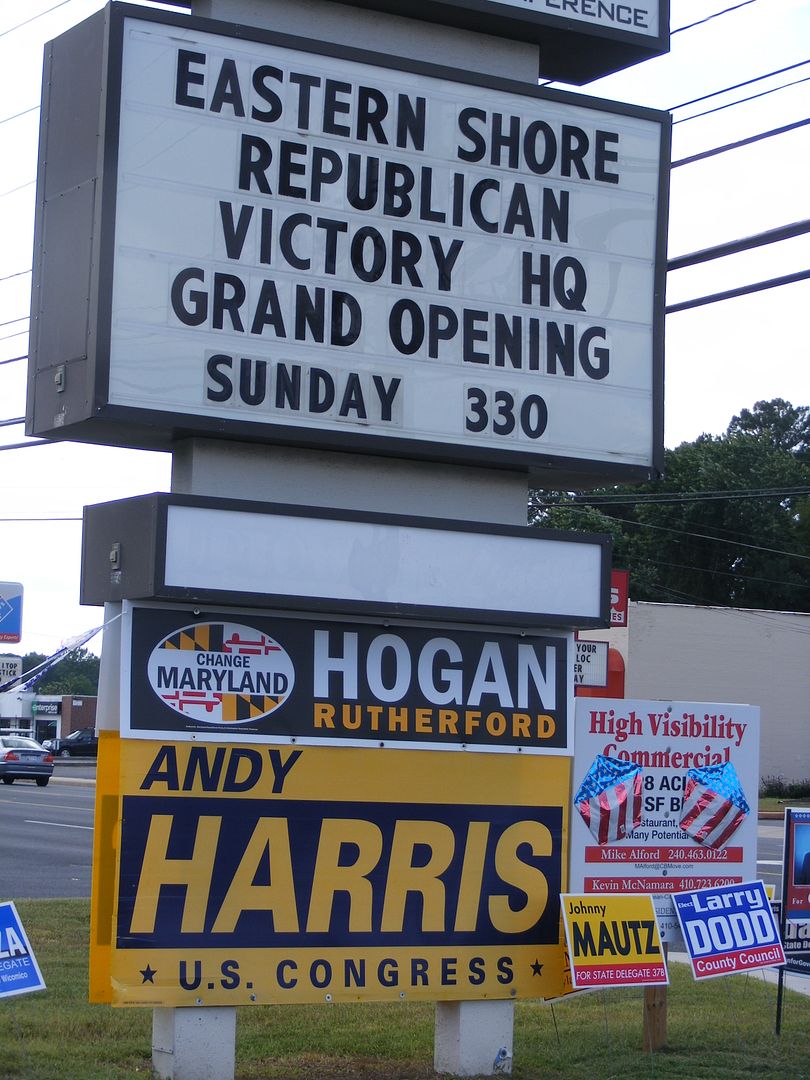 The old Mister Paul's Legacy had been spruced up after several months of inactivity for a new purpose: to assist in getting local Republican candidates into office.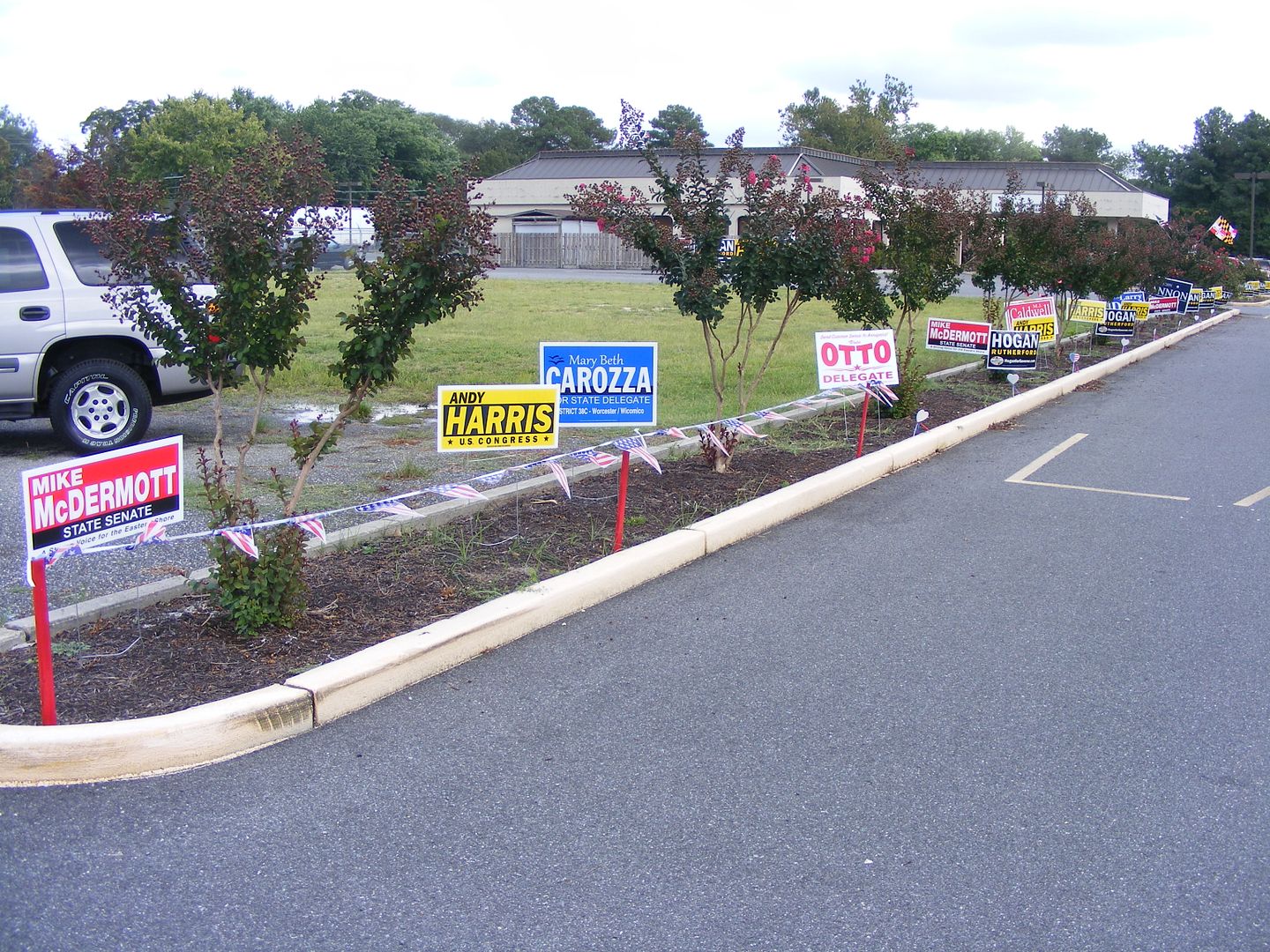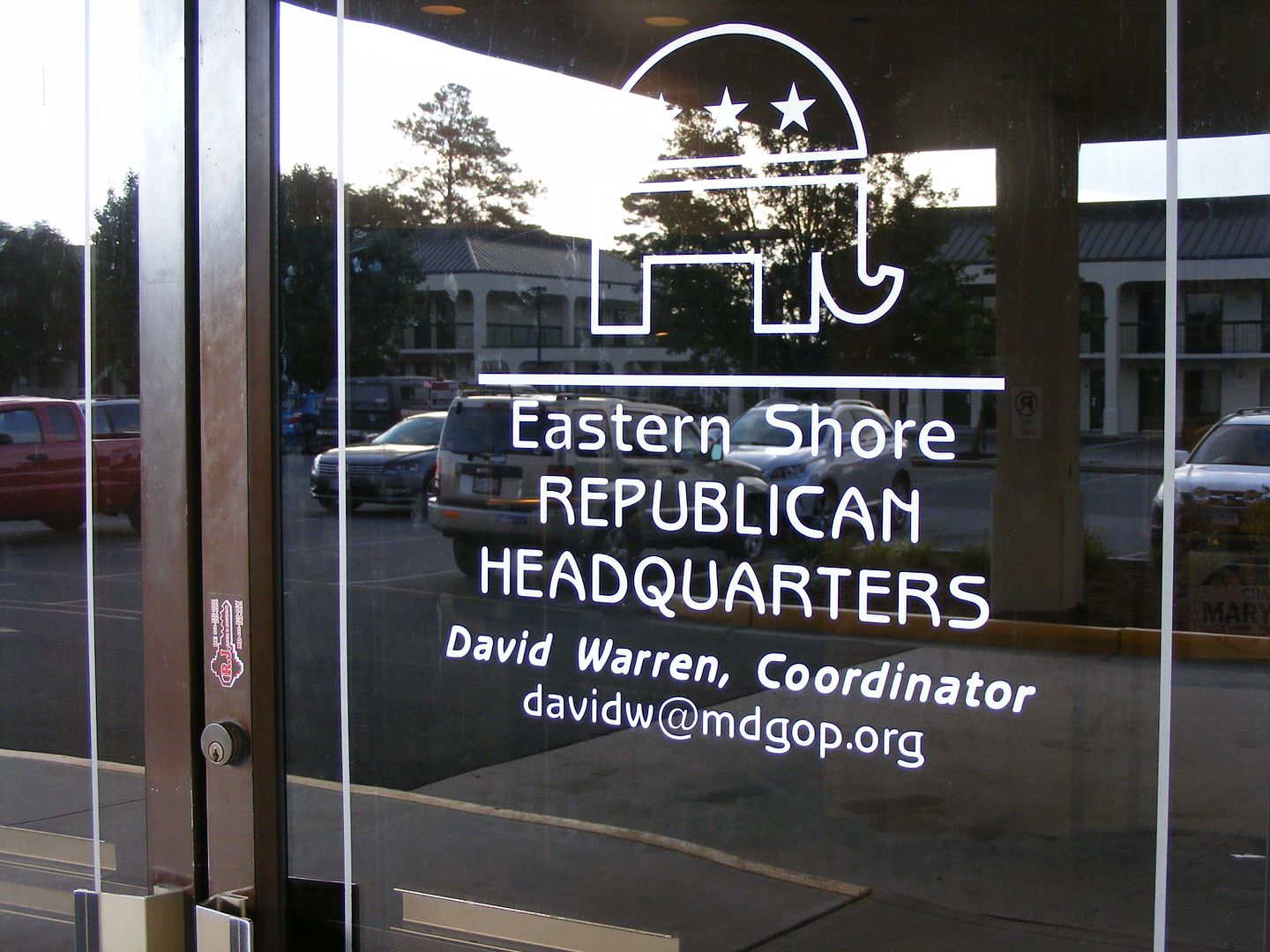 Of course, a number of candidates and elected officials were there, along with supporters. Inside there were signs and information for all the local hopefuls who had dropped anything off, as well as a table for the top of the ticket.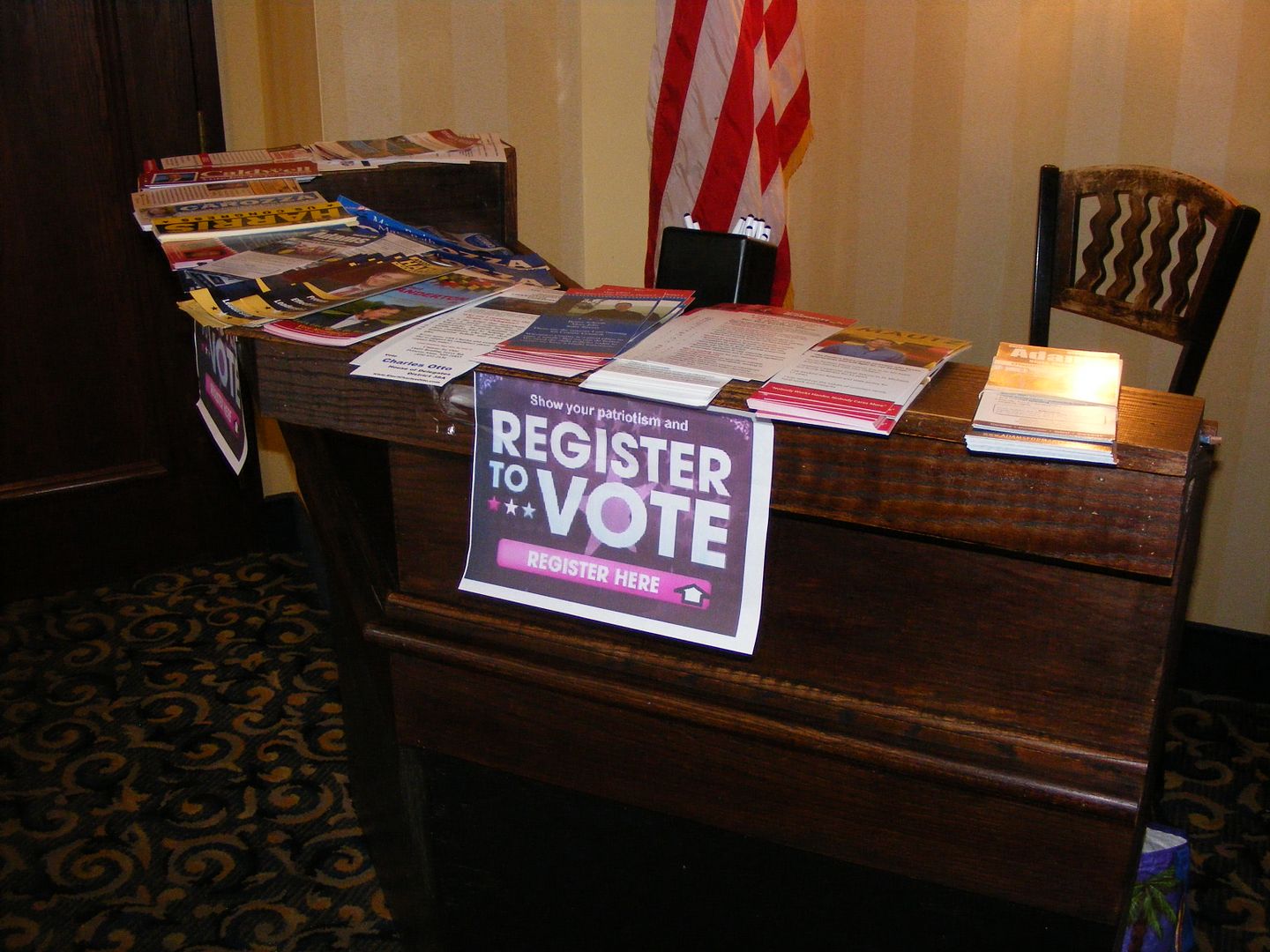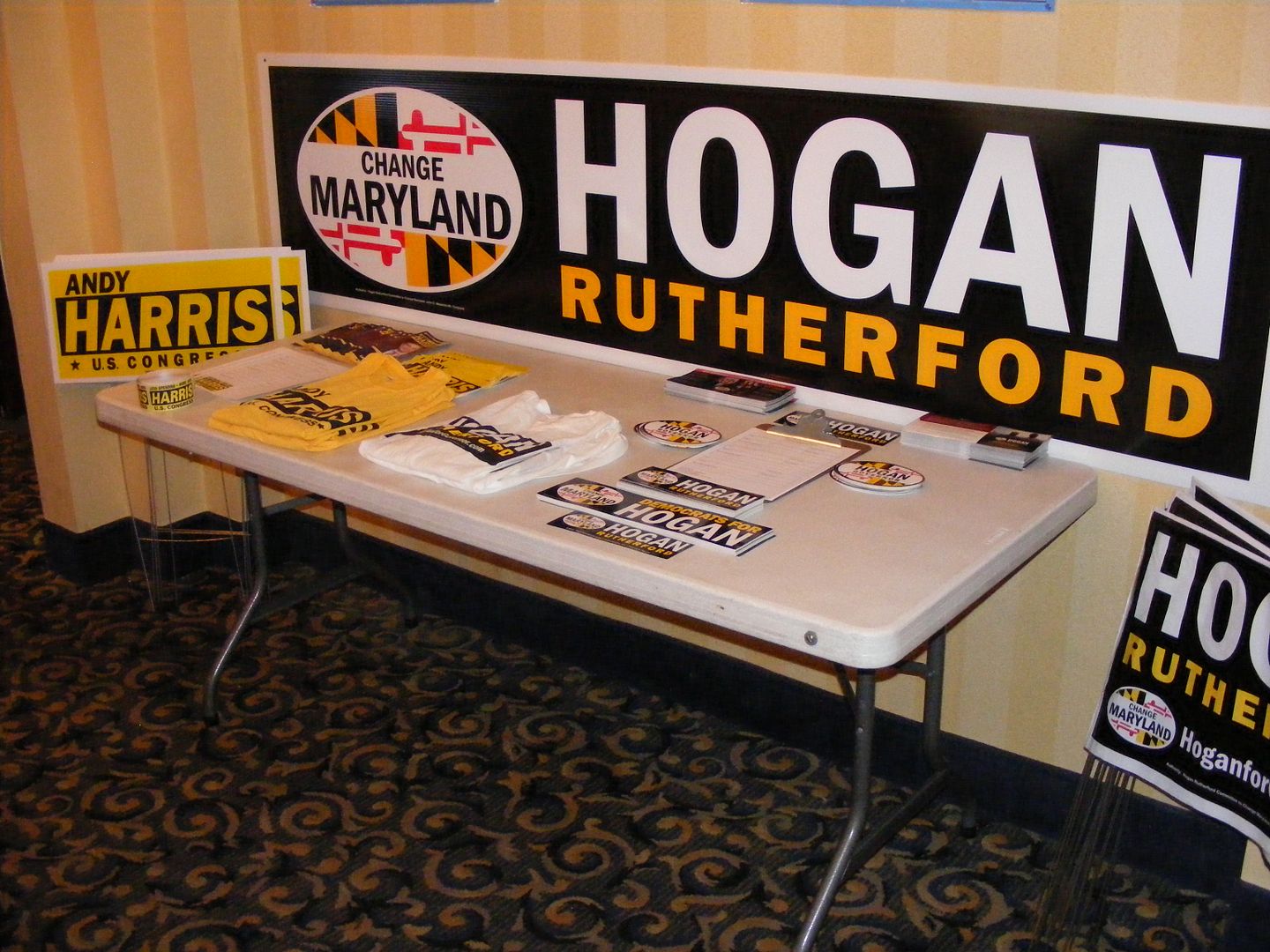 And while the star of the show was rightfully going to be gubernatorial candidate Larry Hogan, local folks were indeed showing a lot of passion for their favored downticket candidates.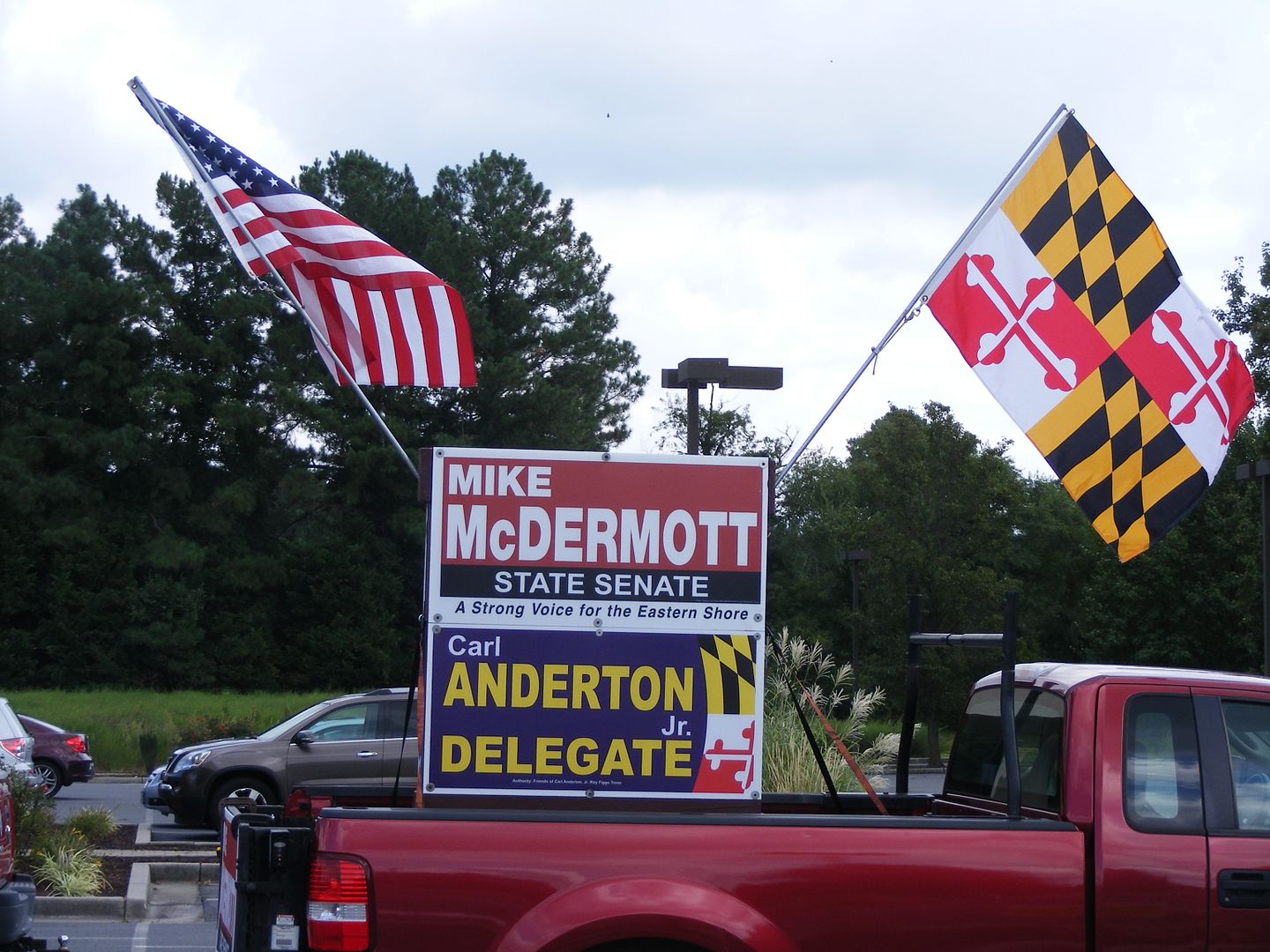 There was even love for our volunteers spread around inside with little messages like this.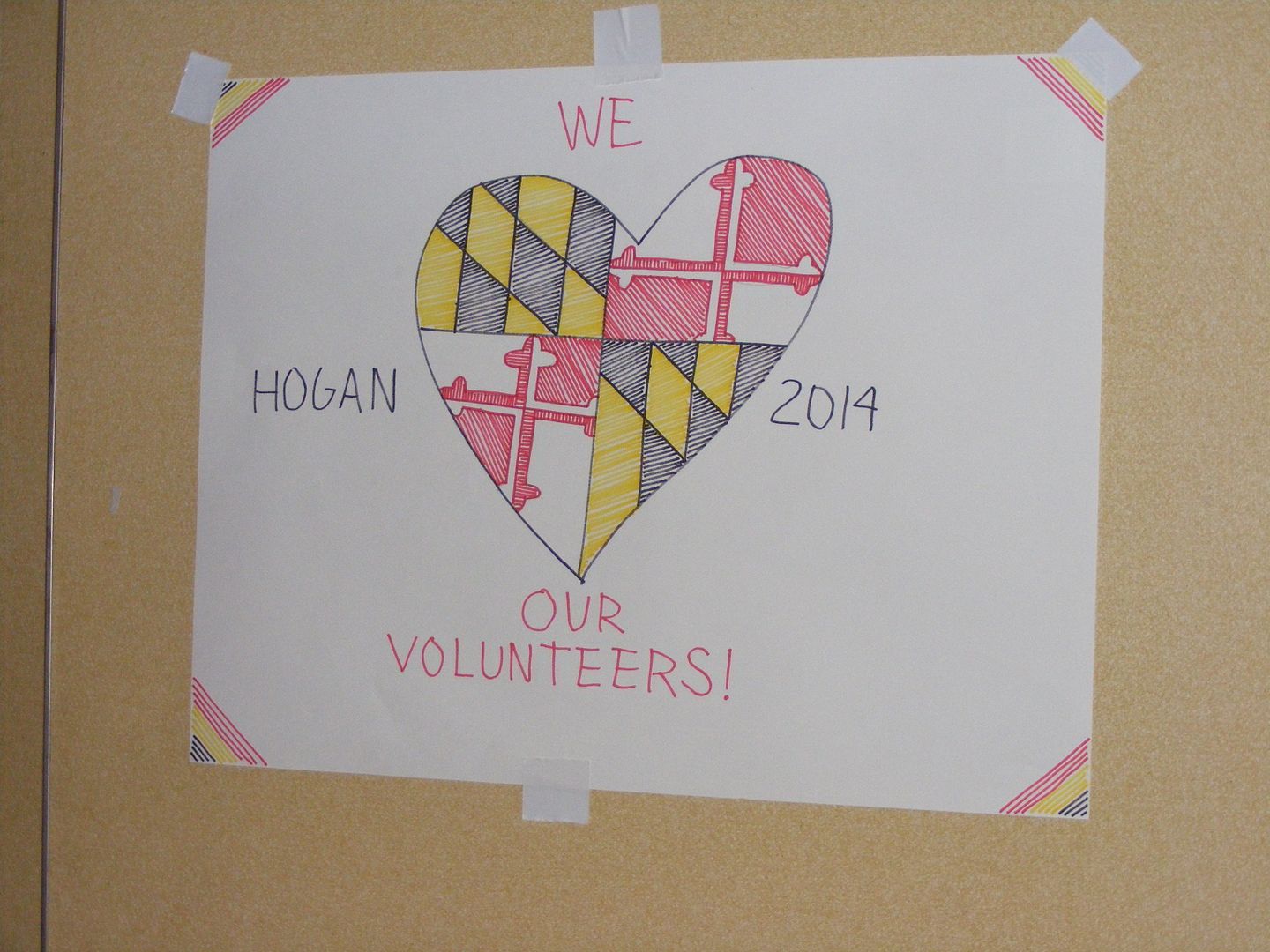 Our presentation began, though, with an emotional update from Mark McIver on how Andy Harris was doing after the sudden passing of his wife. The "terminal optimist" was holding up all right and was getting ready to once again make himself available to help local Republicans emerge victorious. It led up to a moment of silence for both Cookie Harris and Dr. John Mautz, the father of District 37B Delegate candidate Johnny Mautz. The elder Mautz, an Easton dentist, died suddenly yesterday morning.
Wicomico County Republican Club president Jackie Wellfonder had the honor of introducing the guests of honor.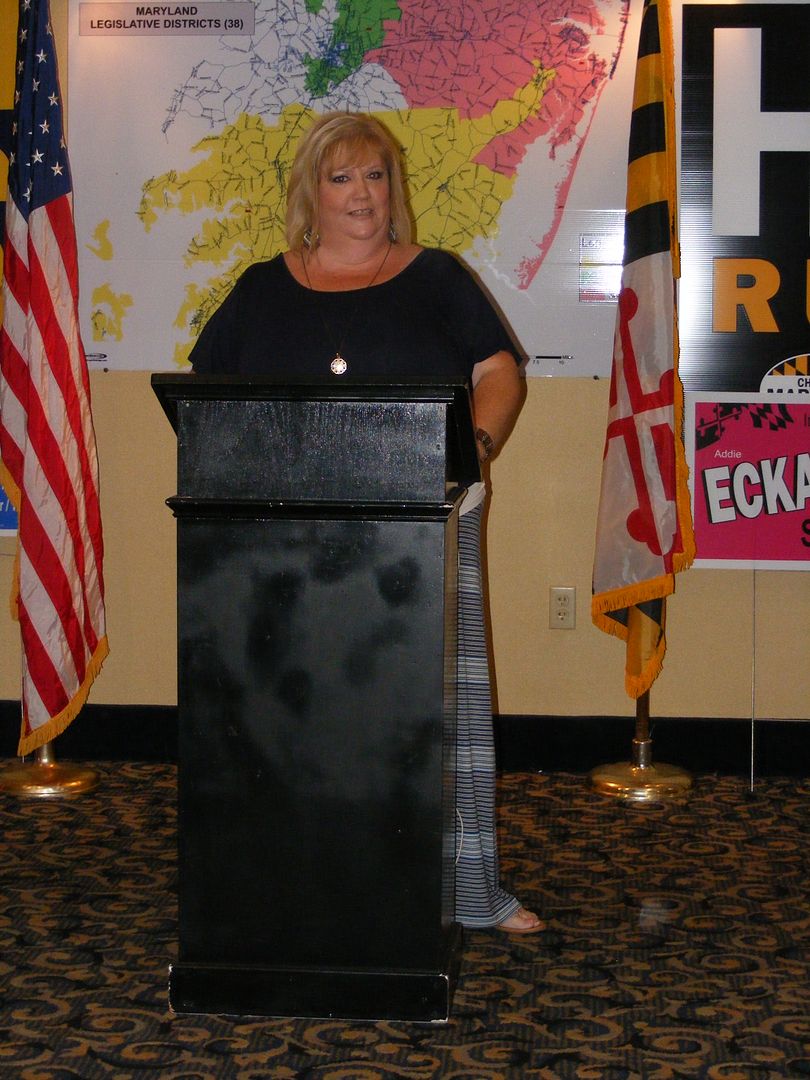 We actually went in reverse of the common political ceremony, because Larry Hogan spoke first.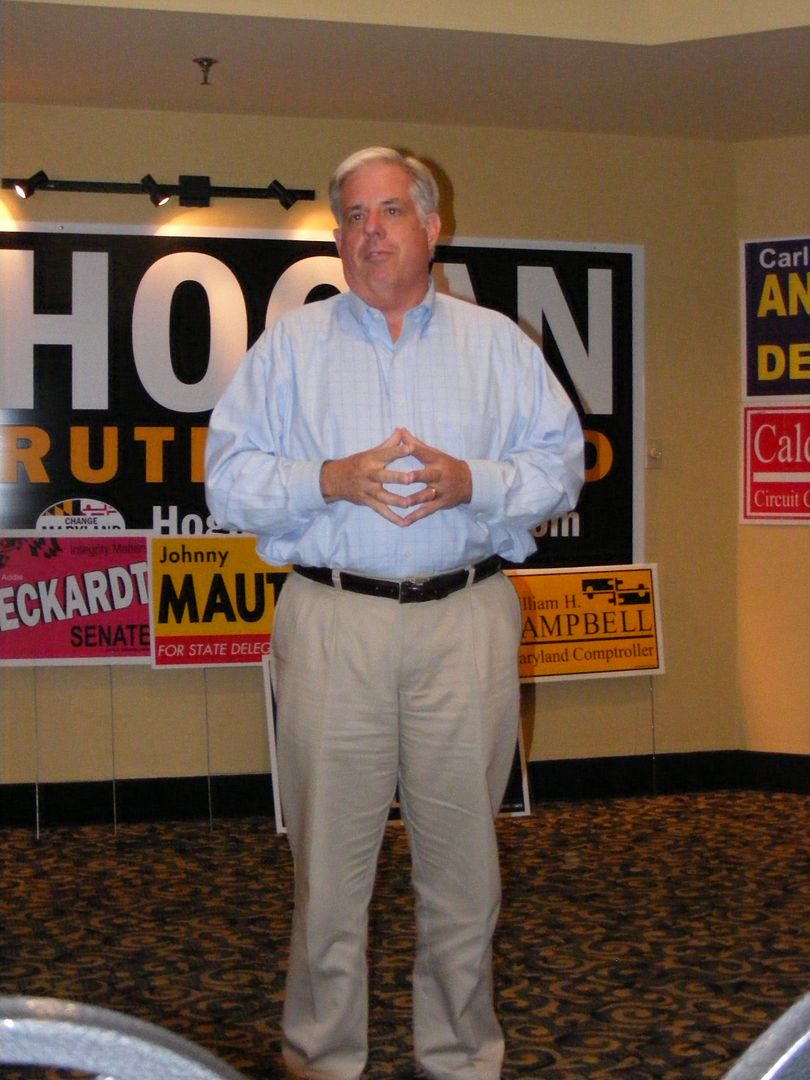 Eschewing the safety of the podium, Hogan complemented the local workers for putting together the "nicest and most luxurious" headquarters in the state. Not bad praise from a guy who rides around in this: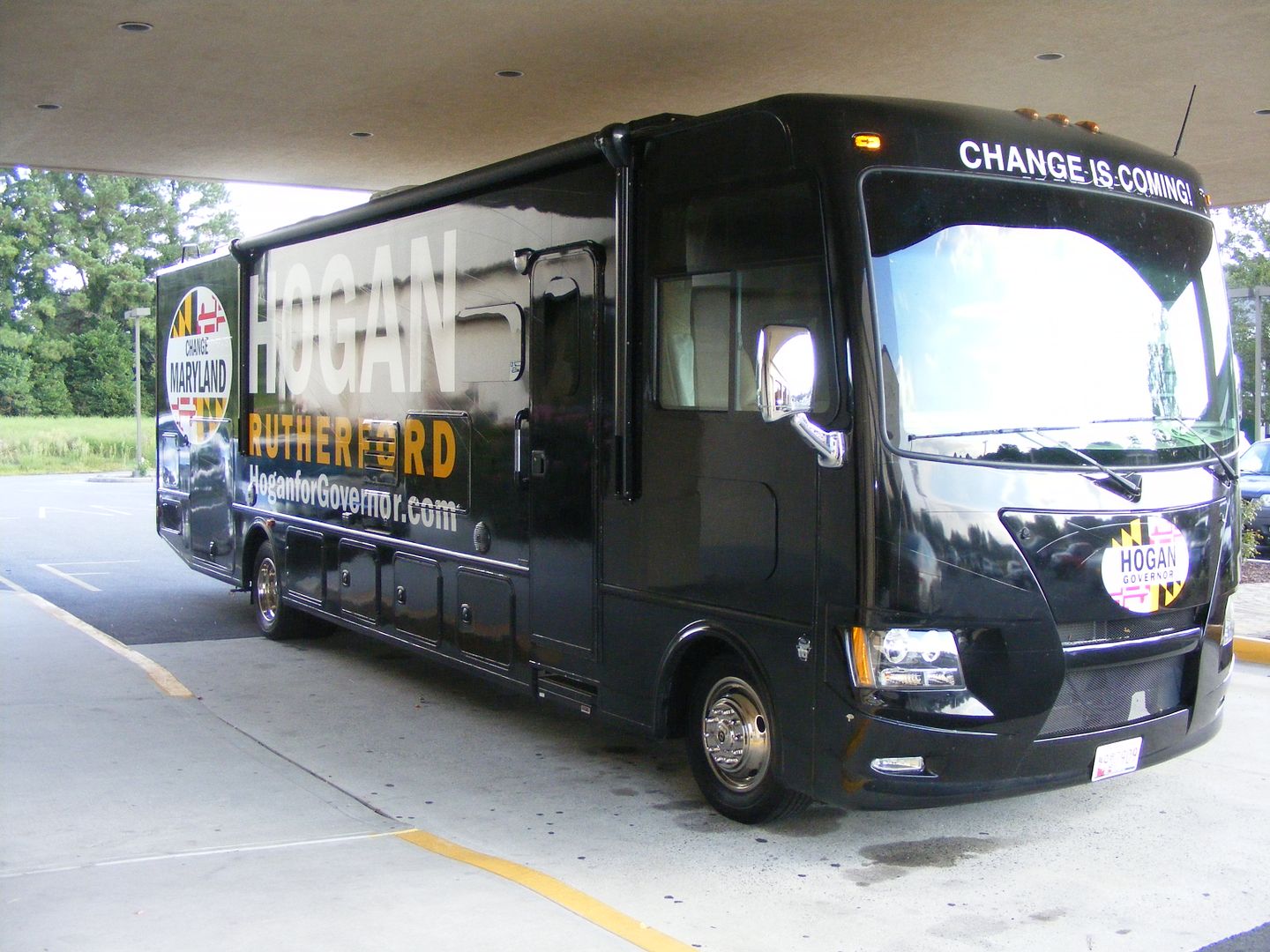 (By the way, it does have a Maryland license plate. I checked.)
Hogan went on to stress that "this is a team effort" and that "this victory center is here to try and elect great Republicans."
And while he called the reaction and response to his campaign "tremendous" Larry also pointed out the feedback from the minority community, noting that in Baltimore City he often heard the refrain "no one cares about us" and that politicians don't come to the area for their input.
It led into his bread and butter message: that after 40 tax hikes and zero economic growth – a statistic Larry called "simply unacceptable" – things were so bad that the majority of Marylanders were fed up with the direction things were going. He cited a recent poll which stated 71% of Marylanders think taxes are too high and 62% would like the state to go in a different direction. His hottest giveaway item was "Democrats for Hogan" stickers, said Larry.
Our voters were angry, Larry explained, while theirs are complacent. "We're driving some big turnouts," he continued. And while he thought of his campaign as the air force, he realized that what we were doing was trying to provide the infantry for the fight. We can "send a loud and clear message" if we all work together, Hogan concluded.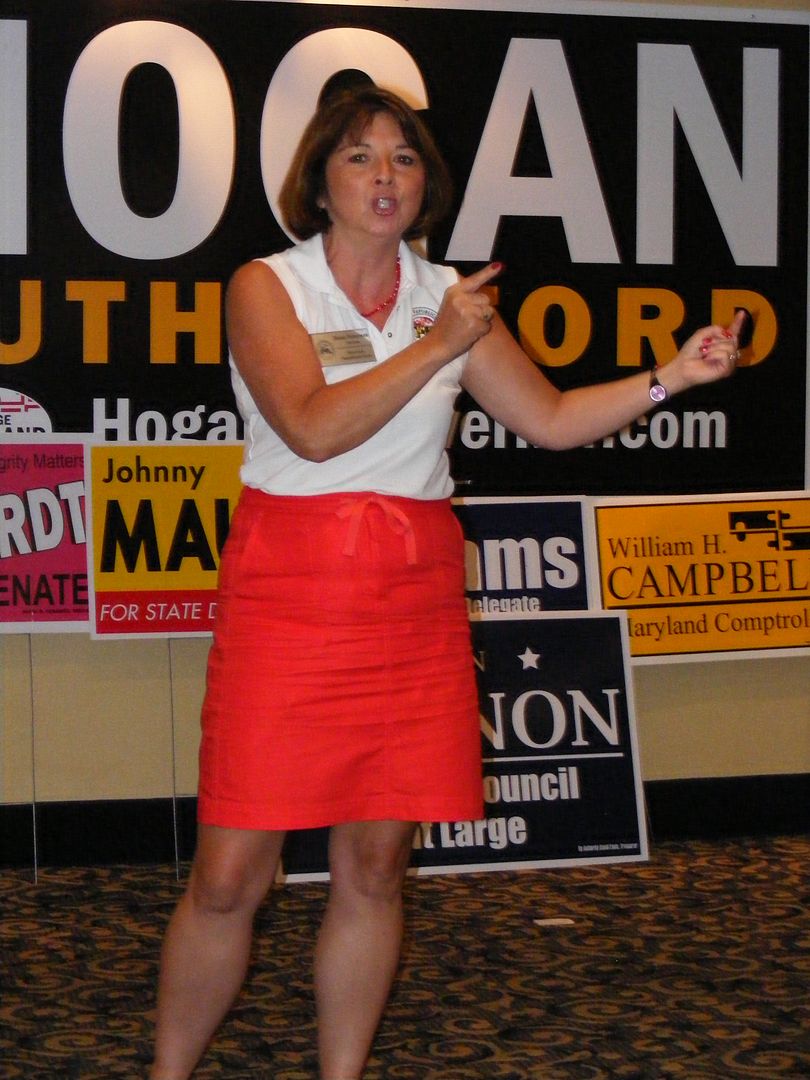 We had heard a lot of what state party Chair Diana Waterman had to say when she appeared at our recent Republican Club meeting.
But Diana wanted us to get as much turnout as we could, even if it meant going against the principle of opposing early voting. "Embrace it and make it ours," she said. Our candidates were "strong" and "ready to serve," but "as Larry said it's all about turning out our vote." We needed to get past the old saying about not discussing politics with our neighbors and instead pester them to vote, and vote for our side.
Had David Warren alerted me to what he would do with the Coke can, I would have grabbed a shot of him with the visual aid.
But Warren made the case that he said no one else had adequately made. That can of Coke, he pointed out as he popped the top, was something not available on Howard County property because Howard County Executive (and Brown running mate) Ken Ulman had placed a ban on sugary drinks. "Imagine Ken Ulman and Anthony Brown doing your health care," the Howard County native warned.
David focused on local races as well, bringing up a recent visit by three people from the Frederick area who had driven three hours here to help our folks out. As he pointed to the signs festooned on the wall behind him, he stated that "your guys represent you. The other guys represent Annapolis." He also warned that "we don't do this in 2014, we're done." It was also important to re-elect Larry in 2018 so we controlled redistricting, David added.
Today was a day to "eat, drink, and do selfies" but we had to step away from our comfort zone and work hard for the last 58 days of the campaign, Warren concluded.
Speaking of selfies, a number of candidates got to pose with Larry before he left. But first we had the official ribbon cutting.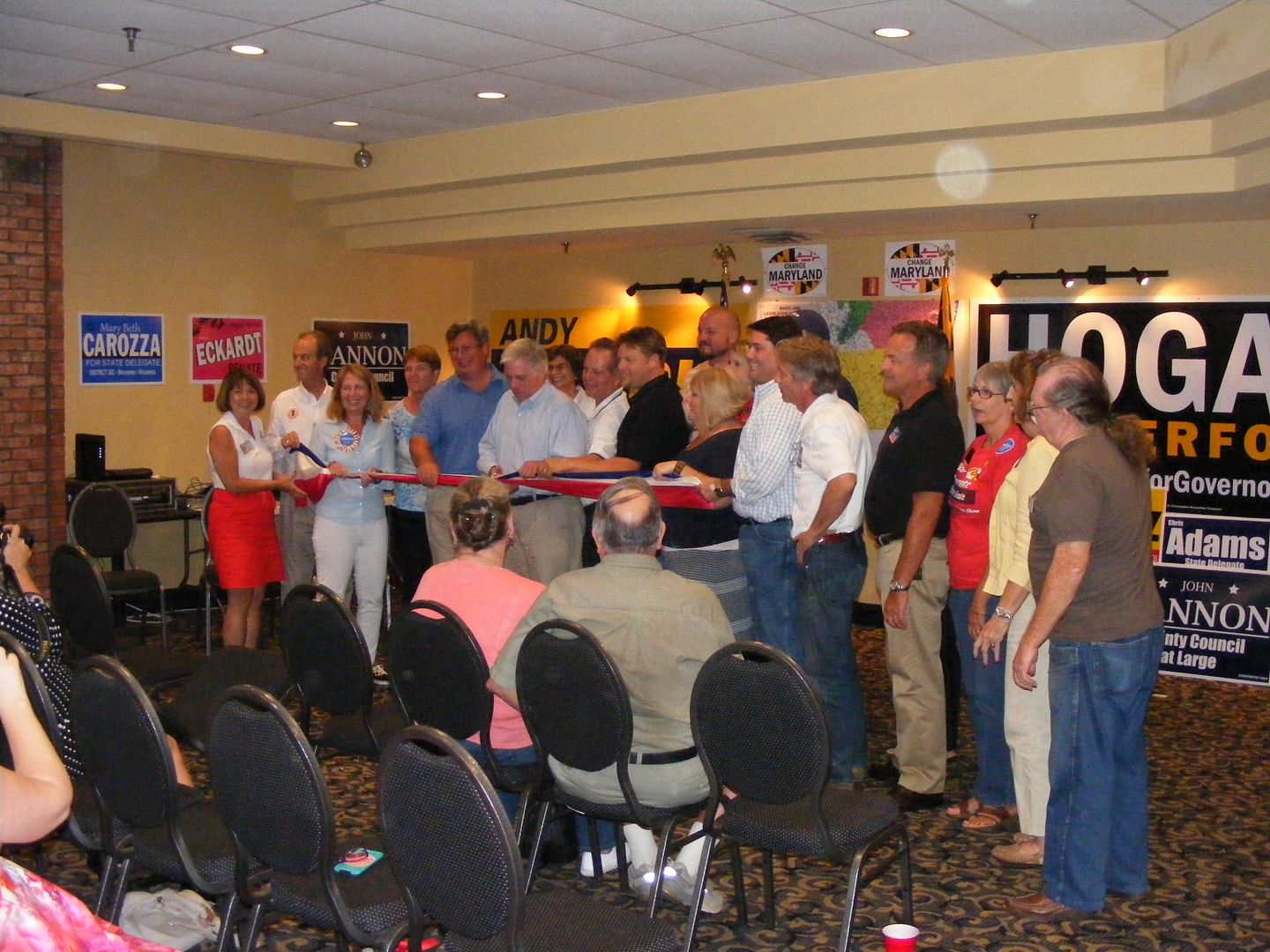 The one shot of the several that I took that I decided to use here was the District 38 team. I encourage you to send these folks to Annapolis! From left to right it's District 38C candidate Mary Beth Carozza, Delegate and District 38 Senate candidate Mike McDermott, Larry Hogan, District 38B candidate Carl Anderton, Jr., and Delegate Charles Otto of District 38A.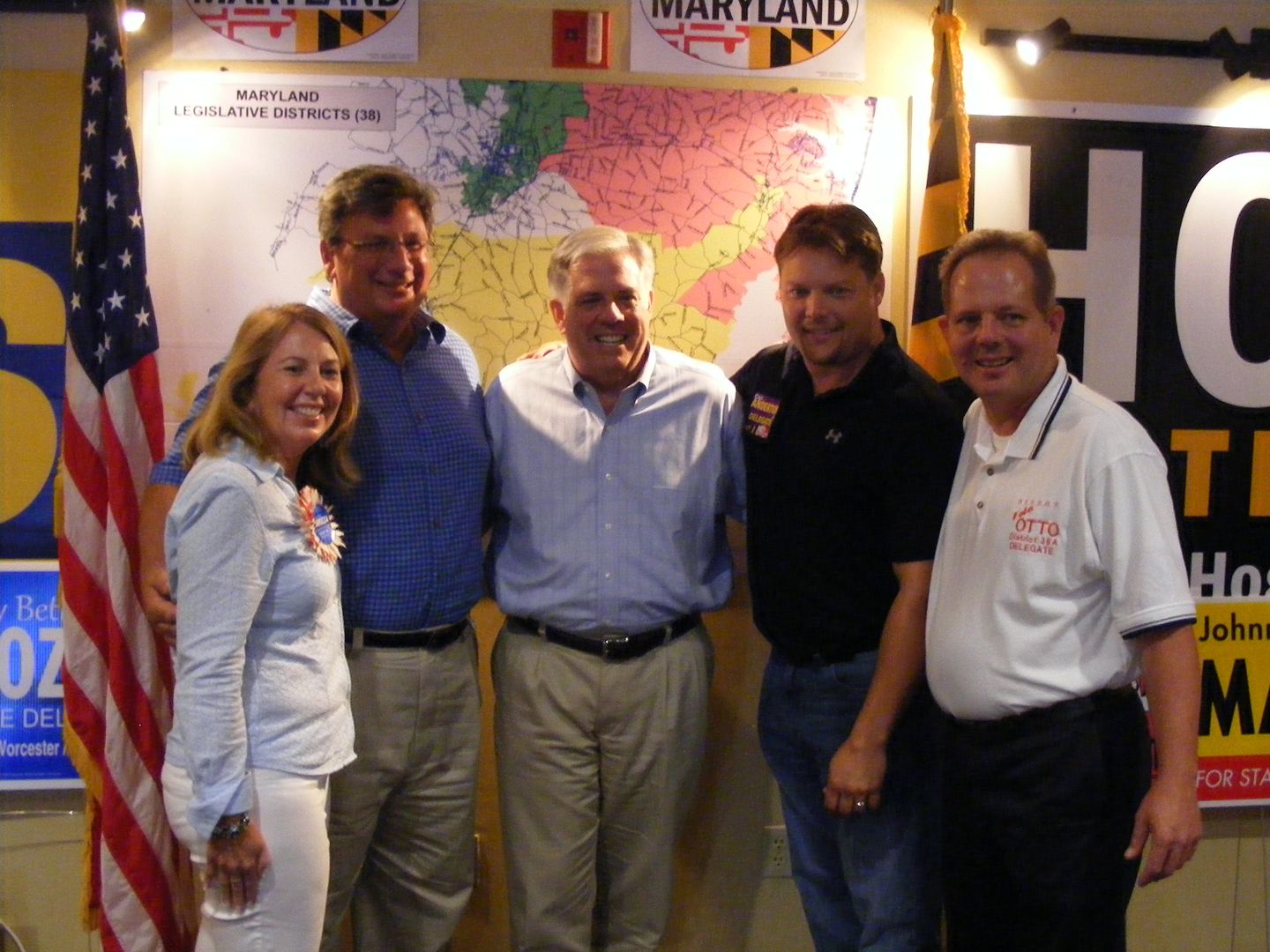 But the last one was special. Forty years ago, said Hogan, Blan Harcum helped Hogan's father on his campaign, so he makes it a point to renew acquaintances when here in Wicomico County.
So the headquarters is off to a good start. But after the food, drink, and selfies we need volunteers to help run the shop but more importantly assist with the campaigns. The headquarters is open 10-8 on weekdays and 10-7 on Saturday, according to Warren.
To borrow a phrase from a local candidate, let's get back to work.