Over the last few weeks I have noticed a trend, and I'm all but certain it's because we have a Republican president and Congress once again. (At least in a nominal sense.)
It's worth recalling the last time this situation was in force was the six years prior to the 2006 election. We spent the two years from 2007-2009 watching our economy go into the tank with a lame-duck GOP president and Democrats in charge of Congress, then eight years with a Democrat as president, although he only had his party in control of Congress for two years before people were fed up with his efforts.
But we are back to the theme – now expressed by many on social media as well as the prevailing mainstream media – regarding how heartless the government is, how people are suffering, and so forth. (It's funny how a lot of us suffered for the last eight years but no one really noticed or cared.) They shriek that the government could throw people off their health insurance, or give tax cuts to the rich and their corporations, or allow polluters free reign over the countryside, and so forth. People who were complacent because their needs and desires were catered to in the last administration are bitching and complaining now, but their reasons have the depth of a cookie sheet.
It seems that more and more people have what could be called Linus syndrome, with the government acting as their security blanket. Apparently the blanket covers their eyes and ears because they're not seeing nor hearing what has really been going on for the last many years. (Often you have a quote here, purportedly from Thomas Jefferson, that a government big enough to supply your needs is big enough to take it away. He never actually said that.) Thomas Jefferson did write that "the natural progress of things is for liberty to yield, and government to gain ground." And it's gained a heckuva lot of ground in my lifetime.
I think, though, that one casualty of that concession is the substitution of government for charity. In days long ago, there were provisions made in the community for widows and orphans who were left without their breadwinner through whatever tragic means. Now we have the situation where to live on the various forms of government assistance works out to the equivalent of wages from a working-class job in many states. Human nature is such that most will take the easy way out, live for today, and never have a second thought about it until the goose that laid the golden eggs keels over from exhaustion from keeping up with everyone's needs.
On the other hand, my faith tells me that the Lord will provide. It may not be in the manner I would prefer or up to the standard where most in the world would equate with a comfortable living, but the needs are met and we find out that other needs were simply wants in disguise. To borrow an expression from Jesus, we have rendered far too much to Caesar and people grew accustomed to it. Luckily for them, there's little danger of the system collapsing totally for the moment – but that peril is lurking in the distance.
Those who have put their faith in government seem to have the loudest voices now, and if you aren't strong in faith in God you may believe they are the ones in the right.
It seems to me that rightsizing the federal government would have some significant benefits that far outweigh the costs. Yes, there would be a painful transition for many who are let go from their jobs and the state of Maryland would be hit hard because of it. Yet I believe charity giving would surge and perhaps people may begin to pay more attention to their own communities. Imagine having the freedom of more money in your paycheck, more choice on how to educate and raise your children, more input as more easily accessible local and state officials decide what government services are worth providing and what is kept in the private sector, and so forth.
Maybe it's quaint, but I have a preference for faith and resourcefulness over dependence and lack of ambition.
A week ago I did a Patriot Post piece on happiness, whether measured by the government or expressed in a different survey. It was interesting that the government measured happiness by metrics while the other survey was more on emotional happiness. It turned out that the places which were most happy on an emotional level weren't blessed with a lot of material wealth but were pleased with their lot in life nonetheless. (The happiest nation in terms of the survey was Paraguay, which isn't known as an economic power.) It could be inferred that the Lord was providing their needs and their wants were minimized.
I know that I want to be free from worry in both an economic and lifestyle sense, and to me one key in getting to that direction is helping my fellow man understand that faith in government is faith misplaced. We have a safe harbor available to us but our national ship is steaming full speed in the wrong direction. A course correction is urgently required.
To allocate a word from the hapless "Married With Children" character Al Bundy regarding the mouse in his house, this week is the deadest. It's a week news outlets fill with year in review items and for me it will be no different as I sandwich my single-part look at things to watch in 2017 between my monoblogue year in review Thursday and the top 5 list of the albums I reviewed on Saturday. Now I won't go as far as the blog expert who suggested that bloggers need not come back until mid-January, but unless the creek rises there's no real need to write a deep thought piece here this week.
So I'm saving the deep thought for my book, which is now past the 10,000 word barrier in its initial draft. Overall, I would like to cover the subject in about 80 to 100 thousand words, which is at least half again as long as So We May Breathe Free was (and remember, this is all original.) I also have a couple more books on my list to acquire and read.
One thing I have done is put together a rudimentary, somewhat under construction social media page for the book. As I get farther along I will be adding more features to it, and perhaps create another outlet. After doing a book all by myself, this time I have some idea of what to avoid for round two.
And finally, I learned this morning The Patriot Post has someone willing to match donations as their year-end campaign reaches its final week. I added to my total for the year to keep them going, so if you enjoy reading it as much as I like writing there, perhaps you should consider a donation too. It's a valuable outlet for news and informative perspective from a pro-liberty, pro-faith traditional point of view.
I told you Saturday I'd be back Monday, and so I have been. I just didn't promise the longest of pieces.
It may not be as apparent to the average American as "vacation day" patriotic holidays like Memorial Day or Independence Day, but today a small band of Salisbury residents came to City Park along the Wicomico River and celebrated the 229th anniversary of the signing and delivery of our nascent Constitution to Congress for approval. Once approved, it was sent to each of the thirteen colonies for ratification (Delaware was first, on December 7, 1787) and by the middle of the next year the requisite nine states had ratified the document, which was not yet amended with the Bill of Rights. (That would come a few years later, in 1791.)
So I arrived fashionably on time and was pleased to see the turnout.
It seems like there were a few more people than last year's gathering, and I think the morning start time (as opposed to afternoon last year) may have had something to do with that.
We were presented with a proclamation from Salisbury mayor Jake Day reiterating that the city would be celebrating Constitution Day today. Day is one of the few who could stand and say he was actively defending the Constitution as an Army officer on active duty.
The event also was the culmination of an essay contest where the top two winners were present to be honored with a certificate from the Maryland General Assembly, presented by members of the local delegation Mary Beth Carozza (who was speaking), Christopher Adams, Carl Anderton, and Johhny Mautz. The winning entry was read by Carys Hazel of Mardela High School, with runner-up Nathaniel Sansom of Salisbury Christian School also present to receive his award.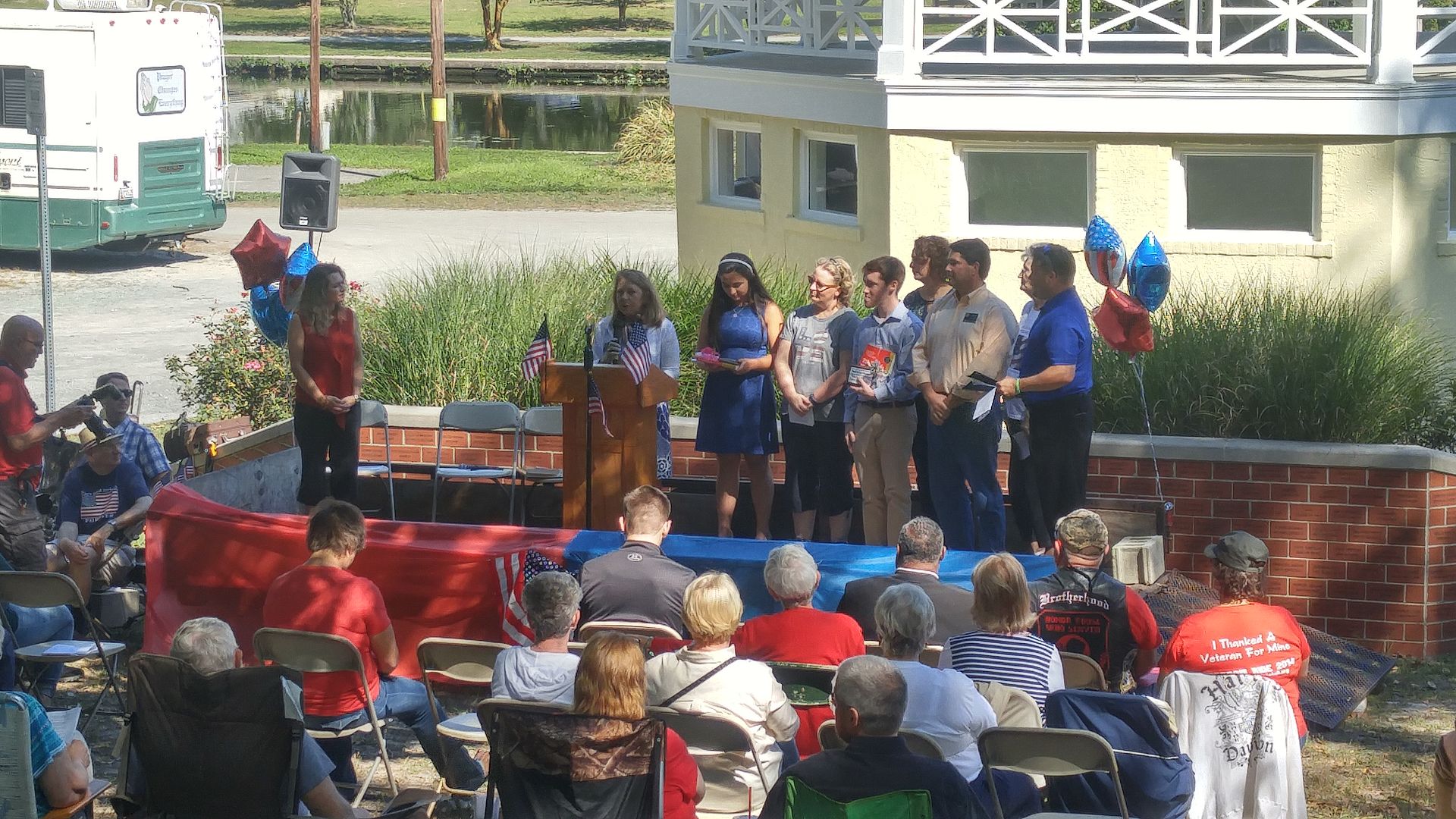 The keynote speaker was Wicomico County Sheriff Mike Lewis.
I wasn't really at the Constitution Day event to give blow-by-blow coverage, but I used the photos to both set the scene and cue up my own remarks, with the address Sheriff Lewis gave as a jumping-off point. Mike spoke at some length about the role of the military overseas and their fight against radical Islam. Certainly I understand the reason that they have embarked on such a mission, but to me it also begs a pair of questions for which we need an honest answer.
To a varying extent, the nation has been on a war footing since 9/11. In that time we have adopted the PATRIOT Act and sent thousands of troops overseas to fight against the proxy forces of radical Islam: the Taliban in Afghanistan, the Saddam Hussein regime in Iraq, and the Islamic State known as ISIS (or ISIL.) But the first question I have is: where does the balance tip too far toward security at the expense of the liberty afforded to us in the Constitution?
This question isn't really new, either: during the Civil War (or War Between the States or War of Northern Aggression, if you prefer) President Lincoln suspended the writ of habeas corpus and arrested members of the Maryland General Assembly to prevent them from meeting as a means of preserving the Union. Eight decades later, President Roosevelt interned Japanese-Americans as a result of their ancestral homeland's attack on American soil. In both instances America was in an active war within its borders or territories, but against a nation-state rather than an ideology as we are today. However, being in a state of war such that we are should not be an excuse for excess and there are many who have pondered the "War on Terror" and its response in the PATRIOT Act and whether the government is using this Long War as a flimsy excuse to consolidate power.
The idea of the government consolidating power leads to the second question: are we truly following the Constitution anymore or is this all just lip service?
Surely there are some who believe the Constitution has been eroding practically since the ink dried on the parchment. Whether they point to Marbury v. Madison being the moment where the judiciary became the most powerful of the three branches, the Civil War being the death knell for state's rights since they no longer had the right to secede if they were dissatisfied with the nation as a whole, or the Sixteenth and Seventeenth Amendments that gave the federal government taxation authority on individuals specifically prohibited in the original and ended the practice of state legislators electing Senators to represent their interests in Washington, there are a fair number that think we need to start over – perhaps with a Convention of States, otherwise known as an Article V Convention. (Years ago I contributed a couple ideas for new amendments, which are still sorely needed. Back then I had good discourse, too.)
I don't want to get into the weeds of determining the merits or problems of such a convention, but the fact that there are people who believe the Constitution needs a tune-up to fix excesses on one side or the other bolsters the argument that the government we have now is not the one originally envisioned by those men who toiled during the spring and summer of 1787 to write a replacement for the Articles of Confederation that the United States was bound to for the first decade or so of its existence. Granted, the Article V method is one prescribed in the document but there's no guarantee the amendments proposed would pass or the resulting Constitution any better for the people.
So the occasion of Constitution Day is bittersweet. Yesterday I wrote on the subject for the Patriot Post, noting that:
Contention over – and advocacy of – limitations to government based on constitutional principles has become a theoretical exercise at best, perhaps in part because few understand the ideas and arguments that were made during the drafting of our government's founding document.
Those who have sworn an oath to enlist in the military or (in my case) to take public office know that we swear to support and defend the Constitution as opposed to an oath to the United States. This is a clear distinction because the interests of the United States may vary by whoever occupies the offices of government at the time, but the Constitution is the set of ground rules which are supposed to define our nation. The key reason I resigned from the Central Committee was because I could not trust the Republican presidential nominee to support or defend the Constitution – rather, I believed he would tear the GOP from what few limited, Constitutional government roots it had remaining. Thus, I felt as a public official that supporting him was a violation of the oath I swore to the Constitution.
Many of those same men who pledged their lives, fortunes, and sacred honor to the American nation and survived the war that brought us independence were those who argued and debated the contents of the pieces of parchment that we consider our supreme law of the land. I pray that a group that is just as divinely inspired can lead us back to a nation that more closely reflects the intentions of these earliest Americans with respect to restoring a government that seeks the consent of the governed, and that those who are governed understand their responsibility in the equation as well. The fact that so few seem to have this inspiration or the desire to take this responsibility as citizens seriously may be what was most troubling about this day in the park.
Since the inception of this website I have written a 9/11-themed piece almost every year (I skipped 2006, which was the first year monoblogue existed.) If you're interested in my personal 9/11 story I wrote it back in 2007.
But now that we have made it to year 15, I think the more apt paragraph is that which I wrote a year ago for the Patriot Post. This was part of my original submission but edited out for length. It's still the truth, though.
As time passes away from the 9/11 attack, we tend to forget that those who best recall the horrific day as working adults are becoming less and less a part of the prevailing culture. The fall of the World Trade Center occurred just before my 37th birthday; in a week I turn 51. On the other side, those entering college this year were toddlers at the time and may not recall the shock we felt as adults.
Add another year to those totals (since I'll turn 52 in a couple weeks) and realize that a child born on that date is most likely a high school sophomore now. Those in our high schools and college now were probably too young to remember their experiences that day – maybe the college seniors will think about how it affected their nap time in kindergarten (if they still do that anymore.) For them, the link is now their history books or their parents, not personal experience.
And as that generation comes to adulthood, they have also been soured on the patriotism and purpose that accompanied our fight against radical Islam, to the point where neither Hillary Clinton nor Donald Trump wishes to commit a great deal of resources to the effort; rather they would use surrogates to do the actual fighting. It's a far cry from the thousands who signed up for the military to take the fight to Osama bin Laden in the weeks after the World Trade Center and Pentagon were targeted. Rather than patriotism, kids now emulate the custom of kneeling during the National Anthem as a form of protest.
While we haven't had an attack equivalent to 9/11 recently, the threat from radical Islam is still there. Since our last observance of Patriot Day Americans were gunned down by Islamist radicals in San Bernardino and Orlando, with other major incidents abroad in Paris, Indonesia, and Istanbul, just to name a few. The world remains a dangerous place and we live in interesting times.
The fact that Pearl Harbor Day and 9/11 occurred almost sixty years apart provides the opportunity to make one direct parallel. While Islamic terrorism is still a campaign issue 15 years after 9/11, we expended a lot of blood and treasure over the following four years after Pearl Harbor, with one of those war heroes successfully being re-elected President in 1956. There was a finality to World War II because the opponent was a governmental entity – once the regimes in Imperial Japan and Nazi Germany surrendered, the war came to an end. But in this case there may not be an end for generations. A decisive military defeat could hasten the process, but subduing this threat isn't solely a military process, just a piece of the puzzle. By definition, terrorist attacks aren't conducted by military forces but by civilians who may use military-style tactics.
So we once again come to the anniversary and remembrance of 9/11, an occasion that almost 1/4 of our population (73.6 million) has little to no memory of because they are under the age of 18. Some of the timeless images will remain, but the actual memories of how Americans were affected will be lost as those who were of Social Security age back then are passing away – this was the generation that fought in Korea and World War II, and we are losing them by the hundreds daily. The rest of us are getting older too.
Let's just hope that we aren't simultaneously losing our collective identity as a liberty-loving nation thanks to the threat presented by the terrorists. In the end, that may be the legacy of 9/11 we have to reject.
At one time I planned on writing a rebuttal to all the Trump items I put up this week yesterday, but after all the events of the convention I decided it was better to hold off for a week or so and let emotions simmer down a little bit. It also gives me a chance to attend two of my meetings and gauge the mood of the electorate, so to speak – so perhaps after all that I will pick up that baton and share my thoughts on both Marita Noon's commentary regarding Trump's energy policy and the entire Art of the Deal series. Right now, emotions are too high and points will be missed.
It's no secret I didn't support Donald Trump for the Republican nomination, nor will I be backing the Clinton/Kaine ticket. (Hell, the guy doesn't even know our part of Maryland exists because he thought Virginia shared a border with Delaware.) Yet I still have an interest in the downticket races, and this year I will be following the advice of Ted Cruz and voting my conscience. (Or, if you prefer, Ivanka Trump, who said, "I vote based on what I believe is right for my family and for my country." So will I.) But the combination of the Democratic convention taking over the news cycle and my general fatigue with the Presidential race means I may look at some other stuff for a little bit.
One thing I was asked to look at by my friends at the Patriot Post for this week was the prospects for Republicans in the downticket federal races. (If you get their "Weekend Snapshot," the article is prominently featured there as well.) But I find a little bit of fault with my editor because my original concluding sentence was, "The next four years could be the most interesting and unpredictable times our nation has ever known." My thought in that sentence was to invoke the old adage "may you live in interesting times" as we seem to be cursed into a choice leading us toward them. To me, this may be the election where more people vote against someone that affirmatively vote for a candidate.
(To that end, can we install the "none of these candidates" option like Nevada has? I could see factions in all four parties on the ballot in Maryland who would love a do-over: Republicans who are anti-Trump, Democrats who backed Bernie Sanders, Libertarians who would like a more doctrinaire candidate than former Republican Gary Johnson, and Jill Stein of the Green Party who would happily move aside for Sanders, too.)
Just think about Congress for a moment. In poll after poll it's shown to be one of the least popular institutions in the country, but voters send all but a small handful back term after term until they decide to retire. Maryland is a good example of this, with the longest-tenured Congressman being Steny Hoyer (17 terms), followed by Elijah Cummings with 10, Chris Van Hollen and Dutch Ruppersberger with seven apiece, John Sarbanes with five, Donna Edwards with four (plus a few months), Andy Harris with three, and John Delaney with two. Since Edwards and Van Hollen both sought the Senate seat, those districts will open up – but thanks to blatant gerrymandering, they are likely to be gravy trains and "lifetime appointments" for Anthony Brown and Jamie Raskin, respectively.
Aside from the one term of Frank Kratovil here in the First District as a "blue dog" Democrat carried on the Obama wave in an otherwise GOP-dominated area, you have to go back almost forty years to find a handful of one-term wonders that Maryland sent to Congress. Both our current Senators came to the job after serving multiple terms in the House, as would Chris Van Hollen if he wins the Senate seat. Kathy Szeliga, on the other hand, has served just a term and a half in the Maryland House of Delegates – although compared to other GOP Senate candidates in recent years that almost qualifies as "career politician," too.
Yet while our GOP candidate supports Trump and has an uphill battle to win, she was criticized for skipping the convention as well:
Some (GOP convention) delegates who wished to remain anonymous to avoid antagonizing another party member privately expressed discontent and disappointment with Szeliga's and Hogan's absences in Cleveland at a time when unity is a key goal of their party after a fractious primary season.
Of course, Andy Harris was there in Cleveland, but he's in an R+13 or so district with far less to worry about. It was better for Szeliga to be in Crisfield meeting voters with her opponent there.
So while I will talk about the convention in at least one piece I'm considering – and my invited guests may decide on their own to look at the Presidential race – I'm going to step back from it for a little bit. It's the pause that will refresh me.
In the interest of not letting good writing go to waste, allow me to direct you to the Patriot Post today. I truly enjoyed writing on my assigned topic this week, but wanted to share a couple other thoughts with you. It's a good time for some reminders.
Over the years I have done this website, I have made the energy industry somewhat of a focus. It began with a friendship with Jane Van Ryan, who used to work for API before she left there a few years back. She encouraged me to do a little bit of research on the topic and quickly I was reminded that oil was the economic lifeblood of our country and the better and cheaper energy would be, the better off our economy would be. Being the logical sort of person I am, it was easy to figure out that coal, oil, and natural gas were definitely more reliable than wind that may not blow or sun that only shines between 9 and 15 hours a day – assuming, of course, a cloudless sky. So I believed in the idea that our future could be more secure if we use our natural resources we were blessed with.
On the other hand, there are those who want to tilt the playing field toward what they consider "renewable" resources. Green energy has been the beneficiary of not just direct subsidies, but carveouts in the market designed to make sure there is a place for these (otherwise useless) solar panel fields and wind turbines to send their energy. The market has been bent every which way for decades, although I'm sure many would argue that the oil industry got the initial benefits when we built thousands of miles of highways. For the most part, though, the pathways were already there – we just improved them to allow goods and people access from coast to coast in a matter of three to four days. It was as easy as stopping at the gas station every few hundred miles.
My columnist Marita Noon gets it too, which is why I run her column weekly. She was talking about wind turbines this week, which led one of my more liberal readers to note that there are a lot of places which welcome wind turbines. He mentioned Germany, but the love for wind turbines there is far from universal and the subsidies still won't make offshore wind palatable.
I just look at things through a logical lens. A century ago, windmills powered individual farms but they were scrapped once rural electrification took hold in the 1930s – that was a more reliable source. So why are we going back to that less reliable technology when we have the reliability of coal, oil, and natural gas? Seems to me that "free" electricity in the form of solar or wind power costs a lot more than we think.
Last night I wrote a lengthy piece for the Patriot Post that served as a preview for tomorrow's South Carolina primary but also speculated a little bit about what could happen if Donald Trump was the GOP nominee. (Go on and read it, I'll wait.)
All set? Let's look at a couple things here.
First of all, just on a personal level, I'm getting about as tired of Donald Trump as I am of Barack Obama – and Obama's been in office seven-plus years, plus a year or so of campaigning beforehand. Let's consider the arguable point that Trump is conservative on immigration – you do know he has what's considered a "touchback" policy for illegal aliens, right? As Mark Thiessen wrote last September:
So if you get past Trump's bluster, the plan he is proposing is so liberal that it earned the support of the New York Times and the opposition of National Review.

The reason is simple: Trump's plan is in fact a form of amnesty — you just have to leave the country briefly to get it.

So when Trump says of illegal immigrants "they all have to go," don't forget that under his plan almost all would be able to immediately return.
That must be the "big, beautiful door" in Trump's Mexican Maginot Line. (Look back in history to see how the original fared.) I think I'm just worn out on how Trump can talk out of both sides of his mouth, so one truly has to ask if that's the best the Republicans have to offer?
On the other hand, a few weeks back I assisted four voters in switching their party registration to Republican, presumably to vote for Trump. One later said she would switch back to Democrat after the primary, but also said "I vote for the best man for the job." (If so, she should have been Republican all along. But I digress.)
Trump seems to be expanding the Republican base, though. Turnout for the Iowa Republican caucus smashed the old record, and also exceeded expectations in New Hampshire. South Carolina is expected to follow suit. So it appears Trump may be expanding the tent for the Republican Party – but what kind of platform will this GOP have? Writing at The Resurgent, Bill Blankschaen compares Trump's campaign to a WWE pay-per-view event, and I don't think Bill is too far off. I will grant Trump doesn't have a record of political accomplishments because he's never held public office, but there are few issues where he has expressed a conservative direction. Ronald Reagan he's not.
When I send my articles in to Nate, my Patriot Post editor, I often have a sentence or two I add just as a personal sentiment about what I wrote. On this one I said:
I tell you, I wasn't a big Mitt Romney fan and I had to pinch my nose really tight to vote for John McCain. (Really, I voted for Sarah Palin and a timely demise from McCain.) But if Trump wins, you may not be able to find a clothespin tight enough for my nose.
With unfavorable ratings north of 50 percent for The Donald, I would guess I'm not the only one who feels this way. So I think it's time for some of the pretenders to step aside and put their weight behind someone to be the anti-Trump and keep the Republican Party as the conservative vehicle. It may not run well and definitely needs a tuneup, but in the political arena the GOP is all we have to win with.
Sometimes in life timing is everything. Being out of the loop yesterday due to some family business, I didn't learn about Justice Antonin Scalia's death until I saw it on the evening network news. (My reaction: "You gotta be kidding me…we're so screwed.") It turns out, though, that something I wrote for the Patriot Post just two weeks ago becomes more prescient than ever. My "assuming all of them survive this year" just got tossed out the window.
Obviously Democrats feel that the timing means Barack Obama can select that cherished fifth liberal vote he needs to seal the deal and consign America to the ash heap of unlimited government power. In an e-mail with the subject "Our message to Mitch McConnell" they warn:
Our president, Barack Obama, has been very clear: He's going to fulfill his constitutional obligation and nominate our next Supreme Court justice.

But we've got a Republican Congress insisting President Obama shouldn't even bother to nominate a justice to the Supreme Court. And we have a field of Republican presidential candidates saying that the Senate should block and obstruct any nominee, Michael.

So it's on us to stand with President Obama and make sure that Mitch McConnell and his fellow conservatives in Congress allow President Obama to do what is his right and responsibility — name the next Supreme Court justice.
Yet the Constitution is clear that the President can only appoint Supreme Court justices "by and with the Advice and Consent of the Senate." (For those liberals unfamiliar with the Constitution, refer to Article II, Section 2. It is not close to the "right to privacy" that some have read into the document.) If McConnell wants to wait until the election to act on the vacancy, he can do so although there is the risk that he may not be Majority Leader when the next President is inaugurated given the composition of the Senate and those up for election.
I've seen it pointed out that Justice Anthony Kennedy was seated in the last year of Reagan's term; however, Kennedy was actually appointed in November 1987 and seated in February 1988. (Had the Democrats who ran the Senate been as congenial to Reagan's initial nominee, Robert Bork, the election-year appointment would have been unnecessary.) They fail to recall how Senate Democrats treated President Bush in 2008 with regard to nominees, a practice sometimes known as the "Leahy rule." (Democrats, of course, blame longtime GOP Senator Strom Thurmond, who blocked President Johnson's attempt to promote Abe Fortas from associate Justice to Chief Justice in 1968, after Johnson decided to forgo re-election.)
In truth, the last time such a maneuver was performed was in 1956 when President Eisenhower made a recess appointment of William Brennan in October, just before his eventual re-election. (Brennan was eventually confirmed by the Senate in a near-unanimous vote.) Obviously such an avenue would be available to Barack Obama, and it would be particularly attractive to Obama given his interpretation of "recess."
As it so happens, the Senate is in a recess through February 22, and the Left is salivating at the prospect of Obama rapidly selecting a nominee this coming week. Even if not confirmed, the appointee would sit until the end of the Senate's term in early January, 2017, presumably reversing many of what were perceived to be 5-4 decisions in the favor of conservatives.
So if I were a liberal judge who is called by Barack Obama as a potential SCOTUS member, I would take the job without much of a worry about it being temporary. First of all, I can just see Obama making the appointment and daring the Senate to call him on it. Given the propensity of Mitch McConnell to roll over to Obama he won't do so.
Further, if the Republicans nominate Donald Trump to be their nominee (which polls suggest may occur), based on current polling data he's the most likely to lose to the Democratic nominee. And if Trump's campaign sinks the GOP's chance to retain the Senate the new nominee would either finally win formal appointment or be granted yet another recess appointment through early 2019.
Meanwhile, a voice of sanity on the SCOTUS will be laid to rest and missed more and more as the years go on. Indeed, we are screwed.
Here I go again, producing those little dribs and drabs of information that I need a sentence to a couple paragraphs to discuss.
For example, I don't need to give much more than an "attaboy" to Ted Cruz for continuing to stand against ethanol subsidies yet succeed in Iowa, as Leon Wolf pointed out recently at RedState. Such a stance may not make me a lot of friends among the corn farmers locally, but I'll bet the chicken producers would love to see a decrease in the price for a bushel and I suspect once the Renewable Fuel Standard is pulled it will give them a break. Let's hope Cruz (or some other GOP candidate) follows through on this common sense. After all, according to my friend Rick Manning at Americans for Limited Government, the deficit last year was $677 billion so putting ethanol subsidies on the chopping block would make fiscal sense as well.
As Richard Falknor at Blue Ridge Forum points out, though, we have a large number of gutless wonders in our House of Representatives who don't care that the latest omnibus was a budget-buster. Maybe they just need to read some advice from my Patriot Post cohort Mark Alexander, who reminded us of what our Founding Fathers said 240 years ago. We really do need a revival of the Spirit of '76. (I'm old enough to remember the Bicentennial, by the way.) As Alexander writes about the current GOP crop:
Patriots, in this presidential election year, I invoke this timeless wisdom from George Washington's farewell address (1796): "Guard against the impostures of pretended patriotism." Indeed, there are among even the ranks of Republican presidential contenders some pretenders. Caveat Emptor! The future of Liberty hinges on the ability and willingness of grassroots Patriots to distinguish between the genuine article and the false prophets.
Yet while Ted Cruz seems to be one of the few who is standing up for conservative principles in Congress, as Erick Erickson adds at his new website, The Resurgent, the Establishment has decided to throw its lot in with Donald Trump to stop Cruz's polling advances. Yes, politics makes strange bedfellows.
None may be stranger than those in the state of South Dakota where the drive for non-partisan elections I told you about a few weeks ago made the ballot. Local talk radio host Rick Knobe is spearheading the effort:
For too long, both political parties have been shouting over each other at the expense of the voters, and now have an opportunity to do something about it. Just look at the growing number of registered Independents, which now numbers over 100,000 in South Dakota. That number is growing here and across the country. When this measure passes, those 100,000 South Dakotans will have the opportunity to fully participate in the election process.
The state as a whole had 521,017 registered voters as of the 2014 elections so it appears about 20-25% are not affiliated. If it is adopted in this election, the state will move to a non-partisan primary for 2018. I suspect the two major parties will lose a significant amount of their support should this happen, so this is something to watch as it develops.
Immigration is one of the issues that has thoroughly disgusted a number of former Republicans who bolted the party when the elites adopted a pro-amnesty stance. Recently many Republicans (including the aforementioned Ted Cruz and our Congressman Andy Harris) supported a major expansion of H-1B visas despite a claim from the Center for Immigration Studies that found no evidence of a labor shortage in those occupations. One has to question how many semi-skilled workers are idle in this area due to the H-1B visa.
Finally, I'm going to circle back to Erick Erickson. I've been impressed with his new website, one which I can read without being overrun by annoying pop-up ads and false story breaks that only serve to increase page view count (in order to extort more money from would-be advertisers.) On Thursday he had a candid assessment of how his website was doing and so far he seems to be successful. Good news for those of us who value content over clickbait.
So ends another (hopefully) clickbait-free edition of odds and ends. Now my mailboxes are empty once again.
In the category of 'never let good writing go to waste', I bring you this from today's Patriot Post.
It's a question we should ask the Left – exactly what harm is there in a prayer for the victims and their families? The tempo of the action they desire is a much longer window than the few moments it takes to pray.
Instead of a post here to commemorate 9/11, I was asked by the Patriot Post to write a piece on it, tying in the intelligence burnishing that's been in the news lately. (Just as a little blowing of my horn I have an original piece there most Fridays, today being one.)
But there was one thought I had, a reference which was edited to be shorter. So I will expand on it briefly here.
As time passes away from the 9/11 attack, we tend to forget that those who best recall the horrific day as working adults are becoming less and less a part of the prevailing culture. The fall of the World Trade Center occurred just before my 37th birthday; in a week I turn 51. On the other side, those entering college this year were toddlers at the time and may nor recall the shock we felt as adults.
My point is that the passage of time and world events change our perspective. I see the world quite a bit differently now just before my 51st birthday than I did at 36. Part of that comes from the school of hard knocks, but the passage of 14 years changes almost everything.
Most of my readers can't do this from actual experience because they weren't around, so imagine the world of December 7, 1955 – fourteen years after Pearl Harbor. Our nation fought (and won) one world war but we existed in an uneasy truce from a more recent fight at the time over in Korea. There was also the "Cold War" going on between the United States and Soviet Union, with rumors rampant of Communist enemies at the highest levels of government.
In many respects, the unfinished business of confronting radical Islam is similar to what we faced with the Soviet Union. It took nearly 50 years to eradicate the old Soviet Union and free Eastern Europe, but the Russian bear now shows signs of coming out of hibernation. We may have that same timeline with radical Islam, but the kids of today exist in a world where everything is relative. America is often portrayed as the bad guy, and to a certain group of people we are to blame for the problems of the world.
If there's anything different about the post-9/11 era compared to that of a generation ago, it's the perception that America isn't always right. Even if the cause is just, too many assign ulterior motives to our actions and this confusion is why we can't all get on the same page. It will take a leader to restore our faith in the idea of America before we can get serious about winning the Long War.
Not that I have a whole lot of choice based on all the media attention, but the story of Caitlyn Jenner rebranding herself as a woman after 65 years of being Bruce and winning the Olympic decathlon in 1976 seems to be worth writing about today.
Ironically, a simmering story underneath the headlines around the time of Jenner's gold medal victory was the story of Renee Richards. Her name has been dimmed somewhat by the passage of time, but in the late 1970s she became a symbol of the struggle between the sexes as a former man who had the gender reassignment surgery and therapy, then competed on the women's tennis circuit. So the world of celebrity has already been touched by this procedure, and I found it interesting that the premier athletic achievements in the lives of these two former men occurred around the same time. The Grantland story by Michael Weinreb also came well before the Jenner saga became public, and points out how others who chose to change their gender (as much as one can, anyway) were inspired to do so by Richards.
Yet a lot has changed in nearly forty years. Instead of derision and having opponents walk off the court in protect, Jenner is being embraced and rewarded for her "courage." I suppose it's simply the byproduct of making one's sexuality and gender preference a public spectacle and milking it to enhance your athletic talents for another 15 minutes of fame – so you get a guy like Michael Sam, who was thought at best to be a fringe NFL prospect, becoming the most talked-about 7th round pick to ever be placed on a practice squad. (After being cut twice by NFL teams, now Sam is trying out for the Montreal Alouettes of the CFL.) Without looking them up, can you tell me the names of any of the other 7th round picks from 2014?
Similarly, Jason Collins came out as gay at the tail end of a long NBA career which ended earlier this season. While his statistics weren't Hall of Fame material, you would have thought he was the second coming of Michael Jordan when he came out. For all we know his "courage" may be enough to land him a place in the Basketball Hall of Fame where his career stats would leave him short.
Unfortunately, those breaking the preference barrier haven't exactly been what Jackie Robinson was to major league baseball; instead, they have had career tracks more like Moses Fleetwood Walker, who actually integrated major league baseball in 1884. (A catcher, he played at the time for the Toledo Blue Stockings in their one and only season in the American Association, then a major league. So he's a little more familiar to those of us from northwest Ohio.)
Jenner, though, has become a symbol of something. I'm just not sure if it's courage, the milking of past fame into making a statement – after all, if he was a welder from Pittsburgh and not an Olympic athlete, no one would be putting his female alter ego on the cover of a magazine – or, simply a sign of our times.
One answer could be gleaned from this piece by Nate Jackson of the Patriot Post, as he looks at the Jenner story from a moral and religious perspective:
Leftists don't care about Bruce "Caitlyn" Jenner; they care about an agenda to remake our culture without good or bad, right or wrong, up or down – and most certainly without God. To them, Jenner is merely a tool who normalizes aberration. Leftists are tired of feeling guilty, so, instead of turning to their Creator, they glory in their brokenness. Dysfunction becomes virtue.

Meanwhile, the Left has duped more than half the American public into thinking homosexuals make up a far bigger part of the population than is true. Therefore, Americans are left to conclude as they checkout at the supermarket next to all those tabloids that Jenner is perfectly normal.
I would hope that most Americans don't think Jenner is normal, because he's not. Nor will I apologize for saying so. The vast, vast majority of people are pleased with their gender and have no intention of changing it, so why is the exception to the rule the one being admired?
Since he is my Patriot Post editor, perhaps I should give Nate the last word:
We shouldn't worship Jenner. We should pray for him, for he needs his Creator's healing redemption.
I agree.