On Saturday I was alerted to a story by John Fritze in the Baltimore Sun regarding Andy Harris and his attempt to level the playing field a little bit in Maryland politics by creating a superPAC called A Great Maryland PAC. According to the Sun, Harris donated $150,000 to the PAC, which turned right around and put out a commercial depicting Jim Mathias, Norm Conway, Martin O'Malley and Barack Obama as "liberal peas in a pod."
I don't have a copy of the spot to show you at the moment, but the theme seems similar to one Harris used in the 2008 primary against former State Senator E. J. Pipkin and onetime Congressman Wayne Gilchrest.
What's funny to me, though, is the Democrats' reaction, like from Jim Mathias:
"I don't think it's right," said Mathias, who said he had no idea who was behind the television spot. "People's freedom of speech — I support that with my every breath — but if you're going to make these kinds of accusations, I think there should be accountability."
Funny you should talk about that, Jim – I've been holding you accountable for your votes for years, and I'm glad to finally have a little help. So come clean about where you received your campaign funding (hint: it's a lot of special interests.)
Harris has been a savior to Republicans around the state, with significant donations to several candidates as well as the state party – in total, including the seed money for the A Great Maryland PAC, Harris is over $300,000 in campaign contributions – and that's good news for conservatives around the state.
Hopefully he'll need to collect more to give to more incumbent recipients next time around.
As I was down a computer over the weekend thanks to the need for maintenance and a new part, I didn't get a chance to talk about last Friday's National Manufacturing Day; a day which coincided with the disappointing news that only 4,000 jobs were added in that sector last month (out of 248,000 total.) An industry insider I often cited when I did my American Certified blog is Scott Paul, president of the union-backed Alliance for American Manufacturing. His take:
The past two months show manufacturing job gains have again stalled, at least temporarily. Numbers like these are a blow to the president's goal of 1 million new manufacturing jobs in his second term. A large and persistent trade deficit and a paucity of investment in infrastructure are two obstacles that stand in the way of actual progress.
AAM measures the progress toward that goal of one million, and current numbers place the additional manufacturing jobs at a puny 189,000. The total actually retreated thanks to negative revisions in July and August reports, but has not eclipsed 200,000 yet at a point when Obama is nearing the halfway mark to his term.
So again one has to ask the question: why isn't the manufacturing that used to support a solid middle-class band of Americans coming back home? Are we not able to supply workers who Barack Obama noted last week are "not just punching in and pounding rivets anymore; you're coding computers and you're guiding robots. You're mastering 3D printing. And these jobs require some higher education or technical training." Perhaps the push toward getting everyone into a four-year college in order to get that liberal arts degree is affecting workforce readiness, but that's only one part of the answer.
I have never been able to figure out just how it can be that a company moves to China to make money. The most obvious answer would seem to be the extremely cheap labor cost. One figure I found pegged Chinese manufacturing wages at 46,431 yuan annually, which is roughly $7,429 per year. Obviously that is significantly less than even our minimum wage would be ($15,080 a year) and the vast majority of factory workers make well above minimum wage. But there's also the time and expense of shipping products back to market to consider, risks which could be mitigated to some extent by manufacturing locally but apparently those costs don't affect the ledger sheet enough to bring a lot of the manufacturing we've lost back here. "Made in China" is still a familiar sight on consumer products.
But there's still a large piece of the pie which we can help ourselves to locally, even without the protectionist trade theory AAM supports. America as a whole and Maryland in particular have some significant assets in place, but there's so much room for improvement if the will to make these changes can be found. Tax policy on both the federal and state level can be made into a far smaller impediment, as would a more hands-off regulatory approach. And new infrastructure can be put in place within the transportation realm to make it easier for our products to get to the East Coast market of which we occupy the southern fringe.
Yet as a nation and state we continue to work in the opposite direction, and somehow are amazed that the results aren't what we thought we would get. We're on a pace well short of that million-job goal, and adding 4,000 a month won't get us there. The number should be upwards of 20,000 a month on a normal pace and we're going to need 30,000 a month the rest of the way to meet the goal. Put another way, we would need to open 10 new Chattanooga Volkswagen assembly plants a month, or each month add 300 more modest facilities employing 100 apiece. Public policy being what it is today, that's not going to happen and it's a shame.
It took the better part of a century to make America into a manufacturing power, and perhaps three decades to erode away our advantages. But if we put our nose to the grindstone, the next generation of Americans may bring us back to where we were.
We'd built up the event for months, so it was no surprise we filled the room for our first-ever Patriot's Dinner featuring former Congressman, author, fill-in radio host, and most importantly Lt. Col. Allen West. It was the culmination of an afternoon of events which featured a reception with Republican youths from around the area, VIP events for West's Guardian Fund and the Maryland Republican Party, and the dinner itself.
West promised to speak for about 25 minutes and answer questions afterward, directing his remarks toward the "criticality" of our situation. He first asked if this was really the home of the brave when we outsource our fight against Islamic terrorists to the Free Syrian Army while decimating our military capability to levels unseen since before World War II. West pointed out that Barack Obama was bombing his seventh country, but chided Congress for its lack of bravery because "no one is asking if we are at war."
"If someone is dropping a bomb on my head, we are at war," said West, continuing that Congress was failing its Constitutional obligation to declare war. West was very critical of both Barack Obama and outgoing Attorney General Eric Holder, calling them "the two biggest violators of the Constitution."
West went out to state that in many respects, we we not keeping our Republic, as Benjamin Franklin warned us we had to, but sliding into a monarchy. We need people who would be the "loyal opposition" to tyranny, added the Colonel. Moreover, we're failing to meet this challenge because we aren't educating ourselves on how to keep this republic. Even the verbiage has been altered, as West later went on to talk about the co-opting of the word "liberal," noting "true conservatives are classical liberals."
Turning to the state of the Republican Party, Allen explained that the sole reason for the GOP's founding wasn't to abolish slavery but to maintain Thomas Jefferson's words that "all men are created equal." Unlike the era of its founding and its shackles of physical bondage, the black population today was under the "shackles of economic hardship," a condition West termed was "even worse than physical bondage." The letters G, O, and P should stand for growth, opportunity, and promise, said West. "We believe in equality of opportunity."
West also had harsh words for the welfare state. There should be a safety net, he opined, but that safety net "is meant to bounce you back up." Instead it's become a hammock, and like all hammocks over time it begins to rot and eventually will collapse under the weight.
Allen also made the case that the promise of America was to keep us safe. He decried the "cowards" who preach political correctness, maintaining the argument that "political correctness will only get you killed."
Finally, West challenged the group. "I'm pointing a finger into your chest," he said. "Stop being worried about them calling you names." He challenged us to engage 5 of our more liberal friends and set a goal of changing the minds of three. Noting Barack Obama has only a 40 percent approval rating, he called those 40 percent the "stuck on stupid folks," lastly repeating Franklin's assertion that "you have a republic, if you can keep it."
After the standing ovation, West took questions. Naturally the first one asked if he would consider being Vice-President, to which West replied "if God determines I will be in that position."
On a question relating to our military, West repeated his point that we are in "one of the weakest states we have seen," adding that, "the world is Machiavellian." West compared the release of Army Pvt. Bowe Bergdahl – "in the socialist mind, Bowe Bergdahl is a hero" – to the fate of Marine Sgt. Andrew Tahmooressi, who has languished in a Mexican jail since April for accidentally bringing a gun into the country. West criticized the fact Tahmooressi wasn't brought up in the June meeting between Barack Obama and Mexican President Enrique Pena Nieto, thundering that he'd demand Tahmooressi, along with his gun and his car, back in the country before Nieto was let in.
The next questioner wondered if it was too late to reverse this tide, with West noting we're "almost at the tipping point." Allen added that there's "no self-esteem (gained) from sitting in the hammock." Instead, we needed leaders to emerge like Dan Bongino, who West's Guardian Fund is supporting because Bongino "has a lot of fight in him."
Two questions about the state of our monetary system followed, dealing with the prospective collapse of the dollar and its effect on gold and silver. West pointed out that, in his belief, "we do not have a free-market economy," feeling instead that "the bubble is coming" because of a circular exchange of money primed by the continual printing of dollars. He felt there was a strong possibility that if a Republican in elected in 2016, the Federal Reserve will suddenly end this practice just to do damage to the economy under a Republican president. West also opined we may have to return to the gold standard.
When asked about the lack of bold leadership, Allen made it simple: "Start electing them." Pointing to the candidates at the head table, he added, "start building your farm team." We need to communicate our ideas with the American people, West added, noting that the other side "plays chess while we play checkers." Referring to the campaign placed against him in his 2012 Congressional re-election bid – a race made difficult because Florida Republicans redistricted him to a new district – West also believed that "if I'm their number one target, I feel good about it."
The piece of advice he would give about minority outreach? "Talk to them about who they really are," said Allen, who also challenged their mindset about rights, asking if not God, who do your inalienable rights come from? It led into the final question about education, where West made the case that "the most important elected position is school board" and couldn't believe ours was appointed. West also believed the time had come to establish more of our own universities, using Hillsdale College and Liberty University as examples to follow.
As part of the leadup to West's speech, he was presented with a Benghazi bracelet by Bev Bigler of the Worcester County Republican Central Committee. The poem "The Battling Boys of Benghazi" was also included with the program.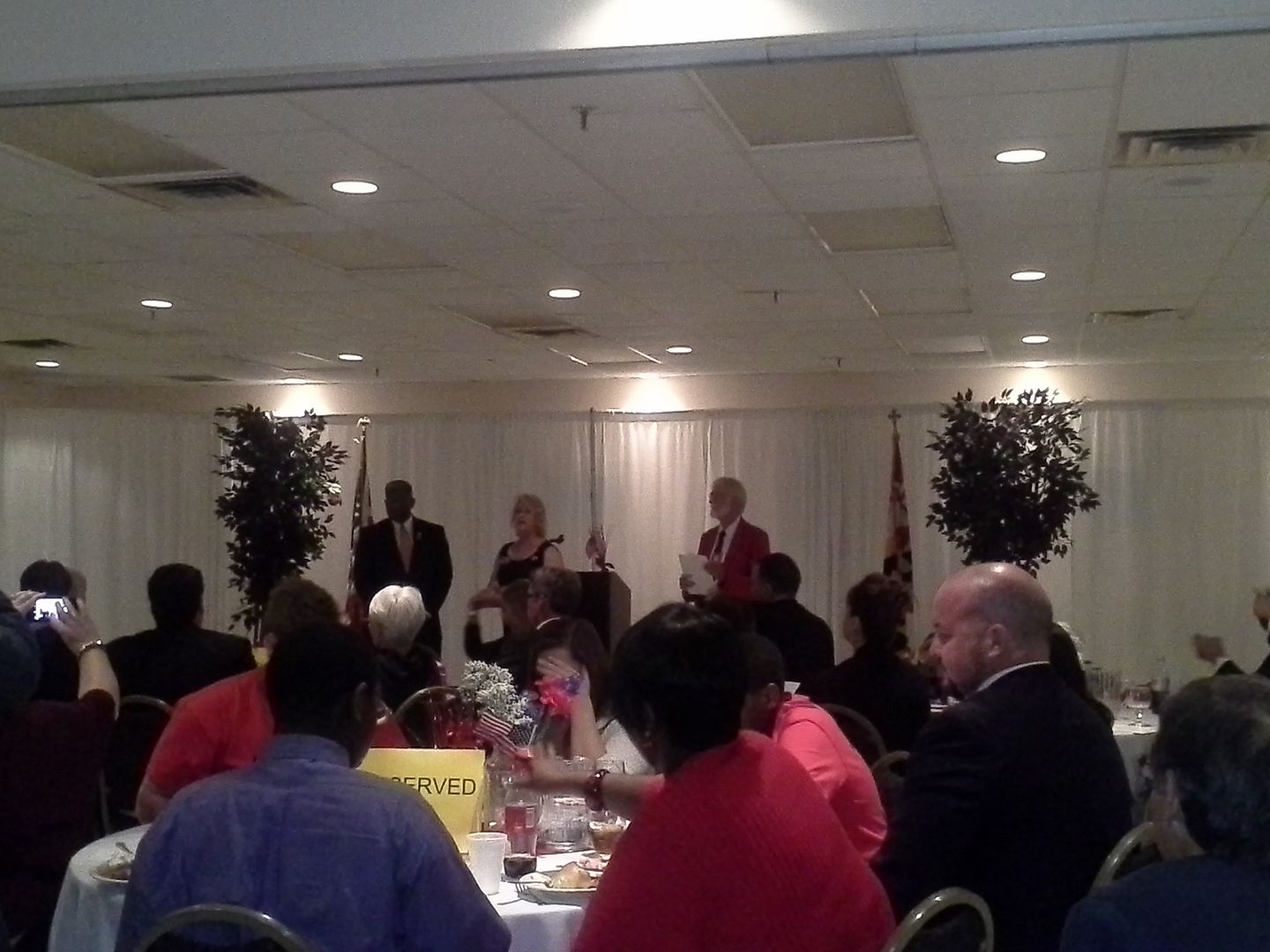 This was part of their effort to keep the Benghazi incident (and subsequent questions about a coverup) fresh in mind.
A number of elected officials and candidates took time out of their busy schedules to attend the proceedings, with some taking advantage of the moment to pose with Lt. Col. West. It was interesting to have a contingent from southern Maryland there, with those clad in red at the table in the preceding picture's foreground part of the campaign team of District 27 State Senator candidate Jesse Peed. (Peed has the uphill battle of taking on Senate President Mike Miller, a man who desperately needs to be retired.)
So the months of preparation, back-and-forth communication between the several parties involved, and last-minute scrambling to get the details just so made for an entertaining and informative evening. There may be a thing or two for me to add to this post, but I think I can speak for the Central Committee in saying that we enjoyed the living daylights out of it, but are glad it's over so we can focus on the election.
I'm back in the swing of news, and this gem from DaTechGuy hit home because it's so, so predictable. The stories he cites are the ones which can be used to prop up Barack Obama's approval numbers or distract from what's really going on – in the grand scheme of things, is the NFL scandal really that important or newsworthy? It's pretty sad when actions on the field take a distant back seat to actions which happened months ago far off the gridiron.
But how long have we known the mainstream media is in the tank for liberals? I mean, Dan Bongino's supporters have stated chapter and verse that at least one major newspaper in his district ignores him, and it plays right into the outsider image Dan is trying to cultivate in this election. Chances are that same paper will endorse opponent John Delaney, as most local newspapers tend to endorse incumbents over challengers unless the incumbent is a Republican and even less likely when the Republican is a TEA Party adherent.
I've seen this over and over again over the last twenty to thirty years I've studied the media. And notice how that cadre of news dinosaurs tut-tuts at any challenger to its dominance, whether it was conservative talk radio a generation ago or the rise of the internet media in the opening years of this century? I may not have the circulation of a Baltimore Sun or even a Salisbury Daily Times, but the potential is always there for something I say to be cast before a huge state, national, or even global audience. Their lack of a monopoly on news is what frightens the other side.
So it's quite predictable that their coverage dictates what is considered news to the masses, but at the same time people aren't being informed as well about important issues of the day. In my youth I would read the local paper cover-to-cover, and it would be maybe 32 pages – a 12-page section of national and state news with the last 2 pages being editorial content, a 16-page second section with local news, 4 pages or so of sports, a few pages of classified ads, and the comics, and a 4-page "Peach Section" with the features, a smidgen of entertainment news, and the TV listings. It seems now the lines between all of this have been blurred, with entertainment and sports news hitting the front pages and editorials being placed willy-nilly as part of the news.
In short, the avalanche and overload of information we're fed on a 24/7/365 basis may be allowing the most important stuff to slip by unnoticed, and that's a shame.
Believe it or not, this feature which used to be a staple of my site has gone dormant for over 18 months. But I decided to resurrect it because all these financial reports I've been doing as well as other regular features have taken up my time and allowed my e-mail box to become dangerously full of items which were rapidly running out of shelf life. So here you go: the return of odds and ends for what promises to be a cameo appearance.
As evidence of that shelf life, I wanted to bring up a thoughtful piece by my friend Rick Manning – not to be confused with the former Cleveland Indians outfielder – regarding the prospect of a continuing resolution for federal spending which would expire in December, necessitating a lame duck session.
Manning is right in believing that the strategy is fraught with peril, and if the pre-election polling is correct and Republicans take over the Senate come January this only invites Democrats to lay a few traps as they back out the door. Of course, if Congress (read: the Senate) would actually do its job and get the budget work done before the federal fiscal year begins on October 1, this wouldn't be a problem.
One Senator, Rand Paul, received some criticism from Timothy H. Lee of the Center for Individual Freedom, who noted Paul's flip-flop on foreign policy neatly coincided with a shift in public opinion regarding the Islamic State.
Returning to the fold of NetRightDaily – which has been on a content roll lately – I found someone who agrees with me on the Seventeenth Amendment. Tom Toth lays out the case, although I think we should do a couple other amendments first. Obviously this would probably change the composition of the Senate rather quickly to an almost perpetually Republican body, but someone needs to look out for the states and that element is missing in modern politics.
Something else Congress should get to (but probably won't) are curbs on civil forfeiture, the subject of a recent push by the Institute for Justice. The bills themselves were introduced back in July by Sen. Paul and Rep. Tim Walberg, but while IJ has been doggedly against what they call "policing for profit" for several years, this latest offensive stems from a petition drive and video the group has done detailing abuses of the process in Philadelphia.
It's clear the libertarian-leaning group doesn't like the idea, and with good reason. Think of it as the step beyond speed cameras.
Philadelphia also figures prominently into my next piece. I'll explain this more on Sunday, but there were a number of pieces I was perhaps intending to use for my American Certified site but instead will be mentioned in brief here.
One group which has made it to those pages a lot is the Alliance for American Manufacturing. Certainly they complain a lot about the trade deficit with China but AAM President Scott Paul (no relation to Rand Paul) also made a great point about the continuing lack of manufacturing jobs.
This jobs report is a big disappointment for factory workers. While we can never read too much into just a month's worth of data, a goose egg for manufacturing doesn't look like progress to me. And it will be hard to consistently move the manufacturing jobs number up unless our goods trade deficit with China comes down.

Two years ago President Obama campaigned on a pledge to create one million new manufacturing jobs in his second term. Our #AAMeter shows progress toward that goal is stalling. A national manufacturing strategy could help get us back on track.
Yes, they track the progress toward that elusive one million jobs, and Obama stands at a puny 193,000. It's surprising because as Rick Manning stated in an earlier piece, we have the energy resources to bring American manufacturing back. We're now number 1 in natural gas production, and our energy dominance serves to stabilize world prices, says Mark Green of API.
Looking at it from the perspective of state government, a recent video by Republican gubernatorial candidate Larry Hogan explained his thoughts on creating opportunity.
The key phrase in this video comes early on, when Hogan talks about his appointments. This is an opportunity which is rarely discussed, but when Democrats have run this state for all but four years of the last forty, the pool of those who get to be department heads becomes ossified. The Glendening appointee to one office may have been O'Malley's point guy somewhere else and would be on the short list for Anthony Brown.
But if Larry Hogan can resist the temptation to overly rely on his buddies from the Ehrlich administration, we have the potential for real reform and new ideas at the department level.
Another reform is being pushed by the Maryland Liberty PAC, and Republicans will be pleased to know they are firing in the right direction by attacking the "toxic track record" of District 34A Democratic nominee Mary Ann Lisanti. They didn't catch this gem, though.
Finally, I wanted to promote something a fellow blogger is trying. Peter Ingemi (aka DaTechGuy) has a radio spot for you:
It's near the end of the year when everyone's ad budgets are pretty empty so as I've got some ad space left on my radio show I've got an offer to make exclusively to the bloggers, advocates & folk on my e-mail blast.

Produce a 15 second plug for your blog, podcast or web site and for only $30 I'll include it on my radio show DaTechGuy on DaRadio for a FULL MONTH.

That's not only 70% off the normal price but it also means your plug will be included on broadcast replays, my own podcast replay, the live replay on FTR Radio and all four weekly replays on the 405media Tuesday through Friday. And if you want an even better deal I'll give you 30 seconds for just $50 a month (or I'll replay your 15 second spot twice).

This is a great chance to get your blog some national exposure on multiple platforms that you might not currently be reaching. (His emphasis, not mine.)
He's the consummate salesman, is he not? But I have him beat, at least in terms of price. I'm not doing a radio show anytime soon, though.
And I may not be doing another odds and ends soon either. But it was fun to go back and put one together for old times' sake.
You know the other side has nothing in their bag of ideas when you see this recycled old chestnut of an appeal for cash:
This from the side with a President who regularly finds millionaires willing to fork over big bucks to get their slice of the government pie.
But I presume these guys are counting the Americans for Prosperity as part of the "hundreds of millions of dollars," which is funny because while reports attempt to spin the news that the Koch brothers are raising up to $290 million to spend, it's not like Democratic backers like Tom Steyer and the venerable George Soros are standing still.
Yet what do all these participants stand for? In the case of Soros, he's donated millions over the years to reliably left-wing causes and opined after the 2010 election wipeout that Barack Obama didn't fight hard enough for cherished progressive causes. Instead:
While Soros's comment gave some attendees the impression that he'd cheer a primary challenge to the president, the point, sources say, was different. Rather, it is time to shuffle funds into a progressive infrastructure that will take on the tasks that the president can't or won't take on.

"People are determined to help build a progressive infrastructure and make sure it is there not just in the months ahead but one that will last in the long term," said Anna Burger, the retired treasury secretary of SEIU. "Instead of being pushed over by this election it has empowered people to stand up in a bigger way."

"There was frustration," said one Democratic operative who attended the meetings. The main concern was about messaging. I think they are frustrated that the president isn't being more direct. But I did not get the sense that anyone's commitment to the progressive movement was wavering… The general consensus is that support has to move beyond being about one person and more about a movement. I don't know if we've moved beyond there."

One of those "movement" ventures is an outside-government arm to match conservatives in the 2012 elections. For several weeks, discussions have been led by Media Matters for America founder David Brock about the need to create a group that will run advertisements, conduct opposition research and perform rapid response functions. (Emphasis mine.)
As an example of this concept, just look at the movement to increase the minimum wage. I don't think the SEIU is doing this by themselves.
In Steyer's case, he's out pushing for the extinction of fossil fuels, despite being a major benefactor from them over the years. (This would be a fun debate to watch.) Imagine the increase in costs and decrease in living standards a wholesale overnight embrace of renewables would cause. Until we can make the sun shine and the wind blow steadily 24 hours a day, we have a problem. (In terms of naturally occurring energy gathering, it would seem hydroelectric would be the best choice, but that's also climate-dependent: a drought would dry up supply.)
So consider what the Koch brothers have helped to create: the Cato Institute, a libertarian, small-government think tank and Americans for Prosperity (who would be against prosperity?) They also built up the family business and became billionaires in the process – isn't that the American Dream writ large? (They also support other causes, as this tongue-in-cheek post notes.)
If the Democrats have to use the Koch brothers – who built a successful life for themselves with a minimum of government assistance and would like others to follow in their footsteps – as an example of evil because they support Republicans, we know they have nothing.
It may not have been such a bad idea at the time, but the thought of adding corn-based ethanol to automotive fuel to stretch the oil supply seems rather silly in retrospect given our recent prowess in finding new supplies of black gold. In 2005, under the George W. Bush administration and a Republican Congress, the EPA was given the first Renewable Fuels Standard (RFS) mandate to include ethanol in motor fuel. It was at a time when many still believed in the theory of "peak oil" and determined we had to look past this resource in order to meet our growing needs.
Fast-forward to the present day and we find that, because of issues with decreased consumption of gasoline combined with increasing statutory requirements for the inclusion of ethanol in automotive fuel, the EPA took the unprecedented step of reducing its mandated amount of ethanol for this year; meanwhile, the RFS which was supposed to come out in November of last year is still on the EPA drawing board.
In reading a summary of energy news I receive daily from the American Petroleum Institute, it was revealed that retailers and other petroleum marketers have their own concerns about the prospect of E15 fuel being approved for use in order to achieve the mandated amount of ethanol required for these increasing RFS numbers.
Naturally, this is from the perspective of what's derided as Big Oil – on the other side, you have officials in corn-producing states beseeching Barack Obama to stand firm on these standards, while desperately attempting to secure infrastructure to provide the even higher E85 blend for flexfuel vehicles, such as the "I-75 Green Corridor" which has a lot of gaps.
The whole flexfuel idea was popularized a few years ago by a group I gave some pixels to during the $4 a gallon price surge called NozzleRage, which was the brainchild of another group called the Center for Security Policy – their goal in creating yet a third group called Citizens for Energy Freedom was to mandate cars be equipped as flexfuel vehicles. Even though it's essentially a free option, there are few takers for flexfuel cars as they occupy a tiny proportion of the market – about 1 in 20 cars sold are flexfuel cars (although that number is higher for government vehicles.)
Obviously the hope for ethanol proponents is to expand the number of facilities where E85 can be purchased in order to eliminate the need to go to an unpopular E15 blend while simultaneously being able to ratchet up the RFS figures. If even 15 percent of the cars can run on E85 and the price is competitive, then corn growers would be happy. (Never mind the folly of using food for fuel.)
Personally, though, I'm hoping they scrap the RFS altogether. It was an idea which may have had merit (and a lot of Congressional backing from farm states) a half-decade ago, but we can do better because our oil supplies are much more plentiful thanks to new technology. That's not to say that technology can't eventually be in place to use another source for ethanol (like the sugar cane Brazil uses for its much more prevalent ethanol market) but how about letting the market decide?
And while it's unrelated to ethanol, I thought it was worth devoting a paragraph or two to note that North Carolina – hardly a conservative state – is getting closer to finishing the rulemaking process for fracking in the state. Most noteworthy to me in my cursory reading of the rules is that North Carolina is looking at a fairly sane setback distance from various impediments – nothing more than 650 feet. They also seem to lean heavily on industry standards.
On the other hand, Maryland was looking to set rules which would require a completely arbitrary 2,000 foot setback and require plans for all wells proposed by a drilling company, rather than single wells. In short, we would do to fracking in Maryland what Barack Obama is doing to the coal industry nationwide – strangle it with unneeded and capricious regulations. That should not stand in either case.
It's been my philosophy that an area which doesn't grow will die. It may take a while, but killing growth will sooner or later kill the economic viability of a city, county, region, state, or nation. Putting silly regulations in place because a minority believes the debunked hype about a safe process is a surefire way to kill a vital region in the state, not to mention impede the possibility of prosperity elsewhere. We can do much better when common sense prevails.
First, the setup: one of the many e-mails I've received beseeching me for donations. It asks "Are you on this list, Michael?"
Michael,

Chairman Walden just sent me a list of NRCC Members for 2014, and I don't see your name.

I know you've been one of NRCC's most loyal supporters since the start, this just can't be right.

You donated in the past in defense of a Republican House Majority, but not yet this year.

It's getting urgent with 80 days until Election Day. We need you now more than ever. We're working to stop the Obama campaign machine in its tracks – BUT we can't do it without you.

In order to combat the $374 MILLION that Democrats are spending this cycle, we need grassroots supporters like you to renew your support for Republicans across the country today.

Together we'll rally families and workers to stop President Obama's disastrous Big Government Agenda – and advance better solutions for a brighter future.

Please don't wait another moment. Renew your NRCC membership today with a gift of $10.

And, if you renew by tonight at midnight, I will triple your donation, so your gift of $10 will have an impact of $30.

Thanks,

John Boehner
Speaker of the House
Let's clear a few things up. I don't think I've ever given a penny to the NRCC, so they're pulling that one out of their rear end.
But more importantly, what have you really done to "stop President Obama's disastrous Big Government Agenda?" Have you defunded Obamacare or told the EPA where to go? How about impeaching some of the lesser members of the administration? Of course not, because your consultants said it would drive away independents, as if most of them will vote in a non-Presidential race anyway.
And then you have what this duly-elected Congressional nominee wrote yesterday:
I just pulled over about 2 hours into a trip to Allegany County to write this. I think it's time.

Have you heard of the National Republican Congressional Committee (NRCC)? They exist to allegedly help Republican candidates get elected to congress. Do you know that it's been months since my victory in the Republican primary in Maryland and I haven't heard a peep from either them or the RNC?

Do these establishmentarians think it's easy running as a Republican in deep-blue Maryland? Do they think that after years of having OUR party nearly taken over by cronyists, interventionists, purveyors of bad policies like TARP and grotesque levels of government spending, that outsiders like me have it easy?

I can barely knock on an Independent's or a non-white-male-voter's door without being thrown off their porch. Do you feel that you've mastered the message and it's really people like me who are the problem? Who do you think is fighting this battle? It's certainly not you. We're the ones at the doors, where it matters.

What's your reason for ignoring me, and the many others fighting for this magical country's tomorrows? Do I not fit into your box? Is it my youth, my message, or is it that I haven't firmly planted my lips on your rear-end?

I'm a Republican because I believe liberty matters and we should not surrender OUR party to cronyists and connected-insiders. We built this house and you don't get to burglarize it and keep the spoils. If elected Democrats want to monopolize unlimited government and evaporating liberty then go join them in their house but stay out of ours.

Finally, thanks to the grassroots who have accepted me as one of their own, despite my recent entrance into the political arena. It's your sweat and positive energy that keeps me going despite the willful ignorance of so many on the inside. It's you that matters. Thank you so much.
Really? You at the NRCC ask me for money and don't support a guy like this? Well, perhaps I have an idea why Dan Bongino and others like him get the shaft. I won't blockquote the whole thing, but a piece by Dr. Steven J. Allen of the Capital Research Center is worth reading in order to get a peek into what I think is the mindset of the NRCC and "establishment" Republicans at large.
But the problem isn't just Washington. Just look at what the Democrats have tried to stick on Larry Hogan with the help of a most compliant media. From a Michael Dresser piece in the Sun:
"The No. 1 priority is to expose Larry Hogan as a conservative, knee-jerk Republican who doesn't support universal pre-K and doesn't support a woman's right to choose, doesn't support increasing the minimum wage but instead supports giving billion-dollar tax giveaways to the largest corporations," (Anthony Brown campaign manager Justin) Schall said.
Needless to say, there was no follow-up as to why universal pre-K is so vital (Head Start has been shown to be ineffective after grade 3), proof that Hogan isn't pro-choice, and, frankly, why Brown thinks we should be confiscating tax money from our largest employers – you know, those people who create jobs that have value rather than push paper?
Unfortunately, this is what Hogan's side had to say.
"We obviously have to get our message out to a broad segment of the population. We have to lay out a clear vision of what we want to accomplish," (Hogan campaign manager Steve) Crim said. "It's a humanization. It's showing people that Larry does care about everyone."
I didn't know that was a question. I would contend that Anthony Brown only cares about the special interests bankrolling his campaign. So why is it implied that the Republicans don't care about everyone? I deeply resent that implication.
Or read this lead paragraph from John Wagner in the Washington Post:
To hear Maryland Democrats tell it, a victory for Republican gubernatorial nominee Larry Hogan could lead to the legalization of additional assault rifles, new limits on women's access to contraception and the clock being turned back on gay rights.
Prove it. Come on, Maryland Democrats, let me see the legislation Larry Hogan has proposed to do just that. Put up or shut up. Unfortunately, Larry plays along to an extent:
"It seems like every other day, we're getting some off-the-wall attack on something that no one cares about," Hogan said. "They're trying to make me into a right-wing, tea party Republican."
Trust me, Maryland, if only…but he's the best we have to work with.
It's time for a little attitude. Later in the Post piece, the whole Michael Peroutka affair is brought up, and look who went dumpster-diving for that minor little issue:
The Brown campaign e-mailed reporters about the secessionist views of Michael Peroutka, a Republican council candidate in Anne Arundel, where Hogan lives. Hogan promptly responded by saying Peroutka's views have no place in politics. An aide said that Hogan and Peroutka have no relationship. (Emphasis mine.)
Divert from important issues much? The Brown campaign is worried about a local County Council race? I think I'd worry more about the $150 million or so of taxpayer dollars you wasted on a balky website than one person's personal views, which wouldn't affect how he served the public in his capacity anyway.
There are a lot of fed-up people out here in the real world. They're tired of struggling to make ends meet while watching the borders and the law be ignored, their taxes constantly go up while government cronies prosper, and being told their conventional, Judeo-Christian views of morality are politically incorrect and intolerant. I'm sick of it, too.
I have a number of friends who are Democrats. A lot are great people, and perhaps there are places we share political common ground. But to blame Republicans for the problems affecting this state and nation is the height of folly, considering who's been in charge recently. Simply put, the Democratic prescription is not making the patient better; instead, Uncle Sam is more infected and weakened than he was when the Democrats took over Congress in 2007 and the White House two years later.
The real truth is out there beyond the headlines. Talk to the people, and they will tell you just what I said a couple paragraphs above. Maybe the political consultants and hucksters who keep putting out constant e-mail appeals for my money (trust me, it comes from both sides) are getting a cut, but I say we ignore them and just give to our favored candidates. (Okay, I will make an exception for the state GOP, if only to keep their lights on and phone working.)
I think somewhere we lost our way, and the world needs good leaders on par with our Founding Fathers to steer us back. Just wish I knew who they were, because when I look at a lot of those people who would deign to be our national leaders I see a load of snake oil salesmen.
This will be a fun little post.
In an effort to have further blog fodder (and sometimes a good laugh) I'm on the mailing list of the Democratic National Committee.
So on Saturday I received an e-mail with the subject line "Getting to know you." I found out a couple neat little tidbits about that "powerful, dedicated community" on that side of the spectrum:
853,185 have been on their e-mail list for five years. I think I'm one of them, but that number seems surprisingly low. They must cull their list based on response/open rate.
11 people signed up as Barack Obama and "think they are pretty funny." Hey, with the history of failed hard drives around Washington, D.C. perhaps Barack Obama was being intentionally redundant or he simply wanted to tailor the message to his multiple favorite vacation spots.
And they "consider me a critical part of their team." Well, I am pretty critical about their intentions, motives, and methods of operation.
But the idea behind the e-mail was to flesh out the information they have on me. I actually trashed the e-mail then decided to bring it back because I was curious what they wanted to know. Truthfully, I was disappointed.
They already had my first and last name, along with my e-mail address (duh!) And of course, they know I live in the 21804 zip code so things are pegged to Maryland. The character string attached to the link has all that, along with the particular e-mail date they would harvest the information from.
So those things are spotted. The next information they wanted was my phone number. Since most people use cell phones, there was also an opt-in checkbox to receive "periodic automated text messages and calls on my mobile number from the DNC."
The next items were my birthday and gender. I'm thinking they are going to tailor specific messages to specific people – if I had put down "female" my e-mail would be filled with items dealing with the so-called "war on women." Older folks would certainly be given the usual scare tactics about cuts to Social Security and Medicare, although it's likely their targeting is a little more sophisticated. It will be interesting in my case to see how messages change when I make it to a half-century next month and slide into a different age category.
The next item asked where I primarily got my news: internet news sites, newspapers and magazines, TV, social networks like Facebook or Twitter, e-mail, or friends and family. It's surprising they ask this considering they cater to the low-information crowd.
Finally, they asked where I go for my updates on Democratic candidates and races: the DNC, local campaigns in my community, the state Democratic party, the DCCC (House Democrats), the DSCC (Senate Democrats), the Democratic Governors Association, or friends and family. Interestingly, the DNC Services Corporation didn't include the local news or internet.
Obviously I get similar e-mails from the Republican side as well. But one thing they often ask for that these Democrats don't are the issues I'm most interested in. To me, that would seem like a missed opportunity for the other side until you figure out that they are on the wrong side of practically everything, and often focus on issues of little actual importance: witness the whole "Redskins" name controversy, for example. If thousands of people came back and said we needed to do something about securing the border, those Democrats have no solution.
So they didn't get anything else out of me: just name, rank, and serial number. Maybe "Barack Obama" needs to transform into a 25-year-old woman just to see what kind of soap they try to sell her.
I saw this when it originally came out, but Michael Hausam at the IJReview website basically took Dan Bongino's recent "us vs. them" Facebook post and shared it for the whole internet to see – and that was a good thing. Read it, then come back here for my thoughts.
What has truly gotten this nation into trouble is the political class. Think about how Washington works these days:
It is a culture which uses the force of law to extract your hard-earned money in such a way that you really don't notice it anymore. You may grumble when you see all the deductions in your check due to backup withholding but just try getting them to stop.
That money is supposed to go toward addressing the various problems we have in society. Whether you agree with these purposes or not, funding goes to the military, dollars go to running the judicial system, money goes to providing all of the entitlements politicians have passed over the years, and so forth. But the Catch-22 is that solving the problem would make the agency, bureau, or whatever group superfluous and/or unnecessary and all those who work there would have to find honest work. Can't have that.
Yet all that paper being pushed really doesn't produce anything, Now one may argue that constructing infrastructure is something government does to produce worth, but most of the time it's a private contractor doing the work – they're just being paid with public funds. Government is generally in the service business as opposed to creating things of worth like automobiles, fields of corn, or extraction of minerals – and thank God for that.
In any case, there are a group of people within that culture whose aim in life, it seems, is to skate along as a "political consultant" and tell candidates who may or may not have been earnest people to begin with just how to fool people into believing they are one of them.
It's been several months since I've spoken to Dan; since he's running for office on the other end of the state I have been simply observing from afar for the most part. Having said what he did on Facebook and now beyond, it's no wonder he's filled in for Sean Hannity and Mark Levin on their radio shows – the question is always whether the glitz and glamour of the Beltway would affect him as it has so many other promising conservatives. Granted, he's been inside that bubble (so to speak, as indeed he has) for several years so there is the unique perspective. To turn a phrase, we have to elect him to see what's inside him and I have no problem with that. I think I can trust Dan to do what's right, even with his taste of the life inside.
But perhaps I'm not a "real" person either, since I follow politics more closely than probably 99% of other people and write about it more than 99% of that select group. Take my county of 100,000 people and I'm one of maybe 1,000 who follow the political events closely and, yes, there are maybe 10 of us who write a lot about it. Yet in my position I have to interact with the non-political world on a daily basis and I intentionally write about other things to stay grounded in reality and keep what little sanity I have.
My biggest fear is that those who claim to be outsiders will reach the pinnacles of power and prove to be no better than those they replaced. (As The Who sang, "Meet the new boss, same as the old boss.") One argument within the TEA Party movement is whether it's gotten too much like the rest of Washington, just with a different set of hucksters getting rich from it. Being on an e-mail list isn't about discussions of policy, but appeals like this:
The clock is ticking… and there are now less than 100 days left before Election Day.

That means less than 100 days to door knock, make phone calls and attend community events to earn the vote of citizens in Maryland's 6th Congressional District.

Every day counts.

And that's where you come in. I need to finalize our grassroots strategy for the next 95 days. We need to budget our campaign expenses for the final 3 months of this race.

Will you help us finalize our budget before the end of the month by sending $25, $50, $100 or more before MIDNIGHT tonight?

We must budget for media buys, purchasing lawn signs, bumper stickers, campaign materials — even small items like pizza for volunteers!
In case you're wondering, that's from Dan's campaign. Now I don't begrudge Bongino looking for money because he needs it – at least with him you're donating to a candidate and not necessarily a consultant. I'm probably on a couple hundred different e-mail lists like Dan's because I'm a blogger and follow politics. (The Democrat ones are sometimes laugh-out-loud funny and good blog fodder.) And yes, I do mention it at times when a politician forms his own PAC and tries to get in on that game.
The biggest problem the TEA Party movement has is that they can't elect everyone at the same time. 2010 was a good example – they picked up all those House seats but didn't take over the Senate because only part of the body was up for election. Then it only takes one bad election (like 2012) to muck up the works for another half-decade. In 2014 they can take over the Senate but we're still stuck with Barack Obama's phone and pen.
And it's the people they don't elect who create an even bigger problem. A true rightsizing of the federal government would probably incite riots throughout the Capital region as thousands and thousands of government workers suddenly found themselves without a paycheck. Unemployment in Maryland would probably be double-digits overnight. But while some have the courage to tell the political class to hit the road, their numbers are few compared to the thousands who occupy official Washington and have created their own job security by doing just enough to stay fully funded.
They've long since bought the Democrat party lock, stock, and barrel and I'm not so sure the GOP's not on the payroll, either. That's the problem with people – too many can be bought.
Just before heading into the Independence Day holiday, I wanted to update you on the status of Troopathon 7.
When I last left you on the subject, they were looking to reach a goal of $300,000. At the end of the telecast they finished about $1,600 short of the goal, but subsequent offerings enticed them to raise the goal to $350,000. As of this writing, they are at $317,950.
One thing I have not been able to track down is how much this site raised in the overall bloggers' competition. I know that Wayne Dupree won (and received the AR-15 they were giving away) but I don't have my own number. I will tell you that one of my readers donated to my PayPal account with the intention of using that as a donation, so I purchased another care pack on her behalf (made sure the note said so as well.) If, between her donation and my personal purchase, that was all I accomplished I would be a little disappointed in my readership but secure in the knowledge I made a little bit of difference.
It will be interesting to see in which direction Troopathon goes next year, since plans have been made to withdraw most of our remaining armed forces from Afghanistan. Unless we suddenly decide to slug it out with the ISIS terrorists in Iraq, 2015 will bring perhaps the smallest number of Americans in combat this century, since Barack Obama is hellbent on wrapping up the Long War whether victory is in hand or not. Of course, it won't mean those few who remain won't appreciate the efforts provided by Move America Forward, but I think it's a question I think is worth asking. So I will and if the response is worthwhile it can be featured here.
Update: I raised $50 out of the total bloggers' pool of $600, good for fourth-best. I think as a group we did better last year, but every little bit helps. It's sort of sad that a number of bloggers who agreed to participate didn't even help for themselves.
This was a pretty quick response to an accusation over three years in the making. I'll begin with fellow candidate Ron George's perspective, which is reflected in statements within from David Craig's campaign:
Today, the Ron George & Shelley Aloi for Maryland campaign joined the Craig-Haddaway for Maryland campaign in filling a complaint with the Maryland Board of Elections alleging illegal coordination between between Change Maryland, LLC and Larry Hogan's various campaign committees.

"These actions by Change Maryland, LLC and Larry's campaign committees represent an egregious breach of the public trust and utter disrespect for the law. We expect candidates for public office to hold themselves to a higher standard. These laws are designed to promote transparency," said David Craig.

"The public should know where contributions are coming from and where they are going; It's a matter of public trust. Furthermore, they should expect those who want to make more laws follow the laws we already have," said Delegate Ron George.

On January 31, 2014, Change Maryland, LLC filed its most recent contributions and expense report for the period of January 1, 2013 through December 31, 2013 listing total contributions received of $145,995 while expending $213,040.

"We believe that all current and prior activities of Change Maryland, LLC appear to be directed by Larry's campaigns and those activities should be considered part of his gubernatorial campaign for reporting purposes. With this complaint, we are asking the State Board of Elections to investigate. If the Board of Elections doesn't, we can expect organizations in the future to skirt campaign finance laws to hide where their money comes from and where it goes. I hope the Board of Election agrees with us that the process should be transparent and uphold the integrity of law," said Paul Ellington, campaign manager for Craig-Haddaway for Maryland.
Hogan responded, almost immediately:
"The entire premise of these allegations by two desperate campaigns is utterly absurd and patently false.  Had David Craig and Ron George bothered to do even a cursory check, they would have seen that the "about" page at Change Maryland's Facebook page (https://www.facebook.com/ChangeMaryland/info) and website (www.changemaryland.org), clearly states Paid for By Hogan-Rutherford to Change Maryland.   In short, Larry Hogan for Governor owns Change Maryland and has since he became a candidate.

Unlike David Craig's campaign which has already been found guilty and fined for violating campaign laws, our campaign has worked closely with the Maryland Board of Elections to ensure from day one that we comply fully with all state laws."

Background:

Before starting his campaign for governor, Larry Hogan's team sought guidance from the State Board of Elections on whether or how Change Maryland, a 527 political organization, could interface with a campaign for governor, also a 527 political organization.  The guidance received was that Hogan for Governor could purchase the assets of Change Maryland much like campaigns purchase mailing or contact lists from any other organization.  Immediately upon registering as a campaign for governor, with the SBE, the campaign entered into a purchase agreement for all of Change Maryland's assets at fair market value.
Obviously there's the question of how they determined what "fair market value" was, but we've known for three years that Change Maryland could be a handy vehicle to keep Hogan's name in circulation after his abortive 2010 campaign. The question came up on one of his first interviews  as Change Maryland leader, with Maryland Reporter's Len Lazarick.
As far as the market value, if you look at the first Hogan financial statement the apparent "fair market value" for Change Maryland is $18,164.05, which is listed as an "asset purchase" made April 7. It was about 2 1/2 months after the campaign was formed, and the "contact list" pales in comparison to what the campaign had paid to date for mailings – for that purpose, the Hogan-Rutherford campaign spent nearly $121,000 employing a New York-based firm called SCM Associates during the initial months of its campaign. It was almost as if someone thought at the last minute, "hey, we better cover ourselves on this one."
I'll admit I've had campaign finance questions about my unusual situation of being a blogger and candidate for which I've sought advice from the Board of Elections, but $18,000 seems to be a lowball estimate for an organization whose 527 clearly states it churned through over $350,000 last year, raising over $140,000 by itself in a year when only one of the opposing candidates did as well.
So we have found out that the "perpetual campaign" is not just a Barack Obama phenomenon. Obviously he wasn't going to admit it publicly, but all along many have suspected that Change Maryland was simply the lead-in to the 2014 Larry Hogan for Governor campaign – after all, why bring up a past campaign if you're not running, as this archived Change Maryland page shows – just as any number of PACs created by particular failed candidates were formed as a way to keep their name in the limelight and (more importantly) create a donor database.
The beauty of Change Maryland, though, was that contributions to it didn't count against a contribution limit to Hogan for Governor, and there's little doubt that list is being mined again. In one respect, it's a stroke of genius and perhaps there's some sour grapes from the others about not coming up with the idea themselves. After all, we could speculate back in 2011 when Change Maryland was formed that David Craig and Charles Lollar were probably going to run in 2014, along with perhaps Brian Murphy and maybe even Michael Steele. (The entry of Ron George was a little bit more out of left field.)
These accusations, however, served to blunt the news that Hogan had reached the seed money threshold required to qualify for matching funds.
By qualifying for matching funds, the Hogan campaign is guaranteed $2.6 million immediately after the primary.  The Hogan campaign has received contributions totaling over $600,000 from more than 3,000 contributors since formally entering the race in late January. By reaching the matching funds threshold, will also receive over $260,000 in Fair Campaign Finance Act matching money.  In all, by qualifying for the match, the campaign says it will spend over $4 million "taking on the political establishment."
Obviously Hogan has to win the primary to cash in, and that's by no means certain when "undecided" has such a big share of the electorate. Classifying his opponents as desperate seems a little premature, and it may be a pretty tense couple days before the party's unity rally slated for June 26.
I don't think anything will come of this, but there is the potential for an October surprise if Hogan wins the primary and the Board of Elections indeed decides there's some fire among all the smoke. I trust the other side about as far as I can throw them.