For the four years he has been in office, Andy Harris has generally enjoyed the support of his conservative Eastern Shore constituents. He's not had a serious primary challenge since he was elected and garnered over 70% of the vote in 2014 against Democrat Bill Tilghman, whose centrist posture was well right of mainstream Democrats but far out of step with the district.
But since that resounding November victory, Andy's actions in Congress during the lame duck session have earned him further enmity from the strong libertarian wing of the party and alienated conservatives as well.
By inserting a provision into the so-called CRomnibus bill preventing the District of Columbia from enacting its Proposition 71 marijuana legalization, Harris again became the target of District residents and leaders who demanded a tourism boycott of Andy's Eastern Shore district earlier this summer. Accusations of being in the pocket of Big Pharma followed, but Harris defended the role of Congress spelled out in the Constitution [Article 1, Section 8] as overseer of the District's affairs.
Yet while the libertarians of the Shore make up a small slice of the constituency – a Libertarian candidate ran in the First District for three successive elections from 2008-12, but never received even 5% of the vote – the conservatives are upset about Andy's vote in favor of CRomnibus. That segment of the electorate is Andy's bread and butter.
In the TEA Party community, there are whispers about who could challenge Andy from the right, as several feel he is on the same glide path that Wayne Gilchrest took during his long Congressional career. His 2008 primary defeat (by Harris) came after a bitter campaign where Andy stuck the "liberal" tag successfully on the longtime pol as well as fellow Maryland Senate opponent E. J. Pipkin.
Ironically, a politician long allied with Pipkin could be a prospect to make that challenge. Michael Smigiel, a delegate who was defeated in the 2014 District 36 GOP primary, is popular among the TEA Party community for his strong Second Amendment stance. But it would be difficult for anyone to raise the money Andy has at his disposal and Harris has bolstered his profile among local elected officials and the state Republican party by being generous with his campaign funds through A Great Maryland PAC.
It's also worth mentioning for context that CRomnibus is probably roughly the same deal which would have been made if the budget were completed in regular order, given the partisan divide between the House and Senate.
Instead, while most functions of the government will continue through next September, the Department of Homeland Security budget has a February expiration date. This sets up a showdown between Congress and Barack Obama regarding the latter's executive actions to give de facto amnesty to millions of illegal aliens; however, some hardliners already feel the damage is done.
In response to a lengthy Facebook post by Harris explaining his CRomnibus stance, though, local activists summed up the frustration TEA party activists felt, noting:
"(Harris) does a nice job of listing those riders and amendments that might seem to gain the approbation of the conservative and Republican audiences, while omitting anything that might serve as a balance – what effectively was the PRICE paid for what was had, the PRICE of 'compromise.'"
"It is rather sad that Andy thinks that he can list a few paltry gains and that will make us overlook the whole thousand page monstrosity. The obvious question is that if he got in a few tidbits that he wanted, then who else got in their tidbits and what are those?  I would imagine that they will far outweigh any small gains that he is bragging about."
These activists agree one way Harris could help to restore his image would be to take the lead in the conservative grassroots push to replace John Boehner as Speaker of the House. Bear in mind that this could come at some cost as Andy serves on the Appropriations Committee and a Boehner victory over any challenger for whom Andy shows support could bring repercussions such as the stripping of his position there, but on balance I believe a potential sacrifice such as that is worth the opportunity to have a stronger conservative leader as Speaker. It's a sentiment shared by commentators at American Thinker, WorldNetDaily, and RedState.
On November 4, people hungry for real change went to the polls to reject the Democratic Senate and place Republicans firmly in control of Congress. The events leading to the CRonmibus, though, shook the confidence that Washington would depart from its business-as-usual benefits to the ruling class by allowing the outgoing defeated members one last hurrah. While all of this blame cannot be laid at the feet of John Boehner, there is a mood in this country that a strong counterbalance is needed to the increasing use of Executive Branch power by Barack Obama, particularly on immigration and Obamacare. The fear of many conservatives, particularly those in the First District, is that John Boehner doesn't have the spine to rein in the executive.
Just like in 2008, when Andy Harris first ran for Congress, the potential is there in 2016 for state elected officials to "run from cover" as their Delegate or Senate seats aren't on the ballot. During the similar 2012 election, 7 members of the Maryland General Assembly ran for Congress – one for the Senate and six for various Congressional seats. While none were successful overall, two won their party primary and ran through November.
No member of Congress is universally loved, and being a representative at any level of government means you won't please everyone. But there's a growing number who want Andy Harris to be a conservative leader and not just talk a good game.
Recently I've posted about three likely entrants into the 2016 Presidential race – Jeb Bush and Dr. Ben Carson on the Republican side and Jim Webb representing the Democrats. Naturally with an open seat the interest in the job increases, since there's no incumbent with his built-in advantages to contend with. This opens the field to a lot of potential contenders who passed on the 2012 race for various reasons. Recall that many of those who ran in 2012 on the GOP side are still active in the political arena – Newt Gingrich with his production group, Rick Santorum with Patriot Voices, Mitt Romney with endorsements and help with financial support, and Rick Perry with his RickPAC, among others.
Obviously Democrats were silent in 2012, but it's been known that grassroots movements have sprung up for Hillary Clinton and Elizabeth Warren (who's trying to tell her supporters "no") while Martin O'Malley began his own PAC for 2014. Joe Biden claims he "honest to God hasn't made up my mind" about running.
On the GOP side, these aforementioned contenders have one thing in common: except for Perry, who did not seek another term and leaves next month, they are not currently serving in office. (On the other hand, among the Democrats only Webb and Clinton are out of office, although O'Malley joins that group January 21.) Yet the GOP has an extremely deep bench of current governors, many of which are in their second term and have national name recognition: in alphabetical order, the group includes Chris Christie of New Jersey, Bobby Jindal of Louisiana, John Kasich in Ohio, Mike Pence of Indiana, and Scott Walker in Wisconsin.
In recent years, our presidents have tended to be former governors: George W. Bush, Bill Clinton, Ronald Reagan, and Jimmy Carter all came from that background. Obviously their tenures in the Oval Office were a mixed bag of success, but Americans tend to be more confident that those who ran a state can run a federal government. (The only recent exceptions to this were 2012 with Mitt Romney and 1988, where Vice-President Bush defeated Michael Dukakis. Maybe being governor of Massachusetts works as a disqualifier.)
With the large potential field of governors, it may be just as important to know who's out. When you have a state to run for another four years, the excuses for trips to Iowa and New Hampshire are fewer. It's not to say that governors who want the brass ring won't try and make that effort, but as we've seen with Martin O'Malley and his frequent journeys to New Hampshire and Iowa in his second term, there is the potential for losing focus on your real job. It was enough to cost his anointed successor his election, for the dubious gain of polling at 1 percent or less in most 2016 Presidential polls.
There are perhaps 15 to 20 figures in national politics who could potentially run for President on the Republican side – far more than the Democrats boast. Of course, only one can win a party's nomination, but beyond that there are only three or four who can be in the top tier and raise the money necessary to wage a national campaign. (It's something that Martin O'Malley is finding out firsthand on the Democrat side, since he's not one of those.) It's been claimed on a grassroots level that the last two Republican campaigns were decided when the "establishment" settled on one candidate before the activists did – that group split their allegiances and votes several ways until it was too late. By the time Rick Santorum outlasted Gingrich, Perry, et. al. he was no more than the highest loser because at that point the nomination was just about sealed for Mitt Romney. Romney may have been the best candidate for 2012, but he wasn't good enough to get the nearly 3.6 million who passed on voting for Barack Obama a second time to come on board.
People like to keep their options open, but since the announcements of who's in seem to be receding farther and farther from the actual election, it may help those of us on the Right who would like to select a candidate to know who won't be running. Obviously there will be a few ardent supporters who will pine for that candidate to reconsider – as far-left populist Democrats are finding with Elizabeth Warren – but we could save a lot of wasted money and effort by finding out who won't make a half-hearted attempt at an early date.
I've probably given as many pixels to failed candidate Rick Weiland as anyone outside his native South Dakota, but it's because I think he's very useful as a gauge of reactionary liberalism in a part of the nation which has maintained a streak of populism surprising for such a rural area. While the South has gone almost completely Republican, those in the rural Midwest will occasionally elect Democrats they deem to be centrists or populists on a statewide level. South Dakota has rejected Weiland several times, but it doesn't mean he'll stop trying and to me that exhibits precisely how the far left operates and why it's important to hear about their desires. (He could also use the money since he can't manage his campaign funds, but I digress.)
So yesterday, in the wake of the debate about CRomnibus, I received a missive called "We can't breathe!" from which I quote in part:
The revenge of the money changers is in full swing in Congress today.

Let the big banks have their swaps back. Let Las Vegas advertise itself with your tax dollars. Increase by 1000% the amount billionaires can contribute to buy off our political parties.

Men of color are not the only ones they have in a choke-hold – now they've got all of us – and it's way past time to tell them none of us can breathe!

Emboldened by the Obama-haters they just elected, Wall Street is readying the nooses for Obamacare and Dodd-Frank. They think they can't be stopped.

But WE can stop them!

24 states allow initiatives and referendums – 24 states where you can show them exactly what you think of their choke-hold on the rest of us.

So let's put what they are doing to us on the ballot in those 24 states and find out who is right.

(snip)

Help us close down the debt on my just completed Senate campaign, and fire up our initiative and referendum team. Because we are going to turn our little state into a laboratory for direct democracy.

A laboratory and an export market.

Let's put Citizens United, Ferguson, and Big Bank plutocracy on trial at the ballot box.

Because when you go down fighting instead of whimpering, a funny thing often happens: people notice, then they think a little, and pretty soon they're fighting too.

If you have to vote on it you have to think about it.  So let's put our ideas directly on the ballot and pick a fight. (All emphasis in original.)
This is the mirror-reverse of the strategy Maryland Republicans tried in 2012 to petition already-enacted legislation to referendum, which failed. Looking back, I wonder if the Maryland Republican Party isn't kicking itself for not placing the "bathroom bill" or 2013 gun bill on the ballot this year – we may have even had a more shocking victory by repealing both laws. (The counter-argument, of course, is the "sleeping dog" school of thought which liked the Democrats' low turnout – perhaps the inclusion of those ballot measures would have hurt Larry Hogan's chances by bringing out more liberal Democrats.)
It's also true that, even in the face of a Republican wave election, four states that had a minimum wage increase on the ballot, including the aforementioned South Dakota, passed these measures while electing Republican Senators – in Alaska and Arkansas the Democrats seeking re-election to the Senate were defeated on that same ballot. (Nebraska was the fourth state.) Again, this shows the streak of populism which occurs in the Midwest.
Obviously Weiland sees a trend, exhibited in his home state, where direct democracy can succeed in accomplishing those things a representative republic would not. As the minimum wage example shows, people can be fooled into voting against their best interests – that's why we were founded as a Constitutional republic.
Weiland's mindset is shared by a lot of people, though. Witness the populist appeal to Southern voters espoused by the writer of the linked New Republic piece, Michael A. Cooper, Jr., who pleads with his party:
Speaking as a southerner, we need help, not from the DCCC but from government to deal with issues like homelessness and drug addiction.
These aren't esoteric concerns Beltway liberals tut-tut about like global warming or political correctness, but true pocketbook issues which unfortunately tend to affect the poorest among us. Conservatives would prefer these issues be dealt with on more of a faith-based level through private charity but it can also be addressed by local and state governments. (By the way, thanks to Jackie Wellfonder for bringing the New Republic piece to my attention just in time for me to add it in because it fit the point so well.)
Just as the right has its TEA Party movement which has cooled to the mainstream Republican party – and for good reason – many activists on the left are embracing their new savior as Senator Elizabeth Warren, whose populist screed against Wall Street has won the backing of elements of the Democrat Party who think Barack Obama sold them out and Hillary Clinton is too close to the right wing. They are also fed up with the government, but stare at the problem from the other side of the fence because they want the power of government to regulate corporatism out of existence, or rein it in as fascism dictates.
Meanwhile, while these Warren acolytes whine about what Barack Obama is not providing them, they fail to see that many of their goals are being realized anyway. Truly it's the Right that's not being served.
As the new year arrives and Republicans take over Congress (along with the governor's chair in Annapolis) we will begin to see all the stories and tales of woe unreported on over the last six years. There's a lot of work to do, and Republican leaders in Congress didn't get off on the right foot by passing CRomnibus. We must demand, now that we've granted them the opportunity to complete the FY2016 budget in regular order as they've wished to do for several years, that our priorities be the ones funded and the mistakes of the last six years deleted.
Perhaps we can also do our part in using the referendum system in advancing conservative causes as well. Two can play that game, and it's just as important to motivate our voters as it is for the other side to buy theirs.
While Ben Carson made a splash on the GOP side by strongly hinting he was in the 2016 Presidential fray, he stopped short of actually launching an exploratory committee. The first major candidate – at least one who has a shot at being in the top couple tiers, anyway – to form an exploratory committee is Democrat Jim Webb, the former Reagan administration official who later became a Democratic senator from Virginia. Daniel Larison at The American Conservative has some thoughts on this challenge to presumptive nominee Hillary Clinton, but Webb has his own explanation at his newly-christened website.
And while it's probably the longest of shots to oppose the Clinton machine, Webb does have somewhat of an opening according to Harry Enten at fivethirtyeight.com. He points out that Hillary's support is weakest in the political center, where Webb's pro-military but populist message may resonate. As David Freedlander writes at the Daily Beast:
And Clinton, (Webb's) aides insist, is a non-factor.

"It ain't about Hillary," said Mudcat Saunders, a longtime Virginia strategist who worked on Webb's Senate campaign. "It's about bring the American dream to the forefront once again for working people and small business. The working people and small business – they haven't had any representation in years. And they know it.

Americans want to do something about this coin-operated government."
In a lot of respects, Webb hearkens back to the old Democratic party, the one which was just as liberal as it is today but was pro-military and pro-American. Ronald Reagan led those voters to the Republican Party and many of them stayed. For those who hang on to their faith in the old-style Democratic party and the song and dance about their support for the working man – the sort of Democrat who still resides mainly in rural areas like this one – Webb may be an appealing option. Take this excerpt from his introductory video as an example, one where Webb points out that he's no stranger to long-shot campaigns since he defeated George Allen in 2006 to win his one term as Senator.
With enough financial support to conduct a first-class campaign, I have no doubt that we can put these issues squarely before the American people and gain their support. The 2016 election is two years away, but serious campaigning will begin very soon. The first primaries are about a year away. Your early support will be crucial as I evaluate whether we might overcome what many commentators see as nearly impossible odds.

We are starting with very little funding and no full-time staff, but I've been here before. In February, 2006 I announced for the Senate only nine months before the election against an entrenched incumbent. We had no money and no staff. We were more than 30 points behind in the polls. I promised to work on the same themes I am putting before you now: reorient our national security policy, work toward true economic fairness and social justice, and demand good governance, including a proper balance between the Presidency and the Congress. We won. And despite the paralysis in our government, we delivered on these promises, in measurable, lasting ways.

In 2007, I gave the response to President Bush's State of the Union address. I put economic fairness for our working people and small business owners at the front of my response, noting the immense and ever-growing disparities in income between corporate executives and those who do the hard work. When I graduated from college the average corporate CEO made twenty times what his workers made. Today that number is greater than 300 times. The inequalities between top and bottom in our country are greater than at any time in the last hundred years. And the disparities between those at the very top and the rest of our society have only grown larger since the economic crash of late 2008 and early 2009.
With over 30,000 views in the first few days, the video is indeed portraying a very populist message that would appeal to the vast number of voters who fall for the class envy trap. (Dirty little secret: CEO pay is much higher now because many are paid in large part with stock options, thanks to the push a couple decades ago to more directly tie CEO salaries to company profitability and financial performance. In terms of actual salary, the ratio is far lower.)
It's doubtful that Jim Webb is the obstacle to an eventual Hillary coronation that Barack Obama was in 2008, and at this point he's probably in the same low tier of probability that Martin O'Malley rests on, well behind Joe Biden and miles in arrears to Hillary. But it wouldn't surprise me to see Jim in the mid-single digits in early polls as an outsider who has military experience, as opposed to most others in the Democratic field. He may be the catalyst for another Operation Chaos on the Democratic side.
After he lost the 2012 Senatorial primary to Dan Bongino, Richard Douglas has kept a somewhat low profile. Eschewing a possible run for Attorney General this year, Douglas has instead focused on particular issues such as the Bladensburg Peace Cross earlier this year and his latest, a criticism of Maryland's two sitting Senators for a lack of action on freeing Marylander Alan Gross from a Cuban prison.
In today's Daily Record (11/19), I was astonished to read the Capital News Service whitewash of the Maryland U.S. congressional delegation's record of failure on Alan Gross.

Marylander Gross remains in a Cuban jail because Maryland's weak, irresolute U.S. Senators have done precisely nothing to force our weak, irresolute President to make Cuba howl. Senators Ben Cardin and Barbara Mikulski have used none of the tools available to majority-party senators, or in Mikulski's case, to the chair of the Senate's most powerful standing committee, to bludgeon the Obama White House into meaningful action to free their fellow Marylander.

To try to force presidential action, Cardin and Mikulski could easily have blocked Obama legislative priorities, Obama executive nominations, treaties, senior bureaucratic promotion lists, and spending bills. But they didn't, and these are glaring omissions in the Capitol Hill playbook. They confirm that Cardin and Mikulski have pulled their punches with their ideological teammate in the White House.

Whitewash can't conceal the truth. Maryland's U.S. Senators and the White House have shown weakness and a lack of resolve on Mr. Gross. That same brand of weakness and lack of resolve helped put Russian troops in Ukraine, and allows Islamist terrorists to murder Americans almost at will.

In January, the new Republican majority in the Senate could finally force President Obama to break a sweat over Alan Gross, five long years into his imprisonment. We'll see. But what a pity that Maryland's U.S. Senators, clucking furiously on the sidelines, have utterly failed to use the tools which the Framers gave them to force Obama to do his job.
Douglas was quite critical of Cardin in his 2012 run, but hadn't really had much need to be critical of Maryland's senior Senator. It's Mikulski's seat which will be at stake in 2016, though, and Douglas's statewide experience may lead some to ask whether he's thinking of challenging Mikulski. With the Senate political landscape being almost exactly the opposite of 2014′s (where Republicans will have at least 24 seats to defend against just 10 for Democrats) the chance to pull an upset in Maryland is intriguing in the wake of Larry Hogan's win.
Naturally, the prospect of a rematch of the two top GOP contenders from 2012 means Dan Bongino will be in the conversation as a possible contender. But will Bongino want to undergo yet another campaign, the third one in five years?
With the experience Douglas boasts as a former Chief Counsel of the Senate Foreign Relations Committee, and former General Counsel of the Senate Intelligence Committee, in an election where cleaning up Barack Obama's foreign policy messes may be a key issue, the prospect of someone with Richard's expertise going up against Mikulski – or a new Democrat should Barb decide to retire – is quite interesting. Surely we will see in the coming months if it's a race Richard wants to run.
There are actually a couple things I want to tie together in this piece – they may seem disparate at first, but I think there's a common thread in something I write about on a frequent basis.
For a guy whose party took a good old-fashioned ass-kicking in the midterms, Barack Obama sure is governing like he didn't hear any of the voters, whether they showed up or not. We may like these gasoline prices which are the lowest they have been through his time in office, but he's still determined to decimate our economy in the name of combating global warming. It was a point Peter Ingemi (aka DaTechGuy) made with some hashtag and messaging suggestions today.
In order for our economy to grow, we need to use energy. Like it or not, the vast majority of energy sources for our needs in the near-term future will be fossil fuels – thanks to advances in technology, oil and natural gas prices are reasonably cheap and supplies are plentiful.
And even if you say that cutting our greenhouse gas emissions is a worthy goal, we still are allowing China – you know, that country which seems to send us every product under the sun that's not made here anymore because manufacturers bailed on America a couple decades back – to continue to increase its emissions. They say they would like their emissions to "peak" around 2030 – of course, that's no iron-clad guarantee and since when have communists ever told the truth or lived up to an agreement? It's a 'get out of jail free' card for the Chinese and it lasts for 15 years – meanwhile, we cripple what little industry hasn't abandoned us yet due to shortsighted government policies and the obvious feeling that corporations are cash cows for exploitation to increase spending.
So, just like Obamacare has become the descriptive term for bad health care policy, "Obama China deal" and "Obama EPA regulations" should become part of the political lexicon. Admittedly, it doesn't roll off the tongue quite as well as Obamacare but all three are detrimental to our economy.
EPA regulations restricting the use of fossil fuels would interrupt what's been a promising rebirth of an American energy industry many thought was dying just a few short years ago. Instead, they are at a point where the need for workers is great as the industry continues to expand, and writer Marita Noon hit upon a great marriage of supply and demand just in time for Veterans Day. As she notes:
The U.S. oil-and-gas industry has added millions of jobs in the past few years and expects to add more and more—especially with the new energy-friendly Republican-controlled Congress. Just the Keystone pipeline — which is now likely to be built — will employ thousands. Increased access to reserves on federal lands will demand more personnel. But finding potential hires that fit the needs of the energy industry in the general labor pool is difficult, as they lack discipline, the ability to work in a team and, often, can't pass a drug test.
Obviously our veterans have these qualities in spades thanks to their military experience, (Similarly, veterans have been integrated into a successful local construction firm led by one of their own.)
The question of climate change isn't one of whether it occurs, as our planet has veered between ice age and warm periods ever since its creation untold eons ago. It's always been one of responsibility and corrective action – my view is that the sun is the prime driver of the climate and we can't do a whole lot about that fact. Just the fact that global temperature has held near-steady over the last 18 years and not constantly risen with the amount of carbon emissions punches a hole in a lot of the global warming theory, and is a prime reason they've gone to the term "climate disruption." If we ceased using energy tomorrow it wouldn't make a dime's worth of difference to the climate but millions would starve.
Fortunately, what Obama has proposed with China isn't binding until the Senate says so and a climate deal is probably dead on arrival in a GOP-controlled Senate. But the EPA and other regulators can provide a backhanded way of putting our end of the China deal in effect without lawmakers having a say.
Back in August, I noted that Ben Carson had formed his own political action committee and predicted that he was going to take the next step:
I believe this step is the prelude to setting up the exploratory committee, regardless of how the fall elections go. No one wants to get in the ring this soon because many of those who are considering a 2016 bid have to make it through this year's election first. Once the election and holidays pass us by, I would expect Carson to make a go of it.
Looks like Ben's only waited for the election, as he's airing a paid documentary in a number of media markets (including Baltimore and Washington) this weekend. Here's a teaser from producer Armstrong Williams.
I didn't watch the documentary (since no local station carried it and it's not up on Youtube yet) but odds are the show will be long on sizzle and short on substance. That's typical of the early stages in any political campaign, and the election begins sooner than you might think: in 14 to 15 months we'll be anxiously awaiting the results of the Iowa caucuses on both sides to start weeding out the contenders who have made it that far by raising sufficient campaign funds to compete.
Obviously the question is whether Carson can compete, both financially and in the arena of ideas. I look at the Ben Carson campaign similarly to the Herman Cain effort in 2010-11, but there's a key difference in that Cain had what I thought was a viable economic proposal in his 9-9-9 plan while Dr. Carson seems to have his support based on the fact he's a God-fearing outsider. I don't find anything wrong with that, but the lack of political experience is quite the hurdle to overcome – particularly given the fact our current failure of a president never served in an executive post unlike four of his immediate five predecessors, with the other serving as vice-president for eight years.
There are a number of current and soon-to-be-former Republican governors thought to be 2016 candidates who have a track record to run on, and more importantly have most of their skeletons out of the closet. Rumors of an extramarital affair did Cain in, and the Democrats already have latched onto a number of statements Carson has made in an effort to doom his nascent campaign.
Perhaps, though, Carson's very early apparent entrance into the race is necessary to maintain momentum, and he will need a big early push to make it through a field from both parties salivating for an open seat and the chance to either undo Barack Obama's damage or finish off the nation a little bit more.
Yesterday we received word that the unemployment rate dropped again, with another month of job growth in the 200,000 range. It's not the Reagan recovery of the 1980s – when we had 15 straight months of job growth in 1983-84 that would put this latest number to shame, including a whopping 1,115,000 jobs created in September 1983 – but it is a reasonably decent run.
Yet just as manufacturing didn't share in the Reagan-era gains as much as other sectors did (in fact, it lost some ground), the second Obama term has also fallen well short of manufacturing growth goals. I've discussed this group and its job tally before both here and on my former American Certified site, but the Alliance for American Manufacturing tracks progress toward the one million manufacturing jobs Barack Obama promised in his second term.
AAM's president Scott Paul isn't all that pleased about it, either.
The good news is that manufacturing jobs have grown over the past few months. The bad news is that they haven't grown fast enough. I'm very concerned that a surge of imports from China and a paucity of public investment in infrastructure will continue to hamper the great potential of the productive sector of our economy.

Hopes of achieving the White House goal of 1 million new jobs in the Administration's final term are fading fast. Without some progress on the trade deficit and a long-term infrastructure plan, I don't see that changing. No doubt the economic anxiety that many Americans still feel is compounded by stagnant wage growth and diminished opportunities for middle class careers.
Two of the key issues AAM harps on are, indeed, currency manipulation and infrastructure investment, although they also took time recently to praise Obama's manufacturing initiatives and chastise Walmart for their 'buy American' effort because much of it comes in the form of produce and groceries. Around these parts, we don't really mind that emphasis because we produce a lot of American-grown poultry so if Walmart is willing to invest in us we're happy to provide. (Then again, that promised distribution center would be nice too.) Of course, AAM is backed in part by the steelworkers' union so one can reasonably assume their view is the center-left's perspective.
Even so, the group is useful because it makes some valid points. And I think we should have some focus on creating manufacturing jobs in Maryland, as the defunct gubernatorial campaign of outgoing Delegate Ron George tried to do.
Thus, I think the incoming Hogan/Rutherford administration should make it a goal to create 50,000 new manufacturing jobs in Maryland over his first four-year term – if he succeeds, you better believe he deserves a second. According to BLS figures, as of September an estimated 103,000 people are employed in manufacturing in Maryland. But if you look at past data, it's not unprecedented to have 150,000 (as late as November 2002) or even 200,000 (as late as June 1990) working in the field. And when you take the confluence of a state that is supposedly #1 in education and combine it with the proximity to both major markets and inexpensive energy sources, there's no reason we should have lost 30,000 jobs in the manufacturing sector under Martin O'Malley – or 16,000 under Bob Ehrlich, for that matter.
But how do you turn things around in four years? Maryland has to make people notice they are open for business, and there are some radical proposals I have to help with that turnaround.
First of all, rather than tweak around the edges with lowering the corporate tax rate, why not just eliminate it altogether? The revenue to the state from that toll is $1.011 billion in FY2015, which is far less than the annual budgetary increase has been. Would that not send a message that we are serious about job growth and immediately improve our status as a business-friendly state?
The next proposals are somewhat more controversial. To the extent we are allowed by the federal government and its environmental regulations, those who choose to invest in the state and create jobs should have an easier path to getting environmental permits and zoning approvals. Even if a moratorium is temporary, making it easier to deal with MDE regulations would encourage job creation. Most of Maryland's towns and cities already have industrial sites available, but we shouldn't discourage construction in rural areas if a job creator needs more space.
We've also heard about the construction of the Purple Line in Montgomery and Prince George's counties and the Red Line in Baltimore - combined, the two are expected to fetch a price tag of $5.33 billion. For that sum, it seems to me we could build a lot of interstate highway – even if this $4 million per mile figure is low (and it would be 1,267 miles of highway based on the combined cost of the Red Line and Purple Line) we could do a lot to assist in moving goods through and from Maryland, whether by finishing the originally envisioned I-97 through to the Potomac (and with Virginia's assistance, to I-95 near Richmond) or enlisting Virginia and Delaware's help in improving the U.S. 13/58 corridor to interstate standards to provide a secondary route around Richmond, Washington, and Baltimore.
Once we eliminate the onerous restrictions proposed for fracking and begin to open up the western end of the state for exploration, and (dare I say it?) work on making Maryland a right-to-work state like Virginia – or even creating right-to-work zones in certain rural counties like the Eastern Shore and Maryland's western panhandle – the potential is there to indeed create those 50,000 manufacturing jobs – and a lot more! It just takes a leader with foresight and the cajones to appeal to the Democrats in the General Assembly as well as a Republican Party unafraid to take it to the streets in the districts of recalcitrant members of Maryland's obstructionist majority party.
But even if we only create 40,000 or 25,000 manufacturing jobs through these policies, the state would be better-positioned to compete for a lot of other jobs as well, and the need is great. For too long this state has put its economic eggs in the federal government's basket and there's a changing mood about the need for an expansive presence inside the Beltway. Rightsizing the federal government means Maryland has to come up with another plan, and this one has proven to be a success time and time again across the nation.
On Saturday I was alerted to a story by John Fritze in the Baltimore Sun regarding Andy Harris and his attempt to level the playing field a little bit in Maryland politics by creating a superPAC called A Great Maryland PAC. According to the Sun, Harris donated $150,000 to the PAC, which turned right around and put out a commercial depicting Jim Mathias, Norm Conway, Martin O'Malley and Barack Obama as "liberal peas in a pod."
I don't have a copy of the spot to show you at the moment, but the theme seems similar to one Harris used in the 2008 primary against former State Senator E. J. Pipkin and onetime Congressman Wayne Gilchrest.
What's funny to me, though, is the Democrats' reaction, like from Jim Mathias:
"I don't think it's right," said Mathias, who said he had no idea who was behind the television spot. "People's freedom of speech — I support that with my every breath — but if you're going to make these kinds of accusations, I think there should be accountability."
Funny you should talk about that, Jim – I've been holding you accountable for your votes for years, and I'm glad to finally have a little help. So come clean about where you received your campaign funding (hint: it's a lot of special interests.)
Harris has been a savior to Republicans around the state, with significant donations to several candidates as well as the state party – in total, including the seed money for the A Great Maryland PAC, Harris is over $300,000 in campaign contributions – and that's good news for conservatives around the state.
Hopefully he'll need to collect more to give to more incumbent recipients next time around.
As I was down a computer over the weekend thanks to the need for maintenance and a new part, I didn't get a chance to talk about last Friday's National Manufacturing Day; a day which coincided with the disappointing news that only 4,000 jobs were added in that sector last month (out of 248,000 total.) An industry insider I often cited when I did my American Certified blog is Scott Paul, president of the union-backed Alliance for American Manufacturing. His take:
The past two months show manufacturing job gains have again stalled, at least temporarily. Numbers like these are a blow to the president's goal of 1 million new manufacturing jobs in his second term. A large and persistent trade deficit and a paucity of investment in infrastructure are two obstacles that stand in the way of actual progress.
AAM measures the progress toward that goal of one million, and current numbers place the additional manufacturing jobs at a puny 189,000. The total actually retreated thanks to negative revisions in July and August reports, but has not eclipsed 200,000 yet at a point when Obama is nearing the halfway mark to his term.
So again one has to ask the question: why isn't the manufacturing that used to support a solid middle-class band of Americans coming back home? Are we not able to supply workers who Barack Obama noted last week are "not just punching in and pounding rivets anymore; you're coding computers and you're guiding robots. You're mastering 3D printing. And these jobs require some higher education or technical training." Perhaps the push toward getting everyone into a four-year college in order to get that liberal arts degree is affecting workforce readiness, but that's only one part of the answer.
I have never been able to figure out just how it can be that a company moves to China to make money. The most obvious answer would seem to be the extremely cheap labor cost. One figure I found pegged Chinese manufacturing wages at 46,431 yuan annually, which is roughly $7,429 per year. Obviously that is significantly less than even our minimum wage would be ($15,080 a year) and the vast majority of factory workers make well above minimum wage. But there's also the time and expense of shipping products back to market to consider, risks which could be mitigated to some extent by manufacturing locally but apparently those costs don't affect the ledger sheet enough to bring a lot of the manufacturing we've lost back here. "Made in China" is still a familiar sight on consumer products.
But there's still a large piece of the pie which we can help ourselves to locally, even without the protectionist trade theory AAM supports. America as a whole and Maryland in particular have some significant assets in place, but there's so much room for improvement if the will to make these changes can be found. Tax policy on both the federal and state level can be made into a far smaller impediment, as would a more hands-off regulatory approach. And new infrastructure can be put in place within the transportation realm to make it easier for our products to get to the East Coast market of which we occupy the southern fringe.
Yet as a nation and state we continue to work in the opposite direction, and somehow are amazed that the results aren't what we thought we would get. We're on a pace well short of that million-job goal, and adding 4,000 a month won't get us there. The number should be upwards of 20,000 a month on a normal pace and we're going to need 30,000 a month the rest of the way to meet the goal. Put another way, we would need to open 10 new Chattanooga Volkswagen assembly plants a month, or each month add 300 more modest facilities employing 100 apiece. Public policy being what it is today, that's not going to happen and it's a shame.
It took the better part of a century to make America into a manufacturing power, and perhaps three decades to erode away our advantages. But if we put our nose to the grindstone, the next generation of Americans may bring us back to where we were.
We'd built up the event for months, so it was no surprise we filled the room for our first-ever Patriot's Dinner featuring former Congressman, author, fill-in radio host, and most importantly Lt. Col. Allen West. It was the culmination of an afternoon of events which featured a reception with Republican youths from around the area, VIP events for West's Guardian Fund and the Maryland Republican Party, and the dinner itself.
West promised to speak for about 25 minutes and answer questions afterward, directing his remarks toward the "criticality" of our situation. He first asked if this was really the home of the brave when we outsource our fight against Islamic terrorists to the Free Syrian Army while decimating our military capability to levels unseen since before World War II. West pointed out that Barack Obama was bombing his seventh country, but chided Congress for its lack of bravery because "no one is asking if we are at war."
"If someone is dropping a bomb on my head, we are at war," said West, continuing that Congress was failing its Constitutional obligation to declare war. West was very critical of both Barack Obama and outgoing Attorney General Eric Holder, calling them "the two biggest violators of the Constitution."
West went out to state that in many respects, we we not keeping our Republic, as Benjamin Franklin warned us we had to, but sliding into a monarchy. We need people who would be the "loyal opposition" to tyranny, added the Colonel. Moreover, we're failing to meet this challenge because we aren't educating ourselves on how to keep this republic. Even the verbiage has been altered, as West later went on to talk about the co-opting of the word "liberal," noting "true conservatives are classical liberals."
Turning to the state of the Republican Party, Allen explained that the sole reason for the GOP's founding wasn't to abolish slavery but to maintain Thomas Jefferson's words that "all men are created equal." Unlike the era of its founding and its shackles of physical bondage, the black population today was under the "shackles of economic hardship," a condition West termed was "even worse than physical bondage." The letters G, O, and P should stand for growth, opportunity, and promise, said West. "We believe in equality of opportunity."
West also had harsh words for the welfare state. There should be a safety net, he opined, but that safety net "is meant to bounce you back up." Instead it's become a hammock, and like all hammocks over time it begins to rot and eventually will collapse under the weight.
Allen also made the case that the promise of America was to keep us safe. He decried the "cowards" who preach political correctness, maintaining the argument that "political correctness will only get you killed."
Finally, West challenged the group. "I'm pointing a finger into your chest," he said. "Stop being worried about them calling you names." He challenged us to engage 5 of our more liberal friends and set a goal of changing the minds of three. Noting Barack Obama has only a 40 percent approval rating, he called those 40 percent the "stuck on stupid folks," lastly repeating Franklin's assertion that "you have a republic, if you can keep it."
After the standing ovation, West took questions. Naturally the first one asked if he would consider being Vice-President, to which West replied "if God determines I will be in that position."
On a question relating to our military, West repeated his point that we are in "one of the weakest states we have seen," adding that, "the world is Machiavellian." West compared the release of Army Pvt. Bowe Bergdahl – "in the socialist mind, Bowe Bergdahl is a hero" – to the fate of Marine Sgt. Andrew Tahmooressi, who has languished in a Mexican jail since April for accidentally bringing a gun into the country. West criticized the fact Tahmooressi wasn't brought up in the June meeting between Barack Obama and Mexican President Enrique Pena Nieto, thundering that he'd demand Tahmooressi, along with his gun and his car, back in the country before Nieto was let in.
The next questioner wondered if it was too late to reverse this tide, with West noting we're "almost at the tipping point." Allen added that there's "no self-esteem (gained) from sitting in the hammock." Instead, we needed leaders to emerge like Dan Bongino, who West's Guardian Fund is supporting because Bongino "has a lot of fight in him."
Two questions about the state of our monetary system followed, dealing with the prospective collapse of the dollar and its effect on gold and silver. West pointed out that, in his belief, "we do not have a free-market economy," feeling instead that "the bubble is coming" because of a circular exchange of money primed by the continual printing of dollars. He felt there was a strong possibility that if a Republican in elected in 2016, the Federal Reserve will suddenly end this practice just to do damage to the economy under a Republican president. West also opined we may have to return to the gold standard.
When asked about the lack of bold leadership, Allen made it simple: "Start electing them." Pointing to the candidates at the head table, he added, "start building your farm team." We need to communicate our ideas with the American people, West added, noting that the other side "plays chess while we play checkers." Referring to the campaign placed against him in his 2012 Congressional re-election bid – a race made difficult because Florida Republicans redistricted him to a new district – West also believed that "if I'm their number one target, I feel good about it."
The piece of advice he would give about minority outreach? "Talk to them about who they really are," said Allen, who also challenged their mindset about rights, asking if not God, who do your inalienable rights come from? It led into the final question about education, where West made the case that "the most important elected position is school board" and couldn't believe ours was appointed. West also believed the time had come to establish more of our own universities, using Hillsdale College and Liberty University as examples to follow.
As part of the leadup to West's speech, he was presented with a Benghazi bracelet by Bev Bigler of the Worcester County Republican Central Committee. The poem "The Battling Boys of Benghazi" was also included with the program.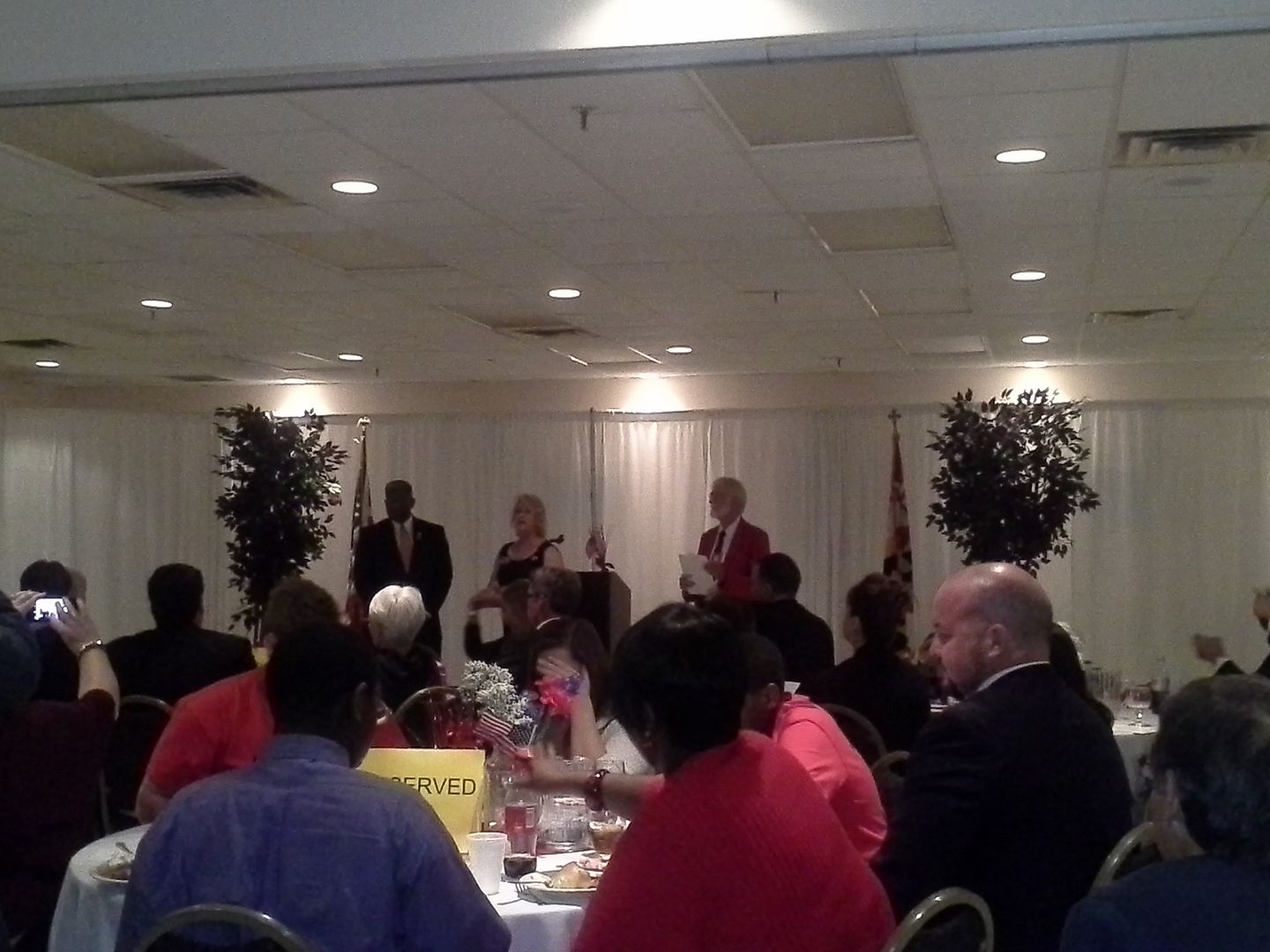 This was part of their effort to keep the Benghazi incident (and subsequent questions about a coverup) fresh in mind.
A number of elected officials and candidates took time out of their busy schedules to attend the proceedings, with some taking advantage of the moment to pose with Lt. Col. West. It was interesting to have a contingent from southern Maryland there, with those clad in red at the table in the preceding picture's foreground part of the campaign team of District 27 State Senator candidate Jesse Peed. (Peed has the uphill battle of taking on Senate President Mike Miller, a man who desperately needs to be retired.)
So the months of preparation, back-and-forth communication between the several parties involved, and last-minute scrambling to get the details just so made for an entertaining and informative evening. There may be a thing or two for me to add to this post, but I think I can speak for the Central Committee in saying that we enjoyed the living daylights out of it, but are glad it's over so we can focus on the election.
I'm back in the swing of news, and this gem from DaTechGuy hit home because it's so, so predictable. The stories he cites are the ones which can be used to prop up Barack Obama's approval numbers or distract from what's really going on – in the grand scheme of things, is the NFL scandal really that important or newsworthy? It's pretty sad when actions on the field take a distant back seat to actions which happened months ago far off the gridiron.
But how long have we known the mainstream media is in the tank for liberals? I mean, Dan Bongino's supporters have stated chapter and verse that at least one major newspaper in his district ignores him, and it plays right into the outsider image Dan is trying to cultivate in this election. Chances are that same paper will endorse opponent John Delaney, as most local newspapers tend to endorse incumbents over challengers unless the incumbent is a Republican and even less likely when the Republican is a TEA Party adherent.
I've seen this over and over again over the last twenty to thirty years I've studied the media. And notice how that cadre of news dinosaurs tut-tuts at any challenger to its dominance, whether it was conservative talk radio a generation ago or the rise of the internet media in the opening years of this century? I may not have the circulation of a Baltimore Sun or even a Salisbury Daily Times, but the potential is always there for something I say to be cast before a huge state, national, or even global audience. Their lack of a monopoly on news is what frightens the other side.
So it's quite predictable that their coverage dictates what is considered news to the masses, but at the same time people aren't being informed as well about important issues of the day. In my youth I would read the local paper cover-to-cover, and it would be maybe 32 pages – a 12-page section of national and state news with the last 2 pages being editorial content, a 16-page second section with local news, 4 pages or so of sports, a few pages of classified ads, and the comics, and a 4-page "Peach Section" with the features, a smidgen of entertainment news, and the TV listings. It seems now the lines between all of this have been blurred, with entertainment and sports news hitting the front pages and editorials being placed willy-nilly as part of the news.
In short, the avalanche and overload of information we're fed on a 24/7/365 basis may be allowing the most important stuff to slip by unnoticed, and that's a shame.