It's been quite awhile since we've had a local TEA Party event in Wicomico County, but the hiatus appears to be ending – not with a typical rally, but with an author who's advocating a more robust military. From Greg Belcher, who is organizing the event:
Billy and Karen Vaughn are the parents of fallen Navy SEAL Team VI member, Aaron Carson Vaughn. The downing of a chopper (call sign Extortion 17) carrying thirty fearless American warriors was the day Aaron's life ended and the day their lives began again.

As Billy and Karen began searching for answers their eyes were opened to vile atrocities being played out on America's military. They've now become advocates for our war fighters, exposing the criminal Rules of Engagement, which have unnecessarily cost so many American soldiers their lives. Billy has authored the book "Betrayed" detailing the days, weeks and months after his son's death, as he began compiling this devastating information.

The Vaughns spend a considerable amount of time on Capitol Hill, and have shared their story on countless local, state and national radio outlets. They've made many appearances on Fox & Friends, as well as Beck TV, The Huckabee Show, Hannity's America, The Today Show, The Andrew Wilkow Show, The Willis Report, The Kelly File, Geraldo at Large, and more.

Their mission statement: Our defenders deserve to be defended. The burden of their covering rests on us, the patriots of this nation. It is imperative that we stand together and demand change. "Let them fight or bring them home."
Billy Vaughn will be making the appearance at Adam's Taphouse Grill (most people still know it as Adam's Ribs) on Fruitland Boulevard in Fruitland on April 1 at 6 p.m.
Obviously Vaughn will be discussing the book, but there are other insights which can and should be gleaned from this appearance.
First of all, we can determine if  there is still interest in the Afghanistan conflict, which for our part is being wound down as we speak. Once it was the "good war" all those who were opposed to our excursion into Iraq thought we should be pursuing, but it's apparent that was just a smokescreen. Once Barack Obama spiked the football of Osama bin Laden's demise (at the hand of many of those killed on Extortion 17) the question was: how useful were those guys? The conspiracy theorist could posit that having a lot of heroes who could point out just how uninvolved Barack Obama really was cast their die for them.
This may also show where the libertarian, Ron Paul wing of the TEA Party movement – the one which believes we shouldn't be involved in the affairs of far-off countries with little to no national interest at stake – might not play well with the element that believes the battle against radical Islam is truly the Long War I've occasionally written about, a battle without clear borders or defined enemies.
But as the rebirth of the local TEA Party, this could be a good kickoff. Most indeed believe America should have a strong defense which fights to win, not to not offend local populations. As the Vaughns ask:
Don't you want to know what went so terribly wrong in our military strategy that the single largest loss of life in Naval Special Warfare HISTORY came at the hands of a 14 year-old Afghan farmer? AND…the SECOND largest loss of life in Naval Special Warfare HISTORY ALSO came at the hands of a young Afghan goat herder. The dialogue MUST begin.
One of the upcoming points for that dialogue will be next Tuesday in Fruitland. And for my friends up Cecil County way, Billy Vaughn will be the guest at the Cecil County Patriots meeting on Thursday, April 3rd. That meeting will be held at the Cecil County Administration Building in Elkton starting at 7 p.m.
Occasionally I'll see something in my e-mail which piques my interest, and this evening the winner was this video put out by former Senator (and presidential candidate) Rick Santorum's group Patriot Voices.
The message of the video, called "Attention Deficit": we don't have a President who's serious about the job. Or just let them describe it:
It highlights how despite the dramatic events and foreign policy challenges our country is facing, President Obama seems to care more about becoming a pop culture icon than a serious Commander-in-Chief.
As far as that goes, the accusations seem to be true. It's well known, for example, that George W. Bush gave up golf in 2003 – some have reported that it was because "it just sent the wrong message" during the Long War. And while Bush wouldn't criticize his successor for hitting the links, many Americans who wish they could afford to go out and hit a few at the local municipal course may beg to differ.
It's become the norm, though, for presidents to burnish their celebrity status by appearing on various Hollywood productions, often doing so in a tongue-in-cheek manner. But wouldn't it be better to have a person whose nose is firmly to the grindstone in these troubled times? Certainly the ersatz examples in the video won't come true, but then again who predicted a president would mess up a popular song during a White House concert?
Whether Rick is in the 2016 race or not, his organization makes a pretty good point. Naturally the e-mail was looking for donations (as does the landing page I used for it) but at this time I'm not sure they would use this as a TV ad or not – for one thing, it's about thirty seconds too long, but probably could be distilled to proper length.
I guess the way I see it is that we need to put the adults back in charge again. Call me a prude if you will, but I would like someone more serious and sober conducting our affairs, both at a state and national level.
I got an interesting e-mail the other day – not necessarily for the content, but who it was from and what it may represent.
After the 2012 Republican primary campaign wrapped up, a number of the also-rans decided to form political groups or super PACs to keep their names out there, continue compiling e-mail lists, and – most importantly – keep the money coming in. Two good examples are Rick Santorum's Patriot Voices group he formed shortly after withdrawing and the American Legacy PAC Newt Gingrich is wrapped up in.
But as we begin to inch toward the 2016 campaign, the Republican field is (hopefully) looking beyond the retreads from past elections, and the potential first-time candidates are numerous. Sure, you have your share of governors like, for example, Chris Christie, Bobby Jindal, Mike Pence, and Scott Walker, along with a number of those already in Washington like Senators Ted Cruz and Rand Paul, who has began the slog by winning a couple key straw polls.
Yet there's always something about a campaign: the issues you may think will be the hot-button issues a couple years in advance rarely turn out to be; heck, even six months is a political lifetime. But Barack Obama's foreign policy weaknesses, which were successfully swept under the rug for 2012, seem to be much more prominent of late. It's interesting how the race to enroll people by the March 31 deadline for Obamacare and the entirety of the debacle itself still hasn't quite been able to succeed in pushing the Russia/Crimea/Ukraine situation off the front pages, no matter how hard the Obama admnistration tries to mash that "reset" button.
So yesterday, thanks to the always-growing number of people who seem to have my e-mail address on file, I found out that former Ambassador John Bolton created a PAC last year. He was looking for donations, of course, but one has to ask whether the time has arrived for a foreign policy hawk to assume the Commander-in-Chief's position? I can't answer the question, of course, but it's relevant to ask because Bolton drew 3% of the vote at the Northeast Republican Leadership Conference. Granted, that's not in the league of the aforementioned Paul, Christie, et. al. but it's three times better than Martin O'Malley is doing in Iowa and everyone knows MOM's gunning for the White House sooner or later. Like O'Malley, Bolton is even a Maryland native.
Maybe what got me to thinking Bolton may make a run is the PAC website. Its look and feel gives me the impression that it's a couple little tweaks from being the John Bolton for President website. Instead of featuring candidates the PAC may be helping, it's focused completely on Bolton himself – not a bad thing, but why have the pretense?
At the risk of being called a neocon, I don't think it would be a bad thing for Bolton to make a run and create a referendum on our foreign policy. Obviously John was there during the George W. Bush years when we were hip-deep in Iraq and Afghanistan, but unfortunately it's beginning to appear all that blood and treasure was for naught because we left before the job was (or will be) done. In both cases, we stopped short of annihilating the enemy with overwhelming force as we did in World War II. (Arguably, this is true of all our conflicts in the post-atomic era – well, maybe Grenada turned out pretty good.)
Unfortunately, those who have opposed us since the Vietnam era have learned that our resolve is only as good as the news cycle allows it to be. One would think after 9/11 we would see the Long War through but it doesn't appear our current Commander-in-Chief is interested in victory or even rules of engagement which would allow the possibility because someone here may be offended. In the interim, much damage has been done to both our military and our national psyche, and Hillary Clinton won't be the right person to fix it – for one thing, she wouldn't hire John Bolton, PAC or no PAC.
If I didn't give enough attention to the former Senator-turned-party-chair-turned-Congressional candidate (twice) I think I will now. But at the intersection of familiar former radio personalities from my hometown and party chairs who were my second or third choice for the job, along comes this podcast from Mark Standriff and the Tea Party Express, telling me, "This candidate is a movement conservative."
In this week's "On the Campaign Trail" podcast, we are joined by Alex Mooney. Alex discusses his campaign for the U.S. Congress in West Virginia's 2nd District where he hopes to replace the seat vacated by Republican Shelley Moore Capito.

Alex Mooney is exactly the kind of Constitutional conservative that will bring the voice of the working class to Washington, D.C. He is a proven conservative champion who will never back down in the face of President Obama's war on coal and will stand strong against the EPA's radical anti-coal agenda.

Alex talks about his experience as a Maryland state senator and how it compares to his current campaign, as well as Obamacare, Obama's war on coal, the recent debt ceiling deal, and states rights.
As I've pointed out in the past, Mooney had a very conservative voting record while he was in the Maryland Senate, and for want of 1,045 votes would probably either be running again for State Senate in Maryland, or more likely trying again for a Congressional seat from our Sixth District. (He also could have pulled an E.J. Pipkin and resigned mid-term to do what he's doing now.) In any case, the carpetbagging aspect of Mooney's run was ignored in Standriff's line of questioning, which is too bad. I think if Mark were still doing the radio show it may have come up.
All this leads me to ponder whether the TEA Party Express will be helping Maryland candidates like Dan Bongino, who perhaps could have used it in his last run. While the TPX has done eight national bus tours and a handful of regional ones, Maryland is one of just five states to have never drawn a stop. (For obvious reasons, Alaska and Hawaii are two of the others, as are Vermont and Idaho.) That may not be in the cards anymore, as the TPX hasn't done a bus tour since 2012, but it would be nice to see some support.
Apparently Andy Harris likes the guy, though. And why shouldn't he? They served together in the Maryland Senate for the same three terms, and where Mooney had the second most conservative voting record, Harris was number one.
There's no doubt the importance of the 2014 elections in Maryland can't be overstated. At stake will be the very direction of the state: will it continue to re-elect the same failed liberal leadership that's been bleeding jobs (and may continue to do so) and can't seem to balance a budget, or will it try the GOP alternative that at least promises to reduce the state's onerous personal tax burden, depending on whether the victor is David Craig, Ron George, Larry Hogan, or Charles Lollar? And will the GOP get to those magical numbers of 48 Delegates and 19 Senators which will allow it to be a viable minority party?
To address the latter point, it's worth mentioning that the GOP has conceded 46 House seats and 14 Senate seats to the Democrats because they couldn't find a willing candidate. Most of these vacancies are in what I call the 10, 20, and 40 districts, which in the state's numbering system cover areas around Washington, D.C. and inner-city Baltimore – basically the counties and Baltimore City which haven't quite figured out yet that it would be in their best interest to divest themselves from big government and voted for Martin O'Malley and Barack Obama. Most of the areas which backed Bob Ehrlich and Mitt Romney lie in the districts with single digits 1 through 9 or in the 30s. (For reference, here on the Eastern Shore we have districts 36, 37, and 38.) In the latter areas, Democrats conceded five House seats and three in the Senate, so at play are a total of 90 House seats and 30 Senate seats. In order to get to 48 and 19, respectively, the MDGOP has to win 43 out of 90 races in the House and 16 of 30 in the Senate.
We obviously won't know those results until November, and they will go a long way in determining the fate of the Free State. They will also go a long way in determining who will lead the party over the next four two years, and I think Diana Waterman is working hard to overcome her early missteps – so would she be in the mix for a full four-year term starting this November? (Corrected: I forgot we changed the bylaws a couple years ago to a two-year term starting in 2014, to match the national party.)
Certainly many have been impressed with her response to the ill-considered HB1513 on behalf of the state's Central Committees, which Joe Steffen elaborated on yesterday. But she's also been careful to reiterate that Central Committees cannot endorse candidates in contested primaries (although individual members can) and that our terms run until the election is over. (This year's Fall Convention doubles as the quadrennial organizational meeting for the party, when new members are officially sworn in.)
And she also reminded us:
I'm sure you're getting tired of hearing this but our number one job is to get Republicans elected. This is our time – the stage is almost set (Primary first to determine who will be facing off against the Democrat). The only way we will be successful is by working together. We are outnumbered. We must find a way to pull together – even if don't see eye to eye with the candidate or some of their volunteers. And I expect all of us to run clean campaigns so that they day after the Primary we can stand together and show our complete support for our ballot. I promise you, no matter who the candidate is, even if they were not your candidate, that you will have more in common with them than you will the Democrat on the other side of the ballot. I am not asking you to yield on any of your principles but to remember, even if the candidate who won the Primary is too conservative or too moderate for you – they are better than the Democrats who have a strangle hold on everything in our State. For starters, the Democrat who wins in the Legislature will case their first vote for Mike Miller or Mike Busch. And it just goes downhill from there!
Precisely. So the question is whether the grassroots and activists will follow, or take their ball and stay home on election day if their chosen candidate doesn't win. Remember, based on the polls we've had so far, a majority of voters will not have their first choice be the nominee for governor; unlike other states, we don't have a runoff to ensure majority support.
That healing process has to start June 25, because I know from experience that the other side sucks it up and gets behind whoever they pick, generally having their arguments behind closed doors.
But if Diana Waterman can pull off these electoral miracles with very little money and the more than 2-to-1 registration disadvantage with which we're currently handicapped, the only races we may have would be for the vice-Chair positions. I can't see the Republican winner wanting to put "their guy" in as the party chair after success like that. She's mended some fences over her term, and standing up for the Central Committees may allow her to climb out of the hole she dug early on.
I still like picking on Joe Biden. But over the last month or so I've collected a lot of divergent information on policy suggestions, each of which promses to be the magic elixir to get our economy moving in the right direction again.
I think the key to this lies in two areas: manufacturing and energy. In that respect, I keep a lot of information handy to discuss in this space, with a group called the Alliance for American Manufacturing (AAM) generally representing the left-of-center, pro-union side. And while their main goal seems to be increasing the coffers of Big Labor, luckily most workers still have free will – ask the employees at the Tennessee Volkswagen plant about how much effort from the UAW can be rebuffed in a simple up-or-down vote.
Currency manipulation is one area in which the AAM has been focusing. A study they cite, by the liberal Economic Policy Institute (EPI), makes the case that:
Many of the new jobs (if the subject is addressed) would be in manufacturing, a sector devastated by rising trade deficits over the past 15 years. Rising trade deficits are to blame for most of the 5.7 million U.S. manufacturing jobs (nearly a third of manufacturing employment) lost since April 1998. Although half a million manufacturing jobs have been added since 2009, a full manufacturing recovery requires greatly increasing exports, which support domestic job creation, relative to imports, which eliminate domestic jobs.
Personally I disagree with the premise that rising trade deficits can be blamed for the job losses; instead, I think an absurdly high corporate tax rate and onerous regulations have contributed more to chasing away American manufacturing. (While many simply blame "outsourcing" for the problem, fewer understand the dynamics which led to the outsourcing.) Yet there is merit to the idea that all sides should be competing on as level of a playing field as possible when it comes to the means of exchange, and China is one of the worst offenders. (And why not? They are communists, after all, and you can't trust communists any farther than you can throw them.)
Two of EPI's findings are quite interesting: first, should the EPI model come to its fruition, the oil and gas industry would be the hardest hit, and second, Maryland would be among the states least impacted, with barely a 1% rise in employment.
Yet AAM president Scott Paul is quick to blame Barack Obama:
President Obama promised to hold China accountable. He hasn't. The White House last month said President Obama would use his pen and his phone to make progress on economic issues. He could start today by signing an order to designate China as a currency manipulator.  Then, he could call the Chinese leadership to demand an end to that practice, and secure an agreement on a plan to cut this deficit in half over the next three years.
I sort of wish Mr. Paul would also figure out the other problems, but he is correct to be concerned about our Chinese policy. Job creation has become more important than deficit reduction in the minds of Americans, both in the AAM poll I cited above and a Pew Research Poll cited by the American Petroleum Institute (API).
And the industry which benefits from API's efforts represents another piece of the puzzle which we can take advantage of: our abundant energy supplies. While America uses 26 trillion cubic feet of natural gas per year, there is the possibility of as much as 10,000 trillion cubic feet within our land mass. That's nearly 4 centuries worth, so I don't think we will run out anytime soon. (Estimates have continued on an upward path as new technology makes previously unworkable plays economically viable.) As I keep saying, it's too bad we don't have a nice shale play under our little sandbar. Not only that, but the infrastructure we will need to take advantage of all that (and help curtail spot shortages like the ones we're having this chilly winter) would be a guaranteed job creator – one which derives its basis from the private sector. New pipelines aren't just for export facilities like Cove Point, but could benefit this area and perhaps bring more natural gas service to our region.
Unfortunately, Maryland isn't poised to take advatange of either the manufacturing or energy booms at present, thanks to back-breaking economic policy and a foolhardy go-slow approach on fracking. It takes a strident opponent of the latter to suggest yet another approach which will do damage to the former, but gubernatorial candidate Heather Mizeur accomplishes this with the tired old combined reporting proposal. Hers comes with a twist, though, which she announced last Monday:
In the morning, Mizeur will host several Maryland business owners for a Small Business Roundtable. They will discuss her legislation to provide tax relief to small business owners, as well as other highlights from the campaign's ten-point plan for jobs and the economy, which was released last fall. She will also hear from the business owners on a range of other concerns.

(snip)

At 1:00 pm, several business owners will join Mizeur in front of Ways and Means to testify on behalf of legislation that would enact combined reporting and distribute the estimated $197 million to small businesses for personal property tax rebates.
It's the liberal way of picking winners and losers. And according to a 2008 study by the Council on State Taxation – admittedly, an opponent of the practice:
Combined reporting has uncertain effects on a state's revenues, making it very difficult to predict the revenue effect of adopting combined reporting.
Even proponents don't address that aspect, instead emphasizing how it would "level the playing field between multistate corporations and locally based companies." But since Mizeur's idea is one which would subsidize some businesses under a certain employment plateau, the uncertainty would likely be just another reason to avoid Maryland.
On the other hand, a Republican like Larry Hogan at least gets businesses together to discuss what they really want. Granted, once he gets them together he speaks in broad concepts rather than a more specific plan, but at least he's listening to the right people. None of the others in the GOP field have specific plans, either, although Ron George probably comes the closest.
One has to ask what states which are succeeding economically are doing to attract new business. The state with the lowest unemployment rate, North Dakota, is prospering – more like crushing the rest of the field – on account of abundant energy resources, and perhaps that success is pulling surrounding states up with it. Its three neighbors (Montana, South Dakota, and Minnesota) all rest within the top 13 when it comes to low unemployment rates and other regional states like second-place Nebraska, Iowa, Wyoming, and Kansas lie within the top 10. Although the top five are right-to-work states, half the bottom 10 are as well. Nor can tax climate be seen as a dominating factor since the top 10 in unemployment vary widely in that category: Wyoming, South Dakota, Utah, and Montana are indeed excellent in that aspect, but North Dakota is decidedly more pedestrian and Iowa, Vermont, and Minnesota are among the worst.
But Maryland has the tendency to depend too much on the federal government as an economic driver. This presents a problem because bureaucrats don't really produce anything – they skim off the top of others' labor but don't add value. Certainly it's great for those who live around the Beltway, and it's telling that all three of the Democratic candidates have a connection to the two Maryland counties which border the District of Columbia while none of the Republicans save Larry Hogan do.
In order to create jobs, I think the state needs to diversify its economy, weaning itself off the government teat and encouraging manufacturing and energy exploration. Meanwhile, there's also a need to rightsize regulation and restore a balance between development and Chesapeake Bay cleanup – specifically by placing a five-year moratorium on new environmental restrictions while cleaning up the sediment behind the Conowingo Dam. Let's give that which we've already done a chance to work and other states a chance to catch up.
The best route out of government dependence is a job. Unfortunately, when the aim of the dominant political party in the state is one of creating as many dependents as possible, a lot of good entrepreneurs will be shown the door. It's time to welcome them in with open arms.
To be a well-informed voter, sometimes you need context. Take this example I received from Bill Murphy of the National Republican Senatorial Committee, which was plugging a website called electionharmony.com on Valentine's Day.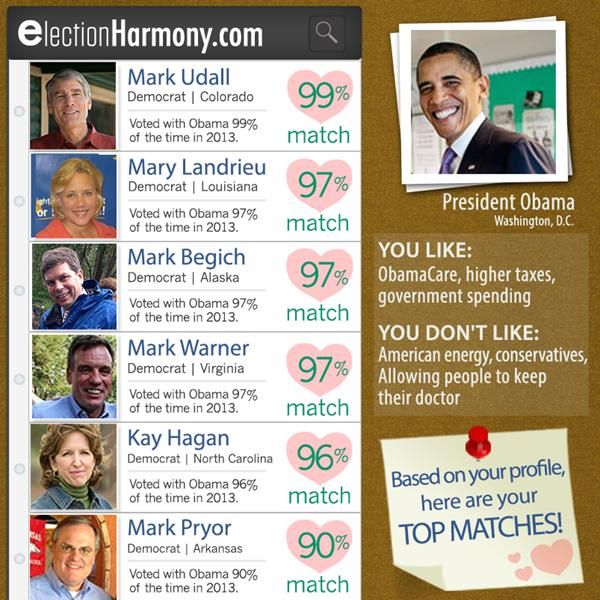 If you go to that URL, you're redirected here, which is the NRSC's blog.
All this is well and good, but I wanted more. So I wrote back and asked Murphy about context: did have have the data for all 100 Senators, for my thought was that – just based on the sheer number of near-unanimous votes the Senate takes – a lot of Republicans would fall into the 75% to 85% range themselves. Murphy's pithy reply: "We're running against the Democrats below. Our priority is to highlight their voting record to their constituents and defeat them in November."
Okay, I get it. But you probably picked a bad week to do this after a number of Republican senators sold out and voted to pass a "clean" debt ceiling bill (a.k.a. blank check) without extracting any concessions whatsoever from the Democrats. It was even more gutless for some Republican senators to vote for cloture only to turn around and vote against the final bill when they knew the Democrats would have the votes to pass it. Mitch McConnell and John Cornyn were two of those who, as far as I'm concerned, voted with Obama 100% of the time last week and I find that unacceptable.
Here's my problem with this approach. Sure, it would be nice to pick up the six seats in the Senate, maintain control of the House, and give Barack Obama a completely Republican Congress to deal with come next year. But will they have the cajones to keep him in check when he uses his pen and his phone to rewrite laws without their consent, as he has done time and time again with Obamacare?
The NRSC supports Republicans in the Senate and tries to find candidates to defeat Democrats. But there are degrees to being Republican. I understand that winning a Senate seat in Maine or Oregon may take a somewhat different candidate than one who can prevail in Texas or South Carolina, but they should all adhere to at least some conservative principles and must have the intestinal fortitude to stand up against overreach of the executive branch, up to and including impeachment. (Yes, I said the i-word.) So what if it's the last two years of Barack Obama's presidency and so what if we would have to survive Joe Biden. (Delaware can get a President before it gets a national park, since they are shut out of both at the moment.) We didn't elect an emperor.
Yet the NRSC will likely try to protect its incumbents, regardless of their merits. Listen, I'm a registered Republican, but sometimes my party gets it wrong. A hokey URL and noting some Democrats vote with their president over 90 percent of the time is one thing, but we also need to present a principled conservative alternative along with a plan to keep the executive branch in check. I haven't seen that come across my e-mail box yet.
Forgive me if I don't make sense today. I'm going to take a bucket of water and pour in a few drops at the top. Let's call that job creation. What I'm going to gloss over is the gaping hole near the bottom where water is gushing out. Some skeptics might call that people leaving the labor force, but the shiny objects are those droplets of water and the trickle from last month we found was larger than we thought. So the bucket seems really full.
For the first time since 2008, the "topline" unemployment number is under 7 percent, as it was announced today that the rate dropped to 6.7 percent. But experts were "hard pressed" to explain why so few jobs were created.
The problem was summed up by someone who's not an economist, but a frequent critic of the current regime. Nathan Mehrens of Americans for Limited Government noted:
Since Obama became president, the number of people who are considered to be in the civilian job eligible population has increased by just shy of eleven million people, but the number of people who have entered the work force has only increased by about 730 thousand people.  Quite simply our nation cannot survive when fewer than sixty six out a thousand working aged people are entering the workforce.  Of those sixty six who want a job, about five of them are unemployed.
I'll grant that the Mehrens example is perhaps a little overblown, as more of those who would be considered job eligible also become eligible for Social Security and/or reached retirement age. There are also a growing number who claim disability, which is why the seasonably adjusted number for those not in the work force has peaked at 91.8 million while the labor participation rate slid back under 63 percent. They've talked for years about the fact that a shrinking number of workers contribute to Social Security while those who collect live longer; well, we're now practically at a point where five workers support three who aren't working. Nor do these raw numbers consider how many jobs are in the public sector vs. private sector work, so the ratio is just about to a point where one private-sector worker is supporting one of either the roughly 22 million public-sector workers or the nearly 92 million non-workers.
Bottom line: the system trend is unsustainable, So what is the solution being offered by the government? Barack Obama calls them "Promise Zones" and they are supposed to "cut through red tape." But it looks to me like more of the same:
(Yesterday), in the East Room of the White House, the President will announce the first five "Promise Zones", located in San Antonio, Philadelphia, Los Angeles, Southeastern Kentucky, and the Choctaw Nation of Oklahoma.

These areas – urban, rural, and tribal – have all committed, in partnership with local business and community leaders, to use existing resources on proven strategies, and make new investments that reward hard work. They have developed strong plans to create jobs, provide quality, affordable housing and expand educational opportunity, which we'll help them execute with access to on-the-ground federal partners, resources, and grant preferences.
"Make new investments" is codespeak for spending more money on the problem, and Democrats just love to utter that "investment" term. That makes sense when the vast majority of the proposed solution lies in more federal involvement. (There is a small component involving tax credits, but those are generally temporary and don't cover all of the increased costs involved in locating in these areas.)
So the one-to-one ratio will probably continue, particularly since the first five mainly involve some sort of educational component. Of course, that won't be done through private-sector means.
Has anyone thought to ask those who create jobs what gives them an incentive to do so? Certainly tax credits may help, but as I noted above those are of a fleeting nature. Unfortunately, it seems that government regulation is forever; well, at least until business learns to live with that which is in place – only then do the bureaucrats seem to change things for the worse. One study pegged the net cost of government regulation in 2013 at $112 billion; using that as a guide business spent that sum complying with regulations instead of creating 2.24 million jobs at $50,000 apiece. That would knock nearly one-fourth off the unemployment rate, putting it back to around the 5% "normal" the media regularly lambasted as a "jobless economy" during the George W. Bush years.
It seems like politicians pay lip service to the concept of business friendliness during election years because they know the voting public really, truly wants to work and advance their economic status. (I know I do.) Yet the results of the last half-dozen years or so have been those of government projecting more of its influence over the private sector when the reins should be slackened instead. In no way has the world reached a terminal point of satisfaction with its collective lot, so there's much room for growth in the American private sector given the advantages our nation has in terms of natural resources and willing workforce.
So let my job-producing people go, and we can return to the full employment we enjoyed just a few short years ago.
This will be, by far, the trickiest of these columns I've taken the last three days to write. There are so many unknowns that even the "known unknowns" pale in comparison. But as the conservative, pro-liberty movement stands currently there are a number of items for which we can reasonably be certain 2014 will bring some kind of resolution.
First and foremost among them is that the goalposts will continue to be moved for Obamacare. As originally envisioned, we would all begin feeling its full effects tomorrow, but self-imposed – and I mean self-imposed, because few of these changes went through the legislative branch – changes have pushed back the deadline for many later into 2014 or even 2015. At this point, the strategy seems to be that everything bad about Obamacare gets blamed on Republicans who were really pretty powerless to stop its enactment in the first place – remember, Democrats had a clear majority in the House and a filibuster-proof majority in the Senate from January 2009 to February 2010 when Scott Brown was sworn in – and those few popular items are all due to the Affordable Care Act. That seems to be the preferred, focus group-tested name now because Obamacare has a bad connotation.
Meanwhile, we are supposed to be beyond the prospect of a government shutdown (really a slowdown) which Republicans were deathly afraid of for some reason. I don't recall any hardships in October, do you? My life seemed to be unaffected. Nevertheless, the GOP seems to be afraid of its own shadow so when Democrats threaten to shut down the government the GOP snaps to. It's sickening.
By that same token, the ball is supposedly being teed up for immigration reform (read: amnesty) over the summer, once GOP Senate incumbents know their filing deadline has passed. There's no question a schism over immigration is developing in the Republican Party just as Obamacare is splintering off those Senate Democrats who face re-election in states Mitt Romney carried in 2012. I say primary 'em all with conservatives so that maybe the incumbents will be scared straight.
Those are some of the key domestic issues we'll be facing. I can guess two or three which won't come up as well.
We will see absolutely zero effort to reform entitlements, whether Medicare, Medicaid, or Social Security. This will be another year they hurtle toward insolvency, probably going splat just in time for Generation X to reach retirement age in about 15 years. (That would be me – I'm on the cusp between Gen X and Boomer.)
Nor do I care how many articles of impeachment are drawn up: the House leadership doesn't have the courage to pursue it, nor would they ever get the votes in the Senate to convict. They could find Barack Obama in bed with a dead girl, live boy, a bloody knife in his right hand and a signed confession in his left and the Democrats would swear the boy set him up and the girl stabbed herself thirteen times – in the back – and not convict him.
It doesn't matter how poor the economy is, either. The government won't dare stop priming the pump to the tune of a trillion dollars a year in debt, parceling out $80 billion or so of "quantitative easing" monthly. When the Dow and its record highs are the one factor of success apologists for Obama can point to, anything which maintains that facade will be continued despite the possibility of long-term inflationary catastrophe – again, probably in time for Generation X to retire.
Just as ineffective is our foreign policy, which has been a muddled mess as old friends are ignored and longtime enemies coddled. We may have an idea of what the hotspots may be, but events have a way of occurring at the most inopportune times and places for American interests.
All this points toward the midterm elections this coming November. While Democrats are talking up their chances of regaining the House, the odds are better that Republicans will instead take the Senate. The sixth year election in a President's term is traditionally a bloodbath for his party, although the one exception over the last century was during the term of the last Democratic president, Bill Clinton in 1998. At that time, though, the economy was in pretty good shape and the modest gains by the Democrats in the House weren't enough to swing control back to them. (The Senate stayed in GOP hands, with no change in the 55-45 GOP majority.)
Looking briefly at the Maryland delegation, all indications are that all of our eight-person Congressional delegation will seek another term, although only Fifth District representative Steny Hoyer and Seventh District Congressman Elijah Cummings have filed so far. The most spirited race may be the Sixth District, where 2012 U.S. Senate candidate Dan Bongino is expected to take on freshman Democrat John Delaney.
But there's still time left for the 113th Congress, which will have to deal with the mercurial Barack Obama for another year before we enter the home stretch of what seems like a couple decades of the Obama regime. There's little doubt that conventional wisdom will be set on its head again and again over the next year, a real-life version of trying to predict the upsets we all know will occur during March Madness. It's all about who comes out on top, but my bet is that it won't be the American people.
One thing I've noticed in the rampup to Larry Hogan's big announcement is a significantly increased tempo in media operations from Change Maryland, and the report released yesterday was more than just a little thorn in Martin O'Malley's side – nope, this was more like a shiv stuck in there and twisted around a couple times. Sadly, pay for play may be considered business as usual in Maryland, but this also demonstrates that Martin O'Malley's grandiose presidential dreams were cemented into place as the 2010 returns came in.
The always-quotable Hogan remarked:
Our preliminary research indicates a disturbing 'pay to play' pattern emerging from the O'Malley-Brown Administration where some DGA donors received a substantial, and increased, state benefits before and after making a contribution. Did the Governor solicit large contributions to help further his national aspirations and reward those donors with huge state contracts and/or implement policies that help them significantly?

Our initial research of DGA financial records is just the tip of the iceberg. It establishes a troubling trend which, when complete, may require a deeper investigation.
Could this investigation be a centerpiece of a Hogan administration? Perhaps, although having an Attorney General who won't sweep this under the rug (i.e. a Democrat) would be of great assistance in this regard. I think Richard Douglas could sink his teeth into this one.
And while the allegations are against Martin O'Malley, whose Maryland electoral days are likely behind him, you have to wonder how much of these broad brushstrokes will tar Anthony Brown, the odds-on favorite for the Democratic nomination. And considering all this went on under the nose of Brown's chief rival, Attorney General Doug Gansler, he may be in for a share of blame, too.
This obviously leads me to wonder about the timing of Change Maryland releasing its promised January report when you consider that Hogan's announcement is also slated for sometime that month. My belief is that the report will come out just a day or two before the official announcement, giving Larry a longer news cycle to build momentum for his race.
But it also pushes me into thinking that the 2014 election could be one of the muddiest in Maryland history. We've already seen evidence of this in the internecine Democratic fighting between Brown and Gansler – interesting how the state trooper incident and underage drinking allegations came out at just the point when Gansler was beginning to get a little traction in the race.
So I got to wondering who was the one that went way back to 1992 and started the meme which Jeff Quinton reported on regarding Hogan's position on abortion? (Update: As it turns out, it was Jeff himself. My mistake originally was in assuming he was fed the information, not realizing he has an extensive pro-life background.)
One has to take this in context, though: Hogan was running for a Congressional seat at the time (as opposed to a state office) and there was a ballot question regarding abortion law which was petitioned to referendum but handily kept in place by state voters at the time. (Question 6 of 1992 passed by a 62%-38% margin, and was the last referendum until 2012.) Being pro-choice was perhaps the safer electoral move at the time – besides, it took less than four years for Barack Obama to do an about-face on gay marriage so it's possible Larry has gravitated to a more pro-life perspective in the last 22.
Of course Democrats know that the Republican base is primarily pro-life, so what better way to sow seeds of discord among a select group of GOP primary voters than to bring up the abortion issue? Frankly, that's not a top-drawer concern for many voters, even in the GOP,  but that five percent who identify it as their key issue can make a difference in a multi-person primary. (Aside from the notion that Hogan favored keeping abortions legal, he's right on the money about overturning Roe v. Wade and sending the issue to the states. It's a battle best fought in Annapolis…and Dover, and Columbus, and Austin, and so forth.)
But if someone is digging that deep to find dirt about Larry Hogan, perhaps there's something to the notion that we weren't buried face-down as deep as some would have thought eight years ago. 2014 seems like a nice time to emerge.
When I heard the news Thursday that former South African president Nelson Mandela had died and then yesterday that Barack Obama was going to South Africa for this leader's funeral with wife Michelle in tow, I was thinking that there was another former world leader's funeral that he had recently missed. Breitbart reminded me of the details:
Interestingly, the Obamas did not got to former British Prime Minister Margaret Thatcher's funeral back in April of this year. In fact, no high ranking official from the administration was sent to the Iron Lady's funeral.
For the Iron Lady, the official United States delegation included former Secretaries of State George Schulz and James Baker III; a month earlier a sitting and former member of Congress comprised part of the delegation sent to Venezuela for the funeral of strongman Hugo Chavez. So the actual visit of the Obamas for Mandela's service is sort of a "big f—ing deal" and will require a much larger entourage.
So why is it suddenly so important that Obama go to South Africa? The cynical will make the case that Barack is America's luckiest president – every time something he's botched threatens his election or his approval rating, the world comes along and gives him something to grasp. For example, the Chris Christie embrace of Obama after Superstorm Sandy blunted whatever momentum Mitt Romney had just before the 2012 election.
Now the utter failure and unpopularity of Obamacare will be broomed from the headlines for a few days, with the timing of the Obamas' trip to South Africa coinciding nicely with the start of his annual Hawaiian Christmas holiday. This will give him almost an extra week either out of Washington or preparing for one trip or the other.  All this will give his brain trust a chance to figure out new ways to blame Republicans, which will be handy because a budget battle awaits Obama's return from Hawaii.
Among the rest of us, the reaction to Mandela's death has run the gamut, although those in the political realm have tended to be apologists or politicized the death. Personally, it didn't affect me one way or the other, as Mandela was a leader of another time and his country isn't really a leader on the world stage. Nor was it completely unexpected as he had been ill for several months.
But I just found the priority Barack Obama made in attending his funeral and flying our flags at half-staff in Mandela's honor a little puzzling, considering some of the other deaths the world has seen lately.
Moreover, we may yet see the passings of former presidents Jimmy Carter and George H.W. Bush – both of whom will turn 80 next year – and it will be interesting to see how they are honored by Barack Obama if this should happen during the remainder of Obama's term.
Well, folks, I have to admit my wheel wasn't the one which squeaked last on the matter since the crap I described last Wednesday continues apace. So hopefully someone with a little law enforcement experience can get this din to a dull roar:
As Republican candidates in a deep-blue state, we have a responsibility to provide you with a quality message and a quality campaign.

The likely nominees for office on the Democratic side will be flush with campaign cash, aided by an accommodating media and, in the case of Democratic candidate for Governor Anthony Brown, operatives from the Obama campaign. These campaigns are not playing games and this is not a joke, they are running to install a permanent tax and spend super-majority which will bankrupt our beautiful state and drive thousands more to flee across our borders.

I write this out of a deep and genuine concern for our state's future. Some of the parochial spats developing amongst a limited number of campaign staffs are causing unnecessary and damaging rifts within our Party while we struggle for relevancy and the support of the people of Maryland.

It's time for us to put the games and the nonsense aside and focus on the real fight. As the head of my campaign team I promise you a relentless effort and a quality team and if either I or my team fail to produce, email me immediately at campaign@bongino.com. I respectfully request that the remaining candidates on our Party team do the same and start to prune their campaign trees of people who alienate rather than unite.
That's what Dan wrote on his Facebook page earlier this Tuesday evening, and I (almost) couldn't agree more. (I think we will get the Obama operatives regardless of who wins that Democratic primary because we have one of the state-run exchange states.)
But we've had "unnecessary and damaging rifts" for a long time, well before this campaign began. I'm going to go beyond the whole Lollar aspect for the moment because plenty enough has been said about that over the last week; in fact, the controversy over that has enabled the argument over open primaries to be swept way under the rug. People may need to be reminded we have a convention next week.
In essence, it seems to me the party lost its unity when Bob Ehrlich lost. That so happens to be the time I was elected to my Central Committee – I swear, though, this is not cause and effect – and these are just some of the political slugfests we have endured since:
The argument over convention voting, which got so bad for a time some small counties boycotted the whole thing
The vote of no confidence on party Chair Jim Pelura
The return of Bob Ehrlich, which begat the Rule 11 controversy because Brian Murphy was also in the race (as was a challenger for Andy Harris, who also benefitted)
Audrey Scott and "party over everything" – her tenure neatly coincided with the rise of the TEA Party and pro-liberty movement
Speaking of Scott, her battle with Nicolee Ambrose for National Committeewoman
The ongoing question about whether Delegate Don Dwyer should resign, which one of the current gubernatorial candidates used to score political points
The referendum battles, including the times we chose not to use it
Alex Mooney's resignation and the bitter subsequent election for party Chair
And now the open primary question
It's been a constant routine of renegades, rule changes, and rancor for the last eight years – all we've been missing is the string of victories we need to make ourselves relevant in Maryland. The math is simple: one governor + one comptroller + 19 Senators + 57 Delegates = relevance. Anything less and we may as well not be there at all. Get that or more and maybe this state can be saved.
Now I will cheerfully admit I've had a hand in a couple of these issues I alluded to above; surely I'm not on Audrey Scott's Christmas card list. But my goal is to help drag the Maryland Republican Party (insofar as it relates to the idea of enhanced liberty and freedom) over the finish line and make this more of a truly "free state." (I'd like to do the same for all the other states as well.)
So this is why it bugs me that we have this whole power struggle between campaigns, between individuals – and even between websites. I like a good argument as much as anyone, but after awhile it gets pretty pointless. (Although I should take this moment to thank those who have supported me and my efforts – never hurts to acknowledge them! I have a support base I'd stack up to anyone's.)
Certainly the average person, who may only now be starting to pay attention peripherally to the race (we're months away from it being foremost in mind to probably 90% or more of Marylanders; this won't occur until after the primary) would be unaware of what has transpired so far but right now we're doing a damn fine job of both providing the opposition research Democrats can use in the general election and probably cheap entertainment for them as well. Doug Gansler has to be thanking his lucky stars that word of these shenanigans on our side is starting to get out because people will forget his transgressions long enough for him to rehabilitate his image.
I can surely guarantee, though, that Dan Bongino's got enough of a struggle on his hands without having to worry about being tarred with these same broad brushstrokes. His is advice which should be heeded.