You know, I used to like Sarah Palin.
Actually I still do, but I'm also trying to figure out how a political figure who has been an integral part of the TEA Party movement since the beginning could give her imprimatur to the Republican in the field who is arguably the least conservative in the overall scheme of things. In Trump's world, aside from immigration and perhaps global trade, we won't deal with the excesses of government in any meaningful way. He's pledged to leave Social Security and Medicare alone, despite the fact that both entitlements are going bankrupt. As a complete suck-up to the ethanol industry in Iowa, Trump is calling for more ethanol to be blended into our gasoline as well. Neither of those positions scream "limited-government conservative" to me.
In reading the reaction over the last day or so, people either seem to be shooting the messenger by panning the speech or the various foibles of Palin family members, or they are assuming that Palin has sold out once again for the almighty buck trying to extend her fifteen minutes of fame, or they believe she's got a deal to secure a Cabinet post in a Trump administration. Some even believe it will be a Trump/Palin ticket. We haven't seen as much of the "mama grizzly" lately so maybe she needed to be back in the limelight again. Meanwhile, as Erick Erickson argues, Trump is trying to pick up the win in Iowa to shut out Ted Cruz in the first few states as Trump has huge leads in New Hampshire, South Carolina, and Florida. Byron York saw it as a way to get Iowans torn between Trump and Cruz off the fence.
To me, it's just another part of the ongoing struggle between limited-government conservatism and the big-government populism that Trump seems to be cornering with every vague promise to make things great again, played out in the Republican primary. Unfortunately, by espousing government-based solutions Trump is just serving to perpetuate the policies that have messed things up in the first place.
Yet if you ask a Trump supporter why they support him, the answer tends to be in the realm of being an outsider with a record of getting things done. We have a problem with illegal aliens? Build a wall and make Mexico pay for it! And we can't trust those Muslims, so we just won't let them in! Once The Donald says it will happen, by golly it's going to occur.
Okay, fair enough. It may work very well in an autonomous corporation where whatever The Donald says is law, but may not translate nearly as well when you need a majority of the 535 members of Congress to assist you in getting things accomplished the proper way. Sure, Trump can go the executive order route on a lot of things but isn't that our major complaint about the Obama regime? Just because it's a guy on "our" side doesn't make it any more Constitutional to govern by dictate, with the probable exception of rescinding previous orders. (I would rather Congress do that heavy work, though.)
So it comes back to what Palin saw in Trump. In the brief release from the Trump campaign, the reason stated for Palin to back Trump is his "leadership and unparalleled ability to speak the truth and produce real results." I would categorize it as saying what people want to hear (for example, he stated his new-found position on ethanol in front of a lobbying group) with the results being oodles of press coverage. Admittedly, Trump has helped make immigration a key issue with his remarks, but I think that discussion was going to occur anyway.
The other "real result" seems to be that of finally erasing the line between politician and celebrity. Ronald Reagan was known to the public as an actor, so he had some amount of recognition from those who weren't political junkies. (Unlike Trump, though, Reagan had a political resume as governor of California.) Bill Clinton tried to portray himself as hip by frequent appearances on mainstream entertainment shows, and that trend has continued with both George W. Bush and Barack Obama. Having been a reality TV star, Trump takes this cultural recognition to a new level, which may expand the universe of possible voters but brings us much closer to the undesirable aspects of governance by popularity rather than ability.
If Sarah Palin was looking to improve her brand recognition, she did well by endorsing Trump. But if she's looking to improve America…well, maybe not so much.
The generation that fought World War II is considered by many modern pundits as our "greatest generation." Those who were born in the 1920s were the ones who grew up with the adversity of the Great Depression and came of age as America was attacked at Pearl Harbor.
But the generation they spawned upon their return from the battlefields of Europe and war throughout the Pacific has made their own impact on the American culture, turning their collective noses up at an unpopular war in Vietnam and becoming the narcissistic subject of what was termed the "me" generation. In general terms, a Baby Boomer is one born between 1946 and 1964, although the peak of the boom occurred in 1957. It took a half-century before the total number of births in a calendar year eclipsed the total of 4.3 million we had in 1957.
Yet in the area of Presidential leadership the Baby Boomers are represented only by our last three Presidents, two of whom were born at the very beginning of that era in 1946. Together, however, they represent 24 years of our history as Bill Clinton, George W. Bush, and Barack Obama have served two terms apiece. One can argue whether or not they've had a positive impact on the country, but with the propensity of our nation of late to elect a President twice, it's likely that if we elect a President who was born during that 18 year span in 2016 he or she will be the last of that generation to hold office. The tail end of the Boomers will be 60 by the time that election occurs, but most of them will be older than 67.
I bring this up because this election has the potential to be the same generational shift as we had in 1992 when Bill Clinton (then 46 years old) defeated the incumbent George H.W. Bush (then 68 years of age) – albeit not to that extreme of a degree since Obama is only 54. And if you recall the 1980 election as I do, there was a great deal of concern about Ronald Reagan's advanced age – at the time of his inauguration he was just a few weeks away from his 70th birthday. Previous to Reagan the oldest President to take office was William Henry Harrison, who was 68 – and died in office a month later. So I think people became a little gunshy about electing a man of advanced age.
If you look at the ages of the remaining contenders, you'll notice that nearly half of them are already eligible for Social Security as they have passed their 62nd birthday. While the average age of the Republican contenders is 58, it's worth noting that for the Democrats it's nearly 65, with Martin O'Malley dragging the average out of the 70s. All three Democrats fall within the Baby Boomer range.
On the other hand, the top three Republican contenders are the two youngest in the group (Ted Cruz and Marco Rubio) trailing the oldest Republican running, Donald Trump. I had no idea Trump was the oldest until I looked it up but he is 69 now and would be 70 by inauguration day, making him the oldest President to take office. So where are the people concerned with his health and advanced age? (Hillary Clinton would be just a few months younger than Reagan was if she won, while Bernie Sanders would shatter the age record as he is already 74.)
While I identify more readily with the Generation X that followed the Boomers, by birth year I'm lumped in with them. By being a few years younger than the peak of our generation, those born in the early-to-mid 1960s like myself have always dealt with the hand-me-downs we received, and they were often worse for the wear. (Having a brother who was two years older this was literally true in my case.) So it is with America, which has seen the decline in morality brought to us by the Clintons, the questionable attempts at nation-building we tried under George W. Bush, and the trainwreck of "if you like your plan, you can keep it" Obamacare under its namesake. If you ask the question, "are you better off than you were 24 years ago?" the number of people who say no might be shockingly high.
Perhaps it's time for the Boomers to leave the stage, but I'm sure they'll have to dragged off kicking and screaming because it will always and forever be about them.
In the First Congressional District, winning the Republican primary is tantamount to winning the race: the latest round of gerrymandering by Maryland Democrats made sure it would be by creating an R+13 district in a state that's nominally D+26. So what do I make of an announcement by upstart former Delegate Michael Smigiel that he has a 2-to-1 lead over incumbent Andy Harris in a pre-primary poll?
If you read between the lines, you'll see a few interesting tidbits. And my readers may recall that my co-writer Cathy Keim talked about a survey she took a few days ago. Chances are this was the same Gravis Marketing survey Smigiel is referring to in his work, which leads me to believe this was a push poll Smigiel did to build up his support. If you're a relative unknown in much of the district, a tactic often used is that of driving up the negatives of the established politician.
Ironically, it's much the same tactic Harris used to win the nomination in 2008 against a well-known incumbent, Wayne Gilchrest. Wayne's biggest issue was the leftward drift of his philosophy and voting record, so much so that a clearly upset Gilchrest later rejected his party's nominee and endorsed the Democrat challenger, Frank Kratovil. That and the Obama wave election led to Kratovil being a one-term Congressman before Harris defeated him in the TEA Party wave election of 2010.
As Cathy described it – a manner which isn't reflected in Smigiel's narrative – the issue questions came first:
Calls were made to over 20,000 voters with over 600 individuals answering the poll, and results indicate that when voters were informed that Rep. Harris had voted to fully fund Obamacare, 82 percent (82%) of the Republican primary voters surveyed would not vote for Harris.

When voters were aware that Rep. Harris had voted to fully fund President Barrack (sic) Obama's unconstitutional use of executive power to grant amnesty to millions of illegal aliens, 85 percent (85%) of Republican voters said they would not vote to re-elect Harris.

Likewise, 80 percent (80%) of those surveyed reported that they would not vote to re-elect Rep. Andy Harris if they knew he had made the statement that it was "just fine" for Planned Parenthood to sell baby parts as long as they did not use federal money to do so.

Nationally, Rep. Harris is known as the most outspoken critic of D.C. and states which have chosen to allow medical marijuana, decriminalization or legalization. In the 1st District, fifty-nine percent (59%) of the Republican voters surveyed reported they would be less likely to vote for Harris because of his anti-marijuana, anti-state's rights stance.
In that context, it's hard to believe Harris got 29% when over 80% of Republicans disagreed with him on one or more issues.
But there are two advantages Andy still enjoys in this race. While the FEC data is still from back in September, Harris had over a half-million dollars in cash on hand while Smigiel barely registered. Certainly Harris has been fundraising since then, and incumbents often enjoy the largest share of PAC money. In the 2015-16 cycle Harris had already amassed over $166,000 from various committees, a large portion of them in the medical field.
The second advantage is the IOUs Andy has built up through donating to local candidates. Here's just a few that I noticed on his 2013-14 FEC report:
Bob Cassilly (Senator, Harford County) – $4,000
Matt Morgan (Delegate, St. Mary's County) – $1,000
Theresa Reilly (Delegate, Harford County) – $1,000
Mike McDermott (former Delegate, Worcester County) – $4,000
Bob Culver (Wicomico County Executive) – $4,000
Carl Anderton (Delegate, Wicomico County) – $4,000
Christopher Adams (Delegate, Wicomico County) – $1,000
Jay Jacobs (Delegate, Kent County) – $1,000
Jeff Ghrist (Delegate, Caroline County) – $1,000
John Cluster (Delegate, Baltimore County) – $1,000
Johnny Mautz (Delegate, Talbot County) – $1,000
Justin Ready (Delegate and now Senator, Carroll County) – $4,000
Kathy Szeliga (Delegate, Baltimore County) – $4,000
Kevin Hornberger (Delegate, Cecil County) – $4,000
Mary Beth Carozza (Delegate, Worcester County) – $4,000
Nic Kipke (Delegate, Anne Arundel County) – $4,000
Rick Impallaria (Delegate, Baltimore County) – $2,000
Robin Grammer (Delegate, Baltimore County) – $1,000
Steve Arentz (Delegate, Queen Anne's County) – $1,000
Susan Krebs (Delegate, Carroll County) – $4,000
Addie Eckardt (Senator, Dorchester County) – $1,000
Michael Hough (Senator, Frederick County) – $4,000
Herb McMillan (Delegate, Anne Arundel County) – $4,000
Ric Metzgar (Delegate, Baltimore County) – $1,000
Johnny Salling (Senator, Baltimore County) – $4,000
Maryland Republican Party – $49,500
Well over $100,000 went from Andy's campaign coffers to help build the GOP state bench with several new legislators being the result. I don't look for a lot of those folks jumping ship to support (in several but not all cases) a more recent former colleague. That's a significant part of the state GOP delegation, including all three who defeated Smigiel in the 2014 Republican primary. And electability is a legitimate question mark for Smigiel.
In the 2014 Republican primary, Smigiel was fourth among seven candidates, four of whom hailed from Smigiel's Cecil County portion of the district – those four finished fourth through seventh. (Mike finished third in Cecil behind fellow resident Alan McCarthy, who finished a distant fifth overall, and Jay Jacobs of Kent County, who was second overall.) Smigiel was third among five candidates in 2010 (all three winners were Republican) and while he kept the seat in 2006 based on the overall district vote he actually lost in his home Cecil County to Democrat Mark Guns. Smigiel was barely second out of five when he won his first term in 2002, so he's never been overwhelmingly popular at the ballot box – just good enough to win three terms in a very safe GOP district. The fact that three other people challenged Smigiel from Cecil County – knowing only one of them could win due to an election law stating only one person could advance from any particular county – indicates there was some dissatisfaction with him, just as many are now displeased with Harris.
That anger toward Harris attracted Smigiel to the race and produced a poll result like this. Since he won the election in 2010, Harris has had little in the way of a challenge from either party until now. It's a race perhaps reminiscent of the 2004 primary between Wayne Gilchrest and then-Maryland Senator Rich Colburn – the fact Colburn got 38% against a sitting Congressman may have opened the race up four years later when state officials could run from cover again without having to risk their own seats.
If I were to handicap the election today I would put it around that 60-40 range with Harris prevailing. A lot can occur in 3 1/2 months, though, and it's probably good for Harris that there are a couple of other lesser known hopefuls in the race to split the protest vote.
This may be a good time to point out that Andy has a couple of townhall meetings slated for the Eastern Shore. On Monday night the 18th he will be at the Black Diamond Lodge in Fruitland for a 6 p.m. meeting. (Right next door is the site of Andy's chicken suit affair of a few years back.) Then Tuesday at noon he will be the host at the Easton Volunteer Fire Department headquarters on Aurora Park Drive.
Unfortunately, I already have a commitment for Monday night so I will have to hear second-hand about what the Congressman has to say. It will be interesting to hear how all that goes down.
By Cathy Keim
Editor's note: This is the first installment of Cathy's coverage of last weekend's Turning the Tides Conference.
I was able to attend the Maryland Citizen Action Network Conference (better known as Turning the Tides) on January 8-9, 2016, in Annapolis, MD. I had missed the last couple of years due to schedule conflicts, so I was happy that I was able to go this year. I have always enjoyed the MDCAN conference and this year was no different.
Friday evening started out with a dinner and talk by Kris "Tanto" Paronto, one of the Benghazi 6. Kris walked us through the 13 hours of Benghazi. He kept our attention as he described the situation in Libya, his role as a Global Response Staff employee for the CIA providing security for personnel in austere environments, and the actions that he and his fellow team members took to save lives that night even though they were told to stand down by the CIA chief in Benghazi.
Kris, Mark "Oz" Geist, and John "Tig" Tiegen have gone public to bring attention to Benghazi. Mitchell Zuckoff wrote a book based on their account called 13 Hours – The Inside Account of What Really Happened at Benghazi. A movie based on the book, "13 Hours: The Secret Soldiers of Benghazi," is being released on January 15. This trailer introduces the men behind the movie.
Kris, Mark, and John all worked with Mitchell Zuckoff and Michael Bay to be sure that the book and the movie were as accurate as possible. They acknowledge that turning 13 hours into a two hour movie would require some changes, Paranto added, but they were involved in checking the script and giving advice to be sure that the movie presented the facts.
I think that everybody was on the edge of their seat as Kris meandered through his story with amusing jokes that they bantered even during the attack. He testified to his faith in God more than once. All of the men were former special ops before they became private contractors, said Kris, adding that they would rotate in for two months and then out for two months because the environment was so stressful. All of the team were in their forties and Paranto felt that their experience is what enabled them to be successful that night. Lives were saved because they were able to work as a team, said Kris.
They have testified before Congress, but no answers have been forthcoming for why they did not receive back up. Debunking the official line, Paranto refuted the claim that there was absolutely no "protest about a video" prior to the attack. He encouraged us to continue pressing Congress for answers, because without answers nothing can be fixed to prevent this from happening again. Kris concluded by stating he is willing to die fighting, knowing that he hired on for a dangerous job, but he doesn't like the story being distorted for political gain.
The focus on Benghazi continued on Saturday when the Citizens' Commission on Benghazi (CCB) gave an update on where things are at this time. A creation of the advocacy group Accuracy in Media, they state:
The purpose of the commission is to attempt to determine the truth and accuracy of what happened in Benghazi, Libya on September 11th, 2012, in reference to the terrorist attack on the U.S. diplomatic compound, which resulted in the death of four Americans, including the ambassador to Libya, Chris Stevens. Also, we will be looking at what led up to it, in the days, weeks and months that preceded the attack; and how it was dealt with by the Obama administration, the media and Congress in the aftermath of the tragic events of that day, which was the 11th anniversary of the 9/11 terrorist attacks on New York and Washington, D.C. in 2001.
CCB member Lt. Col. Dennis Haney, USAF (Ret.) said that going to war in Libya was part of this administration's plan to aid the Muslim Brotherhood in taking over North Africa. It allowed the flow of arms to go to groups in Libya.
Haney added that there are six hundred emails that were sent asking for more security, including 100 emails specifically talking about Benghazi. There were specific strategical and tactical warnings prior to the attack about the Feb. 17th Martyrs Brigade, the militia hired to protect the ambassador.
The CCB is looking at dereliction of duty by our government for not using our military to respond to the attack. The government's response that they didn't have time and that we don't send people in if we don't have intel is all dismissed by the CCB as being a lie.
Further, we learned the cover up by this administration and the media complicity is all being reviewed. An example of the media complicity, said Haney, is Candy Crowley's comments in the CNN Presidential debate between Mitt Romney and Barack Obama, which were clearly prepared to skew the debate.
The CCB was pleased to see Rep. Trey Gowdy chosen to lead the House Select Committee on Benghazi, but with its lack of progress in getting answers now they are beginning to wonder if the Select Committee was compromised from the beginning. Something might still come of the House Select Committee, but hope is fading, said Haney.
On the other hand, they are encouraged that the movie being released this week will bring attention back to Benghazi. They would like to see people pressing Gowdy's committee for answers to the questions surrounding Benghazi.
The Citizens' Commission on Benghazi, the release of the movie "13 Hours," and the numerous interviews that the Kris Paronto, John Tiegen, and Mark Geist are giving all help to refocus attention on Benghazi.
It should be noted that "13 Hours" opens this Thursday, and it will be playing here at the Regal Cinema in Salisbury. Take some friends and go see it, knowing that it is depicting the real story.
Update: A friend just sent me these videos from Sharyl Attkisson stating that an email has been found showing that rescue teams were responding and were stopped. This is particularly incriminating information for the administration since it shows that help could have arrived before the last two Americans were killed in the Benghazi attack.
By Cathy Keim
Here I am writing this piece on January 3, 2016, after being absent for most of the month of December. I had a wonderful holiday filled with family and friends from all over the world, and I hope that you had a Merry Christmas and a Happy New Year too.
My husband and I were just over in Washington, DC, to visit with some family and had the opportunity to go to the Smithsonian's National Zoological Park. It's a great zoo, but I was trying to figure out where in the Constitution it said that the federal government should be funding a world class zoo. I couldn't remember where that would be.
The Smithsonian Institute receives about 70% of its funding from the government. This is just one example of how our tax dollars are spent on "worthy" projects that are not Constitutional, yet most of us don't even think about it anymore. We are used to the federal government encroaching into every sphere of our lives.
I read some of the propaganda that they have gotten children to write, then posted for the visitors to read. One piece was from a young girl that was calling upon us to work harder to save the tigers. It was an excellent example of Common Core English skills using emotionally charged adjectives to drive people to take action. (I have read the lesson plans for just such activities. Common Core would rather have the students use emotion than reason to write a persuasive piece.)
I kept wondering why this young lady was so worked up about tigers when our federal leadership could not take the time to cut the funding for Planned Parenthood despite being caught red-handed selling baby parts for profit. It seems that tigers are much more important than easily replaceable babies.
The inability of our leaders to act upon such horrific revelations as selling baby parts leads to my premise that 2016 is a pivotal year for our Republic. We have sunk to such depths in our understanding of what the American Experiment is about that many are calling this our last chance to right the ship of state.
Over my break I took the opportunity to look through some of these assessments.
Daniel Horowitz listed the top ten betrayals of the GOP elites, all of which Michael and I have covered as they happened.
Phyllis Schlafly shocked people with her statement after the passage of the omnibus bill last month,
This is a betrayal of the grassroots and of the Republican Party. We thought we were electing a different crowd to stand up for America, and they didn't. We're extremely outraged by what Congress has done. Nancy Pelosi couldn't have engineered it any better. I think the people are going to react by electing Donald Trump.
Maryland's own Ann Corcoran has started a new blog to encourage people to join the fight to save America. She has done yeoman's work for years at her Refugee Resettlement Watch to bring attention to the deeply flawed Refugee Resettlement program. Her new blog is American Resistance 2016!
They are changing America by changing the people! Will you fight to save it, or allow the greatest nation on earth to perish?
But the quote that most caught my attention was by Diana West. She was responding to a plea by Brent Bozell for conservatives to get behind Ted Cruz because he has been leading the fight for conservative issues. Diana said:
To be honest, if these were the only issues under discussion in this GOP presidential primary season I would hardly be able to make myself pay attention. It's not that they are unimportant issues. Personally, I support every one of them. But they are not existential issues. They are not the issues on which the very future of the Republic hangs. They are issues that a responsible Republican House and Senate, if they were loyal to their oath and to their constituents, could today begin to rectify all by themselves. (Emphasis mine.)
Our elected leaders could have stopped the funding for Obamacare, Planned Parenthood, immigration, etc. but they did not. That is why the base is done with them. That is why Donald Trump is drawing such support.
I went to Donald Trump's website and read his immigration plan.
His three bullet points are:
1. A nation without borders is not a nation. There must be a wall across the southern border.

2. A nation without laws is not a nation. Laws passed in accordance with our Constitutional system of government must be enforced.

3. A nation that does not serve its own citizens is not a nation. Any immigration plan must improve jobs, wages and security for all Americans.
It is remarkable that his plan is seen as remarkable. Most of the points on his plan are common sense, but our leadership seems to have lost their common sense.
Roger Simon says at PJ Media:
The rise of Donald Trump is a good thing, not because any one man can easily change the course of history, not because he's necessarily the best candidate (although he could be), but because his rise indicates that a lot of people who often ignore things are waking up to this extreme situation.
We are in for a rough ride in 2016. Our GOP leadership has given President Obama a pass on everything he has wanted right up until he finishes his term with their funding of the omnibus bill.
Winston Churchill was the man for his time. He spent the years leading up to World War II pleading with his government to rearm and to prepare for the fight ahead. The appeasers refused to listen to him, but when the time came, he was ready to lead. Donald Trump has not spent the last decade in opposition to the government and many of his statements give me heartburn, but on the great issue of our time he is leading as no other candidate.
It will be on the light side this time, but this is probably the lightest news week on the calendar as many of the productive people in the country take an extended vacation. Having Christmas and New Year's Day both fall on a Friday really assists in that effort because the average worker only has to take 3 or 4 vacation days rather than a full week – as an example I had both Thursday and Friday off this past weekend and will be off Friday, too. Long story short, the government and newsmakers are pretty much off for several days with the minimum of paid time off insuring a long 11-day break.
So I'm going to begin with news that came out recently from the Center for Immigration Studies that confirmed what millions of observers have long suspected: we aren't ejecting illegal immigrants from the country like we used to. No one is talking about all 11, 13, 20, 30, or whatever million there are, but just over 235,000 - not even half of the number just four years ago. Jessica Vaughan of CIS noted in testimony before the Senate that:
This willful neglect (regarding deportation) has imposed enormous costs on American communities. In addition to the distorted labor markets and higher tax bills for social welfare benefits that result from uncontrolled illegal immigration, the Obama administration's anti-enforcement policies represent a threat to public safety from criminal aliens that ICE officers are told to release instead of detain and remove. The administration's mandate that ICE focus only on the 'worst of the worst' convicted criminal aliens means that too many of 'the worst' deportable criminal aliens are still at large in our communities.
Even if Donald Trump personally supervised a border wall and made Mexico pay for it, deportations continuing at that rate would take decades to clear out those here illegally, giving those at the bottom of the list for removal time to have anchor babies and otherwise game the system to stay put. It's a waiting game that Americans and those law-abiding immigrants wishing to enter are losing quickly.
Obviously the first steps any new administration would need to take not only involve revoking all the pro-illegal alien policies of the Obama administration but putting an end to birthright citizenship for non-citizens and cracking down on employers who knowingly employ illegals. In one stroke I'm for pissing off both the Democrats and the pro-amnesty Chamber of Commerce types.
Immigration – and its potential for bringing in a new generation of government-dependent first-generation voting residents (I hesitate to call them Americans as they are slow to assimilate) isn't as much of a cause for concern for Robert Romano of Americans for Limited Government as is the death of the Republican voter.
I've brought up this question in a different form before, as I have pointed out the Reagan Democrats of 1980 were comprised of a large number of blue-collar lunchbucket types who were probably approaching middle age at the time. Brought up as Democrats with the idealism of John F. Kennedy and the union worker political pedigree, they nonetheless were believers in American exceptionalism – for them, the American malaise was a result of Jimmy Carter capping off a decade or more of failed liberal policies both here and abroad.
As Romano points out, many in the Silent Generation (which was the base of the Reagan Democrats as they reached middle age in the 1970s) are now gone. At around 29 million, it is well less than half of the Baby Boomers or Millennials. (I notice that Generation X isn't mentioned, but they are certainly larger than the Silent Generation as well. At 51, I could be considered a tail-end Baby Boomer but I identify more with Generation X.)
Yet the question to me isn't so much Republican vs. Democrat as it is "regressive" statist vs. conservative/libertarian. I worry more about the number of producers (i.e. those who work in the private sector) vs. the number of takers (public sector workers + benefit beneficiaries). The number of takers is growing by leaps and bounds - chronic underemployment to the point people still qualify for food stamps or housing assistance plays a part, as does people getting older and retiring to get their Medicare and Social Security. I'll grant it is possible (and very likely) some straddle both categories, particularly older workers who qualify for Medicare, but as a whole we have a bleak future as an entitlement state without some sort of drastic reform. This example probably oversimplifies it, but you get the picture.
At least I'm trying to be honest about it instead of using the faulty reasoning of the Left, as Dan Bongino sees it. Sometimes I wonder if its a game the liberals play in the hopes that we waste and exhaust ourselves trying to refute all the bulls**t they spew rather than come up with new, good ideas.
Perhaps more importantly, though, Bongino in a later article makes the case that government surveillance is not the terrorism panacea people make it out to be.
I'm not willing to sacrifice my liberty, or yours, for a false sense of security, Ironically, those defending this egregious, government-enforced evaporation of the line between the private and public self cannot provide any evidence of this metadata collection process intercepting even one terror plot.
After 9/11, Congress adopted the PATRIOT Act, which was supposed to be temporary. Given that we are in the midst of a Long War against Islamic-based terrorism, there is some need for scrutiny but Bongino has a point – are we trying to get someone inside these terror cells?
Finally, I want to pass along some good news. If your house is like mine and uses heating oil, you can expect to save $459 this winter compared to last. (Having well above-average temperatures in December meant I made up for the "extra" 100 gallons I had to get to make it through a chilly spring.) But as American Petroleum Institute's Jack Gerard also points out, investing in energy infrastructure is a key to maintaining these savings in the long run – and has the added benefits of an economic boost.
We often talk about infrastructure in terms of transportation, where public money is used on projects generally used by the public for enhanced commerce. As I was told, traffic bottlenecks were common in Vienna before they finished the bridge over the Nanticoke River in 1990 as well as in Salisbury until the completion of the U.S. 50 portion of the bypass a decade or so ago. Now traffic flows more freely, time and fuel are no longer wasted, and people are just that much more likely to visit our beach resorts. (The same process is occurring on Maryland Route 404 and U.S. 113 as widening makes that traffic more bearable.)
But this can also occur in the private sector as a future investment, and this is what Gerard is referring to. Most are familiar with the story regarding the Keystone XL pipeline, but the same sort of opposition rose up to the Mid-Atlantic Power Pathway, a transmission line once slated to run through Wicomico and Dorchester counties on its way to the Indian River generating plant in Delaware. Slack demand and other infrastructure improvements were cited as factors in killing MAPP, but the process of dealing with environmental issues likely played a larger role.
Regardless, you can bet your bottom dollar that any sort of fossil-fuel based infrastructure would be opposed tooth and nail by a certain class of people who believe all of our electricity can come from so-called "renewable" sources, and that power will magically run directly from the wind turbine to the outlet in your living room. I see nothing wrong with private investment trying to make lives better, so if another natural gas pipeline is what Delmarva needs to succeed and some private entity is willing to pay for it, well, let's start building.
Just as I built this post from the debris of my e-mail box, we can make our lives better with our natural resources if we don't shoot ourselves in the foot.
It's become almost as much a Christmas tradition as hanging stockings or decorating the tree – our national government gets another stopgap spending measure in lieu of a regular budget in order to avoid a Christmas government shutdown. We've done this practically every year since Barack Obama became President, and this year is no exception.
You can read any number of opinions about how bad this deal will be, such as this one from my friend Rick Manning at Americans for Limited Government or the fine folks at Heritage Action. It's not a done deal yet, for the vote is expected to come tomorrow, but there will be a lot of pressure to vote this out and beat it out of town before Christmas. We already have the tax package that was a series of tradeoffs.
Yet I want to focus on one representative, and he happens to be ours. You may recall Andy Harris voted on an equally controversial bill last year that he explained away, as well as the same thing earlier in 2014. There's obviously some who also still hold a grudge against him for voting for John Boehner to stay on as Speaker of the House. Somewhere in the back of my mind I seem to recall him saying something along the lines that this year's budget process should be smooth because we could do it in regular order. So much for that.
If anything deserves explanation, the reason all this couldn't be done in regular order would be the first thing on my mind. In November 2014 we gave Republicans a majority in Congress – they have the "power of the purse" that was the excuse as to why things couldn't get done in the previous four years. No longer did we have only 1/2 of 1/3 of the government. So why is this still a problem?
As I see it, if Congress does its job and passes a budget that does what conservatives want to do such as defund Obamacare, rein in the regulators, and make other prudent spending cuts, the onus is on Barack Obama to sign it or deal with the consequences of a government shutdown. It's on him. After all, if people are still blaming George W. Bush for a government shutdown 4 1/2 years after leaving office, it must be the president's fault.
So I think tomorrow we will see another long social media post from Andy Harris explaining away another vote for bloated government. We already have the narrative that these were the cards dealt by John Boehner to Paul Ryan and next year things will be different.
Stop me if you've heard that one before. I'll believe it when I see it.
My "10 from 10″ post this morning regarding the 9/12 Rally back in 2009 got me to pondering where the movement has gone in the intervening years.
If you've been a reader around here for a long time, you may recall that I covered a significant number of TEA Party-related groups that sprung up in the local area over the next couple years. Not only did we have the TEA Parties themselves that went on in both 2009 and 2010, but also groups like Americans for Prosperity and the Wicomico Society of Patriots. They went on for a couple of years but essentially died off from a lack of interest. (On the other hand, we still have the Worcester County TEA Party and 9-12 Delaware Patriots.)
Having been involved to a limited extent with the Wicomico groups, I can tell you that some of the players who remain active have gone "establishment" to the extent they remain active in the local Republican Party. Three of those most heavily involved have served on the Central Committee – unfortunately, that's the only election where some of the TEA Party leaders have found success. While many in the area take TEA Party values to heart, they seem to vote for the names they know.
This erosion of the brand is also reflected on a national level. I used to write quite a bit about the TEA Party Patriots and expressed hope that the TEA Party Express would bring some of its star power to the region. In the last few years, though, the national movement has suffered from infighting as well as a concerted media effort to impugn the brand. I don't hear nearly as much from the group these days, as their function has by and large been superseded by SuperPACs that fight for specific candidates or causes.
If you consider the high point of the TEA Party as the 2010 election, where the political landscape dramatically shifted in a more conservative direction in the wake of two consecutive leftward shifts as well as the adoption of an unpopular Obamacare entitlement program, then the nadir came two years later with Barack Obama's re-election. A conspiracy theorist could point out that the 2010 election results put the Obama campaign on high alert, meaning they pulled out all the stops to ensure re-election with a little help from a compliant media. But one could counter by noting the movement wasn't strong enough to topple frontrunner Mitt Romney and they shot themselves in the foot by staying home on Election Day. (As it was, though, Romney did get more votes than John McCain did in 2008.)
So while you can credit TEA Party principles for winning the day in 2014, the actual movement itself seems to be receding to a low tide. Since TEA is an acronym for "taxed enough already" it's been pointed out by the Left that taxes really aren't that bad, at least in comparison to the rates in place for administrations from Hoover to Carter. (This is a neat little chart to see the differences.) Ronald Reagan dropped rates twice: from 70% to 50% in 1982 and eventually down to 28% with the Tax Reform Act of 1986. It had been over 50 years since the top rate was less than 50%.
But that only considers income tax. Certainly as a 100-year body of work our current rates are on the low side, but back then we didn't have the maddening plethora of taxes and fees we do now. Some are consumption-based taxes like sales tax on goods purchased or per gallon of gasoline, while others are considered some sort of "sin" tax like additional levies on cigarettes or alcohol, a combination that Marylanders endure to a larger extent than several of their neighbors. Even speed cameras could be regarded as a sort of "sin" tax, since supposedly the only ones who pay it are the ones who are speeding well above the posted limit. (Try as they might to convince us that it's about safety, we all know they need the Benjamins. Why else would they have to install cameras in more and more dubious "school zones"?) Nor does that consider property tax, which tends to be the preferred vehicle for raising money for the public schools. In most states where districts have taxing authority, it's not uncommon to see a school district seek three to four additional property tax levies a decade as they strive to raise funds for buildings and operations. (Maryland is different because counties pay for their portion of school funding from their general funds, so there are no ballot issues to deal with property taxes.) To make a long story short, we still consider ourselves taxed enough already.
As far as a formal movement goes, though, for the most part we are back to where we were around 2008. There is a lot of frustration with the direction of both parties, but this time rather than a movement without a leader people are going the route of a looking for a leader for what they consider their movement – hence, political outsiders Ben Carson and Donald Trump have been ahead of the Republican field for most of this campaign. (As further proof, the other side is still believed to be behind Hillary Clinton.) Carson is cast as the Godly, principled man who would quietly and reverently lead our nation in need of healing, while Trump comes across as the brash general who would kick butt and take names, restoring America to its top of the heap status.
Conversely, those who are conservative but came up through the standard political channels have fallen out of favor this cycle. In any other cycle, we would look at governors like Rick Perry, Scott Walker, or Bobby Jindal as frontrunners – instead, all three are out of the race. In terms of political resumes, the front-runners on both sides have even less to go on than Barack Obama did, and that's saying something.
So it's hard to tell where the TEA Party trail runs cold. I think a number of them have coalesced behind Donald Trump despite the fact The Donald is not a movement conservative. One recent rumor is that a Trump/Cruz ticket is in the works, which would perhaps appease the true believers. Trump's success has belied the predictions of TEA Party leaders that he will be a flash in the pan.
But it appears the days of rallies like 9/12 are behind us. Such a pity.
A new day dawned yesterday after a night of partying I described in part 1. Too bad it was about the last time we got to see the sun.
Instead, I went down to grab breakfast and remarks fron three U.S. Senate candidates. It should be noted that a fourth, Anthony Seda, "has never reached out" to the MDGOP, according to Diana Waterman.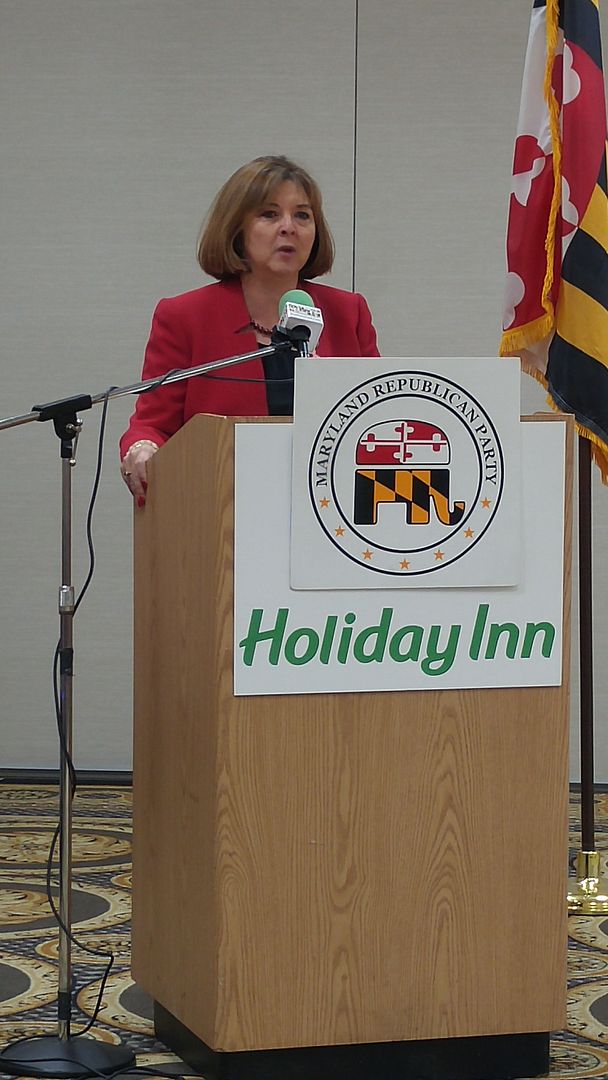 After an opening prayer where Delegate Deb Rey prayed that we "cruise to victory," we did the speeches in alphabetical order. This meant Richard Douglas spoke first.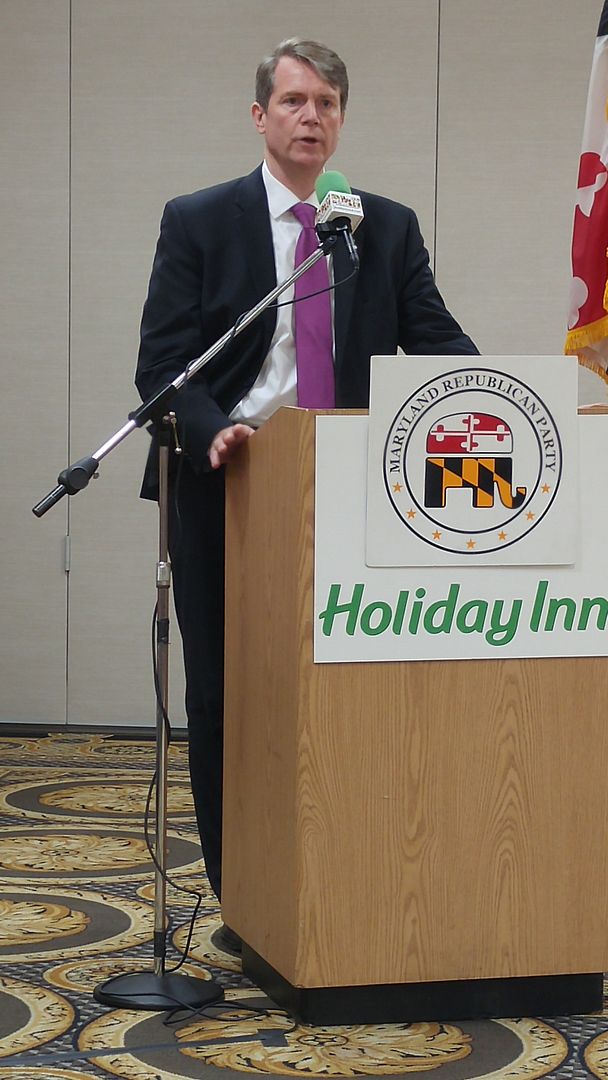 Richard noted the news was still filled with images from Paris, Belgium, and Mali, saying it underscores that "terrorism…remains a concern." He added that the authorization to use military force passed after 9/11 remains in effect today.
He added that growing up abroad made incidents like the building of the Berlin Wall and Cuban missile crisis "indelibly etched in my mind." But he assured us we are stronger than Russia – we just have a leadership problem. No one is pushing back on Russia, China, or Iran, he continued.
Douglas pivoted to domestic issues with a mention of the Bladensburg Cross, a court case he's assisting on and one for which he predicted "we'll take the wood to the humanists." It led into his thought that the job of a Senator was not to pontificate, but to act. In Maryland, it meant not just doing what he could at the federal level to eliminate the rain tax and entice industry. One example of the latter was the Howard Street Tunnel, which is too shallow to accommodate double-decker rail cars. It's a problem the current Senator has had 30 years to address.
"People who have three squares a day…don't riot," Douglas noted. With foreign policy experience and what could be described as a populist agenda, Douglas vowed "I intend to go to the Senate to make that place better."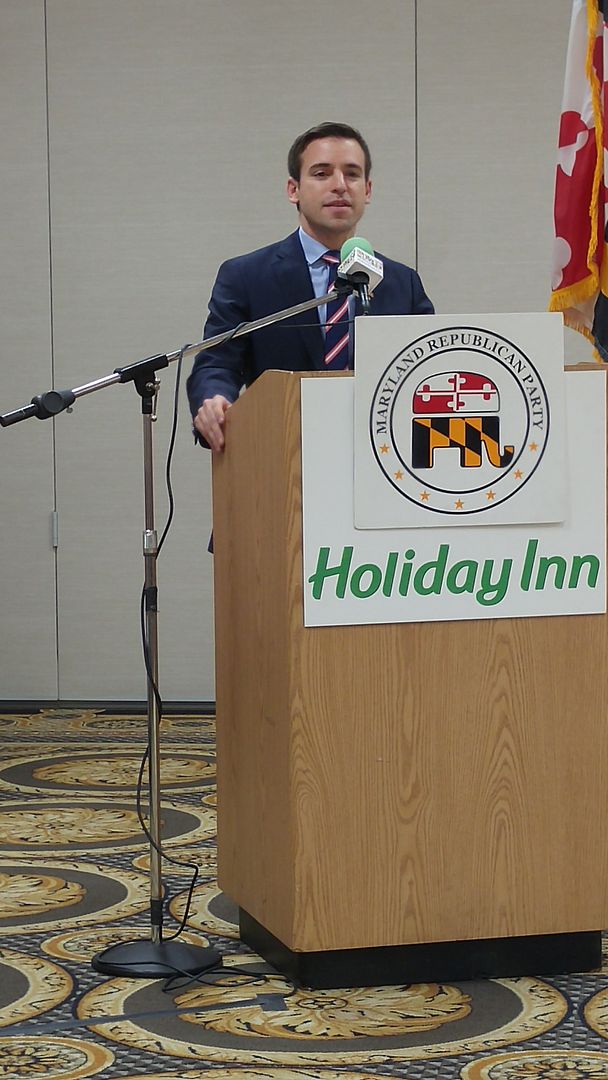 The son of Greek immigrants, Chrys Kefalas opened by saying, "I'm a story that's brought to you courtesy of the American Dream." He then detailed a life of precocious entrepreneurship as a teenage business owner who parlayed that success into law school and eventually jobs with Bob Ehrlich, both as Congressman and as governor. One of his accomplishments with the Ehrlich administration was pioneering criminal justice reform.
After a stint at the Eric Holder Justice Department working on a "smart on crime" initiative, Kefalas is now a vice-president at the National Association of Manufacturers. "Manufacturing is coming back," said Chrys. America has the advantages of innovative and productive workers as well as affordable energy. Taxes and regulations were holding us back, he explained.
Yet he was quick to recognize "you are the ones who are going to make the party strong…the campaign is about you."
Kefalas added that the task of the nominee is to win, and he would do so with his positive vision. In this "once-in-a-generation opportunity" to win the seat, Kefalas believed "I can get more Democratic crossover support than anyone else in the primary."
"We need to expand the map in Maryland," he continued. Through him "we have a path to victory."
Kefalas concluded by noting his recent engagement, stating "I am a gay Republican." But "we move our country in a better direction when we are together."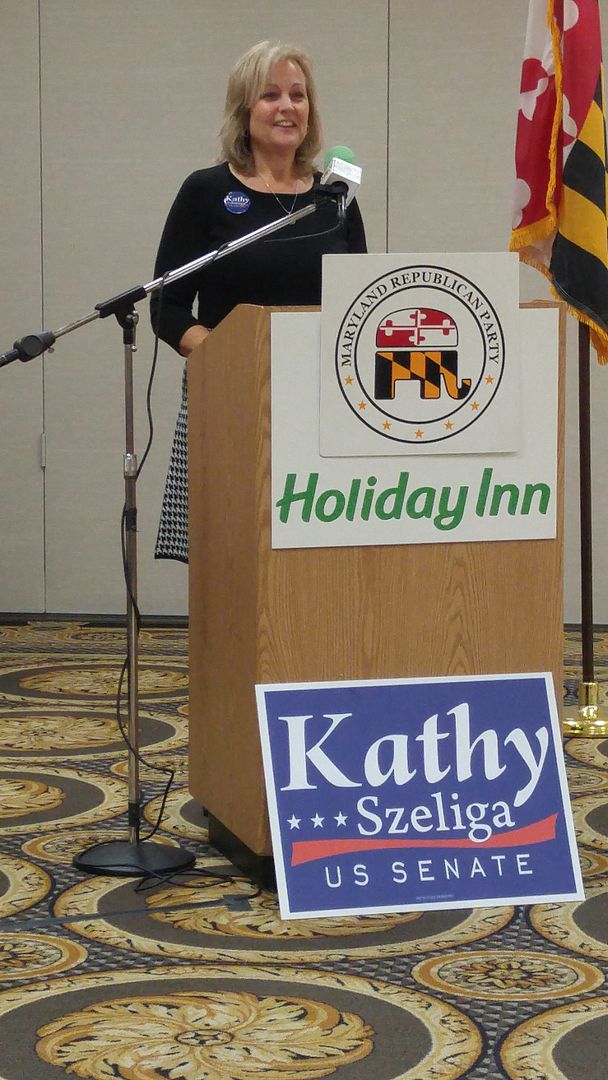 Kathy Szeliga emphasized her working-class background and that she and her husband Mark "believed in the American Dream." For most of her life she'd played the various roles working moms did.
But Kathy stressed her more recent past, talking about how she and fellow Delegate Nic Kipke "brought some new ideas to Annapolis." She also learned how to work across the aisle there.
With a new governor, Szeliga added, things were moving in the right direction – for example, we "repealed that darn rain tax." (Actually, we only eliminated the 'shall' but kept the onus on counties to pay for the improvements.)
As for her Senate run, Kathy believed "there was a time that Congress worked," but now government is too big, too gridlocked, and too distant. Indeed, "now is the time to turn Washington around…the American Dream is fading."
Her pet issues if elected would be quality of life, security, and schools. Most of her remaining time was spent discussing the security aspect, noting that "terrorism is real…we must remain vigilant." She vowed to support law enforcement as well.
Addressing her prospective opponents Chris Van Hollen and Donna Edwards, Szeliga opined they don't understand the dangers we face from "radical Islam terrorists."
In closing, Kathy pointed out her initial run of 61 endorsements and stated, "together we're gonna get this done in 2016."
So after Diana Waterman thanked her "three amazing candidates," I had some time to spend in the exhibit hall before the morning session.
There I ran into Tanya Tiffany from MDCAN.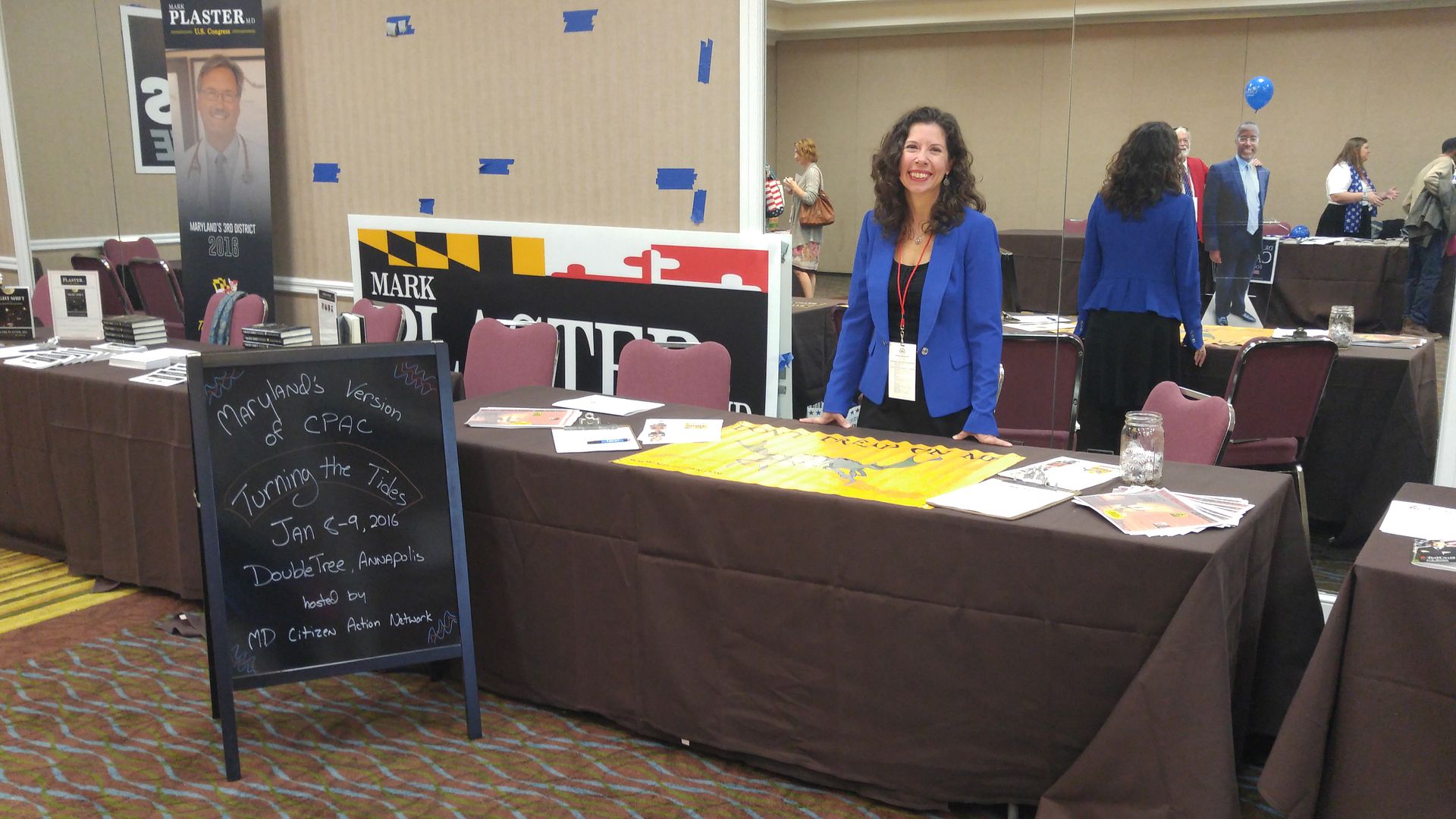 It's a good moment to remind readers about the upcoming Turning the Tides Conference coming up January 8-9, 2016. I asked her if they would have a Blogger's Row as in past editions and she said they were looking for a sponsor. They're also changing the format a little bit to be more like previous editions, so it should be informative and more like "Maryland's version of CPAC."
With the convention opening, we were welcomed by Senator Steve Waugh.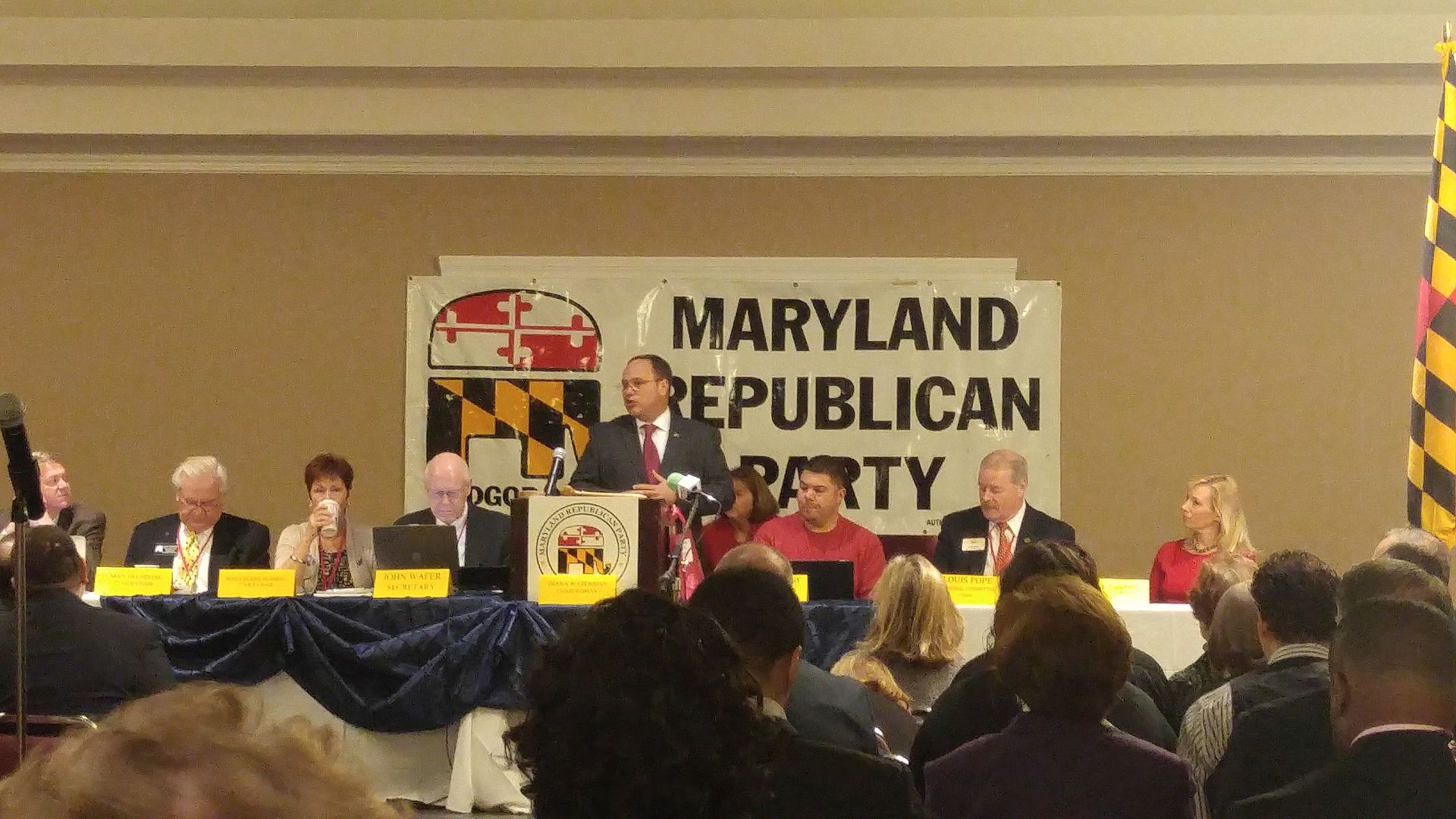 In his remarks, Waugh focused on the fact this part of Maryland "gave freedom of religion to the world" with the passage of the Tolerance Act in 1649. In the here and now, Waugh believed Governor Hogan "made the perfect call" regarding Syrian refugees, noting "you must ensure our safety."
In another bit of history, Waugh pointed out that 15 years ago Calvert and St. Mary's counties were about 2-1 Democrat but now both have a GOP majority.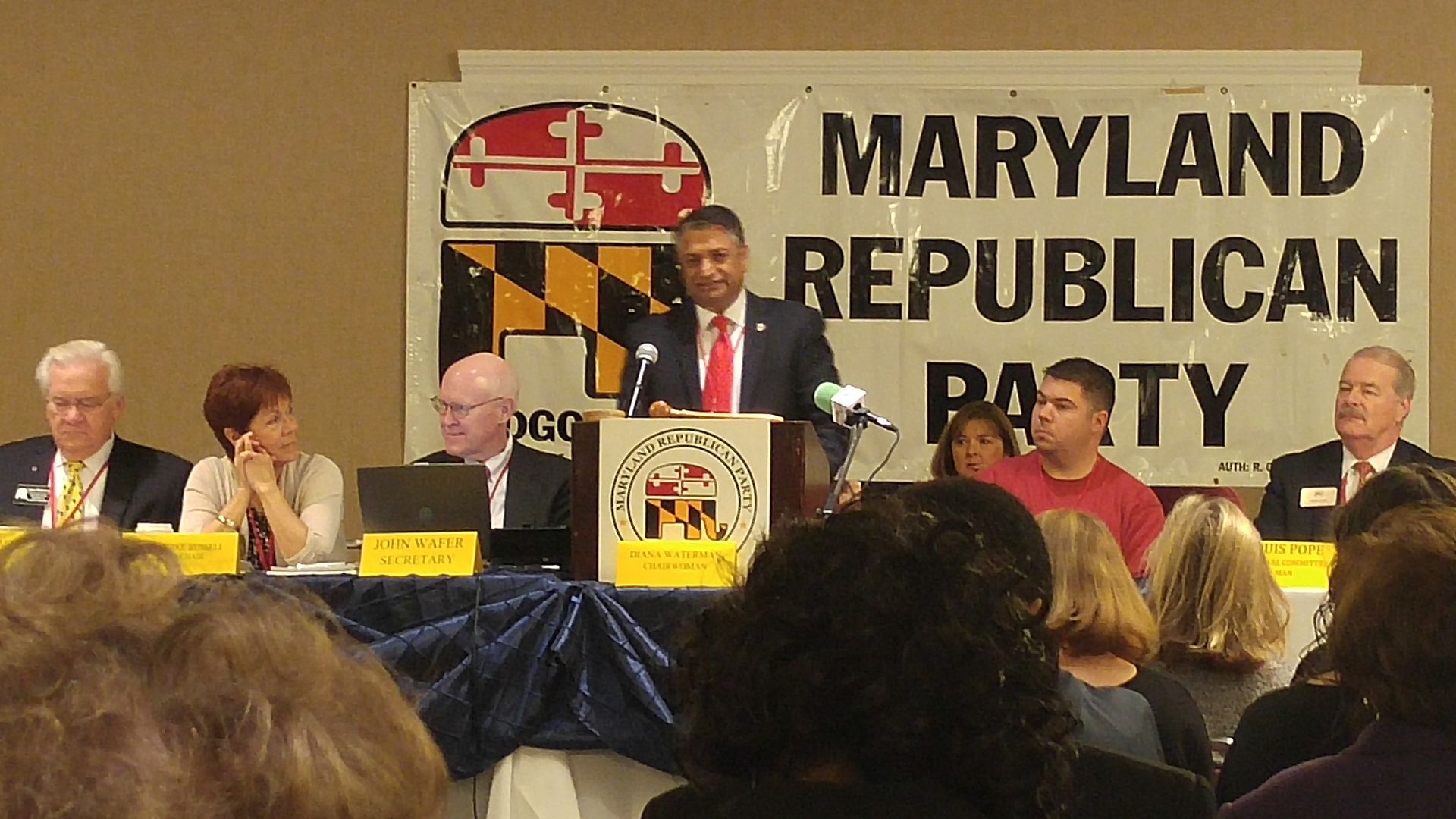 Since Larry Hogan was at the RGA meeting and Boyd Rutherford had a previous personal engagement, it fell to Secretaty of Human Resources Sam Malhotra to extend the governor's greetings. He went through a laundry list of accomplishments by the administration over its first year, but concluded with the remark "I can't wait for the next seven years." He believed we were in the process of changing Maryland from deep blue to "baby blue" to purple to red.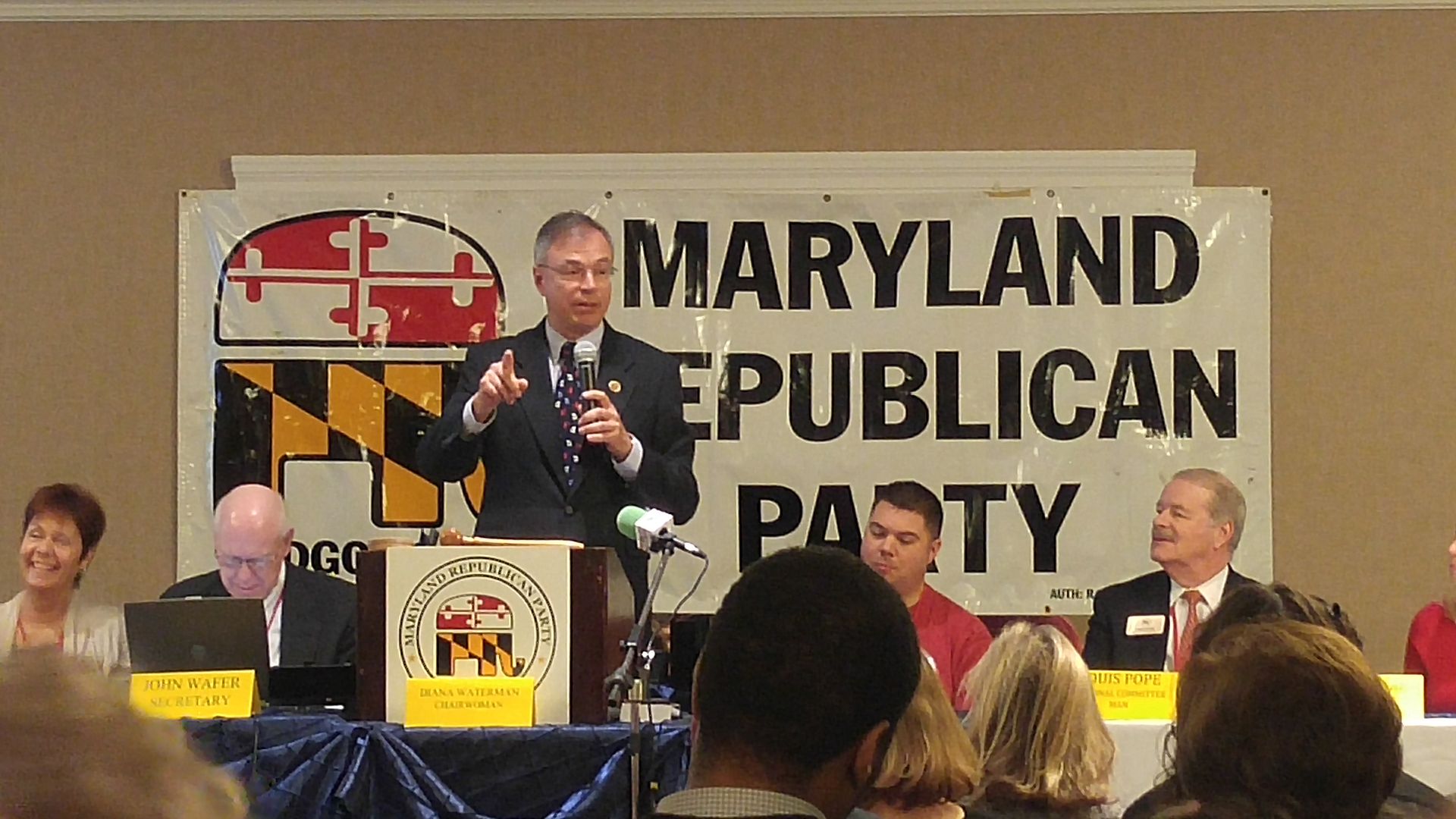 Congressman Andy Harris supplemented Malhotra's remarks by saying he'd work hard to get five more Senators in Larry's second term. "What a difference a year makes," he added, also maintaining "this is not a deep blue state."
As far as Congressional leadership, Harris believed it was the right time to change leadership. Paul Ryan can deliver our message, as opposed to John Boehner. "I don't believe he communicated well," said Harris. Andy also believed Speaker Ryan had his priorities in order, putting family first. "It doesn't take a village, it takes a family," said Harris.
Turning to the economy, the Congressman was waiting for the "last shoe to drop," meaning an inevitable interest rate hike. If rates rise to their historical rate of 2 1/2% it would mean $500 billion a year in interest payments alone – more than we spend on defense. "The economy is not going to get better" under Barack Obama, he added.
Obama's administration is also promoting the message that law enforcement "is our enemy." Yet this is a time where we had a real enemy. "What Paris showed us is that 9/11 is not over," said Andy. Add in the Russian airliner and the Mali attack, and it was no wonder France took action. Hollande "figured it out" that Obama wouldn't take charge. "This is a setback to him," explained Harris.
The narrative that ISIS is contained falls flat to Harris as well. "ISIS is here in the United States," said Harris. "We have to declare war on ISIS." Moreover, "we have to fight the war on ISIS as a war to win."
Looking back to the state party, Harris believed we were on a roll and the Democrats were worried. Now we have to recognize the importance of local elections and raise money for the local Central Committees. "Only 350 days until Election Day," Harris concluded.
We then heard from Steve Waugh again, who gave the Senate portion of the legislative update. "The magic number today is 19," he said, referring to the number of Senators required to sustain a veto.
He predicted the next session "will be all about Baltimore," adding that the budget will also come through the Senate this year. Other items to watch out for: paid sick leave, body cameras for police, K-12 education funding, a bottle tax, and "death with dignity." We also have to figure out how to come up with over $1 billion to service O'Malley's debt, Waugh added.
While the Democrats would try to sandbag Governor Hogan by laying traps for him to spring in 2018, Waugh advised us to "stay focused on the message."
Wearing her Delegate hat, Kathy Szeliga urged us to join the Governor's press list so we could spread the word about his successes. She harped on the $17,000 per pupil Baltimore City Schools spends, saying we were committed to education but also to accountability. How much is enough?, asked Szeliga.
She added there were some successes from the House on the Second Amendment as we ended ballistic fingerprinting, made it easier for armored car personnel to get permits, and removed some accessories from the SB281 ban list.
Finally, Kathy urged us to "answer back" to Democratic fundraising.
Shifting gears, we heard from Lucas Boyce of the RNC regarding their new philosophy to "engage, embrace, entrust" and the Republican Leadership Institute. Diana Waterman was working to bring some RLI graduates to work here in Maryland.
Boyce wrapped up the morning session, so we adjourned for two seminars and lunch. The first seminar I went to featured Nicolee Ambrose.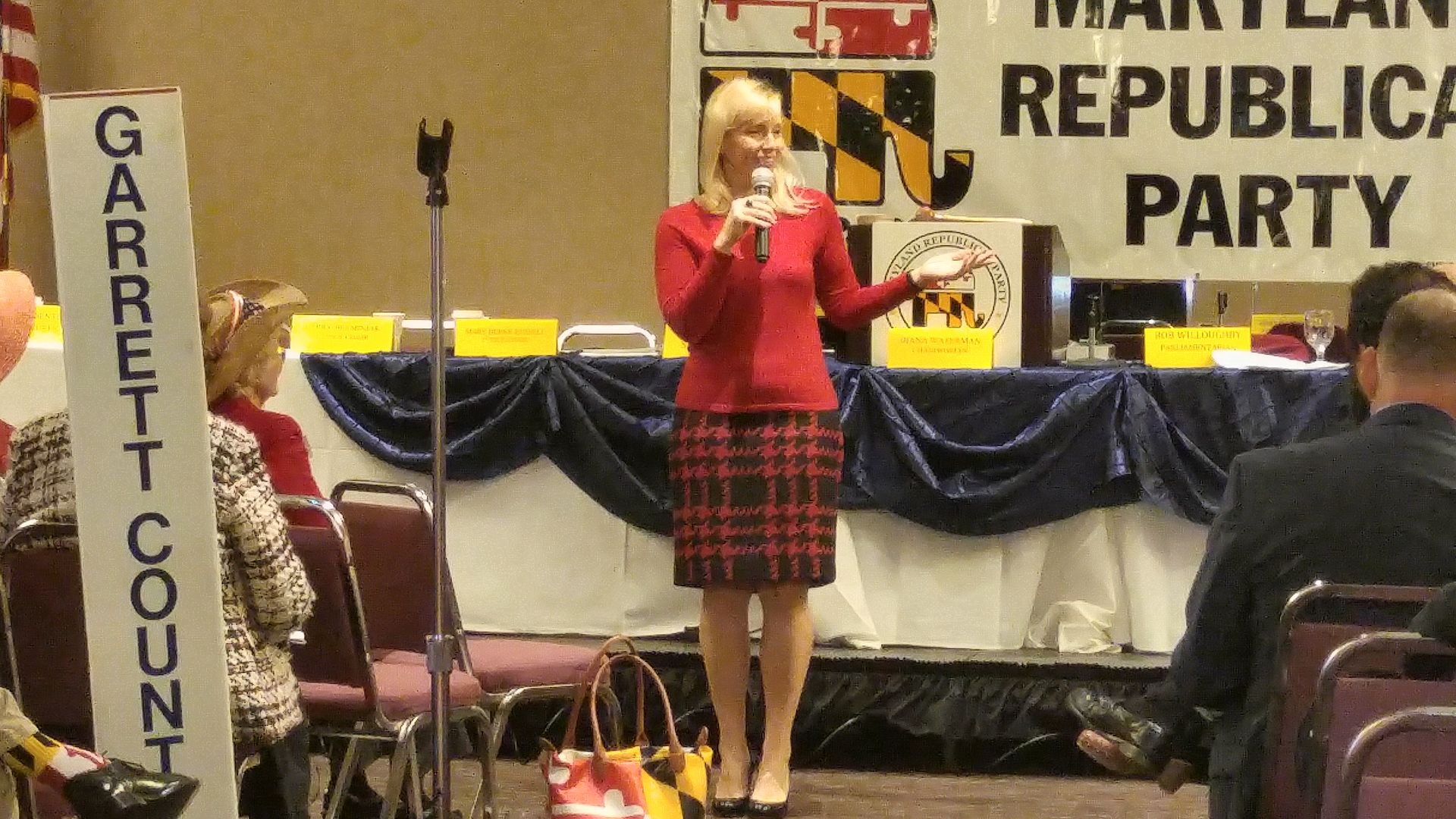 There we discussed two somewhat disparate but vital topics: grassroots organizing and public speaking. On the latter, we did a pair of "American Idol" style auditions where "contestants" were judged and advised on a two-minute speech. It's really hard to talk for two minutes.
I didn't take a photo at the second one, but Justin Ready spoke on some of these same topics and more.
Not taking Justin's photo means I have a cleaner lead into the National Committeewoman's report Nicolee delivered to start the afternoon.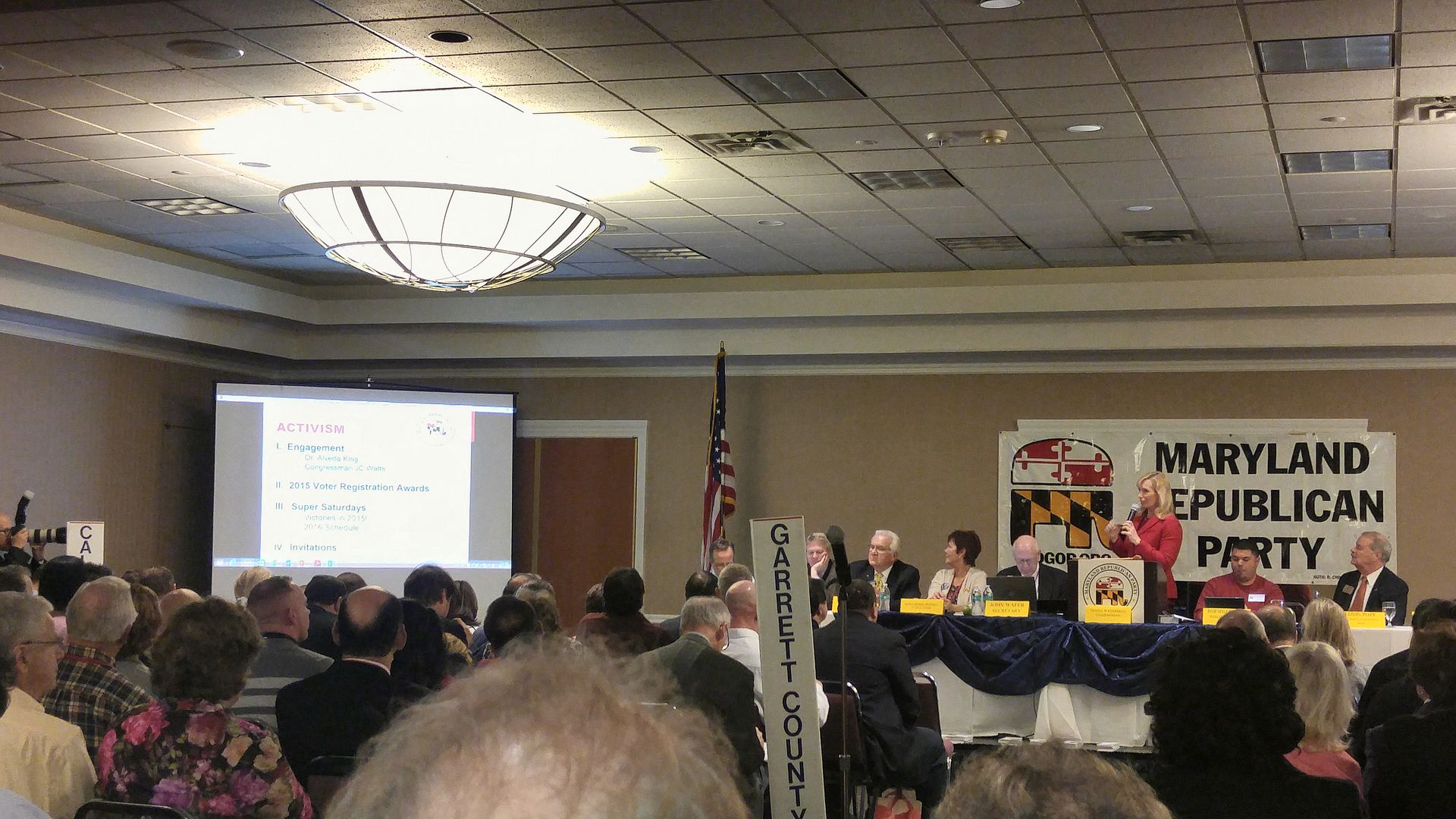 Nicolee pointed out some of our engagement events featuring Alveda King and J.C. Watts in Baltimore City, adding that getting Republican totals to 25% there makes us a red state. She also announced the winners of our voter registration contest for various-sized counties.
Ambrose was happy about going "2 for 2″ with her Super Saturdays, winning with both Michael Esteve in Bowie and Muir Boda right here in Salisbury. "This man was an animal" when it came to door-knocking, said Ambrose of Boda. She also praised Patrick McGrady for winning for mayor in Aberdeen.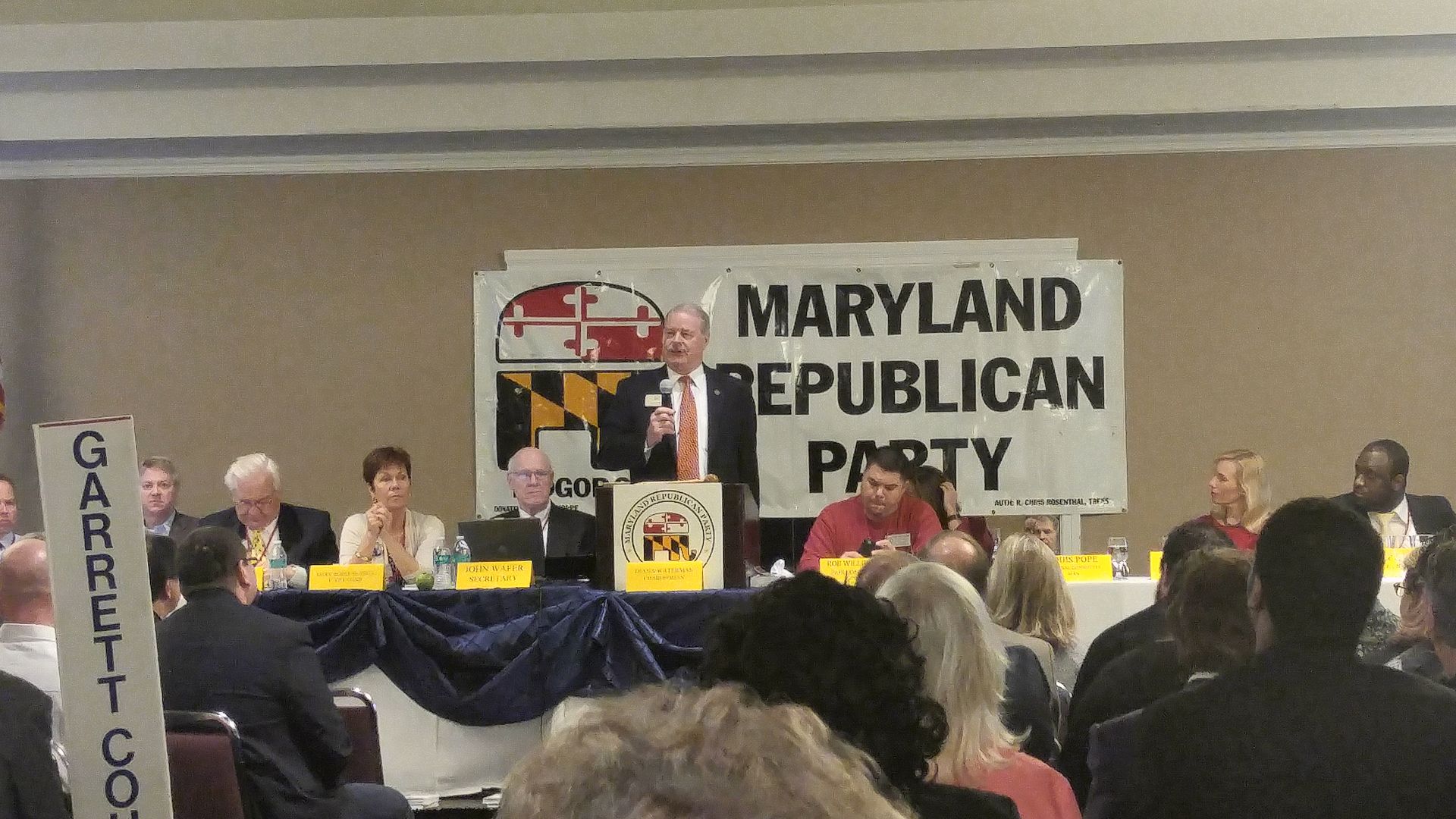 A man who hosted a "phenomenal" house party, according to Diana Waterman, Louis Pope gave the National Committeeman's report.
He focused more on the national scene, saying the RNC was "far more viable" than at any other point in history. And although this success wasn't being picked up by the mainstream media, the ground game was "going exceedingly well…our turnout machine is working." Now we had 32 GOP governors, added Pope.
Noting the CNBC debate showed "how unbelievably biased" the media is, Pope opined the primary season would be over by April 30. After that, it was "absolutely essential" that we come together. "Next year's election will be a battle royal," said Pope. The RNC has "a very deep playbook" on Hillary, Louis added.
On a local level, Pope urged the Central Committee members to raise money this year for the 2018 elections, since there's not much competition for funding. This year's campaign, though, will require "sweat equity," said Pope.
We heard a quick report from College Republican Chair Christine McElroy, detailing their successes – including the Salisbury University CRs co-sponsoring our Lincoln Day Dinner. But she also revealed the sad fact that 77% of millennials could not identify even one of their home state Senators.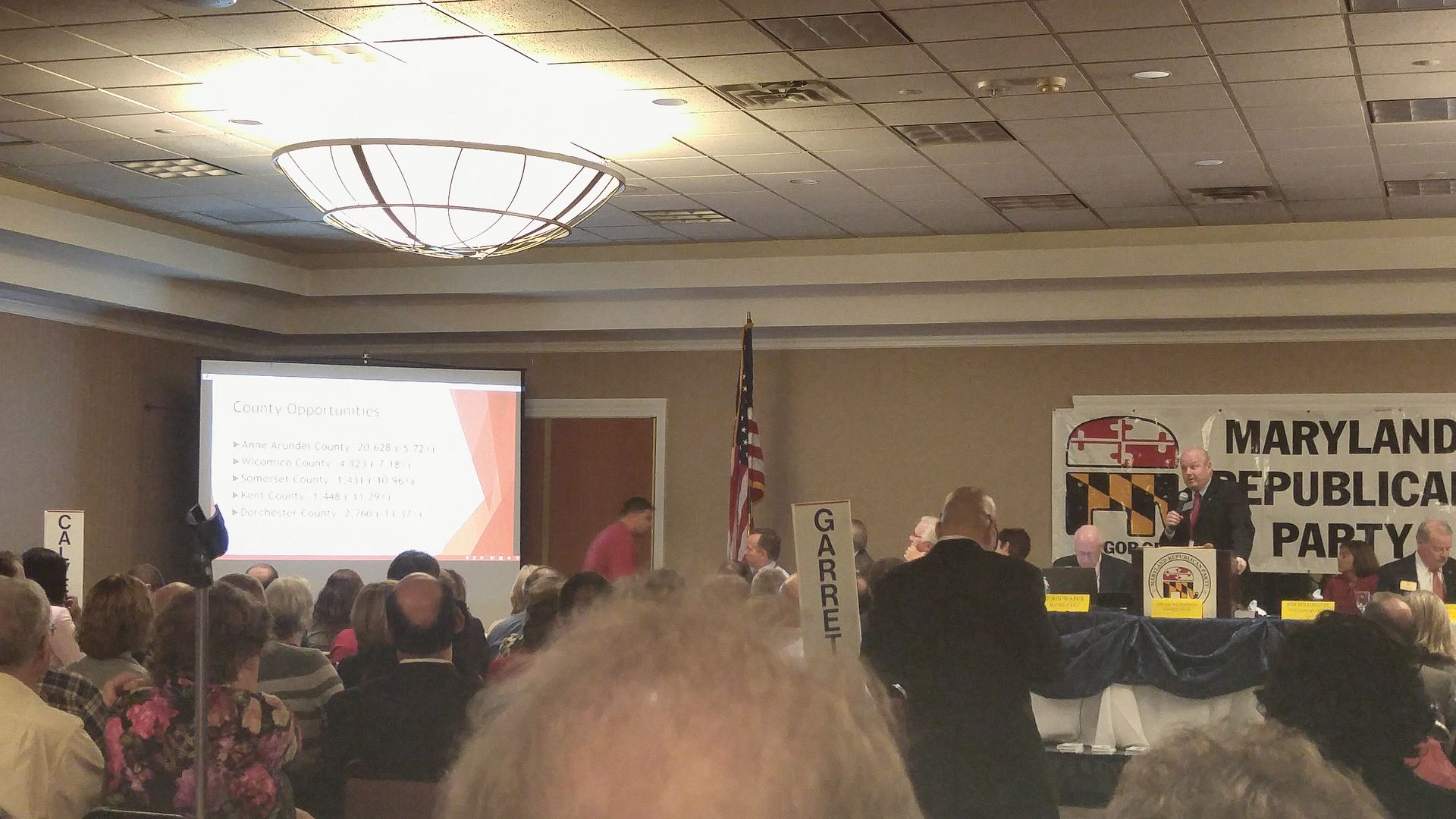 Party Executive Director Joe Cluster went over voter registration, pointing out the five counties (including Wicomico) where the GOP is closest to overtaking Democrats. "The numbers are moving in our direction," said Cluster. He also touched on goals for precinct captains, opportunities to help Governor Hogan on boards and commissions, and the Baltimore city elections.
In her Chair's report, Diana Waterman paid tribute to the late Frank McCabe, for whom the party would have a dinner later that evening. But she stressed the need to pass the first bylaws amendment, believing if we fail to adopt this the General Assembly will take the right away. "It is for your protection," said Diana.
First we had to deal with one resolution in support of a Constitutional amendment to reform redistricting. It passed by a voice vote, with just one or two objections.
In introducing the first bylaw amendment, Mark Edney of Wicomico County stressed that "we have a problem with the process." The proposal provides a process but is not specific.
While there was spirited debate on both sides, in the end the measure had enough votes to pass. On the weighted voting scale it was 369-170, which exceeded the 2/3 majority required. (In terms of actual people, the vote was 182-85. Only Baltimore City, Frederick, Queen Anne's, and Washington counties had a majority objecting.) All nine in Wicomico County voted in favor, although I believe we will create our own specific guidelines.
On the "loser pays" amendment, an attempt to change it to cover both sides was proposed but was superseded by a motion to table the amendment, which passed with a resounding voice vote.
And then we had bylaw amendment #3. I thought it would pass with little objection, but the fireworks began right away. Most of the argument centered on whether the Black Republican group was established enough – those arguing against the amendment frequently referred to the Young Republicans, which reached a low point in chapters and membership shortly after getting an Executive Committee vote.
At first we voted on a motion to recommit to the Bylaws Committee, which drew the argument that it came from that committee. But Heather Olsen explained that the committee got this at the last minute and only checks for conformance, not on merits. In the end, the motion to recommit failed 217-324, or 114-156 in bodies. Wicomico was split 5-4 against recommitting.
Then we tried to table it, but that motion was rejected by voice vote.
The next move was to amend the bylaw to strip the voting rights from every one of the auxiliary organizations. That started new debarte, including a motion to continue debate that lost soundly in a voice vote.
The final motion to amend passed 359-178, with the amended bylaw change passing 408-83. (Body counts were 178-91 and 206-41.) Only Calvert, St. Mary's, Wicomico, and Worcester voted against both.
Once that vote was in, the bylaws committee report was done "after 2 hours and 3 minutes." Before we adjourned, Diana Waterman told us it should never be said we don't allow enough debate.
But I suspect the debate will go on. I'll have more thoughts later this week.
Oh, and another thing. We did a straw poll, with Ted Cruz the winner.
Ted Cruz – 62 votes (24%)
Marco Rubio – 52 (20%)
Donald Trump – 49 (19%)
Ben Carson – 26 (10%)
Carly Fiorina – 18 (7%)
Rand Paul – 15 (6%)
Chris Christie – 14 (5%)
John Kasich – 12 (5%)
Jeb Bush – 11 (4%)
Mike Huckabee – 2 (1%)
Rick Santorum – 2 (1%)
By Cathy Keim
I have been out of action due to travel and a crashed computer. Now that I am home and my computer has been revived, I would like to offer some thoughts about last week's disheartening and cowardly betrayal of the base by our overlords in D.C.
Speaker Boehner used his last opportunity to either support President Obama's agenda again or to clear the path for the 2016 Presidential election so that the GOP candidate can win by removing the controversial budget battle and potential government shutdown. I suppose that the GOP leadership thinks that it was the second option, but the effect on the base was to demoralize and depress them to the point where one might say we are not a two party system anymore. Instead, they contend we are a one party system with two names!
The backroom bargaining that led to the passage of the budget bill was a slap in the face to all the grassroots supporters of the GOP. The leadership may think that they have cleared the path for the new Speaker of the House, Paul Ryan, to work collegially with the various factions in the House, but this seems unlikely.
Speaker Boehner passed his budget through with Democrat votes again! The majority of the Republicans voted against the budget, but not Paul Ryan. "I think this process stinks," the speaker-in-waiting reportedly harrumphed as he walked into a meeting where Republicans were briefed about the 11th-hour agreement. "Under new management, we are not going to run the House this way."
Speaker Boehner cleaned the barn before turning the reins over to Paul Ryan, who despite his complaint about how the budget deal came to be, did not disagree so strongly as to vote against it.
Congressman Andy Harris voted against the budget and even tweeted this plea to the senate to save us from this deal.
Overwhelming Republican Majority in House voted NO #BudgetDeal – Senate should oppose to protect Americans from irresponsibility.

— Rep. Andy Harris, MD (@RepAndyHarrisMD) October 29, 2015
But in similar fashion to Ryan, he got over his angst quickly enough to vote the next day to approve Ryan as Speaker.
Where does this leave us now? Will Speaker Ryan be an improvement over John Boehner? Will it make any difference?
Our first inkling of whether Paul Ryan will try to re-establish Congressional prerogatives to check this administration will be whether he will allow riders on the next CRomnibus bill. If he allows the conservative members to attach riders, this will lead to a fight with the President. Will Ryan permit this or will he roll over for the President?
We will know soon enough since the CR has to be dealt with in December.
Another major issue to watch is immigration. Paul Ryan has been soft on immigration for years. In a bargain to be elected Speaker, he agreed to not bring up immigration reform under this President. Depending on who the next President is, this promise may not amount to much. Several of the GOP candidates are open border types as is Hillary Clinton, so this promise is a weak reed for the conservatives in Congress to lean on.
Interestingly, the House Freedom Caucus is not conservative on immigration. This makes logical sense if one realizes that many of the Freedom Caucus members are more libertarian than conservative and libertarians tend to advocate for immigration.
From Breitbart:
A recent PBS documentary exposed how Ryan and Rubio were nearly successful in their effort to pass amnesty in 2014. Ryan had crafted a bill and had the Republican votes necessary to pass it. Ryan's amnesty effort was aided by many of the members of the House Freedom Caucus, including Rep. Mick Mulvaney (R-SC) and Rep. Raul Labrador (R-ID). Mulvaney has since become one of the biggest boosters in the House Freedom Caucus of a Paul Ryan Speakership. According to the documentary, the Ryan-Rubio amnesty plan was foiled when Rep. Dave Brat (R-VA)scored a historic primary victory to oust then-House Majority Leader Eric Cantor.

Sessions explained in the interview, "There's a great danger to elect a Speaker of the House who is a leading advocate for two major issues today — trade and immigration — and advocating against the wishes of the Republican voter."
No matter what Speaker Ryan does, I doubt if any of us will wish to have John Boehner back. But we may not find Ryan much of an improvement if he follows through on his previous positions. If he does allow for more open debate without punishing those that disagree with him and if he will return to the Hastert Rule which says the Speaker will not bring up issues for a vote which cannot be passed by a majority vote of the majority party (no more bills passed by a minority of Republicans aided by Democrats), then we may find that Paul Ryan is an improvement over John Boehner.
I haven't gotten around to fixing the widget yet, but now I can scratch the name of Joe Biden off the possibilities for President in 2016. In a Rose Garden speech, Biden vowed, "while I will not be a candidate, I will not be silent." Given his penchant for malapropisms, it may be a blessing for the Republicans if Biden keeps talking.
Look, John (McCain)'s last-minute economic plan does nothing to tackle the number one job facing the middle class, and it happens to be, as Barack says, a three-letter word: jobs. J-O-B-S, jobs.
That may be my favorite, but there are a lot of them.
Yet Biden, despite not being an official candidate, was drawing around 1 of 6 primary voters and they have to go someplace. (Surely Joe was a shoo-in in the all-important Delaware primary.) It's not enough to close the gap between Bernie Sanders and Hillary Clinton, but I imagine the bulk of Biden voters were most interested in him because he seemed like the logical successor to Barack Obama, as opposed to a woman whose claim to fame was being married to a President last elected nearly two decades ago.
In a realistic sense, though, Biden was the last obstacle to Hillary seizing the nomination. While we on the Right like to believe the Democrats are to the left of Stalin, in reality they have their moderates and centrists, too. Hillary can afford to let Sanders run to her left because that wing isn't a majority of Democrats. Hillary also has an advantage because most states are using the primary system to determine the nominee, and those that caucus tend to be more moderate states out west.
Moreover, the cynics among us believe Hillary will skate by on whatever legal issues she has regarding Benghazi and her e-mail server. Every day she walks as a free woman reduces the chance Hillary will be campaigning from a cell. That and Bernie Sanders crumpling over from a coronary are all that Martin O'Malley (he of the 0.5% polling average) has to hope for.
So Joe Biden's political career seems to be entering its final chapter, where he'll be remembered as a longtime Senator, plagiarizing two-time Presidential candidate (remember, he began the 2008 campaign as one of Obama's opponents), and two-term vice-president.
Silver-tongued would not be one of those attributes, though.
By Cathy Keim
I wrote a piece on Thursday night about John Boehner's upcoming problem with the continuing resolution. To my surprise, Speaker Boehner announced on Friday morning that he would resign at the end of October. He claims that he had the votes to survive Rep. Mark Meadows' (R-NC) motion to vacate the chair, but we will never know now if that was true.
At his resignation press conference he stated:
But more than anything, my first job is — as Speaker, is to protect the institution.
He seemed to think that by resigning he was protecting the institution. Actually, I believe that he was not protecting the institution by his continual acquiescing to President Obama's desires, nor has he stopped the infighting amongst the House members by his resignation.
His self-deception will continue, it appears. In the corporate world when an employee is terminated, they are often escorted to the door immediately. Here, the Speaker is resigning before he can be fired, but he has decided to hang around for another month to help with the transition and has already said that House Majority Leader Kevin McCarthy (R-CA) would be a good Speaker of the House.
Since he is resigning due to conflict, perhaps it would be better if he left posthaste and didn't try to influence the election of the next Speaker.
Here is my original piece. I still think that many of the points are worth reading since Boehner's resignation has not fixed anything. Unless a new Speaker is elected that will replace the failed GOP leadership model, then there will be no improvement and the conflict between the conservative and moderate GOP House members will continue.
(Editor's note: I slightly revised the original piece to refer to Boehner in the past tense as appropriate.)
Original piece:
It is possible that we are seeing the end of the Republican Party. We are rapidly approaching another continuing resolution battle where the fight is between two factions of the GOP rather than between the Democrats and the Republicans. The conservative portion of the House of Representatives would like to stand up and fight even to the point of shutting down the government. The mainstream portion would prefer that they go along to get along.
There are two potential sources of members refusing to go along with the party line: the Defund Planned Parenthood group and the no to Syrian refugee resettlement group (both of which may overlap.)
We may have to call this the Carly Fiorina dilemma: shut the government down to stop the attack on our physical security by importing thousands of Syrians who cannot be vetted by the FBI to ensure that they are not jihadists or shut down the government to stop the destruction of our moral character by the killing of our babies and selling their body parts for profit.
Personally, I am for attaching amendments to the CR to achieve both of these goals. However, as we have seen with the CRomnibus bill and numerous other opportunities, the leadership would rather throw in the towel before the fight begins than stand up to the President.
I am not a gambler, but as Kenny Rogers sang, "You've got to know when to hold 'em, know when to fold 'em." Speaker Boehner seemed to have one policy and that was to fold 'em and run away.
His refusal to fight resulted in the relinquishing of the power of the purse and the complete abandonment of any check on the executive branch of the government.
Speaker Boehner is leaving in part because he was in the unenviable position of being squeezed between the unhappy conservative members. If he insisted on the clean CR he would lose at least 50 conservative Republican votes – meaning he will need Democrat votes to pass his CR.
Had this come to pass, it would have caused Congressman Mark Meadows (R-NC) to call for his motion to vacate the chair. At that point, it is possible that the Speaker would have only been able to retain his position if he had support from the Democrats. He would have retained control as Speaker, but at the cost of being beholden to the opposition party for saving his speakership. There was even talk that Boehner would give subcommittee chairmanships to Democrats.
At some point, you have to ask, is it really worth being the Speaker of the House if it would require destroying your party to retain power? For Boehner, the answer was no.
House Majority Whip Steve Scalise, R-LA, is trying to woo the conservative bloc by offering to use reconciliation as a method to defund Planned Parenthood. Reconciliation only requires a simple majority, as we remember from the Obamacare fight. By using reconciliation, the amended CR could make it to President Obama's desk, where he would promptly veto it and that would be the end of that since the GOP could not get the 67 votes necessary to override a veto.
So what does that get us? Nothing. Planned Parenthood would continue to receive 41% of its funding from taxpayers. Although they cannot directly use the money to fund abortions, we all know that they just shift money around and pretend that it didn't enable them to do exactly what they want to do. PP would continue to abort babies. They would perform about 440,000 more abortions before President Obama would finish his last day in office.
If the GOP leadership would stand up and fight, there could be a chance to save some of those 440,000 babies. If they would refuse to allow thousand of "refugees" into the USA, they would not have to be concerned about jihadists gaining entry through the refugee programs.
Despite the clear and present danger to the lives of our unborn citizens and of violent jihadists gaining entry to our country, Speaker Boehner showed every sign of weepily folding without a fight. And by his staying through October, a grand bargain may well be set in motion.
Rather than hoping that the next president will be a Republican who will fix everything by undoing executive orders, I plead with our current leaders to do what we sent them to DC to do: fight.
Do not brag to me about how many bills you passed in the House when we all know they never made it through the Senate, so they never achieved anything. Stop passing bills that never go anywhere and get a strategy that will actually advance our cause. If we must shut the government down to get the president's attention, then let's do it. All essential personnel are required to work anyway, so the government never really shuts down.
This president has already shown his vindictive streak the last time there was a government shutdown when he "closed" the World War II Memorial and national parks. We know what he will do. Let's prepare an offensive strategy.
We have many vocal Presidential candidates who can very ably make the case to the public that the President is the one that is shutting down the government by his veto. This may be the best possible time to have this battle since the Presidential candidates can use their public time to advance the cause.
Wouldn't you like to see Ted Cruz, Ben Carson, Carly Fiorina, and even Donald Trump explain why we needed to pass the CR with the defund Planned Parenthood amendment and the no refugee amendment?
Speaker Boehner and Senate Leader Mitch McConnell should welcome the help since they have been silent far too long.