A new day dawned yesterday after a night of partying I described in part 1. Too bad it was about the last time we got to see the sun.
Instead, I went down to grab breakfast and remarks fron three U.S. Senate candidates. It should be noted that a fourth, Anthony Seda, "has never reached out" to the MDGOP, according to Diana Waterman.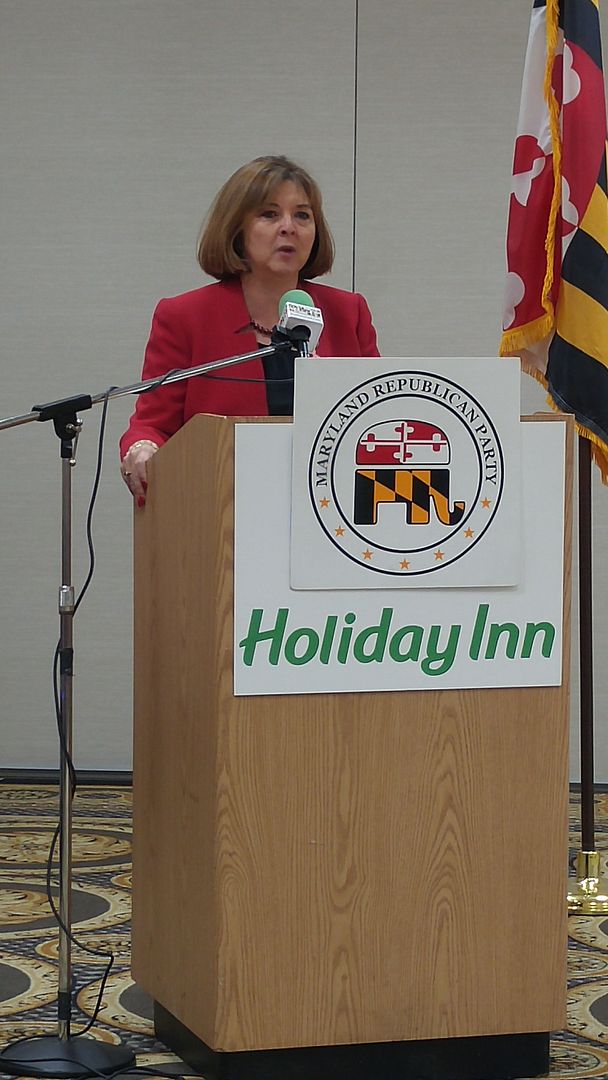 After an opening prayer where Delegate Deb Rey prayed that we "cruise to victory," we did the speeches in alphabetical order. This meant Richard Douglas spoke first.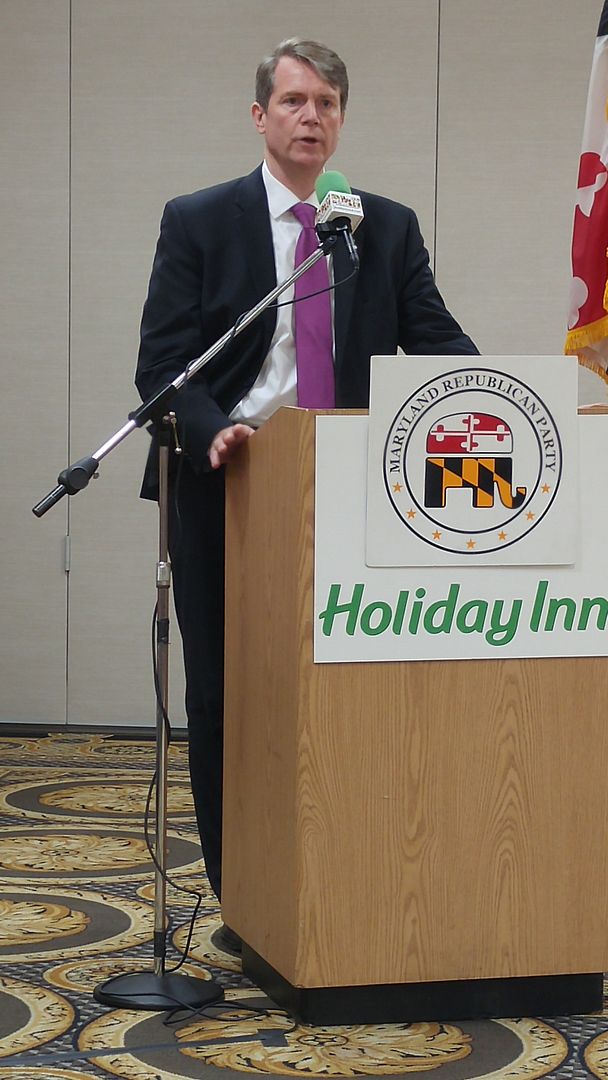 Richard noted the news was still filled with images from Paris, Belgium, and Mali, saying it underscores that "terrorism…remains a concern." He added that the authorization to use military force passed after 9/11 remains in effect today.
He added that growing up abroad made incidents like the building of the Berlin Wall and Cuban missile crisis "indelibly etched in my mind." But he assured us we are stronger than Russia – we just have a leadership problem. No one is pushing back on Russia, China, or Iran, he continued.
Douglas pivoted to domestic issues with a mention of the Bladensburg Cross, a court case he's assisting on and one for which he predicted "we'll take the wood to the humanists." It led into his thought that the job of a Senator was not to pontificate, but to act. In Maryland, it meant not just doing what he could at the federal level to eliminate the rain tax and entice industry. One example of the latter was the Howard Street Tunnel, which is too shallow to accommodate double-decker rail cars. It's a problem the current Senator has had 30 years to address.
"People who have three squares a day…don't riot," Douglas noted. With foreign policy experience and what could be described as a populist agenda, Douglas vowed "I intend to go to the Senate to make that place better."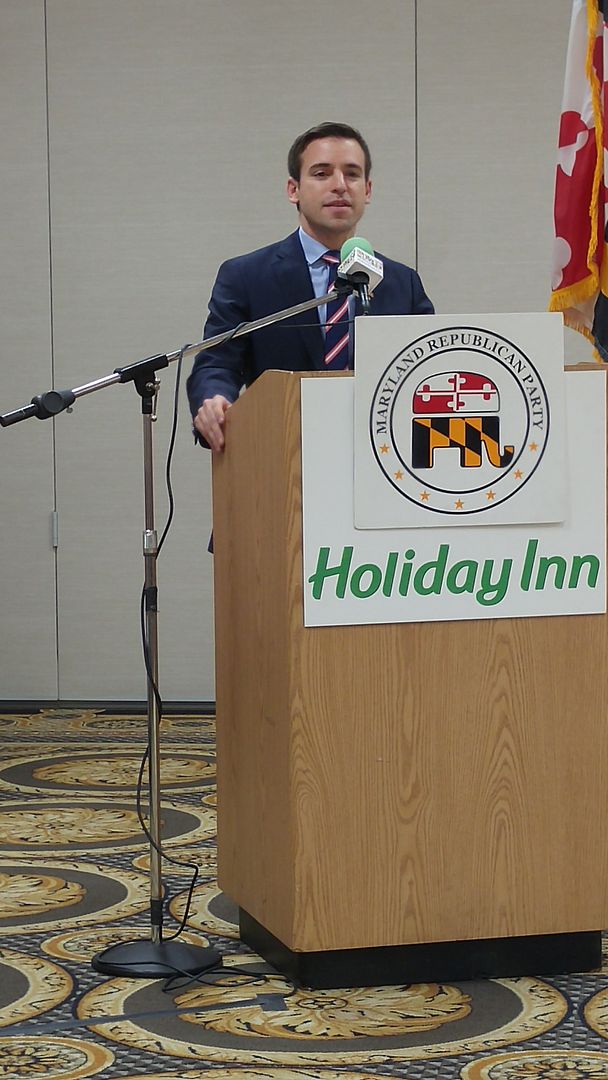 The son of Greek immigrants, Chrys Kefalas opened by saying, "I'm a story that's brought to you courtesy of the American Dream." He then detailed a life of precocious entrepreneurship as a teenage business owner who parlayed that success into law school and eventually jobs with Bob Ehrlich, both as Congressman and as governor. One of his accomplishments with the Ehrlich administration was pioneering criminal justice reform.
After a stint at the Eric Holder Justice Department working on a "smart on crime" initiative, Kefalas is now a vice-president at the National Association of Manufacturers. "Manufacturing is coming back," said Chrys. America has the advantages of innovative and productive workers as well as affordable energy. Taxes and regulations were holding us back, he explained.
Yet he was quick to recognize "you are the ones who are going to make the party strong…the campaign is about you."
Kefalas added that the task of the nominee is to win, and he would do so with his positive vision. In this "once-in-a-generation opportunity" to win the seat, Kefalas believed "I can get more Democratic crossover support than anyone else in the primary."
"We need to expand the map in Maryland," he continued. Through him "we have a path to victory."
Kefalas concluded by noting his recent engagement, stating "I am a gay Republican." But "we move our country in a better direction when we are together."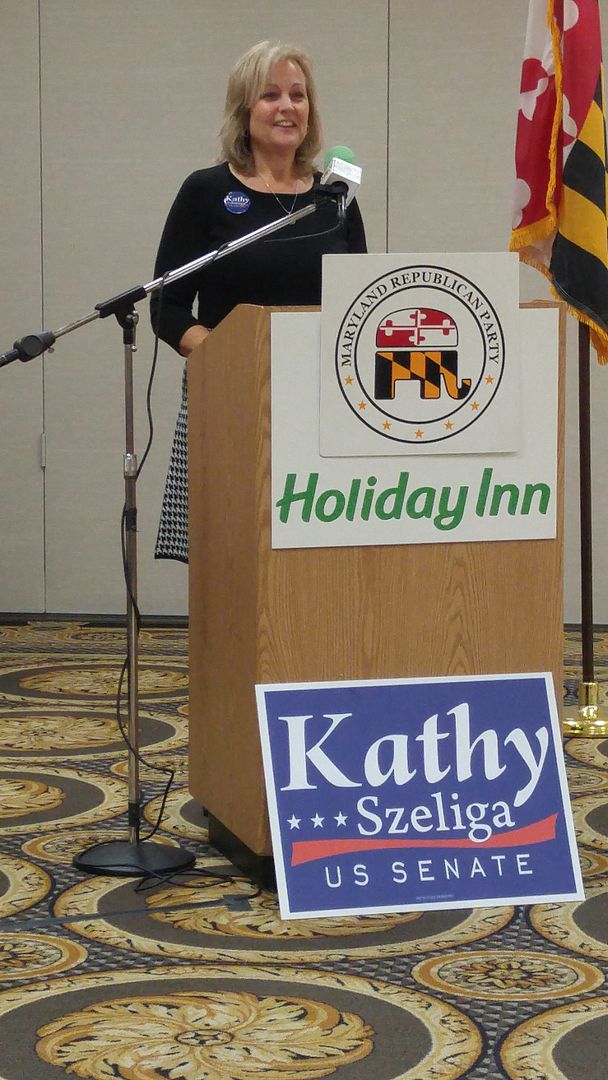 Kathy Szeliga emphasized her working-class background and that she and her husband Mark "believed in the American Dream." For most of her life she'd played the various roles working moms did.
But Kathy stressed her more recent past, talking about how she and fellow Delegate Nic Kipke "brought some new ideas to Annapolis." She also learned how to work across the aisle there.
With a new governor, Szeliga added, things were moving in the right direction – for example, we "repealed that darn rain tax." (Actually, we only eliminated the 'shall' but kept the onus on counties to pay for the improvements.)
As for her Senate run, Kathy believed "there was a time that Congress worked," but now government is too big, too gridlocked, and too distant. Indeed, "now is the time to turn Washington around…the American Dream is fading."
Her pet issues if elected would be quality of life, security, and schools. Most of her remaining time was spent discussing the security aspect, noting that "terrorism is real…we must remain vigilant." She vowed to support law enforcement as well.
Addressing her prospective opponents Chris Van Hollen and Donna Edwards, Szeliga opined they don't understand the dangers we face from "radical Islam terrorists."
In closing, Kathy pointed out her initial run of 61 endorsements and stated, "together we're gonna get this done in 2016."
So after Diana Waterman thanked her "three amazing candidates," I had some time to spend in the exhibit hall before the morning session.
There I ran into Tanya Tiffany from MDCAN.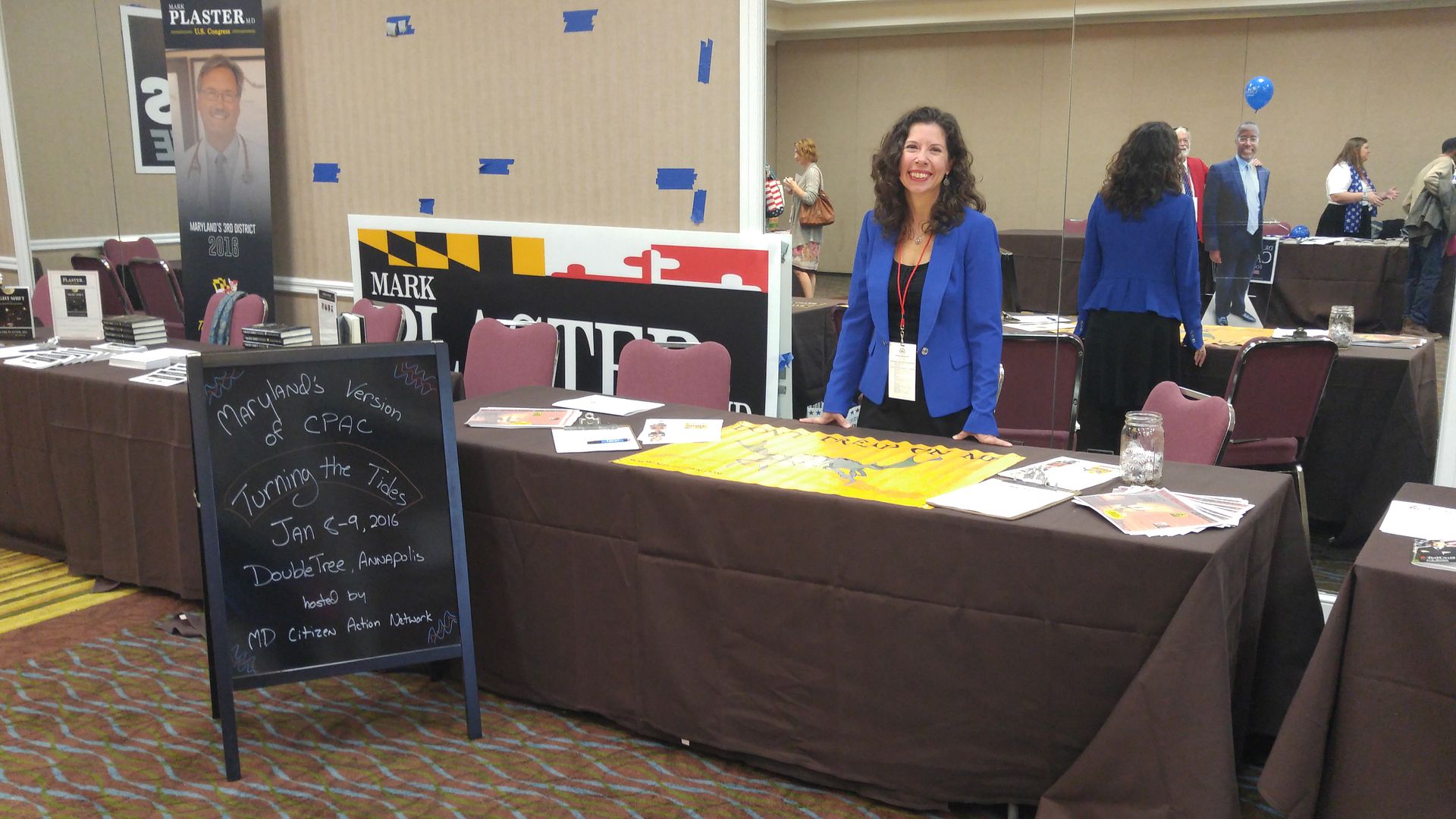 It's a good moment to remind readers about the upcoming Turning the Tides Conference coming up January 8-9, 2016. I asked her if they would have a Blogger's Row as in past editions and she said they were looking for a sponsor. They're also changing the format a little bit to be more like previous editions, so it should be informative and more like "Maryland's version of CPAC."
With the convention opening, we were welcomed by Senator Steve Waugh.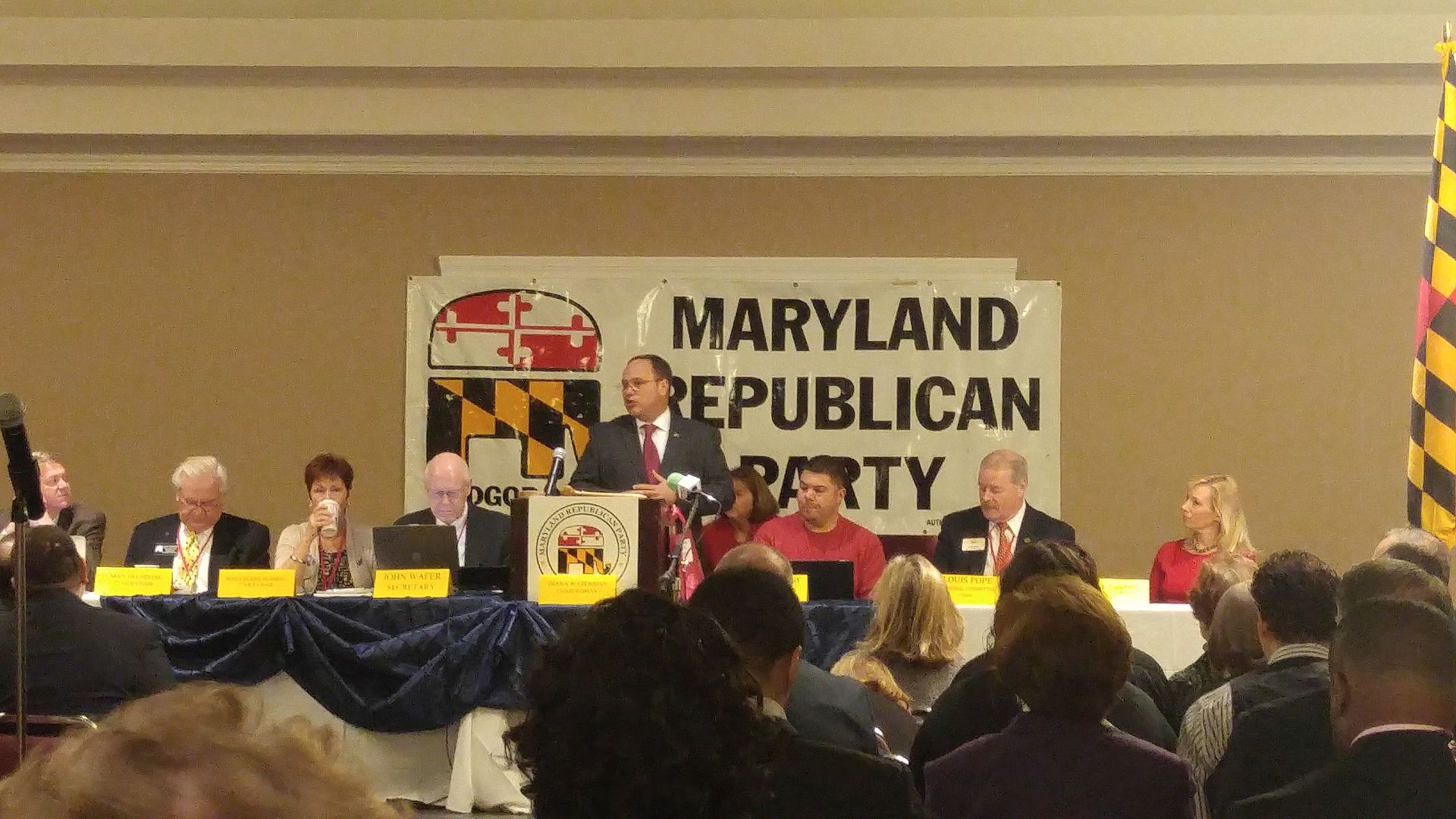 In his remarks, Waugh focused on the fact this part of Maryland "gave freedom of religion to the world" with the passage of the Tolerance Act in 1649. In the here and now, Waugh believed Governor Hogan "made the perfect call" regarding Syrian refugees, noting "you must ensure our safety."
In another bit of history, Waugh pointed out that 15 years ago Calvert and St. Mary's counties were about 2-1 Democrat but now both have a GOP majority.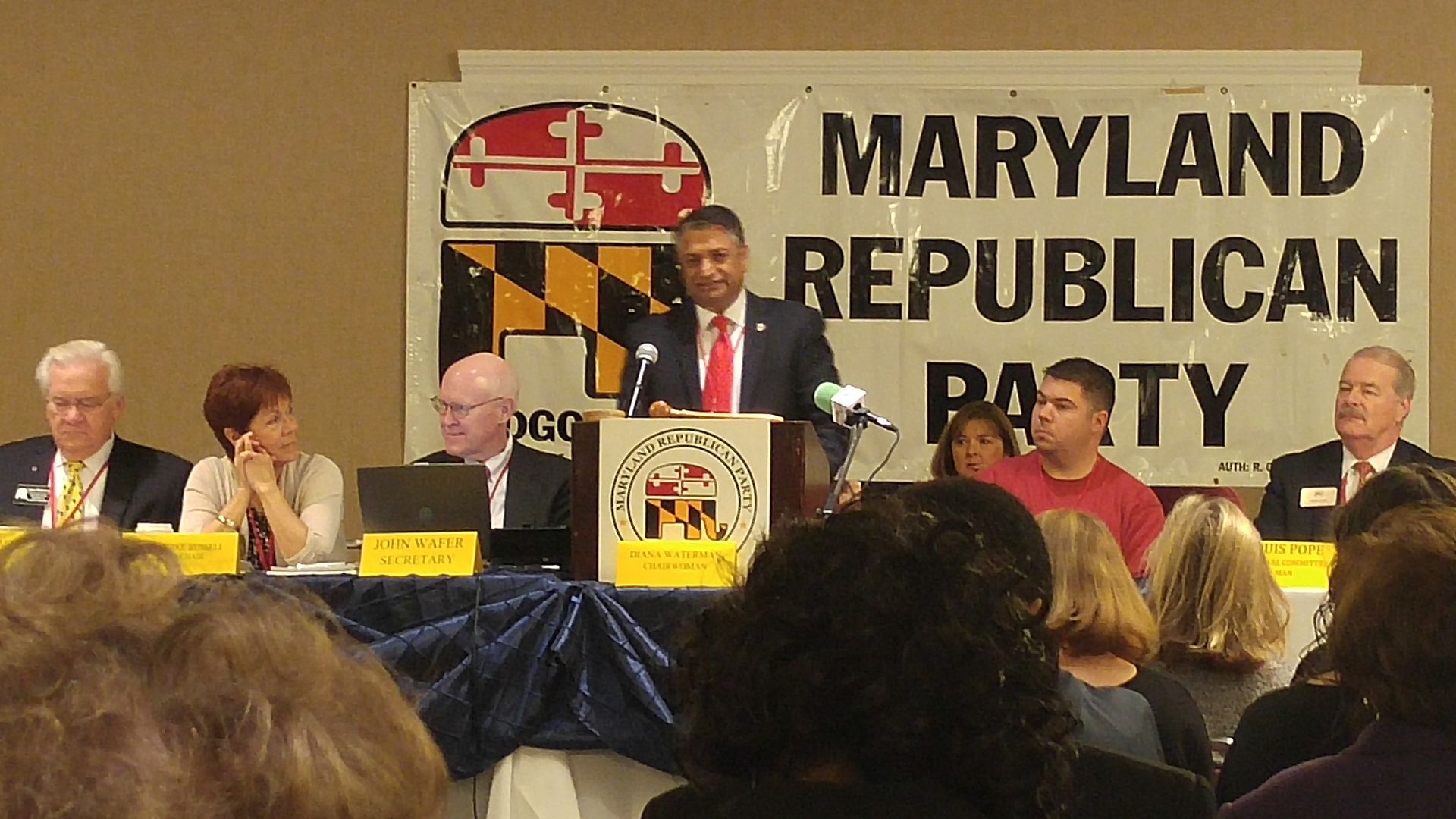 Since Larry Hogan was at the RGA meeting and Boyd Rutherford had a previous personal engagement, it fell to Secretaty of Human Resources Sam Malhotra to extend the governor's greetings. He went through a laundry list of accomplishments by the administration over its first year, but concluded with the remark "I can't wait for the next seven years." He believed we were in the process of changing Maryland from deep blue to "baby blue" to purple to red.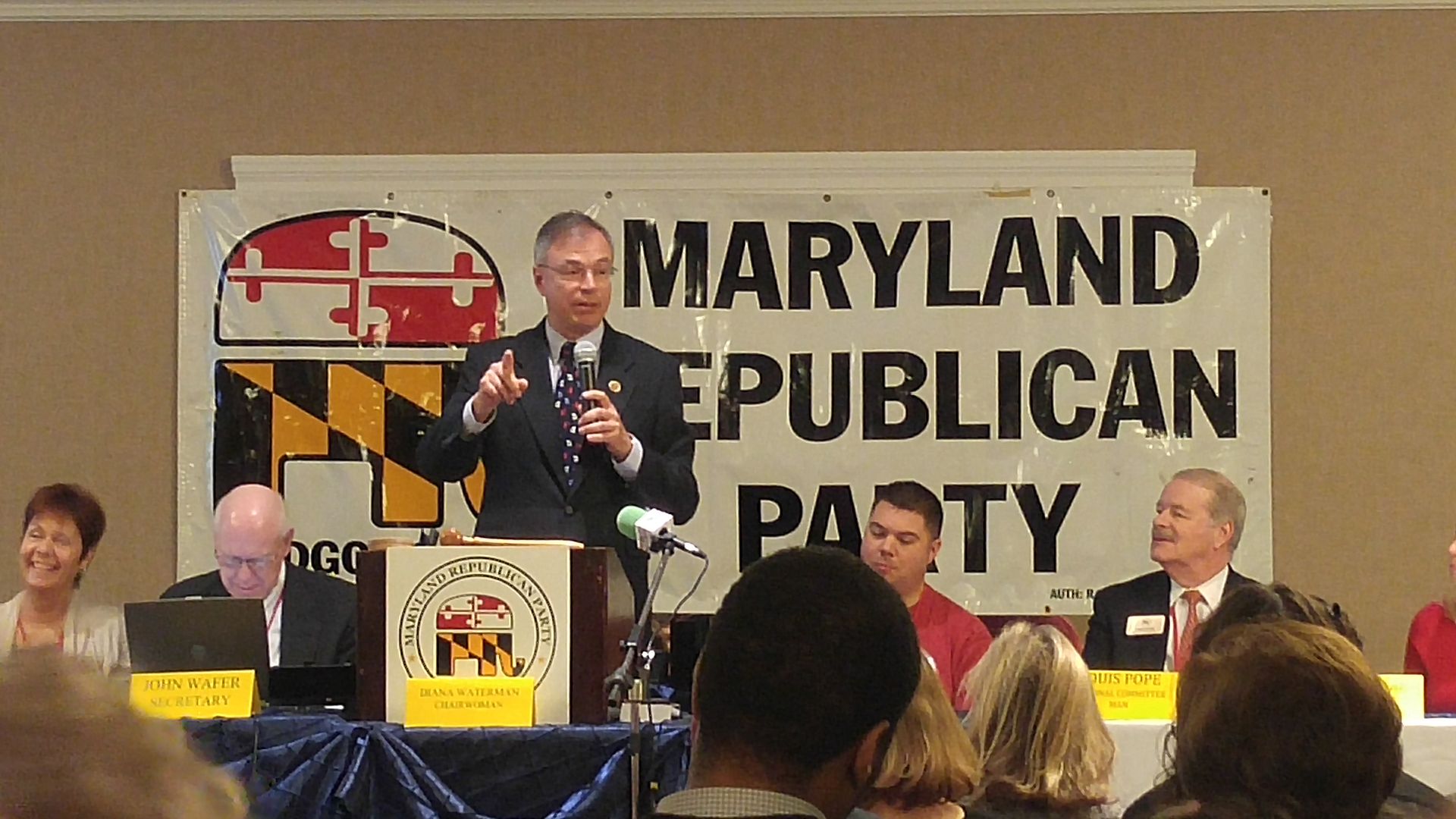 Congressman Andy Harris supplemented Malhotra's remarks by saying he'd work hard to get five more Senators in Larry's second term. "What a difference a year makes," he added, also maintaining "this is not a deep blue state."
As far as Congressional leadership, Harris believed it was the right time to change leadership. Paul Ryan can deliver our message, as opposed to John Boehner. "I don't believe he communicated well," said Harris. Andy also believed Speaker Ryan had his priorities in order, putting family first. "It doesn't take a village, it takes a family," said Harris.
Turning to the economy, the Congressman was waiting for the "last shoe to drop," meaning an inevitable interest rate hike. If rates rise to their historical rate of 2 1/2% it would mean $500 billion a year in interest payments alone – more than we spend on defense. "The economy is not going to get better" under Barack Obama, he added.
Obama's administration is also promoting the message that law enforcement "is our enemy." Yet this is a time where we had a real enemy. "What Paris showed us is that 9/11 is not over," said Andy. Add in the Russian airliner and the Mali attack, and it was no wonder France took action. Hollande "figured it out" that Obama wouldn't take charge. "This is a setback to him," explained Harris.
The narrative that ISIS is contained falls flat to Harris as well. "ISIS is here in the United States," said Harris. "We have to declare war on ISIS." Moreover, "we have to fight the war on ISIS as a war to win."
Looking back to the state party, Harris believed we were on a roll and the Democrats were worried. Now we have to recognize the importance of local elections and raise money for the local Central Committees. "Only 350 days until Election Day," Harris concluded.
We then heard from Steve Waugh again, who gave the Senate portion of the legislative update. "The magic number today is 19," he said, referring to the number of Senators required to sustain a veto.
He predicted the next session "will be all about Baltimore," adding that the budget will also come through the Senate this year. Other items to watch out for: paid sick leave, body cameras for police, K-12 education funding, a bottle tax, and "death with dignity." We also have to figure out how to come up with over $1 billion to service O'Malley's debt, Waugh added.
While the Democrats would try to sandbag Governor Hogan by laying traps for him to spring in 2018, Waugh advised us to "stay focused on the message."
Wearing her Delegate hat, Kathy Szeliga urged us to join the Governor's press list so we could spread the word about his successes. She harped on the $17,000 per pupil Baltimore City Schools spends, saying we were committed to education but also to accountability. How much is enough?, asked Szeliga.
She added there were some successes from the House on the Second Amendment as we ended ballistic fingerprinting, made it easier for armored car personnel to get permits, and removed some accessories from the SB281 ban list.
Finally, Kathy urged us to "answer back" to Democratic fundraising.
Shifting gears, we heard from Lucas Boyce of the RNC regarding their new philosophy to "engage, embrace, entrust" and the Republican Leadership Institute. Diana Waterman was working to bring some RLI graduates to work here in Maryland.
Boyce wrapped up the morning session, so we adjourned for two seminars and lunch. The first seminar I went to featured Nicolee Ambrose.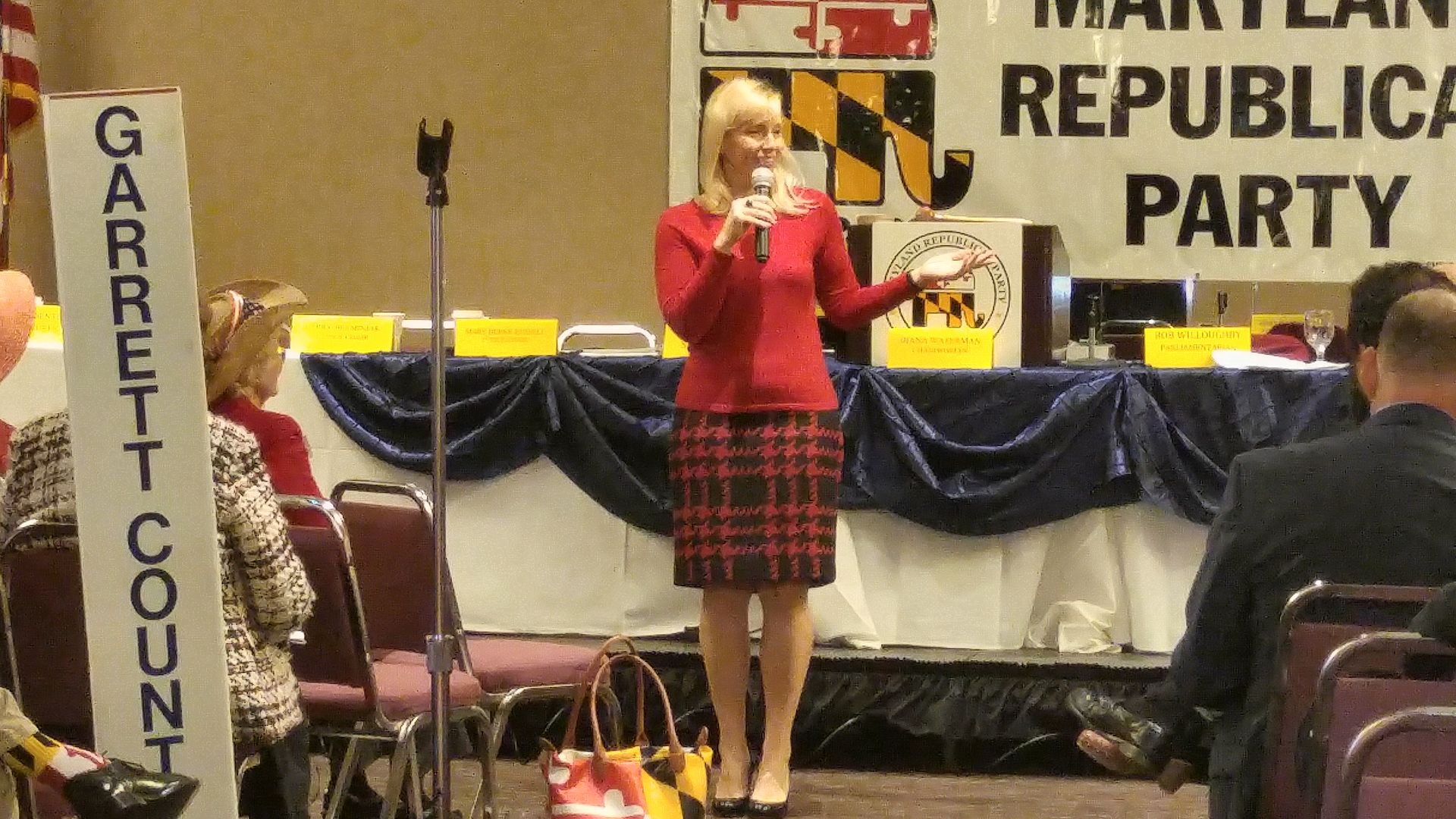 There we discussed two somewhat disparate but vital topics: grassroots organizing and public speaking. On the latter, we did a pair of "American Idol" style auditions where "contestants" were judged and advised on a two-minute speech. It's really hard to talk for two minutes.
I didn't take a photo at the second one, but Justin Ready spoke on some of these same topics and more.
Not taking Justin's photo means I have a cleaner lead into the National Committeewoman's report Nicolee delivered to start the afternoon.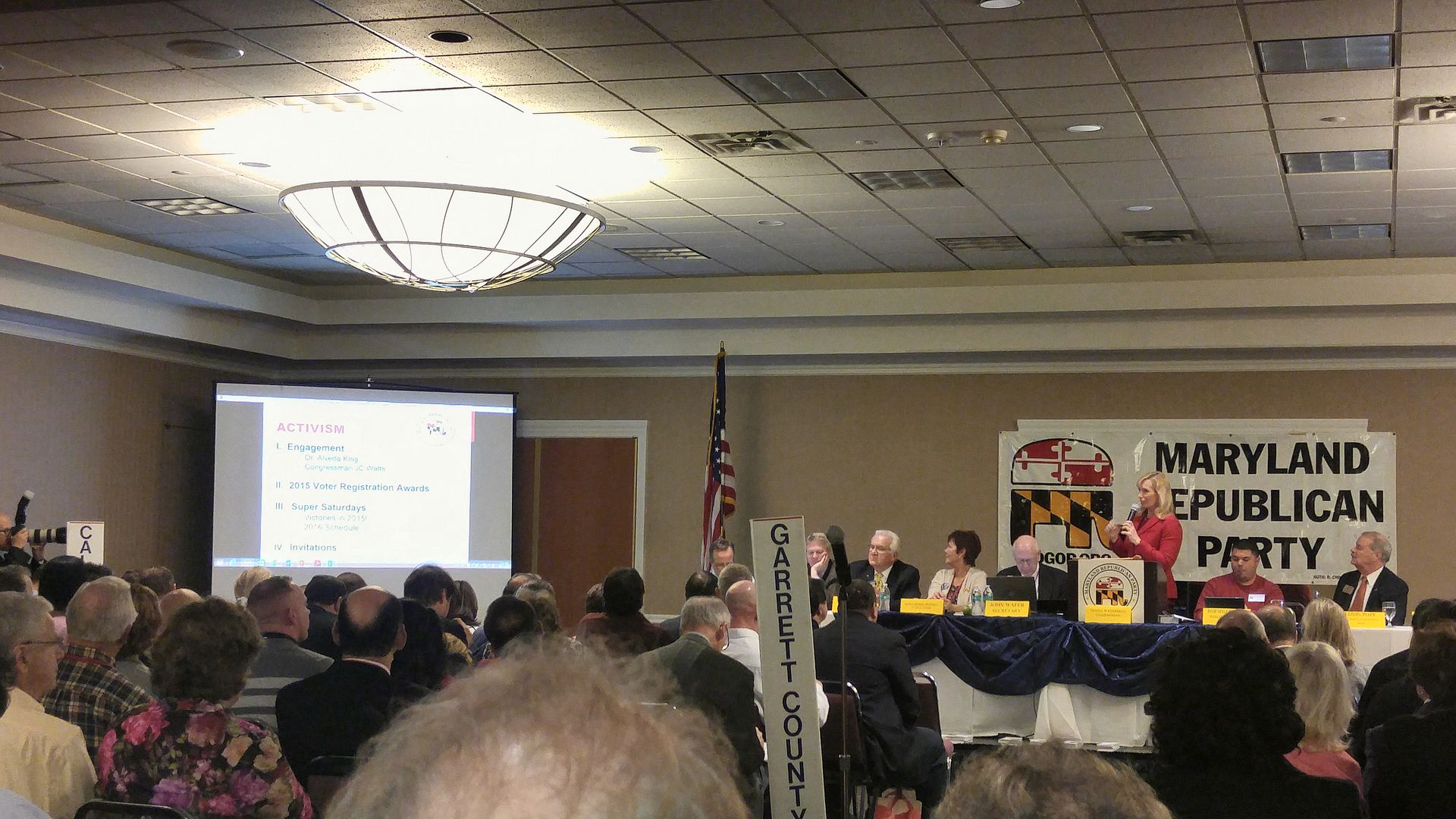 Nicolee pointed out some of our engagement events featuring Alveda King and J.C. Watts in Baltimore City, adding that getting Republican totals to 25% there makes us a red state. She also announced the winners of our voter registration contest for various-sized counties.
Ambrose was happy about going "2 for 2″ with her Super Saturdays, winning with both Michael Esteve in Bowie and Muir Boda right here in Salisbury. "This man was an animal" when it came to door-knocking, said Ambrose of Boda. She also praised Patrick McGrady for winning for mayor in Aberdeen.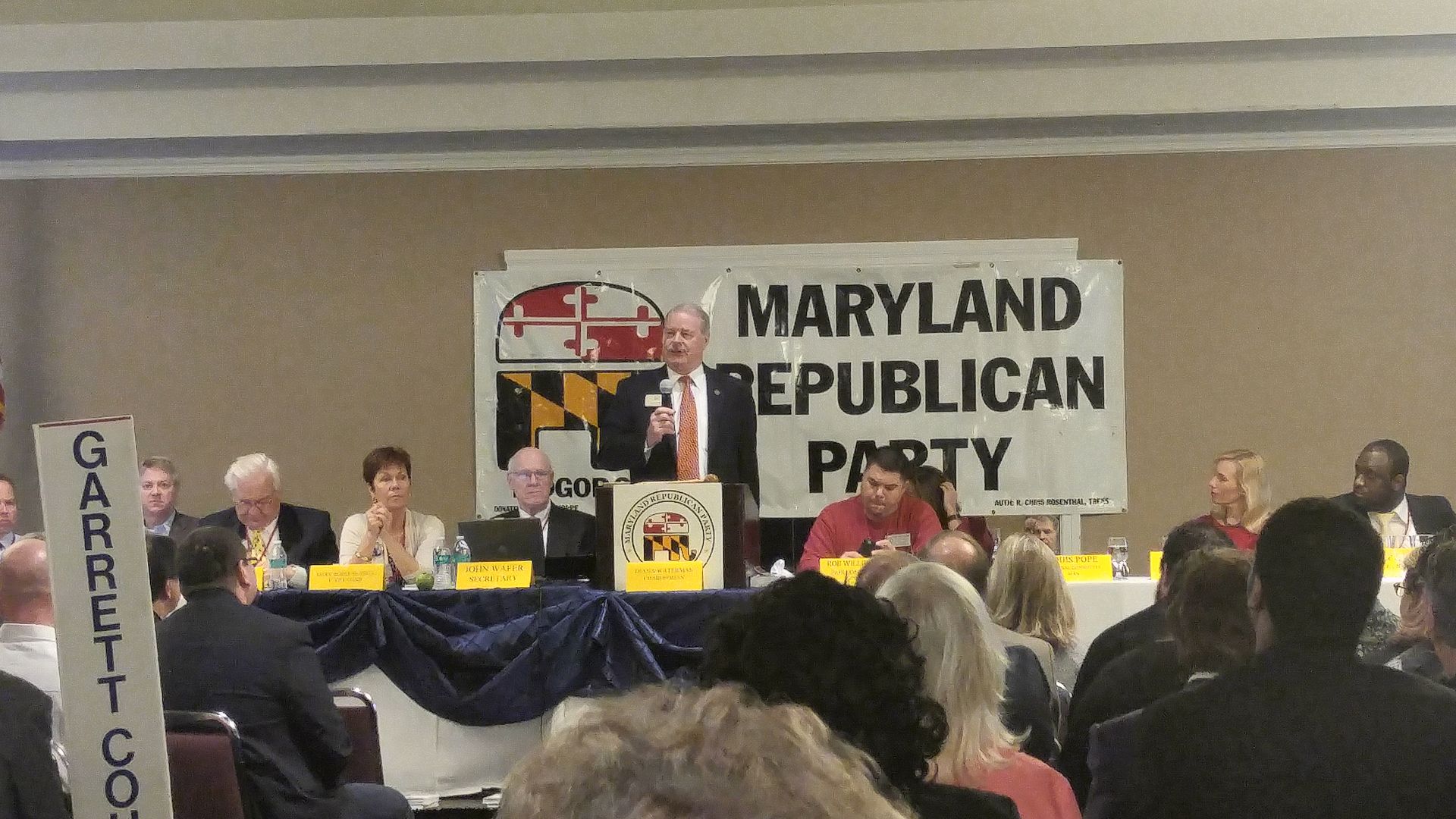 A man who hosted a "phenomenal" house party, according to Diana Waterman, Louis Pope gave the National Committeeman's report.
He focused more on the national scene, saying the RNC was "far more viable" than at any other point in history. And although this success wasn't being picked up by the mainstream media, the ground game was "going exceedingly well…our turnout machine is working." Now we had 32 GOP governors, added Pope.
Noting the CNBC debate showed "how unbelievably biased" the media is, Pope opined the primary season would be over by April 30. After that, it was "absolutely essential" that we come together. "Next year's election will be a battle royal," said Pope. The RNC has "a very deep playbook" on Hillary, Louis added.
On a local level, Pope urged the Central Committee members to raise money this year for the 2018 elections, since there's not much competition for funding. This year's campaign, though, will require "sweat equity," said Pope.
We heard a quick report from College Republican Chair Christine McElroy, detailing their successes – including the Salisbury University CRs co-sponsoring our Lincoln Day Dinner. But she also revealed the sad fact that 77% of millennials could not identify even one of their home state Senators.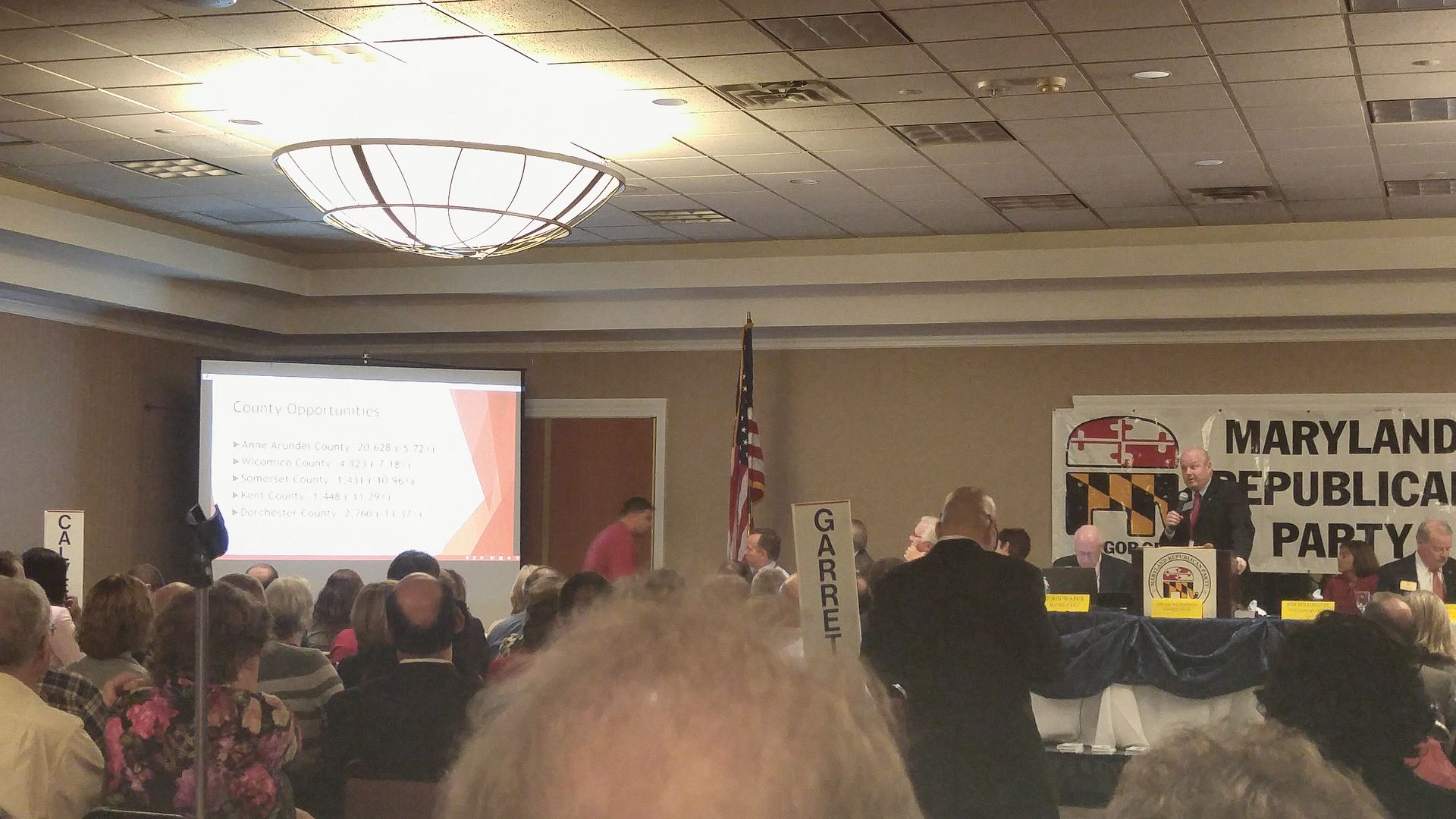 Party Executive Director Joe Cluster went over voter registration, pointing out the five counties (including Wicomico) where the GOP is closest to overtaking Democrats. "The numbers are moving in our direction," said Cluster. He also touched on goals for precinct captains, opportunities to help Governor Hogan on boards and commissions, and the Baltimore city elections.
In her Chair's report, Diana Waterman paid tribute to the late Frank McCabe, for whom the party would have a dinner later that evening. But she stressed the need to pass the first bylaws amendment, believing if we fail to adopt this the General Assembly will take the right away. "It is for your protection," said Diana.
First we had to deal with one resolution in support of a Constitutional amendment to reform redistricting. It passed by a voice vote, with just one or two objections.
In introducing the first bylaw amendment, Mark Edney of Wicomico County stressed that "we have a problem with the process." The proposal provides a process but is not specific.
While there was spirited debate on both sides, in the end the measure had enough votes to pass. On the weighted voting scale it was 369-170, which exceeded the 2/3 majority required. (In terms of actual people, the vote was 182-85. Only Baltimore City, Frederick, Queen Anne's, and Washington counties had a majority objecting.) All nine in Wicomico County voted in favor, although I believe we will create our own specific guidelines.
On the "loser pays" amendment, an attempt to change it to cover both sides was proposed but was superseded by a motion to table the amendment, which passed with a resounding voice vote.
And then we had bylaw amendment #3. I thought it would pass with little objection, but the fireworks began right away. Most of the argument centered on whether the Black Republican group was established enough – those arguing against the amendment frequently referred to the Young Republicans, which reached a low point in chapters and membership shortly after getting an Executive Committee vote.
At first we voted on a motion to recommit to the Bylaws Committee, which drew the argument that it came from that committee. But Heather Olsen explained that the committee got this at the last minute and only checks for conformance, not on merits. In the end, the motion to recommit failed 217-324, or 114-156 in bodies. Wicomico was split 5-4 against recommitting.
Then we tried to table it, but that motion was rejected by voice vote.
The next move was to amend the bylaw to strip the voting rights from every one of the auxiliary organizations. That started new debarte, including a motion to continue debate that lost soundly in a voice vote.
The final motion to amend passed 359-178, with the amended bylaw change passing 408-83. (Body counts were 178-91 and 206-41.) Only Calvert, St. Mary's, Wicomico, and Worcester voted against both.
Once that vote was in, the bylaws committee report was done "after 2 hours and 3 minutes." Before we adjourned, Diana Waterman told us it should never be said we don't allow enough debate.
But I suspect the debate will go on. I'll have more thoughts later this week.
Oh, and another thing. We did a straw poll, with Ted Cruz the winner.
Ted Cruz – 62 votes (24%)
Marco Rubio – 52 (20%)
Donald Trump – 49 (19%)
Ben Carson – 26 (10%)
Carly Fiorina – 18 (7%)
Rand Paul – 15 (6%)
Chris Christie – 14 (5%)
John Kasich – 12 (5%)
Jeb Bush – 11 (4%)
Mike Huckabee – 2 (1%)
Rick Santorum – 2 (1%)
By Cathy Keim
I have been out of action due to travel and a crashed computer. Now that I am home and my computer has been revived, I would like to offer some thoughts about last week's disheartening and cowardly betrayal of the base by our overlords in D.C.
Speaker Boehner used his last opportunity to either support President Obama's agenda again or to clear the path for the 2016 Presidential election so that the GOP candidate can win by removing the controversial budget battle and potential government shutdown. I suppose that the GOP leadership thinks that it was the second option, but the effect on the base was to demoralize and depress them to the point where one might say we are not a two party system anymore. Instead, they contend we are a one party system with two names!
The backroom bargaining that led to the passage of the budget bill was a slap in the face to all the grassroots supporters of the GOP. The leadership may think that they have cleared the path for the new Speaker of the House, Paul Ryan, to work collegially with the various factions in the House, but this seems unlikely.
Speaker Boehner passed his budget through with Democrat votes again! The majority of the Republicans voted against the budget, but not Paul Ryan. "I think this process stinks," the speaker-in-waiting reportedly harrumphed as he walked into a meeting where Republicans were briefed about the 11th-hour agreement. "Under new management, we are not going to run the House this way."
Speaker Boehner cleaned the barn before turning the reins over to Paul Ryan, who despite his complaint about how the budget deal came to be, did not disagree so strongly as to vote against it.
Congressman Andy Harris voted against the budget and even tweeted this plea to the senate to save us from this deal.
Overwhelming Republican Majority in House voted NO #BudgetDeal – Senate should oppose to protect Americans from irresponsibility.

— Rep. Andy Harris, MD (@RepAndyHarrisMD) October 29, 2015
But in similar fashion to Ryan, he got over his angst quickly enough to vote the next day to approve Ryan as Speaker.
Where does this leave us now? Will Speaker Ryan be an improvement over John Boehner? Will it make any difference?
Our first inkling of whether Paul Ryan will try to re-establish Congressional prerogatives to check this administration will be whether he will allow riders on the next CRomnibus bill. If he allows the conservative members to attach riders, this will lead to a fight with the President. Will Ryan permit this or will he roll over for the President?
We will know soon enough since the CR has to be dealt with in December.
Another major issue to watch is immigration. Paul Ryan has been soft on immigration for years. In a bargain to be elected Speaker, he agreed to not bring up immigration reform under this President. Depending on who the next President is, this promise may not amount to much. Several of the GOP candidates are open border types as is Hillary Clinton, so this promise is a weak reed for the conservatives in Congress to lean on.
Interestingly, the House Freedom Caucus is not conservative on immigration. This makes logical sense if one realizes that many of the Freedom Caucus members are more libertarian than conservative and libertarians tend to advocate for immigration.
From Breitbart:
A recent PBS documentary exposed how Ryan and Rubio were nearly successful in their effort to pass amnesty in 2014. Ryan had crafted a bill and had the Republican votes necessary to pass it. Ryan's amnesty effort was aided by many of the members of the House Freedom Caucus, including Rep. Mick Mulvaney (R-SC) and Rep. Raul Labrador (R-ID). Mulvaney has since become one of the biggest boosters in the House Freedom Caucus of a Paul Ryan Speakership. According to the documentary, the Ryan-Rubio amnesty plan was foiled when Rep. Dave Brat (R-VA)scored a historic primary victory to oust then-House Majority Leader Eric Cantor.

Sessions explained in the interview, "There's a great danger to elect a Speaker of the House who is a leading advocate for two major issues today — trade and immigration — and advocating against the wishes of the Republican voter."
No matter what Speaker Ryan does, I doubt if any of us will wish to have John Boehner back. But we may not find Ryan much of an improvement if he follows through on his previous positions. If he does allow for more open debate without punishing those that disagree with him and if he will return to the Hastert Rule which says the Speaker will not bring up issues for a vote which cannot be passed by a majority vote of the majority party (no more bills passed by a minority of Republicans aided by Democrats), then we may find that Paul Ryan is an improvement over John Boehner.
I haven't gotten around to fixing the widget yet, but now I can scratch the name of Joe Biden off the possibilities for President in 2016. In a Rose Garden speech, Biden vowed, "while I will not be a candidate, I will not be silent." Given his penchant for malapropisms, it may be a blessing for the Republicans if Biden keeps talking.
Look, John (McCain)'s last-minute economic plan does nothing to tackle the number one job facing the middle class, and it happens to be, as Barack says, a three-letter word: jobs. J-O-B-S, jobs.
That may be my favorite, but there are a lot of them.
Yet Biden, despite not being an official candidate, was drawing around 1 of 6 primary voters and they have to go someplace. (Surely Joe was a shoo-in in the all-important Delaware primary.) It's not enough to close the gap between Bernie Sanders and Hillary Clinton, but I imagine the bulk of Biden voters were most interested in him because he seemed like the logical successor to Barack Obama, as opposed to a woman whose claim to fame was being married to a President last elected nearly two decades ago.
In a realistic sense, though, Biden was the last obstacle to Hillary seizing the nomination. While we on the Right like to believe the Democrats are to the left of Stalin, in reality they have their moderates and centrists, too. Hillary can afford to let Sanders run to her left because that wing isn't a majority of Democrats. Hillary also has an advantage because most states are using the primary system to determine the nominee, and those that caucus tend to be more moderate states out west.
Moreover, the cynics among us believe Hillary will skate by on whatever legal issues she has regarding Benghazi and her e-mail server. Every day she walks as a free woman reduces the chance Hillary will be campaigning from a cell. That and Bernie Sanders crumpling over from a coronary are all that Martin O'Malley (he of the 0.5% polling average) has to hope for.
So Joe Biden's political career seems to be entering its final chapter, where he'll be remembered as a longtime Senator, plagiarizing two-time Presidential candidate (remember, he began the 2008 campaign as one of Obama's opponents), and two-term vice-president.
Silver-tongued would not be one of those attributes, though.
By Cathy Keim
I wrote a piece on Thursday night about John Boehner's upcoming problem with the continuing resolution. To my surprise, Speaker Boehner announced on Friday morning that he would resign at the end of October. He claims that he had the votes to survive Rep. Mark Meadows' (R-NC) motion to vacate the chair, but we will never know now if that was true.
At his resignation press conference he stated:
But more than anything, my first job is — as Speaker, is to protect the institution.
He seemed to think that by resigning he was protecting the institution. Actually, I believe that he was not protecting the institution by his continual acquiescing to President Obama's desires, nor has he stopped the infighting amongst the House members by his resignation.
His self-deception will continue, it appears. In the corporate world when an employee is terminated, they are often escorted to the door immediately. Here, the Speaker is resigning before he can be fired, but he has decided to hang around for another month to help with the transition and has already said that House Majority Leader Kevin McCarthy (R-CA) would be a good Speaker of the House.
Since he is resigning due to conflict, perhaps it would be better if he left posthaste and didn't try to influence the election of the next Speaker.
Here is my original piece. I still think that many of the points are worth reading since Boehner's resignation has not fixed anything. Unless a new Speaker is elected that will replace the failed GOP leadership model, then there will be no improvement and the conflict between the conservative and moderate GOP House members will continue.
(Editor's note: I slightly revised the original piece to refer to Boehner in the past tense as appropriate.)
Original piece:
It is possible that we are seeing the end of the Republican Party. We are rapidly approaching another continuing resolution battle where the fight is between two factions of the GOP rather than between the Democrats and the Republicans. The conservative portion of the House of Representatives would like to stand up and fight even to the point of shutting down the government. The mainstream portion would prefer that they go along to get along.
There are two potential sources of members refusing to go along with the party line: the Defund Planned Parenthood group and the no to Syrian refugee resettlement group (both of which may overlap.)
We may have to call this the Carly Fiorina dilemma: shut the government down to stop the attack on our physical security by importing thousands of Syrians who cannot be vetted by the FBI to ensure that they are not jihadists or shut down the government to stop the destruction of our moral character by the killing of our babies and selling their body parts for profit.
Personally, I am for attaching amendments to the CR to achieve both of these goals. However, as we have seen with the CRomnibus bill and numerous other opportunities, the leadership would rather throw in the towel before the fight begins than stand up to the President.
I am not a gambler, but as Kenny Rogers sang, "You've got to know when to hold 'em, know when to fold 'em." Speaker Boehner seemed to have one policy and that was to fold 'em and run away.
His refusal to fight resulted in the relinquishing of the power of the purse and the complete abandonment of any check on the executive branch of the government.
Speaker Boehner is leaving in part because he was in the unenviable position of being squeezed between the unhappy conservative members. If he insisted on the clean CR he would lose at least 50 conservative Republican votes – meaning he will need Democrat votes to pass his CR.
Had this come to pass, it would have caused Congressman Mark Meadows (R-NC) to call for his motion to vacate the chair. At that point, it is possible that the Speaker would have only been able to retain his position if he had support from the Democrats. He would have retained control as Speaker, but at the cost of being beholden to the opposition party for saving his speakership. There was even talk that Boehner would give subcommittee chairmanships to Democrats.
At some point, you have to ask, is it really worth being the Speaker of the House if it would require destroying your party to retain power? For Boehner, the answer was no.
House Majority Whip Steve Scalise, R-LA, is trying to woo the conservative bloc by offering to use reconciliation as a method to defund Planned Parenthood. Reconciliation only requires a simple majority, as we remember from the Obamacare fight. By using reconciliation, the amended CR could make it to President Obama's desk, where he would promptly veto it and that would be the end of that since the GOP could not get the 67 votes necessary to override a veto.
So what does that get us? Nothing. Planned Parenthood would continue to receive 41% of its funding from taxpayers. Although they cannot directly use the money to fund abortions, we all know that they just shift money around and pretend that it didn't enable them to do exactly what they want to do. PP would continue to abort babies. They would perform about 440,000 more abortions before President Obama would finish his last day in office.
If the GOP leadership would stand up and fight, there could be a chance to save some of those 440,000 babies. If they would refuse to allow thousand of "refugees" into the USA, they would not have to be concerned about jihadists gaining entry through the refugee programs.
Despite the clear and present danger to the lives of our unborn citizens and of violent jihadists gaining entry to our country, Speaker Boehner showed every sign of weepily folding without a fight. And by his staying through October, a grand bargain may well be set in motion.
Rather than hoping that the next president will be a Republican who will fix everything by undoing executive orders, I plead with our current leaders to do what we sent them to DC to do: fight.
Do not brag to me about how many bills you passed in the House when we all know they never made it through the Senate, so they never achieved anything. Stop passing bills that never go anywhere and get a strategy that will actually advance our cause. If we must shut the government down to get the president's attention, then let's do it. All essential personnel are required to work anyway, so the government never really shuts down.
This president has already shown his vindictive streak the last time there was a government shutdown when he "closed" the World War II Memorial and national parks. We know what he will do. Let's prepare an offensive strategy.
We have many vocal Presidential candidates who can very ably make the case to the public that the President is the one that is shutting down the government by his veto. This may be the best possible time to have this battle since the Presidential candidates can use their public time to advance the cause.
Wouldn't you like to see Ted Cruz, Ben Carson, Carly Fiorina, and even Donald Trump explain why we needed to pass the CR with the defund Planned Parenthood amendment and the no refugee amendment?
Speaker Boehner and Senate Leader Mitch McConnell should welcome the help since they have been silent far too long.
By Cathy Keim
President Obama's deal with Iran is evoking outrage amongst the citizens of this country with a majority saying they are against the agreement. Due to the Corker-Cardin appeasement bill the Senate needs 67 votes to block the agreement rather than 67 to approve it. However, there are ways to still fight on the issue such as are outlined by Ted Cruz and Andrew McCarthy.
As I wrote back in August, Ted Cruz says that the 60 day review period has not begun because the administration did not provide all of the agreement to Congress to be voted on. Andy McCarthy picks up on this theme by stating:
Understand: It is indisputable that (a) the administration has not provided the Iran–IAEA side deal; (b) the IAEA is not up to the inspection task; (c) the Iranian regime is drastically restricting the IAEA's access to suspect sites, even to the point of insisting that it will "self-inspect" by providing its own site samples rather than permitting IAEA physical seizures, a point on which Obama and the IAEA have remarkably acquiesced; and (d) Obama claims the Iranian regime can be trusted despite his deal's laughably inadequate verification standards. To the contrary, the act dictates that (a) the administration must provide the side deal, (b) the IAEA must be capable of doing credible inspections; (c) the IAEA must be permitted by Iran to do credible inspections; and (d) the Iranian regime must not be trusted and will presumptively cheat.
Since the administration did not provide the secret side agreements to Congress within the 5 day period stipulated in the Corker bill, nor did it meet the other stipulations, then the Corker bill is null and void.
Jim Geraghty then advances the idea:
To stop Iran's nukes, use our own nuclear option. Scrap the filibuster, pass a resolution declaring the Iran deal a treaty that requires Senate authorization, introduce the text of the Iran deal, and vote it down. Remember, Democrats got rid of the filibuster for nominations in 2013, arguing that GOP obstructionism was interfering with the president's constitutional authority to make judicial appointments. The Constitution requires Senatorial consent to treaties. The administration claims the Iran deal isn't a treaty because they think it has "become physically impossible" to pass a treaty in the Senate.

(snip)

Between the Republican presidential candidates pledging to tear up the Iran deal on their first day in office and Congress declaring that the Iran deal is null and void because of its formal rejection by the Senate, you might create enough legal uncertainty to make some companies a little wary about jumping into bed with Iran; at the very least, they may want to wait until 2017 to see if the deal continues past that year.
Why is this important since we know that President Obama still can lift the sanctions by executive order and Congress is unable to block him? Despite his grasping at legacy issues, he is only in office for 16 more months. If he overturns the sanctions, Congress will have taken the lead in discrediting his approach and they will enable the next administration to quickly move to take control of the situation.
The only flaw in this whole discussion is that we are asking the spineless GOP leadership to actually lead. As was evident when they first passed the worthless Corker-Cardin bill, we were sold down the river by our leadership posing as being tough by putting tight requirements on the Iran bargaining. Now we are actually asking them to stand by their "tight" requirements and throw the whole thing out since this agreement clearly does not meet the requirements on multiple fronts.
There is a rally planned for tomorrow on the West Lawn of the Capital building with Senator Ted Cruz and Donald Trump headlining a growing list of notables against the Iran Agreement. My guess is that the turnout will be huge, but that the GOP leadership will still try to find a way to avoid blocking Obama and this pathetic deal.
Now, what does this have to do with refugees? Iran is the leading sponsor of terror and has been for many years. The Obama administration under the guidance of former Secretary of State Hillary Clinton and her successor John Kerry has been meddling and fomenting disasters across the Middle East and Africa. Syria, Egypt, Libya, Yemen, Iraq, Nigeria, Somalia, etc. have all seen increases in Islamic terror, governments overthrown or destabilized, and civilians slaughtered, resulting in refugees fleeing the ensuing social and economic disruptions.
The current invasion of Europe by fleeing refugees is not just comprised of Syrians fleeing war. It also includes Africans seeking economic improvement and people from Pakistan and further east looking to improve their lot in life. The social welfare states of the European Union are a big calling card for more than just people fleeing war.
But here is another thought: ISIS and Iran can achieve their goals of world domination in more ways than just beheading people. As they create destruction and terror, people flee, but most of these people are still Muslims so they carry their religion with them.
The Syrian refugees that are being brought to the USA are not Syrian Christians who are being persecuted. The vast majority of these refugees in the pipeline for America are Muslims. Furthermore, they cannot be properly vetted to determine if they are refugees fleeing war or if they are jihadists infiltrating Europe and the USA.
One of the foundational tenants of Islam is civilizational jihad by migration. What better way to make this happen than to force Muslims to flee to other countries and to shame those receiving countries into taking more and more of the very people that are pledging death to them?
Two points here:
Most of the countries in the Middle East are declining refugees and demanding that they be sent on to us.
If you had the misfortune to become a refugee due to war or disaster would you rather be resettled somewhere close to your own home where you can understand the language and the culture or would you rather be transported from the Eastern Shore of Maryland to Saudi Arabia? Now take the reverse of that and explain to me why we are bringing refugees here to the USA instead of relocating them someplace closer to home so that they can return when the situation resolves.
It seems clear that it is a joint effort between the terrorists and our elites to force this situation on us. Then as a final touch of unreality, our churches have been co-opted into telling us that we should be ashamed of ourselves if we do not bring as many people here as possible because we are being selfish.
Here is a helpful link to tell you how you ought to be acting. It's an amazing bit of propaganda packaged in a cloyingly sweet Christian guilt trip. Yes, we can help the masses that are being destroyed by Iran and their minions, but not in the ways that this piece advocates.
We need for our leaders to stand up and lead rather than giving in to President Obama's hope and change for the world.
Over the last few months Richard Douglas has quietly been exploring a run for the U.S Senate. In an e-mail he sent out to supporters, though, he took aim at those he may be working with as well as Barack Obama.
In two paragraphs he expertly dissected the problem:
The President wished to avoid congressional review altogether. But the Corker-Cardin concession of the Senate's treaty prerogatives was seen in the White House as a palatable alternative. Why? Because Corker-Cardin puts the success or failure of congressional action into the hands of Chris Van Hollen, Ben Cardin, and other reliable Obama yes-men in the House and Senate. By passing Corker-Cardin instead of demanding Senate treaty review, the Republican-led Congress marginalized itself.

How could any of this happen? Because the Republican-led Congress – the Senate in particular – allowed it to happen by not using its powers, during the seven months it had the chance, to defend its equities and change the President's behavior. Beginning in January, the Republican-led Congress should have brought action on the President's legislative priorities to a screeching halt until he wised up. Instead, Congress enacted those priorities.
Running against Congress seems to be the norm today for both parties, as the current leaders seem to be the gang who can't shoot straight. Unfortunately, we have one side who is afraid of a government shutdown they would be blamed for and the other side takes advantage of their fears. So you have the group of spineless jellyfish who pass for majority leadership in Congress.
Douglas doesn't have the bluster of Donald Trump, but he has foreign policy expertise in spades based on years of working in that area. It's no wonder John Bolton is willing to put his name and reputation on the line for Douglas.
At this time, foreign policy is not the key issue on the table for 2016. But it lies at the heart of a number of peripheral issues such as the Trans-Pacific Partnership and accusations of currency manipulation by China, the continuing saga of illegal immigration at our southern border, and the Keystone XL pipeline, to name a few. We may not be in an overt war in Iraq, Ukraine, or Syria, but there is pressure to stand by our allies, including Israel, instead of making overtures to old enemies Iran or Cuba.
The tone of his entire e-mail makes it clear that he's expecting Chris Van Hollen to be the Democratic Senate opponent, which is probably the conventional wisdom. Van Hollen has been a reliable party man and helped to raise a lot of money, but can you name any singular House achievements of his? With this message, Richard makes clear he can be a leading voice on the Senate's traditional role in guiding foreign policy – and not a moment too soon.
By Cathy Keim
On Thursday night I listened in on a conference call that President Obama had with people from MoveOn, OFA, CREDO, Americans United for Progress and many more groups. The purpose of the call was for the President to solicit support for his agreement with Iran. He encouraged his supporters to get more active, get loud, get involved, and get informed to make their voices heard in Congress because the opposition (that would be me) is fierce, well financed, and relentless. He assured them that if they would counteract with facts, then the truth would win. He stated that it is rare to have something so clear in front of us, but that his bully pulpit alone is not enough.
His presentation may have thrilled his troops, but it left me amazed by his capacity to lie so fluently. He stated that this agreement is not just the best of bad options. It is a very good deal. He presented his case, but it was so weak and pitiful, with internal inconsistencies, that I was wondering how these people could possibly fall for this.
He stated flat out that the only option was this deal or war. The tired warmongers that brought us the Iraq War are back to agitate against this wonderful agreement because they only want another war.
If you have not seen the following ad, then please sit back and enjoy while Jack Black and his friends explain that the Iranians love their children, so if the warmongers in the USA would behave, there would not be any problems. (But then there is that inconsistency in the final moment when he "hopes" they love their children too, and Jack is right to question it. The Iranians sent thousands of children to their deaths as minesweepers in the Iraq-Iran War.
The president assured his callers that Iran would never get nuclear weapons under this treaty, but without it they would weaponize within six months. Do you really think that somebody that can weaponize in 6 months would decide to never pursue nuclear weapons in the future because President Obama asked them to swear off on it?
He also admits that Iran has been able to get around many of the current restrictions so that they can fund Hezbollah. That is not a problem. It just means that we need to up our game on blocking their egregious behavior concerning conventional weapons. Their misdeeds there have no bearing on their nuclear arms agreements.
He assures his audience that any infractions made by Iran will be quickly detected and sanctions will be reinstated. He does not mention that there are at least two side agreements that have not been released to Congress for review. Without having seen the documents, and there may be more that we do not know about yet, it is only guesswork on anybody's part to know what we are signing.
Congressman Mike Pompeo (KS-04) and Senator Tom Cotton (R-Arkansas) put out a press release on July 17, 2015,
According to the IAEA, the Iran agreement negotiators, including the Obama administration, agreed that the IAEA and Iran would forge separate arrangements to govern the inspection of the Parchin military complex – one of the most secretive military facilities in Iran – and how Iran would satisfy the IAEA's outstanding questions regarding past weaponization work. Both arrangements will not be vetted by any organization other than Iran and the IAEA, and will not be released even to the nations that negotiated the JCPOA. This means that the secret arrangements have not been released for public scrutiny and have not been submitted to Congress as part of its legislatively mandated review of the Iran deal.
Then on July 23, 2015, Secretary of State John Kerry testified before the Senate Foreign Relations Committee. Senator Robert Menendez (D, NJ) asked:
"Is it true that the Iranians are going to be able to take the samples, as Senator Risch said? Because chain of custody means nothing if at the very beginning what you're given is chosen and derived by the perpetrator."

Kerry: "As you know, senator, that is a classified component of this that is supposed to be discussed in a classified session. We're perfectly prepared to fully brief you in a classified session with respect to what will happen. Secretary Moniz has had his team red-team that effort and he has made some additional add-ons to where we are. But it's part of a confidential agreement between the IAEA and Iran as to how they do it. The IAEA has said they are satisfied that they will be able to do this in a way that does not compromise their needs and that adequately gives them answers that they need. We've been briefed on it, and I'd be happy to brief you."

Menendez: "My time is up. If that is true, it would be the equivalent of the fox guarding the chicken coop."
Senator Ted Cruz (R, TX) introduced a Senate resolution emphasizing that the 60-day review of the Iran deal cannot officially begin until the side deals are provided to Congress.
The Iran Nuclear Agreement Review Act of 2015 mandates that the 60-day congressional review period cannot begin until the nuclear agreement with Iran, and all related materials outlined in the Act, are transmitted to Congress," a press release from his office notes. "President Obama has failed to provide separate side agreements and federal guidance materials to Congress, so the review period cannot have begun without the majority leader's consent.
In closing, I will go back to the president's most pitiful bid for legitimacy with his followers. "As a consequence, if we reject this deal we negotiated, and 90% of scientists and ambassadors (GOP and Dem), and experts in Iranian regime – if those folks (allies and friends), my Secretary of Energy is a nuclear expert from MIT – if Congress for political reasons reject this deal — we'll find ourselves having to engage in military action or isolated from the rest of the world with no credibility to negotiate on any international agreement." (my notes and a friend's notes)
I almost burst out laughing on the phone call when the president of the United States interrupted his argument to build up his Secretary of Energy by saying he is a nuclear expert from MIT!!! If I doubted everything else he had told me, at least I could know that Secretary Moniz is bonafide! That was right up there with having Jack Black and Morgan Freeman use their political acumen to explain why I should trust Iran.
We are in serious trouble as a nation when this is the level of discourse applied to life and death decisions with nations that regularly vow their goal of destroying us.
Please do call your Senators and Congressman using your fierce, well financed, and relentless voice to demand that they do not vote for this very bad agreement.
In relatively breaking news, Rep. Mark Meadows of North Carolina has filed a motion to vacate the House chair. Translation from wonkspeak: he wants to remove John Boehner as Speaker of the House. However, Meadows has couched his request in such a way that it has to go through committee, which essentially is a death sentence for the resolution. As he told the Washington Post:
What I'm hopeful for is this provided perhaps the impetus to have a discussion, a family discussion, where we can start talking about how we can make sure that every voice, every vote matters, and really about representing the American people. Ultimately what I want to is to make sure everyone is treated fairly.
So really this is not an effort to get rid of Boehner but to put him on notice? That won't go too far. The time to get rid of John Boehner was in January, but there was no organization behind that effort. Short of him resigning as Speaker, we are stuck with him through 2016. Even if a majority of Republicans supported the effort, the Democrats probably won't bite because John Boehner is probably the best Republican Speaker they can get, and there are a fair number of Republicans who will suck up to leadership.
America really needs a do-over in 2016. If there were ever a time for the "throw the bums out" mentality, it would be right now. Tough-talking complete outsider Donald Trump is light-years in front in GOP polling, and while it's likely that lead will dissipate when people begin to pay attention it should be noted that early in the 2012 campaign, during the fall of 2011, those miffed at Washington were backing the outsider businessman in the person of Herman Cain. Like Trump talks tough on immigration, Cain made a lot of hay around his 9-9-9 tax program. Ugly rumors of an extramarital affair did Cain in, but we will need to wait to see what, if anything given his celebrity, can be dug up on the Donald.
I sense a mood of resignation from rank-and-file Republican regulars, though. In the back of our minds we figured this was how it would be despite getting the Senate back after an eight-year hiatus. There is always an excuse with this bunch, and even though people are weary of Barack Obama the press is not actively driving down his polling numbers as they did for George W. Bush – so there is the illusion that he is still popular. But well-liked presidents don't lose over 80 Congressional seats during their tenure. (Bush lost 36 in 2006, but had gained 17 in the two preceding elections.)
I think the impression was that we would make Obama's veto pen his most-used writing instrument, but once again we are being let down by a spineless leadership who quakes at the thought of being blamed for anything. News flash: you will be anyway so you may as well be guilty of what you are accused of.
No, we won't see a Speaker of the House fall, but we will get more evidence the natives are restless.
We weren't really paying a whole lot of attention in these parts, but today Bobby Jindal became what he hopes is the lucky 13th candidate to seek the Republican nomination for President. And it didn't take long for our friends, the Democrat "hacktivists," to take a few potshots in an e-mail titled "Bobby Jindal for president? Really?":
Take a look at our Bobby Jindal primer:

He's one of the least popular governors in the country: Under his failed leadership, nearly 1 in every 5 people in Louisiana lives in poverty.
He's one of the architects of the scheme to turn Medicare into a voucher system.
He will say anything to please the Tea Party base, like denying climate science and championing extremists like the guy from Duck Dynasty.
Really, that's all you've got? Granted, Jindal doesn't have overwhelming approval numbers in Louisiana – earlier this year, he was polling in the 20s at home, but had significant positive ratings elsewhere. Jindal was popular enough to win 66% of the vote in his 2011 re-election campaign, though. It's not unheard of for a governor to lose polling momentum in a second term as he had 50 percent approval two years ago. And if failed leadership involves cleaning up a corrupt state, I'll take some in Maryland.
As for the poverty rate, it is roughly the same in Louisiana as it was in 2000. Under governors of both parties it has stayed around 20 percent, with the low point occurring under Jindal's watch in 2010. In those terms it is not too distinct from its southern peers.
It's worth noting that the same poll that had Jindal at 50 percent also polled on his decision not to expand Medicaid. And don't let them fool you: nothing would happen to Medicare until 2024 at the earliest, and, as Paul Ryan explains, this is a program to allow more choice. We know the Democrat hacktivists think they know what's best for us but I like having choices, thank you.
But I loved that last bullet point. I don't believe the climate "science" either because there's too much money at stake for those who parrot the government line to state otherwise; moreover, there are the inconvenient truths that the Earth has been warmer and cooler than it is today for extended periods before the industrial revolution. In short, we don't have a damn thing to do with it but people want us to think so in order to tax and control us. Yet it's working, so don't tell anyone it's a con.
And "that guy from Duck Dynasty" happens to be a pretty successful Louisiana-based businessman. You could be friends with worse people, like suspected child molesters. To the extent Phil Robertson is "extreme" is the extent he is God-fearing.
With all that, I'm starting to like Jindal a little more. Really. Let's face it: the Democrats have nothing except the scandal-plagued Clinton family and the walking failure that is Barack Obama. They can't even get Jim Webb on the same page.
So if you need a good laugh, just wait for the Democratic "hacktivists" to speak up. You'll get one.
There have been occasions in the recent past where I wrote about state efforts to pass the Pain-Capable Unborn Child Protection Act, or PCUCPA for short. Needless to say, the concept is one that's dead on arrival in a Democratic-controlled General Assembly here in Maryland, and that's been PCUCPA's fate in its various incarnations over the last several years.
But its fate is far different in states where the unborn are valued as people having a right to life as guaranteed in our Declaration of Independence. As Casey Mattox notes at RedState, there are fourteen states which have their own version of the law, although the enforcement of three have been halted for various (and likely dubious) legal reasons. Better still, a PCUCPA passed the House last month (with opposition mainly provided by liberal Democrats) and awaits action in the Senate.
Obviously the road to passage will become a lot more difficult in the Senate; my suspicion is that the PCUCPA will be filibustered to death because all but one or two of the 45 Democrats there will vote against cloture. It may not even get to 55 votes given the tendency of a couple Republicans to be squishy on pro-life issues. And even if the five Democrats necessary to gain cloture see the light and vote that way – assuming all 55 Republicans get on board, of course – the hurdle would get a lot taller once Barack Obama vetoes the bill, as he certainly would.
However, the bill is also useful in the sense that it may encourage other states without the law – but where most of the Congressional delegation voted for PCUCPA – to try and enact their own versions of it. To me, this is where the battle is properly fought. I may not like the fact that Maryland is a far-left loony bin of a state, but if those people who live there wish to foul their own nest with immoral laws it's just going to make me have to work a little harder to change hearts and minds. As a citizen therein, I have just as much claim to moral superiority as any of them do. While it may seem counter-intuitive, I don't believe in Constitutional amendments banning abortion or establishing marriage as between one man and one woman at this time – however, I reserve the right to change my mind on this in the future. Once upon a time I was against term limits, too.
Yet even if you don't believe life begins at conception, the action of taking the life of a fetus barely a week away from viability (the earliest known premature baby to survive gestated in less than 22 weeks) and proven through research to be capable of feeling pain should be obvious. At this point in the process it should be obvious to the woman carrying the child that she is pregnant.
On the other hand, I have no doubt that those who are militantly pro-abortion are all for abortion up to and including the trip through the birth canal. (In extreme cases, the right doesn't even stop at birth.) This is the "choice" some would have us believe is a viable option.
The other reason PCUCPA won't get through Congress is the reason Mattox touched upon – the Left is very afraid that taking a case against PCUCPA would result in the Supreme Court revisiting Roe v. Wade and vacating their previously ill-considered decision – no more ersatz "right to privacy" and restoration of the states' rights to choose their own path. As slowly as the wheels of justice turn, it may be a case heard under the next administration so it will be interesting to see if any SCOTUS changes play out during the 2016 campaign.
By Cathy Keim and Michael Swartz
Here is a question for our loyal readers: Now that it is mid-May, do you think that the GOP elites in Washington, D.C. have fulfilled their campaign pledges to stop President Obama's fundamental change of our country?
Michael and I have voted no on that question and to make our point we have signed the Open Letter to Congress: Interim Assessment from the Citizens' Mandate. (Our signatures are on page 5.)
I wrote about the original Citizens' Mandate on monoblogue back in February. After working hard on the 2014 elections, many of us felt great relief when the GOP won by a landslide. That feeling was quickly replaced by a sense of betrayal with the passage of the CRomnibus budget and the retaining of John Boehner as Speaker of the House. The Citizens' Mandate was a call to the GOP leadership to remember their campaign promises and to fulfill their obligations to their voters.
Instead, as the organizers of the mandate stated:
Contrary to the Republicans' self-assessment of their first 100 days… more than 100 conservative leaders, in only 72 hours of signature collection, have given the Republican Congress a poor assessment on the members' performance in their first 132 days in control of the legislative branch.
Among the actions by the GOP Cathy and I disagreed with, they:
Funded executive amnesty;
Continued Obamacare;
Jeopardized national security (by not addressing illegal immigration);
Ceded away treaty power on a nuke deal with Iran;
Continued excessive federal spending;
Undermined faith-based agenda;
Helped Obama (by confirming Loretta Lynch as Attorney General);
Continued federal education;
Punished conservative champions (through changing committee assignments), and;
Neglected congressional oversight.
While Congress is doing some things right, there's a tremendous amount of untapped potential we are missing out on. It's a reason that other vocal critics such as Richard and Susan Falknor of Blue Ridge Forum, Carroll County GOP Central Committee member Kathy Fuller, and former Delegate Michael Smigiel (who is running for Congress against the incumbent Andy Harris), and conservative commentator Dan Bongino have signed on. Bongino was quoted in the release, noting:
It's way past time to reinvigorate our party and set forth a set of guiding principles. For too long we've been lost in partisan games while forgetting that, in the end, it's the ideas that will take us to a better tomorrow.
Some may argue that Barack Obama received his electoral mandate in 2012, but it's just as valid (if not moreso) to make the point that a course correction had become necessary and the results showed the message was sent emphatically in 2014.
Our call is for Congress to translate that message in legislation and oversight. Certainly there's the prospect of veto after veto, but rather than get the reputation as a "do-nothing Congress" put the onus on the President to respond and – whatever you do – don't cede any more power to the Executive Branch. We don't want to have to sign an updated letter in the fall, so get busy.
By this time tomorrow, the GOP presidential field will be three aspirants larger than it was over the weekend.
Dr. Ben Carson and former HP head Carly Fiorina formally made it official today, while 2008 candidate and former Arkansas governor Mike Huckabee is expected to throw his hat back in the ring tomorrow. So what does that mean for the field at large?
We've known Carson was going to run for several months, and though there's some local sentiment which wishes he would instead pursue the Republican nomination for Maryland's open U.S. Senate seat currently held by the retiring Barb Mikulski, a run for the Oval Office has been on Carson's radar ever since he first attracted notice at the National Prayer Breakfast a couple years ago. Anyway, his run is already priced into the market, so to speak, so the Carson cadre will continue supporting their candidate as he holds the "outsider" position in the race.
In 2008 and 2012, those who believed a businessman should be the one to run the country needed to look no further than Mitt Romney. While he's not running in 2016, there is another business executive who is (and at this point, his name is not Donald Trump.) Carly Fiorina also makes the case that the best way to combat Hillary Clinton is to nominate a female to run against her.
This is a legitimate argument, but the question is whether it's compelling enough to give her any traction in the race. Fiorina's lone political experience was losing a Senate race in California, and while losing a race in a tough state doesn't disqualify her, it brings up whether she can win.
And then we have Mike Huckabee, who I actually voted for in 2008 as the last somewhat conservative alternative standing to John McCain. Yet there must be a sense out there that the world has passed him by, and the conventional wisdom is that he fights for the same social conservative voters that gravitate to Ted Cruz. Granted, the one thing he has that Cruz does not is executive experience but I suspect more than a few people think of Huckabee more as a huckster than a politician, given his seven years away from the active political stage.
As it stands, I think the second tier is filling out nicely. But like American Pharaoh needed seventeen other horses to run against to earn the roses at the Kentucky Derby, the front-runners Jeb Bush, Scott Walker, Cruz, and Marco Rubio need a field to sharpen their campaigns. Then again, one in awhile the longshot wins and several Presidential nominees were thought to have no shot at victory in the early stages of their campaign. That description fits this guy named Obama in 2007, but let's hope the 2016 version can undo all his damage and then some.