Cool weather, clouds, and a threat of rain didn't help make this year's Pork in the Park a success. (In fact, the rain this evening forced its closure at 8 p.m. rather than the planned 10 p.m.)
But I think the die was cast months before when the decision was made to scale back the event dramatically. First of all, you may notice that among my photos you won't find any detailing the competition aspect of the event because there was none. Yes, you read this right. So I took far fewer photos.
Freed of the need to wonder if enough teams would enter to make up the prize pool, they reduced the admission charge down to $3. But they made other changes as well. I read on Facebook beforehand that there were no rides there this year; indeed, that was the case as they were replaced by a row of bounce houses and an entertainment stage for kids in their own section.
If that wasn't enough for the kids, there was the opportunity to watch pig races. No wagering, please.
They also had dachshunds with bun costumes racing, from what I understand. PETA hasn't shut down this New Jersey-based company yet, but I'm waiting.
The pig and "hot dog" races were intended to fill the half-hour changeover between bands. And you can tell crowds were down when this was the attendance for a well-known local singer like Randy Lee Ashcraft.
It's not like there wasn't a talented band on stage – there just weren't a whole lot of people there on this Saturday afternoon.
Of course, there were a few holdover events the organizers opted to keep, such as the beer beach.
It didn't seem very full when we were there, but then it was early afternoon on a chilly day. To me, beer is more of a warm day and late afternoon/evening beverage.
They also brought back the Eastern Shore Wing War.
In a three-hour event, participants bought admission for $10 and received 20 tasting tickets for the various vendors vying for wing supremacy. I'm not a big chicken wing fan, but this was one of the two relatively popular attractions (the other being the pig races, for which I witnessed a few hundred people looking on.) According to Pork in the Park's social media sites, The Deli was judged the overall winner, with Sub Runners and The Corner Grill garnering second and third, respectively.
All this food and beer could be worked off in their cornhole tournament.
As a whole, though, the event was fairly disappointing when compared to previous renditions. The park just seemed so empty.
2015 was the twelfth annual event, which means Pork in the Park began about the same time I arrived in the area. As I recall – and a little (very little) research bore out – the weather was less than cooperative for most of the early versions of the event as well. The first year it really took off was 2007, the fourth edition of the event. Granted, at the time the economy was much better as well, but if you look at that post you'll notice the day was nice and sunny. Ironically, had Pork in the Park held their traditional third weekend in April date in 2015 the weather would have been fantastic. (Go back and look at my Third Friday photos from last week.) Instead, they opted for the dates vacated when the Salisbury Festival pulled the plug after thirty-plus years.
Even with as much promotion as I heard for it locally, the event stands at a crossroads. If it's considered a failure this year due to low attendance, the problem can't be determined very easily – is the poor weather to blame or a lack of entertainment options? The festival went for broke last year with its entertainment selections, bringing in two national acts plus the eating contest, but it also departed from its traditional date and shifted to Mother's Day weekend because Easter fell on its normal third weekend in April – so the number of KCBS competition teams was way down from previous years, when well over 100 teams would bid for the various prizes.
Meanwhile, there is now competition from a similar event in Snow Hill called the Pig and a Jig BBQ Festival, which will be held in late May. As of this year it became a KCBS-sanctioned event so Pork in the Park wouldn't be locally exclusive for that distinction anymore.
If you ask me, the problems with Pork in the Park began the year they decided to revamp the arrangement of the food court. But I was reading that post and it reminded me just how large the event became, even in a bad economy. There was plenty of interest because the admission price was still pretty low – I don't remember if it was still $2 or had jumped to $3, but it was a far cry from the $7 they charged last year.
This year's event just seemed dull and lifeless. Perhaps the crummy weather played a part, but I thought the competition aspect gave it character as well as provided a little boost to the local economy. I doubt there are nearly as many competition teams these days as the BBQ craze is somewhat played out, but we once had the second-largest competition in the country and it's a shame all that went away. The first step in bringing it back, though, is to make clear that 2015 wasn't the final Pork in the Park.
What we had this year was not the ending the event would deserve after a great run.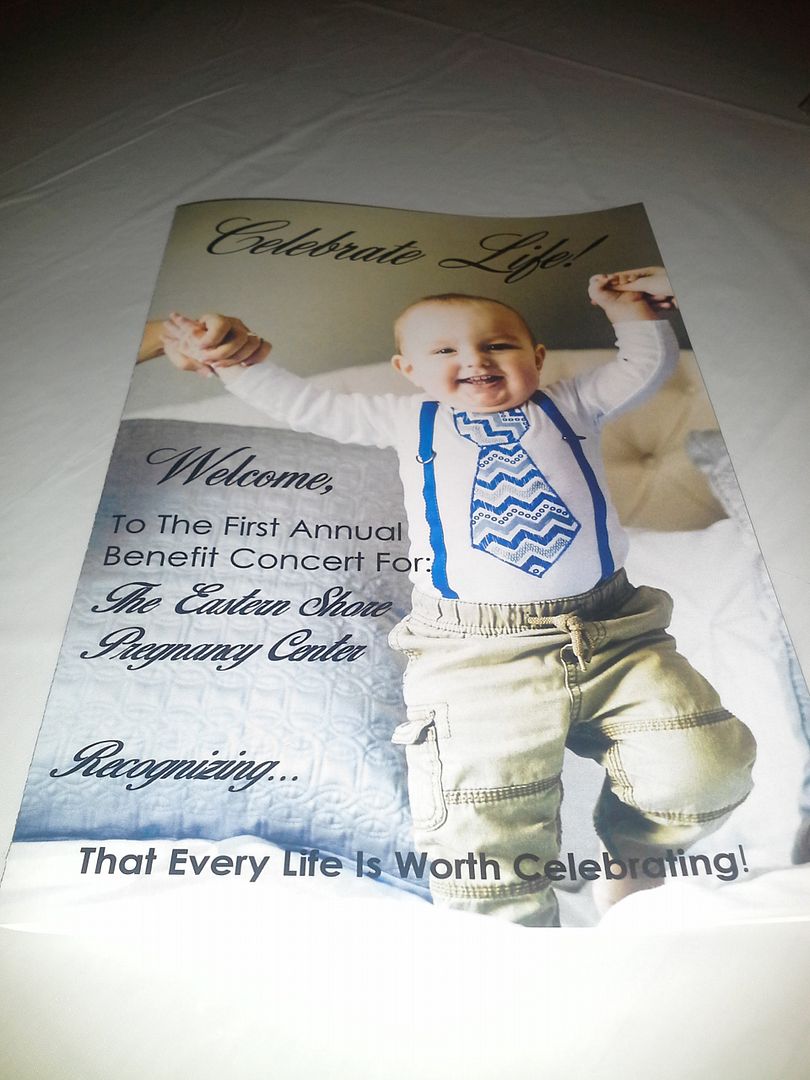 Last night supporters of the Eastern Shore Pregnancy Center turned out in force to assist the organization with its 2015 goals. The occasion was the first annual spring coffeehouse and benefit concert fundraiser, held at Providence Presbyterian Church.
Youth was the rule for the music at this event, beginning with an a capella group of young children called Rivers of Living Water and also featuring a group of 13-year-old triplets called (naturally enough) Triple Praise. Both sang spirituals and hymns, with Triple Praise employing recorded background music.
Even the adult groups tended to be on the youthful side, with Beauty for Ashes dedicating songs to their young children featured in the slide show that was playing behind them.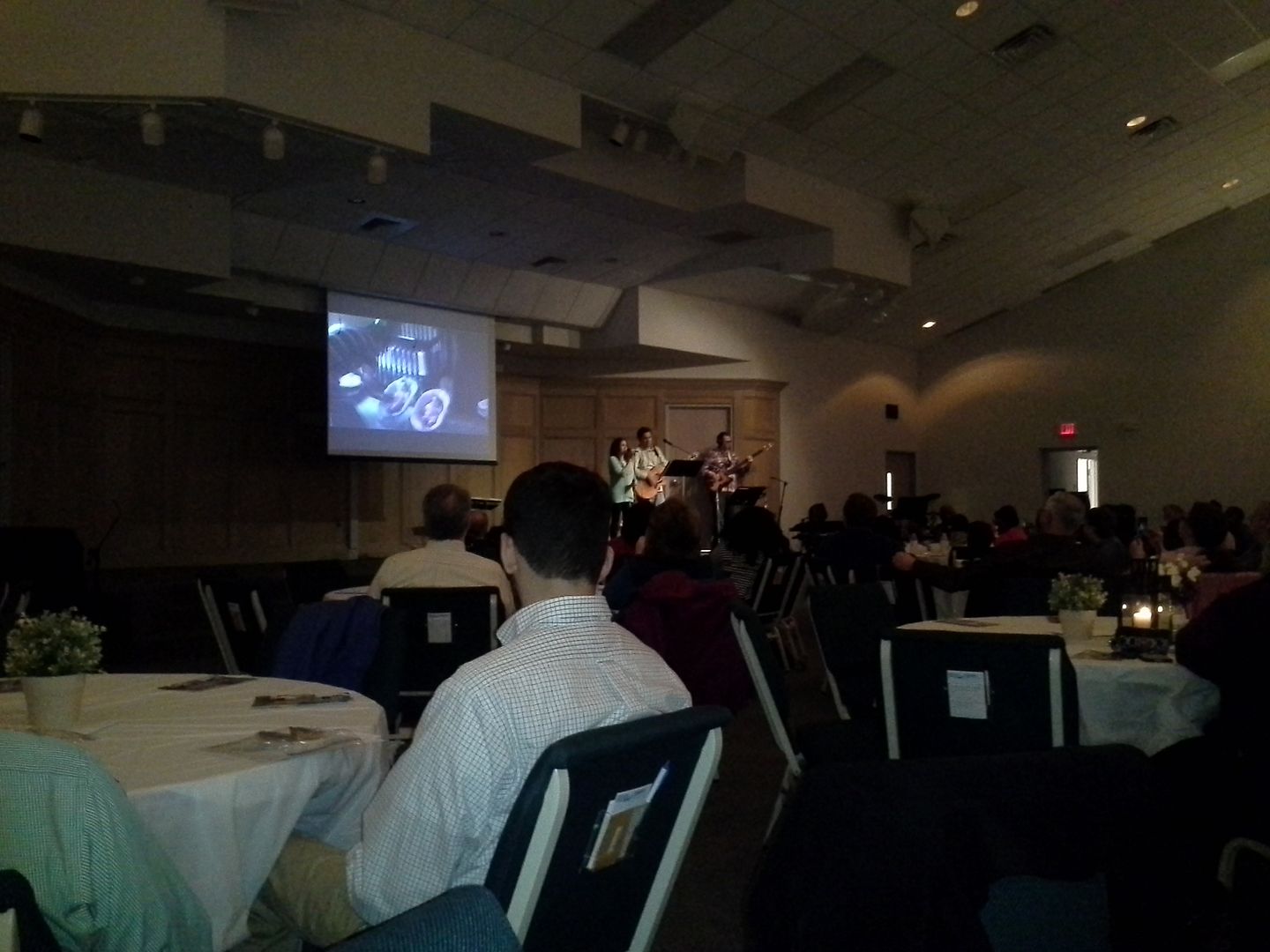 The married couple leading this group has a pair of three-year-old twin girls.
Similarly, Steve and Olivia (or Liv and Steve, as they billed themselves) are also recent parents. This shot also gives you an idea of how many were there – my guess is about 150 people.
In their own way, all four groups were entertaining although none of them played more than a handful of songs. The event was only a couple hours long and it also featured testimony from a young parent of three named Danaica Pierrot as well as remarks from ESPC Executive Director Jacquelyn Seldon.
Seldon was pleased about the progress the ESPC has made since acquiring a sonogram unit last year, but outlined a couple of worthy goals for this year: spreading the message on billboards near local university campuses in order to reach college-age prospective parents, and following up on the permission they were granted by the Wicomico County Board of Education to promote their services in the local high schools.
Of course, this event was also serving as a fundraiser. And while there were envelopes and donation slips on each table, the opportunity was also there to bid on a number of interesting, intriguing, and useful items. This was just one of three long tables the group had, with 35 different lots up for bids.
With the silent auction and the table top appeals, I'm pleased to report the event raised over $4,000 for the ESPC. But then that's not to say they won't take donations outside the event as well, and they definitely can use them because the need is there. They're not getting even a tiny fraction of the $528 million Planned Parenthood received from government, in part as PP "fought abortion stigma in popular culture."
I'm probably injecting far more politics in this report than many would feel comfortable with, for it was truly an apolitical event. Yet I would wager that most of those attending last night's benefit would not participate in that "stigma" but would instead encourage and counsel those who made that choice. For those who are expecting, though, the range of options is much larger than groups like Planned Parenthood would have you believe, and the worthy goal of the ESPC is to bring that number who choose abortion in the Salisbury region down from its present 300 or so to as few as possible.
Once in awhile I'm wrong. Maybe it was bad information, and maybe I just misinterpreted what I heard. But I was glad to be incorrect in this case.
A few weeks ago I posted on what I thought was the demise of Pork in the Park. But since we celebrated National Pig Day this week, I'm very, very happy the report of its demise was premature!
Instead, the annual festival was retooled and scaled back to a two-day event to be held on Friday, April 24 and Saturday, April 25 – the dates the now-shuttered Salisbury Festival would have fallen on. After the ill-fated move by Pork in the Park to Mother's Day weekend last year (thanks to Easter occurring on its usual April weekend) the closure of the Salisbury Festival in favor of a fall event gives Pork in the Park a little better weather potential.
Other big changes immediately apparent are the serious reduction in admission prices from last year's $7 to a much more affordable $3. When you factor in the food costs, families didn't seem as willing to shell out the money to get in. You may not have the ambitious entertainment schedule of recent years, but as long as there are ribs to eat most will be happy to have the same sort of bands we usually hear for most of the fall festivals. (You can bring back Smokin' Gunnz for me.)
It's most likely the cost came down once the decision was made to broom the wing eating contest that comprised most of the Sunday entertainment and the national recording acts on Friday and Saturday nights - although I haven't seen an updated entertainment scale yet the promotions are for the Eastern Shore Wing War (a people's choice contest), the cornhole tournament, and pig races. (No wagering, please.)
Last year had to be a disappointment for the county's tourism board, with the number of competitors way down from previous years. The trick will be getting those who passed on the event last year to place it back on their contest calendars. I think if they can get back to around 80 to 100 competitors that will be a success. It's likely the cyclical nature of the food business has weeded out some of the weaker, less serious competition teams as barbeque is not necessarily the "in" thing right now so doubling the number who participated last year would be a good goal.
As for us, I am pleased to see the event come back. It may not be as ambitious as it was before, but at least the organizers conceded they reached a dead end and decided to give it another shot on the scale we were accustomed to. I'm sure I'll be there, so hopefully I'll have a goodly amount of company.
I have a Twitter account.
Although I'm notified of a lot of different functions such as favorites, replies, retweets, and new followers, it doesn't mean I fanatically check it on a constant basis. Thus I missed this gem from December 28 until I fired up my Tweetdeck for the first time in a week.
@monoblogueUS @UFCW Pro Union Video by a UFCW member. Union Yes. America First. https://t.co/yo0kOpJzqz

— Joe Mahan (@joemahan_) December 28, 2014
Needless to say, Tweetdeck only featured the original so I was scratching my head trying to figure out how I was on this guy's radar. It would be one thing to get a reply from a powerful politician or member of the conservative new media, but I had no idea who this guy was. Neither of us follow the other.
It wasn't until I went to embed the Tweet that I saw the original, and a post was born.
So then I went to his Twitter page and found out he's an author trying to sell books, both on union organizing and a book of football poems. Guess he's not your prototypical "union thug," although I haven't read the poetry or checked out "football chess." I wasn't the only one to get a promotional Tweet like this, but at least you can't say I ignored it like (presumably) almost everyone else did.
It all started on the front end of this recent holiday season. Remember the Black Friday protests that were supposed to shut Walmart down? Neither do I, but I did write about it. A month later, Joe Mahan noticed. Don't know if he read the post, but I did tweak the UFCW on the Tweet.
Listen, Joe can do all the union organizing he wants – I would just like to see it done in an environment of right-to-work states from sea to shining sea. And here's hoping he helps himself to sell a few books – heck, maybe I should glom on to an appropriate Twitter handle to sell a few of mine. (I can even do autographed copies from the small paperback stash I have here at home.)
So I thought this would be a good opportunity to remind people I do have a Twitter handle (@monoblogueUS, naturally) and don't mind followers. You never know what you may find out.
I did this last year for the first time and decided it was so fun that I'd do it again. Just like last year, the plan is to then look ahead at the possible developments for 2015 (and, as an added bonus, evaluate what kind of prognosticator I was.)
So here are some of the highlights for monoblogue in 2014.
**********
In January, my year began on the Salisbury Plaza as the city tried something new and found success with it.
But as the holiday lull returned to normal, it was made known that Andy Harris angered some in the district as they panned his vote on the omnibus budget bill. Even I got a little criticism from those who thought I was defending Andy.
On the Maryland campaign front, we all waited with bated breath for the official Larry Hogan announcement – even as he had to postpone it for a snowstorm. Otherwise, the gubernatorial campaigns revealed their 2013 fundraising prowess and as is usually the case Democrats had the upper hand.
Meanwhile, the other statewide GOP hopeful was our guest at the Wicomico County Republican Club meeting. It was also a month where I explained the real unemployment number with a little help, and learned a little about the extra time politicians put in.
Most of the February action was on the campaign front, where Larry Hogan continued making news by opting for public financing and avoiding questions, while fellow hopeful Charles Lollar found an intriguing running mate (as did Ron George), and surprisingly won a straw poll. Hogan led in the first real poll, but the margin was a little smaller in poll number two.
I also finished my first look at campaign finance for local contenders in two districts, but a lot changed at the filing deadline as familiar names switched races or withdrew.
On the first of March I talked about a long form letter I received from the Hogan campaign, while later I noted he also had some interesting backing for his public financing matching funds. Like the campaigns, I also talked about that three-letter word, J-O-B-S, a subject which came back later in the month.
News was made when a local group began demanding more local control by leaving the state association while another venerable local organization heard from county candidates.
I also looked forward to another November election (which actually happened earlier this month) and took a stab at who would be on the Shorebirds roster for the 2014 season. But my big step away from politics occurred when I announced and debuted a new, fun feature.
Spring arrived in April, while the end of the "90 days of terror" allowed campaign season to blossom. All four GOP gubernatorial hopefuls were represented at our Lincoln Day Dinner. I also updated their financial picture and checked out where some stood on restoring our manufacturing and on taxation.
Meanwhile, I attended my last state Republican convention for the 2010-14 term in Bethesda, writing about it in two parts with some leftovers.
In not-so-political news, I followed up on the local story about our teachers' union which I again updated with some not-so-shocking developments as May began. The state version of the teachers' union also staked its support of two local candidates.
The manufacturing thread I had began in previous months took my site in a new direction with an exciting new opportunity for me – and the grand opening party was fun, too.
I looked at a day in the life of a couple campaigns and speculated on some polling data I was given, while making my first endorsement of the primary season. But my real emphasis was on voting records.
It's also fun to look back at someone who tripped over a molehill. That post may have my sentences of the year:
I'd like to come out of the ground a couple years early and see that shovel shoved right back into Mike Miller's face. Let's show the arrogant bastards that we can win this state, and leave that little molehill as the pile of dirt we displaced in our resurrection.
In other news, I talked about a Memorial Day tradition of mine and some non-political pork. When it comes to ribs, I am generally there whether in Salisbury or Snow Hill, which helped to lead off my June coverage.
That month actually began early on the 1st as I wrapped up my post on our Republican gubernatorial debate at Salisbury University. Days later we learned two gubernatorial candidates would not receive public financing, which all but doomed their campaigns. Lost in that was a good commercial and even better platform summary, even if it wasn't from the candidate I eventually endorsed.
The primary also marked the end of my own campaign, and although it wasn't successful I had no regrets. And once Larry Hogan won, I trained my fire on the prospect of a free-spending Anthony Brown.
I also did my part to support the troops, and did a final update on Troopathon in July. That sort of went with my Independence Day message.
The party message for Maryland Republicans was unity, despite depressing poll numbers. And even though there was a diversion into race-based politics, the campaigns marshaled their supporters to a surprisingly pleasant summer tradition in Crisfield.
While the diversion into race-based politics was real, immigration in a fictional sense was the subject of one of my book reviews for the year.
With the primary over I finally got a chance to delve more deeply into subjects like energy security, ethanol, and so-called "dark money." The latter two featured an otherwise obscure politician I've taken in as a poster child for the loony left.
August reminded me of the spineless Republican establishment and a press with a lack of curiosity, one which keeps falling for diversions. Despite all that, the polls were beginning to look better and one Democrat crossed the aisle to endorse Larry Hogan.
Our Congressman had a townhall meeting here that I covered, and a local Delegate who could eventually desire that seat has at least a few fans.
Personally I would like to see an August event made year-round, at least here on the Eastern Shore. I also made the case about needing to bolster our lagging employment, and recounted an annual Wicomico County event.
The campaigns became more serious after Labor Day and September began, but first I had to select my Shorebird of the Year and rate my fan experience. It really kicked off the following weekend as we held an annual Republican Club tradition and opened a headquarters. Three weeks later we increased the intensity with a special Patriot's Dinner featuring a nationally-known speaker. So while there was one deposed Delegate who felt the MDGOP wasn't helping a candidate enough, I figured that as long as we didn't have a sudden exodus things would be fine.
In fact, some were even looking ahead to 2016, with one potential candidate trying to rally people in the pulpit.
On a more personal level, I looked at 9/11 with a different perspective, one perhaps foreshadowed by my reaching the half-century mark.
October always brings two of my favorite events, as the Autumn Wine Festival and Good Beer Festival both take over Pemberton Park on consecutive weekends. While we didn't attract a statewide candidate, the reaction at our booth mirrored the polls that improved during the month.
One local race I focused on was the District 38 race, as I (and others) questioned the rhetoric and record of Senator Jim Mathias, who hasn't always been an ally in the "War on Rural Maryland." Meanwhile, another race brought statewide firepower, but a number of candidates were featured in a forum sponsored by our newest newspaper. All this for my impassioned plea to local voters.
But the most uplifting event may have been one I attended for the first time, a dinner and fundraiser for a good cause – that of life.
Without a doubt, the highlight of November was the election, where we found out a lot of hard work paid off. Beforehand, though, I wrote my political will and in the aftermath, I opined that early voting isn't worth the expense.
The glow of victory, though, gave me the opportunity to wax eloquent on an ambitious manufacturing goal and putting the right people in charge of both the levers of the state government and state Republican Party. I also highlighted just how loony my left-wing poster child can get.
Even in the days after the election – before any winners were even sworn in – we had candidates lining up for the next one.
After the election I also hit a milestone, which came less than a month before the December anniversary of this site. The early part of the month also yielded one of my favorite annual posts as I added another member to the Shorebird of the Week Hall of Fame.
But as a county we made a transition for the first time, an event which featured a special guest. No such transition was made by the state GOP, though, which re-elected a Chairman for the first time in a long time. One reason the election went so well was money from a Congressional benefactor, one who ran into much criticism in the last few days.
Policy was back on the front burner, from phosphorus regulations in our state to a renewed push for populism from my favorite quotable leftist. Their month was made by a Presidential entrant, although a former candidate was vindicated thanks to market events.
And besides the upcoming look at 2015, my last link comes from the music I liked from 2014.
**********
I had a very hard time culling all 400+ posts I did in 2014 to a highlight reel of about 120 – at one point I was on a pace to place over 200 links before I did some editing of some things I liked but didn't make the cut. As I noted in my anniversary post, this year was my best ever in readership so I must have done something right.
As I noted a long way above, I will now provide a look forward to 2015 at the county, state, and national levels. It should be fun.
Let's face it: the week between Christmas and New Year's Day is the forgotten time in the news cycle. So little of import happens that the news becomes retrospectives of the prior year and predictions of what may happen in the next. I've found the reason this works so well is that many of the newsmakers go on their own extended holiday, so no one is really in a position to create hard news.
So over the next few days between now and the New Year I've lined up reprisals of some of the features I enjoyed putting together at the end of last year, with one new addition. Tomorrow I will debut my top 5 list for monoblogue music, and Sunday I'll put up the year in review for my site.
Turning to 2015, Monday through Wednesday will be a look forward at what I think will be some of the things to watch for in 2015, as well as thoughts on how some of what I foresaw in 2014 actually came out.
Believe it or not, though, these are some of the more time-consuming posts I do over the course of a year – I spent parts of several days putting together my year in review piece, for example. You now have a glimpse of the subject matter, so what will draw you in is what I have to say about it.
Stay tuned.
As I have traditionally done, for Christmas Day tomorrow my site will be dark in order to leave this post atop the queue. Besides, if you are reading my site on Christmas Day your time is better spent paying attention to your family and friends, for those are the lasting things.
While I wouldn't consider myself a regular and devout churchgoer, last Sunday evening I was in attendance as our humble little church did its Christmas Cantata. Of course it spelled out the story of Christ's birth in words and music, and as the pastor noted afterward good Christian music provides its own sermon and message. Sometimes that's lost when I hear "Jingle Bell Rock" or "Sleigh Bells" for the thousandth time in one of the stores in which I do my outside job. Rarely does the rotation include "Silent Night" or this tune as done by my friends Jim and Michele Hogsett, "O Holy Night."
Straight from their dining room, that was. It's one small celebration of the real reason for the season.
In the runup from Thanksgiving to Christmas 2014, we've seen a lot of senseless tragedy. Unfortunately, much of it was brought about by hatred and evil – hatred over that last few layers of skin which determines its shade or of the belief system one follows, and the evil which justifies taking another's life because of their chosen religion or profession. It's very sad that in the time of season we celebrate life we should be advocating death. Once we stopped a world war to celebrate Christmas, but now…well, peace on earth seems but a quaint saying, and too many consider a successful Christmas as one where they got the biggest presents or threw the best party ever.
In my case, this Christmas will probably provide neither of those worldly goals, but as I grow older I feel that I understand more about what Christmas is supposed to be. I'm not one to be prodded by the force-fed commercialism we now endure into what most consider "Christmas spirit" – in fact, when I was living on my own before I met Kim I didn't even put up a Christmas tree – but in these final days before the holiday I can pause and take stock of the miracle and blessing of Christ's birth and the Earth receiving its King.
So from my rocking chair and laptop in Salisbury, Maryland, I wish you and yours a Merry Christmas. Let's all take stock of what we received in the city of David.
Most people who read this site realize fairly quickly that its bread and butter is political news and commentary; oftentimes it references and considers a proper course of action on legislation which is introduced, debated, and voted on. Having studied our state legislative website for hours on end over several years and watched it evolve from a relic from the 1990s to a more functional site thanks to a fairly recent makeover, I have a pretty good idea of how to navigate through it to get the things I want out of it, but there are still some elements that it lacks.
I also have become aware that Maryland can be a trendsetter in legislation, but there are times where other states which have sessions that are longer or year-round consider legislation that's sure to be eventually contemplated in Maryland – speed cameras are an example, as other states had them first before we passed the enabling legislation. And being as close to Delaware as we are, there is the potential for a spillover effect from bills they debate and pass as well.
Those who are truly in the loop about such things rely on a small number of websites that specialize in tracking legislation as it moves through the various states and Congress. StateNet, CQ Roll Call, Bllomberg Government, and Westlaw are examples of entities which perform this service for a fee, one which often runs into the five figures annually. While they are very useful sites, that sort of cost isn't always attainable for a non-profit or advocacy group like a Maryland Pro-Life Alliance, Maryland Citizen Action Network, or Delmarva Poultry Industry. Their needs may be limited to just one state or a small group of states like those comprising Delmarva, along with relevant federal legislation.
You may ask where this is going, so let me let you in on some good news. Now it's possible to get the legislative information you need in almost real time at an affordable price while helping maintain the political news and commentary you've enjoyed for over nine years. Allow me to introduce you to TrackBill.
TrackBill is a system which allows its users find the legislation they are interested in and track its progress through the state or federal legislative body of your choice. As they describe it, "TrackBill is a simple, yet robust, platform empowering government affairs professionals to search, track, and report on legislation in the US Congress and 50 state legislatures. Professional service firms, Fortune 1000 companies, and nonprofit organizations rely on TrackBill to spend less time tracking legislation and more time impacting the outcome."
So let's say you are a Maryland Citizen Action Network and you're interested in legislation relating to education or Common Core. Each day you can receive an update on the progress of any Maryland or federal legislation dealing with these subjects and use that to spread the word about key votes and hearings. Delmarva Poultry Industry can do the same for all three states (Maryland, Delaware, and Virginia) plus other key poultry-producing states to keep an eye on their pet issues. There are three pricing levels:
A single state
Up to ten different states
Nationwide (all states)
Each of those also includes Congress, so even a statewide group has the advantage of knowing about federal legislation as well. This can be useful for keeping tabs on a state's delegation to Congress.
I will cheerfully grant that this service isn't for everybody. But TrackBill sought me out to ask if I would consider being their Maryland partner, and I decided to accept this new advertiser on a commission basis. Simply put, for each package they sell through my site (which has its own landing page) I get a percentage, and insofar as I know I'll be the sole Maryland outlet for awhile.
This is one way to support a startup company which is trying to help out the little guys (packages range from just $999 to $1,999 a year, which is far less than five figures) as well as the one conservative Maryland political blog you've come to respect. I don't do radio nor do I plaster my logo all over stuff at an online store – my energy is focused on providing the best content I can each day.
So I call on those of you who read here and are activists for various interest groups to see and hear what the fine folks at TrackBill have to show you and say. They say knowledge is power, so the more you know the better chance you have of making positive change. Since I get a trial version to play with, I almost can't wait for the "90 days of terror" we call the Maryland General Assembly to start so I can see what all this website can do. Judging from the little bit I've done so far, I think it will be a great resource for all of us!
Well, here we are. Another year, another dollar.
Since the blogging phenomenon is perhaps 15 to 20 years old, depending on how you interpret its history, I would have to guess mine is a middle-aged site. Lots of sites have come and gone in the span of time since I began this enterprise but still I press on. And middle age is a time when the naivete of youth is replaced by both a maturity and a growing awareness of one's legacy.
Normally when I do this annual introspective I consider a sort of "state of the site" address I have a number of accomplishments from the previous year, but this year was a little different. Unlike 2013, where I made it to regional and national events like the Turning the Tides conference, the David Craig announcement tour where I snagged a great interview, or – the granddaddy of them all – CPAC 2013, the last year was somewhat devoid of real exciting milestones. Those I had were more in the non-political realm, such as my too-brief tenure for American Certified, which allowed me to focus on a topic I enjoyed researching and writing about, or broadening my scope with occasional music and book reviews.
Instead, the main focus was a Maryland electoral campaign which had plenty of blogging fodder and was won by a candidate who was short on specifics but long on money to lend his campaign, at least to start. No, I was not a Larry Hogan supporter early on (although over the preceding two years I'd written about Change Maryland quite a bit) but he won the Republican primary and found a message which won the day in Maryland, reflecting a Republican tide nationally.
Yet just as the national GOP is already beginning to disappoint supporters who want a stiffer fight on amnesty, Obamacare, and the budget, the potential is there for Larry Hogan to fail the conservative movement in Maryland. It will be something that bears watching, and hopefully other outlets which were extremely critical of Martin O'Malley and his liberal, free-spending ways will be equally as quick to keep the incoming governor in line should he falter from a conservative stance. I know Rome wasn't built in a day and it will take some time to dismantle, but we need to continually move the ball forward against a stiff defense. (One advantage we may have, though, is that Democrats in Maryland aren't used to playing that way.)
To be bluntly honest, though, the last couple months have been difficult. Toward the end of the campaign I was so burned out on everything that the thought of packing this enterprise in once the election was over crossed my mind a couple times. After all, my direct political involvement was coming to a somewhat disappointing end because I was defeated for one last term on our Central Committee and I thought it would be a little more difficult given my comparative lack of resources to provide the coverage my readers were used to. I still don't think I'm back at 100 percent satisfied with my work and output as the election recedes farther into the rear view mirror but it is coming along and perhaps being upfront with those who support me will add a few percentage points to that total.
I sometimes feel this site is having a midlife crisis of sorts as it approaches a crossroads. It was great to have my political advertisers – who, by the way, went 3-1 in their elections – but so far none have stepped forward to replace them. While there was a point earlier this year where Salisbury fell to second or third place among the cities which visited this site most, it's regained its lead as about 1/8 of my audience, and 3/5 of the total comes from Maryland. (Washington, D.C. is my second-biggest city, though, at a little over 10% of audience.) There have been some new, more passive revenue sources over the year, with another potential one waiting in the wings, but as far as direct sales I have long struggled to reach a goal of 6-10 constant advertisers.
Nine is an awkward age for anything. It seems that it takes having a decade under your belt to bring a little gravitas, but you're no longer the new kid on the block either. I've tried a few new features over the last several months but not all of them have taken root and grew, which is a shame.
Still, I am hoping to go into the one-decade mark next year on the upswing in both revenue and readership; the real test, though, will be what kind of time I can devote to the enterprise. I think that shifting gears a little bit and focusing more on overall policy – with emphasis on key issues like energy, manufacturing, Radical Green, and the quest for limited government – will make for a better site than trying to keep up with the doings of umpteen local and state candidates involved in races I'm interested in because deadlines aren't quite as pressing. We won the election, so now it's time to win the argument and start setting sound policy.
In the end, if I were to assess the last year of monoblogue I would have to say I struggled to meet expectations, for a number of reasons. As I noted above, though, the passion is beginning to come back and that's a good thing. I'm beginning to feel more excited about writing something on a daily basis rather than looking at it as a chore just to keep fresh content up.
I know I have a lot of fans out there, so if I have let you down a little in the past few weeks you will hopefully understand why. But I must say that the one consistent site metering system I've used over the years is pointing to 2014 being a record-breaking year – perhaps the new high will be reached as this very post is promoted because the numbers between 2014 and 2012 (my previous record) were extremely close. Through the end of November my readership for the year was up 4.8% over all of 2013. Add in December and it may be a 10% hike.
I'm hoping to have a little more clarity in other aspects of my life soon, too, so if that pans out I think things will work out for this site as well. Still, your support, thoughts, and prayers would be appreciated as I begin year ten.
As is tradition, I'm sitting here the day before Thanksgiving writing a post for tomorrow morning. I've looked through my site to find inspiration in previous Thanksgiving messages and found lots of cultural references, words of advice from my friends at the Patriot Post and from Sarah Palin, and a few holiday leftovers as I essentially recycled the same post for the last few years. And yes, I've generally referred to one holiday tradition – my Lions always play on Thanksgiving and (almost) always lose. This year they play the Bears on Thanksgiving for the first time since 1999 and 16th time overall.
This year, though, I decided it was time for originality again. I have a lot to be thankful for as far as family is concerned, and today I'll see the other half as we go to the in-laws for dinner.
Yet I have an extended family of sorts who reads this site and supports its efforts in many small ways, and I don't take the time to thank them nearly as much as I should. While this site has been supplanted by social media insofar as immediate news goes – and certainly I take the time to say my piece there as well - I can't use Facebook or Twitter to write about the things I care about, topics which are important to me. And every so often I run into people who say they appreciate what I do and that they leave my site better informed and entertained. At the risk of stealing a bit of thunder from Monday's post, which will mark my site's ninth anniversary, let me just say the fun is just beginning.
I don't want to keep those who read my site here too long today – this posts in the morning so you can read it in the space of a minute or two and then go on with those things which are really important: your friends and family.
So to all those who have read this space, supported me in some way, or took action based on something I wrote, I want to express my thanks and best wishes. Just don't forget to thank the Creator who bestows His blessings upon you before you pass the green bean casserole.
Those who know me and have some idea of what makes me tick realize pretty quickly I am a numbers guy, and there is just something about round numbers that I like. So every time I turn the odometer of 1,000 posts it's a big deal to me, and hitting the 4,000 mark is no different than hitting 1,000, 2,000, 2,500, or 3,000. (For the record, the last 1,000 posts took 853 days to compile.)
But today is an interesting day in the life of monoblogue. As you probably know, mine is primarily a state-based blog so I write constantly about Maryland politics. Aside from the first year of this site's existence, though, I have been on the side which was out of power and had little to no say in the governing of this state. Last night, with the election of Larry Hogan, that all changed. While I'm not going to get into my election observations quite yet – I'm saving that for tomorrow morning's post – but it should suffice to say that it will be interesting going trying to hold Larry's feet to the fire.
Unlike the last few observances of Pxk, I don't really have any earth-shattering news on the writing front. Obviously there may be a subtle change in direction now that I won't be as active in the state GOP, but hopefully the nuts-and-bolts of a party in power will be relatively smooth and uninteresting writing anyway. (The Democrats, on the other hand – now that could be intriguing as a number of them will be pointing fingers about the demise of Anthony Brown statewide and the shellacking they took locally and many may be lining up for 2018.)
Honestly, I don't know what part I played (if any) in recent successes, but one thing I do know is that I'm glad campaign season is over. Frankly, the last 2 or 3 weeks was a definite grind writing about the political because I was bored with it. When you figure I started covering this election in earnest about the middle of last year (arguably earlier since David Craig was in the running unofficially since 2011) it's no surprise that I needed something different to write on.
There are some areas I'm thinking may be included here more, though. Thanks to the exposure of doing American Certified for a few months, I have more interest in the nuts and bolts niche of manufacturing, which is a worthy subject to explore. I've also had more of an interest in energy issues recently, in part because the two go hand-in-hand to a great extent.
Yet there's one thing which has carried me through and that's the support of my readers. I suppose I would be writing something even if I had five readers a week, but getting the occasional accolades and "attaboys" about pieces I write doesn't get old. I'm still humbled by the recognition. When I see the Paypal notice about a hit to my tip jar or get the payment from an advertiser (or, as has happened before, a check from a supporter of the site) I'm still proud to have made that impact with someone. Look at it this way – my advertisers were 3-1 in their races.
I suppose if I have remaining goals for this site, they would be to maximize the readership which can be attained from a part-time blogger (who also has writing clients and works outside the home) and make it even more of a profitable enterprise. I'm hoping those political advertisers who helped me during campaign season transition into non-political ones who keep this thing going for the 3 1/2 years we're not doing the heavy vote gathering.
In less than a month I'll be starting my 10th year of doing this site, which is longer than many of those who I link to. Maybe I wasn't in at the ground floor, but I wasn't too far from the foundation.
Most blogs don't make it to 400 posts, let alone 4,000. But as long as I enjoy doing it and am able to do so – I just renewed my server for another year – I hope you keep looking in this space for readable and thoughtful political content.
Next Monday, nearly a week after the election, the time will come to formally bring down the curtain on my eight-year tenure as a voting member of the Wicomico County Republican Central Committee. As of now, the plan is to meet at the Chamber of Commerce and have the incoming group elect their chair and officers. It's a little different than four years ago, but we have a member who is heavily involved with poll watching and may not be finished until late in the evening. So we decided last night to wait a week, although I would have rather gotten it over with.
I originally wrote the following on my (now private) campaign page back on June 12, when early voting for the primary began, and updated it as the days went on so it would come up on the Facebook wall each day. It was intended as my platform for the next four years on the Central Committee but as it turned out I fell a few hundred votes short in my last campaign. The finality hit me the other day as my treasurer and I finally closed the campaign account.
Even though I didn't get another four-year term, I believe the items which were on my to-do list are ones which should be followed by my successors. There are indications we will have success this cycle, but some of these items should be attempted regardless of the results today.
**********
Now we've begun the actual voting process, the culmination of a campaign which began for me when I filed back in February. I could only imagine how it is to toil for 18 months or more to win a regional or statewide office, and several candidates have gone that long in their quest. The beginning of the end of my quest for a third (and final) term on the Wicomico County Republican Central Committee opened last Thursday morning at the Civic Center when the polls opened.
Bear in mind that, win or lose, my current term doesn't end until the polls close on November 4, 2014. We all have a single-minded goal to win as many elections as we can for local Republicans, particularly in races where we can unseat longtime Democrats like Rick Pollitt, Norm Conway and Jim Mathias. With that said, while I'm pleased with a lot of what I've done over the last eight years, I have some unfinished business I'd like to attend to over the next four.
First and foremost, candidate recruitment has to step up. We have a good team in place right now, but there are some holes we need to fill around the county, and a particular focus for the next four years is finding people willing to participate at the community level in towns like Salisbury, Delmar, Fruitland, and the others around the county. These local elections are stepping stones for eventual candidates, but they're also the place where prospective campaign managers and treasurers can learn the ropes as well. This even extends to recruiting for other appointed posts such as zoning boards and similar local openings which can use a dose of conservatism. I would like to see a well-connected member of our group be the point person for knowing which openings can be filled and looking for the right people to apply.
A second focus is the quest for an elected school board in Wicomico County. Obviously we can go a long way toward that goal by making a couple changes in our elected officials this year, since Rick Pollitt and Norm Conway have been the roadblocks in place over the last four years. If not, we have to aggressively pursue other avenues such as a petition drive. We believe the county should join much of the rest of Maryland in pursuing that course; personally I think we could model it on our existing County Council districts.
Lastly, there should be better organization at the precinct level. Now that we'll have an idea of just where precinct lines will be, the next step is to seek out and find local leaders who can work at the grassroots level. It's a role which can evolve, but as an example when I led a precinct over a decade ago I printed and distributed a quarterly newsletter to my GOP constituents alerting them to candidates and issues we as a party were promoting. Some of us are already developing databases which can be of assistance in this regard.
Don't forget you can vote for up to nine of us. I can work with any of the other twelve on the ballot, but the key for me is making it into the top nine once again. In 2010 I made it by just 30 votes and I wouldn't be surprised if things are that close again.
You can make the difference. Ask yourself: what other candidates have spelled out their agenda to such a degree? Only a few of us bothered to fill out the League of Women Voters questionnaire, but I've not been shy about saying exactly where I stood on the issues.
So this is my case. I'm asking for and would appreciate your support between now and June 24.
**********
One thing which amazes me still is that we made it through an entire term without turnover, which to me proved we took our role seriously. So the three new members – Dr. Greg Belcher, Julie Brewington, and Dr. Mark Edney, who have all been relatively active in the Central Committee meetings or Republican circles over the last few years – have a tough act to follow. I wish them success.
As for me, there has been sentiment within the group that they want to keep me around as Secretary, which can be done because it's allowed to be a non-voting position. I could participate and record meetings, but would not have a vote. At this point I'm willing to do so; however, there are a few party-related burdens I have which I'd like to divest myself from and I'll discuss those with the group in due course.
Finally, it turns out to be a happy accident that I will reach a milestone tomorrow, so after the votes are counted tonight I can take stock of where I am personally and professionally and plan accordingly. I'm sure you will be here to find out.