As I have done from time to time on Christmas Day (in years I just didn't leave the site dark) I've also decided to take a break from politics on Easter and present to you something much more important and lasting.
After all, He is risen! Back to those matters political tomorrow.
Every so often something comes along which puts me at the intersection of doing something I enjoy because I find it interesting, being able to write about it, and making a little bit of money. Tomorrow will be the first of what I hope are many of these features.
If you've been reading here since about 2006 or so, you'll have noticed I've done an occasional feature I call "Weekend of local rock." I also had a Friday tradition called "Friday Night Videos" that I did for a couple years as well, and toward the end of the that series I abandoned the original premise of news videos and went to an all-music format. It seemed more appropriate for enjoyment over the weekend.
Thus. tomorrow I'm debuting a new regular feature. I haven't thought of a catchier title than "monoblogue music", so I'll go with it. But in my occasional forays into attempting to find new writing clients, I came across an entrepreneur who was looking for people with a critical ear and existing media outlet to help promote his stable of musical artists by reviewing their work. So I contacted this gentleman and we have come to an agreement, the first installment of which will be up tomorrow afternoon. I like it because I get to listen to some different music than the formulaic crap which seems to plague the airwaves, from up-and-coming artists who may be enticed to come to this region. I'm sure he likes the fact I have a sub-200k world Alexa rank, but I think this can work to broaden my audience for the political end of my site as well. So it could be a win-win.
In speaking with this gentleman, it was made clear that my reviews didn't have to be positive, which is fine. But I asked him to steer those artists my way who are either based on the East Coast or tour through the area. (The latter covers tomorrow's first feature, as they are Australian-based but plan a U.S. tour later this year – on their previous tour they mainly played along the West Coast but I suspect this will be their breakout year and they will come this way.)
So while this may seem to be an unusual step – particularly for a political blog in an election year – bear in mind that I've always branched out into other realms because to write about politics on a daily basis would eventually burn me out. I look forward to what I hope will be a productive relationship on both ends, and one you the reader will enjoy.
In case you can't tell from the bright blue splash of color on the site, I have my first political ad of the campaign. Mary Beth Carozza is looking to win the newly-created District 38C seat and what better way to reach a conservative audience than this site? I wanted to take this moment to welcome her to the fold and thank Mary Beth for her support! The ad turned out nicely, didn't it?
So last night, after I put up the ad, I updated my ads page with the exciting offer Mary Beth took advantage of. I have plenty of room for more ads. I even put up my own, since this site doubles as my campaign site and has the authority line.
Now the ball is in your court. Even if you have something to sell besides politics, why not take advantage of a growing conservative audience and advertise here?
Now I know why I couldn't be a politician.
Tonight I went to a fire company banquet. No, I'm not a volunteer fireman: I attended because my future mother-in-law was honored for 50 years of service to the local ladies auxiliary. But not only was I there, along with a significant portion of this town's fire company, but so were two local Delegates, the State Senator, and most of the County Council and town commission – oh, and a candidate for Delegate that I recognized as well.
You may read about it in the local news, but the point is multiply that by a half-dozen local fire companies in the county and then add the fundraisers, parades, and other local events where it's good to have a face in the place and you wonder how the elected officials ever get any sleep. At least the State Senator had a plate of food – which was very good, by the way.
It also impressed on me the sense of community many still feel. Unlike certain political clubs, I noticed a nice mix of ages at this banquet as there were many members of the Millennial Generation in attendance, with most being involved in the fire company. While I was brought up for part of my adolescence in a rural area, it truly was a rural area and not a small town. The closest incorporated community was five miles away from me, although we lived about a mile from a small hamlet of a couple hundred, mostly residents of a trailer park. So I never dealt with the local fire department.
One part of the ceremony was the receipt of several checks from the county, the town, and the ladies auxiliary (which was the largest.) This body of women put together over two dozen charitable events each year for the fire company, a sum which supplemented the overall funding from the town and county. That dedication was echoed in the awards given out to various firefighters who went beyond the call of duty, one taking many extra hours to test equipment vital for the safety of all.
Living in an area which has primarily volunteer fire companies, I'm well aware of the many methods the various small-town outfits use to try and raise funds – anything from renting out the fire hall (pretty much a staple) to selling food by a busy intersection to holding Monte Carlo nights. It's those events which really take most of a volunteer firefighter or EMT's time – this small town only had 84 ambulance runs, so it probably didn't have a vast volume of fire calls. None of the firefighters made it to more than 2/3 of the calls, but I'm certain they did their share for the fundraising.
But I hear a lot from those running for office about making the time to stop by the firehouses as part of their campaigning. I guess I sort of understood the intent, but since I'm not a volunteer firefighter I didn't quite get the point. Tonight's event helped in that respect, particularly when you consider they were in session today. Makes for a long day.
While the scope of the work has changed over the years for the colunteers, it's hard to imagine a small town without a volunteer fire department, and even harder to imagine politicans not gladhanding at their banquets. It was something from which I learned quite a bit.
Last year I wrote about School Choice Week at the tail end of one of my final "odds and ends" segments. Rather than make you read the whole thing (although I think it was pretty good, even a year later) here's what I had to say:
But to get jobs, we need a better educational system and that means giving parents a choice in where to send their child for their education. National School Choice Week begins next Sunday, but no local organization on Delmarva has yet stepped up to participate in an event. (There are 22 in Maryland, but all of them are on the Western Shore. No events are planned in Delaware or on the eastern shore of Virginia.)

As it turns out, my fiance made the choice to send her child to a private, faith-based school. It's good for her, but it would be even better if money from the state was made available to cover her tuition and fees. Years ago I volunteered for a political candidate whose key platform plank was "money follows the child" and I think it makes just as much sense today. (Note: second link added in 2014 reprint.)
Alas, the same is essentially true for Maryland thus far, but Delaware has stepped up its game with events in the Wilmington area and in Milford.
Since I don't have a local event to report on at this time, a suggestion made by the folks at Watchdog Wire was to share this video of a family who took advantage of the D.C. Opportunity Scholarship.
So what do you think the chances of having a college graduate, another attending school, and a third who's intending to go to college would be if all three were saddled with attendance in the District's failing public schools? My guess is that the older two of the three would be single moms like their mother, because the public schools aren't necessarily environments conducive to learning. In the eyes of many "parents" pubic schools are instead glorified babysitters and day care.
Now I know neither charter schools nor parochial schools are perfect, and homeschooling isn't for everyone, either. I know a few people who tried homeschooling but didn't think they were doing the job and sent their children back to a traditional school. But let's look at a theoretical here.
Between the new Bennett High School and proposed Bennett Middle School, the cost to Wicomico County and state taxpayers for building the facilities will be roughly $125 million. Naturally that's not the life-cycle cost; since the current rendition of Bennett Middle is about a half-century old we can probably expect the newer versions to have the same lifespan. (One can argue over whether the cost was excessive due to state-imposed design choices and price of labor; regardless, the taxpayers will end up paying these bonds off for years to come.)
Enrollment varies, of course, but right now the two schools handle about 2,200 students – so each student's "share" of the cost is $55,000. Needless to say, there are going to be students there for a half-century so that cost is spread out but may well be $1,000 per student per year – not counting interest on the bonds, necessary maintenance – if they don't let the schools fall apart as they did the existing ones to guilt trip taxpayers into replacing otherwise structurally sound buildings – and of course the normal operations costs of heating, cooling, keeping the lights on, and technology. It wouldn't surprise me that these additional costs double or triple the $1,000 per student per year number, and I haven't spent a moment actually teaching.
[Pardon me for taking a dim view about the perceived uselessness of old facilities, but for my education (1969-82) I spent most of it in buildings dating from the 1950s or before - my (now demolished) middle school was first built in 1909 and added onto in the 1930s and 1950s as a former high school. I turned out okay without air conditioning in the school or fancy equipment, so spare me. And how many charter and private schools operate out of similar "obsolete" structures?]
If school choice can be the magic bullet to reduce costs by peeling away the myriad onion layers of bureaucracy, red tape, and questionable curriculum which seem to get in the way of children actually learning, shouldn't we be making a mad dash toward that concept instead of propping up the failure of modern public education?
Maryland is not a state which is perceived as friendly to school choice. Between the scare tactics to homeschooling parents, the oversized influence of the teachers unions, and the willingness to subject children to the watered-down Common Core curriculum, there aren't a lot of pathways to success. For a state which is supposedly tops in education, we don't seem to be putting out a lot of educated students.
That's why competition needs to be introduced and alternative paths to success, such as a renewed focus on skills-based vocational education, need to be provided. Let's give parents the choice and put the money in their hands.
At the risk of sounding "so last year" I'm going to talk about where I was last night. I wasn't there from start to finish, but I saw the most important part.
For the first time, the city of Salisbury had its own New Year's Eve celebration on the Plaza. Observers I spoke to said the crowds were somewhat modest early on when the celebration began at 8:00, but by the time we arrived shortly after 11 they were gathered throughout the downtown Plaza.
On stage at the time were The Bonedaddies, the second and final band of the evening. (Test Kitchen opened the proceedings.)
As you can also see, the ball was suspended directly above the stage, which had a running time clock through the event.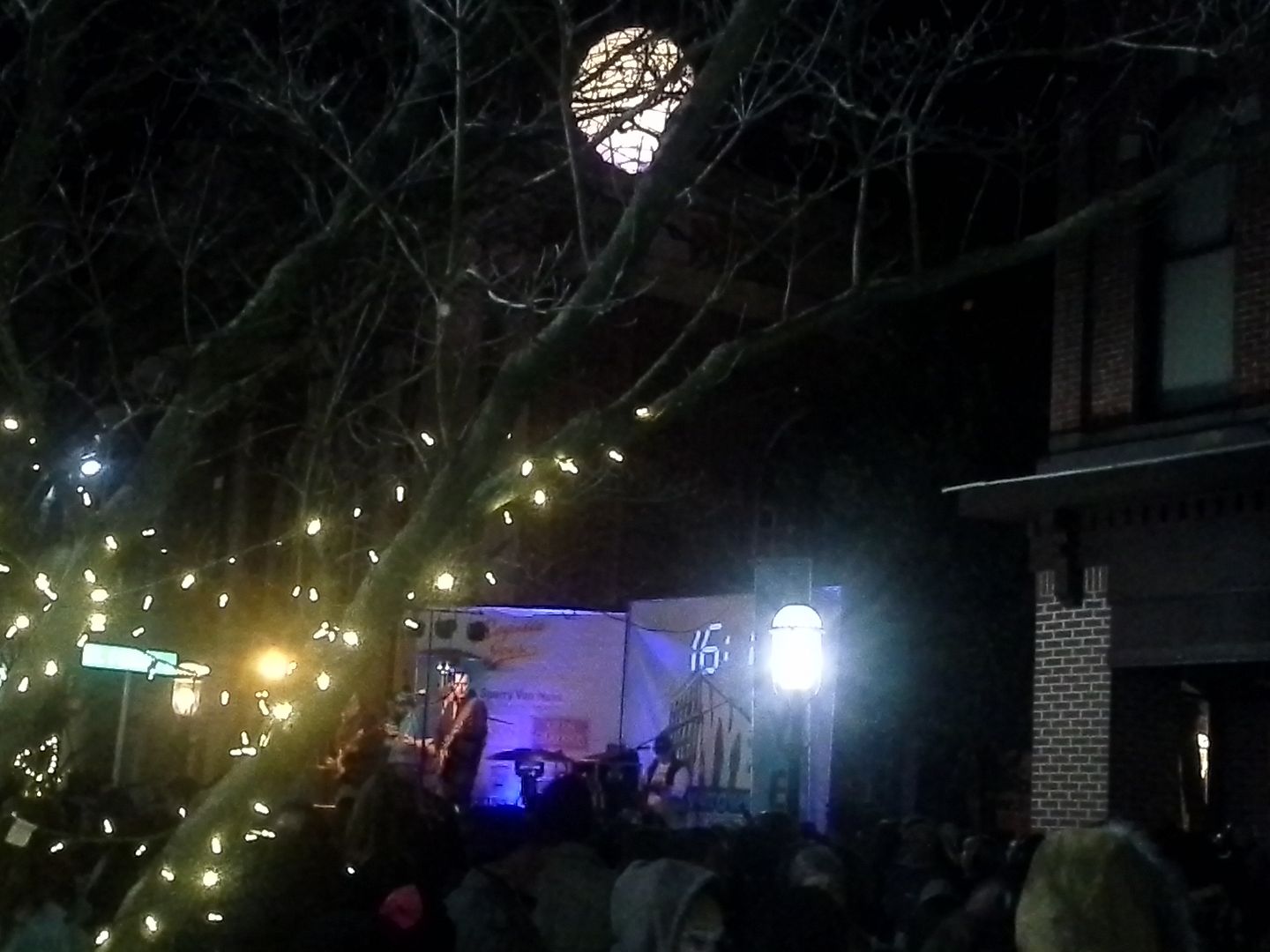 From the little I saw, it seemed like a well-run event. Yes, a number of people were celebrating with potent potables in open containers but no one seemed too much out of control. I noticed that domestic beers were running $3 a cup with Fat Tire and wine for $5 per serving, so there wasn't exactly a cheap buzz to be found – unless you shelled out $20 for the 150 available Pub Crawl tickets, good at any of several downtown watering holes. I think they had champagne on sale, too, which may have helped a flagging business – if you believe my blogger friend Becca Lower, at any rate.
Around 9:00, as I was told, there were around 1,000 people in the Plaza but by midnight I would guess there were somewhere between 2,000 and 5,000 people down there, based on some of the estimates I heard and my own figuring of the crowd. It wasn't wall to wall people, but you couldn't just casually stroll freely through there either. Given the Plaza is a couple blocks long and perhaps 60′ to 80′ wide and that some of the space was taken by the stage, beer tables, and so forth I would say there were maybe 3,000 down there. It was more crowded than I'd seen at any Third Friday, but there is less room to move around at those monthly events because of the artisan spaces.
Many of the city's political officers were reportedly there, but politics wasn't center stage at the event. The average partygoer looked to be in their 20s or 30s, with a sprinkling of families around – the voices you hear on my recording (aside from my countdown starting at about 15 seconds) were those of a family with a couple small children standing next to us.
Overall, though, I thought it was a very good event. Fortunately, the weather was good – if a little chilly – and it seemed like the only hitch was that the ball was a couple seconds late to the bottom. I also didn't see any food vendors there, but then again surely several of the restaurants facing the Plaza were open – down the street we noticed Mojo's was fairly busy. So we'll see if the event comes back for year two; my guess is that it will.
The last time I wrote this sentiment (2007) the year turned out pretty good for most of us, so why not try it again and see if I can bring back that mojo?
**********
Friends, fellow bloggers, and countrymen:
May 2014 be the best year of your life and the worst year of the rest of your life!
Michael Swartz
www.monoblogue.us
**********
Drink 'em if you got 'em.
Having a holiday schedule based on Wednesday holidays seems to play havoc with the news cycle, as there's not much going on with Maryland politics right now. By the time the holiday hangover is done, it's the weekend.
So over the next four days I'm going to provide for you a look back and look forward. As part of that, tonight's post will be the look back, with some of the highlights of my political coverage – and a couple other items tossed in for fun as well. This is the first time I've tried this, so I'll see how it goes.
**********
The year began, as it always does, in January. As will be the case even moreso this year, political fundraising was in the news as there was a surprise leader in the gubernatorial money race on the GOP side. Another highlight of the month was a spirited and enlightening discussion of state issues at the Wicomico Society of Patriots meeting – something all too infrequent this year, unfortunately.
But the highlight of the month was my two-part coverage of the Turning the Tides conference in Annapolis. which had a plethora of good speakers and discussion. It was so good I had to post separately on the morning and afternoon events.
In February my attention was turned to several topics, particularly providing coverage of the financing and the events surrounding the Salisbury municipal elections, for which the primary was February 26th. A key issue brought up was a state mandate for the city to help pay for cleanup of Chesapeake Bay, to the tune of $19 million a year.
Another state mandate took center stage in February, as the Wicomico County Council held a Tier Map forum to find out citizens weren't exactly enamored with the idea. As part of that I read from my written testimony on a Tier Map repeal bill, which wasn't the only testimony I wrote – I also put in my two cents on the gun grab bill.
We also found out that month that the Maryland GOP would get new leadership following the resignation of Chair Alex Mooney.
March found me continuing my coverage of the Salisbury city elections, but only backing one candidate. More important were local developments on the state level, where the Second Amendment was a hot topic for a local townhall meeting and our county's Lincoln Day Dinner.
But the highlight for me, by far, was my day at CPAC. That turned out to be a two-part set of posts.
As the area began to wake up from a winter slumber in April, so did the political world as it turned from the General Assembly session to the 2014 campaign. The Salisbury city elections went as expected, so I turned my attention to the race for state party chair. Interim Chair Diana Waterman ran a campaign which was at times embroiled in some controversy, but prevailed on enough supporters to make it through the lengthy grind of campaign forums (including one in Cambridge on the eve of the state convention) and win the remainder of Alex Mooney's unexpired term. But even the convention itself had its share of ups and downs, particularly a chaotic ending and a rebuff to new media.
While that was happening, the 2014 election was beginning to take shape, with familiar names both trying their luck again and trying for a promotion. Others had interesting endorsements as feathers in the cap.
But it wasn't all political in April. The outdoor season began with two local mainstays: Pork in the Park and the Salisbury Festival. I also found out I was immortalized on video thanks to Peter Ingemi, better known as DaTechGuy.
Those things political slowed down in May, with just a little reactionary cleanup to the state convention to begin the month, along with other reaction to the recently-completed General Assembly session. In its wake we also had turnover in Maryland House of Delegates GOP leadership.
But one prospective candidate for governor announced other intentions, leaving another to confirm what we knew all along.
On the fun side, I enjoyed Salisbury's Third Friday celebration with some friends and stopped by to see them at another barbecue festival, too.
June began with a visit from gubernatorial candidate David Craig, who stopped by Salisbury and in the process gave me an interview. And while he didn't make a formal tour, fellow Republican Ron George made sure to fill me in on his announcement and establish tax cutting bonafides. We also picked up a Republican candidate for an important local seat and found out political correctness pays in the Maryland business world.
A local doctor gave us his perspective on Obamacare and our area celebrated the chicken in June, too. I also learned of a special honor only a handful of political websites received.
As is often the case, our wallets became a little lighter in July. In the aftermath, we found out who David Craig picked as a running mate and welcomed both of them to our Wicomico County Republican Club meeting. I also talked about another who was amassing a support base but hadn't made definite 2014 plans at the time.
On the other side of the coin, we found the Democratic field was pressing farther away from the center, a place the GOP was trying to court with the carrot of primary voting. Meanwhile, the political event of the summer occurred in Crisfield, and I was there.
There were some interesting developments in the new media world as well – a plea for help, a shakeup in local internet radio, and my annual monoblogue Accountability Project all came down in July.
The big news in August was the resignation of State Senator E.J. Pipkin, and the battle to succeed him. And while one gubernatorial candidate dropped out, another made his intentions formal and stopped by our Wicomico County Republican Club meeting as well. Even Ron George stopped by our fair county, although I missed him.
It seemed like the gubernatorial campaign got into full swing in September – Charles Lollar announced in an unusual location, the Brown/Ulman Democratic team came here looking for money, Ron George tangled with Texas governor Rick Perry and showed up to make it three Wicomico County Republican Club meetings in a row with a gubernatorial candidate, and Doug Gansler decided to drop by, too. On the other side, Michael Steele took a pass. I also talked about what Larry Hogan might do to fill out the puzzle.
Those up the Shore made news, too. Steve Hershey was the survivor who was appointed State Senator, and I attended the First District Bull Roast for the first time. I've been to many Wicomico County Republican Club Crab Feasts, but this year's was very successful indeed.
September also brought the close of our local baseball season. As is tradition I reviewed the season, both to select a Shorebird of the Year and hopefully improve the fan experience.
October was a month I began considering my choice in the gubernatorial race. That became more difficult as Larry Hogan took an unusual trip for a businessman and Charles Lollar's campaign worked on self-immolation, while Doug Gansler needed his own damage control.
I also had the thought of going back to the future in Maryland, but a heavy dose of my political involvement came with the tradtional closing events to our tourist season, the Good Beer Festival and Autumn Wine Festival.
Most of November was spent anticipating the Maryland GOP Fall Convention; in fact, many were sure of an impending announcement. Honestly, both may have fallen into the category of "dud." But all was not lost, as the month gave me the chance to expound on manufacturing and share some interesting polling data.
Finally we come to December. While the month is a long runup to the Christmas holiday, I got the chance to again expound on manufacturing and come up with another radical idea for change. We also got more proof that our state government is up for sale and those who are running for governor place too much stock in internet polling. My choice is still up in the air, even after compiling an 11-part dossier on the Republicans currently in the race.
Locally, we found a good candidate to unseat a long-time incumbent who has long ago outlived his political usefulness. And the incumbent will need to watch his back because Maryland Legislative Watch will be back again to keep an eye on him and his cohorts. I'll be volunteering for a second year,
And while I weighed in on the latest national diversion from the dreary record of our President and his party, I maintained two December traditions, remarking on eight years of monoblogue and days later inducting two new players into the Shorebird of the Week Hall of Fame.
You know, it was fun going down memory lane for 2013. But tomorrow it will be time to look forward, beginning with the local level.
I'm returning to tradition this year and leaving monoblogue dark for Christmas. Hopefully you have much better things to do with your family than to be reading my website – it will be back Thursday.
Last year I informed you that I work on a peripheral basis with the retail industry, since writing and book sales don't pay all my bills. This is now the third Christmas I've been involved in this, and maybe the "new norm" is that store traffic isn't spectacular, but steady. Granted, this year I happened to not be working during the days immediately before the holiday so perhaps things picked up at the last minute. Honestly, the only stores which seemed to be doing great business out of those I do were GameStop and Toys R Us, probably because of the recently released PS4 and Xbox One. Seemed like a lot of people were investing in video games.
On the other hand, Best Buy, Target, and Walmart and our local mall were steady but not really as large as I've seen before. Of course, Target has its own set of problems these days.
Naturally we still have family and the original reason we celebrated the holiday to begin with as items to fall back on. I've noticed over the years that the stuff we buy is generally of a fleeting amusement – things which may eventually find their way to the back of the closet, break down, or otherwise fall from usefulness in a short time. But family is hopefully much more long-lasting, even if what seems to be an annual occurrence of global warming (in the form of a snow and ice storm) made travel to see those family members difficult or impossible. As a native Ohioan, I'm a veteran of a few Christmases where my intent to travel and see family were thwarted, such as the year the plans of turkey with the in-laws turned into frozen lasagna with my parents. 8″ of blowing snow will do that.
Of course, there was a time a couple thousand years ago where we all had a reason for hope thanks to the birth of our Savior, and that's really what the celebration should be about. To that end, once again for your holiday listening pleasure I bring you my friends from Semiblind doing  'O Holy Night'. (You may have to goose the file and start Windows Media Player to get it to play, but it's worth it.)
Merry Christmas to all of my friends and readers.
Despite what many consider a less-than-successful holiday shopping season, there apparently is one category doing quite well. The recently-released Microsoft Xbox One and Sony PlayStation 4 game consoles are hard to come by because they're flying off shelves worldwide, with both selling over 2 million units according to this New York Times story.
Both are driving customers away from the Nintendo Wii U console, which came out in 2012 but has suffered from "meager sales." My impression on this is that the serious gamers decided to wait until the new generation Microsoft and Sony products came out the next year, and the kids who seem to be Nintendo's biggest market moved from their DS handhelds to tablets rather than to the Wii U. (At least that's the path my fiance's nephew took.) Our household has a Wii unit which is rarely used – I guess it's just so 2006 – and the leading gameplayer tends to play on her phone while my fiance prefers a tablet.
This is just a small sample size, though. I want to talk about a trend.
Let's assume for the sake of argument that everyone has a Christmas budget to spend. Given the $499 price point of the Xbox One and $399 retail for the Sony PlayStation 4 – although would-be entrepreneurs who pre-ordered extra units are charging more online, taking advantage of supply shortages – it's clear that the Christmas lists get a lot shorter for those looking to purchase these units as a key component. Factor in another $100-$150 for games and you may have a sparse-looking set of presents under the tree. Many people went to GameStop or Best Buy to purchase the units and pretty much wrapped up their Christmas shopping in one stop.
To the extent that I don't participate in online or offline computer gaming, you can call me a Luddite. I understand, though, that electronic gadgets have surpassed actual social interaction as the leisure-time preference of those in the Millennial Generation. Even I've fallen into that trap because I spend a good portion of my waking hours sitting in my chair with my laptop, reading or creating more content for you to enjoy.
Yet it's amazing how far we've come in the last century, since leisure time itself is more or less the end result of technological advances in that period. That's not to say there wasn't a little bit of time for frivolity in the 1800s, but those brief stretches tended to simply punctuate a life otherwise filled with drudgery and back-breaking toil to keep a family fed, clothed, and housed in a three-room hovel. In this day and age there are still those who don't have enough food, shelter, and clothing to thrive but the vast majority are pretty much assured of three hots, clothes to wear, and a place to call home. Some of those common household items those in "poverty" own, such as air conditioning, microwaves, and cell phones, might well have been considered living like a king just a half-century ago and still would in many blighted regions of the globe.
Speaking of a half-century, in less than a year I reach the Big 5-0 myself. So I was a youngster when the home version of Pong first came out – the one we received was actually a competitor called Odyssey. We wired this bulky white console to the television in our living room (which was the spare room in our house at the time, since the family watched the other television in the family room) and marveled that we could manipulate that little dot on our screen with the rectangles we could move up and down, even back and forth!
My memory on this is hazy, but my recollection is that the Odyssey was a gift from our parents to the three of us, and probably was the one large item we received that year. Back then we probably opened six to eight presents apiece, a total which included clothes. But we had new clothes to wear, a newly-built house with five acres of yard to play ball on, and plenty of food – definitely your prototypical middle-class family, which for the majority of my childhood had my dad as the sole breadwinner. (My mom began working part-time when I was in middle school.)
The point is that things sometimes evolve in unexpected directions. Aside from the advance in technology, the Christmas we had in 1976 or 1977 when we got the Odyssey isn't going to be all that different than this year's edition when the kids find an Xbox One or Sony PS4 under the tree. But the world in which we find ourselves is a whole lot different, because the kids of today may be shuttled to and from the homes of various parental units and generations rather than spending Christmas at one place with the entire family. Mom might have to work late at one of her jobs on Christmas Eve, so no getting up before dawn to open presents on Christmas morning.
I suppose that if there's anything I wish for this Christmas, I would like to see the next generation of gaming consoles be purchased and given in homes where the family units are strong because people are enabled to enjoy the blessings of liberty in such a way that only one earner is required, and that the decision to have children isn't one taken lightly as a "choice" rather than a child. I don't think I was deprived of a thing growing up as I did, even if my mom and dad didn't always cater to our every whim and money was occasionally tight. We didn't get all we wanted, but looking back I received most of what I needed. (Some of it you just have to learn on your own.)
The old adage is that the family that plays together, stays together. I suppose it matters not whether the game is Monopoly or on the Xbox, just that the family is together.
Today marks the 3,615th post in the (now) eight year lifespan of this website.
If you haven't noticed, I'm heavily into milestones because to me they best represent certain points in life. For example, I usually mention the fact I'm on a post number with a multiple of 500 as it should be sometime in 2014 when I make it to 4,000. By the same token, almost every December 1st since this site's first anniversary in 2006 I've written a piece about where this enterprise has been and where it is going. Today won't be an exception.
One would have figured this to be a down year for monoblogue because it wasn't an election year in 2013, but the signs point to my readership actually increasing slightly. For most of 2013 the readership line on my Google Analytics stayed 10% to 30% ahead of 2012′s numbers, aside from a barely slower summer this year. Unfortunately my Analytics was down for about a month last fall; however, I determined from looking at my StatCounter reports that naturally my October 2012 numbers were 58% higher than 2013′s but those figures from November of last year vs. November of this year will likely be nearly identical once I get the summary later this week. So I would expect October 2014 to be a banner month, and the state probably did me a favor readership-wise by pushing the primary to June, which is generally one of my slower months. It won't be next year.
I chalk that increase up to being a better promoter of my work, although I think being named one of the country's best state-based political blogs by the Washington Post didn't hurt, either.
When I wrote this summary last year, I had two writing goals in mind for 2013. One was to finally make it to CPAC, and even though it was just for one day I indeed
attended the venerable event held outside Washington, D.C. It allowed me to meet a number of my cohorts from around the country, which was a plus. Certainly it would have been more helpful in that regard if I could have made it to the Blogger's Bash, but when you are an hourly employee and work comes on someone else's time schedule sacrifices sometimes have to be made.
One way I was hoping to escape that economic necessity was by working on my second book; alas, I made very little progress on that front. Maybe I haven't sold myself on the idea I've chosen, which I think is unique but requires more dedication than I've given it. Perhaps I'll find a little more time in 2014 but honestly I'm not holding my breath with my current situation.
Yet I think there is a way I can provide a useful service. Not everyone agrees with my methods, and others pout about how they believe I judge moral equivalence, but those who exist behind the scenes and don't seek to grab the headlines or attention are perhaps the most loyal members of my fan base. If my numbers went up (or at least held serve) between an election year and a non-election year, that seems to indicate I have a fair idea of what I'm doing and have some talent. Never mind I've also outlasted dozens and dozens of Maryland political sites – go back to this list and ask yourself where the others went.
So the question becomes one of how I improve the situation to make myself more useful to the pro-liberty movement? I know readers have helped a little here and there by rattling the tip jar or buying my book – for some reason, November has been by far my best sales month of the year – and I certainly appreciate the support.  But while monoblogue serves me as a great base to practice my craft, this enterprise isn't nearly enough financially – and that's all right. Unless people are going to start throwing a couple grand a month at me to advertise here, I really don't think that by itself monoblogue is going to be my financial savior. It's a hobby which takes on the average an hour or two of my day and it makes a small profit, so I'm okay with that.
But in reading a lot of the GOP candidate websites, I have to say that their writing style and conveyance of message leaves a lot to be desired. I've talked to insiders who complain about the same thing, and actually alerted one of the gubernatorial candidates about a glaring error in his platform, which has since been fixed. Yet when reading the websites on the other side, I don't often see these problems – the message may be counter-productive to the state as a whole, but it's presented in a readable way. So maybe I can be of service? I mean, I won't work for free, but I don't think I'll be all that expensive and proofreading is really your friend. Just let me know.
As for the site itself, I think it's in a pretty good place. It may need some freshening up in spots and those improvements will come as needed. On the front I just discussed I have a couple advertising leads from candidates, but I'd love some good ads for products and services which will appeal to a potentially large Maryland-centric audience. (I can think of a couple businesses which could use exposure throughout the state, but are locally centered around Salisbury. They would be great clients if they want to take the leap.)
One feature I think will become a jewel is the one I started recently called GO Friday. (The GO stands for "guest opinion.") It's off to somewhat of a slow start but there's true potential for growth there. GO Friday was intended to give voice to up-and-coming bloggers trying to build their own audiences out of my reader base, but it's open to anyone with a good opinion. It also gives me a breather to work on other avenues, such as the aforementioned potential writing tasks.
And don't think I'm abandoning some of my other features like Shorebird of the Week or Weekend of local rock. I think there's still plenty of mileage left in both, although the latter hasn't been as prominent lately.
When I started this enterprise, I said from the beginning it wouldn't be totally political because then I'd get burned out. There are days I've struggled to keep pace with my personal goal of daily updates (and I missed one this year because of an internet outage) but with that rare exception it's been one goal I've accomplished. Fortunately I'm not prone to writer's block and have something I want to say so the combination works well.
Anyway, this is where monoblogue is at as it begins its ninth year. Hope you enjoy the ride as long as I do.
If this looks similar to what I wrote the last couple years, you're right! But why mess with good sentiment, I always say.
As always I'd like to take a little time on this holiday which values family and the things we hold dear to wish you and yours a blessed Thanksgiving.
In my case it will be spent with both friends and family, although technically I haven't married into my significant other's family (we are engaged, though, so that's a start.) Once that occurs it will give me something more for which to be thankful.
For those who travel, it looks like the weather in these parts will be conducive for doing so, if a little cold and windy – looks like we escaped the snow and ice, though. I have about two hours of driving between the two stops for which I'm scheduled, but luckily both are both pretty much off the beaten path so traffic shouldn't be an issue.
So I hope all of you who take the time – whether daily, weekly, or even a first-timer – to read my site have a great holiday. Even though times have been somewhat rough over the last several years, I'm thankful for what I have and look forward to spending time with people I hold dear. If my Lions can run roughshod over the Packers and actually win a Thanksgiving Day game for the first time in ten years, so much the better.
After today, we'll be into the hustle and bustle of trying to find the right Christmas gift and making New Year's plans, so it'll be five weeks of overdrive for our schedule and overindulgence for our bodies. So take the time today and relax. Work will be back before you know it.
Oh, and if anyone tries to spout off Obamacare talking points at the family table, keep in mind that cranberry sauce stains – so aim carefully. Or just throw the drumstick at them, then alert them to reality.
Happy Thanksgiving, all. And for my Jewish friends, a Happy Hanukkah! Today is the first full day of that celebration, and I heard this is a once-in-a-lifetime coincidence.