Most people who read this site realize fairly quickly that its bread and butter is political news and commentary; oftentimes it references and considers a proper course of action on legislation which is introduced, debated, and voted on. Having studied our state legislative website for hours on end over several years and watched it evolve from a relic from the 1990s to a more functional site thanks to a fairly recent makeover, I have a pretty good idea of how to navigate through it to get the things I want out of it, but there are still some elements that it lacks.
I also have become aware that Maryland can be a trendsetter in legislation, but there are times where other states which have sessions that are longer or year-round consider legislation that's sure to be eventually contemplated in Maryland – speed cameras are an example, as other states had them first before we passed the enabling legislation. And being as close to Delaware as we are, there is the potential for a spillover effect from bills they debate and pass as well.
Those who are truly in the loop about such things rely on a small number of websites that specialize in tracking legislation as it moves through the various states and Congress. StateNet, CQ Roll Call, Bllomberg Government, and Westlaw are examples of entities which perform this service for a fee, one which often runs into the five figures annually. While they are very useful sites, that sort of cost isn't always attainable for a non-profit or advocacy group like a Maryland Pro-Life Alliance, Maryland Citizen Action Network, or Delmarva Poultry Industry. Their needs may be limited to just one state or a small group of states like those comprising Delmarva, along with relevant federal legislation.
You may ask where this is going, so let me let you in on some good news. Now it's possible to get the legislative information you need in almost real time at an affordable price while helping maintain the political news and commentary you've enjoyed for over nine years. Allow me to introduce you to TrackBill.
TrackBill is a system which allows its users find the legislation they are interested in and track its progress through the state or federal legislative body of your choice. As they describe it, "TrackBill is a simple, yet robust, platform empowering government affairs professionals to search, track, and report on legislation in the US Congress and 50 state legislatures. Professional service firms, Fortune 1000 companies, and nonprofit organizations rely on TrackBill to spend less time tracking legislation and more time impacting the outcome."
So let's say you are a Maryland Citizen Action Network and you're interested in legislation relating to education or Common Core. Each day you can receive an update on the progress of any Maryland or federal legislation dealing with these subjects and use that to spread the word about key votes and hearings. Delmarva Poultry Industry can do the same for all three states (Maryland, Delaware, and Virginia) plus other key poultry-producing states to keep an eye on their pet issues. There are three pricing levels:
A single state
Up to ten different states
Nationwide (all states)
Each of those also includes Congress, so even a statewide group has the advantage of knowing about federal legislation as well. This can be useful for keeping tabs on a state's delegation to Congress.
I will cheerfully grant that this service isn't for everybody. But TrackBill sought me out to ask if I would consider being their Maryland partner, and I decided to accept this new advertiser on a commission basis. Simply put, for each package they sell through my site (which has its own landing page) I get a percentage, and insofar as I know I'll be the sole Maryland outlet for awhile.
This is one way to support a startup company which is trying to help out the little guys (packages range from just $999 to $1,999 a year, which is far less than five figures) as well as the one conservative Maryland political blog you've come to respect. I don't do radio nor do I plaster my logo all over stuff at an online store – my energy is focused on providing the best content I can each day.
So I call on those of you who read here and are activists for various interest groups to see and hear what the fine folks at TrackBill have to show you and say. They say knowledge is power, so the more you know the better chance you have of making positive change. Since I get a trial version to play with, I almost can't wait for the "90 days of terror" we call the Maryland General Assembly to start so I can see what all this website can do. Judging from the little bit I've done so far, I think it will be a great resource for all of us!
Well, here we are. Another year, another dollar.
Since the blogging phenomenon is perhaps 15 to 20 years old, depending on how you interpret its history, I would have to guess mine is a middle-aged site. Lots of sites have come and gone in the span of time since I began this enterprise but still I press on. And middle age is a time when the naivete of youth is replaced by both a maturity and a growing awareness of one's legacy.
Normally when I do this annual introspective I consider a sort of "state of the site" address I have a number of accomplishments from the previous year, but this year was a little different. Unlike 2013, where I made it to regional and national events like the Turning the Tides conference, the David Craig announcement tour where I snagged a great interview, or – the granddaddy of them all – CPAC 2013, the last year was somewhat devoid of real exciting milestones. Those I had were more in the non-political realm, such as my too-brief tenure for American Certified, which allowed me to focus on a topic I enjoyed researching and writing about, or broadening my scope with occasional music and book reviews.
Instead, the main focus was a Maryland electoral campaign which had plenty of blogging fodder and was won by a candidate who was short on specifics but long on money to lend his campaign, at least to start. No, I was not a Larry Hogan supporter early on (although over the preceding two years I'd written about Change Maryland quite a bit) but he won the Republican primary and found a message which won the day in Maryland, reflecting a Republican tide nationally.
Yet just as the national GOP is already beginning to disappoint supporters who want a stiffer fight on amnesty, Obamacare, and the budget, the potential is there for Larry Hogan to fail the conservative movement in Maryland. It will be something that bears watching, and hopefully other outlets which were extremely critical of Martin O'Malley and his liberal, free-spending ways will be equally as quick to keep the incoming governor in line should he falter from a conservative stance. I know Rome wasn't built in a day and it will take some time to dismantle, but we need to continually move the ball forward against a stiff defense. (One advantage we may have, though, is that Democrats in Maryland aren't used to playing that way.)
To be bluntly honest, though, the last couple months have been difficult. Toward the end of the campaign I was so burned out on everything that the thought of packing this enterprise in once the election was over crossed my mind a couple times. After all, my direct political involvement was coming to a somewhat disappointing end because I was defeated for one last term on our Central Committee and I thought it would be a little more difficult given my comparative lack of resources to provide the coverage my readers were used to. I still don't think I'm back at 100 percent satisfied with my work and output as the election recedes farther into the rear view mirror but it is coming along and perhaps being upfront with those who support me will add a few percentage points to that total.
I sometimes feel this site is having a midlife crisis of sorts as it approaches a crossroads. It was great to have my political advertisers – who, by the way, went 3-1 in their elections – but so far none have stepped forward to replace them. While there was a point earlier this year where Salisbury fell to second or third place among the cities which visited this site most, it's regained its lead as about 1/8 of my audience, and 3/5 of the total comes from Maryland. (Washington, D.C. is my second-biggest city, though, at a little over 10% of audience.) There have been some new, more passive revenue sources over the year, with another potential one waiting in the wings, but as far as direct sales I have long struggled to reach a goal of 6-10 constant advertisers.
Nine is an awkward age for anything. It seems that it takes having a decade under your belt to bring a little gravitas, but you're no longer the new kid on the block either. I've tried a few new features over the last several months but not all of them have taken root and grew, which is a shame.
Still, I am hoping to go into the one-decade mark next year on the upswing in both revenue and readership; the real test, though, will be what kind of time I can devote to the enterprise. I think that shifting gears a little bit and focusing more on overall policy – with emphasis on key issues like energy, manufacturing, Radical Green, and the quest for limited government – will make for a better site than trying to keep up with the doings of umpteen local and state candidates involved in races I'm interested in because deadlines aren't quite as pressing. We won the election, so now it's time to win the argument and start setting sound policy.
In the end, if I were to assess the last year of monoblogue I would have to say I struggled to meet expectations, for a number of reasons. As I noted above, though, the passion is beginning to come back and that's a good thing. I'm beginning to feel more excited about writing something on a daily basis rather than looking at it as a chore just to keep fresh content up.
I know I have a lot of fans out there, so if I have let you down a little in the past few weeks you will hopefully understand why. But I must say that the one consistent site metering system I've used over the years is pointing to 2014 being a record-breaking year – perhaps the new high will be reached as this very post is promoted because the numbers between 2014 and 2012 (my previous record) were extremely close. Through the end of November my readership for the year was up 4.8% over all of 2013. Add in December and it may be a 10% hike.
I'm hoping to have a little more clarity in other aspects of my life soon, too, so if that pans out I think things will work out for this site as well. Still, your support, thoughts, and prayers would be appreciated as I begin year ten.
As is tradition, I'm sitting here the day before Thanksgiving writing a post for tomorrow morning. I've looked through my site to find inspiration in previous Thanksgiving messages and found lots of cultural references, words of advice from my friends at the Patriot Post and from Sarah Palin, and a few holiday leftovers as I essentially recycled the same post for the last few years. And yes, I've generally referred to one holiday tradition – my Lions always play on Thanksgiving and (almost) always lose. This year they play the Bears on Thanksgiving for the first time since 1999 and 16th time overall.
This year, though, I decided it was time for originality again. I have a lot to be thankful for as far as family is concerned, and today I'll see the other half as we go to the in-laws for dinner.
Yet I have an extended family of sorts who reads this site and supports its efforts in many small ways, and I don't take the time to thank them nearly as much as I should. While this site has been supplanted by social media insofar as immediate news goes – and certainly I take the time to say my piece there as well - I can't use Facebook or Twitter to write about the things I care about, topics which are important to me. And every so often I run into people who say they appreciate what I do and that they leave my site better informed and entertained. At the risk of stealing a bit of thunder from Monday's post, which will mark my site's ninth anniversary, let me just say the fun is just beginning.
I don't want to keep those who read my site here too long today – this posts in the morning so you can read it in the space of a minute or two and then go on with those things which are really important: your friends and family.
So to all those who have read this space, supported me in some way, or took action based on something I wrote, I want to express my thanks and best wishes. Just don't forget to thank the Creator who bestows His blessings upon you before you pass the green bean casserole.
Those who know me and have some idea of what makes me tick realize pretty quickly I am a numbers guy, and there is just something about round numbers that I like. So every time I turn the odometer of 1,000 posts it's a big deal to me, and hitting the 4,000 mark is no different than hitting 1,000, 2,000, 2,500, or 3,000. (For the record, the last 1,000 posts took 853 days to compile.)
But today is an interesting day in the life of monoblogue. As you probably know, mine is primarily a state-based blog so I write constantly about Maryland politics. Aside from the first year of this site's existence, though, I have been on the side which was out of power and had little to no say in the governing of this state. Last night, with the election of Larry Hogan, that all changed. While I'm not going to get into my election observations quite yet – I'm saving that for tomorrow morning's post – but it should suffice to say that it will be interesting going trying to hold Larry's feet to the fire.
Unlike the last few observances of Pxk, I don't really have any earth-shattering news on the writing front. Obviously there may be a subtle change in direction now that I won't be as active in the state GOP, but hopefully the nuts-and-bolts of a party in power will be relatively smooth and uninteresting writing anyway. (The Democrats, on the other hand – now that could be intriguing as a number of them will be pointing fingers about the demise of Anthony Brown statewide and the shellacking they took locally and many may be lining up for 2018.)
Honestly, I don't know what part I played (if any) in recent successes, but one thing I do know is that I'm glad campaign season is over. Frankly, the last 2 or 3 weeks was a definite grind writing about the political because I was bored with it. When you figure I started covering this election in earnest about the middle of last year (arguably earlier since David Craig was in the running unofficially since 2011) it's no surprise that I needed something different to write on.
There are some areas I'm thinking may be included here more, though. Thanks to the exposure of doing American Certified for a few months, I have more interest in the nuts and bolts niche of manufacturing, which is a worthy subject to explore. I've also had more of an interest in energy issues recently, in part because the two go hand-in-hand to a great extent.
Yet there's one thing which has carried me through and that's the support of my readers. I suppose I would be writing something even if I had five readers a week, but getting the occasional accolades and "attaboys" about pieces I write doesn't get old. I'm still humbled by the recognition. When I see the Paypal notice about a hit to my tip jar or get the payment from an advertiser (or, as has happened before, a check from a supporter of the site) I'm still proud to have made that impact with someone. Look at it this way – my advertisers were 3-1 in their races.
I suppose if I have remaining goals for this site, they would be to maximize the readership which can be attained from a part-time blogger (who also has writing clients and works outside the home) and make it even more of a profitable enterprise. I'm hoping those political advertisers who helped me during campaign season transition into non-political ones who keep this thing going for the 3 1/2 years we're not doing the heavy vote gathering.
In less than a month I'll be starting my 10th year of doing this site, which is longer than many of those who I link to. Maybe I wasn't in at the ground floor, but I wasn't too far from the foundation.
Most blogs don't make it to 400 posts, let alone 4,000. But as long as I enjoy doing it and am able to do so – I just renewed my server for another year – I hope you keep looking in this space for readable and thoughtful political content.
Next Monday, nearly a week after the election, the time will come to formally bring down the curtain on my eight-year tenure as a voting member of the Wicomico County Republican Central Committee. As of now, the plan is to meet at the Chamber of Commerce and have the incoming group elect their chair and officers. It's a little different than four years ago, but we have a member who is heavily involved with poll watching and may not be finished until late in the evening. So we decided last night to wait a week, although I would have rather gotten it over with.
I originally wrote the following on my (now private) campaign page back on June 12, when early voting for the primary began, and updated it as the days went on so it would come up on the Facebook wall each day. It was intended as my platform for the next four years on the Central Committee but as it turned out I fell a few hundred votes short in my last campaign. The finality hit me the other day as my treasurer and I finally closed the campaign account.
Even though I didn't get another four-year term, I believe the items which were on my to-do list are ones which should be followed by my successors. There are indications we will have success this cycle, but some of these items should be attempted regardless of the results today.
**********
Now we've begun the actual voting process, the culmination of a campaign which began for me when I filed back in February. I could only imagine how it is to toil for 18 months or more to win a regional or statewide office, and several candidates have gone that long in their quest. The beginning of the end of my quest for a third (and final) term on the Wicomico County Republican Central Committee opened last Thursday morning at the Civic Center when the polls opened.
Bear in mind that, win or lose, my current term doesn't end until the polls close on November 4, 2014. We all have a single-minded goal to win as many elections as we can for local Republicans, particularly in races where we can unseat longtime Democrats like Rick Pollitt, Norm Conway and Jim Mathias. With that said, while I'm pleased with a lot of what I've done over the last eight years, I have some unfinished business I'd like to attend to over the next four.
First and foremost, candidate recruitment has to step up. We have a good team in place right now, but there are some holes we need to fill around the county, and a particular focus for the next four years is finding people willing to participate at the community level in towns like Salisbury, Delmar, Fruitland, and the others around the county. These local elections are stepping stones for eventual candidates, but they're also the place where prospective campaign managers and treasurers can learn the ropes as well. This even extends to recruiting for other appointed posts such as zoning boards and similar local openings which can use a dose of conservatism. I would like to see a well-connected member of our group be the point person for knowing which openings can be filled and looking for the right people to apply.
A second focus is the quest for an elected school board in Wicomico County. Obviously we can go a long way toward that goal by making a couple changes in our elected officials this year, since Rick Pollitt and Norm Conway have been the roadblocks in place over the last four years. If not, we have to aggressively pursue other avenues such as a petition drive. We believe the county should join much of the rest of Maryland in pursuing that course; personally I think we could model it on our existing County Council districts.
Lastly, there should be better organization at the precinct level. Now that we'll have an idea of just where precinct lines will be, the next step is to seek out and find local leaders who can work at the grassroots level. It's a role which can evolve, but as an example when I led a precinct over a decade ago I printed and distributed a quarterly newsletter to my GOP constituents alerting them to candidates and issues we as a party were promoting. Some of us are already developing databases which can be of assistance in this regard.
Don't forget you can vote for up to nine of us. I can work with any of the other twelve on the ballot, but the key for me is making it into the top nine once again. In 2010 I made it by just 30 votes and I wouldn't be surprised if things are that close again.
You can make the difference. Ask yourself: what other candidates have spelled out their agenda to such a degree? Only a few of us bothered to fill out the League of Women Voters questionnaire, but I've not been shy about saying exactly where I stood on the issues.
So this is my case. I'm asking for and would appreciate your support between now and June 24.
**********
One thing which amazes me still is that we made it through an entire term without turnover, which to me proved we took our role seriously. So the three new members – Dr. Greg Belcher, Julie Brewington, and Dr. Mark Edney, who have all been relatively active in the Central Committee meetings or Republican circles over the last few years – have a tough act to follow. I wish them success.
As for me, there has been sentiment within the group that they want to keep me around as Secretary, which can be done because it's allowed to be a non-voting position. I could participate and record meetings, but would not have a vote. At this point I'm willing to do so; however, there are a few party-related burdens I have which I'd like to divest myself from and I'll discuss those with the group in due course.
Finally, it turns out to be a happy accident that I will reach a milestone tomorrow, so after the votes are counted tonight I can take stock of where I am personally and professionally and plan accordingly. I'm sure you will be here to find out.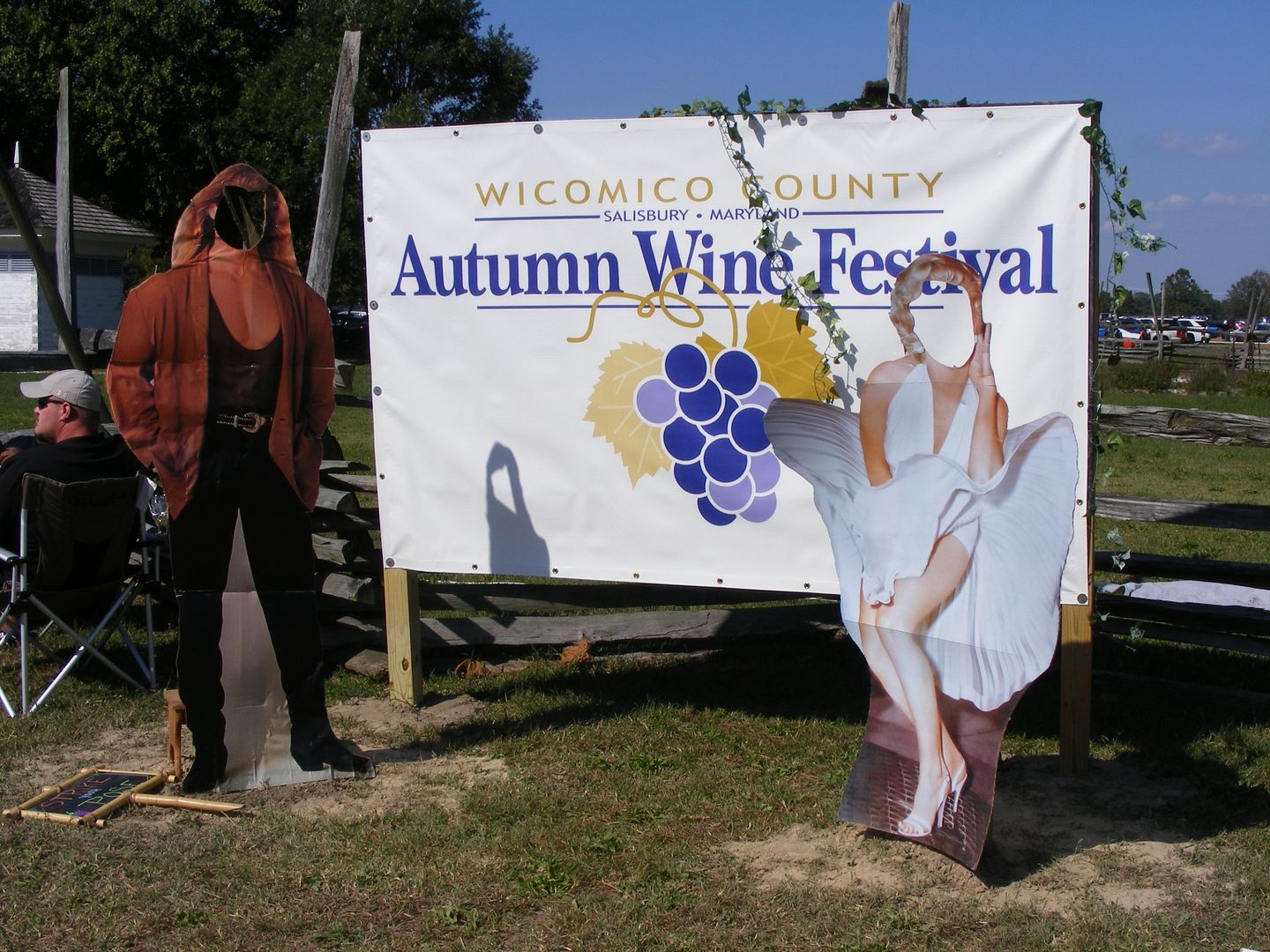 Yet again I was found at Pemberton Historical Park for an event involving potent potables. But this one was more like work for me because I'm simply not a wine drinker – didn't have a drop. Yet I did take a few photos.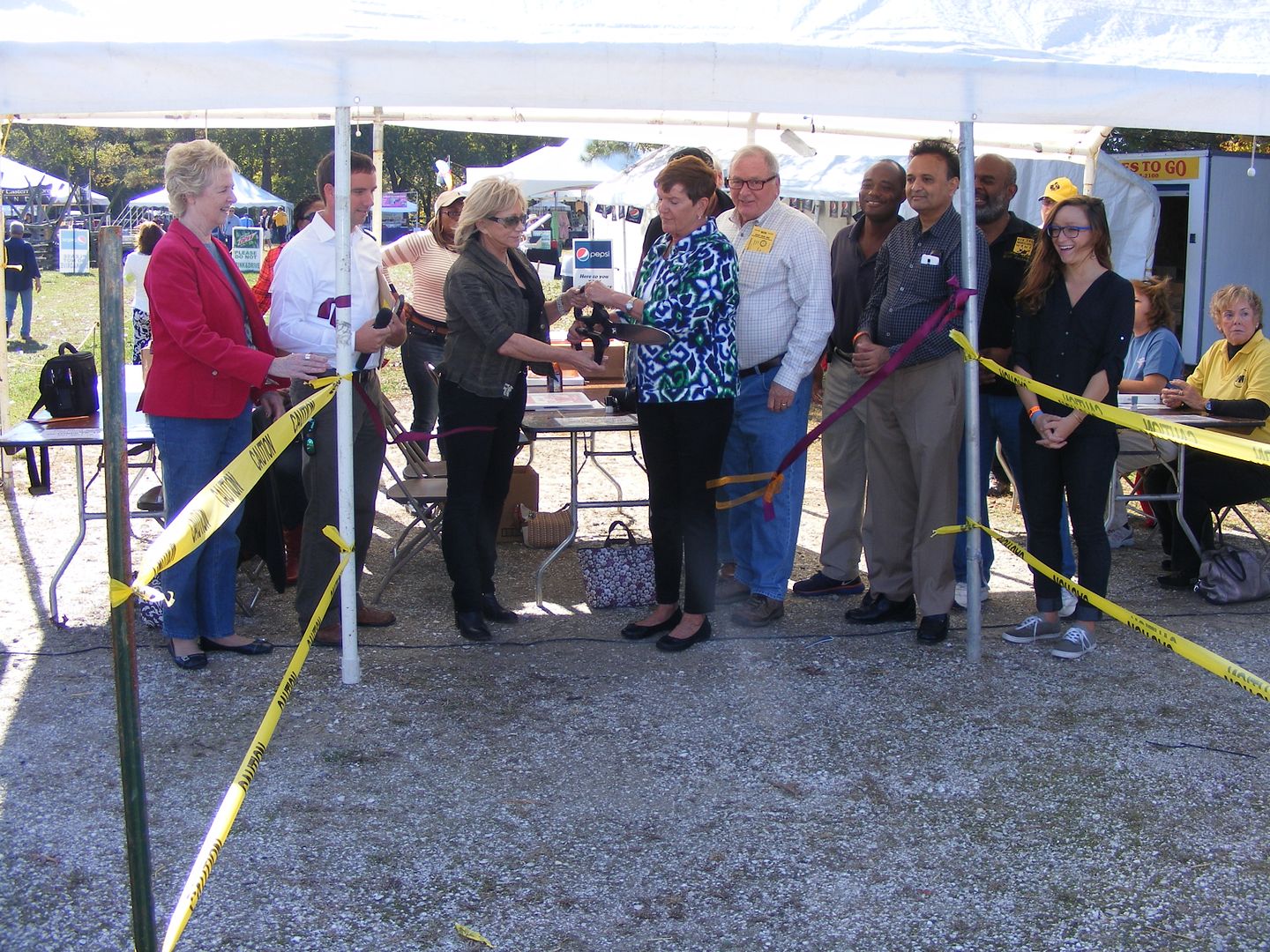 So once the ribbon was cut by (among others) County Council members Matt Holloway, Stevie Prettyman, Gail Bartkovich, and John Hall, we were underway. I was really there for our Republican booth.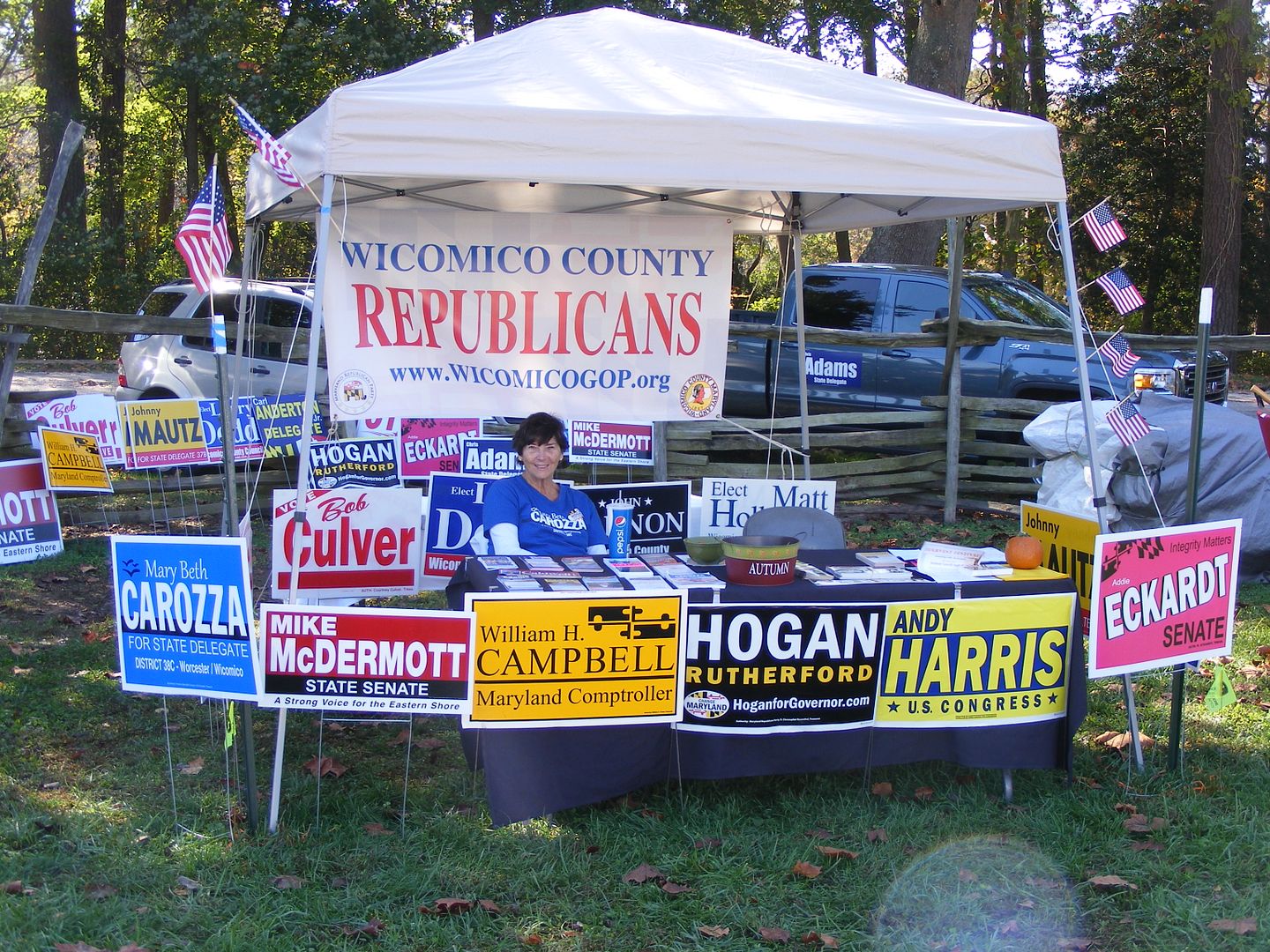 Carol Rose is a big fan of monoblogue and now she's famous. Actually it gives me an opportunity to thank a whole crew of people who helped out for at least part of a day for the two events: Jackie Wellfonder, Shawn Jester, Carol Rose, Greg Belcher, Linda Luffman, Phil Adkins, David Warren, and Larry Dodd, who you'll see in a little while. Jim Jester didn't sit with us, but he was valuable for helping me to set up and take down for each event. That's a job in and of itself.
But I wasn't the only person helping get out the vote. Circuit Court judge candidate M.J. Caldwell had his own space.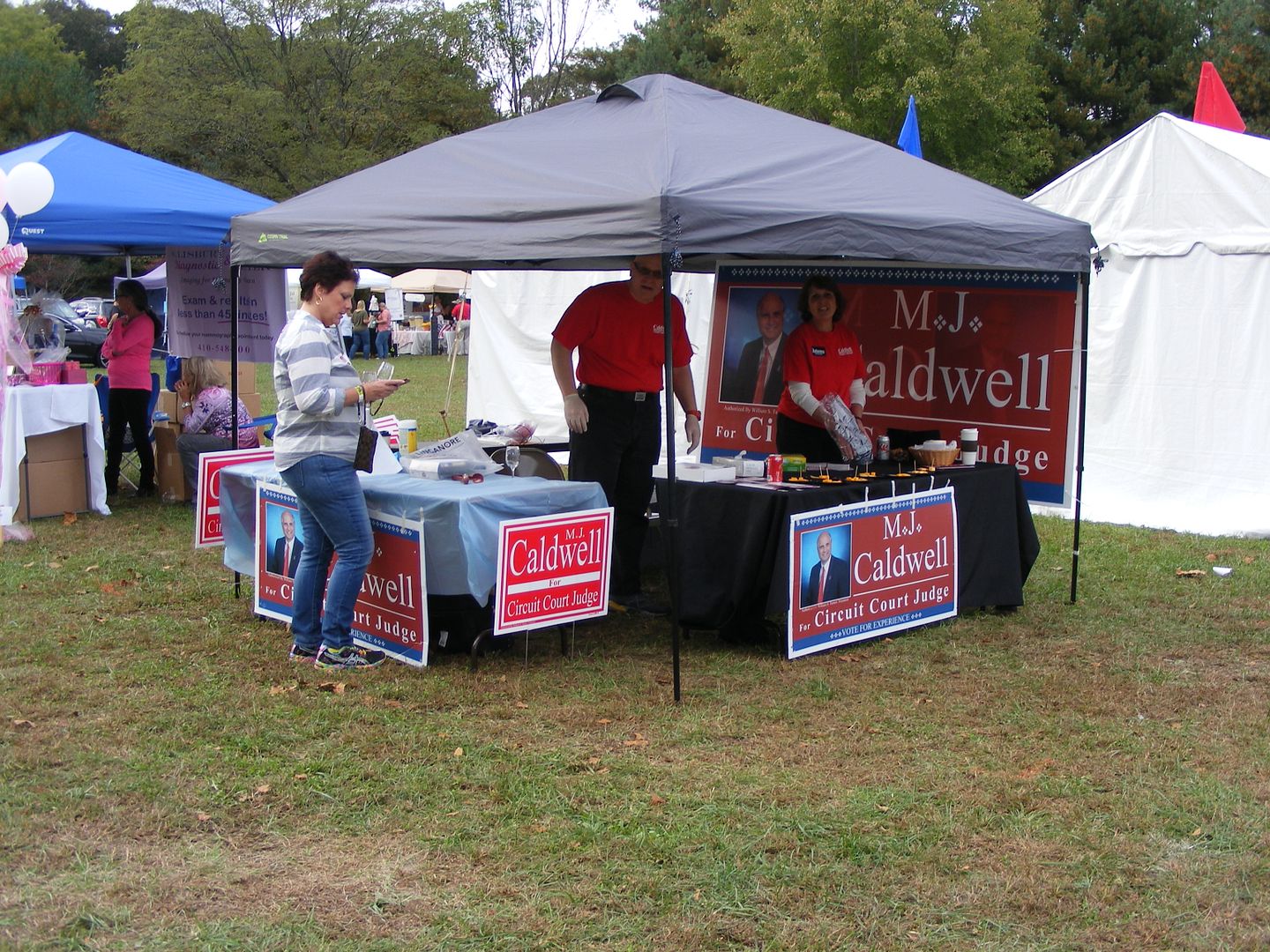 These were the Ritz crackers with cheese. Sunday visitors got the upgrade to Triscuits.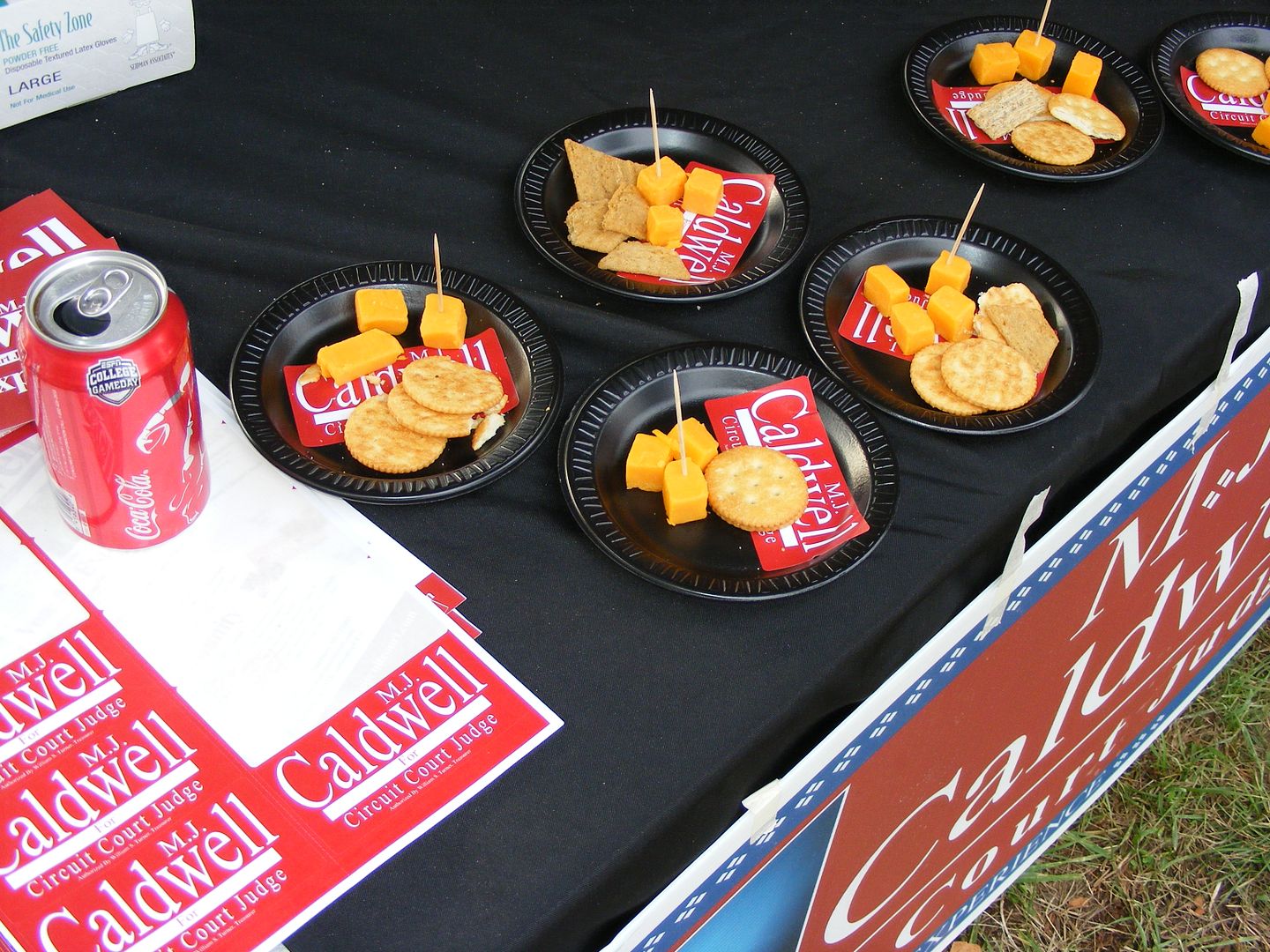 On the other side of the aisle (literally) were our friends, the Democrats. Pete Evans was there most of the weekend, and as I noted this morning I spoke to Delegate candidate Rod Benjamin for a bit while I was there. I also saw Laura Mitchell from afar.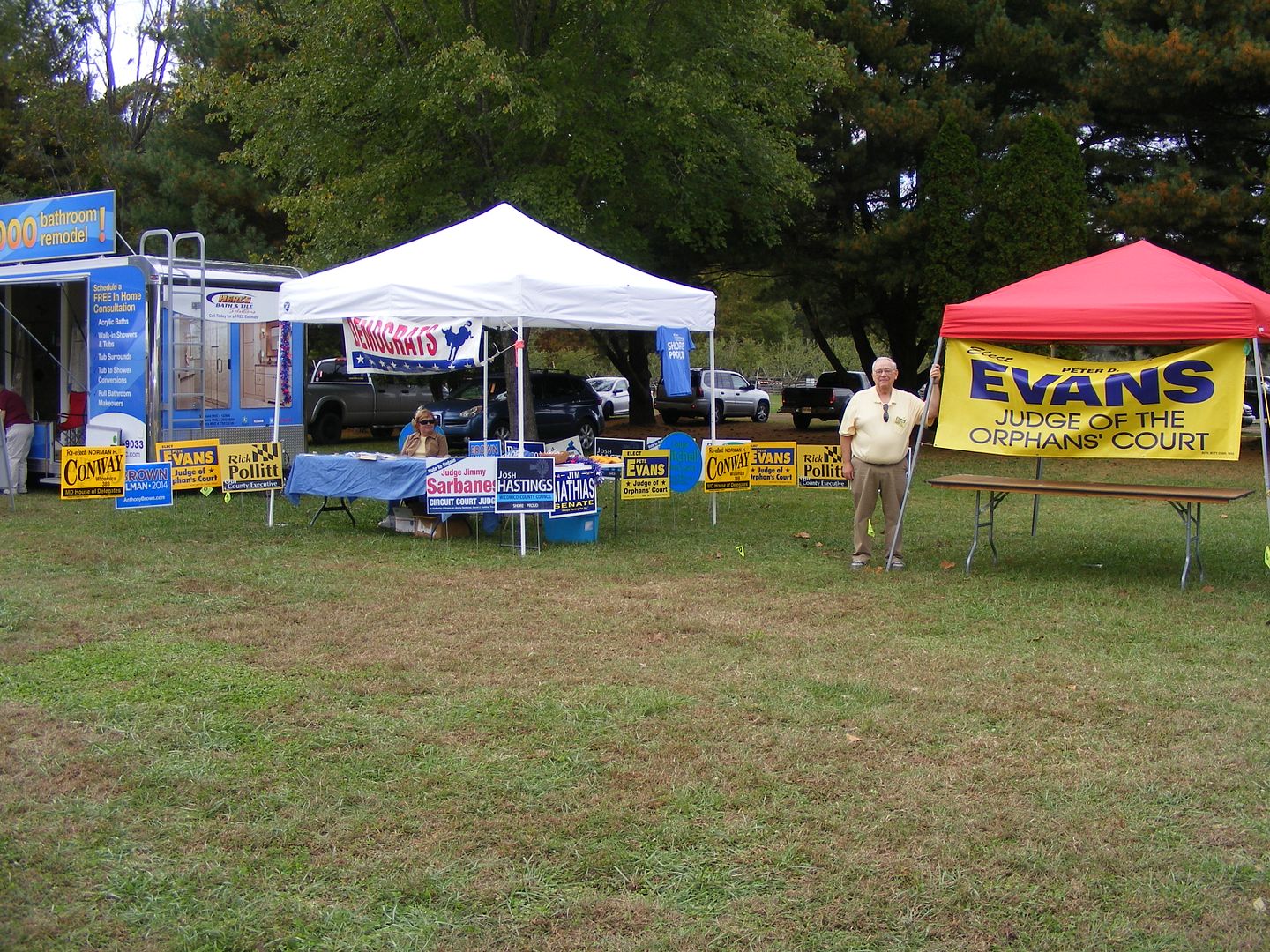 I was a lot closer to Mike McDermott and Chris Adams, who stopped by Saturday to try and collect votes.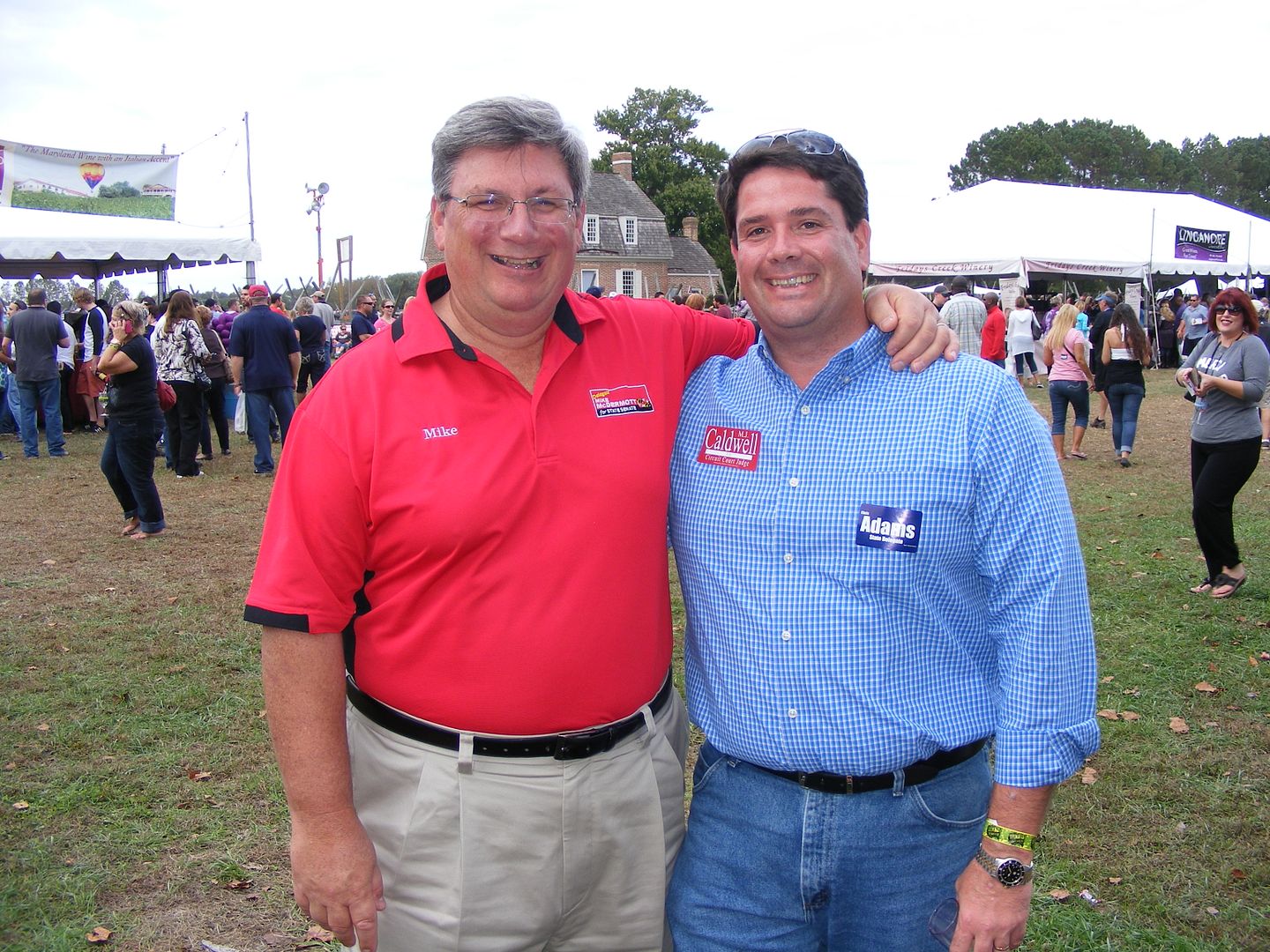 As I noted, District 3 contender Larry Dodd was by on Sunday checking out my neighboring tent while helping man the table.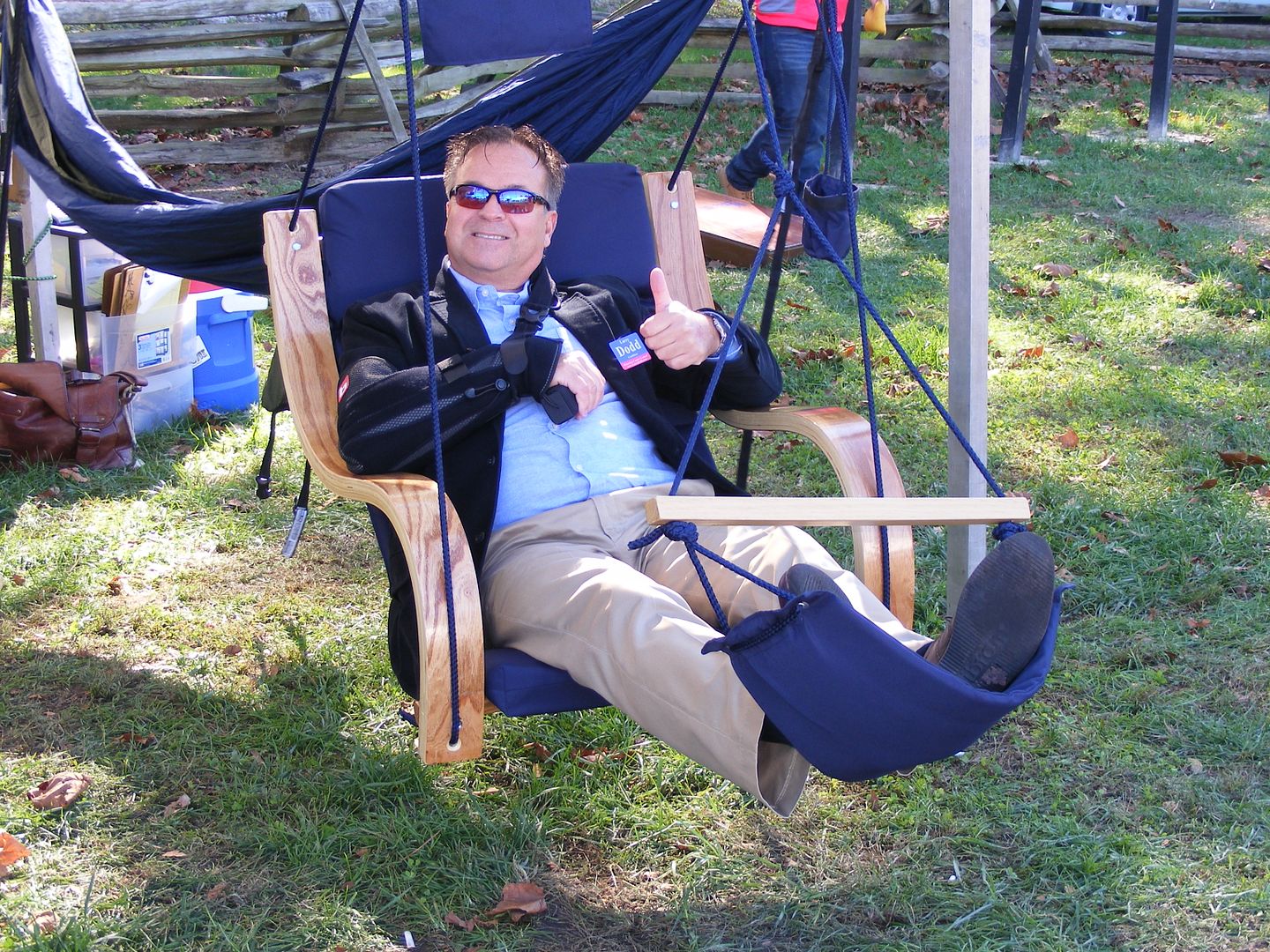 It's worth pointing out that attendance between Saturday and Sunday was like night and day. While I took these from different vantage points, the time of day was pretty close between the Saturday photo on top and the Sunday one at the bottom.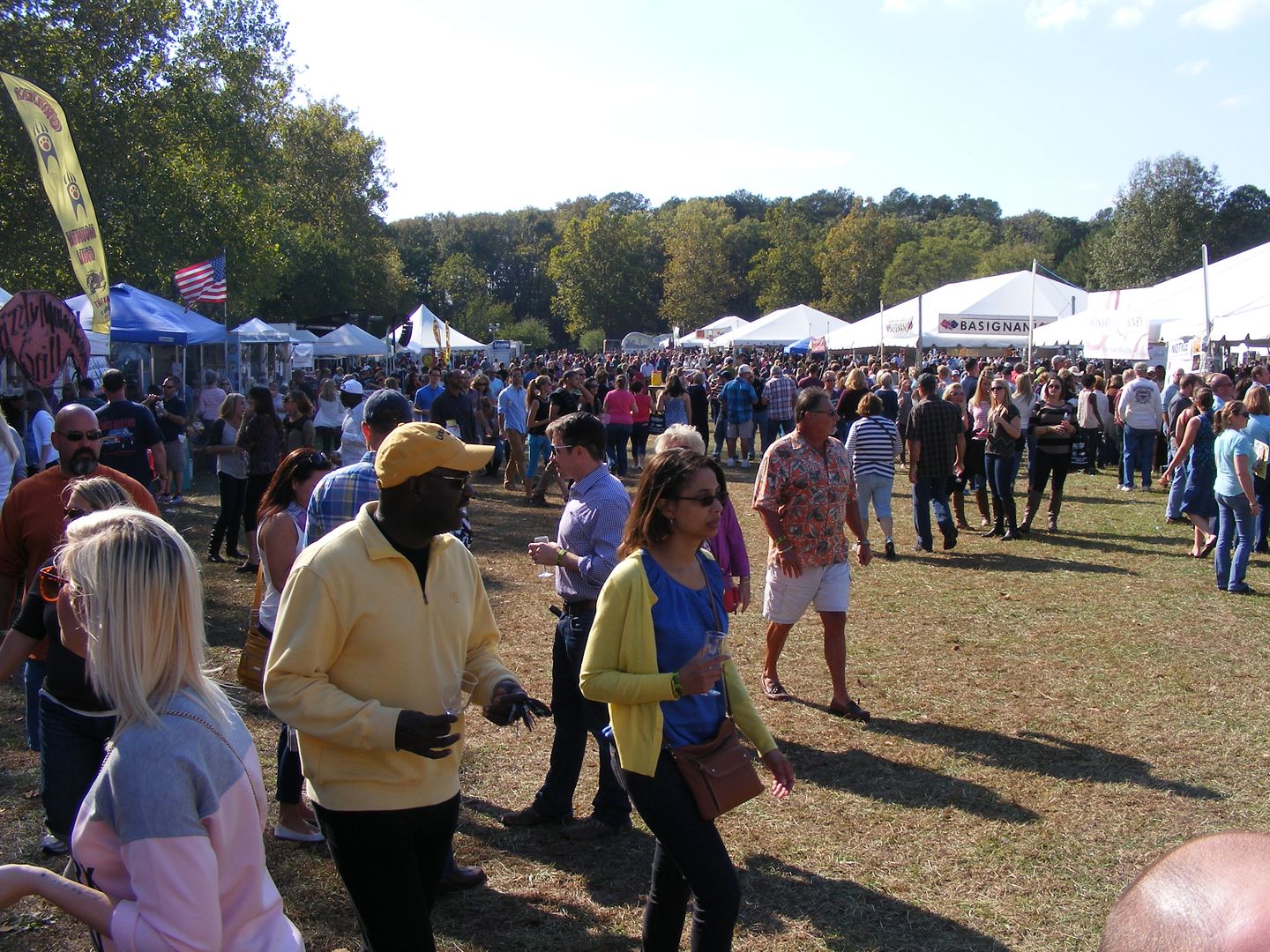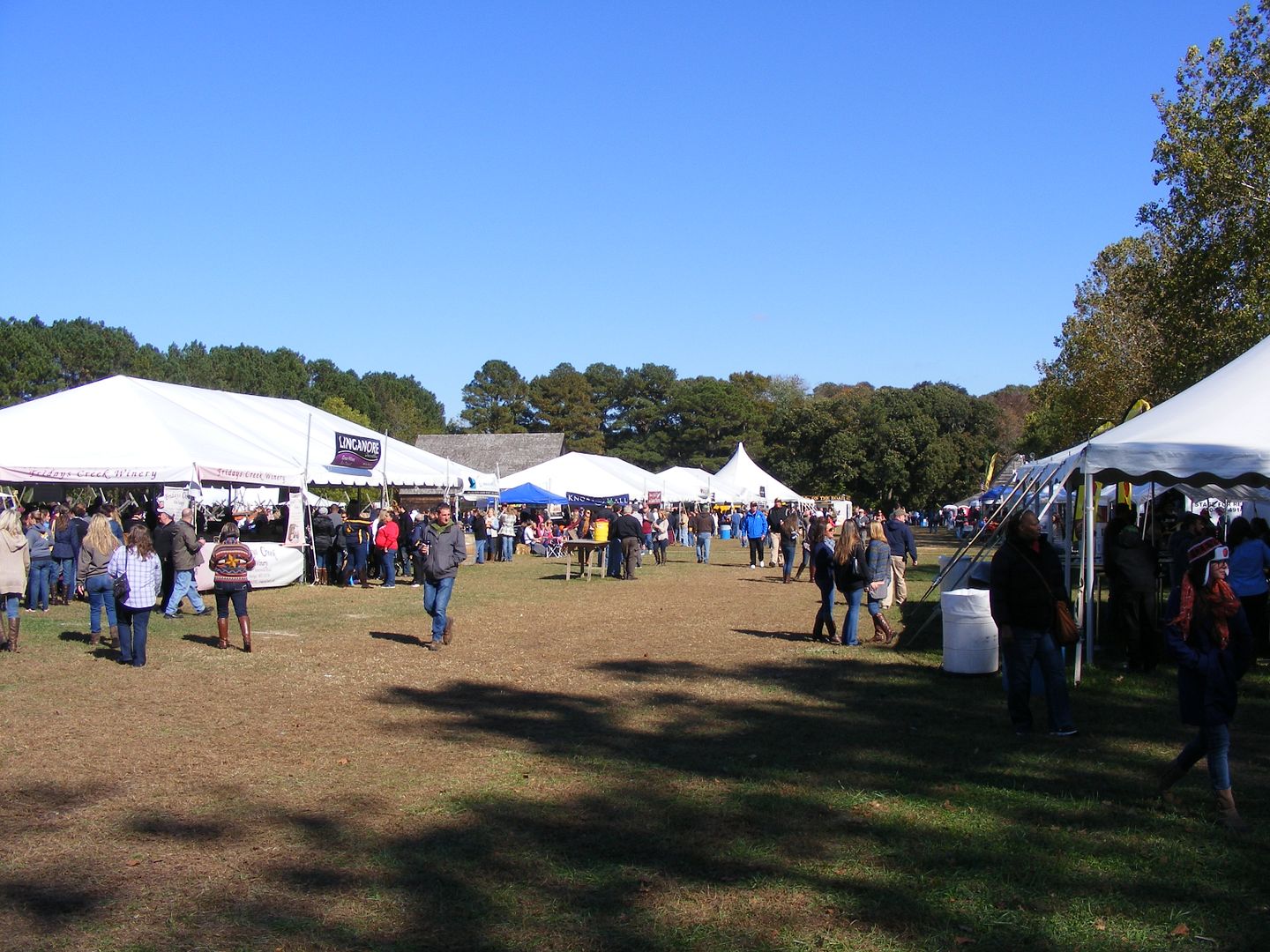 Something else a little different was the use of one space. On Saturday, the top photo shows a VIP area. On Sunday it was converted to an artisan's tent with some of their wares put out.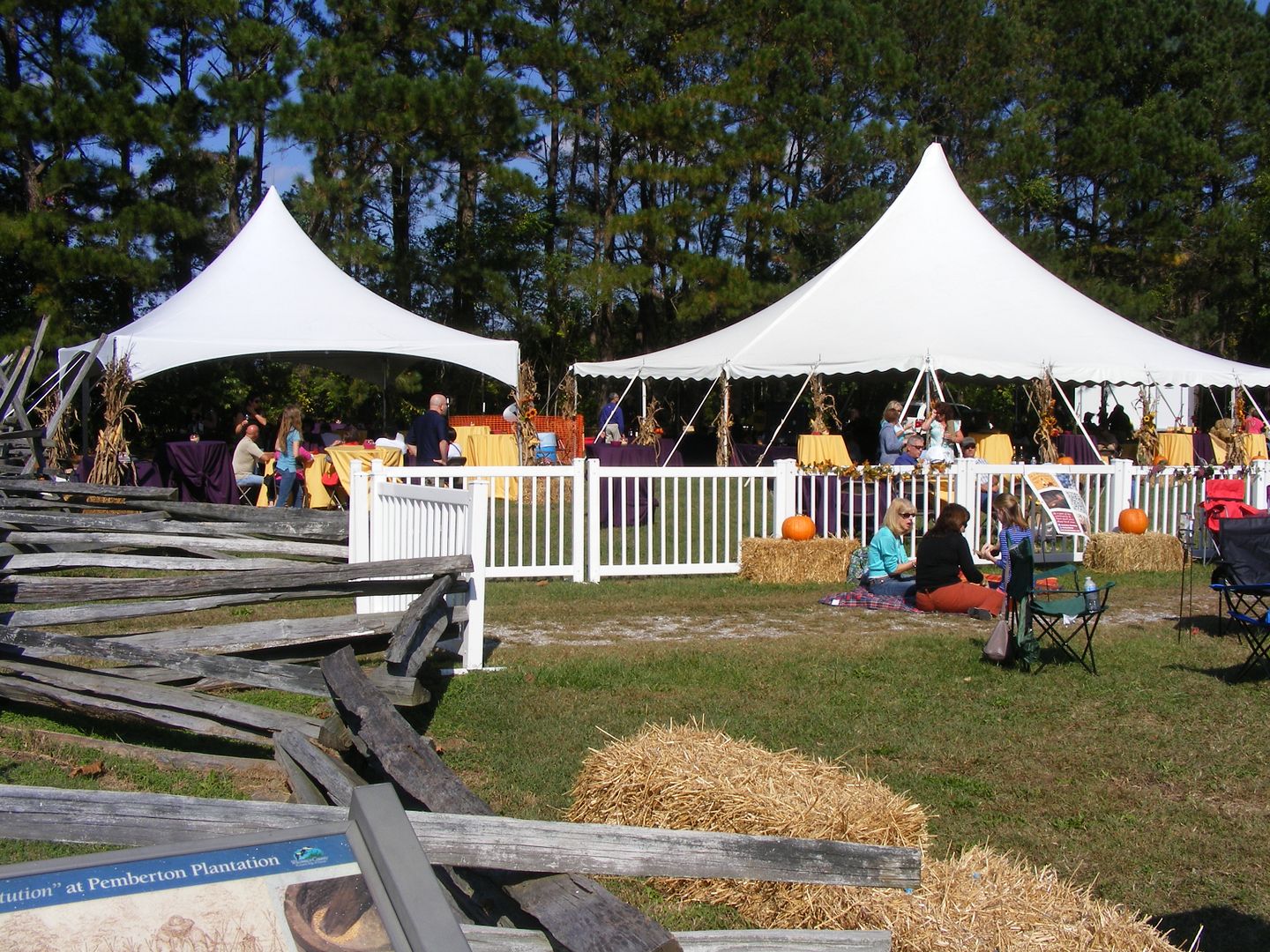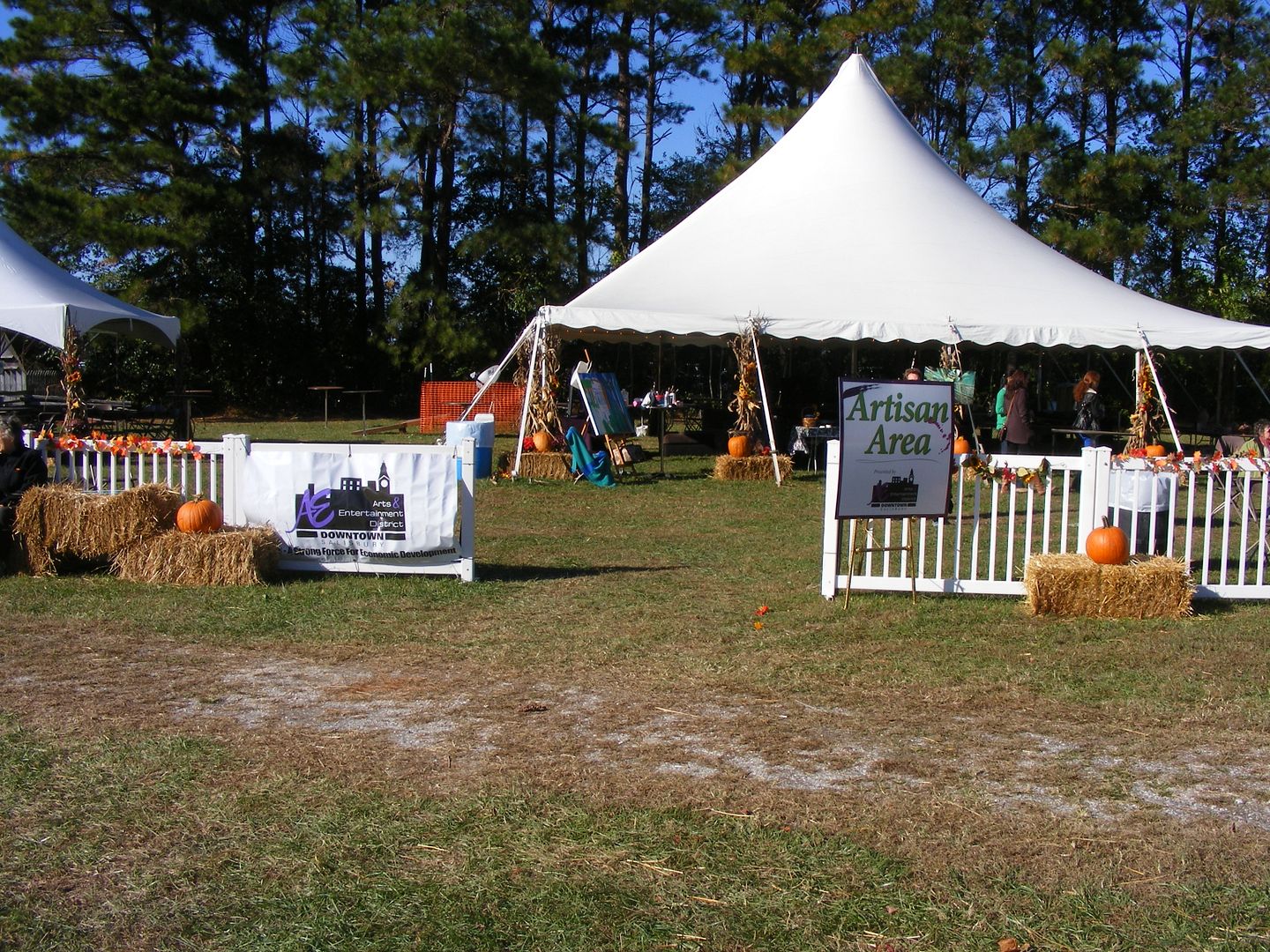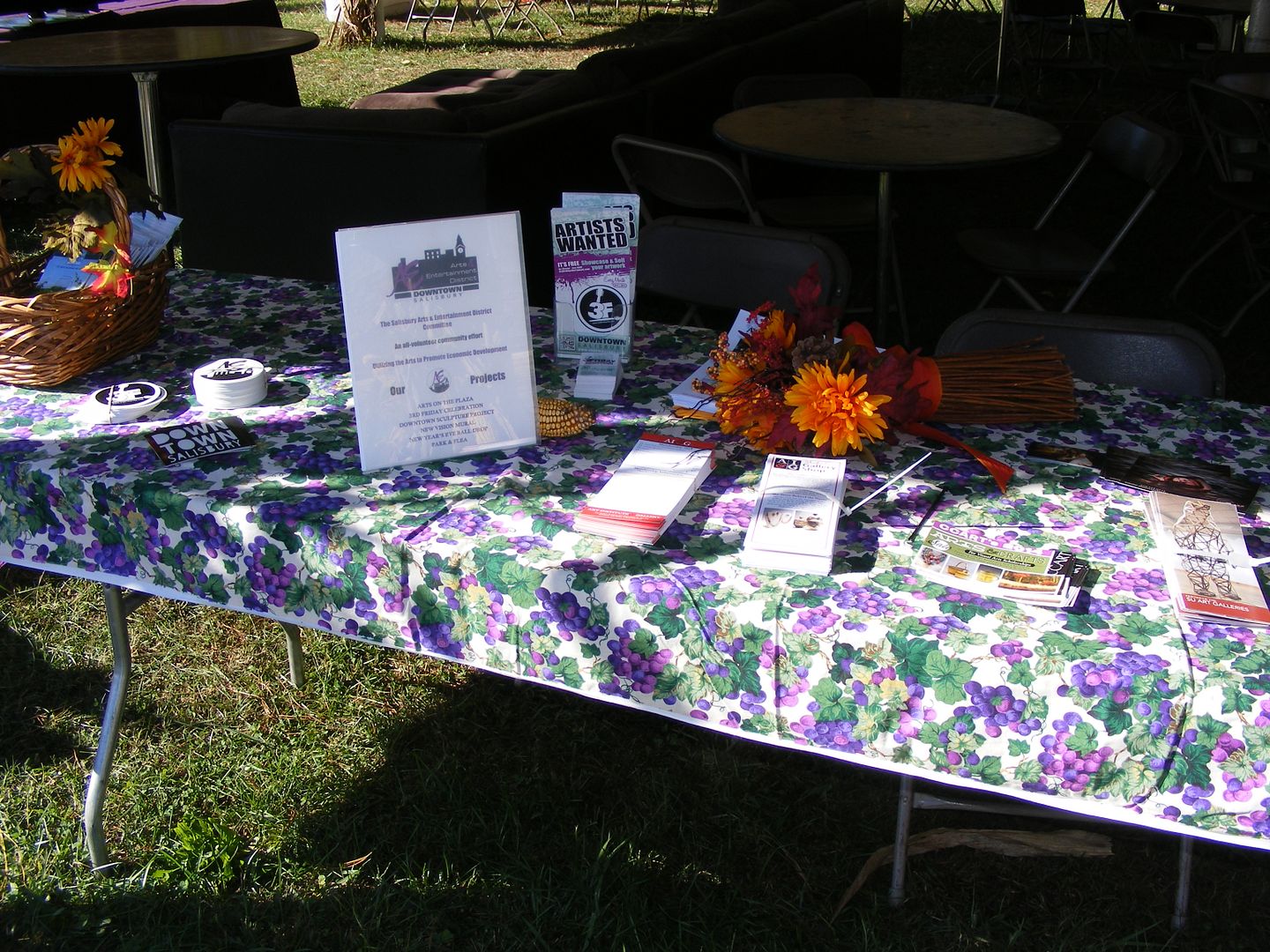 For a few extra dollars on Saturday, you got the nicely appointed tables, a bigscreen TV, a large sectional sofa, and private restrooms. With the exception of the tables, they kept those things on Sunday but very few were there.
Of course, the weather had a lot to do with the spotty Sunday attendance. While it was in the 70s and balmy Saturday, a chilly, cloudy morning and gusting gales on Sunday reminded me again why I call it the Autumn Wind Festival. And those gusts created havoc at the other political tents, oddly enough.
M.J. Caldwell's tent reared up on two legs before being corralled. But as David Warren saw with his photo, the Democrats weren't as fortunate.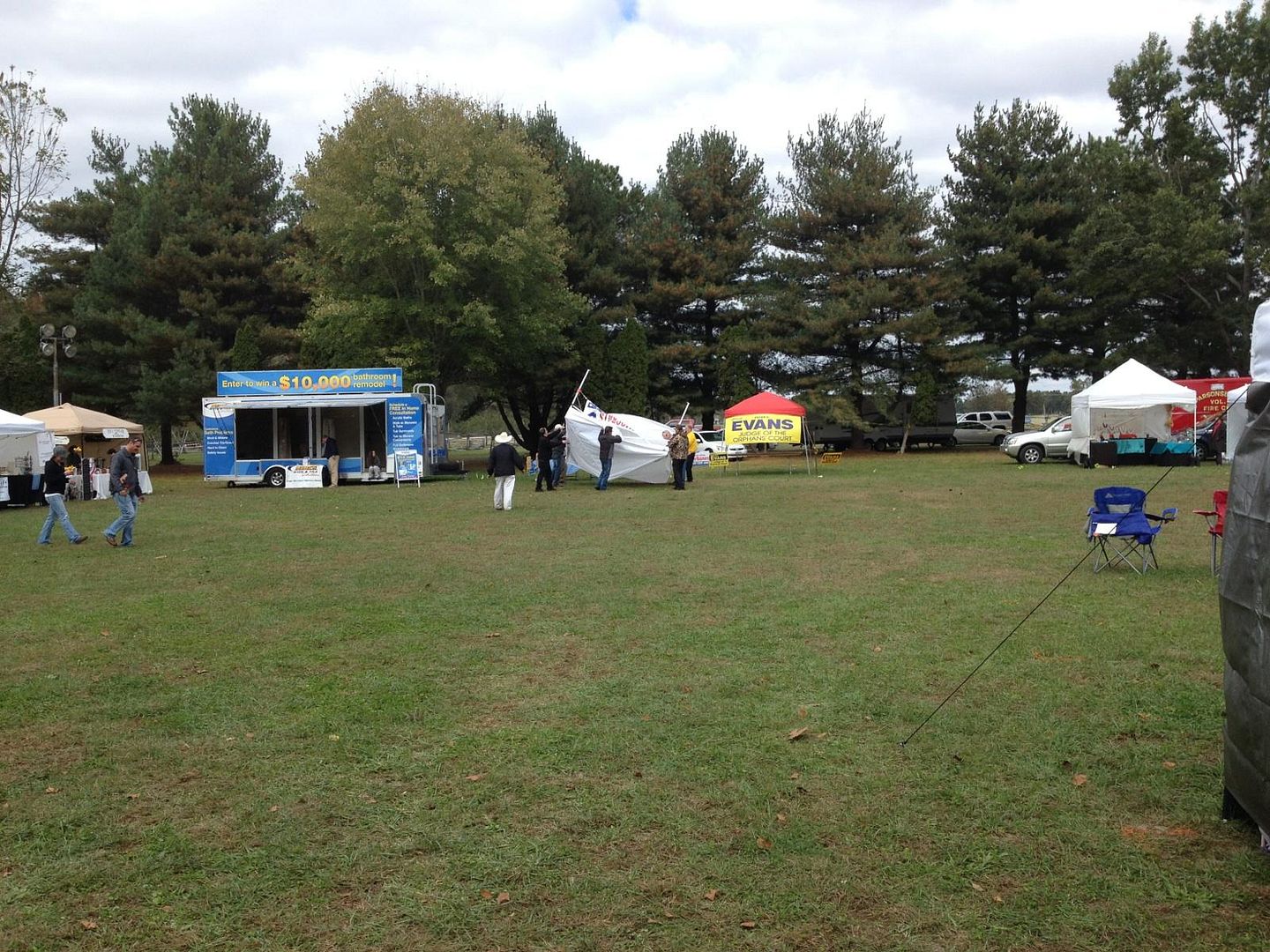 You'll notice how devoid of people this end of the festival appeared on Sunday. Unfortunately for a lot of vendors, it was that way Saturday, too. I took this about 3:45, just at the end of the peak time.
While a few were playing games and some watched the college football – granted, the television tent was a little busier on Sunday afternoon for the Ravens game – there was another place people stayed.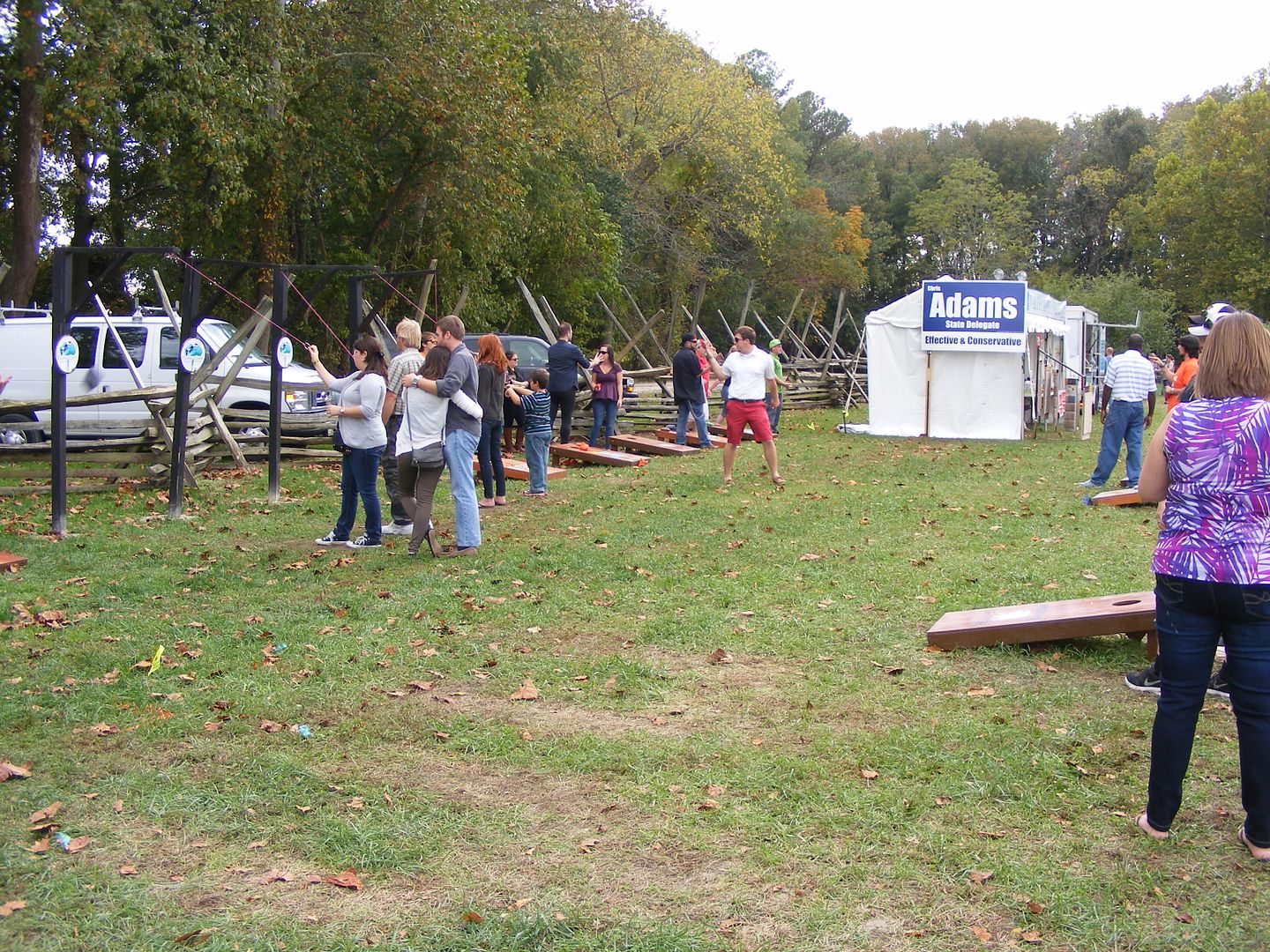 Bear in mind I took the next picture Sunday, with the smaller crowd.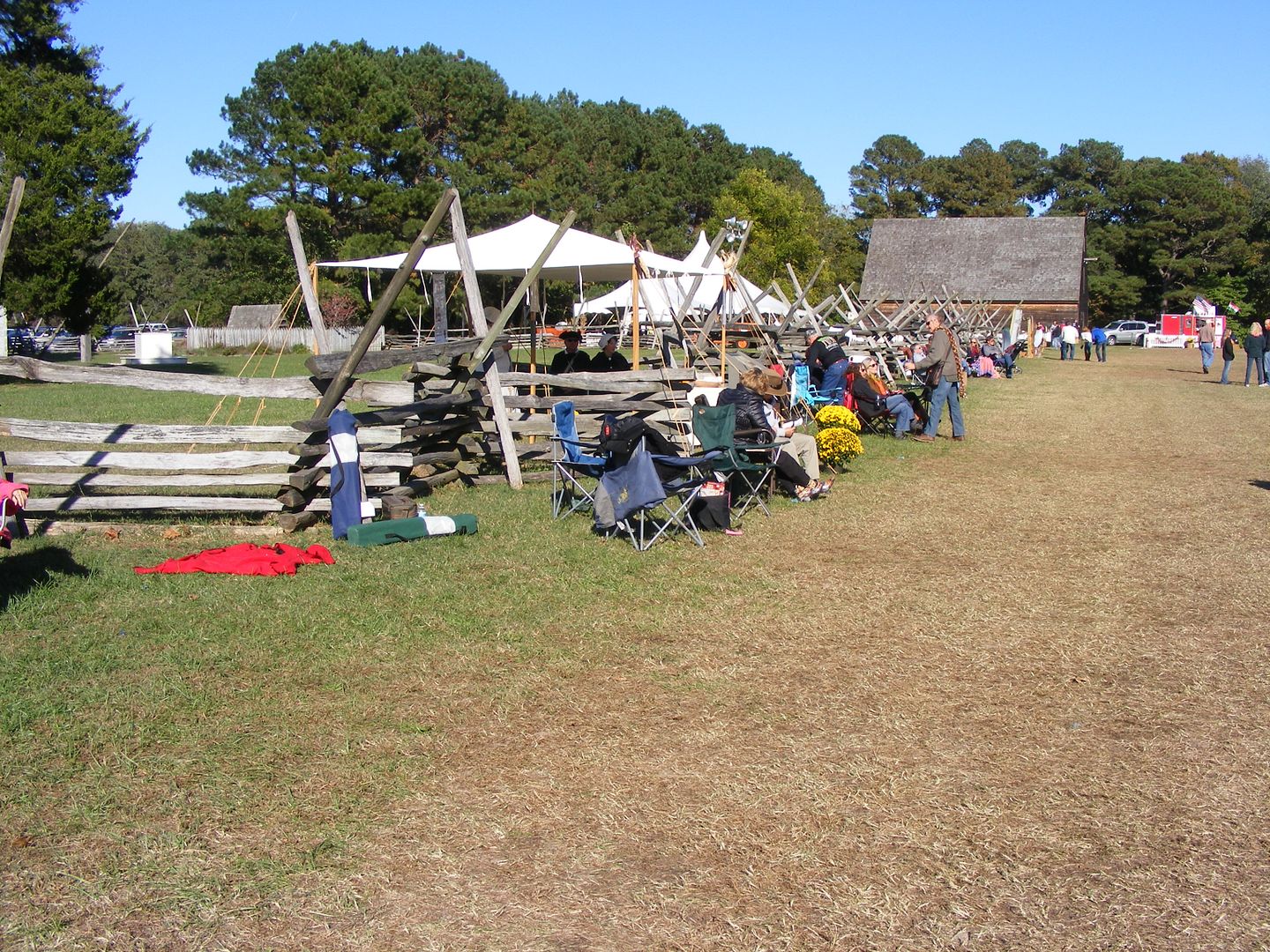 Practically every section of this fence had a group staked out. They were close to the wine tents, lucky ones had a view of the stage, and they had their chairs for the duration. With the layout of the event, it was tough on the vendors beyond the last tent – we were lucky enough to be on the back side of it so at least we had some traffic.
If you noticed the chair Larry Dodd was sitting in, it was part of a collection from this vendor.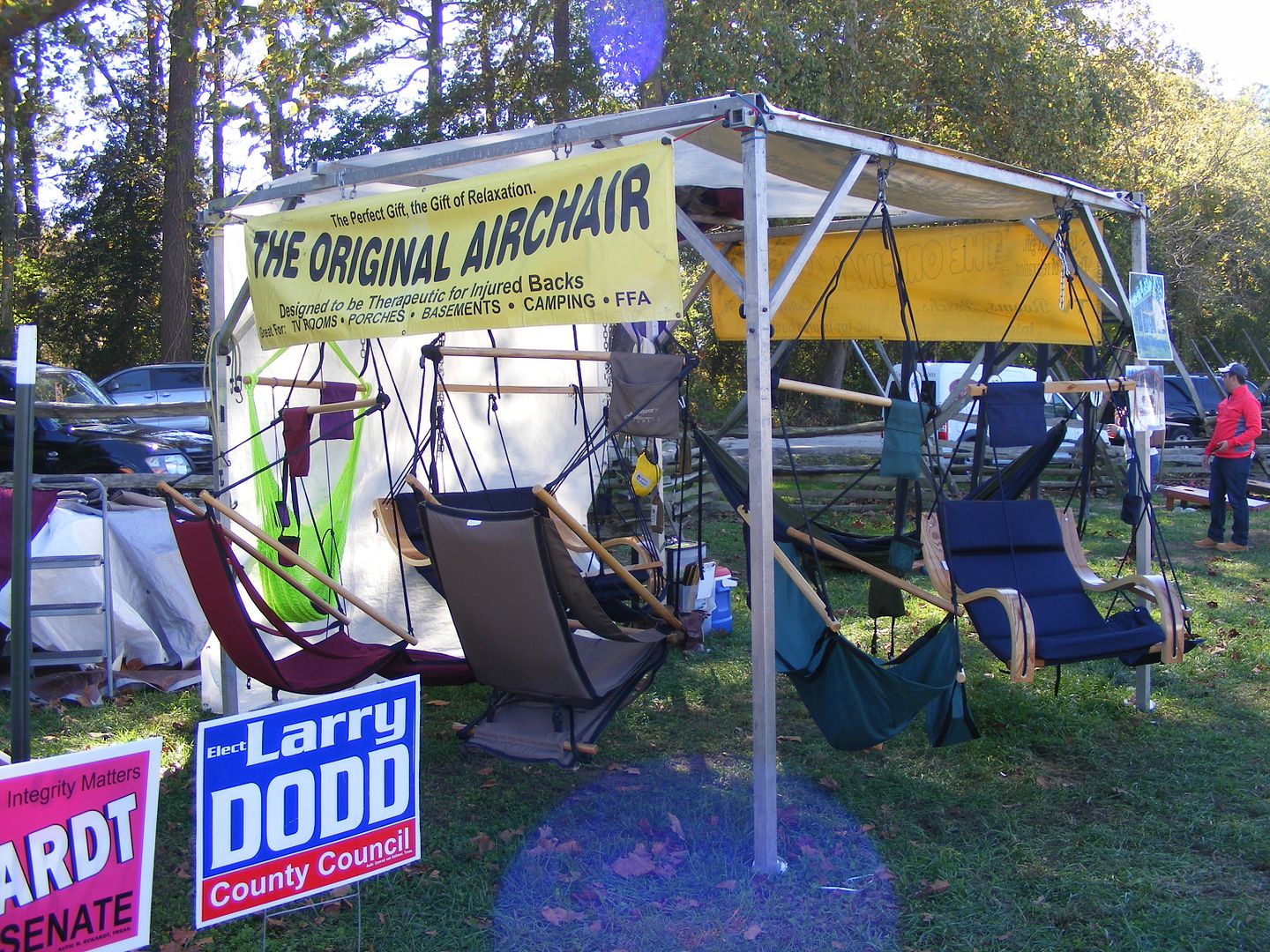 They have an interesting story since this couple, who I presume are married, traveled from Ohio to the AWF – apparently they do several similar shows a year around the country with the next one in Texas.
So if you wondering who the couple in the Cleveland Browns gear was, there's your answer. And the chairs seem to be fairly comfortable based on my limited experience of sitting in one for five minutes, so why not give them a plug as thanks? Besides, at $139.95 I figure a year's free advertising on my site is a fair trade for an air chair. (Never hurts to ask!)
Of course, my better half might prefer the Gollywobbler.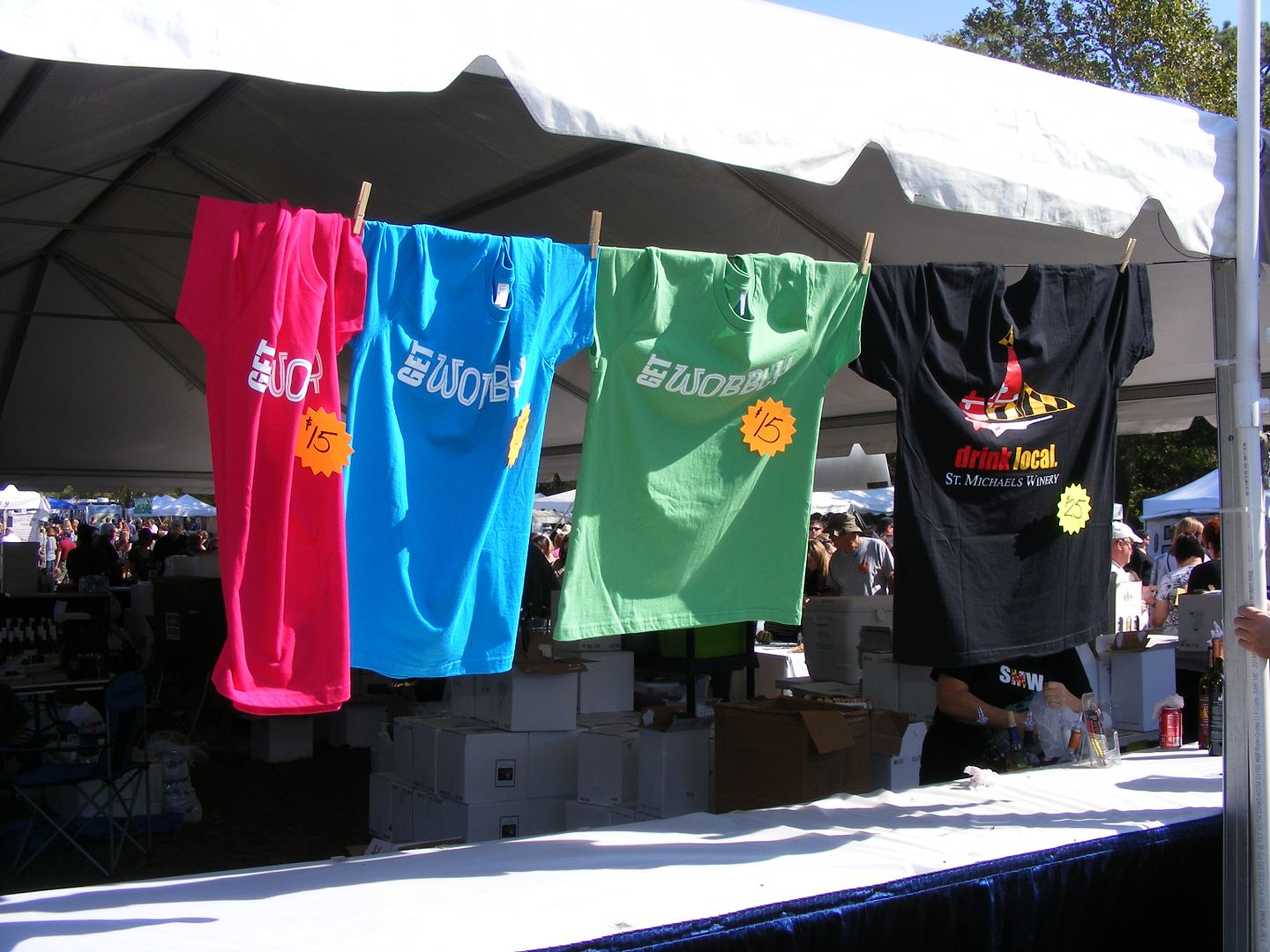 That was fairly good marketing, but not as unique as this tagline.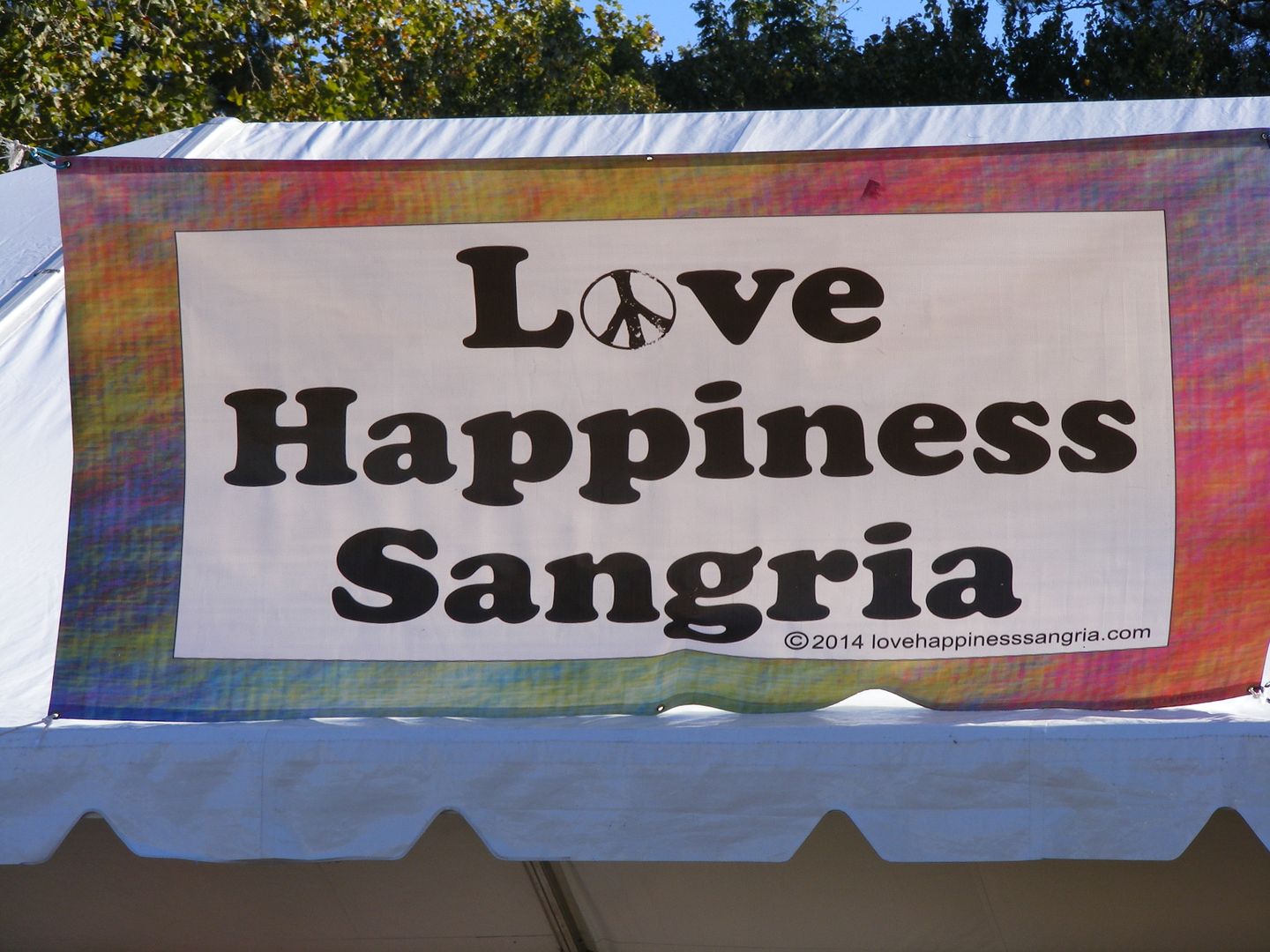 And since I had the hop head from last week, why not the grape guy?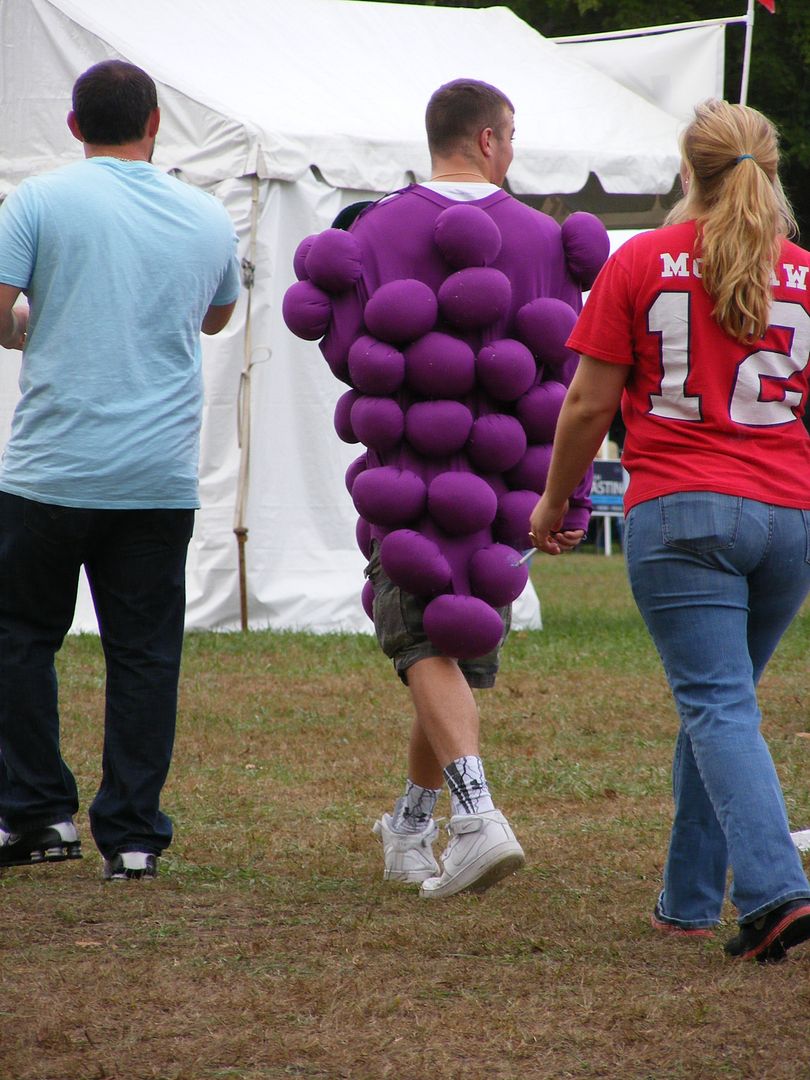 Still, I favor the more traditional. I really liked the usage of the barrel.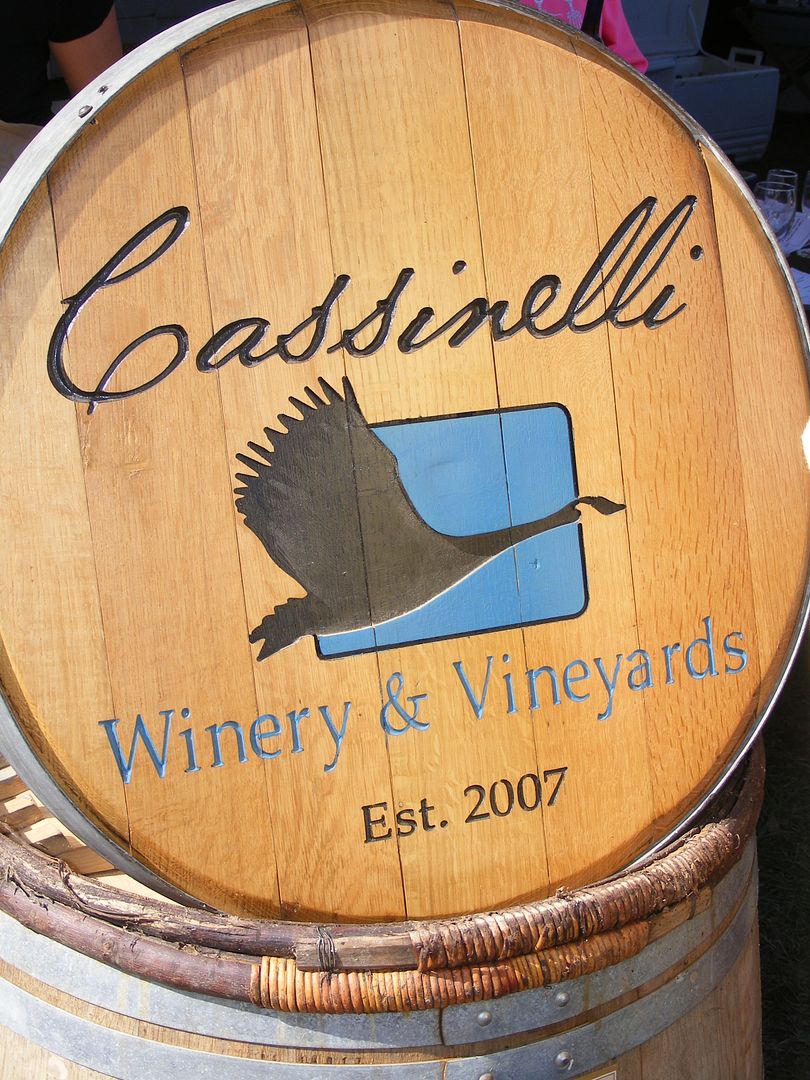 And, of course, the more colorful the bottles in the sunshine, the more likely it is I'll use the shot. The Winery at Olney gets that honor this year.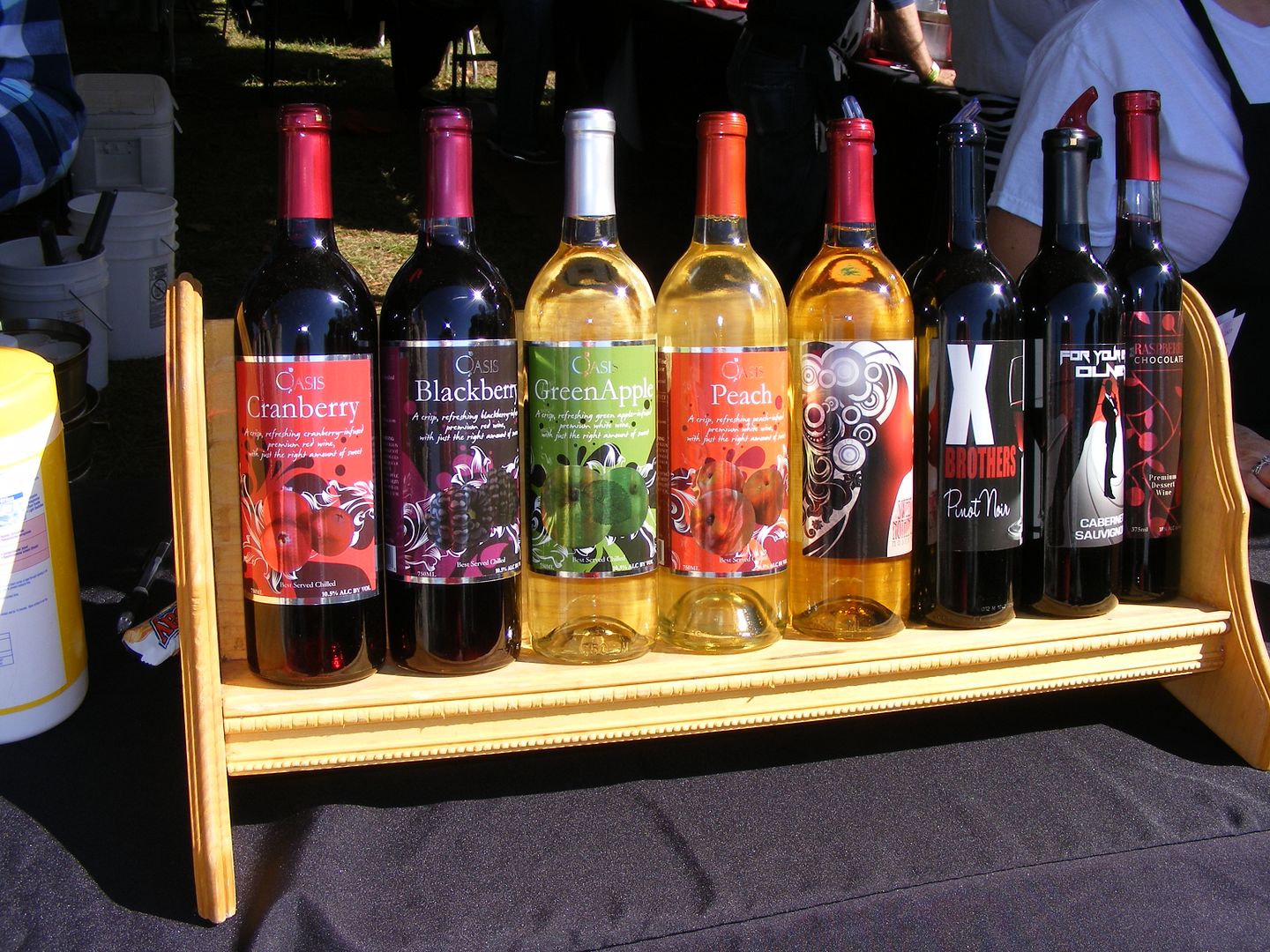 But as a vendor, I want to close with my two cents. For those at the south end of the festival, it was pretty brutal. One thing about the layout they use is that 80% of the people can conceivably cluster around the four large tents and the stage in the middle all day. I saw a few people who brought their lunch so they were all set aside from the bathroom breaks.
What I would suggest is a two-stage setup like the Good Beer Festival employs, because it may entice a little more churn in the crowd. Yes, you will get your campers but they may be more inclined to move during an hour break between bands than a 30-minute one.
I'm sure we'll be back next year, even though it's pretty much an off-year election (except for the city of Salisbury, which will be in campaign mode.) We may have a little Presidential material as well as those who may run for the Senate, but we won't have a lot to give out. I would like a little more traffic, though.
Due to the need to comply with the law that states a business with a presence in the state must collect sales tax, for Maryland residents today is the final day of shopping on Amazon tax-free. The opening of a distribution center in Baltimore made the change necessary.
This affects me to a small extent because I've been an Amazon Associate site for a number of years. I doubt I would be the one to collect sales tax, but I'm sure my small cut of the action won't be increased by the extra six percent things on Amazon will cost to Maryland residents. (In fact, government will be making more money than I do in most cases.) In the past, though, Amazon has ended associate programs in states where they collect sales tax, so it's very possible that this little revenue stream of mine will go away effective tomorrow.  (At the moment, it appears that it will not.) It might be great for people who found a job in one of these Baltimore distribution centers, but those of us who made a little bit of coin in this manner aren't happy.
On another front, it would be interesting to know how many people with relatives or close friends in Delaware that they visit frequently will be simply slapping their address on the shipping label, although I suppose having a method of payment with a Maryland billing address may bring up the charge as well. Surely we all know someone who went to Delaware to purchase a big-ticket item in order to avoid paying a couple hundred extra dollars in sales tax to Maryland, so I have no doubt people may do the same thing for Amazon. With Delaware being so close and most in this area knowing someone who lives there I would suspect this will become a bit of a trend.
In the meantime, the box on my right sidebar awaits – get while the gettin's good.
I'm going to tell you about my weekend, but I want to tell you a recollection first.
Some years ago, Rush Limbaugh talked about doing a book called The Back Nine. As I recall, it was going to be about the lessons he'd learned and some of the things he wanted to accomplish in the second half of his life. As it turned out he instead decided to pour his writing energy into children's books and that Back Nine project presumably will stay on the back burner if it's even still on the stove.
Well, this morning I begin my back nine. Some of you who read this were privy to the clubhouse celebration on Saturday, and you also know a lot more than me about how it came about. One of my friends let me in to the fact there was a secret Facebook group to plan all this, sponsored by my social media maven of a fiance. (Heck, she has more Facebook friends than I do, although not by a whole lot.)
On Friday morning, though, I planned out my weekend of writing. The Weekend of Local Rock segment I posted yesterday was originally supposed to be Saturday's piece and something else would have gone on Sunday – I would have figured that out. But Friday afternoon I was shocked to see my parents' van in the driveway – yes, my Depression-era parents came up from Florida to celebrate my half-century.
A few hours later, as we were playing cards, I got a call from my daughter, to whom I jokingly said, you could join the party in 10 hours if you drove down from Ohio. Her and my son-in-law walked in 10 minutes later.
I soon figured out that all the chairs in the garage weren't spare junk Kim's relatives were getting rid of and figured we would be hosting many of them the next day. On that count I was correct but there were quite a few others who came by as well – to all I say thanks for sharing the day, even if it was two days early. That's why Saturday's post was so brief and cryptic. I was a little preoccupied during the day but I didn't want to go completely dark.
So today, the actual birthday, is almost anticlimactic. Yes, I will have a blizzard of Facebook notices, but it will otherwise be a day where I run a number of errands. (I am skipping the WCRC meeting tonight, though.)
But turning 50 creates a change in one's mindset. Not that I could really help it, but I have never liked having a birthday which is regularly the first day of fall because I am a summer person and can't stand winter. But at least in this locale it's normally in the midst of a weather period where the days are still summerlike yet the nights are cool and clear, the start of what we call "second season." Time for the locals to enjoy the beach again.
By that token, perhaps I am getting into my own "second season." Admittedly, I'm not in the best of shape but hopefully I'm not too far gone to fix it up. I still have a couple decades of work to give, yet have plenty of experience behind me to know how to do things right. In just a few years Kim and I hopefully will have an empty nest, with that young lady successfully making her own way.
So there's a lot to look forward to. I even get a birthday Google. (I know, so does everyone else, but it is fun.)
I have to admit that for the most part my forties were a stormy decade with a great number of challenges and doubts. I'm not out of the woods quite yet, but I figure someone has a plan for me and things will turn out for the best. After all, how many people have a fiance who would go out of her way to the extent she did to plan this event?
So I look forward to my fifties and the start of my back nine. Yes, there are a few hazards I will have to deal with but I figure there's a reason the 50th anniversary is the golden one.
Fore!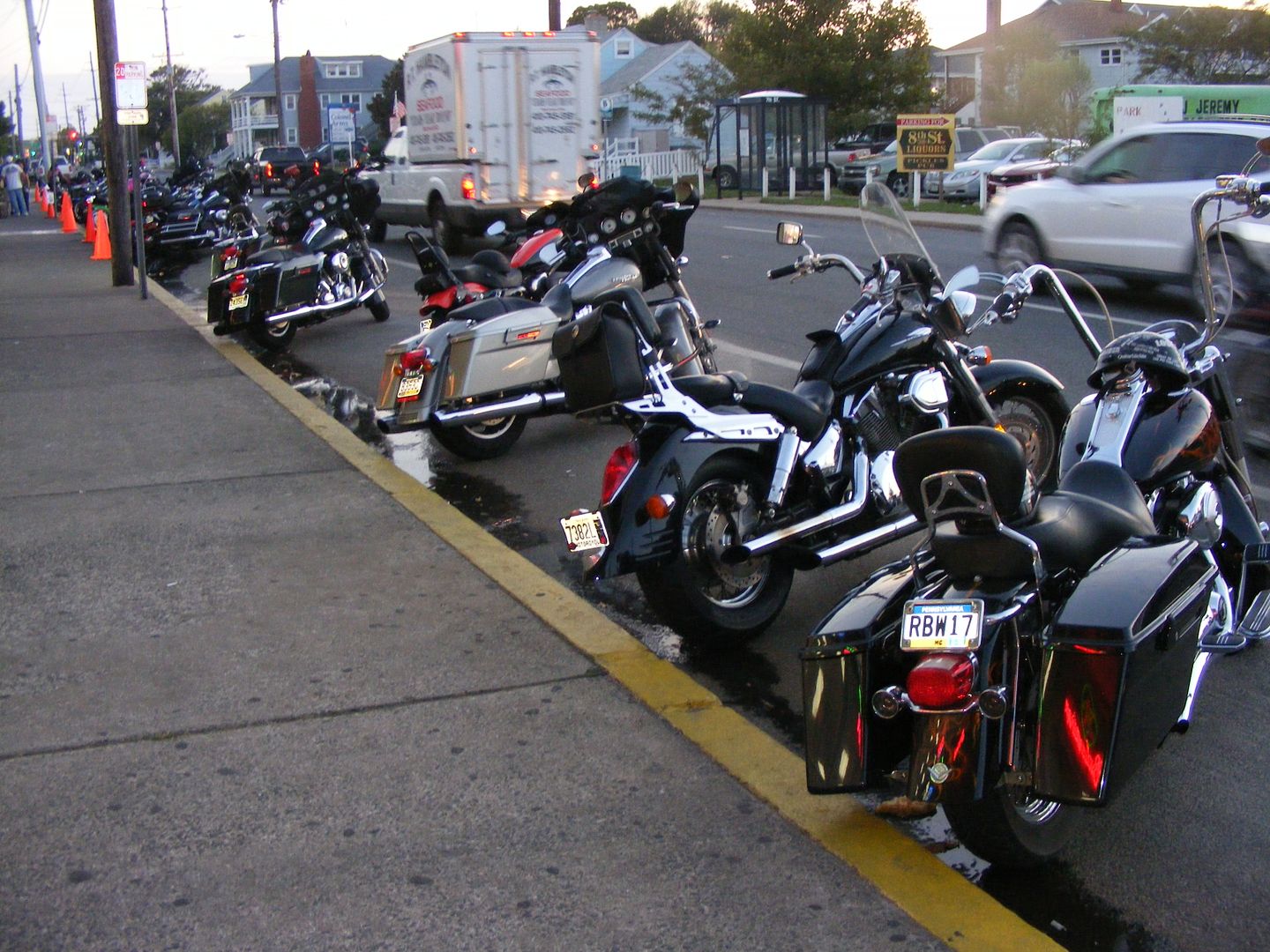 Delmarva Bike Week traditions are many: lots of bikes, loud pipes, and long nights in the local haunts and watering holes. But one tradition has a charitable side: each year the Delaware Breast Cancer Coalition benefits from (Save the) Breast Fest, which this year marked its sixth anniversary.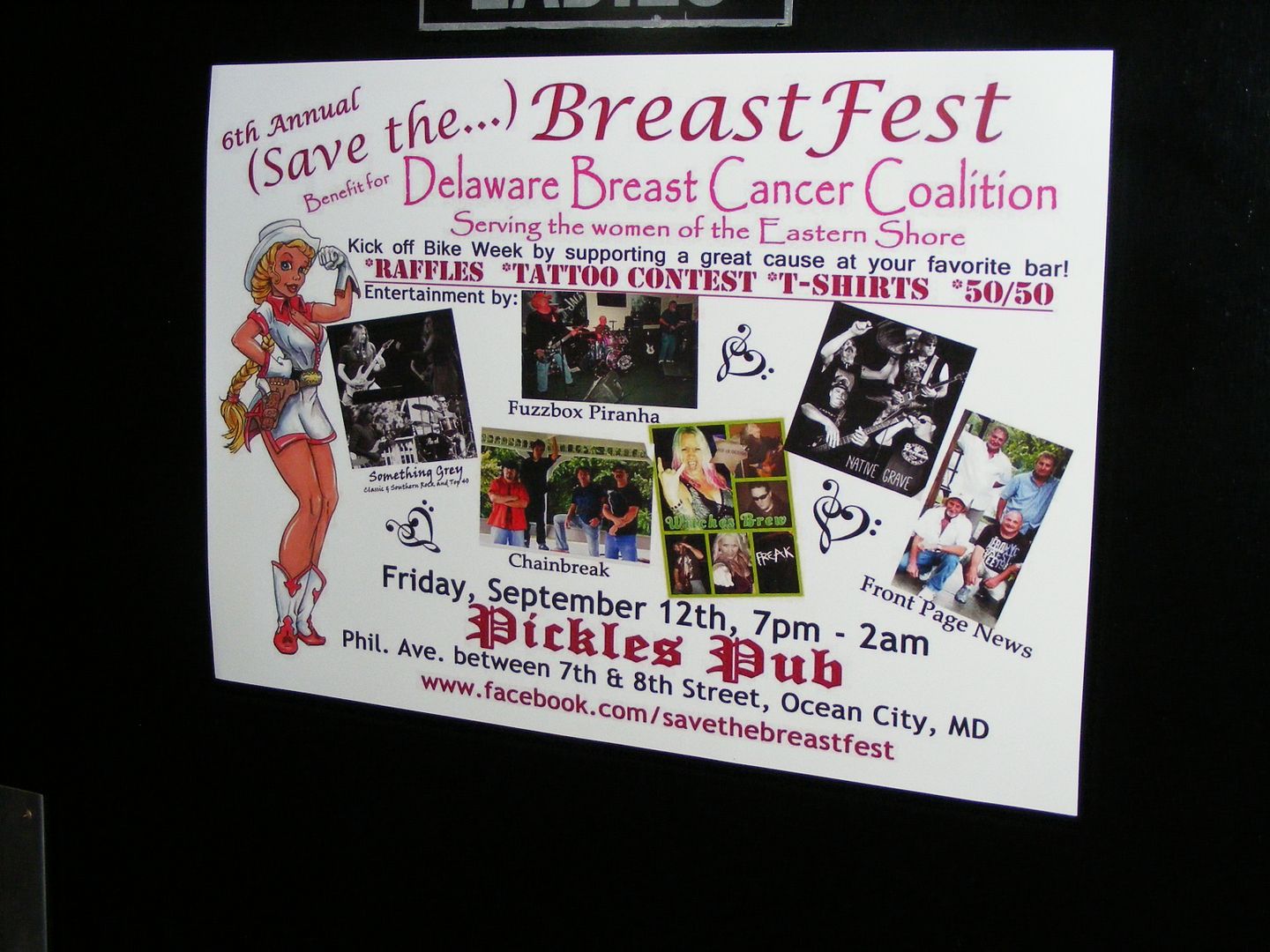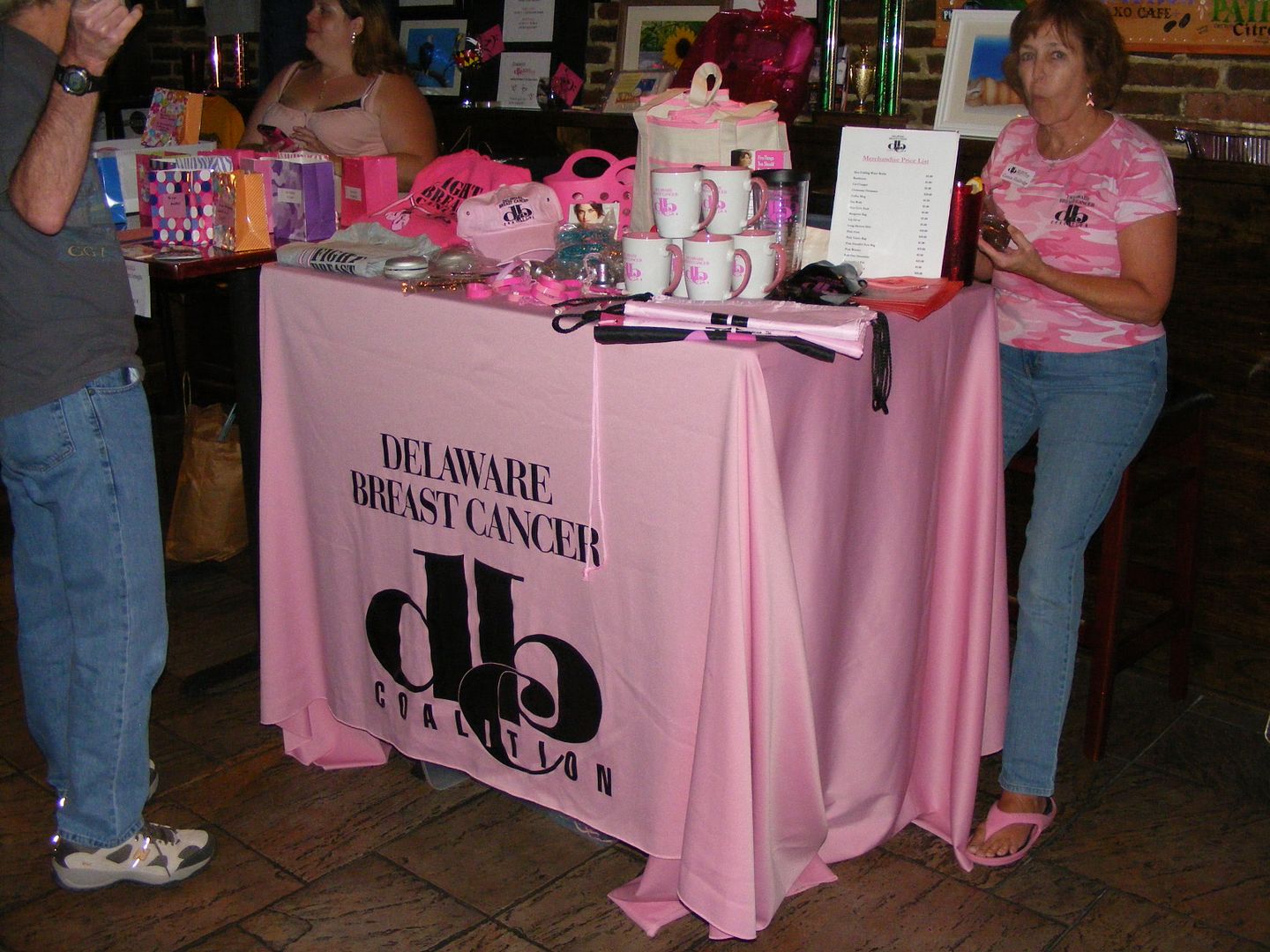 As always there were raffles, drawings, and various people selling their wares to donate to the BreastFest cause, which has raised thousands of dollars over its run.
The lovely Iris pictured above is one of several volunteers who help the organizer, local musician, DJ, and breast cancer survivor Michele Hogsett.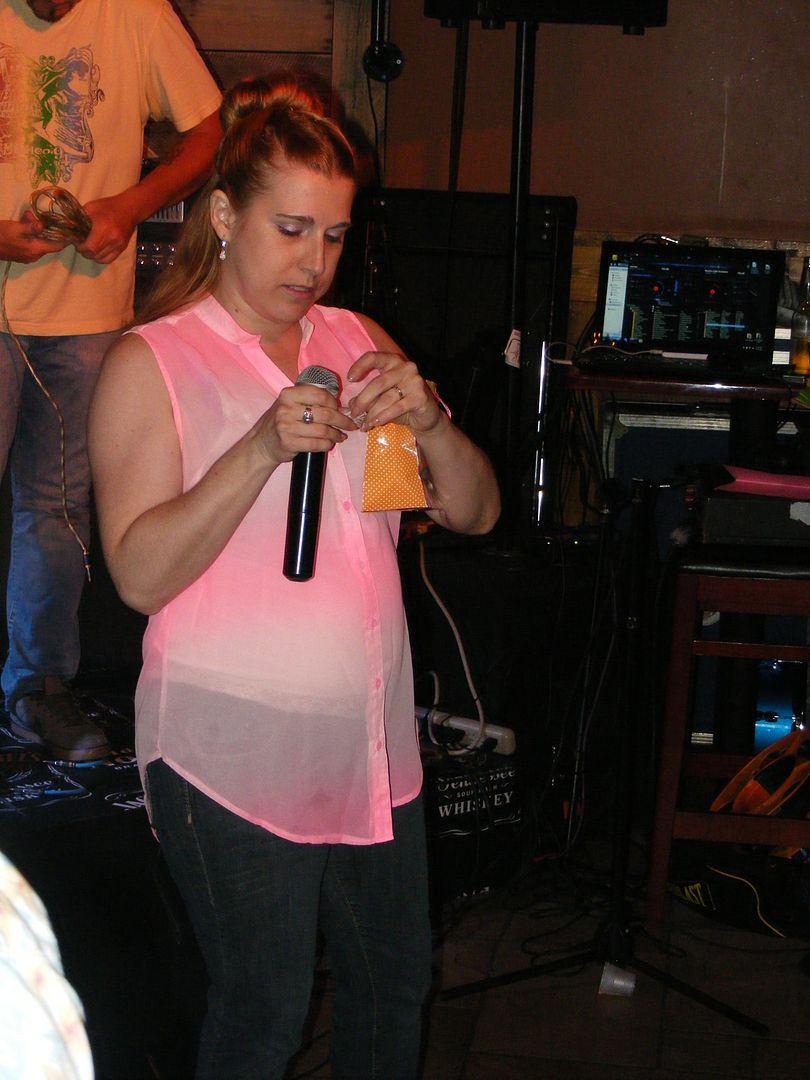 Giving a big assist is her husband Jim, who emcees the event and helps with the details.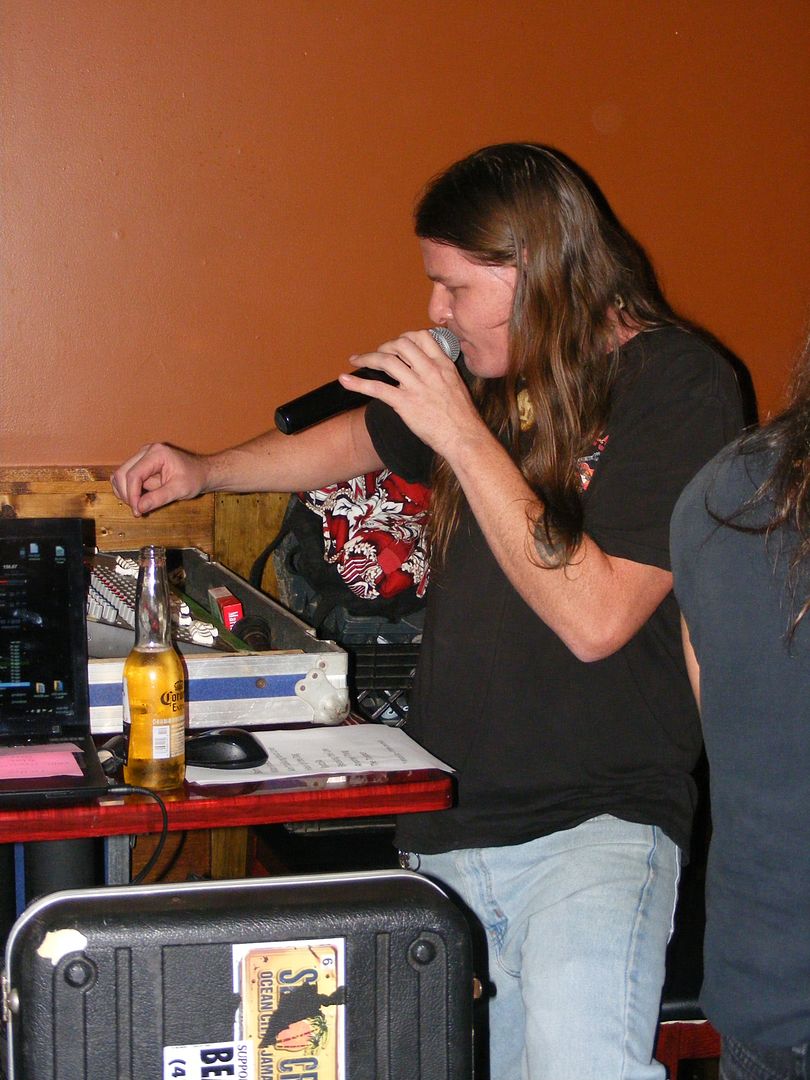 These bands and the sound man donated their time to the event. So how did they sound?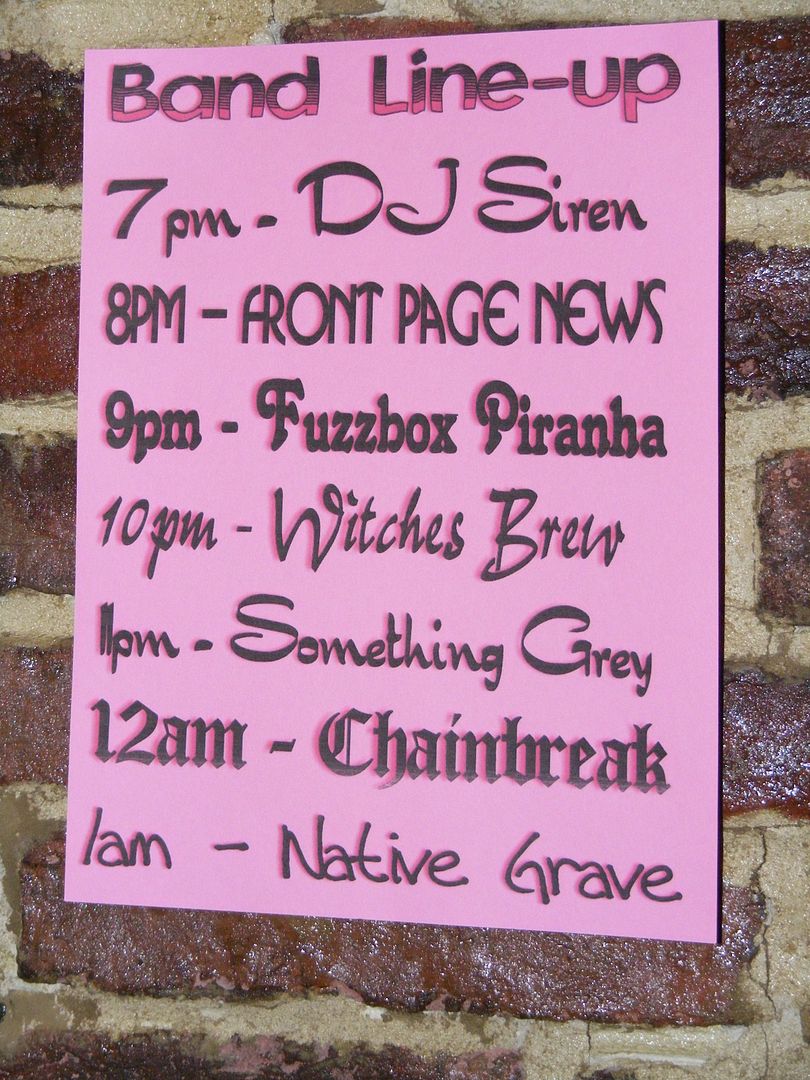 Leading off the classic rock fest was Front Page News, which got an A+ for expanding the stage.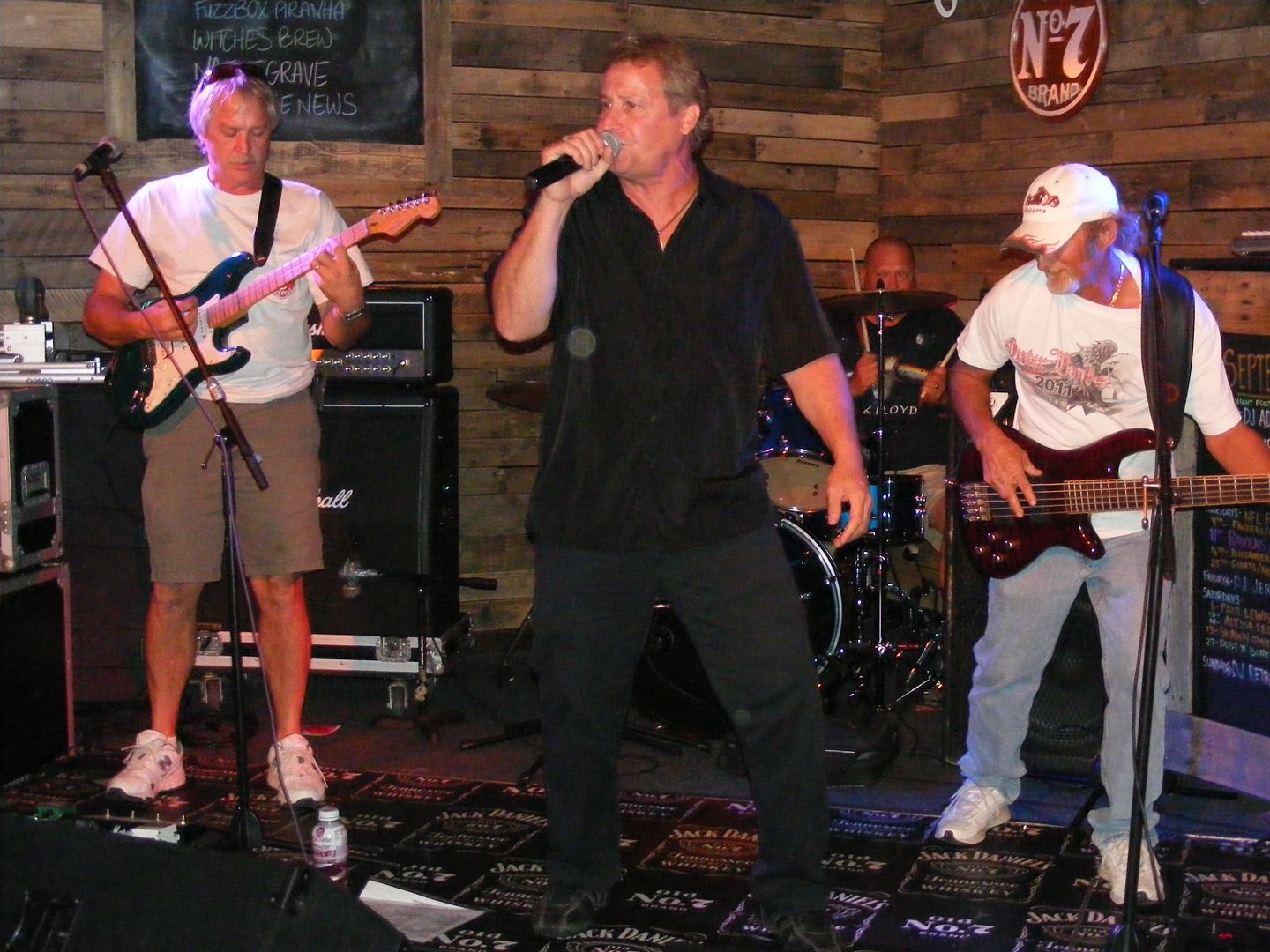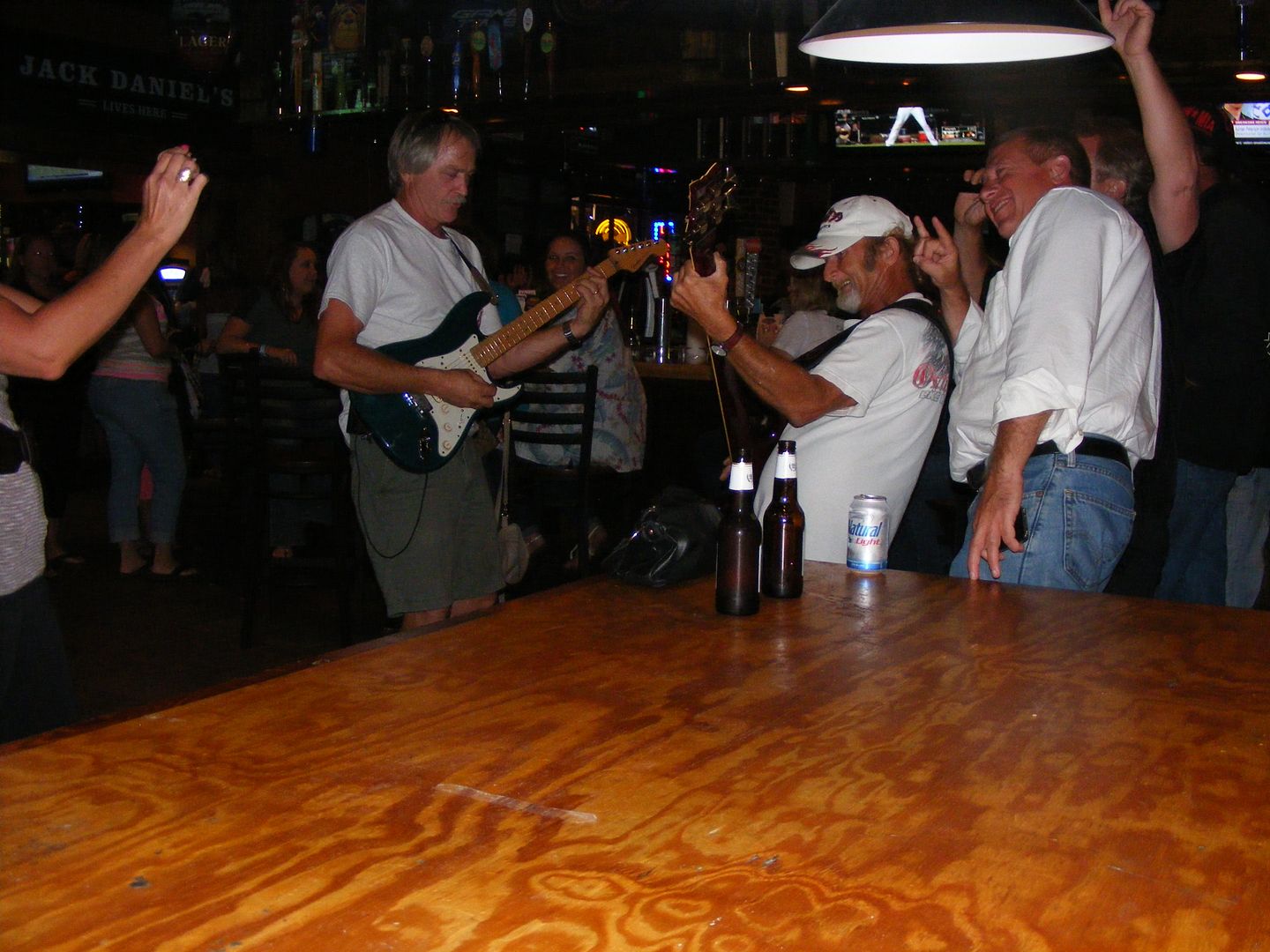 Front Page News leaned on the older classics, although they threw a couple more recent ones in there. It was a good warmup and helped attract a crowd.
It was something Fuzzbox Piranha kept around as they kept the mainstream classics coming.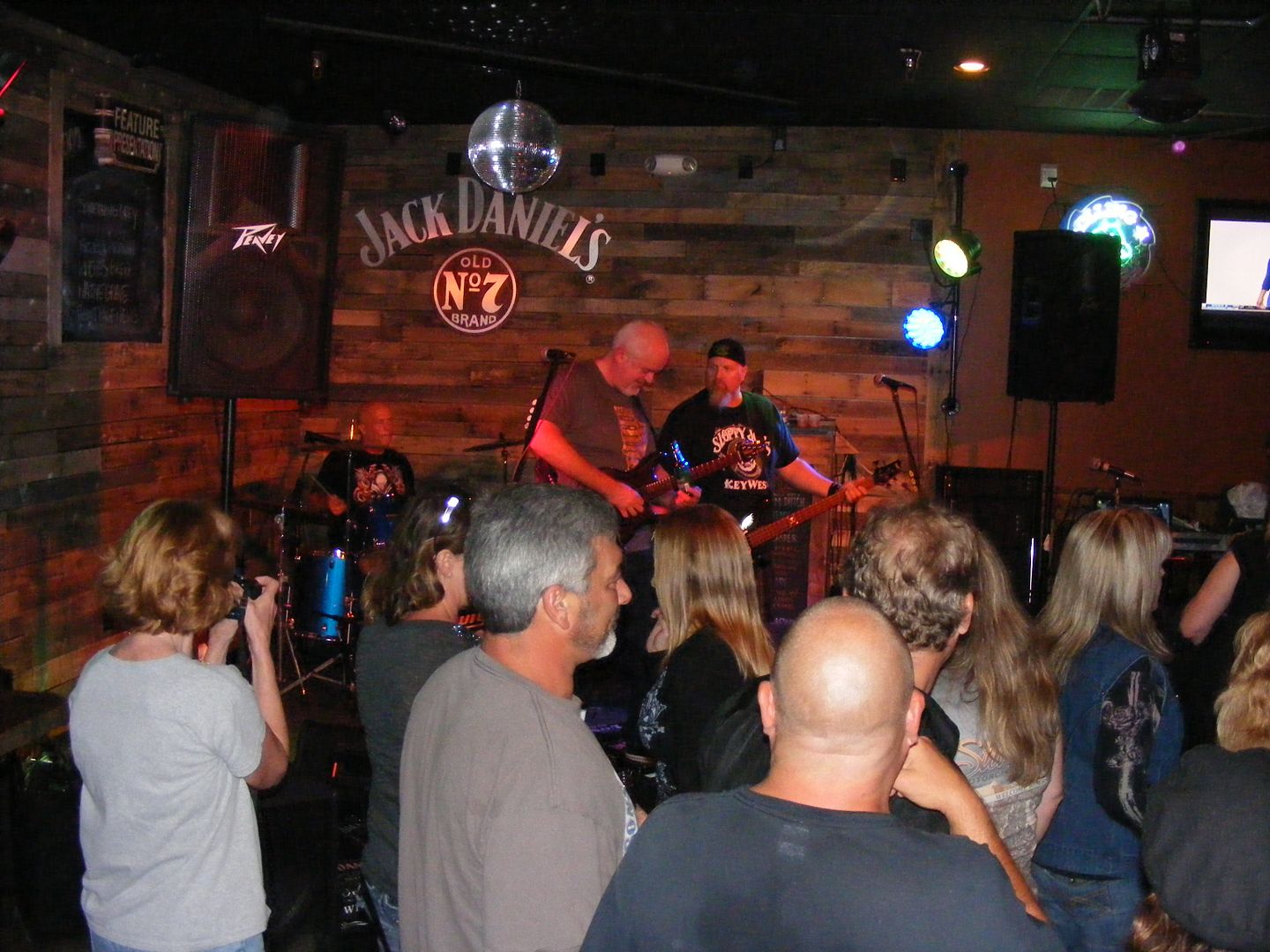 Then it was time for the ladies to hit the stage. Witches Brew has the distinction of playing all six editions of BreastFest. And if you weren't aware of their presence, there's just something about these guitars that say things will get a little heavier.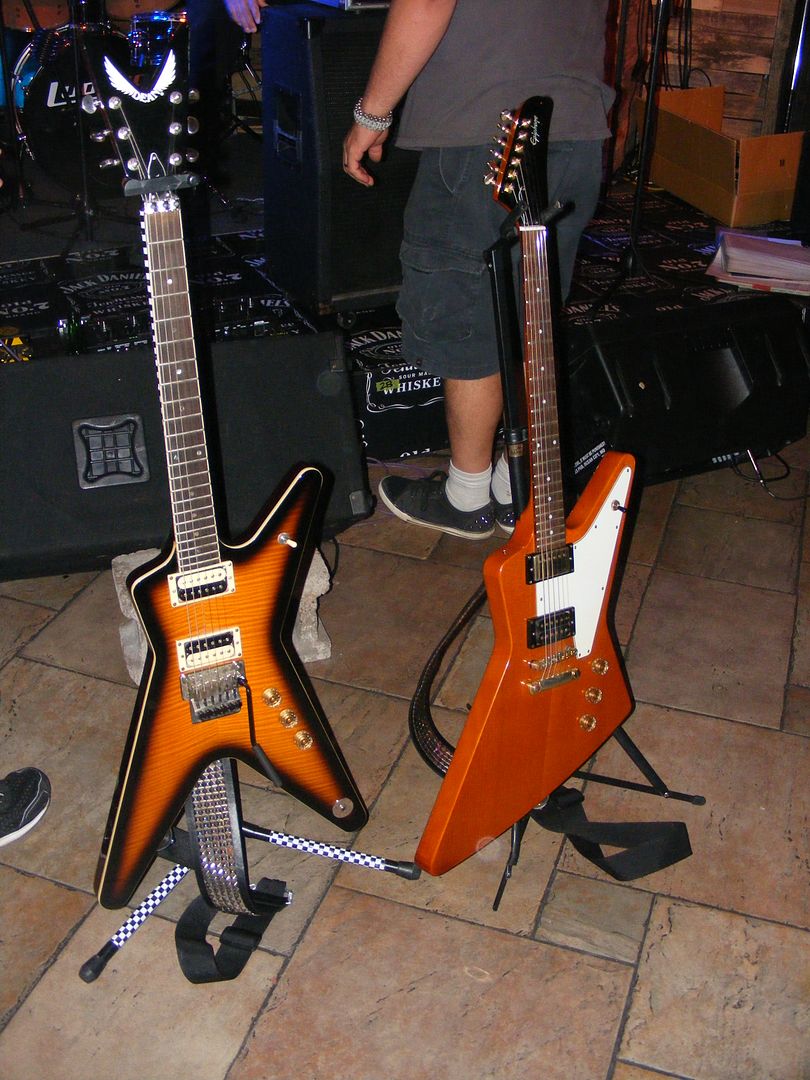 Obviously I've seen Susan and the boys enough to know most of their set pretty well, but they create a strong presence nonetheless. It's not difficult with the songs they chose.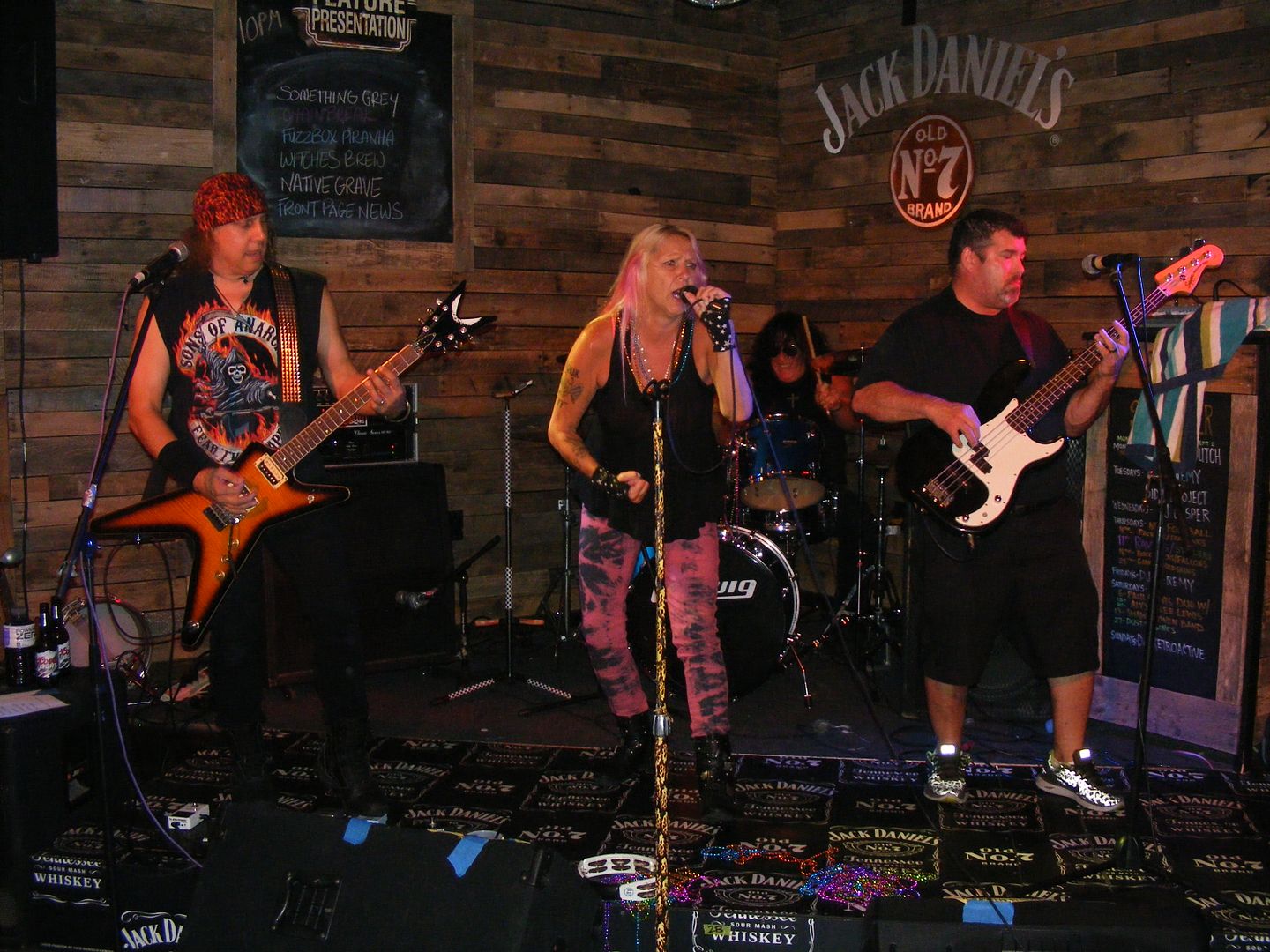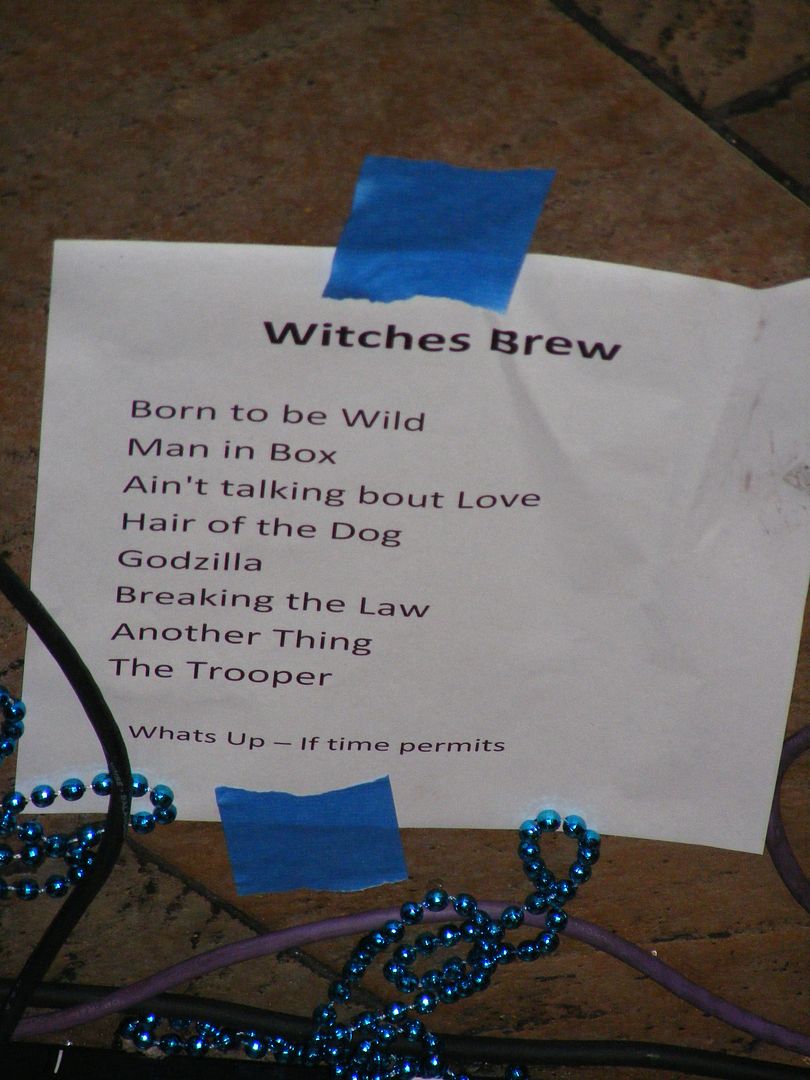 You've seen them here many times as Semiblind, but the recently-rechristened Something Grey took the fourth slot on the bill. They've been around long enough to know their audience, so the set was red meat classic rock punctuated with Jim's guitar work.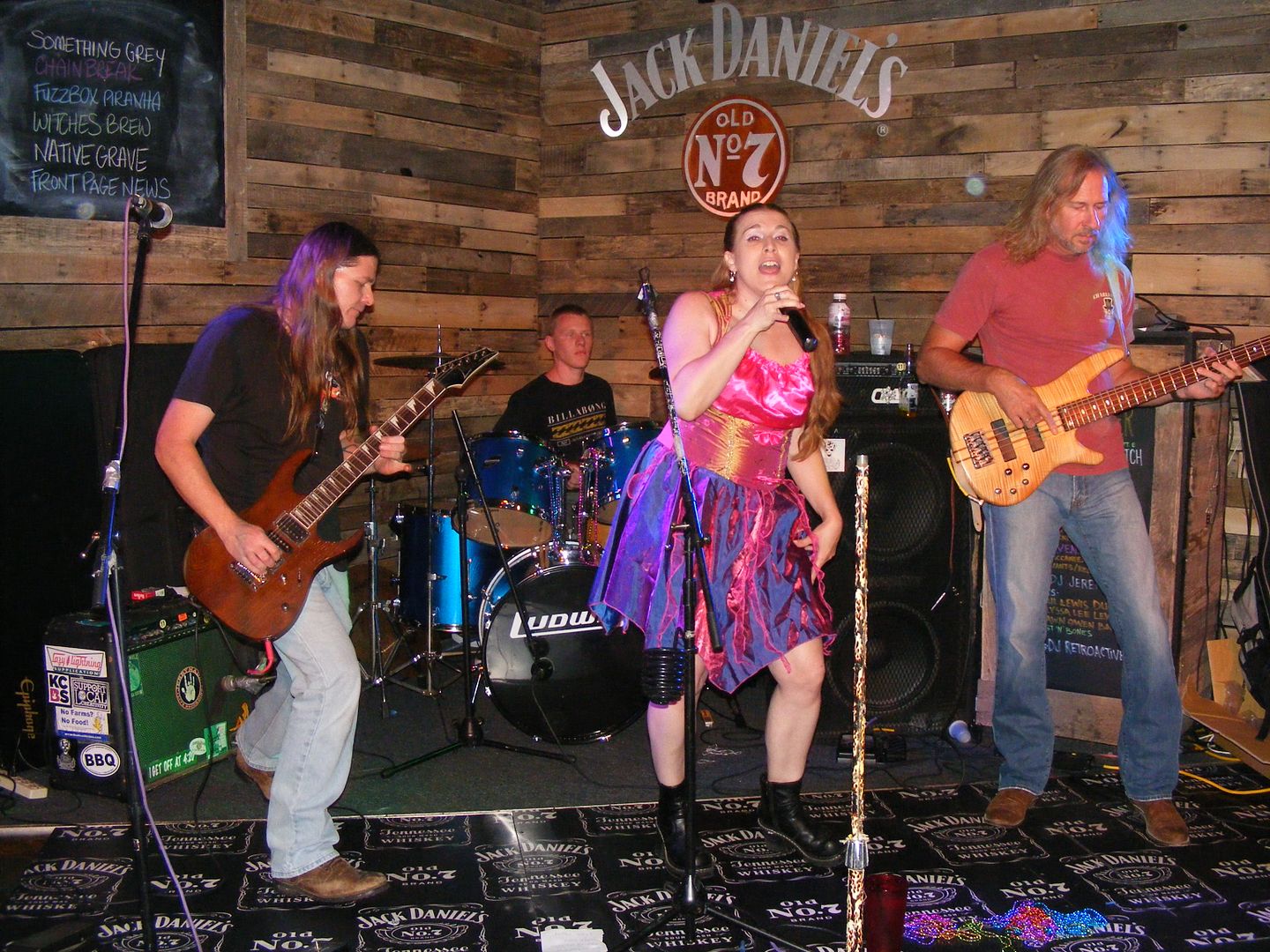 We went back to a little harder edge with Chainbreak, although they had a fill-in drummer who incidentally is also a cancer survivor.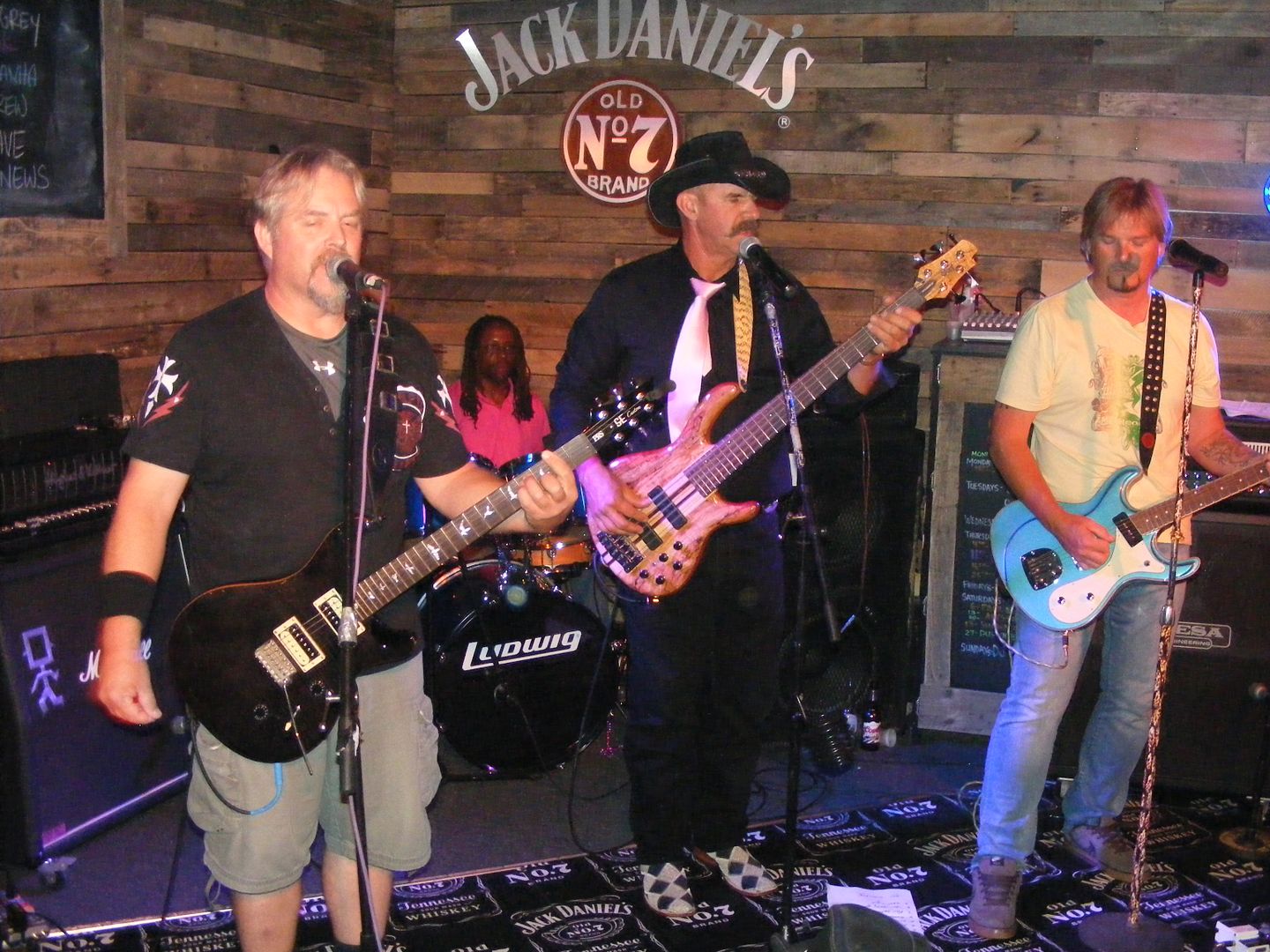 I think they were having a couple sound issues – "Flirtin' With Disaster" was a mainly three-piece and I had a hard time hearing the lead guitar. It was better by the time they got to Led Zeppelin.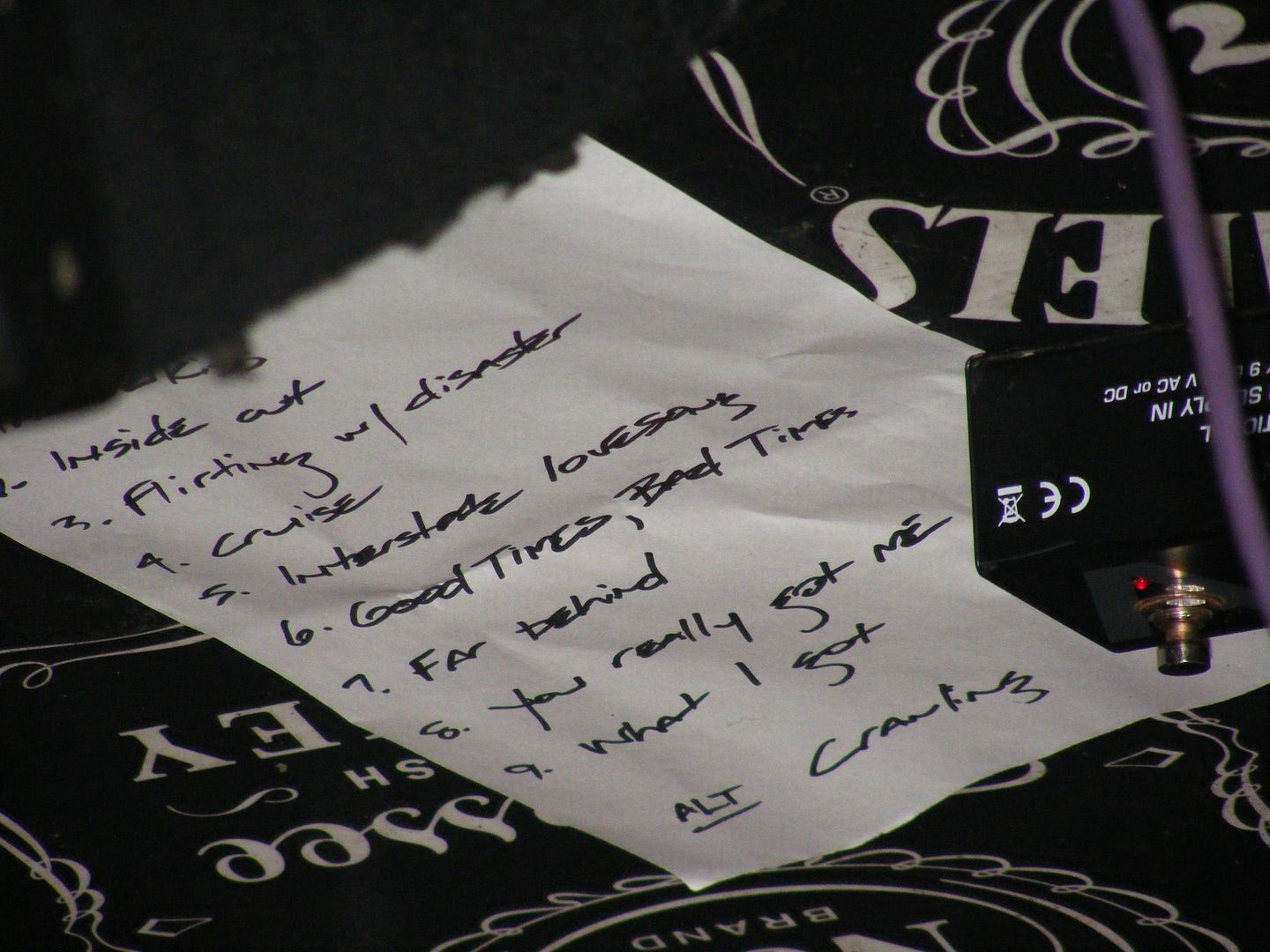 Finally, we got to Native Grave, who I really liked for one reason: they weren't afraid to play a few originals. And yes, they were heavy because the guitarist is indeed the same one who plays for Witches Brew.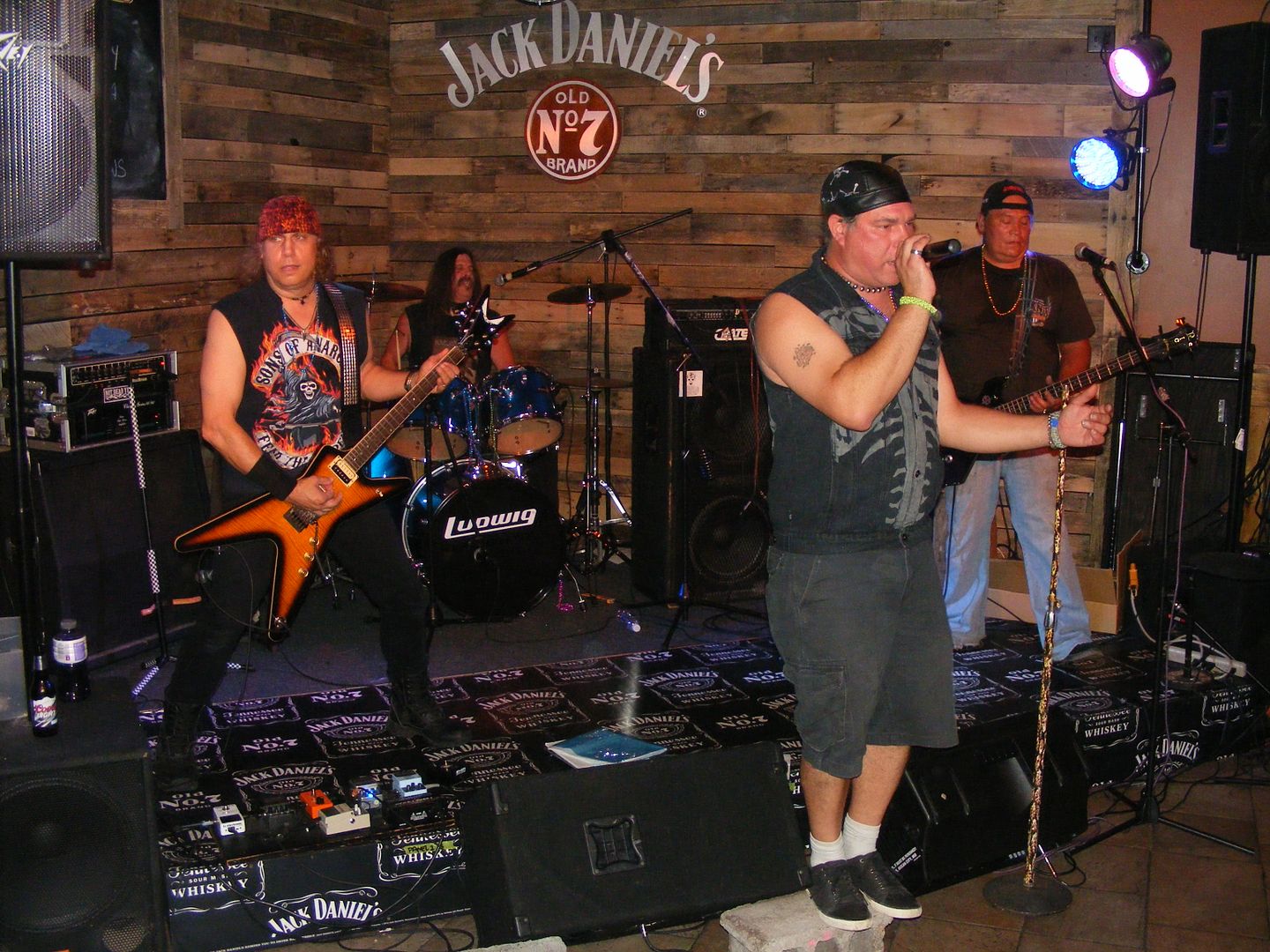 The true challenge for the 1 a.m. band is to keep the dwindling crowd there and Native Grave did a fine job in that regard – the place was still fairly crowded for last call.
Not only is the event a good way to raise awareness for the Delaware Breast Cancer Coalition, but it seems to be holding its own as far as an attraction for the increasing number of people who like a little music with their Bike Week festivities. Considering BreastFest was up against Travis Tritt at the OC Bike Fest stage and Slaughter at the Soundwave Music Festival outside Berlin, not to mention entertainment at other area venues, they did pretty well.
Look for the seventh edition next year.
Well, my plan for tonight was to go down to 3rd Friday and get some pictures for a post. But plans change and I won't be by the computer a whole lot the next couple days.
So if you want good 3rd Friday coverage, Jonathan Taylor always makes an effort to take plenty of pictures. I also will let you in on a returning advertiser and whatever else comes up in the next 36 hours or so. Just stick with me, the payoff will be worth it.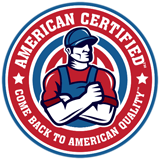 First of all, let me get you up to speed on what I wrote.
In my first featured piece, I took a look at what's being called a "skills mismatch." It's the reason a million jobs are going unfilled. I also got resolution at long last on the vexing problem of dumping a steel product called Oil Country Trading Goods, where Korea was found to be indeed running afoul of the law and had punitive tariffs placed on their products.
And that's where I left it. But there are reasons.
Back at the end of August, just before Labor Day, I found out the editor who I was working with at AC was leaving the company. In his place came another editor, but also a fairly dramatic change in the purpose of the American Certified blogs. Instead of featuring news, analysis, and information, the new direction would be along the lines of quirky, list-driven stories, more in the style of a BuzzFeed. It's just not something I enjoy writing, so I decided after some thought to part ways with them for the time being. If they decide they want to get back to meatier content, they know where to find me.
Listen, I hope the new direction works well for them because the overall concept of the company is something I'm firmly behind. If it takes a BuzzFeed clone for them to drive business and succeed, I'm happy to step aside for their good. But I have the opinion that there's always room for gravitas.
Moreover, this experience has piqued a new branch of interest I enjoyed working with. My intention with the Sausage Grinder site was along the lines of what the company originally intended:
Finally, American Certified will feature news and blogs depicting thorough analysis and trends related to the most recent happenings in American manufacturing and consumption. Members of the press and AC shoppers can sign up for a free weekly news summary, reporting on the Buy American movement from all sides, without bias.
I thought I did my part toward that end, but perhaps it just wasn't something worthy of attention. It would have helped to have more faithful writers to build the readership, but that is what it is. I found out coming up with content is tough when you aren't doing it full-time.
But as it turns out, though, I'm not sure they ever did the weekly news summary – as part of seeking that job I put a mock version together. That was a pity because I thought I did well in knocking the test summary out. Now it's all water under the bridge.
And while the storyline about OCTG I cited above came to a conclusion, there are a lot of others I don't want to leave hanging. Go back through these "AC Week in review" posts and you'll find a lot of topics worth discussing. I'm hoping to add more of that content here as sort of a step away from the horserace aspect of politics and into more of a policy arena.
But again, I wish the AC crew the best of luck. I was hoping it would be more than a four-month endeavor, but at least I got the experience, a few dollars along the way, and a great opening party in a town I'd never heretofore visited. And as I said before, I'm not closing the door if they're not.
So now I will have to find something to fill my Sunday space again. Sheesh, no more Shorebird of the Week on Thursday or AC Week in review on Sunday – I might have to become creative.
It may seem an odd way to begin a post about 9/11, but remember Pearl Harbor?
While most casual observers think that World War II began when we were attacked by Japan on December 7, 1941, the reality was that hostilities began over two years earlier when Nazi Germany invaded Poland on September 1, 1939. It was the culmination of several years of concessions to appease Adolf Hitler that proved to have the opposite effect.
The Long War between America and the forces of radical Islam came into sharp focus on 9/11, but there were several skirmishes leading up to that date. I'm old enough to remember the takeover of the American Embassy in Tehran in 1979 and the 444 days we watched as Americans were held hostage. Certainly some had flashbacks to that incident during the events in Benghazi, Libya two years ago on 9/11.
And then we had the original World Trade Center bombing in February 1993, an event which made clear that building was a target. Eight years later, the planners changed their tactics from a single truck bomb to two jet aircraft hijacked for the purpose of becoming civilian-laden missiles.
But like Pearl Harbor or, to borrow a different violent event, the assassination of John F. Kennedy, the lives of millions of Americans were defined that day in such a way that most remember what they were doing when they heard the news. (I was at work at the former Hobbs+Black Architects office in Toledo, on a glorious late summer day.)
A key difference between Pearl Harbor and 9/11, though, is that America knew who the enemy was and spared no expense or effort in fighting it. Less than four years later Hitler was dead, Japan had surrendered, and the world began a transition from a global war of destruction to an uneasy peace between adversaries in the sense of liberty – a peace defined by the knowledge of mutually assured destruction if either pulled the nuclear trigger. But America had vanquished all of its Axis foes, yet was assisting in rebuilding where it could.
On the other hand, we responded to 9/11 with somewhat conventional warfare but found out that it's a model which doesn't last and is ineffective against an enemy which glorifies death and rarely fights in a conventional manner.
Since the Benghazi incident in 2012, we're more aware that 9/11 is a pivotal date on the calendar .People are looking over their shoulders today, waiting on the other shoe to drop and another terrorist attack of some sort. They all but expect it given our current weak leadership.
But just a few years after abandoning Iraq and in the midst of doing the same to Afghanistan, now it's Barack Obama believing we can dispatch the Islamic State with a minimum of blood and treasure. I don't see it happening, at least not unless we go back to fighting like we did in World War II and junk the ridiculous rules of engagement and political correctness. Blasting the whole thing into a sea of glass appeals to some, too.
History always repeats itself somewhere, sometime. A millennium ago Christians began a series of Crusades to beat back the Islamic invaders, and this may signal the need for a second round our grandchildren may yet fight someday. The instruments of war are far different, but the toll on advancement of civilization is often the same.