To be quite honest I didn't see the withdrawal of Rand Paul to be quite this soon, but the other day I noted in passing that Paul was among the bottom-feeders in both New Hampshire and South Carolina so once he performed poorly in Iowa there was really no need to move forward. His idea of trying to get 10,000 Iowa college students to caucus for him failed to the extent that he had a total of just 8,481 votes, drawing just 4.5% of the vote for a fifth-place finish (and one delegate.) And considering New Hampshire is the ground zero for the Free State Project – a group of libertarians who have vowed to move there to further their political activity in the state they determined was most conducive to their interests – you would have thought Paul, the most libertarian-leaning of the GOP candidates, would poll better than the measly 2 to 5 percent he was receiving in New Hampshire.  But he wasn't, and his high-water mark there last summer was only in the 6% range.
(By the way, speaking of the Free State Project, they announced this morning that they have met their goal of 20,000 who pledge to move to the state, triggering a five-year clock for those who pledged to relocate. We'll see how that does in the next half-decade.)
Meanwhile, Paul has a Democratic challenger for his Senate seat so he was surely getting pressure to abandon what was seeming to be a more and more futile quest for the Oval Office to protect a Republican Senate seat. (In the hopes his Presidential campaign would catch fire, Paul also managed to get Kentucky to have a Republican caucus in order to avoid having an issue with being on the ballot for two different offices, which is against state law.) His situation was different than the other Senators who are running (or have run): Ted Cruz isn't up until 2018, Lindsey Graham was safe until 2020, and Marco Rubio declined re-election to the Senate to pursue his Presidential bid. (Among the names mentioned to replace Rubio was former Marylander Dan Bongino, who now lives in Florida.)
Yet there is a small but sufficient portion of the GOP that had as its motto, "Paul or none at all." There was no other candidate they liked, so it remains to be seen how many will hold their nose and vote for the eventual GOP nominee, how many will migrate to the Libertarian candidate (odds are it will be former Republican aspirant Gary Johnson, who dropped out of the 2012 GOP field and became the Libertarian nominee later that year), and how many will just stay home. If the latter two numbers are too great, it obviously affects the Republicans' hopes of getting back in the White House, but if the last number is high that could make Republican prospects of holding the Senate more unlikely as well.
Truth be told, I really liked Rand Paul as a candidate although I had a few reservations about his foreign policy. (On the domestic front he was nearly unbeatable.) Perhaps this is a good time for a reminder of my own level of support for these guys and how the field has shaken out since the process started last summer. Back at the end of September when I made my initial endorsement, the 17-person field had already lost Rick Perry and Scott Walker. Based on my level of support, this is how the race has elapsed:
Bottom tier: George Pataki, Donald Trump
Fourth tier: Chris Christie, John Kasich, Jeb Bush, Carly Fiorina
Third tier: Rick Santorum, Jim Gilmore, Ben Carson
Second tier: Marco Rubio, Mike Huckabee, Lindsey Graham
Top tier (and these guys were miles ahead of the rest): Ted Cruz, Rand Paul, Bobby Jindal
Walker was being a disappointment and was trending toward the third or fourth tier, on the other hand Perry may have landed in my top five.
As you can see, I'm perilously close to holding my nose because the only one of my top five remaining is Ted Cruz. Yet those who support Paul don't tend to like Cruz because they're occasionally been rivals in the Senate and Cruz also has ties (both through his wife and financially) to Goldman Sachs - a bank libertarians love to hate. There are also those who question the whole "natural born citizen" aspect of Cruz's (and Marco Rubio's) candidacy, although that charge has been led mostly by supporters of Donald Trump.
Sadly, I suspect there really is a great number of Rand Paul supporters who will be the "none at all" contingent when it comes to November. When you have to pin your hopes on the equal disillusionment of Bernie Sanders supporters (who are bound to be hosed by the Clinton machine) it is worth wondering about the direction of this republic.
Update: As I was writing this, word came out that Rick Santorum is also suspending his campaign. Scratch another off the list.
You may think this an unusual title for a post, but there were two things upcoming that I wanted to write about and after I thought about it I realized that in both cases there were rhetorical training wheels coming off.
First of all in the more immediate timeframe I am going to take Cathy Keim's training wheels off and she's going to be in charge of content this weekend. I'm going away for a personal mission (of sorts) so she is going to cover for me Friday through Sunday. Given some of the places she's telling me she's going and has been, there should be stuff so good you'll hardly miss me.
But once I return I have a homework assignment: I have to review an upcoming book.
You probably know him as the former editor for RedState who now has his own site called The Resurgent, but Erick Erickson is moving back into the world of publishing with his second book, You Will Be Made To Care: The War On Faith, Family, And Your Freedom To Believe. I was one of a select few who get an advance copy to sneak a peek at (and yes, there was competition involved – only about 1 in 4 who applied were picked.)
In his life, Erickson has evolved from being a lawyer to local politician to blogger to radio host, but along the way followed his faith into studying for the ministry, and it's that perspective taken from the intersection of religion and politics which interested me in reviewing this book. He's taking the training wheels off this newfound (or perhaps rekindled) passion of his.
It's been awhile since Erick turned the phrase that became the title of the book, but it rings more and more true as the secular nation intrudes more and more onto the religious community. Once upon a time the church was sacrosanct, with small towns around the nation coming to a halt on Sundays as people flocked to the local Methodist, Presbyterian, Baptist, and Catholic churches. Local clergy were respected members of the social circle of each of these communities.
This began to change in the latter half of the last century, not only with a decline in church membership and attendance but also the coarsening of culture, or to borrow a term from the late Senator Daniel Patrick Moynihan, "defining deviancy down." Now churches and their believers are becoming the outcasts of society, with some denominations yielding more readily to the reality they perceive is out there than others.
Regardless, I look forward to spending a little time reading the advance copy and gathering my thoughts on Erickson's points. But I'm going to adapt a saying I use for my music reviews and tell you to read for yourself – all you need to do is follow these steps and pre-order it.
If it's as well-done as his new website is (spoken from the perspective of a guy who really hates all the clickbait out there, Erick's new site is a refreshing change) this book deserves to be a million-seller. Looks like I'm going to find out!
After re-reading last night's post, I think the time has come to explore a couple "what-if" scenarios. But first let's consider the scene that is being set over the next couple weeks.
First, the prospect of severe winter weather may dampen turnout at the Iowa caucuses. The conventional wisdom is that this will hurt the Trump campaign the most and help Ted Cruz pad his margin of victory. Yet this assumption is based on the theories that Trump doesn't have a significant "ground game" in Iowa; moreover, many of his supporters would be first-time caucus goers who could be intimidated by the lengthy process. The most recent samples of likely voters keep Trump in the 30-33% range (with Ted Cruz second at 23-27%) but if Trump turnout is soft Cruz can pull off the win.
However, if the polls stay valid in Iowa then Trump can win the first three contests as he holds 31% of the New Hampshire vote and 36% in South Carolina. It's a demolition derby among the rest, but presumably half of the field will be gone by the time voters finish with South Carolina. The bottom five in Iowa are Rick Santorum, Carly Fiorina, Chris Christie, Mike Huckabee, and John Kasich, but in New Hampshire it's Santorum, Huckabee, Rand Paul, Fiorina, and Ben Carson. Bottom-feeders in South Carolina are Santorum, Fiorina, Paul, Kasich, and Huckabee. Yet deducting just the three common names in the bottom five (Santorum, Huckabee, and Fiorina) only frees up 5.6% in Iowa, 4.9% in New Hampshire, and 4% in South Carolina, leading us into Super Tuesday (also known as the "SEC primary" since it's mainly Southern states) on March 1. All these primaries are proportional, but come the middle of March we will begin to see the "winner-take-all" states come into play.
Bottom line: the longer some of these bottom-tier candidates hang on, the better chance we may see a candidate get the entire delegation with only 30 or 40 percent of the vote. It's a scenario that favors a polarizing candidate like Donald Trump.
And if Trump gets the nomination, the Republicans will have quite the dilemma. Now I realize a number of people reading this are going to say the GOP deserves what they are getting, and to a great extent they are right. A little courage and leadership among more of our elected officials in Washington would have gone a long way in not upsetting the base voters who now support The Donald because they see him as a man of action, particularly on immigration and trade. These were both subjects the GOP chose to punt on, not wanting to risk alienating their most important constituency: the ruling class in Washington, D.C. So Donald Trump is a Frankenstein of the Republicans' creation, they argue.
However, millions of Republicans may argue that Donald Trump would be the guy whose principles (or lack thereof) do not reflect the party's brand to such an extent that they may decide to stay home from voting. And even if they begrudgingly hold their nose and select Trump, their dearth of enthusiasm will show up in a lack of willingness to take a yard sign, make phone calls, or otherwise do the little things that help a campaign win. While this situation is not good for the top of the ticket, it could spell the end of the GOP-controlled Senate we worked hard to gain in 2010 and 2014 – the former TEA Party wave is coming up for re-election in a Presidential year where turnout is higher. Despite their failings as a Senate, losing GOP control of it would be an unmitigated disaster for those who support liberty and limited government.
In 1992 I made the mistake of getting so mad at a Republican president for not sticking to his word that I voted for Ross Perot. Surely many of the millions who breathed life into the Reform Party for a time regretted it when Bill Clinton enacted his liberal agenda. (As proof: that coalition came back with a vengeance two years later in 1994 when Republicans took the House for the first time in four decades.)
But I may have a different reason for not voting for the GOP nominee in 2016. I have always deferred to the voters as far as their wisdom goes, and hopefully many thousands come to their senses before April 26 in Maryland. However, if they don't, I have to admit that Trump is not the automatic selection that Dole, Bush 43, McCain, and Romney were despite the fact I supported none of them when I had a choice in the primary.
This may sound a little like hyperbole but I think a conservative direction beginning with this election is the only shot we have for survival as a nation – otherwise, we just tumble into the abyss Europe seems to be tottering into, just a decade or so behind them. I don't like being a pessimist, but in doing this read option I see opposing defenders closing in all around me if I can't make it to the daylight and open field of conservative governance. (A clunky football metaphor, but appropriate.)
Those who can't stomach the thought of President Trump now hope against hope the game may soon be up; this elaborate ruse to attract attention eventually turns out to be reality TV fodder. But these people have said for the better part of a year that the bloom would soon be off the rose, yet we sit here days away from the Iowa caucuses and this political chameleon Donald J. Trump is leading the field both in the initial primary states and nationwide.
Perhaps the scariest thought to me, though, is that I'm used to Presidential candidates running right in the primary and tacking toward the center for the general election. Since Donald Trump is already left-of-center on a number of issues, do you seriously think he will move rightward after the convention? We will be stuck with the same situation we faced with President Bush: for his more liberal "compassionate conservative" ideas, Republicans had to bite the bullet and support them anyway because who crosses the titular head of the party?
It may come down to where President Trump = President Hillary = President Sanders. The philosophies may be closer than you think.
With the winds of Jonas howling around us last night, I decided it was a good night to clean out the old e-mail box. One result of that is the Liberty Features widget I placed in my sidebar. They have a lot of good content I use for these "odds and ends" posts as well as other content – that and once upon a time I was a writer for them. You just never know when doors may open back up.
On Tuesday last I alerted readers to the Maryland Senate bill that would allow Wicomico County to determine whether or not they want an elected school board. It's doubtful they picked up on the coincidence that their hearing will occur in the midst of National School Choice Week. But we deserve a choice, so there's just something appropriate about this – it may even occur during the #schoolchoice Tweetup occurring Wednesday afternoon.
Teachers may be gaining a choice in how they wish to be represented thanks to an upcoming Supreme Court case. Here's hoping the side of right prevails and teachers are freed from paying excessive union dues to support political causes they don't agree with.
And since a lot of my cohorts in the region are using their heat, it's a good time to talk a little about all the energy news that's been piling up. For example, energy writer Marita Noon recently detailed the Obama administration's War on Coal. She quotes one Pennsylvania United Mine Workers officer who says, "Obama's actions have alienated those who work in the industry from Democrats in general." I think someday there may be thousands of workers in the green energy field, but for now the people who work in the coal mines are looking desperately for jobs.
On the other hand, if the government showers you with favored status, you have a golden ticket. Noon also wrote about the subsidies and rent-seeking that green energy company Solar City is in danger of losing in several states.
Our fracking boom has gone bust, though, since oil has approached $25 a barrel. Some of those furloughed employees could be rehired to pump oil for export, but this game of chicken between OPEC and American producers shows no sign of ending soon.
Those would-be workers could also be good candidates for rebuilding American manufacturing – if any jobs were to be had, that is. Over at the Alliance for American Manufacturing, Scott Paul notes:
I know I don't have to tell you how important manufacturing is. More than 12 million Americans are directly employed in manufacturing, and many more are employed indirectly.

These good-paying manufacturing jobs are key to a healthy middle class. It's no coincidence that the middle class is shrinking at the same time manufacturing is struggling.

Manufacturing certainly faced a tough 2015. There were only 30,000 new jobs created nationwide. We still only have gained back 40 percent of the jobs lost during the Great Recession.
They ponder what the 2016 Presidential candidates will do and invite you to ask for yourself (through their form letter, of course.) The valid question is:
What will you do differently? How do you plan to help spur manufacturing job growth and grow the middle class?
Perhaps Larry Hogan's plan is one answer, although federal intervention may be needed to bring jobs back from overseas. Maryland, though, could create the conditions for growing new companies.
Finally, I wanted to give a shout out to a long-distance supporter of mine over the last several years, one who has decided to make the leap and run for public office. Jackie Gregory threw her hat into the ring for Cecil County Council back in November, running as a Republican in the county's District 5. That district covers the central part of the county, from the town of North East south along the Elk Neck peninsula.
If you are in the area, she's having a breakfast next weekend in North East so I would encourage you to drop by and give her some support. Cecil County has been an interesting subject to me for several years, with Gregory's Cecil County Patriots group being an advocate for change.
So my 79th edition of odds and ends comes to a close as my heater kicks on again. I don't know about you, but I'm ready for summer. By the way, I also finally finished my updates to the Shorebird of the Week Hall of Fame so the page is back up. I'm not sure it's odd, but it is the end.
Over the years I've noticed the local music community is more than willing to help out and I've been to several of these benefits over the years. But last Saturday it was time to assist one of their own and pay tribute to a special woman who was a great example of this willingness to help out her community.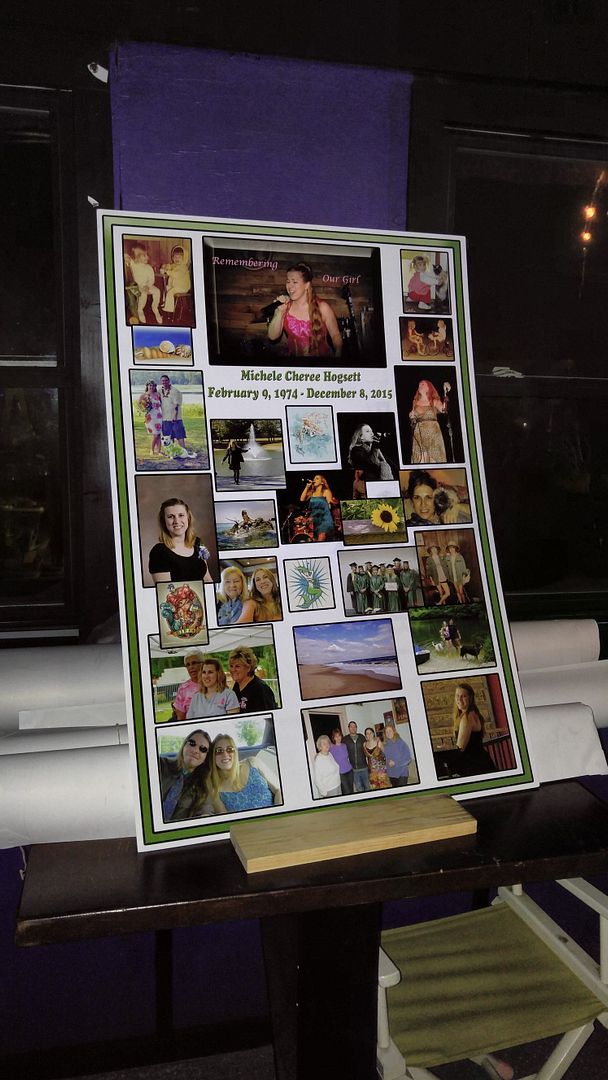 In December Michele Hogsett finished her seven-year battle with breast cancer. Some may know her as the lead singer of Semiblind and the duo Dog & Butterfly, others as DJ Siren, and still others as the woman who put together the annual (Save the) BreastFest until this past year when she became too ill to continue. But four bands volunteered their time to help her husband Jim out with all the expenses incurred.
The board I began the post with was one of several that were placed in the venue. They are a great memorial in photos to Michele's life so I'll use them to divide this piece up.
I got there about a half-hour late, so I arrived about halfway through Fish Whistle's set.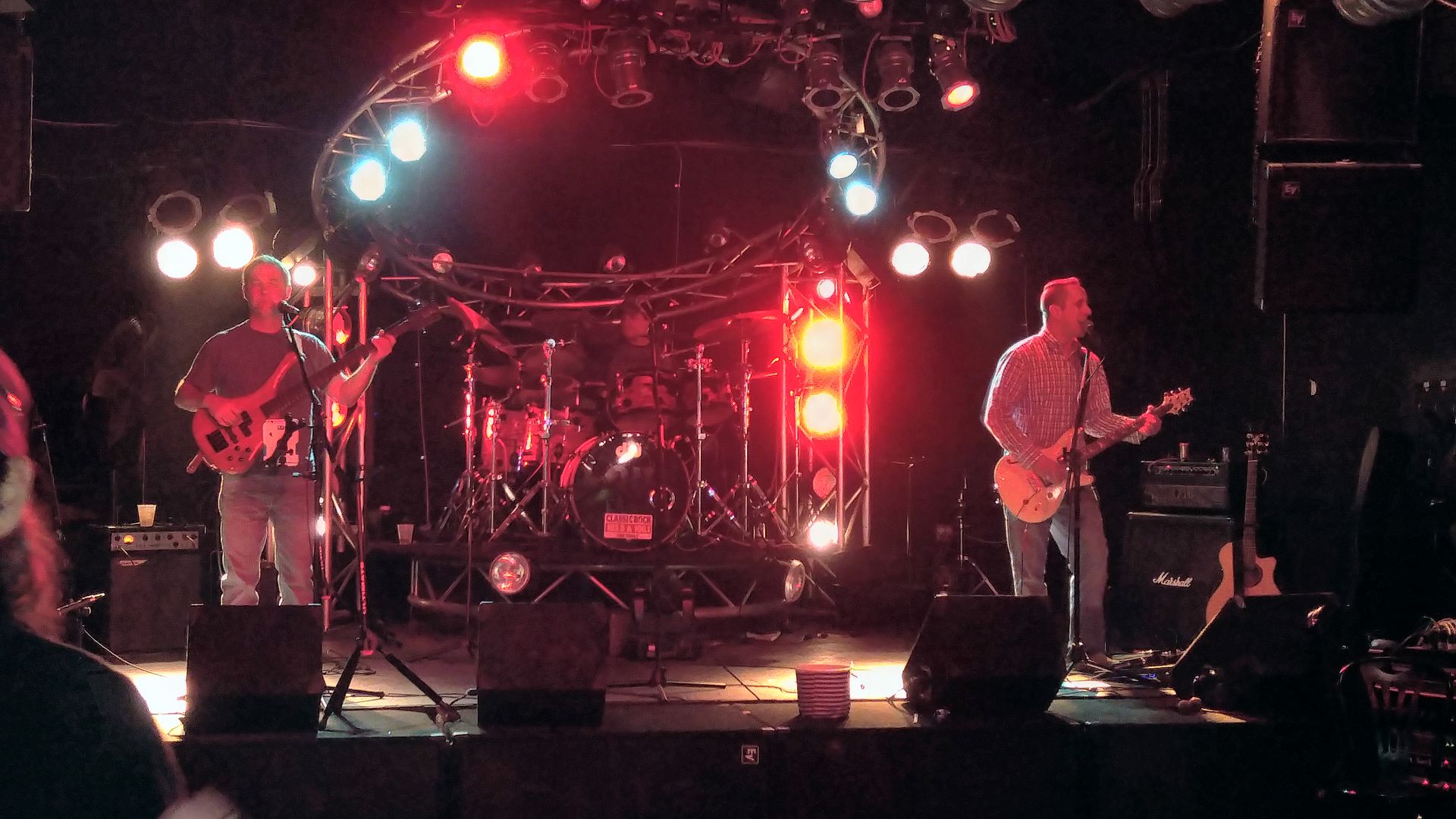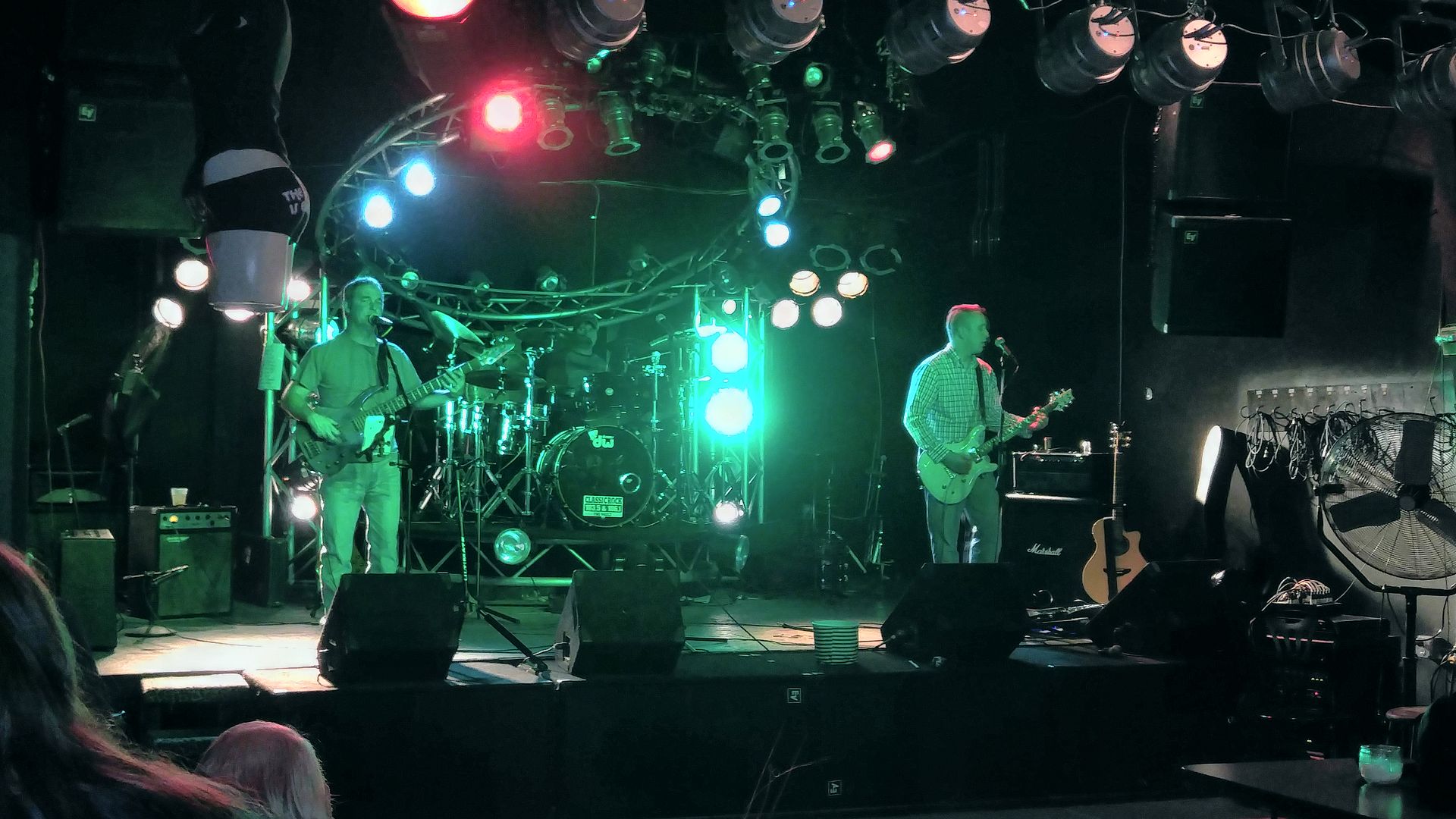 The trio, which has a former member of Semiblind in drummer Mike Edgerton, played a set heavy with Pink Floyd and Van Halen, among a host of other favorites. They set a good tone for the rest of the show.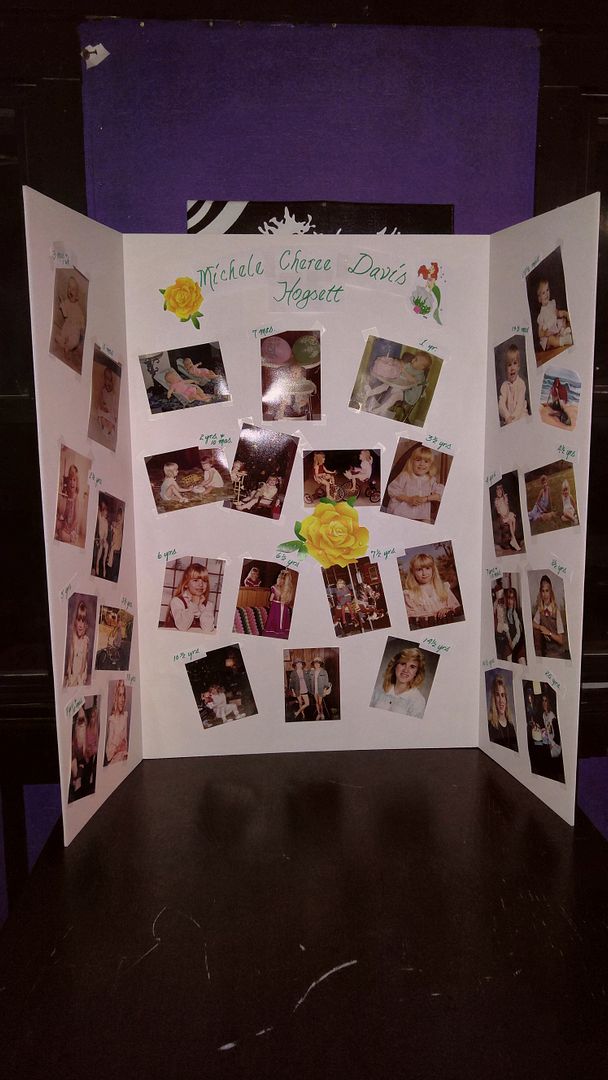 If you can't read the banner behind them, I'll let you know Black Tide Rising was the next band up.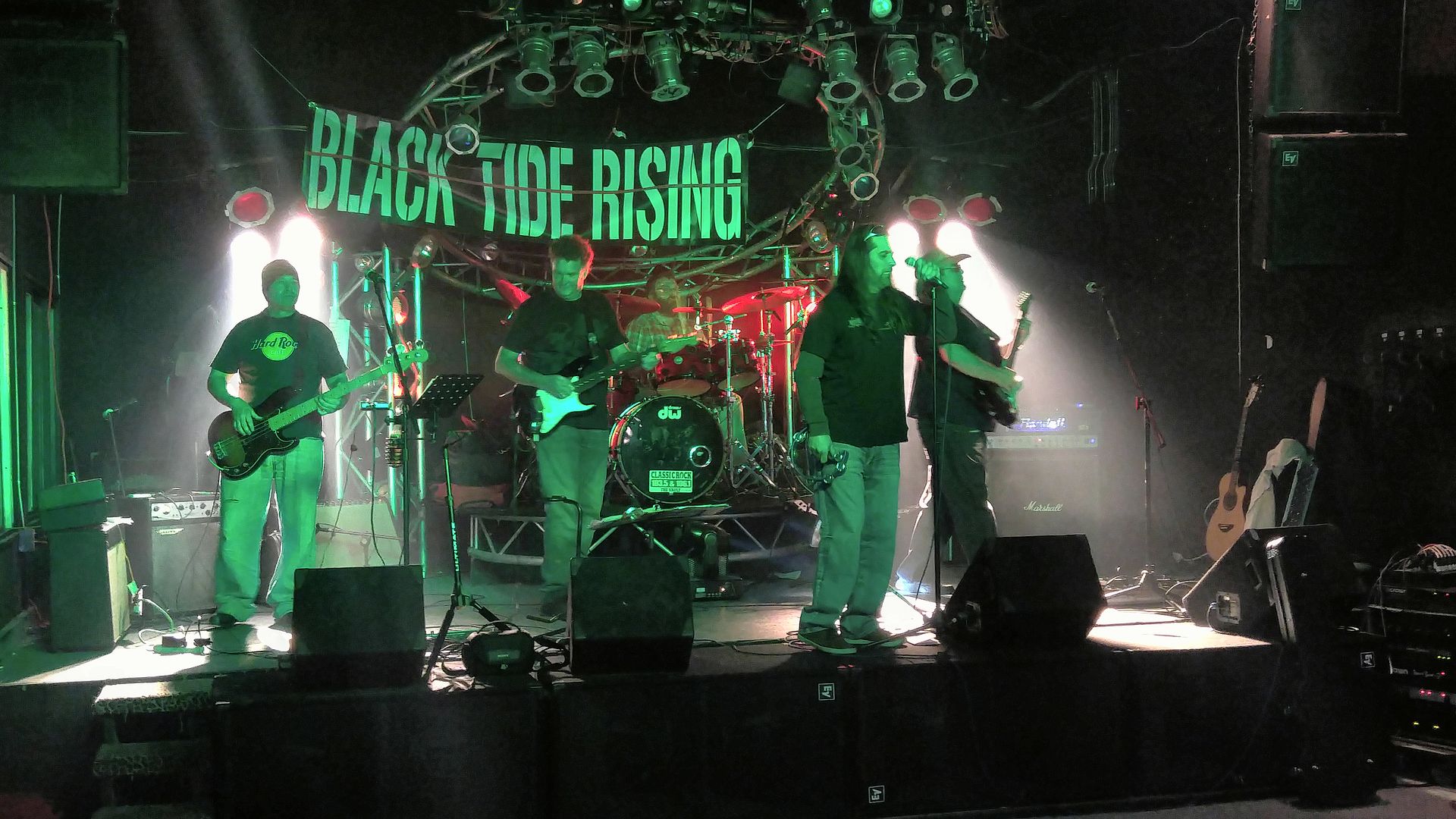 They were a little heavier on 1970s stuff, but they had help from Susan Witchey (who sings for the band Witches Brew) on the old Grand Funk Railroad classic I'm Your Captain (Closer to Home).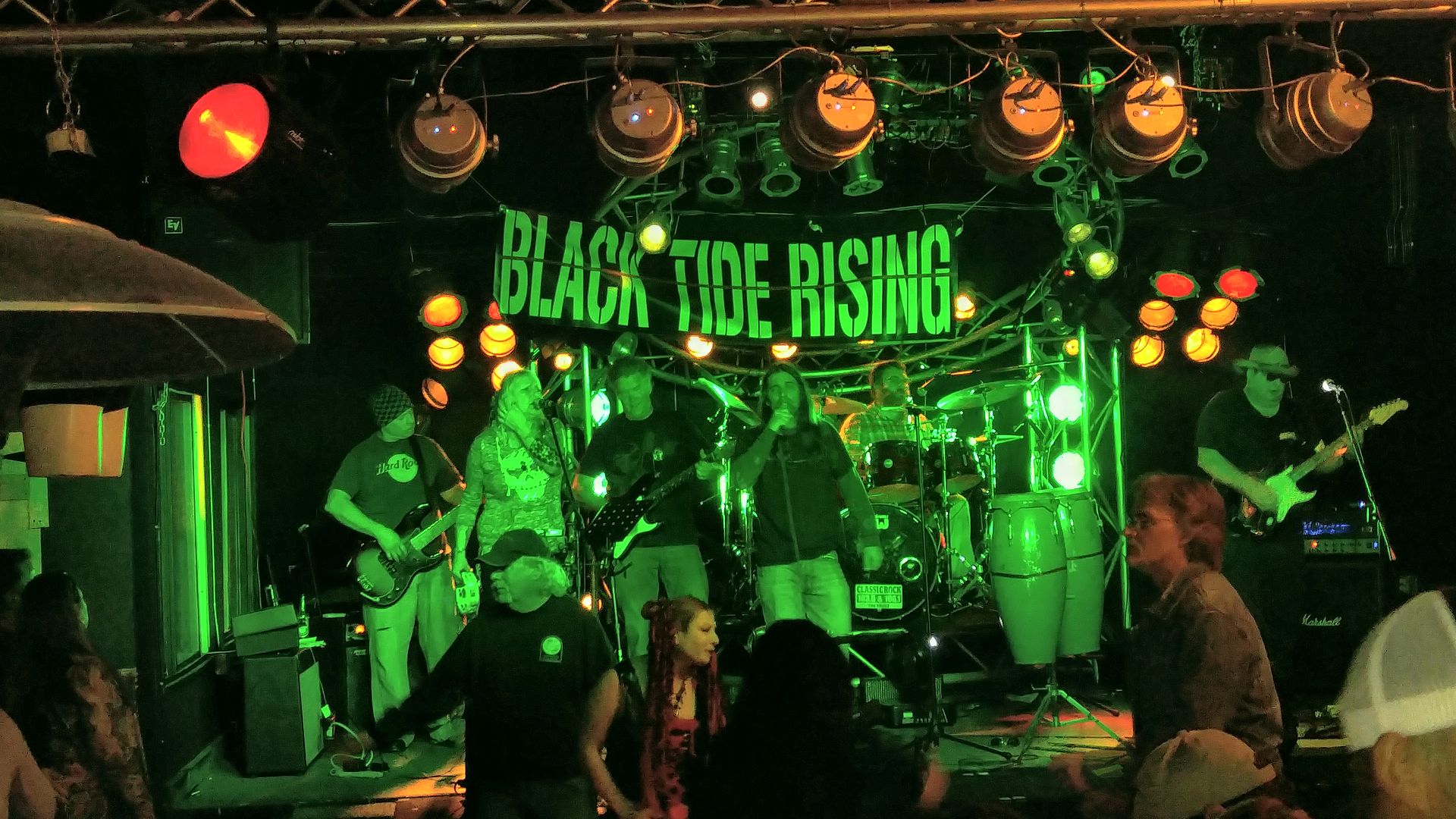 BTR also included some songs you don't hear every day, such as Silent Running by Mike & the Mechanics. It was funny because he said he'd buy a drink for anyone who knew the song – I could remember the title but had to Google the band.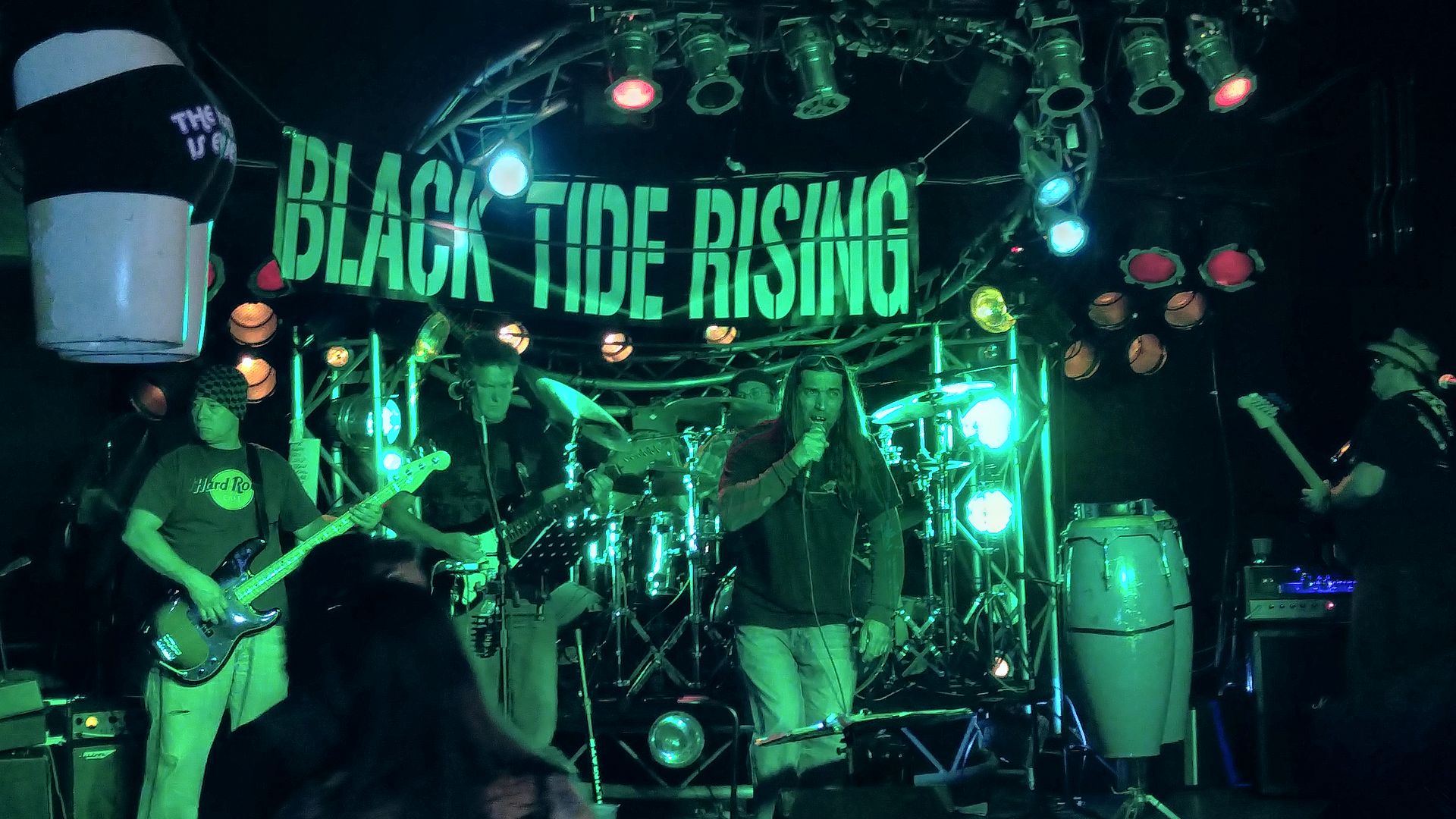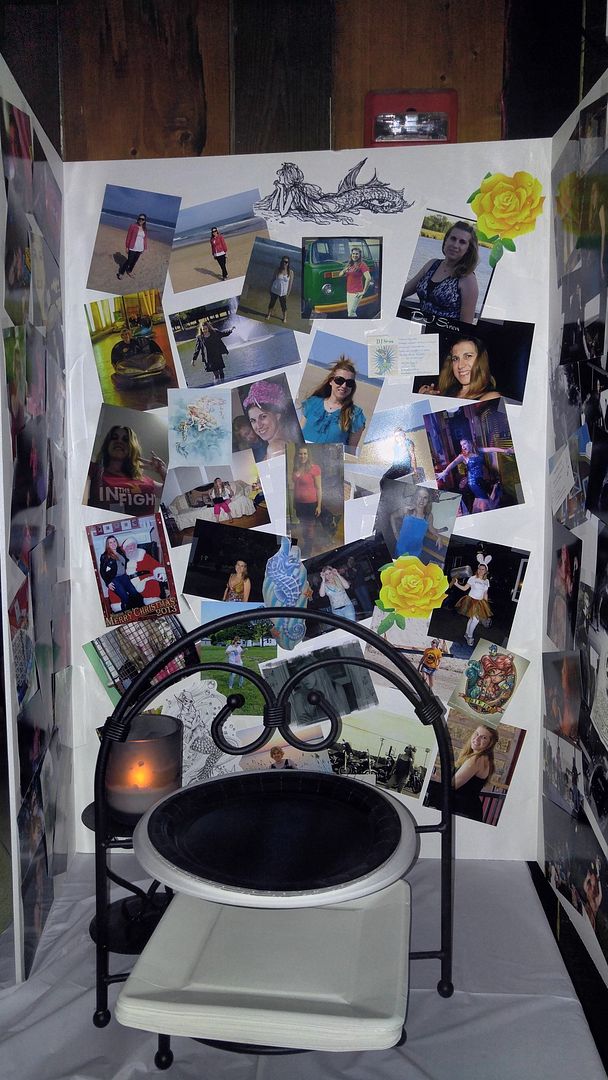 The Breakers were the penultimate band for the evening. They went back another decade, starting out with a Beatles song. Soon after, Susan was helping them out with much of the set.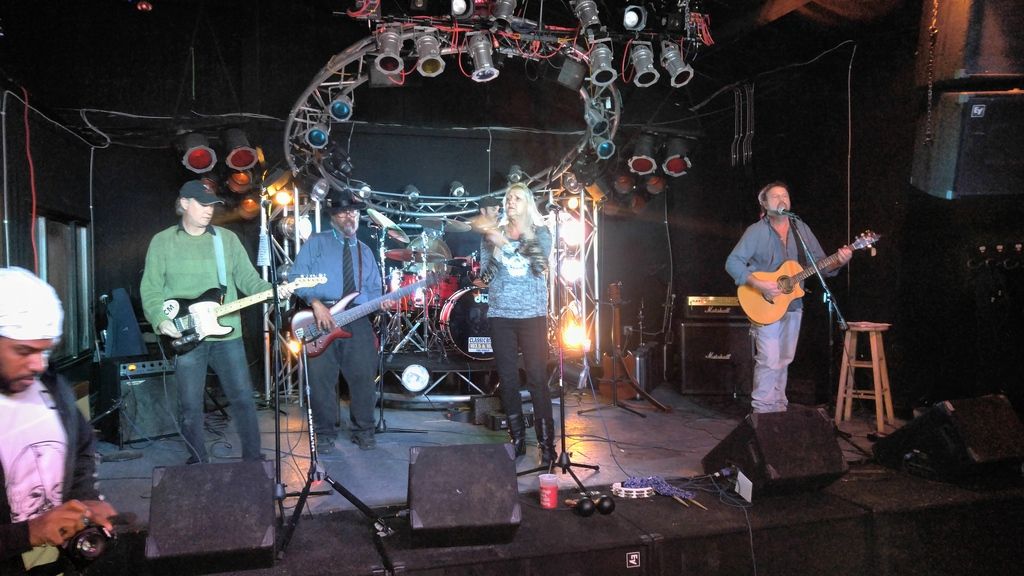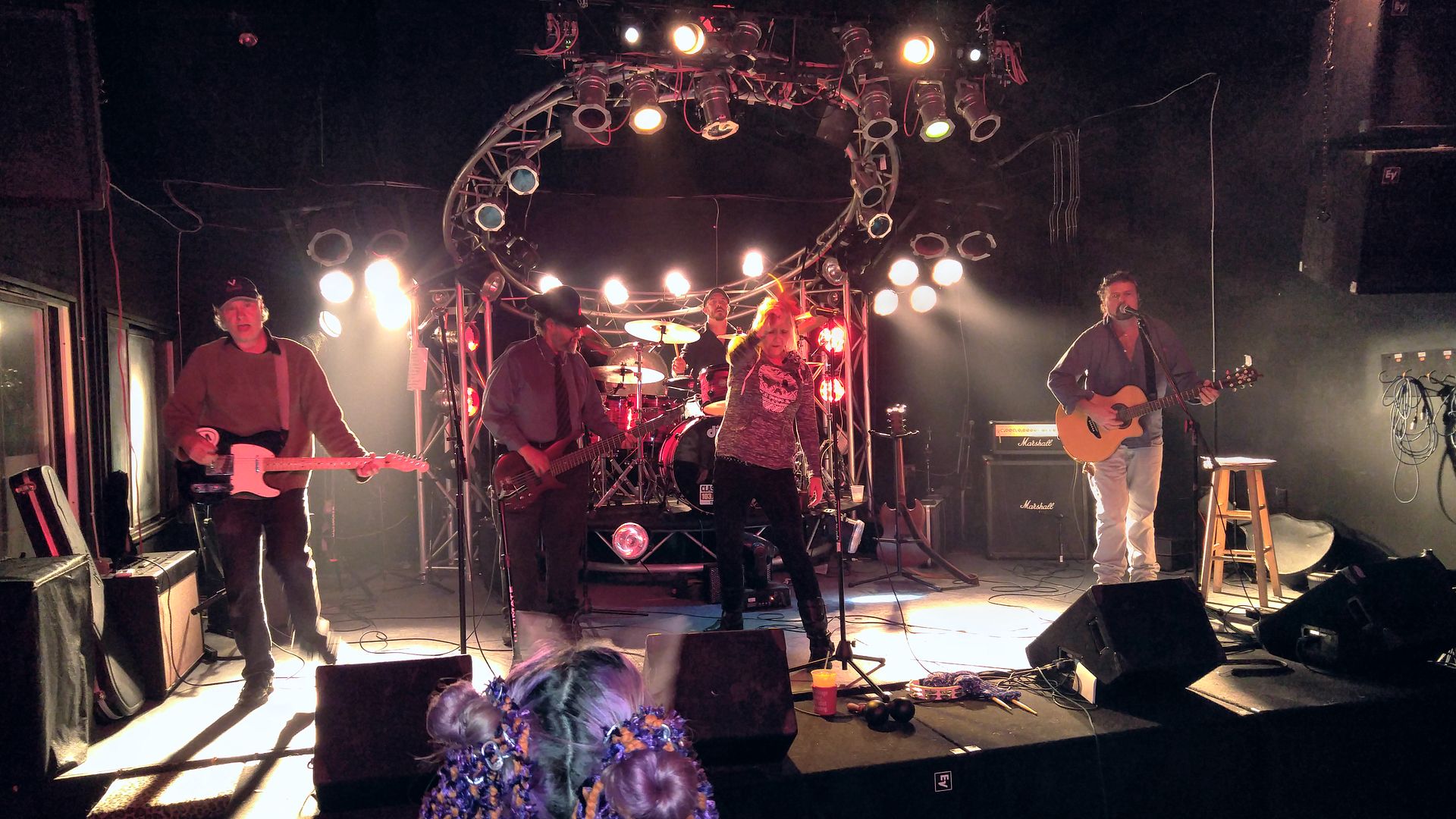 Speaking of cool cover tunes, I seem to recall their last song was Hymn 43 by Jethro Tull. Years ago a friend of mine gave me the record – still have that vinyl somewhere in a closet.
There were a few cool things available in a silent auction, too.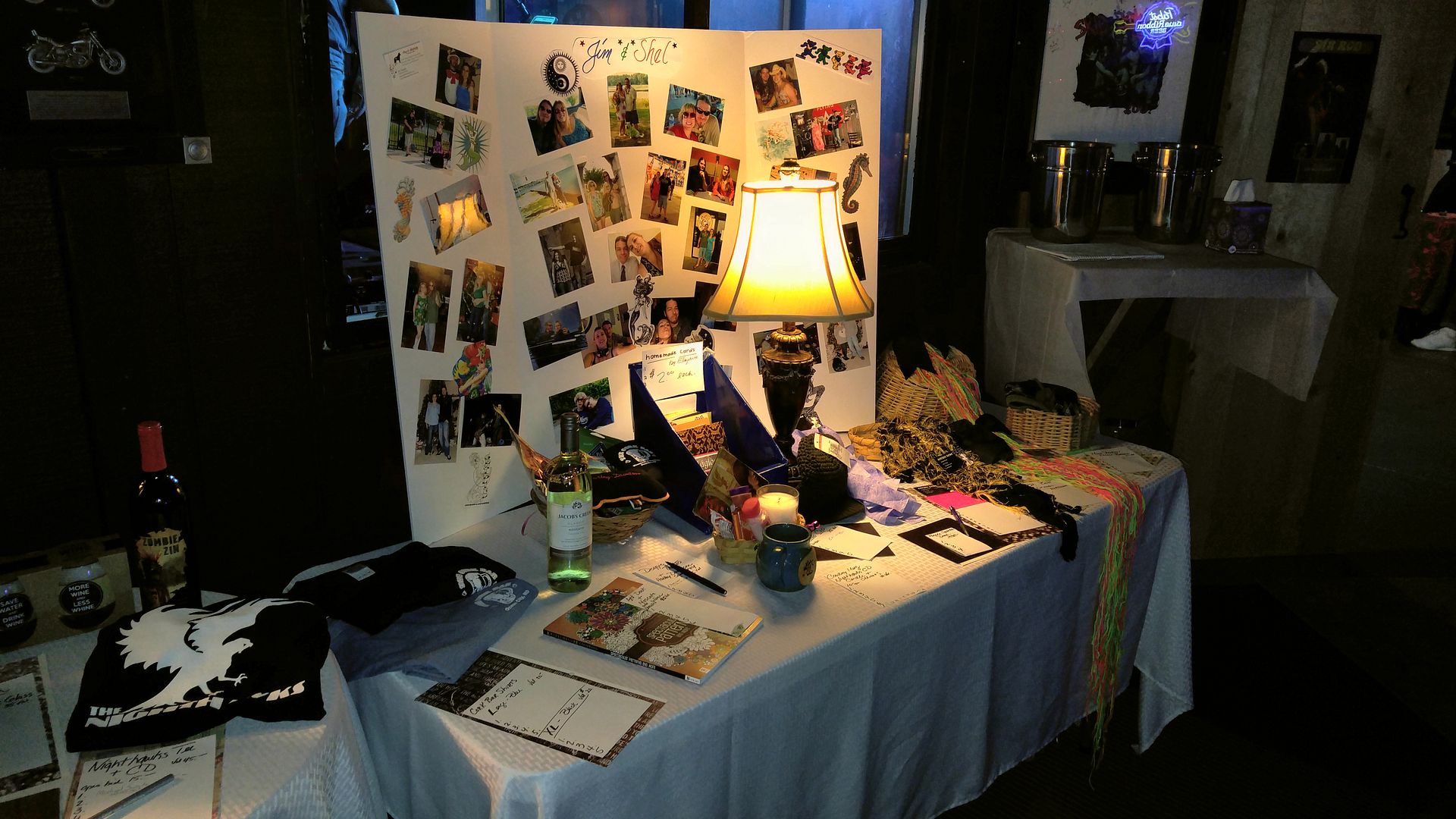 Between these and the 50/50 raffles, there was a nice amount raised. During the breaks, we also heard from some friends of Michele and Jim who gave testimonials to her character. One piece of news that cheered me was the vow to bring back BreastFest after last year's hiatus. It was a great part of Delmarva Bike Week and had become a recognized auxiliary event.
The last band of the night was Lime Green. Is this shot rock and roll or what?
I just love that dry ice fog machine.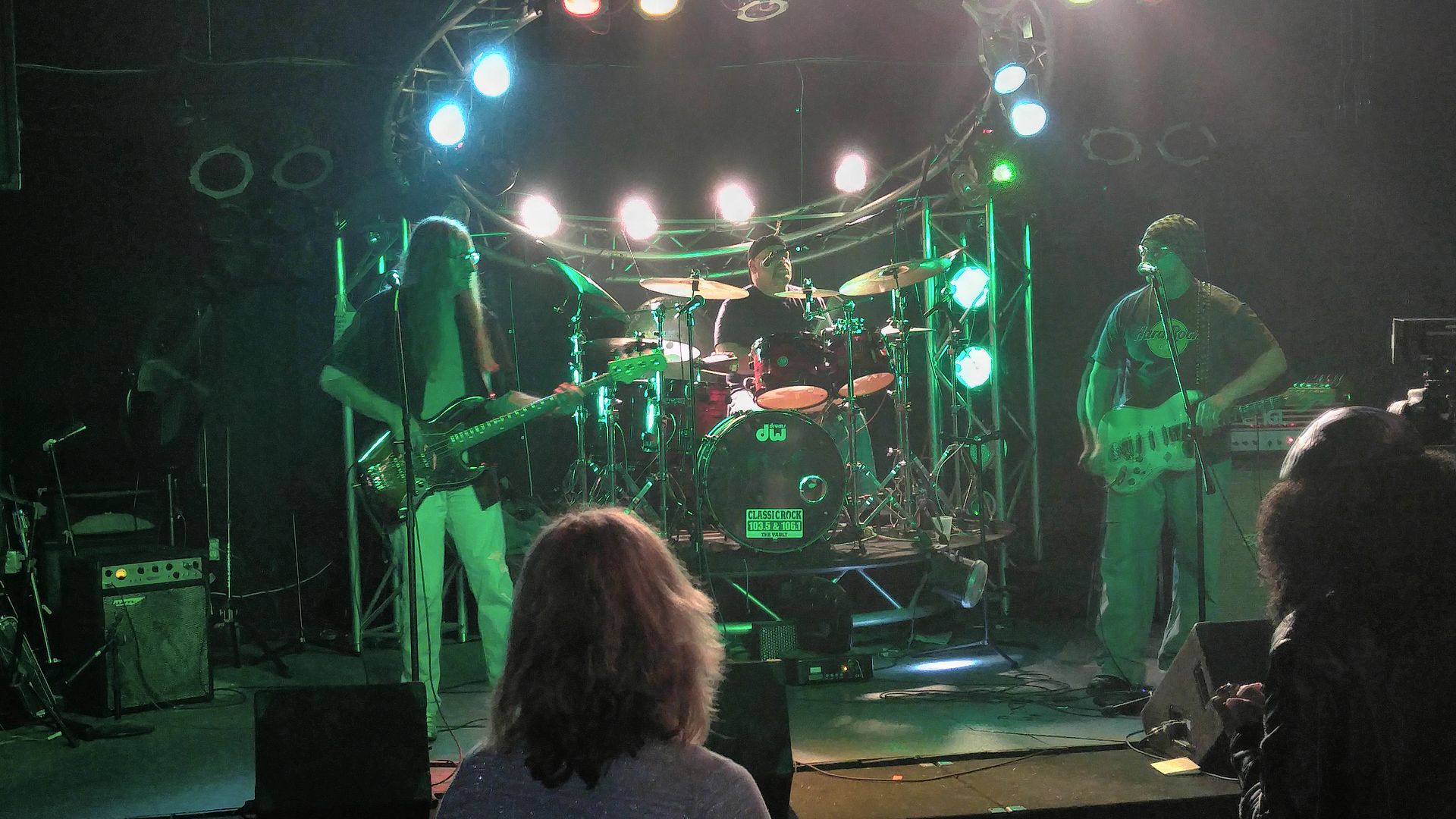 I will also tell you that the lighting and sound at the OC House of Rock was very well done. They really, really loved that green lighting for Lime Green (naturally.)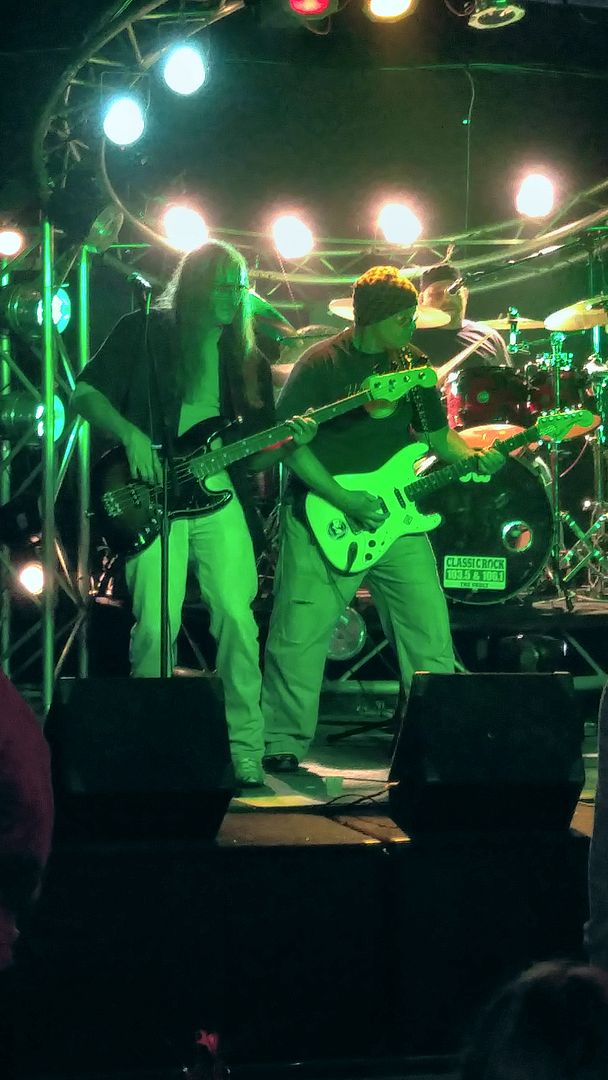 Lime Green did a veritable potpourri of songs, everything from TLC's Waterfalls to Folsom Prison Blues. Susan jumped in for some on their set as well.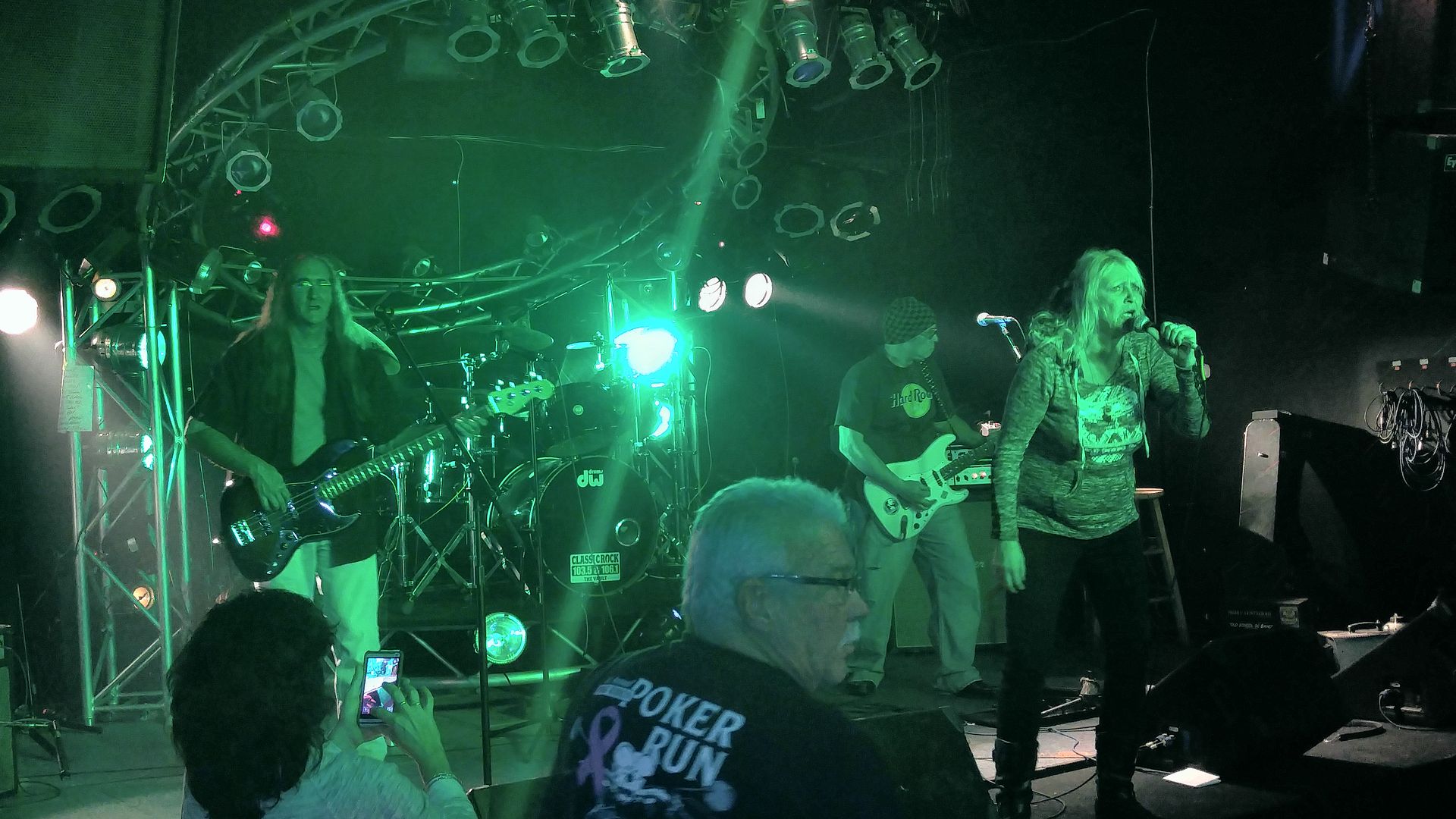 They also played an original they're planning on shooting a video for this spring at Pemberton Park outside Salisbury. So what is it called? Pemberton Park, of course.
Afterward, a lot of people stuck around to wish Michele's husband Jim well. Jim didn't bring his guitar for this show, but I'm hopeful he can carry on with his music as the grieving process continues. While Semiblind was better known as a cover band, Jim and Michele wrote and recorded a number of originals as well. Maybe Michele's legacy can carry on as the inspiration for new music.
No use letting cancer defeat two talents, I say.
The generation that fought World War II is considered by many modern pundits as our "greatest generation." Those who were born in the 1920s were the ones who grew up with the adversity of the Great Depression and came of age as America was attacked at Pearl Harbor.
But the generation they spawned upon their return from the battlefields of Europe and war throughout the Pacific has made their own impact on the American culture, turning their collective noses up at an unpopular war in Vietnam and becoming the narcissistic subject of what was termed the "me" generation. In general terms, a Baby Boomer is one born between 1946 and 1964, although the peak of the boom occurred in 1957. It took a half-century before the total number of births in a calendar year eclipsed the total of 4.3 million we had in 1957.
Yet in the area of Presidential leadership the Baby Boomers are represented only by our last three Presidents, two of whom were born at the very beginning of that era in 1946. Together, however, they represent 24 years of our history as Bill Clinton, George W. Bush, and Barack Obama have served two terms apiece. One can argue whether or not they've had a positive impact on the country, but with the propensity of our nation of late to elect a President twice, it's likely that if we elect a President who was born during that 18 year span in 2016 he or she will be the last of that generation to hold office. The tail end of the Boomers will be 60 by the time that election occurs, but most of them will be older than 67.
I bring this up because this election has the potential to be the same generational shift as we had in 1992 when Bill Clinton (then 46 years old) defeated the incumbent George H.W. Bush (then 68 years of age) – albeit not to that extreme of a degree since Obama is only 54. And if you recall the 1980 election as I do, there was a great deal of concern about Ronald Reagan's advanced age – at the time of his inauguration he was just a few weeks away from his 70th birthday. Previous to Reagan the oldest President to take office was William Henry Harrison, who was 68 – and died in office a month later. So I think people became a little gunshy about electing a man of advanced age.
If you look at the ages of the remaining contenders, you'll notice that nearly half of them are already eligible for Social Security as they have passed their 62nd birthday. While the average age of the Republican contenders is 58, it's worth noting that for the Democrats it's nearly 65, with Martin O'Malley dragging the average out of the 70s. All three Democrats fall within the Baby Boomer range.
On the other hand, the top three Republican contenders are the two youngest in the group (Ted Cruz and Marco Rubio) trailing the oldest Republican running, Donald Trump. I had no idea Trump was the oldest until I looked it up but he is 69 now and would be 70 by inauguration day, making him the oldest President to take office. So where are the people concerned with his health and advanced age? (Hillary Clinton would be just a few months younger than Reagan was if she won, while Bernie Sanders would shatter the age record as he is already 74.)
While I identify more readily with the Generation X that followed the Boomers, by birth year I'm lumped in with them. By being a few years younger than the peak of our generation, those born in the early-to-mid 1960s like myself have always dealt with the hand-me-downs we received, and they were often worse for the wear. (Having a brother who was two years older this was literally true in my case.) So it is with America, which has seen the decline in morality brought to us by the Clintons, the questionable attempts at nation-building we tried under George W. Bush, and the trainwreck of "if you like your plan, you can keep it" Obamacare under its namesake. If you ask the question, "are you better off than you were 24 years ago?" the number of people who say no might be shockingly high.
Perhaps it's time for the Boomers to leave the stage, but I'm sure they'll have to dragged off kicking and screaming because it will always and forever be about them.
Lately I've been mulling over the idea of red state vs. blue state and how both are impacting society. But there is an element which seems to be missing among the arguments we have regarding conservative vs. liberal.
Once upon a time in America, it was just automatically assumed that we were one nation under God. More than a two-word addition to the Pledge of Allegiance dating back to 1954, for most Americans adhering to the tenets of their religion was second nature. Thus, actions which were deemed immoral were frowned upon: selling alcohol on Sundays, having children out of wedlock, and swearing in public were just some of the actions which ran afoul of our sensitivities. Then, as now, we were all sinners who fell short of the grace of God but it seems like we as Americans tried harder to stay in line in that bygone era.
Naturally, over time the "blue laws" were gradually erased, children who were born out of wedlock lost the derisive moniker "bastard" and became commonplace, and the entertainment industry began a contest to see who could get away with racier and racier content. As this devolution of society in the name of "tolerance" continued we were ordered to accept "alternative" lifestyles. Christians of today in general, and parents who wish to "Train up a child in the way he should go," to borrow from Proverbs 22:6, face an increasingly treacherous minefield of having to monitor their kids' entertainment, education, and circle of friends. Unlike any other era in America, Christians are being marginalized and segmented in society as just another subset: Mary went to the Christian store to purchase Christian books and movies while listening to the Christian radio station.
In his Rules for Radicals, Saul Alinsky once wrote that agitators should pick the target, freeze it, personalize it, and polarize it. In many respects, that has occurred with the term Christian because it is far too often used as an adjective. With a little help from the society and culture, we have set ourselves apart from the rest, yet on a cultural level it has led to the perception that to be Christian is to be inferior – "oh, so-and-so is just a Christian artist" or "this student went to some Christian school." With a wink and a nod, we are signaled that this hick is simply one of the unwashed masses – look at how elites think of those who come from the "Bible Belt."
So why is that implied to be a bad thing? In most cases, it's because they vote for conservative candidates. States in the deep South began shifting from Democrat to Republican a half-century ago, with the election of Ronald Reagan finishing the shift. In large part this was because Democrats embraced the cultural changes with which Christians disagreed. The consequence: as a generation steeped in traditional values has died away, those who had lesser mooring in absolute truths have steered society in an even more radical direction.
For example, I didn't know what "gay" meant (in the modern usage of the word) until I was in high school – I just assumed boys liked girls and vice versa. Much of that was because in my youth we weren't constantly exposed to the homosexual lifestyle through the media. No Christian couple would have run afoul of the law for refusing to bake a cake for a gay wedding because extremely few even considered the concept of same-sex nuptials to be a viable one. That wasn't on the radar screen in 1982 when I graduated high school.
But move forward a generation or so and churches are being threatened with the loss of their tax-exempt status if they refuse to participate in same-sex weddings. Some churches in more moderate denominations have already knuckled under, but most remain standing against this practice. Yet, cowed by the media and radical groups, the Republican Party doesn't seem to have the gumption to fight anymore against gay marriage, abortion, or the downward redefinition of deviancy.
So where can we turn?
The inspiration for the phrase "white state" comes from the Christian flag, which is mainly white as that color symbolizes purity. And while in print white denotes the absence of color, as a function of light white reflects all colors equally. To me this is quite symbolic and much more inclusive than a rainbow flag will ever be, for a rainbow separates colors while white blends all together. Yet a Christian flag is not all white for that would signify surrender, and we must never surrender.
And what seems to be setting us apart from the "red vs. blue" narrative is a faith in God rather than government. At one time, a key social function now relegated to government was taken care of through the church. Christians still take care of the poor and infirm to a degree, but many more of the downtrodden rely on the welfare state that didn't exist even 100 years ago. In a two-pronged attack, government stepped in to take care of the poor while freeing their conscience from many of the behavioral obligations placed on them by the church.
In short, we need to once again create a situation where the state is subservient to the people, who in turn are subservient to God. At that point red and blue aren't as relevant as wrong and right, with the arbiter being God's Word. By no means am I suggesting we should have a theocracy; however, there are many millions who could use a gentle course correction for their lives and making it more difficult to prosper from poor choices through the heavy hand of the government is a good way to motivate them.
Yet this is the place where we Christians need to set ourselves apart and create a united front in order to work through the system we have in place. Of course, the other side knows this as well so they try and keep us divided like the colors in the rainbow flag and dispirited to keep us from being motivated to change. Victories may be few and slow in coming, but in America we have had revivals every so often and we are overdue for another. It's time to shine all our colors together and be indivisible under God.
Well, kids, how shall I say this?
Rather than type out my grievances about what we won't see that I've had over the last two years, suffice to say that we have an election coming up where everyone will promise to do something about it. The sad thing is that, with a few exceptions, they've been in a position to do something and failed to act – so why should we believe them now?
Granted, I think there would be a far better chance at resolution with a Rand Paul or Ted Cruz in charge than a Bernie Sanders or Hillary Clinton, but at this early date we have no idea who will win. I don't either, but it is fair to say that, for an open election, the people who lead in December rarely are the ones taking office thirteen months later.
With that said, I'm not going to take up a lot of time or effort. Have a Happy New Year, don't wipe out our company on their way to/from our house, and I'll see you on the other side.
There you have it – short, sweet, and to the point in 200 words or less.
I think this is the third time I'm going to try this, and I found out the last two times it's fun to take a look back. Read on and see if you agree.
Even though Republicans were set to take over Congress, political infighting at both the state and national levels kicked January off, with the expected results of a power struggle. Andy Harris, just into his third term, had to explain an unpopular vote. Yet while there was agreement in the state that the city of Baltimore needed to be revitalized for Maryland to succeed, it seemed like the Maryland General Assembly had different priorities in its pre-filed bills. We would eventually get a bill to give Wicomico County an elected school board as well – even though it wasn't what I wanted - but I made my plea for accountability before its filing by our five freshman representatives working as the Wicomico County delegation.
Local agricultural interests cheered when newly-inaugurated Governor Hogan pulled strict regulations with hours to spare, giving Radical Green plenty to whine about. With that in mind, on the energy front I questioned the role wind power could play, even during a chilly winter.
But in the end we found out what the Koch brothers don't have, and that kept me laughing into February. We began the month with the first of many "it" candidates for 2016 forming the dreaded exploratory committee. Closer to home, though, our new governor laid out an ambitious agenda while the opposition whined about its negativity. Speaking of Democratic pet projects, I also made it a series of sorts on wind power in noting they weren't getting their subsidy anymore but were trying hard to convince Congress to renew it.
February was the month I decided I didn't need to be "mono" anymore, bringing contributor Cathy Keim on board with this post on Common Core. Adding her was perhaps the best blogging decision I ever made. On a completely different level I also noted former candidate Dan Bongino was branching out with his message.
Advancing the story on our elected school board, the month brought the scheduling of the hearing for it. The General Assembly also took up a "death with dignity" bill that Cathy opposed and increased the speed limit on certain highways. Yet with the prospect of the O'Malley PMT regulations clearing the General Assembly, Governor Hogan reached a compromise that would adversely affect local farmers anyway – despite what state groups may have claimed.
Another carryover from the previous month was the saga of replacing General Assembly members, which brought legislation seeking special elections. The fate of many legislative items took up my March; although the appointment question was settled in court I had a better suggestion and one ill effect of Obamacare was addressed. We were still stuck with the rain tax mandate, though. I challenged elected school board opponents after the hearing but the noisy, tiny minority won nonetheless.
There was no surprise, though, that Radical Green hated the phosphorus regulations. I knew that was coming, and they tried to convince legislators to pass the O'Malley version. Cathy also knew another disaster was coming with funding the federal Department of Homeland Security as the GOP folded like a cheap tent. On the other hand, Democrats were scared of Scott Walker nationally and made big claims locally.
In other 2016 news, we were shocked by a political lifer's retirement announcement but began to formally fill out the GOP presidential field.
The local pro-life community had a gala fundraiser, but religious freedom was a subject both Cathy and I tackled at months' end.
Once in awhile I get it wrong, but in this case I was happy to report my error about an event that would eventually occur in April. And that's not the only reason it's one of my favorite months, as the crack of hardwood against horsehide heralds a new baseball season where I guessed the Shorebirds' roster.
Back in the political world, Cathy and I teamed up to discuss the redefinition of birth. I also was puzzled by a logo and, as the "90 days of terror" that is the General Assembly session wore down, I opined about Governor Hogan's first veto but also took a look at what we avoided thanks to a local Delegate. After the session, our governor made a stop at Salisbury's 3rd Friday event while I stopped over in Ocean City to see some old friends at the state GOP convention. Later that month, we got a full report from our GOP delegation at the Wicomico County Republican Club meeting while I suggested some ideas for 2016.
The month ended with our state suffering a black eye. Many of the policies at the root of the problem came out in May when the Democratic presidential race moved farther left. But I don't think his entry was radical enough for this activist and her wild claims about the energy industry. On the GOP side, the list of contenders expanded rapidly. With so many contenders I thought it would be a good idea to organize debates in a fair manner.
Summer driving season became a little more bearable as Governor Hogan announced toll reductions, but I gave him a list of bills to veto while he was at it.
I kicked off summer with a Memorial Day weekend to remember, including the music. But June brought the usual idiocy from our former governor and his party allies; a lack of intelligence was also exhibited by the current occupant who failed to use his veto pen in a more appropriate manner as well as a Supreme Court majority that blew it twice in a week. The courts had another opportunity to set something right, though.
Distrust of government was everywhere: trade agreements (times two), rail boondoggles, teaching history. Even the speaker for the Maryland GOP's annual dinner was an outsider candidate. Cathy added a book review about Common Core to the mix, too.
On the other hand, we took the process the state gave to us and picked two new Wicomico County Board of Education members – much to the chagrin of local liberals.
I also opined on the next possible development hotspot, even if it's a decade later than planned. Something else that was later than planned was my monoblogue Accountability Project that came out a month behind schedule.
July kicked off the process by which I determined who I would back in the 2016 presidential election. I looked at education, Second Amendment, and energy to begin the selection. Meanwhile, statewide politicians descended on Crisfield for an annual event.
I also cast a skeptical eye at Maryland business climate improvement based on a nationwide survey of small businesses, but this came before a regulatory reform effort. However, Cathy pointed out one legacy Larry Hogan kept. Nationally, we got the first rumblings about dissatisfaction with Speaker of the House John Boehner. Maybe it's that squeezing of the middle class thanks to Obamacare.
And while I kept the site dark on Independence Day, I wanted to make sure I expressed my pride in America.
August began with a report that hit me where I live – building permits have ceased as part of the War on Rural Maryland. Speaking of rural Maryland, I also spent a day at our rebadged county fair. Here in Salisbury, we found out who filed for the 2015 election. Two candidates started their efforts with a community barbecue.
I also continued my series on the 2016 Presidential election with posts on social issues, trade and job creation, and taxation, while I handicapped the first GOP debate. After that, the talk was about Donald Trump and how much interest he was receiving. Later in the month, Cathy wrote about what was said by John Boehner regarding a different candidate.
Planned Parenthood was big news, and a rally in Easton brought over 100 who wanted them to lose their federal funding. (That may have been my headline of the year, too.) While my coverage may have had some bias, Cathy thought the local TV station really showed its true colors. But Planned Parenthood even affected the national political races.
As September began, we found out Larry Hogan has work to do to gain the confidence of small businesses, but with the occasion of Labor Day it was time to see how worker freedom was progressing.
I had my thoughts on the Kim Davis situation, while Cathy weighed in on the Iranian deal and the very soul of the GOP. It was time to get serious as summer was coming to a close, which also meant it was time to pick a Shorebird of the Year and relate things from a fan's perspective.
Also that month, my presidential series came to an end with an endorsement after a look at immigration, foreign policy, entitlements, and the role of government.  On a local political note, we all survived the monsoon that was the WCRC Crab Feast and began a series of hearings prescribed to determine the shape of our local board of education, to which I added history and context. Those hearings were dull, however, compared to the one involving Radical Green.
And of course, those seeking election were there at 3rd Friday, as was I. The campaign moved into October with one pet project shot down in flames and aspirants revealing their financial positions as the day of voting drew near.
Nationally, we learned that John Boehner finally resigned, which prompted Cathy to thinking about the truth and the spin. She also covered the second Easton Planned Parenthood protest since I was away. I did make it to a local pro-life fundraiser, but I was more concerned about the state of making things in the country. We also got some tough love and a tax plan from my endorsed presidential candidate.
The fall is also festival time around these parts, so I wrote and photographed the Good Beer and Autumn Wine festivals.
The Salisbury city election came in November, and although only one of my two endorsed candidates won, I was encouraged by the new composition. After four tries, my friend Muir Boda finally won an election so his swearing-in was emotional. However, it also created a headache for our local Republican club.
The county GOP, though, had a successful Lincoln Day Dinner and hosted the kickoff for a U.S. Senate candidate that Cathy covered. But an event in another state made me ask: what about non-partisan elections and redistricting? I also had to say goodbye to electing my endorsed presidential candidate, but renewed my acquaintance with the state GOP convention after a yearlong hiatus.
In the wake of the Paris attacks, Cathy related a class she attended that could make a difference and made a modest immigration proposal. I also related how our state tax policies were scraping the bottom.
After I closed the month before by supplementing my posts with a celebratory "10 from 10″ series, December opened with my tenth anniversary. Just as a reminder:
I still think I can utilize these writing talents that God gave me for the common good of enhancing peoples' awareness of the benefits and advantages that freedom and liberty, firmly based on a moral, Judeo-Christian foundation, can bring. It's not a fight I'll win in ten years or perhaps even whatever time I have left in this world, but that doesn't mean I shouldn't try and do so anyway.
Politics slowed down a bit for the holiday, but I did have to ask Radical Green what they would do for business around here if the chicken farms went away? (No answer yet.) Cathy began what should be an ambitious series on immigration, which I look forward to reading more from. And not everyone likes Donald Trump – or the GOP, for that matter. I also wrapped up the city elections by seeing who gave to what (or to themselves.)
I also let you know that high wages may not be the problem with American manufacturing, and that the government shouldn't always be our answer. Sadly, we just keep doing the same old thing - it's always about more revenue.
For those non-political things, I returned to baseball for a day with my newest Shorebird of the Week Hall of Fame class, gave you the top 5 records I reviewed this year, and said goodbye to a friend with my Christmas message.
That's where I'm going to leave it because this is always a long post to compile. I counted 157 links, so you have a lot of reading to do – it may take you until 2016 to do so. In the next few days I will pull out my crystal ball and see if I can look forward to events locally, statewide, and nationally.
This year I write this message with a heavy heart.
It's not because the world seems to have gone more haywire or the political world is its normal maddening self. Instead, it's because a member of the extended monoblogue family is no longer with us.
Traditionally I have left the site dark on Christmas Day and I take the time a day or two before to write a Christmas message to put up on the morning of Christmas Eve. I'm not going to depart from that tradition, but the voice that made this Christmas post special for many years has been stilled.
In the video below, which I used last year for the first time, you would never know that Michele Hogsett (the woman singing) was at the time waging a vigorous fight against breast cancer. Alas, she ran the last of her seven-year race back on December 8 and the celebration of her life (which featured this song) was last Sunday.
I call Michele part of the extended monoblogue family because she graced these pages a fair number of times for my long-running Weekend of Local Rock segment. Over the last few years it's dwindled to an extent but two of the staple events I've used to keep it going were the Concert for a Random Soldier where Michele and her husband Jim regularly played and the (Save the…) BreastFest which had a six-year run from 2009 to last year as a part of Delmarva Bike Week. Sadly, Michele was simply too ill to make a go of it this year.
I also called Michele and Jim my friends. They were the ones who invited me (and later Kim and I) to share Thanksgiving with them for several years as part of their extended family. At her service, I heard from those affiliated with the Delaware Breast Cancer Coalition (the beneficiary of BreastFest) about how Michele was the first to interact with newly-diagnosed women and let them know what to expect, giving them pointers on how to best wage their own personal fight. In short, she was an asset to the community, and she is survived by her husband, the host of cats and dogs they kept, and the music she helped to create which brought joy to this listener. Someday we will see each other where the ocean meets the sky.
But even with this personal loss, the other sad part about this Christmas is that I can, almost word for word, rewrite what I wrote last year:
In the runup from Thanksgiving to Christmas… we've seen a lot of senseless tragedy. Unfortunately, much of it was brought about by hatred and evil – hatred over that last few layers of skin which determines its shade or of the belief system one follows, and the evil which justifies taking another's life because of their chosen religion or profession. It's very sad that in the time of season we celebrate life we should be advocating death. Once we stopped a world war to celebrate Christmas, but now…well, peace on earth seems but a quaint saying, and too many consider a successful Christmas as one where they got the biggest presents or threw the best party ever.
Fortunately, I can also conclude with:
In my case, this Christmas will probably provide neither of those worldly goals, but as I grow older I feel that I understand more about what Christmas is supposed to be. I'm not one to be prodded by the force-fed commercialism we now endure into what most consider "Christmas spirit" – in fact, when I was living on my own before I met Kim I didn't even put up a Christmas tree – but in these final days before the holiday I can pause and take stock of the miracle and blessing of Christ's birth and the Earth receiving its King.
Let's all take stock of what we received in the city of David, and let's take some time to be grateful for the gift of the company that family and friends can provide.
So from my rocking chair and laptop in Salisbury, Maryland, I wish you and yours a Merry Christmas. I'll be back on Saturday.
While this may sound like it's tied in to yesterday's post, I'm actually veering off in a different direction with this one.
Each day I receive Erick Erickson's e-mail missive, probably because I've been on the RedState list for many years. Since Erick was the biggest part of RedState it made logical sense and his new endeavor has kept a lot of the same look, feel, and message. On Thursday, though, he had a post that looked at blogging and the entrepreneurship aspect of it, and he put out a proposal I found quite interesting.
I may be doomed to failure on this new radio website endeavor, but I am going to try something new in terms of ad revenue.

Over the past two years with my radio show, I've been growing an email list of radio listeners. That list has crossed 200,000 people. At the same time, this site, to which I have not dedicated a lot of time, is averaging about 75,000 page views a day. Again, it is not even my day job yet.

So when I kick things off again with the new design on January 4th, I've going to try a sponsor model instead of an ad model. In other words, I am going to strip away all the advertising and just do a sponsor a week.

What the Sponsor Gets:

They will get a graphic on the front page and a graphic on each post. It will be a static image so ad blockers cannot block it. They will not be in competition with any other advertiser.

They will also get a thank you mention on Monday and Friday that will make it in the emails of those days. So in the worst case scenario they'll be getting 75,000 page views a day, plus 400,000 eyeballs in email over the course of a week.

What the starting price is going to be: $5000.00 for the week.

I do not need to make a huge profit off the radio website. I do need to cover costs, pay for the redesign, pay a staffer, etc.

We will see if it works. Hopefully, over time, I can raise the price.

I do not want Taboola throwing up on my redesign. I do not want pop up ads and auto play videos and semi-porn to draw in eyeballs.

I may fail. I may not be able to get the advertisers. But I am going to try.
So let's look at this as a business model. Those of us who have revenue-producing websites don't seem to have a lot of options on ways to make money.
First, there is always the old rumor that goes around about some billionaire benefactor like George Soros going around and propping up particular bloggers. That may well exist but I can assure you the Koch brothers have never stroked a check to me. (Maybe I'm just doing it all wrong?)
The second approach is to bleg, as several bloggers I know have to various amounts of success. Once in a great while I have passed on their tales of woe. Many of these bleggars' sites also have static ads, the combination of which keeps bloggers like Peter Ingemi going. (You may know him better as DaTechGuy – have fedora, will travel.)
And then you have what many of the big guys and commercial media sites have: the ad-laden mess that Erickson is referring to. On a couple occasions I was an Examiner for that website, and the sad thing about it was that for all the advertisements cluttering up my posts and occasional slideshows I don't think I ever got more than $50 a month. I pick on Examiner but the same is true for the Washington Times or rare.us websites as well as more local and regional sites like Red Maryland. This also encompasses the pure clickbait of the TEA Party News Network and groups like that. I don't like going to those sites because they bombard me with ads and auto-play videos I don't want to watch – generally I'm there to read and get out.
Erickson's site as it exists today is actually very unobtrusive as it just has a handful of static ads on the header, sidebar, and footer. (It's set up a lot like this one.) So there's probably a small amount of revenue coming in but nowhere near the $5,000 a week he's going to request.
There aren't many who do sponsorship posts, or posts like my record reviews for which I am compensated regardless of whether I like the music or not. (The sponsor encourages the honest criticism.) So I am interested to see how a large-scale operation like Erickson's fares under this model. $5,000 a week is $260,000 a year – I think he can afford a staffer, IT person, and still make a go of it with that sort of revenue.
Yet it's also instructive of the power of marketing. Somehow Erickson has built up the mailing list past 200,000 even though I've never listened to his local radio show. (I'm sure familiarity through RedState has put many thousands on that list.) 200,000 e-mails has beget the 75,000 page views a day – over 500,000 weekly. It doesn't work out to an economy of scale – a blog like mine that has 1,000 views a week at slow times like this can't subsist on one $5 a week sponsorship. Needless to say, I can't come up with $5,000 for a week although I'm sure my readership would increase.
Of course, there is the interesting question of what sponsors will come forth. Left unanswered is what criteria Erickson will have for advertisers, but the obvious advantage with his venture is that he gets to choose who benefits, unlike some other methods where someone else controls content and delivery. (They can make for interesting bedfellows because if I go to look at certain sites the cookies track with me. For example, I see Kathy Szeliga for Senate ads on a lot of places I go, even if they're not Maryland-based.)
To me, though, the control of content is almost as important as the revenue. If you listen to talk radio regularly you're probably aware that they host a much different variety of advertisers than, say, the NFL game of the week. I hear more ads for get-rich-quick, be-your-own-boss hucksters who have to invest in gold there than I do anything else. To me, that affects the credibility of the shows they sponsor – although, to be fair, this may be the local station selling the spots, too.
So I'm going to be interested to see how Erickson does with this idea. I suspect he will do well the first six to eight weeks, but the test will come by spring. If he's able to do well and even raise the price it may be something to explore for the rest of the blogging world.
In the category of 'never let good writing go to waste', I bring you this from today's Patriot Post.
It's a question we should ask the Left – exactly what harm is there in a prayer for the victims and their families? The tempo of the action they desire is a much longer window than the few moments it takes to pray.