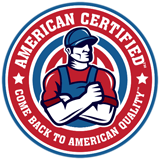 First of all, let me get you up to speed on what I wrote.
In my first featured piece, I took a look at what's being called a "skills mismatch." It's the reason a million jobs are going unfilled. I also got resolution at long last on the vexing problem of dumping a steel product called Oil Country Trading Goods, where Korea was found to be indeed running afoul of the law and had punitive tariffs placed on their products.
And that's where I left it. But there are reasons.
Back at the end of August, just before Labor Day, I found out the editor who I was working with at AC was leaving the company. In his place came another editor, but also a fairly dramatic change in the purpose of the American Certified blogs. Instead of featuring news, analysis, and information, the new direction would be along the lines of quirky, list-driven stories, more in the style of a BuzzFeed. It's just not something I enjoy writing, so I decided after some thought to part ways with them for the time being. If they decide they want to get back to meatier content, they know where to find me.
Listen, I hope the new direction works well for them because the overall concept of the company is something I'm firmly behind. If it takes a BuzzFeed clone for them to drive business and succeed, I'm happy to step aside for their good. But I have the opinion that there's always room for gravitas.
Moreover, this experience has piqued a new branch of interest I enjoyed working with. My intention with the Sausage Grinder site was along the lines of what the company originally intended:
Finally, American Certified will feature news and blogs depicting thorough analysis and trends related to the most recent happenings in American manufacturing and consumption. Members of the press and AC shoppers can sign up for a free weekly news summary, reporting on the Buy American movement from all sides, without bias.
I thought I did my part toward that end, but perhaps it just wasn't something worthy of attention. It would have helped to have more faithful writers to build the readership, but that is what it is. I found out coming up with content is tough when you aren't doing it full-time.
But as it turns out, though, I'm not sure they ever did the weekly news summary – as part of seeking that job I put a mock version together. That was a pity because I thought I did well in knocking the test summary out. Now it's all water under the bridge.
And while the storyline about OCTG I cited above came to a conclusion, there are a lot of others I don't want to leave hanging. Go back through these "AC Week in review" posts and you'll find a lot of topics worth discussing. I'm hoping to add more of that content here as sort of a step away from the horserace aspect of politics and into more of a policy arena.
But again, I wish the AC crew the best of luck. I was hoping it would be more than a four-month endeavor, but at least I got the experience, a few dollars along the way, and a great opening party in a town I'd never heretofore visited. And as I said before, I'm not closing the door if they're not.
So now I will have to find something to fill my Sunday space again. Sheesh, no more Shorebird of the Week on Thursday or AC Week in review on Sunday – I might have to become creative.
It may seem an odd way to begin a post about 9/11, but remember Pearl Harbor?
While most casual observers think that World War II began when we were attacked by Japan on December 7, 1941, the reality was that hostilities began over two years earlier when Nazi Germany invaded Poland on September 1, 1939. It was the culmination of several years of concessions to appease Adolf Hitler that proved to have the opposite effect.
The Long War between America and the forces of radical Islam came into sharp focus on 9/11, but there were several skirmishes leading up to that date. I'm old enough to remember the takeover of the American Embassy in Tehran in 1979 and the 444 days we watched as Americans were held hostage. Certainly some had flashbacks to that incident during the events in Benghazi, Libya two years ago on 9/11.
And then we had the original World Trade Center bombing in February 1993, an event which made clear that building was a target. Eight years later, the planners changed their tactics from a single truck bomb to two jet aircraft hijacked for the purpose of becoming civilian-laden missiles.
But like Pearl Harbor or, to borrow a different violent event, the assassination of John F. Kennedy, the lives of millions of Americans were defined that day in such a way that most remember what they were doing when they heard the news. (I was at work at the former Hobbs+Black Architects office in Toledo, on a glorious late summer day.)
A key difference between Pearl Harbor and 9/11, though, is that America knew who the enemy was and spared no expense or effort in fighting it. Less than four years later Hitler was dead, Japan had surrendered, and the world began a transition from a global war of destruction to an uneasy peace between adversaries in the sense of liberty – a peace defined by the knowledge of mutually assured destruction if either pulled the nuclear trigger. But America had vanquished all of its Axis foes, yet was assisting in rebuilding where it could.
On the other hand, we responded to 9/11 with somewhat conventional warfare but found out that it's a model which doesn't last and is ineffective against an enemy which glorifies death and rarely fights in a conventional manner.
Since the Benghazi incident in 2012, we're more aware that 9/11 is a pivotal date on the calendar .People are looking over their shoulders today, waiting on the other shoe to drop and another terrorist attack of some sort. They all but expect it given our current weak leadership.
But just a few years after abandoning Iraq and in the midst of doing the same to Afghanistan, now it's Barack Obama believing we can dispatch the Islamic State with a minimum of blood and treasure. I don't see it happening, at least not unless we go back to fighting like we did in World War II and junk the ridiculous rules of engagement and political correctness. Blasting the whole thing into a sea of glass appeals to some, too.
History always repeats itself somewhere, sometime. A millennium ago Christians began a series of Crusades to beat back the Islamic invaders, and this may signal the need for a second round our grandchildren may yet fight someday. The instruments of war are far different, but the toll on advancement of civilization is often the same.
It's not a whole lot, but it is ours. Over the weekend another Wicomico Farm and Home Show – the 78th annual – was put in the books. As has been the case the last several years, I was there to help with the Republican table.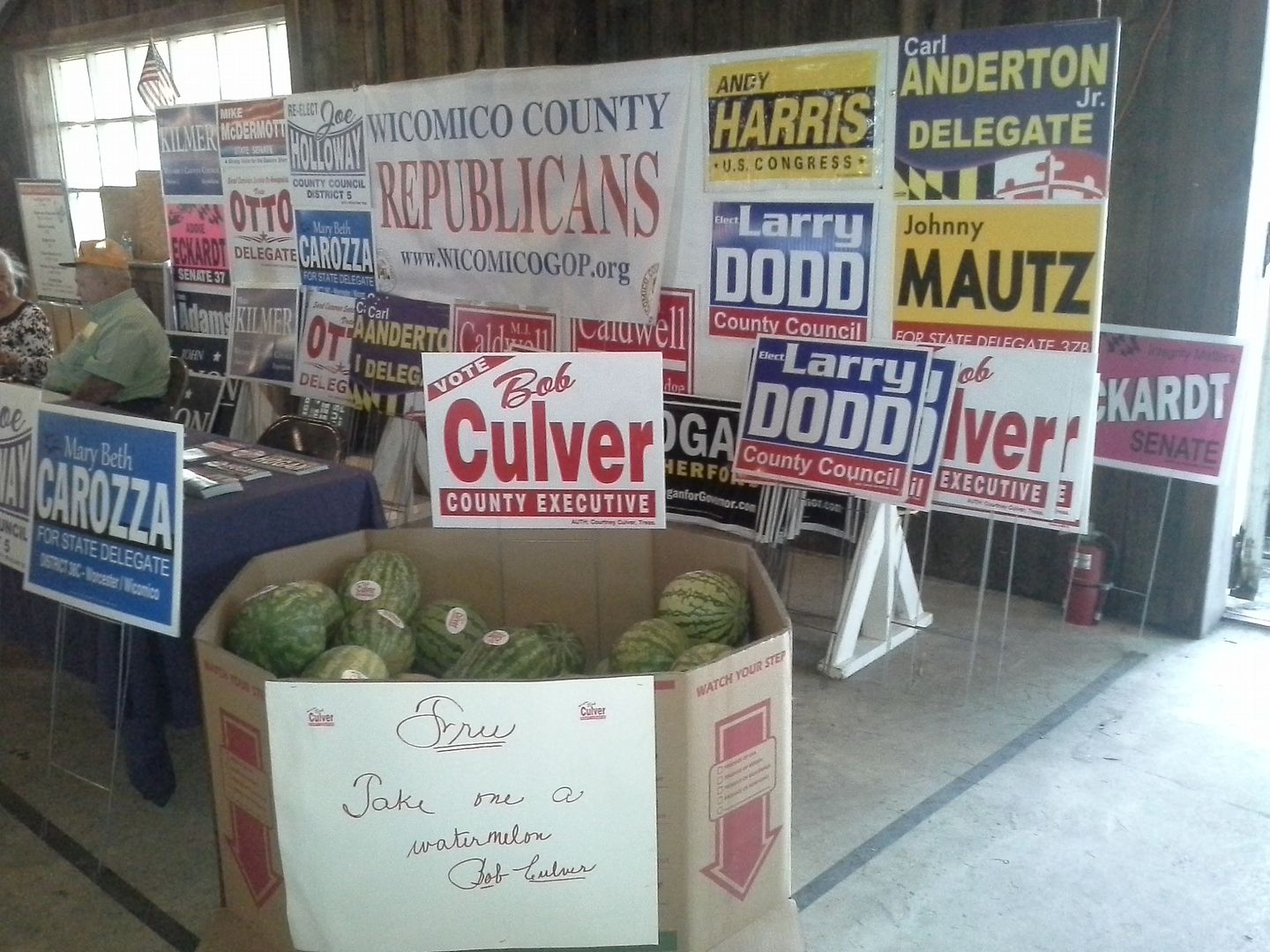 Of course, the indispensable part of the program was sitting at the table when I took that shot. Blan Harcum was one of many volunteers who helped out, though, so thanks to Helen, Marc, Jim, Woody, Leonard, Ann, and anyone else who spent some time there.
Some of the candidates stopped by over the weekend as well. Thursday afternoon brought two County Council members and a third who wants to join that body.
Marc Kilmer (left) is running to represent District 2 on County Council, and as he noted it's the most rural district of the five. Arguably, Joe Holloway (right) represents the second-most rural district in District 5, while Bob Culver (center) is currently an at-large member who is now trying for County Executive. His watermelons were a hit.
I didn't stay too long Thursday; my main job was to get set up and check on the photos we entered. (More on that in a bit.)
So when I came back Saturday, I wanted to see what else was going on around the WHFS, beginning with the exhibit hall.
It was dominated by one feature, which returned from last year.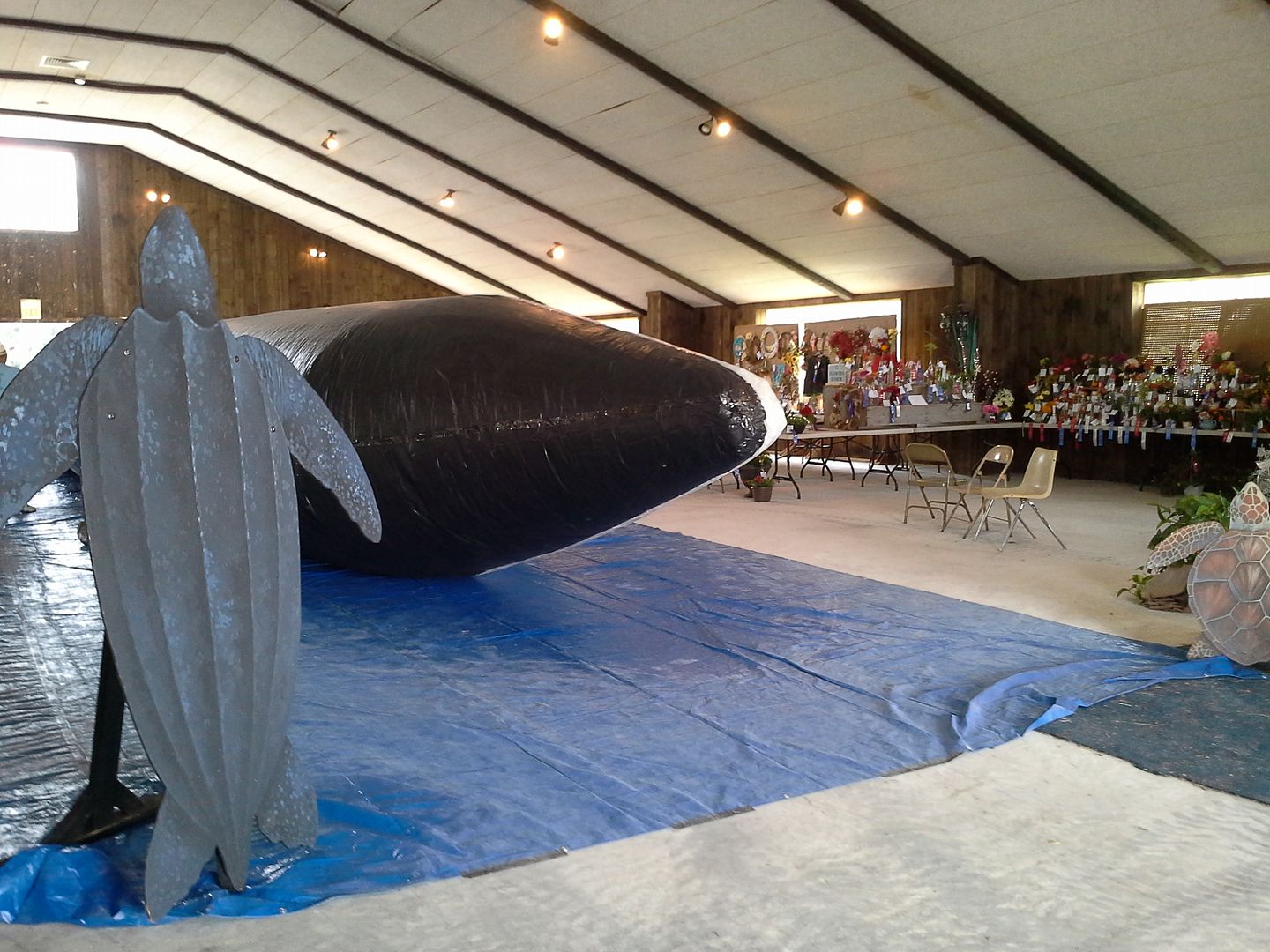 The National Aquarium brought back its inflatable whale, along with a table and accompanying signage.
In a similar vein but parked outside was the Phillips Wharf Environmental Center bus.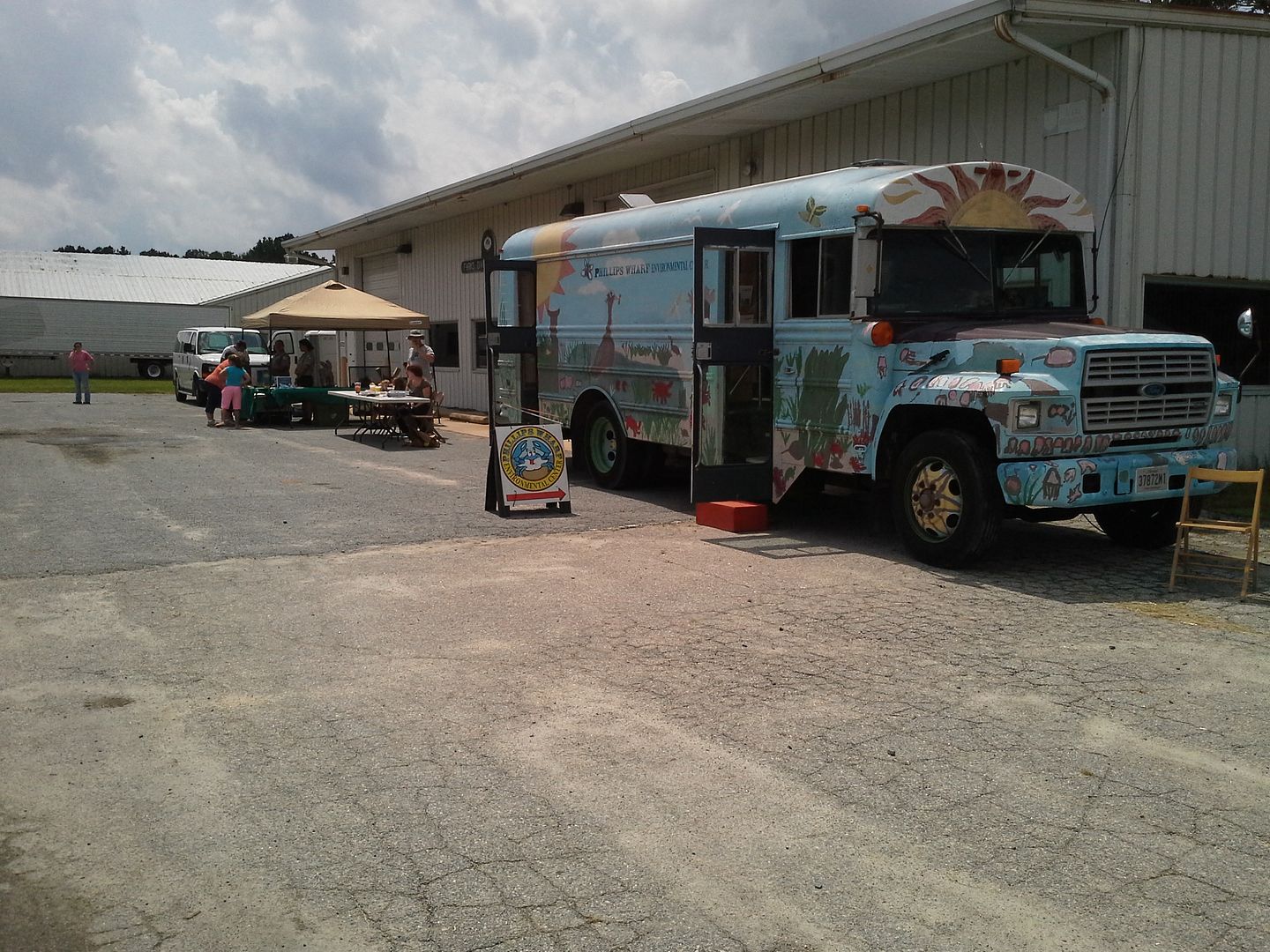 But the main purpose of the show was to highlight the farms and crafts of Wicomico County. On the farm side, there were all sorts of barnyard animals, such as these.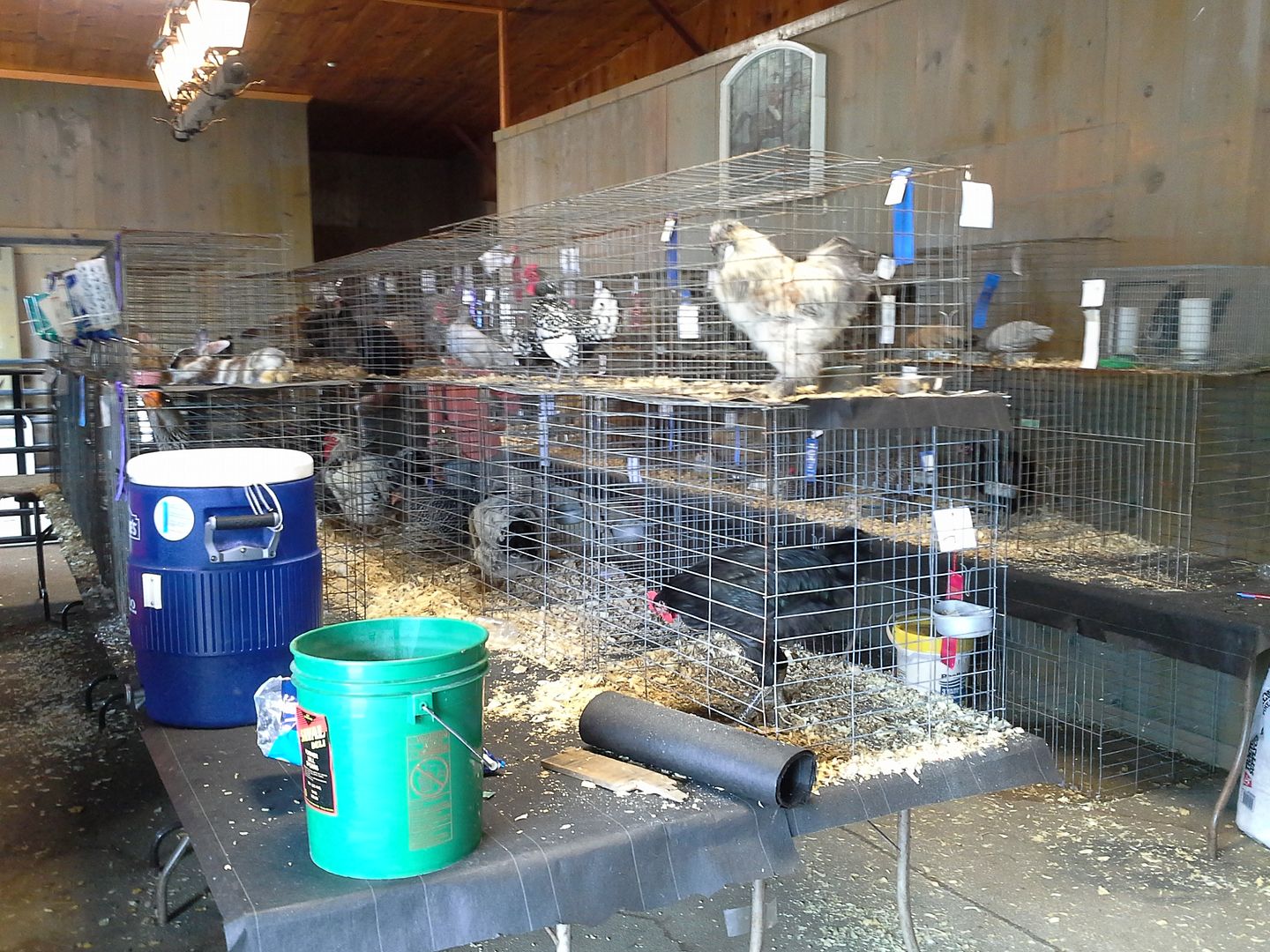 Just outside there, nervous contestants waited as their animals were judged. I think these guys were done, though.
On the inside of the exhibit hall, there were crafts and hobbies galore. I can see why this quilt won, although the best in show was very nice too.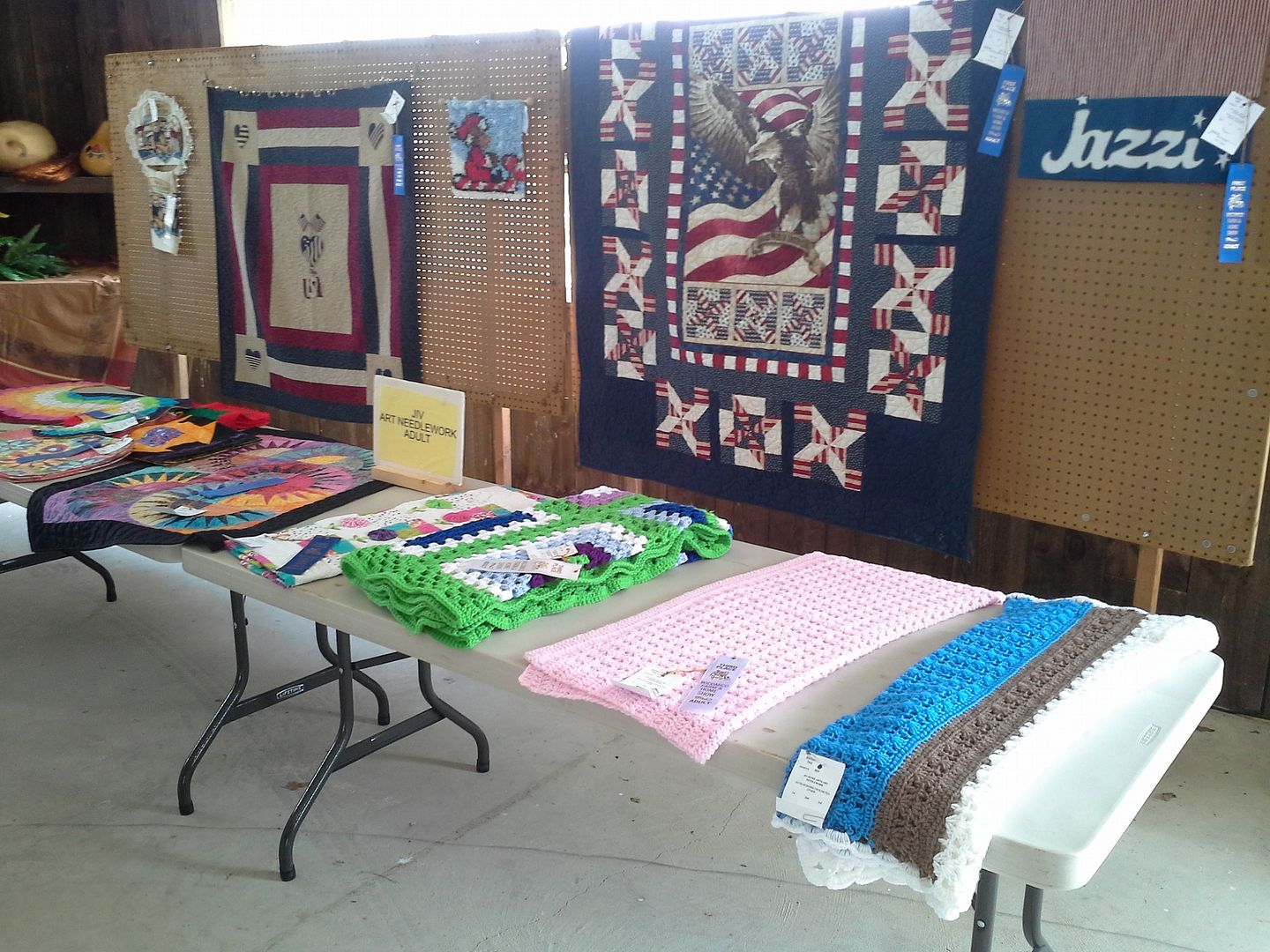 Fortunately, it wasn't just these attractions. The kids had their own little tractor pull, although there wasn't a version for the big kids this year like there was last time.
Not that they didn't have tractors around.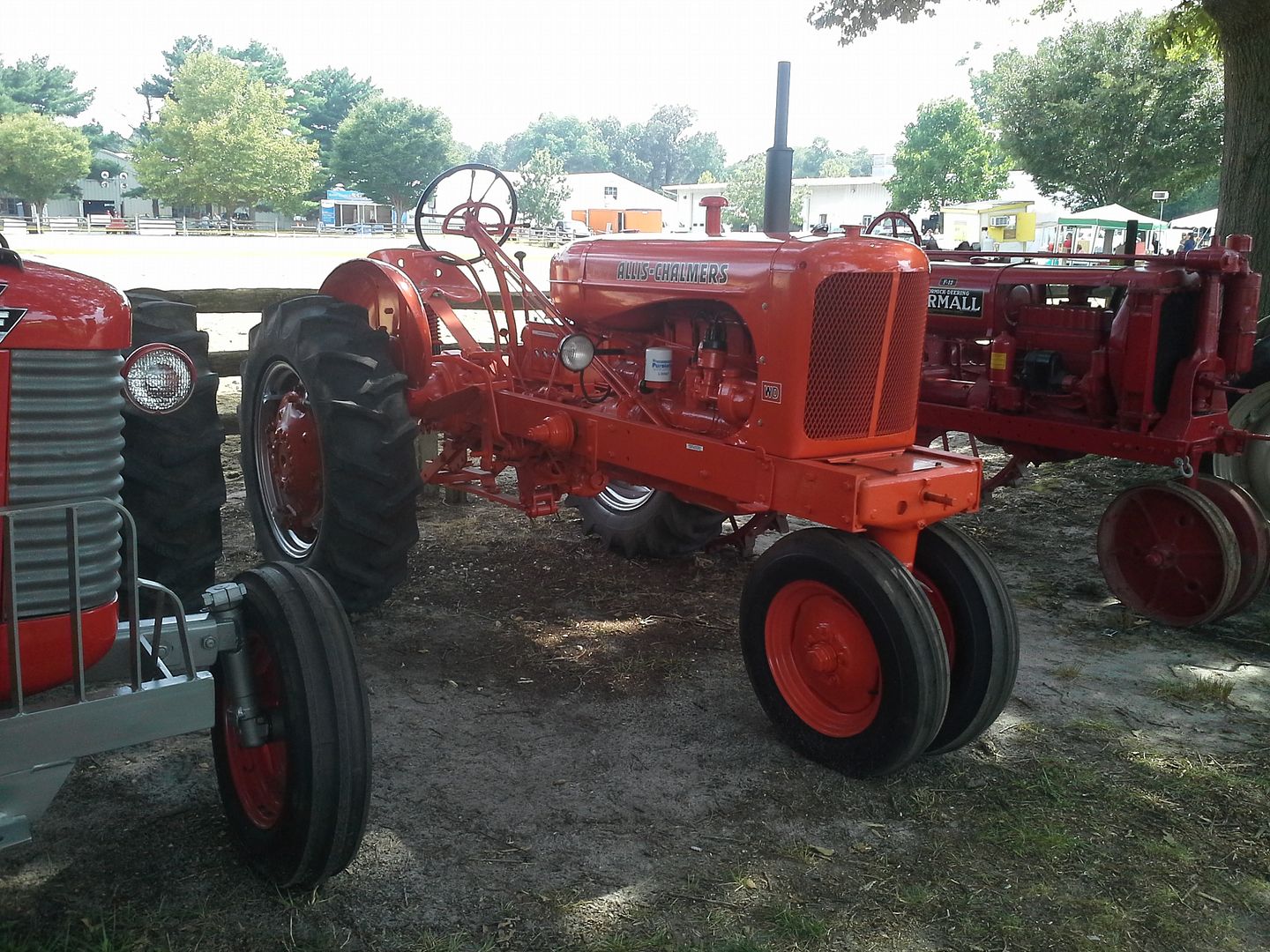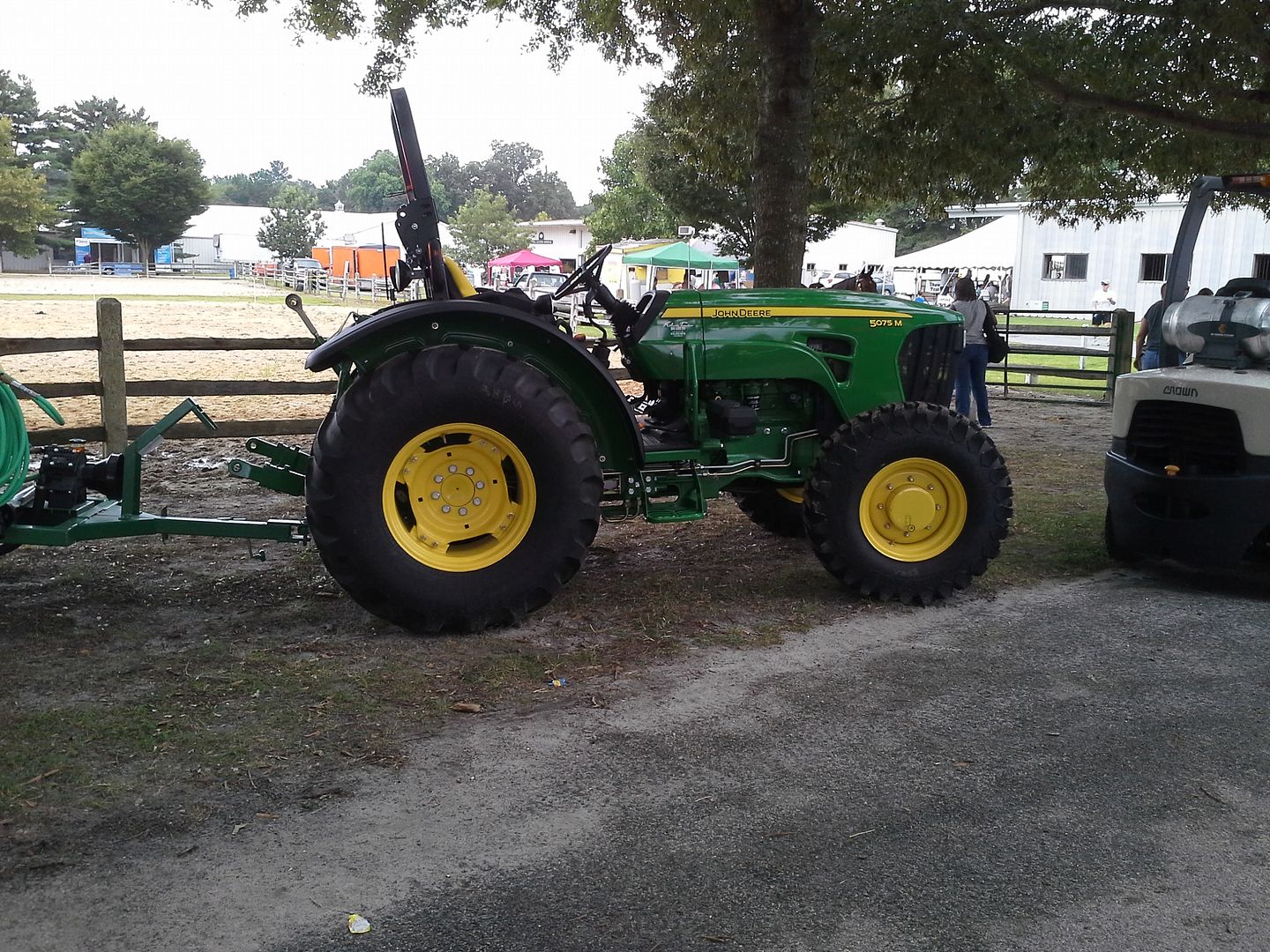 I'm sure the old ones are priceless to the owners, but I was floored to find out a similar tractor to the one I pictured (a Case/IH model as opposed to a John Deere) can run well north of $35,000.
As they did last year, there was a car show – one with its share of trucks, naturally.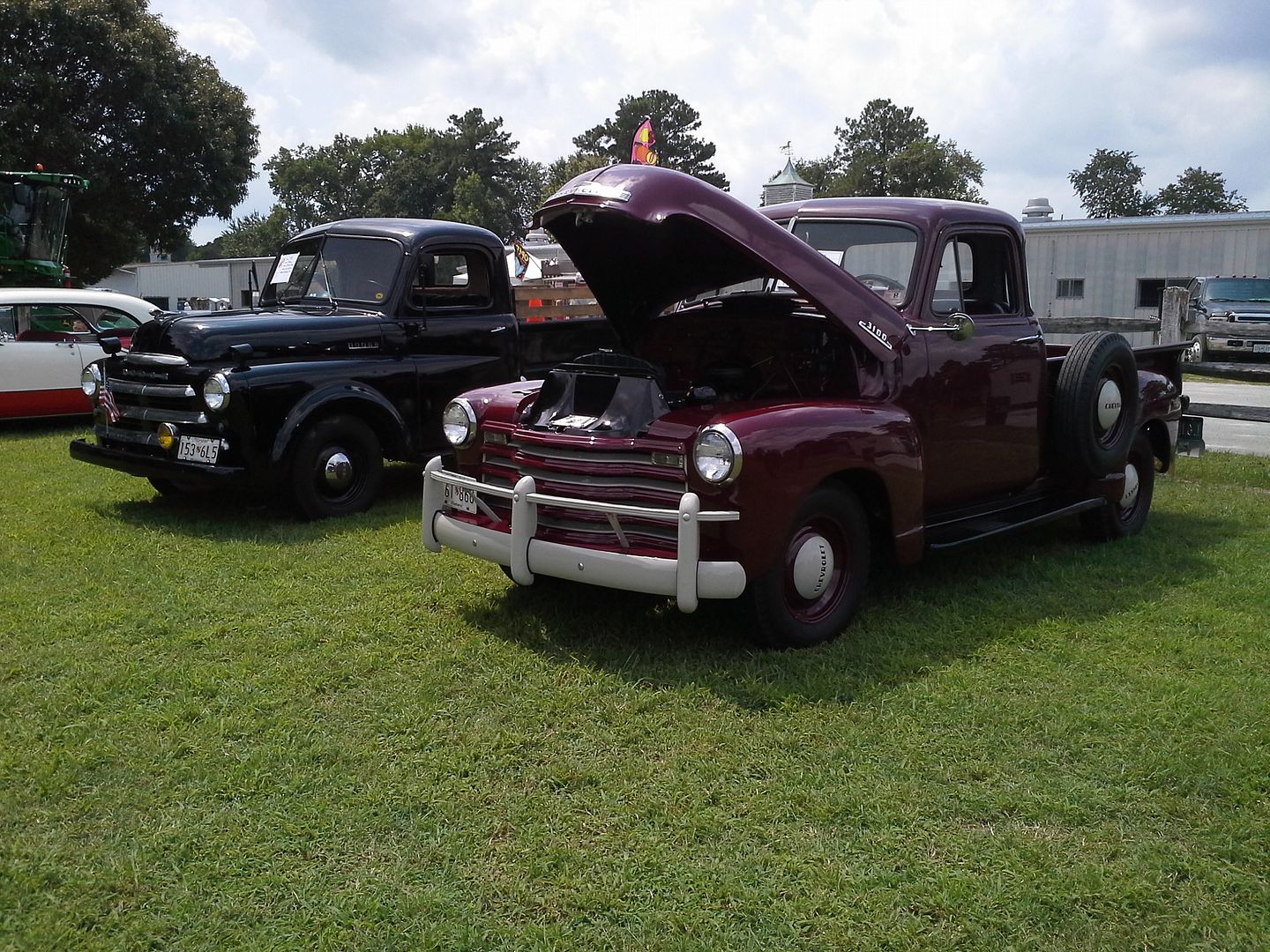 But the most interesting truck to me was this – one of the two military-themed trucks in the show.
The directional sign is supposed to resemble the one from the old TV show M*A*S*H, and it indeed includes Toledo in honor of Corporal Max Klinger. Actor Jamie Farr is a Toledo native.
This was a nice touch as well.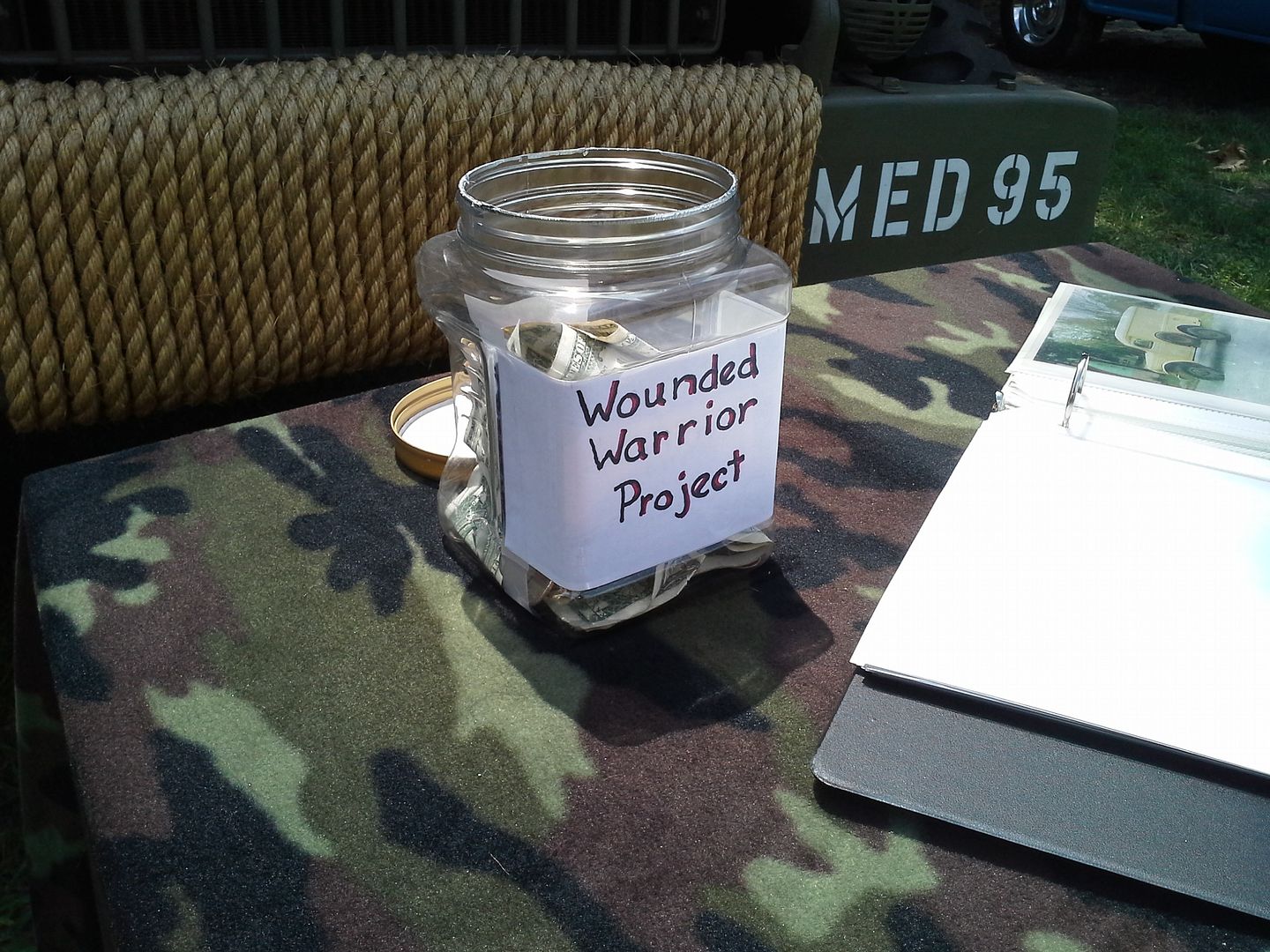 There was plenty of action in the horse pen, with an exhibition of Cowboy Mounted Shooting.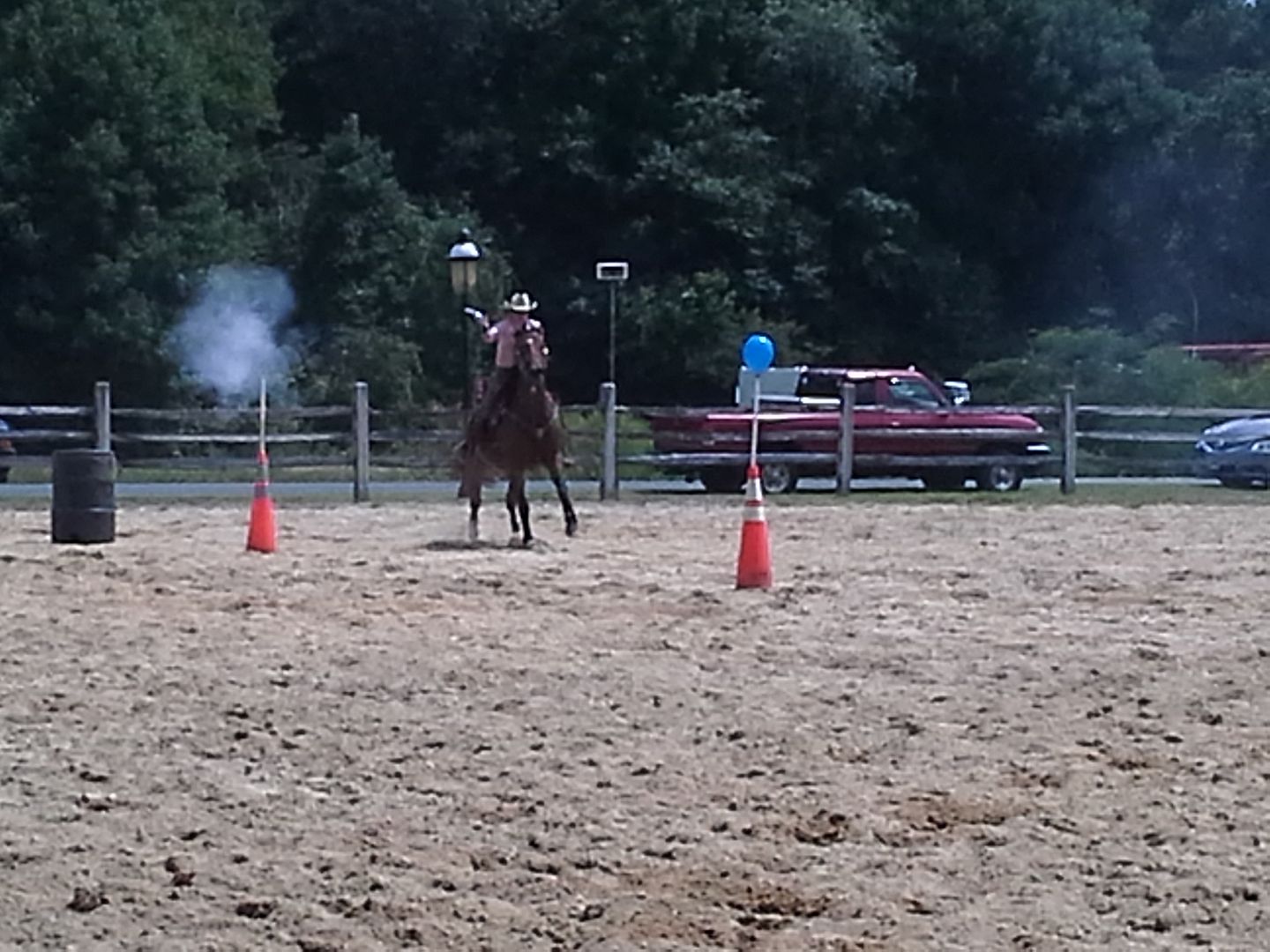 CMS is supposedly a fast-growing sport, with seven to ten new people signing up daily. It combines the agility of barrel racing with the accuracy of shooting – competitors try to shoot each of ten balloons on a preset course, with time penalties for missing a balloon or knocking a post over. Among the participants in this exhibition was the reigning Ohio state champion, who's from Delaware but recently won the title in a competition in Wooster, Ohio. (By the way, the bullets are modified theatrical blanks.)
It would be interesting to see if they could get a real, sanctioned competition here next year. Unfortunately, the organizers really didn't have much in the way of activities during the late afternoon hours leading up to the awards.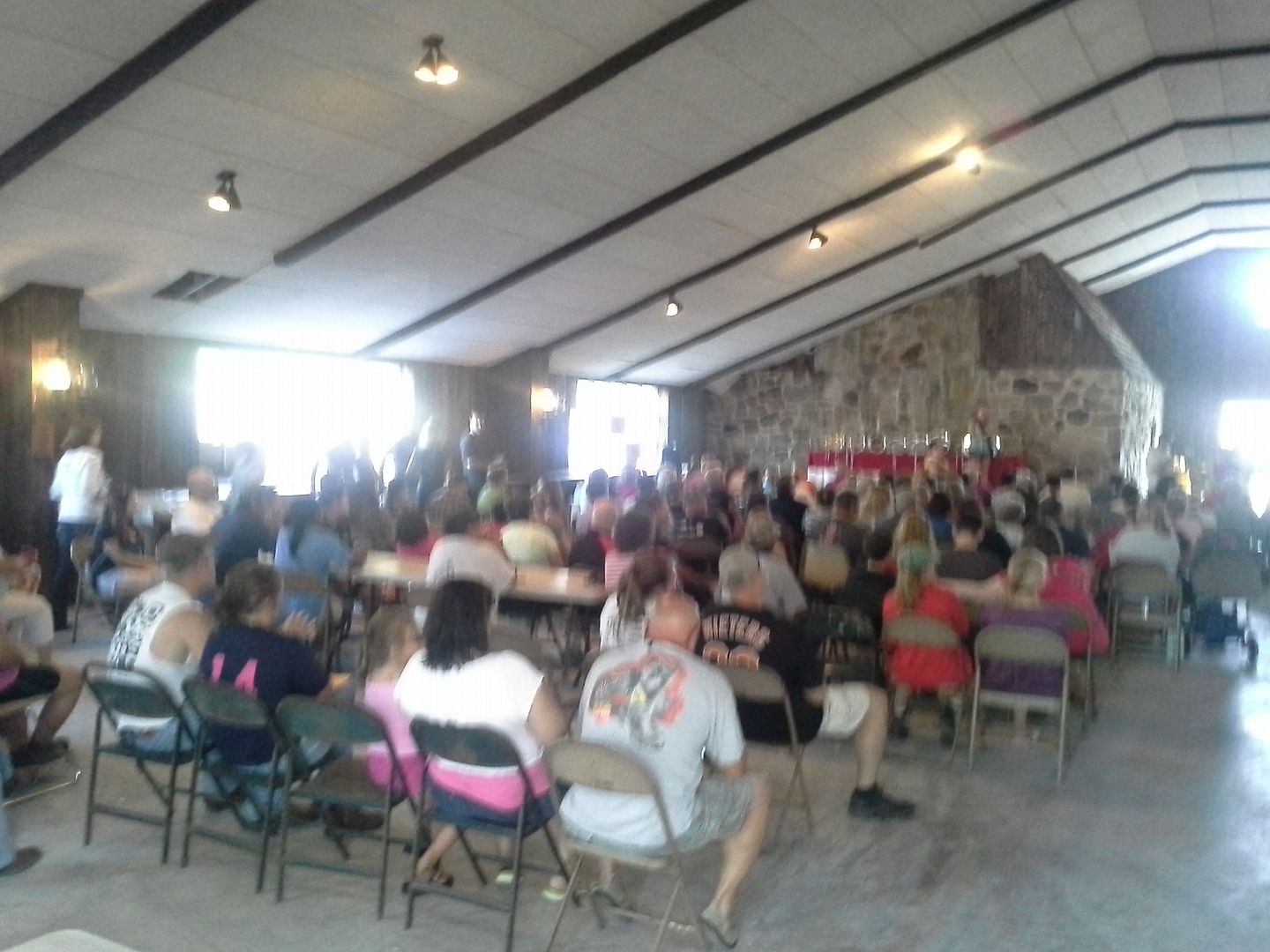 One of those awards came right back to my household, as my fiance Kim won Best of Show in black-and-white photography. And if you recall that old tractor I pictured above, my photo of the slightly-less restored version from last year won me a second place ribbon in its category. (Yes, I took it at the 2013 WFHS but didn't use it in the post.) Not bad for a rookie who only entered three photos – although Kim and her daughter Kassie both had more first place ribbons than I had photos.
For next year, I'm sure the Wicomico GOP will have a presence, although it will be more muted after the 2014 election. If the creek don't rise I'll have some pictures and hopefully they'll attract more events. The 2016 rendition will be the 80th annual so it's time to build momentum.
This particular piece has a little more meaning to me than to most of you. The other day I received an "Important Kindle Request," which is reprinted at this website. It basically compares the current situation in the e-book market to that of the era paperback books were introduced.
The fact is many established incumbents in the industry have taken the position that lower e-book prices will "devalue books" and hurt "Arts and Letters." They're wrong. Just as paperbacks did not destroy book culture despite being ten times cheaper, neither will e-books. On the contrary, paperbacks ended up rejuvenating the book industry and making it stronger. The same will happen with e-books.

Many inside the echo-chamber of the industry often draw the box too small. They think books only compete against books. But in reality, books compete against mobile games, television, movies, Facebook, blogs, free news sites and more. If we want a healthy reading culture, we have to work hard to be sure books actually are competitive against these other media types, and a big part of that is working hard to make books less expensive. (Emphasis in original.)
The gist of the story is that Amazon and Hachette, a distributor of e-books, are in a pricing dispute – Amazon thinks they should be cheaper while Hachette releases them for $15-20. That's for an e-book, folks. We're not talking the hardcover $30-40 tomes, we're talking about something which loads to your Kindle or other reading device and takes up negligible space on its hard drive. In essence, to buy the book is to transfer a copy of the file from source to customer – no need for book sellers or trying to predict the market and risking either selling out too quickly or having thousands of unsold books to unload at a reduced price. Instead, supply adequately meets demand.
And volume is king – would I rather sell 1,000 copies of a $14.95 e-book or 100,000 at $4.99? Truthfully, it does no harm for my e-book to sit on their servers, and the hard copies are created as needed.
There was some interesting synchronicity between the arrival of this e-mail and a request to buy an autographed copy of my book. (Yes, I keep a few on hand.) It got me to thinking about book number 2, which has been on the back burner for quite awhile, and what to do about my first e-book.
So what I decided to do about the latter is try and boost its market share by cutting the price in half. Unfortunately, to do so I had to cut my commission half again, for Amazon wouldn't let me sell below a certain price with full commission – so I have to sell fourfold the number of e-books to make the same amount. But it's a risk I'll take to see what the market will do, plus it's been two years since its release. (That's hard to believe.)
As for book number two, I make no promises. The idea is there, but I haven't figured out a particular direction to take it quite yet. It may wait until after the election.
The e-book industry is probably going to see its prices decline, because marketers will likely see this Amazon's way. Given the amount of material out there, thanks in part to a far more lucrative compensation setup than most authors going the regular route can dream of, there may not be a choice.
This article was actually going to be about one piece of information I received, but then I got another which I can tie in. I do that every now and then.
The TEA Party movement, depending on how you determine its beginning, is somewhere between five and seven years old now. Thousands upon thousands of activists have participated in it, but in reality conditions have generally become worse in terms of its main fiscal goals.
It's a well-documented lack of success, and perhaps that lack of reward is frustrating those who want real positive change. Take this piece I received an e-mail the other day from an area TEA Party group lamenting the writer's Independence Day plans.
This year for the July 4th Holiday I spent it doing laundry or something mundane like that. No family gathering, no special commemoration or meditation on my part to mark this critically important day. I cannot let this happen again.

When I think of the miracle of the founding of this nation and the sacrifice made by millions to preserve it I am ashamed that it passed like another day, a long weekend. I'm sure most of you reading this didn't abuse this important day to the extent that I did – hopefully. I serve in a position of leadership in this organization; I know better. God forgive me but God help me to do better not just next year but every day from this point on.

This organization didn't participate in (a local) event due to lack of interest from the membership. We didn't walk in the July 4th Parade, also due to lack of interest. The Summer BBQ will most likely be pushed out again due to lack of interest. These are perhaps less important than what we do daily to mark the miracle that is this precious nation BUT they are outward expressions of our commitment to each other, to this nation, to our God in front of others. If we don't stand up in front of an unschooled community every chance we have, how can we hope to shift this paradigm?

I know we are all tired, exhausted, hardly able to pay our bills and take care of our families. Perhaps we are in our senior years and feel that we have paid a hefty price already. Many of us are weary from trying to inform a willingly uninformed public, legislature, clergy, education system, healthcare system, etc. I get it; I'm part of that tired and huddled mass.
If you go back on my website you'll find numerous references to TEA Party gatherings, local meetings of an Americans for Prosperity chapter, or the Wicomico Society of Patriots – these are all groups which flourished for a brief time but then died due to lack of interest, leadership issues, or both. Some of those organizers have moved into the mainstream of politics, but many others found that activism too difficult to keep up when their family's financial survival was at stake.
But then we have the diehards, among them the purists who will accept no compromise. That's one lament of Sara Marie Brenner, a conservative activist who announced on her Brenner Brief website yesterday that she was taking a hiatus from her news aggregation website and radio show.
I bring this up as I've interviewed her for my now-dormant TQT feature as well as talked about a venture she launched late last year. While I definitely haven't agreed with her on everything and incurred her wrath by pointing out the lack of viability of her many past and present enterprises in the new media world, I think she makes some very good points in her lengthy piece.
For one, I nearly laughed out loud when she wrote about the Ohio PAC where $7,000 or the $7,400 raised went to the leader's own company knowing that the Maryland Liberty PAC has a similar history – the majority ($14,826.03) of the nearly $26,000 MDLPAC spent last year went to Stable Revolution Consulting. It's one thing to collect money for a cause, but the same people who question the Larry Hogan connection with Change Maryland may want to ask about that arrangement as well.
As a whole it seems that some in the TEA Party movement can't be happy unless they either amass power and wealth for themselves – making them little better than the big-government flunkies they decry – or refuse to compromise on one particular issue, forgetting that they may need their conservative opponent for some other pressing issue tomorrow. Brenner brings up two hot-button items of interest – Common Core and Glenn Beck's charity effort to assist the unaccompanied minors streaming over our southern border from Central America. On these I only agree with her 50% but as I said she makes other good points.
I don't blame Sara Marie for backing away from the fray; that's her decision just as it was to get involved in the first place – and I wish her nothing but the best in her ventures as she follows her other passions. But we have to remember that the other side wins when we stop fighting.
It was a more hopeful tone from the other side of the TEA Party:
I hope that we will always remember that no matter what the political ideology, we must find commonalities if we are going to make any progress. I hope that we make a concerted effort to reach out in peace to at least one person over the summer that we have heretofore had disagreements. We know that the truth is on our side as long as we deliver it in peace and love.
Now if anyone would have sour grapes and wish to take their ball and go home, it might be me given recent election results. Believe it or not, though, after nearly two decades in the political game I am still learning and listening, so losing an election won't crush or define me – it just means I retire with a .500 record. But I'm still going to participate because it's important, if not necessarily lucrative.
The trick is getting new people into the fray to replace those who can't go on for whatever reason. Because I have a talent for writing – or so I've been told – I have soldiered on with this website for going on nine years. It may not be the most useful or unique contribution, but it's what I have.
So those who have departed will be missed. However, they are always invited back once they recharge and reload because we can always use the help.
To me, it was good news from the RNC: the 2016 GOP convention is slated for Cleveland. For those of us on the East Coast, it's a city within driving distance and in my case I would have a ready-made place to stay because part of my family lives there. The "mistake on the lake" could achieve the daily double as well, since the Democrats also have their eye on Cleveland for their convention – if so, it will be the first time in 44 years both parties have held their convention in the same city, with Miami being the site of both 1972 conventions. Cleveland last hosted a national convention in 1936, when Republicans picked Alf Landon to face Franklin Roosevelt. (They also hosted the 1924 GOP convention, which nominated President Calvin Coolidge for a full term.)
But to me it's a milestone of a city going through the pains of revitalization, A few weeks ago, on my Sausage Grinder blog, I wrote a piece reviewing a study done in Cleveland about how the city is attracting more and more young workers. Frustrated by high real estate prices on the coasts and finding good jobs in the "eds and meds" fields, Cleveland is becoming a destination of choice around the region. Yes, that Cleveland.
If the GOP wants to send a message about their vision for America, they should focus on the process Cleveland is using for its rebirth. The city is a laboratory to study mistakes made and methods which work, as it serves as a microcosm of sorts for the country at large. Built up in an era when brains and brawn were needed in equal supply to create the goods which helped a young America prosper and witness to an exodus to both its suburbs and more favorable regions which all but killed the city, Cleveland can still be a survivor. As I wrote in my piece, Cleveland is a place "where manufacturing is in the blood." I think making things in America again is the key to a national renaissance.
Certainly Dallas and Kansas City, Cleveland's two main opponents in the fight to be convention host, have their own stories to tell. But there's a political factor to consider: Texas and Missouri have been fairly safe Republican territory over the last several elections, but Ohio has gone with the winning Presidential candidate a remarkable 13 elections in a row – so any Republican advantage there can be vital. On a state level, the GOP has been dominant for much of the last quarter-century, albeit with less-than-conservative politicians occupying the governor's chair – George Voinovich, Bob Taft, and John Kasich have left a lot to be desired insofar as the conservative movement is concerned. But if Kasich secures re-election this year, he will be the fourth two-term Republican governor in a row stretching back to the days of James Rhodes, who served four non-consecutive terms beginning in 1963.
So if I'm blessed enough to get an opportunity to cover the proceedings – or even be a delegate or alternate – I think it would be fun to give the perspective of a transplanted Ohioan. It's something I can scratch off my bucket list in fairly familiar surroundings.
As is often the case at holidays, I spend a few minutes several days ahead figuring out a message to fill my space while I do other things – in this case spend time with my daughter and son-in-law without getting too wet given the pessimistic forecast.
Of late I've been writing a lot about a different kind of dependence – the dependence on a party structure to attain political goals. When I fell short in my bid to stay on the Wicomico GOP Central Committee, I noted that there were some liberating qualities which could come out because I was no longer as tied to the fate of the GOP.
Don't get me wrong: as a vehicle for conservative, limited-government change, its principles are difficult to beat. The problem is how little effort Republicans at the highest levels expend in putting those ideals into practice. Oh, sure, they'll give the excuse that they are only 1/2 of 1/3 of the government but they have the power of the purse. They just back down when they have the chance to use it because there are personal goals which are more important, like re-election – principles be damned.
No wonder no one trusts Congress.
About two years ago I finished a book which has a passage that describes my political aspirations perfectly.
I noted earlier that I was not born to be a politician because my skill set isn't the same as, say, a Sarah Palin, a Bill Clinton, or even a Herman Cain. Sometimes it's disheartening to realize this because I think I have a lot of good ideas.

But it can be liberating as well. Since I'm not a legislator or seeking an executive-type post, I don't have to deliver a lot of hollow promises. In fact, my political philosophy may turn some people off because I'm the sort who doesn't believe that government in and of itself should enrich people nor do I think it's a proper vehicle for wealth transfer. Unfortunately, it's been noted that "a democracy…can only exist until a majority of voters discover that they can vote themselves largesse out of the public treasury." Since I'm opposed to that concept, there's no way in hell I could be truthful about my beliefs and ever reach a high enough office to put these plans into action – at least not in the present-day political climate. And while that sort of double-talk and obfuscation is associated with those on the Left, I have no plans to switch parties and become a Democrat. I imagine that move would be the ultimate in reverse psychology.
The key phrase there is "present-day political climate." There's nothing that says we have to follow the same conventional wisdom.
At the highest levels of government, there is no Left or Right – only power. It would take a massive wave election unlike any we've seen to sweep all of that away; in essence, the entirety of the population which doesn't believe the government or world owes them a living would have to be motivated enough to participate while the disinterested ones who are dependent stay home. And trust me, they would come out in force if they had to. So my goal is, as Walter E. Williams would say, "push back the frontiers of ignorance," so that the rolls of the uninformed who don't mind their dependence shrink.
It's sad to think that many are chained to the government in ways we never thought about. But as long as we can think for ourselves, there is a chance things can turn around. That's the message I want to impart on Independence Day 2014.
Just before heading into the Independence Day holiday, I wanted to update you on the status of Troopathon 7.
When I last left you on the subject, they were looking to reach a goal of $300,000. At the end of the telecast they finished about $1,600 short of the goal, but subsequent offerings enticed them to raise the goal to $350,000. As of this writing, they are at $317,950.
One thing I have not been able to track down is how much this site raised in the overall bloggers' competition. I know that Wayne Dupree won (and received the AR-15 they were giving away) but I don't have my own number. I will tell you that one of my readers donated to my PayPal account with the intention of using that as a donation, so I purchased another care pack on her behalf (made sure the note said so as well.) If, between her donation and my personal purchase, that was all I accomplished I would be a little disappointed in my readership but secure in the knowledge I made a little bit of difference.
It will be interesting to see in which direction Troopathon goes next year, since plans have been made to withdraw most of our remaining armed forces from Afghanistan. Unless we suddenly decide to slug it out with the ISIS terrorists in Iraq, 2015 will bring perhaps the smallest number of Americans in combat this century, since Barack Obama is hellbent on wrapping up the Long War whether victory is in hand or not. Of course, it won't mean those few who remain won't appreciate the efforts provided by Move America Forward, but I think it's a question I think is worth asking. So I will and if the response is worthwhile it can be featured here.
Update: I raised $50 out of the total bloggers' pool of $600, good for fourth-best. I think as a group we did better last year, but every little bit helps. It's sort of sad that a number of bloggers who agreed to participate didn't even help for themselves.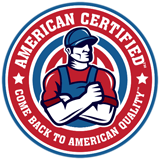 I knew this would be a slow week for me because of the election, so I only had a couple posts for American Certified this week. But they were important because they were on a subject near and dear to manufacturers' hearts – financing.
First, though, I want to point out something my AC colleague Ed Braxton put together on high tax rates and how they affect us on a global scale. Ed points out that many of our competitors across the globe have relented on corporate taxation, a practice which encourages multinational corporations to park their profits elsewhere.
As I promised a week ago, my two-part series on the Ex-Im Bank's fate was put up over the last week. I decided to devote part one to what its proponents have to say, with the opponents' case discussed in part two. Personally, I'm not convinced that we need to reauthorize the institution, particularly in an era where government is already trying to get its tentacles into myriad areas of financing.
One product already made in America, and probably getting its financing from private sources, is the Clif bar. These energy bars got a glowing review from my AC cohort George Pitsakis in his latest piece. However, I have one bone to pick with George – he notes how the company has gone green but I'm wondering how much was on their own and how much incentive was dangled in front of them. If they can make a superior American-made product in a competitive marketplace, though, more power to them.
I've already put a couple items in the pipeline for next week and will work on more in the next few days.
To be honest, I took these photos on Tuesday intending to add them to my coverage – then promptly forgot and posted it anyway. But it doesn't hurt to have a second look back before moving forward. There's really not going to be a lot of fresh news until after the Independence Day holiday anyway, plus it also proves the adage that every picture tells a story.
So I'm going to lead with this one I also posted to Facebook.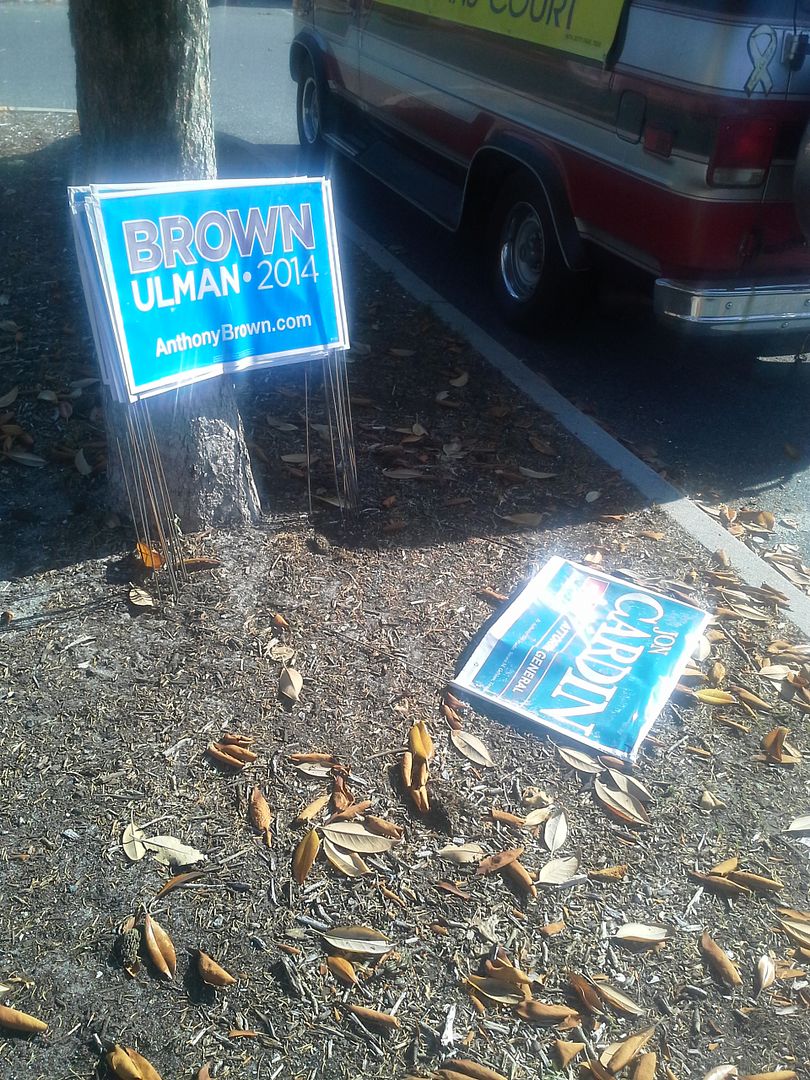 It's interesting to see this pile of Anthony Brown signs, which as I recall were pretty much all of the Brown signs I saw. Now one person suggested that they were originally set within the 100′ limit then relocated against the tree, which is possible – but I doubt it. Instead, my thought was someone left the pile of signs earlier that day or the previous night intending to have the first volunteer at the site place them in the morning – sort of like someone decided to have a insurance exchange website intending to have the thing actually work and not waste millions of dollars.
If you don't get the small details, the large stuff bites you in the ass.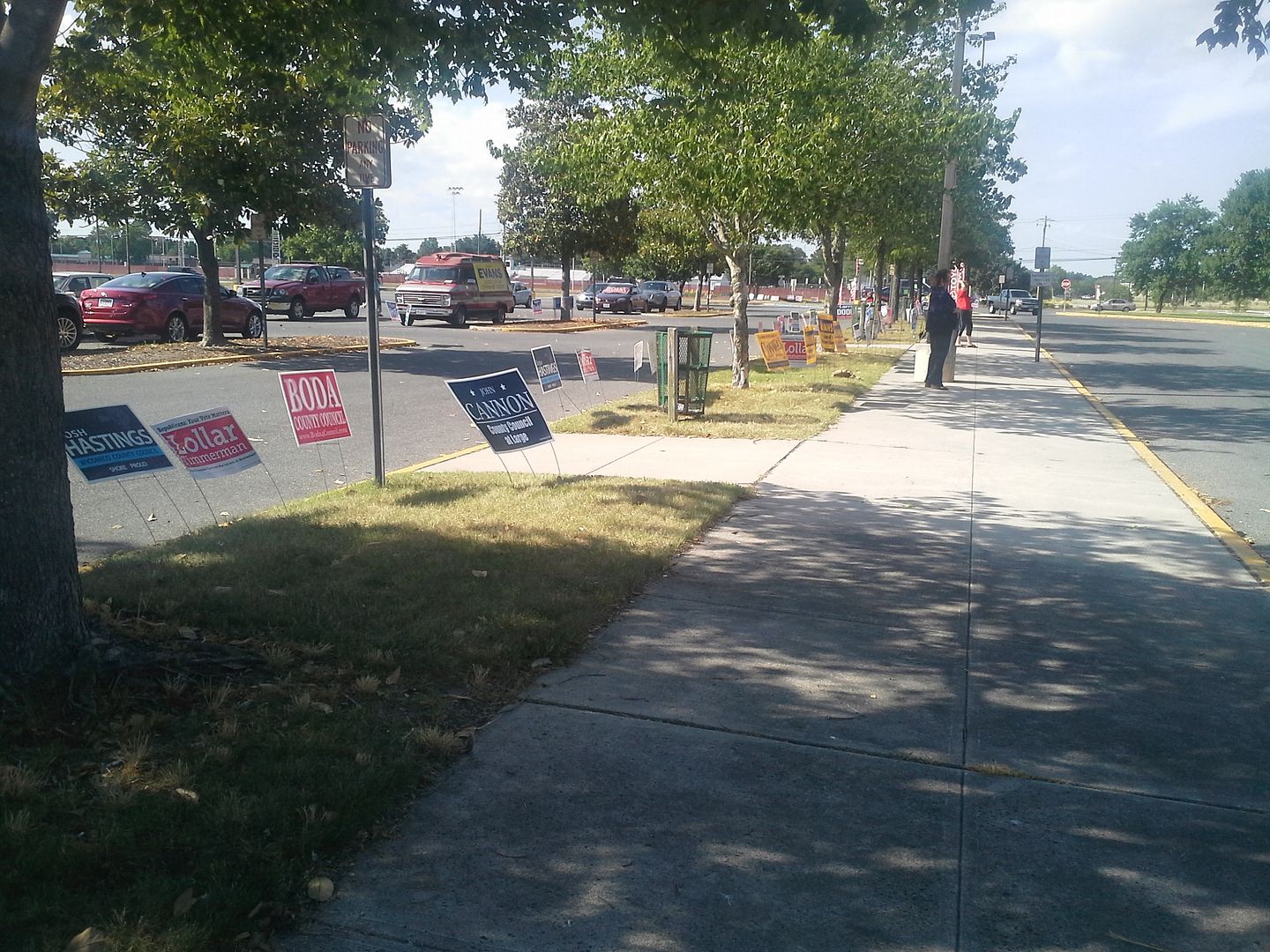 Speaking of signage, I did not count how many signs were out there on the grounds of the Civic Center, but I would suggest the ratio was perilously close to one for every other voter. Interest seemed to be quite low.
I took that picture about 5:00 after I arrived about 4:30. (This was an election day I had to work – I couldn't alter my schedule enough to avoid it.) There were literally three people working the polls when I got there – M.J. Caldwell's wife Pam, a lady representing Circuit Court appointee Jimmy Sarbanes, and Jim Jester, who was doing double duty with an Andy Harris shirt and Mike McDermott sign. This is one of the busier polling places in the county, and only three people were there.
If I saw 100 people vote in the time I was there, it was a lot.
Speaking of M.J. Caldwell, the Republican voters of this county need an education. I would expect about 60-65% of Democrats to blindly support someone named Sarbanes, but 43% of Republicans? Really? Someone selected not on qualifications, but on name recognition by a political hack governor we can't stand? Get real. That has to turn around in November.
Even the news coverage was lackadaisical. Channel 47 did a live remote, but they never came out to talk with us. They probably showed the pictures of an all-but-empty polling place to an audience which can be charitably described as second-best in the market.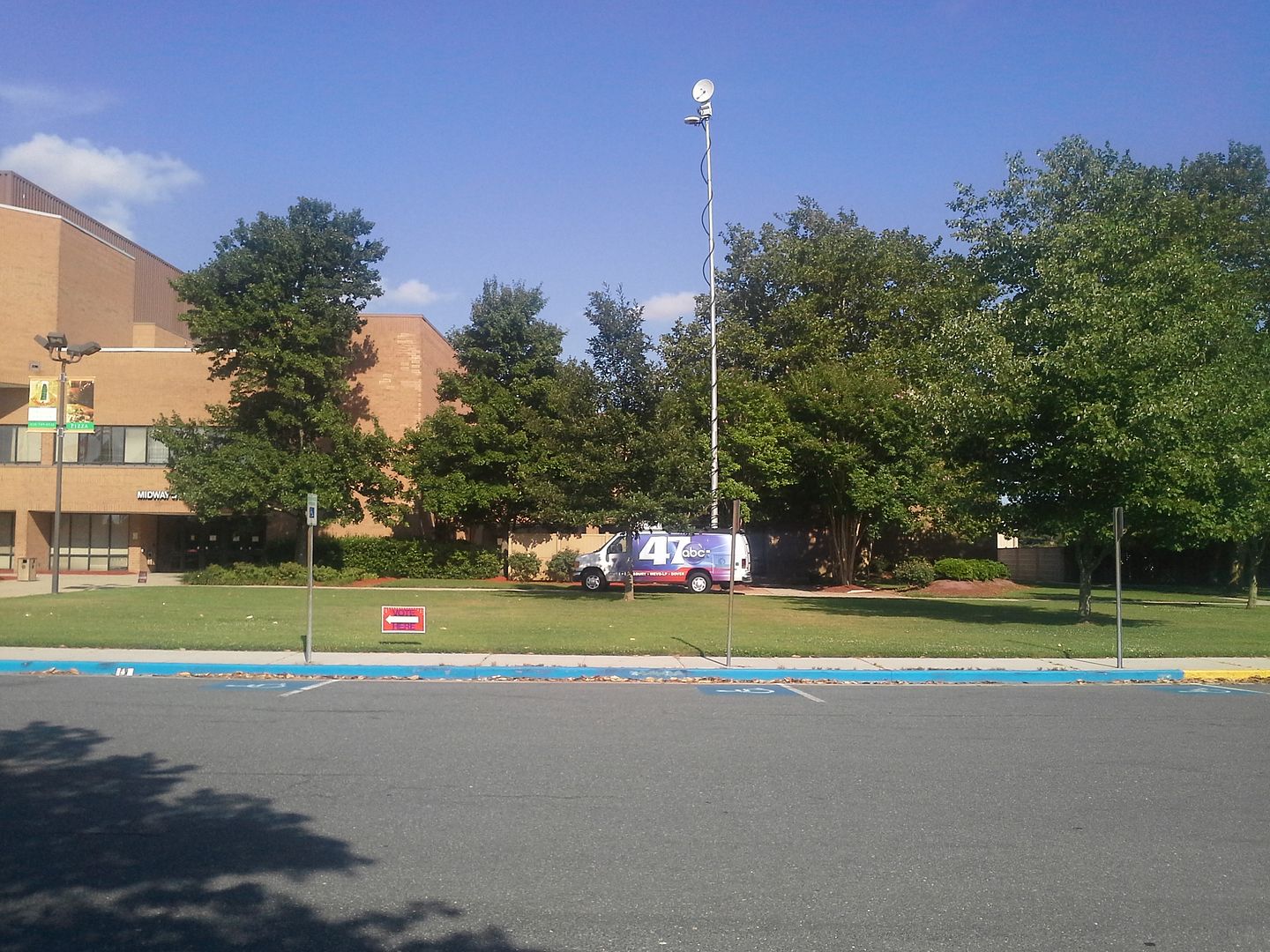 In terms of poll workers, it did pick up after a time. Jackie Wellfonder came along to work this poll.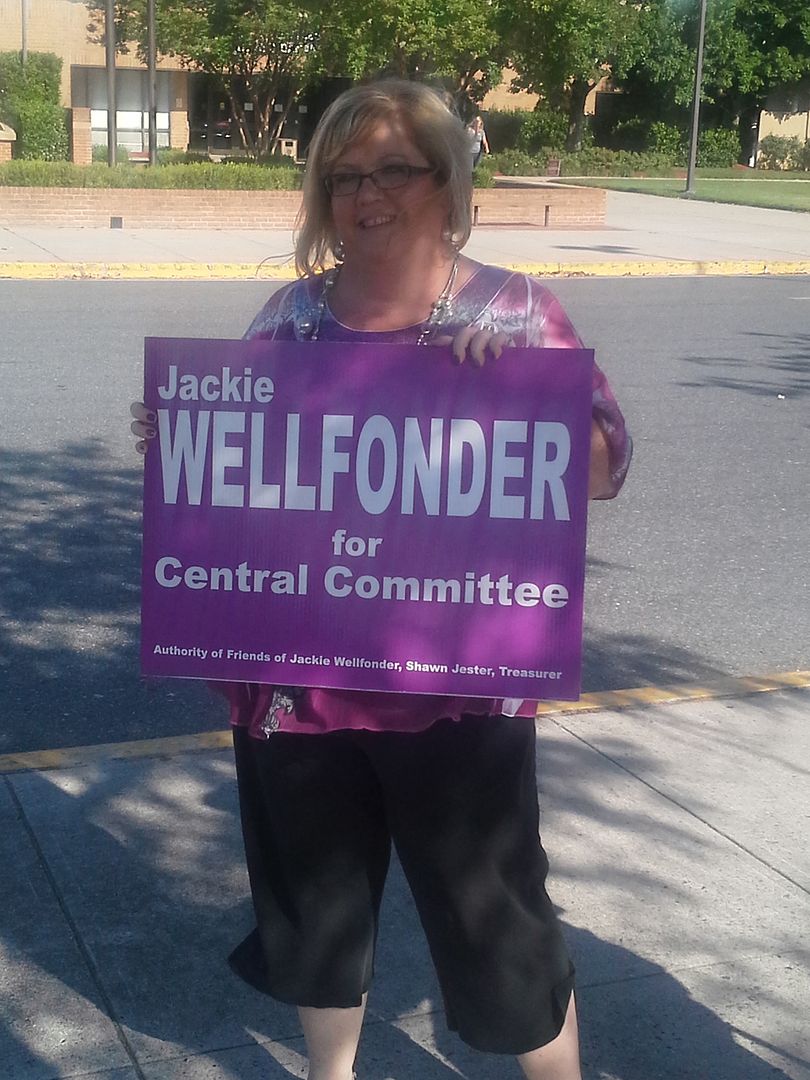 Turned out the face-to-face didn't do either of us much good because we got about the same amount of votes, and that wasn't enough.
Josh Hastings was unopposed in his primary, so all he had to do was await the winner on the GOP side.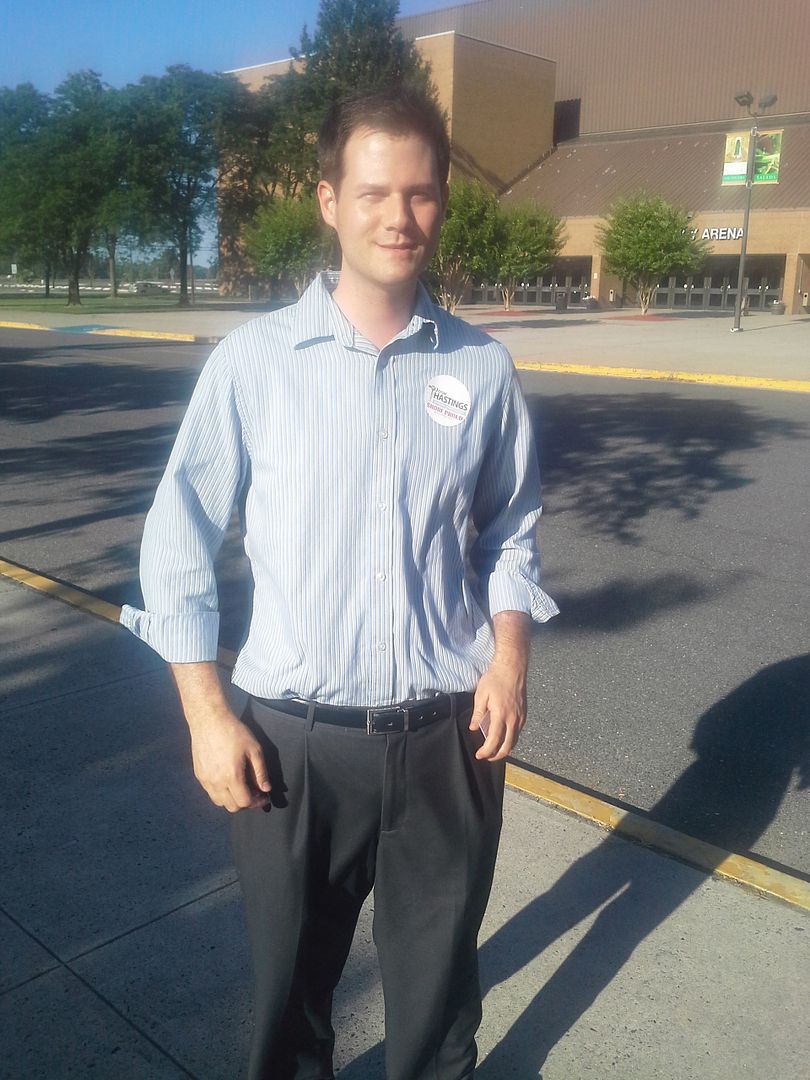 His opponent will be Larry Dodd, who had someone there eventually but he wasn't the social type.
Having worked polls a few times here, I know that after about 7:00 it's pretty well done for the night. So there were a gaggle of people with Hastings who got to talking down the way on the Democratic side, and a few of us for the GOP. It's not like we had voters to convince, as maybe 20 stopped by during the last hour.
At the very end, Carl Anderton dropped by to retrieve his signs as did Jim Mathias. They had a nice conversation, although I didn't get a picture. I was even bipartisan and helped Jim pick up some of the Democrats' signs.
I was in a group which went on to The Cellar Door to check on the returns, but it wasn't really a good night for most of us as you now know.
There were a couple things I learned, though. First and foremost is that Facebook is worthless as a campaign aid unless you want to pay through the nose. Social media isn't really social anymore; it's become commercialized like everything else. I had 60 likes for my Facebook page, which isn't much but it at least gives me insight on how my posts did. (By comparison, Jackie Wellfonder also had a similar page and got 100 likes – but about 60 fewer votes.)
I placed a total of 41 posts on the page, although there was one I shared multiple times. My total reach was 2,718 – it's about 66 per post. Ironically, my best post insofar as Facebook is concerned is the last one I think of as my concession speech, which reached 298 people. A little late, don't you think? But if you figure a good number of those 66 per post see my stuff time after time, it's not all that efficient for the investment.
I didn't have thousands of dollars laying around to get my Facebook page up to 100,000 likes as Change Maryland did, and we only know about the last 30,000 or so because the campaign paid for those – Change Maryland was close to 70,000 when Hogan made it official. So who knows how much he paid for that promotion? More than I had in my pocket.
Anyway, social media isn't really the way to go. But what is?
The second thing I found out is that the public seems to be unmotivated to find out what people really stand for. In race after race, I saw that those who spelled out their platform in the most complete manner lost to those who were a mystery to voters but had name recognition. It also didn't necessarily matter how hard you worked – if John Cannon or Matt Holloway went door-to-door I didn't hear about it, but Muir Boda did and got 18% of the vote to show for it. Tyler Harwood went door-to-door with Greg Belcher (in the same group which at times featured Carl Anderton, Marc Kilmer, and Boda) and finished dead last for Central Committee (Greg was 8th.) Hard work wasn't its own reward, and no good deed went unpunished – or so it seemed. (Nope, Marc corrected me – it was just his lit, not him.)
In short, I'm not sure I did my job very well on a local level. If I have a mission to educate voters, it looks like I have to work a little harder on it – and so I shall. I suppose the one thing about being a lame duck is that I have no election to worry about anymore, so I can speak my mind perhaps a little moreso than political correctness may dictate.
One source of relief is that I have a smaller range of people to keep up with for November. I think we could have done somewhat better coming out of this primary, but at least now I know whose feet I'll have to keep to the fire and who I should be able to count on with a minimum of supervision.
Well, I didn't win my election. But there's another place I can be a winner with your help.
There are a number of bloggers competing for prizes in a contest sponsored by Troopathon 7, which goes online tonight. (Later this afternoon I will set up a live feed as I have done before.) Sorry, no live feed. I got home much later than I thought.
I found out last night that this humble blog is in fifth place overall, neck-and-neck with Pamela Geller's Atlas Shrugs, and I'm not all that far out of the lead. So if you want to help out me and a good cause, donate through the box on the right-hand side of the page (it accrues to my score.) With some help I can win this thing.
Tomorrow the vast majority of those who will participate in our primary process this year will go out and vote. While early voting did bring a few to the polls, about 70 to 75 percent of the overall vote is cast on election day, based on previous results. And if you haven't figured it out yet, I'm on the ballot tomorrow as I run for one more term on the Wicomico County Republican Central Committee.
Perhaps some of the others who are running have spelled out their agenda for the next four years, and we on the Central Committee have a lot to do in the next 4 1/2 months – our terms do not end until after the polls close November 4. I'll be busy trying to find volunteers for the Farm and Home Show, Good Beer Festival, and Autumn Wine Festival. All these events are important for voter outreach and I have served as a coordinator on all these the last several years, along with being the Secretary this term.
But a couple weeks ago, before early voting began, I wrote a piece on my campaign's social media page outlining my goals for the next Central Committee should I be fortunate enough to be re-elected.
*********
Now we've begun the actual voting process, the culmination of a campaign which began for me when I filed back in February. I could only imagine how it is to toil for 18 months or more to win a regional or statewide office, and several candidates have gone that long in their quest. The beginning of the end of my quest for a third (and final) term on the Wicomico County Republican Central Committee opened last Thursday morning at the Civic Center when the polls opened.
Bear in mind that, win or lose, my current term doesn't end until the polls close on November 4, 2014. We all have a single-minded goal to win as many elections as we can for local Republicans, particularly in races where we can unseat longtime Democrats like Rick Pollitt, Norm Conway and Jim Mathias. With that said, while I'm pleased with a lot of what I've done over the last eight years, I have some unfinished business I'd like to attend to over the next four.
First and foremost, candidate recruitment has to step up. We have a good team in place right now, but there are some holes we need to fill around the county, and a particular focus for the next four years is finding people willing to participate at the community level in towns like Salisbury, Delmar, Fruitland, and the others around the county. These local elections are stepping stones for eventual candidates, but they're also the place where prospective campaign managers and treasurers can learn the ropes as well. This even extends to recruiting for other appointed posts such as zoning boards and similar local openings which can use a dose of conservatism. I would like to see a well-connected member of our group be the point person for knowing which openings can be filled and looking for the right people to apply.
A second focus is the quest for an elected school board in Wicomico County. Obviously we can go a long way toward that goal by making a couple changes in our elected officials this year, since Rick Pollitt and Norm Conway have been the roadblocks in place over the last four years. If not, we have to aggressively pursue other avenues such as a petition drive. We believe the county should join much of the rest of Maryland in pursuing that course; personally I think we could model it on our existing County Council districts.
Lastly, there should be better organization at the precinct level. Now that we'll have an idea of just where precinct lines will be, the next step is to seek out and find local leaders who can work at the grassroots level. It's a role which can evolve, but as an example when I led a precinct over a decade ago I printed and distributed a quarterly newsletter to my GOP constituents alerting them to candidates and issues we as a party were promoting. Some of us are already developing databases which can be of assistance in this regard.
Don't forget you can vote for up to nine of us. I can work with any of the other twelve on the ballot, but the key for me is making it into the top nine once again. In 2010 I made it by just 30 votes and I wouldn't be surprised if things are that close again.
You can make the difference. Ask yourself: what other candidates have spelled out their agenda to such a degree? Only a few of us bothered to fill out the League of Women Voters questionnaire, but I've not been shy about saying exactly where I stood on the issues.
So this is my case. I'm asking for and would appreciate your support between now and June 24.
**********
I was also one of the few Central Committee candidates to fill out a survey from the state's League of Women Voters. Bear in mind I had to stay under 400 characters, so it was a tough editing job.
**********
1. Qualifications: How do your qualifications and experience prepare you for the duties of this office?
I have already served on the Central Committee for eight years, currently acting as the Secretary. It's the culmination of nearly two decades of political involvement both here in Maryland and in my native Ohio. I also serve as the Secretary of the Wicomico County Republican Club, and have been entrusted with a leadership position there for the last several years.
2. Priorities: What should be the priorities of the party?
As a local Central Committee, our most important job is recruiting and supporting Republican candidates for elective office. But a key secondary duty is registering new voters as we try to make this a Republican county. Our candidates should stand for limited government which exists at the level closest to the people, so that local matters are handled here in Wicomico County and not Annapolis.
3. Filling Vacancies: If the Central Committee is called upon to choose a candidate to fill a vacancy in the General Assembly or other office, what would be your criteria for selecting the replacement?
In my time on the Central Committee, we've had to replace Page Elmore in the House of Delegates and Bob Caldwell on Wicomico County Council. While the rules are different in each case – particularly in Elmore's case, where he passed away during a contested primary – the aim is to find a good, conservative candidate who will best represent the people as well as hold the seat in the next election.
4. Open Primary: Would you support opening the party's primary to voters who have not chosen a party affiliation on their voter registration?
I do not support an open primary. While there are compelling arguments for an open primary, I believe that the closed primary represents an incentive for interested voters to choose a party. Unless the primary is opened up for both Democrats and Republicans so that unaffiliated voters have that choice, the GOP should maintain its closed primary system.
**********
In closing, I should remind voters that many of those who are or seek to be on the Central Committee will be in attendance at the Wicomico County Republican Club meeting tonight. We'll be meeting at the Chamber of Commerce building, 144 E. Main Street in downtown Salisbury. The social time begins at 6:30 and meeting at 7.
Several members also attend a pre-event Happy Hour at the Cellar Door Tavern, which is located at 111 Camden Street. That begins around 5-ish and runs until around 6:30 – we're informal like that.
And despite the fact it's elsewhere on the page, let me note: For items which pertain to my campaign Michael Swartz for Republican Central Committee – Authority: Kimberley Corkran, Treasurer, Michael Swartz, Candidate.
There. Now I'm covered. So if you want to cover the common-sense conservatism space on the Central Committee, I would appreciate your vote tomorrow.