The other day I received a reminder that Heritage Action had updated its Congressional scorecard. And for those who believe that our Congressman Andy Harris isn't as conservative as he makes himself out to be, it should be noted that his 90% rating puts him in the top 20 on Congress overall, or the 95th percentile if you will.  It's a score that Harris currently shares with some of the more libertarian heroes of Congress, such as Justin Amash and Thomas Massie, as well as Presidential candidate Marco Rubio. (Ted Cruz was among the top 3 at 100%, along with Mike Lee and Ken Buck of Colorado.)
But one weakness I'm finding with the Heritage Action scorecard is just what issues they consider important – there's no easy way to determine what bills and votes they deemed important enough to include. Certainly I trust the Heritage Foundation to be a conservative watchdog as they have been for many years, but it would be nice to have their scorecard reflect what the scores are based upon.
On the other hand, I present no such problem with my monoblogue Accountability Project because I explain just why I vote as I would. (By and large, it's opposition to the lunacy Democrats put out on an annual basis, although I am also far more of a budget hawk than most as well.) In this year's roster of legislation, there were anywhere from five to fifty-odd votes per bill on my side in the House and two to twenty per bill in the Senate. None of those I sided with this year became law, unlike last year where I won a couple.
If you follow monoblogue on social media (and you should) you'll notice I'm making steady progress on this year's edition, which I am slating to release June 6. Actually, what pushes this into June is a fairly recent phenomenon.
Back when Martin O'Malley was governor, I never had to worry about vetoed bills and pretty much everything that was placed in front of him by the Democratic-controlled Maryland General Assembly was signed in short order. But with Larry Hogan in office, I have to pay attention to what's called the "date of presentment." This tripped me up last year in discussing the post-session because I thought Hogan had 30 days after session to sign/veto bills, not realizing there was a date of presentment involved. (O'Malley always seemed to sign things as quickly as possible.) This year the date of presentment was May 1 (20 days after session) so the drop-dead date for a Hogan veto is May 31, or 30 days after presentment.
Where this affects me is what I call the "disposition" of each bill. Not only do I tally the votes, but I make sure readers know the fate of each bill. It was easy (if depressing) when MOM was in office because I could simply write something along the lines of "Governor O'Malley signed this bill May 5." Now I have bills that are allowed to become law without Hogan's signature and actual vetoes to deal with, so it makes me wait until the coast is clear June 1 to figure out final disposition. Hence, I have to wait to put it out. In truth, the compiling is easier than ever because I've done it so long and can fill out the spreadsheet I use rather quickly.
So you are two weeks away from getting your hands on this hot little item, which so far has been a great horse race as I compile votes and find multiple members still have a chance at a perfect score. Now if we could only get that number of perfect scorers up to 188, or at least a good working majority in each chamber, this state may be getting somewhere.
Originally I began this post as an odds and ends piece, but when I selected an article on "Obama's killer economy" as my first topic of discussion I made the executive decision that this subject needed more than a few words.
As it turns out, lately I have seen a few articles crop up about the hopelessness of a certain class of Americans, and whether it leads to a conscious suicide or the slow death of a thousand drinks, cigarettes, and pills doesn't matter so much as the fact this is an issue. There are thousands of Americans who are right about my age (I'm 51) who somehow have decided to check out mentally, which often leads to their physical demise. To be perfectly blunt, if the Good Lord hadn't brought Kim and I together there's the chance I could be one of those statistics given the fact I needed to subsist for several years on a range of part-time work thanks to the utter destruction of the local building industry. If you look as possessions as "stuff," I lost a lot of stuff over those years. Rather than focus on that, though, I thank God I was one of those who approached the edge of the abyss yet came back. (In the terms of our pastor at church, I am "the blessed man.")
But somehow I have always had the optimism that there was something better on the horizon; indeed it panned out with Kim. I will grant it's harder and harder to be optimistic about the world, but believers still persist.
Yet not everyone has that luxury of good fortune, or the faith that God is in control. And perhaps that's part of the issue, as organized religion is slowly losing its influence on society – at least according to national surveys. (Of course, this is not to say that the devout have any fewer struggles than the unbeliever, nor is it fair to say that many of those who succumbed to the world didn't believe in God and go to church. Church attendance or even leadership is, by itself, not a guarantee of doing good works either – there is no one who stands above temptation.)
However, there is the economic argument Kevin Williamson at National Review made (subscription required, so no link) that simply said "downscale communities deserve to die." If you live in upstate New York, rural Oklahoma, or a place like the Eastern Shore (parts of which are slowly losing population) you need to go where the opportunities are. But NR's David French adds a key component I believe is missing from the argument:
For generations, conservatives have rightly railed against deterministic progressive notions that put human choices at the mercy of race, class, history, or economics. Those factors can create additional challenges, but they do not relieve any human being of the moral obligation to do their best. Yet millions of Americans aren't doing their best. Indeed, they're barely trying. As I've related before, my church in Kentucky made a determined attempt to reach kids and families that were falling between the cracks, and it was consistently astounding how little effort most parents and their teen children made to improve their lives. If they couldn't find a job in a few days - or perhaps even as little as a few hours - they'd stop looking. If they got angry at teachers or coaches, they'd drop out of school. If they fought with their wife, they had sex with a neighbor. And always - always - there was a sense of entitlement.
If you look at it through the lens of those people "falling between the cracks" this may be what they define as "doing their best":
And that's where disability or other government programs kicked in. They were there, beckoning, giving men and women alternatives to gainful employment. You don't have to do any work (your disability lawyer does all the heavy lifting), you make money, and you get drugs.
So let's recap: we have an entire class of people in this country, counted in the tens of millions, whose very existence is defined as getting up in the morning, spending their day watching television or perusing the internet, eating courtesy of the taxpayers through their EBT card, lather, rinse, repeat, day after day. To break up the monotony they go out and buy their case of Bud Light, shop for the provider of their pills, and sleep with different people. It's a community of strangers, of users.
Those who have known me for a time (and for the vast majority who do, it's been a period of no more than 12 years since that's when I moved here) know the sort of person I am, and alas I can be defined by my faults. Over the last couple years as I've become a regular church goer, though, I've found an extended family – granted, I couldn't tell you the names of everyone who attends with me on Sundays, but they know me and if something were amiss they would ask about me and place me in their prayers. Sometimes that's just the lift I need.
In the Book of Luke there is the tale of the prodigal son, who squandered the half of his father's fortune he was entitled to on worldly things, yet grew despondent when the money ran out – so he returned feeling unworthy of being more than a lowly servant. Yet the father provided for him the best robe and the fatted calf, for as the father told the other brother, the one who was upset because had done as he was expected but received no reward:
"My son," the father said, "you are always with me, and everything I have is yours. But we had to celebrate and be glad, because this brother of yours was dead and is alive again; he was lost and is found." (Luke 15:31-32)
America has become a nation full of prodigal sons and daughters, but ones who are still in need of return. We have all the riches to which anyone could aspire, yet millions are squandering their share on lives of loneliness, misery, and envy for those who have more than they do. As I note above, Americans have also turned from God – perhaps there is a parallel there?
I can't sit here and tell someone in the predicament of dire poverty that simply returning to God and getting back to church will solve their problems. But what I can say is that having the church family may give those who are trapped in this vicious cycle something to live for - if they want to put the work in. It's not something that takes a Sunday and you're done, nor is it an easy path. But if one can feel better without taking the drugs, drinking the alcohol, or abusing relationships, why not take the opportunity?
My final primary endorsement comes in a race that, for me, has come down to the wire: do I go for the known conservative quantity that's part of one of the most unpopular institutions in the country or do I go for one of the upstarts in a hope to bring about change or a more libertarian direction?
Well, the answer became a little easier as I looked into two of the four GOP candidates. Both Jonathan Goff, who challenged Andy Harris in 2014 and got the 22% of the anti-Harris vote in that primary, and Sean Jackson have expressed their support for Donald Trump so that eliminates them automatically as not conservative.
Yet despite the entry of Goff and Jackson, the Congressional race has been figured all along as a two-man contest between Harris and former Delegate Mike Smigiel.
We pretty much know the backstory on Andy Harris: he served in the Maryland State Senate for a decade before challenging incumbent Republican Congressman Wayne Gilchrest in 2008. The problem with Wayne, as Harris and many others saw in the district, was that Gilchrest was too centrist for a conservative district. Harris ended up winning a contentious primary, alienating enough Gilchrest supporters in the process that Democrat Frank Kratovil (who Gilchrest eventually endorsed) won by a narrow plurality in the Obama wave election of 2008. (A Libertarian candidate took 2.5% of the vote, denying Kratovil a majority.)
Harris finished out his term in the State Senate as he plotted to challenge Kratovil, who served as a "blue dog" Democrat (case in point: he voted against Obamacare.) Winning a far less acrimonious GOP primary in 2010 over businessman Rob Fisher, Harris went on to defeat Kratovil by 12 points in the first TEA Party wave election of 2010. Since then Harris hasn't been seriously challenged in either the primary or general elections, winning with 63.4% of the vote in 2012 and 70.4% in 2014 after Goff challenged him in the primary.
While Democrat Jim Ireton may think he has a shot against Harris, it's very likely that Tuesday's election is the deciding factor in who will be our representative to the 115th Congress. But Mike Smigiel is the first serious candidate with a pedigree to challenge for the First District seat since Harris and State Senator E.J. Pipkin, among others, both took on Wayne Gilchrest in 2008.
Like Harris, Smigiel served for 12 years in the Maryland General Assembly but he served in the House of Delegates, representing the upper Eastern Shore. This factor is an important one in determining who will be the better candidate, as their terms of service overlapped from 2003-2010. Smigiel ran for re-election in the 2014 primary, but finished fourth in a seven-person field. It's worth noting that four of the District 36 contenders were from Smigiel's Cecil County, which may have sapped his electoral strength – or reflected a dissatisfaction with Mike's approach. Only one of them could have advanced, so in effect they cannibalized the primary vote.
Mike's case for unseating Harris has evolved from an undertone of dissatisfaction from those who supported Harris for the seat. They say that Andy is not a fighter or a leader in the conservative movement, and long for a more libertarian Congressman perhaps in the mold of Justin Amash or Thomas Massie. To that end, Smigiel has advocated his case for a Constitutional, limited government, often waving his copy of the Constitution in a debate or forum session. His campaign has focused to a great extent on a number of Congressional votes that Harris has cast, particularly the 2014 CRomnibus bill.
In looking at this race, it should be pointed out that I saw Smigiel's libertarian approach as an asset; however, I felt the strong emphasis on Harris's voting record masked some of the real truth.
A key difference between the legislative process in Maryland and the federal sausage-grinding we find in Washington is that Congressional legislation is not limited to a single issue as Maryland's is. You can take the CRomnibus bill as an example, as it was a compromise hammered out between the various factions of Congress. That's not to say Harris made the correct vote, but Smigiel is counting on a bit of ignorance in how the system works. I could say the same thing about Smigiel since he voted for the first O'Malley budget while Harris voted no.
So let's talk about voting records, shall we? Because voting in a federal legislature is not the same as voting on state matters, we have an apples-to-oranges comparison between Harris and Smigiel. But over the eight years both men served in the General Assembly, a more apples-to-apples approach is possible.
Since 2007, I have done the monoblogue Accountability Project, so it covers the last four years that Harris and Smigiel served together. As an aggregate, I found that Smigiel voted as I would have 77.7% of the time, or 101 times out of 130. On the other hand, Harris was "correct" 89.1% of the time, or 122 times out of 137.
I even went back and found three years' worth of data on the old Maryland Accountability Project that mine continued. While the author perhaps had a different standard of what he considered "conservative," in each of those three years (2003-2005) Harris had a higher score: 84%-60% in 2003, 80%-75% in 2004, and 84%-83% in 2005. (The 2006 results were not available for the House, but Harris only scored 65% in the Senate – so Smigiel may have prevailed that year.)
Yet these are not "clean" comparisons, either, because in my case I hadn't streamlined the process of doing the mAP yet. (Since 2011, both House and Senate ratings are based on the same bills.) So I went back and tried to locate the cases in my work where Harris and Smigiel voted the opposite way. There were a handful that over time have mattered less, but I would like to point out a few items that Harris favored and Smigiel opposed, since Mike has attacked Andy's record:
Smart, Green, and Growing – Maryland Sustainable Growth Commission (2010) – replaced a task force with the MSGC, an O'Malley-sponsored bill.
Higher Education Investment Fund – Tuition Stabilization and Funding (2010) – a spending mandate O'Malley also sought.
Greenhouse Gas Emissions Reduction Act of 2009 – this was a horrible bill that established and codified carbon reductions into state law.
One can definitely argue that Harris was trying to soften his image with these votes, since they came after his unsuccessful 2008 run.
But there is another side: those bills that Smigiel favored and Harris opposed:
Other Tobacco Products Licenses (2010) – required separate licenses for those who sell cigars, snuff, or pipe tobacco. Harris was one of just 7 in the MGA to oppose this.
High Performance Buildings Act – Applicable to Community College Capital Projects (2010) – required LEED Silver or above ratings.
Regional Greenhouse Gas Initiative – Maryland Strategic Energy Investment Program (2008) – an O'Malley bill to spend RGGI money.
Environment – Water Management Administration – Wetlands and Waterways Program Fees (2008) – established a fee of up to $7,500 an acre for certain developments.
Chesapeake and Atlantic Coastal Bays Critical Area Protection Program – Administrative and Enforcement Provisions (2008) – additional mandates on local government.
High Performance Buildings Act (2008) – the precursor to the 2010 act above.
Maryland Clean Cars Act of 2007 – an O'Malley bill requiring California emissions for Maryland cars, which added cost to new cars.
Higher Education – Tuition Affordability Act of 2007 – another O'Malley bill that extended an artificial tuition freeze.
Electricity – Net Energy Metering – Renewable Energy Portfolio Standard – Solar Energy (2007) - a good old-fashioned carveout, picking a winner.
It seems to me there's a major difference on environmental issues between Smigiel and Harris, and while that may not matter so much at a federal level my belief that "green is the new red" leads me to think that Smigiel's pro-liberty case isn't as airtight as we are led to believe.
I can go all night looking at voting records, but there is one other thing I'd like to point out.
Last week I criticized Smigiel for spending part of the weekend before the primary at a cannabis convention, a stance he took exception to in a private message to me. Without divulging the full conversation, which I assumed was just for my private use, the upshot was that he argued there were going to be fundraising benefits for him as well as possible job creation in the 1st District. I can buy that argument, but if it hinges on him winning the primary Job One has to be getting the votes.
So it was interesting that a friend of mine shared a card her daughter received, which looks like the one below.
My friend speculated the card was targeted to a certain age group of Millennials since her daughter was the only one in the house to receive it. Yet the card isn't from Mike's campaign but instead an organization called 420 USA PAC, which advocates for cannabis legalization.
Of course, my personal stance is not all that far from Mike's, but we also have two laboratories of democracy in Colorado and Washington state to see how the legalization of marijuana plays out. Smigiel argues the District of Columbia cannabis initiative is a state's rights issue but should know that in the Constitution Congress is responsible to "exercise exclusive Legislation in all cases whatsoever" over the District per Article I, Section 8. So Harris performed some oversight.
On the other hand I can vouch for Andy being in the district over the weekend. Perhaps this is a classic conservative vs. libertarian matchup, although both men are well-accepted in the pro-life community.
This has been an endorsement I have had to think long and hard about; luckily it's a case where I could easily work for the other gentleman if he will have me.
But I have decided that Andy Harris deserves another term in Congress. Saying that, though, it's obvious people will be watching and if I were Mike Smigiel I wouldn't dismiss trying again in 2018 because we could use his kind of voice in Congress as well. Think of the next two years as a probationary period for Harris.
So allow me to review my three endorsements for the major races.
For President, I urge you to vote for the remaining true conservative in the race, Ted Cruz. He has six people running for Delegate and Alternate Delegate who need your votes as well (although my friend Muir Boda is on the ballot, too.)
For U.S. Senate, I had a hard time deciding between Dave Wallace and Richard Douglas, but the backbone Richard Douglas has shown earned him my endorsement and vote.
And finally, retain Andy Harris as our Congressman.
Just don't forget to vote Tuesday. It's up to us to begin turning Maryland into a more conservative state – not just trying to teach the benefits of conservatism to an audience charitably described as skeptical but making sure we vote in the right manner as well.
It was back to the basics once again for this once-premier regional event, which is still chugging along in its thirteenth year. What better way to celebrate the weekend of Earth Day than eating some of its tastier creatures cooked over a charcoal fire?
For the second time, though, there was no KCBS competition element. However, there was a competition wrapping up just as we arrived regarding which of the four competitors selling pulled pork had the best, along with a local craft beer pairing. Actually it sounded like a pretty good deal for $10 and it's a pity I missed it.
There was still a pretty good food court, though, dubbed "Pig Out Alley" with some out-of-towners hawking their barbecued wares.
The guys from Smoke Shack BBQ were hard at work keeping up with demand.
There seems to be a psychological effect where the place with the longest line is thought to have the best ribs. As it turned out, Kim stayed in the Smoke Shack line for about a half-hour while I walked across the way to get mine from the former Salisbury denizen Famous Dave's, strolling right up to the counter and ordering. Maybe that's why their location here only lasted a couple years.
So this is what I got.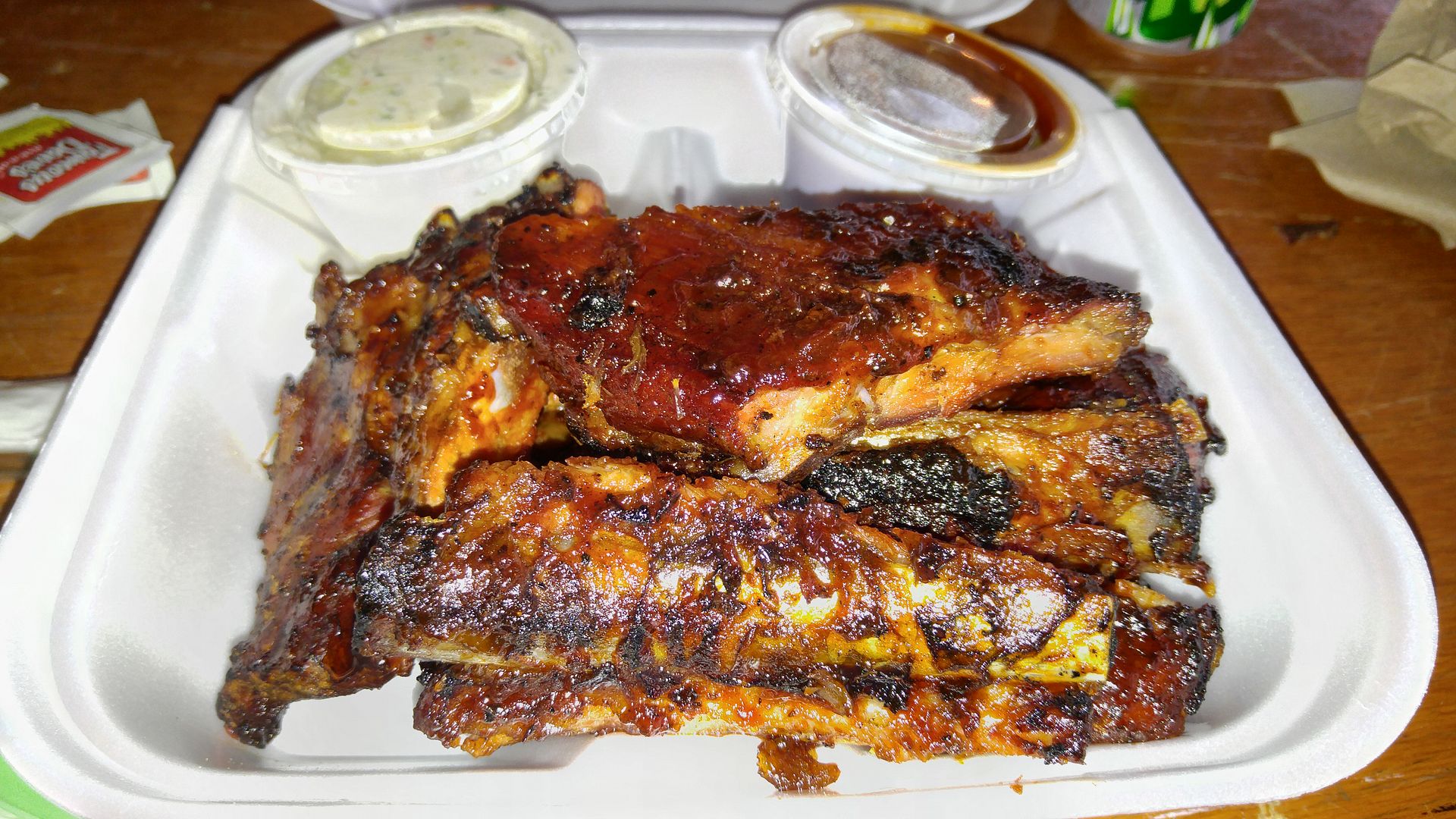 Funny thing: both Kim and I agreed that the Famous Dave's ribs were better. Smoke Shack was somewhat pricier as well, but that comes with the territory I suppose. We could have gotten Hess's ribs as well, for they didn't have a long line either. But as I recall we had theirs last year, when Pork in the Park nearly failed.
Nicer weather helped with the attendance, which seemed to be improved from 2015. It wasn't to the level of past years but perhaps they can rebuild the festival.
One holdover from 2015 was the kids court, with the row of bouncy houses.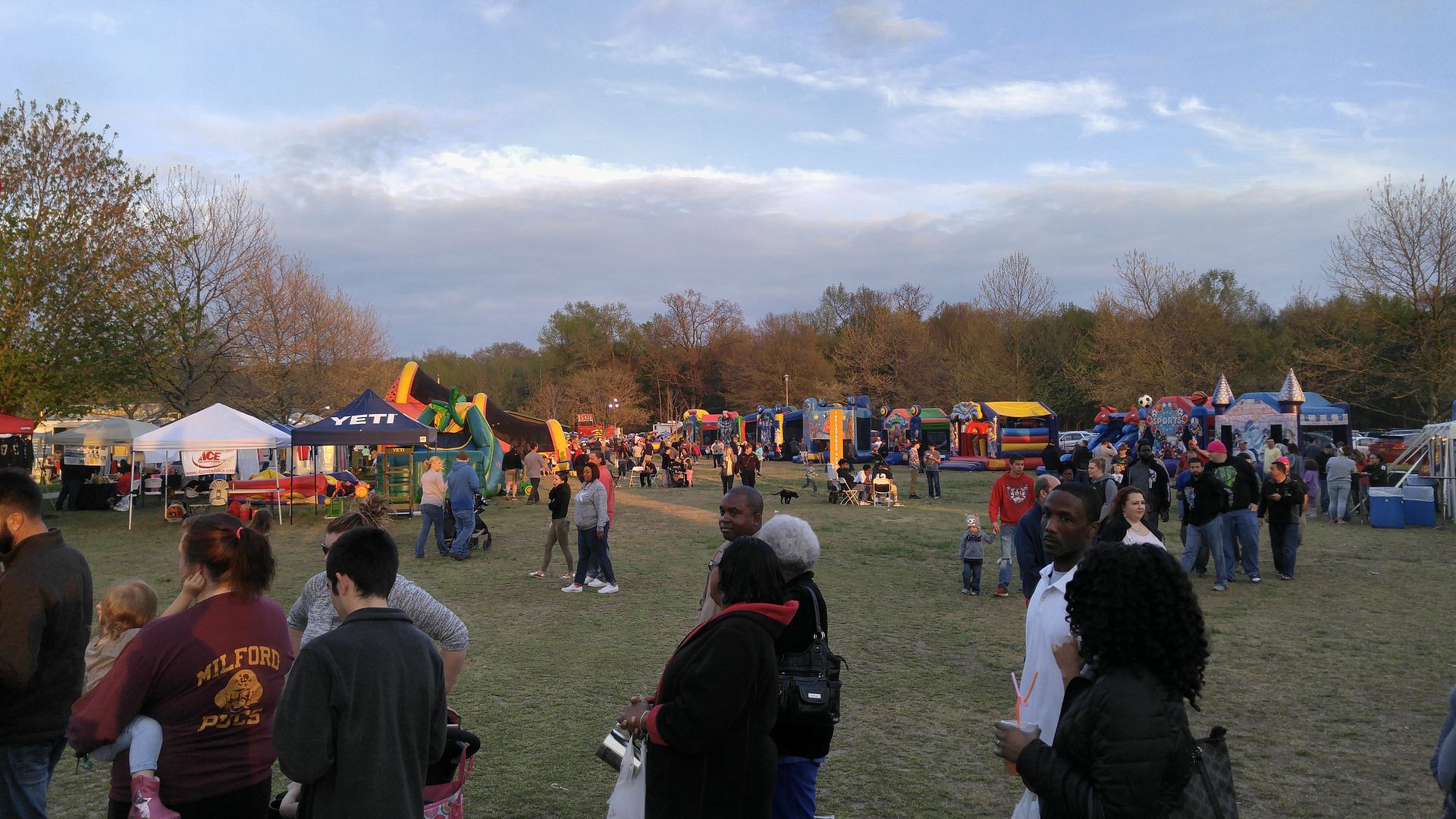 It was actually a pretty good arrangement, as they separated the kids zone from the beer tent and other adult areas. It wasn't like you couldn't hear the band, which was wrapping up as we got there.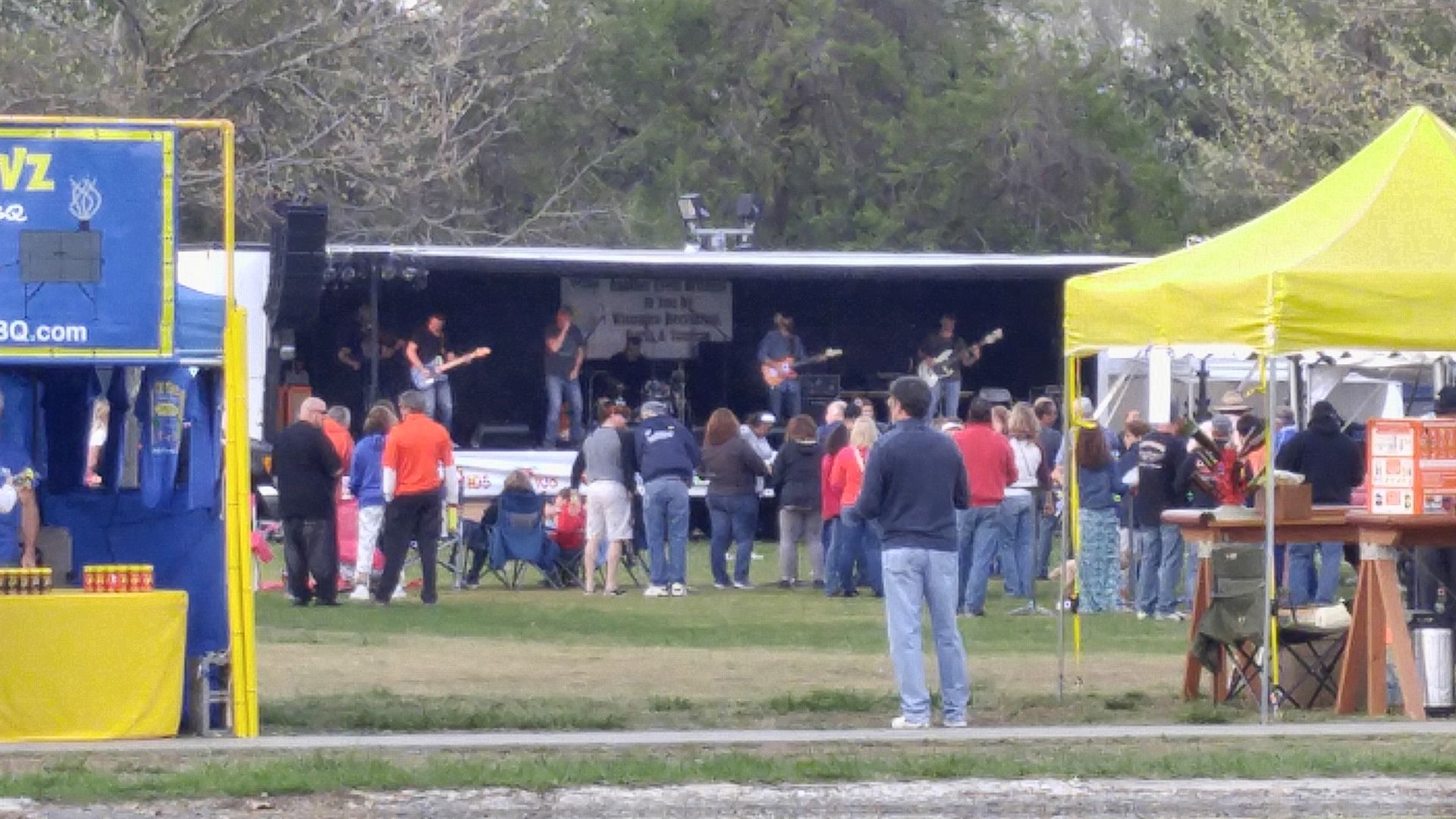 According to the entertainment page of the PitP website the band was Delta Spur, a country cover band. Since I'm not into country, they didn't do a lot for me until they ended the show with some Lynard Skynard (that one I recognized.) But it looks like quite a few were into them.
One thing new they were trying was Balloonville, where you could check out these balloons and perhaps take a (tethered) ride in one, for a price.
I would have to say that this year's rendition is improved over last year's, but whether it can turn the corner without the competition element remains to be seen. It's worth noting that most of the banners various rib vendors use to commemorate their victories are several years old – seems that the number of these competitions have waned as tastes move away from everything barbecued and onto other culinary options. Perhaps someone somewhere has a banner that brags about winning Pork in the Park, but that's not happening this year.
But if you don't mind paying a little extra for some good ribs, this isn't a bad place to bring the family if you're around Salisbury. They have the kids' area so the little ones can blow off steam and it's only $3 to get in for the adults. It's a beautiful day on Delmarva as well – aside from some rain yesterday afternoon, they lucked out with the weather. You have until 5:00 today.
So come on out and see if we can make it bigger and better for 2017.
Back in July of last year I attended the Tawes Crab and Clam Bake in Crisfield, and among those I met that day was one of the first to announce he was seeking the U.S. Senate seat in Maryland, Chrys Kefalas. Fast-forward nine months later and we have thirteen others on the ballot joining Kefalas in seeking the Republican nomination, and his diligence on the trail seems to be paying off – Chrys is within the margin of error from leading the race, according to a recent Washington Post/University of Maryland poll. (However, a subsequent WRC-TV/Marist poll has Delegate Kathy Szeliga leading Richard Douglas 20-13, with 9 percent backing Kefalas. No other candidates were mentioned by name.)
While both polls suggested it was a wide-open race, as nearly half had not decided on a candidate, you can easily take the fourteen who started and boil them down to perhaps a half-dozen with a real chance. Many of the aspirants are running campaigns on a shoestring, with a website and no resources otherwise to campaign around the state. Only five have achieved enough standing to participate in one of the televised debates: Douglas, Joe Hooe, Kefalas, Szeliga, and Dave Wallace; except for Hooe each of these have also visited the local area to participate in a statewide campaign. (If Hooe has come to Salisbury, I am not aware of it.) With the other four I have seen all but Szeliga personally, but Cathy Keim covered the Szeliga kickoff visit so that counts, too.
Over the last few weeks, my initial impressions of the candidates (and that extension of remarks) have not changed significantly in most cases. But there is at least one disqualifier that I have to report.
This is from Joe Hooe's campaign Facebook page.
Question: So, where do you stand as far as Trump is concerned?

Hooe: I support him, I've made phone calls for him and I liked the Christmas card that he sent to me and my family. I like his plan to secure the border, I like that he is a business person like me and I think that our plans can work together. I also believe that no matter what we need a Republican in the Whitehouse.
I realize that the one key issue Hooe is bringing to the table is his scheme to tax illegal immigrants $1,000 a year for permission to work here but on its face one has to question just how workable such a proposal is if people are already here illegally. Enforcement is already not our strong suit, and I can just see some bleeding-heart liberal saying, "oh, that's a lot of money for these poor immigrants to come up with – how about we give them a tax credit so it's not such a hardship for them?"
But to me being a Trump supporter shows a lack of judgment when it comes to conservatism. So Hooe is out.
Next, you have Kathy Szeliga. She has been on TV for several days with her motorcycle ad, and it has pushed her numbers upward from 15% to 20%. But it's still difficult to pin her down on a lot of issues because she's mastered the art of political-speak. She's gotten a little better over the last couple weeks, but Szeliga and Chrys Kefalas keep trying to out-Larry Hogan each other. Maybe it's a good electoral strategy, but one of my concerns is having a good conservatism strategy and I don't necessarily get that vibe from Kathy like I should given her General Assembly voting record. She would definitely be only what I call an 80 percenter in Congress, one who I agree with maybe 80 percent but who may not push as hard against the status quo as I wish she would.
Regarding Chrys Kefalas, here's a good guy who seems to have a following among the Millennial "let's not discuss social values" crowd – in fact, he may get extra points with them for some of his choices. (Let's just say he definitely worked against me in 2012 on Question 6 and leave it at that.) Yet to me that's a leg of the three-legged conservative stool that you can't just saw off and I don't understand how one can be "principled" without addressing this. (Since Hogan didn't address this either in his 2014 campaign, in that respect Chrys really is a "Larry Hogan Republican.") I will grant that these are not the most important of issues, but despite his advocacy for manufacturing I don't completely agree with Chrys that this is just a "jobs and economy" election. He came down on the wrong side of the Apple controversy, so I also wonder if Kefalas would respect and work for either our civil or religious liberties if elected.
Bear in mind that if either of these two emerge victorious, though. I can easily support them despite their flaws. I just won't be able to expect that I have a Senator working for me in Washington.
After I began to study the field and issues, it became clear for me that the choice is between Richard Douglas and Dave Wallace. I have had the opportunity to speak with both and heard both Douglas and Wallace at some length; not only that, they were willing to answer many of my questions. So I have a pretty good idea where both of them stand, and I think either would be outstanding Senators for the state of Maryland for different reasons.
But there are two things which tip the scale for my endorsee.
First is the experience and leadership he has shown – even when it wasn't an issue that was intended to make headlines, defending the very presence of the Bladensburg Peace Cross in the wake of a secular humanist attempt to have it removed as a so-called establishment of religion as opposed to a simple and longstanding memorial to the war casualties from Prince George's County shows conscience and respect for tradition, as well as a willingness to fight for our values.
Second is a combination of backbone and knowledge of the system. As we have seen with the Donald Trump campaign, there is more to gaining the Republican nomination than getting a plurality of the votes. The knowledge and understanding of the process that Ted Cruz is exhibiting is enabling him to outperform expectations. Similarly, understanding the rules of the Senate is a key to taking advantage and getting things done, and I don't want a shrinking violet up there.
Of all the years to have a tagline of "make Maryland great again," this is not the year given its immediate connotation. To make Maryland great is to balance ably representing the economic interests of those of us who do not work for the federal government with the national security, foreign policy, and oversight tasks entrusted to the Senate. In a time of crisis experience matters to me almost as much as principle, so I am endorsing and casting my vote for Richard Douglas for the U.S. Senate.
In each of the polls I have seen Richard Douglas is within striking distance of the lead, so it's up to us to put him over the top and select a man who can make mincemeat of the Democratic nominee in a debate. Maryland definitely needs "new blood" in the Senate, so let's make it happen.
I guess you can call this a stream of consciousness post. I actually have three to four things I want to write on and a couple things I need to write about, but the mind is a little fuzzy this evening – a stroll at 3rd Friday and dinner with the family will do that. So I'm just going to begin typing and see where it takes me. (Actually I do a lot of writing like that anyway, but in this case I will admit to it.) The things I need to write about can wait until morning.
One reason I like 3rd Friday as an event is that chances are good I'll see several people I know there. Most of them I know through my political life, so the topic tends to be on issues or candidates. So it was I had a nice discussion about the Senate race on the other side of the fence and a long conversation about why I'm dead-set against Donald Trump. Since I don't want to get bogged down in minutia, suffice to say that I find Trump is neither conservative nor trustworthy.
There was also a bit of controversy locally about The Donald insofar as our Central Committee goes. As a body we are supposed to stay neutral, but a report on the opening of the local Trump headquarters seemed to lead some to believe our Central Committee was down with Trump, and I can guarantee you we're not all on the Trump train. Supposedly it's all been straightened out, but I would be willing to bet that out of nine members we have at least seven or eight different combinations of who we favor for President, U. S. Senate, and Congress.
Yet we all seem to get along – in the three terms since I was elected we only turned over members midstream three times: Bob Laun was a midterm appointee for another gentleman who moved away, we appointed two members when authorized to expand from seven members to nine about eight years back, and I was reappointed to fill a vacancy last October. Yes, that's it in almost a decade – meanwhile, other county Central Committees seem to change on almost a weekly basis. I may not like who others support, and it may be good to remind folks that we are not a monolithic body in this primary for any candidate.
But there is something I noticed about early voting. Granted, one day is a small sample size but for all the excitement they tell me this presidential primary beings, turnout on day 1 wasn't a whole lot better than it was in 2012, the last Presidential cycle. On day one four years ago (which was a Saturday) there was 13,512 voters, or 0.43%. The Thursday of early voting, which was the final day, had 16,408 (the highest total), for 0.52%. Overall just 2.4% of voters came out early over six days in 2012.
Yesterday, we had 36,657 voters, which is 1.07%. As a total, yes that is quite a bit larger, but I would have expected twice that given the excitement we were told was in the air. There were 326 Wicomico voters, or one about every two minutes the polls were open. I still haven't figured out why we do this exercise, particularly now that they are letting new same-day registrants vote. (Three took advantage in Wicomico County – all Democrats.) We will have a room in the Civic Center, pay several people hundreds of dollars to sit around, and marvel that maybe 1,500 people came over the eight days. Seems a waste of time and money for something an absentee ballot can achieve.
Well, I think I got enough off my mind. I still have a couple toss-up races to decide on for endorsement so look for one Sunday.
Dear Erick:
To begin, I'd like to thank you and Bill Blankschaen for writing You Will Be Made to Care. I was pleased to be selected as one of those who received an advance copy for review, and even more pleased with the final result. Again, I was "intrigued by the direction that it went and by the emotions this book took me through as I read through it." So congratulations for its success, and know that many of us appreciate you bringing up this necessary discussion as subsequent events have placed religious freedom squarely in the headlines again.
At around the same time as YWBMTC was in its final stages of editing and initial promotion, you were embarking on a journey which interested me as a blogger: trying to succeed with a sponsorship-based advertising system. As I wrote on January 11:
I've been impressed with (Erickson's) new website, one which I can read without being overrun by annoying pop-up ads and false story breaks that only serve to increase page view count (in order to extort more money from would-be advertisers.) On Thursday he had a candid assessment of how his website was doing and so far he seems to be successful. Good news for those of us who value content over clickbait.
Thus, I was pleased to see a couple weeks back that your venture was growing, with a doubling of readership and significant increases in areas that you are trying to stress, such as listenership to your radio show and engagement with elected officials. I'll grant that over time this may level off, but I think you have a long way to go until you reach that plateau given that you are still in the startup stages.
But there is one aspect of your three-month assessment that troubles me:
Our advertising model is very unique among conservative websites and, frankly, may come to an end as I'm struggling to fill sponsorships going forward. But it has been so different I'm actually getting attacked for it. (Emphasis mine.)
I was cheered somewhat that you then wrote:
But I have to try to work on that area to beef up sponsorships. What I do know is that it works. Several of the advertisers tell me they saw an uptick in donations, sign ups, and volunteers through their sponsoring the Resurgent. That makes me hopeful we will be able to keep this going a while, particularly as my radio presence keeps growing.
Now I realize that, compared to your site, mine is small potatoes: my page views in a good year might equal yours for a weekday. I also know that, while by necessity and God-given talent in my chosen field I work outside of media to help put food on my table, you are using The Resurgent and your radio show to put food on yours. You have a lot more skin in the game with your website than I do, as I'm just a part-time blogger. But I'm using my venue and an open letter format because I want to share my thoughts with you as well as encourage readers to go to your site, helping it to succeed. I believe in what you are trying to accomplish.
So I'm imploring you to stay the course on this sponsorship-based model as long as you can because I think it will eventually succeed and hopefully lead others to follow. I never felt comfortable with having the clickbait links when they were on my site, but it seemed to be the only way to get a modest revenue stream going. I'm praying The Resurgent changes that and provides an example to follow for other high-readership sites.
For about a decade I have worked as a remote contributing writer for a publication that has a donation-based revenue model with no advertisements, the Patriot Post. Like you, they have struggled to make their expenses over the last few years but by the grace of God they are still going. If their website can go two decades with the support of their readership carrying them through I think it's possible for your enterprise to prosper as well with the weekly sponsors you are cultivating – with the results you're getting they should become repeat business.
One thing we have in common is that we have both run websites for over a decade, so you know as well as I do the ebb and flow of working in the political commentary field. You picked a good time to make a successful debut, so my hope is this successful beginning prepared you well for the trials and tribulations still to come once the political season is over and interest wanes.
Again, I want to express my hope you can stay with your sponsorship-based model and keep the clickbait and pop-ups away from The Resurgent. While we both pray for a resurgence of faith to overspread our country, our little corner of the internet can use something worth following as well.
Sincerely,
Michael Swartz
Salisbury, Maryland
There are a handful of diehards who read my site for Shorebird of the Week and one of them asked if I was going to once again take my stab at predicting the 25-man Delmarva Shorebird roster this year as I have the last couple. Alas, the answer is no.
That request and the lack of time and effort I could spare to put into that research is the driver behind an announcement I'm here to make: the 2016 season will be the retirement tour for the Shorebird of the Week. After 11 seasons, circumstances that have already changed are going to lead to more changes which bring me to the point where I don't think I can do the concept justice anymore. Simply put, it's an easier job to do when you're at 40 to 50 games a season and roll in about 6:20 so you have good light for photos than it is to be at 15 to 20 games and show up right at 7:00 as it's getting dark. It's not the statistics that are the issue, but the photos and the player availability as the pitchers in the starting rotation only appear every fifth game. In recent years pitchers have come and gone before I ever saw them in a game, and that is a problem when you have standards such as I do. I was dissatisfied with my 2015 product, but the prospects for improvement are becoming more and more limited.
Now I have asked before for player photos, but my appeal fell on deaf ears. This has always been both a DIY project and a labor of love, anyway, so to that end the SotW Tracker and SotW Hall of Fame will continue on as long as the players remain active. But this will be my last season having the Shorebird of the Week as a feature.
I know I'm going to miss doing it, which is why I didn't just not begin the SotW season come April 7. Hopefully the weather will hold out and I can get some photos of the 2016 Shorebirds at next week's Salisbury University exhibition game; otherwise I will see what holdovers from 2015 return to the team and hope I have photos of them someplace.
But the time is right to move on, so it appears that I will be closing the curtain on Shorebird of the Week come Thursday, September 1. At that point, there will be close to 200 players with the distinction, of which 23 have made the major leagues so far. I'll still have my camera when I go to the games, but it's time for me to be less of a photographer and more of a spectator.
From the Book of John, Chapter 19:
1 Then Pilate therefore took Jesus, and scourged him.
2 And the soldiers platted a crown of thorns, and put it on his head, and they put on him a purple robe,
3 And said, Hail, King of the Jews! and they smote him with their hands.
4 Pilate therefore went forth again, and saith unto them, Behold, I bring him forth to you, that ye may know that I find no fault in him.
5 Then came Jesus forth, wearing the crown of thorns, and the purple robe. And Pilate saith unto them, Behold the man!
6 When the chief priests therefore and officers saw him, they cried out, saying, Crucify him, crucify him. Pilate saith unto them, Take ye him, and crucify him: for I find no fault in him.
7 The Jews answered him, We have a law, and by our law he ought to die, because he made himself the Son of God.
8 When Pilate therefore heard that saying, he was the more afraid;
9 And went again into the judgment hall, and saith unto Jesus, Whence art thou? But Jesus gave him no answer.
10 Then saith Pilate unto him, Speakest thou not unto me? knowest thou not that I have power to crucify thee, and have power to release thee?
11 Jesus answered, Thou couldest have no power at all against me, except it were given thee from above: therefore he that delivered me unto thee hath the greater sin.
12 And from thenceforth Pilate sought to release him: but the Jews cried out, saying, If thou let this man go, thou art not Caesar's friend: whosoever maketh himself a king speaketh against Caesar.
13 When Pilate therefore heard that saying, he brought Jesus forth, and sat down in the judgment seat in a place that is called the Pavement, but in the Hebrew, Gabbatha.
14 And it was the preparation of the passover, and about the sixth hour: and he saith unto the Jews, Behold your King!
15 But they cried out, Away with him, away with him, crucify him. Pilate saith unto them, Shall I crucify your King? The chief priests answered, We have no king but Caesar.
16 Then delivered he him therefore unto them to be crucified. And they took Jesus, and led him away.
17 And he bearing his cross went forth into a place called the place of a skull, which is called in the Hebrew Golgotha:
18 Where they crucified him, and two other with him, on either side one, and Jesus in the midst.
19 And Pilate wrote a title, and put it on the cross. And the writing was Jesus Of Nazareth The King Of The Jews.
20 This title then read many of the Jews: for the place where Jesus was crucified was nigh to the city: and it was written in Hebrew, and Greek, and Latin.
21 Then said the chief priests of the Jews to Pilate, Write not, The King of the Jews; but that he said, I am King of the Jews.
22 Pilate answered, What I have written I have written.
23 Then the soldiers, when they had crucified Jesus, took his garments, and made four parts, to every soldier a part; and also his coat: now the coat was without seam, woven from the top throughout.
24 They said therefore among themselves, Let us not rend it, but cast lots for it, whose it shall be: that the scripture might be fulfilled, which saith, They parted my raiment among them, and for my vesture they did cast lots. These things therefore the soldiers did.
25 Now there stood by the cross of Jesus his mother, and his mother's sister, Mary the wife of Cleophas, and Mary Magdalene.
26 When Jesus therefore saw his mother, and the disciple standing by, whom he loved, he saith unto his mother, Woman, behold thy son!
27 Then saith he to the disciple, Behold thy mother! And from that hour that disciple took her unto his own home.
28 After this, Jesus knowing that all things were now accomplished, that the scripture might be fulfilled, saith, I thirst.
29 Now there was set a vessel full of vinegar: and they filled a spunge with vinegar, and put it upon hyssop, and put it to his mouth.
30 When Jesus therefore had received the vinegar, he said, It is finished: and he bowed his head, and gave up the ghost.
31 The Jews therefore, because it was the preparation, that the bodies should not remain upon the cross on the sabbath day, (for that sabbath day was an high day,) besought Pilate that their legs might be broken, and that they might be taken away.
32 Then came the soldiers, and brake the legs of the first, and of the other which was crucified with him.
33 But when they came to Jesus, and saw that he was dead already, they brake not his legs:
34 But one of the soldiers with a spear pierced his side, and forthwith came there out blood and water.
35 And he that saw it bare record, and his record is true: and he knoweth that he saith true, that ye might believe.
36 For these things were done, that the scripture should be fulfilled, A bone of him shall not be broken.
37 And again another scripture saith, They shall look on him whom they pierced.
38 And after this Joseph of Arimathaea, being a disciple of Jesus, but secretly for fear of the Jews, besought Pilate that he might take away the body of Jesus: and Pilate gave him leave. He came therefore, and took the body of Jesus.
39 And there came also Nicodemus, which at the first came to Jesus by night, and brought a mixture of myrrh and aloes, about an hundred pound weight.
40 Then took they the body of Jesus, and wound it in linen clothes with the spices, as the manner of the Jews is to bury.
41 Now in the place where he was crucified there was a garden; and in the garden a new sepulchre, wherein was never man yet laid.
42 There laid they Jesus therefore because of the Jews' preparation day; for the sepulchre was nigh at hand.
**********
As a programming note, on Easter Sunday I will leave the site dark as I have before. There are things more important than politics.
Cathy sent this along to me. I'll have to see how my calendar looks for that day.
On April 23, #ProtestPP will conduct the first annual nationwide protest at Planned Parenthood facilities nationwide, to be held on the 4th Saturday of April every year until the abortion chain no longer preys upon our communities.

We'll call on Congress and the States to cut off all government funding to Planned Parenthood and bring charges against all those responsible for the horrific baby parts scandal. And we'll demand that all charges against undercover journalist David Daleiden be dropped.

Join us April 23, 2016, from 9 to 11am at the Easton Planned Parenthood, 8579 Commerce Drive #102, Easton, MD 21601. (Emphasis mine.)
So we'll see how upset the neighboring pediatrician becomes and how many police officers are sent to make sure the rowdy anti-abortion protestors don't get out of hand, as happened last August.
Those who are deeply into the pro-life movement know that each January there is a protest in Washington, D.C. on the anniversary of the botched Roe v. Wade decision, which still stands after 43 years. (Sometimes, though, the SCOTUS reverses itself slowly – witness the 58 year period between Plessy v. Ferguson and the Brown v. Board of Education decision.) But a January protest often attracts less attention because, to be quite honest, fewer people want to stand out in the cold to participate. Summer soldiers, sunshine patriots, and all that.
April is a better month in the respect that it comes in the season of Easter, which symbolizes Christ's victory over death. It's a good time to advocate for victory over needless death to the unborn. Yet I hope and pray this is a tradition that's short-lived because the Supreme Court gets a case which allows it to overturn Roe v. Wade – returning the question to the venues where it belongs (each individual state) and the federal spigot of funds to Planned Parenthood is permanently shut off.
A good turnout is essential, so spread the word.
It's time once again to go through my e-mailbox and share some of the more interesting things I saved for just such a purpose.
There wasn't much play from this in the national media, but recently the Americans for Limited Government group released a poll they commissioned from pollster Pat Caddell that showed wide opposition to the Trans-Pacific Partnership trade agreement:
Republicans are even more likely to oppose bad trade deals than Independents or Democrats. Once they find out what's in it, Republican voters overwhelmingly oppose TPP, 66 percent to 15 percent. Democrats only oppose it 44 percent to 30 percent, and Independents oppose it 52 percent to 19 percent.
TPP does sound like a bad deal, but the key words are "once they find out what's in it." To me, it's a little bit of a push poll but in reading some of the other findings we can deduce that Americans are a little pissed off about the state of their affairs, blaming the politics of Washington for their plight. I'll come back to that in a bit, but as for the TPP and its opposition the ALG group has put together a website with their thoughts on the deal.
While as I noted the national media didn't make much of it, the question did make it into the Miami GOP debate.
I noted that the voters Caddell surveyed were upset with inside the Beltway politics, and in a recent column at Conservative Review Dan Bongino discusses why.
Whenever government tries to pick economic winners and losers, it usually picks the losers, while the political winners continue to get re-elected because their campaign coffers are filled with business lobbyists eager to get their snouts in the taxpayer-funded trough.
In so many ways this explains the rise of Bernie Sanders and Donald Trump to the left of center and Ted Cruz (who Bongino has endorsed) to the right. For years I've known that the object of government is not to solve a problem but to perpetuate the solution to make the agency tasked to deal with it indispensable, yet those whose livelihood depends on big government continue to stay close to the seat of power. In Maryland it's no surprise that the wealthiest areas are those right outside Washington, D.C. I've contended for about as many years that if not for the nation's capital Maryland would be in the same boat as West Virginia.
Speaking of Trump, I suppose I'll add my couple pennies to the nearly $2 billion of free media he's received. But staying on the subject of Bongino, he discusses the protests Trump is enduring, most famously in Chicago but after Dan went to press with his column Trump had more strife in Arizona yesterday.
What these far-left mobs are seeking is known as the "heckler's veto." The heckler's veto occurs when an organized group of far-left protestors actively cause unrest and violence at an event, and then use the threat of violence at the event to call for future events to be shut down and the speaker to be silenced. This scam has been going on for a long time. I've seen it again and again. As a supporter of Senator Cruz for the presidency, I'm asking all conservatives, libertarians, Republicans, and fed-up Democrats to do the right thing and stand against these tyrannical tactics, regardless of who you are supporting for the presidency.
Trump isn't the only one who has endured the heckler's veto. Just ask speakers like Ben Shapiro – who, by the way, is slated to be at Salisbury University Monday, March 28.
But Trump supporters and Ben Shapiro may not be on speaking terms considering Shapiro's recent resignation from the Breitbart website. In fact, the #NeverTrump forces seem to be coalescing behind Erick Erickson and his Resurgent website. There we find the "Conservatives Against Trump" statement, which reads in part:
We are a group of grassroots conservative activists from all over the country and from various backgrounds, including supporters of many of the other campaigns. We are committed to ensuring a real conservative candidate is elected. We believe that neither Hillary Clinton nor Donald Trump, a Hillary Clinton donor, is that person.

We believe that the issue of Donald Trump is greater than an issue of party. It is an issue of morals and character that all Americans, not just those of us in the conservative movement, must confront.

We call for a unity ticket that unites the Republican Party.  If that unity ticket is unable to get 1,237 delegates prior to the convention, we recognize that it took Abraham Lincoln three ballots at the Republican convention in 1860 to become the party's nominee and if it is good enough for Lincoln, that process should be good enough for all the candidates without threats of riots.

We encourage all former Republican candidates not currently supporting Trump to unite against him and encourage all candidates to hold their delegates on the first ballot.

Lastly, we intend to keep our options open as to other avenues to oppose Donald Trump.  Our multiple decades of work in the conservative movement for free markets, limited government, national defense, religious liberty, life, and marriage are about ideas, not necessarily parties.
Right now the Republicans have a leader who hasn't cracked the 50% barrier in any state (and only has done so among the few dozen voters in the territory of the Northern Mariana Islands.) In fact, Trump has received about 35% of the Republican primary and caucus vote, with some of his broadest support coming in open primary states. Is it not conceivable that there's a reverse Operation Chaos going on from Democrats to elect the weakest possible GOP nominee, one that regularly gets thumped in head-to-head polling against Hillary Clinton and has negatives over 60%?
It's obvious Erickson and his group realizes people are fed up, but they realize the answer is not Trumped-up populism but the bold colors of conservatism. Of the remaining candidates, Ted Cruz is the best example.
There's also the question of whether people are ticked off enough to remove their Congressman. I haven't heard about any major primary upsets so far this campaign (most states have only done Presidential preference) but Maryland First District voters will have their chance to hear from the most serious challenger to Congressman Andy Harris several times over the primary campaign's last month. Former Delegate Mike Smigiel is in the midst of a series of townhall meetings around the district: he had his Salisbury meeting while I was on my honeymoon and was in Easton yesterday, but there are several remaining dates. Next Saturday Smigiel will be in Carroll County for a 1:30 meeting at the Taneytown Library, but more important to local readers are upcoming gatherings in Cambridge at the Dorchester Library on Friday, April 1 and two meetings on Saturday, April 9: 11 a.m. at the Somerset County Library in Princess Anne and 2 p.m. at the Kent County branch library in Chestertown. (That may involve some fast driving.)
Finally, the rancor even extends to the local level. Smigiel and Harris have had bad blood over the years in Cecil County (which Smigiel represented in the House of Delegates) but that county – which is almost the same size as Wicomico County, so it's not a greatly populous county compared to others in Maryland – seems to have an outsized share of political infighting. The most recent instance came to my attention a few days ago when their Campaign for Liberty chapter attacked local County Council candidate Jackie Gregory in an e-mail I received. Her cardinal sin? Supporting what the C4L considers "establishment politicians." On their Facebook page C4L sneers, "Gregory's desire to become part of the Cecil County political establishment apparently outweighs the tea party principles she claims to adhere to." (Gregory is a founding member of the Cecil County Patriots TEA Party group.)
Well, let me tell you about this "establishment" candidate: she is a supporter of mine and has been for some time. The time C4L should have acted was finding a candidate to oppose Gregory in the primary – at least one who has more than the 2.9% support he received when running for County Executive there in 2012. (Note that Paul Trapani may not be the Campaign for Liberty's choice, either – but they are the only two on the ballot. Unless an independent bid crops up over the summer, the winner of the GOP primary will become the County Council member after the November election since no Democrat ran.) So I have made a modest donation to Jackie's campaign and encourage more people do so.
Perhaps what is annoying to the C4L crew is Jackie's stance on the County Executive race:
I am supportive of all of the candidates having a good, positive race which highlights the issues important to the county and their vision regarding how to deal with those issues. Each of them has a history, a record, and a voice. It is up to each of them to convince the voters that he is the best person to lead Cecil County for the next four years. I am confident that the voters will choose wisely.
Seems fair to me, since there are four running on the GOP side.
Here's the thing about groups like the Campaign for Liberty: they're great at bringing up issue advocacy but not so good at getting people elected. Sure, they will say that the establishment stacks the deck against them but at least Gregory has made the step of putting her beliefs into action by stepping forward to run for office rather than use her candidacy to create a hit piece to beg for money.
So ends this cauldron of trouble I have now stirred up. The other day I was called an "ass" by a Trump supporter, but as I told him I have been called far worse by much better people. Then again, I still sleep well at night so I must be doing something right. On that note, have a great week.
I really had to blow a lot of dust off this series – its last installment was in July of 2013 – but I will be on the internet radio tomorrow morning at 11:00 thanks to radio hostess (and new monoblogue contributor) Marita Noon. She asked me to come on this week's installment of her "America's Voice for Energy" program to discuss a post I did last year.
It came about because she was doing a piece on where the candidates stood on energy (which will be her debut post here tomorrow morning) and I noted to her via social media that I had done quite a bit of research last summer on that very topic as part of my "Dossier" series. She wanted to discuss that piece and other thoughts I had on the subject, thus early this morning we recorded my segment of her show, which will be the opening segment. Thirteen minutes may seem like a long time to fill on the radio, but we were rolling so well I almost didn't get to promote my site.
Yet there are some other things which were sadly left on the cutting room floor, so to speak. Something I would have liked to fill her audience in on further but didn't have the time to this morning was the unique situation we have here in Maryland with regard to energy. I did get to discuss a little bit about the proposed offshore wind that Martin O'Malley was trying to push, but I wanted to mention that there are hundreds of other jobs at stake in Maryland's energy industry. (I actually did a little looking up last night because I was curious.)
According to the most recent state report available (2013) there are 401 coal mining workers in the state of Maryland, all based out of Allegany and Garrett counties in Maryland's western panhandle. No, we're not West Virginia or Kentucky by any stretch of the imagination but the Obama administration's "war on coal" isn't going to help their employment situation, particularly since these coal fields lie close to shale deposits ripe for fracking – unfortunately, a short-sighted General Assembly and Hogan administration put that resource development on hold until 2017.
The other fascinating thing I didn't get to was the fact that cities up and down the coast are being intimidated into opposing seismic exploration of the ocean floor for the purposes of oil and gas exploration - but had no objection when they went out and did the same thing to map the ocean floor for siting wind turbines. Apparently that was a noble enough cause to kill a few fish over. Honestly, I think the opponents are very aware what is really out there and that's billions of barrels of oil and trillions of cubic feet of natural gas, all within easy reach of our shoreline and extractable at a cost that would blow the renewables out of the water. (Yes, the pun was intended.)
So take a listen, either live as it happens or later on when it becomes available as a podcast. I believe there are three other guests on the show, so I'll be curious to see what they have to say as well when I catch the podcast (I'll be at work when it's on live.)
Let's just hope that the long radio slump is over. Thanks to Marita for having me on as a guest, albeit a little reluctantly since I have been under the weather the last few days. But I managed to avoid a Hillary-style coughing jag and pushed through.