For today's look back, I review a Thanksgiving past. This is from November 25, 2010.
**********
As I have in years past, I take time a day or two before Thanksgiving to write an annual message. It may or may not be autobiographical (generally it is) and it may or may not be philosophical, but nonetheless I take the time to populate my website on Thanksgiving because I feel I owe it to my loyal readers to provide daily content. A few dozen take me up on reading it.
Last year at this time I detailed my economic struggles, and they continue apace – however, I am thankful to have found a part-time job which is helping a little bit, not to mention the few extra dollars I make as a scribe. Depending on how things go forward with Pajamas Media, I'm up to two or three regular (paying) writing clients.
(I'm told this new job outside the house will pick up once the holidays are over – let's hope that's more true than when I lost my last full-time job only to be told I'll be rehired 'after the holidays' – too bad I didn't verify in which year those holidays would be. Can't blame the old boss, though, since he has a smaller company now than when I left.)
It's odd that I seem to have swerved into a bit of a tradition here. For the third year in a row, I'm having dinner with my friends Jim and Michele in Delaware and for the second year in a row, supper will be consumed with Kim's family at her mom's place in Oxford. It's different than a Swartz family gathering, but it has advantages nonetheless.
Of course, the disadvantage of leaving family to move three states away is that one can't always be there to gather with them. But this year that longing will be compounded by the loss of my brother LJ - future family gatherings will never be the same. For example, there are only two cutthroat UNO players to avoid sitting next to instead of three. (Those who know me best and most intimately will understand the humor there.)
Yet as the universe of readers here keeps expanding and time marches on as it forever has, I realize that there are days we need to ponder that which we should be thankful for and to Whom the thanks should go.
While it's difficult letting go of the political world for a day and nearly impossible to not pay attention to the football game on (after all, I am a Detroit Lions fan and we almost always ate as their annual Thanksgiving game was being played) I try to manage because the best part is having great company for the day.
Years ago, in what seems like a galaxy far, far away, I was married to my first wife who had an elderly father that lived alone. Our first thought about Thanksgiving was making sure he had a place to go and wouldn't be by himself on the holiday. As for me, I think I have managed to spend the time with family and friends either here or back in Ohio (a couple times) since I moved here. I still appreciate those who hosted me on Thanksgivings spent far away from my own family opening their home to me and being friends.
So I hope your Thanksgiving goes well, and if you have a job you got the day off. (Is our society really better served with all the stores open for shopping Thanksgiving Day?) Give thanks to those you're with, for you never know if they'll be there with you when the next Thanksgiving rolls around. Time has a way of being cruel.
Before he ever made a formal announcement for the 2014 gubernatorial campaign, you may recall Harford County Executive David Craig's prospective run was the second worst-kept secret in Maryland politics, behind Larry Hogan's then-nascent Change Maryland organization that enabled Hogan to stay in the public eye for his own successful run.
At the time I wrote this, though, it was still a parlor game. This is from September 12, 2011. By the way, I think I still have the thumb drive somewhere.
**********
On Friday evening I, along with a number of other Maryland political bloggers, was invited to a confab with current Harford County Executive and likely 2014 statewide candidate David Craig.
Now unlike a lot of events, I chose beforehand not to provide a blow-by-blow account of the proceedings. I intentionally didn't bring a notepad because I figured there weren't going to be a lot of detailed questions or answers. I was sort of wrong, but that's okay – why should I write the same thing four or five others may write? So what you'll read are my observations of the evening, with a few pertinent items tossed in from memory.
Let me begin with a roster of the other bloggers who attended – there were six of us. I was told that there were about a dozen or so invited, but the list of non-attendees seems to be guarded like a state secret. And that's fine, because I was just curious when I asked.
Besides yours truly, those who came in to Annapolis for dinner and conversation were Greg Kline and Brian Griffiths from Red Maryland, Bryan Sears and Brad Gerick from Patch.com, and Richard Cross, who does Cross Purposes. (He beat me to the punch with his thoughts on the evening.) It was a cordial conference with Craig and four of his staffers, and the conversations were broad in scope and depth around various parts of the table.
Besides dinner, we all received a party favor: the picture you see at the opening of the article comes from a flash drive Craig provided with his 2014 logo on the outside and various photos, background information, and news articles on the inside. Obviously it will be more useful once the 2012 election is over and Craig decides on whether he'll seek the post of Governor, Comptroller, or Congressman – if I were a betting man I'd say that in rank order it's about a 70-25-5 probability for which office he'll run (the 70% being Governor.)
It was interesting how my fellow bloggers handled the evening. Sears (and to a lesser extent Gerick) treated this like an interview, asking pointed questions of the candidate about a number of statewide issues. Obviously Cross was taking some notes as well, while Kline and I did more listening. (Brian Griffiths came late since the Maryland GOP Executive Committee meeting was held down the street simultaneously to our gathering and he was representing the Maryland Young Republicans there.)
It's funny that much of my direct conversation with Craig came when we talked about – baseball. He's obviously familiar with the struggles of the O's minor league system since the Aberdeen IronBirds play in his county and he could relate to my feelings about the Shorebirds. On the other hand, I wasn't enthused about his ideas for league realignment but liked his stance on the designated hitter – indeed, it needs to go.
If you've ever tried to sell anything, you'd understand. This is from September 6, 2012, about 6 weeks after my first (and so far only) book came out.
**********
I sold a copy of So We May Breathe Free: Avoiding Ineptocracy yesterday in a most unusual way.
A friend of Kim's recommended my book to one of her friends, who asked about its availability. Since I happen to have a few print copies in my possession I delivered one to the surprised and pleased new reader, complete with inscription and autograph.
I also had an interesting e-mail in my box from a former co-worker of mine in Toledo. We weren't co-workers for long as he was a college intern who, as he put it jokingly, was "sure you remember me as that crazy college kid always messing things up…" But somehow he had heard about my book. That's crazy.
Yet there are people in my social circle who claim to be conservative and who tell me they love what I write – but I'm not seeing the book sales reflecting this. People who will give $50, $100, or even $500 to a political candidate at a drop of a hat won't spare a Lincoln for an e-book (or $8 for the printed copy) on Amazon, the Nook website, or Kindle.
I hate asking for money – in fact, in the very first chapter of my book I write:
(W)hile I had thoughts about and a little bit of ambition for seeking an elected office such as a seat on the city council or a state representative, one thing I found out rather quickly after getting involved is that I'm by no means the prototypical politician. I don't have a snake-oil salesman's gift of gab and the part about raising money and saying what I think people want to hear in order to collect their votes doesn't appeal to me very much either, at least in a large-scale sense.
On the other hand, I've known my share of writers and bloggers who regularly rattle their tip jars and "bleg" for money. I don't mind getting a note from PayPal once in awhile that someone donated to me through my site – in fact, someone just did so for at least the second time I recall – but I would rather sell books. And the more books I sell, the better chance I can make a full-time career out of writing and actually create more content. I already have the thought process going for my second book, which I would like to finish in the early to middle part of 2013.
But it's interesting to note that I received a couple sales on the day I was on the radio in Frederick – not bad for very little promotion from the host and a change in time slot. I sort of like doing radio interviews, and would love to speak on my book's behalf whether it's over-the-air or exclusively on the internet – I'm not choosy about the venue. The more I do it, the better I will get – previous to last week I hadn't done a radio spot since I was on the Thom Hartmann Show in April 2011. (That was regarding a piece I wrote for PJ Media.)
It's frustrating because my book has received a number of good reviews, like this one:
Being somewhat familiar with the author (we're both involved with the Republican party in our state, and I'm a regular reader of his blog) I opened this book knowing that there would be certain issues where we disagreed philosophically. Not on a majority of issues by any means, but we do have our ideological differences. However what I discovered was that we agreed on a lot more than I expected. That being said, the sections where we differ in opinion were for me the most intriguing parts of this book.

If you're a Republican looking for a way to discuss your viewpoints with friends and family on the other side of the political spectrum (without stirring up hard feelings), or if you're a Democrat honestly interested in understanding the reasoning behind conservative ideology, this book is for you. What you'll find is a very frank discussion of conservatism. What you won't find is the red-blooded liberal-bashing rhetoric all too common in today's political writing. The author has no intent of demeaning anyone. He doesn't insist that readers agree with him. His intent is only to get the reader to understand *why* he believes what he does. In doing so, he's able to humanize conservative thought in a way I, even as a lifelong Republican, have not seen before.

Republicans are often criticized as callous, selfish, and uncaring about others. It's clear in this book that the author (and many conservatives like him) cares deeply about our society and the people in it, and that his political beliefs are driven largely by that concern and compassion. That's important because the problem with today's political divisiveness isn't that the two sides don't agree on issues (they've always had differences and they always will). It's that they've lost any real understanding of the opposing viewpoint. Having that understanding and respect for different viewpoints is essential for finding common ground on any issue. If you're not a conservative, reading this book may not "convert" you, but you'll definitely come away from it with an appreciation for the reasoning behind the author's views.
This blew me away because it was written yesterday (I actually wrote this last night, so it was that very day) by someone who had purchased the book. I didn't know it until I added the Nook link to the post about halfway through, when I realized "you know, it might be prudent to actually link to the book for this rant so you can sell it."
Now I know that the only person who will agree with the book 100 percent is the author and if you ask him in ten years he may have changed his mind on a few things here and there. But the idea is to push things in the right direction, realizing it's not going to happen overnight or possibly even in my earthly lifetime. And I knew the odds were stacked against me on a number of levels, since I know how to write but I'm trying to learn marketing on the fly in ways I'm comfortable with. Maybe those who support me can put up with what can be sometimes a hamhanded approach.
I'm reminded of a conversation I had the other night with Kim, who was talking about someone acquiring a bunch of e-books on a thumb drive. She was talking about this person getting the books free when I reminded her that the person was cutting into the sales of the authors of these tomes and reducing their livelihood. It was a point well made, since those who borrow my book don't accrue to my bottom line. (I'm happy to sell copies to libraries, but I intended the book as more of a reference guide of goals that you can keep.)
I'm going to close with this. A couple Fridays ago I was working at my outside job and I happened to be working on a gift card display next to a corrugate featuring four Nora Roberts wedding-themed romance novels. (At least I presume they were, since I'm not a Nora Roberts aficionado.) The price for any of the four was $7.99 each, and I thought to myself that someone could buy the Nora Roberts book, read it in an afternoon, and never pick the thing up again – or, for about the exact same price (I guess there may be a shipping fee involved, since my copies had one tacked on) they could have a reference guide for activism that the reviewer above gave good marks to.
But no one is putting my book on a corrugate and sticking it in the aisle of a full-service grocery store; obviously that takes money I don't have. Hell, I'd be happy to see a couple copies at local and regional bookstores for now. The book tour can come later.
So, if you haven't already, support your local conservative writer, buy the book, and if you like it (surely you will) tell your friends. I'm not out to make this a guilt trip and don't do puppy-dog eyes, but I would like to see many more sales in the upcoming weeks before this very important election to determine the direction of our nation.
Originally published February 6, 2013. Still true today.
**********
I also had my say on the gun-grabbing bill.
**********
Testimony in opposition to SB281:
Firearm Safety Act of 2013
Ladies and Gentlemen of the Senate:
Let me begin by saying I find this bill to be improperly named, because its passage will not make Marylanders any safer.
As members of the General Assembly, you are charged with making laws. By definition, criminals break them.
Yet I predict this bill will make criminals out of law-abiding citizens.
Otherwise this law will deny the right to self-protection from many thousands of Maryland residents your government claims to be looking out for: the poor and disadvantaged among us. If one were to purchase a handgun after November 1, not only will they be responsible for the price of the gun but also hundreds of dollars' worth of licensing fees, classes, and other costs associated with this law. They'll be faced with a choice: self-protection or starvation. Is the state going to step in further and pay for gun safety courses for the poorest among us, waiving the $100 licensing fee on a sliding income scale? Of course not.
Certainly at this point you're shaking your head at the crazy example I point out above, but I shook my head in disbelief when I saw this bill for what it is: a kneejerk response to a tragedy this law would not have prevented. Again, by definition criminals break laws. The very first victim of the Sandy Hook tragedy owned her weapons – the ones stolen to be a means for committing these murders – legally.
Logic and reliance on facts aren't generally the strong suits of those who would take away the access to weapons, though, so that truism is lost on those who pushed for this bill in the name of "safety." As you probably know – and will likely hear often throughout this day of testimony – the Second Amendment clearly states "the right of the people to keep and bear arms shall not be infringed." It does not go on to say "…shall not be infringed, except when they put scary-looking enhancements on the weapon" or "…shall not be infringed, except for the payment of $100 and taking of a training course." I would further argue that the people aren't the "well regulated militia" but the "over-regulated militia."
It's rather unfortunate that I can't be there today to deliver this in person, to see the reaction on your faces when I take a page out of the old saw many of us grew up hearing, "Question Authority." It's the people's job to do so when authority oversteps its bounds and turns a right into a privilege for the chosen few.
I understand this bill probably has enough votes to clear the Senate based on the number of co-sponsors; furthermore, I'm sure it's no coincidence that this hearing was scheduled at a time when President Obama would be nearby.
But I guarantee to you that I speak for thousands and thousands of law-abiding gun owners in Maryland who have never fired their weapon in anger; in fact, I would wager that most have not fired their weapons in the last year. Luckily, society is still civil enough that the need for self-protection is a rare occasion for most of us.
Like the tool you may have in the bottom drawer of your toolbox – the one you only use once in awhile but the one you find indispensable when the need arises – having a gun for self-protection is something that those who wrote the Constitution knew in their minds would be necessary for succeeding generations. Their intent was not to make self-protection unworkable through exorbitant fees, time-consuming and expensive training, and registration of weapons so those who would be king knew just where to go for confiscation.
Gun ownership is a right, not a privilege. The Constitution makes it so, and regardless of all the sob stories and heartbreak you may hear about today, emotion does not change this fact. I daresay building your gun-grabbing platform on the coffins of 26 victims is an insult to their memory because the guns were not the cause. Let's not use death as a way to advance the aims of overreaching government.
In time, I believe this law, if passed, will create far more than 26 innocent Maryland victims from those no longer able to defend themselves from lawbreakers. Don't fall for the emotion and hype – say no to Senate Bill 281.
Respectfully submitted,
Michael Swartz
Salisbury, Maryland
**********
So what do you think? Wonder how Slow Joe Biden liked that one?
As I commemorate the tenth anniversary of monoblogue coming up next week, I'm going to supplement my normal content with a look back at one of my favorite posts from each year.
November 6, 2014 was the day after an election one could argue was the best local Republicans had ever seen – not only did Wicomico County help to elect a Republican governor but they also ousted two longtime Democrats in the process. Obviously I was at the local headquarters to capture some of those moments.
So I invite you to enjoy this look back as much as I enjoyed picking out the posts.
**********

So now that you know where I was on Election Night (thanks to Muir Boda) let me shine some light on our party. I'm the guy in the McDermott shirt; hopefully it wasn't a jinx.
Unlike a lot of elections past, I did not work a poll. My outside job had tasks which a) had to be covered Tuesday and b) were up in Dover. I didn't even get home until almost 8:00; fortunately knowing this a couple weeks in advance I could hold my nose and vote early.
Since I wanted a table to write notes on I sat next to Dr. Rene Desmarais, who has admirably remained in the fray despite his primary election loss. I hope the Hogan administration can use his health care expertise. He's the guy at the laptop in the checkered shirt.
Taking my seat for a few minutes was Mike McDermott, who was anxiously looking at results and drawing attention.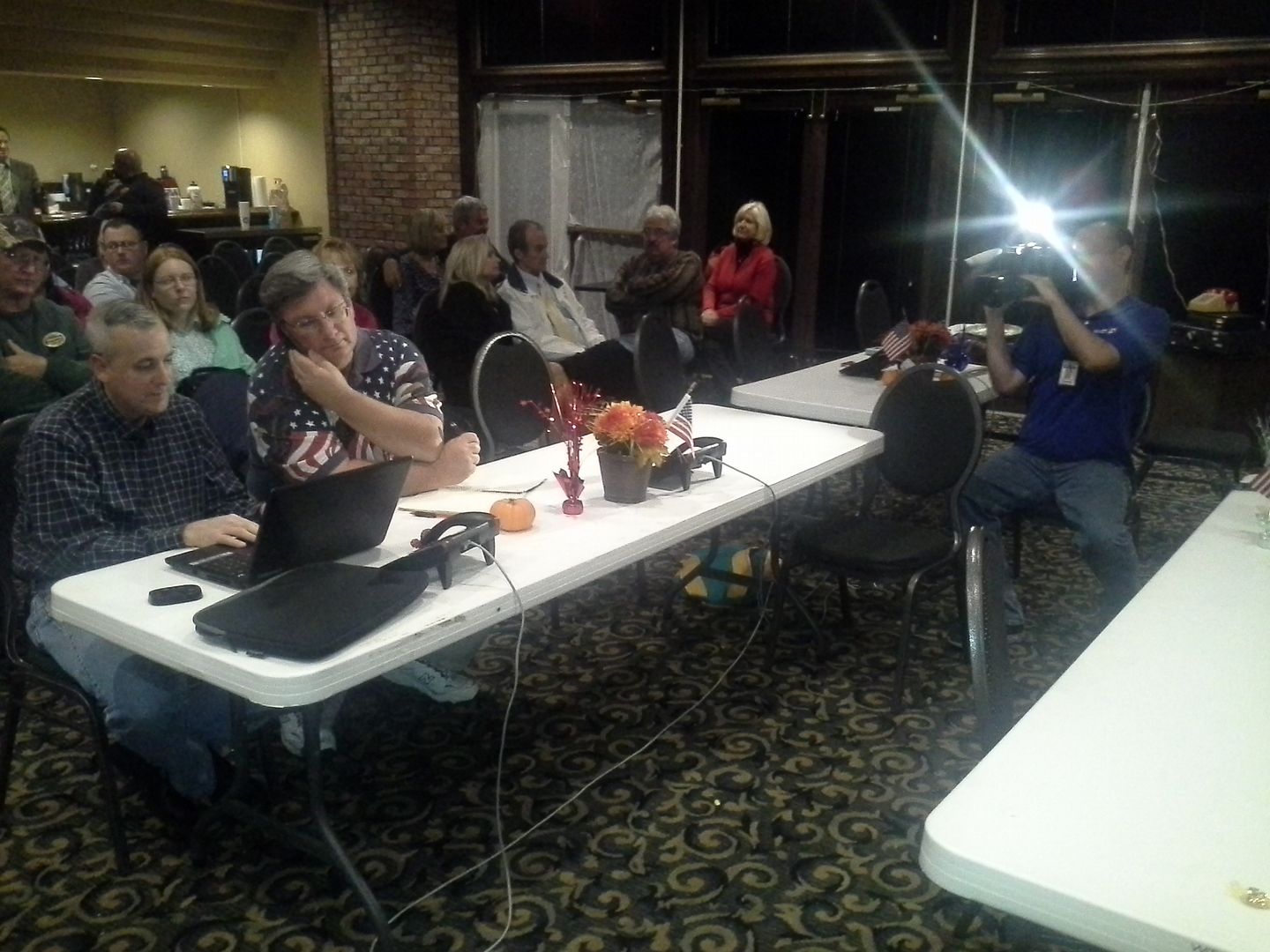 Mike didn't stay all that long. I figure he went home to see his supporters and share the bad news with them, since it was obvious from the get-go he wasn't doing all that well. It turned out that Wicomico was the only one of the three counties Mike won, and it's a margin which is pending absentees. The difference between Michael James in 2010 and Mike in 2014 seems to be that McDermott did poorly in Somerset County, which James carried but Mike lost by almost 700 votes.
Obviously there were a lot of people who craved information. Bob Culver (center, in white) and Joe Holloway (right) were awaiting results.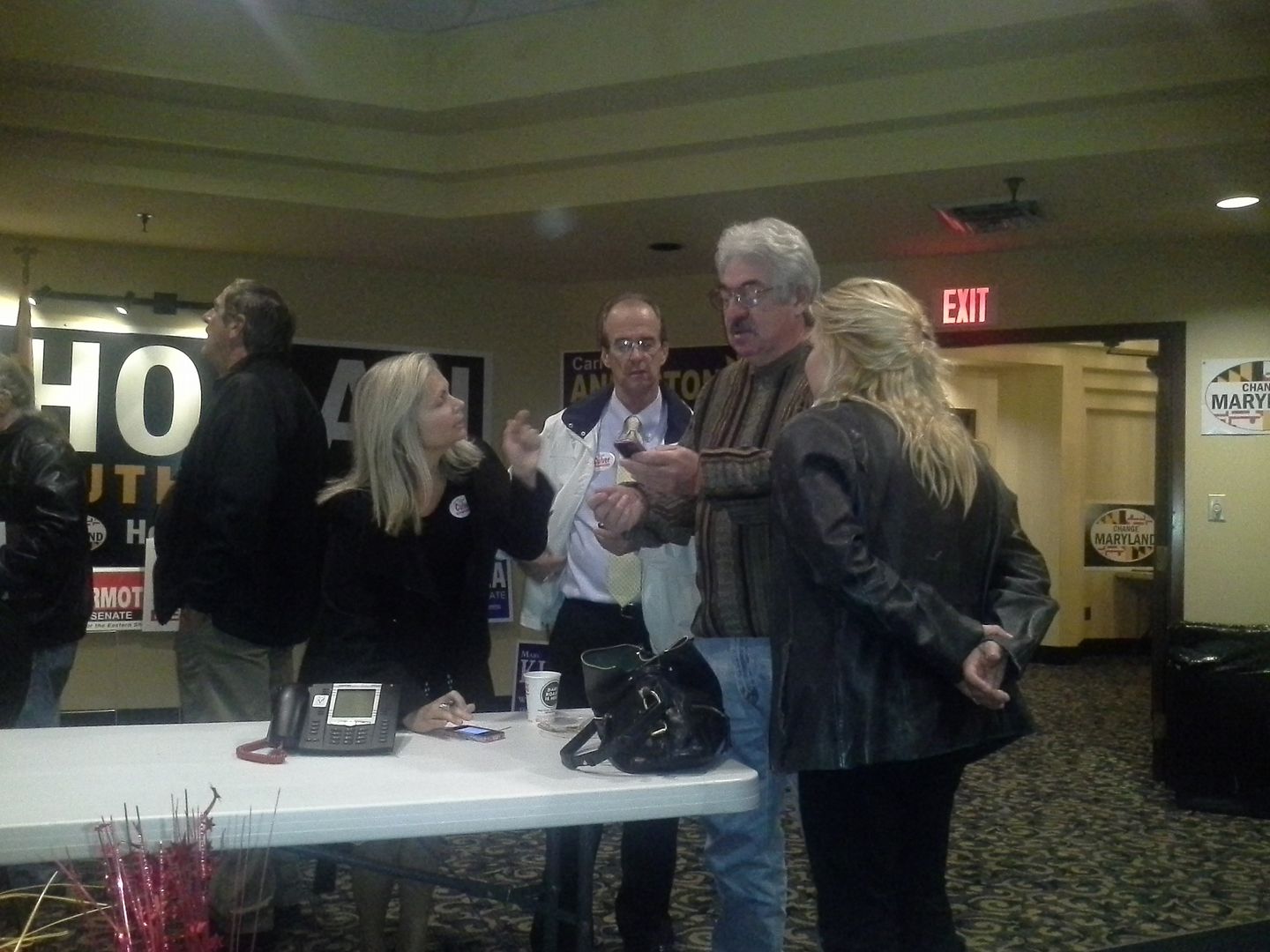 As it turned out, Culver erased a slight early voting disadvantage to rout incumbent County Executive Rick Pollitt by almost 3,000 votes, with just under 56% all told. Holloway had much less to worry about as his Democratic opponent withdrew after the primary and was not replaced by the local party.
The two pictured there were the conservative backbone of the local County Council, and hopefully two newcomers are going to maintain the proper direction.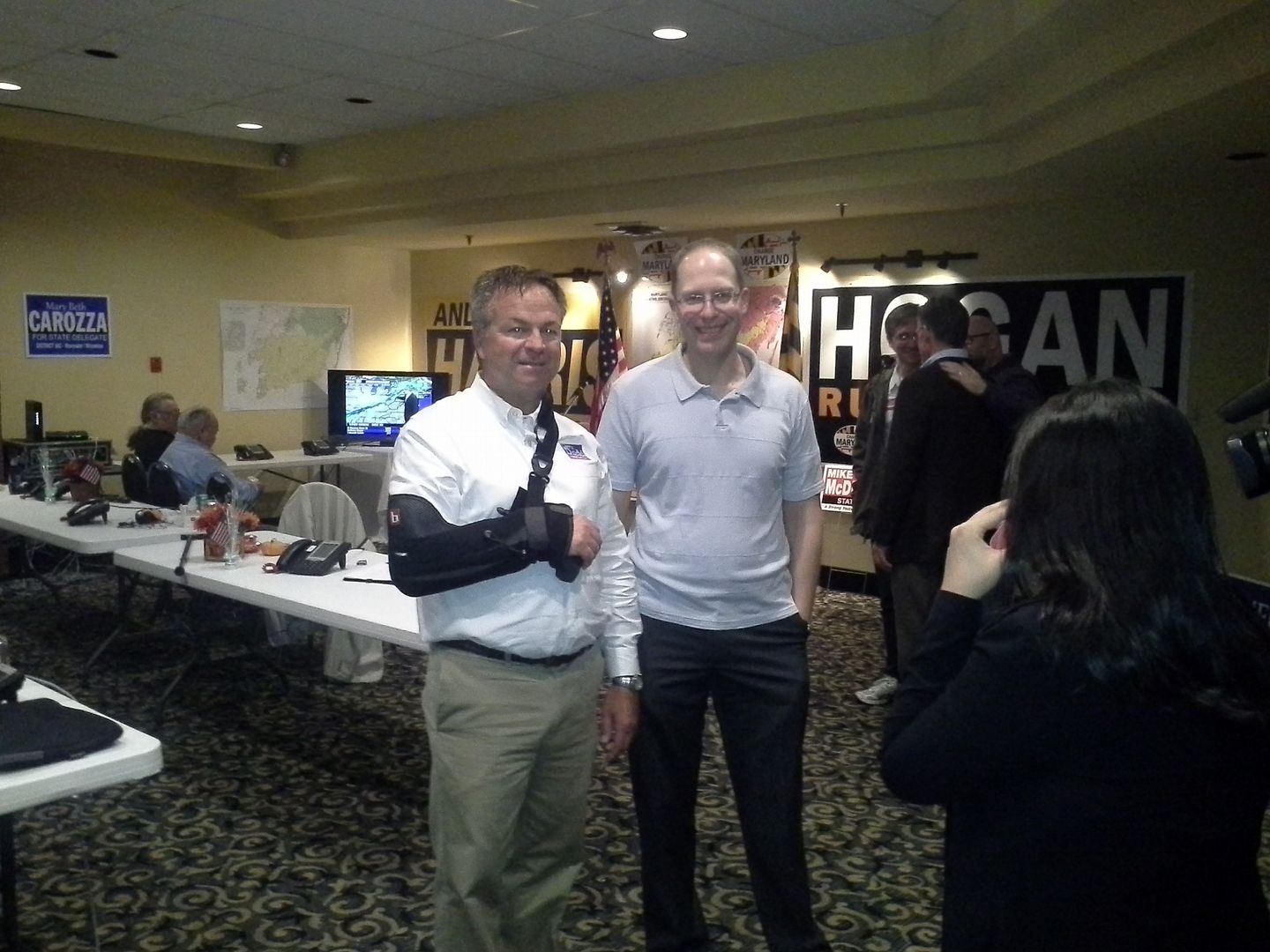 Larry Dodd (in the arm sling) and Marc Kilmer are two of the three "new" Republican members of County Council, although Dodd represented District 5 for 4 years before Joe Holloway defeated him in the 2006 primary. Similarly, John Cannon left County Council after one term in 2010 to run unsuccessfully for a seat in the House of Delegates before winning again last night. Thus, Marc Kilmer is one of just two "new" County Council members; the other being lone Democrat Ernest Davis, who was unopposed for the District 1 seat.
As it turned out, County Council maintained its 6-1 Republican edge. But there are definite things to look out for, as two of those Republicans openly backed Rick Pollitt for County Executive.
I don't think Matt Holloway or John Hall will be opposed to the elected school board Republicans in Wicomico County have sought for years, only to be thwarted by Rick Pollitt and (especially) Norm Conway. Both those obstacles are no more; to his credit Jim Mathias has been supportive of the idea in the past and a Senate bill for the elected school board passed there in 2011. (Conway sponsored a House bill that passed in 2011, but did not in 2012 – nor did a Senate bill that year. No action was taken in 2013 or 2014.)
But Pollitt was quick to point out in debates and forums that four of the six Republicans voted for his latest budget. Two of them, Gail Bartkovich and Stevie Prettyman, did not seek another term, but Matt Holloway and John Hall were the other two. Beginning with the FY2016 budget, it may be a battle to get four votes on County Council if Matt Holloway and Hall maintain their big-spending ways.
I would also love to see the county's speed cameras become a thing of the past, as Culver was the lone voice of reason to vote against their adoption. It's called excising that line item from the budget.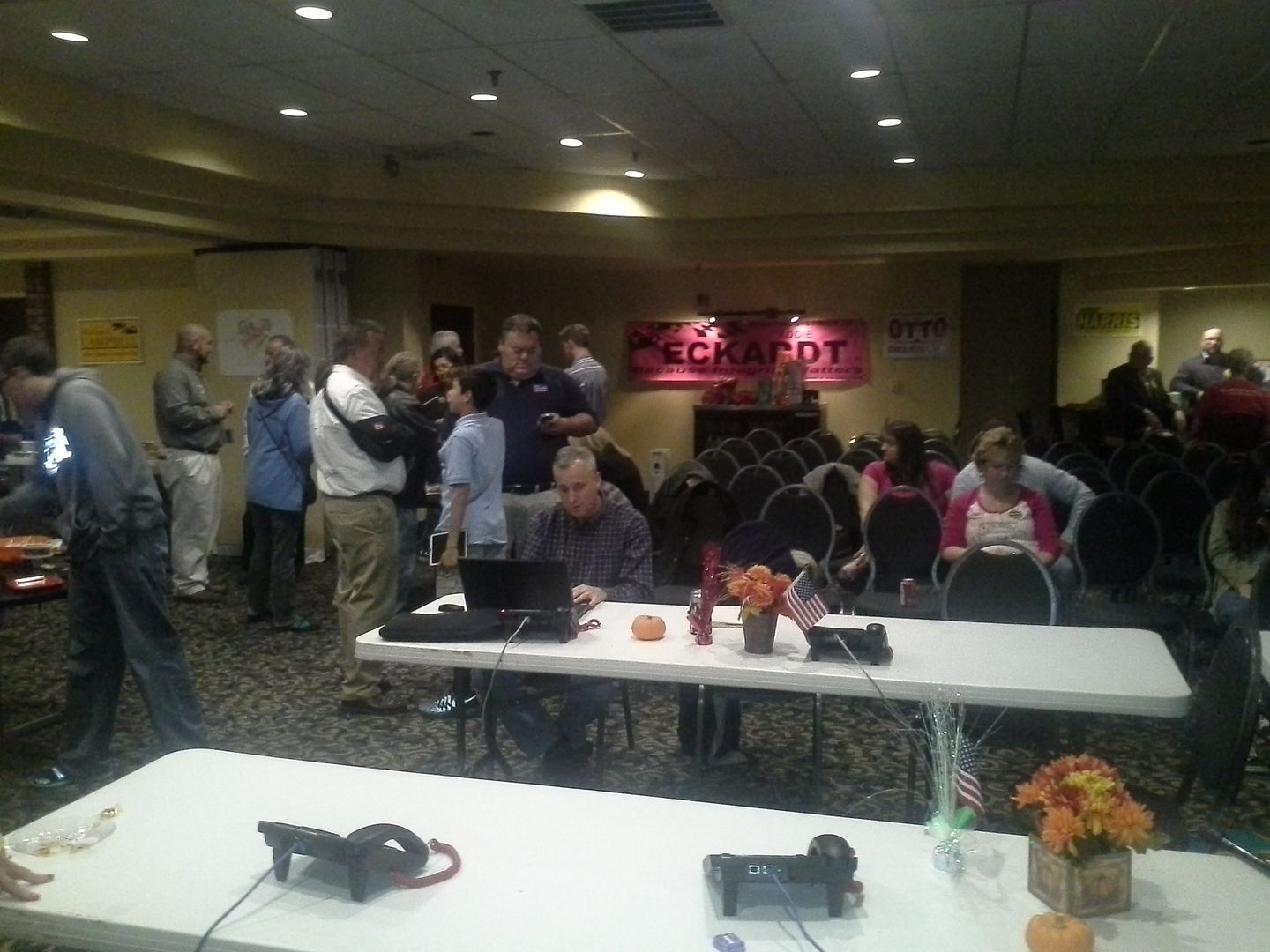 The party itself was relatively well-attended, although I'm certain some candidates had their own gatherings. At its peak there were probably 50-60 people in the house.
But while the news was good on the county front, there's no doubt the star of the show was one Carl Anderton, Jr.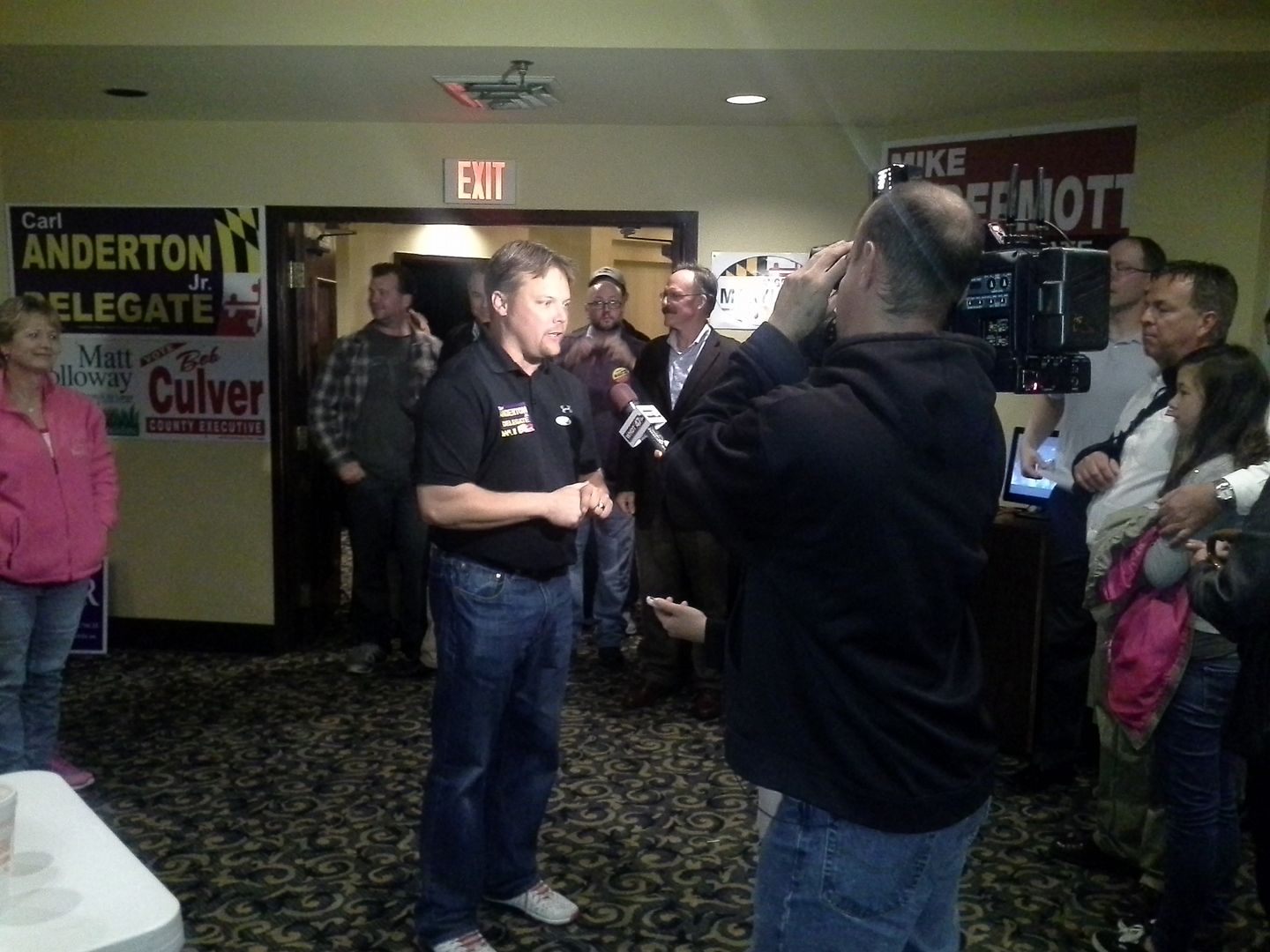 At 9:45 Bunky Luffman, Anderton's campaign manager, sidled up to me and predicted, "I think we've got it." He explained a particular precinct where they were hoping to get 30% of the vote came in down by just 89 votes.
Anderton's win, though, was just the tip of the iceberg. A lot of Titanic Democrats went down last night (with lifetime monoblogue Accountability Project scores shown):
After six terms, longtime Blue Dog Democrat Delegate Kevin Kelly in District 1B (mAP = 40) lost to Jason Buckel.
Delegate John Donoghue (mAP = 9), also a 24-year veteran, was ousted in District 2B by Brett Wilson.
In District 6, 9-year incumbent Delegate John Olszewski, Jr. (mAP = 16) lost his bid for the Senate seat held for 48 years by Norman Stone, Jr. (mAP = 28). Three-term Delegate Michael Weir, Jr. (mAP = 28) was also knocked off.
Longtime District 29 Senator (and onetime Congressman) Roy Dyson (mAP = 26) lost his bid for a sixth term to Steve Waugh. In that same district, 15-year veteran John Bohanon (mAP = 6) trails Deb Rey by 115 votes with absentees to count.
District 34′s Senate seat stayed in GOP hands as Bob Cassilly defeated Delegate Mary-Dulany James (mAP =14), who leaves after 16 years.
In District 35A, 20-year incumbent David Rudolph (mAP = 17) lost to Kevin Hornberger.
And we know about 28-year incumbent and committee Chair Norm Conway (mAP = 6) who lost to Anderton.
Most of the damage, though, came from the ranks of "moderate" Democrats. According to the monoblogue Accountability Project, these were the top 10 Democrats and here's how they did.
Delegate John Wood, Jr. – retired, endorsed Larry Hogan.
Delegate Kevin Kelly – lost re-election.
Delegate Joseph "Sonny" Minnick – retired.
Senator Norman Stone – retired.
Delegate Michael Weir, Jr. – lost re-election.
Senator James DeGrange – won with 59% of vote.
Senator Jim Mathias – won with 52% of vote.
Senator Roy Dyson – lost re-election.
Senator John Astle – won with 51% of the vote.
Senator James Brochin – won with 52% of the vote.
Six out of the 10 won't be back and only one of the remaining four won convincingly. Not knowing how most of those who defeated these incumbents will vote, the chances are the divide between the two parties will become more pronounced. Only a couple hardline Democrats (those 10 or less on the mAP) were losers last night, while McDermott was the only Republican to lose in the general election. In the respect that Democrats managed to get rid of two perpetual thorns in their side through redistricting (Mike McDermott and Don Dwyer) it was a success, but the GOP still picked up more seats than they did before the new districts were drawn in 2010.
So the stage is set for what should be a very intriguing (and hopefully, prosperous for this county and state) four-year term.
Finally, I want to go through a little of my thinking on these races. I was perhaps less optimistic than most about the outcomes because I figured Democratic turnout would be about where it was four years ago. But as it happens, turnout is going to be about 46%, which is a significant decline from the 54% posted in 2010. If the Democratic turnout followed that pattern it was about 10% less than I figured it would be, and those that were passionate enough to show up may likely have cast a number of votes for the GOP.
Simply put, the Democratic base didn't show up. Whether it was disillusionment with the candidates or just a general apathy, it looks like the GOP filled the void, to the benefit of the state.
After it was all over, I spoke a little bit with David Warren, who came down here to run the Eastern Shore Victory Headquarters.
He pointed out two key factors that led to Hogan's win: money from the RNC and Republican Governor's Association, and the help – both financially and in volunteers – from the College Republicans, from the national level to all the phone calls made by the local Salisbury University CRs. "Teenagers and college kids get it," said Warren.
David also praised the work of state party Chair Diana Waterman and Executive Director Joe Cluster, saying "what they did was phenomenal." Similar praise was heaped by Warren onto Andy Harris, who put a lot of money into these local races and helped level the playing field.
Finally, I have one more statement. Eight years ago, it was said that:
(GOP leaders are) "going to be flying high, but we're going to get together and we're going to shoot them down. We're going to bury them face down in the ground, and it'll be 10 years before they crawl out again."
I think we're two years early, Mike Miller. Suck on that.
Without doing a full rehash of Election 2015, there is a further observation I have about the recent election here in Salisbury and the effect it will have on local politics at the club level. It also gives me the excuse to work something else in while I'm at it.
Second only to Jake Day, the story of Tuesday's election seems to be Muir Boda. He's the epitome of perseverance, having run four previous times for office yet never winning (even though I voted for him most of the time.) But at the same time, City Council's gain will be the Wicomico County Republican Club's loss, since he's the second-in-command there and both bodies meet on the fourth Monday of the month. He wasn't elected by District 2 residents to run our meetings when the president is away.
It brings me to a point I think it's time to make.
There are a lot of Republicans and GOP elected officials in Wicomico County, and we're graced by the presence of many of them each month at the WCRC meetings. Over the last decade, though, it seems to me that the number of elected officials getting out to the WCRC monthly meetings has increased but the number of overall attendees has decreased. Our meetings generally attract between 20 and 30 people, which is only about 1/10th of 1% of the total number of Republicans in the county. (As of September, that number is 20,943.)
While the faces at the top have changed (two members of County Council are recent past WCRC presidents, along with the woman who managed Boda's campaign) there are others who have been in a leadership role for years (myself included.) It sounds like that is also the case for the Republican Women of Wicomico (RWOW), which has dwindled down to a few members and is in serious need of a reboot – which some enterprising women are trying to provide before the group loses its charter.
Leadership of our club seems to be a springboard to future political success, but aside from the diehards who come to the meeting each month it seems like we aren't registering with Republicans at-large in the county.
2016 will be an important year for local Republicans in just one area. We have no local races and it's rather likely we will continue a nearly 30-year streak of voting GOP at the top of the ticket, so the suspense may well be whether we get the referendum we have sought in order to elect our school board.
But just as the RWOW group needs some new blood, so does the WCRC. It's a classic chicken-and-egg problem, though – how do you recruit new members to expand events and outreach without burning out the ones you have? Ideally there would be 20 to 30 people instrumental in growing the WCRC, not just a handful. We just seem to keep losing them to elected office, as now we will need to replace Muir Boda.
It seems to me the time has come to discuss where we are as a group. Sure, we raise a lot of money at some of our events but what are we doing to advance other conservative causes? Do we just continue to slog along, meeting once a month, holding an annual Crab Feast, and bemoaning our fate otherwise? Or do we try some different activities, get into more issue advocacy, and try to embed ourselves into the community more?
It wouldn't shock me if a lot of our current members are fine with the status quo. There have been various ideas tried from time to time, but they don't seem to catch on very well among the group. Maybe all we will ever be is what we are now, particularly as political discussion often runs afoul of tolerance.
While the WCRC certainly has had staying power, there is nothing necessarily permanent about it. Perhaps it will slip into the dustbin of history as a relic of a bygone age when being social meant actually getting up from your chair and out from behind your iPad to actually converse with real live humans. Who knows – we may be eventually morphing into a simple Facebook discussion group. (As an example, do you remember Meetups? When was the last one you participated in?)
In life, nothing lasts forever. (My faith allows me to believe otherwise afterward, but I'm discussing worldly things at the moment.) If you ask me, next year is a make-or-break year for the Wicomico County Republican Club.
Republicans in Wicomico County have an advocacy group, but like Benjamin Franklin once said about our republic it's only around as long as we can keep it. What I wish for the group is a team of leaders and idea people who want to take on the challenge of making ourselves relevant again, not just being the conduit for campaign funds.
I've lost track of how many WCRC meetings I've reported on but I would guess it's been at least 80. At some point, though, we all have to move on so when that last meeting I cover comes and goes I want to leave things in better shape than when I arrived.
Tonight I had a choice: expand once again on a topic I wrote about for today's Patriot Post or go to Third Friday and see the sights. Our military prowess is important, but this one was more fun.
Hundreds of people agreed with me. The first photo was taken looking west from Division Street while the second was from within the Plaza. They were taken perhaps 20 minutes apart.
I hadn't taken ten steps into the Plaza when I saw City Council member Laura Mitchell and husband Miguel heading out. Seems like Third Friday is the place for people I know. But I wasn't really expecting this guy, who's about 30 miles from being "downy o'shun."
Yes, that's former Delegate Don Murphy hanging out with current Delegate Carl Anderton and Jackie Wellfonder, at whose behest I took the photo.
But there were two people looking for votes at tables. One was mayoral candidate Jake Day, who has no one on the ballot against him, and the other was Muir Boda.
He had a well-stocked table, but then Muir's been a Third Friday fan for a long time.
One element which contributes to its success is the music. This month The Larks were playing on the Plaza.
That photo came out pretty well for being taken in the twilight. The earlier sunset made the event finish after dark.
And as it was winding down, it was plain to see that a block of Division Street was one giant sidewalk chalk canvas. They probably had 200 boxes scattered around Third Friday; fortunately, there's not much chance of rain although there is a 100% chance of traffic rolling over the colorful street.
Tonight was the second-to-last outdoor Third Friday of the year, although there will be outdoor events associated with it from time to time over the winter months. Throughout this year, it seems the crowds have been excellent and the city is trying to expand on the success with First Saturday and the trolley between Salisbury University and downtown which runs on weekend nights.
With all that is going on this weekend around the region, Third Friday seems to be holding its own. Salisbury's had its share of bad news over the last decade, but this golden goose continues to produce each warm-weather month.
Instead of a post here to commemorate 9/11, I was asked by the Patriot Post to write a piece on it, tying in the intelligence burnishing that's been in the news lately. (Just as a little blowing of my horn I have an original piece there most Fridays, today being one.)
But there was one thought I had, a reference which was edited to be shorter. So I will expand on it briefly here.
As time passes away from the 9/11 attack, we tend to forget that those who best recall the horrific day as working adults are becoming less and less a part of the prevailing culture. The fall of the World Trade Center occurred just before my 37th birthday; in a week I turn 51. On the other side, those entering college this year were toddlers at the time and may nor recall the shock we felt as adults.
My point is that the passage of time and world events change our perspective. I see the world quite a bit differently now just before my 51st birthday than I did at 36. Part of that comes from the school of hard knocks, but the passage of 14 years changes almost everything.
Most of my readers can't do this from actual experience because they weren't around, so imagine the world of December 7, 1955 – fourteen years after Pearl Harbor. Our nation fought (and won) one world war but we existed in an uneasy truce from a more recent fight at the time over in Korea. There was also the "Cold War" going on between the United States and Soviet Union, with rumors rampant of Communist enemies at the highest levels of government.
In many respects, the unfinished business of confronting radical Islam is similar to what we faced with the Soviet Union. It took nearly 50 years to eradicate the old Soviet Union and free Eastern Europe, but the Russian bear now shows signs of coming out of hibernation. We may have that same timeline with radical Islam, but the kids of today exist in a world where everything is relative. America is often portrayed as the bad guy, and to a certain group of people we are to blame for the problems of the world.
If there's anything different about the post-9/11 era compared to that of a generation ago, it's the perception that America isn't always right. Even if the cause is just, too many assign ulterior motives to our actions and this confusion is why we can't all get on the same page. It will take a leader to restore our faith in the idea of America before we can get serious about winning the Long War.
After some technical difficulties with my server and then the internals of my site, I am back up – and not a moment too soon. I'm going to try and get a record review in for tomorrow and Cathy Keim has some wisdom to share this weekend as well.
So don't fret for me, I'm fine and hopefully monoblogue will stay that way too.
For many years the Wicomico County Republicans have been proud participants in the Wicomico County Farm and Home Show. But after last year's sparsely-attended rendition, it was decided a change was needed.
In reading last year's feature, the comment was made that they needed more people to help out. Enter the Salisbury Chamber of Commerce, who had the rights to the old Delmarva Chicken Festival, and the re-christened Wicomico County Fair was reborn in its 79th year. So how did it go?
There was still a lot of tradition there…
…but they kept what was good about the old event and added a lot more.
One of those holdovers drew a lot of spectators on Saturday evening, as they kept the Cowboy Mounted Shooting event.
The idea is to shoot the balloons off the cones in as quickly as possible. On a horse. I suppose it's a little easier on us humans than to run through the sand ourselves and do it, and a better spectator sport.
As I said last year, though, it would be interesting to get a more full-fledged competition. Maybe next year.
But there was a lot which was new and improved. One thing dragged out of mothballs was the giant frying pan made famous at the Chicken Festival.
I'm sure this sponsor has been there all along, but the chicken tie-in was surely encouraging for them.
The fair also included a "beer garden" for the first time, although it was more of a standard food court. Ice cream was among the favorites, and you couldn't miss the rhythmic sound of this motor they used for churning.
This area, however, also presented a opportunity to vastly expand the musical entertainment as a number of local bands played the fair. The Barren Creek Band was among those that played Friday evening.
On Saturday night Red No Blue was the opener for Petting Hendrix. They were wrapping up as I was leaving.
Another area that was a noticeable draw was the variety of kids' activities. Those kids who exhibit goats, sheep, or cattle need to have a little playtime, too. It was more than my cell phone could get in one shot.
Truth be told, given the nice weather and the additional interest, those exhibitors who used to be inside but were outside this time around – such as the National Aquarium and Maryland Right to Life – likely had more traffic than the Republican Club had inside the exhibit hall.
One thing I didn't get a picture of was their display, but the club did. It's not a state election year so we didn't have a lot to stack up.
I thought this sign belonged there, though.
Since both of them are Republicans, we could lay claim to it but it was actually the county's sign that was placed across from us.
Finally, speaking of judging, there seemed to be more entries this year in the photography contest. I entered a handful of photos but no ribbons for me this time. Maybe next year.
But if I were to give out ribbons for most improved local event, I think the Wicomico County Fair would be a recipient. I'm glad there was some new life breathed into this venerable event and hope its 80th edition next year will be even bigger and better.
Our friends on the mid-Shore will get to be a hotbed of conservative political activity next week.
First off, on Thursday evening the fine folks of Heritage Action will host a training session on "How to be an Effective Activist Through Social Media." It will run from 6 to 8 p.m. at the Comfort Inn in Easton so you should be back home well before the witching hour.
The topics will include:
Online Training: Blogs, Facebook, Pinterest, LinkedIn, YouTube
Twitter Training: Build and deploy a Twitter Army
Legislative Training: Learn how to use the Heritage Action Dashboard to Hold Congress Accountable
All they ask is that you register at this site, show up a little early (they prefer 5:00), and bring their iPad or smart phone. A hankering for Chik-fil-A wouldn't be a bad idea, either. And say hi to Melody Clarke for me, since she alerted me to this.
Then comes Saturday. Because Easton has a centrally-located Planned Parenthood facility, it will be the Eastern Shore site of "one of over 150 events coast-coast on August 22, in cooperation with a coalition of more than 40 pro-life groups." This according to the organizers of the local event. I spoke to the folks with the Maryland Pro-Life group at the Wicomico County Fair tonight and they were anxious to be at the protest. (It should be noted that Planned Parenthood is closed on Saturdays. With any luck they will soon be closed more permanently.)
Dubbed the Easton #PPSellsBabyParts Protest, it will run from 9 to 11 a.m. on Saturday, August 22 at the Easton Planned Parenthood location, 8579 Commerce Drive #102 in Easton. As my notice says:
We may never have a better opportunity to strip Planned Parenthood of their massive $500 million taxpayer subsidy and expose the truth about this corrupt organization.
They may claim "doctored video" and "we provide needed health services" but the fact Planned Parenthood had to hire a Democrat hired gun PR firm means we have them on the ropes – even the PR firm is ashamed to admit it. Pressure from caring Americans can finish this fight.
I can't make the Thursday event but I will strive for the Saturday one. It will be interesting to see who covers it.
Over the last four years, Dan Bongino has evolved from an obscure Secret Service agent to political candidate to pundit. Along the way, he's taken the core beliefs he was instilled with and managed to broadcast them to wider and wider audiences through his unique combination of eloquence, entrepreneurship, and hard work.
But I have some reason to question his latest piece on Conservative Review regarding the Millennial Generation. While Dan, who just turned 40 late last year, is less removed from the Millennials, I have the advantage of having a daughter who came in right around the dawn of what is considered that generation as she was born in 1983. So I've had a front-row seat to a good deal of her upbringing and education.
Dan devotes a significant portion of his piece to the new book by Mark Levin, Plunder and Deceit.
It is a must-read for young Americans who are looking to escape the Democratic Party's deceptive, focus group tested talking points and looking to find the truth.  Additionally, the book is a must-read for Americans of all ages who want to understand, and be able to explain to open-minded young Americans, the danger we are in if we fail to correct our course.
In this age of political correctness that seems to enslave those of the Millennial Generation, my question is whether these youths have an open mind to listen and look for the truth, rather than exist in a cocoon of dependence. It's a failure of my generation that just assumed that our kids would be taught the same values and morals that we were when we sent them off to our public schools. (I was taught in both a public school and university, but we send Kim's daughter to a Christian school. She figured things out in time, but the powers that be do not like that style of independence.) Looking back, though, we really weren't taught proper values and morals from our folks, either. (Needless to say, the schools didn't do it, either.) But my generation really screwed the pooch, didn't we?
If you learn an entitlement mentality and get a prize just for participating in any event at a young age, the necessary lessons that you can't always get what you want and won't always finish first aren't taught. When I played Little League, we kept score and oftentimes I was on the losing side. But that made the game where we ended our long losing streak that much sweeter.
My older daughter started out in T-ball and we didn't keep score so we didn't bruise the self-esteem of these 1st and 2nd graders. But I know the kids did – they knew who won and lost.
Yet over time, in a society where we were supposedly trying to allow kids to have fun, we were regimenting more and more of their activity whether competitive or not. It saddens me to drive by an empty baseball diamond knowing that when I was eight or nine years old I spent my days over at Heatherdowns Park playing pitcher's hand, right field automatic out, four-on-four pickup games – unsupervised, with no sunscreen or batting helmets and a regular baseball as opposed to the slightly softer ball they use for T-ball now. More often than not, we had the do-over when there was an argument.
Kids now are treated either like miniature adults or hovered over by anxious parents who have garnered a name for themselves: helicopter parents. Many of these are the Millennials who can't bear the thought of little Aiden playing cops and robbers with a finger gun or Mia wishing to have Barbie dolls like Grandma had; instead, we have to have politically approved, unisex playthings for "play dates." My play dates were from June to September at the park or at various friends' houses, and after school the rest of the year. But we knew to ask the mom at the house we were at when it was 5:00 because that was time to go home for supper, or we were shooed out the door so they could eat their family dinner.
I've gone a long way afield to make a simple point: in the modern day, the Democratic party is like the kid who ran for class president on a platform of no homework, a longer recess, and ice cream sandwiches with our lunch. What kid wouldn't vote for that?
Those of us who are of a certain age soon realized that such a fantasy platform came to a screeching halt when the adults who were in charge told us "no." Now the adults will try to accommodate the requests, since little Aiden and Mia can't be wrong and the teachers need to see things their way.
In an age where childhood can legally be extended to the age of 26 – based on the age when a parent's health care plan has to cover a youth – the perpetual adolescent will always seek the handout. I pray more people will seek the truth that life isn't always fair, there is right and wrong, and things are worth working for, but the fact that we even needed a column like this from Bongino is evidence that I need to redouble my efforts.