This is a hard post to write, but I think it's necessary to be forthright to my readers and followers. So here goes.
I just looked up some numbers and since 2007, with the exception of a few months in 2009 when my world was turned upside down and inside out in a number of ways, I have posted on this site practically every day. In fact, there were a number of months around election time when I was manic and averaged almost two a day. Somewhere along the line I made the commitment to myself to post every day because I was told, in order for a blog to succeed, it needs fresh content on a regular basis.
The original intention in adding Cathy Keim and Marita Noon to the mix was to supplement the content and hopefully bring the average back to about 10 posts a week. Now I know why Cathy has been missing from these pages and I have no issue with this – she is definitely still valued and when the opportunity presents itself again on her end I look forward to a lot more content from her. By that same token, I enjoy being among the first to read and share Marita's valuable opinion. It's not going anywhere, either, and I will try and keep it on its normal Tuesday slot.
But there comes a time when you decide the effort isn't being rewarded enough. It simply could be I'm not taking the time to promote and market my site properly, or it could have a lot to do with my overall disillusionment with all things political.
However, the solution could be as simple as realizing I'm overdoing it.
I don't think my posts show the time of day they were put up, but quite often I have written something quickly over the last two hours of the day, between 10 p.m. and midnight. And the reason for this practice was that I didn't want to miss days. I have had the attitude for the longest time that I owe it to my readers to have that calendar on my site filled each day, and whether the content is really that good or not started not to matter so long as the date was checked off.
But at long last I've come to the conclusion that this attitude isn't fair to my readers and supporters. So with a simple relocation of a widget I don't have a calendar on my site anymore, and I won't be a slave to it. In fact it would have had a blank space for yesterday because I decided on the fly as I wrote this last night this was a better post for Sunday.
I guess this whole thought process started when I decided this would be the last year for Shorebird of the Week because I couldn't do it as well as I thought it deserved to be by only going to about 15 to 20 games a season. (Looking at my folder that I put my photos in, I see that just past the halfway point I have been to only eight games so far this year.) But while SotW has become a little more of a chore than I wanted it to be, I still enjoy updating my Shorebird of the Week tracker and doing the Hall of Fame post each year. That will be enough to amuse me after I wrap up the week-to-week challenge of selecting a Shorebird of the Week when I go months without seeing certain players.
And then there's the political reporting. I used to be at all of the events and meetings with my notebook and camera, but since the demise of the local TEA Party and several associated groups there's not nearly as much to report. There's also the fact that my work schedule is not as flexible as it once was, so I have to miss events - one example was the Kathy Szeliga announcement tour Cathy covered for me. (She also helped me out when a Second Amendment event coincided with my honeymoon.)
I have also realized, though, that I am much closer to the end of my active political career than I am to the beginning. With the prospect for certain changes on the homefront thanks to where Kim and I both work…well, let's just say that I won't be returning as the WCRC secretary after my current term is up and leave it at that for now. (They already knew this when I took the job this year, though.)
Once you take all these things in combination, I have come to the conclusion that less can be more and quality should outweigh quantity. So the idea going forward would be to do fewer items but ones that carry more weight, which hopefully will allow me the freedom to write the second book that's been on my mind awhile and work on other issues like my health. Waking up in the middle of the night wondering if you are having a heart attack isn't fun – luckily, it was symptoms more associated with walking pneumonia.
Will it affect readership? Maybe, but I figure I'm down to the most loyal fans anyway at this point. And they react the most and best to the pieces I take the time to write from the heart rather than just reaction to a press release or someone else's work. So I don't think they will go anywhere and will still stop by fairly often.
But if I come home from an event or meeting at 10:00 at night now I won't feel obligated to write something that bores me just to fill the space by midnight. I think of it as addition by subtraction, and the change will do me good. I appreciate your support as I make the site better.
Righteousness exalteth a nation: but sin is a reproach to any people. – Proverbs 14:34 (KJV)
As today is Sunday and I have left the site dark on Independence Day in the last few years – so this post will be atop my site for a somewhat extended period - I decided it would be fitting to use the subject of our message today as the subject of mine.
Rather than go through what my pastor said, though, I want to focus on the idea of righteousness. For Christians, the idea of what's right mainly comes from Scripture, as the passage above clearly illustrates. But in our nation today, too often what is "right" comes from a number of different sources: a majority of nine unelected judges on the Supreme Court, a plethora of faceless bureaucrats toiling in Washington, D.C. or a state capital, or even popular culture itself. It's said politics is downstream from culture, and I believe this is most true on the perception of what is right.
Obviously I can give a number of examples where these "rights" don't coincide with the concept of righteousness: the Supreme Court decisions in Roe v. Wade or the Obergefell case, the muddied divide between genders enforced by the standards of the federal Department of Education, or the #lovewins movement for same-sex "marriage" come foremost to mind. With the exception of Roe v. Wade, all of these examples have come during my adult life and there is usually a generational divide between supporters and opponents of these "rights."
It's not my intention to be bogged down in the minutia of these issues because I'm shooting for a fairly short post suitable for a holiday weekend when people are truly thinking more about the beach, fireworks, and barbecues, but I think the generational point is worth considering, too. Despite the fact Kim's daughter goes to a Christian school and belongs to the church youth group, she and her peers aren't truly insulated from the cultural wasteland we live amongst.
I think it's worth reminding the Millennials that those of us who grew up in the 1970s and 1980s had only a limited number of options for cultural awareness and entertainment, such as AM or FM radio, the few cable channels that were around (living in a rural area nowhere near a cable service area, we didn't even have that), magazines and newspapers, or the local movie theater. I had my roster of favorite TV shows like anyone else and my particular radio stations to listen to, but my listening and viewing was limited to what broadcasters wanted to provide at a time of their choosing. (If I wasn't home and didn't remember to tape WKRP in Cincinnati I was out of luck until the rerun came on, or if my radio station ignored Iron Maiden until the program director decided to put it on, I wouldn't go buy the cassette because I didn't know about them.) Now we have the technology where anyone can be a video or music producer and have content available anywhere the internet is.
So it's no surprise that the seductive messages of what is "cool" rarely coincide with what is righteous because "cool" is a construct built to sell products and ideas. As it stands, believing in the tenets of the Bible and living a God-fearing life definitely doesn't meet the prevailing standard of "cool."
But it's my belief that America should make itself worthy of being blessed by God. By no means does this imply being a theocracy, it's more along the lines of just having a Judeo-Christian based moral compass that most of its citizens willingly follow. The more righteous we are, it follows, the more we should be blessed. It's worth a shot.
Over the last couple days there has been quite the buzz about Salisbury becoming home to professional hockey at long last, since the alcohol restrictions on the Wicomico Youth and Civic Center are no longer in effect. One story on the WBOC-TV website quotes an official with the Federal Hockey League, which is a lower-level minor league comparable to an independent league in baseball as teams are not affiliated as farm clubs for a particular NHL team. According to Andrew Richards of the FHL, "for a team to survive, each game would generally need to see 1,200 to 1,500 attendees at roughly $10 per ticket."
It's interesting that this post will come right after my Shorebird of the Week post; however, I am a much more casual hockey fan than I am a baseball fan. I lived in Toledo, a city with a longstanding minor league hockey history dating back to the 1940s, and attended one or two games over the years (as opposed to perhaps fifty Mud Hen games.) Yet the criteria Richards uses is definitely doable if people are willing to spend a little bit more than they would for a Shorebirds game.
However, if Salisbury wants to have a successful hockey franchise, the FHL may not be the place to be. Formed in 2010, the league has suffered some serious growing pains to get to its current 7-team status. (Six clubs played in 2015-16; a seventh team in St. Clair Shores, Michigan is an expansion team for 2016-17 and the eighth team out of Watertown, New York is supposed to return from a one-year "hiatus" this fall.) The other serious contender would be the Southern Professional Hockey League, a ten-team league that is several years older and seems to be more established. They have an eleventh team that is taking a year off in 2016-17 due to renovations to its arena, so Salisbury would be a good fit as a twelfth team for the 2017-18 season.
But travel would also be somewhat more of a concern for an SPHL franchise – while Salisbury is not in the geographic center of either loop, the closest SPHL team would be in Roanoke, Virginia, which is about six hours away. Its other franchises are in Tennessee, North Carolina, two in Georgia, Alabama, Florida, Mississippi, Illinois, and Indiana. On the other hand, there are two FHL teams about five hours away, in Danbury, Connecticut and Brewster, New York. There are other teams in New York and New Hampshire, but the western side of the FHL is Midwest-based with franchises in Ohio, Michigan (2), and Illinois.
Attendance-wise, though, Salisbury could be one of the more successful FHL teams. Both the SPHL and FHL give host teams 28 games, but attendance at SPHL games is comparable to the South Atlantic League in minor league baseball, where teams average between 2,000 to 3,000 a contest. Using Richards' formula, none of the six FHL teams that played last year would be a success: the closest two were Danville, Illinois, which averaged 1,120 and Port Huron, Michigan, which drew 1,044 per game. The other four ranged from 243 to 774 per game, which meant half-empty (or even cavernously vacant, in Dayton's case) arenas. Unfortunately for Salisbury, the more successful FHL teams tend to be in the Midwest so we may not have close rivals; moreover, I'd have serious concerns about the entire league going belly-up, which may be why they are pursuing our area so hard thanks to a reasonably-sized arena and presumably hockey-starved market. (They obviously factor in the thousands of NY/NJ/PA retirees living less than an hour away in Sussex County and Ocean Pines.)
So nothing is official yet. But to paraphrase Ben Franklin, we may get ourselves a hockey team – if we can keep it.
Ever have something sneak up on you and by the time you realize it, you've missed out? Such was the case with Troopathon 9, which occurred last Thursday. The six hour internet telethon is put together annually by the advocacy group Move America Forward. At one time they held competitions to see which group of bloggers could raise the most money and I was pleased to be on teams that were among the leaders, even if my part was much smaller than some of the others. It's an event I have supported for some time, so I was disappointed to realize I missed it.
Luckily, if you have the time and would like to see what a number of conservative commentators have to say about the troops and the cause, the original broadcast is still available for viewing. More importantly, though, they reached their initial goal of $300,000 to help provide care packages for our troops overseas – so with that success they've pushed the goal to $325,000. As of last night when I wrote this they were at $309,639 and they are collecting Troopathon donations through July 4.
The good news on this front is that the cost to send a care package has not changed since the last time I sent one, as they start at $24.99. According to the sponsor, this is what they receive:
Each care package sponsored is packed with love and care by our team of dedicated volunteers and include the following:

Gourmet Coffee, Premium Beef Jerky, Genuine Oreo Cookies, Flavored Gatorade, Mixed Nuts/Trail Mix bags, Baby Wipes, Hot Chocolate, M&M's, Snickers, Skittles and other assorted treats, Natural Grain/Granola/Protein Bars, Gum, Sunflower Seeds, Hot Apple Cider, Shampoo & Conditioner, Deodorant, Toothpaste, Toothbrushes, Foot Cream or Powder, SPF Lip Balm, SPF Sunscreen, Bug Repellent, Military Issue Boot Socks, Magazines and Books, Casino Style Playing Cards, Phone Cards, Instant Lunches, Batteries, Laundry Detergent, Military Crisis Line/Military OneSource Resource Information, Care Packages Request Form, Handwritten Thank You Messages from School Children and other Supporters, Seasonal Items for Current Holiday, K-9 Care Packages also include eye-protecting "Doggles" & extra thick PetSport "Tuff" Balls

***Care Package Items vary depending on time of year, supply, and troop request***

That's right the most important part of our care package comes from you. Each comes with a personal message you write.
I've often wondered what has become of the few that I've sent over the years, but I suppose that doesn't matter as much as making sure the troops in the field know we have their back. While the recent withdrawal from Afghanistan (with a smaller ramp-up in Iraq) has meant that only around 10,000 soldiers remain in the field, the need is still there.
So if you have a few spare dollars in your couch cushions, dig them out and let our military know they are not forgotten, unlike me and my faulty memory for neglecting to plug Troopathon 9 earlier.
Back in 2013 I wrote about a company called Ethical Electric, noting that the electricity supplier was charging a premium to help out progressive causes. Well, the other day I received a solicitation from a group called Clean Energy Option and after a little digging I found out it was Ethical Electric that was doing business as (d/b/a) Clean Energy Option. Seems to be less than ethical to change their name, but it's likely a marketing thing.
Yet thanks to that 2013 piece I wrote for Watchdog Wire, I found out that Ethical Electric was charging 10.14 cents per kilowatt-hour (kWh) at the time, which was a fair-sized premium over the 8.89 cents per kWh Delmarva Power (my utility) was charging back then. That 14% difference meant the average bill would be about $12.60 higher per month for an average home that used 900 kWh monthly. I don't know about you, but I'm sure I would cry foul if my electric bill was going up $150 a year, since that's what it translates to.
It just so happened that the Clean Energy solicitation followed my latest Delmarva Power bill by a couple days so my bill was handy. Over the last two-plus years, my Delmarva Power rates haven't changed a whole lot as the "rate to compare" was 9.01 cents per kWh. In 2 1/2 years I've endured an annual rate increase far less than 1% as the total hike was 1.35%. (I also found out in researching this piece that I can get even lower rates by switching my supplier to another of several companies that are in that business. Some are "green" companies like Clean Energy Option, most are not.)
On the other hand, the teaser rate for Ethical Electric's Clean Energy Option has swelled to 11.6 cents per kWh, which is a rate hike of 14.4% overall and about 6% per year. Most likely this rate will jump again after the three-month special rate ends – after all, what business would promote a higher initial cost? The premium that was once 14% has now doubled to 28%, despite the fact people are bending over backwards to install new solar farms and wind turbines around the region. As Clean Energy Option euphemistically puts the answer to the question "What will happen to my electricity bills?":
In short, supporting new renewable energy development costs a little more than delivering polluting energy. That's because the energy you are choosing is better for you and the planet.
("Better for you" may not be true for a person within sensing range of the low-frequency sound emitted by wind turbines, but I digress.)
There's obviously something at work here to drive the cost of "regular" electricity down while wind and solar continue to increase. I suspect that something is the low cost of natural gas, which is used more frequently as an energy source to create electricity and is relatively cheap. Ironically, this economic fact is doing almost as much damage to the coal industry as Obama's EPA regulations.
So don't be fooled to the tune of $23 a month or nearly $280 a year. Keep the money in your pocket and stick with what is most reliable. Or, if you really want to put that money to work, use it to support elected officials who will stand up to the environmentalist lobby and remove these silly mandates and carveouts for the otherwise unsustainable green energy racket.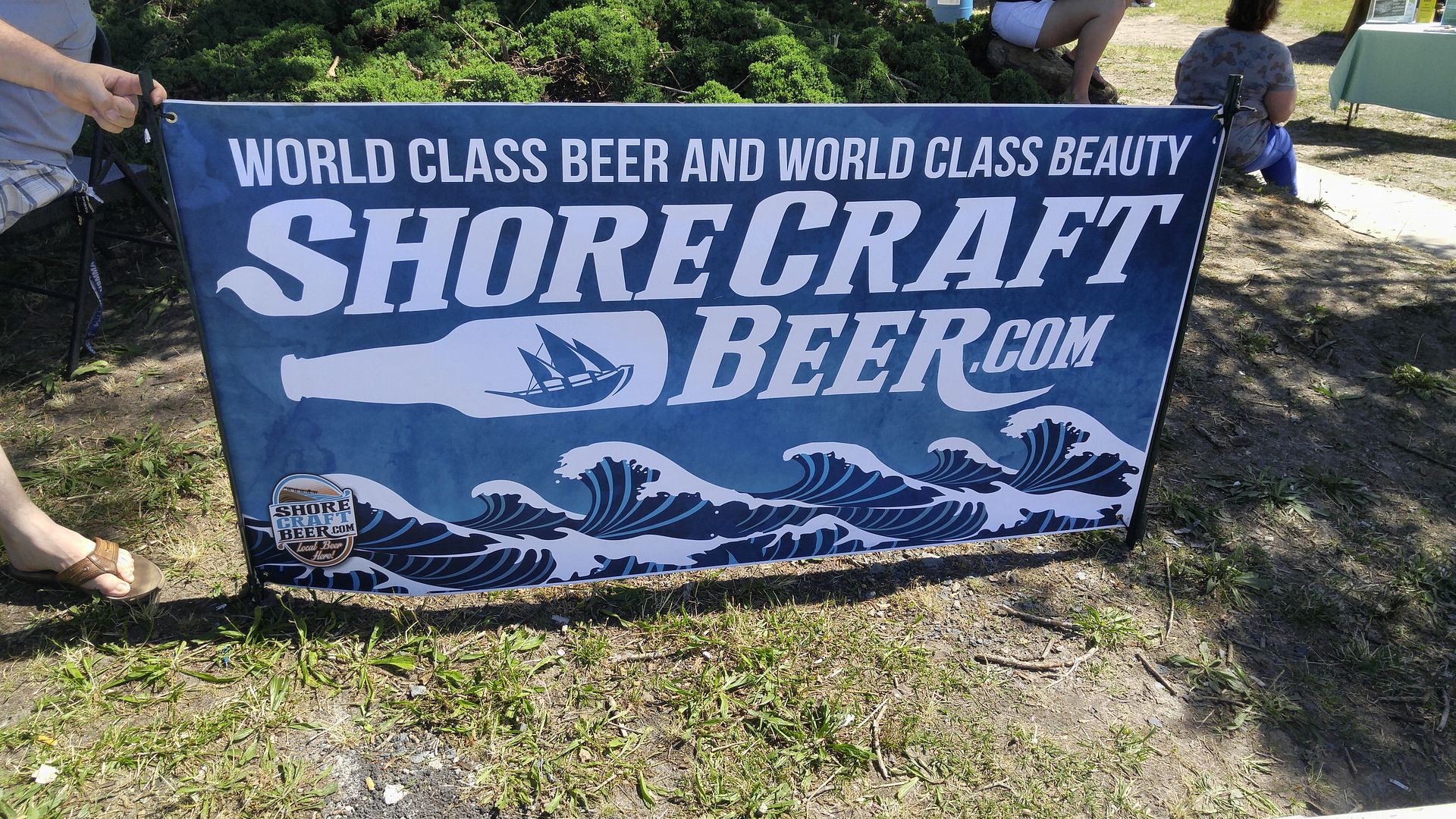 It was a perfect day to be downtown and try a few local craft beers, so I went to the inaugural Salisbury Shore Craft Beer Festival (SSCBF) held downtown along the Riverwalk. (The Salisbury designation distinguishes it from a similar event with the same sponsor in Ocean City, the first of which was held last October.) It was also billed as a "Riverwalk Celebration" and while they are renovating it, there's still some work in progress.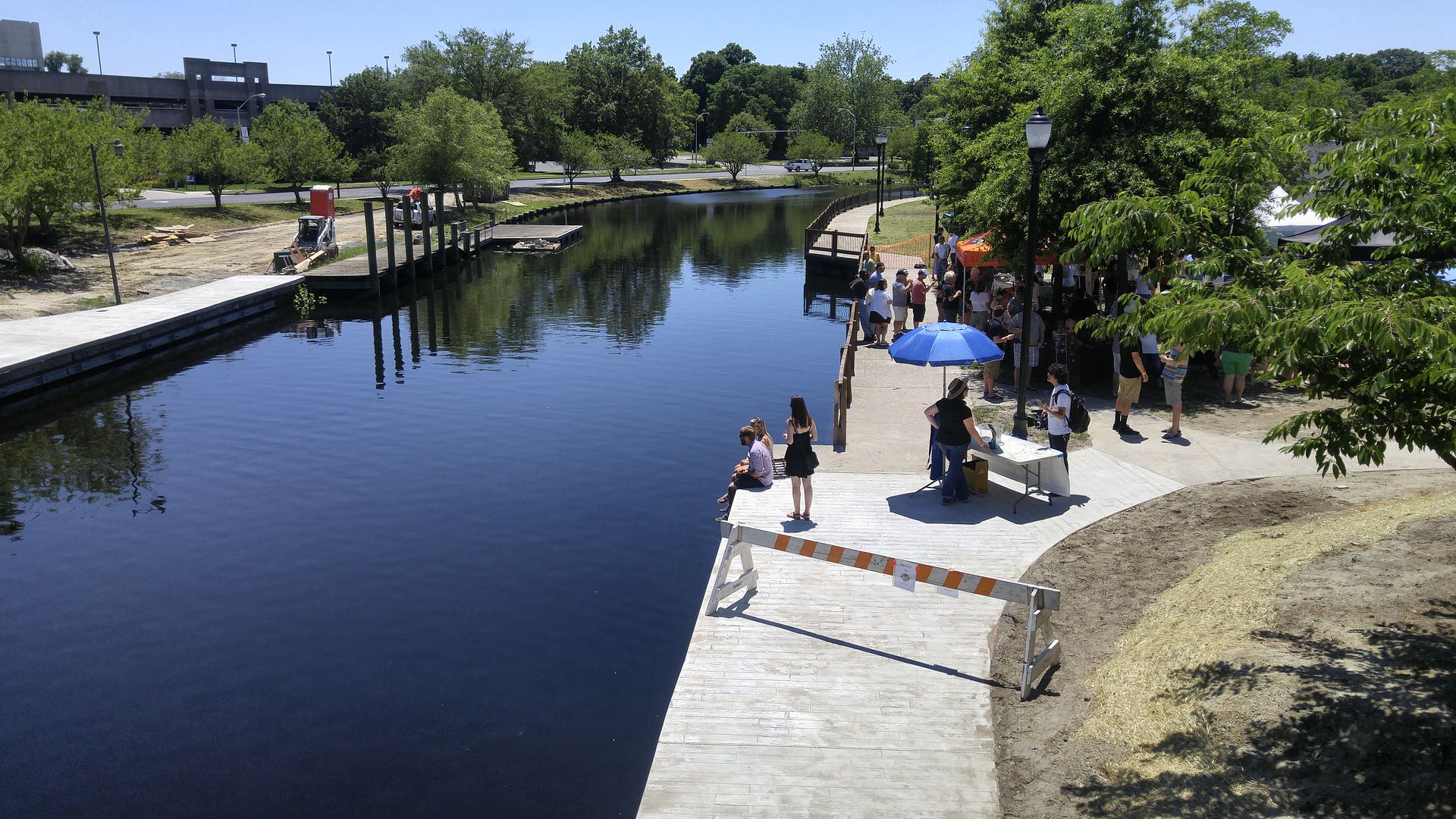 To be fair, I was looking west from the Division Street bridge and most of the Riverwalk lies east of the structure. But this was the site chosen for the festival.
Early on I thought the crowd was a little bit meager. I took this photo about 2:00, a half-hour after the gates were opened for general admission. (VIP ticket holders could get in at 12:30.)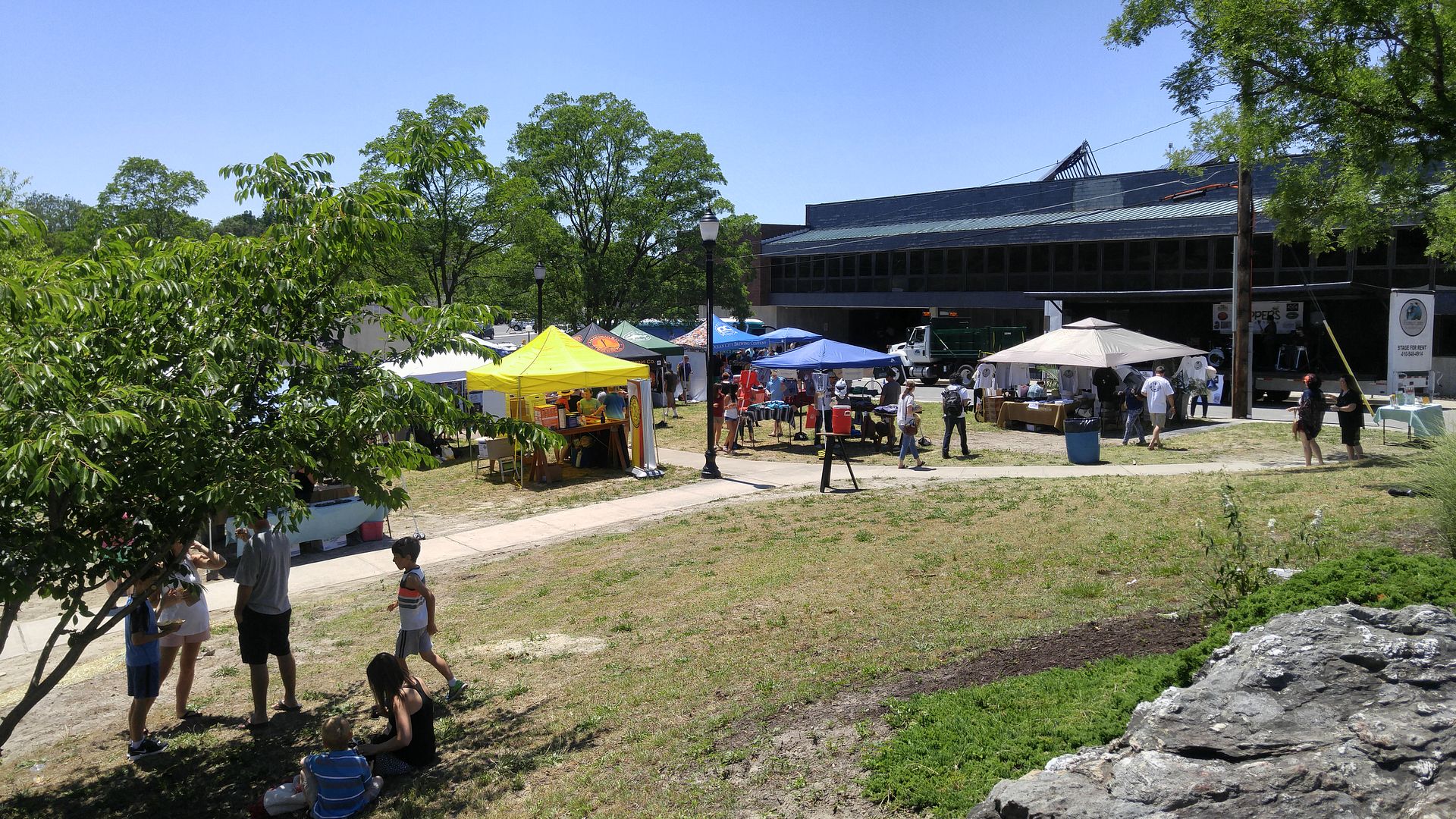 One area where the festival will have room to grow is the food selection. The Division Street bridge served as a mini-food court.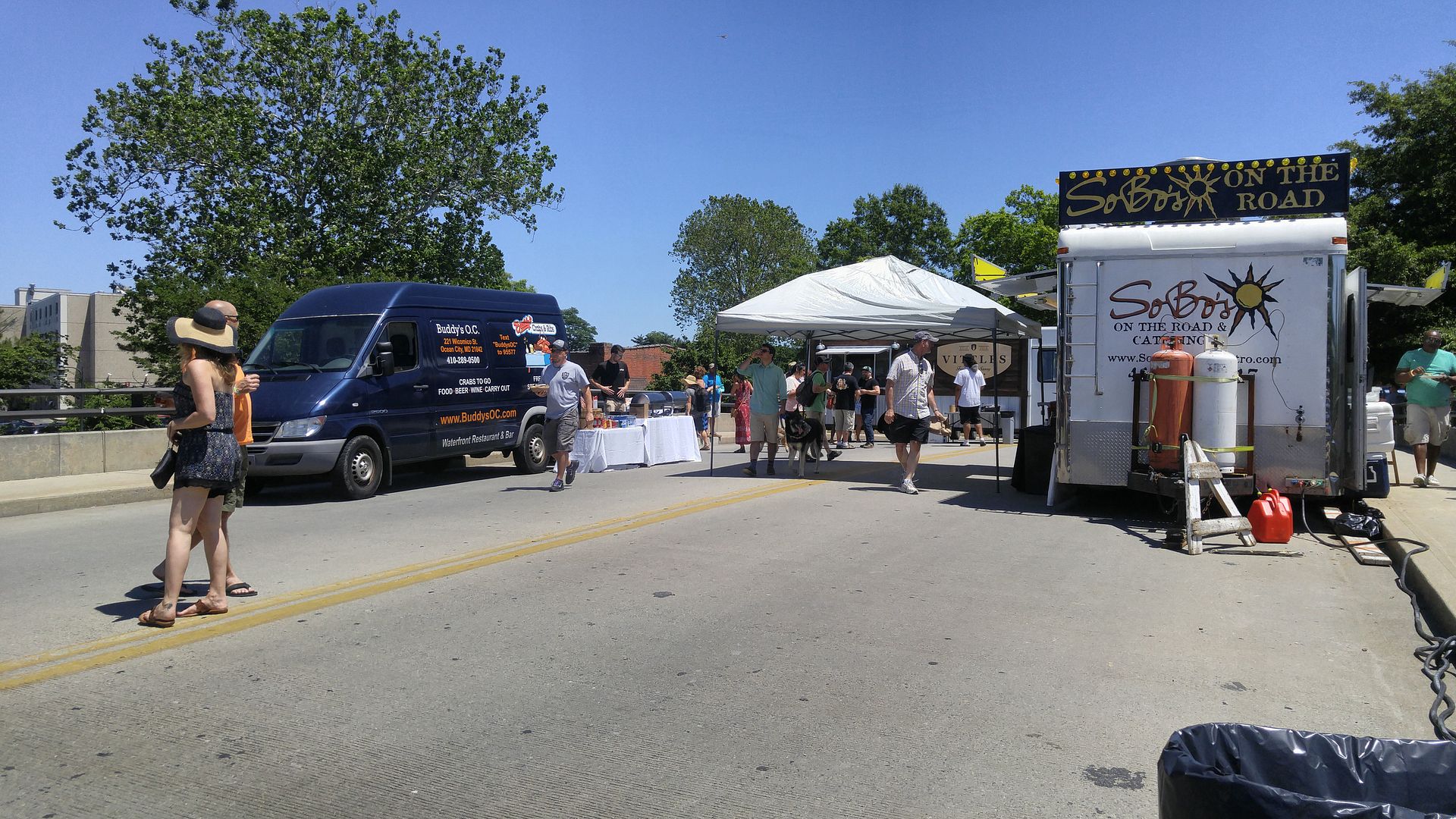 As time went on, though, the crowds thickened a little bit. This photo was taken from along the river looking toward the stage.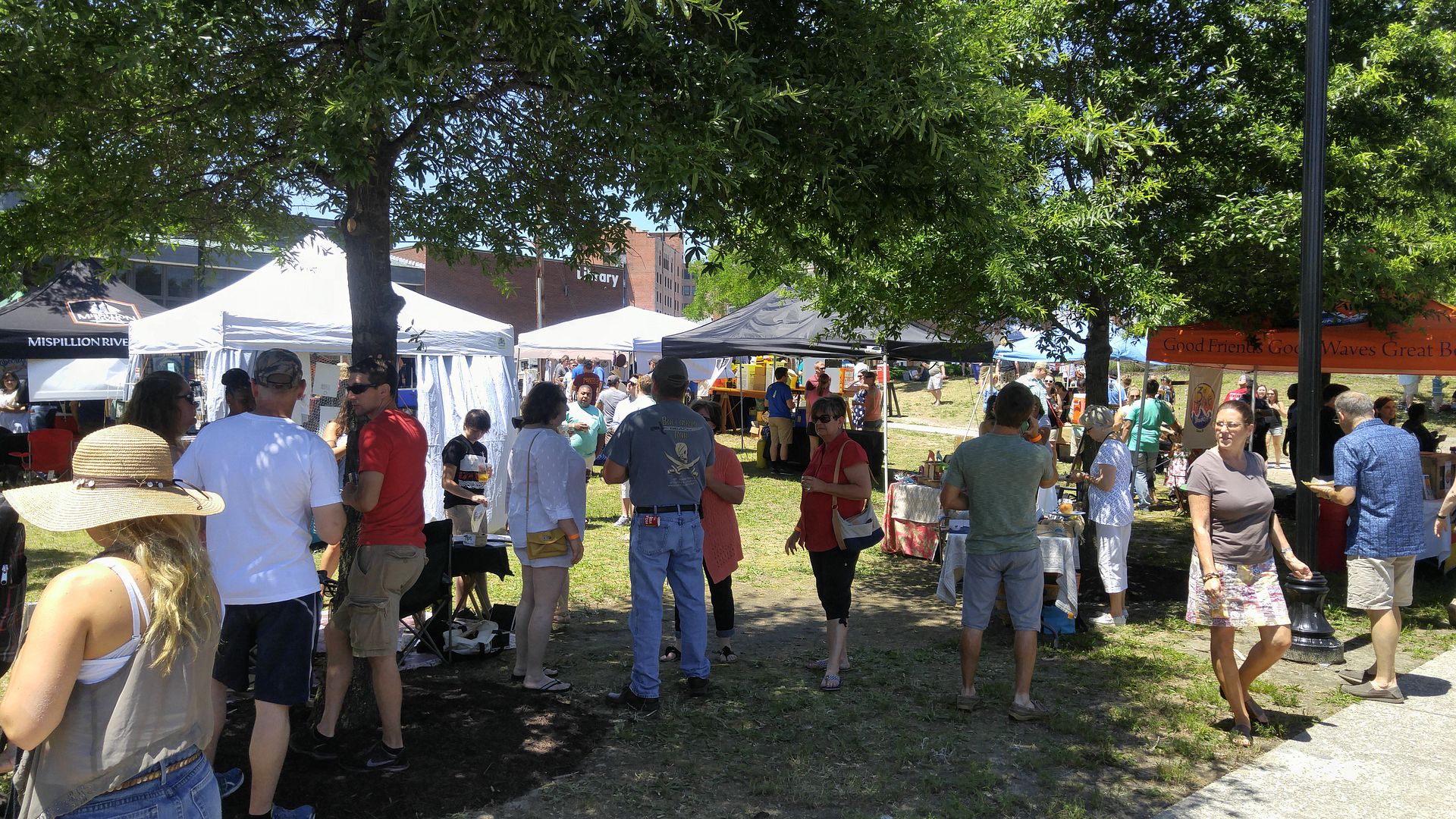 One thing that I got to take advantage of was making my first visit to Headquarters Live, which was a nice place to sit down. There wasn't a tent with picnic tables set up on the main festival site.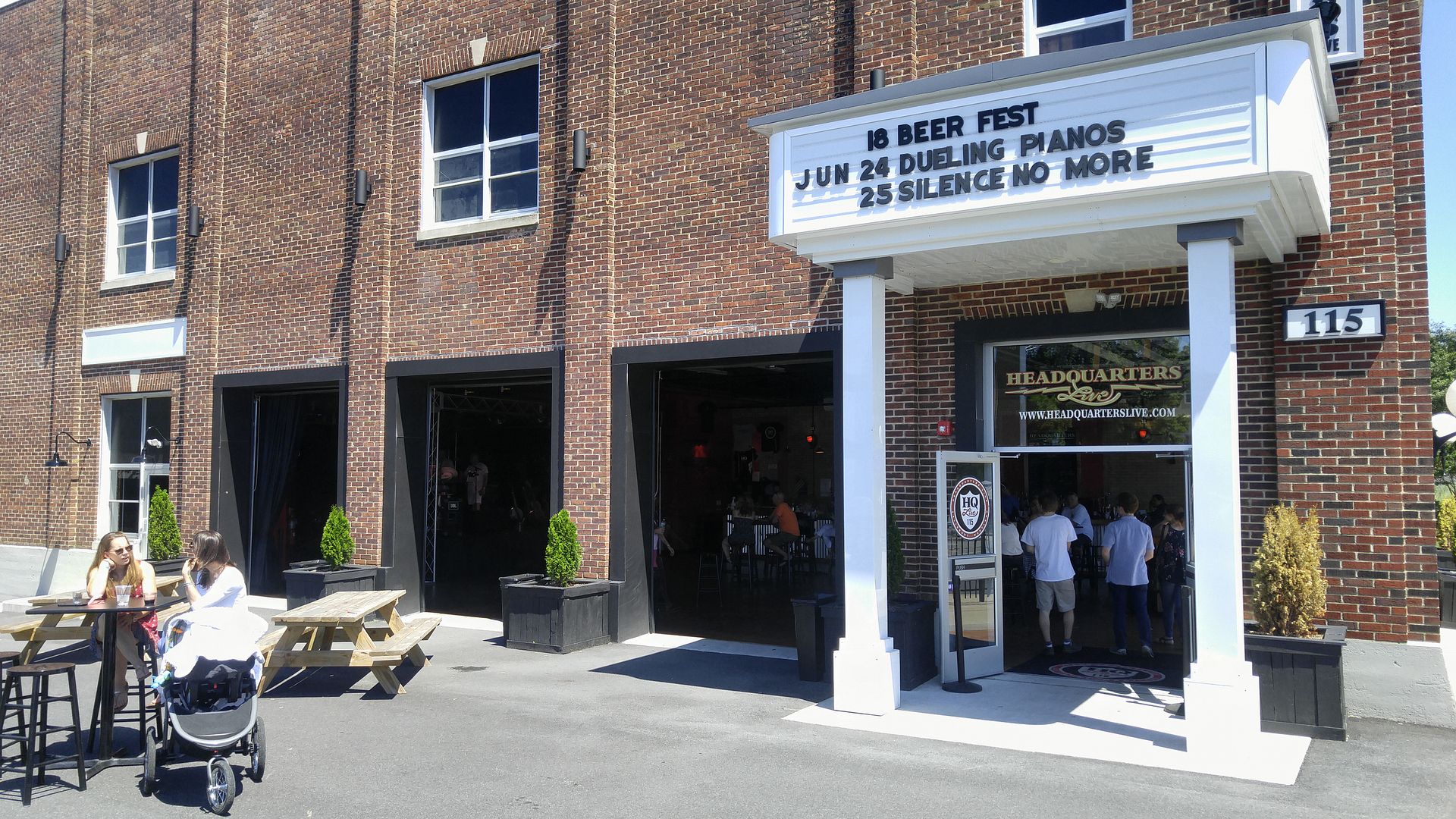 Now if you had the entry in the pool that said the first band I would see there would be called Billy Earl and the Pink Flamingos, you would be right – but I would have called you nuts.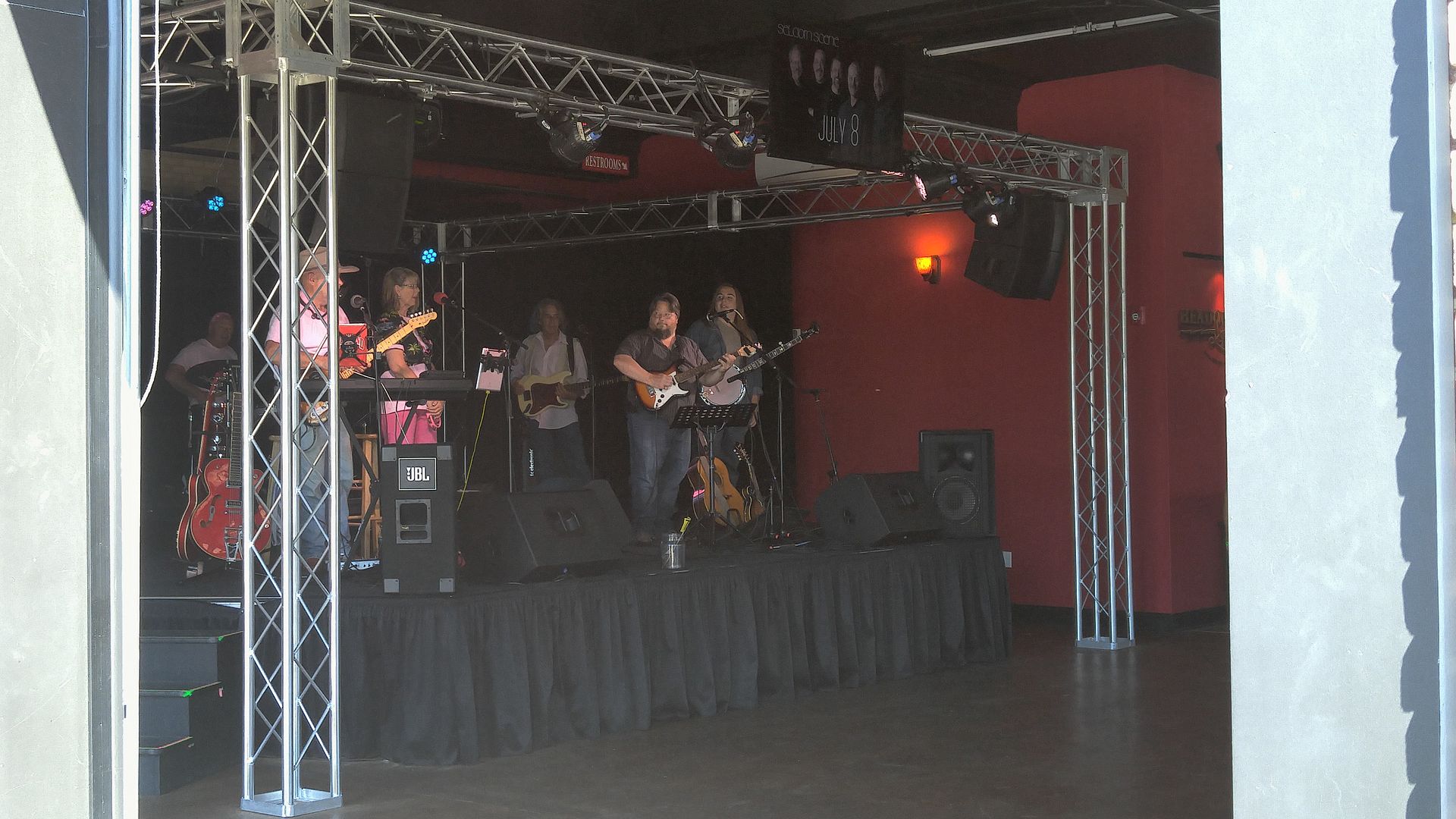 I'll have much more on them as well as Eastern Electric on the mobile stage when I do a "Weekend of local rock" post later this week, but suffice to say Headquarters Live is a smaller venue than I imagined. Yet the festival was shrewd in tying the outdoor stage and indoor venue together, with a separate wristband for each. This gives them a logical area for expansion beyond the small parcel that was used across Division Street and along the river.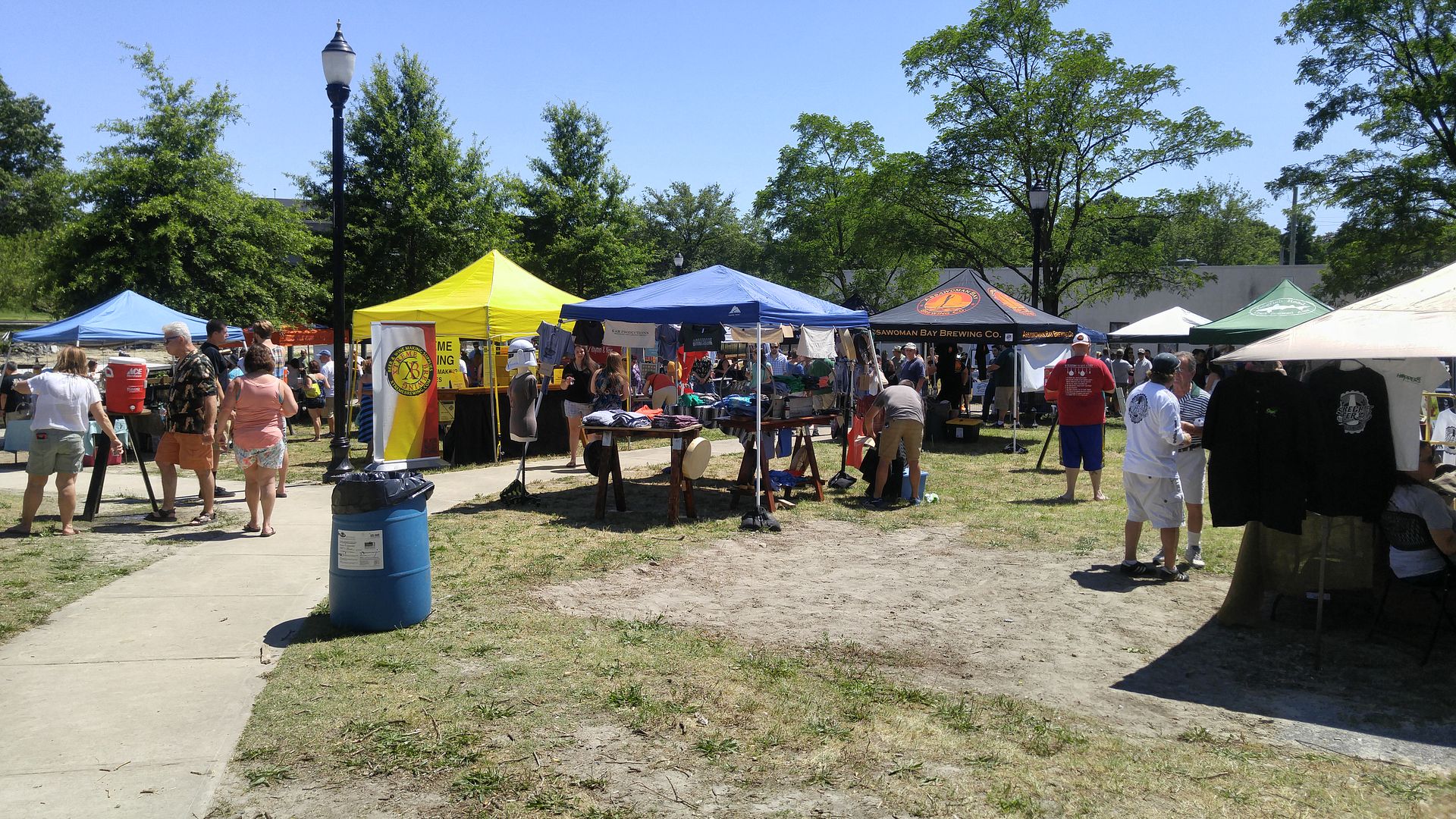 As it was, there was a comfortable amount of people in the park where you didn't feel like you were tripping over anyone yet there was enough to give the event some energy. Unlike the Good Beer Festival, which is held in a secluded location outside of town, people could readily walk in from outside but they could not sample the beer. Another asset was the fact that it was all local breweries – none of those mainstream brewers that are still considered crafters like Sam Adams or Blue Moon which come to the Good Beer Festival from afar. This will limit the event's size to some extent as the area can only support so many breweries and expanding to markets farther and farther away will run them into stiff competition from their local crafters. There were twelve area breweries represented at the SSCBF, pouring around 30 beers as well as a couple of tea concoctions.
I think the event was rather successful considering it was held at a time when few other events off the beach seem to succeed. Most of our larger local festivals actually occur during what's considered "shoulder season" before Memorial Day or after Labor Day. (April and October are the favored months.) In this case, the SSCBF was up against the OC Air Show and the end of the Firefly Music Festival as well as at a time when Salisbury University isn't in regular session, so there were a lot of distractions. It may succeed a little more a week earlier or a week later, but this isn't a bad summer event.
So we will see what happens next year and find out how much more of the Riverwalk they take advantage of.
I saw this on RedState and thought it was worth sharing. Just because I didn't create my kids, as long as they think I'm no less a dad for that fact then I am doing my job – even if I do screw up, a lot.
And I know Senator Ben Sasse is a conservative Republican elected official from a flyover state of Nebraska who's probably reading this off a teleprompter in a staged setting. You can kill the messenger, but the message should still ring true.
Dads are really not disposable, regardless of what modern culture and big government policy may lead you to believe.
I'm about two weeks late on this, but it's better late than never when it comes to the Concert for a Random Soldier held back on Memorial Day weekend.
There were over a dozen bands on the bill, but we arrived about halfway through the event so we missed some of the acts that I remember as more of the oldies groups. (One thing about CRS: many of the same bands participate year after year.) So we walked in on Scrapple – it's not just for breakfast anymore, but they were a first-time participant who enjoyed the affair.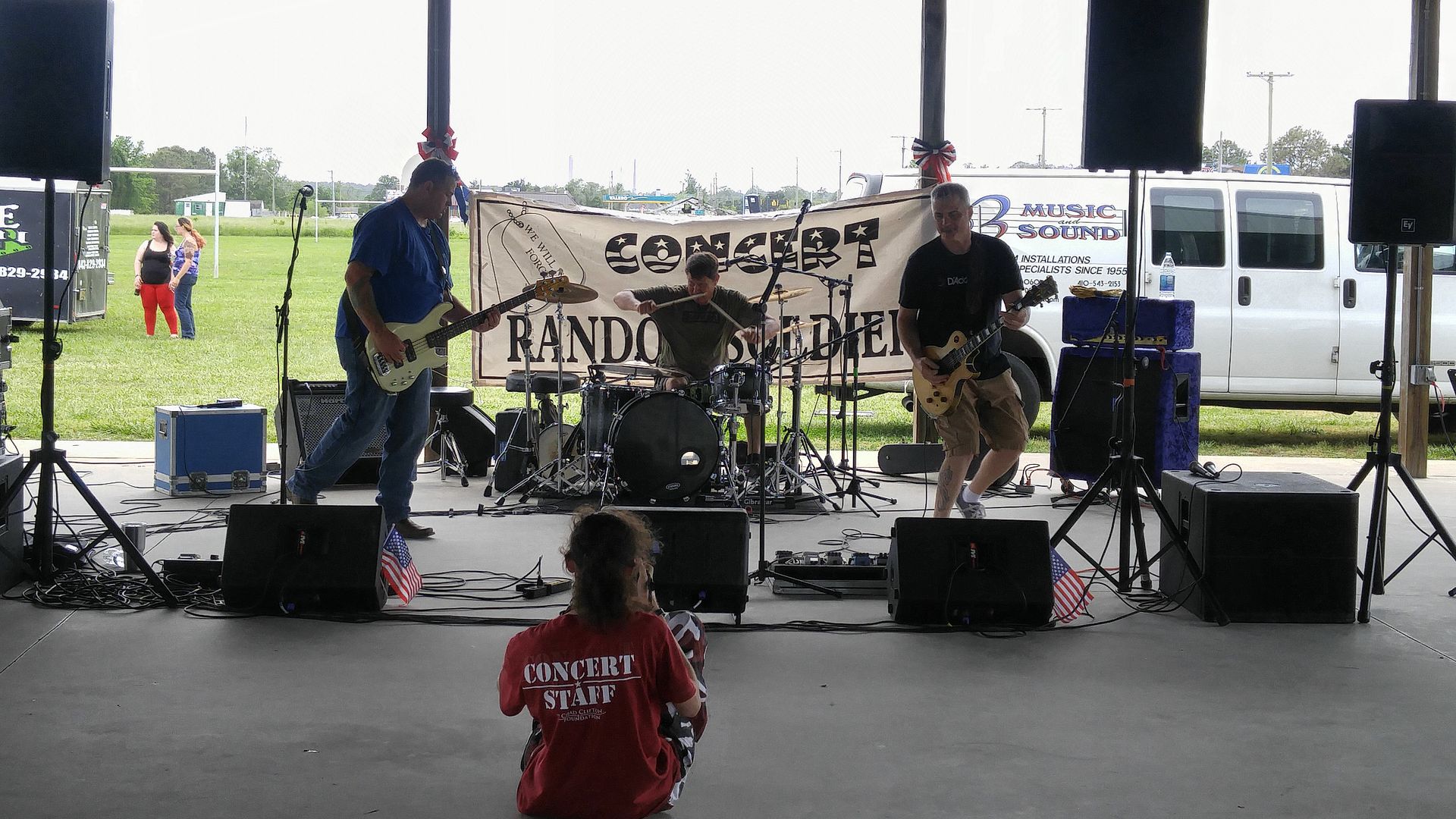 They were probably one of the first to play the heavier stuff, doing some Godsmack and a great mashup of Rush's Working Man and War Pigs by Black Sabbath. I would have liked the solo at the end of Working Man to make it a circular medley, but no matter.
As the stage was reset between bands, there were acoustic acts set up off to the side. Captain Mike was one of those who did a couple stints.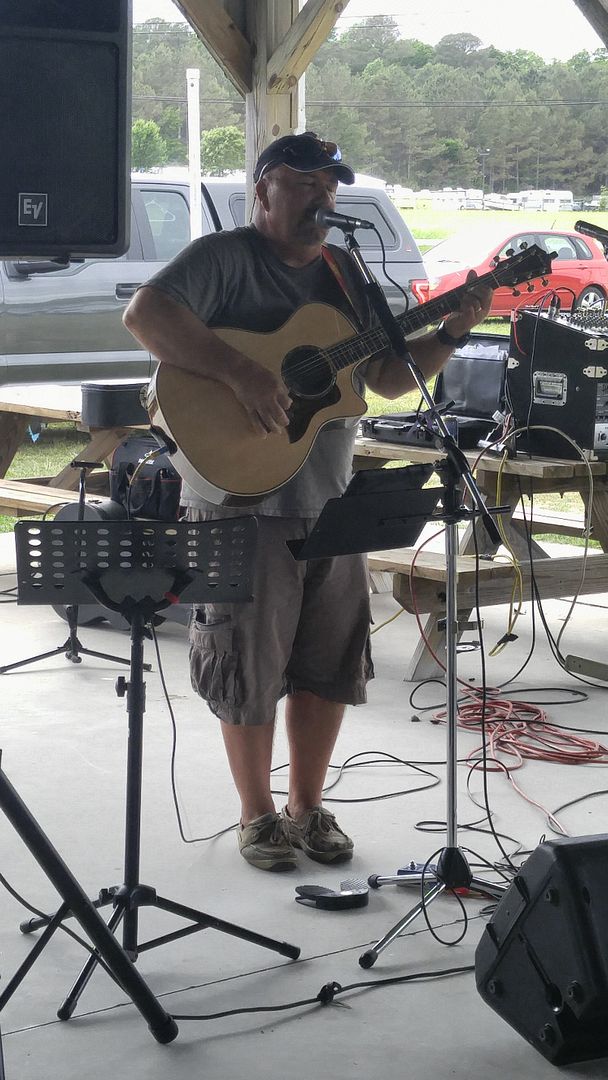 In this case, he yielded to the Joey Fulkerson Trio, which is the three-piece variant of Nothin' But Trouble.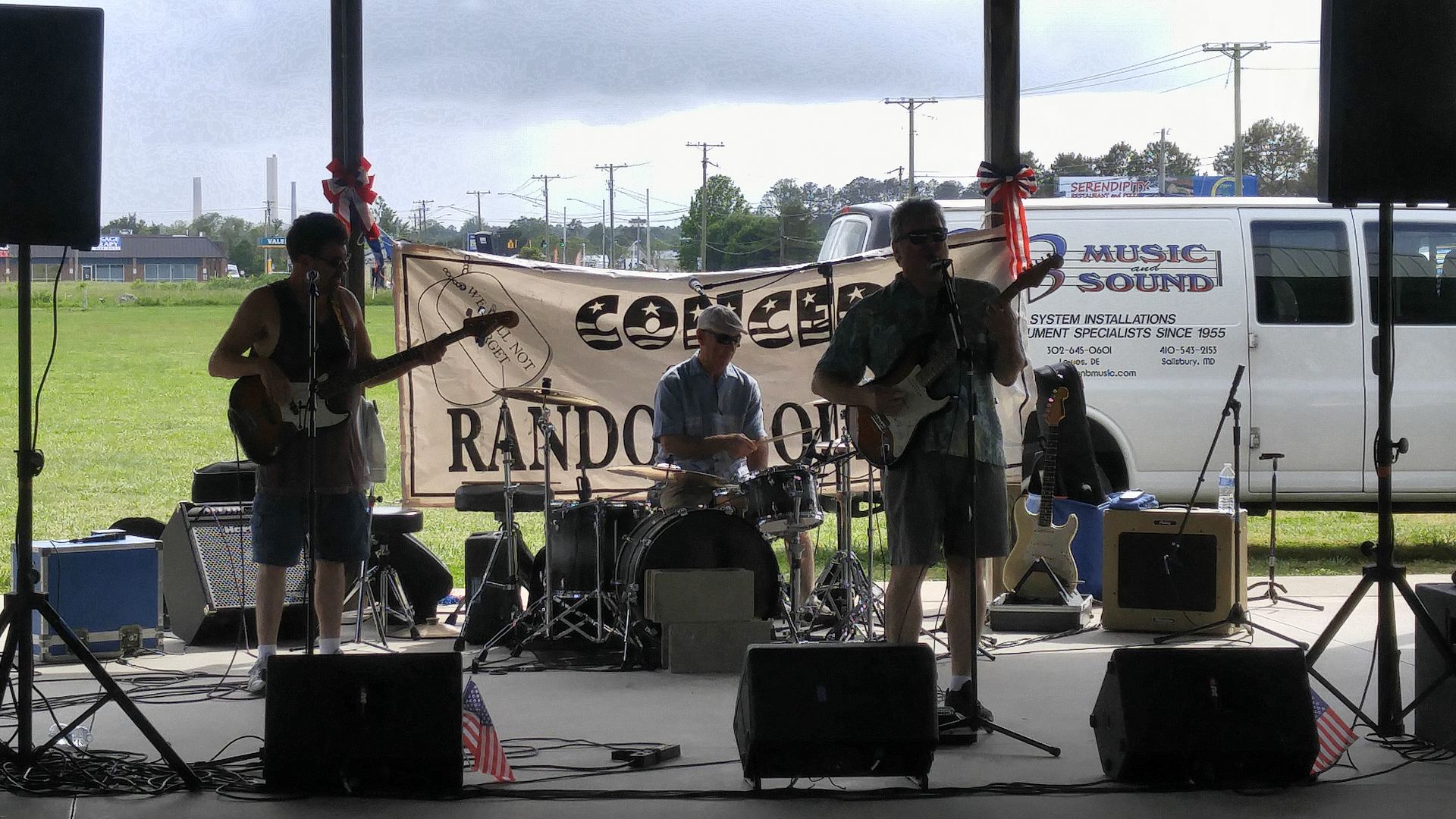 They reached back into a blues-based set that featured some B.B. King and wrapped up with the Jimi Hendrix classics Hey Joe and Voodoo Child. That was an enjoyable set as the fellas were jamming.
After the return of Captain Mike, the stage was set up for Welcoming War.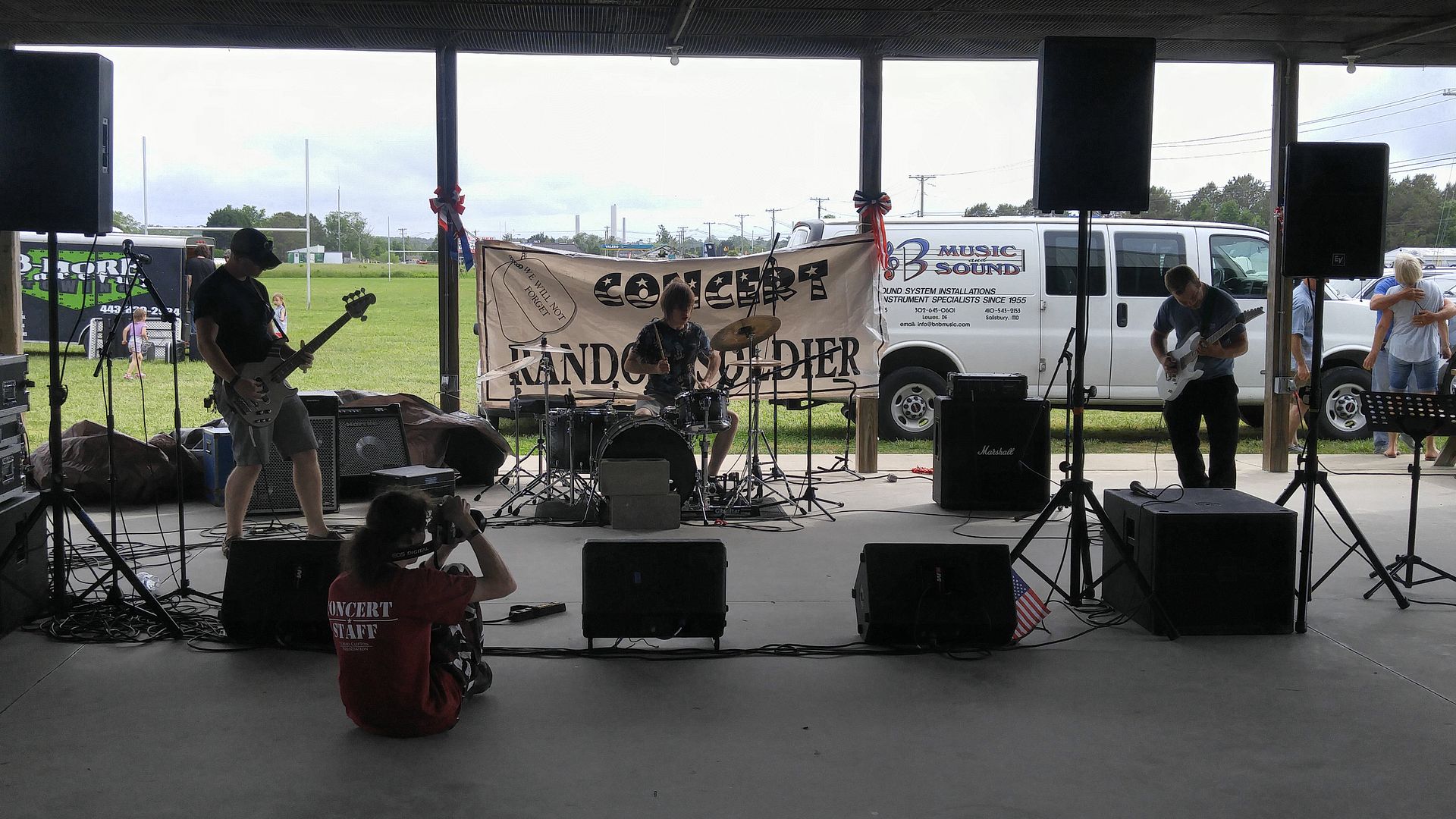 They were definitely a power trio, with the additional distinction of not having a lead singer. So all of the songs were instrumental.
In that respect it was much like listening to jazz – which is also often instrumental – but with rock instruments. It was a unique sort of a heavy metal/jazz fusion that I think I can get into because I don't much care for jazz but heavy metal sometimes needs a different take.
The mood shifted for the final acoustic act of the day-turned-evening, Mike and Savannah Shockley.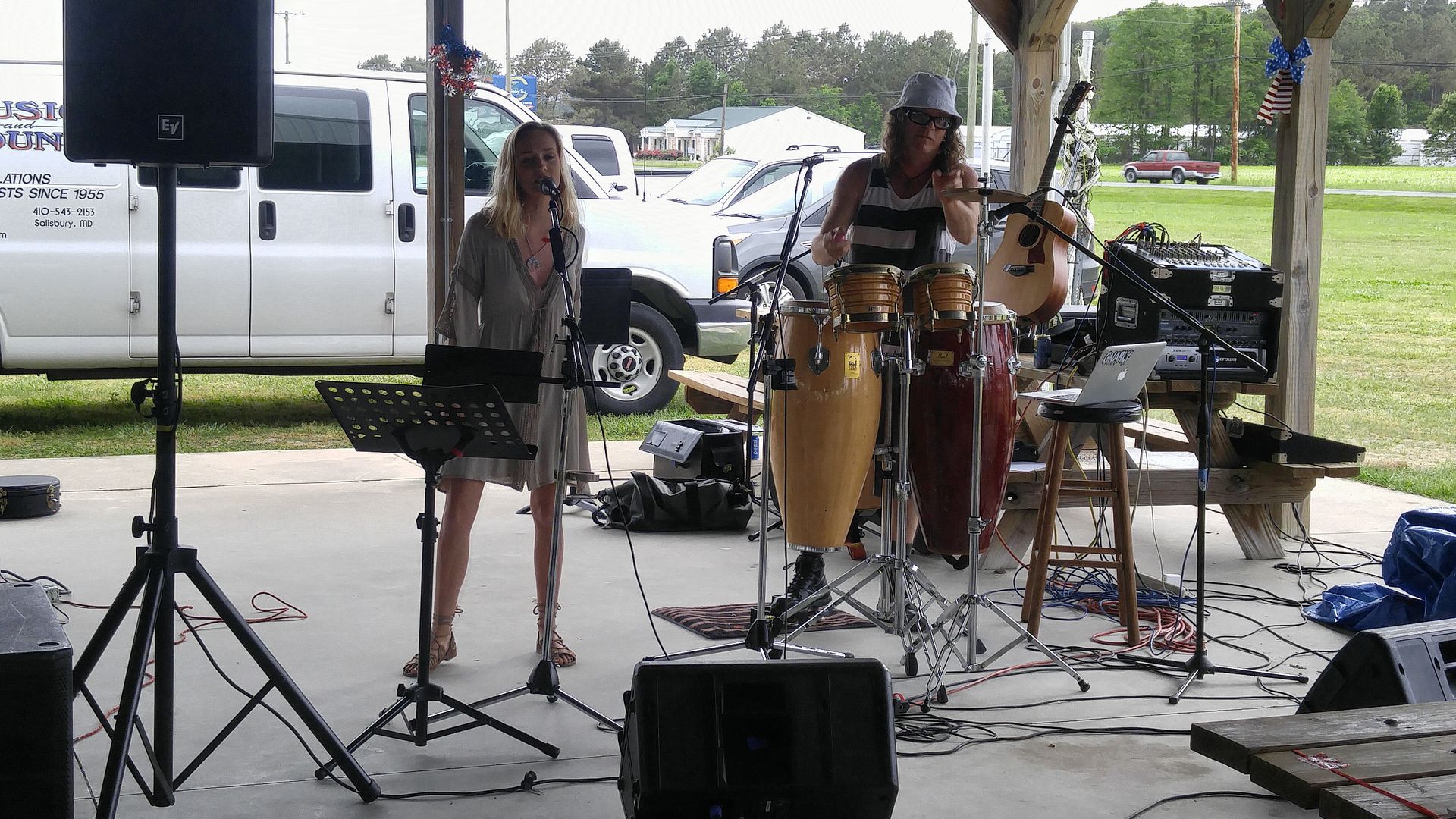 Savannah did a credible job on a Stevie Nicks classic, but she really did well with the couple originals they did. It's interesting that some of their music is programmed while the remainder is live, as you can see. Obviously this can be done in a professional manner as I've reviewed a lot of albums put together by one person, a handful of instruments, and a computer, so we will see how they develop.
From what I understand this was their second gig, so Savannah will learn over time and performance just what songs work for her and which ones she should avoid.
There was no avoiding the heavy from the last act of the day, Modern Day Addiction.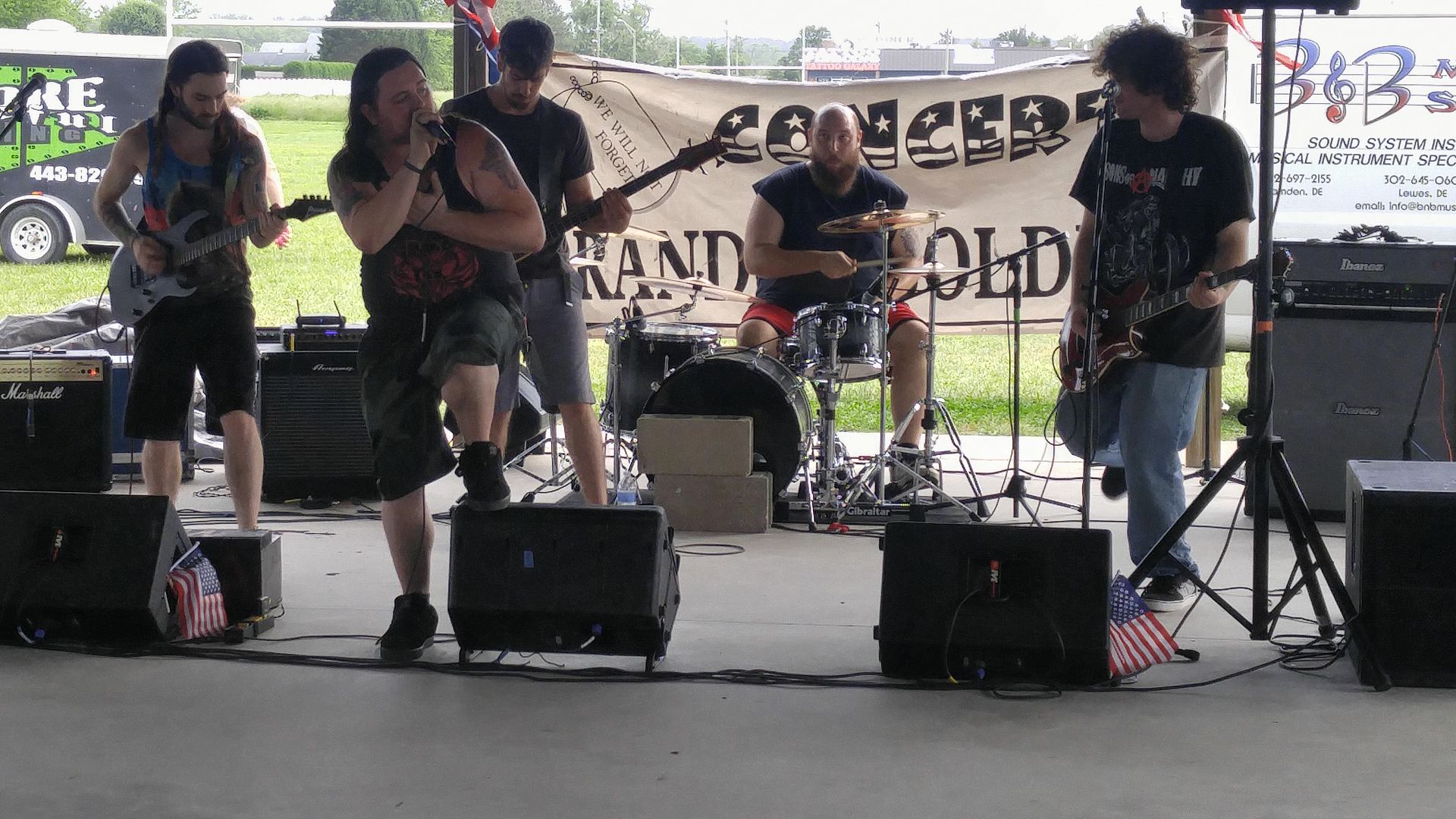 Blasting their way through a bevy of covers like TNT, Fuel, Dio's Holy Diver, and a great version of Tainted Love, a song made famous a quarter-century ago by Soft Cell, they also threw in some great original stuff. The mosh pit was in full effect while they were playing, even if it was only a couple people.
There have been a couple years where the company was ready to go by the time MDA played, so I was glad to stick around this time.
Of all the acts and all the love they had for the cause, though, there was one thing sadly missing. My friends Jim and Michele Hogsett used to play this event annually, whether as part of Semiblind or as solo performers (and sometimes both.) Regular readers of mine know Michele lost her battle with cancer late last year (WLR volume 67 covered her memorial concert) and it's hit Jim hard, so keep him in your thoughts and prayers. I definitely missed him at CRS, and I'm sure the Cliftons did too.
But they promise "a few exciting changes" for next year, so I hope to see you out there. Great music for a great cause is always good.
As a programming note: you won't have to wait as long for WLR volume 69. It will truly be a weekend full this time.
In the wake of a senseless tragedy perpetrated by a radical Islamist in Orlando, the natural reaction to a group of radical Christians in Iowa is disappointing but not surprising. The crime of the Iowans? In the case of Governor Terry Branstad, it's signing a proclamation for the Iowa 99 County Bible Reading Marathon, slated for June 30 to July 3 in front of every Iowa county courthouse. In response, he may be sued by the ACLU and the Freedom From Religion Foundation. From the Daily Signal:
Freedom From Religion Foundation Co-President Annie Laurie Gaylor told The Daily Signal that her organization, an atheist and agnostic nonprofit based in Madison, Wisconsin, is asking Branstad to rescind the proclamation.

"It's totally beyond the purview of a governor or any public official to request that people read the Bible, much less that they engage in a Bible marathon or that they read any 'holy book,'" Gaylor told The Daily Signal. She added: "Government is supposed to be neutral towards religion. It's not supposed to play favorites."

Gaylor says the proclamation is "unconstitutional" and "egregious" and that her organization is "hoping to sue."

"We have a godless, secular Constitution," Gaylor said. "There's no Bible in it."
I would argue that we have what's pretty much become a Godless, secular nation thanks to people like Gaylor, but that's not really the point.
Insofar as I know, no one is going to be rounded up and herded off to these county courthouses to be forced to listen to Bible verses and prayer. Obviously this is a volunteer, freewill effort that will be conducted on the public square and Governor Branstad is expressing his support, presumably as a fellow Christian. I wouldn't mind seeing the same occur in Maryland and Delaware.
Granted, there's a supposed separation of church and state, but to me it doesn't mean the state can't sponsor religious activities. A proper interpretation of that doctrine is to know there is no Church of America, such as there's a Church of England. I attend a Baptist church, but that makes me no more or less an American than someone who goes to the Catholic cathedral, Jewish synagogue, Hindu temple, Islamic mosque, or any of the other sects who believe in a Creator. (Or those who don't believe in one.)
I don't know about you, but I can't equate the perceived inconvenience of having to avoid a corner of the courthouse lawn to not hear a prayer service with someone of any denomination expressing his religious beliefs via a mass shooting, simply for the offense of being gay. (That assumes there were no straight people in the club, which there surely were.) Is it really that terrible that people want to pray?
Recently I had a medical scare that turned out to be minor, but one thing that surely kept it minor was being lifted up in prayer by members of my church, friends, and people who hardly knew me but were concerned. I was not concerned about the denomination of those who prayed for me, but appreciated the thoughts and prayers. There was no "right" prayer, just a good volume. Maybe in this time of strife we need a larger volume of prayer for our nation, you think?
I think the Iowa Prayer Caucus state director, Ginny Caligiuri, summed this up just right:
We are reading the Word of God on the grounds of our courthouses because we as a nation have turned from our biblical foundations and our nation is in big trouble.
Amen. No harm, no foul, so read away!
I may never grace the pages of The Resurgent for my writing ability, but I at least can say I contributed in some small way to the success of Erick Erickson's venture. In an article written by Steve Berman on Friday, I had to do a double-take. "That looks like the Salisbury Trump headquarters," I said to myself, then realized the photo looks REALLY familiar. The person who did the photo for the article (perhaps Berman) cropped the car out of the left side of the photo.
I suspect I also used this photo for Facebook as well, so it's pretty much public domain. But I had to have a little fun with it.
Of all the #Trump joints in all the towns, @lifeofgrace224 had to pick our @DowntownSBY one. https://t.co/wzbk62CclQ

— Michael Swartz (@monoblogueUS) June 11, 2016
Berman was a good sport, though.
@monoblogueUS @DowntownSBY @resurgent no knock on your town. I've been there and enjoyed it.

— (((Steve Berman))) (@lifeofgrace224) June 11, 2016
Yet there was a serious element to his search.
@monoblogueUS @DowntownSBY @resurgent it was the emptiest and saddest that I had license to use.

— (((Steve Berman))) (@lifeofgrace224) June 11, 2016
Of course all this played out prior to the Orlando terrorist attack last night, which may make the fundraising question less relevant for Trump*, but the case that's been made by Berman and others who question the wisdom of nominating Trump is his heretofore weak effort at raising the sort of money needed. $2 billion in free media is great for the primary, but now the actual race between Trump and the candidate the media actually supports has begun. This doesn't count Trump's belief that he can put California, New York, New Jersey, and "maybe" Maryland in play.
Now I was told at our state convention that the RNC would immediately chip in $25 million upon his nomination, as Trump's message about self-funding his campaign was only for the primary. Nor does Trump have the advantages of donors made fat by government largesse or coerced dues to bankroll his campaign. While it's possible to overcome these disadvantages on a state scale as Larry Hogan did, the fact Republicans have lost the popular vote in five of the last six national Presidential elections tells me the Democratic formula is hard to beat. It's going to take all these newfound passionate Trump people contributing to the ground game to win over Hillary, and do so without taking resources needed to maintain the Senate and House.
Color me, along with Berman and Wolf, a little skeptical at this point.
__________________
* The BIG caveat: it seems to me that the more anti-Trump protests and terror attacks there are, the closer Trump inches to his goal. It will be interesting to see the polls toward the end of this coming week as more is learned about the Orlando attacker.
Once again I spent a significant portion of my Memorial Day weekend honoring both the living veterans and those who made the ultimate sacrifice.
Unlike last year, the vibe was quite a bit different this year due to threatening skies and an occasional rain shower. But the show went on at the eleventh annual Concert for a Random Soldier up in Long Neck, Delaware. I think this is about the eighth or ninth I've attended, and it seemed the threat of rain brought the attendance down a bit.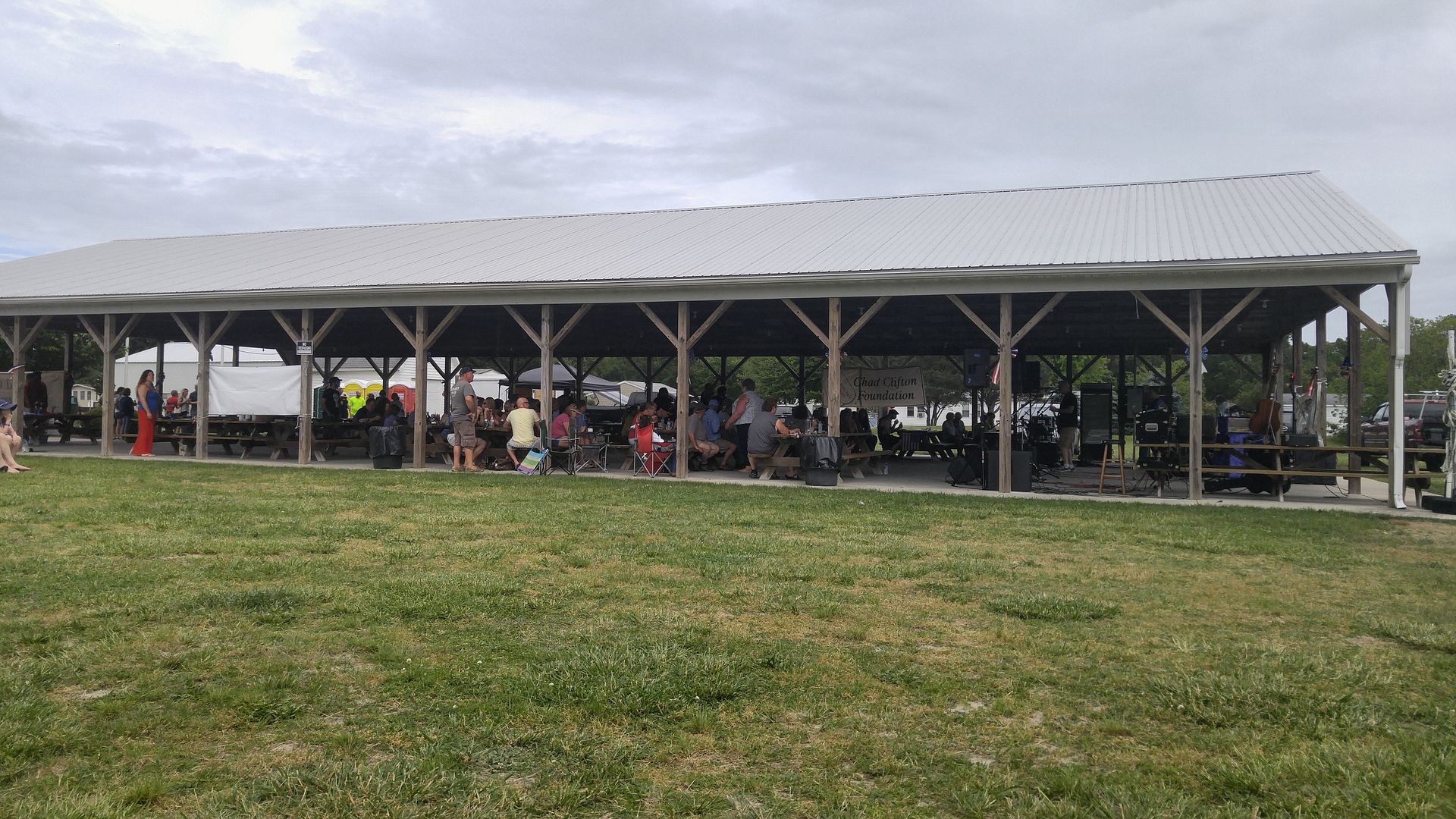 There have been several years where all the rows of picnic tables were full and another few dozen scattered around the perimeter (as Kim and I did for most of the show.) It was a shame that more weren't there, although the silent auction still seemed to be a moneymaker.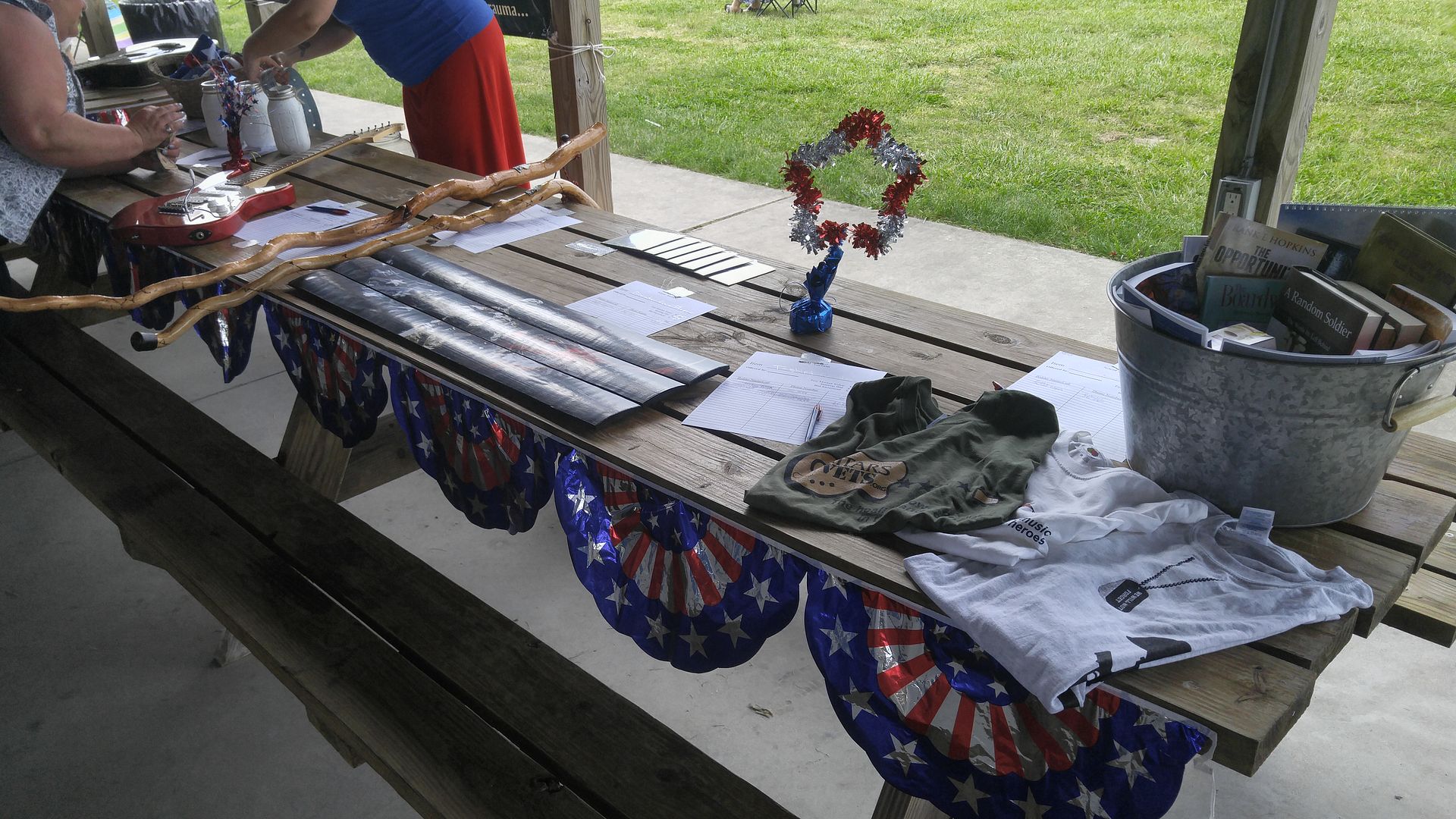 It continues to be the case that the Chad Clifton Foundation is the presenting sponsor and the beneficiary is Guitars for Vets. Chad Clifton is the "random soldier" in question, as he was killed in Iraq in 2005.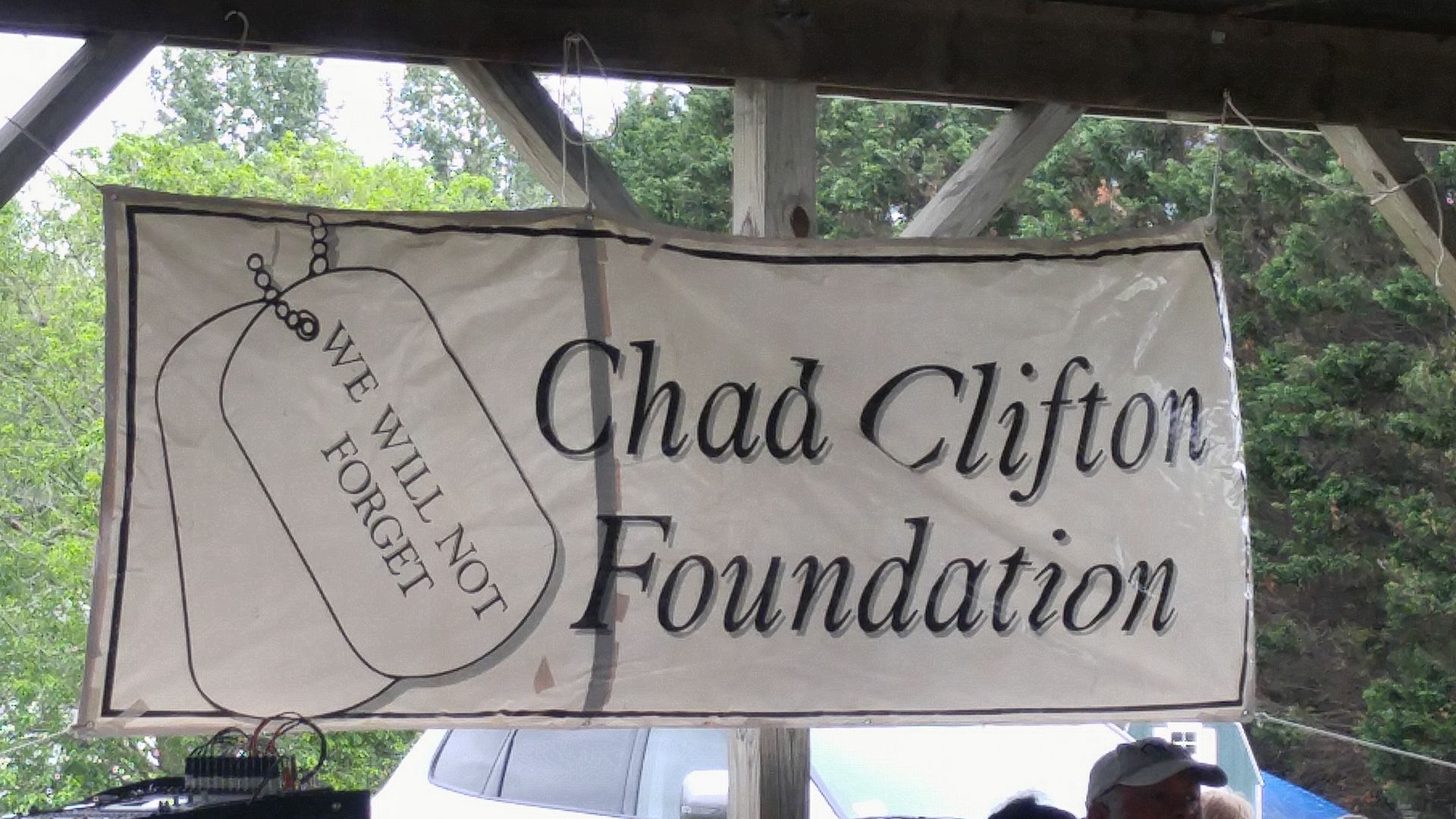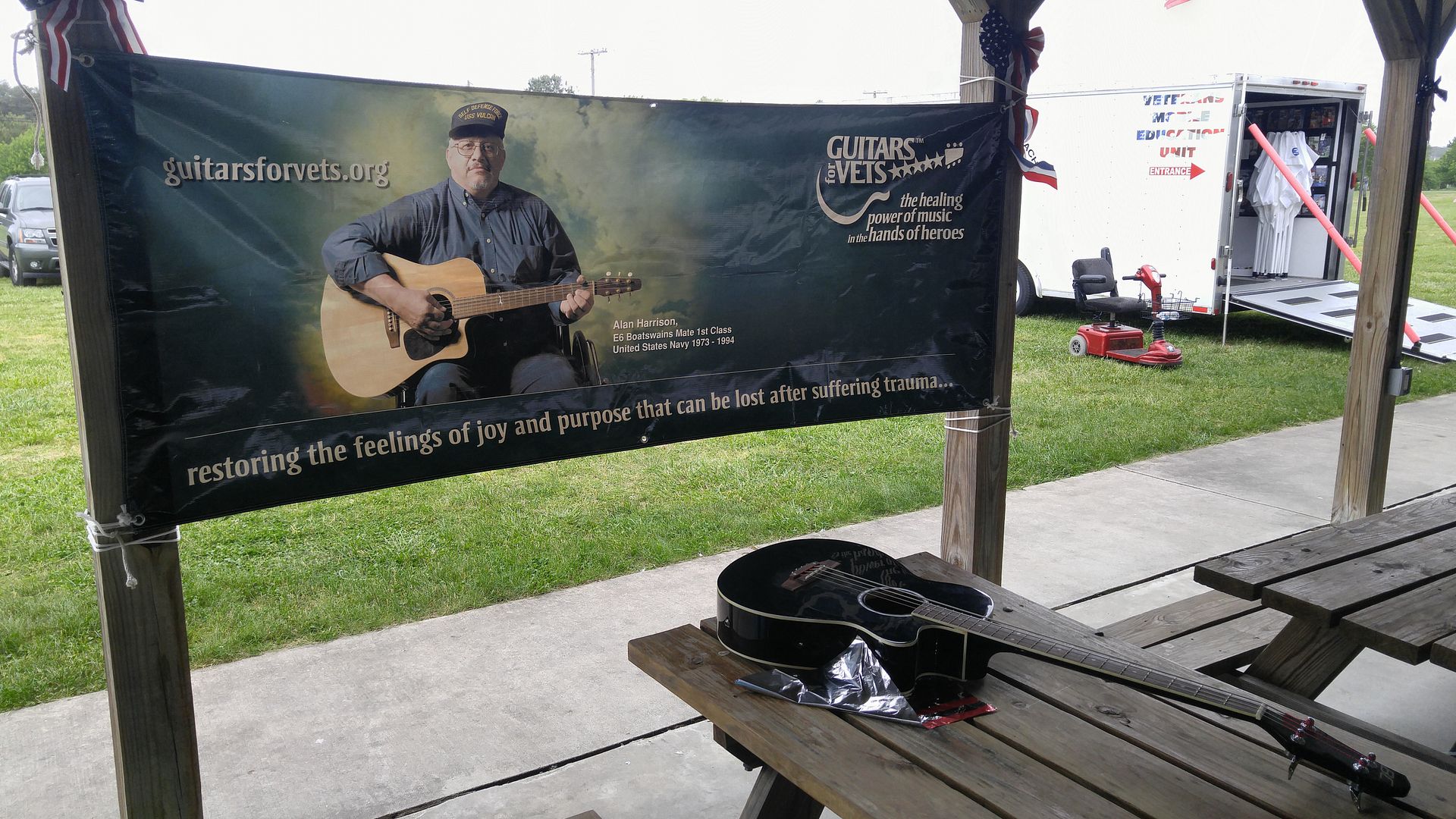 With a lot of help, Chad's mother Terri Clifton has spearheaded the event.
Obviously it's a tribute to her fallen son, but she also intended the event to increase the awareness for living veterans and assist them as she could through the charity side of it. All of the food, shirts, and silent auction items were donated and the bands volunteered for the gig – many have done so for several consecutive years. (I'm going to cover the latter half of the program in an upcoming Weekend of Local Rock segment.)
But for seven hours the area around Long Neck was rocked and rolled by bands that ranged from acoustic cover artists to those performing the oldies to some heavy metal artists playing great original music. It's certainly a different style of Memorial Day weekend tradition than the event Kim and I attended this morning.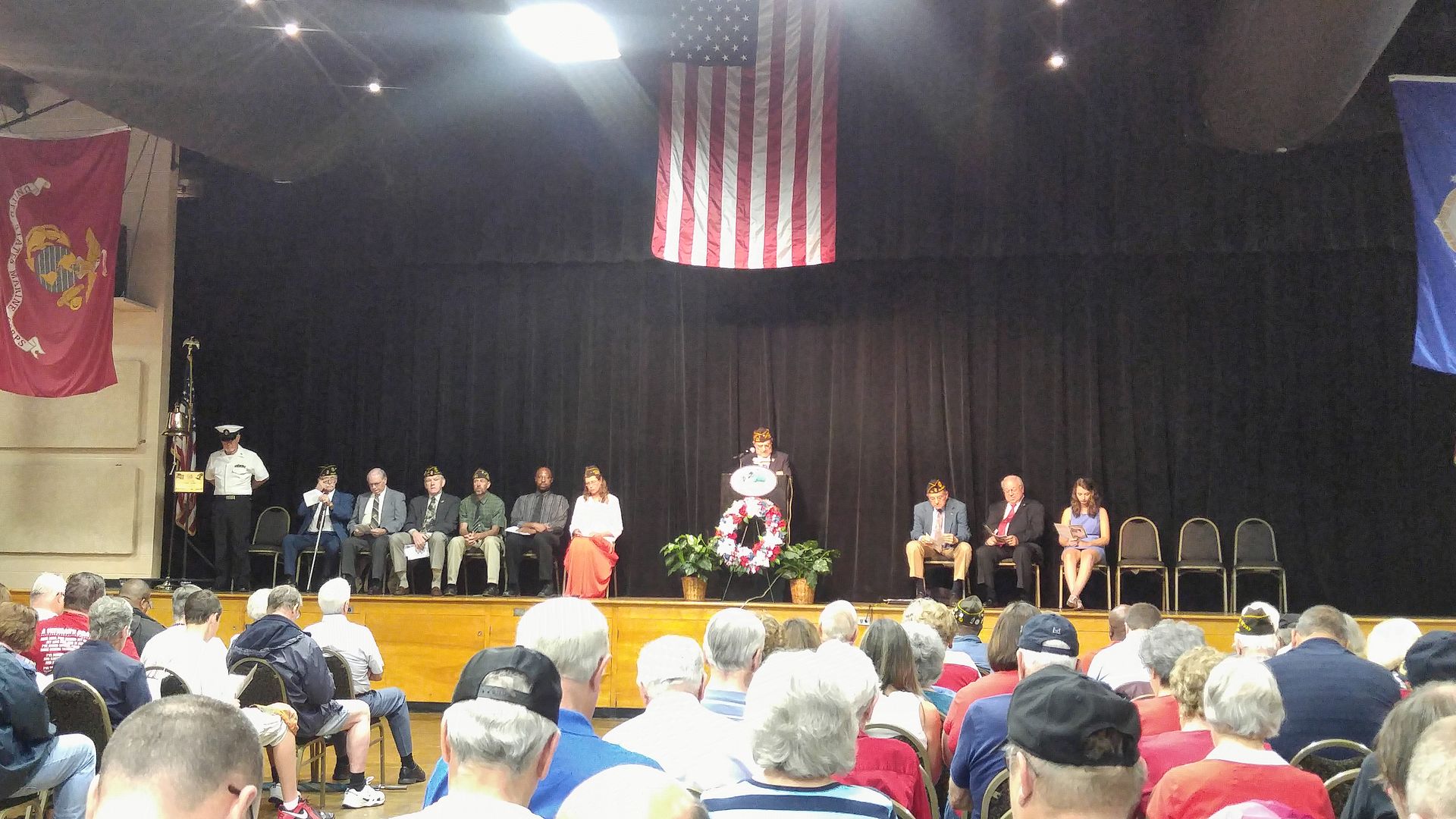 The somber mood of this annual Wicomico County observance was matched this year by somber weather that forced the event indoors for the first time since I began attending it in 2005. The event program remained pretty much the same except for not being able to lower the colors (usually performed by members of a local JROTC unit) and the honor guard needing to step right outside the door to do the volley of arms.
As you may be able to tell from the photo, something I brought up last year still rings true: this event is being organized and coordinated by an ever-graying generation of soldiers, sailors, and airmen. For most of the last decade, our fighting forces have been the subject of budget cuts, accusations of barbaric acts from the left side of the aisle, and social engineering – all while seeing their mission change on the capricious whims of those in office. There's still a generation that supports the military, and I don't think we're to the nadir of respect for the military those who returned from Vietnam endured.
Yet it's worth considering that the clear majority of the 191 names on Wicomico County's list of war fatalities were killed during World War II, and there are precious few of their brothers in arms remaining among us. (If you signed up the day after Pearl Harbor on your eighteenth birthday, you would be 92 years old now.) Korean War veterans are perhaps a decade younger, and those who served in Vietnam are mostly at retirement age. While the sacrifice is a burden to bear for any family that lost a loved one in combat, the simple fact that the death toll from Vietnam is roughly eightfold that of the engagements since means Memorial Day is a little less in mind for the bulk of Americans, even as much as some of us try to goad people into remembering.
So it may be that the ranks of those who are asked to stand because they lost a family member in combat get a little smaller year by year, but those who have gone generations before still deserve to be remembered as if it were yesterday. Let's remember that for next year.
I have never been to a genealogical site like Ancestry.com to confirm this, but insofar as I know I have no relatives who have perished defending America in battle. I did not serve in the military as I came of age in a time of peace when the draft was unnecessary, while my father was drafted into the Army at the perfect time between Korea and Vietnam. He served his two-year hitch down in Georgia as I recall. Then he came home to Ohio, married my mom, and had three sons so it was lucky for me that he didn't become someone we would remember on Memorial Day.
Unfortunately, those who were born in different eras may have been touched multiple times. Imagine a family where their boys were born in the late 1890s, making them just the right age to fight the Kaiser in the Great War (World War I.) The survivors come home and have kids in the early 1920s, making them a prime age to go fight Hitler and the Japs in World War II. Those who made it through that war would have had kids right afterward (the earliest Baby Boomers) and the oldest among them were drafted to go to Vietnam. It's funny – just this evening we ran into an acquaintance whose husband is ill from Agent Orange. Both of them are around 70 years of age, and it reminds us the youngest Vietnam veterans are becoming eligible for Social Security. (They are also the last draftees, as we have featured an all-volunteer military for over 40 years.)
Without glossing over the sacrifices thousands have made in subsequent military operations such as Desert Storm, Desert Shield, Enduring Freedom, and so forth, being so far removed from a major war where everyone was involved and our very existence was at stake - such as World War II – along with the idea of always having the holiday on a Monday, has created a Memorial Day weekend that is more about having the extra day off than about remembering those who died fighting for our freedom. As I noted before, it's a burden not equally shared among generations, let alone families. Nor is Memorial Day about the living veterans, as they have their own day in November – but those who served likely lost a brother by another mother in conflict, so they are due that measure of respect.
For many years I have attended two events during Memorial Day weekend – the Concert for a Random Soldier held in Long Neck, Delaware, and the local veterans memorial service at our Wicomico Youth and Civic Center. Unfortunately, there is a serious threat of rain and even thunderstorms during both events this year so I hope other arrangements are being made. (While it's been sweltering and humid on many occasions, I don't recall it ever raining on the Wicomico County ceremony since I started attending them 11 years ago.) Our family gathering may be forced inside as well.
But somewhere it will be sunny for Memorial Day, and wherever that place is should be reverent in spending the day. Our fallen heroes deserve no less.