I don't think I even had this down as a concern four or eight years ago, but as I get older and grow in my faith these things become more important to me. So I will devote a valuable eight points to these issues, which I would loosely define as abortion, preservation of traditional marriage as in only between a man and woman, and religious freedom issues such as the Religious Freedom Restoration Act.
Ideally, abortion would only be legal in very rare circumstances, marriage would return to being between one man and one woman with same-sex couples allowed civil unions to grant them a similar legal status to marriage (but not co-opting the term), and those who have religious conscience would be allowed to follow their faith directive. I understand that this might open a can of worms insofar as the traditions of certain religions, particularly Islam, so it should be understood that America was based and founded on Judeo-Christian principles and our laws and customs tend to follow those. I see nothing wrong with that course.
When a candidate believes "2016 will be the religious liberty election" and scorns fellow Republicans about running from the fight to "rearrange their sock drawers,"  there's a pretty good chance he will rate highly, and Ted Cruz does. I'm also not worried about his abortion stance if leftist ninnies are screaming about it, for example, questioning the fact January 22 is a day of infamy among pro-lifers. Cruz also turns around the tired leftist "war on women" meme, calling unfettered abortion the "real war on women."
If you add in his call for civil disobedience when it comes to same-sex marriage and consider his overall record, I think we have a winner.
Total score for Cruz – 8.0 of 8.
Very close behind Cruz is Louisiana governor Bobby Jindal, whose state is considered the most pro-life in the country. Just like Cruz, his stance on abortion drives the Leftist ninnies batty, as they seem to forget their idea was to keep abortions safe, legal, and rare. Two out of three ain't bad. He's called out the inside-the-Beltway crowd for their cowardice as well.
As the governor of a state that had its definition of marriage between a man and a woman overturned by the Supreme Court, he was reluctant to follow the directive, waiting for the court with jurisdiction over the state to actually overturn the will of the people before relenting. Now he wants a change in the Constitution.
A recent action, though, would seem to bolster the argument against the religious freedom executive order he signed. But as usual, the media got it wrong: Westboro protesters were free to demonstrate, but Jindal simply ordered a strict enforcement of state laws which already prohibit disrupting funerals.
Total score for Jindal – 7.9 of 8.
Coming in just behind Cruz and Jindal is Mike Huckabee. Mike has no problem defending life; in fact, he responded to an obvious "gotcha" question about deploying the FBI or federal troops to stop abortion by curtly saying, "we'll see when I become President." The Left had a field day with it, as one would expect.  Huckabee also decried the "manufactured crisis" regarding Indiana's original religious freedom law and vowed to use executive authority to prevent it.
Huckabee also blasted the Obergefell ruling, calling it an "out-of-control act of unconstitutional judicial tyranny." You would figure a man with Huckabee's background would do well here and indeed he does, with just the slightest hint of apprehension from me about how far he would take executive power. He's also far more vague on his website than he is in the press.
Total score for Huckabee – 7.8 of 8.
Much of what I needed to know about the plans of Rick Santorum when it came to social issues came in this neat little statement. I also knew from his last run he was pro-life, yet he complains about the media treatment he gets. Well, when most of the media is left-wing it's what you need to expect.
So I have no problem with the issue standards – which are very much like those who come in ahead of him – just the whining.
Total score for Santorum – 7.6 of 8.
After reading up on Rick Perry, I decided to give him a score that is about halfway between Bobby Jindal, who could argue with Perry's claim about being the most pro-life governor (and has the laws to back it up), and Ben Carson, because both Perry and Carson have misspoke on gay marriage. A defender of state's rights, Rick defended the Indiana religious freedom law, signed one for his own state, and decried the Obergefell decision because it usurped 10th Amendment authority.
Unlike the others above him, though, I don't see Rick using the bully pulpit as much on these issues.
Total score for Perry – 7.0 of 8.
Overall, I think Marco Rubio will be fine on social issues – he's pro-life, has a compelling story to tell, and seems to have the right idea on the Obergefell ruling. Several others wish to fight this at the state level, too. He's also good on religious freedom. I also like how he's given space on his campaign site to these issues, although his unusual layout makes it hard to find.
He doesn't seem to get as much credit on these as others in front of him. In that respect he's like Rick Perry but doesn't have the advantage of being able to pass laws. In the Senate Rubio is more well-known for immigration than social issues, and that holds him back a little in both categories.
Total score for Rubio – 6.4 of 8.
Ben Carson makes no bones about it: he is "unabashedly and entirely pro-life." Obviously his perspective as a physician helps there, and much of his appeal comes from those who make social issues paramount. He also supports religious freedom legislation like Indiana's original RFRA law, which supposedly allowed discrimination against same-sex couples so they "clarified" it.
The problems have come when he tripped over his tongue on being gay, and conceded the Supreme Court made gay marriage "the law of the land" (although he personally favors civil unions in lieu of same-sex nuptials, which is my stance as well.) His comments and subsequent walking back of them hurt him a little bit here as well, but overall this is by far his strongest category to date.
Total score for Carson – 6.0 of 8.
Trying to straddle a line between libertarianism and faith can be difficult, and it puts Rand Paul a little below the top tier of candidates on this issue. He's admirably pro-life and gets it for the most part on religious freedom, although he was slow to defend the Indiana law that should have been just what he wanted: key social and moral issues left up to the states. But as long as taxation and child-rearing legalities are dependent on marriage, you can't simply take government out of it as it stands currently. On the other hand, sound thinking in other areas can work toward that goal, which is why I don't deduct as much on Rand as I do for others who simply wash their hands of the issue (see below.)
Total score for Paul – 5.5 of 8.
During his tenure as governor of Florida, Jeb Bush was placed in the unique position of defending the life of Terri Schiavo, who was the unwitting subject of a legal tug-of-war between her estranged husband and the remainder of her family. Ultimately he lost that fight, but overall Jeb has a relatively sound pro-life record.
Where I begin to differ with Jeb is his "evolving" (read: retreating from the truth) on marriage, particularly true in his choice of advisers. At one time he decried the idea of homosexuals having "special legal protection," but now is fine with letting states decide and not amending the Constitution to declare marriage as the union of one man and one woman. He also backed away a little on Indiana's RFRA law after the outcry from the gay lobby. His brother retreated from a conservative stance more and more as he went on as President, and I fear Jeb may start from an even worse position despite his assertion that his faith will guide him. At this juncture he's only slightly better than average.
Total score for Bush – 4.5 of 8.
John Kasich has a very sound pro-life record and approach, which I applaud even if the lefties don't.
But I see him shrinking from the fight in other important areas, telling the Republicans "it's time to move on" from traditional marriage and stating Ohio doesn't need a religious freedom law despite the fact he backed the federal one as a Congressman in 1993. Just wait, governor, you will. As he backs away from those positions, it makes me wonder if he has the fortitude to remain on the side of the unborn. If you value working across the aisle I wonder about that.
Total score for Kasich – 4.5 of 8.
Scott Walker joins this crowd in the middle with much the same resume as Kasich – a staunch record for life that includes a Pain-Capable Unborn Child Protection Act he signed days before his announcement, but ambivalent opposition to same-sex marriage (perhaps due to family concerns) and a lack of desire to enact a religious freedom law in Wisconsin.
So he gets the same score as Kasich and Jeb Bush, who is cut from a similar cloth.
Total score for Walker – 4.5 of 8.
Carly Fiorina is very good on the pro-life front, noting on the trail that her mother-in-law was advised to abort the man who would become her husband. On that front she's also unafraid to call out liberals for their hypocrisy. She's also on the right side when it comes to religious freedom.
But, in the same breath, she's going the wrong way on gay marriage, and the lefties (who would back Hillary anyway) are happy about it. I'm also disappointed she doesn't make any statement on these issues on her campaign page, although it is short on a lot of specifics in the first place. And even though she is misled about the crux of the gay marriage issue, at least she will disagree without being disagreeable.
Total score for Fiorina – 4.2 of 8.
Maybe Chris Christie came late to the party, but as governor of New Jersey he touts his pro-life record. It's relatively close to the mainstream, with the usual "rape, incest, and life of the mother" exceptions. But he's not fought hard on same-sex marriage, meekly allowing his state's supreme court to enact it and telling us that, while he didn't agree with it, same-sex marriage was now "the law of the land" as Ben Carson did. He also would not support county clerks following their conscience, which tells me he's no big advocate for religious freedom. He supported Indiana Gov. Mike Pence on a personal basis, but was backing the changed law.
Total score for Christie – 4.0 of 8.
I decided, after a little bit of thought, that while Lindsey Graham is earnest in his pro-life beliefs and deserves a lot of credit for trying to enact a federal Pain-Capable Unborn Child Protection Act - anyone who says in one breath they are for traditional marriage and religious freedom but in the next advises us to wave the white (or maybe it should be rainbow) flag and "move forward" because there's little chance at success. Instead, he pledges to fight on religious liberty.
But if he's willing to throw in the towel there, when will he stand and fight? As I kept reading and considering, he kept sliding down my list.
Total score for Graham – 4.0 of 8.
I'm probably being a little unfair to Jim Gilmore since he just got into the race, so he hasn't made a priority of staking out positions on all the issues. However, in looking back mainly to his abortive 2008 campaign, I found he has an eight-week window where abortion is okay. And while he was against same-sex marriage and civil unions back in 2007, so was Barack Obama. One thing that troubles me is this 2013 interview where he seems to be cautioning Republicans to stay away from social issues. That, though, is the conservative base and they need to be fired up in order to get to the ballot box.
Total score for Gilmore – 2.0 of 8.
While he leads in the polls for now, Donald Trump is near the bottom of my list. The only thing that saves him from the bottom is his relatively recent pro-life conversion. And even though he vows to be the "greatest representative for Christians" if elected he doesn't seem comfortable with the evangelicals and was hesitant to state his opposition to gay marriage. There are far better alternatives as far as social issues go.
Total score for Trump – 1.6 of 8.
It's no surprise George Pataki is at the bottom of my list given he is pro-"choice." Yet he doubled down on bad decisions by blasting the Indiana religious freedom law, and is fine with same-sex marriage being the law of some of the land, saying let the states decide. Basically that takes us back to a pre-Obergefell status and it's easier to fight at that level, so I guess I can give him a little something for that.
Total score for Pataki – 0.5 of 8.
I need to catch Kasich and Gilmore up on previous issues (education, Second Amendment, and energy for Gilmore) so once I do that I will move on to the next category, trade and job creation.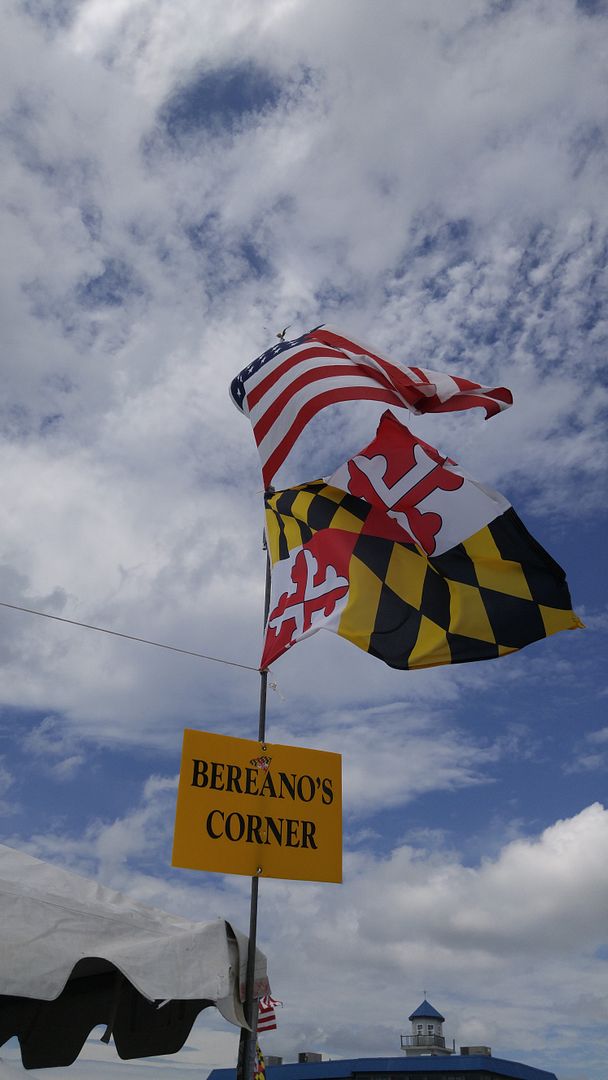 Bereano's Corner was in roughly the same location, but there was a lot of strangeness about this year's event.
Our tent was in a new location. Some liked the idea of being along the marina, but the traffic walking by wasn't as brisk as we had when we were in the middle, next to Bereano.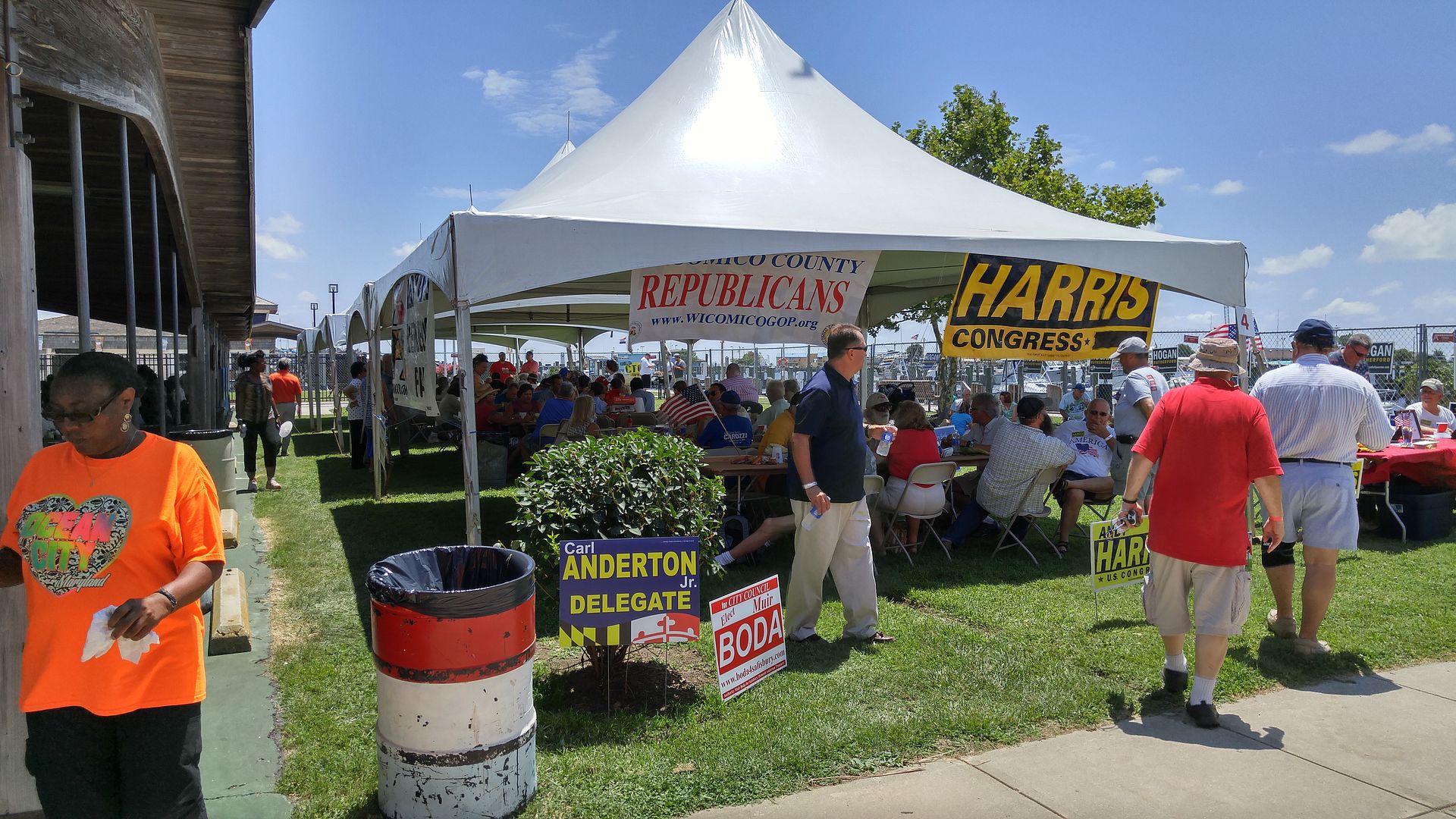 It did have a great space for signage that many took advantage of.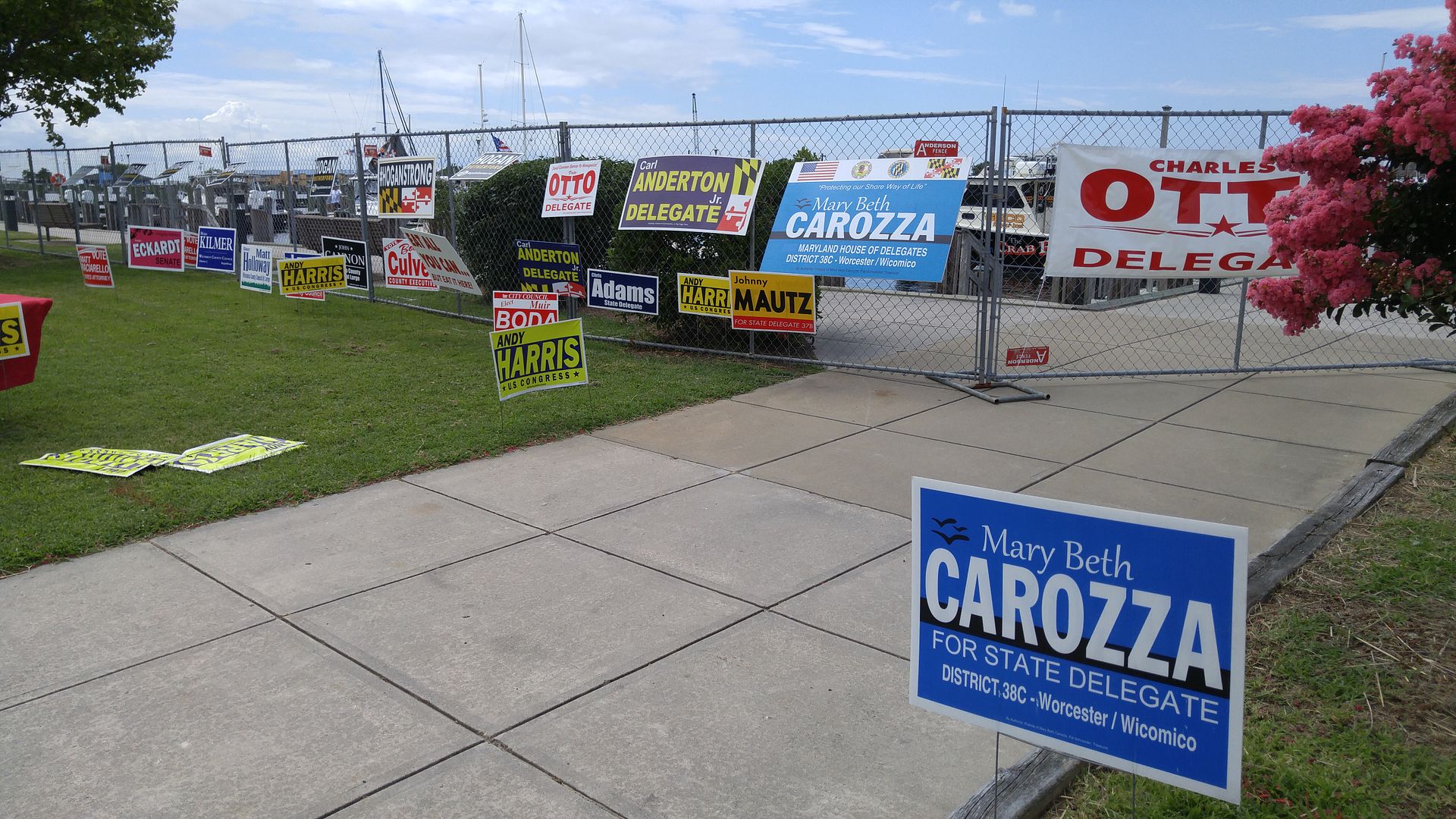 Being on the grass, we also had our share of bloodsucking biting flies. Speaking of bloodsuckers, the Democrats were less than thrilled with their location as well. Normally they have been the corner tent in this line.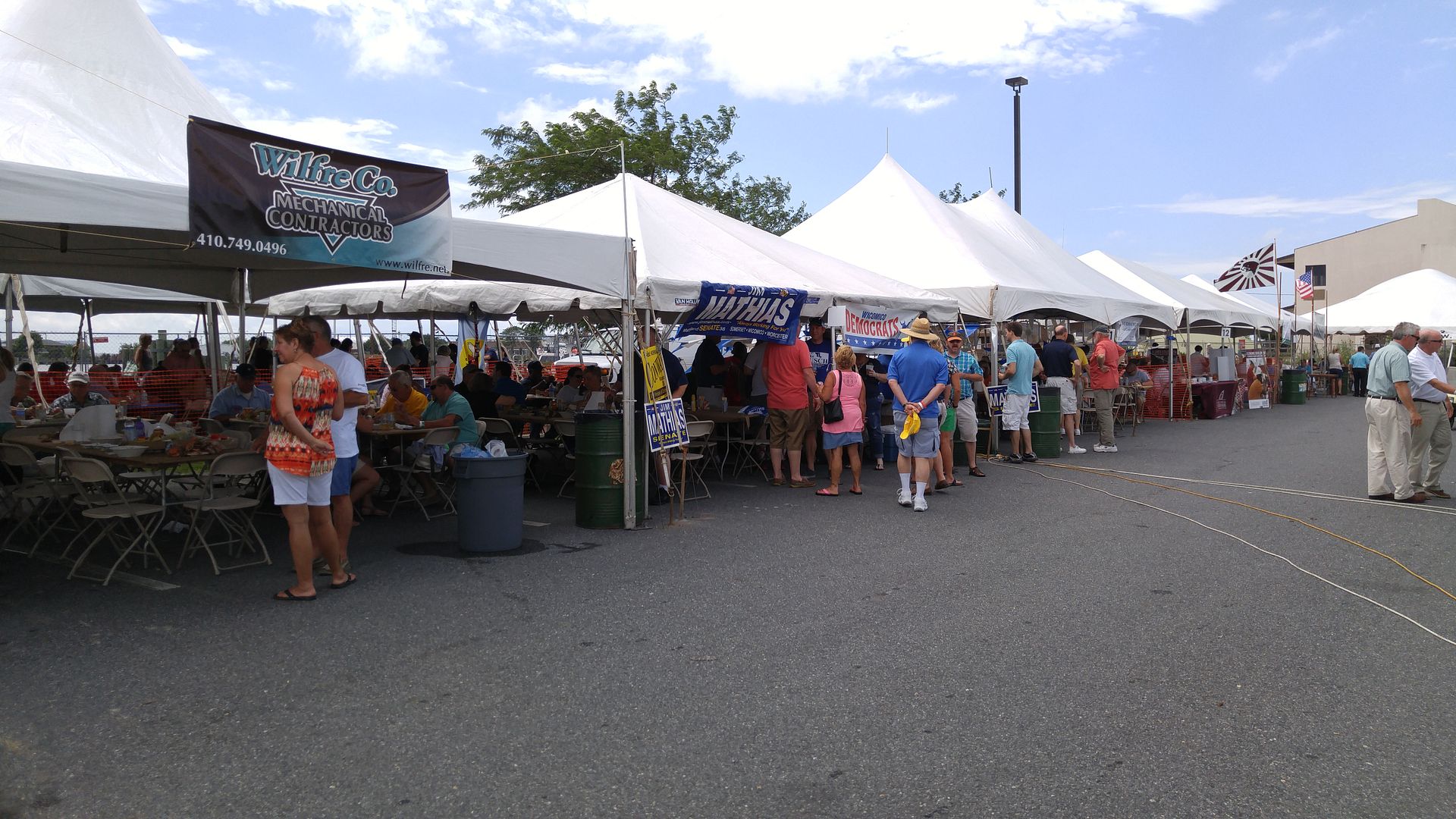 But they did have the keg, not that I had anything from it. They also had an interesting table within.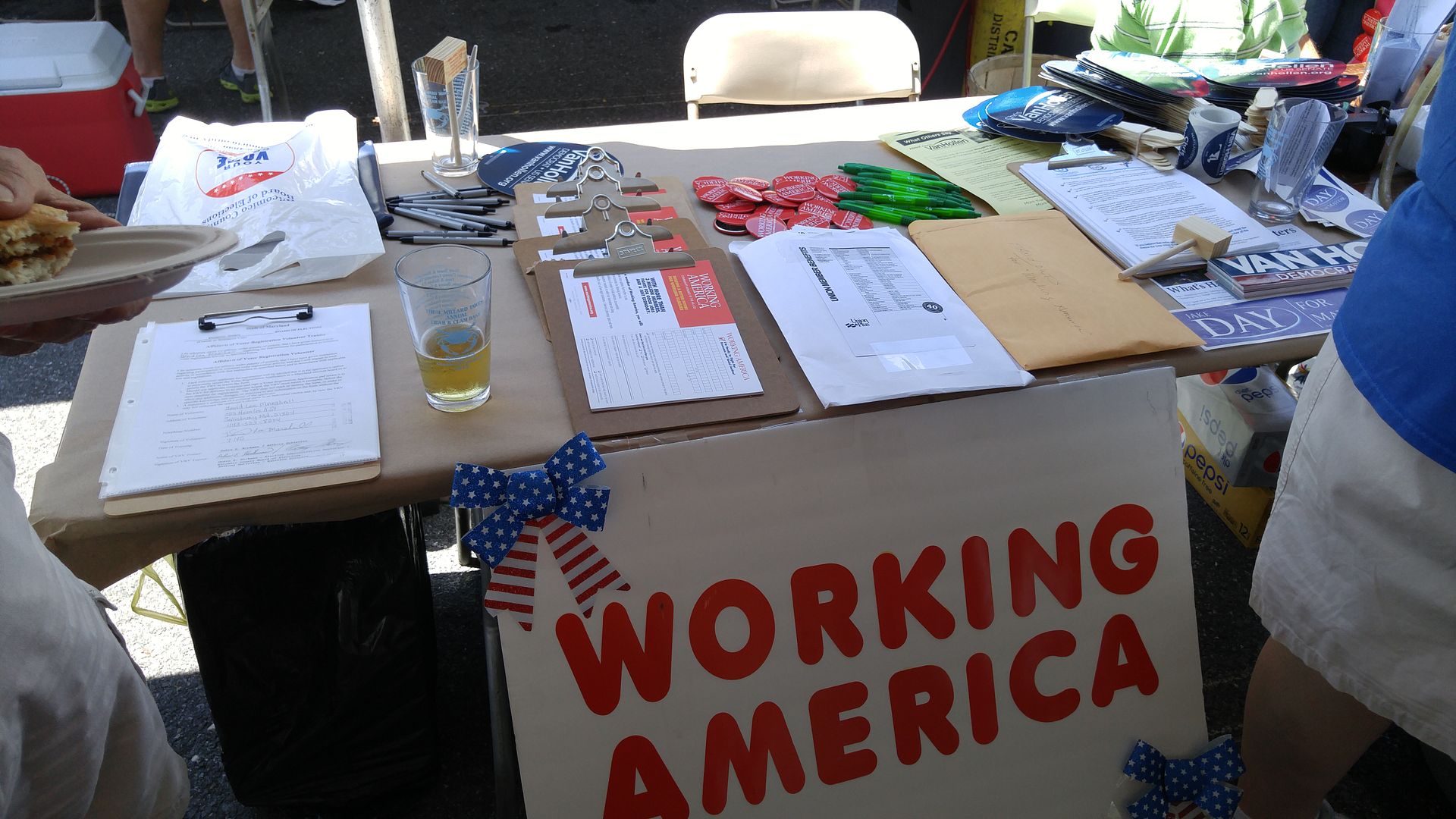 While I am part of working America I'm not a member of this AFL-CIO affiliated organization, so it's no surprise to find them in the Democrats' tent. There were a handful of folks walking around with their red shirts on, but Big Labor didn't have the presence here they did during the O'Malley years. Maybe they are laying low until next year.
There were quite a few businesses there, although it was a different mix than I recall from previous years.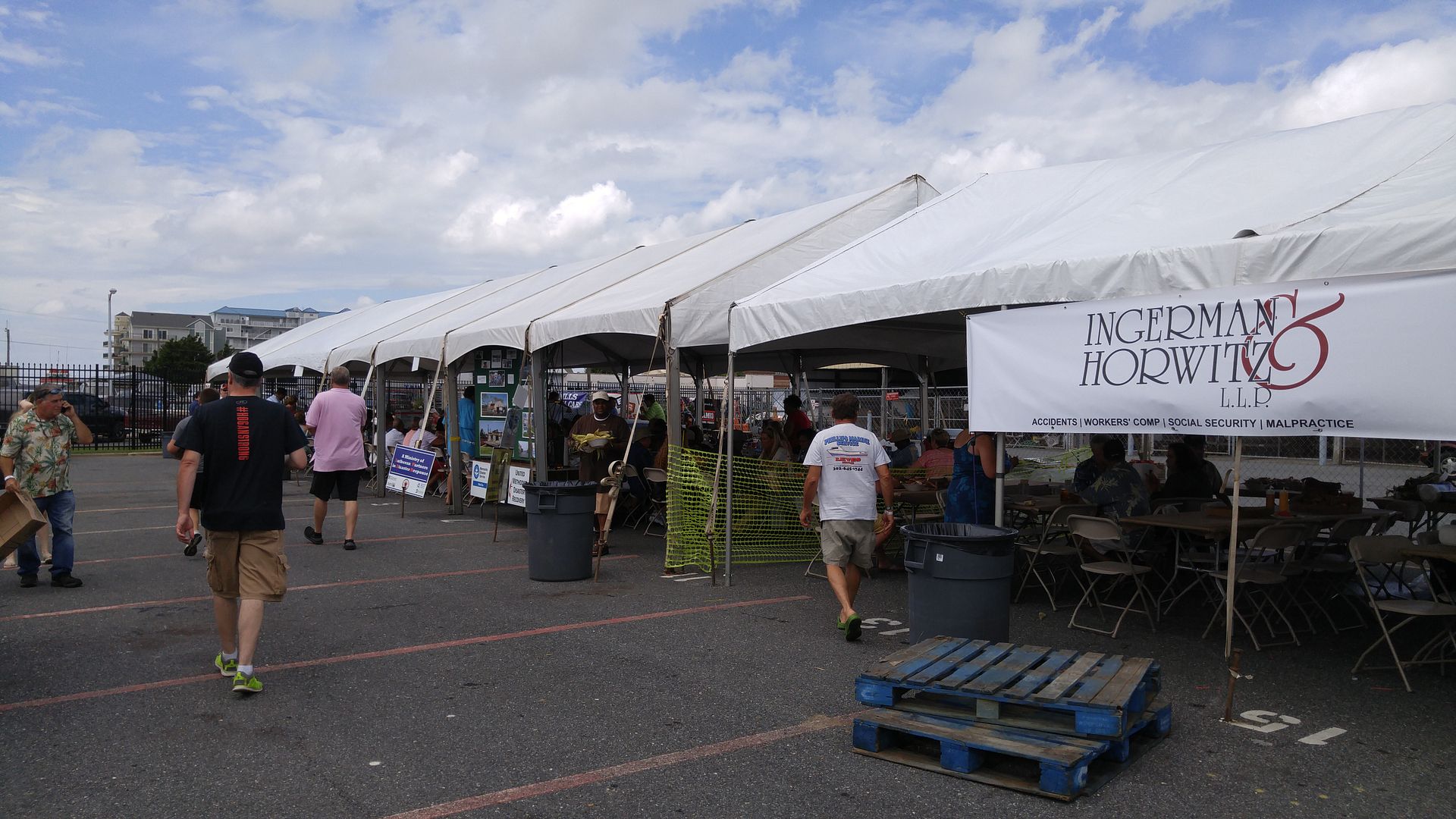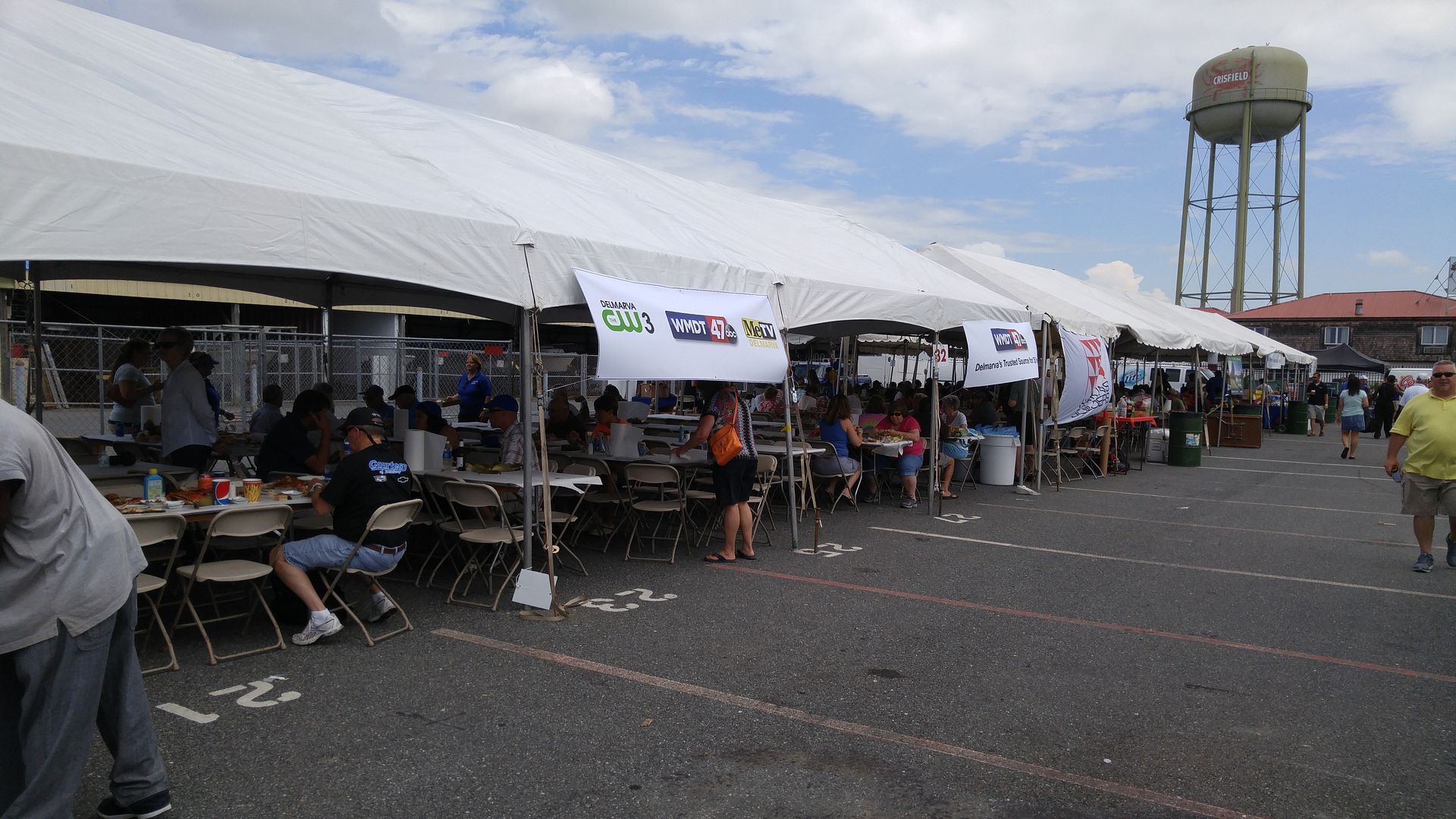 Some enterprising youth took the occasion to be their own business people. Those in orange were "runners" and on their shirts it read they were working for tips.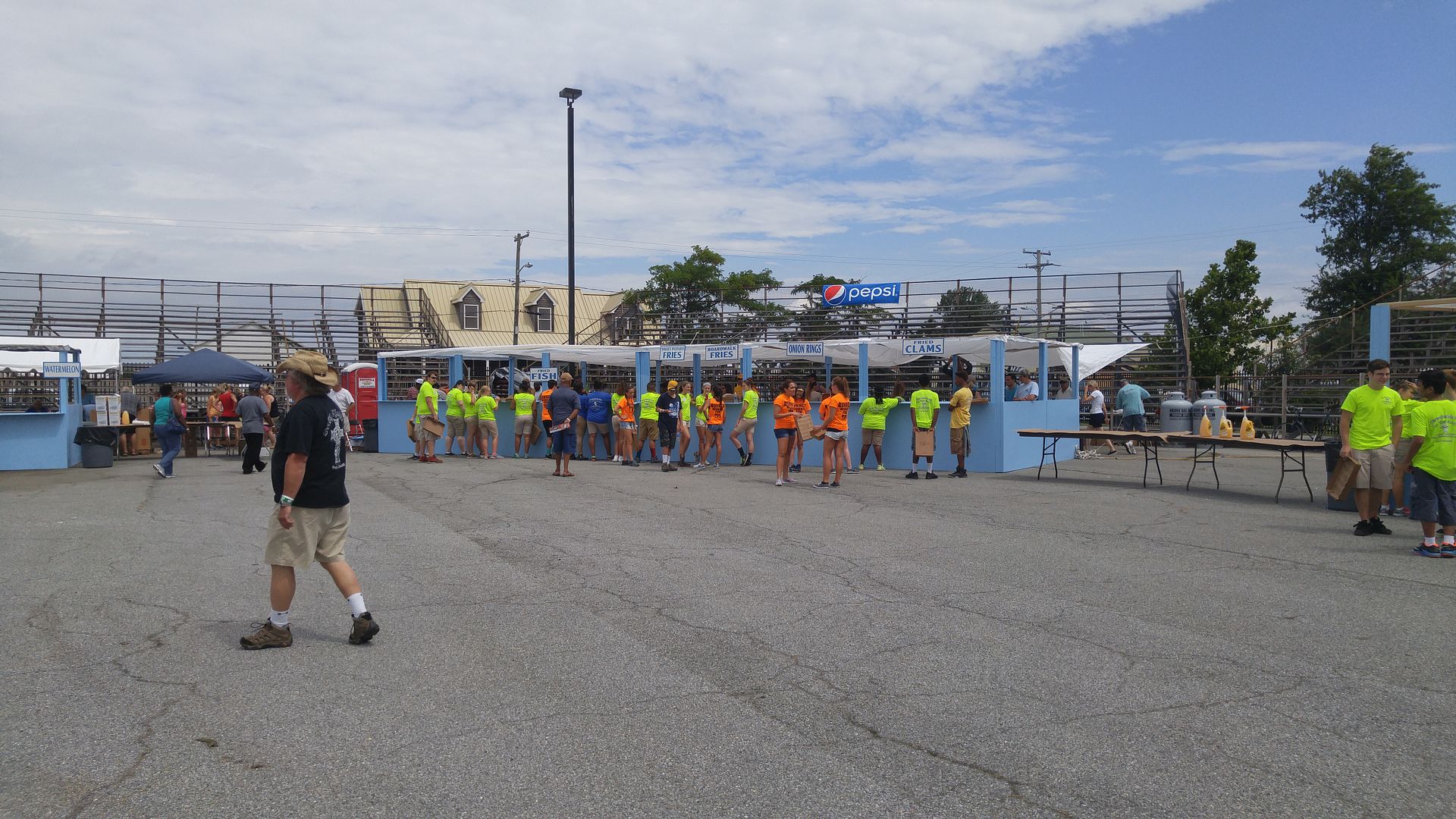 Hopefully they made more money than those who annually charge $10 or $20 for parking in their yard. I don't think business was as brisk for them because attendance seemed off from last year.
Government and public entities were well-represented, too. Interesting how the environmentalists are cozy with the economic development group.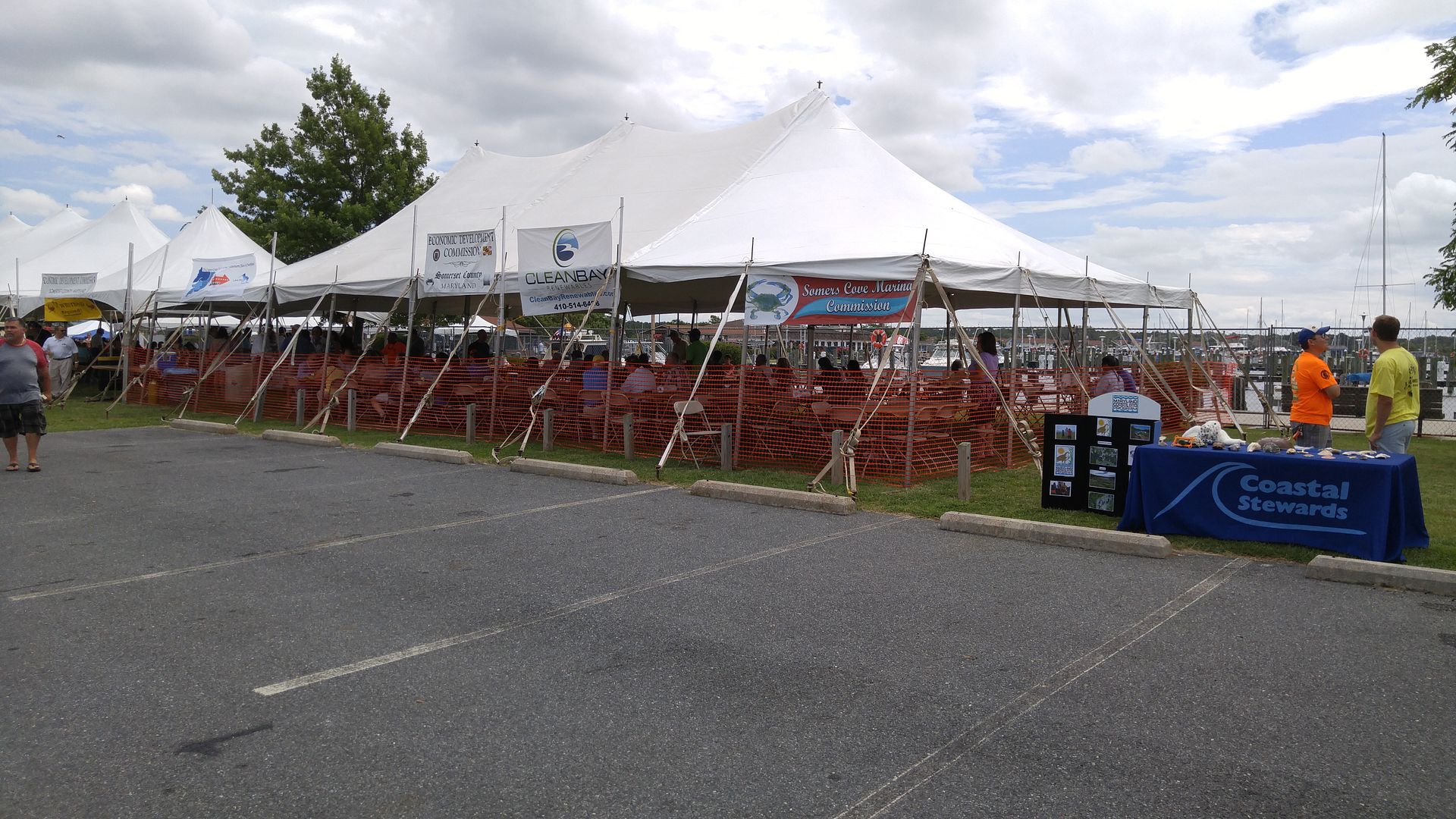 I think the University of Maryland – Eastern Shore was next to the Democrats, but Salisbury University was really trying to make a splash.
While there were a lot of differences in this year's rendition of Tawes, some things never change. Lobbyist Bruce Bereano always has the biggest tent.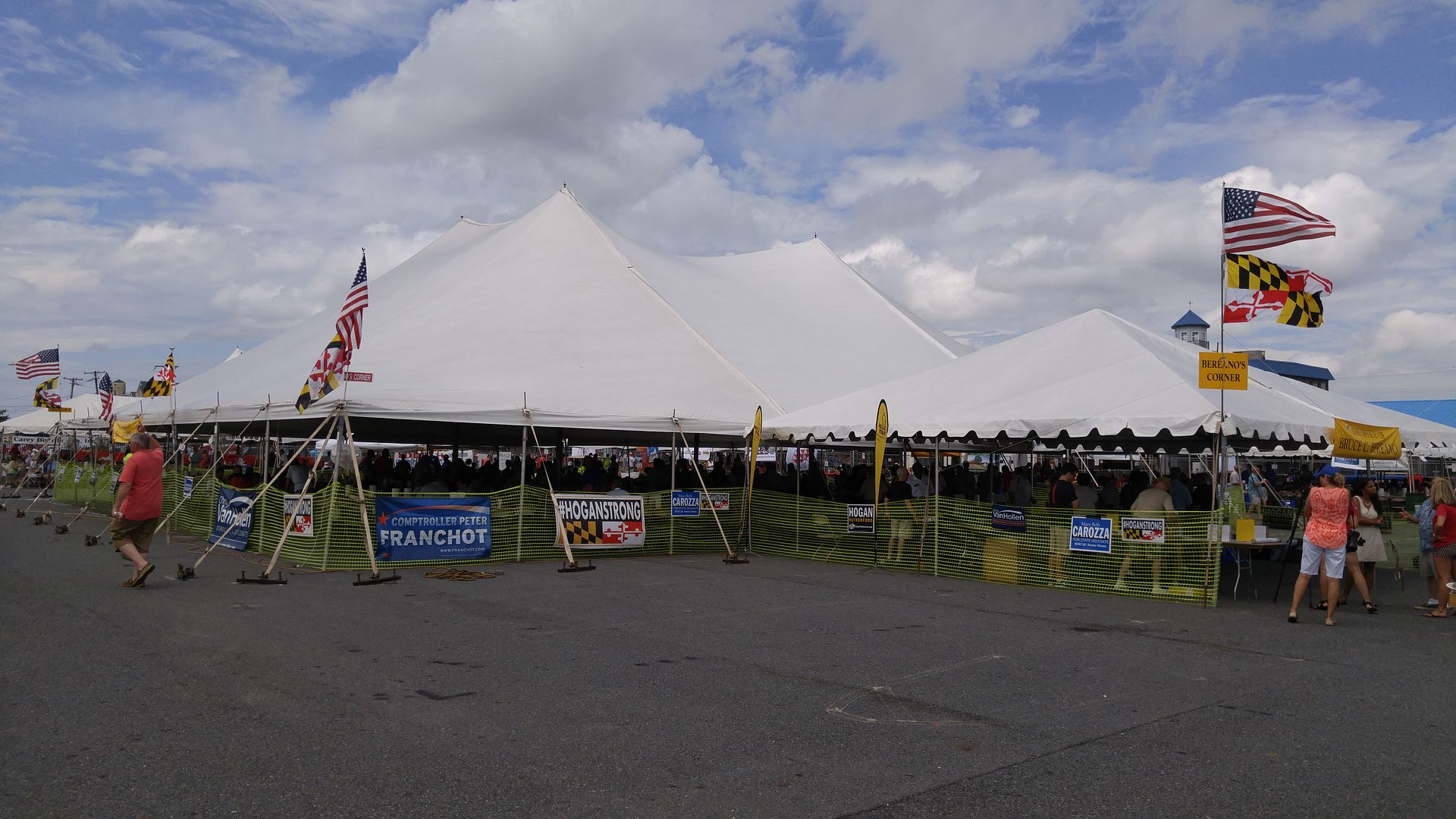 Another constant is a ton of good food, particularly of the fried variety. This was my spread.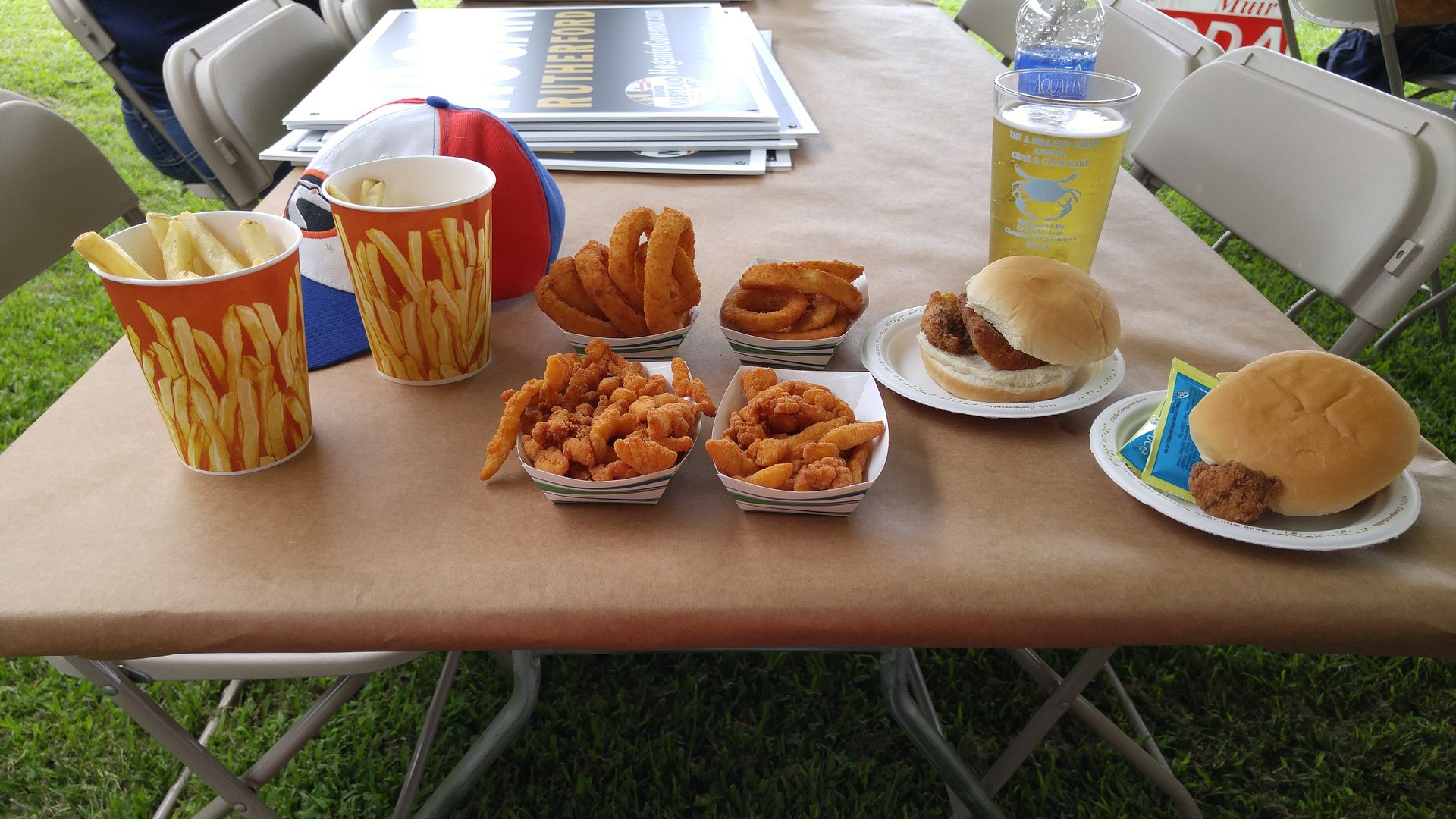 Not a salad in sight – in my dietary defense, I skipped breakfast. But it was all very good, aside from a little lack of fileting on one of the sandwiches. It was a trifle bony.
(No, I don't like crabs – so don't ask.)
This event also draws media like the food on the ground draws seagulls. Here's Delegate Carl Anderton being interviewed by local television.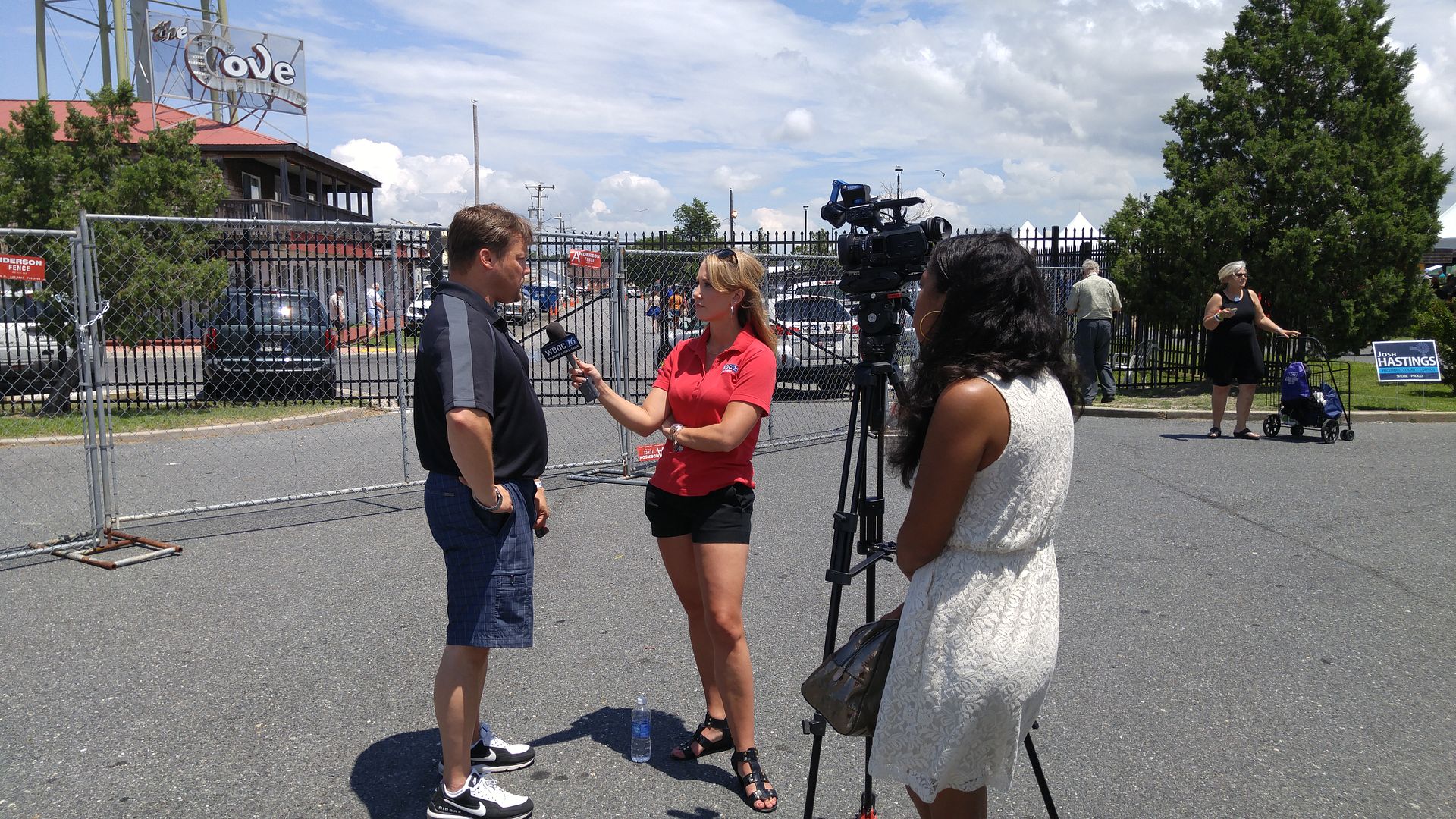 Both local Salisbury stations were there doing live shots and interviews.
And while the faces may change, the political aspect never does. You have the newcomers trying to make a good first impression, like U.S. Senate hopeful Chrys Kefalas and his millennial posse.
By the way, I had to look up that Kefalas is 35 because he appears a decade younger.
You have old hands looking for new positions, like Congressional candidate Mike Smigiel (in the center). He had a batch of "I Like Mike" buttons.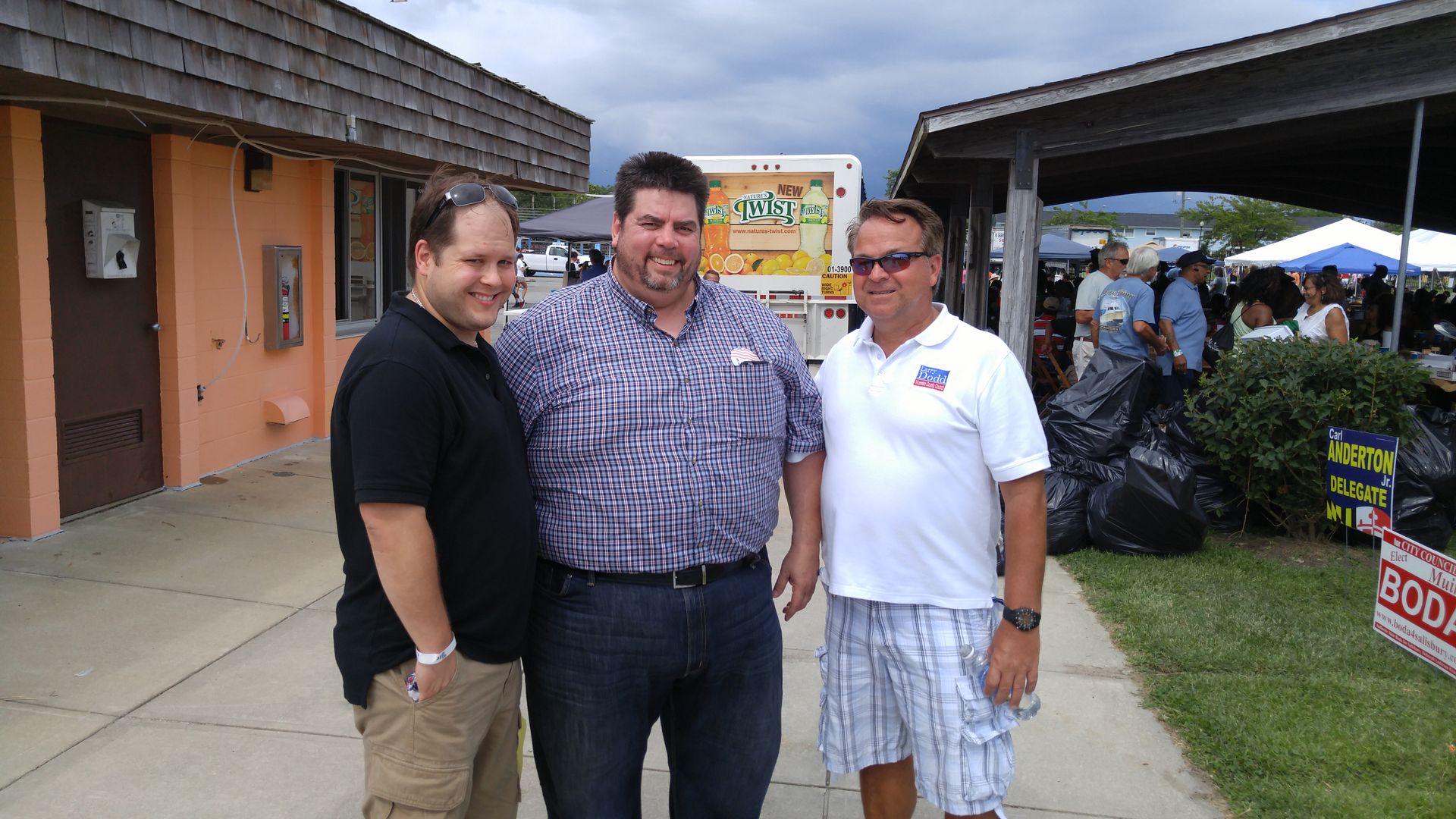 County Councilman Larry Dodd is on the right, and I apologize for not recalling the gentleman on the left's name.
And then there were established officeholders like my 2015 monoblogue Accountability Project Legislator of the Year, State Senator Justin Ready. He's talking to Jackie Wellfonder, who probably has some sort of social media record for photos with the most officeholders and general friends of hers.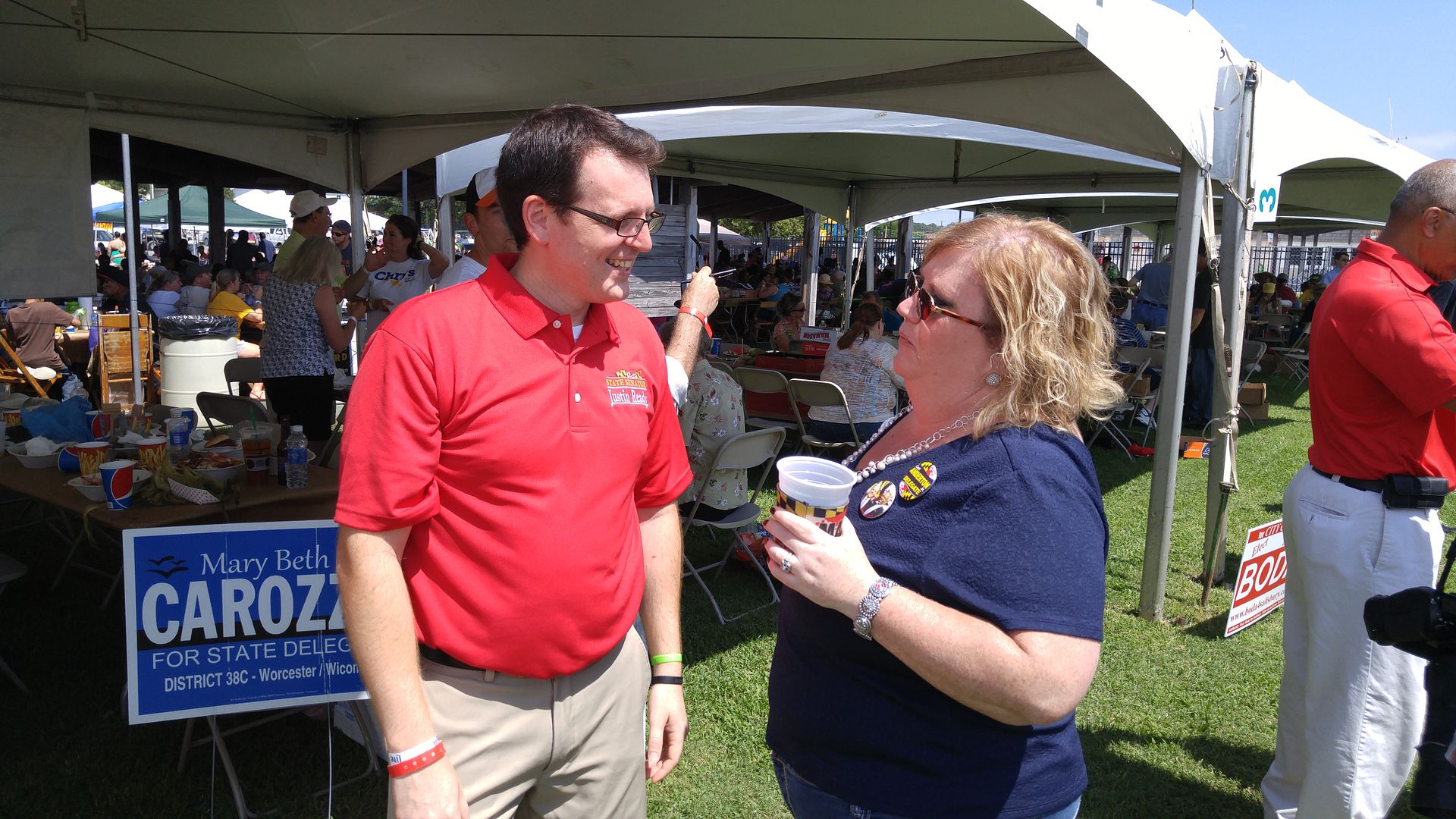 I think I've already seen her picture with our Lieutenant Governor, Boyd Rutherford. He's the distinguished-looking guy in the center.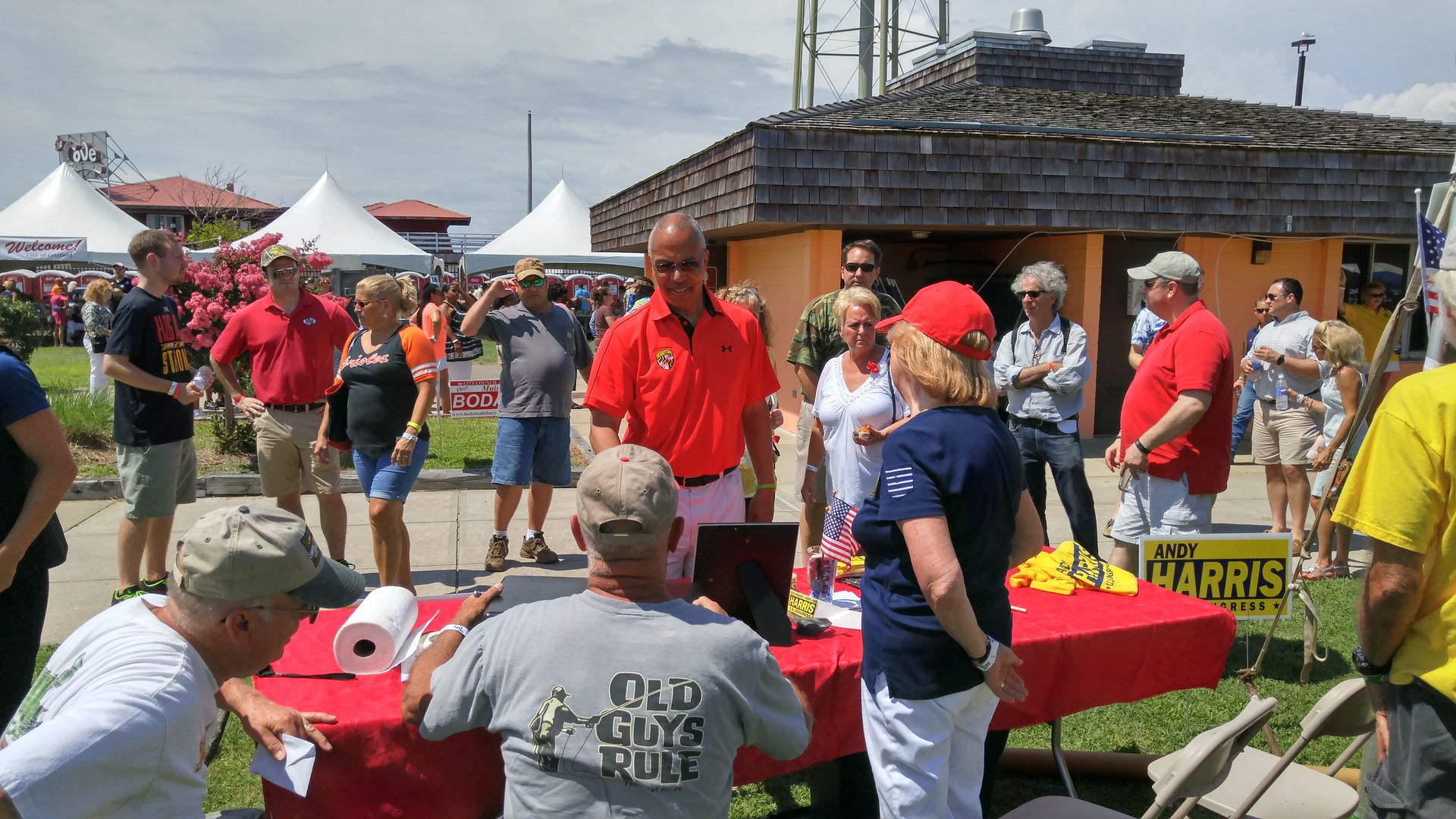 One final difference was the weather. While it was relatively comfortable, with a gentle breeze, the clouds rolled in toward the end.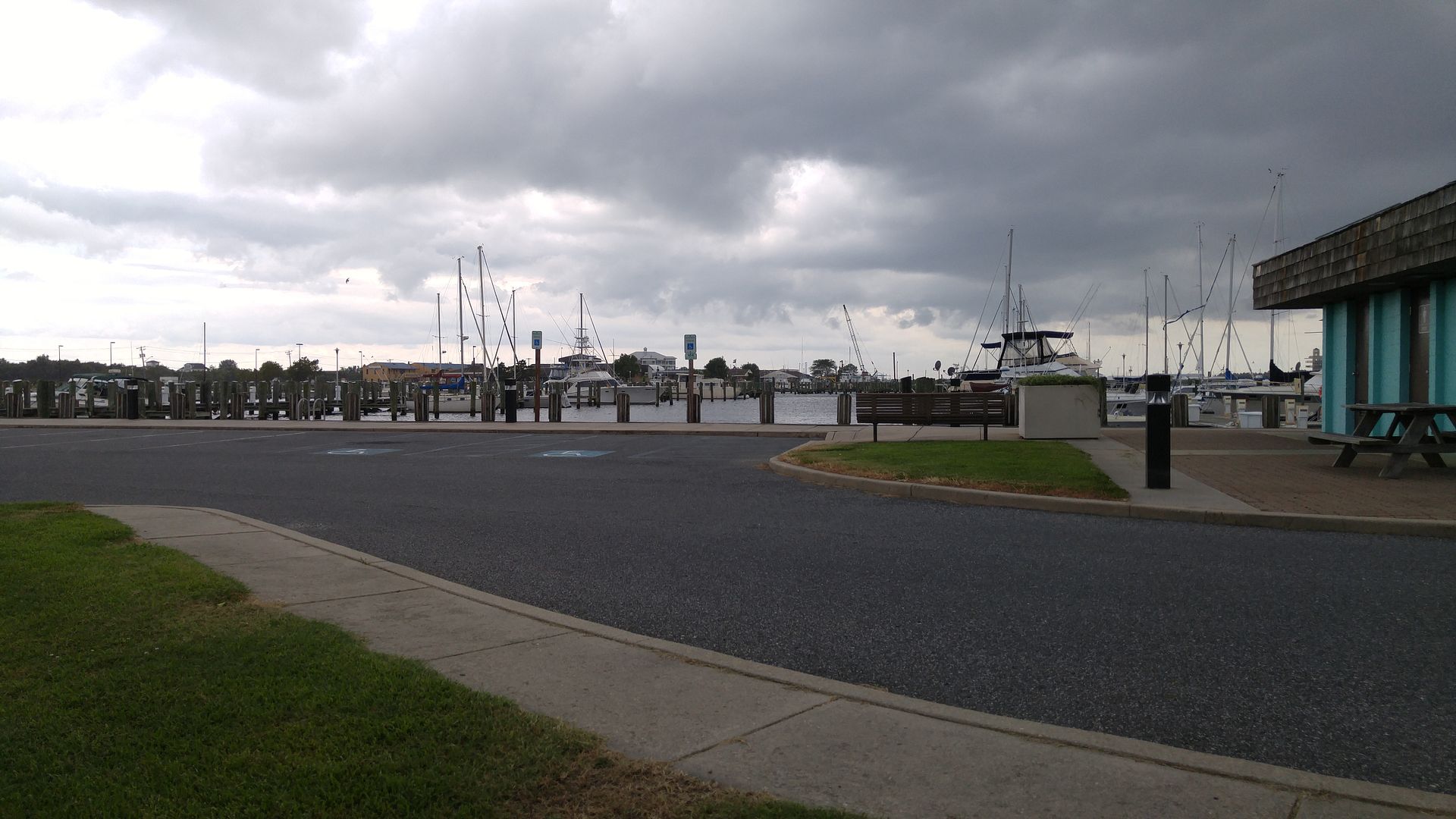 I left about 20 minutes before the scheduled 4:00 close, and by the time I got to my car about 1/2 mile away it was raining lightly. Before I got out of Crisfield it let loose and poured, so those who stayed to the bitter end either got under a tent or looked like drowned rats (or both.)
It was a fitting end to an event which was good, but perhaps a little off kilter. In fact, I was discussing the future of this gathering with someone who compared it to the Salisbury Festival – a venerable event that didn't change and eventually withered away. Since the cost went up this year (to $45 a ticket) we'll see how it affects the plans for next year.
As for me, I'd like the center location back.
As I promised awhile back, now that my monoblogue Accountability Project is out of the way I can begin to focus on the 2016 presidential race. With the exception of governors John Kasich of Ohio and Scott Walker of Wisconsin, it looks like we have the initial field in place for the start of what should be a memorable campaign – if only for the sheer number of people seeking to clean up the mess Barack Obama has made.
As I have done before, I break my method of choosing a candidate to support down by issues, which I rank in importance as part of a 100-point scale. Education ranks at the bottom of my ten top issues, thus a perfect score in this category is five points.
So what would be the ideal course of action for our next President? There are a number of answers I've written about previously, but to boil it down to a few items:
The first step would be to eliminate Common Core as a federal incentive. It would be the icebreaker to a philosophy of restoring educational control to the states, with the eventual goal of maximizing local control.
This President should then do what Ronald Reagan promised to do but could not: abort the federal Department of Education.
He (or she) should then become the leading voice for real educational reform in two areas: maximizing school choice and establishing the standard that money follows the child.
The President should also be an advocate for alternate career paths such as vocational education and apprenticeships as well as ending the stranglehold the federal government has on financing college education.
For this exercise I am going to rank the fourteen current candidates from best to worst, assigning them a point value from zero to five.
Rand Paul would abolish Common Core – although since it's actually owned by a private corporation he can't exactly do that.
He also believes strongly in local control, quipping that "I don't think you'll notice" if the Department of Education were gone, and adding that local boards of education shouldn't have to fight Washington over curriculum. But where he shines is his statement that money should follow the child.
As you'll see below, some put qualifiers on their advocacy of that concept. "Let the taxes Americans pay for education follow every student to the school of his or her family's choice," he wrote in the Washington Times. That, friends, is the correct answer.
Total score for Paul – 4.4 of 5.
Ted Cruz has many of the same good ideas Paul does, vowing to end Common Core and scrap the Department of Education. He also proposed legislation designed to enhance school choice for children on the lower rungs of the economic ladder. While I haven't heard or seen Cruz speak much to the other areas on my docket, I am giving him a little bit extra because he has shown a willingness to lead on issues.
The only faults I find with his Enhancing Educational Opportunities for All Act is that it only benefits lower-income children. If every child has a right to a quality education, every child should benefit, as Paul points out.
Some may ask why I feel that way, since wealthier students can likely afford private schools. However, the chances are good that they invest more in the system through paying higher property taxes, so they should be given the same opportunity. Remember, money is only following the child to the extent a state would support him or her, so any overage would be borne by the parents.
Total score for Cruz – 4.2 of 5.
Bobby Jindal was for Common Core for awhile, but now notes the more parents and teachers deal with it the more they dislike it - he also thinks it will "strip away state's rights."
Yet he's definitely hurt in my process because, while he argues that federal control should revert back to the states, he only wants to return the Department of Education "to its original intended purpose." There was no intended purpose for the Department of Education except to suck up to the teachers' unions for backing Jimmy Carter. They just wanted a Cabinet-level department.
Bobby's only reason for scoring as high as he does is that he has done the most to create a situation in Louisiana where money indeed follows the child regardless of school type – a roster which includes online schools. In doing so, he has also shown the true feelings of teachers' unions, who claimed Jindal's reforms "would destabilize the state's public education system and reduce teachers' job security. They also claimed parents are not mentally equipped to choose a good education for their children." (Emphasis mine.)
Once he realizes that the federal government is infested with bureaucrats who think the same way, Jindal could do a lot of good.
Total score for Jindal – 4.0 of 5.
It dawned on me that the reason Rick Perry doesn't speak out as forcefully against Common Core is that his state never adopted it. He also wasn't as forceful about dismantling the Department of Education, although it was part of the gaffe that ended his 2012 campaign.
Yet the reason, Perry claims, why his state did not do any federal programs was that Texas had established higher standards. He had also called upon colleges in his state to create degree programs which could cost no more than $10,000, which several Texas universities have achieved. It's a initiative Perry claims has spread to Florida and California.
Of course, the question isn't whether these state initiatives can be done at the federal level but whether Rick can stand by as President and allow the laggards to fail. He seems to understand, though, that education is a local issue.
Total score for Perry – 3.8 of 5.
The one thing that sticks out about Lindsey Graham is his support for homeschooled kids, for whom he vows "you have no better friend. He also expresses his opposition to Common Core as a tool of coercion, which is good but maybe not quite as good as those above him.
However, he has previously worked to eliminate the Department of Education and supported tax measures aimed at assisting young educators with their student loans. It's not a idea I could wholeheartedly back because I dislike pandering via tax code, but it will be interesting to see how Graham's campaign develops on this front and hear some of his other thoughts.
Total score for Graham – 3.4 of 5.
Mike Huckabee was once for Common Core, believing it needed a "rebrand," but now is against it saying "We must kill Common Core and restore common sense." Whether that means some sort of standards just for public schools or not, his thinking has changed dramatically. But it could be better late than never, unlike Jeb Bush.
Mike is an advocate of school choice, claiming he was the first governor to place a homeschooling parent on his state board of education, and also noted that he increased teacher pay. He also thinks the federal Department of Education has "flunked" and needs to be "expelled."
While he says the right things, I just don't trust him to be a forceful advocate for sound educational policy. I just sense that Big Education will roll over him.
Total score for Huckabee – 2.8 of 5.
While he is new to the race, Chris Christie has a 15-point reform agenda which he believes "can and should be a model for reform for the nation." It covers a number of subjects: teacher tenure and pay, school choice, charter schools, college affordability and accountability, and ideas for higher education.
Unfortunately, what it doesn't tell me is what he would do to eliminate federal involvement; in fact, as this is written it sound to me like he would simply make New Jersey's initiatives nationwide. Other states should succeed (or fail) on their own merits, but I would encourage them to adopt ideas like "stackable credentials," apprenticeships, and credit for prior experience.
Total score for Christie – 2.6 of 5.
More than any other candidate, Marco Rubio talks about the federal role in college financing. But he also talks about alternatives such as vocational education and believes parents need to be empowered through the enhanced choice of educational scholarships that they can use anywhere. Local control also extends to curriculum, and Rubio suggested that the Department of Education may be eliminated.
But if the federal government is going to have a role in college financial aid, it's likely that no federal agency will be eliminated. Rubio seems to be on a populist rather than conservative path, with the major difference being Uncle Sam's role in financing school. Why should they have any role in something the private sector could easily do?
Total score for Rubio – 2.5 of 5.
Scott Walker has a mixed record on the important subject of Common Core. He will say he's against it, but hasn't gone out of his way to eliminate it in Wisconsin. And while his state has gone farther than most to install a measure of school choice, there are a number of restrictions and only certain families qualify, so it's not always a case of money following the child.
Like Huckabee and Graham above him, Walker is a strong backer of homeschooling. He also has shown the teachers' unions he's the boss, but has been silent on what he would do with the Department of Education and doesn't speak a great deal about local control. This puts him more squarely in the middle of the pack.
Total score for Walker – 2.5 of 5.
I don't know if Rick Santorum intentionally stole the tagline of "common sense not Cfommon Core" from Mike Huckabee or vice-versa. But that's about all he talks about, aside from a nod to local control which he doesn't really come out and embrace.
One thing that I would expect Rick to talk more about is vocational education, considering he has supported the rebirth of manufacturing. But nothing has been said, at least that I've found.
Total score for Santorum – 2.4 of 5.
George Pataki was the governor of New York for 11 years, so a large portion of his agenda is an extension of his record there. So while he says that "Common Core should go" and that education should be local, he would not rid us of the Department of Education, but retain it in a "very limited role."
The idea of tax credits that could apply in either a public or private system has a little bit of merit, though, and that's what pushes him ahead of other contenders – that is, assuming he could use his office as a bully pulpit to get states to adopt this.
Total score for Pataki – 2.2 of 5.
In his educational platform, Ben Carson talks mainly about local control and that Common Core must be "overturned," which is good. School choice is also a subject he has touched on.
But aside from the platitudes and buzzwords, I really don't see a lot of depth in what Carson has to say. And, like Pataki, there's one thing which definitely detracts from his overall score – he will not eliminate the Department of Education. While I don't agree the Department should be an arbiter of speech, I really don't agree that any government agency will accept a reduction in its role – it simply must be uprooted.
Short of some major pronouncements of policy regarding issues others above have touched on, this is not a strong category for Ben.
Total score for Carson – 2.0 of 5.
In several ways, Jeb Bush is like Rick Perry and others above. His state has been a leader in school choice, he advocates for digital schools conducted online (think of a high school version of the University of Phoenix, to use a familiar example) and he favors school choice.
But the issue I have is that he would prefer a top-down approach, and while he argues Common Core should not be construed as a federal creation of standards (which is true to an extent, as a private entity created and licenses it) he still encourages the federal government to have a role in education, to provide "carrots and sticks." Those carrots and sticks should be created by the market, not the federal government.
Total score for Bush – 1.8 of 5.
For all I know, Donald Trump could be good on education – perhaps he could make it into one giant for-profit enterprise and eliminate the government altogether. But I doubt it.
And aside from thinking Common Core will "kill Bush" (he is against it, though) and believing education should be local, there's not much on the Donald's educational platform. I hate the lack of specifics, and if he was to run based solely on educational philosophy I would fire him.
Total score for Trump – 1.0 of 5.
Aside from a number of vague statements about school vouchers, the size of federal impact, and the thought that Common Core limits parents' options, Carly Fiorina really hasn't put together much of an educational platform. And some question her change of tune from her Senate run four years ago.
When others have an agenda that is well spelled out, the lack of specifics from Fiorina sticks out like a sore thumb.
Total score for Fiorina – 0.5 of 5.
Next up will be a category with considerably less nuance and a value of six points – the Second Amendment. And as a programming note, I think I will leave this up through Sunday night and otherwise leave the site dark for Independence Day.
I didn't figure it would take too long.
Once the floodgates had been opened, I knew it was only a matter of time before someone would try and push the envelope.
The next frontier will be that of "consenting adults." Just wait until the first person citing his religion wants to marry a preteen under the age of consent. It will be discrimination to not allow this person his wish, after all it is love and "love wins," does it not?
Methinks that the Supreme Court has left us a legacy of banana peels and jagged cliffs.
I still marvel at the lightning speed by which we went from one state court decreeing that marriage licenses should be given to same-sex couples (in a split 4-3 decision) to having it become the law of the land in all 50 states in less than a dozen years. Aside from fighting an actual war with bullets and fatalities, it's rare to see such a pace of change.
And where once the concept wasn't polled, now about 3 in 5 Americans are supportive of same-sex "marriage." That simply means 3 in 5 are victims of the constant propaganda, although maybe I should be encouraged that 2 in 5 still apparently believe in the word of God.
But then I'm just a "hater" because I believe marriage remains between one man and one woman. We Christians are funny that way, I suppose.
First of all, happy Father's Day to all the dads out there, including mine I spoke to earlier this afternoon.
For the last month I have been operating under a handicap; one which is now (mostly) resolved. My formerly trusty laptop ran into a number of issues which required professional intervention and there was a point where I was afraid I had lost all my monoblogue Accountability Project work. Fortunately, I got everything back and hope to get the mAP released this week; perhaps as soon as Tuesday.
It also means I can move forward on my next project – issue-based dossiers on the GOP presidential hopefuls. I've determined which platform planks are the most important on my docket so over the next few weeks I'll share how I make my decision on who to back for 2016.
So consider this fair warning. It's been a hectic week with a lot on my plate but now I'm thinking I'm ready to start looking forward to 2016 – not only in a Presidential sense but also the contested primary for First District Congress and the U.S. Senate seat vacated by Barb Mikulski. Summer is usually a slack time for the political but the year before a presidential election can be an exception.
Oh, and look for more from my cohort Cathy Keim this week as well.
That, in a nutshell, was the story of my Third Friday.
I got home from work, changed my clothes, and walked out to my car. Felt a sprinkle, pulled out my phone, looked at the radar picture and saw this tiny orange, yellow, and green blob arriving.
Man, did it pour when I got downtown. I walked through a river to get there as people were scrambling to get their treasures under cover. So by the time I arrived it was pretty much cleared out.
At that point I decided to find my Delegate's new office. It's a modest little room above Roadie Joe's downtown, but he had some good folks in there for its grand opening: County Councilmen Larry Dodd and Marc Kilmer stopped by as did Salisbury City Council candidate Muir Boda, who made it official today as he filed. I didn't get a very good picture of the Carl Anderton district office, but my friends Jackie Wellfonder and Julie Brewington did. Find them on social media.
A few of those aforementioned folks were downstairs grabbing dinner as Dark Gold Jazz was playing. So I sat in with them: the dinner eaters, not the band. (Although I own a guitar, I can't play an instrument to save my life.)
They did about the longest version of "Hey Joe" I've ever heard. I don't drink all that fast but I swear I drank half my beer during the song. Luckily, I like the tune so it worked.
But as people drifted off to other locales like Headquarters Live, I took a few minutes to stroll the Plaza.
The sky was still rather turbulent as I left.
It's funny because Kim was in Ocean City this evening with the kids (daughter and friend) and it looked nice and sunny there from the video I saw. Welcome to Delmarva, huh? From what I heard, though, 3F was rather packed before the rains came.
So it wasn't exactly the Third Friday I planned but it was nice to catch up with some old friends nonetheless.
Editor's note: Read more
Not that I have a whole lot of choice based on all the media attention, but the story of Caitlyn Jenner rebranding herself as a woman after 65 years of being Bruce and winning the Olympic decathlon in 1976 seems to be worth writing about today.
Ironically, a simmering story underneath the headlines around the time of Jenner's gold medal victory was the story of Renee Richards. Her name has been dimmed somewhat by the passage of time, but in the late 1970s she became a symbol of the struggle between the sexes as a former man who had the gender reassignment surgery and therapy, then competed on the women's tennis circuit. So the world of celebrity has already been touched by this procedure, and I found it interesting that the premier athletic achievements in the lives of these two former men occurred around the same time. The Grantland story by Michael Weinreb also came well before the Jenner saga became public, and points out how others who chose to change their gender (as much as one can, anyway) were inspired to do so by Richards.
Yet a lot has changed in nearly forty years. Instead of derision and having opponents walk off the court in protect, Jenner is being embraced and rewarded for her "courage." I suppose it's simply the byproduct of making one's sexuality and gender preference a public spectacle and milking it to enhance your athletic talents for another 15 minutes of fame – so you get a guy like Michael Sam, who was thought at best to be a fringe NFL prospect, becoming the most talked-about 7th round pick to ever be placed on a practice squad. (After being cut twice by NFL teams, now Sam is trying out for the Montreal Alouettes of the CFL.) Without looking them up, can you tell me the names of any of the other 7th round picks from 2014?
Similarly, Jason Collins came out as gay at the tail end of a long NBA career which ended earlier this season. While his statistics weren't Hall of Fame material, you would have thought he was the second coming of Michael Jordan when he came out. For all we know his "courage" may be enough to land him a place in the Basketball Hall of Fame where his career stats would leave him short.
Unfortunately, those breaking the preference barrier haven't exactly been what Jackie Robinson was to major league baseball; instead, they have had career tracks more like Moses Fleetwood Walker, who actually integrated major league baseball in 1884. (A catcher, he played at the time for the Toledo Blue Stockings in their one and only season in the American Association, then a major league. So he's a little more familiar to those of us from northwest Ohio.)
Jenner, though, has become a symbol of something. I'm just not sure if it's courage, the milking of past fame into making a statement – after all, if he was a welder from Pittsburgh and not an Olympic athlete, no one would be putting his female alter ego on the cover of a magazine – or, simply a sign of our times.
One answer could be gleaned from this piece by Nate Jackson of the Patriot Post, as he looks at the Jenner story from a moral and religious perspective:
Leftists don't care about Bruce "Caitlyn" Jenner; they care about an agenda to remake our culture without good or bad, right or wrong, up or down – and most certainly without God. To them, Jenner is merely a tool who normalizes aberration. Leftists are tired of feeling guilty, so, instead of turning to their Creator, they glory in their brokenness. Dysfunction becomes virtue.

Meanwhile, the Left has duped more than half the American public into thinking homosexuals make up a far bigger part of the population than is true. Therefore, Americans are left to conclude as they checkout at the supermarket next to all those tabloids that Jenner is perfectly normal.
I would hope that most Americans don't think Jenner is normal, because he's not. Nor will I apologize for saying so. The vast, vast majority of people are pleased with their gender and have no intention of changing it, so why is the exception to the rule the one being admired?
Since he is my Patriot Post editor, perhaps I should give Nate the last word:
We shouldn't worship Jenner. We should pray for him, for he needs his Creator's healing redemption.
I agree.
In previous years I have detailed some of those events I have attended, and this year is no different except I decided to take fewer pictures and enjoy (or take stock in) the events more.
On Sunday our family made a regular stop, honoring the veterans through music at the Concert for a Random Soldier in Long Neck, Delaware.
The event is now in its tenth year (more on that in a bit) and it benefits this veterans organization, Guitars for Vets.
Naturally, local veterans organizations use this both to inform others who may be interested in their service and to gather together.
Since this event has now reached a decade in duration, I found it very cool that the Delaware General Assembly saw fit to honor it with proclamations from both their House of Delegates and Senate. Senator Ernie Lopez presented the Senate version to event creator Terri Clifton.
Delegate Steve Smyk did the same for the House, but that was prior to our arrival.
Originally I wasn't going to do a second post but as it turned out I had enough band photos that I will do a separate Weekend of Local Rock post next weekend. The Concert for a Random Soldier also featured a modest car show, raffles, and good food. Next year you should make plans to join in this worthwhile family Sunday.
Another event which has become an annual tradition here in Salisbury is the Memorial Day ceremony at the Wicomico County Youth and Civic Center.
As it has become tradition, I decided not to do a full pictorial of the event – if you want the blow-by-blow, previous coverage will suffice.
But each year I notice that, while there is a handful of new people there, the majority of those who attend and participate have some number of gray hairs. It's worth pointing out that the revival of patriotism that was a reaction to the mistreatment of those who returned from Vietnam almost a half-century ago is itself nearly 25 years old. (The Reagan years birthed the resurgence, but it began in earnest when we sent troops over for Operation Desert Shield and Operation Desert Storm in 1991.) Those who served in that particular theater of war are now themselves middle-aged.
Instead, those in the present generation of fighting men (and women) are once again saddled with the fact they fought in what became an unpopular war where any victories gained were squandered by subsequent military decisions and strategy. I sense at times that patriotism is once again becoming a parody of itself – talking about "'Murica" and all that. Perhaps it's a reflection of the current political leadership, but to me it's still there.
Memorial Day, however, is a day to set aside political feelings for the conflicts we find ourselves ensnared in, for the thousands and thousands who have perished in defense of our land are the ones we should be remembering today. Just because the federal government made it a three-day weekend, replacing the traditional May 30 date to instead insure it's always on a Monday, doesn't mean that the sense of loss for the families comes to an end or that the sacrifices were any less ultimate.
I hope those who are growing up come to understand the true meaning of the holiday, for I sometimes get the bad feeling their generation may bear the brunt of future observances. Let's hope my hunch is wrong.
This may be a first. The idea here is to crosspost between my website and my social media page.
It's likely that you're aware of the monoblogue Accountability Project. As I bring that to a close in the next week or so, the next long-term goal for me is to begin evaluating the GOP field for President – a field which is seemingly expanding weekly and may include over a dozen serious aspirants by mid-summer.
If you have read monoblogue for the last eight years you'll recall I have done a thorough and issue-based analysis of the candidates, looking at how their policies stack up against the others on ten to twelve key issues. I plan on doing that again this year, but what I'm looking for is what my readers and social media friends consider to be the top three issues you feel will be important in 2016. It will help me rank issues in importance as I formulate the overall plan.
So if you would kindly leave a comment here, on monoblogue's Facebook page (which you really should like) or Tweet them to @monoblogueUS I can start seeing what's on your mind.
In the meantime, look for the mAP in the next week or two, depending on how long Governor Hogan takes to clear the backlog of passed legislation off his desk.
I'm a few days later than I would like to be with this post, but there's still time to act. As the organizing committee writes:
Please join us for the 5th annual "National Day of Prayer" Breakfast. For over 80 years, Christians have carried on this tradition of fellowship and goodwill across the country as witness to the importance of spiritual values to this great nation.

Prayer breakfasts richly reward the spiritual growth of communities. They give us the opportunity to fellowship and share our faith in the Living God, to worship and rejoice in a spirit of unity at the breakfast hour.

Come on Thursday, May 7th to observe the National Day of Prayer, let us give praise to God and seek His guidance in our daily lives and in the development of our communities on Delmarva.
The organizing committee has to be excited and pleased, though, about the speaker they secured.
Nationally-acclaimed writer and commentator Fred Barnes is co-founder and executive editor of The Weekly Standard. He has been senior editor and White House correspondent for The New Republic, covered national affairs for the Washington Star and Baltimore Sun, written for the American Spectator, Reader's Digest, The New York Times, The Wall Street Journal, The Spectator, The Public Interest, Policy Review, London's Sunday Telegraph and Sunday Times, and hosted or appeared on TV programs Beltway Boys, Special Report with Bret Baier, The McLaughlin Group, Fox News Sunday, CBS This Morning, Nightline, Meet the Press, Face the Nation, News Hour with Jim Lehrer and The Daily Show with Jon Stewart.

More importantly, when Fred and his wife Barbara asked Jesus into their lives in 1980, he says, "Our lives changed dramatically – for the better. It had taken a decade for us to reach this point, a decade of reading, prayer, and meeting many Christians. We saw what Christ had done in the lives of believers. We wanted to live as they did, seeking to emulate Christ. Our faith supports us. We've learned a lot about forgiveness and prayer and being servants. I've enjoyed writing and television enormously, but they are secondary to family and faith in Christ."

Fred graduated from the University of Virginia and was a Neiman Fellow at Harvard. He and Barbara have four children, nine grandchildren, and attend Christ the King Church in Alexandria, Virginia.
Barnes is perhaps the most noteworthy speaker the event has secured in its half-decade, so it's well worth the $20 if you can make it – be advised it's not an event for the night owls as the Wicomico Youth and Civic Center doors open at 6:30 in the morning.
Tickets can be secured at the Country House in Salisbury, or by mail – however, the deadline is coming up quickly as it is May 1. (Hence my chagrin at taking so long to post it.) The mailing address is Salisbury Area Prayer Breakfast Committee, P.O. Box 521, Salisbury, MD 21803, and checks should be made payable to the Salisbury Area Prayer Breakfast Committee.
I would expect there to be a packed house in the Midway Room, which seats up to 600 people.
It's not often that the worlds of religion and politics intersect in a positive way these days, so this may be an event worth attending.
Cool weather, clouds, and a threat of rain didn't help make this year's Pork in the Park a success. (In fact, the rain this evening forced its closure at 8 p.m. rather than the planned 10 p.m.)
But I think the die was cast months before when the decision was made to scale back the event dramatically. First of all, you may notice that among my photos you won't find any detailing the competition aspect of the event because there was none. Yes, you read this right. So I took far fewer photos.
Freed of the need to wonder if enough teams would enter to make up the prize pool, they reduced the admission charge down to $3. But they made other changes as well. I read on Facebook beforehand that there were no rides there this year; indeed, that was the case as they were replaced by a row of bounce houses and an entertainment stage for kids in their own section.
If that wasn't enough for the kids, there was the opportunity to watch pig races. No wagering, please.
They also had dachshunds with bun costumes racing, from what I understand. PETA hasn't shut down this New Jersey-based company yet, but I'm waiting.
The pig and "hot dog" races were intended to fill the half-hour changeover between bands. And you can tell crowds were down when this was the attendance for a well-known local singer like Randy Lee Ashcraft.
It's not like there wasn't a talented band on stage – there just weren't a whole lot of people there on this Saturday afternoon.
Of course, there were a few holdover events the organizers opted to keep, such as the beer beach.
It didn't seem very full when we were there, but then it was early afternoon on a chilly day. To me, beer is more of a warm day and late afternoon/evening beverage.
They also brought back the Eastern Shore Wing War.
In a three-hour event, participants bought admission for $10 and received 20 tasting tickets for the various vendors vying for wing supremacy. I'm not a big chicken wing fan, but this was one of the two relatively popular attractions (the other being the pig races, for which I witnessed a few hundred people looking on.) According to Pork in the Park's social media sites, The Deli was judged the overall winner, with Sub Runners and The Corner Grill garnering second and third, respectively.
All this food and beer could be worked off in their cornhole tournament.
As a whole, though, the event was fairly disappointing when compared to previous renditions. The park just seemed so empty.
2015 was the twelfth annual event, which means Pork in the Park began about the same time I arrived in the area. As I recall – and a little (very little) research bore out – the weather was less than cooperative for most of the early versions of the event as well. The first year it really took off was 2007, the fourth edition of the event. Granted, at the time the economy was much better as well, but if you look at that post you'll notice the day was nice and sunny. Ironically, had Pork in the Park held their traditional third weekend in April date in 2015 the weather would have been fantastic. (Go back and look at my Third Friday photos from last week.) Instead, they opted for the dates vacated when the Salisbury Festival pulled the plug after thirty-plus years.
Even with as much promotion as I heard for it locally, the event stands at a crossroads. If it's considered a failure this year due to low attendance, the problem can't be determined very easily – is the poor weather to blame or a lack of entertainment options? The festival went for broke last year with its entertainment selections, bringing in two national acts plus the eating contest, but it also departed from its traditional date and shifted to Mother's Day weekend because Easter fell on its normal third weekend in April – so the number of KCBS competition teams was way down from previous years, when well over 100 teams would bid for the various prizes.
Meanwhile, there is now competition from a similar event in Snow Hill called the Pig and a Jig BBQ Festival, which will be held in late May. As of this year it became a KCBS-sanctioned event so Pork in the Park wouldn't be locally exclusive for that distinction anymore.
If you ask me, the problems with Pork in the Park began the year they decided to revamp the arrangement of the food court. But I was reading that post and it reminded me just how large the event became, even in a bad economy. There was plenty of interest because the admission price was still pretty low – I don't remember if it was still $2 or had jumped to $3, but it was a far cry from the $7 they charged last year.
This year's event just seemed dull and lifeless. Perhaps the crummy weather played a part, but I thought the competition aspect gave it character as well as provided a little boost to the local economy. I doubt there are nearly as many competition teams these days as the BBQ craze is somewhat played out, but we once had the second-largest competition in the country and it's a shame all that went away. The first step in bringing it back, though, is to make clear that 2015 wasn't the final Pork in the Park.
What we had this year was not the ending the event would deserve after a great run.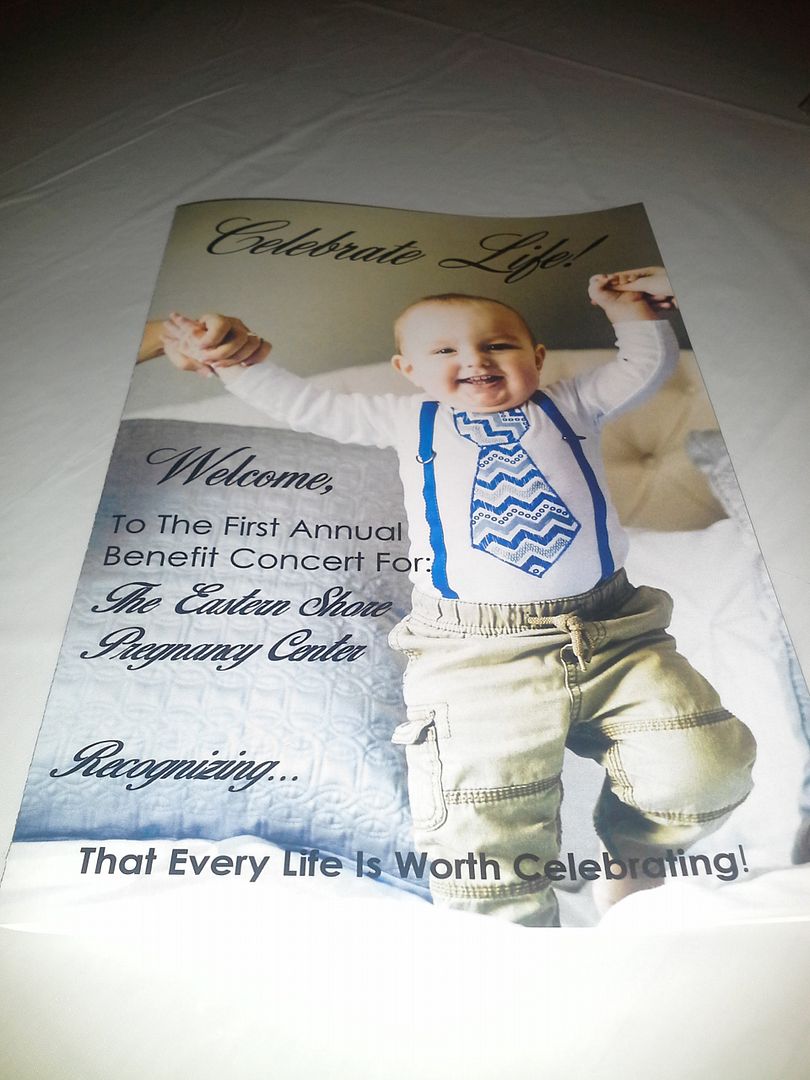 Last night supporters of the Eastern Shore Pregnancy Center turned out in force to assist the organization with its 2015 goals. The occasion was the first annual spring coffeehouse and benefit concert fundraiser, held at Providence Presbyterian Church.
Youth was the rule for the music at this event, beginning with an a capella group of young children called Rivers of Living Water and also featuring a group of 13-year-old triplets called (naturally enough) Triple Praise. Both sang spirituals and hymns, with Triple Praise employing recorded background music.
Even the adult groups tended to be on the youthful side, with Beauty for Ashes dedicating songs to their young children featured in the slide show that was playing behind them.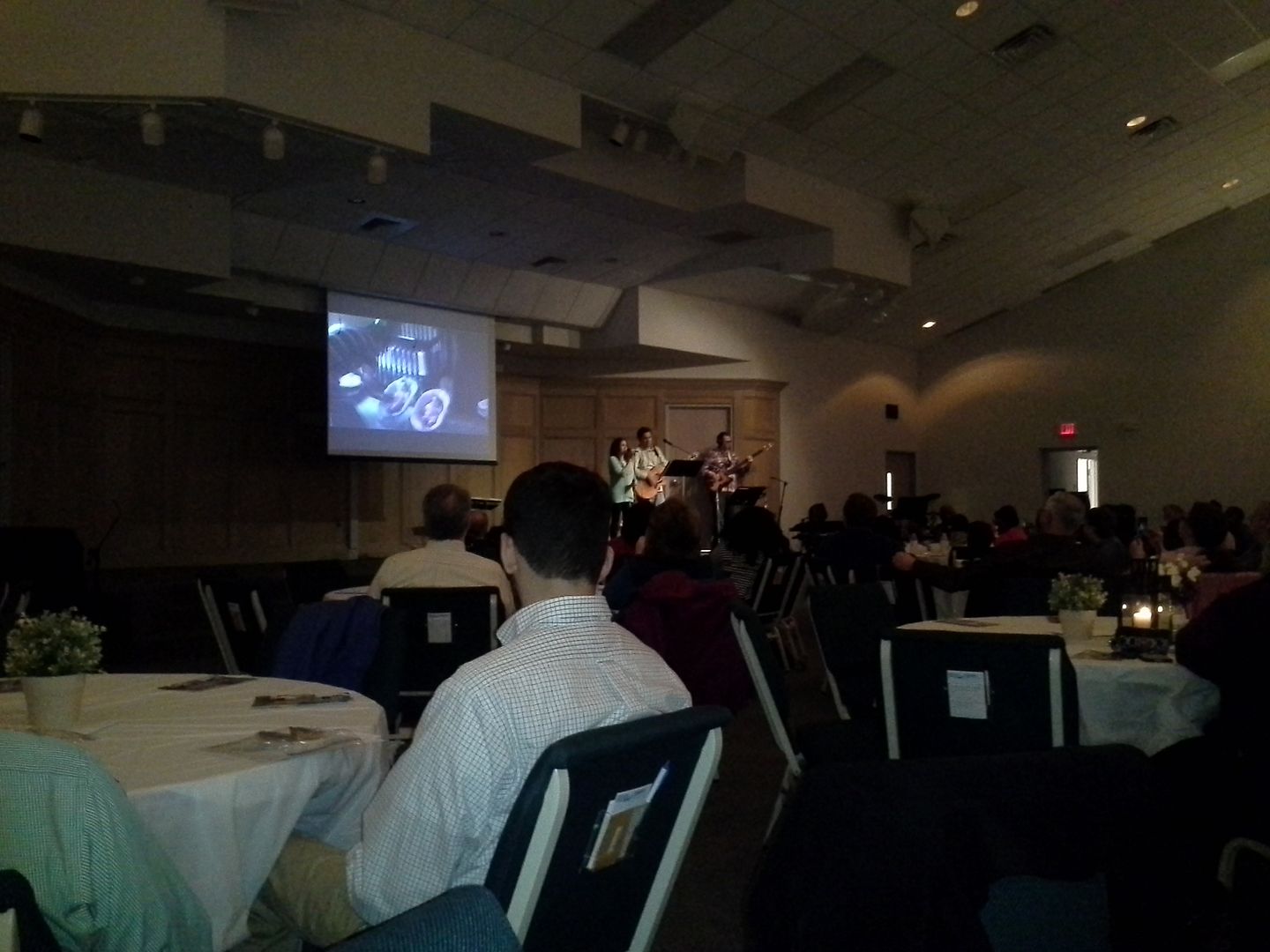 The married couple leading this group has a pair of three-year-old twin girls.
Similarly, Steve and Olivia (or Liv and Steve, as they billed themselves) are also recent parents. This shot also gives you an idea of how many were there – my guess is about 150 people.
In their own way, all four groups were entertaining although none of them played more than a handful of songs. The event was only a couple hours long and it also featured testimony from a young parent of three named Danaica Pierrot as well as remarks from ESPC Executive Director Jacquelyn Seldon.
Seldon was pleased about the progress the ESPC has made since acquiring a sonogram unit last year, but outlined a couple of worthy goals for this year: spreading the message on billboards near local university campuses in order to reach college-age prospective parents, and following up on the permission they were granted by the Wicomico County Board of Education to promote their services in the local high schools.
Of course, this event was also serving as a fundraiser. And while there were envelopes and donation slips on each table, the opportunity was also there to bid on a number of interesting, intriguing, and useful items. This was just one of three long tables the group had, with 35 different lots up for bids.
With the silent auction and the table top appeals, I'm pleased to report the event raised over $4,000 for the ESPC. But then that's not to say they won't take donations outside the event as well, and they definitely can use them because the need is there. They're not getting even a tiny fraction of the $528 million Planned Parenthood received from government, in part as PP "fought abortion stigma in popular culture."
I'm probably injecting far more politics in this report than many would feel comfortable with, for it was truly an apolitical event. Yet I would wager that most of those attending last night's benefit would not participate in that "stigma" but would instead encourage and counsel those who made that choice. For those who are expecting, though, the range of options is much larger than groups like Planned Parenthood would have you believe, and the worthy goal of the ESPC is to bring that number who choose abortion in the Salisbury region down from its present 300 or so to as few as possible.