As I did from last month, I'm building on 3rd Friday to provide another edition of WLR. But in this installment I'll profile a local group doing good through music.
The "official" 3rd Friday group playing on the Plaza stage was a Salisbury University-based group called The Benchwarmers, who I would say had more of a jazz feel than straight up rock. But they won the right to play through a battle of the bands, so here they were.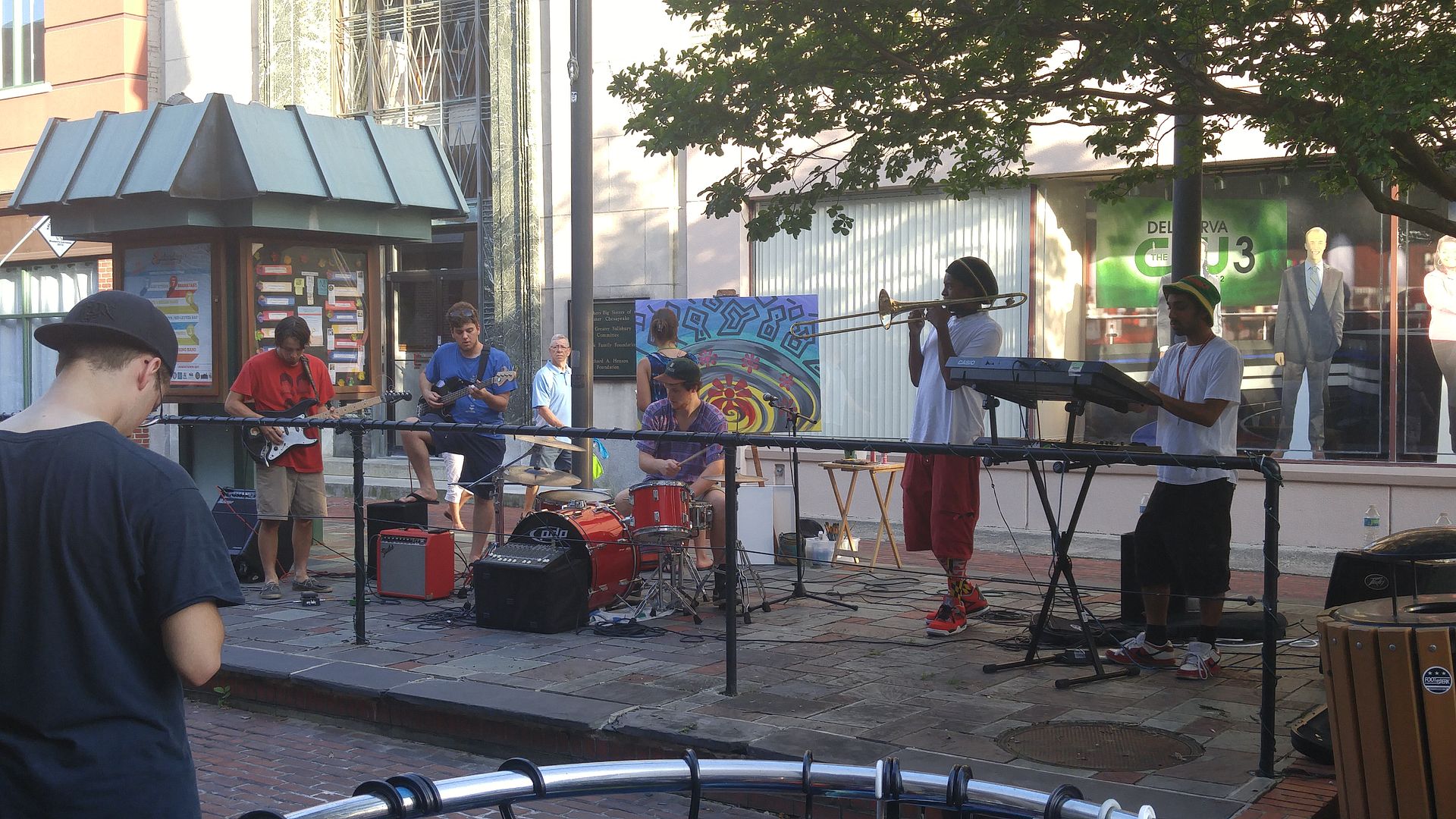 I still haven't figured out the idea of the painting being created behind the group, but to each his or her own, I guess.
Now if you stood in just the right spot, you could hear the Plaza stage in one ear while Alex & Shiloh played in the other one, outside at Roadie Joe's.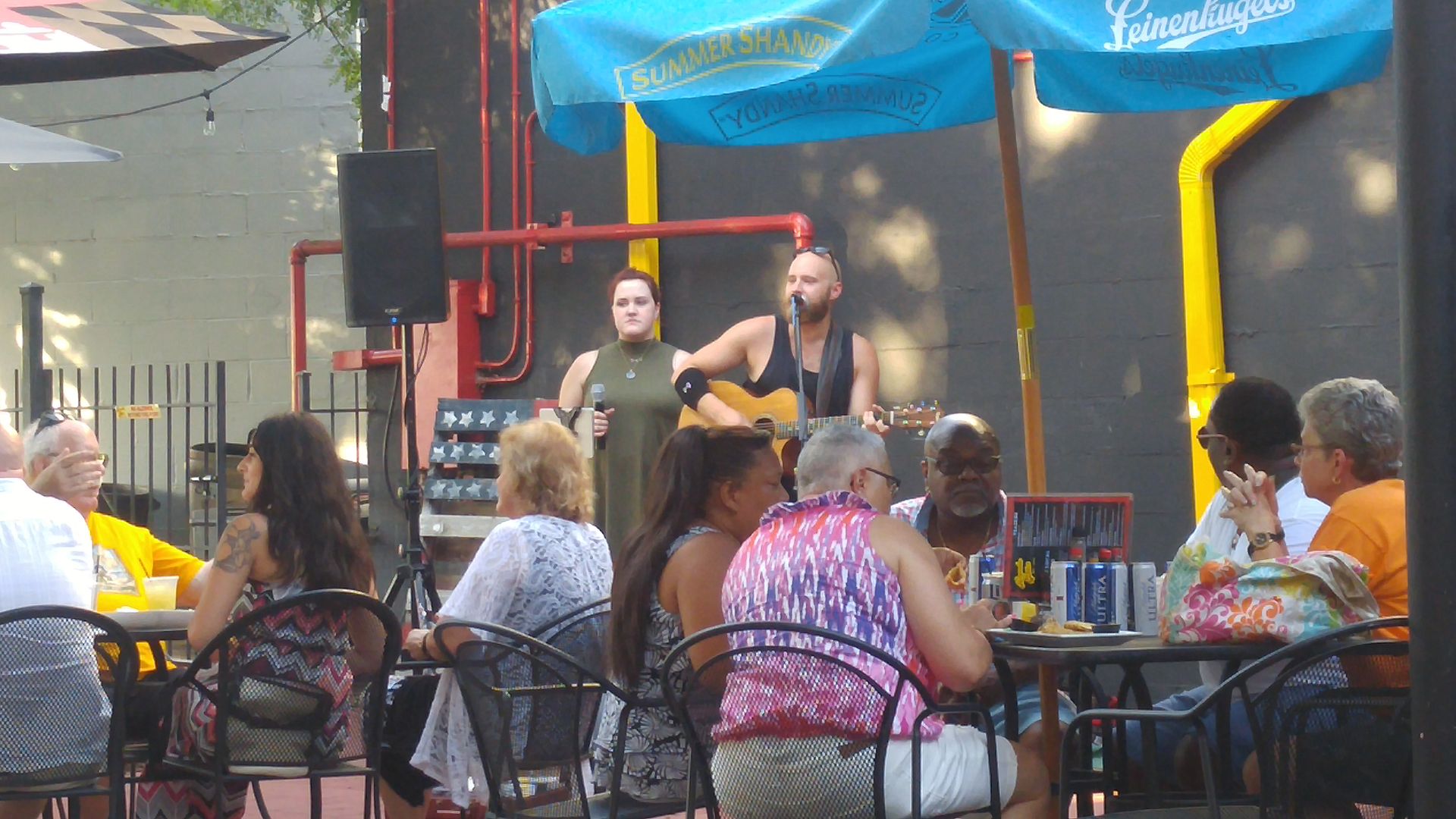 The management at Roadie Joe's has definitely picked up on the concept of having outside live music during 3rd Friday and bringing in business, as the outside tables are generally filled. (Kim and I ate there last month, as I noted in WLR 69.) It's nice because if the main stage doesn't strike your fancy you can browse on over to that end of the Plaza.
I didn't stay for the Roadie Joe's nightcap act this time because I knew I would be back downtown the next night for a benefit called "Fire Up the Bands," sponsored by the Maryland-8 chapter of Hogs and Heroes, a motorcycling group dedicated to supporting military and first responders.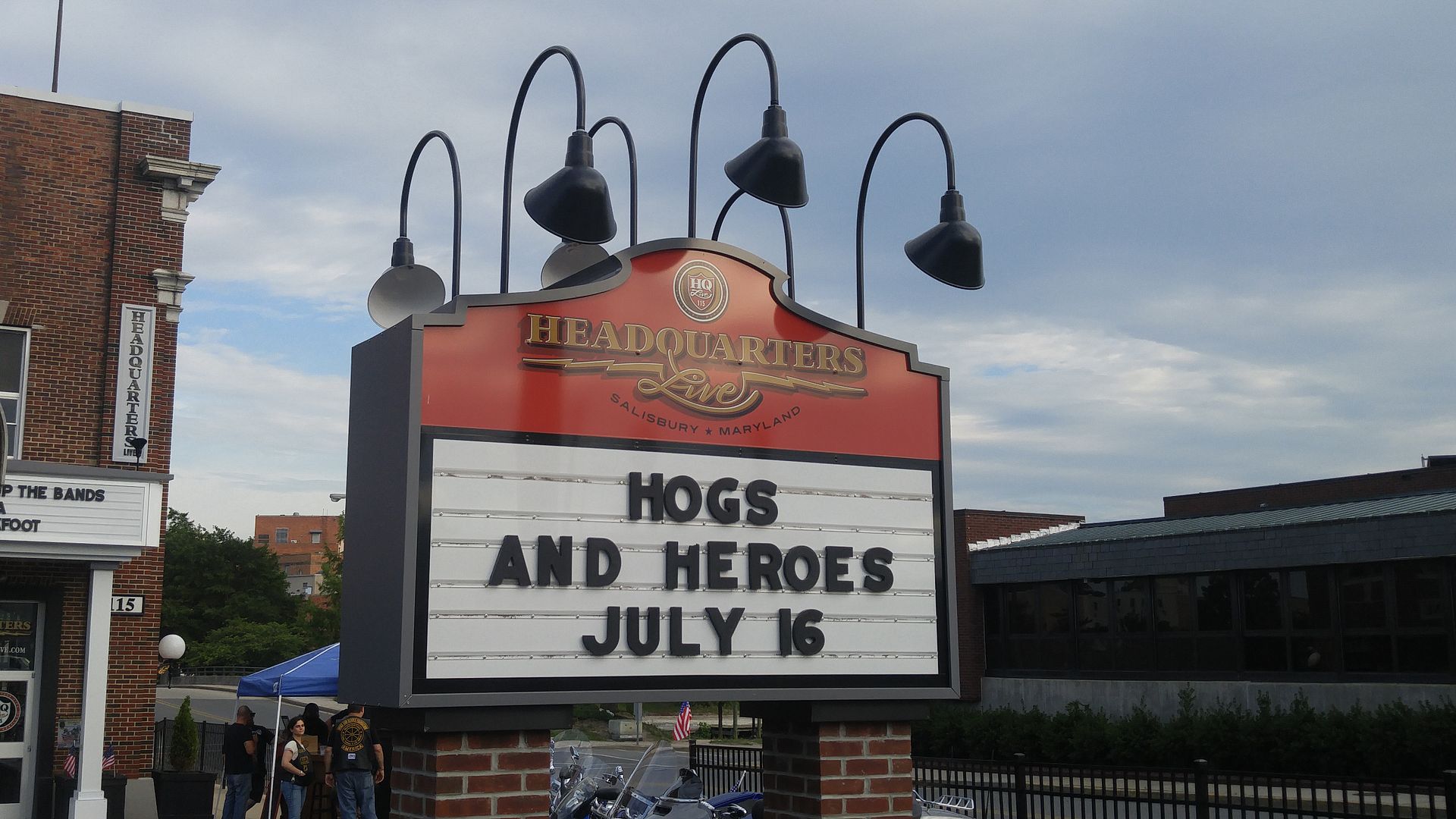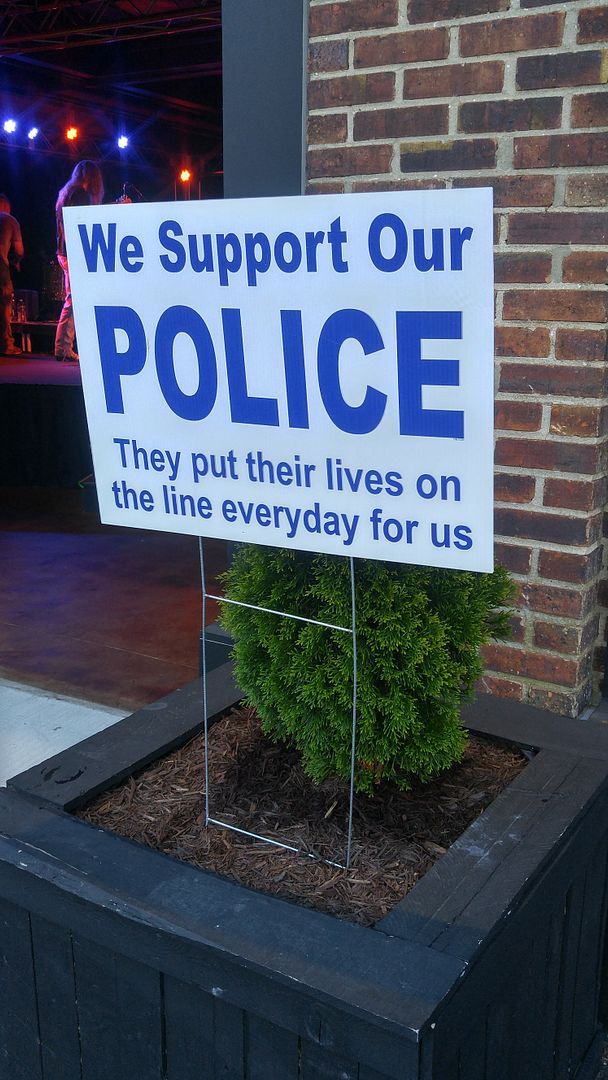 While there were originally three bands on the bill, a late change cut things down to two. Meanwhile, there was a silent auction going on and the leadership of Hogs and Heroes was giving away door prizes between bands.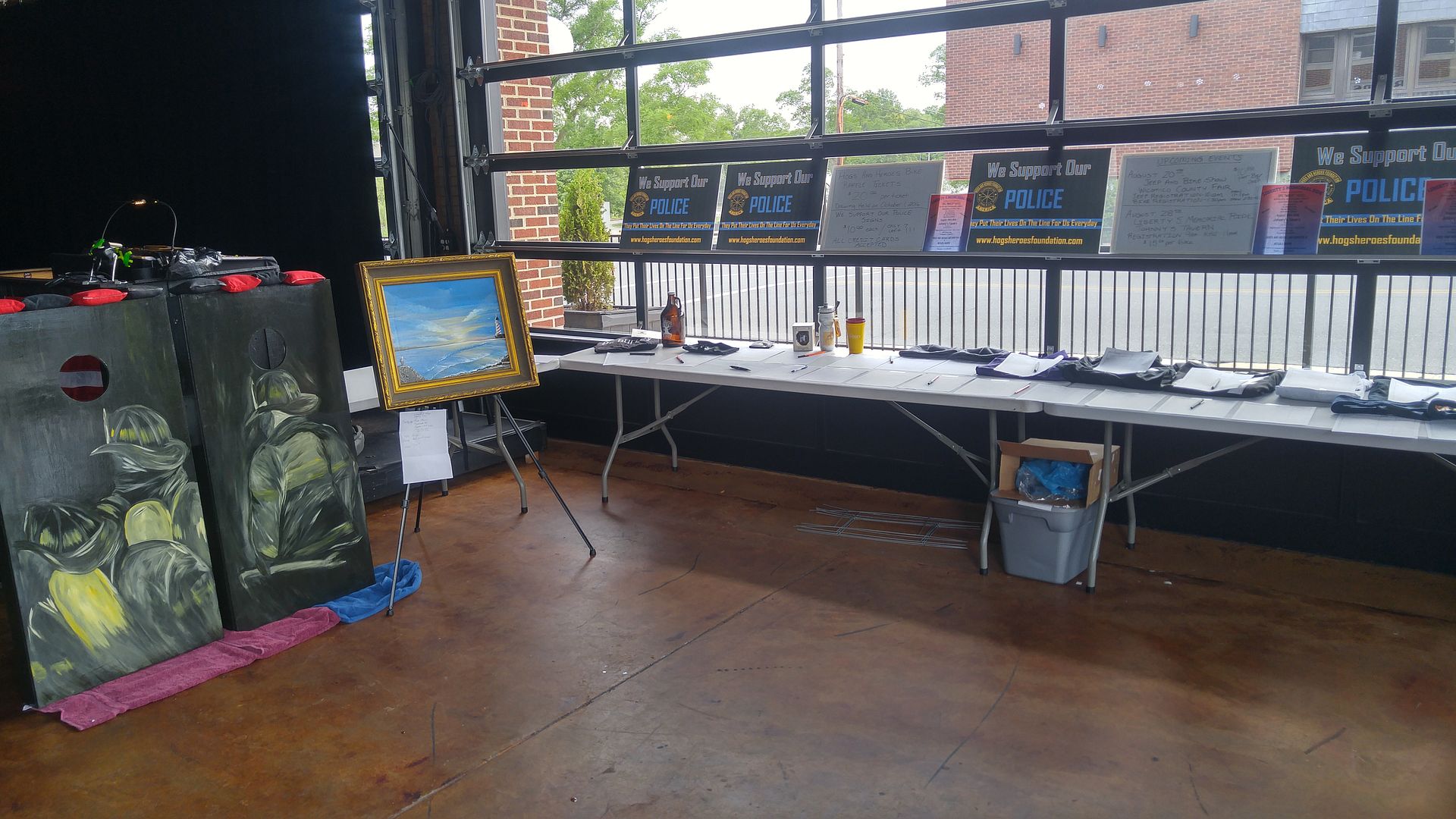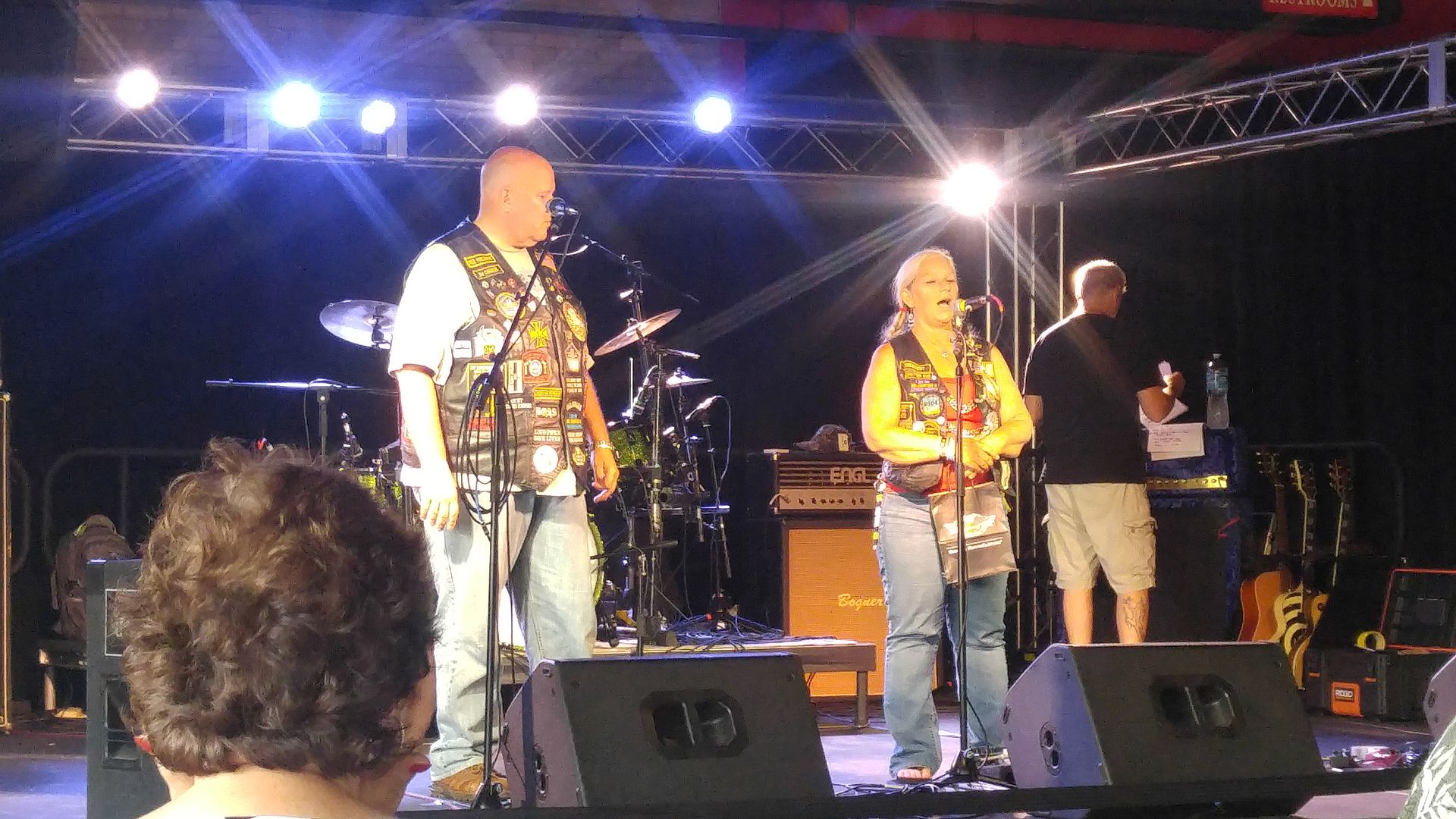 But the evening began with a group I had just seen at the Concert for a Random Soldier a couple months back, Scrapple.
After noting the sudden passing of Lewes firefighter Tim McClanahan in a training accident, Scrapple played a hard-rocking set that featured songs like the Black Crowes' Remedy, Love Removal Machine from The Cult, Godsmack's Keep Away, and Pearl Jam's Even Flow, just to name a few. They also found time for an original song of theirs, which I thought was cool.
Once Scrapple finished, I went outside to stretch my legs, see some bikes, and watch the sun set over a cloudy downtown. There was a rain shower that passed harmlessly by during the show.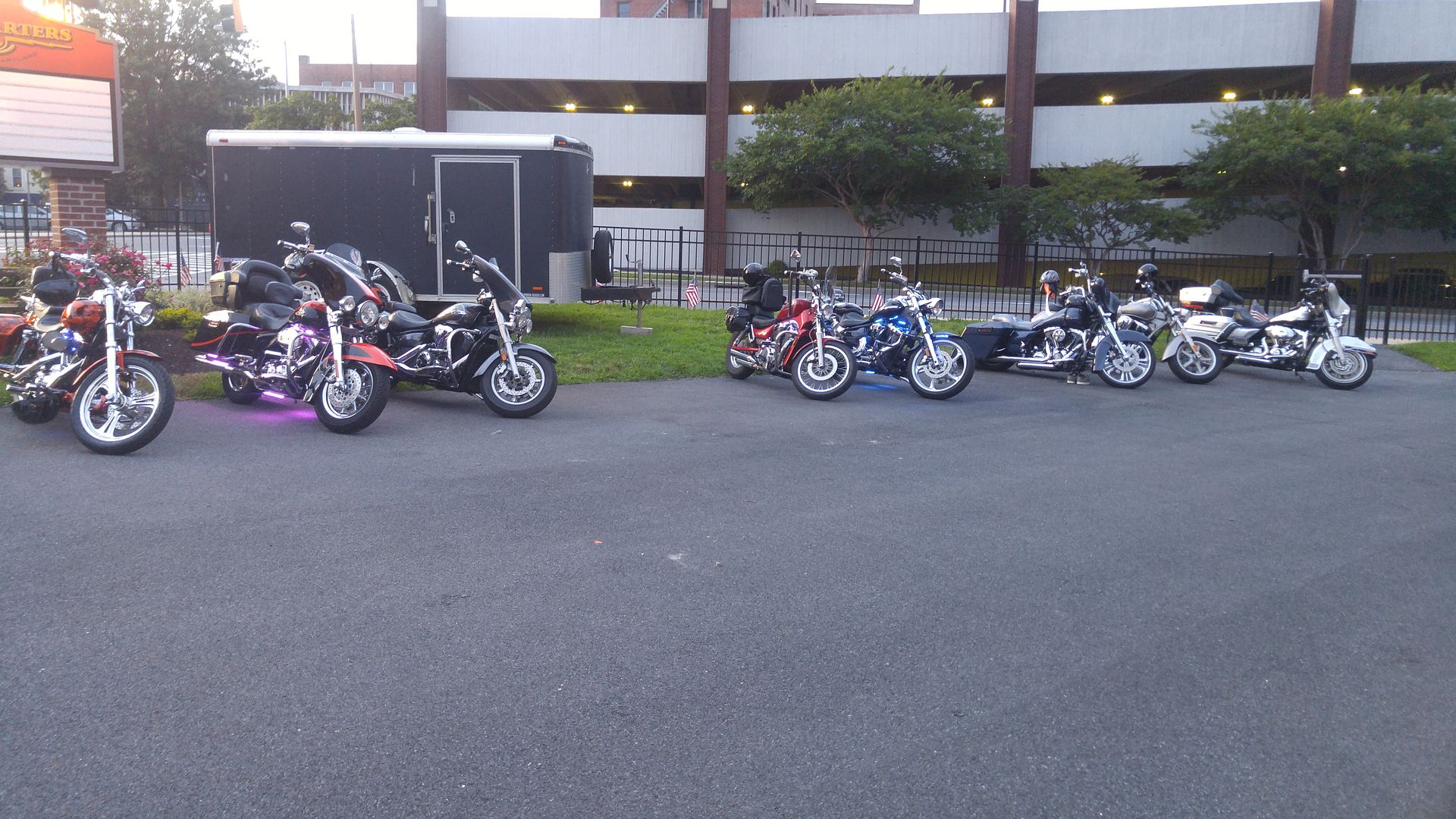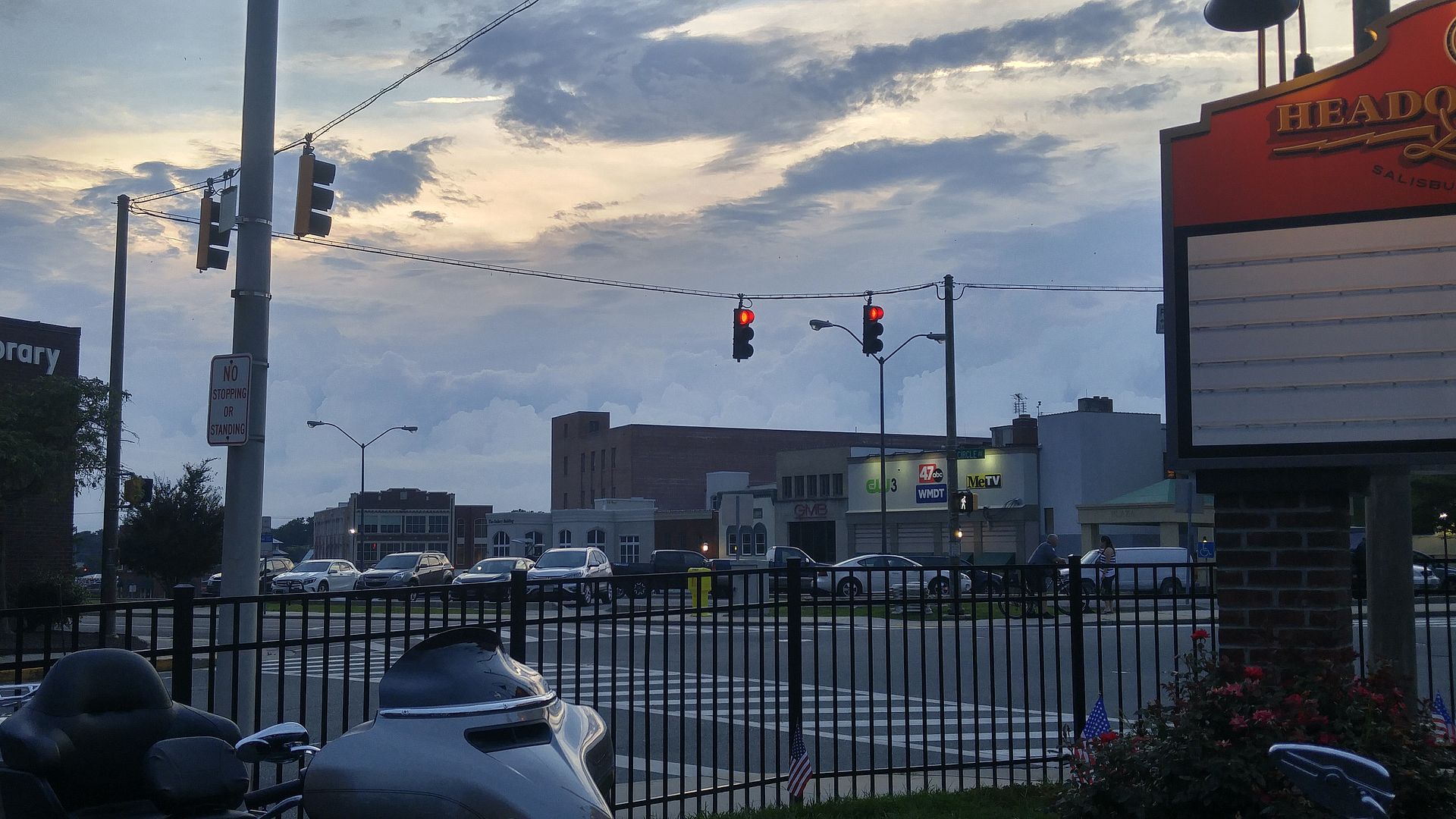 The second band on the bill was Lime Green, which I know has a number of originals to its credit based on their online presence. But they chose to play just one, their most recent called Pemberton Park.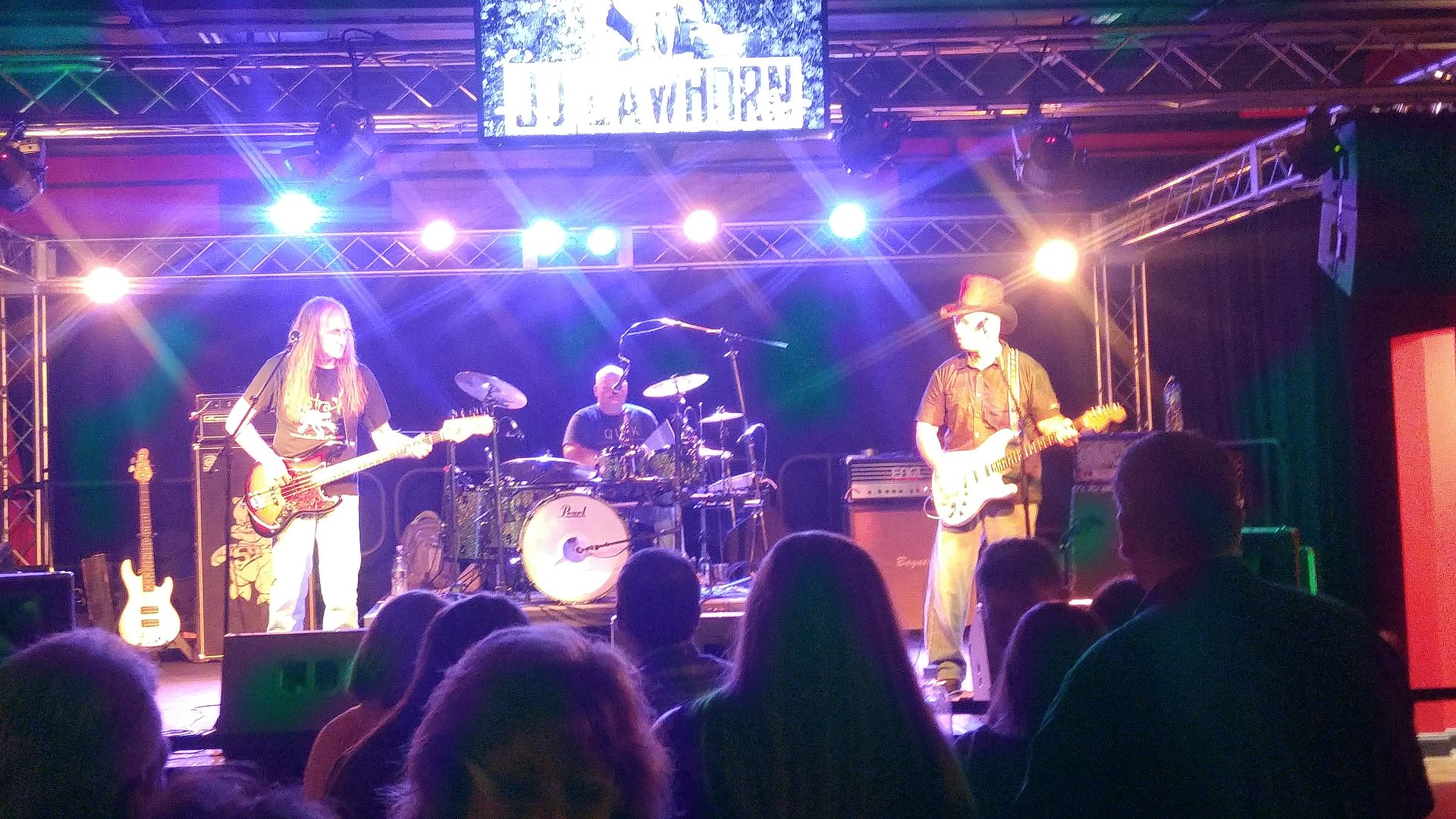 Yet Lime Green still had a lot of unique musical ideas, like buttressing the old Pink Panther Theme into Pink Floyd, playing forgotten classics like The Ballad of Curtis Loew by Lynard Skynard or Snortin' Whiskey by the Pat Travers Band, and absolutely blowing me away with their closer originally done by Rush. I never thought I would hear the first part of 2112 done as a cover, but they did Overture/The Temples of Syrinx. Damn, that was cool. I'm still smiling thinking about it.
Because the original intention was to have three bands, Scrapple came out and played a second set that started with Rush as well. But as they did when I saw them previously, they took Working Man and transitioned it into War Pigs by Black Sabbath. Their second set was heavier and more modern, with songs from Buckcherry, Marilyn Manson, Staind, and Tool among the selections.
But they got a little help when they went retro blues and did One Way Out, a song made popular by the Allman Brothers.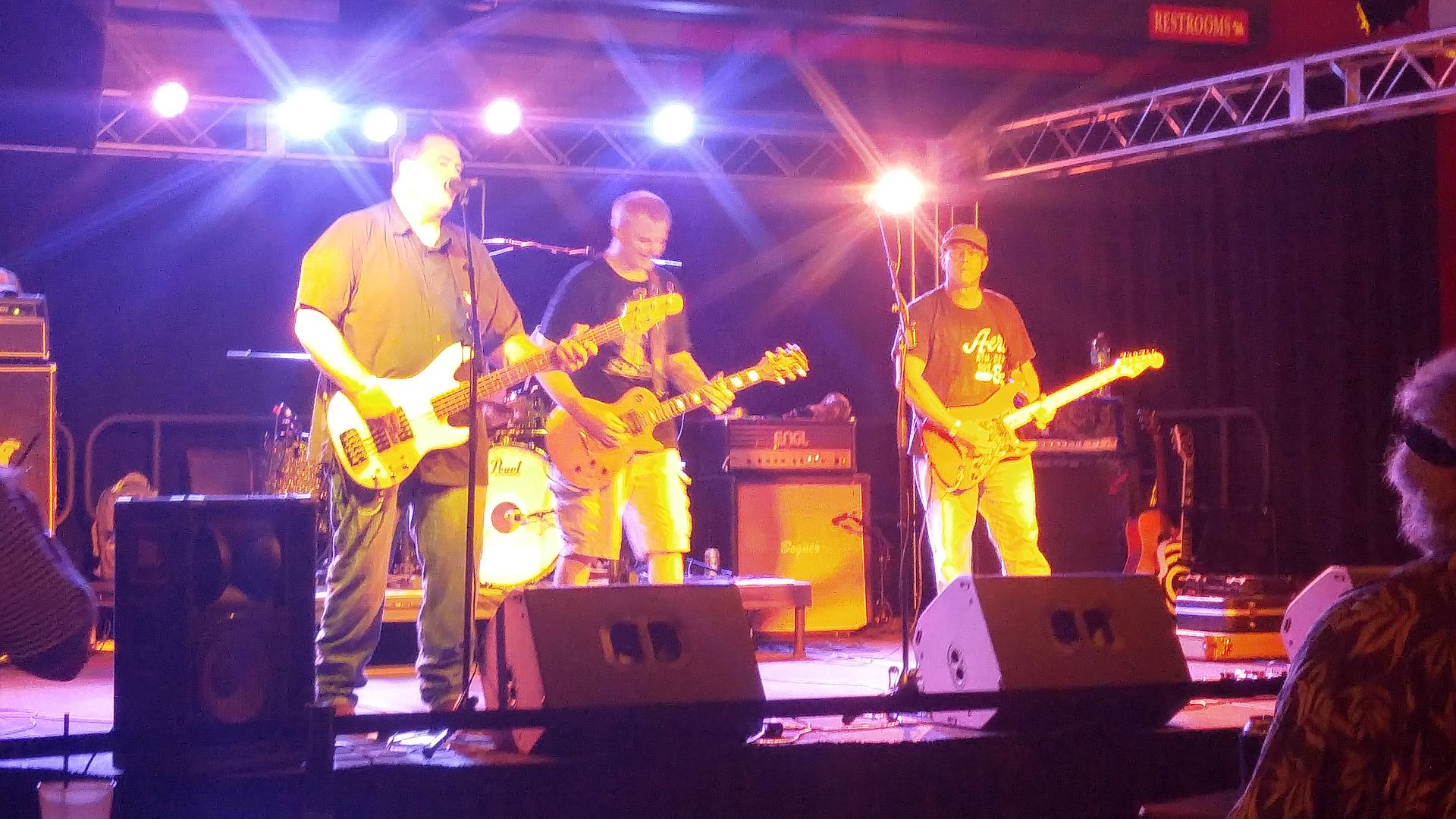 There was also a fun drum solo toward the end.
If I have one thing to say about Headquarters Live as a venue, though, I have to say that taking pictures in there is a royal pain with a cell phone camera. Unless you catch the lights just right, they come out awful. The best pics I had were with the doors open when it was still light out, which is why you get one photo of Lime Green.
But my night wasn't done. A friend of mine has been bugging me to see his band, so I went back over to Roadie Joe's to catch Copious Poor.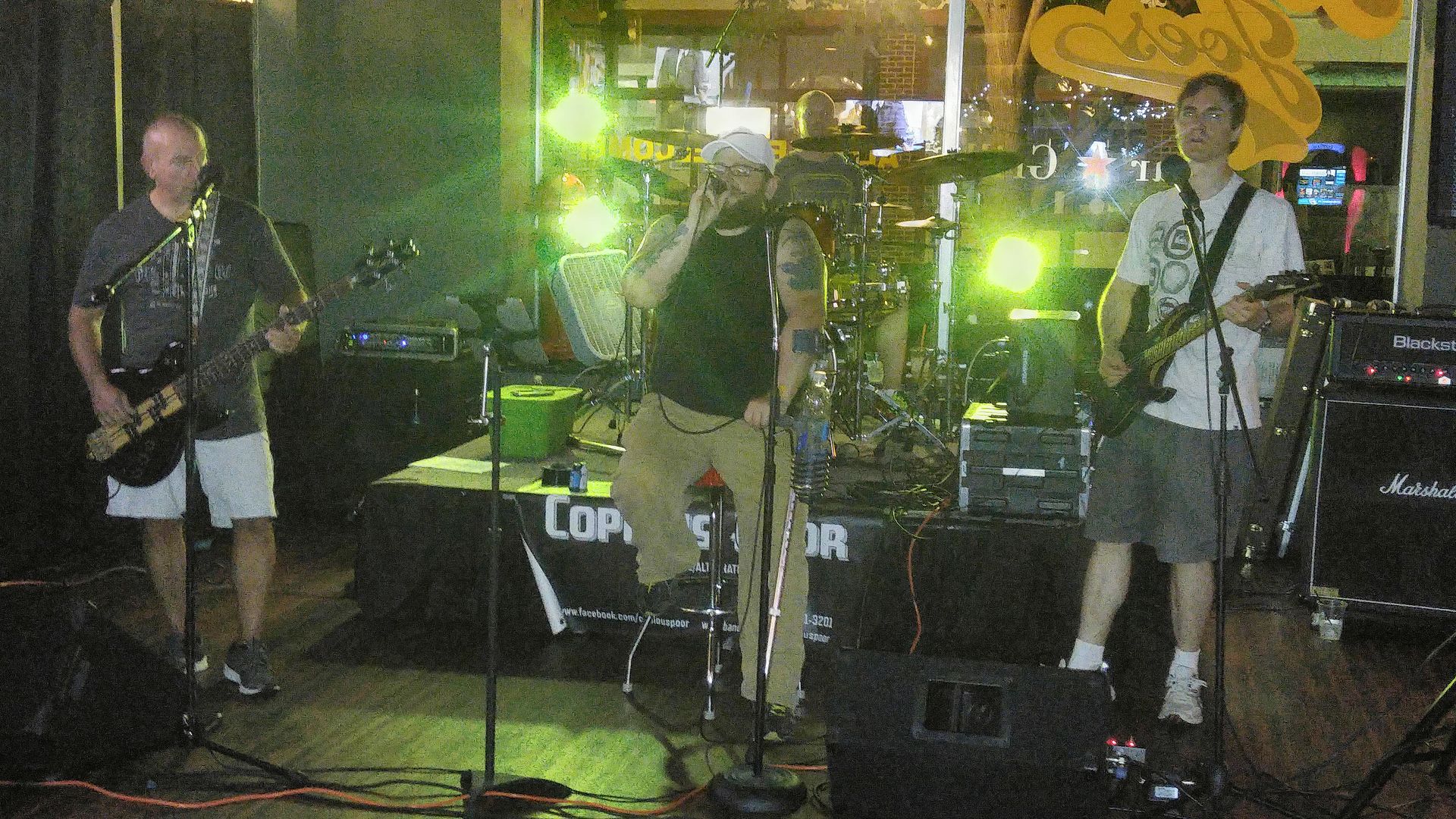 While they admitted they needed to get a sound person, the selection of songs was pretty good. I particularly enjoyed their rendition of a song I have occasionally used the video from on this site, Bound for the Floor by Local H. (You may see it again November 9.)
So once again it was a good weekend of local rock for firefighters that can always use a helping hand. It reminded me that local bands are among the quickest to respond when there's a need to lend their talents for a good cause – or just to make an evening a little better.
At one time I planned on writing a rebuttal to all the Trump items I put up this week yesterday, but after all the events of the convention I decided it was better to hold off for a week or so and let emotions simmer down a little bit. It also gives me a chance to attend two of my meetings and gauge the mood of the electorate, so to speak – so perhaps after all that I will pick up that baton and share my thoughts on both Marita Noon's commentary regarding Trump's energy policy and the entire Art of the Deal series. Right now, emotions are too high and points will be missed.
It's no secret I didn't support Donald Trump for the Republican nomination, nor will I be backing the Clinton/Kaine ticket. (Hell, the guy doesn't even know our part of Maryland exists because he thought Virginia shared a border with Delaware.) Yet I still have an interest in the downticket races, and this year I will be following the advice of Ted Cruz and voting my conscience. (Or, if you prefer, Ivanka Trump, who said, "I vote based on what I believe is right for my family and for my country." So will I.) But the combination of the Democratic convention taking over the news cycle and my general fatigue with the Presidential race means I may look at some other stuff for a little bit.
One thing I was asked to look at by my friends at the Patriot Post for this week was the prospects for Republicans in the downticket federal races. (If you get their "Weekend Snapshot," the article is prominently featured there as well.) But I find a little bit of fault with my editor because my original concluding sentence was, "The next four years could be the most interesting and unpredictable times our nation has ever known." My thought in that sentence was to invoke the old adage "may you live in interesting times" as we seem to be cursed into a choice leading us toward them. To me, this may be the election where more people vote against someone that affirmatively vote for a candidate.
(To that end, can we install the "none of these candidates" option like Nevada has? I could see factions in all four parties on the ballot in Maryland who would love a do-over: Republicans who are anti-Trump, Democrats who backed Bernie Sanders, Libertarians who would like a more doctrinaire candidate than former Republican Gary Johnson, and Jill Stein of the Green Party who would happily move aside for Sanders, too.)
Just think about Congress for a moment. In poll after poll it's shown to be one of the least popular institutions in the country, but voters send all but a small handful back term after term until they decide to retire. Maryland is a good example of this, with the longest-tenured Congressman being Steny Hoyer (17 terms), followed by Elijah Cummings with 10, Chris Van Hollen and Dutch Ruppersberger with seven apiece, John Sarbanes with five, Donna Edwards with four (plus a few months), Andy Harris with three, and John Delaney with two. Since Edwards and Van Hollen both sought the Senate seat, those districts will open up – but thanks to blatant gerrymandering, they are likely to be gravy trains and "lifetime appointments" for Anthony Brown and Jamie Raskin, respectively.
Aside from the one term of Frank Kratovil here in the First District as a "blue dog" Democrat carried on the Obama wave in an otherwise GOP-dominated area, you have to go back almost forty years to find a handful of one-term wonders that Maryland sent to Congress. Both our current Senators came to the job after serving multiple terms in the House, as would Chris Van Hollen if he wins the Senate seat. Kathy Szeliga, on the other hand, has served just a term and a half in the Maryland House of Delegates – although compared to other GOP Senate candidates in recent years that almost qualifies as "career politician," too.
Yet while our GOP candidate supports Trump and has an uphill battle to win, she was criticized for skipping the convention as well:
Some (GOP convention) delegates who wished to remain anonymous to avoid antagonizing another party member privately expressed discontent and disappointment with Szeliga's and Hogan's absences in Cleveland at a time when unity is a key goal of their party after a fractious primary season.
Of course, Andy Harris was there in Cleveland, but he's in an R+13 or so district with far less to worry about. It was better for Szeliga to be in Crisfield meeting voters with her opponent there.
So while I will talk about the convention in at least one piece I'm considering – and my invited guests may decide on their own to look at the Presidential race – I'm going to step back from it for a little bit. It's the pause that will refresh me.
He's been on a tear lately, reminding people why he was a valued prospect. But Natanael Delgado has nearly slipped through the cracks of this Shorebird season until now.
You may not have been aware of him because he didn't come up through the Orioles' system like most of our players do. Delgado was acquired in a late spring training trade with the Los Angeles Angels, who also parted with infielder Erick Salcedo to acquire pitcher Chris Jones from the Orioles. (Salcedo is playing at Frederick and Jones is pitching in AAA, where he was last year with Norfolk.) But it was a bit of a surprise to see a Midwest League All-Star from last season repeat at the same level for the Orioles, let alone struggle early on.
The 20-year-old native of the Dominican Republic has had a July that's as scorching as the weather, though, hitting .400 for the month in 13 games with a sick 1.136 OPS. It's bumped his overall numbers up to .261/7/32/.725 OPS, and remember he was hitting just .170 at the end of April.
Coming up through the Angels' system, he played for the AZL Angels in 2013, Orem in the Pioneer League in 2014, and with Burlington of the Midwest League last year. It would be like playing in the Gulf Coast League with the Orioles' team, then moving up to their former Bluefield Orioles farm team, then playing for Delmarva last year. Over that span, Natanael hit .261 between the three, although he slipped to a .241/6/46/.631 OPS line last season. Essentially he is repeating the level and has improved in several key areas, most particularly being a bit more selective and walking more. Last season in 438 plate appearances, Delgado struck out 104 times while walking just 19; so far this season in 240 plate appearances he's still struck out 67 times but has taken 20 walks.
Delgado has split his time between being a designated hitter and playing right field in what has been a talented (if crowded) outfield thus far for Delmarva. It's a position that seems to be deep at this level, so the competition may come next spring as Delgado tries to move up the system. Continuing the strong July out to the end of the season may be key for his advancement.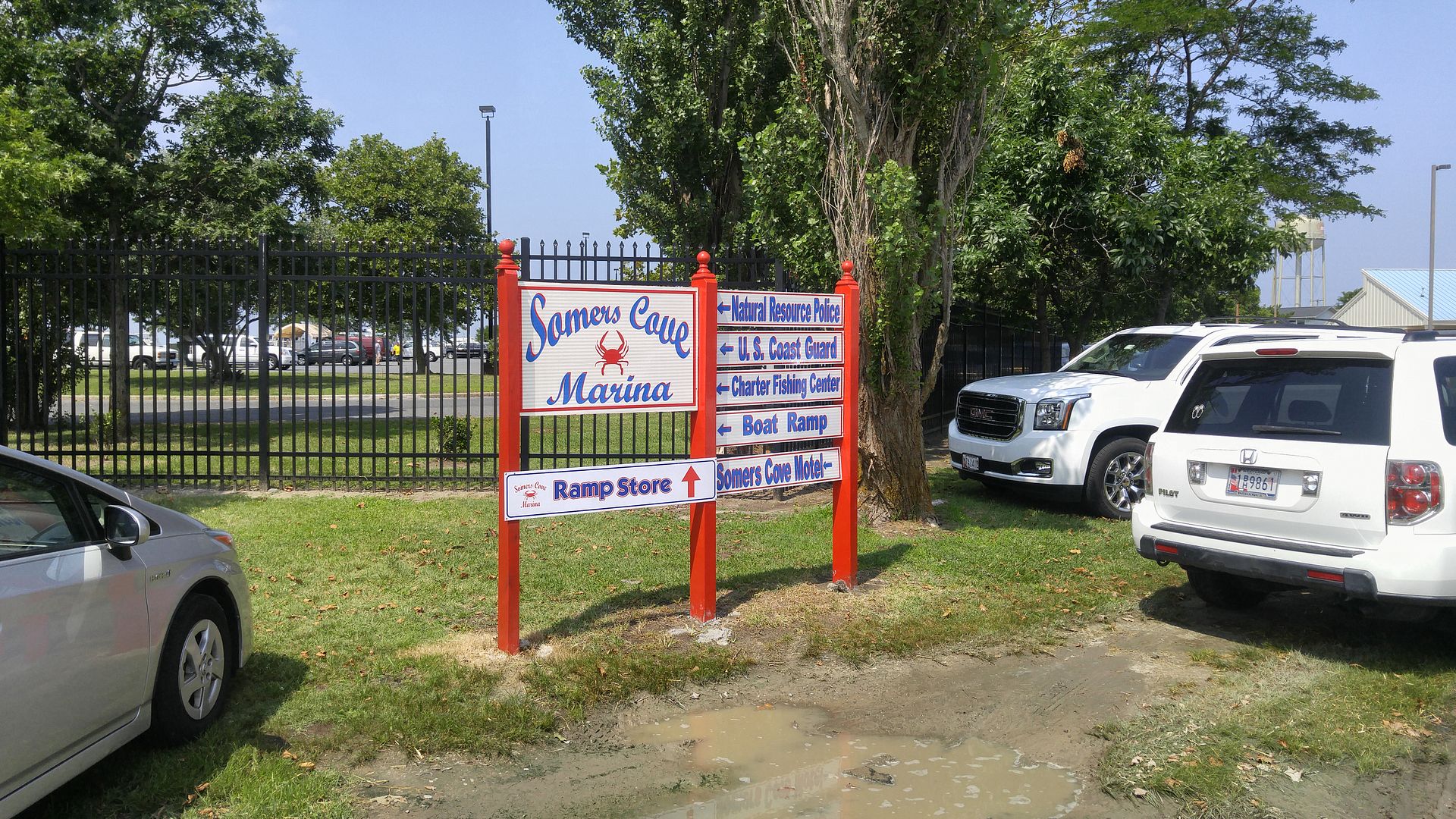 It was awful tempting to jump on into that water, but several thousand people managed to sweat their way through another hot Tawes Crab and Clam Bake. While Republicans tend to have a little more presence in the area, some of the Tawes regulars were absent because the event coincided this year with the Republican National Convention in Cleveland.
That convention minted the GOP Presidential nominee, who seemed to be pretty popular.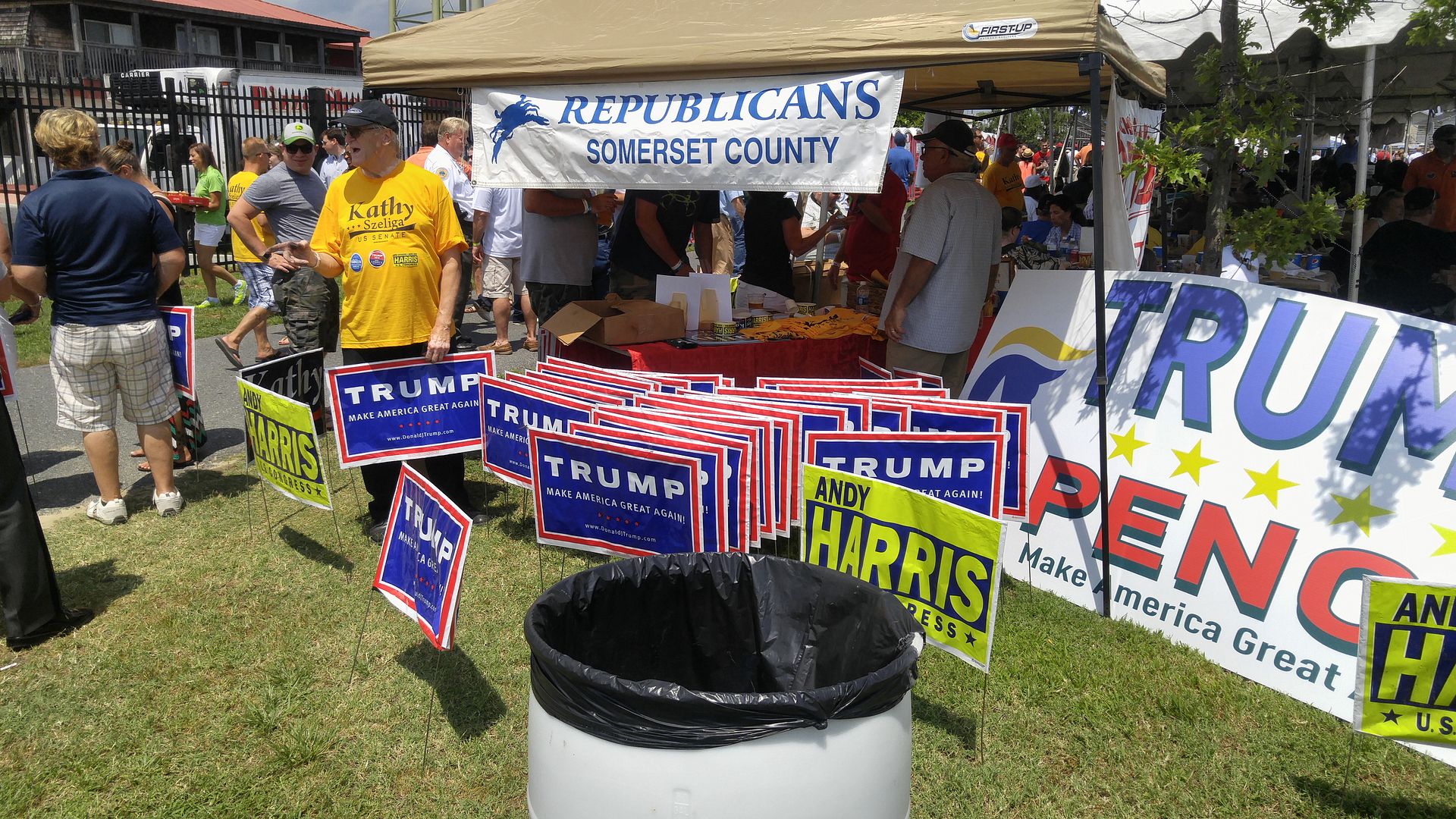 That group of signs dwindled little by little, as Trump adorned a number of tents. On the other hand, there were far fewer Hillary signs – but the Democrats also had their crowded space.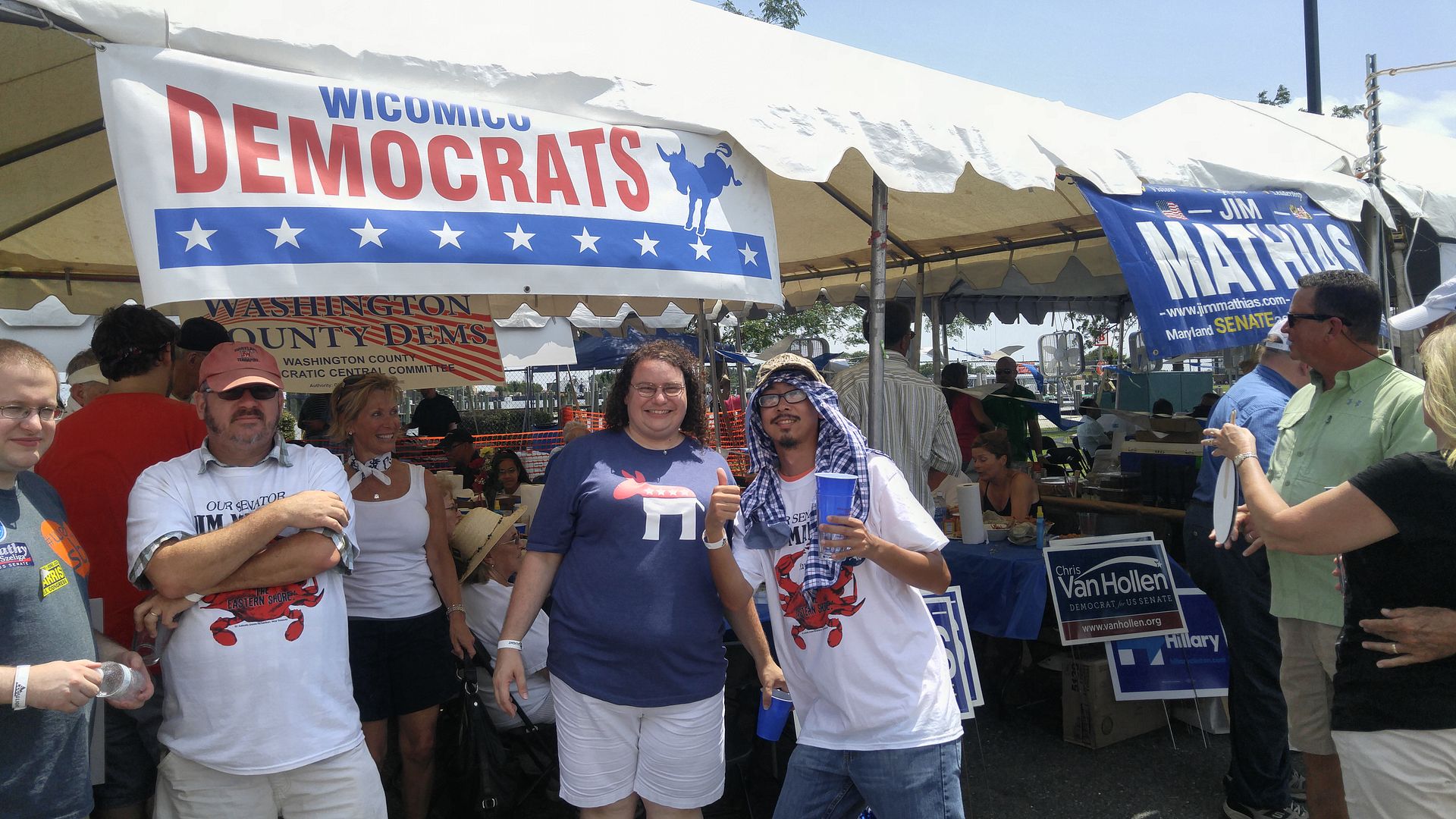 Sarah Meyers (in the blue shirt) is a friend of mine, and she was tearing her hair out as the coordinator there because they overbooked the space. (You may see her at the Democratic Convention next week, as she will be there as a page.) By the same token, the Somerset Republicans only went with one tent as well and it was packed, too. So both parties had close quarters.
Yet the businesses seemed to have ample space. I didn't peek into every tent, but many of them (as well as businesses lining State Route 413 into Crisfield) had a simple message: welcome Governor Hogan.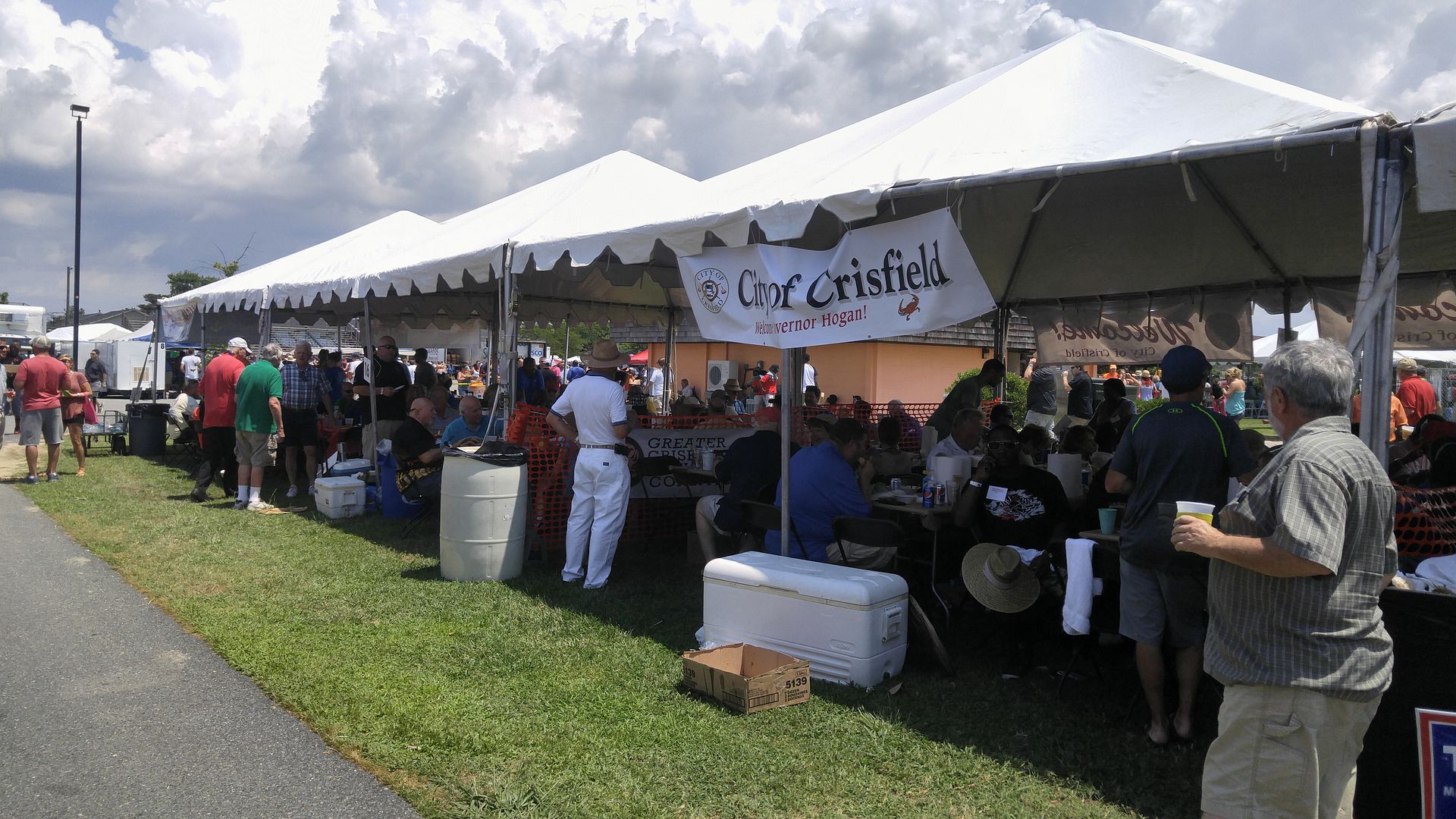 Even lobbyist Bruce Bereano, who always has the largest space, got into that act.
Yet among those businesses I did pick out I found an odd juxtaposition there, particularly under the auspices of the local economic development commission.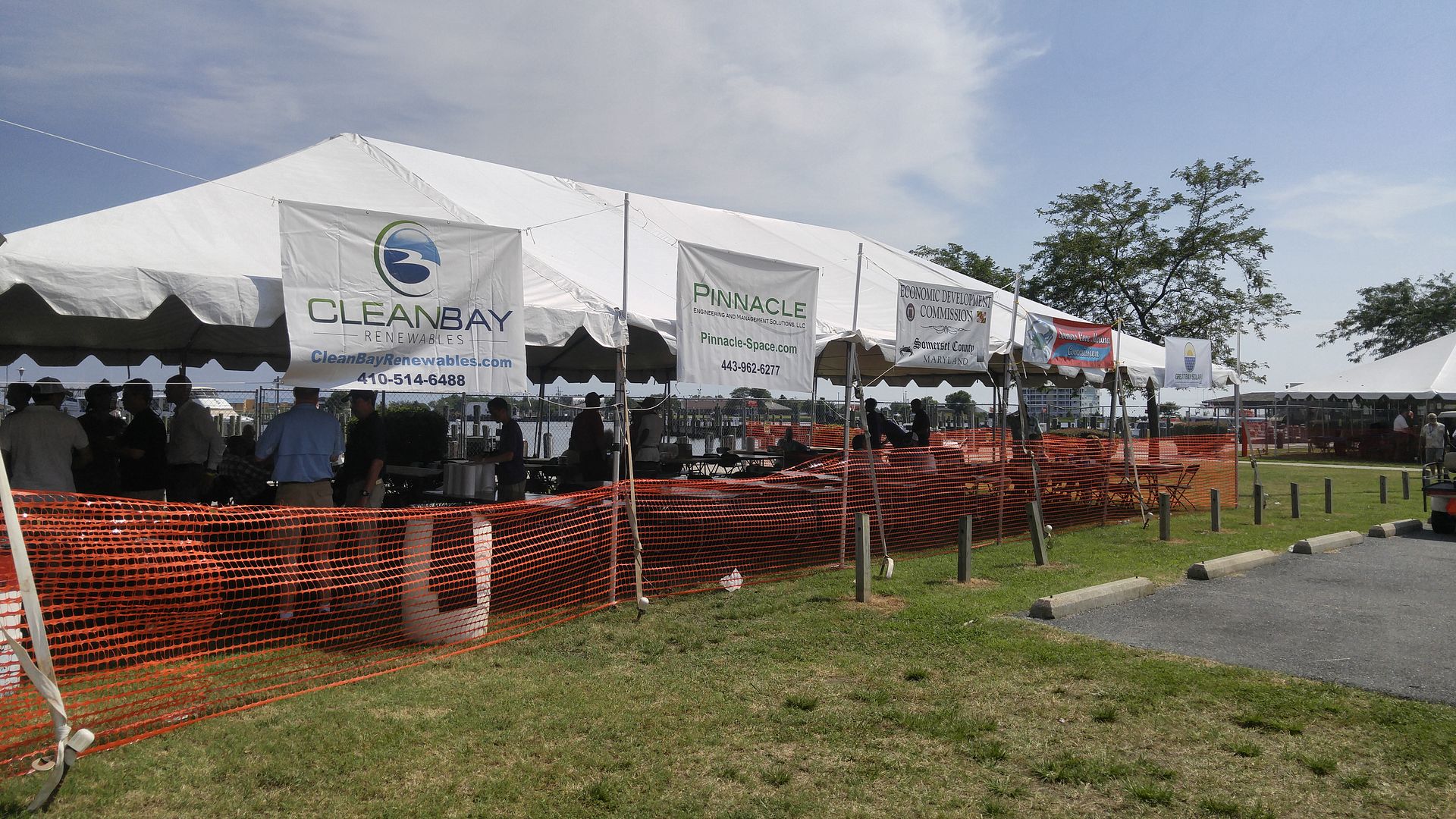 In order, these businesses are Cleanbay Renewables, which is a chicken waste recycling firm, Pinnacle Engineering, which services NASA, the Somers Cove Marina Commission, and Great Bay Solar I. The last is interesting because this project was originally supposed to be wind turbines, but objections to the siting of the turbine towers from the Navy forced the company to go solar, making lemonade out of lemons. With the exception of Pinnacle, the state has sort of forced the market for the other two businesses.
Yet on the other side was a law firm that objects to the approach the state is using to clean Chesapeake Bay through its Clean Chesapeake Coalition. They believe much of the problem comes from the sediment that leaches out from behind Conowingo Dam in severe storms.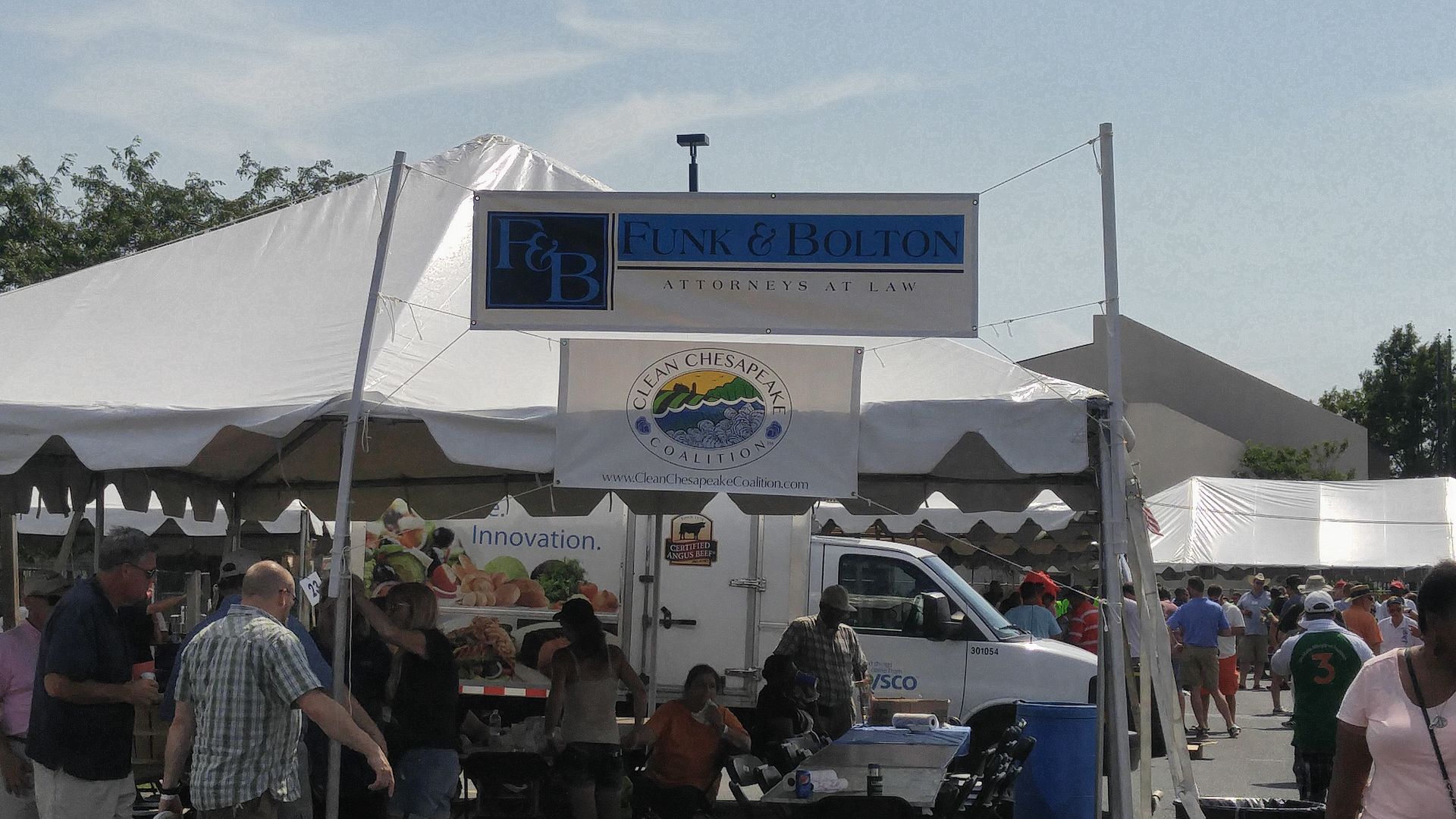 I happen to think the CCC has a pretty good case.
Speaking of business, the food business did pretty well there. Almost too well.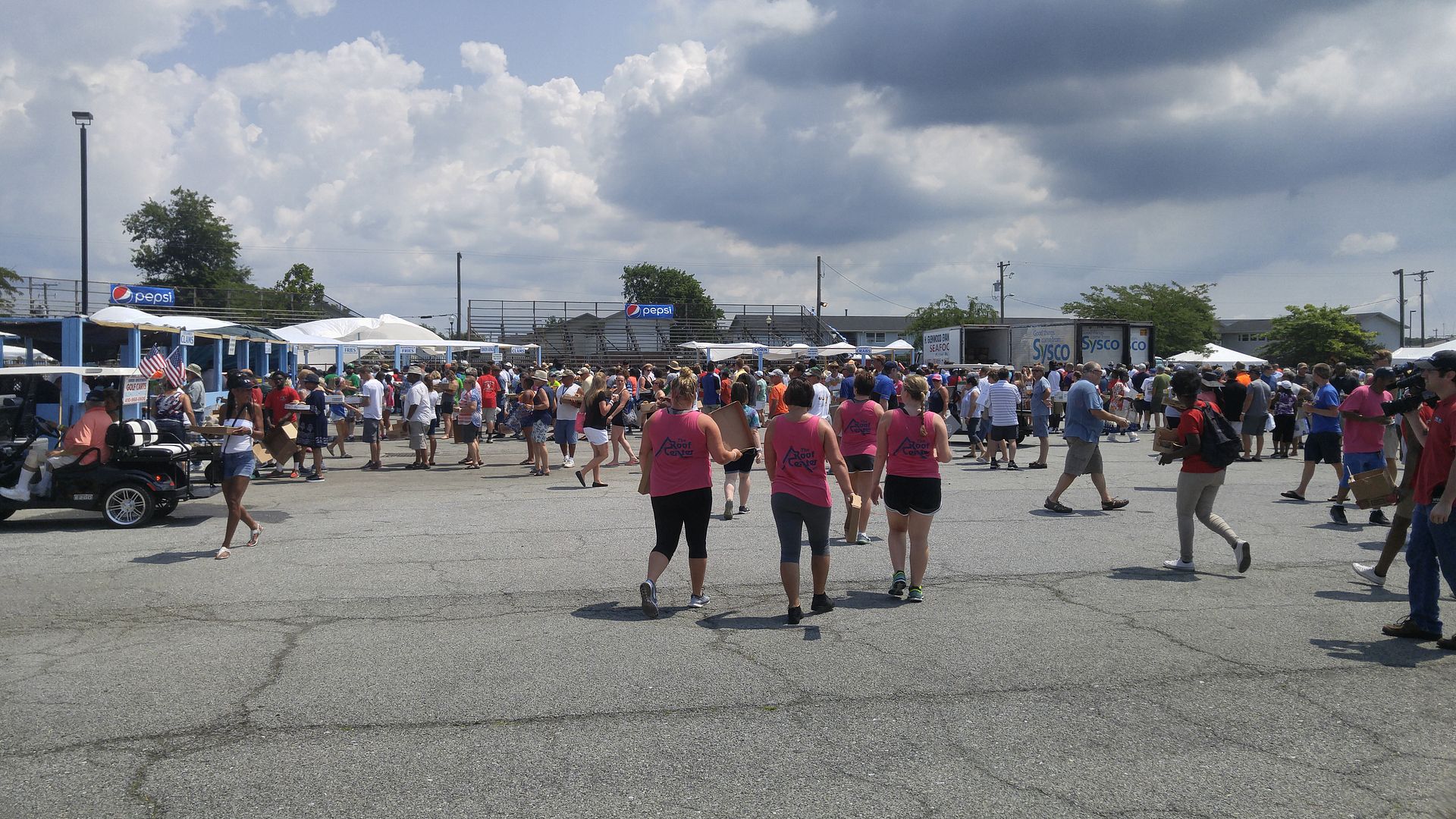 According to my cell phone camera, which took all my photos today, I took that picture at 12:01 as I walked over to get in line for food. Here is the end result, 46 minutes and four lines later.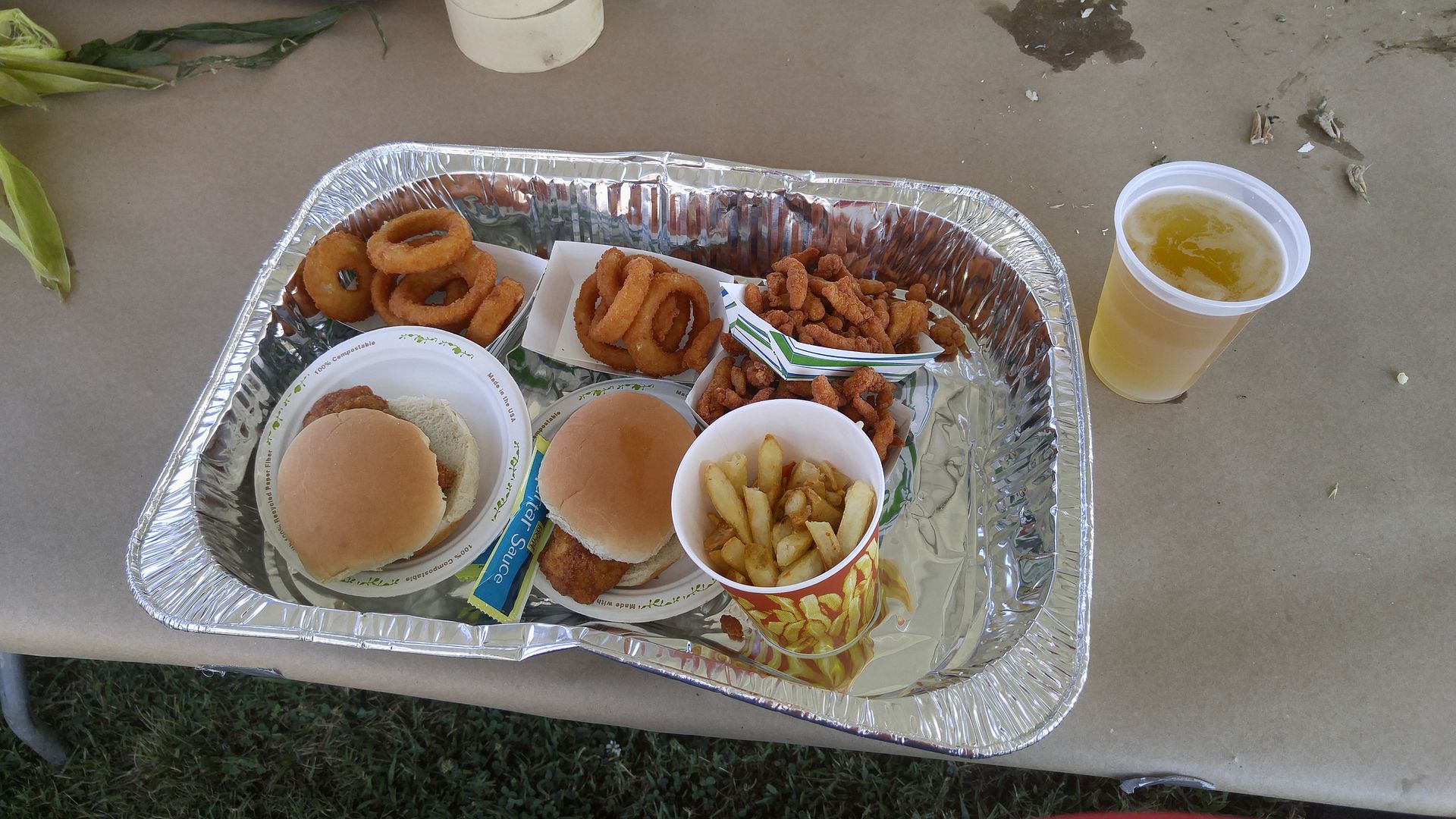 I actually asked for the onion rings as I inched closer to the front of the French fry line. And I certainly don't fault the crew because they worked hard, even toward the end when I snapped this.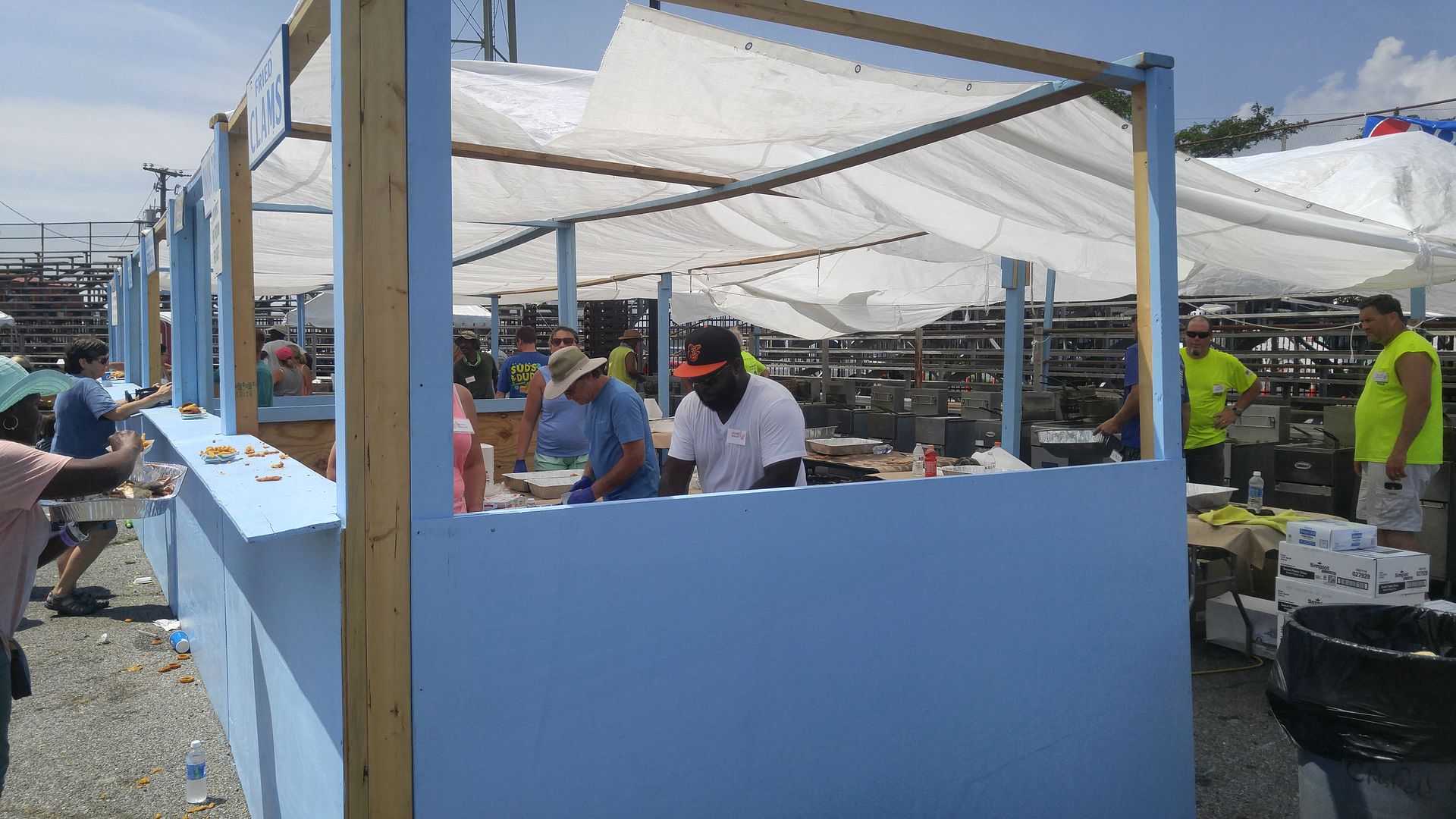 I think the issue is the increasing use of "runners" who get multiple orders of food and slow down the lines. It seemed like every third person in line was one, which meant those who just wanted to fend for themselves had to wait.
The guy who didn't have to wait in line was Governor Larry Hogan, because I don't think he ate a bite.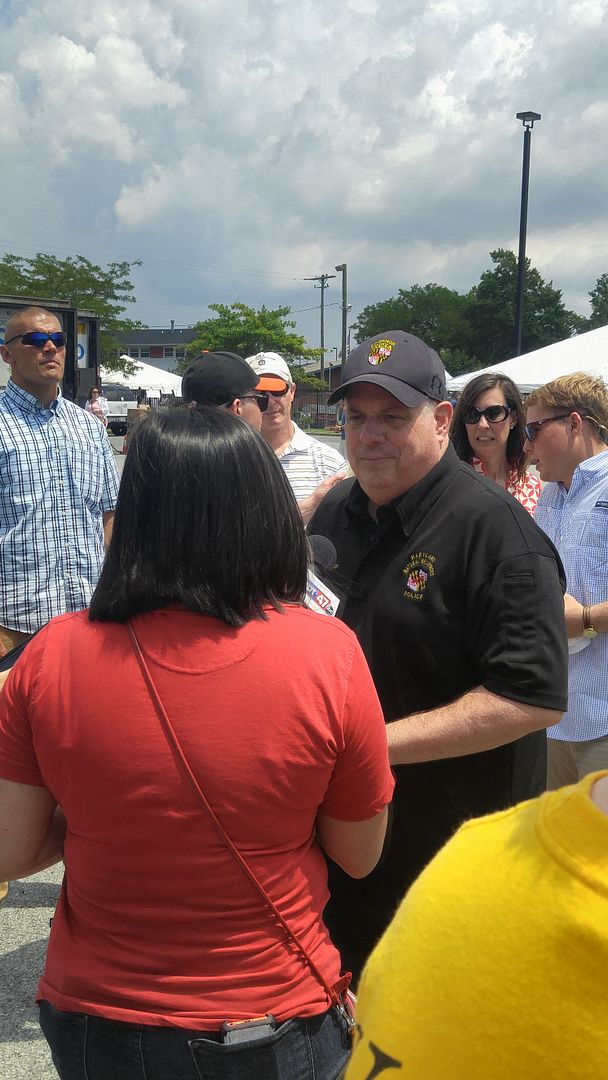 This is a second segment of time lapse. I took this photo above in the area where the food lines were at 1:57 p.m. Now, let me ask you: where's Hogan?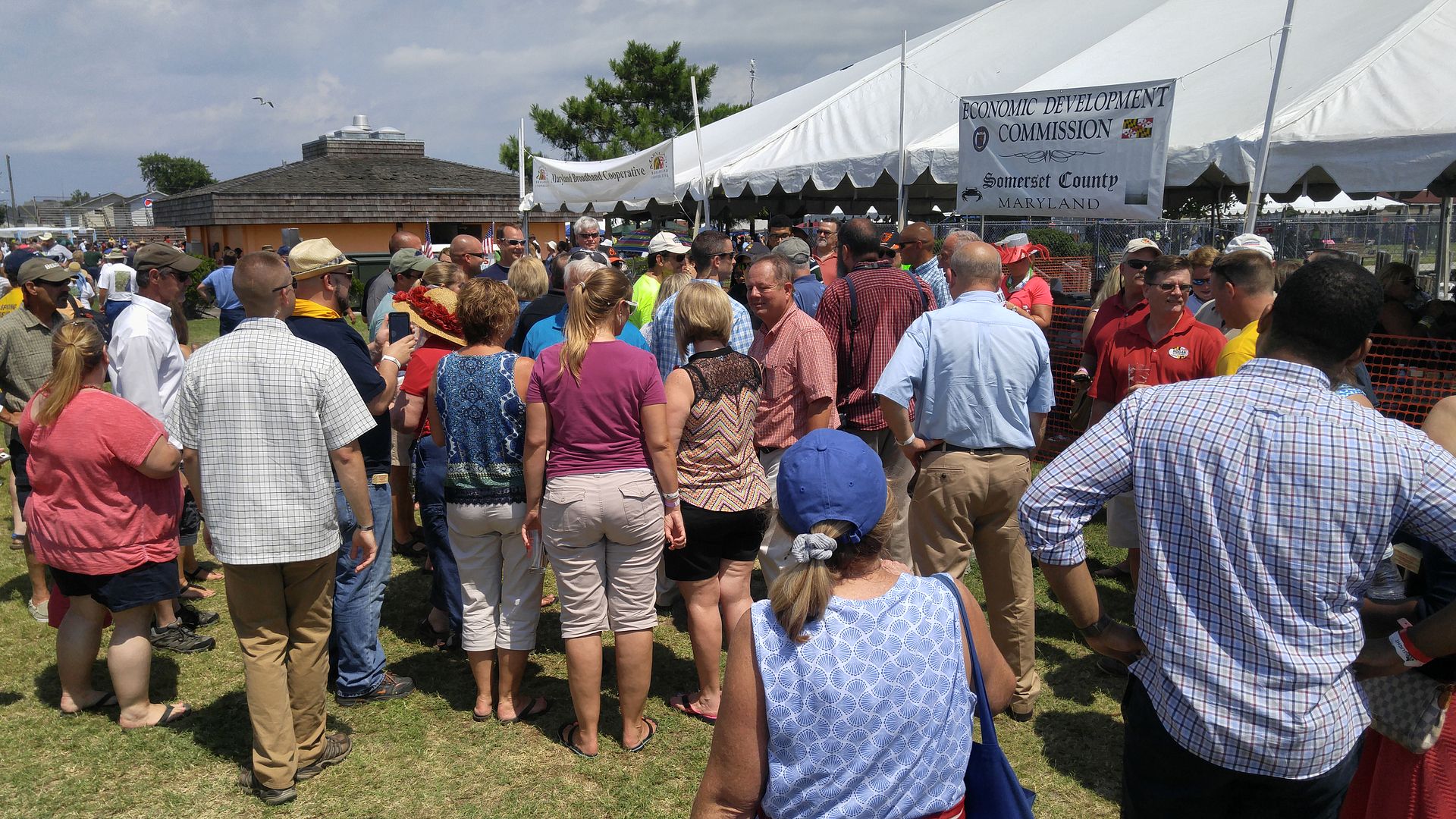 He's barely visible in the center of the photo, obscured by Delegate Charles Otto in the pinkish shirt. In 35 minutes he had advanced maybe 80 yards thanks to the crush of well-wishers who wanted to shake his hand, have a photo with him (although he suggested it in a number of cases) and perhaps say their piece. I was in the latter group as I wanted to thank him for his stance on the Presidential election. Larry commented that he had noticed the reception I've received on social media a couple times as it echoed a lot of what he had seen on his.
Stay strong, Governor.
The two major-party candidates for U.S. Senator were also there. Now I missed Democrat Chris Van Hollen – perhaps because I didn't recognize him walking around – but I did get a glimpse of Kathy Szeliga from the GOP.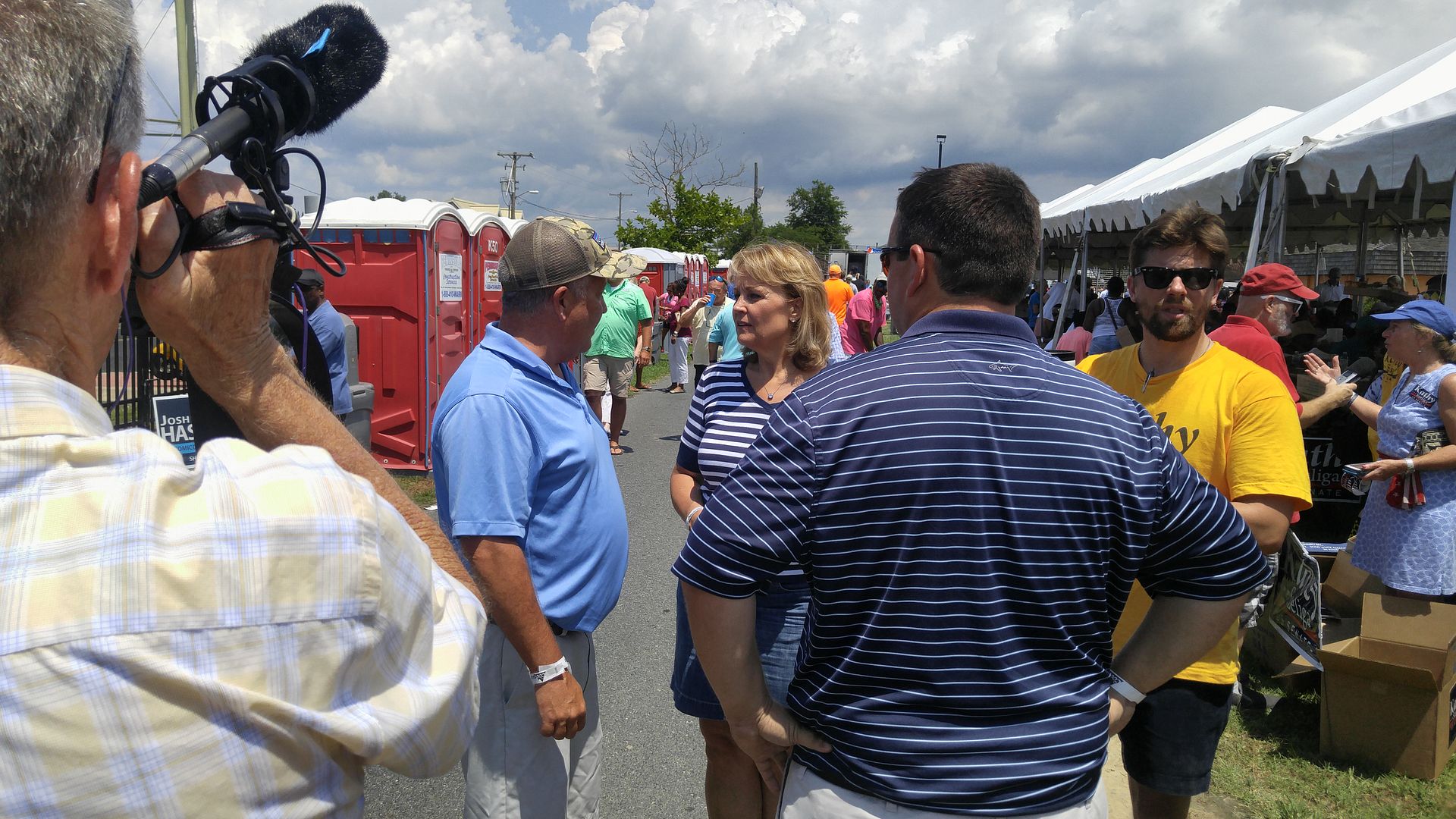 Of the people I saw and photographed, she was one of the few I didn't speak to at least a little bit. I don't blame her – our paths just didn't cross but once.
Of course, a few locals managed to be in front of my camera, such as Delegate Mary Beth Carozza, who brought her family and a batch of others from Worcester County.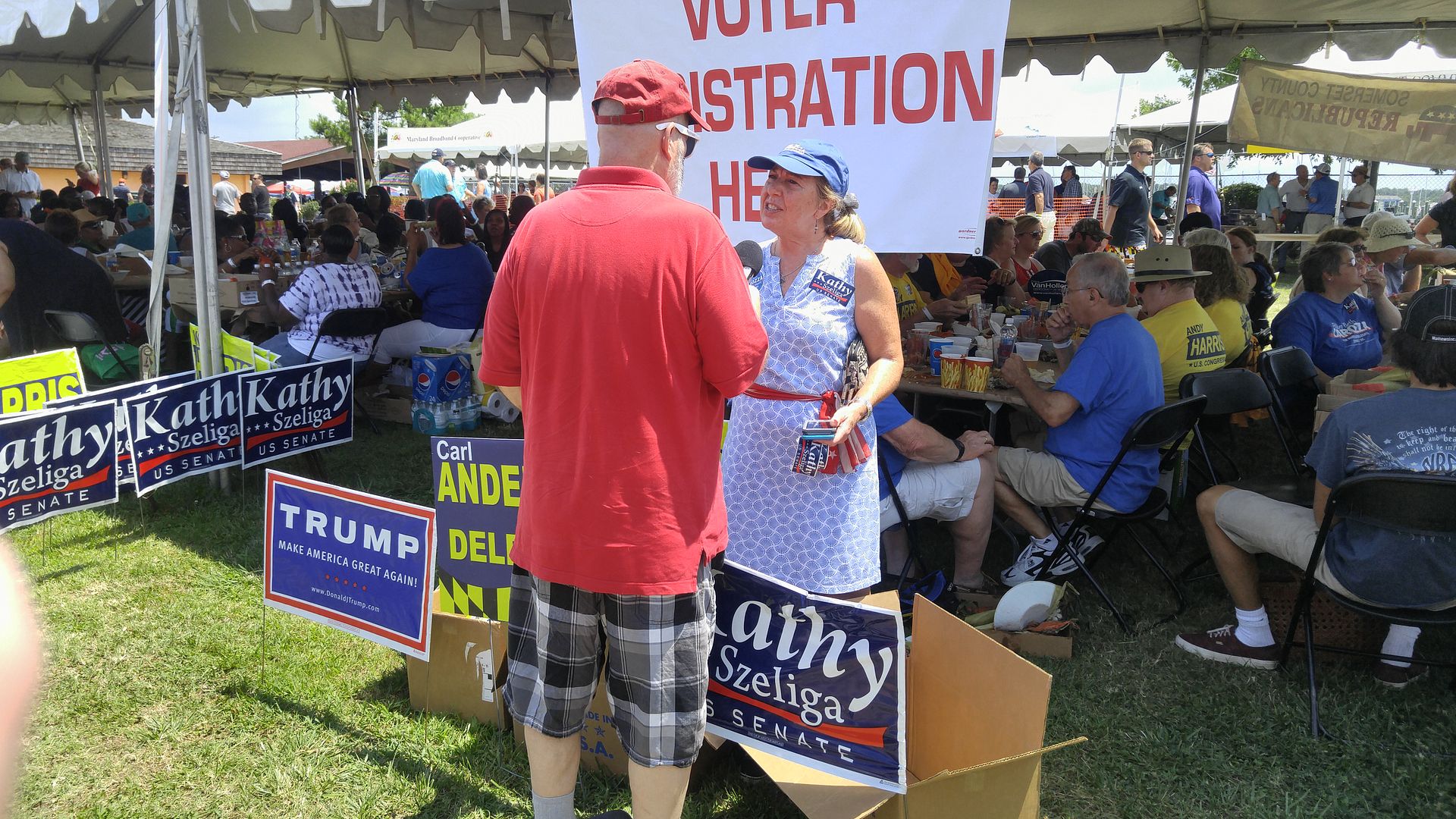 She was speaking to Duane Keenan from Red Maryland.
The other half of Worcester County must have come with Senator Jim Mathias, who had a number of folks with a matching shirt to his. He was a little peaked by the time I took the moment to thank him for his assistance with the school board election bill.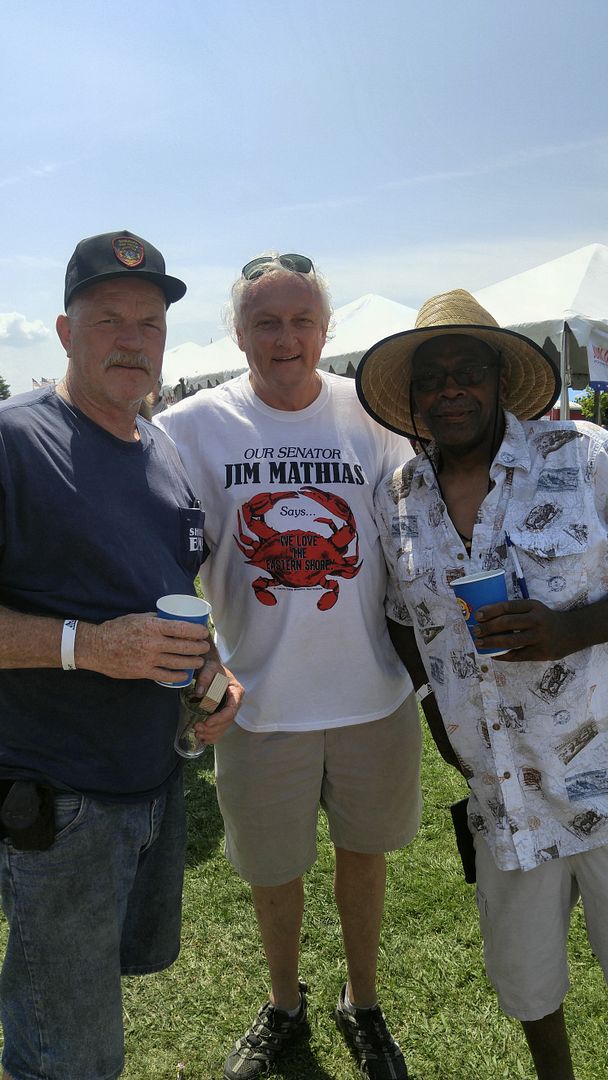 Yet while we had hot and cold running politicians there, we also had a lot of media asking questions. I noted Duane Keenan above, but here's Ovetta Wiggins of the Washington Post (right) speaking to Jackie Wellfonder. Jackie made the cut in Ovetta's story.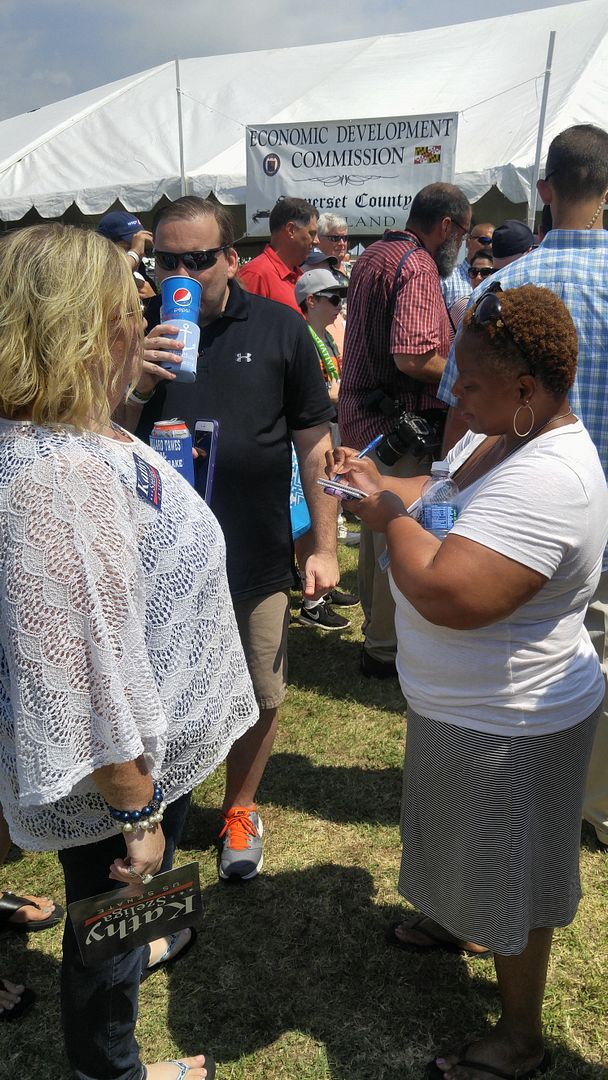 I also had the pleasure of meeting Mike Bradley, who hosts WGMD's morning show out of Lewes, Delaware. Since his station covers a fair amount of the lower Shore in its signal, he was interviewing some of the local players. It's a very good show that I catch once I cross into Delaware on my way to work.
And it could be that the Tawes event is becoming one for the greater Delmarva area. A delegation of elected officials from the First State included Representative Tim Dukes, who covers the Laurel and Delmar areas in his 40th District.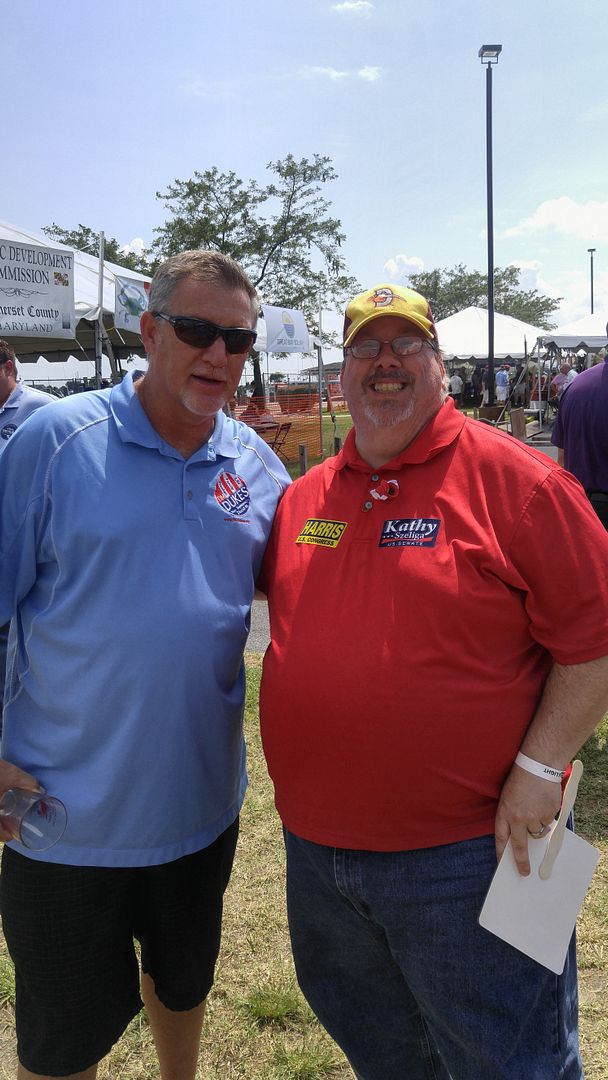 The reason I'm in the photo on the right: it was taken by Dukes' fellow representative (and Minority Leader in the Delaware House) Danny Short of Seaford. Since we're neighbors with Delaware it was nice to see some of their elected officials, too.
In that respect, this coverage was a little lacking because I did a lot of walking and talking to a number of nice folks from around the state. I want to say I overheard Jackie Wellfonder say this, but Tawes really is "like a big 'ol family reunion." We don't often see a lot of politicians travel across the bridge but for attending Tawes, so you have to say hello and speak your piece when you can.
After throwing six innings of one-hit ball at Hagerstown on July 2, you would have thought the Suns could adjust to Ofelky Peralta when they faced him again just six days later on the Shorebirds' home field. Instead, they became a note in history as Peralta threw a five-inning no-hitter against them in a rain-shortened 5-0 win. It was the third no-no in the Shorebirds' 21-season run but the second in less than a calendar year – my 2015 SotY John Means threw a seven-inning gem last July 31.
In just looking at his stat line, though, you would think Peralta an odd choice to advance to Delmarva so quickly. Signed as a 16-year old from the Dominican Republic, in his two pro seasons (one in the Dominican Summer League, the other in the Gulf Coast League) Peralta was a combined 0-6 with a 4.04 ERA in 69 pro innings (21 appearances/20 starts.) While he had struck out 64 in that span, he had walked an alarming 56 batters, giving him a 1.51 WHIP overall. (As a comparison, league average is about 1.3 and elite pitchers squeeze the number under 1 on a consistent basis.) And with the Shorebirds, that issue has improved but not completely gone away: 42 free passes in 75 2/3 innings is still rather high but the improvement has brought his WHIP down to 1.36 this season.
But Ofelky has also been able to elude bats over his career, with his last two starts a prime example. In his 144 2/3 career innings, Peralta has allowed only 109 hits so batters are having a tough time squaring him up. That may be the reason he made the jump over Aberdeen, advanced to a full-season league where there have been only 12 plate appearances by batters younger than he (compared to 306 for older players), and was considered Baltimore's #14 prospect. If you read between the lines of milb.com's account of the no-hitter, it's apparent that Peralta just has to work on the maturity to harness the talent – or as manager Ryan Minor put it, slowing down the game for him. Despite the last two great performances, he is still just 5-4 with a 3.45 ERA for the season here.
Because Peralta has been working with the Shorebirds' staff so closely this year, he may not be advanced to Frederick as quickly as other prospects would be. Oftentimes there is an innings limit placed on younger prospects working their first full season, so the development may be better for Ofelky to stay here rather than get at most 10 starts at the next level. He's a better candidate to make a mid-season jump between Frederick and Bowie next year than be advanced this season.
So the test of his maturity will be over the next couple starts: he faces the Columbia Fireflies on the road tonight (a team he hasn't pitched against, as we only see them once this season) then his turn would next fall at home against Hickory. The Crawdads beat Peralta up on June 19, a game he allowed six runs and ten hits in 4 2/3 innings. Ofelky didn't have to adjust much in beating the Hagerstown Suns, but these two starts will help define his season as it moves on.
Despite the fact I'm a sports fan, rest assured I'm not discussing the Stars, Mavericks, Cowboys, or Rangers. Actually, I would much rather be discussing less weighty subjects but I feel compelled to add my two cents.
All morning I heard on the news that this was the worst police fatality incident since 9/11, which is actually a little bit of a surprise given the amount of targeting they have had over the last few years. And apparently the shooter was distressed over recent shootings in Louisiana and Minnesota, so he took it out on the Dallas police before turning the gun on himself.
But I can't get my head around the logistics of the incident. You mean to tell me one man had eleven clean shots at police officers, without hitting anyone else in what had to be a melee after the first shot or two was fired? Unless they were in a group where they were easily mowed down, it seems to me that the initial reports of multiple assailants would be closer to the truth and then we have to ask where these others are. Of course, conveniently, the perp isn't talking anymore.
I have to say, though, this game of tit-for-tat is getting old. We lose five police officers in response to two (perhaps unjustified) civilian shootings, which may have occurred because the cops are on edge thanks to continuing protests and incidents like the one in New York City in December 2014 where two officers were murdered by Baltimore resident Ismaaiyl Brinsley, who "planned to kill police officers and was angered about the Eric Garner and Michael Brown cases." Innocent people are shot to death here, police officers are gunned down there. Depending on who you believe, the cops are always at fault unless the gun itself did it – and if the gun did it, that obviously means we must relieve people of their weapons, say those on the Left.
This morning I was listening to WGMD radio where Wicomico County Sheriff Mike Lewis was discussing the Dallas incident, and he revealed that four local officers had resigned over the last week. (Lewis was caredul not to specify which agencies, though.) Mike also believed that this climate was making it harder to recruit police officers because the risks are getting too great, and I can believe this. The Eastern Shore may seem like a backwater region without much potential for such an incident, but these shootings can happen anywhere.
So the question becomes: who stops first? Obviously concealed carry and the BLM threat is making police officers more nervous, and the Dallas shootings aren't going to ease their tension. There's no doubt race plays into this as well, as I'm sure every traffic stop involving a white officer and black driver will be tense.
Normally I have some ideas on how to improve the situation, but in this case I'm fresh out except for suggesting prayer – both for the families of the victims and for healing of the long-festering wounds racism on both sides have brought our nation.
Selected as both the SAL Pitcher of the Week and the Orioles' Pitcher of the Month during the last week, it wouldn't surprise me to read the agate type in the next few days and find Christian Alvarado has been promoted to Frederick – or even packaged as a rising prospect in a deal to find the Orioles some major league pitching help.
Alvarado has achieved these accolades in part by being the league leader in strikeouts (the first SAL pitcher to eclipse 100 K's this season) to go with a team-leading seven wins. He's 7-4 in 16 starts, covering 87 1/3 innings and has a 3.19 ERA to go with a 1.13 WHIP. Having an almost absurd 17 walks to go with 101 punchouts significantly helps his cause as well.
Like most Latin American players who are signed by the Orioles, Alvarado – who was inked to a deal a month before his 17th birthday in August, 2011 - began by leaving his native Venezuela to pitch in the Dominican Republic. After two seasons of improvement, Christian flat-out dominated the DSL in his first three 2014 starts (allowing just one run in 25 innings) and earned a promotion stateside to pitch in the Gulf Coast League. Last year he started in the GCL but moved up to Aberdeen after pitching 27 innings without issuing a walk, and now he's pitching with the Shorebirds at the age of 21. Starting his career so early and finding success at this level may mean Alvarado is promoted to the 40-man roster to protect him over the winter.
It's obvious Christian's success comes from the sweet spot of pitching – having the control not to walk batters (just 73 in 325 career innings, or roughly 2 per nine innings) but the power stuff to strike them out at an overall rate of over one per inning this year. Looking over his career stats, perhaps the only pedestrian stretch he's had was his initial GCL stint, which can be somewhat explained away by both an improved level of play and the personal transition of pitching in the U.S. for the first time. But he easily conquered that level once he got acclimated, and Alvarado has made easy work of transitioning to full-season play.
So come out and enjoy some power pitching from Alvarado while you still can.
Over the last couple days there has been quite the buzz about Salisbury becoming home to professional hockey at long last, since the alcohol restrictions on the Wicomico Youth and Civic Center are no longer in effect. One story on the WBOC-TV website quotes an official with the Federal Hockey League, which is a lower-level minor league comparable to an independent league in baseball as teams are not affiliated as farm clubs for a particular NHL team. According to Andrew Richards of the FHL, "for a team to survive, each game would generally need to see 1,200 to 1,500 attendees at roughly $10 per ticket."
It's interesting that this post will come right after my Shorebird of the Week post; however, I am a much more casual hockey fan than I am a baseball fan. I lived in Toledo, a city with a longstanding minor league hockey history dating back to the 1940s, and attended one or two games over the years (as opposed to perhaps fifty Mud Hen games.) Yet the criteria Richards uses is definitely doable if people are willing to spend a little bit more than they would for a Shorebirds game.
However, if Salisbury wants to have a successful hockey franchise, the FHL may not be the place to be. Formed in 2010, the league has suffered some serious growing pains to get to its current 7-team status. (Six clubs played in 2015-16; a seventh team in St. Clair Shores, Michigan is an expansion team for 2016-17 and the eighth team out of Watertown, New York is supposed to return from a one-year "hiatus" this fall.) The other serious contender would be the Southern Professional Hockey League, a ten-team league that is several years older and seems to be more established. They have an eleventh team that is taking a year off in 2016-17 due to renovations to its arena, so Salisbury would be a good fit as a twelfth team for the 2017-18 season.
But travel would also be somewhat more of a concern for an SPHL franchise – while Salisbury is not in the geographic center of either loop, the closest SPHL team would be in Roanoke, Virginia, which is about six hours away. Its other franchises are in Tennessee, North Carolina, two in Georgia, Alabama, Florida, Mississippi, Illinois, and Indiana. On the other hand, there are two FHL teams about five hours away, in Danbury, Connecticut and Brewster, New York. There are other teams in New York and New Hampshire, but the western side of the FHL is Midwest-based with franchises in Ohio, Michigan (2), and Illinois.
Attendance-wise, though, Salisbury could be one of the more successful FHL teams. Both the SPHL and FHL give host teams 28 games, but attendance at SPHL games is comparable to the South Atlantic League in minor league baseball, where teams average between 2,000 to 3,000 a contest. Using Richards' formula, none of the six FHL teams that played last year would be a success: the closest two were Danville, Illinois, which averaged 1,120 and Port Huron, Michigan, which drew 1,044 per game. The other four ranged from 243 to 774 per game, which meant half-empty (or even cavernously vacant, in Dayton's case) arenas. Unfortunately for Salisbury, the more successful FHL teams tend to be in the Midwest so we may not have close rivals; moreover, I'd have serious concerns about the entire league going belly-up, which may be why they are pursuing our area so hard thanks to a reasonably-sized arena and presumably hockey-starved market. (They obviously factor in the thousands of NY/NJ/PA retirees living less than an hour away in Sussex County and Ocean Pines.)
So nothing is official yet. But to paraphrase Ben Franklin, we may get ourselves a hockey team – if we can keep it.
It's nice to have a built-in fan club, but Drew Turbin has been a steady presence in the infield for Delmarva this year. In all but one of his 60 games this year, manager Ryan Minor has stationed Turbin at second base and has been rewarded with an excellent fielding performance with just enough offense to be a threat. After a somewhat slow start, last year's 14th round selection out of Dallas Baptist University has pushed his slash line to .237/2/17/.677 OPS – still a little below average, but over the month of June Drew has hit .262 with a much more respectable .760 OPS. (Turbin was only hitting .212 at the end of April, so improvement has been slow, but accelerating.)
Not many baseball players hail from the state of Idaho, but Turbin was born and raised there, playing there through high school before attending junior college in sunny Arizona then moving on to DBU. The 23-year-old played his first pro season last year with Aberdeen, hitting .254/2/30/.684 OPS in 70 games there. And aside from starting a game at third base on May 29 – making an error in just three chances - Drew has exclusively played the second sack through his pro career. That lack of versatility, however, may be an impediment to his eventual career unless he continues his upward trend at the plate. On the other hand, working in more of a utility role is possible for a guy who hits in the .240 range – Ryan Flaherty has made a nice career out of that with the Orioles despite a .217 career batting average (his .233 average thus far in 2016 would be a career high-water mark if he maintains it.)
In the meantime, though, Drew is getting the chance to play every day and improve his game. Since he just turned 23 in April, development-wise he is close to schedule and should have the opportunity to play with Frederick next season.
You know what they say about the best-laid plans of mice and men? It applied to last night's Wicomico County Republican Club meeting, as the expected legislative wrapup from the remaining non-participants in our May meeting were those slated to speak this month. Unfortunately, the MML conference and a Hogan fundraiser took precedence for those candidates, so it actually fell on a somewhat unexpected guest to deliver a few off-the-cuff thoughts on the session: Delegate Charles Otto, who came up from Somerset County to speak with us. As he was originally elected in 2010 in a district that then included a portion of Wicomico County, he's considered us his constituents despite the fact he was redistricted out for this term.
Thus, once we took care of doing the Lord's Prayer, Pledge of Allegiance, and treasurer's report, we heard Otto's assessment that "we have a challenge this year" in electing our President and U.S. Senator. On the latter race, Otto praised his colleague, saying of Kathy Szeliga that "I can't think of anyone better to fill that position."
As for the legislative session, he felt that we had "a lot of threats" in the 90 days, but "I think we fared well." Efforts to mandate paid leave and a minimum wage increase were rebuffed, and while he termed the Justice Reinvestment Act "a decent bill," he admitted it was one of the hardest votes for him to consider in his six years on the General Assembly. To a degree, the same was true for the budget, which was more spending growth than he would have likely preferred.
Otto also believed that the transportation bill will be a "big hurdle" to overcome in the coming years, as it favors larger jurisdictions. But local development may be helped by the Triton unmanned aviation program, which is being considered for Wallops Island. Charles noted it has bipartisan support from all three Delmarva governors, who understand the economic impact this could have locally.
But Otto didn't have an answer regarding a question about the aging school program and $80 million that was supposed to be included. It was a question brought up by John Palmer, who sits on our local school board. I chimed in with a somewhat rhetorical question about the many funding mandates Democrats seem to be adopting to tie Governor Hogan's hands when it comes to the budget – could we do a reverse BRFA and try to get rid of them? It made for some discussion, and I was thanked later for bringing up the point. (Perhaps I need to save it for a Democratic Club meeting if I ever go to one.)
For being placed on the spot, Delegate Otto did a nice job, so we turned to the Central Committee report from Mark McIver. He noted that the Secretary of Appointments had selected two new Board of Education members who sounded like fine additions, but both of them applied directly to the Governor's office. None of the five we interviewed, including the incumbent who desired another term, were picked. Yet McIver was "hopeful" about the selections, noting the Appointments office contacted him regularly through the process with questions.
But now it was time to work on the school board referendum, said Mark. It would involve creating a political committee to promote the fully-elected option.
We also learned Mark has tickets to the upcoming Tawes Crab and Clam Bake in Crisfield and our committee's next meeting would be pushed back until July 11 thanks to the Independence Day holiday.
Jim Jester revealed "we've made progress" on the Crab Feast: we have secured the all-important one-day beer license. Now we just have to get approval from the health department, after he found out he filled out the obsolete old form that was online and was given a longer, more complicated new one.
Shawn Bradley updated us on Third Friday, which "was a nice surprise" with plenty of involvement as the Republican Club has tried to maintain a table there each month. This month they had the political realm to themselves as the Democrats apparently weren't there.
Our next piece of business was a lengthy discussion about where to place a headquarters this year and how to pay for it. It will be a joint effort between the club and Central Committee, with a number of locations under consideration.
A contingent from the Republican Women of Wicomico was present to speak on their annual Constitution Day celebration on September 17 at City Park. Former Delegate Mike McDermott is the featured speaker, and the festivities will begin early: a 10:30 a.m. start is planned since Somerset County will be celebrating their 350th anniversary that day in Westover, as Delegate Otto pointed out. (It was also noted that we were sitting in what once was Somerset County; that is before it was split along Division Street in Salisbury and Fruitland to first create Worcester County to its east. Both then ceded territory in 1867 to create Wicomico County. So I stand corrected since Somerset preceded Worcester.)
We then found out from John Palmer that Wicomico County Board of Education meetings would soon be streamed online thanks to the PAC14 website. The eventual idea is to allow real-time involvement from those watching.
Finally, we were alerted to a townhall meeting Congressman Andy Harris would be holding tonight (June 29) at Black Diamond Catering in Fruitland from 6-7 p,m,
In less than an hour we had taken care of our business and become more informed. Next month we go off the political board a little bit as our speaker will be Mitzi Perdue. That meeting will come July 25.
Unlike a number of the most recent previous renditions for this long-running series, this will feature four performers at three different venues in and around downtown Salisbury on consecutive days last weekend. It would have been five but the featured group from the local Academy of Music Performance was just wrapping up when we arrived.
So I wasn't intending to do a WLR when we decided to eat outside at Roadie Joe's afterward, but it turned out Kaleb Brown was playing and you know me – I like listening to music and taking pictures.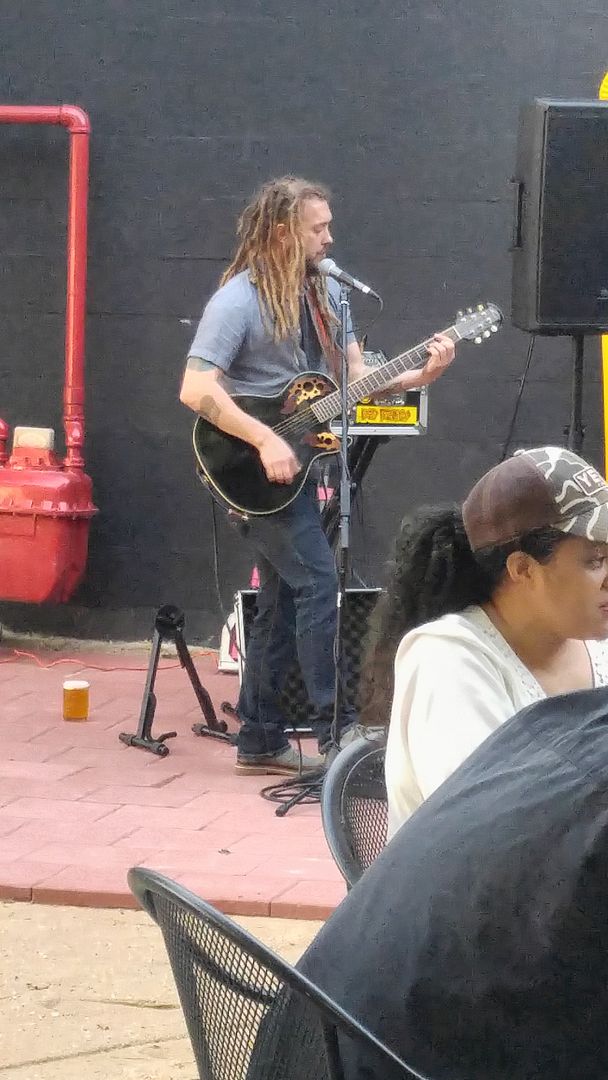 So it was just Kaleb, his guitar, and his beatbox (that would drive some of the dogs still around from 3rd Friday crazy) and that reggae sound he likes to do. Good dinner music on a lovely summer evening.
I think the band wasn't supposed to start until 10 but they got an early start. We had just finished our dinner and were ready to leave when we decided to stay for a couple songs from Naked Nation that turned into half a set.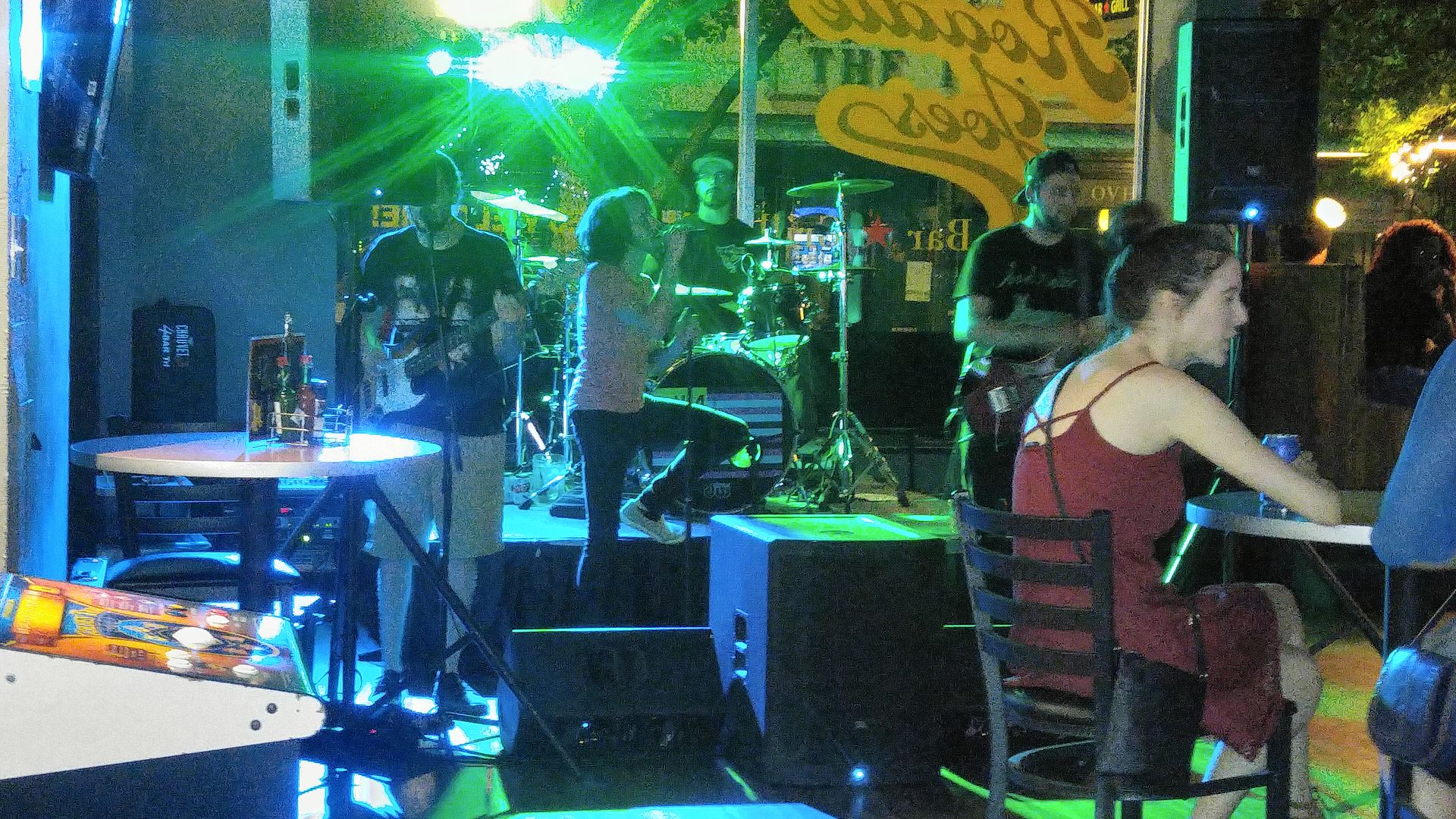 Naked Nation seemed to have a little different playlist than other cover bands, doing a wide range of songs that are not really classic rock and range more toward Top 40 alternative stuff. But the people were getting into it.
So Saturday came and I decided to head back downtown for the Salisbury Shore Craft Beer Festival. Headlining the event was Eastern Electric.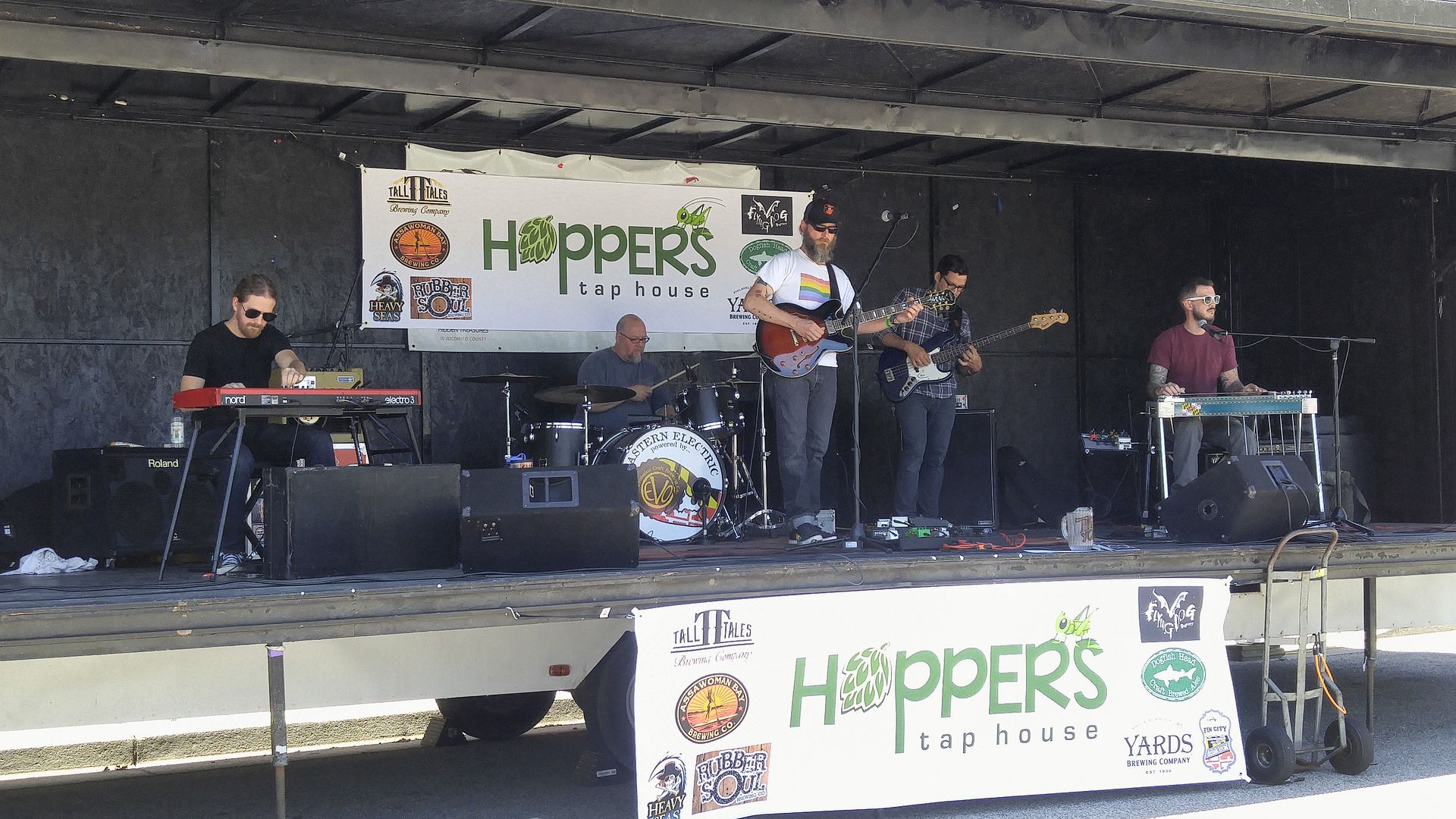 Now I like Eastern Electric, but it didn't dawn on me that there was a band also playing in Headquarters Live called Billy Earl and the Pink Flamingos. So I checked out the location and the band.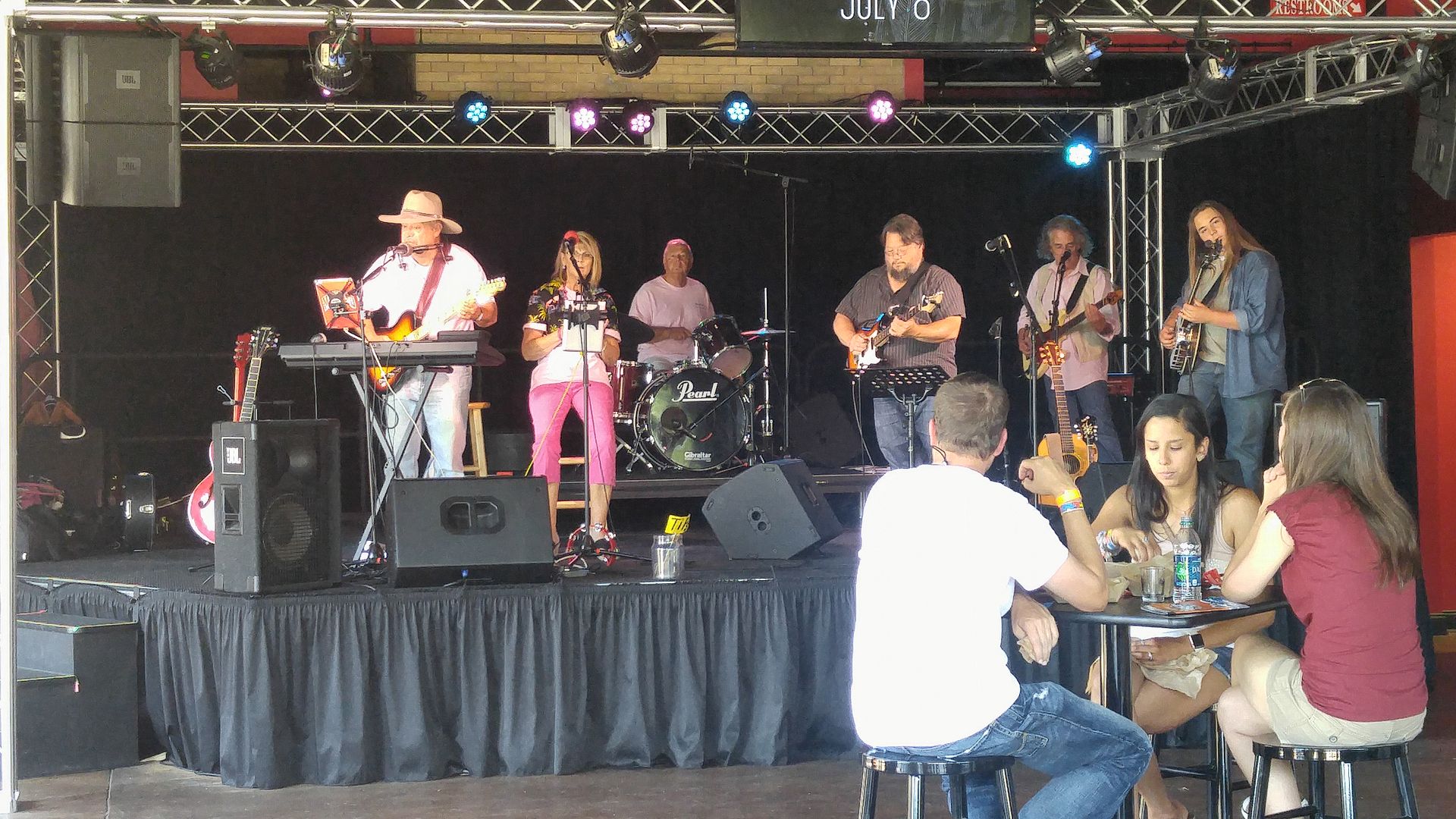 Admittedly, their style of music isn't my cup of tea – but it does allow them to put a different flavor on songs like Chris Isaak's Wicked Game. They can still make it sound hauntingly lonely.
Meanwhile, back at the Beer Fest Eastern Electric was doing their set mixing covers from several eras and some originals.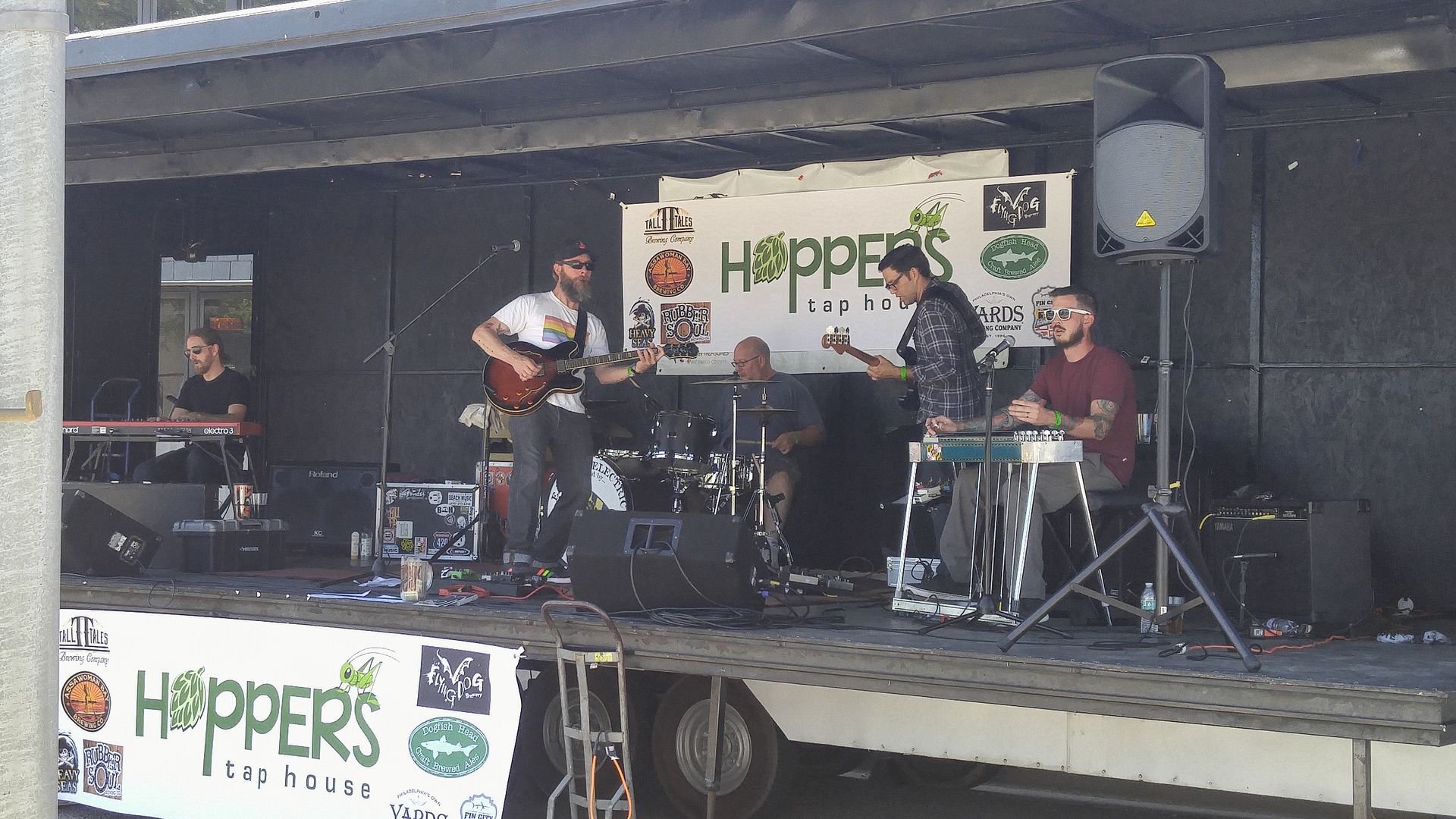 One of those was their closing song (and one I really like) called To Heaven Before The Devil. "I hope to get to Heaven/Before the Devil knows I'm dead." It's a rollicking mix of rock, blues, and country that represents the band pretty well. And as Eastern Electric singer Nate Clendenen put it, last Saturday was a nice occasion to hang out downtown – they've been trying to redevelop it "since I was in fifth or sixth grade" and it finally is taking root.
So it was truly a weekend of local rock, as all the bands came from this part of Delmarva. It's worth reminding people that our little corner of the world has musical talent. All it needs now is the audience to appreciate it.
In the wake of the successful Brexit vote I knew someone would resurrect this old idea.
Certainly the idea of the state of Delmarva (or as I would call it, the state of Chesapeake) has been around for generations. It's only natural given the geographic isolation both the Chesapeake and Delaware bays provide, but reality's heavy thud divided this sandbar somewhat unevenly into one full state and parts of two others. The full state is one of the smallest in the country by both population and geography while the states split by Chesapeake Bay have practically all of their population across the Bay – less than 10% of Maryland residents and barely 1/2% of Virginia residents live on this side.
Yet if there were a referendum on the subject, we would have a plethora of possible choices, with perhaps the top three being: one new state for the entire peninsula with a brand new slate of laws, the merger of the Eastern Shore portions of Maryland and Virginia into a greater state of Delaware, or remaining as we are. Perhaps Wilmington and New Castle County of Delaware may feel better with a more urban state like New Jersey. But then what happens to institutions like the University of Delaware, which is in New Castle County?
Obviously the politician in me likes the idea of a greater Delaware that would become a "purple" state where Republicans have a good shot of taking control. Since New Castle County boasts a population of 556,779 (according to the latest estimate) out of a state that has 945,934 (based on that same data) it's always going to run the state of Delaware. (If you think Maryland is bad, remember no jurisdiction has more than 15% of its population. New Castle County is over half of Delaware's.) Adding the Eastern Shore of Maryland and Virginia would basically negate the Democratic-leaning population of New Castle with a broad area nearly equal in population but definitely more conservative-leaning.
Yet even if we can't be part of Delaware, there are a number of things that can be done to bring us closer. My favorite (and this has been tried before) is to eliminate the sales tax from Eastern Shore counties in Maryland. (The same could be done in Virginia, although being separated by about 40 miles of Maryland makes the "Del" and "Va" a less likely pair of rivals.) Creating a business zone based on Delaware laws as applicable for the Eastern Shore could be of assistance as well.
But while this idea has plenty of benefits, it probably won't happen in my lifetime because political power is more important than the people, It's still a shock to me that the people of Great Britain were allowed such a referendum in the first place – obviously the liberal EU assumed everyone loved them. I expected a result more like the bid to split California up into six states, which failed to qualify for this year's ballot. The last state to be split up was when the Union-leaning western part of Virginia seceded from the Confederate state of Virginia in 1863 – Virginia was eventually readmitted but not reunited with its former territory, which is now West Virginia. To create a new state or expand Delaware it would take the approval of all parties involved and that's not going to happen because they need our money – and when it comes to politics we know they follow the golden rule: he who has the gold, rules.
It is nice to dream, though.