You know what they say about the best-laid plans of mice and men? It applied to last night's Wicomico County Republican Club meeting, as the expected legislative wrapup from the remaining non-participants in our May meeting were those slated to speak this month. Unfortunately, the MML conference and a Hogan fundraiser took precedence for those candidates, so it actually fell on a somewhat unexpected guest to deliver a few off-the-cuff thoughts on the session: Delegate Charles Otto, who came up from Somerset County to speak with us. As he was originally elected in 2010 in a district that then included a portion of Wicomico County, he's considered us his constituents despite the fact he was redistricted out for this term.
Thus, once we took care of doing the Lord's Prayer, Pledge of Allegiance, and treasurer's report, we heard Otto's assessment that "we have a challenge this year" in electing our President and U.S. Senator. On the latter race, Otto praised his colleague, saying of Kathy Szeliga that "I can't think of anyone better to fill that position."
As for the legislative session, he felt that we had "a lot of threats" in the 90 days, but "I think we fared well." Efforts to mandate paid leave and a minimum wage increase were rebuffed, and while he termed the Justice Reinvestment Act "a decent bill," he admitted it was one of the hardest votes for him to consider in his six years on the General Assembly. To a degree, the same was true for the budget, which was more spending growth than he would have likely preferred.
Otto also believed that the transportation bill will be a "big hurdle" to overcome in the coming years, as it favors larger jurisdictions. But local development may be helped by the Triton unmanned aviation program, which is being considered for Wallops Island. Charles noted it has bipartisan support from all three Delmarva governors, who understand the economic impact this could have locally.
But Otto didn't have an answer regarding a question about the aging school program and $80 million that was supposed to be included. It was a question brought up by John Palmer, who sits on our local school board. I chimed in with a somewhat rhetorical question about the many funding mandates Democrats seem to be adopting to tie Governor Hogan's hands when it comes to the budget – could we do a reverse BRFA and try to get rid of them? It made for some discussion, and I was thanked later for bringing up the point. (Perhaps I need to save it for a Democratic Club meeting if I ever go to one.)
For being placed on the spot, Delegate Otto did a nice job, so we turned to the Central Committee report from Mark McIver. He noted that the Secretary of Appointments had selected two new Board of Education members who sounded like fine additions, but both of them applied directly to the Governor's office. None of the five we interviewed, including the incumbent who desired another term, were picked. Yet McIver was "hopeful" about the selections, noting the Appointments office contacted him regularly through the process with questions.
But now it was time to work on the school board referendum, said Mark. It would involve creating a political committee to promote the fully-elected option.
We also learned Mark has tickets to the upcoming Tawes Crab and Clam Bake in Crisfield and our committee's next meeting would be pushed back until July 11 thanks to the Independence Day holiday.
Jim Jester revealed "we've made progress" on the Crab Feast: we have secured the all-important one-day beer license. Now we just have to get approval from the health department, after he found out he filled out the obsolete old form that was online and was given a longer, more complicated new one.
Shawn Bradley updated us on Third Friday, which "was a nice surprise" with plenty of involvement as the Republican Club has tried to maintain a table there each month. This month they had the political realm to themselves as the Democrats apparently weren't there.
Our next piece of business was a lengthy discussion about where to place a headquarters this year and how to pay for it. It will be a joint effort between the club and Central Committee, with a number of locations under consideration.
A contingent from the Republican Women of Wicomico was present to speak on their annual Constitution Day celebration on September 17 at City Park. Former Delegate Mike McDermott is the featured speaker, and the festivities will begin early: a 10:30 a.m. start is planned since Somerset County will be celebrating their 350th anniversary that day in Westover, as Delegate Otto pointed out. (It was also noted that we were sitting in what once was Somerset County; that is before it was split along Division Street in Salisbury and Fruitland to first create Worcester County to its east. Both then ceded territory in 1867 to create Wicomico County. So I stand corrected since Somerset preceded Worcester.)
We then found out from John Palmer that Wicomico County Board of Education meetings would soon be streamed online thanks to the PAC14 website. The eventual idea is to allow real-time involvement from those watching.
Finally, we were alerted to a townhall meeting Congressman Andy Harris would be holding tonight (June 29) at Black Diamond Catering in Fruitland from 6-7 p,m,
In less than an hour we had taken care of our business and become more informed. Next month we go off the political board a little bit as our speaker will be Mitzi Perdue. That meeting will come July 25.
Unlike a number of the most recent previous renditions for this long-running series, this will feature four performers at three different venues in and around downtown Salisbury on consecutive days last weekend. It would have been five but the featured group from the local Academy of Music Performance was just wrapping up when we arrived.
So I wasn't intending to do a WLR when we decided to eat outside at Roadie Joe's afterward, but it turned out Kaleb Brown was playing and you know me – I like listening to music and taking pictures.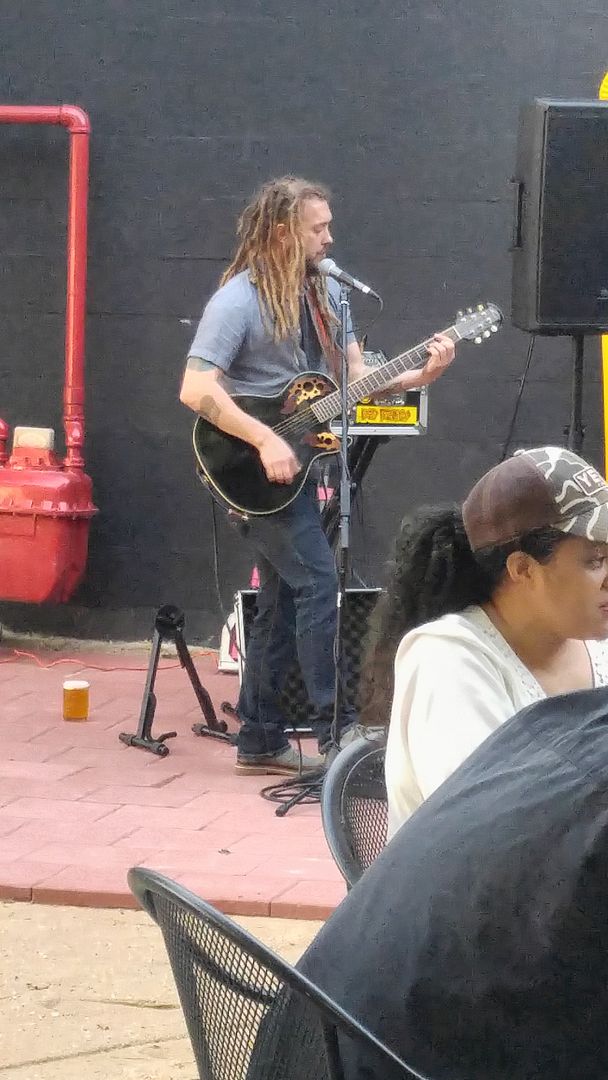 So it was just Kaleb, his guitar, and his beatbox (that would drive some of the dogs still around from 3rd Friday crazy) and that reggae sound he likes to do. Good dinner music on a lovely summer evening.
I think the band wasn't supposed to start until 10 but they got an early start. We had just finished our dinner and were ready to leave when we decided to stay for a couple songs from Naked Nation that turned into half a set.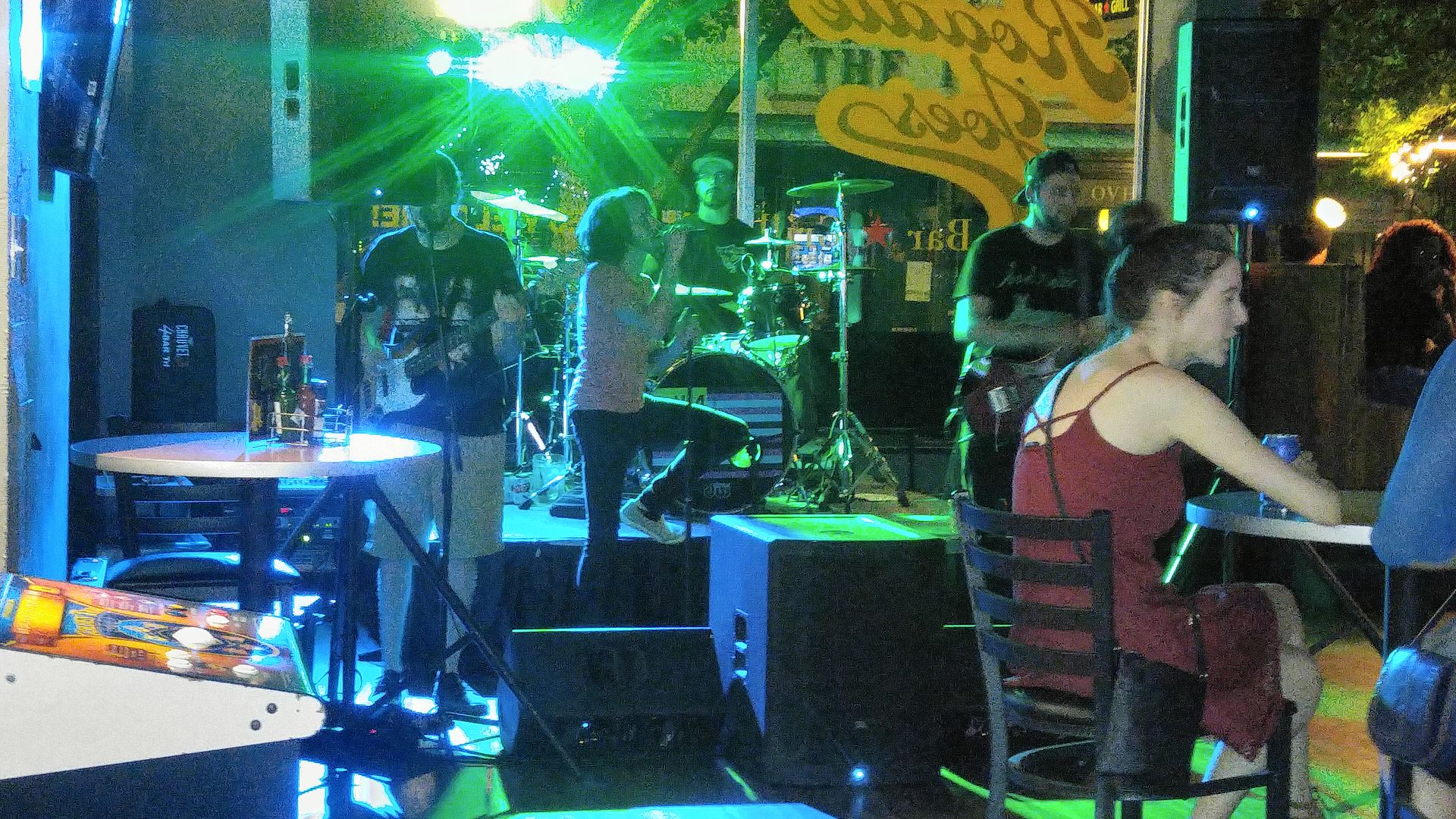 Naked Nation seemed to have a little different playlist than other cover bands, doing a wide range of songs that are not really classic rock and range more toward Top 40 alternative stuff. But the people were getting into it.
So Saturday came and I decided to head back downtown for the Salisbury Shore Craft Beer Festival. Headlining the event was Eastern Electric.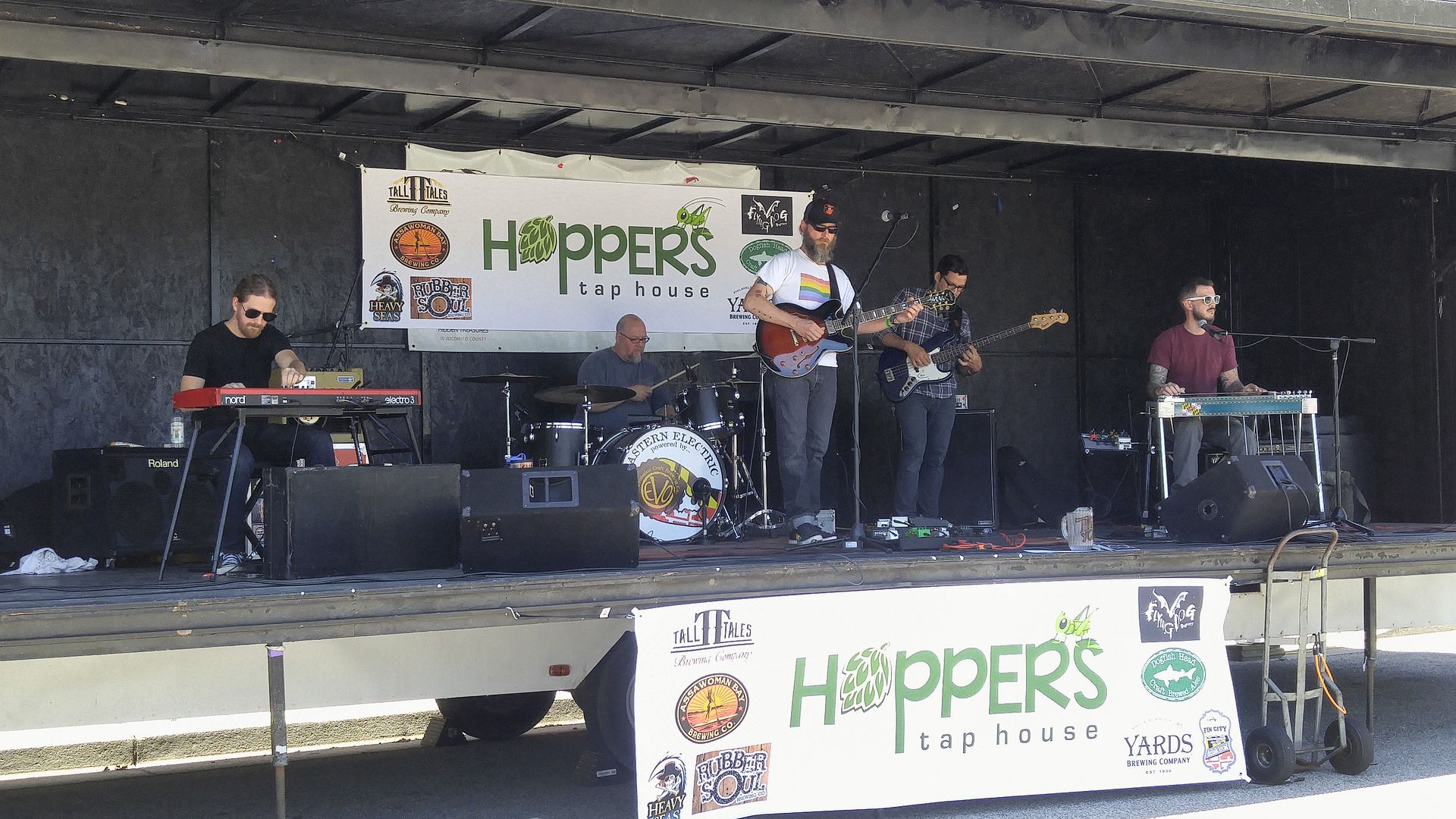 Now I like Eastern Electric, but it didn't dawn on me that there was a band also playing in Headquarters Live called Billy Earl and the Pink Flamingos. So I checked out the location and the band.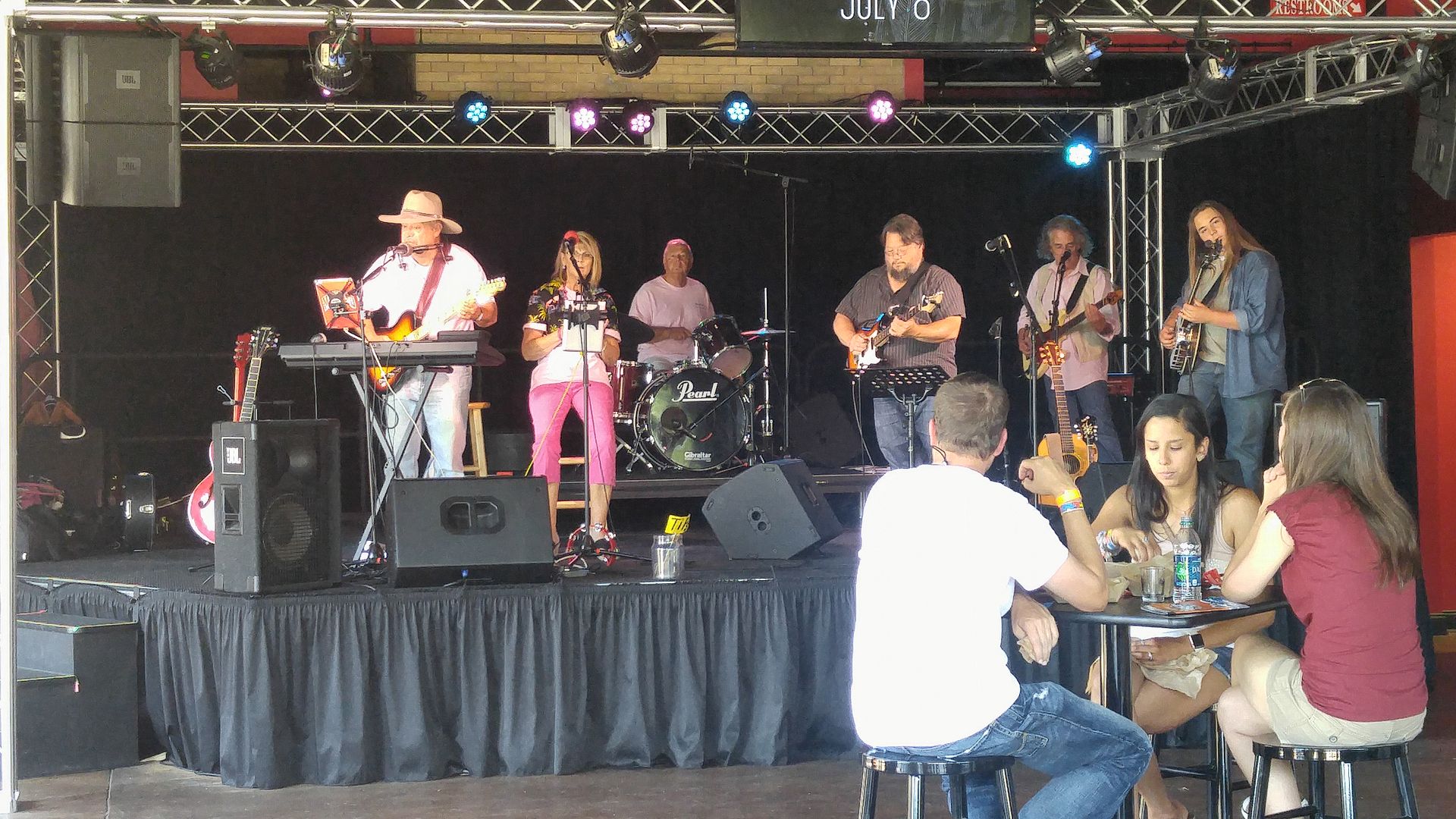 Admittedly, their style of music isn't my cup of tea – but it does allow them to put a different flavor on songs like Chris Isaak's Wicked Game. They can still make it sound hauntingly lonely.
Meanwhile, back at the Beer Fest Eastern Electric was doing their set mixing covers from several eras and some originals.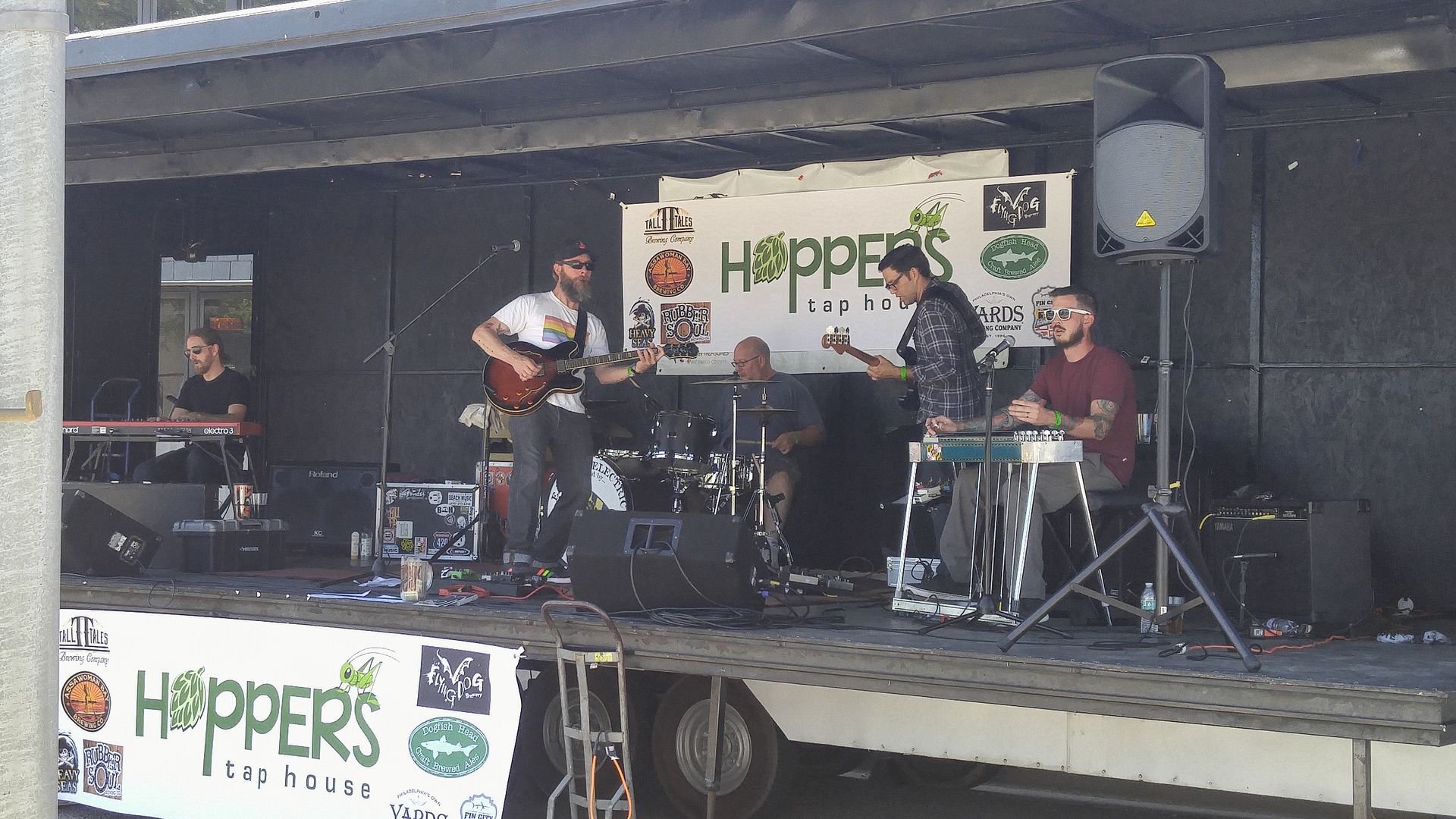 One of those was their closing song (and one I really like) called To Heaven Before The Devil. "I hope to get to Heaven/Before the Devil knows I'm dead." It's a rollicking mix of rock, blues, and country that represents the band pretty well. And as Eastern Electric singer Nate Clendenen put it, last Saturday was a nice occasion to hang out downtown – they've been trying to redevelop it "since I was in fifth or sixth grade" and it finally is taking root.
So it was truly a weekend of local rock, as all the bands came from this part of Delmarva. It's worth reminding people that our little corner of the world has musical talent. All it needs now is the audience to appreciate it.
In the wake of the successful Brexit vote I knew someone would resurrect this old idea.
Certainly the idea of the state of Delmarva (or as I would call it, the state of Chesapeake) has been around for generations. It's only natural given the geographic isolation both the Chesapeake and Delaware bays provide, but reality's heavy thud divided this sandbar somewhat unevenly into one full state and parts of two others. The full state is one of the smallest in the country by both population and geography while the states split by Chesapeake Bay have practically all of their population across the Bay – less than 10% of Maryland residents and barely 1/2% of Virginia residents live on this side.
Yet if there were a referendum on the subject, we would have a plethora of possible choices, with perhaps the top three being: one new state for the entire peninsula with a brand new slate of laws, the merger of the Eastern Shore portions of Maryland and Virginia into a greater state of Delaware, or remaining as we are. Perhaps Wilmington and New Castle County of Delaware may feel better with a more urban state like New Jersey. But then what happens to institutions like the University of Delaware, which is in New Castle County?
Obviously the politician in me likes the idea of a greater Delaware that would become a "purple" state where Republicans have a good shot of taking control. Since New Castle County boasts a population of 556,779 (according to the latest estimate) out of a state that has 945,934 (based on that same data) it's always going to run the state of Delaware. (If you think Maryland is bad, remember no jurisdiction has more than 15% of its population. New Castle County is over half of Delaware's.) Adding the Eastern Shore of Maryland and Virginia would basically negate the Democratic-leaning population of New Castle with a broad area nearly equal in population but definitely more conservative-leaning.
Yet even if we can't be part of Delaware, there are a number of things that can be done to bring us closer. My favorite (and this has been tried before) is to eliminate the sales tax from Eastern Shore counties in Maryland. (The same could be done in Virginia, although being separated by about 40 miles of Maryland makes the "Del" and "Va" a less likely pair of rivals.) Creating a business zone based on Delaware laws as applicable for the Eastern Shore could be of assistance as well.
But while this idea has plenty of benefits, it probably won't happen in my lifetime because political power is more important than the people, It's still a shock to me that the people of Great Britain were allowed such a referendum in the first place – obviously the liberal EU assumed everyone loved them. I expected a result more like the bid to split California up into six states, which failed to qualify for this year's ballot. The last state to be split up was when the Union-leaning western part of Virginia seceded from the Confederate state of Virginia in 1863 – Virginia was eventually readmitted but not reunited with its former territory, which is now West Virginia. To create a new state or expand Delaware it would take the approval of all parties involved and that's not going to happen because they need our money – and when it comes to politics we know they follow the golden rule: he who has the gold, rules.
It is nice to dream, though.
Over the years I've liked second chance stories and as we crank up the second half of the season we will see how well a fairly recent Shorebird addition continues a career resurrection.
Dominican native Jesus Liranzo began his career with the Atlanta Braves organization, originally signed at the tender (but somewhat common for the region) age of 17 in 2012. One appearance later, he was cut but signed again for the 2013 season before being dropped after three appearances. It's likely the kid's issue was wildness since he walked eight batters in just 3 1/3 total innings (although he struck out six.) He hardly had time to get the uniform dirty.
A few weeks later, Liranzo signed with the Orioles and finished the 2013 season with their Dominican Summer League team. While the wildness continued, Jesus did put up a couple nice appearances, including a career-long 4 inning start that he lost on three unearned runs. He was set for 2014 but then lost the season due to injury.
Returning to health for 2015, Jesus showed why he came stateside for this season. Retooled into a late-inning reliever, Liranzo made 23 appearances covering 38 1/3 innings, allowing just 28 hits and striking out 46 while walking only 19 for a 1.23 WHIP. One knock on him, though, was the few high-leverage situations Liranzo was inserted into as he had just two save opportunities in the 11 games he finished, failing to convert either. With the Shorebirds, Jesus has only finished three games of the eight he's pitched in – the Shorebirds were trailing in two while the other was a non-save situation. But he has pitched rather well regardless, allowing six hits and six walks in 14 1/3 innings so far for an 0.88 WHIP and puny .133 batting average allowed.
It's natural for the new guy to work his way up, and Liranzo did his work in only a month as he was called up from the DSL (which hadn't begun play yet) May 19. Much of his second-half role depends on the moves being made among the other pitchers on staff, but if he continues holding down batters and keeps his walks to a minimum he may get that elusive first professional save when Ryan Minor gives him the ball in a close game. At just 21 years of age, Liranzo is still about a year younger than the rest of the league so he has plenty of room to develop now that the Orioles have given him a fair shake of more than a handful of appearances.
Back in 2013 I wrote about a company called Ethical Electric, noting that the electricity supplier was charging a premium to help out progressive causes. Well, the other day I received a solicitation from a group called Clean Energy Option and after a little digging I found out it was Ethical Electric that was doing business as (d/b/a) Clean Energy Option. Seems to be less than ethical to change their name, but it's likely a marketing thing.
Yet thanks to that 2013 piece I wrote for Watchdog Wire, I found out that Ethical Electric was charging 10.14 cents per kilowatt-hour (kWh) at the time, which was a fair-sized premium over the 8.89 cents per kWh Delmarva Power (my utility) was charging back then. That 14% difference meant the average bill would be about $12.60 higher per month for an average home that used 900 kWh monthly. I don't know about you, but I'm sure I would cry foul if my electric bill was going up $150 a year, since that's what it translates to.
It just so happened that the Clean Energy solicitation followed my latest Delmarva Power bill by a couple days so my bill was handy. Over the last two-plus years, my Delmarva Power rates haven't changed a whole lot as the "rate to compare" was 9.01 cents per kWh. In 2 1/2 years I've endured an annual rate increase far less than 1% as the total hike was 1.35%. (I also found out in researching this piece that I can get even lower rates by switching my supplier to another of several companies that are in that business. Some are "green" companies like Clean Energy Option, most are not.)
On the other hand, the teaser rate for Ethical Electric's Clean Energy Option has swelled to 11.6 cents per kWh, which is a rate hike of 14.4% overall and about 6% per year. Most likely this rate will jump again after the three-month special rate ends – after all, what business would promote a higher initial cost? The premium that was once 14% has now doubled to 28%, despite the fact people are bending over backwards to install new solar farms and wind turbines around the region. As Clean Energy Option euphemistically puts the answer to the question "What will happen to my electricity bills?":
In short, supporting new renewable energy development costs a little more than delivering polluting energy. That's because the energy you are choosing is better for you and the planet.
("Better for you" may not be true for a person within sensing range of the low-frequency sound emitted by wind turbines, but I digress.)
There's obviously something at work here to drive the cost of "regular" electricity down while wind and solar continue to increase. I suspect that something is the low cost of natural gas, which is used more frequently as an energy source to create electricity and is relatively cheap. Ironically, this economic fact is doing almost as much damage to the coal industry as Obama's EPA regulations.
So don't be fooled to the tune of $23 a month or nearly $280 a year. Keep the money in your pocket and stick with what is most reliable. Or, if you really want to put that money to work, use it to support elected officials who will stand up to the environmentalist lobby and remove these silly mandates and carveouts for the otherwise unsustainable green energy racket.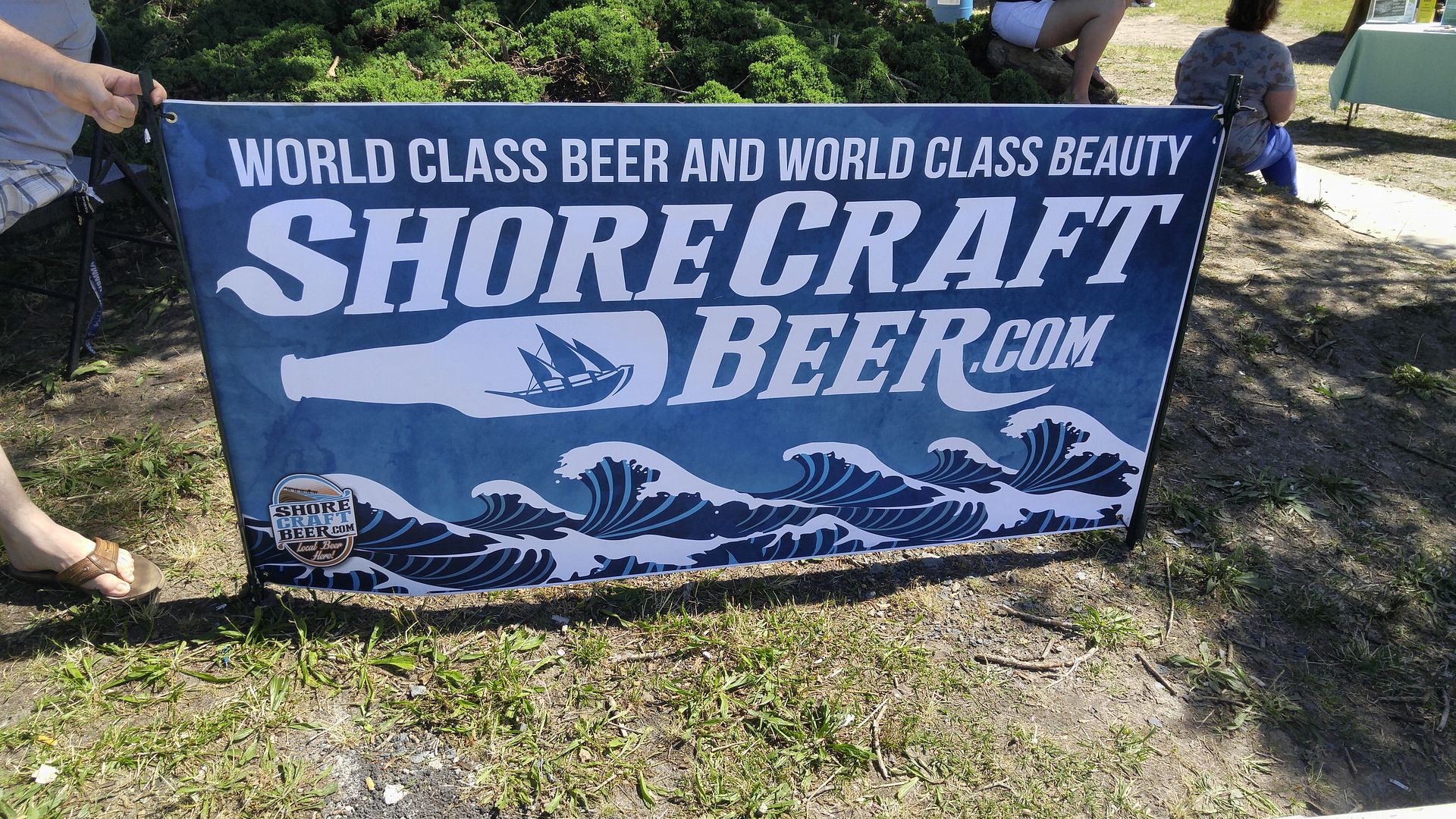 It was a perfect day to be downtown and try a few local craft beers, so I went to the inaugural Salisbury Shore Craft Beer Festival (SSCBF) held downtown along the Riverwalk. (The Salisbury designation distinguishes it from a similar event with the same sponsor in Ocean City, the first of which was held last October.) It was also billed as a "Riverwalk Celebration" and while they are renovating it, there's still some work in progress.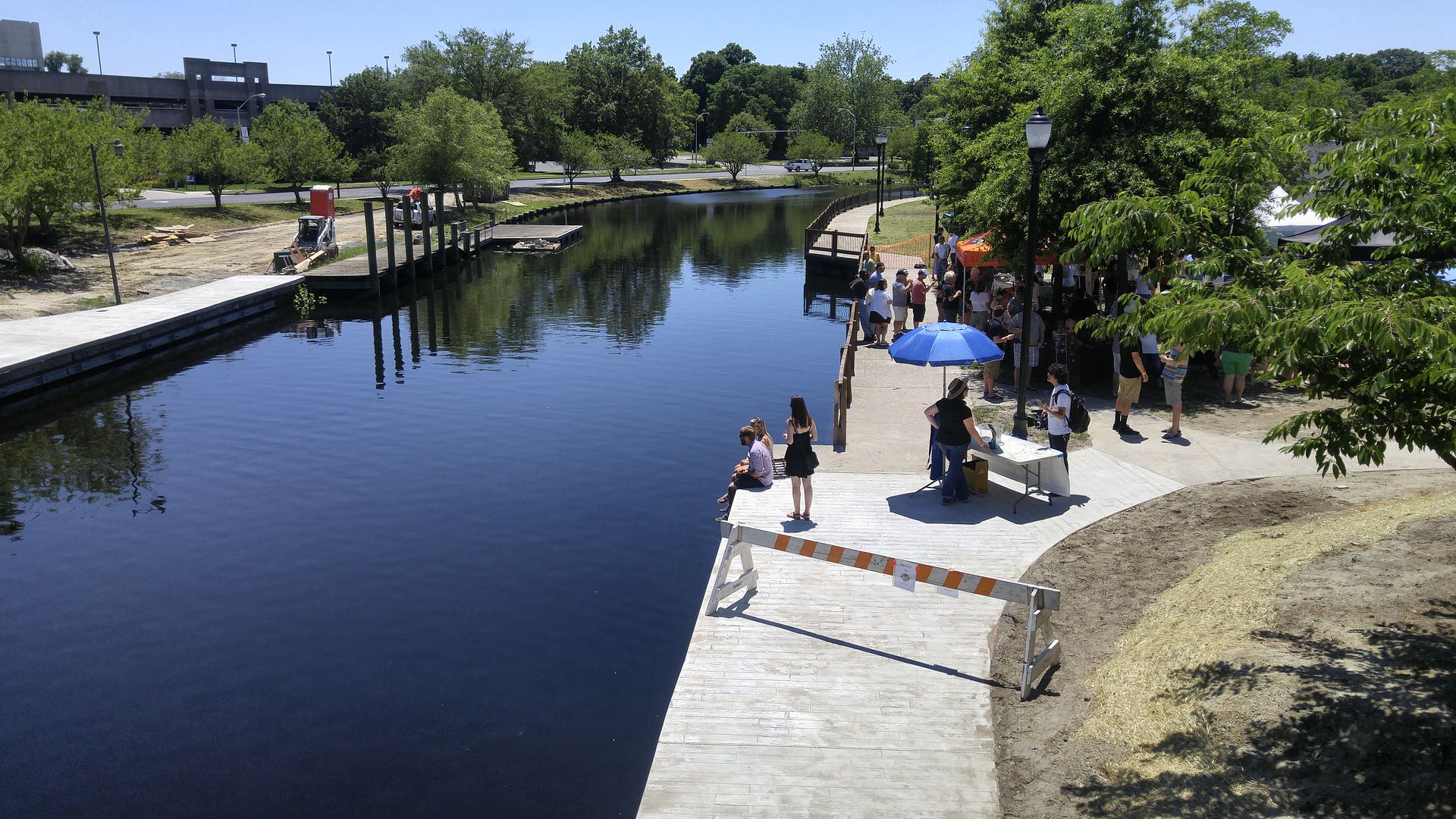 To be fair, I was looking west from the Division Street bridge and most of the Riverwalk lies east of the structure. But this was the site chosen for the festival.
Early on I thought the crowd was a little bit meager. I took this photo about 2:00, a half-hour after the gates were opened for general admission. (VIP ticket holders could get in at 12:30.)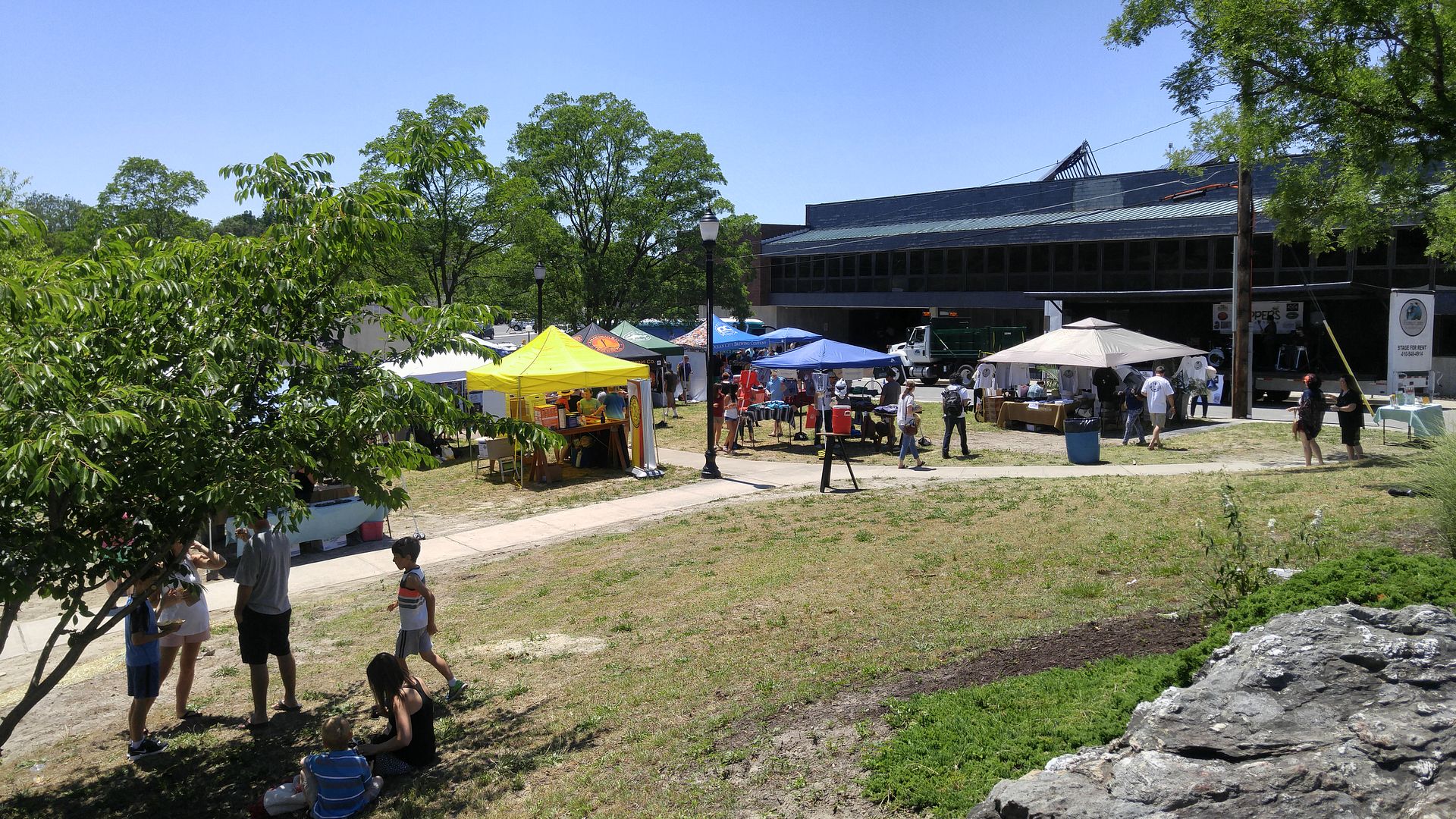 One area where the festival will have room to grow is the food selection. The Division Street bridge served as a mini-food court.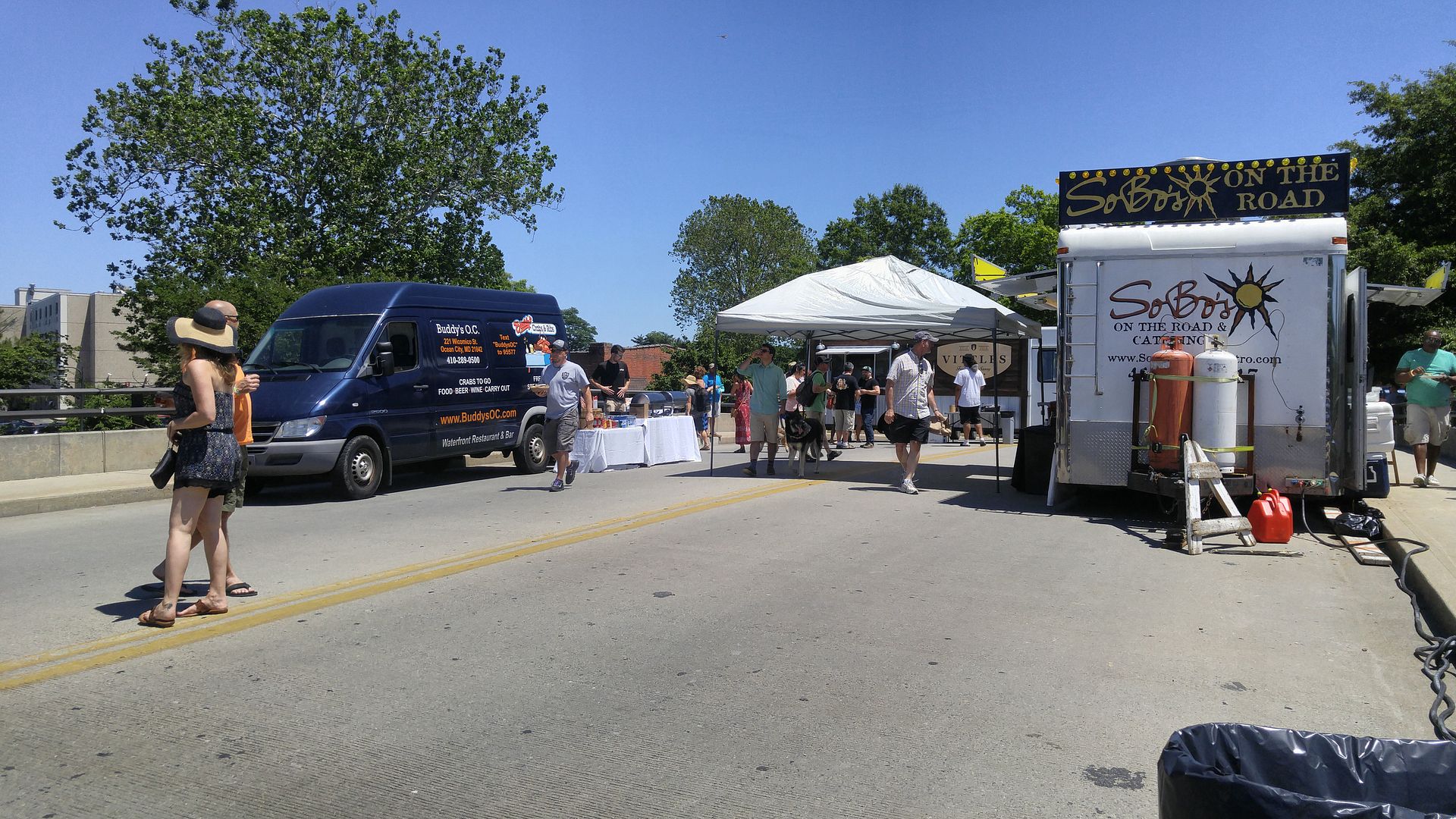 As time went on, though, the crowds thickened a little bit. This photo was taken from along the river looking toward the stage.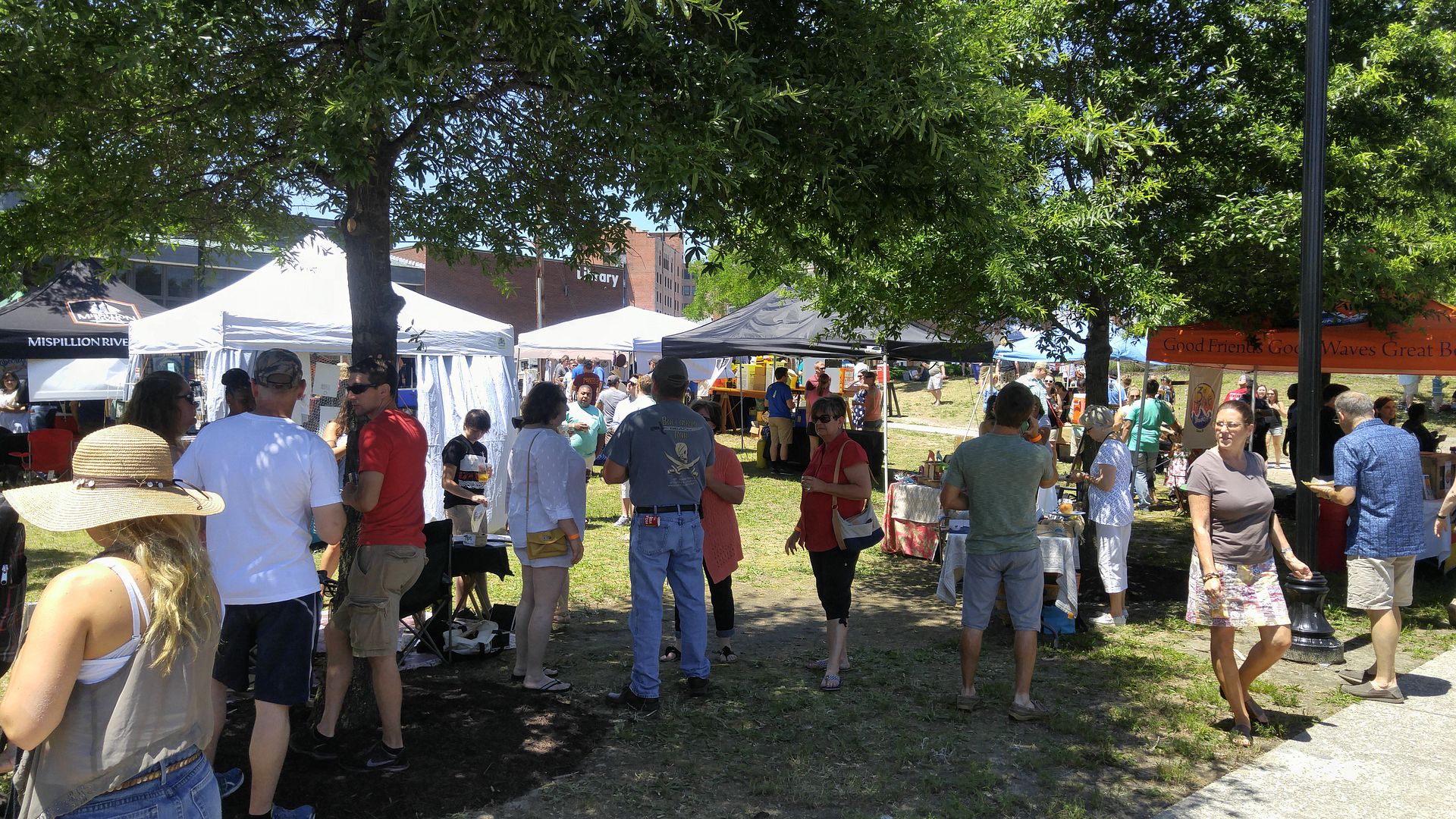 One thing that I got to take advantage of was making my first visit to Headquarters Live, which was a nice place to sit down. There wasn't a tent with picnic tables set up on the main festival site.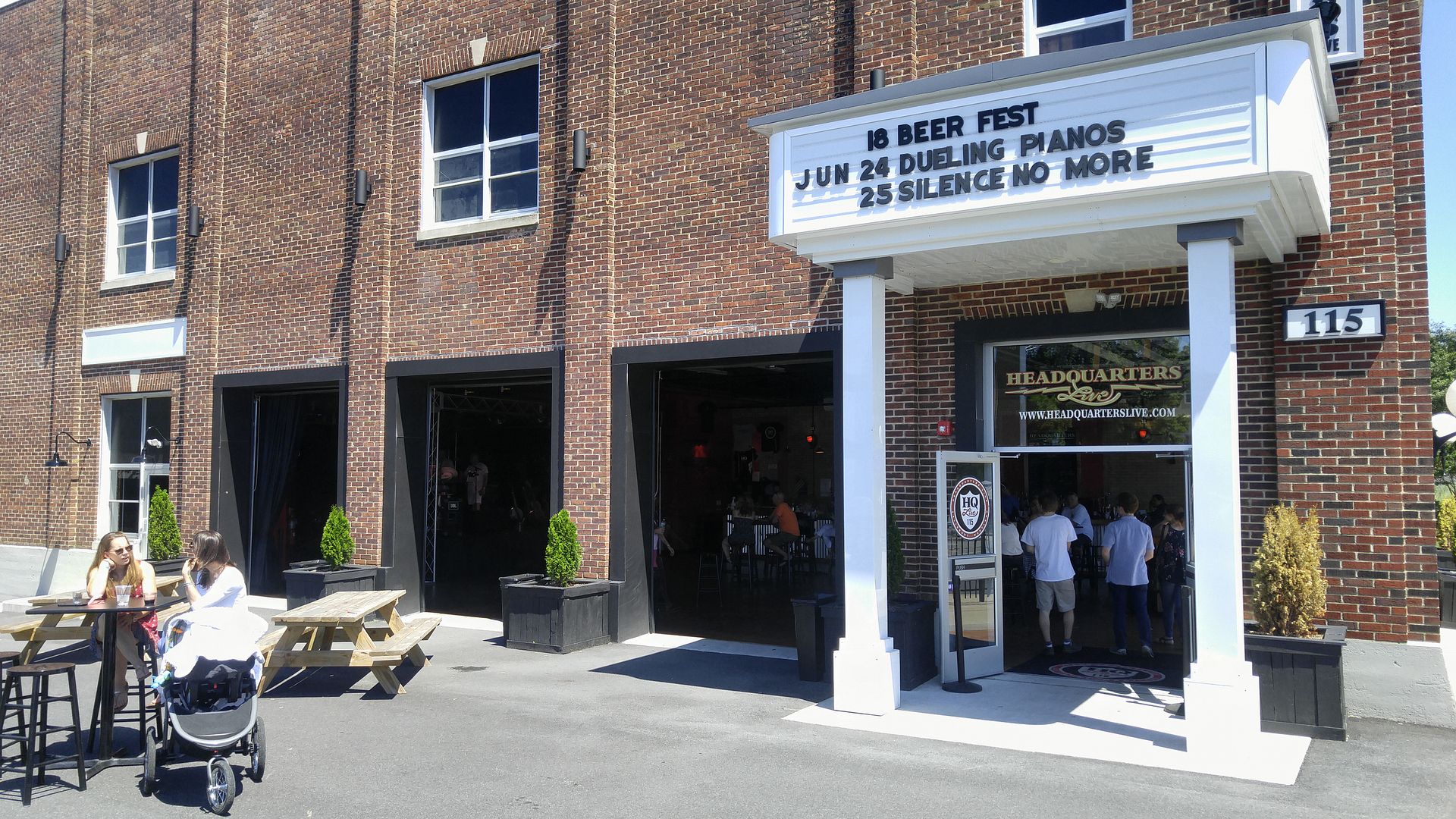 Now if you had the entry in the pool that said the first band I would see there would be called Billy Earl and the Pink Flamingos, you would be right – but I would have called you nuts.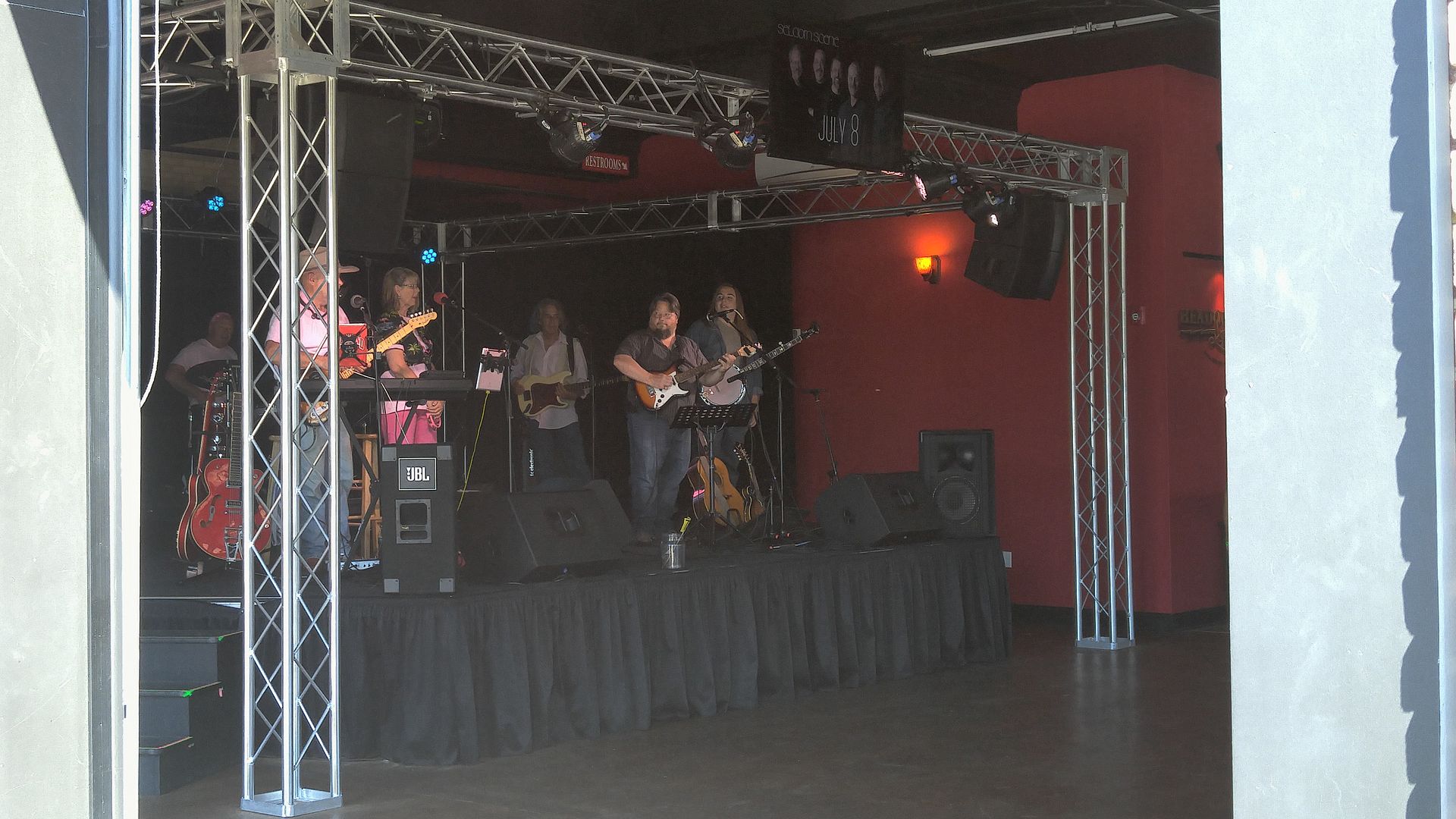 I'll have much more on them as well as Eastern Electric on the mobile stage when I do a "Weekend of local rock" post later this week, but suffice to say Headquarters Live is a smaller venue than I imagined. Yet the festival was shrewd in tying the outdoor stage and indoor venue together, with a separate wristband for each. This gives them a logical area for expansion beyond the small parcel that was used across Division Street and along the river.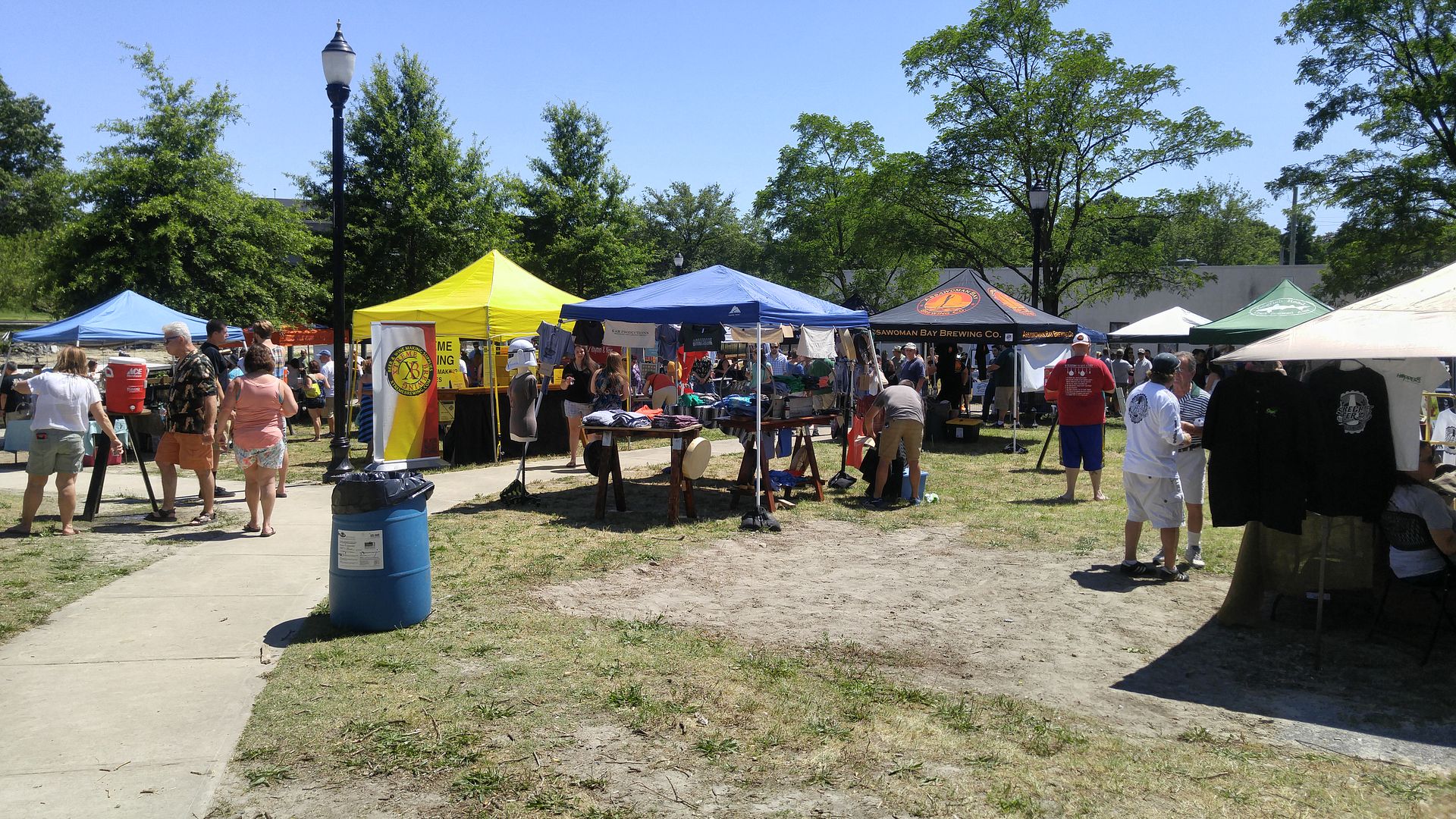 As it was, there was a comfortable amount of people in the park where you didn't feel like you were tripping over anyone yet there was enough to give the event some energy. Unlike the Good Beer Festival, which is held in a secluded location outside of town, people could readily walk in from outside but they could not sample the beer. Another asset was the fact that it was all local breweries – none of those mainstream brewers that are still considered crafters like Sam Adams or Blue Moon which come to the Good Beer Festival from afar. This will limit the event's size to some extent as the area can only support so many breweries and expanding to markets farther and farther away will run them into stiff competition from their local crafters. There were twelve area breweries represented at the SSCBF, pouring around 30 beers as well as a couple of tea concoctions.
I think the event was rather successful considering it was held at a time when few other events off the beach seem to succeed. Most of our larger local festivals actually occur during what's considered "shoulder season" before Memorial Day or after Labor Day. (April and October are the favored months.) In this case, the SSCBF was up against the OC Air Show and the end of the Firefly Music Festival as well as at a time when Salisbury University isn't in regular session, so there were a lot of distractions. It may succeed a little more a week earlier or a week later, but this isn't a bad summer event.
So we will see what happens next year and find out how much more of the Riverwalk they take advantage of.
I'm about two weeks late on this, but it's better late than never when it comes to the Concert for a Random Soldier held back on Memorial Day weekend.
There were over a dozen bands on the bill, but we arrived about halfway through the event so we missed some of the acts that I remember as more of the oldies groups. (One thing about CRS: many of the same bands participate year after year.) So we walked in on Scrapple – it's not just for breakfast anymore, but they were a first-time participant who enjoyed the affair.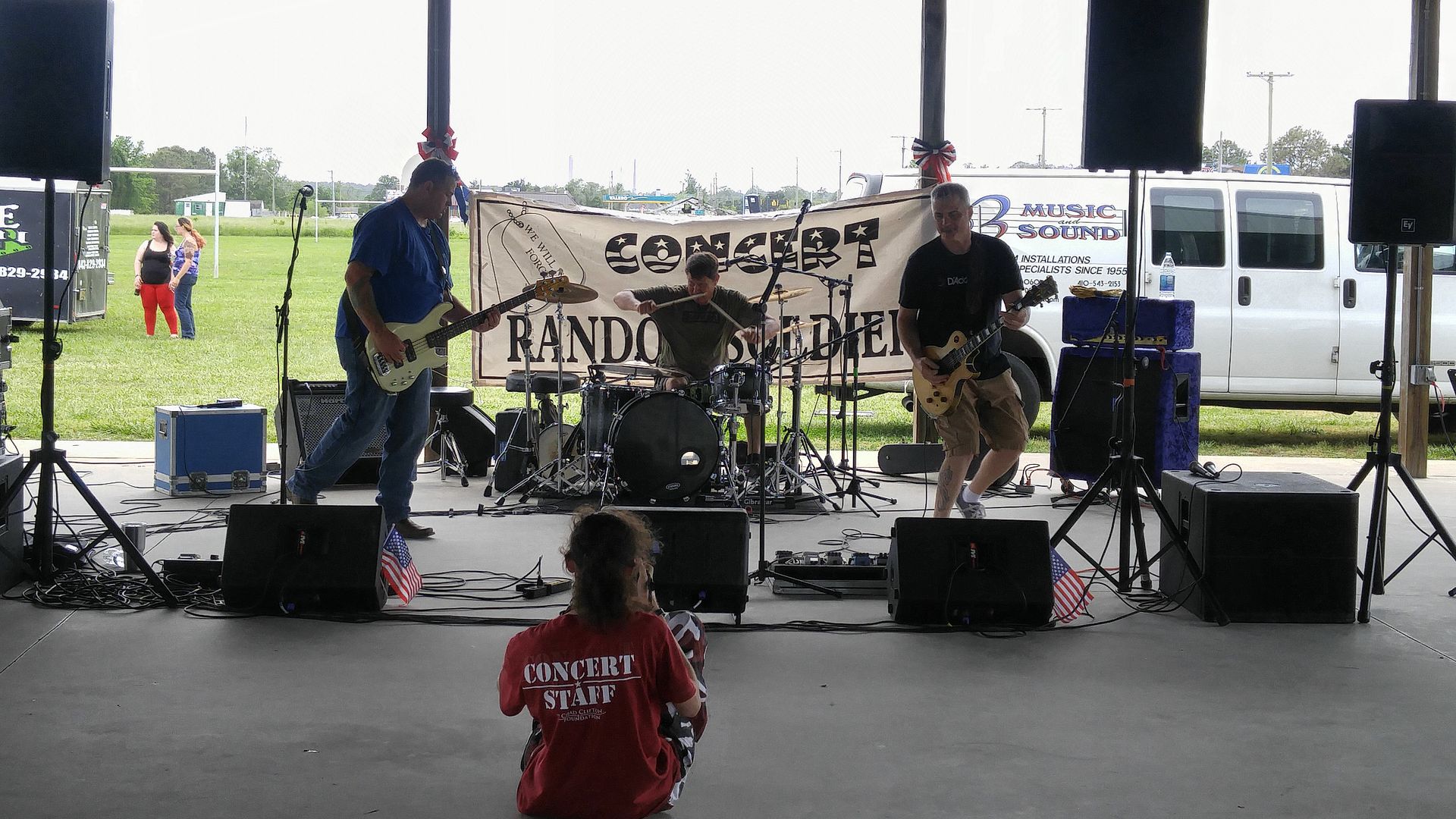 They were probably one of the first to play the heavier stuff, doing some Godsmack and a great mashup of Rush's Working Man and War Pigs by Black Sabbath. I would have liked the solo at the end of Working Man to make it a circular medley, but no matter.
As the stage was reset between bands, there were acoustic acts set up off to the side. Captain Mike was one of those who did a couple stints.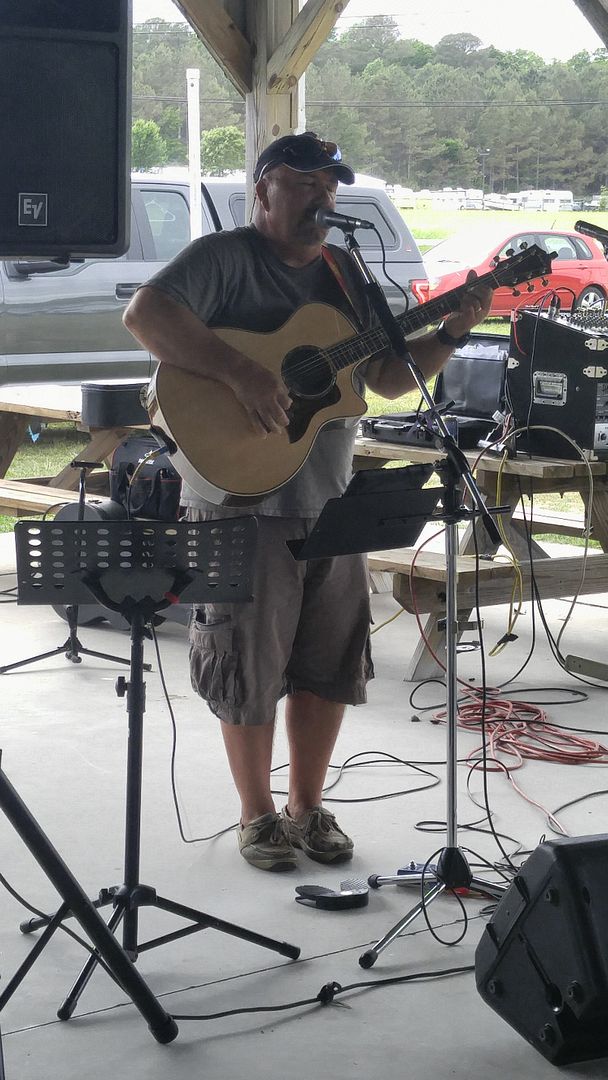 In this case, he yielded to the Joey Fulkerson Trio, which is the three-piece variant of Nothin' But Trouble.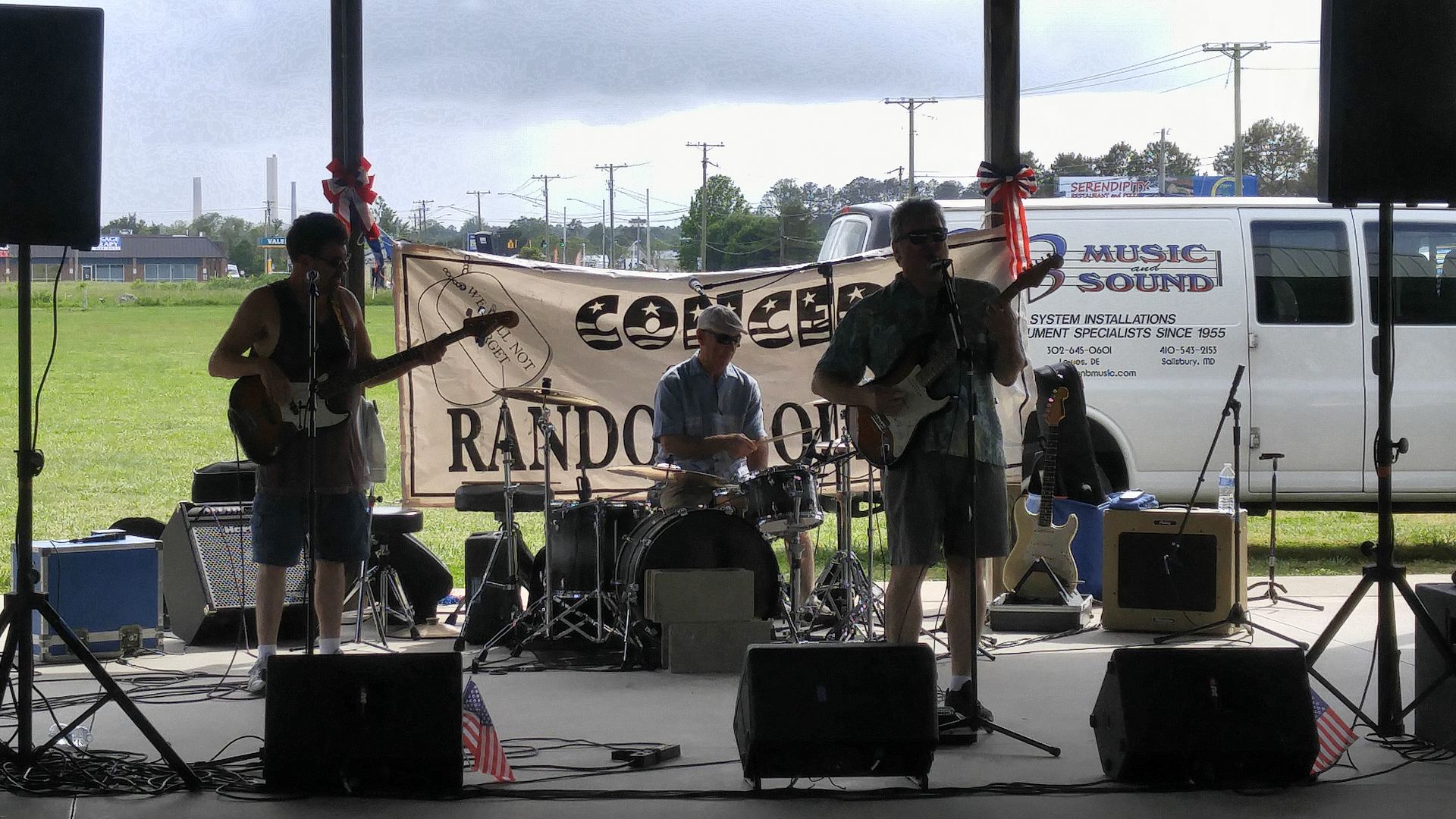 They reached back into a blues-based set that featured some B.B. King and wrapped up with the Jimi Hendrix classics Hey Joe and Voodoo Child. That was an enjoyable set as the fellas were jamming.
After the return of Captain Mike, the stage was set up for Welcoming War.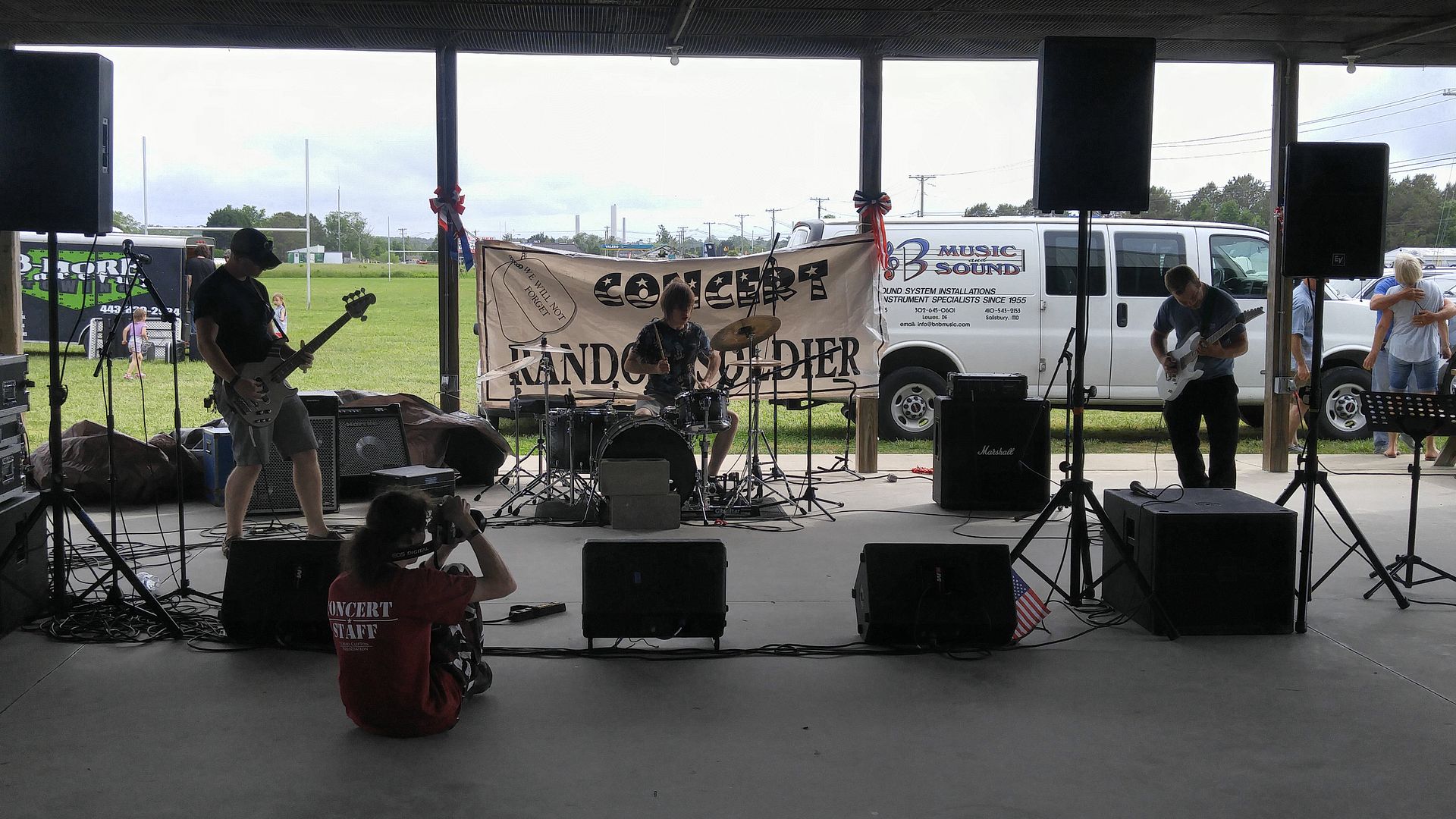 They were definitely a power trio, with the additional distinction of not having a lead singer. So all of the songs were instrumental.
In that respect it was much like listening to jazz – which is also often instrumental – but with rock instruments. It was a unique sort of a heavy metal/jazz fusion that I think I can get into because I don't much care for jazz but heavy metal sometimes needs a different take.
The mood shifted for the final acoustic act of the day-turned-evening, Mike and Savannah Shockley.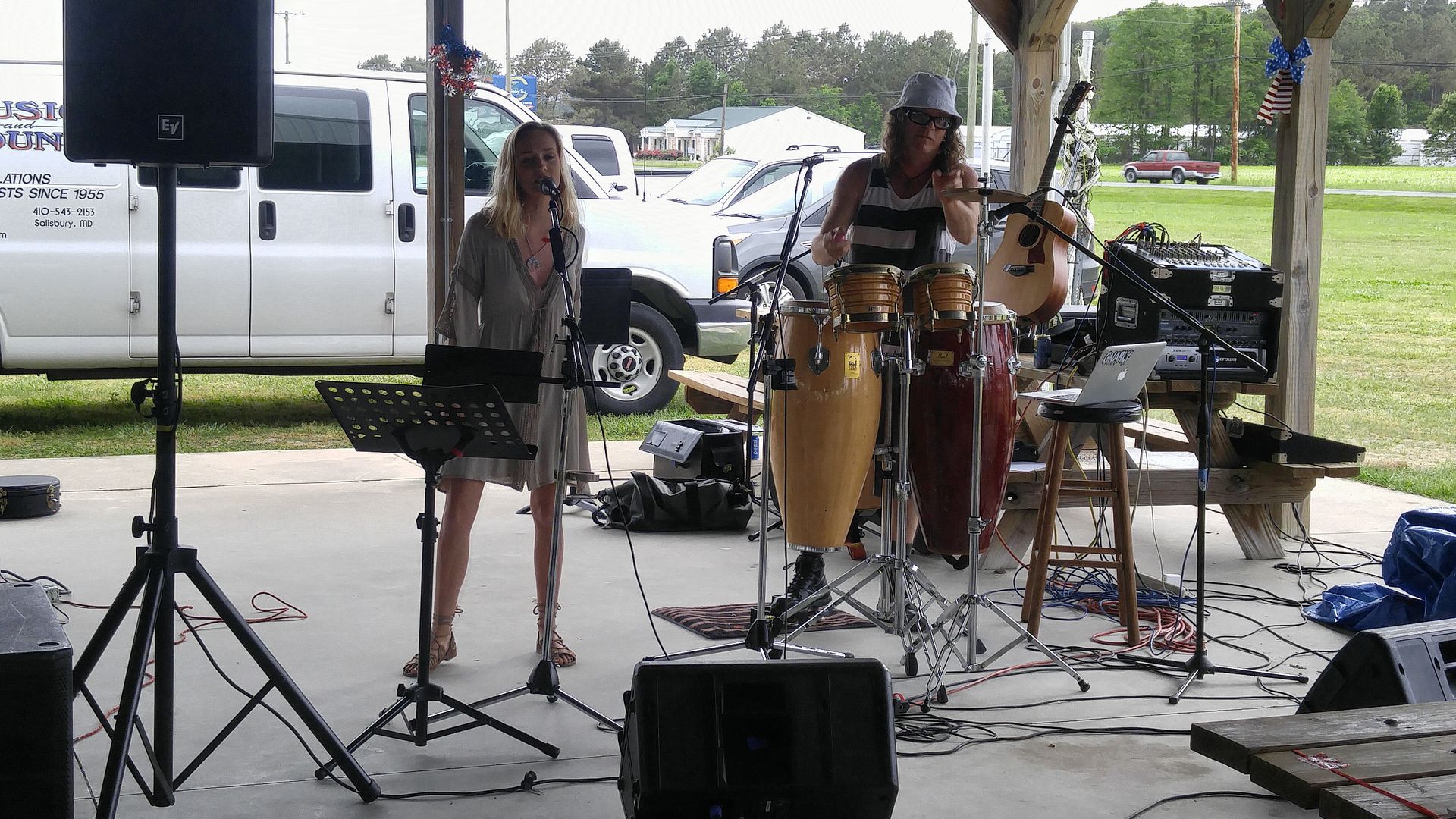 Savannah did a credible job on a Stevie Nicks classic, but she really did well with the couple originals they did. It's interesting that some of their music is programmed while the remainder is live, as you can see. Obviously this can be done in a professional manner as I've reviewed a lot of albums put together by one person, a handful of instruments, and a computer, so we will see how they develop.
From what I understand this was their second gig, so Savannah will learn over time and performance just what songs work for her and which ones she should avoid.
There was no avoiding the heavy from the last act of the day, Modern Day Addiction.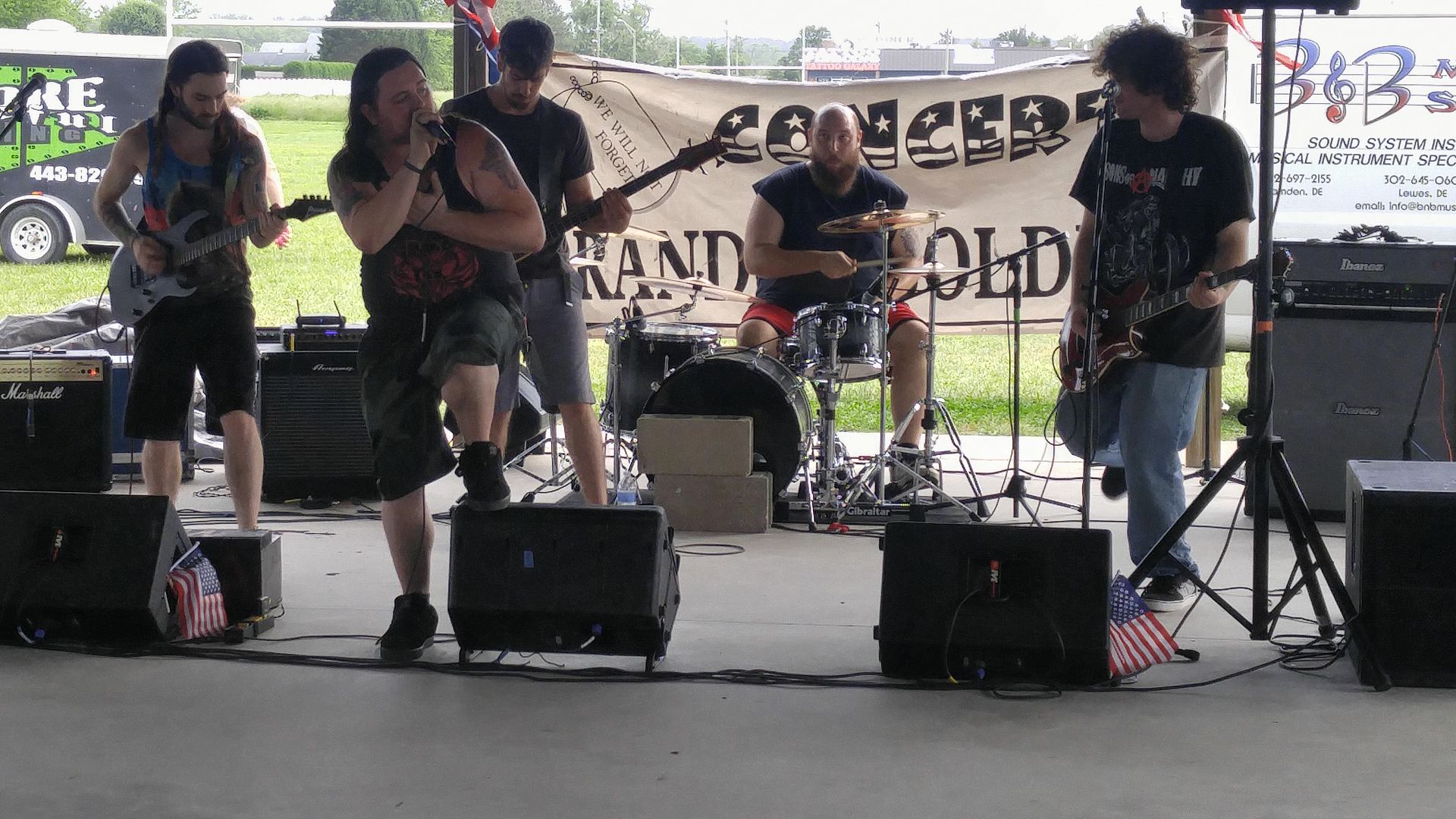 Blasting their way through a bevy of covers like TNT, Fuel, Dio's Holy Diver, and a great version of Tainted Love, a song made famous a quarter-century ago by Soft Cell, they also threw in some great original stuff. The mosh pit was in full effect while they were playing, even if it was only a couple people.
There have been a couple years where the company was ready to go by the time MDA played, so I was glad to stick around this time.
Of all the acts and all the love they had for the cause, though, there was one thing sadly missing. My friends Jim and Michele Hogsett used to play this event annually, whether as part of Semiblind or as solo performers (and sometimes both.) Regular readers of mine know Michele lost her battle with cancer late last year (WLR volume 67 covered her memorial concert) and it's hit Jim hard, so keep him in your thoughts and prayers. I definitely missed him at CRS, and I'm sure the Cliftons did too.
But they promise "a few exciting changes" for next year, so I hope to see you out there. Great music for a great cause is always good.
As a programming note: you won't have to wait as long for WLR volume 69. It will truly be a weekend full this time.
In the interest of not letting good writing go to waste, allow me to direct you to the Patriot Post today. I truly enjoyed writing on my assigned topic this week, but wanted to share a couple other thoughts with you. It's a good time for some reminders.
Over the years I have done this website, I have made the energy industry somewhat of a focus. It began with a friendship with Jane Van Ryan, who used to work for API before she left there a few years back. She encouraged me to do a little bit of research on the topic and quickly I was reminded that oil was the economic lifeblood of our country and the better and cheaper energy would be, the better off our economy would be. Being the logical sort of person I am, it was easy to figure out that coal, oil, and natural gas were definitely more reliable than wind that may not blow or sun that only shines between 9 and 15 hours a day – assuming, of course, a cloudless sky. So I believed in the idea that our future could be more secure if we use our natural resources we were blessed with.
On the other hand, there are those who want to tilt the playing field toward what they consider "renewable" resources. Green energy has been the beneficiary of not just direct subsidies, but carveouts in the market designed to make sure there is a place for these (otherwise useless) solar panel fields and wind turbines to send their energy. The market has been bent every which way for decades, although I'm sure many would argue that the oil industry got the initial benefits when we built thousands of miles of highways. For the most part, though, the pathways were already there – we just improved them to allow goods and people access from coast to coast in a matter of three to four days. It was as easy as stopping at the gas station every few hundred miles.
My columnist Marita Noon gets it too, which is why I run her column weekly. She was talking about wind turbines this week, which led one of my more liberal readers to note that there are a lot of places which welcome wind turbines. He mentioned Germany, but the love for wind turbines there is far from universal and the subsidies still won't make offshore wind palatable.
I just look at things through a logical lens. A century ago, windmills powered individual farms but they were scrapped once rural electrification took hold in the 1930s - that was a more reliable source. So why are we going back to that less reliable technology when we have the reliability of coal, oil, and natural gas? Seems to me that "free" electricity in the form of solar or wind power costs a lot more than we think.
The final Shorebird of the Week for the first half is also the last of Delmarva's four All-Stars to be so honored. Based on his dominating performances, though, Ryan Meisinger may be the most deserving.
I like to look at stats when I do this, and I imagine the tone for Ryan's career thus far was set in his very first pro appearance, the one and only time he pitched in the Gulf Coast League and struck out the side in the one inning he threw. Yes, they were a little overmatched so off to Aberdeen Ryan went and he put up great numbers there as well – in 22 1/3 innings spaced among 17 appearances Meisinger only allowed 15 hits and five walks for a 0.88 WHIP to go with an outstanding 1.99 ERA. He also struck out 33 in that span, which means just under half his outs came by way of strikeout.
The 11th round pick last year out of Radford University (a native of Prince Frederick, Maryland) had a hiccup in his first appearance here back on Opening Day, walking three of the four batters he faced. But since then he's turned it completely around and boasts a stellar 0.78 ERA with a 3-2 record (his first professional decisions.) Just like in Aberdeen, he's kept an impressive strikeout-to-walk ratio of 48 to 9, which is doubly impressive when you consider he's pitched just 34 2/3 innings on the season. He's also kept the sub-1 WHIP.
One thing the Orioles brass is doing differently this year with Ryan is stretching him out. Most of his Aberdeen appearances were an inning, as he began his career there as a closer. (Ryan did get three two-inning saves with the IronBirds, however.) Of late with Delmarva, Ryan has commonly pitched three full innings per stint. However, Meisinger has been rather pitch-efficient as he's not exceeded 45 pitches in any one appearance and that trait can be useful down the road.
Oftentimes players who make the SAL All-Star team are ticketed for a promotion to Frederick soon afterward, so it's likely the 22-year-old will soon be moving on. We'll see if his numbers can stay on track as he advances.
According to multiple news reports on both the state and national level – apparently this was, to paraphrase Joe Biden, a "big f'ing deal" – Larry Hogan is now an official member of #NeverTrump. Welcome aboard.
Hogan said he doesn't plan to vote for Trump, but was coy on his choice otherwise. "I guess when I get behind the curtain I'll have to figure it out," Hogan said. "Maybe write someone in, I'm not sure." That sounds vaguely familiar, although even as moderate as Hogan can be I would imagine he's not a Hillary supporter.
Certainly the governor would prefer to keep his questioning confined to affairs of state, but after being bugged about his choice for months once his endorsed candidate Chris Christie exited the race he obviously threw up his hands and gave the most honest answer he could. Of course, it wasn't good enough for the Democrats who want Hogan to condemn Trump for his statements so they can beat up the downticket candidates this year, but the goal shouldn't be to satisfy a party that's nominating a candidate who, if she were not Bill Clinton's wife, would likely be in prison for her actions as Secretary of State.
What's interesting to me about this whole thing is that Hogan's appeal cuts across many of the same lines as Donald Trump's does. Both had crossover attraction in their election, as thousands of Democrats voted Hogan in 2014. Many of them switched parties two years later to cast a ballot for Donald Trump. At the end of last year the Maryland GOP had 971,806 voters but gained over 29,000 by the end of April to eclipse 1 million for the first time at 1,000,915. (As of the end of May they had 1,004,083.) Unfortunately, the Democrats are growing even faster as they gained 68,000 in the same December-May period. So there may be a little bit of a political calculation going there.
(Contrary to popular opinion, however, the Libertarian Party has not gained in Maryland despite Republican threats to leave if Trump was nominated. In the month after the primary they actually lost 87 voters.)
It's worth noting that Donald Trump got 54.1% of the GOP primary vote, which translated to 248,343 votes. On the other hand, Hillary Clinton received 62.5% of the Democrat vote, which turned out to be 573,242 votes. Even Bernie Sanders outpolled Trump with 309,990 votes. GOP turnout was right about 45%, so Trump would have to get a whole lot of unaffiliated voters to have a shot. Having Hogan come out publicly against The Donald probably doesn't assist that cause.
But the more important number to Hogan is 70 percent, which is roughly his approval rating right now. I don't think Trump can touch that number in Maryland, and while there may be the most radical 10 percent of Trump supporters who won't vote for Hogan in 2018 because Hogan is withholding his support, that's only about 25,000 voters at risk – not even 1/4 of his victory margin in 2014. If 70 percent of the population likes you, it's a pretty good bet you'll be re-elected. (This is why the Democrats have tried to pin Trump to Hogan every chance they get.)
While I suspect that his reasoning may be a lot different than mine, I'm pleased to have Governor Hogan on my side on this one. The GOP still has an opportunity to correct course at the Cleveland convention, and I think they better take it.
I may never grace the pages of The Resurgent for my writing ability, but I at least can say I contributed in some small way to the success of Erick Erickson's venture. In an article written by Steve Berman on Friday, I had to do a double-take. "That looks like the Salisbury Trump headquarters," I said to myself, then realized the photo looks REALLY familiar. The person who did the photo for the article (perhaps Berman) cropped the car out of the left side of the photo.
I suspect I also used this photo for Facebook as well, so it's pretty much public domain. But I had to have a little fun with it.
Of all the #Trump joints in all the towns, @lifeofgrace224 had to pick our @DowntownSBY one. https://t.co/wzbk62CclQ

— Michael Swartz (@monoblogueUS) June 11, 2016
Berman was a good sport, though.
@monoblogueUS @DowntownSBY @resurgent no knock on your town. I've been there and enjoyed it.

— (((Steve Berman))) (@lifeofgrace224) June 11, 2016
Yet there was a serious element to his search.
@monoblogueUS @DowntownSBY @resurgent it was the emptiest and saddest that I had license to use.

— (((Steve Berman))) (@lifeofgrace224) June 11, 2016
Of course all this played out prior to the Orlando terrorist attack last night, which may make the fundraising question less relevant for Trump*, but the case that's been made by Berman and others who question the wisdom of nominating Trump is his heretofore weak effort at raising the sort of money needed. $2 billion in free media is great for the primary, but now the actual race between Trump and the candidate the media actually supports has begun. This doesn't count Trump's belief that he can put California, New York, New Jersey, and "maybe" Maryland in play.
Now I was told at our state convention that the RNC would immediately chip in $25 million upon his nomination, as Trump's message about self-funding his campaign was only for the primary. Nor does Trump have the advantages of donors made fat by government largesse or coerced dues to bankroll his campaign. While it's possible to overcome these disadvantages on a state scale as Larry Hogan did, the fact Republicans have lost the popular vote in five of the last six national Presidential elections tells me the Democratic formula is hard to beat. It's going to take all these newfound passionate Trump people contributing to the ground game to win over Hillary, and do so without taking resources needed to maintain the Senate and House.
Color me, along with Berman and Wolf, a little skeptical at this point.
__________________
* The BIG caveat: it seems to me that the more anti-Trump protests and terror attacks there are, the closer Trump inches to his goal. It will be interesting to see the polls toward the end of this coming week as more is learned about the Orlando attacker.
In yesterday's Salisbury Independent, County Councilman Marc Kilmer discussed his concerns about a tuition assistance program proposed by community leaders and supported by County Executive Bob Culver. The aim of this Wor-Wic College proposal would be to assist Wicomico County high school students by supplementing their available financial aid, with an estimated cost once the program is underway of $665,000 annually.
One of the examples cited by the backers of the Wor-Wic Economic Impact Scholarship is that of Garrett County at the far western end of Maryland, which has a similar program. I'm sure those on County Council have seen this document, but the Garrett County Commissioners have produced a (somewhat dated) report on the Garrett County Scholarship Program, which they began way back in 2006 – so the 2014 report had several years' worth of data to evaluate its success.
A couple things to bear in mind are that Garrett County is not one of the wealthier counties in Maryland, and in terms of its economic strength it would fit in well with the rural counties of the Eastern Shore. As the report authors note, the county is in a transition "from an economy traditionally based on agriculture, forest products, and mining to a more diversified economy based on tourism, commerce, light industry, and construction." But it is also far smaller than Wicomico County in terms of population, with just over 30,000 people – imagine the city of Salisbury (but not the outskirts and densely populated nearby incorporated and unincorporated areas) spread out in a far larger geographic area, as Garrett is the second-largest county in the state when it comes to land area. It doesn't have a large populated area, either, as the largest towns of Mountain Lake Park and Oakland (the county seat) hover around 2,000 residents apiece.
According to the commissioners' report, between 1/3 and 2/5 of the eligible students in the county took advantage of the program, but in raw numbers the total was less impressive: from a fall 2008 peak of 138 recipients, the number declined over the next several years to a low of 79 in the fall of 2013 (the last year detailed by the report.) Yet the program comes with a significant cost due to some of its qualities: for FY2013 the price tag was $427,365 and for FY2017 the county has budgeted $500,000. However, the county also assists students who are dual-enrolled in one of its two high schools and Garrett College as well as a handful who are enrolled in non-degree certificate programs, as well as encouraging students to take more than the minimum 12 credit hours to maintain eligibility. They pick up that tab.
While the programs as envisioned here in Wicomico County and the Garrett County program have somewhat of an apples-to-oranges comparison to them, I think it's fair to say that the local proposal is probably going to cost more than envisioned. Expanding the Garrett scholarship to non-degree certificate programs, while a sound idea, is an example of the mission creep that often occurs with the government getting involved. It's also worth pointing out a spike in costs came when Garrett College tuition increased significantly in 2009.
Unfortunately, the one relevant piece of data we don't have is whether these scholarship recipients remained to take (or create) jobs in the Garrett County region. According to state records, though, the workforce in Garrett has actually declined from 15,666 to 14,475 over the last decade (April 2006 – April 2016) for a drop of 7.6%. Conversely, Wicomico County declined from 49,566 to 47,504 in that same period, for a decrease of 4.2% – so by that measure the Garrett County program may not be very successful. (Yet the Garrett unemployment rate has only risen from 4.7% to 5.7% in comparison to a jump from 3.7% to 6% in Wicomico.)
One way of expressing the cost of this program is to equate it to property taxes. For each penny of property tax, Wicomico County collects about $570,000 (this is assuming I am reading the budget correctly, of course. But it sounds about right based on my experience.) So this would be a little over a penny out of the 95 cents or so the county collects out of every $100 of property valuation. The owner of a house assessed at $200,000 would pay about $20 a year toward this goal. If that seems worth it to give students a break, then support the scholarship program.
But if I may make a couple suggestions: I think the total expenditure should be capped and given out on a first come, first served basis. I understand not everyone makes snap decisions well, but in order to be fiscally responsible we can't let this mushroom beyond its small percentage of the county budget. I would also reserve a number of slots for certificate programs Wor-Wic offers, similar to that element of Garrett's program. Since a P-TECH school is not yet in the cards for Wicomico County, this can be the next best thing if done correctly.
It's not likely any member of my family will take advantage of the program, but Kilmer is right to be a little skeptical of it at this stage. The county did set aside the money to begin the program once the questions are answered, though, so it's possible an upcoming high school class will be the first to have this option.