Earlier this week the Tax Foundation released its annual State Business Tax Climate Index. Despite Governor Hogan's insistence on improving business climate and efforts to adopt some of the Augustine Commission's reforms, Maryland once again has the dubious distinction of being a bottom-10 state.
Yes, that sickening orange color tags us as a state to avoid insofar as business taxes are concerned. In truth, we've only dropped one spot from the 2015 index so while we could have made a few minor improvements other states are improving at a faster pace. (Maryland seems to tread water – over the last four years we have oscillated between #40 and #41.) Moreover, we still lag behind all of our neighbors with Delaware again leading the region. The First State maintained its #14 ranking.
There is one important caveat to Maryland's decline which could push them out of the bottom 10 next year. Late last month Governor Hogan announced a significant cut in the unemployment insurance tax, which is one of the factors (albeit the least-weighted) the Tax Foundation uses to determine its rank order. But other states are trying to push the envelope more quickly by reducing corporate and individual tax rates, something Maryland has talked about but not acted upon. (The Tax Foundation's weighting process is explained on page 16 of their full report.)
While reducing regulations doesn't always require legislative approval, the tax nut is a harder one to crack. The requirement to balance the budget means that revenue no longer extracted from corporations and small businesses alike can't be used for profligate spending. At a time when government getting an increase that's less than expected brings screams about draconian cuts from the left side of the aisle, heads truly explode when less real money is allocated. Even if you get 97 cents when you used to get a dollar, liberals act as if you just shot their unicorn with a scary-looking AR-15.
There's a reason I bring up 97 cents as a particular figure. According to the state's FY2016 budget, the corporate income tax accounts for 3% of the revenue; thus, eliminating it entirely would mean a corresponding budget cut. (We'll leave aside the obvious competitive benefit to the state, which would eventually attract more business and increase revenue via other means such as income and sales taxes.) While it's true that having a poor corporate tax ranking doesn't completely eliminate the good – Delaware's #50 ranking in corporate taxes only drags its overall rank to #14 – eliminating the tax would make it plain that Maryland is indeed "open for business."
Eliminating the tax would also eliminate what's become an annual debate about combined reporting. Proponents of its adoption, mainly Democrats, claim large businesses are not paying their fair share because they use the accounting trick of claiming their income arises from low-tax states. They may make actual profit in Maryland but don't report it because they have operations in other. more tax-friendly states. The most recent iteration of the idea came last year, with the tradeoff that would have eliminated filing fees for small (less than 10 employee) businesses. In that respect it was a money-loser for the state; however, the research showed in better economic times the effect would be beneficial to state coffers.
Interestingly, Salisbury has a new mayor that epitomizes the opposite end of the chicken-and-egg approach: last week in the Salisbury Independent, Jake Day was quoted as noting:
"Economic development isn't what it used to be," he said. "It includes more activities. It's now about culture. About quality of life issues. The arts and people. Parks, bike trails, bike lanes. And if you don't get those right, don't even talk about workforce development and industry and business development efforts, because you have to have those things to attract anyone."
This portion of Delmarva boasts a lot of natural beauty along its rivers and coastlines, a well-regarded university, and a proportionate share of arts and culture. Perhaps the traditional bricks-and-mortar manufacturing or legacy service industries won't come to Salisbury, but it's been obvious over the last ten years that the beauty, academics, and culture isn't exactly making this a hotbed of economic activity either. There needs to be a more balanced approach to development because it takes a fair amount of money to create and maintain parks, bike trails, and bike lanes – particularly if the money is granted from the state as it often is. We may be competitors to certain other urban areas around the state, but development somewhere else in the state or even another state, depending on the grant source, is paying the lion's share for the bike lanes to be installed here. (In some cases, local gifts have helped.) Funding will also be required to maintain parks and develop new ones like Pirate's Wharf along the Wicomico River.
There are thousands who have moved here over the decades as adults, and for the most part they came here for one of two reasons: they came to school or they came for a job. And if they came for school, there's no guarantee they will stay if jobs or entrepreneurial opportunities aren't available.
Simply put, Maryland has a long way to go in overcoming the poor reputation they have for growing and attracting businesses. It's a lot easier for those on the Western Shore to prosper when there's a ready-made source of confiscated wealth in close proximity. (If all those people had to find honest work Maryland would be just like West Virginia, with high unemployment. Because it's well away from that honey pot of confiscated largess, the lower Eastern Shore already is in that same high-joblessness boat.)
I learned the other day that the Augustine Commission determined 1/4 of Maryland's GDP comes from the federal government. If we can rightsize the federal government over the coming decades, Maryland will be negatively affected in what would be of overall benefit to the nation. It's time to wean our state off the opioid of living off the federal employees and make strides in diversifying our economy. For that reason, making our state more business-friendly simply has to occur.
My "10 from 10″ post this morning regarding the 9/12 Rally back in 2009 got me to pondering where the movement has gone in the intervening years.
If you've been a reader around here for a long time, you may recall that I covered a significant number of TEA Party-related groups that sprung up in the local area over the next couple years. Not only did we have the TEA Parties themselves that went on in both 2009 and 2010, but also groups like Americans for Prosperity and the Wicomico Society of Patriots. They went on for a couple of years but essentially died off from a lack of interest. (On the other hand, we still have the Worcester County TEA Party and 9-12 Delaware Patriots.)
Having been involved to a limited extent with the Wicomico groups, I can tell you that some of the players who remain active have gone "establishment" to the extent they remain active in the local Republican Party. Three of those most heavily involved have served on the Central Committee – unfortunately, that's the only election where some of the TEA Party leaders have found success. While many in the area take TEA Party values to heart, they seem to vote for the names they know.
This erosion of the brand is also reflected on a national level. I used to write quite a bit about the TEA Party Patriots and expressed hope that the TEA Party Express would bring some of its star power to the region. In the last few years, though, the national movement has suffered from infighting as well as a concerted media effort to impugn the brand. I don't hear nearly as much from the group these days, as their function has by and large been superseded by SuperPACs that fight for specific candidates or causes.
If you consider the high point of the TEA Party as the 2010 election, where the political landscape dramatically shifted in a more conservative direction in the wake of two consecutive leftward shifts as well as the adoption of an unpopular Obamacare entitlement program, then the nadir came two years later with Barack Obama's re-election. A conspiracy theorist could point out that the 2010 election results put the Obama campaign on high alert, meaning they pulled out all the stops to ensure re-election with a little help from a compliant media. But one could counter by noting the movement wasn't strong enough to topple frontrunner Mitt Romney and they shot themselves in the foot by staying home on Election Day. (As it was, though, Romney did get more votes than John McCain did in 2008.)
So while you can credit TEA Party principles for winning the day in 2014, the actual movement itself seems to be receding to a low tide. Since TEA is an acronym for "taxed enough already" it's been pointed out by the Left that taxes really aren't that bad, at least in comparison to the rates in place for administrations from Hoover to Carter. (This is a neat little chart to see the differences.) Ronald Reagan dropped rates twice: from 70% to 50% in 1982 and eventually down to 28% with the Tax Reform Act of 1986. It had been over 50 years since the top rate was less than 50%.
But that only considers income tax. Certainly as a 100-year body of work our current rates are on the low side, but back then we didn't have the maddening plethora of taxes and fees we do now. Some are consumption-based taxes like sales tax on goods purchased or per gallon of gasoline, while others are considered some sort of "sin" tax like additional levies on cigarettes or alcohol, a combination that Marylanders endure to a larger extent than several of their neighbors. Even speed cameras could be regarded as a sort of "sin" tax, since supposedly the only ones who pay it are the ones who are speeding well above the posted limit. (Try as they might to convince us that it's about safety, we all know they need the Benjamins. Why else would they have to install cameras in more and more dubious "school zones"?) Nor does that consider property tax, which tends to be the preferred vehicle for raising money for the public schools. In most states where districts have taxing authority, it's not uncommon to see a school district seek three to four additional property tax levies a decade as they strive to raise funds for buildings and operations. (Maryland is different because counties pay for their portion of school funding from their general funds, so there are no ballot issues to deal with property taxes.) To make a long story short, we still consider ourselves taxed enough already.
As far as a formal movement goes, though, for the most part we are back to where we were around 2008. There is a lot of frustration with the direction of both parties, but this time rather than a movement without a leader people are going the route of a looking for a leader for what they consider their movement – hence, political outsiders Ben Carson and Donald Trump have been ahead of the Republican field for most of this campaign. (As further proof, the other side is still believed to be behind Hillary Clinton.) Carson is cast as the Godly, principled man who would quietly and reverently lead our nation in need of healing, while Trump comes across as the brash general who would kick butt and take names, restoring America to its top of the heap status.
Conversely, those who are conservative but came up through the standard political channels have fallen out of favor this cycle. In any other cycle, we would look at governors like Rick Perry, Scott Walker, or Bobby Jindal as frontrunners – instead, all three are out of the race. In terms of political resumes, the front-runners on both sides have even less to go on than Barack Obama did, and that's saying something.
So it's hard to tell where the TEA Party trail runs cold. I think a number of them have coalesced behind Donald Trump despite the fact The Donald is not a movement conservative. One recent rumor is that a Trump/Cruz ticket is in the works, which would perhaps appease the true believers. Trump's success has belied the predictions of TEA Party leaders that he will be a flash in the pan.
But it appears the days of rallies like 9/12 are behind us. Such a pity.
In proof that even I, a veteran of nearly 20 state party conventions, can be blindsided by political events therein, I give you Exhibit A: the Black Republican bylaws amendment. And here I thought the second one that was tabled rather quickly would be the one with the loudest argument.
But the fact that this was the second-to-last piece of business (besides revealing the straw poll that no one seems to care about because Ted Cruz won) makes for a lot of bitter feelings on the social media I've seen. So I thought some perspective was in order.
One thing I understood about the outcome is that it's supposed to be temporary. The idea is, just like the state party that streamlined the process of filling vacancies in the General Assembly at this convention, at some future gathering they will debate just what groups will qualify for inclusion on the state's executive committee and which receives a vote on the body. To me, it's a conversation which really should have occurred when we were instead rushed out the door a couple years ago.
One argument that's been made against expanding the vote is that the county chairs on the Executive Committee are there by virtue of the electorate. (Not necessarly true given midterm appointments, but more often than not it is so.) On the other hand, they argue, representatives of the other groups are selected from within.
The poster child for the argument against the inclusion of the auxiliary groups are the Young Republicans. Although they are on the comeback trail thanks to new leadership, they secured their vote on the Executive Committee despite losing chapters and membership over several years.
But it also begs a pair of questions: what constitutes success for a particular group? Will they go by paid members, chapters, or some magic combination of both? With age-restricted groups such as the Teenage, College, or Young Republicans, the ebb and flow of membership is common – for example, next year the CRs will need a new president because their current leader is a college senior.
Personally, I would have been fine with giving the Black Republican Council a vote – as long as the other two voteless groups got one, too. Since that wasn't an option I thought this was the next-best route.
I don't have a copy of the bylaws of each of each organization, but I suspect the state party chair doesn't get a vote on their board. We appreciate the voice each have, but perhaps rather than arguing over who gets a vote and who doesn't maybe we have the best possible situation for now.
We didn't have the biggest crowd on a Thanksgiving week, but Delegate Christopher Adams made his points during the final scheduled WCRC meeting of 2015.
Adams was down the agenda this time, as we chose to do our usual opening routine with the exception of me giving the treasurer's report for the absent Deb Okerblom. We slotted the Central Committee report first, which meant Mark McIver could detail the "huge success" of the Lincoln Day Dinner.
McIver chalked up the success to a couple factors: good profit from the silent auction and the use of several database lists – and 150 hand-written personal invitations – to target our advertising.
Briefly going over the state convention, McIver detailed how we heard from the three leading Republican U.S. Senate candidates. Ann Suthowski chimed in that Muir Boda was mentioned twice during the convention for his success and Mark Edney did a good job explaining the succession by-laws amendment. The Salisbury University College Republicans were also mentioned as part of the state CR report for co-hosting the Lincoln Day Dinner.
McIver also announced he would host a joint club and Central Committee Christmas Party next month.
Finally, we heard from Delegate Adams. He was pleased to see the change in government in Salisbury, which he said has more sway than he does locally.
Adams noted that with $20 trillion in debt, it was likely the GOP would win this year's election. He suggested they make cuts to the "fourth branch," as cost-saving measures.
In Maryland, Adams continued, the Augustine Commission determined that federal spending accounted for 25% of the state's GDP, so government cuts would affect Maryland disproportionately. The state needed to develop an "entrepreneurial ecosystem," he added.
Most of Chris's message dealt with legislation he was introducing to allow counties to opt out of sprinkler system requirements once again. It's something they've been asking for, Adams added, but they were up against a powerful firefighter lobby. Adams noted he had a meeting slated with the state!s deputy fire marshal.
Yet the $5 to $7 per square foot cost for a small, affordable home was one that couldn't be added to the value. Mandates like this are putting new homes out of reach for young families,
He explained that the 2012 International Residential Code had this mandate, but prior to last year counties were allowed to opt out. Taking back local control "has to be a grassroots effort," said Adams, and it requires action on a local level.
Adams was asked if many new home builders voluntarily put in sprinklers, but few did. He added that some states prohibit the mandate, including several neighboring states.
Mark McIver noted that the state was "taking away the American Dream…it's bankrupting the younger generation."
Adams was also asked about sprinker systems affect insurance rates. He believe they made little difference in the rates, because alleviating the fire risk was balanced against the leaking and water damage potential.
Finally, Adams was asked about last year's bill, introduced by Delegate Jeff Ghrist, to address this. He noted it was late-filed, so it never got a hearing. His bill is pre-filed.
Christopher concluded by announcing he has a unique fundraiser at the OC Hilton December 12 and 13. You would get 2 nights' stay and lunch with special guest Bob Ehrlich for one price.
Since we had a number of other state legislators in attendance, we got brief updates.
Carl Anderton spoke with Delaware officials, trying to get their perspective on agricultural issues. He also has a fundraiser coming up at the Delmar VFW on December 3.
Johnny Mautz believed "this year will be different than last year" in the General Assembly, with "a lot of activity." Federal campaigns will drive some of that activity, so it would be up to Eastern Shore Republicans to kill bad bills as they could.
Addie Eckardt thought it would get "testy," with pressure to spend our new-found surplus on items that were cut from last year's budget. The idea was not to let ourselves get splintered, she concluded.
All in all, it was a nice little pre-session update – and timely, since we won't meet again until after the session starts in January. To be exact, the WCRC will reconvene on January 25, 2016.
A new day dawned yesterday after a night of partying I described in part 1. Too bad it was about the last time we got to see the sun.
Instead, I went down to grab breakfast and remarks fron three U.S. Senate candidates. It should be noted that a fourth, Anthony Seda, "has never reached out" to the MDGOP, according to Diana Waterman.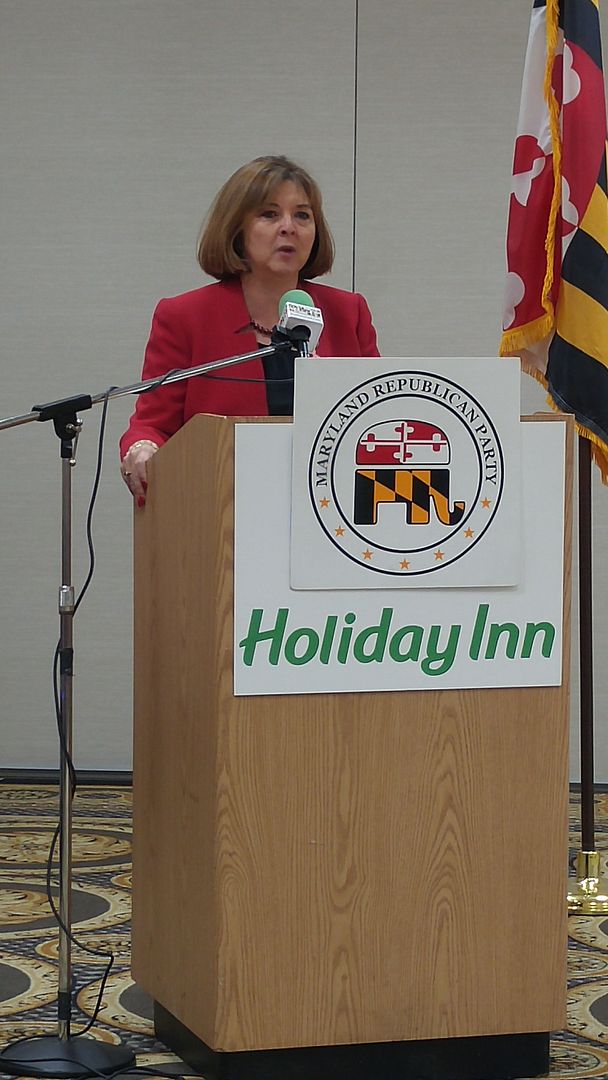 After an opening prayer where Delegate Deb Rey prayed that we "cruise to victory," we did the speeches in alphabetical order. This meant Richard Douglas spoke first.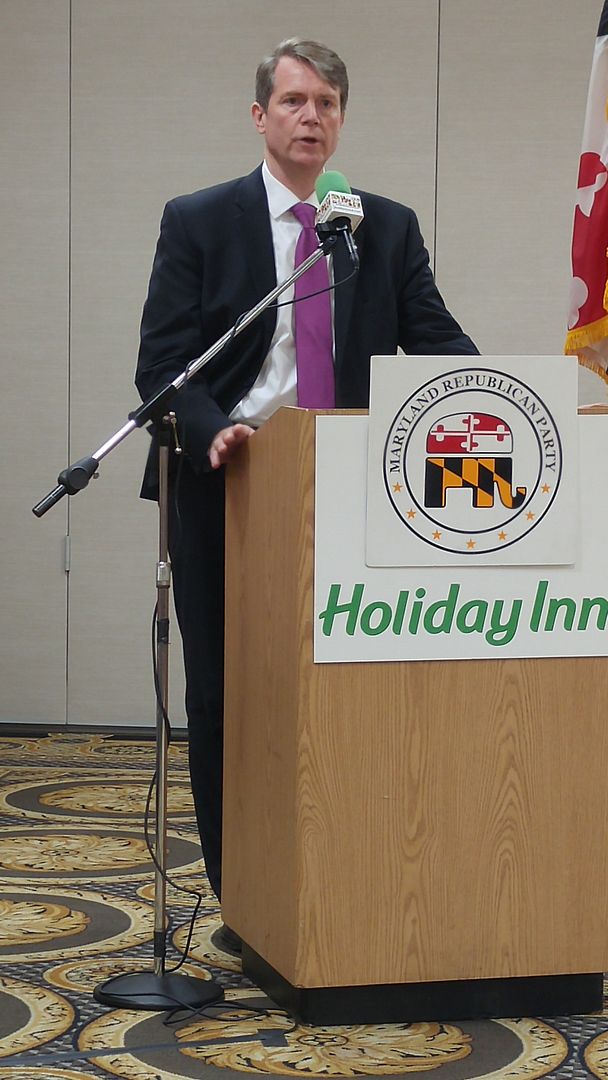 Richard noted the news was still filled with images from Paris, Belgium, and Mali, saying it underscores that "terrorism…remains a concern." He added that the authorization to use military force passed after 9/11 remains in effect today.
He added that growing up abroad made incidents like the building of the Berlin Wall and Cuban missile crisis "indelibly etched in my mind." But he assured us we are stronger than Russia – we just have a leadership problem. No one is pushing back on Russia, China, or Iran, he continued.
Douglas pivoted to domestic issues with a mention of the Bladensburg Cross, a court case he's assisting on and one for which he predicted "we'll take the wood to the humanists." It led into his thought that the job of a Senator was not to pontificate, but to act. In Maryland, it meant not just doing what he could at the federal level to eliminate the rain tax and entice industry. One example of the latter was the Howard Street Tunnel, which is too shallow to accommodate double-decker rail cars. It's a problem the current Senator has had 30 years to address.
"People who have three squares a day…don't riot," Douglas noted. With foreign policy experience and what could be described as a populist agenda, Douglas vowed "I intend to go to the Senate to make that place better."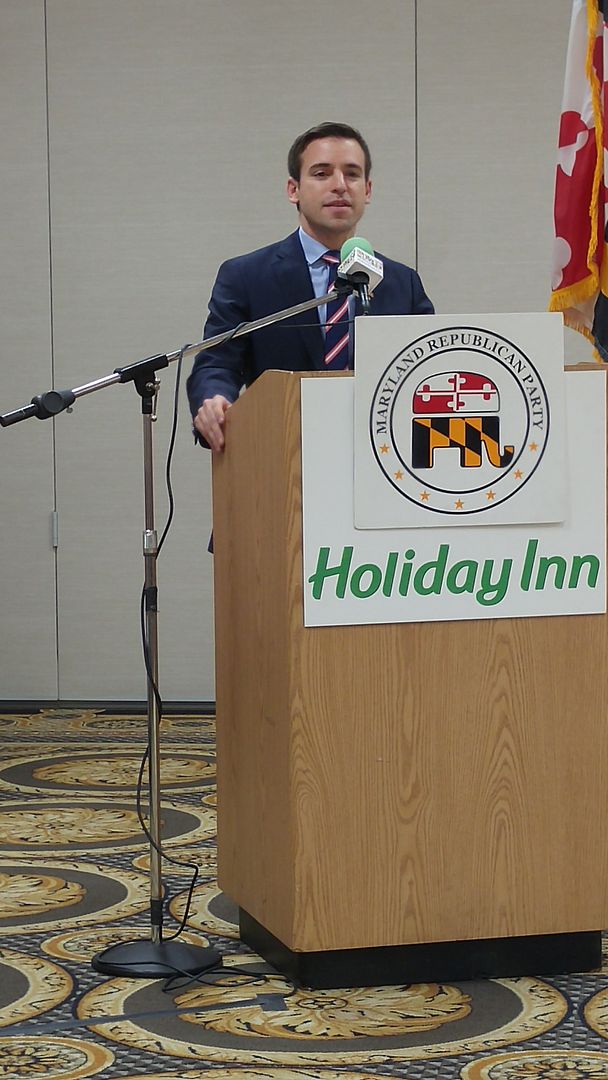 The son of Greek immigrants, Chrys Kefalas opened by saying, "I'm a story that's brought to you courtesy of the American Dream." He then detailed a life of precocious entrepreneurship as a teenage business owner who parlayed that success into law school and eventually jobs with Bob Ehrlich, both as Congressman and as governor. One of his accomplishments with the Ehrlich administration was pioneering criminal justice reform.
After a stint at the Eric Holder Justice Department working on a "smart on crime" initiative, Kefalas is now a vice-president at the National Association of Manufacturers. "Manufacturing is coming back," said Chrys. America has the advantages of innovative and productive workers as well as affordable energy. Taxes and regulations were holding us back, he explained.
Yet he was quick to recognize "you are the ones who are going to make the party strong…the campaign is about you."
Kefalas added that the task of the nominee is to win, and he would do so with his positive vision. In this "once-in-a-generation opportunity" to win the seat, Kefalas believed "I can get more Democratic crossover support than anyone else in the primary."
"We need to expand the map in Maryland," he continued. Through him "we have a path to victory."
Kefalas concluded by noting his recent engagement, stating "I am a gay Republican." But "we move our country in a better direction when we are together."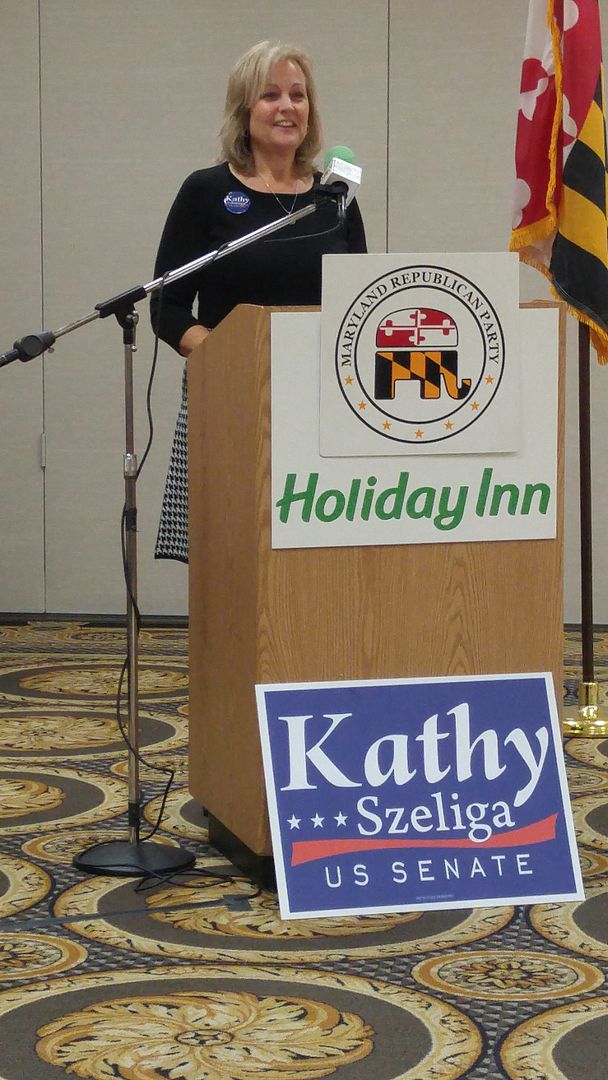 Kathy Szeliga emphasized her working-class background and that she and her husband Mark "believed in the American Dream." For most of her life she'd played the various roles working moms did.
But Kathy stressed her more recent past, talking about how she and fellow Delegate Nic Kipke "brought some new ideas to Annapolis." She also learned how to work across the aisle there.
With a new governor, Szeliga added, things were moving in the right direction – for example, we "repealed that darn rain tax." (Actually, we only eliminated the 'shall' but kept the onus on counties to pay for the improvements.)
As for her Senate run, Kathy believed "there was a time that Congress worked," but now government is too big, too gridlocked, and too distant. Indeed, "now is the time to turn Washington around…the American Dream is fading."
Her pet issues if elected would be quality of life, security, and schools. Most of her remaining time was spent discussing the security aspect, noting that "terrorism is real…we must remain vigilant." She vowed to support law enforcement as well.
Addressing her prospective opponents Chris Van Hollen and Donna Edwards, Szeliga opined they don't understand the dangers we face from "radical Islam terrorists."
In closing, Kathy pointed out her initial run of 61 endorsements and stated, "together we're gonna get this done in 2016."
So after Diana Waterman thanked her "three amazing candidates," I had some time to spend in the exhibit hall before the morning session.
There I ran into Tanya Tiffany from MDCAN.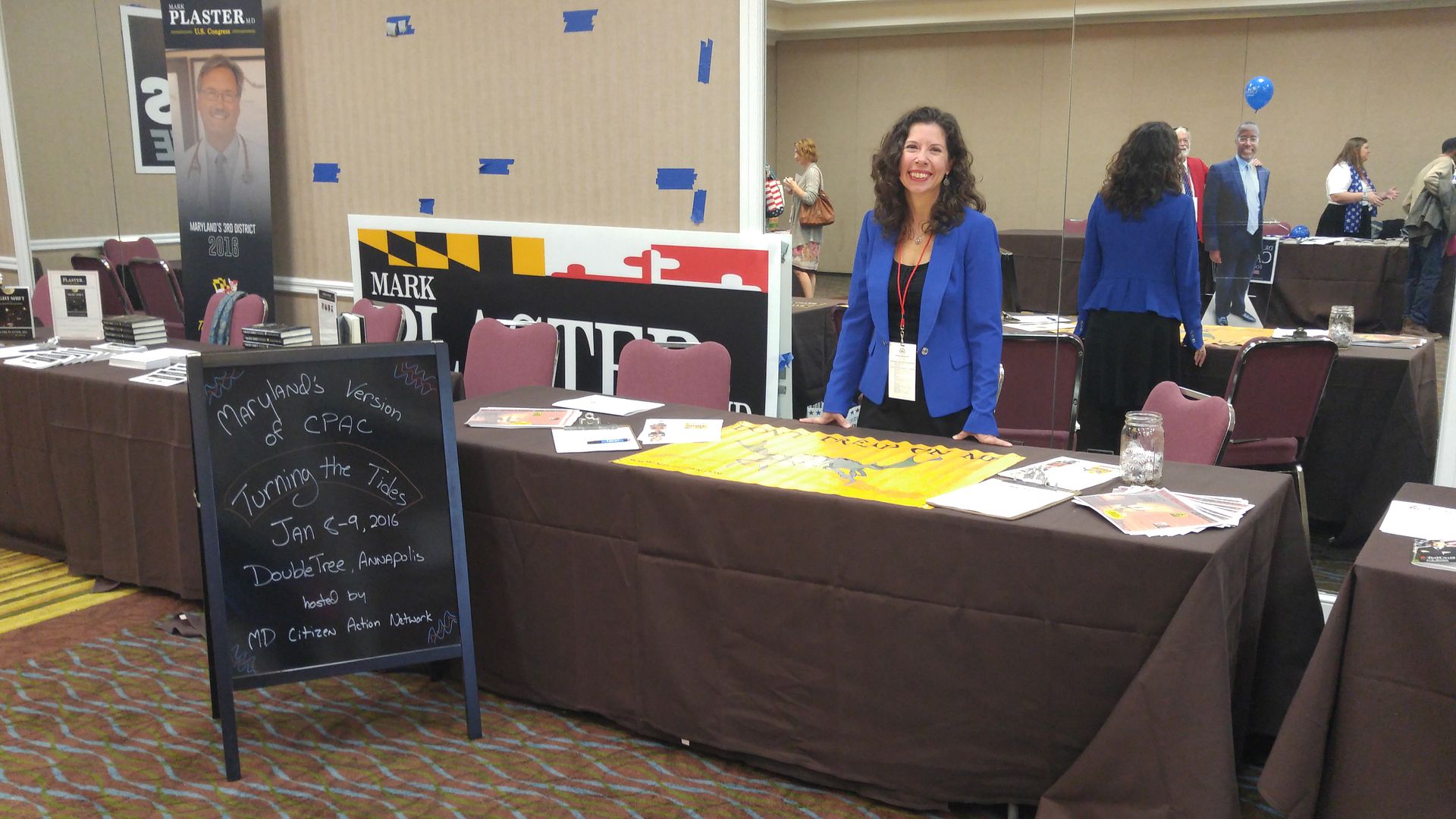 It's a good moment to remind readers about the upcoming Turning the Tides Conference coming up January 8-9, 2016. I asked her if they would have a Blogger's Row as in past editions and she said they were looking for a sponsor. They're also changing the format a little bit to be more like previous editions, so it should be informative and more like "Maryland's version of CPAC."
With the convention opening, we were welcomed by Senator Steve Waugh.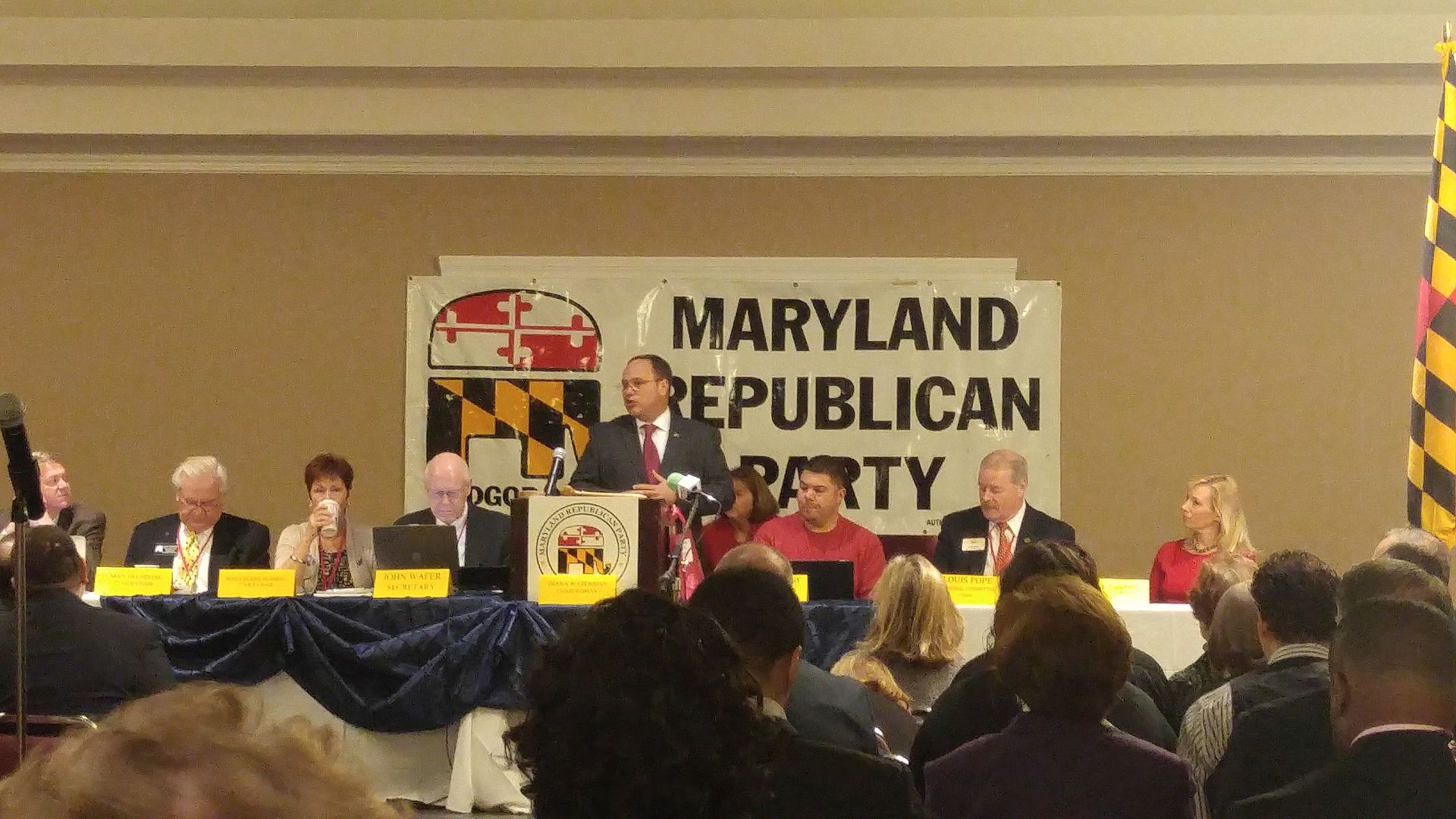 In his remarks, Waugh focused on the fact this part of Maryland "gave freedom of religion to the world" with the passage of the Tolerance Act in 1649. In the here and now, Waugh believed Governor Hogan "made the perfect call" regarding Syrian refugees, noting "you must ensure our safety."
In another bit of history, Waugh pointed out that 15 years ago Calvert and St. Mary's counties were about 2-1 Democrat but now both have a GOP majority.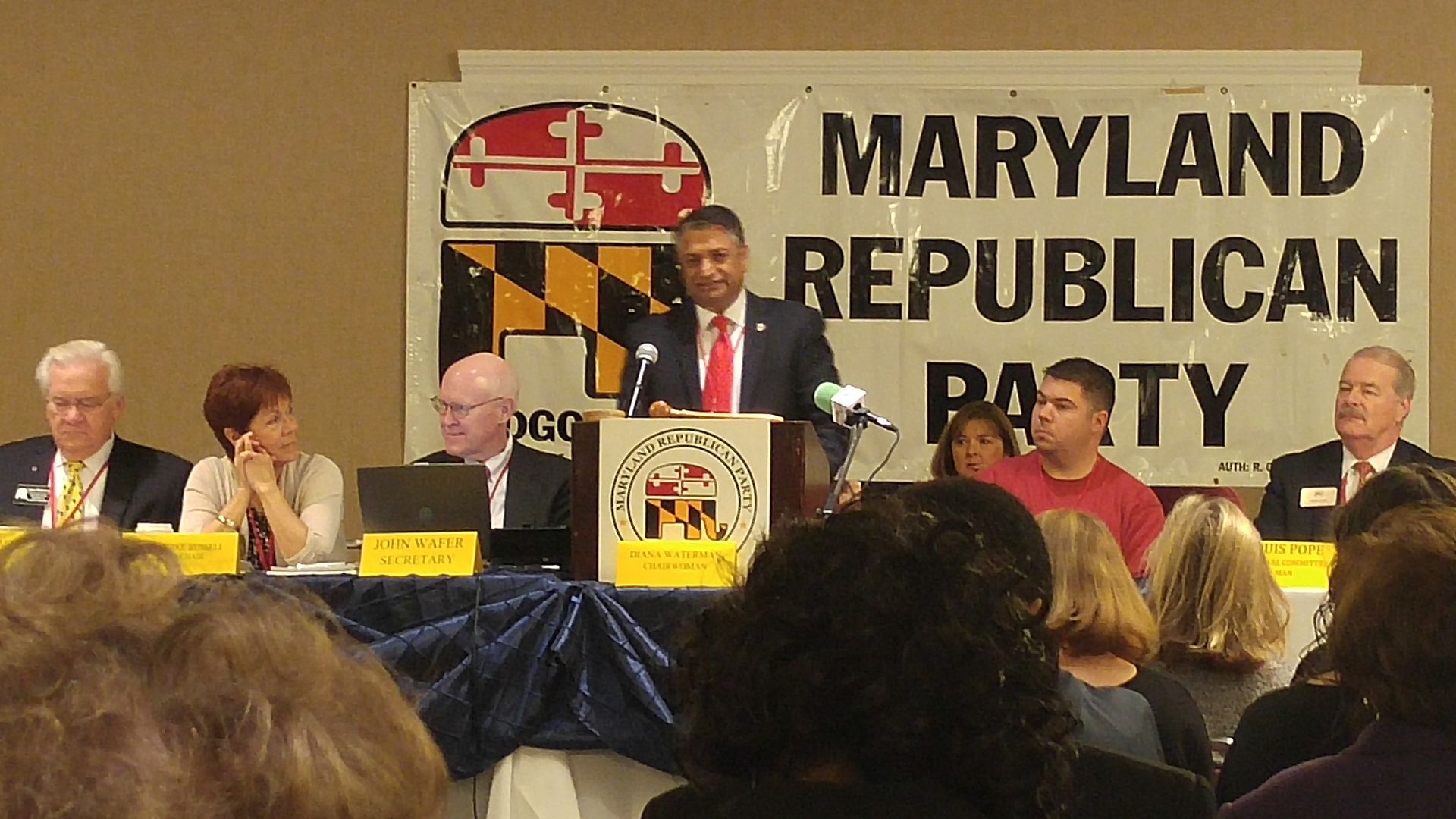 Since Larry Hogan was at the RGA meeting and Boyd Rutherford had a previous personal engagement, it fell to Secretaty of Human Resources Sam Malhotra to extend the governor's greetings. He went through a laundry list of accomplishments by the administration over its first year, but concluded with the remark "I can't wait for the next seven years." He believed we were in the process of changing Maryland from deep blue to "baby blue" to purple to red.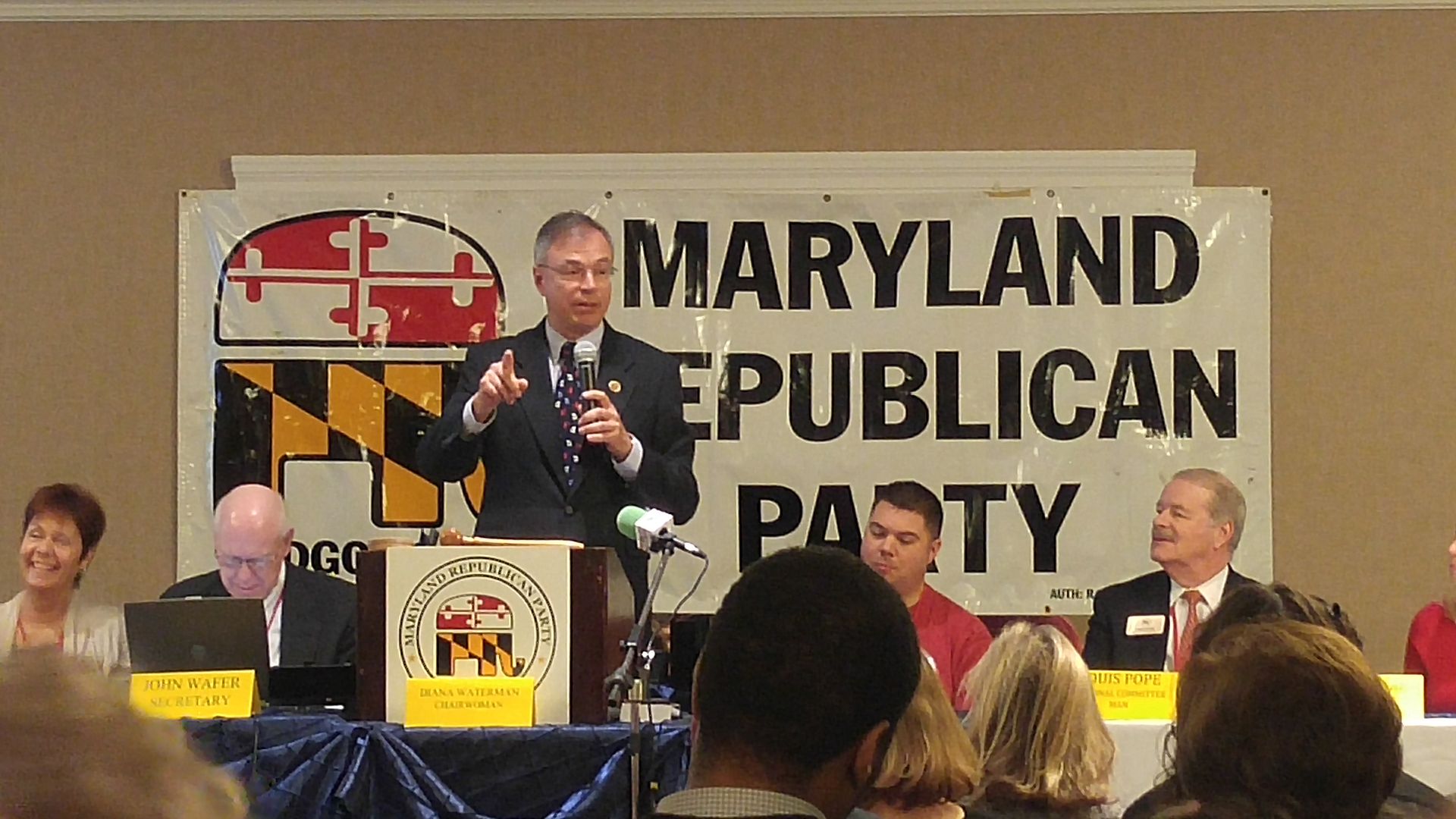 Congressman Andy Harris supplemented Malhotra's remarks by saying he'd work hard to get five more Senators in Larry's second term. "What a difference a year makes," he added, also maintaining "this is not a deep blue state."
As far as Congressional leadership, Harris believed it was the right time to change leadership. Paul Ryan can deliver our message, as opposed to John Boehner. "I don't believe he communicated well," said Harris. Andy also believed Speaker Ryan had his priorities in order, putting family first. "It doesn't take a village, it takes a family," said Harris.
Turning to the economy, the Congressman was waiting for the "last shoe to drop," meaning an inevitable interest rate hike. If rates rise to their historical rate of 2 1/2% it would mean $500 billion a year in interest payments alone – more than we spend on defense. "The economy is not going to get better" under Barack Obama, he added.
Obama's administration is also promoting the message that law enforcement "is our enemy." Yet this is a time where we had a real enemy. "What Paris showed us is that 9/11 is not over," said Andy. Add in the Russian airliner and the Mali attack, and it was no wonder France took action. Hollande "figured it out" that Obama wouldn't take charge. "This is a setback to him," explained Harris.
The narrative that ISIS is contained falls flat to Harris as well. "ISIS is here in the United States," said Harris. "We have to declare war on ISIS." Moreover, "we have to fight the war on ISIS as a war to win."
Looking back to the state party, Harris believed we were on a roll and the Democrats were worried. Now we have to recognize the importance of local elections and raise money for the local Central Committees. "Only 350 days until Election Day," Harris concluded.
We then heard from Steve Waugh again, who gave the Senate portion of the legislative update. "The magic number today is 19," he said, referring to the number of Senators required to sustain a veto.
He predicted the next session "will be all about Baltimore," adding that the budget will also come through the Senate this year. Other items to watch out for: paid sick leave, body cameras for police, K-12 education funding, a bottle tax, and "death with dignity." We also have to figure out how to come up with over $1 billion to service O'Malley's debt, Waugh added.
While the Democrats would try to sandbag Governor Hogan by laying traps for him to spring in 2018, Waugh advised us to "stay focused on the message."
Wearing her Delegate hat, Kathy Szeliga urged us to join the Governor's press list so we could spread the word about his successes. She harped on the $17,000 per pupil Baltimore City Schools spends, saying we were committed to education but also to accountability. How much is enough?, asked Szeliga.
She added there were some successes from the House on the Second Amendment as we ended ballistic fingerprinting, made it easier for armored car personnel to get permits, and removed some accessories from the SB281 ban list.
Finally, Kathy urged us to "answer back" to Democratic fundraising.
Shifting gears, we heard from Lucas Boyce of the RNC regarding their new philosophy to "engage, embrace, entrust" and the Republican Leadership Institute. Diana Waterman was working to bring some RLI graduates to work here in Maryland.
Boyce wrapped up the morning session, so we adjourned for two seminars and lunch. The first seminar I went to featured Nicolee Ambrose.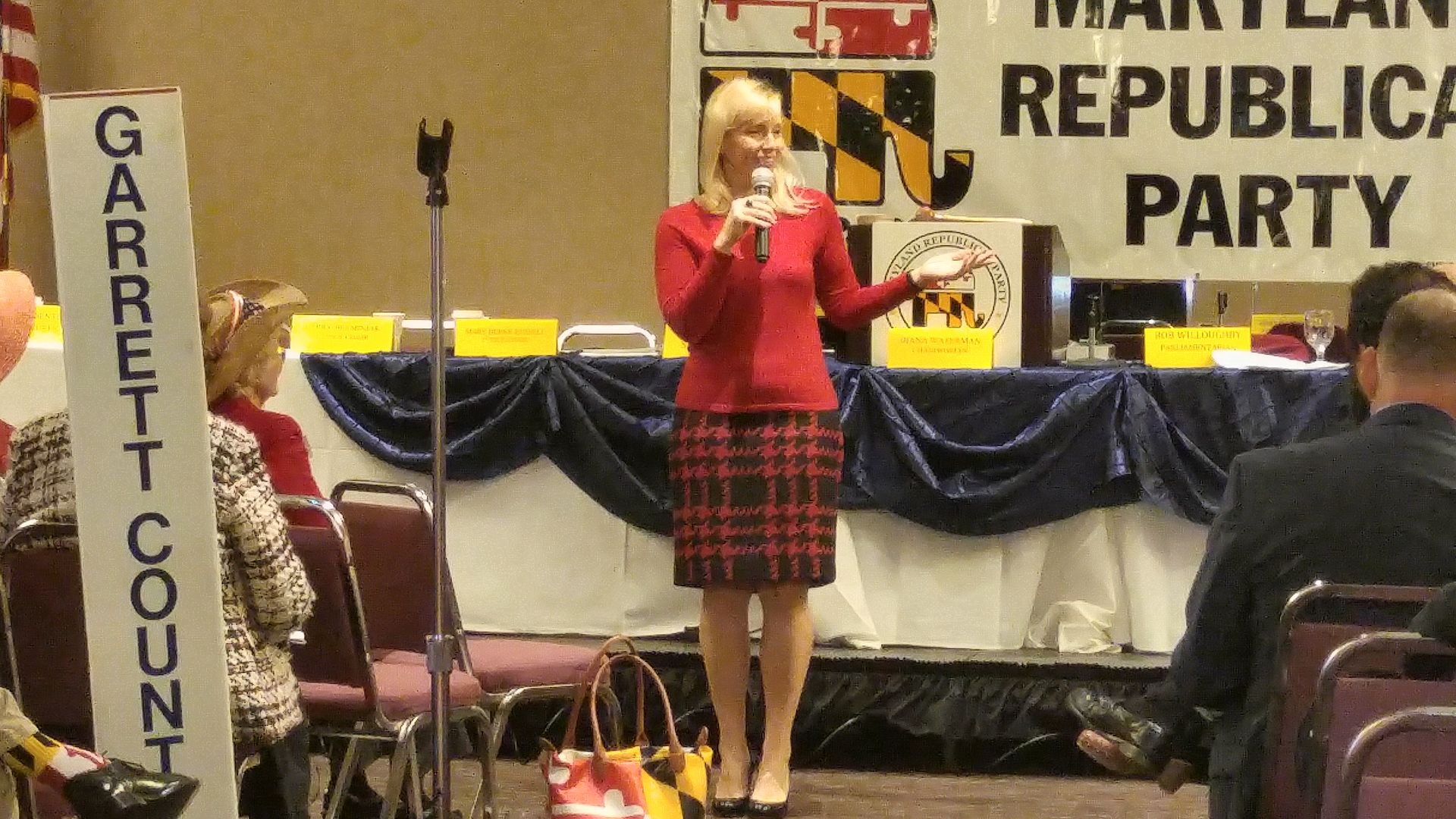 There we discussed two somewhat disparate but vital topics: grassroots organizing and public speaking. On the latter, we did a pair of "American Idol" style auditions where "contestants" were judged and advised on a two-minute speech. It's really hard to talk for two minutes.
I didn't take a photo at the second one, but Justin Ready spoke on some of these same topics and more.
Not taking Justin's photo means I have a cleaner lead into the National Committeewoman's report Nicolee delivered to start the afternoon.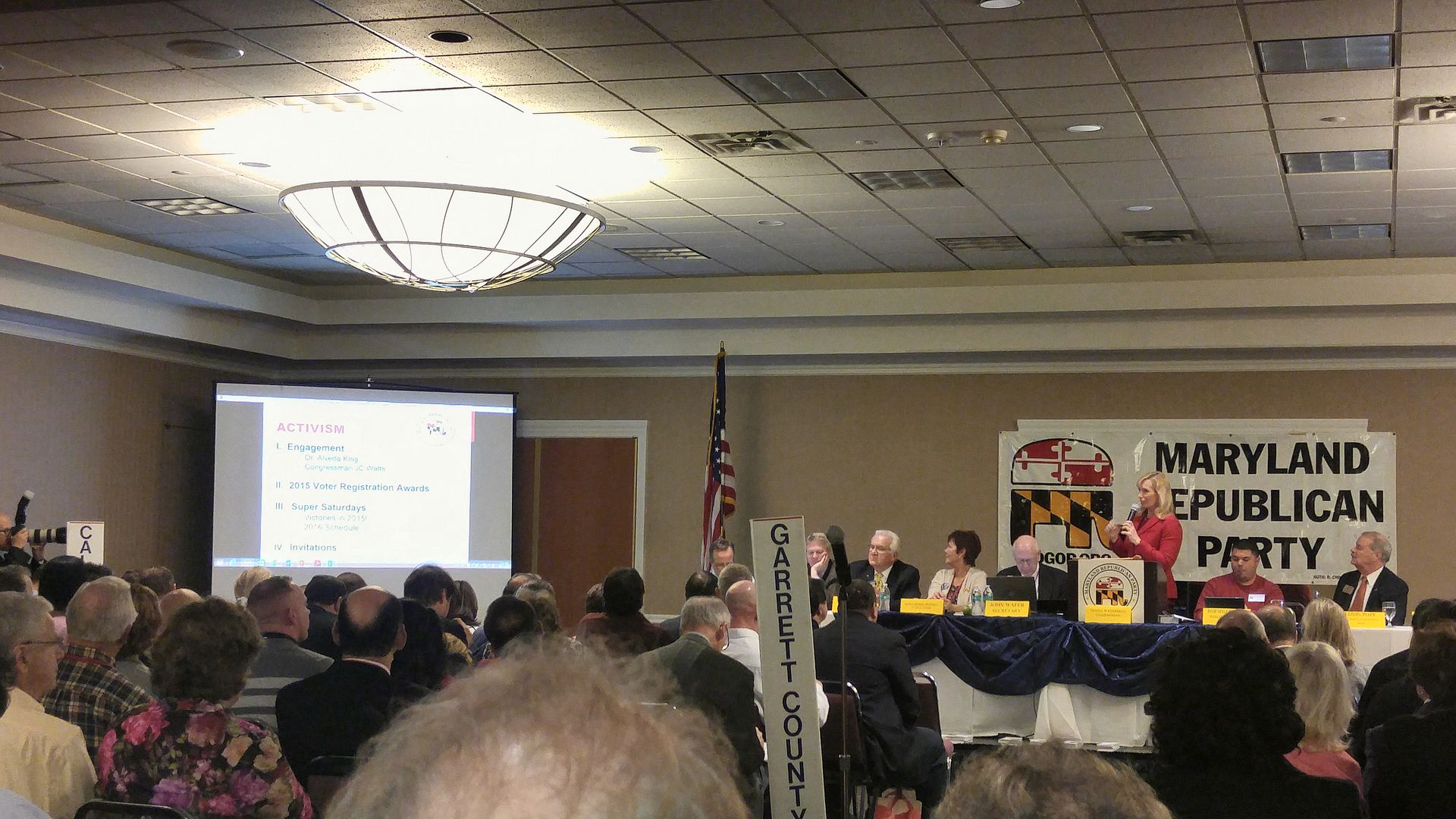 Nicolee pointed out some of our engagement events featuring Alveda King and J.C. Watts in Baltimore City, adding that getting Republican totals to 25% there makes us a red state. She also announced the winners of our voter registration contest for various-sized counties.
Ambrose was happy about going "2 for 2″ with her Super Saturdays, winning with both Michael Esteve in Bowie and Muir Boda right here in Salisbury. "This man was an animal" when it came to door-knocking, said Ambrose of Boda. She also praised Patrick McGrady for winning for mayor in Aberdeen.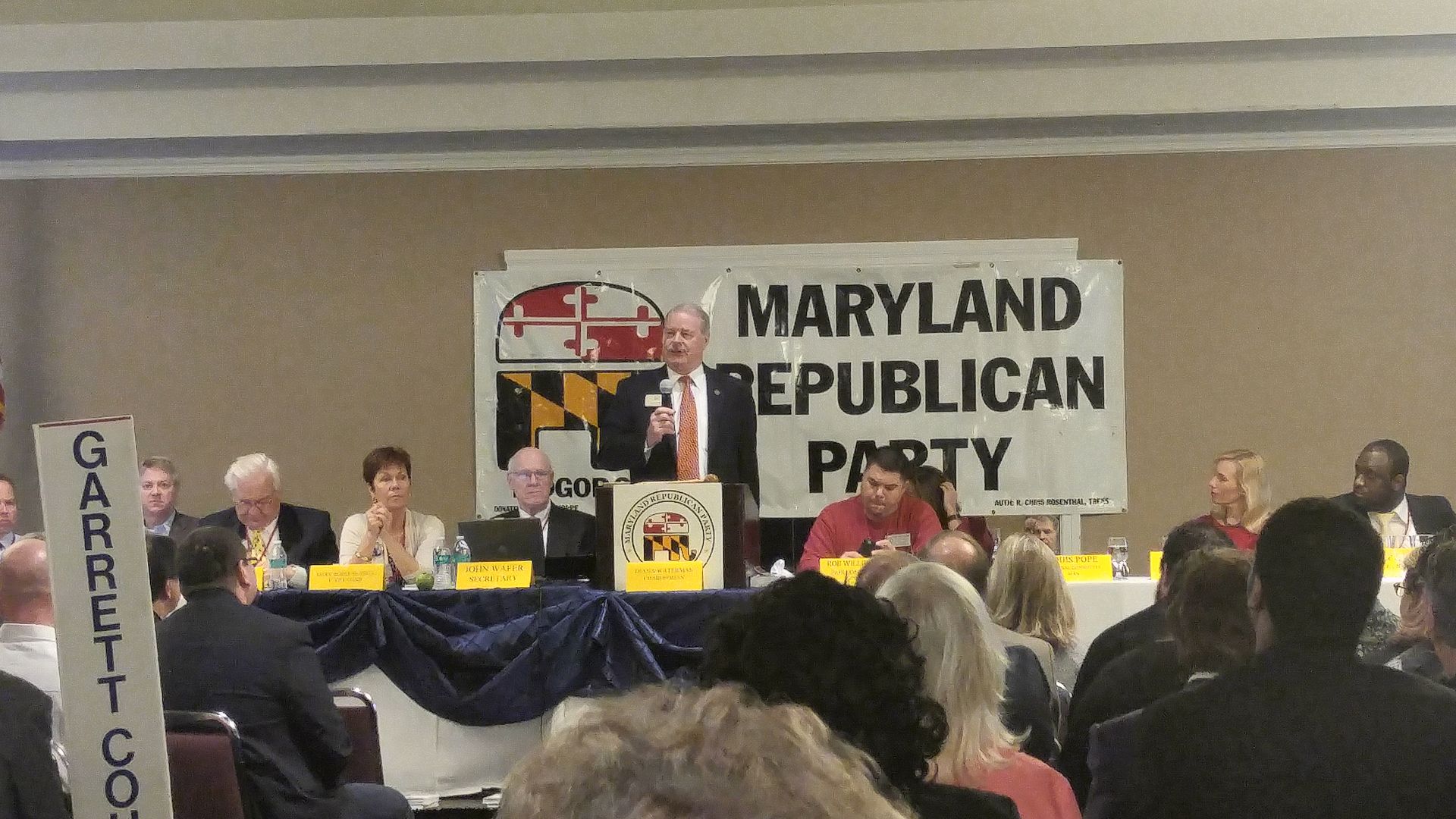 A man who hosted a "phenomenal" house party, according to Diana Waterman, Louis Pope gave the National Committeeman's report.
He focused more on the national scene, saying the RNC was "far more viable" than at any other point in history. And although this success wasn't being picked up by the mainstream media, the ground game was "going exceedingly well…our turnout machine is working." Now we had 32 GOP governors, added Pope.
Noting the CNBC debate showed "how unbelievably biased" the media is, Pope opined the primary season would be over by April 30. After that, it was "absolutely essential" that we come together. "Next year's election will be a battle royal," said Pope. The RNC has "a very deep playbook" on Hillary, Louis added.
On a local level, Pope urged the Central Committee members to raise money this year for the 2018 elections, since there's not much competition for funding. This year's campaign, though, will require "sweat equity," said Pope.
We heard a quick report from College Republican Chair Christine McElroy, detailing their successes – including the Salisbury University CRs co-sponsoring our Lincoln Day Dinner. But she also revealed the sad fact that 77% of millennials could not identify even one of their home state Senators.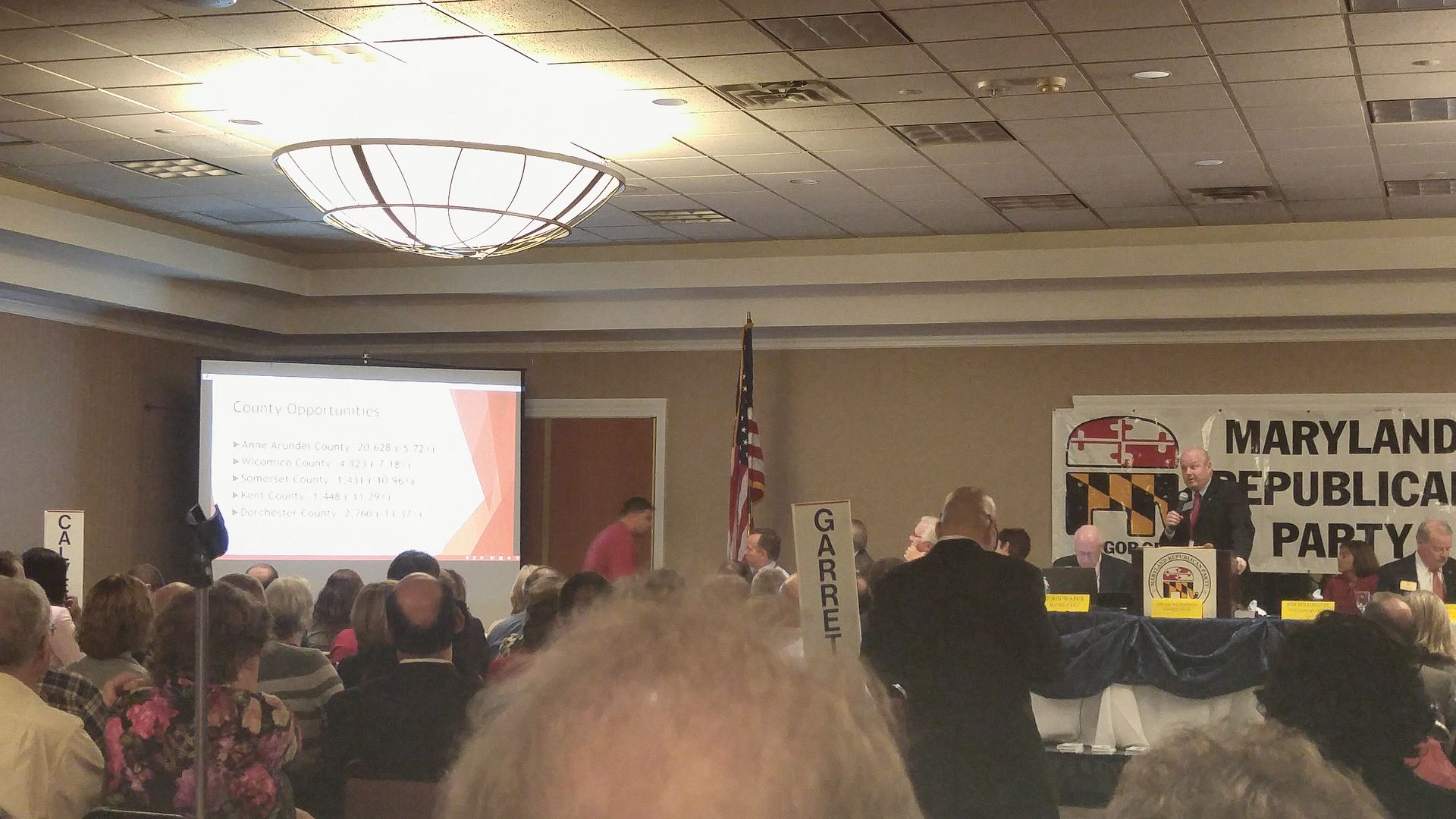 Party Executive Director Joe Cluster went over voter registration, pointing out the five counties (including Wicomico) where the GOP is closest to overtaking Democrats. "The numbers are moving in our direction," said Cluster. He also touched on goals for precinct captains, opportunities to help Governor Hogan on boards and commissions, and the Baltimore city elections.
In her Chair's report, Diana Waterman paid tribute to the late Frank McCabe, for whom the party would have a dinner later that evening. But she stressed the need to pass the first bylaws amendment, believing if we fail to adopt this the General Assembly will take the right away. "It is for your protection," said Diana.
First we had to deal with one resolution in support of a Constitutional amendment to reform redistricting. It passed by a voice vote, with just one or two objections.
In introducing the first bylaw amendment, Mark Edney of Wicomico County stressed that "we have a problem with the process." The proposal provides a process but is not specific.
While there was spirited debate on both sides, in the end the measure had enough votes to pass. On the weighted voting scale it was 369-170, which exceeded the 2/3 majority required. (In terms of actual people, the vote was 182-85. Only Baltimore City, Frederick, Queen Anne's, and Washington counties had a majority objecting.) All nine in Wicomico County voted in favor, although I believe we will create our own specific guidelines.
On the "loser pays" amendment, an attempt to change it to cover both sides was proposed but was superseded by a motion to table the amendment, which passed with a resounding voice vote.
And then we had bylaw amendment #3. I thought it would pass with little objection, but the fireworks began right away. Most of the argument centered on whether the Black Republican group was established enough – those arguing against the amendment frequently referred to the Young Republicans, which reached a low point in chapters and membership shortly after getting an Executive Committee vote.
At first we voted on a motion to recommit to the Bylaws Committee, which drew the argument that it came from that committee. But Heather Olsen explained that the committee got this at the last minute and only checks for conformance, not on merits. In the end, the motion to recommit failed 217-324, or 114-156 in bodies. Wicomico was split 5-4 against recommitting.
Then we tried to table it, but that motion was rejected by voice vote.
The next move was to amend the bylaw to strip the voting rights from every one of the auxiliary organizations. That started new debarte, including a motion to continue debate that lost soundly in a voice vote.
The final motion to amend passed 359-178, with the amended bylaw change passing 408-83. (Body counts were 178-91 and 206-41.) Only Calvert, St. Mary's, Wicomico, and Worcester voted against both.
Once that vote was in, the bylaws committee report was done "after 2 hours and 3 minutes." Before we adjourned, Diana Waterman told us it should never be said we don't allow enough debate.
But I suspect the debate will go on. I'll have more thoughts later this week.
Oh, and another thing. We did a straw poll, with Ted Cruz the winner.
Ted Cruz – 62 votes (24%)
Marco Rubio – 52 (20%)
Donald Trump – 49 (19%)
Ben Carson – 26 (10%)
Carly Fiorina – 18 (7%)
Rand Paul – 15 (6%)
Chris Christie – 14 (5%)
John Kasich – 12 (5%)
Jeb Bush – 11 (4%)
Mike Huckabee – 2 (1%)
Rick Santorum – 2 (1%)
It's been awhile since I was entitled to go to the state convention, but what a few hundred Wicomico County voters tried to do was undone by a much smaller number last month, so I have returned like the prodigal son.
My first convention back will be in Solomons, which as I recall was the home of my favorite convention, the spring 2012 one where we elected Nicolee Ambrose as National Committeewoman in a contentious vote over Audrey Scott. This one will probably not have the same amount of angst, although we may see issues with the three bylaw amendments on the docket.
The first is a lengthy proposal to create a process for Central Committees to fill legislative vacancies. After the debacles we saw last year as Governor Hogan picked members of the General Assembly to fill out his cabinet and lead departments, it became a priority to come up with a way of doing so lest the General Assembly take our power away (which still could happen.)
In a nutshell, the amendment allows a county to create its own process but leaves as a default the state-prescribed method. In looking it over briefly, the fight may be over the call to submit "name(s)" to the Governor, as some would prefer the Central Committee submit just one name as was custom until the most recent round of appointments.
That controversy led to the second bylaws amendment, which a perverse sort of "loser pays" arrangement for entities taking legal action against the state party, just like Carroll County did last year. I think this one will create the loudest arguments, to be honest.
Third is a proposal to give the Maryland Black Republican Council full voting status on the Executive Committee. If so, they would join the Maryland Federation of Republican Women, the Maryland Federation of Young Republicans, and the Maryland Federation of College Republicans as voting members of that committee. (Conversely, the Teenage Republicans and Heritage Council are non-voting members.) As I recall, we had a lot of rancor about giving the YRs and CRs an Executive Committee vote a couple years ago, in a voice vote that was literally cast as we were being ushered out the door. So we'll see.
The one resolution that I'm aware of (barring others introduced from the floor for our consideration) deals with the redistricting commission, so that should be no issue. I don't think there's 10 percent of the party that likes the way we do it now.
But all work and no play makes Republicans a cranky bunch. Fortunately, unlike the last couple conventions I attended, we will have no shortage of hospitality suites to check out.
A list sent out by the state party shows no less than a dozen different suites. While the host counties of Calvert and St. Mary's and Montgomery County have their parties, the headlining parties will be competing affairs between supporters of Ted Cruz and Marco Rubio. Not to be left out, all three major U.S. Senate hopefuls – Richard Douglas, Chrys Kefalas, and Kathy Szeliga, who is piggybacking with Congressman Andy Harris – will have suites on separate floors. Add in local Congressional candidate Charles "Sam" Faddis and the aforementioned Black Republican Council, throw in a couple wild card suites, and it should be a fun evening tonight.
Naturally some of the conservative blogosphere will be there, so we'll see what sort of coverage we can drum up. Whether the era of good feelings brought on by Larry Hogan's election will subside this time or wait until spring when we elect a new National Committeeman and National Committeewoman along with slates of convention delegates and alternates remains to be seen.
For now I'm just going to enjoy the moment because, I hate to admit, I sort of missed these gatherings during my hiatus. Glad to be back.
Tonight the City of Salisbury embarked on a new chapter in its government as its City Council changed hands. Ironically, the person running the meeting at the beginning would shortly become the city's mayor – Jake Day wielded the gavel for the last time, departing slightly from the agenda to ask for a moment of silence for the people of Paris.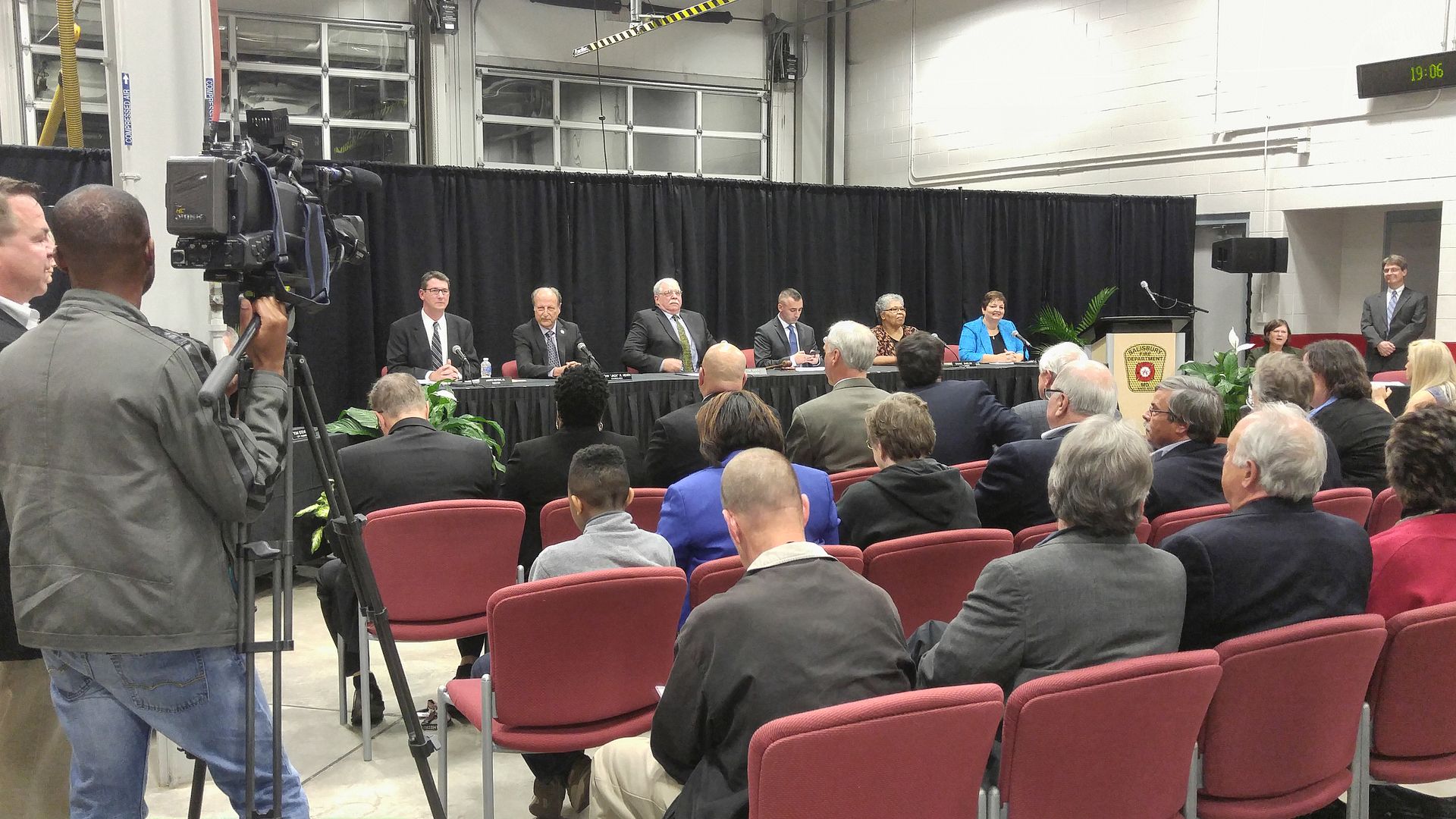 But the first to make comments was outgoing mayor Jim Ireton, who credited the "unsung heroes" who voted for him twice as mayor but "await(s) the incredible things we'll do together" during the next four years. Ireton also noted later that changing just one person on council can make a profound difference in the body.
Jack Heath, who won election to a full term, noted he "came to know the power of the city and the goodness of its workers." The man he defeated, Tim Spies, said the last 4 1/2 years were "good for me" and believed the city had a terrific future, with high expectations. He encouraged more people to make a Monday night of getting to Council meetings, adding afterward it was half-price burger night at the Irish Penny to cap off the evening. Public service for him was "fulfilling" with no end to opportunities, Spies said later.
Outgoing Mayor Ireton noted on Spies, "We would be well to have 33,000 Tim Spieses in the city."
The other Council member leaving, Shanie Shields, vowed "I'm not going anywhere." Not only would she be there for her successors, she planned on using her newfound time to make County Council meetings. In speaking of Shields, Ireton noted that the Salisbury he grew up in was a "place of 1,000 moms" and Shields was one of them. Shields, he added, reminded him never to forget our best work is ahead of us.
Noting the overflow crowd in the garage of Station 16, Laura Mitchell also hoped they would stay involved. "I would love to see more of this." Day wrapped up that portion of the evening to noting Council had "exceeded my expectations."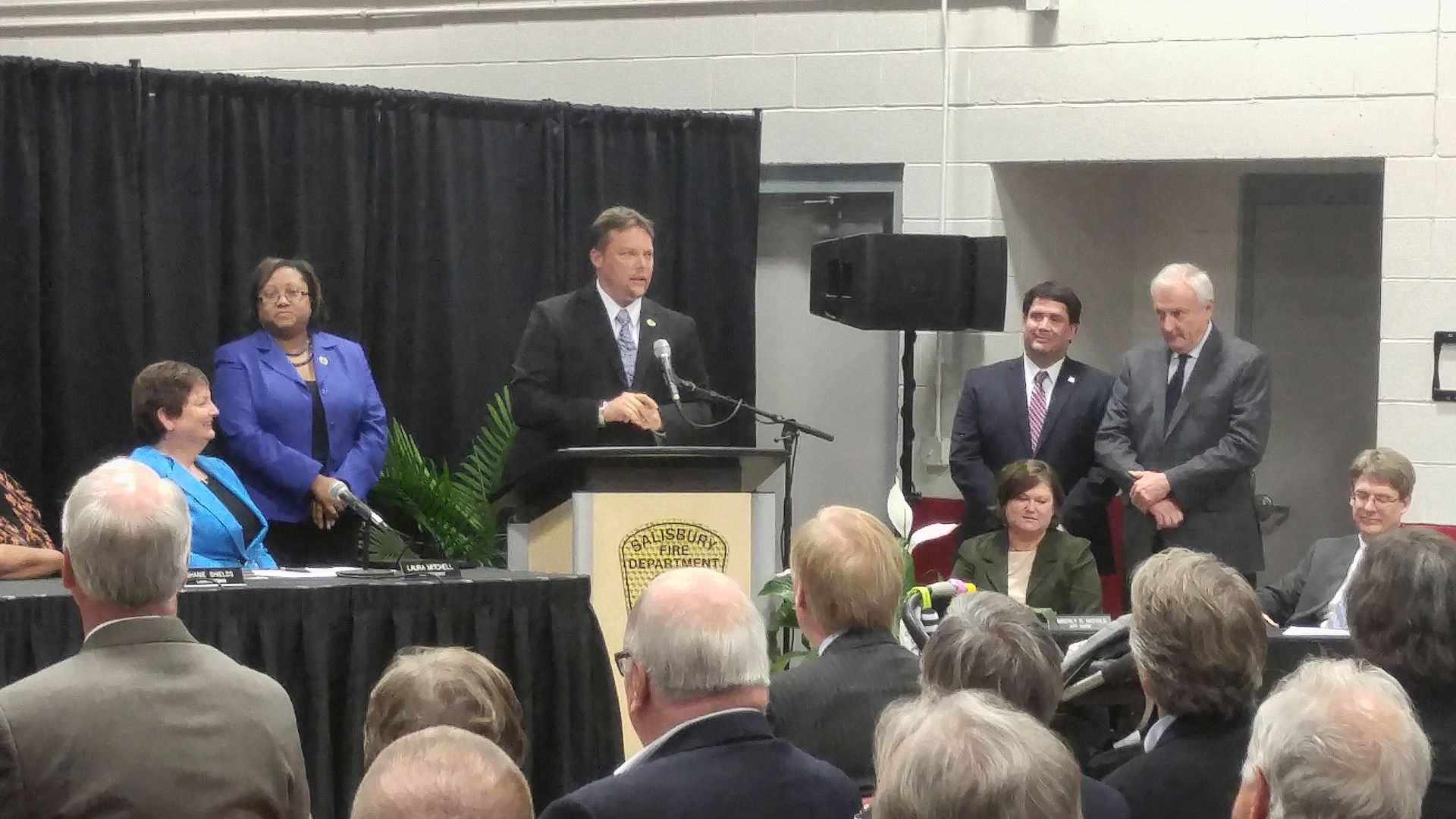 Ireton and Day, with help from Delegates Christopher Adams, Carl Anderton, and Sherrie Sample-Hughes, and Senator Jim Mathias, presented certificates to Shields and Spies. Anderton also revealed to the audience that Governor Larry Hogan had come through his cancer treatment successfully and was deemed cancer-free, which brought rousing applause from the gathering.
Once those who were leaving were honored, it was time to turn the page and swear in the new members. The Council went first, then Jake Day, with his wife and daughter by his side.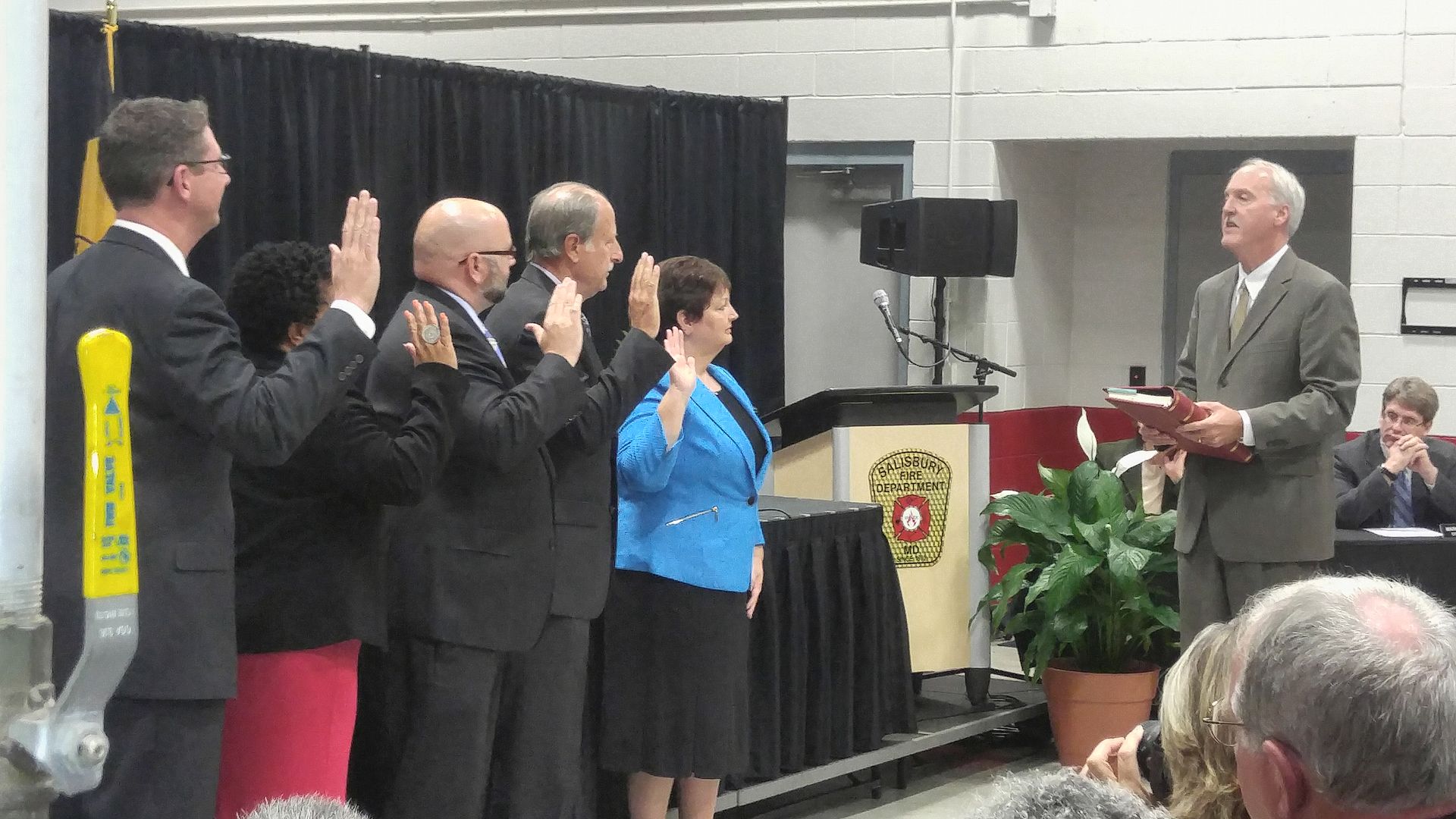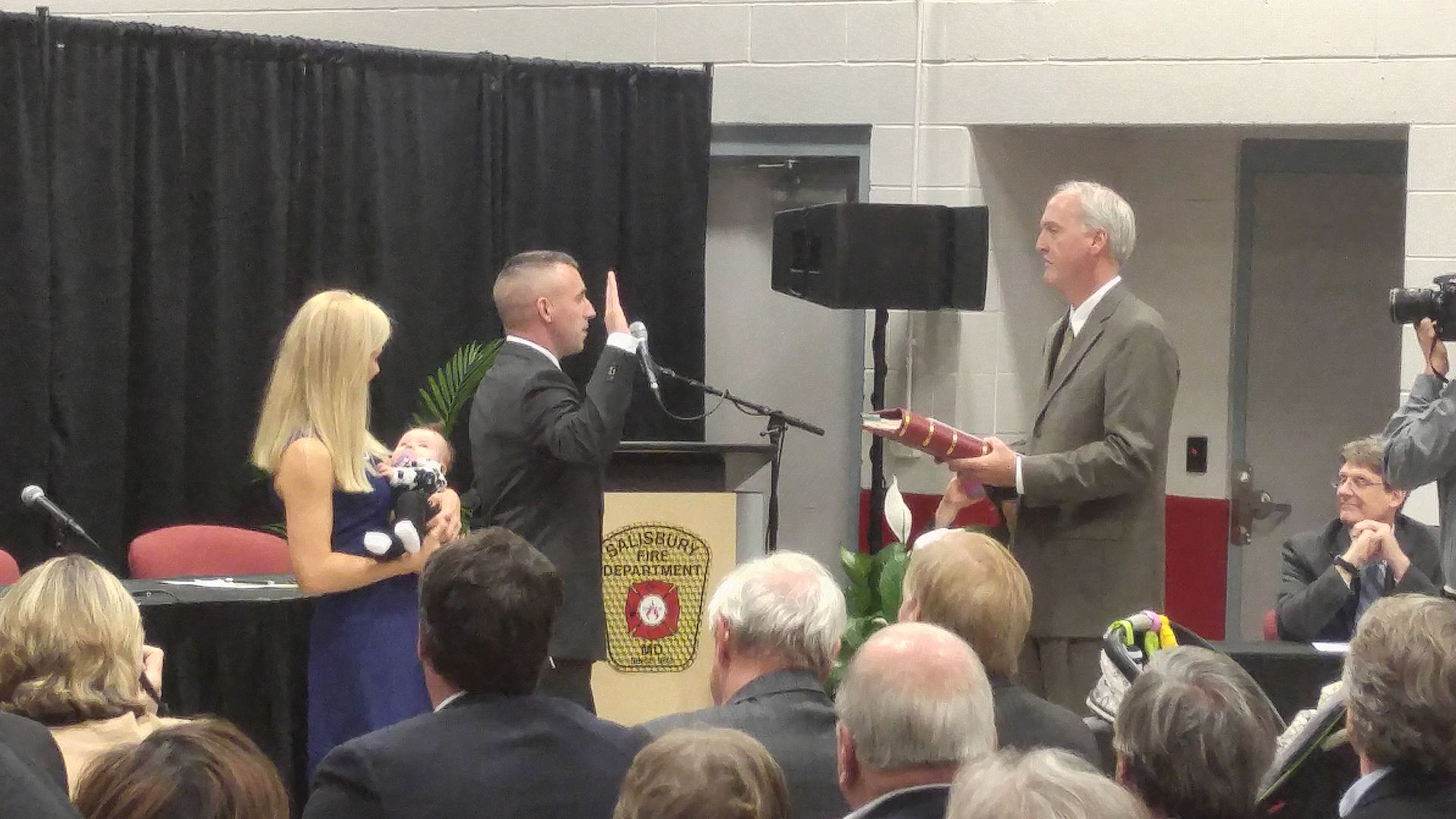 Our featured speaker was Comptroller Peter Franchot, who let us know "I'm a huge fan of Jake Day."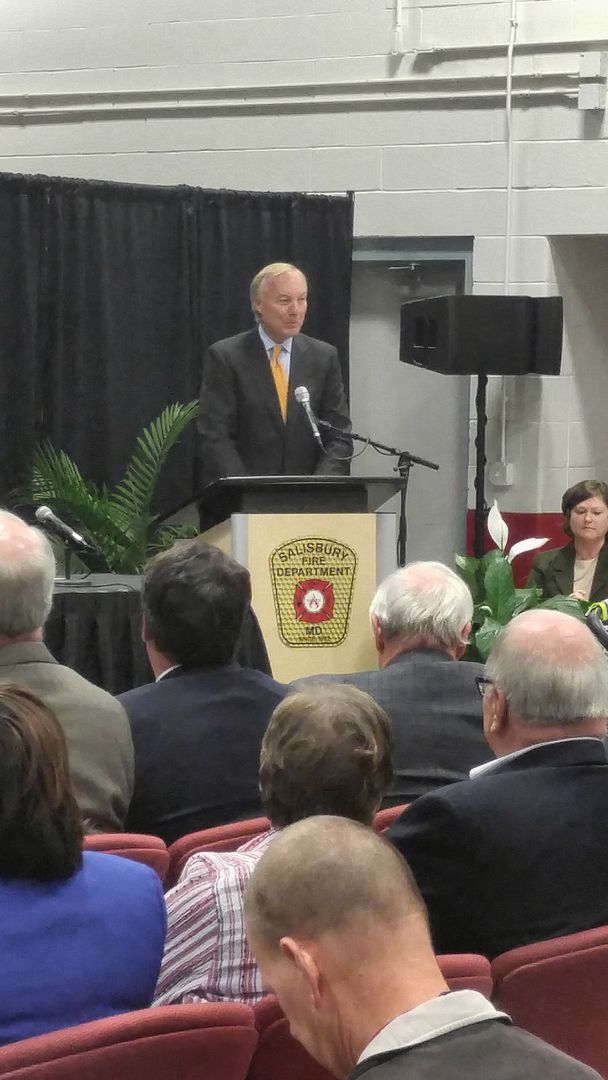 In his relatively brief remarks, he praised Salisbury as "a city on the rise" with "fresh talent (and) new energy." We were crucial to the state's economic fabric, concluded Franchot.
The Council did have a little work to do, though: electing officers. In what turned out to be uncontested votes by acclamation, Jim Ireton nominated Jack Heath to be Council president and Muir Boda nominated Laura Mitchell to its vice-president.
Once again, we heard remarks from the new Mayor and Council. Day made a laundry list of promises, concluding with a vow "we will give you a Salisbury we can be proud of."
It was noted that Muir Boda had won after multiple tries for office, to which he responded, "I'm finally here." Even though it was a long process for Boda, he was nowhere near as emotional as April Jackson, who choked up when she said, "I wish my dad could be here." A well-known community leader, Billy Gene Jackson died earlier this year. Once she regained her composure, she told the crowd, "I'm ready to go. Not to go home, but to get to work!"
As the new Council President, Jack Heath said mutual respect and inclusion was "his pledge." Once he spoke, he rapped the gavel and declared the meeting to be adjourned.
Because it comes on board at this point in the year, the Council will get to ease into its duties a little bit – the city's budget isn't due for a few months. But we will have crime and economic development to deal with, and that's a pretty full plate as well.
I think they'll do just fine. To wrap up, here's a guy I'm proud to call friend, Muir Boda, and his wife Briggit.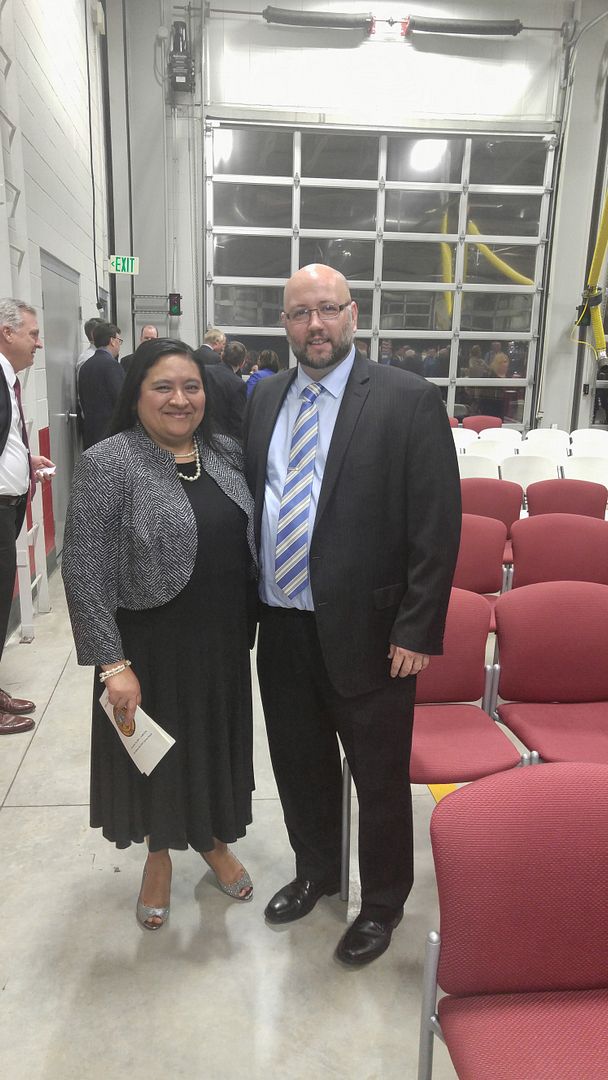 It took six years, but I'm pleased my support finally helped make him a winner. My advice to him? Get used to having your picture taken.
To borrow a phrase from Delegate Carl,Anderton, let's get to work!
By Cathy Keim
Editor's note: It was through complete happenstance that Cathy sent me this account yesterday, but in the wake of the terror in Paris I thought it was incredibly good timing so we can prepare for when our turn comes – and it will come.
Earlier this week I was able to attend a class on Civilian Response to Active Shooter Events (CRASE) sponsored by the Maryland State Police. It was taught by Corporal Ted Antal and Trooper First Class Steve Hallman.
The poster announcing the class states: "The world we live in is changing rapidly and threats to our way of life are all around us. Come out for an evening of learning how to increase your chances of surviving an active shooter event. The Civilian Response to Active Shooter Events (CRASE) course, designed and built upon the Avoid, Deny, Defend strategy developed by ALERRT in 2004 provides strategies, guidance, and a proven plan for surviving an active shooter event. Topics include the history and prevalence of active shooter events, the role of professional guardians, civilian response options, medical issues, and drills."
The class lasted a little over two hours and was packed with information to get you thinking about what you would do to survive if caught in a Ft. Hood, Columbine, Sandy Hook or Aurora, Colorado situation. They made the point that these shooter events are increasing, with 160 Active Shooter Events identified by 2013.
The Department of Homeland Security defines the Active Shooter as "an individual actively engaged in killing or attempting to kill people in a confined and populated area; in most cases, active shooters use firearm[s] and there is no pattern or method to their selection of victims."
The instructors pointed out that an active shooter event (ASE) is different than a robbery or an assault. The shooter's sole intention is to kill, so your strategy must recognize this fact and plan accordingly. They also advised everybody to join the DO NOT NAME THEM campaign. These killers are cowards that want notoriety by their wicked deeds. Do not give them that satisfaction. Do not use their names, as that is what they were seeking.
The next segment of the presentation was very interesting as it delved into the psychology of a disaster response. Amanda Ripley in her book, The Unthinkable: Who Survives When Disaster Strikes – and Why explains how with a little training the brain can function much better when a traumatic event occurs.
She applies three steps to the response cycle:
1. Denial
2. Deliberation
3. Decisive Moment
The faster that you can move through denial and deliberation and get to the action of the decisive moment, the more likely you are to survive the earthquake, fire, or ASE. The instructors used videos, recordings of actual events, and simulations to drive home their points, one of the most important being that Ms. Ripley found: "Most unexpectedly, she discovers the brain's ability to do much, much better, with just a little help."
Despite the horror of the situations that the troopers were presenting, they kept coming back with that point: Training can increase your ability to respond to a crisis. While civilians are not going to have the resources or the ability to access the type of training that the military and police take part in, we are still able to take responsibility for our families and ourselves. Even if somebody is able to call 911 when an ASE occurs, the police will not arrive for crucial minutes. You are on your own to survive until help arrives.
You are not helpless. You can take action to Avoid, Deny, Defend. If you can exit the situation, then do so quickly and then call 911 for help. If you cannot escape, then deny the shooter access to you. Barricade yourself in a room, but don't just curl up in a fetal position. Prepare to defend yourself with whatever you have available. Be creative and think outside the box.
Finally, they reviewed what happens when the police arrive. I found this section very interesting as they explained the priorities of the police. They are not there to help the wounded. They are there to stop the killing. They will not stop, even for an injured partner, until they stop the killers. The logic is obvious once you think about it: if they stop to help people, the killer can continue to kill others. Once the killers are stopped, then they switch to stop the dying, and finally evacuate the area.
For your safety when the police arrive be sure to follow commands, show your palms, and do not move. If you are armed, put the gun on the floor. The police are coming into a dangerous situation and they cannot know whom the bad guys are. Do not complicate the situation for them. They will probably shout at you because their adrenalin is pumping too. Just do what they scream!
Trooper Hallman suggested that you buy some tourniquets and have one in your desk at work and one in your car. Blood loss is the primary cause of death in a shooter event, so being prepared to stop the bleeding from a gun wound can save a life. Sadly, people do bleed to death before the EMS teams can get into the building.
You can purchase a tourniquet that you can put on yourself or another person for about $25. Having some emergency medical supplies in your desk at work, car, and home can save lives.
Another tip that I have heard before is to carry a tactical flashlight. You can temporarily blind an assailant with the bright light and/or you can hit them with it.
None of this information is going to turn you into Rambo, but it could buy you precious time to escape or survive in a disaster. Just taking the time to think through some situations and buy a couple of medical supplies could have great benefits.
A last word from Corporal Antal and Trooper First Class Hallman was that if you are involved in a disaster, be aware that there will be long lasting mental trauma from the event. Be sure to reach out and get the support that you need from professionals, family, or friends.
The next CRASE training is not scheduled yet, but you can write to Trooper First Class Hallman at Stephen.Hallman@Maryland.gov for further information. This presentation is well worth attending.
By Cathy Keim and Michael Swartz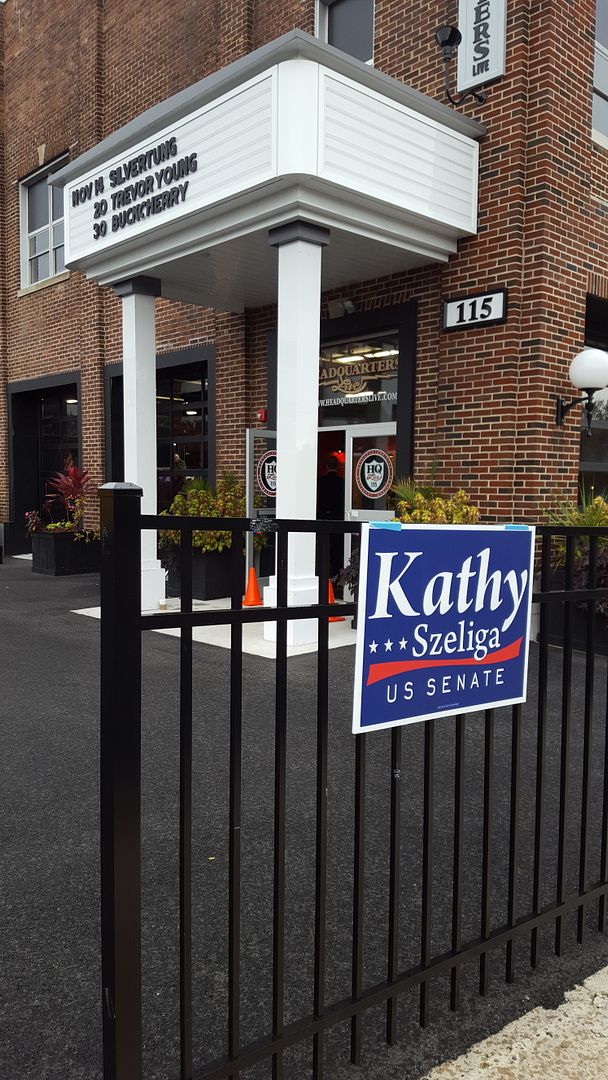 This afternoon about fifty people gathered at Headquarters Live in Salisbury for the Kathy Szeliga for U.S. Senate announcement tour. It was a political who's who for the Eastern Shore with Delegates Carozza, Otto, Anderton, and Adams there to support their fellow delegate, Kathy Szeliga, as she formally jumped into the U.S. Senate race. Also present were State Senator Addie Eckardt, County Executive Bob Culver, County Councilman Marc Kilmer, Sheriff Mike Lewis, and State's Attorney Matt Maciarello.
Congressman Andy Harris started off the introductions for Delegate Szeliga, who once served as his chief-of-staff. He was enthusiastic in his support for her Senate bid.
Businesswoman Michelle Fager was next on the podium proclaiming Kathy Szeliga as the poster girl for the American Dream. Fager related the story about how Szeliga started with very little, but began building a construction company with her husband while raising two sons and going to college.
College Republican Elizabeth Swan followed saying that Delegate Szeliga's life story inspires college students to believe that the American Dream is still alive.
Finally we reached the main speaker. Delegate Szeliga gave a stump speech emphasizing her common man background. She met her husband in Ocean City thirty-six years ago when he was a Bonfire busboy and she made subs. They eloped a few months later when she was only 18. They believed in the American Dream and worked hard to achieve it.
Once they had a construction company, she realized the amount of regulation and paperwork that inundates small businesses. She is for reining in government because of this experience.
She went on to work as Andy Harris' Chief of Staff when he was a State Senator and then was elected to the House of Delegates in 2010.
In her remarks, Szeliga noted things are finally moving in the right direction in Maryland with the election of Governor Hogan, so now it is time to switch to Washington. As a grandmother, she added, you look at your grandchildren and wonder if they will have the opportunities that you had or will they just have a pile of debts? Is the American Dream fading?, asked Szeliga.
It is not too late to turn it around, she said. Szeliga is running with three goals: to improve the quality of life, improve security, and improve the schools. As she described it, the federal government is too big, too distant, and too gridlocked. The paralyzed federal government can't meet our basic needs in the areas of health care or fighting terrorism.
America is exceptional, Szeliga continued. Americans are motivated by love of life, love of family, and love of country, and she will work for these goals. She asked for our votes so that she can go to Washington.
Given yesterday was Veterans Day, Szeliga also pointed out she is an Army brat. Her father served 20 years in the Army, and she didn't meet him until she was one year old because he was deployed when she was born. Moreover, her grandfather signed up on the day after Pearl Harbor and fought in North Africa during WWII. With that in mind, she believed we needed to fix the VA.
Szeliga made a point that Michael has brought up on occasion regarding vocational education. We need kids to consider honorable jobs like plumbing rather than just assuming all the good jobs require a four year degree – after all, you can't outsource your plumbing to China. Every child is unique.
I asked her about a bill she sponsored last year, HB 1513, better known for being the effort to change the composition of the Harford County Republican Central Committee.
Kathy seemed quite perplexed why I would bring up old stuff. I said I was asked to inquire about that. She said that bills often get proposed to start a conversation, but once they get discussed and unintended consequences become evident, then they are dropped. That bill never went anywhere when it was realized that it was not worth pursuing. This is good that many bills never make it out of committee because many of them do not deserve to move forward, but they do allow conversations to occur.
I also asked her about this quote:
GOP lawmakers in Washington currently are divided over an effort to tie government funding to cuts for Planned Parenthood. Asked about the debate, Szeliga said she would support legislation to keep the government open even if the measure did not address funding for the organization, which performs abortions and other medical procedures.
"I think it is unwise to shut down the government," Kathy said. She said that when government is shut down the taxpayers are just giving the government workers a paid vacation, but the contractors and small businesses don't get paid and it is hard on them.
She would be willing to shut down the government in exceptional cases, though.
I should add there were no questions from the floor, so I asked my questions privately later. It was a love fest, not a serious PR time, although the Daily Times had a reporter there and WBOC and WMDT had cameras there.
The Salisbury stop was the last on a three-day announcement tour. And while he wasn't there to make the announcement in person, it should be recorded that City Councilman-elect Muir Boda made his first endorsement as an elected official:
Kathy has served diligently in (the) Maryland House of Delegates and earned her right as a leader in the House of Delegates serving as the Minority Whip. She is an extraordinary legislator and I believe her experience and her abilities will serve her well in the United States Senate.

With all of that said, I wholeheartedly endorse Delegate Kathy Szeliga for the United States Senate. Kathy stands out above all others in the field who are running for the Senate and I firmly believe she is the best choice for Maryland to represent us in the United States Senate.
So her campaign is coming together, although polling would suggest she's slightly behind another (undeclared) candidate for the nomination. With fundraising reportedly off to a strong start, though, Szeliga should be considered among the top tier of challengers for now.
Beginning a three-day announcement tour in Annapolis yesterday, Delegate Kathy Szeliga made what many considered the worst-kept secret in Maryland politics official: she's tossing her hat into the ring for a seat in the United States Senate. But it's not just any seat: if you believe the Washington Post, it's the Mikulski seat.
Regardless, she becomes the first elected Republican to seek the seat, which will probably draw a crowd: ten years ago, the last time an open Senate seat came up, nearly thirty hopefuls – elected officials and perennial candidates alike – took their shot at the brass ring. Eventually surviving the primaries were Rep. Ben Cardin and Lt. Gov. Michael Steele, with Cardin prevailing by ten points on Election Day.
The 2016 version of this scrum may bring three Democratic House members together, as Donna Edwards and Chris Van Hollen are already in and Elijah Cummings is thinking about it. (In turn, this will make next year's General Assembly session interesting as several state legislative members consider the vacated seats.) On the other hand, the GOP side is currently occupied by Richard Douglas, who ran in 2012 but finished second in the primary behind Dan Bongino, onetime Ehrlich administration lawyer Chrys Kefalas, disabled Navy veteran Anthony Seda, and Szeliga. There is also the possibility Harford County Executive (and former State Senator) Barry Glassman may get in, according to this piece at Maryland Reporter.
Some suspected Maryland's lone Republican member of Congress, Andy Harris, would make a bid but it appears he's backing his onetime chief of staff. "I know her to be a tough, smart woman from Baltimore who's not afraid to take on the political establishment to get real results for Maryland families," said Harris in a statement.
Meanwhile, it didn't take long for the candidate to fire up the e-mail appeals. If this is her basic message, she seems to riding the populist wave (as opposed to full-throated conservatism.) Here's a sample.
We have a paralyzed government incapable of solving even our most basic needs. I for one can no longer standby (sic) waiting for those we've sent to Washington to solve our problems, because they haven't. And I'm not naïve enough to think I can just ride into the Senate on a white horse and do it all by myself. It's going to take a lot of new people who aren't professional politicians to step up – average citizens with college degrees and others without. Goodness knows, they can't be any worse than the gang running things now!

Deep in our hearts, most of us – regardless of political preferences – believe in the promise of America and the power of the American Dream. We are agents of change motivated by our love of God, family, state and country. We want to rediscover a way of life as it used to be; when things really did work.

I want to serve in the US Senate to champion those forgotten Americans who are decent, responsible citizens yearning for the opportunity to work hard, pay the bills, raise a family, live a full life and yes, dream again what we seem to be losing – the American dream.
Unfortunately, when she comes to Salisbury tomorrow I can't be there, so I'm doing the next best thing and sending my cub reporter. I think Cathy will give me the coverage I need as a vital race begins to take better shape.
Last night about 120 people enjoyed hearing from both Sheriff Mike Lewis and Congressman Andy Harris, as well as words of wisdom from our sixteenth President. Here he waits his cue to walk into the gathering.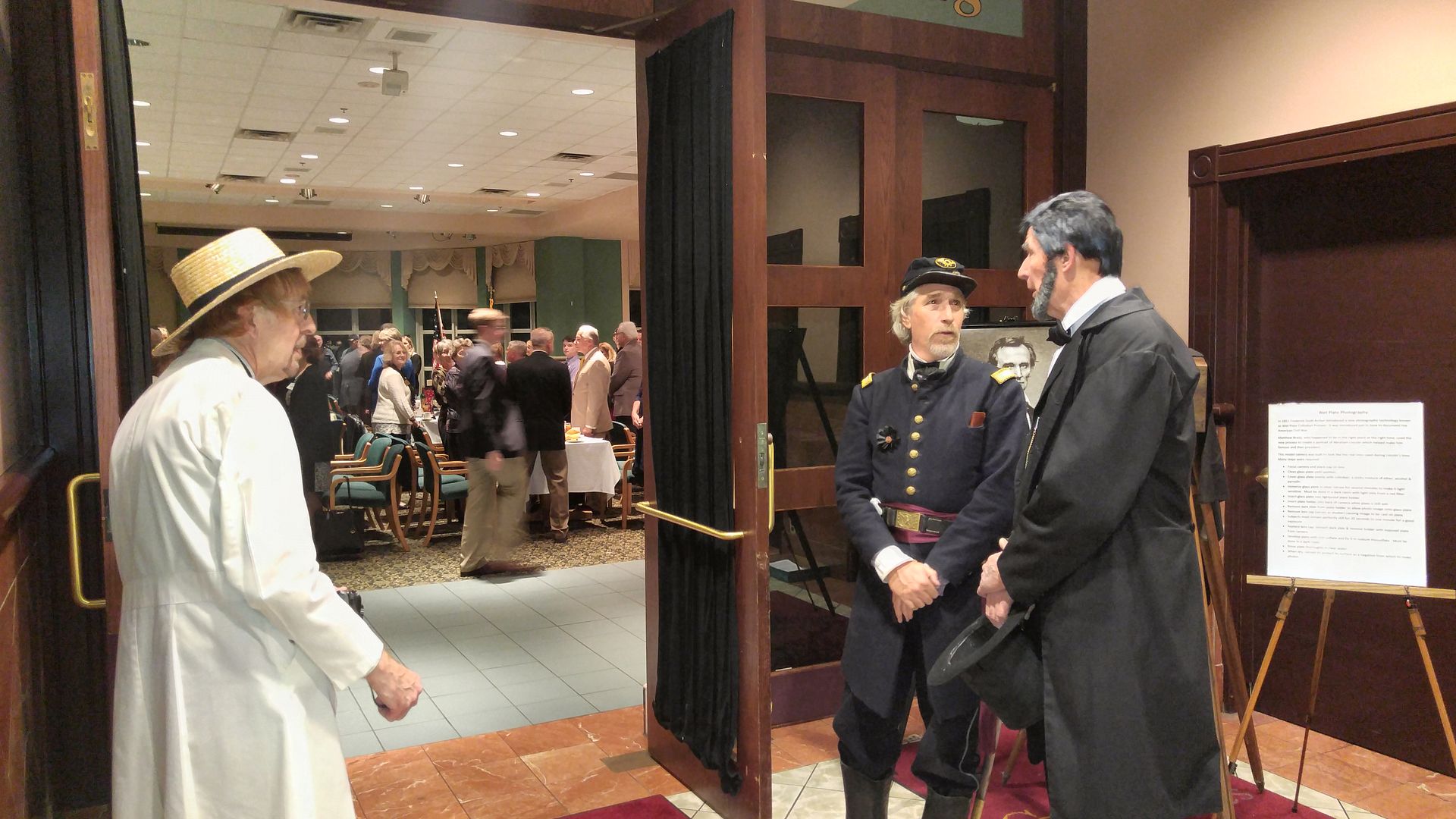 For me, this year was a little different as I subbed for our treasurer, who usually checks people in at the door. So I saw pretty much everyone who came in – actually, on my arrival I stopped Salisbury City Councilman-elect Muir Boda and his wife from going to the wrong floor. We were literally the first three there.
So by the time Lincoln and his band of Union irregulars arrived, we had a pretty full house.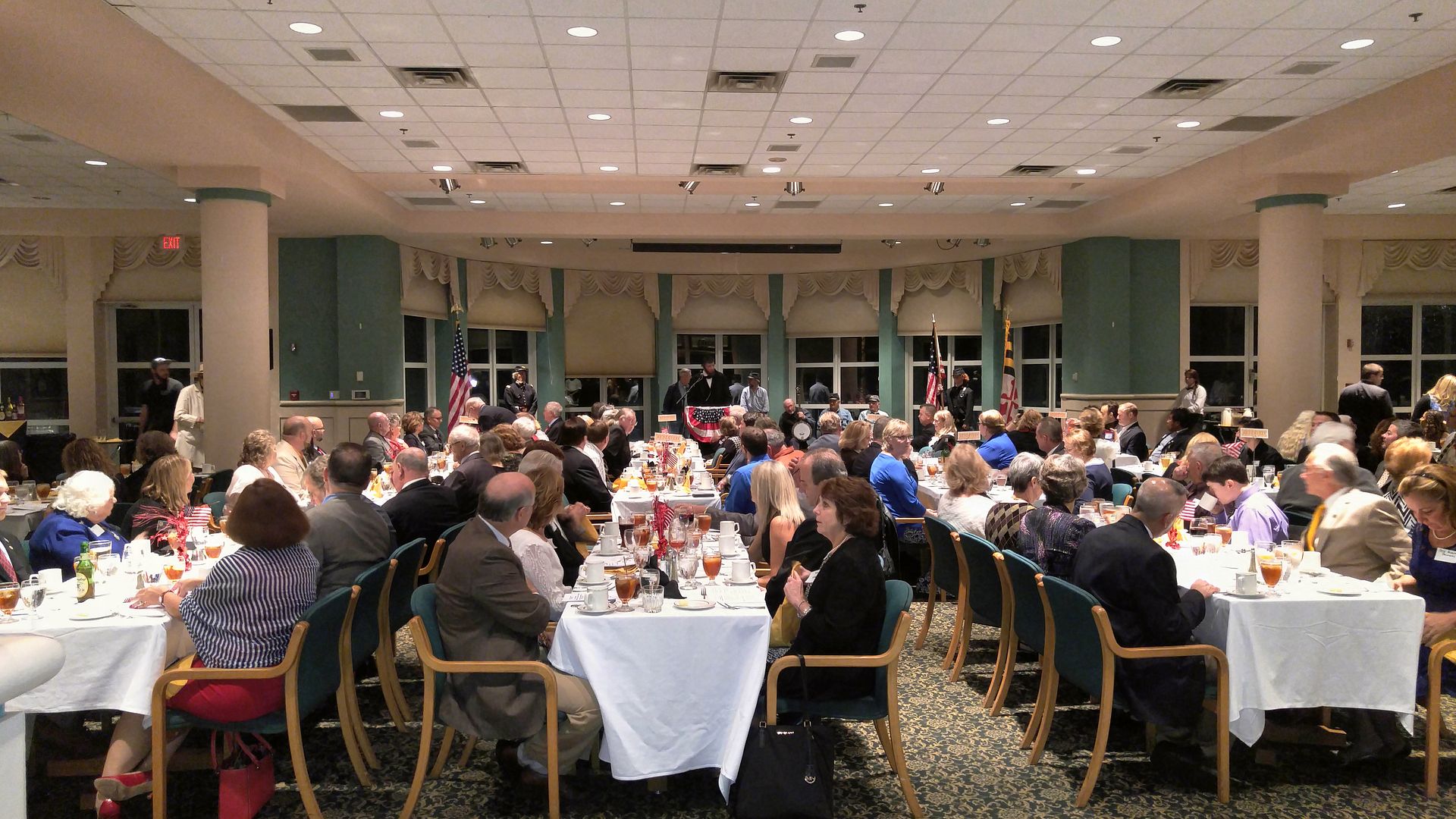 It should be noted that most of those present were from Wicomico County, but we also had contingents from surrounding counties as well as a table from Montgomery County. We also had state leaders from the Maryland Federation of Republican Women and state GOP Chair Diana Waterman.
Now because I was wrapping up my duties with a couple stragglers, I didn't catch all Lincoln had to say. But I recall he spoke about the press of the day, how candidates were vetted in an age when communication was becoming faster but still could be measured in months, and compared how voters were informed and educated then to now.
I finally got to relax, eat, and enjoy what Sheriff Mike Lewis had to say.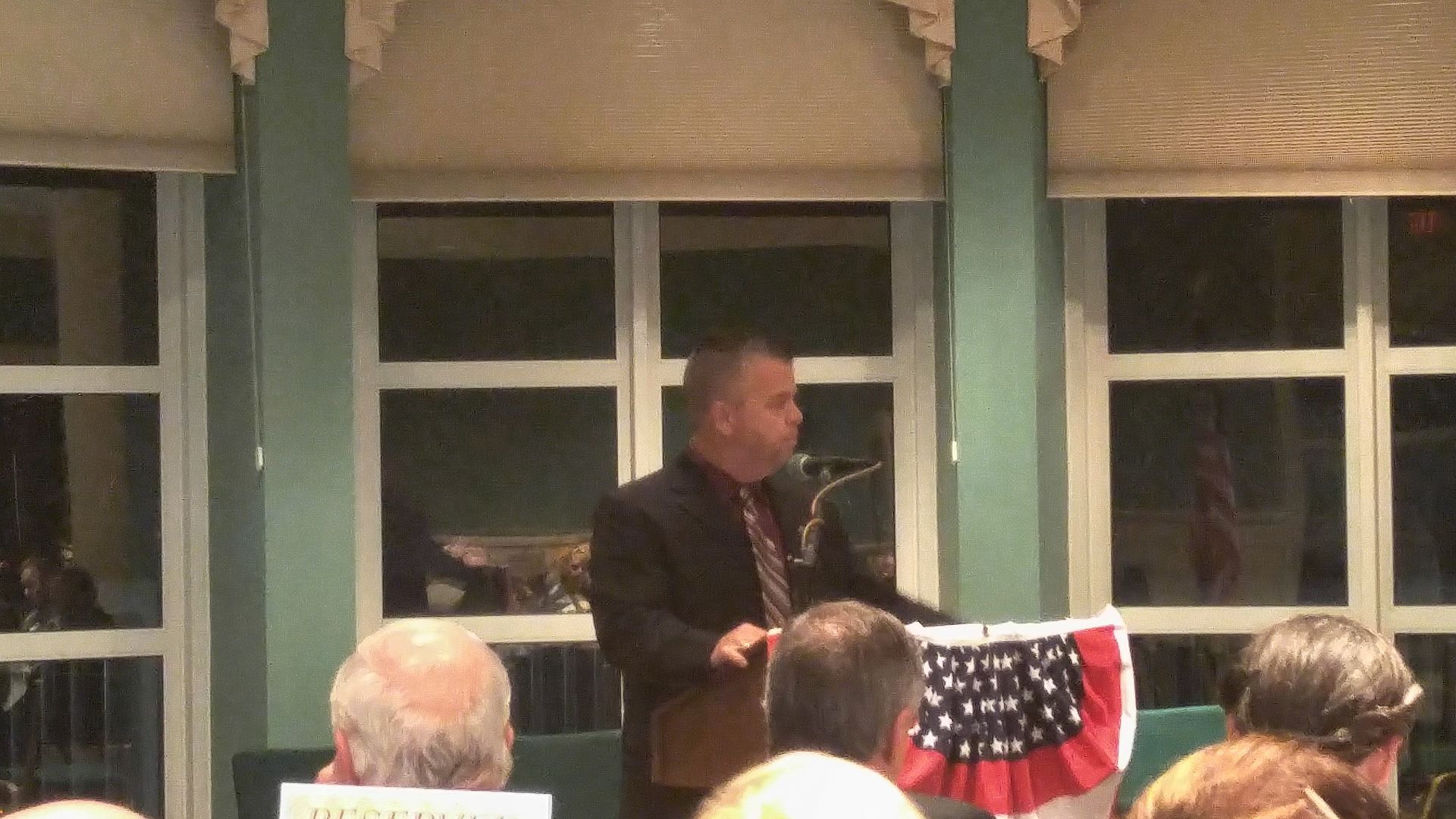 Lewis praised the Salisbury University College Republicans for their involvement, saying they "have to speak up" as representatives of their generation. Next year's election will be "the most important day of our lives."
Reflecting on his fairly recent fame – he just returned from a speaking engagement in Fresno, California – he noted they were trying to recruit him to run the Fresno Police Department but he had no desire to leave Wicomico County. "I'm extremely humbled" to be sheriff, said Lewis.
Mike pointed out that gun violence in Maryland was on the increase despite the passage of Senate Bill 281 in 2013, which he added was promoted by the sheriffs in both Baltimore City and County. So far in 2015, though, shootings have increased in Maryland from 725 to 1,161 while homicides have risen from 314 to 459. "Thank you, Governor Martin O'Malley," said Lewis, tongue firmly in cheek. The sentiment of "thank God for Larry Hogan" was much more sincere.
Lewis blamed "failed Denocrat leadership" for the woes in urban areas like Baltimore, Chicago, and Detroit. On the other hand, Lewis believed America needed statesmen in order to return our liberty and restore us to being the land of the free.
Turning to the drug issue, Lewis called State's Attorney Matt Maciarello "a tremendous partner" in the drug fight. It's a fight which has struck home for many in the area – Lewis has a 38-year-old niece who he had to lock up again for possession. "She doesn't want our help," said Lewis. He also related the story of the grandson of a terminally ill man who removed the elderly man's morphine drip and stuck it into his arm.
Politically, Lewis believed we needed to identify key people to represent "Eastern Shore values" in our government. "I'm so concerned about the lack of patriotism" in this country, said Lewis, calling on us to "make sure you vote right."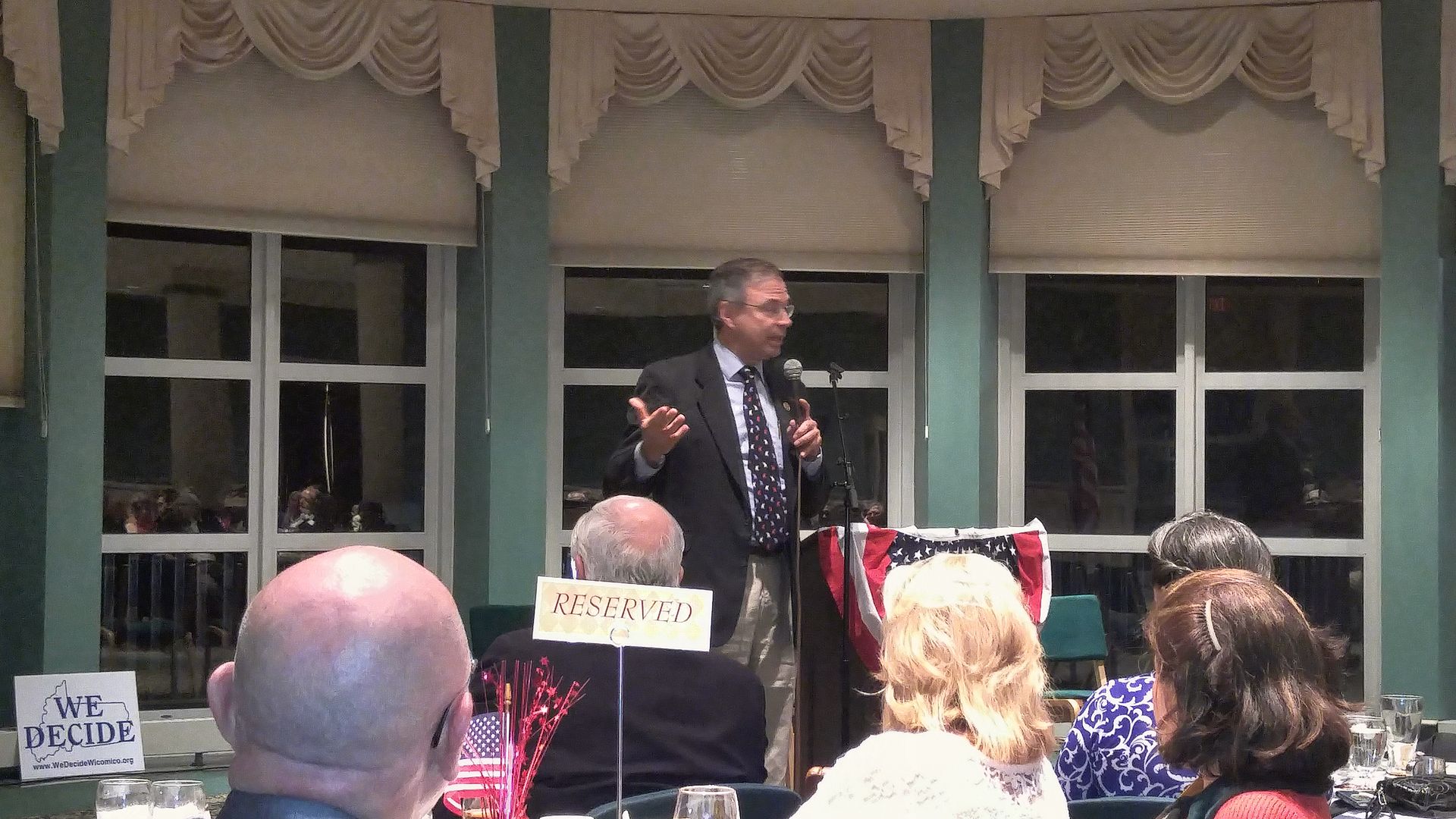 Lewis yielded the stage to Congressman Andy Harris, who was praised for being "incredibly optimistic" by Wicomico County GOP chair Mark McIver, who served as the emcee for the event.
Harris picked up Lewis's baton on the drug issue, saying we needed to "do all you can" to keep drug legalization from the Lower Shore. The District of Columbia "made a big mistake" on marijuana, added Harris. While the merits of medical marijuana were up for debate – Harris seeming to be on the skeptical side – his fear was having a workforce too stoned to be productive.
Changing gears, Harris noted that the "true blue" states of Massachusetts and Maryland now had Republican governors. He chalked it up to a situation, more specific to Maryland, where "government has failed them entirely." Electing GOP leaders was "no accident," he added.
Showing his optimism for 2016, Harris said, "I think things look good, actually." He also believed our late April, winner-take-all primary was key in an election where he noted Karl Rove thought there was the possibility of no candidate having enough delegates to win on the first ballot.
Andy went on to speak about the Republican field's diversity, pointing out Ben Carson was "the most serious African-American candidate" in history. This was intriguing because Carson, who Harris said he'd known since the early 1980s, was the "farthest person from a politician you could ever get." Moreover, with two Hispanic candidates the possibility was there to secure 40% of the Hispanic vote, which was the fastest-growing minority bloc.
As for the U.S. Senate race here in Maryland, on the Democcratic side Harris described Chris Van Hollen as "the consummate insider," while Donna Edwards was "to the left of Bernie Sanders." Elijah Cummings could get in the race, but there was the issue of his reaction to the Baltimore riots. "You own it, Mr. Cummings," said Andy.
Harris then revealed that Delegate Kathy Szeliga would be here in Salisbury Thursday afternoon as part of a statewide tour to promote her U.S. Senate bid. If she wins, said Andy, "Maryland is no longer a blue state." He called Szeliga "the Joni Ernst of Maryland," referring to the Senator from Iowa elected last year. "We can't keep doing business as usual in Washington," concluded Harris.
Despite the previous admonition by McIver that neither Lewis nor Harris would take questions, Harris took them anyway. First out of the chute was how Paul Ryan won him over.
Ryan was an "excellent" choice for Speaker, with Harris arguing he's "not a moderate."
But this led to a more philosophical answer, with Harris believing Ryan could unite the House and re-establish the "natural tension" between the legislative and executive branches, rather than the artificial battle between parties that Barack Obama and Harry Reid took advantage of to amass power for the executive branch. He opined that legislation from the House will be conservative, even with some Democratic amendments, but this was a way to make the House united.
The way John Boehner did things, contended Harris, was "not the way to do business." He used that example to answer the next question about government shutdowns, saying that you can't embararass the Senate into action with just a few hours to act. Ryan would work to do things in regular order, which puts the onus on the Senate to act.
Harris then answered a question about why Congress is held in such high disregard by the rest of government by claiming "bureaucracy has become the fourth branch of government." He called on the next GOP president to be "merciless" in cutting bureaucracy.
Finally, in answering a question about VA treatment, Harris made the case that a veteran from Princess Anne shouldn't have to drive by a care facility in Salisbury to go to a VA clinic up in Baltimore. When an average VA visit costs $250 compared to $65 to $85 in the private sector, "it is time we privatize" VA health care.
(Funny, some guy I know wrote a book three years ago with that same idea, among others. But I wasn't standing behind this podium.)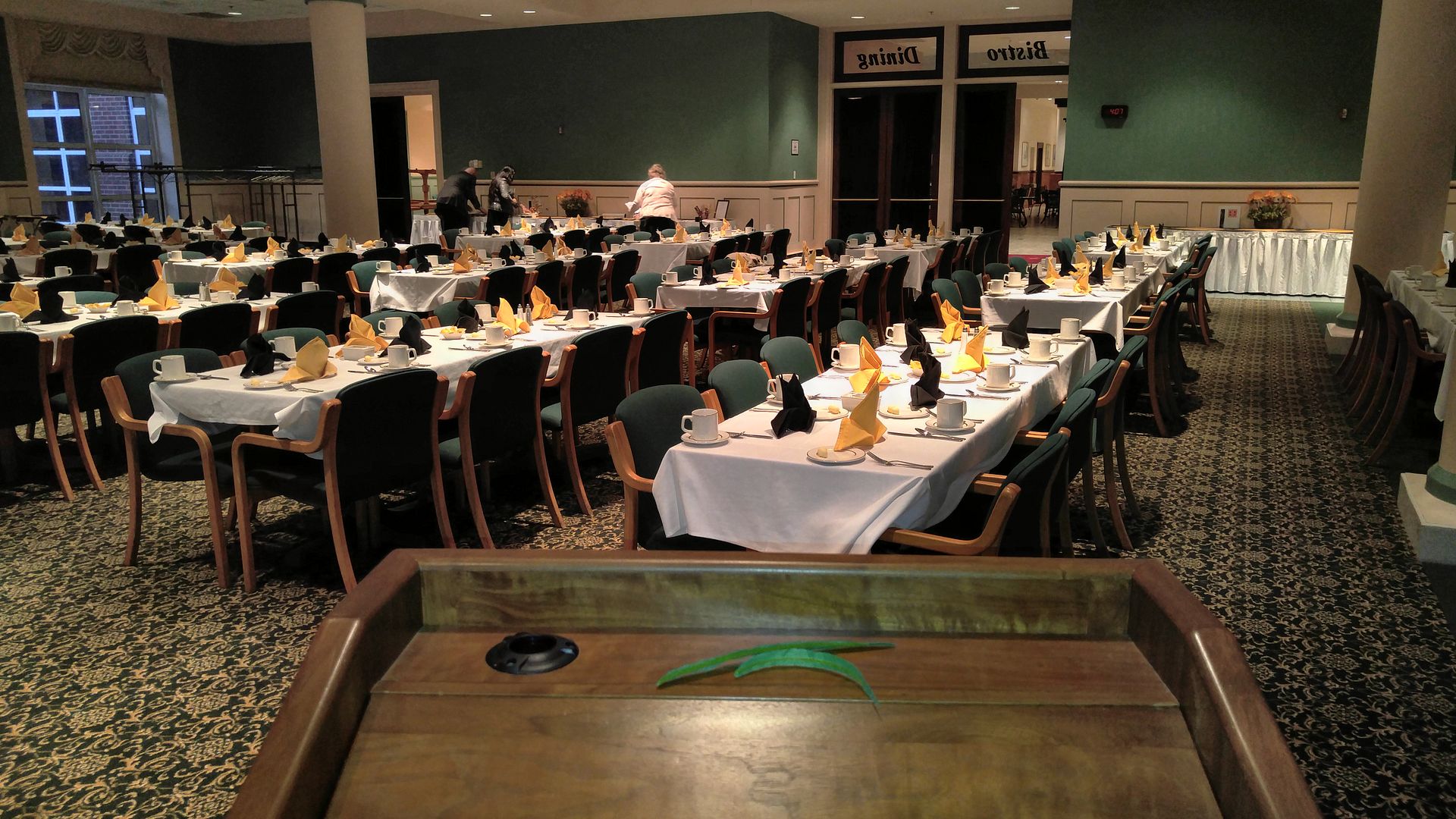 One other aspect of the LDD worth mentioning is the silent auction, where we had a table full of items from books and gift baskets to experiences such as lunch at the Capitol Hill Club or shooting with Harris or a State House tour and lunch with Delegate Carl Anderton, among many others. That turned out to be a success, too. I thought I had a photo of that spread but turns out I didn't. Oh well.
The SU College Republicans also did some fundraising, doing a pay-per-vote poll for President and selling T-shirts.
We may stay with this fall date next year, although it may wait until after the election – meanwhile, we may do a second fundraiser in the spring/summer. It turned out to be a good event to continue building on, so we shall see how we ended up doing when the bills are paid.
Without doing a full rehash of Election 2015, there is a further observation I have about the recent election here in Salisbury and the effect it will have on local politics at the club level. It also gives me the excuse to work something else in while I'm at it.
Second only to Jake Day, the story of Tuesday's election seems to be Muir Boda. He's the epitome of perseverance, having run four previous times for office yet never winning (even though I voted for him most of the time.) But at the same time, City Council's gain will be the Wicomico County Republican Club's loss, since he's the second-in-command there and both bodies meet on the fourth Monday of the month. He wasn't elected by District 2 residents to run our meetings when the president is away.
It brings me to a point I think it's time to make.
There are a lot of Republicans and GOP elected officials in Wicomico County, and we're graced by the presence of many of them each month at the WCRC meetings. Over the last decade, though, it seems to me that the number of elected officials getting out to the WCRC monthly meetings has increased but the number of overall attendees has decreased. Our meetings generally attract between 20 and 30 people, which is only about 1/10th of 1% of the total number of Republicans in the county. (As of September, that number is 20,943.)
While the faces at the top have changed (two members of County Council are recent past WCRC presidents, along with the woman who managed Boda's campaign) there are others who have been in a leadership role for years (myself included.) It sounds like that is also the case for the Republican Women of Wicomico (RWOW), which has dwindled down to a few members and is in serious need of a reboot – which some enterprising women are trying to provide before the group loses its charter.
Leadership of our club seems to be a springboard to future political success, but aside from the diehards who come to the meeting each month it seems like we aren't registering with Republicans at-large in the county.
2016 will be an important year for local Republicans in just one area. We have no local races and it's rather likely we will continue a nearly 30-year streak of voting GOP at the top of the ticket, so the suspense may well be whether we get the referendum we have sought in order to elect our school board.
But just as the RWOW group needs some new blood, so does the WCRC. It's a classic chicken-and-egg problem, though – how do you recruit new members to expand events and outreach without burning out the ones you have? Ideally there would be 20 to 30 people instrumental in growing the WCRC, not just a handful. We just seem to keep losing them to elected office, as now we will need to replace Muir Boda.
It seems to me the time has come to discuss where we are as a group. Sure, we raise a lot of money at some of our events but what are we doing to advance other conservative causes? Do we just continue to slog along, meeting once a month, holding an annual Crab Feast, and bemoaning our fate otherwise? Or do we try some different activities, get into more issue advocacy, and try to embed ourselves into the community more?
It wouldn't shock me if a lot of our current members are fine with the status quo. There have been various ideas tried from time to time, but they don't seem to catch on very well among the group. Maybe all we will ever be is what we are now, particularly as political discussion often runs afoul of tolerance.
While the WCRC certainly has had staying power, there is nothing necessarily permanent about it. Perhaps it will slip into the dustbin of history as a relic of a bygone age when being social meant actually getting up from your chair and out from behind your iPad to actually converse with real live humans. Who knows – we may be eventually morphing into a simple Facebook discussion group. (As an example, do you remember Meetups? When was the last one you participated in?)
In life, nothing lasts forever. (My faith allows me to believe otherwise afterward, but I'm discussing worldly things at the moment.) If you ask me, next year is a make-or-break year for the Wicomico County Republican Club.
Republicans in Wicomico County have an advocacy group, but like Benjamin Franklin once said about our republic it's only around as long as we can keep it. What I wish for the group is a team of leaders and idea people who want to take on the challenge of making ourselves relevant again, not just being the conduit for campaign funds.
I've lost track of how many WCRC meetings I've reported on but I would guess it's been at least 80. At some point, though, we all have to move on so when that last meeting I cover comes and goes I want to leave things in better shape than when I arrived.