Returning to the Shorebirds' fold after a trip to the disabled list and month-long reassignment to Aberdeen, Jake Bray picked up pretty much where he left off by tossing two scoreless innings against Lakewood on Monday.
Injuries such as the oblique strain that kept Jake out for 6 weeks are, unfortunately, nothing new for him. He got off to a promising start after being a 12th round pick in 2013 out of California's Feather River College with 12 solid GCL innings but was out for the entire 2014 season. Bray basically had to start all over in 2015 and did so impressively, with matching 0.87 ERAs at both the GCL level (20 2/3 innings) and Aberdeen (10 1/3 innings.) Even more eye-popping is 11 career walks in 66 innings pitched – in his first 24 pro appearances a walk blemished his linescore just twice, in 2015. (Bray allowed zero walks in 2013, in 12 outings.) One can argue that he's strictly a one- or two-inning relief pitcher so walks are minimized in those situations, but thus far Jake has managed to have good control yet not give up a lot of hits. (49 in 66 career innings – so his career WHIP is under 1.)
So in recovering from his latest setback down in Aberdeen, Bray had some uncharacteristically high numbers, such as a 5.06 ERA in eight appearances there. Much of that damage, though, came in one bad outing July 23 (4 ER in 1 1/3 innings.) Here with Delmarva Bray has managed to keep his numbers in line with his career means, with a 1-0 record and 1.46 ERA in 9 appearances covering 12 1/3 innings. SAL batters are a little more selective, though, as Bray has allowed five walks in that span (but no more than one in any appearance.) However, Jake has given up only 9 hits while striking out 14, so his stuff is still playing well at this level.
Bray will turn 24 over the offseason, and it's unfortunate the injury bug got him again because this level seems to be a good test for him. I think there may be some more innings in store for him post-season in the instructional league – he's probably not quite ready for the Arizona Fall League, but that could come next season if he can repeat his success in keeping his control numbers going.
Jake is the penultimate Shorebird of the Week – next week will bring the series to a close after 11 seasons, with the Shorebird of the Year season review the following week and picks and pans wrapping up the season September 15. With the likelihood of playoff baseball getting slimmer by the day, Delmarva's long offseason will be setting in September 6.
It's a little ironic that I select Ricardo Andujar as the SotW the day after the Red Sox swept the Orioles in a two-game series at Camden Yards. While the losses did damage to the Orioles in the pennant race, perhaps someday they can get a little revenge in knowing they took a solid player from the Boston fold. In June of 2012, Ricardo began a two-season stint in the Dominican Summer League as a Red Sox prospect, but after hitting just .214 in two seasons there the Red Sox let him go. Baltimore signed him for the next summer (2014), Ricardo figured things out (hitting .318 in 63 games), and two seasons later with a stop at Aberdeen thrown in, Andujar is one of the better hitters on the Shorebirds with a .255/2/20/.627 OPS slash line in 87 games.
Granted, Ricardo is old for this league (he turned 24 earlier this month) and was a comparatively late Dominican signing as he started pro baseball at the age of 19. But he fills that gap that teams need as a utility infielder with speed – so far in 2016 Andujar has made 36 starts at third base, 28 at shortstop, and 23 at second base. Judging by statistics, he's probably best suited for second base but has managed to find plenty of playing time from his fellow infielders by being a reasonable alternative at the three positions. And while he won't wow you with his power, Andujar seems like the kind that might sneak in a half-dozen dingers a season but is more likely to swipe a couple dozen bases. Between Andujar and center fielder Cedric Mullins (25 steals) they have about 3/4 of the stolen bases among those on the active roster.
If it seems like Andujar has snuck up on you, it may be true. At the end of May he was stumbling with a .225 average, but since the first of July he's hit an even .300 in 34 games to push close to his career mark of .263 overall. With about three weeks to go in the season, he has a decent shot to finish with a batting mark right around .263 and earn a shot at the next level. As I've mentioned before, a high batting average is not as necessary for success at the big league level if you have the versatility to play multiple positions. A little work in the outfield in coming seasons and Ricardo can have a long career as a jack of all trades. We'll see how he develops.
Perhaps the most deserving – but hitherto not honored – Shorebird of the Week this season has been pitcher Brian Gonzalez. Among the Shorebird hurlers, Brian has been perhaps the most consistent starter with a 7-7 record but a 2.59 ERA and 1.32 WHIP in 22 starts covering a team-leading 121 2/3 innings. Brian has fanned 92 and walked 49 – not bad for a pitcher who's not yet turned 21 and is still a couple years younger than league average.
You may recall a couple years ago when the Orioles signed free agents Nelson Cruz and Ubaldo Jimenez that those signings cost the O's their first two draft picks in the 2014 draft. So despite being a 3rd round selection, Brian was Baltimore's first choice that year. After getting his feet wet with 33 2/3 innings split between the Gulf Coast League and Aberdeen that season, the Baltimore brass threw Gonzalez to the wolves in 2015 by bringing him to Delmarva – and arguably he wasn't ready, finishing a tough campaign with a 4-9 record and 5.71 ERA in 23 starts. In 105 2/3 innings, Brian allowed only 98 hits but walked 59 to give him a WHIP of 1.49.
This year, repeating the level, he has thrown 16 more innings in one fewer start, struck out 11 more batters (relatively consistent) but walked 10 fewer. He has allowed about the same number of hits per nine innings but learned to mitigate damage by walking fewer batters and allowing just 4 home runs, compared to 8 last season. All in all, it's been a solid second season for Gonzalez here and if he's not promoted for a couple late-season starts, once 2016 ends I don't think we will be seeing him back here unless it's for a rehab assignment. As a third-round pick and leader of that draft, the expectations are high for Gonzalez - especially with the failure (thus far) of 2013 first rounders Hunter Harvey (multiple injuries and now surgery) and Josh Hart (hitting just .193 at Frederick.) 2015 first rounders D.J. Stewart and Ryan Mountcastle have spent time here this season, although Stewart was promoted to Frederick in June.
Brian, though, is also the poster child on why this SotW series is coming to an end after the 2016 season. The photo I'm using comes from a start in April, 2015 – having such a bad season, I did not pick Brian as a SotW last year so I dug through my old SD cards and fortunately found this photo. In 2016, though, he's been the most elusive Shorebird player: he seems to start games I can't make it to for some reason. Out of 12 games I've attended, he hasn't played in one. I have been meaning to pick him since May as he got off to a great start, but couldn't connect. Now he gets his due.
With the recent promotion of Yermin Mercedes, it's fortunate that the Shorebirds have a batter who is on a tear at the plate. While he doesn't present as much of a power threat, there's no denying Randolph Gassaway is on a roll with an 11-game hitting streak in which he's batting .439 (18-for-41), bringing his average up over 60 points in the process. As of yesterday his slash line was .337/1/3/.817 OPS in 25 games since being promoted from Aberdeen (where he began the 2016 campaign going 8-for-18 in 5 games.)
If the name seems vaguely familiar to Shorebirds fans, it's worth pointing out that Gassaway was on the Shorebirds' disabled list for several weeks in the 2014 season, never appearing in a game here. He was sent on a rehab assignment to the GCL Orioles before being redirected to Aberdeen for the rest of the season. In 2015 he spent the season with the IronBirds, hitting .273/0/22 in 60 games and splitting his time between corner outfield positions.
Originally drafted in the 16th round by the Orioles in 2013 out of Riverwood High School in Sandy Spring, Georgia, Gassaway started out as a first baseman but has found a home in the outfield since his second year in the pros. He replaced the promoted D.J. Stewart in left field for the Shorebirds (even wearing the same jersey number) and has played a clean 23 games so far. With another 30 games or so left in the season, it's possible that Randolph can get around 200 plate appearances for his Shorebird campaign as a good audition to begin next season with his first full-season team, perhaps in Frederick. Having just turned 21 earlier this season, he's gained enough experience to get his chance. The question is whether he can take advantage of his size (Gassaway is listed at 6′-4″, 210 pounds) to get more of a power stroke – he's been more of a gap-to-gap doubles hitter in his career, projecting out to about 30 in a full season so far in his career.
It's been a slow climb with a couple detours for Gassaway, but he has the potential to move up quickly for 2017 if his hot streak becomes a consistent .300 average the rest of the way.
This evening I may have made some of the more radical Trumpkins happy: I resigned from the Wicomico County Republican Central Committee and as an officer of the Wicomico County Republican Club. It was the time of my choosing.
My original draft of this piece was much more angry and bitter, but I think now on reflection that it's just a mounting frustration with all things political. I can see the iceberg as I'm standing on the deck of the Titanic but no one hears my warnings.
This is the time of year that I normally would begin the process for putting together volunteers to help out at the Wicomico County Fair, Good Beer Festival, and Autumn Wine Festival. But after a lot of thought, I realized that I would be lying to myself if I thought I could sit at a Republican table and hand out signage and trinkets for a candidate who I cannot support in Donald Trump. It got me thinking that we supposedly have all these new people who are willing to support Trump but would not support previous Republicans we worked hard to elect, so they can take over that duty.
In the last few months I have made a number of steps on my life journey, deepening in my faith. Now I understand I should be the forgiving sort, and if the reported conversion of Donald Trump to be a "baby Christian" is the truth, then I am pleased to hear it. But there also have to be deeds associated with the words, and the problem I have with Trump is that his version of the truth changes like most people change their socks. I find the lack of consistency to be an issue; while I know no one is perfect I would at least like to see him work in that direction. To borrow from the message I listened to Sunday on 3 John, Trump to me is still more of a Diotrephes and not enough of a Demetrius.
Because of that change, I've also realized that the party I have occupied for most of my adult life (aside from the two years I was classified as a Democrat because of my own Operation Chaos I did as a college student) has moved away from me. A party steeped in conservatism and willing to stand up for Judeo-Christian values would have laughed Donald Trump out of the race before we even counted the votes in Iowa because he has very little of either. And while the GOP talked a good game over the last eight years saying what they would do for the sake of government restraint via conservative principles if they were given enough power, their rank-and-file voters (well, the plurality of rank-and-file voters) decided to select a candidate who is, on balance, not for limiting government or for conservative ideals. This group of 44% of the Republican voters instead elected a television star and huckster whose claim to fame is a brand that's always for sale; a man to whom practically everything is negotiable at some point. Call me hardline, but I have principles that are not negotiable.
Trump is correct in noting that he was running for the Republican Party, not the Conservative Party, but until he came along during most of my life it was understood that the Republicans were the conservatives. Not anymore.
So I have become a free agent. A party that embraces Donald Trump is no party for me. Certainly I will lean heavily to the right, but I think it's time I freed myself from the shackles of having to be a spokesperson for a party that nominated so poorly for the top of the ticket.
While I am at it, I have to make a couple other observations. There are a lot of Trump supporters who are vowing not to support Larry Hogan in 2018 because he won't vote for The Donald – a stand from Hogan that I applauded and let him know that I did. So let me ask them: are you going to find a primary opponent? I can't wait to see that one. While I'm not the greatest fan of everything Hogan has done, I must say that you Trump backers are looking up the wrong hill to die on. If you want to push Hogan to the right, it's called giving him more conservatives in the General Assembly, not tossing a governor who has a reasonable chance at a second term where he can do a lot for the GOP - like redistrict the state in a fair manner.
I also have something to say to the "party over everything" people, mainly those heavily involved in the Maryland GOP, who keep saying "not voting for Trump is a vote for Hillary." I'm not voting for Hillary either, so neither side gets a vote from me. What you can't seem to get through your heads is that, if Hillary is indeed elected in November, the moment she won the election was the moment you helped to nominate the extraordinarily unpopular, boorish, often truth-challenged Donald Trump to be the GOP standard-bearer. Not only did I not vote for him in the primary, I spent many weeks in the summer of 2015 researching candidates and can tell you that all but maybe one or two of Trump's opponents would have been far better on top of the ticket. You chose to ignore me (and a lot of others who said basically the same thing) so you'll get either a humiliating loss in November or a Republican president who will likely govern like the worst of Democrats, with the added "bonus" of making Congressional Republicans vote against their President. There were always a handful who voted against Bush's government expansion, but most sold themselves out based on "party over everything."  And what did it get us? Farther away from the ideals of our Founding Fathers, that's what.
Unfortunately, the damage is yet to come: a lot of good people will be hurt by the short-sightedness of the portion of the GOP electorate that picked Trump. But I'm done carrying their water as a party officer, just as several of my friends and cohorts have already done. I was hoping against hope for a convention miracle; alas it was not to be.
This decision, however, will lead to a few changes here: no longer will I cover the Wicomico County Republican Club or the state party conventions. I may attend events after the election, but for now I think it's better I do my own thing.
I guess the way I look at it there are three possibilities here: either Trump is going to lose to Hillary, he will beat Hillary and govern exactly as I predict he will, or he will be a great President and I will have assessed him incorrectly. Truly I wouldn't mind being wrong for the sake of this great nation, but I have no evidence to believe I will be.
Finally, if I offended any of my erstwhile peers by my manner of springing this on you as the meeting tonight drew to a close, I'm truly sorry. But I believed I owed you an explanation. Some have been supportive and others not so much but that's what I expected. It's been a fun and rewarding ten years in the local Republican Party (not to mention another decade I did the same in Ohio) but all things must pass. So let it be.
A few days ago I mentioned the manufacturing advocates the Alliance for American Manufacturing (AAM) in a post regarding their convention plans. I wasn't surprised to see they were very pleased with Hillary Clinton's remarks, including a plan to "pass the biggest investment in new, good-paying jobs since World War II." Ah yes, the old "investment" in infrastructure, where taxpayer money will be shoveled to cronies and unions in an effort to build things we may not need or use (like facilities for public transit, bike paths, and so forth) at the artificial "prevailing" wage. Spend five dollars, waste two or three more – they don't care because it's all on the credit card anyway.
It sounds to me just like the promises regarding the "stimulus" package from Barack Obama, officially known as the American Recovery and Reinvestment Act (ARRA) of 2009. Those "shovel-ready" jobs actually turned out to be, among other things, government backstopping certain public-sector jobs that may have been destined for the chopping block. Only a small portion of the over $800 billion spent actually went to infrastructure, but ARRA was sold as an investment in infrastructure. So pardon me if I expect little good to come from Hillary's plan.
Anyway, last night I read a contention that was more interesting (and realistic) from American Enterprise Institute scholar (as well as professor of economics and finance) Mark J. Perry. Here is the money line:
The bottom line is that America's abundant and low-cost natural gas and electricity have more than offset higher labor costs in the U.S. and have contributed to the strongest profitability in a generation or more for U.S. manufacturers. Within three years, and possibly even sooner, it will be cheaper for most U.S. companies to manufacture goods for the American market at home, compared to producing those same goods in Asia. (Emphasis mine.)
Of course, that prediction is fraught with peril. We could regulate our way out of the energy boom by continuing to mandate the use of expensive, inefficient renewable energy sources (or, in lieu of that, transfer payments from utility providers), we can maintain the oppressive tax climate that has been one of many reasons companies are choosing to go offshore – any bean counter will tell you it's better to pay 15% tax than 35% – or actually enact the increasing minimum wage that unfortunately Donald Trump is now supporting. Any or all of these are possible regardless of who wins the Oval Office.
And that's the shame of it all. Over the course of the nation's history, we have seen America become a great industrial power only to lose its advantage to upstarts like Japan and China. (Then again, we wrested the title from the British in the 1800s so things are always fluid.) These Asian nations took advantage of newer technology and less expensive labor to attract American manufacturing jobs that were in older, less efficient unionized plants, despite the fact these items would have to shipped back thousands of miles to their primary market.
But here we have the chance to get some of this back, and my fear is that too many people want to keep the status quo in place as a political issue rather than solve the problem. We talk about being a free market insofar as trade is concerned, but I contend that we need to work on freeing our own market:
Toss out these federal and state regulations and carveouts that only benefit special interests or large, established competitors trying to corner their respective markets.
Encourage the adoption of right-to-work laws so unions are forced to compete and sell the benefits they provide for the cost to workers.
Instead of debating whether the minimum wage should be increased or not, we should be debating how quickly we phase it out. The true minimum wage is zero, which is what workers who are tossed out of a job when companies can't afford the increased labor costs will earn.
In reading the GOP platform (and I'm just going to ignore the Democrats on this one, since they aren't selling themselves as free-market, limited-government types) I saw some attention paid to these issues, although their approach seems to be more of just controlling growth and pruning around the edges than a wholesale reduction. Needless to say, that platform could be completely ignored by the elected members of the party from Donald Trump on down if the idea of enriching their friends, rather than the supporters of the other side that have engorged themselves over the last eight years, remains in place.
Sadly, over most of the last century it hasn't really mattered which side was in power because government has grown regardless of who was in charge. (The one exception: the Harding-Coolidge era of the 1920s, when the federal budget was drastically reduced – and annually balanced - after World War I. In a time where we are stuck with Trump, Clinton, or maybe Gary Johnson, what we really needed was a Coolidge. Bobby Jindal was probably the closest we had in the GOP field.)
I began this whole process by talking about infrastructure, and there's a legitimate need for prudent spending on upgrades where it is appropriate. Sometimes there is a need for a new federal or state facility. But I have also seen how the government uses infrastructure to maintain a cash cow, with my favorite example being the Ohio Turnpike I grew up close by.
You see, the original plan was to eliminate the tolls once the bonds to construct the road were paid off in the 1980s. (This was promised when the highway was built in the early 1950s – my dad remembers them staking it out a few miles from his house.) But then they decided that some new exits were necessary (which they were) so they decided to build those. Then it was adding a third lane in each direction between Youngstown and Toledo (a process still going insofar as I know, since I haven't been that way in a couple years), then renovating all the rest areas (twice in thirty years, and ditto), and so on and so forth. Forget the promise to remove the tolls once the highway was paid off – they constantly spend money on projects that weren't within the original scope, perpetuating the agency that runs the Turnpike.
In theory, we could spend money from now until doomsday on government-sponsored projects. Some contractors would benefit, but others would be left out in the cold because there's a certain procedure required to bid on and win public works contracts. But it wouldn't necessarily be the best use of our funds – and by that I don't mean the money in the public till but the money that we earn for our collective pockets. If we really want to get manufacturing going and bring it back to America, we need to maximize their potential for meeting our marketplace. They may make mistakes, but that should be up to the market to pick winners and not the government.
One of the more effective relief pitchers the Shorebirds have had this season, Jay Flaa has gotten a little more work in lately. After pitching in a routine that generally put him on a starter's schedule of sorts – pitching about every four to six days – Jay was used three times in four days on the Shorebirds' most recent homestand, picking up his fourth win and second save on the year in consecutive contests against Kannapolis. Over the year Jay has put in 23 appearances, good for 38 2/3 innings, and carries a 4-0 record with a 3.49 ERA and 1.16 WHIP. Flaa is stingy with both hits and walks allowed, with only 29 hits and 16 walks so far this season.
The Orioles selected Flaa in the sixth round last season, making him the highest pick from North Dakota State University in 21 years. Jay is a native of North Dakota, so it may be the reason he wasn't sought after in previous drafts – there aren't a whole lot of scouts traversing that territory, and those that do are likely looking for the next Wayne Gretzky. So Jay stayed in-state after high school ended. (It's worth noting that a number of his NDSU peers over the last few seasons have tried their luck in independent leagues after college, so scouts may be taking more notice.)
I think Flaa has the potential of being one of those late bloomers: having turned 24 in June, Jay started out a little older than his peers at each level. After making one appearance in the Gulf Coast League, Flaa was a shutdown pitcher at Aberdeen last year, pitching 20 2/3 innings in 14 games with a 1.31 ERA and a WHIP of 0.73 from allowing just 15 baserunners (10 hits and five walks.) Those numbers have regressed a little bit here against sturdier competition, but Jay adjusted well after a tough April where his ERA was 6.14. (That was mainly the result of one bad outing against Greensboro where he allowed four runs in 1/3 of an inning.) Showing that he's durable enough to pitch on back-to-back days is an important step for a relief pitcher, especially since he's also proven himself as more of a middle reliever as well. (Flaa made four consecutive three-inning appearances in May and June.)
Given his reasonably high draft status, presumably Jay will be ticketed for Frederick either to wrap up this season or for 2017 as a bullpen leader. And one more interesting thing: given his uncommon last name, I figured in searching Baseball Reference there was only one Flaa who's played in the pros – but I was wrong. He may or may not be related, but Arnold Flaa had a brief 19-game minor league career playing in the Class D Eastern Shore League in 1948, for Cambridge. It's uncanny how the younger Flaa's baseball path led him to the Eastern Shore as well.
It's not all that likely people know that the woman who is probably Salisbury's most famous widow – Mitzi Perdue – had such an interest in politics. We got to hear about that and her support for Donald Trump during our meeting Monday night.
Once we dispensed of the introductory business, we turned the meeting over to her and Perdue spoke for more than a half-hour on a number of topics – or as she called them, "things on my mind." She was very pleased to see several younger people in the group, pointing them out as "VIPs" among us.
But after recommending the new Dinesh D'Souza movie "Hillary's America," saying "you'll love it," Mitzi revealed that she had been for Donald Trump "a long time." She related a story that many were familiar with: the renovation of the Wollman Rink in New York City. It was a project the city had tried and failed to do for several years before Trump convinced the city of New York to give him a $3 million budget and six months to get the job done. Not only did he do so, but he made a profit. "I want somebody who is really competent," said Perdue, "and cuts through the red tape." It went along with her belief in smaller government and lower taxes.
Yet while Mitzi had a longstanding interest in politics, telling us "politics attracts me," she could never take the step into running for office. It was so "incredibly tempting" though that she decided to enroll in campaign school. But there she learned that a candidate's primary job was to deny their opponent's identity, and she could not run under that condition. Perdue lamented the fact that campaigns aren't about honesty or truth, pointing out the 65,000 negative ads run against Trump. As "a writer by trade," Perdue thought "the amount of distortion was staggering." She added her belief that Trump was "a product of where he came from," as he grew up in Queens.
In addition, Mitzi related her opinion that in this election we are "up against an extinction-level threat." While she asked the response of several in the room about their most important issues – and got solid answers such as illegal immigration, radical Islam, the economy, and so forth, she considered our national debt as the biggest threat. Citing a book by Reinhart and Rogoff called This Time Is Different: Eight Centuries of Financial Folly, Perdue contended that when debt becomes too great, it brings about the end of nations. Because Donald Trump "understands balance sheets," Mitzi believed he could best address the issue. "I want a businessman who knows how to say 'no'," she explained.
But when Perdue was asked about illegal immigration, she noted the research that shows all the new jobs this century accrued to immigrants, which led to stagnant wages. "Labor is a commodity," said Perdue, who also noted that, while immigrants are paying $13 billion a year in taxes, they are using $100 billion in services. "I love that (Trump) is for our citizens," she said, adding that's in part because "we don't protect our borders." A border wall is "very doable" with modern technology, she added. As an further benefit, it would slow the drug trade. "My hatred of drugs is unending," Perdue explained.
Her next campaign task was going to be difficult, though: she was seeking a position she had contemplated as a national coordinator of volunteers. This person would evaluate the skills and aptitudes of those who wanted to work for the Trump campaign and give them appropriate tasks. Since Mike Pence had a slightly different strategy, Mitzi thought the job may not pan out.
A final question dealt with coordination between the campaigns of Trump and Maryland's U.S. Senate hopeful Kathy Szeliga, but it morphed into a discussion about credibility since President Bush had used up a lot of his during his term of office. "Trump is cut from a different cloth," said Perdue. As for the coordination (in particular signage) that may be up to the state and local parties.
It was an interesting talk, more or less aimed at people not sold on Trump – that would be me. Perhaps I will address this at a later date.
As for the meeting, I was pressed into service to give the Central Committee report. So I updated the club on the Board of Education, an upcoming local fundraiser for Kathy Szeliga to be held on August 20, and progress in planning the Lincoln Day Dinner.
Delegate Carl Anderton gave us an update, assessing that "everything is going great," and that his immediate agenda would be that of trying to get local priorities funded in next year's budget as he meets with the budget secretary.
Other issues Anderton found important were the impact of the Maryland Department of the Environment and of Obamacare, particularly the "numerous issues" constituents were having if their Obamacare plans lapsed due to non-payment. If it was a choice between that and cable, "stretch the cable bill," said Anderton. Overall, he believed "the Lower Shore delegation is busting their humps" for us.
Speaking on the Department of Natural Resources, Joe Schanno pointed out two upcoming issues would be Sunday hunting and controlling the deer population because our area was seeing more frequent car vs. deer accidents.
We learned that we would have a GOP headquarters in the same location the Trump headquarters occupied, with the opening in late August – perhaps coordinated with 3rd Friday. Speaking of that event, Shawn Bradley stressed the need for volunteers at the GOP table there.
We "may need more volunteers" for the Crab Feast September 10, added Jim Jester. The club also authorized a package for sponsorships, which will shortly be available along with tickets to the event.
Regarding our two local womens' Republican groups, Michelle Bradley reminded us the Greater Wicomico Republican Women would next meet August 11 at Adams Taphouse, with Delegate Christopher Adams being the featured speaker. For their part, the Republican Women of Wicomico will come off their summer break with a Brew River lunch meeting on September 7 with county Chair Mark McIver speaking, then have their Constitution Day gathering on the 17th of September, said Ellen Bethel.
Nate Sansom gave us a rundown on the local Teenage Republicans, who will get back together in August and plot out their strategy to work with both the Trump and Szeliga campaigns.
We also heard from Don Murphy, who came to thank the Central Committee for its support in sending him to the convention as a delegate. He noted that he "had never seen as much contention and dissention" at any other convention he had attended as he had seen during the Rules Committee fight. And while he was one of maybe 7 or 8 from Maryland who voted against the rules, he was one of those who did so as a Trump backer. "What Ted Cruz did was wrong," added Murphy.
Yet as contentious as the GOP gathering was, Murphy believed it was "not even close" to what the Democrats were experiencing. "Hillary is our common enemy," Don concluded.
So it was a very interesting meeting. The next one is slated for August 22 with a speaker to be determined.
As I did from last month, I'm building on 3rd Friday to provide another edition of WLR. But in this installment I'll profile a local group doing good through music.
The "official" 3rd Friday group playing on the Plaza stage was a Salisbury University-based group called The Benchwarmers, who I would say had more of a jazz feel than straight up rock. But they won the right to play through a battle of the bands, so here they were.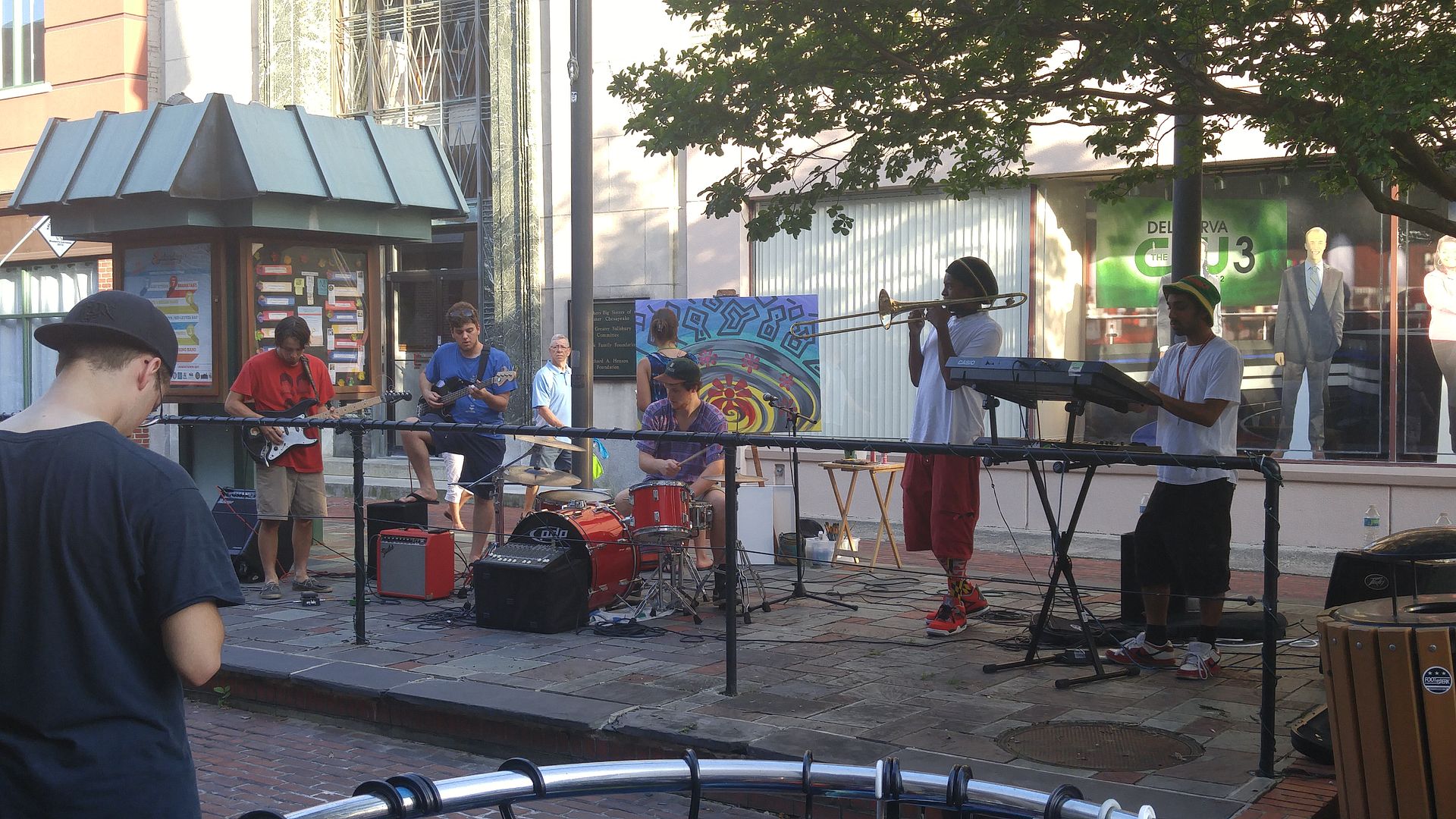 I still haven't figured out the idea of the painting being created behind the group, but to each his or her own, I guess.
Now if you stood in just the right spot, you could hear the Plaza stage in one ear while Alex & Shiloh played in the other one, outside at Roadie Joe's.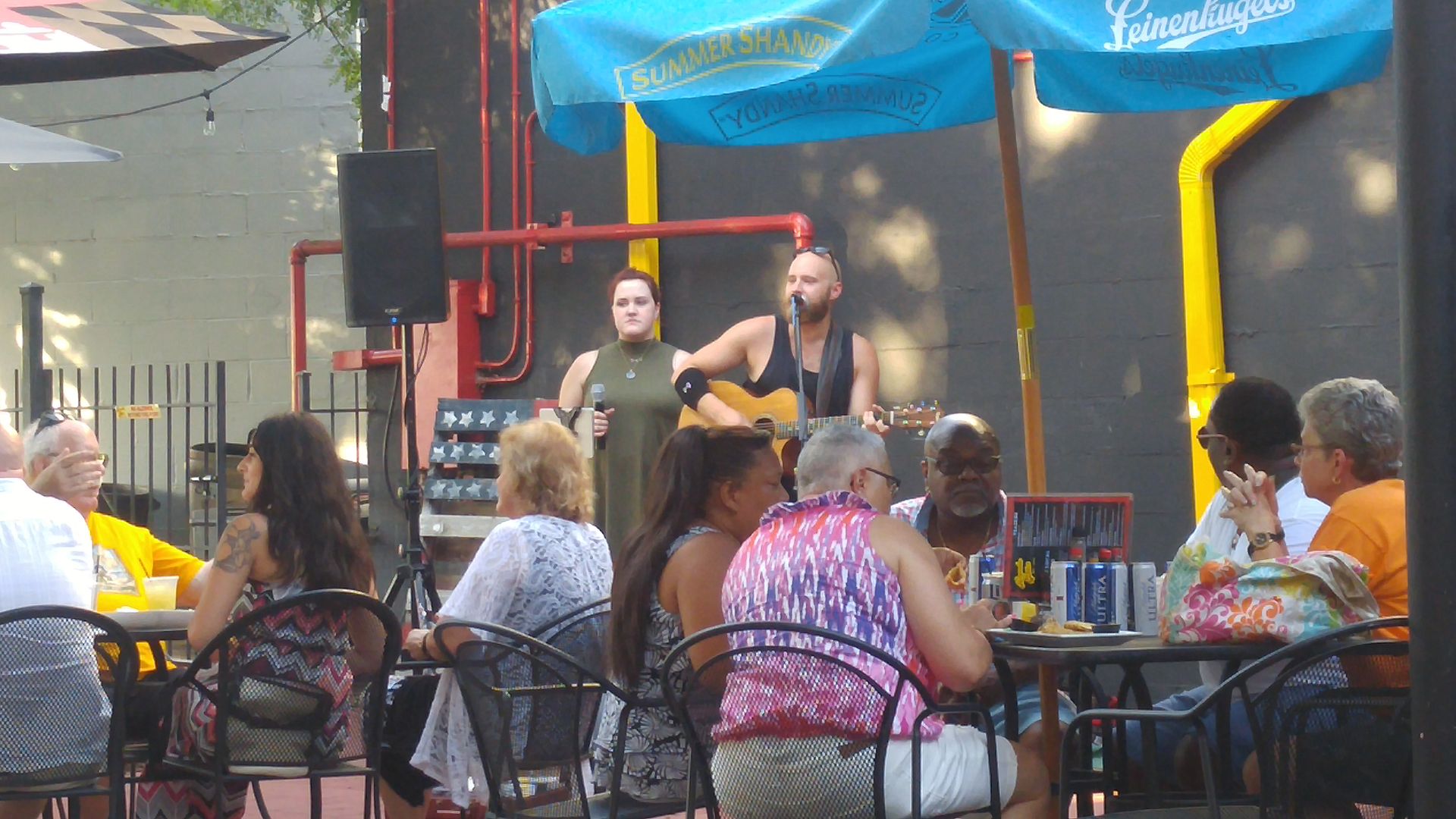 The management at Roadie Joe's has definitely picked up on the concept of having outside live music during 3rd Friday and bringing in business, as the outside tables are generally filled. (Kim and I ate there last month, as I noted in WLR 69.) It's nice because if the main stage doesn't strike your fancy you can browse on over to that end of the Plaza.
I didn't stay for the Roadie Joe's nightcap act this time because I knew I would be back downtown the next night for a benefit called "Fire Up the Bands," sponsored by the Maryland-8 chapter of Hogs and Heroes, a motorcycling group dedicated to supporting military and first responders.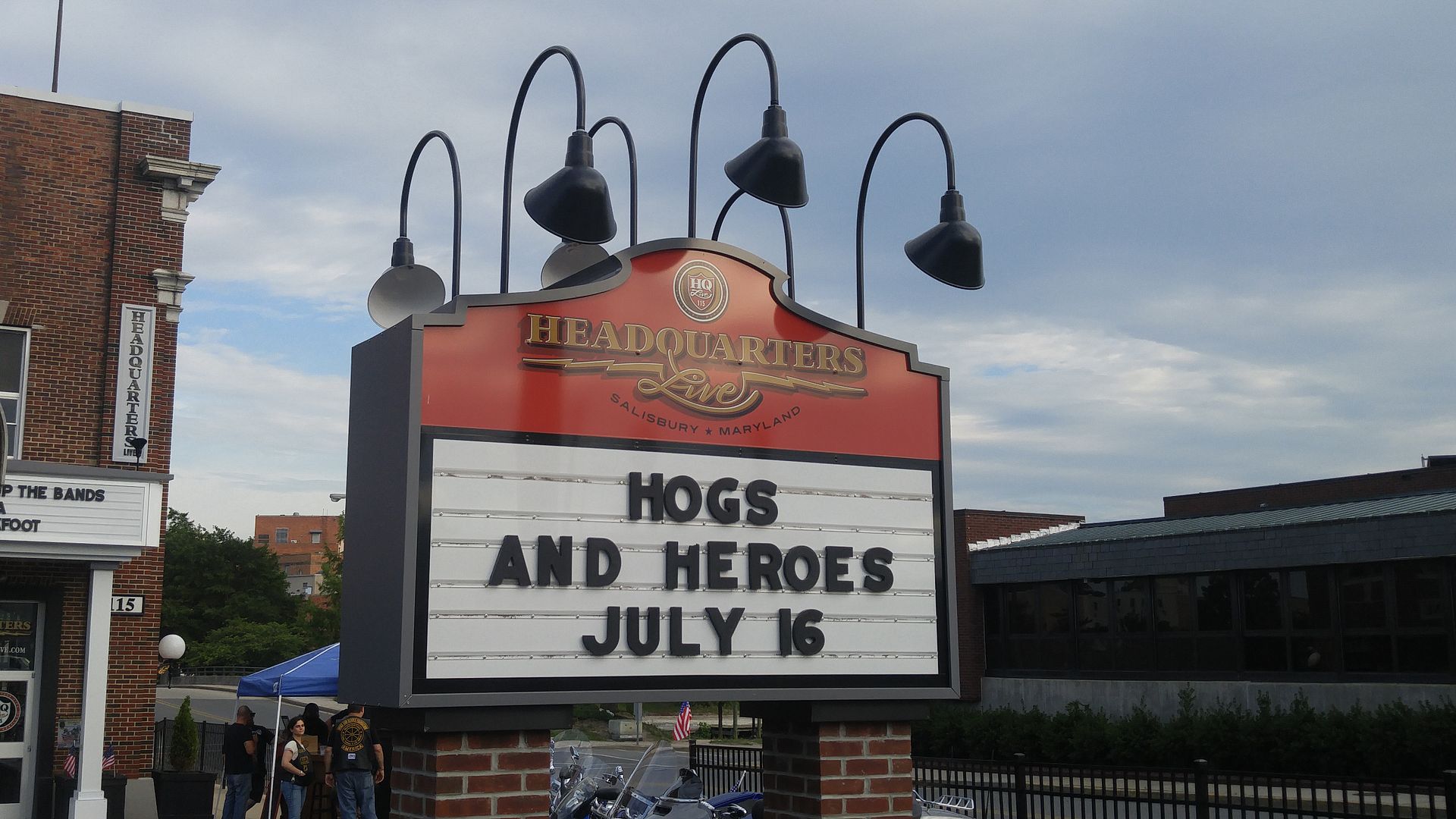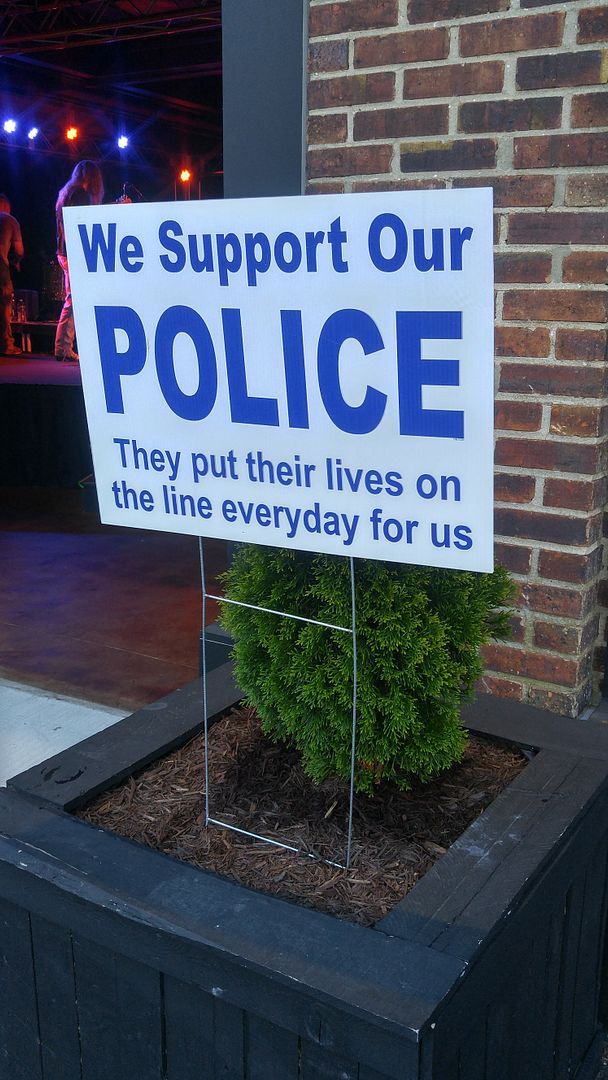 While there were originally three bands on the bill, a late change cut things down to two. Meanwhile, there was a silent auction going on and the leadership of Hogs and Heroes was giving away door prizes between bands.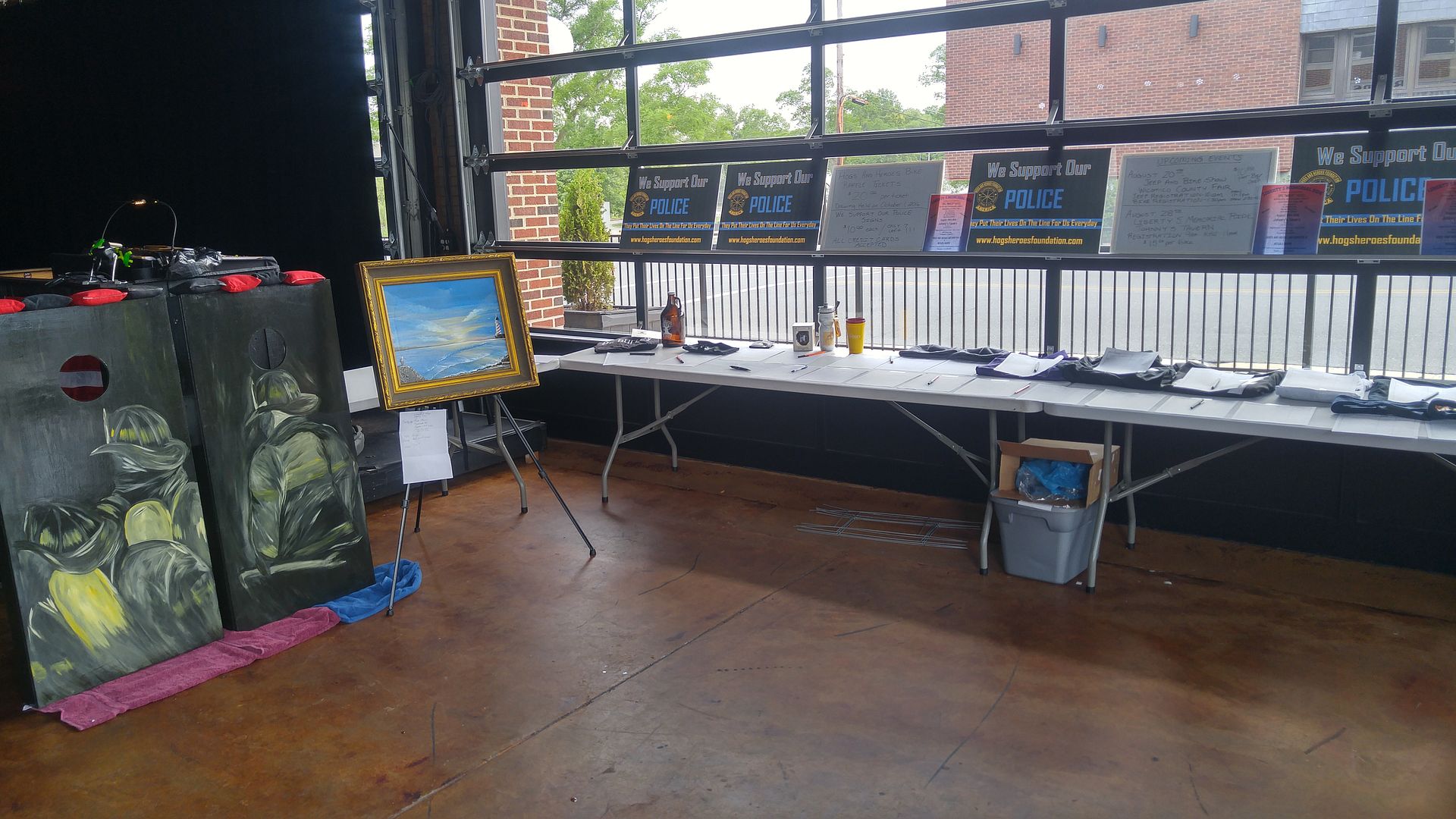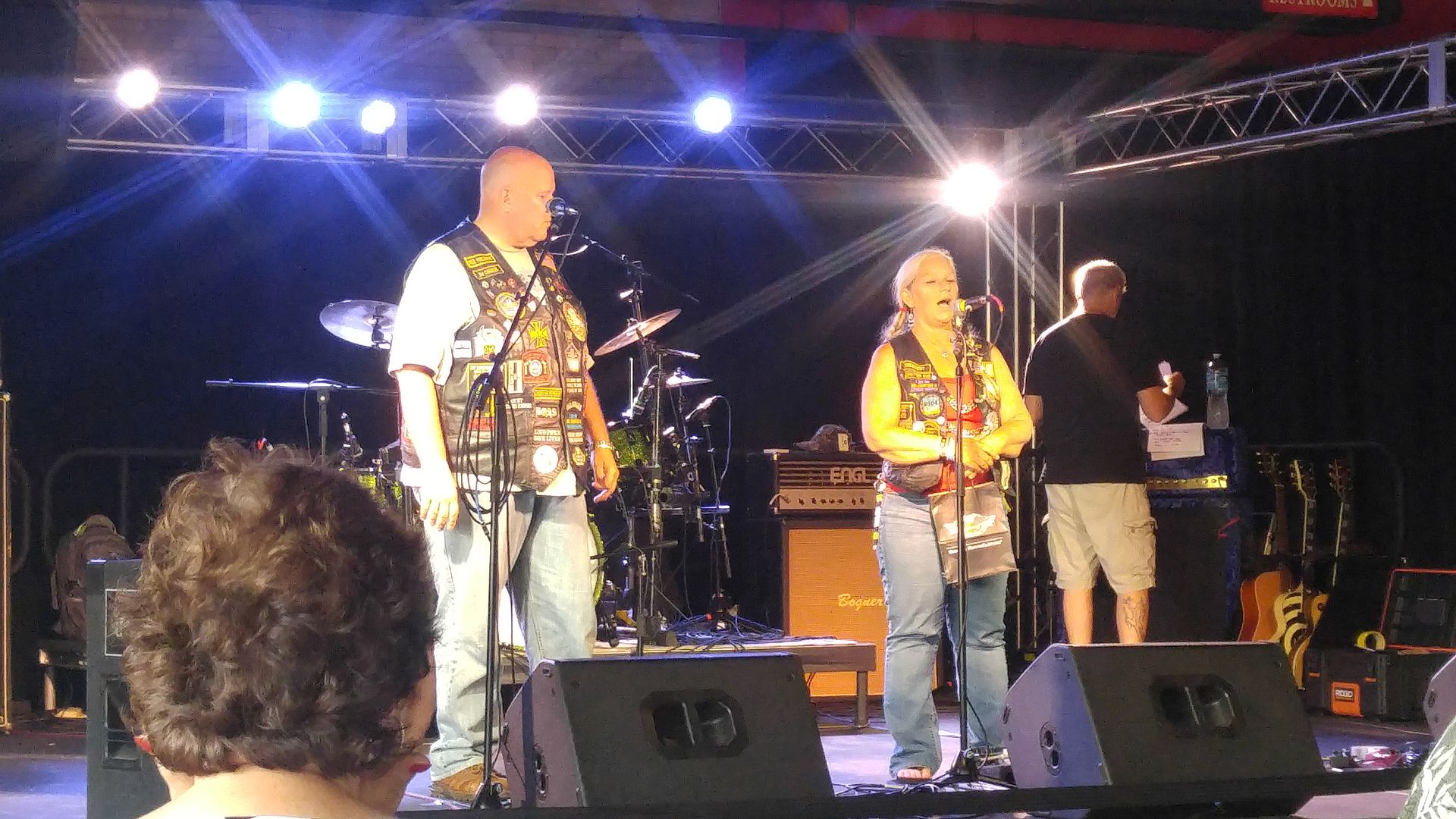 But the evening began with a group I had just seen at the Concert for a Random Soldier a couple months back, Scrapple.
After noting the sudden passing of Lewes firefighter Tim McClanahan in a training accident, Scrapple played a hard-rocking set that featured songs like the Black Crowes' Remedy, Love Removal Machine from The Cult, Godsmack's Keep Away, and Pearl Jam's Even Flow, just to name a few. They also found time for an original song of theirs, which I thought was cool.
Once Scrapple finished, I went outside to stretch my legs, see some bikes, and watch the sun set over a cloudy downtown. There was a rain shower that passed harmlessly by during the show.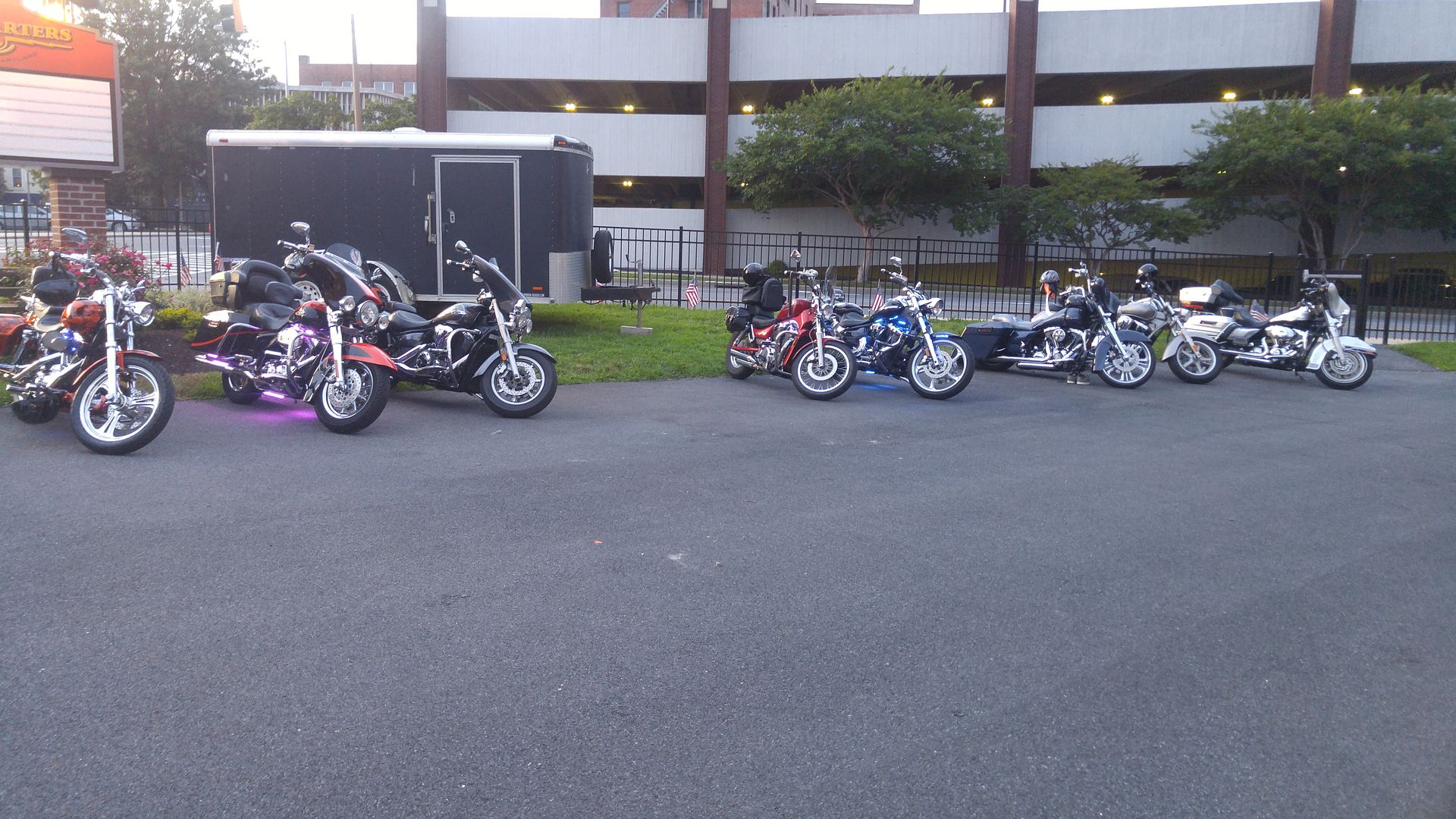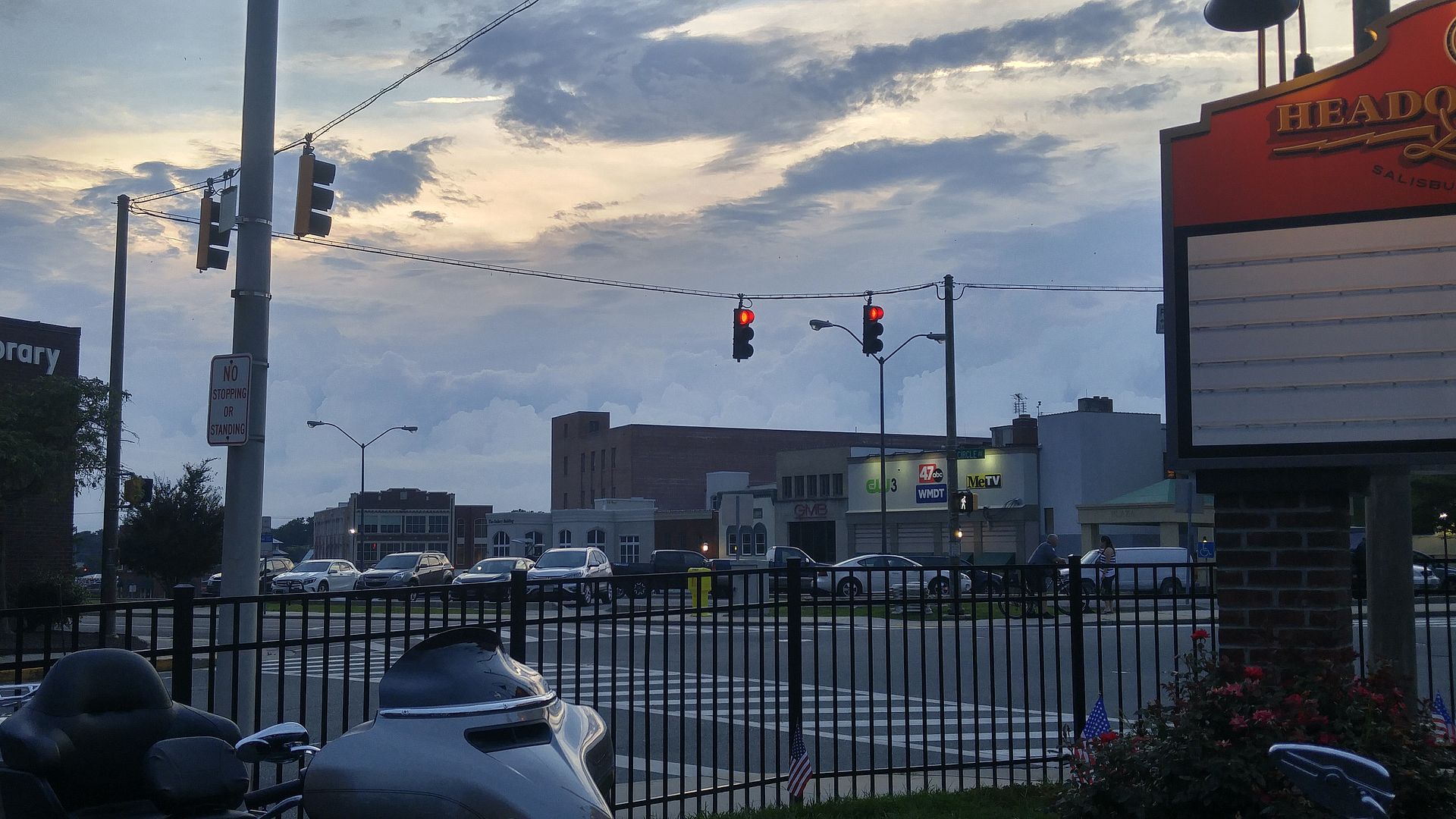 The second band on the bill was Lime Green, which I know has a number of originals to its credit based on their online presence. But they chose to play just one, their most recent called Pemberton Park.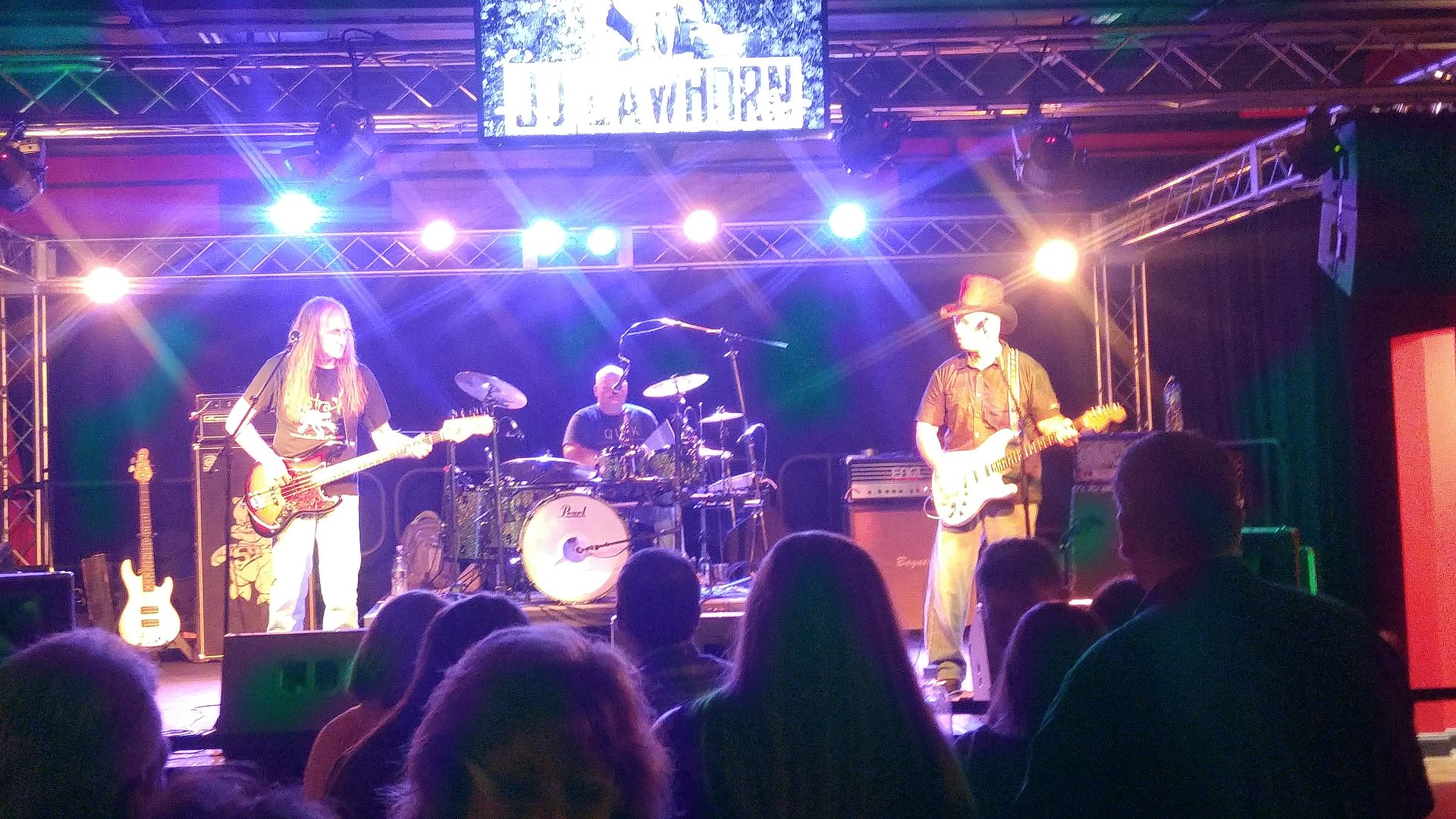 Yet Lime Green still had a lot of unique musical ideas, like buttressing the old Pink Panther Theme into Pink Floyd, playing forgotten classics like The Ballad of Curtis Loew by Lynard Skynard or Snortin' Whiskey by the Pat Travers Band, and absolutely blowing me away with their closer originally done by Rush. I never thought I would hear the first part of 2112 done as a cover, but they did Overture/The Temples of Syrinx. Damn, that was cool. I'm still smiling thinking about it.
Because the original intention was to have three bands, Scrapple came out and played a second set that started with Rush as well. But as they did when I saw them previously, they took Working Man and transitioned it into War Pigs by Black Sabbath. Their second set was heavier and more modern, with songs from Buckcherry, Marilyn Manson, Staind, and Tool among the selections.
But they got a little help when they went retro blues and did One Way Out, a song made popular by the Allman Brothers.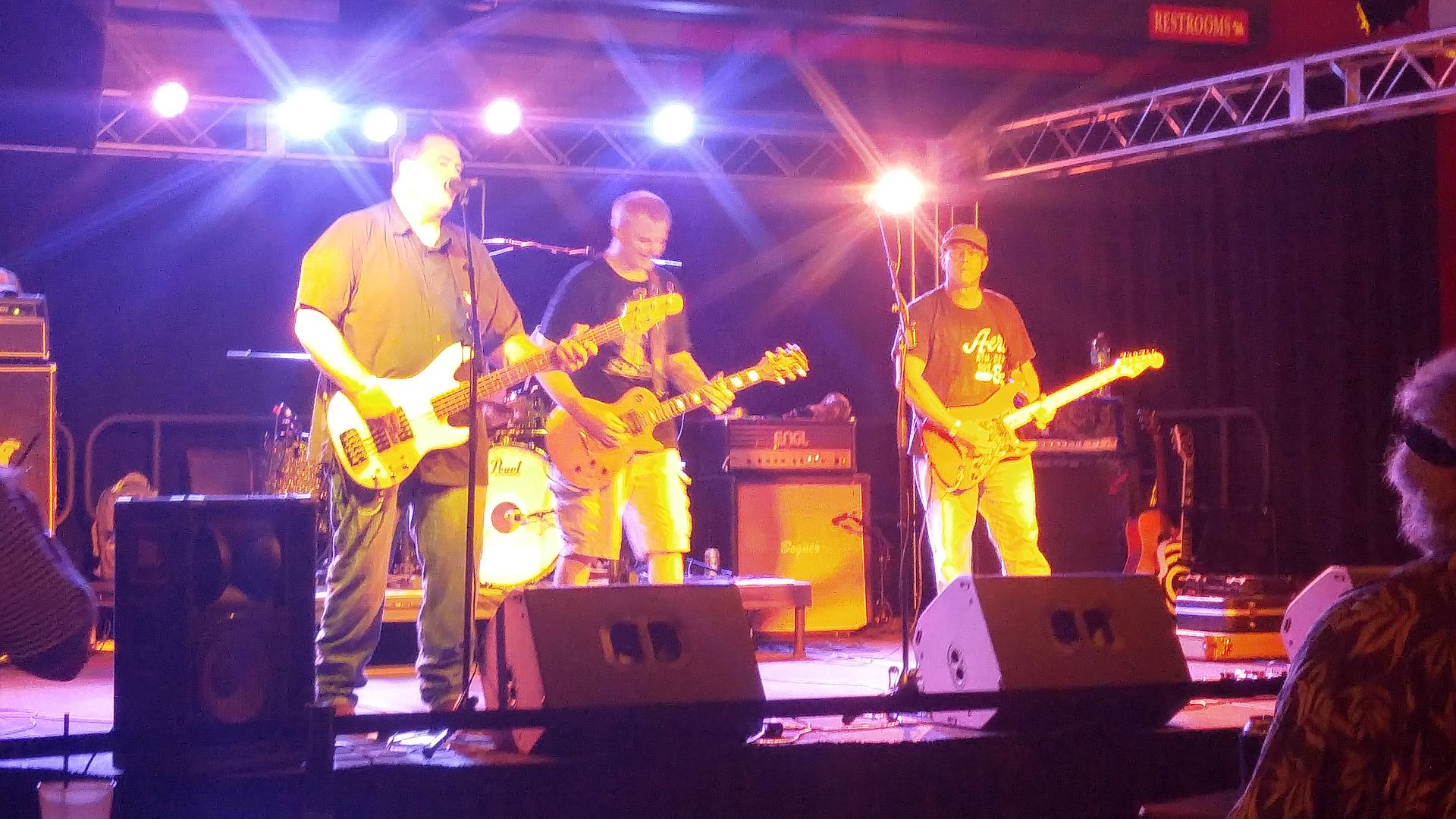 There was also a fun drum solo toward the end.
If I have one thing to say about Headquarters Live as a venue, though, I have to say that taking pictures in there is a royal pain with a cell phone camera. Unless you catch the lights just right, they come out awful. The best pics I had were with the doors open when it was still light out, which is why you get one photo of Lime Green.
But my night wasn't done. A friend of mine has been bugging me to see his band, so I went back over to Roadie Joe's to catch Copious Poor.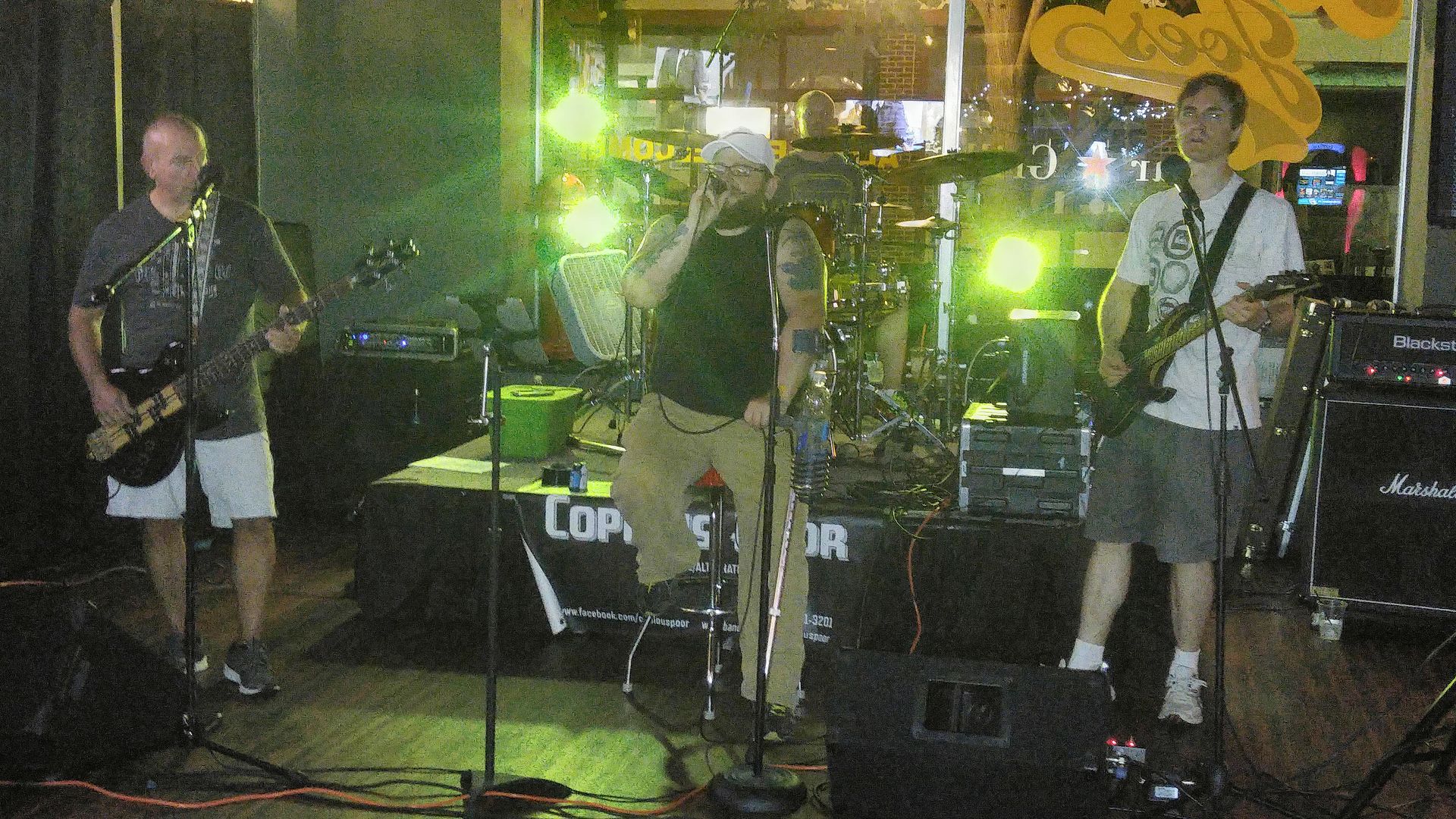 While they admitted they needed to get a sound person, the selection of songs was pretty good. I particularly enjoyed their rendition of a song I have occasionally used the video from on this site, Bound for the Floor by Local H. (You may see it again November 9.)
So once again it was a good weekend of local rock for firefighters that can always use a helping hand. It reminded me that local bands are among the quickest to respond when there's a need to lend their talents for a good cause – or just to make an evening a little better.
At one time I planned on writing a rebuttal to all the Trump items I put up this week yesterday, but after all the events of the convention I decided it was better to hold off for a week or so and let emotions simmer down a little bit. It also gives me a chance to attend two of my meetings and gauge the mood of the electorate, so to speak – so perhaps after all that I will pick up that baton and share my thoughts on both Marita Noon's commentary regarding Trump's energy policy and the entire Art of the Deal series. Right now, emotions are too high and points will be missed.
It's no secret I didn't support Donald Trump for the Republican nomination, nor will I be backing the Clinton/Kaine ticket. (Hell, the guy doesn't even know our part of Maryland exists because he thought Virginia shared a border with Delaware.) Yet I still have an interest in the downticket races, and this year I will be following the advice of Ted Cruz and voting my conscience. (Or, if you prefer, Ivanka Trump, who said, "I vote based on what I believe is right for my family and for my country." So will I.) But the combination of the Democratic convention taking over the news cycle and my general fatigue with the Presidential race means I may look at some other stuff for a little bit.
One thing I was asked to look at by my friends at the Patriot Post for this week was the prospects for Republicans in the downticket federal races. (If you get their "Weekend Snapshot," the article is prominently featured there as well.) But I find a little bit of fault with my editor because my original concluding sentence was, "The next four years could be the most interesting and unpredictable times our nation has ever known." My thought in that sentence was to invoke the old adage "may you live in interesting times" as we seem to be cursed into a choice leading us toward them. To me, this may be the election where more people vote against someone that affirmatively vote for a candidate.
(To that end, can we install the "none of these candidates" option like Nevada has? I could see factions in all four parties on the ballot in Maryland who would love a do-over: Republicans who are anti-Trump, Democrats who backed Bernie Sanders, Libertarians who would like a more doctrinaire candidate than former Republican Gary Johnson, and Jill Stein of the Green Party who would happily move aside for Sanders, too.)
Just think about Congress for a moment. In poll after poll it's shown to be one of the least popular institutions in the country, but voters send all but a small handful back term after term until they decide to retire. Maryland is a good example of this, with the longest-tenured Congressman being Steny Hoyer (17 terms), followed by Elijah Cummings with 10, Chris Van Hollen and Dutch Ruppersberger with seven apiece, John Sarbanes with five, Donna Edwards with four (plus a few months), Andy Harris with three, and John Delaney with two. Since Edwards and Van Hollen both sought the Senate seat, those districts will open up – but thanks to blatant gerrymandering, they are likely to be gravy trains and "lifetime appointments" for Anthony Brown and Jamie Raskin, respectively.
Aside from the one term of Frank Kratovil here in the First District as a "blue dog" Democrat carried on the Obama wave in an otherwise GOP-dominated area, you have to go back almost forty years to find a handful of one-term wonders that Maryland sent to Congress. Both our current Senators came to the job after serving multiple terms in the House, as would Chris Van Hollen if he wins the Senate seat. Kathy Szeliga, on the other hand, has served just a term and a half in the Maryland House of Delegates – although compared to other GOP Senate candidates in recent years that almost qualifies as "career politician," too.
Yet while our GOP candidate supports Trump and has an uphill battle to win, she was criticized for skipping the convention as well:
Some (GOP convention) delegates who wished to remain anonymous to avoid antagonizing another party member privately expressed discontent and disappointment with Szeliga's and Hogan's absences in Cleveland at a time when unity is a key goal of their party after a fractious primary season.
Of course, Andy Harris was there in Cleveland, but he's in an R+13 or so district with far less to worry about. It was better for Szeliga to be in Crisfield meeting voters with her opponent there.
So while I will talk about the convention in at least one piece I'm considering – and my invited guests may decide on their own to look at the Presidential race – I'm going to step back from it for a little bit. It's the pause that will refresh me.
He's been on a tear lately, reminding people why he was a valued prospect. But Natanael Delgado has nearly slipped through the cracks of this Shorebird season until now.
You may not have been aware of him because he didn't come up through the Orioles' system like most of our players do. Delgado was acquired in a late spring training trade with the Los Angeles Angels, who also parted with infielder Erick Salcedo to acquire pitcher Chris Jones from the Orioles. (Salcedo is playing at Frederick and Jones is pitching in AAA, where he was last year with Norfolk.) But it was a bit of a surprise to see a Midwest League All-Star from last season repeat at the same level for the Orioles, let alone struggle early on.
The 20-year-old native of the Dominican Republic has had a July that's as scorching as the weather, though, hitting .400 for the month in 13 games with a sick 1.136 OPS. It's bumped his overall numbers up to .261/7/32/.725 OPS, and remember he was hitting just .170 at the end of April.
Coming up through the Angels' system, he played for the AZL Angels in 2013, Orem in the Pioneer League in 2014, and with Burlington of the Midwest League last year. It would be like playing in the Gulf Coast League with the Orioles' team, then moving up to their former Bluefield Orioles farm team, then playing for Delmarva last year. Over that span, Natanael hit .261 between the three, although he slipped to a .241/6/46/.631 OPS line last season. Essentially he is repeating the level and has improved in several key areas, most particularly being a bit more selective and walking more. Last season in 438 plate appearances, Delgado struck out 104 times while walking just 19; so far this season in 240 plate appearances he's still struck out 67 times but has taken 20 walks.
Delgado has split his time between being a designated hitter and playing right field in what has been a talented (if crowded) outfield thus far for Delmarva. It's a position that seems to be deep at this level, so the competition may come next spring as Delgado tries to move up the system. Continuing the strong July out to the end of the season may be key for his advancement.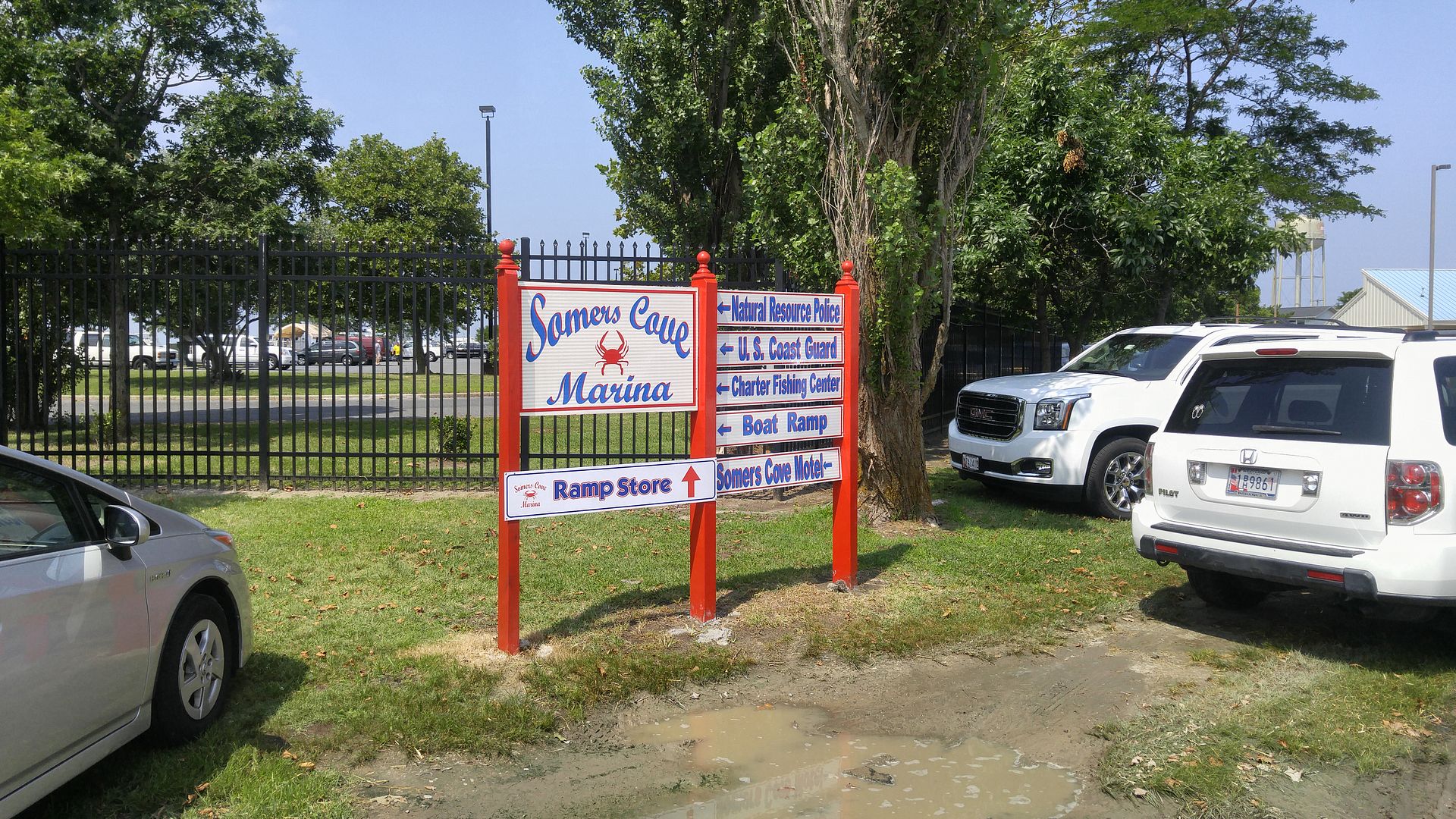 It was awful tempting to jump on into that water, but several thousand people managed to sweat their way through another hot Tawes Crab and Clam Bake. While Republicans tend to have a little more presence in the area, some of the Tawes regulars were absent because the event coincided this year with the Republican National Convention in Cleveland.
That convention minted the GOP Presidential nominee, who seemed to be pretty popular.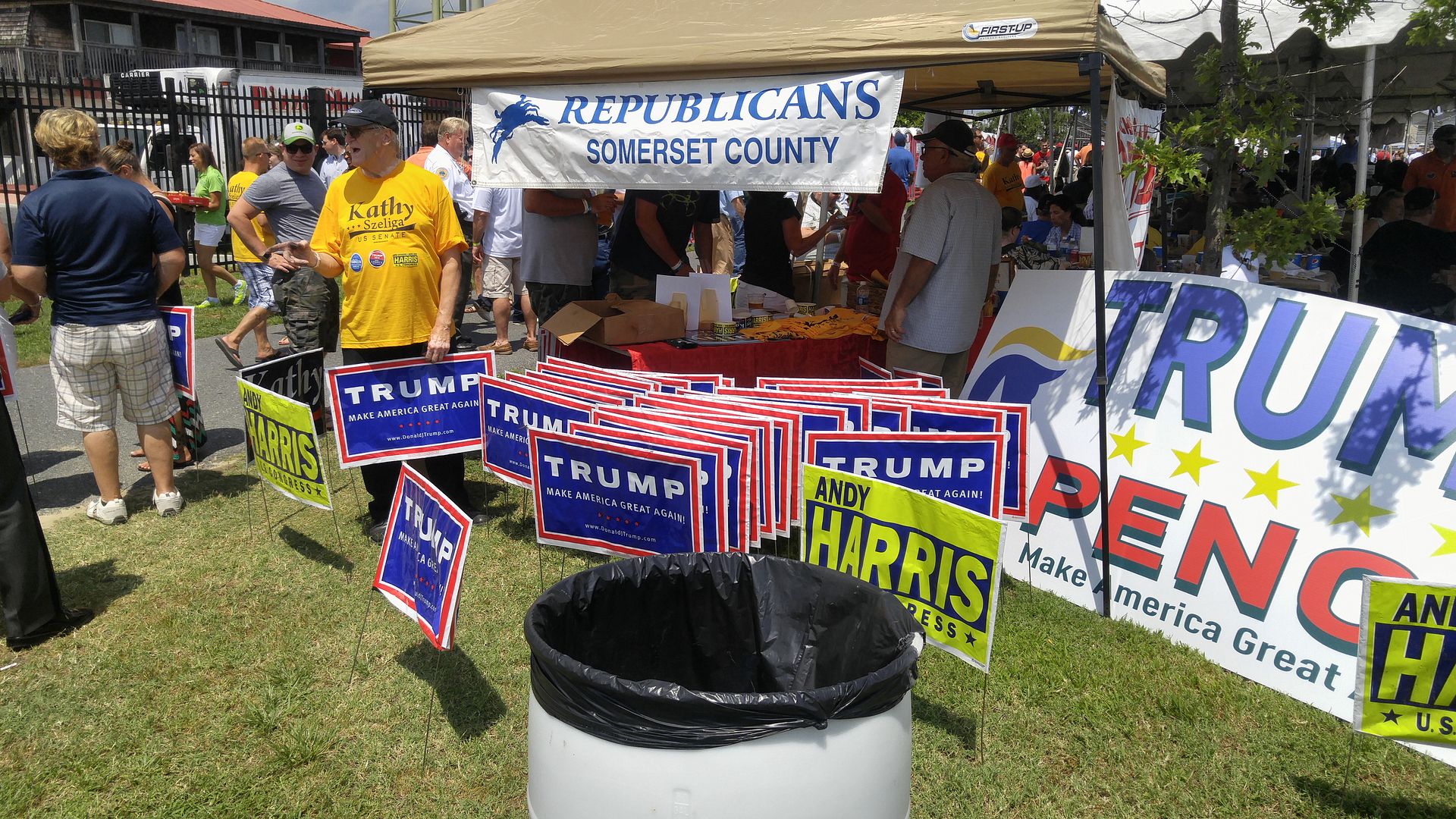 That group of signs dwindled little by little, as Trump adorned a number of tents. On the other hand, there were far fewer Hillary signs – but the Democrats also had their crowded space.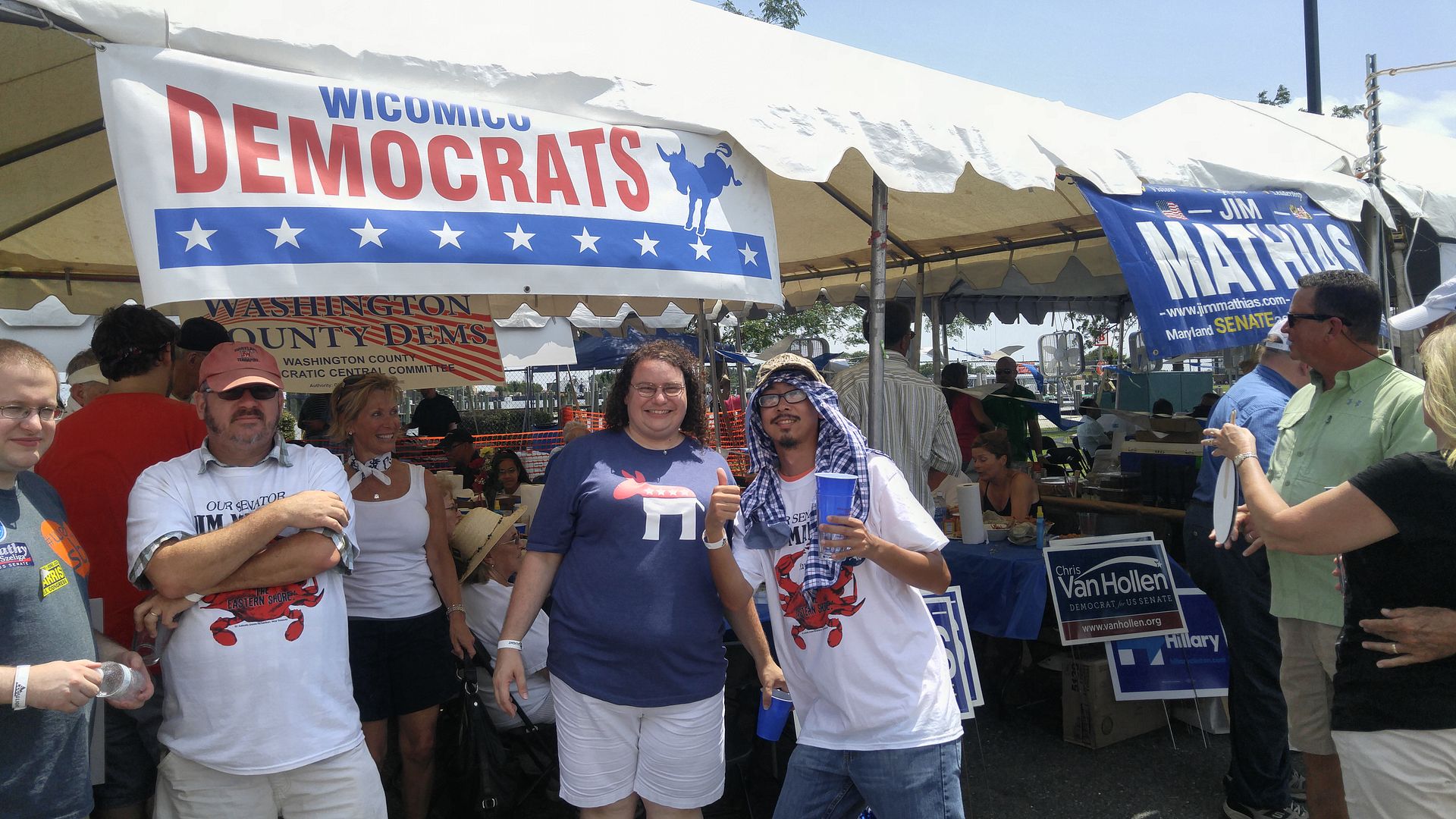 Sarah Meyers (in the blue shirt) is a friend of mine, and she was tearing her hair out as the coordinator there because they overbooked the space. (You may see her at the Democratic Convention next week, as she will be there as a page.) By the same token, the Somerset Republicans only went with one tent as well and it was packed, too. So both parties had close quarters.
Yet the businesses seemed to have ample space. I didn't peek into every tent, but many of them (as well as businesses lining State Route 413 into Crisfield) had a simple message: welcome Governor Hogan.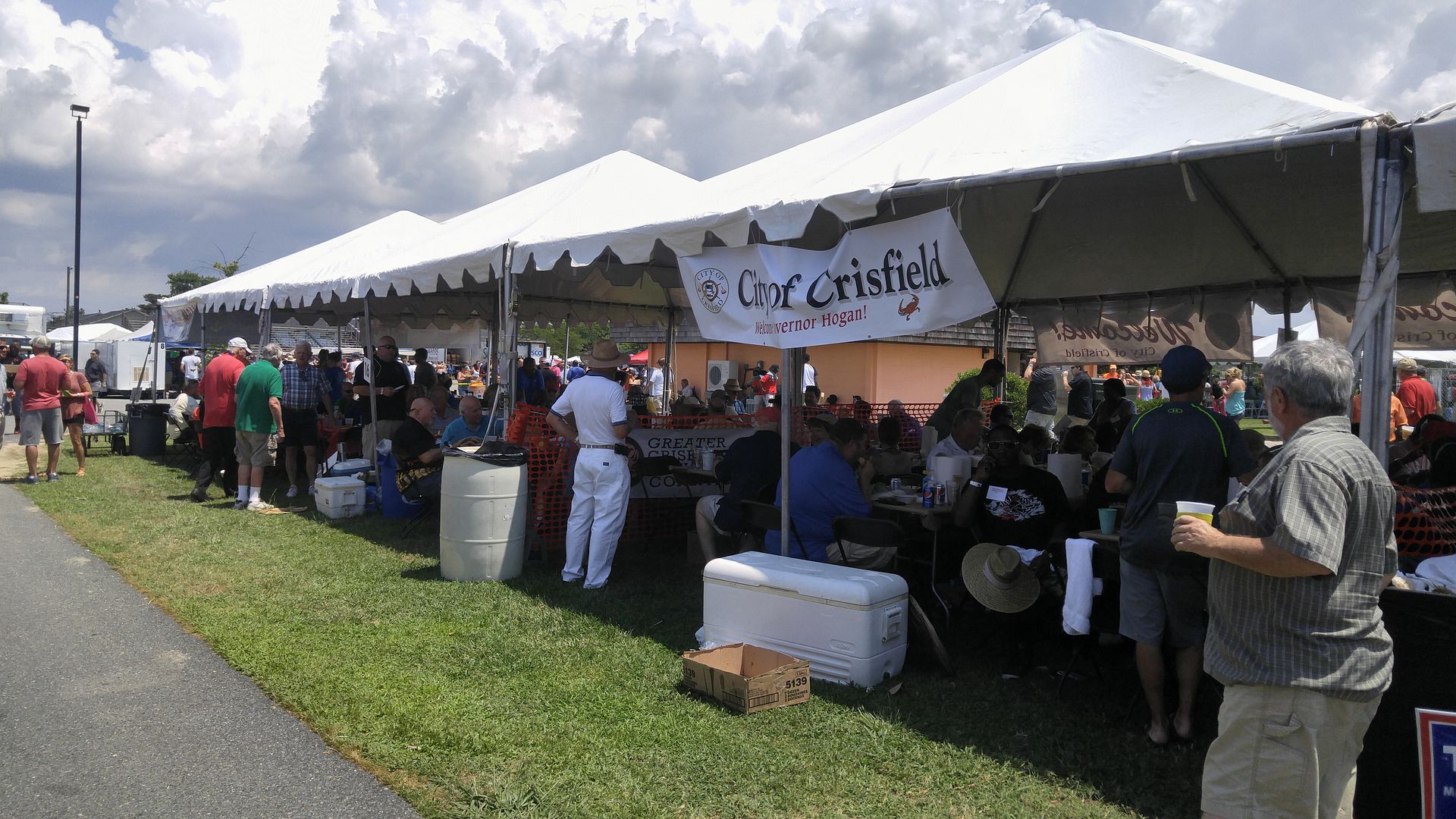 Even lobbyist Bruce Bereano, who always has the largest space, got into that act.
Yet among those businesses I did pick out I found an odd juxtaposition there, particularly under the auspices of the local economic development commission.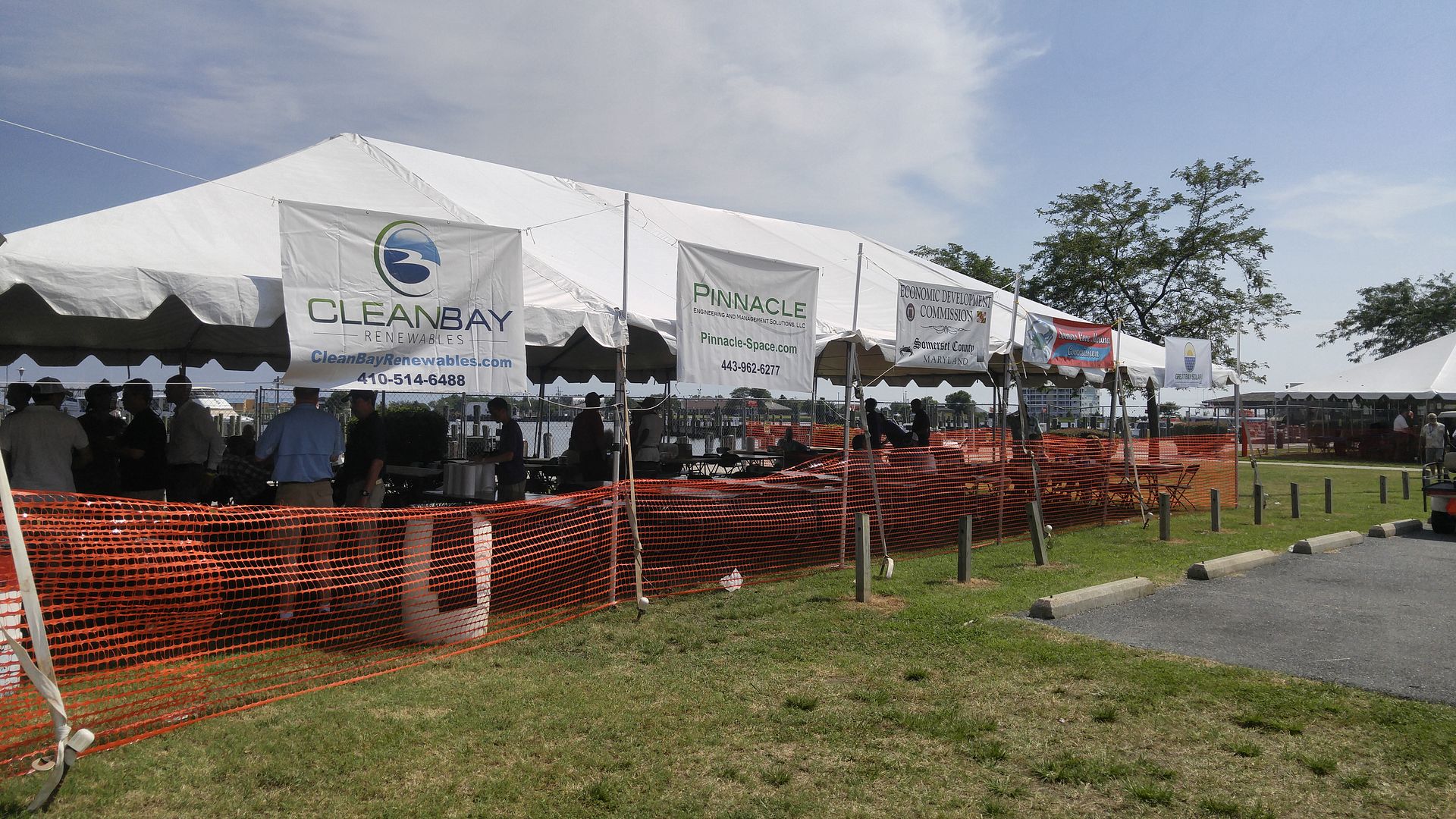 In order, these businesses are Cleanbay Renewables, which is a chicken waste recycling firm, Pinnacle Engineering, which services NASA, the Somers Cove Marina Commission, and Great Bay Solar I. The last is interesting because this project was originally supposed to be wind turbines, but objections to the siting of the turbine towers from the Navy forced the company to go solar, making lemonade out of lemons. With the exception of Pinnacle, the state has sort of forced the market for the other two businesses.
Yet on the other side was a law firm that objects to the approach the state is using to clean Chesapeake Bay through its Clean Chesapeake Coalition. They believe much of the problem comes from the sediment that leaches out from behind Conowingo Dam in severe storms.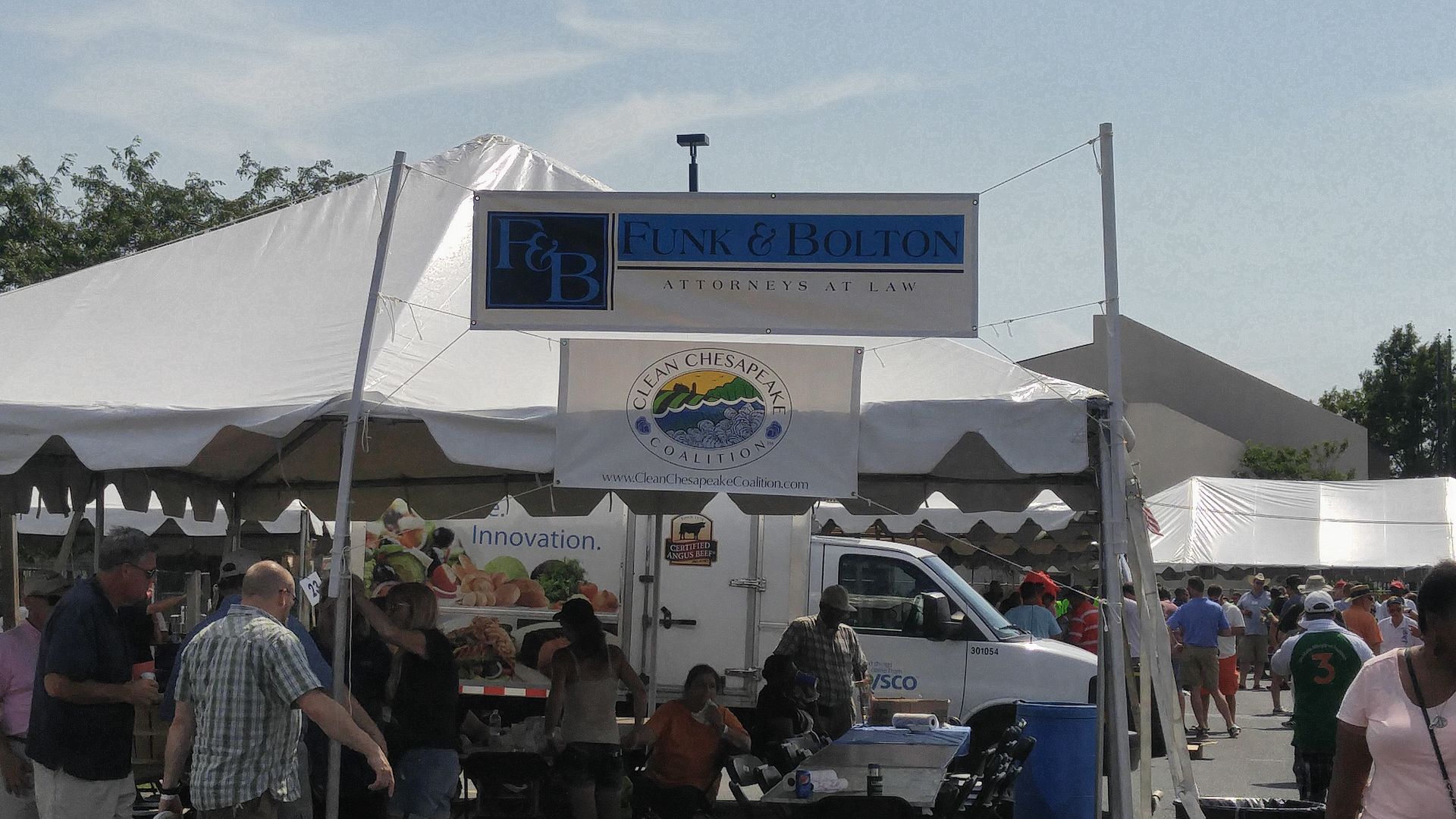 I happen to think the CCC has a pretty good case.
Speaking of business, the food business did pretty well there. Almost too well.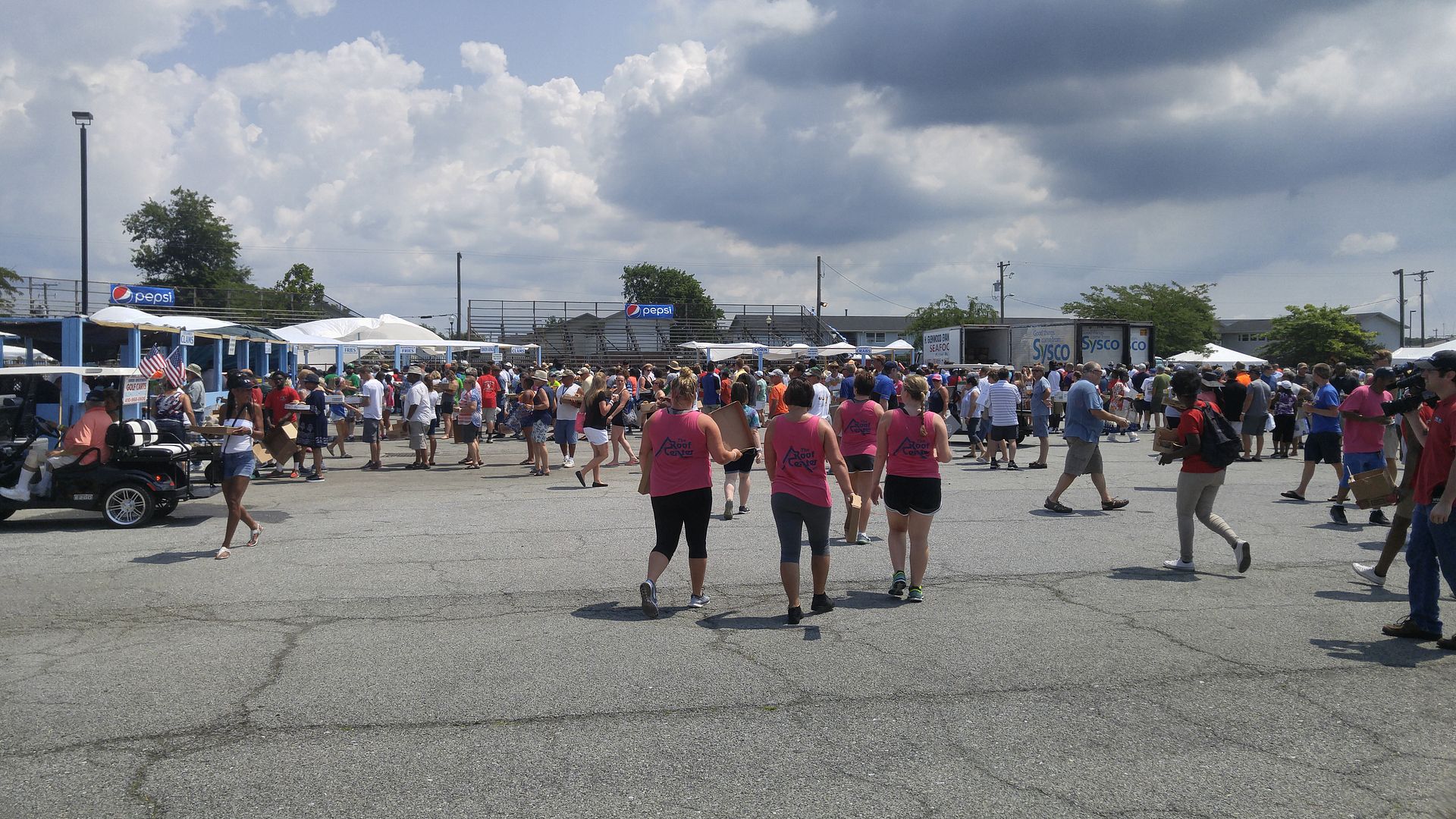 According to my cell phone camera, which took all my photos today, I took that picture at 12:01 as I walked over to get in line for food. Here is the end result, 46 minutes and four lines later.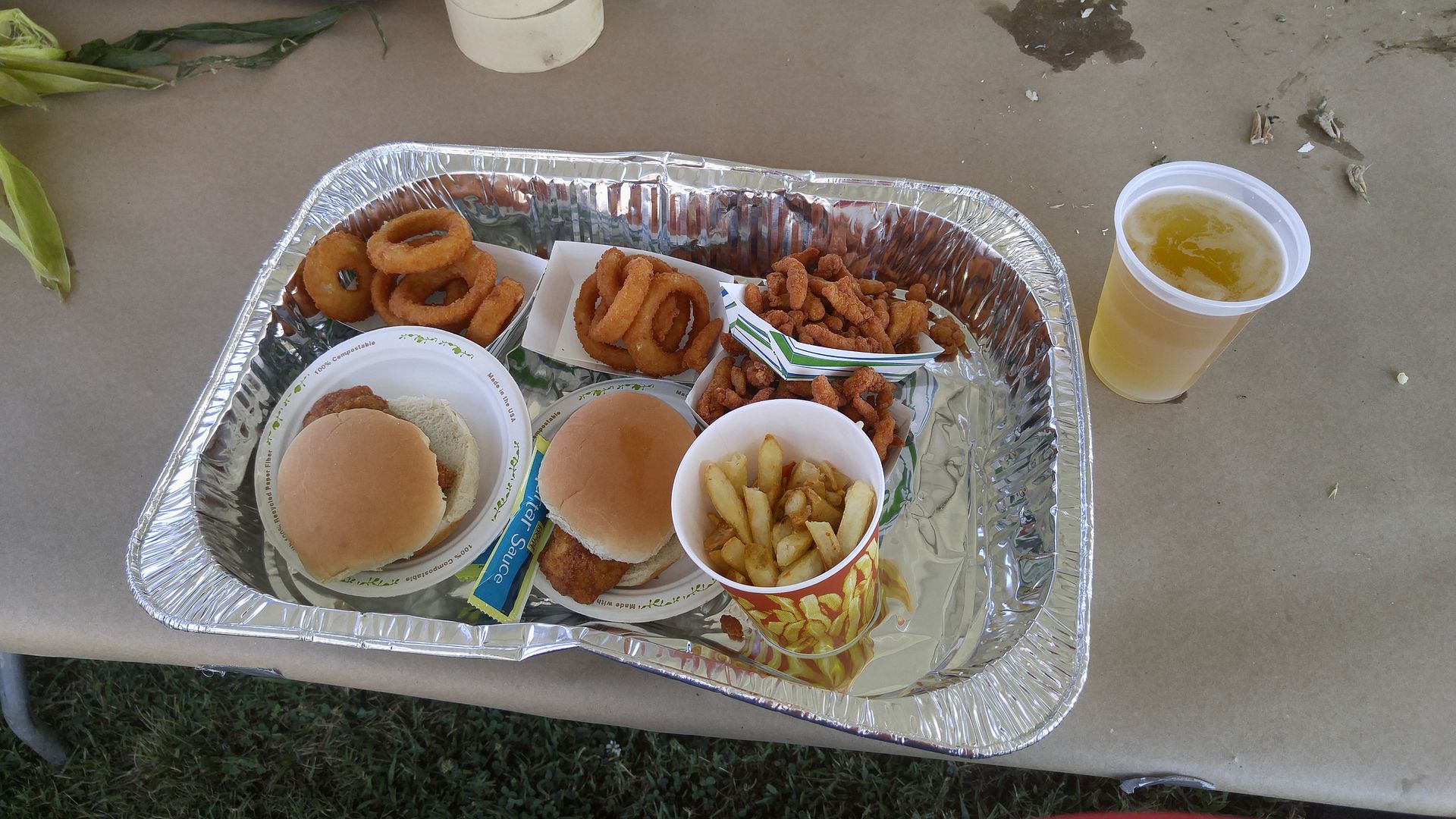 I actually asked for the onion rings as I inched closer to the front of the French fry line. And I certainly don't fault the crew because they worked hard, even toward the end when I snapped this.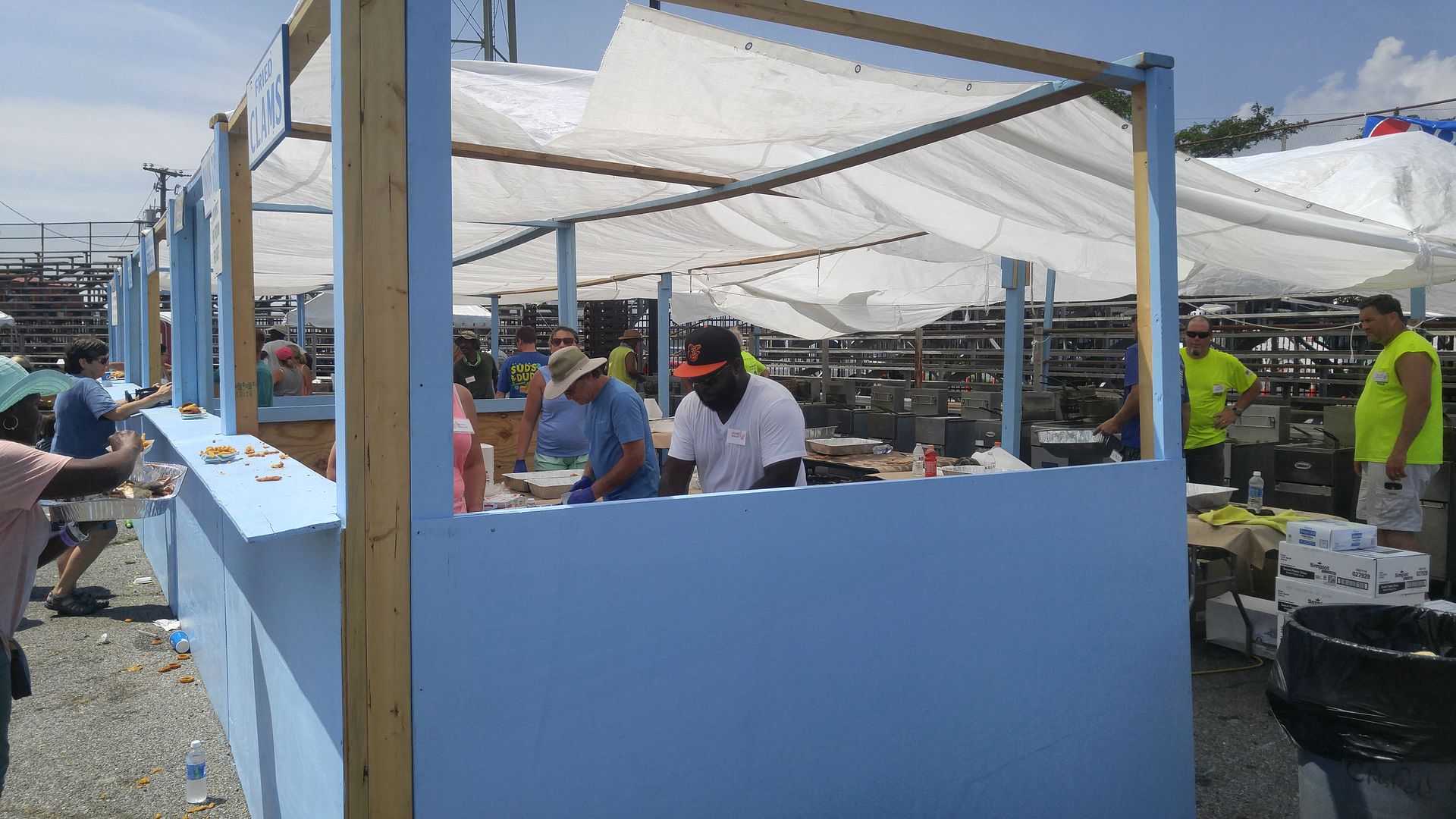 I think the issue is the increasing use of "runners" who get multiple orders of food and slow down the lines. It seemed like every third person in line was one, which meant those who just wanted to fend for themselves had to wait.
The guy who didn't have to wait in line was Governor Larry Hogan, because I don't think he ate a bite.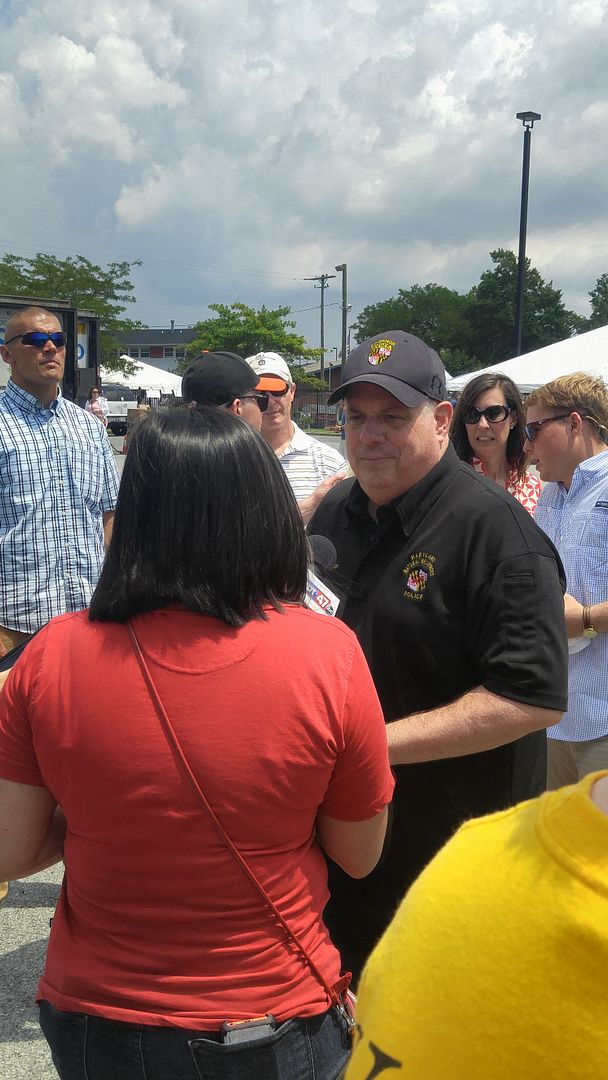 This is a second segment of time lapse. I took this photo above in the area where the food lines were at 1:57 p.m. Now, let me ask you: where's Hogan?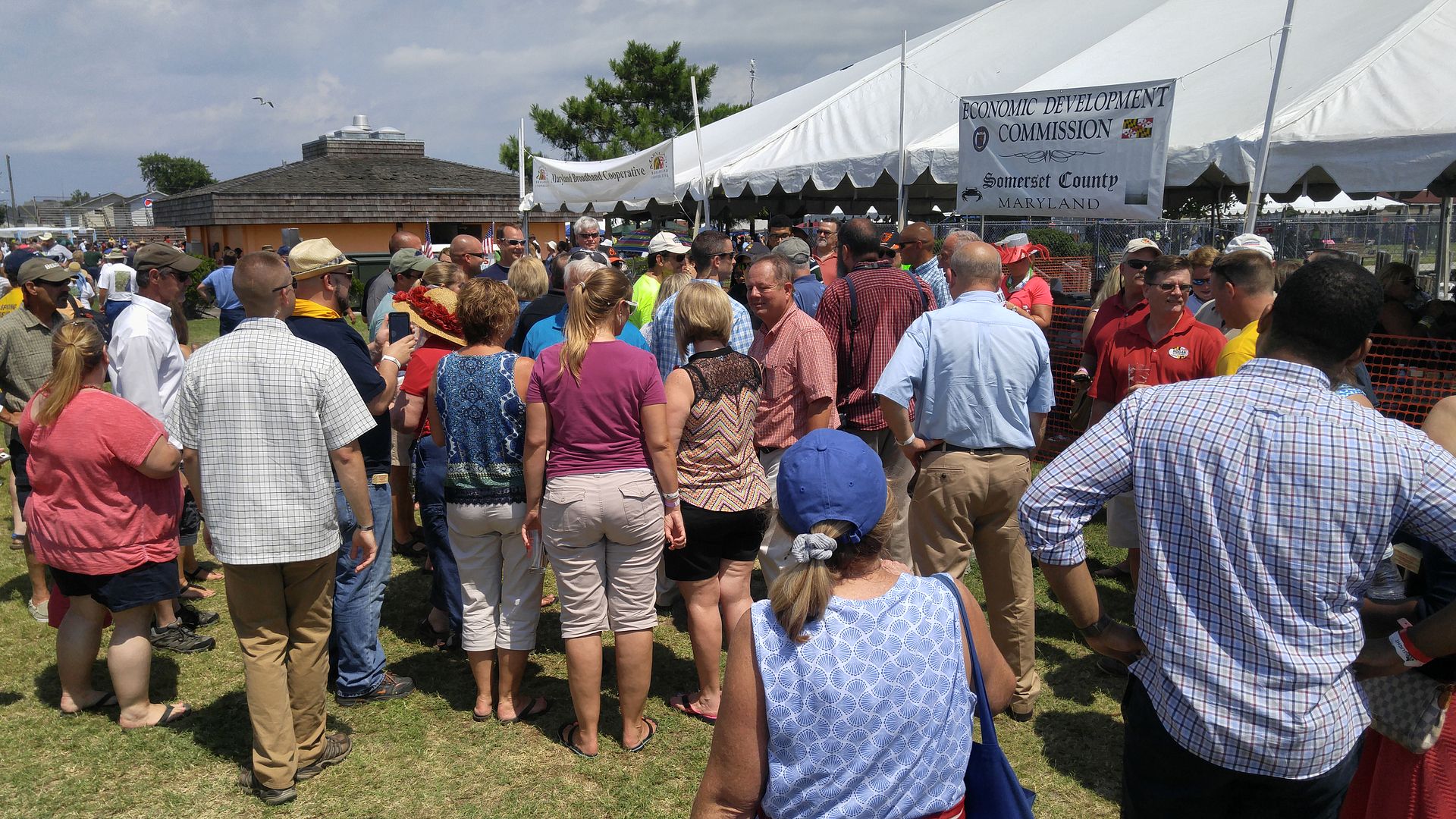 He's barely visible in the center of the photo, obscured by Delegate Charles Otto in the pinkish shirt. In 35 minutes he had advanced maybe 80 yards thanks to the crush of well-wishers who wanted to shake his hand, have a photo with him (although he suggested it in a number of cases) and perhaps say their piece. I was in the latter group as I wanted to thank him for his stance on the Presidential election. Larry commented that he had noticed the reception I've received on social media a couple times as it echoed a lot of what he had seen on his.
Stay strong, Governor.
The two major-party candidates for U.S. Senator were also there. Now I missed Democrat Chris Van Hollen – perhaps because I didn't recognize him walking around – but I did get a glimpse of Kathy Szeliga from the GOP.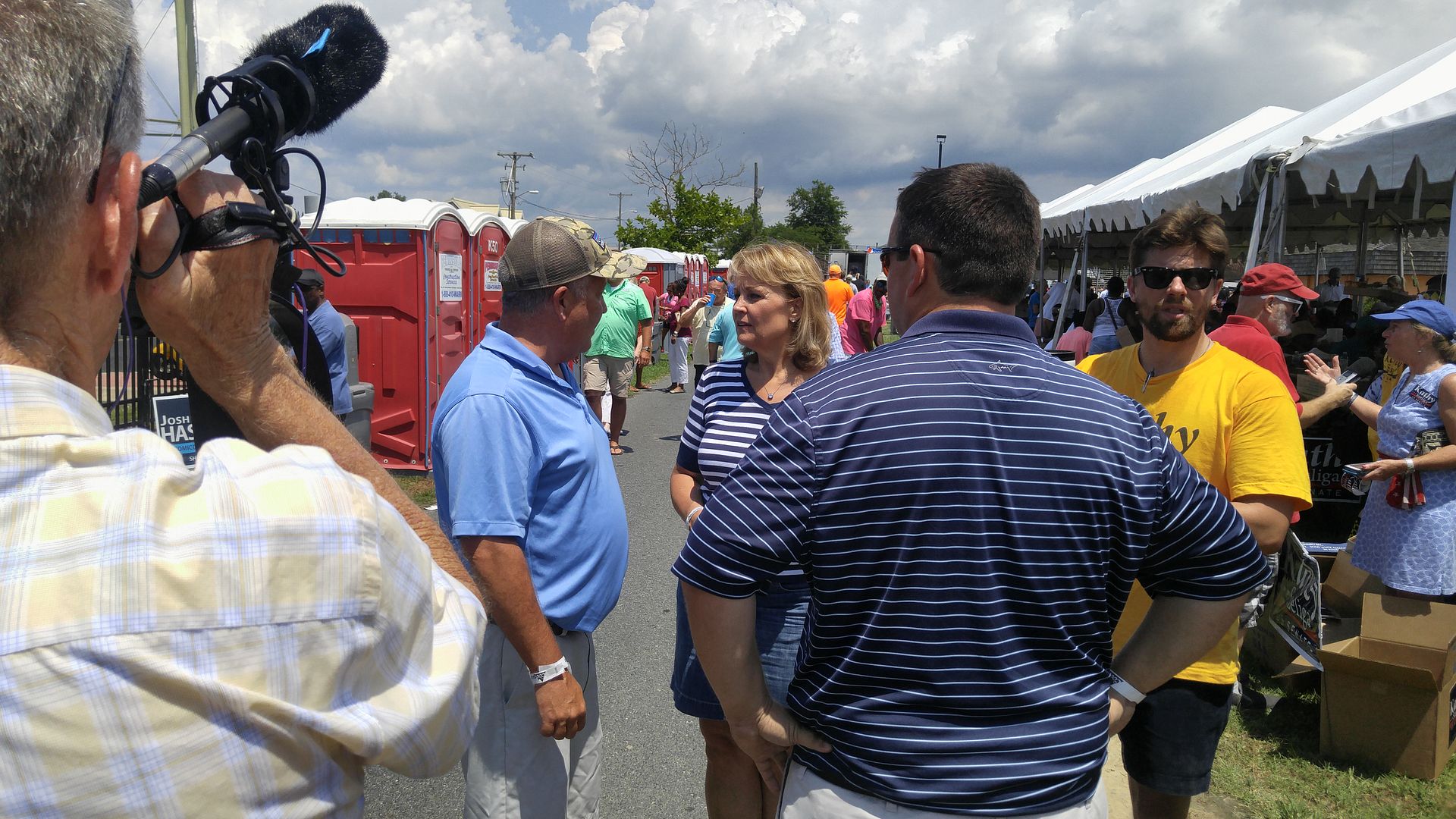 Of the people I saw and photographed, she was one of the few I didn't speak to at least a little bit. I don't blame her – our paths just didn't cross but once.
Of course, a few locals managed to be in front of my camera, such as Delegate Mary Beth Carozza, who brought her family and a batch of others from Worcester County.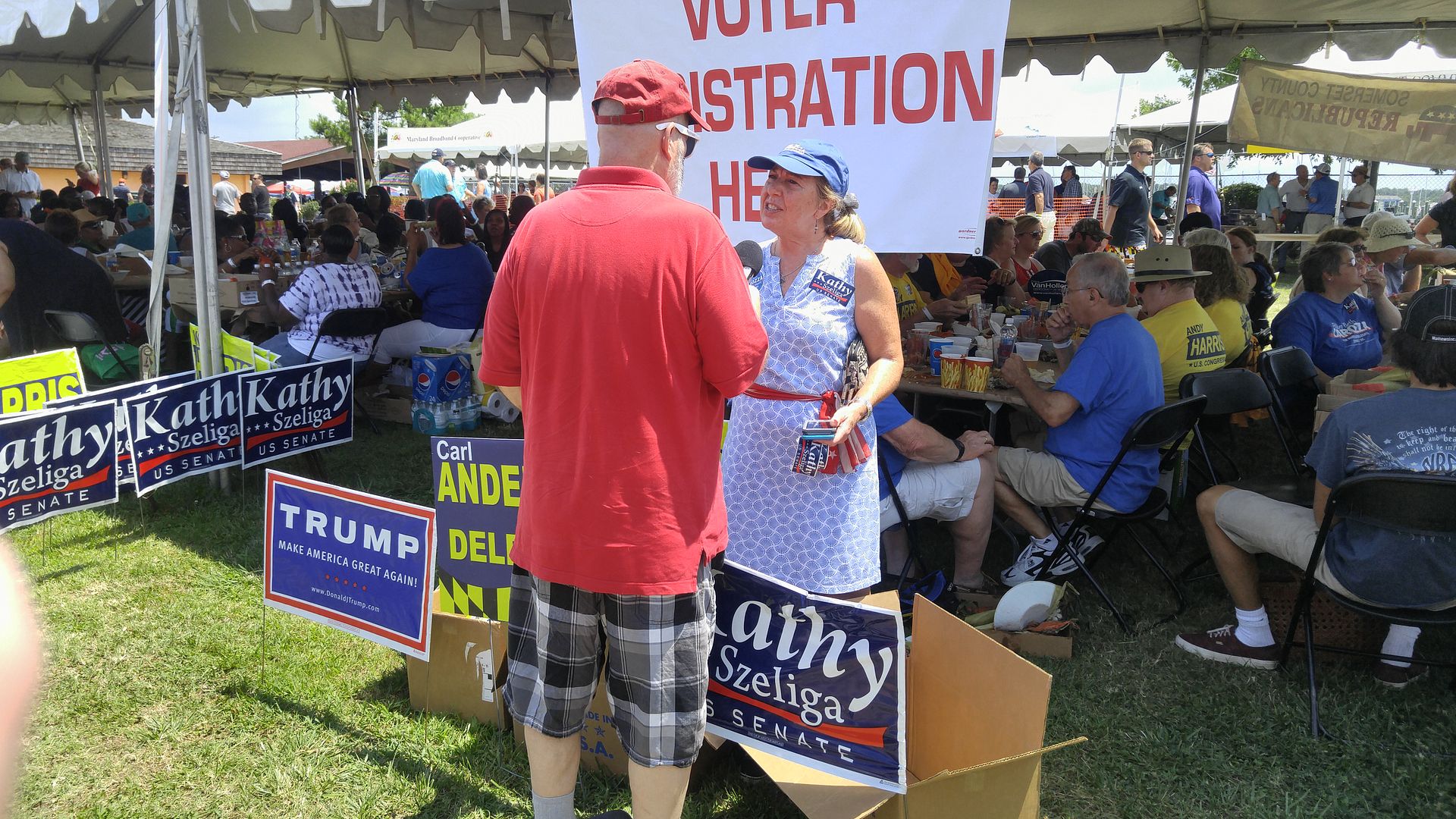 She was speaking to Duane Keenan from Red Maryland.
The other half of Worcester County must have come with Senator Jim Mathias, who had a number of folks with a matching shirt to his. He was a little peaked by the time I took the moment to thank him for his assistance with the school board election bill.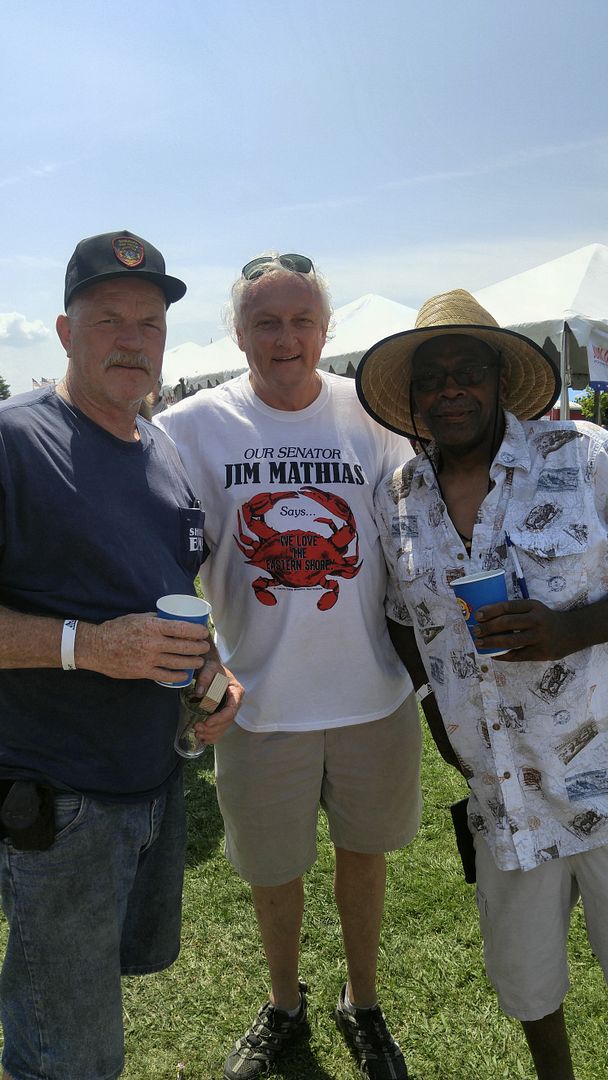 Yet while we had hot and cold running politicians there, we also had a lot of media asking questions. I noted Duane Keenan above, but here's Ovetta Wiggins of the Washington Post (right) speaking to Jackie Wellfonder. Jackie made the cut in Ovetta's story.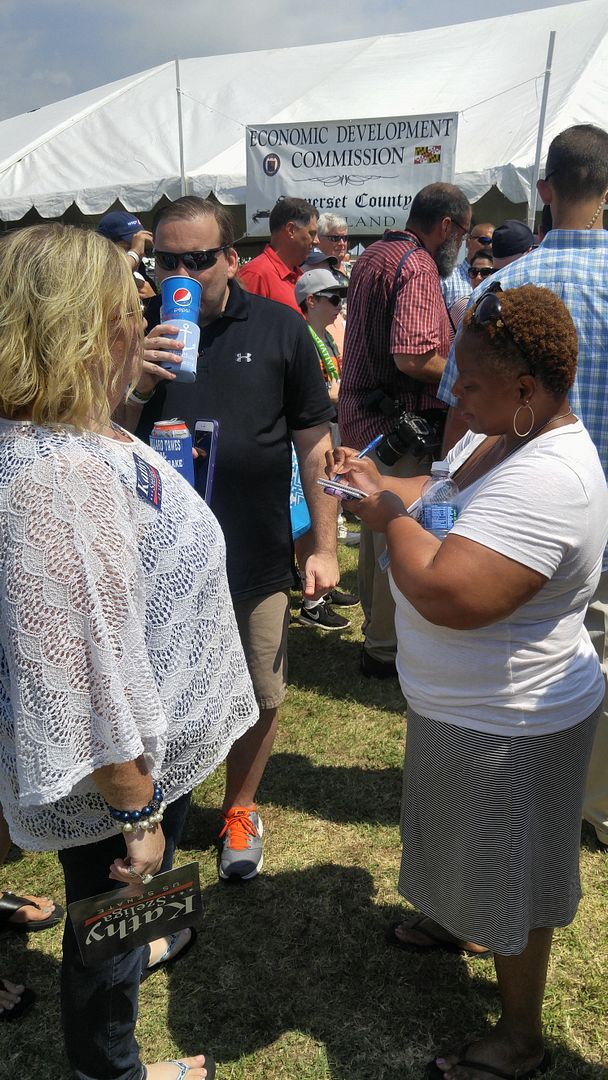 I also had the pleasure of meeting Mike Bradley, who hosts WGMD's morning show out of Lewes, Delaware. Since his station covers a fair amount of the lower Shore in its signal, he was interviewing some of the local players. It's a very good show that I catch once I cross into Delaware on my way to work.
And it could be that the Tawes event is becoming one for the greater Delmarva area. A delegation of elected officials from the First State included Representative Tim Dukes, who covers the Laurel and Delmar areas in his 40th District.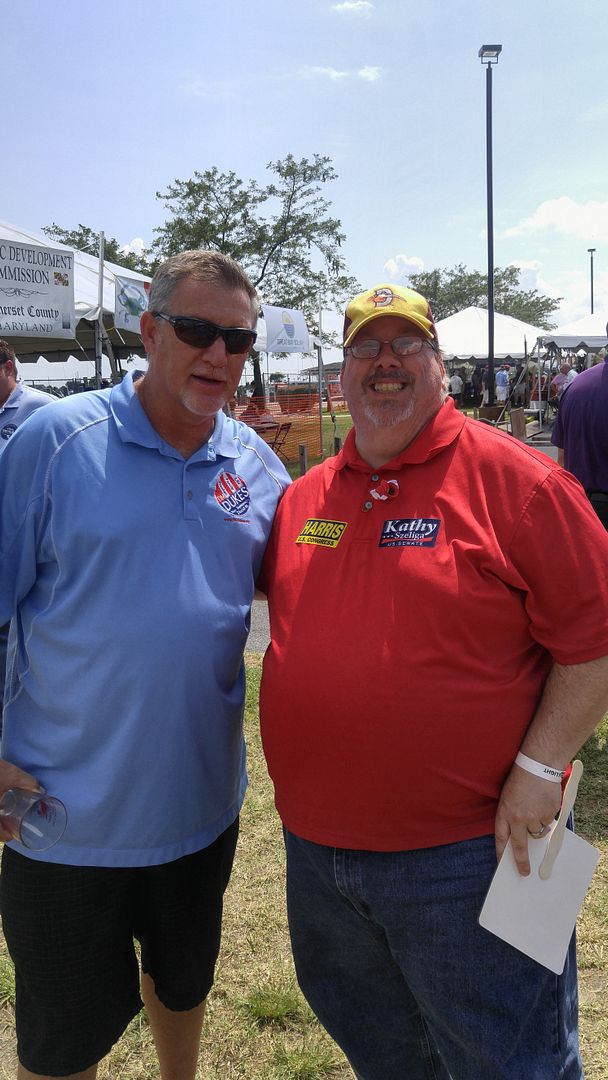 The reason I'm in the photo on the right: it was taken by Dukes' fellow representative (and Minority Leader in the Delaware House) Danny Short of Seaford. Since we're neighbors with Delaware it was nice to see some of their elected officials, too.
In that respect, this coverage was a little lacking because I did a lot of walking and talking to a number of nice folks from around the state. I want to say I overheard Jackie Wellfonder say this, but Tawes really is "like a big 'ol family reunion." We don't often see a lot of politicians travel across the bridge but for attending Tawes, so you have to say hello and speak your piece when you can.