This is the first of a few overview posts I plan on writing for local Maryland and Delaware races of importance. The reason I selected this race first is that there are only three candidates in the running – no write-in candidates have entered this race. Makes for an easy start.
So without further ado, here are the three men running for this office, listed in alphabetical order. Information is gleaned in large part from the respective websites.
Matt Beers (Libertarian Party)
Key facts: Beers is from Cecil County, making him the closest to a native Eastern Shoreman in the race. He is 26 years old, a Navy veteran and current reservist, and works for Cecil County Public Schools. This is his first run for federal office, and his run marks the return of the Libertarians to the District 1 ballot after none ran in 2014. (Current Salisbury City Council Vice-President Muir Boda was the last Libertarian to run for the seat in 2012.)
Key issues: Economy, National Security, National Debt, Taxes, Two-Party System
Thoughts: Matt seems to be running a very orthodox Libertarian campaign with regard to smaller government and a relatively isolationist foreign policy. He seems to be staying away from the social issues, which is probably a good idea in a conservative district if he remains on that part of the Libertarian line that favors a more liberal view on abortion, same-sex marriage, marijuana legalization, and so forth.
It would be interesting to see what Michael Smigiel has to say about Matt's campaign since they seemed to have relatively similar philosophies. (Beers was a guest on Mike's internet radio show back in July so I guess I can find out.) And while Smigiel only received 10.7% of the vote in the GOP primary, if all those votes transferred over to Beers it would get him most of the way to the vote total Boda received in 2012. It likely won't affect the result, but getting 5% of the vote isn't out of the question for Matt.
Andy Harris (Republican Party, incumbent)
Key facts: Harris is seeking his fourth term in Congress, where he has designs of becoming the leader of the Republican Study Committee. He also serves on the House Appropriations Committee. Harris is 59 years old and served as a State Senator for 12 years in the Baltimore area before winning the seat in 2010. After losing in his first Congressional bid in 2008 to Democrat Frank Kratovil by less than 3,000 votes, he avenged that defeat with a 12-point win in the 2010 midterms. Harris is an anesthesiologist by trade and served in the Navy Medical Corps.
Andy was perhaps the most prominent elected official to endorse Ben Carson in the GOP primary; after Carson withdrew Harris eventually followed him in backing nominee Donald Trump.
Key issues: Health Care, Economy and Jobs, Energy, Debt and Government Spending, Taxes, Education, Immigration, Social Security, Medicare, Financial Security
Thoughts: While it's not too difficult to be the most conservative member of the Maryland delegation when you are the lone Republican, Andy is among the top 10 percent in many of the conservative rating systems that are out there. But in reading his stance on issues, it seems to me he's moved back a little bit into "tinker around the edges" territory on several, entitlements, energy, and education being among them. Perhaps that's simply from knowing how the system operates and what we can realistically get, but I wouldn't mind a little more leadership on actual rightsizing of government. Maybe getting the RSC gig will help in that regard, but it also may make him a little more "establishment" as well.
As evidenced by the primary results, there is a percentage of Republicans who aren't happy with Andy. It won't be enough to tip the race, but it could keep him in the 60s for his share of the vote.
Joe Werner (Democrat Party)
Key facts: Werner is an attorney who lives in Harford County but practices in Washington, D.C. After a lengthy political hiatus, Werner jumped into the 2016 Democratic primary and upset former Salisbury mayor Jim Ireton for the nomination. In two previous runs for federal office, Werner finished 17th of 18 candidates running for the Democratic nomination to the U.S. Senate in 2006 (behind winner Ben Cardin) and was fourth of four who sought the 2008 District 1 bid that Frank Kratovil received. Werner is 56 years old, and has spent much of his legal career concentrating on the areas of family and children.
Key issues: Taxes, Halting Corruption, Trade Policies, National Safety
Thoughts: Werner exhibits a mixed bag of philosophies, with moderately conservative lip service to term limits, gun rights, the military, and certain areas of taxation contrasted by the usual progressive screeds about campaign finance reform, the $15 minimum wage, adoption of a value-added tax ("a tax most other nations have"), and the effects of free trade. And while none of these candidates have a website that will knock your socks off, Werner's reads like it was written by someone with no understanding of the political system or even the office he is running for. (My guess is that the copy was written overseas.) The small percentage of leftists in the district will back him, but it's a much less interesting race than it would have been with Ireton involved.
Personally, I'm leaning toward Andy but would be interested in knowing a little more about where the Libertarian Beers stands on other issues. Now that I'm off the Central Committee I can admit I voted for my friend Muir Boda in 2012 and maybe – just maybe – I may go Libertarian again. With the nature of the First District, it's a similar free vote to that for President in Maryland. Honestly I'll be curious to see whether Harris outpolls Donald Trump or not in this district.
So until I do a little more vetting of Matt Beers, I will withhold an endorsement in this race.
Commentary by Marita Noon
If Hillary Clinton becomes our next president, one of the changes you can expect is an invasion of industrial wind development in your community that has the potential to severely damage your property values, ruin the viewshed, impact your sleep patterns, and cause your electricity rates to "necessarily skyrocket" – all thanks to your tax dollars.
The Democratic presidential candidate frequently references her pledge to install 500 million solar panels. Her website promises: "The United States will have more than half a billion solar panels installed across the country by the end of Hillary Clinton's first term." And, while we know she wants to make America "the clean energy super power of the 21st century," finding her position on wind energy is not so obvious. Perhaps that is because, as more and more people learn more about its impacts on their lives, its support continues to wane.
Pragmatic environmentalists find it hard to ignore the millions of birds that are killed by the giant spinning blades – including bald and golden eagles, as well as massive numbers of bats (which are so important for insect control) that are being slaughtered. Some have even "successfully sued to stop wind farm construction," reports Investor's Business Daily.
More and more communities are saying: "We don't want wind turbines here." For example, in Ohio, a wind project was "downed" when the Logan County Commissioners voted unanimously to reject EverPower's request for a payment in lieu of taxes to build 18 wind turbines – though since then, the developer is taking another bite at the project, and the locals are furious. In Michigan, the entire Lincoln Township Board opposes a plan from DTE Energy to bring 50 to 70 more wind turbines to the community – despite the fact that four of the five members would profit from easement agreements they'd previously signed.
While not one of her top talking points, a President Hillary will increase the amount of taxpayer dollars available to industrial wind developers. At a July 2015 campaign stop in Iowa, she supported tax incentives and said: "We need to continue the production tax credits." Previously, she claimed that she wants to make the production tax credits (PTC) for wind and solar permanent. (Note: without the PTC, even the wind industry acknowledges it won't "be able to continue.") She frequently says: "I want more wind, more solar, more advanced biofuels, more energy efficiency." Remember, her party platform includes: "We are committed to getting 50 percent of our electricity from clean energy sources within a decade." And: "We believe America must be running entirely on clean energy by mid-century."
So, if your area hasn't been faced with the construction of the detrimental and dangerous turbines, you can expect that it will be – even if you live in an area not known to be windy. That's the bad news. The good news is the more wind turbines spring up, the more opposition they receive – and, therefore, the more tools there are available to help break the next wind project.
Rather than trying to figure out what to do on your own, John Droz, Jr., a North Carolina-based physicist and citizen advocate, who has worked with about 100 communities, encourages citizens who want to protect their community from the threat of a proposed wind project to maximize the resources that are available to them.
Kevon Martis, who, as the volunteer director of the Interstate Informed Citizens Coalition, has helped protect citizens in 7 states, told me: "Nothing makes it harder for a wind developer in one community than if the neighboring community already has an operating wind plant. Once they can see the actual impacts of turning entire townships into 50 story tall power plants, they can no longer be led down the primrose path by wind companies and their agents." Martis' equitable wind zoning advocacy has been extremely effective. In his home state of Michigan, wind has been on the ballot at the Township level 11 times since 2009 and has never won. In Argyle Township, in Sanilac County, Invenergy spent $164,000 in campaign funds in the 36-square-mile township, yet the people prevailed at the ballot box.
Two communities in Vermont have industrial wind on the ballot on November 8 and it is playing a big role in the state's gubernatorial race where many Democrats are pledging to vote for the Republican candidate, who opposes more wind energy development. There, the foreign developer is essentially offering a bribe to the voters to approve the project.
Martis uses a concept he calls "trespass zoning" – which he says is a "de facto subsidy extracted from neighbors without any compensation." Because the definition of trespassing is: "to enter the owner's land or property without permission," Martis argues that wind turbine setbacks, that cross the property line and go to the dwelling, allows the externalities of wind development – noise pollution, turbine rotor failure and its attendant debris field, property value loss, and visual blight – to trespass. He explains: "Where the wind developer can use these unleased properties for nuisance noise and safety easements free of charge, they have no reason to approach the neighboring residents to negotiate a fair price for their loss of amenity. Trespass zoning has deprived wind plant neighbors of all economic bargaining power. It has donated their private property to the neighboring landowner's wind developer tenant."
Droz agrees that zoning is important – as are regulations. He believes that since an industrial wind project is something you may have to live with for more than 20 years, it seems wise to carefully, objectively, and thoughtfully investigate the matter ahead of time. Droz says: "In most circumstances, your first line of defense is a well-written, protective set of wind-energy regulations that focus on protecting the health, safety, and welfare of the community. They can be a stand-alone law, or part of a more comprehensive zoning document."
Mary Kay Barton, a citizen activist from New York State, began writing about the industrial wind issue more than a dozen years ago when her home area in Western New York State was targeted by industrial wind developers. Wyoming County was slated to have more than 2,000 industrial wind turbines strewn throughout its 16 Townships. So far, the massive projects have been limited by the outrage of residents to the current 308 turbines in 5 rural districts. Barton told me: "We wouldn't even be talking about industrial wind if cronyism at the top wasn't enabling the consumer fraud of industrial wind to exist with countless subsidies, incentives and renewable mandates."
Minnesota citizen energy activist, Kristi Rosenquist, points out: "Wind is promoted as mitigating climate change and benefiting local rural economies – it does neither."
Through his free citizen advocacy service, Alliance for Wise Energy Decisions, Droz tries to make it easier for communities to succeed when dealing with industrial wind energy by learning lessons from some of the other 250 communities – including those near Martis, Barton, and Rosenquist – that have had to deal with it.
At WiseEnergy.org, Droz has a wealth of information available including a model wind energy law that is derived from existing effective ordinances plus inputs from numerous independent experts. He advocates a wind energy law that contains carefully crafted conditions about these five elements:
Property value guarantees;
Turbine setbacks;
Noise standards;
Environmental assessment and protections; and
Decommissioning.
Droz, Martis, Barton, and Rosenquist are just four of the many citizen advocates that have had to become experts on the adverse impacts of wind energy – which provides negligible benefits while raising taxes and electricity rates. Because of their experiences, many are willing to help those who are just now being faced with the threat.
Because I've frequently written on wind energy and the favorable tax and regulatory treatment it receives, I often have people reaching out to me for help – but I am not the expert, just the messenger. These folks are dealing with it day in and day out.
Here are some additional resources they suggest:
If the threat of industrial wind energy development isn't a problem for you now, save this information, as it likely would be under a Hillary Clinton presidency.
Barton explains: "My town was able to stop the ludicrous siting of these environmentally-destructive facilities by enacting a citizen-protective law back in 2007. Since then, however, Governor Cuomo enacted what I refer to as his 'Power-Grab NY Act,' which stripped 'Home Rule' from New York State communities and placed the decision-making process regarding energy-generation facilities above 25 MW (that translates: industrial wind factories) in the hands of five unelected Albany bureaucrats. Other states are sure to follow Cuomo's authoritarian lead. I urge people to be pro-active! Get protective laws on the books now – before corrupt officials steal your Constitutional rights to decide for yourselves."
Think about your community 20, 40, 60+ years from now.
"There was a time when the environmental movement opposed noise pollution, fought industrial blight, and supported 'little guys' whose quality of life was threatened by 'corporate greed,'" writes Martis. "But that was a long time ago, before wind energy."
The author of Energy Freedom, Marita Noon serves as the executive director for Energy Makes America Great Inc., and the companion educational organization, the Citizens' Alliance for Responsible Energy (CARE). She hosts a weekly radio program: America's Voice for Energy - which expands on the content of her weekly column. Follow her @EnergyRabbit.
A week ago I promised you an update on my progress, so here it is.
Over the last seven days I have done quite a bit of research on the candidates, and have found out that some are easier to work with than others. I have more bare-bones information regarding the lesser-known candidates (Darrell Castle, James Hedges, Tom Hoefling) but on the other hand Gary Johnson and Evan McMullin made my job far easier with fairly concise information on their positions. Overall I have copied and pasted nearly 20,000 words and the majority of them are from the latter two.
But because I have so much material – not to mention my analysis – it appears I will spend much of this week on the topic and may break it down into eleven parts. The beauty of WordPress is that I can space them out easily enough so I can maintain the audience. So I may do two or even three posts a day for much of the next week, as I want to have this in the can before early voting begins. (Luckily a late Election Day also pushes early voting back, too. It will begin October 27.)
I also wanted to take some time and point out a couple things.
First of all, I had a nice comment from candidate Tony Valdivia regarding my last post. He now has a website up, and although it's not as comprehensive on issues as others you can start to get a flavor of his candidacy. He seems like a good guy, although he and I probably disagree on the extent we need to move in a conservative direction.
Secondly, having "liked" the candidacy of America's Party stalwart Tom Hoefling, I've found he's extremely active on social media and constantly updates his Facebook page. Considering he and his party are not soliciting donations, the free media is about all he can get.
So just as a refresher, the candidates who are in my "Fab Five" are:
Darrell Castle/Scott Bradley (Constitution Party)
Jim Hedges/Bill Bayes (Prohibition Party)
Tom Hoefling/Steve Schulin (America's Party)
Gary Johnson/William Weld (Libertarian Party)
Evan McMullin/Mindy Finn (independent)
The issues I will cover will be education, Second Amendment, energy, social issues, trade and job creation, taxation, immigration, foreign policy, entitlements, the role of government, and other intangibles. I look forward to fleshing this out and revealing my preferred candidate.
By Cathy Keim
Editor's note: We are fortunate indeed that Cathy attended Tuesday's event in Annapolis and filed a first-hand report with her observations. Maryland was the third-to-last stop on this 50-state tour, which began way back in January and stopped in Dover back on their primary election day, September 13. The final stop is Wednesday in North Carolina.
Pray. Vote. Engage.
Tuesday I joined about 50 other folks from Salisbury on a bus sponsored by the Salisbury Prayer Breakfast Committee to attend the Franklin Graham rally in Annapolis. Jack Savage was our intrepid leader. We pulled out of the Wicomico Youth and Civic Center parking lot at 8:30 in the morning and headed north.
We assembled on Lawyer's Mall with a crowd that swelled to over three thousand and began to spill into the street. Volunteers were handing out American and Christian flags. It was a well-organized event. There were several Christian schools in attendance. It was good to see the smiling, young people.
Dennis Agajanian warmed up the crowd with his exceptional guitar picking and then led the crowd in some traditional hymns including How Great Thou Art, which has a long history in the Billy Graham crusades. The crowd was enthusiastic and sang robustly.
Franklin Graham came to the podium and immediately led off with, "Our country is in trouble." No political party, nor any individual can turn it around – only God can do it. As a nation we are spiritually, racially, economically, and politically divided. We need to pray.
The he turned to Nehemiah 1 and explained how the Jews had been carried off to exile in Babylon as slaves. God had brought judgement upon their nation because they didn't repent from their sins. Nehemiah was a slave in the king's palace in Babylon. He heard about how the remnant of Jews left in Jerusalem were suffering because the walls were broken down.
Nehemiah petitioned the evil pagan king for permission to return to Jerusalem and the king granted it. There were enemies at every hand determined to thwart the rebuilding of the walls, but Nehemiah persisted and in 52 days, the walls were rebuilt.
Walls are meant for protection. Gates can be opened or shut depending on the need. Our moral walls and gates are down and any type of wicked thought and activity and teaching can come and go. Our educators, big business, politicians and – sadly to say – many of our churches are more concerned about profits and political correctness than they are about God's truth and His righteousness. Nehemiah fasted and prayed and confessed the sins of himself, his people, and his fathers.
He confessed the sins of his nation. When we consider the sins of our nation, where do we even begin?
Graham encouraged us to hold hands and pray for the sins of our nation as each of us felt moved, then asked those in the crowd to confess their personal sins. He added that he didn't fully understand the father's sins, but he encouraged us to pray and confess for the sins of our fathers. Next Graham prayed for Governor Hogan, Lt. Governor Boyd Rutherford, for the workers in the capital, and for our law enforcement officers.
Then he gave an explanation of the gospel message that Jesus Christ came to save sinners. It is only through Jesus Christ that we can find salvation. Not only does our nation need healing, but our individual hearts need healing. Graham stressed that God loves us, but we have a problem called sin: a disease of the human soul that separates us from God. God is a holy and just God. As a human race, we have all sinned and come short of the glory of God.
"But God so loved the world that He gave His only begotten son that whosoever believes in him should not perish but have everlasting life." John 3:16.
Then, being a technological age, Graham invited anyone who had just prayed for new life to text 21777 and type in the word "Decision" so that literature would be sent to you.
After his religious message, Graham pivoted to more of a historical reminder. He recalled that when he was growing up everybody was worried that "the Commies were coming." During his grade school years his school had drills where you got under your desk in case of nuclear bombs. He pointed out that hiding under your desk was not very helpful, but we practiced anyway. We had bomb shelters with food that was to last for 40 years. It as inedible, but it would last. Then the Berlin Wall came down and secularism came in and there was no difference between secularism and communism because both are godless.
We removed the Ten Commandments and prayer from our schools. Patriotism and the pledge of allegiance are out. Our kids have no idea what is right or wrong.
We have been lied to about the separation of church and state. That whole discussion was about protecting the citizens from State sponsored religions. He said that the Grahams came from Scotland, where the Anglican Church was the state-sponsored religion of the English kings. They tried to force the Scots to be Anglicans, but the Scots said they had no Lord but the Lord Jesus Christ. So the English kings cut off their heads even before ISIS. The ancestors of Billy Graham came to America for religious freedom.
Today the secularists are trying to change our understanding of freedom of religion. For generations we knew the meaning of the term was that you can live your faith freely, and share it as desired. This has devolved into a concept of freedom of worship, meaning that you can worship in the confines of a church only. You cannot live out your Christian faith in the world.
We need Christian men and women to run for office. Look at your candidates in the presidential race. Graham succinctly assessed that, "it has been interesting this year."
But it isn't only about the presidential election. We need to vote thoughtfully on the local level and we need to encourage Christians to run for office. Christians should run for the school board, but they should come ready to fight because the enemy is poisoning our children's minds. Progressives - which is just another word for atheist - get pornographic books onto 7th grade reading lists. Note that if you fight back, the progressives will call you intolerant. Smile and say no.
We must take our schools back as we are losing our nation.
The church must wake up. Pray and get involved: in the last election 20 to 30 million evangelicals stayed home. People complain about the rigged voting, added Graham, but if 30 million more voters showed up, they couldn't rig that election. He mentioned the 2008 Coleman/Franken Senate race in Minnesota that was decided by 220 votes sending the vile, anti-God Franken to the Senate. (Editor's note: it should be pointed out that Norm Coleman led on election night – a large number of questionable absentee ballots "found" during the recounts put Franken on top. Note that Minnesota had a radical Democrat Secretary of State in charge of that election, too.)
Graham then asked the people to take his Pledge to God and Country:
Honor God at home.
Honor God in public.
Honor God with my vote.
Pledge to pray faithfully for my country.
Register to vote.
Pledge to engage in my community and run for office if God leads.
Graham asked that those who take the pledge text "America" to 21777 to receive access to a digital copy of Decision magazine's election special.
Graham closed with this exhortation: Our job as Christians is to make the impact of Christ known to our fellow citizens. Be an advocate for God's truth. Turn our country back to "In God We Trust."
Dennis Agajanian led the crowd in God Bless America and America to close the event.
Well, that was an overview of what was said at the rally yesterday, at least as best I could take notes. I had no complaints with anything that Franklin Graham said. It is certainly true that no matter who is elected president next month, that person will not be able to fix America. They may help or hurt our country, but they will not be able to "fix" it. Our walls are down and we are sinking under the flood of ills that besiege us.
Our current presidential race is the prime example of where our low morals have led us. All the people that are moaning that this is despicable should ask themselves what else can we expect when we have turned our backs on all that is good and noble and true and have encouraged the basest type of behavior in our citizens.
It is time for us to begin our long march to retake our culture. We have allowed the progressives free rein in our schools, our culture, our churches. We must stand for the truth. It will not be easy as the truth is not respected nor sought by many. But stand we must.
I'm going to close with several photos I took at the event.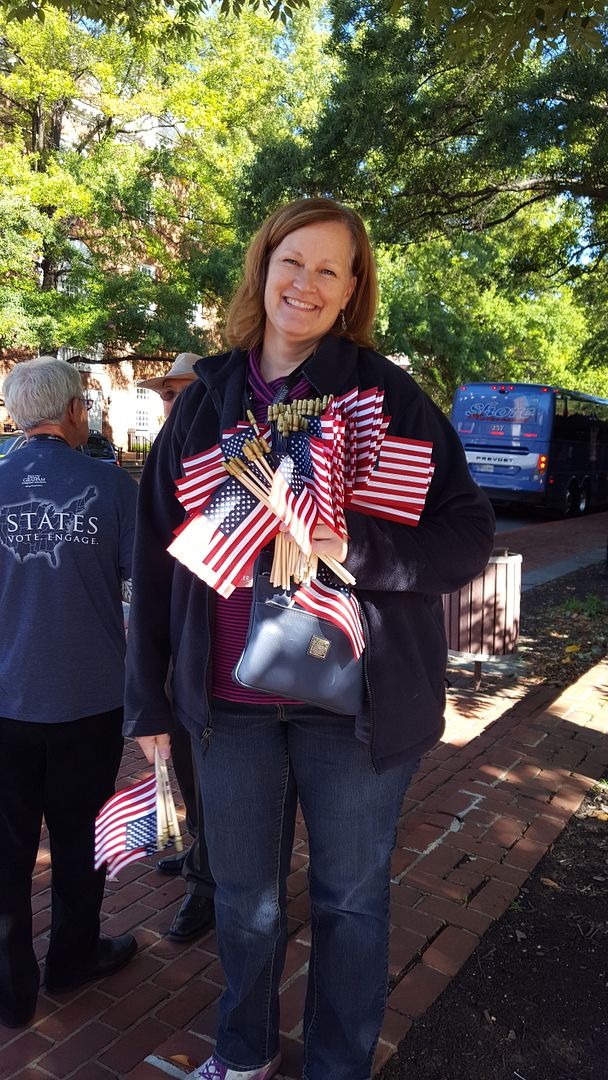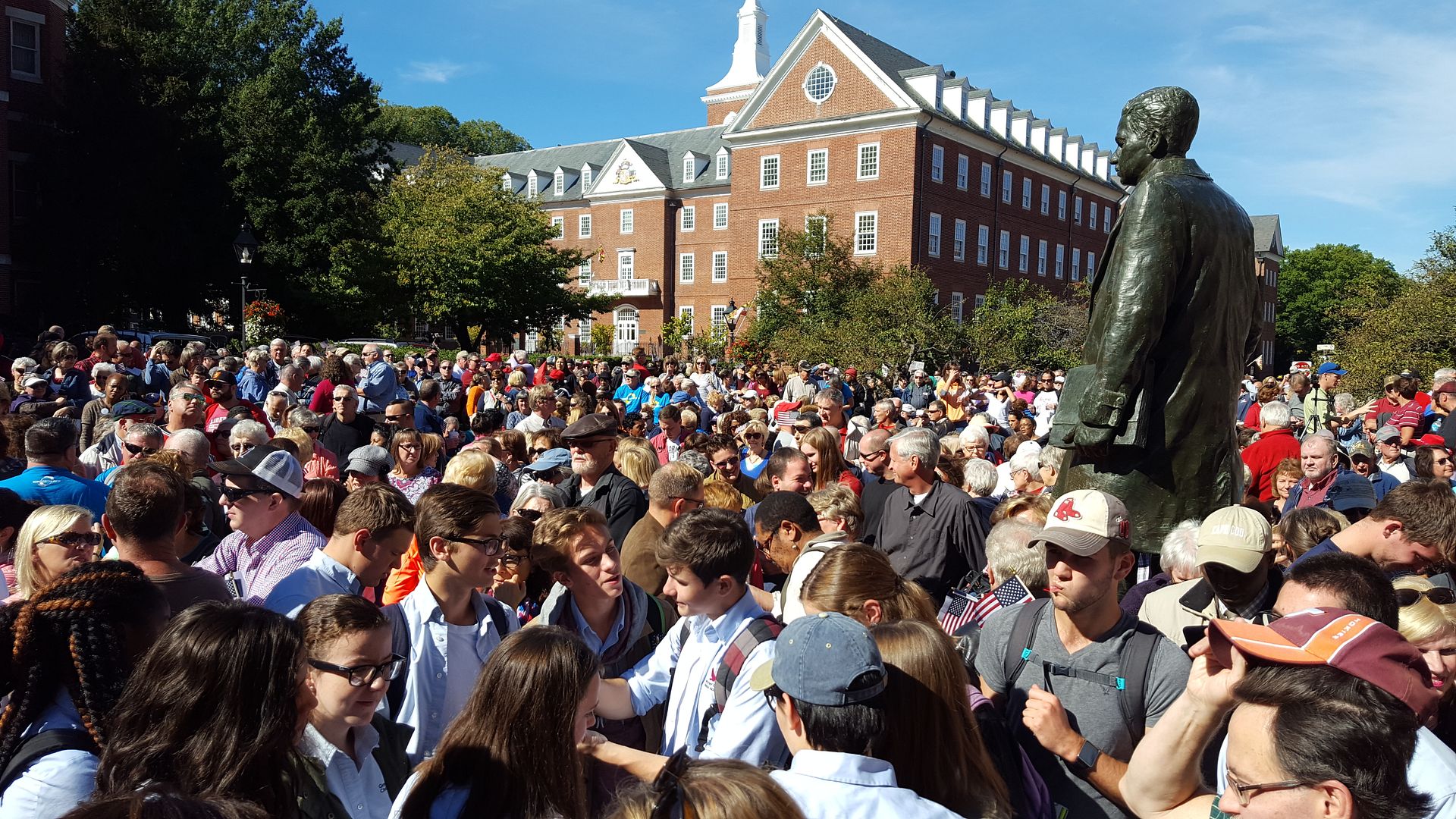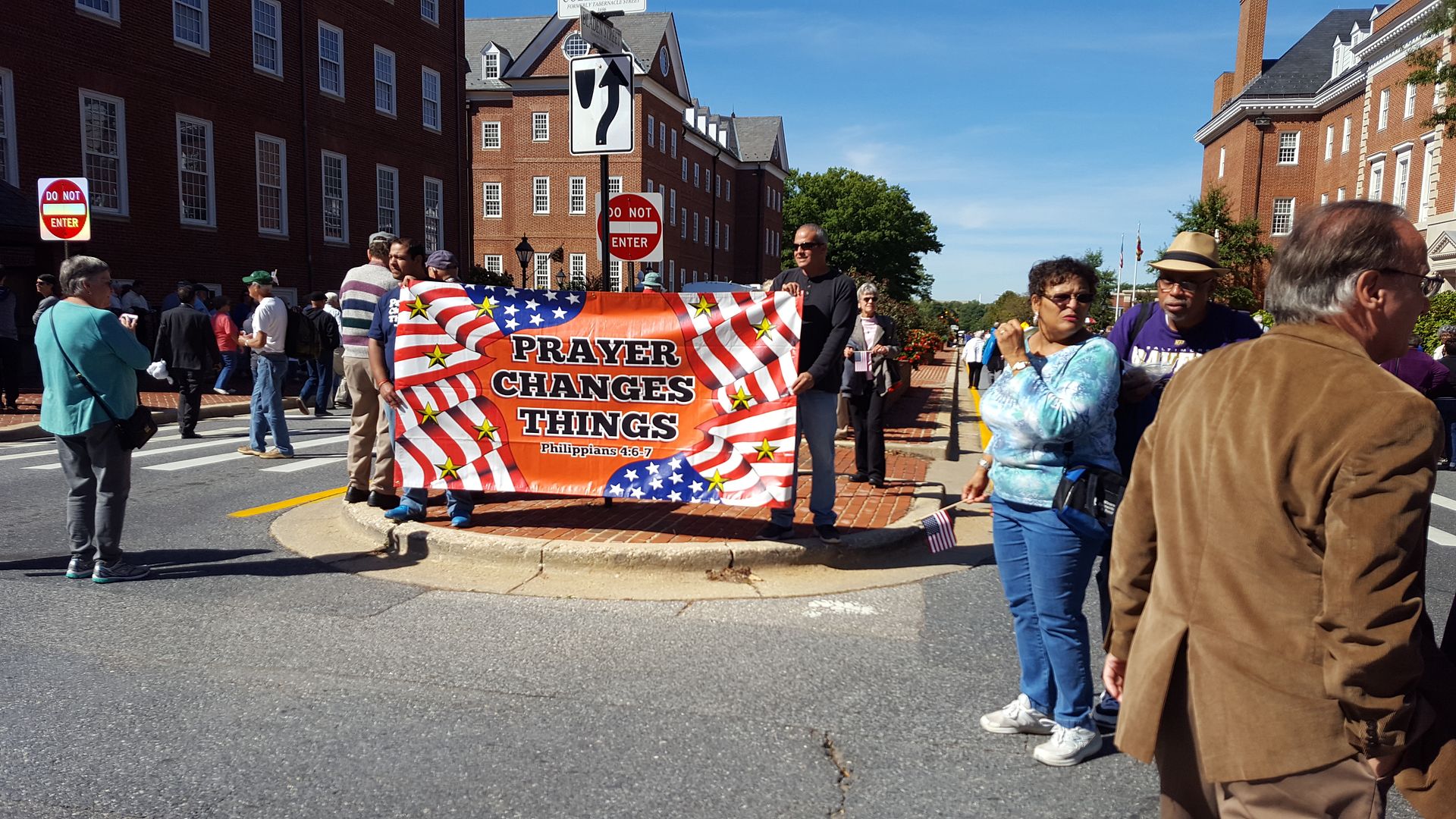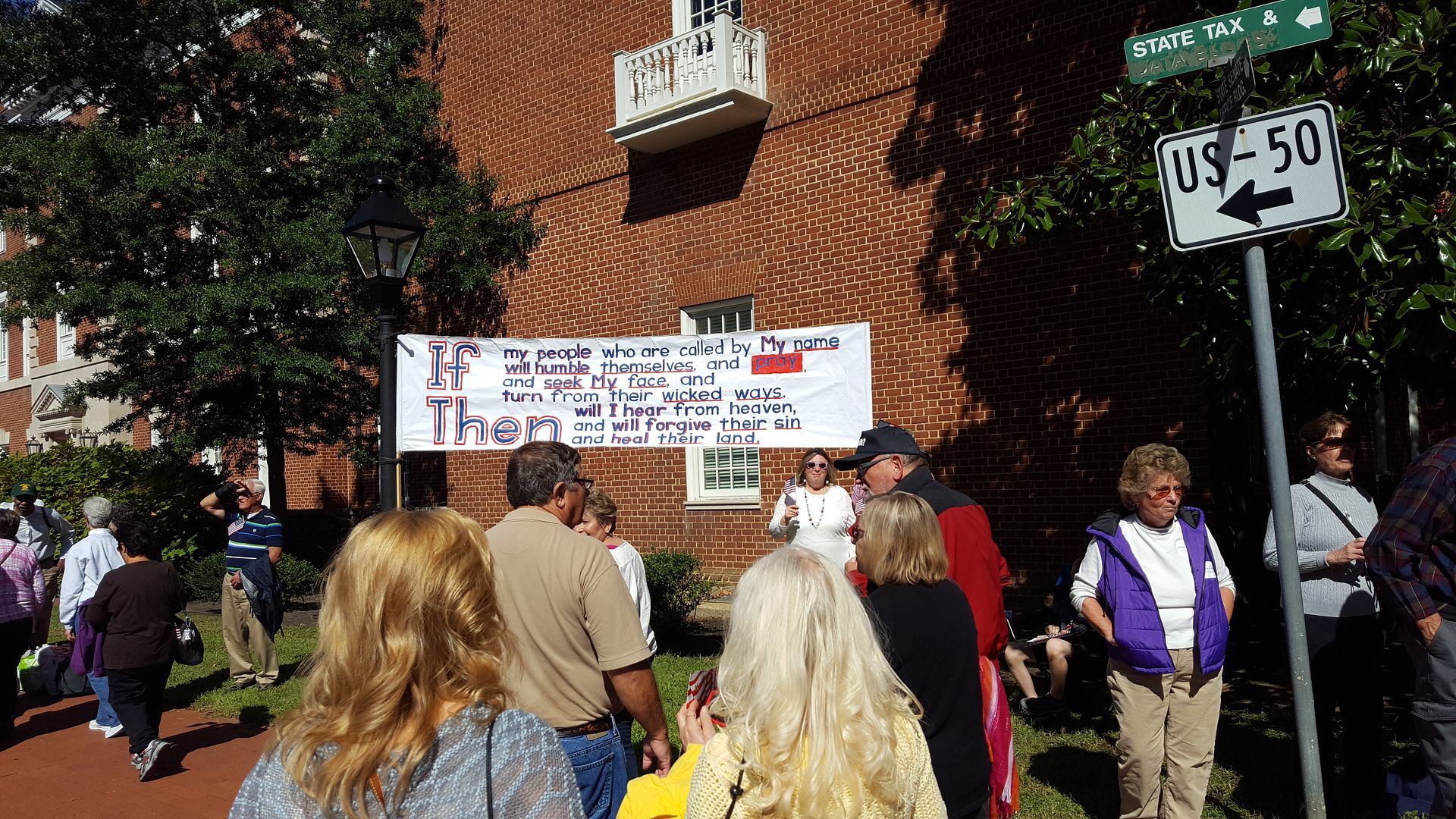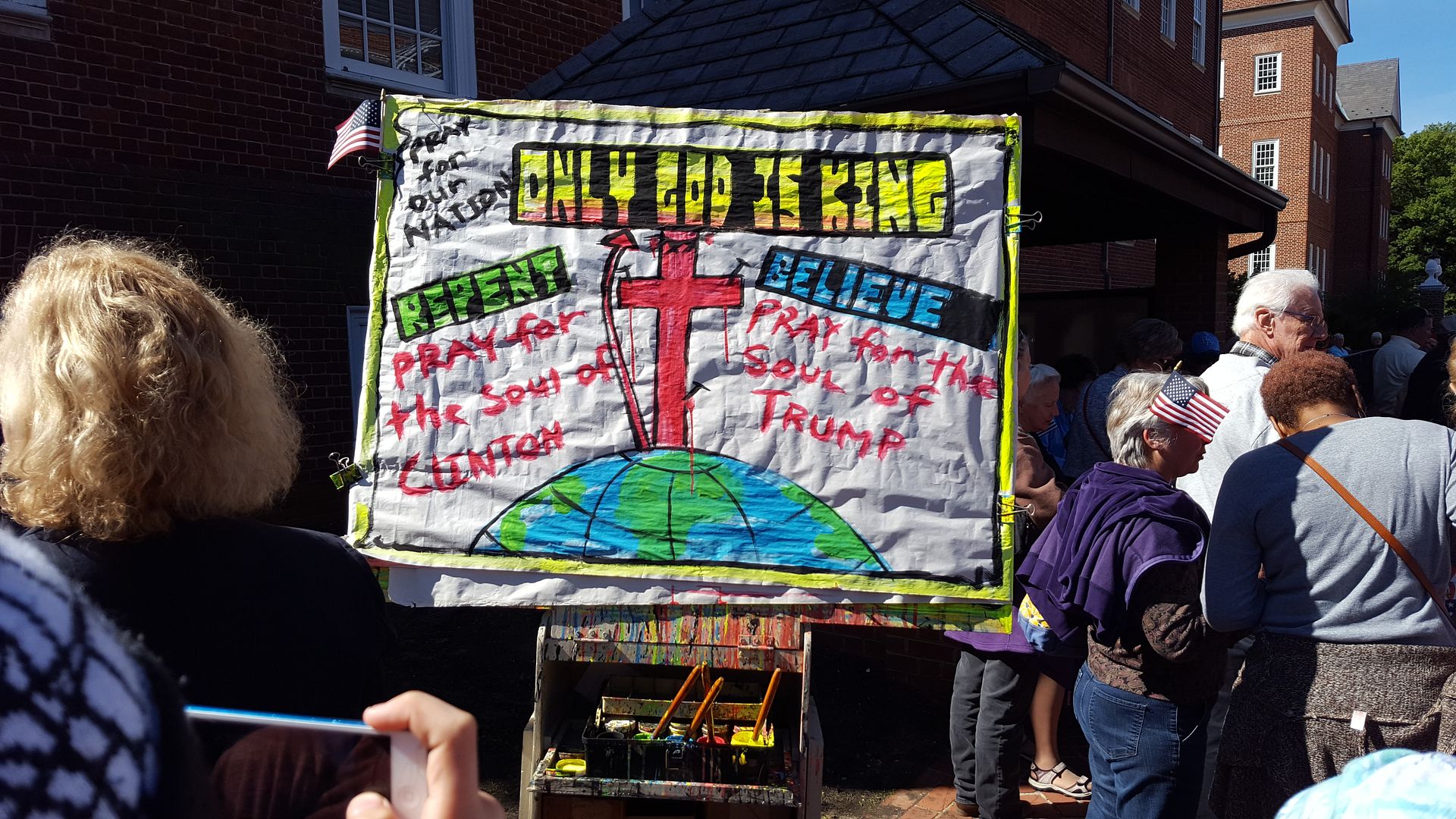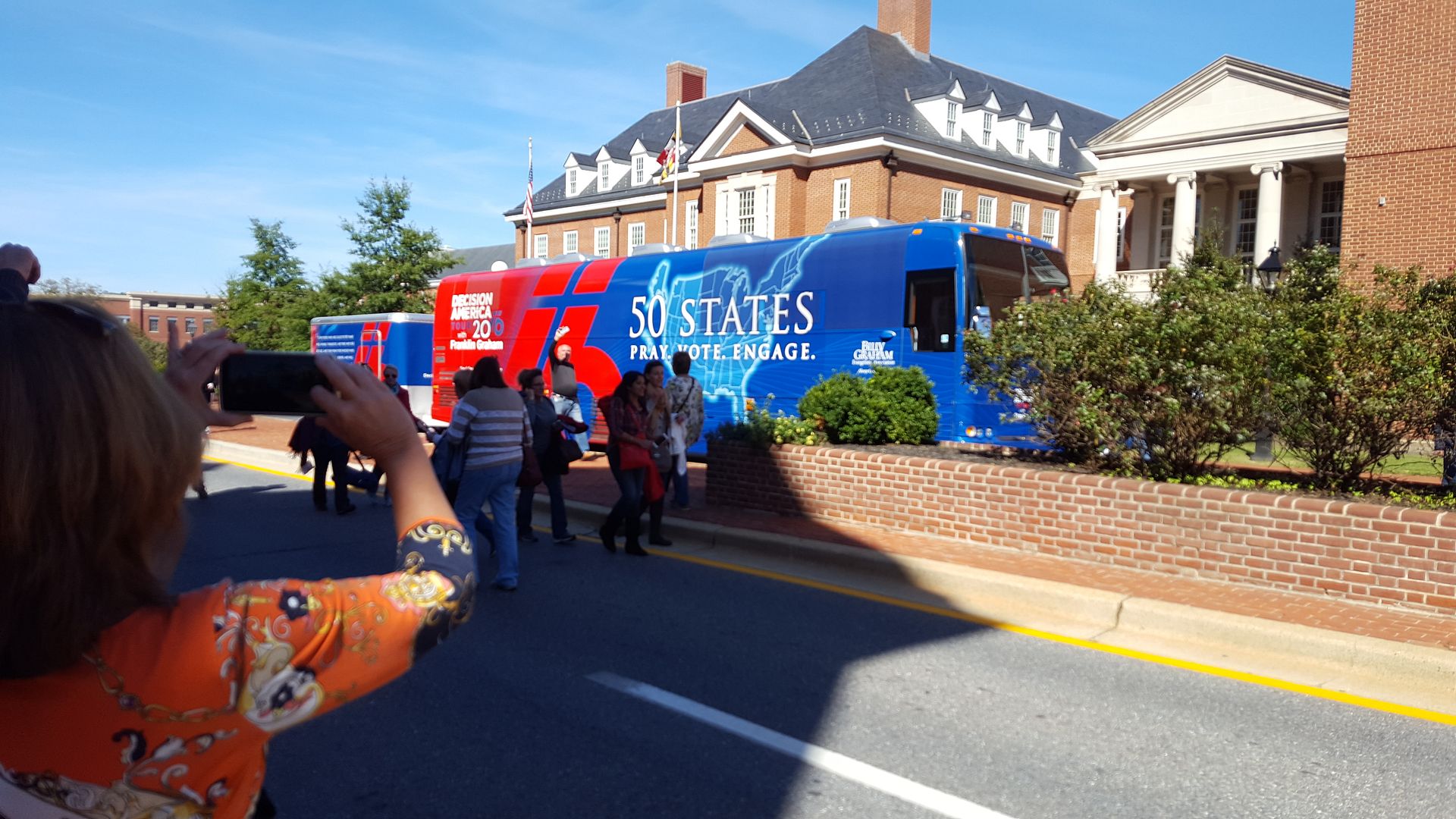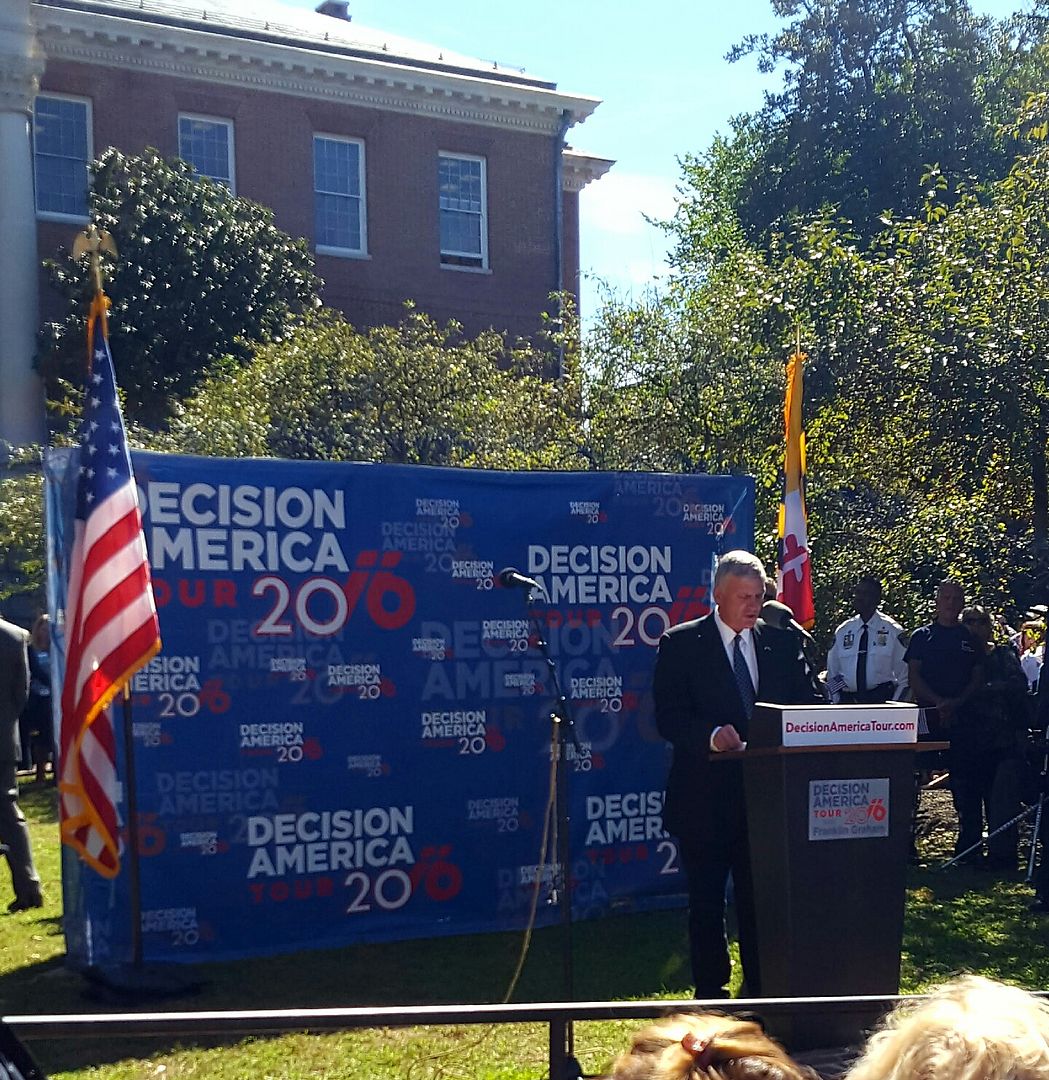 Postscript:
As editor, I concur with Cathy's assessment.
And I sought for a man among them, that should make up the hedge, and stand in the gap before me for the land, that I should not destroy it: but I found none.
Therefore have I poured out mine indignation upon them; I have consumed them with the fire of my wrath: their own way have I recompensed upon their heads, saith the Lord GOD. (Ezekiel 22:30-31, KJV)
Christians, it may be uncomfortable and you may lose some worldly things, but it's time to make up the hedge.
As a Republican in Maryland, there are two things you have to account for in a statewide race: you have a smaller pool of party regulars in the voting bank when compared to the Democrat in the race and you will have less money and free media than the Democrat has at his or her disposal. These have been givens throughout the modern political era, and it's a rare Republican who can overcome them.
But I think the idea of playing up just how low-budget a campaign is (against a well-funded Washington insider) doesn't work well as a serious campaign ad. I'm going to share Kathy Szeliga's ad so you can judge whether she plays this shtick (as well as the motorcycle riding angle) too much.
In truth, when I looked up the latest FEC reports (as of June 30), Van Hollen only had about a 2-to-1 cash on hand advantage on Szeliga, with $566,795 on hand. Admittedly, Van Hollen had definitely churned through a lot more money than Szeliga over the previous 15 months covered in his report, but he was also trying to fend off a well-known challenger for the Democratic nomination in Fourth District Congressman Donna Edwards.
And Kathy was determined to squeeze her nickels:
Our fundraising has been going well, but we didn't want to waste a dime, so we shot the ad on an iPhone – saving the campaign thousands of dollars. And TV ads are expensive, so we decided to buy cable and focus on a strong social media push.
She would need more than a strong social media push, though: her 17,126 Facebook likes trail Van Hollen's 21,333, while the margin is even worse on Twitter: Szeliga has just 2,349 followers compared to 28,780 Twitter followers for Van Hollen. (Of course, Chris has more of a national profile as a Congressman so that should be expected. As evidence, current Senator Barb Mikulski has 48,683 followers while Andy Harris has 6,281.)
But since the Democrat is afraid to debate in the hinterlands of the state (or include the third candidate in the race, Green Party candidate Margaret Flowers), perhaps the ante needs to be increased. This is what you really need to know about Chris Van Hollen: a description from his campaign website but edited for more truthfulness by this writer. Normally this would be a blockquote but I have it in normal text to make the edits (deletions struck through, additions in italics) more clear.
**********
Chris Van Hollen has been described as "one of those rare leaders who runs for office because he wants to DO something, not because he wants to BE something." Yet it's what he has done that should trouble the hardworking Marylanders he's trying to win over.
This sentiment captures Chris's approach to public service, an approach that he will bring to the U.S. Senate to fight – and win – for Marylanders who depend on the ever-expanding federal government to deal with on the challenges we face today.
Government-dependent Maryland families can count on Chris to be their champion – because that's what he has been doing for over two decades. As for the rest of you, well, you are correctly described by our Presidential nominee as the "basket of deplorables" because you don't share my 'progressive' vision.
Chris was first elected to public office in 1990, when he campaigned for the Maryland House of Delegates as part of the 'Choice Team,' which unseated an a pro-life incumbent opposed to women's reproductive rights. So I have spent 26 of my 57 years on this planet in public office, and as you will see later on I was groomed for this practically from birth.
In Annapolis, Chris quickly earned a reputation as a champion for progressive causes and a talented legislator who was not afraid to take on blame powerful special interests for problems we in government created – like the NRA, Big Oil, and Big Tobacco – on behalf of hardworking families. I just didn't let on that the NRA never pulled the trigger on a murder victim in Baltimore, Big Oil makes a fraction of the profit for putting in all the work compared to the ever-increasing bonanza we take in with every gallon, and we don't have the guts to actually ban tobacco because we need their tax (and settlement) money.
He led successful fights to make Maryland the first state to require infringe with built-in safety trigger locks on handguns, ban the prospective job creation of oil drilling around the Chesapeake Bay, and prevent tobacco companies from peddling cigarettes to our kids, taking credit even though sales to minors have been illegal for decades. Chris also negotiated an historic tax increase in funding for all Maryland schools. Just don't ask me to increase the choices you have to educate your children by allowing that money to follow your child.
Time Magazine said Chris was "a hero to environmentalists, education groups and gun control advocates." The Baltimore Sun called him "effective" and "tenacious" and the Washington Post dubbed him "one of the most accomplished members of the General Assembly." If you were a special interest that depended on a continual government gravy train, I was definitely your "fair-haired boy."
In 2002 Chris was elected to Congress on a wave of grassroots special interest support, ousting a 16-year Republican incumbent thanks in large part to some creative redistricting. There he brought the same brand of can-do activism socialist failure with him. He led the successful effort to stop big banks from reaping outrageous profits from having student loans as part of their loan portfolio - instead, we made sure Uncle Sam got that piece of the action and rigged the game so that even bankruptcy cannot save most graduates who can't find a job to pay their loans from - and was also credited with helping Democrats win back control of the House in 2006, just in time to steer the national economy into the rocks.  He became a Democratic leader and played a key role in the passage of the Affordable Care Act perpetual annual increase in health insurance rates and deductibles, the Wall Street Reform protection law, and the Economic Recovery Act that helped rebuild our shattered economy has helped saddle us with the worst recovery from recession in the last century.
When the Republicans took over the House in 2010, Chris's colleagues elected him to lead the battle against the Tea Party budget sanity. In that role he has been leading the fight to protect Medicare and Social Security from GOP budget attacks necessary reforms and protect vital investments in education, transportation, medical research and programs for the most needy. We have to buy those votes somehow and grease the right palms – debt is only a number anyway, right?
Chris has also unveiled a comprehensive plan to address one of the greatest challenges of our time – growing inequality in America.  His 'Action Plan to Grow the Paychecks of All, Not Just the Wealth of a Few'  Redistribute Even More Wealth and Create More Government Dependency' has been called a forward-looking blueprint for building an economy a government behemoth that works for everyone the ruling class inside the Beltway.
In the Senate Chris will continue to fight for against bold measures to revive the promise that every individual has the chance to climb the ladder of opportunity and lead a successful and fulfilling life. We Democrats can't let an individual be successful on his or her own, particularly if he or she is a minority.
The son of a Baltimore native, Chris's involvement in social justice and political action began at an early age. Chris's mom and dad were both dedicated public servants, and growing up he saw their strong commitment to making the world a better place.  As a student, he joined efforts to end Apartheid in South Africa and stop the nuclear arms race. And while Chris put himself through law school at night, he worked as a Congressional aide and then as an advisor to Maryland Governor William Donald Schaefer. So in my adult life I have never held a private-sector job or signed a paycheck. But I'm fighting for you because I am down with your struggle to balance a household budget when both parents are working multiple jobs!
Chris and his wife, Katherine, live in Kensington where they have raised their three children.
**********
The above is somewhat tongue-in-cheek, but along the line in this campaign I am very tempted to look at some of the local races on a more issue-by-issue basis, a "compare and contrast" if you will. I have no doubt that Chris Van Hollen is well to the left of most hardworking Maryland families.
But if Kathy Szeliga is as conservative as she says, perhaps we should downplay the "Washington insider" angle a bit because that's not going to play inside the Beltway. The latest voter registration numbers tell the tale: just between the two counties directly bordering Washington, D.C. we find 31% of all state voters. Add in the close-by counties of Charles and Howard and the number edges close to 40%. Put another way, 2 in 5 Maryland voters have some degree of connection to the seat of federal government – even if they don't work directly for Uncle Sam, their area was built on the economic impact of the government bureaucrat.
So the real question has to be about real solutions. Van Hollen cites a lot of things he has worked on, but one has to ask if the work he has done has actually solved the problem. Intentions might be grand for putting together a political webpage, but they don't fly in the real world.
Even if you go back to his earliest days, consider these checklist items: as a youth, Van Hollen worked to stop apartheid in South Africa and against nuclear arms proliferation. Unfortunately, the transition away from apartheid also led to the decline of South Africa as a nation – just like a number of American inner cities in the 1950s and 1960s the nation was a victim of white flight because among those who were liberated were too many who used the occasion to settle scores instead of living peacefully as may have occurred with a slower transition. And that youthful resistance against nuclear proliferation yielded to political partisanship when Van Hollen supported the Iranian nuclear agreement. Perhaps the proliferation he sought to end was only our own.
Or ponder the effects of the policies Van Hollen backed in the General Assembly. Trigger locks became required for all guns sold in Maryland, so there's already an extra expense. And I seriously doubt the bad guys have one on their guns, so if some citizen is shot and killed because they couldn't disengage a trigger lock in order to defend themselves, will Van Hollen apologize or believe more legislation is needed?
And like many liberal policies, Chris took the first step and his cohorts have walked them a mile. We went from banning oil drilling in the Chesapeake (which may not be economically viable anyway, but we have no way of finding out) to thwarting the state's efforts to drill for its proven natural gas reserves in the Marcellus Shale region (as well as other prospective areas including Annapolis and parts of the Eastern Shore.) That cost the state hundreds of possible jobs. Meanwhile, the state of Maryland perpetuates the hypocrisy of encouraging people to stop smoking with a small portion of the taxes they rake in with every pack – a sum that "progressives" annually want to increase as one of the state's most regressive taxes.
Nor should we forget the policies Van Hollen has supported over the last eight years. Just ask around whether your friend in conversation feels they are better off with their health coverage, or if the economy is really doing well for them. If they have student loans, ask them what they think of the price of college. In all these areas, government that considers meddling as its task has made things worse for the rest of us in Maryland.
These are the questions Kathy Szeliga should be asking, rather than joking about her low-budget campaign. The aggressor sets the rules, and to win over the voters the candidate has to define the opponent for them. My definition of Chris Van Hollen is that he's part of the problem, so the task is to make sure voters know that before explaining the solution.
It may not be as apparent to the average American as "vacation day" patriotic holidays like Memorial Day or Independence Day, but today a small band of Salisbury residents came to City Park along the Wicomico River and celebrated the 229th anniversary of the signing and delivery of our nascent Constitution to Congress for approval. Once approved, it was sent to each of the thirteen colonies for ratification (Delaware was first, on December 7, 1787) and by the middle of the next year the requisite nine states had ratified the document, which was not yet amended with the Bill of Rights. (That would come a few years later, in 1791.)
So I arrived fashionably on time and was pleased to see the turnout.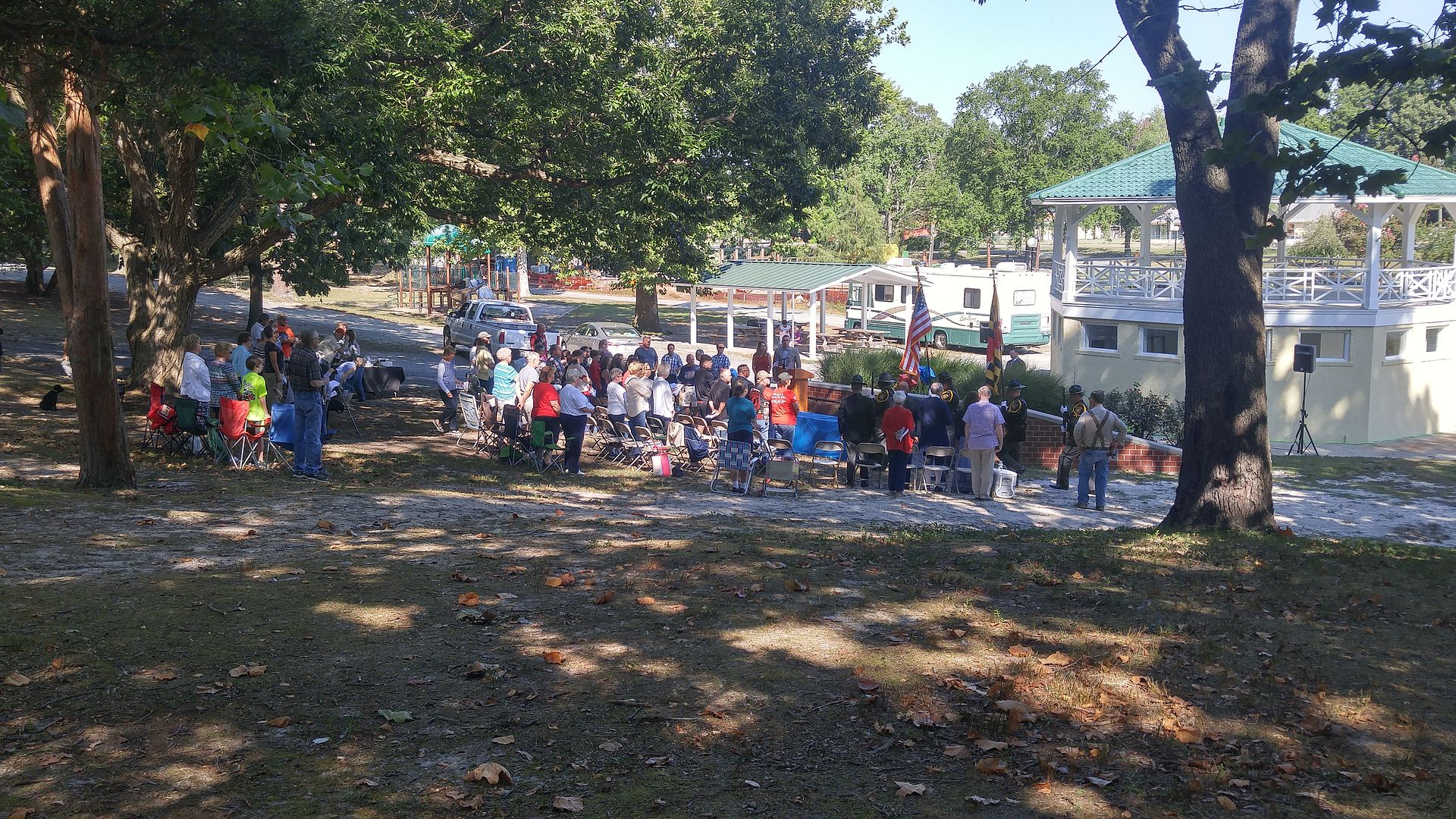 It seems like there were a few more people than last year's gathering, and I think the morning start time (as opposed to afternoon last year) may have had something to do with that.
We were presented with a proclamation from Salisbury mayor Jake Day reiterating that the city would be celebrating Constitution Day today. Day is one of the few who could stand and say he was actively defending the Constitution as an Army officer on active duty.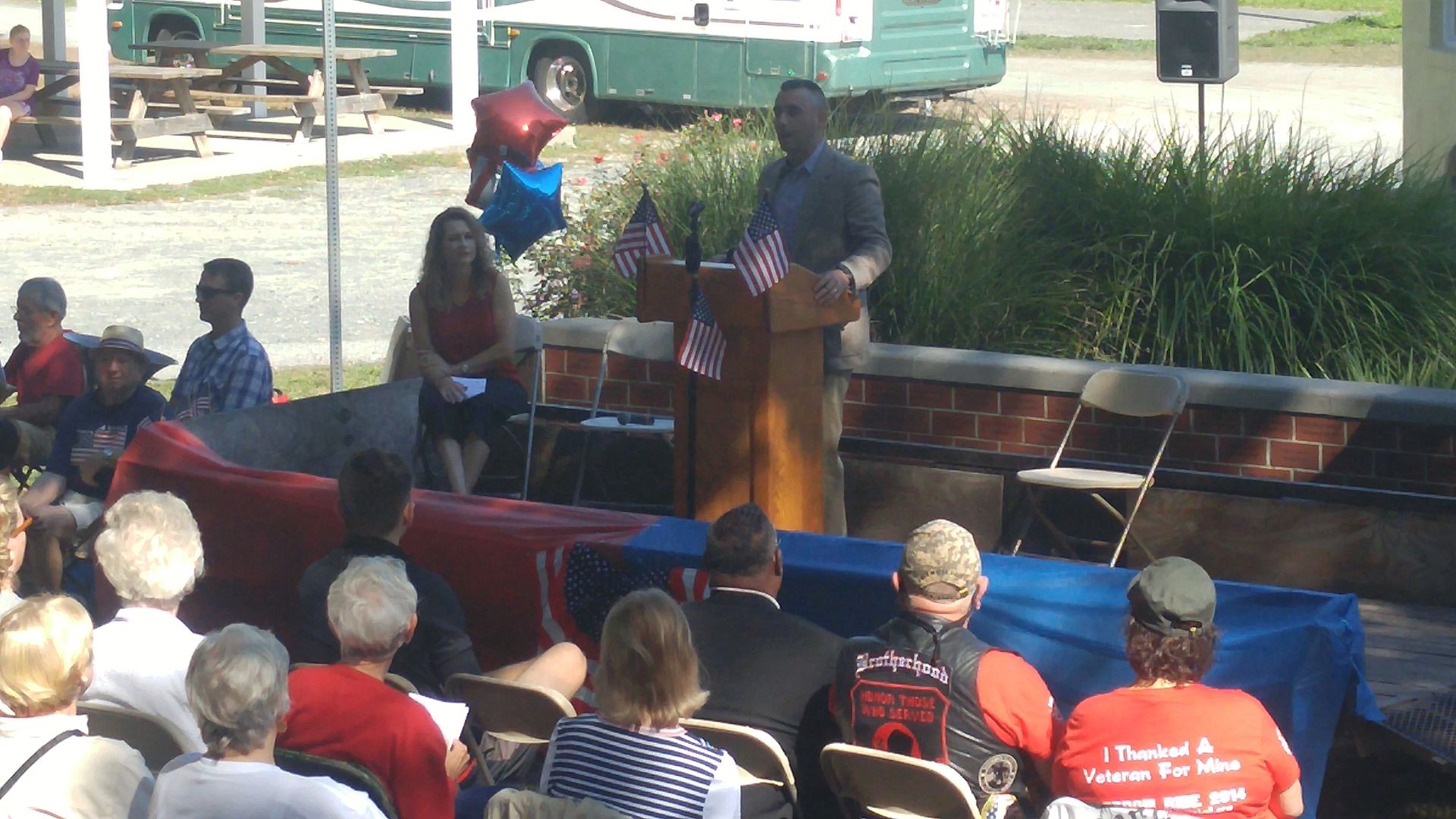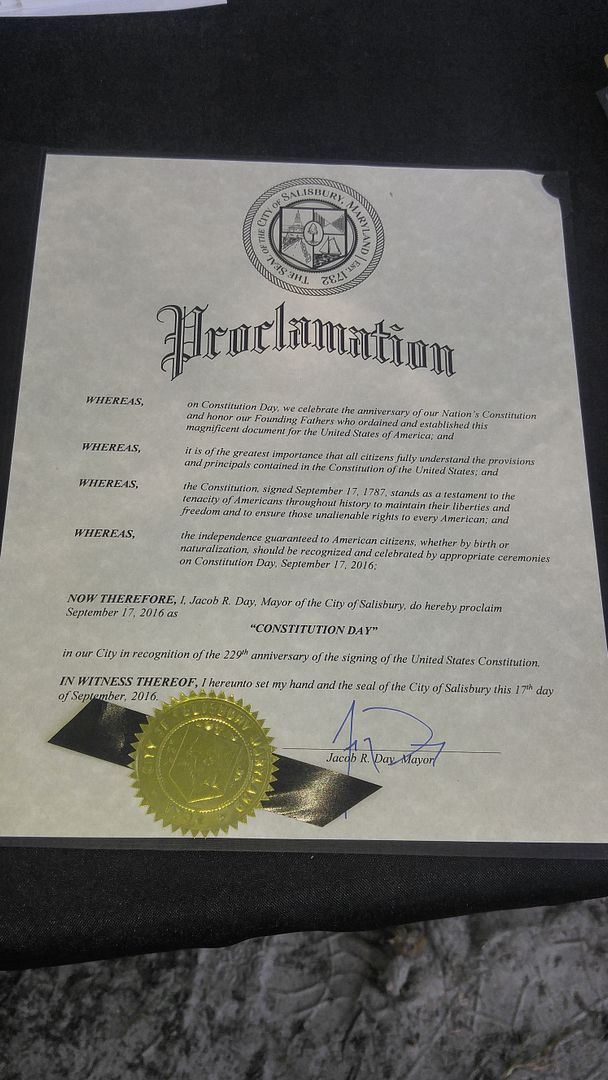 The event also was the culmination of an essay contest where the top two winners were present to be honored with a certificate from the Maryland General Assembly, presented by members of the local delegation Mary Beth Carozza (who was speaking), Christopher Adams, Carl Anderton, and Johhny Mautz. The winning entry was read by Carys Hazel of Mardela High School, with runner-up Nathaniel Sansom of Salisbury Christian School also present to receive his award.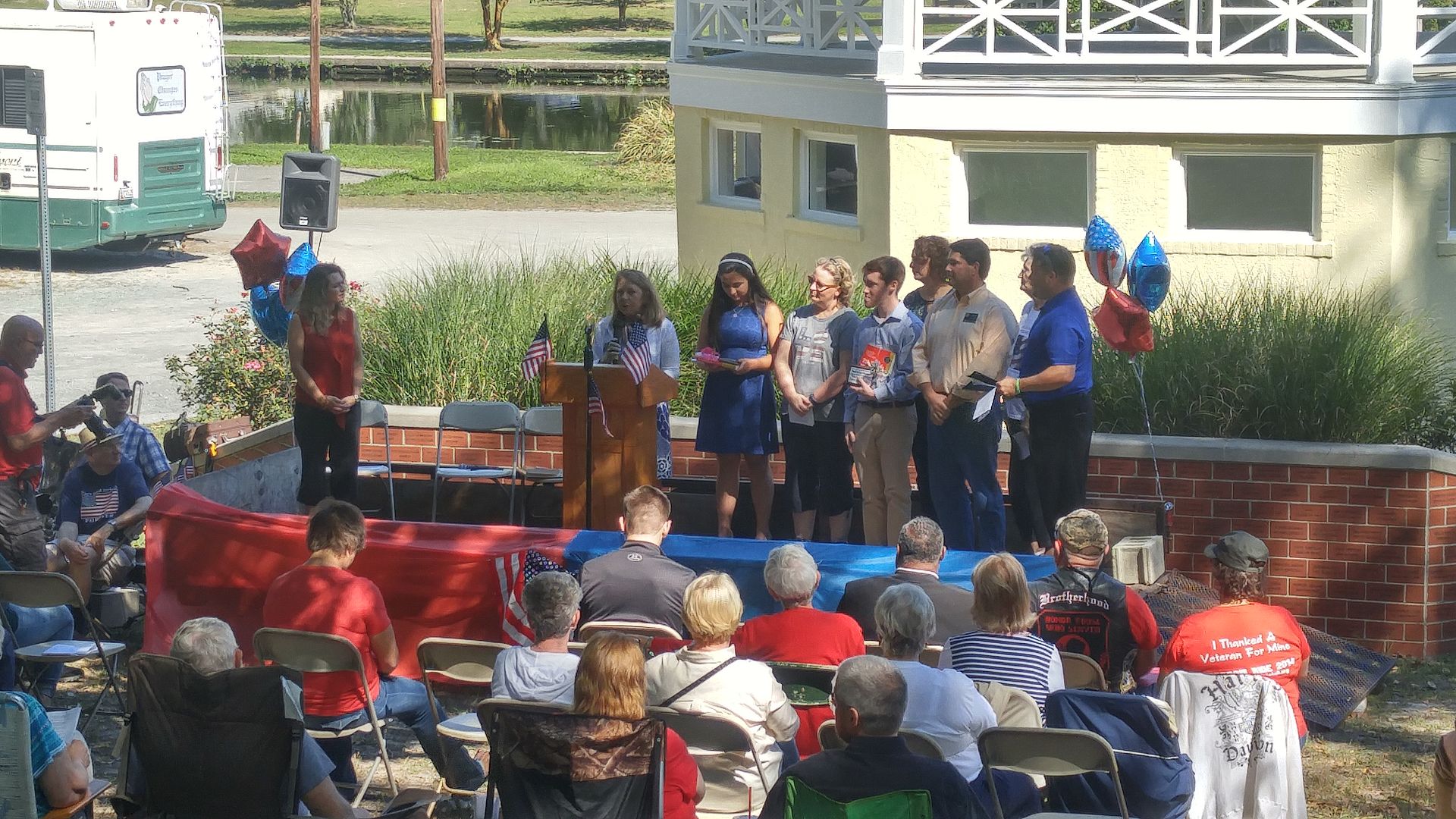 The keynote speaker was Wicomico County Sheriff Mike Lewis.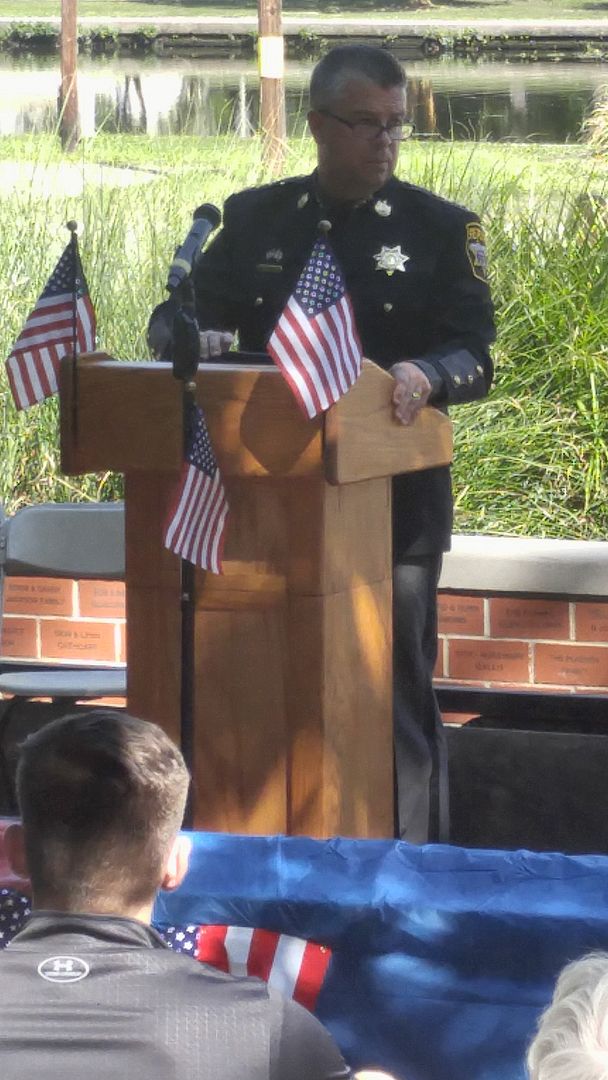 I wasn't really at the Constitution Day event to give blow-by-blow coverage, but I used the photos to both set the scene and cue up my own remarks, with the address Sheriff Lewis gave as a jumping-off point. Mike spoke at some length about the role of the military overseas and their fight against radical Islam. Certainly I understand the reason that they have embarked on such a mission, but to me it also begs a pair of questions for which we need an honest answer.
To a varying extent, the nation has been on a war footing since 9/11. In that time we have adopted the PATRIOT Act and sent thousands of troops overseas to fight against the proxy forces of radical Islam: the Taliban in Afghanistan, the Saddam Hussein regime in Iraq, and the Islamic State known as ISIS (or ISIL.) But the first question I have is: where does the balance tip too far toward security at the expense of the liberty afforded to us in the Constitution?
This question isn't really new, either: during the Civil War (or War Between the States or War of Northern Aggression, if you prefer) President Lincoln suspended the writ of habeas corpus and arrested members of the Maryland General Assembly to prevent them from meeting as a means of preserving the Union. Eight decades later, President Roosevelt interned Japanese-Americans as a result of their ancestral homeland's attack on American soil. In both instances America was in an active war within its borders or territories, but against a nation-state rather than an ideology as we are today. However, being in a state of war such that we are should not be an excuse for excess and there are many who have pondered the "War on Terror" and its response in the PATRIOT Act and whether the government is using this Long War as a flimsy excuse to consolidate power.
The idea of the government consolidating power leads to the second question: are we truly following the Constitution anymore or is this all just lip service?
Surely there are some who believe the Constitution has been eroding practically since the ink dried on the parchment. Whether they point to Marbury v. Madison being the moment where the judiciary became the most powerful of the three branches, the Civil War being the death knell for state's rights since they no longer had the right to secede if they were dissatisfied with the nation as a whole, or the Sixteenth and Seventeenth Amendments that gave the federal government taxation authority on individuals specifically prohibited in the original and ended the practice of state legislators electing Senators to represent their interests in Washington, there are a fair number that think we need to start over - perhaps with a Convention of States, otherwise known as an Article V Convention. (Years ago I contributed a couple ideas for new amendments, which are still sorely needed. Back then I had good discourse, too.)
I don't want to get into the weeds of determining the merits or problems of such a convention, but the fact that there are people who believe the Constitution needs a tune-up to fix excesses on one side or the other bolsters the argument that the government we have now is not the one originally envisioned by those men who toiled during the spring and summer of 1787 to write a replacement for the Articles of Confederation that the United States was bound to for the first decade or so of its existence. Granted, the Article V method is one prescribed in the document but there's no guarantee the amendments proposed would pass or the resulting Constitution any better for the people.
So the occasion of Constitution Day is bittersweet. Yesterday I wrote on the subject for the Patriot Post, noting that:
Contention over – and advocacy of – limitations to government based on constitutional principles has become a theoretical exercise at best, perhaps in part because few understand the ideas and arguments that were made during the drafting of our government's founding document.
Those who have sworn an oath to enlist in the military or (in my case) to take public office know that we swear to support and defend the Constitution as opposed to an oath to the United States. This is a clear distinction because the interests of the United States may vary by whoever occupies the offices of government at the time, but the Constitution is the set of ground rules which are supposed to define our nation. The key reason I resigned from the Central Committee was because I could not trust the Republican presidential nominee to support or defend the Constitution – rather, I believed he would tear the GOP from what few limited, Constitutional government roots it had remaining. Thus, I felt as a public official that supporting him was a violation of the oath I swore to the Constitution.
Many of those same men who pledged their lives, fortunes, and sacred honor to the American nation and survived the war that brought us independence were those who argued and debated the contents of the pieces of parchment that we consider our supreme law of the land. I pray that a group that is just as divinely inspired can lead us back to a nation that more closely reflects the intentions of these earliest Americans with respect to restoring a government that seeks the consent of the governed, and that those who are governed understand their responsibility in the equation as well. The fact that so few seem to have this inspiration or the desire to take this responsibility as citizens seriously may be what was most troubling about this day in the park.
When the 2015 season came to a close in early September, you may recall that the Shorebirds embarked on a project that, it was hoped, would reduce the number of games lost to weather. By stripping the field down to bare earth and reworking the entire drainage system (along with redoing the sod) I have to say the field looked very good most of the season and perhaps that may have had a little to do with the Shorebirds finishing second in the league in fielding percentage. That set of renovations, along with improved lighting, was the second of three phases in a complete renovation of Arthur W. Perdue Stadium – the first phase, completed during the 2014-15 offseason, concentrated on player amenities.
With the field complete, Delmarva was closer to the league average when it came to openings. No SAL team went without at least one rainout (Columbia, Greenville, and Hickory came the closest by having just one) but the Shorebirds had 65 openings and the league averaged 66.3 per team. However, while attendance rebounded slightly this year to 209,120 patrons, the per-game average fell by 13 fans to 3,217. Given the performance around the league, however, holding virtually steady in attendance can be regarded as a victory: only three of the thirteen returning teams increased their gate average from 2015 to 2016 and the overall league average increased by just 62 per game despite the relocated Columbia Fireflies drawing nearly twice as well as the Savannah Sand Gnats they replaced. West Virginia, Rome, and (particularly) Kannapolis saw precipitous year-over-year declines in their average draw.
The program for this offseason, though, is an ambitious one, and it's already underway.
(Photo credit: Delmarva Shorebirds)
One of the key changes will be all new seats, which includes the replacement of the bleachers that were the general admission seating with regular fold-up box seats. This can be a good thing – if the seats are the same size. While I am slowly losing pounds and inches, my concern is that the new seats may be a little bit smaller than the ones they are replacing since fewer seats fit into the original bleacher space because of armrests, so stadium capacity would decrease by some percentage. Of course, the sections can easily be rearranged to suit thanks to the way the seats were originally laid out (you just drill new bolt holes as needed.) I fit just fine into the seats that were there, thank you, so hopefully us bigger folks will have ample room on the new ones.
It's my understanding that the other key construction project is the extension of the concourse to be a 360-degree concourse, presumably at the level of the top of the outfield fence (so a home run would likely bounce on the concourse.) When I discussed this idea last year, I used another SAL park I've visited as a comparison because I recalled it also had a similar setup.
Lakewood's FirstEnergy Park has most of the same amenities as Perdue Stadium but also uses their outfield concourse for a tiki bar, pizza restaurant, and a third picnic area. It's nice but I think there are other food and drink possibilities that we could use as well, like moving one of the Dippin' Dots carts out there or adding mini-hotdog stands. If some of the areas are made a little wider, such as the triangular area near the foul poles, they can use them to set up for postgame entertainment (such as the Thirsty Thursday postgame shows of a decade ago) or pregame activities like the player autograph sessions we also haven't had in some time.
But the crowning achievement in all this will be the new videoboard. Over the last two to three years the stadium has lost use of the videoboard, the bottom section of the scoreboard (where the player information used to be) and, at times, the scoreboard itself would go on the blink. In truth, a videoboard could serve as a scoreboard with one panel reserved for that purpose. It would also be nice to have an alternate ribbon scoreboard located on the opposite end of the stadium – if the main scoreboard stays in left field, the ribbon would be placed along the first base side. Then you could linger in the outfield concourse but still be able to keep track of the score, inning, balls, strikes, and outs while watching the action.
If you look at the minor leagues from a promotional standpoint, over the last decade the trend has gone away from one-night novelty acts (like Myron Noodleman or Reggi) to a plethora of giveaways of everything from bobbleheads to hats to posters to beach towels to doormats. Fireworks continue to be a staple as well, although my perception is that the difference in attendance isn't all that great anymore – then again, I don't go to more than one or two fireworks nights a season. They've also become far more clever in figuring out ways to fill the sixteen half-innings that a normal game features with games and giveaways.
But something I think would be interesting (and it can be done with a new videoboard) is a game with no between-inning promotions, walkup music, or PA announcer. It would be sort of like those April midweek nights when there might be 300 people actually in the stands, which is neat because you can hear the players and umpires. It's probably not in the cards because it would be a promotion aimed at traditionalists like me – the guy who thinks the designated hitter and interleague play should be eliminated – but put it in the hopper.
And lastly, the concern on everyone's lips regarding the improvements to the stadium is: what's it going to cost me? They raised the parking fee this year to $4 from $3, although I've been a fan long enough to remember when parking was free. (I think some selected ticket prices went up this season, too.) But I have been told that the idea is to hold these fees steady for several years if possible, so once they go up they should be constant for 3-5 seasons.
However, if they eliminate the general admission bleachers for what I would guess is ticketed individual seats, will that now be considered a box seat? Presently there is a $5 difference per seat from general admission to reserved box. My guess is that the new box seats will have their own tier priced somewhere between the current GA price and the reserved box cost (but kept under $10 so it's still considered affordable.)
If you consider the league as a whole, it's something of a wonder that Delmarva makes it to the middle of the pack in attendance because it's among the smallest markets. (The most comparable SAL franchise in terms of population and metro area is Rome. Hagerstown and Hickory are in slightly larger cities and counties, while the city of Kannapolis is of similar size to Salisbury but lies on the edge of the much larger Charlotte metro area. The rest are significantly larger in population.) And once the thrill of getting a new team wore off after the first few years, in recent seasons the attendance has been remarkably consistent at around 3,200 per game – which translates to just over 200,000 per year.
These improvements probably won't bring back the days of 300,000 or more attending Shorebird games over the course of a season, but I think 250,000 can be a realistic expectation if the product on and off the field is improved. For the millions of dollars spent on renovations, it bears noting that each person probably spends at least $20 at the ballpark so an extra 50,000 patrons brings in at least $1 million. If you add that much value to the experience, the dollars spent on renovation will be worth it.
I had no idea until I checked out the hotel the first night I stayed here (to interview for my old job the next morning) that Salisbury even had a minor league baseball team – I basically followed the Mud Hens so I knew a little about the other Tiger affiliates and the other teams in the International League where the Toledo nine plays. Since the Shorebirds were in neither category, I was pleasantly surprised to find that out about the city I would adopt as my hometown.
To be quite honest, though, having a brand new, critically acclaimed stadium (at the time, Fifth Third Field was 2 years old) in a much larger AAA market spoiled me for Delmarva, so I was left a little bit wanting for the first season or so. It took getting used to. But now that I am here and have probably attended a couple hundred games or more, I would like them to stick around so I'm pleased to see someone else wants to improve the Shorebirds' nest and maybe make it like new again.
I can't wait to see what the old place looks like come April. But it would look a lot better with the 2017 SAL pennant on the flagpole.
I do not live in the First State of Delaware, but I work there as does my wife. So despite the fact I have no vote in the process, to me tomorrow's primary is important enough to devote a post to. As originally intended, I had a pair of questions to ask of each of the four gubernatorial candidates regarding development and job creation that I sought their answer to so I e-mailed them to each candidate and listed it as a press inquiry. For the record, I only received a response from the campaign of Republican Colin Bonini asking for my phone number to do an interview. But I decided that wouldn't be right to be that one-sided, nor am I a great fan of not having answers in writing. So this piece became more of a general overview.
In a political sense, Delaware is a lot like Maryland: dominated by Democrats who live in one heavily-populated area of the state, while the downstate area is more Republican and conservative. To buttress that point, Democratic gubernatorial candidate (and current Congressman) John Carney was born and lives in the Wilmington area while the two Republicans facing off to oppose him, State Senator Colin Bonini and businesswoman Lacey Lafferty, live in Kent and Sussex counties, respectively.
And in John Carney you also have a Ivy League liberal who's been in government for most of his adult life as an appointee who moved up to Lieutenant Governor for two terms but was defeated in his effort to succeed his "boss" (in a manner of speaking, since the positions are elected separately in Delaware) in the 2008 Democratic primary by current Governor Jack Markell. Undaunted, John just waited until the opening came in 2010 to run for Congress since then-Rep. Mike Castle opted to run for the Senate seat that opened up when Joe Biden became Vice President. (The seat had a placeholder appointee until the 2010 election, which was to finish the last four years of Biden's term. This was the primary Castle lost to Christine O'Donnell.) John Carney won the Delaware Congressional seat Castle was vacating and probably would have been happy to stay in Congress except that Joe Biden's son Beau, who was the odds-on favorite to run for and win Delaware's highest office in 2016, passed away from cancer last year. So Carney seems to be the recipient of the "Delaware Way" of particular officeholders cycling between political jobs.
One thing I noticed in taking a cursory read of Carney's campaign site: he uses the word "invest" a lot. Those in the know realize this means a LOT more government spending and that, to me, is bad for business. Higher taxes aren't the way to attract the clientele that keeps my employer going, either.
But the winner of the GOP primary faces the long odds of trying to overcome Carney, who has name recognition aplenty and will certainly be burning up our local airwaves in the next couple months since Salisbury (and Rehoboth Beach, where the local NBC affiliate's broadcast orignates) is actually the TV market serving southern Delaware.
It's a contest between a man who has been in political office since 1994 (and was elected at the age of 24, meaning he has spent nearly half his life in office) and a woman who apparently began her run almost as soon as the votes were counted from the 2012 gubernatorial election.
There are definitely some things to like about Colin Bonini: he has the good idea to make Delaware a right-to-work state and would encourage the streamlining of state government by offering longtime employees an early retirement package. Legislatively, he has ranked as the most conservative legislator in the Senate (although out of 21 that may not be the greatest achievement.) However, he has the luxury of running from cover as his legislative seat isn't up for election this time and, quite frankly, this may not be the year for entrenched politicians on the Republican side.
At least that's what Lacey Lafferty is hoping for. Now I have heard Lafferty on the radio a couple times (since I often listen to Delaware talk radio) and she seems to have the political style people associate with Donald Trump insofar as running as an outsider. (Like Trump, she was once a Democrat, too.) And the rhetoric isn't far off, either:
Sen. Bonini is the choice of the establishment, but Ms. Lafferty believes she will win.

She's been critical of her primary opponent, referring to him on Twitter as "lazy" and a "buffoon." Sen. Bonini represents part of a failed political culture, Ms. Lafferty said, noting he did not officially unveil his campaign until recently.

"This is what people are sick of," she said. "They're tired of this. They want somebody that they can depend upon."

Sen. Bonini has referred to her as a "fringe candidate," and more recently, he stressed Republican voters should select the person with "the best chance to win in November."

As of Aug. 14, he had about $66,000 on hand, while Ms. Lafferty had $4,400.

Delaware State University professor Sam Hoff foresees Ms. Lafferty pulling in about 15 percent of the primary vote, largely from more left-leaning Republicans.
Apparently there aren't a lot of polls done in Delaware, but the poll I did find has the race at 29-22 Bonini. And since I have heard Lafferty identify with Trump on several occasions, I don't think she would be t
he choice of "left-leaning" Republicans.
I have to give credit to Lafferty for working hard to build a grassroots campaign, with the best philosophical idea I noted from her being that of stressing vocational education. I agree that not all students are college material, but those who can work with their hands and aren't afraid of a little effort can succeed quite well in life. She has quite the distinctive yard signs, too. (Don Murphy would hate them but you have to admit they are artistic.) And I see quite a few of them driving around Sussex County.
So Republican voters of Delaware have an interesting choice to make tomorrow for governor. They can pick the candidate who has lots of experience in lawmaking and owns a very conservative voting record; someone who is likely perceived as the safe choice but may not have the appeal for people to cross party lines.
Or they can select someone who is, to be honest, more of a wild card. We have no idea whether she will be polished on the stump or self-destruct when the people begin to pay attention. It's possible she was a tough-talking conservative the entire campaign but finds out there's not the waste, fraud, and abuse she thinks there is in state government - not to mention has to deal with Bonini as a state senator who would have to push her agenda.
I would be remiss if I didn't note there will be other candidates on the November gubernatorial ballot, including Libertarian Sean Goward – who may be hoping for a boost from the national ticket with Gary Johnson polling in the high single digits. Goward hasn't been one to update his website much, though.
On the other hand, the contest for Lieutenant Governor is solely on the Democratic side, as La Mar Gunn is the only GOP stalwart to run. (He's best known for "losing" the Kent County Recorder of Deeds race in 2014 by two votes – the first recount that the Democratic incumbent Betty McKenna won after Gunn won on Election Day by two votes and won two recounts by similar – but not those exact - margins.) Between the six candidates on the Democratic ballot (Sherry Dorsey Walker, Brad Eaby, Greg Fuller, Bethany Hall-Long, Kathy McGuiness, and Ciro Poppiti) you find varying levels of political experience but more or less the same amount of liberalism – basically peas in a pod.
There's also a Congressional race with one Republican (Hans Reigle), one Libertarian (Scott Gesty), and (again) six Democrats – Sean Barney, Mike Miller, Lisa Blunt Rochester, Bryan Townsend, Scott Walker, and Elias Weir. In looking through their positions, this November you can decide between Reigle, who seems to me a right-of-center sort who would probably fall midway between the most conservative and liberal Republicans in Congress, the fairly classic small-government, non-interventionist Libertarian Gesty, and the Democrat who will be way left of center whoever he or she is. Again, peas in a pod.
I'm not involved with the Delaware Republican Party, but it seems to me they have a harder time getting candidates than even our loony-bin left state of Maryland does. In one respect this prevents bitter primary fights, but there's also the aspect of leaving rank-and-file voters out of the decision. Between the statewide races this year (governor, lieutenant governor, insurance commissioner, and Congressman) the Republicans only have six candidates on the ballot. Democrats match that in either of two prominent races. Note that the voter registration numbers are less dire in the First State compared to Maryland - in Delaware only 48% are Democrats, 28% Republican, and 24% "others." (There are more Democrats in New Castle County, however, than Republicans or "others" in the entire state.)
Unlike Maryland politics, I look at the situation in Delaware as an interested observer rather than an erstwhile participant because, as I said up top, I work in the state. But as one who lives across the Transpeninsular Line I think I speak for the people of Delaware who want their state to succeed. Above all, I want it to be attractive to new residents and prosperous for those already there because that helps to make my paycheck, so vote wisely in the primary.
Last season the Shorebirds snapped a six-year string of losing seasons by going 71-67, and with a team that had both first round picks from 2015, the Orioles' first pick in the 2014 draft (actually selected in round 3), and key players from the 2015 season coming back in Alex Murphy, Ademar Rifaela, and eventually Yermin Mercedes, it was figured the Shorebirds would have a team to contend with. Turns out they did, coming tantalizingly close to winning the first half (falling a half-game short of Hagerstown thanks to an ill-timed rainout) and staying in contention for a playoff spot with a late-season run. In that respect they finished a game out behind Hickory and Lakewood, but with Lakewood clinching the second-half title a week ago over Hagerstown the Shorebirds were shut out – they needed to have Hagerstown win both halves and finish with the second-best record overall.
Those two late stretches of winning made June and August more exciting than usual around here, and the 73-66 overall record was their best since 2008. Unfortunately, a stretch of futility in late July and early August led to a 31-39 second half after a torrid 42-27 first half mark.
This year's wrap-up will look quite a bit like last season's. Next year, though, things will be different because there won't be Shorebirds of the Week (but I will still select a Shorebird of the Year.)
This year the Delmarva nine was solid offensively, with the team being one after Earl Weaver's heart in seeking the three-run homer.
A .251 team batting average was 5th in the league.

Yet the team was only 12th in runs, scoring just 548 times.
They were right in the middle (7th place) with 1,153 hits.
The 236 doubles was good for fourth in the loop, and they tied for fifth with 36 triples.
For the first time ever, Delmarva led the league in home runs with 112 – a franchise high (previous was 97.)
We finished 11th with 497 runs batted in.
We finished second in total bases with 1,797 – aided in large part by the home runs.
We drew 427 walks, which ranked 7th in the SAL, and struck out 1,172 times, which was sixth-most.
Again, team speed was not an asset. We were dead last with just 84 stolen bases in 119 attempts. (Lakewood was next with 86 of 132 – we attempted the fewest steals by far. League-leading Hickory was caught almost as much as we attempted – 116 vs. 119.)
Our .320 on-base percentage was sixth in the league, but the .391 slugging percentage was third. This meant our OPS of .711 was 4th of 14.
Our pitching was even better when compared to the rest of the league, as we finished second in ERA with a 3.32 mark. Charleston was an easy first at 3.03.
Some other pitching numbers:
Our 13 shutouts tied for third in the loop.
We also tied for third in saves with 43.
Once again we were near the bottom in innings pitched, finishing 12th with 1,204.
1,088 hits allowed was fifth. Being second in ERA it follows the 534 runs and 444 earned runs we gave up were also second behind Charleston.
Allowing only 76 home runs was fifth fewest.
While we only had 55 hit batters (good for third) we were in the middle of the pack with 417 walks allowed.
We ranked ninth by collecting 1,095 strikeouts.
Finally, our WHIP (walks+hits/innings pitched) was fifth in the league at 1.25.
With 121 errors and a .976 aggregate fielding percentage only West Virginia had a tighter defense than the Shorebirds.
Unfortunately, the Orioles organization was not good in winning percentage: Delmarva was their only team to finish with a winning record, while Aberdeen was 32-43 and GCL Orioles closed 27-32. The two Dominican Summer League teams the Orioles provide players for combined for a 38-53 record. So as a whole the talent pool may be worse than average, although individual players from these lower levels may combine for a better team.
The question before us now is how this year's crop of Shorebirds of the Week fared, so let's review.
April 7 - Francisco Jiminez

Jiminez bounced in and out of the starting rotation during the second half, but finished with four straight strong starts to close with a 9-9 record and 4.27 ERA. It wasn't quite to the level that he closed last season with the Shorebirds, but the 1.26 WHIP and 96:45 strikeout-to-walk ratio in 128 2/3 innings seems to me to be good enough to get a look from the Orioles insofar as advancement is concerned. He will only be 22 next season, so it may begin with a handful of starts here, too.
April 14 - Alex Murphy

For the second time in as many seasons, Alex was my second SotW. But 2016 was a far better campaign in terms of health for Murphy, who tied for the team lead by getting into 124 games. His slash of .252/16/63/.759 OPS was improved from his stint here in 2015, and Alex was here long enough to lead the team in both home runs and RBI. With nearly as many games at first base (42) as behind the plate (57) the question isn't really that of whether he will move up, but what role the Orioles see for him. (SAL All-Star)
April 21 - Alejandro Juvier

Juvier never really got his footing at Delmarva, hitting just .198 in 30 games before being demoted to Aberdeen and slashing just .228/3/28/.586 OPS in 58 games there. He's only 21 going into next season, though, and he had a fairly good pedigree coming into this season, so we may see him back for 2017.
April 28 - Yermin Mercedes
Returning to Delmarva for a second stint, Yermin hung around just long enough to qualify for the SAL batting crown he won by a whopping 40 points with a .353 mark, also hitting 14 home runs and collecting 60 RBI in just 91 games. The .990 OPS was also a league best (by 104 points) among qualifiers. Promoted to Frederick in August, Mercedes hit just .318/6/17/.923 OPS there. The Orioles definitely have Mercedes on their radar, but feel he needs to improve his defensive skills in order to advance through the system. He turns 24 just before spring training gets underway, so he still has time to develop and have a long career. (SAL All-Star, SAL Post-Season All-Star, SAL July Player of the Month, SAL Player of the Week – April 18-24 and June 13-19)
May 5 - Christian Turnipseed

In most of his appearances, Turnipseed was the Shorebirds' closer, gathering a team-leading 17 saves in 40 appearances (in saves he tied for third in the SAL, and his 35 games finished tied for second, one off the leader.) However, while he won the season finale Christian struggled down the stretch, pitching to a 5.25 ERA after August 1 with a 12-to-10 strikeout-to-walk ratio in the last 12 innings he pitched. Overall he finished 3-4 with a 3.12 ERA and 1.25 WHIP, striking out 57 and walking 25 in 52 innings. He'll be 25 next season so it's likely Christian sinks or swims at Frederick.
May 12 - Ryan Mountcastle

One of the two 2015 1st round picks to open with the team, they allowed Ryan to spend his season here developing. He got off to a terrible start in April (just .162 for the month) but caught fire as the weather warmed and turned in a solid full-year campaign: .281/10/51/.745 OPS in 115 games. Mountcastle will have to work on cutting down his 95 strikeouts and improving a modest .319 on-base percentage, but he has plenty of time to improve since he won't turn 20 until just before spring training next season. As my Prospect of the Year, I think he follows fellow first-rounder DJ Stewart to Frederick for 2017. (SAL Player of the Week – June 6-12)
May 19 - Garrett Cleavinger

One of several pitchers who were promoted during the season, Garrett was here for the first half and delivered some eye-popping numbers: a 5-0 record and 1.38 ERA in 39 innings here, with 53 strikeouts vs. just 11 walks, producing an exceptional WHIP of 0.92 On the other hand, Cleavinger was more pedestrian with Frederick in the second half, going just 2-3 with a 4.82 ERA and 49-to-23 strikeout-to-walk ratio and 1.55 WHIP with the Keys. Garrett will turn 23 early next season, so the Orioles may decide to keep him challenged at the advanced-A level to start the year – he really has nothing to prove here. (SAL All-Star, Organization Pitcher of the Month – April)
May 26 - Cedric Mullins
Considering he came from a more unheralded background and was a lower draft choice, you could make an argument for Cedric being the Prospect of the Year – or for that matter, Shorebird of the Year. He had the type of season scouts like to see as he improved the entire way, finishing among the team leaders in almost every offensive category and near the top of the league in some as well. Mullins hit .273 overall with 14 home runs and 55 RBI (from the leadoff spot), scored 79 runs, and stole 30 bases in 36 tries. Mullins and Murphy tied for the lead with 124 games played. Considering he began with a .214 mark in April, Mullins came a long way and he's going to be just 22 next month. Improvement like this next year might get him to Bowie by season's end. (SAL Player of the Week,  August 29 – September 5)
June 2 - Reid Love

In his first full season, Reid put together a solid but not spectacular effort – maybe the best word is workmanlike. On the topline he finished 9-10 with a 3.29 ERA and 1.20 WHIP in 139 1/3 innings, striking out 106 while walking just 33. It's the kind of year that should get him to Frederick, but since he turns 25 next season it may not put him at the top of the prospect list. The question for Love is whether his stuff will advance to the next level as he allowed 134 hits during the season. One sign in his favor, though, is that he allowed fewer hits than innings pitched this year as opposed to his 2015 stint in Aberdeen where he did the opposite. Pitchers can be effective giving up contact and Love may be one of those.
June 9 - Gerrion Grim
Gerrion was the Shorebirds' fourth outfielder – appearing in just 68 games - but he was selected as a team player who came on to save an important win on the mound. At the halfway point it looked like Grim was pointed in the right direction with a .258 batting mark but in the second half he hit just .149 to finish under the Mendoza line for the season. (Strange split: Grim hit just .136 at the unfriendly confines of Perdue Stadum and a respectable .248 everywhere else.) A .193/5/25/.574 OPS slash line isn't going to get it done, though. In his age-23 season coming into spring training - and much as he is the type of player one can root for - the unfortunate reality is he may be looking for a job elsewhere before then.
June 16 - Ryan Meisinger
Like Garrett Cleavinger, Ryan had tremendous numbers with Delmarva (only a 3-2 record but an 0.78 ERA, 48 strikeouts and just 9 walks in 34 1/3 innings, and 24 hits allowed for an 0.95 WHIP) but he did reasonably well in Frederick after his June promotion. There he matched the 3-2 Delmarva record but had a 2.25 ERA in 40 innings with a 46-to-12 ratio of strikeouts to walks with a 1.15 WHIP there. So the Maryland native may have an outside shot of reaching Bowie's bullpen to start 2017 – good stuff for his age-23 season. (SAL All-Star)
June 23 - Jesus Liranzo

Speaking of Bowie's bullpen, that's exactly where Liranzo finished the season, skipping Frederick after posting 46 strikeouts and allowing a whopping 12 hits in 34 1/3 innings here with the Shorebirds. (That was a .109 average against, not to mention a 0.79 WHIP.) So jumping two levels only dented Liranzo's numbers to the tune of allowing just 8 hits (but walking 12) in 18 2/3 innings there. For the season Liranzo allowed a ridiculous .116 average against him in 53 innings – not bad for a player signed (and released) twice by the Atlanta Braves for their Dominican League team. It's not out of the question to contemplate the 21 year old, who will be 22 about the time minor league spring training begins, getting a cup of coffee with the big club at the end of next season.
June 30 - Drew Turbin

Drew never really got untracked this season – he was hitting .212 at the end of April and finished the campaign with a .211/6/31/.626 OPS slash line. It was certainly a regression from his season with Aberdeen last year, and as he goes into his age-24 season he may get another shot here. A strike against him, though, is that he wasn't particularly versatile, playing all but one of his games at second base. Fortunately for him, Aberdeen wasn't well-stocked at second this season (in fact, most of the games were played by the aforementioned Alejandro Juvier) so he may be in the mix despite his tough 2016 season.
July 7 - Christian Alvarado

Christian finished second in the SAL with 148 strikeouts in exactly 148 innings pitched, compiling a 10-9 record and 3.41 ERA to go with them. His 1.16 WHIP also placed him in the top 10 of league qualifiers, so the argument can be made whether he or Brian Gonzalez will be considered the ace of the Frederick staff next season. While Alvarado's 143 hits allowed was relatively high, the fact he only gave up 29 walks is a plus. Alvarado turns 22 later this month so he has time to develop. (Organization Pitcher of the Month – June, SAL Pitcher of the Week – June 27-July 3)
July 14 - Ofelky Peralta
More of a raw talent (and a year or two younger than Gonzalez or Alvarado at age 19), Peralta's numbers weren't as stellar – 8-5 with a 4.01 ERA and 1.42 WHIP in 103 1/3 innings – but he was considered a prospect nonetheless. Yes, he gave up 60 walks this year and that was the most on the team, but over his three-season pro career he's steadily decreased his walk rate and considering he jumped from the GCL to full-season this year it wouldn't hurt him to repeat this level, at least for the first half. Peralta threw a five-inning no-hitter the start after a six-inning one-hitter, but sandwiching those starts were three where he was shelled for 15 runs in 13 2/3 innings. The key word for him in 2017 will be consistency. (Organization Pitcher of the Month – July, SAL Pitcher of the Week – July 4-10. )
July 21 - Natanael Delgado

Delgado was considered a fringe prospect for the Los Angeles Angels when the Orioles acquired him in a late spring training trade, so they are probably disappointed with his injury-marred 2016 season. In 88 games Delgado hit just .250/8/36/.680 OPS, and considering he was essentially repeating at this level after hitting .241/6/46/.631 OPS in the Midwest League last year one has to wonder what his future holds. However, Delgado is young for this level (turns 21 next month) so he may get a third try at full-season A ball in the hope he can stay healthy and bring the average closer to the .280 or so he had in rookie ball between two teams.
July 28 - Jay Flaa

He didn't dominate this level as he did with Aberdeen last season, but Jay put up a decent year with a 3.50 ERA in 46 1/3 relief innings. One cause for concern, though, would be allowing 21 walks in that stretch after giving up only 5 in 20 2/3 innings last season. With a 1.34 WHIP Flaa could be one of those guys who's on the brink between advancing and staying put out of spring training next season. Jay is old for this level (25 next June) but the Orioles spent a 6th round pick last year on a college pitcher about to turn 23 so we may be able to throw age out the window in this case.
August 4 - Randolph Gassaway

With all but 5 of his 55 games this season played with Delmarva, the thought has to be: where did this guy come from? Granted, he hit .273 with Aberdeen last season but to hit .340/7/21/.919 OPS for the year either Gassaway is legit or a flash in the pan as we have seen many times over the years from players who washed out a season or two later. It's hard to imagine him jumping a level with just 50 games under his belt, so I would expect Randolph to be counted on to lead the Shorebirds next season – at least for the first half when he turns 22. (Organization Player of the Month – August)
August 11 - Brian Gonzalez

The Brian Gonzalez we got this year was the one the Orioles hoped for last year. But he was a raw rookie only a year removed from high school, so his second time here proved to be much better with a 10-8 record and 2.50 ERA that was third best in the league overall. Since his WHIP was a more or less average 1.31, the reason his ERA stayed low had to be the recognition of how to avoid a lot of damage when an inning begins with a baserunner. Worrisome among his numbers was 58 walks allowed, although it was in 147 2/3 innings so the rate is only a shade above average. If he has the ability to continue working around them he should move up the system quickly. (SAL Post-Season All-Star, Organization Pitcher of the Month - August)
August 18 - Ricardo Andujar

Ricardo was the steady utility player every team needs, quietly hitting .251/3/24/.620 OPS while splitting time between second base, third base, and shortstop seemingly on a daily basis. Aside from an 11-game stretch when he spelled an injured Ryan Mountcastle at shortstop, he didn't play more than five games in a row at any one position. For a bench player to get into 101 games while not playing more than 43 at any position proves your worth, and it may lead to advancement and opportunity for Ricardo down the line. He turned 24 this season, so I think the Orioles will give him a chance at the next level – even if he only hits .250 the versatility makes Andujar useful. He just needs to pick up the outfield somewhere down the line.
August 25 - Jake Bray

Between Delmarva and Aberdeen Bray threw just 30 innings this season; however, that is only one off his career high of 31 last year. Bray did well as a whole (1-1 with an even 3.00 ERA and 1.1 WHIP, 29 strikeouts and 6 walks, mostly with the Shorebirds) but needs to get a full year in to prove himself. 2017 could be that year – while Jake at 24 would be old for A ball, a successful first half could put him in the more age-appropriate advanced-A level with Frederick. 60 innings in a season would be a major accomplishment and a body of work Bray can be judged by – especially if he can hold to single-digits in walks allowed.
September 1 - Mike Burke

Mike finished the season with Delmarva, but he split the 2016 schedule among three teams – debuting in June with Frederick, sent down to Aberdeen when their season began, and returning to Delmarva to play the second half here. Overall Burke was 1-3 with a 3.46 ERA in 52 innings, posting an outstanding 1.06 WHIP based on a 60-to-8 strikeout-to-walk ratio. (My question is why he didn't stay at Frederick considering he pitched eight superb innings there in three appearances, allowing one run on two hits while striking out 10. That is a microscopic 0.25 WHIP. Sure, he's a 30th round draft pick, but come on.) If there is justice in the world, Mike gets the shot to pitch a full season for the Keys and see whether he can keep that string going.
*********
Here is a list of my Shorebirds of the Year, going back to the award's inception in 2006:
2006 – Ryan Finan
2007 – Danny Figueroa
2008 – Sean Gleason
2009 – Ron Welty
2010 – Brian Conley
2011 – David Walters
2012 – Brenden Webb
2013 – Lucas Herbst
2014 – Chance Sisco
2015 – John Means
This is a year where I have three or four guys who could have easily been Shorebird of the Year in some of those leaner years around the turn of the decade. You could easily plug in Ryan Mountcastle, Cedric Mullins, Brian Gonzalez, or Christian Alvarado for those lost seasons.
But sometimes you get a situation where one player just stands above the rest, a no-doubter. I think the moment that sealed this year's selection was watching some hapless team put on a shift against this batter and watching him calmly rip a double and a triple the other way in consecutive at-bats. You didn't see that shift anymore.
I wouldn't imagine there are many teams in baseball history who have two league batting champions that were both catchers, but Delmarva is one. And they both share something else in common: the Shorebird of the Year award.
He barely made the requisite 2/3 of the season on the Shorebirds roster, but then Yermin Mercedes barely made the number of at-bats required for qualification for the SAL batting crown as well. Yet it should be noted that after his promotion to Frederick on August 1, the Shorebirds went into a 5-18 funk that all but eliminated them from playoff contention. It seemed like they couldn't function offensively without Mercedes and his potent bat, which solidified his claim on the SotY honor.
So that's a wrap on the player side for 2016. Next week will be my picks and pans feature speaking as a fan, and then in December I will update my Shorebird of the Week Hall of Fame. The Class of 2016 is another large one on the heels of a five-pitcher class in 2015.
But while I'm dialing back on my Shorebirds coverage in 2017, you can rest assured they won't be completely out of sight and out of mind. As I think I've said on a couple occasions, the biggest problem I had in doing Shorebird of the Week was the fact I only get to about 15 games a year now so I don't have the photo stock I believe I need to make it a great feature. Give me the photos and maybe I bring it back, perhaps even as a semi-weekly or monthly thing – writing the copy is the easy part.
Thus, you have the offer on the table. I like covering the Shorebirds but it has to be more than me doing it.
I find the controversy over Governor Hogan's executive order mandating that Maryland public schools begin classes after Labor Day and wrap up by the following June 15 to be a good opportunity for commentary, so I decided to add my couple pennies.
First of all, this isn't a new idea. In 2015 and 2016 legislation was introduced in the Maryland General Assembly to create a similar mandate. As proof of how Annapolis works, the 2015 versions only got House and Senate hearings but the 2016 versions picked up the remaining local House delegation as sponsors (only Delegates Mary Beth Carozza and Charles Otto were local co-sponsors in 2015) and got a Senate committee vote. (It failed on a 5-5 tie, with one of the Republicans on the committee being excused. The other two voted in favor.) There was a chance this legislation may have made it through in 2017, but apparently Hogan was unwilling to take the risk. He took the opportunity to make a news event at a perfect time – when most local districts were already a week or two into school, Larry announced this from the Ocean City boardwalk on a pleasant beach day – and showed he was willing to stand up for one of his principles, that being improving opportunities for small business. (At a minimum, with Hogan's edict kids are off for 11 weeks for summer vacation.)
In reality, what Hogan has done is shift the calendar backward by about a week: for example, Wicomico County public school kids had their last day of school June 9 and returned August 29 and 30. But the thought process is that families are more likely to take a vacation in July and August than they are in June, so because Ocean City is a great tourist attraction the state should follow Worcester County's lead and begin school after Labor Day. (They simply went an extra week into June, concluding on June 17 this year.)
Granted, our family has enjoyed a post-Labor Day start for a number of years since parochial schools have more calendar flexibility: our child began her summer vacation after classes ended June 3 and returns on Tuesday the 6th. Growing up, I seem to recall the city schools I attended began after Labor Day and went into June but the rural school I graduated from began classes in late August and was done by Memorial Day. (We had a longer Labor Day weekend, though, because our county fair runs that weekend and the Tuesday after Labor Day was Junior Fair Day. Thirty-odd years later, it still is.) The point is that each of these localities knows what works best, so I can understand the objection from those who advocate local control of school schedules. And talk about strange bedfellows: I'm sure many of those praising Hogan's statewide mandate locally are also those who have fought for local control of our Board of Education - after at least ten years of trying, we finally have a chance for local control (as opposed to appointments by the Governor) over our Board of Education through a referendum this November. (I recommend a vote for the fully-elected Option 2 on Question A.)
So I agree with the objections on those grounds, even though I personally think a post-Labor Day start is a good idea based on the school calendar typically used. (If I truly had my way, though, we would adopt a 45-15 style plan so that summer break is somewhat shorter and kids spend less time relearning what they forgot over the break.) What I don't see as productive are those who whine about how this would affect preparation for particular tests – that shouldn't be the overall goal of education. Obviously they would be the first to blame the calendar (and by extension, Larry Hogan) if test scores went down. But Hogan's not alienating a group that was squarely in his corner anyway, as the teachers' unions almost reflexively endorse Democrats, including his 2014 opponent, and mislead Marylanders about education spending. It's increased with each Hogan budget - just not enough to fund every desire the teachers have.
Come January, it will be interesting to see if the Democrats attempt to rescind this executive order through legislative means, daring Hogan to veto it so they can override the veto and hand him a political loss a year out from the election. While most Marylanders are fine with the change, the Democrats are beholden to the one political group that seems to object and those special interests tend to call the tune for the General Assembly majority.
Yet the idea that the state feels the need to dictate an opening and closing date to local school districts is just another way they are exerting control over the counties. We object when they tell us how to do our local planning, so perhaps as a makeup for this change our governor needs to rescind the PlanMaryland regime in Annapolis.
Tonight an era comes to an end after 11 seasons.
At the end of the season I would always have several players who were perhaps deserving but not selected. This last Shorebird of the Week is one of those holdovers from 2015 who's been quite effective in his return season.
It took 18 appearances for Mike Burke to pitch in a game I attended, but his one-out save on Sunday evening was the first of Burke's two straight saves at a time when the Shorebirds maintain extremely faint playoff hopes (they need a lot of help, but can greatly enhance their chances by winning out.) Last night Burke came up with a two-inning save to help Delmarva sweep the fading Greensboro Grasshoppers in a doubleheader and move to within one-half game of the overall second-place Hickory Crawdads. (The help they need is from Hagerstown, who edged Delmarva by 1/2 game to win the first half and needs to win the second half for the Shorebirds to have a chance of making the postseason as the second-best overall record in the division – the Shorebirds are out of contention for the second half crown.) That sweep also assured Delmarva a second consecutive winning season after six straight losing campaigns from 2009-14.
While Mike spent the 2015 season exclusively at Delmarva, going 2-2 with a 3.36 ERA and 1.02 WHIP, the exceptional part of his overall line was the 53-to-10 strikeout-to-walk ratio in 67 total innings. This year, though, Mike has bounced around between the Aberdeen roster (stashed for most of the first half there), the Frederick Keys, and Delmarva. As a whole Burke has gone 1-3 with a 3.49 ERA this season, but he pitched very effectively at Frederick (1 run and 2 hits allowed in 8 innings) and Aberdeen (4 1/3 shutout innings in 2 appearances.) He's maintained that exceptional K/BB ratio with 53 strikeouts and 8 walks between the three stops.
Burke is an Cleveland native who pitched his college ball at the State University of New York at Buffalo (we MAC folks just call it Buffalo) and was a 30th round pick by the Orioles in 2014, so in essence he's playing with house money at this point in his career. But having just turned 24 on Saturday he still has plenty of time to make it up the ladder and control will likely be his calling card. Allowing just 20 walks in 139 1/3 innings is a good way to advance, especially with a strikeout per inning on average. He deserves a shot at seeing if he can keep that stellar work going in Frederick in 2017.
And thus we have the 242nd and final Shorebird of the Week – a list of prospects and suspects that epitomizes the Shorebirds over the years I have covered them. We won't know until next season which list Mike will find himself on, but like everyone who plays here I hope he gets the opportunity to see his dream come true and make it to The Show. As for me, I'm already looking at next year's schedule and digging the fact we will have eleven Thirsty Thursdays – I just won't be putting up a Shorebird of the Week to complement them.
Thanks for being a part of the SotW ride – but don't forget Shorebird of the Year comes next week and on September 15 I will do my annual picks and pans – so the season lives on for a bit whether Delmarva makes the playoffs or not.
In the middle of reading a story about a possible breakup between two conservative factions in the House, I found what should be a very, very fascinating tidbit to folks in these parts. According to Phillip Wegmann at the Daily Signal:
"I've heard of no mass exodus (from the Republican Study Committee)," a GOP aide said, "just a few members here and there who don't feel they use the resources [RSC] provides often enough to justify paying the dues."

The right candidate for RSC chairman could change that dynamic though, the aide speculated. "I'd imagine a Chairman Andy Harris would make (House Freedom Caucus) folks more likely to stick around."

Harris, a Maryland Republican, is a potential candidate for RSC chairman, according to multiple Capitol Hill sources. He has remained tight-lipped about his plans, however. Harris' office did not respond to multiple requests by email and phone from The Daily Signal.

The race for RSC chairman will officially be decided after the November election, but members have been talking about it at least since July when Flores announced this year's process. When lawmakers return in September, interested candidates will meet with the study committee's founders. Because the House is in recess all of October and most of November, that only leaves next month for campaigning.

No congressmen have declared their candidacy officially, but a senior GOP aide told The Daily Signal that both Harris and Rep. Mark Walker, R-N.C., are building support inside the caucus for a bid. (Emphasis mine.)
I realize we are going by the word of an unnamed "GOP aide" – for all we know, he or she may work for Andy – but assuming this is true, it is an intriguing prospect for Andy's national profile. Because he is far more conservative than most Maryland voters are perceived to be (and certainly Democrats are happy to help that perception along) it's quite likely that a statewide position isn't in the cards for Andy. However, he does represent a conservative district that is quite pleased with his record based on the fact he's received over 75% of the primary vote each time since his 2010 election against challengers who ranged from neophyte to crackpot to serious enough to have some name recognition in portions of the district.
While the RSC has maintained a reputation as the conservative hangout for the House, the fact that membership includes the vast majority of the Republican caucus seems to give a perception that the RSC is now the "establishment." At the beginning of the current iteration of Congress, the more conservative members decided they needed their own group because they felt the large size of the RSC was watering down its conservative message – hence, the House Freedom Caucus was born. While Harris wasn't a founding member of that group, he is one of 42 members of the Freedom Caucus as well as an RSC participant.
As leadership will likely be rearranged in the wake of November's election, Andy Harris may be presented with a number of opportunities. Given that the state's blatant gerrymandering has placed Harris in an exceptionally safe seat, he has used the opportunity to try and build up the GOP farm team in his district – but now could be a spokesperson on a larger stage. (However, I am holding him to something he promised when first elected – six terms and out.) Love him or hate him, we will see if the back half of Harris's Congressional service becomes a springboard to a leading role in the national conservative movement.