Over the last couple weeks I have been trying to get a reading on who I would like to be my Senator from the great state of Maryland. (Spoiler alert: Donna Edwards and Chris Van Hollen ain't going to cut it.) It's been a process of trying to get questions answered, checking websites, and watching some of the debates in order to figure out who the best candidate for me would be.
There are 14 Republicans running for the Senate seat, a number which is unusually high. (In previous cycles, it was closer to 10 candidates.) Of course, with that many candidates in a statewide race it becomes apparent early on who has the most legitimate shot at winning. Granted, this has been helped somewhat by media perception, such as which hopefuls are invited to debates, but realistically only about half of those 14 candidates have any real shot – the rest are just ballot filler. In fact, when I asked the questions of candidates only 12 of the 14 had good e-mails, and two of those 12 have no website insofar as I can tell. (Another has a website with just a front page and no functionality). Sadly, the pair without websites are two of those who answered my questions – but the larger question is how you can beat someone who has $3.6 million in the bank like Chris Van Hollen does? You need money to get your message out.
By the time you separate the wheat from the chaff you get about a half-dozen somewhat serious candidates, with a couple on a lower tier that are running campaigns more suited to a Congressional level. Greg Holmes is one, with another being Anthony Seda, who has pointed out he's not accepting contributions. Noble, but suicidal in the real world of politics. Let me repeat: you need money to get your message out.
So in my estimation, the race comes down to five: Richard Douglas, Joe Hooe, Chrys Kefalas, Kathy Szeliga, and Dave Wallace. In the last debate I watched there were only three participants as Hooe and Wallace were not invited. Another debate featured all but Wallace, while the Goucher College debate had Holmes, Hooe, and Wallace along with Douglas and Kefalas (Szeliga skipped this debate for a Maryland GOP event.)
So here is how I would categorize the contenders, in alphabetical order.
Richard Douglas is the only one of the five to have run a statewide campaign before, but I'm not seeing that pointed out as an advantage. He also has the benefit of experience working in the Senate, but in this topsy-turvy electoral year he's forced to run more as an outsider because that's the political mood. His campaign to me has been an intriguing concoction of a hawkish foreign policy combined with a populist economic outlook. He's one of only two of the five who has answered my list of questions, and as one would expect I found his answers to be strongest on foreign policy, immigration, and to some extent the role of government. (I also know Richard has religious freedom bona fides.)
In 2012 when Richard ran for Senate and lost to Dan Bongino, I noted he would have been my 1A candidate after Bongino, who I endorsed. I would have been as comfortable with him winning as the eventual nominee, and at this point he's done nothing to change that assessment given this field. Still, he speaks the language of an insider and that may hurt him.
Joe Hooe has made his key issue that of immigration, advocating for a paid guest worker program he claims will raise $80 billion. He claims it will make taxpayers out of illegal aliens, but my question is whether we could track such a program when we have no clue how many people are in the country illegally because they crossed the border and how many are illegal because they overstayed their visa. And if they refuse to pay to work, how will we enforce this new fee? If they are here illegally, then I doubt they're suddenly going to have a "come to Jesus" moment and decide to follow a law that will cost them $1,000.
One thing I do like about Hooe is his advocacy for apprenticeship programs, but to me that is more of a state concern than a federal concern. Perhaps it's the aspect of having to be elected by the people (which was not the original intent of the Founding Fathers) but I think all of these candidates conflate the roles of the federal and state governments to some degree. Education is one of many areas where there should be no government role.
Chrys Kefalas has a background that I think would serve him well, particularly since he's involved with the manufacturing field. He does well on trade and job creation, but my question is whether he would be anything different than what we have now concerning the social issues leg of the Reaganesque three-legged conservative stool. Surely he (and some others) argue that Maryland has settled on its position regarding social issues such as abortion and gay marriage, but that doesn't mean we should stop working toward Judeo-Christian values where life begins at conception and marriage is between one man and one woman. It's not quite enough to keep me from voting for Chrys on a general election ballot but many thousands of voters realize a two-legged stool doesn't work.
Maryland Republicans run into trouble when they try to out-liberal the Democrats on certain issues: if you're a voter who's going to vote based on the belief that the unborn is just a blob of tissue and no harm comes to society when anyone can marry anyone else they want – and why stop at one, right? – it's not likely they're going to be conservative everywhere else. Meanwhile, you just dispirit the percentage of GOP voters who have that passion for Judeo-Christian values. "I'm only voting for President," they'll say. It can be argued that Larry Hogan's victory was an example of putting social issues on the back burner, but aside from Hogan getting the benefit of a depressed liberal Democrat turnout in 2014, ignoring social issues doesn't play as well on a national race.
Kathy Szeliga is the "establishment" candidate trying desperately to portray herself as an everyday outsider. With the vast majority of Maryland's General Assembly Republicans favoring her – mainly because she's served as a Delegate for six years – she also has received the most attention and support in the race. Using my monoblogue Accountability Project as a guide, her lifetime score of 83 would put her in the upper third of those who have served with her over the years, although her score was more mediocre in 2015 (a 72 rating.) She's also served as one of the faces of General Assembly Republicans - witness this video, one of a string she has done with fellow Delegate Susan Aumann:
Having said all that, there are two main things that disturb me about Szeliga's campaign. For one, she has no "issues" page on her website, and I always subscribe to the theory that if you don't stand for something, you'll fall for anything. (The same is true for Kefalas.) However, she is reasonably good about answering questions and participating in debates.
But on that point you can tell she is a professional politician. Most of Kathy's answers seem to be empty platitudes about her life and experiences being a mom, business owner, etc. rather than substantive discussions of the issue at hand. (On the other hand, Richard Douglas has a tendency to talk over the level of the average voter.) Not to be patronizing, but I suspect someone is telling Kathy women voters who would normally be afraid to vote Republican need to be addressed in a non-threatening way – never mind the Democrat who survives the primary will try and paint Szeliga (or any of the others, including the more socially moderate Kefalas) as a stereotypical Republican anyhow.
Dave Wallace, out of the five candidates, seems to be the most conservative. Having read a lengthy treatise of his, most of what he has to say makes sense on a policy level and for that reason I'm leaning his way at this point.
Yet having said that, we also know that Dave lost to a likely opponent by 22 points in a district which is, admittedly based on registration, a D+23 district as it currently stands. In that respect, though, it's not as bad as the state at large (which is D+32.) We have seen this movie before: Dan Bongino lost by 30 in a 3-way race in 2012, Eric Wargotz by 26 in 2010, Michael Steele by 10 in 2006, E.J. Pipkin by 31 points in 2004, and so forth. I really don't want a 30-point loss again; unfortunately, too many Maryland voters are stubborn like a mule in voting against their self-interest. (If they "got it," the most conservative candidate would always win.)
Dave seems like a nice guy and a policy wonk, which I like. But the question is whether he can be a bulldog and attack the Democratic candidate for the failure of the last seven years.
This may not necessarily apply to Dave, although I'm using his space, but I don't like talk about bipartisanship from any Republican hopeful because Democrats at a national level will nearly always take the hand you reach out to them with, twist your arm off, and proceed to beat you with it. Anyone remember "read my lips?" One of the reasons the bulk of Republicans are fed up with the political system is the lack of intestinal fortitude they see from the politicians they sent to Washington with the message "it's always been done this way" is not cutting it anymore.
When the TEA Party wave in 2010 put the GOP back in charge of the House, the excuse was "we only control one half of one-third of the government." Indeed, a do-nothing Senate was a problem. But when the do-nothing Senate was flipped to Republican control in 2014, we still heard excuses about why we couldn't get anything done. If you want a reason for the rise of Donald Trump, you don't need to look much further. (Never mind Trump's not conservative and the bulk of his policy statements have the depth of a cookie sheet. He talks tough.)
If I were to rank my choices in this horserace at the moment, it would go Wallace and Douglas fairly close going into the final turn, with Kefalas a neck ahead of Szeliga for third on the outside and Hooe bringing up the rear. (The rest are chewing hay in the infield.) As it stands now, I will make my endorsement the second Sunday before the primary (April 17.)
In the coming days I will rank the three contenders for the First District Congressional seat. [Yes, there are four Republicans on the ballot but Jonathan Goff is such a strong Trump supporter that he is disqualified. (#NeverTrump strikes again.)] That race is a little different because the incumbent is a Republican so the question becomes whether we want a more straight-ahead conservative or someone who has the reputation of being more liberty-minded? I'll do some research and hear from one of the three candidates in person in the coming days to help me decide.
Update: Want more? Here you go.
There are still a few days to the primary, but I'm using the occasion of Greg Holmes's entry to the Republican U.S. Senate race and check how the field is shaping up. (And if you say "who?" you're not alone – Holmes was one of the also-rans in 2014′s Fourth Congressional District primary.)
Having done this political thing for a few years, I know that there are usually 10 or so Republicans who run for U.S. Senate in any given cycle. My first election here was 2006, the year Michael Steele was the overwhelming choice of the state party (and accordingly won 87 percent of the vote.) Despite that, there were 10 people on the GOP primary ballot, nine of whom split the other 13 percent of the vote. (With an open seat, that was a scrum on the Democratic side – they had 18 running.)
As of this writing, though, we are only at eight running on the GOP side and Holmes would be nine – so we should be in the ballpark for an average election. On the other hand, the open seat on the Democratic side isn't bringing out nearly as many – just nine have signed up for the Democrats, with at least four being the perennial candidates who rarely get more than 1% of the vote.
Of those nine Republicans, most have some sort of electoral history: Holmes and John Graziani both ran for the same Congressional seat in 2014, while Dave Wallace was the Republican nominee against Democrat Chris Van Hollen that same year. Richard Douglas was a Senate candidate in 2012 and Richard Shawver was in 2006, but Kathy Szeliga is the only one who's won a legislative position as a Delegate in the Maryland General Assembly. It appears Chrys Kefalas, Lynn Richardson, and Anthony Seda are first-time candidates.
So while Szeliga probably has the greatest name recognition, followed by Douglas, it is a relatively wide open race. If someone were to do favorability numbers on the GOP side right now, I doubt any one of the candidates would be over 20% favorable, with the vast majority saying "never heard of them." I myself didn't know many of these people were in the race until I looked tonight.
Meanwhile, in looking at our First District, it's still a four-person race on the GOP side where incumbent Andy Harris is joined by 2014 challenger Jonathan Goff, first-time candidate Sean Jackson, and former Delegate Mike Smigiel. Jim Ireton hasn't filed yet, so Joe Werner (who ran for the seat in 2008) is the only candidate so far on the Democratic side.
I think there will be between one and three more in each of the aforementioned races by the time Wednesday's filing deadline expires. But I am sort of surprised that we're not seeing as many candidates up and down the ballot this year.
Beginning a three-day announcement tour in Annapolis yesterday, Delegate Kathy Szeliga made what many considered the worst-kept secret in Maryland politics official: she's tossing her hat into the ring for a seat in the United States Senate. But it's not just any seat: if you believe the Washington Post, it's the Mikulski seat.
Regardless, she becomes the first elected Republican to seek the seat, which will probably draw a crowd: ten years ago, the last time an open Senate seat came up, nearly thirty hopefuls – elected officials and perennial candidates alike – took their shot at the brass ring. Eventually surviving the primaries were Rep. Ben Cardin and Lt. Gov. Michael Steele, with Cardin prevailing by ten points on Election Day.
The 2016 version of this scrum may bring three Democratic House members together, as Donna Edwards and Chris Van Hollen are already in and Elijah Cummings is thinking about it. (In turn, this will make next year's General Assembly session interesting as several state legislative members consider the vacated seats.) On the other hand, the GOP side is currently occupied by Richard Douglas, who ran in 2012 but finished second in the primary behind Dan Bongino, onetime Ehrlich administration lawyer Chrys Kefalas, disabled Navy veteran Anthony Seda, and Szeliga. There is also the possibility Harford County Executive (and former State Senator) Barry Glassman may get in, according to this piece at Maryland Reporter.
Some suspected Maryland's lone Republican member of Congress, Andy Harris, would make a bid but it appears he's backing his onetime chief of staff. "I know her to be a tough, smart woman from Baltimore who's not afraid to take on the political establishment to get real results for Maryland families," said Harris in a statement.
Meanwhile, it didn't take long for the candidate to fire up the e-mail appeals. If this is her basic message, she seems to riding the populist wave (as opposed to full-throated conservatism.) Here's a sample.
We have a paralyzed government incapable of solving even our most basic needs. I for one can no longer standby (sic) waiting for those we've sent to Washington to solve our problems, because they haven't. And I'm not naïve enough to think I can just ride into the Senate on a white horse and do it all by myself. It's going to take a lot of new people who aren't professional politicians to step up – average citizens with college degrees and others without. Goodness knows, they can't be any worse than the gang running things now!

Deep in our hearts, most of us – regardless of political preferences – believe in the promise of America and the power of the American Dream. We are agents of change motivated by our love of God, family, state and country. We want to rediscover a way of life as it used to be; when things really did work.

I want to serve in the US Senate to champion those forgotten Americans who are decent, responsible citizens yearning for the opportunity to work hard, pay the bills, raise a family, live a full life and yes, dream again what we seem to be losing – the American dream.
Unfortunately, when she comes to Salisbury tomorrow I can't be there, so I'm doing the next best thing and sending my cub reporter. I think Cathy will give me the coverage I need as a vital race begins to take better shape.
To be perfectly honest and up front about it, I have not listened to the subject of this post, as my life and items are still in some disarray after our recent move. (This includes my headphones, which are in some box somewhere.)
But last week Dan Bongino released the second of what is now a weekly series of podcasts. And given the fact he's used the political world and running for office twice in the last two federal cycles to make a name for himself in the media world, I wanted to use this post to ponder whether if we would see Bongino go three-for-three with the 2016 U.S. Senate race or a rematch with John Delaney in Maryland's Sixth District.
Let's look at a little history first. At this time four years ago, no one outside of the world of the Secret Service and law enforcement knew who Dan Bongino was. But in the spring of 2011 he made the decision to begin his political career with a run for the U.S. Senate seat in Maryland, and with an engaging personality and conservative stands on many issues, Bongino made enough of a name for himself to win a crowded primary and the right to face incumbent Ben Cardin.  While Bongino had some good fortune in the fact no former candidate like Eric Wargotz or Michael Steele, regionally known officeholder like Pat McDonough, or former governor Bob Ehrlich decided to jump into the race, it's likely he weighed all these possibilities and had an idea they would skip the race before he got in.
Something Bongino succeeded in doing with his 2012 Senate race, though, was nationalizing his effort. In most northeastern states, a Republican running for a statewide office against long odds would attract little notice outside the state, but Bongino made waves with his race once he received a Sarah Palin endorsement. His 2014 Congressional effort continued on the same path.
But something else we learned about Bongino was that he was a natural at broadcasting. Over the last few years he's graduated from occasional guest to guest host, taking over for both Sean Hannity and Mark Levin on occasion. If he ever lands a spot sitting in for Rush Limbaugh we'll know he's in the big leagues.
So it brings up the question for a multimedia player like Bongino: what's in it for him to make a 2016 run?
Bongino is in a spot in Maryland similar to the one which Sarah Palin occupies nationally. Dan's support for a candidate is looked upon with approval from a large number of conservative voters in Maryland, just like a Palin endorsement appeals to a particular subset of voters nationwide. Both, however, are becoming more well-known in media circles than for accomplishments in office (which is a shame on Palin's part, since she has been elected several times.)
If Bongino runs again and loses again, will that tarnish his standing among conservatives who can't point to electoral success on his part? On the other hand, will he feel that the media exposure he's gaining is going to put him over the top? With just a few hundred plays on his Soundcloud (I cannot discern how his iTunes podcasts are doing) it's a nice outlet but not one which gets him a lot of exposure like a guest-hosting slot would give.
Over the next few months, the 2016 races will begin to take shape. I would expect at least a couple members of the Maryland General Assembly to run from cover for federal positions but not to announce their intentions until later this summer. Those who have less name recognition will probably start in the next month or so since the primary is less than 14 months away – depending on how the Presidential race shakes out, we may see more attention paid to the downticket races like U.S. Senate.
If I were to take my educated guess, I think Dan is going to pass on 2016 unless the Senate seat becomes open through the retirement of Barb Mikulski. With 2016 being a Presidential year, turnout will be more like the 2012 turnout and that tends to favor Democrats in this state.
On the other hand, 2018 creates a host of possibilities on both a state and federal level, giving Dan more options should he decide to jump in a race.
Once I get my stuff together I will take about 45 minutes and listen to what Dan has to say – chances are I will enjoy it. But my thoughts always work to the next cycle and all the possibilities within. If the question is whether Dan Bongino will be in the mix, I think the answer is yes. I'm just not sure where one of the many young guns the Maryland GOP has will fit in.
A Daily Times story by Phil Davis yesterday noted the push by local elected officials to give Wicomico County the accountability of an elected school board. Davis points out that Republicans are pressing to get the issue on the ballot in 2016 while local Democrats want more hearings and cite an ACLU study which claims minorities can only attain one seat on County Council under the current districts.
But additional hearings are only a delaying tactic and Delegate Sample-Hughes (who was the lone dissenter in the two previous occasions this issue came before County Council) knows it. She should also know that any such resolution will have to have a hearing before County Council and when legislation is brought before the state there will be another public hearing in Annapolis.
As for the ACLU, the reason why minority candidates don't tend to win in races outside the majority-minority district is twofold: one, their political views aren't generally congruent with the conservative mindset of the county, and secondly not very many run. In 2014, the only minority to run countywide was Norma Lee Barkley, who was re-elected to the Orphan's Court for a ninth term. In 2010, Ed Taylor, a former Council member, was fourth out of the four who ran for the at-large Council seat. Both Barkley and Taylor are Democrats; however, Michael Steele easily carried Wicomico County in his unsuccessful U.S. Senate bid in 2006 while Democrat Brenda Hughey-Jones was fourth of four on the ballot for an at-large County Council seat. Proportionately, minorities make up 30% of the Wicomico County population.
The Daily Times points out that Salisbury has two majority-minority districts out of its five, which is very close to its minority population of 41.4%. However, it should be cautioned that a non-minority can represent a majority-minority district. I know that blows the minds of the ACLU, NAACP, and other similar organizations but it has happened before locally and probably will in the future – particularly if minority turnout continues to decline as it did in this most recent election.
All these grievances, though, are simply a diversionary tactic from the other political side which likes the system in place because they assume Democrats will almost always have the governor's chair and the automatic 4-3 majority on our Board of Education which goes with that. Even in a situation where a Republican is governor, though, they are still only one turncoat, weak-kneed Republican from a working majority and with five-year terms there's a good chance the previous Democrat appointed one when a Republican's turn came up. (We have a couple of them now.) With an elected school board, the chances are the makeup of the board will be far more conservative and that's what the education establishment fears.
On a personal level, though, this is what I would like to see in an elected Wicomico County Board of Education:
Seven members as it has now, with one elected from each County Council district and two at-large (just like County Council.)
The elections would be non-partisan. Primary ballots from both parties would have all candidates listed, while the unaffiliated could vote for Board of Education only on their ballot.
While most counties do staggered terms, I think it would be confusing – so elect all seven on the Gubernatorial ballot with all other county officers. If we had to stagger terms I would do the two-at large on the Presidential ballot and the five districts on the Gubernatorial.
As far as vacancies, since it is a non-partisan office the best way to fill them is to have the County Council vet the candidates, submit a list of three names to the County Executive, and have him or her make the selection. Alternatively, the County Executive could select a candidate and make the appointment contingent on the County Council's approval and consent.
The reason we on the Republican Central Committee met with our state delegation was because we need enabling legislation from the state to make this happen and wanted their advice on how to proceed. Certainly we would like our Democratic counterparts to get on board but as I said they tend to prefer the system as it is, with all of its faults and lack of accountability. Because the Secretary of Appointments handles this task for the Governor, we are at the mercy of an unelected bureaucrat to determine who is tasked with guiding the education of our children and the spending of tax dollars we contribute to that cause. Jim Fiedler may be a nice guy, but he shouldn't be making the final selection of our school board members. The voters of Wicomico County should have that say.
Just as a point of reference, I looked up the six current members of the Wicomico County Board of Education – the seat that formerly belonged to Larry Dodd is vacant because he was elected to County Council.
Ron Willey, President (D) – appointed in July 2007 and re-appointed in August 2012. His term would expire in 2017 and he cannot be re-appointed (there is a two-term limit.)
Donald Fitzgerald, Vice-President (D) – appointed in 2009 and term is expired – he's serving until a Republican successor is in place since his seat would now logically go to the GOP thanks to Larry Hogan's election.
Marvin Blye (D) – appointed in 2010, his term will expire in 2015.
Dr. Tyrone Chase (D) – appointed in 2007 and re-appointed in 2012. His term would expire in 2017 and he cannot be re-appointed.
Dr. Carolyn Elmore (R) – appointed in 2011, her term will expire in 2016.
Kim Hudson (R) – appointed in 2011, her term will expire in 2016.
The vacant seat is a Republican one, with about four years left on the term.
So we have poorly defined terms as members serve until their successors are selected. In 2015 three new members would be added (2 Republican and 1 Democrat), in 2016 two Republicans, and in 2017 two Democrats. It's confusing, antiquated, and needs to change.
I actually started this a couple weeks ago, when writing about Ron George's last stand, and just added to it here and there every couple days – if only to keep it atop the queue. Regarding Ron, it was unfortunate that such a good candidate couldn't get much traction in the race.
But as the race comes to an end for three of the four gubernatorial hopefuls, I'm convinced that my initial instinct was correct and there was really only money enough for three candidates. Blaine Young saw this early on and, despite a solid period of fundraising, opted to drop out of the gubernatorial race and focus on a local campaign for the newly-created Frederick County Executive post. "We have a tendency to eat our own," he said.
To me this is yet another legacy of the Ehrlich era, which in some respects set our party back several years.  With the most direct connection to that administration, Larry Hogan was perhaps the second-most natural successor – besides Michael Steele, who took a pass in 2014. More and more I see 2010 as a completely missed opportunity in this state, and its domino effect is hurting us in 2014.
So Hogan starts out about 15 points down, just like Ehrlich ended up in 2010. How does he close the gap?
Out of the box, he's taking the approach which he used a little bit in the primary: Anthony Brown as incompetent.
Driving up negatives is generally a conventional wisdom play, but there are a couple downsides. First of all, Brown is, well, brown and the inevitable comparison to Republicans picking on Barack Obama will occur. I also don't see the counter of a positive agenda from the Hogan camp, which seems to be focusing more on undoing things than doing new things.
I mentioned Ron George early on and it was interesting how he accepted his defeat, as a letter to his youngest son Tommy:
Tommy, I lost. But that is okay. Many took my ideas, and I know those ideas will help our state. Your dad is now able to go camping with you and have more time with you, and that alone makes me glad I lost. I can go on trips with you and Mom visiting your nieces and nephew, and I look forward to that also. I did what God asked of me and did my best and that is all we are to do. I never wanted to do anything that took time from you, so I am happy to say I am not a governor but I am Tommy's dad. Love you, Dad.
Perhaps had Ron been given a do-over, he may have decided to devote full-time to running for governor. Surely he had people to run his business, but while David Craig had a staff to help him do his job as County Executive, Larry Hogan the same for his business, and Charles Lollar was granted extended leave from his duties, Ron had to also function as a Delegate. That was 90 days basically off the trail in the formative part of the campaign. It may be disappointing to me because it was one of two decisions that cost him my vote and endorsement; otherwise Ron had perhaps the best overall platform and he came very close to getting both from me.
But Ron ran the best campaign insofar as staying issue-based and not going off on personal attack tangents.
For David Craig, he pretty much spent the last three years trying for this. Obviously the blogger meeting he had early on didn't do him much good.
There have been people who opined privately that Craig should have attacked Hogan earlier, just as there are people who believed attacking Charles Lollar was a mistake. I would place myself in the latter camp, but what did Craig in was the lack of money to overcome Larry Hogan's advantage there. Once Larry got the public financing, the race was over and Craig couldn't chip away at the double-digit lead.
It's the Charles Lollar supporters I worry about, as in my opinion they are most likely to stay home in November. Charles tried to convince them otherwise:
Wow, family, what an experience! I can honestly say that the past 16 months have been filled with such excitement and joy as my family has had the chance to meet so many good people across the state of Maryland. I could not be happier with the extended family that I have acquired as a result of this campaign. While the results may have not been exactly what we wanted at least we know that there were many out there who share our vision for a better Maryland and a New Way Forward. From the bottom of my heart I want to thank everyone who played a role in making this such a successful campaign.

As many of you know there is still more work for us to do. A New Way Forward for Maryland is still out there for us to obtain and together we can make this happen. I want to congratulate Larry Hogan on a job well done as well as David Craig and Ron George for successful campaigns of their own.

I look forward to coming together in unity to win the state of Maryland and I urge all of my supporters to do the same and ensure unity within our state across the board.
It makes me wonder what Charles will do with the next few months, although his July 5th event for supporters and volunteers will likely have a lot of clues.
Looking down the ballot a little bit, there were some interesting upsets from both parties.
Two incumbent Senators lost in their primaries as ambitious House members ousted them: Republicans David Brinkley and Richard Colburn were knocked off. By the same token, many of the nine House members who were defeated were victims of redistricting: Republicans Joseph Boteler, Don Dwyer, Donald Elliott, and Michael Smigiel, and Democrats Keiffer Mitchell, Melvin Stukes, Michael Summers, Darren Swain, and Shawn Tarrant. Mitchell and Stukes were drawn, along with winner Keith Haynes, into one Baltimore City district.
In particular, Boteler was one of the good guys, and the reigning monoblogue Accountability Project Legislator of the Year. That district's voters made a serious mistake by pushing him aside.
Aside from the shocking margin of Addie Eckardt's victory, the Wicomico County results were pretty much what I expected. Obviously I was disappointed by Muir Boda's loss but apparently county Republican voters like mushy moderates. If things hold as expected, we will still have a significant GOP majority on County Council but it won't always govern like one.
It should be noted, though, that my advertisers went 3-1 for the primary. Mary Beth Carozza easily had the most primary votes in District 38C and Chris Adams and Johnny Mautz paced the field in District 37B. Mautz carried three of the four counties, with Adams second in all four (Rene Desmarais won Wicomico County.)
This brings up one of my favorite comments along the way in the campaign, from an old NetRightDaily colleague of mine, Richard Manning. It was in response to a Facebook post I put up to promote this post.
(A)ll those ads along the side pay Michael for his great work. He should be commended that he has created something from nothing that has enough value that people want to advertise on it to reach his readers. That is the essence of the entrepreneurial spirit that those on the right claim to embrace.
So that brings me to the final race, which was my own. I posted this on the soon-to-disappear Facebook page for my campaign:
I'd like to thank my supporters. Looks like I'm going to come up one spot short this time, but with so many good people running I knew I was the most vulnerable incumbent because I only made it by a little bit last time.

So after November it looks like I may have some free time on my hands – or maybe not.

It does look like the Central Committee will have a little more TEA Party influence because Julie Brewington and Greg Belcher got their start as part of that movement, so that's good.

As I've said all along, this will be my last election as a candidate. I was only planning to run this term anyway, and I would have definitely preferred to go out a winner. But I came home and got a hug from my treasurer, who happens to be my fiance. So everything is okay. I lost an election, but elections don't define me anyway. In fact, in some respects this can be liberating.

Obviously there's still the prospect of my involvement with the Central Committee, at least as secretary (it can be a non-voting position.) If they wish, I'm happy to stay on in that capacity.

But this will be the last time I have to go through all the hassle of getting a treasurer, filing campaign finance reports, and so forth. In the next few days we'll close the campaign account, file the necessary paperwork to wind up this committee, and it will be time for a new chapter in political involvement.

So in a few days this (Facebook) page will also go away. Congratulations to the winners and hopefully many of those who tried but fell short will try again. But this will be it for me on the ballot.

Again, I appreciate the kind words from my supporters and thanks to those who voted for me.
A lot of those remarks have appeared on my Facebook page or in e-mails to me. I appreciate the sentiment, but I have an observation on this whole thing.
Of the nine who made it, six were already on the Central Committee and had name recognition for various reasons. I've lived in the county for less than a decade and, quite frankly, had the 2006 election featured more aspirants than candidates I probably wouldn't have won my first term, let alone the second. Look at the three newcomers who won: two are doctors, and the other ran for the House of Delegates in 2010.
On the other hand, two of the other three who lost had been active in Republican circles but had little name recognition otherwise. Tyler Harwood probably knocked on hundreds of doors on behalf of himself and other candidates and was rewarded by finishing last. Jackie Wellfonder had bought signs and cards, and made her way around polling places yesterday to no avail. The gap between us and ninth place suggests that people just went with the names they knew, and that's sort of a sad commentary.
I'm not going to lie to you and say I'm happy about losing this election, but I knew going in this time that I would have a hard time keeping my spot. I originally figured that only five or six incumbents would run, but with seven that made it really difficult.
So here we are. Even if I'm selected as secretary again (a non-voting secretary and treasurer are allowed) October will be my last meeting as an elected Central Committee member. It would be strange not having something to do on the first Monday of the month, but life changes and so we have to as well.
I didn't plan on being a Central Committee member my entire life anyway, but now that this election is over my thoughts are on seeing our candidates through and working where I can to improve the process. It may not be completely universal, but one thing I think I've achieved over the last eight years is the respect of my peers.
Yesterday this gem came to my attention via my inbox. It's from Ken Timmerman, who's the running mate of gubernatorial candidate Charles Lollar.
You may have heard Charles say it: if elections in Maryland were only about the money, Michael Steele would be our U.S. Senator.

He outraised Ben Cardin by a good margin in 2006 – and lost.

Political commentators were making the same mistake today in the news reports about this candidate qualifying for public financing, and that candidate not.

Here's the dirty secret about public financing in Maryland: it actually handicaps a campaign in the general election.

That's right. Any Republican campaign for governor that accepts public financing will be limited in how much they can raise and spend.

Don't believe what some candidates are telling you about their ability to get millions of dollars from these public funds – which they absurdly claim are not taxpayer dollars.

Here is the truth: any campaign that accepts public funds is limited to total spending of $2,586,124.21 – and that amount includes so-called matching funds they get from the taxpayer.

Don't take my word for it: click here to read the rules on public financing from the State Board of Elections.

Bob Ehrlich raised over $10 million in 2006 – and still lost.

We expect will raise $6 million for the general election, and probably more.

Because we have run a lean campaign, leveraging the sweat equity of our volunteer army over the past 18 months, we expect to do much more than other campaigns with less money.

We already have pledges from the Republican Governors' Association and other outside groups to throw millions more into the race – money that will not be available to a candidate limited to the $2.6 million spending cap imposed by the state as a condition to receive public financing.

I hope I've been clear enough in explaining this. A candidate who accepts publc (sic) financing will lose in November because of that hard spending cap, which includes money spent by associated groups.

Charles and I need your help now to win the June 24 primary, because we know we can win in November.

We can win in November because we have been laying the groundwork these past 18 months in Democrat strongholds – something none of our Republican competitors have not done.

You can't start reaching out to Democrats after the primary and expect them to listen. We have already built those relationships, and have Democrats for Lollar in Baltimore City, the Eastern shore, and in Prince Georges and Montgomery counties. Some of these groups are campaigning for us openly, and some of them waiting until after the primary to support us.

So, don't believe the hype. Join us for the real deal.
I probably didn't need to add the final half-dozen paragraphs, particularly with the misspelling and glaring double negative (proofreading is your friend!) but my reading of the law confirms what Ken says – regardless of what others may say, this is the expenditure limit. The seed money certification also reads:
Furthermore, we certify that we will not expend in either the primary or the general election an amount in excess of the maximum spending limitation set forth by Election Law Article §15-105.
The prescribed amount was originally 30 cents for every resident in the state, but adjusted for inflation works out to the $2.6 million or so. However, the hook that could save Hogan is this line:
A gubernatorial ticket that accepts a public contribution from the Fund for an election…
Let's say Hogan accepts the $275,000 he's eligible for in the primary and wins. As I read it, the cycle begins anew with the general election because they're considered separate entities. If he doesn't take a dollar once the general election cycle begins one reading of the law would suggest that he has no spending limit. It's an issue which would probably be dragged into court, sapping resources from Hogan at a time when he's trying to challenge a well-funded Democrat (unless fellow public finance participant Heather Mizeur somehow secures that nomination.)
In any case, it would only make a further mockery of the public financing system which is enriching a heretofore primarily self-funded campaign. But I also want to turn my attention to the fundraising prowess Timmerman claims – if only Charles can get through the primary.
This may seem like a stupid question, but if there are outside groups willing to fork over that much money wouldn't you think they could spare a half-million to get Charles through the primary? After all, I get e-mail every day touting a challenger here, a TEA Party favorite there…granted, these are generally for seats in Congress but would it not be a feather in someone's camp to upset the establishment and elect a black conservative governor in Maryland? Yet I haven't seen those appeals or that funding – perhaps it's lost with Ben Carson's endorsement. (On that note, if Carson endorsed Lollar's health care plan, as Charles has claimed, wouldn't you think it would be a prominent issue on his campaign site?)
Having said all that, if Charles loses on June 24 I hope he's front and center at the June 26 unity dinner promising to continue spreading the message in those minority areas about the benefits of conservatism. It's the one asset he's brought to the campaign, and the trick is to make it a transferable one. Timmerman pointed this out about Michael Steele who, despite the racial component, still lost badly in minority-dominated areas to a white Democrat. (Steele only received about 7,000 more votes in Prince George's County – his home territory – than Bob Ehrlich did. Both were swamped there by lopsided margins.)
All of us know we need to do better in those areas to have a chance to elect Republicans, but I'm also sure the Democrats will do what they do best and play the race card. Lollar's outreach has to be the beginning of a process spanning several election cycles, and not the end.
In case you missed part 1, which dealt with Friday night, you can catch up here.
I was in bed reasonably early for a convention, in part because there weren't a whole lot of hospitality suites to be found and in part because I wanted to cover breakfast with this immediately recognizable guy.
The former GOP national chair is always a welcome guest at MDGOP proceedings, and as a breakfast speaker he set a good mood for the day by predicting "we're going to be back in our winning ways this year."
But his message went back a few years, to when Michael took over the national party, which had become too "comfortable and cozy." He saw his mission as one "to rebrand a party which had become moribund," one where the gap between rhetoric and principles had become so large it snapped. "I'm so sick and tired of people blaming our principles for their failure to lead," said Michael. "What we believe in is time-honored and true."
Similarly, Steele noted that the state party had gone through its share of "definitional moments" and was ready to do so again. We needed to avoid being a party defined by what we are against and not what we are for, as we've "often found ourselves at odds with the very people that we want to represent." We need to "talk about freedom but connect it to life."
Taking that to a more local level, he noted that people are expecting leadership from the Central Committee members in the effort to "turn the elephant."
Revolutionizing the MDGOP has to be our first priority – Michael Steele. #MDReps #mdcons

— Michael Swartz (@monoblogueUS) April 26, 2014
"We're not looking back, we're looking forward," said Michael. "Revolutionizing the (Maryland Republican) Party is our number one priority." People are hungry for authenticity, leadership, and vision, he added. He got a token of our appreciation, too.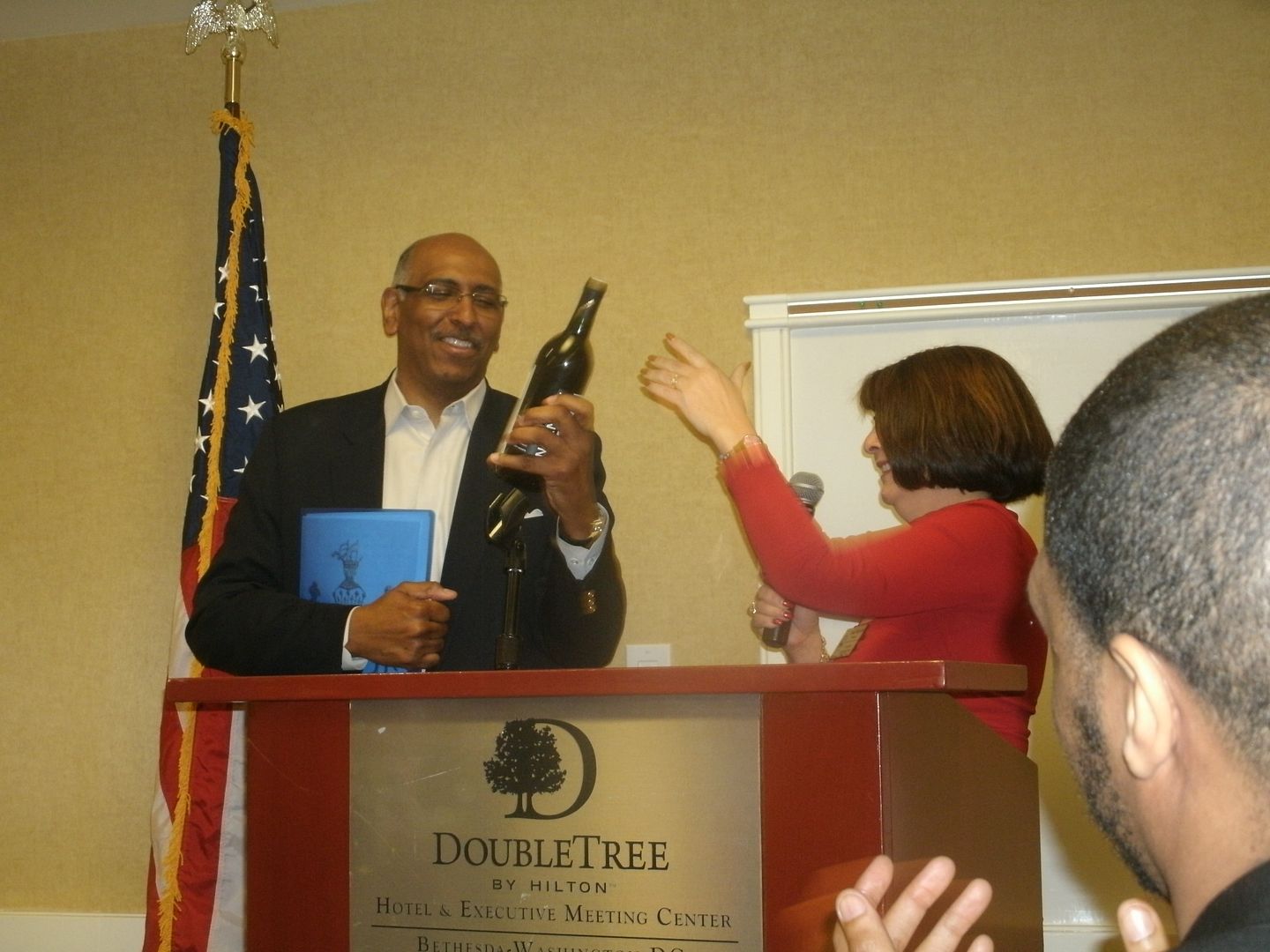 The wine is a Maryland red wine from Linganore called Black Raven. Diana thought it was a "providence" that she was thinking about how to thank our speakers as she drove by the winery. I had a shot of the bottle but, alas, I was too close and it came out way too bleached out. After breakfast, I had to gather my things and check out as well as make one other stop.
Instead of having a Friday evening suite, Larry chose to host a breakfast suite with Chick-fil-A items. Of course, all I was hungry for was information, so I spoke to Hogan about his experience on the Eastern Shore with our farmers. I found he has a fairly good idea about what they stand to lose should phosphorus regulations go through, so that was a plus. And I added to my weekend collection, a shot which included Larry's wife Yumi.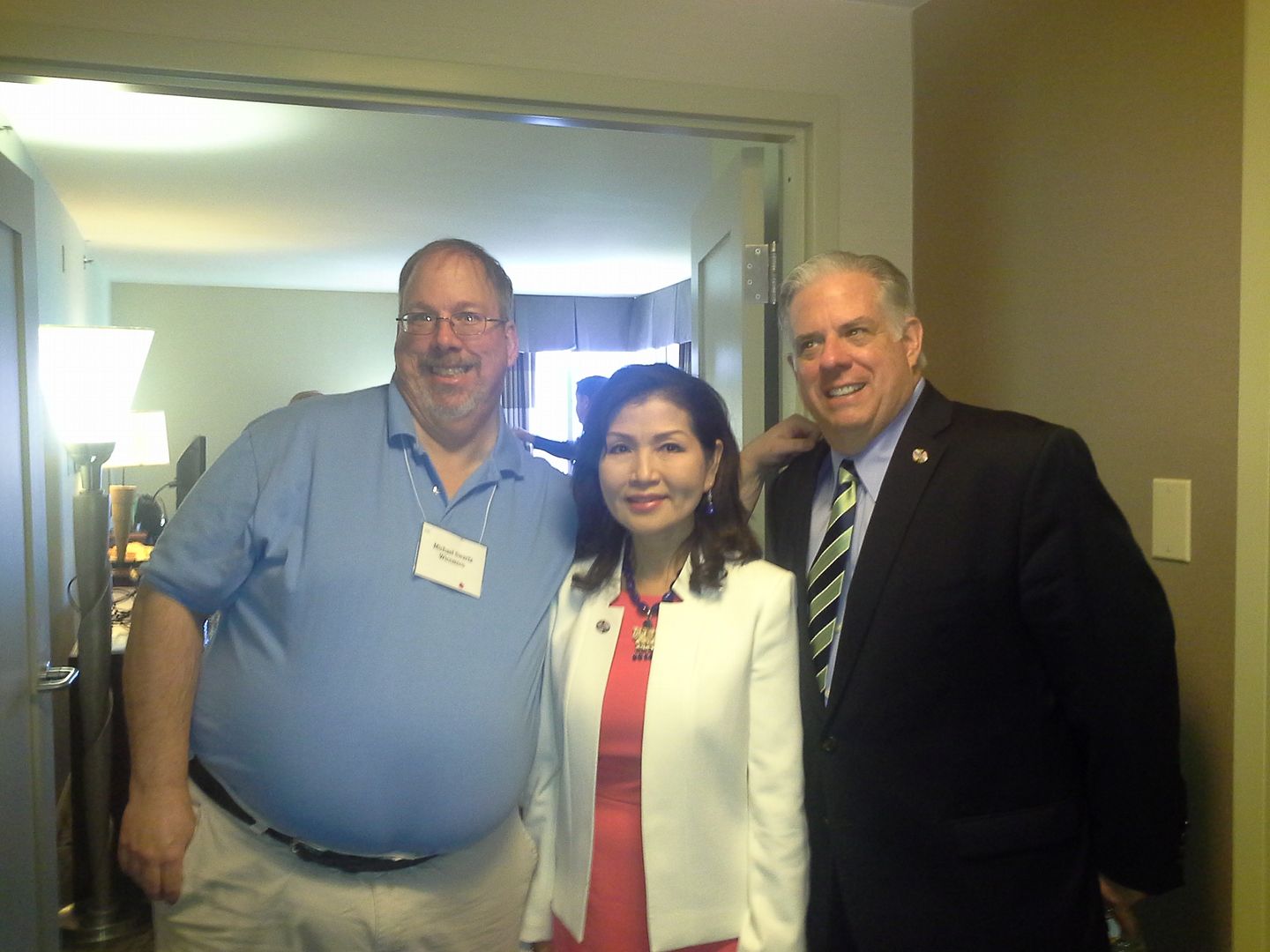 It's a bit askew because I was looking at two cameras at once. So I grabbed a Hogan-labeled bottle of water as I walked out and headed back down. With the stops, I missed much of what – from the part I did hear – was an interesting panel discussion by conservative black Maryland Republicans.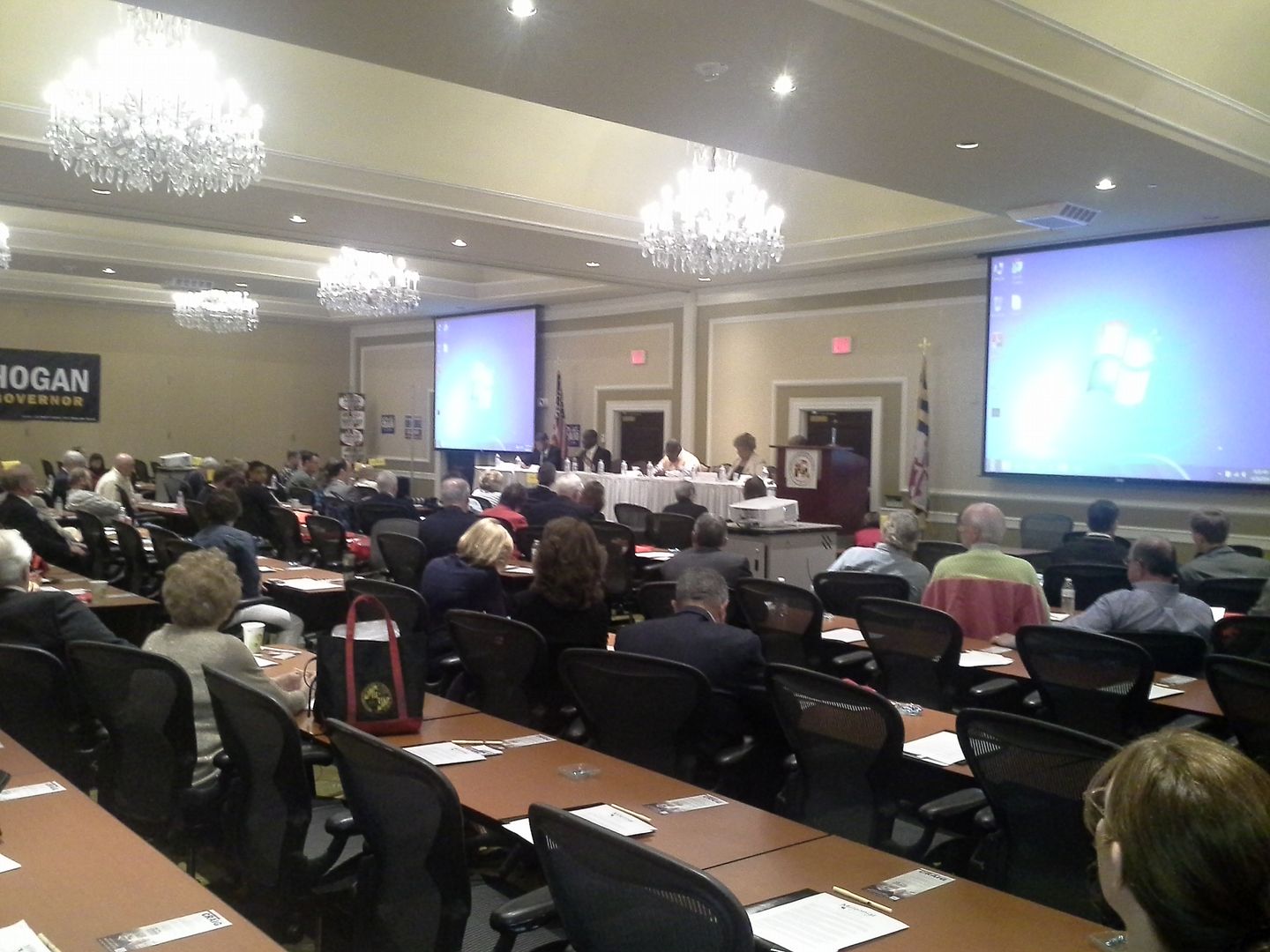 After that finished, I checked out some of the displays in the lobby. This one was new that morning.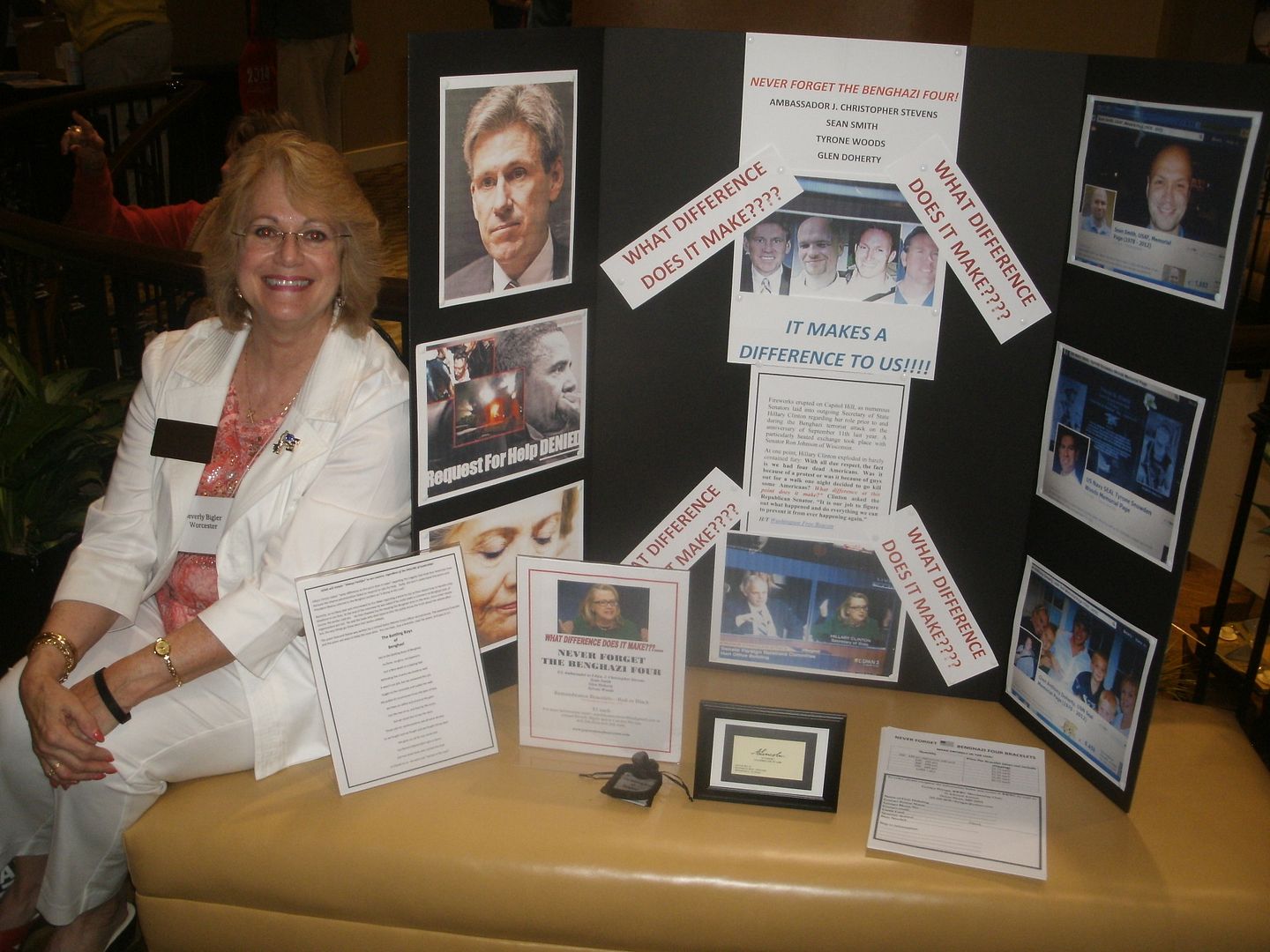 As I understood it, my Worcester County cohort was selling "Benghazi bracelets," which will be gray and black. Obviously that's still on the minds of many people to whom it does make a difference. I also spied a more modest display that morning from the Lollar team.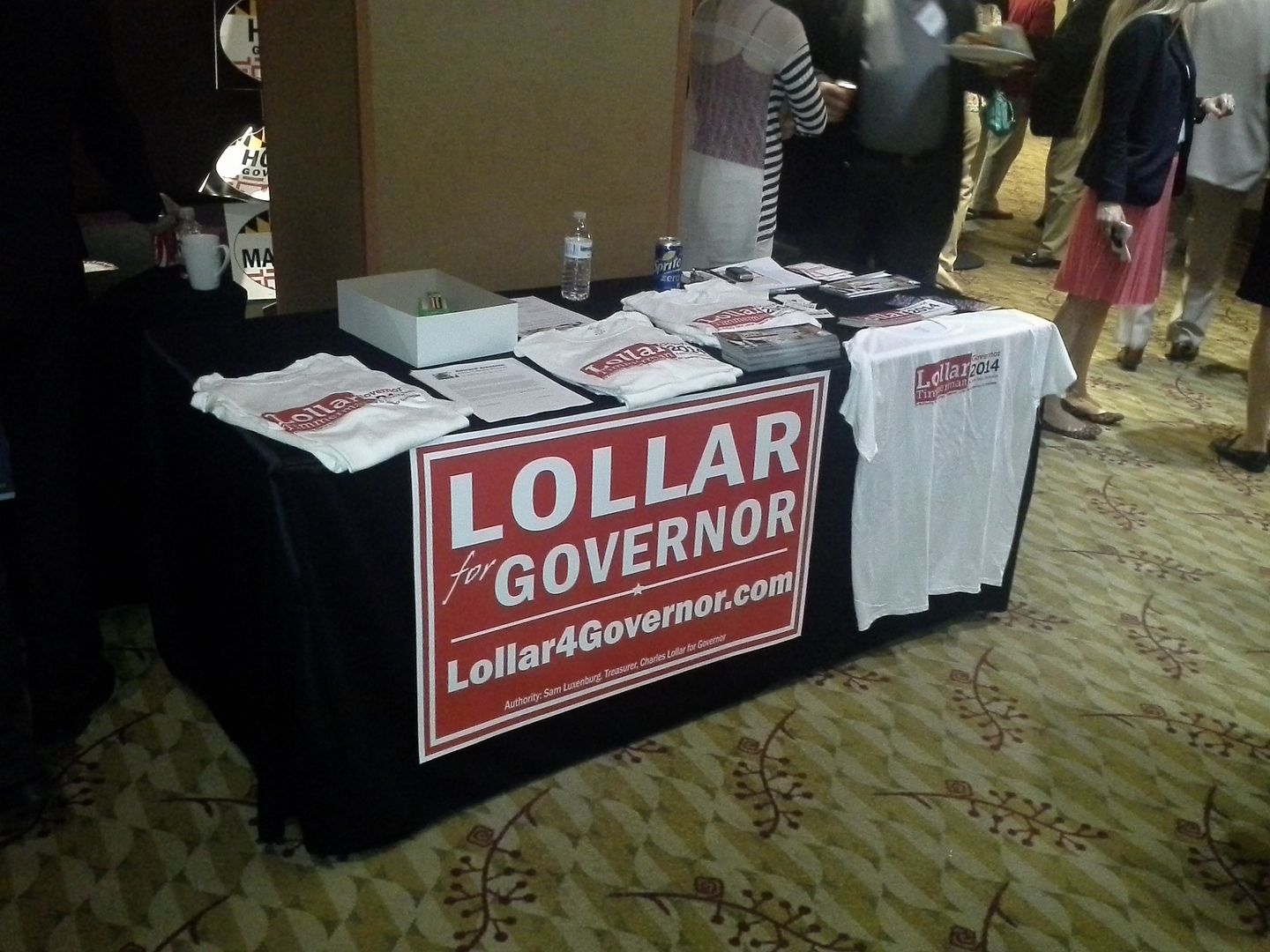 I was remiss in not getting a photo of Ron George's table, although I think it's visible in the lobby photo in part 1. Of the four candidates, though, Ron had the least presence with just the table. Craig had a table and suite, as did Lollar, while Hogan had his breakfast suite, a folder at each table place, and hallways festooned with these.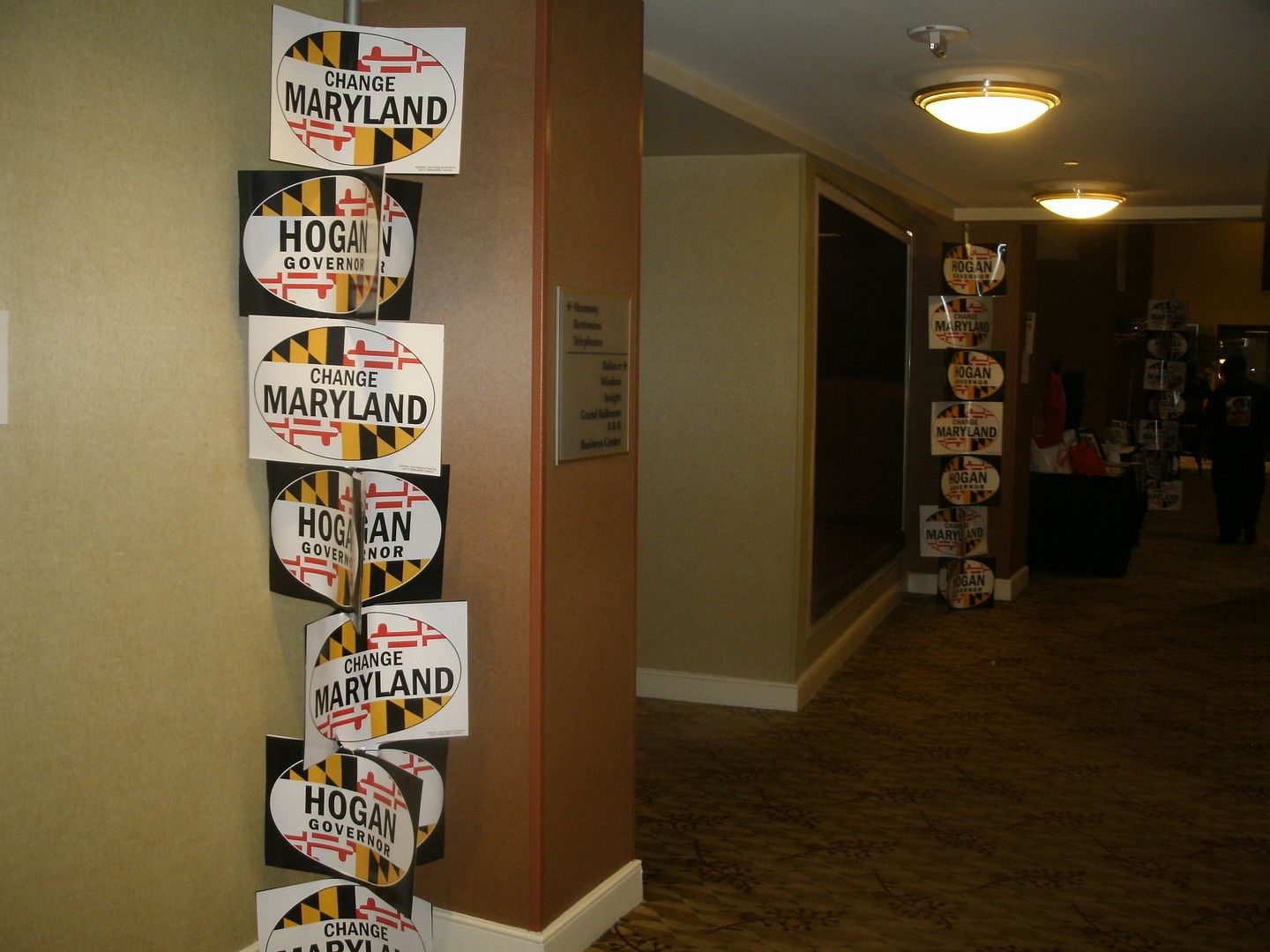 In due course, you'll understand why I thought it was important to make that comparison. Once that mini-tour was complete and I was checked out, it was time to begin the convention proper.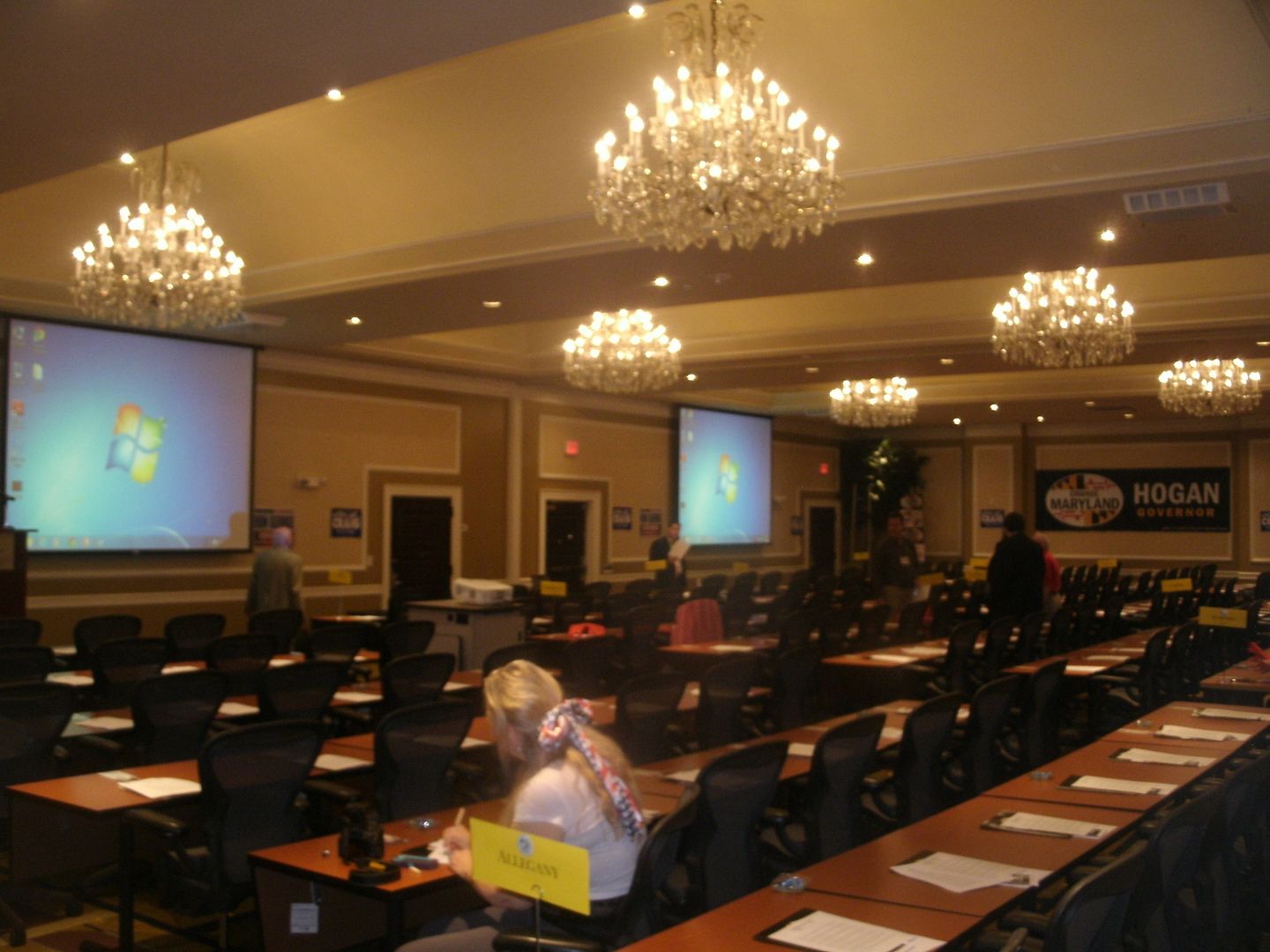 The first report was a legislative report from Delegate Gail Bates, who's now running to become a Senator. She pointed out we don't get our way much, but did achieve some good things: recoupling the estate tax to federal law, pieces of election reform – particularly on voter rolls – and straightening out the pit bull mess to place responsibility on dog owners regardless of breed. These, however, were outweighed by a litany of bad: a budget which continues a pattern of overspending revenues, increasing the minimum wage despite outcry from small business, decriminalization of marijuana, the "bathroom bill", and the health exchange, said Bates.
We next received the bad news of the treasurer's report from Executive Director Joe Cluster. The one positive note was that we were "right on course to meet our goals this year" after a slow start. This wasn't her convention podium, but I wanted to show a shot of Party Chair Diana Waterman to signify her Chairman's report.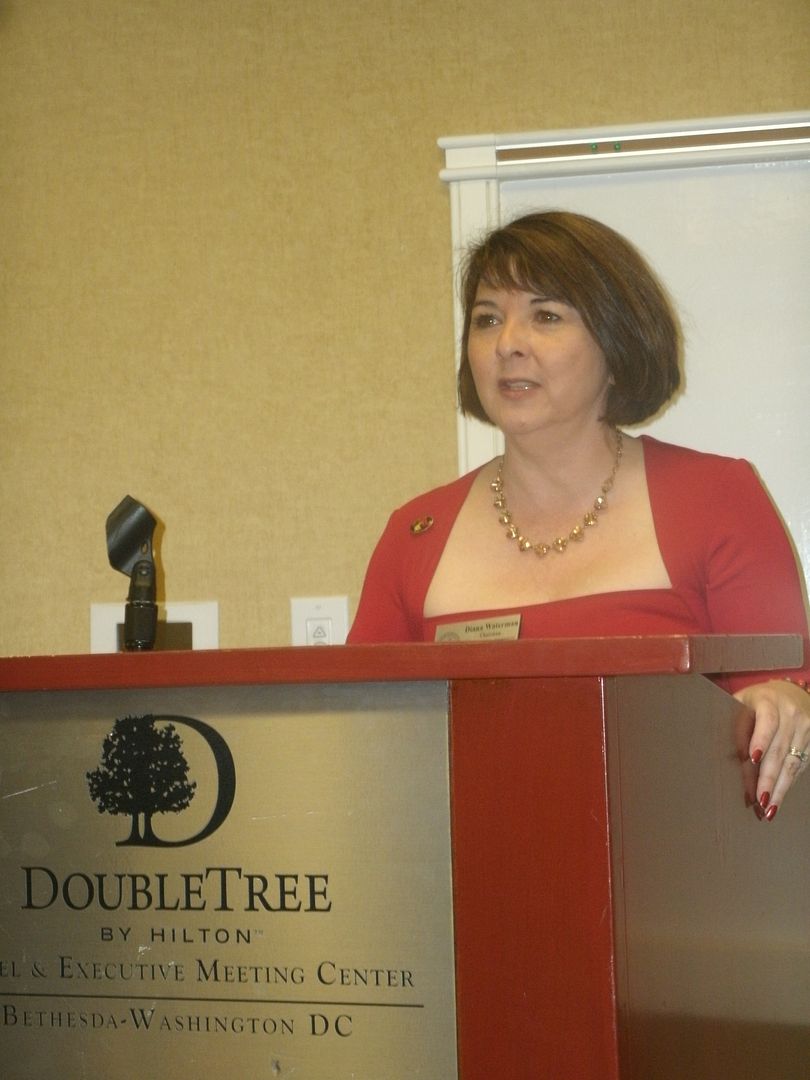 She had one key announcement:
@DianaWaterman: All four candidates will be at May 31 Salisbury #MDGOP guv forum. Look forward to being at SU.

— Michael Swartz (@monoblogueUS) April 26, 2014
She also recounted recent events like the Reagan Ball and Johns Hopkins gubernatorial forum, but her message stressed the needs for turnout on Election Day and unity after the primary.
In an extension of the forum he moderated, Tony Campbell decried the lack of credibility the party had built in the 16 years he had been involved, and stressed that we needed to find issues that people connected with. This election was the combination of time and opportunity we had been waiting for, though.
Brian Griffiths gave a brief Young Republican report mainly focused on upcoming events, while the College Republicans gave no report because their incoming president, Christine McEvoy of Johns Hopkins, was studying for exams. Thus, the morning continued with National Committeewoman Nicolee Ambrose and her visual aids.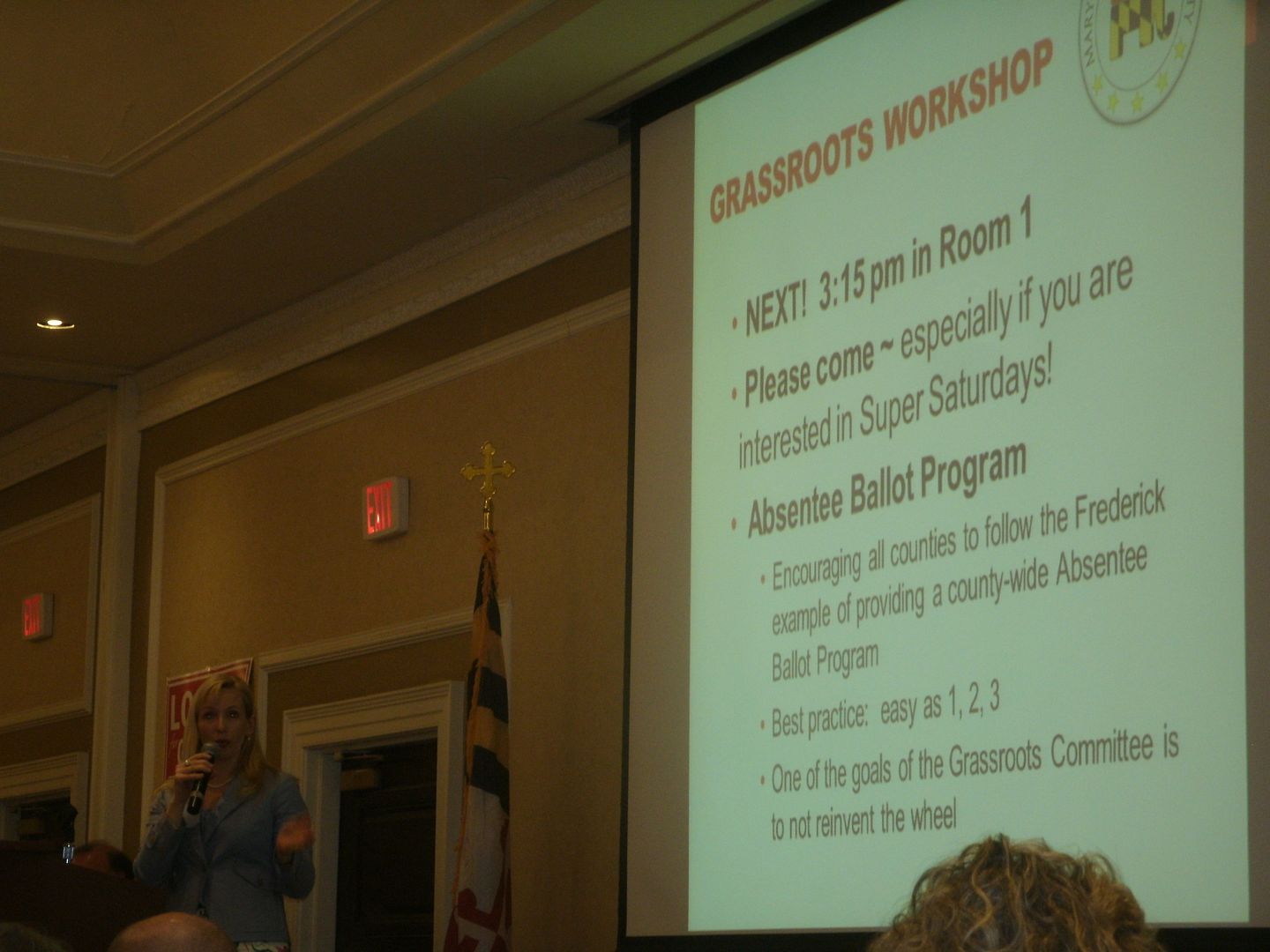 While Ambrose talked briefly about what the national party is doing, her focus has been on grassroots work in Maryland, particularly the Super Saturday program. Next Saturday, May 3rd, that program comes to Ocean City just in time for Springfest. A second one is in the works for June 21 in Montgomery County. Further ones for the fall will be determined over the summer, as there is an application process. She also stressed that every county should be looking into an absentee ballot program, particularly the larger ones.
But I thought this slide of upcoming events was cool.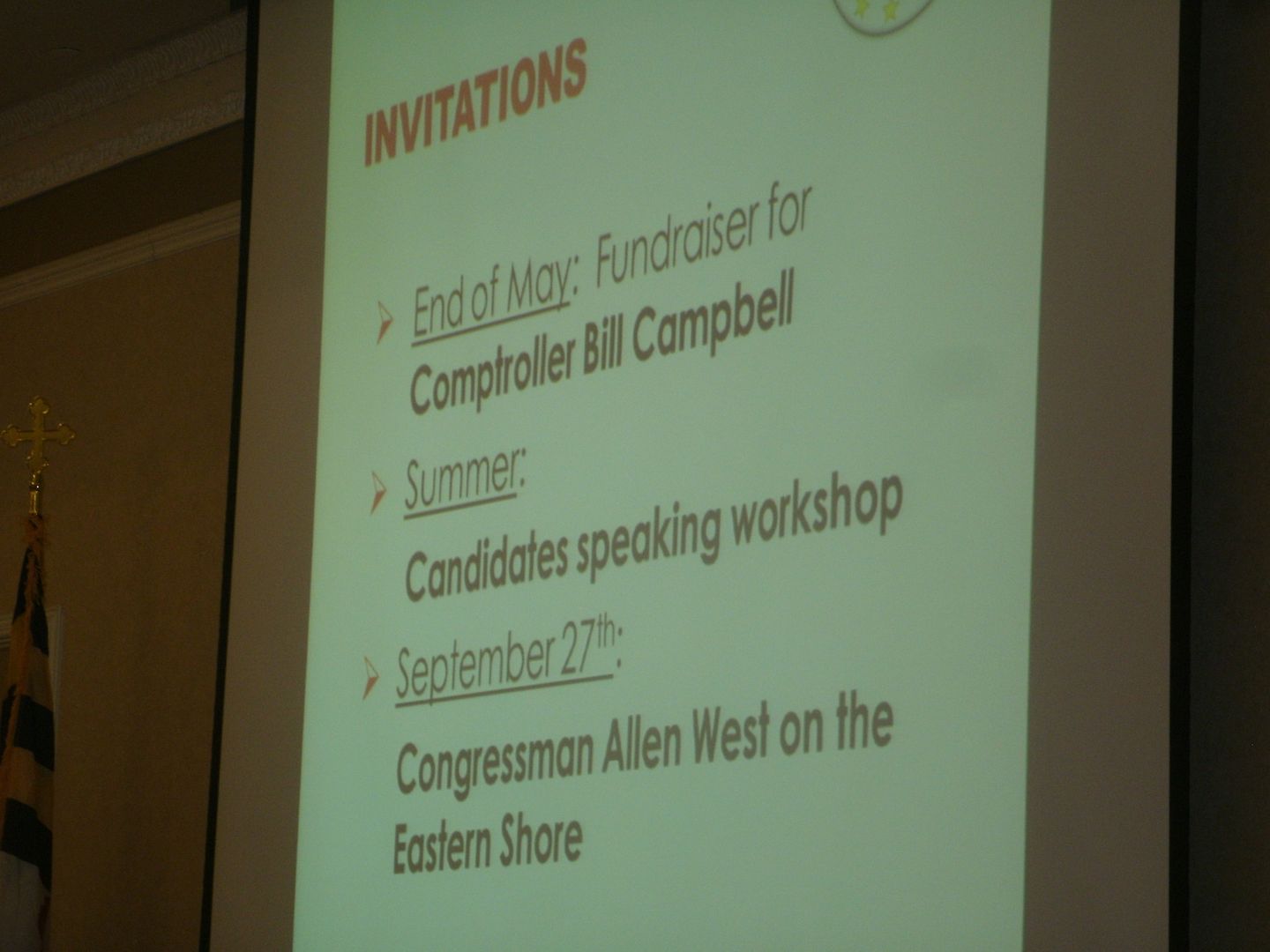 It's not just on the Eastern Shore, though, it's right here in Salisbury. Do we need a better excuse to have a Super Saturday for Wicomico County? After all, the good Lt. Col. West shouldn't arrive until the afternoon.
Louis Pope piled on to what Ambrose said as he gave his National Committeeman report, but also believed the June primary was an advantage to Central Committee members – those who win have a four-month period to learn the ropes, while the returning/retiring members could mentor the newbies.
Turning to the 2014 election, Pope quipped, "if you liked 2010, you'll really like 2014." The national GOP's goal was to take the Senate, and with the recent Florida special election showing "it's all about turnout," coupled with the McCutcheon decision by the Supreme Court, the potential was there for a great year.
On a state level, Pope believed Wisconsin is a "model" for us – similar size, and a state controlled by Democrats until the last cycle. It all comes down to turning out Republicans.
Finally, we were through most of the reports, and we found out we had a quorum of 236 of 303 members present. But it was troubling that several counties were well short of their allocation. We're used to this from Baltimore City, which, try as they might, has a hard time getting people to serve. But there were over half the members absent from Allegany, Calvert, Caroline, Dorchester, and Talbot counties as well. Granted, it was the last convention of the term and not much was on the docket but that's still a concern to me.
The last item we dealt with before lunch was a resolution condemning the introduction of House Bill 1513, sponsored by both the Harford and Baltimore County Central Committees. Thanks to a parliamentary maneuver, the resolution passed by unanimous consent in a voice vote.
We were actually well ahead of schedule, even with lunch, so Diana Waterman added two speakers to the agenda: Attorney General candidate Jeffrey Pritzker and Comptroller hopeful Bill Campbell.
Pritzker was blunt: "Maryland is in trouble." He reminded us he was the first to call for a special prosecutor in the health exchange debacle – a position Doug Gansler would prefer to do away with. "The people need a lawyer," Jeff said. He promised to create a task force to address the laws, seeking to prune away the unnecessary and redundant.
Campbell made the case that we needed to go to places where we were uncomfortable in order to win. For example, he addressed the Maryland State Education Association – not expecting their endorsement, but to make his case nonetheless. Reportedly he got 40% of the teachers' votes, which Bill considered to be very good impact.
We also had the Executive Director's report from Joe Cluster, who told us to focus on four numbers: 6, 19, 48, and 16. These weren't for Powerball, they were 6 of 10 County Executive seats, 19 of 24 county councils or commissions, 48 Delegates, and 16 Senators. "It would make us relevant in this state" if we achieved all these milestones, said Cluster. Joe continued by pointing out both Barack Obama and Martin O'Malley had approval numbers under 50 percent. "People are tired of what they've done to taxpayers," Cluster said. "I don't see any incumbent Republican losing."
He also announced there were plans for Victory Centers in Towson for District 42, and in the District 38 area – Salisbury is in District 38, as is Ocean City. We then got to new business.
#MDReps Regional chairs resolution fails to make it to floor in lopsided vote.

— Michael Swartz (@monoblogueUS) April 26, 2014
The Tweet tells you the result, but how we got there was interesting. I was one of perhaps four who spoke in favor of moving it to the floor, but by the crowd reaction to myself and other speakers I knew the effort was doomed. By the time the roll call got to Baltimore County (only fourth in) the result was obvious: just Caroline County (and its one representative), Dorchester, Howard, Kent, and Queen Anne's favored it (Wicomico was 6-3 against) and the motion died by a weighted vote of 385-91. (In terms of bodies, it was 192-42, with one abstention.) Ten counties were unanimously against it. I thought it would get between 1/3 and 1/2 of the vote, so less than 20% was shockingly low.
But it is typical of the party's "we've always done it this way" mindset.
Before adjourning, we heard yet another plea for unity and turnout from Diana Waterman, who was stalling a little bit because there was a full hour before the afternoon seminars were scheduled. But we finally received the results of the straw poll conducted at the convention.
@Charles_Lollar wins MDGOP straw poll with just 29% of votes, @Hogan4Governor 2nd with 27% @DavidCraig2014 with 26%.

— Michael Swartz (@monoblogueUS) April 26, 2014
Brian Griffiths, a confirmed Hogan supporter, came over to Jackie Wellfonder and I and huffily said, "that's the last thing (Lollar's) going to win." He chalked up the loss to proxies who were in the Lollar camp.
Here are the actual vote numbers:
Lollar – 68 votes (29.8%)
Hogan – 62 votes (27.2%)
Craig – 60 votes (26.3%)
George – 29 votes (12.7%)
undecided – 9 votes (3.9%)
I remember looking quickly at Wicomico's ballots before I handed them over and we split among the four candidates. I think it was 3 Hogan, 3 Craig, 2 Lollar, and 1 George.
But look at what was put into the convention by the candidates. Granted, Charles Lollar had a large and very visible party and David Craig had a lively suite of his own. All but Larry Hogan had lobby tables, with Ron George having very little other presence. I didn't even see him there, although I did see Shelley Aloi frequently making the rounds.
Yet Larry Hogan spent a lot of money for sponsoring the programs, the folders at each seat, the breakfast suite, and the multitude of signs only to come in second by just two votes. (I have it on good authority that one Hogan supporter I know may be switching to Craig – had that person came to that conclusion a little sooner, there would have been a second-place tie.) I would have expected Hogan to get 35 or 40 percent based on the hype.
Unfortunately, my traveling companion needed to get back to Salisbury so I couldn't stay for the seminars. It never fails – had we started at lunchtime, we would have argued the bylaws change clear through dinner. But out of the seventeen conventions I've now attended, this was one of the more quiet and non-controversial. I guess we're fairly united despite the straw poll vote.
It was definitely time to go home and get to work.
Tuesday is a big day for a Maryland-based PAC as they attempt to broaden their reach and influence.
That evening the Conservative Victory PAC is sponsoring a fundraiser for Virginia gubernatorial candidate Ken Cuccinelli, with plenty of influence from Maryland: Dan Bongino will give  "special remarks"  and the host committee features both former Maryland governor Bob Ehrlich and lieutenant governor Michael Steele. As they note, "proceeds will be provided to the Cuccinelli Campaign Team," and there should be plenty of proceeds seeing that the admission prices start at a steep $135. This ain't no little spaghetti dinner fundraiser.
My erstwhile Red Maryland colleagues Brian Griffiths and Greg Kline have been critical of the CVPAC on their website and radio show this week, contending the group should be paying attention to local races in Annapolis and Frederick. But unlike last year, Diana Waterman stated to me in a recent conference call that there were no plans for the state party to help in Virginia as they did for Mitt Romney. So in that respect the CVPAC is taking up that slack.
Yet there's a factor which makes the CVPAC decision less surprising for me. With the exception of Jim Rutledge, the CVPAC Board of Directors lives in the Washington metropolitan area, so they likely follow Virginia politics almost as closely as Maryland's because their local media deals with both. And while I disagree that the host committee is necessarily the shining example of conservatism, certainly Ken Cuccinelli would be considered a conservative rising star and perhaps future Presidential material in 2020 (after his one term in Virginia would be completed) if he succeeds in winning this year.
And it's not like this should be a surprise, coming from the CVPAC. If you recall their trailer for 2014, the video narrator intoned that "alliances will be formed" between Maryland and Virginia. Moreover, their stated goal for Maryland is 19 State Senate seats and if they can get some reciprocal help from the commonwealth to our south – yes, that's a big 'if' but they're trying to form the alliance – we may be able to tip those scales. (Meanwhile, a member of their Board of Directors is running for governor here, so one might think CVPAC may be looking for assistance there, too.)
Are the races in Annapolis and Frederick a big deal? To an extent, yes – perhaps they can succeed and show us a path for success in Salisbury come 2015. (By population, Salisbury is quite comparable to Annapolis and is Maryland's ninth-largest city; it's also the largest on the Eastern Shore.) But every political operation has its priorities and it sounds like CVPAC is trying to leverage conservative success in Virginia into victories next year in Maryland.
But you have to have the Virginia success first for that plan to work.
Not that I was all that confident he would be the best Republican candidate to set forth, but in yesterday's Washington Post Michael Steele said he would "take a pass" at Maryland's race for governor. That sound you hear is the sigh of relief from those candidates who have already invested their time and effort into building support for their runs – now they won't have to worry about Michael Steele sucking all of the oxygen out of the Maryland race.
And though I'm sure many will fret that he was the one candidate with the best chance at victory, I only have to look back at 2006 to see what happened when the Maryland Republican Party essentially handed him a statewide race nomination on a silver platter – he lost an open-seat Senate race by 10 points. Of course, I've heard all the arguments – bad year for Republicans nationwide, reaction to an unpopular president – but Steele lagged behind Bob Ehrlich by almost 40,000 votes overall; more importantly, he got just 24% in Prince George's County and 23.2% in Baltimore City. Surely the GOP hopes were that Steele would poll much better in those heavily minority areas, but instead he was just 3.5% better in PG and o.6% improved in Baltimore City over Bob Ehrlich. But Steele lost Baltimore County, where Ehrlich carried the day.
Perhaps the reason Steele took a pass on the race, though, was that he would have to work for it. If done right, a contested primary is good for a candidate because it places them on a campaign footing much more quickly. While there were a number of other candidates in the 2006 Republican Senate primary, they were of the perennial candidate sort and no one else eclipsed 3% of the vote; on the other hand, Ben Cardin won a spirited Democratic primary with only 43.7% of the vote. That sharpening of campaign skills certainly gave Cardin some advantages later on.
But the biggest vibe I seem to be getting is why this was such a big deal in the first place. Sure, old-timers in the Maryland GOP look back at Steele's tenure as Chair fondly, but he really never ran for anything until that Senate race. (One could equate that with the same sort of criticism certain people who make their first run for office a statewide one have received.) While I'm sure Anthony Brown would like to change this, insofar as running for subsequent electoral office goes the Maryland LG post has been comparable to the national vice-presidency – not worth "a bucket of warm (spit)."
So once we know the intentions of one Lawrence Hogan it appears the Republican field for governor will be pretty much set. Now it's time to fill out the lower part of the dance card – I have it on the best of authority that one person thought of as a prospective aspirant for Attorney General will not be seeking the job, so it will be up to the MDGOP to dig deeper for a candidate to try for that open seat.
I suppose Michael Steele is available.
I wasn't really surprised at a portion of this news, except for one thing:
Major announcement, Blaine Young, Frederick County Exec, has decided not to run for Governor. He will be helping Me in my efforts to win!

— Charles Lollar (@Charles_Lollar) August 24, 2013
I thought the idea was Blaine would drop out if Michael Steele got in.
So what this tells me is one of two things: either Charles made a better offer (because the polling data is really that good for Charles) or Michael Steele is taking a pass on the race. According to the Maryland Politics blog (part of the Baltimore Sun, so take for what it's worth) Young called Lollar the "best choice." I wouldn't call that the strongest endorsement, and it's interesting that Lollar's nascent campaign hasn't made as much of a deal out of it as it did Ben Carson's backing, which was fairly soft-sold in and of itself.
I'm not sure how much help Blaine will be on the campaign trail since he'll likely be doing his own fundraising and politicking for county office in Frederick County. Having a radio show to talk up Charles may be a help for Blaine, although my guess is that the show would come to a halt if and when Young files again for office.
And so ends our first effort for governor, one which had quite a bit of promise to begin with but really went downhill after the Patrick Allen allegations brought out by Mark Newgent at Red Maryland. These came out days after David Craig and Ron George officially entered the race, making the run a three-way battle. Blaine couldn't take advantage of early momentum and events which were calculated to make a splash with certain groups, such as the one I covered at MACo last year.
We'll see if Charles can make a better push than Young did.
Because there isn't a whole lot of interest yet in the race, polling from reliable sources doesn't exist yet in the Maryland gubernatorial primaries. Since none of us are privy to internal polling done by the campaigns – if someone is, he or she's not talking – two state websites have attempted to step into the breach: the old reliable Red Maryland and the upstart Red White and Blue.
In both cases, their polls show a spirited three-way race, with David Craig holding a 7.5 point edge over Ron George on the Red Maryland poll. But on the RWB poll, Charles Lollar leads by 4 points over Craig.
Having done polls myself, I know the results are rife with manipulation, as the campaigns exhort their supporters to vote in the respective polls to make their cause look better. A victory in these polls can prove to be a little lift in the real polls, as success tends to breed success.
However, I approach these with the theory that the more passionate supporters who would vote in these internet ballots exist in rough proportion to those found in real life, so I accept the idea that it's a three-way race. A simple averaging of the polls in question would put David Craig at 33%, Charles Lollar at 30%, and Ron George at 23%, with the rest supporting one of the other candidates. As it turns out, the numbers for Craig and George are fairly consistent on both sites, but Lollar's fluctuates by 16 points between the two.
Yet if you do a little digging into the actual numbers as I have, you may find that these polls are perhaps propping up one of the contenders to an outsized extent. The RWB poll is better for calculating this because the numbers are broken down not just by county in percentages, but the actual number of votes cast for each county. Unfortunately, the Red Maryland poll doesn't provide the same crosstabs, but it does break down responses by county enough so I can make an educated guess as to how things really are.
Let's begin with the obvious: there are three counties which are ridiculously oversampled in both polls, and all of them directly benefit two of the candidates. Both Harford and Talbot counties favor David Craig in an outsized manner, which is natural because Craig is Harford County Executive and running mate Jeannie Haddaway-Riccio comes from Talbot. The other county is Anne Arundel, which benefits Ron George as he represents a portion of that county.
As it turns out, Anne Arundel (and to a lesser extent, Harford) are so oversampled that they suck the oxygen out of a number of counties – many of which tend to favor Charles Lollar. Out of nine counties significantly undersampled on the two polls, Lollar carries six of them, Craig two, and George one.
So when I adjusted the data to fit a more realistic turnout model (based on the RWB poll results, which featured the necessary raw data) I found that Lollar picked up four points, Craig lost four, and George (somewhat surprisingly) gained one. If you made that adjustment to the Red Maryland poll, you literally have a three-way battle which is anyone's to win: Craig 28%, Lollar 26%, and George 25%. On the RWB poll, Lollar would have a commanding 42%-30% lead over Craig, with George lagging behind at 23%.
Truthfully, I don't think Charles Lollar has 42% of the vote right now, but I don't see him as third place either. At this stage in the game, it's all about getting activists and volunteers, and I can give you an example from the Farm and Home Show this past weekend.
You may recall these pictures from my Facebook page:
I can tell you that the David Craig signs in the top photo and the literature on the upper right edge of the bottom photo all came courtesy of Craig's county coordinator, who was my second volunteer of the weekend Thursday night and already there with bells on when I came by to check after work; she was an hour early for her shift.
The Ron George signs came courtesy of the candidate himself, as he stopped by sometime Friday to drop them off. I had some Ron George literature sent to me prior to the event, but it appears to be supplemented by the inserts; moreover, I had no bumper stickers or palm cards when I started. I do now.
Meanwhile, the yellow Charles Lollar palm cards and business cards in the middle of the second photo came via a volunteer who took time out of her trip to the beach to drop them off on Friday. (She would have also brought a big sign, but I advised her against it.) Now that's dedication, and that's why it's important to get an early start on a campaign so the word can be spread.
So perhaps these are the polls of activists, but if Ron George only has support in Anne Arundel County and David Craig rests on his laurels assuming the Baltimore area is his, they may not even make it to the primary when there's the possibility of Larry Hogan and Michael Steele to consider. I don't see both of them entering the race, but one of the two may make the field too large to support. Worth noting, though, is even if Michael Steele took his 6% support in the Red Maryland poll, added the entirety of the undecided, and got the Blaine Young supporters to back him, he would still be fourth.
That would be the penalty of getting into the race late, banking on name recognition but not having the grassroots support needed for victory at the polls. Money can do a lot, but it can't always win – otherwise we'd have a new Senator named Rob Sobhani.
**********
On a completely unrelated note, you are reading post number 3,500 in the series I call monoblogue, Not bad for nearly eight years of work, you think?