At one time I planned on writing a rebuttal to all the Trump items I put up this week yesterday, but after all the events of the convention I decided it was better to hold off for a week or so and let emotions simmer down a little bit. It also gives me a chance to attend two of my meetings and gauge the mood of the electorate, so to speak – so perhaps after all that I will pick up that baton and share my thoughts on both Marita Noon's commentary regarding Trump's energy policy and the entire Art of the Deal series. Right now, emotions are too high and points will be missed.
It's no secret I didn't support Donald Trump for the Republican nomination, nor will I be backing the Clinton/Kaine ticket. (Hell, the guy doesn't even know our part of Maryland exists because he thought Virginia shared a border with Delaware.) Yet I still have an interest in the downticket races, and this year I will be following the advice of Ted Cruz and voting my conscience. (Or, if you prefer, Ivanka Trump, who said, "I vote based on what I believe is right for my family and for my country." So will I.) But the combination of the Democratic convention taking over the news cycle and my general fatigue with the Presidential race means I may look at some other stuff for a little bit.
One thing I was asked to look at by my friends at the Patriot Post for this week was the prospects for Republicans in the downticket federal races. (If you get their "Weekend Snapshot," the article is prominently featured there as well.) But I find a little bit of fault with my editor because my original concluding sentence was, "The next four years could be the most interesting and unpredictable times our nation has ever known." My thought in that sentence was to invoke the old adage "may you live in interesting times" as we seem to be cursed into a choice leading us toward them. To me, this may be the election where more people vote against someone that affirmatively vote for a candidate.
(To that end, can we install the "none of these candidates" option like Nevada has? I could see factions in all four parties on the ballot in Maryland who would love a do-over: Republicans who are anti-Trump, Democrats who backed Bernie Sanders, Libertarians who would like a more doctrinaire candidate than former Republican Gary Johnson, and Jill Stein of the Green Party who would happily move aside for Sanders, too.)
Just think about Congress for a moment. In poll after poll it's shown to be one of the least popular institutions in the country, but voters send all but a small handful back term after term until they decide to retire. Maryland is a good example of this, with the longest-tenured Congressman being Steny Hoyer (17 terms), followed by Elijah Cummings with 10, Chris Van Hollen and Dutch Ruppersberger with seven apiece, John Sarbanes with five, Donna Edwards with four (plus a few months), Andy Harris with three, and John Delaney with two. Since Edwards and Van Hollen both sought the Senate seat, those districts will open up – but thanks to blatant gerrymandering, they are likely to be gravy trains and "lifetime appointments" for Anthony Brown and Jamie Raskin, respectively.
Aside from the one term of Frank Kratovil here in the First District as a "blue dog" Democrat carried on the Obama wave in an otherwise GOP-dominated area, you have to go back almost forty years to find a handful of one-term wonders that Maryland sent to Congress. Both our current Senators came to the job after serving multiple terms in the House, as would Chris Van Hollen if he wins the Senate seat. Kathy Szeliga, on the other hand, has served just a term and a half in the Maryland House of Delegates – although compared to other GOP Senate candidates in recent years that almost qualifies as "career politician," too.
Yet while our GOP candidate supports Trump and has an uphill battle to win, she was criticized for skipping the convention as well:
Some (GOP convention) delegates who wished to remain anonymous to avoid antagonizing another party member privately expressed discontent and disappointment with Szeliga's and Hogan's absences in Cleveland at a time when unity is a key goal of their party after a fractious primary season.
Of course, Andy Harris was there in Cleveland, but he's in an R+13 or so district with far less to worry about. It was better for Szeliga to be in Crisfield meeting voters with her opponent there.
So while I will talk about the convention in at least one piece I'm considering – and my invited guests may decide on their own to look at the Presidential race – I'm going to step back from it for a little bit. It's the pause that will refresh me.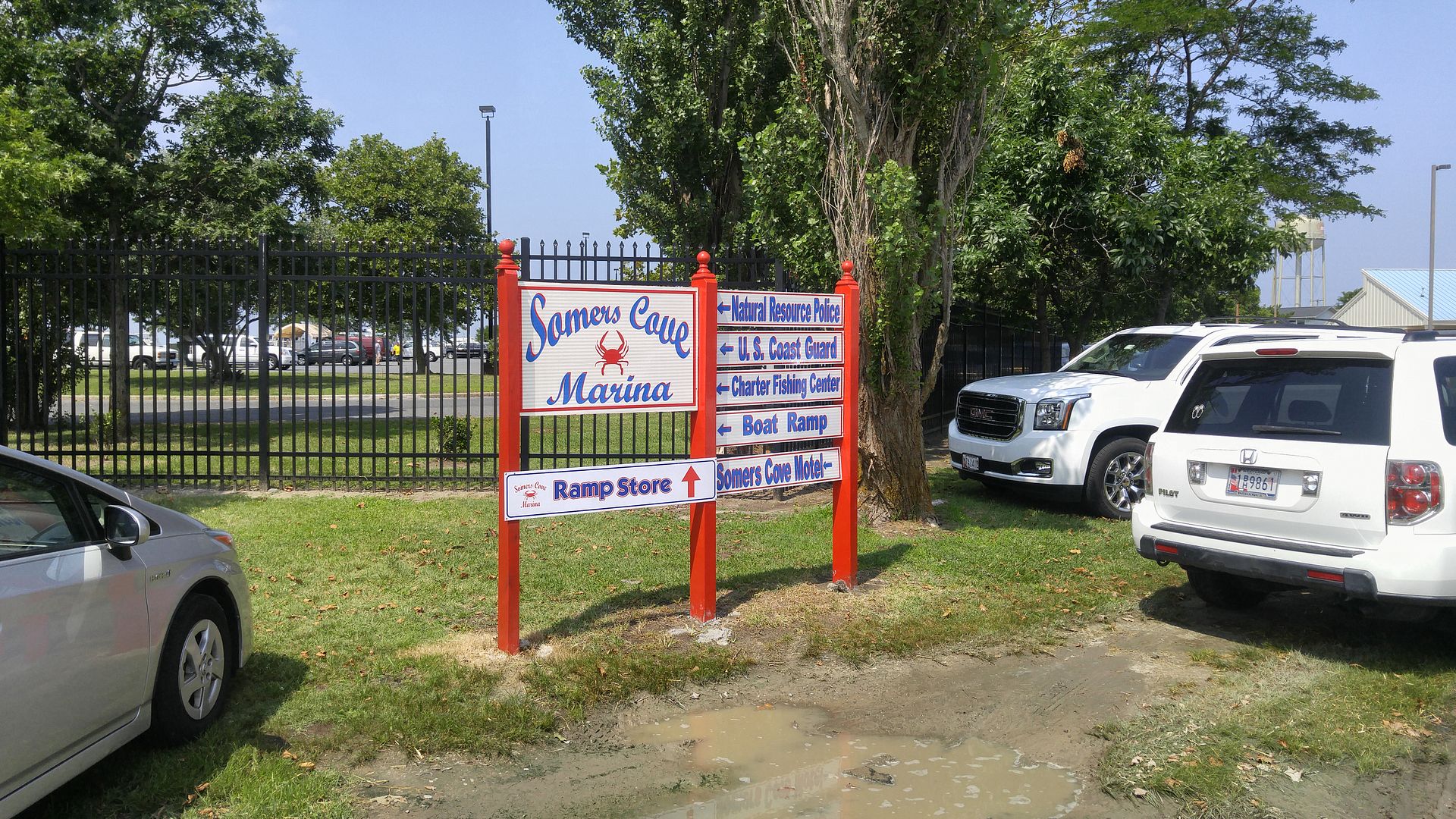 It was awful tempting to jump on into that water, but several thousand people managed to sweat their way through another hot Tawes Crab and Clam Bake. While Republicans tend to have a little more presence in the area, some of the Tawes regulars were absent because the event coincided this year with the Republican National Convention in Cleveland.
That convention minted the GOP Presidential nominee, who seemed to be pretty popular.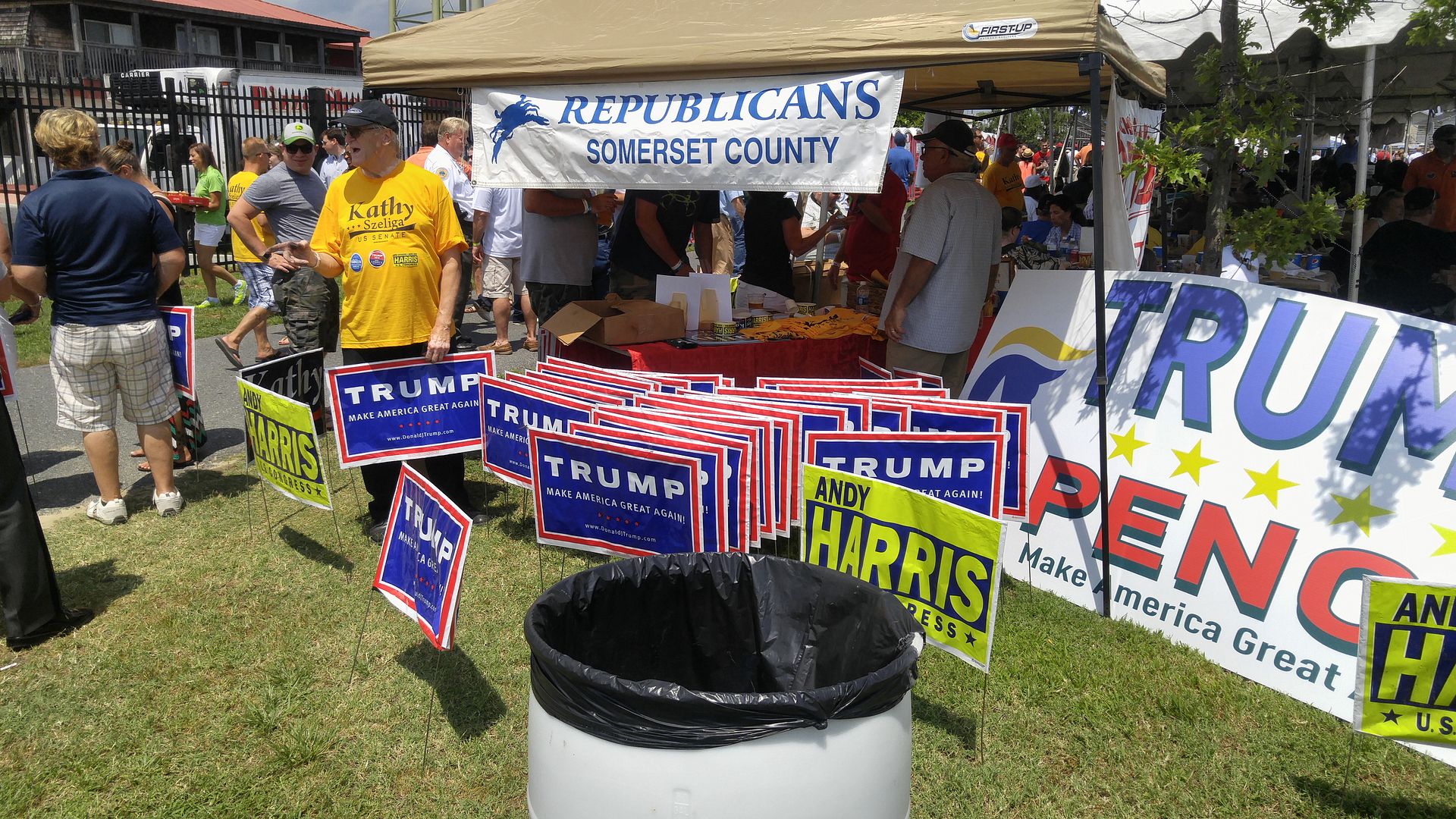 That group of signs dwindled little by little, as Trump adorned a number of tents. On the other hand, there were far fewer Hillary signs – but the Democrats also had their crowded space.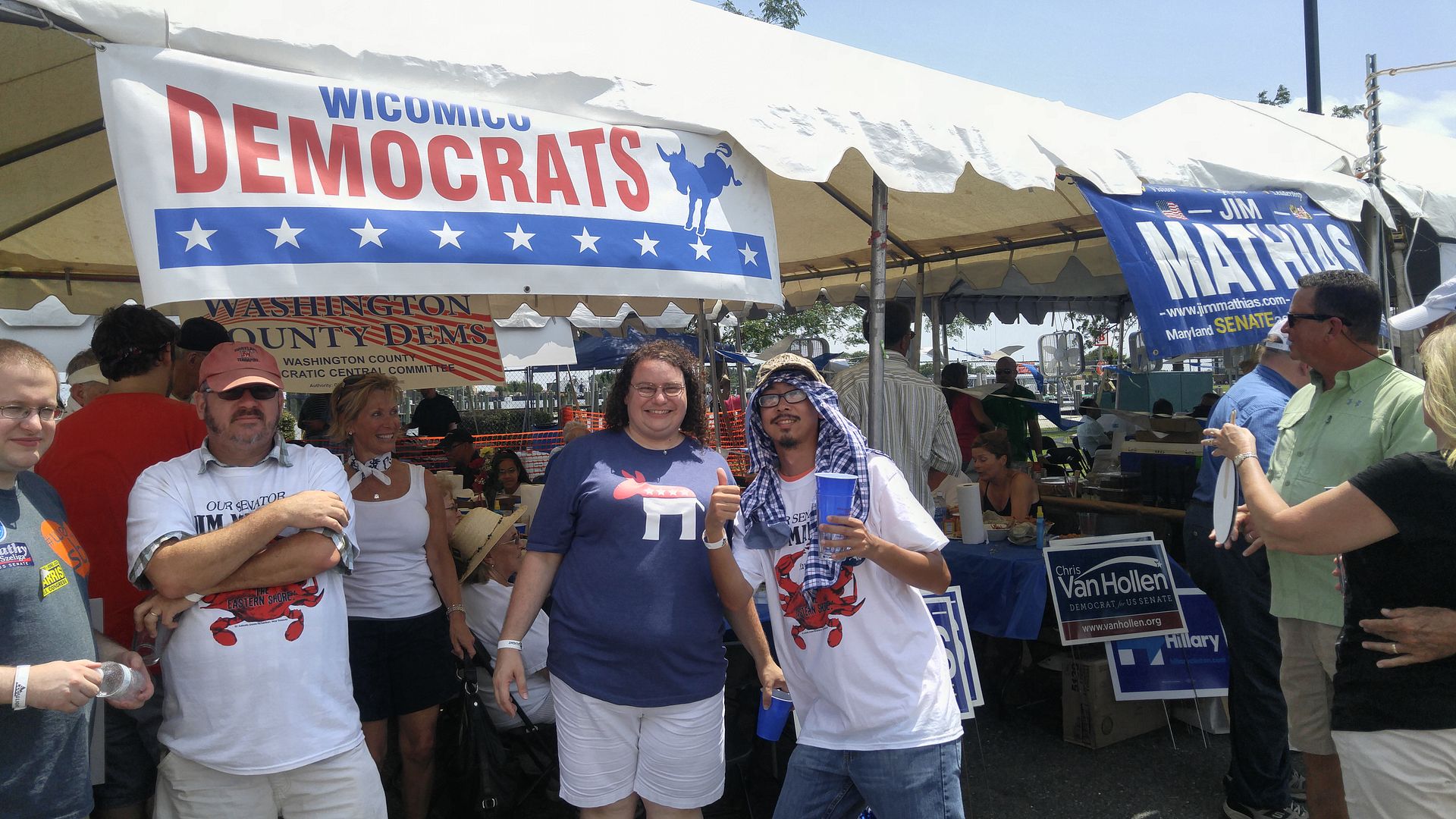 Sarah Meyers (in the blue shirt) is a friend of mine, and she was tearing her hair out as the coordinator there because they overbooked the space. (You may see her at the Democratic Convention next week, as she will be there as a page.) By the same token, the Somerset Republicans only went with one tent as well and it was packed, too. So both parties had close quarters.
Yet the businesses seemed to have ample space. I didn't peek into every tent, but many of them (as well as businesses lining State Route 413 into Crisfield) had a simple message: welcome Governor Hogan.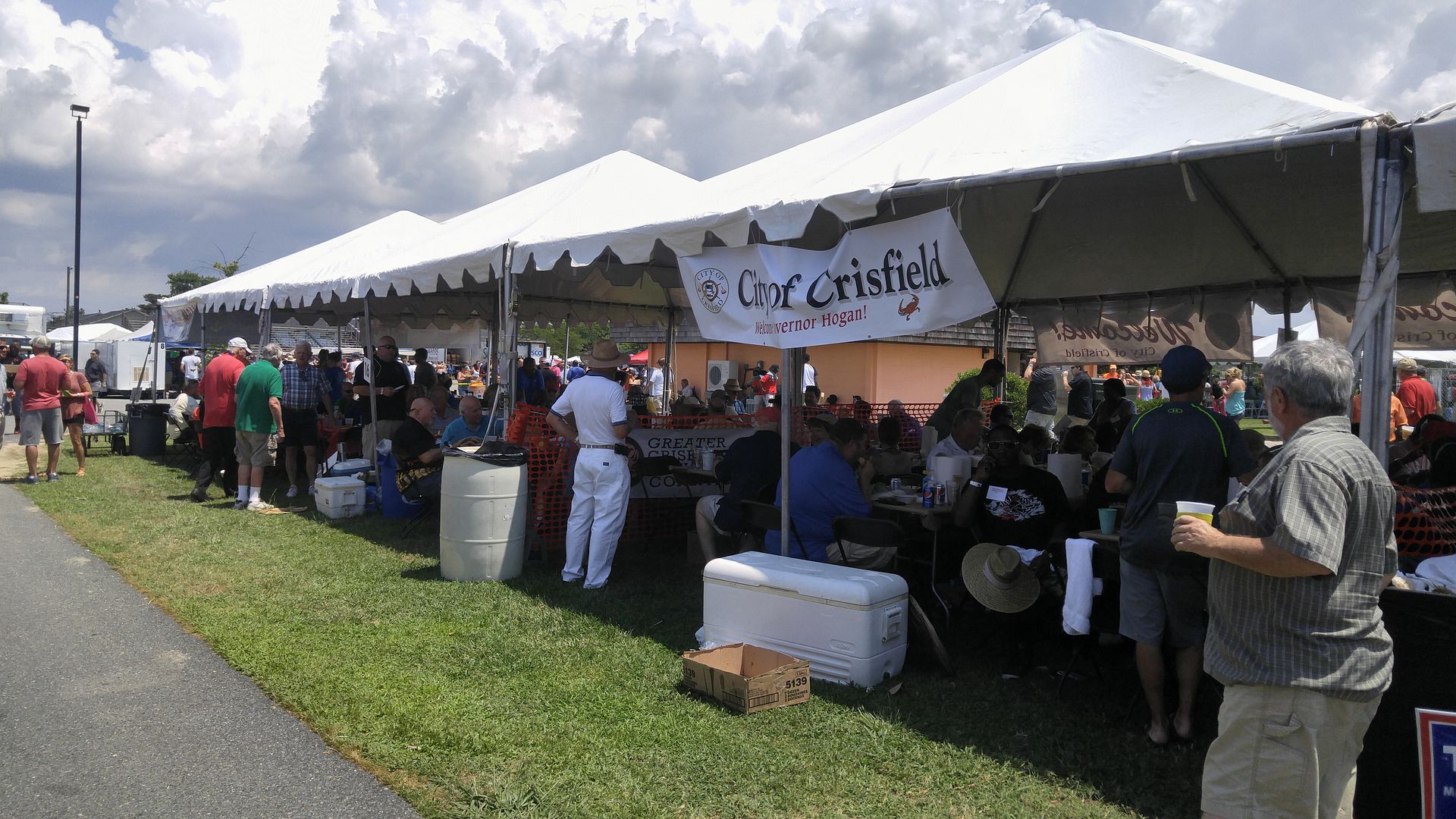 Even lobbyist Bruce Bereano, who always has the largest space, got into that act.
Yet among those businesses I did pick out I found an odd juxtaposition there, particularly under the auspices of the local economic development commission.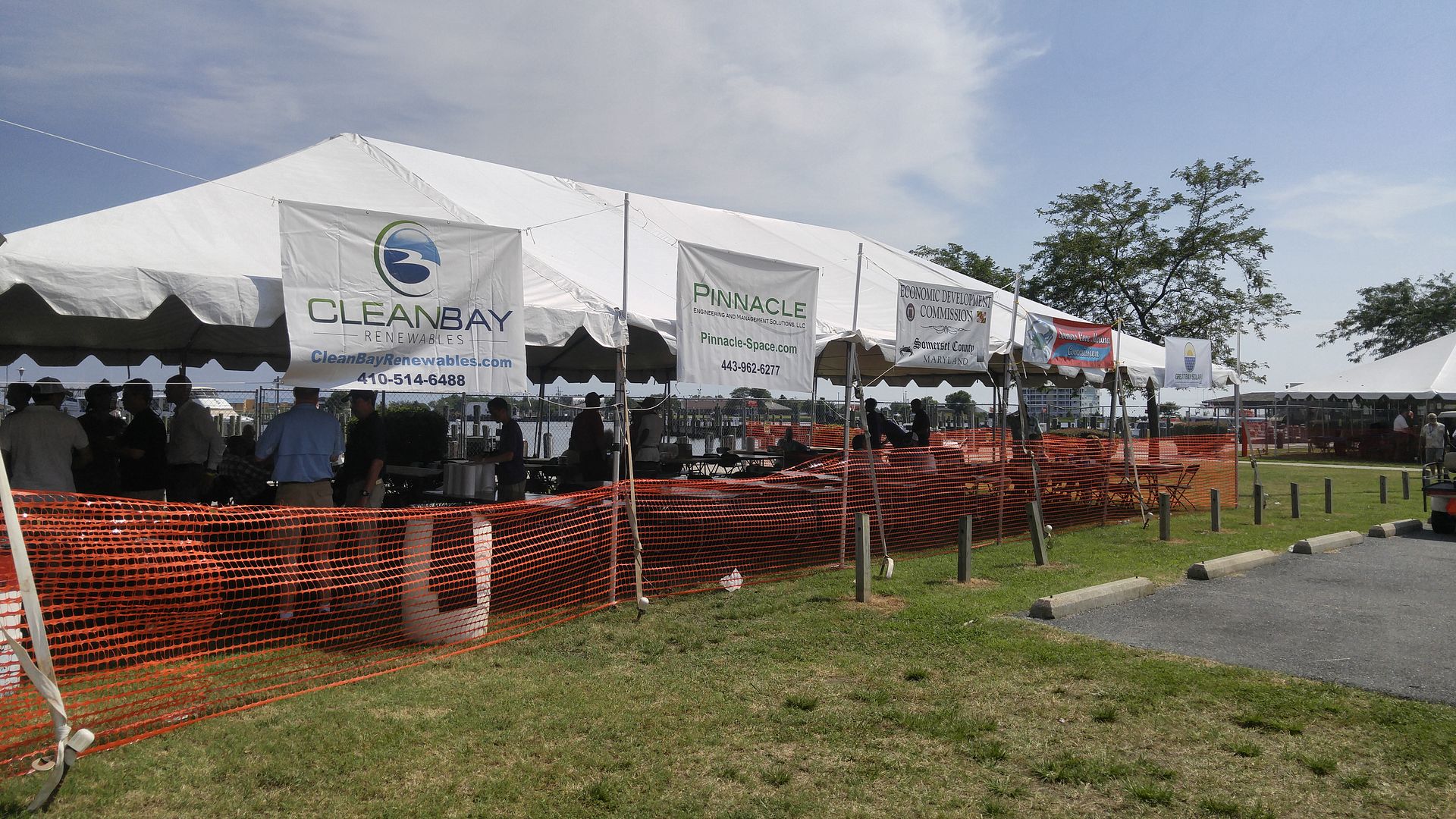 In order, these businesses are Cleanbay Renewables, which is a chicken waste recycling firm, Pinnacle Engineering, which services NASA, the Somers Cove Marina Commission, and Great Bay Solar I. The last is interesting because this project was originally supposed to be wind turbines, but objections to the siting of the turbine towers from the Navy forced the company to go solar, making lemonade out of lemons. With the exception of Pinnacle, the state has sort of forced the market for the other two businesses.
Yet on the other side was a law firm that objects to the approach the state is using to clean Chesapeake Bay through its Clean Chesapeake Coalition. They believe much of the problem comes from the sediment that leaches out from behind Conowingo Dam in severe storms.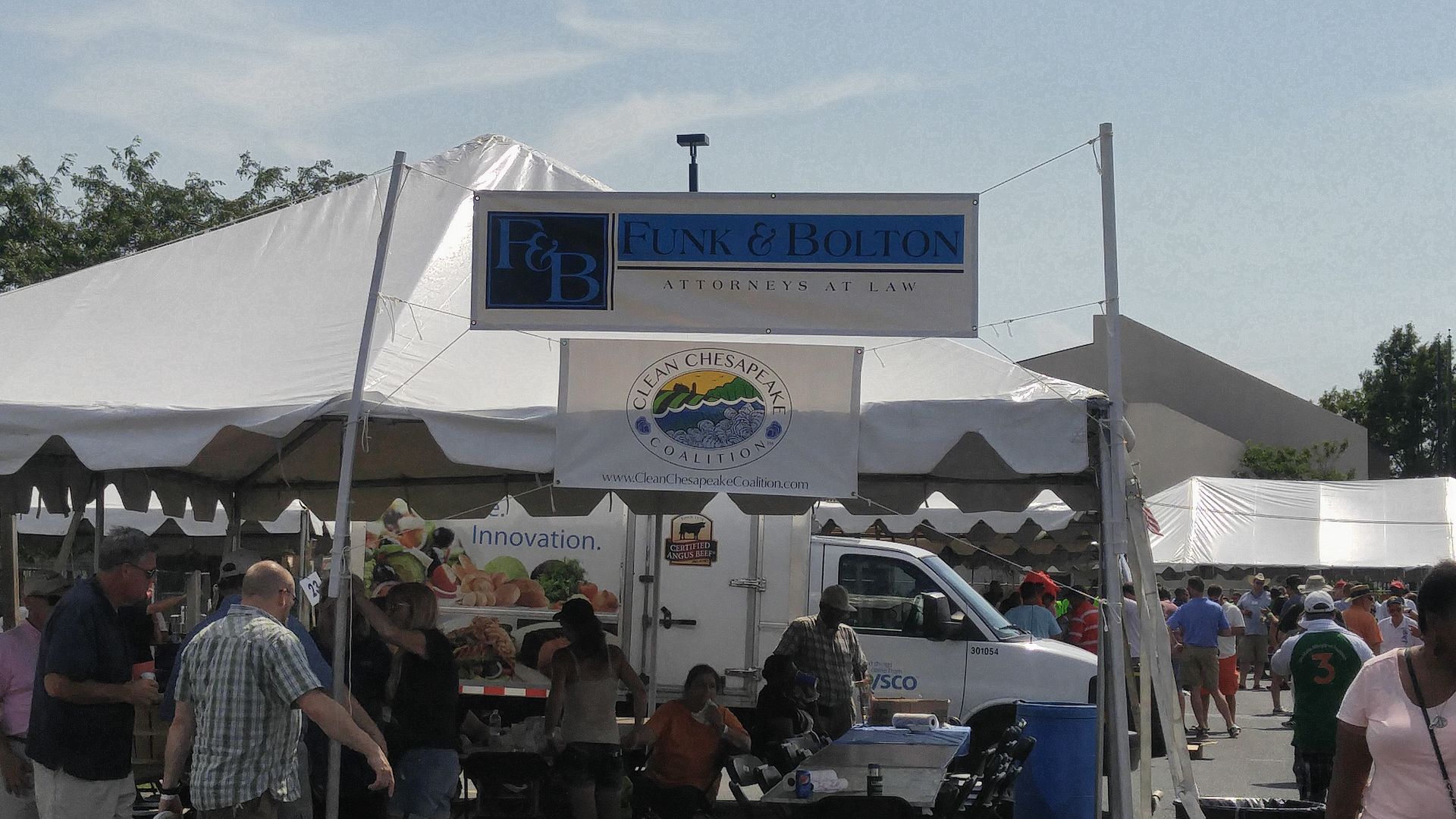 I happen to think the CCC has a pretty good case.
Speaking of business, the food business did pretty well there. Almost too well.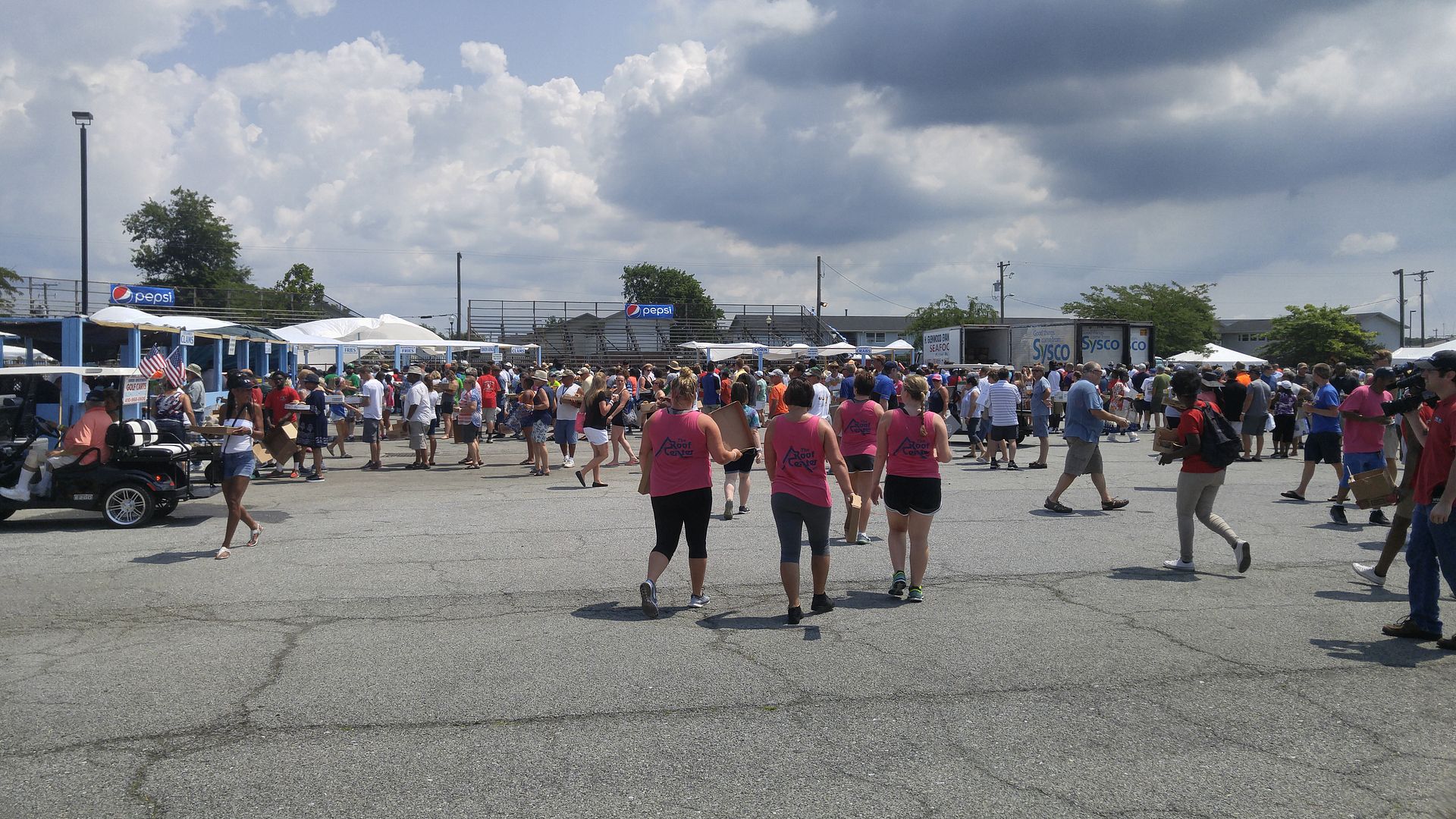 According to my cell phone camera, which took all my photos today, I took that picture at 12:01 as I walked over to get in line for food. Here is the end result, 46 minutes and four lines later.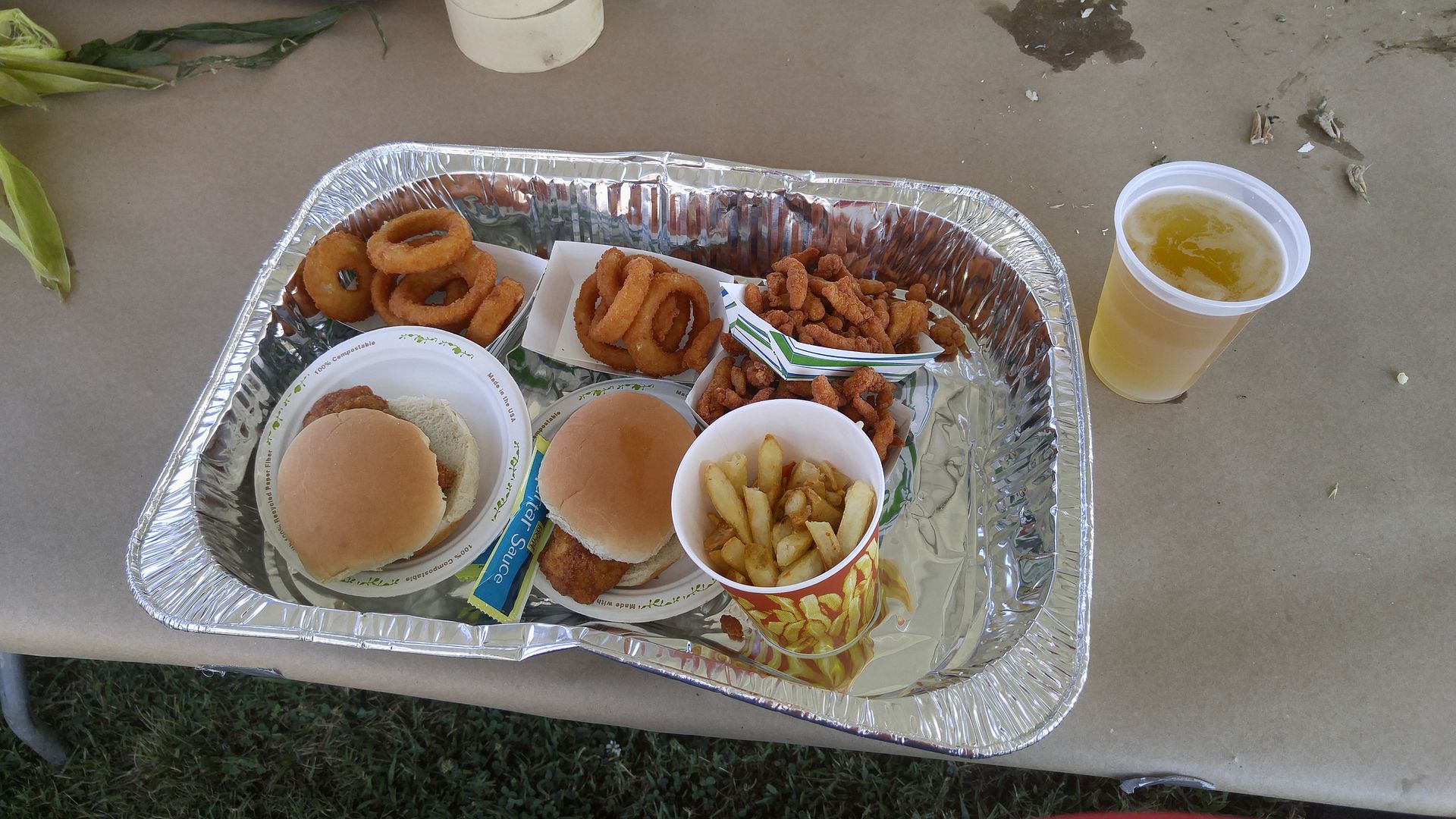 I actually asked for the onion rings as I inched closer to the front of the French fry line. And I certainly don't fault the crew because they worked hard, even toward the end when I snapped this.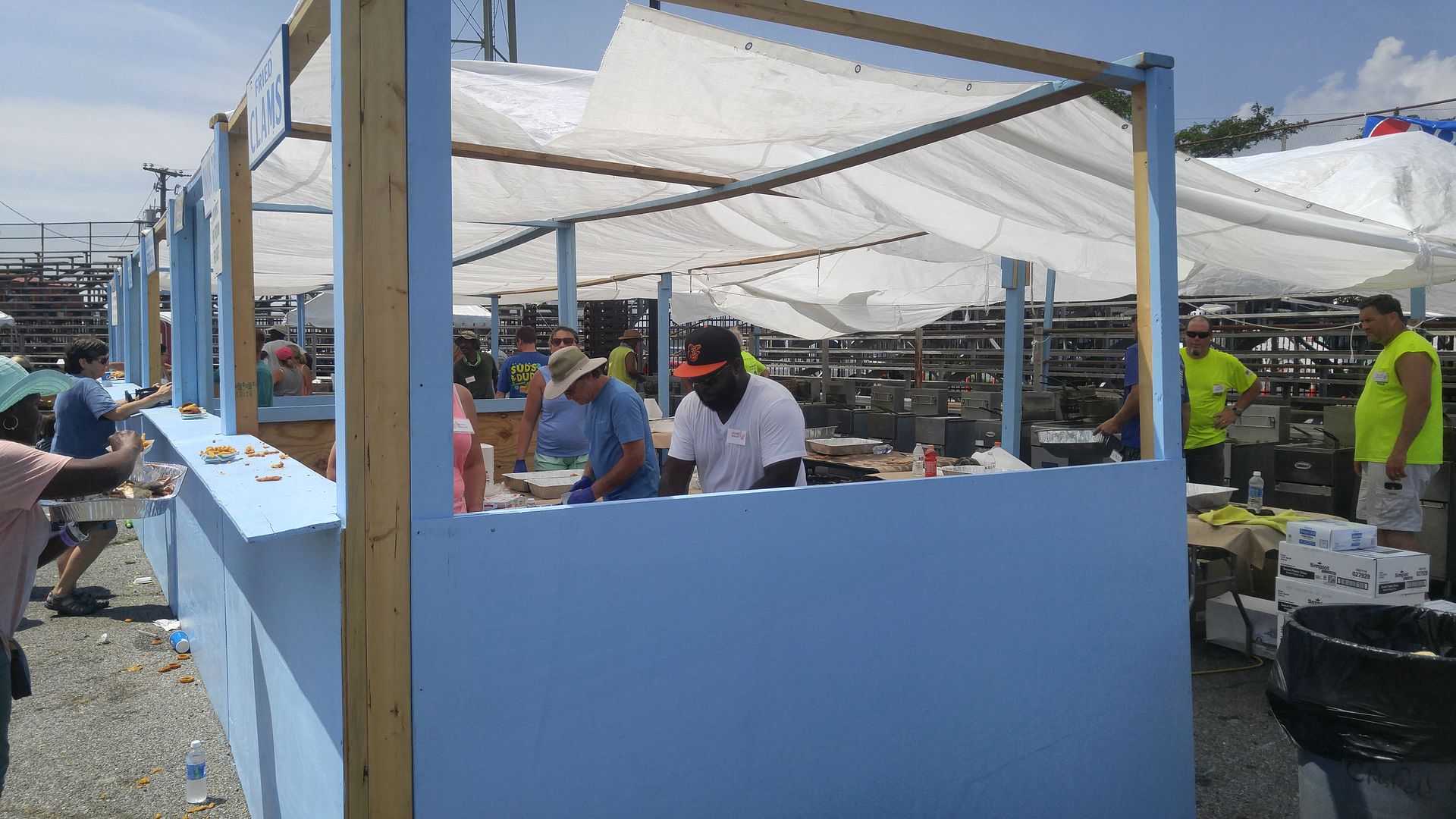 I think the issue is the increasing use of "runners" who get multiple orders of food and slow down the lines. It seemed like every third person in line was one, which meant those who just wanted to fend for themselves had to wait.
The guy who didn't have to wait in line was Governor Larry Hogan, because I don't think he ate a bite.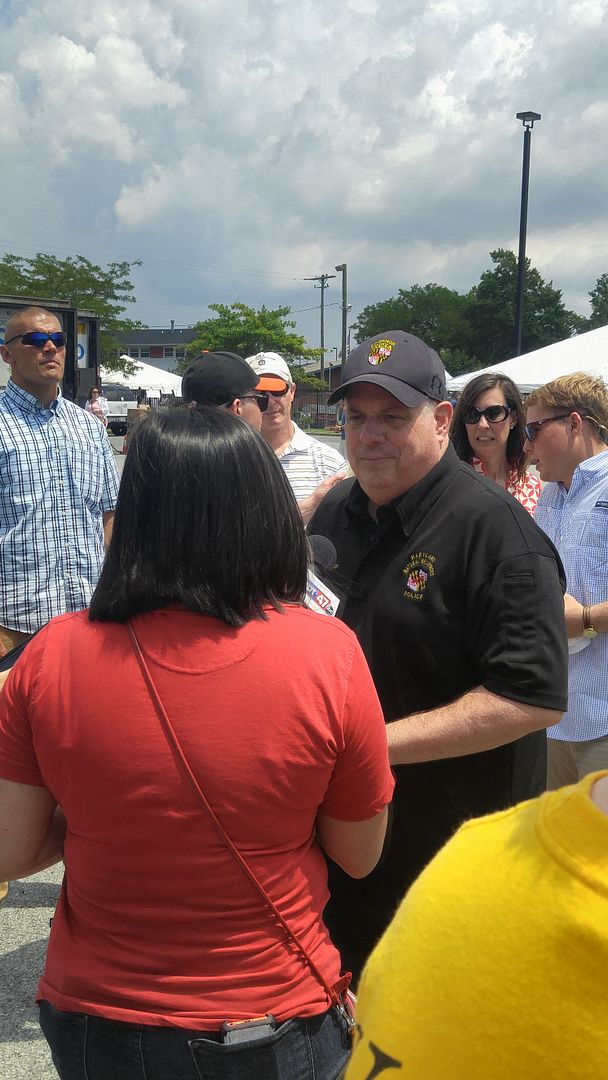 This is a second segment of time lapse. I took this photo above in the area where the food lines were at 1:57 p.m. Now, let me ask you: where's Hogan?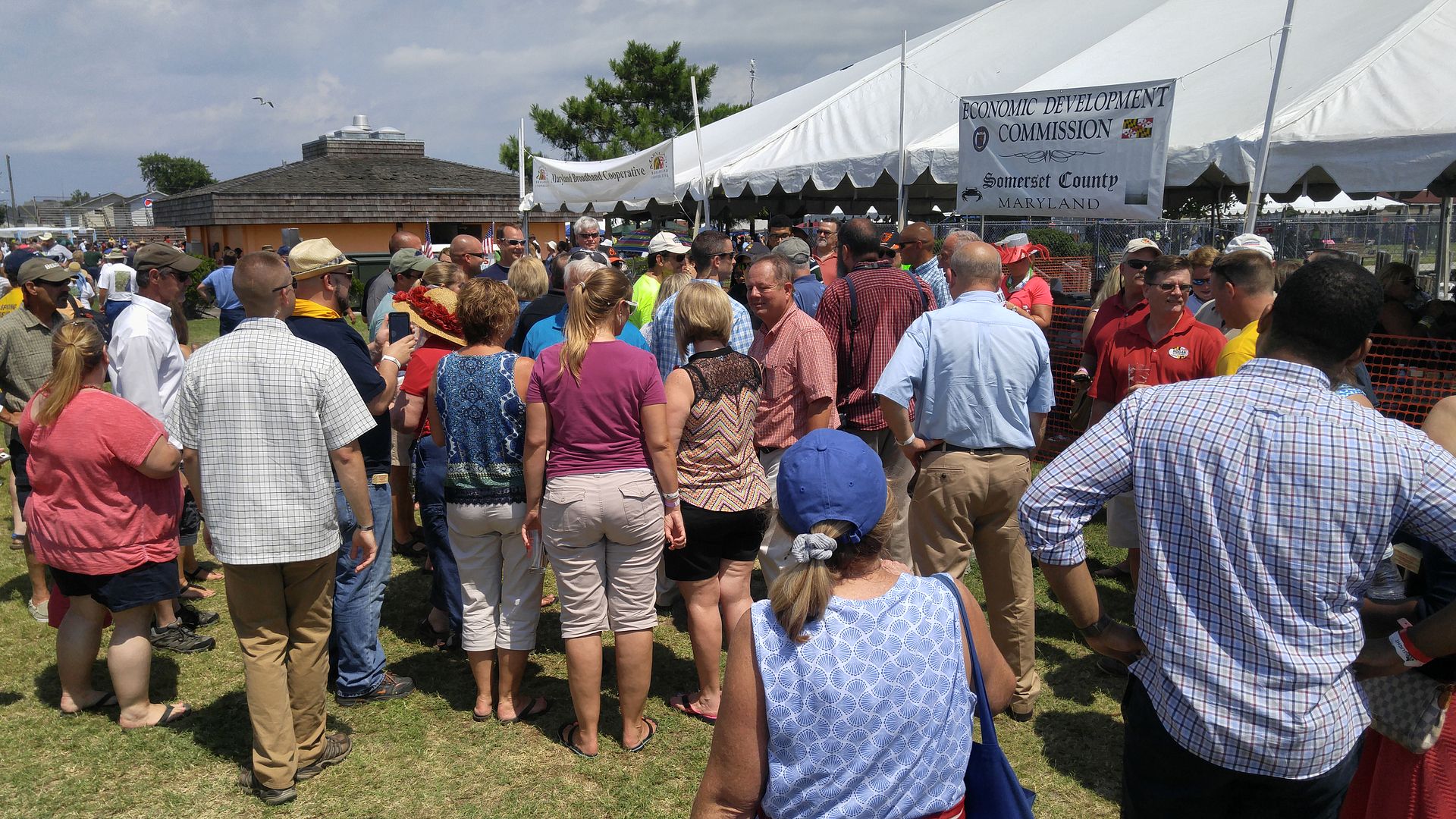 He's barely visible in the center of the photo, obscured by Delegate Charles Otto in the pinkish shirt. In 35 minutes he had advanced maybe 80 yards thanks to the crush of well-wishers who wanted to shake his hand, have a photo with him (although he suggested it in a number of cases) and perhaps say their piece. I was in the latter group as I wanted to thank him for his stance on the Presidential election. Larry commented that he had noticed the reception I've received on social media a couple times as it echoed a lot of what he had seen on his.
Stay strong, Governor.
The two major-party candidates for U.S. Senator were also there. Now I missed Democrat Chris Van Hollen – perhaps because I didn't recognize him walking around – but I did get a glimpse of Kathy Szeliga from the GOP.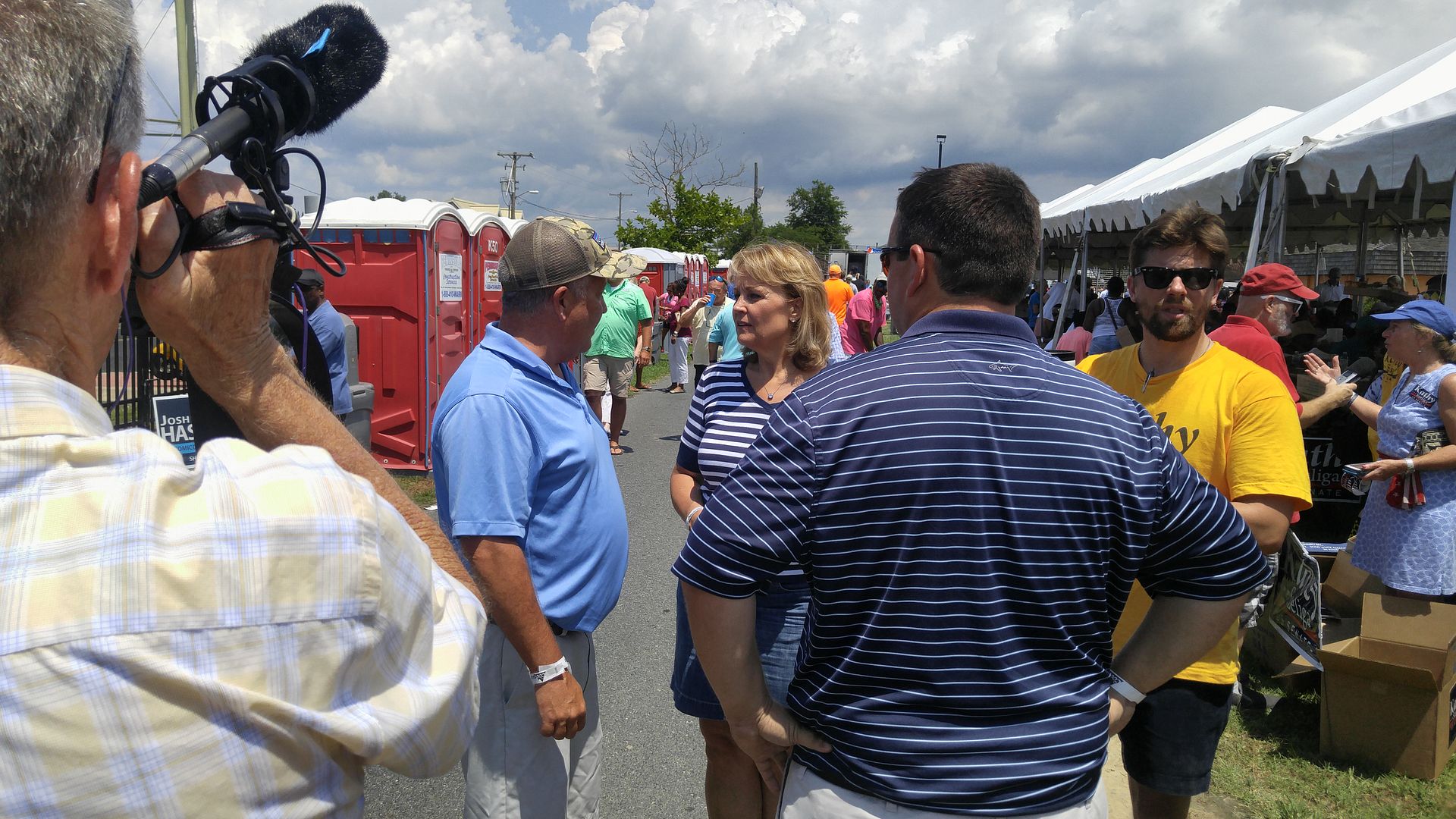 Of the people I saw and photographed, she was one of the few I didn't speak to at least a little bit. I don't blame her – our paths just didn't cross but once.
Of course, a few locals managed to be in front of my camera, such as Delegate Mary Beth Carozza, who brought her family and a batch of others from Worcester County.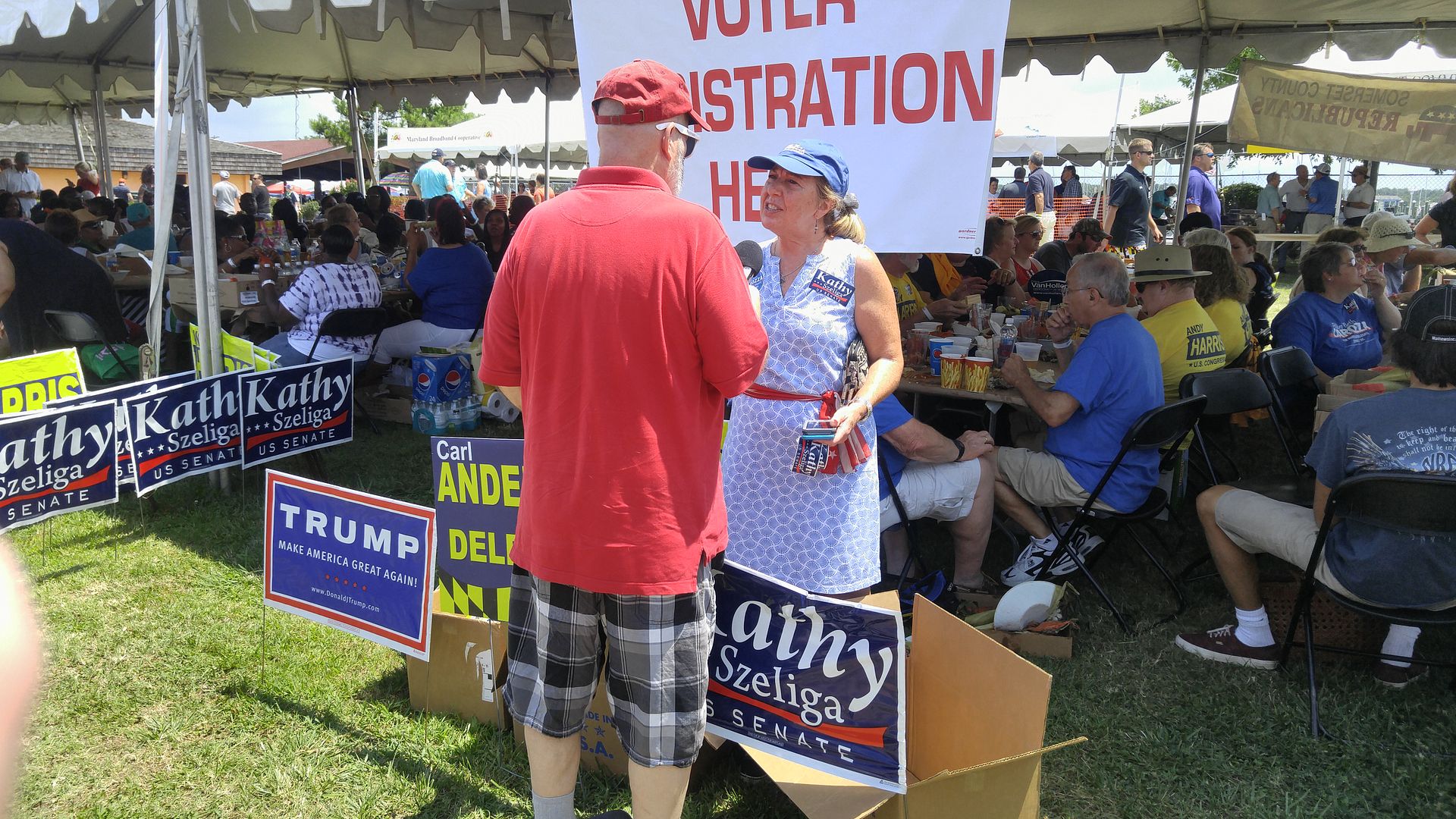 She was speaking to Duane Keenan from Red Maryland.
The other half of Worcester County must have come with Senator Jim Mathias, who had a number of folks with a matching shirt to his. He was a little peaked by the time I took the moment to thank him for his assistance with the school board election bill.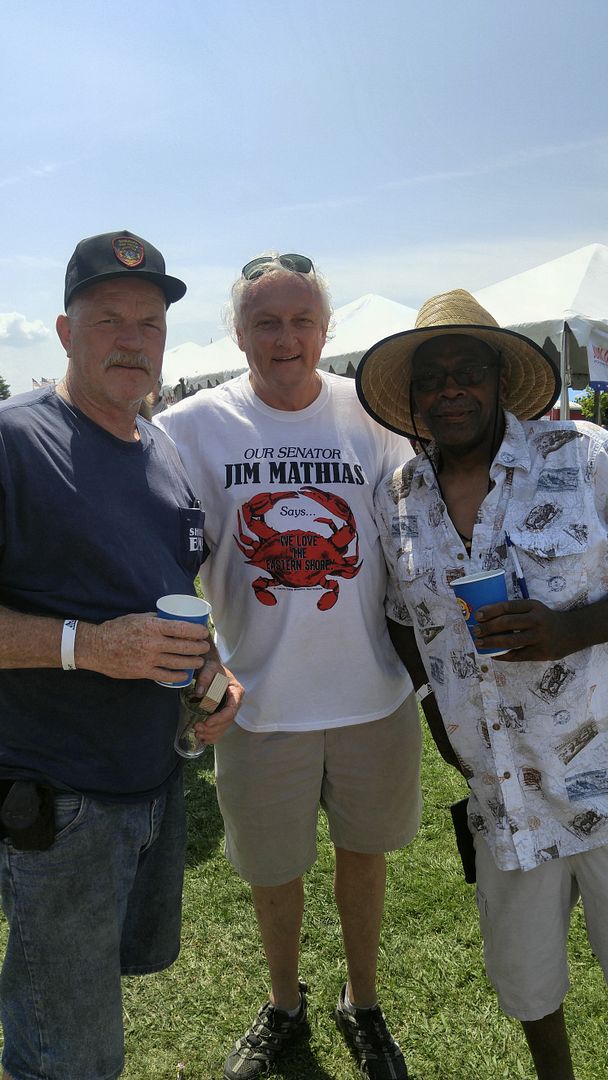 Yet while we had hot and cold running politicians there, we also had a lot of media asking questions. I noted Duane Keenan above, but here's Ovetta Wiggins of the Washington Post (right) speaking to Jackie Wellfonder. Jackie made the cut in Ovetta's story.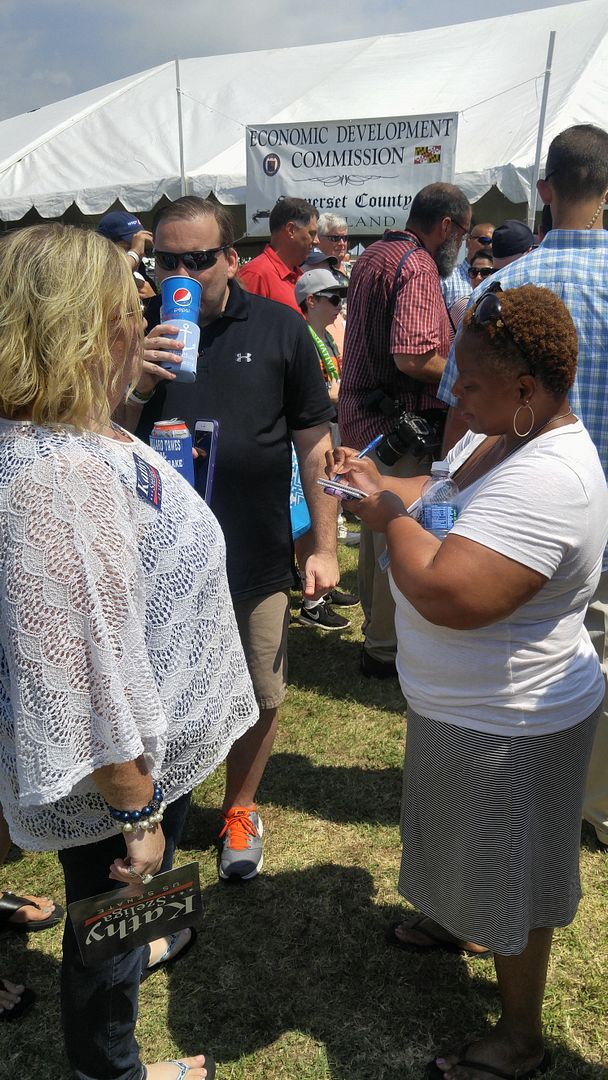 I also had the pleasure of meeting Mike Bradley, who hosts WGMD's morning show out of Lewes, Delaware. Since his station covers a fair amount of the lower Shore in its signal, he was interviewing some of the local players. It's a very good show that I catch once I cross into Delaware on my way to work.
And it could be that the Tawes event is becoming one for the greater Delmarva area. A delegation of elected officials from the First State included Representative Tim Dukes, who covers the Laurel and Delmar areas in his 40th District.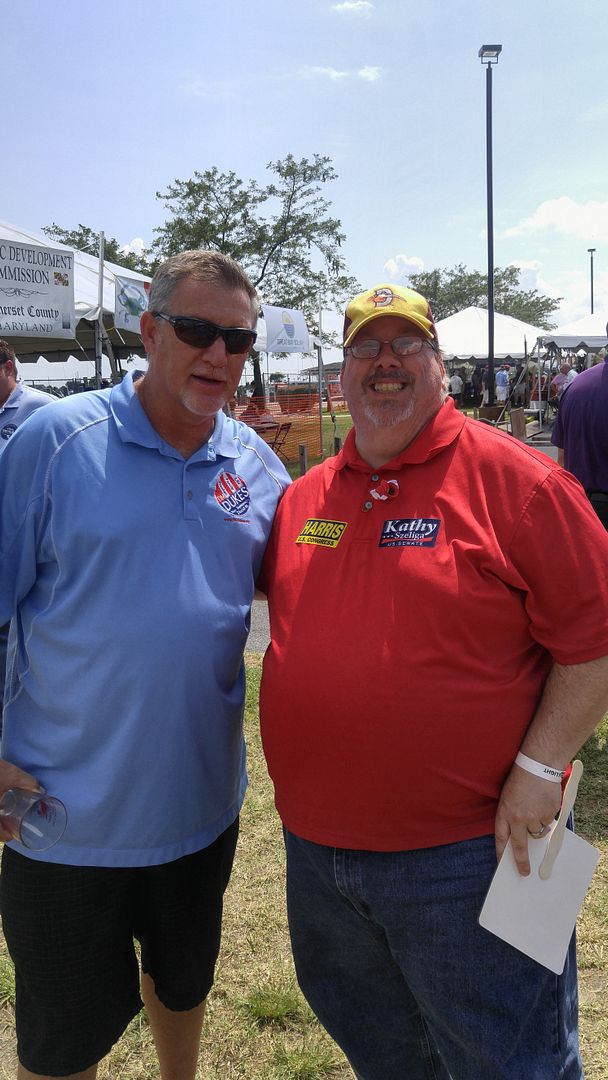 The reason I'm in the photo on the right: it was taken by Dukes' fellow representative (and Minority Leader in the Delaware House) Danny Short of Seaford. Since we're neighbors with Delaware it was nice to see some of their elected officials, too.
In that respect, this coverage was a little lacking because I did a lot of walking and talking to a number of nice folks from around the state. I want to say I overheard Jackie Wellfonder say this, but Tawes really is "like a big 'ol family reunion." We don't often see a lot of politicians travel across the bridge but for attending Tawes, so you have to say hello and speak your piece when you can.
Since I finished part 1 last week, we've had a lot of developments in the race: Trump picked outgoing Indiana Governor Mike Pence to be his running mate (or did he actually make the selection?) and came up with an awful logo (that lasted one day) to celebrate. Meanwhile, the RNC apparently succeeded in binding their delegates to this dog of a ticket. (My question: how did our Maryland Rules Committee members vote? I believe Nicolee Ambrose, who has fought in that committee before, voted the proper way and against the RNC/Trump minions. Yes, they are shamefully now one and the same.)
Update: Indeed, both Maryland members voted properly, and Nicolee Ambrose is urging members to reject the Majority Rules Report.
So the question may be moot, but I'm going to press on for the record so I can point back at this and say "I told you so." Not that it will do a whole lot of good, of course, but maybe people will listen to reason in the future. It's worth a try.
Just as a refresher, the five issues I have left over are taxation, immigration, foreign policy, entitlements, and role of government.
Trump came up with a decent taxation plan during the campaign – maybe not all that I would want, but an improvement. But he later admitted that all of it was up for negotiation, so let me clarify: the rates will not go down for many taxpayers, but the increases that made the package "revenue neutral" in his words will remain. Those on the low end of the scale may get the "I win!" form but the rest of us in the middle will lose, again.
I'm tempted to save immigration for last because that was the first important issue for Trump and the one that propelled him from celebrity sideshow to true contender. Americans, indeed, want something done about the influx of foreigners and a large part of that is building a wall at the border. But it's not my most important issue and I still run this blog, so it goes in order.
The first crack in the Trump immigration façade for me was the idea of building a "big, beautiful door" in the wall to promote legal immigration. Then I found out Donald was an advocate of what's called "touchback" immigration, which is a fancy way of saying he'll give amnesty. And I can see it already: in a "grand deal" to get the wall built, Trump will eliminate the "touchback" part – because it's oh so hard for these immigrants to be uprooted and return to their homeland – for the promise that a wall will get built. News flash: we were promised this in 2006, but the Democrats (along with a few squishy Republicans) reneged on the deal. We see how Congress acts, and regardless of what Trump may say this is not a promise he would keep. Bank on it.
I know Trump did a sort of catch-all address on foreign policy some months back, but his criticism of the Iraq war (and accusations about soldiers therein) gives me pause. That's not to say we are always right, but there is a little bit of hindsight he's taking advantage of here. If Iraq were a thriving nation and American bulwark in the Middle East such as Israel is, I seriously doubt Trump would say word one about it being a bad idea. That's the sort of person I take him to be.
It's very possible to lump both entitlements and the role of government into one statement, reportedly made by Trump in New Hampshire back in 2015 and relayed by Andrew Kirell at Mediaite:
The Affordable Care Act, "which is a disaster," he said, "has to be repealed and replaced." That line drew applause.

"Whether it is we are going to cut Social Security, because that's what they are saying," he continued. "Every Republican wants to do a big number on Social Security, they want to do it on Medicare, they want to do it on Medicaid. And we can't do that. And it's not fair to the people that have been paying in for years and now all of the sudden they want to be cut."
So will it be fair when the train goes off the tracks and millions of younger Americans are left with nothing? Trump is 70 years old, so (as if he really needed it) if Social Security runs out in 2030 he'll likely be dead anyway. But I will be 66 years old and hoping to retire at some point, although thanks to the Ponzi scheme of Social Security all that money my employers and I grudgingly gave to the government over forty-plus years will long since be pissed away. And the more I deal with the "Affordable" Care Act, the less affordable I find it. The repeal is fine, but the replace should be with the old system we liked, not some new government intrusion.
In sum, it became apparent to me early on that despite his appeal as an outsider, Donald Trump is far from an advocate of limiting government. If he should win in November, conservative Republicans will likely be in the same precarious position they were often placed in by George W. Bush: it's difficult to go against a president in your own party even if he goes against party principles.
The Republican Party I signed onto back in 1982 when I first registered to vote in Fulton Township, Ohio was ably represented by Ronald Reagan at the time: strong defense, lower taxes for all Americans, and a moral clarity of purpose that included the concept of American exceptionalism. Yet Reagan also intended to limit government; unfortunately he wasn't as successful in that aspect because he always worked with a Democrat-controlled House (and usually Senate.) I often wish that Reagan could have worked with the early Gingrich-led House and a conservative Senate – we may have beat back a half-century of New Deal and Great Society policies to provide a great deal for all Americans who wished to pursue the opportunities provided to them.
I don't know how we got Donald Trump as our nominee, although I suspect the early open primaries (and $2 billion in free media) may have helped. Democrats may have put together their own successful "Operation Chaos" to give Republicans the weakest possible contender. (And if you think that's a recent concept, I have a confession to make: in my first Presidential primary in 1984 I requested a Democrat ballot so I could vote for Jesse Jackson, who I perceived as the Democrat least likely to beat Ronald Reagan in the general election. Not that I needed to worry.) It's worth noting that the defeat of "Free the Delegates" also resulted in the defeat of some measures designed to reduce the impact of open primaries.
Alas, the GOP may be stuck with Trump as the nominee. So my message for the national Republican Party from here on out is simple: you broke it, you bought it. The mess is on you and I'm washing my hands of it.
Programming note: Over the next four days – in addition to her regular Tuesday column – I will run a special four-part series sent to me by Marita Noon, but originally written by John Manfreda, who normally writes on the energy sector like Marita does. She "spent most of the day (last Thursday) updating it, reworking it, and cleaning it up," so I decided to run it as the four parts intended during the Republican convention.
I intend it as a cautionary tale, so conservatives aren't fooled by a smooth-talking charlatan ever again. Don't worry, I have a couple things I'm working on too so I may pop in this week from time to time if I feel so inclined. But I trust Marita and this seems quite relevant and enjoyable, so look for it over the next four afternoons…probably set them to run at noontime (how appropriate, right?)
You know what they say about the best-laid plans of mice and men? It applied to last night's Wicomico County Republican Club meeting, as the expected legislative wrapup from the remaining non-participants in our May meeting were those slated to speak this month. Unfortunately, the MML conference and a Hogan fundraiser took precedence for those candidates, so it actually fell on a somewhat unexpected guest to deliver a few off-the-cuff thoughts on the session: Delegate Charles Otto, who came up from Somerset County to speak with us. As he was originally elected in 2010 in a district that then included a portion of Wicomico County, he's considered us his constituents despite the fact he was redistricted out for this term.
Thus, once we took care of doing the Lord's Prayer, Pledge of Allegiance, and treasurer's report, we heard Otto's assessment that "we have a challenge this year" in electing our President and U.S. Senator. On the latter race, Otto praised his colleague, saying of Kathy Szeliga that "I can't think of anyone better to fill that position."
As for the legislative session, he felt that we had "a lot of threats" in the 90 days, but "I think we fared well." Efforts to mandate paid leave and a minimum wage increase were rebuffed, and while he termed the Justice Reinvestment Act "a decent bill," he admitted it was one of the hardest votes for him to consider in his six years on the General Assembly. To a degree, the same was true for the budget, which was more spending growth than he would have likely preferred.
Otto also believed that the transportation bill will be a "big hurdle" to overcome in the coming years, as it favors larger jurisdictions. But local development may be helped by the Triton unmanned aviation program, which is being considered for Wallops Island. Charles noted it has bipartisan support from all three Delmarva governors, who understand the economic impact this could have locally.
But Otto didn't have an answer regarding a question about the aging school program and $80 million that was supposed to be included. It was a question brought up by John Palmer, who sits on our local school board. I chimed in with a somewhat rhetorical question about the many funding mandates Democrats seem to be adopting to tie Governor Hogan's hands when it comes to the budget – could we do a reverse BRFA and try to get rid of them? It made for some discussion, and I was thanked later for bringing up the point. (Perhaps I need to save it for a Democratic Club meeting if I ever go to one.)
For being placed on the spot, Delegate Otto did a nice job, so we turned to the Central Committee report from Mark McIver. He noted that the Secretary of Appointments had selected two new Board of Education members who sounded like fine additions, but both of them applied directly to the Governor's office. None of the five we interviewed, including the incumbent who desired another term, were picked. Yet McIver was "hopeful" about the selections, noting the Appointments office contacted him regularly through the process with questions.
But now it was time to work on the school board referendum, said Mark. It would involve creating a political committee to promote the fully-elected option.
We also learned Mark has tickets to the upcoming Tawes Crab and Clam Bake in Crisfield and our committee's next meeting would be pushed back until July 11 thanks to the Independence Day holiday.
Jim Jester revealed "we've made progress" on the Crab Feast: we have secured the all-important one-day beer license. Now we just have to get approval from the health department, after he found out he filled out the obsolete old form that was online and was given a longer, more complicated new one.
Shawn Bradley updated us on Third Friday, which "was a nice surprise" with plenty of involvement as the Republican Club has tried to maintain a table there each month. This month they had the political realm to themselves as the Democrats apparently weren't there.
Our next piece of business was a lengthy discussion about where to place a headquarters this year and how to pay for it. It will be a joint effort between the club and Central Committee, with a number of locations under consideration.
A contingent from the Republican Women of Wicomico was present to speak on their annual Constitution Day celebration on September 17 at City Park. Former Delegate Mike McDermott is the featured speaker, and the festivities will begin early: a 10:30 a.m. start is planned since Somerset County will be celebrating their 350th anniversary that day in Westover, as Delegate Otto pointed out. (It was also noted that we were sitting in what once was Somerset County; that is before it was split along Division Street in Salisbury and Fruitland to first create Worcester County to its east. Both then ceded territory in 1867 to create Wicomico County. So I stand corrected since Somerset preceded Worcester.)
We then found out from John Palmer that Wicomico County Board of Education meetings would soon be streamed online thanks to the PAC14 website. The eventual idea is to allow real-time involvement from those watching.
Finally, we were alerted to a townhall meeting Congressman Andy Harris would be holding tonight (June 29) at Black Diamond Catering in Fruitland from 6-7 p,m,
In less than an hour we had taken care of our business and become more informed. Next month we go off the political board a little bit as our speaker will be Mitzi Perdue. That meeting will come July 25.
In the wake of the successful Brexit vote I knew someone would resurrect this old idea.
Certainly the idea of the state of Delmarva (or as I would call it, the state of Chesapeake) has been around for generations. It's only natural given the geographic isolation both the Chesapeake and Delaware bays provide, but reality's heavy thud divided this sandbar somewhat unevenly into one full state and parts of two others. The full state is one of the smallest in the country by both population and geography while the states split by Chesapeake Bay have practically all of their population across the Bay – less than 10% of Maryland residents and barely 1/2% of Virginia residents live on this side.
Yet if there were a referendum on the subject, we would have a plethora of possible choices, with perhaps the top three being: one new state for the entire peninsula with a brand new slate of laws, the merger of the Eastern Shore portions of Maryland and Virginia into a greater state of Delaware, or remaining as we are. Perhaps Wilmington and New Castle County of Delaware may feel better with a more urban state like New Jersey. But then what happens to institutions like the University of Delaware, which is in New Castle County?
Obviously the politician in me likes the idea of a greater Delaware that would become a "purple" state where Republicans have a good shot of taking control. Since New Castle County boasts a population of 556,779 (according to the latest estimate) out of a state that has 945,934 (based on that same data) it's always going to run the state of Delaware. (If you think Maryland is bad, remember no jurisdiction has more than 15% of its population. New Castle County is over half of Delaware's.) Adding the Eastern Shore of Maryland and Virginia would basically negate the Democratic-leaning population of New Castle with a broad area nearly equal in population but definitely more conservative-leaning.
Yet even if we can't be part of Delaware, there are a number of things that can be done to bring us closer. My favorite (and this has been tried before) is to eliminate the sales tax from Eastern Shore counties in Maryland. (The same could be done in Virginia, although being separated by about 40 miles of Maryland makes the "Del" and "Va" a less likely pair of rivals.) Creating a business zone based on Delaware laws as applicable for the Eastern Shore could be of assistance as well.
But while this idea has plenty of benefits, it probably won't happen in my lifetime because political power is more important than the people, It's still a shock to me that the people of Great Britain were allowed such a referendum in the first place – obviously the liberal EU assumed everyone loved them. I expected a result more like the bid to split California up into six states, which failed to qualify for this year's ballot. The last state to be split up was when the Union-leaning western part of Virginia seceded from the Confederate state of Virginia in 1863 – Virginia was eventually readmitted but not reunited with its former territory, which is now West Virginia. To create a new state or expand Delaware it would take the approval of all parties involved and that's not going to happen because they need our money – and when it comes to politics we know they follow the golden rule: he who has the gold, rules.
It is nice to dream, though.
According to multiple news reports on both the state and national level – apparently this was, to paraphrase Joe Biden, a "big f'ing deal" – Larry Hogan is now an official member of #NeverTrump. Welcome aboard.
Hogan said he doesn't plan to vote for Trump, but was coy on his choice otherwise. "I guess when I get behind the curtain I'll have to figure it out," Hogan said. "Maybe write someone in, I'm not sure." That sounds vaguely familiar, although even as moderate as Hogan can be I would imagine he's not a Hillary supporter.
Certainly the governor would prefer to keep his questioning confined to affairs of state, but after being bugged about his choice for months once his endorsed candidate Chris Christie exited the race he obviously threw up his hands and gave the most honest answer he could. Of course, it wasn't good enough for the Democrats who want Hogan to condemn Trump for his statements so they can beat up the downticket candidates this year, but the goal shouldn't be to satisfy a party that's nominating a candidate who, if she were not Bill Clinton's wife, would likely be in prison for her actions as Secretary of State.
What's interesting to me about this whole thing is that Hogan's appeal cuts across many of the same lines as Donald Trump's does. Both had crossover attraction in their election, as thousands of Democrats voted Hogan in 2014. Many of them switched parties two years later to cast a ballot for Donald Trump. At the end of last year the Maryland GOP had 971,806 voters but gained over 29,000 by the end of April to eclipse 1 million for the first time at 1,000,915. (As of the end of May they had 1,004,083.) Unfortunately, the Democrats are growing even faster as they gained 68,000 in the same December-May period. So there may be a little bit of a political calculation going there.
(Contrary to popular opinion, however, the Libertarian Party has not gained in Maryland despite Republican threats to leave if Trump was nominated. In the month after the primary they actually lost 87 voters.)
It's worth noting that Donald Trump got 54.1% of the GOP primary vote, which translated to 248,343 votes. On the other hand, Hillary Clinton received 62.5% of the Democrat vote, which turned out to be 573,242 votes. Even Bernie Sanders outpolled Trump with 309,990 votes. GOP turnout was right about 45%, so Trump would have to get a whole lot of unaffiliated voters to have a shot. Having Hogan come out publicly against The Donald probably doesn't assist that cause.
But the more important number to Hogan is 70 percent, which is roughly his approval rating right now. I don't think Trump can touch that number in Maryland, and while there may be the most radical 10 percent of Trump supporters who won't vote for Hogan in 2018 because Hogan is withholding his support, that's only about 25,000 voters at risk – not even 1/4 of his victory margin in 2014. If 70 percent of the population likes you, it's a pretty good bet you'll be re-elected. (This is why the Democrats have tried to pin Trump to Hogan every chance they get.)
While I suspect that his reasoning may be a lot different than mine, I'm pleased to have Governor Hogan on my side on this one. The GOP still has an opportunity to correct course at the Cleveland convention, and I think they better take it.
I may never grace the pages of The Resurgent for my writing ability, but I at least can say I contributed in some small way to the success of Erick Erickson's venture. In an article written by Steve Berman on Friday, I had to do a double-take. "That looks like the Salisbury Trump headquarters," I said to myself, then realized the photo looks REALLY familiar. The person who did the photo for the article (perhaps Berman) cropped the car out of the left side of the photo.
I suspect I also used this photo for Facebook as well, so it's pretty much public domain. But I had to have a little fun with it.
Of all the #Trump joints in all the towns, @lifeofgrace224 had to pick our @DowntownSBY one. https://t.co/wzbk62CclQ

— Michael Swartz (@monoblogueUS) June 11, 2016
Berman was a good sport, though.
@monoblogueUS @DowntownSBY @resurgent no knock on your town. I've been there and enjoyed it.

— (((Steve Berman))) (@lifeofgrace224) June 11, 2016
Yet there was a serious element to his search.
@monoblogueUS @DowntownSBY @resurgent it was the emptiest and saddest that I had license to use.

— (((Steve Berman))) (@lifeofgrace224) June 11, 2016
Of course all this played out prior to the Orlando terrorist attack last night, which may make the fundraising question less relevant for Trump*, but the case that's been made by Berman and others who question the wisdom of nominating Trump is his heretofore weak effort at raising the sort of money needed. $2 billion in free media is great for the primary, but now the actual race between Trump and the candidate the media actually supports has begun. This doesn't count Trump's belief that he can put California, New York, New Jersey, and "maybe" Maryland in play.
Now I was told at our state convention that the RNC would immediately chip in $25 million upon his nomination, as Trump's message about self-funding his campaign was only for the primary. Nor does Trump have the advantages of donors made fat by government largesse or coerced dues to bankroll his campaign. While it's possible to overcome these disadvantages on a state scale as Larry Hogan did, the fact Republicans have lost the popular vote in five of the last six national Presidential elections tells me the Democratic formula is hard to beat. It's going to take all these newfound passionate Trump people contributing to the ground game to win over Hillary, and do so without taking resources needed to maintain the Senate and House.
Color me, along with Berman and Wolf, a little skeptical at this point.
__________________
* The BIG caveat: it seems to me that the more anti-Trump protests and terror attacks there are, the closer Trump inches to his goal. It will be interesting to see the polls toward the end of this coming week as more is learned about the Orlando attacker.
For the tenth year in a row, I have graded all 188 legislators in the Maryland General Assembly based on their voting patterns on a number of key issues. Beginning with sine die back in April, I started looking into both floor and committee votes trying to find those which reflected conservative principles, with an eye on civil liberties as well. The final product, all 27 pages, can be found right here or in its usual sidebar location.
You'll notice the look is a little different this year, as I decided to scrap the old two-column format and just give it more of a standard form that's easier to read. I also changed the font to something a little more stylistic. On the charts themselves, I decided to eliminate the committee votes from the main chart and instead added two new pages for those votes so that all of the legislators on the committee can be more directly compared.
As for the votes themselves, the overriding theme to me was fiscal. Democrats don't like not being in the governor's chair to spend money, so they are trying to use their legislative majority to force Governor Hogan to spend more. To the majority, there are two advantages to this approach: not only can they give handouts to favored constituencies, but they can prevent Hogan from finding the savings he can use to cut taxes and fees. Their goal seems to be putting our governor in a position where he has to raise taxes, which is music to the ears of people like Mike Miller and Michael Busch.
So you'll notice quite a few floor votes deal with these sort of mandates. There are also quite a few intended to strip power from the Executive Branch (which wasn't an issue just two short years ago) and tie the hands of businesses because government needs something to justify its existence.
I note in the conclusion that there were far fewer correct votes this year, and a large part of that was the mix of bills I selected. Last year I had an average House score of 39.82 and Senate count of 41.15. This was because a lot of Democrats got scores in the 20s, and that was based on their support for marijuana and civil liberties legislation I favored. This year, not so much as the averages plummeted to 27.1 in the House and 23.26 in the Senate. Being a more hardline fiscal conservative this year (because they addressed the issues they were with me on last year) changed a lot of Democratic scores from 24 to a big fat zero. On the other hand, I had only seen two perfect scores in nine previous years but got two in one session this year for the first time.
I've been warned that the third year of the cycle is always the most ambitious for policy, although liberals are dangerous any year. There are a few things that were stopped this year that we will surely see in 2017, such as paid sick leave. I also expect a bid to extend the fracking moratorium as part of a broad environmental package – the wackos were strangely quiet this year but I think 2017 brings some interim deadlines and reports on Bay cleanup. Add in the trend to mandate more spending and 2017 will be an interesting time.
One final change comes in the sidebar. I'm leaving the 2015 report available as part of a long-term process to show trends for the 2015-18 term. As one example, I think the candidacies of Kathy Szeliga and David Vogt affected their voting patterns – you'll be able to judge for yourself now.
Feel free to print yourself a copy for your use, just don't forget where it came from.
In a letter to local school superintendents within his district, Congressman Andy Harris urged those officials to maintain the stance of respecting the privacy of those who use gender-specific facilities:
I realize the tenuous position the Departments of Education (DOE) and Justice have put you in through the "guidance" provided in their letter, dated 13th of May, to school districts. I urge you to continue to respect a student's right to privacy – including girls that do not wish to undress in the presence of biological males or whose parents feel likewise. Please know the Obama Administration will not have the last word on this issue.

(snip)

(T)he Obama Administration sent the May 13th letter to school districts across the country containing "guidance" that would require all public schools to accommodate students using restrooms of their choice regardless of their biological gender. Violation of this "guidance" is, of course, under the implicit threat of withholding of federal funds and/or legal action by the DOJ. On this issue, I believe the Administration is misinterpreting federal civil rights law, and violating state's rights. There is no statutory authority for this "guidance." (Emphasis in original.)
Although he's not a lawyer, Harris goes on to cite a pair of court cases that are already underway to reinforce his belief that school systems have nothing to worry about insofar as federal funding goes. And he may be correct on this point, as it will likely be months (if not years) until this winds its way through federal courts – in the meantime it's a safe bet that most school districts will cave on this and further blur the lines between genders, all to cater to perhaps one or two students in a 1,000 student school who are truly suffering from gender dysphoria as opposed to the couple dozen who may be doing so as a rebellion against authority or to get their jollies. I thought we were supposed to celebrate differences, so what is wrong with the one or two in question having respect for their peers and using a unisex restroom as available? I suspect most kids in a school would know the situation of the student in question.
The next question, though, is when this will come down to the state level and, more importantly, when it will be impressed on Christian schools (such as the one Kim's daughter attends) that these accommodations need to be made? It's already becoming fair game for just anyone to use her restroom, such as at Target.
Of course, I have heard the argument that a truly transgendered person would be indistinguishable from their opposite sex in mannerisms and it's likely they are already using the restroom of the gender they identify with. Fortunately, modern restroom design would either provide that a guy who identifies as a woman uses a stall (because a women's room is all stalls) or that a girl that identifies as a guy uses the stalls available in the men's room because they can't use a standard urinal.
I think the issue is more in the realm of locker and changing rooms where it can become obvious that the biological equipment is different, and it presents an uncomfortable experience for both sides. So what is wrong with the right to privacy, particularly since the Left thinks it applies to a woman's body in other situations?
The simple truth is no matter what surgery you subject yourself to or how many hormones you take, 99.99% of us are either male or female. (There is a very tiny group that is intersex or has a degree of those characteristics, perhaps 1 in every 2,000 births.) You simply can't change the fact you are XX or XY at birth and it doesn't matter whether you feel more feminine on some days – guys, stay out of the girls' locker room. The policy in place for many, many years worked for a reason – because it was logical and respected obvious differences.
Hopefully Harris is correct about the federal government's impotency, but that doesn't mean school administrators will do the right thing as illustrated above.
In the wake of my original remarks I had quite a bit of reaction on social media, and the balance of support vs. "throw the bum out if he doesn't resign" seems to be about 50/50. The latter category, however, seems to be almost exclusively Trump supporters who didn't seem to hear the part at the state convention (or read my reporting) about being tolerant to those who don't support The Donald.
I do have one issue with a completely different segment of the Trump opposition that is physically attacking Trump supporters such as those in California. Since many of these young punks have no concept of history, let me throw something out at you that was actually before my time, too.
Back in 1968, the Democratic Party had its convention in Chicago. As it turned out, then-President Johnson declared himself out of the running after a disappointing showing in the New Hampshire primary, opening up the field to a group of candidates that was cut down by one with the assassination of Robert F. Kennedy that June after the California primary. Coupled with an escalating Vietnam war and race riots in response to the murder of the Rev. Martin Luther King two months beforehand, all creating a population already on pins and needles, the violent Democratic convention shocked a population as it was punctuated by scenes of daily protests and violence captured nightly on the evening news. (Remember, there was no internet back then so the sources of national news information were the nightly TV news and daily newspaper. National conventions also received wall-to-wall coverage on the networks in that era.) Across America's heartland, it was easy for the law-and-order campaign of Republican Richard Nixon to be successful as voters were sickened by the strife associated with the 1968 Democrats.
So when you are out protesting Donald Trump by waving Mexican flags and shouting anti-American slogans, it's a surefire way to rally support to his side. Quite honestly, I'm surprised some conspiracy theorist hasn't put out the idea that the Trump protestors are an inside job by his own side to galvanize support. This is an election that has a lot of the hallmarks of the 1968 campaign, and Donald Trump isn't a half-bad impersonation of Richard Nixon.
But back to my story regarding Trump supporters, who remind me that "You do not and are not willing to represent the nominee that the voters who you represent prefer." This particular one pointed out that there were 7.200 county voters who supported Trump. (7,214, but who's counting?)
So let's make the leap in assuming they are against the status quo in Washington, which seems to be Trump's selling point. Well, I also represent the 8,775 Wicomico County voters who were happy to support Andy Harris and I have no problem working for his re-election because I find him conservative enough. I'm not quite so down with the 2,839 Kathy Szeliga supporters but she will still get my vote. Both of them have been loyal and conservative Republicans for years, unlike Trump. Commitment to limited government (not to mention tact, trustworthiness, and a command of the English language) is something I find sorely lacking from Trump.
And then we have this diatribe from that same person:
Your role as a Central Committee member is to advance the party, and that means whomever the nominee is after the primary, you work to beat the Democrat! If you cannot do that in good conscious (sic) you should resign.
Well, this is interesting because I did a quick bit of investigation and found out this person was a diehard Ron Paul supporter in 2012 and basically has had the desire to stick it to the Republican Party since then. In fact, it's intriguing to me that a number of folks I know as Paul supporters and who are supposedly pro-liberty are supporting perhaps the most anti-liberty Republican in the race simply because they perceive him as anti-establishment. Seems to me that in this person's opinion the GOP wasn't worth advancing:
I've been saying this for a long time…This man is not, and never has been a Republican…he is an Obama operative….a couple stupid neocons jumped all over me for calling that shot but now, who's eating crow?…..You stupid neocons are soooooo scared about Ron Paul running as a third party….you defended this schmuck and now it looks as though he's the spoiler!!
Everyone is entitled to change their mind and I respect that. But perhaps you might want to pardon me for thinking – like you did once upon a time – that Donald Trump is the spoiler.
Honestly, if I really didn't think the Republican Party as a conservative vehicle was about to throw two decades' worth of my sweat and toil away by nominating a particular candidate, would I speak out? Would I really give a rat's rear end?
Oh, and by the way – our county does have a provision where we can withhold support from a nominee as a group. So at this point it's still possible we won't back Trump thanks to what's known as the David Duke rule. And while Duke hasn't officially endorsed Trump, he did state that voting for anyone but Trump is "voting against your heritage."
Consider that as you continue to react.
Thanks to social media, I found out my good friend and "partner in crime" Heather Olsen was leaving her post as the Chair of the Prince George's County Republican Party. While she was not specific about her reasoning, it soon became apparent that she could not and would not support Donald Trump as the standard-bearer of the national Republican Party. So she did what she thought was the most honorable thing and resigned her post.
Seeing that news and my reaction – "I'm sorry to see my 'partner in crime' go, but it's principle over party for some of us," I had another political friend of mine ask me if I was leaving the Wicomico County Republican Central Committee. I'm going to answer that question in due course, but in answer to the later query my friend had regarding how many people would resign from their respective Central Committees if our presumptive nominee becomes the guy on the ballot, I think it's hard to say because there is a normal turnover of members from these bodies. Our county Central Committee was a rare exception to this as the nine who were elected in 2010 all served their full term. Already this time, though, we have had one personnel shift as I returned to replace a member who had to resign due to an employment change. So the #NeverTrump group wouldn't be much of a dent considering the number who leave for various other reasons: change of employment, loss of interest, or inability to get along with their group.
Olsen and her solution of resignation is one end of the spectrum, and it's certainly a valid reaction. On the other hand, you have Brian Griffiths of Red Maryland, who was ready to drop the GOP like a bad habit after the primary knowing they were nominating a "sh*t sandwich" but is now in the camp of staying for the others on the ballot. But Griffiths doesn't hold a current position in the party, so he can easily enough be a bombthrower.
My position is different, but perhaps more similar to Brian's. The simple reason for this is that I have no intention to run for office again so that aspect will not matter to me. (Besides, since this website predates my tenure on the Central Committee it's hardly been a secret where I stand on any political issue.) So just let me say this: there may be candidates on the Maryland presidential ballot who will exemplify the traditional three-legged conservative stool of fiscal responsibility, strong national defense, and support for Judeo-Christian values more fully than the nominee of the party who is supposed to stand for these things. Will any of those candidates win? It's doubtful, but if there's one thing I've learned about Maryland politics it's that Republicans who try to beat liberal Democrats at their own game don't stand a chance because when the chips are down liberals will vote for the real thing. I'm not convinced there is a clear distinction between Donald Trump and Hillary Clinton with regard to the overall direction they will take this country.
So I stand as #NeverTrump.
But having said that it doesn't mean I'm not for Kathy Szeliga or Andy Harris down the ballot. While Szeliga has had a disappointing voting record this year, I still see broad differences between her and her career politician opponent, Chris Van Hollen. As for Andy, I endorsed him in the primary and he won convincingly – enough said. They may be for Trump, and I'm okay with that. There's also the local school board issue on our Wicomico County ballot where we need to achieve the desired result of a fully-elected board beginning in 2018.
And it was said at the convention that we should have tolerance for those with opposite views, so I tolerate Trump supporters as best I can. (It's difficult sometimes.)
Naturally this leads to the question of how the Maryland GOP will react to this declaration. Well, it seems to me that a member of their Executive Committee was once a proud member of Republicans for Obama, and I'm certainly not supporting Hillary – if anything, I'm rooting for a repeat of the 1824 election that was decided by the House and praying sanity will reign therein. So it might be a touch hypocritical for them to speak out.
It's worth repeating that I'm not standing for re-election and that my term runs through the 2018 general election. I also am quite aware that the state party bylaws spell out sanctions that "may include a vote of censure and/or a request for the resignation of that member," but I'm not going to honor such a request unless I see fit to. I will leave the Central Committee at a time of my choosing, not theirs.
When I was sworn in as a member I took an oath to uphold both the United States and Maryland Constitutions as well as abide by the bylaws of the Maryland Republican Party "with diligence to the best of (my) skill, abilities, and judgment." It is my judgment that supporting Donald Trump for President, despite the fact he is the presumptive Republican nominee, will be detrimental to the overall platform and positions that have generally been associated with the Republican Party since the era of President Reagan. Thus I cannot support him and will back a candidate who better exhibits these qualities.
And since I'm sure I'm not the only one who thinks this way, the Maryland GOP should tread carefully. One Presidential election is not worth risking your stock of committed conservatives over.
You know, for the bad reputation Republicans have politically they seem to get around.
As expected, the most major of the various "third parties" nominated onetime New Mexico Governor Gary Johnson to repeat as their Presidential standard-bearer and former Massachusetts Governor William Weld as his running mate. The biggest surprise seemed to be that both Johnson and Weld won on the second ballot, both coming up just a few votes short of a majority on the first.
It sets up an interesting situation for the party, for there are a number of purists who may be a #NeverJohnson faction of the party, although the total number of Libertarians in the country is but a small percentage of the electorate. But for those who are not thrilled with the choice of Trump vs. Clinton, Johnson has some appeal in the following ways:
Budget.  Johnson pledges to "submit to Congress a truly balanced budget. No gimmicks, no imaginary cuts in the distant future. Real reductions to bring spending into line with revenues, without tax increases. No line in the budget will be immune from scrutiny and reduction." After the collective heart attack on K Street, we will certainly watch Congress begin to play the game with him and bring on a budgetary crisis.
Taxes. He also "advocates the elimination of tax subsidies, the double taxation embodied in business income taxes, and ultimately, the replacement of all income and payroll taxes with a single consumption tax that will allow every American and every business to determine their tax burden by making their own spending decisions. Taxes on purchases for basic necessities would be 'prebated', with all other purchases taxed equally regardless of income, status or purpose." I'm cool with this, as I've advocated the FairTax for years. It would be something for the second term, though, and you can bet the lobbyists will fight that to the last man as well.
Term Limits. "Johnson is a strong advocate of term limits. Run for office, spend a few years doing the job at hand, and then return to private life. That's what Gary Johnson did as Governor, and that's what Senators and Representatives should do." The libertarian purists wouldn't be down for this since it arbitrarily limits choice, and I used to feel the same way. But since the Constitution allows for Presidential term limits (thanks to Republicans jealous of FDR) it should also allow for Congressional ones, too.
Role of Government. This is where Johnson takes a page from Trump's promises to clean up Washington, but means it. "Government regulation should only exist to protect citizens from bad actors and the harm they might do to health, safety and property. Regulation should not be used to manipulate behavior, manage private lives and businesses, and to place unnecessary burdens on those who make our economy work."
Foreign Policy. Johnson is not a neocon to be sure. "The U.S. must get serious about cutting off the millions of dollars that are flowing into the extremists' coffers every day. Relationships with strategic allies must be repaired and reinforced. And the simplistic options of 'more boots on the ground' and dropping more bombs must be replaced with strategies that will isolate and ultimately neuter those who would, if able, destroy the very liberties on which this nation is founded." It's a nicer way of calling the last few military actions errant than Trump did.
Education. "Johnson believes there is no role for the Federal Government in education. He would eliminate the federal Department of Education, and return control to the state and local levels. He opposes Common Core and any other attempts to impose national standards and requirements on local schools, believing the key to restoring education excellence in the U.S. lies in the innovation, freedom and flexibility that federal interference inherently discourage.
Certainly there is a lot of debate whether the Johnson/Weld ticket would be good on social issues, as they dance around the idea of Judeo-Christian values. But there is the hope that Johnson will be added to the Presidential debates in order to bring these differences out to the voting public.
By virtue of being the Libertarian Party standard-bearer, Johnson is automatically included on the Maryland ballot.