The law of unintended consequences strikes again.
It took over a month for this to come to my attention, since the original Bay Journal article by Tom Horton came out on March 6 and movement may have occurred since. Be that as it may, the article seems to want to heap blame on the county as much as the state – problem is the county is now following rules dictated by Annapolis, in essence losing its identity.
Here are the issues, as laid out by Horton:
(Farm owner Ted Wycall's) plan was to increase sales and production to boost his income – "about what a (Wicomico) county teacher makes," enough to live on, but not to retire, or pay the latest $8,000 tractor repair. He would have moved his 54-foot-square market onto 60 acres that link his farm to a busy road, where more customers would stop.

But highway officials said he'd have to spend $50,000 for a "deceleration lane" for his roadside market, never mind that nearby crossroads don't have any.

He could avoid that by running an access drive off a side road; but the impervious surface of that driveway, plus that of his market building, would entail stormwater pollution expenditures of more than $20,000, plus weekly paperwork he has no time for.

He'd actually be removing more impervious surface (old farm buildings) than he'd create; but because those buildings predate stormwater regulations, he'd get no credit for that, the Maryland Department of the Environment confirmed.

A state-of-the-art septic tank to handle wastes would be $15,000 or more. They can be built for much less, but regulations require such systems be certified. This has winnowed the field to a few outfits that provide only top-of-the-line units.

Ted's requests to substitute a waterless, composting toilet, used extensively by groups like the Chesapeake Bay Foundation and National Park Service, were rejected by the county.

So was his argument that new greenhouses he needs to expand on his current farm be exempted from stormwater rules: "You are a developer," said a dismissive e-mail from a county official.
By my count that is two state agencies and probably two different areas of county government involved.
While I've never patronized Wycall's roadside stand, I have often wondered how it stays in business because I notice when I drive by it there aren't many customers. (Coming from the south I often cut through "the forest" from Pocomoke, so I eventually drive by the farm's Nutters Cross Road location. Problem is not many others drive there, aside from local traffic.) I gather his idea was to build a new facility to front on Snow Hill Road, which is Maryland Route 12. Because it would be new, it is supposed to comply with all these rules surely Wycall supported upon enactment. This educated guess comes from knowing the nature of his business and taking the liberty of looking up his voter registration – let's just say I wasn't surprised about the party affiliation. Bear in mind as well that Wicomico doesn't yet have the "rain tax" which would likely hit Wycall hard just as he completed his upgrades because we're probably at the front of the line for its expansion.
Yet the Greenbranch Organic Farm situation is not drastically different than that of any other business owner who wants to expand – it only attracted Horton's attention because this was a more "noble" calling than that of the average poultry producer a mile or two away. (In fact, it was groups with that same mindset who tried to bankrupt a local poultry farmer just a few miles from Wycall for making a simple error in sludge storage where the state fined him a modest amount.) If that other farmer wanted to expand his chicken operation, the same regulations would apply but Horton might not mind so much then.
In an era of 20 to 30 years ago, the county would have made Wycall's life easier. The light traffic count of his expanded operation would be handled by attentive driving and perhaps a slightly wider shoulder on the highway, a run-of-the-mill septic tank would have been just fine, and no worries about impervious surface because chances are a gravel parking lot would have been perfectly acceptable. (It probably still would be except for the handicapped spaces federal law now dictates.) Since then, in its effort at assuming complete control over our lives justified as one of "saving the Bay," businesses now have to pony up the extra cash and effort to do all which was asked of Wycall and much more. It's intriguing that the Wycalls are considering packing up and moving to Montana, where "there are almost no rules." In terms of being friendly to business, it can't be much more clear than that.
Yet the denizens of Radical Green who read this will only shrug their shoulders and blame the county for being a bunch of redneck hicks who bend over backwards for Big Poultry but won't give this heroic little guy and his acorn-rooting pigs a break, this before advocating to expand some of these regulations to other waterways like Lake Erie.
I'm sorry that the Wycalls are facing such difficulty with their situation – if they want to run an organic farm and charge people premium prices for the privilege, well, there's one born every minute. But sometimes it really is true that you reap what you sow.
As a follow-up to a story I wrote about a few weeks back, the leadership of the Wicomico County Education Association is accusing opponents of an upcoming vote to disassociate the union from the Maryland State Education Association of entering the WCEA headquarters, changing the locks, and taking over operations. WCEA president Kelly Stephenson announced the following on their website and Facebook page:
On April 15, 2014, Gary Hammer et al., entered the WCEA offices, changed the locks and codes, removed or altered office equipment and purported to illegally fire the Association's only employee. These actions were not taken in accordance with the governing documents of WCEA or in accordance with the law.

The democratically elected leadership of WCEA would like everyone to know that we are continuing to exercise the duties of the office. We will not be bullied and these actions will not affect the business affairs of the Association. Member services, including member representation and contract negotiations with the Wicomico County Board of Education, will continue unchanged. Further, this attempt to subvert the democratic process will not succeed: on April 28th and 29th, the Association's vote on Bylaws changes will proceed, and members will be able to decide for themselves whether to become self-governing.
There's little doubt that the vote will be acrimonious, with the local union putting out flyers and messages like the ones below.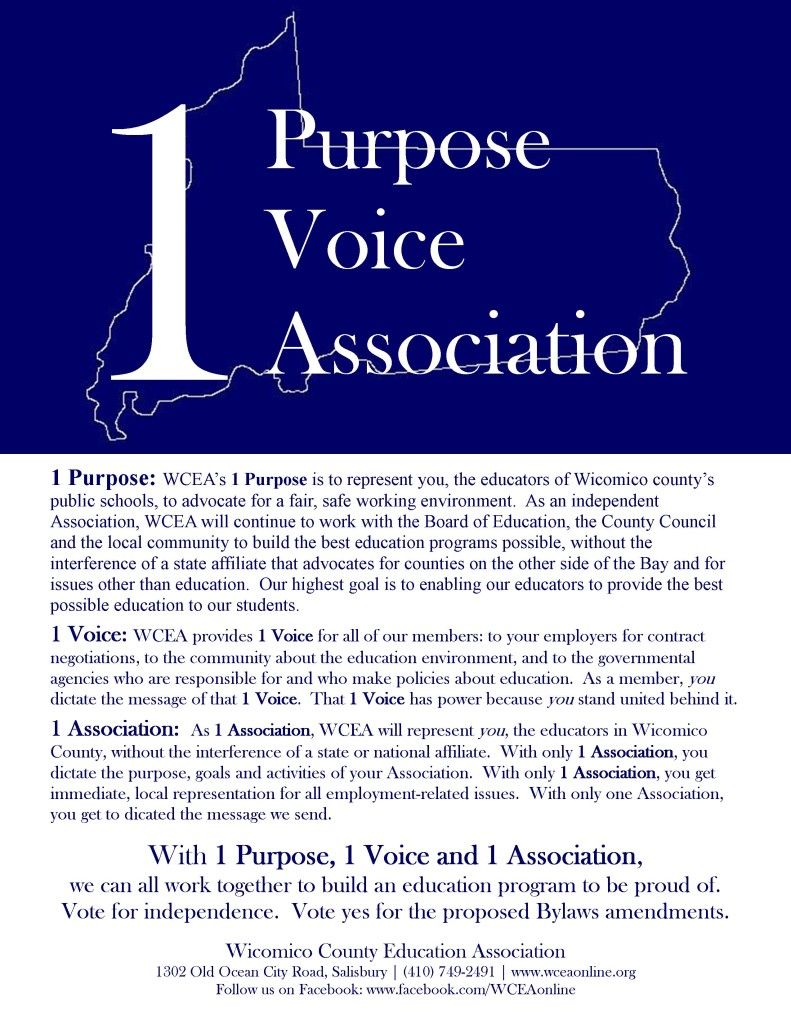 Opponents of the change – or at least of the current leadership – began a petition drive to recall those leaders, with the office entry being the result of what they claim was a successful recall with over 700 members signing their petition and simultaneously selecting an interim slate of directors. I don't doubt this rump directorate is comprised of those who favor remaining in the MSEA and decided this lockout was the way to go.
The obvious question becomes whether this "palace coup," if you will, is valid. This amended version of the WCEA bylaws (with the changes slated to be voted on later this month) suggests the answer is no. But as I see it this episode demonstrates the lengths the state union would go to in order to keep its county-level affiliate in the fold. And even if the membership is allowed to vote and decides to maintain its ties to the MSEA, how many people will lose trust in the union's leadership as a result and drop out of the union?
In doing the research for this piece, I noticed the accusation about my "right wing blog" support. Naturally there is a political aspect, but I find it interesting that one of the small handful of Republicans the MSEA endorsed around the state was from here in Wicomico County: they backed Christopher Adams for one District 37B seat over a Democrat. But I don't have a dog in this fight, aside from the notion that it's an interesting story based on the aspect of localizing government, which is a conservative point of view and fits right in with a rather conservative county mindset. Our child doesn't attend a public school.
Interesting times lie ahead for the public school teachers of Wicomico County. For the first time in a long time, it appears the state union is actually taking Wicomico County seriously.
I was perusing a LOT of e-mail today because I had a short night and long day, and among the items I found was from this Rasmussen survey:
A new Rasmussen Reports national telephone survey conducted over the past weekend finds that 75% of American Adults have filed their income taxes, while another 13% expect to do so by today's deadline. Five percent (5%) plan to get an extension.
Since I did the taxes for both Kim and I over the weekend, I think I qualified in that 75 percent category. (Surprisingly, I didn't get screwed but probably screwed myself by giving an interest-free loan to Uncle Sam.) But what I can't figure out is the 8 percent who are unaccounted for – are those the people who pay estimated tax? Or, were these the people who don't earn enough to have to file? Way back when I was in college I had that situation, only filing because I wanted the money from my backup withholding back. It may have only been $50 or $100, but it was my money. Otherwise, if 8 out of 100 aren't filing, that seems like a whole lot of civil disobedience.
Yet while April 15 is the day of infamy when we pay our tribute to the Internal Revenue Service, the real day we're relieved from this annual burden falls on April 28. That's the day those of us working in the Free State since January 1 finally pay our debt to the federal and state governments, according to the Tax Foundation. (Those of you reading across the line in Delaware are relieved a little earlier, this Friday the 18th as a matter of fact. Go out and tip a 16 Mile or Dogfish Head to celebrate.) Meanwhile, the state where Anthony Brown was endorsed to lead doesn't have Tax Freedom until May 9, so he would feel right at home there in Connecticut.
Naturally, the whole idea of filing a return is one of aligning what the government thinks you should owe (and takes out of your paycheck) with the actual amount due after all the calculations are done. They don't really mind sending your money back – or adding a little extra to that amount if you qualify for the earned income credit – but heaven help you if you owe them more than a few hundred dollars. They'll have the audacity to penalize you even more money then! Unfortunately, that doesn't work both ways, but most people believe they've pulled one over on the feds if they get a few thousand dollars back. $5,000 looks great as a lump sum, but if people were smart they'd work it in such a way they get the extra $100 a week. (That's not always possible, though – again, the government sets the withholding rules and I'm sure they're not doing it for us to accrue a benefit.)
Many of us live our lives in order to avoid paying taxes one way or another. But wouldn't be easier if the nation did what several states have already done and decided to live without an income tax? I think the FairTax is a pretty good idea myself and talk about it always peaks this time of year. While nothing can be done about until 2017, why not lay the groundwork for doing something more than talk?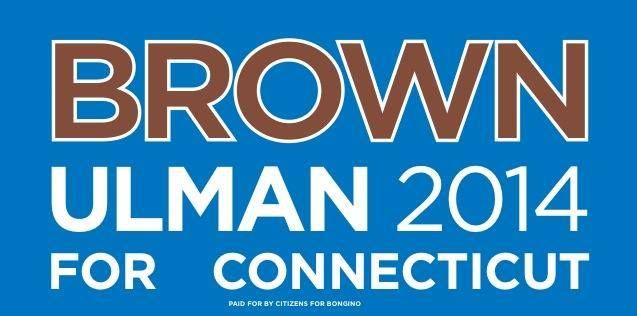 It's unfortunate the press conference wasn't a couple weeks earlier, because the announcement had all the makings of a great April Fool's joke. Unfortunately, the joke has been on Maryland taxpayers so earlier today Congressional candidate Dan Bongino and gubernatorial candidates David Craig and Ron George made their endorsement of Anthony Brown for governor of the Nutmeg State, Connecticut.
Having it on April Fool's Day may have helped with media coverage, though. The main rags of the Baltimore Sun and Washington Post didn't give the rally any coverage aside (at least not yet) with the only mention a three-day old piece in the Sun.
Be that as it may, I get the point that the tongues were firmly in cheek this morning. Then again, people like me only represent maybe one percent of the electorate and aside from perhaps a slight thought about the monetary aspect of the money blown on the initial iteration of the Maryland Health Connection website, those who have maintained their health insurance throughout may just shrug their shoulders. We're all used to government boondoggles. The joke may be lost on them.
In an effort to make news out of this, Ron George put out a release noting "Ron George joins Dan Bongino to Endorse Brown/Ulman for Connecticut." The first paragraph packs most of the punch:
When Obamacare was rammed through a partisan Democratic Congress, no one was happier than Maryland Lieutenant Governor Anthony Brown. He leapt at the opportunity to get out from behind his boss' shadow and prove why he was the most capable candidate for the next Governor of Maryland. Two years and $260 million taxpayer dollars later, Anthony Brown is dodging any and all responsibility for the failed Maryland Health Exchange and is part of an administration that is actively covering up this massive scandal. Anthony Brown's solution to the mess he created is simply to spend hundreds of millions more in taxpayer dollars to adopt the "Connecticut" model of government-run health insurance.
Naturally, Ron didn't mention David Craig, who was also there – as shown on his Facebook page.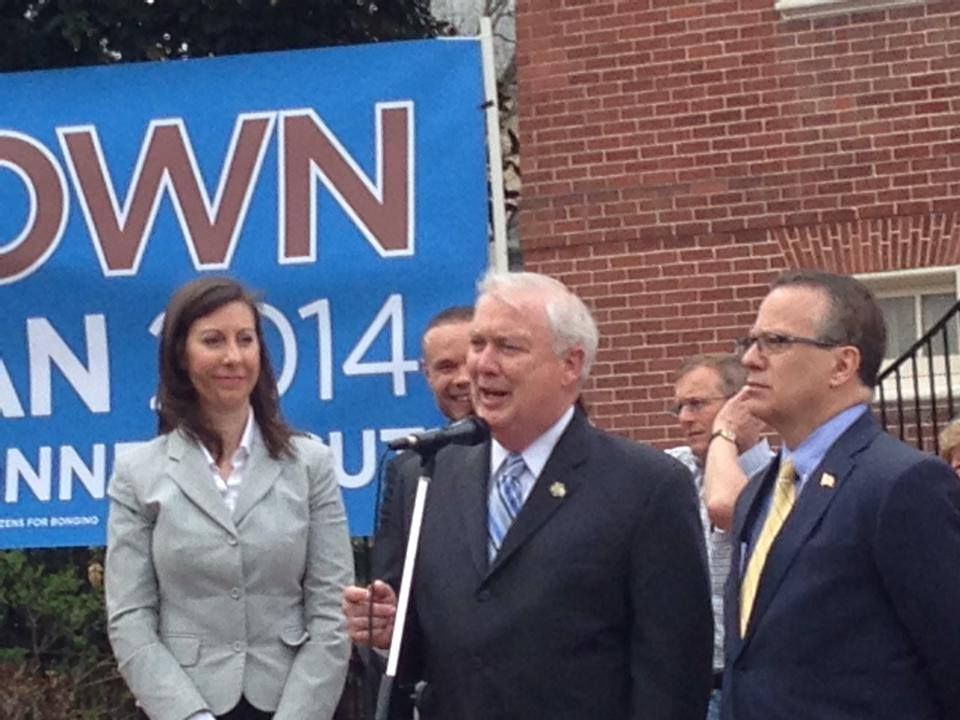 Honestly, I'm not sure this is more than a blip on the radar. But as time goes on, the question which really should be asked is whether the Connecticut system, which was designed for a state roughly half Maryland's size, will fit out of the box. More importantly, where will the extra millions needed to make this work come from? We're already a long way in the hole just to buy the original pig in the poke, so what will give? Will it be insurance rates, reimbursements to providers, or the old standby of sticking it to future generations by raiding other funds and bonding to backfill the hole?
It's almost too bad Doug Gansler didn't stop by to make it a bipartisan backing of Brown for governor of Connecticut. Instead, he's choosing to spend a little money on a simple website which asks the question "did Anthony Brown come clean today?' (It's also handy for gathering contact information via the attached "petition.")
If we really wanted to improve the prospects for those who rely on health insurance coverage in Maryland, how about talking about measures which could open the market up more? After all, Barack Obama allowed some to keep their "substandard" plan that they liked, so what are the standards now? Make everything available, from bare-bones catastrophic coverage on the one side to something that pays for two hangnails a month among the other elements of a "Cadillac plan" on the other, and the market will find its level. I'll bet it doesn't waste millions of our tax dollars, either.
Update: Added David Craig:
Today's announcement was an opportunity to highlight the failed policies of the last seven years and Anthony Brown's inability to successfully lead Maryland's healthcare exchange.

Jeannie and I believe the best solution to this disaster is for Anthony Brown to resign like Kathleen Sebelius, the former HHS Secretary.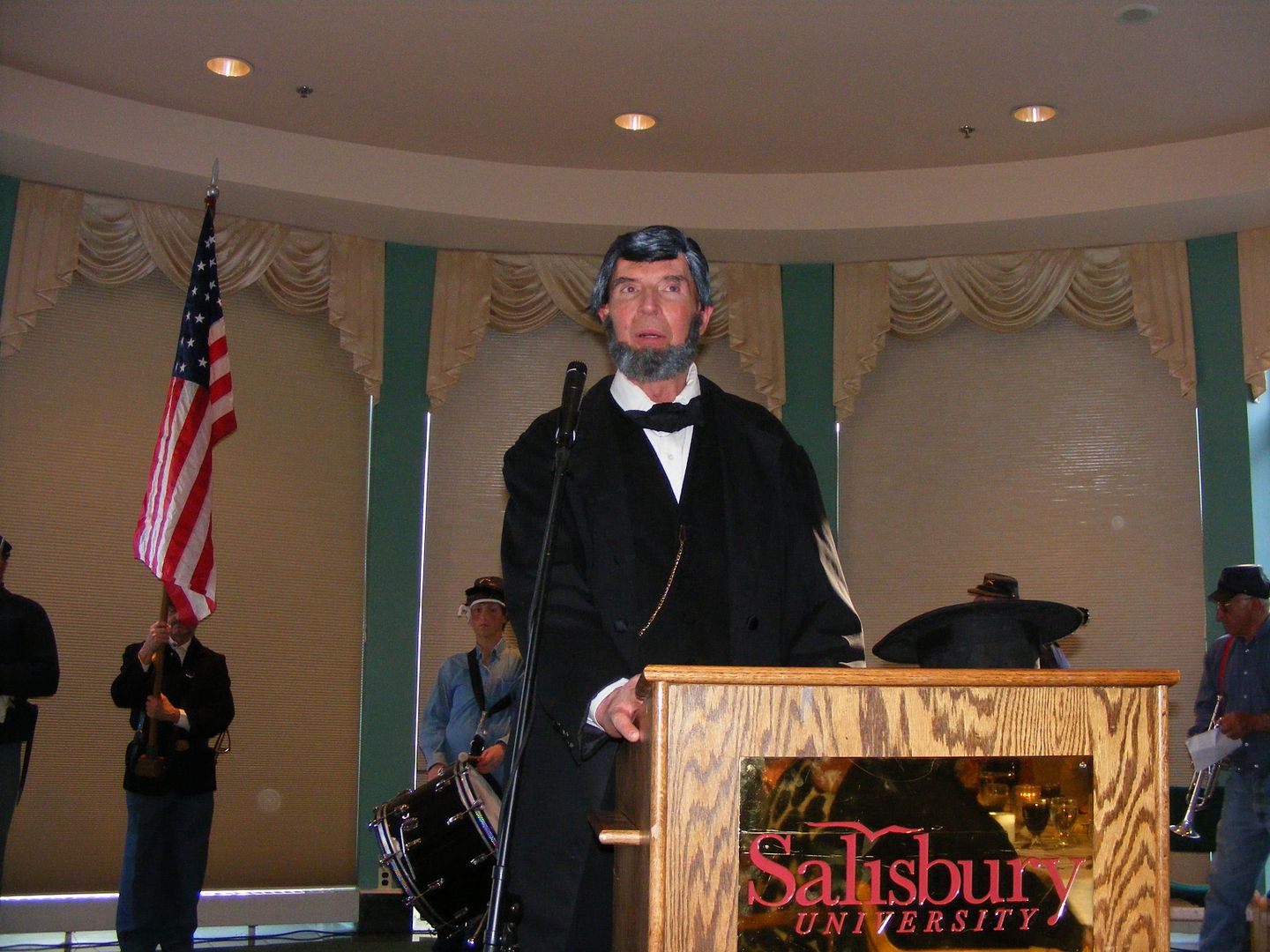 It wouldn't be a Wicomico County Lincoln Day Dinner without the guest of honor, now would it?
But it was that and much more as about 100 people enjoyed the festivities last night in Salisbury. I was a little disappointed in the attendance, but those who missed the affair missed some stirring words from both our four featured speakers – the GOP gubernatorial candidates – save Jeannie Haddaway pinch-hitting for David Craig, who was in Frederick tonight – and Delegate Mike McDermott.
Our event is set up so guests have an opportunity to talk to candidates before and after the proceedings. So before dinner was underway, acquaintances were made and renewed, such as Delegate Ron George speaking with the newly-goateed Delegate Charles Otto.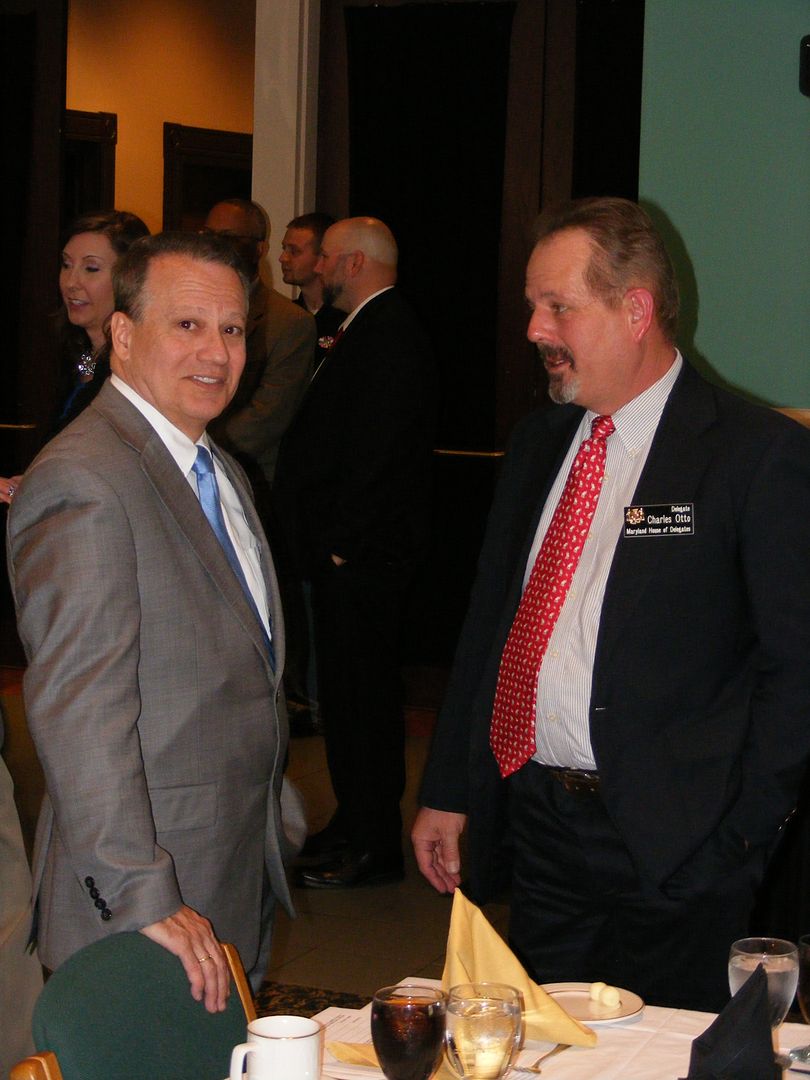 I like that look on Charles. Meanwhile, Larry Hogan and wife Yumi spoke to Wicomico County Council member Joe Holloway. I believe fellow Council member Bob Culver is back to camera.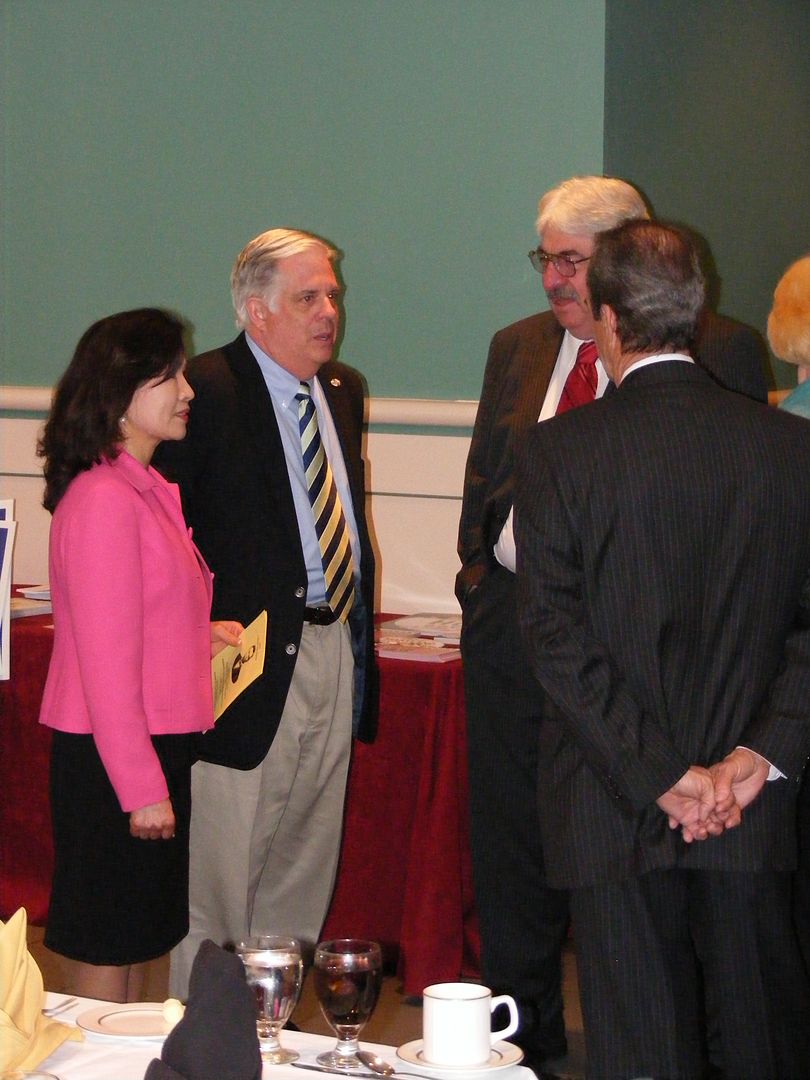 As I noted earlier, Jeannie Haddaway was taking the place of David Craig and visiting her alma mater. In the background is Larry Hogan's LG pick, Boyd Rutherford.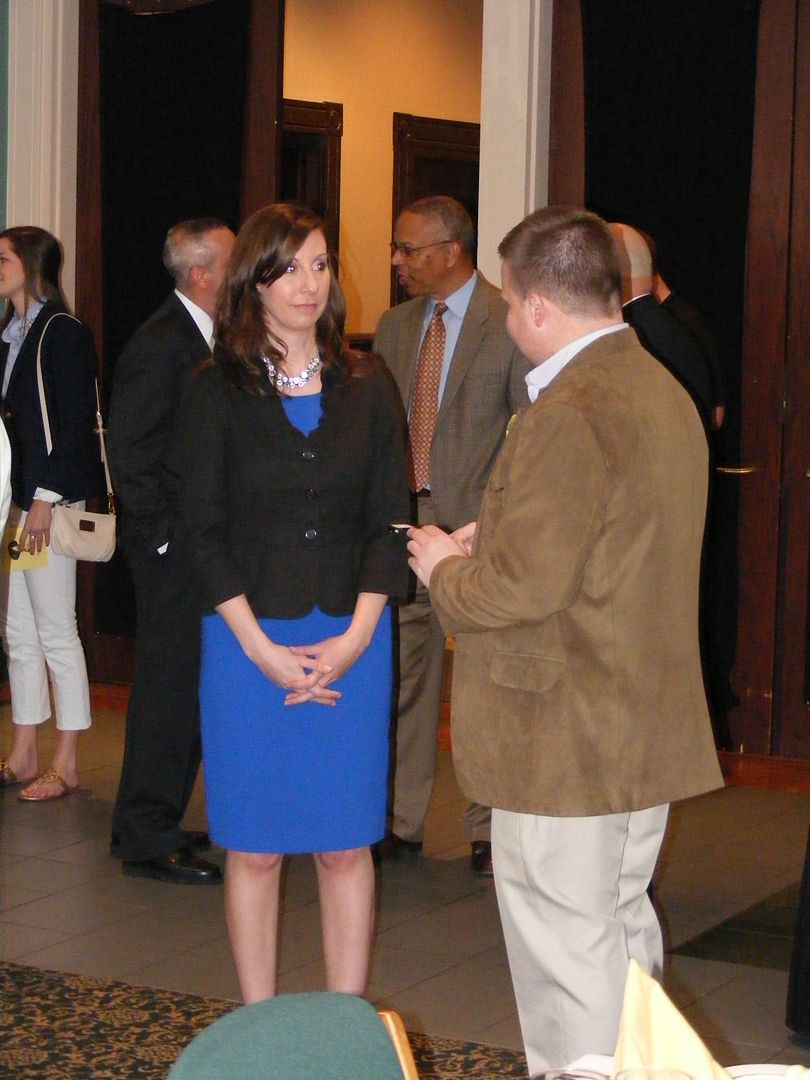 Candidates were also taking advantage of the space provided for literature and signs.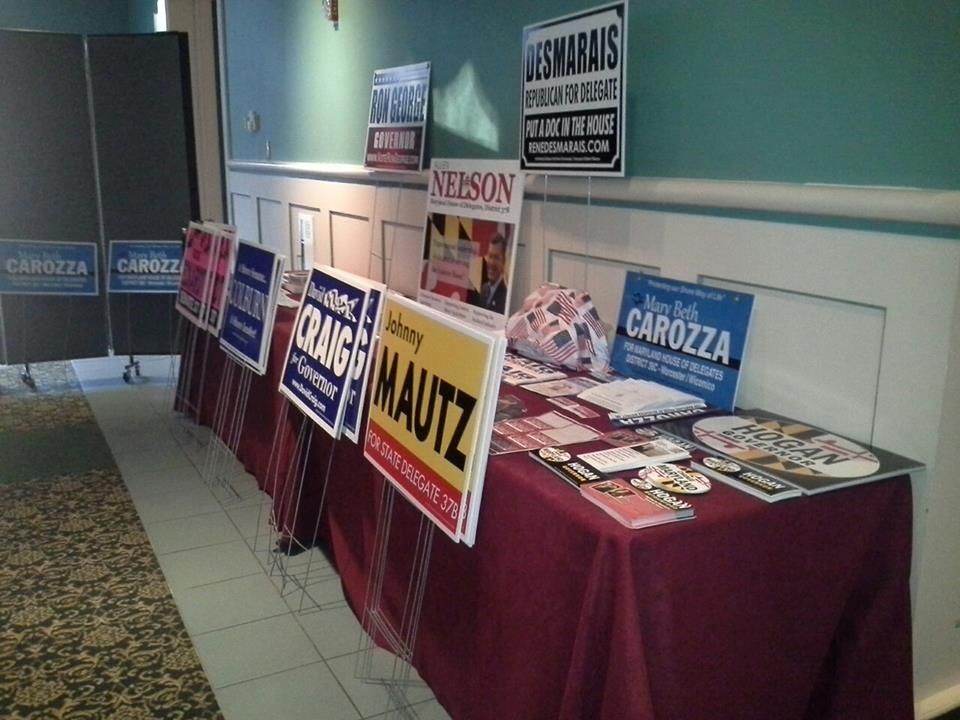 Things began to get going when the Union troops and band arrived in the room.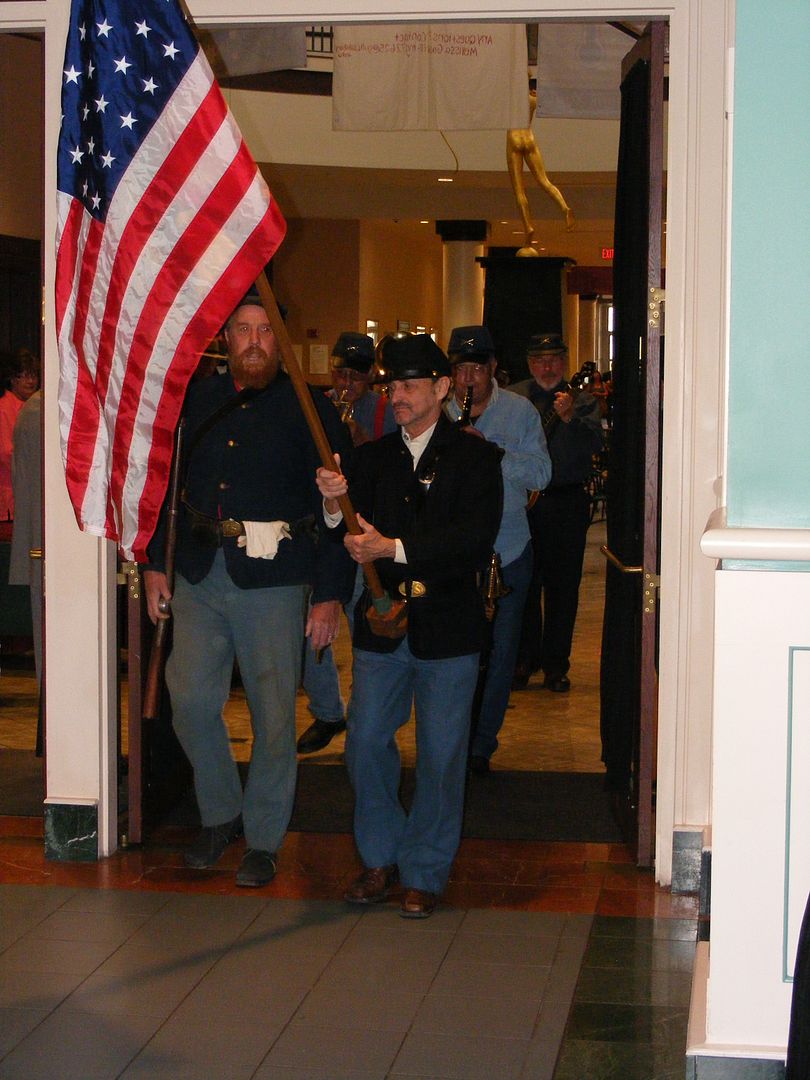 This heralded the arrival of our sixteenth president, who is a popular subject. In this case, it was with Senator Rich Colburn (left) and John and Gail Bartkovich. Gail is the outgoing Council member from District 3, while the good doctor John was our county chair for several years.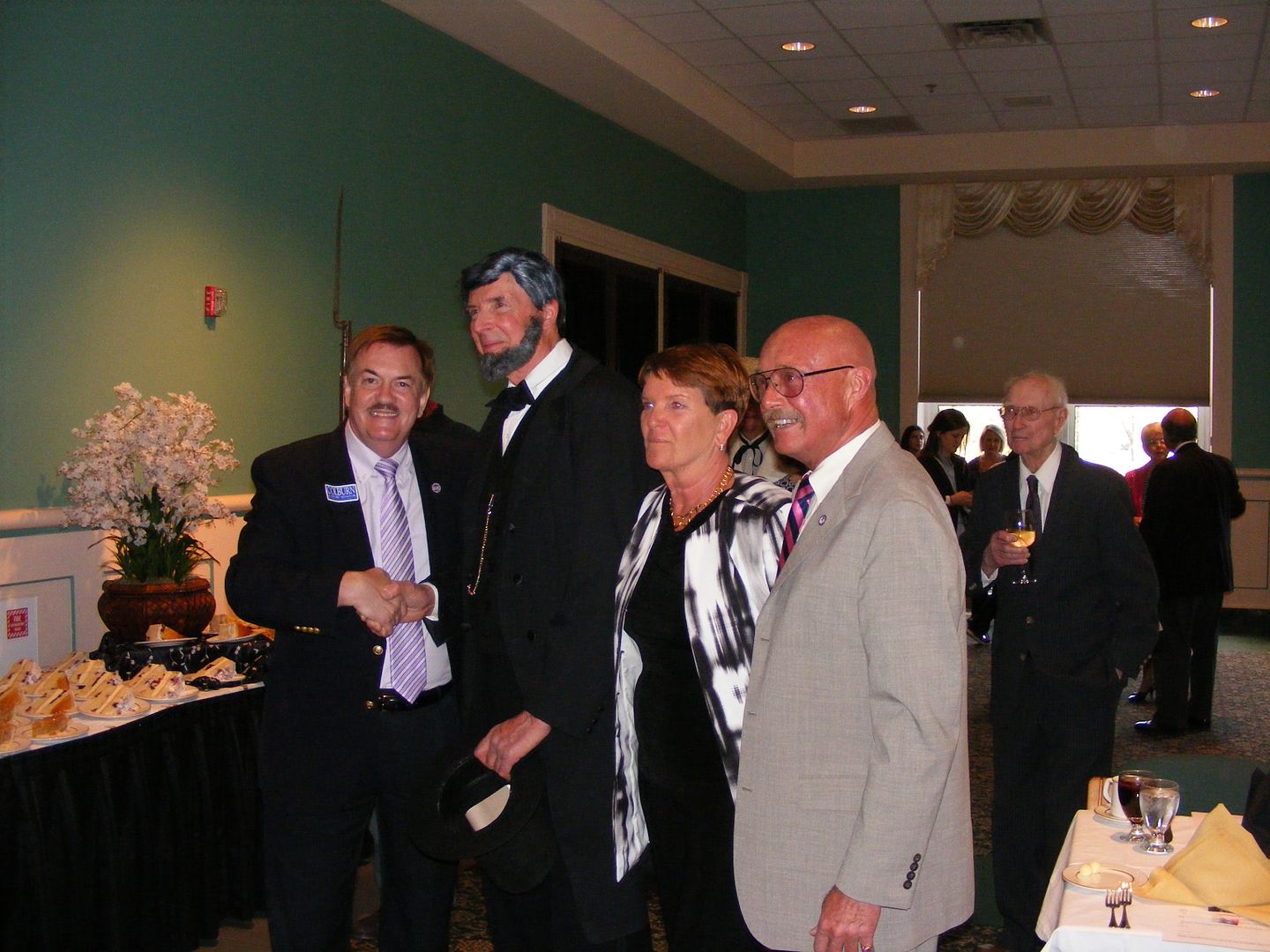 One new wrinkle we added this year was a Union band, described by Lincoln as "the Eastern Shore detachment of the 3rd Maryland Irregular Regimental Band," which played traditional music during the prelude to the ceremonies.
The troops sat behind Lincoln as he made his remarks, with a little banjo accompaniment toward the end.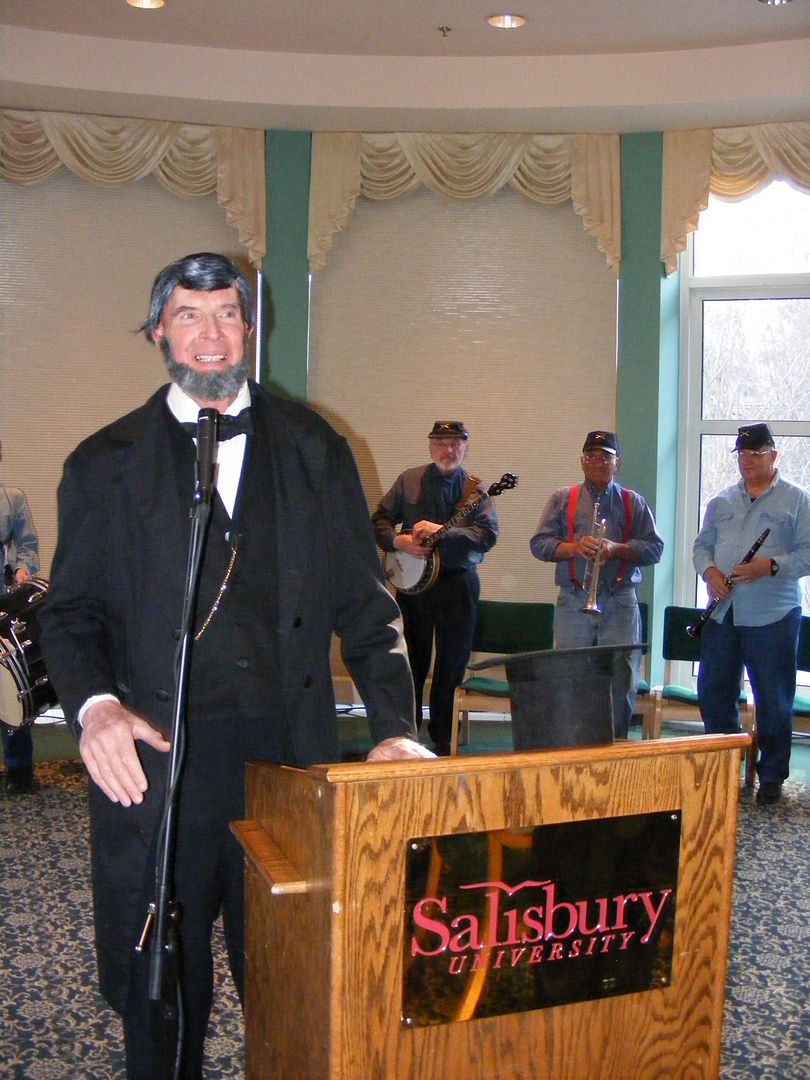 As he always does, Lincoln made remarks which tried to use the words of yesterday to relate to today's world, leading off with a tale about General George McClellan, one which he concluded by stating the case "the lunatics are running the asylum."
"Our greatest enemy is voter apathy," he continued. "It cheats honest citizens."
And just as the British Empire sparked a revolution by resorting to tyranny, Lincoln called the modern situation "mental torture." Now, "A lying tyrant is in control," Lincoln added, "We need to be a stumbling block to tyrants." But he ended on a hopeful note, believing "America shall not pass away."
Our county Chair Dave Parker then secured the floor for a number of announcements as well as praise for one outgoing member of our Central Committee.
First of all, we learned that there will be a gubernatorial debate among the GOP candidates here on May 31, at Salisbury University. Once the June 24 primary is history, we will convene for the Wicomico County Republican Club Crab Feast on September 6.
But the huge event was the one slated for September 27. After twice being unsuccessful at getting a Lincoln Day date, we got the next best thing: Lt. Col. Allen West will be appearing in Salisbury for a series of events September 27. Those who attend Central Committee or Wicomico County Republican Club functions already know this, but we put out the formal word tonight at Lincoln Day.
Before we heard from the gubernatorial candidates, we also took a few moments to honor one of the few Republicans in Maryland whose Presidential vote has truly counted – this man served on the Electoral College from Maryland in 1972 for Nixon and 1984 for Reagan. For the better part of five decades Blan Harcum has been a fixture in Wicomico County GOP politics, but after this election he will take a well-deserved retirement from the Central Committee. "I've enjoyed every minute of it," said Blan about his tenure.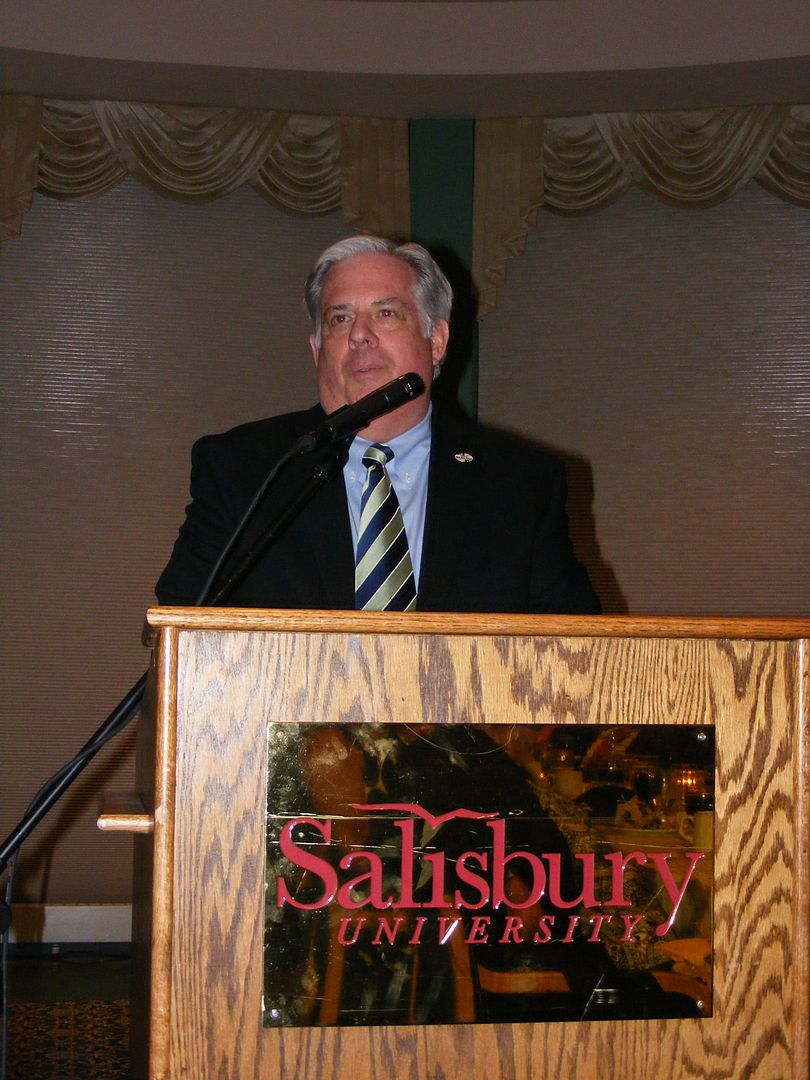 And as it turns out, Larry Hogan has known Blan "for a long, long time." He drew the opening slot among our four, and in doing so decided to play up his experience in both the private sector and executive branch under former governor Bob Ehrlich. "I've spent a lifetime challenging the status quo," Hogan said, accusing our current leaders of "actually causing the problems." Rather than "be something," he wanted to do something about them and that was why he decided to run.
Naturally, Hogan spoke about Change Maryland, noting that it "successfully changed the dialogue in this state." He could sense the frustration with the "huge disconnect" between the people and their government as well as the belief the state was heading in the wrong direction. Regarding the "arrogant, out of touch monopoly" in Annapolis, he believed it was "about time the politicians in Annapolis listened to the rest of us."
As he has often done in his stump speeches, Hogan returned to three main points: creating jobs, helping out the middle class, and getting government off our backs. He related his day in Salisbury, with stops in several area businesses as well as a Little League opening day and the downtown Easter Egg hunt.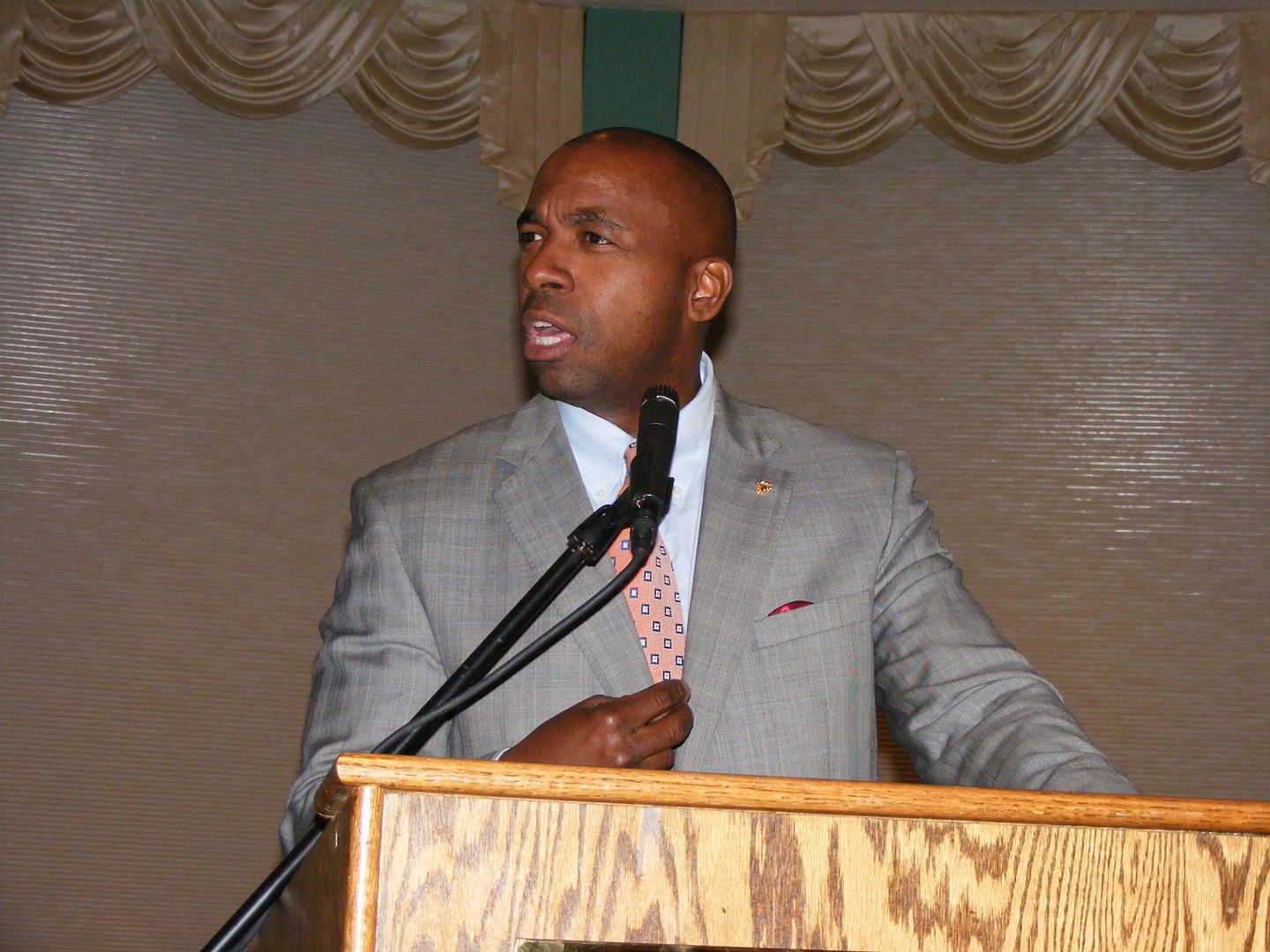 Charles Lollar also told us about his day, one spent taking the fight to Democratic strongholds and crossing paths with Democrat Anthony Brown on three occasions, debating him once. He was inducted into the 100 Black Men of Prince George's County, heard Brown say at a Howard County forum that "Maryland is doing fine" – while 1 out of 3 in portions of Baltimore are jobless – and went to a Veterans for Democracy meeting back in Charles County where he was "disinvited" to speak because of "political pressure" his name has brought. On top of that, his second daughter is going to her first prom tonight. "I'm not doing this for me…we're doing this for you," said Charles.
But his message to the Republicans was that whoever the nominee for governor may be, he has to have the "intestinal fortitude and integrity" to speak our convictions. His basic agenda would be one of economic solvency, installing a Taxpayer's Bill of Rights to slow budget growth, and eventually eliminating the personal income tax – a proposal which got him the support of economist Arthur Laffer.
He knew it would be difficult, but concluded that "I don't play politics very well, but I do enjoy a good fight every once in awhile." Whoever wins the primary has to care about the ideals of the minority community to earn their votes, Charles stated in closing.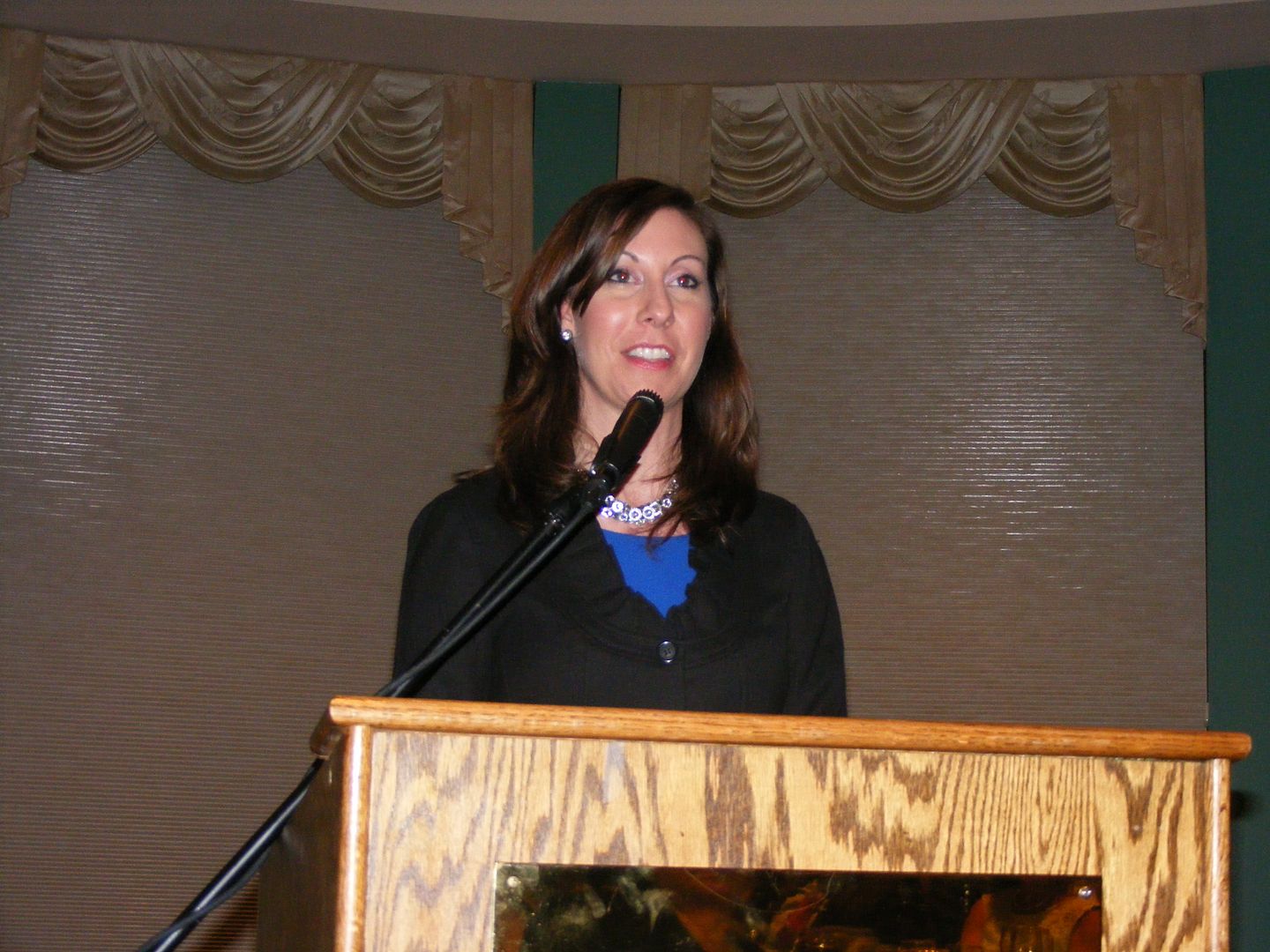 Representing David Craig, who couldn't be here tonight but was instead over in Frederick County, was his lieutenant governor candidate Jeannie Haddaway. We're out "covering the state as much as we could," she explained. Reflecting on the recent General Assembly session, Haddaway remarked that "there are people in Annapolis fighting for you." Some of the more controversial bills only passed by slim majorities, added Jeannie, because Democrats are reluctant to vote for them but have to contend with their "top-down agenda." Thanks to what's gone on the last few years, "our state is in really bad shape," said Jeannie.
She corrected Larry Hogan's remark about private sector experience, noting David Craig worked in a factory when not teaching and her own work as a small business owner. Their priority would be to straighten out the budget then "put money back in your pocket" through elimination of the income tax.
Haddaway pointed out 40 percent of Democrats were undecided, perhaps because they didn't like the options and may consider a Republican who would "try something different." And even in heavily Democratic districts, Craig had won. "We have won collectively 14 general elections," she said. "Whoever turns out is going to win this election." She promised that if Craig won and she became the state's first Eastern Shore lieutenant governor, "the Eastern Shore will be forgotten no more."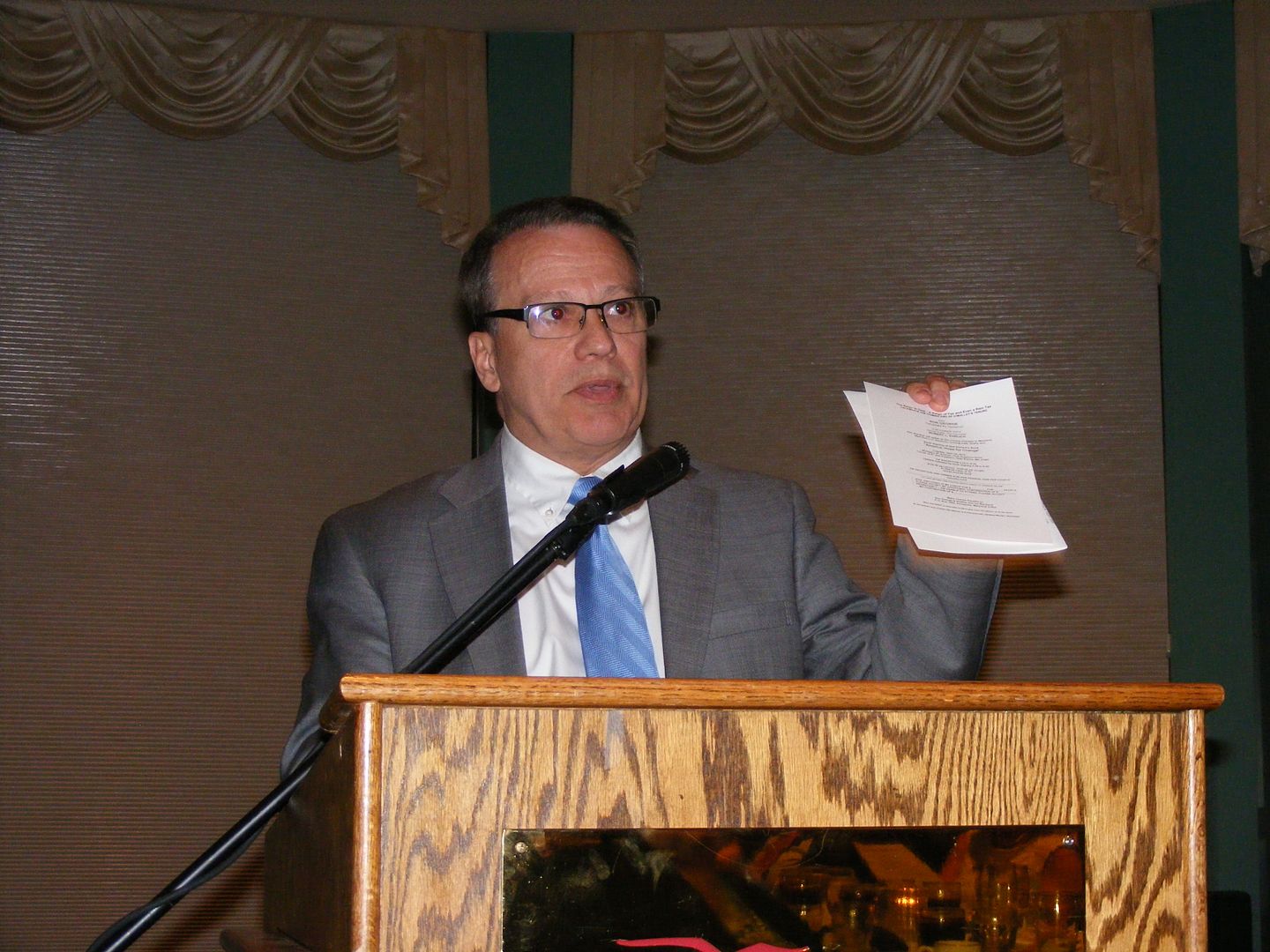 While he was holding up the flyer for an upcoming event in Ocean City in the photo above, Ron George opened up by discussing running mate Shelley Aloi – like many of us, I met her for the first time tonight. (She and Ron happened to sit at our table, along with our next speaker and his wife and the Parkers.)
Ron spent much of his time talking about the General Assembly: "I felt like I needed Rolaids constantly," remarked George – but considered it an "honor" to serve with our Republican "warriors." His pitch was combining his business experience with time served at the "front line" of issues as a member of the General Assembly – one who formed the Doctor's Caucus "to build consensus" and a related group called the Physician's Advisory. That group had uncovered waste within the exchange and the failures of health care contractor Maximus early on.
Ron also spoke about his work on the electoral process, closing a loophole for the next cycle so a donor couldn't form multiple LLCs just to circumvent campaign finance limits. Audits, too, were another major part of his platform since he'd found where Prince George's County "totally misused" $400 million. "That kind of waste has got to stop."
George went over a couple parts of his ten-point promise, one which "will fix the drain that Baltimore is" and strive to rebuild the state's manufacturing base in small communities like ours. "I cannot cut welfare payments unless I have those entry-level, mid-level jobs," said Ron.
He also made an announcement about a Monday event to be held in conjunction with Dan Bongino and David Craig, endorsing Anthony Brown for governor…of Connecticut. "How's that (health care) working out for us?" added Jeannie Haddaway.
But the rhetorical storm was brewing.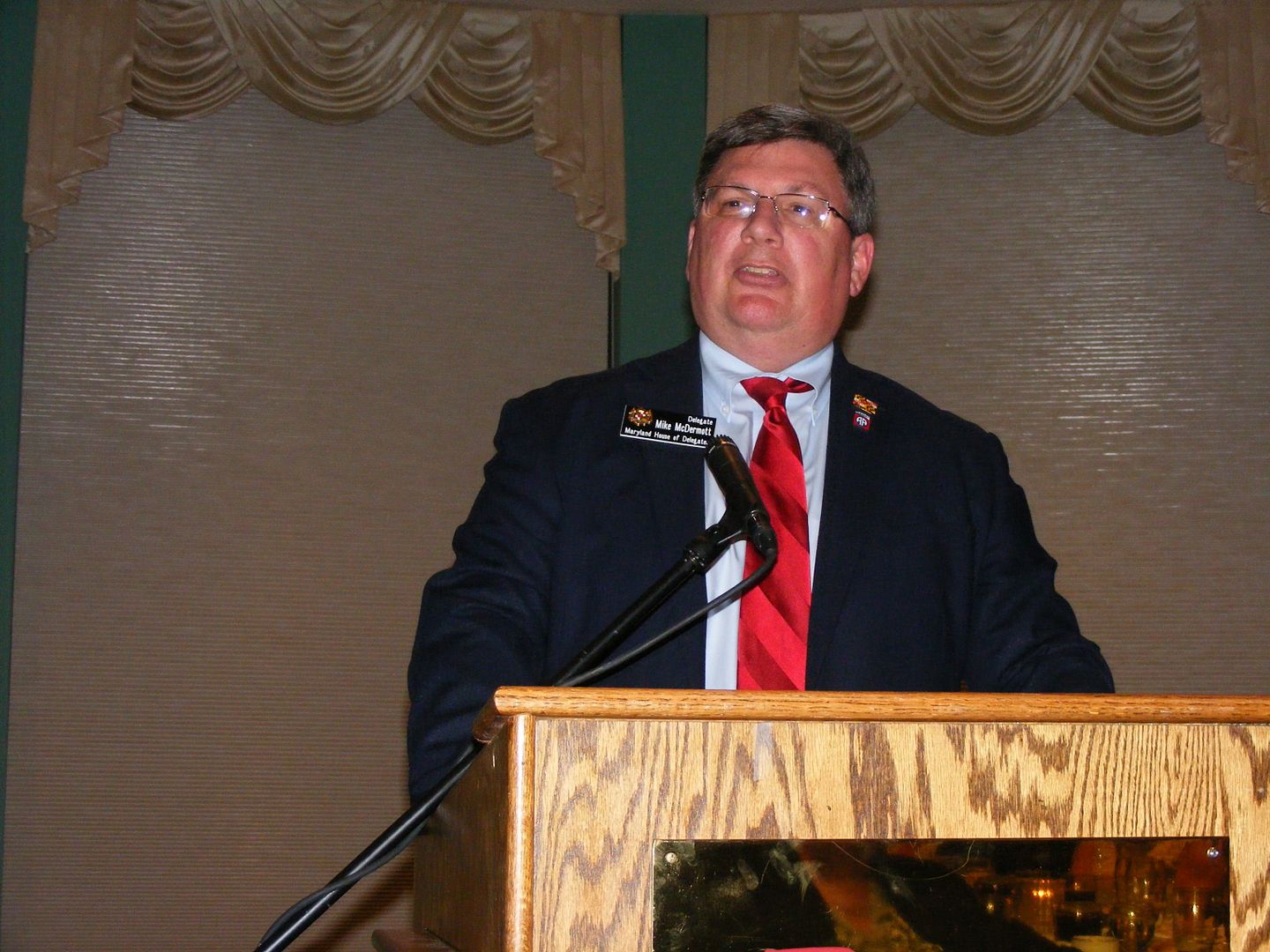 You knew Delegate Mike McDermott was working on a stemwinder when he noted, "the problem with Democrat math is that they follow Common Core logic." This after he noted losing the two GOP Senators in 2010, including the seat he seeks, "opened up the floodgates of hell on the social side." This didn't count the pilfering of various trust funds or the "blank check" to uncovered patients for the budget.
But once he got going on the "outrage" on the bathroom bill, it was on. "It should be unacceptable to all Marylanders," he said. We gave each gubernatorial candidate ten minutes – Mike was still going strong after fifteen.
"The tragedy of Maryland politics can be turned around," he said. "Don't send a governor to the governor's mansion without sending them reinforcements" of five Senators. His voice rising, McDermott made the case that North Carolina "worked on making government work for the people" after the GOP took over and raised its business friendliness rating from 46th to 17th in two years. "They've brought that state back! It can happen here."
"If we can't make the case for change this year," Mike thundered, "the Republican Party can never make it."
"We can take Wicomico County by storm! If there was ever a county which needed good leadership and change, it's this one. I'm tired of being up there, and being in a welfare county…I challenge you to take it back," an emotional McDermott concluded. He had to dial it back some for the benediction that he delivered.
Our friends in Worcester County have the chance to have a great team in Annapolis: Mike McDermott in the Senate, and Mary Beth Carozza and Charles Otto in the House.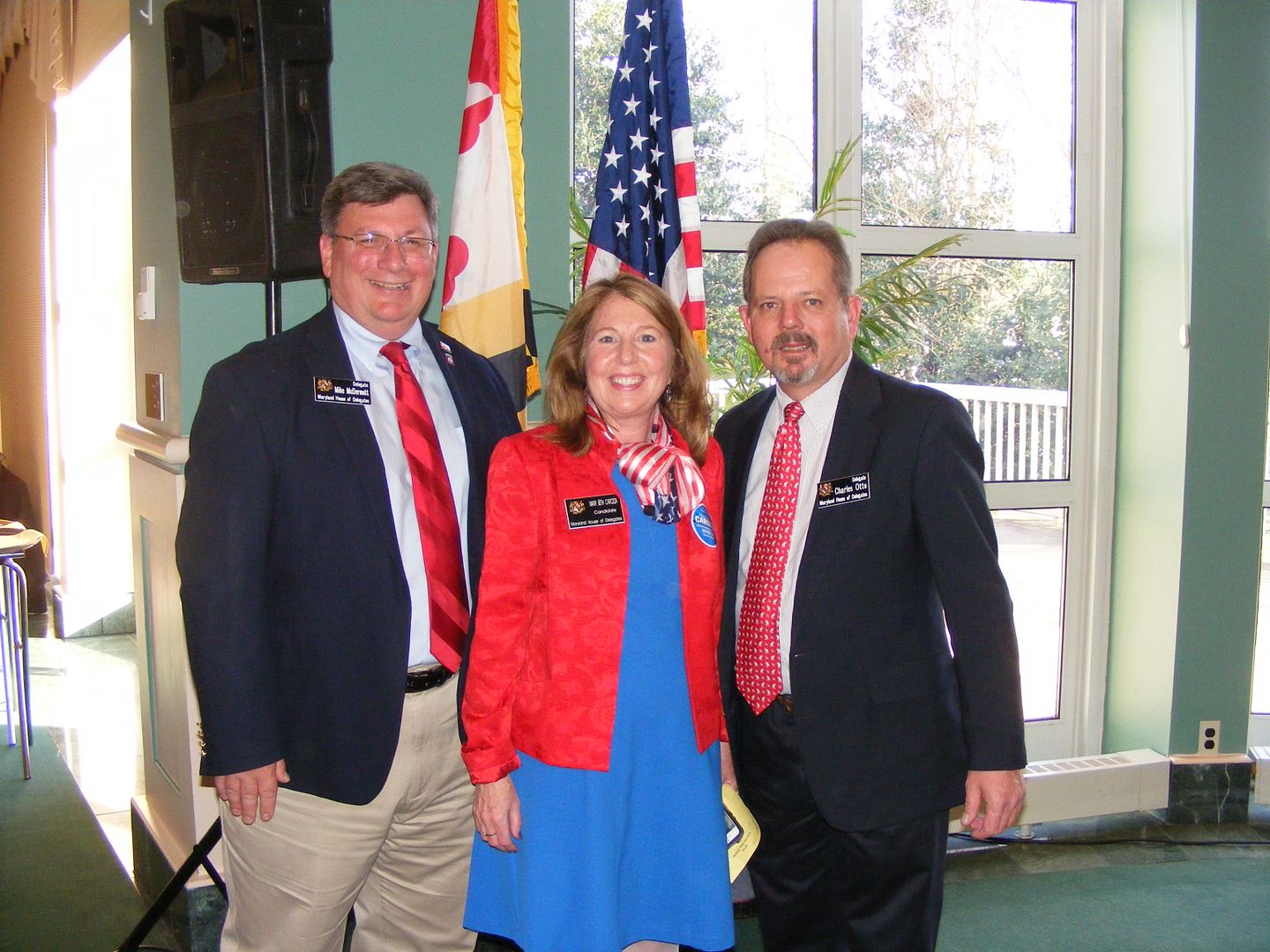 So ended another Lincoln Day Dinner. It wasn't quite what we bargained for when we started planning it last year, but those who were there were treated to a good event nonetheless.
He may not be much for participating in debates, but by the standard I set a few days ago Larry Hogan is a more-than-successful fundraiser. Today his campaign released a press statement claiming that the Hogan juggernaut raised $422,000 from over 1,800 individuals in just 68 days. (The official numbers are due next week, so this is a preliminary tally.)
Speaking on this, Hogan was thankful for the generosity:
Thanks to our supporters, volunteers and staff we've surpassed our outreach and fundraising goals.  The incredible outpouring of support from middle class voters across our state shows that Marylanders want a governor who'll put working families and small businesses ahead of Annapolis elites.
Yet a quick look behind the numbers reveals a few interesting things.
First of all, it appears that many of the donations are maxing out the $250 allowed for matching contributions, as the average works out to about $234 per. So you're getting your share of smaller numbers, but it's likely the report will show a high number who pitched in the most allowed. Moreover, it bears pointing out that Hogan only promised to use matching funds in the primary, so there's a lot of room for these donors to come back and upgrade to the maximum $4,000 allowed should Hogan win in June. This may be a shrewd strategy to compete in the general election.
But I found the comparisons to other campaigns at the 68-day stage a little disingenuous, because they're apples and oranges. Eighteen months out from an election is generally not prime fundraising time, and no contender makes a whole lot in the summer before a campaign year – for example, David Craig raised about $250,000 in each of the last two years but it was clear he wouldn't rest on those laurels and fundraising wasn't a big push at the time. As long as candidates have enough to keep the lights on a year out, they're happy, so saying that his campaign is more popular than the others based on that fact alone is a little misleading.
We also don't know how much cash on hand any of the campaigns have, and going forward at this stage that's a far more important number. With Hogan making a television ad buy, some part of that $422,000 is already spent.
Yet as time goes on, it's becoming more clear we may be looking at a two-person race, unless the campaign finance reports of Ron George or Charles Lollar show they've cut into the significant fundraising advantages David Craig already enjoyed and Larry Hogan has appeared to establish. Grassroots support is great, and taking the message to underserved areas helps build the Maryland GOP for the future. Reaching nearly a million Maryland GOP voters, however, isn't free, and there's a reason it's called broadcasting – media reaches a huge number of people other methods do not.
These warm and fuzzy commercials Democratic contenders are putting out are simply to build a brand association, because very few of those voters are going to look at the issues until the end, if at all. The more discerning group on the GOP side is fine with questioning the record of the incumbents, but they'll want a little more depth when all is said and done.
As a closing aside, David Craig is going to try and raise a little money on Sunday as he hosts a fundraiser of his own:
Please join the Eastern Shore's own Jeannie Haddaway and me on Sunday, April 13th at Sailwinds Park in Cambridge.

Our friends from all over the Eastern Shore and across Maryland will be gathering for fresh seafood, cold drinks, and good times. The event will be held from 12pm-4pm. Tickets are $60 in advance and $70 at the door. Tickets can be purchased by clicking here.
I will say that based on the forecast he is going to luck out in that respect. Next thing you know we'll be sweating in Crisfield, but only one GOP gubernatorial candidate will be there as a nominee.
Writing recently about the concept of "prevailing wage," two-time gubernatorial candidate Ellen Sauerbrey used the letter to the editor to praise her apparent choice for governor, David Craig. Here's the letter in its entirety, as posted on Southern Maryland News Net. I received it as an e-mail under Craig's campaign letterhead.
I want to point out a specific passage for comment, in particular the one where Sauerbrey speaks about Craig himself and attributes statements to him.
The 2014 General Assembly has passed legislation to apply the prevailing wage to additional local government projects that receive partial state funding. The prevailing wage which is essentially the union wage, artificially inflates labor costs by ab (sic) estimated 30% to 50%.

I commend Harford County Executive and Gubernatorial candidate David Craig for speaking out on the impact of the new law on his county, as well as the impact of prevailing wages on the state budget. Every local elected official concerned about getting the most value on public projects should want to let the market determine employee wages as is done in the private sector. County Executive Craig points out that the prevailing wage adds an additional $30 million cost to his county's $300 million capital budget for school construction.
It may not surprise you that I have some familiarity with school construction. In the 1990s, thanks to a court decision, the state of Ohio went on a multi-billion dollar spending binge to construct new schools in practically every one of Ohio's 600-plus school districts. (I spent seven years working for an architectural firm which specialized in schools, although I had left that company before the boom in school construction began.) In 1997 the state created an exemption to prevailing wage regulations for schools, and in that debate numbers similar to the 30 to 50 percent savings were bandied about by proponents of the measure eliminating prevailing wage.
Also mandated at the time, however, was a report to be delivered five years later, in 2002. In this report, the research indicated savings were more in the ten percent range. While that is a great savings to the taxpayer, it's not the panacea proponents were anticipating when the bill was passed. Granted, with the vast volume of work going on at the time there was less incentive for low bids – perhaps an economic climate such as today's would yield more significant savings.
While Sauerbrey uses the hyperbole of the 50 percent savings in her letter, it should be pointed out that David Craig's statement within seems to ring true – out of $300 million, the $30 million addition seems to line up with the data from Ohio's study.
But regardless of the actual savings, there is a philosophical argument to be made against the concept of an artificially-created "prevailing" wage, simply because it doesn't necessarily reflect the true conditions of the actual labor market. I can completely understand the contention that projects completed under prevailing wage (more often than not by union shops) have a better quality to them, as one advantage of using union tradesmen borne out in my experience is that they are better trained, so the question is one of whether they are worth the premium. In some cases I would say yes, but I'm not sure schools are structures complex enough to justify the extra cost – certainly not to the extent of a health care facility or technology-heavy factory where fit and finish can be most important.
I also find it interesting that on the one hand Democrats tend to be for cherished union giveaways like prevailing wage, but do nothing on the other but encourage illegal aliens to come in and undercut the market for construction labor. I haven't seen them yet this spring, but sooner or later somewhere on Delmarva there will be three or four union carpenters holding up the "shame on" banner because someone hired non-union labor most likely mainly made up of illegal aliens. And what else do those hapless guys have to do?
In a perfect world, many advocacy groups agree that the Davis-Bacon Act which spawned the concept of prevailing wage would be repealed. (At one time even the General Accounting Office argued for repeal.) There is even a bill in the House of Representatives to do the same, although no action has been taken on it since introduction. (And why not?) Eliminating the federal law may well trigger some states to do away with their own versions, although if you assume Maryland politics will remain as they're currently composed for the next couple decades you won't find us on that list. (As I pointed out yesterday, we threaten liberals' existence on the government teat and they know it.)
But it should be a job for General Assembly Republicans to try and roll back this year's changes in the next session. In the meantime, while 10 percent may not seem like a lot, imagine a ten percent cut in the state budget – it would roll our expenditures back to FY2013 levels and just about negate the need for our sales tax, which is 11% of revenue according to our most recent budget. That wouldn't be a rollback to 5%, it would be eliminating the whole enchilada to match Delaware. Or we could cut our income taxes in half.
Ten percent is a lot, even in the limited realm of state construction, and to me it's better that the people have it than the government. In the case of the capital budget, it's less bonding we have to pass along to our children. So let's hope a Governor Craig would have the stiff spine to fight for such a change to prevailing wage, even if Ellen Sauerbrey was a little overly optimistic on its effects.
Returning once again to a familiar role of thorn in the side and burr under the saddle, Change Maryland and Larry Hogan took the occasion of the final legislative session under Martin O'Malley to remind us of his underwhelming record of "accomplishments" over the last long eight years, wrapped up in one release. All we needed was the bow, as Change Maryland remarked that:
They broke promises to state workers by diverting $200,000,000 from pension funds to plug their budget gap.
They've eviscerated local arts funding to hike the film tax credit for Hollywood millionaires.
They raided the Transportation Trust Fund then raised gas taxes to pay for mass transit.
They hiked income taxes on families, small business and large employers.
They blew $125,000,000 of our tax dollars on a health exchange website that still doesn't work and was never needed in the first place; today, more Marylanders lack health insurance than when O'Malley-Brown took office.
More than 73,000 residents have had their health insurance policies cancelled and tens of thousands more have seen massive increases in their premiums and deductibles.
They put the teacher union bosses that bankroll their political machine ahead of students, parents and classroom teachers.
They've badly mismanaged the education budget, as a result inner city schools are falling farther behind, state SAT scores are down and elementary school reading aptitude is flat. And, even the teacher union said their rollout of Common Core was a mismanaged "train wreck."
Their job-destroying tax hikes on the so-called rich and small businesses – those individuals earning $100k or more – backfired, missing revenue projections.
Some entry level jobs will pay a little more but there will be fewer of them.
There's a federal investigation into the Anthony Brown Health Exchange but state lawmakers aren't issuing their findings until well after the primaries.
Thousands of employers are now "paying their fair share" in taxes albeit to Virginia and the Carolinas; about 6,500 companies have left Maryland taking with them more than 100,000 jobs.
Likewise, more than 31,000 Maryland residents left for more affordable states, taking $1.7 billion each year out of our economy; among these were thousands of seniors on fixed incomes who can no longer afford to retire near their families.
It costs you more when it rains and more again when you drive to the beach.
Describing the O'Malley era as one where, "(i)n nearly every quality of life measurement our state is worse off than it was seven years ago… even areas that showed modest improvement came at a horrendous financial cost due (to) Martin O'Malley and Anthony Brown's mismanagement and one-party rule in Annapolis," it's clear that Hogan isn't too enamored with the last seven years.
But while Hogan strives to "get the government off our backs and out of our pockets so we can grow the private sector, put people back to work and turn our economy around," we're more or less supposed to take his word for it. Obviously some of these items he complains about from the outside will be ones he may well find useful when he takes over the governor's chair. For example, he (or anyone else for that matter) will have to figure out how to backfill the pension funds, live with the increasing minimum wage (which, for all his charms, he won't be able to get the General Assembly Democrats to rescind), and roll back taxes and fees to previous levels yet keep the budget in balance. That aspect may actually be the easiest because he would set the budget. Unfortunately, we're stuck with Obamacare for at least the first two years of anyone's term, and probably longer.
However, I have a prediction for you. If the budget gets smaller – or even if it's level-funded – you will hear a howling like you've never heard before from the special interests, press, and Democrats (but I repeat myself) who will be out marching in the streets against the heartless Republicans. Remember why we had a Special Session a couple years ago? It was because we passed a "doomsday budget" that was "only" $700 million higher than the previous one, and despite GOP objection we ended up raising spending another $500 million. Again, that was with a budget increase! Heaven help us if we actually proposed spending less money!
So those we elect in 2014 need to be ready and be stiff of spine because those Annapolis fat cats are going to come after us. We threaten their existence on the government teat and they know it. Having a $125 million boondoggle of a health exchange isn't helping, which is why that scandal is being swept under the rug just as fast as the broom can collect the dirt.
In this part of the state we have some opportunities to chip away at the Democrats' overall advantage. We'll have to wait until 2018 to win back the District 37A seat – which will be held for the time being by a woman who I predict will have the same reliably far-left voting record as her predecessor – but aside from that we can speak our piece by ejecting two members of the General Assembly who will occasionally vote the right way when they get the hall pass to do so, but can be replaced by two members who we know will stand up for our interests. We can confound the Democrats' cynical redistricting ploys by elevating Mike McDermott to the Senate and getting the fresh new ideas of Maryland Municipal League president Carl Anderton, Jr. into the House of Delegates.
Changing the state means pulling our weight, and the Eastern Shore can do most of its part by leaving just one Democrat east of the Chesapeake for the next four years.
Now that the General Assembly has made it to sine die, the transition to regular campaigning can begin. Certainly there will be posturing over one issue or another, and there are rumblings that the "bathroom bill" and perhaps even marijuana decriminalization could be placed on the ballot. But for better or worse, the General Assembly has completed its work for the year, and at least 37 members out of the 188 will not be back – many are retiring, but some are seeking other local or statewide offices.
So for those who are looking for greener pastures, as well as the 150-odd who are willing to serve another term – with many among them trying to move up from the House to the Senate – the campaigning can begin in earnest. Only seven Senators (three Republican, four Democrat) have a free ride to re-election, barring a late write-in entry. Two Democrats running for the House of Delegates will enjoy the same freedom, and both will be newcomers – Will Campos in District 47A (Prince George's County) and Sheree Sample-Hughes from right here in Salisbury. Both had opposition, but the one filer against Campos was disqualified and incumbent Delegate Rudy Cane from District 37A withdrew from his race, leaving it for Sample-Hughes.
Some in difficult races have been chomping at the bit to go out there and press the flesh, along with once again having the chance to raise funds. An e-mail from Delegate Neil Parrott greeted me this afternoon in my e-mail box, and certainly many others were making plans to raise some dough.
While he didn't serve in the General Assembly, Larry Hogan is making a push to look good on his initial campaign finance report. Messages like this have been appearing on his Change Maryland Facebook feed:
Thanks to the generous support of engaged and informed Marylanders like you, we are EVEN CLOSER to hitting our fundraising goal before tonight's finance report deadline! We have less than TWELVE HOURS to hit our goal – Can we count on you to help us get there? Any contribution you can afford, whether it's $5, $50, or $500, will make a big impact on our campaign and could be enough to put us over the edge to reach our goal!
Of course, since they're not letting on exactly what the goal is, I highly doubt they'll actually fall short. Yet what would be success in fundraising? Back in January, it was revealed that David Craig raised just under $250,000 in 2013 after a similar performance in 2012. Since we're closer to the election, I would have to assess success as whether Hogan raised the amount required to qualify for matching funds, which would come pretty close to matching Craig's total 2013 take. Since Hogan has media up already with a cable television buy, it's likely he's raised at least $200,000.
(It's worth pointing out as well that Hogan is slated to appear at our Lincoln Day Dinner on Saturday, as are Ron George and Charles Lollar. Jeannie Haddaway will pinch-hit for David Craig, who has another engagement. So if you're coming you can ask the tough questions, although we don't plan this as a debate.)
For us, the event will serve as a kickoff to the serious campaigning to come since it's likely we'll hear from a number of Republicans who are running, even if we have to drag out the egg timer to make sure they keep things short for our featured guests. If we let all of the District 37B aspirants go, we'll be there all night! (Yes, that was supposed to be funny. You are allowed to laugh.)
After all, not that I'm trying to hurry it along by any stretch of the imagination, we're just 30 weeks away from the November election (and 11 weeks from the primary, which I have a vested interest in.) Lots of time for good things to happen.
As I begin to write this, we have about an hour and ten minutes remaining in the 90 days of terror that is the annual Maryland General Assembly session. And because of the Maryland Legislative Watch website, the process of completing my annual monoblogue Accountability Project will be a snap – they're kind enough to align all the votes taken during session by individual legislator.
So the process of weeding out what I'll be focusing on has been my task over the last couple weeks. Since I cover 25 different votes, with three of them being committee votes for practically all the legislators (there are three exceptions: Speaker of the House Michael Busch, Senate President Mike Miller, and Delegate Don Dwyer, who was stripped of a committee assignment as punishment for his misdemeanor conviction last year) having them already arranged by legislator is a HUGE help.
Sadly to me, out of the hundreds of votes the General Assembly takes each year, the vast majority are unanimous or have very limited opposition. While there have been occasions I've used such exercises in futility for the minority, generally I like to find bills which have a significant number of votes on both sides. Unfortunately, this has eliminated a number of good bills I would have used via what I call the "gutless Senate syndrome" – a bill which may be 96-38 in the House passes 46-0 in the Senate. For example, did you know the state was soon to ban "vaportinis"? (Interesting, since they're decriminalizing pot in the same session.) It would have been a good vote to use, but our gutless Senate passed it with no opposition. The same went for bills designating new wildlands, financial assistance for so-called "food desert" areas (not "desserts," by the way), mandating balcony inspections, and several others.
All told, I will probably have 25 to 30 candidates to distill into the final 22 votes – there were a few bills which may have received a vote in their opposite chamber tonight. The "automatics" in this term will be the budget bills, the "bathroom bill", minimum wage, and the "fix" for individuals who were hosed out of health insurance because the state screwed up. Those were always going to make the cut, even though the Senate vote on the capital budget was 46-0. Talk about gutless!
So when can you look for the monoblogue Accountability Report? I figure it could be done by month's end.
One change I've made from previous editions is that legislators will be arranged into groups based on whether they are retiring, running for higher (or different) office, or trying for another term. Of course, I will still have the Legislative All-Stars and my usual rewards and criticism as well.
The process can go full throttle in less than a half-hour.
While David Craig got the jump on Larry Hogan for radio campaign ads, the Change Maryland founder has struck back with a 30-second TV ad called 'Dedicated':
I found it a very good ad, simple as an introduction to the candidate and his main campaign philosophy. Perhaps my only knock on it would be the fact it was shot in black and white, a technique usually reserved for the target of negative ads. The usage of black and white in an introductory commercial, therefore, seems a little stark.
While promising an "aggressive media effort" Hogan stated about the introduction:
Just two months ago I announced my candidacy, and since that time we have focused on building a campaign that will compete head-to-head with the Democratic nominee. The incredible outpouring of support from Marylanders we have received enables us to begin our TV and radio campaign earlier than we ever anticipated. This next phase of our campaign will help take our message of fiscal restraint and common sense government to every corner of the state.
Naturally, there is a lack of specifics about exactly where the ad is being placed, although John Wagner of the Washington Post notes it's in the "Baltimore market." Whether it's a cable buy or over-the-air I cannot ascertain.
But with the two leading contenders on the air, it means Ron George and Charles Lollar will have to scramble to raise the money required for their own ad buys. George will be able to restart his campaign, which has been stuck in low gear because of the General Assembly session that wraps up its work tomorrow night; meanwhile, Lollar and running mate Ken Timmerman recently wrapped up their "Economic Recovery Tour" which bypassed an area much in need of an economic recovery – the Eastern Shore. (Lollar is slated to appear at our Lincoln Day Dinner Saturday night, though.)
At this point neither George nor Lollar seem to have the kind of juice which can buy media advertising, although we should have a better idea of the financial picture of all the candidates in the coming weeks.
Update: I'm told Fox News is one of the outlets for the Hogan spot, so presumably it's a cable buy.
Proving once again that elections mean something, Delegate Mike McDermott pointed out the voting record of his upcoming opponent, Senator Jim Mathias. Mathias supported the state's Capital Budget of $1.17 billion as well as a $300 million transfer from the General Fund, leading McDermott to predict a property tax increase to cover the difference.
McDermott went on to note:
There are many good projects in the Capital Budget but, quite frankly, voting for the Capital Budget is irresponsible with this state's economy. Making your grandchildren pay for their parents' playground is immoral. You're using a credit card with your kid's name on it.

(Mathias's) vote goes to support extremist liberal groups like CASA de Maryland who receive funding for their illegal alien advocacy at the expense of Eastern Shore families struggling to live paycheck to paycheck. This must stop!
In 2010, Jim Mathias lost both Wicomico and Somerset counties to Republican Michael James, but prevailed by enough in Worcester County to win election by just 640 votes – in percentage terms, it was 1.4%. The bulk of that damage came from absentee and provisional votes, probably swayed by Jim's insistence he was the second coming of Ronald Reagan. Okay, that may be a little over-the-top, but as I wrote at the time he sent out a lot of mailings insisting he was conservative. (I debunked them, too.)
Of course, there's no guarantee that Michael James would have been a rock-ribbed conservative in the Maryland General Assembly, but I'm very sure Mike McDermott would be a far better steward of our tax dollars. After all, I have his voting record over 4 years in the House of Delegates to back that assertion up.
Yet Mathias has a number of built-in advantages which need to be overcome: he's very personable and quite popular as a former Ocean City mayor, plus he has a boatload of campaign money available to spend – lots of it came from across the Bay, too. Starting in late summer I'm sure the good citizens of District 38 will get the full-color mailers telling us Jim's fighting for us in Annapolis, even though his true voting record on this is spotty at best. Given the Democrats' 35-12 advantage in the Senate, they can afford to have Jim side with the Republicans once in awhile.
But what if it begins to appear that the GOP may win several seats in the Maryland Senate? For many years, District 38 was ably represented by Lowell Stoltzfus, who decided to retire despite the fact he could have kept the seat for years to come because he was popular and his conservative voting record fit the district. The only reason Mathias even ran for the Senate was because Lowell decided to call it a career. I happen to think that, when the chips are down for Annapolis Democrats, Jim Mathias will be right there to save their bacon at the expense of the needs of his district. This budget vote stands as proof, and underscores the importance of bringing this seat back to the GOP column where it belongs.
To conclude, I found it apt to remind people of how I reported something Mike McDermott said four years ago:
(Mike) thought it was funny to hear liberals talk about conservative values. "Don't tolerate that nonsense," he said.
Because 641 too many in District 38 bought the line Jim Mathias handed them, we've tolerated nonsense the last four years. It's time for that to stop.