Well, that went over like a lead balloon.
Susan Canfora at the Salisbury Independent did a nice job wrapping up what seems like a one-sided hearing on the rent stabilization matter.
But the question from Councilman Tim Spies deserves an answer – why did this come up weeks before the election? I have a couple theories on this, one involving the immediate future election and one three years hence.
In the immediate election, he needs to make sure he has turnout among his base. A significant portion of Ireton's district is either in minority areas or lives in rental housing so he has an issue he can bring up on the campaign trail.
But the real payoff, I feel, is in 2018. Jim needs to stand behind a progressive agenda to contrast him with his likely opponent, Delegate Carl Anderton. I'm not saying the agenda has to be enacted, just proposed.
And Jim's now in a good position to blame failures on someone else while taking credit for successes. For example, if downtown revitalization continues under the Day administration, he'll be quick to say he got the ball rolling but if things go south Jim can toss the new mayor under the bus. (This also holds true if Jim decides to square off with County Executive Bob Culver, but I think Delegate is the more likely play.) I think this is the best explanation why Jim didn't seek another mayoral term – if he thought he had the record to beat Jake Day he would have.
There were a lot of holes in Ireton's rental plan; for starters it only affected single dwelling units and not multi-family complexes. It would also put landlords in the perverse position of arguing for a higher assessment in order to be able to charge more rent.
So now this goes on the "mayor's list." That is interesting because that's Ireton's list for another few weeks before Day gets it. I'm not sure how long of a list he has, but let's not cross that one off as an accomplishment anytime soon.
When I wrote my brief little synopsis on Friday regarding manufacturing, I noted in my promotion that it made me think of former gubernatorial (and future State Senate) candidate Ron George, for whom the most appealing part of his campaign was the emphasis on bringing industry back to Maryland.  In response Ron wrote:
Your article is spot on. Note also the companies that are taking their manufacturing jobs out of China and bringing them home to many southern and midwest pro business states. Our Maryland midsize cities need it back.

Governor Larry Hogan needs help by voters in these areas pushing representatives and candidates for low taxes for manufacturing at the state and local level. The increase of the number of new workers paying the payroll tax will itself greatly increase state and local revenues. Keep it up Michael Swartz.
So I decided to revise and extend my remarks. Those of you who have read here awhile probably have a good idea about what I'm going to say, but I do have new readers all the time so a refresher is in order.
I have no doubt that Maryland can compete for businesses large and small once they eliminate the mindset that employers are cash cows to be milked dry for revenue and embrace the thought that their main goal is to be profitable. I definitely show my age and home state bias, but the mantra I grew up with under Ohio Gov. James Rhodes was that "profit is not a dirty word in Ohio" and to get there we wanted people to make things, just as this 1966 advertisement in my hometown newspaper states. Those things Rhodes touted a half-century ago are still valid today for attracting industry – low taxes, financial incentives, a well-trained workforce, and easy transportation. Plus aren't we the land of pleasant living?
In the first case, Maryland can make a splash at the cost of three cents per dollar of state spending by completely eliminating the corporate tax. Even if it were phased out over a two- or three-year period, the fact that progress is being made should vault Maryland higher on those business-friendliness lists those whose business is to attract business refer to.
As for financial incentives, I'm leery about having the state in the investment business because I don't believe they should pick winners or losers. At this time, though, they already have the Maryland Venture Fund although it's geared more toward startups.
Supposedly Maryland has the best educational system in the country, although I'm a little skeptical of that claim based on some of the recent graduates I've seen. One thing we need to focus more on, though, is the idea that vocational education can be valued as much as college prep. Maybe Johnny and Susie's parents think otherwise, but even "A" students sometimes show not all high school students are college material.
But people with the aptitude to run machinery, know how to tinker and fix things, and are good with their hands don't need a degree from State U to succeed – and oftentimes have the advantage of not being thousands in debt. To be perfectly frank, to succeed in my chosen profession of architecture one should not need a college degree if they are willing to spend several years learning the craft from the bottom up as one of my former employers did. Somehow they have picked up the idea that five to six years of college schooling plus a couple years in an intern development program is the only way to create good architects, and that's simply not so. This is why money should follow the child, so they can explore the maximum number of educational options out there.
Finally, there's the aspect of transportation. Maryland is a state in a great location, but in our case on the Eastern Shore we have the lousy luck of a large body of water limiting our ground-based options. We can either go north through a tangle of traffic lights and small towns along U.S. 13 north or go south through a different gauntlet of traffic lights and small towns. Of course, any improvement to that situation requires the assistance of Delaware or Virginia.
Yet the alternative of going west remains with a third Bay Bridge span. Environmentalists can stop reading after this sentence because I will give them a stroke over the next paragraph – just pick it back up two grafs down.
To me, the best place for a third span runs between Dorchester and Calvert counties, southwest of Cambridge along Maryland Route 16. Obviously roadway improvements would need to be made, but imagine the ease it would bring for traveling between Southern Maryland and the Eastern Shore. No longer would it be an arduous three-hour journey to travel perhaps 50 to 60 miles west as the crow flies. Would it go through some environmentally fragile areas? Yes. But I believe the benefits would outweigh the costs.
I know people will complain that bringing industrial development to Maryland in general and the Eastern Shore in particular would ruin the rural lifestyle, but lifestyle is what you make of it. The carrying capacity of the Delmarva Penninsula is probably at least double its population; a number that will increase with advancements in technology. Regardless, we are nowhere near the density of the I-95 corridor and that should remain the case for the foreseeable future.
I've often said that if an area doesn't grow, it dies. I used to use North Dakota as my poster child for this until they got an energy boom and began attracting people seeking work in a lucrative field. While Maryland can get some benefits from doing the same and allowing fracking, perhaps the best way to make their mark is to adopt the old Ohio mantra that profit is indeed not a dirty word and take the bold steps needed to shake its anti-business reputation.
To enjoy the land of pleasant living, you have to be able to make one.
Last night Wicomico County Council held its third of four scheduled public hearings on the concept of an elected Board of Education. I arrived about 20 minutes late, so I didn't hear all the testimony presented. Yet I felt I really didn't have to because there are really only two sides as opposed to three options.
I had a few things to say, so I rattled off the following testimony before the hearing. Having had a day to ponder it some more, I wish to add a few thoughts; hence my testimony as written is blockquoted.
As I have been hearing the back-and-forth over whether Wicomico County should adopt an elected school board, the word I continue to hear over and over from opponents is "diversity." Supposedly the only way to maintain this standard is for some number of members to be appointed in order to create the balance they're obviously not trusting voters to produce.
The opposition seems to now be conceding the ground to securing a hybrid board with five elected and two appointed. I think they figure they can elect one minority (or maybe two) from the five districts and browbeat whoever does the appointments into selecting two more so that the minority can become a majority on the board. At a few points we were informed that minority students are now 52% of the district, which I guess makes whites the minority now.
The point is they don't trust the voters.
It's noteworthy to me that the diversity they seek seems to be centered on one quality, and that is skin color. One observation on that, though, is that for them the diversity ends there – seldom does it extend to other factors. In a political sense, the community in question is perhaps the least diverse out there.

Let's consider one set of facts. It would not be a shock that the black vote for President Obama was 95% in 2008 and 93% in 2012 – they were understandably pleased that their long route to racial equality had finally culminated in the chance to elect our first mixed-race president. But how does that explain the 88% who voted for John Kerry, the 90% for Al Gore, the 83 and 84% for Bill Clinton, and so on back decades?
If you wonder why Hispanics are a sought-after minority electoral group while blacks aren't, consider that the Hispanic vote is much more evenly split. If blacks only went 75% Democratic, suddenly the Democrats might pay more attention to their needs instead of taking them for granted.
On the other hand, just on a personal level I would be more than happy with five or six Clarence Thomases on the Supreme Court. Clone for me a sufficient number of Tim Scotts and Mia Loves and I might be more pleased with Congress. To me Dr. Ben Carson would be a solid choice as President. Sadly, people with a particular political viewpoint such as theirs tend to be mocked and chastised by members of their own community as not being true to their race.

I have no problem being represented by a minority but it seems the minority community is distrustful of the opposite, which I believe refutes their argument for diversity.

Furthermore, minority candidates have won countywide elections – they had a platform and viewpoint acceptable to all the voters. It's been done before, and it can be done again through the electoral process.
I suspect that wasn't what the minority group that made up about half the audience wanted to hear, but sometimes the truth hurts. So they really hated the next line, but this is how I assess the situation:
All of this diversity talk is a smokescreen to assure that arguably the least diverse group around gets a free pass onto the Board of Education.
Yeah, they didn't like "free pass" but is that not how it would work? It seems to be expected that if the elected four who aren't in the majority-minority district are white, at least one if not both appointees would be black. You know there would be an uproar if the two appointees were white.
Conversely, securing an elected board of education increases the chances of getting a diverse group in the arena of ideas – it would likely be a.place where educators, involved parents, and concerned citizens from all walks of life would come together with thoughts on educational improvement rather than a political agenda. Certainly there is the prospect of an elected board of education being a political springboard for an ambitious candidate, but it's worked that way as an appointed body, too.
The idea to me is to have a group who will be faithful and careful stewards of our tax money as well as promoting policies that work to better educate our kids, whether state-approved or not.
There was a woman who testified after me – I didn't get her name but she has a special-needs child and no political connections. As the system stands she has no voice, but I think she could be elected. One thing about our current board is that only one of the seven has kids currently in our schools.
So I would prefer a fully-elected school board, without the hybrid option. It seems like the counties which have come along last (for whatever reason) in the long, evolutionary process of switching from appointed school board to elected ones here in Maryland are being forced to compromise into adopting a hybrid model because the powers that be in Annapolis just don't want to let go and recede power. Each of the three counties bordering Wicomico have fully elected school boards, so we just want what our neighbors have instead of an unnecessarily complex system that doesn't serve our purposes well.
It seems like it's the politicians and media who want hybrid boards to replace appointed ones the most – just look at Chicago or New Haven. But the small town of Mishawaka, Indiana overwhelmingly embraced the appointed to hybrid idea. Wonder how it was sold to them – or if they only had that choice? Politicians apparently know best in Utah, where their state school board is elected but a proposal for a hybrid was heard. (Their diversity was rural vs. urban.)
In 2016, when I go in to cast my vote for president, I want to be faced with a simple choice farther down the ballot: do you support or oppose a fully-elected school board for Wicomico County? I think the answer will be a resounding yes for an elected board, and it will be the right answer to move this county forward.
If it comes to a vote, I would support a fully elected school board. But the story of how Caroline County got its hybrid board is illustrative – basically, they were only given the hybrid option. Since Caroline County didn't have a large enough minority group to create a district for themselves, the squeakiest wheels used the next best thing – the minority head of the Senate committee that heard the bill.
It may be time to consider the next step, and that involves talking some sense into the two people in Annapolis who run the respective Senate and House committees that hear the bill. If you thought having local roadblocks like Rick Pollitt, Norm Conway, and Rudy Cane was bad, imagine being stymied by two committee chairs we don't even cast a vote for.
We have pretty much heard the arguments, and despite the clear advantages of full accountability that an elected board brings I think one sentence I uttered rings true: the powers that be in Annapolis just don't want to let go and recede power. We'll see if they prove me wrong.
It wasn't the meeting we expected, but still turned out to be informative.
We had scheduled State's Attorney Matt Maciarello to be our speaker, but with a pending trial Matt needed to burn a little midnight oil. So we were left with some reports instead. As one member put it, having members of several local groups meant we could always have an interesting meeting.
So once we took care of the usual opening business, we got a Central Committee report from Ann Suthowski. She reminded us the Lincoln Day Dinner was slated for November 7. When asked why it was so late in the year, Dave Parker noted it was originally planned that way to attempt to get Governor Hogan to speak, but his ongoing cancer treatments thwarted that idea. However, since Lieutenant Governor Boyd Rutherford has a daughter who attends Salisbury University, it was hoped he may appear. Suthowski wondered if he was being considered as a commencement speaker since his daughter would be graduating this year.
Suthowski also revealed there was an opening on the Central Committee, with Parker adding action to fill the vacancy could occur as soon as their next meeting October 5.
Bunky Luffman, speaking on Delegate Carl Anderton's behalf, announced he would hold an event Thursday evening at Evolution Brewing. It was to celebrate the first day of the "Evo Bill" that allowed Wicomico County breweries such as Evolution and Tall Tales to double their output yet keep their particular licenses.
Anderton is also planning a anniversary celebration November 4, said Luffman. When he won his initial election last year, the results weren't official until late in the evening so they wanted to have a more proper celebration for his supporters.
As part of his own campaign, Muir Boda is getting some help from around the state with a Super Saturday planned for October 17. He'll get assistance from various volunteers from the state party and Maryland Young Republicans.
On the We Decide Wicomico front (the grassroots effort to secure an elected Board of Education) Dave Snyder reviewed the first two public hearings, the second of which in Delmar had a "pitiful" turnout, according to another observer who was there. Nevertheless, they were pressing on for the third which was held tonight at First Baptist Church. (I'll have some observations on that tomorrow.) Snyder also added he sought to speak to the local PTAs but was turned down until such time when a referendum was on the ballot.
When asked about media, the feeling among several members was that the Daily Times was doing "nothing" but the Independent was doing a good job pushing it. The hearings are also taped for broadcast on the local access channel PAC14.
County Councilman Marc Kilmer opined that a hybrid vs. elected question can be on the ballot. But Don Coffin cautioned that we should "keep it simple," adding "our country was founded to have elected officials." Dave Parker added that we needed a provision for replacing members as well. "I want the best people," said Parker.
But Kilmer pointed out this "has to be acceptable to the majority of legislators in Annapolis." It was also revealed by Bunky Luffman that there was no precedent for a three-way referendum such as an appointed vs. hybrid vs. elected would be. We were also told that Wicomico's legislation last year was modeled on a version Prince George's County used.
Turning to the Crab Feast, it was no surprise that the poor weather soaked the bottom line, Attendance and silent auction proceeds were down markedly from 2014, which was the run up to the election. One suggestion made for next year was to get a better sound system so people at the outside tables could hear.
I then discussed the upcoming Good Beer and Autumn Wine festivals, and we broached the idea of getting our Christmas Party organized.
Before we left, we learned from Joe Ollinger that the school board was working on a search for a new superintendent and wanted to finish by next March. There was also the news that the school system was being investigated by the Justice Department for disparity of discipline.
The next meeting will be October 26.
A couple weeks ago I covered the first of four hearings on the potential for an elected school board. At that time I pledged to add some history and context to my remarks from the other day.
First of all, the recent history of the attempt to get an elected school board has both a local component and a state component. I was elected to the Republican Central Committee in 2006, and one item which we agreed to pursue was an elected school board. Unfortunately, the composition of county government at the time didn't lend itself to further action on the subject. It wasn't until the election in 2010, when a GOP supermajority was elected to County Council, that local legislative action occurred.
In both 2011 and 2012, the County Council passed legislation on a 6-1 party-line vote to ask the Maryland General Assembly for the enabling legislation for a referendum question to be set before voters. It would simply ask whether voters wanted to adopt an elected school board.
The 2011 version of the bill, HB1324/SB981, was sponsored by six local Delegates and both local Senators, and each version passed its respective legislative body overwhelmingly – the only "nay" vote came from Delegate Nathaniel Oaks of Baltimore City. SB981 passed both houses, but the amended House version did not return to the Senate for a vote.
In the House, the Ways and Means Committee amended the bill in a curious way. They revised the referendum question to read, "Are you against changing the changing the current method of selection of the members of the Wicomico County Board of Education of appointment by the governor?" It seems the idea was to confuse the voter.
The next year HB966/SB99 was introduced by the four Republican delegates and both Senators. This time, though, the bills did not progress beyond the hearing stage.
In 2013 and 2014, no legislation was passed locally nor was any introduced in the General Assembly. The feeling was that there were three roadblocks to the process: Rudy Cane, Norm Conway, and Rick Pollitt. None of those three survived the 2014 election, so we were hopeful the process would be on its way once 2015 began.
There were two key differences in the 2015 version of the bill, though. In an effort to foster a united front, County Council allowed for the idea of a hybrid elected/appointed board of five elected and two appointed by the County Executive with approval from the County Council. Indeed, that version passed 7-0 and was sent up in February.
But the bill was stalled in committee, with the problem determined to be the lack of having both Senators on board. Senator Mathias requested more hearings and public input on the issue, so County Council has arranged the four hearings with plenty of time to pre-file a bill once the hearings are over.
It's been pointed out frequently that Wicomico County is one of the few without an elected board. Back in 2002 just half of Maryland's counties had an elected school board. Since then, Caroline, Cecil, Dorchester, Harford, Prince George's, Somerset, and Talbot counties have switched over to elected (or mostly-elected) boards, while Anne Arundel County now has retention elections for its appointed members.
So the precedent for change is certainly there on the Shore and around the state. A number of counties have been allowed to proceed with their wishes over the last dozen years, but there always seems to be a roadblock when it comes to us. It is long past time to clear the way for us to decide as so many others in the state get to.
I am aware there are naysayers who say it doesn't matter who is on the school board for the tune is called in Annapolis. But we have some creative folks around here who may figure out a few alternatives to really help our schools become better, and I don't think they would have a prayer of being appointed through the process in place. Let them make the case to the parents who vote, not the faceless bureaucrats in Annapolis.
I am struck by the difference between two recent meetings.
Last week I covered the first hearing regarding the prospect of an elected school board. Yesterday I also read a story by Susan Canfora in the Salisbury Independent about the city's rejection of a park land donation sought by the county.
In the former case, the arguments for and against were delivered in a relatively quiet room, but those who were out to save the forest burst into applause with each speaker on their side and cheered when the measure died for a lack of a motion. Canfora's report noted that the City Council meeting was standing room only, with more people spilling into the hallway. Having been to that venue before, I know the room can get 80 to 100 people in it if you all inhale and exhale the right way.
Of course, there was resolution in the county's case – the city said no to the donation. On the other hand, the process of getting an elected school board is in the early stages of its latest iteration. So in that respect I am doing a little bit of an apples-to-oranges comparison, but I did see a useful tool in understanding the approach one side may choose in the school board debate.
Those who favored the expansion of the ball fields grounded their argument in economic terms. They could cite concrete facts and forecasts of how much impact these tournaments have locally, in dollars, cents, and jobs. Softball tournaments bring in hundreds of players each summer, and those participants have to eat, sleep, and play someplace.
Conversely, those supporting the forest played to the emotions of the audience and City Council. Suddenly that 35 acre plot of land was a magnet for low-impact tourism and a vital part of the natural beauty of Wicomico County. Just for sake of reference, 35 acres covers about 1/16 of a square mile. The Centre of Salisbury sits on about 58 acres, so this forest plot is barely half the size of that parcel.
Those same appeals to emotion come out when opponents of an elected school board bemoan the loss of "diversity" they are sure would come about with an elected board.
It's always intrigued me that those who wail loudest about diversity are the least diverse of any group – sure, they may fill quotas with every possible variation of outward appearance and behavior trait under the sun, but when it comes to diversity of thought: forget about it! It's the side that's afraid to hold presidential candidate debates because their standard-bearer, the one who fills the "woman" quota their party wants to check the box of, might have to actually defend her record (or lack thereof.)
But let me back up the focus. To me, diversity is for ideas, which is why legislative bodies often split along party lines. I highly doubt the NAACP, the teachers' union, or any of the other opponents of an elected school board will stop trying to participate in the process when an elected board finally comes to fruition. They will certainly have a slate of candidates, and those candidates will probably have a monetary advantage in their respective races. On the other hand, I would certainly push for the most conservative school board possible. Hopefully I get more victories than the other side, but I doubt either will have a clean sweep and it may be there are times they have to meet somewhere around halfway.
Regardless of what Don Fitzgerald may claim, there is some cronyism involved with the current system. Rarely does a complete political outsider get a seat on the school board because the current system has as its judge and jury political insiders up and down the line. (The same would hold true with a nominating commission.) The best chance for a concerned citizen would seem to be the electoral process, particularly since the system as envisioned would rely mainly on districts of about 20,000 people – not an unmanageable size for a small, well-organized campaign. Granted, there may be times when running countywide could be an advantage but my suspicion is that those couple spots will be filled with current board members who already have name recognition.
If there's one lesson I want the class to remember, it's this: you can easily figure out which side has the facts and which side runs on emotion. Diversity is the reddest of herrings, so don't let them fool you into thinking their idea of the concept is anymore than skin-deep.
Last Thursday about 40 people gathered at the Wicomico Youth and Civic Center to speak out on the prospects of an elected school board for Wicomico County. When I saw the full parking lot I thought I would never get a seat; alas, most of them were here for a kids consignment sale going on simultaneously at the venue. I took the photo as I walked in and the crowd only increased a little bit.
But the County Council presented a number of options available, broken down into three categories: fully elected, a hybrid of elected and appointed members, or the status quo of a fully-appointed board.
Further subdivision of the elected option provided for either a five-member elected board based strictly on County Council districts or a seven-member elected board with five district plus two at-large to mimic our County Council. Meanwhile, the hybrid option would have five members elected from the County Council districts with the other two appointed by either the governor, the County Executive, or a nominating commission. That nominating commission could direct the governor on which members are acceptable in an all-appointed option or we could stay with the current system of appointment.
Out of 22 who spoke, 14 preferred an all-elected option. Woody Willing addressed the diversity concern, stating "there's no better way to have diversity than electing seven people." Ann Suthowski, who was "in favor of a 100 percent elected school board," pointed out that four of the seven members work or worked in education, three lived within a mile of each other while the eastern and western ends of the county were not represented, and as far as she could ascertain only one member was under 60 years of age with kids in school.
Turning to Senator Jim Mathias, at whose behest the hearings were scheduled, Suthowski concluded that elected school boards were good enough for the other two counties he represented, so why not Wicomico?
Others who backed the elected board saw it as a way to promote fiscal accountability. Kay Gibson bemoaned her lack of choice in the matter when half her property tax dollars went to education – as she put it, being "taxed without representation."
Transparency and parental involvement were also common themes. Dr. Mark Edney called an elected school board the "most transparent, democratic approach," as opposed to the "secretive, crony-driven process" we had in place. Dave Parker stayed on that theme, revealing that a previous Appointments Secretary told him, "we don't much care who (the Central Committee) interviews."
"I like this governor," added Parker, "but I don't want him selecting my school board."
Involvement was key to Donnie Scholl, who thought an elected board would "maximize parental involvement."
But the handful who preferred the hybrid or appointed boards had their reasons. Kelsey Maddox said "if I had to choose, I would say hybrid." She rejected the notion that the 90 or more percent of counties with elected boards had the best system simply by virtue of the sheer numbers.
Current WCBOE president Don Fitzgerald was in the "if it ain't broke, don't fix it" camp. He also bellowed that the current school board has "worked hard in this community" and that he was no crony.
Most of the elected board naysayers, though, circled their wagons around the diversity concept. Gary Hammer, who heads the local teachers' union, said his body was not against an elected board but previous proposals "did not account for diversity." He believed there should be more than a yes-or-no choice between elected and appointed. Another former board member, Jon Sherwell, added that "effectively, an appointed board can be diverse." He also questioned some of the assumptions made by the We Decide Wicomico group and others, arguing that he was appointed despite being unaffiliated.
Local NAACP head Mary Ashanti added that the appointed board has "given us an opportunity" and remarked "the issue for me is how it will be written in the referendum." But whether it will get that far may be up to Delegate Sheree Sample-Hughes, who warned that the Ways and Means Committee in the House was interested in preserving diversity and having public input. (No one in our local delegation sits on that committee, which heard last year's bill.)
As it turned out, about half of those present spoke, although Sample-Hughes was the only legislator to testify. No one on County Council chose to add remarks, nor did Senator Mathias or Delegates Carl Anderton and Mary Beth Carozza, who also listened in.
The next hearing will be at the Delmar Elementary School on Foskey Lane next Tuesday, September 22. I won't be there so sometime in the next few days I will have a message for that hearing. When it comes out, feel free to share.
Subtitled, the year of the monsoon.
I found this year I took very few pictures compared to past years. Some of that was the weather, where the skies gushed forth just before our slated 1 p.m. start. It forced us all under the pavilion but those on the outside rows were still soaked.
This also meant the silent auction was ruined. We ended up with a live auction later.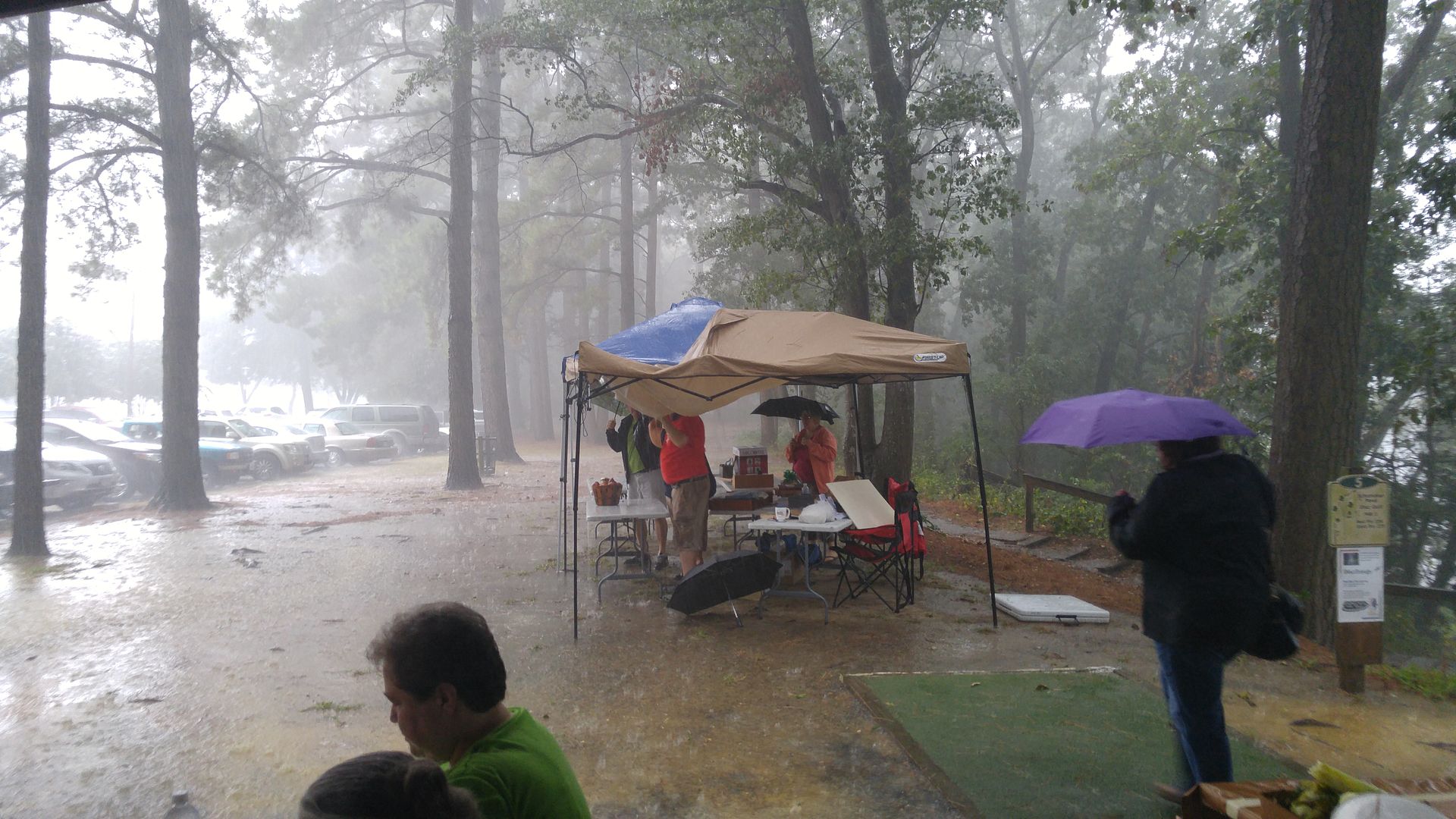 Yet the pouring rain didn't spoil everything. We made a special presentation to Jim Jester, our club's volunteer of the year. A plaque is one thing, but a fine cigar can be quite another. Both were kept dry.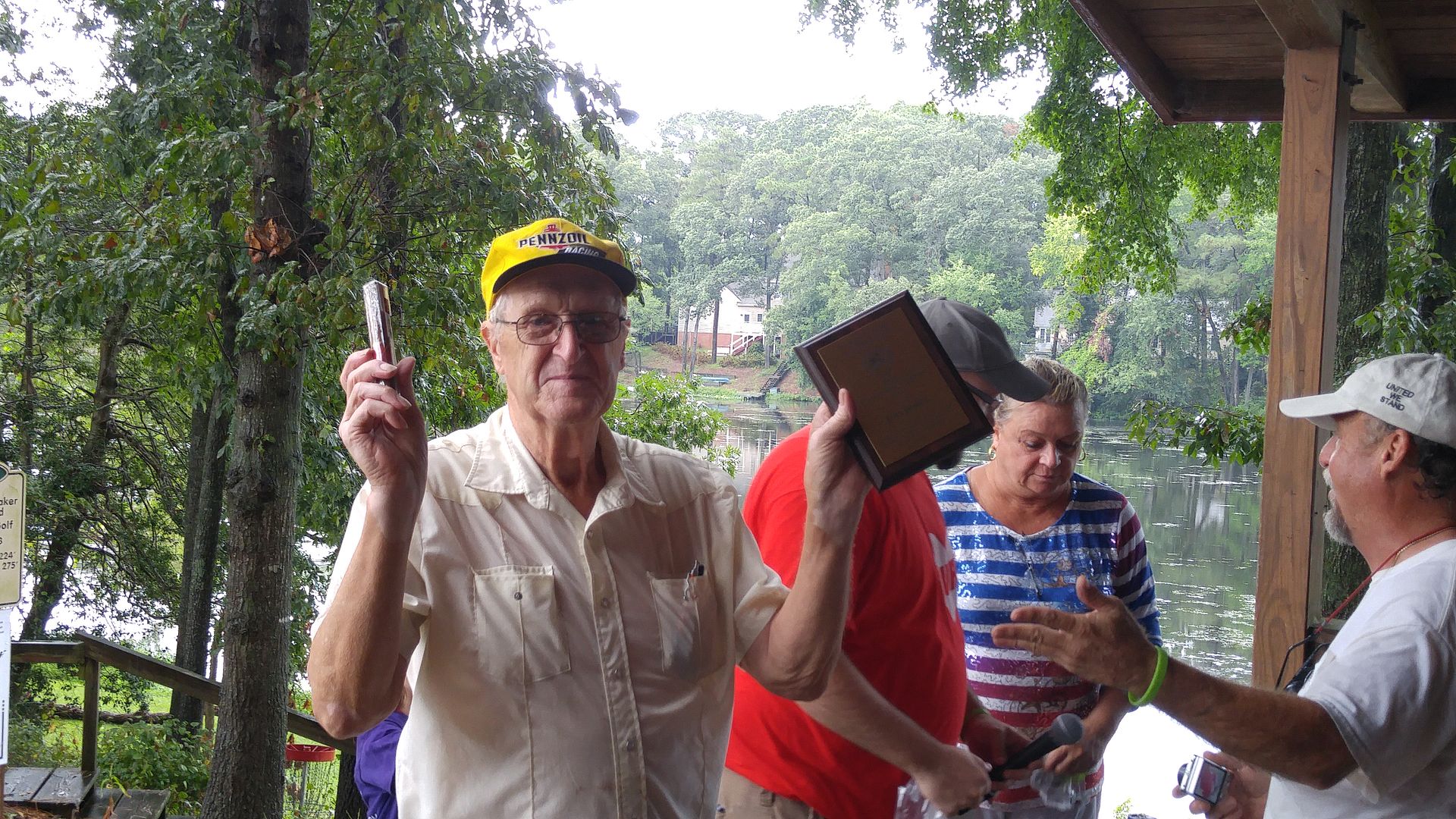 And the crabs apparently were good because we had to do a quick order for another three or four bushels. (The crab eaters at my table gave them good reviews.) The corn also went fast, but at least some of the produce was donated.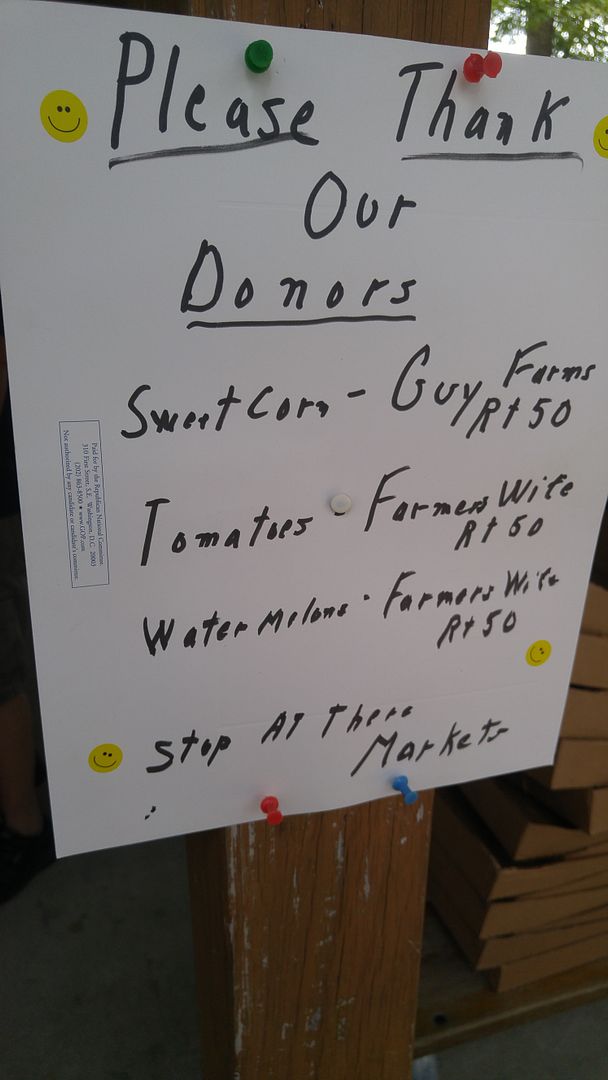 While the elected officials didn't speak formally, most made the rounds of the event. Being early in the term, they didn't need to campaign, but the awareness group We Decide Wicomico had a number of yard signs.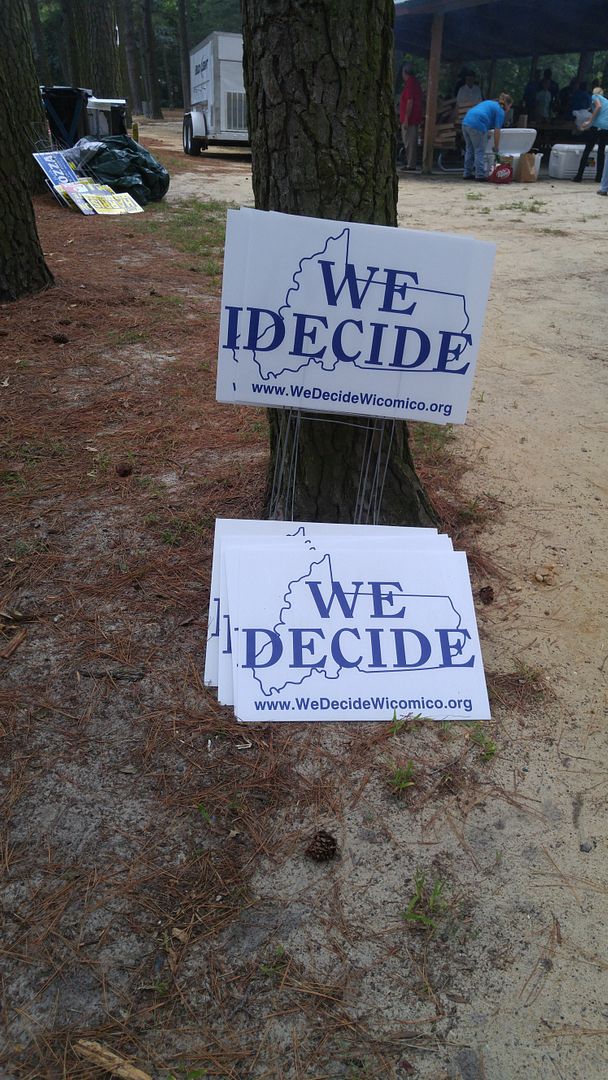 There were a lot of elected officials there, but I think the award for coming the farthest goes to Johnny Mautz. I grabbed the photo from Julie Brewington since she tagged me in it.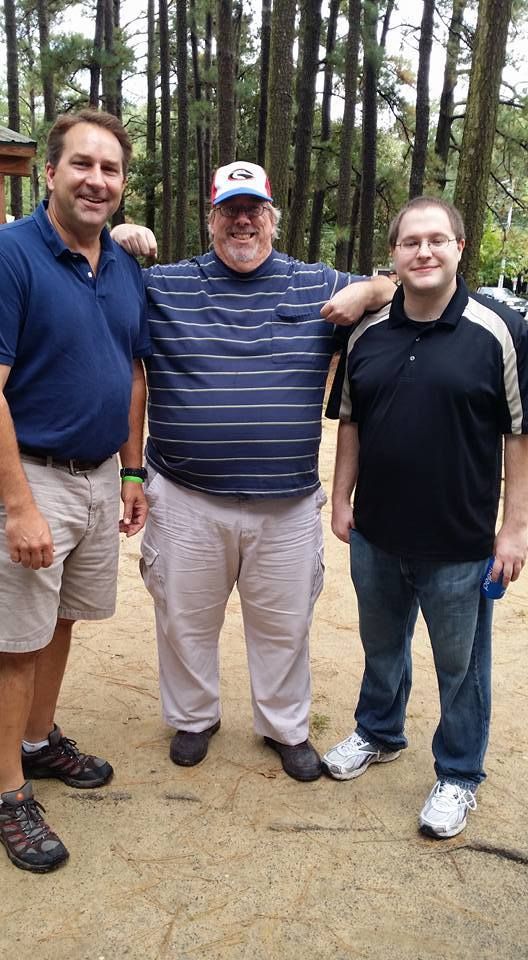 We also had Senator Addie Eckardt, Delegates Carl Anderton, Mary Beth Carozza, and Charles Otto, and a host of local pols from County Executive Bob Culver on down. But the most surprising no-show to me was Congressional candidate Mike Smigiel, who I figured would drop by. Granted, a Congressional district has a lot going on during any given Saturday but there was nothing I noticed on his calendar except a missed opportunity.
Hopefully the 2016 version will avoid the monsoon and make a lot of money for the club. Once the rain left, it wasn't a bad afternoon and some people ventured to the outside tables. Let's if we can't fill the outside tables as we have before and have a lucrative silent auction.
While the pace of a political campaign is often frenetic, the passage of Labor Day has long been understood as the point people begin to pay attention. For a normal middle-class family it means the kids are back in school, vacations are memories, and the routine is back underway. Most people have some sort of election in the fall, and while it's a statewide election year in a handful of states, the general rule for odd-numbered years such as this is that municipal and local elections are contested.
So years ago, when I first got my start in politics, I helped out local campaigns for several different offices, from mayor and city council to municipal judge and clerk of courts. Similarly, here in Salisbury where I live there is a municipal election, although about 1/5 of residents won't have much of a reason to turn out because their particular district has an uncontested race just as the mayor's race does. Otherwise, there are 2 to 4 people seeking City Council seats from each district.
In looking at the field, it is comprised mainly of those who have ran before, whether successfully or not. But there are a  few who haven't ran and they are finding out the hard way what it takes to compete. Theoretically, however, there could be four political newcomers elected to City Council although the odds of a complete "throw the bums out" mentality aren't that great. You may not like the system at large but your person isn't necessarily the scoundrel everyone else makes the group out to be. Quite honestly, there are people who walk into the polling place and vote for the name they know without any clue about what that person stands for. I'm trying to decrease that number but it's a slow process.
In the next few weeks, though, there is another electoral battle shaping up – just not in the traditional sense. Thursday will be the first of four public hearings concerning the adoption of an elected board of education here in Wicomico County – round one will be held at the Wicomico Youth and Civic Center beginning at 6 p.m. Out of Maryland's 23 counties and Baltimore City, Wicomico is one of just three without an elected school board and, unless the rules are changed locally, will become the only one where the process is handled completely outside the county's jurisdiction. (The other two counties have – or are in the process of creating – local nominating commissions for their appointed boards.)
It's a local issue that bears watching, particularly as the Wicomico County Board of Education handles more money than the county's overall budget yet is rigidly controlled as to its partisanship and often has the situation where a member of one party is appointed by the administration of the opposite. Those who aren't aware of the situation should be willing to listen beginning Thusday night. It's time to get serious.
For several years I have cited an annual survey of business friendliness put together by thumbtack.com. It was useful in illustrating how poor the Maryland business climate was.
Unfortunately, year one of the Hogan administration finds the state in a deeper hole, narrowly missing the bottom five of the 36 states for which the survey had sufficient data to compile. It is noteworthy, however, to point out Baltimore's grade basically drove the state grade so they may bear a significant share of the blame.
As for what the survey asked and found specifically:
Small business owners found Maryland to be one of the least friendly states for microenterprise, though they widely approved of local training opportunities, according to Thumbtack's annual Small Business Friendliness Survey.

Nearly 18,000 U.S. small business owners responded to the survey, including 442 in Maryland. The study asked respondents to rate their state and city governments across a broad range of policy factors. Thumbtack then evaluated states and cities against one another along more than a dozen metrics.

"Small business owners on Thumbtack have consistently told us that they welcome support from their governments but are frequently frustrated by unnecessary bureaucratic obstacles," said Jon Lieber, Chief Economist of Thumbtack. "Maryland offers decent programs to support business owners directly, but they tell us the regulatory environment is just too hard for them to understand and navigate."

"The taxes here are high," commented a property manager in Baltimore. "There is no support from the government, especially the housing office."
Here's where entrepreneurs will pin their hopes on the new Regulatory Review Commission, which should try and reach out to as many of these businesses as possible to get suggestions.
The biggest problems with our state insofar as this subject goes is that its grade is getting worse – declining from a C- last year to its D+ this time – and Virginia got an A on the same survey. (Delaware had fewer than the 50 responses needed to get a grade.) Business owners hated the state in particular for its environmental and zoning regulations and government friendliness, both of which were given big fat Fs from those surveyed. (The former category also gets a "see, now what have I been telling you for the better part of a decade" from this writer.)
If a state is going to brag that it's "open for business" it needs to be better than a D+ state. The work on regulatory reform should be in tandem with other avenues toward success like lowering the corporate tax rate (or, even better, figuring out a way to cut three cents out of every dollar in state spending and scrapping it entirely) and telling the liberals in Annapolis who keep whining about the need for combined reporting to pound sand. Another proposal I would have is adoping the proposed moratorium on new Chesapeake Bay regulations until the sediment at Conowingo Dam is addressed,
We have models for success all around the country so why should we be 31st out of 36? I can't fault Larry Hogan for a lack of effort or his difficult circumstances, but we need leadership in this regard and if it means telling the people the truth about where the problems lie (hint: they hold 124 seats in the General Assembly) so be it.
It's not that I haven't expected Rich Douglas to jump into the Maryland U.S. Senate race. But after a steady diet of discussing foreign policy, Rich made the leap with a populist appeal:
Today, millions of American workers — hourly, salaried, union, non-union, or jobless — face an unprecedented crisis: Congress has become their adversary rather than their defender. A Congress too compromised or indifferent to restore the American workforce to a place of honor on our nation's priority list undermines the liberty, livelihood, and security of us all.

In Congress, sheltered Maryland incumbents have thrown American workers to the wolves. Some of these Maryland career politicians even applauded in April when U.S. Rep. Luis Gutierrez said that Marylanders who are worried about uninvited foreign workers are 'enemies of the community.' Americans deserve better. They deserve unswerving loyalty from Congress. I am announcing for the Senate because too many Maryland incumbents are disloyal to voters.

Larry Hogan's 2014 victory set the stage for improvements in Maryland to American worker conditions. To move ahead, Maryland requires a new team on Capitol Hill. I am convinced that Maryland has the wherewithal to overtake Texas in job creation, unless the political machine which brought Maryland rats, riots, and the rain tax smothers urgently-needed reform.

In 2016, voters have the power to challenge that machine. Maryland can send a seasoned, common-sense Republican veteran to the Senate who is eager to challenge career politicians making American workers outcasts in their own country.
So instead of dwelling on the numerous foreign policy failures of the Senate and Obama administration, Douglas is going with a blue-collar persona. Among the items on his issues page is a statement, "Marylanders losing their homes at tax auctions aren't thinking about ISIS." It seems to me he's learned from his 2012 run, but again he's probably going to face a younger, more dynamic opponent in Chrys Kefalas. Douglas is 58, Kefalas is 35.
Kefalas is also counting on a populist appeal, stressing his work for the National Association of Manufacturers over his work in government for the Justice Department and Ehrlich administration. Obviously more will enter the race, but most of them will be the common rabble who fill out the ballot every two years. It's not uncommon for GOP voters to see ten or more names on the ballot, but the burning question is just how many of them will be elected officials running from cover.
Like last time, the key for the top two contenders will be how they deal in their opponent's arena. Douglas takes the advantage in foreign policy, so how the candidates deal with pocketbook issues will be the subject of scrutiny.
It was via a roundabout route, but we finally heard from the man who's presumptively Salisbury's next mayor, Jake Day. Because Jake had another place to be this evening – the Salisbury City Council meeting that he ran as their president – we had a succession of speakers to fill the time. It was interesting to note that several of these speakers dropped in as our meeting was going on, which told me they were looking forward to hearing what Jake had to say.
But we began as we always do, with the Lord's Prayer, Pledge of Allegiance, and introduction of distinguished guests, all done by our first vice-president Muir Boda, who filled in for our under-the-weather president Shawn Jester. We then did the swearing in of new second vice-president Dave Snyder, who pledged to be "a very good listener" and work to recruit 100 new GOP voters and new club members.
I took a little time to thank people for helping out at the Wicomico County Fair, as did Dave. My one suggestion was to perhaps look into a spot for outside next year.
In a Central Committee report, Mark McIver called the elected school board "one of the biggest things on our plate." He added there was a new initiative called "We Decide" that was a non-partisan group to back an all-elected school board, and related the urging from County Council that we should participate in these hearings. It was going to be "an 8-week push."
Mark Edney added his two cents, informing us that there will be an initiative this fall to address the issue of vacancies in the General Assembly through the state party's bylaws. Noting the issues faced by Carroll County, Edney intoned that it was "important that we get this right" because members of both parties in the General Assembly sought to take away the power local Central Committees had to choose successors.
Joe Ollinger updated us on the Crab Feast, which had most of the items in place except a silent auction coordinator. It's still on schedule for September 12 at Schumaker Park.
Speaking of food, Muir Boda announced his own, more modest event this Saturday at Doverdale Park. His community barbecue was slated for 3-5 p.m. but volunteers could show up at 2:00. Boda remarked he had three opponents in the election, so getting out the vote was paramount.
He also commented that the proposed city curfew was a "big issue" but questioned whether it would be enforceable given current resources and the spread-out geography of Salisbury. By itself, a curfew "won't solve youth crime," Muir said.
Senator Addie Eckardt, who had arrived after we began, spoke briefly about her upcoming annual bike ride through the district that will cover Wicomico County on Thursday. She also praised Governor Hogan, who has "put a great team together." It would help government become, as she put it, more responsive and cost-effective.
Delegate Christopher Adams remarked about his attendance at the defund Planned Parenthood rally in Easton as well as a stop last week at Wallops Island in Virginia. They were expecting to resume launches at the pad damaged in an explosion last fall by March, he said.
Looking forward, though, he wanted to concentrate on regulatory reform, as some needed changes could be done more easily through that avenue than through the legislative process.
Fellow Delegate Johnny Mautz predicted "a really busy session" next year but expressed his disappointment in getting a low 25% score from the League of Conservation Voters. I looked up the floor votes they scored: two were anti-fracking measures and the other was the "repeal" of the rain tax sponsored by Mike Miller. So pro-business was not going to meet pro-environmnet with the LCV.
Bunky Luffman stood in for Delegate Carl Anderton, commenting to an earlier point made about regulation by bringing up the sprinkler mandate that is halting construction locally. One local developer lost a builder who refused to build more dwellings – they weren't able to make money with the mandate and additional costs.
Most of the legislators had come late to hear Jake Day, who spoke for about 15 minutes and answered questions for another 20. Apologizing both for being late and a lack of sleep as a new dad, Day told us he was "very excited" about becoming mayor. As a Council member he was pursuing a pro-business agenda, but noted "I have found a roadblock in the current administration." Like the state of Maryland, his effort would be to attract business: "I want us to be competitive," said Day, citing Delaware under Jack Markell as a "more friendly and welcoming environment." Perdue's decision to move some of its corporate operations to Delaware "sent a message," said Jake. "The economy will be first and foremost on my mind each day." His idea was to grow jobs "locally and organically,"
One area he saw as a job creator was downtown, for which revitalization was important to Jake. It's "part of the renaissance" of Salisbury, said Day. He criticized the "lack of active leadership from the top" and sought a City Council that was cordial, but aggressive. He also announced the intention to continue divesting the city's surface parking lots, believing successful downtowns do better with infill rather than surface parking.
Crime was another top issue. Day observed that criminal activity was starting at a younger and younger age, so the city could have to "pick up where the parents left off."
It was an enlightening address, but the questions were good, too. The first one out of the chute was about the "rain tax." Jake disagreed with the state mandate, but believed it was necessary for a city which had ignored the issue for over a century. He was willing, though, to reduce property tax rates and scrap the city's inventory tax to help even things out.
And when I asked why the city couldn't use its water and sewer fund surplus, Day said the surplus was being depleted too quickly. Basically the relief would be short-term at best.
Corollary to that initial question was a discussion about the closing of Labinal, which will cost the city hundreds of jobs. While the popular opinion was that the state's difficult business climate drove them away, Day said the answer was more simple: Texas (and Mexico) were closer to their main customer base, and Salisbury mainly served military clients whose contracts were winding down.
A second concern was the issue with fire service. Rather than the "big mistake" of giving ultimatums through the media, Jake was working closely with county officials in coming up with a long-term solution. He conceded it probably wouldn't be all the city wanted, but noted that he and County Executive Bob Culver were "working well together." The key was making things more fair in a way that doesn't alienate non-city residents.
Our wastewater treatment plant was the subject of a question. Calling its saga "a scar on Salisbury's history," Day announced the next phase of renovations would begin in October. Bunky Luffman, who formerly worked at the plant, pointed out it had reduced the amounts of nitrogen and phosphorou, but not enough to meet more stringent state standards that changed midstream.
A final questioner tested Day on his "number one challenge – is my (business) location safe?" Crime was a concern for local businesses, and "a lot of solutions to our challenges are economic," Jake said. He vowed to show leadership and compile more data on the current conditions.
We finally let Jake go, so that Boda could announce our next meeting would be September 28. Hopefully it will be as chock-full of information as this one was.