I've had a piece by Newt Gingrich in my inbox for a few days, but I knew sometime I would get to it. The piece is relatively evergreen as op-eds go so I just figured when the time came I would contribute some of my thoughts – well, the time is now since you're reading this.
In Newt's new book, called Breakout: Pioneers of the Future, Prison Guards of the Past, and the Epic Battle That Will Decide America's Fate, he describes those who would hold on to tradition for its own sake as the "prison guards of the past." The two cases in point he described in the piece I kept around were Google's driverless cars and "coding boot camps" where top programmers conduct intensive training programs designed to encourage employment at some of the best companies in the field – where they can perhaps work on the driverless car or other breakthroughs.
As always, there's a fly in the ointment – whether it's the National Highway Traffic Safety Administration's fear bordering on paranoia about these Google autos zipping around without some sort of new regulation to cover them or the California Bureau for Private Postsecondary Education fretting that these would-be hackers aren't getting the well-rounded politically correct education the state seems to demand, bureaucrats have to get their grubby little fingers into the pie. My question is: what exactly would they contribute?
I've often stated the case that government is a solution, but it rarely addresses the correct problem. It's obviously in Google's best interest to put out a usable and safe product such as the one which they are testing right now, just like it's in the best interest of those who run "coding boot camps" to educate their students in the best way possible to assume the demanding task of writing millions of lines of code. (They probably could have written the Obamacare website in a couple weeks, made it work, and saved taxpayers hundreds of millions of dollars in the process.) Snark aside, just think of the possibilities these present if left unfettered by government interference, in particular that of the driverless car.
As someone who sits behind the wheel for several hours every week doing his outside job, imagine how much more productive I could be with a good internet connection as, for example, I make my weekly drive around my various stops on the Eastern Shore of Virginia. Suddenly I may more enjoy that trip I occasionally have to make to Cape Charles for calls there. And what if we could make it so cars could traverse the rural interstates safely at a higher speed, say 120 miles per hour? Then we wouldn't need the high-speed rail boondoggle, and politically correct urban planners can't have that. To me, a car equals freedom because you're not a slave to another's timetable, whether bus, train, or airplane. Sure, it will take a decade or two for a driverless car to become affordable for the average person but there may come a point – even in my lifetime – where the car with a driver may only be seen at the NASCAR track.
The problem with the idea of using government to solve a problem is their lack of incentive to find a lasting solution. If we ended poverty or, to use an issue hitting closer to home, cleaned up Chesapeake Bay to a state where you couldn't dive in without running into the aquaculture that's in abundance, would the government regulators say "our work is done here" and go away? Not on your life – then they would have to get honest jobs. Left to government's own devices, we will never end the "war on poverty" or finish cleaning Chesapeake Bay because there's too much taxpayer- or donor-supplied money at stake.
Yesterday I was thinking about freedom, and it dawned on me that we cannot have absolute freedom because that would be anarchy – everyone would live for their own self-interest and it would deteriorate into a simple game of "survival of the fittest." But we also could not have absolute tyranny because at least the tyrant would have his or her own free will, even if he or she is the only individual so unconstrained. In all societies, we have some sort of rule of law, but the difference is in who calls the shots and whether things are set in stone or as capricious as the weather on a particular day. We are at war with Eastasia, and have always been at war with Eastasia; that is, until someone decides we're at war with Eurasia.
It seems to me that the sweet spot in a society would be one where there are some fairly simple rules (the Ten Commandments and Constitution as written come to mind) but aside from that people have the freedom to live their lives as they see fit. Google wants to make a driverless car? On balance, it seems to me the benefits far outweigh the costs to certain other areas in the transportation industry. Software makers want good coders? All they seem to be hurting is the feelings of the government which can't regulate them into their approved little box.
I've always admired Newt Gingrich – maybe not so much politically, but for the fact he seems to be thinking a generation or two ahead. I try to do the same here, as this blog and (especially) my book aren't always for the here and now, but to look into the future and see possibilities. I may not always be right, but I try to learn as I go along.
The key going forward is to impress upon society at large that they have a purpose. We can advance under a system which has brought the world prosperity, or backslide into the tyranny mankind has known for most of its miserable existence. It's still our choice, but the window is closing fast. Those "prison guards of the past" are aptly named, for this nation was born from tyranny and of late it's devolving in that direction unless we can break the chains.
I still like picking on Joe Biden. But over the last month or so I've collected a lot of divergent information on policy suggestions, each of which promses to be the magic elixir to get our economy moving in the right direction again.
I think the key to this lies in two areas: manufacturing and energy. In that respect, I keep a lot of information handy to discuss in this space, with a group called the Alliance for American Manufacturing (AAM) generally representing the left-of-center, pro-union side. And while their main goal seems to be increasing the coffers of Big Labor, luckily most workers still have free will – ask the employees at the Tennessee Volkswagen plant about how much effort from the UAW can be rebuffed in a simple up-or-down vote.
Currency manipulation is one area in which the AAM has been focusing. A study they cite, by the liberal Economic Policy Institute (EPI), makes the case that:
Many of the new jobs (if the subject is addressed) would be in manufacturing, a sector devastated by rising trade deficits over the past 15 years. Rising trade deficits are to blame for most of the 5.7 million U.S. manufacturing jobs (nearly a third of manufacturing employment) lost since April 1998. Although half a million manufacturing jobs have been added since 2009, a full manufacturing recovery requires greatly increasing exports, which support domestic job creation, relative to imports, which eliminate domestic jobs.
Personally I disagree with the premise that rising trade deficits can be blamed for the job losses; instead, I think an absurdly high corporate tax rate and onerous regulations have contributed more to chasing away American manufacturing. (While many simply blame "outsourcing" for the problem, fewer understand the dynamics which led to the outsourcing.) Yet there is merit to the idea that all sides should be competing on as level of a playing field as possible when it comes to the means of exchange, and China is one of the worst offenders. (And why not? They are communists, after all, and you can't trust communists any farther than you can throw them.)
Two of EPI's findings are quite interesting: first, should the EPI model come to its fruition, the oil and gas industry would be the hardest hit, and second, Maryland would be among the states least impacted, with barely a 1% rise in employment.
Yet AAM president Scott Paul is quick to blame Barack Obama:
President Obama promised to hold China accountable. He hasn't. The White House last month said President Obama would use his pen and his phone to make progress on economic issues. He could start today by signing an order to designate China as a currency manipulator.  Then, he could call the Chinese leadership to demand an end to that practice, and secure an agreement on a plan to cut this deficit in half over the next three years.
I sort of wish Mr. Paul would also figure out the other problems, but he is correct to be concerned about our Chinese policy. Job creation has become more important than deficit reduction in the minds of Americans, both in the AAM poll I cited above and a Pew Research Poll cited by the American Petroleum Institute (API).
And the industry which benefits from API's efforts represents another piece of the puzzle which we can take advantage of: our abundant energy supplies. While America uses 26 trillion cubic feet of natural gas per year, there is the possibility of as much as 10,000 trillion cubic feet within our land mass. That's nearly 4 centuries worth, so I don't think we will run out anytime soon. (Estimates have continued on an upward path as new technology makes previously unworkable plays economically viable.) As I keep saying, it's too bad we don't have a nice shale play under our little sandbar. Not only that, but the infrastructure we will need to take advantage of all that (and help curtail spot shortages like the ones we're having this chilly winter) would be a guaranteed job creator – one which derives its basis from the private sector. New pipelines aren't just for export facilities like Cove Point, but could benefit this area and perhaps bring more natural gas service to our region.
Unfortunately, Maryland isn't poised to take advatange of either the manufacturing or energy booms at present, thanks to back-breaking economic policy and a foolhardy go-slow approach on fracking. It takes a strident opponent of the latter to suggest yet another approach which will do damage to the former, but gubernatorial candidate Heather Mizeur accomplishes this with the tired old combined reporting proposal. Hers comes with a twist, though, which she announced last Monday:
In the morning, Mizeur will host several Maryland business owners for a Small Business Roundtable. They will discuss her legislation to provide tax relief to small business owners, as well as other highlights from the campaign's ten-point plan for jobs and the economy, which was released last fall. She will also hear from the business owners on a range of other concerns.

(snip)

At 1:00 pm, several business owners will join Mizeur in front of Ways and Means to testify on behalf of legislation that would enact combined reporting and distribute the estimated $197 million to small businesses for personal property tax rebates.
It's the liberal way of picking winners and losers. And according to a 2008 study by the Council on State Taxation – admittedly, an opponent of the practice:
Combined reporting has uncertain effects on a state's revenues, making it very difficult to predict the revenue effect of adopting combined reporting.
Even proponents don't address that aspect, instead emphasizing how it would "level the playing field between multistate corporations and locally based companies." But since Mizeur's idea is one which would subsidize some businesses under a certain employment plateau, the uncertainty would likely be just another reason to avoid Maryland.
On the other hand, a Republican like Larry Hogan at least gets businesses together to discuss what they really want. Granted, once he gets them together he speaks in broad concepts rather than a more specific plan, but at least he's listening to the right people. None of the others in the GOP field have specific plans, either, although Ron George probably comes the closest.
One has to ask what states which are succeeding economically are doing to attract new business. The state with the lowest unemployment rate, North Dakota, is prospering – more like crushing the rest of the field – on account of abundant energy resources, and perhaps that success is pulling surrounding states up with it. Its three neighbors (Montana, South Dakota, and Minnesota) all rest within the top 13 when it comes to low unemployment rates and other regional states like second-place Nebraska, Iowa, Wyoming, and Kansas lie within the top 10. Although the top five are right-to-work states, half the bottom 10 are as well. Nor can tax climate be seen as a dominating factor since the top 10 in unemployment vary widely in that category: Wyoming, South Dakota, Utah, and Montana are indeed excellent in that aspect, but North Dakota is decidedly more pedestrian and Iowa, Vermont, and Minnesota are among the worst.
But Maryland has the tendency to depend too much on the federal government as an economic driver. This presents a problem because bureaucrats don't really produce anything – they skim off the top of others' labor but don't add value. Certainly it's great for those who live around the Beltway, and it's telling that all three of the Democratic candidates have a connection to the two Maryland counties which border the District of Columbia while none of the Republicans save Larry Hogan do.
In order to create jobs, I think the state needs to diversify its economy, weaning itself off the government teat and encouraging manufacturing and energy exploration. Meanwhile, there's also a need to rightsize regulation and restore a balance between development and Chesapeake Bay cleanup – specifically by placing a five-year moratorium on new environmental restrictions while cleaning up the sediment behind the Conowingo Dam. Let's give that which we've already done a chance to work and other states a chance to catch up.
The best route out of government dependence is a job. Unfortunately, when the aim of the dominant political party in the state is one of creating as many dependents as possible, a lot of good entrepreneurs will be shown the door. It's time to welcome them in with open arms.
For over 90 years, the Bladensburg Peace Cross has stood on property which is now public land. Two years ago, the American Humanist Association asked the memorial to World War 1 veterans be removed from its site, saying it "sends a message that Christianity is preferred by the government." Since it's still there, the AHA has filed a lawsuit against the Maryland – National Capital Park and Planning Commission, which controls the plot of land near a heavily traveled intersection. The suit cites a "violation of the Establishment Clause of the First Amendment of the United States Constitution, as applied to Maryland by the Fourteenth Amendment." Yes, it's the old saw that the sign of the cross is the establishment of religion. I find it interesting that thousands of crosses and other religious symbols have been erected as tombstones or prominently featured on them in public and private cemeteries around the country, yet because of the location and visibility of the Bladensburg Cross, the AHA has chosen to sue about this one.
But the reason I heard about this was a voice of resistance:
Given the wave of revisionist lawsuits intended to dismantle battle monuments and other sites important to ordinary Americans since the 1960s I suppose it was only a matter of time until the Bladensburg Cross came under attack. But perhaps the attackers have bitten off more than they can chew.

I attach the complaint, and want to organize resistance. I think "Task One" will be to make sure the Maryland National Capital Parks and Planning Commission (the named defendant) does not roll over and decide to default.

If you are concerned about this assault on historical memory, kindly consider pushing this news out to your networks and contacting your representatives in the Maryland General Assembly.

I will go to the Courthouse today to see about getting more info.  I realize that not everyone reading this note will agree with me on this.  I respect your opinion, so please let me know if you would like to be removed from further mailings.
These are the words of former U.S. Senate candidate Richard Douglas, who passed on a run for Attorney General here in Maryland but may be interested in this case.
Yet this somewhat local push to eradicate a so-called religious symbol from the landscape comes at a time when the faithful in and around the country are under assault from all directions – witness the firestorm of protest, including a threat to relocate Super Bowl XLIX from the state, which surrounded an Arizona bill which would have allowed business owners to follow their conscience when it came to service gay or lesbian couples. The measure was vetoed by Arizona Governor Jan Brewer, who called it "broadly worded." Other states, such as Texas, Utah, and Virginia, have seen their gay marriage bans thrown out by activist federal judges.
In Maryland the judiciary seems to be a little more conservative than the general population, but this is going before a federal court so all bets are off.
To be honest, I'm not sure if I was sent this to provoke a comment or if I just happen to be on a list that gubernatorial candidate Heather Mizeur doesn't use all that often. I think most observers know I have an interest in energy issues, and this definitely falls into one of them. You just have to ask yourself why Mizeur counts herself among the Democrats are so insistent on denying the opportunity for shovel-ready jobs and investment – I thought that was what they were all about.
First of all, this is what Mizeur had to say about the proposed Cove Point LNG export facility.
(Yesterday), Delegate Heather Mizeur (D-Montgomery), candidate for governor, called on Governor O'Malley to join her in opposition to the Dominion Resources liquefied natural gas (LNG) export facility at Cove Point in Calvert County. She made the announcement during a speech at the Stop Cove Point Rally in downtown Baltimore City earlier today.

"I am calling on Gov. O'Malley to take a stand with us today to reject Cove Point," Mizeur told the audience. "You cannot leave a legacy on addressing climate change and be silent on Cove Point. It's time for Gov. O'Malley to break the silence and join us in saying no to Cove Point."

The rally, which was attended by 500 people, was organized by climate, health and anti-fracking activists from across the state, and was one of the largest environmental rallies ever in Baltimore City. It came as the state Public Service Commission begins official hearings on the project.

Mizeur is currently the only gubernatorial candidate to state her opposition to the project. When she announced her opposition in December, both Lieutenant Governor Brown and Attorney General Gansler – the two other Democratic candidates in the race for governor – expressed a desire to build the project without environmental damage, but failed to explain how such a plan would be possible.

Dominion Resources, a Virginia-based energy company, is pursuing the construction of a $3.8 billion facility to serve as a collection point for fracked natural gas from throughout the Mid-Atlantic region, where cargo tankers would then ship it throughout the world.

But the Cove Point facility would release 3.3 million tons of carbon dioxide and other harmful greenhouse gases into the air annually, making it a serious setback to achieving the state's goals on fighting climate change, including a plan for a 25% reduction of greenhouse gases by 2020.

Mizeur has also called on Dominion Resources to invest $3.8 billion – the construction cost of the proposed facility – in the state's renewable energy sector. According to the U.S. Department of Energy, clean energy investments create more permanent jobs than exporting fracked gas.
Obviously Mizeur is an adherent to the religion of manmade climate change, a belief system which fails to address why none of the climate models have predicted the lack of warming this century. The fact that they managed to get just 500 people to a climate change rally shows how small the cadre of believers really is – a good Second Amendment or TEA Party rally can rustle up similar numbers without really trying. If this is "one of the largest environmental protests in state history" then we really are letting a tiny minority dictate policy.
But let's say these guys are really serious – I suppose living in a state foolish enough to believe that artificially limiting its carbon emissions will have an effect on our overall global climate will do that to you. Even if the point source of 3.3 million tons is correct, it doesn't take into account the reduction in emissions at destination points abroad. Natural gas is cleaner burning than coal, and until we figured out that fracking was a way to supercharge the moribund domestic natural gas market it was a fossil fuel environmentalists weren't uncomfortable with. To show how the market has changed, the Cove Point facility was originally built in the 1970s as an import facility because the domestic natural gas market was thought to be in an irreversible decline.
On the other hand, the point source investment of $3.8 billion will have a positive effect on the regional and state economies. Last year, in announcing its filing, Dominion claimed the project will create up to 4,000 jobs during the construction phase and perhaps over 14,000 jobs overall, not to mention billions in royalty payments. Because most of the supply would come from regional producers, the entire mid-Atlantic area would benefit (except Maryland and New York, which currently have bans on fracking.) The facility would also provide a needed boost to our export tally to address a persistent American trade deficit, as the LNG is already contracted out to distributors in Japan and India.
Finally, Mizeur complains that the $3.8 billion Dominion is willing to invest in the project could be better spent in the renewable energy sector. Does the name "Solyndra" ring a bell? Despite its best efforts to create a market for offshore wind, companies aren't willing to make the investment in that area – remember Bluewater Wind? In the area of solar energy, it took billions in taxpayer-guaranteed loans – and mandated renewable energy portfolios such as the one Maryland is saddled with – to get that market off the ground, yet it still produces but a tiny fraction of our electricity needs at a cost several times the going rate for electricity produced from coal or natural gas.
And it's funny that Mizeur worries about the cost of natural gas going up due to exports, but had no problem with raising the gasoline tax on a perpetual basis. So much for supporting hard-working Marylanders.
So the choices are either zero or $3.8 billion; that's reality. We can take advantage of proven resources we already have or listen to alarmists whose real goal is to foster dependence on government under the guise of saving the planet. It's just too bad our little sandbar is energy-poor, unless you deign to call chicken manure an energy gold mine, and even the proponents concede its not as efficient as natural gas.
It's become obvious that the junior Senator from Kentucky has become quite the item in Maryland, since he will be engaged in Free State-related causes supporting state political action committees twice in the space of slightly over a month. In this case, though, the support will be more indirect.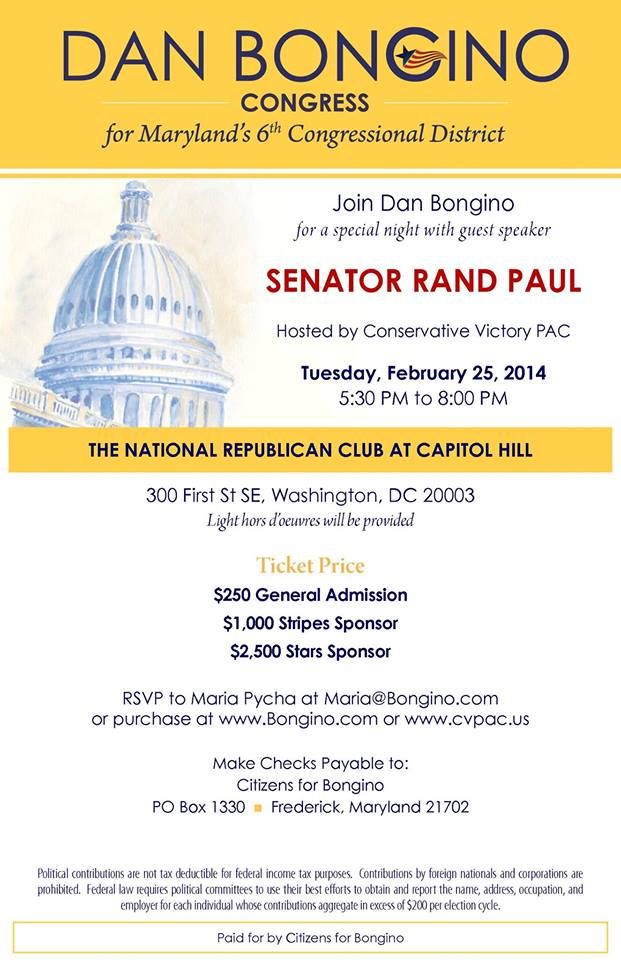 Instead of a relatively affordable event, though, it seems like Dan Bongino and the Conservative Victory PAC are going for more of the high-dollar donors. Perhaps that's a function of holding the event in Washington, D.C. but the event doesn't seem to be aiming for the attendance figures the Maryland Liberty PAC will be seeking a month later – of course, Bongino needs the money in a more immediate fashion as he prepares to presumably take on the deep pockets of incumbent Congressman John Delaney.
Rand Paul, by the way, is no stranger to the Conservative Victory PAC. He also was a featured speaker at a rally last October for Ken Cuccinelli, who narrowly lost the gubernatorial election there and was being mentioned as a candidate for U.S. Senator himself before quashing the rumors in December. For its part, the Maryland-based CVPAC took criticism from some quarters for supporting a candidate in Virginia. (I didn't have as much of a problem with it.) The October event even featured Bongino as a "special speaker" so he knows the group too.
Once again, it's worth pointing out the event is for Dan Bongino's benefit because checks are made payable to Bongino's Congressional campaign. But the CVPAC has plans for local Maryland campaigns as well:
We are launching this year in high gear with a fundraiser in February to support Dan Bongino as the next US Congressman from Maryland's sixth district.  In March, we will roll out a multi-tiered plan to conduct fundraisers as well as grassroots outreach as part of our victory campaign for high caliber Constitutional Conservatives seeking elected office.
That statement was the introduction to the CVPAC January newsletter, available on their website. Presumably they are working on a list of candidates to support in local and perhaps statewide races. (I can think of a couple local candidates who can use the help as they face off against entrenched Democrats and their high-dollar consultants from across the Bay.) So I look forward to seeing if our humble little side of the state is included in that victory campaign.
And if Rand Paul wants to help us out, he's more than welcome to.
This actually came to my attention a couple weeks ago, but I thought they may get more response if I wanted until closer to the deadline to post this.
As background, the Maryland Citizen Action Network filed for 501(c)(4) status back in November of last year, and they're still waiting. They then ask:
Will you let our voice be silenced by our now openly oppressive government?
The regulations that the IRS would like to impose upon MDCAN include prohibitions against sponsoring candidate debate, having to scrub candidate names from their online presence, and eliminating get-out-the-vote efforts within 60 days of a general election. On the other hand, as they point out:
Unions will be exempt.

The entire reason why MDCAN filed to become a 501(c)(4) – to create online petitions to fight bad bills, to teach our activists how to be better activists, to learn how to fight effectively - will be for nothing.

Will you let our voice be silenced?
IRS REG-134417-13 is the ticket to stifling opposition to the current regime. The IRS got caught being completely overboard when they tried to slow-walk applications and determine who to audit before, but this time they're going to write the regulations before strangling potential opposition in the crib.
We are closing in on the deadline for public comment, which comes February 27. The group Protect c4 Free Speech has taken a lead on organizing opposition, and they've posted a copy of the proposed regulations. They remind me a little bit of the McCain-Feingold campaign finance restrictions which were properly thrown out with the Citizens United decision, except this seems a blatant violation of the First Amendment. What the IRS and Obama administration are probably counting on is time enough to chill opposition during the 2014 election cycle – they'll worry about paving the way for Hillary Clinton in 2016 later.
In looking at the method of submitting comments, it's worth noting that one can comment anonymously, which may not be a bad thing given the tendency of the IRS to find multiple excuses to audit those who express dissent. But comment we should, otherwise there will be a chilling effect on organizations trying to promote a pro-liberty viewpoint. Remember, unions are exempt.
Now I know some will argue that if an organization wants to preserve its rights, it simply can choose not to apply for 501(c)(4) status. But there are hundreds which have based on the interpretation of the rules in place, and the bulk of spending was by conservative groups. One advantage of 501(c)(4) status seems to be donor anonymity. And MDCAN is important to the Maryland pro-liberty movement based solely on their annual Turning the Tides Conference, a chance for right-of-center Maryland activists to gather and learn from each other. Obviously the group wants to adopt more of a role in Maryland politics and feels it needs the 501(c)(4) status for its growth.
Given the lawlessness of this regime I don't really think the IRS will be a fair arbiter of status anyway, but these proposed rules really attempt to tilt the playing field. Let's take them down.
To be a well-informed voter, sometimes you need context. Take this example I received from Bill Murphy of the National Republican Senatorial Committee, which was plugging a website called electionharmony.com on Valentine's Day.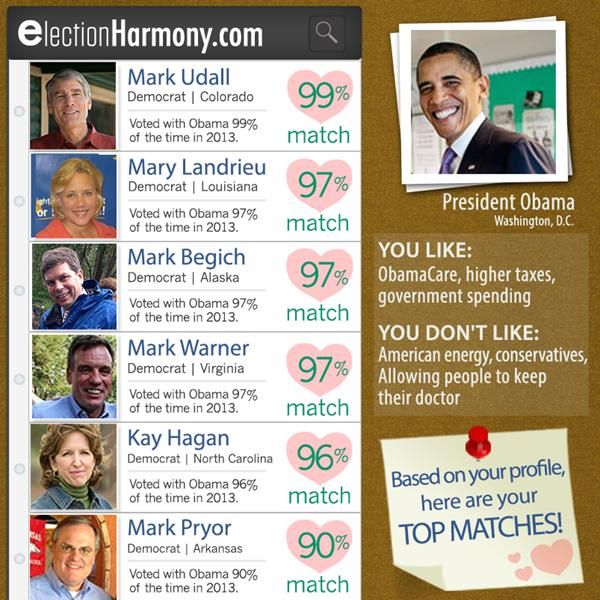 If you go to that URL, you're redirected here, which is the NRSC's blog.
All this is well and good, but I wanted more. So I wrote back and asked Murphy about context: did have have the data for all 100 Senators, for my thought was that – just based on the sheer number of near-unanimous votes the Senate takes – a lot of Republicans would fall into the 75% to 85% range themselves. Murphy's pithy reply: "We're running against the Democrats below. Our priority is to highlight their voting record to their constituents and defeat them in November."
Okay, I get it. But you probably picked a bad week to do this after a number of Republican senators sold out and voted to pass a "clean" debt ceiling bill (a.k.a. blank check) without extracting any concessions whatsoever from the Democrats. It was even more gutless for some Republican senators to vote for cloture only to turn around and vote against the final bill when they knew the Democrats would have the votes to pass it. Mitch McConnell and John Cornyn were two of those who, as far as I'm concerned, voted with Obama 100% of the time last week and I find that unacceptable.
Here's my problem with this approach. Sure, it would be nice to pick up the six seats in the Senate, maintain control of the House, and give Barack Obama a completely Republican Congress to deal with come next year. But will they have the cajones to keep him in check when he uses his pen and his phone to rewrite laws without their consent, as he has done time and time again with Obamacare?
The NRSC supports Republicans in the Senate and tries to find candidates to defeat Democrats. But there are degrees to being Republican. I understand that winning a Senate seat in Maine or Oregon may take a somewhat different candidate than one who can prevail in Texas or South Carolina, but they should all adhere to at least some conservative principles and must have the intestinal fortitude to stand up against overreach of the executive branch, up to and including impeachment. (Yes, I said the i-word.) So what if it's the last two years of Barack Obama's presidency and so what if we would have to survive Joe Biden. (Delaware can get a President before it gets a national park, since they are shut out of both at the moment.) We didn't elect an emperor.
Yet the NRSC will likely try to protect its incumbents, regardless of their merits. Listen, I'm a registered Republican, but sometimes my party gets it wrong. A hokey URL and noting some Democrats vote with their president over 90 percent of the time is one thing, but we also need to present a principled conservative alternative along with a plan to keep the executive branch in check. I haven't seen that come across my e-mail box yet.
At this time of year many counties are scrambling to find speakers for their annual political dinners, whether they're the Lincoln or Reagan Day events Republicans hold or Jefferson-Jackson dinners for Democrats. However, the Maryland Liberty PAC has scored a coup by securing libertarian favorite Senator Rand Paul for their upcoming event.

Obviously being close to Washington, D.C. assisted the Maryland Liberty PAC in their effort, but having Rand Paul as a keynoter may bring more interest to the group than the buzz about securing former VP candidate Paul Ryan to speak at the 2013 Red, White, and Blue Dinner sponsored by the Maryland Republican Party last June. The worrisome trend for Maryland Republicans: reports seem to indicate attendance at the event has declined markedly in recent years – while 400 came to see Ryan, close to 700 came for Mitt Romney in 2010 and for Newt Gingrich in 2009. Gingrich also spoke there in 2011, while Karl Rove and Grover Norquist have also addressed recent RWB gatherings. Although the attendance goals expressed by the MLPAC are somewhat more modest, in the range of 150 to 200, it may be a sign that allegiances in the continuing MDGOP struggle between establishment and grassroots may be shifting. All the Liberty PAC needs is the group which has tuned out the mainstream GOP over the last few years to be successful.
MLPAC chairman Patrick McGrady added in a release that:
It is widely rumored that Dr. Paul will run for President of the United States in 2016.

March 26th is your opportunity to meet this rising star within the Republican Party.

Maryland Liberty PAC is committed to building a 21st Century Republican Party that brings new ideas and new people to the cause for liberty in our country.

Rand Paul is one of those new voices who presents a bold, conservative message that's appealing to millions and millions of Americans.

The proceeds from this event will continue to support Maryland Liberty PAC's ongoing efforts to

Build the statewide liberty movement
Train new activists on effective tactics
Mobilize the grassroots around liberty issues
Hold leftist politicians accountable

Don't miss your chance to build the cause for liberty in Maryland and celebrate an instrumental leader in the movement.
But it's interesting to me that the MLPAC wants to work within the framework of the Republican Party, considering the fact they and their subgroup the Maryland Pro-Life Alliance – particularly the latter – tend to aim their fire at recalcitrant Republican members of the General Assembly as opposed to Democrats.
Moreover, the money raised may not go to the candidates and causes more mainstream Republicans may want to support. Unlike most PACs, the MLPAC doesn't directly support candidates. Indeed, a look at their campaign finance reports shows they've never transferred any money to candidates and have endorsed just one local candidate in their history. Much of what they've raised so far has gone to political education, as expressed in their frequent e-mail blast campaigns against members of the General Assembly or advocacy for or against certain bills (particularly the 2012 Septic Bill and 2013 gun control legislation) in session, with most of the rest going toward fundraising expenses.
According to McGrady, that trend will continue. "We are primarily focused on issue advocacy and informing the public about voting records of politicians on those issues," he said. McGrady went on to add that they wanted a price point which was "attainable for everybody," and I would say $30 to hear Rand Paul accomplishes the goal – although the hourlong VIP session is more conventionally priced at $200 a head. Dirty little secret: that and the sponsorships are where the money is really made.
This show of support from Rand Paul may put a little spring in the step of Maryland's "tireless, irate minority" and give them more impetus to change hearts and minds. It should be a fun event, nonetheless, and the question of whether any of those who attend are Republican elected officials and candidates will be something to check for the next financial report.
Since there's not a lot of political news going on right at the moment because half the state is buried under the global warming provided by a February nor'easter, I thought I would highlight a real step in the right direction in cleaning up Chesapeake Bay.
In a 10-page letter released last week by the Clean Chesapeake Coalition, the group collectively blasted the Chesapeake Bay Foundation (CBF) for stating certain localities "want to keep creeks dirty" and for an overall focus on punitive taxes and regulations for Marylanders while glossing over problems upstream from the Chesapeake. (The letter can be read in its entirety here.)
As a whole, the CBF has rarely met a restrictive regulation it didn't like, even condemning other states for standing up for their interests, which happen to be congruent with those of farmers in this case. It seems they are at war with the agricultural industry nationwide, and their argument that these pollution limits actually create jobs reads as a variation of the "broken window" theory – how much capital and job creation is lost because we're being forced into these relatively unproductive pursuits? Obviously it's a bone of contention whether lasting results will be achievable without both cleanup of the Conowingo sediment and further cooperation from states upstream.
And thus the argument about making Salisbury property owners pay a fee ranging from $20 to thousands annually for the privilege of being within city limits. You can't convince me that, even if we knock ourselves out and somehow manage to achieve the 2025 standards set by the EPA – with legal assistance from the CBF, who sued them to get the desired result – that the CBF will consider the matter solved and the taxes no longer necessary. Nope, this is a permanent thing we're being signed up for, and eventually all of Wicomico County will be forced to join in.
The problem with government, and even quasi-governmental agencies like the Chesapeake Bay Foundation, is that they have no end game because it's not in their interest to have one. Solving the problem would mean ceasing to exist, and the CBF is a cash cow bringing in over $30 million annually, with nearly $6 million going to administration and fundraising. That's a goodly number of people who would have to find honest work otherwise, and the power of steering state and federal policy is a further intoxicant. (Of course, the same is true of the Clean Chesapeake Coalition, but I sense they would rather not see the need to exist.)
So we have a choice – the old BOHICA approach or taking a stand for common sense and local control. Can you guess where I stand?
The "rain tax" is probably coming to Salisbury.
Eager to jump on that bandwagon, the Daily Times reports that Salisbury City Council unanimously agreed to move a bill to create a stormwater utility forward for final approval at a future meeting, a date to be determined but likely in the next 60 days. All five of the Salisbury City Council members are Democrats, as is Mayor Jim Ireton, who backs the proposal. Jeremy Cox's story quotes City Council president Jake Day as saying "There's no good argument for not having this in place, to have a funding system to pay for things."
Bull.
There's a great and very simple argument: we have no idea if what we would be doing will have any significant impact on Chesapeake Bay. As vague as the Phase II Watershed Implemetation Plan for Wicomico County is in terms of how many assumptions it makes, there are two things it doesn't tell me: the overall impact of Wicomico County presently on the health of the Bay, and the economic impacts following the plan will have on business and our local economy. Does the $20 I would spend each year make a dent, or is it just another way for government to reach into my pocket for dubious benefit? Less than national average fee or not, it takes away from my less-than-national-average salary.
The argument by Brad Gillis also rings true. Because  the state requires most new development to adhere to overly strict stormwater guidelines, those who have will still be paying the rate on top of the expense others didn't put out. Stormwater retention isn't cheap.
And, of course, there's the very real possibility that the $20 of 2015 will be $35 after 2017 or $100 sometime after that. Once enacted, I've rarely met a fee or a tax that's decreased and because the goal is so open-ended this just seems like another excuse to reach into our pockets in perpetuity.
This is a state where I pay bridge tolls to subsidize a superhighway I'll probably never drive, pay a gasoline tax out here in the hinterland to prop up a boondoggle of a public transit system in the urban core (complete with pie-in-the-sky light rail lines many of those along the route don't want), and get to watch a governor for whom I didn't vote – twice – play whack-a-mole with expenses that pop up by "borrowing" from dedicated state funds and floating bonds to make up the difference. Why should I trust the city of Salisbury to be prudent with my money when the regulatory goalposts are sure to shift? Ask David Craig about the state and what happens when they change their mind.
Several years ago I proposed a moratorium on new Chesapeake Bay regulations so we could figure out whether all that we had put in place would work. Of course, for the Chesapeake Bay Foundation, Town Creek Foundation, and other denizens of Radical Green there's too much money for their coffers at stake to ever agree to such an idea – and it's such fun to figure out new offensives along our flanks in the War on Rural Maryland.
Needless to say, my reasoning probably won't change any minds on Salisbury City Council, or that of the mayor. I know Jim Ireton, Jake Day and Laura Mitchell to a greater or lesser extent, and they're decent enough people, but they seem to have this idea in their head that government central planning is the solution and for every need there has to be a new fee to pay for it. When the "need" is a mandate from on high, that's where I object. Twenty bucks is twenty bucks for the tapped-out homeowner, but those who are job creators will likely pay a whole lot more and it's just another incentive to locate elsewhere, in my estimation.
Do you remember a guy named Ron George? You know, he's this guy who actually jumped into the gubernatorial race back in June and had steadily plodded through the campaign, in part because he's serving in the House of Delegates as is Democratic hopeful Heather Mizeur. In the straw poll I wrote about yesterday, George was second to Charles Lollar with 24% of the vote, beating both Larry Hogan and David Craig, but in the internecine sniping over the last couple days between supporters of two of those aforementioned camps you'd have thought Ron had dropped out of the running.
But on the heels of his call for a special counsel to investigate the Maryland Health Exchange Board, George today revealed more information through his research. The statement (below) is accusatory, but George backs it up by putting the pieces of the puzzle together.
The Maryland Health Exchange Board should never have been granted special procurement powers which resulted in the rewarding of political allies. The administration continued to favor a vendor who has a flawed history with Maryland and deep fundraising relationships to both Governor O'Malley and Lt. Governor Brown. We need a special counsel with the authority to investigate the procurement practices of the Health Exchange Board.

It appears the administration was in favor of rewarding their political supporters despite serious legal concerns relating to this same vendor's work with state foster children and a troubling history collecting child support payments in Baltimore. The problem with one-party control is the people in power get to make the rules even when they are inappropriate and can lead to waste, fraud and corruption. I demand a full and thorough investigation into the contracts approved by the Health Exchange Board and their adherence to transparent and impartial government.
This is the same vein that Larry Hogan's Change Maryland mined with his own accusations of pay-to-play which came out last month. Seems like we have a pretty corrupt set of people running Annapolis.
One thing which needs to be addressed when the Republicans take over state government is the procurement procedure. It's certainly the conservative ideal that as many government functions as possible be transferred to the private sector, and generally this is accomplished through a bidding process with the lowest and best bid which meets the specifications prevailing. Most people associate the process with construction projects, but much of government –  including the contract for customer service call centers George refers to – is done this way. On the surface, it's a good idea to allow a private company with some expertise in the field to replicate their service for government rather than hire a group of workers to duplicate efforts needlessly.
Yet there are flaws in this approach which make it exploitable, and I believe what George wants investigated is how the process of selecting Maximus came to be. For example, were the specifications written in such a way to make Maximus into the only company capable of doing the contracted work? Much as the 2005 Fair Share Health Care Act was written to punish just one company – Walmart – the rules and specifications for awarding a job can be tailored to make it so just one bidder can feasibly secure the work. (If you forgot about what Fair Share was, it was an early topic of conversation in my blogging career. Check out this blast from the past.)
Perhaps more sinister yet would be the idea of getting insider information as the process was going along. In my architectural days, we had to be scrupulously careful that any changes made – whether clarifications of questions asked by bidders, revisions by the client, or the occasional error or omission on our end – were transmitted to all bidders to make sure no one received an unfair advantage. But if someone has a thumb on the scale, they may get a little bit of advance notice on changes or otherwise gain a leg up on the competition.
As it stands, though, it appears that $325,000 investment by Maximus paid off with a $36.5 million return. Of course, there's nothing illegal about donating money to a political candidate and many companies play the field by donating to both Republicans and Democrats. (There was an anecdote I heard about the Maryland GOP accidentally getting both checks from a corporate donor, noting the GOP amount was far smaller than the Democratic one.) Just a look at a website like Open Secrets or Follow the Money will show most corporations embrace the practice.
So Republicans will have to walk a fine line when they take over in Annapolis. It's almost impossible not to benefit a business which made a political donation, particularly if they shower both sides with campaign cash, but there needs to be some transparency in the process and a way to write specifications to maximize participation rather than funnel business to one or two well-connected bidders. Reducing the size and scope of government should be the primary goal of conservatives, but levelling the playing field for those who wish to provide needed services from the private sector should be a close second priority.
I noticed this week that the Maryland Reporter website had competing views on a statewide minimum wage increase from longtime Maryland political observer Barry Rascovar and from Benjamin Orr, who heads the Maryland Center on Economic Policy – one of those reliably leftwing advocacy groups with an innocent-sounding name. Rascovar warns about the "law of unintended conseqences" in his piece while Orr would like to have his cake and eat it too by also increasing Maryland's Earned Income Tax Credit (EITC). I don't claim to be an economic expert, but the EIC seems to me a handy method for wealth transfer since people using the EITC can receive a larger refund than they actually paid in taxes – instead of zeroing out tax liability, they receive additional money above and beyond a rebate on what the government originally confiscated from their checks via backup withholding.
And the reason this EITC change is important to Orr is the reason he doesn't state – an increase in minimum wage earnings for a single person could push them over the limit to claim the EITC. Let's do some simple math.
According to the IRS, for 2014 the EITC phases out at an earned income of $14,590 for a single person, so someone who works 40 hours a week at minimum wage isn't going to qualify anyway. They would have to work fewer than 38.7 hours a week as a single person to fall under that threshold. Increasing the minimum wage to $10.10 per hour means the person could only work 27.7 hours a week before earning their out of the free government handout – obviously the MCEP wants to keep the goodies flowing.
Obviously being married with a non-working spouse would increase the income limit, but making minimum wage in such a situation makes the couple eligible for a total of just $587 between the state and federal EITC. On the other hand, raising the minimum wage puts the married couple over the threshold as well, thus Orr's argument that we need both. But I think we need neither.
Raising the minimum wage may be good for the small number of workers who would be swept up in the eventual, phased-in increase, but it will be bad for those who would be considered working class but lie just beyond the $10.10 hourly threshold. No one is necessarily going to give a raise to the factory worker who makes, say, $14 an hour just because the minimum wage went up, but those who can still afford to employ workers will have to raise their prices to cover the increased cost of labor. The Dollar Menu at McDonald's will have to become a $2 menu sooner or later. How does that benefit the middle class or those on a fixed income?
In a time when the employment market features dozens of candidates for each open position, forcing a wage increase is counterintuitive. Conversely, in those few truly booming areas such as energy-rich North Dakota or the Permian Basin in Texas, the market has determined a much higher minimum wage.
Closer to home, choices will have to be made by consumers who are being pinched by price increases everywhere they go, and prudent families may have to reduce their budgets for fun things like vacation or eating out. Using Salisbury as an example, we just lost another sitdown family restaurant this week when Mister Paul's Legacy suddenly closed up shop. (This puts a dent in our Republican Club as well, as we'll have to find a new location for our Christmas party. I also recall attending meetings of the Wicomico Society of Patriots and other fundraisers there as well.) Now some will blame the intrusion of national chain restaurants such as Buffalo Wild Wings or Longhorn Steak House (to name a couple which have opened here in the last two years) for the demise of this locally owned eatery, and they may have a point because they may be able to weather a localized wage increase better by raising prices across the board. Surely we pay for a little extra here at these chains for the people who work for them in areas where the wage level is higher. But I contend the overall pie is shrinking because fewer have jobs and increasing the minimum wage will further erode our local job market.
It's all a question of value to the employer. One offshoot of the recent drive to unionize fast food workers and get them a $15 an hour wage was learning about automation overtaking that industry – for example, at Royal Farms you enter your order on a kiosk rather than speak to a counter person. By the same token, going to Walmart now can be done with little human interaction since the local stores have adopted self-serve checkouts. On a national scale, Applebee's is bringing tablets to the table. While business has always trended toward automation and other ways to drive up efficiency, increasing the minimum wage may be a tipping point for new technology which replaces the fast-food worker or even wait staff.
In a perfect market-based world, people would be paid exactly what they are worth, a number determined by the value an employee's labor brings to the employer. I have jobs for which I receive a wage which is agreeable to both me and the employer, and I have this enterpreneurial outlet which manages to pay for itself but is otherwise a loss leader, as I use it to showcase my writing talents. (How do you think I earned some of my paying jobs? And hitting the tip jar or advertising on this site is always encouraged.) Some in this avocation take the work even further than I do because their mortgage depends on it. Instead of a single employer, those of us who write in this arena depend on building a market share and making it economically viable somehow as writers, or as consultants, or in some other manner.
It's all about what the market can bear, and the problem with the government putting its finger on the scale is that it makes a lot of hard-working people lose economic ground to benefit a select few. Until recent years, we had a thriving middle class which was upwardly mobile on a large scale, living a lifestyle comparable to those among their parents who were well-off. Raising the minimum wage simply accelerates the vicious cycle in which we are now trapped, for those who are deserving would earn their way off the minimum in due course anyway – they're being forced, though, to carry a lot of excess baggage with them.
Let the market work its magic.