For decades, millions of Americans have complained that their Presidential choices consist of someone more evil against someone slightly less evil. Since we don't have compulsory voting, those people have taken the option to skip voting altogether, with Presidential election turnout in 2012 estimated at 57.5%. Put another way, "none of the above" trounced both Mitt Romney and Barack Obama as they each only picked up around 29% of the registered voters.
But the fact that neither Democrats nor Republicans seem to be completely pleased with their presumptive nominees has brought out those who believe the Libertarian Party is best poised to make a little bit of inroads among the voting population. This seems to happen every cycle, but by the time the votes are cast the Libertarians are usually stuck with between 1/2 and 1 percent of the vote, By comparison, independent efforts from Ross Perot in 1992 and 1996 garnered a vastly larger percentage of the vote, and those of us who are a certain age recall liberal Republican John Anderson and his 1980 Presidential bid, which got 6.6% of the vote against incumbent Jimmy Carter and eventual winner Ronald Reagan. (Perot received 18.9% in 1992 and 8.4% in 1996, both times denying Bill Clinton a majority of the vote.)
Of course, with the unpopularity of both Donald Trump and Hillary Clinton, who both have significant shares of voters on the principled edges of their respective parties declaring their intentions to not vote for the nominee, there is the luster of an independent run by a conservative like Ted Cruz or a socialist like Bernie Sanders. The idea falls apart, though, thanks to early ballot access deadlines in several states and "sore loser" laws preventing defeated Democrats or Republicans from going back on the ballot a second time in a particular cycle for the same office.
So here in Maryland there are only four party lines: Republican, Democrat, Green Party, or Libertarian. Each has a place on the ballot, and since I'm nowhere near caring who runs for the Green Party my focus for this is on the Libertarian ticket, where their nominating convention will be held in Orlando this weekend. Their field of 18 recognized candidates actually exceeds the original GOP field, but for all intents and purposes the balloting is going to come down to three: Gary Johnson, John McAfee, or Austin Petersen.
Johnson has the highest profile, but I suspect the purists of the LP are a little leery of him because he ran and governed as a member of the Republican Party. He originally sought the GOP nomination in 2012, but left early on to pursue and secure the Libertarian nod, getting the LP past the million-vote barrier in a Presidential election for the first time. He's already selected former Massachusetts Governor William Weld as his running mate, making it a ticket of two former governors.
John McAfee is the guy whose name is synonymous with computer software, and in some respects is the Trump of the Libertarian field. He seems quite brash to me and of the three I would give him the least chance of winning. But it's a convention and anything can happen.
There are a number of conservatives openly rooting for Petersen to win (Erick Erickson is the latest) for various reasons, not the least of which is a platform which is rather tolerable to those Republicans disgruntled with Trump. (One example: "Encourage a culture of life, and adoption, and educate Americans about the 'consistent pro-life ethic,' which also means abolishing the death penalty.") I could get behind the pro-life portion, although I differ with Petersen on the death penalty believing there are circumstances where one forfeits his right to life by committing heinous deeds. Another more in a mainstream libertarian vein (that I can agree with): "Allow young people to opt out of Social Security." I give Petersen the outside chance of winning, but I suspect there's just enough support for Johnson/Weld to give them the nod.
Regardless of who wins, though, the pattern will probably work this way: over the summer the LP will poll in the high single-digits and may crack 10% nationally in some polls. But sometime around October these campaigns reach a point where voters decide they really want to back the winner, not some guy polling 10 percent. They'll forswear their allegiance to the LP for the chance to say, yes, I backed Trump or Clinton in the election. Or in a lot of cases they'll just say, "screw it, I'm staying home because my guy has zero chance." Given that the support for the LP seems to be coming more from the Republican side right now, that attitude could lose the Senate for the GOP.
So on Tuesday we will know just who the LP nominee is, and the #NeverTrump group will have to decide if he (or, the slight possibility of she) is worth losing party privilege over.
Commentary by Marita Noon
(Editor's note: since Marita was "not in love with" the original title and encouraged those who run her work to rename this piece, I changed it to what you see above.)
The Renewable Fuel Standard (RFS) – also known as the ethanol mandate – was passed by Congress in 2005 and expanded in 2007. Regardless of market conditions, it required ever-increasing quantities of biofuel be blended into the nation's gasoline supply – though the Environmental Protection Agency (EPA) does have the flexibility to make some adjustments based on conditions, such as availability and infrastructure.
At the time of its passage, it was unfathomable that a decade later Americans would be consuming less gasoline, not more. Instead of requiring a set, or even growing, percentage of ethanol be used, the law called for an increasing amount of gallons – which has created unforeseen complications.
Since the law was passed, due to increased fuel efficiency and a generally sluggish economy (meaning fewer people are driving to and from work every day) we've been using less gasoline, not more. Requiring more and more ethanol in less and less gasoline is not what the original law intended.
It was believed that the RFS would help achieve energy independence and reduce CO2 emissions – both ideas from a different era.
The RFS was passed at the low point of a decades long decline in U.S. oil production. At the time, no one knew that the trend line would totally reverse due to American ingenuity and the innovations of horizontal drilling and hydraulic fracturing that have unleashed the new era of abundance. Additionally, it was believed that corn-based fuel (which is the primary source for ethanol in the U.S.) would reduce carbon dioxide emissions – though the results have been questionable at best.
Since the RFS became law, numerous studies have been done to determine the environmental benefit of ethanol over gasoline – many of which conclude that ethanol is actually more detrimental than gasoline. At a recent House Oversight Committee hearing, John DeCicco, a research professor at the University of Michigan's Energy Institute, said, according to Morning Consult, "the studies assuming biofuels are carbon neutral are flawed." Morning Consult reports: "he has found ethanol's net emissions to be as much as 70 percent higher than traditional gasoline."
Ethanol has an unlikely collection of opponents. Addressing ads put out by the ethanol lobby positing that only "big oil" wants to end the ethanol mandate, FactCheck.org disputes the claim: "Several environmental groups oppose it as well. So does a wide coalition that includes restaurant owners concerned about upward pressure on food prices and boat manufacturers upset at the problems that ethanol can cause in marine engines."
Despite the controversy, the EPA claims the RFS is a "success." Janet McCabe, acting assistant administrator for EPA's Office of Air and Radiation, says: it "has driven biofuel production and use in the U.S. to levels higher than any other nation. This administration is committed to keeping the RFS program on track, spurring continued growth in biofuel production and use, and achieving the climate and energy independence benefits that Congress envisioned from this program."
With this in mind, it is no surprise that the biofuel industry – which wouldn't exist without the ethanol mandate – was unhappy when, on May 18, the EPA released its biofuel blending requirements for 2017. Using its ability to make adjustments, the EPA announcement was less than the law required, but more than the market demands. The Wall Street Journal (WSJ) states; "EPA officials said they were seeking to strike a balance between Congress's goal of using more ethanol and the realities of the current fuel market and infrastructure." Instead, no one was happy.
In Biomass Magazine, McCabe defends the action: "The fact that Congress chose to mandate increasing and substantial amounts of renewable fuel clearly signals that it intended the RFS program to create incentives to increase renewable fuel supplies and overcome constraints in the market. The standards we are proposing would provide those incentives."
Chet Thompson, president of American Fuel & Petrochemical Manufacturers, which represents refineries regulated under the standard, responded: "EPA's proposal threatens to force consumers to use more biofuel than vehicles, engines and fueling infrastructure can handle." He says: "the proposed volumes still go beyond marketplace realities."
In contrast, a statement from Chip Bowling, president of the National Corn Growers Association said: "In the past, the EPA has cited a lack of fuel infrastructure as one reason for failing to follow statute. Our corn farmers and the ethanol industry have responded. Over the past year, we've invested millions of dollars along with the U.S. Department of Agriculture's Biofuel Infrastructure Partnership to accelerate public and private investment in new ethanol pumps and fuel infrastructure. The fact is, today's driver has more access than ever to renewable fuel choices."
Regarding the EPA's May 18 decision, DeCicco told me: "The EPA is trying to pick an economic middle road between the proponents and the opponents. But, through the RFS, the environment has been run off the road. Contrary to what has been promoted by the Department of Energy and some other government agencies, biofuels make CO2 emissions worse rather than better."
At the aforementioned House hearing, Representative Jim Jordan's (R-OH) opening statement called the RFS "a classic example of what happens when you get a bunch of politicians together who think they're smarter than the marketplace."
Frank Macchiarola, downstream director at the American Petroleum Institute, is calling on Congress to "repeal or significantly reform the RFS." He asserts: "Members on both sides of the aisle agree this program is a failure, and we are stepping up our call for Congress to act."
Proving Macchiarola's point, before the 2017 requirements were released, on May 10, U.S. Representatives Bill Flores (R-TX), Peter Welch (D-VT), Bob Goodlatte (R-VA), Jim Costa (D-CA), Steve Womack (R-AR), and Cedric Richmond (D-LA) introduced bipartisan RFS reform legislation. The Food and Fuel Consumer Protection Act, H.R. 5180, limits the RFS mandate to levels that our nation's cars, trucks, boats and other small engines can safely accommodate. The bill "directs EPA to consider current market realities and cap the maximum volume of ethanol blended into the transportation fuel supply at 9.7 percent of projected gasoline demand." Following the news, the bill's cosponsors issued a statement calling the RFS "unsustainable."
It is time to get back to allowing the free market – not Congress, not unelected bureaucrats, not mandates, not artificially spurred growth in a chosen industry – to determine our fuel choices. Because ethanol is an effective octane-boosting additive, it will always have market demand. Farmers who've invested in it will not be driven out of business. The Food and Fuel Consumer Protection Act, while not repealing the RFS outright (which would be tough to pass), offers a reasonable fix to well-intended, but flawed legislation.
The author of Energy Freedom, Marita Noon serves as the executive director for Energy Makes America Great Inc., and the companion educational organization, the Citizens' Alliance for Responsible Energy (CARE). She hosts a weekly radio program: America's Voice for Energy – which expands on the content of her weekly column. Follow her @EnergyRabbit.
Back on Tuesday I promoted Marita Noon's most recent column on social media with the promise to do a Maryland-centric follow up "If I think about it this week." (I planned to all along, but sometimes I forget so I figured I better cover myself.) Anyway, the passage that piqued my interest was this one:
In California, where (billionaire and liberal Democrat political backer Tom Steyer) has been a generous supporter of green energy policies, he helped pass Senate Bill 350 that calls for 50 percent renewable energy by 2030. California's current mandate is 33 percent by 2020 – which California's three investor-owned utilities are, reportedly, "already well on their way to meeting." It is no surprise that California already has some of the highest electricity rates in the country. Analysis released last week found that states with policies supporting green energy have much higher power prices.
In doing research for the monoblogue Accountability Project, which I am in the process of completing now, I stumbled across two bills which dovetail nicely with both this article and another recent commentary by Noon regarding solar power mandates and incentives. I'll tackle the latter issue first.
For several years the state of Maryland has mandated a certain percentage of electrical power be derived from renewable sources, with a proposed new version of the law (HB1106/SB921)retaining the 13.1% share required for 2017 but increasing the carveout for solar energy from 0.95% to 1.15%. This bill also proposed that the share of both renewables and solar power increase at an accelerating rate, eventually ratcheting up the requirements to 25% and 2.5%, respectively. While that would be great news for the solar industry, it would be bad news for consumers – according to the information provided with these bills the increase in monthly electric bills to an average consumer if this measure is enacted could be as much as $3.06 per month by 2020. However, Maryland's Department of Legislative Services cautions (page 7 of the Fiscal and Policy Note) predicting this increase can only be "for illustrative purposes" because of all the factors involved.
The reason behind the rate increases is the payment to the state called the Alternative Compliance Payment (ACP), which also is affected by the bill. The proposal actually would decrease slightly the ACP for all renewable energy sources except solar from 4 cents to 3.75 cents per kilowatt-hour, or, in a more practical term, from $40 per megawatt-hour (MWh) to $37.50 per MWh. (An average home is considered to use 1 megawatt-hour of electricity per month.) It also gives utilities a temporary break on the solar energy carveout, where the fee for a shortfall would decrease from a scheduled $200 per MWh in 2017 and 2018 to $195 and $175 for 2017 and 2018, respectively. The fee would increase in the out years, however.
When the Fiscal Note predicts that the state itself would incur an additional $2.2 million in electrical costs by 2021, it's obvious that this proposal would be a costly one for consumers. At this point the bill is in limbo, as it was passed by both the House of Delegates and Senate but has not been signed or vetoed yet by Governor Larry Hogan.
Now let's turn to the most recent commentary from Noon, where she notes California will mandate 50 percent renewables 14 years hence. Unfortunately, Maryland is not that far behind them as they just enacted SB323, which will take effect in October. Instead of letting this silly notion that our little state can actually do something about climate change by reducing our energy consumption expire – as it would have with no action - this bill instead maintained a 25% by 2020 mandate and increased the mandated energy reduction to 40% by 2030. As an analysis Noon used in her piece shows, Maryland is among the states with the highest electricity bills and follies such as these are a reason why.
Don't get me wrong: I am definitely for energy efficiency, but it should be in terms of consumer choice rather than government fiat. Those who create and pass the laws rarely embark on any sort of dynamic cost/benefit analysis for their policies, so in this case they're not considering the effect on ratepayers and job creators in balance with the very dubious pie-in-the-sky notion of affecting our climate. (After all, if it was once warm enough to have the polar expanse of Greenland actually be green, as it was around the turn of the previous millennium – well before the Industrial Revolution or the car-happy society we inhabit now – then how much effect do we really have?) We can hardly predict with any certainly the weather two weeks from now, so why should we trust the accuracy and inerrancy of a climate forecast for 2050 when it's used as an excuse for confiscatory policy that indirectly benefits those making the forecast?
As I brought up the monoblogue Accountability Project earlier, it shall be noted that the votes on both these bills will be used for this year's mAP. It's a shame that just 39 Delegates out of 141 and only two (yes, two!) Senators out of 47 have the potential for getting both these votes correct. Maryland has a relatively powerful environmental lobby thanks to its straddling of Chesapeake Bay, but these were cases where the state's budding attempt to be more business-friendly and hopefully end its economic reliance on big government should have held sway. While Governor Hogan erred in signing the climate change folly, he can do a more concrete favor for businesses and ratepayers by vetoing HB1106/SB921 and creating a proposal to sunset the ACP for next year's session.
And while we are at making energy policy, I encourage Governor Hogan to follow the lead of his friend and cohort New Jersey Governor Chris Christie and remove Maryland from the membership rolls of the Regional Greenhouse Gas Initiative. Utilities (and their ratepayers) will thank him from getting us out from under that wealth transfer boondoggle.
Perhaps the National Rifle Association is now in the "lesser of two evils" camp.
You know, we used to rag on John Kerry for being for something before he voted against it, but I suppose the passage of time grants Donald Trump the privilege of being for an assault weapons ban when it was all the rage two decades ago and now getting the endorsement of the NRA much earlier in the campaign than Mitt Romney did four years ago, according to Fox News:
The NRA's endorsement comes significantly earlier in the election cycle than previous endorsements by the group. The group did not endorse 2012 GOP nominee Mitt Romney until October 2012.

However, officials told Fox News ahead of the announcement there is an excitement for Trump among their members that they did not see for Romney or 2008 nominee Sen. John McCain, R-Ariz.
I'll grant that I am a Second Amendment advocate who is not a member of the NRA, but it is worth pointing out that the group endorses solely on their perception of how candidates will stand up for the Second Amendment and gun owners' rights. It's very likely Hillary Clinton will be a gun-grabber and certainly the so-called "assault weapons" ban will return to our law books if she's elected. Trump fed into that when he said, "Crooked Hillary is the most anti-gun, anti-Second Amendment candidate…She wants to take your guns away from you, just remember that."
But it has to be asked whether the NRA is just hoping to keep the status quo, which as it turns out makes the NRA a lot of money – over $300 million, according to this report on their 2014 tax filing. With Trump I don't foresee any rolling back of restrictions, and given his tendency to walk back previous statements (like his Supreme Court short list) I have to wonder if the NRA was thinking more about its bottom line in seeing a lot of "Trumpkins" becoming new members than advancement on a more true interpretation of the Second Amendment. That whole "shall not be infringed" thing seems to be violated regularly.
This is particularly the case when the NRA's rival, Gun Owners of America, recently posted an article blasting Trump for donating $25,000 to Terry McAuliffe when he first ran for governor of Virginia in 2009 - seven years later, after winning in his second try, McAuliffe allowed 200,000 convicted felons to register to vote. Writer John Velleco concludes:
If McAuliffe's unconstitutional action is not overturned, it will make it that much tougher for ANY Republican to win in the Old Dominion–a key state on the road to the presidency–as the new voters "thank" McAuliffe by voting for Hillary.

Ironically, while Trump brags about his "deal making" prowess, it is that wheeling-and-dealing that has now made it all the easier for an anti-gun Democrat to win an important state like Virginia in November.

Trump does not seem to grasp that making deals in politics is not the same as in real estate, where you can have a win-win outcome.

When you sit down at the table with Terry McAuliffe, Nancy Pelosi or Chuck Schumer to negotiate on, say, a gun bill, it's a zero-sum game for them.  The discussion will always end up being how many of our rights will we lose.

A "compromise" to an anti-gunner is a ban on "certain" semi-automatic firearms, instead of a ban all semi-automatics.  A 3-day waiting period verses seven days.

They're not interested in compromise.  They're only interested in our side selling out, and for how much.

We know Donald J. Trump doesn't understand the gun issue.  He supported an "assault weapons" ban before he opposed it and just last year he endorsed the notion that people on a secret government "watch list" should be barred from owning guns.

Trump is bragging about the "deals he'll make" specifically with Chuck Schumer and Nancy Pelosi.  In that negotiation, our gun rights could very well be the bargaining chips.
In other words, Velleco shares one of my biggest concerns about Trump – as a Republican, he's sure not going to negotiate with conservatives. Perhaps some of the more strident advocates of the Second Amendment will be convinced to jump on board the Trump train with word that he's the NRA's chosen candidate, but there are a lot of races where the NRA has preferred incumbents who were worse for the nation on an overall basis. Most people can fathom that Hillary is a gun grabber and they didn't need the NRA to tell them that.
Commentary by Marita Noon
Any comprehensive review of green energy and its politics and policies has to include the name of wealthy liberal Tom Steyer – who has been called the environmental movement's new "Daddy Warbucks."  Having made his billions from his tenure atop Farallon Capital Management – much of it from coal projects around the world – Steyer apparently had an environmental epiphany and now wants to atone for his past sins by trying to save the planet from manmade climate change.
He is using his wallet to try to elect candidates who will promote policies and energy plans that agree with him. And that plan is "green." As I've previously reported, he spent nearly $75 million in the 2014 midterms and intends to top that for the 2016 election cycle. Steyer - a long-time donor to Democratic causes - was a 2008 Hillary Clinton supporter. After her campaign failed, he emerged as a bundler for Obama in 2008 and again in 2012. Additionally, Steyer is a Clinton Foundation donor, and last year, at his San Francisco home, he held an expensive fundraiser for Clinton's 2016 presidential run.
Along with researcher Christine Lakatos, whose Green Corruption File was recently praised on the Michael Savage Show, I've repeatedly addressed Steyer's involvement through our work on President Obama's Green-Energy Crony-Corruption Scandal. Anytime there is a pot of government money available for green energy, as Lakatos found, Steyer's name seems to be attached to it. Some of the most noteworthy include: Sungevity, ElectraTherm, and Project Frog – all funded by Greener Capital (now EFW Capital), which is a venture firm that invests in renewable energy, with Steyer as a known financial backer.
Steyer claims to have "no self-interest" in his political activism. The Los Angeles Times quotes him as saying: "We're doing something we think is good for everyone." Yet, as Forbes columnist Loren Steffy points out, he is spending his fortune lobbying for "short term political gains" rather than into research and development "aimed at making renewables economically viable."
While he may say what he is doing is good for everyone, the policies he's pushing are good for him – not for "everyone." The Washington Post called him: "The man who has Obama's ear when it comes to energy and climate change." In California, where he has been a generous supporter of green energy policies, he helped pass Senate Bill 350 that calls for 50 percent renewable energy by 2030. California's current mandate is 33 percent by 2020 – which California's three investor-owned utilities are, reportedly, "already well on their way to meeting." It is no surprise that California already has some of the highest electricity rates in the country. Analysis released last week found that states with policies supporting green energy have much higher power prices. In October, Steyer spent six figures for an ad campaign calling for the next president to adopt a national energy policy similar to California's: "50 percent clean energy mix in the U.S. by 2030″ – which will raise everyone's rates.
With Steyer's various green-energy investments, these rate-increasing plans are good for him but bad for everyone else – especially those who can least afford it. And, it is the less affluent, I recently learned, he's targeting with predatory loans for solar panels through Kilowatt Financial, LLC, (KWF) – a company that listed him as "manager" on corporate documents. KWF recently merged with Clean Power Finance and became "Spruce." The financing structure used, according to the Wall Street Journal (WSJ), allows "homeowners to get solar systems at no upfront cost and then to pay monthly for the use of the power generated. Homeowners end up saving on their total electricity use, while financing companies get steady revenue over 20 years." WSJ, points out, the KWF financing can be offered to "people who wouldn't be approved otherwise."
In the KWF model, contracted payments come from homeowners and "create a steady and reliable income stream, part of which is owned by its venture investors, including Kleiner Perkins." About the arrangement, KWF chairman and Chief Executive Daniel Pillmer said: "Kleiner Perkins will make a lot of money." Apparently, the money to be made is from selling the loans that are then securitized on Wall Street – much like the "sub-prime" mortgage crisis that offered loans to people who couldn't qualify with "traditional lenders." KWF's website brags: "We support financing terms for almost every customer and provide ways for dealers to participate in the pricing process to generate even more approvals and create even lower consumer rates." KWF offers "Instant Approvals, even for customers with lower credit scores" and "Same-as-Cash and Deferred Payment Offers." In these types of payment plans, a low rate is usually offered in the beginning and increases retroactively if all the terms of the loan are not met.
In this model, the homeowners don't actually own the solar systems – which means KWF receives the benefit of the federal tax incentives, such as the 30 percent federal "Investment Tax Credit," designed to benefit the owner of the solar system.
It is practices like this that have drawn the ire of Congress. Several congressional Democrats sent a letter to the Consumer Financial Protection Bureau that warned about the similarities between the solar industry and what led to the subprime mortgage crisis: "easy initial financial terms, increased demand and a rapidly expanding industry." These factors create a high risk potential that could, ultimately, be harmful to consumers. Similarly, Republicans sent a letter to the Federal Trade Commission that noted pressure from Wall Street is reportedly leading companies who use "potentially deceptive sales tactics" – which doesn't sound like it is something that is "good for everyone."
Yet, it is these very types of finance products, promoted by Steyer's Kilowatt Financial that Greentech Media reports are "doing well."
While Steyer claims to want to give everyone a "fair shake," his pet policies increase costs for everyone, and offer a hand-shake for Wall Street. Steyer and his billionaire buddies win, "everyone" else loses. This is how the green-energy crony-corruption scandal works: the political pals profit while the taxpayers get fleeced.
The author of Energy Freedom, Marita Noon serves as the executive director for Energy Makes America Great Inc., and the companion educational organization, the Citizens' Alliance for Responsible Energy (CARE). She hosts a weekly radio program: America's Voice for Energy - which expands on the content of her weekly column. Follow her @EnergyRabbit.
If you have read my site over the last couple weeks, you'll know that I had a fascination with how the slates of delegates and alternate delegates to the Republican National Convention came together. As it turned out, there were four of them:
The Conservative Club slate, which was the first one out. It featured ten Delegate and nine Alternate Delegate candidates, of which only seven actually ran. Four of those on the Delegate ballot were state elected officials.
The Trump slate, which obviously featured more backers of Donald Trump to add to the total he has. Of the 22 they fielded, seven were state (or federal) elected officials. Both the Trump slate and Conservative Club slate featured the soon-to-be-elected as National Committeeman David Bossie, who was the overall top vote-getter among Delegates.
The Cruz slate, which as I was told was an unofficial slate but featured those who worked for and trusTed Cruz. Their 22 hopefuls had just one state elected official, but two others who ran unsuccessfully in recent elections.
And finally, the Unity slate, which was an effort to bring all of the camps together. It intentionally excluded current state elected officials.
Out of 96 who ran, 67 (by my count) were on one of the slates, and while it didn't guarantee election it bears noting that only Steve Schuh, who had the advantage of hosting the convention, beat the odds and won without being on a slate. The other 21 victors were on at least one slate.
So how did the slates fare?
The Trump slate. It was no surprise that this slate was built for success, as it was heavy on elected officials. All but one of those who ran for Delegate finished in the upper half of the field, with five of the eleven slots taken by Trump backers. Collectively they received a healthy 30% of the vote. The success was even more pronounced in the Alternate Delegate field, where the names were less familiar so voting was based more on the slate. Again, all but one finished in the upper half of the field and an amazing eight of the eleven were chosen, overwhelming the rest with 46.6% of the vote.
The Conservative Club slate. Had they ran with a full field, they would have presented a decent challenge to the Trump backers. Still, all but one of their ten Delegates finished in the upper half and they won four of the eleven slots when you count Bossie. House of Delegates member Deb Rey would have made it five but she just missed the top eleven by an eyelash. They finished with 26.5% of the Delegate vote as a group. As for Alternate Delegates, two of their choices did not actually participate in the election. Of the seven who did, six finished in the top half of the field with one making it to Cleveland. Their 23% of the vote was solid for just seven participants – had they fielded eleven, they may have made the low 30s.
The Unity slate. In a race based as highly on name recognition as this one, not taking elected officials was destined to cut into overall success. Their Delegate field ran the gamut from third overall to 60th (of 61), with nine finishing in the top half and three of the top eleven Delegates. Overall they picked up 23.6% of the collective vote. On the Alternate Delegate side they placed seven in the top half and advanced four to the national convention – Marcus Alzona just missed making it five - scoring 33% of the Alternate Delegate vote.
The Cruz slate. Out of their 11 selections for Delegate, just six finished in the top half and only two in the top twenty – their best Delegate finisher was Deb Rey, who as I noted just missed the field in 12th. Collectively they picked up only 17.8% of the ballots. The news was a little better for the Alternate Delegates – although only three finished in the top 20, two of those made the Cleveland field. The Cruz crew got 23.8% of the Alternate Delegate vote overall.
So in terms of those going to Cleveland, the score was Trump 13, Unity 7, Conservative Club 6, and Cruz 2. This adds up to more than 21 because David Bossie was on both the Trump and Conservative Club slates, Kory Boone was on both the Conservative Club and Unity slates, Cynthia Houser was on both Trump and Unity, and Alirio Martinez, Jr. and Christina Trotta had the trifecta of Conservative Club, Unity, and Cruz. (No wonder Trotta finished third and Martinez eleventh.)
But how did the monoblogue Slate do? Here's the list I voted for, which began with crossing out the Trump backers and most of the elected officials.
Delegates:
Don Murphy (3rd, Unity)
Deb Rey (12th, Cruz/CC)
Maria Pycha (14th, Cruz)
John Fiastro Jr. (16th, Unity)
Faith Loudon (19th, Unity)
Michael Smigiel (21st, Cruz)
William Campbell (22nd, Cruz)
Julie Brewington (27th, Cruz)
Gus Alzona (34th, Cruz)
Donald Frazier (40th, Cruz)
Patricia Fenati (43rd, Cruz)
Alternates:
Christina Trotta, 3rd (Cruz/CC/Unity)
Gloria Murphy, 6th (Unity)
Alirio Martinez, Jr., 11th (Cruz/CC/Unity)
David Dobbs, 18th (Cruz)
Chike Anayanwu, 21st (Cruz)
Daniel Lathrop, 23rd (Cruz)
C. Paul Smith, 25th (Cruz)
Samuel Fenati, 27th (Cruz)
Luis Puig, 29th (Cruz)
Nathan Weirich, 30th (Cruz)
Robert Charles, 34th (Cruz)
Combined the monoblogue slate received 22.6% of the total Delegate vote and 27% of the total alternate vote – not counting the 100% of the votes that mattered, which would be mine.
So I pray that these folks who are going to Cleveland make some wise decisions for us when it comes to the platform, rules, and even perhaps reconsideration of the presumptive nominee if he continues to drift away from what I've always understood to be Republican principles on all three legs of the conservative stool.
Having done this before and not been on any sort of slate, my advice to those of you wishing to try in 2020 is to get on one. Unless you have stratospheric name recognition in the party, it's highly doubtful you'll advance to the national convention based on past results. It's a sad state of affairs that this process generally benefits the "establishment" but it is what it is, and the best way to combat it seems to be putting together a slate. Remember, the bottom half of this field was littered with non-slate hopefuls, distasteful as that may seem.
When I last left you, I was commenting on having to get up at 6:45 for breakfast. Given that this was our election day and the polls were yet to open, this was the scene around the hotel on available spaces.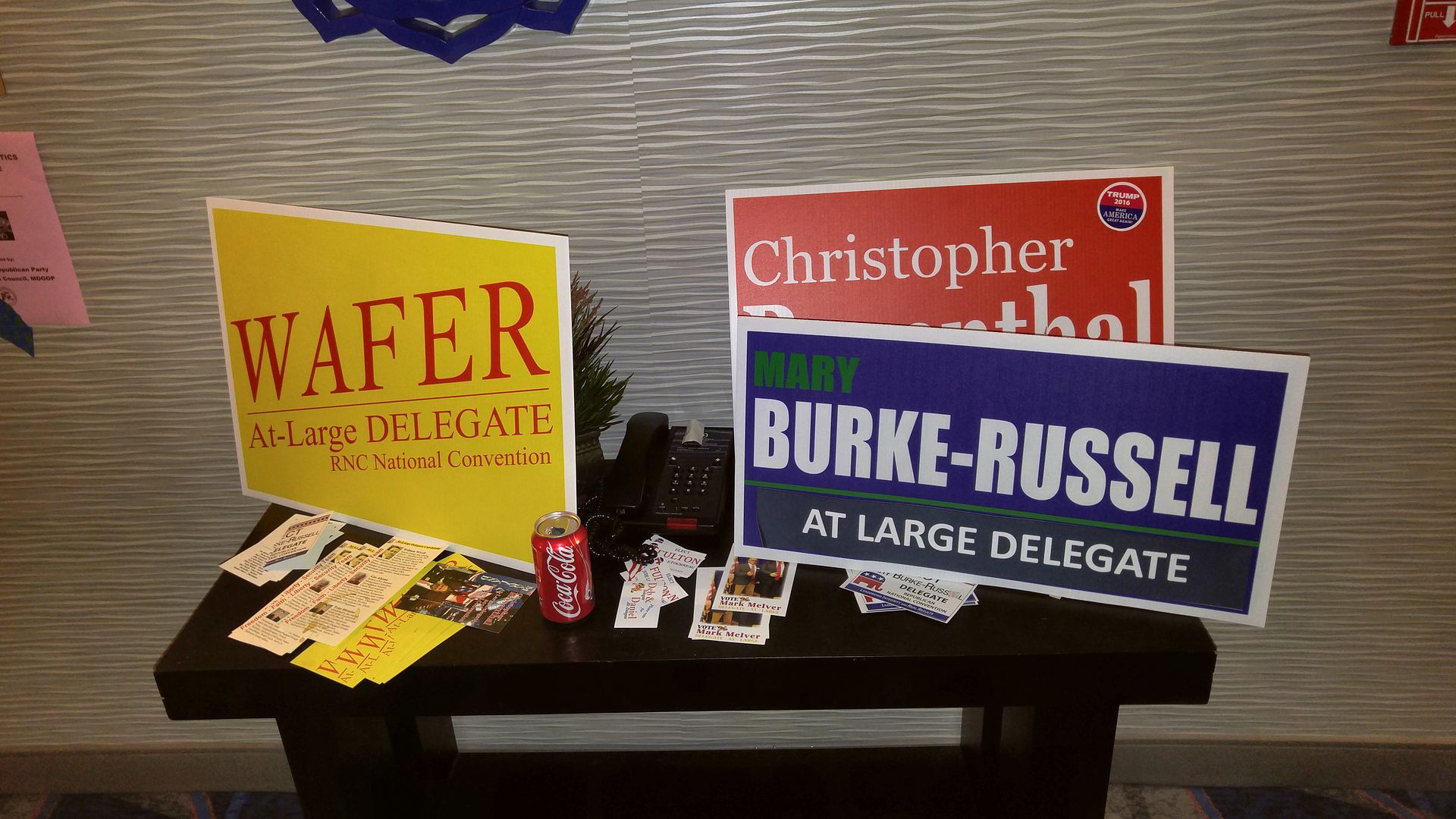 Aside from the Coke can (which, as an aside, is a drawback to this hotel because Pepsi products are difficult to come by), I often wonder what non-political guests think about all this. I'm sure they are amused.
On the way back to breakfast from putting my stuff in the car (on a glorious morning) I snapped this shot of the convention hall.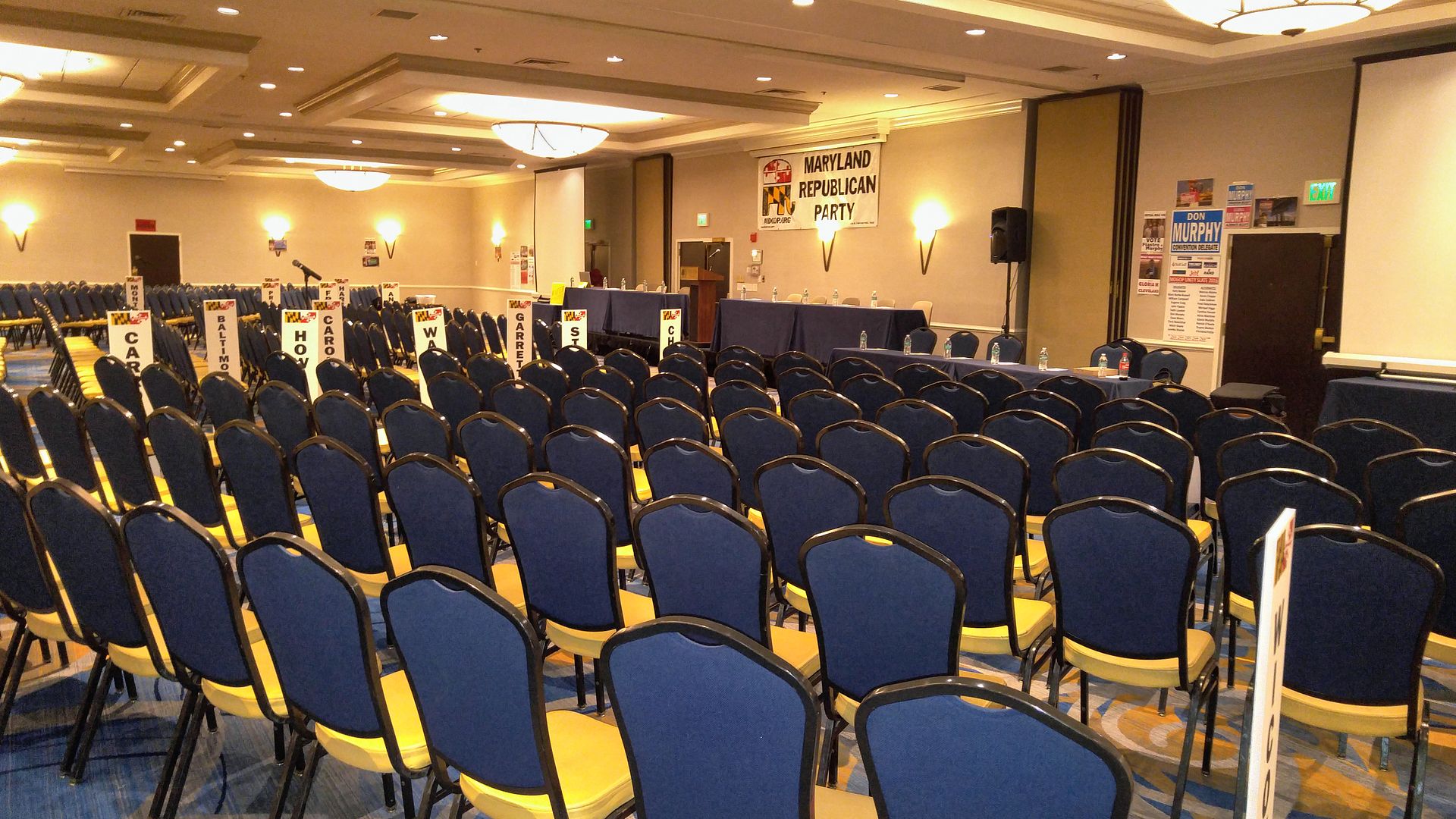 One tangible improvement was our county signs, which have finally been upgraded after a decade.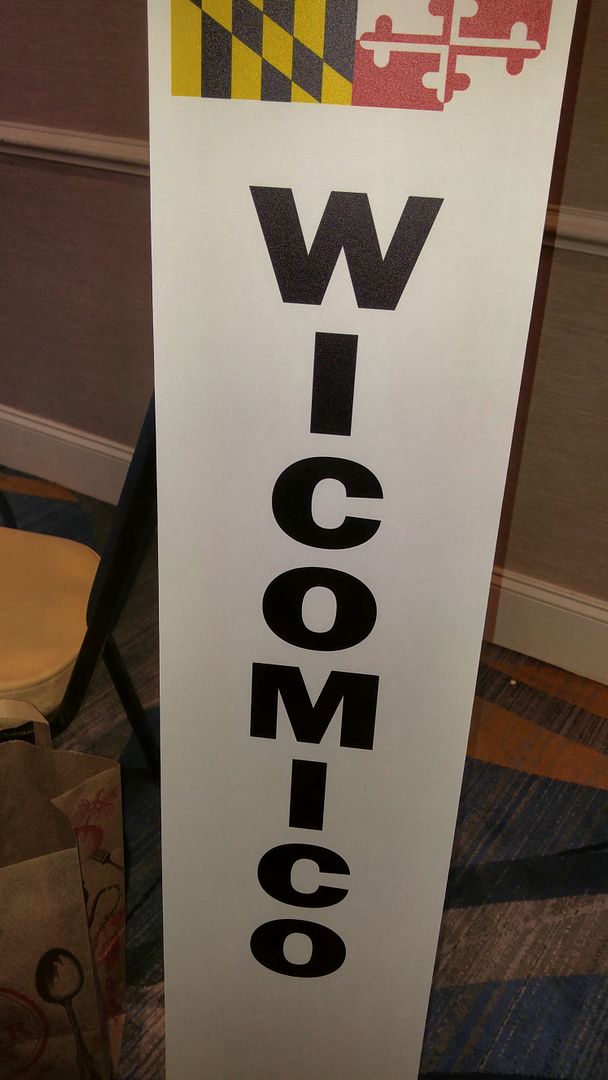 Our breakfast speaker was introduced by the recovering MDGOP Chair Diana Waterman, who was thrilled to report her hair was growing back after the chemo and surgery she has endured for her fight against breast cancer.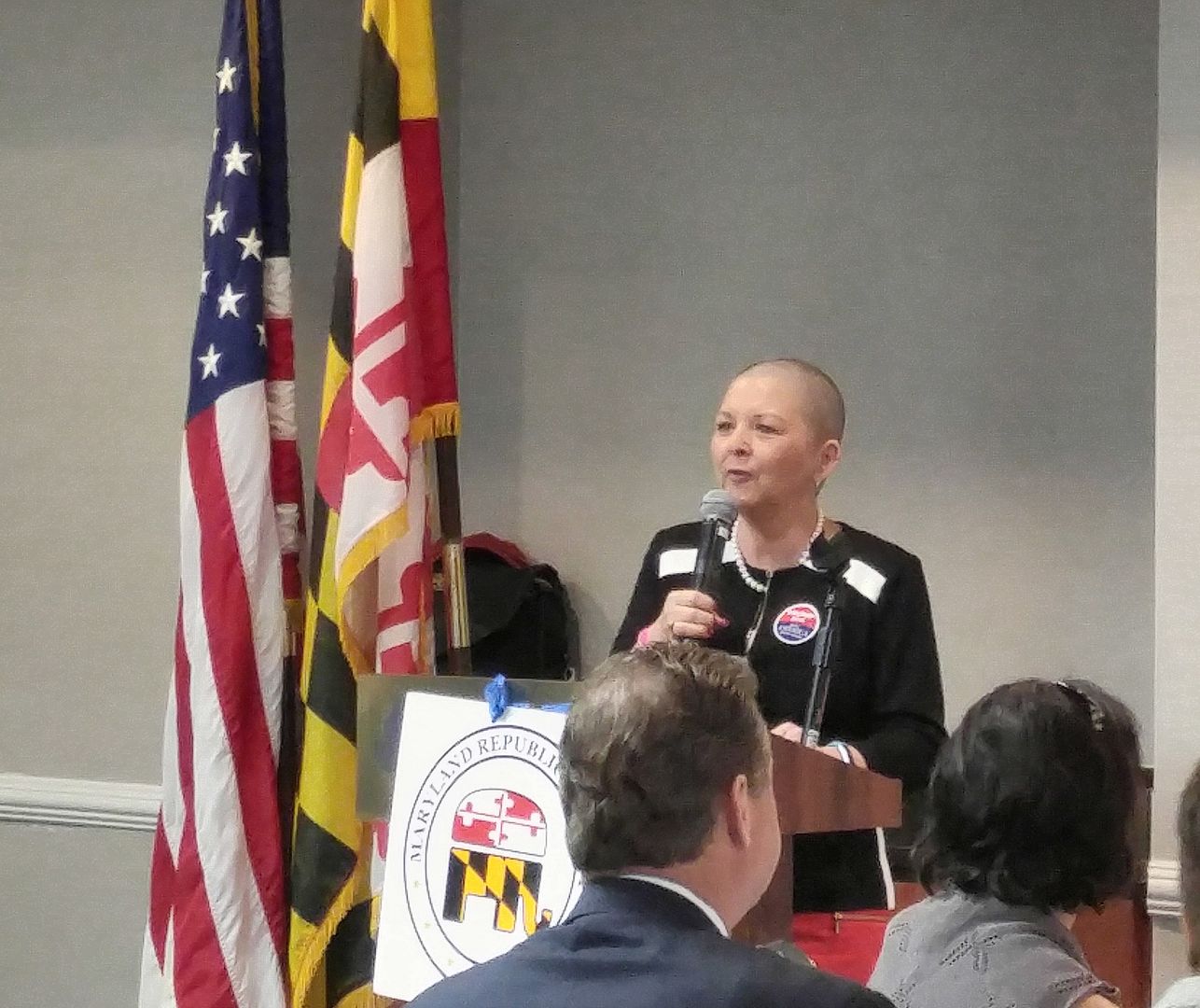 She called Anne Arundel County Executive Steve Schuh "a great Republican." Schuh began his remarks by noting this was the "most unusual election in at least 100 years."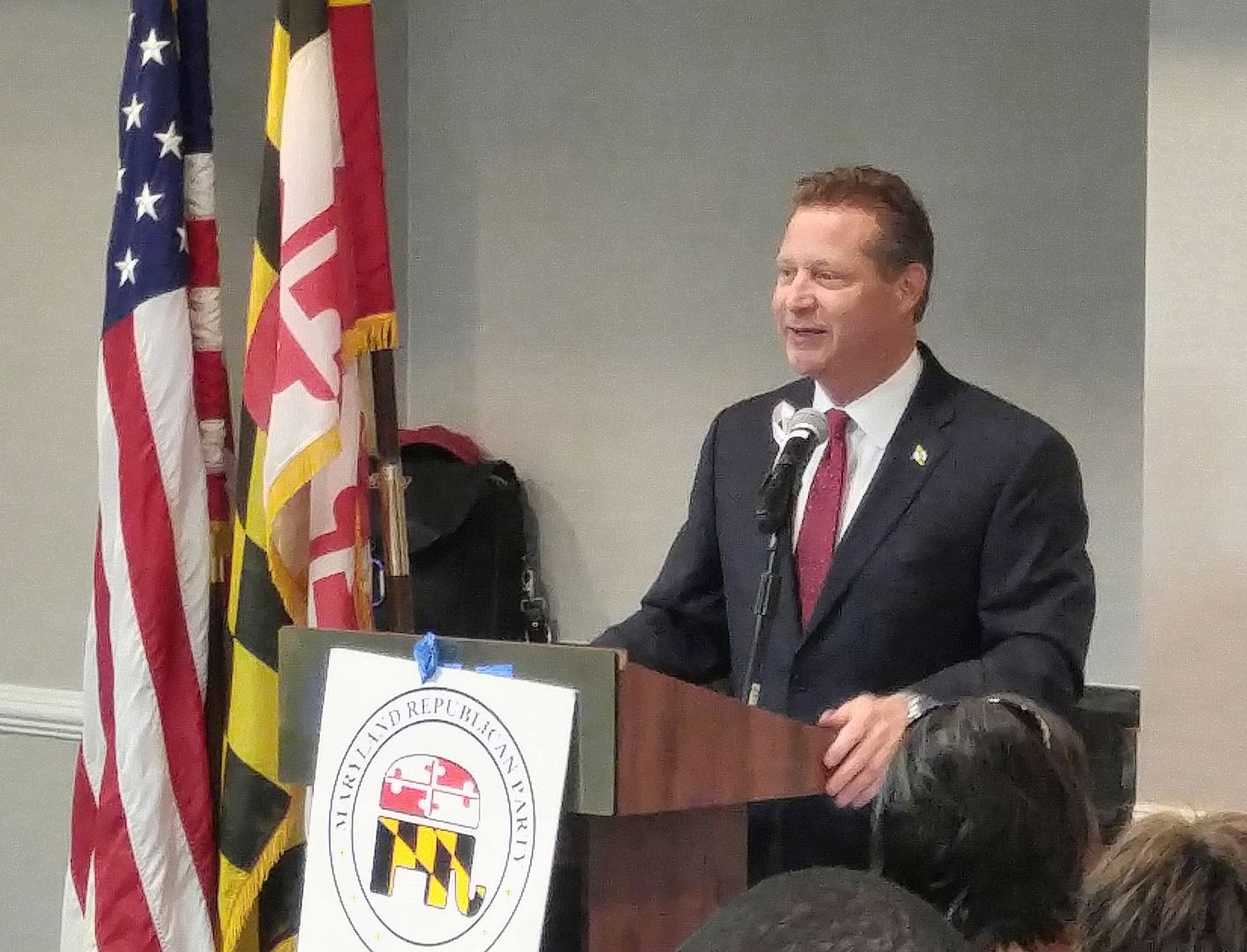 But Schuh went on to praise Donald Trump for tapping into several "electoral undercurrents," particularly when he brought up the issues of immigration and national security. Yet while he said the "misgivings were understandable," Schuh has "come to peace with a Trump candidacy." Steve then outlined a number of stark differences between Democrats and Republicans: the role of government, immigration, Second Amendment, free speech (where the Left uses "shoutdowns as a weapon of choice"), taxation, private property, and life itself. It was a "belief in limited government and personal responsibility" that set the two major parties apart, Schuh added.
Schuh's rather brief remarks allowed me to grab a good seat for the convention itself, which featured a number of reports in the morning. I wasn't satisfied with how most of my photos came out inside the hall, so you will have to read about most of what was said inside without the visual aids.
Annapolis Mayor Mike Pantelides welcomed us to his city, noting that the Maryland GOP "got involved in my race in a very big way" and allowed him to win by a narrow 59-vote margin. Encouraging us to note on social media that the event was being held in Annapolis, Pantelides also called both County Executive Schuh and Governor Hogan "mentors to me." His was the one city in Maryland with Republican leadership across the board: mayor, County Executive, and Governor, Mike added. Solid Republican principles and leadership could provide solutions, concluded Pantelides.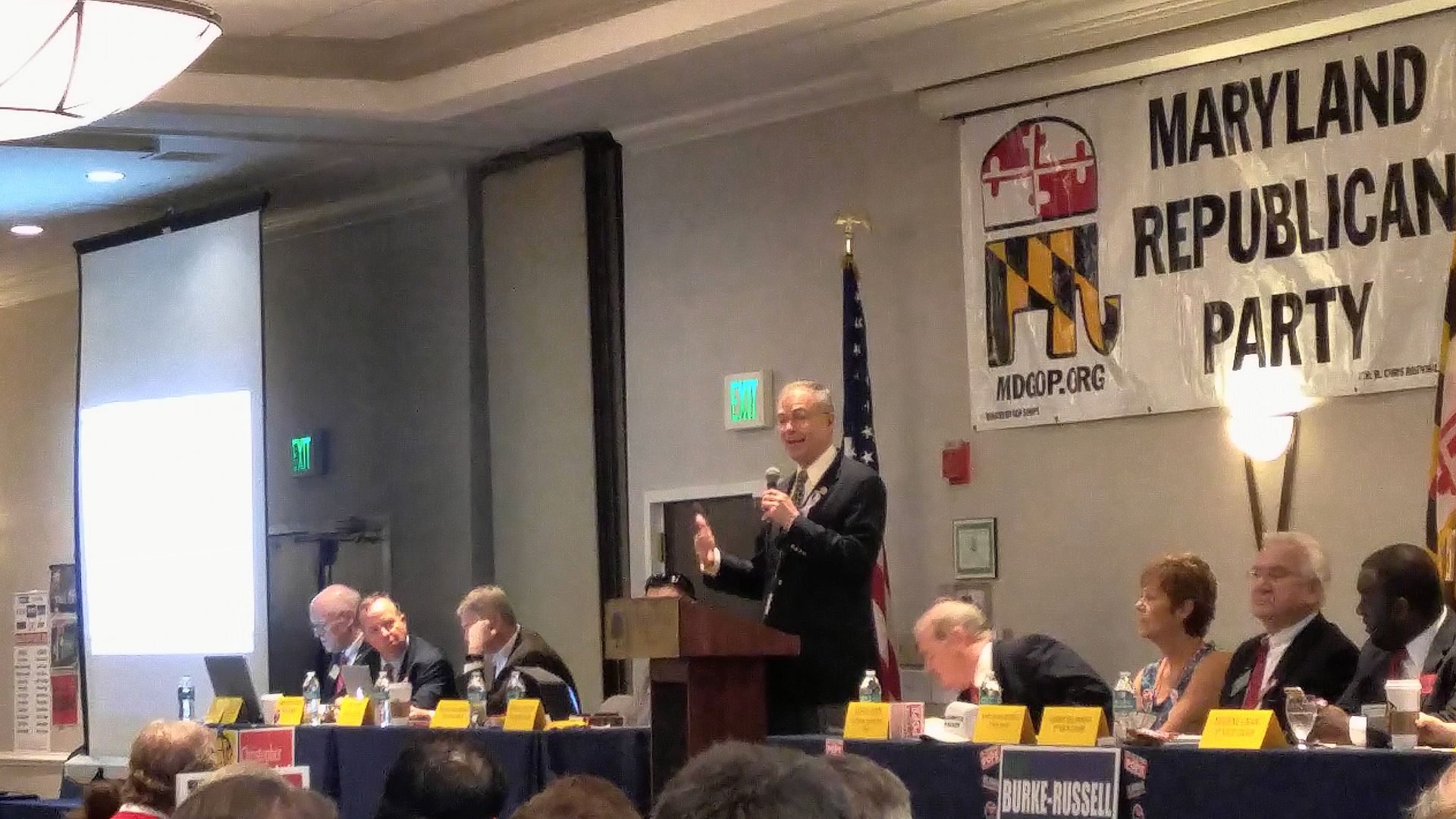 This photo of Congressman Andy Harris came out all right, and so did his message. He warned us that the Democrats have "a lot of assets" to throw at Governor Hogan in two years, so we needed to raise millions of dollars to assist him. But there were some advantages we had, too: for example, the sign denoting the reduced toll rates at the Bay Bridge is "like a Republican ad."
Turning to the national scene, Harris noted we could not have another four years of liberal policy. And even though he endorsed Ben Carson in the GOP race, he came out to say, "I'm a Donald Trump guy 101% now." He also told us there was no fight between Trump and Speaker of the House Paul Ryan, despite what the media would lead you to believe.
We had two legislative reports, one from Delegate Nic Kipke and the other from Senator J.B. Jennings.
Kipke believed that we were "at the precipice of…another surge of Republicans" added to the House ranks. "There are a lot of seats in play for us," he assessed, particularly when Larry Hogan won in 21 more House districts than the Republican House candidates did. And the Democrats "are losing their minds" about it: Kipke gave the example of the bill allowing felons to vote before completing their sentences. Despite the fact 80% of Marylanders disagreed with this, and many of the General Assembly Democrats agreed with the veto, "the Democrats require compliance," said Kipke – so the veto was overridden.
There were Republican-backed items we should be proud of, though, said Nic – another budget with no new taxes, the elimination of preschool testing, and the adoption of P-TECH schools, beginning in Baltimore City. Republicans are "leading on issues, big and small, that make sense," said Kipke. He also awarded their Republican of the Year award to state Executive Director Joe Cluster.
Regarding the felon vote, Jennings later added that it actually failed 28-18 the first time, but was allowed to be reconsidered and passed 29-18.
One thing Senator Jennings stressed was the devious ways Democrats tried to flout the rules; in one example they tried to put one Senator on two committees, which is a no-no. They also worked hard to fix bad bills to make them more palatable.
But the problem Senate Republicans have is that "we are short five votes." Getting to 19 votes would allow Republicans to sustain filibusters and kill the worst legislation. And there may be a lot of it next year: Jennings remarked that year 3 of an administration is where major pieces of legislation come out.
In between the legislative reports, MDGOP Chair Diana Waterman gave her report. She opened by welcoming new members but also remembering members who had recently passed, including my late cohort Blan Harcum who passed away earlier this year. She also announced the traditional June Red, White, and Blue Dinner would be pushed back to a date in early September because of the convention.
Diana also had a comment about the so-called "Republican war on women" when she asked "where is the 'war on women' when the Republicans have two (federal candidates) running and the Democrats have none?"
Waterman also gave the newly created Chairman's Elephant Award to Dwight Patel, but the key remark to me was an offhand one where Diana referred to chairing "my last convention" in November. If so, Diana would conclude a remarkable four-year run where she took over a party in crisis and guided it to electoral success.
We then heard from our National Committeewoman and National Committeeman, respectively Nicolee Ambrose and Louis Pope.
Much of what they said was a rehash of what they told the Executive Committee on Friday night, although this time Nicolee came equipped with a slideshow. Here are the party's goals for the new Precinct Captain recruitment program.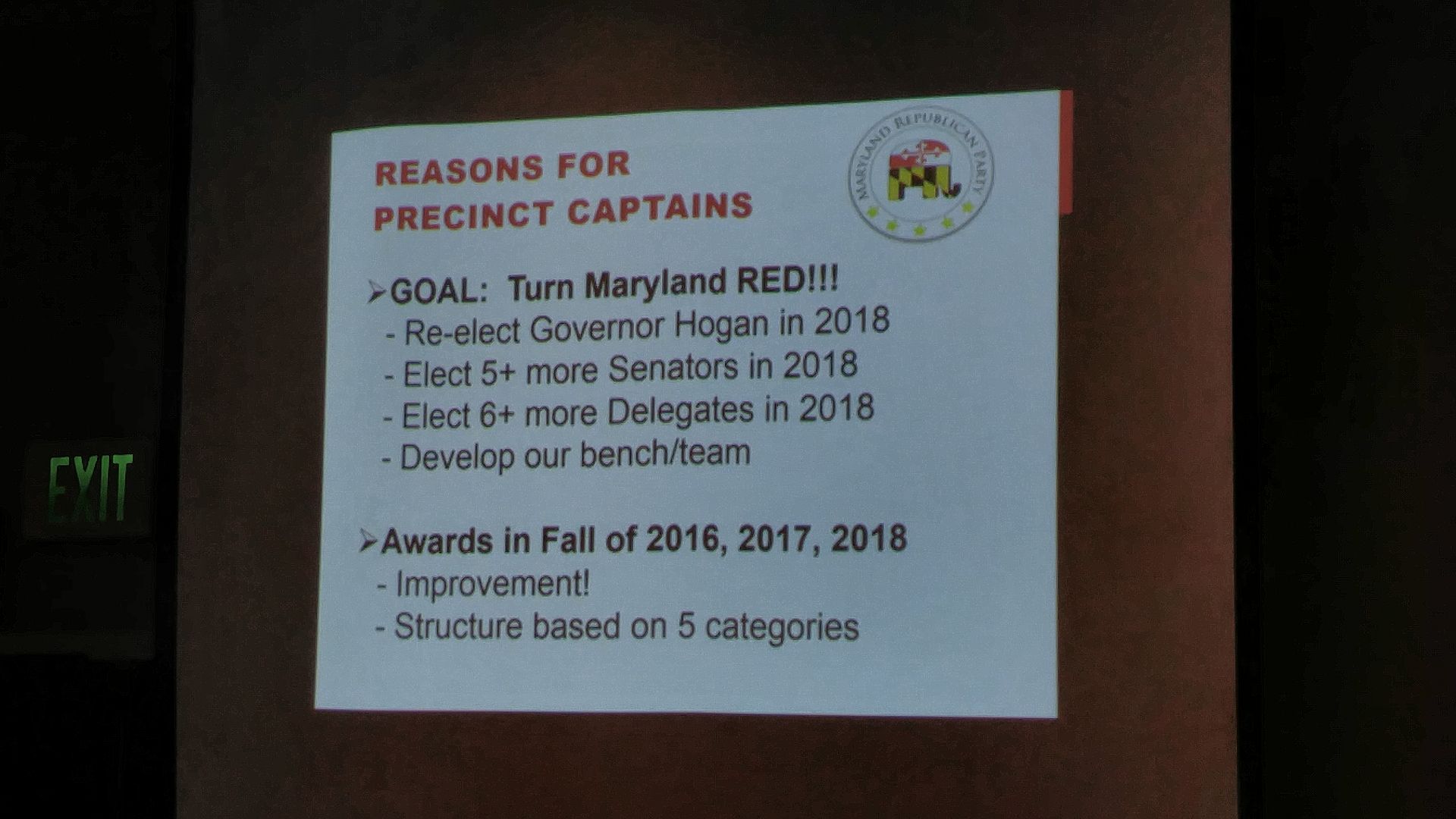 She also had a lot of these handy flyers to distribute.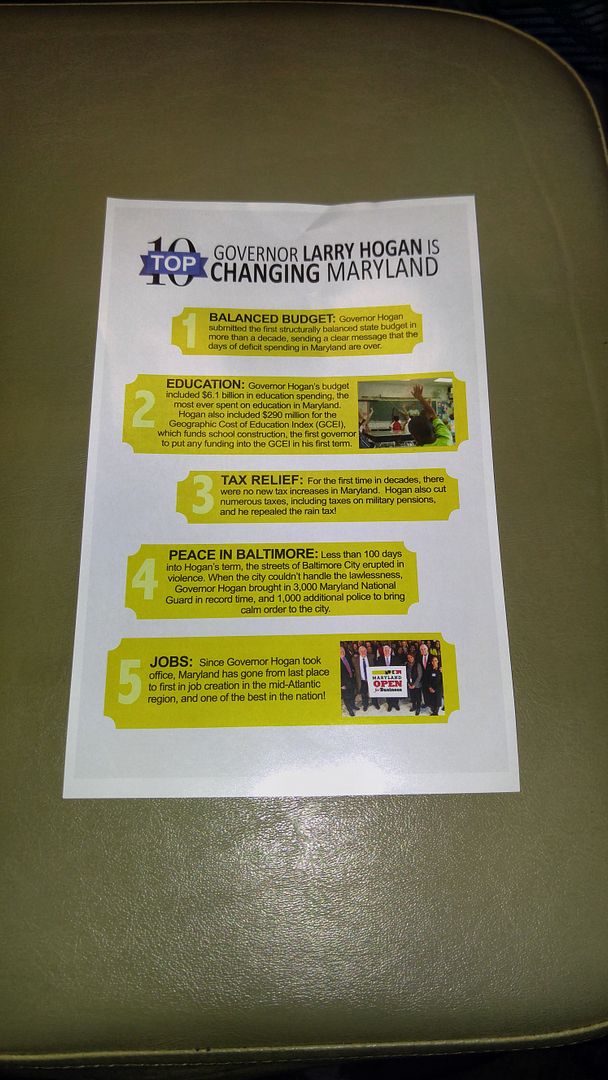 I'm only giving you the top five – for the rest, come see us when we are out and about in the community.
Louis reiterated that this year's convention "will be about unity," for it's the RNC's "#1 job" to elect the President. And while Pope believed the GOP has "an amazing array of tools to make sure we win this year" and has "tremendously expanded minority outreach" over the last four years, it all comes down to our candidate. Pope conceded that "Trump changes our plans quite a bit," and added it may "take a little bit of sculpting of (Trump's) policies" to have effective minority outreach. But Louis also contended the "Trump effect (on downticket races) is not going to materialize."
Pope's remarks concluded the morning session. I went out to eat my lunch (with Andy Harris, no less) and saw this nice display from someone who would like to join him on Congress.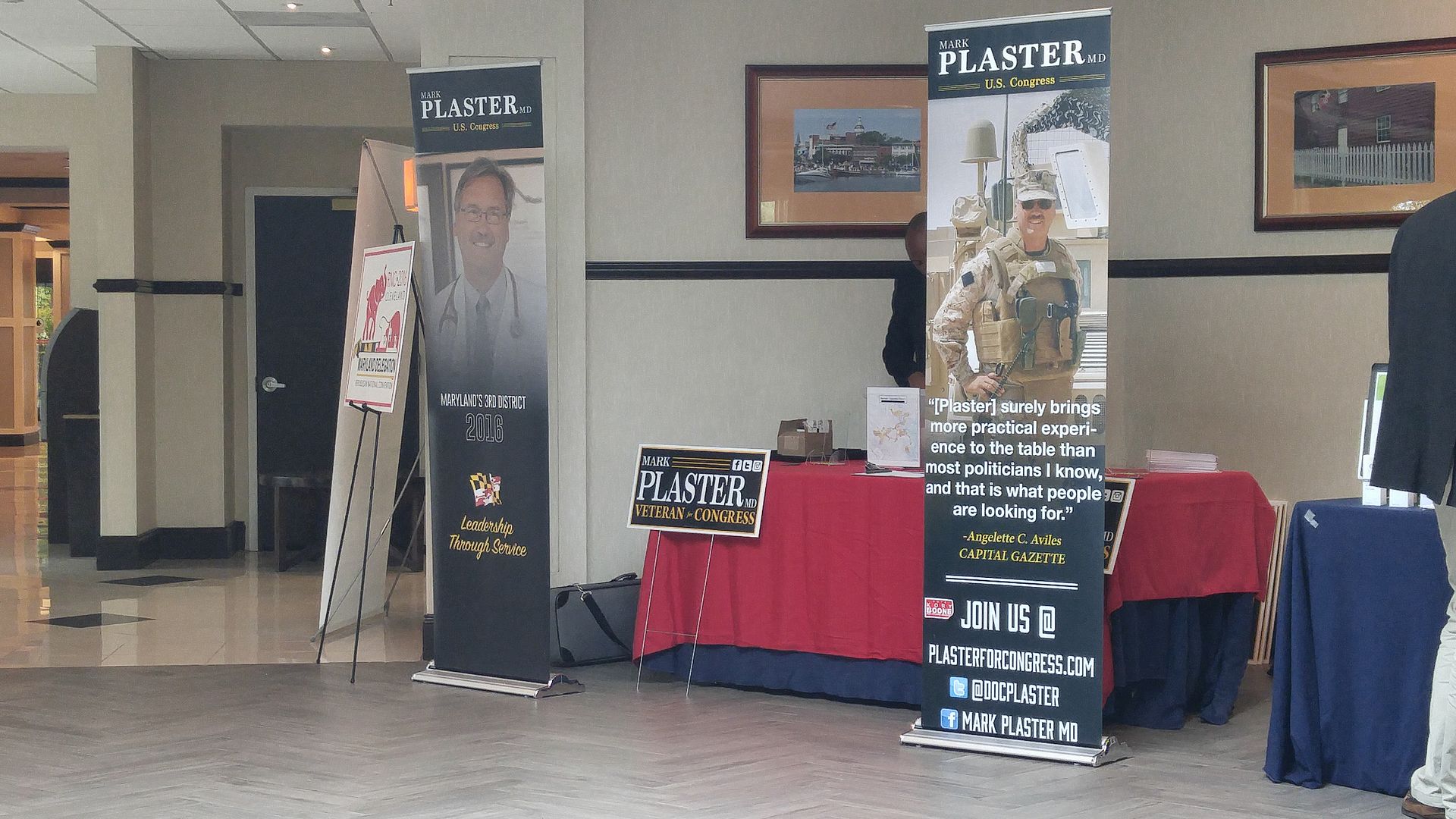 I was less interested in this swag, although I could have picked up a Cruz hat, too.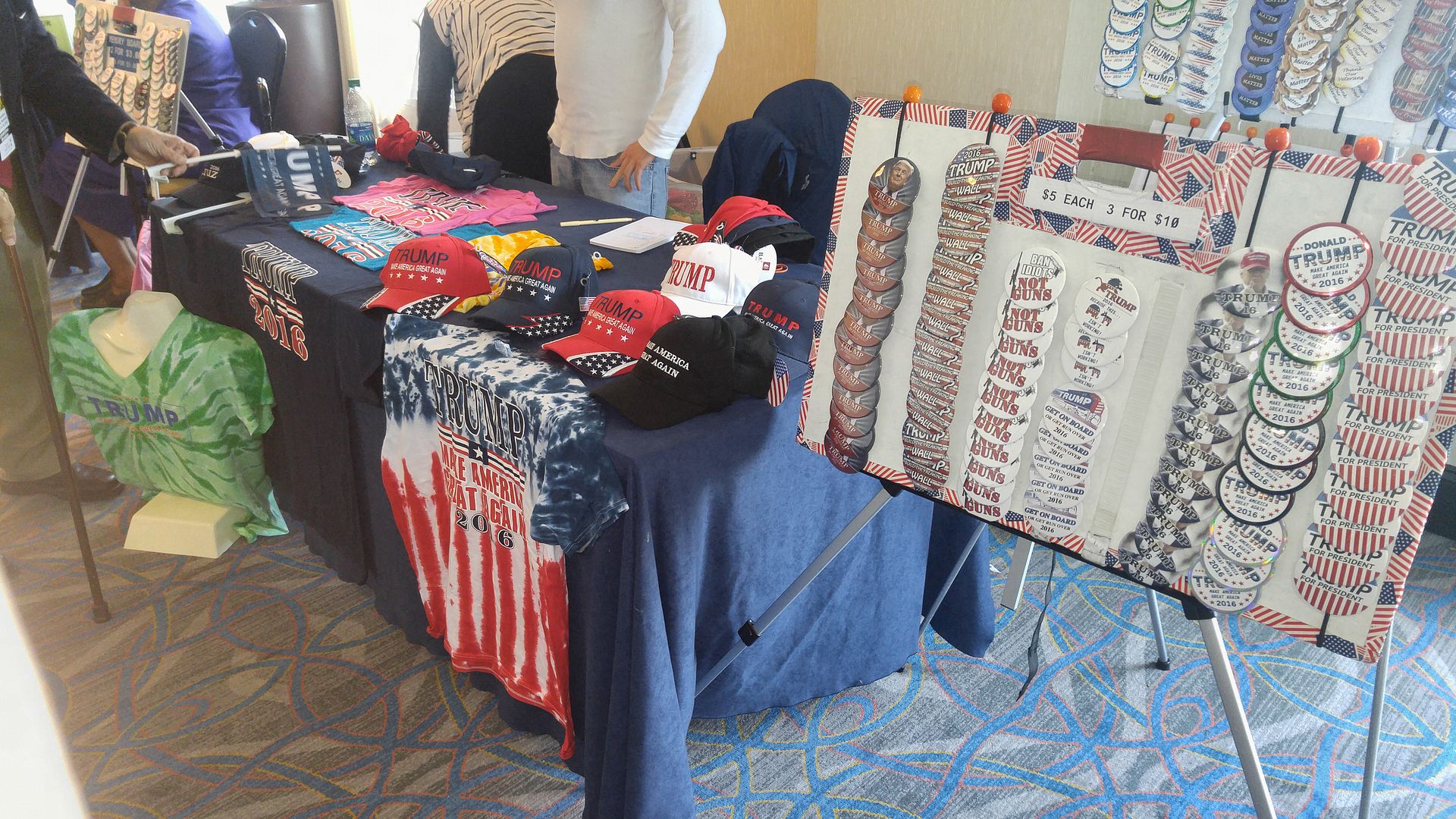 I also spied the potential National Committeeman making last-minute preparations.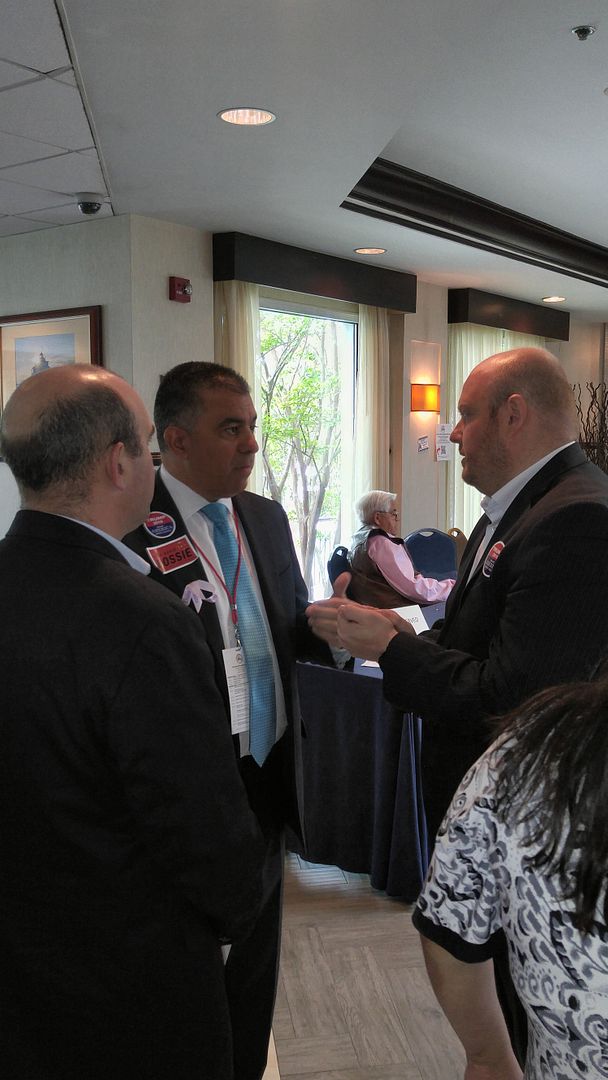 One other task I had to perform was voting for Delegate and Alternate Delegate. Because I refused to add to the Trump slate I only voted for four winners, including the guy voting immediately after me.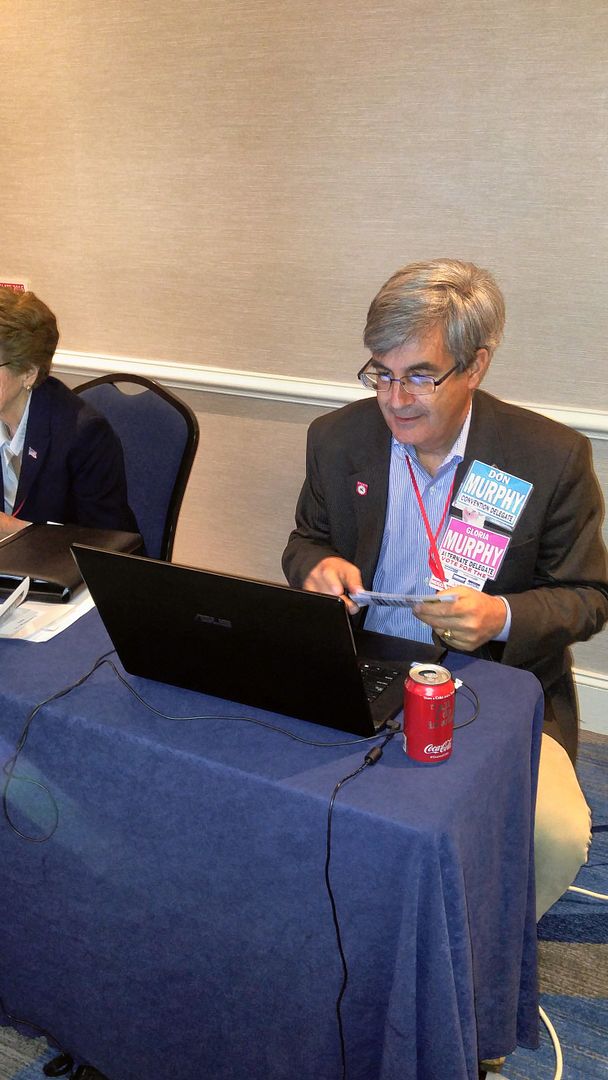 At these conventions it seems like Don Murphy is my shadow. But he and Gloria should enjoy Cleveland, since they were two of my four that won.
The system was neat and easy – we knew the winners five minutes after we voted, as I will explain shortly.
Up first was the National Committeewoman election. Since that was a walkover for Nicolee Ambrose, I can simply comment that she had one of youngest members of the General Assembly, Delegate Robin Grammer (a member of the "Dundalk Revolution") nominate her and Senator Steve Waugh second her. Both were results of the hard work Nicolee has done to elect more Republicans as both flipped Democratic districts. And I really liked Waugh's line about how Republicans "focus on putting air conditioning in the classrooms and not transgenders in the bathrooms."
We then had the National Committeeman election. Because the nominating and seconding speeches came in alphabetical order of the candidates, Bossie's went first. Nominating Bossie was the highest elected federal official in the state, Andy Harris, who said David represented "a new way of thinking" that we need.
But the jaws hit the floor for the seconding speech, as Joe Steffen notes on his site in more depth. None other than Nicolee Ambrose delivered the dagger to her associate's heart. "This is serious, serious business," said Nicolee, and "we need a fighter."
Despite that blow, Pope could counter with some firepower of his own. Lieutenant Governor Boyd Rutherford nominated Pope, recalling how he had worked with Louis for years in the Howard County party and that he's been fighting for the GOP. His seconding speech, delivered by Martha Schaerr of Montgomery County, added that Pope was "a tireless, trustworthy leader."
The focus shifted back to Bossie for his remarks, and he closed the sale by saying "I believe I can bring a lot…to the Maryland Republicans." It was "critical to have new blood in leadership," David went on, and while he promised to raise Maryland's profile, he also said "we must not cede ground to liberal Democrats, anytime."
Pope could only appeal to the masses with his experience and passion, countering, "I've spent a lifetime working for the Republican Party…I stand on my record of accomplishment."
But Pope's defense was to no avail. It was clear when the first four jurisdictions to report (Allegany, Anne Arundel, and Baltimore City and County) picked Bossie by a combined 56-8 margin that the rout was on. In terms of our voting system the count was 365-188, but in actual bodies it was 182 to 91 – a perfect 2-to-1 margin. Pope only carried eight counties (Caroline, Cecil, Frederick, Garrett, Howard, Prince George's, St. Mary's, and Talbot) and in four of the eight it was a 5-4 verdict. Only Garrett (6-0), Caroline (7-2), and St. Mary's (7-2) were big wins for Pope. (Wicomico County was 7-2 for Bossie.)
This was an emotional moment as the baton was figuratively passed, but we still had work to do.
There was a resolution that would allow the Bylaws Committee to perform what I would call a curative function, making minor changes to the bylaws in places where references were incorrect, misspellings, and so forth. They would report and we would review changes at the Fall Convention. That passed by a voice vote with one objection.
The first Bylaw amendment was an effort to both restore voting rights to the various ancillary organizations (Maryland Federation of Republican Women, College Republicans, Young Republicans, etc.) and set standards for their inclusion. But after some discussion and debate, it failed by a 188-361 vote (105-167 in terms of voters,) falling far short of the 2/3 majority needed.
The second one was less controversial, although there was enough of an objection to a lengthy lame duck period for party officers to transition after our organizing conventions (such as will occur this fall) that the date of takeover was amended back to January 3 rather than based on the day after the Governor or President of the United States is inaugurated. As amended it passed 438-99, although the amendment barely passed 283-258. (It was behind until Montgomery County sealed the deal.)
All this concluded just in time for the Delegate and Alternate Delegate results to be revealed.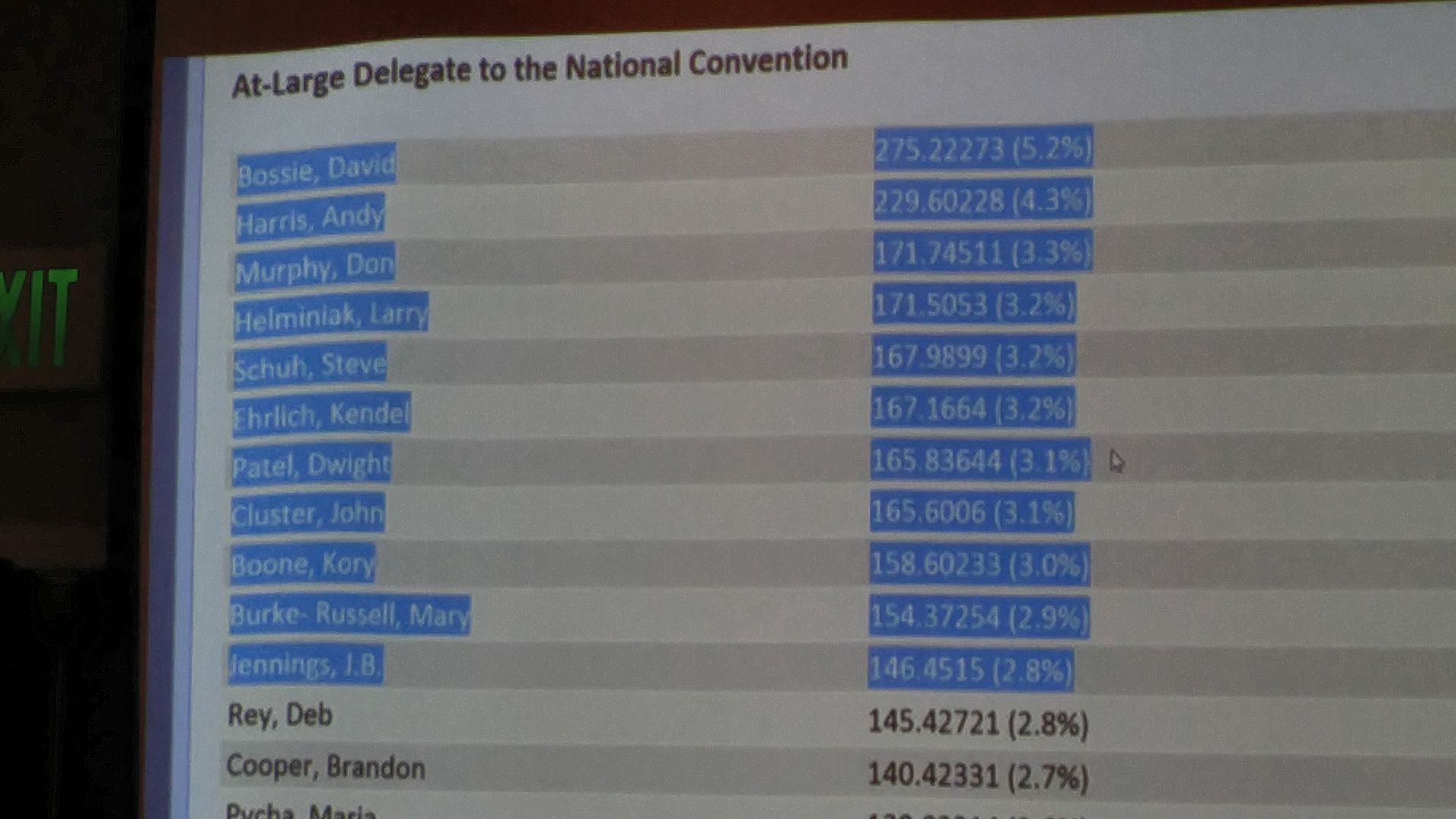 As I said above, I only ended up voting for four winners: the two Murphys, Christina Trotta, and Alirio Martinez, Jr.
We then got to hear from our candidate for U.S. Senate, Delegate Kathy Szeliga.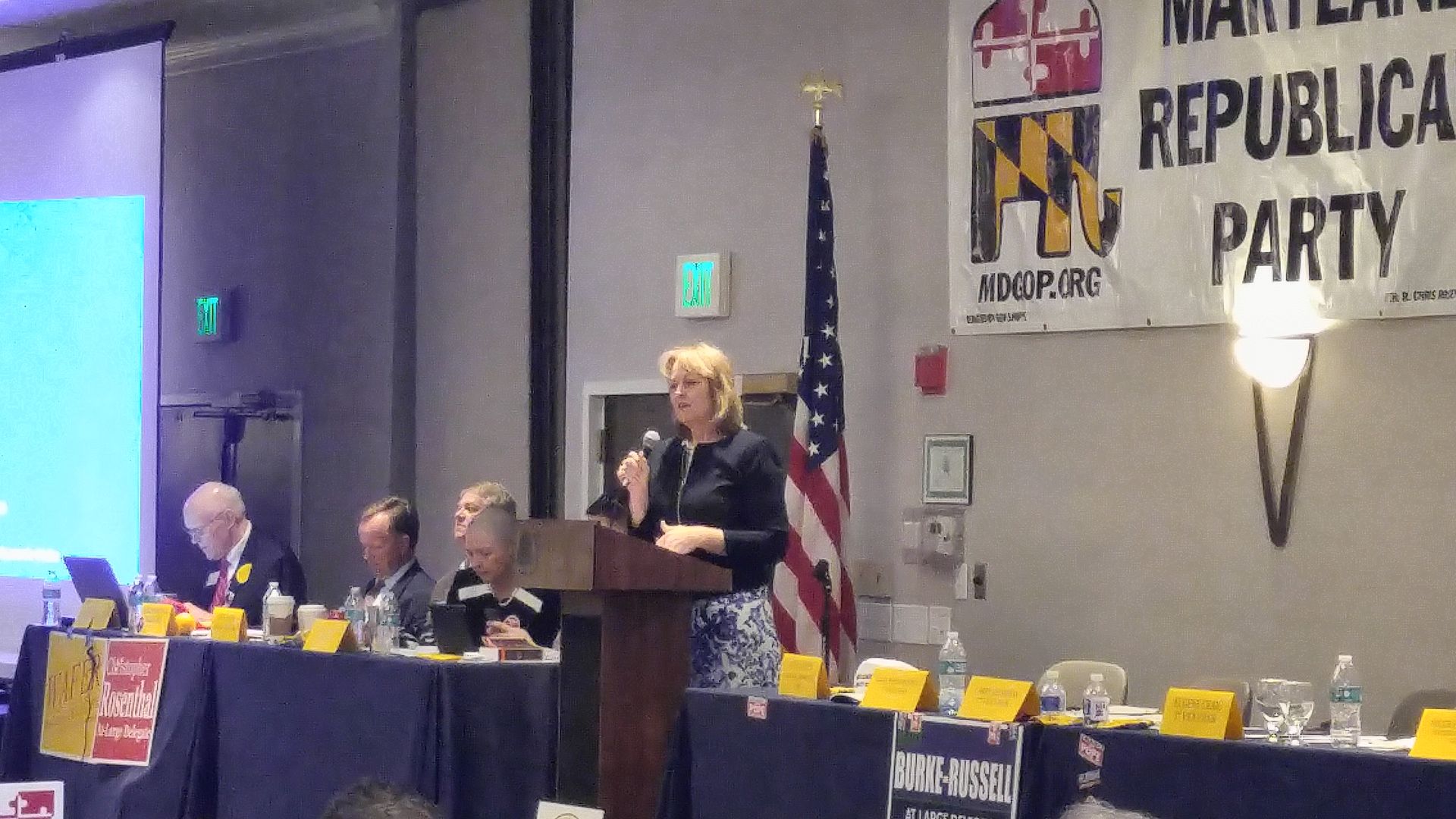 Kathy thanked us for her support, then added that Bossie and Ambrose are "going to do a great job for us." She also added that the fourteen U.S. Senate candidates are "unified and together."
And while she gave something of a standard stump speech recalling her middle-class background, she noted that the business they created was "struggling like many small businesses in the country." Repeating her message that Washington is broken, she chastised the Democrats for electing their "golden boy" Chris Van Hollen, pointing out that since he's been in office the national debt has tripled and calling Van Hollen an "attack dog" for Nancy Pelosi, Barack Obama, and Harry Reid.
"Together we can change Washington," the candidate, who Nic Kipke had earlier called "relentless," concluded.
Our final task was to select electors, which necessitated us gathering in groups by Congressional district. Our district has the largest number of Central Committee members so we all crammed into one corner of the hall to hear several nominations. For the second time in a row, I nominated the First District winner: Diana Waterman, who prevailed over five others. The others will be Tony Campbell, Jane Roger, Faith Loudon, Cathryn Grasso, Dick Jurgena, Loretta Shields, and Alan McMahon.
Once Diana Waterman announced her choices for the at-large electors would be Ellen Sauerbrey and Michael Steele, we could finally adjourn. Next time is slated for Frederick this November – the question is whether it will be a wake, a celebration, or some combination thereof?
It had been awhile since I had been to the DoubleTree in Annapolis, but seeing the place was like old home day. While the MDGOP often holds its conventions there, it hadn't hosted one in some time – in fact, Fall 2013 was the last one. But this time instead of the big news being the impending candidacy of Larry Hogan, it was the presumptive nomination of this guy.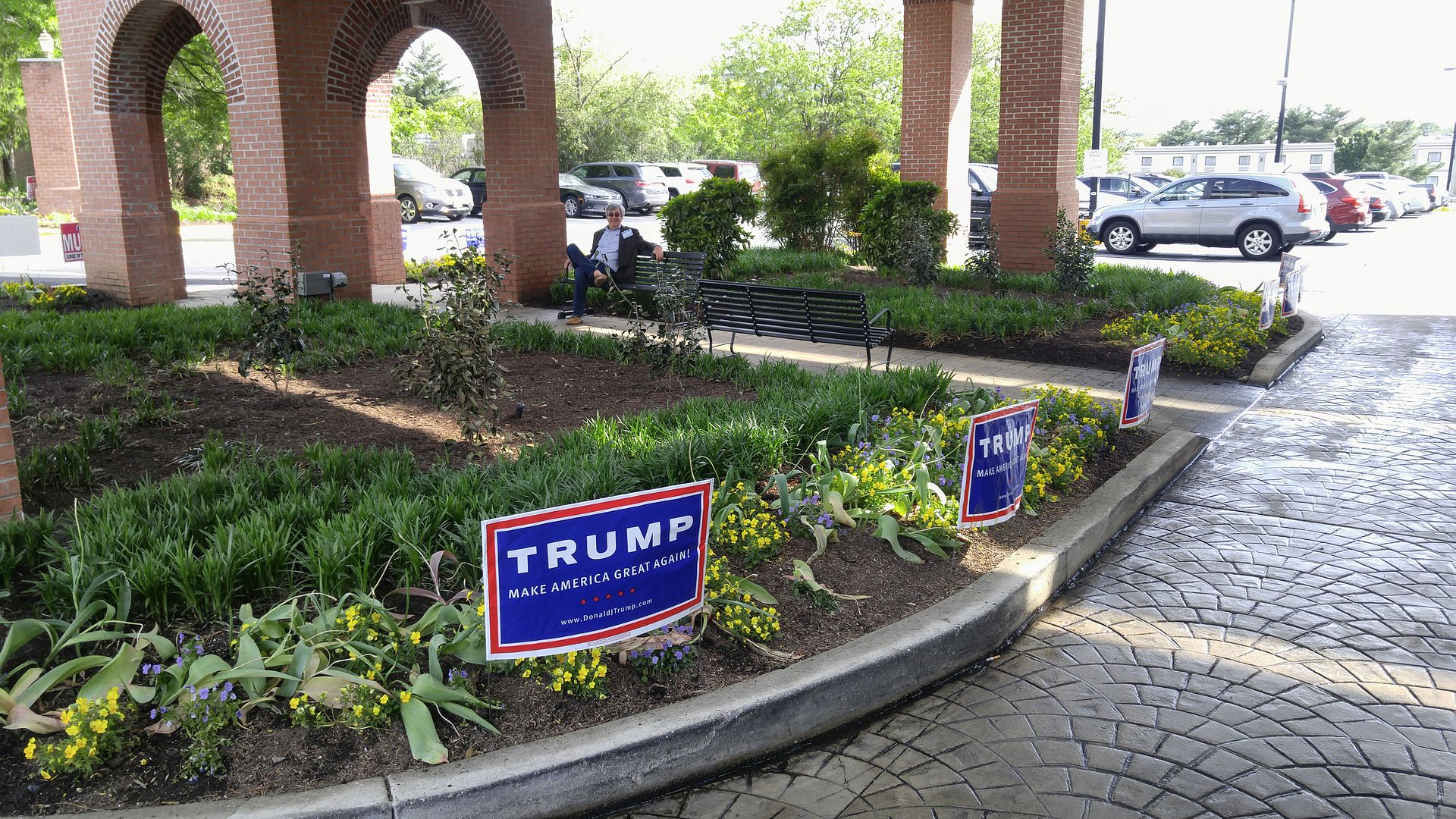 (No, not Don Murphy sitting on the bench – I'm referring to the guy who supposedly will make America great again.)
Also different than our last visit was the number of sponsors.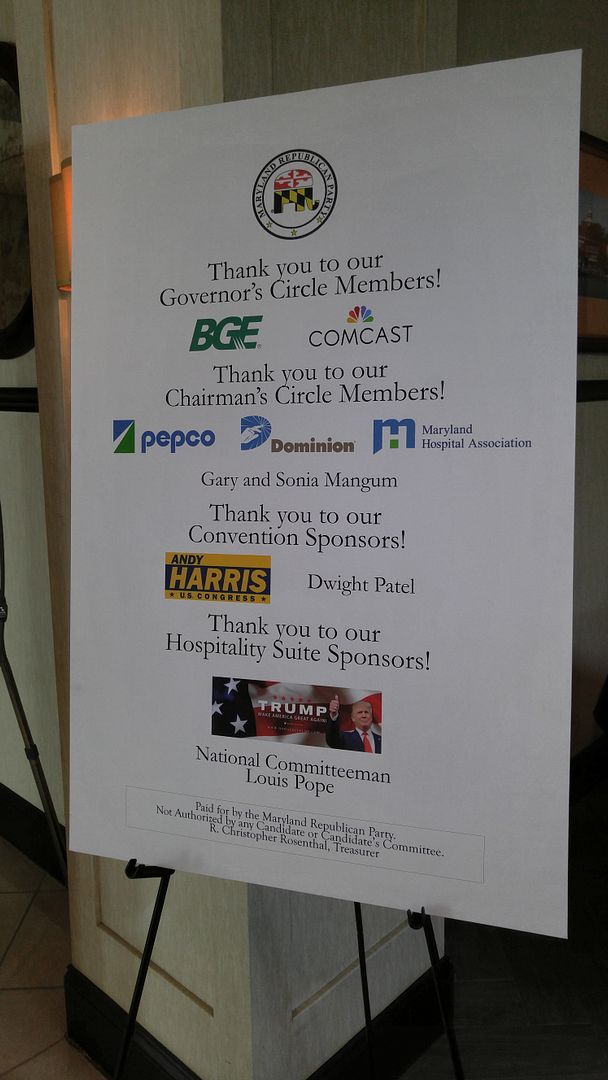 It sure doesn't hurt to have a governor from your party. But the story of this convention was all the electioneering going on. As I pointed out earlier this week, 98 people were seeking office and some were on this "unity slate."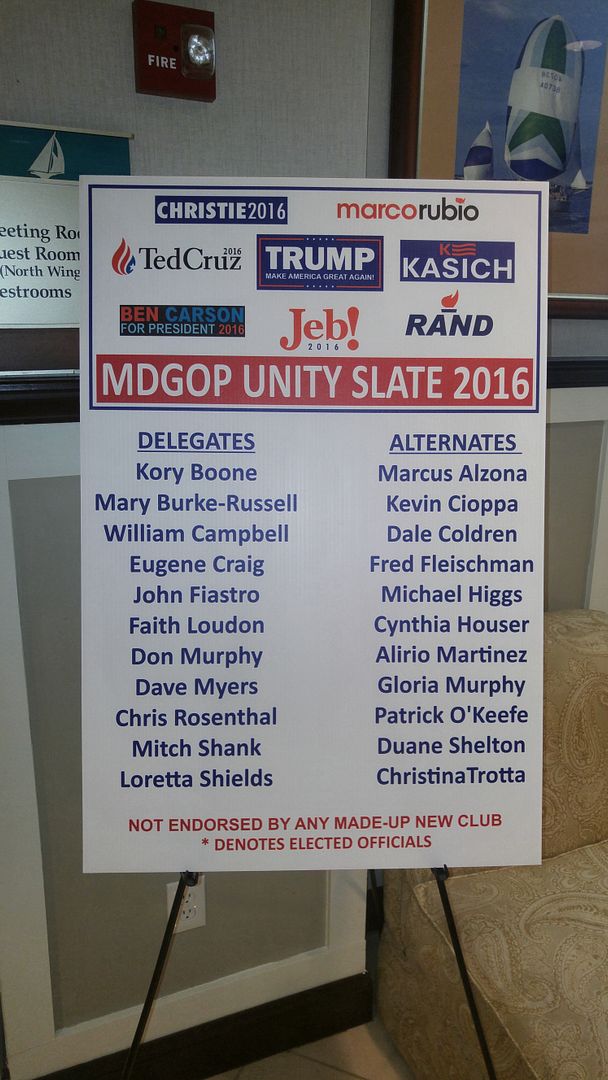 The idea was to take some folks from each of the campaigns and send them off to Cleveland to represent us. But after I had the chance to freshen up and get registered, those who represent us in the Maryland Senate made for my first stop of the evening. I could freshen up with some light snacks and an adult beverage.
(Note that Donald Trump is adding to that $2 billion in free media coverage on the adjacent TV. I didn't say it was flattering.)
Speaking of media coverage, these two erstwhile associates of mine were doing their semi-annual Friday night internet radio show from the convention lobby.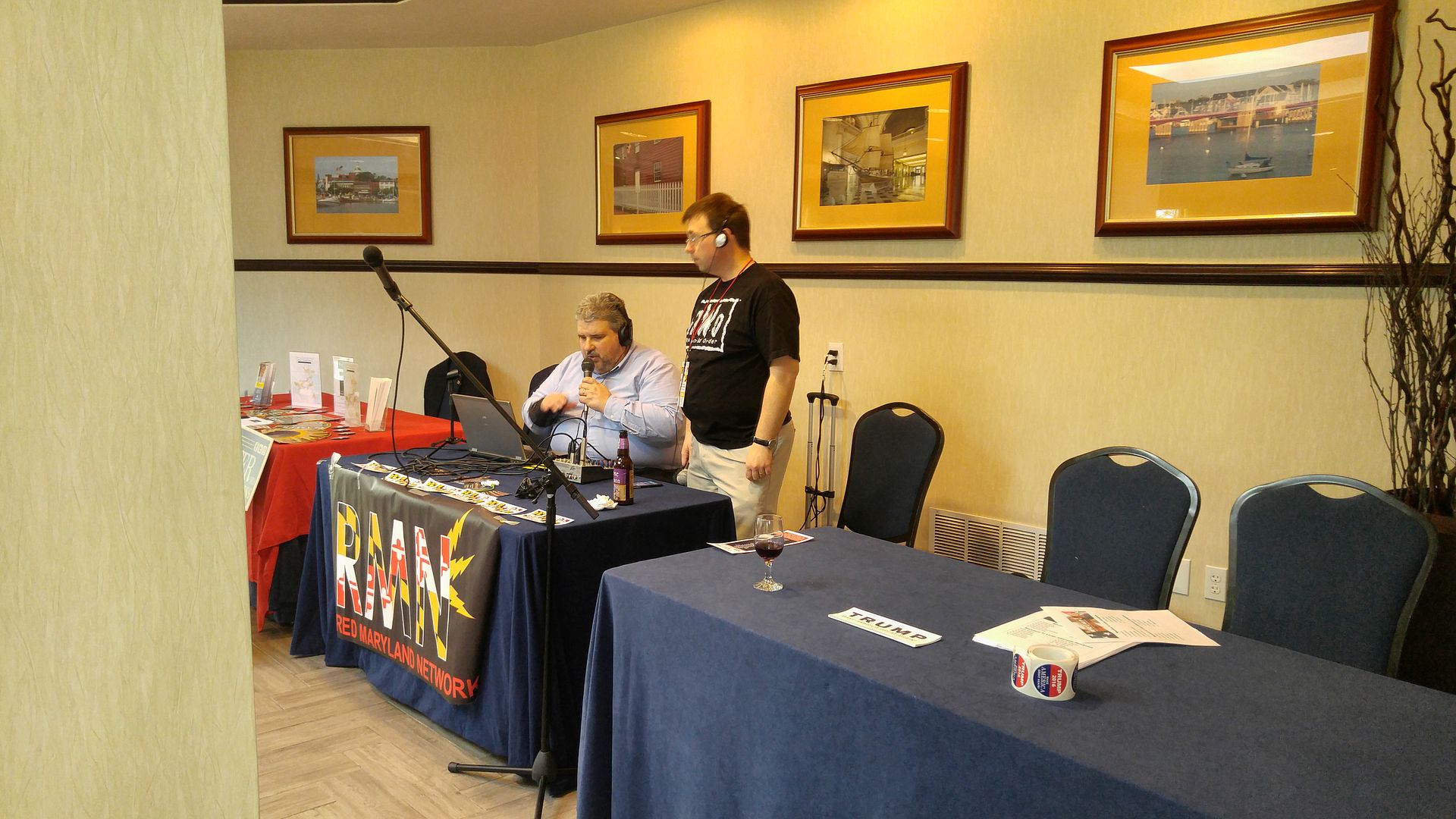 I wasn't listening so I have no idea who they dragged on as guests, aside from me not being one of them. I was downstairs at the Executive Committee meeting, where I found out the MDGOP had "a great fundraising quarter…our best since 2006," according to party treasurer Chris Rosenthal.
But Diana Waterman had a message. "We must get behind Mr. Trump," she said, "Trump is a helluva lot better than Mrs. Clinton." Yet she also urged us to be respectful to those who can't support our nominee.
She also pointed out that there's no Republican "war on women" in Maryland given the fact two of our Congressional nominees are women versus none for the Democrats.
After National Committeewoman Nicolee Ambrose updated us on some of the upcoming goals and events for the GOP, National Committeeman Louis Pope discussed the national scene, stating regarding this year's primaries, "the goal was to have as fair of a nominating process as possible." He added that the debate control "worked very well."
Pope was looking forward to Cleveland, saying he was "preparing for a unified convention" and predicting Donald Trump "will be a pretty cool nominee." As he saw it, the convention will be a "four-day infomercial for the Republican Party."
Yet the Presidential election was to the benefit of local parties as well, added Pope, because they could use the national race as a tool for local fundraising, allowing them to build up their war chests.
We also learned about two proposed bylaw amendments and a resolution, which I will simply foreshadow because they will be covered more in-depth in part 2.
The Executive Committee was done in remarkable time, meaning that shortly after 8 I could go see what was going on. This was my initial stop.
It wasn't a place I stayed long, for obvious reasons. But it appeared they were having a good time celebrating their presumptive nominee status.
My second stop was nearly as uncomfortable, but I did see Louis Pope there and wished him luck.
If you look closely in front of his sign, you can see Louis behind the other gentleman. He apparently held court in his suite for most of the evening, as I didn't see him circulating. Nor did I see his opponent David Bossie, who co-sponsored the suite I stopped at later.
First, though, the prize for most appetizing spread went to the host County Executive Steve Schuh.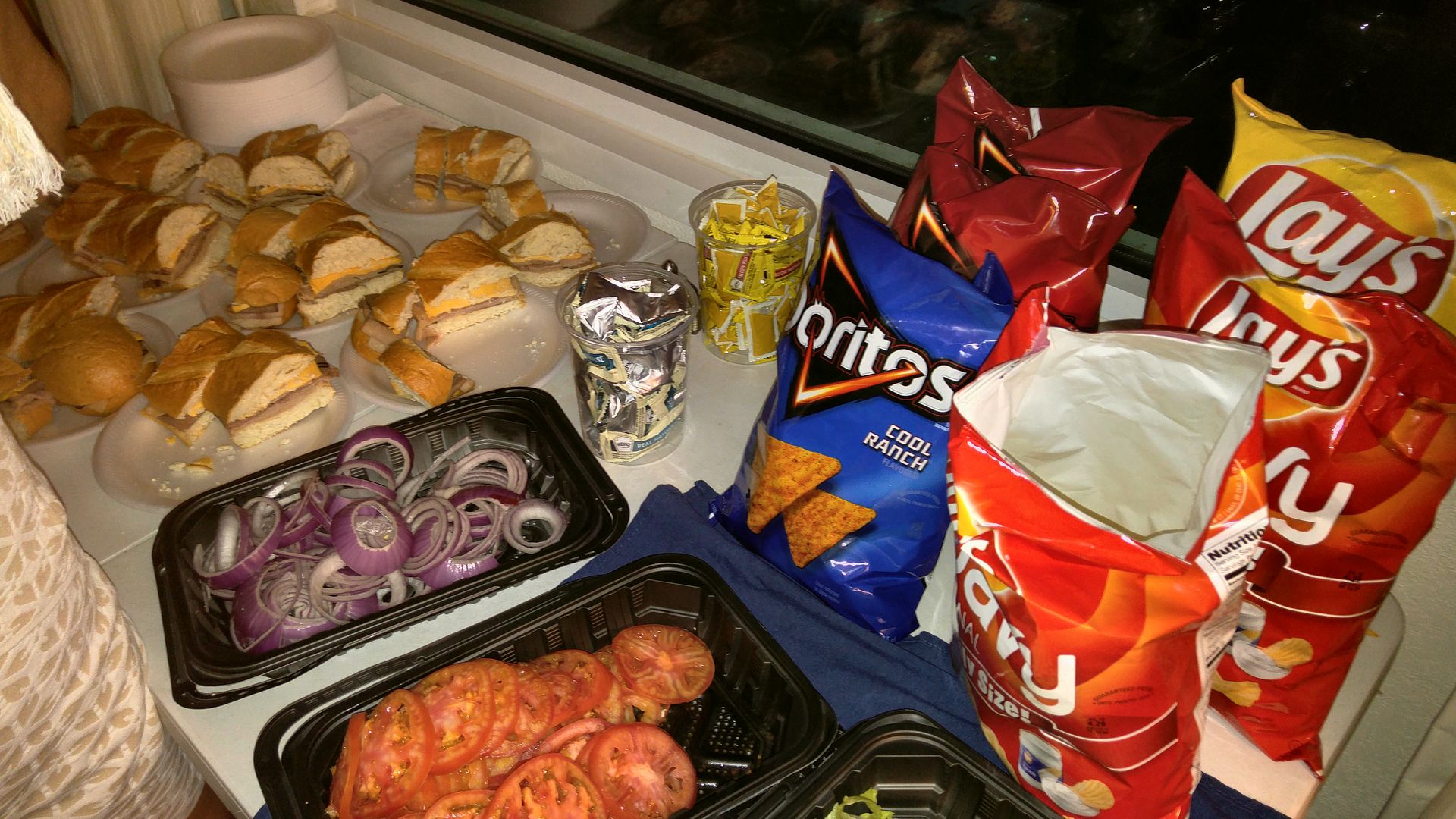 This doesn't show the vegetable tray and chicken on the other table. Oftentimes there's not enough good stuff to eat at these hospitality suites but between the spring rolls at the Maryland Senate pre-party and Schuh's suite, my appetite was satisfied. I was there quite awhile, eating and talking to Senator Justin Ready.
Next, I went upstairs to the Conservative Club suite. But since I didn't see Bossie, I didn't hang out too long there.
As it turned out – at least judging by the times on my photos – the Harris/Szeliga suite was where I stayed the longest. It was a happening place.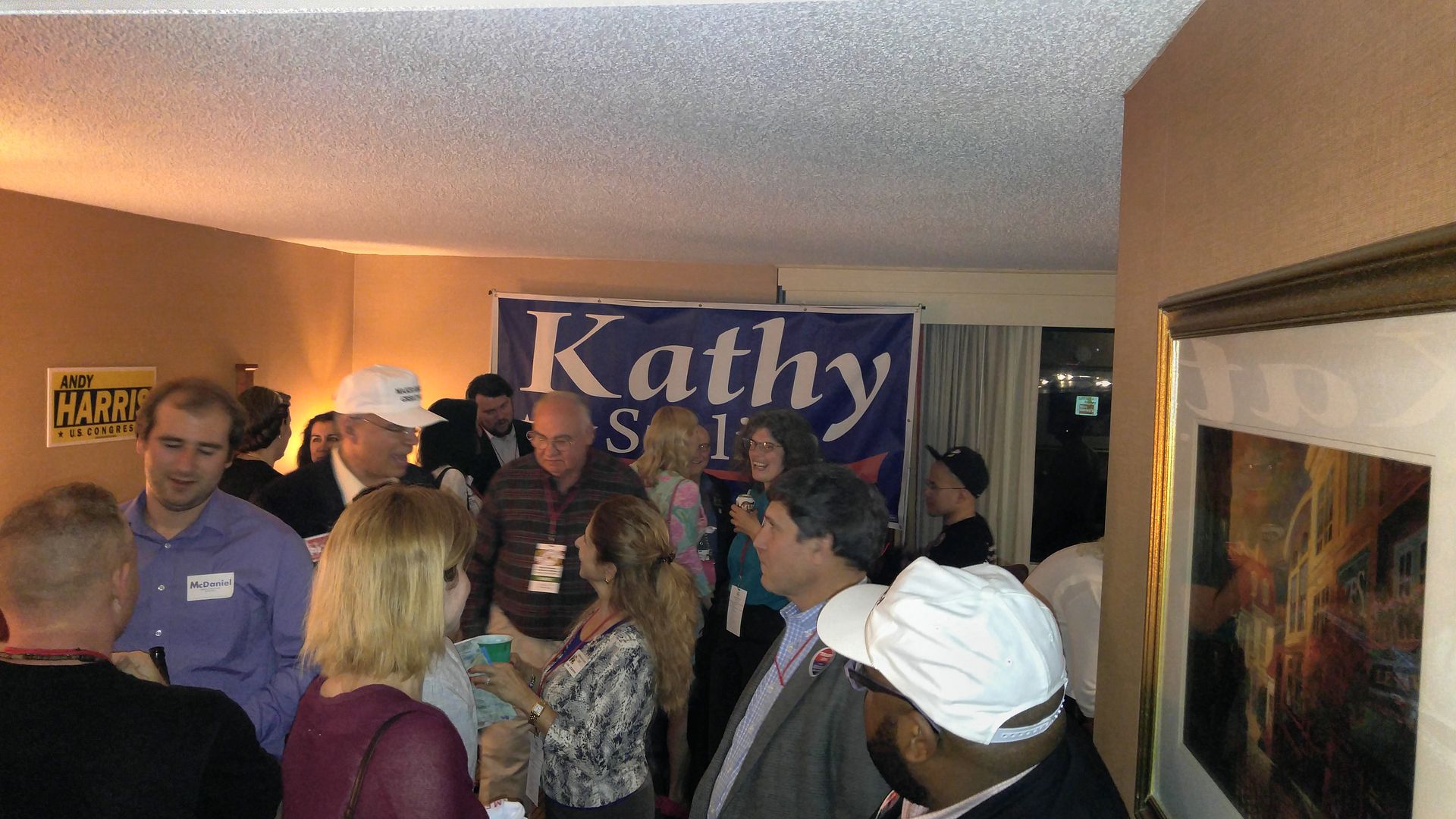 It's where I ran into an old friend of mine, Maria Ialacci of PG County, and my partner in crime Heather Olsen. So I was there awhile, although I retreated to the hall so I could hear and cool off – it was hot in there, and when I say it's hot it's downright uncomfortable to most people.
So I got to see the co-star of that show as she happened by.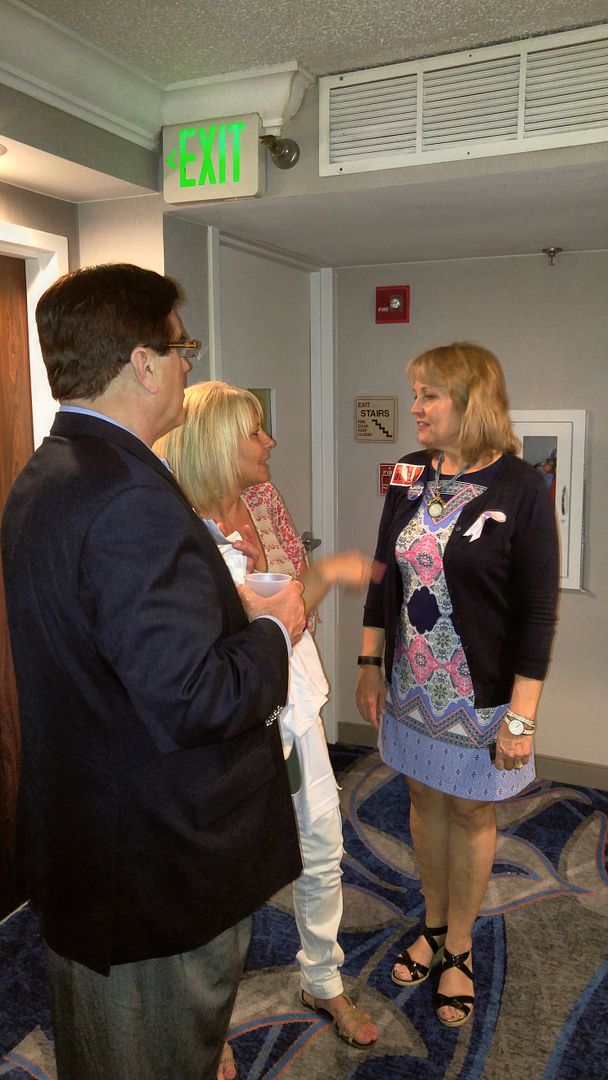 I still haven't spoken with Kathy Szeliga, but at least I have seen her so that's a start.
My penultimate stop was a suite that wasn't on the "official" list but somewhat underground – both literally and in spirit.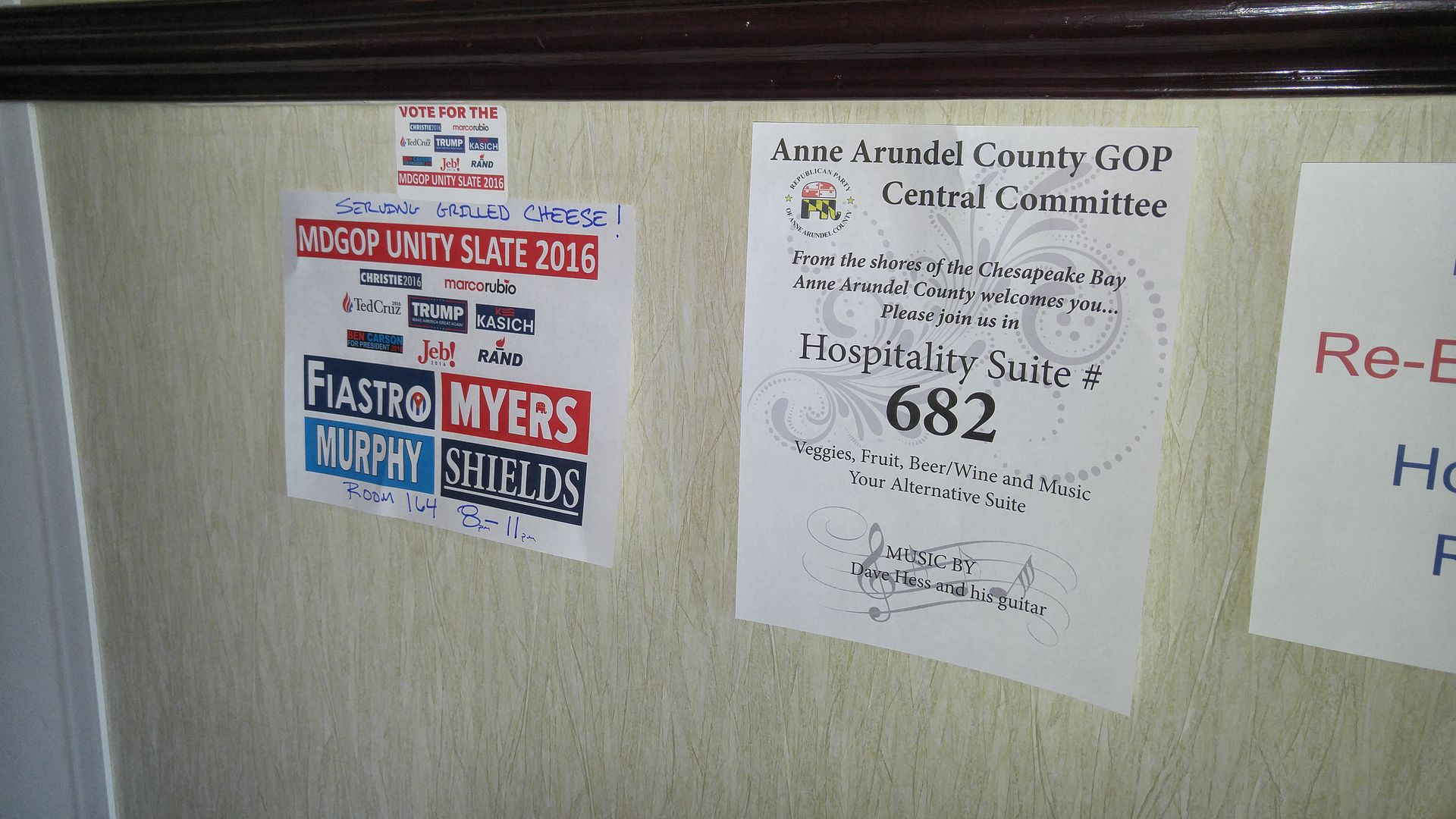 The only one down on the first floor, the combined suite of Don Murphy and John Fiastro was the famous grilled cheese suite, with Fiastro doing most of the flipping.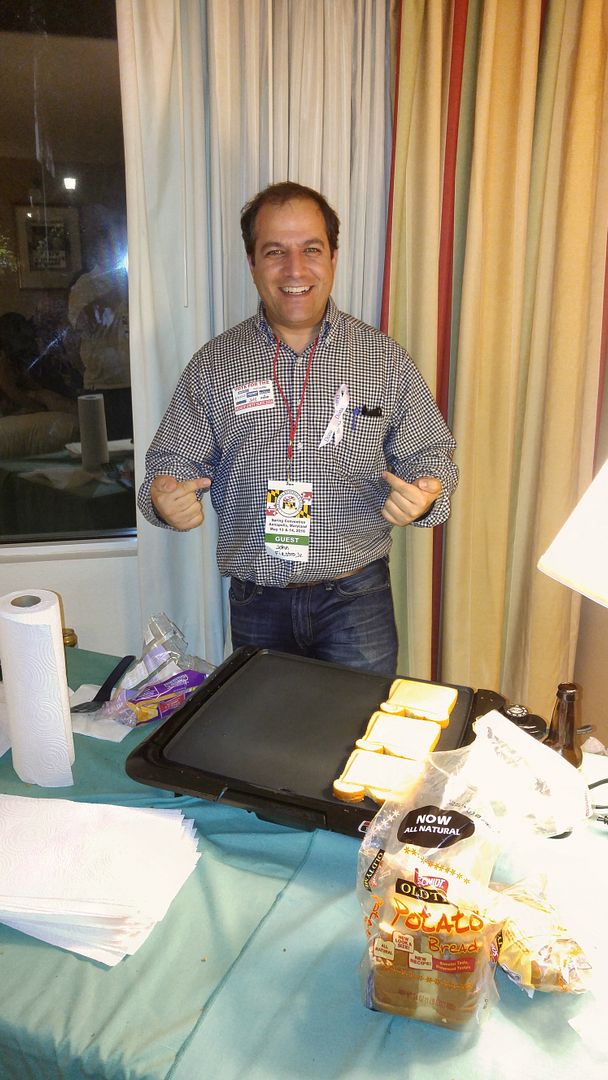 Let's see what they can do with this.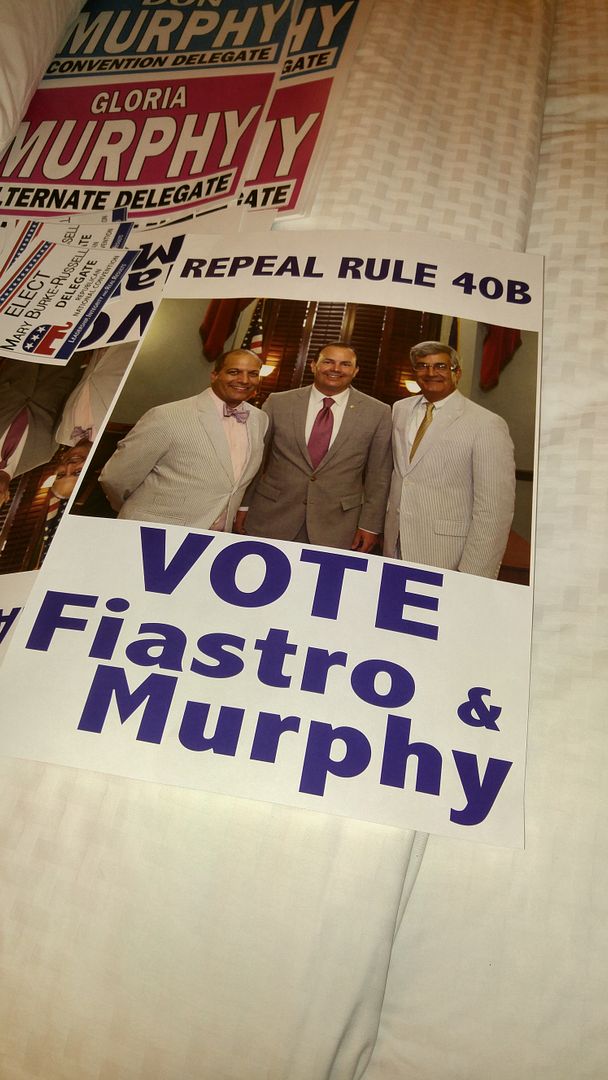 I did not take a picture at my last stop, which was definitely a shame because Delegate Tony McConkey and his wife Susan did an after-hours (after 10 p.m.) ice cream suite. (They also had it during our lunch break today, but I didn't go.) Now I was a little worried since it was situated just 2 doors from my room, but it must have died down by the time I talked to my sweetie and finally went to bed because I pretty much slept like a log. The hard part was getting up at 6:45 to get ready for breakfast, which is where I will pick things up tomorrow in part 2.
While I did not serve in the military, one rite of passage I did endure right around my 18th birthday (way back in 1982) was having to register for Selective Service. Obviously I was fortunate enough to not come of age at a time where we needed a military draft (those years were spent under the "peace through strength" of the Reagan and Bush 41 administrations), but even so we have been able to fulfill our military requirements with those who voluntarily enlist. Whether it was done out of love of country or as a means to secure benefits on the other side, people of both genders have served with pride and distinction as paid volunteers. It's a system that works.
So I was surprised to see a Republican representative, Rep. Duncan Hunter of California, introduce a bill called the "Draft our Daughters" Act. Females have always been exempt from Selective Service and being drafted into the military, for several good reasons. But Hunter wants to change this. (As clarification, this is the son of the onetime Presidential candidate I endorsed back in 2007. The elder Duncan Hunter retired from Congress once his son ended his military service and could get the Congressional seat.)
I understand the trend is now to try and get women into more combat roles, as some misguided attempt at equality. Setting aside the obvious differences in strength and physical ability, one has to consider the ramification of females being taken prisoner as well as the simple biological fact that they bear our children and it's not going to be feasible to send pregnant women to the front lines.
And while dads are reluctant yet still willing to send their sons off to war, I suspect that drafting their daughters is going to cross the line. We haven't employed the draft since Vietnam, and that conflict was less than popular – thousands of men ducked the draft by whatever means they could. Imagine the rate of refusal among women, who as far as I know haven't exactly been clamoring to get involved in the issue.
It's just another attempt at creating a social engineering laboratory out of the military, and quite disappointing to see a Republican as lead sponsor.
You may recall that I wrote about the "Conservative Club" and its slate of proposed Delegates and Alternate Delegates to the Republican National Convention, and that discussion came up briefly tonight at our meeting (which was actually to interview candidates for the Wicomico County Board of Education; the discussion came as we were tallying the ballots for ranking the candidates for submission.) Later on, I observed in an e-mail to another member that there will probably be a "Trump slate," "unity slate," and any other number of combinations.
So, lo and behold, I came home to see my mail for the day. One of the two envelopes to me had a letter I'll get to tomorrow evening, but the other had these sentences:
I was honored to be asked by the Trump Campaign to be a Trump Delegate. I will be running on the Trump Slate.

(snip)

As a central committee member, you play a very important role in the future of our Country. Thank you for your service. I respectfully ask for your vote as a Trump Delegate to the National Convention representing Maryland.
Indeed Trump will have a slate. Without revealing the name of the letter writer, I can tell you this person ran in our Congressional district but did not win because he wasn't one of the "official" Trump delegates. (Editor's note: I stand corrected, this person alerted me to the fact he DID NOT run in the primary. My error.) And while I happen to know this person is a businessman, I have to question his wisdom when he "believe(s) that he will stay true to his promises and fight and scrap for our future." It's taken Trump just a few days to flip and flop on some key issues, so I have to ask why this tendency wasn't as obvious to everyone else as it was to me?
The letter writer is a nice guy, but I'm afraid he's going to get egg on his face before this is all over by supporting Trump.
I hope someone publicizes the Trump slate because it will make a handy guide of people I can skip voting for come Saturday. (Turns out they did.) I think I have a pretty good idea of who I'll favor, but there's still a lot of research to do before I make my decisions on that front.
Update: There is also an official Cruz list, so I encourage you to start there with your voting.
If you want to talk about an absolute scrum, look no further than the list of candidates for Delegate and Alternate Delegate to be presented to us at next Saturday's Maryland Republican Party Spring Convention. Between the two races there are a total of 98 people vying for the 22 positions that will be available for Central Committee members and/or proxies to vote upon.
A lot of them are well-known names: 16 are current state or federal elected officials – Andy Harris is one of those trying for a spot – in addition, all of the party officers are on the ballot as well as a host of other elected officials, candidates, and familiar faces such as Anne Arundel County Executive (and former Delegate) Steve Schuh, two-time Comptroller candidate William Campbell, unsuccessful Congressional aspirants Faith Loudon and former Delegate Mike Smigiel, and even the onetime First Lady of Maryland Kendel Ehrlich. But there are several dozen activists and people who ran for the positions in the primary but failed to be successful. The insurgent campaign of Donald Trump vaulted a lot of unfamiliar names to the Cleveland convention because many of Maryland's elected officials backed other candidates.
With so many in the race it's only natural to see slates formed. Here's one from the "Conservative Club" of Maryland:
I have no idea who runs the Conservative Club, where their meetings are, and whether I owe them any dues, but I can tell you a little about their slate:
I have previously endorsed their top two candidates for National Committeewoman and National Committeeman.
Six of their ten At-Large Delegates previously ran as Cruz delegates or alternates: Boone, Brewington, Loudon, McConkey, Pycha, and Rey. Two of the others were Rubio delegates (Cluster, Patel) and the other two did not run. Bossie is a natural pick as he's trying to be National Committeeman.
Three of their At-Large Alternate Delegates previously ran as Cruz alternates: Alzona, Lathrop, and Trotta. O'Keefe was a Rubio delegate, while the others either did not run or were unaffiliated.
So this seems to be a combination of Cruz and Rubio supporters under the conservative banner. Fair enough, although I can question Patel's conservative bonafides when I see a photo like this:
Silent majority of what? It's not a majority of Republicans in the country, since Trump still has only a plurality. And to me, backing someone who's not going to advance many conservative principles is not worthy of being in a Conservative Club. So I think I'll skip that name on the ballot.
Obviously there are not any Trump delegates from April running in this election since the voters of Maryland blindly sent them to Cleveland. But out of the field who ran for the seats in April there are a number who are trying again, and it will be interesting to see how they fare in round 2. In my case, I'm looking to send as many Cruz delegates as possible to hopefully bring some sanity to the Maryland delegation – however, it is likely there will be a Trump slate as well and that group is to be avoided. I may have to bring my own list and check names off as I figure out their allegiances.
One other aspect of the race that fascinates me is the sheer volume of people and ballots that need to be created. When I ran in 2008 for a at-large post, there were only about 25 of us and I think the voting and tallying took about 45 minutes. One problem is that our voting system is a somewhat proportional one based on the county you represent and its relative voting strength – as I recall, the bulk of the modest amount of support I received came from Eastern Shore counties and their votes weren't much in the scheme of things. It's better now, but thanks to variances in the voting strength and number of members on a Central Committee, a member from Anne Arundel County has about four times the power as a Montgomery County member – or, for that matter, my vote from Wicomico County. Because their strength is diluted so much by having 48 members (the maximum allowed by law) each of the nine of us on the Wicomico County Central Committee are roughly at par with each member of Montgomery County's CC – they just have a lot more bodies. Anne Arundel only has 13 members, so they each have a lot of say.
Long story short, I'm told they will have an electronic system in place for this so I hope it goes smoothly. I would like to be home before church on Sunday.
It's just another aspect of what could be the most contentious convention in the ten years I have attended them.
Imagine, if you will, a gathering of one lady and 15 distinguished gentlemen. Nine of them had served as the governor of their state, most for multiple terms. Another five have served the nation in its highest legislative body, while one was a world-renowned neurosurgeon and the lady worked her up to CEO of a large hi-tech corporation.
Now, if you've ever watched the movie Caddyshack, imagine the character Al Czervik (Rodney Dangerfield's character) – loud, bawdy, and obnoxious. Our version of Al, bullying his way into this genteel affair, was Donald Trump. Yet he emerged victorious, in part due to that brash personality but also thanks to a heaping helping of populist rhetoric that sounded so good 40 percent of the Republicans voted for him. (That's assuming, of course, our side hasn't been hoodwinked by a massive version of Operation Chaos – and given the number of people who switched their registration from Democrat to Republican or voted in open primaries, I wouldn't put it past them.) I say "sounded good" because, by and large, his rhetoric had the depth of a cookie sheet.
One upshot of this in Maryland is that the state Republican Party was poised to exceed one million members for (I believe) the first time ever. (As of the end of March, the MDGOP had 997,211 voters, which was an increase of about 16,000 from February – so the trend may have put them over the top.) But that success will be short-lived with Trump, who has disgusted so many erstwhile Republicans that a decrease of 50,000 Maryland Republicans in the next couple months isn't out of the question.
So now I am hearing the old complaint that not voting for Trump will be a vote for Hillary. No, for conservatives, not voting for Trump will be a repudiation of the direction the Republican Party has taken since Barack Obama took office, and arguably since Ronald Reagan left.
You see, if Congress had shown any stones whatsoever, rank-and-file Republicans would not have felt the need to shake things up by electing an outsider as President. Perhaps Ted Cruz would not have felt the need to run for President in the first place, and the Republican nomination may well be coming down to a contest between two or three of those governors, or perhaps another Senator or the CEO with business experience.
Instead we get Trump, who basically ignores one leg of the conservative stool by praising Planned Parenthood and giving short shrift to religious liberty. Limited government doesn't seem to be his bag either, since he's pledged to let Social Security and Medicare go without reforming them and pandered to Iowa farmers by promising to keep ethanol subsidies going. Where most GOP candidates run right in the primary and tack to the center for the general election, Trump is already in the middle so he will likely soften some of his more conservative positions as part of the flexibility in getting the deal done. It's getting to the point where Trump and Clinton are not all that distinguishable from each other.
And about getting those deals done. Conservatives have wanted a border fence for more than a decade; in fact, the authorizing legislation was passed under President Bush. So why do I think that The Donald will get his fence once he promises to Democrats he will create a bigger, more beautiful door for it? Since he's the de facto head of the Republican Party now, when is he going to negotiate with Congressional Republicans and work in a more conservative direction? Perhaps the twelfth of never? We will get the "touchback" amnesty, but then the Democrats will just say "forget the touchback part."
Finally, to borrow a phrase from another movie, I find Donald Trump to be like a box of chocolates, because you never know which one you'll get. He's not exactly the poster child for consistency so a Trump administration would be a constant guessing game.
I suppose my advice to voters in those remaining primary states is to show up and vote your conscience if you're not a Donald Trump supporter. Don't change parties yet, and get out and vote for Ted Cruz, John Kasich, or anyone else but Trump. Keeping him under 50% of the overall national vote would be a good way to send a message that we're not sold on Trump as the nominee.
You have to give Donald Trump credit for one thing: he was smart enough to run in a dysfunctional political year. In that case, he has been the perfect candidate – too bad voters like me were looking for order after the disarray of the last eight years. And I will say: had I written this last night, the word "campaign" would not have been in the title. But the Grand Old Party may want to prepare for some stormy days ahead.