It's not all that likely people know that the woman who is probably Salisbury's most famous widow – Mitzi Perdue – had such an interest in politics. We got to hear about that and her support for Donald Trump during our meeting Monday night.
Once we dispensed of the introductory business, we turned the meeting over to her and Perdue spoke for more than a half-hour on a number of topics – or as she called them, "things on my mind." She was very pleased to see several younger people in the group, pointing them out as "VIPs" among us.
But after recommending the new Dinesh D'Souza movie "Hillary's America," saying "you'll love it," Mitzi revealed that she had been for Donald Trump "a long time." She related a story that many were familiar with: the renovation of the Wollman Rink in New York City. It was a project the city had tried and failed to do for several years before Trump convinced the city of New York to give him a S3 million budget and six months to get the job done. Not only did he do so, but he made a profit. "I want somebody who is really competent," said Perdue, "and cuts through the red tape." It went along with her belief in smaller government and lower taxes.
Yet while Mitzi had a longstanding interest in politics, telling us "politics attracts me," she could never take the step into running for office. It was so "incredibly tempting" though that she decided to enroll in campaign school. But there she learned that a candidate's primary job was to deny their opponent's identity, and she could not run under that condition. Perdue lamented the fact that campaigns aren't about honesty or truth, pointing out the 65,000 negative ads run against Trump. As "a writer by trade," Perdue thought "the amount of distortion was staggering." She added her belief that Trump was "a product of where he came from," as he grew up in Queens.
In addition, Mitzi related her opinion that in this election we are "up against an extinction-level threat." While she asked the response of several in the room about their most important issues – and got solid answers such as illegal immigration, radical Islam, the economy, and so forth, she considered our national debt as the biggest threat. Citing a book by Reinhart and Rogoff called This Time Is Different: Eight Centuries of Financial Folly, Perdue contended that when debt becomes too great, it brings about the end of nations. Because Donald Trump "understands balance sheets," Mitzi believed he could best address the issue. "I want a businessman who knows how to say 'no'," she explained.
But when Perdue was asked about illegal immigration, she noted the research that shows all the new jobs this century accrued to immigrants, which led to stagnant wages. "Labor is a commodity," said Perdue, who also noted that, while immigrants are paying $13 billion a year in taxes, they are using $100 billion in services. "I love that (Trump) is for our citizens," she said, adding that's in part because "we don't protect our borders." A border wall is "very doable" with modern technology, she added. As an further benefit, it would slow the drug trade. "My hatred of drugs is unending," Perdue explained.
Her next campaign task was going to be difficult, though: she was seeking a position she had contemplated as a national coordinator of volunteers. This person would evaluate the skills and aptitudes of those who wanted to work for the Trump campaign and give them appropriate tasks. Since Mike Pence had a slightly different strategy, Mitzi thought the job may not pan out.
A final question dealt with coordination between the campaigns of Trump and Maryland's U.S. Senate hopeful Kathy Szeliga, but it morphed into a discussion about credibility since President Bush had used up a lot of his during his term of office. "Trump is cut from a different cloth," said Perdue. As for the coordination (in particular signage) that may be up to the state and local parties.
It was an interesting talk, more or less aimed at people not sold on Trump – that would be me. Perhaps I will address this at a later date.
As for the meeting, I was pressed into service to give the Central Committee report. So I updated the club on the Board of Education, an upcoming local fundraiser for Kathy Szeliga to be held on August 20, and progress in planning the Lincoln Day Dinner.
Delegate Carl Anderton gave us an update, assessing that "everything is going great," and that his immediate agenda would be that of trying to get local priorities funded in next year's budget as he meets with the budget secretary.
Other issues Anderton found important were the impact of the Maryland Department of the Environment and of Obamacare, particularly the "numerous issues" constituents were having if their Obamacare plans lapsed due to non-payment. If it was a choice between that and cable, "stretch the cable bill," said Anderton. Overall, he believed "the Lower Shore delegation is busting their humps" for us.
Speaking on the Department of Natural Resources, Joe Schanno pointed out two upcoming issues would be Sunday hunting and controlling the deer population because our area was seeing more frequent car vs. deer accidents.
We learned that we would have a GOP headquarters in the same location the Trump headquarters occupied, with the opening in late August – perhaps coordinated with 3rd Friday. Speaking of that event, Shawn Bradley stressed the need for volunteers at the GOP table there.
We "may need more volunteers" for the Crab Feast September 10, added Jim Jester. The club also authorized a package for sponsorships, which will shortly be available along with tickets to the event.
Regarding our two local womens' Republican groups, Michelle Bradley reminded us the Greater Wicomico Republican Women would next meet August 11 at Adams Taphouse, with Delegate Christopher Adams being the featured speaker. For their part, the Republican Women of Wicomico will come off their summer break with a Brew River lunch meeting on September 7 with county Chair Mark McIver speaking, then have their Constitution Day gathering on the 17th of September, said Ellen Bethel.
Nate Sansom gave us a rundown on the local Teenage Republicans, who will get back together in August and plot out their strategy to work with both the Trump and Szeliga campaigns.
We also heard from Don Murphy, who came to thank the Central Committee for its support in sending him to the convention as a delegate. He noted that he "had never seen as much contention and dissention" at any other convention he had attended as he had seen during the Rules Committee fight. And while he was one of maybe 7 or 8 from Maryland who voted against the rules, he was one of those who did so as a Trump backer. "What Ted Cruz did was wrong," added Murphy.
Yet as contentious as the GOP gathering was, Murphy believed it was "not even close" to what the Democrats were experiencing. "Hillary is our common enemy," Don concluded.
So it was a very interesting meeting. The next one is slated for August 22 with a speaker to be determined.
Commentary by Marita Noon
In his less-than-enthusiastic endorsement of Hillary Clinton as the Democrat's choice for President, Sen. Bernie Sanders decried "Greed, recklessness, and illegal behavior" and declared that we couldn't let "billionaires buy elections." Perhaps his opposition research team discovered what we have about Clinton's connections with the very entities he despises: Wall Street – which he's accused of "gambling trillions in risky financial instruments;" and "huge financial institutions" that he says: "simply have too much economic and political power over this country."
Wall Street and its "huge financial institutions" are Clinton allies – supporting both her campaign and donating big bucks to the Clinton Foundation.
In the batch of Democrat National Committee (DNC) emails WikiLeaks made public on July 23, DNC Research Associate Jeremy Berns tells his colleagues: "She [Clinton] doesn't want the people knowing about her relationships on Wall Street." He adds: "She wants to achieve consistency and the best way to do that is to keep the people ignorant."
For the past four years, I've collaborated with citizen activist/researcher Christine Lakatos (she's been at it for six years) on what we've called: President Obama's green-energy crony-corruption scandal. Together we've produced the single largest body of work on the topic. In her blog, the Green Corruption Files, she posts her exhaustive research – what I affectionately refer to as the drink-from-the-fire-hydrant version. I, then, use her research to draft an overview that is appropriate for the casual reader.
More recently, our efforts have morphed to include the Democrats' presidential nominee, as Lakatos found the same people are her "wealthy cronies," too.
In Lakatos' most-recent, and final Green Corruption File, released on July 19, she states: "While there are numerous ways you can 'buy access to the Clintons,' I'm only going to connect the dots to the Green Gangsters, which we've already established are rich political pals of President Obama, as well as other high-ranking Democrats and their allies, who were awarded hundreds of billions of 'green' taxpayer cash."
Her lengthy report is "devoted to proving beyond a reasonable doubt that the Democrat presumptive presidential nominee, Hillary Rodham Clinton, is not on only in bed with Big Money (Wall Street, the Uber-Rich, special interests groups and lobbyists) and Dark Money (Super PACS and Secret Cash), she's also bankrolled and is in cahoots with – directly and through her husband and her family foundation – the wealthy Green Gangsters, who are robbing U.S. taxpayers in order to 'save the planet.'"
While the dozens of pages prove the involvement of names you know – like former vice president Al Gore, former Governor Bill Richardson, and billionaire donors Tom Steyer and Warren Buffett, and names you likely don't know: David Crane, John Doerr, Pat Stryker, and Steve Westly – I've chosen to highlight the Clinton's Wall Street connections that have benefited from the green deals that were cut in the Obama White House and that will continue on if Clinton wins.
Lakatos points out: "Clinton's 'ambitious renewable energy plans' move far beyond Obama's green mission that has been rife with crony capitalism, corporate welfare, and corruption." Along with more climate rules, she "wants an open tab for green energy." Remember the DNC's official platform includes: "the goal of producing 100 percent of electricity from renewable sources by 2050″ and "a call for the Justice Department to investigate fossil fuel companies for misleading the public on climate change."
Three Wall Street names of my limited-word-count focus are Goldman Sachs, Citigroup, and Bank of America. Each is a top-contributing Clinton campaign supporter and a Clinton Foundation donor. They have benefited from the hundreds of billions in taxpayers dollars given out for green energy projects through the Obama Administration. All three have expectations that Clinton will continue the green programs put in place by the Obama administration.
Goldman Sachs – donated between $1 million to $5 million and the Goldman Sachs Philanthropy Fund has contributed between $250,000 to $500,000 to the Clinton Foundation.
As Lakatos pointed out in previous reports, Goldman Sachs is connected, via various roles, to at least 14 companies and/or projects that won green taxpayer cash – a tab that exceeded $8.5 billion. One specific example: Goldman is credited as the "exclusive financial adviser" for the now bankrupt Solyndra ($570.4 million loss). Then there is now-bankrupt SunEdison – an early Goldman Sachs investment. SunEdison received $1.5 billion in federal and state subsidies. And, in 2010, Goldman Sachs handled the IPO of government winner, Tesla Motors that was awarded $465 million from the Department Of Energy (DOE) ATVM program – they got much more if you factor in the state and local subsides: $2,406,805,253 to be exact. Also, according to Goldman, "In May 2013, [they] helped raise over $1 billion in new financing for Tesla Motors."
Citigroup/Citi Foundation – donated between $1 million to $5 million to the Clinton Foundation.
This big bank is connected to approximately $16 billion of taxpayer money. Lakatos, in 2013, reported that Citi was actively involved in securing the 1703/1705 DOE loans; was a direct investor; and/or served as an underwriter for the initial public offering (IPO) of at least 16 of Citi's clients that received some form of government subsidies. One green company where Citi is a major investor is SolarCity, which has been subsidized through various stimulus funds, grants and federal tax breaks at the tune equaling almost $1.5 billion. Billionaire Elon Musk is CEO of Tesla and Chairman at SolarCity. He's a Clinton Foundation donor ($25 million to $50 million) and Hillary supporter, too.
Bank of America/Bank of America Foundation – donated between $500,000 to $1 million to the Clinton Foundation.
Bank of America, amongst other green efforts, participated in Project Amp – a four-year, $2.6 billion project to place solar panels on rooftops in 28 states. At the time, the Wall Street Journal reported: "Bank of America Merrill Lynch unit will provide $1.4 billion in loans for the project," of which "the financing is part of Bank of America's plan to put $20 billion of capital to work in renewable energy, conservation and other clean technologies that address climate change." In the final days of the DOE loan program (September 2011), the DOE awarded a partial guarantee of $1.4 billion loan to Project Amp. According to a press release, Bank of America increased its second environmental business initiative from $50 billion to $125 billion in low-carbon business by 2025 through lending, investing, capital raising, advisory services and developing financing solutions for clients around the world.
It's important to remember that climate change – which is the foundation of the green agenda – is part of the Clinton Foundation's mission statement: "In communities across the globe, our programs are proving that we can confront the debilitating effects of climate change in a way that makes sense for governments, businesses, and economies." Additionally, the Foundation's coffers were enriched when Clinton and her State Department staff solicited contributions from foreign governments to the Clinton Global Initiative, as we detailed in our coverage of her clean cookstove campaign.
In addition to Clinton's obvious Wall Street connections, one of the many startling realizations that can be gleaned from the report on Hillary's Horrendous Hypocrisy, is the fact that these companies – some of which would not be in existence without the grants and tax credits – that received millions in taxpayer dollars, took our money and gave it to the Clinton Foundation and to the Clinton Campaign. As was the case with Clinton Foundation donor/campaign fundraiser George Kaiser, these billionaires are making lucrative profits, at taxpayer expense, from bankrupted green companies like Solyndra.
In short, we, the taxpayers, are subsidizing the well-connected millionaires and billionaires – and Hillary Clinton is part of all of it. Meanwhile, she admonishes the average American to combat climate change by driving less and reducing our personal use of electricity.
Bernie Sanders was right to be alarmed. Huge financial institutions do have too much political power. Wall Street billionaires are trying to buy Clinton the White House. In return, she'll be sure their green energy investments pay off for them by demanding that America go green.
The author of Energy Freedom, Marita Noon serves as the executive director for Energy Makes America Great Inc., and the companion educational organization, the Citizens' Alliance for Responsible Energy (CARE). She hosts a weekly radio program: America's Voice for Energy - which expands on the content of her weekly column. Follow her @EnergyRabbit.
On several occasions, since my brief dalliance with a company and website called American Certified - which, alas, is no longer in business – I have cited a group I first ran across around that timeframe called the Alliance for American Manufacturing (AAM.) I have also pointed out that their perspective comes from their backing, as it is a conglomeration mainly composed of unionized steel manufacturers – so I always assumed they were more in line with the Democratic Party than the Republicans, which traditionally have been more in favor of free trade rather than protectionism.
So I had an e-mail in my back pocket that I was going to mention in a piece like this. Originally it laid out AAM's plans for both conventions, but I received an updated version of their plans for the Democratic convention confirming that's where the effort would be.
Here was their slate for the GOP in Cleveland:
AAM is hosting the Keep it Made in America tent, a space located just outside the Quicken Loans arena where we are chatting with convention-goers about ways to grow American manufacturing jobs. We also are speaking at a number of state delegation breakfasts, sharing with local, state and national lawmakers the issues that we think must be on their policy agendas.
AAM president Scott Paul added in a blog post last week:
(T)rade and the atrophy of middle-income factory jobs are dominating the national political discussion. Trump talks about it constantly. But he's not alone, and this is the first time in the post-World War II era that we've seen both party candidates take the issue so seriously.

It's better late than never. Before you write off Trump's bellicose "45 percent tariff" rhetoric as low-brow protectionism - or find the change of heart on the Trans-Pacific Partnership that Hillary Clinton experienced on the trail a little too politically convenient - keep in in mind that a lot of our fellow Americans agree with this sentiment. They certainly do here in Ohio.
The logic behind free trade, though, is that nations benefit when value is maximized and it may be possible to add more value to a product in another location than it is in America. Yet the AAM argues – correctly to an extent – that nations like China take advantage of the rules by not dealing fairly through a policy of subsidizing industries and currency manipulation.
On the other hand, though, AAM will certainly be pulling out all the stops for the Democrats in Philadelphia, including what they describe as a "scene-setting Town Hall meeting":
The Alliance for American Manufacturing (AAM) is hosting a conversation about why these issues matter for our economy, our children's future and our politics today.

Recent focus group and polling data show these topics are driving voters' decisions on which candidate to select. Both Hilary Clinton and Donald Trump have been aggressive in defining their plans for trade and manufacturing.

Confirmed Speakers Include:

Gene Sperling, key economic adviser to Hillary Clinton
Leo Gerard, president of the United Steelworkers
Rep. John Garamendi (D-CA 3rd District)
Mark Mellman, award-winning pollster for Democratic leaders
Scott Paul, president of the Alliance for American Manufacturing
Mike Langford, president of the Utility Workers Union of America
Tom Conway, international vice president of the United Steelworkers
This to me represents less of an exchange of information as it would be an echo chamber.
Protectionism and punishing corporations that choose to offshore manufacturing is one possible answer, of course. But the thing I always think about when this conversation comes up is the East German Trabant automobile that was hopelessly stuck decades behind the times when Germany finally reunited in 1990. Because it had a protected market, what incentive did Trabant have for improvement?
Unfortunately, a short-sighted government-centered approach that saw manufacturers as cash cows for big government and favored the big guys over leaner, hungrier start-ups through regulation too burdensome for smaller competitors to withstand has done as much (or more) to curtail American manufacturing as our trade policies have. While I certainly don't believe many of our larger trade agreements were tailored to suit our interests enough, for the most part it's the complexity of the deals and how they worked out exceptions for certain industries and players that is the issue. If we simply said "we won't tariff your stuff if you don't tariff ours" and both sides stuck to it, eventually the market would find its own level. America should be able to use the advantages of a predictable legal system, well-educated workforce, abundant sources of energy, and outstanding transportation network, but they are negated by the policies in place that I describe above.
The generation of my grandparents won World War II by being able to produce within our borders much of the material and equipment needed to keep a two-front fighting force going. Can anyone honestly say we could do that today? I don't wish us to be on a war footing, but I'm convinced America can be a place that makes things again. It's a simple matter of policy over protectionism, and adopting a hands-off approach at the federal level (yes, there's that limited government idea of mine again) would be the best course of action. I just don't think AAM would be willing to listen to that argument.
At one time I planned on writing a rebuttal to all the Trump items I put up this week yesterday, but after all the events of the convention I decided it was better to hold off for a week or so and let emotions simmer down a little bit. It also gives me a chance to attend two of my meetings and gauge the mood of the electorate, so to speak – so perhaps after all that I will pick up that baton and share my thoughts on both Marita Noon's commentary regarding Trump's energy policy and the entire Art of the Deal series. Right now, emotions are too high and points will be missed.
It's no secret I didn't support Donald Trump for the Republican nomination, nor will I be backing the Clinton/Kaine ticket. (Hell, the guy doesn't even know our part of Maryland exists because he thought Virginia shared a border with Delaware.) Yet I still have an interest in the downticket races, and this year I will be following the advice of Ted Cruz and voting my conscience. (Or, if you prefer, Ivanka Trump, who said, "I vote based on what I believe is right for my family and for my country." So will I.) But the combination of the Democratic convention taking over the news cycle and my general fatigue with the Presidential race means I may look at some other stuff for a little bit.
One thing I was asked to look at by my friends at the Patriot Post for this week was the prospects for Republicans in the downticket federal races. (If you get their "Weekend Snapshot," the article is prominently featured there as well.) But I find a little bit of fault with my editor because my original concluding sentence was, "The next four years could be the most interesting and unpredictable times our nation has ever known." My thought in that sentence was to invoke the old adage "may you live in interesting times" as we seem to be cursed into a choice leading us toward them. To me, this may be the election where more people vote against someone that affirmatively vote for a candidate.
(To that end, can we install the "none of these candidates" option like Nevada has? I could see factions in all four parties on the ballot in Maryland who would love a do-over: Republicans who are anti-Trump, Democrats who backed Bernie Sanders, Libertarians who would like a more doctrinaire candidate than former Republican Gary Johnson, and Jill Stein of the Green Party who would happily move aside for Sanders, too.)
Just think about Congress for a moment. In poll after poll it's shown to be one of the least popular institutions in the country, but voters send all but a small handful back term after term until they decide to retire. Maryland is a good example of this, with the longest-tenured Congressman being Steny Hoyer (17 terms), followed by Elijah Cummings with 10, Chris Van Hollen and Dutch Ruppersberger with seven apiece, John Sarbanes with five, Donna Edwards with four (plus a few months), Andy Harris with three, and John Delaney with two. Since Edwards and Van Hollen both sought the Senate seat, those districts will open up – but thanks to blatant gerrymandering, they are likely to be gravy trains and "lifetime appointments" for Anthony Brown and Jamie Raskin, respectively.
Aside from the one term of Frank Kratovil here in the First District as a "blue dog" Democrat carried on the Obama wave in an otherwise GOP-dominated area, you have to go back almost forty years to find a handful of one-term wonders that Maryland sent to Congress. Both our current Senators came to the job after serving multiple terms in the House, as would Chris Van Hollen if he wins the Senate seat. Kathy Szeliga, on the other hand, has served just a term and a half in the Maryland House of Delegates – although compared to other GOP Senate candidates in recent years that almost qualifies as "career politician," too.
Yet while our GOP candidate supports Trump and has an uphill battle to win, she was criticized for skipping the convention as well:
Some (GOP convention) delegates who wished to remain anonymous to avoid antagonizing another party member privately expressed discontent and disappointment with Szeliga's and Hogan's absences in Cleveland at a time when unity is a key goal of their party after a fractious primary season.
Of course, Andy Harris was there in Cleveland, but he's in an R+13 or so district with far less to worry about. It was better for Szeliga to be in Crisfield meeting voters with her opponent there.
So while I will talk about the convention in at least one piece I'm considering – and my invited guests may decide on their own to look at the Presidential race – I'm going to step back from it for a little bit. It's the pause that will refresh me.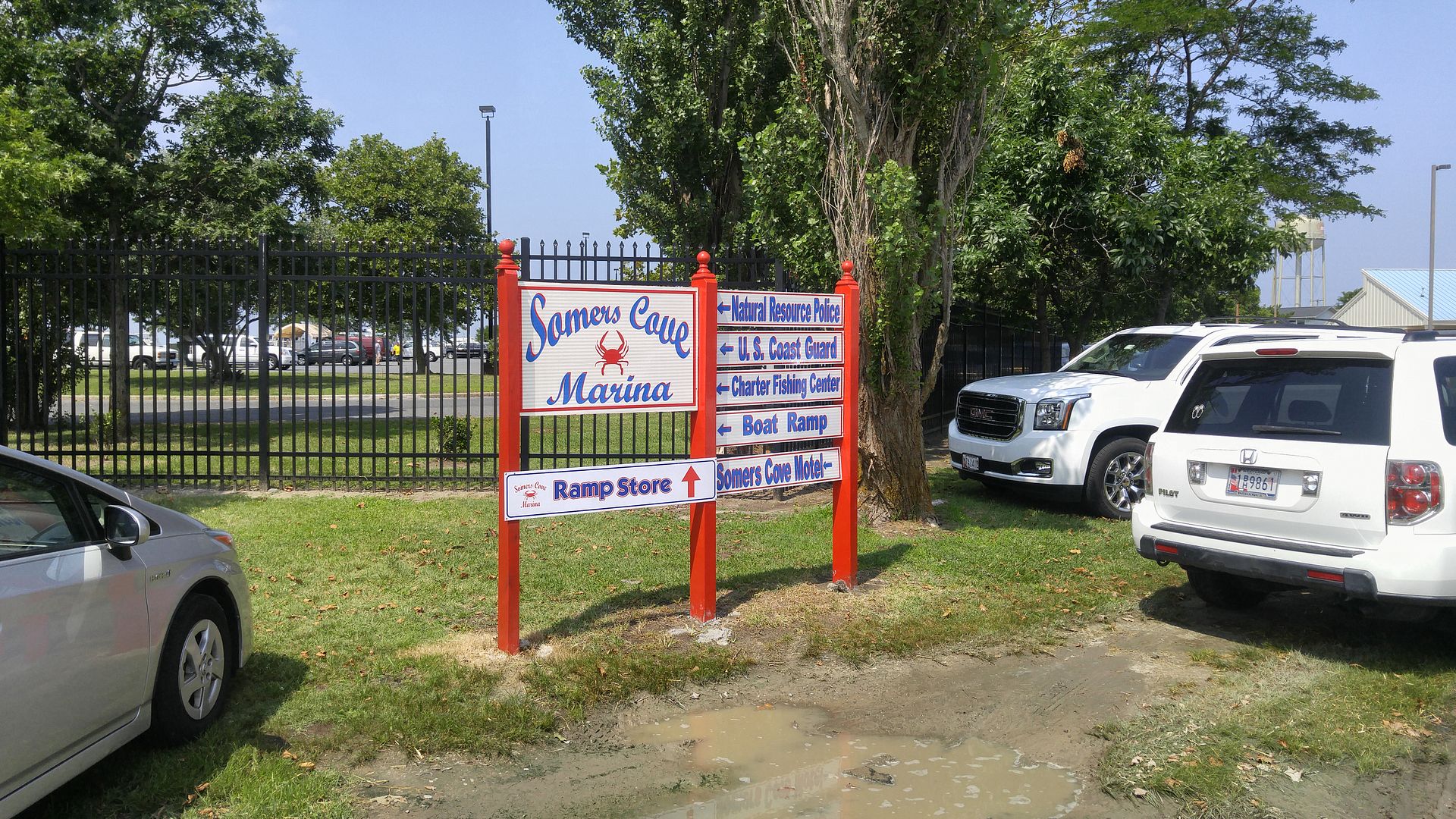 It was awful tempting to jump on into that water, but several thousand people managed to sweat their way through another hot Tawes Crab and Clam Bake. While Republicans tend to have a little more presence in the area, some of the Tawes regulars were absent because the event coincided this year with the Republican National Convention in Cleveland.
That convention minted the GOP Presidential nominee, who seemed to be pretty popular.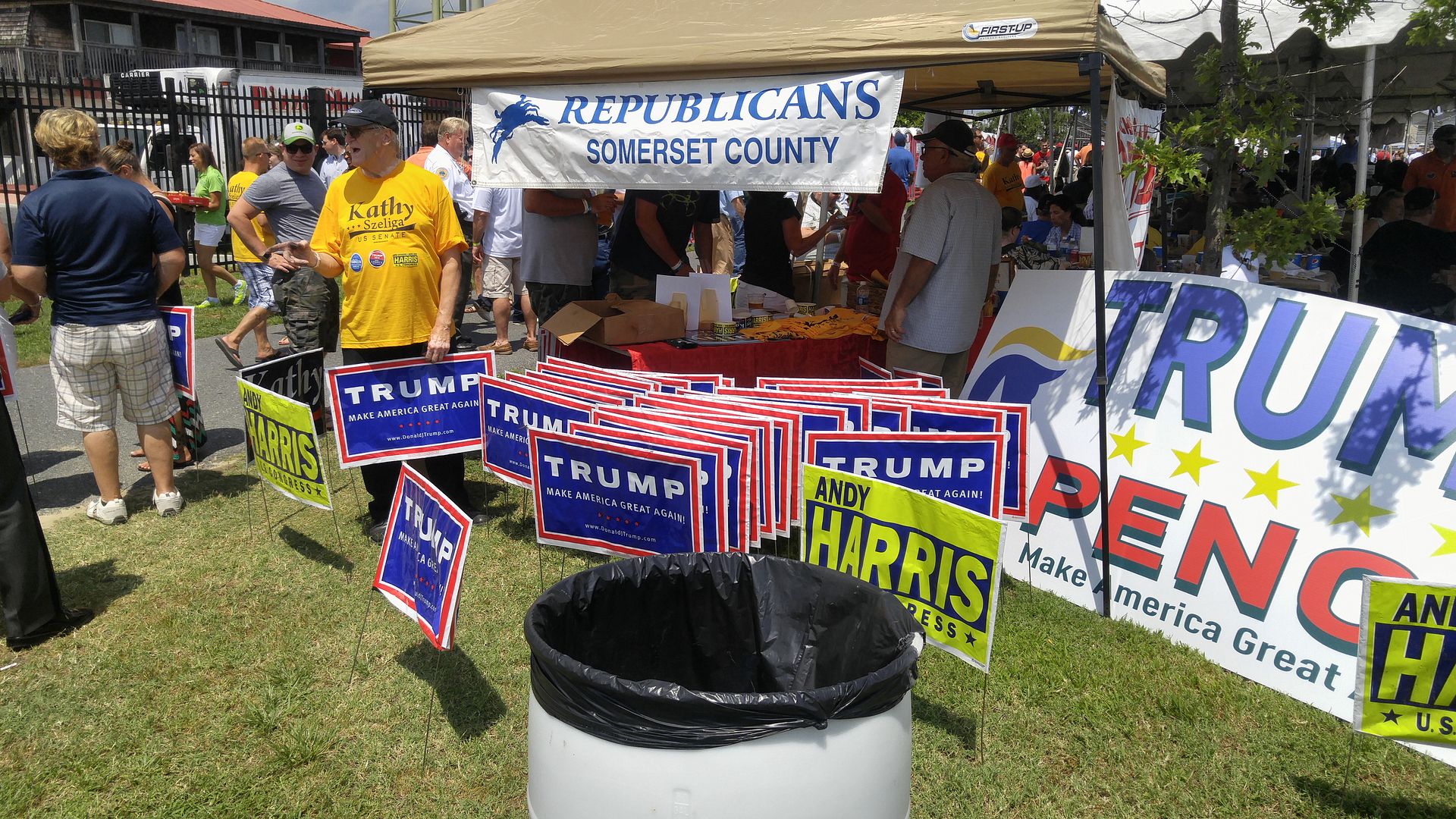 That group of signs dwindled little by little, as Trump adorned a number of tents. On the other hand, there were far fewer Hillary signs – but the Democrats also had their crowded space.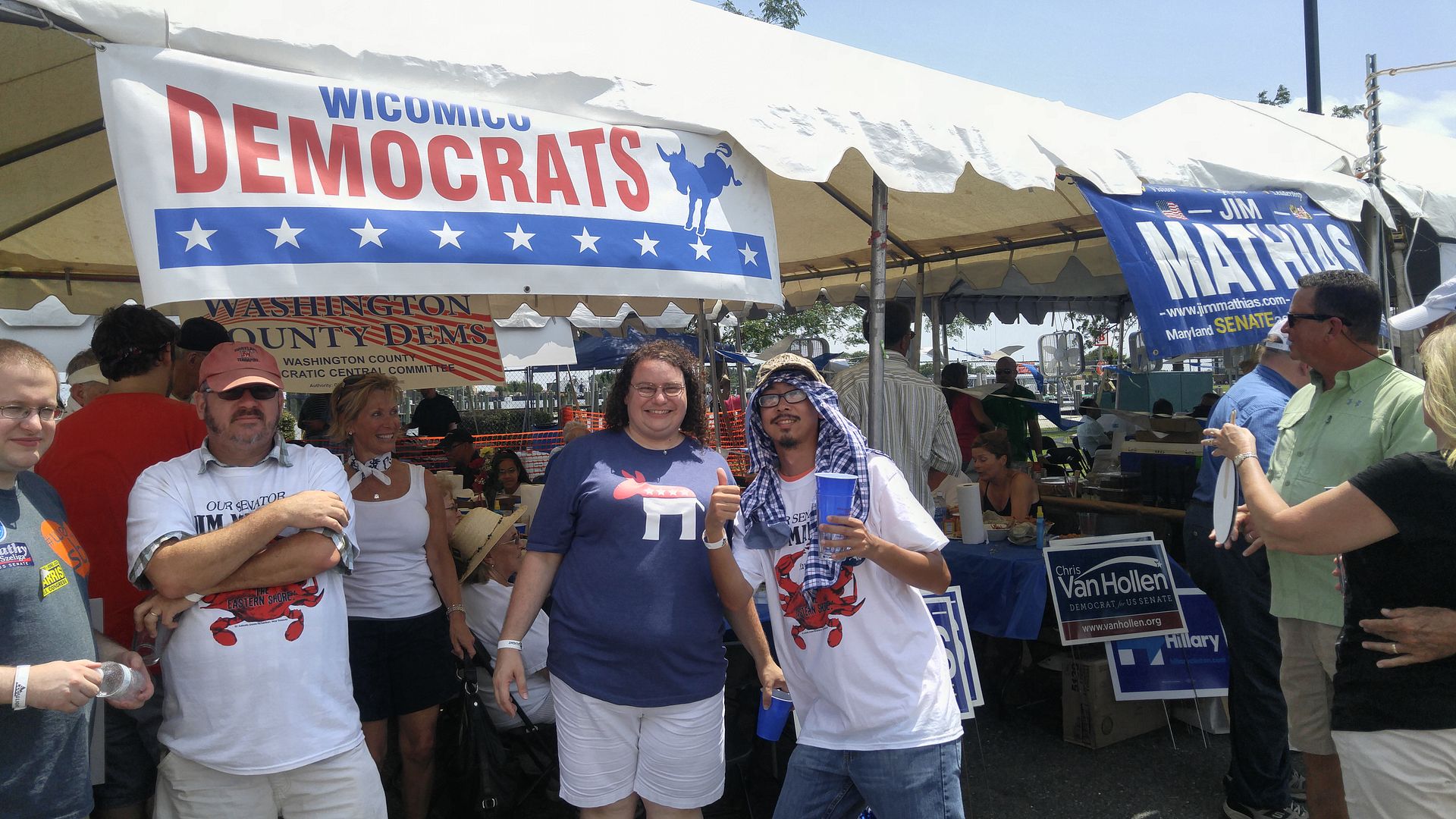 Sarah Meyers (in the blue shirt) is a friend of mine, and she was tearing her hair out as the coordinator there because they overbooked the space. (You may see her at the Democratic Convention next week, as she will be there as a page.) By the same token, the Somerset Republicans only went with one tent as well and it was packed, too. So both parties had close quarters.
Yet the businesses seemed to have ample space. I didn't peek into every tent, but many of them (as well as businesses lining State Route 413 into Crisfield) had a simple message: welcome Governor Hogan.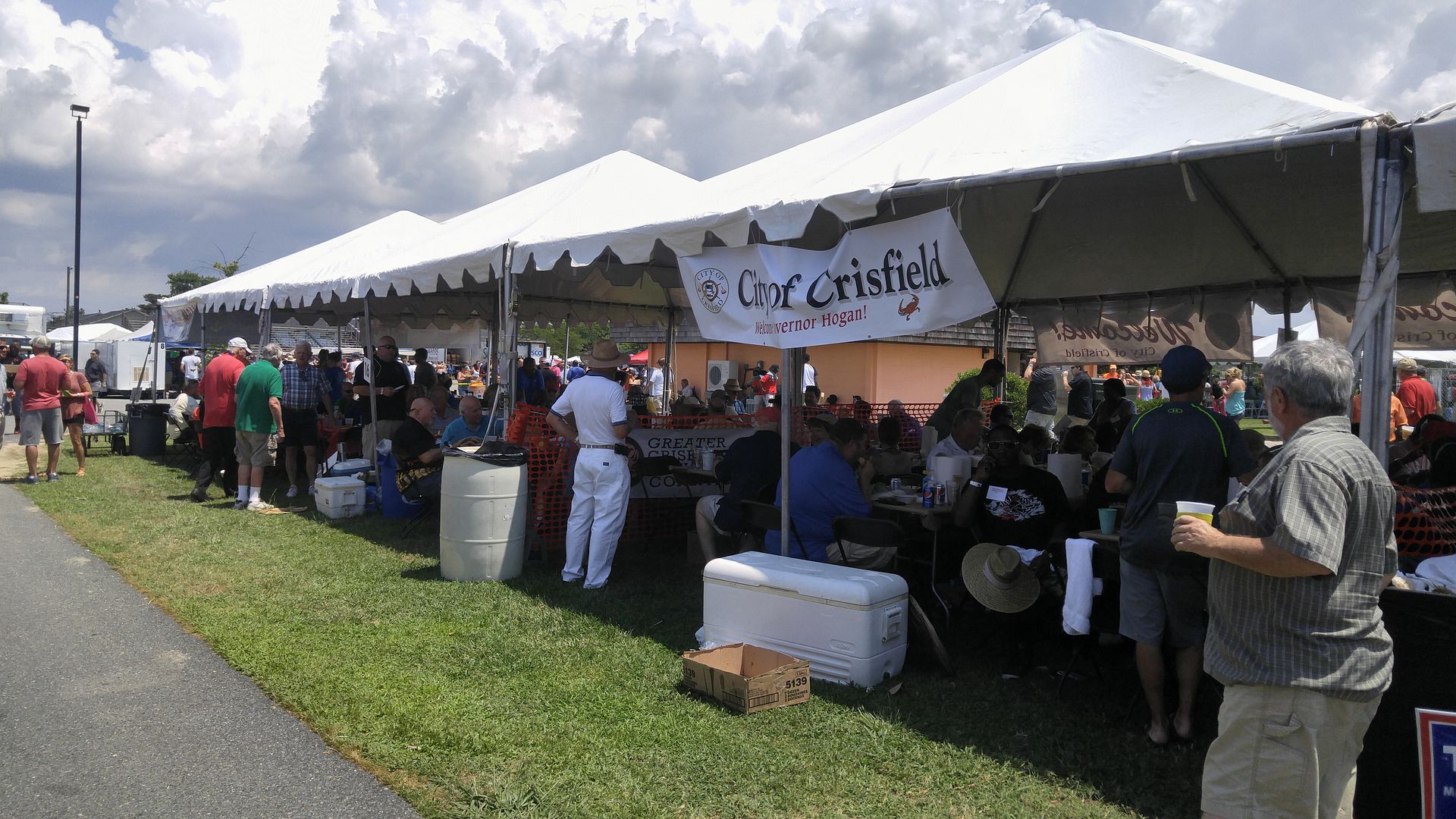 Even lobbyist Bruce Bereano, who always has the largest space, got into that act.
Yet among those businesses I did pick out I found an odd juxtaposition there, particularly under the auspices of the local economic development commission.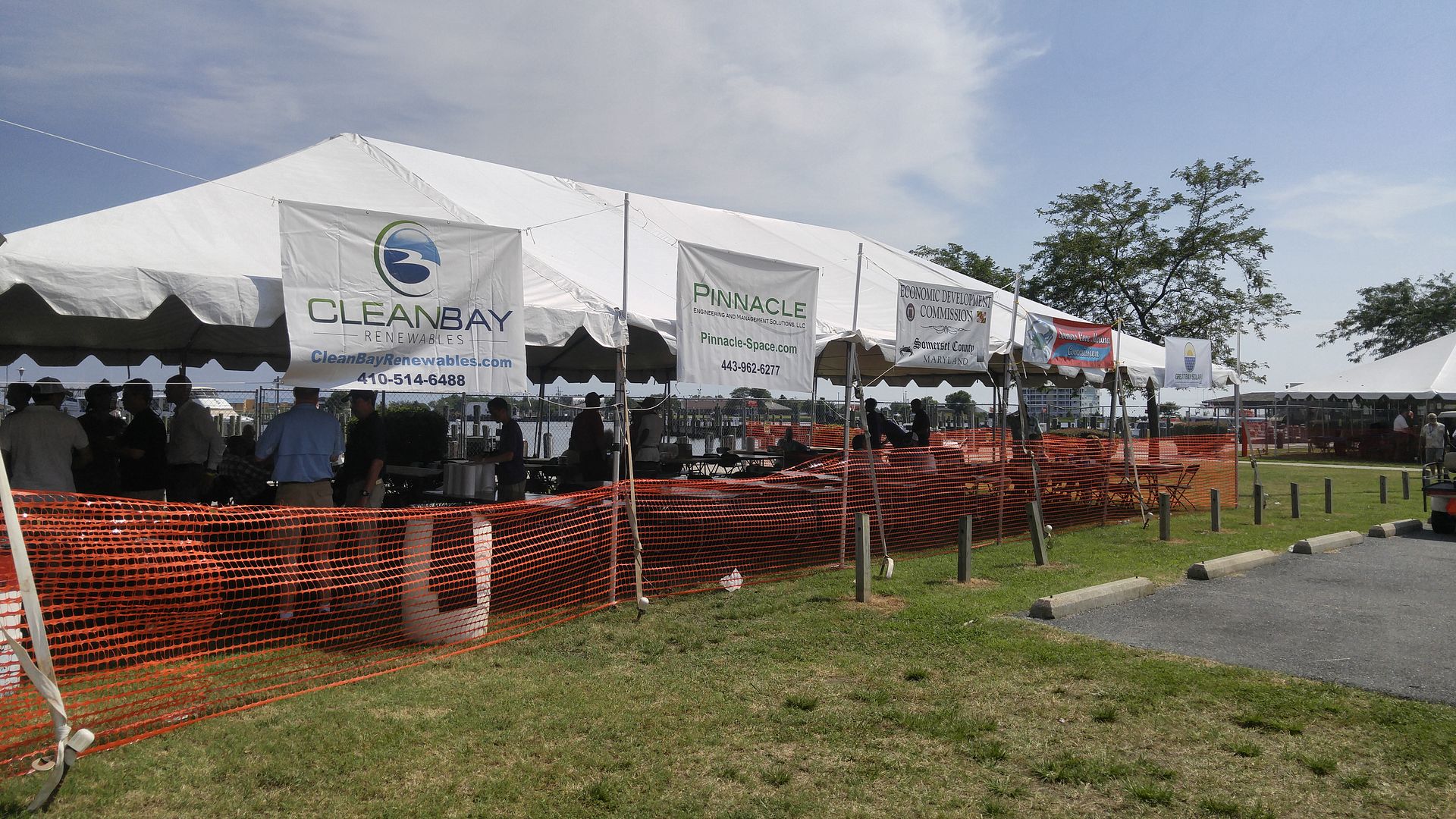 In order, these businesses are Cleanbay Renewables, which is a chicken waste recycling firm, Pinnacle Engineering, which services NASA, the Somers Cove Marina Commission, and Great Bay Solar I. The last is interesting because this project was originally supposed to be wind turbines, but objections to the siting of the turbine towers from the Navy forced the company to go solar, making lemonade out of lemons. With the exception of Pinnacle, the state has sort of forced the market for the other two businesses.
Yet on the other side was a law firm that objects to the approach the state is using to clean Chesapeake Bay through its Clean Chesapeake Coalition. They believe much of the problem comes from the sediment that leaches out from behind Conowingo Dam in severe storms.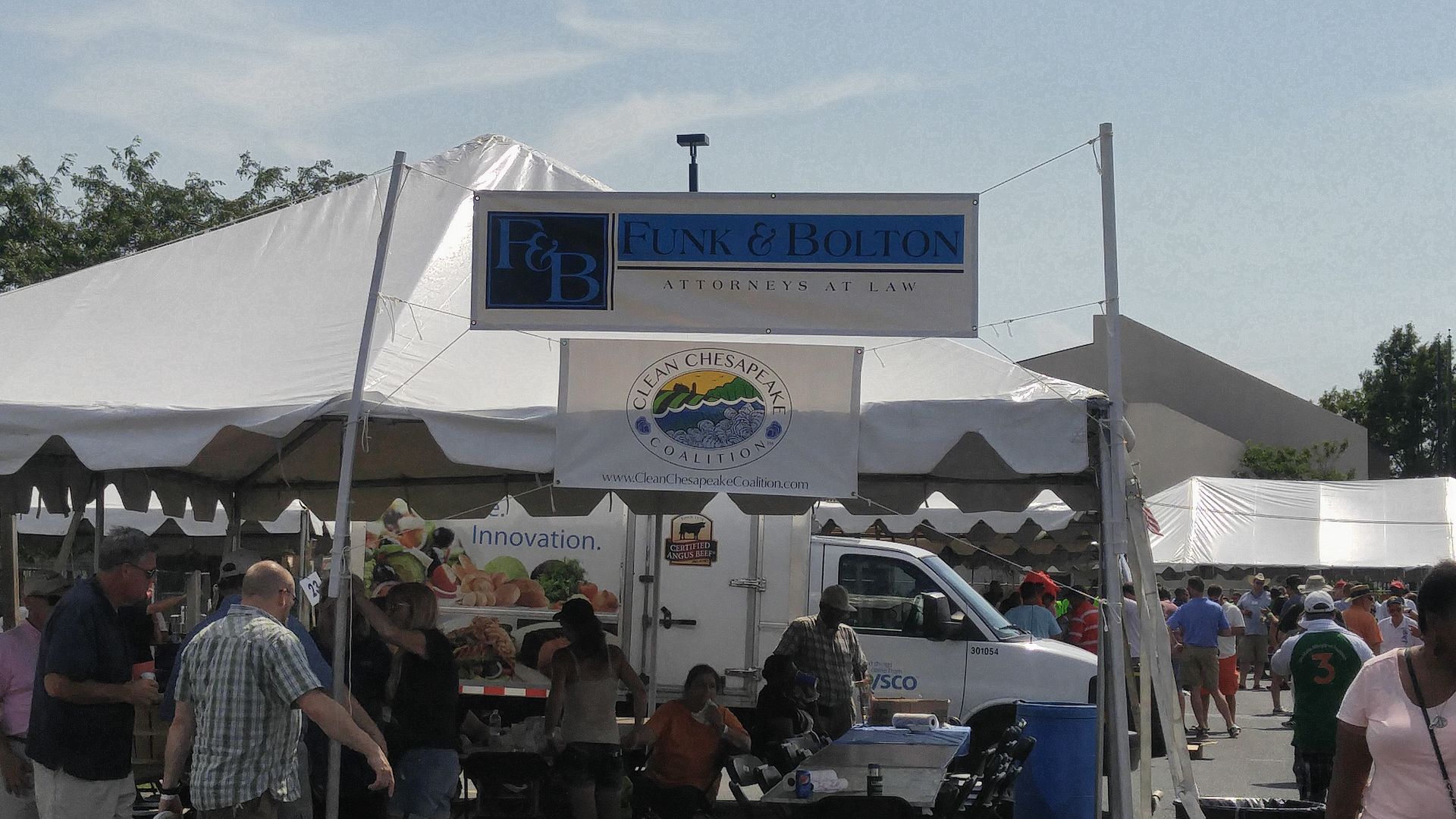 I happen to think the CCC has a pretty good case.
Speaking of business, the food business did pretty well there. Almost too well.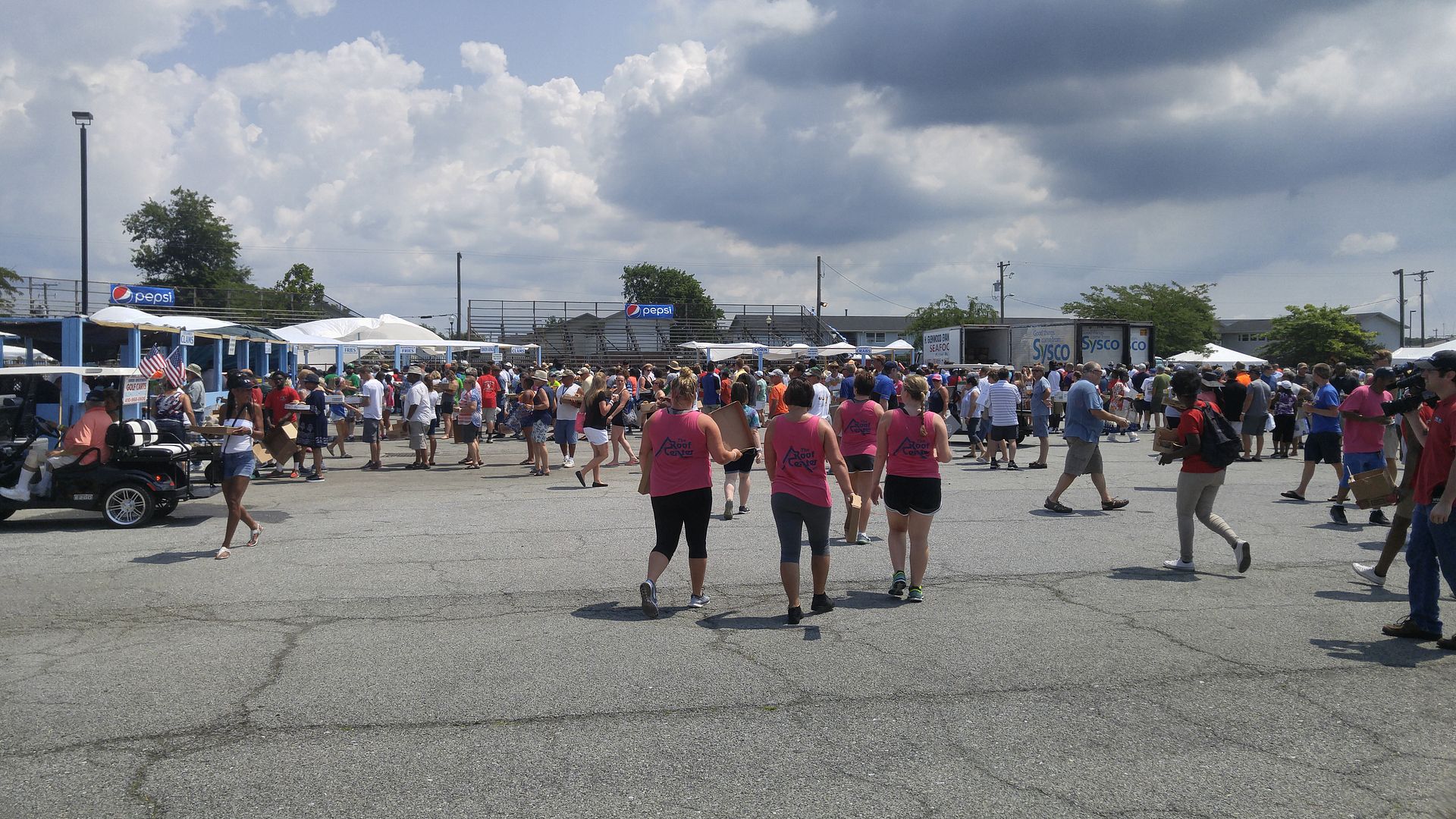 According to my cell phone camera, which took all my photos today, I took that picture at 12:01 as I walked over to get in line for food. Here is the end result, 46 minutes and four lines later.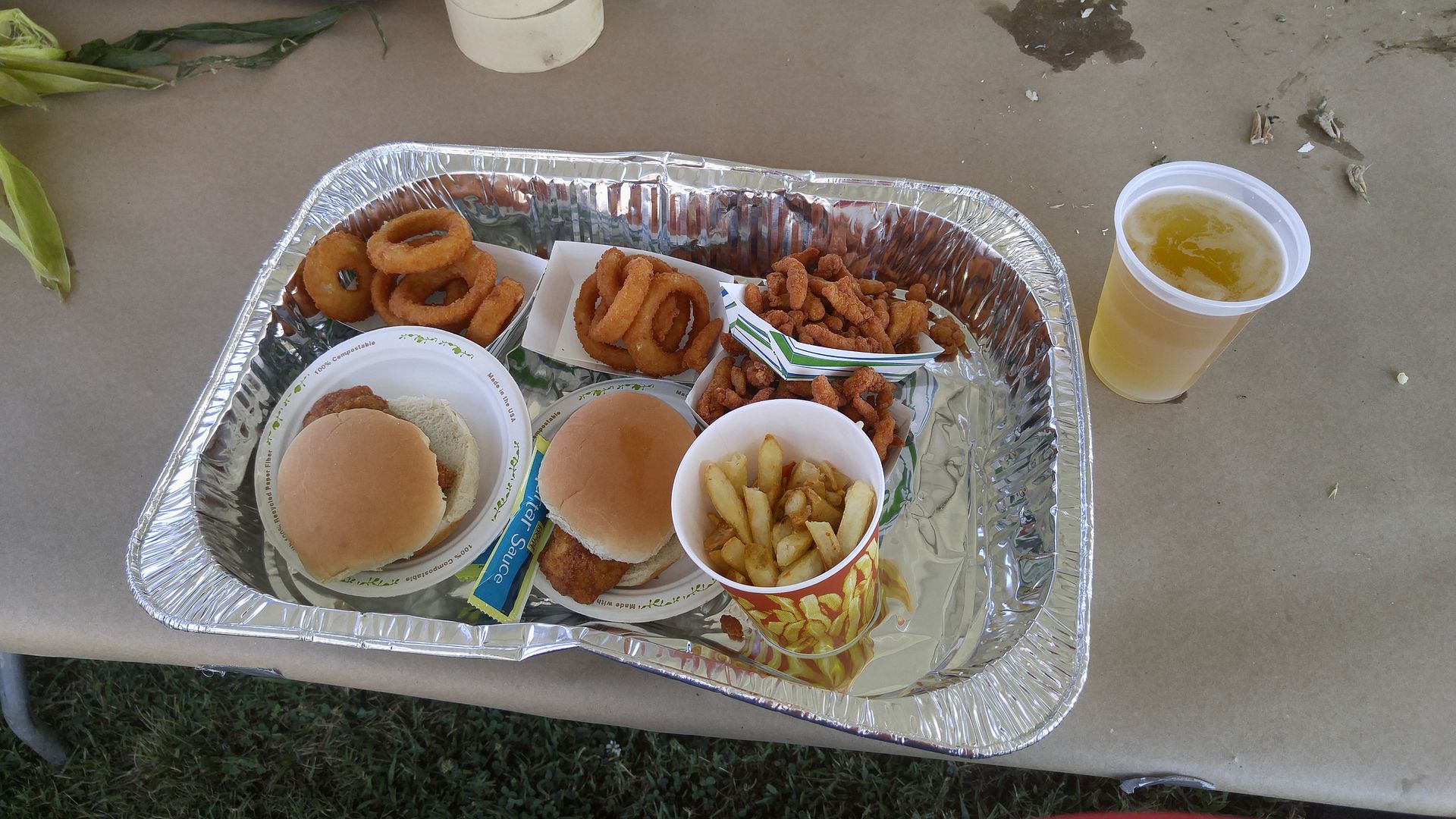 I actually asked for the onion rings as I inched closer to the front of the French fry line. And I certainly don't fault the crew because they worked hard, even toward the end when I snapped this.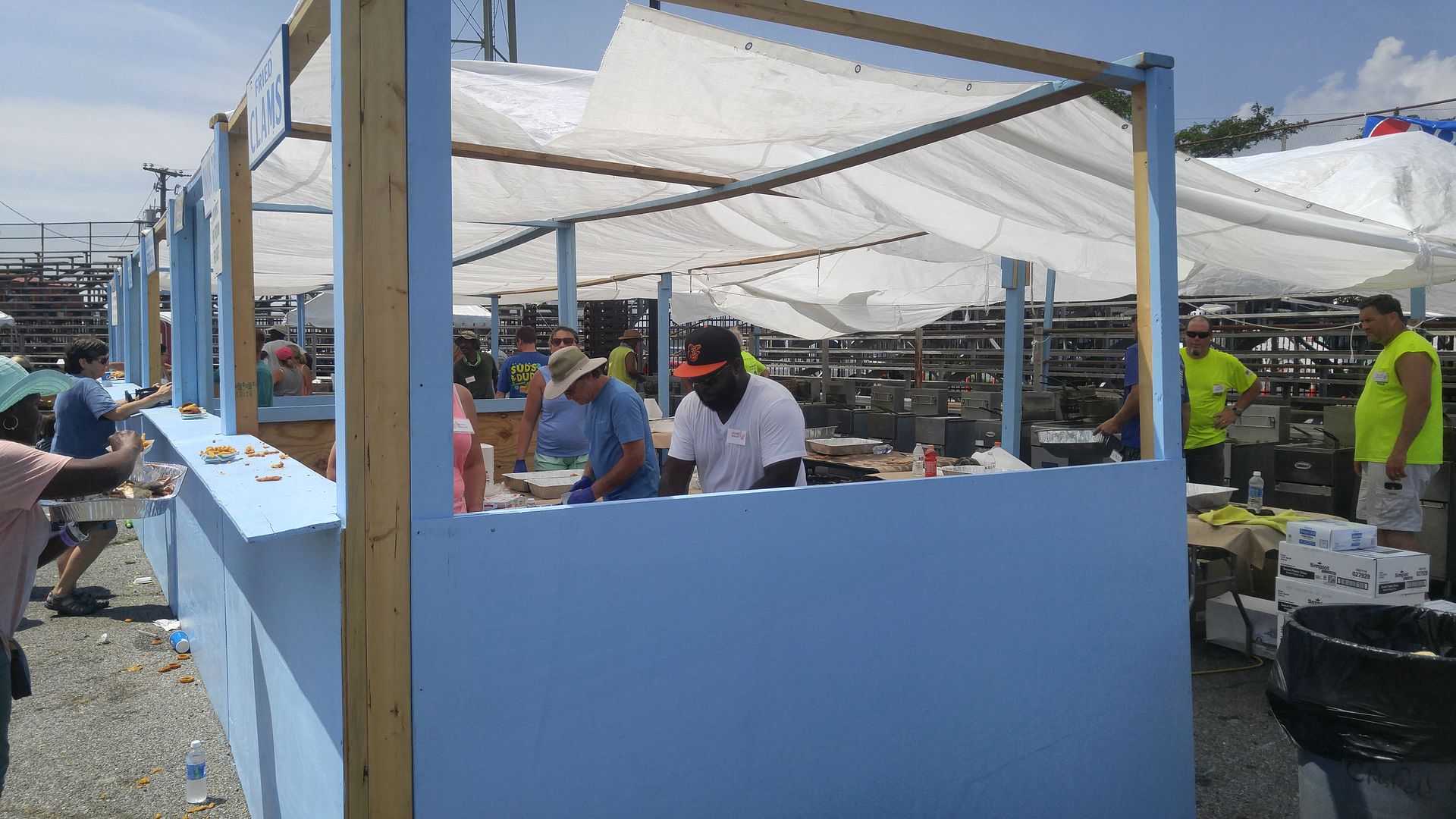 I think the issue is the increasing use of "runners" who get multiple orders of food and slow down the lines. It seemed like every third person in line was one, which meant those who just wanted to fend for themselves had to wait.
The guy who didn't have to wait in line was Governor Larry Hogan, because I don't think he ate a bite.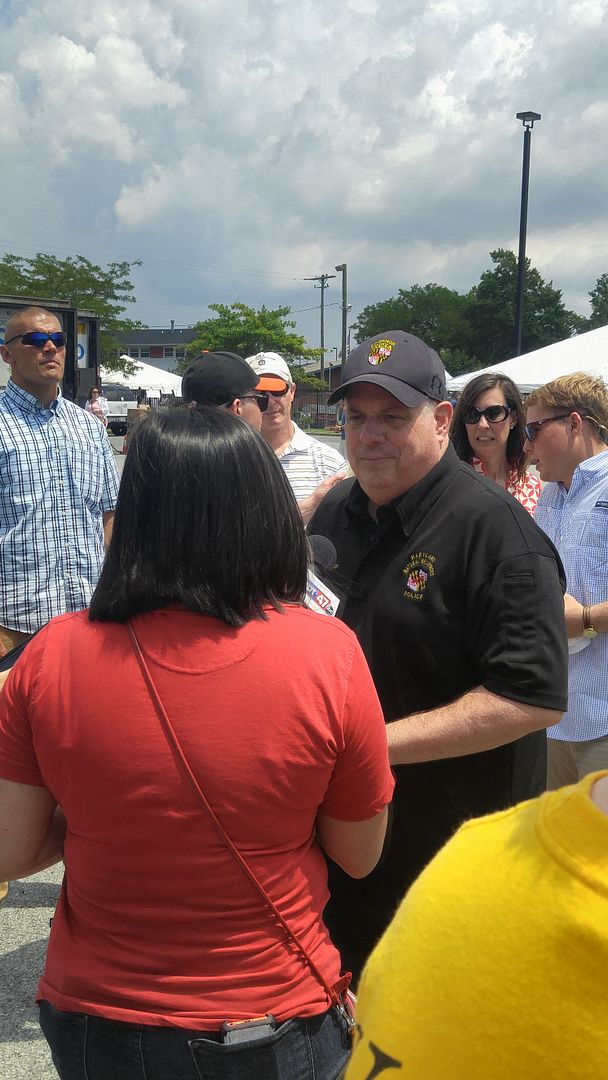 This is a second segment of time lapse. I took this photo above in the area where the food lines were at 1:57 p.m. Now, let me ask you: where's Hogan?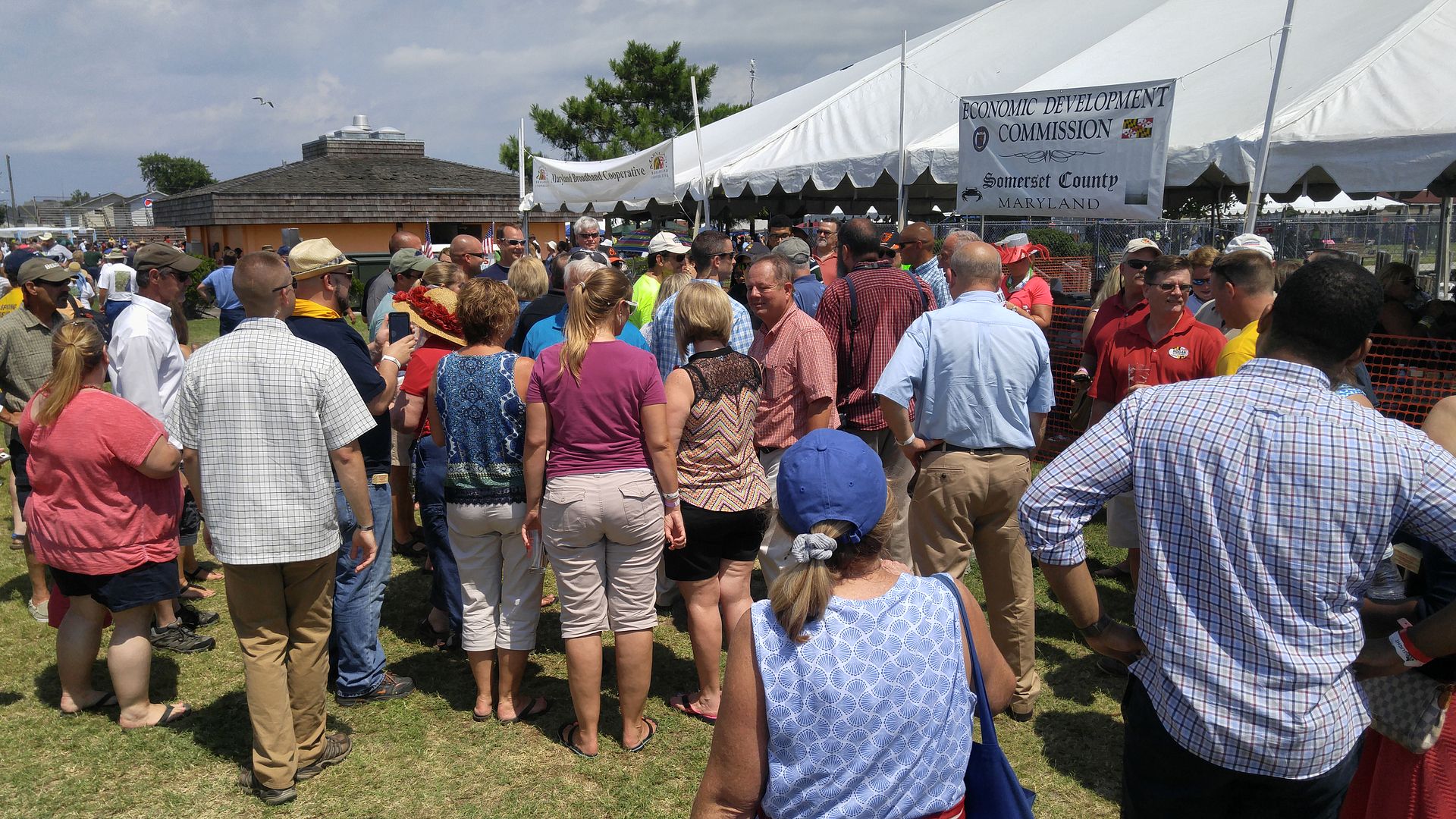 He's barely visible in the center of the photo, obscured by Delegate Charles Otto in the pinkish shirt. In 35 minutes he had advanced maybe 80 yards thanks to the crush of well-wishers who wanted to shake his hand, have a photo with him (although he suggested it in a number of cases) and perhaps say their piece. I was in the latter group as I wanted to thank him for his stance on the Presidential election. Larry commented that he had noticed the reception I've received on social media a couple times as it echoed a lot of what he had seen on his.
Stay strong, Governor.
The two major-party candidates for U.S. Senator were also there. Now I missed Democrat Chris Van Hollen – perhaps because I didn't recognize him walking around – but I did get a glimpse of Kathy Szeliga from the GOP.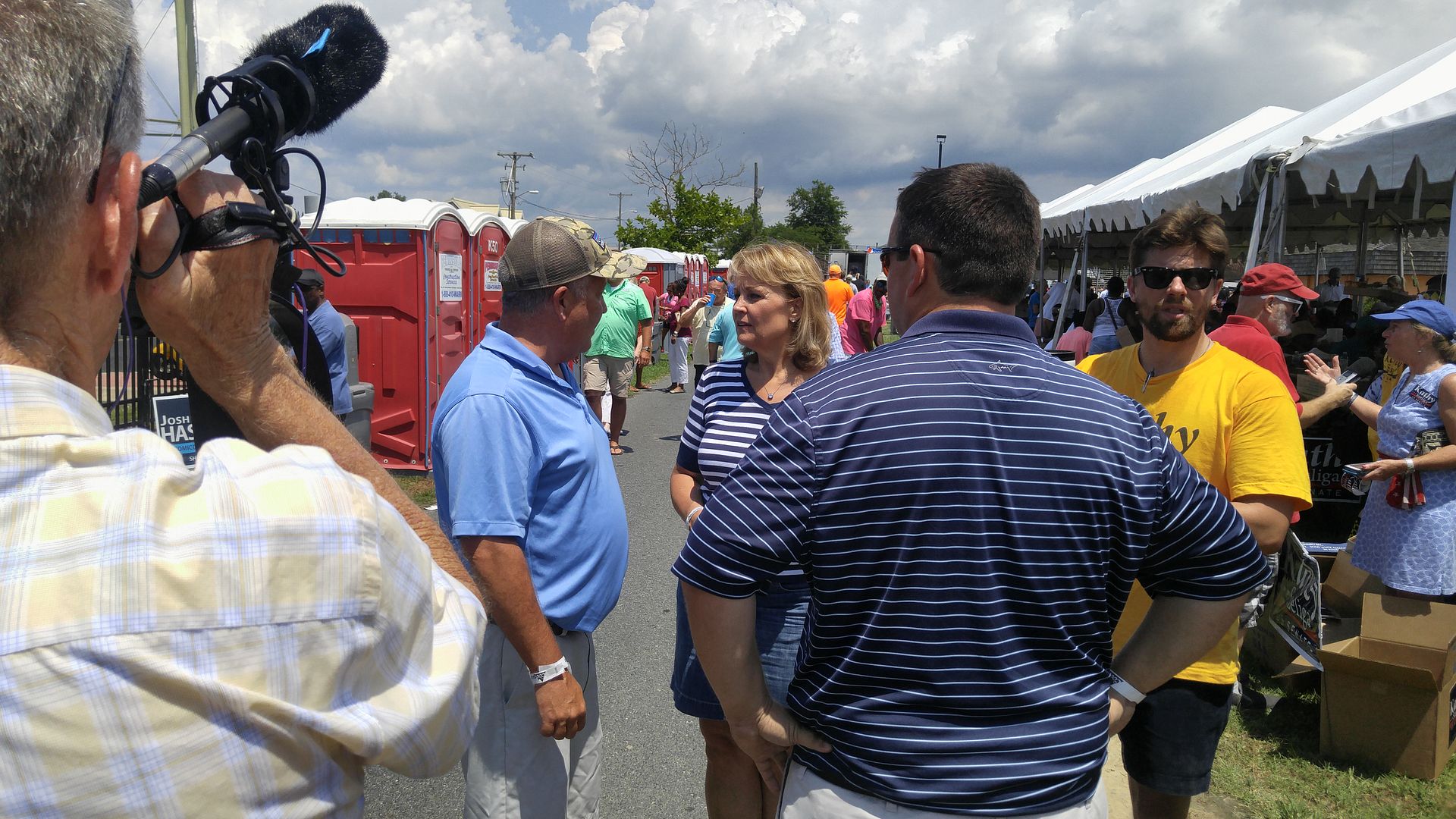 Of the people I saw and photographed, she was one of the few I didn't speak to at least a little bit. I don't blame her – our paths just didn't cross but once.
Of course, a few locals managed to be in front of my camera, such as Delegate Mary Beth Carozza, who brought her family and a batch of others from Worcester County.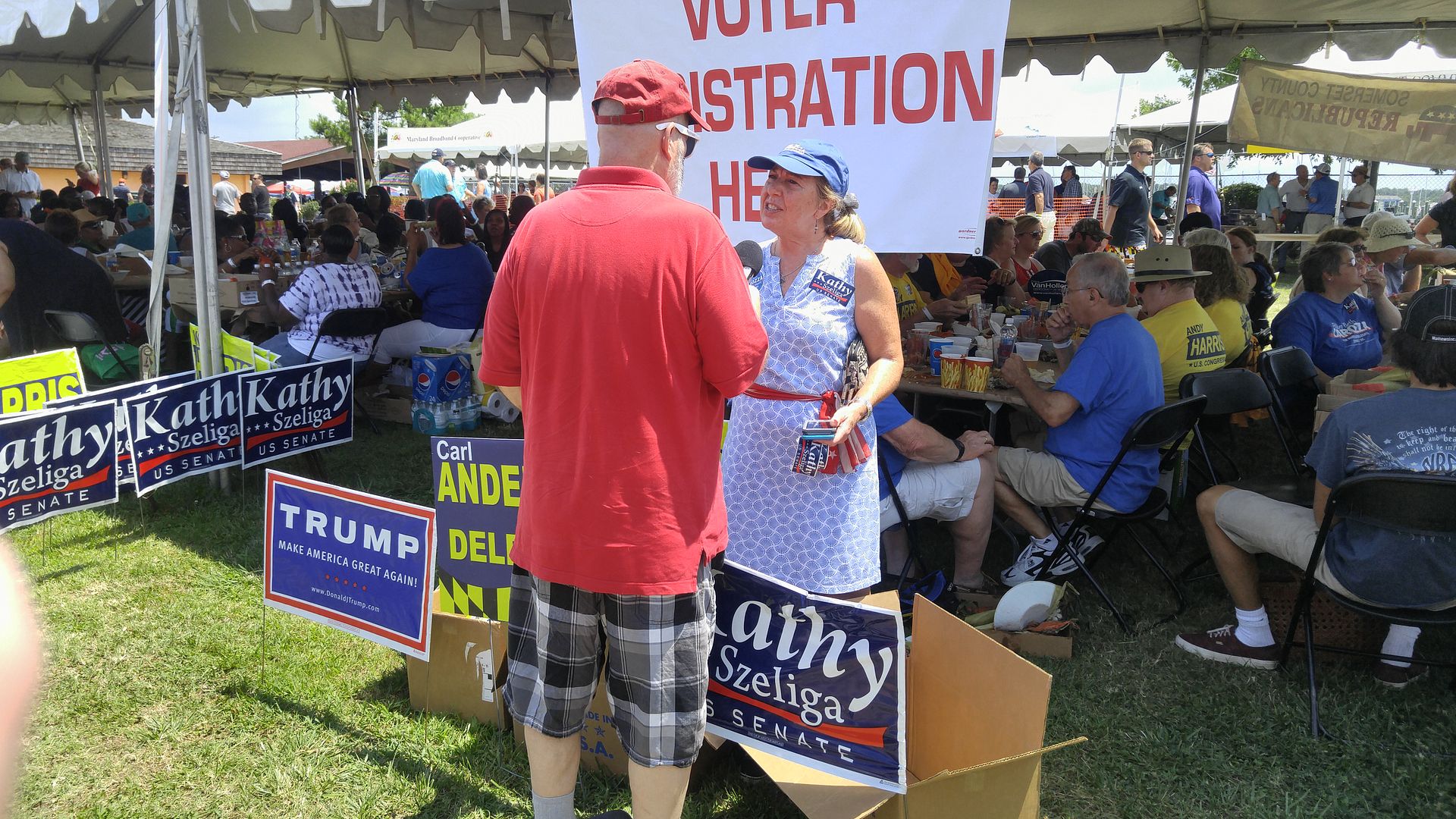 She was speaking to Duane Keenan from Red Maryland.
The other half of Worcester County must have come with Senator Jim Mathias, who had a number of folks with a matching shirt to his. He was a little peaked by the time I took the moment to thank him for his assistance with the school board election bill.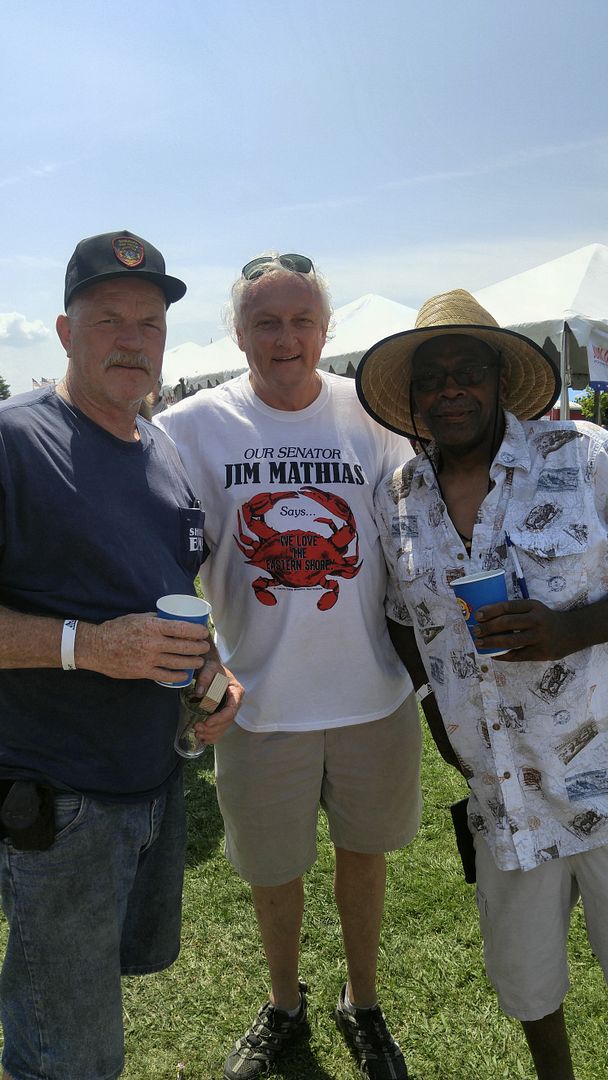 Yet while we had hot and cold running politicians there, we also had a lot of media asking questions. I noted Duane Keenan above, but here's Ovetta Wiggins of the Washington Post (right) speaking to Jackie Wellfonder. Jackie made the cut in Ovetta's story.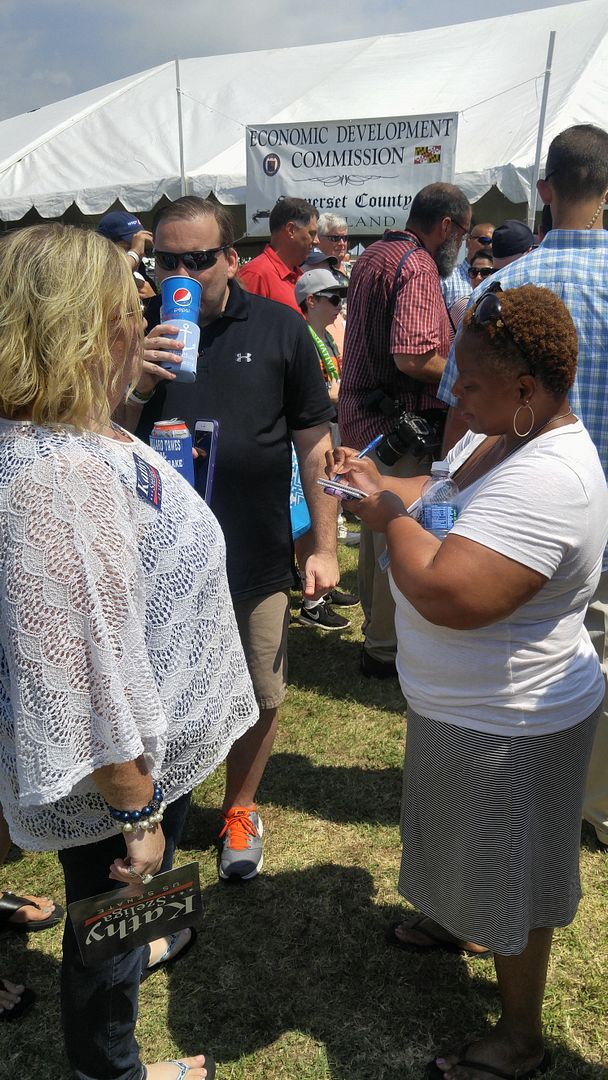 I also had the pleasure of meeting Mike Bradley, who hosts WGMD's morning show out of Lewes, Delaware. Since his station covers a fair amount of the lower Shore in its signal, he was interviewing some of the local players. It's a very good show that I catch once I cross into Delaware on my way to work.
And it could be that the Tawes event is becoming one for the greater Delmarva area. A delegation of elected officials from the First State included Representative Tim Dukes, who covers the Laurel and Delmar areas in his 40th District.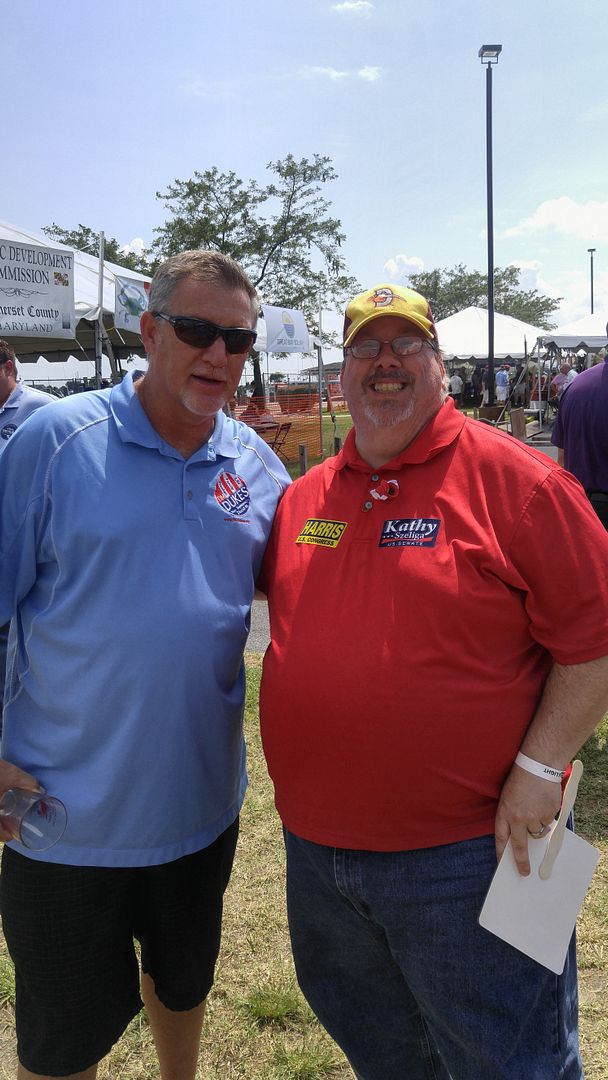 The reason I'm in the photo on the right: it was taken by Dukes' fellow representative (and Minority Leader in the Delaware House) Danny Short of Seaford. Since we're neighbors with Delaware it was nice to see some of their elected officials, too.
In that respect, this coverage was a little lacking because I did a lot of walking and talking to a number of nice folks from around the state. I want to say I overheard Jackie Wellfonder say this, but Tawes really is "like a big 'ol family reunion." We don't often see a lot of politicians travel across the bridge but for attending Tawes, so you have to say hello and speak your piece when you can.
Commentary by Marita Noon
Editor's note: by Marita's request – and so as not to come in the midst of other upcoming content from her – I'm posting this a day earlier than Marita's normal Tuesday morning slot.
The name Donald Trump will occupy the news cycle during the Republican National Convention in Cleveland, Ohio. Other than comments from oil entrepreneur Harold Hamm, energy won't be a huge topic on the stage – though it does hold a spot on the newly approved Republican Platform and has a starring role in Trump's plan to "make America great again."
Trump calls it "An America First Energy Plan." In it, he calls for "American energy dominance," which he sees as a strategic, economic, and foreign policy goal. Like every recent president before him, he seeks "American energy independence" – which he defines as being "independent of any need to import energy from the OPEC cartel or any nations hostile to our interests." According to his energy adviser, Rep. Kevin Cramer (R-ND), this acknowledges that we will still use oil from our friends like Canada and Mexico and that, for example, due to refinery configurations, there will likely continue to be oil imports and exports. The thing to note is that we will not need to, not have to, do business with those who are hostile toward America.
He understands that our amazing American energy resources offer the United States tremendous wealth and economic advantage. In his May 26 speech in North Dakota, addressing untapped oil and gas reserves on federal lands, Trump exclaimed: "We have no idea how rich we are. We want to cherish that wealth." In comparison, he pointed out that Hillary Clinton wants to lock up "trillions in American wealth" while her "poverty-expansion agenda" enriches her friends and makes everyone else poor. (Be sure to read more about Hillary enriching her friends in my column next week.) In the speech, Trump pointed out to the audience, largely made up of people from the oil and agriculture industries: "If Crooked Hillary can shut down the mines, she can shut down your business, too."
His America First Energy Plan calls for a redirection of our energy agenda. Overall, Trump will move away from government-central planning efforts and return authority back to the states – an idea that has made it into the Republican Platform. His plan has three main components. Under a Trump administration there will be big changes in climate policy, regulations, and the management of federal lands.
Climate policy
While Trump is known to have called climate change "a hoax," and has declared that he will not allow "political activists with extreme agendas" to write the rules, he is a true environmentalist. Coming from New York City where the only "nature" is Central Park, he has a heart for the environment. Cramer told me Trump holds a typical "Manhattan view of the West:" clean air, green space, and nature are precious. In his energy speech, Trump announced his environmental policy: "my priorities are very simple: clean air and clean water." A Trump administration "will work with conservationists whose only agenda is protecting nature."
In his "100-day action plan," Trump says he'll rescind the Climate Action Plan – which "gives foreign bureaucrats control over how much energy we use."
[Note: this foreign control over energy use was a key component in the Brexit vote - as I wrote a few weeks ago. Since then, Theresa May, the UK's new Prime Minister, who last week announced: "I want to see an energy policy that emphasises the reliability of supply and lower costs for users," has scrapped the Department of Energy and Climate Change and replaced it with a new Department for Business, Energy & Industrial Strategy. With a President Trump, we can expect similar action.]
Trump has pledged to "cancel the Paris Climate Agreement and stop all payment of U.S. tax dollars to U.N. global warming programs." He says such policies are evidence of America bending to benefit other nations at a cost to the U.S. Once the "draconian climate rules" are eliminated there is no rationale for imposing a "job-killing cap-and-trade" scheme or to keep extending the subsidies for wind and solar. He is not opposed to wind and solar energy, and in fact, wants to "get bureaucracy out of the way of innovation so we can pursue all forms of energy," but he doesn't support the idea of "the government picking winners and losers." Like other energy sources, once the subsidies expire, the wind and solar industry would benefit from typical business tax deductions and deferments.
Regulations
Trump's agenda calls for "Regulation reform that eliminates stupid rules that send our jobs overseas." He knows that "costly regulation makes it harder and harder to turn a profit."
In his speech, he accused the Environmental Protection Agency of "totalitarian tactics" and pointed out the current enforcement disparity: "The Department of Justice filed a lawsuit against seven North Dakota oil companies for the deaths of 28 birds while the Administration fast-tracked wind projects that kill more than 1 million birds a year."
Cramer told me we can expect Trump to roll back a lot of Obama's regulatory overreach and take a different approach toward rules, like the Waters of the U.S. and the Clean Power Plan, that are currently under a court-ordered stay.
Coal miners have come out en masse for Trump because of his promise to "save the coal industry." I asked Cramer how Trump planned to do that. He told me that while coal-fueled power plants that have already been shut down or converted to natural gas will not likely be reopened, a Trump administration can save what's left and stop the bleeding by not artificially punishing the industry through regulation.
On July 14, the U.S. House of Representatives passed the 2017 Department of Interior, Environment, and Related Agencies Appropriations Bill. It provides an example of actions we can expect from a President Trump. Cramer says if this bill were to make it to Trump's desk, he would sign it. Some of the bill's provisions include:
Prohibiting the EPA from implementing new greenhouse gas regulations for new and existing power plants,
Prohibiting harmful changes to the "stream buffer rule" or making changes to the definition of "fill material" negatively impacting coal-mining operations, and
Requiring a report on the backlog of mining permits awaiting approval.
Additionally, the bill cuts funding for regulatory agencies – "a decrease of $64 million from last year's budget and $1 billion below the President's request."
While the Obama Administration has issued near fatal regulations on the coal industry (which Hillary would take even further), other countries are using more coal. On July 11, the Financial Times announced that prices for coal surged on increasing demand in China.
In short, Trump explained: "Any future regulation will go through a simple test: is this regulation good for the American worker? If it doesn't pass this test, the rule will not be approved."
Federal Lands
In his speech, Trump reminded people that President Obama has halted leasing for new coal mines on federal lands and aggressively blocked the production of oil and natural gas by closing down leases and putting reserves off limits. He pointed out that these resources are an American treasure and that the American people are entitled to share in the riches.
One of the ways Americans will benefit from the riches of our natural resources is through a designated fund that, much like many natural resource states already do, will put a portion of the revenues directly into rebuilding roads, schools, and public infrastructure.
As a part of his 100-day action plan, Trump has promised to "lift moratoriums on energy production on federal areas." Instead of slow-walking permits or being passive-aggressive with the permitting process, he'll order agencies to expedite exploration, drilling, and mining permits.
Trump has said he intends to "trust local officials and local residents." This idea will be played out in his approach to the management of federal lands – which Cramer explained will be more of a state and federal partnership where states will have a much greater say regarding their land use. This includes the regulation of hydraulic fracturing. In a blow to the Obama administration's overreach, a federal court recently affirmed that the regulation of the technology is the jurisdiction of the states – not the Federal Bureau of Land Management.
We'll see this same philosophy played out in the designation of national monuments – something the Obama administration has abused by turning the ability to designate national monuments into a land grab. His monument designations often prevent productive use of the federal lands – such as agriculture or mineral extraction. The GOP platform committee adopted language that empowers states to retain control over lands within their borders. New monuments will "require the approval of the state where the national monument is designated or the national park is proposed." As a result, Cramer told me: "We will not see a lot of new federal lands."
There are two additional important energy items to note. First, Trump would "ask TransCanada to renew its permit application for the Keystone pipeline" – which would be built by American workers. Second, Trump has long been a supporter of nuclear power.
Trump's energy plan is a turn toward realism. It is based on the fact that our American energy abundance can allow for shared prosperity, better schools, more funding for infrastructure, higher wages, and lower unemployment. Isn't that what making America great again is all about?
The author of Energy Freedom, Marita Noon serves as the executive director for Energy Makes America Great Inc., and the companion educational organization, the Citizens' Alliance for Responsible Energy (CARE). She hosts a weekly radio program: America's Voice for Energy - which expands on the content of her weekly column. Follow her @EnergyRabbit.
Since I finished part 1 last week, we've had a lot of developments in the race: Trump picked outgoing Indiana Governor Mike Pence to be his running mate (or did he actually make the selection?) and came up with an awful logo (that lasted one day) to celebrate. Meanwhile, the RNC apparently succeeded in binding their delegates to this dog of a ticket. (My question: how did our Maryland Rules Committee members vote? I believe Nicolee Ambrose, who has fought in that committee before, voted the proper way and against the RNC/Trump minions. Yes, they are shamefully now one and the same.)
Update: Indeed, both Maryland members voted properly, and Nicolee Ambrose is urging members to reject the Majority Rules Report.
So the question may be moot, but I'm going to press on for the record so I can point back at this and say "I told you so." Not that it will do a whole lot of good, of course, but maybe people will listen to reason in the future. It's worth a try.
Just as a refresher, the five issues I have left over are taxation, immigration, foreign policy, entitlements, and role of government.
Trump came up with a decent taxation plan during the campaign – maybe not all that I would want, but an improvement. But he later admitted that all of it was up for negotiation, so let me clarify: the rates will not go down for many taxpayers, but the increases that made the package "revenue neutral" in his words will remain. Those on the low end of the scale may get the "I win!" form but the rest of us in the middle will lose, again.
I'm tempted to save immigration for last because that was the first important issue for Trump and the one that propelled him from celebrity sideshow to true contender. Americans, indeed, want something done about the influx of foreigners and a large part of that is building a wall at the border. But it's not my most important issue and I still run this blog, so it goes in order.
The first crack in the Trump immigration façade for me was the idea of building a "big, beautiful door" in the wall to promote legal immigration. Then I found out Donald was an advocate of what's called "touchback" immigration, which is a fancy way of saying he'll give amnesty. And I can see it already: in a "grand deal" to get the wall built, Trump will eliminate the "touchback" part – because it's oh so hard for these immigrants to be uprooted and return to their homeland – for the promise that a wall will get built. News flash: we were promised this in 2006, but the Democrats (along with a few squishy Republicans) reneged on the deal. We see how Congress acts, and regardless of what Trump may say this is not a promise he would keep. Bank on it.
I know Trump did a sort of catch-all address on foreign policy some months back, but his criticism of the Iraq war (and accusations about soldiers therein) gives me pause. That's not to say we are always right, but there is a little bit of hindsight he's taking advantage of here. If Iraq were a thriving nation and American bulwark in the Middle East such as Israel is, I seriously doubt Trump would say word one about it being a bad idea. That's the sort of person I take him to be.
It's very possible to lump both entitlements and the role of government into one statement, reportedly made by Trump in New Hampshire back in 2015 and relayed by Andrew Kirell at Mediaite:
The Affordable Care Act, "which is a disaster," he said, "has to be repealed and replaced." That line drew applause.

"Whether it is we are going to cut Social Security, because that's what they are saying," he continued. "Every Republican wants to do a big number on Social Security, they want to do it on Medicare, they want to do it on Medicaid. And we can't do that. And it's not fair to the people that have been paying in for years and now all of the sudden they want to be cut."
So will it be fair when the train goes off the tracks and millions of younger Americans are left with nothing? Trump is 70 years old, so (as if he really needed it) if Social Security runs out in 2030 he'll likely be dead anyway. But I will be 66 years old and hoping to retire at some point, although thanks to the Ponzi scheme of Social Security all that money my employers and I grudgingly gave to the government over forty-plus years will long since be pissed away. And the more I deal with the "Affordable" Care Act, the less affordable I find it. The repeal is fine, but the replace should be with the old system we liked, not some new government intrusion.
In sum, it became apparent to me early on that despite his appeal as an outsider, Donald Trump is far from an advocate of limiting government. If he should win in November, conservative Republicans will likely be in the same precarious position they were often placed in by George W. Bush: it's difficult to go against a president in your own party even if he goes against party principles.
The Republican Party I signed onto back in 1982 when I first registered to vote in Fulton Township, Ohio was ably represented by Ronald Reagan at the time: strong defense, lower taxes for all Americans, and a moral clarity of purpose that included the concept of American exceptionalism. Yet Reagan also intended to limit government; unfortunately he wasn't as successful in that aspect because he always worked with a Democrat-controlled House (and usually Senate.) I often wish that Reagan could have worked with the early Gingrich-led House and a conservative Senate – we may have beat back a half-century of New Deal and Great Society policies to provide a great deal for all Americans who wished to pursue the opportunities provided to them.
I don't know how we got Donald Trump as our nominee, although I suspect the early open primaries (and $2 billion in free media) may have helped. Democrats may have put together their own successful "Operation Chaos" to give Republicans the weakest possible contender. (And if you think that's a recent concept, I have a confession to make: in my first Presidential primary in 1984 I requested a Democrat ballot so I could vote for Jesse Jackson, who I perceived as the Democrat least likely to beat Ronald Reagan in the general election. Not that I needed to worry.) It's worth noting that the defeat of "Free the Delegates" also resulted in the defeat of some measures designed to reduce the impact of open primaries.
Alas, the GOP may be stuck with Trump as the nominee. So my message for the national Republican Party from here on out is simple: you broke it, you bought it. The mess is on you and I'm washing my hands of it.
Programming note: Over the next four days – in addition to her regular Tuesday column – I will run a special four-part series sent to me by Marita Noon, but originally written by John Manfreda, who normally writes on the energy sector like Marita does. She "spent most of the day (last Thursday) updating it, reworking it, and cleaning it up," so I decided to run it as the four parts intended during the Republican convention.
I intend it as a cautionary tale, so conservatives aren't fooled by a smooth-talking charlatan ever again. Don't worry, I have a couple things I'm working on too so I may pop in this week from time to time if I feel so inclined. But I trust Marita and this seems quite relevant and enjoyable, so look for it over the next four afternoons…probably set them to run at noontime (how appropriate, right?)
If you haven't figured it out by now, I'm one of those Republicans who occupies the #NeverTrump camp.
Before I go any further, let me explain some basic math to you: 0+0 = 0. My not voting for Trump does not add one to Hillary Clinton's column because I'm not voting for her, either. By the theory some on the Trump bandwagon are using to criticize #NeverTrump, my not voting for Hillary should add one to his total. But it won't. I will vote for someone who I feel is the most qualified on the ballot, rather than the lesser of two searing-hot evils.
This election was supposed to be the repudiation of the Obama big-government, strongly executive agenda. Unfortunately, unless the GOP comes to its senses next week, frees the delegates, and comes up with a good conservative candidate, they will sink like the Titanic in November.
But I don't come by my distaste for Trump lightly. While he has some redeeming qualities that could conceivably come into play on the slim chance he's elected, there is the sense in my mind that he takes the ideal of limited government and wrests it from the domain of the GOP, leaving both major parties as two sides of the same worthless coin.
It's likely you recall that I based my original endorsement (of Bobby Jindal, who is backing Trump but has been quiet about it) on the field's positions on ten items, with a sliding scale of importance assigned to each:
Education
Second Amendment
Energy
Social Issues
Trade and job creation
Taxation
Immigration
Foreign Policy
Entitlements
Role of Government
So I went back and reminded myself. To avoid this being overly long, I'm doing the first five in this part with part 2 hosting the second half.
On education, Trump claims to be for local control and against Common Core, which is an orthodox Republican view. But even though he would "cut it way, way, way down" he doesn't support the complete elimination of the Department of Education. He does have a good point in reversing the trend toward the government being a student loan lender, pushing it back to the banks and other lending institutions where it traditionally rested.
The problem with his approach is that it doesn't go far enough. Other candidates vowed to finish the job Ronald Reagan vowed to start by eliminating the Department of Education. To me, the federal government has no place on education – states and localities should set standards and run their school systems as they see fit. But any attempt to wean local school districts off the crack of federal funding will be met with howls of protest and Trump fails to impress me as someone who will follow through with these promises. After all, Trump did say education was one of the top three functions of government. "The government can lead it, but it should be privately done." I'm confused, too.
Trump seems to be a Second Amendment guy as he did get the NRA endorsement. But the chairman of Gun Owners of America was not as quick to praise The Donald based on his past statements. And again, the idea is not just to enforce the laws on the books but get rid of some of the most egregious, let alone get to "shall not be infringed." But wouldn't someone who is on the no-fly list in error be having their rights infringed? This observer asks the question.
And then we have the subject of energy. Now Trump went to North Dakota – a major oil producing state – and promoted his "America First" energy plan. In it, he promised "Any regulation that is outdated, unnecessary, bad for workers, or contrary to the national interest will be scrapped." But when he was in Iowa campaigning a few months earlier he threw his support behind a wasteful ethanol subsidy and carveout. So which is it? And would he allow Sarah Palin to sunset the Department of Energy?
On to social issues: Trump says he is pro-life and would defund Planned Parenthood, but how will he restore a "culture of life"? We don't have that specific. Nor will be stand against the troubling idea of leaving people free to use the bathroom they feel like using – this despite claiming gay marriage should be left to the states – or is it the "law of the land"? (By that same token, so is abortion as it was based on a SCOTUS decision, too.)
So do you get the idea so far that I trust him about as far as I can throw him based on mixed messages and inconsistent policies? Once again, the idea here in the upcoming term was to reverse the tide of bigger, more intrusive government – but I don't detect the same sort of impetus from Trump that I received from the candidates I favored. And to me, what would make America great again is for us to return to being good – at least in terms of re-adopting the Judeo-Christian values we've gotten away from after ousting God from the public square. I don't see "Two Corinthians" but three marriages Trump as being a spiritual leader in the manner of a Reagan or George W. Bush, even insofar as being decent human beings.
And lastly for this evening, I'd like to talk about Trump on trade and job creation. Since history isn't taught well, we tend to believe the Great Depression was the end result of the 1929 stock market crash. But there's a convincing argument made that rural America took the biggest hit thanks to the effects of the Smoot-Hawley tariff of 1930. Granted, the world is a lot different and more interconnected now, but American farmers produce a lot of exports (as do chicken growers locally, as the products in demand overseas complement nicely with what we consume here.) Certainly a renegotiation of our current and proposed trade pacts is in order, but would Trump walk away from the table or just angle for any deal? And would he be against Trade Promotion Authority like he was as a candidate when he's the president negotiating the pact? I doubt it.
And given the amount of union rank-and-file backing he seems to have, it's no wonder he hasn't come out more strongly for right-to-work laws, barely mentioning it during the campaign.
To many, Trump's views on these subjects are on the outside of the range that's acceptable to the standard GOP. And are they to the right of Hillary Clinton? For the most part, yes – but that assumes that he's a man of his word and his business dealings suggest otherwise.
So in part 2 I will discuss the more important five issues on my scaling system, and this is where Trump really begins to sound like Hillary.
Despite the fact I'm a sports fan, rest assured I'm not discussing the Stars, Mavericks, Cowboys, or Rangers. Actually, I would much rather be discussing less weighty subjects but I feel compelled to add my two cents.
All morning I heard on the news that this was the worst police fatality incident since 9/11, which is actually a little bit of a surprise given the amount of targeting they have had over the last few years. And apparently the shooter was distressed over recent shootings in Louisiana and Minnesota, so he took it out on the Dallas police before turning the gun on himself.
But I can't get my head around the logistics of the incident. You mean to tell me one man had eleven clean shots at police officers, without hitting anyone else in what had to be a melee after the first shot or two was fired? Unless they were in a group where they were easily mowed down, it seems to me that the initial reports of multiple assailants would be closer to the truth and then we have to ask where these others are. Of course, conveniently, the perp isn't talking anymore.
I have to say, though, this game of tit-for-tat is getting old. We lose five police officers in response to two (perhaps unjustified) civilian shootings, which may have occurred because the cops are on edge thanks to continuing protests and incidents like the one in New York City in December 2014 where two officers were murdered by Baltimore resident Ismaaiyl Brinsley, who "planned to kill police officers and was angered about the Eric Garner and Michael Brown cases." Innocent people are shot to death here, police officers are gunned down there. Depending on who you believe, the cops are always at fault unless the gun itself did it – and if the gun did it, that obviously means we must relieve people of their weapons, say those on the Left.
This morning I was listening to WGMD radio where Wicomico County Sheriff Mike Lewis was discussing the Dallas incident, and he revealed that four local officers had resigned over the last week. (Lewis was caredul not to specify which agencies, though.) Mike also believed that this climate was making it harder to recruit police officers because the risks are getting too great, and I can believe this. The Eastern Shore may seem like a backwater region without much potential for such an incident, but these shootings can happen anywhere.
So the question becomes: who stops first? Obviously concealed carry and the BLM threat is making police officers more nervous, and the Dallas shootings aren't going to ease their tension. There's no doubt race plays into this as well, as I'm sure every traffic stop involving a white officer and black driver will be tense.
Normally I have some ideas on how to improve the situation, but in this case I'm fresh out except for suggesting prayer – both for the families of the victims and for healing of the long-festering wounds racism on both sides have brought our nation.
Truth be told, this may be the most depressing political season that I've encountered in my lifetime.
In most cases, government runs on a political cycle where one party is in for a few terms, then voters desire a change and go the other way. Red turns to blue and back again, but little of substance really changes except the actors.
But the one constant through my life has been that of government getting larger, more intrusive, more politically correct, and more deeply entrenched in the concept of a nanny state because only they know what is good for you. Then you take the people who you elect to try and change this and find that most of them either are okay with the status quo or don't have the manhood to fight the system with every tool at their disposal.
So we come to yesterday, which was literally the day after we celebrated the 240th anniversary of the day we chose to be self-governing as a nation, no longer dependent of an arbitrary and capricious King George and the British army. On that day we found out that you can avoid your day in court if you are running for President as the presumptive nominee of the Democrat Party. (To use an example it would be like the judge in the Trump University case saying "never mind" and tossing the lawsuit out by determining the plaintiffs have no case. I don't see that happening.)
Yet while that's a complete travesty of justice, the fact that many on the Left are saying Hillary is in the clear now is perhaps more disappointing yet. When President Nixon was impeached, Republicans agreed that the charges were serious enough to merit a trial in the Senate. Millions on all portions of the political spectrum ought to be outraged but it will be off the news cycle by next week, replaced with a new Trump scandal or perhaps another sensational celebrity story. It's bread and circuses now.
I know better than to equate a politician with a Savior – since there's only one of those, and Christians await his return at some unspecified future date – but it's more and more likely that we may have two of the most unpopular, unprofessional, and dishonest candidates representing our major parties that we have ever had. Simple common decency seems to be unattainable with this pair, let alone any Christ-like tendencies.
To say that the entire situation sickens me is to understate the issue. How can you vote for either major-party Presidential candidate? Instead, people seem to be resigned to voting against the other candidate, which is an important distinction. There were roughly 128 million votes cast in the 2012 Presidential election, but I wouldn't be shocked if we have fewer than 120 million this time around. There is a perception that it doesn't matter; perhaps they feel as one candidate is famous for saying, "what difference at this point does it make?" Unless there is an electoral miracle, there will be no letup in the increase in size and scope of the federal government regardless of who wins. Truly, things have gone much farther in the wrong direction than they were when I wrote my book four years ago.
Sometimes I wonder if I would be better off spending my time writing another book than to come here and dispense free advice and the occasional first-person news account. At least with the book I can make a few pennies.
I'm not in that conspiracy crowd that believes 2016 is the last American election if Hillary wins, but it may be the last election where the Republican Party has a chance at winning with a philosophy of limited government and personal responsibility – apparently these are quaint, obsolete ideals now. If their platform changes to stop reflecting this idea, that may be the exit ramp I'm going to take.
Commentary by Marita Noon
Throughout the past four years, climate change activists have been secretly coordinating with one another regarding ways to prosecute individuals, organizations, and companies that are their ideological foes. They met to develop a strategy to use RICO (Racketeer Influenced and Corrupt Organizations Act), which was intended to provide stronger weapons for prosecuting organized crime, against those who speak out against the Obama administration's war on fossil fuels.
More recently, the activists, including Naomi Oreskes and Bill McKibben, have coordinated with Attorneys General (AG) culminating with a March 29 press conference, led by New York AG Eric Schneiderman and joined by former Vice President Al Gore. There the "unprecedented coalition" – as Schneiderman's press release called it – was announced: the newly formed AGs for Clean Power. Though "vague" on their specific plans, 17 AGs (16 Democrats and 1 Independent) have, as the Huffington Post reported: "committed to pursuing an all-levers approach" to, as Gore said: "hold to account those commercial interests that have been, according to the best available evidence, deceiving the American people, communicating in a fraudulent way."
ExxonMobil has been the first and most obvious target. While the RICO Act is federal legislation passed in 1970, more than two dozen states have "Baby RICO" laws – which are, according to InsideClimateNews.org, "broader than the federal version."
Four different investigations claiming that Exxon conspired to cover up its understanding of climate science have been launched. Schneiderman was the first. Last November, he issued a subpoena demanding: "that ExxonMobil Corporation give investigators documents spanning four decades of research findings and communications about climate change." In January, the Los Angeles Times announced: "California Atty. Gen. Kamala D. Harris is investigating whether Exxon Mobil Corp. repeatedly lied to the public and its shareholders about the risk to its business from climate change – and whether such actions could amount to securities fraud and violations of environmental laws." On April 19, Massachusetts AG Maura Healey opened an investigation to seek "information regarding whether Exxon may have misled consumers and/or investors with respect to the impact of fossil fuels on climate change, and climate change-driven risks to Exxon's business." Just days after the March 29 press conference, Virgin Islands' AG Claude Walker, in his demand for records, became the first to cite the racketeering law to "probe Exxon over its longtime denial of climate change and its products' role in it." Additionally, he listed roughly 100 academic institutions and free market think tanks in his subpoena. The National Review reports that Walker promised a "transformational" use of his prosecutorial powers in the global-warming crusade. Separately, Walker also subpoenaed records from the respected Washington DC think tank, the Competitive Enterprise Institute (CEI). Schneiderman and Healey have also requested records from research and advocacy groups. Harris, who is running for the Senate seat to be vacated by retiring Senator Barbara Boxer (D-CA), "isn't expected to do much in terms of investigating Exxon," according to the Daily Caller.
The Free Beacon references "internal documents" stating that the goals of the larger campaign are:
"delegitimize [ExxonMobil] as a political actor,"
"force officials to disassociate themselves from Exxon,"
"drive divestment from Exxon," and
"to drive Exxon & climate into center of 2016 election."
The Wall Street Journal (WSJ) adds:
"to establish in the public's mind that Exxon is a corrupt institution that has pushed humanity (and all creation) toward climate chaos and grave harm."
Despite the attacks on Exxon, WSJ quotes Lee Wasserman, director of the Rockefeller Family Fund – one of the foundations behind the crusade – as saying: "It's not really about Exxon." Instead: "It's about helping the larger public understand the urgencies of finding climate solutions."
Senator Sheldon Whitehouse (D-RI), who has long advocated that the Department of Justice (DOJ) investigate whether Exxon and other fossil fuel companies violated the RICO statute by disputing the role of fossil fuel burning in global warming, at a recent hearing, asked Attorney General Loretta Lynch if she'd considered using RICO against fossil fuel companies. She replied: "This matter has been discussed. We have received information about it and have referred it to the FBI to consider whether or not it meets the criteria for which we could take action on."
WSJ reports: "The new legal theory has yet to gain momentum within the Justice Department, according to officials familiar with internal discussions. But after prodding by lawmakers, the Federal Bureau of Investigation is conducting a preliminary review."
Even legal scholars, such as Columbia Law School professor Merritt B. Fox, who, according to Reuters, agrees with the importance of climate change, expressed skepticism about the legal strategy of the prosecutors: "The market was well supplied with information about climate change from a variety of sources." Reuters adds: "investors get information on climate change from many sources and Exxon would probably not be able to alter the 'total mix' of publically available information." Similarly, Pat Parenteau, a professor of environmental law at the Vermont Law School, is quoted by InsideClimateNews.org: "Hopefully there is something more than unsubstantiated suspicion to support this." Parenteau explains: "The most serious question is whether the attorney general [Walker] has any basis to suspect that Exxon has engaged in activities that violate the statutes about obtaining money by false pretense and fraud." In WSJ, David Uhlmann, a university of Michigan law professor and former federal crimes prosecutor, expressed concern regarding the ability to establish "clear culpability for global warming." The reporting says: "Millions of individuals contribute with their use of fossil fuels, while national governments have done little despite knowing the risks." Uhlmann states: "Exxon should have been far more forthright about the risks associated with climate change, but all of us are culpable for our collective failure to change."
Then there are the opponents. WSJ points out: "Both sides see this as a pivotal moment in a growing campaign by environmentalists to deploy a legal strategy used against tobacco companies in the 1990s by arguing that oil companies have long hidden what they know about climate change."
Late last month, five Republican Senators sent a letter to Lynch demanding that: "the DOJ immediately cease its ongoing use of law enforcement to stifle private debate on one of the most controversial issues of our time – climate change."
William Perry Pendley, whose group, the Mountain States Legal Foundation, is named in Walker's subpoena, told me the effort by environmental groups is: "an abuse of power that we haven't seen in this country since Woodrow Wilson." His foundation, according to the Washington Times, has "long acknowledged that Exxon is one of its many funders." Pendley says: "accepting funding from Exxon and disagreeing with Greenpeace on the causes and extent of climate change are not crimes. What we are accused of saying is: 'Maybe there isn't global warming, maybe it's not caused by man, and maybe your solution won't work. It will be too expensive and drive us into poverty.'"
Ronald Bailey, science correspondent for the Reason Foundation – also named in Walker's subpoena – said, according to the Washington Times: "These subpoenas are a huge step in using courts to silence people who hold views that differ from those of powerful government officials."
CEI, the organization singled out for Walker's separate subpoena, issued the following statement from president Ken Lassman: "All Americans have the right to support causes they believe in and the CEI subpoena is an abuse of the legal system and an effort to intimidate and silence individuals who disagree with certain attorneys general on the climate debate. Disagreeing with a government official is not a crime; abusing government power to take away Americans' rights is."
I know this to be true as my organization, though not featured on Walker's list, is still a victim. We had some essential funding in place that would have allowed us to continue for months without extreme financial stress. However the DC policy shop that was to provide the support for our efforts, pulled it as a result of the AG's campaign. I was told that the funding was approved, but that when I wrote my April 25 column on the film Climate Hustle – which questions the science behind the politically correct narrative of manmade catastrophic climate change – the board got cold feet because they, too, are one of the organizations on the list. At first, I wanted to quit, as without the funding I couldn't continue. But then, I got mad. I realized that if I stopped doing what I do, these AGs would win – which is their goal. Indirectly, they attempted to silence me. I am grateful for individuals and companies who believe in my work and who have stepped up to fill the funding gap - at least for a few months.
Those of us who've been attacked are not the only ones who saw the flaw of the AG's crusade. Exxon and CEI have filed lawsuits against the accusers. Exxon claimed that the subpoenas "violated constitutional amendments on free speech, unreasonable search and seizure and equal protection." As a result, last week, Walker withdrew his subpoenas and Healey, reports the Daily Caller, has "agreed to an abeyance of the subpoena, meaning her office won't enforce the subpoena until all legal appeals are exhausted, which may take a couple of years."
In a big victory for free speech, The Hill states: "The withdrawal closes a major chapter in the drive by liberals and environmentalists to punish Exxon over allegations that it knew decades ago that fossil fuels were causing climate change but denied it publically."
In response to the "retreat," Representative Lamar Smith (R-TX), Chairman of the House Committee on Science and Technology said: it "confirms what my committee has known all along – these legal actions were conceived and driven by environmental groups with an extreme political agenda and no actual regard for the law." His statement added: "Companies, nonprofit organizations and scientists deserve the ability to pursue research free from intimidation and threat of prosecution."
The Heartland Institute, for which I serve as an "expert" on energy issues, is also on the "list." Its president, Joe Bast, told me: "because there is a lively debate over the causes and consequences of climate change, this litigation has First Amendment implications." He added: "It is not the possibility of harm to the public that led the AGs and DOJ to decide to enter into a wickedly complicated scientific debate, but the possibility of harm to the current administration in the White House. Their objective is to silence opposition by ExxonMobil and CEI (and other nonprofit organizations similar to CEI) to this administration's draconian energy policies."
Where these attacks on free speech go next remains to be seen. But as Texas AG Ken Paxton said in response to Walker's withdrawal: "In America, we have the freedom to disagree, and we do not legally prosecute people just because their opinion is different from ours."
May free speech reign and scientific inquiry prevail. True science welcomes a challenge because it can stand up to it – while political correctness must silence challenge.
The author of Energy Freedom, Marita Noon serves as the executive director for Energy Makes America Great Inc., and the companion educational organization, the Citizens' Alliance for Responsible Energy (CARE). She hosts a weekly radio program: America's Voice for Energy - which expands on the content of her weekly column. Follow her @EnergyRabbit.
Righteousness exalteth a nation: but sin is a reproach to any people. – Proverbs 14:34 (KJV)
As today is Sunday and I have left the site dark on Independence Day in the last few years – so this post will be atop my site for a somewhat extended period - I decided it would be fitting to use the subject of our message today as the subject of mine.
Rather than go through what my pastor said, though, I want to focus on the idea of righteousness. For Christians, the idea of what's right mainly comes from Scripture, as the passage above clearly illustrates. But in our nation today, too often what is "right" comes from a number of different sources: a majority of nine unelected judges on the Supreme Court, a plethora of faceless bureaucrats toiling in Washington, D.C. or a state capital, or even popular culture itself. It's said politics is downstream from culture, and I believe this is most true on the perception of what is right.
Obviously I can give a number of examples where these "rights" don't coincide with the concept of righteousness: the Supreme Court decisions in Roe v. Wade or the Obergefell case, the muddied divide between genders enforced by the standards of the federal Department of Education, or the #lovewins movement for same-sex "marriage" come foremost to mind. With the exception of Roe v. Wade, all of these examples have come during my adult life and there is usually a generational divide between supporters and opponents of these "rights."
It's not my intention to be bogged down in the minutia of these issues because I'm shooting for a fairly short post suitable for a holiday weekend when people are truly thinking more about the beach, fireworks, and barbecues, but I think the generational point is worth considering, too. Despite the fact Kim's daughter goes to a Christian school and belongs to the church youth group, she and her peers aren't truly insulated from the cultural wasteland we live amongst.
I think it's worth reminding the Millennials that those of us who grew up in the 1970s and 1980s had only a limited number of options for cultural awareness and entertainment, such as AM or FM radio, the few cable channels that were around (living in a rural area nowhere near a cable service area, we didn't even have that), magazines and newspapers, or the local movie theater. I had my roster of favorite TV shows like anyone else and my particular radio stations to listen to, but my listening and viewing was limited to what broadcasters wanted to provide at a time of their choosing. (If I wasn't home and didn't remember to tape WKRP in Cincinnati I was out of luck until the rerun came on, or if my radio station ignored Iron Maiden until the program director decided to put it on, I wouldn't go buy the cassette because I didn't know about them.) Now we have the technology where anyone can be a video or music producer and have content available anywhere the internet is.
So it's no surprise that the seductive messages of what is "cool" rarely coincide with what is righteous because "cool" is a construct built to sell products and ideas. As it stands, believing in the tenets of the Bible and living a God-fearing life definitely doesn't meet the prevailing standard of "cool."
But it's my belief that America should make itself worthy of being blessed by God. By no means does this imply being a theocracy, it's more along the lines of just having a Judeo-Christian based moral compass that most of its citizens willingly follow. The more righteous we are, it follows, the more we should be blessed. It's worth a shot.