Yesterday Richard Falknor, who I gather is a Trump supporter, splashed a story onto his Blue Ridge Forum blog that asked whether the state Republican Party will welcome the 200,000 new voters that voted in 2016 compared to 2012. His conclusion to this?
Sending mostly non-Trump delegates-at-large to Cleveland will send a message that the Trump-inspired portion of the 195,000-plus new or returning 2016 Republican presidential primary voters are unwelcome in the Maryland Republican Club.

On the other hand, if some Maryland GOP nominees for the House and Senate endorse Trump now, they will be telling these new or returning voters they have gotten their message and should help with their campaigns.
I like Richard, but his comparison wasn't a very precise one for a number of reasons. If you recall, the 2012 primary here in Maryland was conducted at a point where Mitt Romney had pretty much sewn up the nomination, so naturally turnout was less. In 2008, Mitt Romney was the last realistic contender standing against John McCain; he dropped out days before the Maryland primary. By percentage, in 2012 voting for the Presidential race involved about 26.6% of Republicans, while in 2008 that figure was 36.1%.
I would draw a closer parallel to the 2000 election, which occurred relatively early in the process. The Republican primary had 376,024 voters out of 769,329 registered Republicans, but I believe there was a caveat that year because the 2000 Republican primary was open. So it's not the best comparison.
All in all, the increase from 2008 (the last fully open-seat election) to 2012 was about 9 percentage points – but how much of that was having a race that actually mattered as opposed to one which was anti-climactic? You really can't argue that the Trump candidacy brought a lot of people to the GOP, either – from January to March the GOP numbers only increased from 974,602 to 997,211. That's a nice bump, but Democrats added nearly 46,000 to their ranks and unaffiliated voters declined by a little over 19,000.
So here's the thing. Indeed, Donald Trump won the state, probably in part because he campaigned here the most. But I'm not sold on the argument that he either drove new voters to the GOP or motivated them as much as the simple fact that Maryland mattered – all three of the top candidates were in the state at least once. In addition, some fraction of the GOP increase was likely from an "anyone but Trump" movement that probably benefitted John Kasich more.
Moreover, I'm getting more and more convinced that Donald Trump is electoral poison. Call me establishment, but I have this quaint, old-fashioned notion that the Republican candidate should be at least a little conservative, and there are millions of Republicans around the country who agree. The hard part of a Trump nomination will be containing the bleeding down the ticket, which is why so few of the GOP leaders and candidates in Maryland are embracing him. Governor Hogan, who most Republicans respect, is not on the Trump train. In my estimation Trump may be the most divisive GOP presidential nominee ever, even counting Abraham Lincoln.
Even if all 200,000 additional Republican votes came out just to support Donald Trump, it's worth mentioning that Trump was over 300,000 votes shy of Hillary Clinton here in Maryland - and nearly 50,000 behind Bernie Sanders. Assuming all the unaffiliated voters who couldn't vote in the primary came out, Trump would have to win at least 75 percent of them to catch Hillary and that's not going to happen.
If there's a choice to be made, let's pray it's one of bold colors vs. pale pastels, not Tweedledum vs. Tweedledee.
Now that I have had a couple of days to gather my thoughts and see other reaction on some of the races, here goes.
Beginning at the top: I think the choice of Carly Fiorina by Ted Cruz is relatively shrewd, as it accomplished several objectives – first of all, it blew the $2 billion man off the 24/7 news cycle the day after he won five primaries. (Worth noting: it's fortunate we didn't have "jungle" primaries in those states where the top two regardless of party advance because Trump would have been second in just two of the states. In all five he trailed Hillary Clinton, in three he was also behind Bernie Sanders.) Second, it positions him to do better in California, where Carly was the GOP nominee for Senate in 2010. With 172 delegates at stake, it's the best chance for Trump to get over the top. Fiorina wasn't near the top of my list for president, but step one of the #NeverTrump process is to get The Donald off the news, step two is throttling him in Indiana, and step three is defeating him in California – hopefully Trump will be eliminated from getting to the 1,237 delegate mark before we reach June.
Looking at the state level and the results, it seems to me that Kathy Szeliga won with the exact same kind of campaign Larry Hogan ran in his gubernatorial primary – very light on specifics. It worked out for Hogan in the 2014 gubernatorial election because he had the advantage of drawing a Democratic opponent he could tie to his predecessor's record and he avoided being dragged into discussions on social issues and the Second Amendment, try as the Democrats did to bring these up during the campaign. In an executive election it's easier to make it about economic philosophy, particularly when you've spent three years hammering the Democrats with a social media juggernaut called Change Maryland – that and $100,000 in his own money was where he gained his primary advantage.
But Szeliga will have a harder time prevailing on a message of change, especially because she has a voting record the Democrats will surely comb over (just as Republicans can – and should – do with Chris Van Hollen.) Certainly Chris is a Washington insider, but the secondary idea Republicans are hoping to exploit is that the party which screams constantly about a "Republican war on women" has exactly zero female nominees in its delegation. Wouldn't the words of Donna Edwards be an interesting piece of a 30-second spot?
"The state of Maryland is on the verge of having an all-male delegation," (Edwards) said. "When will our voices be effective, legitimate, equal leaders in a big-tent party?"
Well, if it's that big of a deal to the women of Maryland they know what to do. There's no doubt the Democrats will try to brush aside that little tidbit, and the job gets a lot easier if Donald Trump is the nominee because it negates that advantage.
It should be a lot easier for Andy Harris to succeed. He now has an opponent without a great deal of name recognition in the district, and all the advantages incumbency provides. As I said before, the election for the district was really held Tuesday and the margin of victory was tremendous. Going into the election, it seemed that Mike Smigiel would be a rather formidable opponent – a former Delegate who was very popular with the portion of the district's electorate which values liberty and the Second Amendment, as he made his name defending both. But the fact Smigiel had three opponents from Cecil County when he ran for re-election in 2014 suggests that maybe he had developed a reputation as all talk and no action, and the campaign he ran didn't seem to draw a great deal of interest. As I pointed out earlier this month, having a campaign event which draws no local voters doesn't lend itself to success. In Somerset (as well as Wicomico and Worcester) Smigiel actually ran third behind Harris and Jonathan Goff, and Smigiel only got 21.8% in his home county. So much for his push polls.
It may have been a doomed cause to begin with, but the decision to attend an event outside the district on the weekend before the election may have been the campaign in a microcosm – many times the perfect was the enemy of the good. Sure, Andy Harris leaves something to be desired in terms of conservative/libertarian leadership and initiative, but in my opinion Smigiel tried the same campaign Harris did to Wayne Gilchrest in 2008 – problem was Andy is nowhere near the center and isn't moving to the left at the rapid pace Wayne was. So the tactic wouldn't work, and in the end the difference in voting patterns and campaign tactics cost Smigiel my support.
Now that I have some of these thoughts and observations out of the way, it's time for me to move on to the next election. Tomorrow I'll be looking at an interesting GOP race that will be decided at our upcoming state convention.
I knew Maryland wasn't a typical conservative state, but I didn't think that many Republicans would be fooled by Donald Trump's act.
Late last night I wrote down some "gut instinct" predictions for the state, Congressional district, and county:
Pre-primary wild guesses:

Maryland for President: Trump 42.7, Kasich 27.4, Cruz 24.6, others 5.3 (mostly protests for Carson and Rubio.)

Wicomico for President: Trump 51.2, Cruz 30.7, Kasich 16.3, others (mostly Carson) 1.8.

Trump wins all 8 districts, although 1 or 2 are less than 5 points over Kasich.

For Senate overall: Szeliga 32.3, Kefalas 22.7, Douglas 19.3, Wallace 11.2, Hooe 8.7, the field 5.8.

Wicomico for Senate: Szeliga 41, Douglas 23.3, Wallace 14.7, Kefalas 12.6, Hooe 4.2, field 4.2.

First District overall: Harris 51.3, Smigiel 35.2, Jackson 6.8, Goff 6.7.

Wicomico First District: Harris 41.9, Smigiel 40.7, Goff 9, Jackson 8.4.
So let's see how I did.
Well, first and foremost I underestimated Trump's support. Looks like those rallies paid off in news coverage and creating the illusion he really cared about Maryland. John Kasich did some half-hearted stops here as well, and Ted Cruz made just one early on.
Trump is running about 12 points better than I thought statewide. Five of those points came out of my Kasich totals and six from Cruz. The rest come out of the "other" category that Carson (who was the only other candidate over 1%) and Rubio indeed led.
Here in Wicomico County, Trump outpaced me by fourteen points, and I blame the Berlin rally. I was actually not far off on Kasich (16.3 vs. 15.1 actual) but I am deeply disappointed with my fellow Wicomico voters for not supporting the real conservative left in the race, underperforming my expectation on Ted Cruz by almost 14 points – about the same as Trump overperformed. Ben Carson led the stragglers that exceeded my expectations by half again with 2.7%. And let me find a Volkswagen to house the three Santorum voters here in Wicomico.
While Trump won all eight Congressional districts by double-digit margins, it's worth pointing out that Montgomery County (which is split among several Congressional districts) indeed only gave Trump a five-point win over John Kasich.
Yet if you thought I was shocked by the Trump margin, imagine the surprise when I saw how easily Kathy Szeliga decimated the U.S. Senate field. Getting on TV obviously made all the difference because the polling suggested a much closer race. And Chris Chaffee, who came in second, wasn't even polled! But I was only about three points off on her.
I think what happened was the inevitability factor - Kathy had a lot more money and (dare I say) tacit MDGOP support. And it may have been a weakness in polling that the 40 to 50 percent undecided were really supporting someone who wasn't named in the poll. If you look at the three or four who were polled (Szeliga, Kefalas, Douglas, Hooe) combined they only pulled 55% of the total vote statewide. Perhaps those "undecided" were really decided, with the various party factions splitting several ways. Obviously everyone except Szeliga horribly underperformed my expectations – well, except the "field." Yet Kathy did worse than I expected here in Wicomico.
Now for Congress. There is so much complaining I hear about Andy Harris, but apparently this is a very loud, tiny minority I should have ignored. 10.8% overall for Mike Smigiel and just two votes more for him than Jonathan Goff in Wicomico? Get real. It turns out that the 22% who didn't like Harris in the 2014 primary didn't like him this time either, but split their vote three ways.
So my gut instinct wasn't as good as it should have been – then again, the pollsters didn't do very well here either and people pay them.
I also speculated Donna Edwards might pull off the upset over Chris Van Hollen, so it will be interesting to see what the minority turnout was for a primary that didn't have a lot of suspense at the top. Apparently the coalition of Millennials who I thought would help Kefalas a little on the GOP side didn't show up for Bernie Sanders or the more progressive Edwards, either.
Guess it might be time to clean off my radar since it seems to be broken. Lord knows my little endorsements didn't help, either, but someone has to hold up the tattered and torn conservative banner in this state – may as well be me.
The one piece of good news I got tonight was that a great friend of monoblogue won her primary in Cecil County. Jackie Gregory took 55% of the vote in winning the District 5 primary, and unless there's a write-in or independent campaign she will win in a walkover come November (no Democrat ran for the seat.) So congratulations to her!
Commentary by Marita Noon
Perhaps you watched the Earth Day news coverage of the "historic" ceremonial signing of the Paris Climate Agreement during which representatives from 175 countries walked up to the stage in the General Assembly hall at the United Nations headquarters in New York, sat down behind a desk on the podium, and added their signatures to the book. "In the name of the United States of America," Secretary of State John Kerry signed his name with his young granddaughter on his lap.
The event, according to the Wall Street Journal, set "in motion a process to curb the impact of global warming."  The International Business Times said it was "the latest in a series of steps to transform the global accord into an actual tool for combating greenhouse gas emissions and boosting the use of cleaner energy." Newsweek reported: "the leaders accepted the science of climate change and agreed to work together to do something about it."
Perhaps the "leaders," in signing their names, have "accepted the science," but read what individuals have to say in the comment portion of any of the aforementioned news stories and you'll see that there is still a great deal of debate regarding global warming – or was it global cooling, or maybe we should just call it climate change. Whatever it is, the alarmists say is urgent.
At the Earth Day gathering, U.N. secretary-General Ban Ki-moon declared: "We are in a race against time."
However, as the new movie Climate Hustle makes perfectly clear, climate alarmists have been making such proclamations for decades.
The film, which is being shown in theaters nationwide on May 2, starts out with clips of many such claims made by the news media and, of course, former Vice President Al Gore.
Marc Morano, the documentary's host, opens by stating: "We repeatedly hear that the time for debate is past" and then addresses the oft-quoted "97 out 100 scientists agree that climate change is real" narrative. Climate Hustle then crushes both claims – and many more (including whether or not CO2 is "the villain").
Using a touch of humor and a three-card monte theme, Morano likens the crisis marketing to a sleight of hand; a Climate Hustle. He says: "when the people pushing you to get into the game, the ones predicting a calamitous future due to global warming, don't show their cards, it is a hustle." The film shows the cards so the viewers can decide if "they are playing it straight or if you are being hustled."
Climate Hustle features a history of climate alarmism. Morano asks: "How has the alleged climate consensus changed over time?" While many of us may recall seeing some of the "wild claims," Climate Hustle puts them all together – and seeing them back-to-back should cause all thinking people to question what we are being told today. For example, in 1978, Leonard Nimoy, known for his role as Star Trek's Mr. Spock, announced: "the next ice age is on its way." He predicted: "unprecedented" hunger and death.  In 1972, trusted newscaster Walter Cronkite warned: "A new ice age is creeping over the northern hemisphere."
The film even quotes one of America's founding fathers as being worried about climate change. In the late 1700s, Thomas Jefferson wrote: "A change in our climate is taking place." Then, in 1817, The President of the UK Royal Society, Joseph Banks, addressed the melting polar ice. It's doubtful that either Jefferson's or Bank's concerns were the result of fossil fuel use.
In 1988, the global cooling of the 70s flipped to global warming. Using "stagecraft," a hearing was scheduled on Capitol Hill on the "hottest day of the year" where James Hanson, wiping his brow, testified about the urgency of global warming.
Repeatedly throughout the past couple of decades, we've been pummeled with dire predictions and told "time is short." In 1989, the UN predicted "Global warming would destroy entire nations by 2000." In 2007, we were told: "Scientists believe we have less than ten years to bring emissions under control to prevent a catastrophe." In 2008, Britain's Prince Charles said we only had 100 months left to solve the problem. Gore, in 2009, said: "We have to do it this year."
Yet, as the film demonstrates, scientists don't want to talk about their failed predictions.
Meanwhile, scientists who don't agree with the "leaders" are accused, by the likes of Robert F. Kennedy Jr., of "treason." He wants them "in jail."
Yes, as Climate Hustle makes clear, there are dissenting scientists – but they are marginalized, even called "kooks." If they speak out, they are insulted, ignored, ridiculed, ostracized, called heretics, hurt professionally, and even terminated for divergent views. This is not the scientific method.
Despite being treated like 17th century "witches,"" many scientists are reexamining the evidence and reversing their positions – even calling their previous views: "quite a big mistake."
Climate Hustle addresses many of the talking points we hear to defend the views held by the signers of the Paris Climate Agreement including polar bears and arctic ice, hurricanes and tornadoes. It explains the flawed models and "the pause." The lowly armadillo has been heralded as evidence of both global cooling and global warming.
Jumping back and forth from dramatic claims to scientific fact, Climate Hustle helps thinking people see past the fear mongering of the current climate change narrative and examine the global warming evidence for themselves.
In Climate Hustle renowned Swedish sea level expert and climatologist Nils-Axel Mörner concludes: "Geological facts are on one side, lobbying and models are on the other."
Check to see if Climate Hustle is being shown in your area and watch it on May 2 so you aren't taken in by the sleight of hand.
(Editor's note: Unfortunately, the closest venues for us to see the movie appear to be across the Bay Bridge or up in Wilmington.)
The author of Energy Freedom, Marita Noon serves as the executive director for Energy Makes America Great Inc., and the companion educational organization, the Citizens' Alliance for Responsible Energy (CARE). She hosts a weekly radio program: America's Voice for Energy—which expands on the content of her weekly column. Follow her @EnergyRabbit.
We had a good gathering for our primary eve meeting, buoyed by the presence of the families of the winners of our annual scholarship contest. Three things that were missing at the start, though, were three of our officers so Second Vice-President Shawn Bradley got things underway with a little assistance from me. Fortunately, we do pretty much the same thing as an introduction every month so we made it over those bumps in the road and heard our Central Committee report first.
County Chair Mark McIver announced we were still seeking applicants for our two upcoming Board of Education appointments, although we already had 5 with their information turned in. He also reminded us that the end of this process could be at hand, as the bill allowing us to vote on whether we wanted an elected school board was passed by the General Assembly. Jackie Wellfonder revealed the signing ceremony was slated for tomorrow, with Governor Hogan signing the Senate version sponsored by Senators Jim Mathias and Addie Eckardt.
He also spoke about the voter affiliation drive to allow people to vote in our primary. It was a multi-prong push combining a mailing, letters to the editor, and advertising in local media. I noted that the effort had worked to some extent – according to Board of Elections statistics, I recalled the GOP had gained about 400 voters in March, the Democrats about 250, and unaffiliated voters falling by about 250. (Actual numbers as I looked them up just now: Republicans +398, Democrats +261, and unaffiliated -247. We also lost 5 Greens and 18 "other" but gained 9 Libertarians.)
Mark also allowed Nate Sansom to speak. On his behalf, we are planning to bring a resolution to the Spring Convention asking for electoral votes in Maryland to be awarded to the winner of each Congressional district instead of all ten being winner-take-all. (Maine and Nebraska have such a system.) As I pointed out, it's only fair after the way Democrats gerrymandered our state.
McIver also announced he would be hosting a pig roast fundraiser on June 11, and it was likely several state candidates may be there to help the Wicomico GOP.
Ed Senkbeil, representing our scholarship committee, had the honor of presenting two local seniors WCRC Scholarships. Taylor Creighton of Mardela High School and Jessica Willey of Parkside High School were the two winners. Creighton will be heading off to Clemson University to study in the field of genetics, while Willey will be studying psychology at Washington College. Both of them gave brief introductory remarks and did well for an impromptu engagement.
We then heard from our featured speaker: the incoming president of the Maryland College Republicans, Patty Miller of Salisbury University.
After Miller introduced her successor as SU chapter president, Shelby Hall, she remarked that the College Republicans were "on the front lines of dealing with liberal college students." Under her leadership of the SU chapter, they had become active in local and state campaigns and recently hosted an address by Ben Shapiro, a writer, editor, and author perhaps most famous for working at Breitbart.com until he resigned after the Michelle Fields incident.
It was interesting to learn that her maternal family has a rich heritage in politics. Miller's mother is a native of Honduras, where her family was involved in the 2009 removal of President Manuel Zelaya, a leftist ally of the late Venezuelan strongman Hugo Chavez. Zelaya was ousted after attempting to circumvent a constitutional provision against serving more than one four-year term. These family ties made her "passionate about capitalism…the American Dream is still alive."
As the CR state chair, she announced "I'm here to get stuff done." She actually wasn't originally seeking the office of president but a series of events led her to take the top position, which oversees 11 school-level chapters around the state – Miller would like to secure two others as well. She also gets a non-voting seat on the state party's executive committee, although there is a proposal before the membership next month that may allow the CRs to have a vote once again.
After Miller's remarks, we went through some business. Jackie Wellfonder had the list of polling places for sign placement, which would commence after the meeting. She also announced the newly-formed Wicomico Republican Women's Club would host a "Welcome Back Reception for the Eastern Shore Delegation" on May 5.
Jim Jester let us know the Crab Feast will be September 10, once again at Schumaker Pond. His next step was securing the beer permit, but Muir Boda added we were seeking event sponsors for the first time to help defray the costs.
Nate Sansom was pleased to say the second meeting of the Wicomico Teenage Republicans was a success. Through his diligence, Nate was able to secure a phone visit from two local candidates: Anthony Seda for U.S. Senate and Jonathan Goff for Congress. He also received information from several other candidates to distribute, so these were well-informed TARs.
While we waited for 50/50 tickets to be sold as our last event, I asked Muir Boda to give us a City Council update. He had just come from the first budget meeting, where they were attempting to raise water and sewer rates. Muir also explained one of the budget priorities set out by Mayor Jake Day: the construction of a community center to host city-sponsored after-school programs as well as more immediate funding for a summer youth employment program. While the city of Salisbury would purchase the land and build the community center, funding for its operations would come from local non-profits.
Boda also noted that getting more highway user revenue from the state would assist in fixing some of the city's worst streets, which have been neglected for years if not decades.
So while the meeting turned out to be less than an hour, several people stuck around to help with signs for tomorrow. If you ask me, the most effective ones should be the red Ted Cruz sign, the blue-and-white Richard Douglas sign, and the yellow-and-blue Andy Harris one.
Next month's meeting (and yes, we will have a May meeting thanks to a late Memorial Day) will be May 23. It's not official, but I think we are due for our annual legislative wrapup.
My final primary endorsement comes in a race that, for me, has come down to the wire: do I go for the known conservative quantity that's part of one of the most unpopular institutions in the country or do I go for one of the upstarts in a hope to bring about change or a more libertarian direction?
Well, the answer became a little easier as I looked into two of the four GOP candidates. Both Jonathan Goff, who challenged Andy Harris in 2014 and got the 22% of the anti-Harris vote in that primary, and Sean Jackson have expressed their support for Donald Trump so that eliminates them automatically as not conservative.
Yet despite the entry of Goff and Jackson, the Congressional race has been figured all along as a two-man contest between Harris and former Delegate Mike Smigiel.
We pretty much know the backstory on Andy Harris: he served in the Maryland State Senate for a decade before challenging incumbent Republican Congressman Wayne Gilchrest in 2008. The problem with Wayne, as Harris and many others saw in the district, was that Gilchrest was too centrist for a conservative district. Harris ended up winning a contentious primary, alienating enough Gilchrest supporters in the process that Democrat Frank Kratovil (who Gilchrest eventually endorsed) won by a narrow plurality in the Obama wave election of 2008. (A Libertarian candidate took 2.5% of the vote, denying Kratovil a majority.)
Harris finished out his term in the State Senate as he plotted to challenge Kratovil, who served as a "blue dog" Democrat (case in point: he voted against Obamacare.) Winning a far less acrimonious GOP primary in 2010 over businessman Rob Fisher, Harris went on to defeat Kratovil by 12 points in the first TEA Party wave election of 2010. Since then Harris hasn't been seriously challenged in either the primary or general elections, winning with 63.4% of the vote in 2012 and 70.4% in 2014 after Goff challenged him in the primary.
While Democrat Jim Ireton may think he has a shot against Harris, it's very likely that Tuesday's election is the deciding factor in who will be our representative to the 115th Congress. But Mike Smigiel is the first serious candidate with a pedigree to challenge for the First District seat since Harris and State Senator E.J. Pipkin, among others, both took on Wayne Gilchrest in 2008.
Like Harris, Smigiel served for 12 years in the Maryland General Assembly but he served in the House of Delegates, representing the upper Eastern Shore. This factor is an important one in determining who will be the better candidate, as their terms of service overlapped from 2003-2010. Smigiel ran for re-election in the 2014 primary, but finished fourth in a seven-person field. It's worth noting that four of the District 36 contenders were from Smigiel's Cecil County, which may have sapped his electoral strength – or reflected a dissatisfaction with Mike's approach. Only one of them could have advanced, so in effect they cannibalized the primary vote.
Mike's case for unseating Harris has evolved from an undertone of dissatisfaction from those who supported Harris for the seat. They say that Andy is not a fighter or a leader in the conservative movement, and long for a more libertarian Congressman perhaps in the mold of Justin Amash or Thomas Massie. To that end, Smigiel has advocated his case for a Constitutional, limited government, often waving his copy of the Constitution in a debate or forum session. His campaign has focused to a great extent on a number of Congressional votes that Harris has cast, particularly the 2014 CRomnibus bill.
In looking at this race, it should be pointed out that I saw Smigiel's libertarian approach as an asset; however, I felt the strong emphasis on Harris's voting record masked some of the real truth.
A key difference between the legislative process in Maryland and the federal sausage-grinding we find in Washington is that Congressional legislation is not limited to a single issue as Maryland's is. You can take the CRomnibus bill as an example, as it was a compromise hammered out between the various factions of Congress. That's not to say Harris made the correct vote, but Smigiel is counting on a bit of ignorance in how the system works. I could say the same thing about Smigiel since he voted for the first O'Malley budget while Harris voted no.
So let's talk about voting records, shall we? Because voting in a federal legislature is not the same as voting on state matters, we have an apples-to-oranges comparison between Harris and Smigiel. But over the eight years both men served in the General Assembly, a more apples-to-apples approach is possible.
Since 2007, I have done the monoblogue Accountability Project, so it covers the last four years that Harris and Smigiel served together. As an aggregate, I found that Smigiel voted as I would have 77.7% of the time, or 101 times out of 130. On the other hand, Harris was "correct" 89.1% of the time, or 122 times out of 137.
I even went back and found three years' worth of data on the old Maryland Accountability Project that mine continued. While the author perhaps had a different standard of what he considered "conservative," in each of those three years (2003-2005) Harris had a higher score: 84%-60% in 2003, 80%-75% in 2004, and 84%-83% in 2005. (The 2006 results were not available for the House, but Harris only scored 65% in the Senate – so Smigiel may have prevailed that year.)
Yet these are not "clean" comparisons, either, because in my case I hadn't streamlined the process of doing the mAP yet. (Since 2011, both House and Senate ratings are based on the same bills.) So I went back and tried to locate the cases in my work where Harris and Smigiel voted the opposite way. There were a handful that over time have mattered less, but I would like to point out a few items that Harris favored and Smigiel opposed, since Mike has attacked Andy's record:
Smart, Green, and Growing – Maryland Sustainable Growth Commission (2010) – replaced a task force with the MSGC, an O'Malley-sponsored bill.
Higher Education Investment Fund – Tuition Stabilization and Funding (2010) – a spending mandate O'Malley also sought.
Greenhouse Gas Emissions Reduction Act of 2009 – this was a horrible bill that established and codified carbon reductions into state law.
One can definitely argue that Harris was trying to soften his image with these votes, since they came after his unsuccessful 2008 run.
But there is another side: those bills that Smigiel favored and Harris opposed:
Other Tobacco Products Licenses (2010) – required separate licenses for those who sell cigars, snuff, or pipe tobacco. Harris was one of just 7 in the MGA to oppose this.
High Performance Buildings Act – Applicable to Community College Capital Projects (2010) – required LEED Silver or above ratings.
Regional Greenhouse Gas Initiative – Maryland Strategic Energy Investment Program (2008) – an O'Malley bill to spend RGGI money.
Environment – Water Management Administration – Wetlands and Waterways Program Fees (2008) – established a fee of up to $7,500 an acre for certain developments.
Chesapeake and Atlantic Coastal Bays Critical Area Protection Program – Administrative and Enforcement Provisions (2008) – additional mandates on local government.
High Performance Buildings Act (2008) – the precursor to the 2010 act above.
Maryland Clean Cars Act of 2007 – an O'Malley bill requiring California emissions for Maryland cars, which added cost to new cars.
Higher Education – Tuition Affordability Act of 2007 – another O'Malley bill that extended an artificial tuition freeze.
Electricity – Net Energy Metering – Renewable Energy Portfolio Standard – Solar Energy (2007) - a good old-fashioned carveout, picking a winner.
It seems to me there's a major difference on environmental issues between Smigiel and Harris, and while that may not matter so much at a federal level my belief that "green is the new red" leads me to think that Smigiel's pro-liberty case isn't as airtight as we are led to believe.
I can go all night looking at voting records, but there is one other thing I'd like to point out.
Last week I criticized Smigiel for spending part of the weekend before the primary at a cannabis convention, a stance he took exception to in a private message to me. Without divulging the full conversation, which I assumed was just for my private use, the upshot was that he argued there were going to be fundraising benefits for him as well as possible job creation in the 1st District. I can buy that argument, but if it hinges on him winning the primary Job One has to be getting the votes.
So it was interesting that a friend of mine shared a card her daughter received, which looks like the one below.
My friend speculated the card was targeted to a certain age group of Millennials since her daughter was the only one in the house to receive it. Yet the card isn't from Mike's campaign but instead an organization called 420 USA PAC, which advocates for cannabis legalization.
Of course, my personal stance is not all that far from Mike's, but we also have two laboratories of democracy in Colorado and Washington state to see how the legalization of marijuana plays out. Smigiel argues the District of Columbia cannabis initiative is a state's rights issue but should know that in the Constitution Congress is responsible to "exercise exclusive Legislation in all cases whatsoever" over the District per Article I, Section 8. So Harris performed some oversight.
On the other hand I can vouch for Andy being in the district over the weekend. Perhaps this is a classic conservative vs. libertarian matchup, although both men are well-accepted in the pro-life community.
This has been an endorsement I have had to think long and hard about; luckily it's a case where I could easily work for the other gentleman if he will have me.
But I have decided that Andy Harris deserves another term in Congress. Saying that, though, it's obvious people will be watching and if I were Mike Smigiel I wouldn't dismiss trying again in 2018 because we could use his kind of voice in Congress as well. Think of the next two years as a probationary period for Harris.
So allow me to review my three endorsements for the major races.
For President, I urge you to vote for the remaining true conservative in the race, Ted Cruz. He has six people running for Delegate and Alternate Delegate who need your votes as well (although my friend Muir Boda is on the ballot, too.)
For U.S. Senate, I had a hard time deciding between Dave Wallace and Richard Douglas, but the backbone Richard Douglas has shown earned him my endorsement and vote.
And finally, retain Andy Harris as our Congressman.
Just don't forget to vote Tuesday. It's up to us to begin turning Maryland into a more conservative state – not just trying to teach the benefits of conservatism to an audience charitably described as skeptical but making sure we vote in the right manner as well.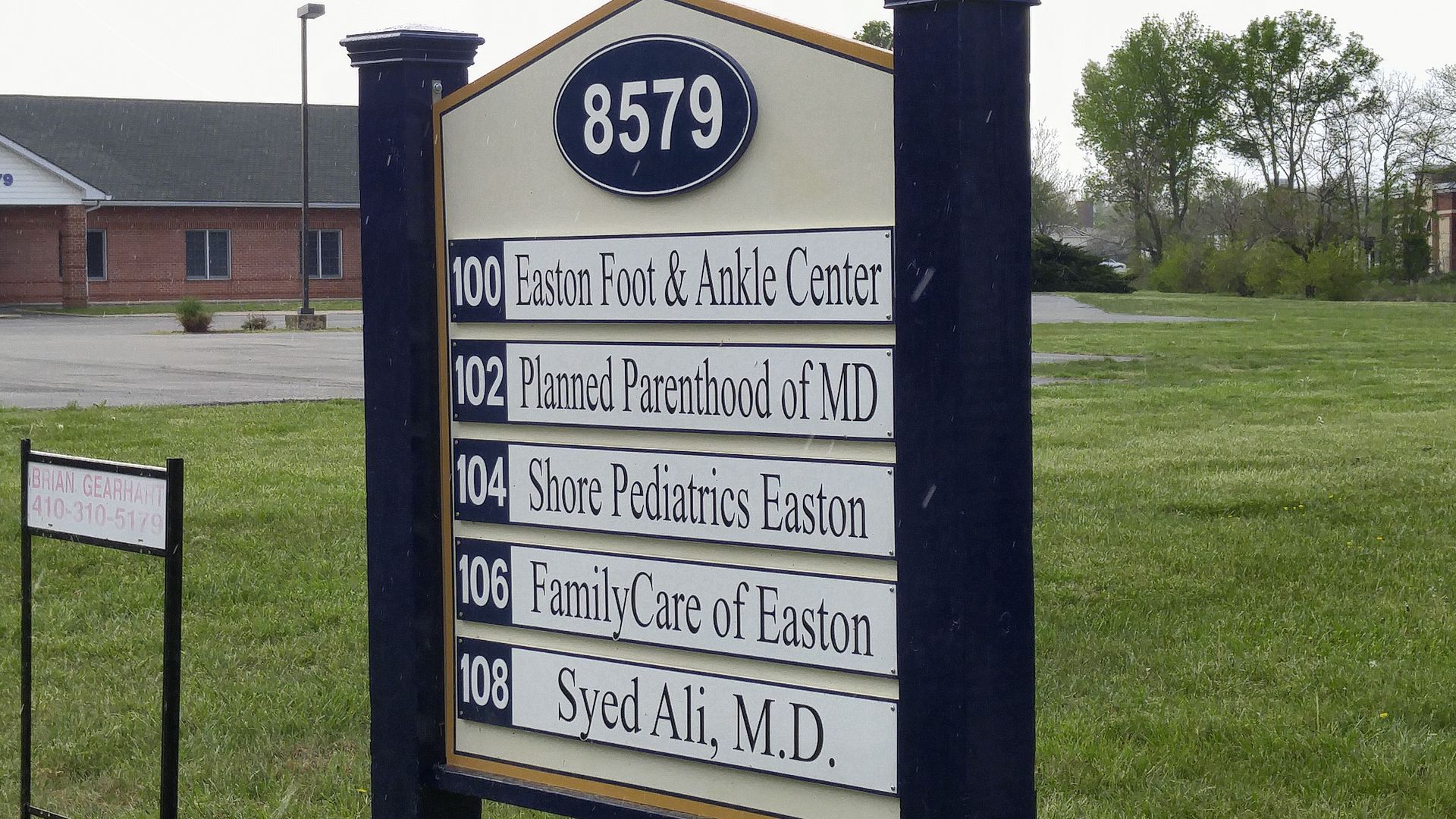 Over the last several months the news media has moved on from last year's hot story about Planned Parenthood selling body parts and otherwise profiting off the misery of women who abort their pregnancies in the name of "choice." It was the reason we gathered last August and October.
But in order to stand aside the annual tradition of mourning the miscarriage of justice otherwise known as Roe v. Wade each January on the anniversary of the 1973 Supreme Court decision, the advocacy group ProtestPP decided the fourth Saturday in April would be a good time to hold an annual protest.
So our little gathering in Easton was one of 200 scheduled around the nation today.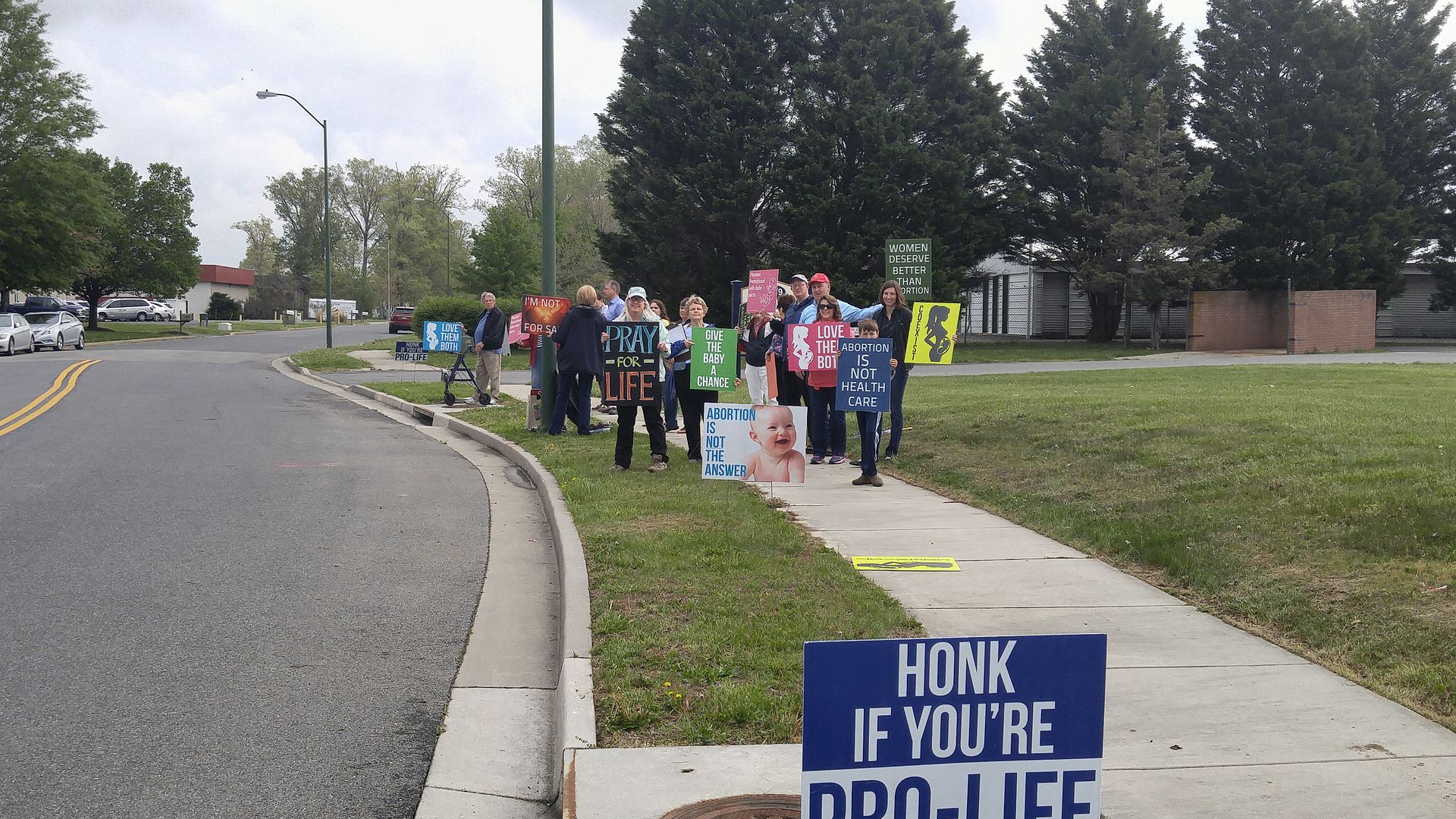 As opposed to the August rally, not only was the Planned Parenthood office closed but so were all the other businesses in the small office complex. So it was a very quiet gathering – even the police car only drove by a couple of times.
Yet we also had a very distinguished guest, one familiar to the Maryland pro-life community.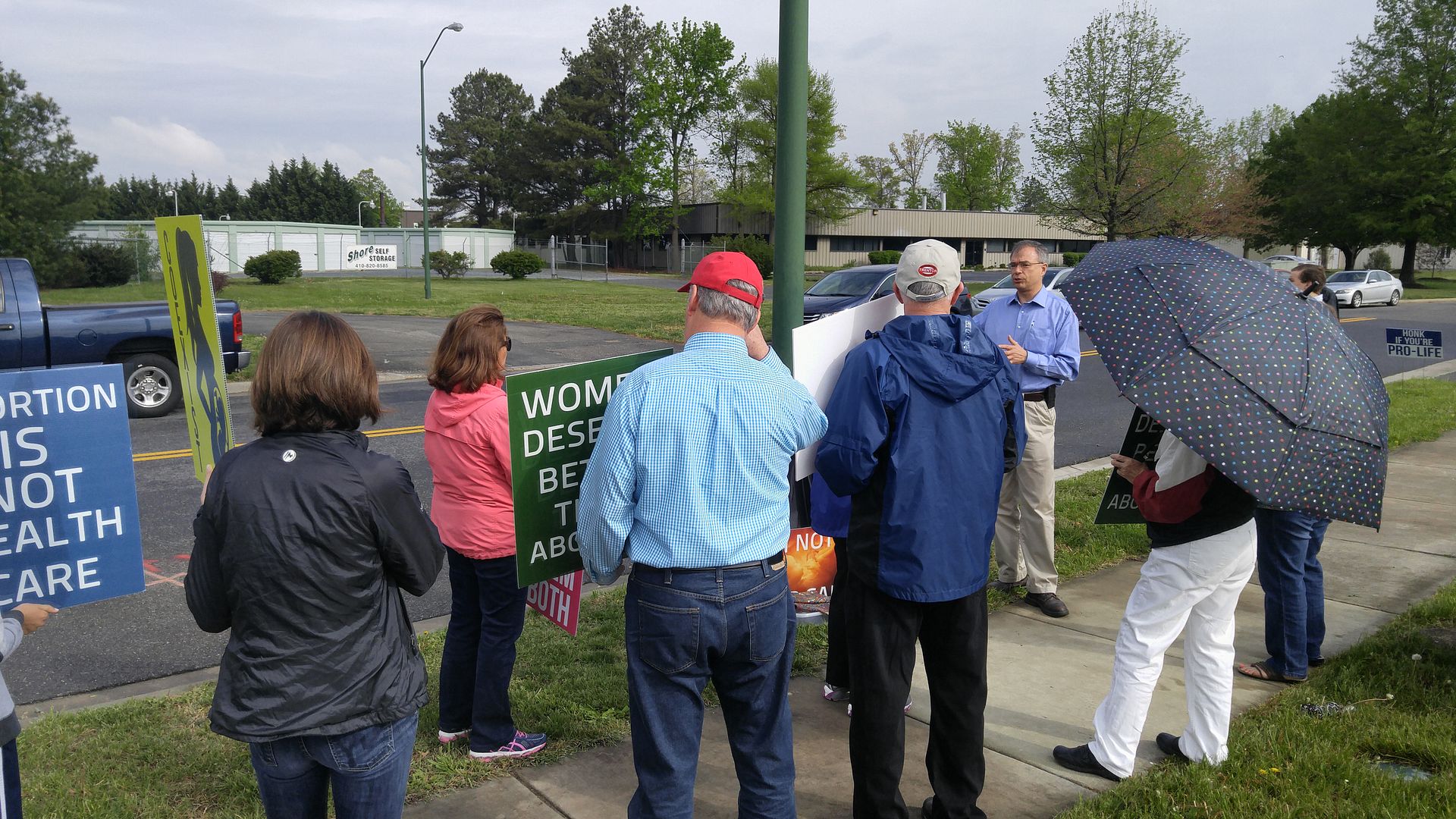 Three days before his primary, Congressman Andy Harris took over an hour out of his day to spend it with our merry little pro-life band. In informal remarks Harris revealed that, in relation to the Planned Parenthood scandal, "the stuff we are finding (in their investigation) is unbelievable." He added that, "Clearly, Planned Parenthood made a profit." There was also interest in bringing David Daleiden before Congress to hear his testimony on the issue, said Harris.
Most of Andy's time, though, was spent in private conversation answering questions and concerns from the twenty people who attended the Easton protest. Indeed, the number paled in comparison to August's turnout or even October's, according to Cathy Keim, who I accompanied to the event. Yet even though the number of those wishing to put an end to abortion on demand was small, the reaction was generally positive from the people driving by on the side street: most who gave any indication of paying attention gave us the thumbs-up or honked their horns. Of course, there was the Volvo driver who gave us the thumbs-down and the young college-age girl who flipped us the bird, but that's to be expected. There was no organized opposition.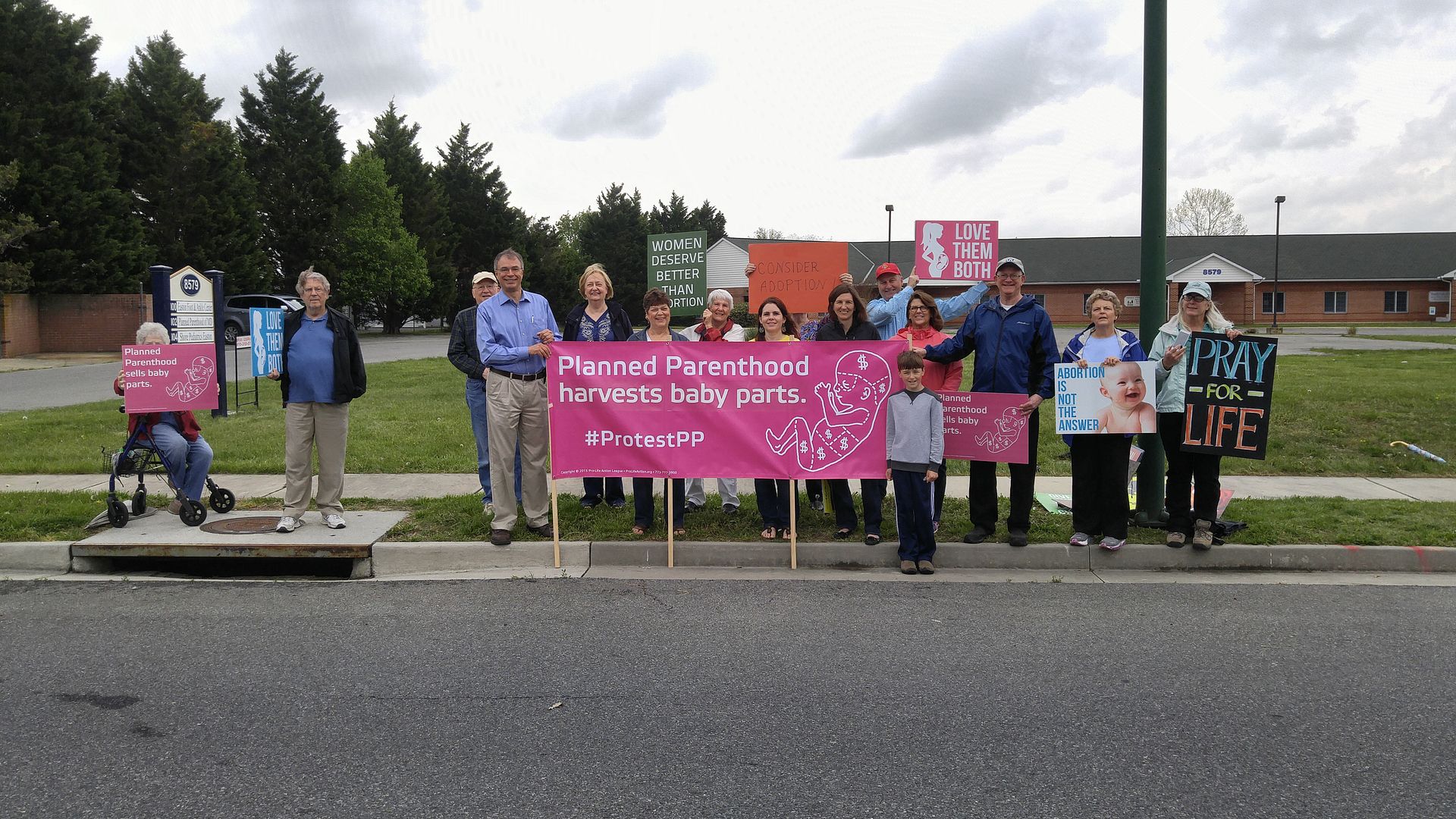 Think of the group above as a beginning, the alumni, if you will, of the Easton branch of the pro-life movement. It's realistic to think that we could double or triple the number next year as word begins to spread that the fourth Saturday in April is a day to celebrate life.
Postscript: I neglected to add in the original rendition that we also heard a closing prayer from Pastor Jason Shelton of Providence Presbyterian Church of Salisbury. Reading from the Book of Matthew, Shelton noted that "Blessed are they that mourn: for they shall be comforted." He commented on the "hard, callous world" that we in the pro-life movement are up against, but prayed that we would soon not have to make this trek to Easton.
With the days before the primary dwindling down to a precious few, it appears the 2016 Presidential road show will be going elsewhere. A check of the five remaining candidates finds that only three will be in our two states, as Republicans John Kasich and Donald Trump have Maryland events (in Rockville and Hagerstown, respectively), while Hillary Clinton will be in Wilmington, Delaware.
It's been nice to see that the Eastern Shore and slower lower Delaware matter to the Trump campaign, despite the fact his message wasn't appreciably different than any of the last five dozen stump stops he's made. I listened to a part of his Harrington speech today on the radio and found that he rambles on tremendously. But someone may be righting the ship in Trump's campaign a little bit because he is focusing on the rural areas which are the backbone of his support; meanwhile, Kasich and Clinton are in the urban strongholds you might expect them to inhabit. This doesn't seem like fertile territory for Bernie Sanders, but I am disappointed Ted Cruz hasn't made it over to this end of Maryland. (One caveat: he has no events on his page beyond tomorrow so perhaps we may see a last-minute visit from the Senator.)
Closer to home, it's worth pointing out that U.S. Senate candidate Kathy Szeliga is in Salisbury for two events tomorrow at Devage's and the Brick Room. It figures: I can walk to Devage's but I will be in Easton at the #ProtestPP rally while she's here. It's keeping up my record of not meeting the Delegate, who is the only one of the four most prominent contenders I haven't met recently. She'll spend the last Saturday of the campaign on the Eastern Shore before moving across the bridge for the duration. No word on whether the motorcycle is coming.
Honestly, I'm glad the primary is almost over since it seems like at least on a national level this campaign really started the day after the 2014 election. It's actually somewhat amazing that Maryland will be in the late thirties when it comes to order of primary yet is enough of a player to garner attention from all five remaining candidates. This still doesn't mean I don't think the primary process shouldn't be streamlined into six weeks where eight states apiece vote, beginning after the Iowa caucuses and New Hampshire primary kick off the proceedings in late spring, but in this case it's worked out to be an exciting and maddening race.
So on Wednesday or thereabouts I can clean the sidebar and add in the Libertarian, Green Party, and unaffiliated candidates for various offices. Culling is actually great fun.
So get out and vote on Tuesday. After I cover the #ProtestPP tomorrow I will write up my Congressional endorsement for Sunday. That should be interesting.
If any post I've ever done deserved to be put up on 4/20, it's this one. But suffice to say there are times when the perfect becomes the enemy of the good, and for Congressional candidate Mike Smigiel that point may have been reached.
On Monday I received a press release from the Smigiel campaign promoting his appearance as a featured speaker at the National Cannabis Festival, an event to be held Saturday in Washington, D.C. Held for the first time this year, the Cannabis Festival promotes itself as:
More than just a festival, NCF is a chance to connect with members of the cannabis community and industry from across the country while enjoying a full day of music, games, delicious food and drink.
In the release, there was a rationale provided for Smigiel's remarks:
The Maryland 1st District Congressional Race is of national importance and serves as a barometer to gauge the mood of the country regarding removal of barriers for the cannabis industry. (Andy) Harris is seeking re-election in a tough primary that Marylanders will be voting in on April 26th, and Del. Smigiel has released polling that suggests that when voters know of Harris' votes, including his actions with cannabis prohibition, residents will not vote for Harris at an overwhelming majority.  Industry supporters are upset because Congress renewed the prohibition on the District's government from spending any funds to set up a legal market for marijuana distribution and taxation, a move lead by Congressman Harris. There is a deep seeded negative sentiment against Rep. Harris as he is seen as an exemplification of the worst of big government overreach when he interfered with District voters' attempt to follow Colorado, Washington State and others in exercising political autonomy with Initiative 71. The initiative appeared on the ballot and was approved by voters, only to have Rep. Harris successfully lead the effort to block the District government's implementation efforts. Since that time, several unintended consequences have resulted from Rep. Harris' paternalism.

The District is still unable to tax and or otherwise control the manufacturing and distribution of marijuana thus is losing out on tens of millions of dollars of new tax revenue.

Harris' vote against the District not only exemplifies the overreach of big government it is also indicative of an arrogance where elected servants of our government presume to have a better understanding of our needs than we, the electorate do. The ramifications are far reaching throughout Maryland's 1st District as well, affecting opportunities for the development of agricultural crops, business, and also resulted in a boycott of Ocean City, Maryland.
I get all that argument (aside from the state's rights argument, since the District of Columbia is not a state), but perhaps the weekend before the election is not the best time to be hanging out with a crowd that few in the First District would identify with. Even worse is the idea of promoting recreational drug use (and let's get real, most of the support for the "cannabis industry" isn't so we can produce more industrial hemp) at a time when the local headlines often shout about yet another death by drug overdose. Simply put, the optics are really bad on this one. What may grab you another handful of votes among those who are passionate about the issue will turn off a lot of people who are already concerned about the impact of drugs on crime and on society at large.
And in what may be the sharpest 180 degree turn ever in politics, the chances are pretty good (since he appeared at last August's rendition) that Smigiel will spent at least some of his morning protesting Planned Parenthood in Easton since that event is also Saturday. (Harris may also make an appearance for that same reason.) I don't think the devout pro-life crowd would much approve of the National Cannabis Festival, and in the case of abortion Harris can claim pro-life groups' support despite the objections Smigiel puts up.
There is definitely a libertarian streak in me that likes how Smigiel looks at certain issues, and he's made his campaign into one that is a near-constant diatribe about what he feels is the hypocrisy between Andy Harris the campaigner and speaker and Andy Harris the Washington insider Congressman. A lot of that is legitimate, but the question is just how much of that comes with the territory. Unfortunately, purists seldom make it far in politics, especially on the conservative side.
Yet in making his point about how Harris is not a Tenth Amendment kind of guy, Smigiel is taking the time that I feel would be better served in the district trying to win votes in what's already an uphill battle. I know Mike's been working hard for nearly a year to make his case to the people of the First District, but unless there's a fundraising element involved in his Washington trip (and I highly doubt this) in my opinion it's an unforced error to spend valuable time just before the primary to tell the cannabis industry how bad Andy Harris is.
Despite what Jim Ireton might believe, the election for the First District seat occurs April 26. If Mike Smgiel loses a close election, I suppose he will have the cold comfort of losing on a particular principle.
Commentary by Marita Noon
Friday, April 22, will mark the 47th Earth Day. You may think it is all about planting trees and cleaning up neighborhoods. But this year's anniversary will be closer to its radical roots than, perhaps, any other since its founding in 1970. Considered the birth of the environmental movement, the first Earth Day took place during the height of America's counterculture era. According to EarthDay.org, it gave voice to an "emerging consciousness, channeling the energy of the anti-war protest movement and putting environmental concerns on the front page."
We did need to clean up our act. At that time "littering" wasn't part of our vocabulary, The air in the Southern California valley where I grew up was often so thick with smog we couldn't see the surrounding mountains.
Thankfully, that has changed.
Look around your community. You'll likely see green trees, blue skies, and bodies of water sparkling in the sunshine. With the success of the environmental movement, its supporters, and the nonprofit groups it spawned, had to become ever more radical to stay relevant.
Environmentalism has changed.
The morphing of the movement may be most evident in Earth Day 2016 – which some are calling "the most important Earth Day in history."
This year, on April 22, in a high-level celebration at the United Nations headquarters in New York, the Paris Climate Agreement will officially be signed. Thirty days after its signing by at least 55 countries that represent 55 percent of global greenhouse gas emissions, the agreement will take effect – committing countries to establishing individual targets for emission reductions with the expectation that they will be reviewed and updated every five years.
While news reports of Earth Day 2016 will likely depict dancing in the streets, those who can look past the headlines will see a dire picture – one in which more than 10 percent of a household's income is spent on energy costs; one of "green energy poverty."
To meet the non-binding commitments President Obama made last December in Paris, he is counting on, among many domestic regulations, the Clean Power Plan (CPP).
Last week, on the Senate floor, Senator Jim Inhofe (R-OK), chairman of the Senate Environment and Public Works Committee, delivered remarks in advance of Earth Day on the unattainability of the U.S. climate commitments. He said: "The Clean Power Plan is the centerpiece of the president's promise to the international community that the U.S. will cut greenhouse gas emissions by 26 to 28 percent." It would "cause double digit electricity price increases in 40 states" and "would prevent struggling communities from accessing reliable and affordable fuel sources, which could eventually lead to poor families choosing between putting healthy food on the table or turning their heater on in the winter."
The Heritage Foundation has just released a report on the devastating economic costs of the Paris Climate Agreement, which it calls "a push for un-development for the industrialized world and a major obstacle for growth for the developing world." Because global warming regulations "stifle the use of the most efficient and inexpensive forms of electricity, businesses as well as households will incur higher electricity costs." The report concludes: "restricting energy production to meet targets like those of the Paris agreement will significantly harm the U.S. economy. Bureaucratically administered mandates, taxes, and special interest subsidies will drive family incomes down by thousands of dollars per year, drive up energy costs, and eliminate hundreds of thousands of jobs. All of these costs would be incurred to achieve only trivial and theoretical impacts on global warming."
Real world experience bears out the both Inhofe's observations and the Heritage Foundation's conclusions.
Germany is one of the best examples of green energy poverty as the country has some of the most aggressive greenhouse gas reduction programs that offer generous subsidies for any company producing green energy. Based on an extensive study done by green energy believers in 2014, I addressed the program's overall result: raised costs and raised emissions. I stated: "After reading the entire 80-page white paper, I was struck with three distinct observations. The German experiment has raised energy costs to households and business, the subsidies are unsustainable, and, as a result, without intervention, the energy supply is unstable." At that time, I concluded: "The high prices disproportionately hurt the poor, giving birth to the new phrase: 'energy poverty.'"
More recently, others have come to the same conclusion (read here and here). On April 13, the Wall Street Journal (WSJ) opined: "Germany's 16-year-old Energiewende, or energy transformation, already has wrecked the country's energy market in its quest to wean the economy off fossil fuels and nuclear power. Traditional power plants, including those that burn cleaner gas, have been closing left and right while soaring electricity prices push industries overseas and bankrupt households. Job losses run to the tens of thousands." Meanwhile, emissions over the past seven years have increased. Last month, Mike Shellenberger, President, Environmental Progress and Time magazine "Hero of the Environment," tweeted: "people really want to believe good things about Germany's energy shift, but … its emissions rose." WSJ concludes: "The market distortions caused by overreliance on expensive but undependable power already have pushed German utilities to rely more on cheap and dirty coal-fired power plants to make up the shortfall when renewable sources can't meet demand."
Germany is not alone.
The U.K., according to Reuters, is facing "fuel poverty." The report states: "The government is also under pressure to curb rising energy bills with 2.3 million of Britain's 27 million households deemed fuel poor, meaning the cost of heating their homes leaves them with income below the poverty line." Another account covers the U.K.'s cuts to solar subsidies, saying: "The government says the changes were necessary to protect bill payers, as the solar incentives are levied on household energy bills."
The Netherlands, which is already behind in meeting its green energy targets, has, according to the Washington Post, had to build three new coal-fueled power plants – in part, at least, to power the high percentage of electric cars. Additionally, the country has hundreds of wind turbines that are operating at a loss and are in danger of being demolished. A report states: "Subsidies for generating wind energy are in many cases no longer cost-effective. Smaller, older windmills in particular are running at a loss, but even newer mills are struggling to be profitable with insufficient subsidies."
Bringing it closer to home, there is über-green California – where billionaire activist Tom Steyer aggressively pushes green energy policies. Headlines tout California has the most expensive market for retail gasoline nationwide. But, according to the Institute for Energy Research, it also has some of the highest electricity prices in the country – "about 40 percent higher than the national average." A 2012 report from the Manhattan Institute, states that about one million California households were living in "energy poverty"- with Latinos and African Americans being the hardest hit. With the Golden State's headlong rush toward lower carbon-dioxide emissions and greater use of renewables, the energy poverty figure is surely much higher today.
This week, as you hear commentators celebrate "the most important Earth Day in history" and the global significance of the signing of the Paris Climate Agreement, remember the result of policies similar to CPP: green energy poverty. Use these stories (there are many more) to talk to your friends. Make this "Green Energy Poverty Week" and share it: #GEPW.
We, however, do not need to be doomed to green energy poverty. There is some good news.
First, the Paris Climate Agreement is non-binding. Even Todd Stern, U.S. climate envoy, acknowledged in the Huffington Post: "What Paris does is put in place a structure that will encourage countries to increase their targets every five years." While the requisite number of countries will likely sign it before the election of the next president, the only enforcement mechanism is political shaming. Even if it was legally binding, as was the Koyto Protocol, Reason Magazine points out what happened to countries, like Canada and Japan, which "violated their solemn treaty obligations" – NOTHING. The Heritage report adds: "History, however, gives little confidence that such compliance will even occur. For instance, China is building 350 coal-fired power plants, and has plans for another 800."
Then there is the legal delay to the implementation of the CPP – which, thanks to a Supreme Court decision earlier this year, will be tied up in courts for at least the next two years. Inhofe stated: "Without the central component of (Obama's) international climate agenda, achieving the promises made in Paris are mere pipe dreams."
"President Obama's climate pledge is unobtainable and it stands no chance of succeeding in the United States," Inhofe said. "For the sake of the economic well-being of America, that's a good thing."
The author of Energy Freedom, Marita Noon serves as the executive director for Energy Makes America Great Inc., and the companion educational organization, the Citizens' Alliance for Responsible Energy (CARE). She hosts a weekly radio program: America's Voice for Energy—which expands on the content of her weekly column. Follow her @EnergyRabbit.
Over the last few years I have seen the American worker become more and more an endangered species. Sure, there are jobs out there but fewer and fewer of them involve making stuff. Last month the Alliance for American Manufacturing (AAM) glumly noted that manufacturing jobs were off an astounding 29,000 in March. As AAM's Scott Paul noted:
With 29,000 manufacturing jobs lost last month, it is clear this issue isn't going away anytime soon. China's massive industrial overcapacity, currency manipulation, and our growing China trade deficit continue to tip the scales, and it's laid-off U.S. factory workers who pay the price. That's not right. American manufacturers can outcompete anyone in the world, but they need a level playing field.
As I have pointed out before, AAM is an outgrowth of the steel industry, particularly the steelworkers' union. So their perspective leans toward protectionism to a point where they regularly accuse China of cheating us on trade through both currency manipulation and their "dumping" tons of steel on the market. One Illinois steel worker they quoted put the latter charge thusly:
For the past 38 years, I've been a steelworker at U.S. Steel Granite City Works in Granite City, Illinois.

I'm proud of the work my 2,000 colleagues and I do at the mill. We produce a high-quality product that's used in automobiles, construction and energy exploration. In one case, we even made a grade of steel for a major automaker that no other mill had been able to produce!

But right now we need your help.

Because of unfair trade, 1,500 of my coworkers are currently laid off. They don't know when they'll be called back – or even if they'll be called back.

Granite City isn't the only place coping with layoffs. More than 1,000 people who work at the U.S. Steel Fairfield Tubular Operations in Alabama are laid off. Nearly 350 folks at U.S. Steel Keetac in Minnesota also are out of work, as are hundreds of people at facilities in places like Colorado and Oregon.

All told, more than 13,500 steelworkers are facing layoffs - and the list is growing.

(snip)

We're facing an unprecedented onslaught of dumped steel from countries like China, which is producing way more steel than it can use. That steel is heavily subsidized by China's government, which also doesn't require its companies to abide by strict labor or environmental laws. China needs to get rid of its steel, so it dumps it into our market at a rock-bottom price.

That's not fair to American steelmakers and workers, who compete in an open market.

And steelworkers aren't the only ones who deal with the burden of unfair trade.

I can't stop anywhere in town without being asked about the layoffs. When so many workers are forced to tighten their belt, it impacts everyone - from restaurants to grocery stores to retail.
Fair trade groups such as the Manufacturers for Trade Enforcement now oppose China's possible ascension to a "market economy" for trading purposes by our Commerce Department, while AAM also questions China's effect on our national security as steelworkers lose their jobs:
Plant closures, mass layoffs, and the loss of key technology and manufacturing know-how are sure to follow unless we act.

Moreover, with the loss of U.S. steelmaking capabilities comes a dangerous dependence on these same potentially hostile foreign governments to supply the steel products necessary to equip our military, respond to disasters, and modernize our increasingly fragile infrastructure.
This has actually been a concern for several years. In some respects the concerns about steel parallel our oil crisis, when we lost the ability to supply our own needs and became vulnerable to OPEC's embargoes in the 1970s. Having lived through that as a child and seeing how it affected our economy, I have issues with the greatest country in the world becoming such a disposable society that we forget how to be self-sufficient. We should have never put ourselves in a position where, for so many of those devices and conveniences that make our lives easier and promote commerce, we depend on a nation that points missiles at us.
That's not to say everything is bad news, though. As Bryan Riley shows in the Daily Signal, foreign investment in America far outstrips what we invest overseas. And while it's true Carrier is moving 2,100 jobs from Indiana to Mexico, Riley argues that the net effect will be less as foreign automakers Toyota, Honda, and Subaru are adding a total of 1,600 jobs around the state. Riley adds:
While Carrier has been called "greedy" for moving to Mexico, no one in Indiana is calling Toyota, Honda, or Subaru greedy for choosing to invest in the United States.

(snip)

In total, over 2 million American manufacturing workers are employed by foreign-owned companies. And while American companies have invested over $700 billion in foreign production facilities since 2000, foreign-owned companies have invested over $1.3 trillion in the U. S. manufacturing operations during the same time frame.

The result: a $614 billion manufacturing investment "surplus" for the United States from 2000 to 2015.
Granted, the year 2000 may have been an artificial and arbitrary deadline considering the exodus of manufacturing jobs from our shores began decades earlier, but there are thousands of Americans who work for foreign-owned companies in all sectors – heck, most people who drink a non-craft beer are supporting American workers toiling for a foreign-owned conglomerate.
Still, we should be doing all we can to promote the old-fashioned art of making things here. There were millions of families around the country (including mine) where there was only one breadwinner (Mom stayed at home) who could still achieve middle-class status because they made good money while creating the products America needed. (In my dad's case it was concrete block and other cement products. That plant has long been out of business, sadly.) Now that's all but impossible, as the norm has become two-earner families who can barely keep up with expenses, living paycheck to paycheck. By the time I was in high school, our family was one of those, too.
Perhaps the boom times of the last half of the twentieth century were bound to come to an end sometime, but we should be doing our best to bring them back by allowing workers and companies to create and enhance the value of raw products as much as possible. To use a simplistic example of building a car: we create value for iron ore by extracting it somewhere in the upper Midwest, add value by shipping it by ship down the lake to a steel mill in Indiana, further enhance it by processing it into steel there before shipping it again via truck or rail to a Toledo auto plant, then create even more value by its becoming the fender to a new Jeep, which again is placed on truck or a railcar to deliver to your local dealer. Each step in the process creates a little bit more value from that chunk of rocks once buried underground to the new Wrangler sitting at the dealership, meanwhile helping to create a better standard of living for hundreds of employees in the process.
But somewhere a few decades back we decided it was cheaper to have someone else do it – iron ore from one of a host of countries may or may not be processed there, but it goes to Japan or Korea and they build the cars. Granted, their success led them to put assembly plants here in America but I'd like to keep the process more in-house where we can.
Just because there's a global economy doesn't mean we in America have to settle for second best. But it does mean America needs new, fresh leadership that believes in American exceptionalism and wants to create the conditions where we can once again prosper.
Back in July of last year I attended the Tawes Crab and Clam Bake in Crisfield, and among those I met that day was one of the first to announce he was seeking the U.S. Senate seat in Maryland, Chrys Kefalas. Fast-forward nine months later and we have thirteen others on the ballot joining Kefalas in seeking the Republican nomination, and his diligence on the trail seems to be paying off – Chrys is within the margin of error from leading the race, according to a recent Washington Post/University of Maryland poll. (However, a subsequent WRC-TV/Marist poll has Delegate Kathy Szeliga leading Richard Douglas 20-13, with 9 percent backing Kefalas. No other candidates were mentioned by name.)
While both polls suggested it was a wide-open race, as nearly half had not decided on a candidate, you can easily take the fourteen who started and boil them down to perhaps a half-dozen with a real chance. Many of the aspirants are running campaigns on a shoestring, with a website and no resources otherwise to campaign around the state. Only five have achieved enough standing to participate in one of the televised debates: Douglas, Joe Hooe, Kefalas, Szeliga, and Dave Wallace; except for Hooe each of these have also visited the local area to participate in a statewide campaign. (If Hooe has come to Salisbury, I am not aware of it.) With the other four I have seen all but Szeliga personally, but Cathy Keim covered the Szeliga kickoff visit so that counts, too.
Over the last few weeks, my initial impressions of the candidates (and that extension of remarks) have not changed significantly in most cases. But there is at least one disqualifier that I have to report.
This is from Joe Hooe's campaign Facebook page.
Question: So, where do you stand as far as Trump is concerned?

Hooe: I support him, I've made phone calls for him and I liked the Christmas card that he sent to me and my family. I like his plan to secure the border, I like that he is a business person like me and I think that our plans can work together. I also believe that no matter what we need a Republican in the Whitehouse.
I realize that the one key issue Hooe is bringing to the table is his scheme to tax illegal immigrants $1,000 a year for permission to work here but on its face one has to question just how workable such a proposal is if people are already here illegally. Enforcement is already not our strong suit, and I can just see some bleeding-heart liberal saying, "oh, that's a lot of money for these poor immigrants to come up with – how about we give them a tax credit so it's not such a hardship for them?"
But to me being a Trump supporter shows a lack of judgment when it comes to conservatism. So Hooe is out.
Next, you have Kathy Szeliga. She has been on TV for several days with her motorcycle ad, and it has pushed her numbers upward from 15% to 20%. But it's still difficult to pin her down on a lot of issues because she's mastered the art of political-speak. She's gotten a little better over the last couple weeks, but Szeliga and Chrys Kefalas keep trying to out-Larry Hogan each other. Maybe it's a good electoral strategy, but one of my concerns is having a good conservatism strategy and I don't necessarily get that vibe from Kathy like I should given her General Assembly voting record. She would definitely be only what I call an 80 percenter in Congress, one who I agree with maybe 80 percent but who may not push as hard against the status quo as I wish she would.
Regarding Chrys Kefalas, here's a good guy who seems to have a following among the Millennial "let's not discuss social values" crowd – in fact, he may get extra points with them for some of his choices. (Let's just say he definitely worked against me in 2012 on Question 6 and leave it at that.) Yet to me that's a leg of the three-legged conservative stool that you can't just saw off and I don't understand how one can be "principled" without addressing this. (Since Hogan didn't address this either in his 2014 campaign, in that respect Chrys really is a "Larry Hogan Republican.") I will grant that these are not the most important of issues, but despite his advocacy for manufacturing I don't completely agree with Chrys that this is just a "jobs and economy" election. He came down on the wrong side of the Apple controversy, so I also wonder if Kefalas would respect and work for either our civil or religious liberties if elected.
Bear in mind that if either of these two emerge victorious, though. I can easily support them despite their flaws. I just won't be able to expect that I have a Senator working for me in Washington.
After I began to study the field and issues, it became clear for me that the choice is between Richard Douglas and Dave Wallace. I have had the opportunity to speak with both and heard both Douglas and Wallace at some length; not only that, they were willing to answer many of my questions. So I have a pretty good idea where both of them stand, and I think either would be outstanding Senators for the state of Maryland for different reasons.
But there are two things which tip the scale for my endorsee.
First is the experience and leadership he has shown – even when it wasn't an issue that was intended to make headlines, defending the very presence of the Bladensburg Peace Cross in the wake of a secular humanist attempt to have it removed as a so-called establishment of religion as opposed to a simple and longstanding memorial to the war casualties from Prince George's County shows conscience and respect for tradition, as well as a willingness to fight for our values.
Second is a combination of backbone and knowledge of the system. As we have seen with the Donald Trump campaign, there is more to gaining the Republican nomination than getting a plurality of the votes. The knowledge and understanding of the process that Ted Cruz is exhibiting is enabling him to outperform expectations. Similarly, understanding the rules of the Senate is a key to taking advantage and getting things done, and I don't want a shrinking violet up there.
Of all the years to have a tagline of "make Maryland great again," this is not the year given its immediate connotation. To make Maryland great is to balance ably representing the economic interests of those of us who do not work for the federal government with the national security, foreign policy, and oversight tasks entrusted to the Senate. In a time of crisis experience matters to me almost as much as principle, so I am endorsing and casting my vote for Richard Douglas for the U.S. Senate.
In each of the polls I have seen Richard Douglas is within striking distance of the lead, so it's up to us to put him over the top and select a man who can make mincemeat of the Democratic nominee in a debate. Maryland definitely needs "new blood" in the Senate, so let's make it happen.