David Craig is claiming to be the first to launch a series of radio ads touting his "glide path" tax plan, in which he exhorts Marylanders to "vote yourself a raise." Give a listen to the one-minute version.
In the release which accompanies this video rendition of Craig's ad, though, it notes that the spots are 30 seconds long. I'm not sure what portion of the long-form version they kept, but the ads are now supposedly running on two Baltimore radio stations, WBAL-AM and WCBM-AM. Obviously I don't know what sort of buy they made, or how much they paid, but my guess is that they spent a little more than the $5 a spot Red Maryland Radio is charging – and presumably have a far larger audience, depending on placement. If they are on during Rush Limbaugh, yeah, that's a big audience.
I like the touch of the female narrator, which will contrast with the mainly male hosts and attempt to soften Craig's image. He already comes across as the grandfatherly type given his age and demeanor – that may compare favorably with the rock-star image our current governor has.
As Craig's campaign points out:
This is the first, paid-media buy by any of the gubernatorial candidates and begins a month-long radio campaign that promotes a bold plan to lower taxes burden on hard-working families, and finally does something to keep Maryland citizens and businesses from moving out of state.

Ending the personal income tax is only one part of our plan to turn back the onslaught of insane new taxes and tax increases created over the past eight years by the O'Malley-Brown administration.
Obviously they also add:
And as always, to keep these radio ads running and ultimately change the ultra-liberal, one-party culture of Annapolis we will need your financial support.
All of the candidates are far short of the social media juggernaut which is Change Maryland – in comparison, David Craig is by far the piker with just 4,620 "likes." But Craig used that Facebook platform today to talk finance:
It comes as no surprise that Maryland will see a decrease in projected revenues in FY15. The O'Malley/Brown administration through their failed economic policies have once again opted to kick the can down the road. Maryland's working and middle-class have been asked to bear the burden of their mistakes for the last 7 years; as a result, many have fled the state because life in Maryland has become unaffordable.

Under our administration, Jeannie and I will provide real substantive tax relief for all Marylanders and balance our budget by ending uncontrolled spending. We will make Maryland affordable once again.
I suppose the key question which occurs to me is whether placing the state on a "glide path" will be enough relief for those beaten and battered Marylanders who are ready to throw in the towel and head for greener pastures. Craig's idea isn't quite as aggressive as the competing tax plan by Charles Lollar, who believes the additional sales tax and economic activity will make up the difference. So while they are waiting for a second term of David Craig, how many will go to those places which already feature all these tax advantages?
Whether it's the competition or just getting more familiar with the levers of state government, it is encouraging to see David getting more bold with many of his ideas. Perhaps he can shake that moderate image enough to get through the GOP primary, and I'm sure that's where the radio ads are aimed.
The other day I got an interesting note from onetime Maryland Senate candidate turned campaign director Chris Cavey. I'll just start with it and comment later.
Michael,

Just wanted to write you a quick note of congratulations as an officially filled Wicomico Central Committee candidate! I think you have made a wonderful choice. Building our party has long been a personal cause of mine and I am proud to say my name is on the ballot for Central Committee in Baltimore County – so, perhaps we will be working together building a stronger MDGOP during the next four years.

You should know Larry Hogan has also been very committed to our party for many, many years. Not only did he run several of his father's campaigns and serve for many years on the Prince George's Central Committee; but he has been to several national conventions including 1976 where he Chaired Youth for Reagan! Over the past several years Larry has been a major sponsor of MDGOP including hosting numerous events for the party – and many convention hospitality suites. We were proud to have our Change Maryland Fall Harvest Party in conjunction with MDGOP at this past Winter Convention in Annapolis. It was quite a success with over 1100 people in attendance.

Campaigns are exciting and addictive for people like me who are political junkies. I halted my Senate Campaign in District 42 to work fulltime for Larry – and I am very committed and pumped about the Hogan for Governor Campaign. Since our announcement, just five short weeks ago, we have hit the road at a sprint. The on-line presence with over 80,000 Facebook friends creating new volunteers every day has actually shocked me and I believe it will be a wonderful outreach for our party.

It is very rewarding, for a long time Central Committee member like me, to see so many new and excited people wanting to volunteer. In these few short weeks we have had three major fundraisers each exceeding expectations. Our mail program and on-line donations have been outstanding. Internal polling has us in very good position and we were very pleased to see similar reflections in outside public polling. Long story short – all is well.

Please feel free to call or contact me anytime should you wish to coordinate or work with the Hogan Campaign. My job as Campaign Director includes working with you as a candidate, all Central Committees and MDGOP. Our campaign has made the decision that we are open to helping all GOP candidates, working directly with each County Committee and MDGOP as we each work hard to change Maryland.

See you on the campaign trail!

Chris Cavey
Campaign Director
I guess what made it funny for me is that certainly Chris knows who I am since I've been on our Central Committee for eight years – he was first vice-chair under Jim Pelura. I'm sure someone from Larry's campaign just went through the hundreds of Central Committee candidate files, pulled out their e-mail addresses, and blasted out this form letter regardless if they were running for the first time or the tenth. The only fields they had to rearrange were the first name and the county.
Well, first things first: I've been trying in my own special way to build this party for eight-plus years, so I wish your boss wouldn't be so coy about how he will reach out to people who care about a number of issues: education, the environment, Second Amendment rights, and agriculture being chief among them. We are well aware of all the tax increases we've been forced to endure – if we didn't vote with our feet and leave the state, as Change Maryland has so often pointed out – and we know economic conditions here are lacking. But those aren't the only issues and all I hear from your boss is the same message of how Change Maryland appeals to independents and how bad the situation is right now. Remember, I was at the Change Maryland party in November, in part because I figured he'd actually make it official that night.
Yet there's a line I find interesting in your e-mail:
 The on-line presence with over 80,000 Facebook friends creating new volunteers every day has actually shocked me and I believe it will be a wonderful outreach for our party.
So it leads me to a question: what if Larry either isn't the nominee or doesn't win in November? Does Change Maryland go on, and will you share resources with the Maryland GOP? One criticism I heard in the years following Bob Ehrlich's defeat was that the party was still overly oriented to Bob's success rather than trying to be there for everyone. I'm sure there were some who were relieved when Bob lost in 2010, taking the short-term pain in looking at the long road because the party could finally move on from the Ehrlich legacy – let's face it, we're not exactly talking about Ronald Reagan here.
So Chris, if Larry wins, this will not be the Maryland Larry Hogan Party, it will be the Maryland Republican Party. We will work appropriately for his re-election but not exclusively as it seemed, by many accounts, like the MDGOP did from 2002-06 (and even during O'Malley's first term, when Larry ran the first time before ceding the field to "my friend" Bob.)
Finally, you may want to make sure April 12 is clear on your calendar because it looks like that will be the date of our Lincoln Day Dinner. I understand Larry is in demand for fundraisers but we would kinda like him to show up at our LDD since no candidate has a home-field advantage here and we just might want him to say a few words.
Listen, I really would like to back Larry but so far I don't know where he stands on a lot of important issues. He has a good overall message but one thing I've found about certain candidates is that once you look deeper into what they have to say, they tend to either contradict themselves over time or they pander to the crowd they're speaking in front of. I suppose Larry's keeping it simple to stay on message but sooner or later people like me have to ask and there has to be more than one dimension. We know it's easy to be the opposition party and stand on the sidelines, so – aside from the three-point test Larry touts – how will he govern and lead?
There you have my response, Chris. Color me skeptical – and still undecided – for now.
Back in December, once I finished the original dossier series, I noted this would be an ongoing process. To that end, here are further statements made by the three contenders at the time, with the addition of items from Larry Hogan.
Each of these subcategories will be revisited, with changes in score noted.
**********
The 2014 monoblogue endorsement will be based on the following formula:
Election/campaign finance reform (3 points)
Larry Hogan: As a practical matter, seeking public financing made sense for Mr. Hogan, who entered the Republican primary race relatively late and was unlikely to raise as much privately as he may qualify for publicly. But he also noted that his decision 'sends a great message' about his grass-roots efforts. (Baltimore Sun, February 4, 2014)
Ron George has also talked about taking public financing, although he's made no formal decision on the matter. He had no points anyway, nor will Hogan receive any.
Illegal immigration (5 points)
No candidates have made significant public pronouncements on the subject, so no changes and no points for Larry Hogan.
Dealing with Obamacare (7 points)
David Craig: Craig has previously called on O'Malley and Brown to stop wasting money and hindering access to health care and to promote direct enrollment options through insurance carriers and brokers. The Administration then took a modest step in that direction by working with insurance industry leaders to develop a telephone help line. (press release, February 10, 2014)
*
Craig, the Republican gubernatorial candidate, said the O'Malley administration should instead be helping people get coverage directly through the insurers. He wants to reallocate $150 million, originally earmarked in part to market the problematic exchange, toward promoting alternative enrollment options.  (Fox News, January 7, 2014)
*
Craig's proposal would seek an HHS waiver to re-program funds to launch a public awareness campaign informing consumers of their right to obtain health insurance directly through carriers. A complimentary awareness campaign would inform people of their rights to utilize Maryland insurance brokers who are licensed and experienced in helping individuals with health insurance. Utilizing call centers for those needing assistance with the website would remain in place. Craig, however, would re-examine the navigator model in which people having problems with the website must set appointments with temporary workers disbursed among several organizations.
As for the vexing issue of low-income individuals seeking subsidies, Craig supports U.S. Sens. Ben Cardin and Barbara Mikulski's proposal to HHS to enable a direct data hub allowing people to obtain financial assistance without going through an exchange. (citybizlist, January 7, 2014)
Charles Lollar: Lollar advocates making hospital costs "much more transparent" by posting the prices. "Until we control the costs we're not going to get our arms around the health care issue."
"I'm all for a moratorium on the Affordable Care Act." (Fox 45 debate, January 16, 2014)
I had previously chided Craig for not offering up solutions (although he had done a nice job identifying the problems) but I'm not sure I like much of the approach he's taking besides the idea about promoting alternative enrollment options. I'll give him 1.5 points, up from none.
Lollar seems to have a better idea as far as approach, although it's still very vague. The moratorium alone, though, is worth 2 points (he had none as well.)
Larry Hogan hasn't addressed this, so no points.
Energy policy (8 points)
No candidates have made significant public pronouncements on the subject, so no changes and no points for Larry Hogan.
Education (9 points)
Ron George: He acknowledged that a repeal of Common Core "ain't going to happen in the state" of Maryland. But he argues for putting the educational focus back on what he calls a "local locus of control" rather than a one size fits all federal mandate. George also believes it is important to teach entrepreneurship and financial literacy in schools in an effort to help minorities and low-income Marylanders understand how to be successful in a free enterprise system. (In The Capital, January 15, 2014)
Charles Lollar: Lollar wants to stress internships for high schoolers, with the help of corporations. (Fox 45 debate, January 16, 2014)
Let me talk about Ron George first. It's interesting that he has gone from "I intend to fight it with all my energy" in September to "(repeal) ain't going to happen" just four months later. I have a problem with that change of heart because if you're elected as governor you have an automatic bully pulpit.
Look at how we were saddled with gay marriage. It didn't happen until Martin O'Malley decided to burnish his 2016 credentials and made it an issue in 2012 (with an assist from Barack Obama, who needed the gay vote.) If you want to get rid of Common Core, you browbeat the legislators who oppose you until you get your way. So I took him down from 4 points to 3.
On the other hand, I think Lollar's idea is pretty good so I bumped him from six points to seven.
Second Amendment (11 points)
David Craig on Rodricks show tells Dan Yes I SUPPORT concealed carry! (Facebook page, February 10, 2014)
Larry Hogan is a strong supporter of the Second Amendment and is opposed to SB 281. He will work to keep guns away from criminals and the mentally ill. Hogan supports tougher mandatory sentencing for criminals who commit crimes with a gun, but he is against taking away the rights of law abiding citizens. (Facebook page)
I added a half-point to David Craig (from 8 to 8.5) for the clarification. Conversely, I think Hogan's canned response is somewhat wishy-washy and political. He may be opposed to SB281, but will he repeal it? The time for opposition is over – the word is "repeal." So he gets 4 points of 11.
War on Rural Maryland (12 points)
Charles Lollar: Leadership in Annapolis needs to craft a regional solution to this problem that requires all states that pollute the Bay to "pay their fair share" to keep it clean. We must not allow legislators in Annapolis to "hurt Maryland first" by bankrupting hard-working farmers with a "Chicken Tax" and putting the future of Maryland's number one economic industry at risk. (press release, February 5, 2014)
Lollar picks up a half-point for this, from 5 points to 5.5 points. It's pretty easy to oppose the chicken tax but Lollar did it quite forcefully.
Role of government (13 points)
Larry Hogan: Job one will be to get the government off our backs and out of our pockets so we can grow the private sector, put people back to work and turn our economy around.
Every decision Larry Hogan makes as governor will be put to a simple test – Will this law or action make it easier for families and small businesses to stay in Maryland and will it make more families and businesses want to come to Maryland?
If something comes across Hogan's desk as governor that doesn't pass this test, he'll veto it. (campaign website)
*
We've got to be able to run the government, provide the services that are important and necessary to people as efficiently and cost-effectively as possible, so it's not like let's lop off this department or stop providing these services – I think it's just looking at zero-based budgeting and doing outside audits of every state agency and saying how do we use those tax dollars more effectively.
I think we need to focus on – these aren't Republican problems or Democrat problems, these are serious problems that our state has. We've got to reach across the aisle and work together between the parties to come up with common-sense solutions to solve these things. (NewsTalk with Bruce DePuyt, January 21, 2014)
Charles Lollar: A government should serve its citizens, not burden them. It must also provide for citizens truly in need without trapping them in an endless cycle of dependency on government programs that erode their self confidence, human dignity, and a chance to live the American dream.
The answer is not to grow bigger government.
The answer is to empower people with the skills and opportunity to grow a better future for themselves, and not allow government to stand in the way of these goals. (Facebook page, January 12, 2014)
Okay, as far as Larry Hogan is concerned, I get it. You want to work with Democrats. Good luck with that, because we will likely have four years of gridlock unless the voters of Maryland come to their collective senses and elect a Republican majority in the General Assembly. You will have a LOT of vetoes otherwise.
I have yet to be convinced there is such a thing as a broad centrist coalition, since to me all it means is we walk further away from truly being a Free State rather than sprint headlong as we are now. But I will allow 4 of 13 points for the smell test and the zero-based budgeting.
Lollar loses one point for that answer, from 6 to 5. Where is it government's role to provide for those truly in need? Shouldn't that be more of a function of the faith-based community? The very definition of government standing in the way is to have government programs one can become dependent on – to me the continuing spiral of unemployment benefit extensions is a perfect example.
Job creation and transportation (14 points)
David Craig: I think that each individual county should establish its own minimum wage. It just makes sense that local officials make laws and the State doesn't simply dictate what should be done. (Facebook page, February 11, 2014)
Ron George: We must focus on expanding opportunities for entrepreneurs and technical training for our unemployed to protect and grow our middle class for generations to come. (Press release, January 23, 2014)
Charles Lollar: Of course we want better opportunities, better modes of transportation – a diverse collection of different ways to get back and forth to work. Liveable, workable, playable communities where you can actually live, work, and play in the same place and have a legitimate conversation with yourself in the morning whether to walk or drive your bike to work and get there on time.
I think (the Purple Line) is absolutely doable. The question is – is it affordable? If it is, let's push forward. (2014 gubernatorial candidate transportation forum, February 18, 2014)
The idea David Craig has is a good one, and would have raised him a full point if he had allowed counties to do away with the minimum wage altogether. Yes, this would be a fight with the federal government but it's a Tenth Amendment fight worth having. I'll give him a half-point so he goes from 9 to 9.5 points.
Ron George already had a very solid approach, so there wasn't a lot of room for imporovement there. The statement is a little bit generic.
Suddenly, though, I think Charles Lollar caught his populist, pandering disease at an inopportune time. I know Red Maryland nailed him for one statement (which brought this gem to my attention) but I remembered that Lollar was opposed to the Purple Line last September – now he says it's "absolutely doable"? He wasn't pushing the bus alternative in front of that crowd.
And the phrase he was looking for insofar as "livable…communities" is (so-called) Smart Growth. Don't encourage the idiots, Charles. I took off three points, from 7 to 4.
Hogan misses out on this category so far.
Fiscal conservatism/taxation (15 points)
David Craig: Under Craig's plan, tax brackets would be lowered across the board to 4.25 percent as of 2016. Couples now pay a basic rate of 4.75 percent on most of their income. Wealthier Marylanders pay a higher percentage on a sliding scale that tops out at 5.5 percent on income above $300,000.
Craig said he would couple that with an increase in the personal exemption from $3,200 to $5,000. He said that will provide relief to middle-class that would help offset the face that the greatest benefits under his plan would go to the higher income brackets, which would see the highest percentage drop.
In the second phase, Craig said he will call for a further reduction to a maximum rate of 3 percent — with a bump in the exemption to $6,000.
Craig said a third phase in his plan, which would come sometime in what he hopes will be his second term, would eliminate the tax entirely. He said his proposal would not affect county piggyback income taxes, which the state would continue to collect.
According to Craig, elimination of the income tax would put Maryland in the company of nine states that have no income tax, including Texas, Florida and Tennessee. (Baltimore Sun, February 18, 2014)
Ron George: When asked what policies he will put in place to foster job creation, George said lowering the corporate tax rate is a necessary first step. "We have to lower the corporate tax rate," he said. "I would like to get it down to 5.75 percent and I think that sends a strong message out there that we're open for business." This, he argues, will help bring businesses back to Maryland thereby expanding the tax base and creating more revenue for the state. (In The Capital, January 15, 2014)
*
In addition to the expansion of jobs, George is planning on cutting income tax by 10 percent, building a tax base in Baltimore, and putting in place what he is calling the "Buy Maryland Program."
In this program, if Maryland residents itemize purchases over $100 on their tax returns, then they will receive 20 percent back. That way, George said, people will have a lump sum in the spring that they can then use for a down payment on a house or car. (Easton Star-Democrat, January 9. 2014)
Larry Hogan: When Hogan is governor, we'll repeal the rain tax. That's one change you can count on.
Charles Lollar: Our plan is to take a look at every regulation out there – all 74 of them. We want to peel this thing back. People are tired, here in Maryland, with this bait-and-switch tax scheme. So we're going to compose independent audits annually. We'll determine how the monies are collected, how they're being spent, and whether this spending demonstrates an efficiency of how we use taxpayer money. And this audit will be published online…In addition, I am not going to sign any tax bill that's void of an enforceable lockbox provision. (Bill Bennett Show, January 23, 2014)
*
In addition, Lollar pointed out on the Fox45 debate that this would be all taxes, not just the ones passed under Martin O'Malley.
*
In a fundraiser with economist and advisor Arthur Laffer, he supported the Lollar idea for eliminating the state's income tax but gave no details. (Press release, January 28, 2014)
David Craig followed the lead of another with his tax plan, but the timing is a little more specific. I think it's a great idea, though, and he seems to have the understanding that, because he controls the budget, that the idea is doable. He gained three points from 11 to 14 with one (somewhat) bold move.
Ron George is restating previously noted material, so there's no bold moves there.
Larry Hogan will repeal the rain tax. That's a start, but really it's only an entry-level gambit in this race so he gets just 5 points.
Charles Lollar was first to the post with the idea to eliminate the income tax, but hasn't elaborated on the details. But because he was so close to the maximum point total already with 14, I could only bump him up to 14.5 because I think eliminating the income tax is a splendid idea.
Intangibles:
Larry Hogan: Phony political spin, questionable donations, cronyism, and backroom deals pervade the current culture in Annapolis. We need more transparency in our government, more truthfulness and tougher ethics and disclosure laws that will begin to clean up the mess in Annapolis and restore integrity to our state capital. (campaign website)
*
It's time to engage every citizen who wants to get involved in the policy process. Policymaking should not be left exclusively in the hands of an oligarchy of anointed Annapolis lobbyists and lawmakers. (Capital Gazette, January 17, 2014)
Charles Lollar: First and foremost, I would do all I can to get rid of comments like the one I just heard. It's unfortunate, but I do take a bit of offense to that because the idea that all Republicans think the same way is probably about as similar as all blacks thinking the same way – it's not true – or all whites thinking the same way, it's not true. I want to be the best governor of Maryland I can be – not the best Republican governor I can be, and not the best Democrat governor I can be, I want to be the best Maryland governor I can be.
And I'm sick and tired – no matter where I go or who says it, I attack it the same – of people using partisan politics, skin color and gender, to separate us from real solutions that are at hand. (Purple Line Forum, February 18, 2014)
I'm not quoting him on anything here, but because he's been the most open and responsive candidate to me I added one point to Ron George's intangibles.
For Hogan's part, I agree with the sentiments for the most part. But they are belied by the way his campaign is conducted – missing opportunities to discuss issues with fellow candidates and instead uttering many of the same campaign mantras in one-on-one interviews with generally friendly questioners. It's not enough of a change from the current culture he decries, and until I start seeing and hearing answers on issues above and beyond the Change Maryland mantra, I have to deduct two points for intangibles.
Charles Lollar, though, has really cleaned up his campaign, and the statement I included is apt because he was responding to Democrat criticism. So he went from a -3 score to a wash – his campaign isn't firing on all cylinders yet but it is improving.
If you've been keeping track, well, more power to you. But unlike other bloggers, I'm not ready to make a choice yet because there's still a lot of information I'd like to have before making my choice.
What I can tell you is that David Craig and Ron George seem to have an edge over Charles Lollar, with Larry Hogan far behind simply because he's not addressed many of my key issues yet. His is a one-note samba so far. It turns out that the Craig tax plan has now vaulted him slightly ahead of Ron George – very surprising because my initial perception was that David was the most moderate of the four candidates.
But above all, my main complaint is with the Larry Hogan campaign. Stop skipping debates where everyone else shows up! You may have 40,000 Democrats and unaffiliateds in Change Maryland, but there's one problem with that: they get no Republican primary vote and you probably won't win with 40,000 votes (assuming all Change Maryland 'likes' = Hogan supporters, a very dubious assumption.)
So my plan is to revisit this sometime in April, with perhaps a final decision in early June. I don't think an early endorsement will do me a lot of good here because no candidate is standing out in this race.
Do you remember a guy named Ron George? You know, he's this guy who actually jumped into the gubernatorial race back in June and had steadily plodded through the campaign, in part because he's serving in the House of Delegates as is Democratic hopeful Heather Mizeur. In the straw poll I wrote about yesterday, George was second to Charles Lollar with 24% of the vote, beating both Larry Hogan and David Craig, but in the internecine sniping over the last couple days between supporters of two of those aforementioned camps you'd have thought Ron had dropped out of the running.
But on the heels of his call for a special counsel to investigate the Maryland Health Exchange Board, George today revealed more information through his research. The statement (below) is accusatory, but George backs it up by putting the pieces of the puzzle together.
The Maryland Health Exchange Board should never have been granted special procurement powers which resulted in the rewarding of political allies. The administration continued to favor a vendor who has a flawed history with Maryland and deep fundraising relationships to both Governor O'Malley and Lt. Governor Brown. We need a special counsel with the authority to investigate the procurement practices of the Health Exchange Board.

It appears the administration was in favor of rewarding their political supporters despite serious legal concerns relating to this same vendor's work with state foster children and a troubling history collecting child support payments in Baltimore. The problem with one-party control is the people in power get to make the rules even when they are inappropriate and can lead to waste, fraud and corruption. I demand a full and thorough investigation into the contracts approved by the Health Exchange Board and their adherence to transparent and impartial government.
This is the same vein that Larry Hogan's Change Maryland mined with his own accusations of pay-to-play which came out last month. Seems like we have a pretty corrupt set of people running Annapolis.
One thing which needs to be addressed when the Republicans take over state government is the procurement procedure. It's certainly the conservative ideal that as many government functions as possible be transferred to the private sector, and generally this is accomplished through a bidding process with the lowest and best bid which meets the specifications prevailing. Most people associate the process with construction projects, but much of government –  including the contract for customer service call centers George refers to – is done this way. On the surface, it's a good idea to allow a private company with some expertise in the field to replicate their service for government rather than hire a group of workers to duplicate efforts needlessly.
Yet there are flaws in this approach which make it exploitable, and I believe what George wants investigated is how the process of selecting Maximus came to be. For example, were the specifications written in such a way to make Maximus into the only company capable of doing the contracted work? Much as the 2005 Fair Share Health Care Act was written to punish just one company – Walmart – the rules and specifications for awarding a job can be tailored to make it so just one bidder can feasibly secure the work. (If you forgot about what Fair Share was, it was an early topic of conversation in my blogging career. Check out this blast from the past.)
Perhaps more sinister yet would be the idea of getting insider information as the process was going along. In my architectural days, we had to be scrupulously careful that any changes made – whether clarifications of questions asked by bidders, revisions by the client, or the occasional error or omission on our end – were transmitted to all bidders to make sure no one received an unfair advantage. But if someone has a thumb on the scale, they may get a little bit of advance notice on changes or otherwise gain a leg up on the competition.
As it stands, though, it appears that $325,000 investment by Maximus paid off with a $36.5 million return. Of course, there's nothing illegal about donating money to a political candidate and many companies play the field by donating to both Republicans and Democrats. (There was an anecdote I heard about the Maryland GOP accidentally getting both checks from a corporate donor, noting the GOP amount was far smaller than the Democratic one.) Just a look at a website like Open Secrets or Follow the Money will show most corporations embrace the practice.
So Republicans will have to walk a fine line when they take over in Annapolis. It's almost impossible not to benefit a business which made a political donation, particularly if they shower both sides with campaign cash, but there needs to be some transparency in the process and a way to write specifications to maximize participation rather than funnel business to one or two well-connected bidders. Reducing the size and scope of government should be the primary goal of conservatives, but levelling the playing field for those who wish to provide needed services from the private sector should be a close second priority.
I suppose these fall under the category of shrewd political decisions, even though I'm not really on board with them for various reasons.
But a couple days back gubernatorial candidate Larry Hogan announced he would use the public financing system in the GOP primary. In exchange for limiting spending during the primary, all a candidate has to do is raise about $260,000 in "seed money" and the state will match individual contributions of $250 or less.
Basically what this has done is box the other GOP contenders into using public financing to keep up, as I'll explain.
In the GOP primary, it's doubtful that anyone would spend $2.6 million, particularly when none of the candidates raised more than $250,000 last year and most received much less. Obviously Larry knows this, since he waited to announce and finalize his plans until safely after the January 8 deadline to report 2013 contributions and expenditures. Since Change Maryland's tentacles extended into the other three campaigns, surely Larry had an inkling how the money was coming in for them. On the other hand, Change Maryland isn't an entity required to report in the same manner.
So by taking public financing, Hogan essentially doubles his money – maybe not quite, since some will donate over $250. (It might be a great idea for those who really wish to back him to put $250 in the kitty now and save the remaining $3,750 allowed until after the primary.) But in order to match that advantage otherwise, the others in the race will have to follow suit – Ron George has already had this discussion. It might be tougher now in a four-way race.
This is a different approach than Hogan used in his abortive 2010 gubernatorial run, where most of the money he collected and spent was his own. Over the 4 1/2 months Hogan campaigned in 2009-10, he only collected $16,458 in total donations but lent his campaign $325,000 from personal finds. Obviously he's hoping that the Change Maryland network will be somewhat more successful in netting him the necessary matching funds to maximize the state's contribution. As part of that effort, Hogan will be hosting a fundraiser with his old boss. More ammunition to those who believe a Hogan candidacy will be Ehrlich's long-lost second term?
Larry is also using the successful business summit event he did for Change Maryland last year as a fundraising event for his gubernatorial campaign this year. Wonder if everyone who attended last year will be interested in backing the Hogan campaign as an attendee this year?
All in all, I find it most interesting that Larry Hogan is using a technique also adopted by the farthest-left Democrat in the race and endorsed by her political ilk – most of the recent bills attempting to expand public election financing were sponsored exclusively by Democrats. It's not something most would regard as a conservative cause, and one has to ask: is public financing of campaigns a direction in which we want to change Maryland?
A few years ago Republicans (correctly) fought against early voting because of its potential for fraud, yet later were advised to embrace it by Bob Ehrlich. Is Larry Hogan doing the same with public campaign financing?
Hopefully this is not an indication of how the remainder of the campaign will go, but the best laid plans of Larry Hogan had to take a back seat to the weather tonight. Instead he made the announcement in a release where Hogan noted:
An overwhelming majority of Marylanders, regardless of party, feel that we are way off track, heading in the wrong direction, and that new leadership is needed in Annapolis. And one thing is clear: we can't change Maryland without changing governors. So after serious reflection, I have decided to answer the call, and step up to this challenge.

The establishment in Annapolis has just been expecting another coronation in November. But today, regardless of the weather, we're putting them on notice that we're going to give them the toughest fight of their lives.

While our initial intention was to continue despite the weather, as we monitored the situation overnight, it became clear this was going to be a significant weather event. We've postponed today's event, but no amount of snow is going to stop our grassroots army of 75,000 fed-up Republicans, Democrats, and Independents from bringing real change to Maryland.

We have already started our work to change Maryland for the better, but our primary concern today is the safety of Marylanders. Due to extreme winter storm warnings we are strongly advising our supporters to stay home and stay off the roads.
Sounds awfully gubernatorial already. But, just like the 1,100 or so who crammed into his Annapolis event at the state Republican convention expecting Larry to lay out his campaign, another 500 were claimed to be awaiting this gathering. At one point this morning, I had heard there would be a live stream of the festivities but eventually the whole thing was scrubbed. Honestly, while there was a serious concern for safety, there was also the prospect of zero television coverage as most stations go wall-to-wall on their news with tracking the storm and its effects.
So Hogan will try this again on Wednesday, January 29. While it's a long way out, Hogan supporters will be relieved to know the current Annapolis forecast for next Wednesday is for a sunny but chilly day, with a high of 28.
But as I joked with my blogging friend Jackie Wellfonder – a confirmed and diehard Hogan backer – if Larry had made the announcement when I thought he should have, it could have been an outdoor affair. You don't have to plow sunny and warm. It is what it is, though, and perhaps the late-entry approach will work.
The real question, though, is how long the race can go with four main contenders, only two of whom have six-figure account balances to back them. It won't take as much money to win the Republican primary, as it will be the race no one hears about – because the two leading Democratic contenders will likely soak up most of the available Baltimore and Washington commercial time – but it will require some financial prowess to compete. Obviously the concern is also how much a GOP contender will have remaining to go against a well-funded Democrat in the general election.
2014 is definitely an "all hands on deck" sort of year for Maryland Republicans. We always refer to the current election as "the most important in our lifetime" but in this one we sort of mean it. Either we watch our liberties continue to melt away into a morass of taxation, regulation, and usurpation of our God-given rights, or we grab the bull by the horns and wrestle it to the ground in order to save our state. The time to stand on the sidelines is long past.
Don't let a little snow stop us in that fight.
First of all, I want to give the tip of the hat to Joe Steffen for noticing this. Admittedly, he was skeptical of the very first line – and so was I – but I don't perceive that Joe Steffen and Larry Hogan are on each other's Christmas card lists so I wanted to read the Hogan op-ed for myself. Granted, I was floored enough to ask "really?" in reaction to Joe's Facebook post.
Obviously I have some comments, but I think this lays out where the Hogan campaign is going – a populist assault on the Annapolis "establishment." Yet Hogan isn't exactly an outsider to that clique because he was Secretary of Appointments under Bob Ehrlich, and deferred a 2010 gubernatorial run in order to clear the way for the "establishment" choice in Bob Ehrlich. I find that a mixed message based on the messenger.
Having said that, though, a continuance of the ongoing criticism of the current majority party from Change Maryland since its 2011 inception wouldn't be a bad thing. The trick will be fleshing out the alternative, and Hogan's "Third Way" speaks to revisions in the way we govern ourselves through inclusiveness, transparency, and efficiency. In that latter realm he actually covers many of the same points Ron George has brought up with his campaign promise of auditing the state government.
Hogan concludes with a promise of "a renewed focus on building Maryland's private sector and business climate." I would hope that would be the first priority, not a throwaway line at the end of an op-ed.
But I think the parts of Hogan's op-ed which bother conservatives in Maryland the most are the invocation of Bill Clinton as a model and the implication that we need a Clinton-esque "Third Way." Admittedly, Hogan seems to be basing his campaign on the populist appeal of being "bipartisan," always stressing that a large number of Democrats and independents support Change Maryland. There's no doubt we need at least some of each to win since the majority of Maryland voters haven't yet seen the folly of being so heavily registered with a majority party which places their pursuit of power over the needs of the average Marylander, thereby regularly voting for that legislative majority against their self-interest.
Yet Hogan's Clinton "Third Way" invocation bears the reminder that many of his signature achievements such as welfare reform, federal budgets with a modest surplus, and overall prosperity came from the period where he dealt with the Gingrich-led Republican Congress which dragged him kicking and screaming into enacting these changes. Left to his own devices and a Democratic majority in Congress, we would have had massive budget deficits and Hillarycare, since that's the path we were on until the Contract With America and the 1994 midterms interceded. Bill Clinton also reaped the benefits from a natural economic recovery after the recession of 1990-91, with unemployment peaking in mid-1992.
The question, then, is whether a "Third Way" is possible in Maryland, or even desirable. As Change Maryland has shown, the progressives who run this state are bereft of ideas which don't involve tax increases, more power concentrated in Annapolis, deprivation of personal liberty, or some combination of the three. I'd be more inclined to follow the conservative alternative than "attempt to synthesize what some regarded as the best ideas of the left and the right" because the left, in my humble opinion, has nothing which can be considered a "best idea." We've tried their way at both the state and (arguably) a national level since 2007 and we see where we are.
Over the next week we will hopefully get more of a glimpse behind the curtain of a Hogan administration, but based on initial rhetoric those who really wish to change Maryland for the better could be a little disappointed. Hopefully my initial impression is misplaced.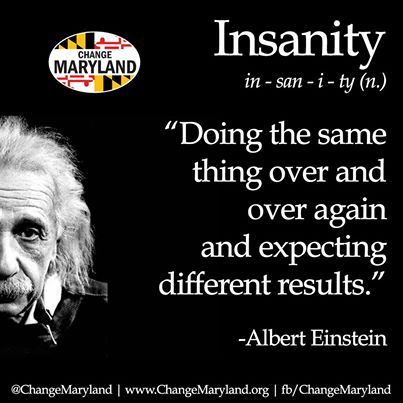 According to John Wagner in the Washington Post, Larry Hogan will formally announce his candidacy for governor on January 21 in Annapolis. It's two months later than some thought he would – and about six months after this observer thought he should get in – but nonetheless the announcement will come a week from Tuesday.
Even with the brief Wagner piece, there are some things to watch for. For example, Jeff Quinton notes that Hogan's campaign chairman is a veteran of the Democratic Glendening administration, although Quinton later concedes James Brady has given mostly to Republicans in recent years. It fits in with the Hogan pattern of emphasizing support from both sides of the aisle, which has been a staple of Change Maryland's rhetoric over the last couple years.
Personally, though, I would be more interested to know which legislators are planning to meet with Hogan this upcoming week. With just 55 General Assembly Republicans – who already have one of their own in the race in Delegate Ron George – the identity of those participants will be vital in knowing how the race will proceed. Obviously if a Democrat bucks party lines to show support for Larry it would be a coup, too.
And while I disagreed with Hogan's decision to wait until January to announce, it will give his campaign the advantage of knowing where his opponents stand financially as reports for 2013 are due this coming week. If one of his three Republican aspirants trails badly in the race, we may see some consolidation knowing from past experience Hogan is willing to lend himself seed money.
Now it's time for something a little different. Due to a confluence of events I couldn't make it to Turning the Tides this year. But in the reports I've been seeing it doesn't appear any of the gubernatorial candidates stopped by. That may not be the case, but I read from Facebook that David Craig's itinerary didn't include the event, and I would have thought either of the other two would have made sure to mention their attendance on social media. Since I'm prewriting this by a few hours I'm waiting to see some of the "blogger's row" coverage but it's disappointing to me if the GOP candidates didn't get there to at least say hello. Maybe that's how the organizers and activists wanted it, but I would be curious to know how (or even if) various campaigns represented themselves.
Anyway, the nine days leading up to Larry Hogan's formal announcement will also be a time of transition for Change Maryland. Who will be put in charge of the 74,000 strong organization while Larry Hogan runs? And can they succeed as Hogan has?
There's a lot to look for in the next week or two on the political front.
Update (h/t Jackie Wellfonder):
@monoblogueUS Ron George was the only one that stopped by.

— Jackie Wellfonder (@Wellfonder) January 12, 2014
Thanks, Jackie! I kind of figured he would be there since it was close by for him.
Update 2: Here's the link to his gubernatorial website, which just has an announcement slide at the moment.
Back when Change Maryland released the first teaser for this pay-to-play report sent out to media outlets today, I guessed that the release would precede the official announcement of Larry Hogan's intentions by a couple days, in order to extend the news cycle surrounding hie entry into the race. But instead it came out today, just two days before the beginning of the General Assembly session and nowhere near Hogan's yet-to-be-scheduled formal announcement.
And honestly, aside from the documentation of what Change Maryland terms a "deliberate, coordinated effort by this administration to to circumvent the intent of the law" and the influence it bought, the 15-page report on "alleged unethical relationships" begs the question: what can we do about it? Their lone attempt to address the situation notes:
Job creators looking to establish their business in the mid-Atlantic region want a stable and predictable business climate. They want to conduct their business without the heavy hand of politicians shaking them down for hundreds of thousands in ethically questionable political donations.

For the sake of transparency and good governance, we believe these allegations seriously warrant further investigation.
All this is correct as far as it goes, but probably the earliest we could have some sort of formal investigation would be 2015, after O'Malley is safely out of office – and only if a Republican wins the governorship. Even then, the cacophany of "this is just old news, nothing to see here, let's just move forward" will be shrill coming from the current majority party.
On the other hand, I will say I got a little more direction from Hogan's remarks accompanying the release of the document.
Our research reveals a disturbing pattern from this administration that is at the very least unethical and inappropriate. The people of Maryland deserve to know the truth about these donations and the state decisions that may have been influenced. Did the Governor solicit large contributions to help further his national aspirations and reward those donors with huge state contracts and favorable decisions?

Allowing a 'pay-to-play' culture of corruption to take a stronghold in our state government threatens every business and individual in Maryland. Even the perception of this practice prevents an honest and fair bidding process for all job creators who may wish to contract with the state. It allows complicit politicians to hijack millions, and even billions in taxpayer dollars that could serve a greater purpose, both in the government and in the wallets of struggling Maryland families.

Unfortunately, this culture of corruption is enabled when you have a political monopoly with no checks and balances. For almost eight years, this administration has run amuck without any accountability, and it's Maryland's working families who have paid the price. This is just the tip of the iceberg – we believe these allegations seriously warrant further investigation. (Emphasis mine.)
Hey, now there's something to sink our teeth into! It seems some other party used the "culture of corruption" mantra to take over Congress after 12 years of minority status, so why can't Republicans try and chip into 150 years of being on the losing side in this state? It can't hurt.
The trick will be explaining just how this affects the average Marylander who knows instinctively that the state's machine politics is rife with decay and corruption, but feels powerless to affect it. I'm just one vote, he may say.
That's not necessarily true, though. When I get e-mail from the 9-12 Delaware Patriots, it ends with the tagline "you are not just one, you are one more." If Change Maryland really has 73,000 activists who are clamoring for an end to the pay-to-play mentality in this state, the issue will be there for 2014. It will be up to candidate Larry Hogan to show leadership in the direction he wants to take us.
It's far past time to clean up the state and end the Maryland culture of corruption.
I let this go by in the midst of my series looking forward at 2014, but on Monday Change Maryland released yet another in a series of Chinese water torture-style droplets of allegations on Maryland's "pay-to-play" political patronage system. $650,000 in contributions to a governor for a $4 million contract is a pretty good return on investment in anyone's book.
There's no doubt kudos are due to Change Maryland for finding and releasing this information, but my serious question is simple: how would they do things differently?
Listen, political corruption is not something restricted to Democrats in Maryland, although they seem to enjoy finding new methods to perfect the art. Give certain people the authority and lack of oversight to flout the rules and those certain people will be quick to slide their grimy fingers into the pie. I think that has less to do with the political party in power than it does a political philosophy, since there are likely a number of scoundrels inhabiting the Republican-controlled states of Oklahoma, Texas, Utah, and so forth who are in the party just for the access to power it has.
I think people – for the most part – understand and agree these allegations are just the tip of the iceberg of a much larger problem endemic in Maryland and across the country. But what I'm missing here is Change Maryland's prescribed solution, for it may take many forms, with the most likely cure coming from the aspect of campaign finance reforms. Sure, these may be necessary – but are they the real solution?
The problem to me isn't in the health care exchanges, the bidding process for state contracts, or within any of the several other contributions noted by Change Maryland over the last couple weeks. It's not even the "healthy and competitive two-party system" Hogan was quoted as wishing for during a previous release. I think it's the very existence of a huge pot of money in Annapolis called the state government, an entity which has become so vastly bloated and too powerful for our own good. Shrink the size and scope of government and there's less incentive to "pay-to-play." I'm surprised Change Maryland is overlooking this simple solution, unless the idea is just to change the list of cronies benefitting – I damn sure hope for better than that out of a Hogan administration.
I would feel somewhat more comfortable that ne'er-do-wells would be less tempted by a $27 billion budget than a $37 billion one. There's no way the state of Maryland, doing its legitimate functions, can subsist on no money at all but trimming back to essential functions is a first step in the cleanup process, long before any restrictions on campaign finance take hold. That's a good way to change Maryland.
Yesterday I looked at how 2014 looks in Wicomico County, but much – too much, as I see it – of their decision-making is truly made in Annapolis. And with current governor Martin O'Malley attempting to burnish his credentials for a position inside Hillary Clinton's administration – oh wait, he's supposedly running himself, isn't he? – it's important to him that he establish himself with the progressive crowd.
What this means for us is that no tax increase is off the table, but it's more likely we will see renewed efforts at green energy, gun control, and salvaging the failed Obamacare rollout in Maryland – but if worse comes to worse, it's Anthony Brown who will be thrown under the bus. In the decision between a Maryland legacy and a White House bid, well, no lieutenant governor has succeeded his boss anyway.
Brown is probably the conventional wisdom favorite to succeed O'Malley and become Maryland's first black governor; of course there are other main contenders on both sides. Attorney General Doug Gansler seems to be the Democrats' backup plan but has endured a rocky start to his campaign; meanwhile Delegate Heather Mizeur seems to be the one establishing a number of truly far-left issues in the campaign – witness her idea for marijuana legalization.
On the Republican side, three top contenders seem to be out to appeal most to the conservative crowd, with a fourth joining the field in January. Harford County Executive David Craig obviously has the most well-rounded political resume, but Delegate Ron George represents a more populous area around Annapolis. Charles Lollar is running the most populist campaign, but he may receive a run for his money once the social media-savvy Larry Hogan formally enters the race next month. His Change Maryland Facebook page claims over 70,000 supporters of all political stripes – in a four-way Republican race, 70,000 votes might be enough.
There are only two other statewide races this year, since there's no Senate race this cycle. With Attorney General Gansler abandoning his post to try for governor, there are four Democratic members of the General Assembly out to succeed him – Aisha Braveboy, Jon Cardin, Bill Frick, and Brian Frosh all seek the seat, and all but Cardin have officially filed. No one has yet filed on the GOP side, but 2012 U.S. Senate candidate Richard Douglas seems to be leaning toward a run, allowing the Republicans to avoid the ignominy of whiffing on a statewide race for the second cycle in a row.
Things are shaping up as a rematch of 2010 in the Comptroller's race, as Republican William Campbell is again challenging incumbent Peter Franchot.
With so many members of the General Assembly attempting to move up to higher offices, it creates a cascading effect in the various General Assembly races. While the GOP is probably not going to see a General Assembly majority in the 2015-18 cycle – and has the headwind of being redistricted in such a manner to try and cut their minority – being on the wrong side of a lot of issues may make it tricky for Democrats to not lose seats. Republicans have a goal of picking up seven Senate seats, giving them 19 and allowing them to filibuster, and wouldn't be unhappy with picking up the four House seats required to possibly bypass committee votes on key issues.
As I noted above, though, the key issues will be revealed once O'Malley introduces his legislative package to the General Assembly in mid-January, shortly before his annual State of the State address. Last year he got his gas tax increase to build the Red Line and Purple Line, authorization for offshore wind, and his onerous gun restrictions in the wake of the Sandy Hook tragedy, so this year's agenda will probably pivot back to measures he believes will help the state's economy but in reality will probably redistribute even more wealth from the productive to the slothful, growing government at an even faster pace. Many of those dollars will address perceived shortcomings in education and health care.
That seems to be how O'Malley's last package of revenue enhancements has worked, because the state once again is facing a structural deficit despite rosy predictions to the contrary. Old chestnuts like increasing the cigarette tax or combined reporting of business income will probably jostle for primary position with new initiatives like a mileage tax, additional penalties for cell phone usage, or a higher toll for being caught by speed cameras.
It's somewhat difficult to predict the direction of the General Assembly before it begins, as items not on the radar in early January become bills introduced late in the session, some of which pass muster. The gasoline tax in its adopted form was one of those last year, since conventional wisdom predicted a straight per-gallon increase rather than the adoption of a partial sales tax which will increase regularly. Another dynamic which will affect timing is having the filing deadline for the 2014 ballot come during session – surely some will wait and see what their path to re-election looks like before introducing certain controversial bills. In previous elections the filing deadline occurred well after the session was over.
Once we get beyond the session in April, the primary campaign will ramp up immediately because of the new experience of a June primary. The Democrats tried to change this eight years ago, fearing a bruising primary fight between Doug Duncan and Martin O'Malley, but succeeded this time because of changes in federal law requiring longer lead times for overseas military voters. Instead of pushing the primary back a couple weeks to comply, though, they decided on a full 2 1/2 months.
At this point there are three main contenders on the Democratic side, and I think that number will stay the same – my thought is either Dutch Ruppersberger will pass up the race (more likely) or, if Dutch gets in, the damaged goods of Doug Gansler will drop out. Obviously there will be more than three on the ballot but some fall under the auspices of perennial candidates who I think are just working on that line in their obituary where it says so-and-so ran for governor five times.
For the GOP, the same is true. In their case, I don't think there's enough money out there for four main contenders and whoever raised the least in 2013 is probably the one who exits the race after Larry Hogan makes it formal. In Hogan's 2010 gubernatorial bid he lent his campaign $325,000 so presumably Hogan has the personal wherewithal to use as seed money; perhaps the dropout will agree to be the running mate of another contender.
It's interesting, though, that the problems Maryland faces – at least the ones not of their own making, a category in which I'd include the overregulation of local county and municipal governments – are very similar to those faced right here in Wicomico County. Maryland has the "benefit" of being the host state for thousands of federal government worker bees, but little industry to speak of. It's notable the campaigns are now paying lip service to the concept of re-establishing a manufacturing base, but the process will take at least a couple terms of office and will certainly be at odds with the stated goals of some among the Radical Green who desire a pristine Chesapeake Bay. Development and a reasonably clean Bay can co-exist, but if you want circa-1600 conditions that won't happen.
And because there are so many who depend on government for their livelihood as workers – or survival as dependents – the concept of "One Maryland" is laughable on its face. The needs of Baltimore City or Somerset County residents don't often coincide with the desires of your average denizen of Takoma Park or Chevy Chase, but supposedly they are all "One Maryland." I think there are at least four Marylands – the energy-rich areas of the state's panhandle, the I-95/I-270 corridors stretching from Harford County on the north to the Beltway suburbs hard by the District of Columbia and back towards Frederick, the bedroom suburbs of southern Maryland which are rapidly changing in political posture, and the Eastern Shore, where agriculture and tourism coexist, but in an occasional state of hostility. One can't even say that their needs are similar because jobs are plentiful around D.C. but tougher to come by on the Eastern Shore and in Baltimore proper.
It's not likely one man (or woman) can unite these areas, but the question is which coalitions will hold sway. Finding the right combination will be the key to success for the state in 2014.
Damn, I can't wait for this report to come out. Almost makes me wish Larry Hogan would drop this governor's business and focus on getting more of this information out because too many will dismiss it as partisan opposition research:
Change Maryland has released new information that seems to reveal the appearance of a "pay-to-play" system within the O'Malley-Brown Administration where contractors received significant benefits from the state either before or after their donations to the Democratic Governors Association during Governor O'Malley's tenure as its chairman.

"This additional data further suggests a disturbing pattern of behavior that, at the very least, is unethical and inappropriate," said Larry Hogan, Chairman of Change Maryland. "I think the public has a right to know the truth about these practices. Did the governor and/or others in his administration solicit large contributions from contractors, then reciprocate by rewarding those donors with huge state contracts, contract extensions, or other special favors or decisions in return?" he added.

Obviously this has serious implications and gives the appearance of the potential for decisions being influenced by millions of dollars in "donations." Recognizing the inappropriate and unethical nature of these relationships, state law currently prohibits state contractors from making contributions to an elected official's campaign account. This evidence indicates the possibility of a deliberate, coordinated effort by this administration to circumvent the intent of the law by soliciting huge, unlimited contributions to a federal, rather than state, account.

The report released today by Change Maryland shows that healthcare services company Express Scripts received a $2.3 billion contract despite serious concerns about the company's legal issues in Maryland and 28 other states. In 2008, the company paid over $9.3 billion in settlement costs to these states.

From March 2011 to February 2012, the Maryland Board of Public Works was deciding whether to approve the lucrative contract to Express Scripts to provide prescription drug services to state employees. In March 2011, two of the three members voted to postpone a decision out of concerns about the company's legal issues and several flaws in the procurement process. Governor O'Malley was the lone vote to move forward with the contract.

During this same time, Medco – a company looking to merge with Express Scripts – donated a combined $225,000 to the DGA. In fact, their first contribution came just six days after Governor O'Malley cast the lone vote to move forward with the drug contract.

In late January 2012, the Board of Public Works again voted to delay the contract award, drawing significant criticism from Governor O'Malley at the time who complained about the endless delays. One month later, the BPW reversed course, awarding the contract to Express Scripts in a two to one vote. On March 27, 2012, Medco made their second and final donation to the DGA: $125,000. Medco and Express Scripts received final Federal Trade Commission (FTC) approval for their merger on April 2, 2012.

"Maryland's working families deserve better from their elected leaders," Hogan said. "This is what happens when you have an arrogant monopoly that feels they can get away with anything. What Maryland desperately needs is a healthy and competitive two party system, open and honest debate, and some real checks and balances to keep some of these outrageous abuses from taking place."

In addition to this most recent research, Change Maryland released other questionable contributions from state contractors to the DGA.
Update: I was informed by a representative of Express Scripts that the correct settlement figure is $9.8 million (not billion.) This is incorrect in the original Change Maryland release, so I left the release as is and opted to clarify here.
Hogan's group seems to be taking the Chinese water torture approach, leaking information on this report a drop at a time to both make the opposition wonder what else he's got and keep up interest in the runup to the release.
This series seems to leave me torn as well. I'm an advocate for unfettered political contributions, even at the risk of these apparent pay-to-play contributions. But I also want full and relatively instant disclosure, and even though these are federal releases with a more aggressive reporting schedule than state accounts – at least in non-election years – there's still a significant lag time involved.
The allegations also raise another embarrassing question: where was the state's major media in reporting this? Didn't anyone wonder why the vote changed? Certainly Comptroller Peter Franchot had his reasons for maintaining his vote against the issue; the vote which changed was treasurer Nancy Kopp – interesting, because hers is not an elected post. (The transcript of that meeting is painful to read because the state really seemed to drop the ball on a $2.3 billion contract, dropping a Maryland-based provider for the aforementioned Express Scripts.)
What I'm afraid of is that this Change Maryland report will be both the tip of the iceberg and dismissed as "old news" because Martin O'Malley isn't running for anything in Maryland and Anthony Brown will escape culpability because Larry Hogan is now a political opponent instead of an honest broker.
We need to clean out the swamp, it's true, but in order to clean it we have to secure the tools to do so first. I think it would also be a good idea for Change Maryland to reveal where it gets its funding, just to show leadership. That's my two cents.