There's no doubt the importance of the 2014 elections in Maryland can't be overstated. At stake will be the very direction of the state: will it continue to re-elect the same failed liberal leadership that's been bleeding jobs (and may continue to do so) and can't seem to balance a budget, or will it try the GOP alternative that at least promises to reduce the state's onerous personal tax burden, depending on whether the victor is David Craig, Ron George, Larry Hogan, or Charles Lollar? And will the GOP get to those magical numbers of 48 Delegates and 19 Senators which will allow it to be a viable minority party?
To address the latter point, it's worth mentioning that the GOP has conceded 46 House seats and 14 Senate seats to the Democrats because they couldn't find a willing candidate. Most of these vacancies are in what I call the 10, 20, and 40 districts, which in the state's numbering system cover areas around Washington, D.C. and inner-city Baltimore – basically the counties and Baltimore City which haven't quite figured out yet that it would be in their best interest to divest themselves from big government and voted for Martin O'Malley and Barack Obama. Most of the areas which backed Bob Ehrlich and Mitt Romney lie in the districts with single digits 1 through 9 or in the 30s. (For reference, here on the Eastern Shore we have districts 36, 37, and 38.) In the latter areas, Democrats conceded five House seats and three in the Senate, so at play are a total of 90 House seats and 30 Senate seats. In order to get to 48 and 19, respectively, the MDGOP has to win 43 out of 90 races in the House and 16 of 30 in the Senate.
We obviously won't know those results until November, and they will go a long way in determining the fate of the Free State. They will also go a long way in determining who will lead the party over the next four two years, and I think Diana Waterman is working hard to overcome her early missteps – so would she be in the mix for a full four-year term starting this November? (Corrected: I forgot we changed the bylaws a couple years ago to a two-year term starting in 2014, to match the national party.)
Certainly many have been impressed with her response to the ill-considered HB1513 on behalf of the state's Central Committees, which Joe Steffen elaborated on yesterday. But she's also been careful to reiterate that Central Committees cannot endorse candidates in contested primaries (although individual members can) and that our terms run until the election is over. (This year's Fall Convention doubles as the quadrennial organizational meeting for the party, when new members are officially sworn in.)
And she also reminded us:
I'm sure you're getting tired of hearing this but our number one job is to get Republicans elected. This is our time – the stage is almost set (Primary first to determine who will be facing off against the Democrat). The only way we will be successful is by working together. We are outnumbered. We must find a way to pull together – even if don't see eye to eye with the candidate or some of their volunteers. And I expect all of us to run clean campaigns so that they day after the Primary we can stand together and show our complete support for our ballot. I promise you, no matter who the candidate is, even if they were not your candidate, that you will have more in common with them than you will the Democrat on the other side of the ballot. I am not asking you to yield on any of your principles but to remember, even if the candidate who won the Primary is too conservative or too moderate for you – they are better than the Democrats who have a strangle hold on everything in our State. For starters, the Democrat who wins in the Legislature will case their first vote for Mike Miller or Mike Busch. And it just goes downhill from there!
Precisely. So the question is whether the grassroots and activists will follow, or take their ball and stay home on election day if their chosen candidate doesn't win. Remember, based on the polls we've had so far, a majority of voters will not have their first choice be the nominee for governor; unlike other states, we don't have a runoff to ensure majority support.
That healing process has to start June 25, because I know from experience that the other side sucks it up and gets behind whoever they pick, generally having their arguments behind closed doors.
But if Diana Waterman can pull off these electoral miracles with very little money and the more than 2-to-1 registration disadvantage with which we're currently handicapped, the only races we may have would be for the vice-Chair positions. I can't see the Republican winner wanting to put "their guy" in as the party chair after success like that. She's mended some fences over her term, and standing up for the Central Committees may allow her to climb out of the hole she dug early on.
The other day I got an interesting note from onetime Maryland Senate candidate turned campaign director Chris Cavey. I'll just start with it and comment later.
Michael,

Just wanted to write you a quick note of congratulations as an officially filled Wicomico Central Committee candidate! I think you have made a wonderful choice. Building our party has long been a personal cause of mine and I am proud to say my name is on the ballot for Central Committee in Baltimore County – so, perhaps we will be working together building a stronger MDGOP during the next four years.

You should know Larry Hogan has also been very committed to our party for many, many years. Not only did he run several of his father's campaigns and serve for many years on the Prince George's Central Committee; but he has been to several national conventions including 1976 where he Chaired Youth for Reagan! Over the past several years Larry has been a major sponsor of MDGOP including hosting numerous events for the party – and many convention hospitality suites. We were proud to have our Change Maryland Fall Harvest Party in conjunction with MDGOP at this past Winter Convention in Annapolis. It was quite a success with over 1100 people in attendance.

Campaigns are exciting and addictive for people like me who are political junkies. I halted my Senate Campaign in District 42 to work fulltime for Larry – and I am very committed and pumped about the Hogan for Governor Campaign. Since our announcement, just five short weeks ago, we have hit the road at a sprint. The on-line presence with over 80,000 Facebook friends creating new volunteers every day has actually shocked me and I believe it will be a wonderful outreach for our party.

It is very rewarding, for a long time Central Committee member like me, to see so many new and excited people wanting to volunteer. In these few short weeks we have had three major fundraisers each exceeding expectations. Our mail program and on-line donations have been outstanding. Internal polling has us in very good position and we were very pleased to see similar reflections in outside public polling. Long story short – all is well.

Please feel free to call or contact me anytime should you wish to coordinate or work with the Hogan Campaign. My job as Campaign Director includes working with you as a candidate, all Central Committees and MDGOP. Our campaign has made the decision that we are open to helping all GOP candidates, working directly with each County Committee and MDGOP as we each work hard to change Maryland.

See you on the campaign trail!

Chris Cavey
Campaign Director
I guess what made it funny for me is that certainly Chris knows who I am since I've been on our Central Committee for eight years – he was first vice-chair under Jim Pelura. I'm sure someone from Larry's campaign just went through the hundreds of Central Committee candidate files, pulled out their e-mail addresses, and blasted out this form letter regardless if they were running for the first time or the tenth. The only fields they had to rearrange were the first name and the county.
Well, first things first: I've been trying in my own special way to build this party for eight-plus years, so I wish your boss wouldn't be so coy about how he will reach out to people who care about a number of issues: education, the environment, Second Amendment rights, and agriculture being chief among them. We are well aware of all the tax increases we've been forced to endure – if we didn't vote with our feet and leave the state, as Change Maryland has so often pointed out – and we know economic conditions here are lacking. But those aren't the only issues and all I hear from your boss is the same message of how Change Maryland appeals to independents and how bad the situation is right now. Remember, I was at the Change Maryland party in November, in part because I figured he'd actually make it official that night.
Yet there's a line I find interesting in your e-mail:
 The on-line presence with over 80,000 Facebook friends creating new volunteers every day has actually shocked me and I believe it will be a wonderful outreach for our party.
So it leads me to a question: what if Larry either isn't the nominee or doesn't win in November? Does Change Maryland go on, and will you share resources with the Maryland GOP? One criticism I heard in the years following Bob Ehrlich's defeat was that the party was still overly oriented to Bob's success rather than trying to be there for everyone. I'm sure there were some who were relieved when Bob lost in 2010, taking the short-term pain in looking at the long road because the party could finally move on from the Ehrlich legacy – let's face it, we're not exactly talking about Ronald Reagan here.
So Chris, if Larry wins, this will not be the Maryland Larry Hogan Party, it will be the Maryland Republican Party. We will work appropriately for his re-election but not exclusively as it seemed, by many accounts, like the MDGOP did from 2002-06 (and even during O'Malley's first term, when Larry ran the first time before ceding the field to "my friend" Bob.)
Finally, you may want to make sure April 12 is clear on your calendar because it looks like that will be the date of our Lincoln Day Dinner. I understand Larry is in demand for fundraisers but we would kinda like him to show up at our LDD since no candidate has a home-field advantage here and we just might want him to say a few words.
Listen, I really would like to back Larry but so far I don't know where he stands on a lot of important issues. He has a good overall message but one thing I've found about certain candidates is that once you look deeper into what they have to say, they tend to either contradict themselves over time or they pander to the crowd they're speaking in front of. I suppose Larry's keeping it simple to stay on message but sooner or later people like me have to ask and there has to be more than one dimension. We know it's easy to be the opposition party and stand on the sidelines, so – aside from the three-point test Larry touts – how will he govern and lead?
There you have my response, Chris. Color me skeptical – and still undecided – for now.
There is an older lady I'm familiar with from various political functions who is a David Craig supporter. During this campaign, since Craig was the first to announce, she would ask "has anyone else announced yet?" And once Craig selected Jeannie Haddaway as his running mate, she would then ask "Well, does so-and-so have a running mate? You need one to file."
Well, lady, the answer to the latter question is now "yes" in Larry Hogan's case. As part of his delayed gala announcement he's selected former Ehrlich Administration official Boyd Rutherford as his ticketmate.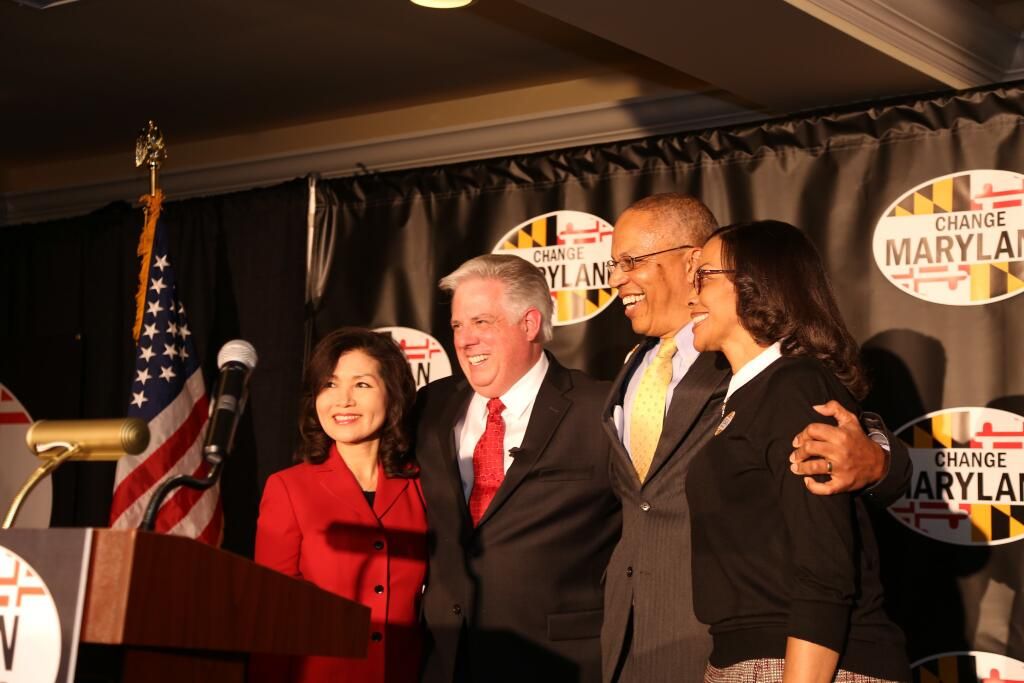 There's no question that this will lead to the portrayal of Larry Hogan as the lost second term of Bob Ehrlich, since both members of the Hogan/Rutherford team have served in his administration as secretaries. After leaving the Ehrlich administration at the behest of President George W. Bush in 2006, Rutherford has tried his hand at some other enterprises.
This certainly presents a study in contrasts with some of the other tickets: Anthony Brown, whose background is mostly legislative aside from serving as Martin O'Malley's caddy for the last eight years, selected a county executive with a large campaign warchest. Doug Gansler, who came up through the legal ranks, picked a legislator, and Heather Mizeur, a Delegate, selected someone outside of politics entirely, an activist minister. Fellow Republican David Craig, a career politician, looked to a youthful but experienced Delegate.
Rutherford described his role simply:
Accordingly, my pledge to you is simple:  When Governor Hogan assigns this Lieutenant Governor a policy initiative to implement, I will question and I will monitor, and I will safeguard the spending of your tax dollars every waking hour.
That statement had to be a dig at Anthony Brown, who trumpeted his heavy involvement in the Maryland Health Connection until it flopped like a dying flounder. Suddenly he wasn't as responsible.
Also interesting to me is the fact that Hogan is now beginning to flesh out his campaign and his positions. Obviously he has his priorities in order, although I don't understand the emphasis on "middle class." I like to think of people as apriring to get beyond middle class.
This also puts the pressure on the other two in the race to find their lieutenant governor candidates. With less than a month before the filing deadline, and with a significantly weaker financial standing than the others in the race, Ron George and Charles Lollar will need to convince someone to join their campaign.
So six months or so after I thought he should have entered, the evolution of Change Maryland to Larry Hogan campaign team is complete. And while Hogan enters as the candidate with the most hype, the question is whether there's more substance than sizzle.
First of all, I want to give the tip of the hat to Joe Steffen for noticing this. Admittedly, he was skeptical of the very first line – and so was I – but I don't perceive that Joe Steffen and Larry Hogan are on each other's Christmas card lists so I wanted to read the Hogan op-ed for myself. Granted, I was floored enough to ask "really?" in reaction to Joe's Facebook post.
Obviously I have some comments, but I think this lays out where the Hogan campaign is going – a populist assault on the Annapolis "establishment." Yet Hogan isn't exactly an outsider to that clique because he was Secretary of Appointments under Bob Ehrlich, and deferred a 2010 gubernatorial run in order to clear the way for the "establishment" choice in Bob Ehrlich. I find that a mixed message based on the messenger.
Having said that, though, a continuance of the ongoing criticism of the current majority party from Change Maryland since its 2011 inception wouldn't be a bad thing. The trick will be fleshing out the alternative, and Hogan's "Third Way" speaks to revisions in the way we govern ourselves through inclusiveness, transparency, and efficiency. In that latter realm he actually covers many of the same points Ron George has brought up with his campaign promise of auditing the state government.
Hogan concludes with a promise of "a renewed focus on building Maryland's private sector and business climate." I would hope that would be the first priority, not a throwaway line at the end of an op-ed.
But I think the parts of Hogan's op-ed which bother conservatives in Maryland the most are the invocation of Bill Clinton as a model and the implication that we need a Clinton-esque "Third Way." Admittedly, Hogan seems to be basing his campaign on the populist appeal of being "bipartisan," always stressing that a large number of Democrats and independents support Change Maryland. There's no doubt we need at least some of each to win since the majority of Maryland voters haven't yet seen the folly of being so heavily registered with a majority party which places their pursuit of power over the needs of the average Marylander, thereby regularly voting for that legislative majority against their self-interest.
Yet Hogan's Clinton "Third Way" invocation bears the reminder that many of his signature achievements such as welfare reform, federal budgets with a modest surplus, and overall prosperity came from the period where he dealt with the Gingrich-led Republican Congress which dragged him kicking and screaming into enacting these changes. Left to his own devices and a Democratic majority in Congress, we would have had massive budget deficits and Hillarycare, since that's the path we were on until the Contract With America and the 1994 midterms interceded. Bill Clinton also reaped the benefits from a natural economic recovery after the recession of 1990-91, with unemployment peaking in mid-1992.
The question, then, is whether a "Third Way" is possible in Maryland, or even desirable. As Change Maryland has shown, the progressives who run this state are bereft of ideas which don't involve tax increases, more power concentrated in Annapolis, deprivation of personal liberty, or some combination of the three. I'd be more inclined to follow the conservative alternative than "attempt to synthesize what some regarded as the best ideas of the left and the right" because the left, in my humble opinion, has nothing which can be considered a "best idea." We've tried their way at both the state and (arguably) a national level since 2007 and we see where we are.
Over the next week we will hopefully get more of a glimpse behind the curtain of a Hogan administration, but based on initial rhetoric those who really wish to change Maryland for the better could be a little disappointed. Hopefully my initial impression is misplaced.
There are occasions in life where everything goes full circle, bringing you back to where you began – just older and (hopefully) wiser.
So it is with the political journey of Carmen Amedori, who's been quiet on these pages for some time as she tried to build a real estate business in Ocean City. It was a well-deserved respite after a tumultous few years which took her from the House of Delegates seat she won in Carroll County in 1998 to an appointment by then-Governor Bob Ehrlich to the Maryland Parole Commission in 2004, where she served five years.
But 2010 was Amedori's year of chaos, pinballing between an abortive run for the U.S. Senate, a 10-day stint as gubernatorial challenger Brian Murphy's running mate – a move she later regretted – then, after winning a seat on the Worcester County Republican Central Committee in September 2010 she considered a run for state Republican Party chair before later backing out.
So imagine my surprise when I saw this linked on my Facebook page:
Former state Delegate and Maryland Parole Commissioner Carmen Amedori has filed her candidacy for the Maryland House of Delegates Legislative District 5 Carroll County. Amedori represented Carroll County in the House from 1999 to 2004. In 2004, she was appointed to the Maryland Parole Commission where she served five and a half years as a Parole Commissioner.

"It would be an honor, once again, to work for the citizens of Carroll County and serve as their voice on issues such as no tax increases, protections for the unborn child, and the Second Amendment for gun owners, and defeating Common Core curriculum in our schools," Amedori said. "Under the eight years of O'Malley-Brown administration citizens have been overburdened with more taxes and fees which the current House delegation did not fight hard enough against. As a knee-jerk reaction to rogue school shootings one of the most restrictive anti-gun legislation packages was passed hindering law-abiding citizens from exercising their right to purchase and own a firearm. We need to do more and do it better. We need a stronger voice in Annapolis from our House delegation."

"Our House delegation has had problems getting legislation passed in Annapolis such as the non-profit Casino bill. This is a revenue issue and our non-profit volunteer fire companies will benefit by it. I would work to eliminate the current gridlock on local legislation and would enjoy working with our Senate delegation as a unified voice for Carroll County. I am excited to begin my campaign to put Carroll County first."

"I have been encouraged by many of Carroll's constituents and friends to run," Amedori said. "They are looking for conservative representation in the House from a person they can trust, and who will uphold their oath to honor the Constitution and vote accordingly."
At this moment, Amedori joins a field with three incumbent legislators, two of whom were redistricted into the revamped District 5. Donald Elliott was elected in District 4B, which covered both Carroll and Frederick counties, while Susan Krebs hails from the Carroll side of District 9B, which also covered a portion of Howard County. Justin Ready already represents Carroll in the former District 5A. The new map somewhat resembles the district Amedori was originally elected in, a time when she served with both Elliott and (later) Krebs in the General Assembly. Ready was first elected in 2010.
Of course, the obvious question for voters in Carroll County will be whether Carmen's heart is in this, given her recent tendencies. Then again, she won two elections in Carroll County so she had some appeal to voters back then. Will everything old become new again, and if so, at who's expense?
Finally we have arrived at the end – well, sort of, as I'll explain.
Basically what this part is about are those other issues which don't rise to the level of a full portion of this vetting, but I think are worth mentioning. Unique among the sub-portions of my evaluation is that I can add or subtract up to three points in this section, so it makes a pretty good difference. Another difference is in format, as I will respond to each point in turn.
**********
David Craig:  I will fully fund Program Open Space, stop raiding the funds and stop spending the money on pork barrel projects like artificial turf fields for high school sports stadiums. (campaign website)
Sorry, David, I can't support this. Program Open Space is a great way for the state to take up more land it doesn't need at a loss to both the local entity the parcel is part of (via lowered taxable area) and remaining taxpayers who take up the slack. If anything, Program Open Space should be defunded and excess state property returned to the private sector. Bob Ehrlich tried this and was pilloried, but the concept was sound.
*
When queried about social issues, particularly being pro-life, Craig related that he didn't push the issue with his children, but was pleased that they turned out as pro-life as they did. David also pointed out that he voted in a pro-life fashion during his time in the General Assembly. But he would rather have 5 million Marylanders decide than 188 in the General Assembly. Jeannie echoed the overall stance, adding for her part she was "conservative, Christian, pro-life." (WCRC meeting, July 22, 2013)
Being pro-life isn't as much of a litmus test for me as it is some others, but I brought it up because I thought it was important.
*
While on Steiner's show, Craig sidestepped a question about whether he would have vetoed a bill passed last year legalizing same-sex marriage.
He noted that as county executive, he has rarely used his veto powers and said that he thought it was good for Marylanders to have a chance to vote on the measure.
The marriage law was petitioned to the ballot by opponents after O'Malley signed it last year.
"I think it's important that the people of Maryland spoke on that," Craig said.
He also took issue with the state's repeal of the death penalty, which he said prosecutors see as important tool. (Washington Post, May 31, 2013)
Here is a place where I disagree with the philosophy of Craig.
If you're going to make a stand on an issue, it's entirely appropriate to use the veto pen. If he wouldn't have vetoed the bill, I'm led to assume he supports it. By the same token, where was he in supporting the death penalty when something could have been done? This could have gone to referendum but the effort died.
I'm fine with civil unions, but not gay marriage. Yes, it's more or less a question of semantics but to me marriage between opposite genders is an apple and a union between those of the same gender is an orange. They shouldn't share the same term. Just because the slim majority of voters supported it on a day when disillusioned conservatives stayed home because they didn't care for their presidential nominee doesn't mean it's really settled. What if there had been a special election on the matter – would conservatives have been the ones to show up and vote it down?
Furthermore. I pointed out when the bill passed committee that legislators may not have wanted it on the ballot with them in 2014.
There's a reason we have 188 legislators to represent 5 (actually 6) million Marylanders. If they do their job wrong, it's up to you to correct it, not leaving it to the whims of 5 million Marylanders. That referendum backstop is for the times when the General Assembly gets it egregiously wrong with the governor's approval, such as gay marriage.
Ron George: Demanding the highest standards of ethics and conduct creating a government that is more responsive to individuals regardless of income or party affiliation.
Require the automatic forfeiture of retirement benefits for any elected official that is convicted of abusing their office for political gain.
Reforming our prisons to make them true rehabilitation facilities with drug and alcohol rehab, education and financial literacy courses.
Create and enforce drug free zones around community recreation centers, schools and public housing with stiffer penalties. (campaign site)
I can live with points one and two, but the third and fourth points seem to work at cross purposes with each other. Not only will it cost a lot more to run our prison system if the additional features are included, the additional drug penalties will create more inmates. The more I see the effect of the so-called War on Drugs, the more I tend to favor decriminalization, if not legalization.
*
"Don't believe a Republican can't get anything done," George said. "People think the enemy is the Democratic Party. It's not. It's apathy."
He added that in a legislature controlled by Democrats, it is important for Republicans to not be ambitious. George said Democratic lawmakers will kill Republican legislation that they like, only to then introduce and pass a near-identical version with their own names on it. He added that it's happened to him several times, and said he still would testify in favor of the bills if he supported them.
"It doesn't matter if your name is on the bill or not. I don't care," George said. (SoMdNews, June 26, 2013)
To me, that doesn't exactly scream Reaganesque leadership. If something is a good idea, we should be ambitious about it; after all – to use a recent news headline – if a small fraction of the population can get a television show cancelled, a tireless minority can turn this state around as well with the proper inspired leadership.
*
"I bristle at how much partisanship gets in the way of getting things done," George said. "I have no problem working with people." (Washington Post, June 5, 2013)
Then you should be ambitious about attaining your goals. Seize the bully pulpit and make the public demand the opposition fall in behind you.
*
"I never ran to the middle," Ron reminded us, "I spoke to the middle." (WCRC meeting, September 23, 2013)
In other words, you brought the other side to you. Now I definitely disagree with some of the ways you accomplished this – particularly the "Green Elephant" phase of your first term – but at least you have some street cred to use for better purposes.
*
And the outcry for Dwyer's resignation is strong – particularly from fellow Anne Arundel County Delegate and gubernatorial candidate Ron George, who advised, "out of concern for others who could be harmed and for Don Dwyer himself, I call on him to resign and get help. His constituents deserve good representation."  (monoblogue, August 21, 2013)
Since Dwyer wasn't convicted of a crime which requires his dismissal from the General Assembly, I have to disagree. The voters of his district will probably speak just as loudly and have a more final decision.
Charles Lollar: Charles Lollar believes in human dignity and recognizes the importance of religious freedom to the people of Maryland.  The State of Maryland was founded to enable its settlers to practice their religion free of government interference.  It is our heritage and Maryland's gift to the nation. (campaign website)
I have a little trouble reconciling that statement with the one in the second part below about not running to be a priest.
*
"It's a tragedy what partisan politics is doing to this country." (appearance at Mike Blizzard fundraiser, September 16, 2013)
This is a favorite straw man to burn. There's a distinction between partisan politics based on principles and partisanship based on power. The debates of old between Republicans and Democrats centered on the former, but Maryland as a one-party state for so many decades is an example of the latter, where politicians join the Democratic machime to help themselves and not their fellow man.
*
"I'm not running to be your priest. I'm running to be your governor."
"I think that every Marylander should have the right to be with whomever they want to be with….I don't think government should be involved in marriage at all – that's not government's business."
"I'm not going to propose any legislation centered around marriage; that's not my job…nor would I lead a charge to change what the people have already done."
"The people of the state have already voted to pass the law."
"I am an advocate of helping organizations that help women sustain their lives…What I would not fund is money to provide an abortion." (blogger interview, June 24, 2013)
I guess I have a problem with this picking and choosing which laws to advocate, unless the idea is to disengage entirely from all these personal decisions, which is a very libertarian approach. If government shouldn't be in the arena of marriage, then I suppose we can bring back common law marriage. Moreover, there is also the aspect of taxation based in large part on deductions married couples are allowed to take, child custody, and many other issues where government has involvement in marriage. Do those go away as well?
I also have an issue with the lame excuse "the people of the state have already voted to pass the law." That doesn't stop activist courts from overturning a vote, which was done in California. Nor did it stop Obamacare, which the people didn't want but Congress passed anyway. If you want the people to pass laws, then there should be a push to have citizen initiatives like other states do. Unfortunately, the masses aren't always proven to be correct and we may rue the votes we took in 2012 a decade or two down the line.
*
"It's very important that I'm non-partisan. We're not going to win with Republican bully politics in this state. You've got some folks that want to win that way. We can't win that way, we won't win that way."  (interview, Raging Against the Rhetoric, July 2013)
*
He said he is frustrated with "the Republican brand," but chose to run as a Republican because his character and ideals most align with that party, he said. (SoMdNews, November 1, 2013)
These two actually go well together, so I will comment on both at the same time.
The first step in winning any election in Maryland is to win your party's nomination, and in Lollar's case that is the GOP. We saw what happened the last time an unaffiliated candidate tried to win statewide – he spent a lot of money to get 15% of the vote, and 15 percent isn't going to cut it.
So maybe this is reality according to Charles Lollar, but that's not the way to get party activists on your side. Granted, there are many who are fed up with the GOP brand but that's because they look for conservative principles while many among the party regulars believe the MDGOP should be a pale pink pastel in a deep blue state, so as not to offend anyone in the middle. All that does is disillusion the base, which is why we don't always get better turnout than Democrats – something which we must have to succeed.
I don't think Republican principles equate to "bully politics."
**********
In looking at these various factors, I end up deducting a little bit of score from two of the three candidates. Ron George is pretty much a wash as far as I'm concerned.
David Craig ends up losing one point because he's just not willing to lead on social issues, even a little. They're not the most important issues, but damn it, take a stand.
I deducted the full three points from Charles Lollar; not only for the unwillingness to run as a Republican and falling into the "non-partisan politics" trap, but also for running an abysmal campaign which has squandered the good will of a lot of potential activists, made a lot of unforced errors (the lack of a website for over a week was fairly glaring), and exhibited a terrible lack of discipline among staffers and supporters. Some of these have been straightened out, but tremendous damage is done. It's a shame because the presentation by the candidate is generally good, which is why I initially supported him.
But when I added up all of the totals, even without the three-point deduction, Lollar was trailing badly. At this point, the totals are as follows:
Ron George, 61.5 points
David Craig, 58 points
Charles Lollar, 49.5 points
Larry Hogan, 0 points
Frankly, none of these totals are all that great. I realize I'm a difficult taskmaster, but I would have hoped for at least a couple scores in the 70s. But as more and more is learned about the candidates and their positions – particularly on some of the more esoteric issues I used, like the impact of Obamacare – perhaps one or more will reach the 70 to 80 point range and I can get behind him. At this time, I can't be like the folks at Red Maryland and do the Larry Hogan pig in a poke. I tried that once already and was disappointed.
What I think I will do instead is make this an ongoing process. I really didn't mean for this to be a one-shot deal as I have done before because I suspect the race will be in flux for awhile yet. Moreover, I'm not convinced I'll see four main contenders on the June ballot, just like Blaine Young's exit from the race after Charles Lollar got in. Sooner or later, once Larry Hogan gets in someone probably has to get out because there's only so much money out there.
So I want to revisit the process around the first of February, the first of April, and the beginning of June. This way I can review what the candidates have said over the preceding 60 days or so and adjust accordingly. I might like a lot of what Larry Hogan says and it may vault him into the lead, or Lollar could stage a comeback with some subtle policy changes. It seems fair to all, and there's no real rush for a monoblogue endorsement.
Put me down as still undecided.
Last night I spent the better part of a lengthy post discussing the Friday night fall harvest party and impending candidacy of Larry Hogan, expressing the sentiment that, while the party was nice, I'm sure a lot of people were expecting a more formal announcement.
But when looking into the mechanics of such a campaign I suppose I can see why this situation had to happen.
I know enough about campaign finance law to realize that Larry has to have an active account with the state Board of Elections before he can do any financial activity related to a gubernatorial campaign. His former account set up for the 2010 election was closed, so on Thursday when I checked he had no new account set up yet. The BoE is generally a few days behind so the possibility of a Friday setup was there.
But there will have to be a transition by Change Maryland as well. Because it's a 527 organization, Change Maryland can't advocate for Larry Hogan as a candidate without forming a PAC. According to the Summary Guide of Maryland campaign laws:
Other political committees not registered with either a state or with the FEC, i.e. 527 organizations or political clubs, may make contributions to a Maryland political committee. Additionally, they are not required to file any campaign finance reports or statements with the State Board.

However, if the political organization engages in campaign finance activity or express advocacy regarding a candidate for a State election, then the organization may be required to form as Maryland PAC.
Obviously Change Maryland can continue to function without Hogan, but as the public face of the organization going without Larry would make things a little more difficult. By pushing the announcement to January, the transition can be formalized, although I'm sure those plans were already in place some time ago.
And having Change Maryland as the vehicle for Hogan's brand awareness presents some great advantages. As Larry pointed out in 2011 in Change Maryland's early days, "it certainly wouldn't hurt if I run." As it stands, Larry can use Change Maryland in the same sort of fashion that Charles Lollar used his draft campaign – looking gubernatorial in one respect, but allowing himself to be coy when needed. As I said a month ago regarding Hogan's Eastern Shore appearances:
Most people who are in the real estate business aren't going to make a farm tour of the Eastern Shore. But if you're seeking the Republican nomination for governor, it's certain you will be talking to your base and that number includes a heaping helping of Eastern Shore hospitality.
Larry can make these trips – presumably on his own dime, although it's possible Change Maryland paid for it (how would we know?) – but can also tell the Gazette he's looking for the "perfect scenario" to enter the gubernatorial race or be critical of the budget in the Easton Star-Democrat without disclosing what he may do if elected. That's the beauty of "being" Change Maryland.
The second advantage to waiting until January is that it will be possible to know just how well his three opponents, who have already filed and would have to turn in campaign finance reports to the state BoE by the middle of that month, are doing financially. In his 2010 run, Hogan was willing to drop $325,000 into his personal kitty so he could have that to fall back on as seed money.
Of course, there are a couple drawbacks to this strategy. One is that money and volunteers have a couple more months to accrue to other campaigns. But the other is the nagging perception of entitlement and unflattering comparison to Bob Ehrlich's late entry to his doomed 2010 campaign, where he dithered for months on whether he would run, flirted with the notion of running for U.S. Senate, and finally announced just seven months before the election with just one barely-known opponent because Hogan had ceded the race a few months earlier.
Moreover, Hogan is the one candidate in the race with a direct connection to Ehrlich as his former Secretary of Appointments.
I suppose what makes this troubling for me is that we have less of a chance to vet Larry Hogan before the election next June. Certainly we can gather that he'll be a fiscal hawk, but what about other issues like the Second Amendment, transferring power to local jurisdictions by reining in Annapolis bureaucrats, or dealing with federal mandates on education or Obamacare? Change Maryland has been a valuable resource in the fight against the O'Malley/Brown administration on the tax front, but when running for governor you need more than an one-note samba.
Well, folks, I have to admit my wheel wasn't the one which squeaked last on the matter since the crap I described last Wednesday continues apace. So hopefully someone with a little law enforcement experience can get this din to a dull roar:
As Republican candidates in a deep-blue state, we have a responsibility to provide you with a quality message and a quality campaign.

The likely nominees for office on the Democratic side will be flush with campaign cash, aided by an accommodating media and, in the case of Democratic candidate for Governor Anthony Brown, operatives from the Obama campaign. These campaigns are not playing games and this is not a joke, they are running to install a permanent tax and spend super-majority which will bankrupt our beautiful state and drive thousands more to flee across our borders.

I write this out of a deep and genuine concern for our state's future. Some of the parochial spats developing amongst a limited number of campaign staffs are causing unnecessary and damaging rifts within our Party while we struggle for relevancy and the support of the people of Maryland.

It's time for us to put the games and the nonsense aside and focus on the real fight. As the head of my campaign team I promise you a relentless effort and a quality team and if either I or my team fail to produce, email me immediately at campaign@bongino.com. I respectfully request that the remaining candidates on our Party team do the same and start to prune their campaign trees of people who alienate rather than unite.
That's what Dan wrote on his Facebook page earlier this Tuesday evening, and I (almost) couldn't agree more. (I think we will get the Obama operatives regardless of who wins that Democratic primary because we have one of the state-run exchange states.)
But we've had "unnecessary and damaging rifts" for a long time, well before this campaign began. I'm going to go beyond the whole Lollar aspect for the moment because plenty enough has been said about that over the last week; in fact, the controversy over that has enabled the argument over open primaries to be swept way under the rug. People may need to be reminded we have a convention next week.
In essence, it seems to me the party lost its unity when Bob Ehrlich lost. That so happens to be the time I was elected to my Central Committee – I swear, though, this is not cause and effect – and these are just some of the political slugfests we have endured since:
The argument over convention voting, which got so bad for a time some small counties boycotted the whole thing
The vote of no confidence on party Chair Jim Pelura
The return of Bob Ehrlich, which begat the Rule 11 controversy because Brian Murphy was also in the race (as was a challenger for Andy Harris, who also benefitted)
Audrey Scott and "party over everything" – her tenure neatly coincided with the rise of the TEA Party and pro-liberty movement
Speaking of Scott, her battle with Nicolee Ambrose for National Committeewoman
The ongoing question about whether Delegate Don Dwyer should resign, which one of the current gubernatorial candidates used to score political points
The referendum battles, including the times we chose not to use it
Alex Mooney's resignation and the bitter subsequent election for party Chair
And now the open primary question
It's been a constant routine of renegades, rule changes, and rancor for the last eight years – all we've been missing is the string of victories we need to make ourselves relevant in Maryland. The math is simple: one governor + one comptroller + 19 Senators + 57 Delegates = relevance. Anything less and we may as well not be there at all. Get that or more and maybe this state can be saved.
Now I will cheerfully admit I've had a hand in a couple of these issues I alluded to above; surely I'm not on Audrey Scott's Christmas card list. But my goal is to help drag the Maryland Republican Party (insofar as it relates to the idea of enhanced liberty and freedom) over the finish line and make this more of a truly "free state." (I'd like to do the same for all the other states as well.)
So this is why it bugs me that we have this whole power struggle between campaigns, between individuals – and even between websites. I like a good argument as much as anyone, but after awhile it gets pretty pointless. (Although I should take this moment to thank those who have supported me and my efforts – never hurts to acknowledge them! I have a support base I'd stack up to anyone's.)
Certainly the average person, who may only now be starting to pay attention peripherally to the race (we're months away from it being foremost in mind to probably 90% or more of Marylanders; this won't occur until after the primary) would be unaware of what has transpired so far but right now we're doing a damn fine job of both providing the opposition research Democrats can use in the general election and probably cheap entertainment for them as well. Doug Gansler has to be thanking his lucky stars that word of these shenanigans on our side is starting to get out because people will forget his transgressions long enough for him to rehabilitate his image.
I can surely guarantee, though, that Dan Bongino's got enough of a struggle on his hands without having to worry about being tarred with these same broad brushstrokes. His is advice which should be heeded.
Apparently it is all about turning out the base.
In their victory lap and appeal to flip the House, national Democrats cited the recent decision in Virginia to embrace cronyism in the persona of Terry McAuliffe as well as a number of big-city mayors such as Bill de Blasio in New York as evidence they have momentum. It's the usual spin, considering they were whacked in New Jersey – a state with a Democratic voter registration advantage.
Yet look at the electorate which showed up in Virginia:
So McAuliffe, who won by less than two points, was elected by a D+9 turnout. Yet because Virginia is an open primary state and doesn't make voters select a political party upon registration, this simply means self-declared Democrats were the largest of the three groups, with independents next and Republicans last. Those who declared themselves independent actually voted more for Ken Cuccinelli than for Terry McAuliffe, so where the GOP may have failed was getting their likely voters to the ballot. Many may be kicking themselves now because they believed the polls when they showed McAuliffe up by 10 points and didn't turn out.
But the Democrats apparently believe that, because the 2013 model of turnout in Virginia turned out like the 2012 model, that the success will continue through 2014. They cling to this hope, as well as the polling data I wrote about a few weeks back where a generic Democrat leads in several Congressional races, in believing 2014 will be more of the same and they will get back the House to match the Senate.
The problem which their line of rainbow unicorn thinking is once you actually select a candidate the voters may not like his or her record or promises, particularly if they run on Obamacare. That, my friends, promises to be an albatross around the collective necks of the Democratic Party. Everyone who counters the lie we were told that "you can keep your insurance policy" is another potential Republican vote if done correctly in 2014 and 2016. Do you seriously think Hillary Clinton will change a thing about Obamacare when she had this bright idea two decades ago? She won't. Yes, I realize the Democrats will try their best to change the subject and/or demonize Big Insurance, but they have a mess on their hands right now which goes far beyond a balky website.
Yet there is a lesson for us as well. I'll grant this is a little bit of apples-to-oranges comparison because Virginia's voters are self-declared, but if you had even a 35-34 Democratic turnout they would have never sent the e-mail because Ken Cuccinelli would be the incoming governor.
In one of our Republican Club meetings it was noted that Bob Ehrlich was elected with 68% Republican turnout. That simply won't do. Martin O'Malley was re-elected with 1,044,961 votes in 2010, and even with 100% turnout and perfect GOP loyalty we are still almost 100,000 votes shy of that mark based on our current registration numbers. If we are going to win, we need to get that 20% of the Democrats who remain registered that way because their daddy was a Democrat to vote for us, and draw in independents, too.
Surely the opposition will paint us as extremists and try to play on voters' emotions as they did in the Virginia race. But what's so extreme about keeping more of your own money, presenting additional choices for the education of your children, and bringing the focus of government back to a local level? You tell me.
I refuse to believe the voters of Maryland will continue to vote against their own self-interest and will work accordingly to correct that. Education is a process which spans elections, but keep in mind we don't have to convince everyone – if just one out of roughly former O'Malley voters switches to our side, we win. Given O'Malley's tepid approval ratings it's not such a daunting task, is it?
Time to get to work.
By the way, as an aside: it's worth pointing out (as I was looking up the 2010 totals) that O'Malley won huge in two areas: early voting, where he received 62.9% of the vote, and absentee ballots, where he got 63.3%. But together they were only 18.1% of the total. Election Day is still important, but it won't hurt to try and bank a lot of votes beforehand.
Sometimes the best of candidates are derailed by bad management, bad preparation, or just plain bad luck. I'm not sure how much any of those three apply to a campaign which initially held promise, but it's sad to see Charles Lollar get such bad press. Some, like blogger Jeff Quinton, are comparing Lollar to Doug Gansler – to me that's way out of bounds. On the other hand, this push against Lollar has been greeted by a somewhat shrill retort by Julie Brewington, who is my local Lollar campaign coordinator. That light you see on the horizon is all those bridges she's torching.
Still, both have some valid points. I'm going to focus on three which are holding him back.
At this stage in the game, the most valuable introduction to a campaign is their website, which is supposed to serve as a one-stop shop for getting to know the candidate, soliciting donations and volunteers, and keeping abreast of their comings and goings. Certainly there's a place for Facebook, Twitter, and other social media as well, but I prefer to have all of this information in a single point source and I'm sure others do too.
So I have to question why the Lollar team has had three separate URLs, including a .co which made little sense as a political website. While the other campaigns have registered a fairly simple, straightforward .com address, these guys can't settle on a site.
On the other hand, I disagree with Quinton in that the new Lollar site (assuming its layout and design remains as he's pictured) looks to me very clean and easy-to-use. It would be a contrast to the photo-heavy splash pages of all three Democrats; more businesslike. The other two GOP contenders have intro pages which seem just a bit too busy to me, but it's all a personal preference. I'm sure my layout isn't for everyone either.
While I admire Julie's tenacity in sticking up for her chosen candidate, the question she doesn't answer is why Charles has missed a number of key events, including the opportunity for free media on Pat McDonough's radio show last week (for which he ran a few minutes late.) Far be it for me – of all people – to be a subscriber to conventional wisdom, but there are times to play the outsider and times where it doesn't pay to. I'll grant that perhaps Charles was out meeting voters and working on retail campaigning rather than hang around with people who would almost certainly at least vote for him if he garnered the nomination (in the same grudging respect that many Brian Murphy supporters like myself bit the bullet and backed Bob Ehrlich in the general election) but there are places where your face needs to show once in awhile to be considered serious. Out of the three contenders, Charles is the only one who's not won a general election. (The same can be said, though, for Larry Hogan if he gets into the GOP race.)
Whether Karen Winterling has to go, or whether former jailbird Jason Boisvert is a help or hindrance to the Lollar effort – that's really only relevant to some political junkies and others looking for blog fodder. (I think Jason's a halfway decent writer, though, at least insofar as education is concerned.) Most of that does weigh into my decision on the race as intangibles, but to me what really matters are issues.
So at this particular moment in time the piece which irks me most is the website being down because I'm working on dossiers of the GOP candidates for use in future posts about the race. An issues page is quite useful in that regard – heck, if the Lollar campaign is reading this (I'll bet they are) can you shoot me an .html of the issues page of the website? Or just get it up and running?
I think Charles is learning that being a statewide candidate is an entirely different animal than working around a Congressional district. Let's hope the road from here on out becomes a lot less bumpy.
The news hasn't been kind to Democratic gubernatorial challenger Doug Gansler. Thought to be a frontrunner early on because of his massive financial war chest, buoyed in part from being unopposed in the 2010 election, he's found his financial advantage diminished by the union of current Lieutenant Governor Anthony Brown and Howard County Executive Ken Ulman, who were the next two on the fiscal totem pole. The selection of Delegate Jolene Ivey as Gansler's running mate won't help much in that regard as she had only $32,754.59 in her coffers as of the last reporting period in January.
But a pair of scandals have done their part to cripple the Gansler effort. In the short span of a couple weeks we've learned that Doug Gansler fancies himself above the law insofar as driving regulations go and isn't exactly practicing the anti-teenage drinking message he preaches, as evidenced by his involvement in a Delaware house party over the summer.
Now one can argue whether word of these imbroglios were planted by the rival campaign of Anthony Brown, which has the advantage of knowing where the bodies are buried thanks to the current officeholder and Brown supporter, Martin O'Malley. One can also question whether this will end up being a fatal blow to the Gansler campaign, and if so, when. Considering the polls have Gansler 20 points behind at this stage, the odds are against Doug being the nominee.
My purpose this evening, though, is to provide my thoughts on answers to these and other questions.
First of all, if there is weakness from Gansler being sensed by those in Democratic circles, I would interpret this as a signal that could bring Second District Congressman Dutch Ruppersberger into the race; indeed, he's now talking about an announcement around Thanksgiving. Much has been made about the absence of a Baltimore-area politician from the race for the first time in decades, and the argument for his entry is bolstered by Gansler's foibles.
My theory about a four-person race being too much for a Republican primary is also true for Democrats, but the current dynamic there for 2014 is much different because one candidate (Heather Mizeur) is polling far weaker than any of the would-be GOP contenders in their race, at least according to the unscientific polls which are publicly available for the Republican contest. I suspect Mizeur would soldier on just to make a statement, but should Dutch jump in he would likely become the strong #2 in the gubernatorial race with a Baltimore base which recalls his executive experience and push Gansler to third.
There's another side to the story, though. Given the situation in Maryland – or any other state controlled by one party for a significant length of time – the road to the top is generally set in a manner of "wait your turn." Yet in Maryland the lieutenant governor has never succeeded his boss (although our first modern LG, Blair Lee III, served as acting governor in the late 1970s when then-Governor Marvin Mandel was incapacitated by a stroke.) Lee, though, lost in the 1978 Democratic primary, as did Melvin Steinberg in 1994. Kathleen Kennedy Townsend made it one step further, winning the 2002 Democratic primary but losing in the general election to Bob Ehrlich. So Brown is running against history despite the fact the skids are seemingly being greased for his ascendancy.
Thus, when statewide positions open up in such a situation, there are normally a number of ambitious politicians who jump at the chance for the brass ring. Once the Martin O'Malley/Anthony Brown ticket won the 2010 election, with Gansler and Peter Franchot securing re-election as Attorney General and Comptroller, respectively, the state was set for a contentious 2014 as all were thought to be possibly running for the open seat as governor. Franchot diffused some of that energy by opting to remain as Comptroller, but one other statewide prize still remained.
At this point there are four main Democratic contenders for Attorney General, all of whom currently serve in the General Assembly from what would nominally be considered safe seats. So what would happen if Doug Gansler decided to drop his bid for governor and revert to the job he already holds? Chances are that he wouldn't do this, but if Doug did there would be a lot of angry Democrats cascading back down the line to General Assembly seats they would rather vacate for a higher office. Gansler would probably find himself in a contested AG primary with his opponents using the same information gathered against him in the governor's race.
The second reason this wouldn't happen, though, is the chance that Gansler survives the AG primary but faces an actual Republican opponent this time around. There's no way the Maryland Democratic Party wants those damaged goods on a statewide ballot because that photo of Doug Gansler standing in the middle of teenage revelers would be seen 2 or 3 times an hour. Someone would make sure of that.
The key to holding a one-party state is having the opportunity to move up the food chain, and those who would succeed would-be statewide officers are counting on those veterans taking their shot. Losing control of one or more statewide offices would certainly cramp the Democrats' style, since they're accustomed to being treated like political royalty. And while multi-candidate primaries are okay for seats which open up due to term limits, Democrats seem to prefer to unify behind one candidate when the rare necessity of taking a statewide Republican seat opens up – for instance, Martin O'Malley was the only main Democratic gubernatorial contender in 2006. The state party did all sorts of gymnastics to try and avoid a divisive primary there, including an unsuccessful bid to move that year's primary up to June; fortunately for them then-Montgomery County Executive Doug Duncan abruptly exited the race days before the filing deadline and ceded the nomination to O'Malley.
If you add up all the General Assembly members, county executives, and other muckety-mucks in the Democratic party – who feel, of course, that they are entitled to statewide positions in perpetuity – there are a whole lot of ambitious politicians and only six such posts available (governor, lieutenant governor, comptroller, attorney general, and 2 Senators). So the thought of Doug Gansler being damaged goods may well terrify Maryland Democrats enough to convince him that a nice four- to eight-year sabbatical to rehabilitate his image may be in order.
If you were handicapping the chances of Larry Hogan jumping into the race for governor, the odds may have shortened a little more based on the roadtrip he's making this week. Change Maryland provides the details:
The O'Malley-Brown administration has submitted, for legislative approval, regulations that will have a sweeping effect on how Maryland's already struggling farmers can manage their land. The proposed Phosphorus Management Tool is an intrusive regulation that will significantly impact how and when farmers can apply poultry manure fertilizer to their fields. Farmers have used poultry manure as fertilizer for years.

"It appears the O'Malley-Brown administration is not content with just restricting farmers' property rights, but also insists on mandating how they use their property," stated Larry Hogan, successful businessman and Change Maryland Founder.

Secretary of Agriculture Buddy Hance told a meeting of farmers last week that his department has no idea what the economic impact of the new regulations would be for farmers until it is up and running. "It's Obamacare for farmers," Hogan said, "we have to pass it in order to see what's in it."

According to a University of Maryland survey conducted by the designers of the Phosphorus Management Tool, 61 percent of the farms surveyed would be impacted by the new regulation. Virgil Shockley, a Democratic member of the Worcester County Board of Commissioners and a farmer himself, estimated the new regulations would cost the Lower Shore $120 million.

The Phosphorus Management Tool is part of the O'Malley-Brown Watershed Implementation Plan, which also foisted the onerous 'rain tax' on Maryland home and business owners.

"We all want a clean and healthy Chesapeake Bay, not only for us but for our children and grandchildren," said Hogan. "However, instead of focusing on workable solutions for all Marylanders, Governor O'Malley has chosen to pad his presidential resume by pandering to environmental special interest groups, and has placed burdensome regulations on our hard working farmers."

Today and tomorrow, Hogan will be touring the Eastern Shore speaking to local farmers and local community leaders. The Eastern Shore is where the majority of Maryland's farmland is located and where the proposed regulations will have the most devastating financial impact.
Most people who are in the real estate business aren't going to make a farm tour of the Eastern Shore. But if you're seeking the Republican nomination for governor, it's certain you will be talking to your base and that number includes a heaping helping of Eastern Shore hospitality.
I would have to speculate that, for Hogan, this listening tour will give him ideas for the agricultural and environmental planks of his platform. For those who deride Larry as a clone of Bob Ehrlich, though, the tour may serve as a reminder that it was Bob who originally enacted the "flush tax" that Martin O'Malley has doubled.
But since Larry didn't schedule a meeting with me – which is fine because I'll be out working – a few other suggestions I have on the land use front may be helpful, and they go hand-in-hand with each other.
First of all, I think we should begin to wind down (or at least level-fund) Program Open Space, with the intent of having private entities such as land trusts purchase the property and, if they wish, donate it to the state. I'm not a fan of taking land off the tax rolls unnecessarily, for I have the belief the government controls too much land as it is.
Because of that belief, I think an idea Bob Ehrlich had should be expanded, and the Baltimore Sun and environmentalists can go pound sand. Now I wouldn't do this until land values began to rebound, and certainly the sale can be a slow process of a few hundred acres at a time scattered around the state. I wouldn't put an entire state park on the market, but non-contiguous areas around the margins would be good places to begin.
Finally, the idea of transferable development rights should be re-examined, with the intent being changing the terms from permanent to generational, or about 20 to 25 years. This way succeeding generations of a family can decide whether they would prefer development rights revert back to them or whether to accept further compensation from the governmental entity providing them.
Over the last few decades, the balance on property rights has shifted far too much to the government's side. Egged on by environmentalists who dream of wildlife corridors without human interaction, the state is not only a huge property owner but sticks its nose into matters more properly conducted at the county level as well. It's time to reverse that trend, and one key question in the upcoming campaign is who will have the stones to do it.
And now for something completely different:
I didn't want to write a lot about this – at least not a full post, because I'm no expert on it – but I felt my friend, author Bob McCarty, hit a home run with his thoughts about the plausibility of explanations surrounding last year's Chinook helicopter crash in Afghanistan; a crash which snuffed out the lives of thirty American servicemen, including many who served with Seal Team 6 and engaged Osama bin Laden in his last stand. It's worth considering.
Maybe Hogan or McCarty should consider a GO Friday feature on their respective areas of expertise. I can always use a break.