As I have often done, I'll allow the pictures to tell most of the story – at least until the speeches begin.
On Saturday night, a cautiously optimistic Wicomico County Republican Party welcomed our two federal candidates to its fold for its annual Lincoln Day dinner: our current Congressman Andy Harris and a man who hopes to join him on the Senate side of Congress, Tony Campbell.
But there were some other noteworthy things to relate as well, so I'll begin with this picture.
It's also worth pointing out that, besides the silent auction there was an envelope raffle (place $5 or $10 in the envelope and if drawn you win 10 times the amount) and a 50-50 raffle to benefit the co-hosting Salisbury University College Republicans. So a lot of money was changing hands.
In his remarks, Lincoln conceded that "the nation has taken a downhill course" in recent years, as "incivility is the new norm." Cautioning the gathering not to betray tradition and values, Lincoln stressed the importance of his Cabinet being comprised of the most able men, not yes men.
As part of this narrative I also want to give a shout out to one of our two Volunteers of the Year, a young man who eventually closed out the evening with his benediction.
Nate Sansom holds a special place with me because he's the one I recommended to fill my spot when I left the WCRCC in 2016, and not just because to our knowledge he'd be the youngest CC member in state history: it was because I knew he'd be an asset to the committee. (I'd like to think his selection was out of respect to my wishes.) But because he wasn't one of the top 9 contestants in the Central Committee's election back in June, his tenure comes to an end when the final results are in next month. One of his legacies: the state GOP now officially favors a system where each Congressional district controls one Presidential electoral vote with only two at-large, similar to Maine and Nebraska but with ten electoral votes at stake, which would make it the largest such state.
Yet somehow I don't think Nate has reached the limits of his political achievement. Perhaps someday he will be a successor to our main speaker.
I noted in the photo of Lincoln above the overall topic of his remarks, which may have been overly long for neither remaining speaker took a great deal of our time. (Photo credit for the next two pictures goes to Wendy Anspacher, an incoming member of the 2018-22 WCRCC.)
Republican U.S. Senate candidate Tony Campbell is, according to conventional wisdom, the latest cannon fodder for a Senate seat that's been held by Democrats for seven consecutive terms (five for former Sen. Paul Sarbanes and two by Ben Cardin) and is being sought for the second time in a row by a (different) politically unknown but well-funded unaffiliated challenger.
But Tony saw it differently. Telling us that the Democrats were still trying to find themselves, Campbell predicted that Republicans will be elected on November 6 and it will result in "a whole bunch of gnashing of teeth by Maryland Democrats." As evidence, he noted the increased early voting numbers in strongly Republican counties.
Campbell criticized Democrats by stating, "I would hope our elected officials have ethics," and, referring to the uproar they caused over Brett Kavanaugh's SCOTUS nomination, told the group that Christina Ford is simply "collateral damage" to the Democrats. To that end, the human caravan in Mexico "is all about the midterms." Democrats, he continued, don't care about people, they care only about power. To counter this, Republicans "just have to be bold," but we have to make a commitment to principles. "We can win and be conservatives" in Maryland, said Tony.
But hanging over this was the specter of race. "I knew when I got into this I would be called an Oreo," said Campbell. Noting that the band played Lincoln's "favorite song" Dixie on his exit, Campbell felt he needed to speak the truth and tell us, while it may be historically accurate (and it is), playing that song sends a bad message to minority voters.
However, it should be pointed out that, aside from the two districts which are majority-minority, Maryland's Congressional delegation (nine of ten of whom are Democrats) are all white males while the two non-incumbent Democrats (including the guy challenging our next speaker) are also. Compare that to Maryland Republicans having two women (including one woman of color) in the running for Congress as well as "minority" candidates in the two majority-minority districts (both are white) and the black man running for Senate and ask yourself: if diversity is your thing, which party is the more diverse?
While it was important to Andy Harris that we elect Republicans, he had a clear request for us: the next time he runs for re-election he wanted Wicomico County to be a Republican county in terms of voter registration: since they elect Republicans they may as well come home to the party. He added that if Larry Hogan wins re-election and brings in five new Republican state senators, the redistricting map they draw will likely allow for three Republicans in Maryland's Congressional delegation.
He also had a job in mind for Larry Hogan once he vacates the governor's chair in 2022: "Larry Hogan can beat Chris Van Hollen any day of the week," predicted Harris.
Turning to the First District and his opponent, Harris saw him as soft on the Second Amendment, which was a core tenet of this district, Additionally, Andy opined that the state and national Democrats have left the First District Democrats behind in their rush to move in an even more leftward direction. It was beginning to work until the Democrats "overplayed their hand" with the Kavanaugh saga: for example, the Beto O'Rourke vs. Ted Cruz Senate race in Texas was a toss-up before the Kavanaugh confirmation, but now Cruz has opened up a significant lead.
Meanwhile, the caravan in Mexico "is the Democrats' worst nightmare" because it makes border security an issue and motivates GOP voters. The election will be about border security, Harris confidently continued, and "November 6 will be a great night in Maryland."
One other race Harris had a keen interest in was the state Attorney General race. "Nothing Brian Frosh did as Attorney General surprises me," said Andy, who served with Frosh in the State Senate. But under Frosh, Baltimore "is a lawless city."
In conclusion, Andy urged his fellow Republicans to vote for their party up and down the ballot and encourage others to do the same.
I want to conclude this piece with a non-political photo I thought was pretty cool, if not necessarily in terms of color or composition. Outside on the sidewalk I saw this:
Indeed I looked it up, but I like to have a little context in Scripture so let's add the previous verse to this. 1 Peter 5:6-7:
Humble yourselves therefore under the mighty hand of God, that he may exalt you in due time: Casting all your care unto him; for he careth for you.
It appears someone at Salisbury University has a serious Bible study going on. Considering I sat amidst several of the College Republicans and this was still on the sidewalk, maybe there's hope for us yet.
This time around it will be fewer pictures and more text. It's not like I haven't done this for many years at the same venue. But you may recall I took a hiatus from party politics for awhile, meaning this was the first such event I'd attended in two years.
So I was greeted with mainly open arms, although many people thought I had already moved to Delaware. (Not quite yet.) Regardless, the feel of the event was such that I felt right at home – the only difference was that we were supposed to begin an hour earlier to accommodate our speaker. As it turned out, we got underway about 45 minutes late (or 15 minutes early by our "normal" schedule), so I who was there at 5:00 for a 6:00 dinner had plenty of time to commiserate and hear the band play.
One of the new folks I got to meet was the lone statewide candidate to attend. She is definitely having fun on the campaign trail.
Angie Phukan (a.k.a. "MsComptroller") is, as the tagline would suggest, running for the GOP nomination for Comptroller. To date she's the only candidate to file against incumbent Democrat Peter Franchot, who likewise has filed. She hails from Ocean City, so she's a statewide candidate in our backyard.
I had actually conversed online with her a few weeks back when she was trying to figure out her yard signs. I suggested simpler is better, and assured her last night she need not worry about separate signs for primary and general elections. "Your job right now is to build name recognition," I told her.
Of course, most of our local contingent of folks were there as well. One I want to point out is Mary Beth Carozza, Delegate from District 38C. Here she's between County Council member from District 5 Joe Holloway and his wife Faye. (Holloway is once again my Councilman since we moved.)
The reason Carozza is important to the story is she's making a "special announcement" next month in Ocean City.
The speculation is rampant this will make formal what's been rumored for awhile: notice how much Jim Mathias is on social media these days? If Mary Beth indeed decides to try for the promotion, she would join Democrat-turned-Republican Ed Tinus in the race, although Tinus could then decide to seek the open Delegate seat.
As always, we began with a visit from our 16th President and the event's namesake.
I had some fun with the photo since it demanded an oldtime look. As he always does, Lincoln waxed eloquent with tales from his life, this time focusing on the time he was a young man who studied voraciously to tackle new opportunities that came his way, such as surveying or winning his first elective office at the age of 25. (Oddly enough, the Whigs of the day had to contend with voters who were ineligible because they didn't live in the district or weren't yet citizens.) Observing today's political landscape, he noted that there seemed to be no survey plan to drain the swamp.
As I was driving around to find a parking spot before the event, I spied a well-dressed man who seemed like he was looking for the door to get in. I thought it was David Bossie and it turned out I was right. He may be our Republican National Committeeman and entrenched as a confidant for President Trump, but he was still baffled by the setup of Salisbury University's Guerrieri Hall.
But when it was Bossie's turn to speak, there was no confusion. First of all, he asked how many in the room thought a year ago that Donald Trump would win. When a fair number went up, he said "Liars," adding "I didn't raise my hand."
"I'll tell the President that he had a room full of people who knew he would win," added Bossie. He only figured it out as he was feeding information to the soon-to-be President on Election Night.
David had met Trump several years earlier through a mutual friend who believed Trump would be willing to lend the use of his golf course for a charity event Bossie was organizing. The main reason for Bossie's interest in that cause was his then-six month old son, who had several medical issues that piqued his interest in fighting against Obamacare in the belief it would damage our medical system that was aiding his son.
Bossie's role in the campaign and eventual transition was "a humbling experience," although for a time it greatly diminished when Paul Manafort was hired. Manafort "froze him out," so when Trump "thankfully…(got) rid of Manafort" Bossie helped lead the comeback from a low point after the GOP convention.
So the day after Trump shocked the world, they realized there was no formal transition plan. In part, that was superstition from Trump, an avid sportsman who had the belief – like many athletes who compete regularly do – that considering the transition would be a departure from routine and would jinx his campaign. Shortly after the victory, though, David was selected as the Deputy Executive Director of the transition.
While this was going on, Bossie remained at the helm of Citizens United, which he described as "focused on the President's agenda like a laser beam." The problem with enacting it, continued David, was that our government was "dysfunctional and out of touch." Since the House and Senate were elected on the same issues as Trump was, their reluctance to cooperate was an affront to President Trump. "He's a pissed off dude, isn't he?" said Bossie about the President. "Get something done and the temperature goes down," he added, referring to the Senate and relations between them and Trump. If they do, there's a "good opportunity to pick up Senate seats…really good math for us." Bossie mentioned races in Ohio and Missouri as strong possibilities for pickups and welcomed the changes in Arizona and Tennessee with the retirements of Jeff Flake and Bob Corker, respectively.
(Interesting to note: the mentions of Flake, Corker, and John McCain drew boos and hisses from some in the crowd.)
We needed, though, to put aside the things of a year ago. Remember, "if Hillary Clinton wins, the nation as we know it is over," said Bossie. But since Trump won, things have taken shape with our economy: the Dow is "out of its mind" and as far as regulations go, Trump promised to eliminate two for every new one. "Do you know how many he's done?" Bossie asked, and someone in the crowd you may know well said, "Sixteen."
"Who said sixteen?" he asked. "Showoff." Indeed, the Trump administration is mowing down regulations at a frenetic pace.
But the economy is missing one thing: a "robust" tax reform package; one that Bossie described as "generational."
"Shame on us if we don't get it done," Bossie said, and the sooner the better: if enacted by year's end and made retroactive for 2017, the boost in the economy will kick in around next summer and make the 2018 election a pocketbook balloting. If done in the spring, the effects won't be nearly as great, argued David.
While Bossie apologized in advance for not being able to stay too late, he did answer a few questions.
The first one required him to put on his National Committeeman hat, as he was asked "what can we do on the Eastern Shore?"
Our focus, said David, should be first on winning the needed five State Senate seats to sustain Governor Hogan's vetoes. Of course, that also meant we had to turn out for Hogan as we did last time so he could defeat the "worst group of Democrats" in the country.
He was less optimistic when asked about what we could do about Ben Cardin. "There's lost causes, then there's lost causes," said Bossie. That may be news to Sam Faddis, who is the only Republican with an FEC account in that race so far. (No one has formally filed, save three Democrats not named Cardin who are hoping the incumbent retires or keels over.)
Someone else asked whether GOP money was going to Donald Trump. Their investment is "behind the scenes" right now, assured Bossie, although Trump already has a 2020 re-election account as well. The RNC is "stockpiling" money with a large advantage in fundraising over the Democrats at the moment.
Turning to foreign affairs, a question was asked about our relationship with China.
Trump was focusing on the Chinese president, David said. "No one wants war," and by dealing with China – which is the main trading partner of North Korea – Trump is dealing with an entity that could "suffocate" North Korea if they chose. It's a combination of tough talk and diplomacy, he added.
Finally, it was asked about the governors not supporting Trump. Bossie argued that their agenda was better off with Republican governors whether they agreed with President Trump on everything or not. And even though our governor didn't support the Trump bid, it was "vital" he be re-elected anyway, concluded Bossie.
With that, he was off to see his family before an early morning gig on Fox News, so the conclusion of the event was the introduction of a number of elected officials, club officers, and 2018 candidates, along with the drawing of raffles from both the Wicomico County Republican Club and the College Republicans. As it turned out both grand prizes were donated back to their respective organizations, so the WCRC can once again give away a $1,000 Dick's Sporting Goods gift card and the College Republicans netted $280. Wicomico County GOP Chair Mark McIver also announced that there were 130 people in attendance, making this a successful event that grossed better than $8,000.
Just like in the beginning, there are people who stay around and gab the night away. In this case, it's Delegate Charles Otto (left) with Joe Schanno of the Department of Natural Resources (center) and Dwight Patel (right), who annually makes the trip from Montgomery County to show his support. We finally cleared out about 9:30, although there was an impromptu afterparty offsite some chose to enjoy.
It was nice to be remembered, and as I had pointed out to me by County Councilman Marc Kilmer, now that I'm a "free agent" I can pick and choose my events. Trust me, I'm still on the mailing lists.
But writing this was like riding a bicycle – you don't forget how to do it even after awhile away. It was fun.
Yesterday Richard Falknor, who I gather is a Trump supporter, splashed a story onto his Blue Ridge Forum blog that asked whether the state Republican Party will welcome the 200,000 new voters that voted in 2016 compared to 2012. His conclusion to this?
Sending mostly non-Trump delegates-at-large to Cleveland will send a message that the Trump-inspired portion of the 195,000-plus new or returning 2016 Republican presidential primary voters are unwelcome in the Maryland Republican Club.

On the other hand, if some Maryland GOP nominees for the House and Senate endorse Trump now, they will be telling these new or returning voters they have gotten their message and should help with their campaigns.
I like Richard, but his comparison wasn't a very precise one for a number of reasons. If you recall, the 2012 primary here in Maryland was conducted at a point where Mitt Romney had pretty much sewn up the nomination, so naturally turnout was less. In 2008, Mitt Romney was the last realistic contender standing against John McCain; he dropped out days before the Maryland primary. By percentage, in 2012 voting for the Presidential race involved about 26.6% of Republicans, while in 2008 that figure was 36.1%.
I would draw a closer parallel to the 2000 election, which occurred relatively early in the process. The Republican primary had 376,024 voters out of 769,329 registered Republicans, but I believe there was a caveat that year because the 2000 Republican primary was open. So it's not the best comparison.
All in all, the increase from 2008 (the last fully open-seat election) to 2012 was about 9 percentage points – but how much of that was having a race that actually mattered as opposed to one which was anti-climactic? You really can't argue that the Trump candidacy brought a lot of people to the GOP, either – from January to March the GOP numbers only increased from 974,602 to 997,211. That's a nice bump, but Democrats added nearly 46,000 to their ranks and unaffiliated voters declined by a little over 19,000.
So here's the thing. Indeed, Donald Trump won the state, probably in part because he campaigned here the most. But I'm not sold on the argument that he either drove new voters to the GOP or motivated them as much as the simple fact that Maryland mattered – all three of the top candidates were in the state at least once. In addition, some fraction of the GOP increase was likely from an "anyone but Trump" movement that probably benefitted John Kasich more.
Moreover, I'm getting more and more convinced that Donald Trump is electoral poison. Call me establishment, but I have this quaint, old-fashioned notion that the Republican candidate should be at least a little conservative, and there are millions of Republicans around the country who agree. The hard part of a Trump nomination will be containing the bleeding down the ticket, which is why so few of the GOP leaders and candidates in Maryland are embracing him. Governor Hogan, who most Republicans respect, is not on the Trump train. In my estimation Trump may be the most divisive GOP presidential nominee ever, even counting Abraham Lincoln.
Even if all 200,000 additional Republican votes came out just to support Donald Trump, it's worth mentioning that Trump was over 300,000 votes shy of Hillary Clinton here in Maryland – and nearly 50,000 behind Bernie Sanders. Assuming all the unaffiliated voters who couldn't vote in the primary came out, Trump would have to win at least 75 percent of them to catch Hillary and that's not going to happen.
If there's a choice to be made, let's pray it's one of bold colors vs. pale pastels, not Tweedledum vs. Tweedledee.
Last night about 120 people enjoyed hearing from both Sheriff Mike Lewis and Congressman Andy Harris, as well as words of wisdom from our sixteenth President. Here he waits his cue to walk into the gathering.
For me, this year was a little different as I subbed for our treasurer, who usually checks people in at the door. So I saw pretty much everyone who came in – actually, on my arrival I stopped Salisbury City Councilman-elect Muir Boda and his wife from going to the wrong floor. We were literally the first three there.
So by the time Lincoln and his band of Union irregulars arrived, we had a pretty full house.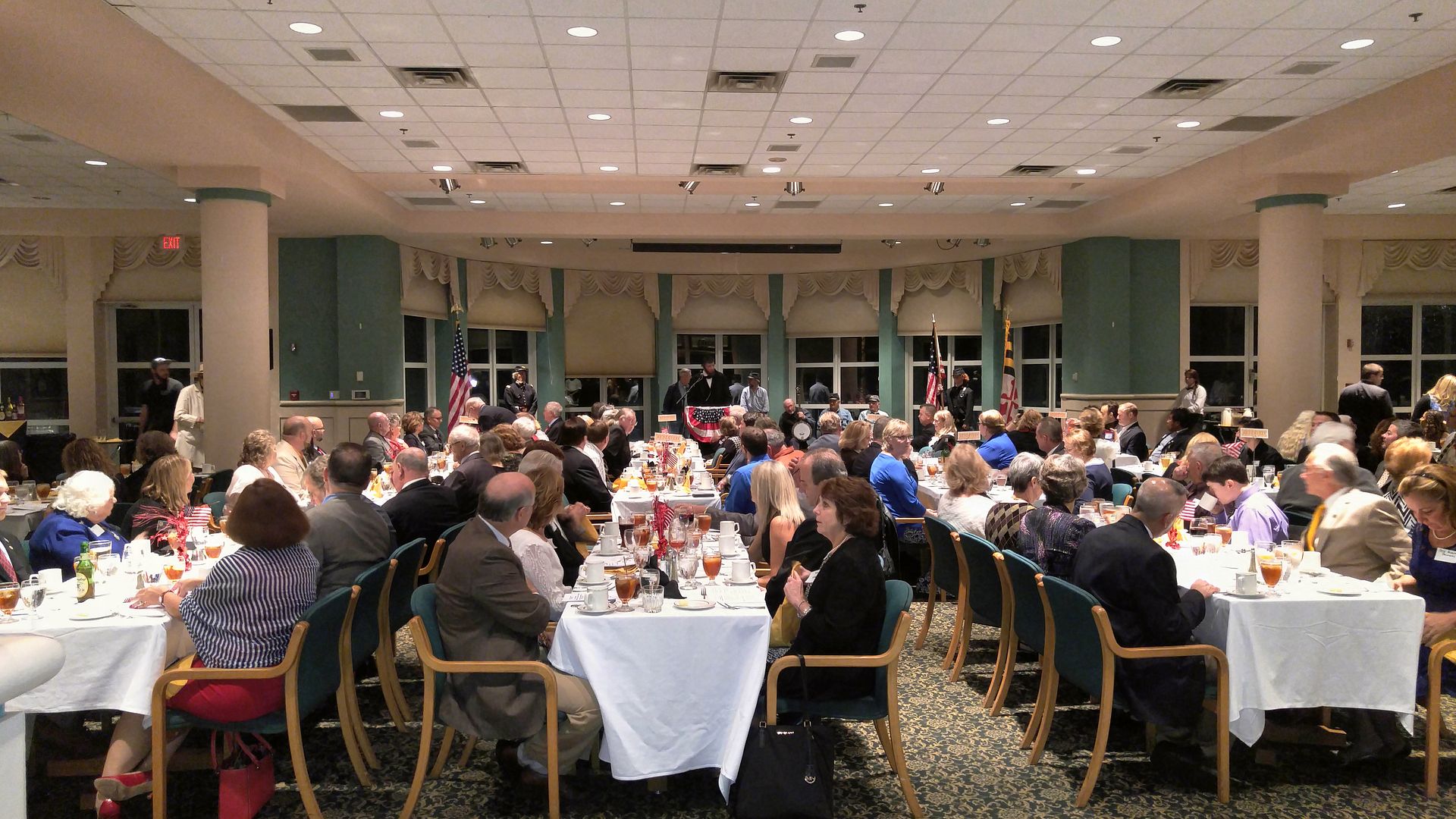 It should be noted that most of those present were from Wicomico County, but we also had contingents from surrounding counties as well as a table from Montgomery County. We also had state leaders from the Maryland Federation of Republican Women and state GOP Chair Diana Waterman.
Now because I was wrapping up my duties with a couple stragglers, I didn't catch all Lincoln had to say. But I recall he spoke about the press of the day, how candidates were vetted in an age when communication was becoming faster but still could be measured in months, and compared how voters were informed and educated then to now.
I finally got to relax, eat, and enjoy what Sheriff Mike Lewis had to say.
Lewis praised the Salisbury University College Republicans for their involvement, saying they "have to speak up" as representatives of their generation. Next year's election will be "the most important day of our lives."
Reflecting on his fairly recent fame – he just returned from a speaking engagement in Fresno, California – he noted they were trying to recruit him to run the Fresno Police Department but he had no desire to leave Wicomico County. "I'm extremely humbled" to be sheriff, said Lewis.
Mike pointed out that gun violence in Maryland was on the increase despite the passage of Senate Bill 281 in 2013, which he added was promoted by the sheriffs in both Baltimore City and County. So far in 2015, though, shootings have increased in Maryland from 725 to 1,161 while homicides have risen from 314 to 459. "Thank you, Governor Martin O'Malley," said Lewis, tongue firmly in cheek. The sentiment of "thank God for Larry Hogan" was much more sincere.
Lewis blamed "failed Denocrat leadership" for the woes in urban areas like Baltimore, Chicago, and Detroit. On the other hand, Lewis believed America needed statesmen in order to return our liberty and restore us to being the land of the free.
Turning to the drug issue, Lewis called State's Attorney Matt Maciarello "a tremendous partner" in the drug fight. It's a fight which has struck home for many in the area – Lewis has a 38-year-old niece who he had to lock up again for possession. "She doesn't want our help," said Lewis. He also related the story of the grandson of a terminally ill man who removed the elderly man's morphine drip and stuck it into his arm.
Politically, Lewis believed we needed to identify key people to represent "Eastern Shore values" in our government. "I'm so concerned about the lack of patriotism" in this country, said Lewis, calling on us to "make sure you vote right."
Lewis yielded the stage to Congressman Andy Harris, who was praised for being "incredibly optimistic" by Wicomico County GOP chair Mark McIver, who served as the emcee for the event.
Harris picked up Lewis's baton on the drug issue, saying we needed to "do all you can" to keep drug legalization from the Lower Shore. The District of Columbia "made a big mistake" on marijuana, added Harris. While the merits of medical marijuana were up for debate – Harris seeming to be on the skeptical side – his fear was having a workforce too stoned to be productive.
Changing gears, Harris noted that the "true blue" states of Massachusetts and Maryland now had Republican governors. He chalked it up to a situation, more specific to Maryland, where "government has failed them entirely." Electing GOP leaders was "no accident," he added.
Showing his optimism for 2016, Harris said, "I think things look good, actually." He also believed our late April, winner-take-all primary was key in an election where he noted Karl Rove thought there was the possibility of no candidate having enough delegates to win on the first ballot.
Andy went on to speak about the Republican field's diversity, pointing out Ben Carson was "the most serious African-American candidate" in history. This was intriguing because Carson, who Harris said he'd known since the early 1980s, was the "farthest person from a politician you could ever get." Moreover, with two Hispanic candidates the possibility was there to secure 40% of the Hispanic vote, which was the fastest-growing minority bloc.
As for the U.S. Senate race here in Maryland, on the Democcratic side Harris described Chris Van Hollen as "the consummate insider," while Donna Edwards was "to the left of Bernie Sanders." Elijah Cummings could get in the race, but there was the issue of his reaction to the Baltimore riots. "You own it, Mr. Cummings," said Andy.
Harris then revealed that Delegate Kathy Szeliga would be here in Salisbury Thursday afternoon as part of a statewide tour to promote her U.S. Senate bid. If she wins, said Andy, "Maryland is no longer a blue state." He called Szeliga "the Joni Ernst of Maryland," referring to the Senator from Iowa elected last year. "We can't keep doing business as usual in Washington," concluded Harris.
Despite the previous admonition by McIver that neither Lewis nor Harris would take questions, Harris took them anyway. First out of the chute was how Paul Ryan won him over.
Ryan was an "excellent" choice for Speaker, with Harris arguing he's "not a moderate."
But this led to a more philosophical answer, with Harris believing Ryan could unite the House and re-establish the "natural tension" between the legislative and executive branches, rather than the artificial battle between parties that Barack Obama and Harry Reid took advantage of to amass power for the executive branch. He opined that legislation from the House will be conservative, even with some Democratic amendments, but this was a way to make the House united.
The way John Boehner did things, contended Harris, was "not the way to do business." He used that example to answer the next question about government shutdowns, saying that you can't embararass the Senate into action with just a few hours to act. Ryan would work to do things in regular order, which puts the onus on the Senate to act.
Harris then answered a question about why Congress is held in such high disregard by the rest of government by claiming "bureaucracy has become the fourth branch of government." He called on the next GOP president to be "merciless" in cutting bureaucracy.
Finally, in answering a question about VA treatment, Harris made the case that a veteran from Princess Anne shouldn't have to drive by a care facility in Salisbury to go to a VA clinic up in Baltimore. When an average VA visit costs $250 compared to $65 to $85 in the private sector, "it is time we privatize" VA health care.
(Funny, some guy I know wrote a book three years ago with that same idea, among others. But I wasn't standing behind this podium.)
One other aspect of the LDD worth mentioning is the silent auction, where we had a table full of items from books and gift baskets to experiences such as lunch at the Capitol Hill Club or shooting with Harris or a State House tour and lunch with Delegate Carl Anderton, among many others. That turned out to be a success, too. I thought I had a photo of that spread but turns out I didn't. Oh well.
The SU College Republicans also did some fundraising, doing a pay-per-vote poll for President and selling T-shirts.
We may stay with this fall date next year, although it may wait until after the election – meanwhile, we may do a second fundraiser in the spring/summer. It turned out to be a good event to continue building on, so we shall see how we ended up doing when the bills are paid.
It wouldn't be a Wicomico County Lincoln Day Dinner without the guest of honor, now would it?
But it was that and much more as about 100 people enjoyed the festivities last night in Salisbury. I was a little disappointed in the attendance, but those who missed the affair missed some stirring words from both our four featured speakers – the GOP gubernatorial candidates – save Jeannie Haddaway pinch-hitting for David Craig, who was in Frederick tonight – and Delegate Mike McDermott.
Our event is set up so guests have an opportunity to talk to candidates before and after the proceedings. So before dinner was underway, acquaintances were made and renewed, such as Delegate Ron George speaking with the newly-goateed Delegate Charles Otto.
I like that look on Charles. Meanwhile, Larry Hogan and wife Yumi spoke to Wicomico County Council member Joe Holloway. I believe fellow Council member Bob Culver is back to camera.
As I noted earlier, Jeannie Haddaway was taking the place of David Craig and visiting her alma mater. In the background is Larry Hogan's LG pick, Boyd Rutherford.
Candidates were also taking advantage of the space provided for literature and signs.
Things began to get going when the Union troops and band arrived in the room.
This heralded the arrival of our sixteenth president, who is a popular subject. In this case, it was with Senator Rich Colburn (left) and John and Gail Bartkovich. Gail is the outgoing Council member from District 3, while the good doctor John was our county chair for several years.
One new wrinkle we added this year was a Union band, described by Lincoln as "the Eastern Shore detachment of the 3rd Maryland Irregular Regimental Band," which played traditional music during the prelude to the ceremonies.
The troops sat behind Lincoln as he made his remarks, with a little banjo accompaniment toward the end.
As he always does, Lincoln made remarks which tried to use the words of yesterday to relate to today's world, leading off with a tale about General George McClellan, one which he concluded by stating the case "the lunatics are running the asylum."
"Our greatest enemy is voter apathy," he continued. "It cheats honest citizens."
And just as the British Empire sparked a revolution by resorting to tyranny, Lincoln called the modern situation "mental torture." Now, "A lying tyrant is in control," Lincoln added, "We need to be a stumbling block to tyrants." But he ended on a hopeful note, believing "America shall not pass away."
Our county Chair Dave Parker then secured the floor for a number of announcements as well as praise for one outgoing member of our Central Committee.
First of all, we learned that there will be a gubernatorial debate among the GOP candidates here on May 31, at Salisbury University. Once the June 24 primary is history, we will convene for the Wicomico County Republican Club Crab Feast on September 6.
But the huge event was the one slated for September 27. After twice being unsuccessful at getting a Lincoln Day date, we got the next best thing: Lt. Col. Allen West will be appearing in Salisbury for a series of events September 27. Those who attend Central Committee or Wicomico County Republican Club functions already know this, but we put out the formal word tonight at Lincoln Day.
Before we heard from the gubernatorial candidates, we also took a few moments to honor one of the few Republicans in Maryland whose Presidential vote has truly counted – this man served on the Electoral College from Maryland in 1972 for Nixon and 1984 for Reagan. For the better part of five decades Blan Harcum has been a fixture in Wicomico County GOP politics, but after this election he will take a well-deserved retirement from the Central Committee. "I've enjoyed every minute of it," said Blan about his tenure.
And as it turns out, Larry Hogan has known Blan "for a long, long time." He drew the opening slot among our four, and in doing so decided to play up his experience in both the private sector and executive branch under former governor Bob Ehrlich. "I've spent a lifetime challenging the status quo," Hogan said, accusing our current leaders of "actually causing the problems." Rather than "be something," he wanted to do something about them and that was why he decided to run.
Naturally, Hogan spoke about Change Maryland, noting that it "successfully changed the dialogue in this state." He could sense the frustration with the "huge disconnect" between the people and their government as well as the belief the state was heading in the wrong direction. Regarding the "arrogant, out of touch monopoly" in Annapolis, he believed it was "about time the politicians in Annapolis listened to the rest of us."
As he has often done in his stump speeches, Hogan returned to three main points: creating jobs, helping out the middle class, and getting government off our backs. He related his day in Salisbury, with stops in several area businesses as well as a Little League opening day and the downtown Easter Egg hunt.
Charles Lollar also told us about his day, one spent taking the fight to Democratic strongholds and crossing paths with Democrat Anthony Brown on three occasions, debating him once. He was inducted into the 100 Black Men of Prince George's County, heard Brown say at a Howard County forum that "Maryland is doing fine" – while 1 out of 3 in portions of Baltimore are jobless – and went to a Veterans for Democracy meeting back in Charles County where he was "disinvited" to speak because of "political pressure" his name has brought. On top of that, his second daughter is going to her first prom tonight. "I'm not doing this for me…we're doing this for you," said Charles.
But his message to the Republicans was that whoever the nominee for governor may be, he has to have the "intestinal fortitude and integrity" to speak our convictions. His basic agenda would be one of economic solvency, installing a Taxpayer's Bill of Rights to slow budget growth, and eventually eliminating the personal income tax – a proposal which got him the support of economist Arthur Laffer.
He knew it would be difficult, but concluded that "I don't play politics very well, but I do enjoy a good fight every once in awhile." Whoever wins the primary has to care about the ideals of the minority community to earn their votes, Charles stated in closing.
Representing David Craig, who couldn't be here tonight but was instead over in Frederick County, was his lieutenant governor candidate Jeannie Haddaway. We're out "covering the state as much as we could," she explained. Reflecting on the recent General Assembly session, Haddaway remarked that "there are people in Annapolis fighting for you." Some of the more controversial bills only passed by slim majorities, added Jeannie, because Democrats are reluctant to vote for them but have to contend with their "top-down agenda." Thanks to what's gone on the last few years, "our state is in really bad shape," said Jeannie.
She corrected Larry Hogan's remark about private sector experience, noting David Craig worked in a factory when not teaching and her own work as a small business owner. Their priority would be to straighten out the budget then "put money back in your pocket" through elimination of the income tax.
Haddaway pointed out 40 percent of Democrats were undecided, perhaps because they didn't like the options and may consider a Republican who would "try something different." And even in heavily Democratic districts, Craig had won. "We have won collectively 14 general elections," she said. "Whoever turns out is going to win this election." She promised that if Craig won and she became the state's first Eastern Shore lieutenant governor, "the Eastern Shore will be forgotten no more."
While he was holding up the flyer for an upcoming event in Ocean City in the photo above, Ron George opened up by discussing running mate Shelley Aloi – like many of us, I met her for the first time tonight. (She and Ron happened to sit at our table, along with our next speaker and his wife and the Parkers.)
Ron spent much of his time talking about the General Assembly: "I felt like I needed Rolaids constantly," remarked George – but considered it an "honor" to serve with our Republican "warriors." His pitch was combining his business experience with time served at the "front line" of issues as a member of the General Assembly – one who formed the Doctor's Caucus "to build consensus" and a related group called the Physician's Advisory. That group had uncovered waste within the exchange and the failures of health care contractor Maximus early on.
Ron also spoke about his work on the electoral process, closing a loophole for the next cycle so a donor couldn't form multiple LLCs just to circumvent campaign finance limits. Audits, too, were another major part of his platform since he'd found where Prince George's County "totally misused" $400 million. "That kind of waste has got to stop."
George went over a couple parts of his ten-point promise, one which "will fix the drain that Baltimore is" and strive to rebuild the state's manufacturing base in small communities like ours. "I cannot cut welfare payments unless I have those entry-level, mid-level jobs," said Ron.
He also made an announcement about a Monday event to be held in conjunction with Dan Bongino and David Craig, endorsing Anthony Brown for governor…of Connecticut. "How's that (health care) working out for us?" added Jeannie Haddaway.
But the rhetorical storm was brewing.
You knew Delegate Mike McDermott was working on a stemwinder when he noted, "the problem with Democrat math is that they follow Common Core logic." This after he noted losing the two GOP Senators in 2010, including the seat he seeks, "opened up the floodgates of hell on the social side." This didn't count the pilfering of various trust funds or the "blank check" to uncovered patients for the budget.
But once he got going on the "outrage" on the bathroom bill, it was on. "It should be unacceptable to all Marylanders," he said. We gave each gubernatorial candidate ten minutes – Mike was still going strong after fifteen.
"The tragedy of Maryland politics can be turned around," he said. "Don't send a governor to the governor's mansion without sending them reinforcements" of five Senators. His voice rising, McDermott made the case that North Carolina "worked on making government work for the people" after the GOP took over and raised its business friendliness rating from 46th to 17th in two years. "They've brought that state back! It can happen here."
"If we can't make the case for change this year," Mike thundered, "the Republican Party can never make it."
"We can take Wicomico County by storm! If there was ever a county which needed good leadership and change, it's this one. I'm tired of being up there, and being in a welfare county…I challenge you to take it back," an emotional McDermott concluded. He had to dial it back some for the benediction that he delivered.
Our friends in Worcester County have the chance to have a great team in Annapolis: Mike McDermott in the Senate, and Mary Beth Carozza and Charles Otto in the House.
So ended another Lincoln Day Dinner. It wasn't quite what we bargained for when we started planning it last year, but those who were there were treated to a good event nonetheless.
Certainly it wasn't quite a full house, but after a series of false starts with our list of speakers, the 2013 Wicomico County Lincoln Day Dinner still drew around 80 people last night.
Billed as an event focusing on the Second Amendment, it was that and more. For one, it was an opportunity for all three aspirants for the state party Chair race to meet the most active Republicans in Wicomico County. While I have Greg Kilne (right) in the photo below with fellow Red Maryland writer Brian Griffiths (left) flanking Andy Harris' local liaison Bill Reddish (in the center), Collins Bailey and current interim Chair Diana Waterman were present as well.
It's worthy of noting that Kline and Bailey were there well before the event began, while Waterman arrived closer to time. Perhaps she wasn't thrilled about being questioned right out of the gate, but I don't believed she stayed long after the event to mingle, while Bailey was among the last to leave.
While one of the two featured speakers, Charles Lollar, is being mentioned as a possible candidate for governor – more on that in due course – another prospective candidate for Maryland's top job was making his rounds as well.
Craig was being introduced around the room by local supporter Ann Suthowski. He also stopped to greet Lollar and his lovely wife Rosha.
But the bulk of the time was taken up by our featured speakers, including the President in question himself.
Art North has made somewhat of a cottage industry out of his admiration for our 16th President, since he now regularly appears at other local Lincoln Day dinners. For ours, he had two re-enactors posing as Civil War troops and his photographer, Matthew Brady.
Hopefully none of these men consider a run for Congress, because re-enactors tend to attract unwanted attention.
But Lincoln's message was one more tailored for the modern day. He made the point that to give up on the fact man can make himself in a free society like ours would be to give up on prosperity. "In your era," he continued, Saul Alinsky camouflaged his intent with deception "foisted upon the general population."
In his day, though, the tendency for class warfare was kept in check by the knowledge that hard work, diligent study, and striving for success were possible in America. A shoemaker's son didn't have to follow in his father's footsteps, said Lincoln.
Honest Abe also decried the evolution of our educational system from the dictate of the Northwest Ordinance, which led to the introduction of state control of schooling in the affected states (Ohio, Michigan, Indiana, Illinois, Wisconsin, and Minnesota) to the modern "massive federal control of our education system."
Who knew Lincoln was such a political animal?
Bill Reddish was called to the microphone to make an announcement about the townhall meeting called by Sheriff Mike Lewis and attended by Congressman Andy Harris tomorrow night at 7 p.m. at the Wicomico Youth and Civic Center.
He commented that a similar event in Worcester County split about 80-20 toward a pro-Second Amendment crowd. Originally they expected 75, but 250 attended that event so one would expect the WYCC to be similarly crowded.
(As an aside, we will hold a very brief, almost pro forma Wicomico County Republican Club meeting tomorrow so those attendees can get to the townhall meeting and speak if they desire.)
Because Charles Lollar needed to return to the Washington area to do his job, we allowed him to speak first.
It was a long day for Lollar, who had spoken to a men's conference early in the morning in Baltimore, at the New Antioch Baptist Church; an event at which he was "well received." They "embraced" his strong Second Amendment stand, Charles added.
"I am convinced our greatest days are in front of us," he noted, but pointed out we are at a "pivotal crossroads" in our history. Referring to the state of Maryland, Charles warned "we can't afford our lifestyle," claiming that $9.2 billion of a $35 billion state budget comes from various federal grants and stimulus money. We bring in only $26 billion of a $35 billion expense tab, said Lollar.
And he made the case that "sequestration is taking its toll, one step at a time" because Congress isn't doing its job.
He laid out a stark choice for our nation: either a "national revival of our Constitution and Declaration of Independence" or the "beginning of the end of a great nation." He was heartened, though, by the 5,000 Marylanders who showed up at the pro-Second Amendment rallies, and when it was mentioned by one observer that he didn't know there were 5,000 Republicans in Maryland Lollar pointed out "these aren't just Republicans."
"The biggest fight is for our dollars and our amendments," said Charles, who believed as well that "losing our freedoms" wasn't just a Maryland problem, but a national malady. Working for a dollar and only getting fifty cents from it thanks to taxes was "a form of slavery," opined Lollar.
But it wasn't just financial issues for Lollar. There's a danger "when you start messing with the base of the stool" that our nation was built on: morality, ethics, and God. Charles pointed out that, over our nation's history, it's been responsible for more evangelicals than all other nations combined.
It's that moral foundation which makes it necessary to defend freedom "by any means possible," and the Second Amendment "is the lifeline of your freedom."
Charles also reacted to the concept that he takes things so seriously. He grew up in a home which stressed taking responsibility for his actions, he explained, which led him to plead that we "stop playing (political) games with each other in 2013." "Take some things seriously," he continued. "My concern is for my country and my concern is for my state."
Lollar went on. "There are nations salivating for our demise." He urged us to be like the signers of the Declaration of Independence and "put your name on the document."
Charles was even serious enough to remark on the standing ovation he received at the end of his remarks, "I haven't earned that yet."
Lollar has always had a gift for public speaking, though, and while he hasn't yet tasted electoral success he's been in the trenches with his New Day MD PAC and past leadership of AFP Maryland.
I also spoke with Karen Winterling, who's been pushing the "Draft Lollar" movement. I learned that, due to the Hatch Act, Charles couldn't make an official announcement on the 2014 governor's race until June. But Winterling already had an army of 250 volunteers around the state and was hoping for "another 30 tonight."
Someone else who could get thirty volunteers in a heartbeat was the evening's final formal speaker.
Wicomico County Sheriff Mike Lewis has emerged as a leader in opposing Governor Martin O'Malley's draconian gun law proposals.
"I don't work for Martin O'Malley," explained Sheriff Lewis. "I work for the 100,000 people of Wicomico County." He clearly stated that the county sheriff is the "first and last line of defense against tyranny," and pointed out a number of his counterparts from around the state will be present for Monday night's townhall meeting here in Wicomico County.
He also made the case for the right to bear arms. "Who am I to tell a citizen they can't defend themselves?" Lewis asked. He also expressed his admiration for America's most famous sheriff, promising that "Sheriff Joe (Arpaio) will be here when I run for re-election in 2014."
And not only did Lewis take a lead role in the fight to preserve the Second Amendment, he stood in opposition to doing away with the death penalty as well. There's a framed picture of Sarah Foxwell in his office to remind his deputies of why they do their job.
But Lewis saved most of his remarks for his defense of the Second Amendment. "We're going to fight hard" against the gun bill, said Lewis, but if it passes "I will not allow any deputies to go into any law-abiding citizens' houses (to confiscate guns)," Lewis promised.
This legislation will "do nothing" to stem crime in Maryland, Mike continued. It's our "right, duty, and responsibility" to protect ourselves. Lewis also warned that the Obama administration is "trying to disarm Americans," and vowed on Monday "we will show everyone the real Obama administration."
After Delegate Addie Eckardt closed us out with a rendition of "God Bless America," the formal portion of the event concluded and people had the chance to speak one-on-one with various attendees. I took some additional time to speak with my tablemates from Strategic Victory Consulting, who had come down for the day, and also further renewed acquaintances with my "partner in crime" Heather Olsen of Prince George's County. (The below photo was taken by Dwight Patel.)
So the Maryland YRs were well-represented, too. It seemed like we had as many or more people from outside Wicomico County as we did locals.
Still, it was interesting to have the attention of the state party on our little corner of Maryland for a day. We may only make up 1/60 of the state in terms of population, but I daresay we make more than our share of political headlines and intrigue. Must be that thriving blogosphere.
Update: Rich Douglas responds to my assessment of his statement, see end of column.
We were expecting around 100 to show up, along with most of the 10 contenders for U.S. Senate and a host of local Republican elected officials. Well, two out of three ain't bad, as Meat Loaf used to say.
I don't have the official numbers, but I would guess our attendance were closer to 120. But we had just four U.S. Senate contenders make their way down here, with Robert Broadus showing up well before the 6 p.m. opening.
Those candidates who came had a spot to put their literature. However, we did not have a visit from Ron Paul – just local supporters.
I would say of the four Senate candidates who came, Broadus had the most stuff, with Dan Bongino and Rich Douglas bringing a more modest amount. David Jones had no literature (or support staff; he was truly a one-man operation.)
And we had a few ideas for promotion of the event, with some of the patrons taking advantage of this one.
The who's who of local Republicans came out for the event, as well as several from around the state – included in that complement were MDGOP 1st Vice-Chair Diana Waterman and both candidates for National Committeewoman, Nicolee Ambrose and Audrey Scott.
As always, we had President Lincoln make his appearance at the event, too. He brought a small regiment of troops for protection.
There were also reenactors in each corner of the room as well as Civil War-era photographer Mathew Brady taking snapshots of the proceedings.
"Our country is in great peril now," said President Lincoln. What I've found interesting each year is that the President brings the problems of 150 years ago to compare with the modern day. "In my opinion, we would do better to leave the Constitution alone," Lincoln echoed from long ago, "It can scarcely be made better than it is."
"My hope is that our Republic can be redeemed," he concluded, "and that you will kick the scoundrels out."
In speaking to Lincoln beforehand, he remarked that the portrayal gets a little easier every year because he's getting more wrinkled. But he does a good job in setting the mood each year.
And this guy does a good job in setting up the affair each year. As always, sporting the red (naturally) blazer, Wicomico County GOP Chair Dave Parker set up the rest of the program.
As it turned out, we had a total of eight featured speakers; four Senate candidates and four state elected officials. We also heard briefly in between from Mark McIver, who is the Lower Shore liaison for Andy Harris. Andy could not attend our dinner this year.
Each Senate candidate was given about seven to eight minutes to speak, while local officials were allotted five. Now one would think that having the Senate candidates speak first, before the local officials, would be a mistake, but I didn't see anyone heading for the exits before the benediction to close the proceedings (from Wicomico Central Committee member Dave Goslee, Sr., who also did the invocation.)
Dan Bongino had eight minutes but took five to deliver an uplifting message that "Maryland is not a lost cause." He was quite feisty, as a matter of fact, telling those assembled that "it's time to pick a fight…this is our home." The statists have no entitlement to the state, he added.
While he didn't get into many policy specifics, Dan said that conservative ideas have won before, citing Ronald Reagan's re-election. (George H.W. Bush also carried Maryland in 1988.) What we need is a "clear delineation" on the issues, said Dan, and if we can get that "we can win this."
And when all his friends told him he should move to Virginia from New York, Dan instead chose Maryland because "I saw Maryland first and I fell in love with it." Now he's made it home.
Robert Broadus was in the Navy. When he got out, he "saw a government that was not following its charter, the Constitution." Furthermore, his representatives were "unresponsive" and weren't listening. So he became involved and aware.
While he was "raised to vote Democrat" by virtue of his skin color, Broadus asserted that, in Maryland, "too many vote their identity" and we need to change the narrative of Republicans as rich and white – after all, President Lincoln helped end slavery as the first Republican president.
Yet the NAACP, supposedly an advocate for his race, instead supports things like illegal immigration and same-sex marriage, he continued. And when Ben Cardin came to Prince George's County to announce his support of Obamacare, backed by the purple shirts of the SEIU, everyone – even the Republicans – was applauding. But he wasn't.
"I stood up to Ben Cardin two years ago," said Broadus, and "we can't let that destruction of liberty continue." His agenda was simple: repeal Obamacare, end the IRS, and protect marriage. The state should stop pushing a social agenda.
Broadus has run for Congress twice before, but is perhaps best known in Maryland as an advocate for protecting the concept of marriage between one man and one woman – a value system most in the room agreed with wholeheartedly.
I found it quite telling that Rich Douglas brought a book with him; a book I had a blurry picture of, unfortunately. The tome contains the rules of the U.S. Senate, and this dogeared volume was several hundred pages thick.
And while the last attack on the Bill of Rights was at Fort Sumter under President Lincoln, Douglas opined, this White House has also attacked the Bill of Rights as well. But Rich's task of the evening was "to persuade you I am the right candidate to defeat Ben Cardin."
He attacked the incumbent on three levels. First of all, the Senate has a lot of input on national security, but Douglas was "alarmed" by the lack of military veterans in the Senate. Bolstering his credentials in that respect was his endorsement by former U.N. Ambassador John Bolton.
Secondly – and this is a point he's made frequently – Ben Cardin has never worked in our private-sector economy. He's been an elected official since 1966, fresh out of law school. Someone who understands the private sector may have convinced Caterpillar to bring its new plant and 1400 jobs to Maryland – Douglas "would've camped out at the front door of Caterpillar" to bring the jobs here. (Imagine that in Salisbury.)
But most important was "backbone." Douglas worked for the late Senator Jesse Helms, and Helms had principles, said Douglas. But Maryland has no Senate representation because Senate Majority Leader Harry Reid's priorities are "high priorities" for Cardin. That's why we have spent nuclear rods in the open at Calvert Cliffs instead of at Nevada's Yucca Mountain, Douglas said.
As I noted about the Senate rules book, another advantage Rich claimed was knowing how the Senate rules work and using them to our advantage.
But perhaps the most controversial thing Douglas said was that the "only good conservative outcome" of the Supreme Court battle over Obamacare was that it be upheld. Congress has greater discretion under the Commerce Clause, he argued.
It was interesting that after the event was over he and Robert Broadus were having a friendly debate over that very subject.
David Jones actually spoke the longest of the four candidates. Now it's obvious that, at just 32 years of age, he doesn't have the pedigree the others do so that wasn't his message.
Jones is a working man, who makes $32,000 a year and is the single dad of a four year old son. He conceded that it's "damn near impossible" to run and win as a 32 year old Republican in Maryland.
But then again, Bob Ehrlich won in 2002. Of course, part of that was the fact that Kathleen Kennedy Townsend was an "insult to the people of the state" and Ehrlich was a "good leader." But Martin O'Malley didn't insult the Democrats so he won. Republicans have to "speak for all," Jones added.
David jumped into the race because he believes "nothing is being done for the majority of the country…I'm tired of it." And those people he encounters as part of his job "don't believe it works anymore" either. The people need leadership, Jones believed.
But while he certainly played the role of a disaffected youth well, I never heard exactly what he stands for. Certainly he's a likable guy, and he asked the bartenders afterward what they thought of his remarks, but I'm curious whether he can flesh out a platform next week at a Worcester County candidate forum he's planning on attending.
After going over a list of his upcoming fundraisers, State Senator Rich Colburn announced he now officially represented about 49,000 of Wicomico County's residents thanks to redistricting. The Democrat majority didn't look at any alternative redistricting bills in the first 45 days of the session.
Instead, to keep up with potential 2016 Presidential rival Gov. Andrew Cuomo of New York, Martin O'Malley's top priority was getting same-sex marriage passed, Colburn said. This prospect even affected the timing of his State of the State address, which was late because they "needed him here" rather than out traveling the country.
And apparently the new definition of millionaire was someone who made $150,000, since those who make that amount would begin losing tax deductions. Throw in the proposed gas tax, the septic bill – a "feelgood bill by the Chesapeake Bay Foundation" which won't address the bulk of the problem – and the flush tax, and there's a lot of damage which can yet be done in this session.
Colburn saved the last part of his enmity for the Waterkeepers Alliance, a group which is suing the Hudson family of Worcester County with assistance from the University of Maryland Law School. Colburn noted "North Carolina would love to have" our poultry industry and "every farm (in the country) is jeopardized" by the Waterkeepers' efforts. Rich has a bill pending which would compel the University of Maryland Law School to reimburse the Hudsons $500,000 for damages. "I will continue to fight against the injustices of the University of Maryland Law School," he vowed.
After she sang 'God Bless America' as part of the opening festivities, Delegate Addie Eckardt returned to the microphone to give a more sobering report, although she was "excited to see friendly faces."
Republicans in Annapolis were "working very diligently for a way to offer an alternative budget proposal" as they have for several years now. All we need to do is "take a break" and let the revenues catch up, she assessed.
But when entities are coming up and asking for huge increases in the capital budget – which is paid for mostly from property taxes and proceeds from bond sales – she was "concerned (about) how we'll survive."
"There needs to be discipline in spending," she concluded.
But while Eckardt and Colburn were rather subdued in their remarks, Delegate Mike McDermott had the delivery and cadence of a Pentecostal preacher during Sunday service. When reminded of the five minute limit, McDermott quipped "I don't listen to the Speaker of the House, I certainly can't listen to you."
"We need to re-adopt the founding principles of the Declaration of Independence," Mike thundered, as "liberty is a gift from God." He believed that "your enemy (in Annapolis) has overreached…when (they) have to pray to God to get 71 votes."
But all over the state, "people are infuriated with the overreach of government," Mike continued. "They fear the people."
Candidates for office this year need to tie themselves to the two referendum efforts going on. McDermott cited a poll taken which showed 96% of Marylanders thought they paid too much in taxes, which was awfully coincidental with the 96% of transportation money going to serve the 4% of the state which actually rides mass transit, while our roads and bridges crumble.
He also announced that Friday they saved the state $100 million. Well, they are on their way as two bills Mike sponsored are winding their way through the House. He singled out Wicomico County State's Attorney Matt Maciarello for his help on HB112.
And because of this overreach by the other side, Mike concluded, we can divide and conquer the opposition. Then we can wistfully look back and tell our grandchildren about the time Maryland was a one-party state. In the meantime, it's time to "take back our state."
And poor Charles Otto. He drew the short straw of following McDermott, saying "we may as well pass the plate right now" but on the other hand he would be the last word.
In his typical low-key style, Charles implored us to get the vote out since we have a "so-called leader in the White House that needs to be replaced." As part of that GOTV effort, Otto encouraged us to check in often at mdpetitions.com and work to get the same-sex issue on the ballot. Our GOP delegation "represents the values we grew up with," Otto said.
But he also noted one thing the previous speakers didn't bring up – the possible upcoming shift in state pension obligations to the counties. Charles claimed that, for Wicomico County, it would be a $4 million hit and taxes would almost certainly need to be raised locally. (As I recall, each penny increase in the property tax per $100 of assessed valuation equals about $750,000 to the county. So it would mean about a nickel's increase.)
Yet maybe, concluded Charles, the opposition party which has already spent a lot of political capital on passing same-sex marriage will be fiscally responsible.
I'm not going to hold my breath on that myself.
It's worth mentioning in closing that I had the chance to speak at some length with Nicolee Ambrose – not necessarily about her run for National Committeewoman but about the political scene in general. Now I agree with some things regarding the two who seek the post and I disagree with some. I haven't made up my mind yet but speaking with Nicolee helped to lean me in a particular direction. To be fair, I also spoke more briefly with Audrey Scott before the event.
Early on Saturday, I wasn't sure how we were going to pull this off. We had no idea how many Senate candidates would come and the person who originally was supposed to do our sound had to work. But the event turned out to be a success thanks to my cohorts on the WCRCC and all who attended. We'll review this edition when we next meet and start working on a bigger and better one for 2013!
Update: Rich Douglas's campaign communications director Jim Pettit sent me the following from the candidate:
Monoblogue provides a vital service for all Marylander's, namely, covering important political events that mainstream media often misses.

Such was the case in the February 27 coverage of the Wicomoco County Lincoln Day Dinner.

I was quoted about the Supreme Court and its relationship to Congress. Let me elaborate.

Information is power. The Constitution's Commerce Clause says Congress has the power to regulate commerce between the several states. In the courts, President Obama cited Congress's Commerce Clause power as the authority for the insurance mandate. Over the decades, the US Supreme Court (including Marylander Robert Brooke Taney) has held that Congress has significant leeway to regulate commerce under the the Commerce Clause. So on Obamacare, the main question for the US Supreme Court is likely to be: is Obamacare a proper exercise by Congress of its power under the Commerce Clause? At this point in our logic-walk, it is vital to remember a fundamental principle of conservative judicial thought: Courts should not substitute their will for the will of the legislature. And please: don't take my word for this — read Judge Robert Bork. My point at Salisbury was that the conservative wing of the Supreme Court (assuming that they, too, believe what Robert Bork believes) should not be expected to substitute their will for Congress's will unless they find that Congress clearly violated the Commerce Clause with Obamacare. I'm not sure they will do this. To put it another way: if the Court is NOT offended by this 'new' Commerce Clause power asserted in Obamacare, and in keeping with Bork's philosophy, the mandate will be upheld.

This tosses the hot potato back to Congress. For men like Bork, that's where it belongs in the first place. I think this is what will probably happen. Here's my Salisbury point: I don't count on the Supreme Court to save our bacon. So Maryland will need a Senator who has the guts to take the hard votes on Obamacare after January 2013. Now here's a new point: Maryland also needs a Senator who genuinely understands the Constitution, who understands how it has been interpreted, and who has taken the time to explore and understand conservative judicial philosophy before talking about it.

As a Senator I will vote to repeal Obamacare.

R. Douglas
US Senate Candidate (R-Md).
Now, allow me to add something. As an assistant in covering the event, I recorded each candidate's speech and took notes on what I heard last night as I compiled the post into the wee hours of the morning.
I'm going to go ahead and add links to all four Senatorial candidate speeches so you can check my work:
Just think, we paid $40 for the privilege. Of course, you may get the occasional comment or two from me.
For Delegate Mike McDermott, week 6 of the General Assembly session was a study in contrasts: exciting peaks at both ends with a more humdrum routine in the middle.
In this edition Mike returned to a day-by-day format, with one highlight of his week being chosen by Republican leadership to deliver the Lincoln Day address Monday night – an address he posted here.
It's intriguing to me that the speech served as a prelude to a week where certain "rights" took up most of the debate in the General Assembly. But look at a piece of what McDermott said:
Lincoln knew that life, liberty, and the pursuit of happiness were unalienable rights given by God and not granted by a government, and for the government to impose itself on that which was granted by God could only produce sorrows and shame.
Those rights given by God don't include the freedom to make choice without consequence. Yet by passing the same-sex marriage bill we took a step toward the government imposing itself on that which was granted, by saying that certain behavior which many of us feel is counterproductive to a righteous society is now acceptable because a small minority wishes it to be so. I can't help but feel that other, perhaps even smaller minorities who believe that children should be exploited for the pleasures of adults or that – based on their faith – we should be able to marry more than one person will now feel they're the ones being shortchanged and whine accordingly. No, it won't happen tomorrow, this year, or even in the next half-decade or so. But mark my words, it will happen, and we'll have one less leg to stand on in saying no to them.
Aside from the joint committee hearing and vote on the gay marriage bill which happened Tuesday, much of the midweek was spent by McDermott in hearing twenty other bills which are fairly non-controversial and generally involve small tweaks to existing law. One I found interesting is HB420, which extends a pilot program of GPS monitoring of those on probation already used in Washington County through September, 2015. Big Brother is watching.
And then there is Friday. Mike doesn't spend a lot of time going over the "blur of activity" on Friday, as he will eventually supplement these notes with his account of "the machinations to bring this vote about, the creation of 'magic' Legislative Days which allowed this to occur, and the back room dealings."
But I wanted to address some of these with my view.
In the last few years that I've noticed, it seems like more and more bills are being passed with the approach that the ends justify the means. One prime example is the Obamacare bill, where we had to pass it to know what was in it, according to Nancy Pelosi. Isn't the idea supposed to be one of understanding its impact beforehand?
In both Maryland and on a national level, there are groups which take key bills and attempts to determine the impact they will have on various elements of the private sector. (As a Maryland example, read the fiscal note on HB438, the same-sex marriage bill.) But while these brief studies adequately define the fiscal impact and certain other parameters of proposed law, they cannot take into account how society is affected. On financial and tax issues, one can predict what impact a bill will have on the state's treasury, but it's left to a common sense analysis to determine that if a state makes it more difficult to profit from a business or keep that which is earned through the fruits of one's labor it will detrimentally affect economic activity; for example a job which would have been created had conditions been maintained may not be because of the new law. It's impossible to know the intentions of all 5.7 million Marylanders but there are causes and effects for their behavior.
This is even more difficult on social issues. One can debate the sort of impact 40 or 50 million aborted babies would have had if they'd been brought to term and lived – some argue that many would have been subjected to a life of neglect because they were unwanted from the start and deepened the social problems plaguing us today, but others feel the potential of a generation was wasted because some of its great scientists, scholars, and leaders were instead butchered in an abortion clinic. Obviously we will never know the truth, but it's my contention that we deprived these unborn of their God-given rights to life, liberty, and the pursuit of happiness they assumed upon conception. Yet it's ironic to me that many who would grant the unearned, behaviorally-based choice of same-sex couples to marry as a right are also in favor of denying the unborn a right to life, also in the name of "choice."
Because we've lived for less than a decade with same-sex marriage, it's not entirely clear to us what we've stepped into. Indeed, there's a chance that proponents could be right and it will strengthen marriage as a whole. But as two of Mike's fellow Delegates noted, there's an agenda to legitimize the gay lifestyle as just another choice (there's that word again) which is no better or no worse than others.
Yet the fact it's our current government stepping in to address the situation gives me pause, and reminds me that "absolute power corrupts absolutely." When the ends justify the means and we have to pass the bill to know what's in it, my inclination is that we've reached a point of complete corruption.