As I did from last month, I'm building on 3rd Friday to provide another edition of WLR. But in this installment I'll profile a local group doing good through music.
The "official" 3rd Friday group playing on the Plaza stage was a Salisbury University-based group called The Benchwarmers, who I would say had more of a jazz feel than straight up rock. But they won the right to play through a battle of the bands, so here they were.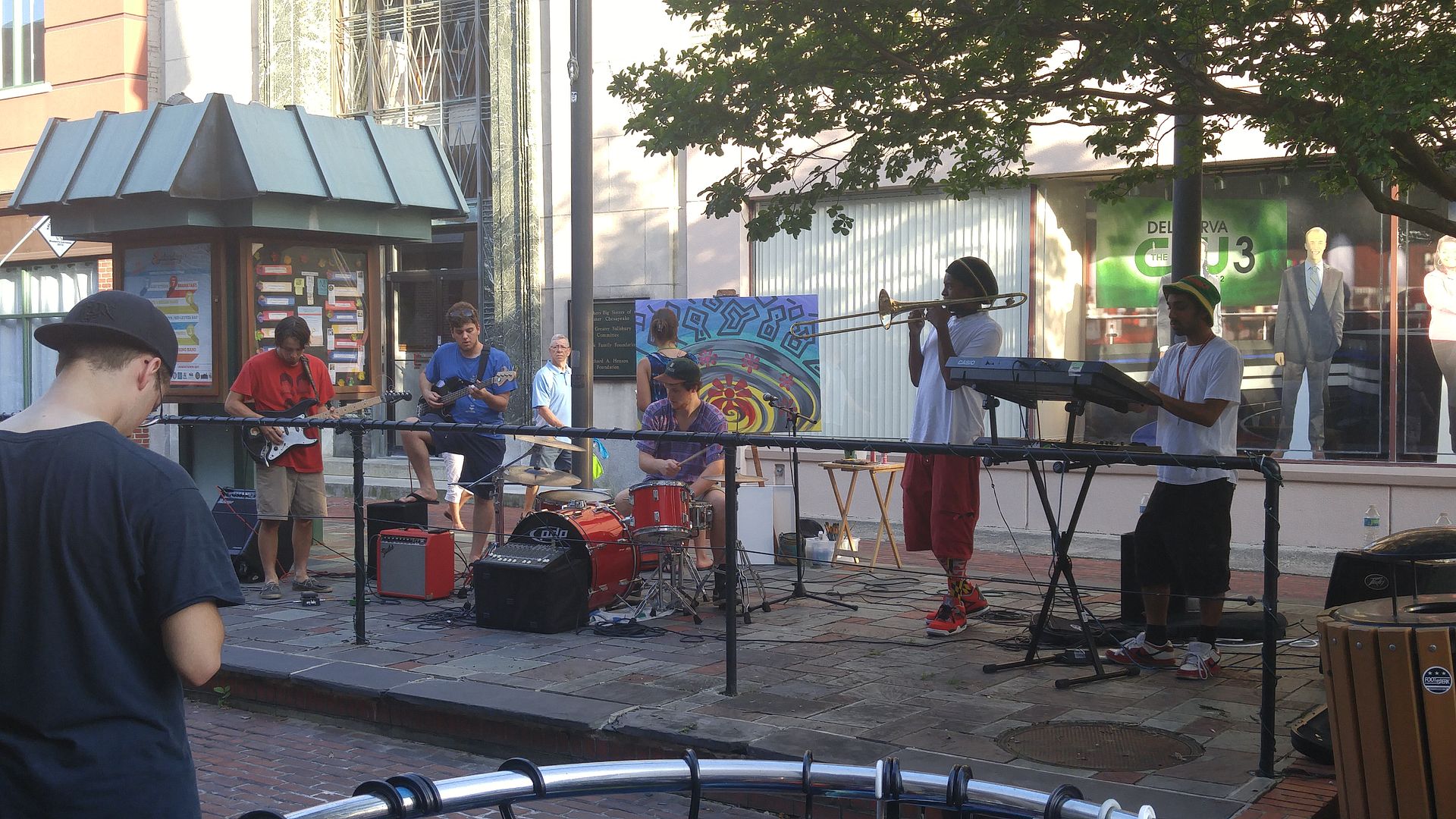 I still haven't figured out the idea of the painting being created behind the group, but to each his or her own, I guess.
Now if you stood in just the right spot, you could hear the Plaza stage in one ear while Alex & Shiloh played in the other one, outside at Roadie Joe's.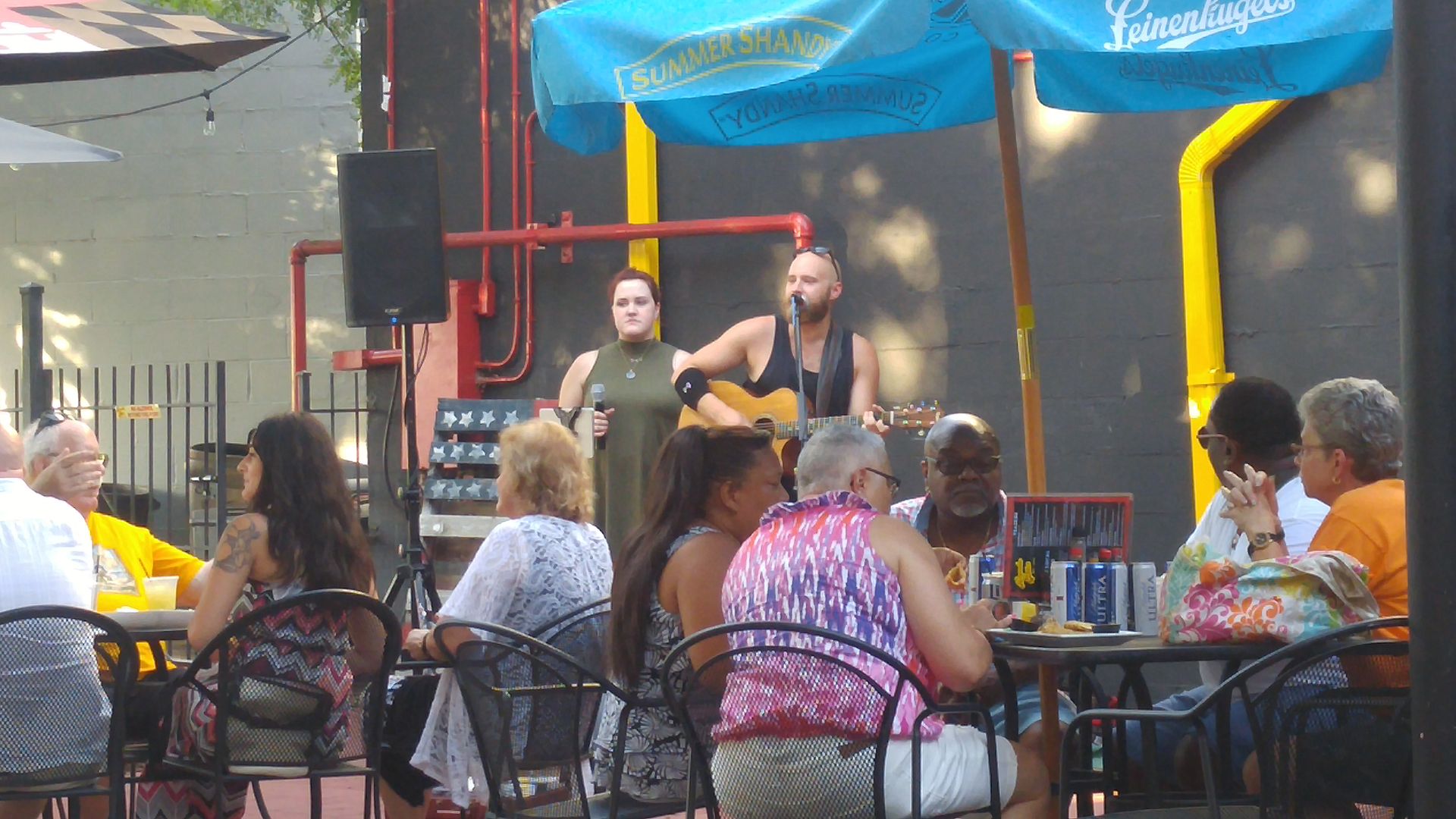 The management at Roadie Joe's has definitely picked up on the concept of having outside live music during 3rd Friday and bringing in business, as the outside tables are generally filled. (Kim and I ate there last month, as I noted in WLR 69.) It's nice because if the main stage doesn't strike your fancy you can browse on over to that end of the Plaza.
I didn't stay for the Roadie Joe's nightcap act this time because I knew I would be back downtown the next night for a benefit called "Fire Up the Bands," sponsored by the Maryland-8 chapter of Hogs and Heroes, a motorcycling group dedicated to supporting military and first responders.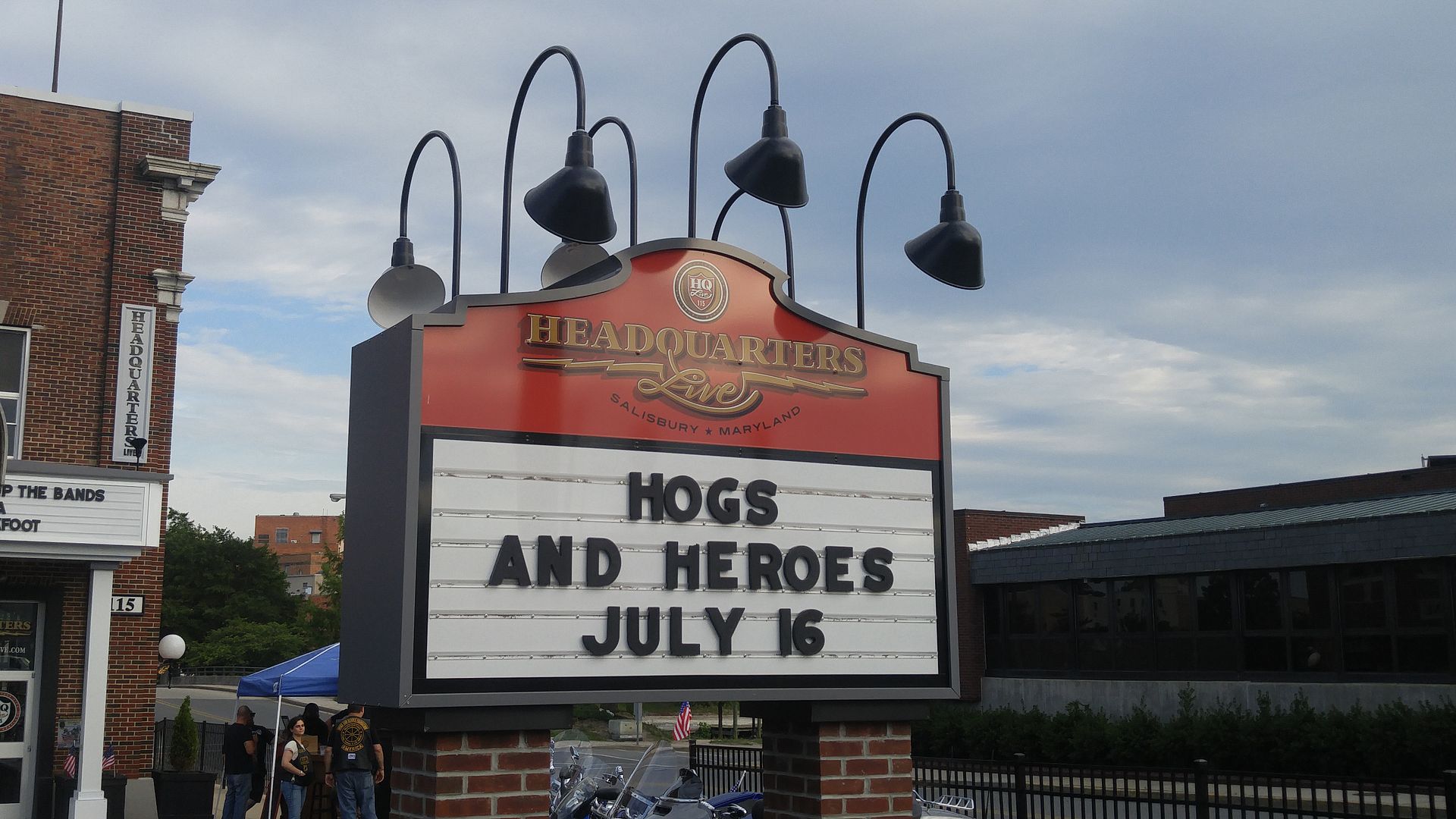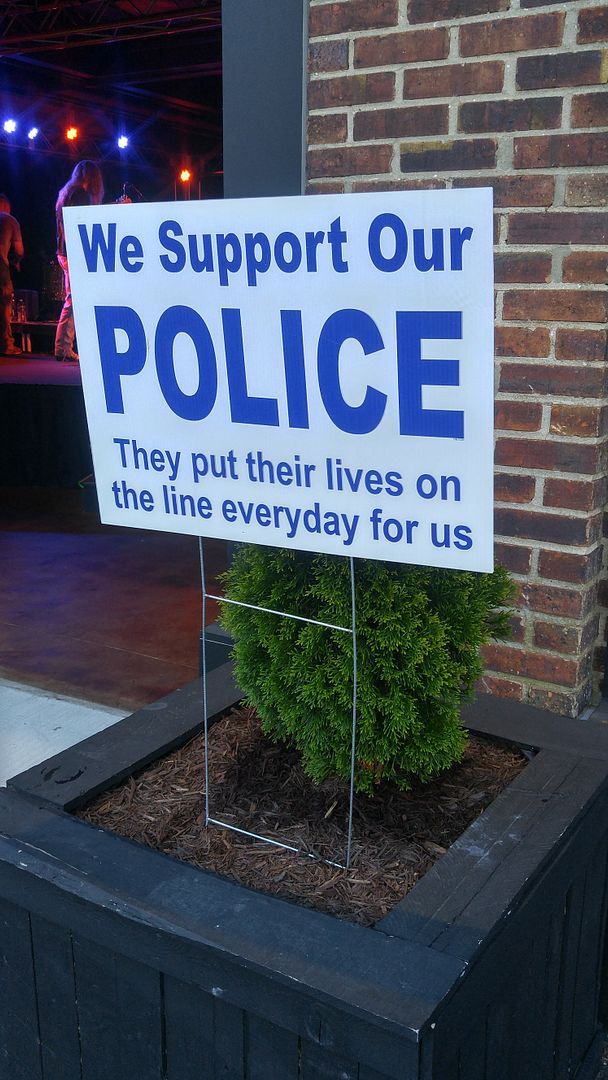 While there were originally three bands on the bill, a late change cut things down to two. Meanwhile, there was a silent auction going on and the leadership of Hogs and Heroes was giving away door prizes between bands.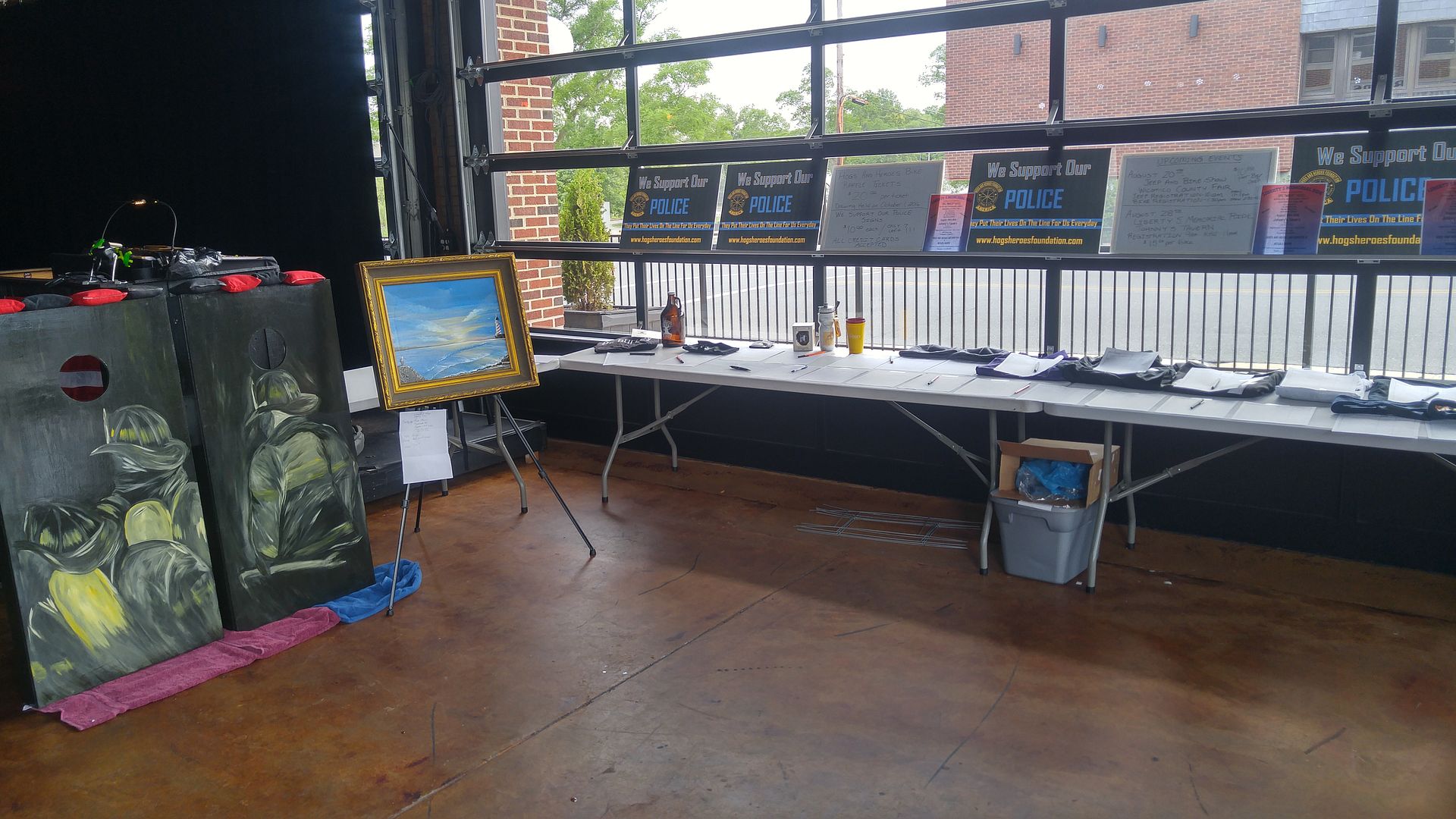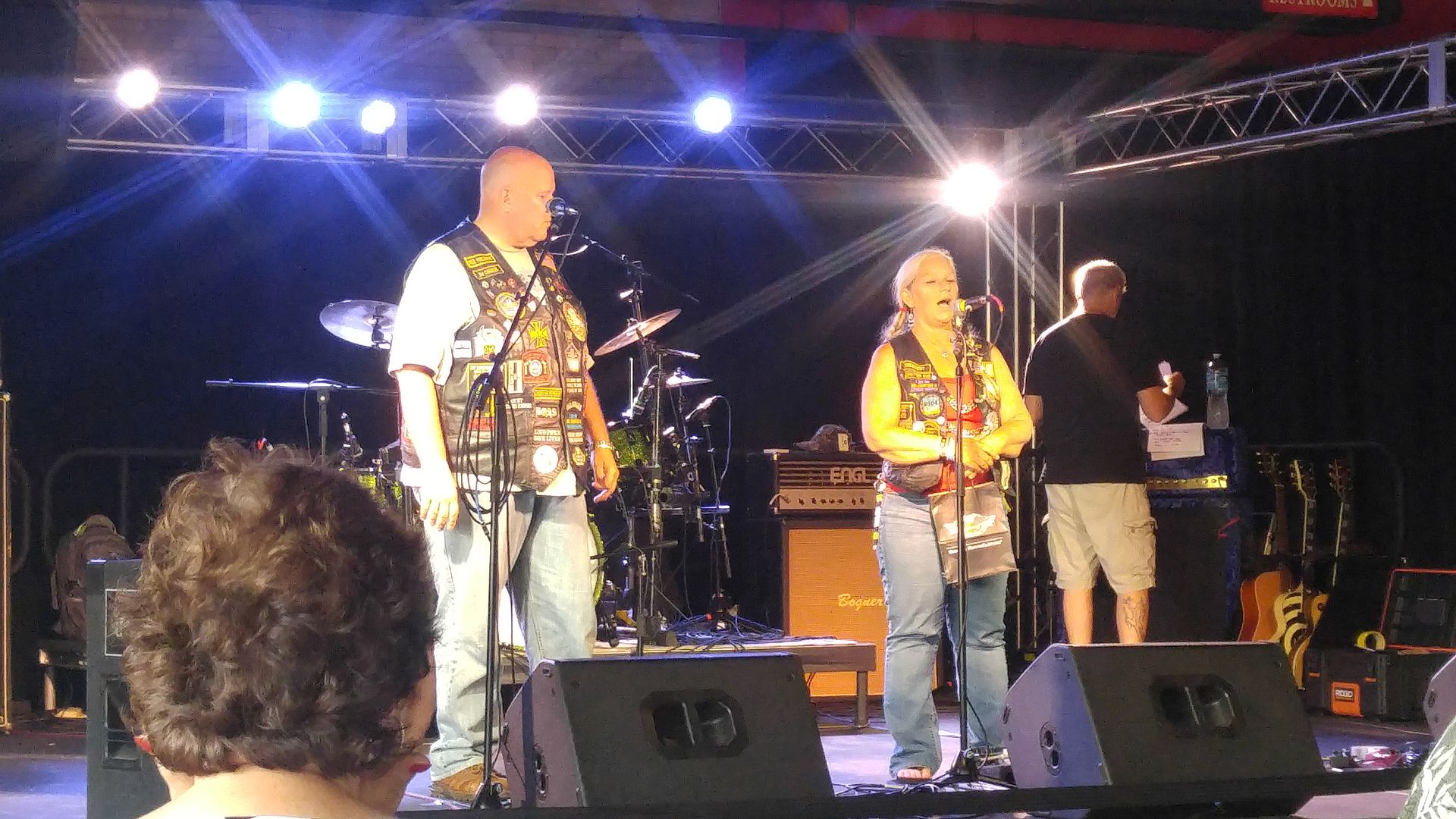 But the evening began with a group I had just seen at the Concert for a Random Soldier a couple months back, Scrapple.
After noting the sudden passing of Lewes firefighter Tim McClanahan in a training accident, Scrapple played a hard-rocking set that featured songs like the Black Crowes' Remedy, Love Removal Machine from The Cult, Godsmack's Keep Away, and Pearl Jam's Even Flow, just to name a few. They also found time for an original song of theirs, which I thought was cool.
Once Scrapple finished, I went outside to stretch my legs, see some bikes, and watch the sun set over a cloudy downtown. There was a rain shower that passed harmlessly by during the show.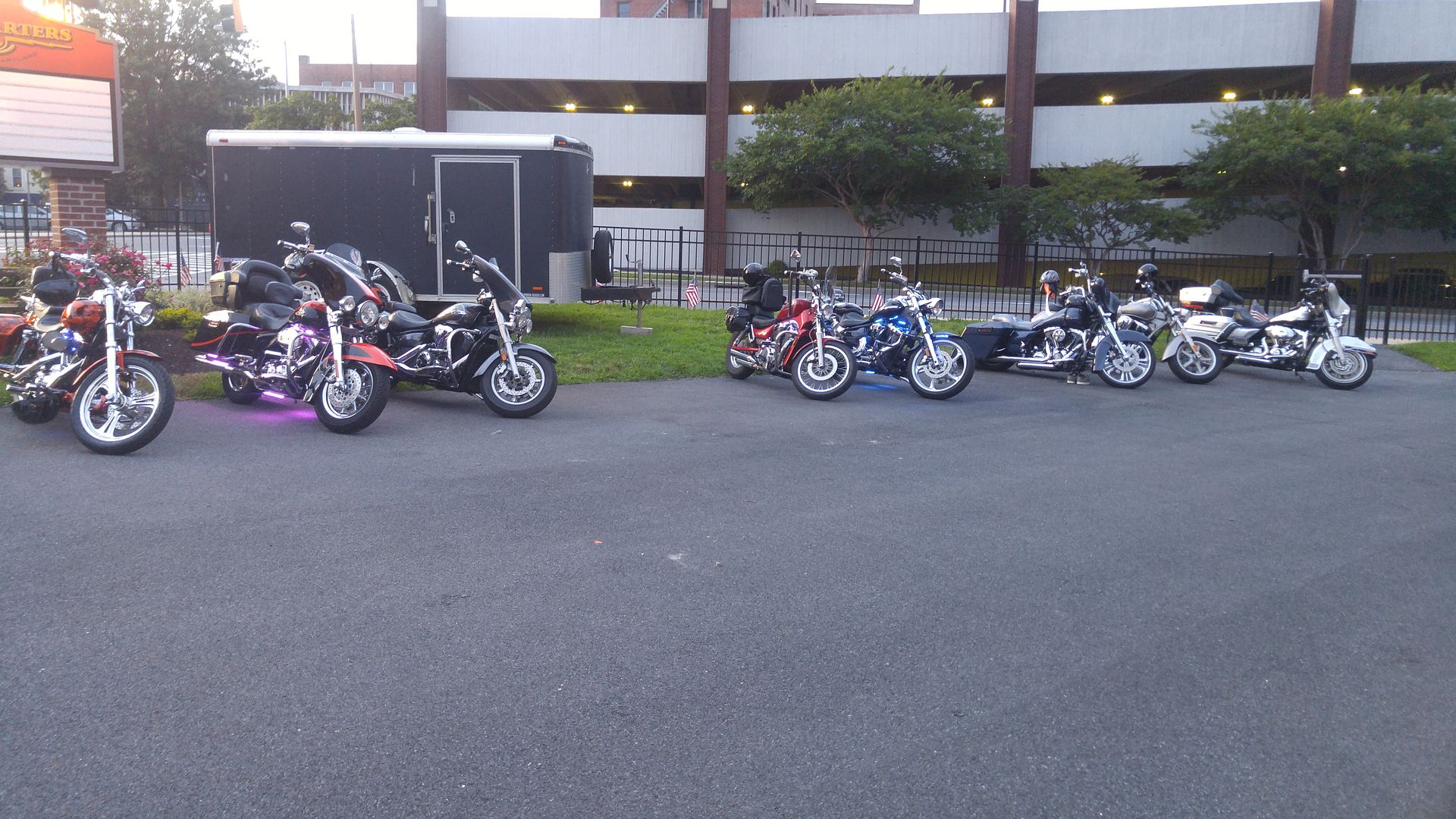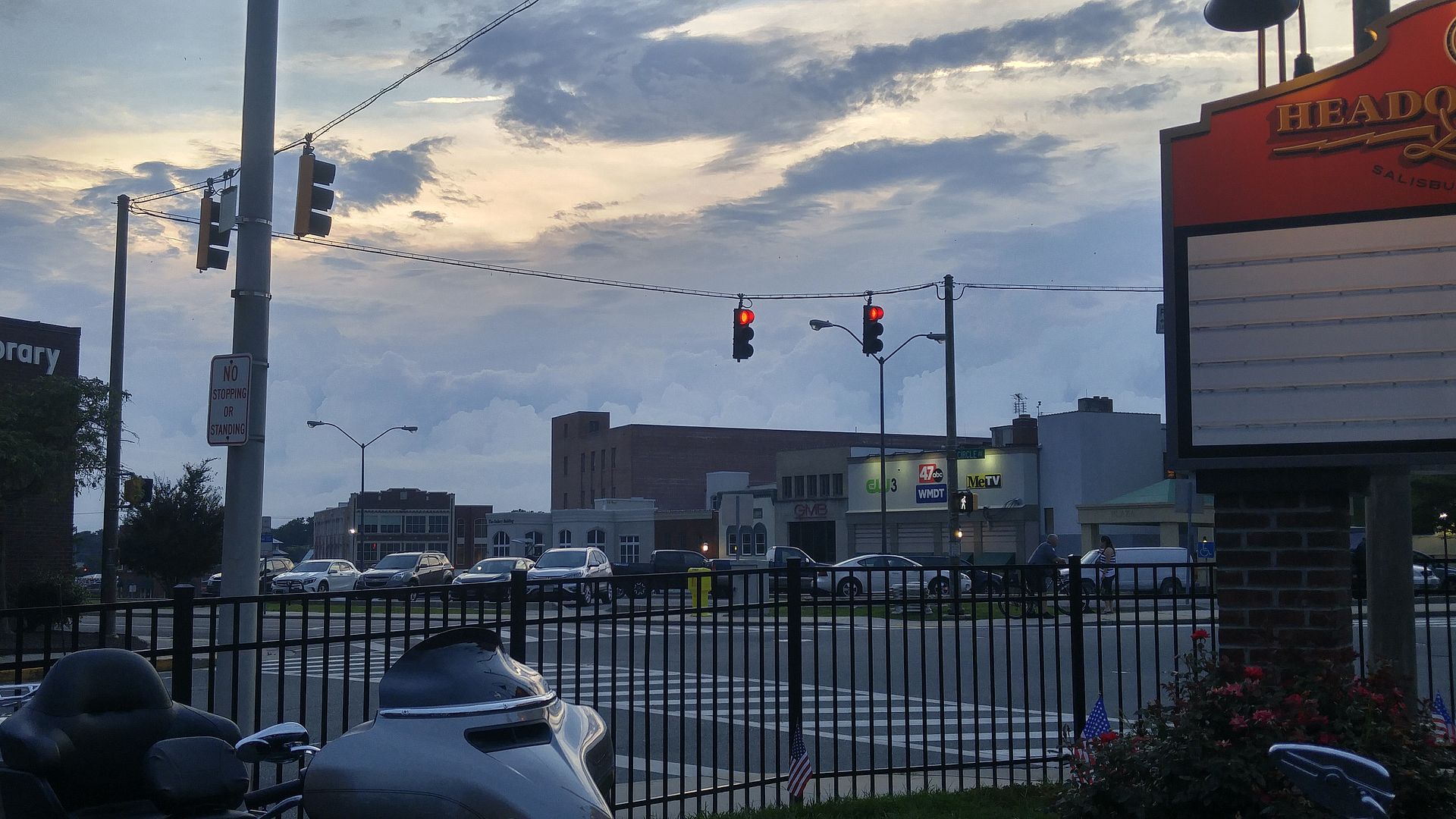 The second band on the bill was Lime Green, which I know has a number of originals to its credit based on their online presence. But they chose to play just one, their most recent called Pemberton Park.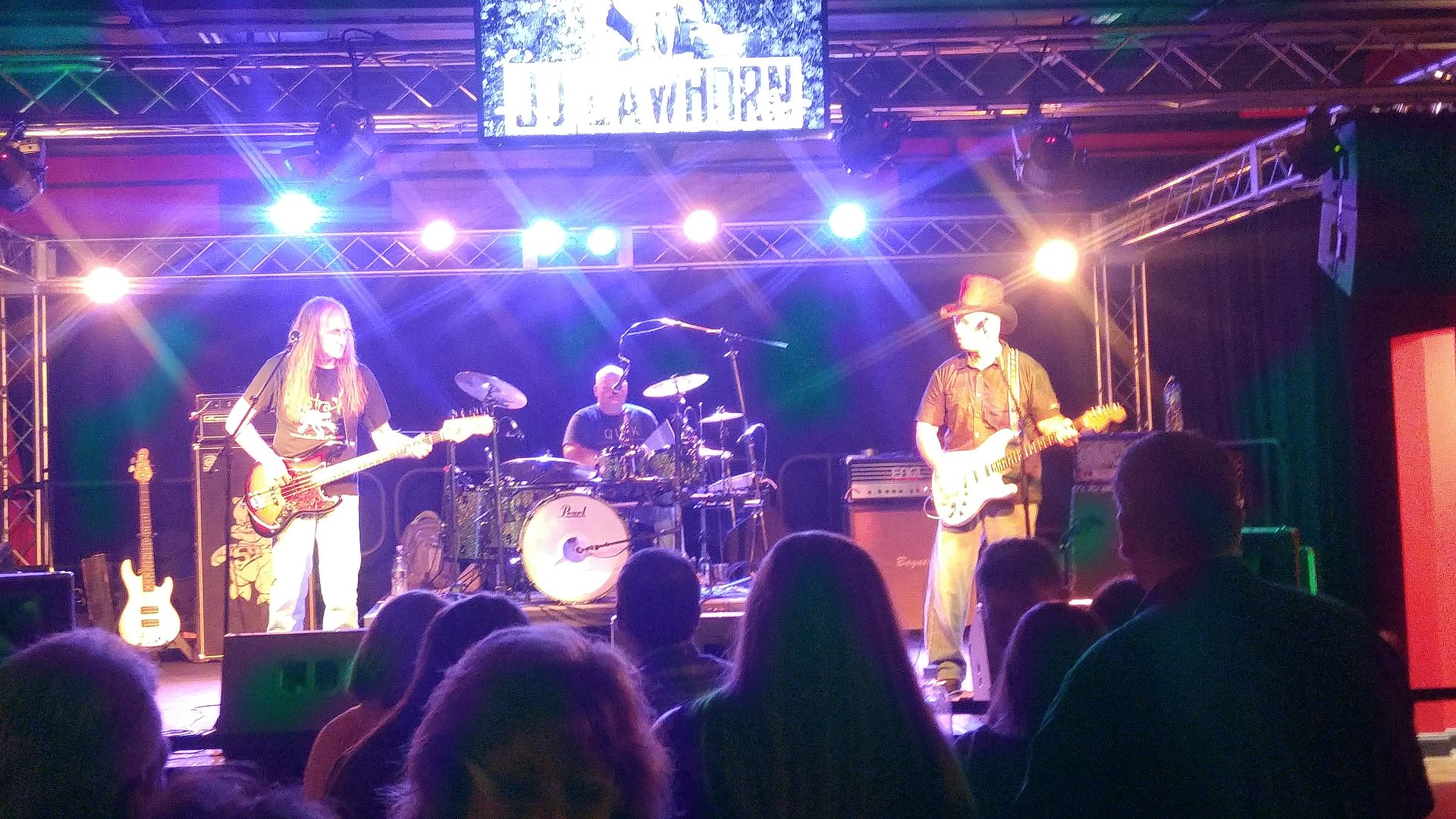 Yet Lime Green still had a lot of unique musical ideas, like buttressing the old Pink Panther Theme into Pink Floyd, playing forgotten classics like The Ballad of Curtis Loew by Lynard Skynard or Snortin' Whiskey by the Pat Travers Band, and absolutely blowing me away with their closer originally done by Rush. I never thought I would hear the first part of 2112 done as a cover, but they did Overture/The Temples of Syrinx. Damn, that was cool. I'm still smiling thinking about it.
Because the original intention was to have three bands, Scrapple came out and played a second set that started with Rush as well. But as they did when I saw them previously, they took Working Man and transitioned it into War Pigs by Black Sabbath. Their second set was heavier and more modern, with songs from Buckcherry, Marilyn Manson, Staind, and Tool among the selections.
But they got a little help when they went retro blues and did One Way Out, a song made popular by the Allman Brothers.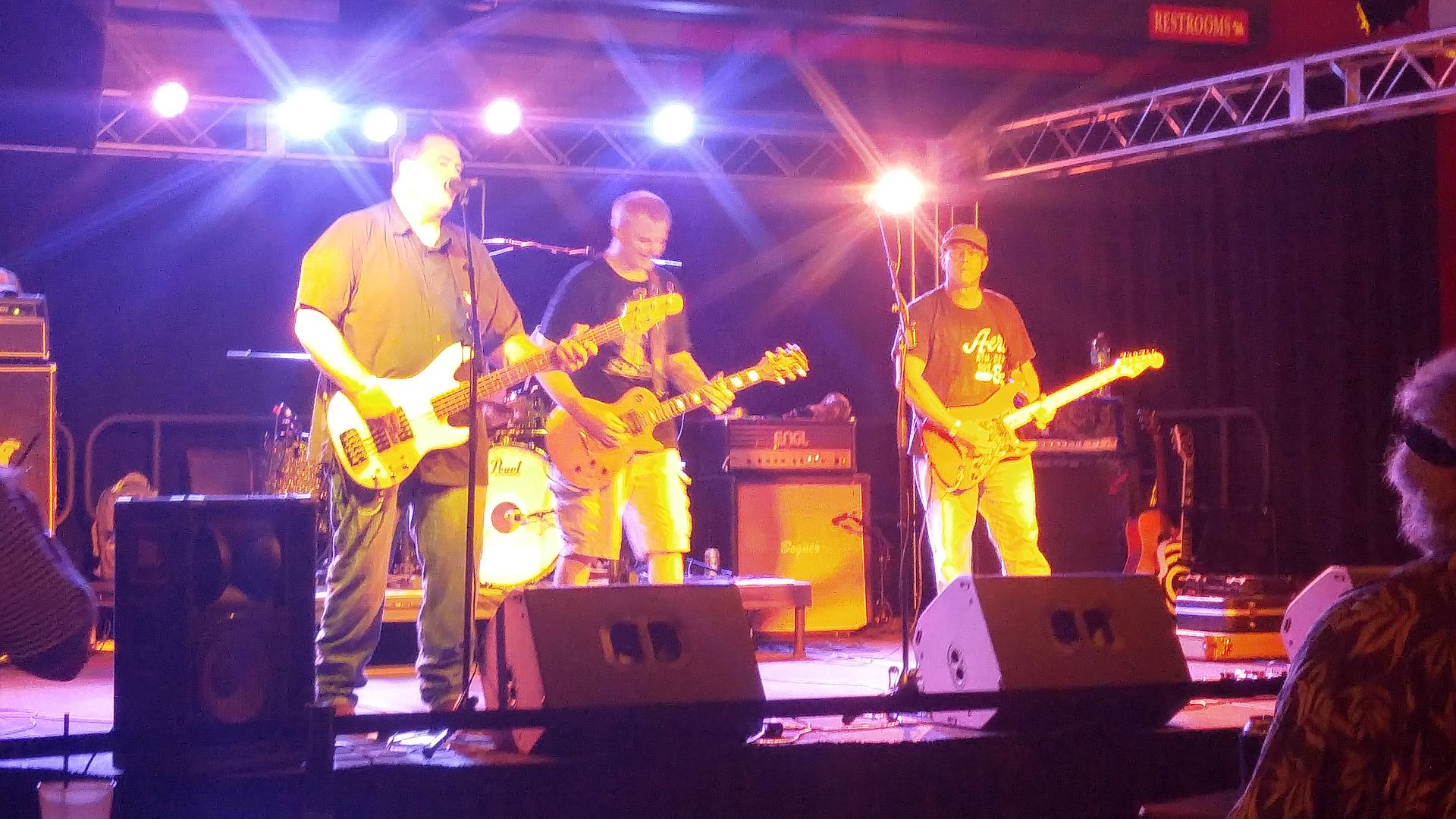 There was also a fun drum solo toward the end.
If I have one thing to say about Headquarters Live as a venue, though, I have to say that taking pictures in there is a royal pain with a cell phone camera. Unless you catch the lights just right, they come out awful. The best pics I had were with the doors open when it was still light out, which is why you get one photo of Lime Green.
But my night wasn't done. A friend of mine has been bugging me to see his band, so I went back over to Roadie Joe's to catch Copious Poor.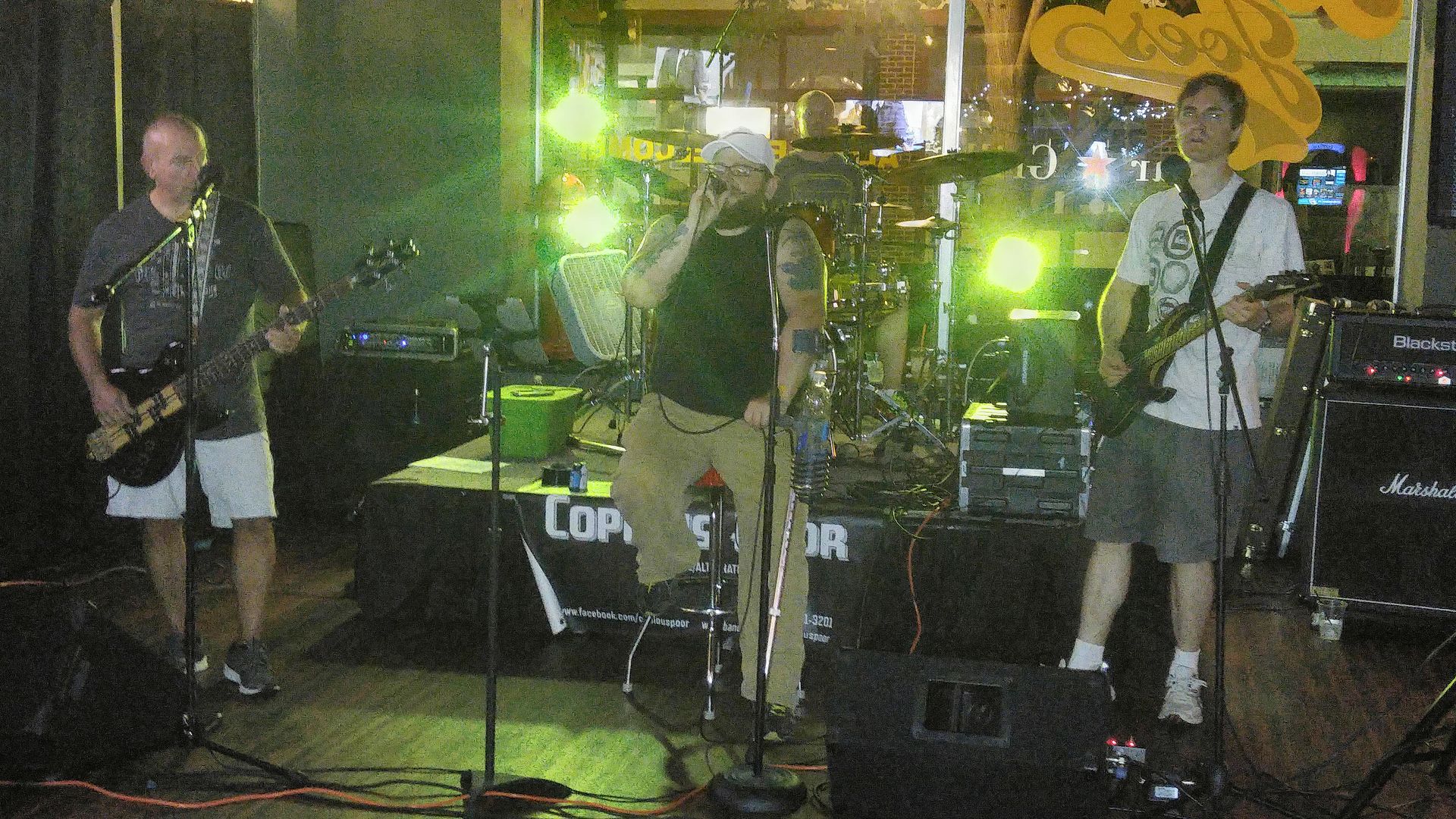 While they admitted they needed to get a sound person, the selection of songs was pretty good. I particularly enjoyed their rendition of a song I have occasionally used the video from on this site, Bound for the Floor by Local H. (You may see it again November 9.)
So once again it was a good weekend of local rock for firefighters that can always use a helping hand. It reminded me that local bands are among the quickest to respond when there's a need to lend their talents for a good cause – or just to make an evening a little better.
You know what they say about the best-laid plans of mice and men? It applied to last night's Wicomico County Republican Club meeting, as the expected legislative wrapup from the remaining non-participants in our May meeting were those slated to speak this month. Unfortunately, the MML conference and a Hogan fundraiser took precedence for those candidates, so it actually fell on a somewhat unexpected guest to deliver a few off-the-cuff thoughts on the session: Delegate Charles Otto, who came up from Somerset County to speak with us. As he was originally elected in 2010 in a district that then included a portion of Wicomico County, he's considered us his constituents despite the fact he was redistricted out for this term.
Thus, once we took care of doing the Lord's Prayer, Pledge of Allegiance, and treasurer's report, we heard Otto's assessment that "we have a challenge this year" in electing our President and U.S. Senator. On the latter race, Otto praised his colleague, saying of Kathy Szeliga that "I can't think of anyone better to fill that position."
As for the legislative session, he felt that we had "a lot of threats" in the 90 days, but "I think we fared well." Efforts to mandate paid leave and a minimum wage increase were rebuffed, and while he termed the Justice Reinvestment Act "a decent bill," he admitted it was one of the hardest votes for him to consider in his six years on the General Assembly. To a degree, the same was true for the budget, which was more spending growth than he would have likely preferred.
Otto also believed that the transportation bill will be a "big hurdle" to overcome in the coming years, as it favors larger jurisdictions. But local development may be helped by the Triton unmanned aviation program, which is being considered for Wallops Island. Charles noted it has bipartisan support from all three Delmarva governors, who understand the economic impact this could have locally.
But Otto didn't have an answer regarding a question about the aging school program and $80 million that was supposed to be included. It was a question brought up by John Palmer, who sits on our local school board. I chimed in with a somewhat rhetorical question about the many funding mandates Democrats seem to be adopting to tie Governor Hogan's hands when it comes to the budget – could we do a reverse BRFA and try to get rid of them? It made for some discussion, and I was thanked later for bringing up the point. (Perhaps I need to save it for a Democratic Club meeting if I ever go to one.)
For being placed on the spot, Delegate Otto did a nice job, so we turned to the Central Committee report from Mark McIver. He noted that the Secretary of Appointments had selected two new Board of Education members who sounded like fine additions, but both of them applied directly to the Governor's office. None of the five we interviewed, including the incumbent who desired another term, were picked. Yet McIver was "hopeful" about the selections, noting the Appointments office contacted him regularly through the process with questions.
But now it was time to work on the school board referendum, said Mark. It would involve creating a political committee to promote the fully-elected option.
We also learned Mark has tickets to the upcoming Tawes Crab and Clam Bake in Crisfield and our committee's next meeting would be pushed back until July 11 thanks to the Independence Day holiday.
Jim Jester revealed "we've made progress" on the Crab Feast: we have secured the all-important one-day beer license. Now we just have to get approval from the health department, after he found out he filled out the obsolete old form that was online and was given a longer, more complicated new one.
Shawn Bradley updated us on Third Friday, which "was a nice surprise" with plenty of involvement as the Republican Club has tried to maintain a table there each month. This month they had the political realm to themselves as the Democrats apparently weren't there.
Our next piece of business was a lengthy discussion about where to place a headquarters this year and how to pay for it. It will be a joint effort between the club and Central Committee, with a number of locations under consideration.
A contingent from the Republican Women of Wicomico was present to speak on their annual Constitution Day celebration on September 17 at City Park. Former Delegate Mike McDermott is the featured speaker, and the festivities will begin early: a 10:30 a.m. start is planned since Somerset County will be celebrating their 350th anniversary that day in Westover, as Delegate Otto pointed out. (It was also noted that we were sitting in what once was Somerset County; that is before it was split along Division Street in Salisbury and Fruitland to first create Worcester County to its east. Both then ceded territory in 1867 to create Wicomico County. So I stand corrected since Somerset preceded Worcester.)
We then found out from John Palmer that Wicomico County Board of Education meetings would soon be streamed online thanks to the PAC14 website. The eventual idea is to allow real-time involvement from those watching.
Finally, we were alerted to a townhall meeting Congressman Andy Harris would be holding tonight (June 29) at Black Diamond Catering in Fruitland from 6-7 p,m,
In less than an hour we had taken care of our business and become more informed. Next month we go off the political board a little bit as our speaker will be Mitzi Perdue. That meeting will come July 25.
Unlike a number of the most recent previous renditions for this long-running series, this will feature four performers at three different venues in and around downtown Salisbury on consecutive days last weekend. It would have been five but the featured group from the local Academy of Music Performance was just wrapping up when we arrived.
So I wasn't intending to do a WLR when we decided to eat outside at Roadie Joe's afterward, but it turned out Kaleb Brown was playing and you know me – I like listening to music and taking pictures.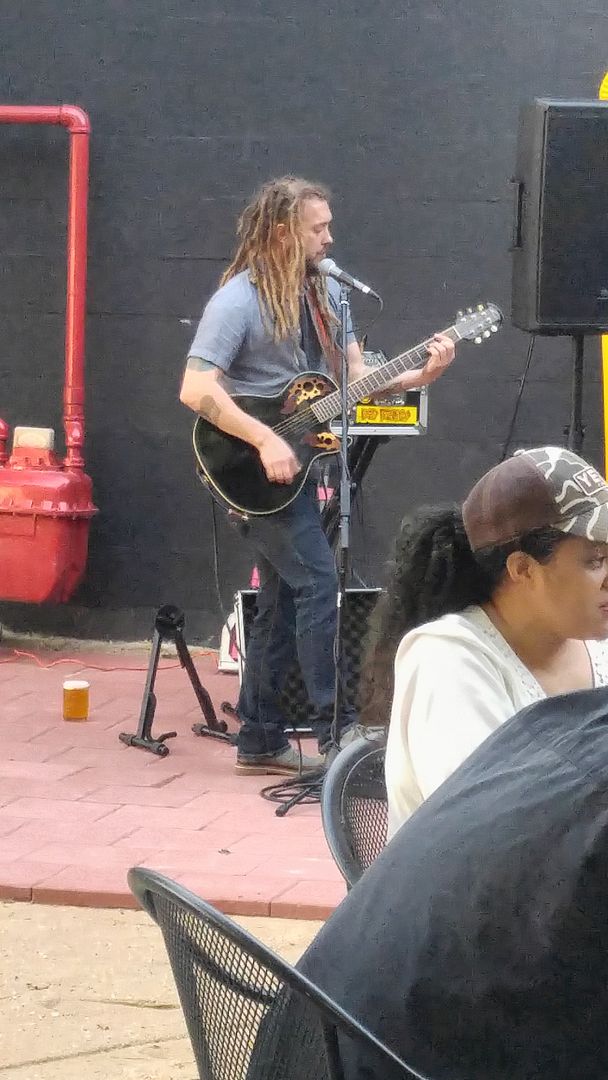 So it was just Kaleb, his guitar, and his beatbox (that would drive some of the dogs still around from 3rd Friday crazy) and that reggae sound he likes to do. Good dinner music on a lovely summer evening.
I think the band wasn't supposed to start until 10 but they got an early start. We had just finished our dinner and were ready to leave when we decided to stay for a couple songs from Naked Nation that turned into half a set.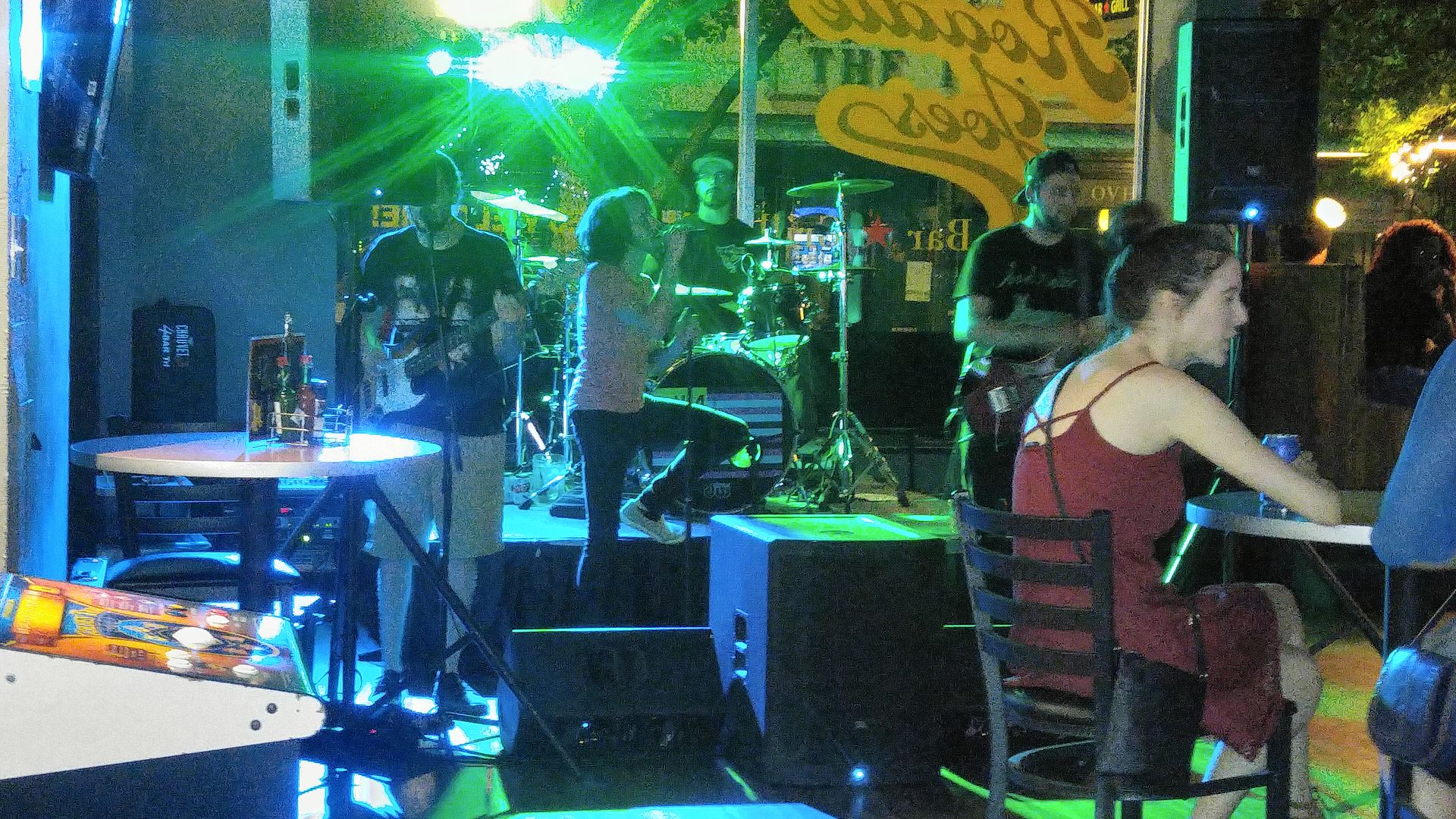 Naked Nation seemed to have a little different playlist than other cover bands, doing a wide range of songs that are not really classic rock and range more toward Top 40 alternative stuff. But the people were getting into it.
So Saturday came and I decided to head back downtown for the Salisbury Shore Craft Beer Festival. Headlining the event was Eastern Electric.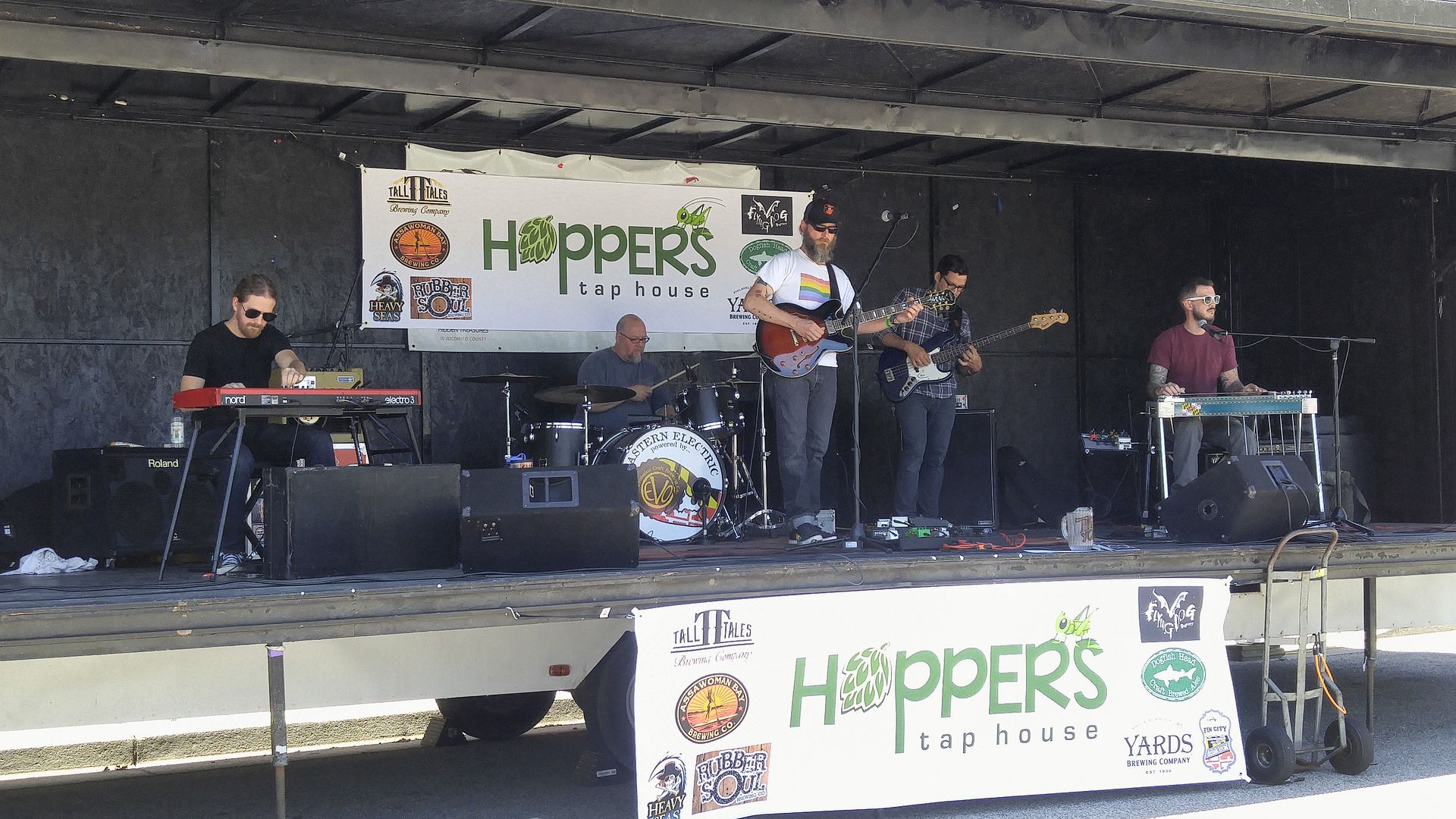 Now I like Eastern Electric, but it didn't dawn on me that there was a band also playing in Headquarters Live called Billy Earl and the Pink Flamingos. So I checked out the location and the band.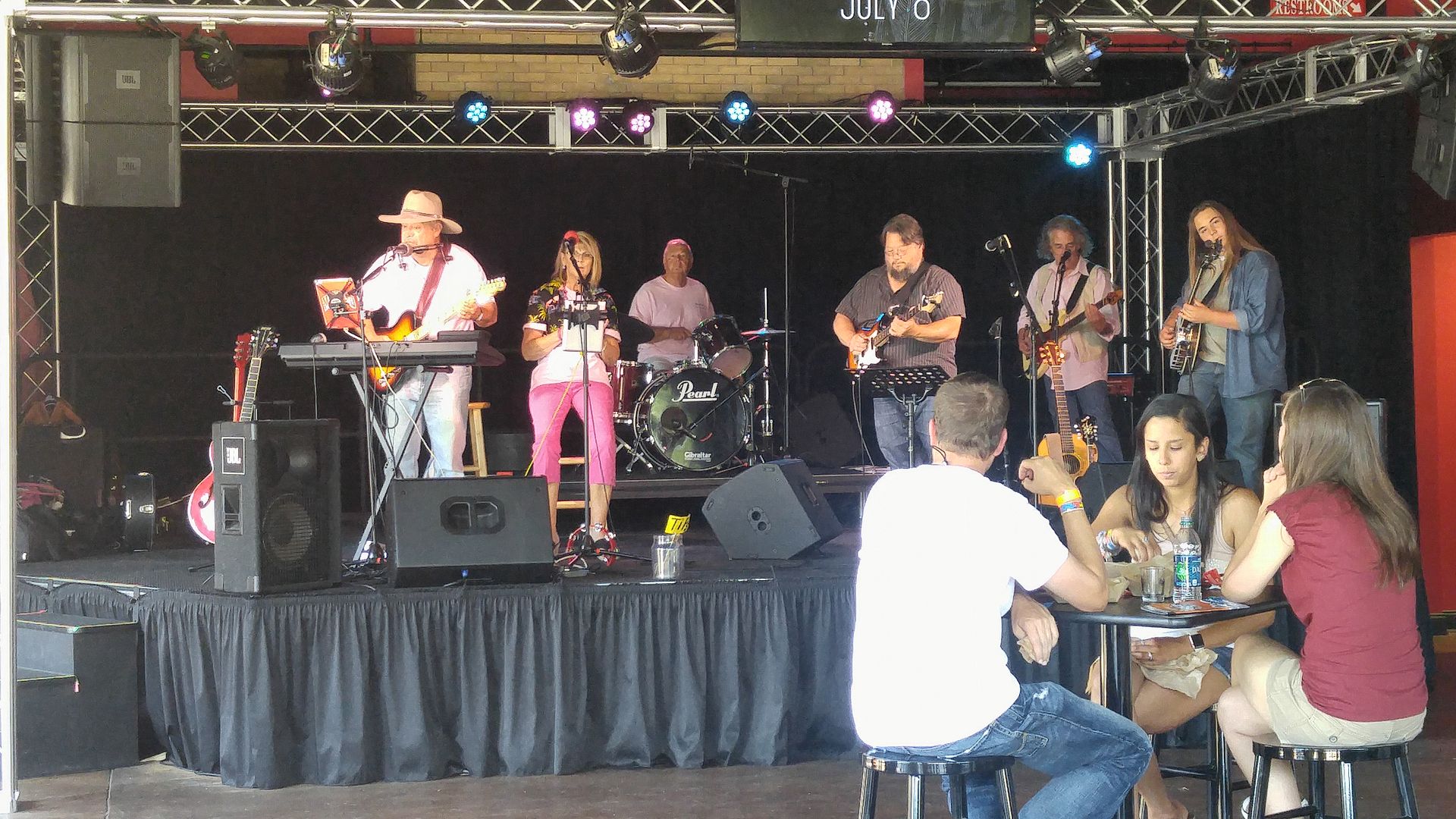 Admittedly, their style of music isn't my cup of tea – but it does allow them to put a different flavor on songs like Chris Isaak's Wicked Game. They can still make it sound hauntingly lonely.
Meanwhile, back at the Beer Fest Eastern Electric was doing their set mixing covers from several eras and some originals.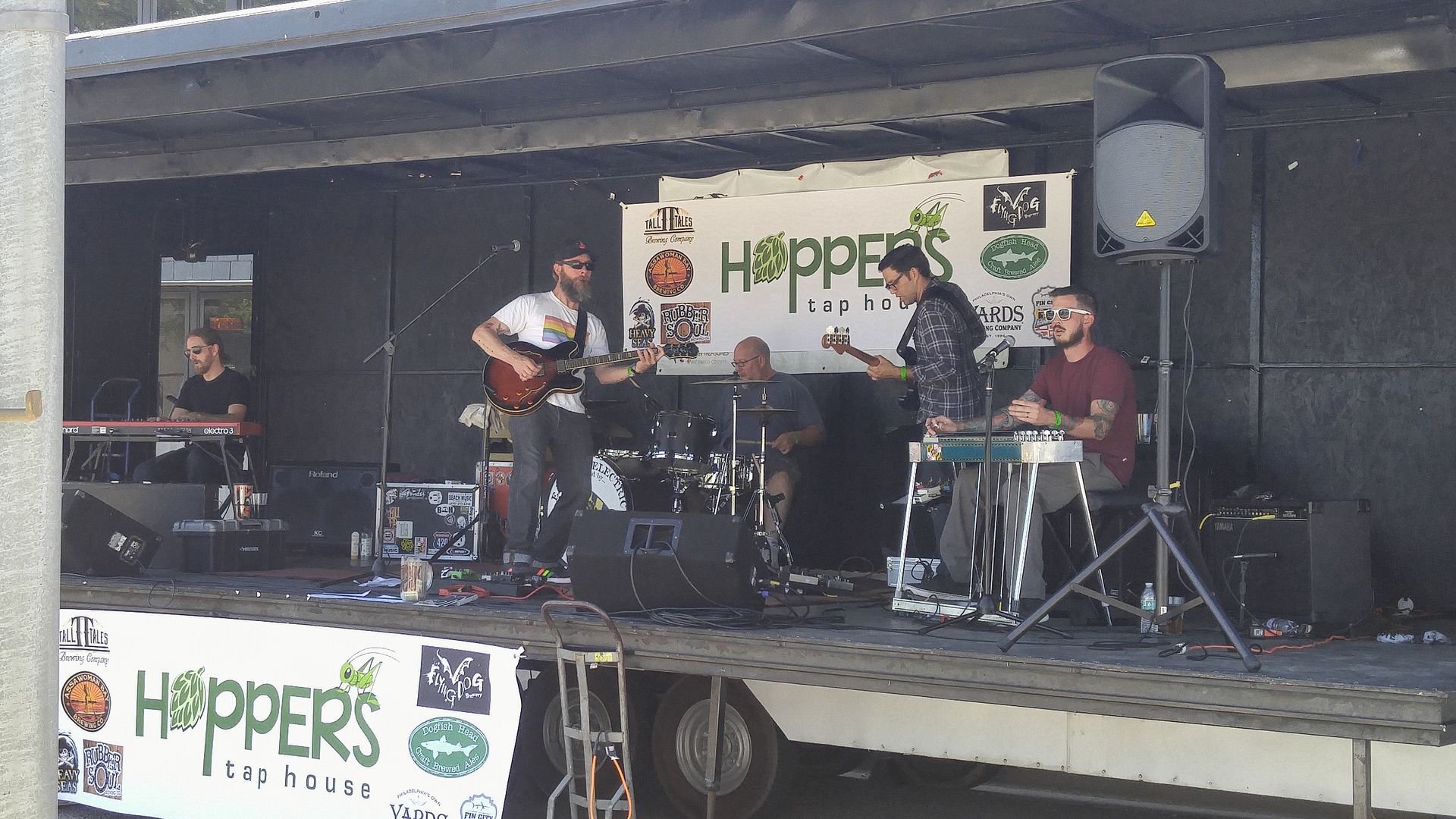 One of those was their closing song (and one I really like) called To Heaven Before The Devil. "I hope to get to Heaven/Before the Devil knows I'm dead." It's a rollicking mix of rock, blues, and country that represents the band pretty well. And as Eastern Electric singer Nate Clendenen put it, last Saturday was a nice occasion to hang out downtown – they've been trying to redevelop it "since I was in fifth or sixth grade" and it finally is taking root.
So it was truly a weekend of local rock, as all the bands came from this part of Delmarva. It's worth reminding people that our little corner of the world has musical talent. All it needs now is the audience to appreciate it.
I guess you can call this a stream of consciousness post. I actually have three to four things I want to write on and a couple things I need to write about, but the mind is a little fuzzy this evening – a stroll at 3rd Friday and dinner with the family will do that. So I'm just going to begin typing and see where it takes me. (Actually I do a lot of writing like that anyway, but in this case I will admit to it.) The things I need to write about can wait until morning.
One reason I like 3rd Friday as an event is that chances are good I'll see several people I know there. Most of them I know through my political life, so the topic tends to be on issues or candidates. So it was I had a nice discussion about the Senate race on the other side of the fence and a long conversation about why I'm dead-set against Donald Trump. Since I don't want to get bogged down in minutia, suffice to say that I find Trump is neither conservative nor trustworthy.
There was also a bit of controversy locally about The Donald insofar as our Central Committee goes. As a body we are supposed to stay neutral, but a report on the opening of the local Trump headquarters seemed to lead some to believe our Central Committee was down with Trump, and I can guarantee you we're not all on the Trump train. Supposedly it's all been straightened out, but I would be willing to bet that out of nine members we have at least seven or eight different combinations of who we favor for President, U. S. Senate, and Congress.
Yet we all seem to get along – in the three terms since I was elected we only turned over members midstream three times: Bob Laun was a midterm appointee for another gentleman who moved away, we appointed two members when authorized to expand from seven members to nine about eight years back, and I was reappointed to fill a vacancy last October. Yes, that's it in almost a decade – meanwhile, other county Central Committees seem to change on almost a weekly basis. I may not like who others support, and it may be good to remind folks that we are not a monolithic body in this primary for any candidate.
But there is something I noticed about early voting. Granted, one day is a small sample size but for all the excitement they tell me this presidential primary beings, turnout on day 1 wasn't a whole lot better than it was in 2012, the last Presidential cycle. On day one four years ago (which was a Saturday) there was 13,512 voters, or 0.43%. The Thursday of early voting, which was the final day, had 16,408 (the highest total), for 0.52%. Overall just 2.4% of voters came out early over six days in 2012.
Yesterday, we had 36,657 voters, which is 1.07%. As a total, yes that is quite a bit larger, but I would have expected twice that given the excitement we were told was in the air. There were 326 Wicomico voters, or one about every two minutes the polls were open. I still haven't figured out why we do this exercise, particularly now that they are letting new same-day registrants vote. (Three took advantage in Wicomico County – all Democrats.) We will have a room in the Civic Center, pay several people hundreds of dollars to sit around, and marvel that maybe 1,500 people came over the eight days. Seems a waste of time and money for something an absentee ballot can achieve.
Well, I think I got enough off my mind. I still have a couple toss-up races to decide on for endorsement so look for one Sunday.
Tonight I had a choice: expand once again on a topic I wrote about for today's Patriot Post or go to Third Friday and see the sights. Our military prowess is important, but this one was more fun.
Hundreds of people agreed with me. The first photo was taken looking west from Division Street while the second was from within the Plaza. They were taken perhaps 20 minutes apart.
I hadn't taken ten steps into the Plaza when I saw City Council member Laura Mitchell and husband Miguel heading out. Seems like Third Friday is the place for people I know. But I wasn't really expecting this guy, who's about 30 miles from being "downy o'shun."
Yes, that's former Delegate Don Murphy hanging out with current Delegate Carl Anderton and Jackie Wellfonder, at whose behest I took the photo.
But there were two people looking for votes at tables. One was mayoral candidate Jake Day, who has no one on the ballot against him, and the other was Muir Boda.
He had a well-stocked table, but then Muir's been a Third Friday fan for a long time.
One element which contributes to its success is the music. This month The Larks were playing on the Plaza.
That photo came out pretty well for being taken in the twilight. The earlier sunset made the event finish after dark.
And as it was winding down, it was plain to see that a block of Division Street was one giant sidewalk chalk canvas. They probably had 200 boxes scattered around Third Friday; fortunately, there's not much chance of rain although there is a 100% chance of traffic rolling over the colorful street.
Tonight was the second-to-last outdoor Third Friday of the year, although there will be outdoor events associated with it from time to time over the winter months. Throughout this year, it seems the crowds have been excellent and the city is trying to expand on the success with First Saturday and the trolley between Salisbury University and downtown which runs on weekend nights.
With all that is going on this weekend around the region, Third Friday seems to be holding its own. Salisbury's had its share of bad news over the last decade, but this golden goose continues to produce each warm-weather month.
That, in a nutshell, was the story of my Third Friday.
I got home from work, changed my clothes, and walked out to my car. Felt a sprinkle, pulled out my phone, looked at the radar picture and saw this tiny orange, yellow, and green blob arriving.
Man, did it pour when I got downtown. I walked through a river to get there as people were scrambling to get their treasures under cover. So by the time I arrived it was pretty much cleared out.
At that point I decided to find my Delegate's new office. It's a modest little room above Roadie Joe's downtown, but he had some good folks in there for its grand opening: County Councilmen Larry Dodd and Marc Kilmer stopped by as did Salisbury City Council candidate Muir Boda, who made it official today as he filed. I didn't get a very good picture of the Carl Anderton district office, but my friends Jackie Wellfonder and Julie Brewington did. Find them on social media.
A few of those aforementioned folks were downstairs grabbing dinner as Dark Gold Jazz was playing. So I sat in with them: the dinner eaters, not the band. (Although I own a guitar, I can't play an instrument to save my life.)
They did about the longest version of "Hey Joe" I've ever heard. I don't drink all that fast but I swear I drank half my beer during the song. Luckily, I like the tune so it worked.
But as people drifted off to other locales like Headquarters Live, I took a few minutes to stroll the Plaza.
The sky was still rather turbulent as I left.
It's funny because Kim was in Ocean City this evening with the kids (daughter and friend) and it looked nice and sunny there from the video I saw. Welcome to Delmarva, huh? From what I heard, though, 3F was rather packed before the rains came.
So it wasn't exactly the Third Friday I planned but it was nice to catch up with some old friends nonetheless.
Editor's note: Read more
Trust me, I like going to 3rd Friday, particularly the outdoor version. But last night they had a special guest who brought a few of his friends.
I have Mary Beth Carozza to thank for that photo, but as you can see it's a bipartisan gathering. In fact, he even brought Salisbury's mayor and Wicomico County's executive together.
But they were on a relatively tight schedule, as the Greater Salisbury Committee dinner was slated the same night. So it was interesting watching the parade of state and local pols roll up one side of the Plaza and down the other, greeting friends along the way. If you weren't there by about 6:30 you missed most of that excitement.
But 3rd Friday is maintaining its newfound status as a place to be.
I didn't see a whole lot of people with beer, perhaps because it was Breakfast time.
Because I walked around and didn't stay for the whole event, this won't rise to the level of a Weekend of local rock segment. But I found Breakfast surprisingly enjoyable with their mix of covers and originals. (That sounds sort of strange, but I'l go with it.)
They certainly were better than most of the karaoke I heard as I circulated around the state convention prelude at the Princess Royale in Ocean City. Originally it was going to be one long post, but I decided to leave things there and pick up that side of the story in the morning.
The big news around these parts today was the announcement that Labinal Power Systems would be closing its Salisbury plant and consolidating operations in Texas. Gone will be an estimated 600 jobs as the plant phases out operations over the next two years.
On top of that, there are rumors that both of the April tourist draws to Salisbury – the annual Salisbury Festival and Pork in the Park – have been scrubbed for 2015. While another local blogger swears this is not true and the Salisbury Festival is simply being repositioned to the fall, one has to ask how that would fit into an October already crowded with other local events. (As for Pork in the Park, my understanding is that it was a money loser as the county had to plow too much into it up front for its continued survival.)
Salisbury's downtown has been doing well with the increased popularity of 3rd Friday, a successful New Year's Eve event, the upcoming opening of Headquarters Live – an entertainment venue which is the remodeled former Fire Station 16 – and a popular Thursday – Saturday night trolley service connecting these venues with nearby Salisbury University, but other parts of town haven't done as well over the last year. The closing of Labinal decreases further the traffic to a once-booming part of the outskirts of Salisbury that formerly boasted the old Salisbury Mall, torn down several years ago for a development that never got off the ground.
Everything is cyclical, of course, and one example is the development around the SU campus. But losing these Labinal jobs would be a major blow to a county already on a long losing streak when it comes to year-over-year jobs. And the problem with such a long transition to a shutdown (almost two full years) is that lag time is going to be longer than some potential employers want to wait for the facility.
We all better hope that Maryland becomes a lot more business-friendly over the next two years. It's ironic that Senator Mikulski made a big deal out of a large federal contract secured for the facility just weeks before the announced move to Texas. Call it Rick Perry's revenge.
Well, my plan for tonight was to go down to 3rd Friday and get some pictures for a post. But plans change and I won't be by the computer a whole lot the next couple days.
So if you want good 3rd Friday coverage, Jonathan Taylor always makes an effort to take plenty of pictures. I also will let you in on a returning advertiser and whatever else comes up in the next 36 hours or so. Just stick with me, the payoff will be worth it.
It wasn't my personal campaign, but having a couple political events scheduled the same day and a few extra dollars in my bank account (thanks to new advertisers) allowed me to make some of these gatherings and assist these great candidates.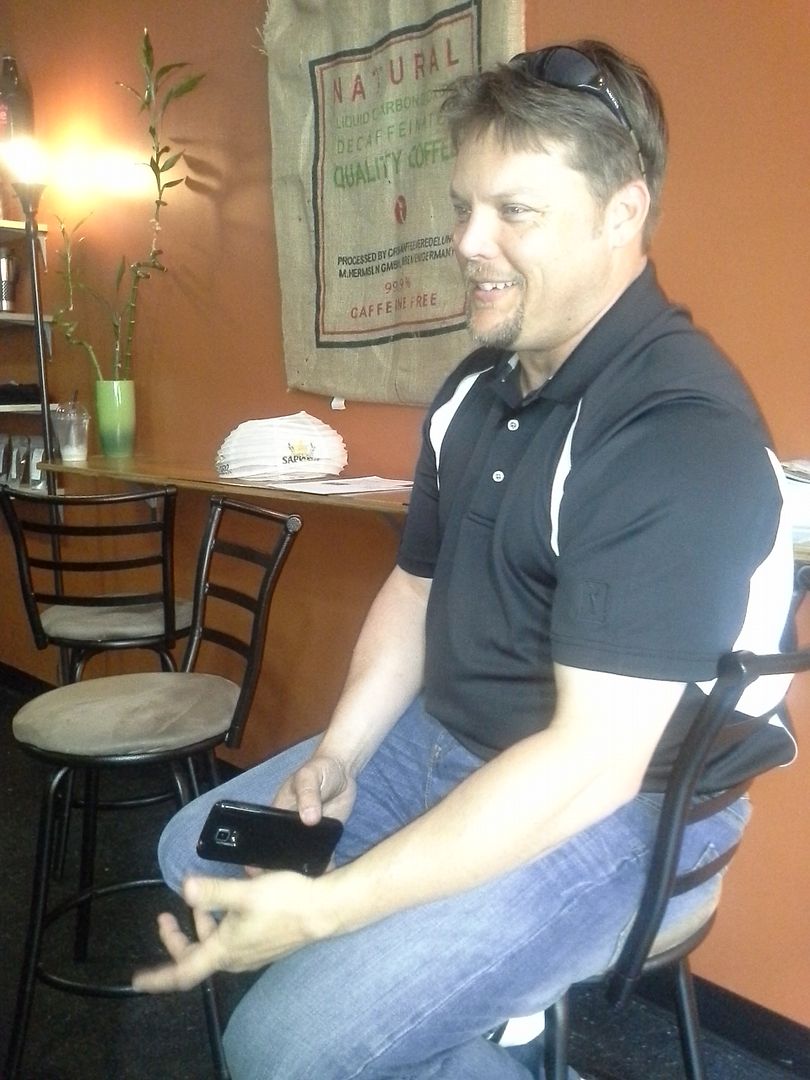 For example, District 38B candidate Carl Anderton, Jr. held court downtown at Main Roots Coffee with a few supporters and friends. It was a relatively intimate gathering as it served as a way station between a parade in Mardela and door knocking in the morning and an afternoon Vietnam veterans event in Salisbury.
The parade was the beginning of the day for these two candidates, Christopher Adams of District 37B (holding the Coke) and District 2 County Council candidate Marc Kilmer. You'll see Marc again in a few paragraphs.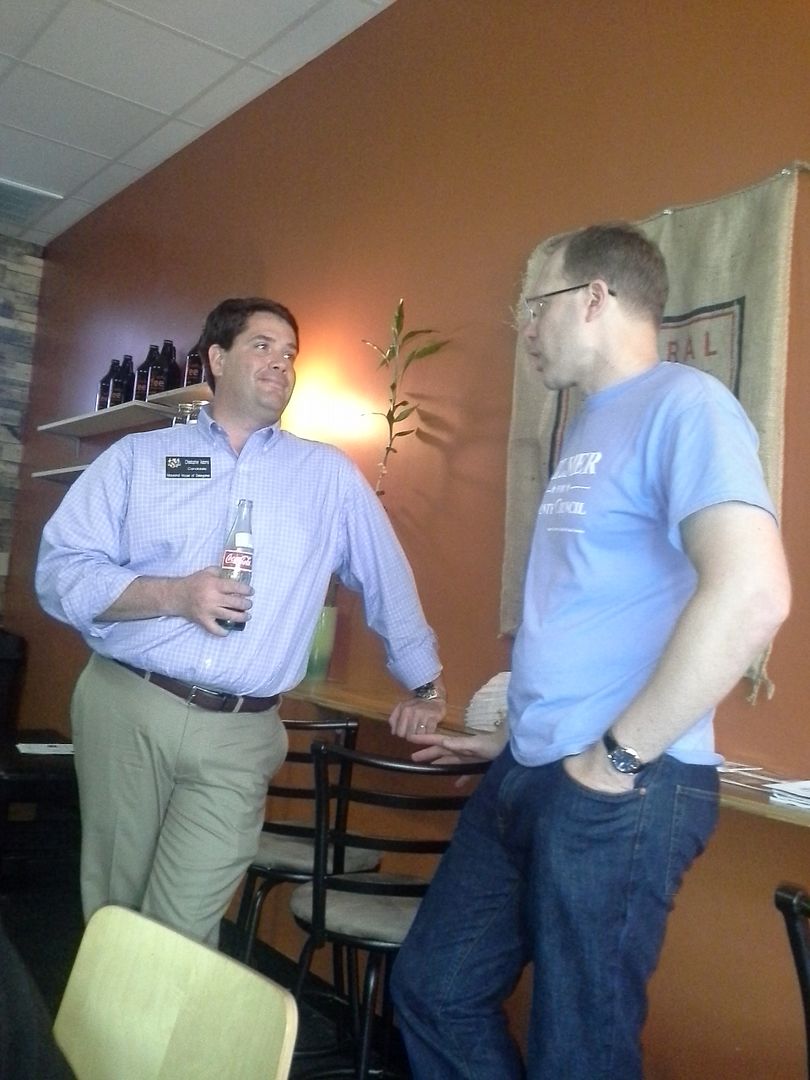 Carl made sure to thank me for telling the truth about the MSEA Conway/Mathias flyer, although another attendee brought up the irony that the budget Conway and Mathias voted for also robbed millions promised to teacher pensions. The discussion was interesting and it allowed me to meet and speak with a person I'd not previously met who is a fan of this site.
I also spoke to Jackie Wellfonder, who introduced me to Tweetdeck. Maybe I'll start making heads and tails of Twitter now, although the 140 characters is a problem for me. Consider that the previous sentence was just a little over 140 characters by itself and you'll see my issue.
This afternoon's event was the latest of a series of coffees Anderton has had at Main Roots, which ironically lies a short distance outside Carl's crazy-quilt gerrymandered district.
But the story isn't over yet, as I went home for a couple hours before heading over to my Central Committee cohort Bob Laun's new place to be greeted by this spread.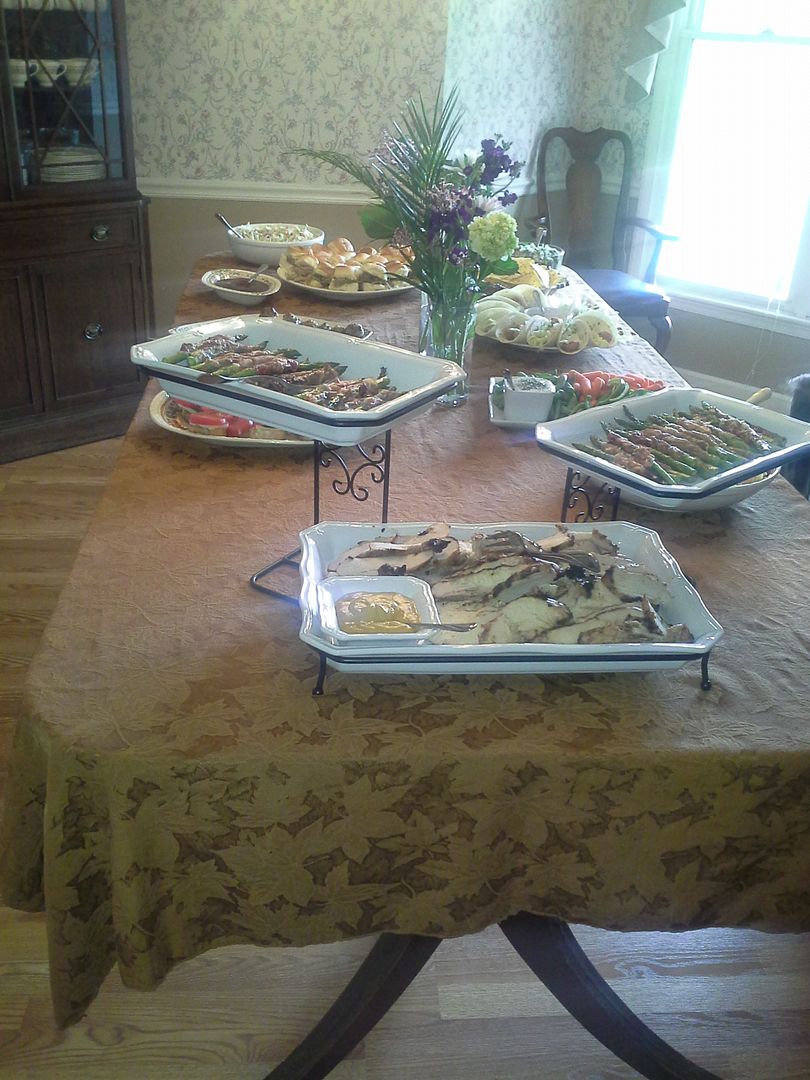 I'm told that Bob and his lady friend prepared it all themselves. Complements to the chefs – it sure beat rubber chicken.
The event was on behalf of Marc Kilmer and drew about 30 people. It would have drawn one more but he couldn't make it and I was told to relay a message to Marc and crew, which I did. (I know the sender reads this site, so I can be cryptic like that and know it was received.)
Unlike some other fundraising events, there weren't formal remarks by the host – instead, Marc smartly circulated between the gatherings which naturally sprung up in various areas inside and outside the house. Having two young children to look out for helps in that regard as well.
I did catch up to Kilmer, who's on the left in this photo, with host Laun in the center and Delmar Commissioner Bunky Luffman on the right. Bunky is Anderton's campaign manager so I saw him at both events, too – same goes for Anderton, Shawn Jester, Jackie Wellfonder, Christopher Adams, and Muir Boda.
As I noted, many of those there had also been at the Mardela parade in the morning, so we were regaled by tales of several candidates and how they fared there.
While there wasn't anything earth-shattering said at either event, I did get a good quote from Anderton at his coffee. We were discussing how I was frustrated about Larry Hogan's reticence to address more than a few issues, and I noted I wasn't a one-issue guy. Carl isn't either: "I'm not a one-issue guy, I'm an eighty-issue guy," he said, referring to the number of tax and fee increases we've endured over the last several years.
And while it's not necessarily related, watch me tie this in to my point. I was walking over to Main Roots from where I parked down Main Street, when I saw this development.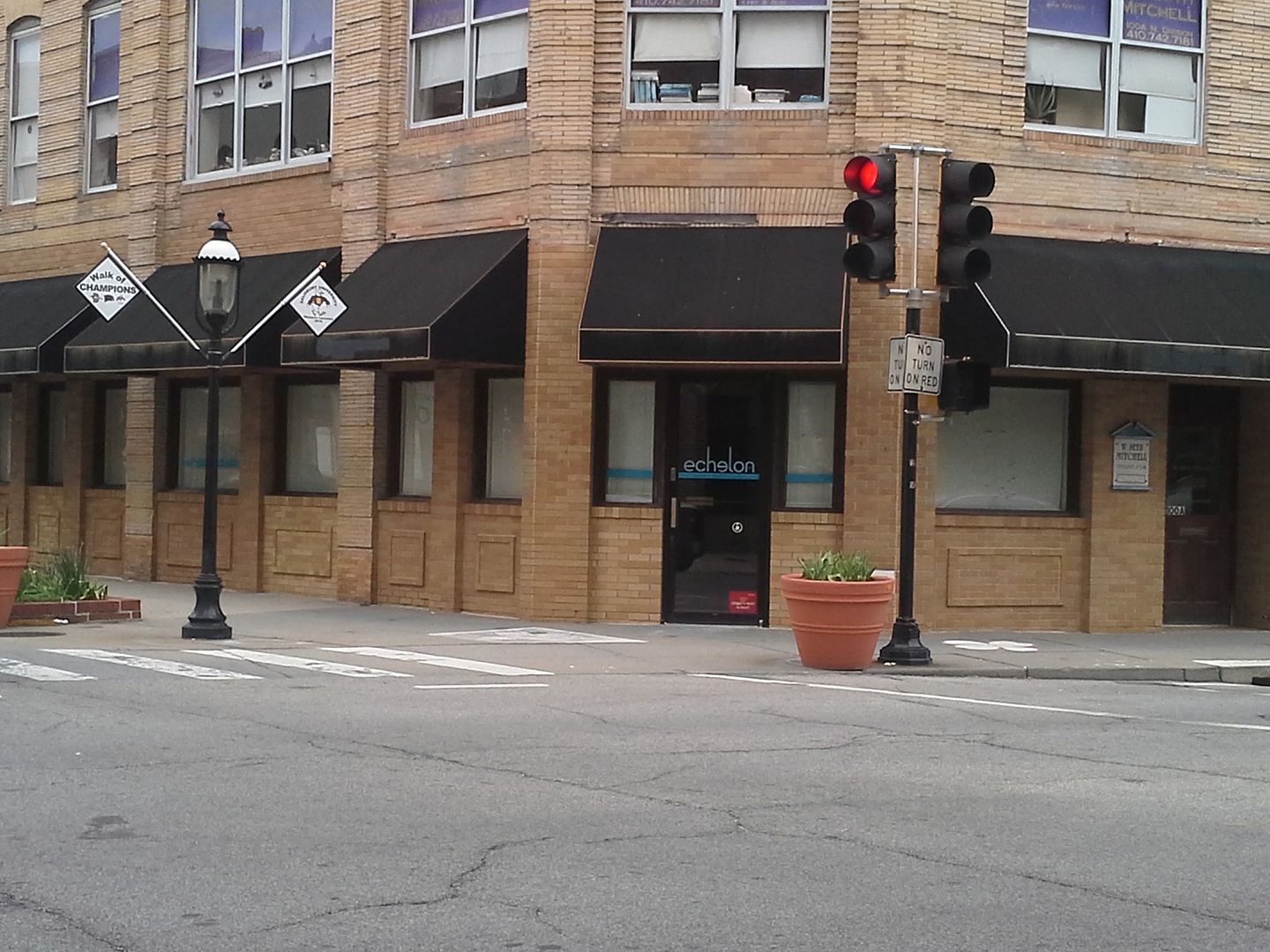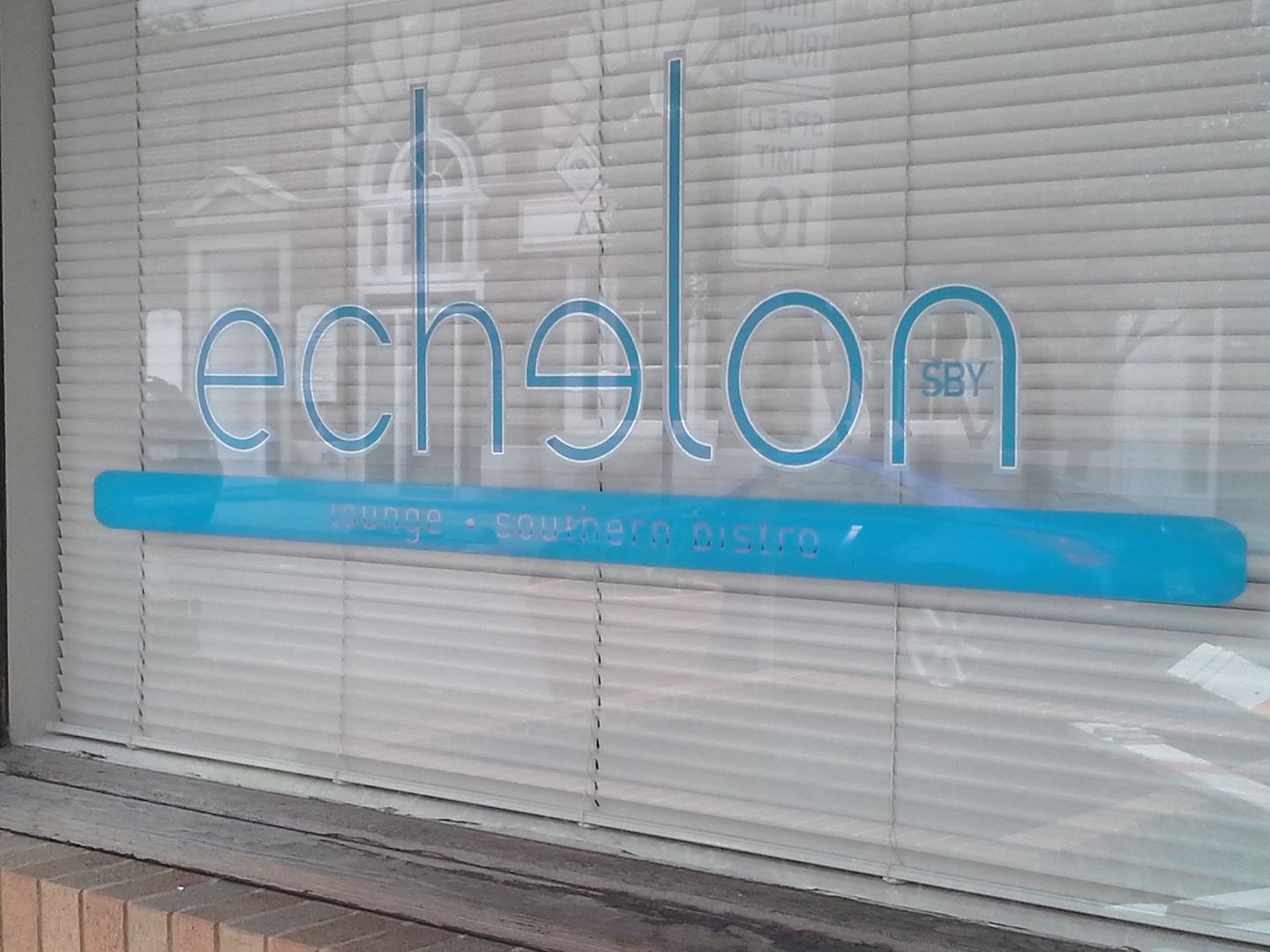 If that building looks familiar to my readers, let me remind you of where I was on a Third Friday two years ago. Ironically, I wrote then about another failed restaurant that begat yet another failure before its current iteration as Roadie Joe's.
But we face a choice this year. Surely the owner of this new enterprise has tied his dreams – and probably a fair share of borrowed money – into this forthcoming restaurant, slated to open in June per this piece at the One Salisbury blog. (That's how I knew to look for it.) There's no doubt the business will sink or swim on the quality of its food and service, but the question is how much of an incentive or boost can the state and local government give this entrepreneur by assisting him as needed, staying out of the way the rest of the time, and not penalizing him if he's successful by punitive taxation? After all, he could have just as easily opened in Delaware.
If we stay on the same old path we've trod over the last eight years, it's likely to act as an economic headwind which will make success far more elusive. But going in a different direction might just open the door enough for him to break through and make Echelon a success. Those candidates I supported today – and other conservatives of like mind – will be the ones who can help him be successful if the other ingredients are present.
At the risk of sounding "so last year" I'm going to talk about where I was last night. I wasn't there from start to finish, but I saw the most important part.
For the first time, the city of Salisbury had its own New Year's Eve celebration on the Plaza. Observers I spoke to said the crowds were somewhat modest early on when the celebration began at 8:00, but by the time we arrived shortly after 11 they were gathered throughout the downtown Plaza.
On stage at the time were The Bonedaddies, the second and final band of the evening. (Test Kitchen opened the proceedings.)
As you can also see, the ball was suspended directly above the stage, which had a running time clock through the event.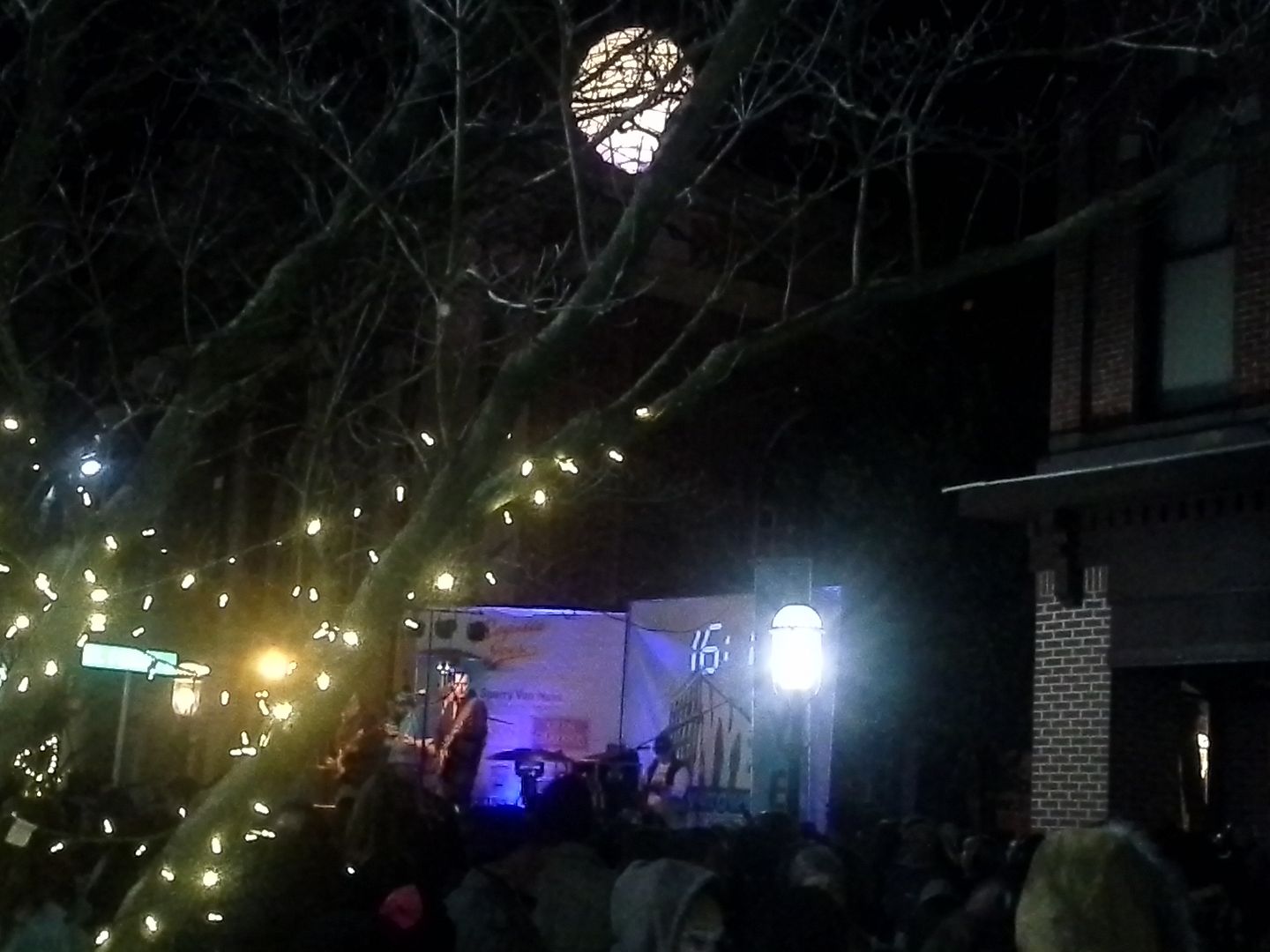 From the little I saw, it seemed like a well-run event. Yes, a number of people were celebrating with potent potables in open containers but no one seemed too much out of control. I noticed that domestic beers were running $3 a cup with Fat Tire and wine for $5 per serving, so there wasn't exactly a cheap buzz to be found – unless you shelled out $20 for the 150 available Pub Crawl tickets, good at any of several downtown watering holes. I think they had champagne on sale, too, which may have helped a flagging business – if you believe my blogger friend Becca Lower, at any rate.
Around 9:00, as I was told, there were around 1,000 people in the Plaza but by midnight I would guess there were somewhere between 2,000 and 5,000 people down there, based on some of the estimates I heard and my own figuring of the crowd. It wasn't wall to wall people, but you couldn't just casually stroll freely through there either. Given the Plaza is a couple blocks long and perhaps 60′ to 80′ wide and that some of the space was taken by the stage, beer tables, and so forth I would say there were maybe 3,000 down there. It was more crowded than I'd seen at any Third Friday, but there is less room to move around at those monthly events because of the artisan spaces.
Many of the city's political officers were reportedly there, but politics wasn't center stage at the event. The average partygoer looked to be in their 20s or 30s, with a sprinkling of families around – the voices you hear on my recording (aside from my countdown starting at about 15 seconds) were those of a family with a couple small children standing next to us.
Overall, though, I thought it was a very good event. Fortunately, the weather was good – if a little chilly – and it seemed like the only hitch was that the ball was a couple seconds late to the bottom. I also didn't see any food vendors there, but then again surely several of the restaurants facing the Plaza were open – down the street we noticed Mojo's was fairly busy. So we'll see if the event comes back for year two; my guess is that it will.
Having a holiday schedule based on Wednesday holidays seems to play havoc with the news cycle, as there's not much going on with Maryland politics right now. By the time the holiday hangover is done, it's the weekend.
So over the next four days I'm going to provide for you a look back and look forward. As part of that, tonight's post will be the look back, with some of the highlights of my political coverage – and a couple other items tossed in for fun as well. This is the first time I've tried this, so I'll see how it goes.
**********
The year began, as it always does, in January. As will be the case even moreso this year, political fundraising was in the news as there was a surprise leader in the gubernatorial money race on the GOP side. Another highlight of the month was a spirited and enlightening discussion of state issues at the Wicomico Society of Patriots meeting – something all too infrequent this year, unfortunately.
But the highlight of the month was my two-part coverage of the Turning the Tides conference in Annapolis. which had a plethora of good speakers and discussion. It was so good I had to post separately on the morning and afternoon events.
In February my attention was turned to several topics, particularly providing coverage of the financing and the events surrounding the Salisbury municipal elections, for which the primary was February 26th. A key issue brought up was a state mandate for the city to help pay for cleanup of Chesapeake Bay, to the tune of $19 million a year.
Another state mandate took center stage in February, as the Wicomico County Council held a Tier Map forum to find out citizens weren't exactly enamored with the idea. As part of that I read from my written testimony on a Tier Map repeal bill, which wasn't the only testimony I wrote – I also put in my two cents on the gun grab bill.
We also found out that month that the Maryland GOP would get new leadership following the resignation of Chair Alex Mooney.
March found me continuing my coverage of the Salisbury city elections, but only backing one candidate. More important were local developments on the state level, where the Second Amendment was a hot topic for a local townhall meeting and our county's Lincoln Day Dinner.
But the highlight for me, by far, was my day at CPAC. That turned out to be a two-part set of posts.
As the area began to wake up from a winter slumber in April, so did the political world as it turned from the General Assembly session to the 2014 campaign. The Salisbury city elections went as expected, so I turned my attention to the race for state party chair. Interim Chair Diana Waterman ran a campaign which was at times embroiled in some controversy, but prevailed on enough supporters to make it through the lengthy grind of campaign forums (including one in Cambridge on the eve of the state convention) and win the remainder of Alex Mooney's unexpired term. But even the convention itself had its share of ups and downs, particularly a chaotic ending and a rebuff to new media.
While that was happening, the 2014 election was beginning to take shape, with familiar names both trying their luck again and trying for a promotion. Others had interesting endorsements as feathers in the cap.
But it wasn't all political in April. The outdoor season began with two local mainstays: Pork in the Park and the Salisbury Festival. I also found out I was immortalized on video thanks to Peter Ingemi, better known as DaTechGuy.
Those things political slowed down in May, with just a little reactionary cleanup to the state convention to begin the month, along with other reaction to the recently-completed General Assembly session. In its wake we also had turnover in Maryland House of Delegates GOP leadership.
But one prospective candidate for governor announced other intentions, leaving another to confirm what we knew all along.
On the fun side, I enjoyed Salisbury's Third Friday celebration with some friends and stopped by to see them at another barbecue festival, too.
June began with a visit from gubernatorial candidate David Craig, who stopped by Salisbury and in the process gave me an interview. And while he didn't make a formal tour, fellow Republican Ron George made sure to fill me in on his announcement and establish tax cutting bonafides. We also picked up a Republican candidate for an important local seat and found out political correctness pays in the Maryland business world.
A local doctor gave us his perspective on Obamacare and our area celebrated the chicken in June, too. I also learned of a special honor only a handful of political websites received.
As is often the case, our wallets became a little lighter in July. In the aftermath, we found out who David Craig picked as a running mate and welcomed both of them to our Wicomico County Republican Club meeting. I also talked about another who was amassing a support base but hadn't made definite 2014 plans at the time.
On the other side of the coin, we found the Democratic field was pressing farther away from the center, a place the GOP was trying to court with the carrot of primary voting. Meanwhile, the political event of the summer occurred in Crisfield, and I was there.
There were some interesting developments in the new media world as well – a plea for help, a shakeup in local internet radio, and my annual monoblogue Accountability Project all came down in July.
The big news in August was the resignation of State Senator E.J. Pipkin, and the battle to succeed him. And while one gubernatorial candidate dropped out, another made his intentions formal and stopped by our Wicomico County Republican Club meeting as well. Even Ron George stopped by our fair county, although I missed him.
It seemed like the gubernatorial campaign got into full swing in September – Charles Lollar announced in an unusual location, the Brown/Ulman Democratic team came here looking for money, Ron George tangled with Texas governor Rick Perry and showed up to make it three Wicomico County Republican Club meetings in a row with a gubernatorial candidate, and Doug Gansler decided to drop by, too. On the other side, Michael Steele took a pass. I also talked about what Larry Hogan might do to fill out the puzzle.
Those up the Shore made news, too. Steve Hershey was the survivor who was appointed State Senator, and I attended the First District Bull Roast for the first time. I've been to many Wicomico County Republican Club Crab Feasts, but this year's was very successful indeed.
September also brought the close of our local baseball season. As is tradition I reviewed the season, both to select a Shorebird of the Year and hopefully improve the fan experience.
October was a month I began considering my choice in the gubernatorial race. That became more difficult as Larry Hogan took an unusual trip for a businessman and Charles Lollar's campaign worked on self-immolation, while Doug Gansler needed his own damage control.
I also had the thought of going back to the future in Maryland, but a heavy dose of my political involvement came with the tradtional closing events to our tourist season, the Good Beer Festival and Autumn Wine Festival.
Most of November was spent anticipating the Maryland GOP Fall Convention; in fact, many were sure of an impending announcement. Honestly, both may have fallen into the category of "dud." But all was not lost, as the month gave me the chance to expound on manufacturing and share some interesting polling data.
Finally we come to December. While the month is a long runup to the Christmas holiday, I got the chance to again expound on manufacturing and come up with another radical idea for change. We also got more proof that our state government is up for sale and those who are running for governor place too much stock in internet polling. My choice is still up in the air, even after compiling an 11-part dossier on the Republicans currently in the race.
Locally, we found a good candidate to unseat a long-time incumbent who has long ago outlived his political usefulness. And the incumbent will need to watch his back because Maryland Legislative Watch will be back again to keep an eye on him and his cohorts. I'll be volunteering for a second year,
And while I weighed in on the latest national diversion from the dreary record of our President and his party, I maintained two December traditions, remarking on eight years of monoblogue and days later inducting two new players into the Shorebird of the Week Hall of Fame.
You know, it was fun going down memory lane for 2013. But tomorrow it will be time to look forward, beginning with the local level.