Over the years I've noticed the local music community is more than willing to help out and I've been to several of these benefits over the years. But last Saturday it was time to assist one of their own and pay tribute to a special woman who was a great example of this willingness to help out her community.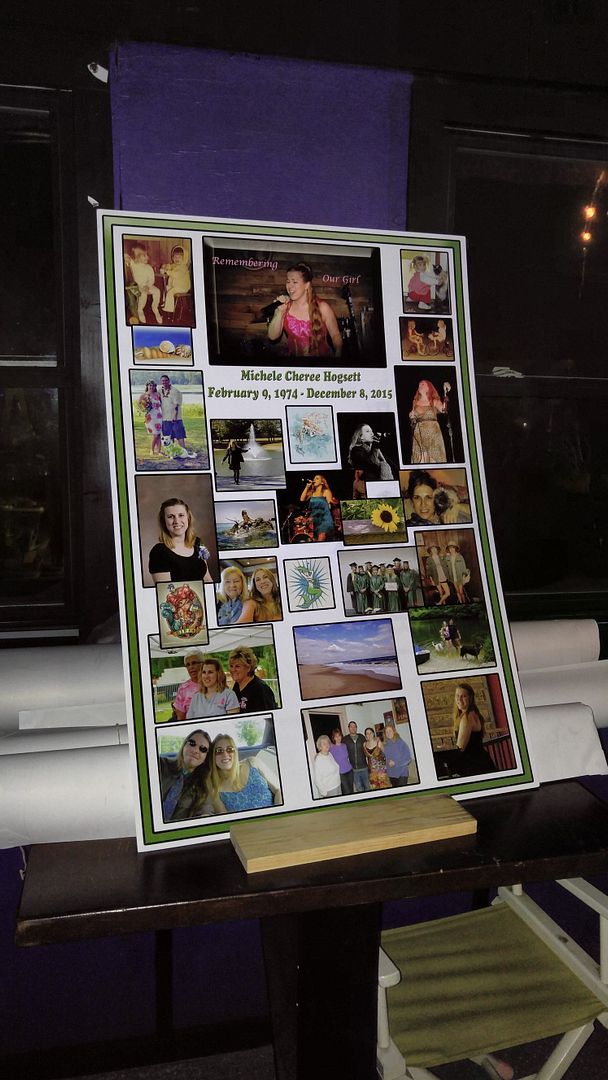 In December Michele Hogsett finished her seven-year battle with breast cancer. Some may know her as the lead singer of Semiblind and the duo Dog & Butterfly, others as DJ Siren, and still others as the woman who put together the annual (Save the) BreastFest until this past year when she became too ill to continue. But four bands volunteered their time to help her husband Jim out with all the expenses incurred.
The board I began the post with was one of several that were placed in the venue. They are a great memorial in photos to Michele's life so I'll use them to divide this piece up.
I got there about a half-hour late, so I arrived about halfway through Fish Whistle's set.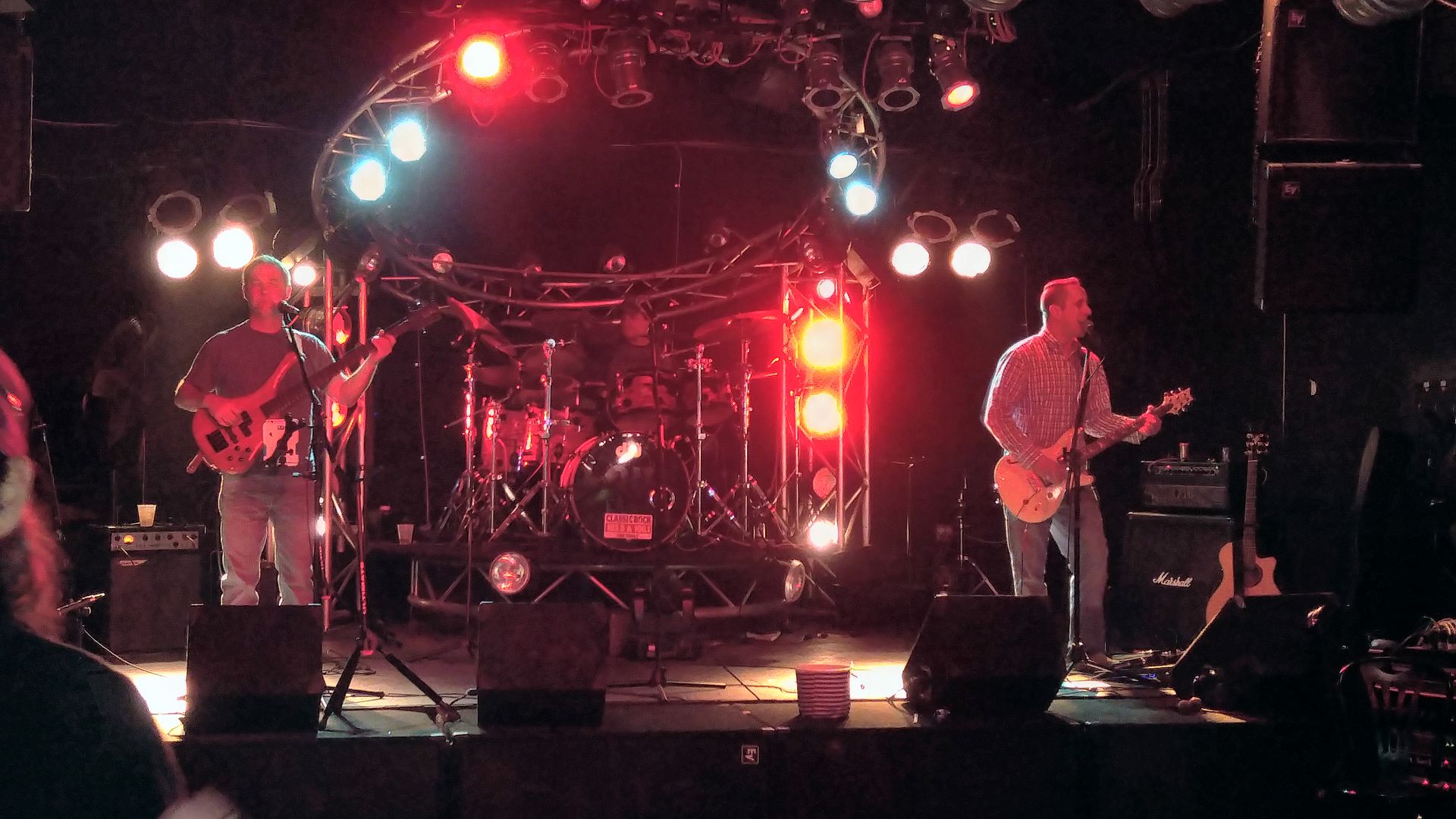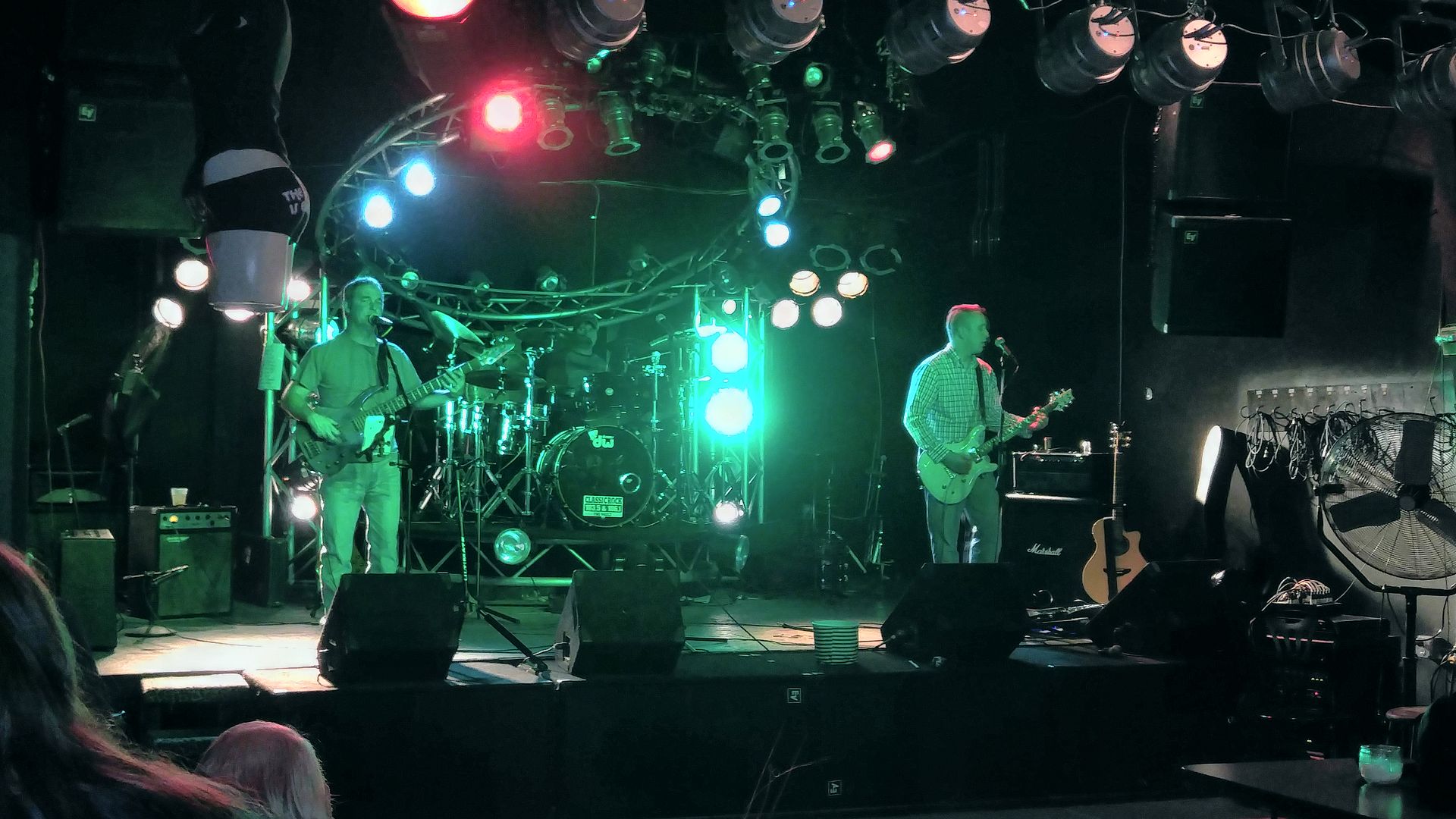 The trio, which has a former member of Semiblind in drummer Mike Edgerton, played a set heavy with Pink Floyd and Van Halen, among a host of other favorites. They set a good tone for the rest of the show.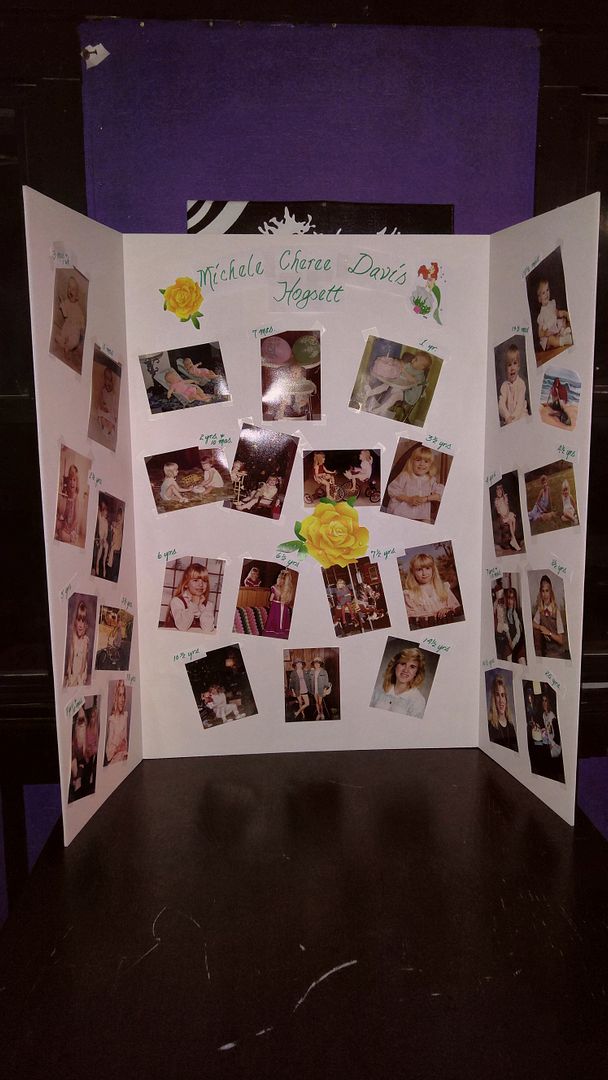 If you can't read the banner behind them, I'll let you know Black Tide Rising was the next band up.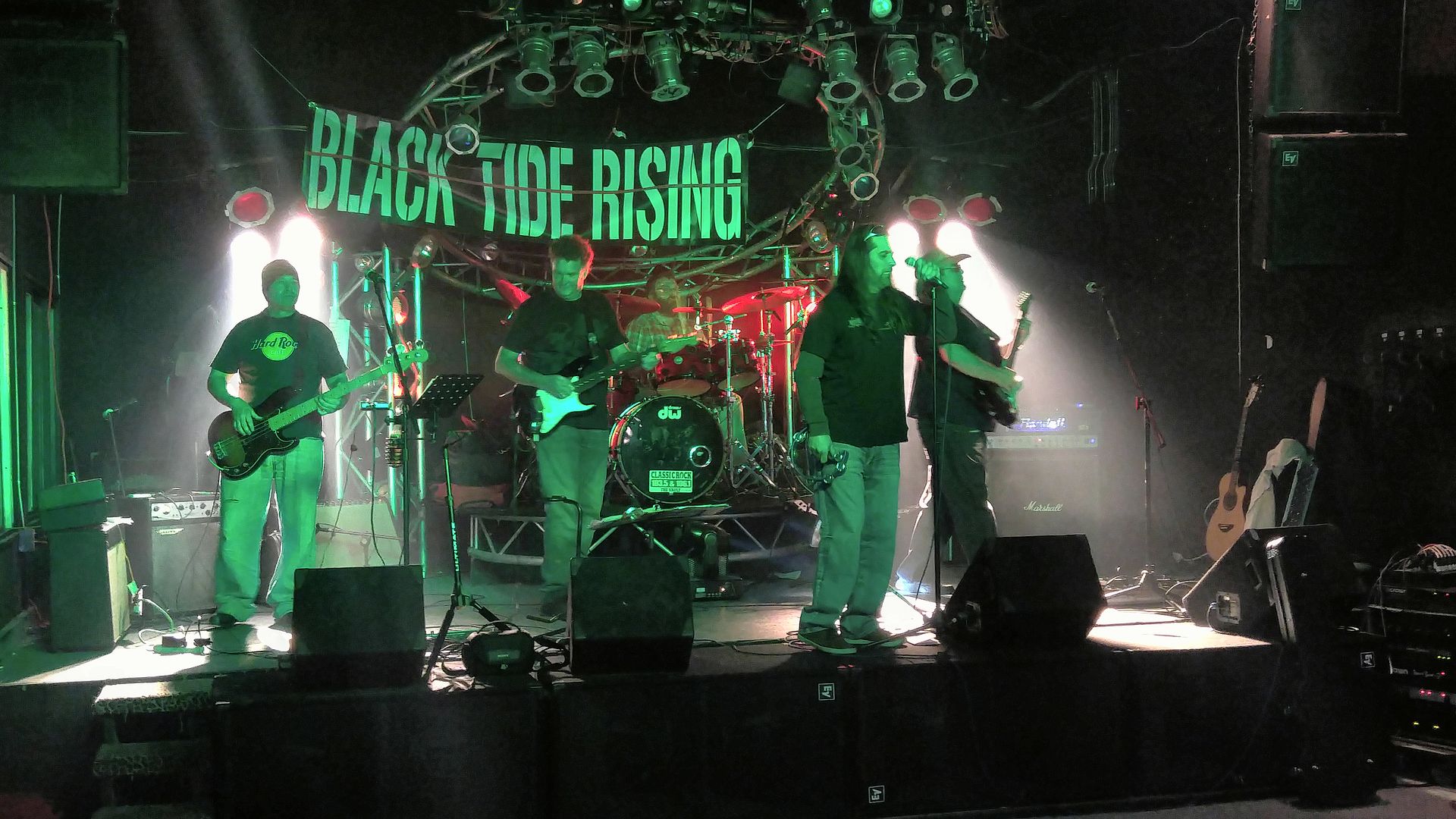 They were a little heavier on 1970s stuff, but they had help from Susan Witchey (who sings for the band Witches Brew) on the old Grand Funk Railroad classic I'm Your Captain (Closer to Home).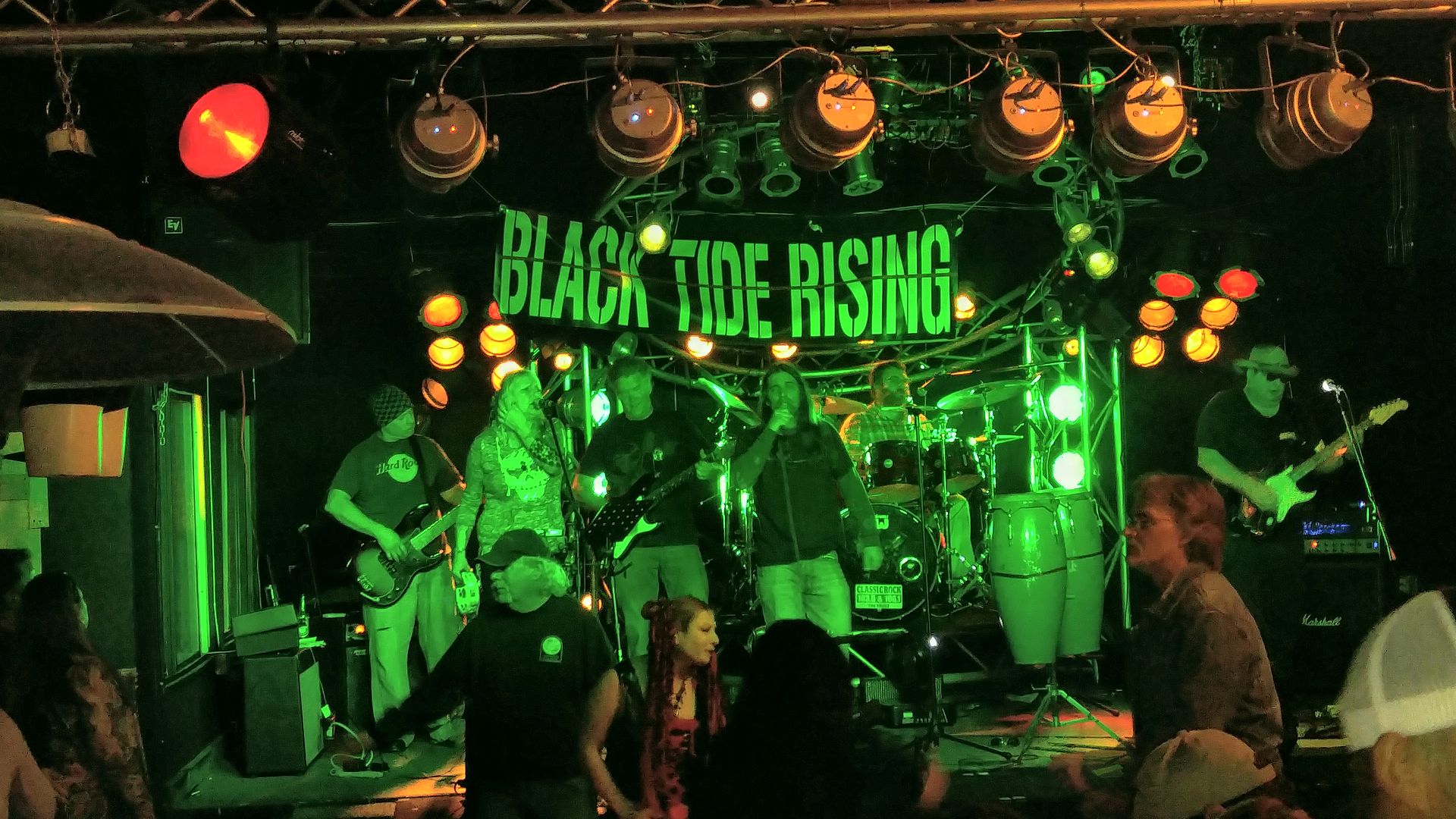 BTR also included some songs you don't hear every day, such as Silent Running by Mike & the Mechanics. It was funny because he said he'd buy a drink for anyone who knew the song – I could remember the title but had to Google the band.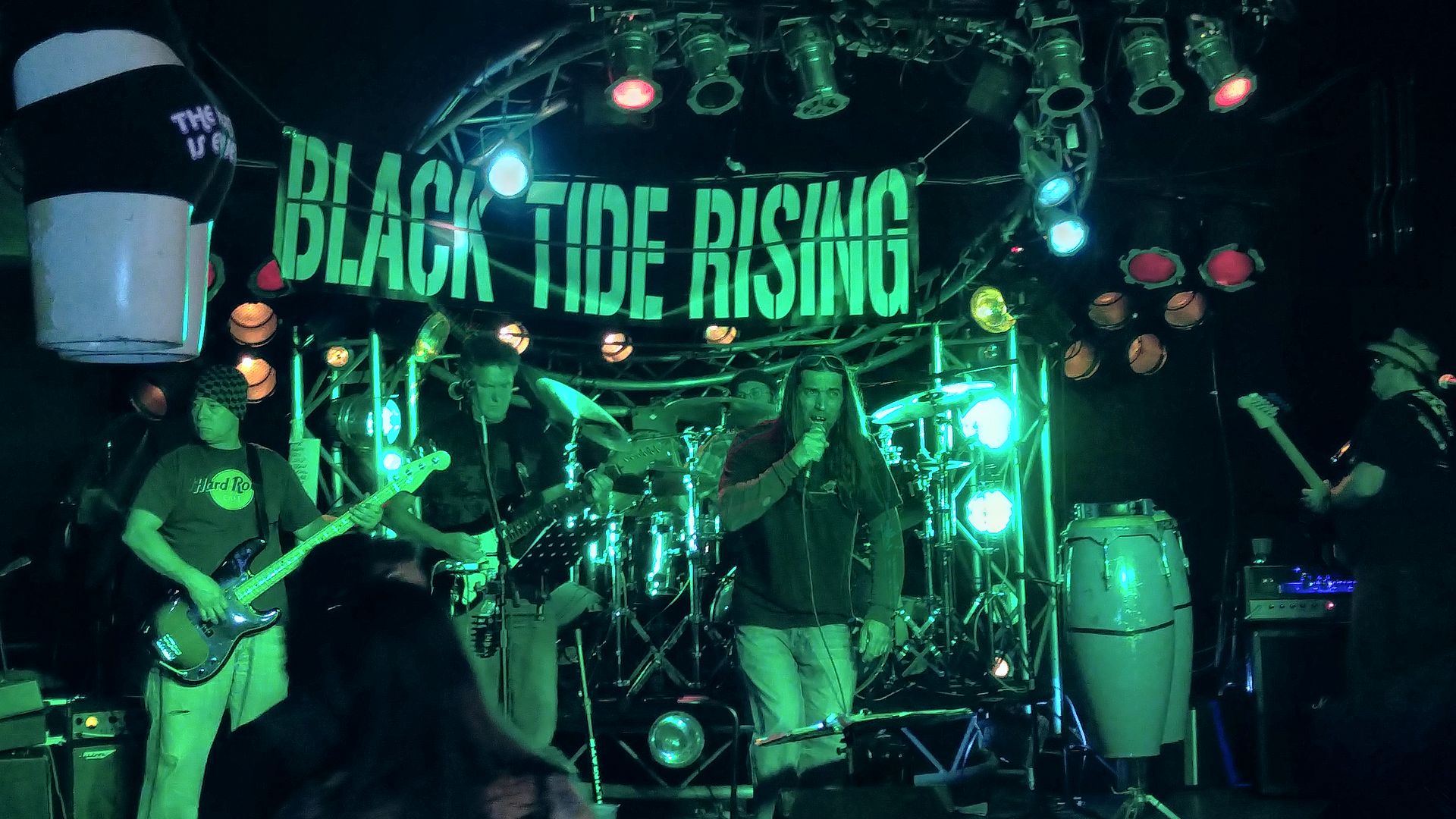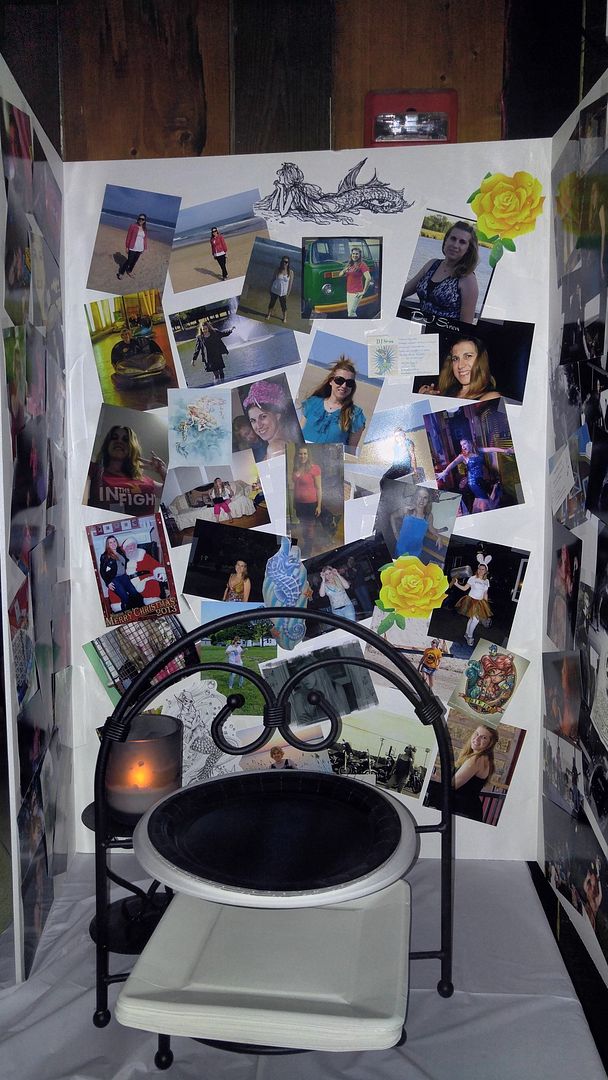 The Breakers were the penultimate band for the evening. They went back another decade, starting out with a Beatles song. Soon after, Susan was helping them out with much of the set.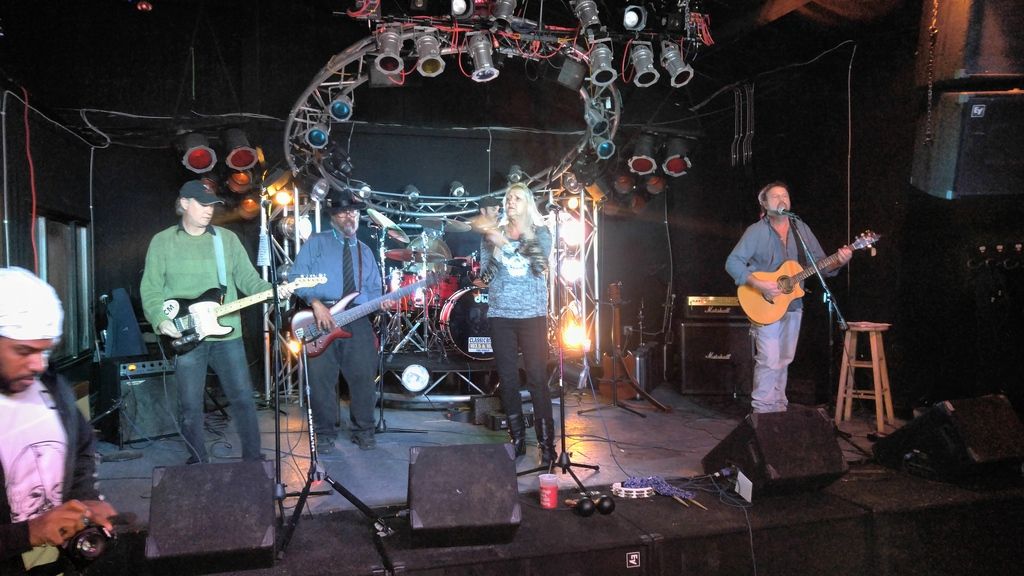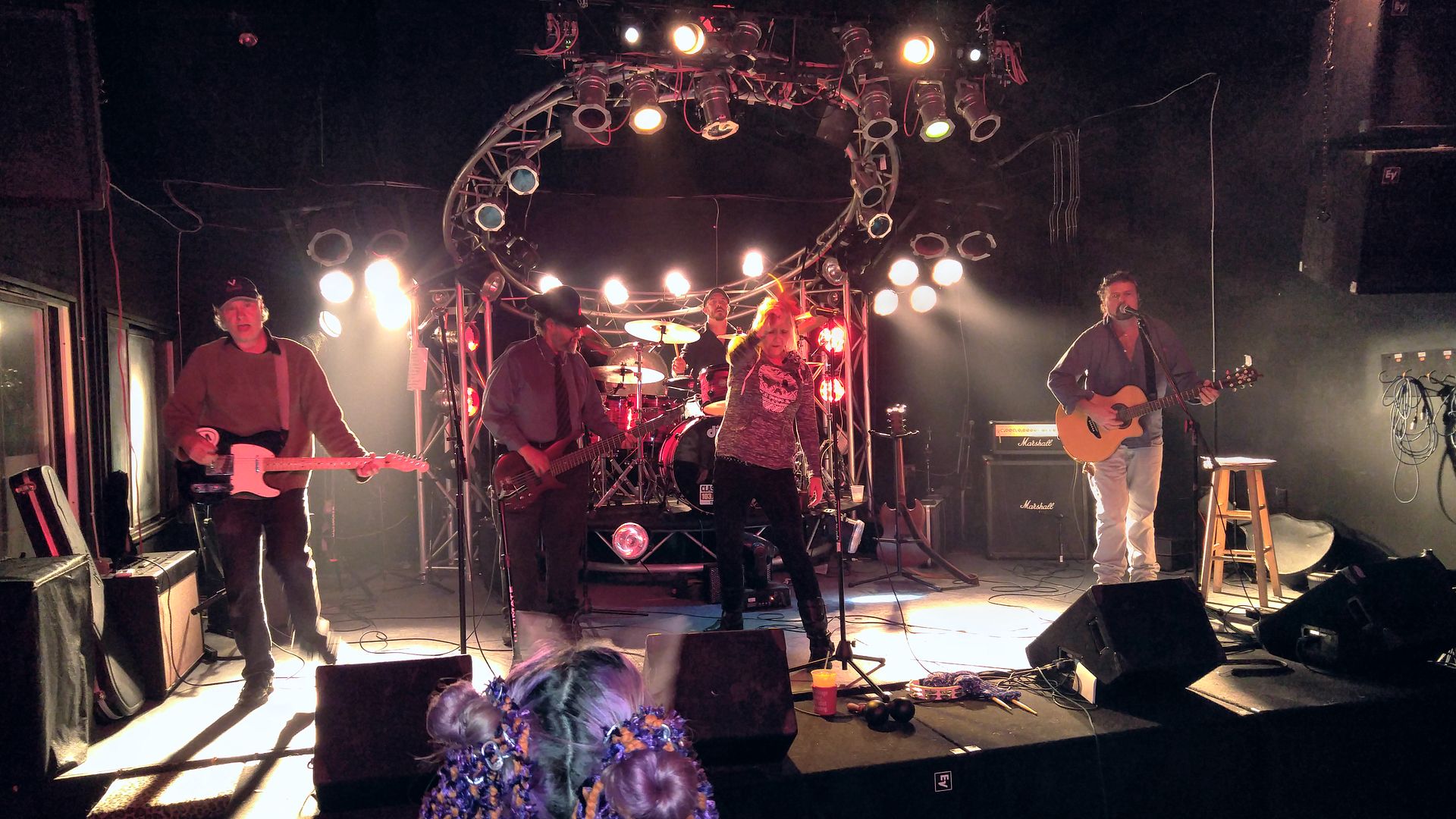 Speaking of cool cover tunes, I seem to recall their last song was Hymn 43 by Jethro Tull. Years ago a friend of mine gave me the record – still have that vinyl somewhere in a closet.
There were a few cool things available in a silent auction, too.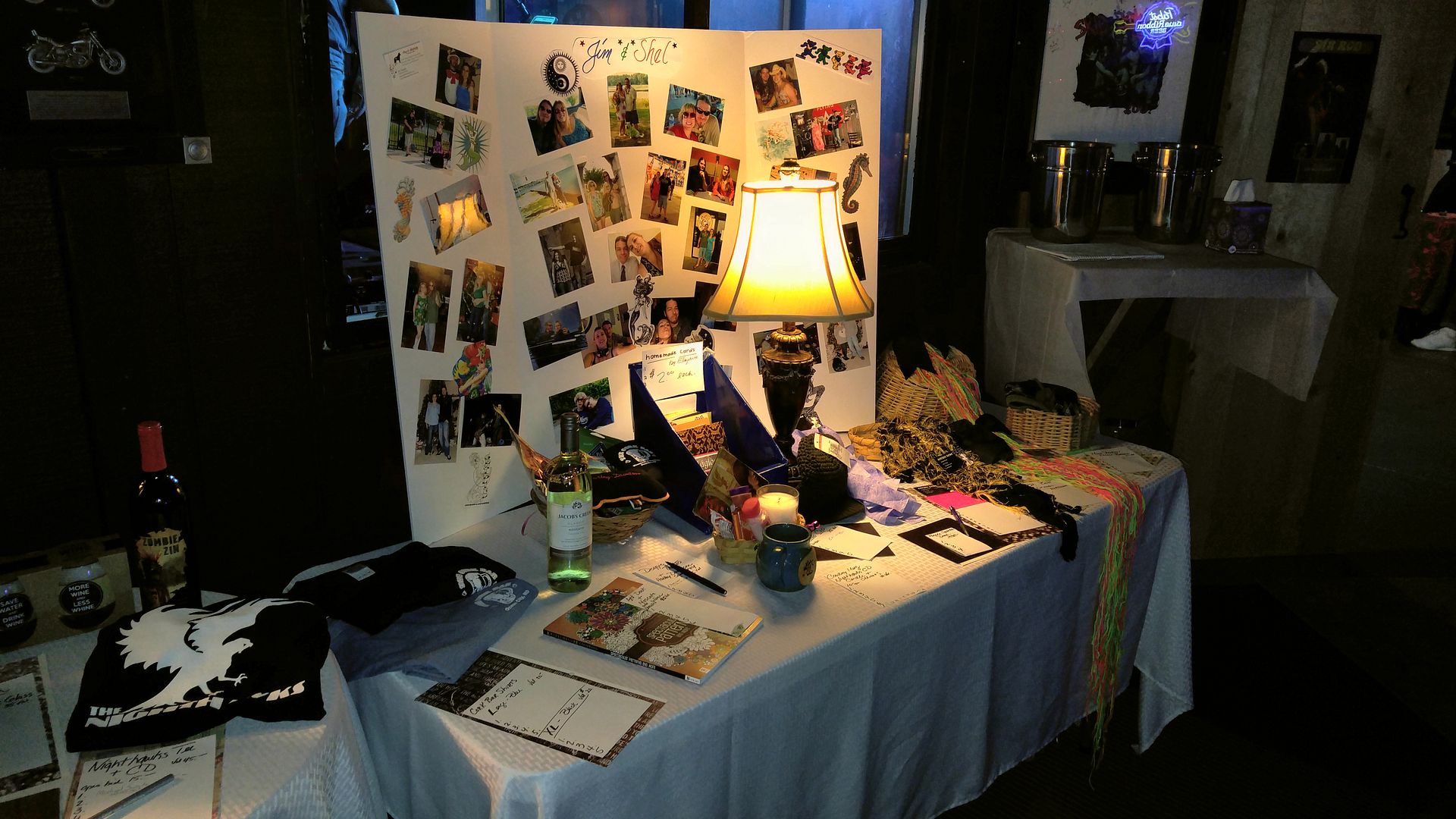 Between these and the 50/50 raffles, there was a nice amount raised. During the breaks, we also heard from some friends of Michele and Jim who gave testimonials to her character. One piece of news that cheered me was the vow to bring back BreastFest after last year's hiatus. It was a great part of Delmarva Bike Week and had become a recognized auxiliary event.
The last band of the night was Lime Green. Is this shot rock and roll or what?
I just love that dry ice fog machine.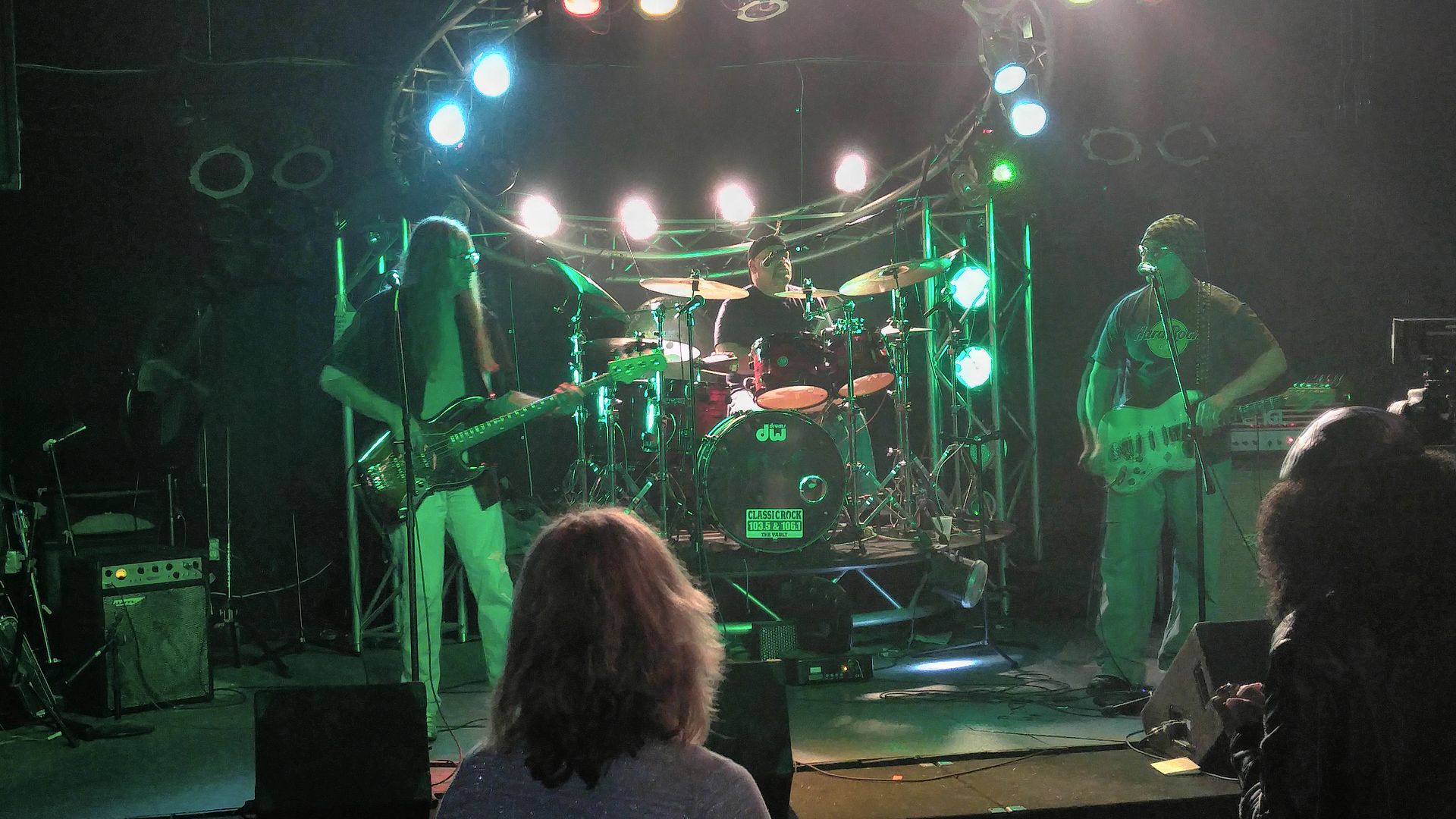 I will also tell you that the lighting and sound at the OC House of Rock was very well done. They really, really loved that green lighting for Lime Green (naturally.)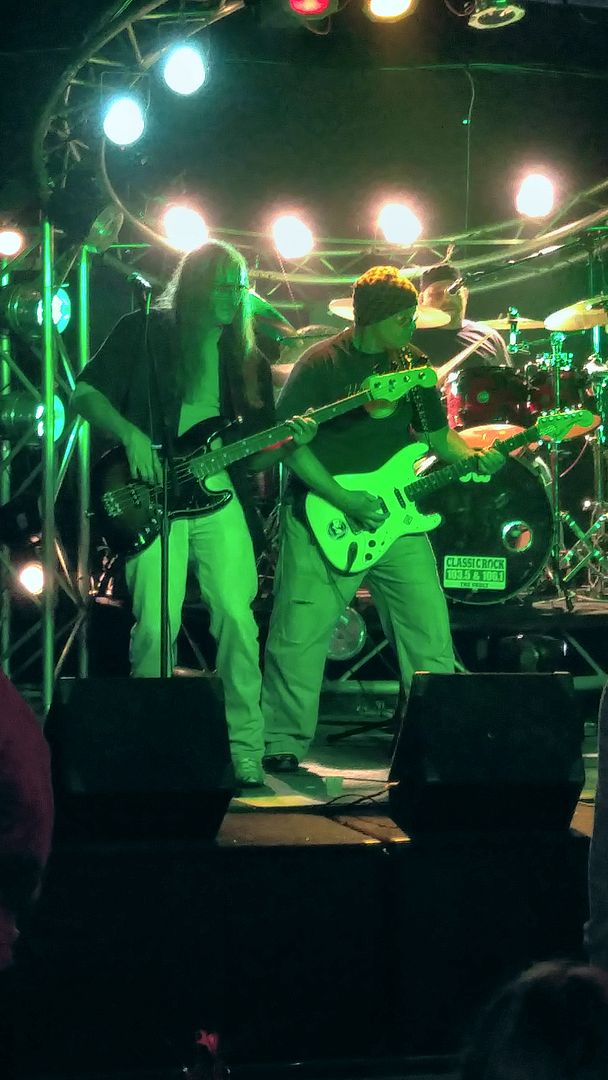 Lime Green did a veritable potpourri of songs, everything from TLC's Waterfalls to Folsom Prison Blues. Susan jumped in for some on their set as well.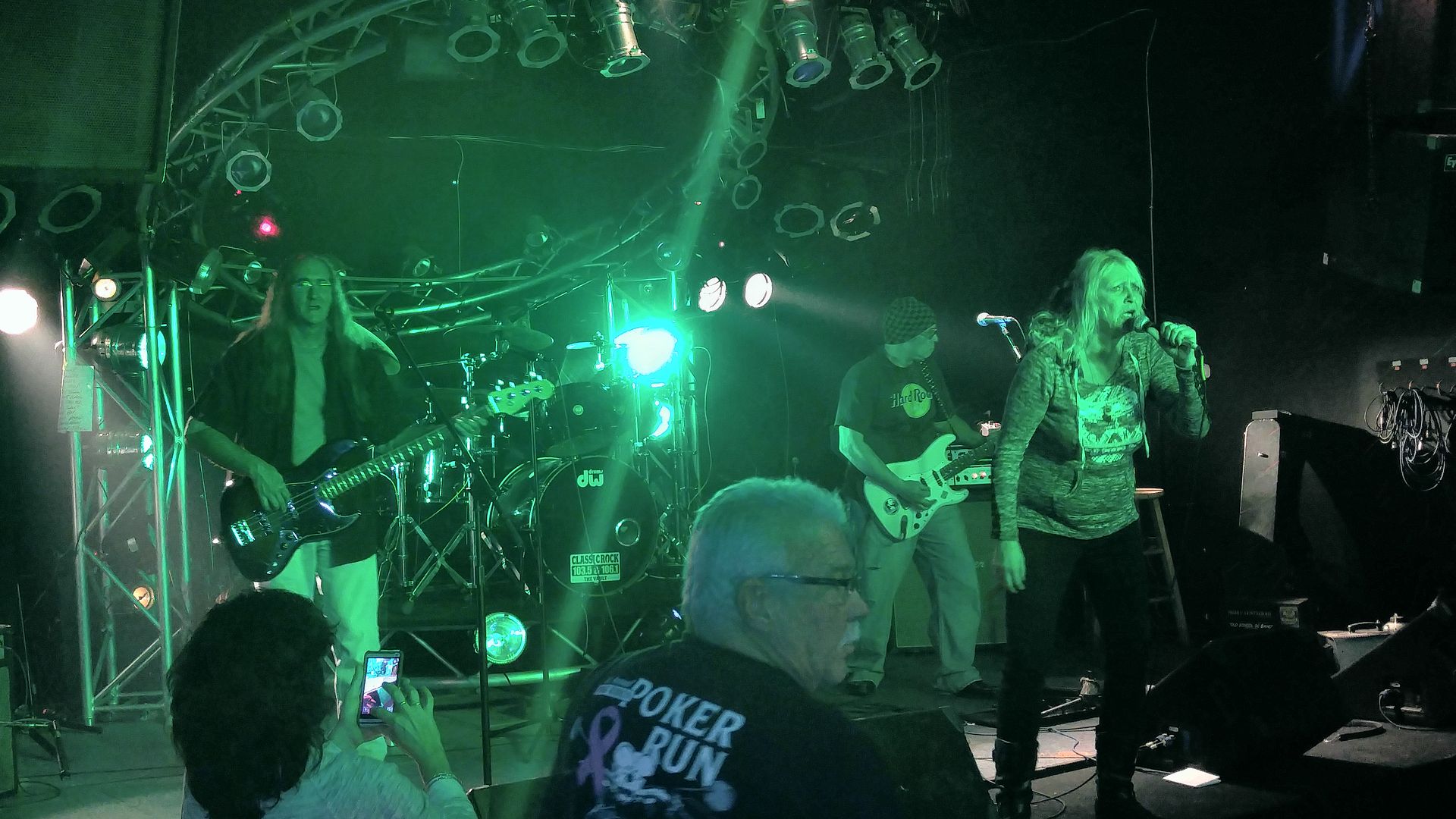 They also played an original they're planning on shooting a video for this spring at Pemberton Park outside Salisbury. So what is it called? Pemberton Park, of course.
Afterward, a lot of people stuck around to wish Michele's husband Jim well. Jim didn't bring his guitar for this show, but I'm hopeful he can carry on with his music as the grieving process continues. While Semiblind was better known as a cover band, Jim and Michele wrote and recorded a number of originals as well. Maybe Michele's legacy can carry on as the inspiration for new music.
No use letting cancer defeat two talents, I say.
(As opposed to Order 6-D6, a long-defunct local group I really liked.)
I'm not going to stretch the definition of local too much with this much more brief look back at the Autumn Wine Festival, but it will do a lot of bending to the rock part. Here's the six-band lineup over the two days.
We  got things underway with alex&shiloh, who perhaps were the most conventIona' acoustic group there insofar as style and playlist. I think they have done the bar stage at the Good Beer Festival, which is a handy measuring stick for that sort of thing. You'll have to deal with the sun-splashed photos – the stage faces more or less northwest so the sun is behind it most of the day.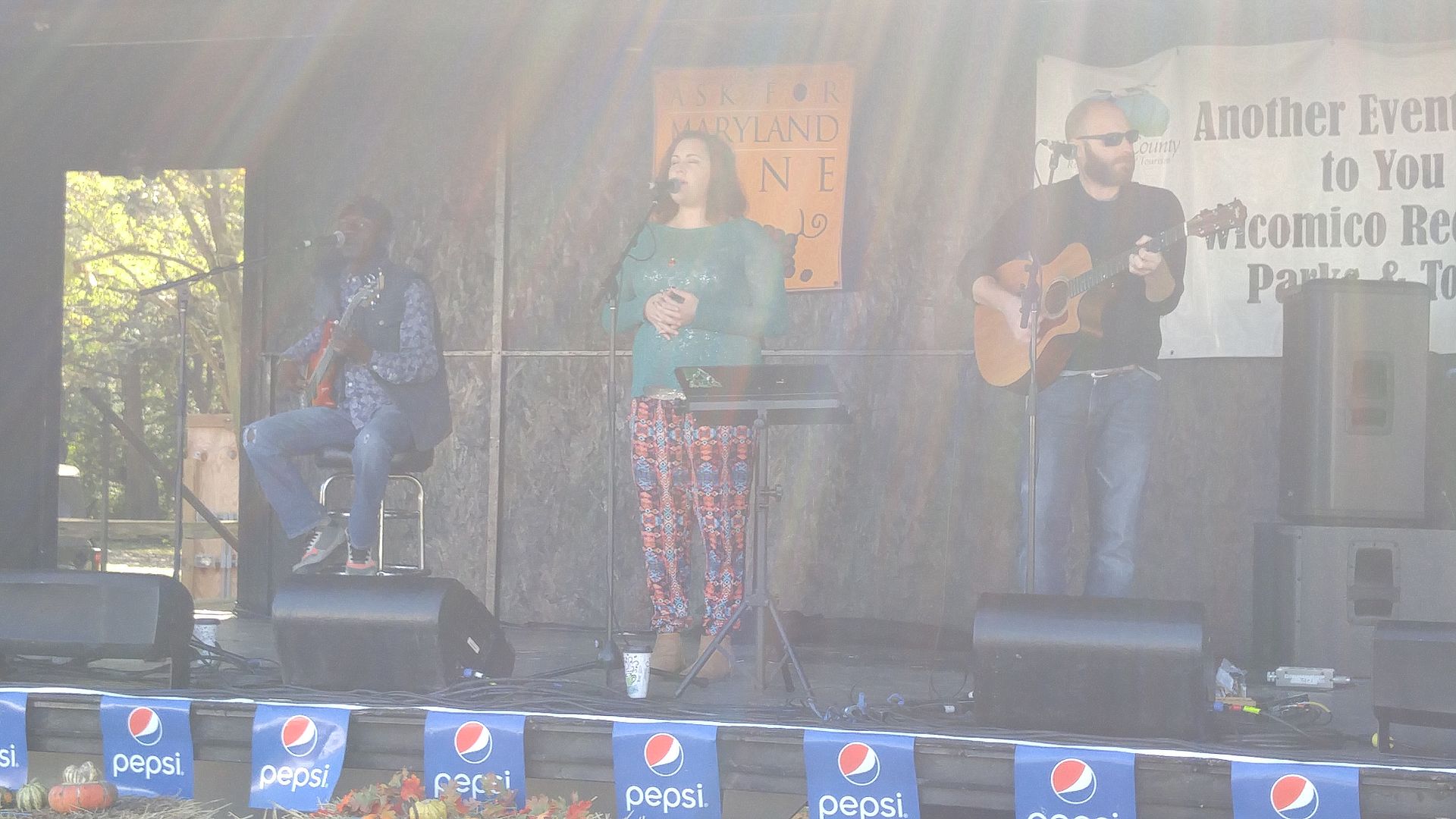 They yielded to the familiar local strains of Randy Lee Ashcraft. He's been around long enough to become a legend around these parts by being not quite country but not so much rock, either. Just good listening, I guess.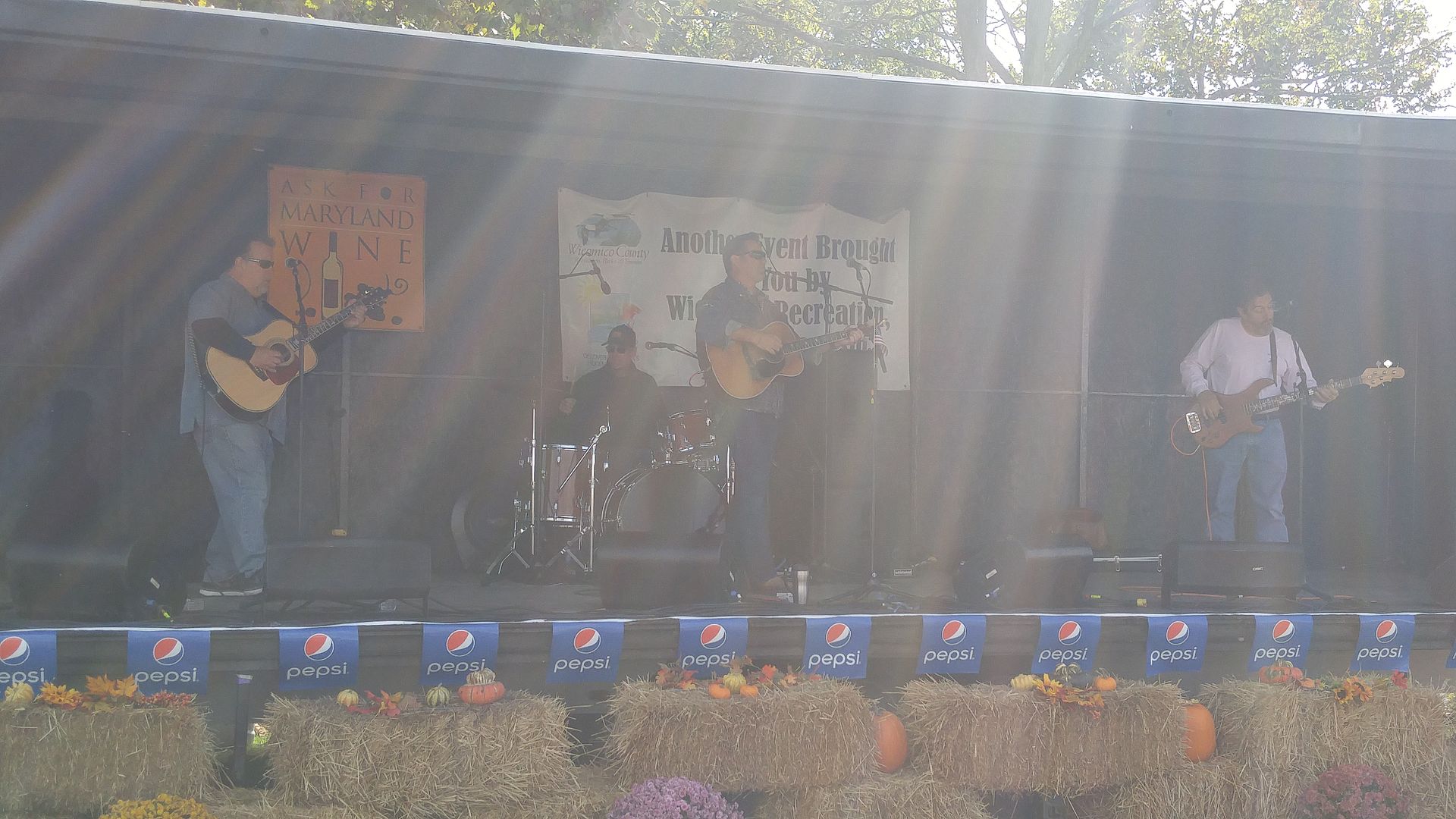 Last up on a pleasant Saturday was Front Page News, which cranked out a number of familiar tunes.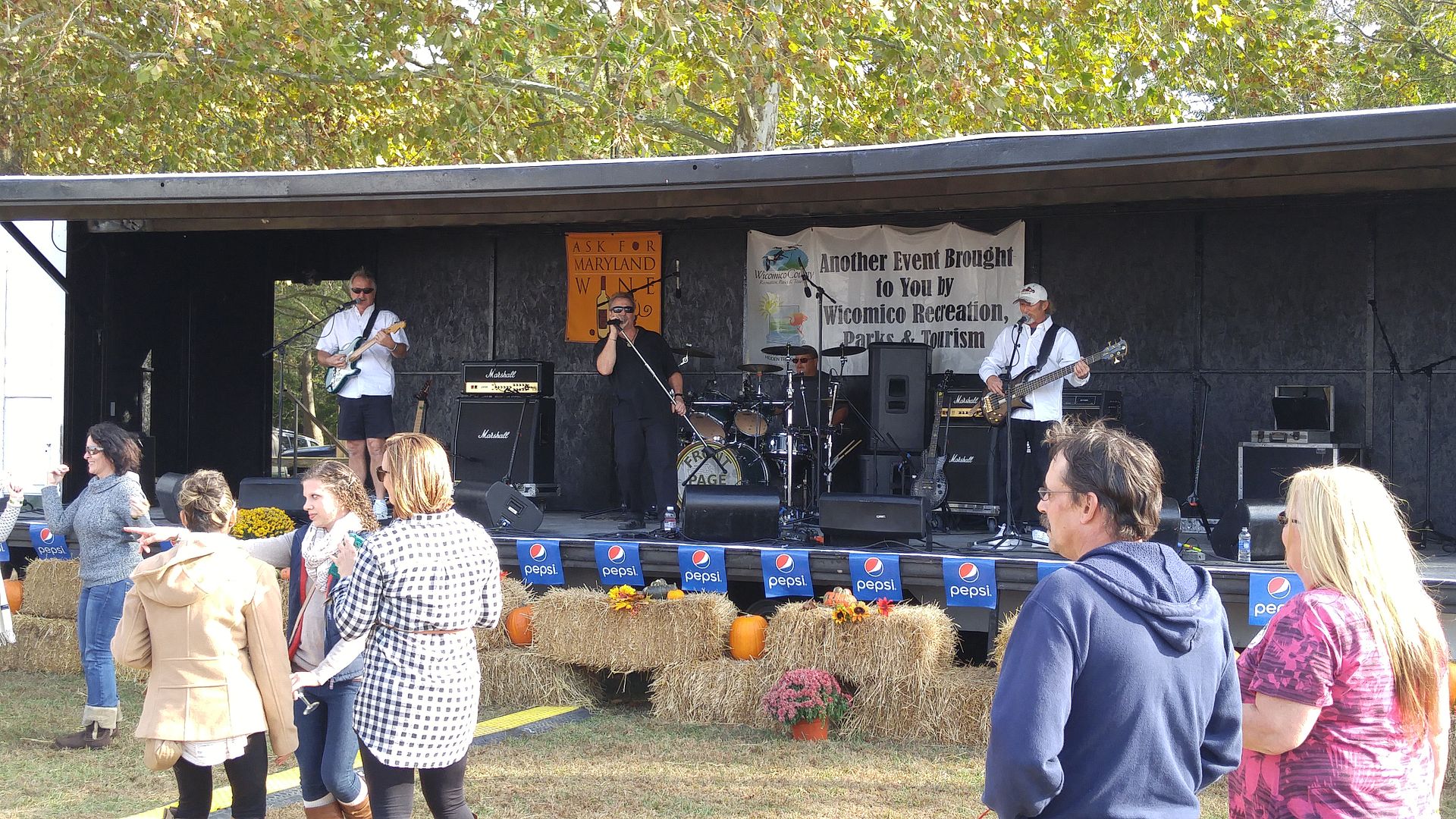 They had the biggest crowd of the weekend.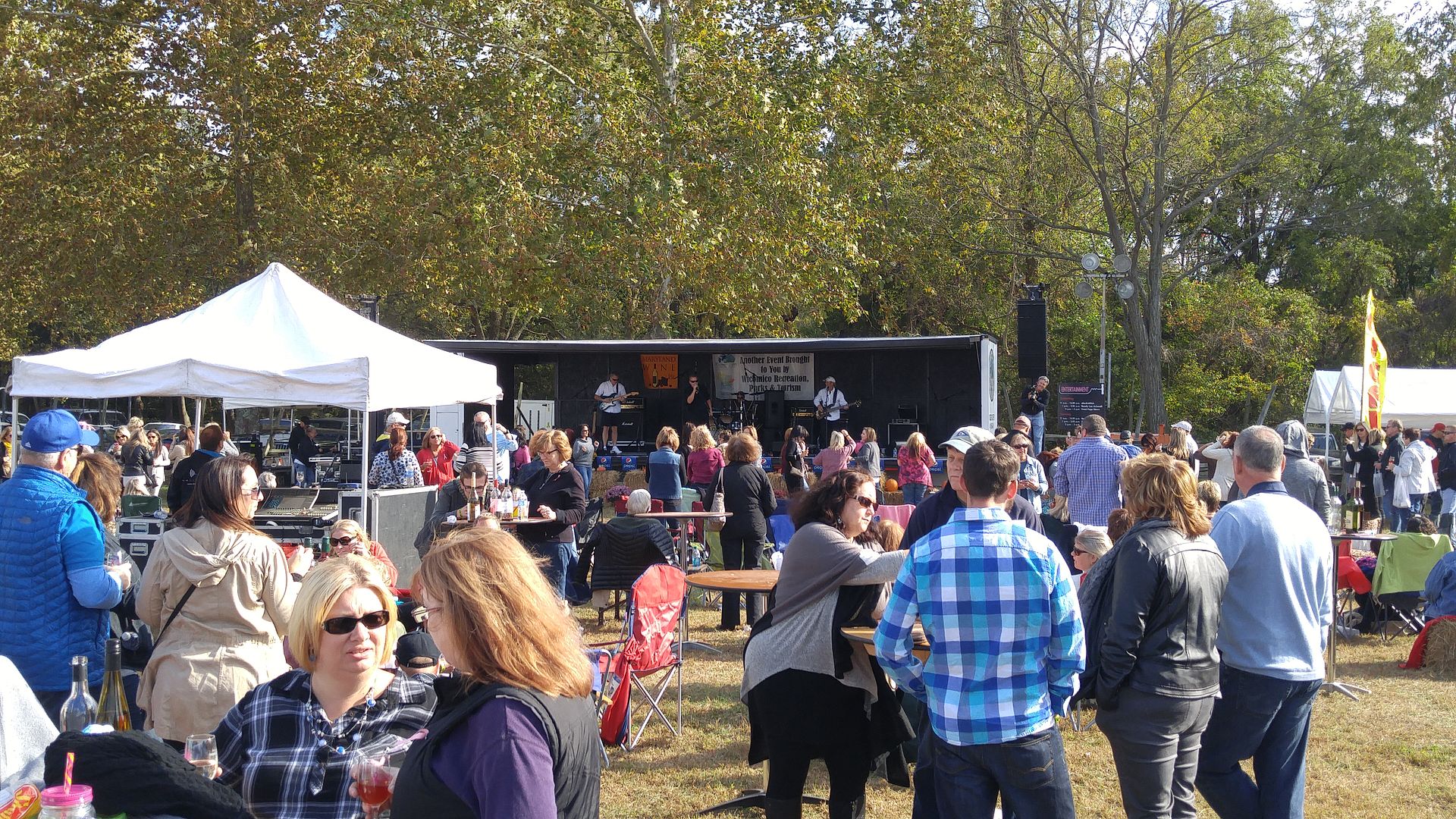 Sunday started with its perennial opening act, the Backfin Banjo Band. They always start out with standards and take requests.
Instead of playing the middle on Saturday as they did last year, Such Fools played their unique style on Sunday.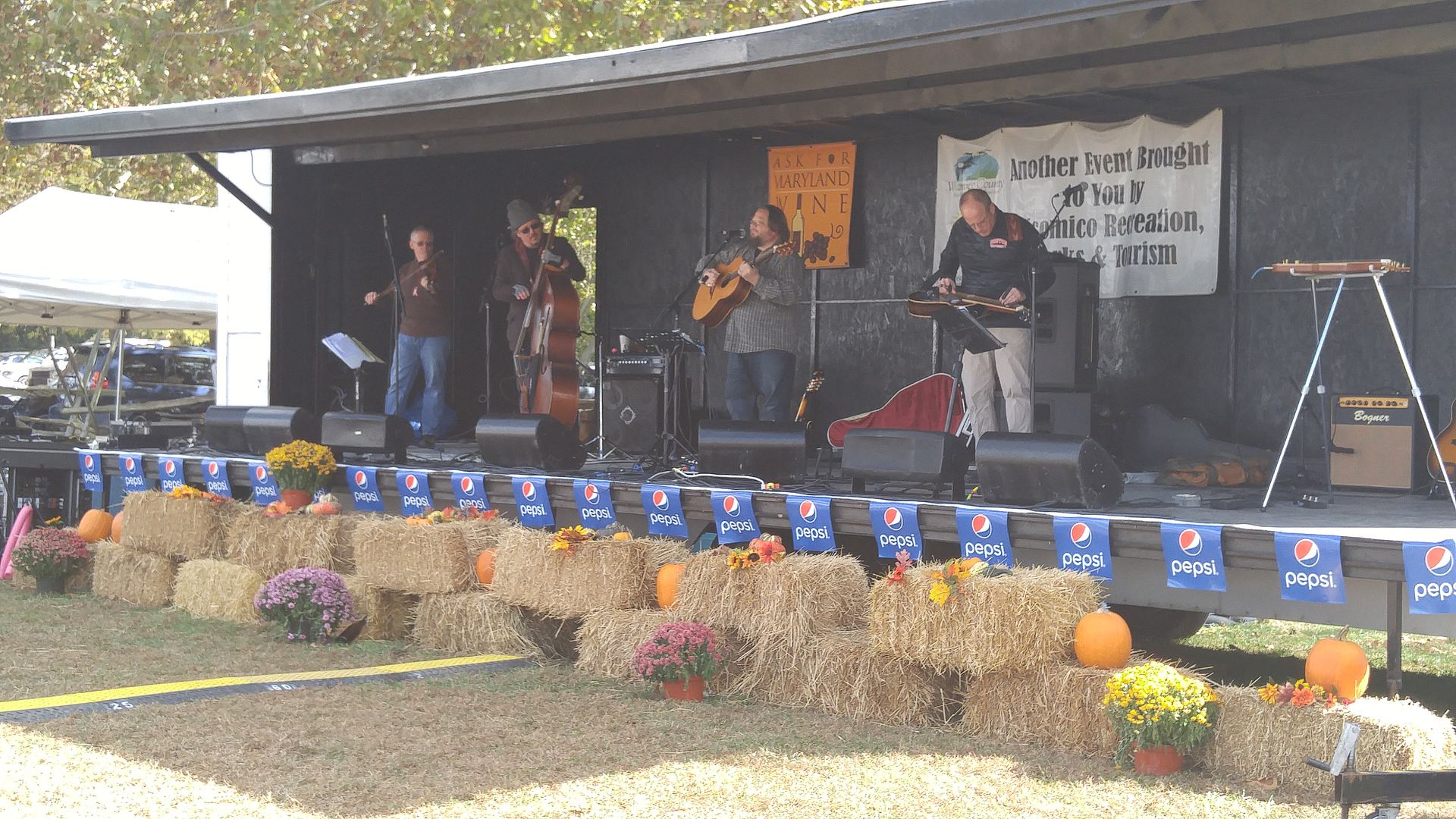 We wrapped things up with the danceable On The Edge, and we needed something to dance to just to stay warm as the temperature struggled to get above 50 and we endured a couple brief showers while they were up.
Originally I thought the Sunday lineup was exactly the same as last year, but upon further review I found Such Fools switched days. Still, out of six bands three were holdovers from 2014. In fact, it seems like the turnover for the event is shrinking, and the last non-local act they took a chance with was Tim Reynolds and TR3 two years ago. Certainly I'm the first to support local music, but variety is the spice of life and the AWF used to bring in some interesting acts – onetime Bad Company touring bassist Paul Cullen played here a few years back, as I recall.
By design the Autumn Wine Festival features many of the same Maryland-based vineyards year after year. But does it have to keep the same bands, too?
I know it's been awhile since I've done one of these, and what once was a monthly (or sometimes weekly) feature is down to two or three a year. As a guy I know would say, that's a shame.
I also know it's unusual to have WLR on a weekday, but this weekend I'm going to take a break from politics and do an all-music weekend – WLR today and Sunday sandwiching a music review tomorrow. Next week you may get the treat of two because I have a backlog of music to review. Besides a somewhat humdrum municipal election, it's a quiet political time right now.
I'm starting with an event that's become somewhat of a musical dynamo thanks to its two-stage setup, the Good Beer Festival. It featured twelve acts, with the bar stage primarily hosting acoustic acts while the main stage had full bands.
Bear in mind I also work the event so I don't get to hear every song. Some of these are more detailed than others, but I always like to lead with the schedule to help keep track.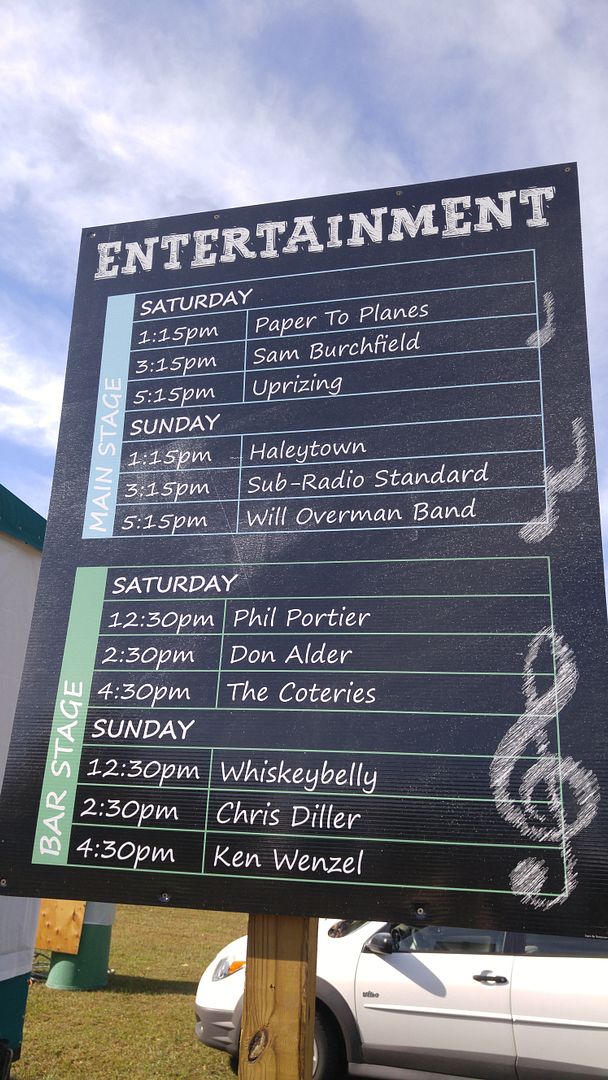 So I begin with the acoustic stylings of Phil Portier, who opened up on the bar stage. I will say I knew the Joe Jackson song he opened with so I could insert the "where?" at the proper place.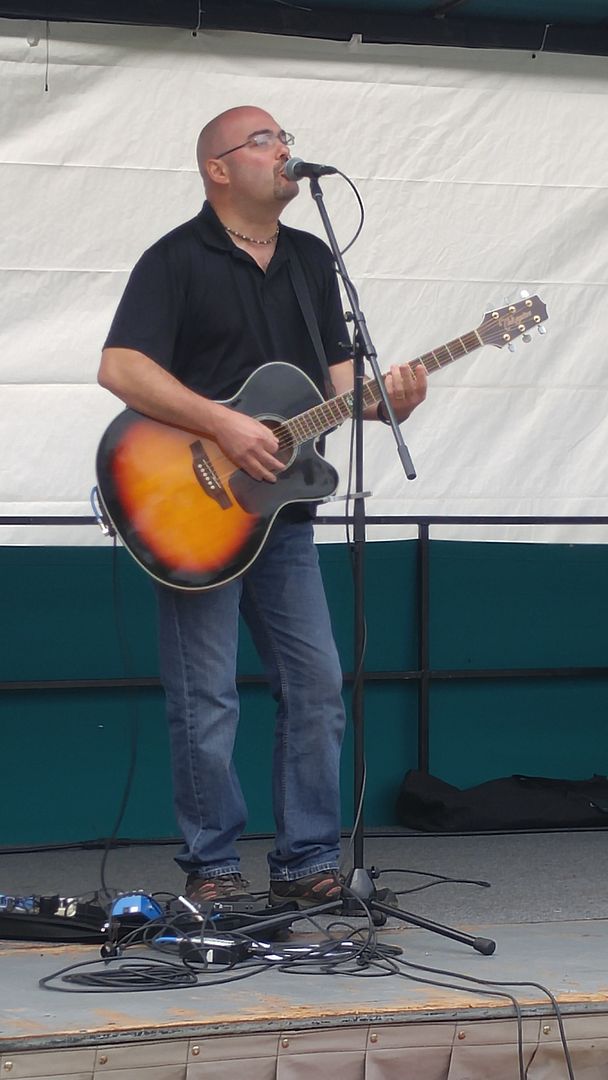 On the other end as Phil wrapped up was Paper To Planes, an acoustic duo hailing all the way from Kansas City.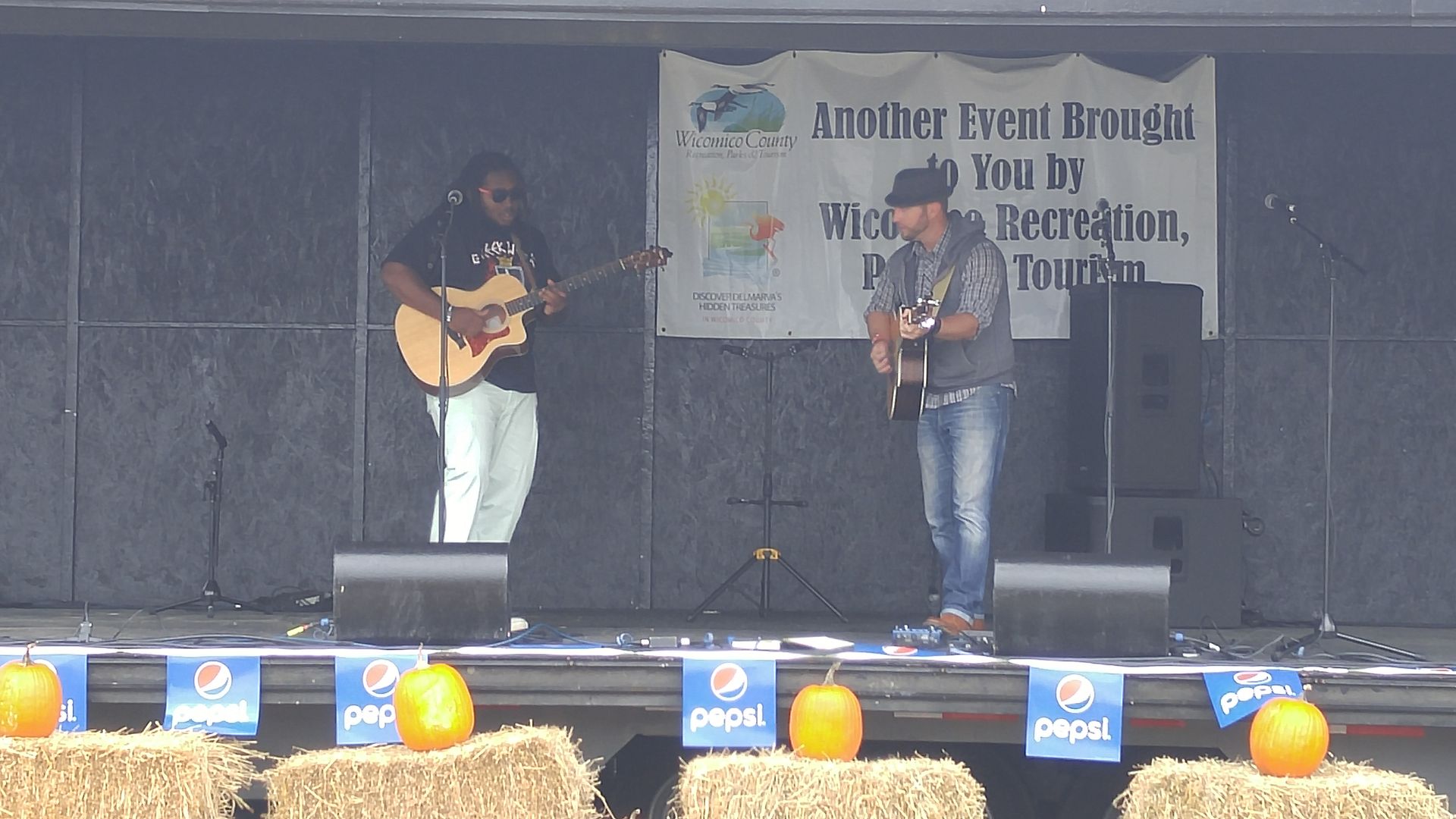 I believe Don Adler was playing the GBF for the second or third time. But I didn't get to see him play the unusual instrument at his feet.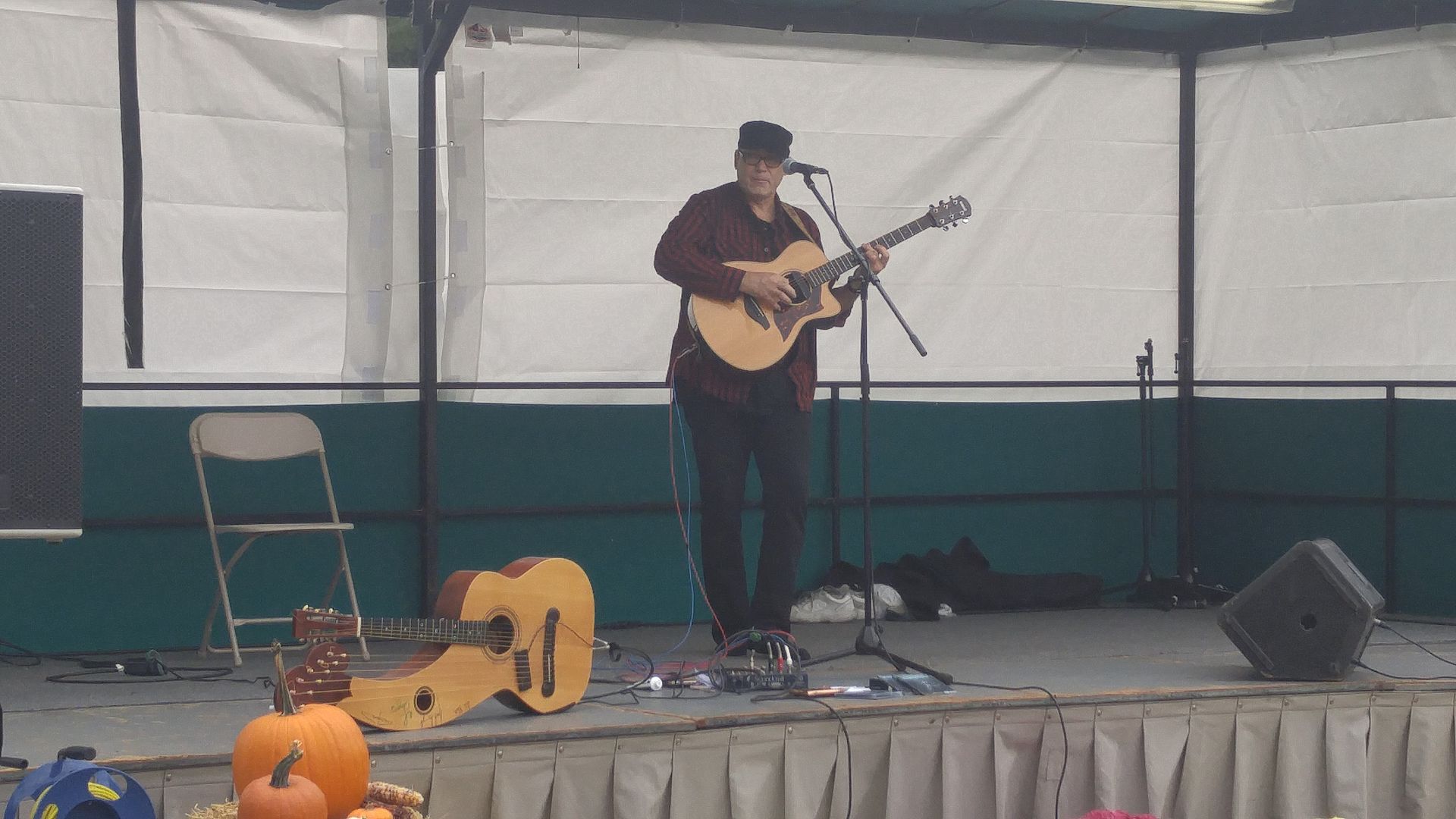 Sam Birchfield was the first group where I noticed the merch table.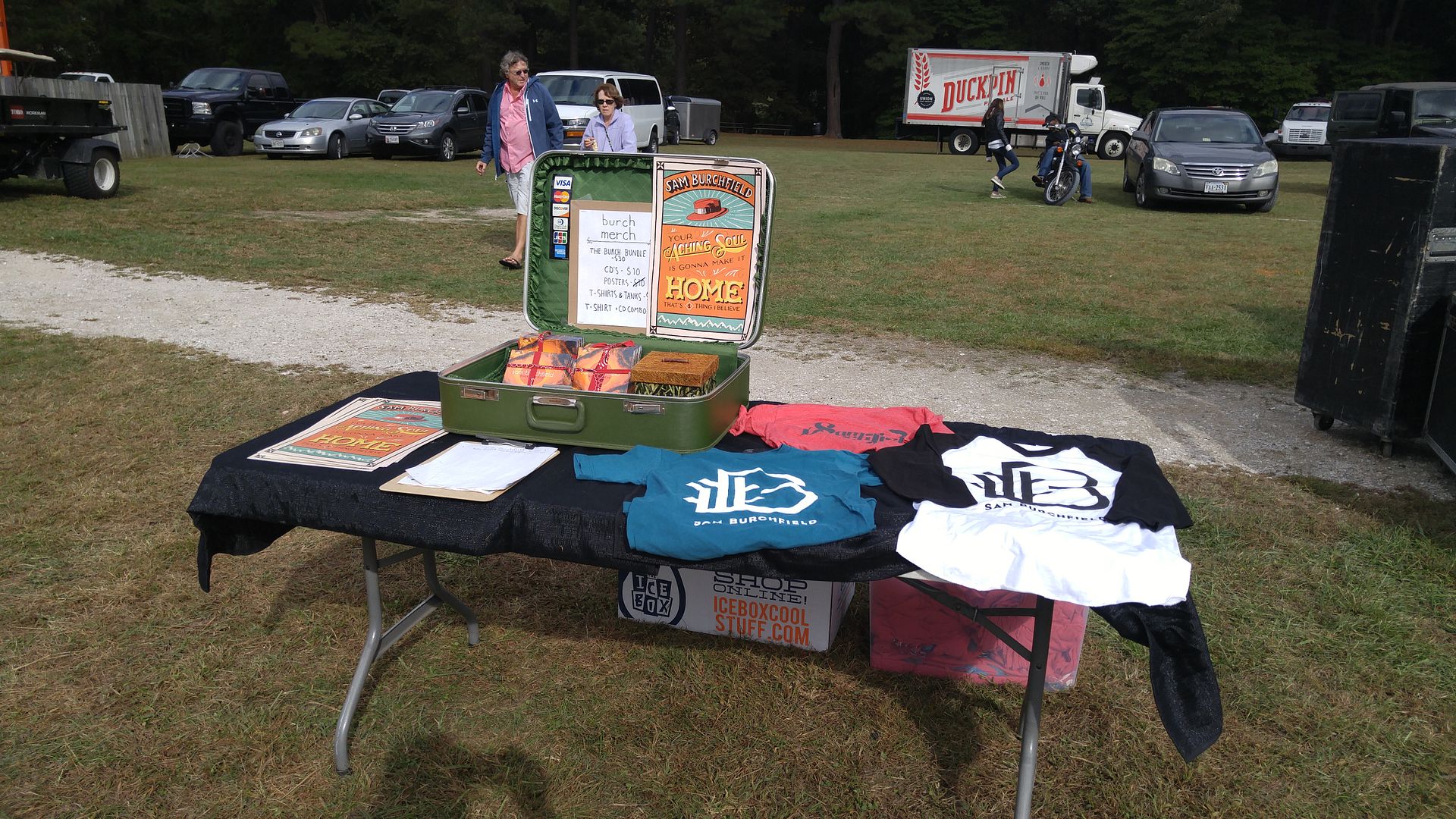 The Coteries at the bar stage also had merch. The New Jersey-based trio was disappointed they didn't get to enjoy more of the event because of New Jersey traffic. They have several shows set up, which you'll see if you look closely.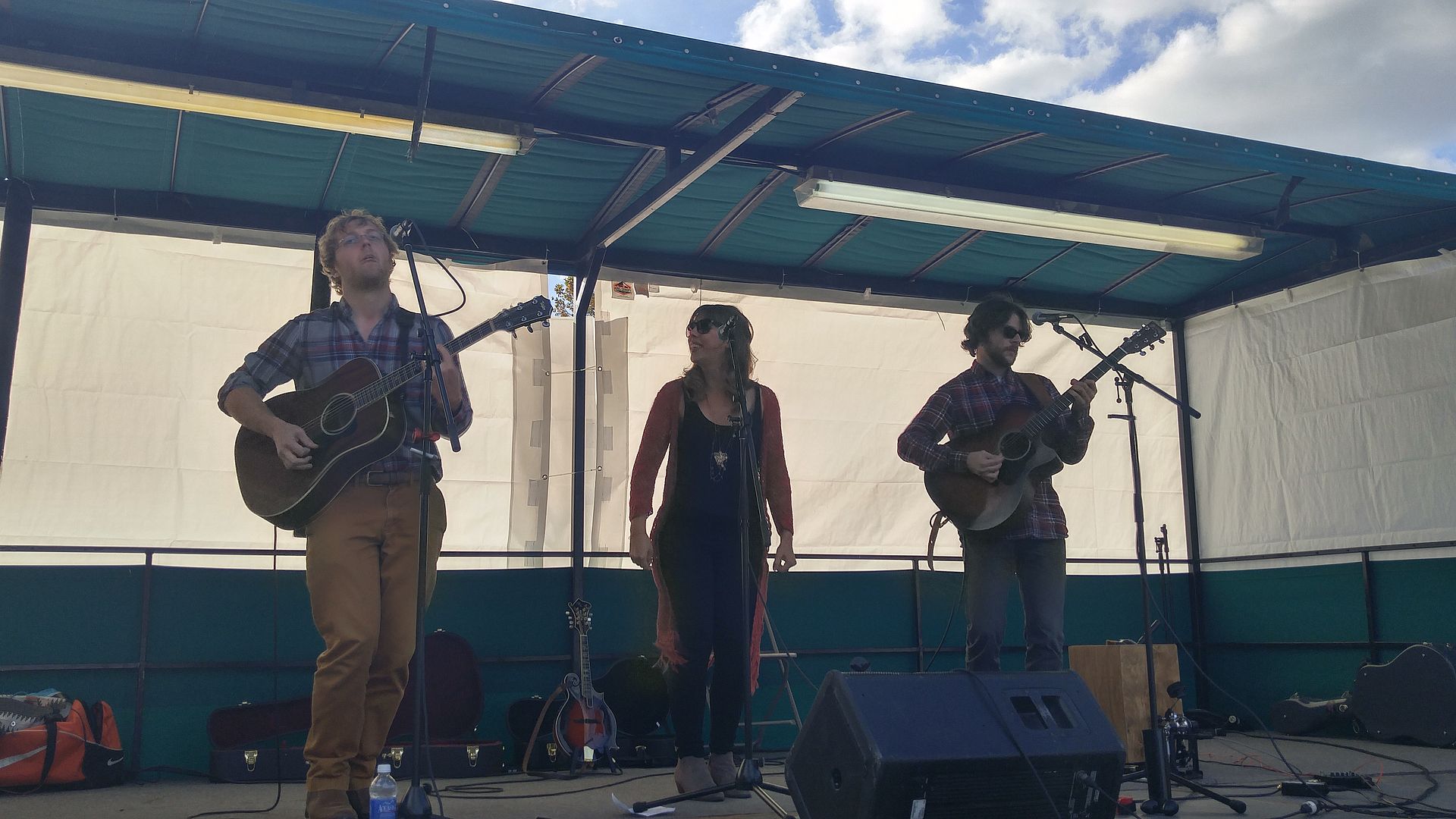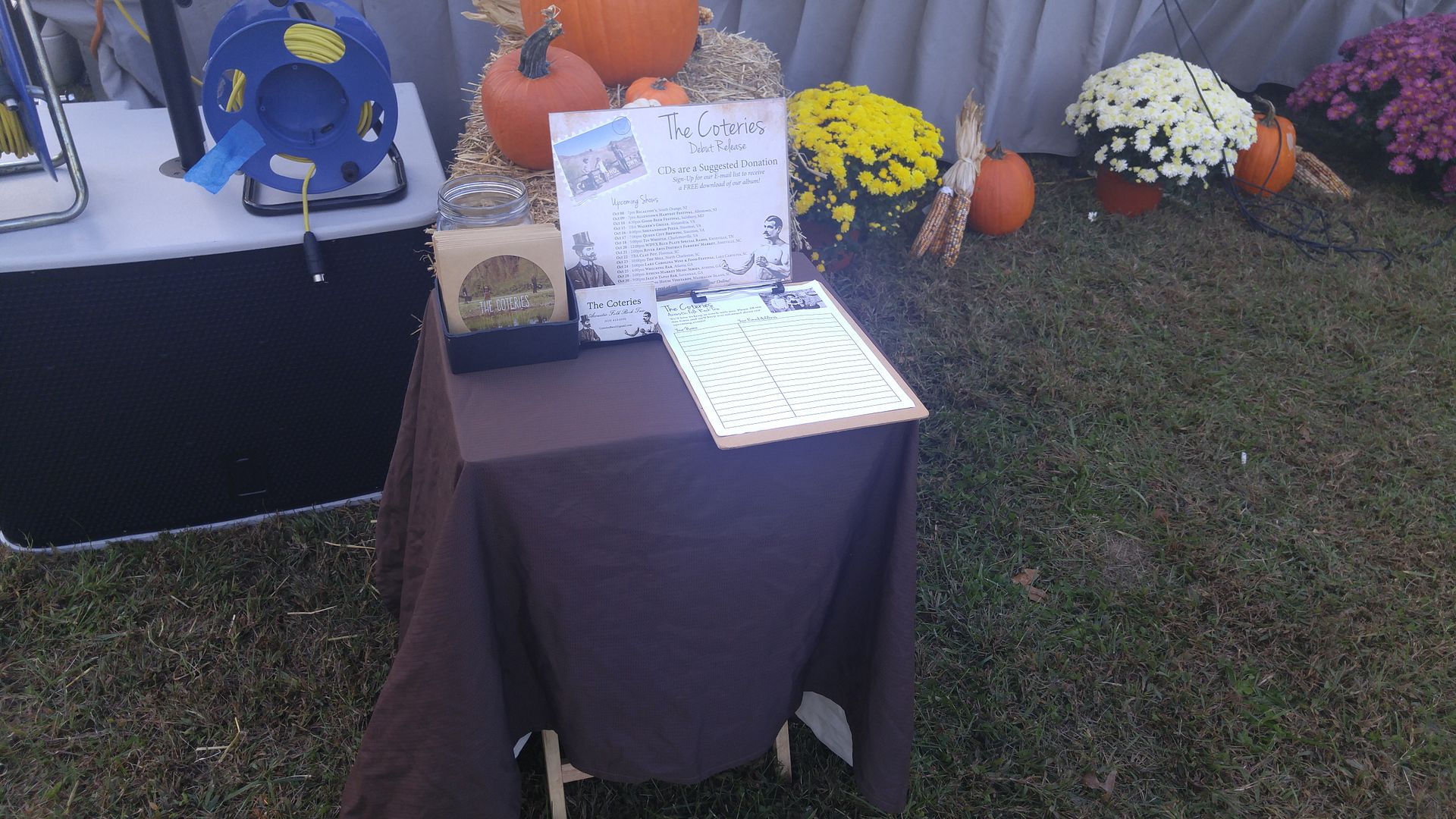 Wrapping up things on Saturday were local favorites Uprizing.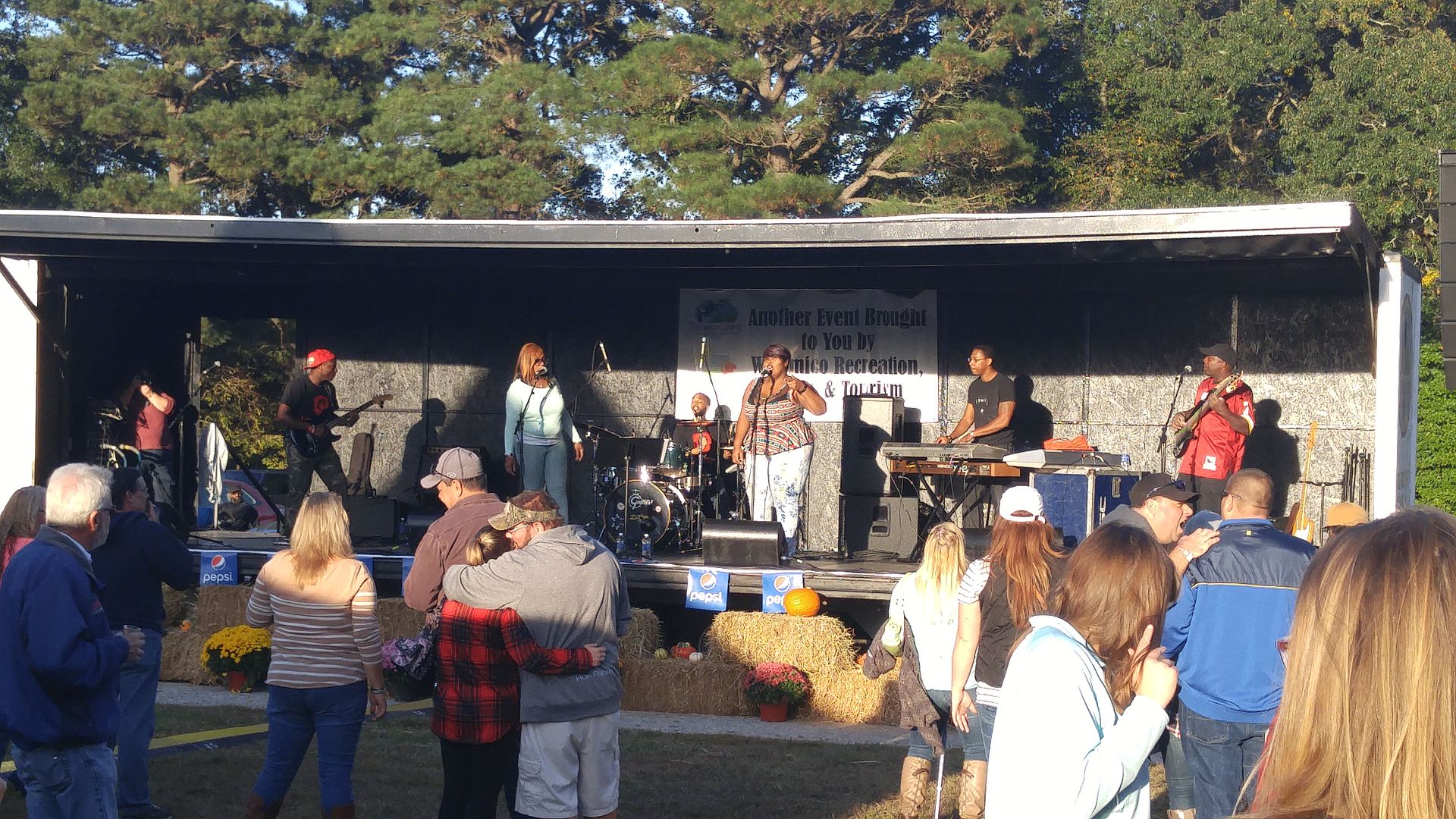 Having a local group to close in the prime slot was a little unusual. Previously they had reserved it for an up-and-coming band touring the region. I'm not sure if this will be a trend, but I liked the old approach better.
Whiskeybelly got Sunday started with an acoustic/electric combo – and a couple broken strings, which they laughed about.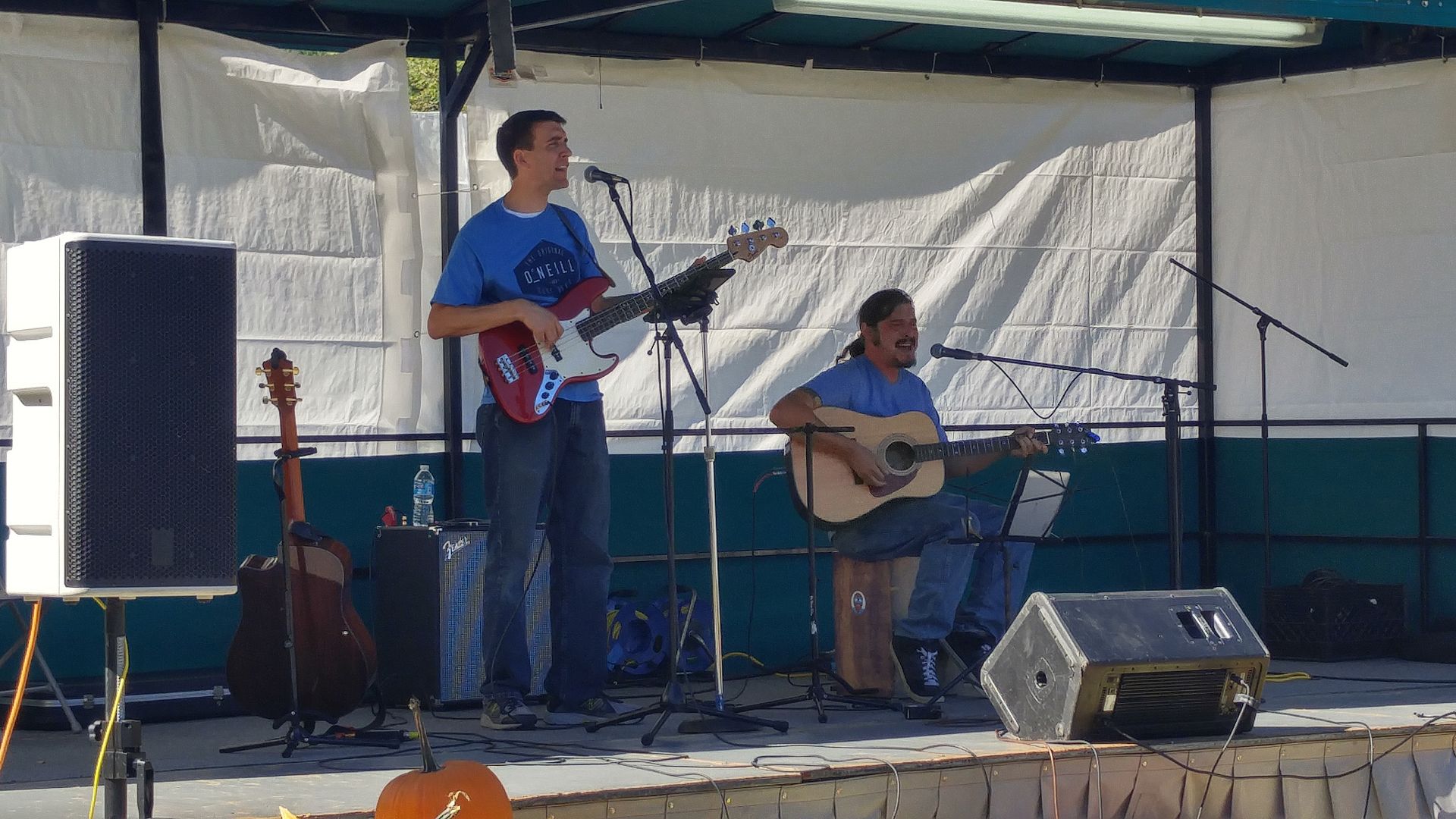 On the other side, the GBF went country with the local group Haleytown – population 5. (The sign is a neat touch.)
Chris Diller set CDs and stickers at each table, and hoped people would fill the guitar case.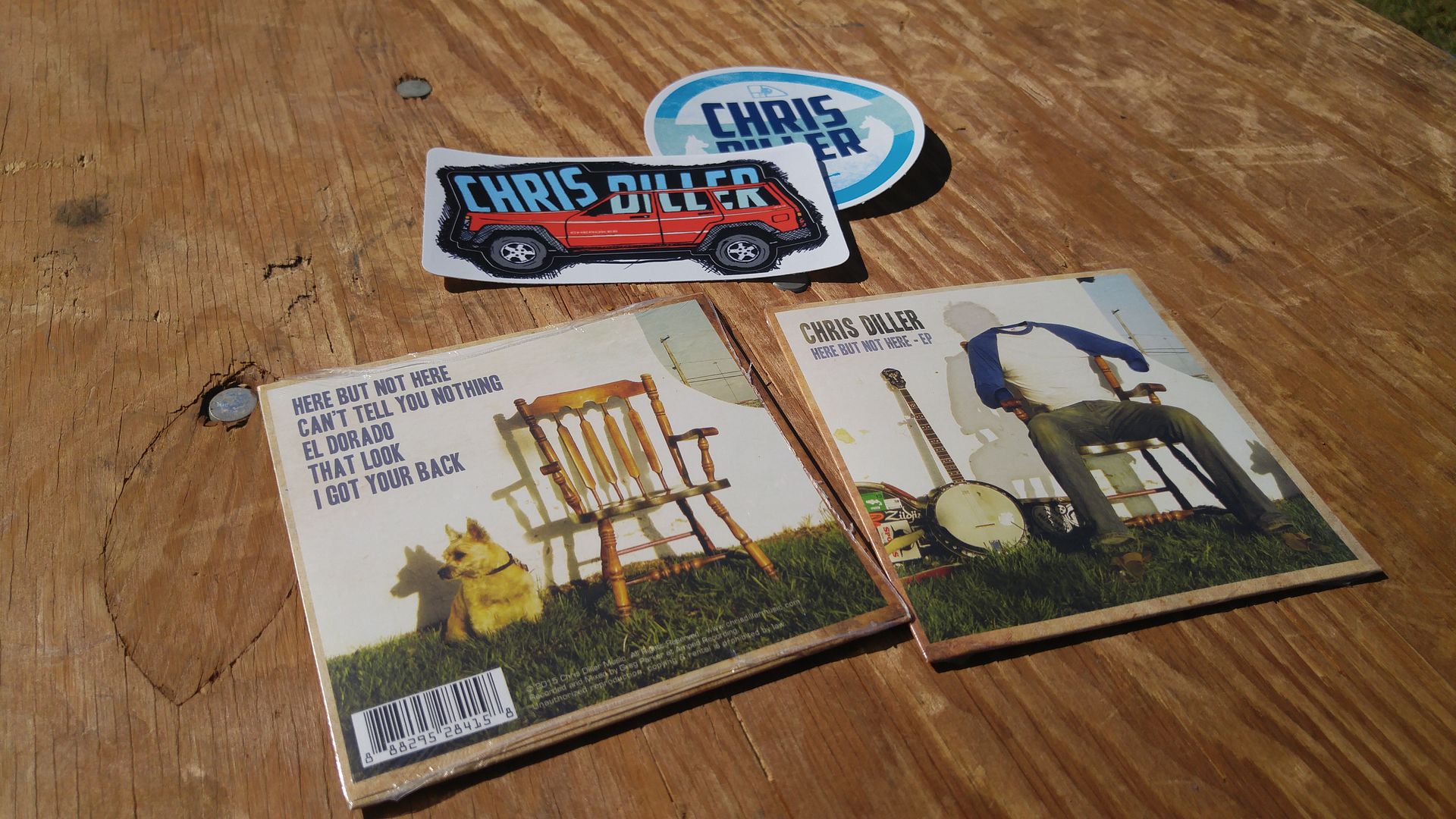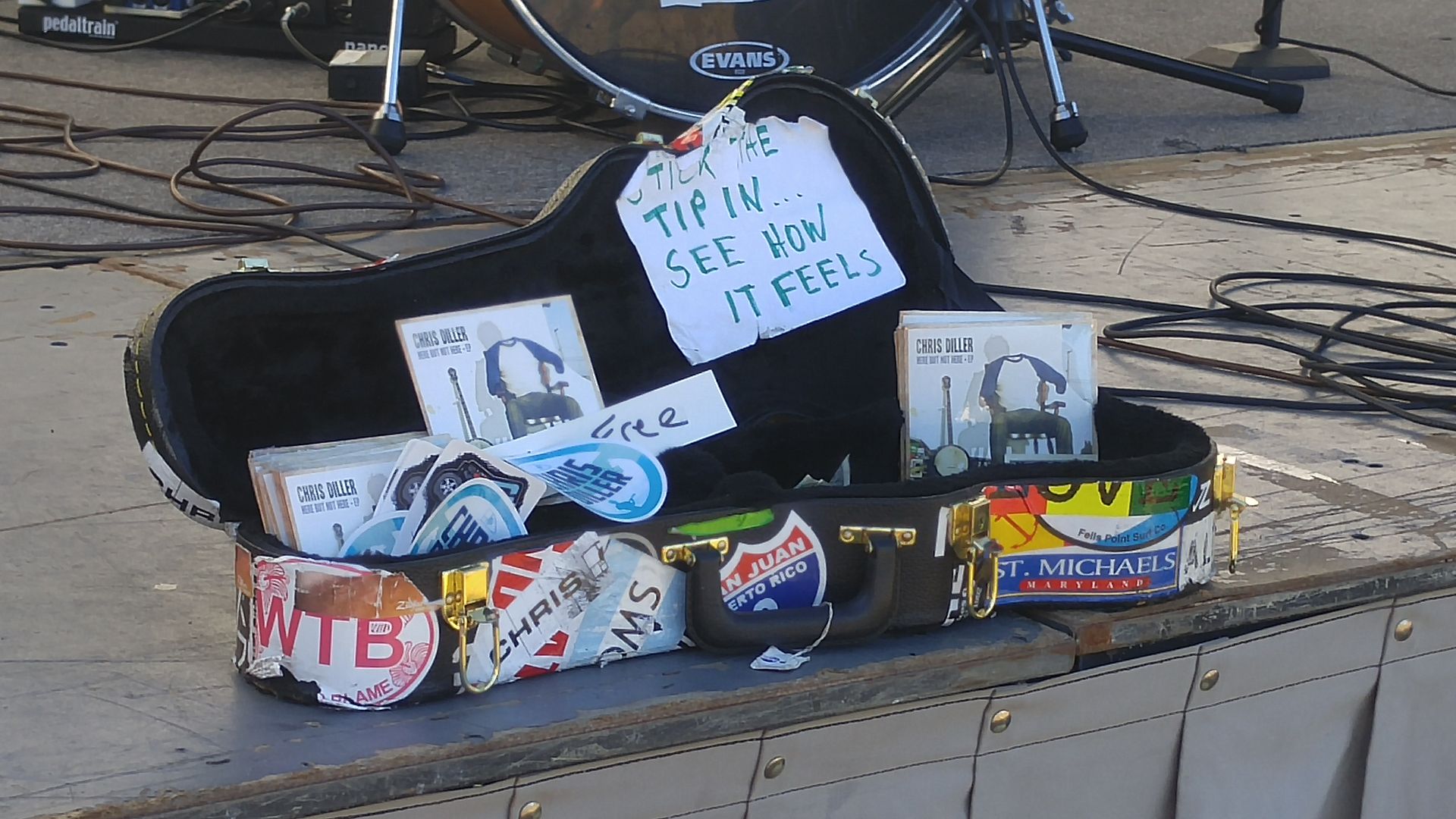 It always intrigues me how a guy can play so many instruments at once – needless to say, I can't carry a tune in a bucket.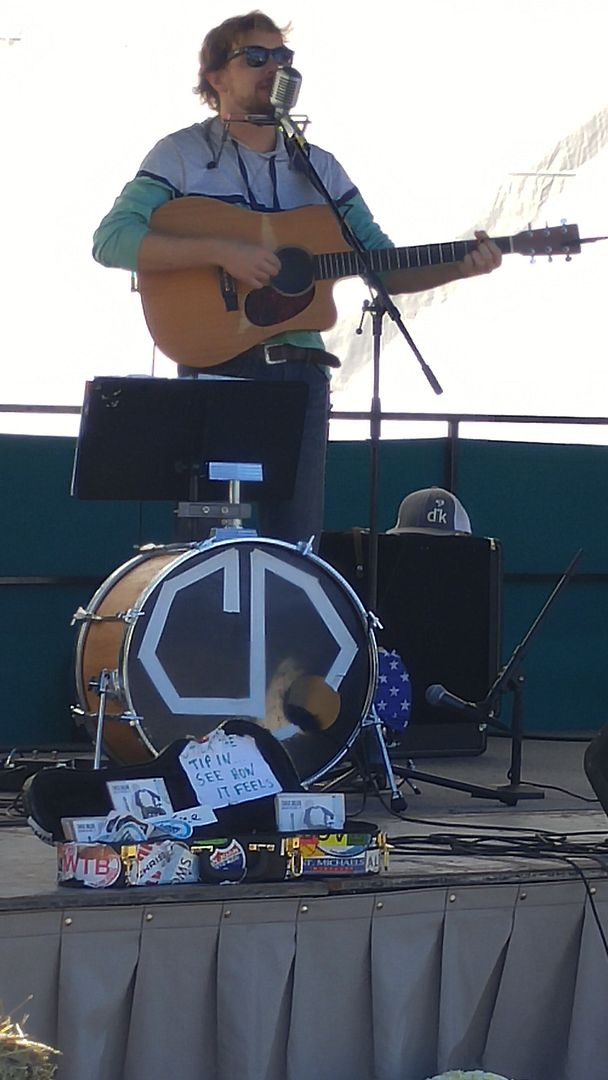 On the main stage was the group I thought stole the show, Sub-Radio Standard. It was the group I would have expected to close out Saturday.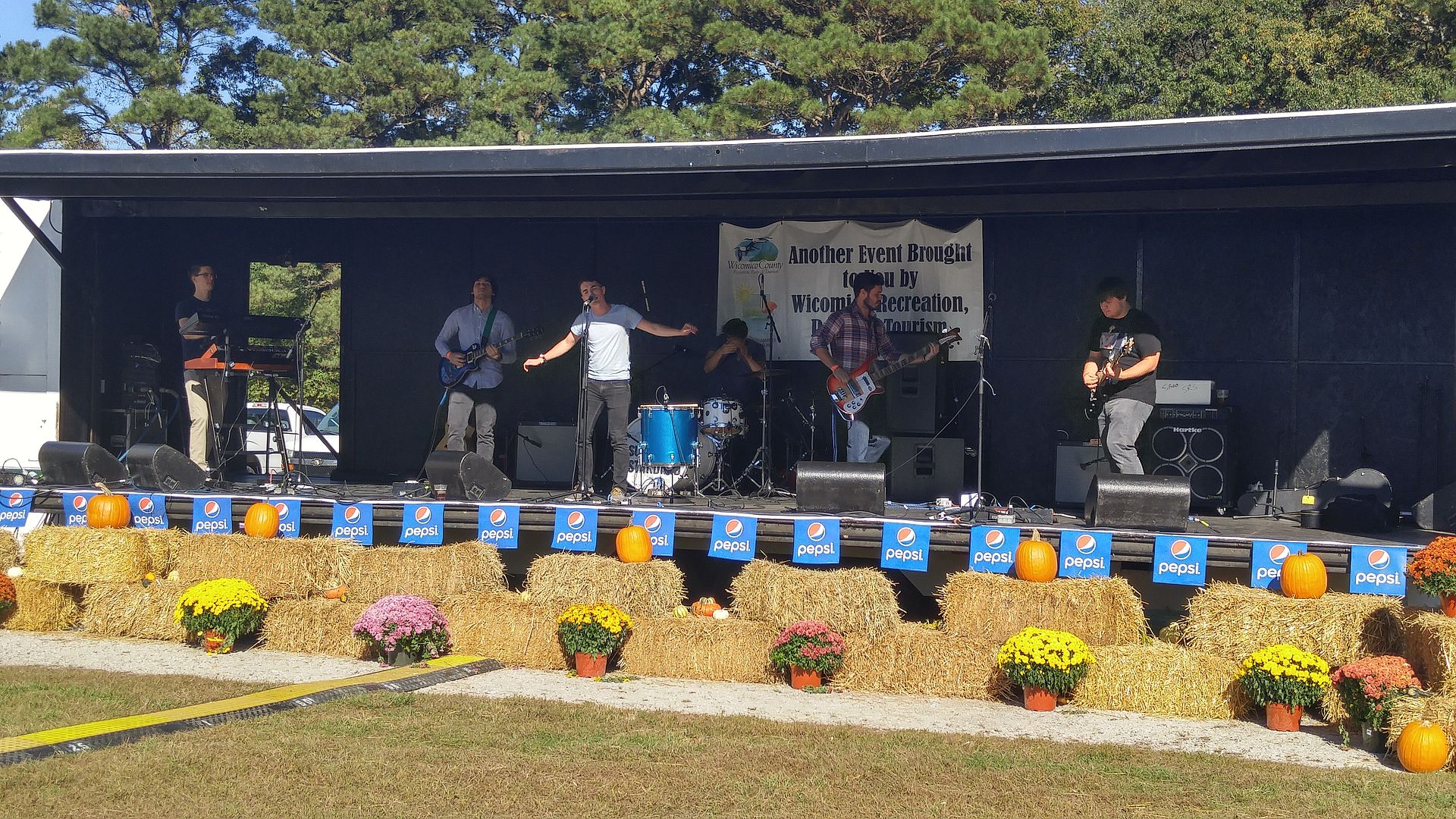 Ken Wenzel was the headliner, if you will, of the bar stage. He played songs off the CD.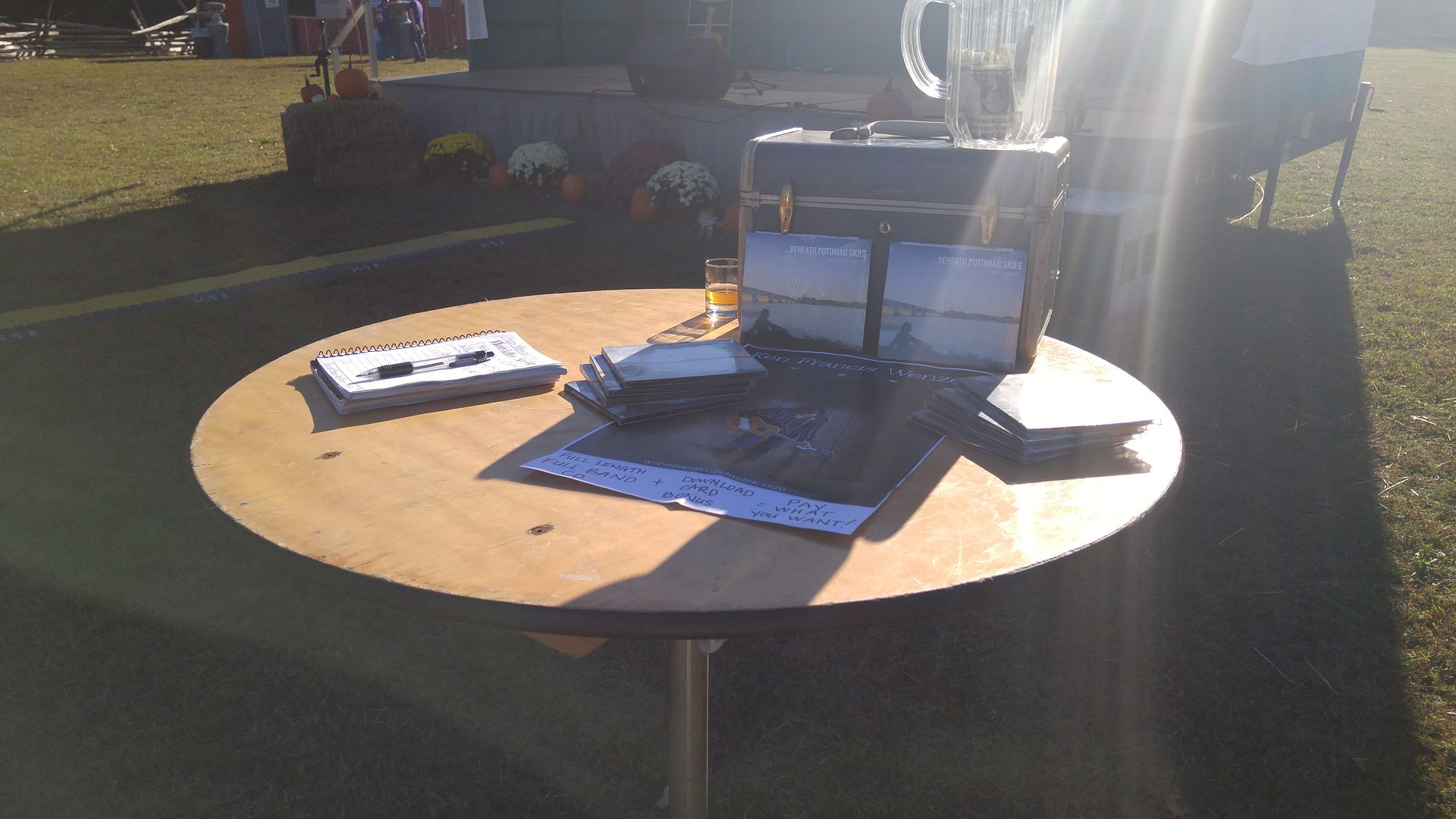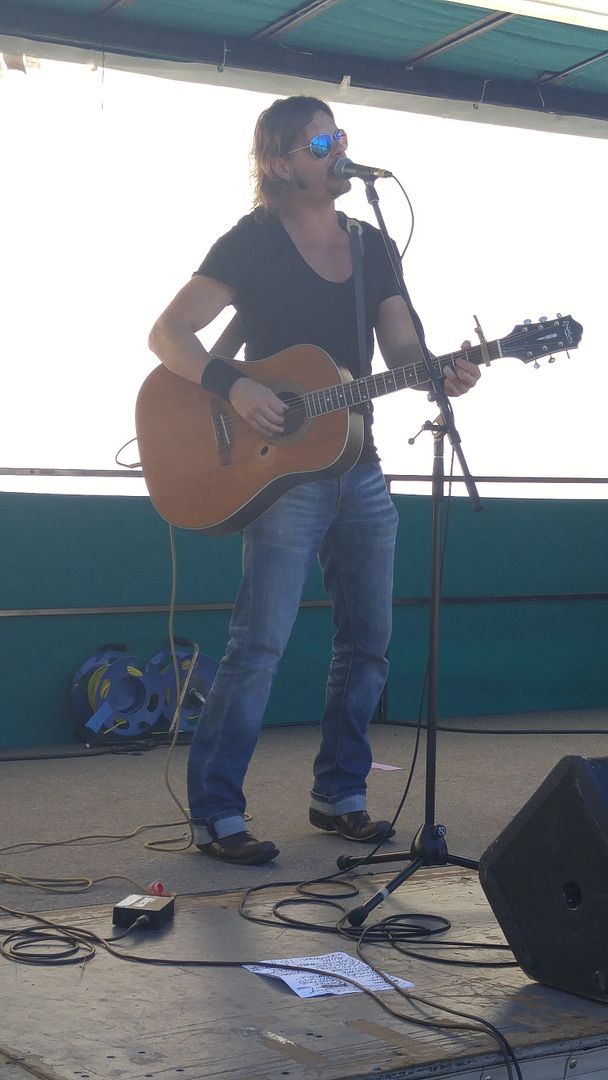 The Will Overman Band did their country best to wrap things up. I wish I had slipped around backstage to get a photo of "Big Red" – a 1970 Chevy Suburban they tour in.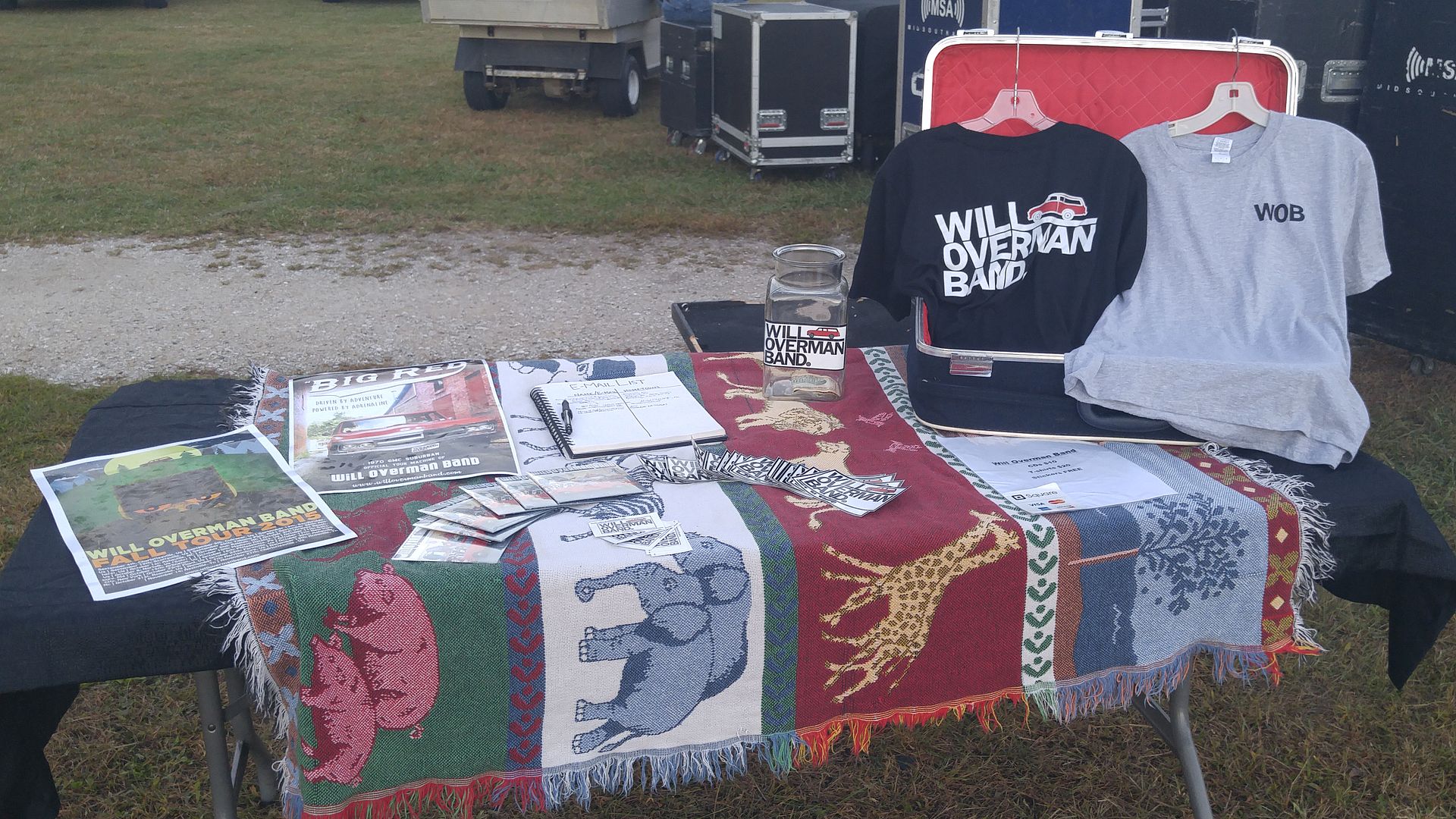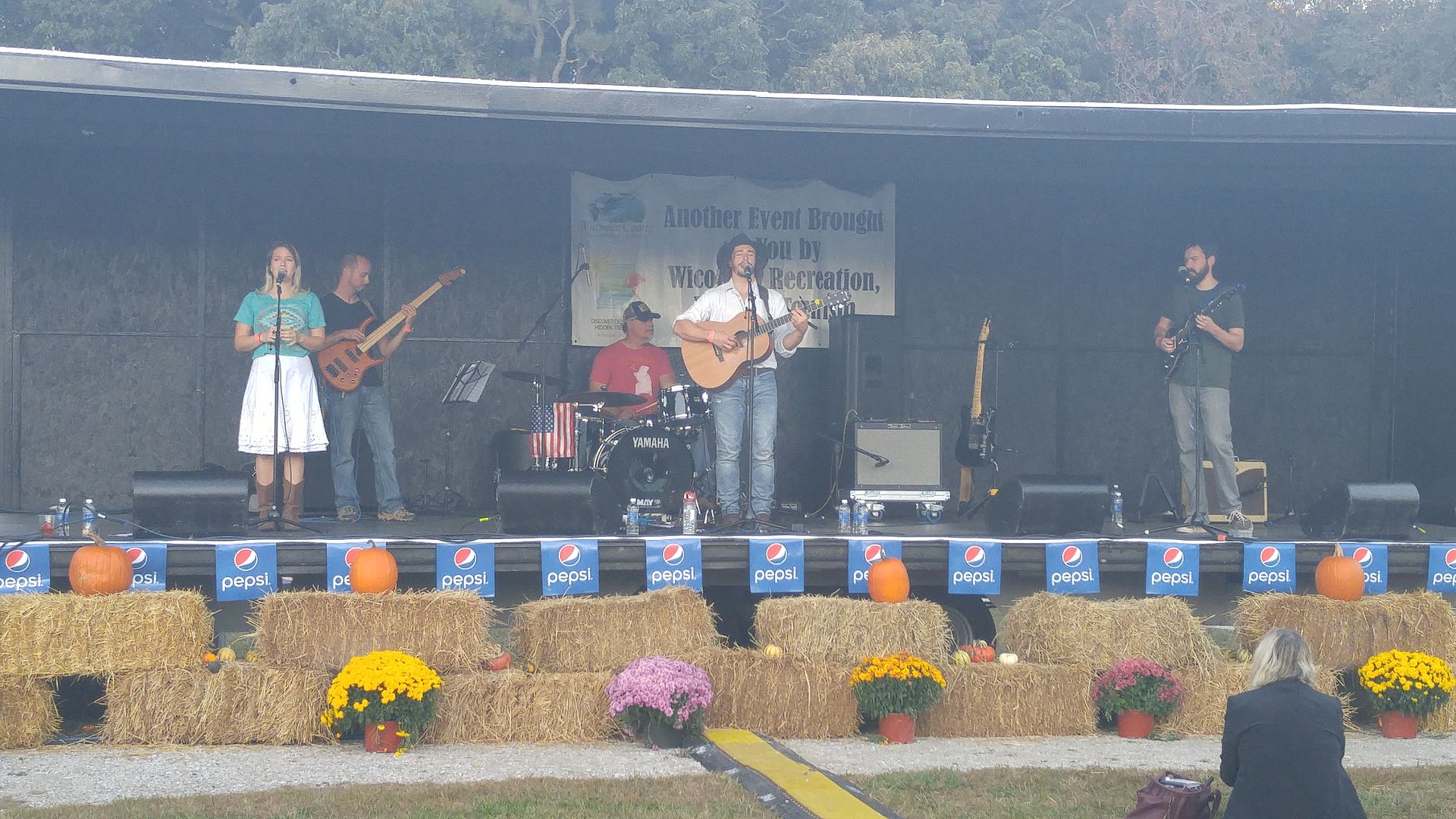 So I was a little loose with the definition of "rock" in this one. Next year may be the year to just put the rock bands on Saturday and the country stuff on Sunday, since it seems to be getting about equal billing now.
On Sunday I look at the music from the Autumn Wine Festival.
Last weekend was a good weekend for local music buffs, particularly in the Long Neck, Delaware area. I've often wondered if those people who live by American Legion Post 28 there sit outside on the Sunday of Memorial Day weekend and listen in. Of course they could just come on down, too.
Anyway, the Concert for a Random Soldier began at noon but since we were still in church at that time we were casually late enough to get there just in time for the longtime event staple 33 1/3 to wrap up; meanwhile, one of the acoustic acts played while we grabbed some lunch.
So band number one on my agenda was Pros from Dover.
Despite the name, none of them are from Dover. The name is actually a reference from the book version of M*A*S*H.
They played somewhat of a country-tinged set in song selection, which was fine for an event which generally works its way from oldies to classic rock to heavier and more modern as the day turns to evening.
Speaking of country, you can't beat the unusual start to the set of Slinging Daisies.
It's probably been 25 years since I heard the old C. W. McCall chestnut "Convoy" and it wasn't a cover band that did it. They did a set that featured a handful of originals, but also played the song that's tradition at the Concert for a Random Soldier: "Paint It Black" from the Rolling Stones.
The reason this song gets Terri Clifton onto the dance floor is that it was her son Chad's favorite song.
Another band that's been doing the CRS annually in recent years is Judy Sings the Blues. They come as advertised, playing a number of standards and one original about Judy's fear of spiders.
One band that didn't come as advertised was Semiblind. Due to an unfortunate series of mishaps, the band was truncated down to its founding members Jim and Michele Hogsett. These longtime staunch supporters of the CRS played instead as their acoustic duo Dog & Butterfly.
Things then got a little funky, as Conjunction Funktion took the stage with some brass.
Again unusual for a cover band: how many would lead off with "Josie" by Steely Dan? These guys did.
Sadly, we had to leave as Conjunction Funksion played so I missed the band I would have liked to check out, Modern Day Addiction. Besides those guys and 33 1/3, other bands on the bill were Oh Boy, JB Duo, Beach Trip, Captain Mike, and The Runner-Ups. Several of these also have played the event in recent years, and they should be thanked for supporting the Guitars for Vets cause.
So next year, on the Sunday of Memorial Day weekend, the 11th annual CRS will likely feature a number of these same acts for a day of music, food, and fun.
Unlike its younger brother the Good Beer Festival, this year the Autumn Wine Festival had more local bands – and arguably more rock – than the GBF. It is also much easier to compile this summary, as the AWF only had one stage and just three bands daily, as the photo below will show.
One other advantage to this system was that we could hear all the bands. So we could attest that the Soulful Tones Band indeed lived up to its name, with a heavy emphasis on that musical style.
As I noted in volume 62, Such Fools played both the GBF and AWF with a unique blend of instruments.
But Anything Goes did its usual outstanding job of closing Saturday's festivities with a cornucopia of classics. It was strange being done while it was still light out, though.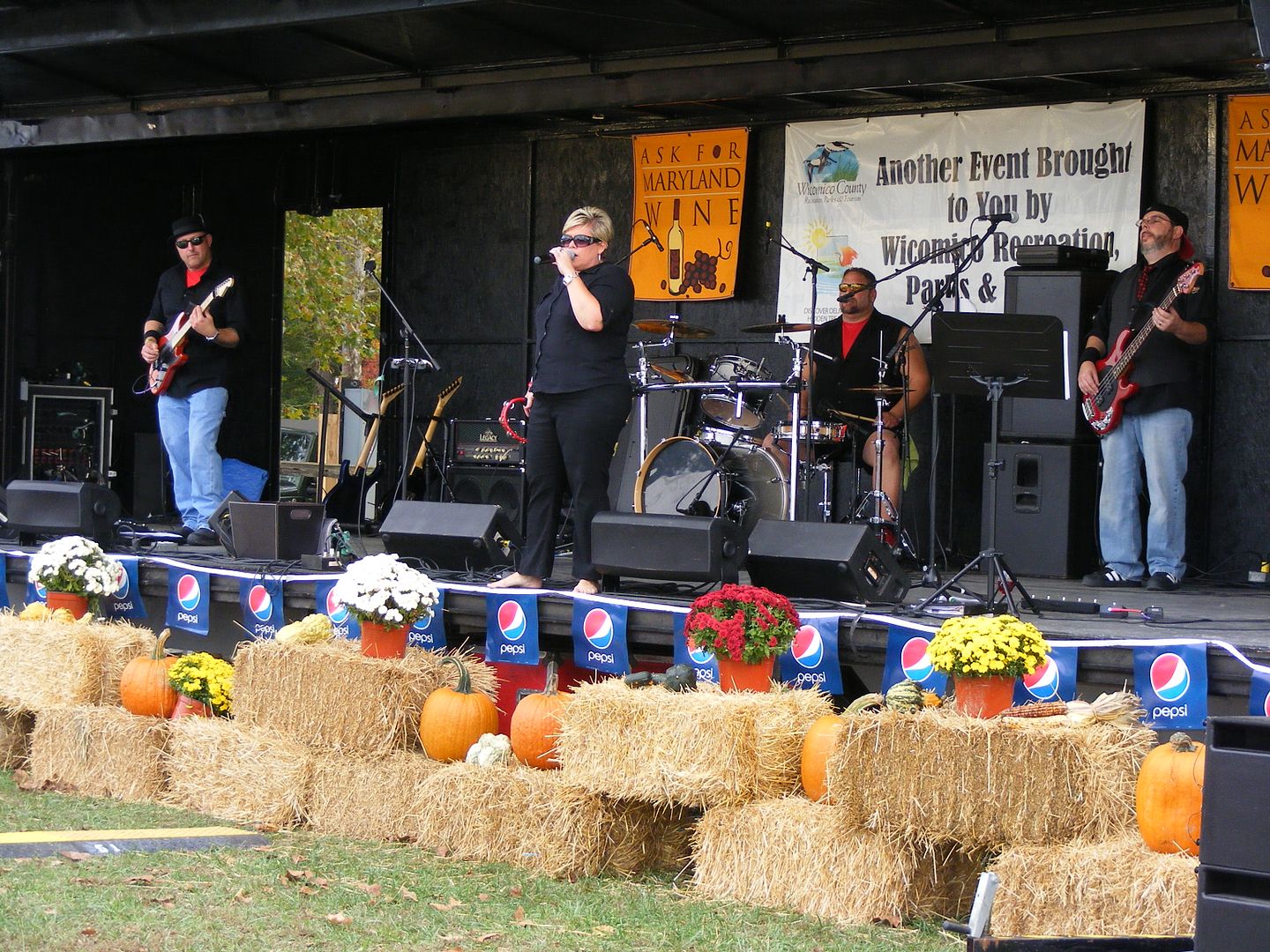 On Sunday morning, well before the advertised 11 a.m. opening, the traditional Backfin Banjo Band got things underway. And when I say traditional, I don't just mean they always seem to be the Sunday morning staple at the AWF.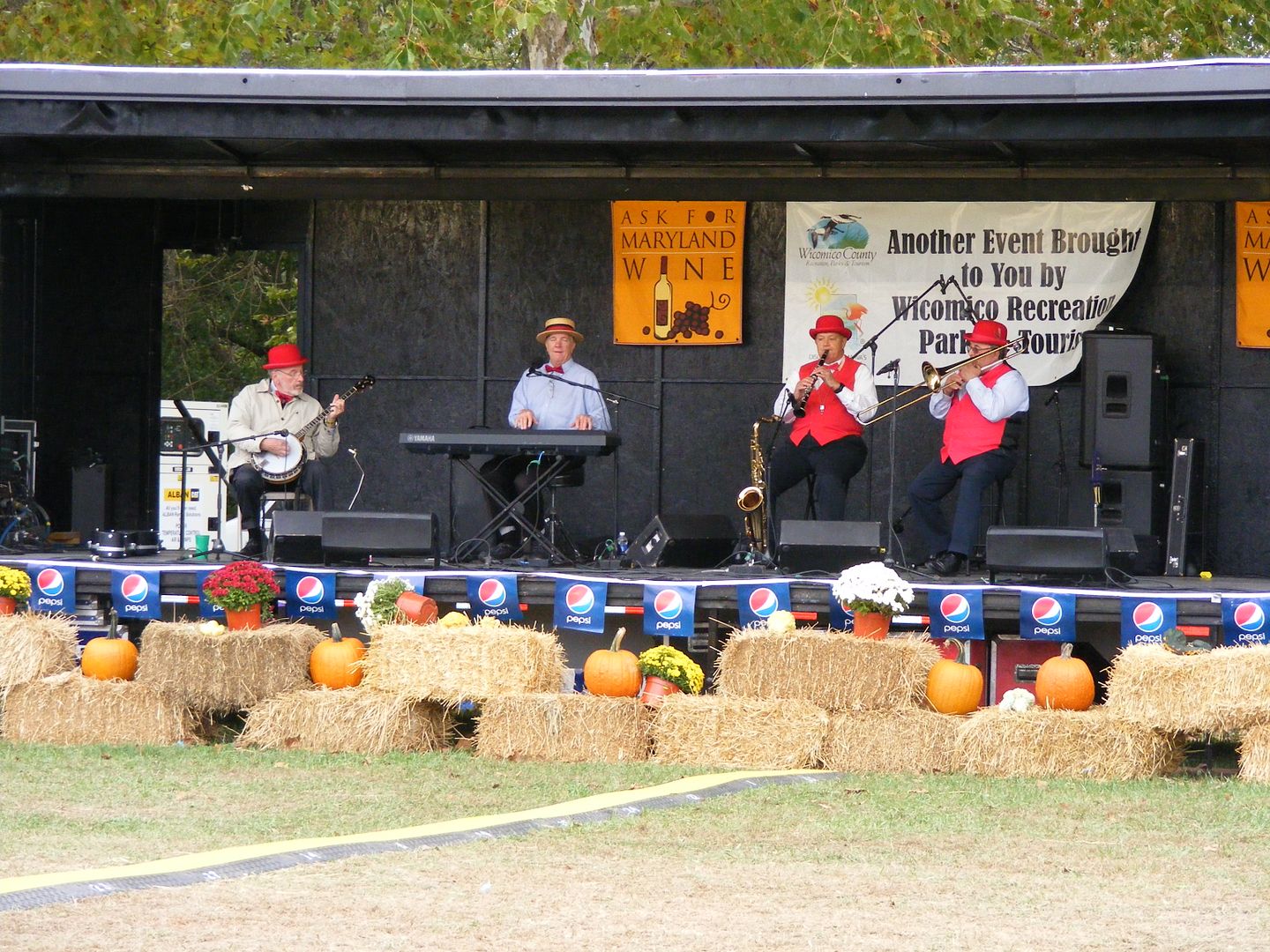 So when Picnic took the stage, it reminded me that fully half the groups also played the AWF last year. In fact, Picnic played in the same slot, too.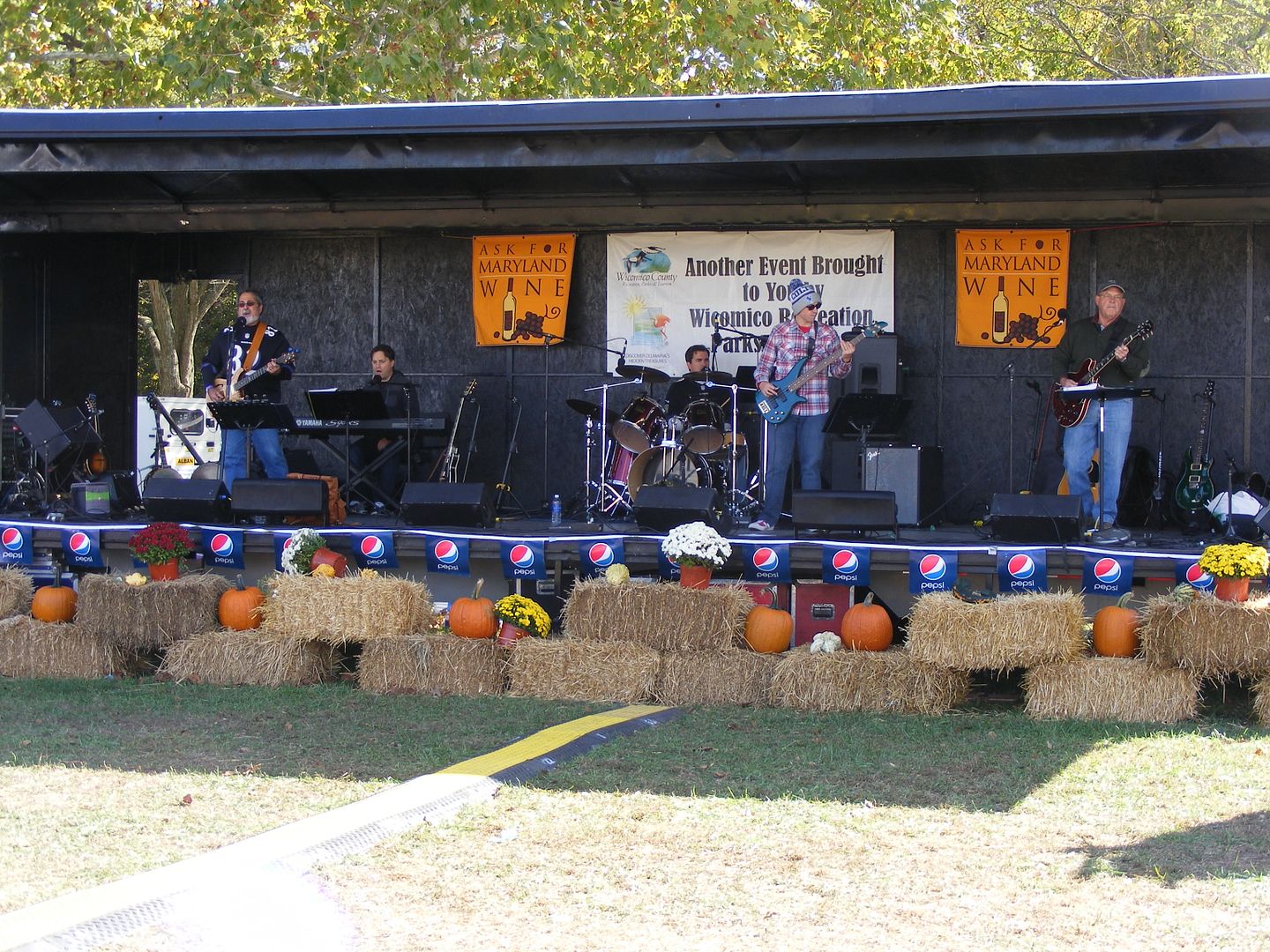 But what was needed on a chilly, windy afternoon was someone to get the crowd moving and On The Edge was just the ticket.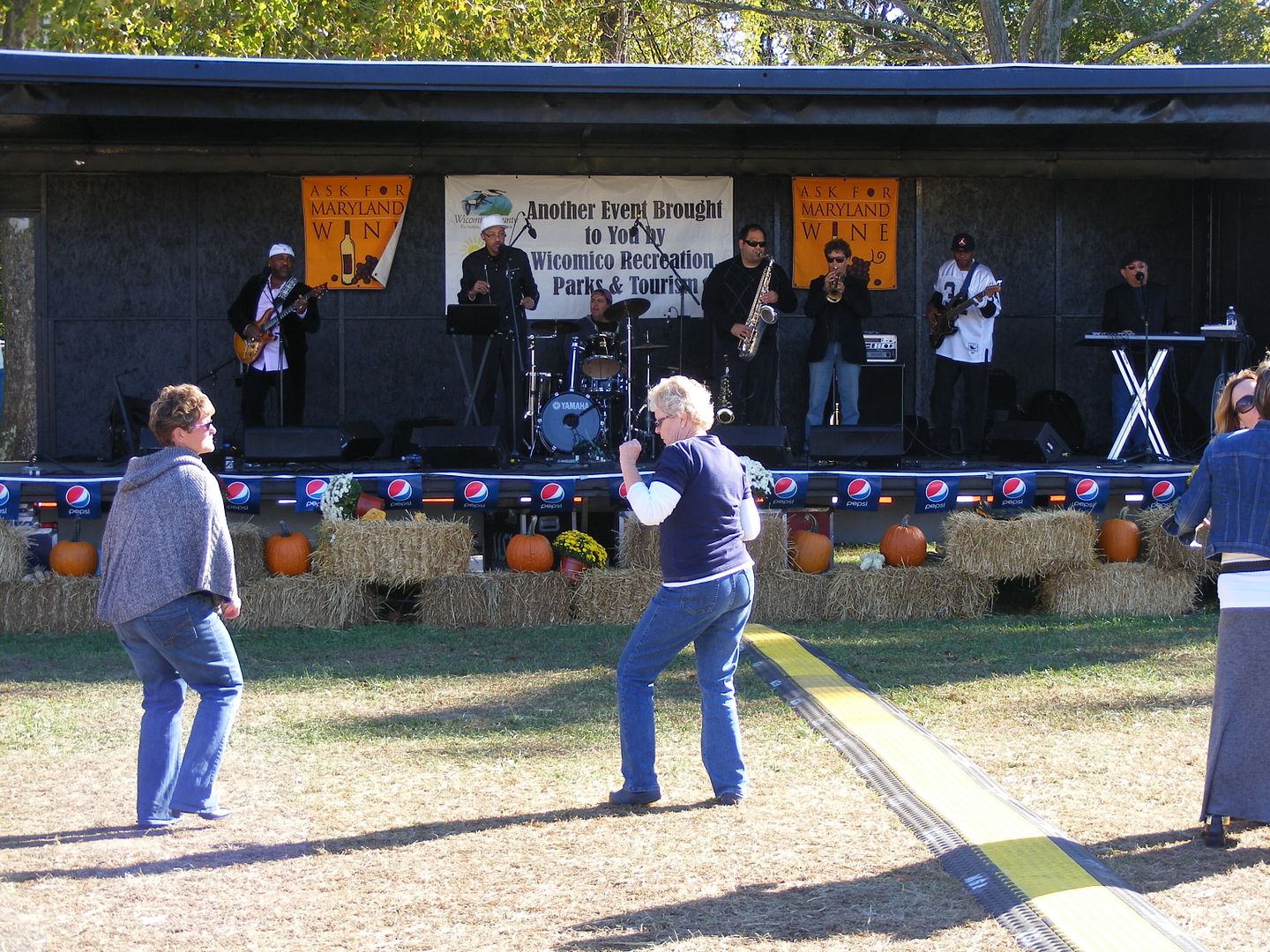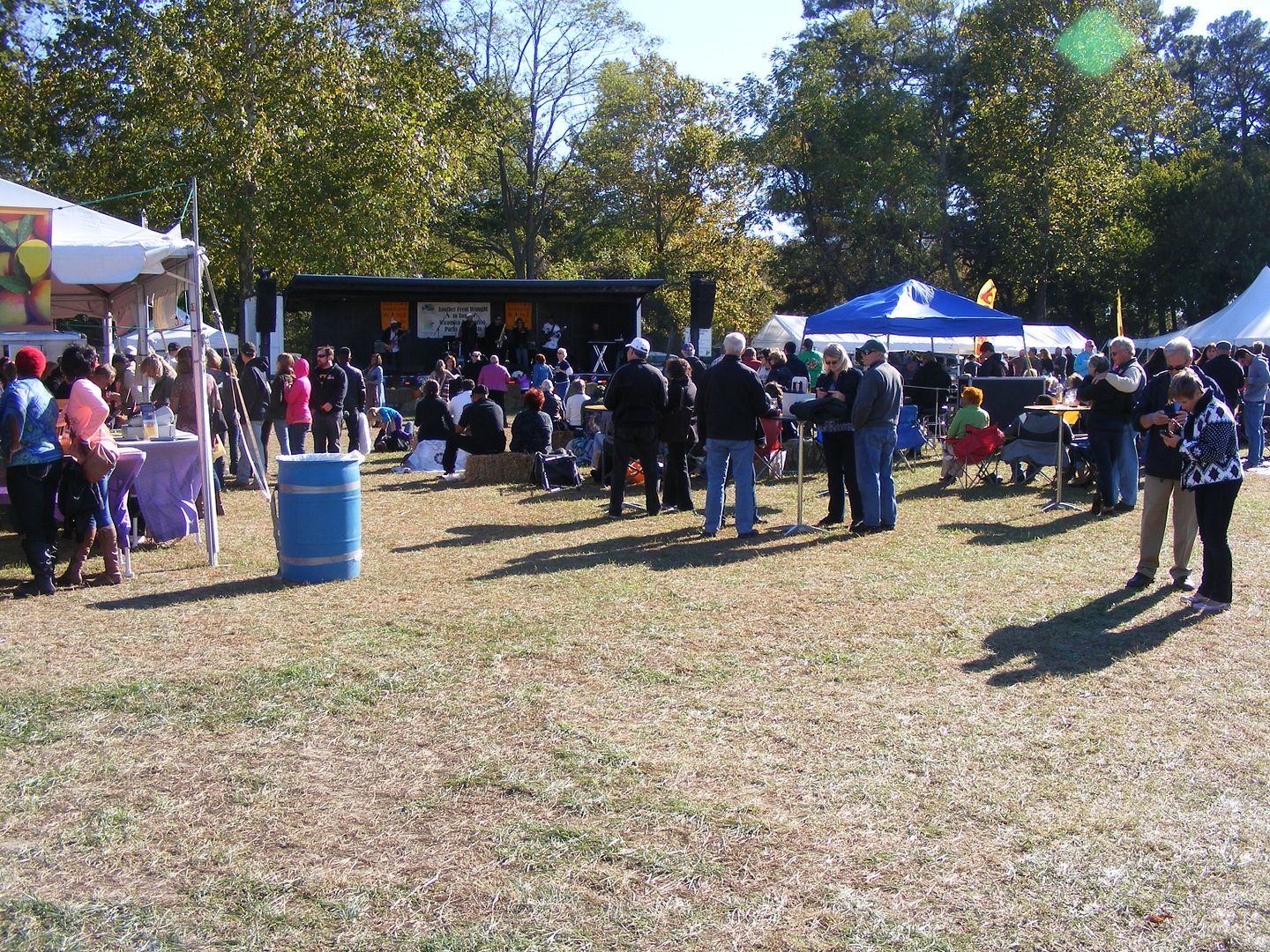 Yet there's even a political side to this post. Near the end of their set the band introduced "our Senator" Jim Mathias, a politician the OTE lead singer enthusiastically endorsed from the stage. (If Jim was there, he didn't stop by our space.) Obviously Mathias is a familiar figure in Ocean City, where OTE frequently plays.
As I suggested in my initial report on the AWF, I think a two-stage system is in order for this event. Not only would it move the crowd around a little for the vendors, but it would enable more bands to play for the generally larger crowd – try as it might, the Good Beer Festival hasn't caught up to the Autumn Wine Festival yet. Since the participants in the AWF are generally the same because it's a Maryland wine festival, there may need to be an additional entertainment option to promote further growth in the event.
That's my two cents, anyway.
This year's Good Beer Festival entertainment lineup featured an eclectic collection of bands, so let's take a look.
One thing I should caution you about: my reviews of the bands are somewhat limited because I was actually working during the time, and I really couldn't hear much from the main stage. On the other hand, I have more of an idea what was going on at the bar stage. Here's the lineup.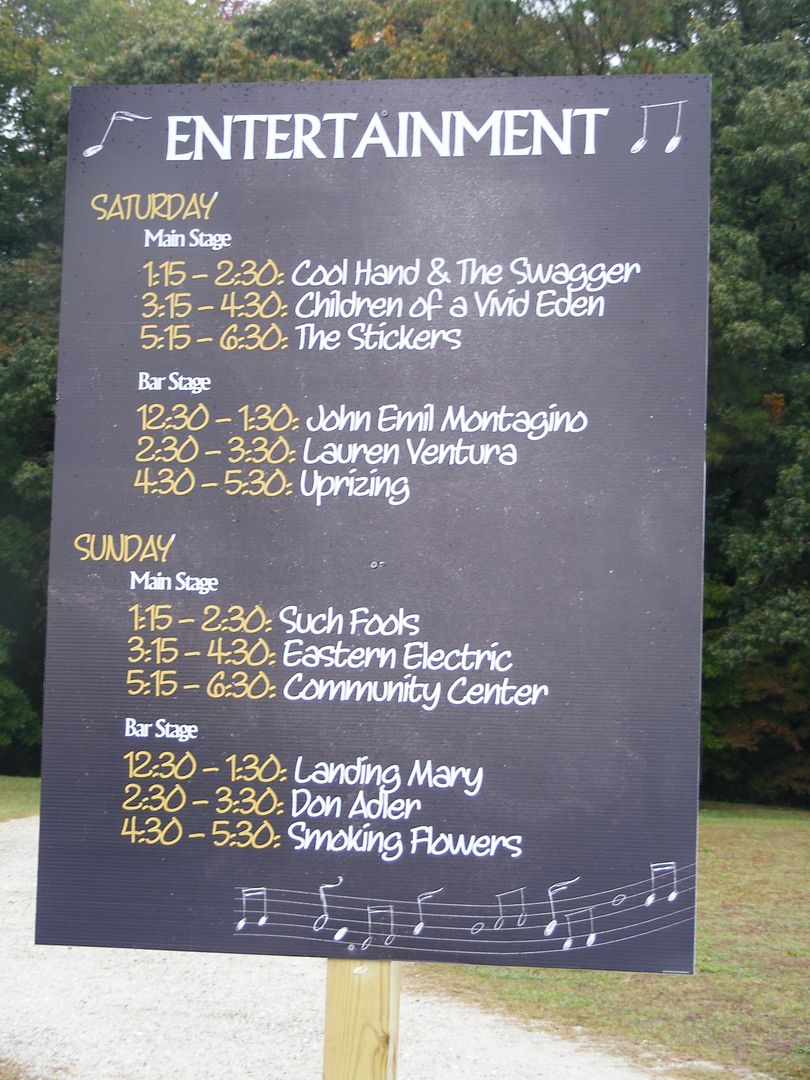 It meant GBF veteran John Emil Montagino and his unique bluesy guitar got the proceedings underway.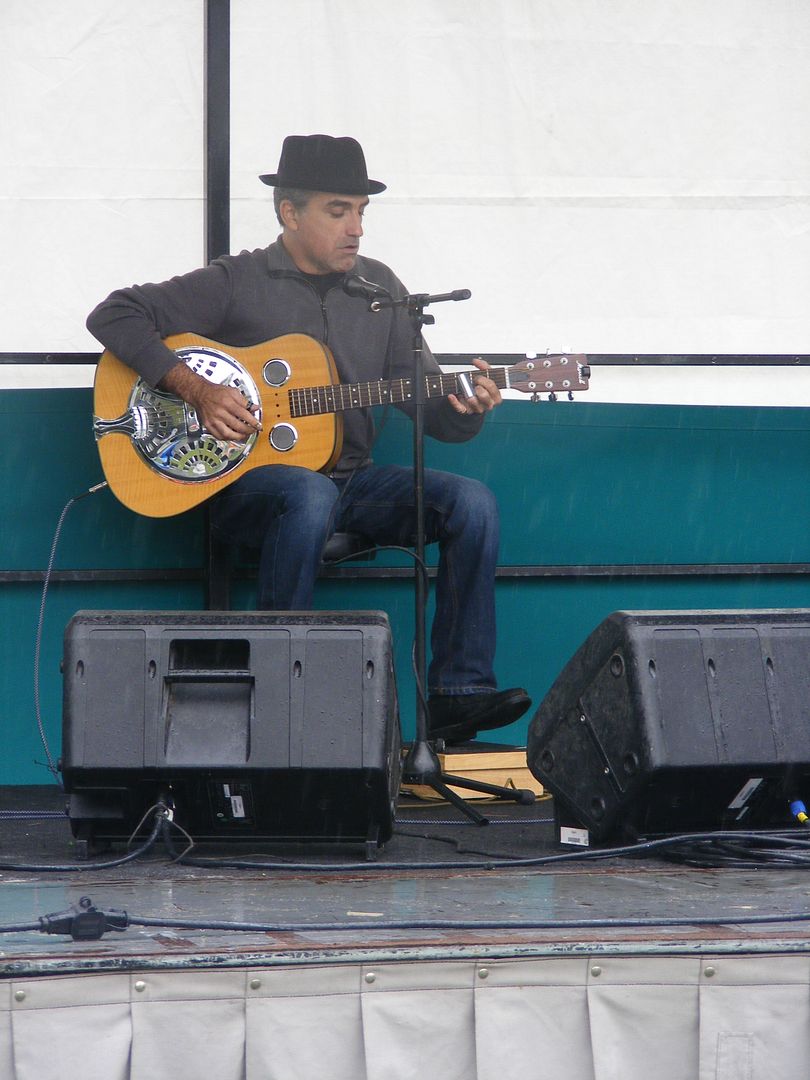 There was a lot of jamming during the set, the mournful guitar matching the dreary day. On the other side of the festival they were getting ready to use this bass.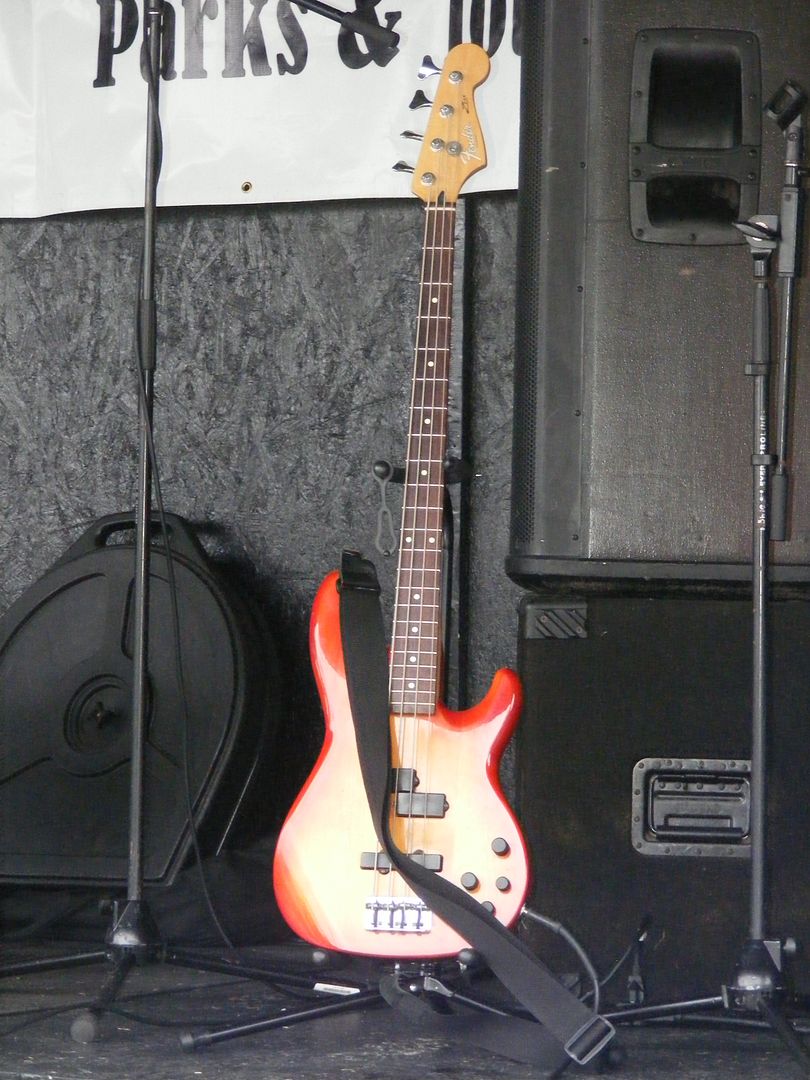 It belongs to Cool Hand and the Swagger, who opened up the main stage.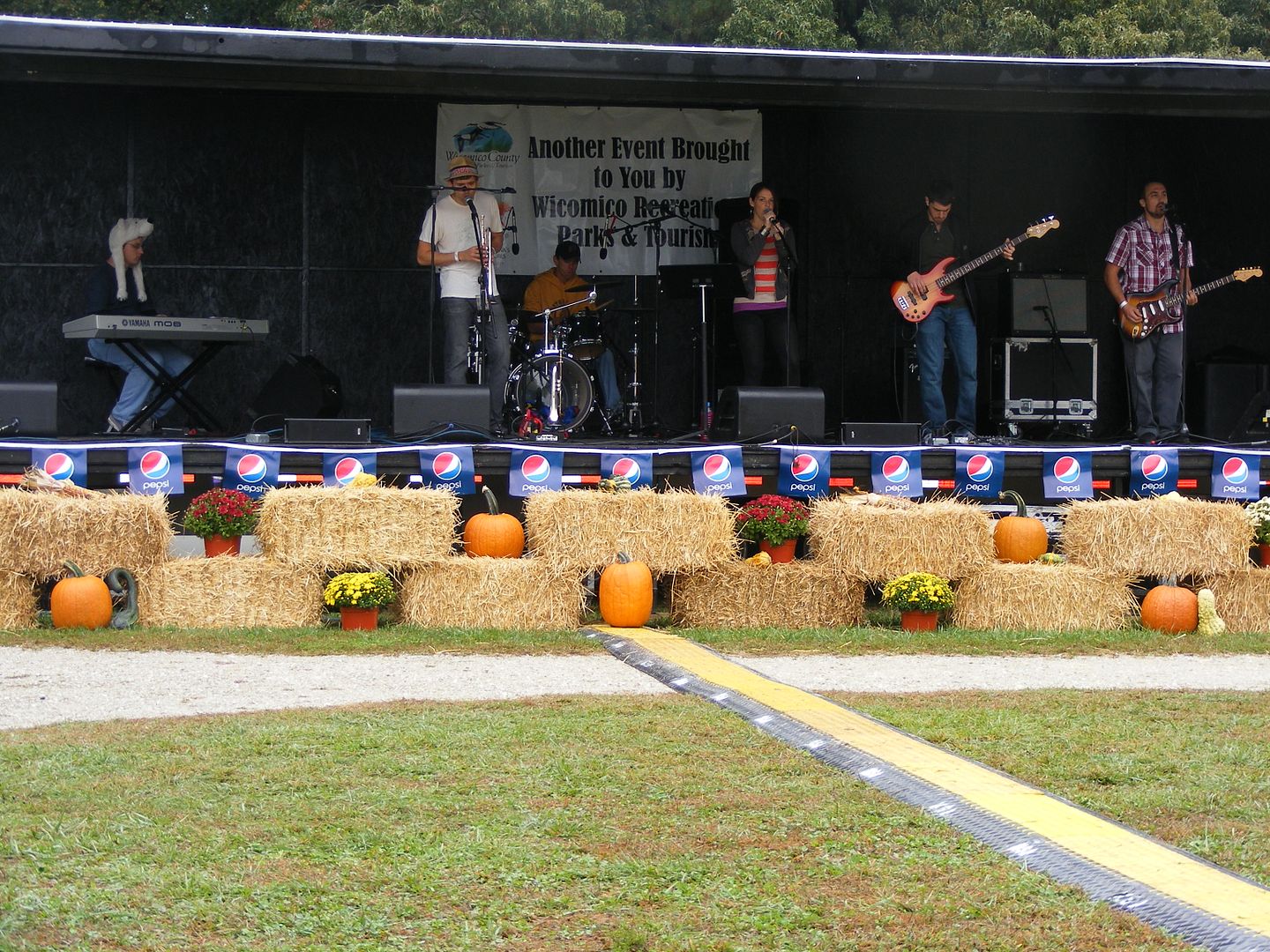 Back at the bar stage, it was the acoustic stylings of Lauren Ventura, who had a more conventional guitar and country influence.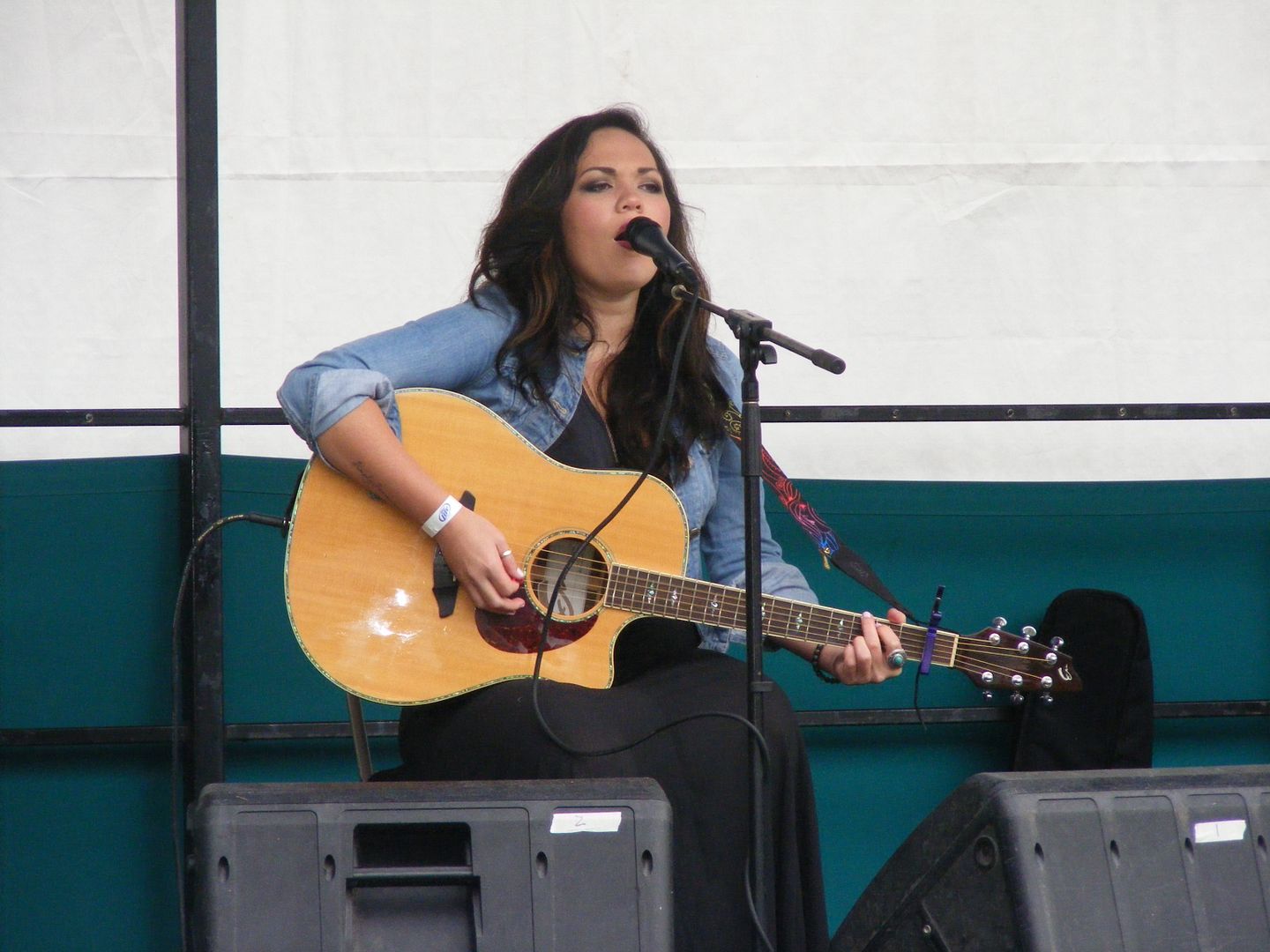 Children of a Vivid Eden performed next on the main stage. I think they were here last year as well.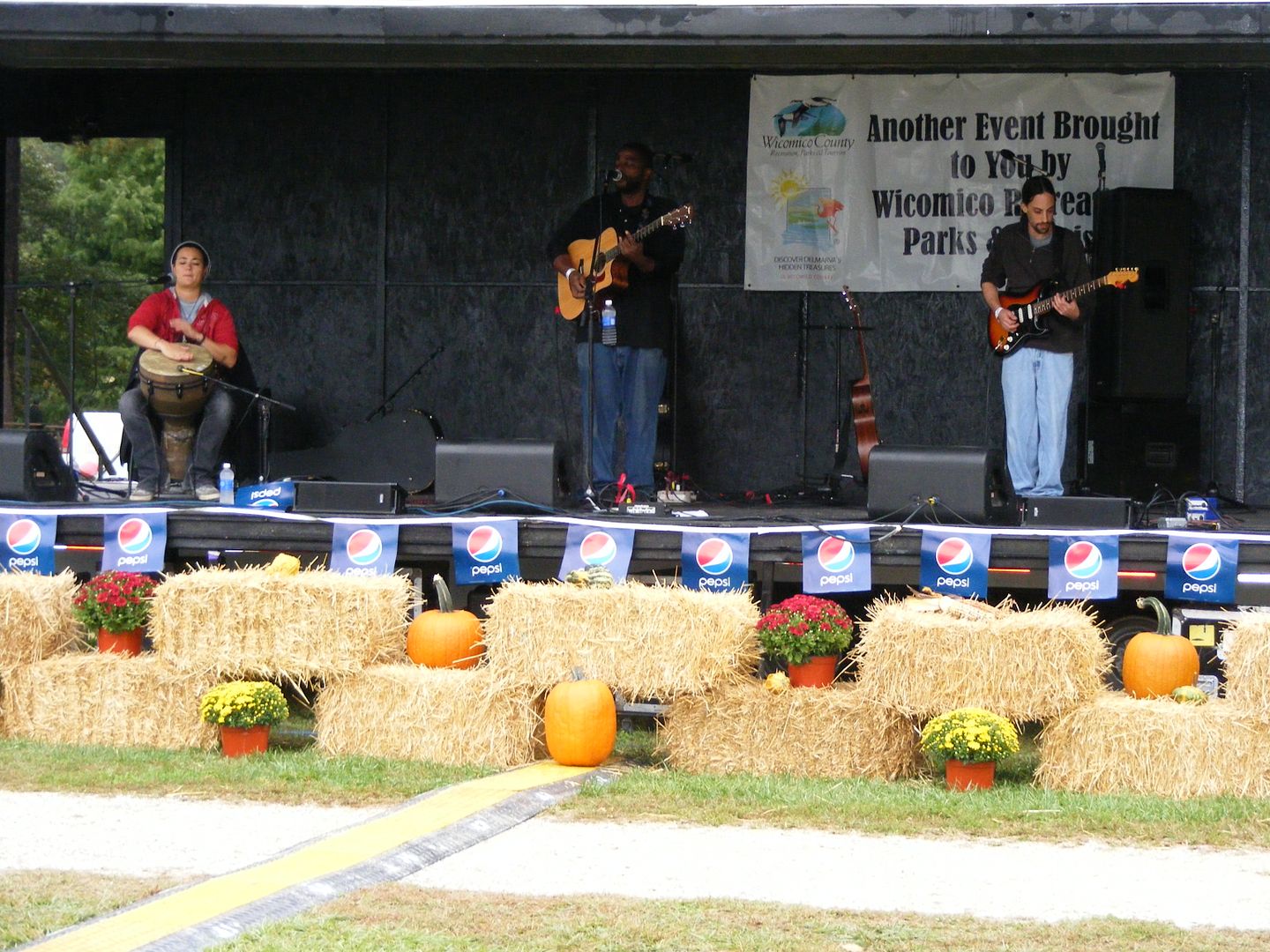 Things got funky on our bar stage end when Uprizing took the stage. Anyone like to twerk for a shirt? They were asking, but I wasn't taking those photos.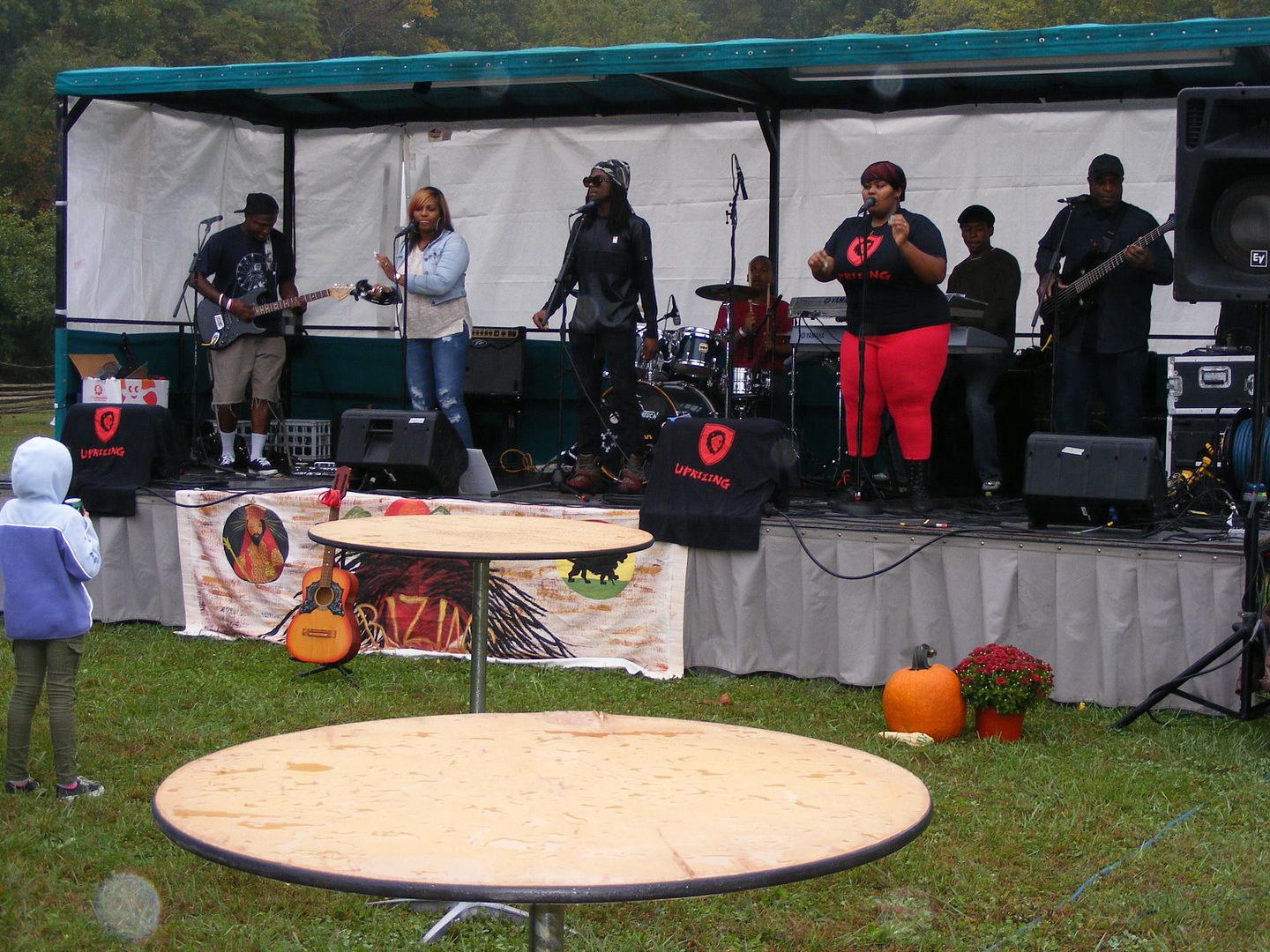 As you can tell, it was lightly raining at the time but they had energy to spare.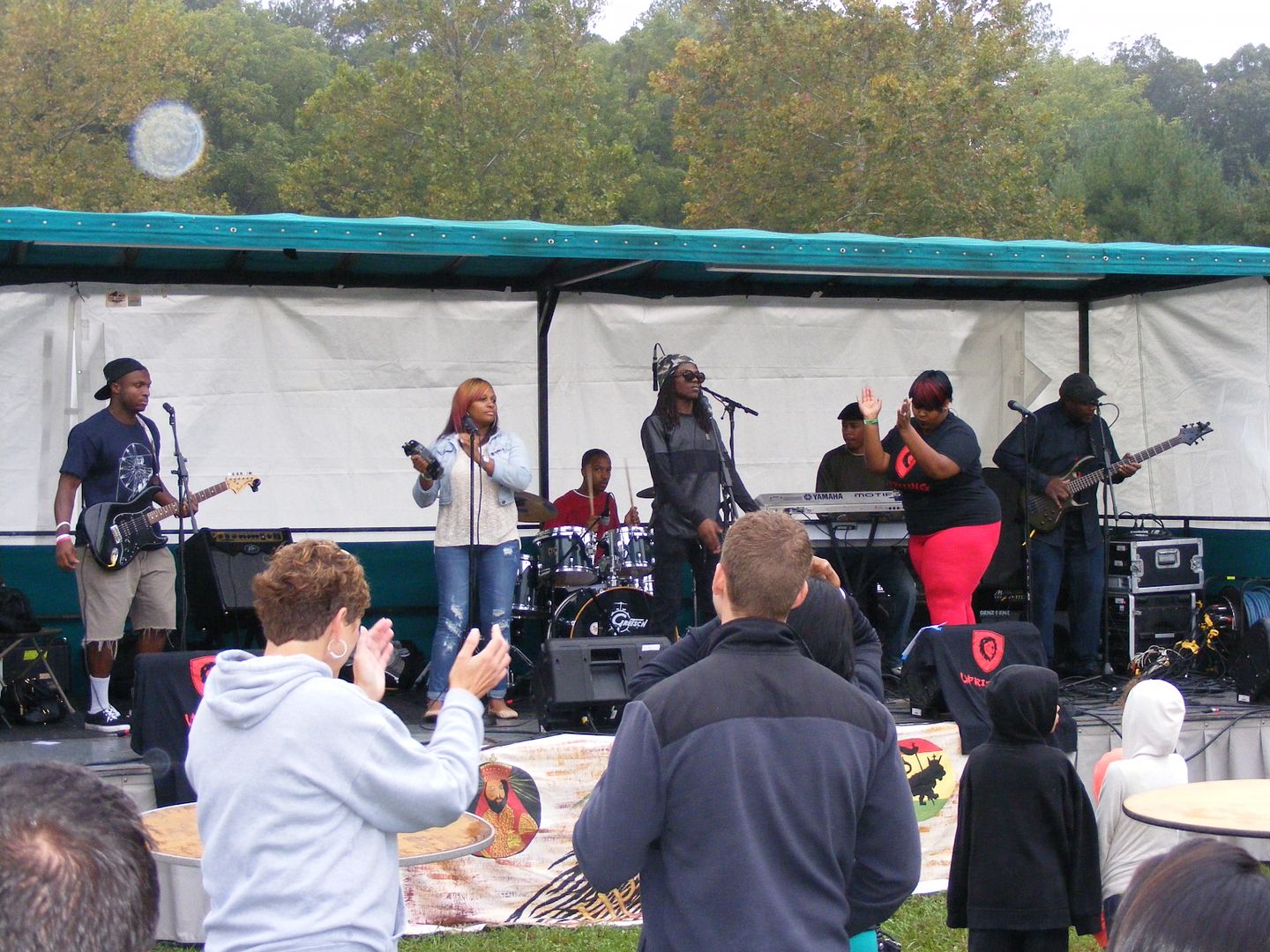 The final band of Saturday was The Stickers. From what I gathered they were a country-rock band, but overall I couldn't really tell from my distant vantage point.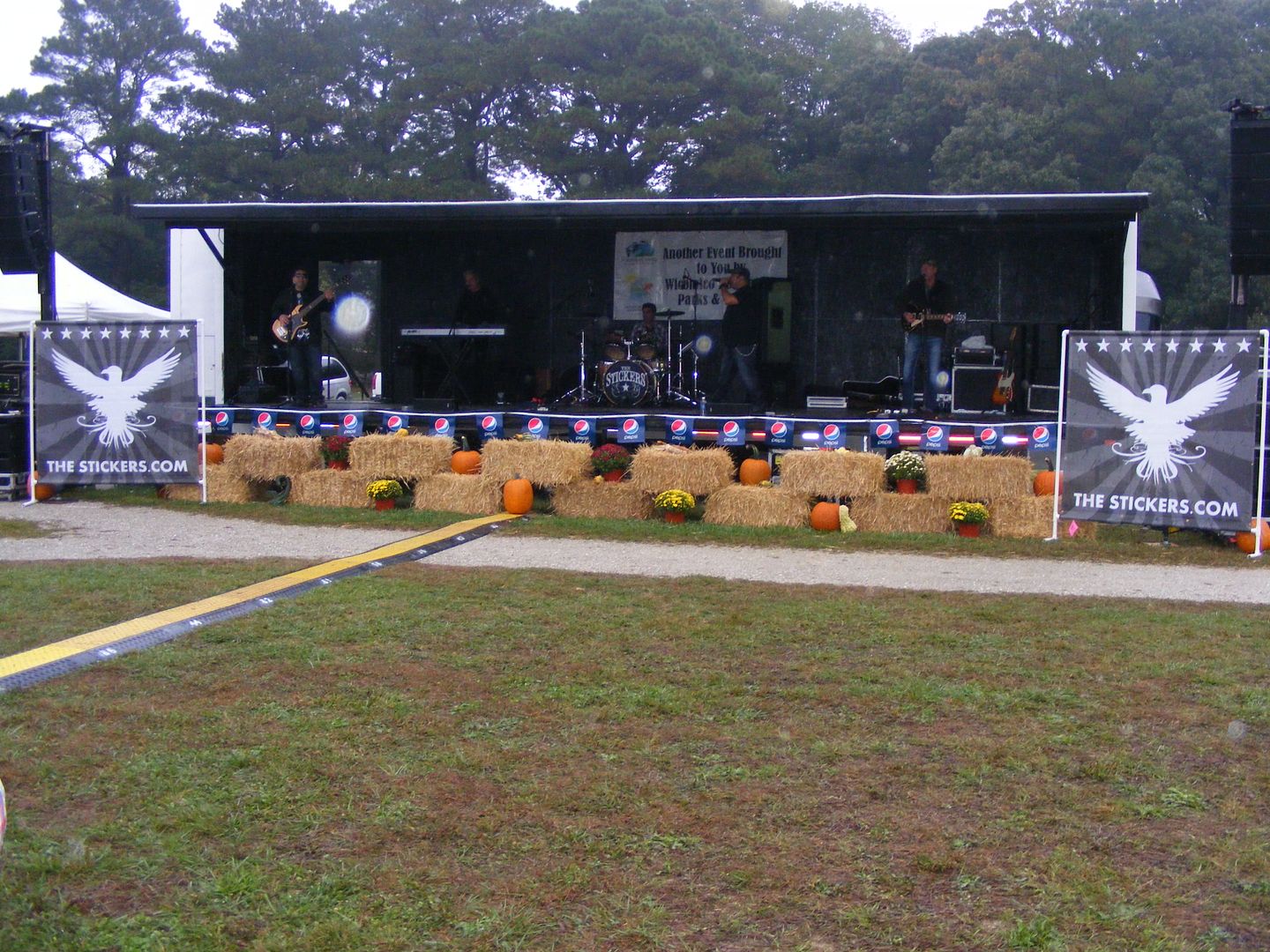 Generally the band which plays last on Saturday is the biggest name draw, as they try and select an up-and-coming artist. In this case, the Pennsylvania-based band has made some impact on the country scene. But there weren't a huge number of people left around to see them on a chilly, drizzly day.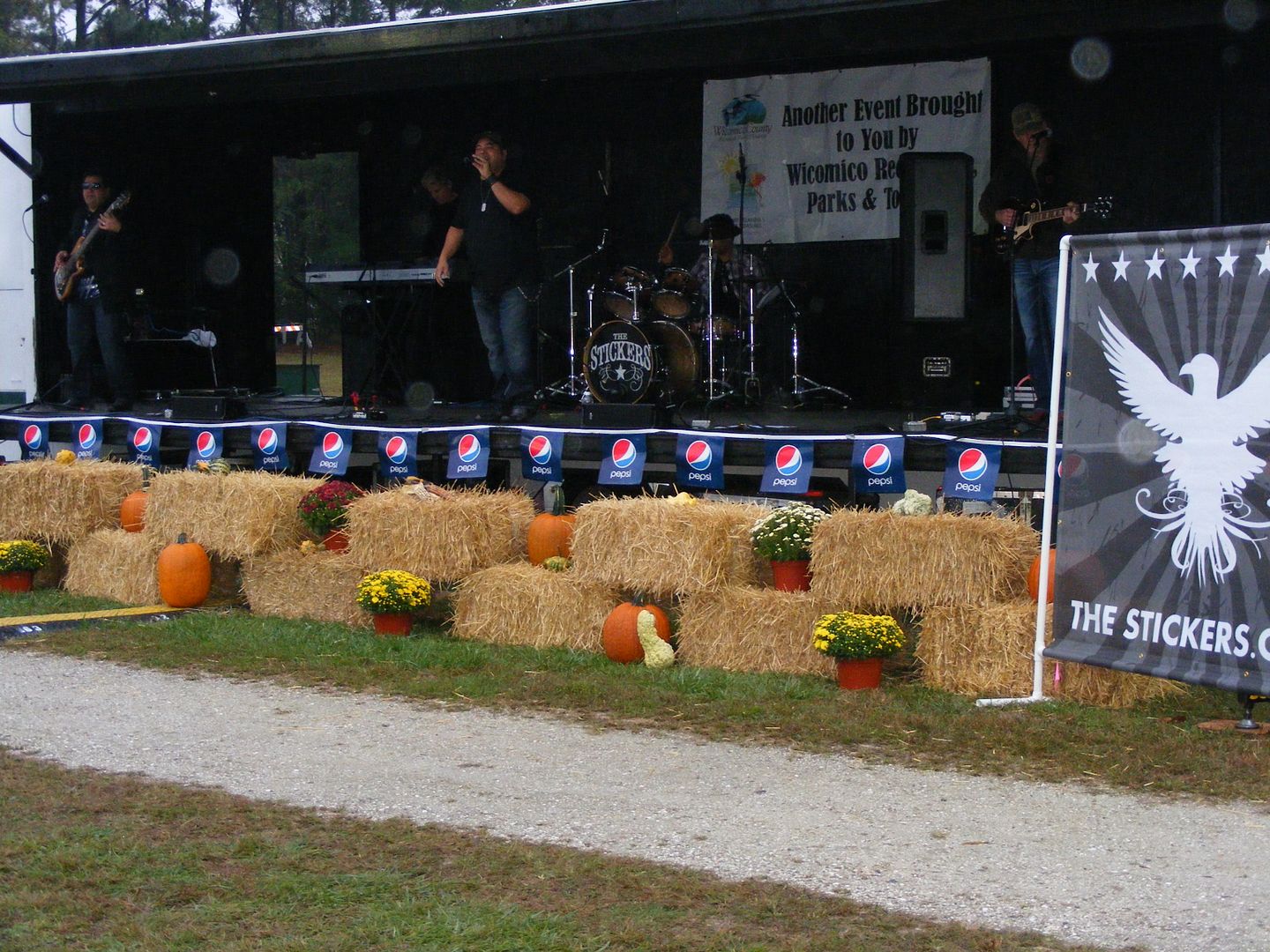 Sunday began with Landing Mary, which did a great job of constantly re-introducing themselves (which made sense, as people were arriving as they were playing) and noting they were proud enough of their home state to use it in their name. The music wasn't half-bad either, sort of a 90s alternative groove.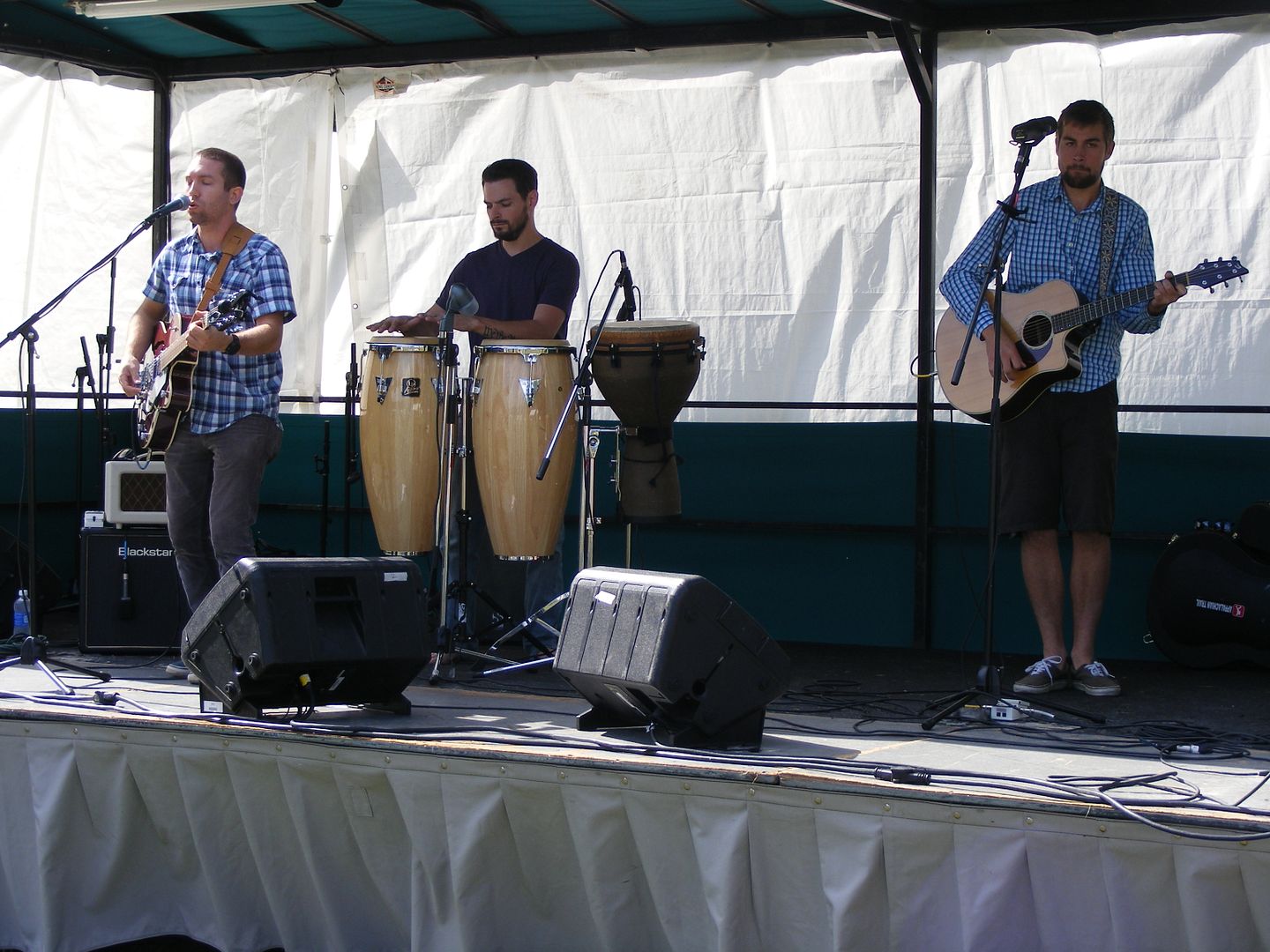 On the main stage to begin were Such Fools.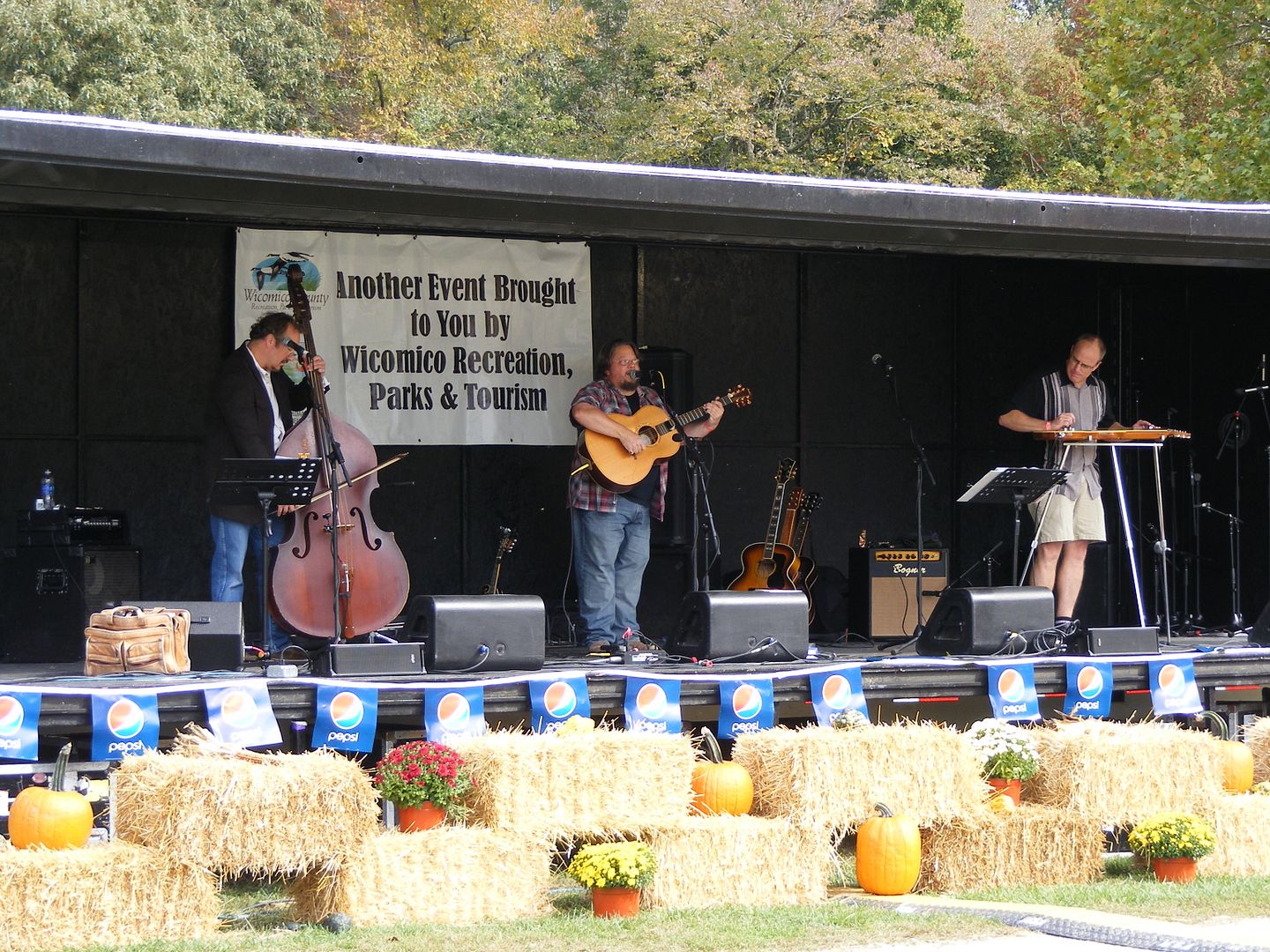 Since they also played the Autumn Wine Festival yesterday I can tell you they interpret classic songs in a unique fashion given their instrumentation.
Don Adler was the requisite second acoustic act on the bar stage.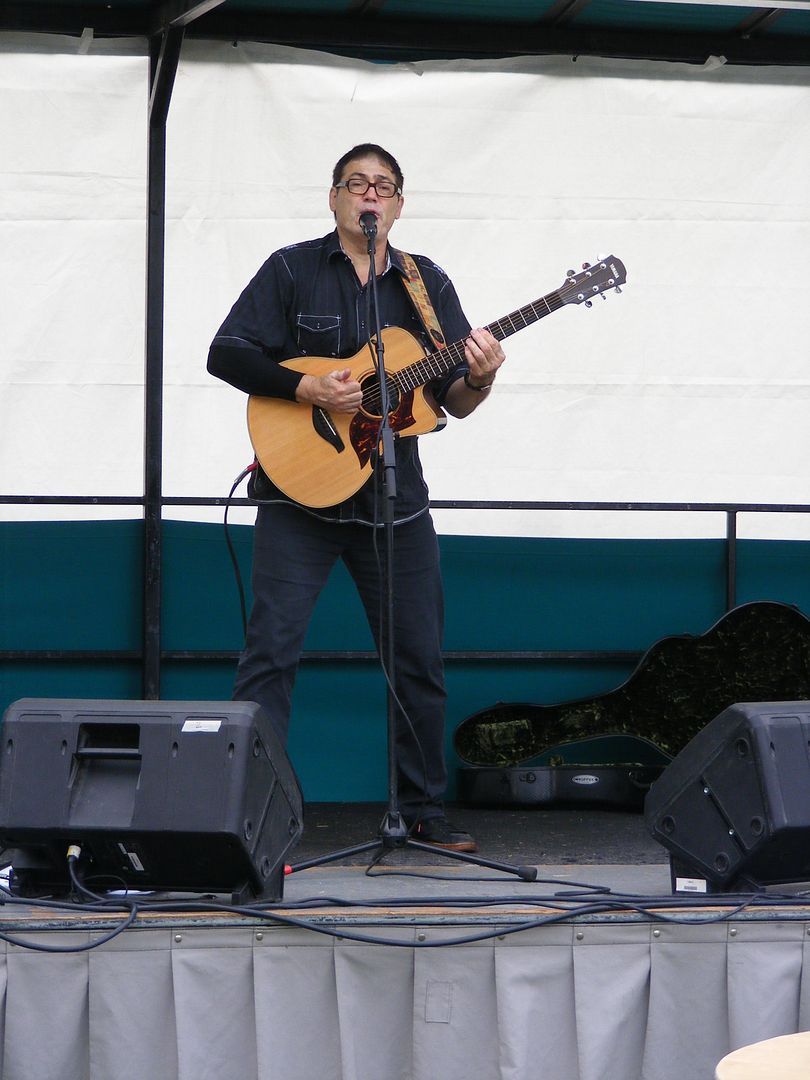 What's sort of sad is that he played nearby yet I really don't recall a lot of it because I was moving around at the time. Apparently he's a guitarist of some repute.
But I will tell you who sounded from our end like they were jamming, and that was Eastern Electric.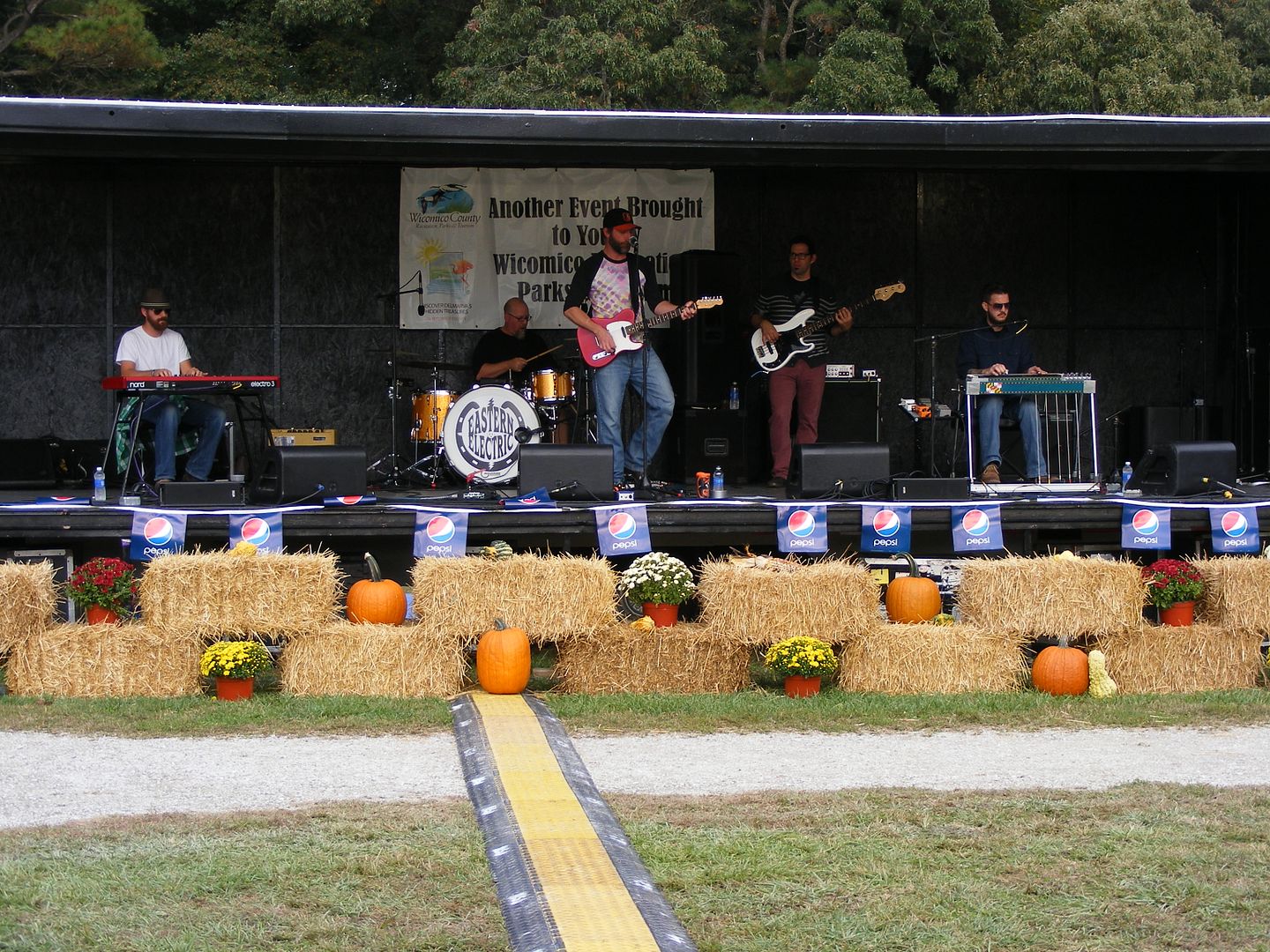 They were a bright spot to a dreary day, at least to the lady in the foreground who was dancing.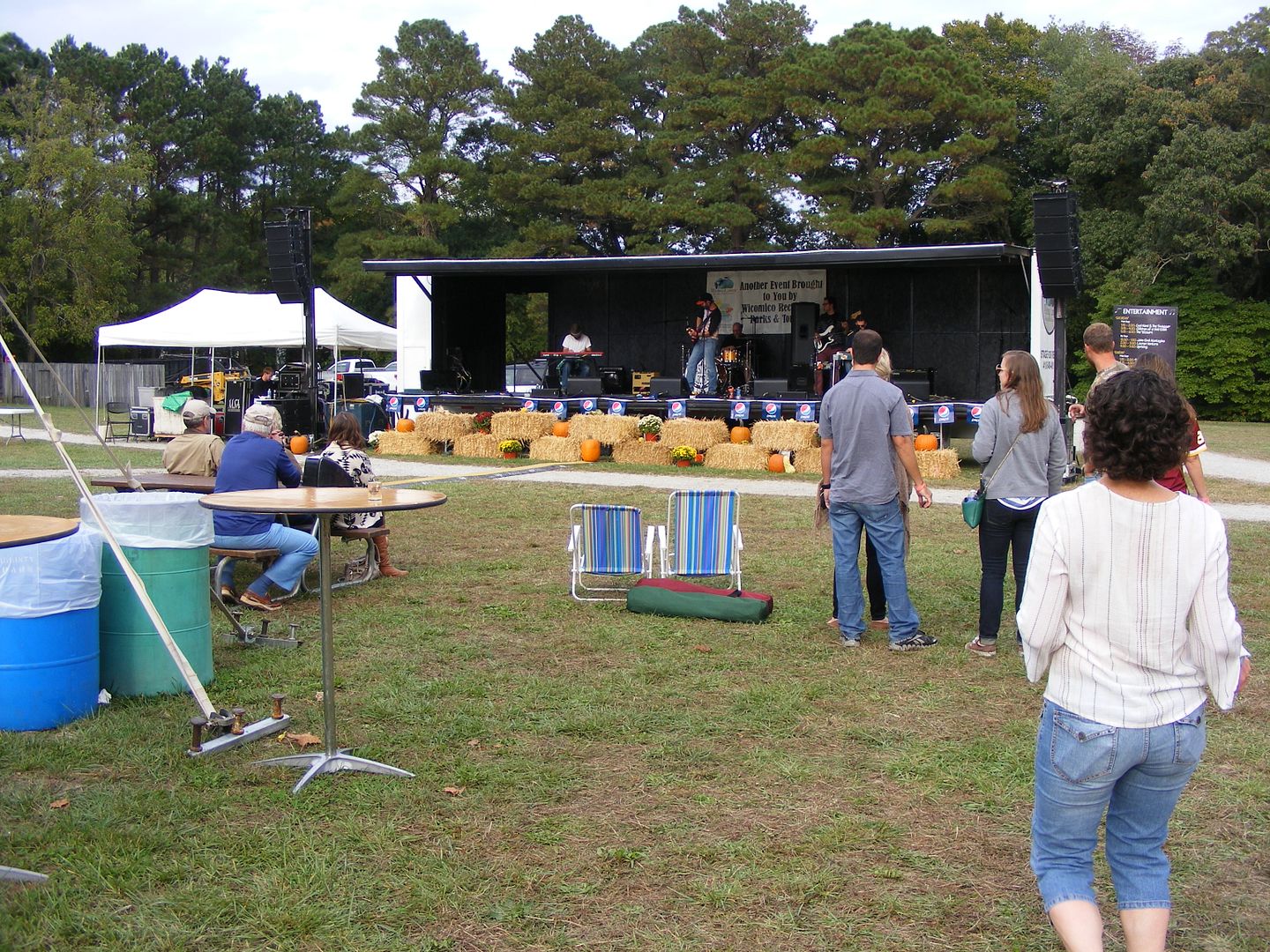 Wrapping up the bar stage for the GBF was the multi-instrumental duo of Smoking Flowers. Yes, she broke out the accordion.
And she can play guitar. And there was actual sunshine, too.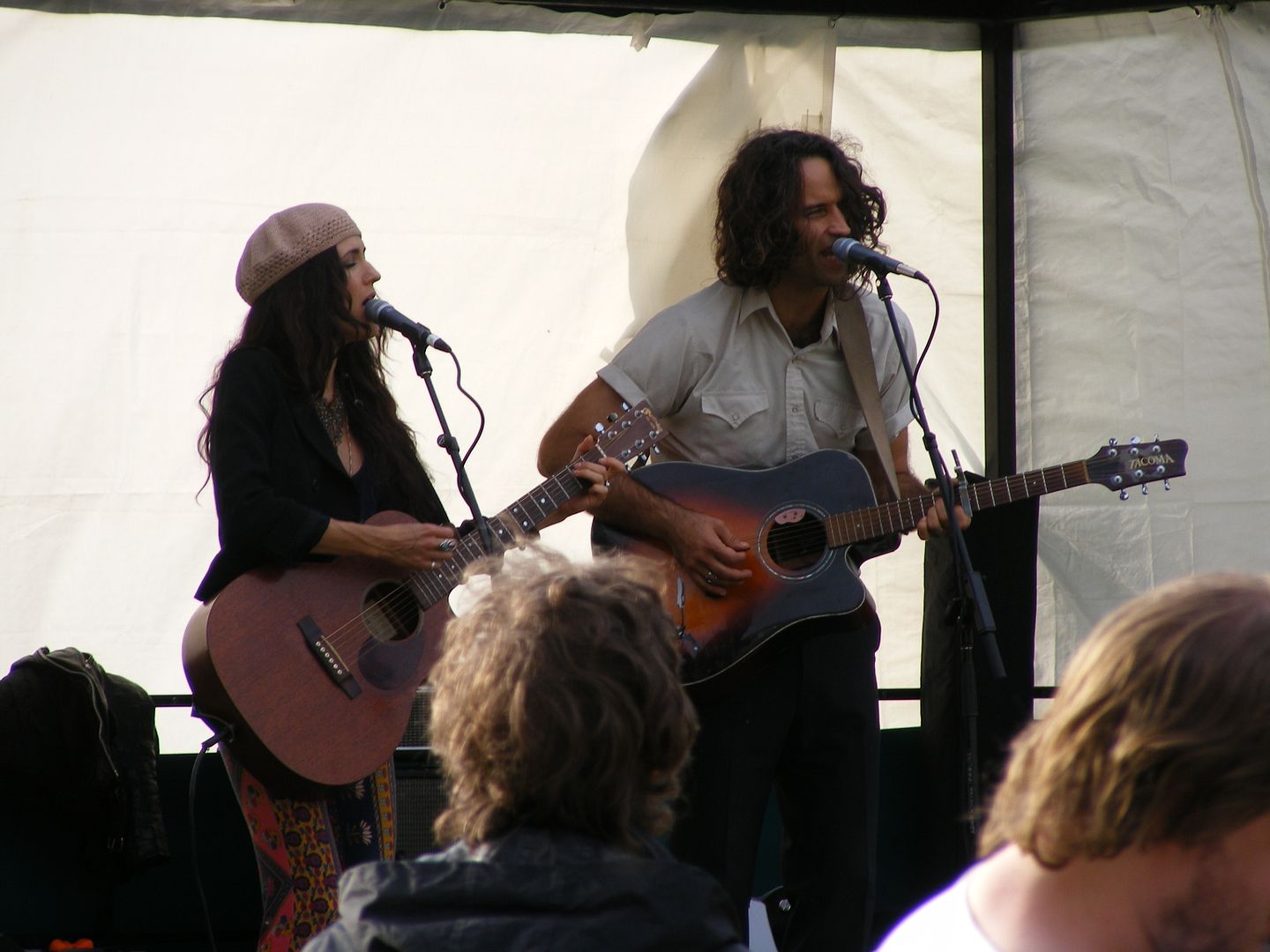 Another country-tinged act, they seemed to play best when she got behind the drums.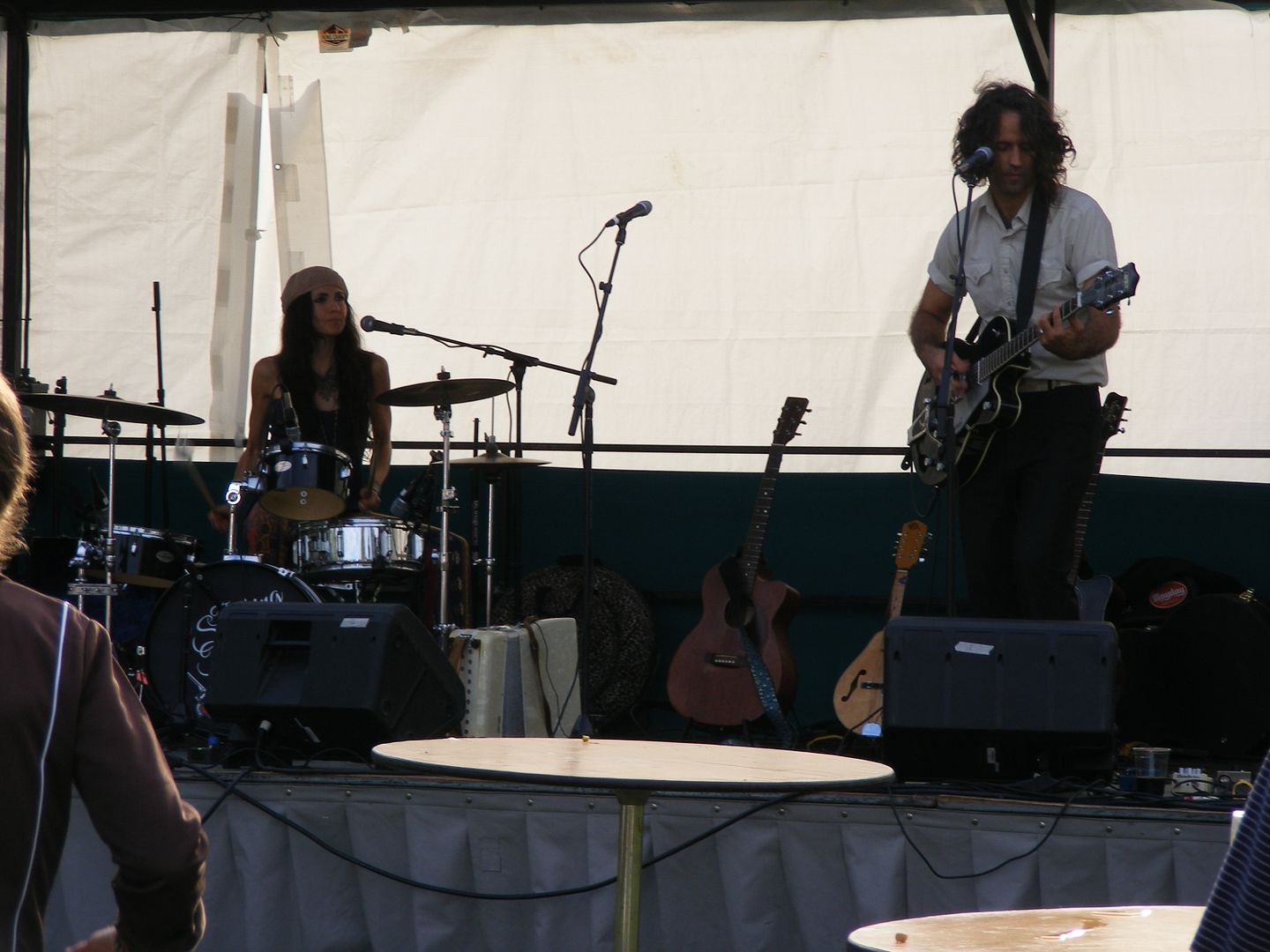 Finishing up the Good Beer Festival was perhaps the most eclectic band of the lot, Community Center.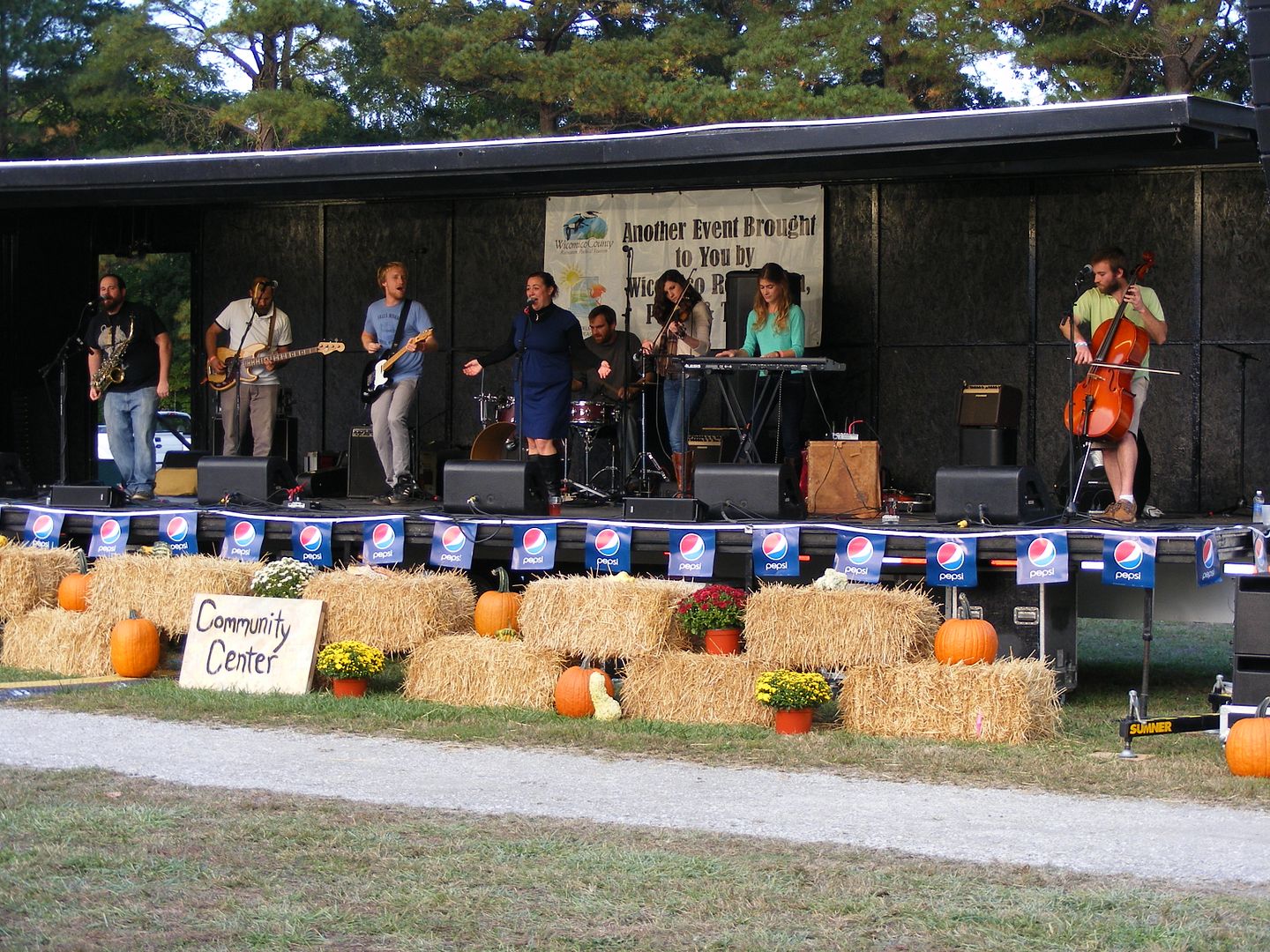 Alas, what they played didn't seem to hold the interest of a quickly dwindling crowd. But there's always someone who enjoys the music.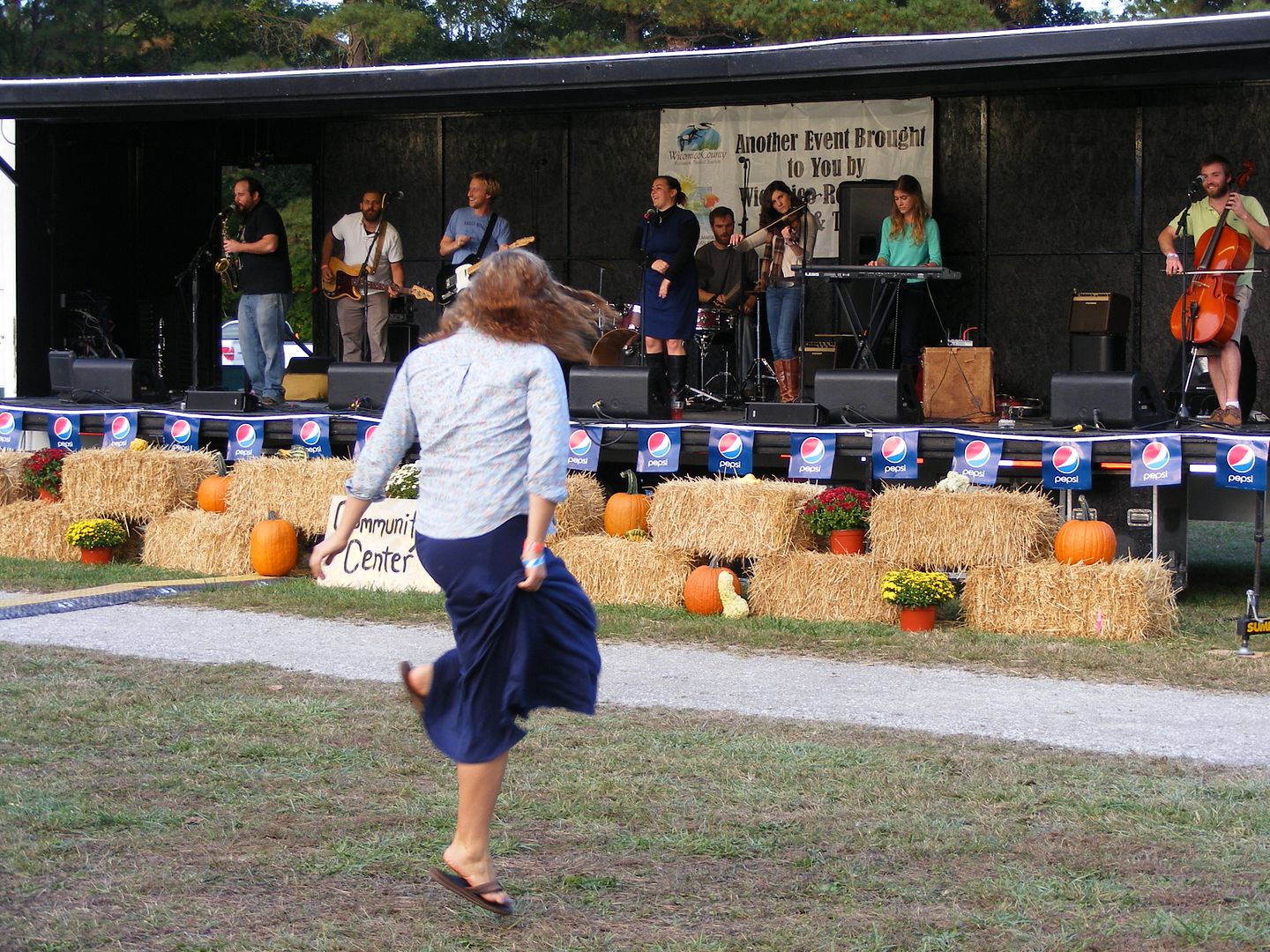 This year the Good Beer Festival leaned heavily on a country sound, drawing some acts from Nashville itself while reserving the top billing for a regionally-known act. In many respects, my title is a misnomer because it wasn't all that local and not much of it was rock.
It just didn't seem to me that the musical selections were that great. I know most of the couple thousand who come to the GBF are really not there for the bands, but I think they have picked a lot better in years past. It wasn't just the weather that was a disappointment.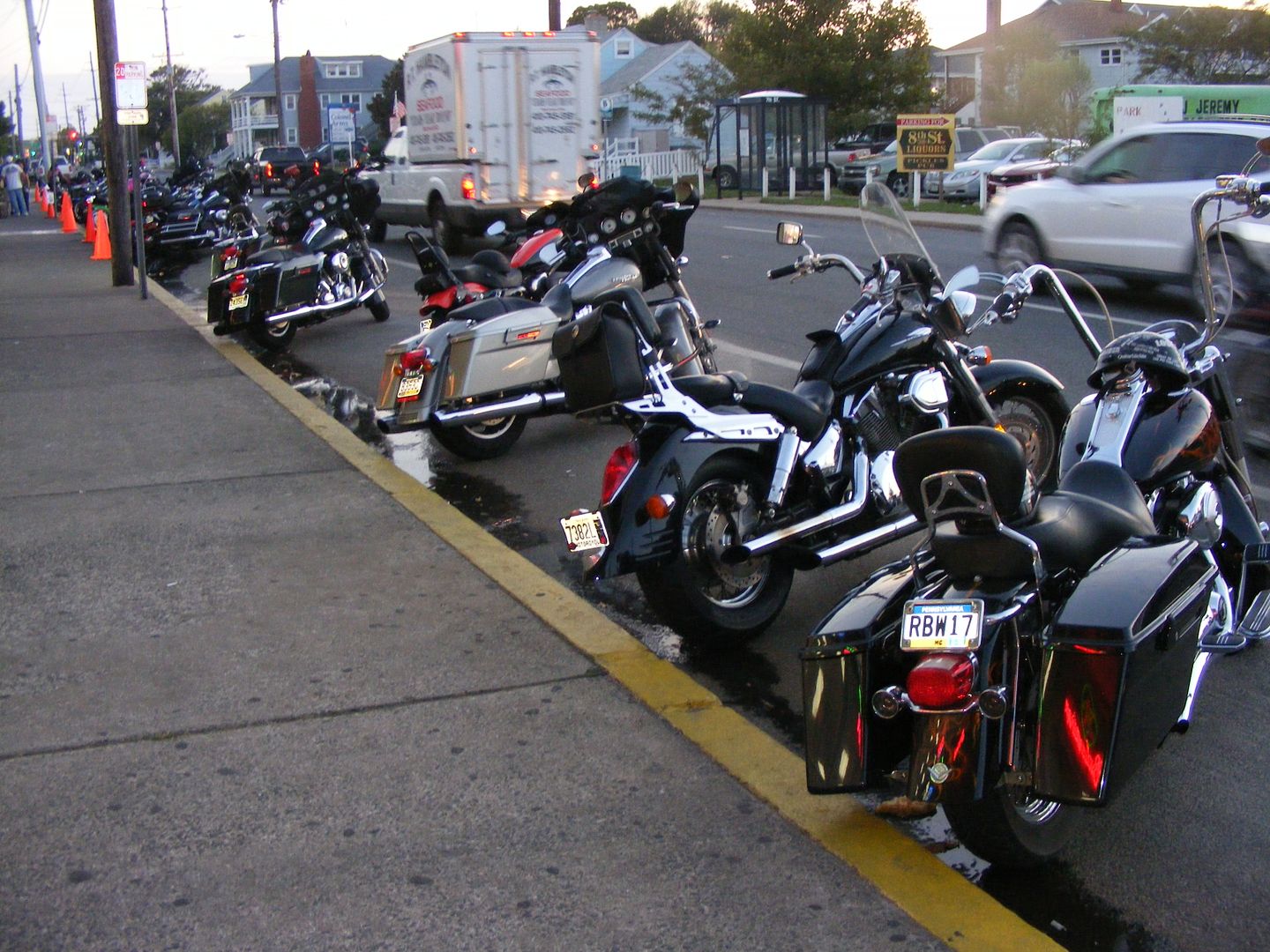 Delmarva Bike Week traditions are many: lots of bikes, loud pipes, and long nights in the local haunts and watering holes. But one tradition has a charitable side: each year the Delaware Breast Cancer Coalition benefits from (Save the) Breast Fest, which this year marked its sixth anniversary.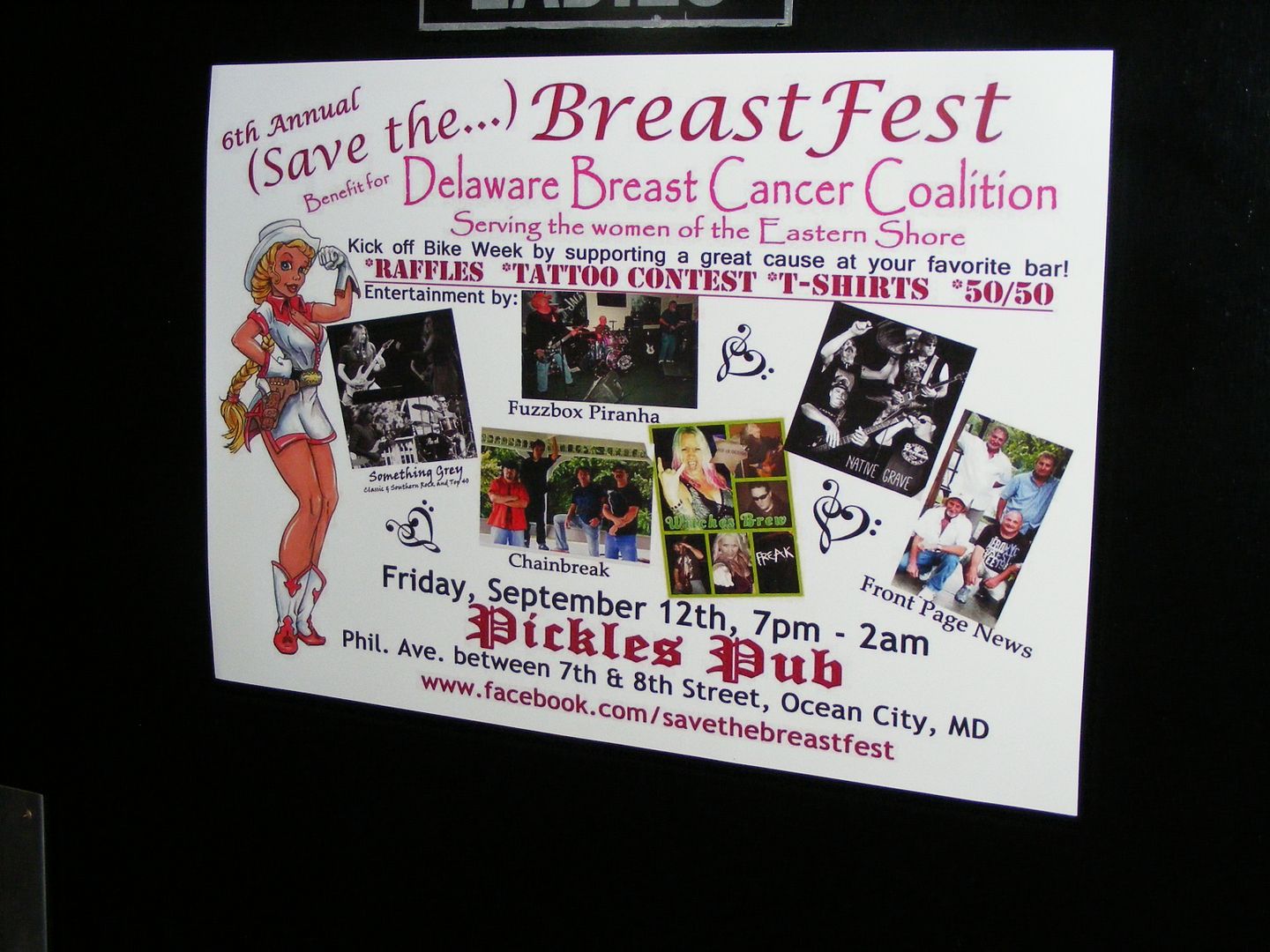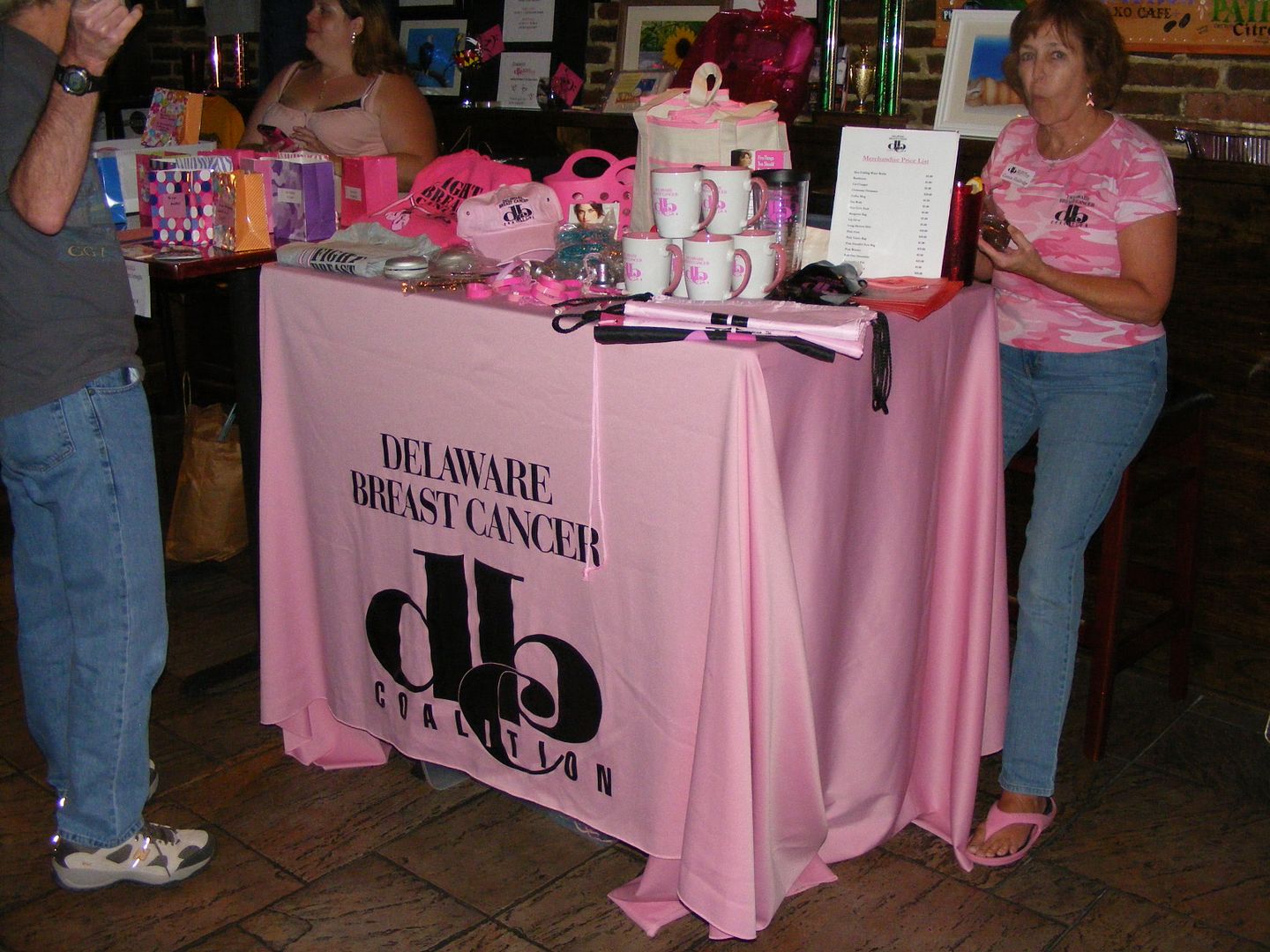 As always there were raffles, drawings, and various people selling their wares to donate to the BreastFest cause, which has raised thousands of dollars over its run.
The lovely Iris pictured above is one of several volunteers who help the organizer, local musician, DJ, and breast cancer survivor Michele Hogsett.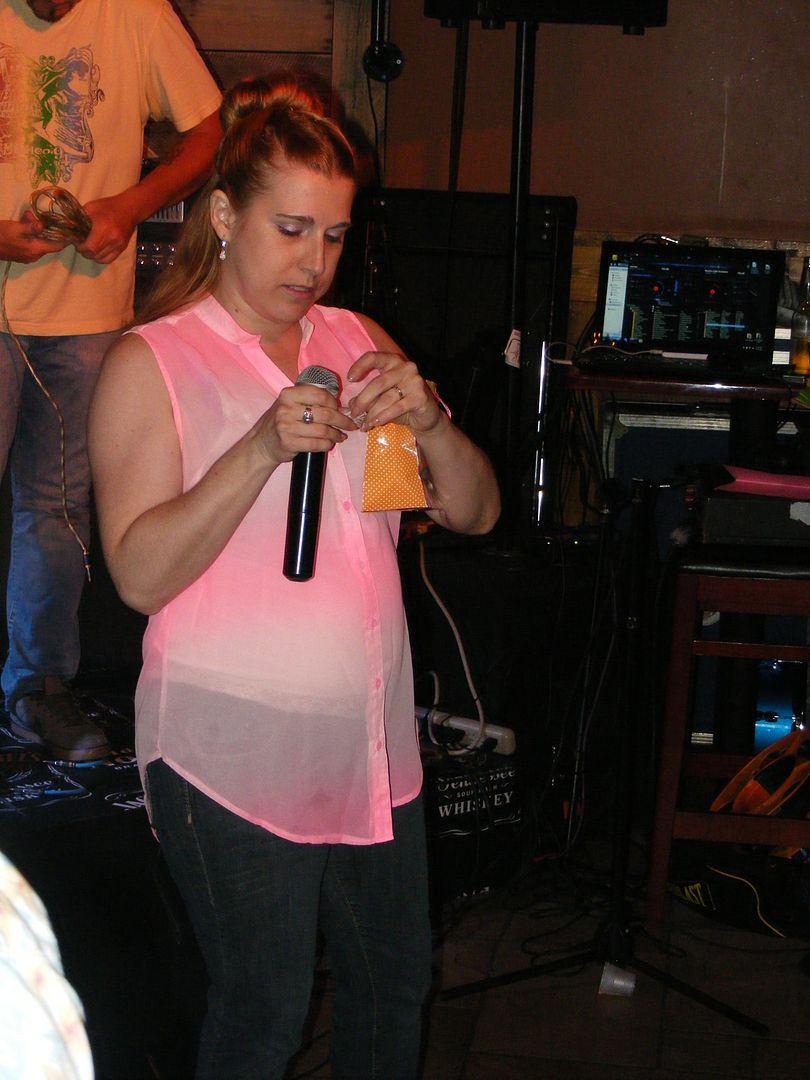 Giving a big assist is her husband Jim, who emcees the event and helps with the details.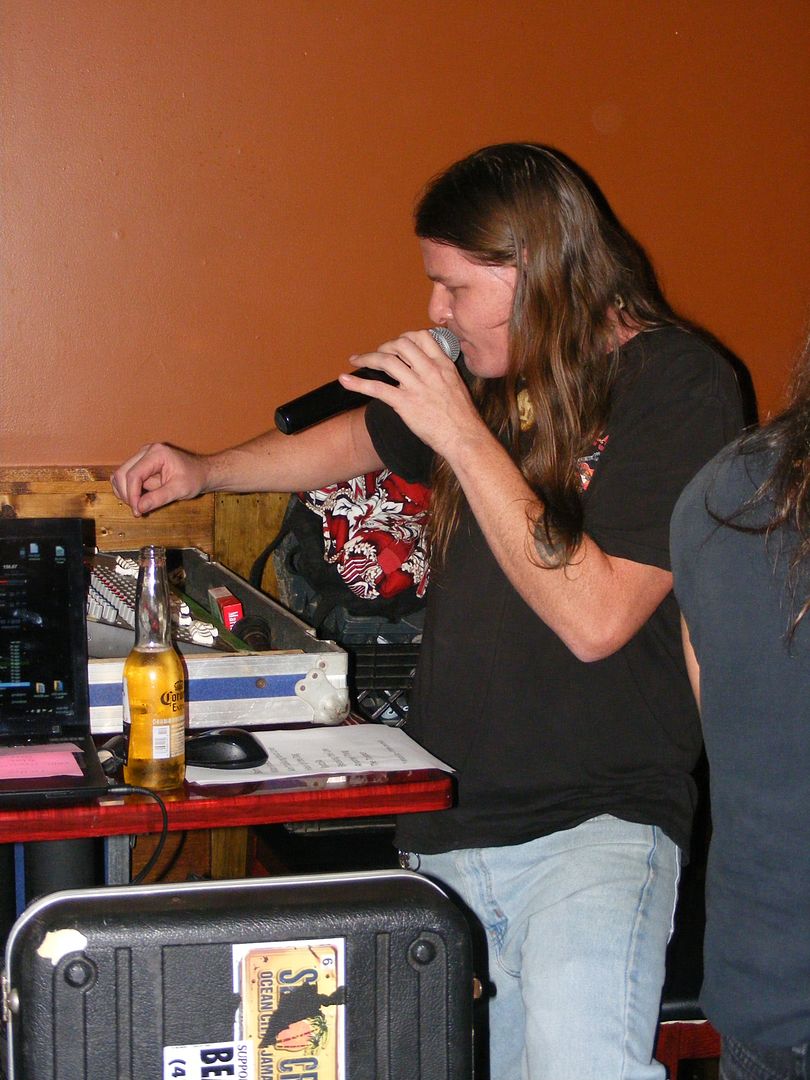 These bands and the sound man donated their time to the event. So how did they sound?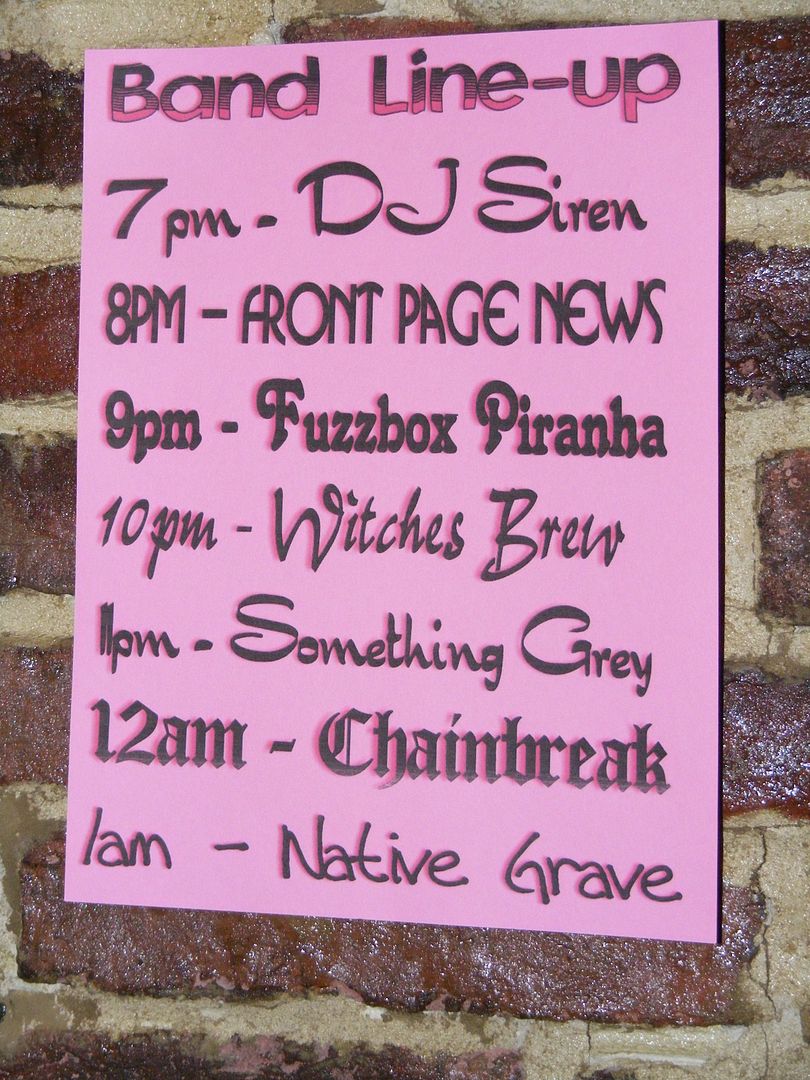 Leading off the classic rock fest was Front Page News, which got an A+ for expanding the stage.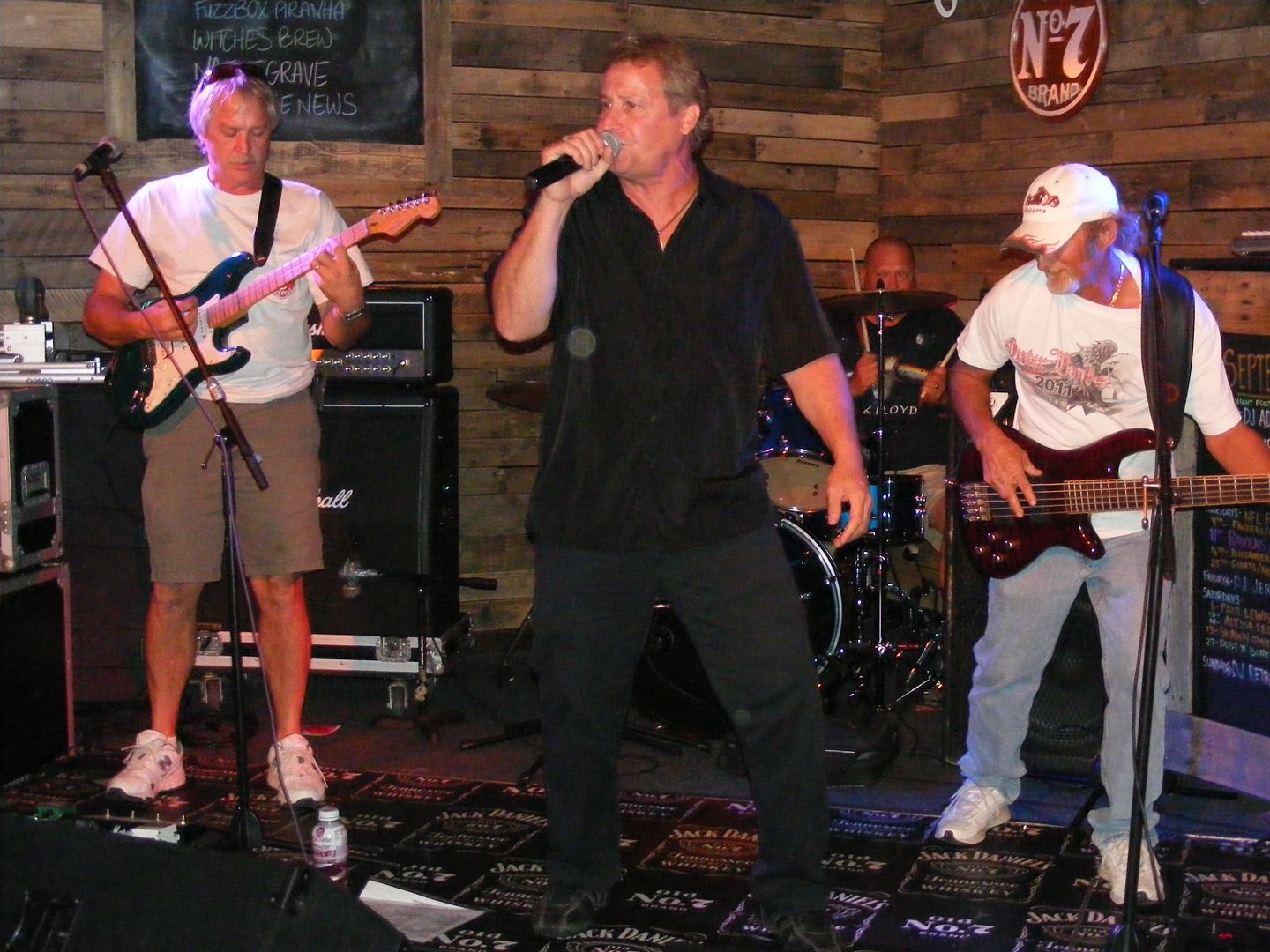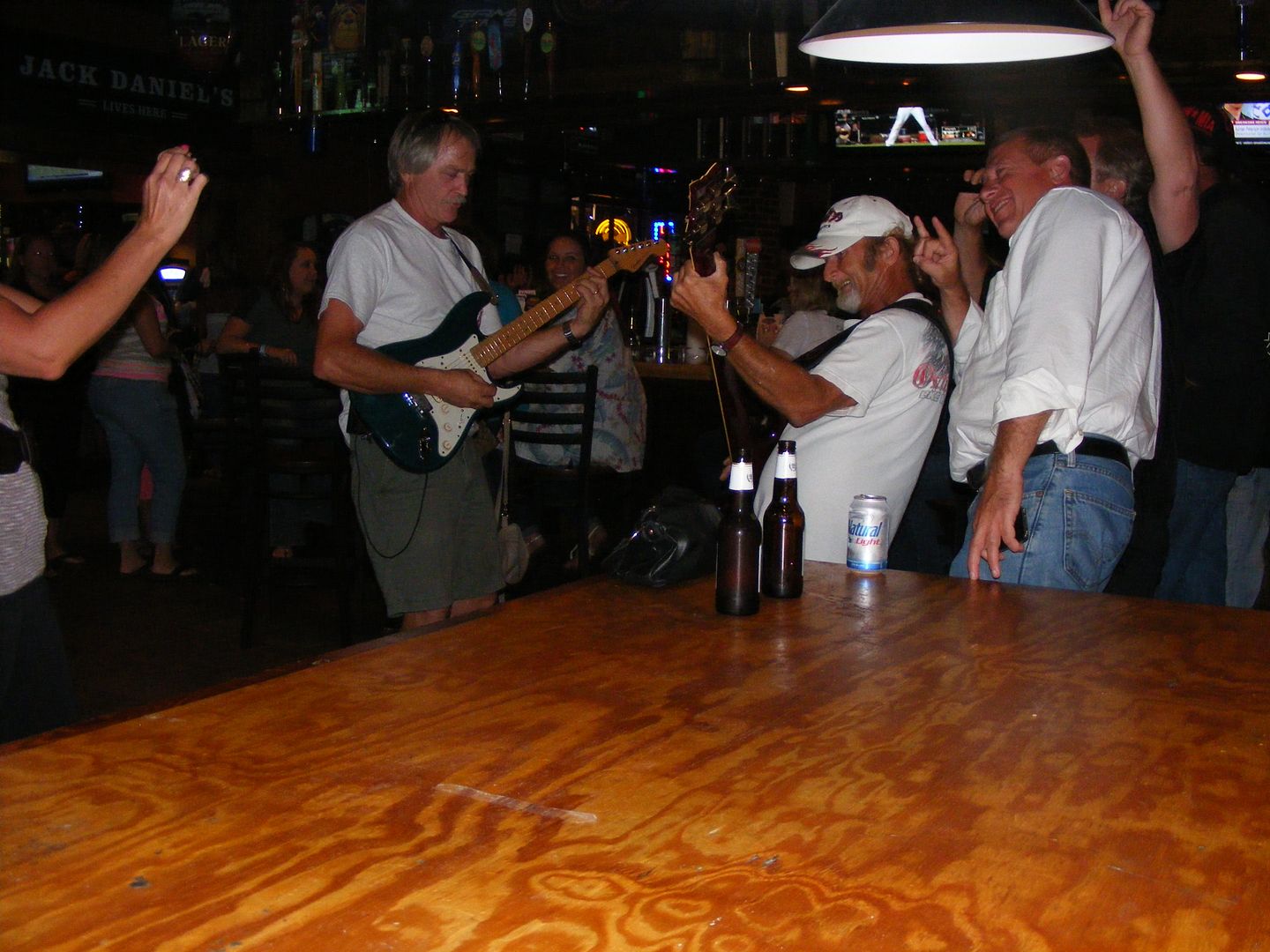 Front Page News leaned on the older classics, although they threw a couple more recent ones in there. It was a good warmup and helped attract a crowd.
It was something Fuzzbox Piranha kept around as they kept the mainstream classics coming.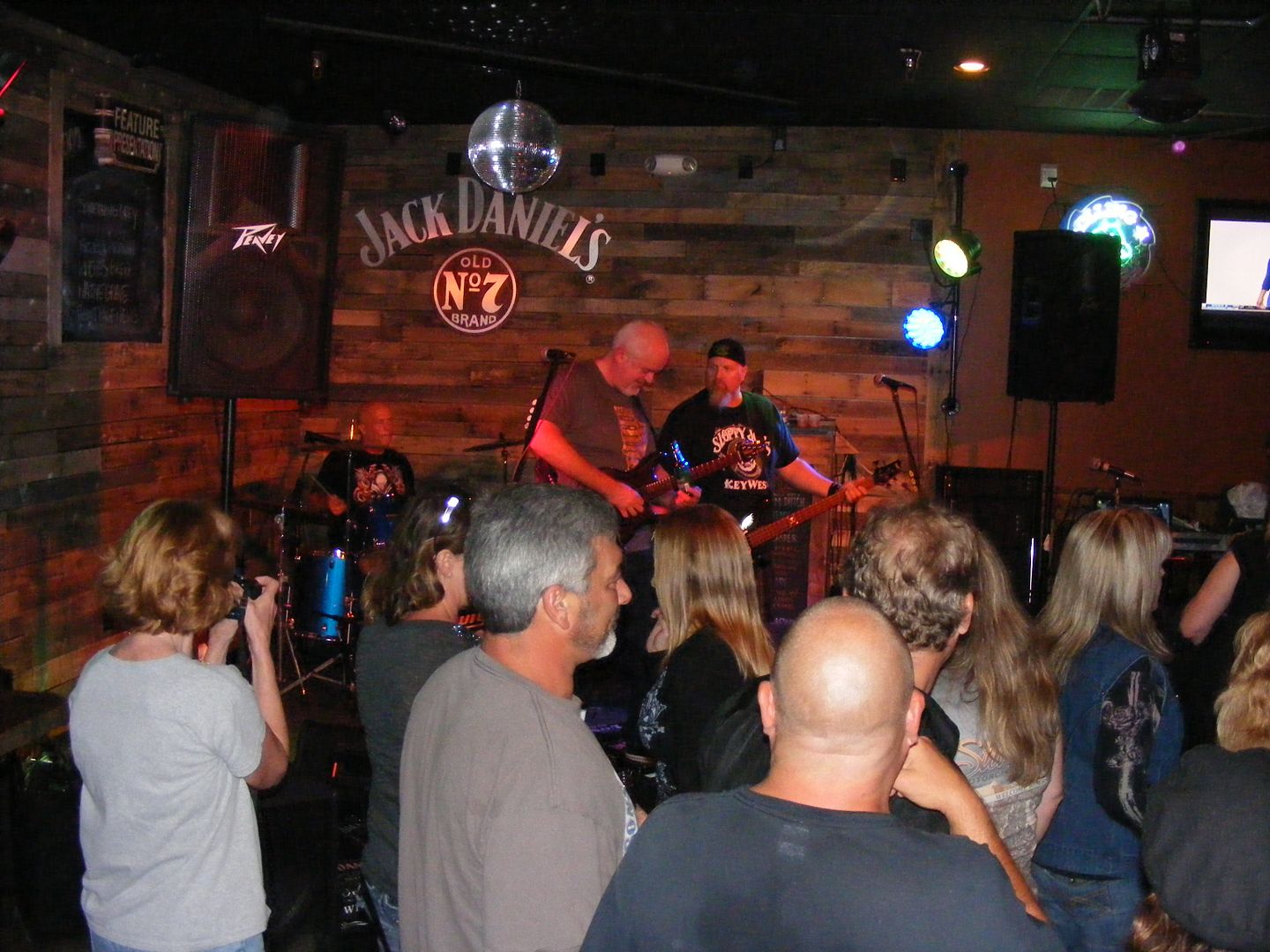 Then it was time for the ladies to hit the stage. Witches Brew has the distinction of playing all six editions of BreastFest. And if you weren't aware of their presence, there's just something about these guitars that say things will get a little heavier.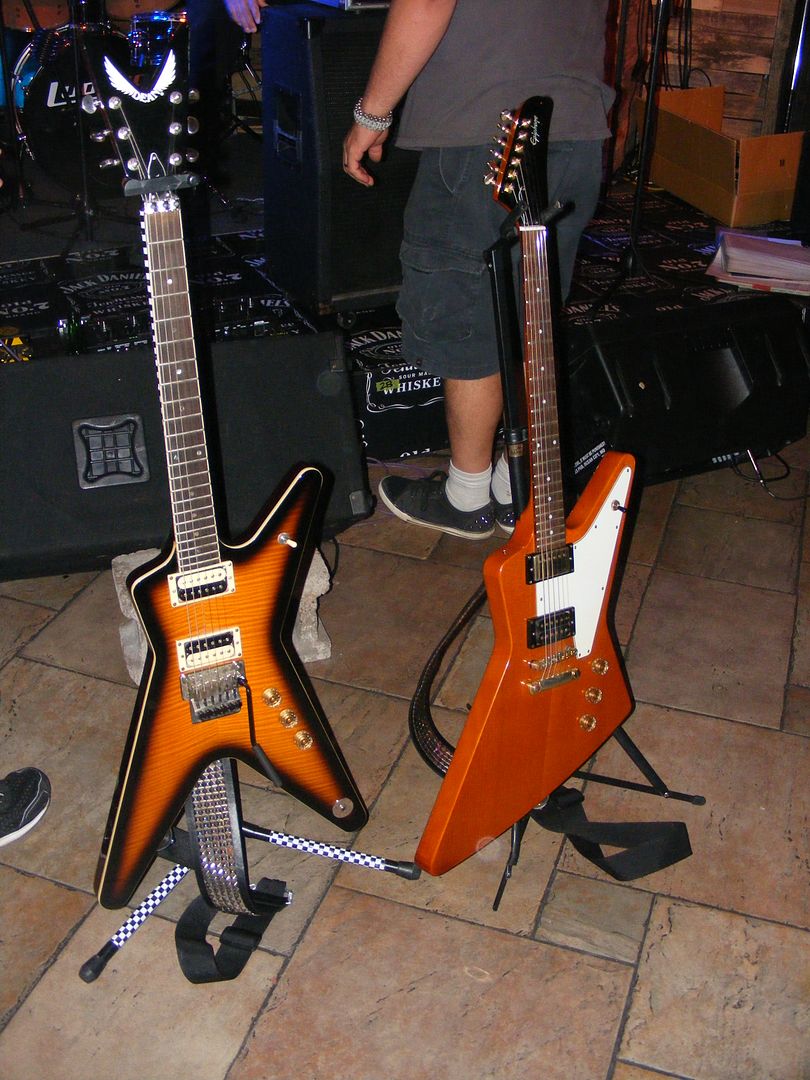 Obviously I've seen Susan and the boys enough to know most of their set pretty well, but they create a strong presence nonetheless. It's not difficult with the songs they chose.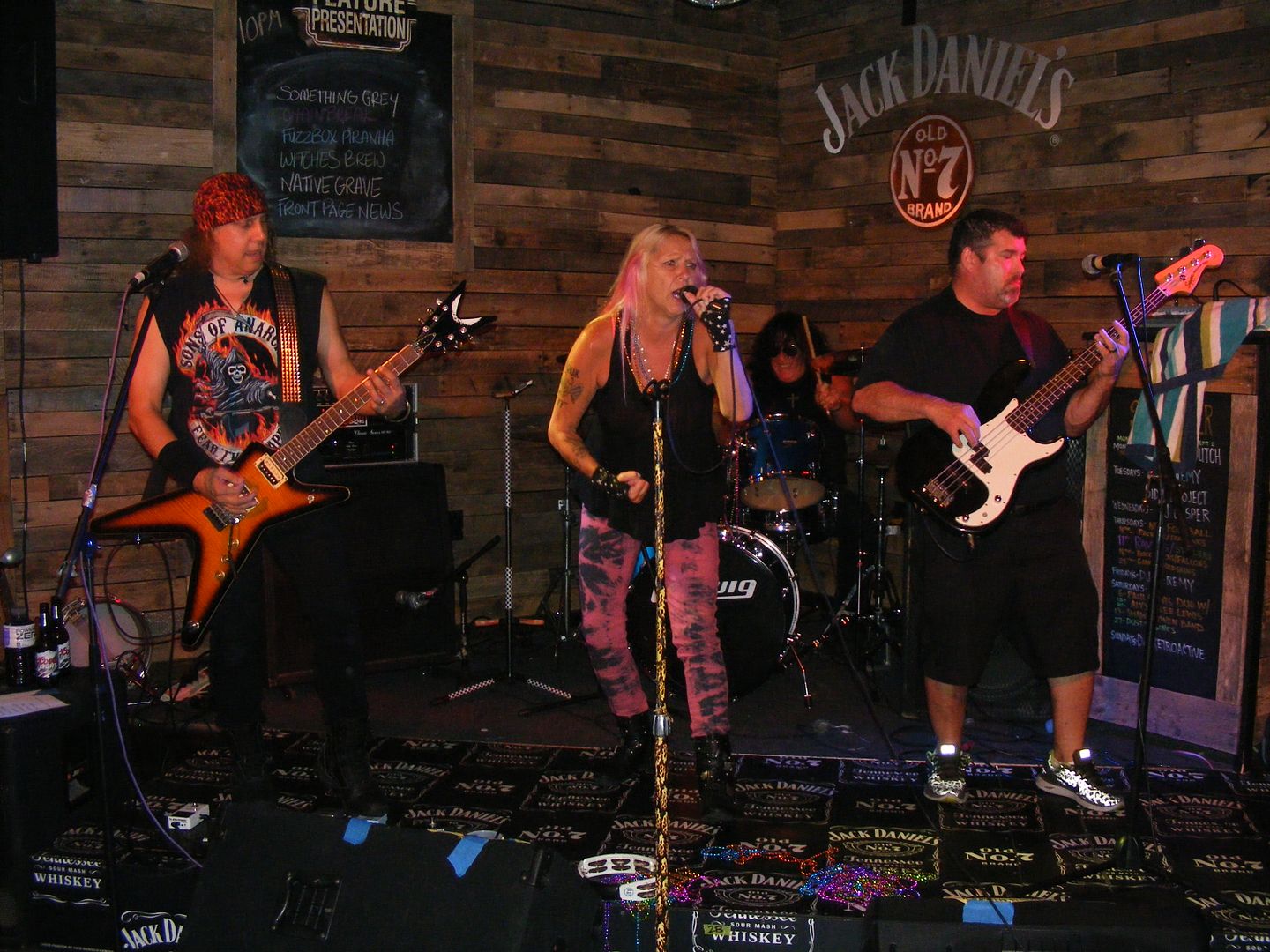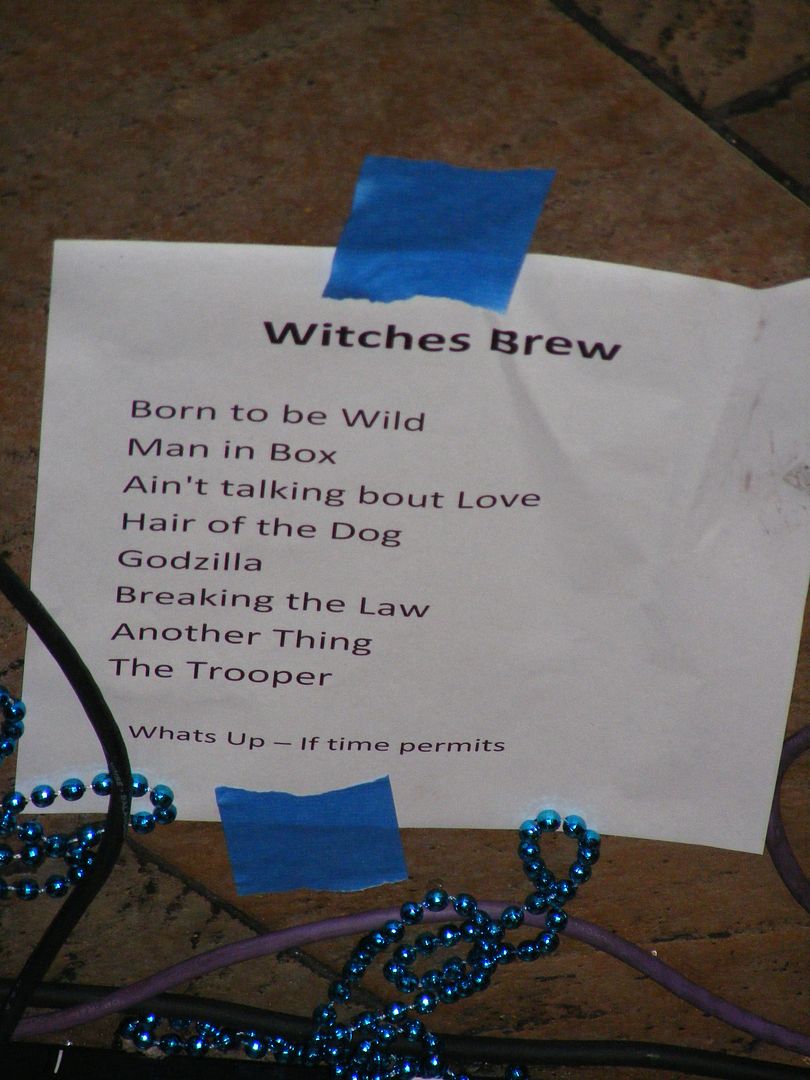 You've seen them here many times as Semiblind, but the recently-rechristened Something Grey took the fourth slot on the bill. They've been around long enough to know their audience, so the set was red meat classic rock punctuated with Jim's guitar work.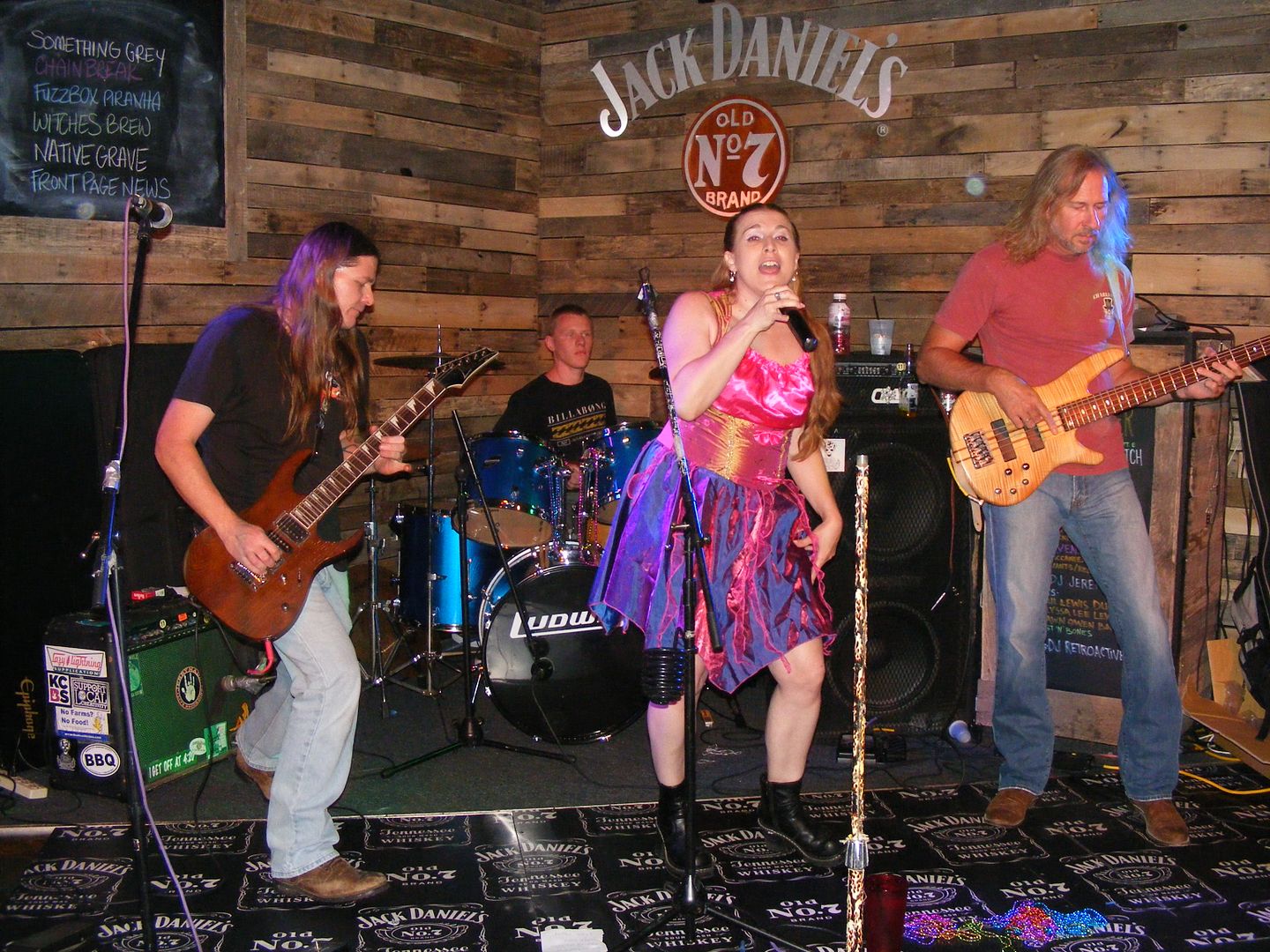 We went back to a little harder edge with Chainbreak, although they had a fill-in drummer who incidentally is also a cancer survivor.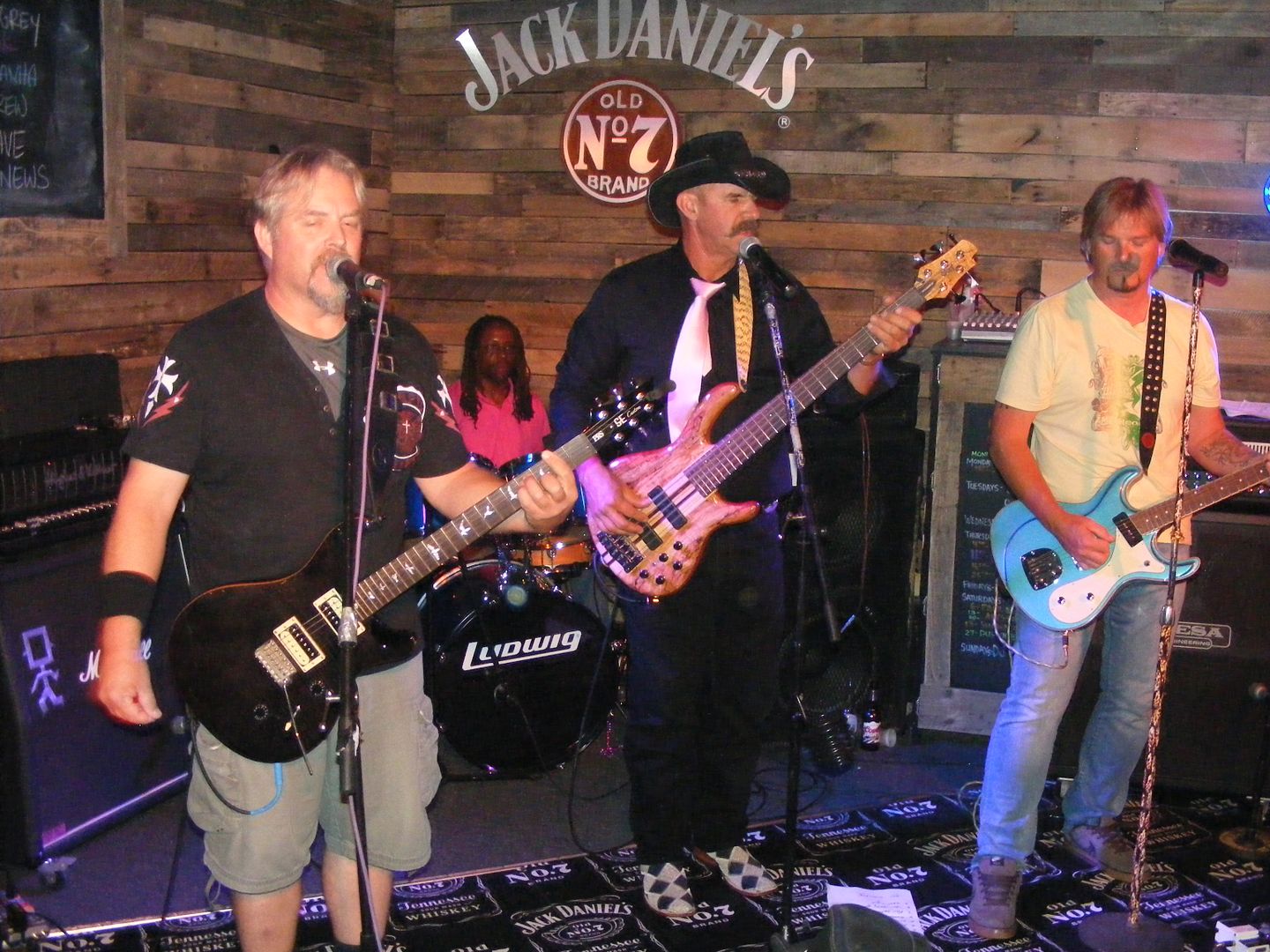 I think they were having a couple sound issues – "Flirtin' With Disaster" was a mainly three-piece and I had a hard time hearing the lead guitar. It was better by the time they got to Led Zeppelin.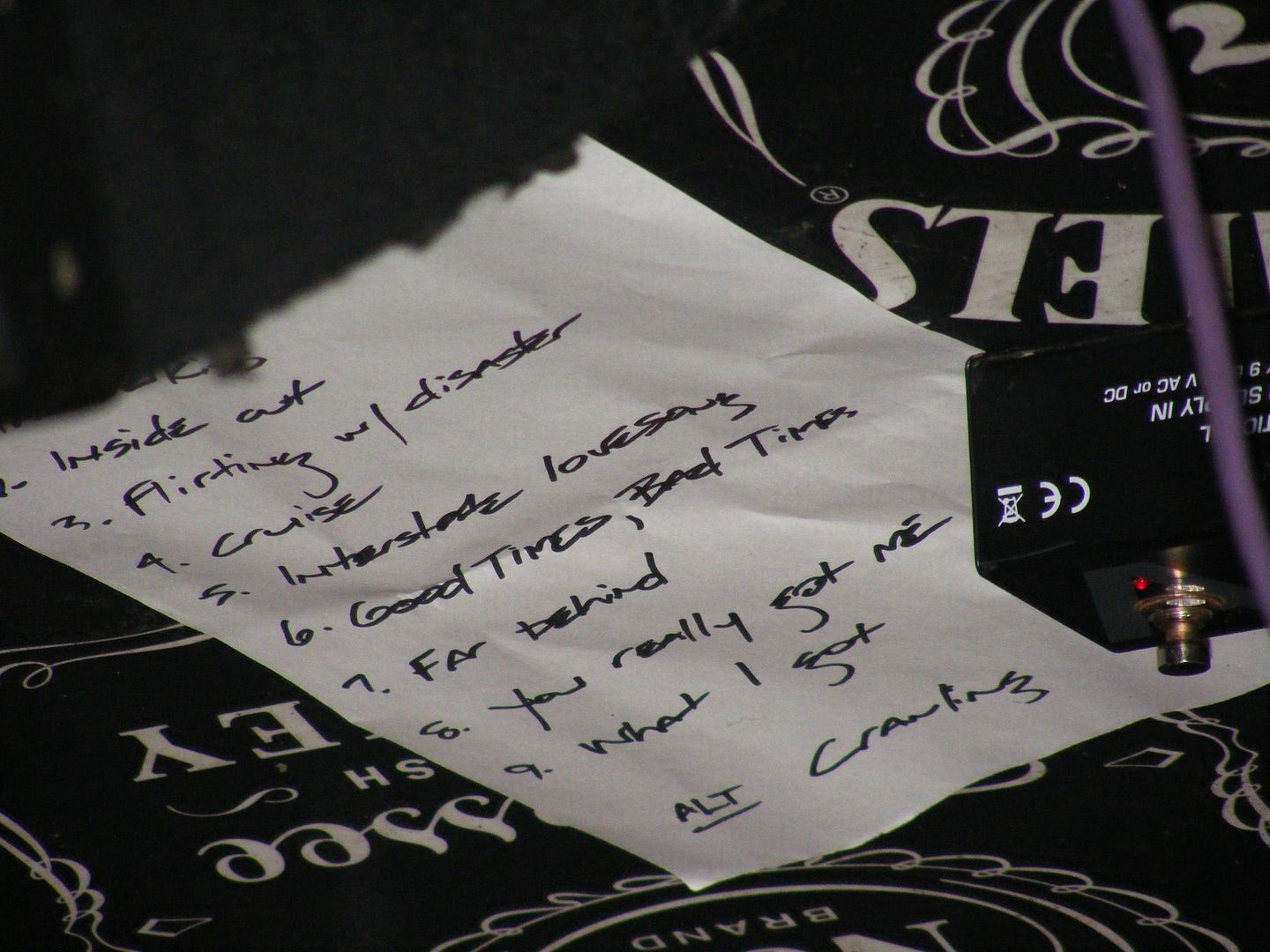 Finally, we got to Native Grave, who I really liked for one reason: they weren't afraid to play a few originals. And yes, they were heavy because the guitarist is indeed the same one who plays for Witches Brew.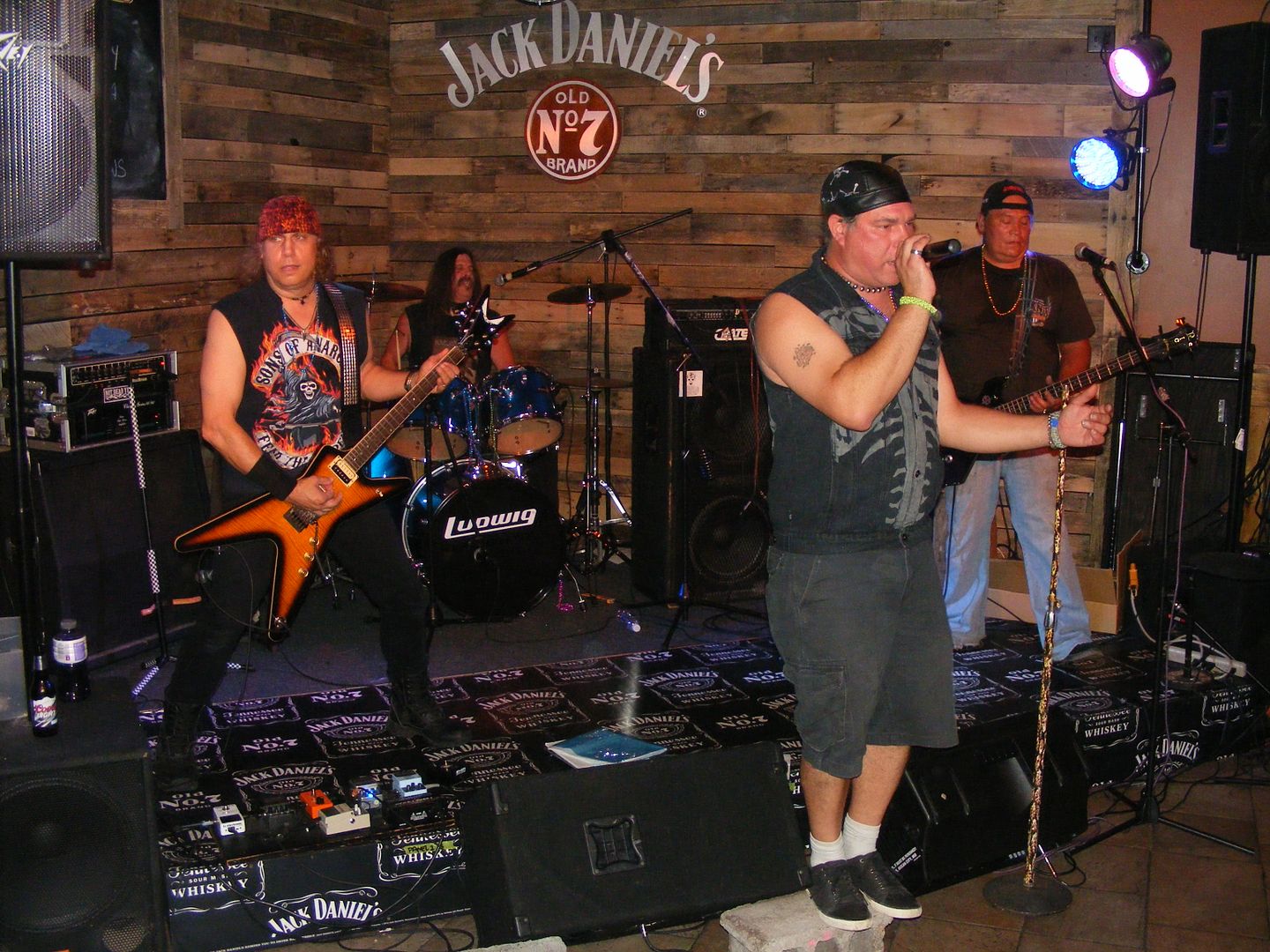 The true challenge for the 1 a.m. band is to keep the dwindling crowd there and Native Grave did a fine job in that regard – the place was still fairly crowded for last call.
Not only is the event a good way to raise awareness for the Delaware Breast Cancer Coalition, but it seems to be holding its own as far as an attraction for the increasing number of people who like a little music with their Bike Week festivities. Considering BreastFest was up against Travis Tritt at the OC Bike Fest stage and Slaughter at the Soundwave Music Festival outside Berlin, not to mention entertainment at other area venues, they did pretty well.
Look for the seventh edition next year.
Okay, let's face it. I like ribs, and when they come with live music so much the better. So just a few weeks after Pork in the Park blew out of town we went on Saturday to its Snow Hill-based little sibling called Pig and a Jig, This year's event was the second annual, and a change in the calendar date from one end of May to the other provided for simply awesome weather.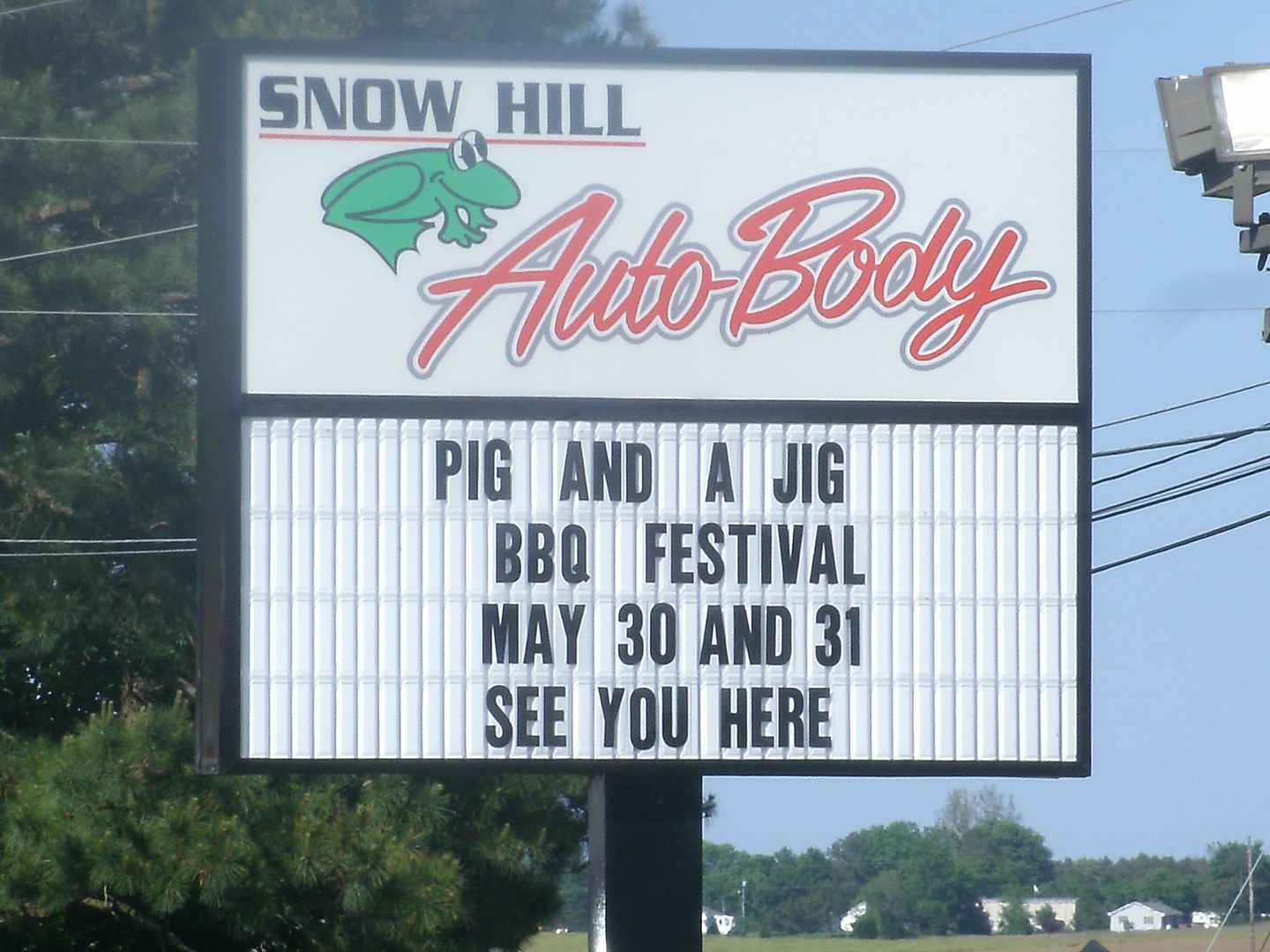 One of the big differences between the inaugural event last year and this year's rendition was KCBS certification, so there were over 30 teams vying for the prize money and hardware.
They were set up where we parked last year, with parking now across the road and a shuttle service provided. Unfortunately, the access over there wasn't as easy and the competition was just wrapping up anyway so I didn't wander over there to scope things out. While it was nice to have a shuttle bus, I would suggest securing the same trailers they use for the county fair and several tractors – it would make for less waiting.
The other addition was rides for the kids.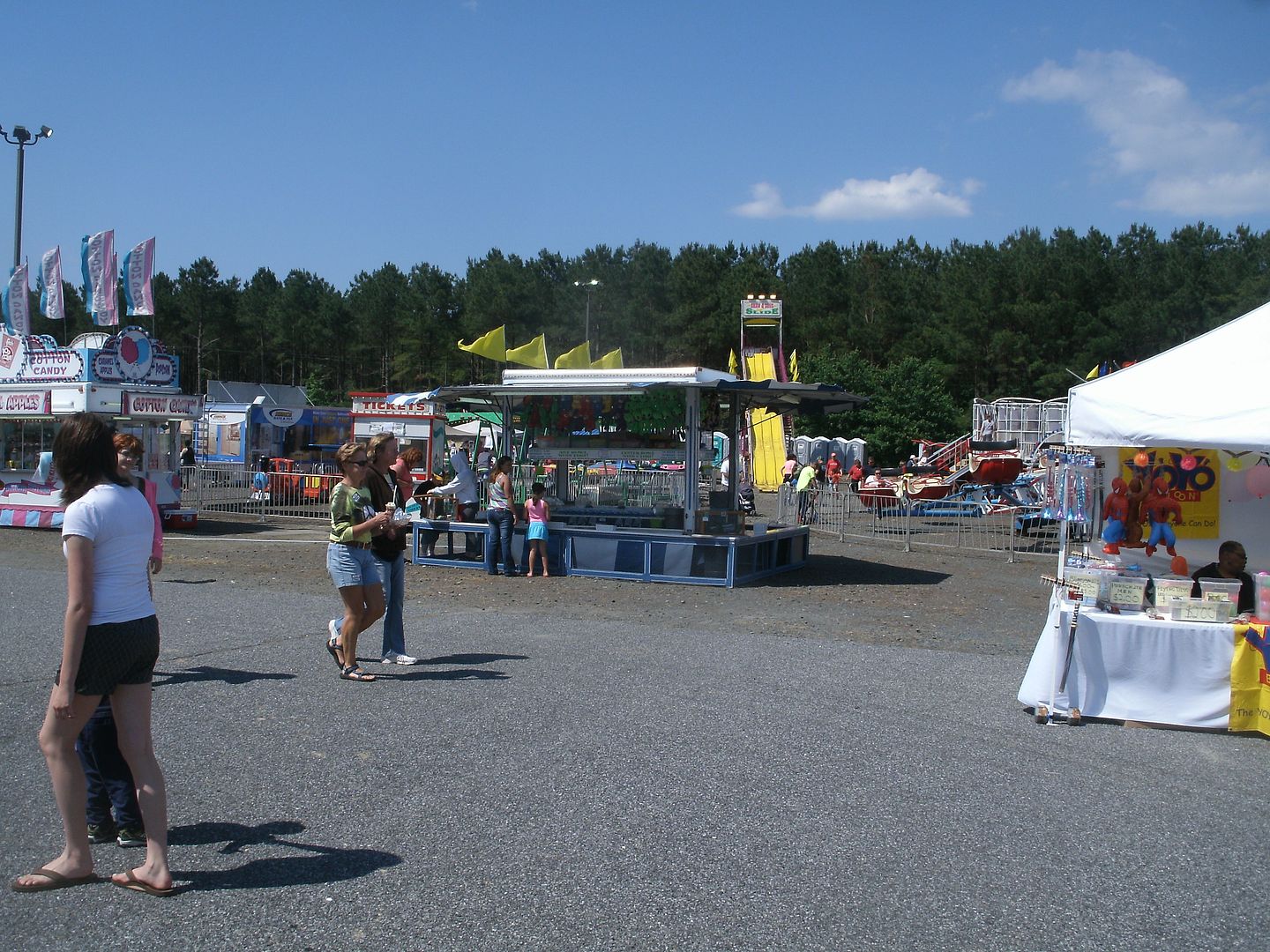 Between that and the space for cornhole, it left a modest midway section.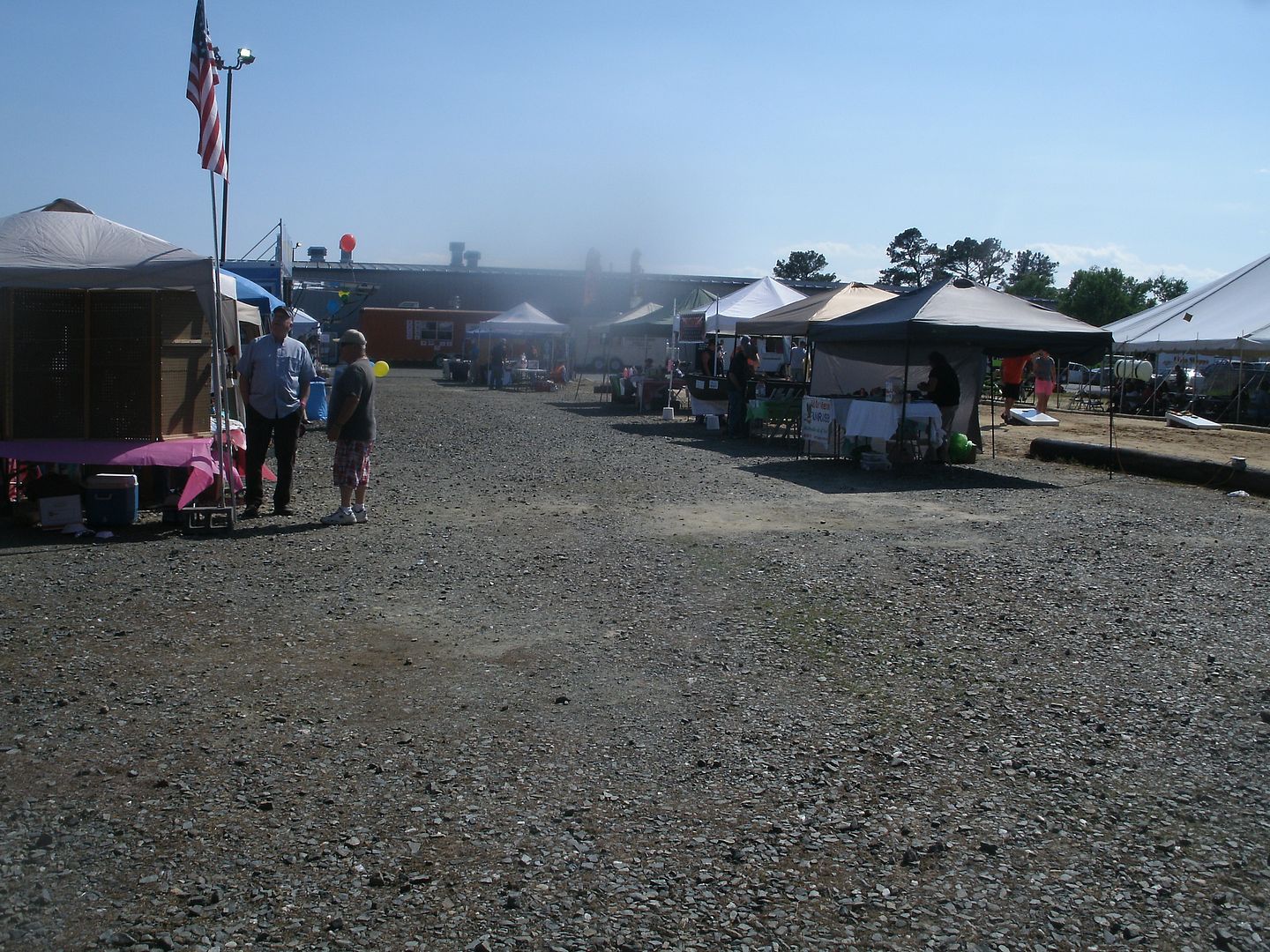 There were still a small number of food vendors, with a couple traveling some distance to be here.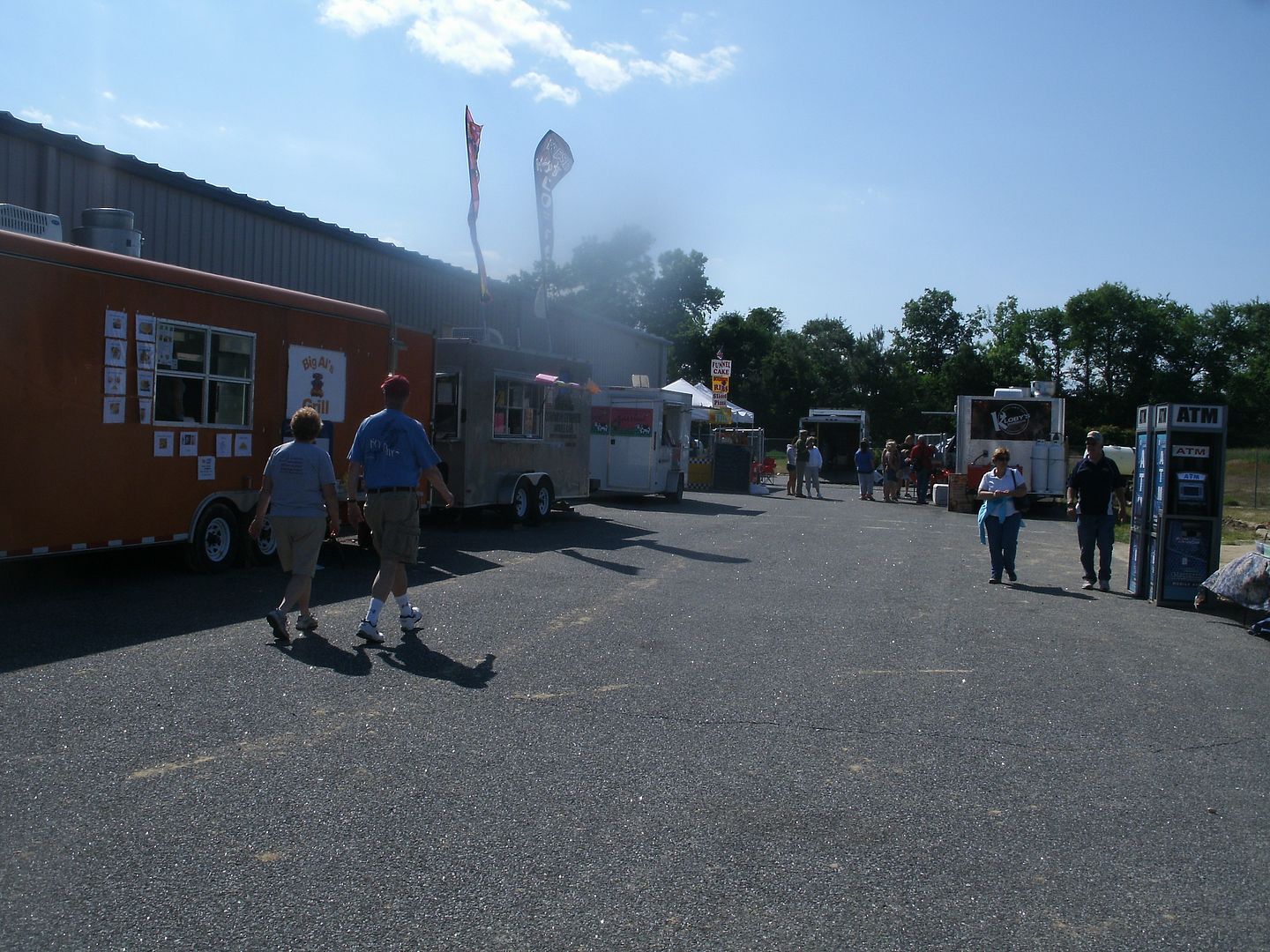 This was at one stand called Kloby's. Not sure what it would taste like, but it looked interesting.
I suppose, though, it had most of what I ended up having within the Mason jar.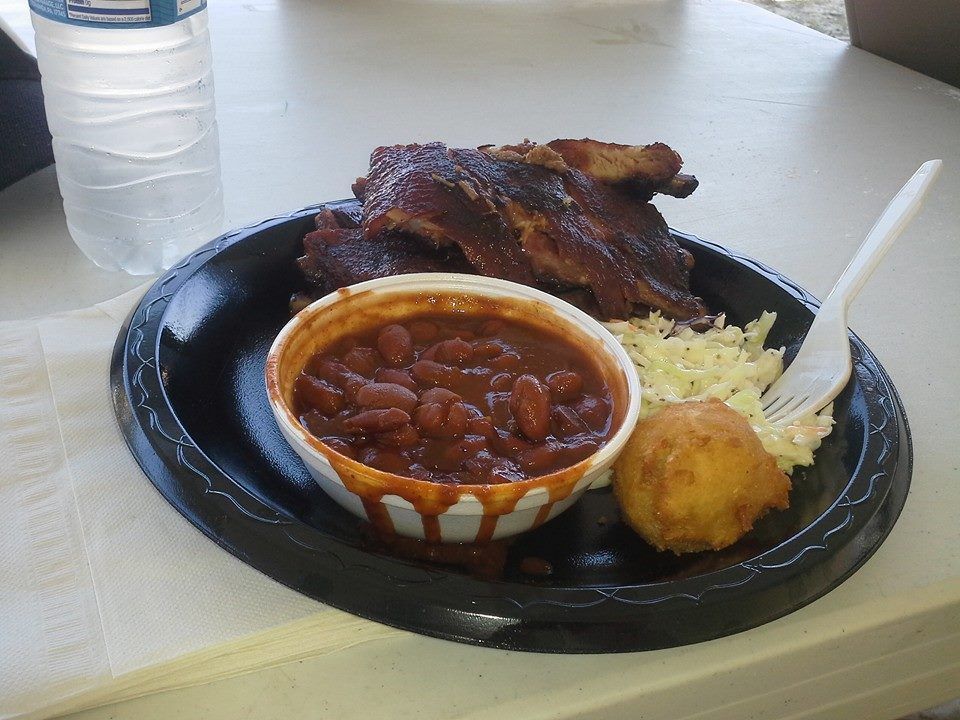 Aside from the beans, which I found a touch too spicy – Kim liked them, though – the meal was pretty good, although I think I would have liked the other half of the rack better. The North Carolina-style sauce was tasty, though.
Meanwhile, we were listening to our friends from Something Grey.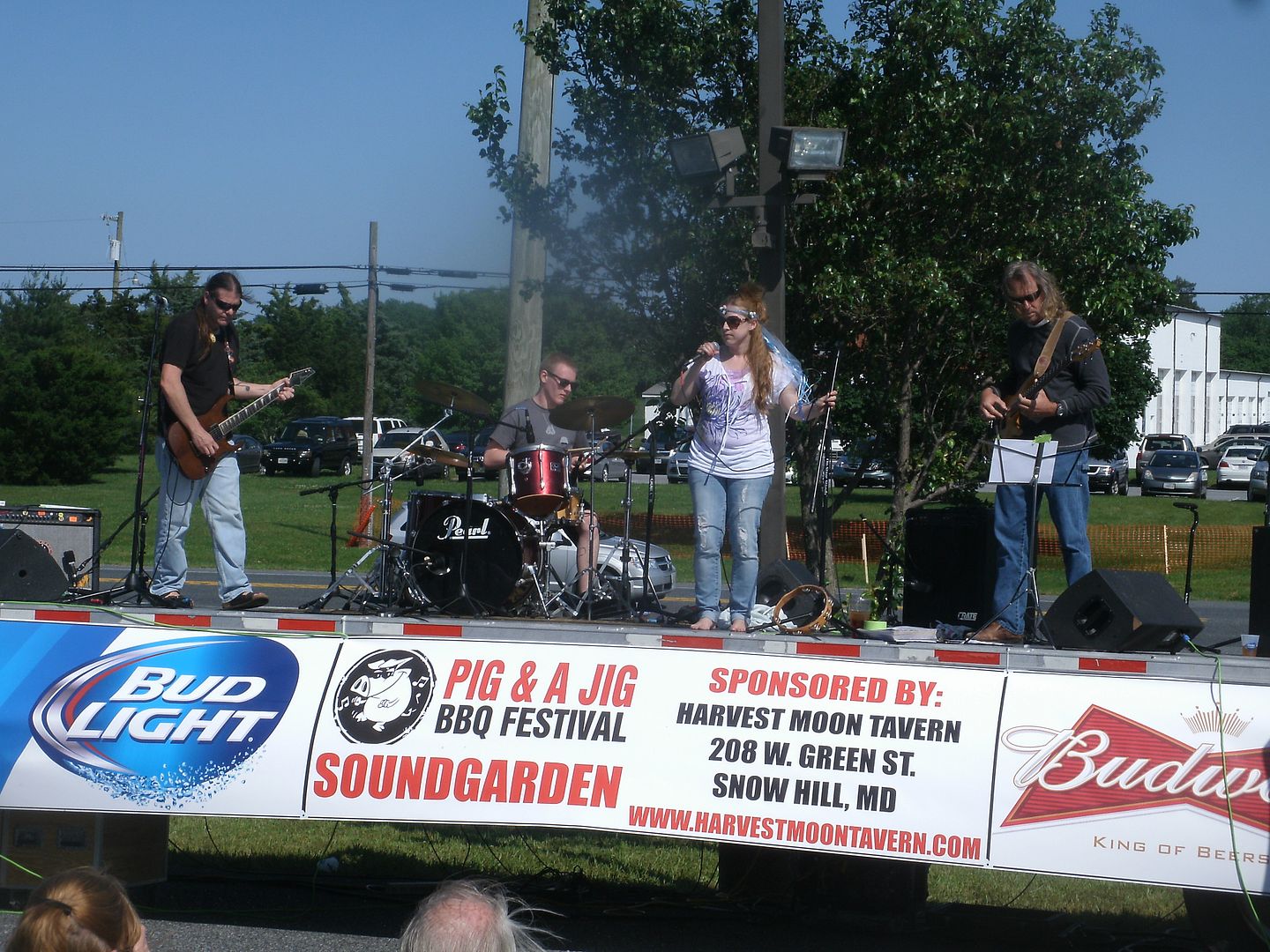 Since I only saw the one band, I won't do a Weekend of Local Rock feature. But they had a number of bands come back from last year, so they must be treating them right.
I'm not sure just how much property Preston owns, but they probably need more space to make this event bigger and better in 2015. Certainly the local Snow Hill schools would like it to be an ongoing success, and if they can keep KCBS certification they may end up with a big hit on their hands.
And by the way, the reason the photos turned out the way they did was that there was something on my lens. I have no idea how it happened, but it messed up several of these photos and may have scratched the camera lens. For that I'm an unhappy camper, although the camera is an old model which has basically been supplanted by my cell phone. I just like it because it fits easily in my pocket.
In lieu of a review this week, my WLR feature is hitting the big six-oh with some scenes from last weekend's Concert for a Random Soldier, which occurred at American Legion Post 28 in Oak Orchard, Delaware (close by Long Neck.) This is one of a handful of local fundraising concerts that have become a tradition, with another I generally frequent being (Save the) Breastfest in September during Bike Week.
There were actually eight bands and four acoustic acts on the CFARS bill, with the latter reserved for set changes. We arrived later than planned, so we missed exactly half – these were mainly the oldies acts (Oh Boy, 33 1/3, The Runner-Ups, and The Funsters) and two acoustic ones (The Volcanoes and Bryan Scar.) In fact, we arrived just as the Mari Hill Band was closing up shop.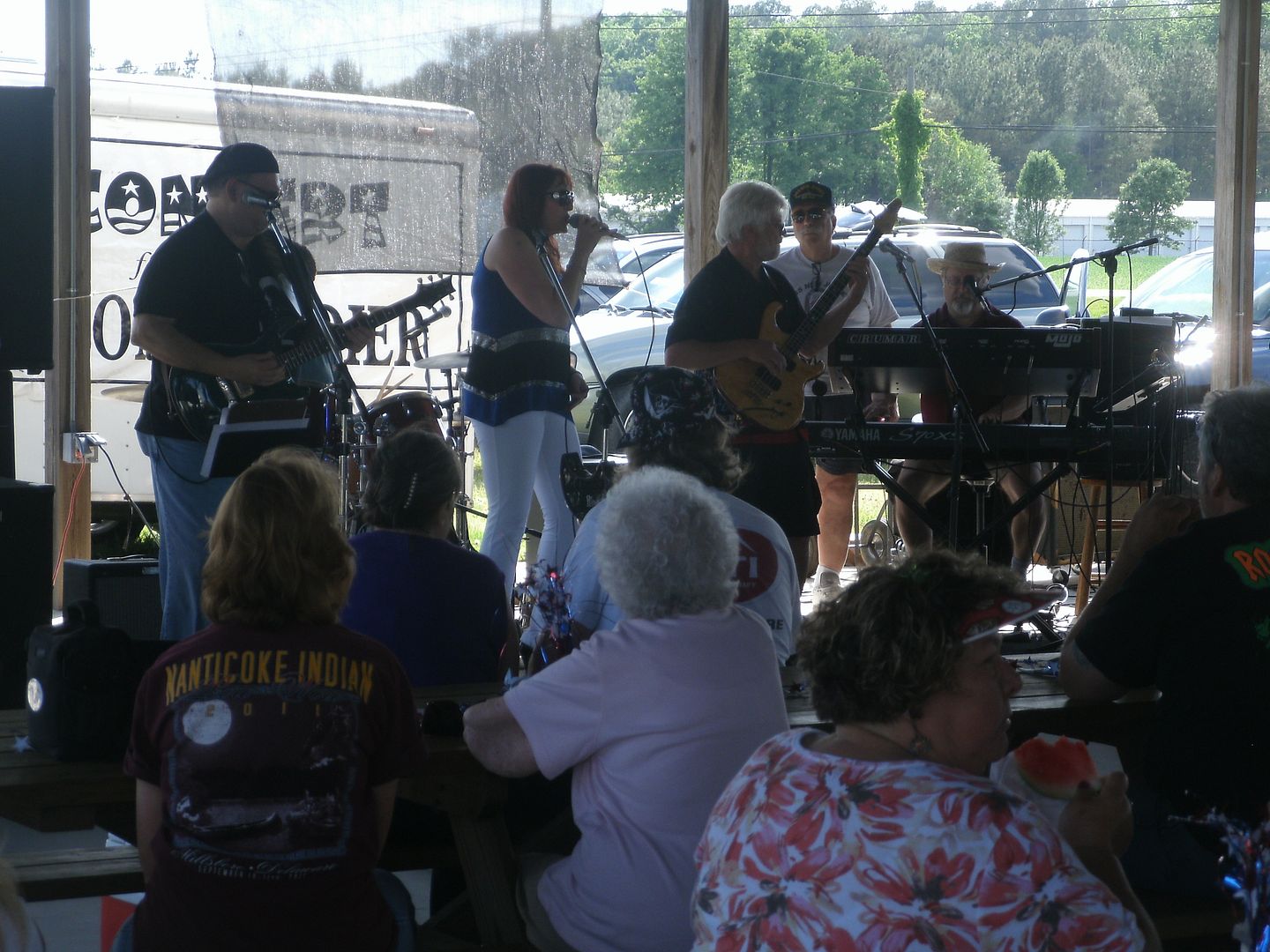 Since there was no acoustic act slotted after Mari Hill, I wandered around a bit. Earlier in the day there was a car show, but by the time I got photos this old guy was pretty much all that was left.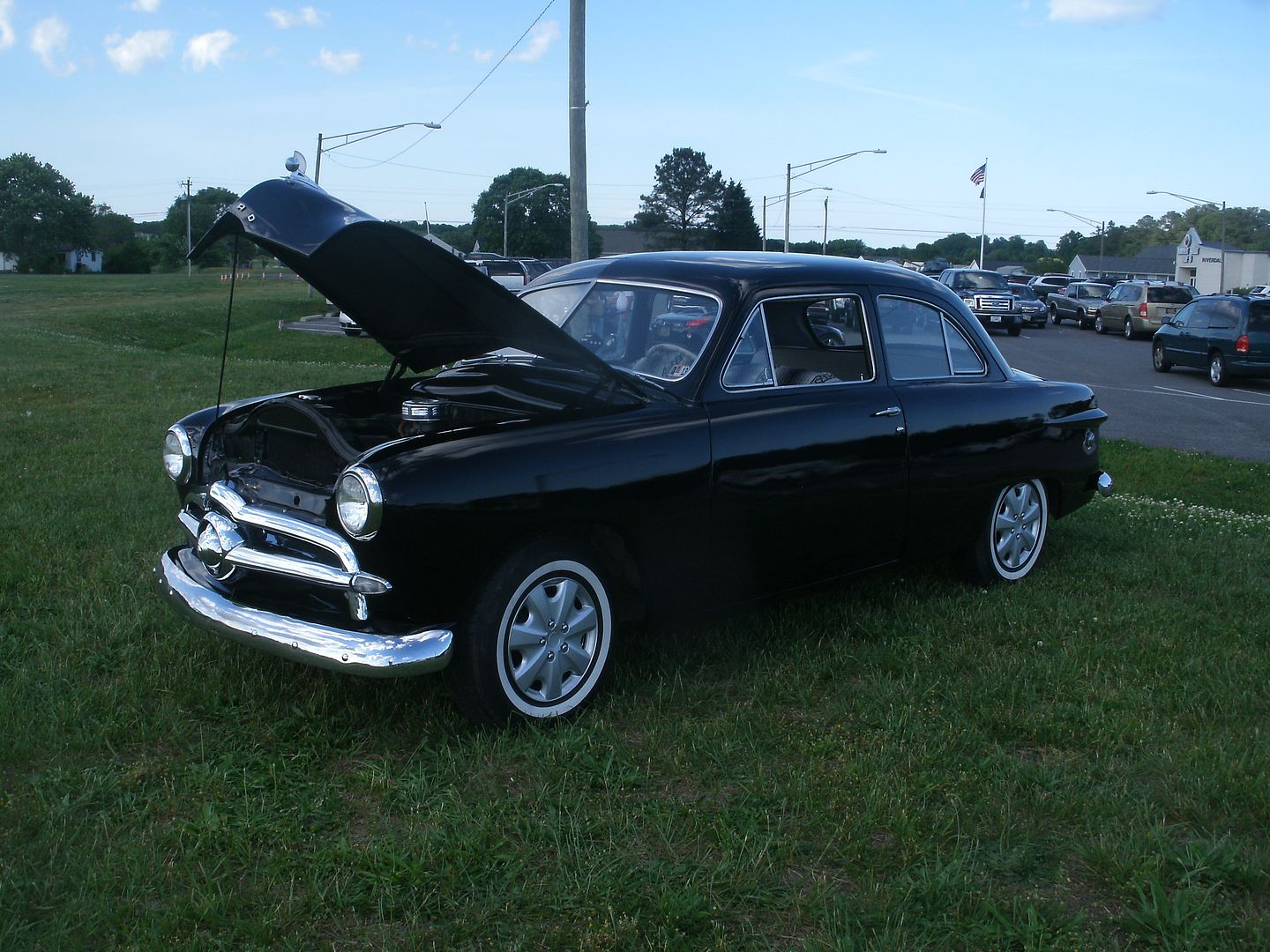 As a little bit of history, the CFARS was set up in memory of Chad Clifton, a Delaware native who was killed in Iraq in 2005. A foundation was set up in his name, with this particular event benefiting an organization called Guitars for Vets.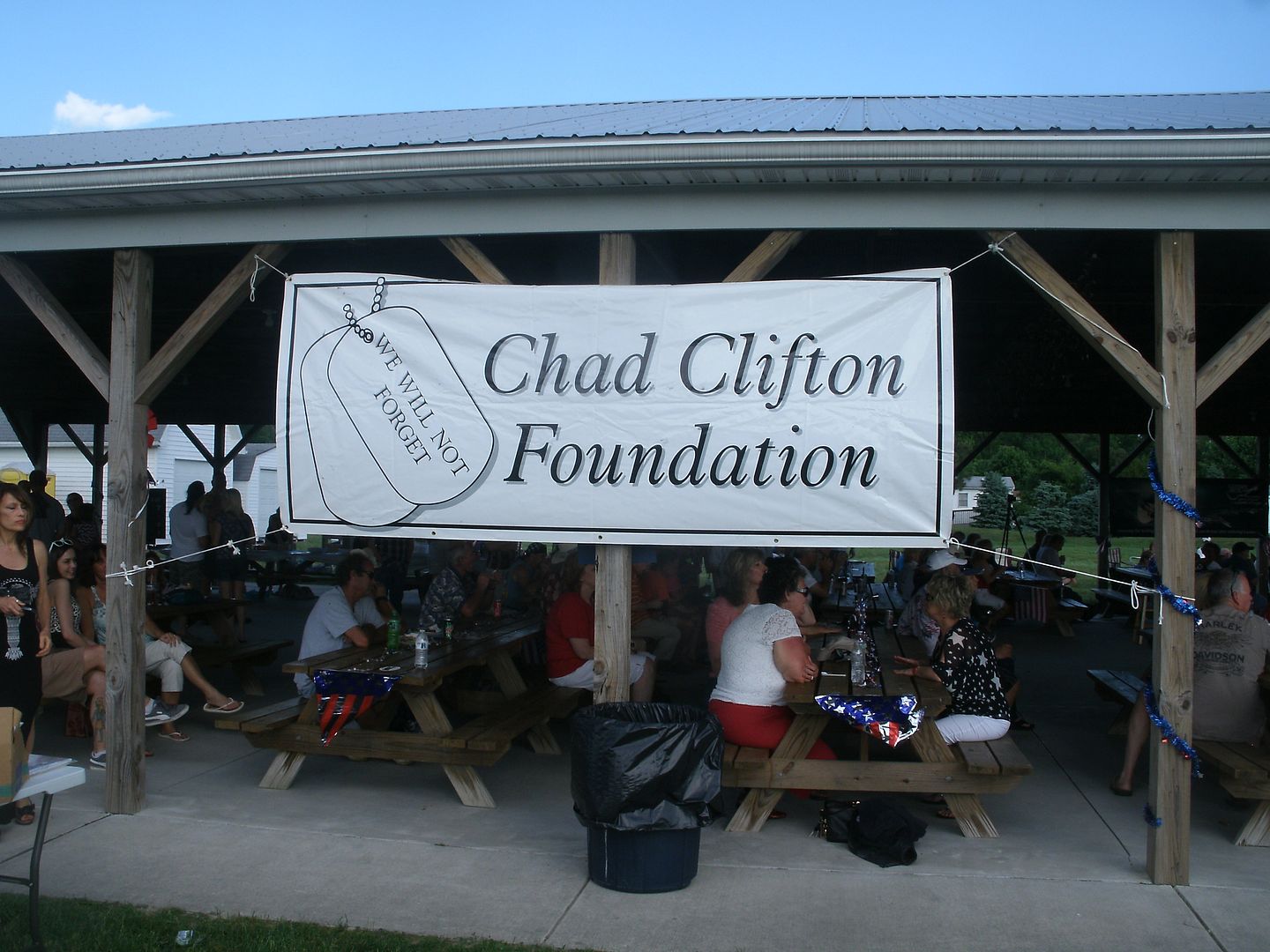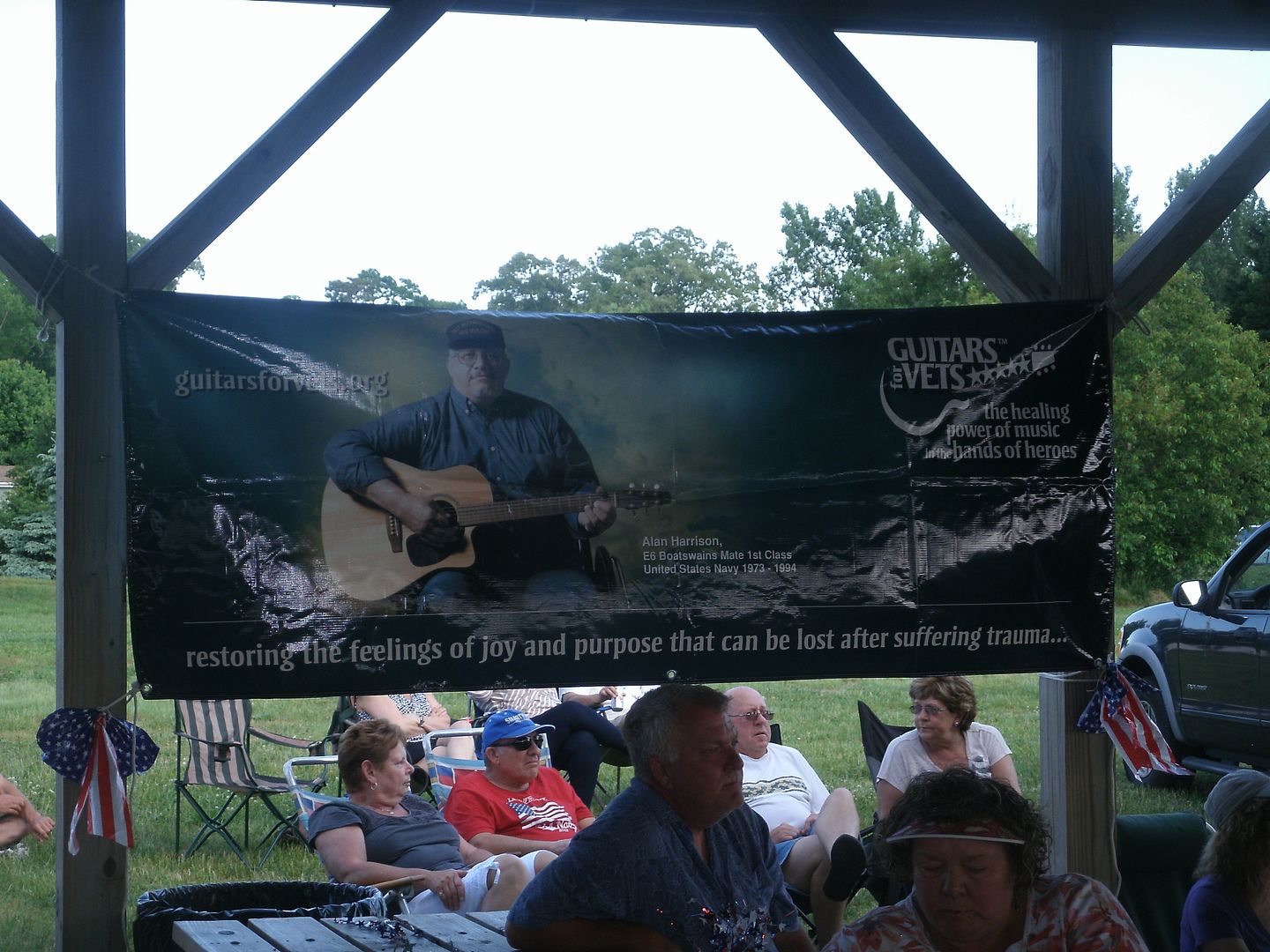 In keeping with the veteran theme, the Veterans United Outreach of Delaware had a trailer full of information as needed.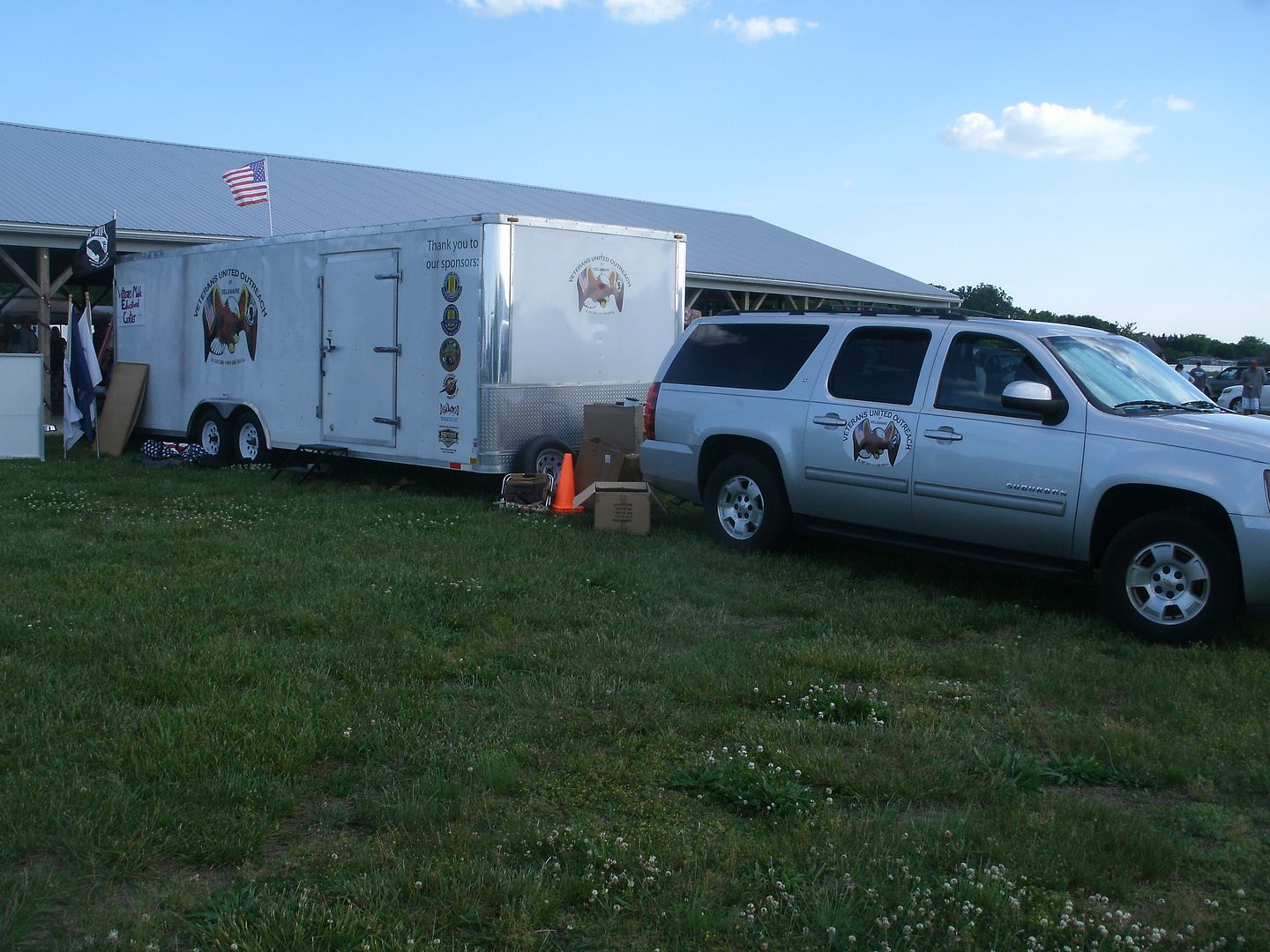 After all that, the hard rock of Factor was ready to hit the stage. They definitely appealed more to the Iraq and Afghanistan set than the Vietnam-era veterans.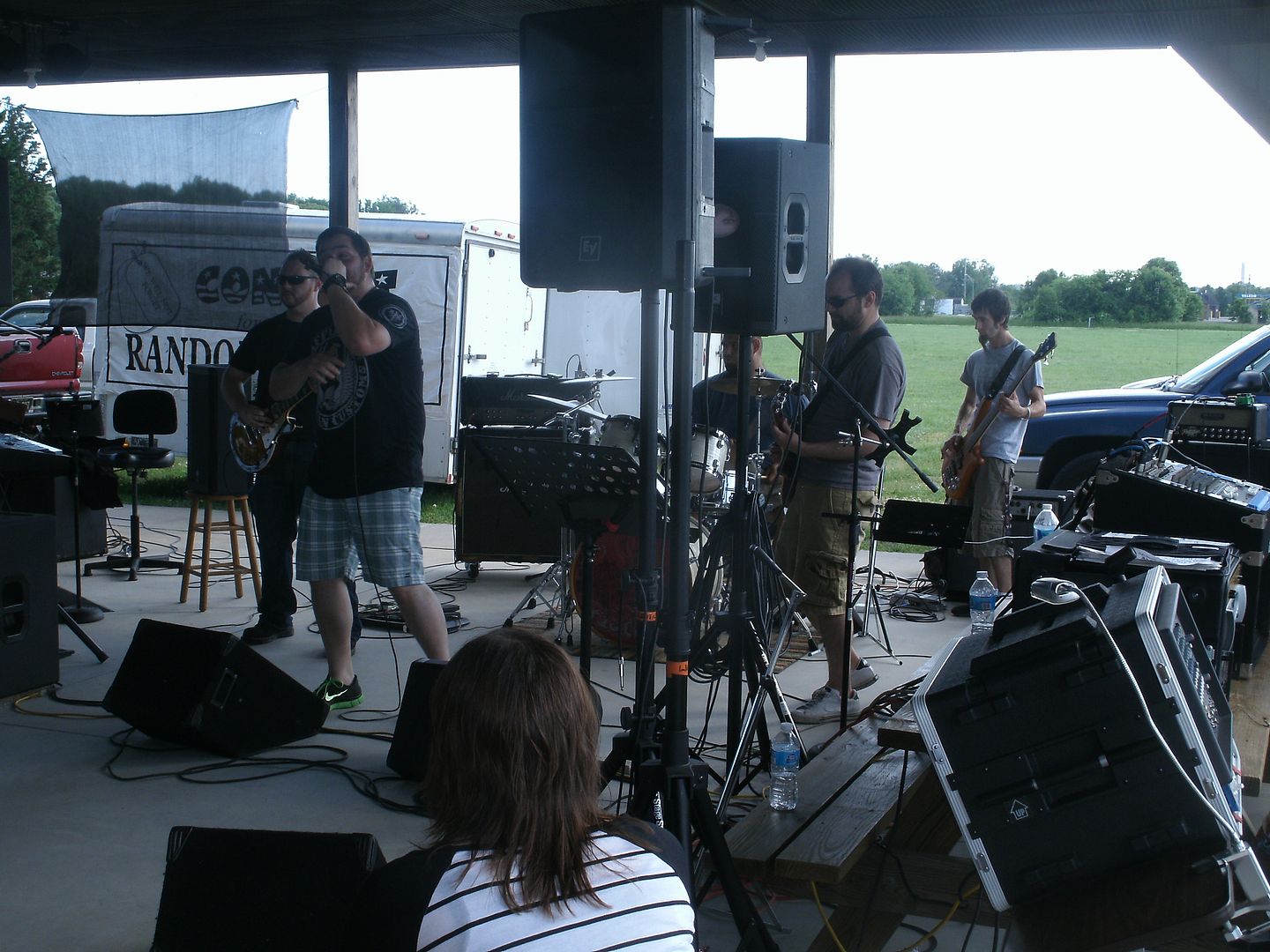 Unlike the other groups, they slammed out a diet of originals with the exception of a song Chad often requested from them, "Paint It Black" by the Rolling Stones. Their version was a little more amped-up, though.
So it seemed a little jarring to hear the acoustic duo called Dog and Butterfly, playing a variety of lighter classics. Jim and Michele Hogsett have honed this act for several years as a side project to the former Semiblind.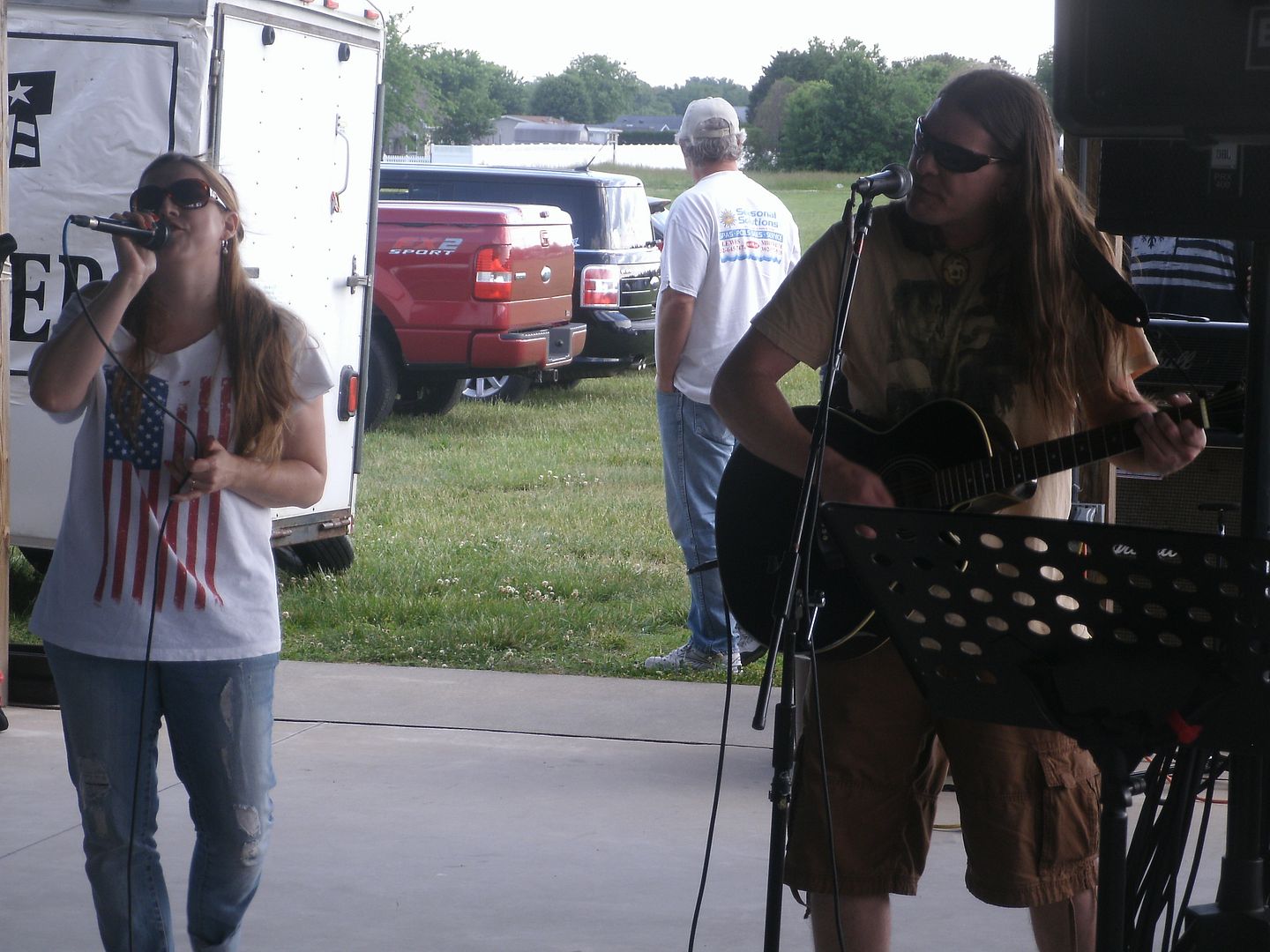 They played while Judy Sings The Blues set up. And Judy was exactly as advertised.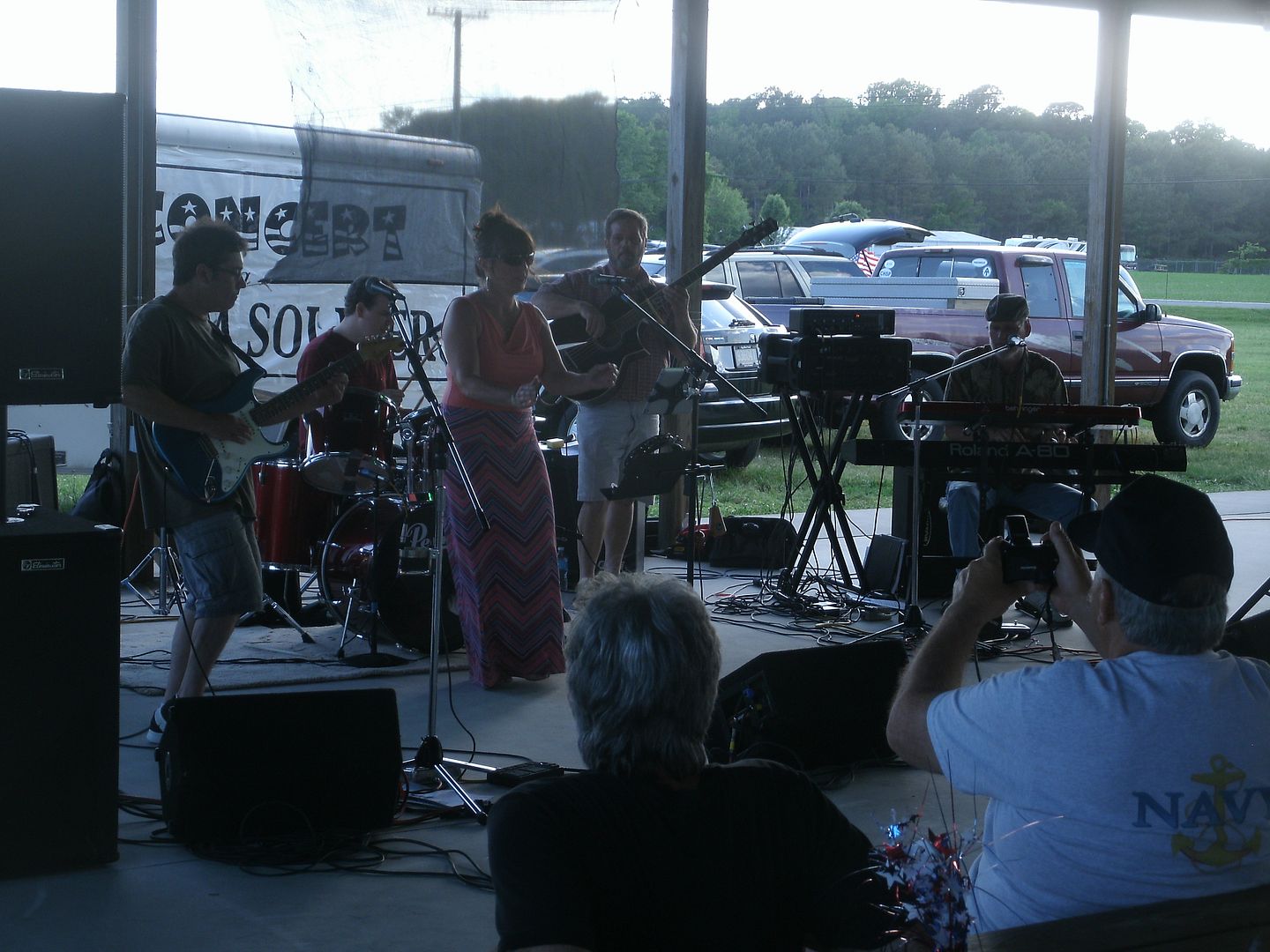 If you don't believe me, here's their set list.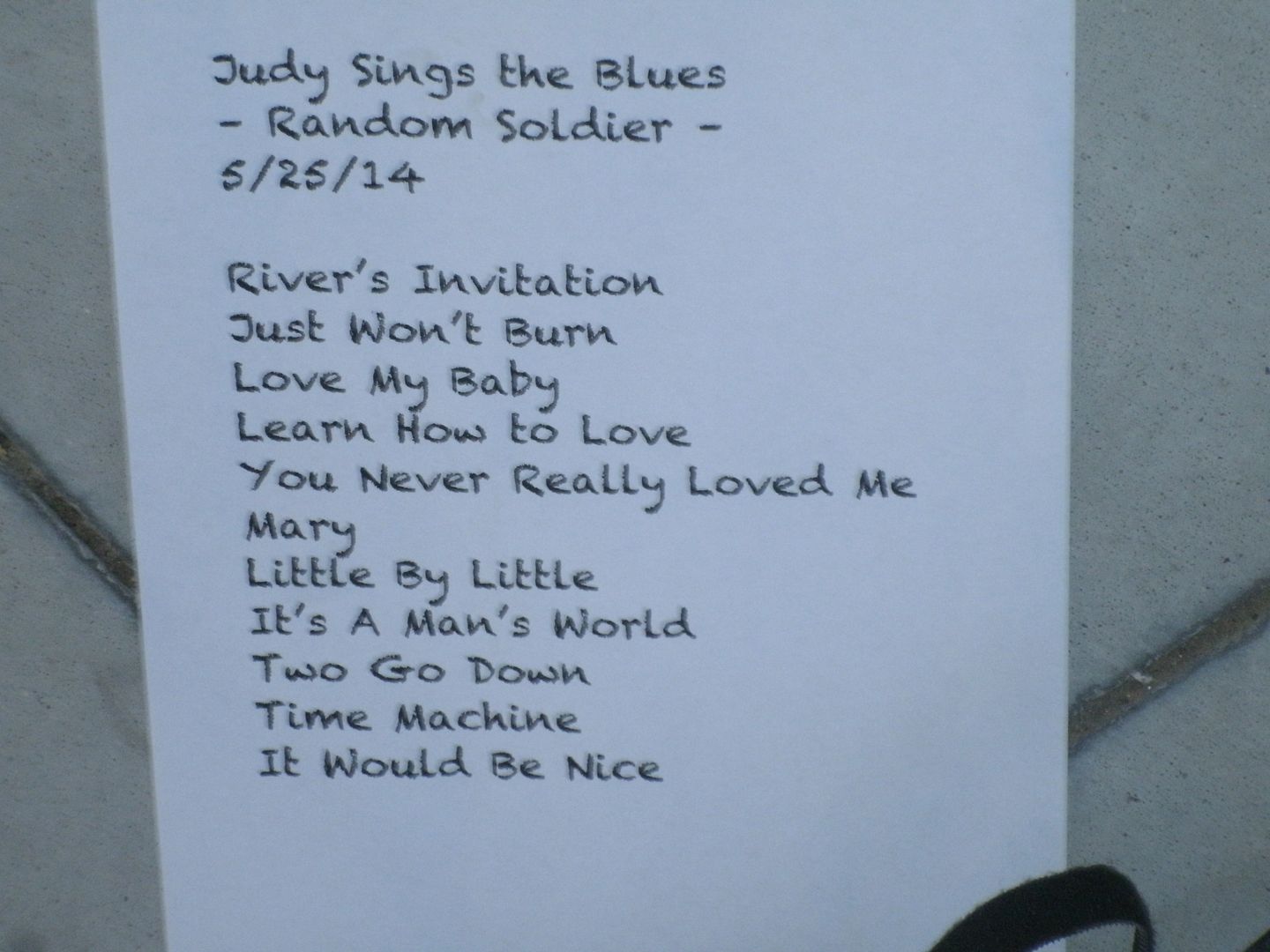 The day's final acoustic act was Captain Mike and Joe Garvilla, who had fun with some easily-adapted songs like "Jack and Diane."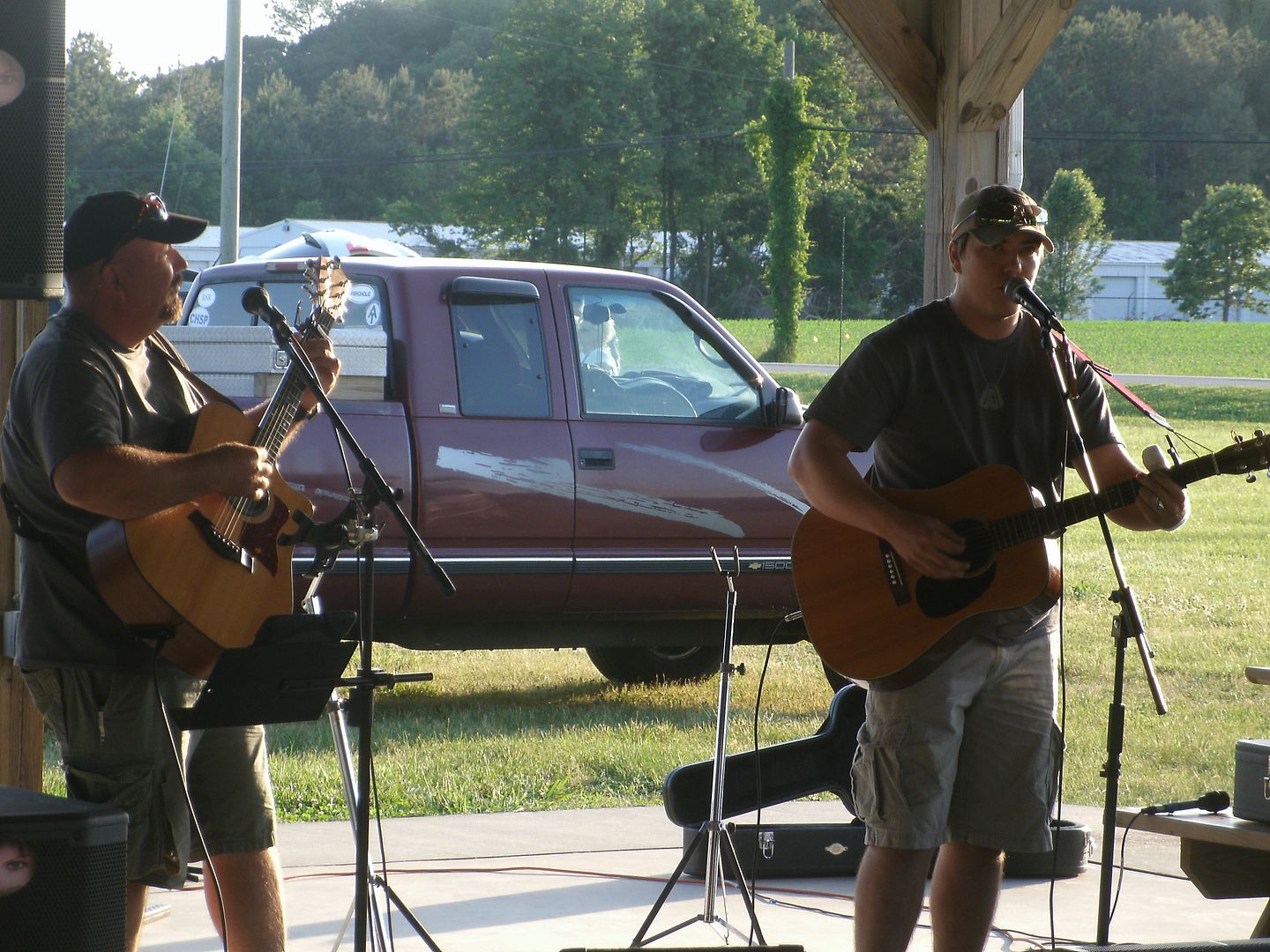 I noted earlier that Jim and Michele Hogsett were in "the former Semiblind." Over the winter they decided to change the name to Something Grey.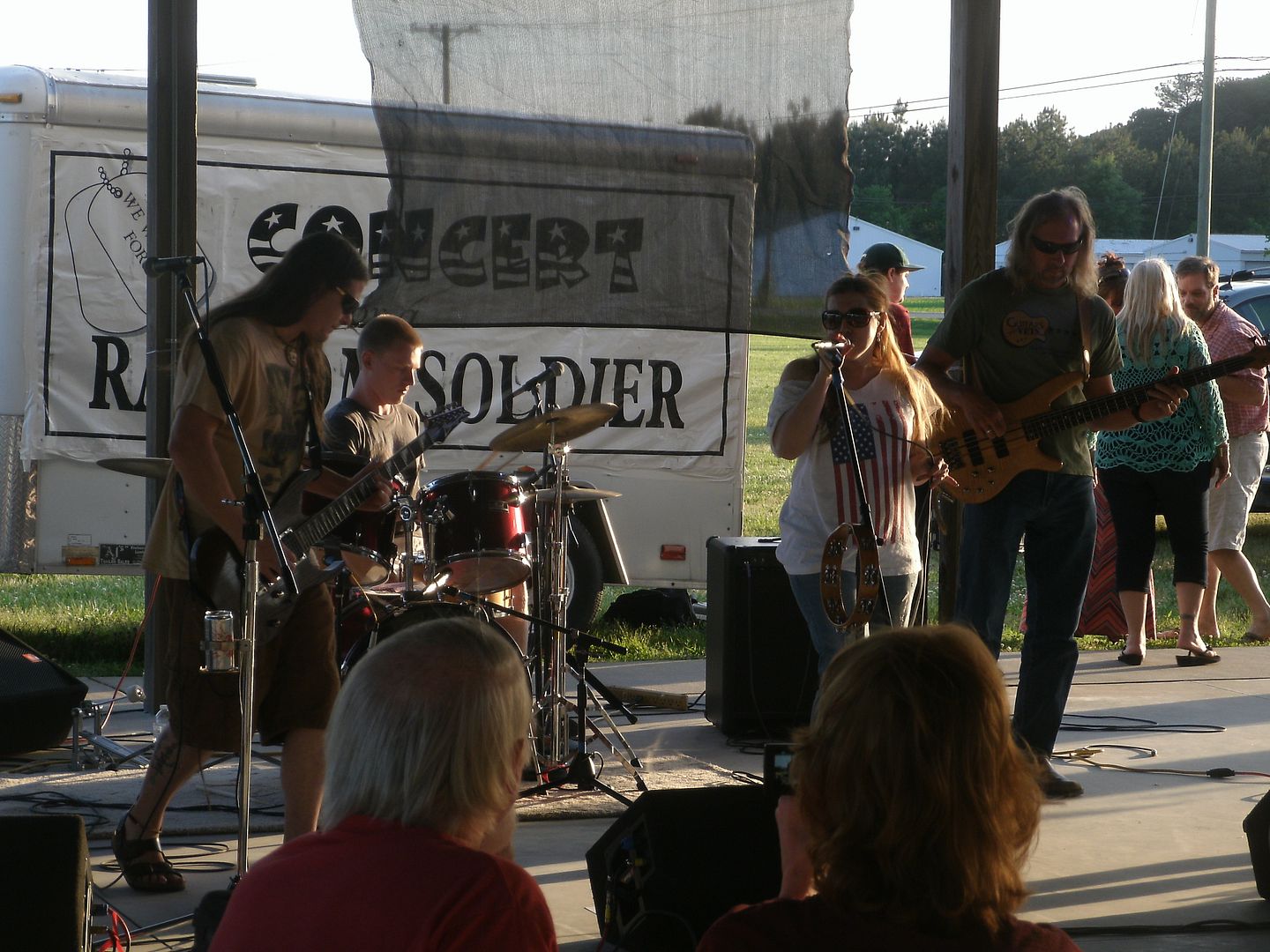 It was many of the same staples that Semiblind did so well, except for some issues which affected their sound – the bass kept cutting out. I happened to see their set list afterward as well – the stage area was littered with them.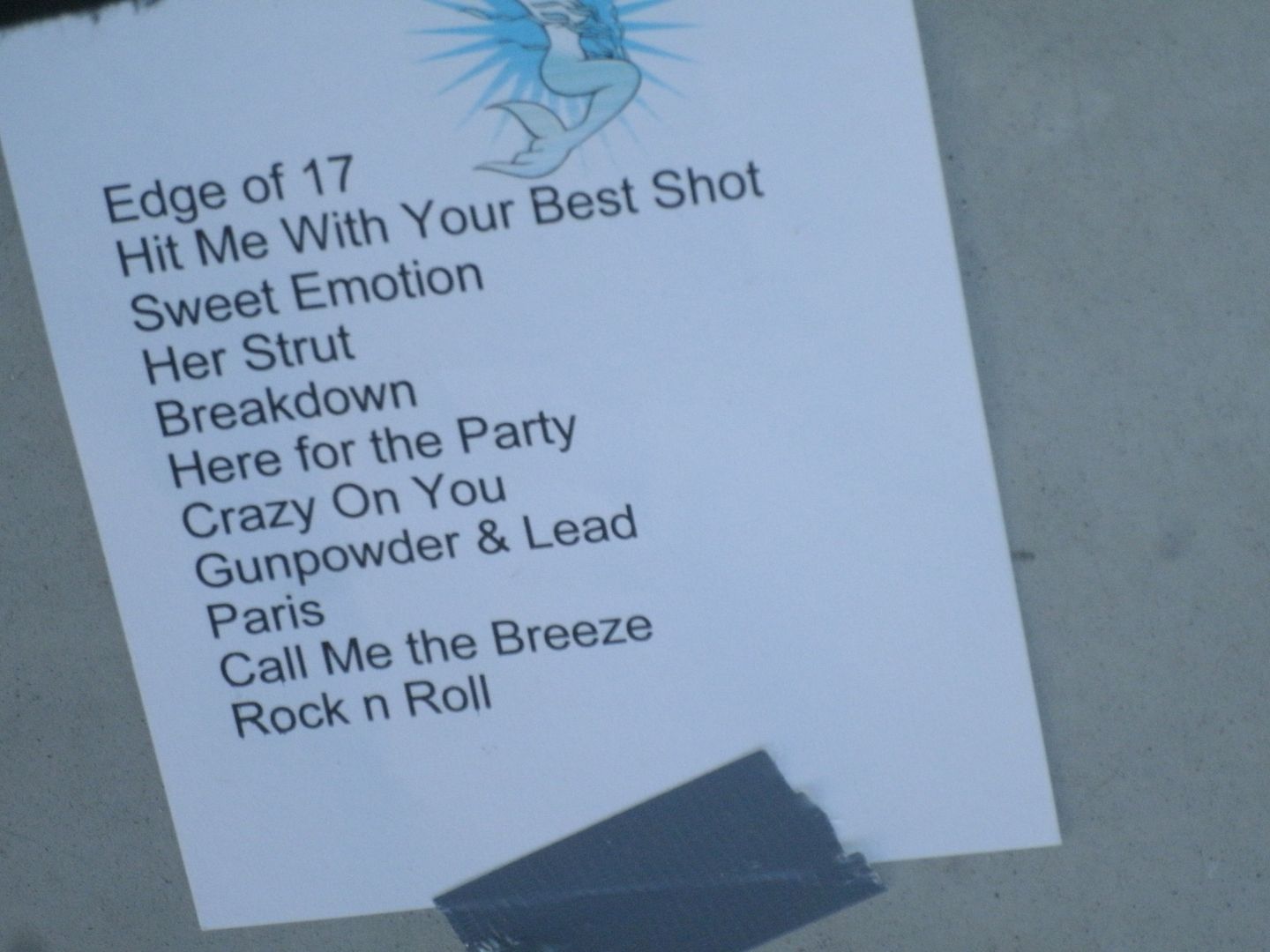 I was pleased to hear them bring back "Sweet Emotion," which was one they had on the shelf for awhile. On the other hand, I don't think I'd heard "Her Strut," which shows how they massage their songlist as time goes on.
So as the sun set on a beautiful night and the crowd went home, we looked back on a gorgeous day.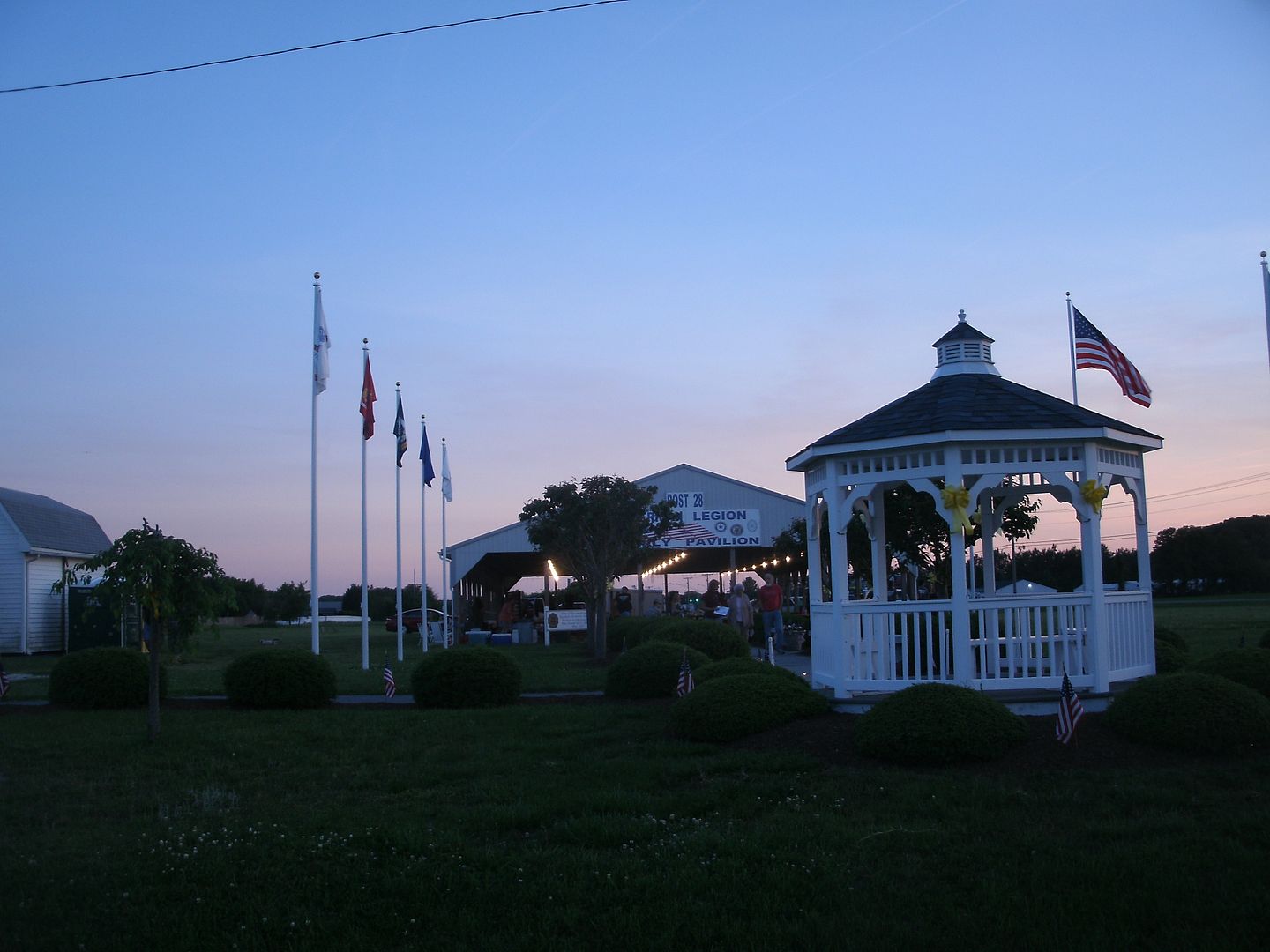 Next year (May 24, 2015) will be the 10th annual event, and it seems like they've found a good formula for success – good enough that they ran out of chicken to grill because so many came. If I can make it, I'll be there and so should you.
Normally I do things in a different order when I cover multifaceted events, but this week I found myself in a little bit of a quandry with no new release to review from my musical patron and some thoughts on what I heard last night. So instead of saving the "weekend of local rock" feature to fall a few days after the main coverage of Pork in the Park, this time I will lead with it.
Last night I heard two of the many bands slated for this weekend at Winterplace Park – since the forecast for today was iffy, my list of things to do this weekend was rather long, and we had a somewhat rare evening sans a 14-year-old, we decided to instead make a Friday night of it. Ironically, our teenager's musical tastes would have made the night's headliner very palatable to her, but let's talk about the Bonedaddies first.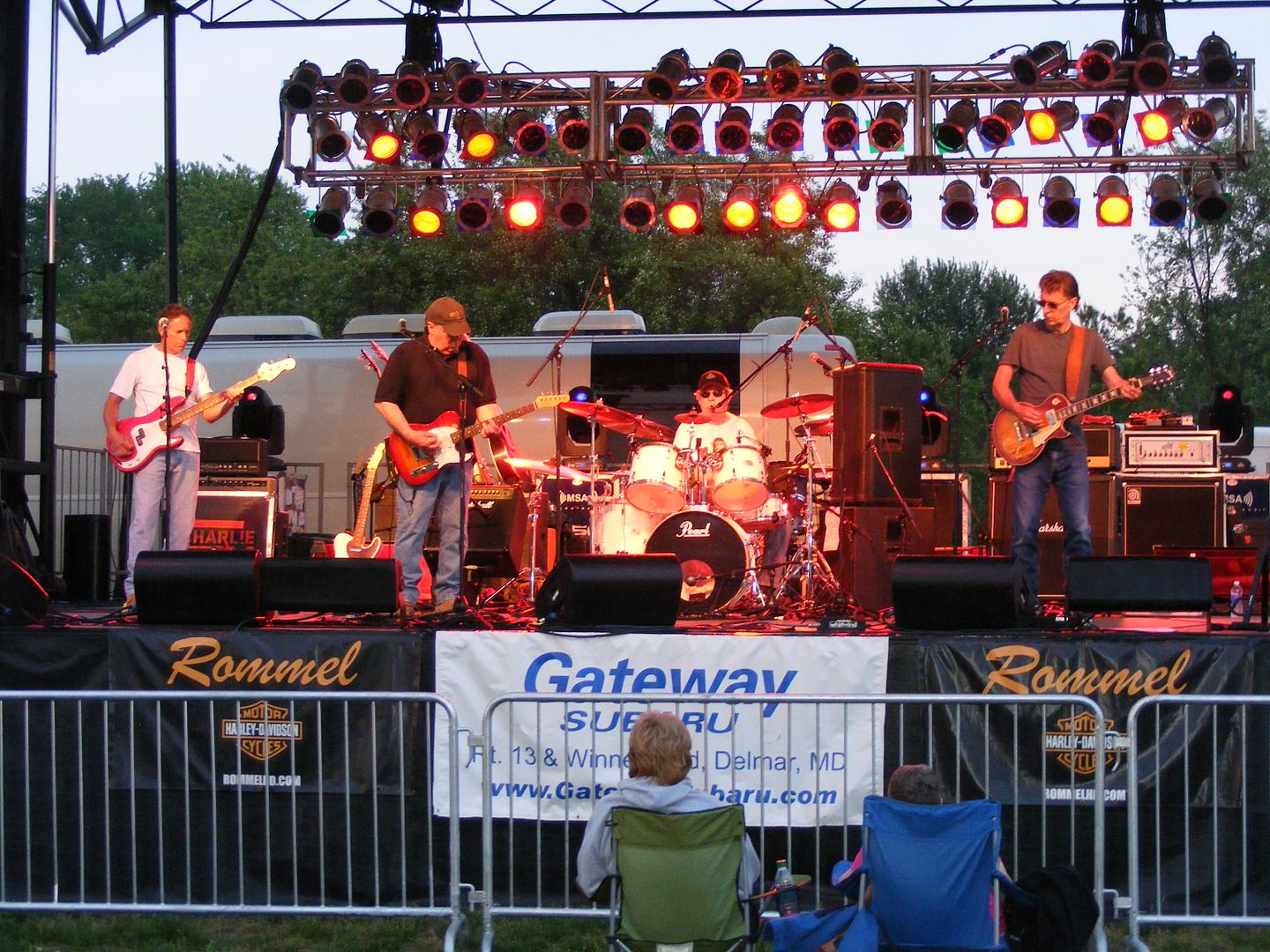 These guys are like a comfortable pair of old shoes – you know what to expect when you put them on. In the case of the Bonedaddies, it's a steady diet of classic rock stretching from ZZ Top (they were playing "I Thank You" as we walked in) to their closing number from Tom Petty, "Runnin' Down A Dream." And there must be a law which now states any cover band must play Wilson Pickett's "Mustang Sally."
So we caught perhaps the last 45 minutes of their show, which had some interest but a lot of empty space in front of the stage. One thing which is different about Pork in the Park this year is the lack of any seating close to the stage – in years prior the stage was set up perhaps 25 to 30 yards from a pavilion, but not this year. Most people who wanted to sit either had to bring their own chairs or sit about 50-60 yards away.
A good portion of the open space filled for the headliner, as you'll see.
First of all, if you wonder why the photos are so dark, this is what happened when I set my night setting.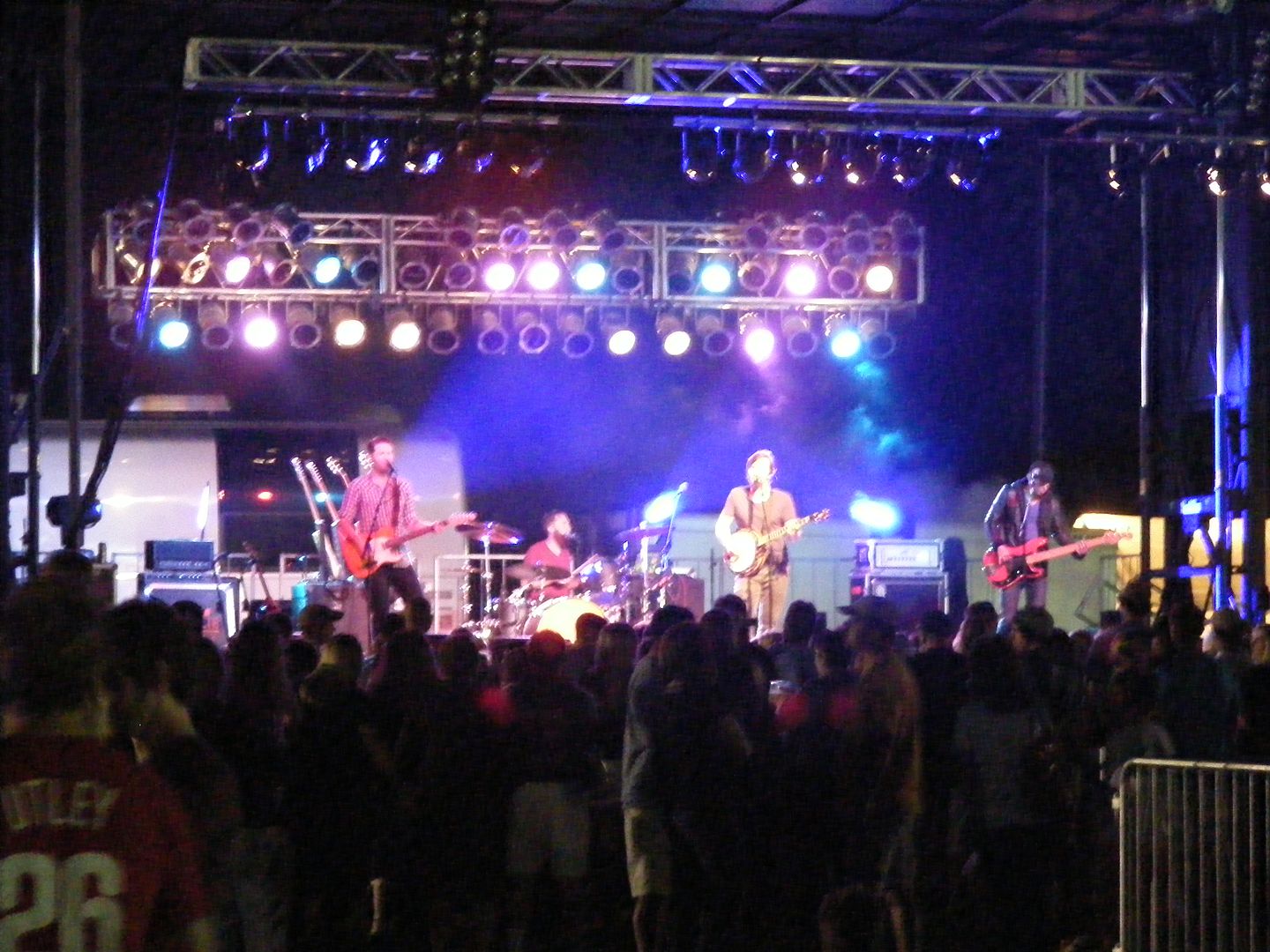 So deal with the dark. Anyway, Charlie Worsham is an up-and-coming country artist who is doing one last weekend of shows before a tour opening for Brad Paisley.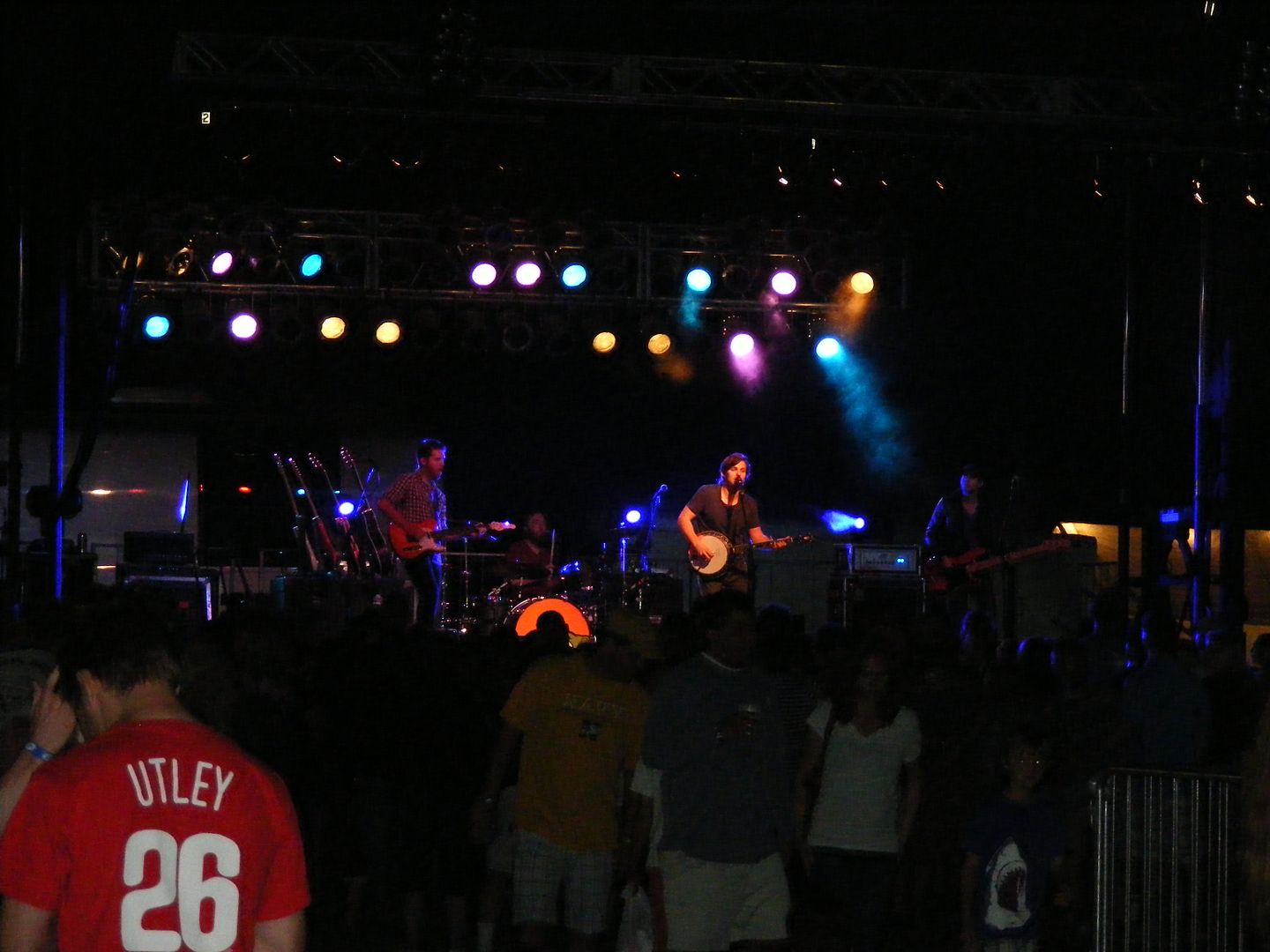 I will gladly admit country music is not my cup of tea, so suffice to say I didn't really recognize Worsham's originals – but they were well-received by the several hundred people around the stage.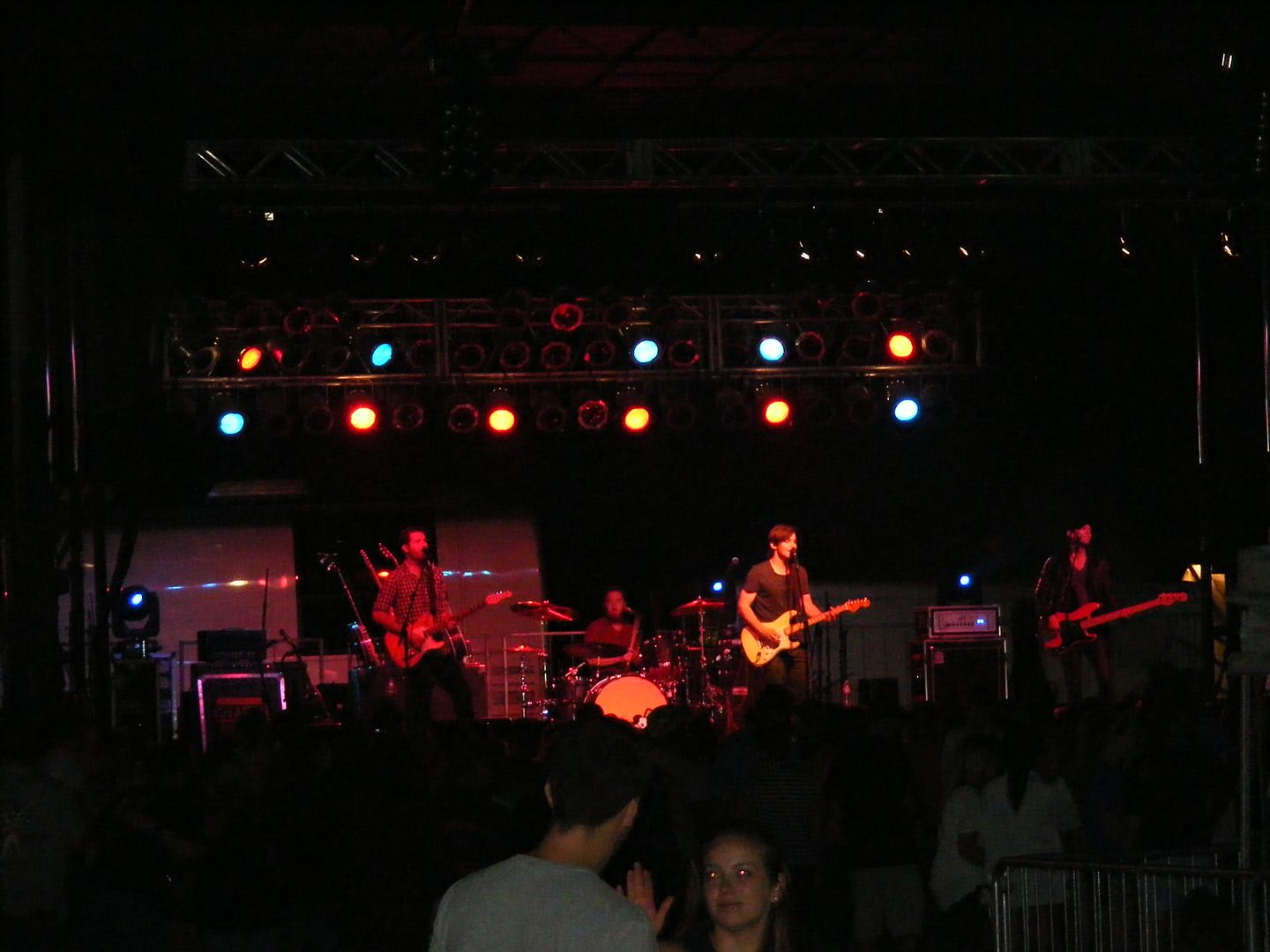 Unfortunately, having just one album to his credit and about 90 minutes of stage time to fill meant that he had to play a few covers. So can I ask a question – why is it that country artists feel the need to cover rock songs?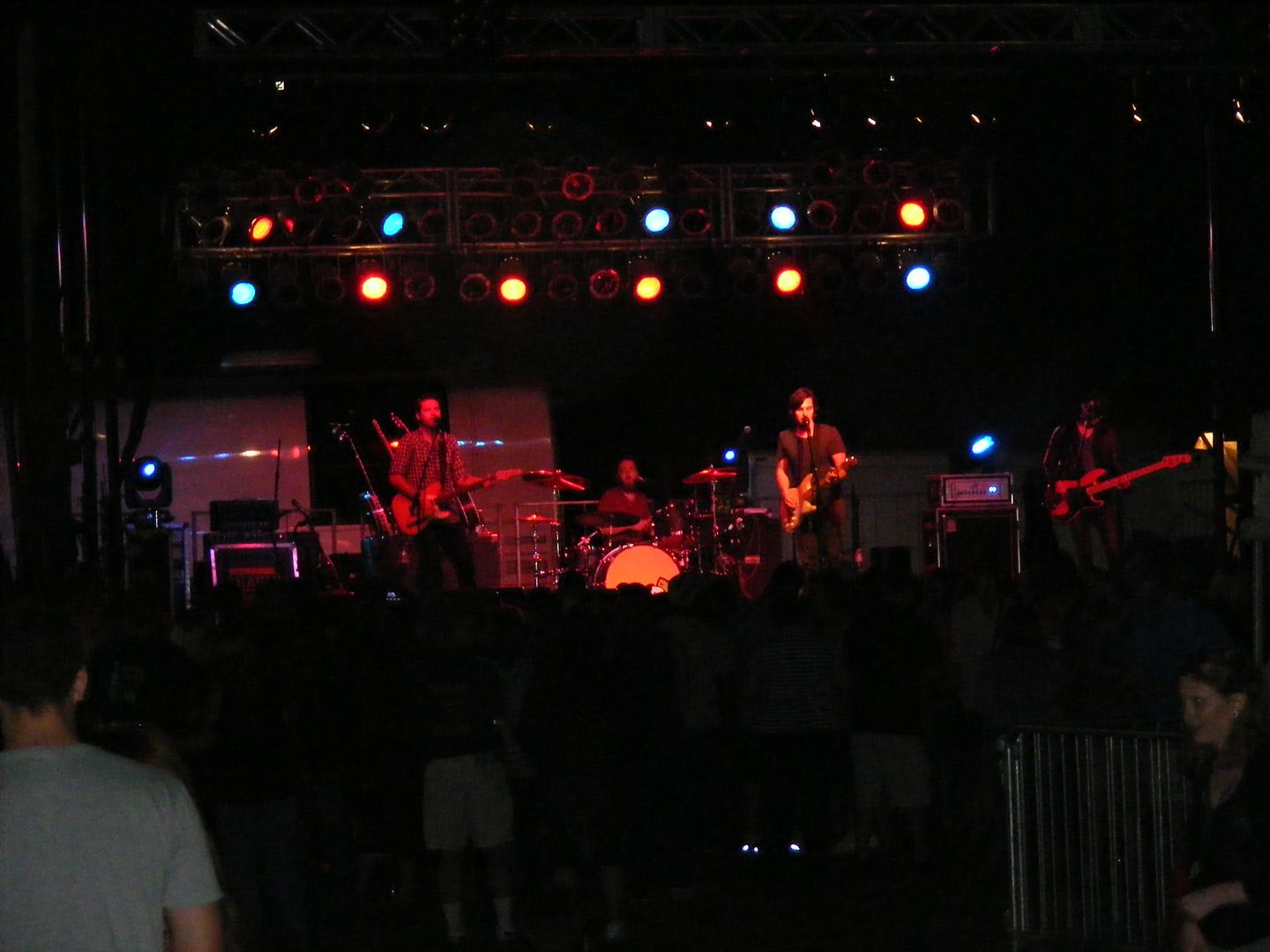 I will grant that my friends from Semiblind, who have graced many a WLR volume, can take a country song they like and supercharge it to make it listenable and sometimes even really enjoyable for a metalhead like me. But it doesn't work as well the other way – no country singer can be as urban as "Billie Jean" needs to sound nor can "Crazy Train" have justice done to it with a banjo. Cover Lynard Skynard or the Allman Brothers – no problem for a country band. Surely they can even pull off "Mustang Sally." So while I hate to be so critical, I must say that version of "Crazy Train" was brutal.
On the other hand, working as an opening act will give them a chance to write and perform what they're best at, leaving "Crazy Train" for someone else. Their mini-tour began in Houston yesterday in a performance for a local radio station before coming to Salisbury and moving on to Chesterfield, Virginia tomorrow before joining up with Paisley later next week. Those sorts of logistics are fascinating to me.
Assuming the weather doesn't intervene, the lineup for today is rather promising. If you hurry, you can catch the Barren Creek Band at 10, with Picnic following at 12.
Veterans of Pork in the Park and a welcome Pennsylvania import follow at 2:30.
Smokin' Gunnz is always a crowd favorite, as evidenced by the number of views this four-year-old video still gets on a monthly basis.
Another local favorite is bluesman Tom Larsen, who will serve as the opening act for Jimmie Van Zandt once the awards are over around 5:30 or so.
Front Page News is the final band to take the stage early Sunday afternoon, as that day is mainly given over to the wing-eating contest.
So music fans aren't left wanting by the lineup – the question becomes whether Mother Nature will cooperate today.
Every so often something comes along which puts me at the intersection of doing something I enjoy because I find it interesting, being able to write about it, and making a little bit of money. Tomorrow will be the first of what I hope are many of these features.
If you've been reading here since about 2006 or so, you'll have noticed I've done an occasional feature I call "Weekend of local rock." I also had a Friday tradition called "Friday Night Videos" that I did for a couple years as well, and toward the end of the that series I abandoned the original premise of news videos and went to an all-music format. It seemed more appropriate for enjoyment over the weekend.
Thus. tomorrow I'm debuting a new regular feature. I haven't thought of a catchier title than "monoblogue music", so I'll go with it. But in my occasional forays into attempting to find new writing clients, I came across an entrepreneur who was looking for people with a critical ear and existing media outlet to help promote his stable of musical artists by reviewing their work. So I contacted this gentleman and we have come to an agreement, the first installment of which will be up tomorrow afternoon. I like it because I get to listen to some different music than the formulaic crap which seems to plague the airwaves, from up-and-coming artists who may be enticed to come to this region. I'm sure he likes the fact I have a sub-200k world Alexa rank, but I think this can work to broaden my audience for the political end of my site as well. So it could be a win-win.
In speaking with this gentleman, it was made clear that my reviews didn't have to be positive, which is fine. But I asked him to steer those artists my way who are either based on the East Coast or tour through the area. (The latter covers tomorrow's first feature, as they are Australian-based but plan a U.S. tour later this year – on their previous tour they mainly played along the West Coast but I suspect this will be their breakout year and they will come this way.)
So while this may seem to be an unusual step – particularly for a political blog in an election year – bear in mind that I've always branched out into other realms because to write about politics on a daily basis would eventually burn me out. I look forward to what I hope will be a productive relationship on both ends, and one you the reader will enjoy.
As is often the case, when I do this post for the Autumn Wine Festival the definition of "rock" is tossed out the window. Much of the musical selection there would be classified as jazz, with a few other genres thrown in. Moreover, with just six bands playing on one stage the menu is more limited and this post will be appreciably shorter than the last one.
And yes I said six bands, which I'll explain in due course.
The jazz theme was firmly established early on with the group Sideways.
And while it was music which would make the aficionados of the genre happy, I have to point out that I have never heard an instrumental jazz version of Nirvana's 'Heart-Shaped Box' before. It was an interesting take on what is probably among my top 10 favorite songs.
They gave way to a more traditional classic rock and pop cover band in Naked Blue.
It may not show up in the smaller resolution I use for the site, but those vertical streaks in the photo are raindrops, as we battled a steady drizzle to light shower through most of the day.
It only dampened the crowd a little for the main attraction, TR3.
Most famous for his collaboration with Dave Matthews, Tim Reynolds (top) and his band of bassist Mick Vaughn (center) and drummer Dan Martier (bottom) stopped by the AWF in the midst of a brief East Coast tour which had them over in Cambridge the night before and in New York City the following evening before more stops in New York, Pennsylvania, and Connecticut. (The last stop is tonight in Ridgefield, Connecticut.)
Buoyed by a number of originals, TR3 also put its stamp on rock classics like 'Kashmir' and the old Focus song 'Hocus Pocus.' Yes, they yodeled to close out the show.
So when Sunday dawned I wasn't expecting any yodeling from the traditional Sunday opening act, the Backfin Banjo Band.
Instead, theirs was a collection of traditional music. As you can see, the day turned out much brighter as well. It was a good day for a picnic, and Picnic indeed was the middle band of the Sunday trio.
They went through a group of songs ranging from oldies to classic rock, but I think they improved once they added the female vocalist.
Oddly enough, it turned out they were the only Sunday band with a female singer, and this lent them a dimension missing from the initial songs.
The Larks were supposed to be the penultimate band on the posted schedule, but as late as the bands were running I think the posted schedule was in error and The Larks were supposed to be the closers.
While they had more of a "wall of sound" with the horn section, they took us back around full circle to that which Sideways had begun on Saturday, with a jazz-heavy final set punctuated with originals.
It's interesting to me that both venues mixed a number of local or semi-local acts with one or two more nationally-recognized acts. This is a pattern which seems to work for the local festivals as they continue to be successful despite adverse weather for most of the four days they occupied this year.