Okay, let's face it. I like ribs, and when they come with live music so much the better. So just a few weeks after Pork in the Park blew out of town we went on Saturday to its Snow Hill-based little sibling called Pig and a Jig, This year's event was the second annual, and a change in the calendar date from one end of May to the other provided for simply awesome weather.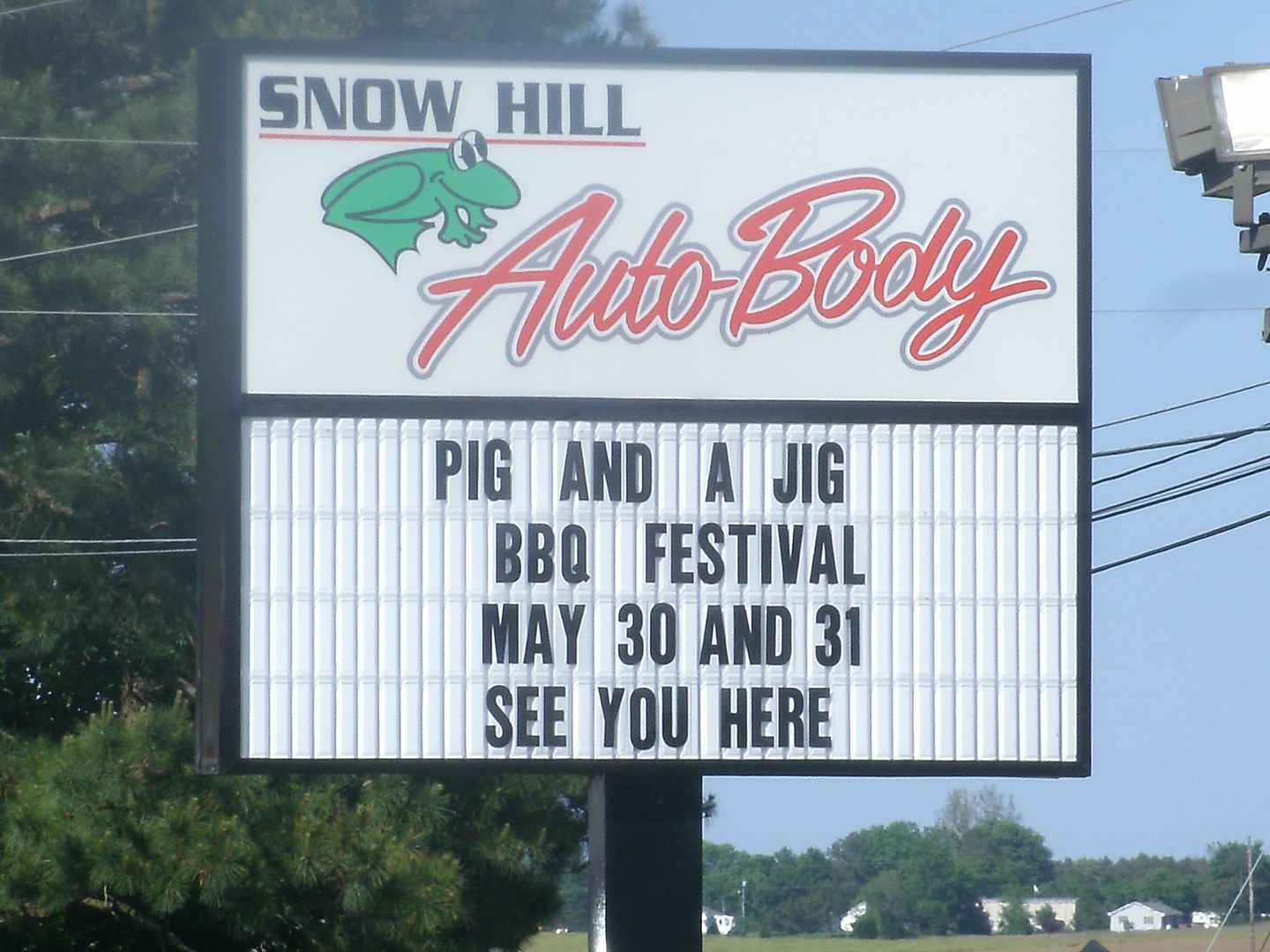 One of the big differences between the inaugural event last year and this year's rendition was KCBS certification, so there were over 30 teams vying for the prize money and hardware.
They were set up where we parked last year, with parking now across the road and a shuttle service provided. Unfortunately, the access over there wasn't as easy and the competition was just wrapping up anyway so I didn't wander over there to scope things out. While it was nice to have a shuttle bus, I would suggest securing the same trailers they use for the county fair and several tractors – it would make for less waiting.
The other addition was rides for the kids.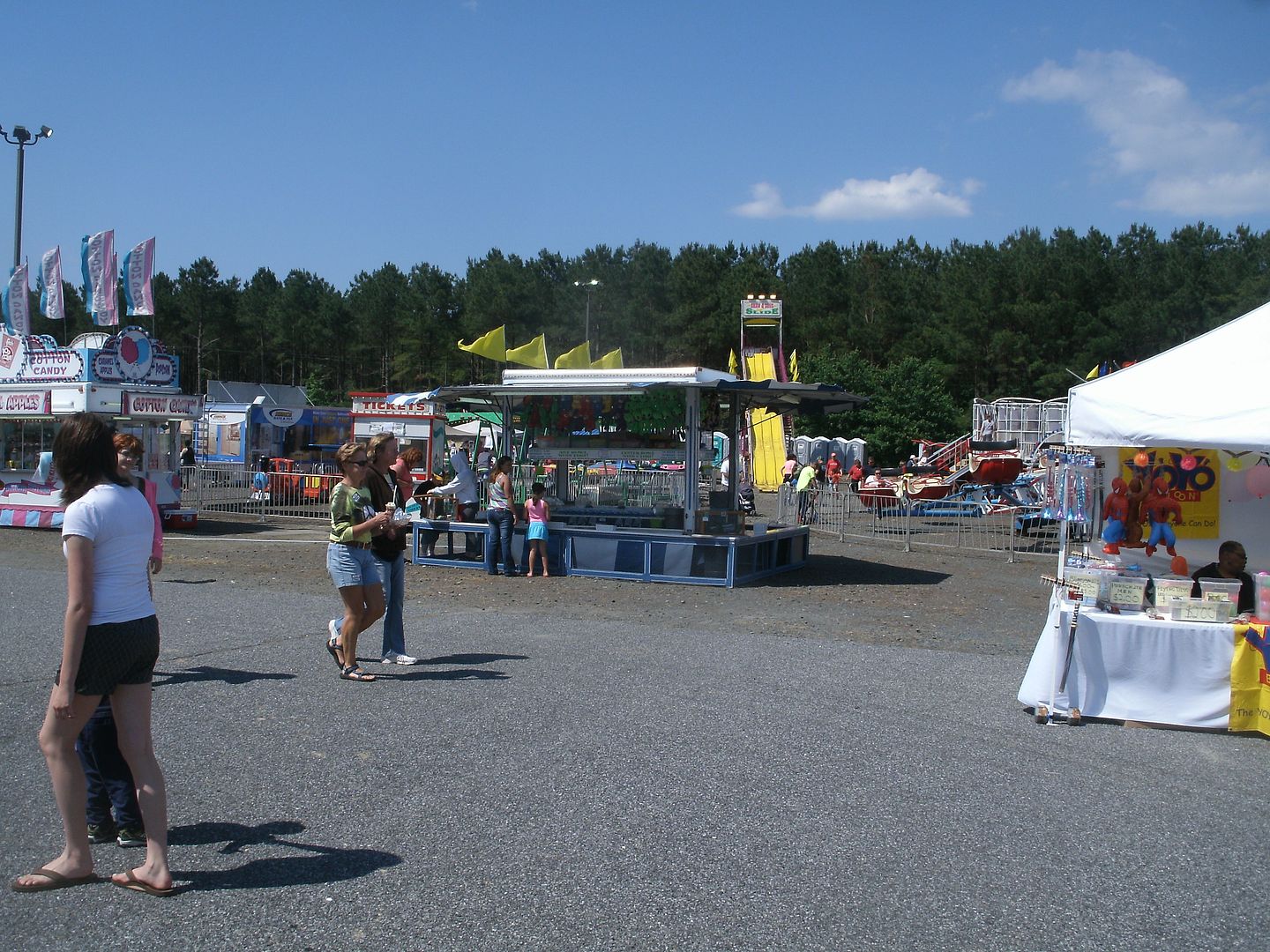 Between that and the space for cornhole, it left a modest midway section.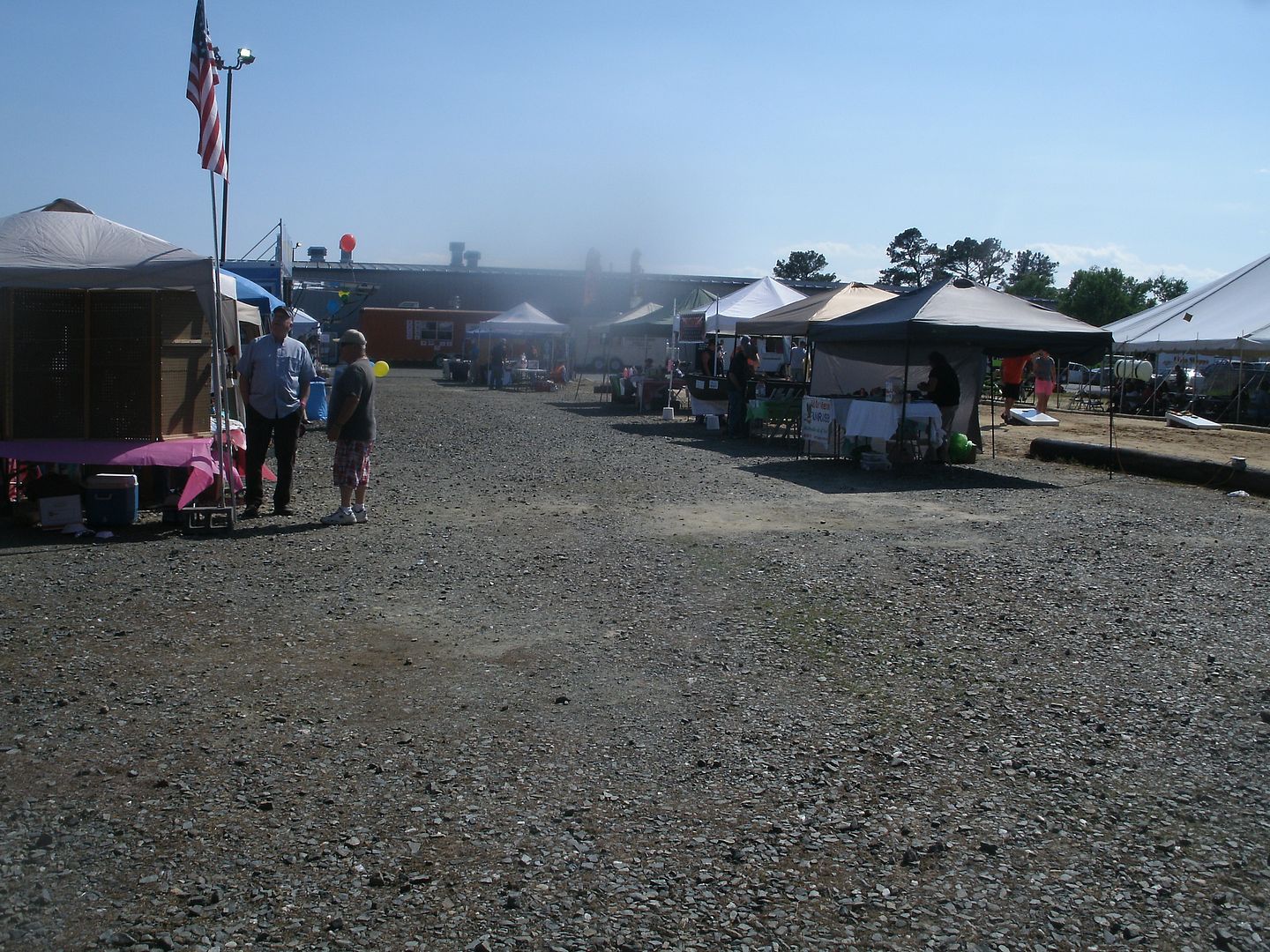 There were still a small number of food vendors, with a couple traveling some distance to be here.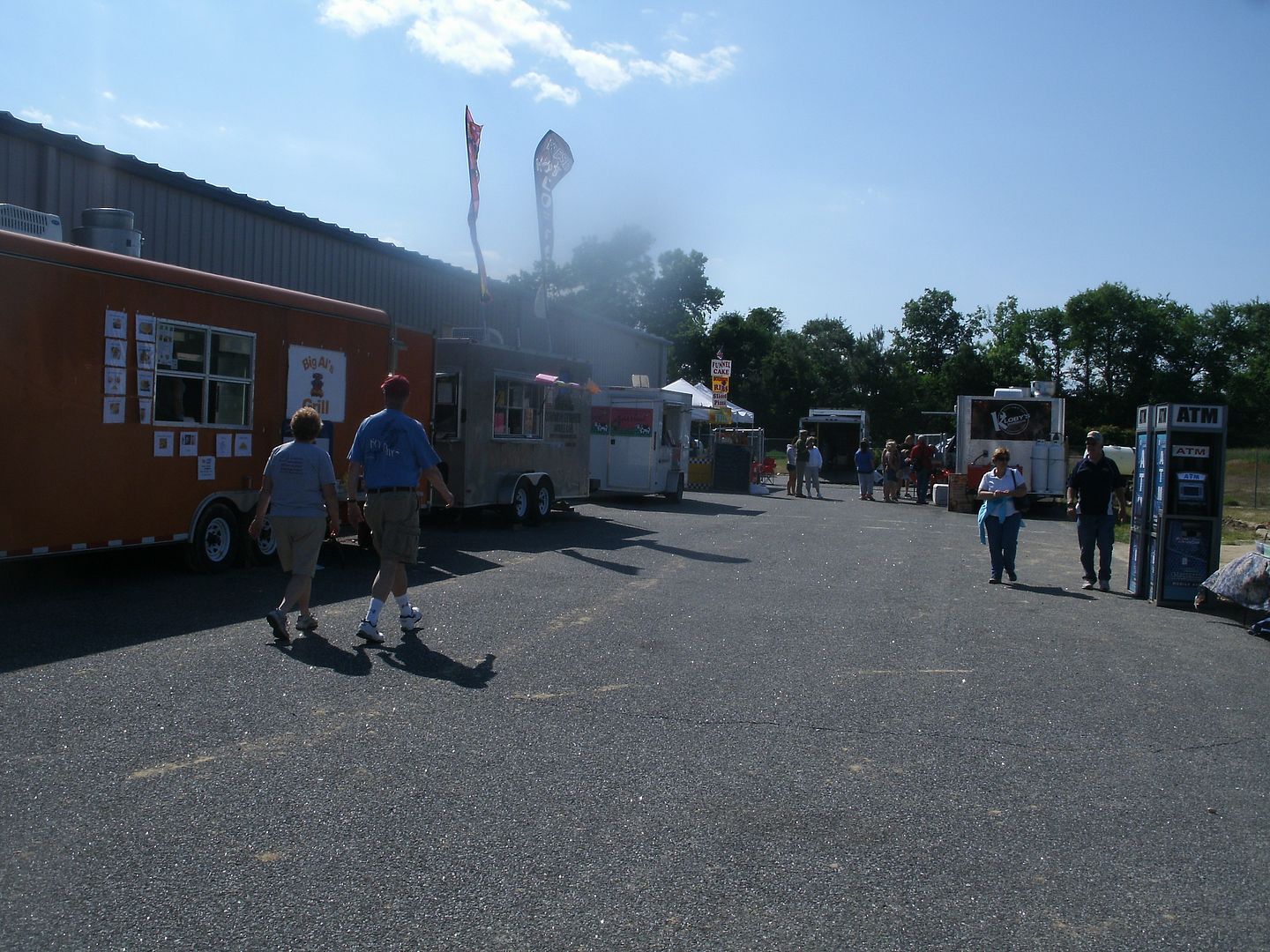 This was at one stand called Kloby's. Not sure what it would taste like, but it looked interesting.
I suppose, though, it had most of what I ended up having within the Mason jar.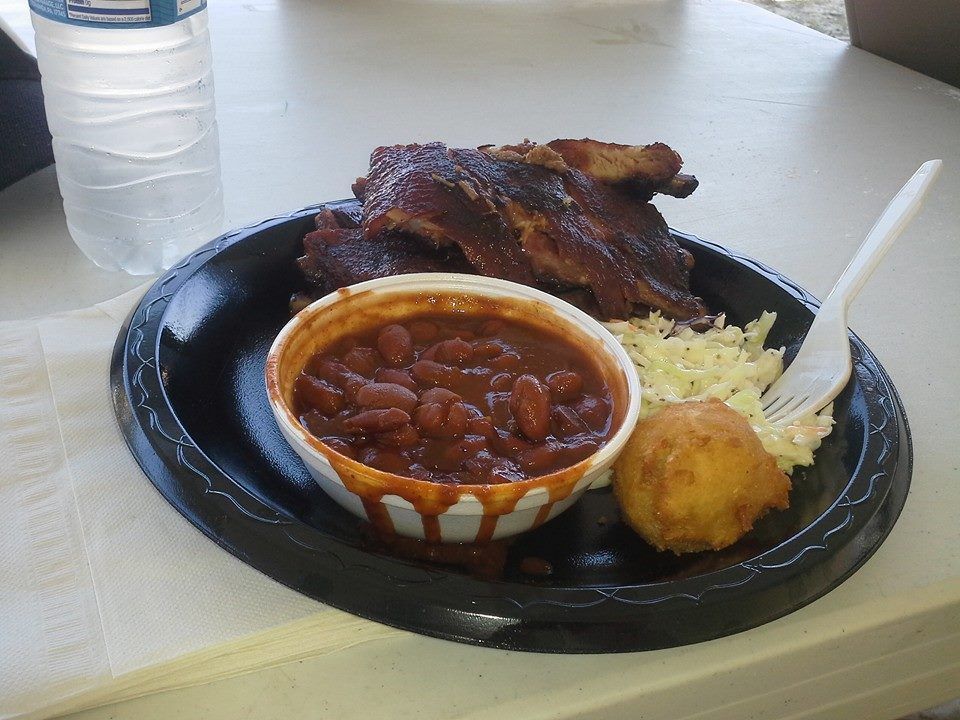 Aside from the beans, which I found a touch too spicy – Kim liked them, though – the meal was pretty good, although I think I would have liked the other half of the rack better. The North Carolina-style sauce was tasty, though.
Meanwhile, we were listening to our friends from Something Grey.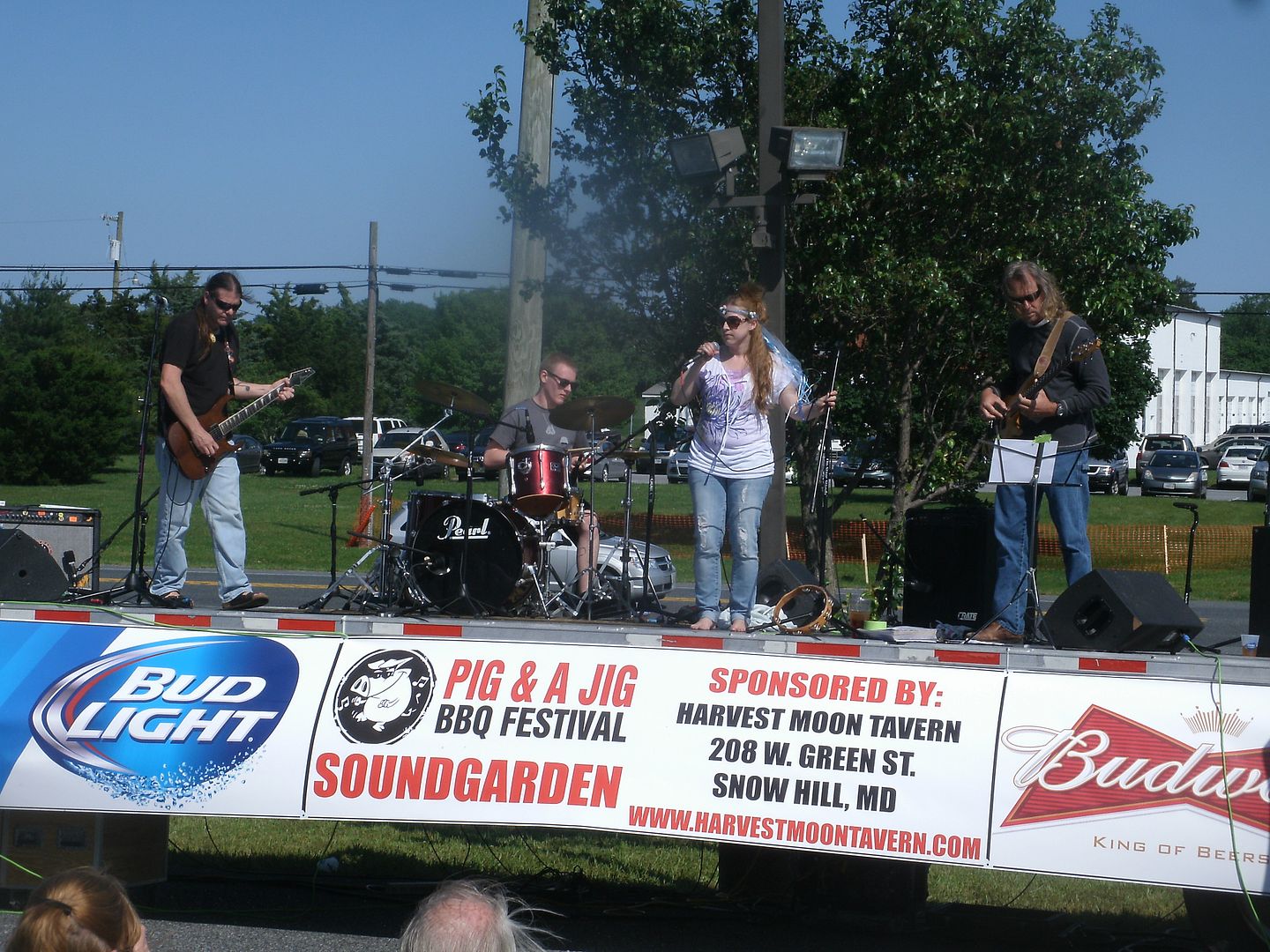 Since I only saw the one band, I won't do a Weekend of Local Rock feature. But they had a number of bands come back from last year, so they must be treating them right.
I'm not sure just how much property Preston owns, but they probably need more space to make this event bigger and better in 2015. Certainly the local Snow Hill schools would like it to be an ongoing success, and if they can keep KCBS certification they may end up with a big hit on their hands.
And by the way, the reason the photos turned out the way they did was that there was something on my lens. I have no idea how it happened, but it messed up several of these photos and may have scratched the camera lens. For that I'm an unhappy camper, although the camera is an old model which has basically been supplanted by my cell phone. I just like it because it fits easily in my pocket.
In lieu of a review this week, my WLR feature is hitting the big six-oh with some scenes from last weekend's Concert for a Random Soldier, which occurred at American Legion Post 28 in Oak Orchard, Delaware (close by Long Neck.) This is one of a handful of local fundraising concerts that have become a tradition, with another I generally frequent being (Save the) Breastfest in September during Bike Week.
There were actually eight bands and four acoustic acts on the CFARS bill, with the latter reserved for set changes. We arrived later than planned, so we missed exactly half – these were mainly the oldies acts (Oh Boy, 33 1/3, The Runner-Ups, and The Funsters) and two acoustic ones (The Volcanoes and Bryan Scar.) In fact, we arrived just as the Mari Hill Band was closing up shop.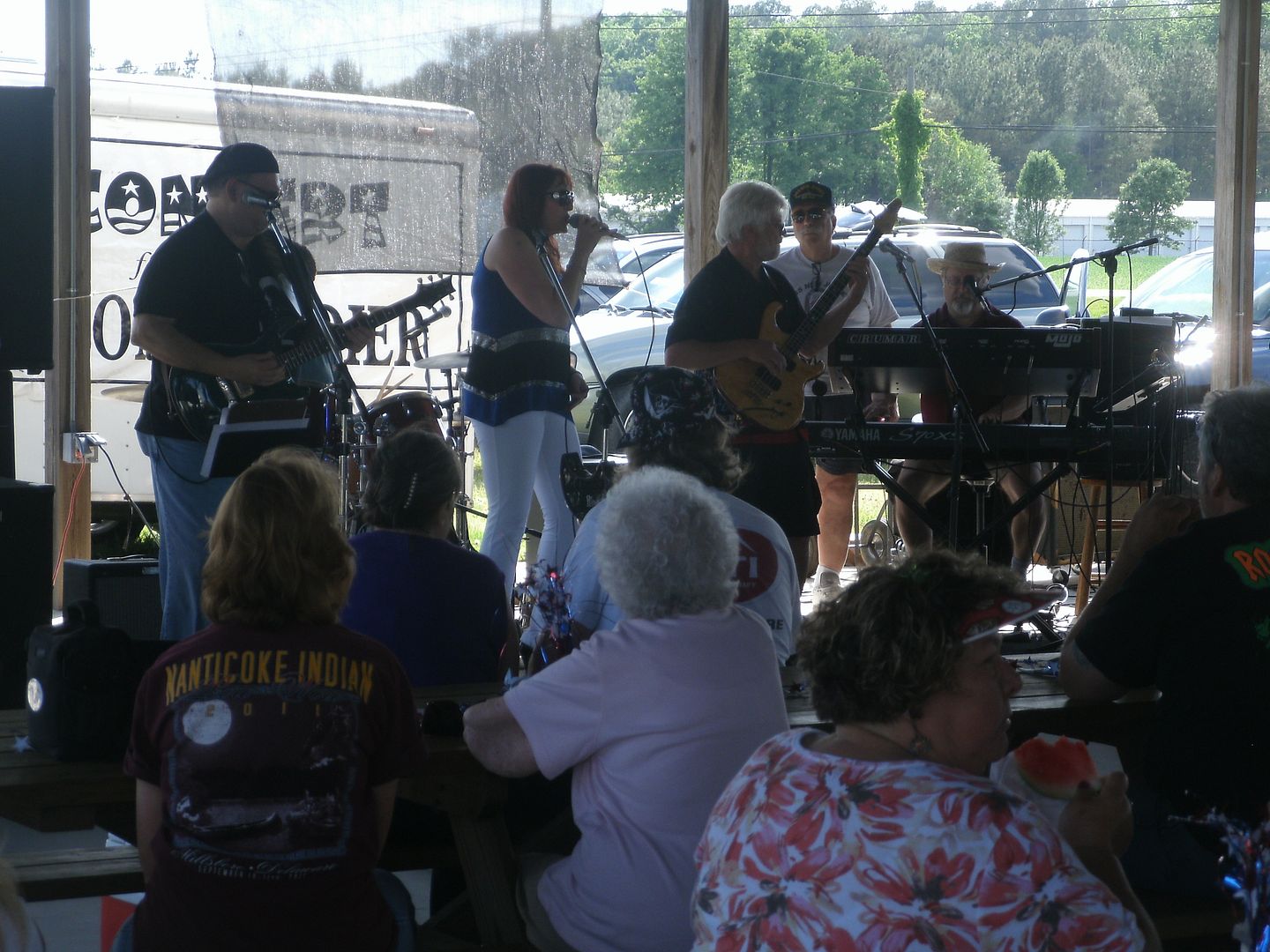 Since there was no acoustic act slotted after Mari Hill, I wandered around a bit. Earlier in the day there was a car show, but by the time I got photos this old guy was pretty much all that was left.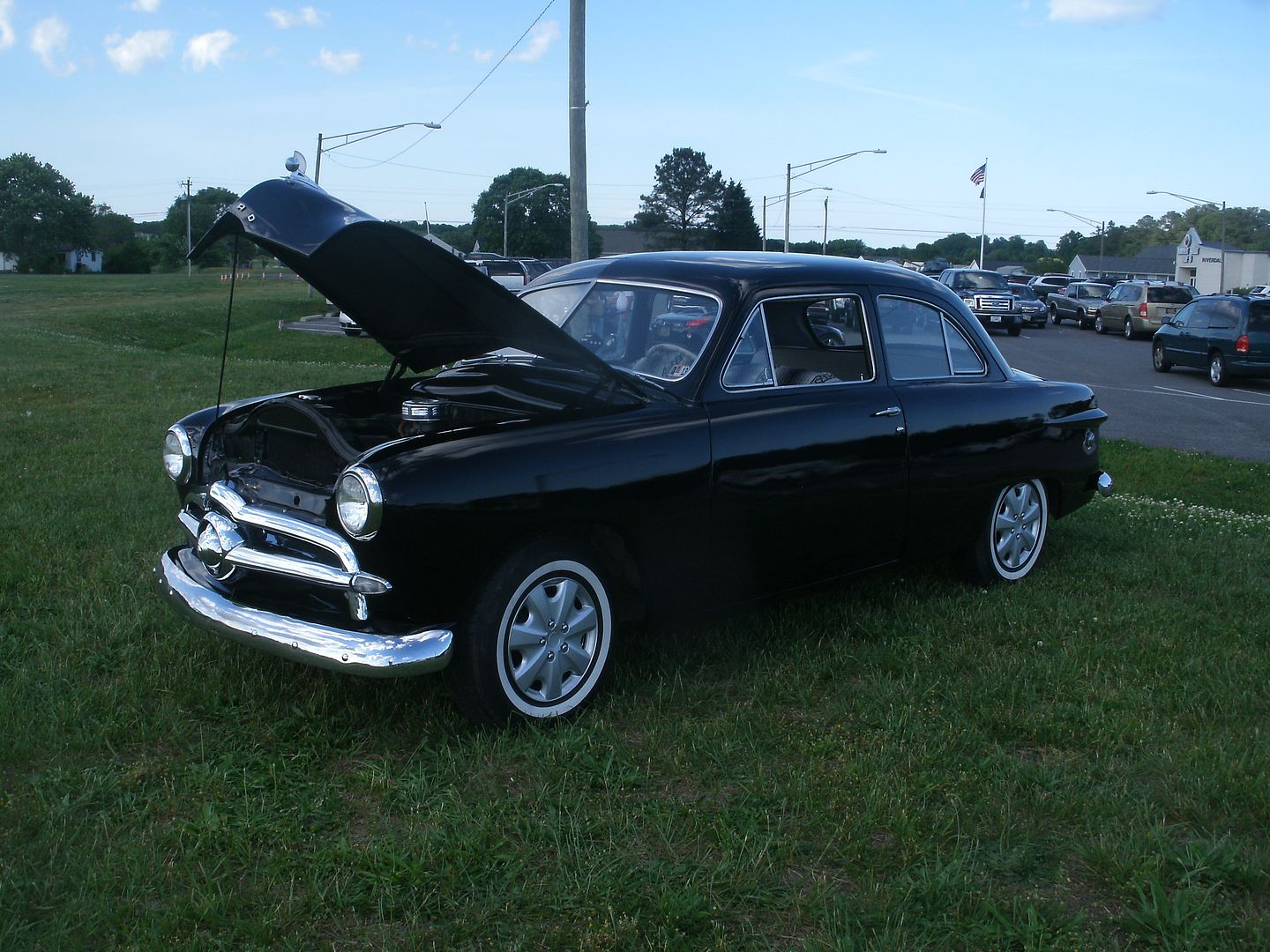 As a little bit of history, the CFARS was set up in memory of Chad Clifton, a Delaware native who was killed in Iraq in 2005. A foundation was set up in his name, with this particular event benefiting an organization called Guitars for Vets.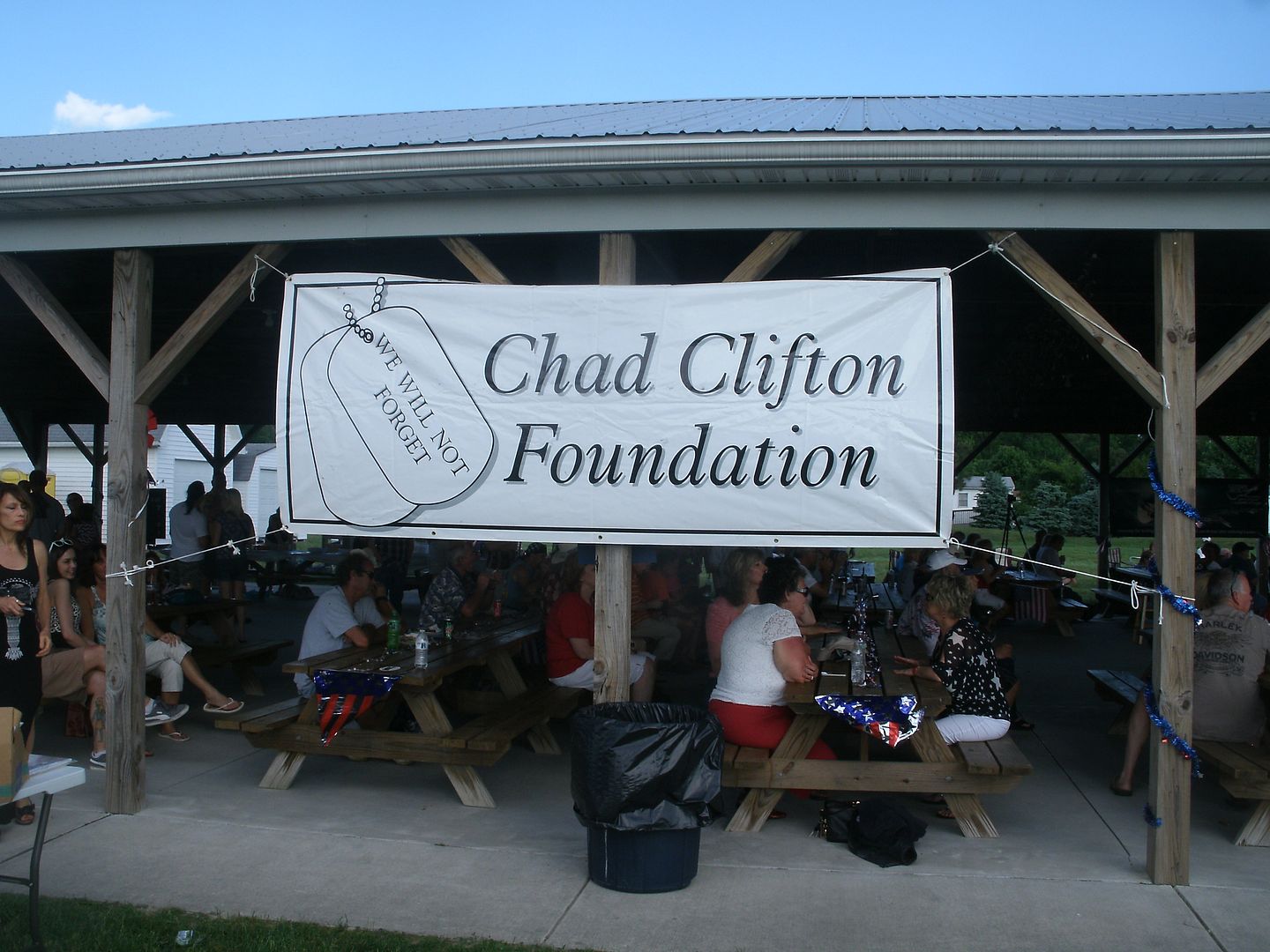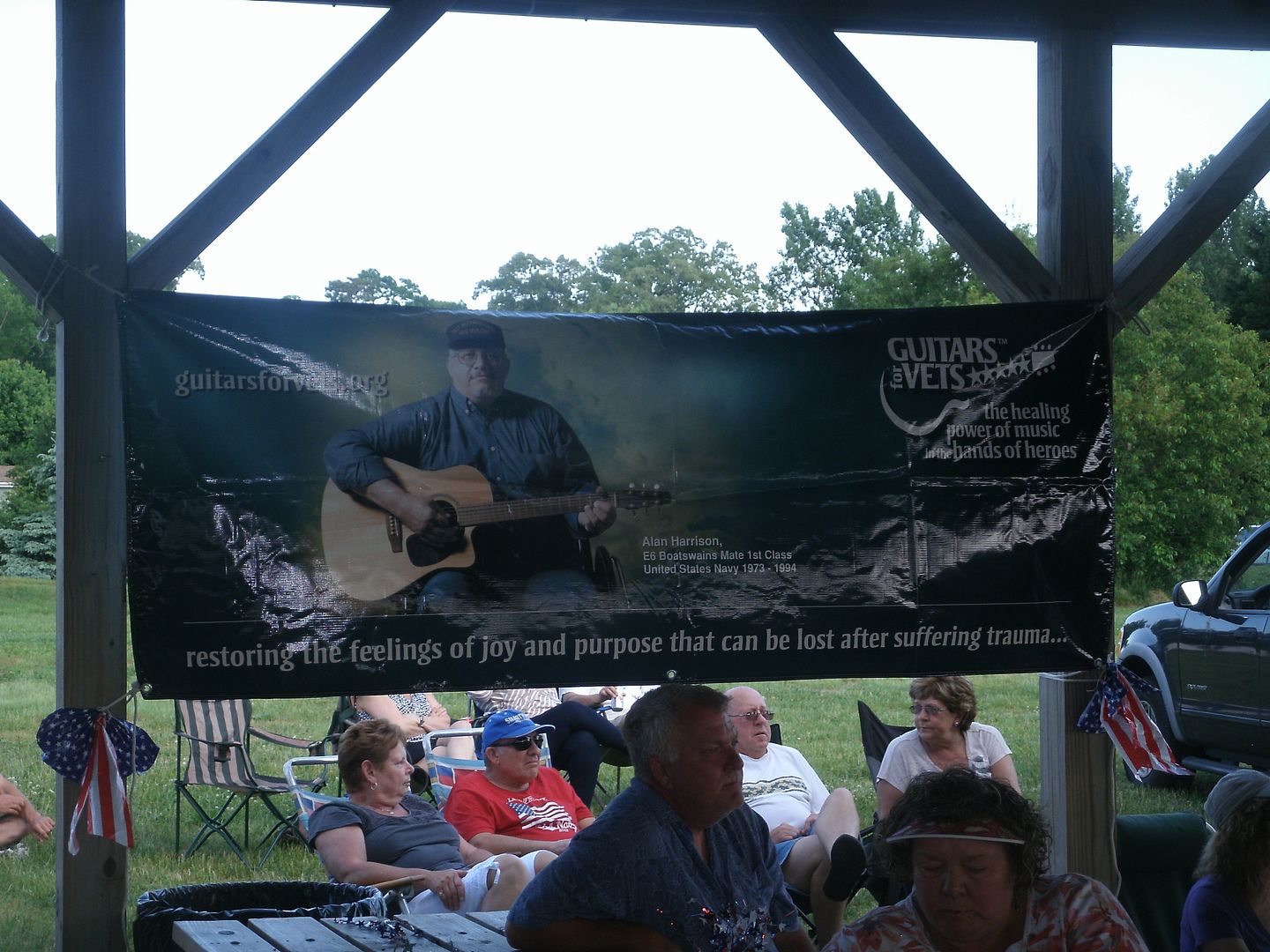 In keeping with the veteran theme, the Veterans United Outreach of Delaware had a trailer full of information as needed.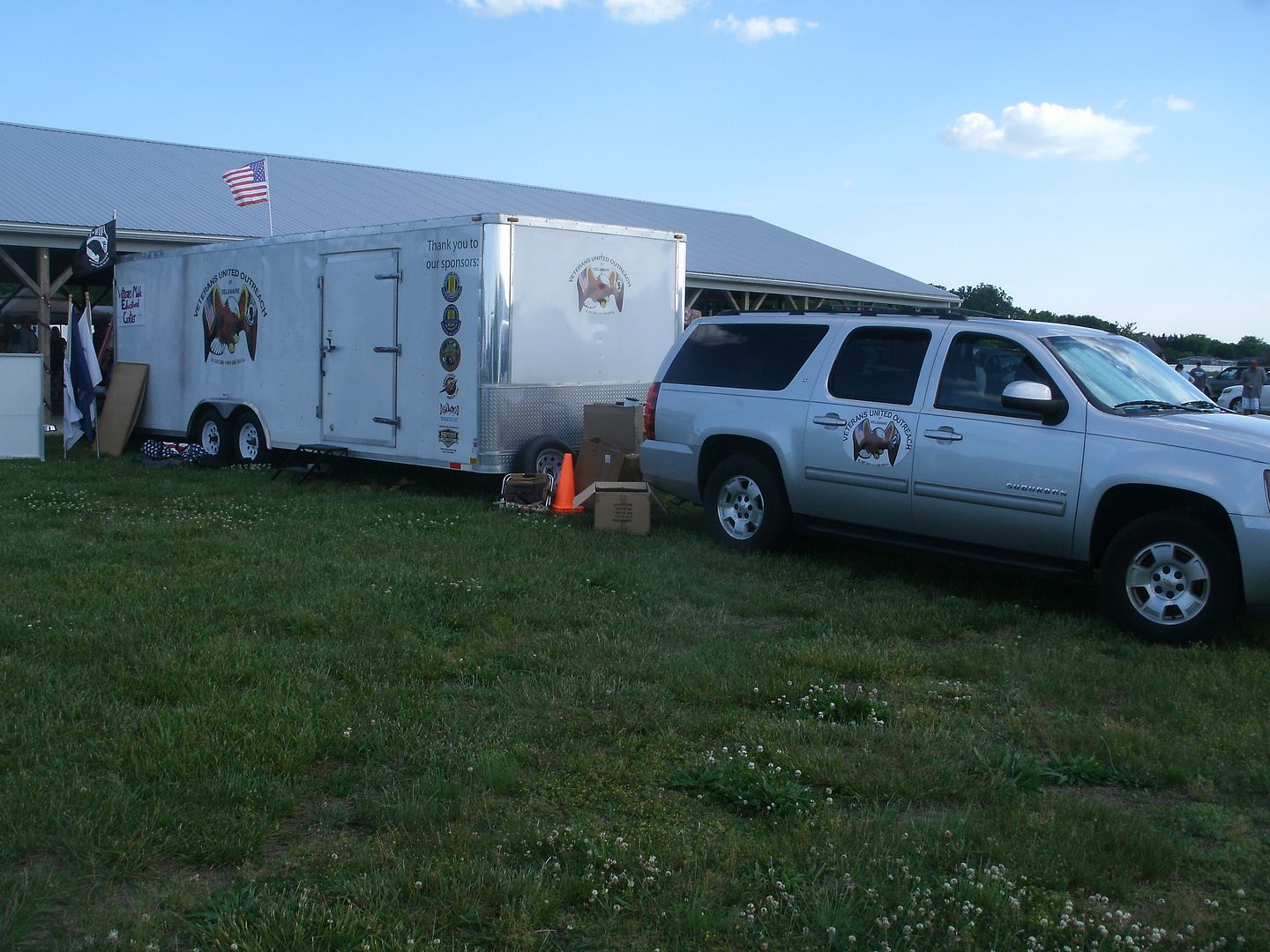 After all that, the hard rock of Factor was ready to hit the stage. They definitely appealed more to the Iraq and Afghanistan set than the Vietnam-era veterans.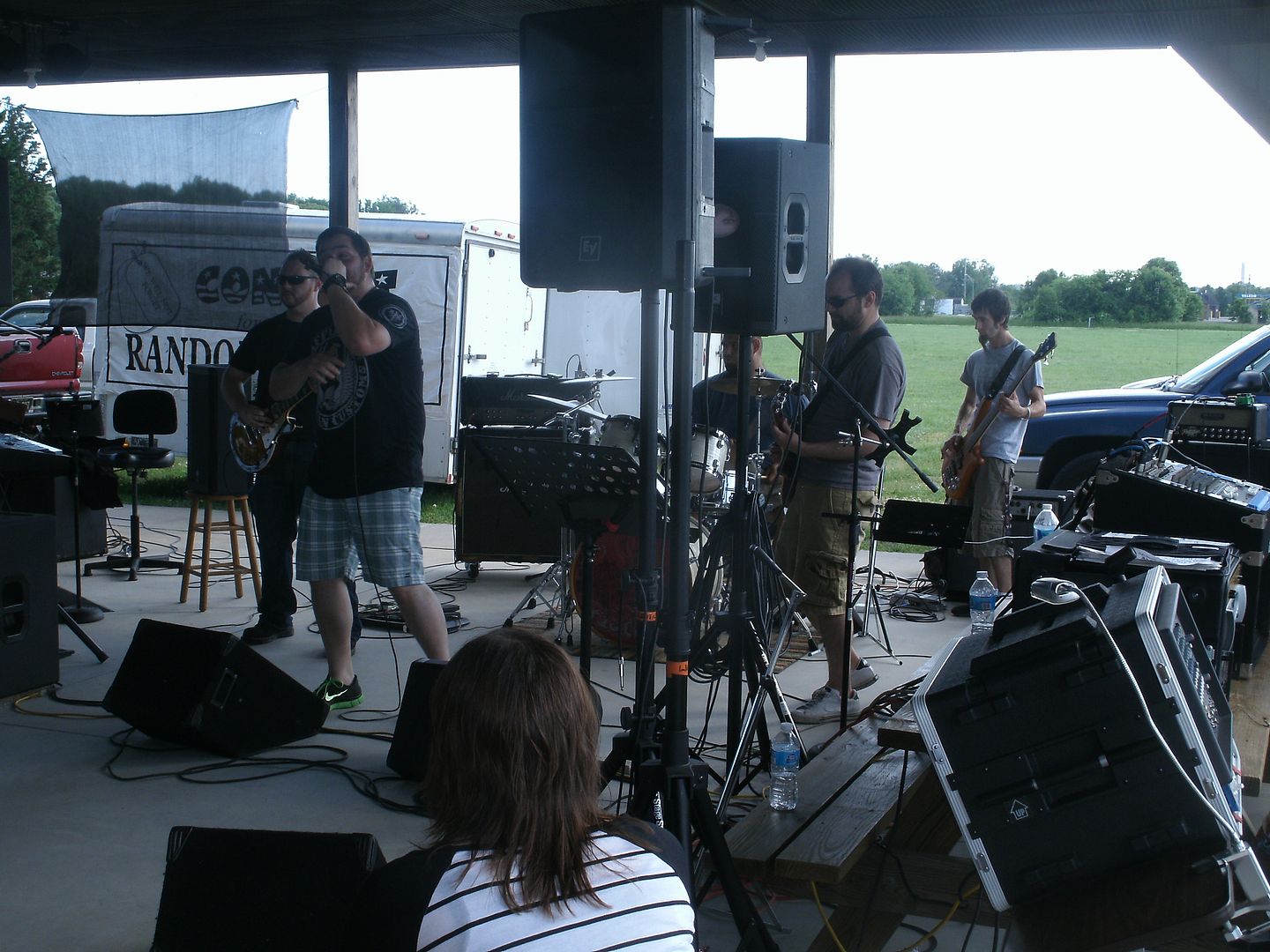 Unlike the other groups, they slammed out a diet of originals with the exception of a song Chad often requested from them, "Paint It Black" by the Rolling Stones. Their version was a little more amped-up, though.
So it seemed a little jarring to hear the acoustic duo called Dog and Butterfly, playing a variety of lighter classics. Jim and Michele Hogsett have honed this act for several years as a side project to the former Semiblind.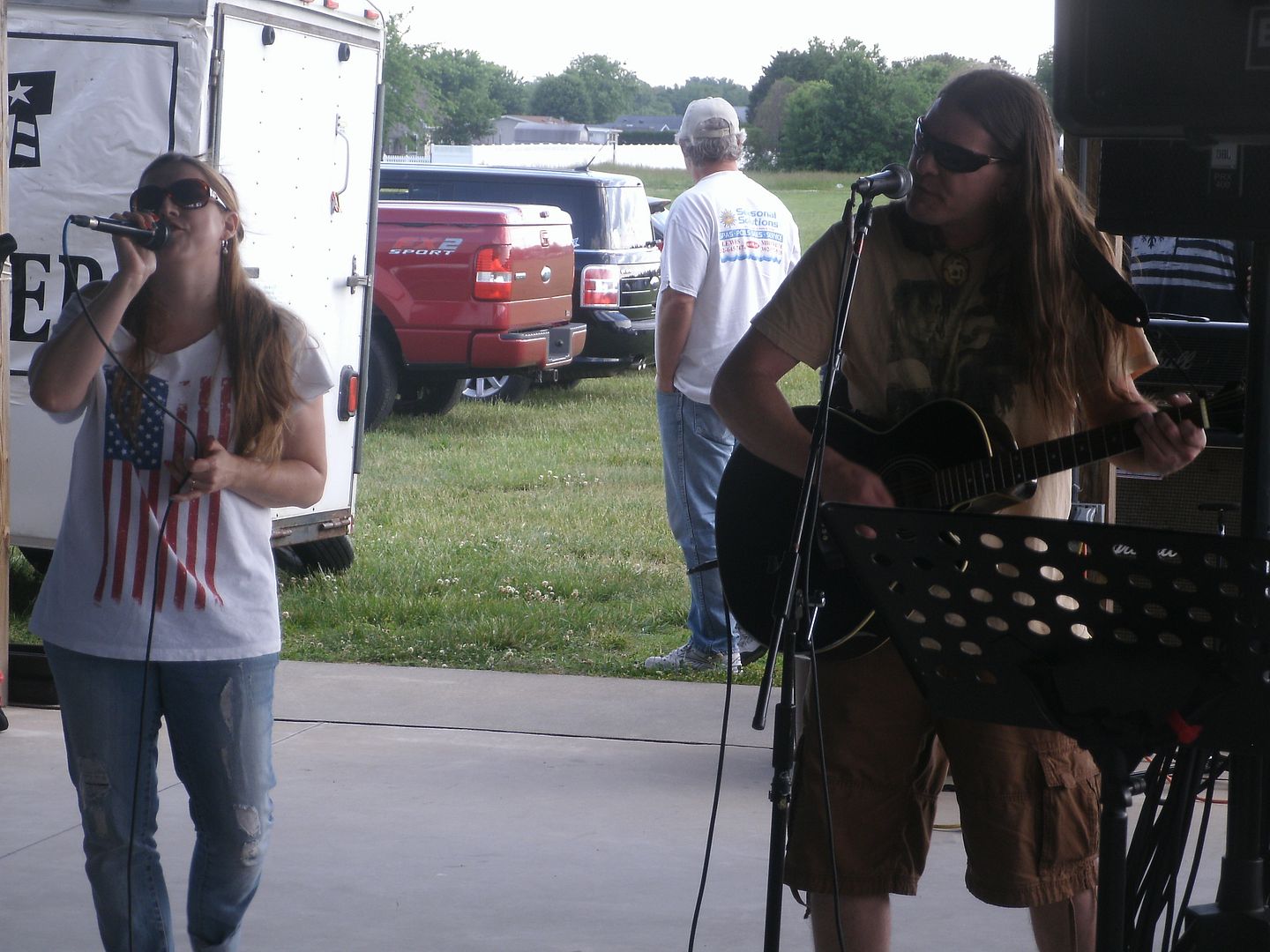 They played while Judy Sings The Blues set up. And Judy was exactly as advertised.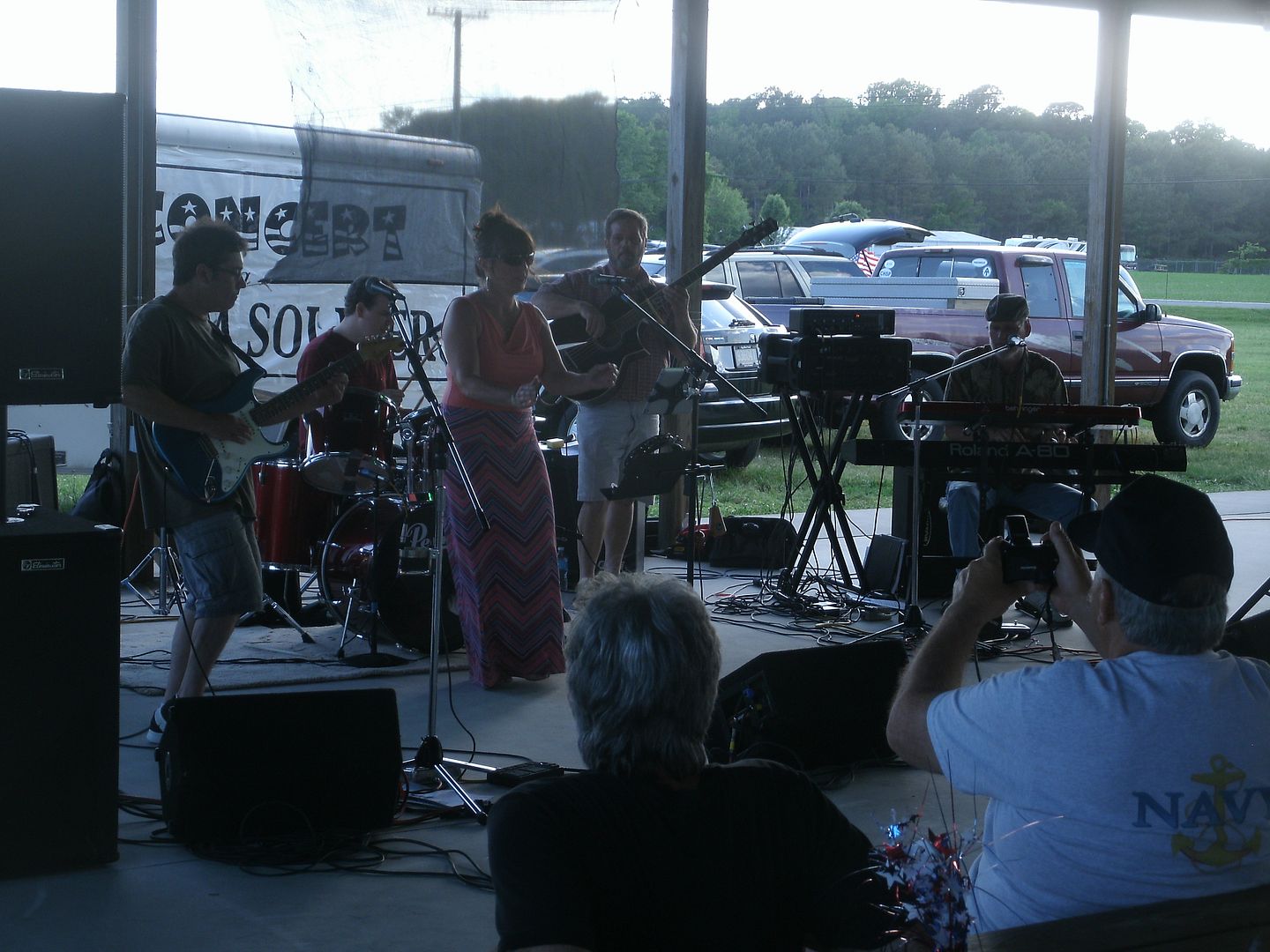 If you don't believe me, here's their set list.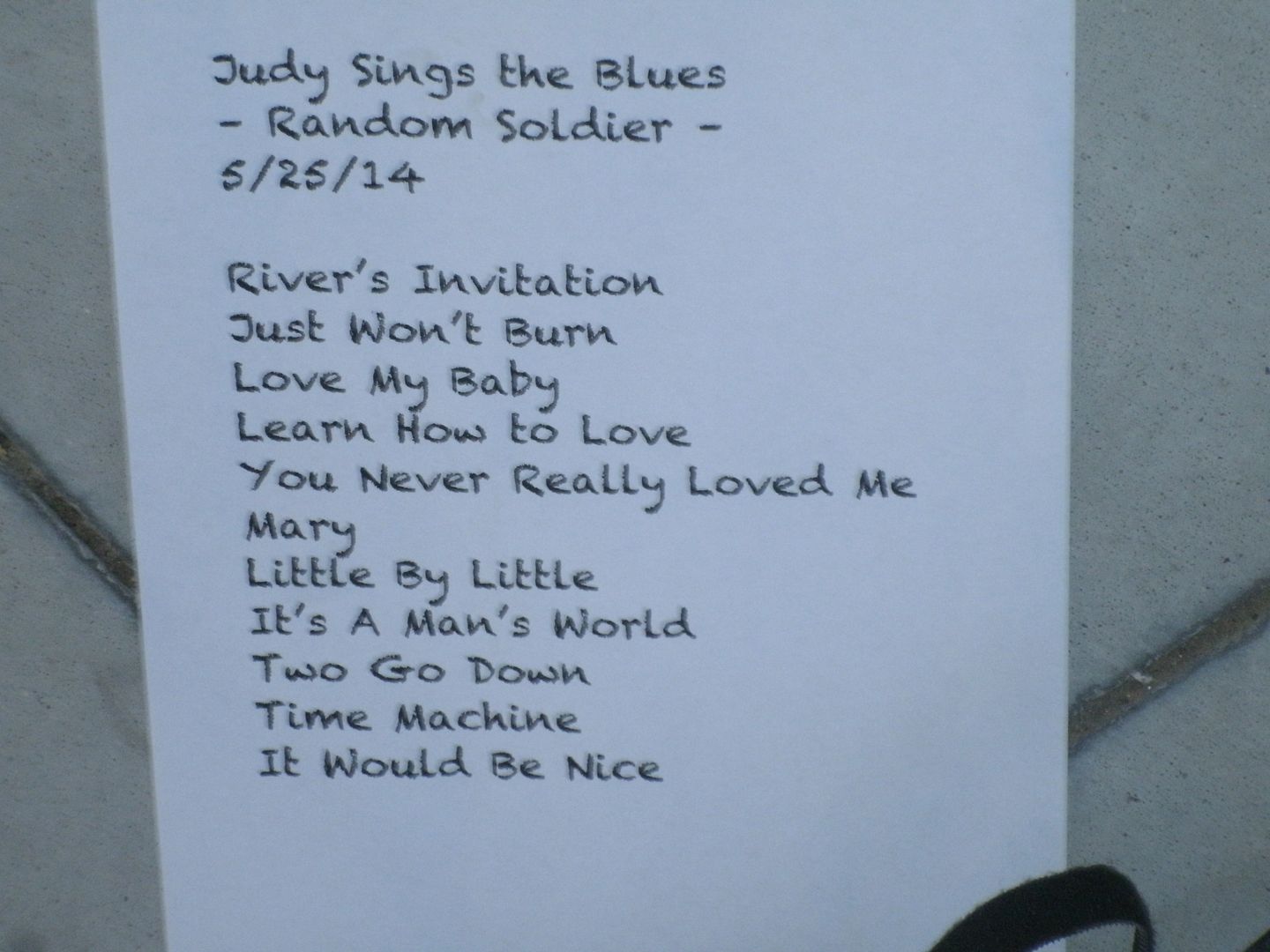 The day's final acoustic act was Captain Mike and Joe Garvilla, who had fun with some easily-adapted songs like "Jack and Diane."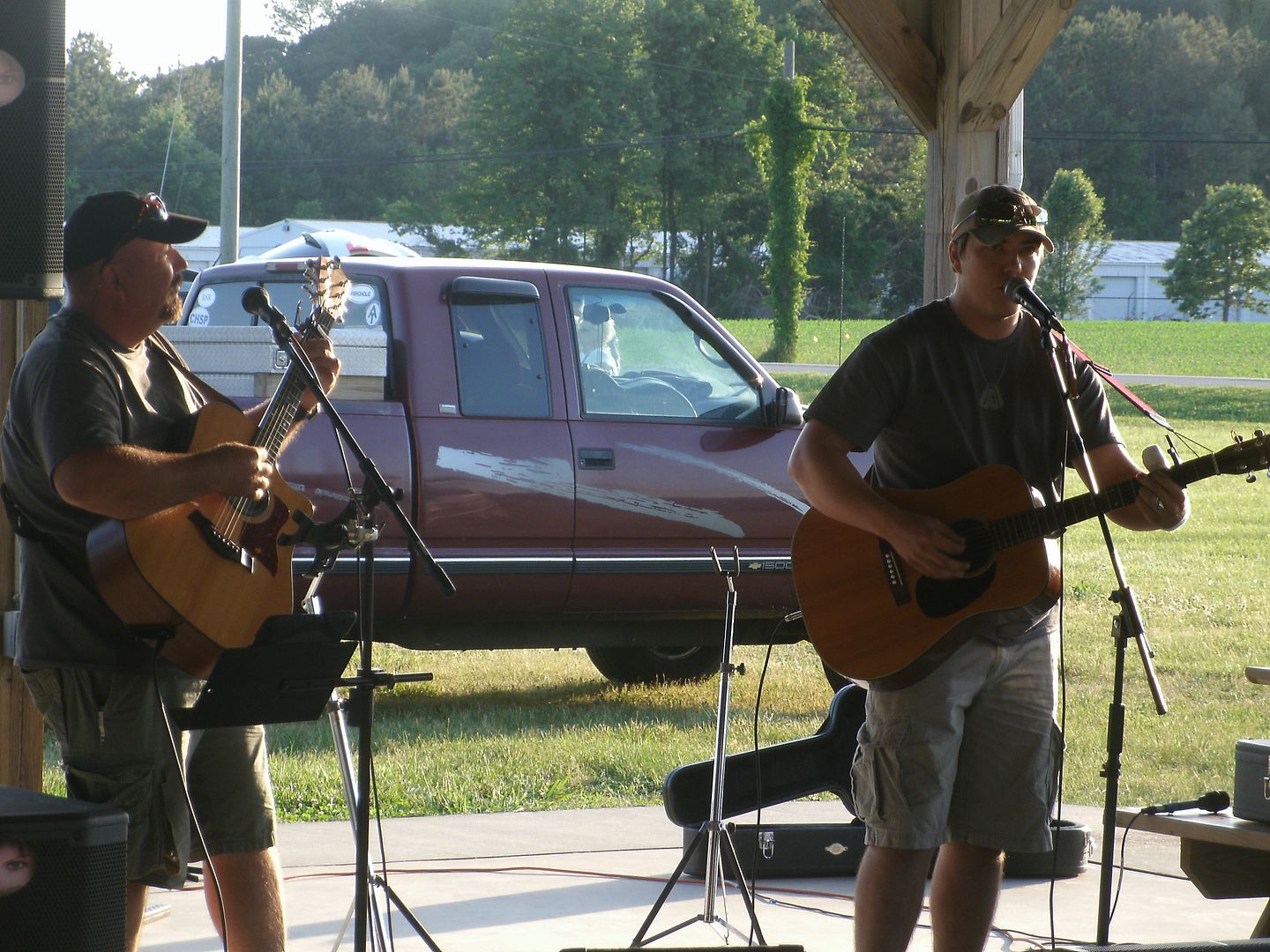 I noted earlier that Jim and Michele Hogsett were in "the former Semiblind." Over the winter they decided to change the name to Something Grey.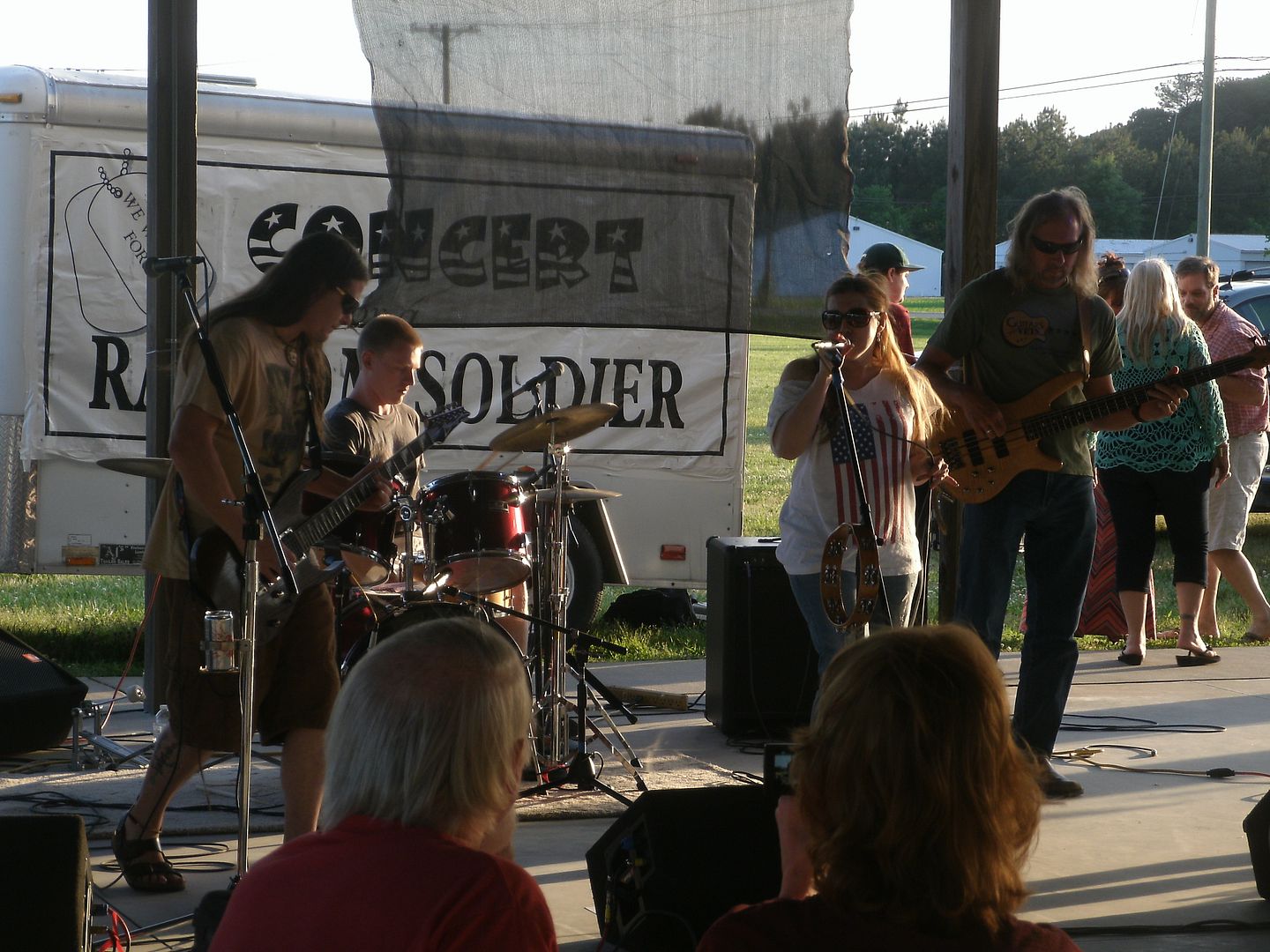 It was many of the same staples that Semiblind did so well, except for some issues which affected their sound – the bass kept cutting out. I happened to see their set list afterward as well – the stage area was littered with them.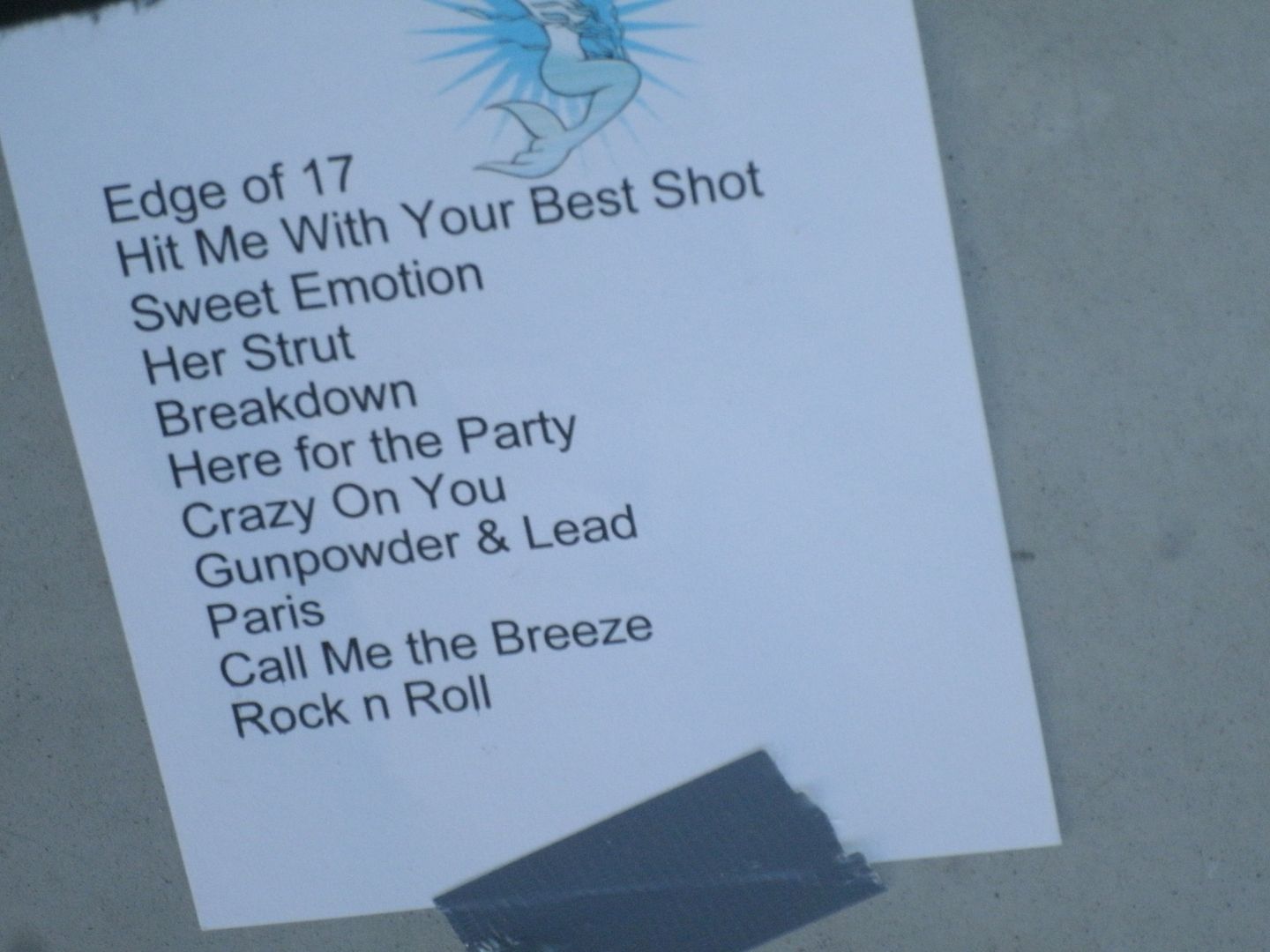 I was pleased to hear them bring back "Sweet Emotion," which was one they had on the shelf for awhile. On the other hand, I don't think I'd heard "Her Strut," which shows how they massage their songlist as time goes on.
So as the sun set on a beautiful night and the crowd went home, we looked back on a gorgeous day.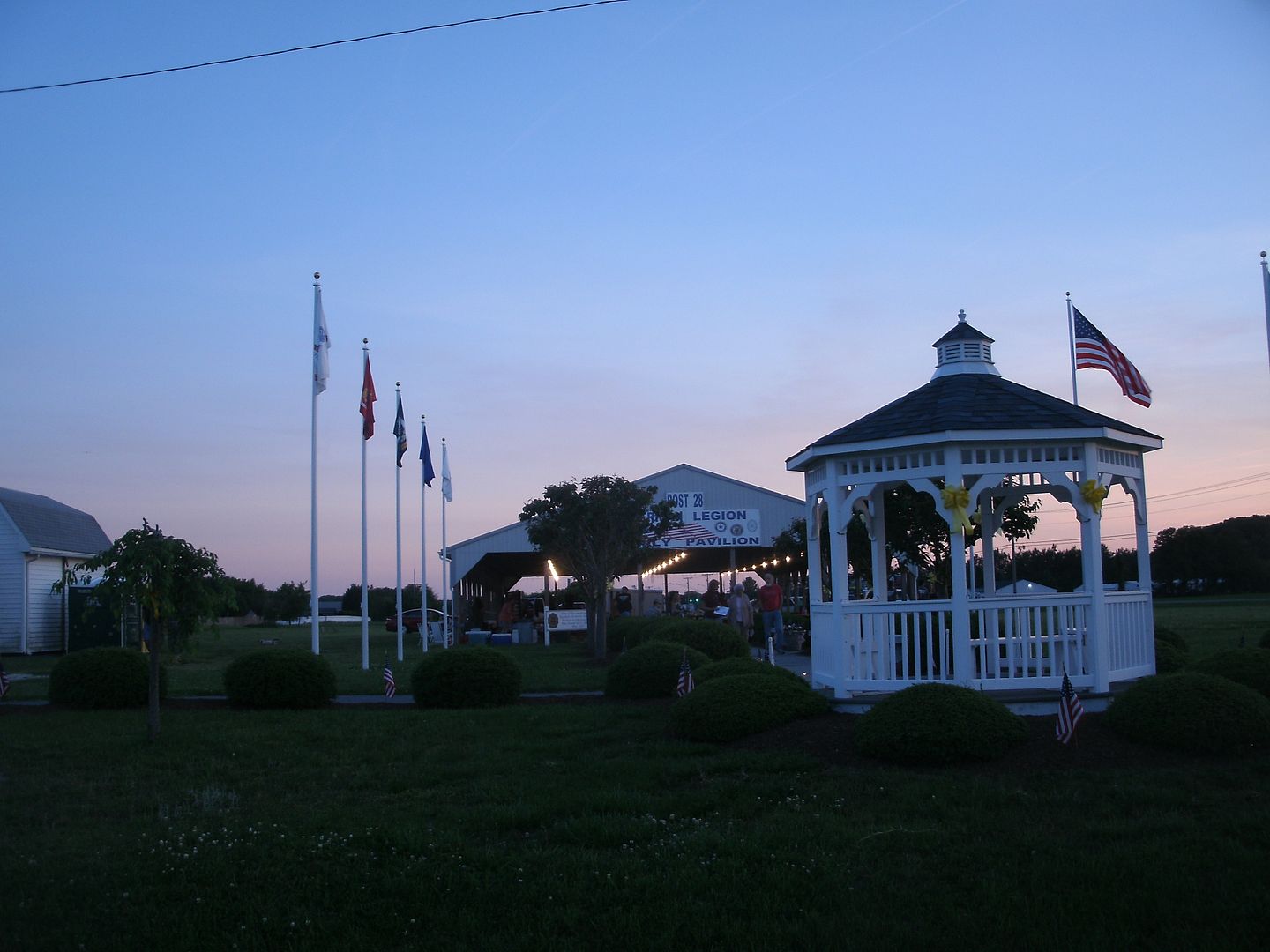 Next year (May 24, 2015) will be the 10th annual event, and it seems like they've found a good formula for success – good enough that they ran out of chicken to grill because so many came. If I can make it, I'll be there and so should you.
Normally I do things in a different order when I cover multifaceted events, but this week I found myself in a little bit of a quandry with no new release to review from my musical patron and some thoughts on what I heard last night. So instead of saving the "weekend of local rock" feature to fall a few days after the main coverage of Pork in the Park, this time I will lead with it.
Last night I heard two of the many bands slated for this weekend at Winterplace Park – since the forecast for today was iffy, my list of things to do this weekend was rather long, and we had a somewhat rare evening sans a 14-year-old, we decided to instead make a Friday night of it. Ironically, our teenager's musical tastes would have made the night's headliner very palatable to her, but let's talk about the Bonedaddies first.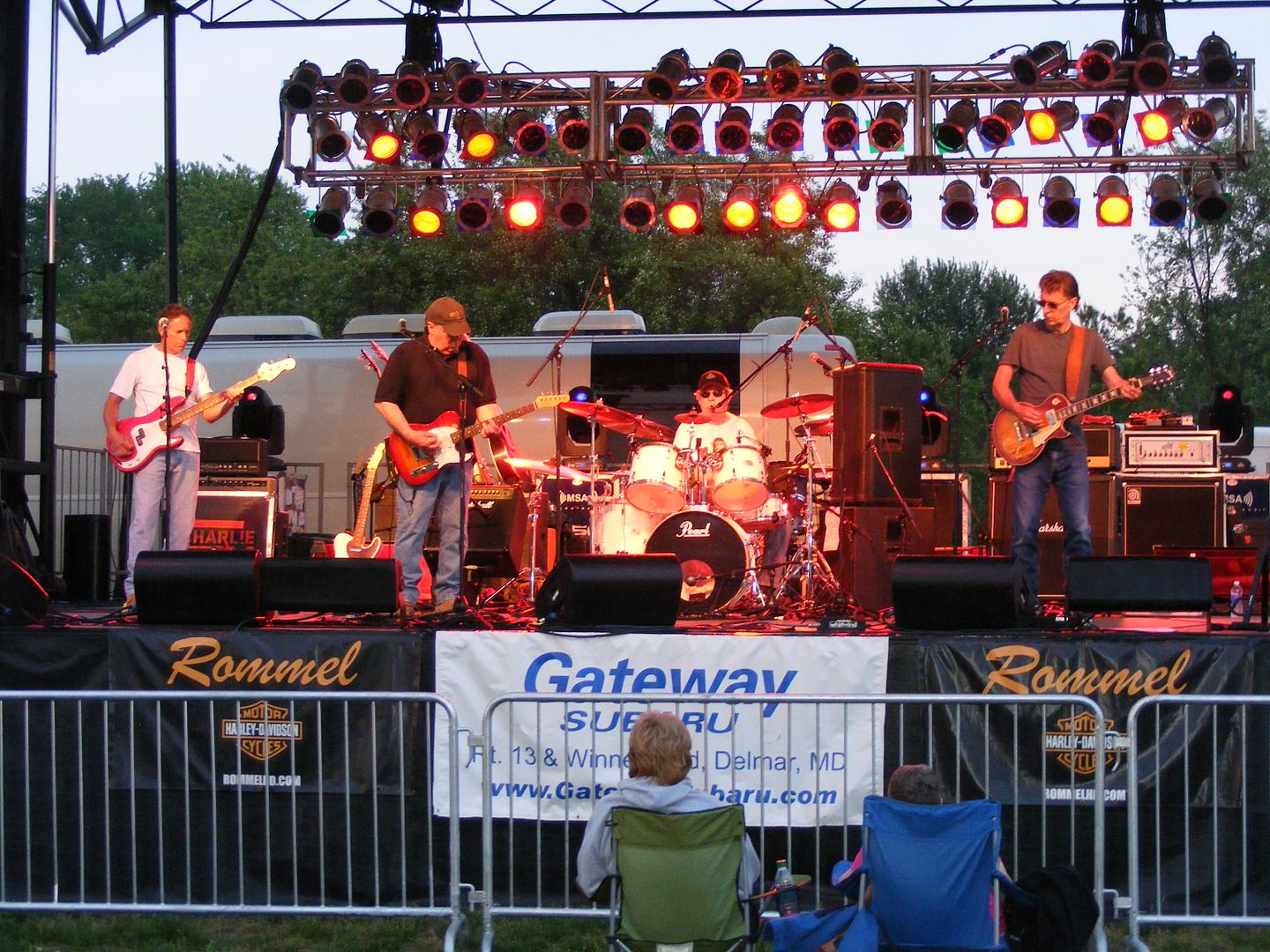 These guys are like a comfortable pair of old shoes – you know what to expect when you put them on. In the case of the Bonedaddies, it's a steady diet of classic rock stretching from ZZ Top (they were playing "I Thank You" as we walked in) to their closing number from Tom Petty, "Runnin' Down A Dream." And there must be a law which now states any cover band must play Wilson Pickett's "Mustang Sally."
So we caught perhaps the last 45 minutes of their show, which had some interest but a lot of empty space in front of the stage. One thing which is different about Pork in the Park this year is the lack of any seating close to the stage – in years prior the stage was set up perhaps 25 to 30 yards from a pavilion, but not this year. Most people who wanted to sit either had to bring their own chairs or sit about 50-60 yards away.
A good portion of the open space filled for the headliner, as you'll see.
First of all, if you wonder why the photos are so dark, this is what happened when I set my night setting.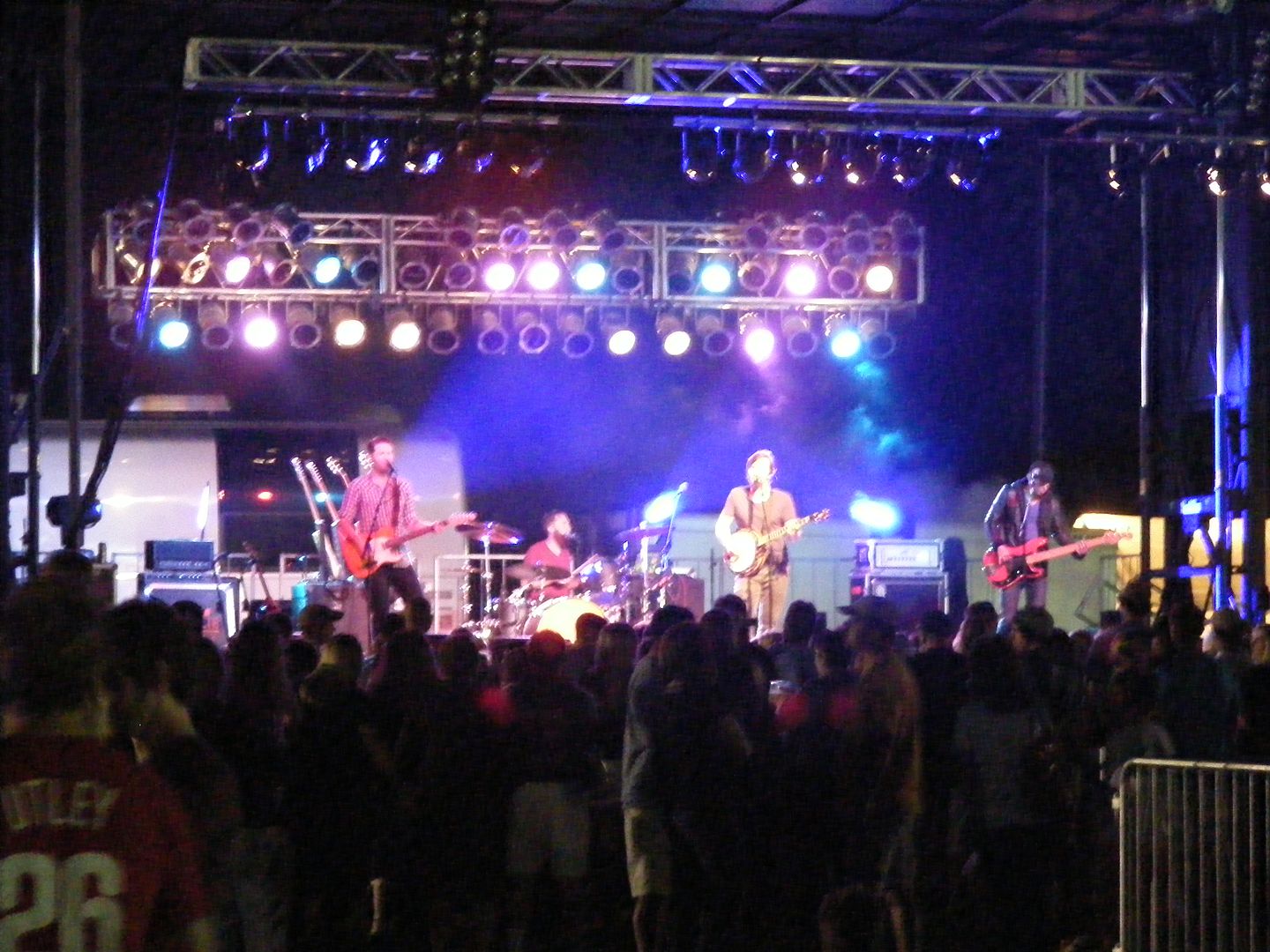 So deal with the dark. Anyway, Charlie Worsham is an up-and-coming country artist who is doing one last weekend of shows before a tour opening for Brad Paisley.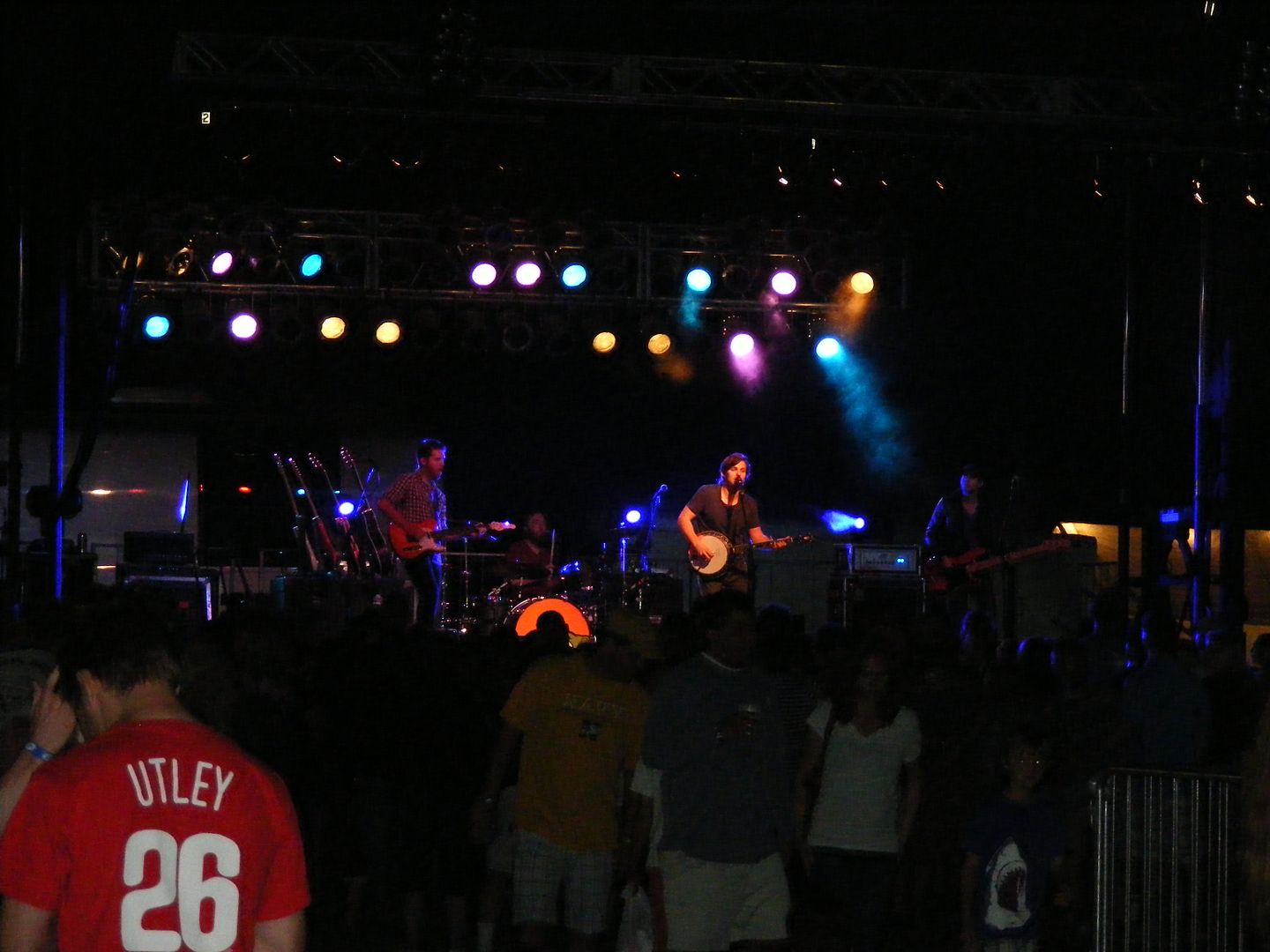 I will gladly admit country music is not my cup of tea, so suffice to say I didn't really recognize Worsham's originals – but they were well-received by the several hundred people around the stage.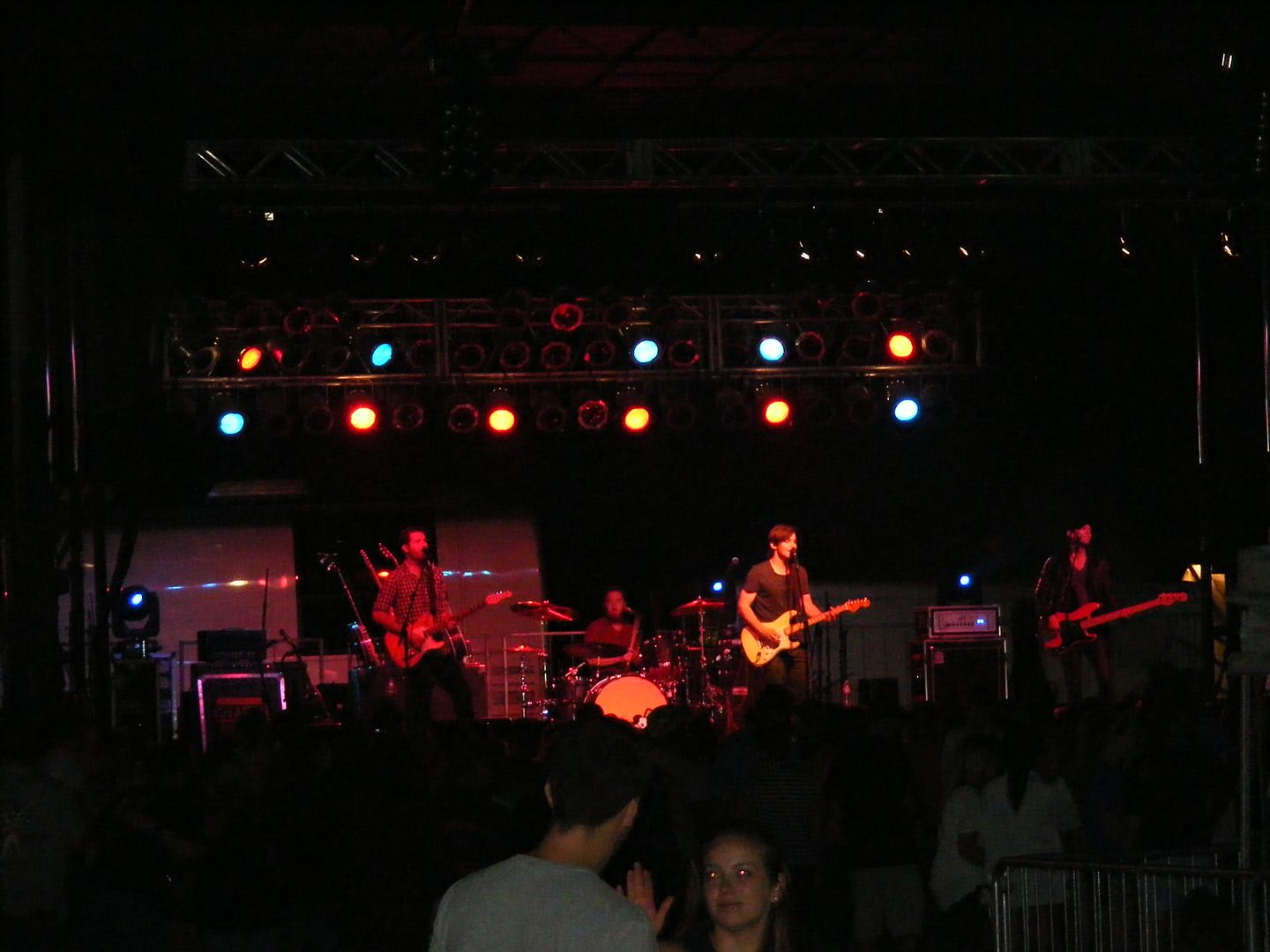 Unfortunately, having just one album to his credit and about 90 minutes of stage time to fill meant that he had to play a few covers. So can I ask a question – why is it that country artists feel the need to cover rock songs?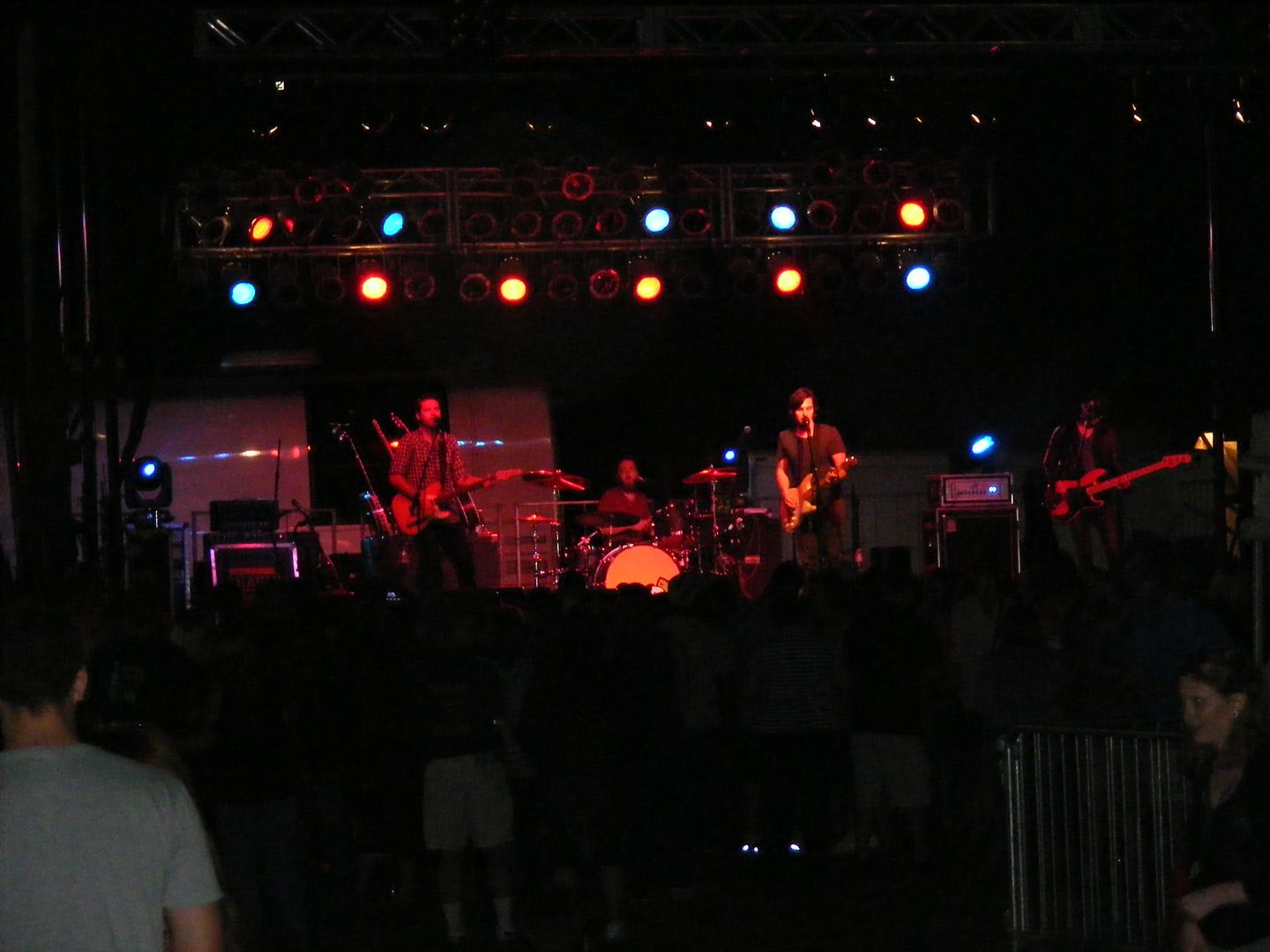 I will grant that my friends from Semiblind, who have graced many a WLR volume, can take a country song they like and supercharge it to make it listenable and sometimes even really enjoyable for a metalhead like me. But it doesn't work as well the other way – no country singer can be as urban as "Billie Jean" needs to sound nor can "Crazy Train" have justice done to it with a banjo. Cover Lynard Skynard or the Allman Brothers – no problem for a country band. Surely they can even pull off "Mustang Sally." So while I hate to be so critical, I must say that version of "Crazy Train" was brutal.
On the other hand, working as an opening act will give them a chance to write and perform what they're best at, leaving "Crazy Train" for someone else. Their mini-tour began in Houston yesterday in a performance for a local radio station before coming to Salisbury and moving on to Chesterfield, Virginia tomorrow before joining up with Paisley later next week. Those sorts of logistics are fascinating to me.
Assuming the weather doesn't intervene, the lineup for today is rather promising. If you hurry, you can catch the Barren Creek Band at 10, with Picnic following at 12.
Veterans of Pork in the Park and a welcome Pennsylvania import follow at 2:30.
Smokin' Gunnz is always a crowd favorite, as evidenced by the number of views this four-year-old video still gets on a monthly basis.
Another local favorite is bluesman Tom Larsen, who will serve as the opening act for Jimmie Van Zandt once the awards are over around 5:30 or so.
Front Page News is the final band to take the stage early Sunday afternoon, as that day is mainly given over to the wing-eating contest.
So music fans aren't left wanting by the lineup – the question becomes whether Mother Nature will cooperate today.
Every so often something comes along which puts me at the intersection of doing something I enjoy because I find it interesting, being able to write about it, and making a little bit of money. Tomorrow will be the first of what I hope are many of these features.
If you've been reading here since about 2006 or so, you'll have noticed I've done an occasional feature I call "Weekend of local rock." I also had a Friday tradition called "Friday Night Videos" that I did for a couple years as well, and toward the end of the that series I abandoned the original premise of news videos and went to an all-music format. It seemed more appropriate for enjoyment over the weekend.
Thus. tomorrow I'm debuting a new regular feature. I haven't thought of a catchier title than "monoblogue music", so I'll go with it. But in my occasional forays into attempting to find new writing clients, I came across an entrepreneur who was looking for people with a critical ear and existing media outlet to help promote his stable of musical artists by reviewing their work. So I contacted this gentleman and we have come to an agreement, the first installment of which will be up tomorrow afternoon. I like it because I get to listen to some different music than the formulaic crap which seems to plague the airwaves, from up-and-coming artists who may be enticed to come to this region. I'm sure he likes the fact I have a sub-200k world Alexa rank, but I think this can work to broaden my audience for the political end of my site as well. So it could be a win-win.
In speaking with this gentleman, it was made clear that my reviews didn't have to be positive, which is fine. But I asked him to steer those artists my way who are either based on the East Coast or tour through the area. (The latter covers tomorrow's first feature, as they are Australian-based but plan a U.S. tour later this year – on their previous tour they mainly played along the West Coast but I suspect this will be their breakout year and they will come this way.)
So while this may seem to be an unusual step – particularly for a political blog in an election year – bear in mind that I've always branched out into other realms because to write about politics on a daily basis would eventually burn me out. I look forward to what I hope will be a productive relationship on both ends, and one you the reader will enjoy.
As is often the case, when I do this post for the Autumn Wine Festival the definition of "rock" is tossed out the window. Much of the musical selection there would be classified as jazz, with a few other genres thrown in. Moreover, with just six bands playing on one stage the menu is more limited and this post will be appreciably shorter than the last one.
And yes I said six bands, which I'll explain in due course.
The jazz theme was firmly established early on with the group Sideways.
And while it was music which would make the aficionados of the genre happy, I have to point out that I have never heard an instrumental jazz version of Nirvana's 'Heart-Shaped Box' before. It was an interesting take on what is probably among my top 10 favorite songs.
They gave way to a more traditional classic rock and pop cover band in Naked Blue.
It may not show up in the smaller resolution I use for the site, but those vertical streaks in the photo are raindrops, as we battled a steady drizzle to light shower through most of the day.
It only dampened the crowd a little for the main attraction, TR3.
Most famous for his collaboration with Dave Matthews, Tim Reynolds (top) and his band of bassist Mick Vaughn (center) and drummer Dan Martier (bottom) stopped by the AWF in the midst of a brief East Coast tour which had them over in Cambridge the night before and in New York City the following evening before more stops in New York, Pennsylvania, and Connecticut. (The last stop is tonight in Ridgefield, Connecticut.)
Buoyed by a number of originals, TR3 also put its stamp on rock classics like 'Kashmir' and the old Focus song 'Hocus Pocus.' Yes, they yodeled to close out the show.
So when Sunday dawned I wasn't expecting any yodeling from the traditional Sunday opening act, the Backfin Banjo Band.
Instead, theirs was a collection of traditional music. As you can see, the day turned out much brighter as well. It was a good day for a picnic, and Picnic indeed was the middle band of the Sunday trio.
They went through a group of songs ranging from oldies to classic rock, but I think they improved once they added the female vocalist.
Oddly enough, it turned out they were the only Sunday band with a female singer, and this lent them a dimension missing from the initial songs.
The Larks were supposed to be the penultimate band on the posted schedule, but as late as the bands were running I think the posted schedule was in error and The Larks were supposed to be the closers.
While they had more of a "wall of sound" with the horn section, they took us back around full circle to that which Sideways had begun on Saturday, with a jazz-heavy final set punctuated with originals.
It's interesting to me that both venues mixed a number of local or semi-local acts with one or two more nationally-recognized acts. This is a pattern which seems to work for the local festivals as they continue to be successful despite adverse weather for most of the four days they occupied this year.
If you can't tell the lineup without a scorecard, it's probably good that I begin with this photo.
I always find it very helpful that the folks who run the Good Beer Festival put this board up, although I think I would prefer it arranged by day, with Main Stage as the left column and Bar Stage to the right. But it turned out there was a snafu regardless.
I'm not sure what happened with Lauren Ventura, but she ended up being placed between two acts on the Main Stage. So the first to play was actually Captain Blue's Grass Band.
Captain Blue (aka C.J. Cutsail) is the host of the radio show "Local Produce." But along with his co-host Josh Rose, they comprise 2/3 of this band that veers along the lines between bluegrass and acoustic rock. They reminded me of another group which didn't make to our festivals this time around, Chester River Runoff.
Because Ventura was bumped over to the Main Stage, it meant Chad Abernathy opened the Bar Stage.
I didn't catch too much of his show – the Bar Stage was on the other side from our location – but it seemed to be mostly originals performed acoustically. He had female accompaniment on some songs as well.
Meanwhile, Lauren Ventura got her show in. She's a singer/songwriter from Nashville who seemed to embrace the conditions.
But since Abernathy and Ventura were playing at the same time on opposite ends of the park, neither had the benefit of full attention. Since she only had one instrument, though, Lauren could easily clear the way for Eastern Electric. That even became easier when it was just one performer.
I'm not sure just what happened with Eastern Electric, but this is what became of them.
That was a little disappointing, since I enjoyed their predecessor band (The Electric Co.) and thought I'd hear some familiar tunes.
I wasn't disappointed with The Hot Meals, though. To me, their music sounds sort of like an old favorite from my FNV days, The Permilla Project. (The two bands have one common player, drummer Sean Miller.) Maybe one can call it "smooth rock" because there seems to be a little jazz element there.
But the final band of the day took the cake. This photo was from the sound check, when I said, "damn, who are these guys?" That was also before the rain began.
Well, they are called Bush Hawg, and they are an up-and-coming band in what I suppose is considered the "modern country" genre.
Now the song that attracted my attention in the sound check isn't one I found on their website, so I may be wrong on the title – but the chorus line is "God save our country." But they also played their single, "Crushin'" which is more of a ballad but has charted in the top 30 on the "Music Row Country Breakout Chart", so it was sort of a shame so few were left after a soggy day in Maryland.
And it's not like they didn't know how to rock – not with a medley which took pieces from Guns N' Roses, Queen, and Red Hot Chili Peppers, plus the full tracks of "Seven Nation Army" and the old Cars tune "Just What I Needed." They also have a remake of "Fortunate Son" on their EP which they played.
So Saturday evening ended with their hard country. On Sunday, we had a cloudy and breezy day to greet music lovers. But all the bands played as scheduled, beginning with the one-man band, Kevin Poole.
It was a little guitar, a little singing, a little percussion, a little harmonica, and a little marketing.
Over on the Main Stage, Sunday began with power pop from Rew Smith.
It turned out that they were the most enjoyable act of the day for me; just simple, straight-ahead rock and roll.
The second of three acoustical acts over on the Bar Stage, Mike Weyrauch held court.
Now I've heard him on "Local Produce" and on his CD playing originals, but the couple songs he played while I was over there were covers. Hopefully he introduced that side of the GBF to his own stuff.
Some original instrumentation was the key to Children of a Vivid Eden, back on the Main Stage.
The same held true across the way as John Emil wrapped up over at the Bar Stage with some acoustic slide guitar.
Well, that and the percussion box he could tap his foot on.
Pressing Strings wrapped things up for a rapidly dwindling crowd. It seemed like people left early on Sunday. In all honesty, I think the Main Stage lineup would have worked better in reverse, with Pressing Strings being the opener and Rew Smith wrapping up. It's nice to have an active band to finish, as Bush Hawg did the evening before.
One thing I like about the GBF is their willingness to go outside the area for different acts – for example, Lauren Ventura and Bush Hawg are Nashville-based and Emil hails from Florida but has mainly toured in Virginia and North Carolina this year (with a 16-stop European tour thrown in.) To me, it provides more of an attraction.
So now that I have this edition of WLR in the books, I'm working on the next while at the Autumn Wine Festival. Since there are only seven bands and one stage at the AWF, the next installment will be shorter than this was.
It wasn't quite a garden party, nor did I reminisce with old friends – I made a couple new acquaintances, though.
Regardless, the music was pretty good so I decided on the spot to make this volume 56 in the long-running series and place it the day after volume 55. Why not make a single weekend of it? Because the events happened 15 days apart, that's why. And while Kim had mentioned there would be a band at the party, I just assumed it would be some cover band playing old standards. So I was pleasantly surprised by the difference from expectations.
Anyway, from what I read about Muskrat Sally, they are originally from here but they don't often play here as they make a lot of appearances across the Bay.
Many of the songs they played while I was there I didn't recognize as covers, but once I heard them I immediately thought of a much more well-known performer, George Thorogood. Like Muskrat Sally, it seemed that Thorogood plucked a number of retro blues tunes out of obscurity, put his own stamp on them, and sold them to the masses. In fact, their finale was a song Thorogood remade in the late 1970s, "Who Do You Love?" And they indeed played one standard – what band doesn't know "Mustang Sally" by heart?
What makes Muskrat Sally different and unique from other similar local blues acts, such as Tom Larsen, was the female vocalist and performer. It also afforded more interesting banter between songs. (Interestingly, she's not listed on the websites. Maybe this was an all-star band of sorts? It's a private party, so why not?)
And since it was a party with presumably well-heeled clientele, why not make a little money on the side? (Literally.)
If you liked slide guitar and gritty old blues, this was the band for you. They had my toes tapping as I ate some barbecued pork (it was a pig roast, after all) and batches more food and homemade beer than I probably should have (just the food, not the beer. I could tell it was potent stuff.) Fortunately, there was still plenty left for the band when the sun went down and it became too dark to play out there. (Hence, the reason the photos are dark. My cell phone doesn't do bright backgrounds.)
I'm certain that many a band has played an event like this – literally in someone's backyard on the grass, with part of the pay being all the food you can eat. Sounds like a lot of fun, and if I'd thought about it maybe I would have dusted off my moribund YouTube channel for a video. Too bad we didn't get there earlier when the light was better.
Since it's likely we'll have an invite next year, we'll see if Muskrat Sally makes a return. They certainly played well enough to deserve one.
Subtitled: the 5th Annual (Save the…) BreastFest edition.
I've been to all five of these events and I have to tell you this was probably the most successful. They finally got the two ingredients they needed to maximize success: a location in Ocean City and a Friday night slot during Bike Week – the last few StBFs were relegated to Thursday night.
But more on that in a bit. Let's talk about the bands involved – by the way, all of them volunteered their time for the cause.
We arrived a little late so we only caught the tail end of Elwood. Hearing their last few songs, I was mentally kicking myself for not being ready to go a little sooner because they were solid. They also play a number of originals, which to me is a plus.
Chainbreak came on next and pleased the bikers with a collection of songs that included some Southern rock covers. If it's Bike Week in Ocean City, you will hear something from Skynard, Molly Hatchet, or the Allman Brothers.
Veteran musician Lauren Glick and her Moodswingers were up next, and she belted out a number of old favorites.
Before I get much farther, I need to note the creator of the event, Michele Hogsett.
She's the beauty and the brains behind the (Save the…) Breast Fest as a cancer survivor herself. And she shrewdly recruited her husband Jim to serve as the emcee of the event.
The reason I bring this up here is that they got a lot more busy once Lauren Glick cleared the stage. It was time for Semiblind.
Like Lauren Glick before them, Semiblind showed why they're still a popular local group after nearly a decade of playing. I found this video from the event as the band jammed out on the Ted Nugent classic "Stranglehold." That was their final song of the evening, but the rock wasn't over by a long shot.
Like Semiblind, the next band has made all five StBF events, and they vowed to keep coming.
Now if you want to discuss a group which doesn't compromise on being heavy, Witches Brew would be that group. They hammered out a lot of hard rock staples from the 70s through the 80s, and actually served as a good complement to the final band of the evening, Vivid Season.
If you add about a decade to Witches Brew's playlist, you'd get Vivid Season.  They concentrate on songs put out during the last 15 years or so – not to say they don't throw in older stuff, but it's arguably the most current of the groups who played. (Semiblind will play some more recent stuff in their extended shows and as I noted, Elwood does quite a few originals.)
Yet while all the music was going on, my friend Melissa was selling raffle tickets. This WAS a fundraiser, you know.
Each of these little bags represented a raffle prize, with everything from free hotel accommodations to golf to apparel to tattoos and bike accessories in the mix. The list of sponsors grows a little each year.
Now I didn't take any photos of the contestants in their tattoo competition, but I did snap a shot of these luscious cupcakes.
Speaking of luscious cupcakes, it should be noted the event sponsor did quite well this year.
The Delaware Breast Cancer Coalition raised $1,609 from the event, which Michele said doubled their take from last year. Going from Thursday night to Friday night was a lucrative move for the group, for whom StBF now seems to be settling in as an annual occurrence at Pickles Pub.
The last photo I'm throwing in for fun.
If they can hold their spot, you may want to pencil in September 12, 2014 on your calendar for the 6th annual event. With an attitude like that, it should be a good time.
I'm actually a week overdue on this one, because I meant to post this the weekend after the Delmarva Chicken Festival. Hopefully Tom Larsen and his Lookin' for Trouble band don't mind the wait.
As I found out later, this was a special reunion show for Tom, bassist Elwood Bishop, and drummer Keith Brooks.
Of course, I expected them to play a lot of blues because I've seen TLB close the Good Beer Festival for both years since its inception, and probably here and there at similar events as well.
He even brought along his merchandise table.
But his show was a little different, as he had a lot longer time slot – or so he probably thought. This was when Larsen and his band started rolling.
About four or five songs in, his band had to take a break because there was a competing event across the way – the Worcester Children's Theater show I alluded to in my main coverage. So they were sidelined for a good 45 minutes or so before resuming.
But resume they did, and shortly thereafter Tom found he had a young fan.
Those who were there also found out Tom can make almost anything work for a slide guitar.
I'm sure Cascading Carlos can work that into his act.
But above all, it looked like Tom and the band were having fun up there, playing a lot of original music to boot.
While he doesn't play in the area all the time – Tom goes up and down the East Coast with some regularity – those who are fans of the blues locally should know who he is and where he plays. The folks at the Chicken Festival were treated to a doggone good show.
As I mentioned Monday, I spent part of my weekend getting sunburned but listening to some great music at the Concert for a Random Soldier. I missed last year's effort but saw most of what went down this year.
We were running late as often occurs, so we missed the first act entirely and came just in time to see the Mari Hill Band wrap up.
How did I know it was the Mari Hill Band? Because they were playing this very song:
That video was from the 2011 Concert for a Random Soldier, so as you can see the setup is basically the same. The set order may have differed, but the sound was there too.
This meant that the first act we saw in its entirety was the acoustic stylings of Kyle Offidani, a Delaware native who returned from Austin, Texas to do the show.
His was a complex, complicated set of mostly originals which seemed to be received tepidly. It wasn't the standard upbeat set of cover songs most acoustical acts are known for locally.
But somehow it worked rather well in setting up Lost Weekend, which came at us with a very blues-oriented set.
I didn't see if this couple had red shoes, but they danced the blues.
The C4RS always seems to have at least one blues act, with one of the more prominent being lower case blues. These guys were no exception, and they played the role rather well.
The next acoustic act was actually a stand-in, as Joey Fulkerson played a brief solo set in place of Ashley Mitchell, who was originally scheduled.
Since the acoustic acts were set up as sort of a side stage to the main bands, Joey didn't actually yield the stage to C4RS staples Semiblind, but once he finished Semiblind started their set of covers which spanned a generation.
They appealed to both young and old with their mix of songs, and spare instruments.
I found out later that Michele brought the extra instruments intentionally knowing these kids would be there. Nothing like a little music appreciation for the young.
Returning to the acoustical stage, Lisa Says No came on for the first of their two musical interludes.
They played a set more modern than most acoustic cover sets, with a lot of songs from this century or just beforehand. I guess these would be the songs our troops who served in Iraq and Afghanistan grew up with.
Many of the Vietnam vets grew up hearing what Oh Boy brought to the stage.
Oh Boy! is a band which variously bills itself as a tribute to Buddy Holly or a tribute to rockabilly, depending on the show. In this case I would go with the rockabilly, judging by the set list which blew over to me.
These songs got quite a few of the older folks there to their feet.
They may have also recognized some of what the next group did, but it was shaped musically to a more unique form by the Joey Fulkerson Trio.
This is actually 3/4 of a band better known as Nothin' But Trouble. But Joey was doing nothin' but shredding on some Pink Floyd and Jimi Hendrix – if you were comfortably numb after that you were probably dead.
Bassist Greg Haughey was enjoying the moment, too.
After all that, I almost felt sorry for Blind Willie as they had to follow a really good show. But they held their own, returning to mainstream rock for the time I was there.
From what I understood, the last act was to be a jam session featuring a number of musicians who stuck around to play, but hay fever won out on us.
It's worth noting that host Terri Clifton pointed out in her remarks that they had 12 acts, but three times that were interested in playing the event (for free.) I've said this a few times over the years, but it's worth stating the case again that artists are happy to make time to help out charities like Guitars for Vets and the Chad Clifton Foundation. Next year I'm sure a couple dozen bands will want to do the same.
Due to a prior commitment, I missed the April edition of Third Friday – which marked its return outdoors, where it thrives by being able to use the whole downtown plaza – but Friday evening turned out to be a winner weather-wise and because of that hundreds came out for this month's edition of the event.
I had seen the crowd was a good one on approaching the event, but arriving on the Plaza it looked quite healthy.
It didn't hurt that my friends from Semiblind were playing down there.
In and of itself, that's not unheard of as they've played Third Friday before. But they seemed to lend a different flavor to the event you may not get with an acoustic act.
One big difference I noticed this year, though, is that the scope of the event seems a little smaller. If you look at that link, you'll notice there were bands all the way down Main Street, but now the event seems to be concentrated just on the Plaza and the unit block of North Division Street.
In fact, there was a second band at the courthouse called the Edge-ucators but I didn't make it over in time to catch them. There were other activities over there, though, which seemed to cater to kids and support the overall theme for the month of flight and things which go up in the air. As they said, "If it flings, flies, or floats… we are all about it!"
The open space of the courthouse yard lent itself to activities like disc golf as well.
And the kids had their own little space.
For the little ones, it was perfect: a bounce house, nearby snow cones, and plenty of sidewalk chalk. What else could a child want?
The local artistic community has also taken the event to heart, with Salisbury University getting in on the act by using a nearby building as exhibition space. Two new exhibits opened yesterday.
If you didn't see "Immortals" and "Young Philly" yesterday, you have a little more time to check them out.
Let me just say I'm not an art critic and this question didn't dawn on me until I went through my pictures this morning. But who actually sits at the exhibit during the time it is open? The artists? Seems like a lot of time out of a week to man an exhibit for 24 hours (Wednesday to Saturday 12-6, according to the flyer.)
Maybe if I went to this party I could find out. This is to benefit the fine folks at SWAC.
But accompanying the 3F theme of flight were several other exhibits. Posters similar to this were spread around the Plaza.
You could try your hand at making a paper airplane and seeing how far you could make it sail.
Even human-powered flight was encouraged.
Salisbury Mayor Jim Ireton was contemplating this one.
I can tell you he made it just shy of 9 feet. My bad knee and extra ballast left me a little short of 8.
But these guys were a draw without leaving their feet.
Why were they so successful? Well, there was the element of danger.
In all, the crowds seemed to hang around for the evening, making the Plaza a busy place. This picture was sort of random – I found the walking bush taking a rest!
It wasn't all fun and games, though. Shortly before Third Friday got underway, these two businesses had a ceremonial ribbon cutting.
Both have been open for some time, but the local Chamber of Commerce wanted to give them an official sendoff.
As the evening progressed, the action began to shift to other places.
One eatery taking advantage of the weather and adjacent crowd was Roadie Joe's, with a nice group of alfresco diners.
As it turned out, Kim and I enjoyed our late dinner outside at Roadie Joe's as well, where Paul Brion was playing his final set of the evening.
The food was great, although the service was a little bit slow. But if the idea was to allow us to enjoy our evening without leaving downtown Salisbury, mission accomplished.
There were a couple times I overheard people say something along the lines of "I wish they did this more often." I understand that part of the attraction of Third Friday is its uniqueness on the calendar, since it's a single day each month where people can plan on enjoying downtown Salisbury. But in order to maintain a vibrant, thriving downtown that seems to be what's envisioned by the city fathers, this needs to be a seven-night a week affair with several hotspots at once.
There's also the argument that the Plaza should be permanently closed to traffic as it was for several years decades ago. For an event like Third Friday, which is kid-friendly, this makes perfect sense. It might not be a bad idea to close off North Division Street as well in order to better integrate the open space in front of the Government Office Building. Again, though, it depends on the vision for the Plaza – if it's to be retail-focused then parking near the stores would be desirable, but something which is more of an entertainment district where nightspots may locate themselves up and down the block probably is best served with a pedestrian-only Plaza, with a taxi stand on the short street which runs off the Plaza toward Business Route 50.
Any such effort, though, is probably several Third Fridays away so enjoy the art-focused events and the nice weather while you can.
Meanwhile, for another perspective along with a little more Semiblind love, check out Jonathan Taylor and his Lower Eastern Shore News site. He and his wife April were busy taking a lot of photos.
This series has been gone (since last November) but not forgotten, and I got a chance to dust off the camera, clean the cobwebs out of my musical ears, and check out some of the local bands at the Pig and a Jig BBQ Festival last weekend, Out of the five scheduled, I saw at least part of the final three performances. Perhaps next year we will arrive early enough to see more of the bands; as it was we missed out on The Hot Meals and The Zen Monkeys. (I've featured The Zen Monkeys previously in this segment, though.)
So it turned out that our dinner music was an acoustic act called The Stims.
Was it anything groundbreaking? Not really. But it was good enough to eat ribs by and served as the soundtrack for the event, which was held at a former auto dealership turned body shop.
While they didn't seem to take requests, I think they were making up the playlist as they went along.
This turned out to be especially true after the awards presentation, when they came out to play a couple extra songs while the next band finished their preparations.
I did notice another interesting musical trick though. Check out what the percussionist was sitting on.
Bongos without the setup. It seemed to fit in well with the acoustical theme.
But we were plugged in for the next group, one very familiar to WLR fans.
In most cases, being the penultimate band in a lineup of more or less equally unfamiliar bands would expose you to the largest audience. But it really didn't work out that way for Semiblind, and that's a shame. I think just the fact it was a very chilly Saturday for May worked against them.
It worked well for getting good individual photos, though.
Being friends with Michele and Jim Hogsett (top two photos above) does mean I have a little idea of how they enhance their show. For example, I know that Michele is a stickler for knowing just how the band sounds to those out in the audience, so she will wade out into the crowd during the first or second song at an unfamiliar venue.
And yes, she was singing. I've not actually seen a venue where Michele is the DJ for the evening (she also works locally as DJ Siren) but I imagine she will check her sound in the same manner when she's spending time in that capacity.
And I'm sure that Jim likes the outdoor venues because he doesn't have to wait for a break to catch a quick cigarette.
In fact, you could almost say I have a backstage pass with this pair.
The same can't be said for Bad Mojo, but I wanted to hang around long enough to at least get a sample of their work.
The gathering gloom didn't do much for the photography, but I had no objection to how they played their standards. In many respects, they served as the extension of Semiblind, just with a male vocalist and added keyboards.
As it was said later, those who remained kept warm by dancing the evening away, so their mojo wasn't so bad after all.
I've noticed all three of these bands get around, so if you are out and about on Delmarva chances are you'll run into one of them soon. In fact, I encourage it – we need to support our local music! I know Michele is in the DJ business, but I'd rather see a band make its stamp on a song given that most of us have access to internet radio and other means of hearing the original work.
Hopefully I can get back to making this a more regular series. Unfortunately, I missed two of the prime multi-band shows over the winter and early spring because of previous commitments, so it was great to resurrect the WLR after a long hiatus.