If not for Jonas, this post probably would have had at least one photo of our former Republican governor Bob Ehrlich. But since our friend Jonas left him stuck across the bridge, in lieu of the book signing fundraiser we instead had a hastily arranged meeting to go over a handful of announcements, with the first one being prospective dates for rescheduling the event are March 7 or 14. Of course, that's subject to change and as I brought up the former date would conflict with our Central Committee meeting. Jackie Wellfonder added that the event was nearly sold out, but there were still a few spots available.
(Historically there seems to be an issue with wintertime events featuring Bob Ehrlich here in Wicomico County.)
But anyway, the meeting announcement caught me by surprise since I hadn't even gone through and compiled the minutes from the last one. Nor did we have a copy of the Treasurer's Report, but interim treasurer Muir Boda had the excuse of having a meeting prior to this one. We were informed, though, that there were some changes to our accounts made necessary by the abrupt resignation of our previous treasurer and integration with the WCRC Paypal account.
Julie Brewington and I tag-teamed on the Central Committee report, which didn't feature a whole lot. As a body we had done our post-mortem on the Lincoln Day Dinner and discussed having another "retreat" as we did last year.
Jackie Wellfonder informed us that the Governor's Ball would be February 18. That brought up another question regarding how successful a couple local events turned out to be, with Jackie and Julie replying that Mary Beth Carozza's fundraising event was "hugely successful." Shawn Jester added that Andy Harris's Fruitland town hall meeting was well-attended, without the drama of the subsequent Bel Air townhall.
Julie Brewington then noted the Republican Women of Wicomico group was growing, and its next meeting would be February 3 at Brew River. Muir Boda is the slated speaker for the 11:30 lunch meeting, with Mitzi Perdue set for the March meeting. She was "very optimistic" about the direction the group was taking. Julie also took a moment to announce she was the Ted Cruz campaign coordinator locally.
Marc Kilmer gave us an impromptu update on County Council, with the biggest issues right now being the capital budget and proposed mega-chicken house. The bulk of the capital budget borrowing would be going toward updating and upgrading the county's radio communication system, to the tune of $11 million. As for the chicken house, which would be the largest in the county, Kilmer explained that the county really had no say on its construction and operation beyond the planning and zoning aspect – it would be an agricultural use in an area zoned for agriculture. Most of the scrutiny of its operation would come from the state, Kilmer added.
Kilmer also expressed his concern with negotiations with the county's law enforcement officers regarding a proposed pension program, noting other counties have had issues with the costs.
There were a couple legislative updates given. I updated the progress of the school board bill (SB145), which has a hearing on Wednesday, while we also were alerted to the possibility the sprinkler bill (HB19) wouldn't make it out of committee. (I checked on the latter, and found its scheduled hearing has been cancelled.)
In more mundane club news, we'll have to look for a new Crab Feast chair and we discussed some planning items for the coming year.
Things to add to the calendar: The RWOW group is doing a paint night at Brew River on February 11 from 6 to 8, said Julie, while Jackie added that Bob Ehrlich is scheduled for another book signing event at SU, but there you don't have to buy the book to attend (at a reduced cost.) She suggested we could support their February 15 event without buying the book then doing the WCRC fundraiser to get a copy.
Next month's meeting will be a double dip: Walter Olson of the Cato Institute will discuss Maryland's gerrymandering, while Anthony Gutierrez of the Wicomico Board of Elections will demonstrate the new voting machines. That meeting will be February 22. Sounds like a good one!
First off, welcome to 2016. As a politically-minded blogger, even-numbered years in America always seem to draw more interest in my site so I hope it begins today.
But to begin 2016 I want to write about something which on its face would appear to be political but goes beyond party politics. It comes from the 9-12 Delaware Patriots, a conservative political group and one that has its interest in pushing Delaware in a different direction than its leadership tends to want to go – a recent example was their opposition to Syrian refugees entering the state.
However, a conservative movement is well-served in branching out beyond politics so I thought this part of their New Year's message was appropriate in that regard:
Many of our members face challenges this year; health, financial, employment, etc.  We hope to build a network of support throughout this new year for our members to bring resources to bear.  One of the exciting things we'll be doing is developing a directory of members who provide goods and/or services in the community.  We also will be setting up resources for people to receive donated items and to donate items to our members or the community at large.  If you are familiar with setting up and managing one of these "Needs & Seeds" programs, please contact Karen Gritton.
Perhaps the best places to learn more about their particular program are their social media page and website. This, though, brings up a larger point about the willingness of political groups to help out.
I have been involved to some degree or another with party politics for over two decades. Many people who are connected to a party – speaking from experience as a Republican, but assuming it's not uncommon among Democrats, Libertarians, Greens, or anyone else – also spend a lot of time helping out in the community on an individual level. They may be Jaycees, volunteer and donate their time to lead the local Relay for Life, be a deacon in a local church – whatever the case, they aren't creatures of the party. On the other hand, while individual members of a political party may be community leaders, the party itself by definition serves solely as a vehicle to get their favored or voter-selected candidates elected to public office.
So there are interest groups which try and straddle the line between politics and community. To use an example I'm familiar with, the Wicomico County Republican Club has a scholarship they give to a local high school senior. While there is competition to win it, the most basic requirement is that the recipient be a registered Republican – so it's not inclusive of the entire community. (This is true of many other scholarships and awards as well, such as those only available to public school students.) In previous years, the WCRC also had a food stand at the old Salisbury Festival. But as a group their primary goal and interest is to elect Republicans.
On the other side of the coin are interest groups that aren't necessarily political, but have a strong common interest and desire to do politically-based things. Foremost in my mind in that regard is the Free State Project, which is a movement to gather 20,000 liberty-minded people who promise to move to the state of New Hampshire, deemed to be the most advantageous pro-liberty state. (As of this writing, they are at 18,406. Once the 20,000 goal is reached, which could be this year, those who signed pledge to move to New Hampshire within five years. Almost 1,900 already have.) It's likely that this group would be politically active upon arrival, but as it stands they are more of a community.
As the TEA Party movement evolves away from the label that was unfairly tarnished by half-truths and innuendo, it also needs to become more attuned to how it can be of assistance in a broader sense. I don't think it's unfair to consider the 9-12 Delaware Patriots a TEA Party group, but by rule they do not endorse candidates and it's rare that anyone left-of-center would come be a speaker at their meetings. (Kudos to those who do.) What they seek in this call to action is sort of a mini-Free State Project in the regard that it would be encouraged for them to patronize the businesses members own and help each other out in times of need. To me, that echoes some of the functions of the religious community, and I wouldn't be surprised to find a disproportionate percentage of the 9-12 Delaware Patriots are church members compared to the population at-large.
At the heart of all this is the question of where we want to go as a nation. There are many in this society who would be perfectly happy to cede their decision-making to an all-powerful government in return for subsistence, almost to the point of needing assistance to wipe their behinds. Sadly, I suspect that number is growing because the Millennials and beyond aren't being educated in the concept of American exceptionalism and the progress to which our laissez-faire capitalist system has led the world.
Yet there are still a fair number of us who desire the limited government we were taught the Constitution guaranteed to us. We may argue about whether or not certain functions are legitimate and proper, such as our role to combat radical Islam, but the overall idea is to be self-reliant and to try and obey the Golden Rule. Some argue that the 2016 election may be our last stand, and we don't want Custer in charge of it. (Many portray Donald Trump as Custer, while others believe any politician with Washington ties will lead us straight to that ambush.) Regardless, they have been disappointed with the political trends ever since the TEA Party movement began in 2009 as the opposition to statism.
Over this year, the electoral process will play out and hopefully the side of liberty will prevail. In the meantime, though. the idea behind the 9-12 Delaware Patriots' initiative will be worth following. Perhaps it can lead to a local resurgence in the TEA Party movement that faded away a couple years ago.
We didn't have the biggest crowd on a Thanksgiving week, but Delegate Christopher Adams made his points during the final scheduled WCRC meeting of 2015.
Adams was down the agenda this time, as we chose to do our usual opening routine with the exception of me giving the treasurer's report for the absent Deb Okerblom. We slotted the Central Committee report first, which meant Mark McIver could detail the "huge success" of the Lincoln Day Dinner.
McIver chalked up the success to a couple factors: good profit from the silent auction and the use of several database lists – and 150 hand-written personal invitations – to target our advertising.
Briefly going over the state convention, McIver detailed how we heard from the three leading Republican U.S. Senate candidates. Ann Suthowski chimed in that Muir Boda was mentioned twice during the convention for his success and Mark Edney did a good job explaining the succession by-laws amendment. The Salisbury University College Republicans were also mentioned as part of the state CR report for co-hosting the Lincoln Day Dinner.
McIver also announced he would host a joint club and Central Committee Christmas Party next month.
Finally, we heard from Delegate Adams. He was pleased to see the change in government in Salisbury, which he said has more sway than he does locally.
Adams noted that with $20 trillion in debt, it was likely the GOP would win this year's election. He suggested they make cuts to the "fourth branch," as cost-saving measures.
In Maryland, Adams continued, the Augustine Commission determined that federal spending accounted for 25% of the state's GDP, so government cuts would affect Maryland disproportionately. The state needed to develop an "entrepreneurial ecosystem," he added.
Most of Chris's message dealt with legislation he was introducing to allow counties to opt out of sprinkler system requirements once again. It's something they've been asking for, Adams added, but they were up against a powerful firefighter lobby. Adams noted he had a meeting slated with the state!s deputy fire marshal.
Yet the $5 to $7 per square foot cost for a small, affordable home was one that couldn't be added to the value. Mandates like this are putting new homes out of reach for young families,
He explained that the 2012 International Residential Code had this mandate, but prior to last year counties were allowed to opt out. Taking back local control "has to be a grassroots effort," said Adams, and it requires action on a local level.
Adams was asked if many new home builders voluntarily put in sprinklers, but few did. He added that some states prohibit the mandate, including several neighboring states.
Mark McIver noted that the state was "taking away the American Dream…it's bankrupting the younger generation."
Adams was also asked about sprinker systems affect insurance rates. He believe they made little difference in the rates, because alleviating the fire risk was balanced against the leaking and water damage potential.
Finally, Adams was asked about last year's bill, introduced by Delegate Jeff Ghrist, to address this. He noted it was late-filed, so it never got a hearing. His bill is pre-filed.
Christopher concluded by announcing he has a unique fundraiser at the OC Hilton December 12 and 13. You would get 2 nights' stay and lunch with special guest Bob Ehrlich for one price.
Since we had a number of other state legislators in attendance, we got brief updates.
Carl Anderton spoke with Delaware officials, trying to get their perspective on agricultural issues. He also has a fundraiser coming up at the Delmar VFW on December 3.
Johnny Mautz believed "this year will be different than last year" in the General Assembly, with "a lot of activity." Federal campaigns will drive some of that activity, so it would be up to Eastern Shore Republicans to kill bad bills as they could.
Addie Eckardt thought it would get "testy," with pressure to spend our new-found surplus on items that were cut from last year's budget. The idea was not to let ourselves get splintered, she concluded.
All in all, it was a nice little pre-session update – and timely, since we won't meet again until after the session starts in January. To be exact, the WCRC will reconvene on January 25, 2016.
Without doing a full rehash of Election 2015, there is a further observation I have about the recent election here in Salisbury and the effect it will have on local politics at the club level. It also gives me the excuse to work something else in while I'm at it.
Second only to Jake Day, the story of Tuesday's election seems to be Muir Boda. He's the epitome of perseverance, having run four previous times for office yet never winning (even though I voted for him most of the time.) But at the same time, City Council's gain will be the Wicomico County Republican Club's loss, since he's the second-in-command there and both bodies meet on the fourth Monday of the month. He wasn't elected by District 2 residents to run our meetings when the president is away.
It brings me to a point I think it's time to make.
There are a lot of Republicans and GOP elected officials in Wicomico County, and we're graced by the presence of many of them each month at the WCRC meetings. Over the last decade, though, it seems to me that the number of elected officials getting out to the WCRC monthly meetings has increased but the number of overall attendees has decreased. Our meetings generally attract between 20 and 30 people, which is only about 1/10th of 1% of the total number of Republicans in the county. (As of September, that number is 20,943.)
While the faces at the top have changed (two members of County Council are recent past WCRC presidents, along with the woman who managed Boda's campaign) there are others who have been in a leadership role for years (myself included.) It sounds like that is also the case for the Republican Women of Wicomico (RWOW), which has dwindled down to a few members and is in serious need of a reboot – which some enterprising women are trying to provide before the group loses its charter.
Leadership of our club seems to be a springboard to future political success, but aside from the diehards who come to the meeting each month it seems like we aren't registering with Republicans at-large in the county.
2016 will be an important year for local Republicans in just one area. We have no local races and it's rather likely we will continue a nearly 30-year streak of voting GOP at the top of the ticket, so the suspense may well be whether we get the referendum we have sought in order to elect our school board.
But just as the RWOW group needs some new blood, so does the WCRC. It's a classic chicken-and-egg problem, though – how do you recruit new members to expand events and outreach without burning out the ones you have? Ideally there would be 20 to 30 people instrumental in growing the WCRC, not just a handful. We just seem to keep losing them to elected office, as now we will need to replace Muir Boda.
It seems to me the time has come to discuss where we are as a group. Sure, we raise a lot of money at some of our events but what are we doing to advance other conservative causes? Do we just continue to slog along, meeting once a month, holding an annual Crab Feast, and bemoaning our fate otherwise? Or do we try some different activities, get into more issue advocacy, and try to embed ourselves into the community more?
It wouldn't shock me if a lot of our current members are fine with the status quo. There have been various ideas tried from time to time, but they don't seem to catch on very well among the group. Maybe all we will ever be is what we are now, particularly as political discussion often runs afoul of tolerance.
While the WCRC certainly has had staying power, there is nothing necessarily permanent about it. Perhaps it will slip into the dustbin of history as a relic of a bygone age when being social meant actually getting up from your chair and out from behind your iPad to actually converse with real live humans. Who knows – we may be eventually morphing into a simple Facebook discussion group. (As an example, do you remember Meetups? When was the last one you participated in?)
In life, nothing lasts forever. (My faith allows me to believe otherwise afterward, but I'm discussing worldly things at the moment.) If you ask me, next year is a make-or-break year for the Wicomico County Republican Club.
Republicans in Wicomico County have an advocacy group, but like Benjamin Franklin once said about our republic it's only around as long as we can keep it. What I wish for the group is a team of leaders and idea people who want to take on the challenge of making ourselves relevant again, not just being the conduit for campaign funds.
I've lost track of how many WCRC meetings I've reported on but I would guess it's been at least 80. At some point, though, we all have to move on so when that last meeting I cover comes and goes I want to leave things in better shape than when I arrived.
After a delay of a month caused by a trial that resulted in a conviction, we got to hear from Matt Maciarello tonight as our featured speaker. So we did the usual Lord's Prayer, Pledge of Allegiance, and roster of distinguished guests before received the treasurer's report.
Matt went over the two key issues we're having – juvenile crime and the opioid epidemic. Most of his time was spent talking about the latter, although he noted specific information on overdoses was hard to come by due to HIPAA restrictions. It was possible to deduce this information from other factors, though.
Noting that "you can't arrest your way out of the problem,"  Maciarello pointed out that the county had what he described as an "opioid reduction officer," who was tasked with, among other things, figuring out what other states were doing. One example Matt used was the TROSA program in North Carolina, where rehabbing addicts were both treated and taught one of five trades.
Closer to home Matt wanted to see a 24-hour call center established so those in need could be connected to resources like available treatment beds. He also wanted to differentiate the legal approach to those who sold heroin for profit as opposed to those who sold it to feed their habits, although the idea was to get both off the streets. He also advocated for better coordination of treatment, explaining that support shouldn't end when a patient leaves the center. Many people need methadone treatment for months or even years afterward, he added.
Yet there was a compassionate side to the approach. Matt believed we needed to "take away the shame from opioid addiction" because it's touched a lot of lives and people shouldn't be discouraged from getting help. Many times the problem began with over-prescription of legal drugs or kids accessing their parents' medication, Eventually this can lead to heroin addiction, which is dangerous because of how the drug is "cut" with other compounds.
Juveniles were also a concern for Maciarello, who noted we have "a critical mass of anti-social teens."  Matt seemed a little frustrated with the current juvenile system, which he had "broad philosophical issues" with. A different path he spent some time encouraging was that of mentoring, for which there is a critical need based on a lengthy waiting list of youth looking for one. Even an hour a week can make a difference, said Matt! and he encouraged the club to be a leader in that regard. We were pleased to learn County Executive Bob Culver was on board with this idea, as Culver revealed some employee policy changes to accommodate the need were in the works.
Opioids accounted for about 70 percent of the crime problem, but overall Matt's goal was "to set the model for the state" on reversing the problem.
All that was a tough act for City Council candidate Roger Mazzullo to follow, so he stuck more to his pro-business agenda. He wanted to work with the new mayor on bringing jobs and industry to the city through incentives; however, he also mentioned the desire to address youth crime through more activities for the youth. As a neophyte politician, Roger was "impressed" with the cooperation between law enforcement and the community; in turn, Maciarello praised Mazzullo for being the one candidate to meet with him and raise "thoughtful questions."
One thing I asked, based on the marketing experience he touted, was what strengths he could use to sell Salisbury. He emphasized the rural feel of the area, but the subject somehow came atound to specific stores like Harris Teeter or Redner's, specifically to fill the old Giant/Super Fresh location near the north Walmart. (Personally I think Redner's would be the better fit there but I could envision either.) And you can count Mazzullo among those who want a Cracker Barrel. Still, he added "I believe in local (business)," adding he was less than impressed with his opponent's business record as mayor.
After all that, the reports were fairly anti-climactic. On behalf of the Central Committee, Mark McIver reminded us the Lincoln Day Dinner was in less than two weeks, and we were looking for silent auction items. Thus, we secured a one-hour tennis lesson courtesy of Delegate Mary Beth Carozza (who as I recall played collegiately) and a surfing lesson from Matt Maciarello. Delegate Carl Anderton didn't have a lesson to give, but a guided tour of the State House was a good substitute.
Alison Pulcher spoke on behalf of HERO Day, which will also occur on November 7. The main events are a 5k run and dog walk, but other events and speakers would also liven up the festivities.
I gave a brief synopsis of the fall festivals, taking the time to thank my volunteers, and also reminded the group we will need to establish a Nominations Committee by next month to select possible officers for next year. Finally, Joe Ollingrr asked if we could resume getting registration reports from the Board of Elections.
Truly, it was one of our more informative meetings of the year. The next one is slated for November 23, the Monday before Thanksgiving. It will be the final WCRC meeting of 2015.
It wasn't the meeting we expected, but still turned out to be informative.
We had scheduled State's Attorney Matt Maciarello to be our speaker, but with a pending trial Matt needed to burn a little midnight oil. So we were left with some reports instead. As one member put it, having members of several local groups meant we could always have an interesting meeting.
So once we took care of the usual opening business, we got a Central Committee report from Ann Suthowski. She reminded us the Lincoln Day Dinner was slated for November 7. When asked why it was so late in the year, Dave Parker noted it was originally planned that way to attempt to get Governor Hogan to speak, but his ongoing cancer treatments thwarted that idea. However, since Lieutenant Governor Boyd Rutherford has a daughter who attends Salisbury University, it was hoped he may appear. Suthowski wondered if he was being considered as a commencement speaker since his daughter would be graduating this year.
Suthowski also revealed there was an opening on the Central Committee, with Parker adding action to fill the vacancy could occur as soon as their next meeting October 5.
Bunky Luffman, speaking on Delegate Carl Anderton's behalf, announced he would hold an event Thursday evening at Evolution Brewing. It was to celebrate the first day of the "Evo Bill" that allowed Wicomico County breweries such as Evolution and Tall Tales to double their output yet keep their particular licenses.
Anderton is also planning a anniversary celebration November 4, said Luffman. When he won his initial election last year, the results weren't official until late in the evening so they wanted to have a more proper celebration for his supporters.
As part of his own campaign, Muir Boda is getting some help from around the state with a Super Saturday planned for October 17. He'll get assistance from various volunteers from the state party and Maryland Young Republicans.
On the We Decide Wicomico front (the grassroots effort to secure an elected Board of Education) Dave Snyder reviewed the first two public hearings, the second of which in Delmar had a "pitiful" turnout, according to another observer who was there. Nevertheless, they were pressing on for the third which was held tonight at First Baptist Church. (I'll have some observations on that tomorrow.) Snyder also added he sought to speak to the local PTAs but was turned down until such time when a referendum was on the ballot.
When asked about media, the feeling among several members was that the Daily Times was doing "nothing" but the Independent was doing a good job pushing it. The hearings are also taped for broadcast on the local access channel PAC14.
County Councilman Marc Kilmer opined that a hybrid vs. elected question can be on the ballot. But Don Coffin cautioned that we should "keep it simple," adding "our country was founded to have elected officials." Dave Parker added that we needed a provision for replacing members as well. "I want the best people," said Parker.
But Kilmer pointed out this "has to be acceptable to the majority of legislators in Annapolis." It was also revealed by Bunky Luffman that there was no precedent for a three-way referendum such as an appointed vs. hybrid vs. elected would be. We were also told that Wicomico's legislation last year was modeled on a version Prince George's County used.
Turning to the Crab Feast, it was no surprise that the poor weather soaked the bottom line, Attendance and silent auction proceeds were down markedly from 2014, which was the run up to the election. One suggestion made for next year was to get a better sound system so people at the outside tables could hear.
I then discussed the upcoming Good Beer and Autumn Wine festivals, and we broached the idea of getting our Christmas Party organized.
Before we left, we learned from Joe Ollinger that the school board was working on a search for a new superintendent and wanted to finish by next March. There was also the news that the school system was being investigated by the Justice Department for disparity of discipline.
The next meeting will be October 26.
Subtitled, the year of the monsoon.
I found this year I took very few pictures compared to past years. Some of that was the weather, where the skies gushed forth just before our slated 1 p.m. start. It forced us all under the pavilion but those on the outside rows were still soaked.
This also meant the silent auction was ruined. We ended up with a live auction later.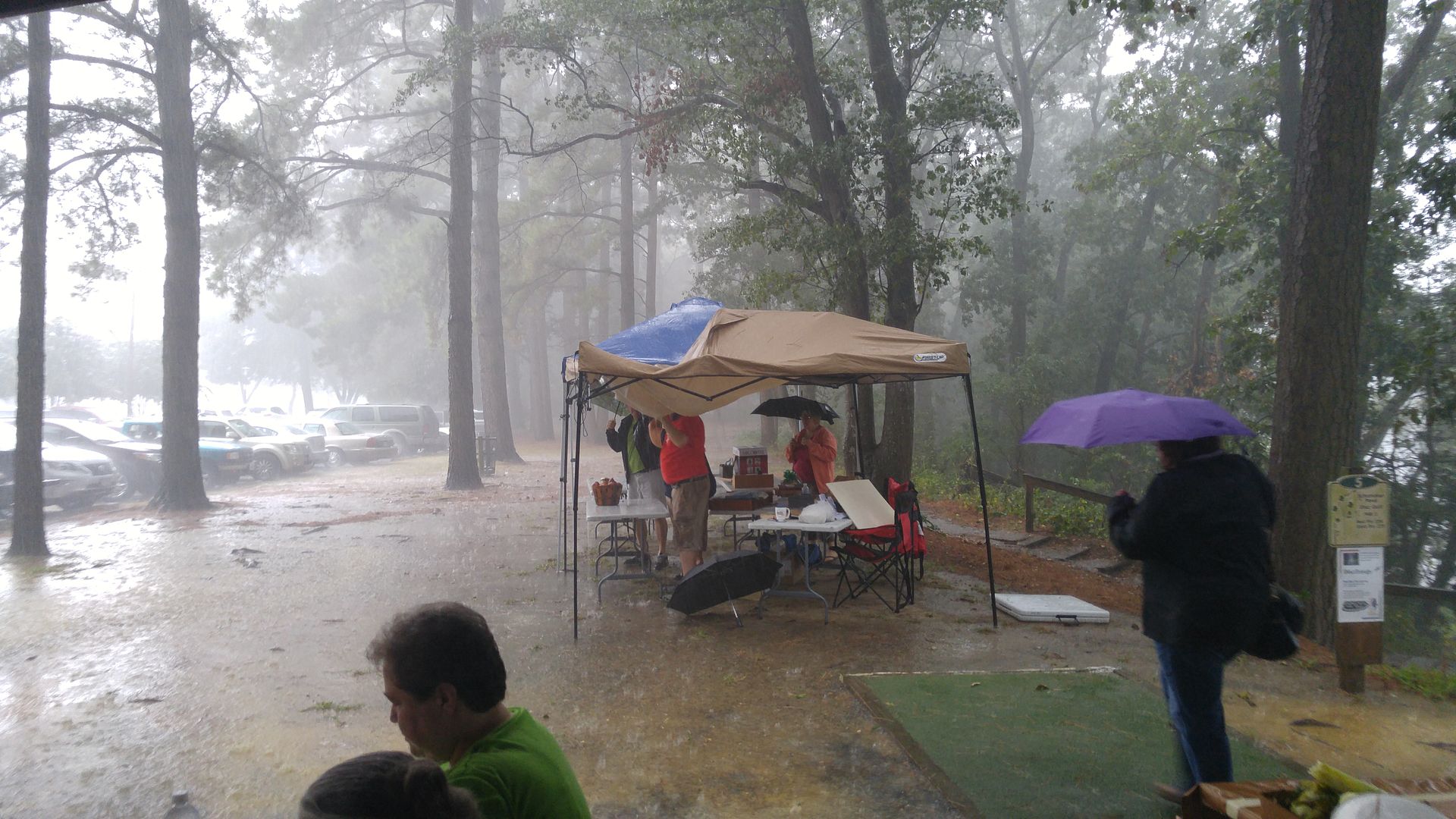 Yet the pouring rain didn't spoil everything. We made a special presentation to Jim Jester, our club's volunteer of the year. A plaque is one thing, but a fine cigar can be quite another. Both were kept dry.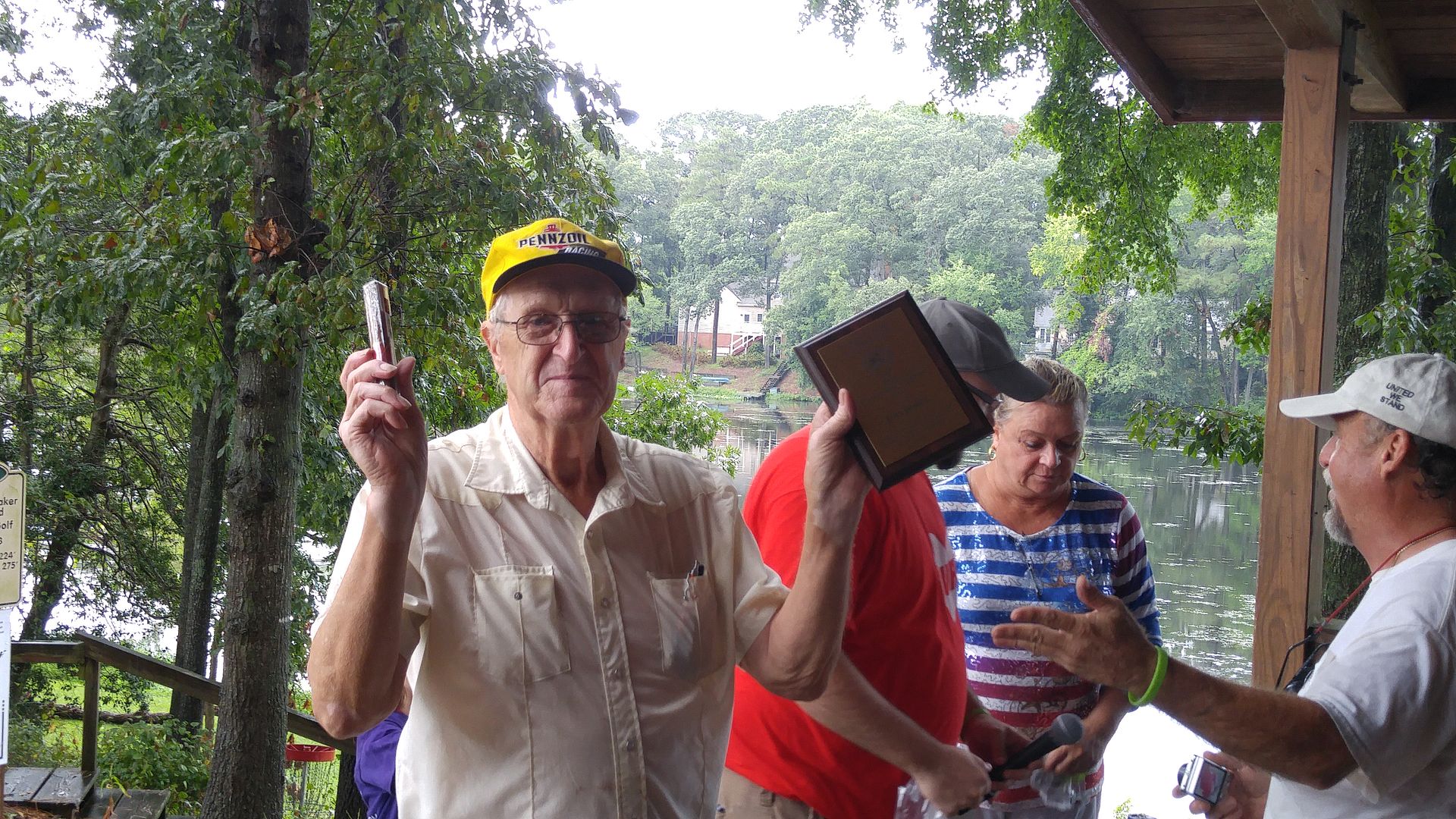 And the crabs apparently were good because we had to do a quick order for another three or four bushels. (The crab eaters at my table gave them good reviews.) The corn also went fast, but at least some of the produce was donated.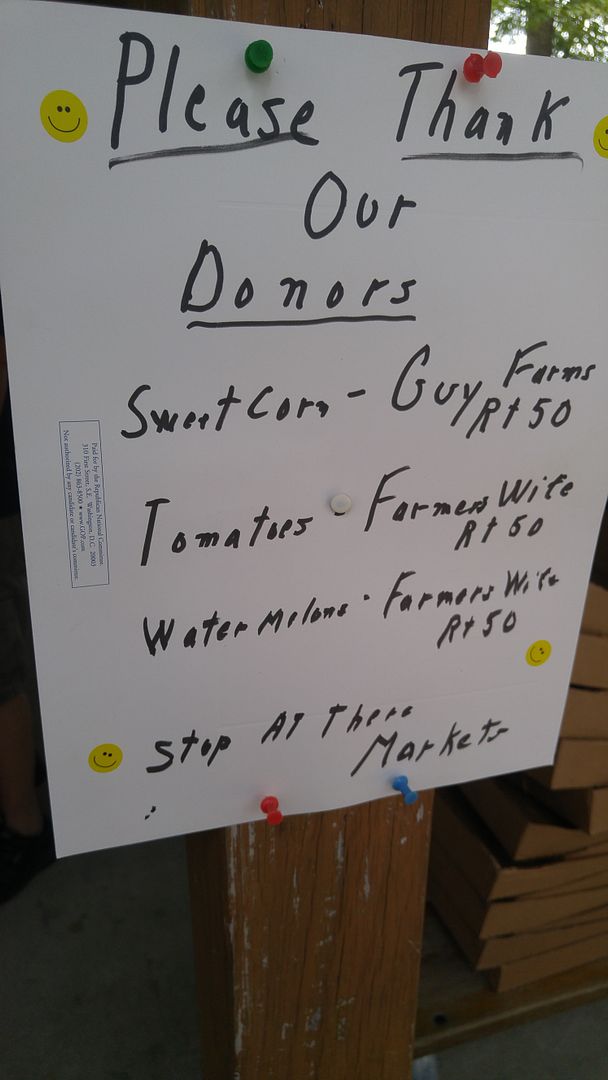 While the elected officials didn't speak formally, most made the rounds of the event. Being early in the term, they didn't need to campaign, but the awareness group We Decide Wicomico had a number of yard signs.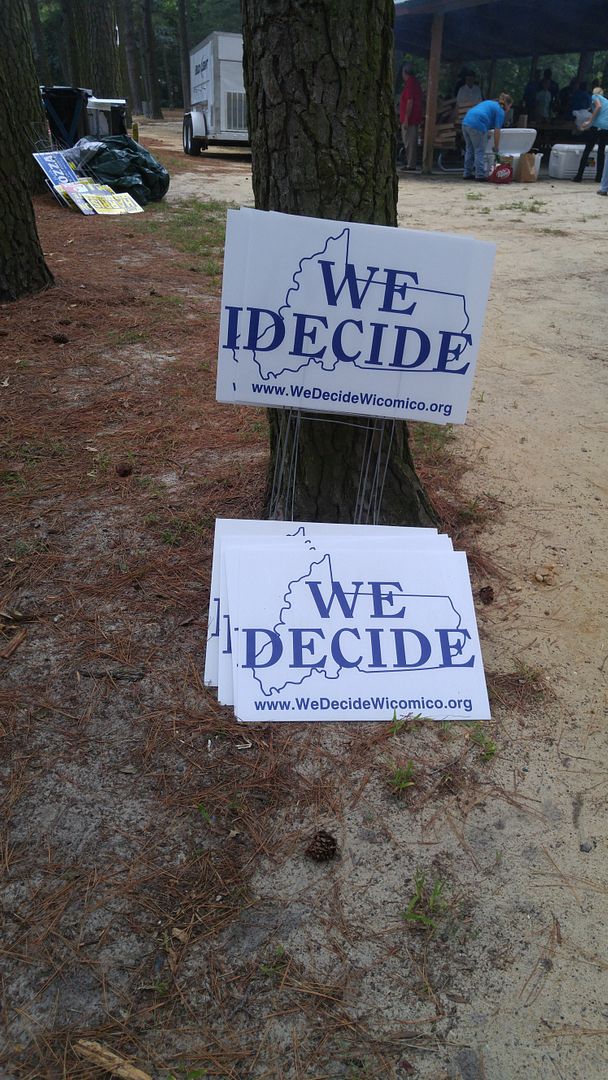 There were a lot of elected officials there, but I think the award for coming the farthest goes to Johnny Mautz. I grabbed the photo from Julie Brewington since she tagged me in it.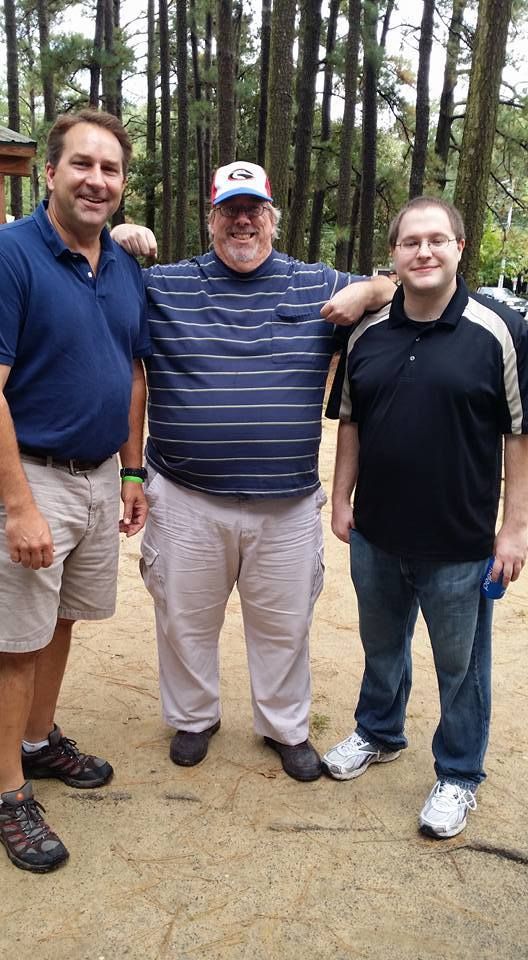 We also had Senator Addie Eckardt, Delegates Carl Anderton, Mary Beth Carozza, and Charles Otto, and a host of local pols from County Executive Bob Culver on down. But the most surprising no-show to me was Congressional candidate Mike Smigiel, who I figured would drop by. Granted, a Congressional district has a lot going on during any given Saturday but there was nothing I noticed on his calendar except a missed opportunity.
Hopefully the 2016 version will avoid the monsoon and make a lot of money for the club. Once the rain left, it wasn't a bad afternoon and some people ventured to the outside tables. Let's if we can't fill the outside tables as we have before and have a lucrative silent auction.
It was via a roundabout route, but we finally heard from the man who's presumptively Salisbury's next mayor, Jake Day. Because Jake had another place to be this evening – the Salisbury City Council meeting that he ran as their president – we had a succession of speakers to fill the time. It was interesting to note that several of these speakers dropped in as our meeting was going on, which told me they were looking forward to hearing what Jake had to say.
But we began as we always do, with the Lord's Prayer, Pledge of Allegiance, and introduction of distinguished guests, all done by our first vice-president Muir Boda, who filled in for our under-the-weather president Shawn Jester. We then did the swearing in of new second vice-president Dave Snyder, who pledged to be "a very good listener" and work to recruit 100 new GOP voters and new club members.
I took a little time to thank people for helping out at the Wicomico County Fair, as did Dave. My one suggestion was to perhaps look into a spot for outside next year.
In a Central Committee report, Mark McIver called the elected school board "one of the biggest things on our plate." He added there was a new initiative called "We Decide" that was a non-partisan group to back an all-elected school board, and related the urging from County Council that we should participate in these hearings. It was going to be "an 8-week push."
Mark Edney added his two cents, informing us that there will be an initiative this fall to address the issue of vacancies in the General Assembly through the state party's bylaws. Noting the issues faced by Carroll County, Edney intoned that it was "important that we get this right" because members of both parties in the General Assembly sought to take away the power local Central Committees had to choose successors.
Joe Ollinger updated us on the Crab Feast, which had most of the items in place except a silent auction coordinator. It's still on schedule for September 12 at Schumaker Park.
Speaking of food, Muir Boda announced his own, more modest event this Saturday at Doverdale Park. His community barbecue was slated for 3-5 p.m. but volunteers could show up at 2:00. Boda remarked he had three opponents in the election, so getting out the vote was paramount.
He also commented that the proposed city curfew was a "big issue" but questioned whether it would be enforceable given current resources and the spread-out geography of Salisbury. By itself, a curfew "won't solve youth crime," Muir said.
Senator Addie Eckardt, who had arrived after we began, spoke briefly about her upcoming annual bike ride through the district that will cover Wicomico County on Thursday. She also praised Governor Hogan, who has "put a great team together." It would help government become, as she put it, more responsive and cost-effective.
Delegate Christopher Adams remarked about his attendance at the defund Planned Parenthood rally in Easton as well as a stop last week at Wallops Island in Virginia. They were expecting to resume launches at the pad damaged in an explosion last fall by March, he said.
Looking forward, though, he wanted to concentrate on regulatory reform, as some needed changes could be done more easily through that avenue than through the legislative process.
Fellow Delegate Johnny Mautz predicted "a really busy session" next year but expressed his disappointment in getting a low 25% score from the League of Conservation Voters. I looked up the floor votes they scored: two were anti-fracking measures and the other was the "repeal" of the rain tax sponsored by Mike Miller. So pro-business was not going to meet pro-environmnet with the LCV.
Bunky Luffman stood in for Delegate Carl Anderton, commenting to an earlier point made about regulation by bringing up the sprinkler mandate that is halting construction locally. One local developer lost a builder who refused to build more dwellings – they weren't able to make money with the mandate and additional costs.
Most of the legislators had come late to hear Jake Day, who spoke for about 15 minutes and answered questions for another 20. Apologizing both for being late and a lack of sleep as a new dad, Day told us he was "very excited" about becoming mayor. As a Council member he was pursuing a pro-business agenda, but noted "I have found a roadblock in the current administration." Like the state of Maryland, his effort would be to attract business: "I want us to be competitive," said Day, citing Delaware under Jack Markell as a "more friendly and welcoming environment." Perdue's decision to move some of its corporate operations to Delaware "sent a message," said Jake. "The economy will be first and foremost on my mind each day." His idea was to grow jobs "locally and organically,"
One area he saw as a job creator was downtown, for which revitalization was important to Jake. It's "part of the renaissance" of Salisbury, said Day. He criticized the "lack of active leadership from the top" and sought a City Council that was cordial, but aggressive. He also announced the intention to continue divesting the city's surface parking lots, believing successful downtowns do better with infill rather than surface parking.
Crime was another top issue. Day observed that criminal activity was starting at a younger and younger age, so the city could have to "pick up where the parents left off."
It was an enlightening address, but the questions were good, too. The first one out of the chute was about the "rain tax." Jake disagreed with the state mandate, but believed it was necessary for a city which had ignored the issue for over a century. He was willing, though, to reduce property tax rates and scrap the city's inventory tax to help even things out.
And when I asked why the city couldn't use its water and sewer fund surplus, Day said the surplus was being depleted too quickly. Basically the relief would be short-term at best.
Corollary to that initial question was a discussion about the closing of Labinal, which will cost the city hundreds of jobs. While the popular opinion was that the state's difficult business climate drove them away, Day said the answer was more simple: Texas (and Mexico) were closer to their main customer base, and Salisbury mainly served military clients whose contracts were winding down.
A second concern was the issue with fire service. Rather than the "big mistake" of giving ultimatums through the media, Jake was working closely with county officials in coming up with a long-term solution. He conceded it probably wouldn't be all the city wanted, but noted that he and County Executive Bob Culver were "working well together." The key was making things more fair in a way that doesn't alienate non-city residents.
Our wastewater treatment plant was the subject of a question. Calling its saga "a scar on Salisbury's history," Day announced the next phase of renovations would begin in October. Bunky Luffman, who formerly worked at the plant, pointed out it had reduced the amounts of nitrogen and phosphorou, but not enough to meet more stringent state standards that changed midstream.
A final questioner tested Day on his "number one challenge – is my (business) location safe?" Crime was a concern for local businesses, and "a lot of solutions to our challenges are economic," Jake said. He vowed to show leadership and compile more data on the current conditions.
We finally let Jake go, so that Boda could announce our next meeting would be September 28. Hopefully it will be as chock-full of information as this one was.
For many years the Wicomico County Republicans have been proud participants in the Wicomico County Farm and Home Show. But after last year's sparsely-attended rendition, it was decided a change was needed.
In reading last year's feature, the comment was made that they needed more people to help out. Enter the Salisbury Chamber of Commerce, who had the rights to the old Delmarva Chicken Festival, and the re-christened Wicomico County Fair was reborn in its 79th year. So how did it go?
There was still a lot of tradition there…
…but they kept what was good about the old event and added a lot more.
One of those holdovers drew a lot of spectators on Saturday evening, as they kept the Cowboy Mounted Shooting event.
The idea is to shoot the balloons off the cones in as quickly as possible. On a horse. I suppose it's a little easier on us humans than to run through the sand ourselves and do it, and a better spectator sport.
As I said last year, though, it would be interesting to get a more full-fledged competition. Maybe next year.
But there was a lot which was new and improved. One thing dragged out of mothballs was the giant frying pan made famous at the Chicken Festival.
I'm sure this sponsor has been there all along, but the chicken tie-in was surely encouraging for them.
The fair also included a "beer garden" for the first time, although it was more of a standard food court. Ice cream was among the favorites, and you couldn't miss the rhythmic sound of this motor they used for churning.
This area, however, also presented a opportunity to vastly expand the musical entertainment as a number of local bands played the fair. The Barren Creek Band was among those that played Friday evening.
On Saturday night Red No Blue was the opener for Petting Hendrix. They were wrapping up as I was leaving.
Another area that was a noticeable draw was the variety of kids' activities. Those kids who exhibit goats, sheep, or cattle need to have a little playtime, too. It was more than my cell phone could get in one shot.
Truth be told, given the nice weather and the additional interest, those exhibitors who used to be inside but were outside this time around – such as the National Aquarium and Maryland Right to Life – likely had more traffic than the Republican Club had inside the exhibit hall.
One thing I didn't get a picture of was their display, but the club did. It's not a state election year so we didn't have a lot to stack up.
I thought this sign belonged there, though.
Since both of them are Republicans, we could lay claim to it but it was actually the county's sign that was placed across from us.
Finally, speaking of judging, there seemed to be more entries this year in the photography contest. I entered a handful of photos but no ribbons for me this time. Maybe next year.
But if I were to give out ribbons for most improved local event, I think the Wicomico County Fair would be a recipient. I'm glad there was some new life breathed into this venerable event and hope its 80th edition next year will be even bigger and better.
Sometimes we make the best advance plans and they go for naught. It happened to the Wicomico County Republican Club tonight when not just one, but both of their scheduled speakers had to send their regrets thanks to Uncle Sam and an Annapolis meeting. So we heard from neither Jake Day nor Jeannie Haddaway-Riccio tonight.
But we did get some business done and firmed up a number of dates for future reference.
Alison Pulcher filled in for Jake Day a little bit as his campaign manager, officially sending his regrets by noting he was "really sad" that he couldn't be there. One question which was asked is why the onetime Republican switched parties, with Pulcher responding her belief that he has "ideologies on both sides of the plate." She herself was impressed with the passion on both sides of the aisle here, as she isn't a native to the region.
In his Central Committee report, Mark McIver confirmed the Lincoln Day Dinner is slated for November 7 and will feature Andy Harris. But he also asked for a moment of silence for longtime WCRCC member Blan Harcum, whose farm was the scene of an incident today that left Mark "devastated."
After that silence, McIver was asked whether the Central Committee had any involvement with the local liquor board, which they do not. But it was a point that we should check into as appointments were allegedly made at the behest of one of our local Senators, and not the one who is of our party.
The conversation then turned to the elected school board as McIver was one of those chosen to testify in an open work session before County Council. Intentionally or not, it was somewhat stacked with Democrats and opponents of an elected board.
Marc Kilmer chimed in, announcing public hearings were scheduled for September 10, 22, and 29, and October 15. They would be distributed between the Pittsville/Parsonsburg area, Delmar, the Wicomico Youth and Civic Center, and First Baptist Church in Salisbury. The only confirmed date/location so far is September 22 at the WYCC.
Kilmer conceded, though, that things may be beyond our control. When it comes to getting the legislation necessary for the transition, "the only person that matters is Jim Mathias." Custom requires that all Senators representing a county should be on board with legislation affecting it, and Mathias shares representation with Addie Eckardt, who supports the elected board.
Since the two newest school board members were there, it was asked if they could make the point to the incoming superintendent that this was something they may have to work with. The process will begin soon, but one thing I didn't know is that the new administrator has to win state approval as well. I suspect we may not get the school board's first choice.
Because we lost an officer when Joe Collins was selected for the Board of Elections, we had to select a new 2nd vice-president and Dave Snyder stepped forward. He was elected by acclamation.
The next announcement was that the Wicomico County Fair was coming up August 14-16. I had a signup sheet out for fine Republicans to work at our table, and I'm pleased with the response. Ann Suthowski suggested we let the elected and appointed officials know we would be there.
Another event on the horizon is the Crab Feast, which is coming together. We should have the liquor license this week, so "our biggest fundraiser" was just in need of volunteers to help with setup, cooking, takedown, and the silent auction. We are set for September 12 otherwise, and the tickets are just $30.
That was pretty much the extent of a tidy meeting which came in under an hour. Next month we hope to reschedule Jake Day (and maybe Jeannie Haddaway-Riccio) – regardless we will reconvene on August 24.
As it turned out we didn't have a speaker for tonight's meeting so the agenda was on the light side. Still, there was plenty of discussion at our gathering.
We did the Lord's Prayer and Pledge of Allegiance as we always do, but in between we had a silent moment of prayer for Governor Hogan. I had not heard the news about his cancer diagnosis, so I was quite shocked. It was definitely a somber way to begin the meeting.
With no speaker, we jumped to Julie Brewington's Central Committee report. She recounted our appointments to the Board of Elections and Board of Education and revealed we were in the process of working on a fundraising event. We were also seeking a mayoral candidate for Salisbury as the filing deadline approaches in August.
Representing Somerset County's GOP was Matthew Adams, who came up to sell tickets to the Tawes Crab and Clam Bake. Readers of mine know all about this annual event, which this year has increased its ticket price to $45. Between the state party and our two counties, we have half of one of the large tents for a total of 120 tickets. Adams expressed his interest in having Andy Harris make an appearance, but we were at the mercy of the House voting schedule for that one. Harris may be able to do a morning event, though. (I would assume that Harris's primary opponent, Michael Smigiel, already has Tawes on his calendar just as Harris was able to do when Frank Kratovil held the seat.)
We also got the pleasure of meeting Patty Miller, who is the incoming president of the Salisbury University College Republicans. Their big task this year, said Miller, was to recruit new members. When asked about the atmosphere on campus Miller admitted that it was hard to overcome the liberal bias of the faculty, but it helped that many students came from rural areas. Adams noted that a good percentage of SU students come from Somerset County and was hoping to use them to gain inroads into UMES.
Some good news came from Muir Boda, who announced the beer license for the Crab Feast on September 12 should be secured this week. The issue was our non-profit status, which was resolved by (of all people) the IRS. Boda was working with Josh Hastings of the Democratic Club, who have the same issue with their event, so there is bpiartisan cooperation around here. He also announced he had filed for City Council last week.
Another upcoming event is the Wicomico County Fair in August, and we were in the process of getting our space there. Dave Snyder asked about voter registration and we encouraged him to do so.
Our most recent appointees to the Board of Education were then asked to speak, as their first meetinnd wg will occur tomorrow morning. And while the reaction to John Palmer's appointment was "righteously fearful," according to Julie Brewington, Joe Ollinger struck a more optimistic tone – although he admitted "public education is a tough job." But it's not a money issue, he added.
Some of his ideas for change were efforts to instill more discipline in the schools while encouraging more respect for the public school teachers. But he also wished to move as much responsibility as possible to the local board, hoping the state would cede some power.
One other item on the club's agenda is a new officer. Since Joe Collins took a position on the Board of Elections, he can't serve as an officer for the WCRC. Dave Snyder volunteered to be nominated but we would like to have other candidates step up, too.
Marc Kilmer filled us in on the public hearing process for an elected school board. Five hearings will be held beginning in September – wonder where they got that idea? It was also suggested that we hold a straw poll at the Wicomico County Fair to gauge support.
Marc also was lauded by Joe Ollinger for how he explained how he came u with his votes, and it was incumbent upon us to demand that same forthrightness from the others on County Council.
Shawn Jester passed along word from Delegate Carl Anderton that his district office was now open. We also learned from Cathy Keim that we would be using the optical scanner machines beginning in 2016. Of course, that brings a headache because the machines and paper ballots have to be kept in a conditioned space the county doesn't have yet, so they will have to lease or build one.
Next month we will have two speakers. It's no surprise that our old friend Jeannie Haddaway-Riccio is coming to address us, but having Jake Day speak is definitely different. He sought us out, though, and we'll give him the forum on July 27.
We ha an unusual meeting tonight. It wasn't devoted to club business; after we did the usual Lord's Prayer, Pledge of Allegiance, and introduction of several distinguished guests we were a treasurer's report away from the first of three main events of a packed program.
Our first event was the presentation of the WCRC Scholarship to Andrew Boltz of Mardela High School. Boltz is active in the community, including an Eagle Scout project involving backpacks for the homeless. Boltz plans on attending Salisbury University to begin his pursuit of an engineering degree.
Sarah Rayne next addressed the group on behalf of 1st Saturday, a "free, family-friendly" event in downtown Salisbury intended to focus on the performing arts, as opposed to the visual arts highlighted at 3rd Friday.
She noted that the event was timed to be after Saturday chores but allow for patrons to partake in the downtown entertainment venues and restaurants afterward, adding that no food trucks would be present to help with steering business to local eateries – in turn, they would be encouraged to make known their specials for the evening. It's a "bring your own chair" event, modeled on a similar set of gatherings in Georgetown, Delaware, Rayne added.
Just as clarification, I asked if it was an all-year event. Sarah responded that 1st Saturday was "a warm-weather event" which would run April to October.
The final part of the evening was something that turned out to be a roundtable discussion of the latest General Assembly session by the Republican members of the Wicomico County delegation: Senator Addie Eckardt and Delegates Christopher Adams, Carl Anderton, Jr., Mary Beth Carozza, Johnny Mautz, and erstwhile member Charles Otto, who was redistricted out of the county.
Each representative began by speaking a few minutes about their perspective on the recently-completed session. As the one with the most experience, Senator Eckardt assessed our group as "a wonderful team…this is not a shy group." She was pleased to have the opportunity to try and get our highway user revenues back, and called it "exciting" to have a Republican governor to work with on the budget. And while the goals of the administration were to cut spending, taxation, and regulation, the sad fact was that most of the governor's initiatives did not pass.
Some of the budget battles that were fought included funding for the Geographical Cost of Education Index and maintaining the promised $300 million catch-up payment for state pensions. While the budget passed wasn't fully in line with the initial expectations, Eckardt thought the governor "was in a good position going forward."
Getting PMT regulations as opposed to statutes and repealing the rain tax law allowed Addie to declare a couple victories. "From my perspective, I was floored" with the things accomplished during the session, Eckardt concluded.
From the House perspective, Delegate Otto was rueful that Wicomico County residents could no longer vote for him, but added he still represented us as the chair of the Eastern Shore delegation – a group that was expanded to include residents in the 35th District, covering Cecil and part of Harford counties. He was pleased the budget grew by less than projected revenue growth, a departure from the previous administration.
Otto noted that "everything bad for agriculture" came out at the House this year, including the "chicken tax" bill and a measure eliminating sales tax exemptions farmers can employ.
Delegate Adams felt "blessed to be a Republican in Maryland" right now because it enabled him to stop items detrimental to our interests, especially at the committee level. One highlight to him among the bills passed was several enacting the recommendations of the Augustine Commission, which included a cabinet-level Department of Commerce. His assessment that Maryland was too dependent on federal employees made him hopeful that the business climate could be changed.
"What a strange, fun, exciting ride it's been," said Delegate Anderton. He urged us to ignore people who say "you can't do it" because he did get things accomplished: the Evo bill which will add 50 jobs in Salisbury while preventing 70 others from leaving, a grant to Three Lower Counties to assist them with a new OB/GYN clinic, and money for improvements to Perdue Stadium essential to keeping the Shorebirds here. And while he was "scared" about the PMT regulations, Anderton believed we had "built a great foundation." Overall, his first year was "an experience better than I could have imagined."
Delegate Mautz said the Eastern Shore is "working closely together" and trying to get leverage for its legislative goals. However, he noted that watermen and seafood producers were "under tremendous pressure," detailing abuses by the Department of Natural Resources. As it turned out, watermen, hunters, fishermen would have been the beneficiaries of many of the bills Mautz worked on, while cheese producers will get a boost.
Yet while Mautz believed Governor Hogan "controlled the debate" on fiscal issues, there was still "serious partisan divides" in the General Assembly. He predicted "a lot of legislation" in the next session.
Johnny also called the events going on in Baltimore "a major setback" for the area and state as a whole. Delegate Carozza picked up on that, asking the group to take a moment of silence and prayer for the city, adding the National Guard had finally been sent in.
Mary Beth also believed we had a "terrific Shore delegation," agreeing that Governor Hogan had "set the tone' in his first session. While the budget had a smaller increase than previous years, though, she only voted for the original House budget. She voted against the conference budget because of the raids it made to the pension funds.
"We still need your help," she added. "Divided government is really tough." We were encouraged to express our opinions on issues like charter schools, tax relief, and regulations because opponents were relentless and having the constituents as backup strengthens our position. And Democrats "are already coming after (Larry Hogan)," she said.
She gave a couple examples of bills she worked on. One that passed with ease was a bill allowing Seacrets to move its distillery operations to Maryland – Mary Beth got support from Senator Jim Mathias and convinced lawmakers that bringing jobs back from Delaware was worth fighting for.
On the other hand, a veterans procurement bill which sailed through the Senate had a tough time in the House for several reasons, at least one of them territorial as a particular committee chair wanted to do a more large-scale procurement bill next session. She learned that she had to sometimes sell bills, and ended up with a compromise that doubled veterans procurement from 0.5% to 1%.
Once this part finished, we opened the floor to comments and questions. Naturally, a perspective was sought on why we did not get an elected school board vote and what we had to do.
"It's an easy fix," said Delegate Anderton. "Eliminate the excuse." By that, he meant have the public hearings Senator Mathias sought, as two people noted he was on record as supporting the idea with public input. We also learned the Wicomico County Education Association actually supports a fully elected board.
But Senator Eckardt added we "need both Senators in agreement" to get the bill through.
A related question came about school vouchers, which weren't brought up in this session. Rather, a lot of discussion went toward charter schools because it was the governor's initiative, said Delegate Carozza. Delegate Adams added charter school reforms enjoyed bipartisan support, while Senator Eckardt noted the BOAST tax credits had been introduced again – these would allow private businesses to direct funding to private and public schools.
On that same front, it was asked if a Religious Freedom Restoration Act-style bill was introduced, and none was to their knowledge.
Turning to taxation, Senator Eckardt stated that few tax rollbacks were surviving the Ways and Means subcommittees.
Farming issues were the subject of a couple queries, and the industry as a whole was considered "low-hanging fruit" by environmentalists, said Delegate Adams. Even though 27 percent of Chesapeake Bay's phosphorus could be traced to the silt behind Conowingo Dam – according to the Army Corps of Engineers, a fact which came out in a hearing on one of the PMT bills – environmentalists still demanded more regulations on agriculture.
Finally, Anderton responded to a question about road funding by noting he had helped bring it back to some extent through his memory of where the money was placed last year. The state found it again, to the tune of $19 million to municipalities and $4 million for counties. However, he added, some counties were reticent about full restoration because they wanted to use it as an excuse to have their own gasoline taxes.
All in all, it was a chock-full meeting you should be kicking yourself for missing. Because the next fourth Monday of the month is Memorial Day, we next meet June 22.