In the spirit of "don't let good writing go to waste," this is a roundup of some of my recent social media comments. I'm one of those people who likes to take my free education to a number of left-leaning social media sites, so my readers may not see this.
My argument regarding federal workers from last week went on:
Seeing that I've had over two decades in the field and my industry isn't one that's "affected by automation and digitization" you may want to try again.

And I did not bring up Obamacare because no one really knew what it looked like at the time. It was just a sense that the economy was going to rebound very slowly, if at all. Having seen some of what O'Malley did over the previous two years and how it affected our local economy, people were bearish on prospects.

And you may want to ask our friend who was laid off in 2009 (above) why he blames his situation on Bush? He was out of office after January.
I'll start the new stuff with some thoughts on infrastructure, in agreement with a trucker friend regarding the expansion of several highways across the bridge:
"You eliminate congestion by building more and separate roads. That is the only way."

Very true. For example, imagine if the state had completed I-97 as envisioned to Richmond – then people may have used it as an alternate to I-95. The same would hold true if the feds, Maryland and Delaware would extend the current Delaware Route 1 corridor from I-95 to Dover as a badged spur of I-95 to Salisbury, providing a limited access, 70 mph link across Delaware,

Since many people consider U.S. 13 an alternate route to I-95 to avoid Baltmore and D.C. why not give them better options?
I've said this for years, and it still holds true: to succeed this area needs better infrastructure and access for goods to reach larger, more populated markets.
Yes, there was a big National Anthem controversy last Sunday. But my "boycott" of the NFL has been for the last several years because I agree the play has been awful (this coming from a coach.)
I've noticed that too. Obviously you can't throw out the size and speed differences, but a team like the '72 Dolphins or Lombardi-era Packers would mop up the floor with most of these teams because they played better fundamental football.
Another friend of mine contends that we shouldn't boycott the NFL for the actions of a few. But if the economic juggernaut that is the NFL went away, there would still be college football, right? I'm not so sure:
Maybe this year, and the next. But as the issues with long-term brain damage percolate more and more, and the big money is no longer to be found at the end of the rainbow for the players, you may find in a decade or so that the college game will begin to wither, too. You'll lose the FCS and small FBS schools first, but eventually we may be down to a small number of programs.
But the big rivalries like Michigan-Ohio State would go on, right?
Being from Toledo I know the importance of that rivalry. But if parents aren't letting their kids play football for fear of long-term injury, the pool of talent necessarily will shrink. Unlike other sports, football doesn't seem to have a foreign pipeline of talent to choose from.
Turning to a more local protest, who knew that chalk could be so controversial?
It's chalk. People chalk up the sidewalks at 3rd Friday and no one bats an eye. Unfortunately, since there's no real chance of rain in the forecast some county employee had to take a half-hour to hose it off.
I have some photos that may make for a good post later this week, so stay tuned.
Yet the protests ignore larger local issues, such as job creation, as a letter to the local newspaper pointed out in a backhanded way. But I don't.
Unfortunately, right now (gas station and convenience store jobs are) where the market is. And while we have a governor who seems to be interested in bringing good-paying jobs – jobs that add value to commodities, not just the same semi-skilled positions we already have too many of – our legislature seems uninterested in assisting him because they cater to the REAL state industry – serving the federal government.

But the best way to stay out of poverty is following rules in this order: finish school, find a job, get married, then have children, Too many people do these things in the wrong order (particularly the last one) and end up working low-wage dead-end jobs.
Now someone did note that the best way to stay out of poverty is for all to work and not have kids, but if everyone did that we'd be extinct in a century or less. So that's not realistic.
In a similar vein, I had to help a gubernatorial candidate understand things, too.
So look at the map of Maryland. The area around Washington, D.C. is light blue and green while the western panhandle and Eastern Shore are varying shades of orange. But this is deceptive in a way because median income around Washington is so high that it pulls the average way up and makes this area look worse by comparison.

Then consider the current and previous sources of wealth for various regions of the state: in the western panhandle it used to be coal and could have been natural gas had Governor Hogan not been shortsighted enough to ban fracking, which could have increased their score.

As you get closer to Washington, the source of wealth is the American taxpayer, either directly via working for the federal government or indirectly as many companies headquarter there to be closer to that taxpayer-provided manna.

The Baltimore area used to be industrial, but those jobs went away and now they are heavily into services, Some jobs are good and some menial, but too many have no jobs.

Finally, in a crescent around from Carroll County through the Eastern Shore, agriculture is heavy and in our area chicken is king. We have a share of the tourist dollar in season, but the backbone is agriculture.

People who talk about one Maryland are all wet, in my humble opinion.

But it also makes things deceptive in terms of "prosperity." One can live on the median salary rather well here because housing is inexpensive but struggle mightily in the urban areas where rent is twice as high.

I agree there should be more of a focus on vocational education, though. Not everyone is college material – and I don't say that in a bad way. Many youth have abilities that won't reflect on the ACT but will reflect in the real world.
See, I'm bipartisan and can find common ground with people like Alec Ross. It's hard with some others though. Take tax reform for example.
You know, when I read Democratic Whip Steny Hoyer (or pretty much any Democrat, for that matter) talking about taxes it bring to mind the old Beatles song:

"Should five percent appear too small/Be thankful I don't take it all."

I remember old Bill Clinton telling us he worked so hard but couldn't give us a middle class tax cut. But Bush did.

Here, read this and educate yourselves. This is one I can't claim.
Yet when Andy Harris discusses it, I find a lot of misinformed people who love taxes come out of the woodwork. This one whined about the 10% bracket becoming 12% as a tax on the poor, but leaving out one key fact:
What Ben Frey forgot to mention is that the standard deduction will practically double. So if you had a taxable income of $18,650 as a married couple (the top of the 10% bracket) would you rather pay 10% of that or 12% of $7,350 with the much larger standard deduction ($24,000 vs. $12,700)?

Wanna try again?
Then I added:
Here's the plan in a nutshell. Yes, it's more vague than I would prefer but you need to have a starting point and you can make your own decision on it.
Admittedly, Cheryl Everman (a former candidate herself and longtime lefty in these parts) came up with the point that the individual exemption goes as well – and that the plan as presented doesn't get specific about the child care credit. It's true, but the plan could still result in savings.
The one weakness with this "family of 4" line of argument is that we don't know what the child tax credit will be nor the changes to the EITC as they may apply. So your mileage may vary.

But to address the initial argument, the married couple would still benefit because the two individual exemptions only equal $8,100 while the additional standard deduction is $11,300. In other words, they could make more gross income. So instead of creeping into the low end of the 15% bracket, they would fall into the 12% bracket.
And when someone asked for taxpayer input on the new tax code, I gave her mine:
Okay, here's my rewrite of the tax code:

Sixteenth Amendment: repealed.
Backup withholding: eliminated.
Consumption tax: enacted.
Federal government: rightsized.
Oh, did that lady whine! She got on this whole tangent about paying for stuff, so I had to play bad cop.
Spare me. You obviously have little understanding of the proper role of the various levels (federal, state, and local) of government.

Please avail yourself to two resources: the Constitution, which spells out the role and functions of the federal government, paying particular attention to Article 1, Section 8 and the Ninth and Tenth Amendments, and the FairTax book, which advocates for a consumption-based tax system as opposed to income-based.

If you get the concepts spelled out therein, you will understand perfectly my succinct answer to the "rewrite of the tax code" question.
The conversation also turned back to health care:
Employers pass the increases in premium along to their employees by increasing their share of the cost.

Those "subsidies" don't come out of thin air either, because somewhere along the line our taxes will have to edge up to pay for them.

And that "sabotage" you pin on Republicans is thwarting a bailout to the insurance companies. The "risk corridor" concept was fatally flawed to begin with because it assumed the market would be a net equal when instead more and more people demand "free stuff."

It sounds to me like you just want us to submit to having the government pay for everything, forgetting that the government gets its money from all of us. What was so wrong with fee-for-service anyway?

Give us single-payer and taxes will have to go so high that we will be in a real-life "Atlas Shrugged" although I fear we're not far from there anyway. (You seem like the type that needs to broaden her horizons and read that book.)
Our Senator Chris Van Hollen joined in the "tax cuts for the rich" budget fun, too.
Let me hit you with this then: if we had a corporate tax rate of zero we would only have a roughly $420 billion budget hole to fill. Why not cut the tax rate and see if it increases revenue because businesses may be inclined to expand if they could keep more of what they make?

Personally I couldn't care less if the Waltons get a $52 billion tax break because their ancestors took the risk in starting a department store. (If you don't think it's a risk, consider how many have failed in the last 30 years.) So whether we have the highest business tax in the world or not, ask yourself how much risk is the government taking by sticking their hand into corporate pockets?

And as for those who argue over whether debt is a Republican or Democrat problem: look in the mirror. The fact is we couldn't tax our way out of debt given current spending levels without significantly increasing taxes on everyone, and I mean everyone.

If you really want low taxes and a balanced budget, you pretty much have one option: sunset Medicare, Medicaid, Social Security, and Obamacare. Just ask the CBO (page 10 here):

"Today, spending on Social Security and the major health care programs constitutes 54 percent of all federal noninterest spending, more than the average of 37 percent over the past 50 years. If current laws generally stayed the same, that figure would increase to 67 percent by 2047."

We already have a steeply progressive tax system, so the dirty little secret is that those like Chris Van Hollen are doing their best to make the middle class the lower class and certain elites even more prosperous.
Finally, I promised you last week I'd go into my interaction with a Congressional candidate. One of the Democrat opponents of Andy Harris, Allison Galbraith, was up in arms about the replacement of rules established by a 2011 "Dear Colleague" letter by Secretary of Education Betsy DeVos. Now, I'm probably more in tune with the subject than 99% of the population because I've written about it several times in the Patriot Post, and the DeVos change was the most recent. So maybe she was sandbagged a bit, but someone has to set people straight.
There were a couple serious flaws in the 2011 "Dear Colleague" letter. First of all was lowering the standard of proof to preponderance of evidence from clear and convincing evidence. Second was the restriction in practice for the accused to be able to cross-examine witnesses and in some cases not even know what he was accused of until the time of hearing. (It was also based on a faulty premise of 1 in 5 campus females being victims of sexual assault, which simply doesn't jibe with crime statistics. But as Betsy DeVos said, one victim is too many. So is one person denied due process.) This is why groups like the American Association of University Professors and American College of Trial Lawyers were urging the rules be revoked.

The biggest problem with the approach in place now is that the maximum punishment for someone who actually raped a co-ed would be expulsion from school, but he could still be loose to commit more rapes.

And while the 2011 "Dear Colleague" letter was rescinded, the order specifically states we revert to the previous guidance as a temporary measure while new rules are formulated with input from multiple stakeholders.
When she disputed my dismissal of the "1 in 5" claim I came back.
This is for the education of those reading this thread then. These are the actual numbers as reported by the Justice Department. Bear in mind that 1 in 5 of 1,000 would be 200.

I agree the numbers should be zero, but I also contend that those who are accused should have due process that was missing under the Obama rules. That aspect was important enough that they had to be rescinded – which also should cut down on the hundreds of lawsuits falsely accused people have filed against these schools because of their shoddy practices as prescribed in 2011.
She alerted me to an appendix in the work – which I was aware of – so I had to add a little more.
I did look at that…again, we are talking a variation of 7x here between the reported numbers and "1 in 5" statement.. Biggest flaw in the NISVS is the low response rate, which would be affected by the bias of a person that's affected being more likely to respond – this may account for a significant part of the difference.

I think Secretary DeVos will come up with fair rules that take all sides into account. It's also worth noting that some school administrators have announced will continue with the 2011 rules despite the new guidance.
It sounds to me like Allison's had some experience on this, and I have not – so my response is not as emotional. But the contention, to me, is this: the Obama-era rules gave credence to victims but not the accused and oftentimes those who determined the fate of the accused did so on the barest preponderance of evidence at a "trial" which was more of a one-sided affair. New rules should account for both, or perhaps move the venue to one that's more proper: a court of law, where there are advocates for victims who are sensitive to their plight and protections for the accused.
A charge of rape is a serious charge, not to be taken lightly. Often at stake is the very continuance of a young man's education (and let's face it, the accused is almost always a man.) But if the person is an actual rapist, wouldn't it be better to get him off the street than just off some college campus, enabling him to victimize someone else?
I had a busy week on the commenting front, so maybe I'll slow down – or maybe not. As Walter E. Williams would say, I'm pushing back the frontiers of ignorance on social media.
In the spirit of "don't let good writing go to waste," this is a roundup of some of my recent social media comments that I'm going to make a regular Sunday evening feature. (Maybe not every week but more often than not.)`I'm one of those people who likes to take my free education to a number of left-leaning social media sites, so my readers may not see this.
Health care was in the news a lot lately, and social media was no exception. Here's what I responded to a typical liberal scare tactic from Senator Ben Cardin:
That would be more like the way it should be…states could tailor their programs to the desires of their citizens. I love how loaded and extreme the headline writer made this sound.

Remember, health care is NOT a right, but life is.
Then when some liberal tried to go all Article 1, Section 8 on me (hey, at least he's read the Constitution) I had to make sure he understood something:
Nope, "general welfare" does not equal health care. Try again.
So when his pal Steny Hoyer jumped in I had to revise and expand my remarks:
Yes, because letting an incompetent federal bureaucracy run health care is working SO well. It's funny – your post came up right after Senator Ben Cardin's caterwauling about the same subject on my page. I smell a Facebook conspiracy.
And again I had a few people tell me their mistaken belief that health care is a right. That's all right, I have plenty of time to set them straight:
Again, the idea is to bring this down to a state level, although ideally we would work our way back to fee-for-service and insurance to cover catastrophic events. Who said a state could not step in for preventive care if they wished? Better them than Uncle Sam.
Now you can call me a troll but if you are familiar with the website Shareblue, it purports to the the "Breitbart of the Left." Problem is, their hacks aren't even readable sometimes and they distort stories five times worse than Breitbart ever dreamed of. Here's a case in point and my response.
David Brock created a fake news site designed to confuse millions of voters so that the party could win elections in multiple states. Oh wait, that's you guys.

Basically I have to ask: you're surprised Republicans have a news outlet to control their narrative? I'm sure if these reporters wanted to dig a little more they'd find the Democrats have the same. Otherwise I wouldn't get all these e-mails from the DNC telling me the sky is falling.

I'm not really a reporter, but let me tell you about the site whose Facebook page you are now gracing, or more specifically its sponsor Media Matters for America.

*****

"Because MMFA is a non-profit organization, it is not required to disclose its donors, and it does not do so. However, some donors have self-disclosed, while others, such as foundations and labor unions, must make certain filings that discloses their funding of Media Matters and other similar groups.

MMfA's funders range from labor unions to progressive foundations to liberal billionaires. From fiscal year 2009 to 2012, the National Education Association (NEA) has contributed $400,000 ($100,000 per year) to Media Matters. MMfA has received an additional $185,000 from other labor organizations since 2005, making labor unions some of the largest known contributors to Media Matters. MMfA has directly quoted these labor groups and has defended them against "attacks" from reporters and media personalities. MMfA did not disclose these donations in its reporting on labor unions.

MMfA has received nearly $30 million from foundations since it started. The Tides Foundation is the largest contributors to MMfA and MMAN, giving nearly $4.4 million. There are undoubtedly close ties between the organizations besides financial support. MMfA frequently reports on the critics of Tides, but fails to mention that the foundation is MMfA's largest donor. The line between Tides and MMfA is so blurry that even donors appear to be confused. In 2003, prior to the official launch of MMfA, the Stephen M. Silberstein Foundation even designated a $100,000 contribution to 'Tides Foundation – Media Matters for America.'

Billionaire George Soros donated $1 million to Media Maters in October 2010. According to the New York Times, Soros donated the money to help MMfA respond to the 'incendiary rhetoric' of Fox News Channel commentators."

(source)

And if this doesn't describe Shareblue to a T then I don't know what does:

"The news content analysis of Media Matters is a complete sham. Such examinations of political news traditionally focus on detecting journalistic bias, but MMfA's approach is to try to stamp out views with which its left-wing content analysts disagree. That isn't hard to do if you can think creatively and tolerate mind-numbing hairsplitting. Media Matters will typically isolate a small facet of a media story that can be twisted in such a way that suggests that the reporter or commentator is a liar or hypocrite. That tidbit is then used to suggest that everything the original source says must be false and deserving of censure."

(source)

So there you have it: two named sources, verifiable if you copy and paste the link and remove the space I added.

I take news with a grain of salt until I consider the source and its motivation. My motivation? To get to what's really true, and where you're at isn't it.
Via the local Republican Club I found out even Governor Larry Hogan jumped on that bandwagon. My free advice to the governor:
The electorate that voted him in was by and large also the one that wanted Obamacare repealed. But it's up to Larry Hogan – if he wants to get 55-60% in the areas where he needs to come close to 70% (like the Eastern Shore) just keep moving left of center. The Democrats across the bridge will be happy to vote for the real thing this time.
The "progressive" (read: regressive) group Our Maryland also wanted to note Maryland could lose money under a GOP plan. So guess what I told them?
Think twice about taking "free" money from Uncle Sugar next time.

"A government big enough to give you everything you want, is a government big enough to take away everything that you have."
They also want to blame Trump for Maryland having revenue short of expectations, so I gave then my side of the story:
Perhaps if Maryland becomes more than a one-industry state (that being the federal government) these people may have more confidence.

Since I got my old job back in the Trump era (one that I lost just after Obama was elected) I feel pretty good about the economy,
Obviously that didn't sit well with them, so they asked for "details before (we) accept your Obama bashing – so I complied.
About my job? I was flat-out told by my employer that he was worried about keeping his doors open under Obama. But he managed to survive and business has picked up enough to bring me back part-time at first and now full-time. Maybe I'm an outlier but the change in administration did bring a more positive outlook for businesses.
Then I added:
And it's funny – those people who pointed to the stock market as evidence of Obama's success are quiet now under Trump despite the fact the indices are 20% or so higher since January.
And the poor lady who tried to tell me Baltimore is teeming with industry and my "Beltway bias" was showing. I took about two minutes to find the proof she was all wet.
The statistics beg to differ.
I know, it's not as obvious. But Baltimore City had a total average employment of 69,141 in the government sector in the first quarter of this year compared to 21,137 that produced goods. I had to explain this to someone else.
The premise provided by (the lady who commented) was that Baltimore had "way more industry than government." As you can see by the stats, the reverse is true if you consider non-service jobs as "industry" – which I do. (Also notice that education is lumped with healthcare as a service job when most education jobs are public-sector. I think they should count in the government category.)
Yet they were still arguing with me as late as today about my blaming my layoff on the incoming Obama administration and crediting my return to Trump.
Consumer confidence was already rising pre-election and surged in the runup to Trump taking office. Confident consumers lead to confident investors, which is where we come in (I work for an architectural firm, and that was an industry battered by the Great Recession.)
And then:
Seeing that I've had over two decades in the field and my industry isn't one that's "affected by automation and digitization" you may want to try again.

And I did not bring up Obamacare because no one really knew what it looked like at the time. It was just a sense that the economy was going to rebound very slowly, if at all. Having seen some of what O'Malley did over the previous two years and how it affected our local economy, people were bearish on prospects.

And you may want to ask our friend who was laid off in 2009 (above) why he blames his situation on Bush? He was out of office after January.
Also at Our Maryland, I had this reaction to a reaction to a WaPo story (behind a paywall, of course) about Rep. Jamie Raskin (who was a far-left loony of a state senator based on monoblogue Accountability results) and his fear that Cassidy-Graham would pass. This is how the respondent wrote it, verbatim: "The Koch Brothers want it so badly – and they aren't going to give anymore money to the Republicans until they repeal Obamacare and cut corporate taxes BIG TIME. That's what it's always about – follow the money."
So I had to correct the record, again:
That would work for me. And even if you assumed a 50% cut in corporate tax rates would bring in half that revenue – which, as we know, isn't true because lowering tax rates generally acts as a spur for economic activity – the federal hit would be less than $250 billion (out of a $4 trillion budget.)

In this case, the Koch brothers support smart economic policy.
Naturally, that was met with the pithy, "Oh Michael Swartz, if you think you are going to benefit from the giant corporations getting tax cuts….. Sad." (It's funny how the Left has allocated a standard Trump response, isn't it?) But the answer is yes.
I certainly will. Ask yourself: who pays corporate taxes, the business or the end user/consumer?
To expand on this concept, this is part of a fundamental argument about who does more good with money from corporate profits: the government which redistributes it willy-nilly to address their priorities after taking a hefty cut, or a corporation that rewards its stockholders with dividends, invests in expansion (thus needing more employees, which benefits the community), or – even if the CEO is a greedy SOB – spreading the wealth around via purchases. Even if he buys a yacht, someone has to build it.
Turning to local politics, I made a comment about candidate recruitment.
The hard part is finding candidates who want to go through the process. And don't forget the school board, which will be "nonpartisan" but will almost certainly have a union-backed (read: Democrat) slate.
And finally, I had this reaction to fellow writer Jen Kuznicki's video. Like a lot of conservative writers, writing's not her paying gig – her "real job" is being a seamstress.
You could sit in front of a computer and draw all day like I do in Salisbury, Maryland. Glad to see an American who makes things and adds value to raw material.

But if you thought yours was boring, there's a reason I don't do mine. To most watching paint dry would be preferable.
Look, all I do is put lines on a computer screen. It's the end product that's important – for the past few weeks it's been for a proposed local hotel. The part that's important is knowing where to put the lines.
Similarly, in good writing sometimes it's best to know when to stop, so here you are. I already have a couple threads lined up for next time, one of which involves a candidate for Congress.
After 230 years, our founding document is beginning to show signs of wear and tear. No, I'm not talking about the actual document housed in its sealed case, but instead the wear and tear its principles are undergoing as people are taught less and less about its true meaning and purpose and those who would prefer the absolute power to be corrupted absolutely take advantage of the situation they lent a hand in creating.
In the last few days before I wrote this we have had people who aired their grievances by protesting in the streets and creating a violent disturbance about a trail verdict they disagreed with, others who object to the placement of statues, monuments, and other historical markers they deem to be racist or inappropriate to the point of tearing them down, and a gathering of "juggalos" that emulates two men who call themselves the Insane Clown Posse demonstrating in the nation's capital because the government believes they are a gang. (I'm not a rap fan so don't ask me what they sing.) Believe it or not, of the three, the juggalos and juggalettes seem to be petitioning for a redress of their grievances in the most proper way. Whooda thunk it? [And, before you ask, I have drank some share of Faygo – to me (and a few others) rock n' rye was the best flavor, although I think many are partial to the redpop.]
Now it's not just the Bill of Rights that people are taking advantage of. Consider what the government of today, particularly Congress, does to "promote the general welfare," and compare it to a paraphrase attributed by the Annals of Congress to then-Rep. James Madison: "I cannot undertake to lay my finger on that article of the Constitution which granted a right to Congress of expending, on objects of benevolence, the money of their constituents." As economist and pundit Walter E. Williams correctly surmises, "Any politician who bore true faith and allegiance to the Constitution would commit political suicide." And never mind the so-called "deep state" of bureaucrats that Congress has, over the years, ceded more and more of its oversight power to.
Thus, we have created a federal judiciary system with judges who often value the emotion of the so-called "victims" of a law more than what the Constitution says (or doesn't say) about it, with the backing of the easily interpreted intent of those who wrote it to help guide them. We have created an educational system where Washington has an outsized role – even though the vast majority of the funding is raised locally – and it too often teaches children about their "rights" (whether real or created out of whole cloth) but not their responsibilities. And we have created an enforcement arm that can taint broad swaths of people with the accusation of being engaged in criminal activity based simply on music they listen to and symbols associated with it. (And before you say that's well-deserved, ask yourself if you reacted like that when it was the TEA Party being scrutinized for criminal activity because they disagreed with policy decisions.)
I certainly wish the Constitution well on its birthday, but truly believe that too few understand its role in shaping our national history. Anymore it seems that if the Constitution conflicts with what they want then they call it outdated or irrelevant, but if it happens to be on their side suddenly they're the stoutest defenders.
Many years ago I suggested some amendments to the document, and perhaps this is a good time to revisit these ideas with a little updating as needed. We have gone 25 years without a change to the Constitution, which is the longest drought in over a century. Aside from the 13th to 15th amendments in the few years after the War Between the States, the Constitution was largely untouched in the 19th century. But after the 16th Amendment was adopted in 1913, there was a flurry of activity in the following two decades that brought us up to the 21st Amendment, which repealed the earlier 18th Amendment that brought Prohibition. Another peak of activity in the 1960s and early 1970s was primarily to address civil rights, although the 26th Amendment established a national voting age of 18. But since 1992, when it was codified that Congress couldn't vote itself a raise in its present term (an old idea originally intended as part of the Bill of Rights) we have left the body at 27 amendments.
So this is my updated version.
**********
If I were to ask for a Constitutional convention (allowed under Article V of the Constitution) I would ask for these amendments.
28th Amendment:
The Sixteenth and Seventeenth Amendments are hereby repealed, and the original Constitutional language in Article I, Section 2, Clause 3 and Article I, Section 3, Clauses 1 and 2 affected by these amendments restored.
29th Amendment:
Congress shall make no law that codifies discrimination for or against any person based on their race, religion, gender or gender identity, or sexual orientation. This Amendment shall also be construed to include a prohibition on Congress enacting additional criminal code or punishment solely based on these factors.
30th Amendment:
Section 1. With the exception of the powers reserved for Congress in Article 1, Section 8 of this document, funds received by the federal government shall be disbursed as prescribed in the federal budget to the States in accordance with their proportion of population in the latest Census figures. No restriction shall be placed on how the several States use these funds.
Section 2. Congress shall not withhold funds from states based on existing state laws.
**********
The desired end result of these three amendments would be to restore state's rights, make the government live within its means, and provide truly equal justice under the law. Naturally, I don't foresee any of these passing in my lifetime (because, as I said, absolute power corrupts absolutely) but the idea still needs to be placed out there.
It may not be as apparent to the average American as "vacation day" patriotic holidays like Memorial Day or Independence Day, but today a small band of Salisbury residents came to City Park along the Wicomico River and celebrated the 229th anniversary of the signing and delivery of our nascent Constitution to Congress for approval. Once approved, it was sent to each of the thirteen colonies for ratification (Delaware was first, on December 7, 1787) and by the middle of the next year the requisite nine states had ratified the document, which was not yet amended with the Bill of Rights. (That would come a few years later, in 1791.)
So I arrived fashionably on time and was pleased to see the turnout.
It seems like there were a few more people than last year's gathering, and I think the morning start time (as opposed to afternoon last year) may have had something to do with that.
We were presented with a proclamation from Salisbury mayor Jake Day reiterating that the city would be celebrating Constitution Day today. Day is one of the few who could stand and say he was actively defending the Constitution as an Army officer on active duty.
The event also was the culmination of an essay contest where the top two winners were present to be honored with a certificate from the Maryland General Assembly, presented by members of the local delegation Mary Beth Carozza (who was speaking), Christopher Adams, Carl Anderton, and Johhny Mautz. The winning entry was read by Carys Hazel of Mardela High School, with runner-up Nathaniel Sansom of Salisbury Christian School also present to receive his award.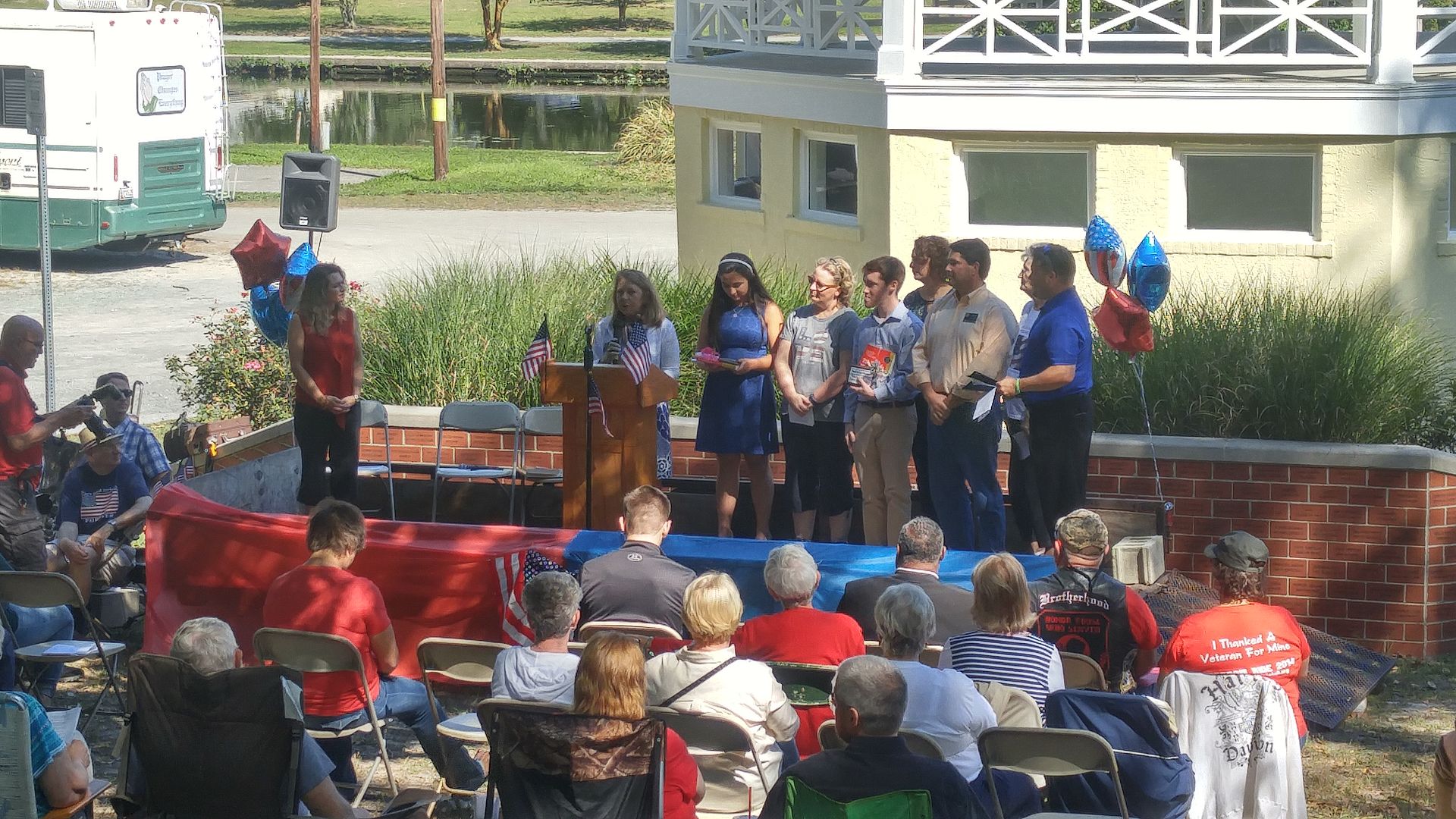 The keynote speaker was Wicomico County Sheriff Mike Lewis.
I wasn't really at the Constitution Day event to give blow-by-blow coverage, but I used the photos to both set the scene and cue up my own remarks, with the address Sheriff Lewis gave as a jumping-off point. Mike spoke at some length about the role of the military overseas and their fight against radical Islam. Certainly I understand the reason that they have embarked on such a mission, but to me it also begs a pair of questions for which we need an honest answer.
To a varying extent, the nation has been on a war footing since 9/11. In that time we have adopted the PATRIOT Act and sent thousands of troops overseas to fight against the proxy forces of radical Islam: the Taliban in Afghanistan, the Saddam Hussein regime in Iraq, and the Islamic State known as ISIS (or ISIL.) But the first question I have is: where does the balance tip too far toward security at the expense of the liberty afforded to us in the Constitution?
This question isn't really new, either: during the Civil War (or War Between the States or War of Northern Aggression, if you prefer) President Lincoln suspended the writ of habeas corpus and arrested members of the Maryland General Assembly to prevent them from meeting as a means of preserving the Union. Eight decades later, President Roosevelt interned Japanese-Americans as a result of their ancestral homeland's attack on American soil. In both instances America was in an active war within its borders or territories, but against a nation-state rather than an ideology as we are today. However, being in a state of war such that we are should not be an excuse for excess and there are many who have pondered the "War on Terror" and its response in the PATRIOT Act and whether the government is using this Long War as a flimsy excuse to consolidate power.
The idea of the government consolidating power leads to the second question: are we truly following the Constitution anymore or is this all just lip service?
Surely there are some who believe the Constitution has been eroding practically since the ink dried on the parchment. Whether they point to Marbury v. Madison being the moment where the judiciary became the most powerful of the three branches, the Civil War being the death knell for state's rights since they no longer had the right to secede if they were dissatisfied with the nation as a whole, or the Sixteenth and Seventeenth Amendments that gave the federal government taxation authority on individuals specifically prohibited in the original and ended the practice of state legislators electing Senators to represent their interests in Washington, there are a fair number that think we need to start over – perhaps with a Convention of States, otherwise known as an Article V Convention. (Years ago I contributed a couple ideas for new amendments, which are still sorely needed. Back then I had good discourse, too.)
I don't want to get into the weeds of determining the merits or problems of such a convention, but the fact that there are people who believe the Constitution needs a tune-up to fix excesses on one side or the other bolsters the argument that the government we have now is not the one originally envisioned by those men who toiled during the spring and summer of 1787 to write a replacement for the Articles of Confederation that the United States was bound to for the first decade or so of its existence. Granted, the Article V method is one prescribed in the document but there's no guarantee the amendments proposed would pass or the resulting Constitution any better for the people.
So the occasion of Constitution Day is bittersweet. Yesterday I wrote on the subject for the Patriot Post, noting that:
Contention over – and advocacy of – limitations to government based on constitutional principles has become a theoretical exercise at best, perhaps in part because few understand the ideas and arguments that were made during the drafting of our government's founding document.
Those who have sworn an oath to enlist in the military or (in my case) to take public office know that we swear to support and defend the Constitution as opposed to an oath to the United States. This is a clear distinction because the interests of the United States may vary by whoever occupies the offices of government at the time, but the Constitution is the set of ground rules which are supposed to define our nation. The key reason I resigned from the Central Committee was because I could not trust the Republican presidential nominee to support or defend the Constitution – rather, I believed he would tear the GOP from what few limited, Constitutional government roots it had remaining. Thus, I felt as a public official that supporting him was a violation of the oath I swore to the Constitution.
Many of those same men who pledged their lives, fortunes, and sacred honor to the American nation and survived the war that brought us independence were those who argued and debated the contents of the pieces of parchment that we consider our supreme law of the land. I pray that a group that is just as divinely inspired can lead us back to a nation that more closely reflects the intentions of these earliest Americans with respect to restoring a government that seeks the consent of the governed, and that those who are governed understand their responsibility in the equation as well. The fact that so few seem to have this inspiration or the desire to take this responsibility as citizens seriously may be what was most troubling about this day in the park.
It started out so innocently, somewhat like a warm late-summer day did almost a decade-and-a-half ago. But somehow things became so much bigger and darker.
There's no doubt a Facebook disagreement pales ever-so-greatly in comparison to 9/11, but the reauthorization of the James Zadroga 9/11 Health and Compensation Act became yet another excuse for partisan bickering, with many of these comments criticizing the heartless Republicans. It's certainly not hard to garner sympathy for the families of those who were affected by the fall of the Twin Towers.
Yet being the adult in the room isn't always the most popular thing.
I have no problem with state and local funding of first responders provided they can justify the need for it. Salisbury and Wicomico County are in the process of ironing out a long-standing disagreement over the city providing fire and EMS services for outlying areas close by the city. (Due to haphazard annexation, there are significant pockets of county population completely or nearly fully surrounded by the city limits. I used to live next door to a county resident while I lived within the city limits – the city limit split our shared driveway. The house I lived in literally was the single piece of property that made that relatively large neighborhood area a county island.)
But I would like to know how it became the federal government's responsibility to take care of these first responders to begin with. It seems to me that this act of terror was equated with an act of war and first responders were elevated to a status not unlike our veterans. And while the families of these firemen and police officers have suffered greatly as these first responders have, there should already have been a state-based workman's compensation program in place. In short, they are deserving but it's not the federal government's place to pay these bills because they had no contract with Uncle Sam like veterans have. Saying so, though, makes one out to be a bad guy.
Beyond this, there is the question of what role the federal government should take.
It seems to me anymore that we assume the federal government will always be our backstop, there to cover us in the event of disaster. Because of this, we aren't preparing ourselves for a world where the government can't or won't be able to help us. How many people have based their retirement dreams on the fact that Social Security and Medicare will always be there, despite the math that equates both to Ponzi schemes? I haven't checked in several years because I had a lengthy unintentional hiatus from full-time work, but I don't think it would take too many years for me to go through the amount I had taken out of my checks over the years for Social Security.
At some point, we need to have the cord cut. The question is whether we will have the willpower to do it ourselves or simply have the rug pulled out from under our feet without warning or a chance to prepare. Those who seem to think we can stay on the same course when it comes to the direction of our federal government are sadly deluded. Donald Trump may be the GOP frontrunner, but he has the wrong approach to entitlements. (By the way, I think I'm really doing a disservice by referring to them as "entitlements" because I would like to know exactly where in the Constitution these programs are. Would you consider yourself entitled to Donald Trump's wealth if you did nothing to earn a portion of it? That's what the government seems to think.)
For the families of these first responders things will turn out all right because it's likely the provision will be placed in a must-pass appropriations bill and we will be paying for these luckless police officers and firemen until they pass away. It's not really our federal government's proper place, but giving out money to people we deem deserving always feels good. Things will feel great until the day the golden goose lays dead from exhaustion.
This little experiment we embarked upon almost 250 years ago was supposed to be one where government was limited, with authorization to only do a small number of tasks. Somehow we have come to a point where government is unlimited and unchecked. This 9/11 example, to me, buttresses the old adage, "A democracy will continue to exist up until the time that voters discover that they can vote themselves generous gifts from the public treasury." The same seems to go for what we thought was a constitutional republic.
By Cathy Keim
The push for an Article V Convention is growing nationwide, and it is coming from both sides of the political spectrum. The citizens are aware that they are not being heard and they are looking for ways to correct this.
An Article V Convention or Convention of the States is one of two ways to amend the Constitution of the United States. In case you've forgotten, here is Article V:
The Congress, whenever two thirds of both houses shall deem it necessary, shall propose amendments to this Constitution, or, on the application of the legislatures of two thirds of the several states, shall call a convention for proposing amendments, which, in either case, shall be valid to all intents and purposes, as part of this Constitution, when ratified by the legislatures of three fourths of the several states, (emphasis added) or by conventions in three fourths thereof, as the one or the other mode of ratification may be proposed by the Congress; provided that no amendment which may be made prior to the year one thousand eight hundred and eight shall in any manner affect the first and fourth clauses in the ninth section of the first article; and that no state, without its consent, shall be deprived of its equal suffrage in the Senate
All previous amendments have been through Congress. However, the Convention of States method has been utilized to put pressure on Congress to act. For example, the states wanted to have direct election of their senators but Congress would not oblige – so the states began the process of calling for a convention of states. Once they got within one state of achieving the two thirds needed, Congress acted rather than losing its prerogative. (This led to the Seventeenth Amendment.)
Maryland has legislation under consideration now which states:
Applying to the U.S. Congress for an amendments convention called under Article V of the U.S. Constitution, on the application of the legislatures of two-thirds of the several states, to propose an amendment to the U.S. Constitution that affirms every citizen's freedom to vote and restores free and fair elections in America.
This bill is filed as HJ2 by Delegate Sheila Hixson and is cross-filed with SJ2 by Senator Paul Pinsky. It was introduced last session also, but did not come to the floor for a vote. (Editor's note: The Senate version from 2014, however, passed committee 9-2 with all three Republicans on the Education, Health, and Environmental Affairs Committee voting yes.)
Reading the bill summary left me perplexed. Who thinks we need an amendment to restore free and fair elections? My mind thought of voter fraud, but who would want to amend the Constitution to fix that issue? After some phone calls to Delegate Hixson and Senator Pinsky's offices, though, the confusion was cleared up.
This bill is the result of the work of Get Money Out of Maryland (GMOM) and its allies. They claim to be bipartisan, but the groups in the allies list lean distinctly progressive.
The bills have a total of sixty-nine sponsors of which two are Republicans, so I suppose that makes it bipartisan.
GMOM states:
The Citizens United v FEC decision by the Supreme Court opened the floodgates for unlimited campaign expenditures in elections, which corporations and the extremely wealthy have used with devastating impact in the last few elections. This misguided decision reversed decades of campaign finance regulation at the state and federal level, turning our public elections into private auctions. With regard to voting rights, Supreme Court justices in the Bush v Gore decision declared that there is no individual right to vote in the Constitution and in its aftermath, there has been a concerted attack upon the right to vote across the country. These legal travesties require remedy if we are going to preserve representative democracy and create a more perfect union. (Emphasis in original.)
According to Senator Pinsky's spokesman, the principal point of this amendment is that there is too much money in politics since the Supreme Court ruling in the Citizens United case opened the floodgates. GMOM wants the Citizens United ruling reversed so the only option is to exert pressure on Congress via an Article V Convention to amend the Constitution. Their expectation is that Congress will act if the states approach the two-thirds approval level as happened with the direct election of senators.
GMOM states that Vermont, California, Illinois, and New Jersey have already passed the "Democracy" amendment and several other states, such as Maryland, are considering the bill now.
Working from the opposite side of the political spectrum is the group Citizens for Self-Governance which states:
Citizens concerned for the future of their country, under a federal government that's increasingly bloated, corrupt, reckless and invasive, have a constitutional option. We can call a Convention of States to return the country to its original vision of a limited federal government that is of, by and for the people.
They also add:
Rather than calling a convention for a specific amendment, Citizens for Self-Governance (CSG) has launched the Convention of the States Project to urge state legislatures to properly use Article V to call a convention for a particular subject—reducing the power of Washington, D.C. It is important to note that a convention for an individual amendment (e.g. a Balanced Budget Amendment) would be limited to that single idea. Requiring a balanced budget is a great idea that CSG fully supports. Congress, however, could comply with a Balanced Budget Amendment by simply raising taxes. We need spending restraints as well. We need restraints on taxation. We need prohibitions against improper federal regulation. We need to stop unfunded mandates.
Both sides of the debate assure their followers that the Article V Convention cannot spiral out of control and rewrite the entire Constitution once they convene. Their main defense against this is that any amendment that comes out of the convention still has to be approved by three quarters of the states, thus giving ample room for rogue amendments to be stopped.
You may want to keep an eye on how Maryland's effort plays out this legislative session – although from the progressive side, it still illustrates the discontent that is growing as citizens realize that their overlords in DC are not listening to them. It is striking (and terrifying) that the progressives feel that President Obama is not doing enough to reach their goals, while the conservatives feel attacked and denigrated by their weak and ineffective leadership under Speaker Boehner and Senate Leader McConnell.
Perhaps the only people happy with the current system are the politicians that are in power and the wealthy elites and crony capitalists that consort with and fund their campaigns. Outside that narrow group, there is a battle brewing.
Over the last few months I've given a little bit of attention to the campaign Ben Carson is running for President. He was one of the earliest informal entrants, in part because of a grassroots campaign that began after he spoke at the National Prayer Breakfast in 2013.
But his cause has been sidetracked by something he said on CNN the day after he announced his exploratory committee. It was in regard to same-sex marriage, which Carson opposes, but what came out of his mouth had to make all but the most ardent Carson supporters cringe. I wrote about the original comments in the Patriot Post last week. In that article I predicted that Ben's vow to drop the issue wouldn't last long; sure enough, he took to social media to again revise and extend his remarks.
Being a political neophyte, he doesn't know that this will now be his defining issue, and that's a shame. Odds are, though, that not only will this question dog Carson through the remainder of his campaign – however far it goes – but it will become a hot topic at any and all GOP presidential primary debates. As I point out at the Patriot Post, you won't catch them asking Joe Biden or Hillary Clinton about the poorly-performing inner-city schools or any of a number of other failures of the present administration, but any time they can set up a social issue "gotcha" question they will take the opportunity. Consider how Maryland Democrats tried to trap Larry Hogan on social issues in the 2014 gubernatorial campaign – Hogan eluded their efforts and won.
What's funny about all this is that, for the most part, I agree with Carson's stance on the gay marriage issue. Civil unions are just fine with me, but when you co-opt the term "marriage" that becomes a problem. I still define marriage as between a man and woman, but insofar as the legalities of being "married" I think civil unions can easily be made equal. Yes, it should be a state issue, but the problem is that most states have been browbeaten into accepting gay marriage by the courts and not necessarily a groundswell of support – look how close the General Assembly vote in Maryland was and ask yourself if there was broad, overwhelming support for the issue. It took a politically motivated change of heart from Barack Obama and presidential election turnout to push the issue over the top – had the referendum been on the 2014 ballot it may well have repealed the law.
Yet we went through all that to pass a law which has affected fewer than 30,000 people based on this assumption:
The 23% increase in the number of marriages between 2012 and 2013 (to 40,456) is thought to be largely attributed to the legalization of same-sex marriages that went into effect on January 1, 2013 in Maryland.
Using my public school math, that's about 8,000 same-sex marriages performed in 2013, with likely a somewhat smaller figure in 2014 as the most dedicated couples probably tied the knot right away. How many would have gone the civil union route if it were available?
Here's the problem as I see it, with Maryland a significant microcosm of the nation as a whole. It's been said by John Adams that:
Our Constitution was made only for a moral and religious people. It is wholly inadequate to the government of any other.
While it is the Creator's job to judge and not mine, I think I have a pretty keen sense of the obvious that we are in a society full of "human passions unbridled by morality and religion." More recently, the late Senator Daniel Patrick Moynihan coined a term for this decline: "defining deviancy down." In either case, the question about whether we are indeed "a moral and religious people" is getting more and more open by the day when you consider that, at the time Moynihan wrote his piece, the question of gay marriage wouldn't have come up because it was such a fringe concept. (That was barely two decades ago, by the way.)
But the genie is out of the bottle now, and standing for a Biblical-based morality on many subjects is considered out of step to opinion leaders in the press. Those who appeal to values voters should expect the same sort of trap questions as they continue on with their campaigns.
While we have to wait and see what November brings, the chances are pretty good that there will be an additional few dozen Marylanders walking around with the unofficial title of "former member of the General Assembly." Some, like outgoing Senator Nancy Jacobs or Delegate Donna Stifler, decided well in advance, while our local Delegate Rudy Cane cynically waited until after the filing deadline to insure no one would oppose his apparent choice for successor, Sheree Sample-Hughes.
And then we have the handful who lost in their primary – among them was Delegate Don Dwyer, whose well-documented personal struggles and legal issues, along with redistricting, made his an uphill battle. But as he wrote a few days back:
I simply couldn't walk away without committing to continue my efforts in regaining liberty and true freedom. I believe as many do, that the one best solution to federal tyranny is the doctrine of NULLIFICATION under the 10th Amendment of the US Constitution. I would like to introduce the States Rights Foundation and new blog The Rightful Remedy.

Washington will not fix itself. Our intent is to partner with other groups and people who are dedicated to advancing the 10th Amendment movement. It is the solution to the out of control Federal Government. If enough States say NO, the Federal Government will be unable to enforce its unconstitutional laws, lacking the resources to do so without aid by the States.
Whether intentional or not, The Rightful Remedy was officially launched on Bastille Day, July 14.
As has been his modus operandi in the past Dwyer is holding a gun raffle to raise funds for his project, which he explains further:
As a Maryland State Delegate, I introduced several bills considered Nullification Legislation, by which the State of Maryland would refuse to comply with Federal "laws" for which the Federal Government has no Constitutional authority to impose. The legislation essentially prohibits the State to use any resources to assist the Federal Government in taking action against Maryland Citizens who are not complying with any Unconstitutional Federal Act. The result, should such legislation pass, profoundly affects the ability of the Federal Government, which rely (sic) heavily on resources from the state, such as police, to effectively enforce their "laws." (Emphasis in original.)
Nullification is an intriguing practice, although it's not often tried (here's one example.) It brings arguments about whether it should be up to the states or left to the judiciary to decide what is in accordance with the Constitution.
But states are generally reined in under the federal judiciary's interpretation of the Supremacy Clause (such as the case with Arizona's SB1070 in 2010) as well as the prospect of losing needed federal funding if they don't perform a particular action – examples I've often used are the .08 blood alcohol level standard and legal drinking age of 21, for which the lack of acceptable state law resulted in a deduction of federal highway funding. It would take a state willing to endure the penalties of perhaps defying the Supreme Court (as in a fictional example I recently reviewed) and losing a significant part of its federal funding to openly adopt nullification, and I can tell you Maryland politicians are way too gutless to try either. (Given his go-it-alone attitude, I daresay Rick Perry and Texas might come the closest to using the approach.)
Yet there is a logical argument to non-enforcement as well. We've often heard about the prospect of gun confiscation, but there's an open question as to whether law enforcement – particularly in rural areas like the Eastern Shore – would be willing to go on what's been described as a "suicide mission." At the time, Dwyer was calling for the formation of a "voluntary militia" in each county. On the other hand, we have constant complaints about the federal government not enforcing certain other laws, such as the ones dealing with illegal immigration – a backhanded form of nullification unto itself.
I guess the problem is who decides which laws to not enforce, and if they're not enforced, are we still a nation of laws? A stricter adherence to the Tenth Amendment and Constitution in general would help, but for that we need to clean out our judiciary swamp. I think an equally productive avenue for Dwyer to pursue with his States Rights Foundation would be to work for repealing the Seventeenth Amendment, which has been argued in some circles for several years and is something I've advocated for on both a federal and state level as well. That would help to assure the interests of the several states are represented in Congress, so nullification may not be as necessary.
Facebook comments so good I couldn't let them go to waste there. They were in response to this post by Martin O'Malley:
Progress is a choice. So long as gun violence continues to take the lives of our fellow Marylanders, there are choices we must make together to protect our children, our families and law enforcement personnel who put themselves in harm's way every day. Today, we're putting forward a comprehensive set of public safety initiatives that will improve the safety at our schools, make meaningful mental health reforms, and enact common-sense gun safety measures like banning military-style assault weapons and limiting high-capacity magazines. We're also proposing the largest investment in Maryland's police forces in 20 years and calling for a renewal of our DNA law that has taken 510 murders, rapists, & other violent criminals off MD's streets.
Naturally I had to reply:
"Progress is a choice." Yes, we can progress towards liberty or regress back to tyranny. Our governor rarely makes the right choice in that regard.

As for the comment above about 50 to 60 rounds: frankly it's none of your damn concern how many rounds a magazine has. No one has ever complained they had too much ammunition to do the job and if my home were ever invaded by a multiple-person group I sure don't want to be limited to 10 rounds at a time.

Safety in schools isn't something which can be provided by the waving of a magic wand or more laws rendered meaningless by the fact criminals, by definition, ignore them. It requires a sea change in attitude and a respect towards life missing from a society which promotes abortion as a matter of convenience and a culture which doesn't teach the lesson that violence depicted on film isn't the same as in the real world, where actions have consequences.
And if that wasn't good enough, someone dared to question my understanding of the Constitution:
Among those of us who "spout off the Constitution" there are many who understand the situation we had lately endured when it was written: we had spent close to a decade and the lives of many fine men and women to throw off the yoke of tyranny expressed by the British Crown. Needless to say, the men who wrote the document wanted to insure that no such fate awaited their progeny, so they wrote the Second Amendment to protect the remainder of the Bill of Rights.

For example, when taken at its word, the Third Amendment ("No soldier shall, in time of peace be quartered in any house, without the consent of the owner, nor in time of war, but in a manner to be prescribed by law") doesn't seem to have application in the modern day. But in the context of the time and the overall purpose of the document, which was to "secure the blessings of liberty to ourselves and our posterity" it makes more sense because soldiers of the Crown were known for this practice.

The Second Amendment, at its core, is certainly not about hunting and wasn't superseded by the creation of the National Guard. It's about the people who wish to protect themselves from a tyrannical government and expressed an inalienable right.

Perhaps you should learn more about the Constitution before you tell those of us who understand the intent about spouting it.

And to the original point: all that would be done by banning so-called "assault weapons" would be to make otherwise law-abiding citizens either criminals or sitting ducks for those who don't care about following laws – or, for that matter, the value of human life.
But I wasn't through yet.
And I'm glad to see Americans get my point. A Rasmussen Poll out today states the answer to the question:

"The Second Amendment to the Constitution provides Americans with the right to own a gun. Is the purpose of the Second Amendment to ensure that people are able to protect themselves from tyranny?"

"The latest Rasmussen Reports national telephone survey finds that 65% of American Adults think the purpose of the Second Amendment is to make sure that people are able to protect themselves from tyranny. Only 17% disagree, while another 18% are not sure."

I guess the 17% are all on this thread. Glad most Americans still get it.
Of course, I can say all I want but at the present time too many in the Maryland General Assembly have the mistaken notion that the Second Amendment is antiquated and was only meant for a time when muskets were the rule. Or gun grabbers consider it a "public health issue," which couldn't be farther from the truth. (On the opposite hand, most of them believe murdering an unborn child is a matter of "choice.") They even bill themselves as supporting "smart" gun laws:
The Governor's anti-gun violence package will reduce gun violence, make our communities safer, and become the standard for smart gun legislation in this country. Smart Gun Laws Maryland will be working to see that the legislation is not watered down by the General Assembly and is enacted into law. We will be mobilizing thousands of Maryland citizens to engage in the political process, contact their legislators, and send an unequivocal message of support for the Governor's proposal. Now is the time for strong gun legislation nationally and in the state of Maryland.
Many of the members of their steering committee are veteran gun-grabbers and liberal advocates: Lisa Miller Delity, a board member of CeaseFire Maryland; Vincent DeMarco, who is taking time out from trying to ram Obamacare and an increased tobacco tax down our throats to assist in this effort; Matt Fenton. the former president of Marylanders Against Handgun Abuse, which evolved into CeaseFire Maryland; Eric Gally, a gun-grabbing lobbyist; Gary Gillespie, who heads the Central Maryland Ecumenical Council; Rachel Howard of the Center for Gun Policy and Research at Johns Hopkins University; Michael Pretl, a local environmental advocate and attorney who must be tired of trying to usurp our property rights; and the Rev. Donald A. Sterling, a Baltimore pastor.
I don't know what their problem is, since Maryland already gets a "B" grade on restrictive gun laws, as did Connecticut – but they ranked 4th out of 50. Yet still Sandy Hook occurred.
But as a response to this group and O'Malley's efforts, we who believe in the Second Amendment obviously need to mobilize thousands of Maryland citizens ourselves; people who understand the clear intent of the Founding Fathers and won't be cowed by media shills and others who would accuse of being butchers – while they callously exploit the murder of 20 children and six adults by a criminal for political gain at the expense of law-abiding citizens like 99.9% or more of gun owners are.
A good start in fighting back will be a rally in Annapolis tomorrow that my blogging friend Jackie Wellfonder is planning to attend – surely she'll have a rundown, as will others. There will also be a need to testify against any and all bills in the O'Malley legislative package, which can be followed on the General Assembly's newly revamped website. Those of us who are activists should become closely familiar with that site.
Some say they have enough votes to pass this bill, and it's indeed possible they could. But don't forget there could also be the opportunity to petition them to referendum should they pass, and as last resorts we have the courts and the fact all 188 state legislators are up for election next year.
We can win this fight. Don't let the siren song of a small minority of public opinion fool you into giving up your liberty.
On this day, the 225th anniversary of the Constitution, this might be a good time to pass along this commentary by an old and good friend of mine, Bob Densic. He's the founder of a group called Back to Basics.
In our past seminars on "The Enumerated Powers", I have asked the audience what is the main cause of our nation's problems.  Often I hear concerns of a federal government spending problem that gives drunken sailors a bad name.  Occasionally someone will offer up a concern of federal revenue (not that often Thank God!).  While these answers focus on the frightening economic conditions we find ourselves in, they often miss a larger issue: that of God-given freedom and liberty, or state control.

The Forefathers who came to this continent did so with a clearly established goal.  "in the name of God, Amen.  We whose names are underwritten… by the grace of God… defender of Faith; having undertaken, for the Glory of God, and the advancement of the Christian faith… a voyage to plant the first colony…do by these present, and in the presence of God, covenant and combine ourselves together into a civil body politic.."  Apparently the Forefathers had not attended public education where they would be taught of "separation of church and state".

Our nation's Founding Fathers carried this vision forward throughout or Declaration of Independence and our Constitution.

(snip)

Like so much of our nation's history, we have forgotten from where we have come. We have ignored the lessons of the past and we have stood by as the principles that were fought and paid for with blood have been twisted or ignored. The Forefathers that came to this continent did so to maximize the freedoms they recognized as coming from God. Our Founding father fought a war with the most advanced, the most feared army and navy the world had ever seen. They won and secured that freedom not only for themselves, but for future generations.

It is our duty, it is our solemn obligation to carry on these principles. The book of Revelations warns us "Remember the height from which you have fallen! Repent and do the things you did at first. If you do not repent, I will come to you and remove your lampstand from its place." (Rev 2:5). As Joshua was taking the nation of Israel to the Promised Land, representative from the twelve tribes carried stones from the riverbed of the Jordan River to create a memorial – so that future generations would learn and return to the ways of God-given freedom.

On Monday, September 17, 2012, we will celebrate the 225th anniversary of our Constitution. If we are to restore our nation, we must take up the burden of remembering the past, relearning the principles and returning to them. Please join me in these 10 simple steps and together, we will become the tireless, irate minority keen on setting brushfires of freedom in the minds of men!
The "10 simple steps" Bob cited come in an article on the anniversary written Friday by Julia Shaw of the Heritage Foundation, which I've found useful to link as well.
But it's interesting to note a juxtaposition in the space of less than a week, and a change seemingly to suit those who don't believe America is the "shining city on a hill" but rather just a space on the map, a nation no more exceptional than, say, Estonia, Peru, or Namibia.
We just went through a 9/11 which reminded us once again there is a group out there actively striving for "death to America!" Yet the prevailing mood conveyed by the current administration is one of devoting the day to service.
On the other hand, few take the time to celebrate or even think about the blessings of liberty bestowed upon us by our Creator and enshrined in perhaps the finest document to come from the hands and minds of men. Just think: these learned men could have been the tyrants, dukes, and lords of this fledgling nation, protected by an ocean from the mighty Crown that they just beat back. They couldn't be blamed if they were feeling their oats, boastfully giving themselves a place in the hierarchy they'd earned through hard-won independence.
Instead, they yielded all that prospective power to a mostly uneducated motley group of people, many of whom were barely scratching out their existence in this new nation as common farmers and laborers. It would have been so tempting for these leaders to take the paternal attitude that they needed to take this nation by the hand and lead it where they believed it needed to go, but they resisted and trusted the people to have common sense. All they needed to do was live by the precepts spelled out in this wonderful document and they, too, could secure and maintain their God-given rights ceded to them by those who wrote the Constitution and could have been in a position to take full advantage.
But while we celebrate our independence with everything from fireworks to parades to crass commercialism, the annual passing of Constitution Day goes almost unnoticed. Perhaps that's fitting since, as a regulator of the federal government, all the Constitution did was replace the weak and ineffective Articles of Confederation which had formed the skeletal governmental structure for the decade which had passed since independence was declared.
Yet the question has to be asked: why is it so unnoticed? What would be so wrong about a reminder, or even a government holiday? Sure, they would make it one of those generic Monday holidays just to give themselves a late-summer three-day weekend but it would still be a topic of conversation. (And yes, I can see the crass commercialism out there: three guys dressed up as our Founding Fathers debating whether the right to save 50% off a TV should be in the Bill of Rights. That right didn't make it into the Constitution, but we'll give you the freedom to save big at XYZ Warehouse this Constitution Day weekend!)
Perhaps there is a group out there, though, who would like the Constitution and its "negative liberties" to be forgotten by the public, the better to do their dirty work.
Unfortunately, most of us will be working today and not have the opportunity to give the Constitution the commemoration it deserves on this 225th anniversary of its unveiling. But the better way to celebrate would be a true day of service: making an active effort to bring about the return of those liberties granted to "We the People" and not a overbearing, Crown-like tyrannical government.
Every day more and more Americans are convinced the government doesn't have the nation's best interests at heart. Despite the chance to elect new leaders every other year, it seems to us that nothing really ever changes and the nation sinks deeper and deeper into the morass created when the rule of man supersedes the rule of law.
But all is not lost. My friends at the Patriot Post are trying a new tactic to reverse the decline, and it's called the Breach of Oath Project. As they state:
To enforce our Constitution's limits on the central government, we believe a formal legal action is necessary. This action, if successful, would require that all members of the Executive, Legislative and Judicial branches, first and foremost, abide by their oaths "to support and defend" our Constitution, under penalty of law, and thus, comport with its enumerated "few and defined powers" (Madison) of the federal government. The current scope of federal activities provides abundant evidence that many members of those three co-equal branches have long since abandoned their oaths, and, at present, there is no recourse for prosecution to enforce compliance.
So far, over 68,000 citizens (who may or may not run afoul of the Attackwatch.com website) have signed on in an effort to establish legal standing – failing that, the Breach of Oath goal is 500,000 signatures in order to codify this into law.