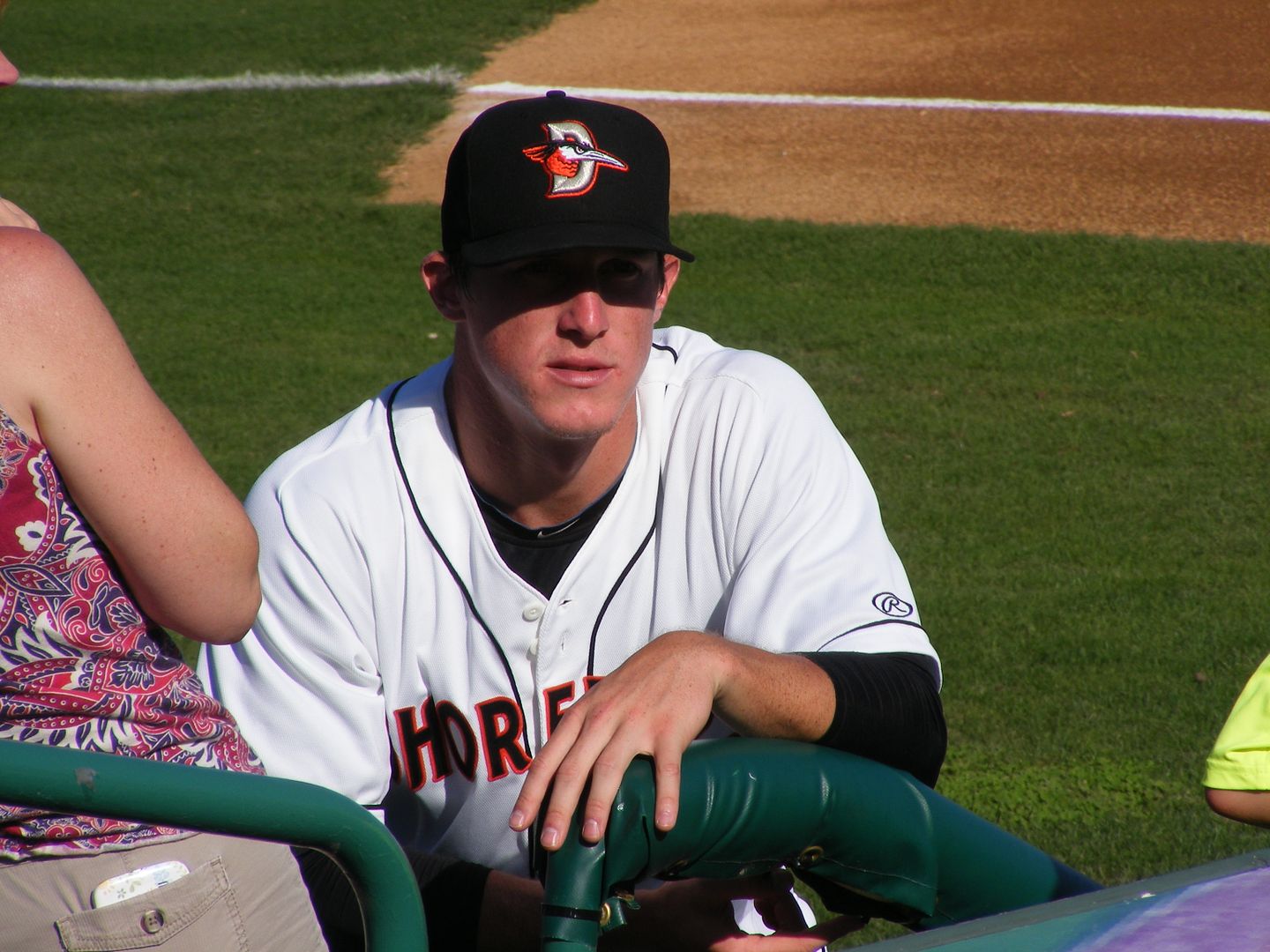 For the Shorebirds in the second half, it's been a tale of patching together a rotation and bullpen. Injuries and players moving around have meant that just two of the original Shorebirds staff are still here; meanwhile, over half have arrived since the second half began. One of those earlier arrivals has done a nice job in the bullpen and leads the second wave with 18 appearances. Until a rough outing last night, Garrett Courtright was statistically the best available bullpen arm.
It's always difficult to pick the last two or three SotW players, but Garrett has pitched well since his July 1 arrival so he gets the nod for the final spot. This is perhaps quite appropriate given Garrett was the last player selected by the Orioles in the 40th round of last year's draft and was the lowest player selected in the 2013 draft to actually play in 2013. (One player drafted after him made his debut this season, but Courtright was the 1,209th player of 1,216 selected.)
Still, the New York native and product of Canisius College has pitched well in the GCL and with Aberdeen over the last two seasons. After going 5-1 with a 1.11 ERA in the Gulf Coast League (40 2/3 innings in 11 games, with a 29/14 K/BB ratio) Courtright took advantage of a cup of coffee with Aberdeen to pitch five scoreless innings in 2 games at the tail end of 2013. And once he began 2014 in much the same manner – allowing just 1 earned run in 9 2/3 innings – the Orioles decided to push him to Delmarva.
It hasn't been quite as easy here, although Garrett had a sub-3 ERA until last night. Now he's 1-2 with a 3.77 ERA in 18 appearances, spanning 31 innings. He's allowed 33 hits, struck out 21, and walked 11, so Courtright is finding this to be more of a challenge but doesn't appear overmatched. And since he doesn't turn 23 until after the season, there's a chance he could be here to begin 2015 but also the prospect of cracking Frederick's bullpen. Many of the pitchers we're seeing now, though, will be the mainstays of our 2015 staff.
As always, next week I will review the fate of the 22 players who were picked for Shorebird of the Week this season, look at how the Shorebirds stacked up to the rest of the league in various categories, and select my Shorebird of the Year. The week after that I'll do my annual picks and pans, then wrap up until the Shorebird of the Week Hall of Fame Class of 2014 – if there is one – takes center stage in December.
Every year it seems like the Shorebirds have one pitcher who has a dreadful record in terms of wins and losses but pitches rather well overall. Last year that was Matt Taylor, who's had a fairly good bounceback season (albeit marred by injury) for Frederick this year, and this year's model will almost certainly lead the South Atlantic League in strikeouts. Mitch Horacek has a decent shot of having the most strikeouts of any Shorebird pitcher since 2006, when onetime Oriole and now injured Diamondback reliever (and SotW Hall of Fame member) David Hernandez fanned 154.
So forget the 5-10 won-lost record and concentrate on some other numbers: the 33 walks Horacek has allowed in 130 1/3 innings keep him at a 1.29 WHIP for the season as he's allowed just over a hit per inning (135 hits.) Nearly half his 23 starts would be classified as "quality" starts where he went 6 or more innings and allowed 3 or fewer earned runs – in fact, Horacek had a stretch earlier this season of three straight 6-inning starts without allowing an earned run (May 26 – June 5.) In his 10 losses, Horacek has a 6.14 ERA so he's not often being hammered out of the ballpark – only one time (in loss number 10) has he allowed more runs than innings pitched. (In his first four wins he had a zero ERA in 25 innings, so when he's on Mitch is almost unhittable.)
Drafted out of a Colorado high school in the 46th round by the Rockies in 2010, Horacek chose instead to pitch at Dartmouth – yes, he's an Ivy Leaguer. It was a smart decision in the fact he advanced to a ninth round pick last year and pitched quite well for Aberdeen, going 5-4 with a 2.78 ERA and a 45/7 K/BB ratio in 64 2/3 innings, with a WHIP of less than 1. So far in his career it's become obvious he has a good strikeout pitch; on the other hand, he does give up quite a few hits. In the near term, it likely means he's got the inside track on a rotation spot for Frederick next year, but the eventual fate of the 22-year-old may be in the bullpen as a swing man – a role that T.J. McFarland fills for the Orioles right now.
In the meantime, it appears Horacek will enjoy a distinction no Shorebird has achieved in 15 years – leading the league in strikeouts. Not since John Stephens fanned 217 (!) in 1999 has a Shorebird been atop that leaderboard. And while I'm sure any member of the team would trade individual honors for a team title, it's a nice little distinction to have. Moreover, out of the six Shorebird pitchers who have collected over 150 strikeouts in a season, five have gone on to the majors (the other is still pitching in the Mexican League.) With one more start and perhaps a relief appearance left in his season, the possibility of Mitch eclipsing 150 strikeouts and joining that club is pretty good.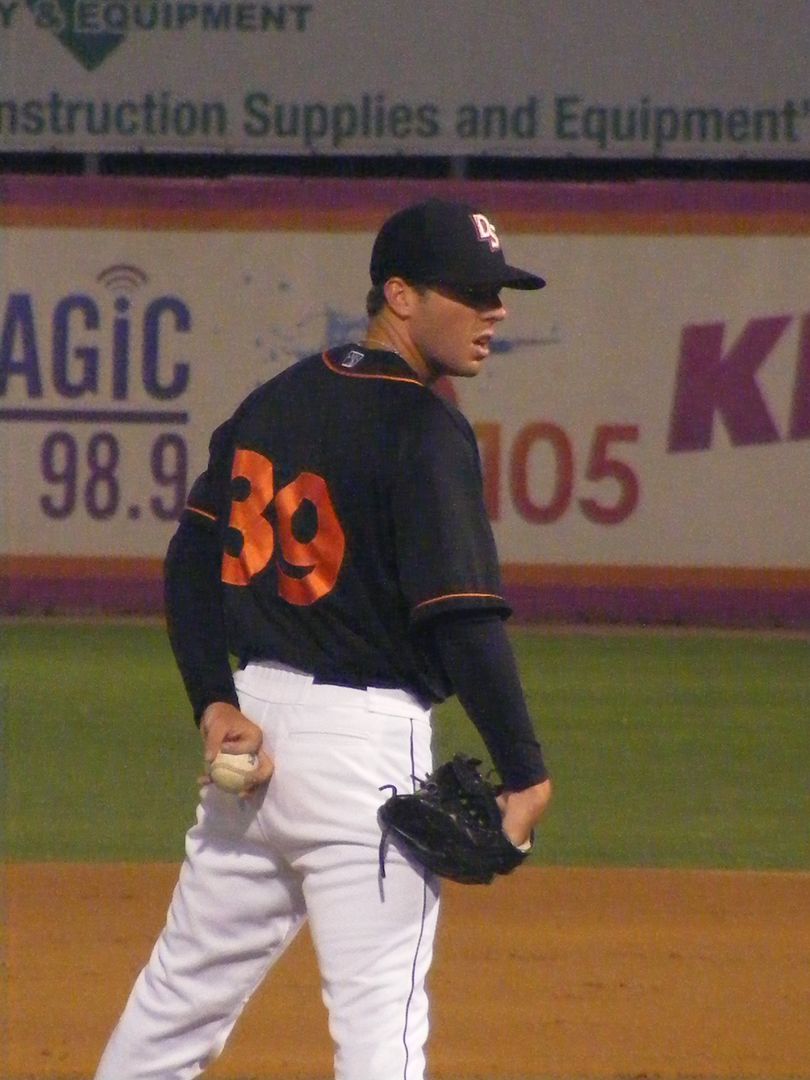 A provider of effective and deceptive left-handed relief since joining the Shorebirds in June, Donnie Hart has continued to put up some good numbers in his pro career and could put himself on the map as more than organizational filler with continued success.
A prototypical one-inning guy, Donnie has a deceptive 0-2 record, with both losses coming within a four-day span in June in extra-inning appearances. But over the last six weeks, Donnie's season ERA has been whittled away to its current 2.70 because Hart's on a roll where he's allowed just 3 runs in 17 1/3 innings – since July 1, that stretch includes a puny batting average against of .131 (8-for-61) and 20 strikeouts vs. 5 walks. The seasonal WHIP of 1.07 is pretty good, but in the same July-August time frame it's a microscopic 0.75.
Add that on top of a rookie professional season in Aberdeen when he put up comparable numbers (3-1 with a 2.25 ERA and 1.29 WHIP in 24 innings pitched over 19 appearances) and he looks more like a LOOGY prospect than a 27th pick out of Texas State last year. Granted, the Texas native will turn 24 in September so Donnie's older than league average, but the numbers are such that he deserves a promotion to see if he can get left-handers out at the next level like the sidewinder does here. (Lefties hit just .176 off Hart.) Nor does it hurt that he has a 25/7 K/BB ratio for the season (and 51/14 for his pro career, in 47 1/3 innings.)
It was a rough start to Hart's second pro season, but it looks like he's on track to put up good numbers in the remaining half-dozen or do appearances he should get this season. The next step for him would be advancement to Frederick next April to see if his stuff will carry over the full 140 games.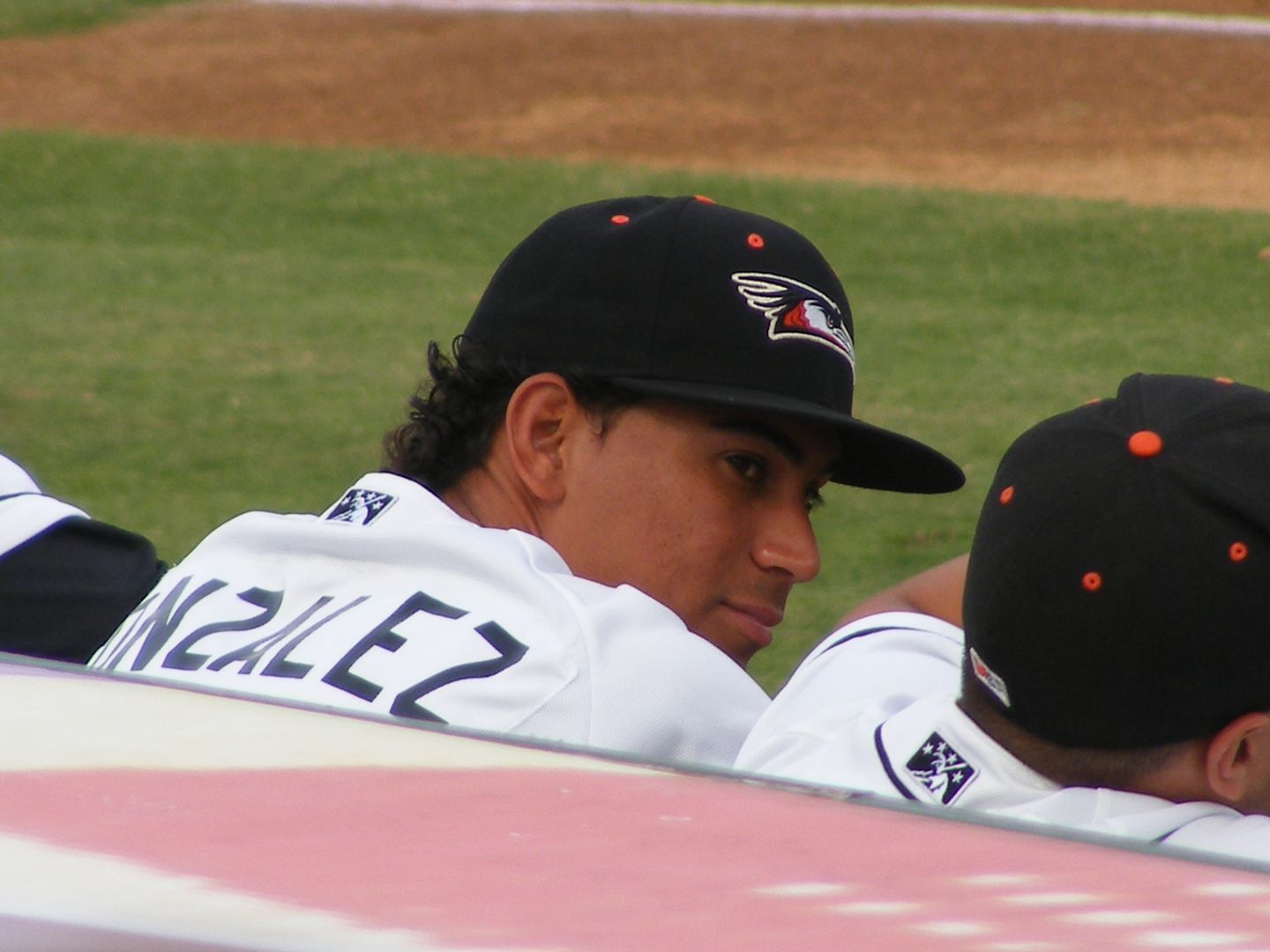 This shot is probably the favorite for opposing batters, as they would likely prefer Luis Gonzalez stay in the dugout. Until a rough outing Tuesday night ended a stretch of outstanding pitching that garnered Gonzalez the Orioles' minor league Pitcher of the Month honors for July, Luis was dominant against the SAL once he was elevated to Delmarva in May.
Overall, Luis sports a 6-1 record (with the loss Tuesday) and a 2.84 ERA in 14 games (13 starts) covering 66 2/3 innings. This is Gonzalez's first taste of full-season ball and it's apparent he's taken advantage of a second chance in baseball.
Signed originally by the Philadelphia Phillies, Gonzalez pitched for their Dominican Summer League team in 2010, their Gulf Coast League team in 2011, and Williamsport in 2012. (The Crosscutters are in the same league as our Aberdeen affiliate.) Over the three seasons, Luis was 6-8 with a pedestrian 4.85 ERA in 130 total innings, generally as a starter. His K/BB ratio 115/85, suggesting his control was lacking, so at spring training in 2013 Gonzalez was released.
Once the Orioles picked him up and sent him back to his Dominican home, it was like a new pitcher was born. It was only a 13 1/3 inning sample, but in the DSL Luis went 2-1 with a 1.35 ERA and 1.05 WHIP – he struck out 23 (!) against just 4 walks. A little more work in extended spring this year and Gonzalez was unleashed on an unsuspecting SAL. After one relief outing, Luis has spun 4 shutout stints out of his 13 starts, including three in a row leading up to Tuesday's start. The league is hitting just .212 against Gonzalez.
Since he's now 22 – but a veteran in his fifth season – the chances are pretty good Luis may move up before season's end to test his stuff at Frederick. It's true there are several good starters here at Delmarva but with a record of dominance such as he put together in July, Gonzalez may be the next in line to give Frederick a shot.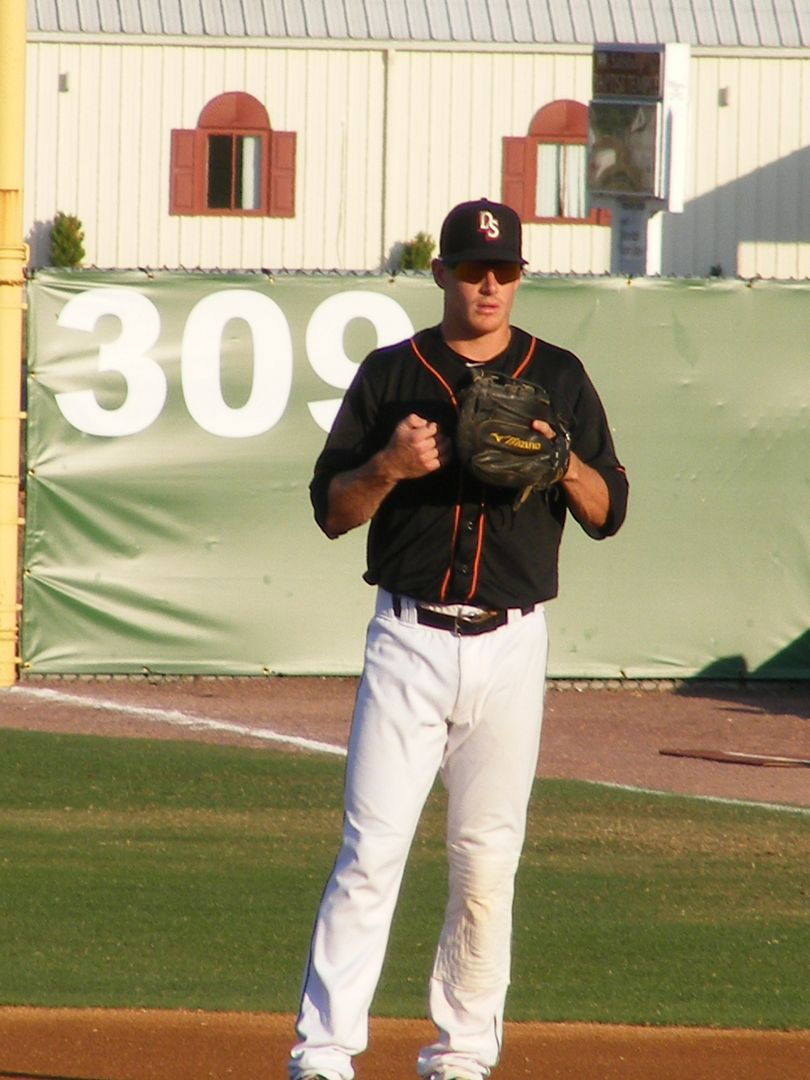 After beginning the season at Frederick and finding little success, Creede Simpson has returned to Delmarva to try and get his batting stroke back and some regular playing time. Mission accomplished on both ends; in fact, since trading places with the promoted Trey Mancini back in June the offensive production at first base is remarkably similar – Mancini had a .317/3/42/.779 OPS before moving up and Simpson is at .314/2/17/.796 OPS since arriving.
Simpson is the Auburn University product who earned his initial promotion after compiling a .248/9/49/.719 OPS for Delmarva in 2013. But at the midway point of the season he was hitting just .214 in 58 Frederick games (albeit with 7 home runs) so the change was made and Simpson is finding much more success here the second time around.
Granted, Creede is a little old for this level as he will turn 25 just after the season ends although this is only his 3rd pro season. He also has a strike against him as a 25th round draft pick, but there are players who have succeeded after a demotion and Creede hopes to be another example. Since his overall trend is on the upswing, there's the chance he could return to Frederick later this season or start again there next year.
In the meantime, Simpson has just become another link in a Shorebird offense more potent than originally thought when the season started. Compared to last season, when just one player (Christian Walker, who's now up at Norfolk) had an average over .300, Simpson is one of four active Shorebirds with a mark of .314 or better – the others are previous 2014 SotW winners Anthony Caronia, Chance Sisco, and Drew Dosch. Mancini was also over .300 when he was promoted as was Mike Yastrzemski.
It should be noted as well that, with win number 56 last night, the Shorebirds eclipsed the seasonal win totals of our last three Shorebird squads (55, 52, and 54 in 2011-13) with over a month left in the season. If they can hold on to a winning record it would be the first one since 2008. End of tunnel, meet light.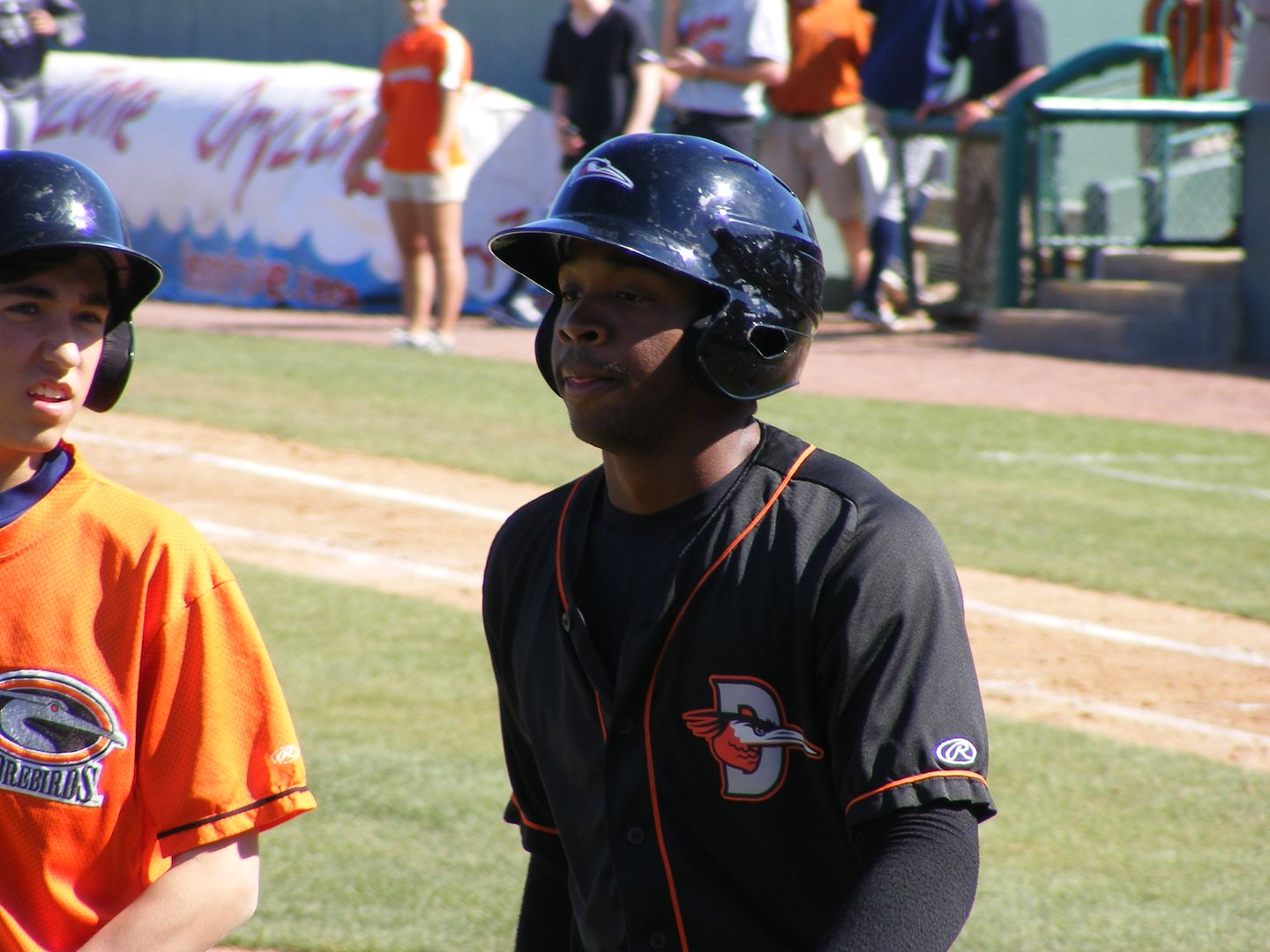 Before spring training began, Josh Hart was best known as the Orioles' sandwich first round pick (37th overall) last season. Now that he knows who Frank Robinson is we can pay attention to how the prospect is doing on the field, and after a hiatus due to injury Hart is back patrolling center field for the Shorebirds.
At just 19 years old and barely a year removed from Parkview High School in Lilburn, Georgia, the bat hasn't quite caught up to the potential – although he has made strides in his pro career. After hitting just .218/0/9/.588 OPS between the Gulf Coast League and Aberdeen last year (just 1-for-10 with Aberdeen in 3 games) Hart has picked up the pace with Delmarva. The power isn't there yet, as Hart has just 3 extra base hits on the season, but the average for Delmarva is a respectable .250 mark in 56 games.
Josh missed most of June with an injury, easing back into playing with the Gulf Coast League Orioles and hitting .167 there (4-for-24, with a triple.) But since returning to the Shorebird fold on July 5, Hart has found some success – in particular a nice 7-for-20 in the series against Hagerstown which wrapped up this week.
And while Hart was a first round pick, there are some things he will need to work on as he progresses. Building up that extra-base hit total is one obvious task, but getting a better understanding of the strike zone is also paramount as Josh has just 9 walks vs. 56 strikeouts this year (in only 247 plate appearances.) I suspect the plan may be for Hart to repeat at this level next season, which would not be a real setback considering most of the players he's up against are several years older.
Over the years, hundreds of players with tools have come from high school with all the promise in the world and garnered a high draft position, only to fail. If Josh is as willing to work and learn on the field as he did off the field – and has the talent the scouts thought he might – he may take the steps needed to join Frank Robinson in the fraternity of Oriole players.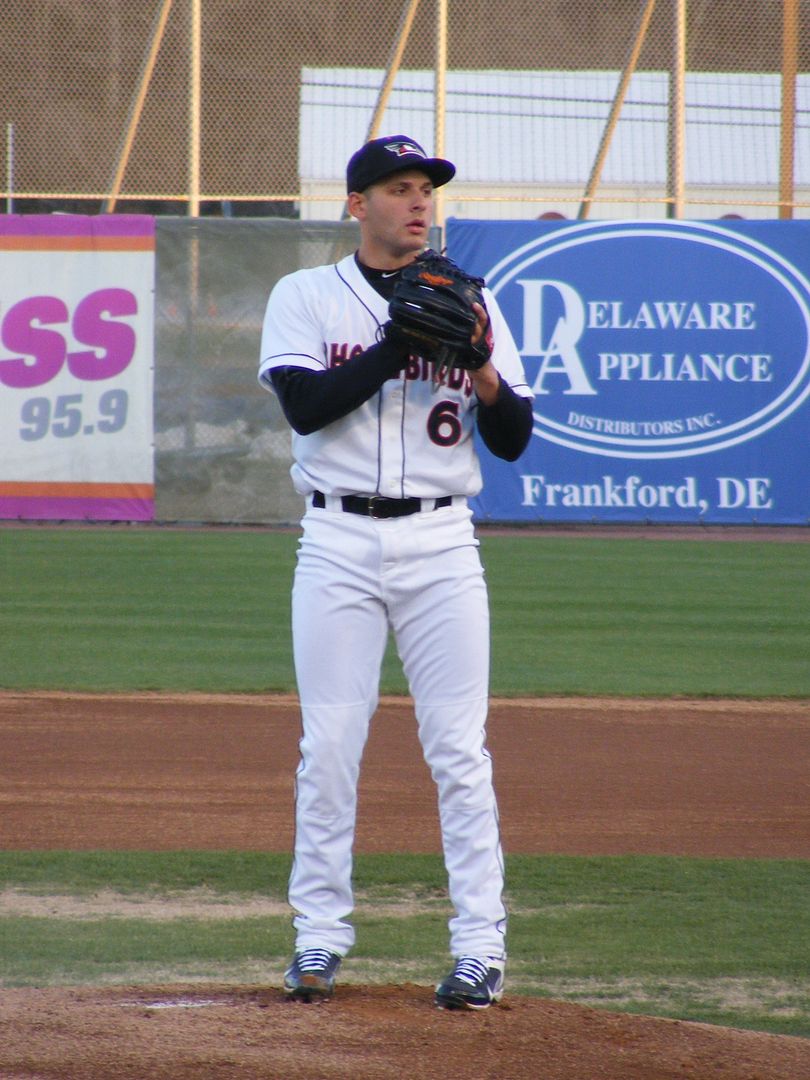 If the Orioles had their way originally, Austin Urban might have been here a season or two ago. In 2010 they drafted him out of high school in Johnstown, Pennsylvania as a 27th rounder – instead, he opted to go to Penn State before eventually transferring to Des Moines Area Community College in Iowa and then being drafted by the Cubs in 2011. While he signed with Chicago after the draft, he never threw a pitch for their organization because he missed an entire season with a back problem before drawing his release.
Long story short, it's been a series of nicely documented personal and professional detours, but perhaps Urban is now where he needs to be. So how is he doing?
Austin put together a decent campaign for Aberdeen last season, going 3-5 with a 3.32 ERA and 1.56 WHIP, mainly due to a high rate of walks – 29 in 57 innings. (However, 21 of them came in his first four professional outings, covering 21 1/3 innings.)
Still, if there's one weakness in Urban's game, it is that tendency to give up walks – so far this season he's allowed 30 in 52 1/3 innings, and with just 30 strikeouts to go with them it doesn't seem Urban has yet mastered a put-away pitch. But the overall numbers are improving after a tough start, as Urban is 3-4 with a 4.47 ERA. A 1.68 WHIP is still too high, but Urban has done a good job as the successor to the promoted Jimmy Yacabonis as closer, garnering four saves in the second half.
Austin seems to pitch better in a bullpen situation. He was the #6 starter in the six-man Delmarva rotation to start the season but was moved to the bullpen by mid-May when results weren't those desired by the Orioles. But with his whirlwind career, it's easy to forget he just turned 22 last week so his development isn't necessarily behind schedule and the Orioles obviously thought enough of Austin to give him another chance after he spurned their original draft offer.
Urban will be a story to follow in the coming months, to see if he can improve his game enough to keep being promoted up the system.
When your partner behind the plate leads the league in hitting, one has to take his chances when he gets them. Fortunately, Austin Wynns hasn't been an offensive slouch this season, giving manager Ryan Minor multiple options for firepower at the plate.
One of four catchers drafted in the first ten rounds by the Orioles last year – and the only one with college experience, as the Orioles drafted him out of Fresno State University – Wynns found himself being the predominant catcher for Aberdeen last season and batted a respectable .235 with 21 RBI in 54 games. The offense is even better this season as Wynns has bumped it up to a .263 mark, also improving his OPS from an anemic .557 to .618 this season.
The experience has helped Austin be the better defensive complement to fellow catcher Chance Sisco, who has the offensive tools to also be DH. Wynns has nabbed 19 of 55 would-be base stealers this season, a 35% average, a better fielding percentage, and has allowed just 5 passed balls compared with 13 for Sisco.
As the much older of the two Shorebird catchers, the 23-year-old Wynns can look at other late-blooming defensive-minded catchers in the Orioles chain like Caleb Joseph, who didn't make his major league debut until he was 27 but has held down the fort in the absence of Matt Wieters. Austin appears to the be the type who will make slow, steady progress up the ladder.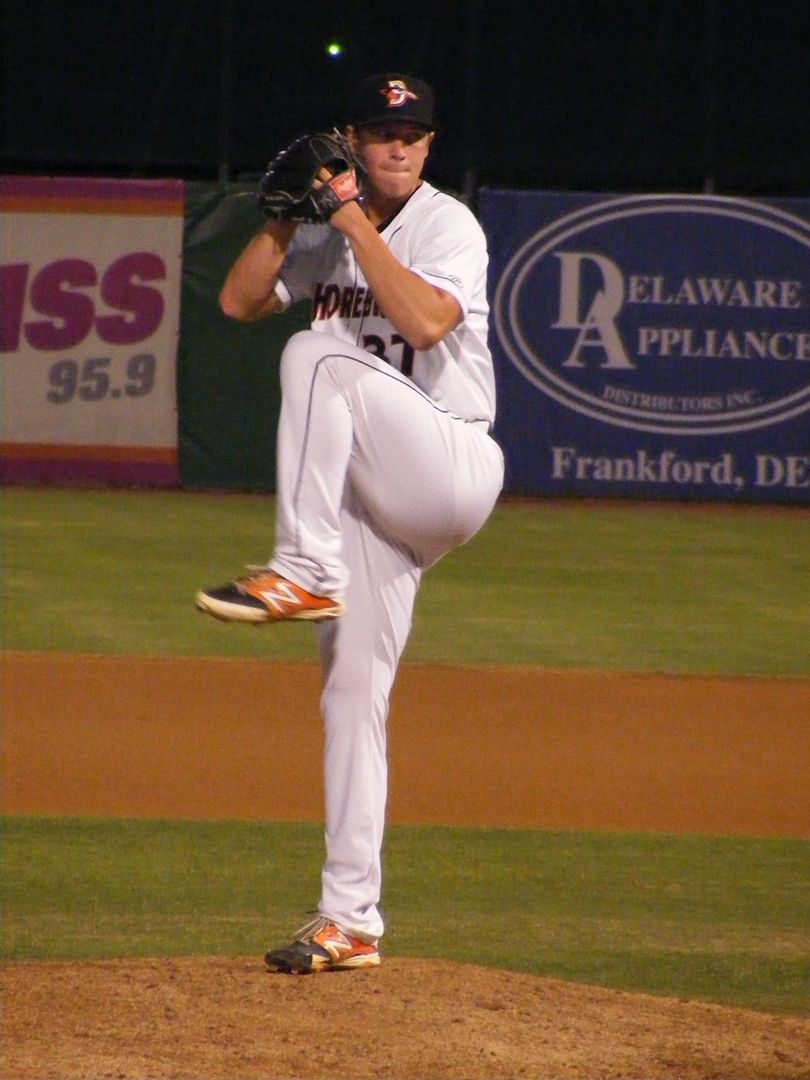 I've contended for several seasons that the second wave of pitchers the Shorebirds feature is almost as important as the first. While they have a six-man rotation, they also have four or five guys who seem to have a rotation unto their own as the pitcher who covers the middle innings until the closer comes in, or finishes the game for a three-inning save. The hot hand among that group right now is Jon Keller.
Had things turned out a little differently, Keller may well be toiling somewhere in the Seattle Mariners organization – they drafted him in the 11th round in 2010 out of high school in Iowa. But the well-traveled Keller – who was born in Tennessee, went to high school in Iowa, and was drafted last year by the Orioles out of the University of Tampa in Florida – ended up waiting until the 22nd round to find out he was an Oriole.
Last year the brass took a go-slow approach with Keller, sending him to the Gulf Coast League and limiting him to just 15 1/3 innings in six appearances (five starts.) The GCL numbers wouldn't floor you – 1-2 with a 4.11 ERA and 1.24 WHIP – but Keller only allowed 2 walks while fanning 18, and that was enough to give him a final three-inning trial at Aberdeen, where he gave up just one hit and one run. Moving up to Delmarva, therefore, was quite a leap for Keller, who doesn't turn 22 until early August.
But he has pitched very well when called upon. In 46 innings here Jon has allowed just 30 hits and compiled a 54/12 K/BB ratio, giving him an impressive 0.91 WHIP. That explains his 3-0 record and 1.57 ERA, and the three saves have been of the lengthy variety, coming in two, two, and three inning appearances.
Given that SAL batters are hitting just .183 against him and Keller has a ground out/air out ratio of 2.38 to 1, there's a reasonable chance that if Frederick needs a reliever Keller's name would be called. Certainly Jon is positioning himself for a shot at Frederick's 2015 staff. With a fairly consistent crop of Shorebird starters perhaps bumping against inning limits, we may see more of Keller in the earlier innings. Although he's never gone more than 3 2/3 innings in his pro career (and was ineffective in that outing), getting a three-inning dose of Keller would likely put the other team out of commission.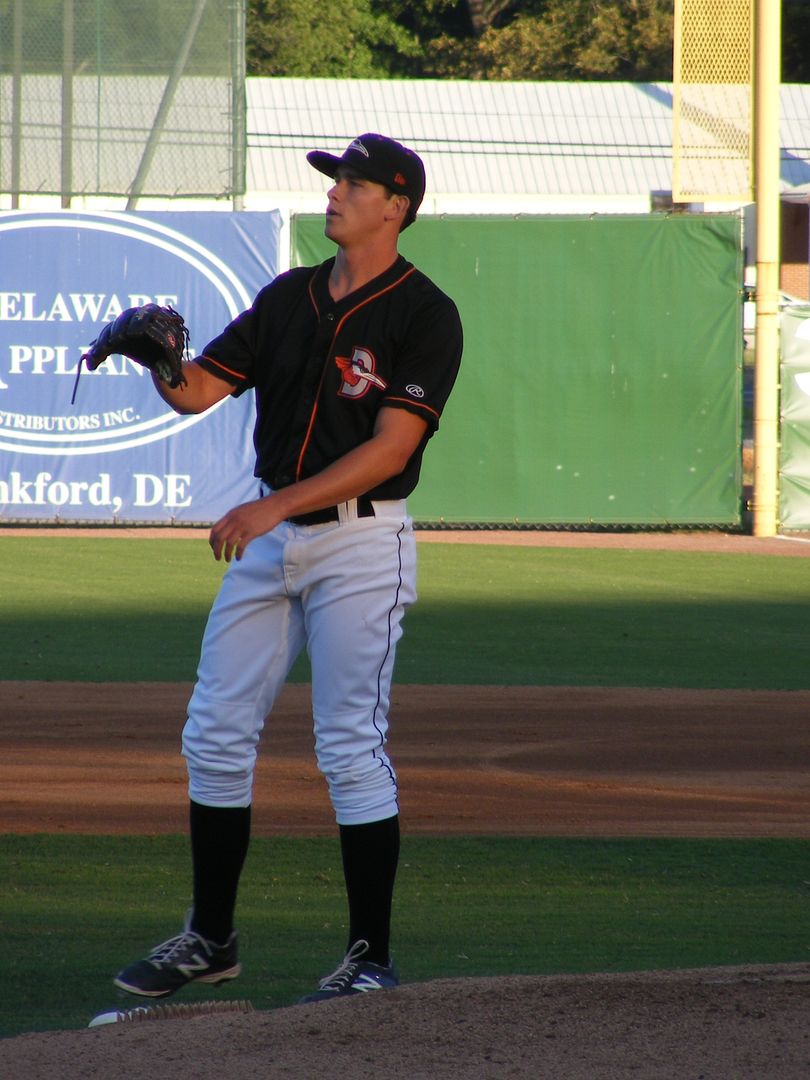 His stats and accolades have not been as gaudy as those of others in the Shorebird starting sextet, but lefthander Steven Brault is piling up impressive numbers this season for Delmarva.
This is a guy who may be considered a fringe prospect, as he was drafted in the 11th round last year out of Regis University in Colorado. But the California native did just fine at Aberdeen last season, posting an impressive 38/12 K/BB ratio in 43 innings last season, with a WHIP of 1.09 and ERA of 2.09 in 12 starts.
And that success has carried on to Delmarva, where Brault is now 7-3 despite a tough 1-0 loss in his last outing last Friday. It was the third time Brault had gone seven innings, but the first time he lost such an outing. He also went seven against Greensboro on April 17 and threw a complete seven-inning game against Hagerstown May 26. The latter was distinctive because Steven gave up six runs in the second inning but shut down the Suns after that, allowing the Shorebirds to come back for a 7-6 win.
Just like in Aberdeen, Steven boasts an impressive strikeout/walk ratio of 70/15, but has maintained a stinginess for allowing hits with just 60 given up in 79 innings. It leads to an outstanding 0.95 WHIP that leads the team among active pitchers. His ERA is a solid 2.73 to date.
Since he just turned 22 in late April, Brault is on a good schedule for development, providing yet another link in a chain of outstanding starting pitching for Delmarva – the Shorebirds led all of organized baseball with a 2.11 team ERA in May, which allowed them to make a run at the first half title. Success in the second half could depend on how many innings Brault is allowed to complete, since many prospects are limited by the Orioles to about 100-120 innings in their first full season and Steven has gone 79. His appearances may start being limited to 4 or 5 innings to keep his arm fresh – in a six-man rotation he could expect to have about 10 more starts this season. Certainly they want this lefthander to show his stuff at an advanced level next season.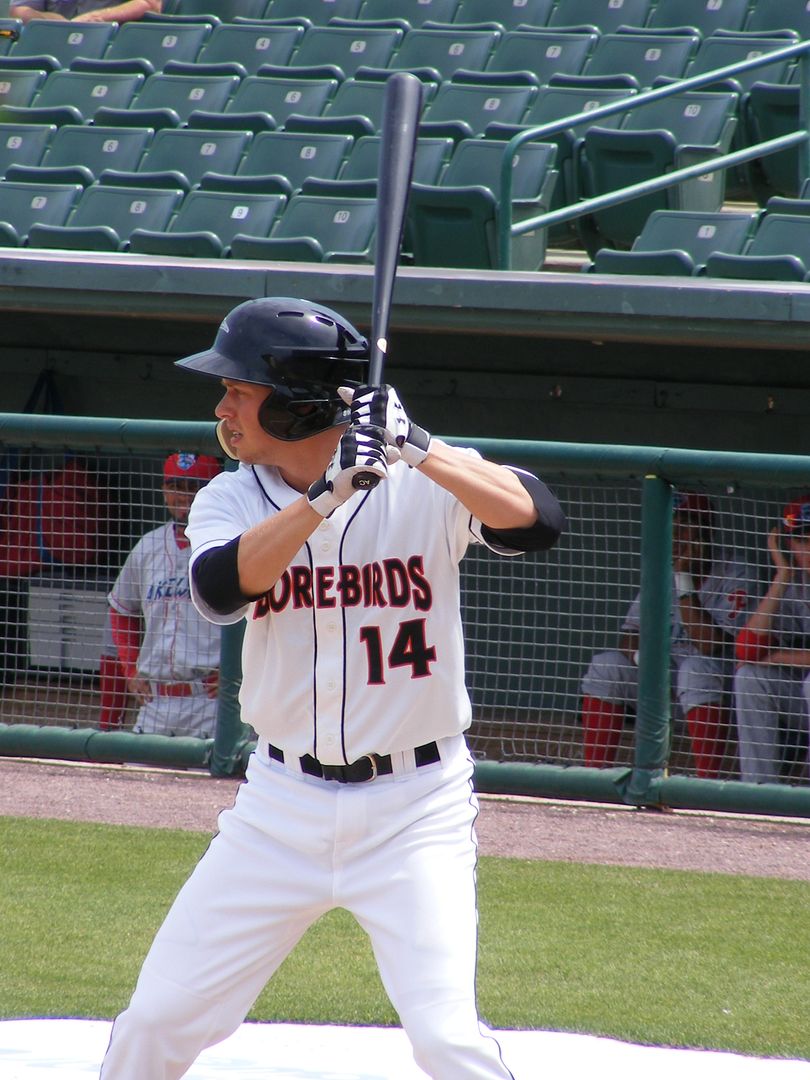 A few weeks back, you may have seen a Tweet about Houston Astros prospect Delino DeShields, Jr. and a nasty collision a fastball had with his face. Strangely enough, Anthony Caronia had a similar incident about a week before that, but since he's not the son of a former big league player and not considered as much of a prospect, it didn't attract nearly the notice.
The timing of Caronia's injury wasn't just bad luck, but it interrupted a promising start to a 2014 season where Anthony hoped to make the jump back to Frederick. In 2013 Anthony bounced back and forth between Frederick and Delmarva, but not getting a lot of playing time at the higher level meant he hit only .179 (5-for-28) in 13 games. This was in about six weeks on the Keys roster. While with Delmarva, though, Caronia hit .289/0/12/.665 OPS in 45 games, proving to be a reliable fill-in at three infield positions. This came after a 2012 season where Anthony, a 27th round draftee out of the University of Tampa, rocketed from the Gulf Coast League through Aberdeen to play seven games here at the tail end of the campaign, going 2-for-20.
With his solid start to 2014, Anthony was trying to shake the "organization player" tag as he got off to a 6-for-19 start to the season. But on April 11 he was hit in the face by a Domingo Herman fastball in a game against Greensboro. You may notice the additional guard in the upper photo as the pitch nearly hit Caronia in the eye socket. Anthony missed nearly eight weeks before finally returning to the lineup June 3. In eight games since, Anthony has kept up the good hitting, going 8-for-28. Also, unlike last year where his fielding was shaky at times, Anthony has an errorless streak ongoing for the season.
Obviously the question will be whether Anthony continues to reside in the lineup – he's not doing a bad job but he's also a little older than league average at 23 and this is his third season at Delmarva (although, including this season, he's only played 67 games at this level which is less than a half-season.) He's fit well into a Shorebird order which has done surprisingly well at the plate, so maybe this second half can be the springboard back to a better opportunity to play up the ladder.
At the intersection of sports and politics is where Larry Hogan and I both resided last night.
I'll start with Hogan, who reacted to the news about the U.S. Patent Office cancelling some older Redskins trademarks in this manner:
Larry Hogan slammed today's decision by the US Patent and Trademark Office to cancel several of the Washington Redskins' trademarks. The GOP gubernatorial frontrunner is a native of Landover in Prince George's County, home to the 82-year-old National Football League franchise.

According to Hogan, "Whether you're a fan of the Redskins, the Ravens, or God forbid, the Cowboys; today's unprecedented action by the US Patent and Trademark Office should offend anyone concerned about Constitutional limits on government power and free speech. This matter should be decided upon by the Redskins and their fans without the politically-motivated interference of pandering state and federal politicians," Hogan said.
As I found out by reading this piece from ESPN, though, we've been down this road before. And the trademarks affected are ones the team registered between 1967 and 1990 – the current logo is not one. I agree with Hogan on the sentiment, and I suppose it may pick up the Redskin vote to some extent.
I was more offended by this Tweet from my alma mater, noted at the end of the ESPN piece:
Hey @Redskins, if you need help finding a new name just let us know. #RedHawks

— Miami Athletics (@MiamiRedHawks) June 18, 2014
We went through this whole controversy a few years after I graduated, but the difference is that Miami University actually interacts with the Miami tribe – yes, there is a Miami Indian tribe, which mainly resides in Oklahoma but is native to the region encompassing southwest Ohio. During my time there we had "Chief Miami," a mascot who would do a native-based dance in full regalia and lead the football team out on horseback. I still think the name change was a gutless bend to political correctness, but it is what it is.
As for the gubernatorial race, I suppose Hogan's coming out in opposition to the name change is better than David Craig's baseball realignment plan. (Me? I would make the NFL more geographically logical, but that's a topic for another day. For the most part I like the divisions, although I HATE interleague play and the designated hitter.)
The real sport for both those guys has its league championship next Tuesday.