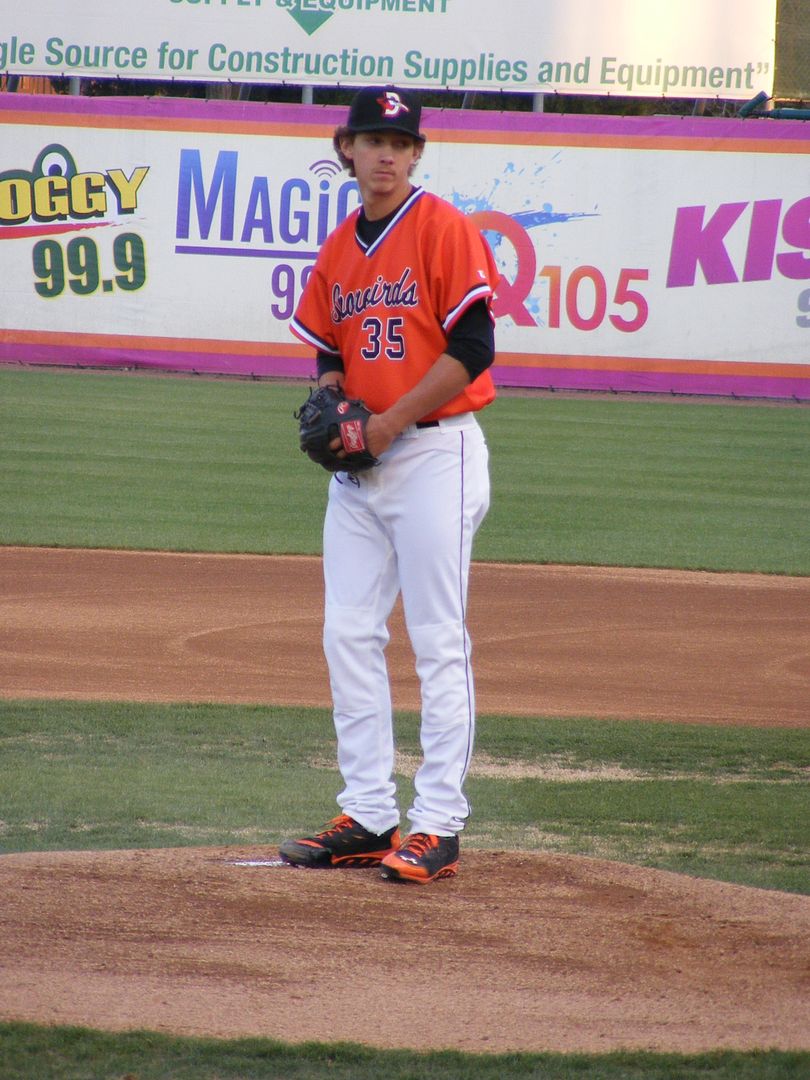 The excitement level isn't quite the same as it was two years ago, but last night's start for Hunter Harvey proved he could draw a lot of the same interest Dylan Bundy did in his meteoric 2012 rise. The duel against Hagerstown's Lucas Giolito drew regional attention as a battle of hot prospects and it didn't fail to live up to its billing.
No, there's very little chance Harvey will follow the Delmarva-to-Baltimore in one season trail blazed by Bundy, but so far this season last year's first-rounder (22nd overall) has given people a reason to compare this 19-year-old with the 2012 phenom. In three starts, Harvey garnered his first professional win in Asheville and pitched 17 innings, allowing but 8 hits and 2 runs. He's 1-0 with a 1.06 ERA and based on his 18/4 K/BB ratio has a microscopic 0.71 WHIP. No, that's not quite the same as Dylan but still really, really good.
And Hunter seems to shine when the spotlight is on, matching Giolito goose egg for goose egg last night as the Shorebirds eventually won the scheduled opener to the doubleheader 1-0 in 15 innings. (Game 2 was scrubbed for a later date.) Hunter allowed just one hit in six innings, striking out seven and walking one, although he also hit two batters. This continues a pattern of success Harvey established last season in splitting time between the Gulf Coast League and Aberdeen. In 25 1/3 combined innings among eight starts, Hunter allowed 21 hits while striking out 33 and walking just 6, for an ERA of 1.78 between the two stops.
So the ceiling on this kid is pretty high, and I'd say the odds are very good that an appearance in the SAL All-Star Game could be the end of Hunter's Delmarva career. Barring a setback, it seems like Harvey will need more of a challenge than South Atlantic League hitters – many of whom are three to four years older and more experienced – are putting up at the moment.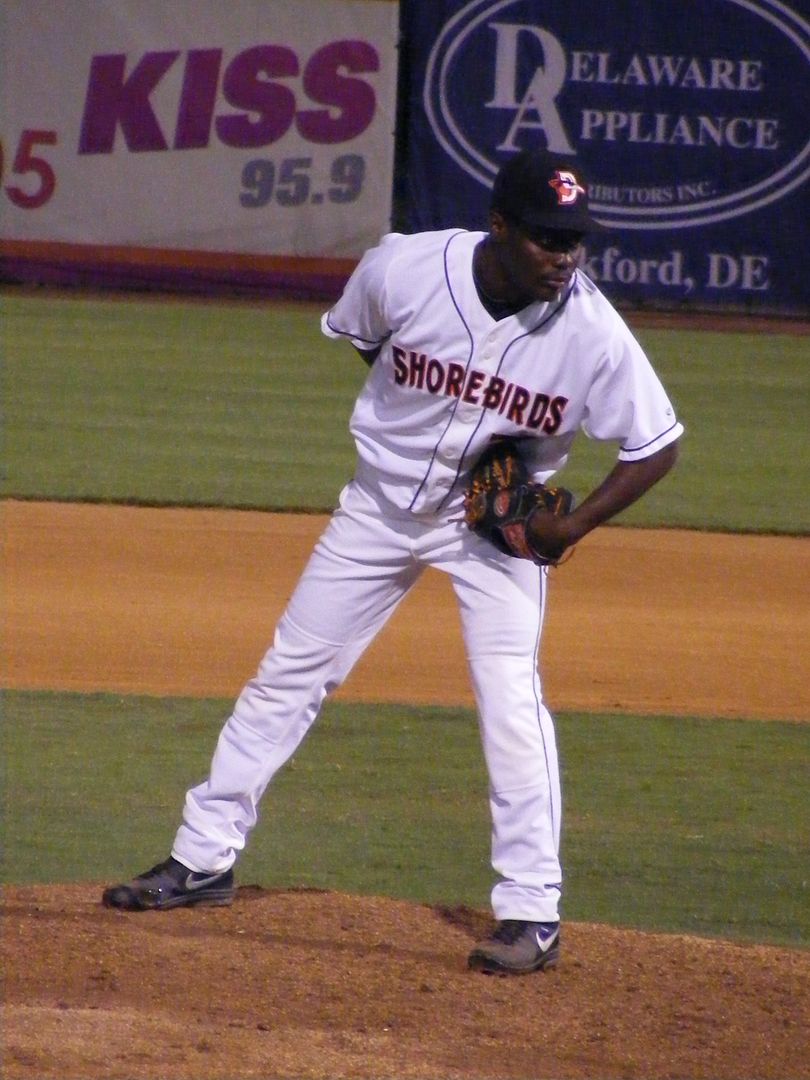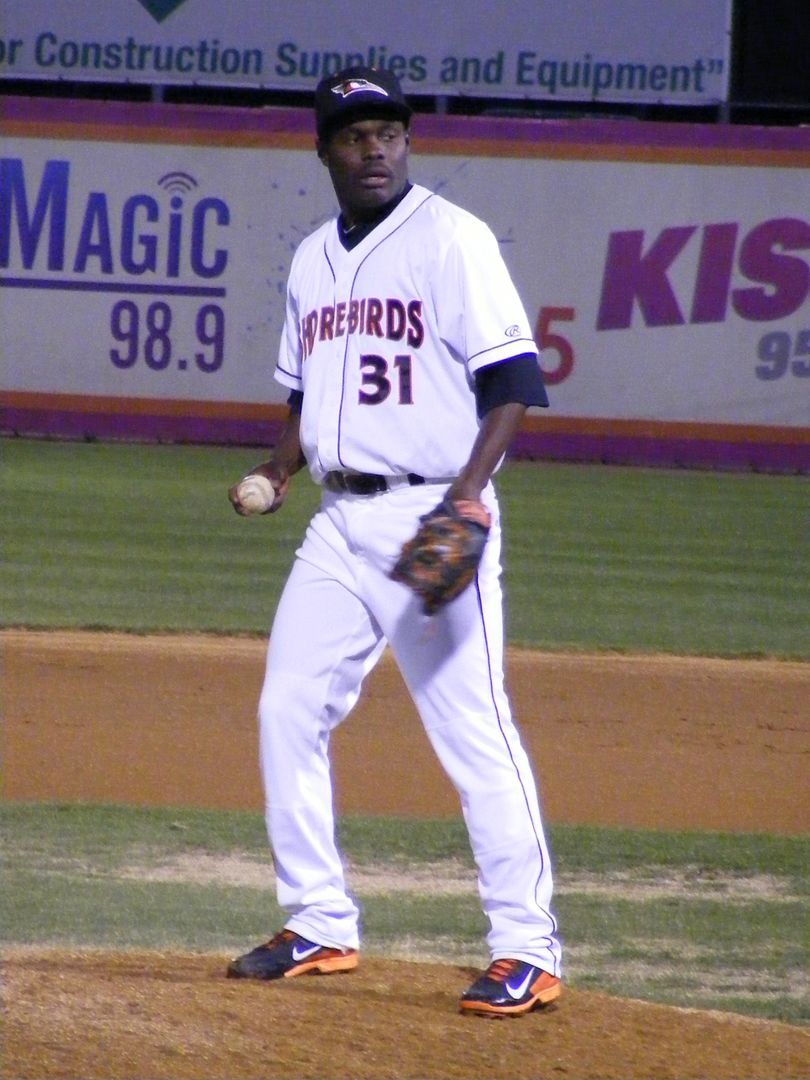 You may do a double-take at the photos, because this week's SotW is a holdover from last season. The top photo came from the final home game of 2013, while the bottom one came from last week's exhibition game against Salisbury University. In any case, David Richardson is trying to jump-start his Orioles career with a big year and his first full-season experience.
David has been in the organization quite awhile compared to many of his teammates – a 17th round selection from 2010 out of Hillsborough Junior College in Florida, he went to the same high school as major league standouts Dwight Gooden and Gary Sheffield. Perhaps his slow climb up the ladder is in part because he was originally drafted as an outfielder. But the 23-year-old got his first taste of the South Atlantic League at the end of last season, and while the overall numbers looked subpar – an 0-1 record with an 8.76 ERA in 10 appearances, with a 12/8 K/BB ratio in 12 1/3 innings and 2.19 WHIP – much of the damage was done in two appearances against Lakewood where he gave up 11 runs in 1 1/3 innings and was pinned with his losing decision. Against the rest of the SAL he had a fine 0.82 ERA.
Because Lakewood hasn't appeared on the schedule yet, David is holding his own thus far in 2014. In three appearances Richardson has pitched 3 2/3 innings, allowing one earned run (a home run), striking out two and walking none. It translates to a 2.45 ERA and 1.09 WHIP on the young season.
Richardson had some experience as a starter for two seasons in Aberdeen, but seems to do much better in relief. He's been used thus far in low-leverage situations, closing out losing efforts in two of his three outings, but continued success could see him be placed in a setup role. It will be interesting to see how David can handle the grind of a full season as well.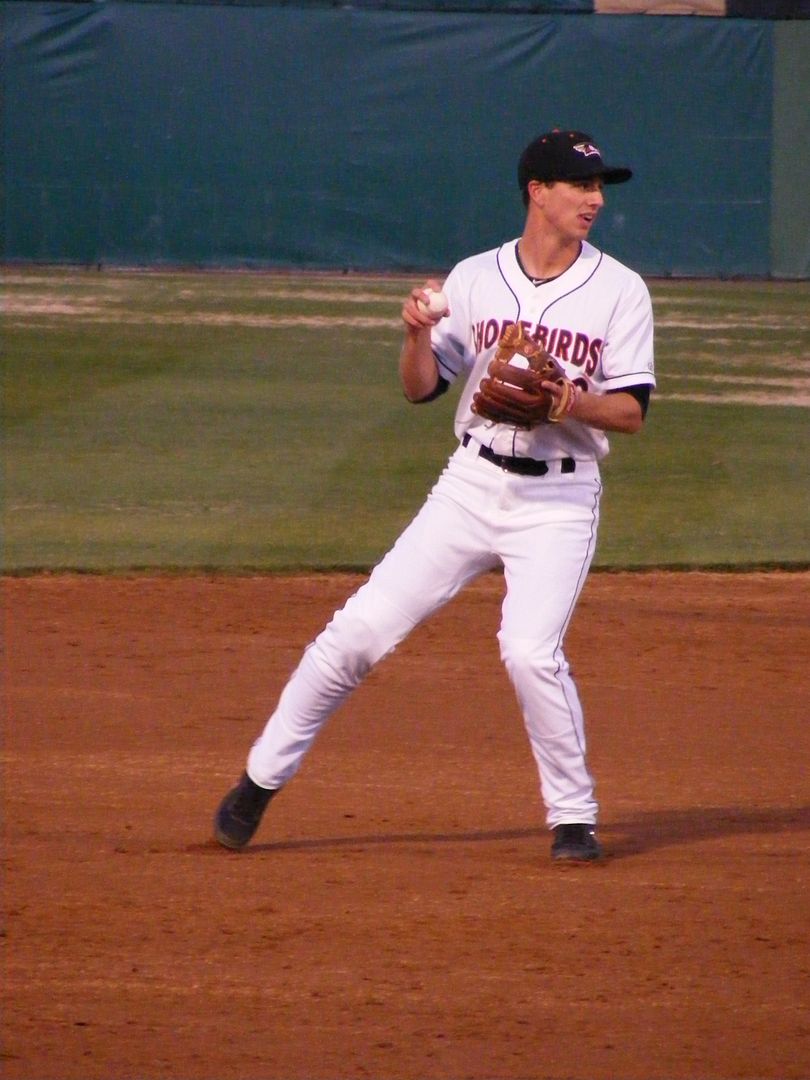 What better way to begin your professional career than to be selected as Shorebird of the Week? Okay, I suppose being in the opening day lineup in the Show could top this, but nonetheless Drew Dosch will be given this distinction before ever playing a regular-season game for pay.
Drew was the Orioles' seventh round pick last year, but instead of following his draft class to Aberdeen he had to recover from knee surgery. So the post-draft portion of 2013 was scrubbed and Dosch came into camp looking for a gig with a full-season team to get caught up – looks like the 21-year-old from Canal Winchester, Ohio (near Columbus) achieved that goal.
Dosch starred at Youngstown State University, basically being the best player on a very mediocre team. Over three years at YSU he hit .325 in 151 games, collecting 11 home runs and 83 RBI in the three seasons before being drafted as a junior. In his final season Drew hit .338/3/30 in 54 games, playing third base for the Penguins.
Of course, missing that time at the tail end of 2013 means Drew will be getting adjusted to pro life with Delmarva, although being from Ohio means he's used to playing in cold weather. He's also played in the Cape Cod League, which means a little bit of wooden bat experience as well, so the transition may not be as abrupt as perhaps other players may endure. Normally Delmarva gets a player or two each season who's starting their professional career above the rookie league, and this year that guy is Dosch.
I've had some fun writing this article, which came from a comment/suggestion at the tail end of last season:
in the winter how about an article on 10 guys who you predict will be on the delmarva 2014 opening day roster?
Well, I waited until I had the camp roster earlier this month, but I'm going to go a little better and predict 25. They may not necessarily be the opening 25 – although I presume many of them will – but I constructed the list based on who I thought might advance from Aberdeen and who could be retained from last year's Shorebird team. Unique about last year's Delmarva squad was the lack of players who came up at the tail end of the season for a cup of coffee at our level – generally we would get 2 to 3 players from Aberdeen or the Gulf Coast League but last year we did not, probably because the Aberdeen IronBirds were chasing (and succeeded in securing) their first-ever playoff berth.
Thus, in alphabetical order and sorted by position, here are some of the players you might see in Delmarva in 2014:
Pitchers (13):
Sander Beck, rhp – Beck actually did a good job for the Shorebirds in 2013 (1-1, 2.61 ERA, 1.02 WHIP, and 24/7 K/BB ratio in 14 appearances) but the logjam of pitchers brought in at the upper levels of the system, low draft status (a 33rd rounder in 2011), and his dearth of experience with just 65 professional innings logged in two seasons may mean Beck begins the year here, which would be his first full-season experience. Last year he joined the Shorebirds in early June.
Augey Bill, lhp – Perhaps the 13th guy, Bill is a lefty who pitched well for both the Gulf Coast League team and Aberdeen. Being a 39th round pick hurts his chances, but going 5-0 with a 1.54 ERA, 1.11 WHIP, and 15/4 K/BB ratio in 23 1/3 innings helps. The question is whether the Orioles deem him ready for a full-season team with the limited resume.
Steven Brault, lhp – Brault was an 11th round pick last year and starter for the IronBirds. His numbers were solid (1-2, 2.09 ERA, 1.09 WHIP, and 38/12 K/BB ratio in 43 innings) so it's probable he advances to Delmarva.
Juan Guzman, rhp – Guzman would be returning for a third tour of duty with Delmarva. He was relatively decent overall in 2013 (6-6, 4.70 ERA, 1.41 WHIP and 88/36 K/BB in 111 innings) but it will be interesting to see if he can grab one of the six starting rotation slots despite stiff competition because he pitched better in those situations than out of the bullpen. Signed out of the Dominican Republic, he made his debut there in 2010 and has pitched stateside since 2012.
Donnie Hart, lhp – A 27th round pick last season, Hart could round out the bullpen based on good numbers with the IronBirds (3-1, 2.25 ERA, 1.29 WHIP and 26/7 K/BB ratio in 24 innings) and the fact he's a lefthander. Led Aberdeen with 13 games finished.
Hunter Harvey, rhp – Regarded as a legitimate big league prospect, last year's first round selection (#22 overall) and son of former major-leaguer Bryan Harvey, Hunter excelled in eight regular season starts last season split between the Gulf Coast League and Aberdeen (0-1, 1.78 ERA, 1.07 WHIP and 33/6 K/BB ratio in 25 1/3 innings) so the only question to me is which Delmarva appearance will yield his first professional win. Could it be opening night in Asheville?
Mitch Horacek, lhp – Another who comes from a deep Aberdeen rotation, the 2013 9th round pick went 5-4 with a 2.78 ERA, 0.94 WHIP, and 45/7 K/BB ratio with the IronBirds.
Branden Kline, rhp – Sidelined in May with a broken fibula, Kline got a little bit of work in the Arizona Fall League but basically will have to play catch-up this season. The 2012 second-rounder (and Shorebird of the Week) went 1-2 with a 5.86 ERA, 1.56 WHIP, and 32/14 K/BB ratio in just 35 1/3 innings here before a forgettable 10.54 ERA in Arizona over 13 2/3 innings – that was against far superior competition than the average South Atlantic League team.
Harry Marino, lhp – Marino split his time last year between Aberdeen and Delmarva and made his Shorebird debut July 27. A non-drafted free agent originally inked by the Arizona Diamondbacks and signed last year by the Orioles, Marino went 3-1 with a 1.80 ERA, 1.28 WHIP, and 15/10 K/BB ratio between the two teams, pitching 25 innings overall.
Alexander Santana, rhp – Entering his fourth year of pro ball, this Dominican product pitched well for Aberdeen last year (1-1, 2.14 ERA, 1.22 WHIP and 48/18 K/BB ratio in just 33 2/3 innings) so I would look for him out of the bullpen.
Janser Severino, rhp – Another Dominican, Severino spent time as a starter with the IronBirds last season but pitched better out of the bullpen. Overall, he was 3-4 with a 3.92 ERA, 1.29 WHIP, and 57/21 K/BB ratio in 62 innings.
Sebastian Vader, rhp – Drafted out of high school in 2010 (18th round), it's taken Vader awhile to climb the ladder but he led the IronBirds with 7 wins and 85 1/3 innings pitched last season. Overall he was 7-3 with a 2.43 ERA, 1.03 WHIP, and 64/18 K/BB ratio, If not for Harvey, Vader would likely be the opening day starter for Delmarva as he was for Aberdeen last season.
Jimmy Yacabonis. rhp – One of the bullpen closer mainstays for Aberdeen (the other being Donnie Hart), Jimmy was 3-1 with a 1.52 ERA, 0.98 WHIP, and 14/5 K/BB ratio in 29 2/3 innings as he allowed only 15 hits. He was a 13th round pick last season.
It works out nicely that I have six projected starters: Harvey, Vader, Horacek, Kline, Brault, and Guzman, with Hart and Yacabonis closing and the others filling in the 2 to 3 innings in the middle. If the Aberdeen players can keep their walks down as they did in the NYPL, Delmarva could have a formidable staff.
For position players, (R) is for right-handed hitters, (L) for lefties, and (S) for switch-hitters. I'll start with the catchers.
Catchers (3):
Pedro Perez (R) – He would be the most experienced of the group, but his bat is a definite liability – he hit just .105 (4×38) last season between Aberdeen and Delmarva, with a lifetime .177 mark over 4 pro seasons. The Shorebirds usually carry three catchers, but Perez could be inactive for portions of the season as well.
Chance Sisco (L) – As a second-round pick last season and in spite of this being his first full professional season out of high school, it's thought that Sisco will be the primary catcher at Delmarva. He batted a robust .363 last season with a .919 OPS, but most of that was in the Gulf Coast League. Chance went 1-for-5 in 2 games with Aberdeen after the GCL season concluded.
Austin Wynns (R) – Another fairly high pick (10th round), Wynns was the primary catcher for Aberdeen. While Sisco will be considered the #1 catcher, as a general rule two Delmarva catchers get plenty of playing time so Wynns may be #1A. Wynns hit .235/0/21/.557 OPS in 54 games last year, getting the Aberdeen nod as a college catcher as opposed to being fresh from high school.
Infielders (5):
Byron Capellan (R) – Perhaps the most-traveled among the group, the Dominican native split his time between four teams last year, from the Gulf Coast League to one game in Frederick. While he just turned 20, this will be his fifth season in the pro ranks as he began his career while still 16 in the Dominican Summer League. All told, Capellan hit just .133 last season (and was 2-for-16 at Delmarva) and is a .210 hitter in four seasons. He split time between shortstop and second base last year.
Joel Hutter (R) – Joel is a guy who I think is a "cusp" player, one who could make the Frederick squad with a good spring, but hitting .230/5/41/.651 over a season here is probably not worth a promotion quite yet. He held down third base last year, but has played shortstop in the past. He was a 10th rounder two years ago but only a .240 lifetime hitter so far.
Jeff Kemp (R) – Another guy who's versatile, Kemp was the primary second baseman for the IronBirds last season but also appeared at shortstop and third base. His bat isn't too fearsome, though, as he hit .240/3/20/.686 OPS in 48 games. Kemp was a 33rd rounder last season.
Connor Narron (S) – In what would be his third season with Delmarva, Connor had a 2013 where he regressed – demoted from Frederick to Delmarva at mid-season and hitting .172/1/12/.536 OPS overall. Predominantly a first baseman, Narron played a little outfield but the onetime fifth-rounder (and 2012 SotW) has probably been passed on the depth chart by Trey Mancini, an 8th round pick in 2013 who hit .328 for Aberdeen and has seen time with the Orioles' big league camp this spring. I think Mancini has the Frederick gig and will bypass Delmarva. That brings Narron back here to try and improve his numbers.
Kristopher Richards (R) – Another player who split time btween Delmarva and Aberdeen in 2013, this non-drafted free agent also lends the flexibility to play at first, second, or occasionally third base. Overall, Richards hit .207/0/22/.519 OPS but was respectable with a .253 average for Aberdeen.
Outfielders (4):
Conor Bierfeldt (R) – A slugging outfielder who fell to the 29th round last year, Bierfeldt was second in the NYPL with his 12 home runs – overall his numbers were .264/12/16/.862 OPS in 62 games. (The league leader in home runs had 13 in 74 games.) Obviously the question is whether that power can translate to better pitching and a tough hitter's park. Bierfeldt was a corner outfielder, generally playing left field for the IronBirds.
Sam Kimmel (L) – Interestingly, Kimmel was a catcher who converted to outfield last season, which is why he repeated at Aberdeen. So he will be a little older than SAL competition, but as an 18th round pick he's probably at about the correct level. Kimmel hit .277/1/16/.695 OPS last season with the IronBirds and is a .280 hitter in two seasons there. Kimmel played exclusively in left field last season.
Anthony Vega (L) – He began the season with Delmarva last year, but after a .211 first half Vega was sent to Aberdeen; there he batted a more respectable .256 for the season. Overall, it translated to a .229/2/13/.570 OPS season for the 2012 30th round pick who manned mostly left field here but slid over to center for Aberdeen.
Mike Yastrzemski (L) – Of course, most casual fans know the name made by his grandfather; indeed, the younger Yaz turned down the Red Sox out of high school. A 14th round pick, Mike has been featured in the big league camp after a .273/3/25/.781 OPS season for Aberdeen where he played all three outfield positions, mostly center.
It doesn't appear the Shorebirds will be an offensive juggernaut, but their pitching should be very good. We may see a lot of 3-2, 2-1 style games at the ballyard. And since I projected a rotation, I may as well do a batting order while I'm at it.
Mike Yastrzemski, cf (L)
Jeff Kemp, 2b (R)
Sam Kimmel, lf (L)
Conor Bierfeldt, rf (R)
Chance Sisco, dh (L)
Joel Hutter, 3b (R)
Connor Narron, 1b (S)
Austin Wynns, c (R)
Byron Capellan, ss (R)
And one last thing. As you know, I do a Shorebird of the Week, which means I take all the photos and write the text which goes with it. One problem with this approach is that I have a tough time getting my first couple weeks filled and certain pitchers who don't happen to appear in games I attend are overlooked. To this end, I would like to solicit reader photos of players, for which I would give credit. (Sorry, there's nothing in the budget for pay.) I know some readers go down to spring training so I would love to use more photos and enhance the whole Shorebird of the Week portion of this website.
But be looking for the first installment April 3rd. We are just three weeks away!
Update 3/22: Well, so much for going 25-for-25. Steve Melewski of MASN Sports reported that among the seven cut from the Orioles' minor league camp was relief pitcher Harry Marino. Also cast away were two other Shorebirds from last season: pitcher Casey Upperman and first baseman Nik Balog. It proves again that there is a pecking order in the organization, as none of the seven cut were drafted by the Orioles: several were signed out of independent leagues, one came in a trade, and Balog was signed as an undrafted free agent in 2012.
Update 3/24: And another two bite the dust as Melewski reported Connor Narron and Juan Guzman were among five minor league cuts. Frankly, I was sort of surprised Narron even made it to camp but the organization isn't really deep at first base and probably wanted to evaluate him in a situation where other players were readily available to see. Meanwhile, it appears the depth of mound prospects for our level made Guzman a victim of a numbers game.
Update 3/26: And….there goes Sander Beck. Another low-round victim of the numbers game. I wonder how many of these guys will be playing independent league this summer.
This one really, really, REALLY showed me how much common sense the other party has.
I was sitting here minding my own business when I came across an e-mail from Baltimore Mayor Stephanie Rawlings-Blake. It started out like this:
I love the Baltimore Ravens — I always have. And because there are few things better in life than good crabcakes and the reigning champs, I want to share them both with you.

That's why I'm inviting ten supporters and their guests to join me in Baltimore to watch the Ravens take on the Detroit Lions on Monday, December 16th.
I'll leave aside the fact that Ms. Rawlings-Blake is old enough to remember the Baltimore Colts, and that the Ravens are a relatively new creation thanks to Art Modell – who is the exception to the rule that we should never speak ill of the dead. (Nor do I care for crabcakes, but I would gladly take a plate full of lightly battered rockfish.)
But being an NFL fan, and in particular a fan of those aforementioned Detroit Lions, I knew that game was in Detroit. So why would you advertise such a party? Anyway, after the obligitory money appeal the mayor fesses up:
Just because it's an away game doesn't mean we can't show some hometown pride here in Baltimore. Food and drinks are on us — all you have to do is show up (but bonus points if you wear some purple).
What we probably won't know until after the fact is where they are having this shindig. Are they going to use a stadium luxury box or other facility there? (M&T Stadium indeed hosts these types of events.) I guess if the Ravens are pimping Obamacare, they would feel at home hosting a Democrat fundraiser too. Or maybe they can have it at the Hilton Baltimore – they have plenty of room as well.
My guess is that Rawlings-Blake, who is now DNC secretary, is trying to get her fundraising commitment to that group in. You honestly don't think she's gotten the gig from taking good notes or faithfully recounting the meetings, do you? It's all about the Benjamins, baby. Otherwise you could save yourself the donation to that most worthless of causes and catch the game at the local Greene Turtle or Buffalo Wild Wings. (The company might be better, too.)
But if there's one thing about Maryland I would like to see purple, it would be the political color of the state come 2014. Just make sure to have the reddish hues in the right places, like statewide offices and the General Assembly. The U.S. Senate seats can be blue for a couple more years afterward, leaving a nice shade of violet.
Now if you turned a shade of purple with rage upon reading this, I could think of better places to donate – like the tipjar at the top of the page. I'm in need of upgrading my server and that costs money; every little bit helps. Thank you for your support!
As is now the tradition of the first Thursday in December, we interrupt the boring winter Hot Stove League routine to bring back a Thursday evening Shorebirds post. Once again I take the time to announce my SotWHoF page will be reopening tonight with two new inductees.
I predicted last year this might be a small class, figuring that players who were can't-miss prospects from recent drafts had already made their debuts while the other prospects from Delmarva were concentrated at the advanced-A and AA levels as 2012 closed. My prediction was borne out as the two Shorebirds of the Week who were added to the 40-man roster during the 2012-13 offseason were the two who got to The Show.
In order of major league debut, the two honorees are:
Zach Clark, who debuted (and made his only appearance) May 1, and
Jonathan Schoop, who played five games after his September 25 debut – the last five games of the season.
In terms of actual impact by a particular class, this was the leanest crop of prospects ever. Even in 2010, when I had Brandon Snyder as my sole inductee, he played in ten games. Combined, my pair this year played in six.
But that doesn't necessarily serve as a predictor of future results. Clark, who is now a student at Knuckleball U. with master teacher Phil Niekro, could conceivably use that pitch to stay in the big leagues well after the age of 40 (he turned 30 in July.) Meanwhile, Schoop could end up being the successor to Brian Roberts in Baltimore, showing some signs of brilliance at a tender age. Considering what has become of the Class of 2011, which had seven members but only one full-time major-leaguer just two years later (four of the seven did not play in the big leagues in 2013, and one didn't play at all) it's anyone's guess how this small cadre will do as the seasons progress.
As is often the case, I like to use the twin predictors of those who are added to a team's 40 man roster and/or participate in the Arizona Fall League as a gauge of the following year's class. So the list of possibilities on the 40-man roster front are Tim Berry, Eddie Gamboa, and Michael Ohlman, all added to the Orioles roster – although Gamboa was just as quickly removed – along with Jarret Martin of the Los Angeles Dodgers. (Martin was sent to the Dodgers in a trade for Dana Eveland in late 2011.) Berry, Ohlman, and Martin also played in the Arizona Fall League, with Berry having the best numbers. Ohlman was a "taxi squad" player who could only see limited action and Martin was ineffective in 13 appearances.
However, since only Martin has (briefly) played above the high-A level it's not likely we'll see any of them play in the majors during 2014.
Out of the remaining Oriole AFL participants, only Branden Kline and Eduardo Rodriguez were selected as Shorebirds of the Week. Based on his 2013 season and polish shown in the AFL I would think Rodriguez has the best chance of making it to The Show next year. (He did not need to be added to the 40-man roster for protection.) Kline is coming off an injury-riddled 2013 and may well be Delmarva-bound again in 2014. He was added to the AFL roster more for the purpose of getting some innings in, not necessarily as a hot prospect.
There are some other players who I think have an outside chance of making it next year: pitchers Jacob Pettit, Oliver Drake, and Sean Gleason, outfielder John Ruttinger, first baseman Christian Walker, and utility players Garabez Rosa and Ty Kelly. Kelly was sent to the Mariners organization in a midseason trade, so he could suit up for Seattle by season's end. For some in this group, they're approaching the end of their opportunity as they advance in age – it would be another Zach Clark-style story if they made it.
I suspect when all is said and done there will be another small class next season, on the order of two to three players. It's hard to predict the out years but I suspect 2015 and 2016 may see another bumper crop.
In the meantime it will also be interesting to see how many of the enshrined players who didn't make it to the big league level in 2013 make it back next year. Some careers already seem to be in decline, but there are others who could be surprises next season. It's simply fun to watch as well as select the future possibilities who start out as Shorebirds of the Week.
Finally, I'm going to try something new, an idea which was suggested to me at the end of the season. Sometime around the start of spring training I'm going to try and predict the ten most likely new faces on the Shorebirds. It will be fun to see how it plays out, and may be the bulk of my choices next summer.
After all, we are only seventeen weeks away from the return of Shorebird of the Week. I just hope there's an exhibition game for pictures because we start out with a week on the road – otherwise my first two picks may be from 2013 photos. Yet they could be the future Hall of Famers.
Given how its scumbag previous owner sold an entire city and rabid fanbase out for a proverbial thirty pieces of (taxpayer-provided) silver, it really doesn't surprise me that the Baltimore Ravens accepted $130,000 to promote the Maryland Health Connection, our state's version of an Obamacare exchange.
What surprises me, though, is the disappointment expressed by a number of people who should know the state has its dirty little fingers all over the Ravens' pie.
Take our Congressman, Andy Harris, for example. On Facebook he wrote:
Today it came to light that the Baltimore Ravens have received $130,000 in taxpayer money to promote Obamacare. I love the Ravens but I think this is ridiculous. What do you think? Should the Ravens be promoting Obamacare? Should they receive taxpayer money to do it?
Honestly I don't think so but that ship sailed a long time ago with all the professional Maryland sports teams. Even when I go to Shorebird games I'm bombarded by state-sponsored messages about smoking and seat belt use and promotions from the Maryland Lottery. It's simply regurgitating all the taxpayer dollars they confiscate from items like the cigarette tax or lottery proceeds back to the teams to promote their message to a captive audience ranging from a few hundred to tens of thousands per night.
Nor is it just sponsorship. Since I'm discussing state influence in sports, let's also talk about facilities.
Now I understand the government also chipped in to build Perdue Stadium in 1994, just about the time the Browns deal came down. (However, it was not a Maryland Stadium Authority project, unlike newer facilities in Aberdeen and Waldorf.) In our case, the loss of Albany, Georgia was our gain because the onetime Albany Polecats became the Shorebirds after a brief four-season run in south Georgia. On the other hand, two decades on Hagerstown didn't get a stadium deal together for their Suns and will be losing its minor-league team after one final season next year.
One big difference between the Shorebirds move and the Browns relocation, though, is that the Georgia franchise was purchased outright from its previous owner. Oftentimes a change of scenery will follow such a transaction.
In the end, given all that government involvement, I can't say I'm shocked the Ravens sold out – only that it was so cheaply. To me, the state health exchange is just another sponsor, and it's fairly likely I'll hear their claptrap sometime during Shorebird games next year as well. The shrewd marketing is about the only thing the Maryland Health Connection seems to have going for it right now.
I almost don't feel qualified to do this anymore because I attended so few games this season, for various reasons. But the problem the Shorebirds had was that fewer people in general made it out – their attendance for the campaign was a franchise-low 206,772.
But before you panic about our team going the way of the Hagerstown Suns – who are apparently thisclose to a deal to relocate to Fredericksburg, Virginia for the 2015 season – bear in mind that the main reason for the decline was a league-low 62 openings. This summer's rainy weather seemed to time itself to the middle of a weekend homestand, so attendance looks worse than it was – in fact, the 3.335 per-game average was slightly higher than last year's 3,303. But with 70 openings last year, the team drew over 230,000. This year's average was the best since 2009, despite yet another poor on-field product mostly bereft of top Oriole prospects.
Still, there is the question about just how some of these dates were lost. It seemed that a few of these rainouts came as a result of storms which had passed through hours before but had rendered the field unplayable. I'm not sure just what the answer is, but perhaps there needs to be a thorough examination of the field composition and drainage system, since I believe most fields are now designed to take several inches of rain before conditions become unplayable. Ours seems to be toast after about 15 drops.
The other physical issue which should be addressed as soon as possible is the information section under the scoreboard, which did not work at all this year. Normally you would at least have the batter's name and position in there, and in years past they even included the stat line as of the start of the game – that way you could heckle Joe Schmoe of the opposition if he came in hitting a buck-fifty. But now, nothing – just a blank space under the scoreboard.
Aside from that, though, the stadium seemed to be holding up well after 17 years and about 5 million or so fans. Moreover, the trend toward improvement in the culinary department accelerated this year with some tasty new offerings. No, I didn't try the giant pretzel but I have to admit the "tater dog" was pretty good. I might have to try and grill my own this winter. Even better, they more or less held the line on prices.
While a lot of my comments from 2012 are still to be addressed, I have to say the staff at the ballpark is still top-notch.
So I guess my question going forward isn't one of the product, but the prospects for support and growth.
Over the last few years I've noticed a trend – and it may be one which exists throughout minor league baseball – where certain promotions have replaced others. Mind you, I'm not the biggest fan of the Zooperstars, Reggy, and other such entertainers, but it seems like the Shorebirds used to have something along that line about a half-dozen times a season and now it might be one or two. Instead, they now rely on fireworks (14 dates scheduled this past season) and giveaways (15 dates.) These mainly fell on Thursday through Saturday nights, with the Shorebirds having reduced price ticket deals of some variety from Sunday-Tuesday and Silver Slugger nights on Wednesdays – a ticket package for seniors 55 and over. (Can we make it 50 for next year?)
Obviously the key driver of that change is money – these acts don't work cheap, and what happens if you have a rainout or threatening weather? With a giveaway you can always put the items back in the storage closet, so I think that's a trend here to stay. The entertainment will be pretty much of an in-house variety, so they need a couple new wrinkles. Maybe some different sponsors will have new ideas so they can retire the bikes and the tug-of-war rope. (How about our own version of "win it in a minute?") And when does Sherman get some new threads?
When the topic of the Shorebirds comes up, I often hear people say that they don't go as much as they used to. Now that could be in comparison to 15 years ago when the team drew over 300,000 annually, but I suspect that the meaning is that of just the last couple years. And it may be the same for season ticket holders – sure, most of the corporate ones renew year after year, but I'm betting there are more and more who go from the full-season to half-season, or from the half-season to 22-game plans. For many people, it gets to a point where you can't even give away tickets. (Yet they do by the thousands as part of "Hit the Books"; to be more specific a sponsor buys them, probably at a reduced rate.)
Sadly, the charitable endeavors the Shorebirds participate in are taking care of the people who used to be their casual, one or two game per year fans, but can no longer afford even the general admission tickets because the electric bill is overdue or someone was laid off. As the economy continues to struggle both locally and nationally it's going to be a challenge for the Shorebirds to keep their attendance above 200,000 a season. I'll certainly try and do my part because I am, above all, a baseball fan who truthfully enjoys the Tuesday nights with 400 people in the stands more than the fireworks nights where 5,000 people who could care less about the game itself show up. (Maybe I'd be at home in Hagerstown?) But then again that 5,000 makes the cash registers jingle and keeps Seventh Inning Stretch LLC happy.
Honestly, I'm hoping it gets better both on and off the field. We need something locally to get excited about again, and I think a playoff team in 2014 would do the trick. Based on the schedule for next year, we will again have September baseball at Perdue Stadium. But think of how it would be to continue playing after the regular season ends on Labor Day.
That would be the ultimate pick.
Well, at least the Shorebirds weren't dead last in the league this year. Thanks to the Greenville Drive for holding our team up in the standings because of the Drive's absolutely putrid first half.
Still, by finishing 54-82, the Shorebirds eclipsed the 80-loss mark overall for the fourth straight year – but they at least won 2 more games than they did in 2012, so there's that. And once again, it seemed like the culprit was an offense which rarely fired on all cylinders despite a .248 team average which was eighth-best out of the 14-team league, to wit:
532 runs made them 12th in the league. Oddly enough, they were ninth in hits with 1126, but those hits didn't always convert.
They finished 11th in the loop with 209 doubles, but tied for third with 33 triples.
Their 57 homers ranked 11th in the league. By comparison, Joey Gallo of Hickory hit 38 by himself, including five in the final rain-shortened three-game series against the Shorebirds.
They finished tied for 11th in RBI with 484.
Delmarva ranked 11th in total bases with 1572, over 300 behind league-leading Hickory.
They drew the second-fewest walks in the league with 390, although adding a few rainouts back to our schedule would have bumped us up to our seemingly common 11th or 12th rank.
One somewhat bright spot: the Shorebirds struck out 1,067 times and that was fifth-best.
They were second to the bottom with 102 steals, and only Lakewood had a worse success rate than our 66.2% clip.
In on-base percentage and slugging percentage, they were – you guessed it – 11th and 12th respectively.
In short, our hometown team was offensively challenged once again. Only one player finished with a batting average over .300 and Christian Walker was in Bowie by season's end, having played in just 31 games here early on.
Throughout the year, the pitching seemed to decline in league ranking, and you'll never guess where the team ended up in ERA. Their 4.27 collective mark was…12th of 14.
Just six shutouts pitched was second-least in the league (Greensboro had five.)
Greenville held the Shorebirds off the bottom in saves; they had just 24 to the Drive's 23. Of course, that has a lot to do with winning only 54 games.
They allowed the third-most hits in the loop, giving up 1,162 while getting only 1,126. That wasn't as bad as being outscored 649-532. (Surprisingly, the Shorebirds were 10th in runs allowed but twelfth in earned runs, or third-most if you prefer.) They only allowed 95 unearned runs, which put them in the middle of the pack. Overall, fielding was around league average.
Delmarva also allowed the fifth-fewest home runs, which seems to be a function of playing at Perdue Stadium. They were just four off the lead (Lexington gave up 62, we allowed 66.)
Ranking eighth in hit batsmen belied finishing 11th in walks allowed. Had the Shorebirds played a full schedule they may have been worst, finishing with 494 in 136 games vs. Greenville's 508 in 138 games. There were a couple guys who could have easily put the team over the top.
The Shorebirds were one of just three teams to not strike out 1,000 batters, finishing 12th with 995, just 8 ahead of Lakewood. If not for Parker Bridwell and his 144 punchouts (second in the SAL) they would have been deep in last.
Lastly, and predictably, the team's WHIP (walks + hits/innings pitched) total was 12th best.
It all fits a team which really didn't have a lot going for it this season – few really hot prospects or high draft choices, and for the first time in my memory no June draft pick made it to Delmarva.
But there is help on the way, hopefully. After enduring a similarly wretched string of last-place finishes over the last half-dozen years, Aberdeen secured only its second winning season in twelve seasons of existence, clinching its first-ever division title in the process. Seeing how mediocre IronBird teams tend to become equally pathetic Shorebird squads in many cases, the hope for the reverse being true for Delmarva in 2014 is there. Even the Gulf Coast League Orioles were decent, finishing a square 30-30 on the season.
On the other hand, the next level up is suffering from our ills. Frederick also finished second-to-last in the Carolina League at 61-78; however, Bowie wrapped up a level season at 71-71 while Norfolk just missed the International League playoffs with a 77-67 mark, losing the tiebreaker to Rochester. It appears the Orioles' system may be beginning to stabilize after a number of down years and hopefully it will reflect in an improved record next season.
Of course, the question for my 22 Shorebirds of the Week is how they will impact the organization going forward. It's time to review their 2013 exploits.
April 4 – Mychal Givens
The grand experiment in placing Mychal on the mound seemed to work relatively well. After a very promising beginning, it looked bleak for a time as Mychal missed a month of the season early on and again on his return when Givens was hammered in Greensboro for 6 runs in 2/3 of an inning. But on the whole Mychal improved as the season went along, finishing 2-3 with a 4.22 ERA overall with a very respectable WHIP of 1.21 in 28 appearances. And after having a nearly even strikeout-to-walk ratio in the first half, Mychal cut down on the free passes to the extent that his ratio ended up 36 strikeouts to 19 walks in 43 2/3 innings. After three seasons as a shortstop who only hit .225 with Delmarva overall, his route up the Orioles ladder will be that of a bullpen mainstay.
April 11 – Adrian Marin
The 19 year old shortstop played well in his first full professional campaign, settling in at Delmarva and getting into 108 games. Marin put together a nice season, hitting .265/4/48/.667 OPS overall; however, Marin got off to a slow start (.214 in April) and tired out in the end (.205 in August and September.) In the middle he hit close to .300, giving Shorebird fans an exciting glimpse of what the Orioles thought they saw when he was drafted in the 3rd round. It's pretty likely that Marin will be given every opportunity to win the starting shortstop job in Frederick next spring, and I decided he was my Prospect of the Year.
April 18 – Christian Walker
Of all the players who played at Delmarva this year, Walker did the best job of moving up the system. Until a late-season injury sidelined him, Christian was using his bat to speed through three stops on the docket, hitting .353/3/20/.894 OPS here with Delmarva in 31 early-season games before being promoted to Frederick and putting up .288/8/35/.822 OPS numbers there in 55 games. The move to Bowie was a little more difficult on Christian, as he hit only .242 with just one RBI in 17 games with a more pedestrian .641 OPS. While there's a chance he could stick at AA, I think he'll be sent back to Frederick to begin the 2014 season, particularly since he's not a versatile player (all of his fielding appearances came at first base) and the Orioles are fairly set at that spot for a few years. In the end, Walker could be auditioning for other teams to give him the big break.
April 25 – Creede Simpson
For Creede, the 2013 season was a mixed bag, punctuated with a trip to the disabled list which cost him a month – not so good when you're hitting well over .300 as he was. After a solid first half with a .295/4/21/.828 slash line, Simpson tailed off as the season went along to finish with marks of .248/9/49/.719 OPS – however, the home run and RBI numbers were still both good enough to be tops on the team. One asset Creede brought to the table, though, was the ability to play all around the diamond as he played 35 games at first base, two at second, three at third, 35 in left field, and 11 in right. That versatility will likely allow him to move up next year and perform many of the same roles at the next level.
May 2 – Torsten Boss
The .238/7/45/.690 OPS batting line is probably not what Boss was looking for as his 2013 showing with Delmarva, but he was really heading in the wrong direction at the end of July when his average was a puny .219. Returning after a few days out, Boss finished strong, hitting .305 in his last 23 contests to push his average back up. He was also quietly one of the top power producers on the team, finishing fourth in home runs and third in runs batted in. However, one drawback on Torsten's record is that of being one of just two players to strike out over 100 times this season as he fanned 106 times in 106 games. Boss may move up for 2014, but thus far the Orioles can't be all that pleased with a .244 career batting mark.
May 9 – Branden Kline
Shortly after Kline was selected as a SotW, his season was ended by a broken ankle. In seven starts, Branden went 1-2 with a fairly pedestrian 5.86 ERA which belied his second-round selection and attendant prospect status. However, there were a few encouraging signs such as the solid 32:14 strikeout:walk ratio in 35 1/3 innings and two quality starts he put together, one being his season debut against Hagerstown where Kline pitched six innings of two-hit shutout ball, and an amazing 13-strikeout performance he managed in just 5 2/3 innings in his final start against Hickory. Branden is healthy enough now, though, to be a representative for the Orioles in the Arizona Fall League, where he will make up some of the innings and experience he lost this season due to the injury. Branden will be the only current Shorebird on that roster, which is mainly made up of players from high-A and AA.
May 16 – Nik Balog
Serving mainly as the designated hitter, Nik hit well enough to have one of the better offensive seasons from a Shorebird player. His .266/3/32/.684 OPS was fairly solid and he paced the team with 29 doubles. There was a reason he served as the DH, though – 8 errors in just 24 games in the field, mostly at first base, led the Shorebirds to exclusively DH Balog after July 6. This was a definite regression considering Balog made just two errors in roughly the same number of chances in 2012 with the GCL Orioles. Unfortunately, Nik is one who could get caught up in a numbers game as a non-drafted free agent who will be 24 by the time next season rolls around. It will be interesting to see if Balog lands in instructional league this fall to work on his fielding, since the bat was at least league average and he could serve as an organizational player down the line.
May 23 – Matt Hobgood
One of the comeback stories this year was the return of Hobgood to a league where he struggled in his first full professional season three years ago. Several procedures later, the results for Matt were good enough (7-3, 3.71 in 63 innings, featuring a 1.41 WHIP) that he was promoted to Frederick for the first time in mid-July. Appearing almost exclusively in relief (one start and loss for Delmarva), Hobgood still managed to pitch 63 innings here and an additional 30 2/3 at Frederick. His numbers for the Keys weren't quite as sound, as he went 2-1 but had an elevated 5.58 ERA despite a lower 1.30 WHIP in the Carolina League. Matt will probably begin next year at that same level; although he's certainly fallen behind a number of brighter prospects in the Orioles' organizational pitching ranks, there's still a pretty good possibility he could make it all the way up someday.
May 30 – Josh Hader
One of those brighter prospects threatening to pass Matt Hobgood was Josh Hader, a mid-round draft pick from 2012 and local Maryland product who still managed to be the team's lone All-Star selection this season. In 17 starts, Hader went just 3-6 but had a low 2.65 ERA in 85 innings. All three of his Shorebird victories easily came within the definition of a "quality start": six or more innings, three or fewer earned runs. Perhaps the only two quibbles were an inordinately high number of unearned runs pushing down his ERA and the fact he walked 42 in 85 innings, which is on the high side. But those flaws didn't stop the Houston Astros from taking Hader as part of their booty for the services of Bud Norris (along with Shorebird of the Week Hall of Fame member L.J. Hoes), and Hader didn't disappoint his new teammates on the Quad Cities River Bandits, pitching a one-hit gem over six innings in his debut. It's likely Hader will have at least one more start as the River Bandits made the Midwest League playoffs.
June 6 – Tucker Nathans
One of two undrafted domestic free agents to make the ranks of Shorebird of the Week (the other being Nik Balog), Nathans took advantage of the opportunity presented to him after two seasons in the independent baseball ranks to first get a contract with a major league organization and then play well enough for a mid-season promotion to Frederick. Tucker's 63-game stint with Delmarva featured a .271/9/38/.804 slash line, so when he advanced to Fredrick he kept the average over the last 45 games (hitting a robust .277) but only getting one homer, 18 knocked in, and a .699 OPS. Nathans was another player whose calling card was his versatility, as he played five different positions in a Delmarva uniform but went one batter at Frederick, adding center field to his repertoire for one game. Considering he's a little older than his SAL peers – Nathans turns 25 in Novenber – it's likely Frederick or bust next year.
June 13 – Lucas Herbst
Among those Shorebirds who would qualify for the league batting title, Lucas was the top hitter and put together a solid, consistent line of .276/5/41/.696 OPS for the Shorebirds. Aside from the anomaly of one September game where he was 0-for-5, the only "bad" month Lucas had was hitting .241 in July, and there are several of his peers who didn't match that for the full season. While he slowed down some after a hot start, coming up May 4 and hitting .303 in that month, with 2 homers and 12 RBI, overall the season was a good positive step for Herbst and it should be enough to maintain his progress up the organizational ladder.
June 20 – Parker Bridwell
Parker was the typical Forrest Gump "box of chocolates" player, because you never knew what you would get. It could be the smooth 14-strikeout, no walk, two hit dismantling of Lakewood he put up August 16, which earned his SAL Pitcher of the Week honors a few days later, or it could be the bitter 10-hit, 9-run 3 2/3 inning outing against the same team May 21. But as the season went on the great performances became more prevalent – six of his eight quality starts occurred in the second half of the season, where he was 4-3, 4.07 compared to 4-6, 5.57 beforehand. The occasion of his SotW selection was immediately after his second-best start, when he eliminated Hickory from the first half title by giving up one run in eight innings, fanning 10. I would be surprised if he wasn't a #1 or #2 starter for Frederick next season.
June 27 – Steel Russell
I thought we would see more of Steel in the second half, but instead he stuck to his usual diet of about 10 games a month in the lineup. Russell appeared in 42 games, hitting .236 in 140 at-bats with 14 RBI. While that doesn't seem like much, it was a vest improvement from his 2012 season and showed he could hit a little bit. It may not get him much more than a backup role, either here or with Frederick, but Russell should be playing next year. Having Dad coaching at the big league level doesn't hurt, either.
July 4 – Matt Taylor
Matt is the player one can point to and say that won-lost records for pitchers can be deceiving. While Matt was one of four pitchers in the SAL to have 13 losses (against only 4 wins) he was by far the best pitcher in the group in terms of ERA at 3.77 and WHIP at 1.41. Granted, he had a high number of unearned runs which held his ERA under 4 runs a game but a lot of those likely contributed to his record. In his second season with the Shorebirds, Matt improved on his ERA (3.77 vs. 4.33), his hits per 9 innings ratio (9.7 to 8.7) and pitched an eight-inning gem over Lexington on July 12, allowing but one hit. I can see Matt being placed in Frederick, although it was surprising a fifth-round pick repeated a level for a full year.
July 11 – Lex Rutledge
Given that Rutledge had a 4-3, 1.45 topline with a 45:16 strikeout:walk ratio in 43 1/3 innings (leading to a WHIP of 1.02) it was no surprise that he was promoted to Frederick shortly after being selected. What was surprising was the subpar numbers Lex turned in there, ballooning to a 7.82 ERA in 12 2/3 innings, allowing 18 hits and walking seven (although he fanned 15.) His Frederick WHIP was almost double that of Delmarva at 1.97. He went from being scored on in just six of 18 Delmarva appearances to giving up runs in five of nine at Frederick. But I don't think Lex will be back; my inclination is to believe that he will stay with Frederick unless there's a real numbers game among the staff there.
July 18 – George Barber
Aside from a brief two days at Bowie, Barber bounced between Aberdeen and Delmarva for the 2013 campaign – ironically, he was sent down immediately after I selected him and only played one more game with the Shorebirds the rest of the season. Unfortunately, his numbers were the opposite of what one might expect as Barber went 3-for-9 at Bowie (.333), 15-for-64 with Delmarva (.234), and 12-for-75 at Aberdeen (.160). As a composite, George hit .203/1/6/.531 with the one home run at Aberdeen. While George has a compelling comeback story, I suspect his playing days may be numbered based on age and performance. His 60-game trial I referred to ended up being 46 all told.
July 25 – Roderick Bernadina
As I pointed out in my feature about him, this season has seen Bernadina revert to more of his career means at the plate: the .238/2/29/.615 OPS was around the numbers he's featured over his pro career. But this was a lost season in the sense that Roderick missed two significant portions of it and his injury at the end of July came at a time where he had hit .278 on the month – by far his best. Had that streak continued into and through August, Bernadina would have finished with a more respectable average in the .250 range; still, that would have been disappointing considering his splashy Shorebird debut month in August 2012 where he hit close to .300 for the period. He just might be one of those guys who repeats here to see if he reverses some other alarming trends, like a worse strikeout:walk ratio for 2013.
August 2 – Dennis Torres
In what was essentially his professional debut, I just missed on my prediction that Torres would pitch between 45 and 50 innings because he closed with 44 2/3. Many of them were pretty good, as Dennis wrapped up 2013 with a 1-3, 3.22 topline and 1.55 WHIP based on 41 hits and 28 walks allowed. That's the key thing for Torres to work on, particularly as he allowed at least one free pass in his last eight appearances (11 in 15 total innings.) Because of his low-round status and a pretty good crop of pitchers coming up behind him, I think the range of possibilities for 2014 ranges from a release at the end of spring training to a repeat performance in our bullpen.
August 9 – Wynston Sawyer
Behind the plate, Sawyer ended up being the first Shorebirds catcher to actually catch in 80 or more games since Luis Bernardo caught in 81 back in 2009. At the plate Sawyer has a career-high .238 average and set career standards in at-bats, hits, and hit more home runs this season (8) than his first three pro seasons combined (6). And unlike previous seasons, Wynston only played a handful of games at first, allowing him to concentrate on the backstop position basically full-time. He may not yet have the bat for higher levels – although there were promising signs of development there with the .238/8/38/.720 OPS line – but I think Wynston will replace Michael Ohlman as the Keys' predominant catcher next year.
August 16 – Mark Blackmar
When you go from 1-5, 6.84 as a starter to 3-4, 3.58 as a reliever, it's clear the trend is toward the bullpen. Declining from a 1.92 WHIP and .357 average against as a starter to a 1.14 WHIP and .241 average given up out of the bullpen is clue number 2. With the drastic splits, one may as well toss out the overall numbers of 4-9, 5.53 with 110 hits allowed in 86 1/3 innings and focus on the bullpen figures, for that's where Mark figures to toil hereafter. My guess is that Mark will be a repeater here, most likely given the role of pitching 2 to 3 innings per appearance.
August 23 – Bennett Parry
Bennett came all the way from being a late addition to the staff from extended spring training to reliever to pretty solid starter. It was a nice evolution from the lefty, who turned in a 2-2, 3.49 season with a WHIP of 1.30 and a very solid 52:22 strikeout:walk ratio in 59 1/3 innings with Delmarva. You knew he arrived when he twirled back-to-back 6 1/3 inning shutout performances against Kannapolis and Lakewood August 11 and 17, respectively. Since he's not pitched a full season yet, Parry may start here in April and move up by midseason if his results are similar to this year's.
August 30 – Greg Lorenzo
The last Shorebird of the Week is often the hardest to pick out. When he set the bar by hitting over .300 across three levels last season, we expected a better season than the .241/2/41/.604 one we received from Greg. Aside from a worse mark as a raw 18-year-old rookie in the Dominican League in 2009, the OPS was by far the worst in Greg's career. Imagine how many he could have added to the 40 stolen bases he attained with an OBP of .350 instead of .281. He may not have threatened the 68 total which led the league, but 50 would have been in sight. He might be here for another season, at least to start, because he didn't seize the opportunity to gain on the players ahead of him at the next level.
**********
As is often the case, I had a hard time deciding my Shorebird of the Year – the choice came down to three players. But I went with the one who had the lowest expectations coming into the season because he wasn't even on the roster at that point.
This year's Shorebird of the Year is outfielder Lucas Herbst, who beat out Adrian Marin and Parker Bridwell for the honor. It was the consistency I noted above that gave him the nod – Marin tailed off significantly in the last month of the season and Parker (who had some backing from readers of this site) had overall numbers which weren't all that great. Yet Bridwell was second in the league in strikeouts, and I was fairly torn between giving it to him or Herbst before finally deciding on Lucas.
So that's a wrap on the player side for 2013. Next week will be my picks and pans feature speaking as a fan, in December will be an expanding Shorebird of the Week Hall of Fame which should have a class of at least two players for 2013 (as Jonathan Schoop was called up for the September roster expansion) and sometime around the start of spring training I'm going to follow through on a suggestion from a comment and pick out 10 players I think may be new to Delmarva in 2014.
Just because it's the off-season doesn't mean the Shorebirds stuff is forgotten until April!
This photo of Greg Lorenzo seemed to be most appropriate, as I took it shortly after he slid into second. On 38 of 45 occasions this season, Greg has been successful in swiping an additional 90 feet of enemy territory, leading the Shorebirds by a wide margin in that department and currently sixth-best in the South Atlantic League.
But for the longest time this season, it seemed like the hardest 90-foot distance for Lorenzo to travel was that space between home plate and first base. At the All-Star break Greg was hitting a puny .208 and only getting on base 27% of the time, but in the second half Greg has improved to a .279 batting average and .301 on-base percentage. Now those aren't particularly outstanding, but in order to steal bases the trick is getting on base in the first place and Lorenzo has improved in that regard.
Admittedly, we were a little bit spoiled by Greg's performance at the tail end of last year, where he went 24-for-72 in 19 games and swiped six bases. It capped off a season where he jumped from the Gulf Coast League to Delmarva in the total space of just 53 games, and was seemingly a breakout offensive campaign from a player who had never hit higher than .252 in any of his three previous seasons. So perhaps his .244/2/41/.612 OPS for 2013 is along the lines of what we should expect from Greg, a Dominican native signed by the Orioles in 2009.
Looking ahead to 2014, it's not out of the question the 22-year-old may find himself back for a third tour of duty in Delmarva. Having said that, job one for Greg has to be finding a way to cut down on strikeouts. Granted, Lorenzo has over 500 plate appearances this season, which leads the team – Joel Hutter may end up with right around 500 as well – but not only is he near the top of the league in stolen bases, he's fifth in strikeouts as well. (Of the four players above him, three are prototypical power hitters and the fourth looks like a draft bust from 2011.)
For many of the thousands of players who play professional baseball, raw speed is their calling card. But baseball is a funny game in that, unless you put the ball in play or force the pitcher into walking you, seldom do you get to first base. With 143 strikeouts and 22 walks, the old adage that "a walk's as good as a hit" is something Lorenzo will need to heed in 2014 if he wants to advance beyond the South Atlantic League. In terms of raw batting average, Greg has done well in August, but that other phase of the game merits attention as well.
Finally, as a reminder: next week's Shorebird piece will be a season review and selection of my Shorebird of the Year, followed the next Thursday by my picks and pans. Sometime in December I'll induct the Shorebird of the Week Hall of Fame Class of 2014, which will probably consist of two or three players, and then it will go dark again until April 3, 2014, when the Shorebirds open their nineteenth campaign on the road, with the home opener April 10.
A few weeks back, I noted a pitcher who went from being a mediocre starter to an effective reliever. This week's honoree went the opposite direction, becoming an effective Shorebird starter over the last half of the season since being elevated to the Shorebirds June 4 from extended spring training.
But Bennett Parry has been dominating of late, unscored upon in his last two starts against Kannapolis and Lakewood, a stretch covering 12 1/3 innings. In those two starts, the first of which gave Parry his second win of the season, he's allowed just eight hits and three walks while fanning nine.
The tall 22 year old lefty, an afterthought in the 2011 draft as a 40th round selection out of Cal State-Northridge and the San Diego area – his alma mater Poway High School is famous baseball-wise for graduating the offspring of two famous Padres: Gary Templeton and Tony Gwynn – has impressed as a starter, pitching to a 2.10 ERA in seven starts coming into tonight's game at Greensboro where he will take the ball once again. Conversely, as a reliever his ERA is a more pedestrian 4.41 in 16 1/3 innings. Parry has allowed 18 hits and has an 18/8 strikeout/walk ratio as a reliever, but improves to 26 hits allowed in 35 innings as a starter with a 30/10 strikeout/walk ratio. More telling, his WHIP as a reliever is 1.59 but declines to 1.03 as a starter. That's one fewer baserunner every two innings, which leads to a marked difference in ERA.
So far in three professional seasons, though – and this includes two brief appearances with the Gulf Coast League Orioles in 2011 – his highest ERA is 2.84 and that's where he stands right now. Bennett pitched to a 1-4, 2.70 ERA between the Gulf Coast League and Aberdeen last year, and has kept up relatively similar success with the Shorebirds. He's kept racking up strikeouts at a pace of about one per inning, although his most recent two starts were slightly under that mark.
Certainly Parry can be useful as a lefty starter, and his body of work over the second half of the season makes him a contender for Frederick's starting rotation next season.
While it's the idea that every player on the Shorebirds improves as the season wears on, the long grind of the season also proves to weed out players from roles which may not suit them. Such seems to be the case with Mark Blackmar, who was a bust as a starting pitcher but has been a success as a reliever over the last month or so.
The splits are telling enough for the 21-year-old Texan, who was drafted in the 16th round two years ago out of Temple College in that state. As a starter, Mark was 1-5, 6.84 in 11 outings (50 innings) with a 1.92 WHIP. Over his last eight outings as a reliever, Mark is 2-1 with a 3.60 ERA in 25 innings, with a much better 1.12 WHIP.
So the overall numbers don't look all that great and probably won't translate well when the agate type of the 2013 season is set; for example, Blackmar would have to hurl another 13 scoreless innings this season just to get his ERA for the year under 5. (As it stands, his ERA for the season is 5.86 to go with a 3-6 record, 100 hits allowed in 75 innings, and a reasonably good 42/24 strikeout/walk ratio.) But the improvement should be obvious and it will give the Orioles an opportunity to set Mark up for success, perhaps as a reliever here or in Frederick.
While it wasn't so pronounced in Aberdeen last season, there were signs that Mark would be a better pitcher in small doses, particularly when it came to control. As a starter for the IronBirds Blackmar's strikeout/walk ratio was 14/16 but in relief it was 15/7. The same applies this season as Mark went from a 23/20 ratio as a starter to 19/4 as a reliever. Perhaps he has a more aggressive mindset out of the bullpen, but whatever the case the change is pronounced enough to perhaps convince the organization Mark would serve best out of the 'pen in the future.