There are eight candidates on the Democrat side of the ballot hoping to be the challenger to current GOP Governor Larry Hogan. On a gorgeous, almost summer-like day on the Eastern Shore, only four of them could be bothered to come to Salisbury University to address their would-be primary electorate.
Originally that was supposed to be five of the eight, though.
Prince George's County Executive Rushern Baker was slated to be there, but informed the event organizers 15 minutes beforehand that he had an "emergency" and could not appear. According to his Twitter feed, he had begun the day campaigning in Baltimore City but the trail grows cold afterward. Yesterday evening there were Tweets and social media posts touting his previous endorsement by Congressman Steny Hoyer (who represents a portion of his county) and a piece touting his partnership for STEM training, but no mention of the forum or an apology for missing it. A Democrat friend of mine remarked afterward that "I know quite a few people who were definitely upset and said they wouldn't vote for him now even if they had considered him before." Unfortunately, that left us with a group of what would be defined as "second-tier" candidates who are polling in low single digits – combined they're not Baker's equal polling-wise.
On top of that, State Senator Richard Madaleno was a few minutes late, missing the opening statement but being allowed to make up for it when he answered his first question. Apparently there was an accident on the Bay Bridge, which was the topic of a subsequent question.
So the order was set, and placeholders were rearranged. This photo was taken once Madaleno arrived.
The Wicomico County Democratic Central Committee co-sponsored the event with the Salisbury University College Democrats, and aside from the horribly uncomfortable chairs we were forced to sit in for two hours the event was well-conducted for the 100 or so in attendance on this beautiful afternoon. I learned that a group of liberal Democrats can sit and listen attentively, so now I expect that same behavior at the next Andy Harris town hall that I attend. Moderator Don Rush instructed the audience early on to keep their reactions to themselves, and they complied.
I debated whether I wanted to handle this by candidate or by question, and decided that keeping the candidates' answers together for each question would present a better, more comparative format. But first I wanted to mention something that was said by WCDCC chair Mark L. Bowen. (Just to be clear, this Mark Bowen is not Mark S. Bowen, the current Democrat Clerk of the Court for Wicomico County.) Bowen assured the gathering that "our work is being done for us…all we have to do is close the deal." He was also the one who informed us that Baltimore County Executive Kevin Kamenetz and former NAACP head Ben Jealous were absent due to "previous commitments." (That would be their personally lobbying the state's teacher's union, which endorsed Jealous yesterday at their meeting. Perhaps endorsing Kamemetz or Baker would have been problematic for the teachers given educational scandals in their respective counties.)
So after an opening statement, the four remaining candidates answered questions on these topics:
New "economic engines" for the Eastern Shore
Balancing the interests of agriculture and environmentalists
Offshore wind energy development
How they would assist watermen and the Bay
Transportation priorities for our area
A new Bay Bridge
Their focus on education
Health care – a single-payer system?
Redistricting
But I want to begin with separate categorizations of their opening statements, and I'll proceed in the order that they spoke. This means Alec Ross goes first and Richard Madaleno goes not at all because he was tardy.
You may recall that I spent a few minutes speaking to Alec at the Tawes event last year, when he informed me that he had a rather unique view on education for a Democrat, since he focused more on vocational education than college readiness. Obviously coming over here is something he cherishes, as he recalled childhood vacations spent in Ocean City and told the crowd his blood pressure comes down when he crosses the Bay Bridge as part of his opening statement.
His main point, though, was that "talent is everywhere, but opportunity is not." And while "we are bringing new faces and new ideas to the Democratic Party," Ross noted their voter registration numbers are trending downward.
I could have spent a couple minutes speaking to Krish Vignarajah, but I didn't realize she was one of those waiting with me on the elevator to arrive. With her husband in tow and a young child, she could have been an interested observer. (She was also somewhat casually dressed.)
Krish came to America as a infant, emigrating from Sri Lanka with her parents. (A few years later, Sri Lanka would be embroiled in a civil war, so tensions were rising at the time.) She also painted a gloomy picture of Maryland, telling the audience that "opportunities are declining" but she would be "Larry Hogan's worst nightmare" as a candidate. "We need to give people a reason to vote," she exhorted.
Jim Shea used the Bay Bridge as an example of how infrastructure could help the economy. He was running to "invest in Maryland," with a focus on three areas: education, transportation, and infrastructure.
Leading off the questioning was one about new economic engines for the Eastern Shore. All of them agreed agriculture was going to remain the primary driver, but they also wanted to add green energy to the mix in various ways.
For Vignarajah, the object wasn't to attack "Big Chicken" but to address its environmental issues through research. She also touted the idea of tourism, both as part of an "outdoor economy" and "heritage tourism." Shea stressed his belief that we need to bring the two sides of farmer and environmentalist together. Corporations want a good environment, too, he said, but "we need clarity on the regulations." Jim also believed that we needed to grow our own businesses and not work as much at attracting those from other states.
Madaleno, after giving a brief introduction, talked about keeping agriculture sustainable, both environmentally and economically, but also brought up the idea of "eds and beds" – our educational institutions and tourism industry. Richard also pointed out the impact from Wallops Island and its space industry. He had one other point, but he joked that "I feel like the Secretary of Energy" because he couldn't recall it. Later, he said Shea reminded him it was offshore wind – it was a byproduct of seeing each other so much and knowing their talking points, as Shea mentioned later: "(Madaleno) did the same thing for me at another forum."
Perhaps Alec's drop in blood pressure stemmed from the produce he's purchased at an Eastern Shore roadside market. As the produce was bigger and better than ever at his last stop, Ross asked how they did it. "Precision agriculture," the stand owner beamed. Agriculture in the state needs to continue to evolve, he added, the combination of analytics and agriculture would allow that to happen. And to help small farmers, Ross was proposing a billion-dollar investment in a "green bank" model – a model already in place in New York and Massachusetts. (In looking this up, perhaps Ross misspoke: I found programs in place in New York and Connecticut as a way to promote "clean energy." What Ross proposes may have a slightly different focus.)
So how do you balance agriculture and the environment? Would you add restrictions to the poultry industry?
Madaleno, Shea, and Vignarajah all touted the Community Healthy Air Act, a measure Madaleno sponsored during the last General Assembly session, and one that Shea said "made sense." (It did not get beyond the hearing stage.) Alec and Krish also brought up the Phosphorus Management Tool, with Krish calling it a "win-win." She also proposed to "empower" farmers with a Farmers Rights Act.
Ross wanted all sides to play by the same rules as well, saying that neither side thinks they are lying when it comes to the facts.
Needless to say, all of them were supportive of wind energy development. Madaleno said they "will make a lot of sense," believing the won't impact the viewshed and be the basis for job growth. They can "drive the economy ahead," added Shea; however, he was concerned that there was no way to store their energy. We need to invest in that technology, he added.
Ross and Vignarajah were just as aggressive, with Alec comparing areas that don't "embrace the future" through wind to the coal country he grew up in and assuring us that windmills would not keep them from the beaches. Vignarajah promised 2,000 megawatts of wind power in her first term and chided Larry Hogan for not being proactive. We are exporting our dollars and importing their pollution, she said regarding the current situation.
This question also provided a couple of shout outs: Madaleno praised fellow Senator Jim Mathias: "No one fights harder for the Eastern Shore – I have some of the scars." Alec Ross said of Salisbury mayor Jake Day. "I like the work (he) is doing as mayor."
When it comes to watermen and the Bay, the answers were again rather similar because they focused more on the Bay, with some expressing the recovery of the oyster population as one positive development. It's a "win-win" to support the oyster industry, said Vignarajah, but don't forget the tributaries to the Bay like the Choptank, Potomac, and so forth. Shea warned that it's "too soon" to harvest oysters as watermen are pleading with Governor Hogan to allow.
Madaleno, though, expressed the opinion that the Bay's recovery was evidence that "government can do and does good things." And while he joked that being a member of the General Assembly meant he had to become an expert in crabs, oysters, and chicken, he added that cleaning the Bay has to be a multi-state effort. Richard also pledged to give waterman "a voice at the table."
And while Ross would do "whatever it takes" to accomplish this difficult and expensive work, he spent part of his time noting that "when you drive into Maryland, you should be entering The Resistance." Chiding the "abhorrent" leadership at the EPA, he wanted a set-aside to sustain watermen. Shea temed a similar concept as an "investment" in the needed vocational training for the "social costs of our advancement." On the other hand, Vignarajah expressed the "unpopular" view of crediting Larry Hogan with trying to protect Chesapeake Bay funding.
As far as transportation priorities for our rural areas are concerned, there was no real shock in their answers. Krish led off by saying "let us try to be innovative," making the investment in our economy of extending the MARC system to Salisbury and Ocean City as "an attraction" to provide "more mobility." Jim Shea agreed that the Eastern Shore has a lack of mass transit.
Madaleno and Ross blasted Larry Hogan's transportation plan, with Ross calling it "a press release" and "not realistic" because it mainly focuses on DC and Baltimore. Hogan was "one of the luckiest politicians around," said Madaleno, who noted that the Purple Line was "placed on a credit card" while the gas tax Hogan criticized was now being used for highway widening. Richard would invest in "smart mass transit," meaning on demand.
Shea was more realistic, calling transportation "anathema" for career politicians because projects take so long. He termed the high-speed rail project backed by Hogan "pie in the sky" and would vet his plan with citizens around the state.
Most telling to me was part of Alec's answer, where he called widening U.S. 50 "looking backward" and mass transit "looking forward." So I wasn't shocked by their answers to the next question, about a third Bay Bridge.
At least Jim Shea was honest enough to answer "I don't know what the correct answer is." (Hint: look at how close Dorchester and Calvert counties are.) His bigger issue was funding education. Madaleno was more worried about whether the current bridges survive, as the Hogan toll reductions "restrict the decision" on these bridges, which Madaleno would replace there.
Alec and Krish were even more blunt. "People need investments in them," said Ross. High-speed connectivity and schools were a higher priority in his eyes, with another Bay span "way down the queue." Vignarajah echoed the sentiment: "A lot of priorities are ahead in the queue" over the Bay Bridge, adding "we have a 1950s budget in many respects." She would spend money on universal broadband, too, noting 1 in 12 Maryland residents don't have high-speed internet access.
Since it had been hinted around at, the focus shifted to education. Education "will be the centerpiece of (a Madaleno) administration," said Rich, and "this is why (Ross) is running for governor," he said, but all of them were ready to give free stuff out: universal pre-K and community college were most mentioned.
Madaleno touted his membership on the Kirwan Commission, while Krish advocated for a "cradle to career" educational policy, including "hot and healthy meals." Shea's "bold and comprehensive" plan (which he mentioned was there in full on his website) included as well what he called "wrap-around services" and "funding solutions."
One thing I did like about Alec was his advocacy for vocational education, rather than the "terribly elitist" idea all kids have to go to college. He promoted an online academy to assist rural students in receiving services not otherwise available to them and advocates for universal computer science education.
We also waited until nearly the end to learn about their proposals for health care, and whether it included single-payer?
Of course it does, but not everyone is as honest as Jim Shea, who, while he told the audience that "a single-payer system is something we will eventually move to," it wasn't practical for a single state to adopt. That push had to be at a federal level, but we could control costs locally through a collaborative approach.
Otherwise, it seemed the consensus was that Obamacare was just a start, or a "strong start" in the words of Vignarajah. For her, "health care is a basic human right" and she advocated for a public option to lead to single-payer. Madaleno insisted that Obamacare "has worked to reduce costs" and brought Maryland down to 6% uninsured. He warned the gathering to not fall for the "trumped-up theory" that the ACA has failed. The fight was against insurers and Big Pharma to cut costs. (This also gave Madaleno a chance for a second Mathias shout-out: he was a "hero" as a voice for rural health care.)
Alec called on us to "resist the evil that is coming out of Donald Trump's Washington." While he admitted that "we have to continue to play defense," he gave an example of something he would do differently: because of the waiver system Maryland was benefiting from, Medicare for All wasn't possible – but Medicaid for All as a public option was.
I was honestly surprised by the final question, which had to do with redistricting. Had there been five participants, the health care question would have likely been last.
Only the American system allows for politicians to pick their voters, said Krish, but it was a "problematic" issue that had to be addressed at a national level. Shea disagreed, saying that while gerrymandering had polarized us, it wasn't a federal problem – but the solution wasn't (as he called it) "unilateral disarmament" here in Maryland. It needs to be "fair and smart," Jim added, but he warned there's no such thing as a non-partisan group.
Madaleno admitted that the gerrymandering "got out of hand" during the O'Malley administration (but failed to mention his lack of objection at the time.) Going with the theme that "the Koch brothers have bought the Congress they wanted," Rich wanted to reform as part of a multi-state compact.
Alec saw the issue as part of the "damage to democracy," which has led to both far-right and far-left factions in Congress. "We need representatives to engage with everyone in the district," he said.
It should be noted that Vignarajah used part of her answer time to express her disappointment that no question was asked on opioids. "We need action" on both the over-prescription and treatment aspects of that problem.
In conclusion, Jim Shea said Democrats needed to unite as a party. "We're going to pull together because we are a great party and take the governor's seat back."
Richard Madaleno contended that the GOP of Donald Trump is "in the process of imploding." Yet since there will be gridlock in Washington, it make the governors more important, and Maryland has one of the most powerful chief executives in the nation. "It matters who the governor of Maryland is," he continued, and "this is the time to have serious experience in office." That was a nod to his years in the General Assembly, but his goal was to "move the state in a progressive way."
Alec Ross told the local Democrats that it's "more about 'we' than 'me,' but disagreed with Madeleno on one point: the GOP is not coming apart. "We've got to work for it," he said. He also promised "no one will be more anti-Trump than me," but warned the group they "can't just resist," they have to have an "aspirational agenda." It was time for new faces and new ideas to come forward., Ross concluded.
"How do we beat Larry Hogan?" asked Krish Vignarajah. "No man can beat Larry Hogan, they say. Well…?" While Hogan "fakes left and moves right," Vignarajah pointed out that 61% of those who toppled incumbent Republicans in this cycle were women. She pledged a "fiscally responsible. socially progressive" administration.
I've noted above that Jim Mathias was in the building, but there were a handful of other Democrats seeking local and state office there: Michael Pullen for Congress (who sat two seats away from me and never said a word), Holly Wright for Senate District 37 (who did introduce herself to me), Delegate 38A candidate Kirkland Hall, and county-level candidates Bill McCain (County Council) and Bo McAllister, who I had spoken to at last fall's Good Beer Festival. (You would have known that had my old cell phone not crapped out the next day, before I could write the post.)
They did their thing and I did mine, but mine is done.
It may not be as apparent to the average American as "vacation day" patriotic holidays like Memorial Day or Independence Day, but today a small band of Salisbury residents came to City Park along the Wicomico River and celebrated the 229th anniversary of the signing and delivery of our nascent Constitution to Congress for approval. Once approved, it was sent to each of the thirteen colonies for ratification (Delaware was first, on December 7, 1787) and by the middle of the next year the requisite nine states had ratified the document, which was not yet amended with the Bill of Rights. (That would come a few years later, in 1791.)
So I arrived fashionably on time and was pleased to see the turnout.
It seems like there were a few more people than last year's gathering, and I think the morning start time (as opposed to afternoon last year) may have had something to do with that.
We were presented with a proclamation from Salisbury mayor Jake Day reiterating that the city would be celebrating Constitution Day today. Day is one of the few who could stand and say he was actively defending the Constitution as an Army officer on active duty.
The event also was the culmination of an essay contest where the top two winners were present to be honored with a certificate from the Maryland General Assembly, presented by members of the local delegation Mary Beth Carozza (who was speaking), Christopher Adams, Carl Anderton, and Johhny Mautz. The winning entry was read by Carys Hazel of Mardela High School, with runner-up Nathaniel Sansom of Salisbury Christian School also present to receive his award.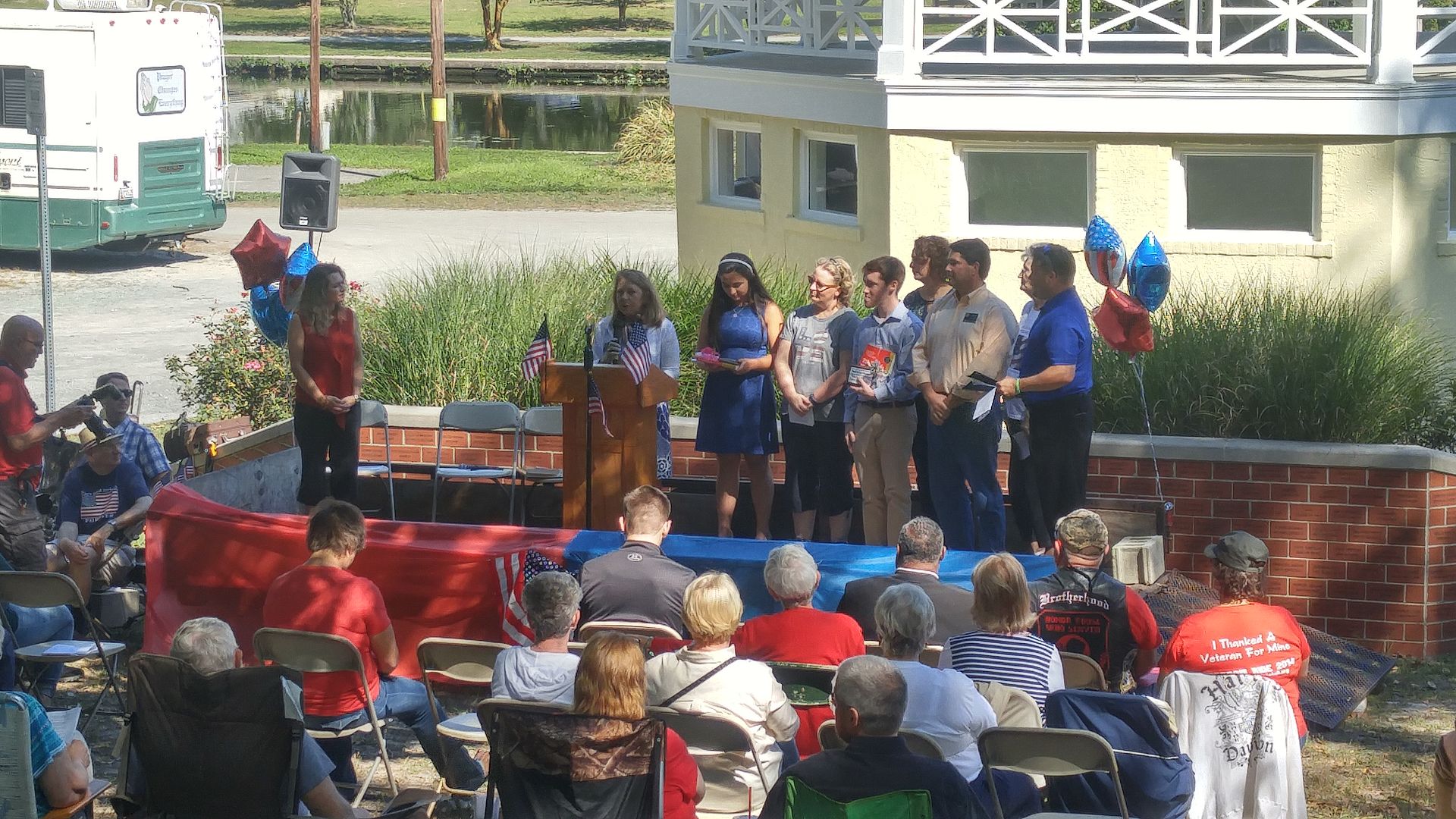 The keynote speaker was Wicomico County Sheriff Mike Lewis.
I wasn't really at the Constitution Day event to give blow-by-blow coverage, but I used the photos to both set the scene and cue up my own remarks, with the address Sheriff Lewis gave as a jumping-off point. Mike spoke at some length about the role of the military overseas and their fight against radical Islam. Certainly I understand the reason that they have embarked on such a mission, but to me it also begs a pair of questions for which we need an honest answer.
To a varying extent, the nation has been on a war footing since 9/11. In that time we have adopted the PATRIOT Act and sent thousands of troops overseas to fight against the proxy forces of radical Islam: the Taliban in Afghanistan, the Saddam Hussein regime in Iraq, and the Islamic State known as ISIS (or ISIL.) But the first question I have is: where does the balance tip too far toward security at the expense of the liberty afforded to us in the Constitution?
This question isn't really new, either: during the Civil War (or War Between the States or War of Northern Aggression, if you prefer) President Lincoln suspended the writ of habeas corpus and arrested members of the Maryland General Assembly to prevent them from meeting as a means of preserving the Union. Eight decades later, President Roosevelt interned Japanese-Americans as a result of their ancestral homeland's attack on American soil. In both instances America was in an active war within its borders or territories, but against a nation-state rather than an ideology as we are today. However, being in a state of war such that we are should not be an excuse for excess and there are many who have pondered the "War on Terror" and its response in the PATRIOT Act and whether the government is using this Long War as a flimsy excuse to consolidate power.
The idea of the government consolidating power leads to the second question: are we truly following the Constitution anymore or is this all just lip service?
Surely there are some who believe the Constitution has been eroding practically since the ink dried on the parchment. Whether they point to Marbury v. Madison being the moment where the judiciary became the most powerful of the three branches, the Civil War being the death knell for state's rights since they no longer had the right to secede if they were dissatisfied with the nation as a whole, or the Sixteenth and Seventeenth Amendments that gave the federal government taxation authority on individuals specifically prohibited in the original and ended the practice of state legislators electing Senators to represent their interests in Washington, there are a fair number that think we need to start over – perhaps with a Convention of States, otherwise known as an Article V Convention. (Years ago I contributed a couple ideas for new amendments, which are still sorely needed. Back then I had good discourse, too.)
I don't want to get into the weeds of determining the merits or problems of such a convention, but the fact that there are people who believe the Constitution needs a tune-up to fix excesses on one side or the other bolsters the argument that the government we have now is not the one originally envisioned by those men who toiled during the spring and summer of 1787 to write a replacement for the Articles of Confederation that the United States was bound to for the first decade or so of its existence. Granted, the Article V method is one prescribed in the document but there's no guarantee the amendments proposed would pass or the resulting Constitution any better for the people.
So the occasion of Constitution Day is bittersweet. Yesterday I wrote on the subject for the Patriot Post, noting that:
Contention over – and advocacy of – limitations to government based on constitutional principles has become a theoretical exercise at best, perhaps in part because few understand the ideas and arguments that were made during the drafting of our government's founding document.
Those who have sworn an oath to enlist in the military or (in my case) to take public office know that we swear to support and defend the Constitution as opposed to an oath to the United States. This is a clear distinction because the interests of the United States may vary by whoever occupies the offices of government at the time, but the Constitution is the set of ground rules which are supposed to define our nation. The key reason I resigned from the Central Committee was because I could not trust the Republican presidential nominee to support or defend the Constitution – rather, I believed he would tear the GOP from what few limited, Constitutional government roots it had remaining. Thus, I felt as a public official that supporting him was a violation of the oath I swore to the Constitution.
Many of those same men who pledged their lives, fortunes, and sacred honor to the American nation and survived the war that brought us independence were those who argued and debated the contents of the pieces of parchment that we consider our supreme law of the land. I pray that a group that is just as divinely inspired can lead us back to a nation that more closely reflects the intentions of these earliest Americans with respect to restoring a government that seeks the consent of the governed, and that those who are governed understand their responsibility in the equation as well. The fact that so few seem to have this inspiration or the desire to take this responsibility as citizens seriously may be what was most troubling about this day in the park.
We had a good gathering for our primary eve meeting, buoyed by the presence of the families of the winners of our annual scholarship contest. Three things that were missing at the start, though, were three of our officers so Second Vice-President Shawn Bradley got things underway with a little assistance from me. Fortunately, we do pretty much the same thing as an introduction every month so we made it over those bumps in the road and heard our Central Committee report first.
County Chair Mark McIver announced we were still seeking applicants for our two upcoming Board of Education appointments, although we already had 5 with their information turned in. He also reminded us that the end of this process could be at hand, as the bill allowing us to vote on whether we wanted an elected school board was passed by the General Assembly. Jackie Wellfonder revealed the signing ceremony was slated for tomorrow, with Governor Hogan signing the Senate version sponsored by Senators Jim Mathias and Addie Eckardt.
He also spoke about the voter affiliation drive to allow people to vote in our primary. It was a multi-prong push combining a mailing, letters to the editor, and advertising in local media. I noted that the effort had worked to some extent – according to Board of Elections statistics, I recalled the GOP had gained about 400 voters in March, the Democrats about 250, and unaffiliated voters falling by about 250. (Actual numbers as I looked them up just now: Republicans +398, Democrats +261, and unaffiliated -247. We also lost 5 Greens and 18 "other" but gained 9 Libertarians.)
Mark also allowed Nate Sansom to speak. On his behalf, we are planning to bring a resolution to the Spring Convention asking for electoral votes in Maryland to be awarded to the winner of each Congressional district instead of all ten being winner-take-all. (Maine and Nebraska have such a system.) As I pointed out, it's only fair after the way Democrats gerrymandered our state.
McIver also announced he would be hosting a pig roast fundraiser on June 11, and it was likely several state candidates may be there to help the Wicomico GOP.
Ed Senkbeil, representing our scholarship committee, had the honor of presenting two local seniors WCRC Scholarships. Taylor Creighton of Mardela High School and Jessica Willey of Parkside High School were the two winners. Creighton will be heading off to Clemson University to study in the field of genetics, while Willey will be studying psychology at Washington College. Both of them gave brief introductory remarks and did well for an impromptu engagement.
We then heard from our featured speaker: the incoming president of the Maryland College Republicans, Patty Miller of Salisbury University.
After Miller introduced her successor as SU chapter president, Shelby Hall, she remarked that the College Republicans were "on the front lines of dealing with liberal college students." Under her leadership of the SU chapter, they had become active in local and state campaigns and recently hosted an address by Ben Shapiro, a writer, editor, and author perhaps most famous for working at Breitbart.com until he resigned after the Michelle Fields incident.
It was interesting to learn that her maternal family has a rich heritage in politics. Miller's mother is a native of Honduras, where her family was involved in the 2009 removal of President Manuel Zelaya, a leftist ally of the late Venezuelan strongman Hugo Chavez. Zelaya was ousted after attempting to circumvent a constitutional provision against serving more than one four-year term. These family ties made her "passionate about capitalism…the American Dream is still alive."
As the CR state chair, she announced "I'm here to get stuff done." She actually wasn't originally seeking the office of president but a series of events led her to take the top position, which oversees 11 school-level chapters around the state – Miller would like to secure two others as well. She also gets a non-voting seat on the state party's executive committee, although there is a proposal before the membership next month that may allow the CRs to have a vote once again.
After Miller's remarks, we went through some business. Jackie Wellfonder had the list of polling places for sign placement, which would commence after the meeting. She also announced the newly-formed Wicomico Republican Women's Club would host a "Welcome Back Reception for the Eastern Shore Delegation" on May 5.
Jim Jester let us know the Crab Feast will be September 10, once again at Schumaker Pond. His next step was securing the beer permit, but Muir Boda added we were seeking event sponsors for the first time to help defray the costs.
Nate Sansom was pleased to say the second meeting of the Wicomico Teenage Republicans was a success. Through his diligence, Nate was able to secure a phone visit from two local candidates: Anthony Seda for U.S. Senate and Jonathan Goff for Congress. He also received information from several other candidates to distribute, so these were well-informed TARs.
While we waited for 50/50 tickets to be sold as our last event, I asked Muir Boda to give us a City Council update. He had just come from the first budget meeting, where they were attempting to raise water and sewer rates. Muir also explained one of the budget priorities set out by Mayor Jake Day: the construction of a community center to host city-sponsored after-school programs as well as more immediate funding for a summer youth employment program. While the city of Salisbury would purchase the land and build the community center, funding for its operations would come from local non-profits.
Boda also noted that getting more highway user revenue from the state would assist in fixing some of the city's worst streets, which have been neglected for years if not decades.
So while the meeting turned out to be less than an hour, several people stuck around to help with signs for tomorrow. If you ask me, the most effective ones should be the red Ted Cruz sign, the blue-and-white Richard Douglas sign, and the yellow-and-blue Andy Harris one.
Next month's meeting (and yes, we will have a May meeting thanks to a late Memorial Day) will be May 23. It's not official, but I think we are due for our annual legislative wrapup.
A comparatively modest gathering stood by Salisbury City Councilman (and former mayor) Jim Ireton as he embarked on his quest to unseat current Congressman Andy Harris in Maryland's First Congressional District. And his opening salvo naturally was critical of the incumbent:
I'm here (in Crisfield) today because the 1st District needs a Congressman who won't just say no and vote no. In just 6 years in Washington, Andy Harris has done nothing for the people of the 1st District.
Crisfield, the southernmost city in Maryland, was chosen by Ireton because it was hit hard in 2012 by Hurricane Sandy, with Ireton contending it has not recovered. Jim chastised the incumbent because "he voted against $9.7 billion in hurricane relief."
So I did a little research. It turns out the $9.7 billion bill Harris voted against was a measure to extend the borrowing authority for FEMA. Harris later voted against the overall supplemental appropriations bill but supported a substitute which would have offset $17 billion in approved aid by making other cuts (making it budget-neutral.) He ended up voting for a different appropriations bill that improved the original but did not clear the Senate. You may recall many were concerned about the budgetary impact in that era of sequestration.
Ireton went on about how Harris doesn't support farmers and voted multiple times to repeal Obamacare before stepping boldly into Jim Crow territory.
He wants to return us to the days of insurance companies legally discriminating against Americans. Just like landlords in the 1950s could tell a black family no, and do so legally, Andy Harris wants to give insurance companies the legal right to say no to people with pre-existing medical conditions.
I think Jim forgets that insurance companies are like any other business as they need to be profitable to survive. Then again, that can be expected of a mayor who enacted the "rain tax" in Salisbury and decided landlords shouldn't charge what he considered excessive rent.
And in the department of "it takes two to tango":
From here on, it's going to get ugly – Andy Harris will make sure of that. He will attack me as a person, and attack the issues you care about. He will issue dire warnings about taxes, even though I have a record of cutting fees as the mayor of Salisbury. He will issue dire warnings about crime, even though Salisbury's Part I Violent Crimes dropped every year I was in office, and dropped almost 50% over my 6 years as mayor. He will try and scare farmers, even though the Wicomico River is now healthier than it's been in decades due to the work of the city while I was in office.  And I can only imagine what he will make up to say about me personally. (Emphasis mine.)
I noted back in October when the rent stabilization program was bounced out of City Council that Ireton is in a catbird seat of sorts. During the next 9 1/2 months, assuming he wins the primary – and he is the prohibitive favorite given the field – Ireton can take credit for all of the city's successes by saying that he initiated them as mayor, yet any failures will see Jake Day thrust in front of the nearest Shore Transit vehicle. I figured that Jim was simply using the office to cool his heels for a later political run, but my error was in assuming that he'd have the decency to at least wait until the results became official before jumping into his next campaign, not spill the beans on election night. (Had he upset just 33 of his prospective voters enough to make them change their minds. he would have had a lot more time to run.)
Harris now has a challenge from both the Democrat and Republican sides, with both being uncommonly well-known entities. It's the first time he's had elected officials against him since he took office in 2011. And it already is ugly with push polls and charges of not doing his job, so we're already on the glide path to a nasty campaign.
One of the talking points that Salisbury mayor Jake Day has continually made about bringing jobs to Salisbury is that we need to improve our quality of life. Perhaps I'm oversimplifying the argument, but if we have a quality of life attractive to younger workers they will come here and create the jobs – or so the thinking goes.
So it was interesting that a few weeks back I received an e-mail from a company called LawnStarter. The reason I received it was that I have used business-related survey data from Thumbtack.com in the past and this entrepreneurial outfit had created something they called their Quality of Life Index. (Naturally, the company specializes in assisting lawn care startups by bringing customers and businesses together.) As a state Maryland ranks 13th out of 50, but the lone metropolitan area considered (Baltimore) ranked 73rd out of 101. (We in Maryland surely had assistance from 9th-ranked Washington, D.C. though.)
You may ask how they come up with this index – well, let them explain it:
The index is based on six quality-of-life factors analyzed by LawnStarter and borrowed from The Economist — GDP (economic output) per capita, average life expectancy, divorce rate, unemployment rate, geographic location (latitude) and male-female income equality. The Economist considers these factors to be good barometers for quality of life.
Based on some of the factors cited I suspect Salisbury would be near the bottom of the city list. However, they may not be at the very bottom because the lowest seven cities (and nine of the bottom ten) share one of two things in common:
They are in California (Sacramento, Riverside, Fresno, San Bernardino, and Stockton) or
are in close proximity to Lake Erie (Buffalo, Toledo, Cleveland, and Detroit)
Memphis is the outlier to that group, with Detroit occupying the 101st and bottom position.
However, Salisbury doesn't have a particularly high GDP per capita or low unemployment rate, nor is life expectancy that great compared to other places. As a state Maryland is certainly aided by its close proximity to Washington, D.C. but Baltimore's far lower rating may be closer to the conditions we have to endure here. It could be argued that our area has several of the same pitfalls that plague inland California (Sacramento, Stockton, et. al.) – chronic high unemployment in an area best known for agriculture due to a temperate climate. The agricultural base contributes to the low per capita GDP while the high unemployment eventually manifests itself in a shorter life expectancy thanks to crime and lack of preventative health care.
Short of a Bill Gates suddenly showing up and showering the area with wealth, these factors will remain common to our area. Unfortunately, the few assets we seem to have are difficult to leverage into productive careers. Most of our more lucrative jobs have to do with health care and government as opposed to STEM-based or manufacturing positions, which add more value and GDP. The exceptions to this are having the headquarters of Perdue in Salisbury and the Wallops Island NASA complex; while the latter is a government installation there are a number of private companies which use their facilities. While it's almost 50 miles away, Salisbury is the closest city of reasonable size to the remote installation on Virginia's Eastern Shore.
But those two entities need to be joined by many others to truly bring a better quality of life to Salisbury. To use a good local analogy, it's like a chicken-and-egg question: does the quality of life come from good jobs or do jobs spring from a good quality of life? I believe the former is true, while our mayor seems to side with the latter. Over the next few years, we will see who is correct in our local case.
After doing this the last two years one would think I would be an expert at dissecting what will go on over the course of a year, but in this case my crystal ball is a little bit cloudy. Perhaps that's because things are looking up for a change.
I went to the state Department of Labor, Licensing, and Regulation website and downloaded some figures which reflect great job creation news – particularly in the latter half of this year. Since June, Wicomico County employment figures are running between 1,300 and 1,800 jobs higher than the corresponding month of 2014. Conversely, in 2014 we never ran more than 753 jobs ahead of 2013 and by the end of last year we actually had fewer employed than the year prior. That downturn carried into this calendar year but by March we had turned the corner.
The growth in the latter half of the year was reminiscent of the boom period of 2004-06, when Wicomico County routinely gained 1,000 or more jobs in every month year-over-year.
So the question will be whether county revenues begin to increase. Unlike the boom of a decade ago, which was fueled by a rapid increase in property values that later translated into increased tax collections, this upturn doesn't come with rapidly appreciating property values. And there are plenty of bills for the county to pay – two new schools with a third one now placed into the pipeline as well as new facilities for the Board of Elections, increased mandates for education spending and environmental cleanup from the state and federal governments, respectively, and a call from the city of Salisbury to assist them more with fire protection expenses through a more equitable revenue sharing. Certainly it appears that any new money has a number of hands reaching out for it.
Another question regards how well two relatively new leaders will work with each other. It's fortunate that both County Executive Bob Culver and Salisbury Mayor Jake Day spent a little bit of time on the legislative side of things because it will help them understand the process the other has to go through to get things done. If there's one thing we have learned from Culver, though, it's that he's a man of action who always seems to have a to-do list of improvements he'd like to see. It's more autocratic than bureaucratic on the county side of the Government Office Building these days. Initial impressions of Day seem to be similar, although he's made much less of an impact on taking office than Culver did insofar as personnel decisions are concerned.
But there are two key issues regarding education that will be out of Culver's hands. One is the fate of the elected school board, which is now up to the Maryland General Assembly. The other is the new superintendent that will take over the county schools sometime in 2016. The Board of Education begins the selection process after the holidays – by the way, the county Republican Central Committee will be called upon to retain or replace two GOP members of that body this summer.
Getting around may become a little more difficult next fall as well, as the state will begin replacing 11 bridge decks on the U.S. 13 bypass. It's a project that's not supposed to impact summer traffic in 2017 but won't be complete until 2018.
In comparison to previous years there doesn't seem to be anything particularly contentious on the horizon – with the possible exception of the proposed large-scale chicken farms Radical Green is already up in arms against – which probably means we're going to have an interesting year. If we can keep up the pace of job creation, though, eventually the local economy will get back to where it was a decade ago and prosperity takes care of a lot of problems.
Tomorrow I shift my focus to the state as a whole.
One nice thing about Salisbury elections is that money unspent in the campaigns is not carried over to the next election but is required to either be returned to contributors or given to another entity, normally a charity. (There are exceptions, though – stick with me, it's called foreshadowing.) With the release of the final financial statements earlier this week, I was curious to see where all the money went.
I'll begin with the City Council races and District 1, where defeated incumbent Shanie Shields distributed $959.48 to a number of organizations around her neighborhood. $500 went to the Chipman Foundation while smaller amounts were received by the Wesley Temple, Operation We Care, and two local elementary schools, West Salisbury and Pemberton. Meanwhile, the winner April Jackson donated her modest leftover sum of $26.82 to the Salisbury Advisory Council while Sarah Halcott closed out her books by donating $96.13 to the Art Institute and Gallery. That made sense given Halcott's line of business as an artisan.
There wasn't a lot of money left in District 2, as the only candidate to file a final statement was victor Muir Boda. Boda gave $39.61 to Salisbury Neighborhood Housing Services.
District 3 winner Jack Heath had much more unspent, as he distributed $1,495.80 among four recipients: Lower Shore Enterprises, Operation We Care, the Salisbury Zoo, and the Joseph House. Amounts ranged from $325 to $500 for each. Neither of the other candidates had leftover funds at the end of the campaign.
Lots of money flowed into District 4, but not all of it was spent campaigning. Jim Ireton split the $399.96 remaining balance equally between the Wicomico High softball team, Tri-Community Mediation, and the Wicomico Public Library Homework Help Center. On the other hand, Roger Mazzullo had no money remaining.
Finally among the Council members, Laura Mitchell did not need to file a report. She was the lone unopposed Council candidate, as was Mayor Jake Day for his post. And that's where the story gets interesting.
First of all, Day was two days late in filing his report because he has a discrepancy between his records and accounts of $764.85. I make no accusations as to funny business; most likely someone put a number in the wrong column or the bank messed up. There are any number of logical reasons for the error.
More importantly, though, Day had over $10,000 to distribute – getting contributions when running unopposed will tend to do that – and he chose to make two disbursements. Instead of charitable contributions, though, as of this week we have two brand new state political entities:
Jake Day for Maryland had an initial contribution of $6,000. Day serves as the chairman and his campaign treasurer Jordan Gilmore retains that role for the new entity.
The New Day for Maryland PAC got the remaining $4,075.89, with Day's campaign manager Alison Pulcher serving as chair and Gilmore as treasurer.
Note that the PAC is not to be confused with the New Day MD PAC that former gubernatorial candidate Charles Lollar began in 2009. Lollar's PAC, as of its 2015 report filed in January, has less than $250 to its name.
Naturally these new campaign finance entities make me wonder if Day is going to serve a full term unhindered by political aspirations or perhaps challenge Bob Culver in 2018. Heck, even Jim Ireton – who has strongly hinted about a Congressional run – didn't move his city money to create a federal account. (Ireton's had a state account for a few years, with just over $1,000 in it at last report back in January.) But the campaign entity can also serve as a warchest to stave off challengers in the next city election, too.
In the meantime, we should be proud that much of the leftover campaign cash will be doing good in the community. With the elections now set for November, the contributions came as a nice Christmas gift to several local entities. It will have to tide them over through 2019, though.
Update: Day responds:
@monoblogueUS quote if u need: only job I want is #SBY Mayor but uncontested or no, Im not giving away my donors' $. They made an investment

— Mayor Jake Day (@jacobrday) December 24, 2015
Earlier this week the Tax Foundation released its annual State Business Tax Climate Index. Despite Governor Hogan's insistence on improving business climate and efforts to adopt some of the Augustine Commission's reforms, Maryland once again has the dubious distinction of being a bottom-10 state.
Yes, that sickening orange color tags us as a state to avoid insofar as business taxes are concerned. In truth, we've only dropped one spot from the 2015 index so while we could have made a few minor improvements other states are improving at a faster pace. (Maryland seems to tread water – over the last four years we have oscillated between #40 and #41.) Moreover, we still lag behind all of our neighbors with Delaware again leading the region. The First State maintained its #14 ranking.
There is one important caveat to Maryland's decline which could push them out of the bottom 10 next year. Late last month Governor Hogan announced a significant cut in the unemployment insurance tax, which is one of the factors (albeit the least-weighted) the Tax Foundation uses to determine its rank order. But other states are trying to push the envelope more quickly by reducing corporate and individual tax rates, something Maryland has talked about but not acted upon. (The Tax Foundation's weighting process is explained on page 16 of their full report.)
While reducing regulations doesn't always require legislative approval, the tax nut is a harder one to crack. The requirement to balance the budget means that revenue no longer extracted from corporations and small businesses alike can't be used for profligate spending. At a time when government getting an increase that's less than expected brings screams about draconian cuts from the left side of the aisle, heads truly explode when less real money is allocated. Even if you get 97 cents when you used to get a dollar, liberals act as if you just shot their unicorn with a scary-looking AR-15.
There's a reason I bring up 97 cents as a particular figure. According to the state's FY2016 budget, the corporate income tax accounts for 3% of the revenue; thus, eliminating it entirely would mean a corresponding budget cut. (We'll leave aside the obvious competitive benefit to the state, which would eventually attract more business and increase revenue via other means such as income and sales taxes.) While it's true that having a poor corporate tax ranking doesn't completely eliminate the good – Delaware's #50 ranking in corporate taxes only drags its overall rank to #14 – eliminating the tax would make it plain that Maryland is indeed "open for business."
Eliminating the tax would also eliminate what's become an annual debate about combined reporting. Proponents of its adoption, mainly Democrats, claim large businesses are not paying their fair share because they use the accounting trick of claiming their income arises from low-tax states. They may make actual profit in Maryland but don't report it because they have operations in other. more tax-friendly states. The most recent iteration of the idea came last year, with the tradeoff that would have eliminated filing fees for small (less than 10 employee) businesses. In that respect it was a money-loser for the state; however, the research showed in better economic times the effect would be beneficial to state coffers.
Interestingly, Salisbury has a new mayor that epitomizes the opposite end of the chicken-and-egg approach: last week in the Salisbury Independent, Jake Day was quoted as noting:
"Economic development isn't what it used to be," he said. "It includes more activities. It's now about culture. About quality of life issues. The arts and people. Parks, bike trails, bike lanes. And if you don't get those right, don't even talk about workforce development and industry and business development efforts, because you have to have those things to attract anyone."
This portion of Delmarva boasts a lot of natural beauty along its rivers and coastlines, a well-regarded university, and a proportionate share of arts and culture. Perhaps the traditional bricks-and-mortar manufacturing or legacy service industries won't come to Salisbury, but it's been obvious over the last ten years that the beauty, academics, and culture isn't exactly making this a hotbed of economic activity either. There needs to be a more balanced approach to development because it takes a fair amount of money to create and maintain parks, bike trails, and bike lanes – particularly if the money is granted from the state as it often is. We may be competitors to certain other urban areas around the state, but development somewhere else in the state or even another state, depending on the grant source, is paying the lion's share for the bike lanes to be installed here. (In some cases, local gifts have helped.) Funding will also be required to maintain parks and develop new ones like Pirate's Wharf along the Wicomico River.
There are thousands who have moved here over the decades as adults, and for the most part they came here for one of two reasons: they came to school or they came for a job. And if they came for school, there's no guarantee they will stay if jobs or entrepreneurial opportunities aren't available.
Simply put, Maryland has a long way to go in overcoming the poor reputation they have for growing and attracting businesses. It's a lot easier for those on the Western Shore to prosper when there's a ready-made source of confiscated wealth in close proximity. (If all those people had to find honest work Maryland would be just like West Virginia, with high unemployment. Because it's well away from that honey pot of confiscated largess, the lower Eastern Shore already is in that same high-joblessness boat.)
I learned the other day that the Augustine Commission determined 1/4 of Maryland's GDP comes from the federal government. If we can rightsize the federal government over the coming decades, Maryland will be negatively affected in what would be of overall benefit to the nation. It's time to wean our state off the opioid of living off the federal employees and make strides in diversifying our economy. For that reason, making our state more business-friendly simply has to occur.
Tonight the City of Salisbury embarked on a new chapter in its government as its City Council changed hands. Ironically, the person running the meeting at the beginning would shortly become the city's mayor – Jake Day wielded the gavel for the last time, departing slightly from the agenda to ask for a moment of silence for the people of Paris.
But the first to make comments was outgoing mayor Jim Ireton, who credited the "unsung heroes" who voted for him twice as mayor but "await(s) the incredible things we'll do together" during the next four years. Ireton also noted later that changing just one person on council can make a profound difference in the body.
Jack Heath, who won election to a full term, noted he "came to know the power of the city and the goodness of its workers." The man he defeated, Tim Spies, said the last 4 1/2 years were "good for me" and believed the city had a terrific future, with high expectations. He encouraged more people to make a Monday night of getting to Council meetings, adding afterward it was half-price burger night at the Irish Penny to cap off the evening. Public service for him was "fulfilling" with no end to opportunities, Spies said later.
Outgoing Mayor Ireton noted on Spies, "We would be well to have 33,000 Tim Spieses in the city."
The other Council member leaving, Shanie Shields, vowed "I'm not going anywhere." Not only would she be there for her successors, she planned on using her newfound time to make County Council meetings. In speaking of Shields, Ireton noted that the Salisbury he grew up in was a "place of 1,000 moms" and Shields was one of them. Shields, he added, reminded him never to forget our best work is ahead of us.
Noting the overflow crowd in the garage of Station 16, Laura Mitchell also hoped they would stay involved. "I would love to see more of this." Day wrapped up that portion of the evening to noting Council had "exceeded my expectations."
Ireton and Day, with help from Delegates Christopher Adams, Carl Anderton, and Sherrie Sample-Hughes, and Senator Jim Mathias, presented certificates to Shields and Spies. Anderton also revealed to the audience that Governor Larry Hogan had come through his cancer treatment successfully and was deemed cancer-free, which brought rousing applause from the gathering.
Once those who were leaving were honored, it was time to turn the page and swear in the new members. The Council went first, then Jake Day, with his wife and daughter by his side.
Our featured speaker was Comptroller Peter Franchot, who let us know "I'm a huge fan of Jake Day."
In his relatively brief remarks, he praised Salisbury as "a city on the rise" with "fresh talent (and) new energy." We were crucial to the state's economic fabric, concluded Franchot.
The Council did have a little work to do, though: electing officers. In what turned out to be uncontested votes by acclamation, Jim Ireton nominated Jack Heath to be Council president and Muir Boda nominated Laura Mitchell to its vice-president.
Once again, we heard remarks from the new Mayor and Council. Day made a laundry list of promises, concluding with a vow "we will give you a Salisbury we can be proud of."
It was noted that Muir Boda had won after multiple tries for office, to which he responded, "I'm finally here." Even though it was a long process for Boda, he was nowhere near as emotional as April Jackson, who choked up when she said, "I wish my dad could be here." A well-known community leader, Billy Gene Jackson died earlier this year. Once she regained her composure, she told the crowd, "I'm ready to go. Not to go home, but to get to work!"
As the new Council President, Jack Heath said mutual respect and inclusion was "his pledge." Once he spoke, he rapped the gavel and declared the meeting to be adjourned.
Because it comes on board at this point in the year, the Council will get to ease into its duties a little bit – the city's budget isn't due for a few months. But we will have crime and economic development to deal with, and that's a pretty full plate as well.
I think they'll do just fine. To wrap up, here's a guy I'm proud to call friend, Muir Boda, and his wife Briggit.
It took six years, but I'm pleased my support finally helped make him a winner. My advice to him? Get used to having your picture taken.
To borrow a phrase from Delegate Carl,Anderton, let's get to work!
Without doing a full rehash of Election 2015, there is a further observation I have about the recent election here in Salisbury and the effect it will have on local politics at the club level. It also gives me the excuse to work something else in while I'm at it.
Second only to Jake Day, the story of Tuesday's election seems to be Muir Boda. He's the epitome of perseverance, having run four previous times for office yet never winning (even though I voted for him most of the time.) But at the same time, City Council's gain will be the Wicomico County Republican Club's loss, since he's the second-in-command there and both bodies meet on the fourth Monday of the month. He wasn't elected by District 2 residents to run our meetings when the president is away.
It brings me to a point I think it's time to make.
There are a lot of Republicans and GOP elected officials in Wicomico County, and we're graced by the presence of many of them each month at the WCRC meetings. Over the last decade, though, it seems to me that the number of elected officials getting out to the WCRC monthly meetings has increased but the number of overall attendees has decreased. Our meetings generally attract between 20 and 30 people, which is only about 1/10th of 1% of the total number of Republicans in the county. (As of September, that number is 20,943.)
While the faces at the top have changed (two members of County Council are recent past WCRC presidents, along with the woman who managed Boda's campaign) there are others who have been in a leadership role for years (myself included.) It sounds like that is also the case for the Republican Women of Wicomico (RWOW), which has dwindled down to a few members and is in serious need of a reboot – which some enterprising women are trying to provide before the group loses its charter.
Leadership of our club seems to be a springboard to future political success, but aside from the diehards who come to the meeting each month it seems like we aren't registering with Republicans at-large in the county.
2016 will be an important year for local Republicans in just one area. We have no local races and it's rather likely we will continue a nearly 30-year streak of voting GOP at the top of the ticket, so the suspense may well be whether we get the referendum we have sought in order to elect our school board.
But just as the RWOW group needs some new blood, so does the WCRC. It's a classic chicken-and-egg problem, though – how do you recruit new members to expand events and outreach without burning out the ones you have? Ideally there would be 20 to 30 people instrumental in growing the WCRC, not just a handful. We just seem to keep losing them to elected office, as now we will need to replace Muir Boda.
It seems to me the time has come to discuss where we are as a group. Sure, we raise a lot of money at some of our events but what are we doing to advance other conservative causes? Do we just continue to slog along, meeting once a month, holding an annual Crab Feast, and bemoaning our fate otherwise? Or do we try some different activities, get into more issue advocacy, and try to embed ourselves into the community more?
It wouldn't shock me if a lot of our current members are fine with the status quo. There have been various ideas tried from time to time, but they don't seem to catch on very well among the group. Maybe all we will ever be is what we are now, particularly as political discussion often runs afoul of tolerance.
While the WCRC certainly has had staying power, there is nothing necessarily permanent about it. Perhaps it will slip into the dustbin of history as a relic of a bygone age when being social meant actually getting up from your chair and out from behind your iPad to actually converse with real live humans. Who knows – we may be eventually morphing into a simple Facebook discussion group. (As an example, do you remember Meetups? When was the last one you participated in?)
In life, nothing lasts forever. (My faith allows me to believe otherwise afterward, but I'm discussing worldly things at the moment.) If you ask me, next year is a make-or-break year for the Wicomico County Republican Club.
Republicans in Wicomico County have an advocacy group, but like Benjamin Franklin once said about our republic it's only around as long as we can keep it. What I wish for the group is a team of leaders and idea people who want to take on the challenge of making ourselves relevant again, not just being the conduit for campaign funds.
I've lost track of how many WCRC meetings I've reported on but I would guess it's been at least 80. At some point, though, we all have to move on so when that last meeting I cover comes and goes I want to leave things in better shape than when I arrived.
We knew awhile back that Jake Day would Salisbury's next mayor several months ago when the filing deadline came and went with him as the only candidate in the field. The only question was whether he would get a City Council friendly to his interests, and the answer is somewhat mixed.
With the redistricting set up as it was, it was possible somewhere between one and three incumbents would be elected, as well as the possibility the outgoing mayor would hang around as a Council member. When the smoke cleared tonight, we got the old mayor and two incumbents – one of them, though, is incumbent only a few months as he was appointed to a vacancy last year.
The previous (outgoing) edition of City Council was Day as president, Laura Mitchell as vice-president, and Jack Heath, Shanie Shields, and Tim Spies. We know Day advanced to mayor, while Mitchell was unopposed for her District 5 seat – the only two getting a free pass.
Redistricting lumped Heath and Spies into the same District 3, with Heath getting the victory tonight. Meanwhile, District 1 incumbent Shanie Shields lost her rematch from 2013 with April Jackson, who got 48% of a three-way vote.
In District 4, Jim Ireton prevailed by 53 votes over newcomer Roger Mazzullo, but Muir Boda blew out the field in District 2 – he only got 80 votes but everyone else combined for just 57. Yes, turnout was terrible – initial totals indicate just 1,414 voters bothered to show out of 13,455 registered. Of course, the lack of a mayor's race – or any race in District 5, which is the largest district in terms of voters – did the most to dampen turnout on what was otherwise a gorgeous day to go to the polls.
With the exception of District 4 I think the Council will be an improvement. Interestingly enough, the newly elected Councilman announced on WBOC-TV he's already considering another race, perhaps seeking the Democratic nomination for Congress next year. Honestly, for his sake I hope Jim Ireton is kidding because I think the rest of Council is willing to be the work horses rather than the show horse.
A couple other things about the changeover – the composition of the body gets a shade younger because Boda's relative youth outweighs the age increase between Day and Ireton, who is a dozen years older, and Jackson being a few years younger than Shields. Boda also marks the first elected Republican since Louise Smith served from 2007-11.
So if there's anything I foresee among City Council, I suspect there will be some tension between former mayor Ireton and new mayor Day. I'm sure there is precedent for former Salisbury mayors returning to government; however, my limited experience with the city means Day is only the third mayor I've lived under in 11 years. Previous mayor Barrie Parsons Tilghman has largely avoided the spotlight since she left office in 2009. Whether it's Ireton's atrocious rent control idea, his high-strung personality, or his jihad against those who invest in the city as landlords, Jim may be the sand in the gears when it comes to moving Salisbury forward.
With the new rules, the city is now set until 2019 – no more alternating elections in the spring of odd-numbered years. It will make 2017 rather quiet around these parts until the latter half when state campaigns get going.
On a personal note, those who advertised with me went 1-for-2, and while Muir Boda lapped the field I would say getting 44% as a novice candidate against an incumbent mayor with built-in name recognition as Roger Mazzullo did counts as a moral victory. So if you want to increase your market share, you may consider giving this website a try.
I was struck today by a Facebook post from an old friend of mine, a former co-worker from Ohio who I credit with introducing me to Rush Limbaugh. (We had the original "Rush room" at our office. It's a long story.) He and his wife are both running for office in their little town, with him running for City Council and her seeking a seat on the local school board. (Yes, like probably 90% of other Americans, they have an elected school board.)
One thing I had to gently chastise him about is that the campaign didn't end today like he said – it ends tomorrow when the last vote is cast. Regardless, he and his wife are among the many thousands who are trying for everything from township trustee to governor (Kentucky and Mississippi have gubernatorial elections tomorrow.) We talk a lot about the Presidential horse race, but those tiny races that involve just a few dozen voters mean the world to those local candidates. The vast majority of them have no desire to be on the debate stage with Ben Carson, Hillary Clinton, et. al. – they just believe they can bring new and improved ideas for making their towns or cities great again, perhaps saving the idea of America in the process.
Years ago, I was one of those who stood out in the cold all day for a municipal candidate or two, whether for my Council district or for mayor, or some other office. The memories start to blur after awhile, although it was always an uphill battle supporting Republicans in Toledo and Lucas County – that much I remember. It seemed like the teachers' union, Teamsters, or UAW always had people working polls while the GOP had – me. (They worked shifts, I was there all day. I was precinct chair, so I considered it my job.)
In this day and age, running for office can be a lot of work. Perhaps the toughest part of seeking an elected position is getting enough buy-in from people to become volunteers. While thousands run for office, and many more thousands make a living (or at least some small paycheck) working in politics as a profession, the fact is voters in this country exist in the millions. It's a tremendous task to contact all of them for a national campaign, arduous at a state level, but once you reach the county and local levels retail politics is possible. I don't think Ben Carson is going to knock on my door, but both Keyvan Aarabi and Muir Boda did this year, as did Josh Hastings last year and Jake Day the year before. (Alas, I was home for neither this year. I just know they were here by the literature they left.)
Just to use Salisbury as an example, there will only be six winners tomorrow while eight others will see their dreams dashed. In that latter number will be at least one incumbent member of City Council as redistricting put them together; on the other hand, the incoming mayor and one incumbent Council member will win the moment they vote for themselves. It's the other twelve who will be sweating it out tomorrow night.
I really have a vested interest in only two races. I live in District 2 and was pleased my friend Muir Boda lived in the same district, so if you do I encourage you to vote for him.
Literally across the street from me is District 4. One has to wonder why current mayor Jim Ireton – who vowed that "help is on the way" in his initial campaign – is retreating from the mayor's office where he can best provide said help to run for City Council. My guess is that he knew rather quickly Jake Day would crush him if he ran for another term, and at the speed which Day not only racked up support over the incumbent Debbie Campbell in 2013 but became Council president upon taking office it was likely Jim tried to shape his district to his advantage, figuring he would have an easy ride onto Council to keep his hand in the game.
But the recent push by Ireton to punish landlords via rent control isn't about empowering renters, but beating up political opponents and dividing the city between haves and have-nots. Otherwise why exempt multi-family residences? On the other hand, I was impressed enough by Roger Mazzullo that I crossed the aisle to take his ad. I doubt I would agree with him on every single issue, but he wants the city to be more business-friendly and so do I. The soon-to-be-former mayor may argue he's for business too, but he seems to have it in for a group who invests in the city and we're tired of the drama. The citizens of Salisbury should make a clean break from the Ireton era and elect Roger Mazzullo.
By this time tomorrow night we should know who will be working with Jake Day to move Salisbury forward. Feel free to ask me for suggestions.
And after the campaigns are over, win or lose, take a few moments to appreciate those who sacrificed many evenings, weekends, and family events to present themselves for serving you as an elected official. They're not always the most popular lot but at this local level they're doing it for their hometowns rather than personal gain. Even if they lose, I hope they stay involved.