Tonight I had a choice: expand once again on a topic I wrote about for today's Patriot Post or go to Third Friday and see the sights. Our military prowess is important, but this one was more fun.
Hundreds of people agreed with me. The first photo was taken looking west from Division Street while the second was from within the Plaza. They were taken perhaps 20 minutes apart.
I hadn't taken ten steps into the Plaza when I saw City Council member Laura Mitchell and husband Miguel heading out. Seems like Third Friday is the place for people I know. But I wasn't really expecting this guy, who's about 30 miles from being "downy o'shun."
Yes, that's former Delegate Don Murphy hanging out with current Delegate Carl Anderton and Jackie Wellfonder, at whose behest I took the photo.
But there were two people looking for votes at tables. One was mayoral candidate Jake Day, who has no one on the ballot against him, and the other was Muir Boda.
He had a well-stocked table, but then Muir's been a Third Friday fan for a long time.
One element which contributes to its success is the music. This month The Larks were playing on the Plaza.
That photo came out pretty well for being taken in the twilight. The earlier sunset made the event finish after dark.
And as it was winding down, it was plain to see that a block of Division Street was one giant sidewalk chalk canvas. They probably had 200 boxes scattered around Third Friday; fortunately, there's not much chance of rain although there is a 100% chance of traffic rolling over the colorful street.
Tonight was the second-to-last outdoor Third Friday of the year, although there will be outdoor events associated with it from time to time over the winter months. Throughout this year, it seems the crowds have been excellent and the city is trying to expand on the success with First Saturday and the trolley between Salisbury University and downtown which runs on weekend nights.
With all that is going on this weekend around the region, Third Friday seems to be holding its own. Salisbury's had its share of bad news over the last decade, but this golden goose continues to produce each warm-weather month.
It was via a roundabout route, but we finally heard from the man who's presumptively Salisbury's next mayor, Jake Day. Because Jake had another place to be this evening – the Salisbury City Council meeting that he ran as their president – we had a succession of speakers to fill the time. It was interesting to note that several of these speakers dropped in as our meeting was going on, which told me they were looking forward to hearing what Jake had to say.
But we began as we always do, with the Lord's Prayer, Pledge of Allegiance, and introduction of distinguished guests, all done by our first vice-president Muir Boda, who filled in for our under-the-weather president Shawn Jester. We then did the swearing in of new second vice-president Dave Snyder, who pledged to be "a very good listener" and work to recruit 100 new GOP voters and new club members.
I took a little time to thank people for helping out at the Wicomico County Fair, as did Dave. My one suggestion was to perhaps look into a spot for outside next year.
In a Central Committee report, Mark McIver called the elected school board "one of the biggest things on our plate." He added there was a new initiative called "We Decide" that was a non-partisan group to back an all-elected school board, and related the urging from County Council that we should participate in these hearings. It was going to be "an 8-week push."
Mark Edney added his two cents, informing us that there will be an initiative this fall to address the issue of vacancies in the General Assembly through the state party's bylaws. Noting the issues faced by Carroll County, Edney intoned that it was "important that we get this right" because members of both parties in the General Assembly sought to take away the power local Central Committees had to choose successors.
Joe Ollinger updated us on the Crab Feast, which had most of the items in place except a silent auction coordinator. It's still on schedule for September 12 at Schumaker Park.
Speaking of food, Muir Boda announced his own, more modest event this Saturday at Doverdale Park. His community barbecue was slated for 3-5 p.m. but volunteers could show up at 2:00. Boda remarked he had three opponents in the election, so getting out the vote was paramount.
He also commented that the proposed city curfew was a "big issue" but questioned whether it would be enforceable given current resources and the spread-out geography of Salisbury. By itself, a curfew "won't solve youth crime," Muir said.
Senator Addie Eckardt, who had arrived after we began, spoke briefly about her upcoming annual bike ride through the district that will cover Wicomico County on Thursday. She also praised Governor Hogan, who has "put a great team together." It would help government become, as she put it, more responsive and cost-effective.
Delegate Christopher Adams remarked about his attendance at the defund Planned Parenthood rally in Easton as well as a stop last week at Wallops Island in Virginia. They were expecting to resume launches at the pad damaged in an explosion last fall by March, he said.
Looking forward, though, he wanted to concentrate on regulatory reform, as some needed changes could be done more easily through that avenue than through the legislative process.
Fellow Delegate Johnny Mautz predicted "a really busy session" next year but expressed his disappointment in getting a low 25% score from the League of Conservation Voters. I looked up the floor votes they scored: two were anti-fracking measures and the other was the "repeal" of the rain tax sponsored by Mike Miller. So pro-business was not going to meet pro-environmnet with the LCV.
Bunky Luffman stood in for Delegate Carl Anderton, commenting to an earlier point made about regulation by bringing up the sprinkler mandate that is halting construction locally. One local developer lost a builder who refused to build more dwellings – they weren't able to make money with the mandate and additional costs.
Most of the legislators had come late to hear Jake Day, who spoke for about 15 minutes and answered questions for another 20. Apologizing both for being late and a lack of sleep as a new dad, Day told us he was "very excited" about becoming mayor. As a Council member he was pursuing a pro-business agenda, but noted "I have found a roadblock in the current administration." Like the state of Maryland, his effort would be to attract business: "I want us to be competitive," said Day, citing Delaware under Jack Markell as a "more friendly and welcoming environment." Perdue's decision to move some of its corporate operations to Delaware "sent a message," said Jake. "The economy will be first and foremost on my mind each day." His idea was to grow jobs "locally and organically,"
One area he saw as a job creator was downtown, for which revitalization was important to Jake. It's "part of the renaissance" of Salisbury, said Day. He criticized the "lack of active leadership from the top" and sought a City Council that was cordial, but aggressive. He also announced the intention to continue divesting the city's surface parking lots, believing successful downtowns do better with infill rather than surface parking.
Crime was another top issue. Day observed that criminal activity was starting at a younger and younger age, so the city could have to "pick up where the parents left off."
It was an enlightening address, but the questions were good, too. The first one out of the chute was about the "rain tax." Jake disagreed with the state mandate, but believed it was necessary for a city which had ignored the issue for over a century. He was willing, though, to reduce property tax rates and scrap the city's inventory tax to help even things out.
And when I asked why the city couldn't use its water and sewer fund surplus, Day said the surplus was being depleted too quickly. Basically the relief would be short-term at best.
Corollary to that initial question was a discussion about the closing of Labinal, which will cost the city hundreds of jobs. While the popular opinion was that the state's difficult business climate drove them away, Day said the answer was more simple: Texas (and Mexico) were closer to their main customer base, and Salisbury mainly served military clients whose contracts were winding down.
A second concern was the issue with fire service. Rather than the "big mistake" of giving ultimatums through the media, Jake was working closely with county officials in coming up with a long-term solution. He conceded it probably wouldn't be all the city wanted, but noted that he and County Executive Bob Culver were "working well together." The key was making things more fair in a way that doesn't alienate non-city residents.
Our wastewater treatment plant was the subject of a question. Calling its saga "a scar on Salisbury's history," Day announced the next phase of renovations would begin in October. Bunky Luffman, who formerly worked at the plant, pointed out it had reduced the amounts of nitrogen and phosphorou, but not enough to meet more stringent state standards that changed midstream.
A final questioner tested Day on his "number one challenge – is my (business) location safe?" Crime was a concern for local businesses, and "a lot of solutions to our challenges are economic," Jake said. He vowed to show leadership and compile more data on the current conditions.
We finally let Jake go, so that Boda could announce our next meeting would be September 28. Hopefully it will be as chock-full of information as this one was.
One reason the Salisbury city elections were changed beginning this year was the abysmal turnout they usually had in the spring. Sadly, turnout will likely be lower still thanks to the lack of a mayor's race. The deadline came and went today and Jake Day is the only candidate who filed for mayor.
Voters in District 5, on the city's far east side, will have even less reason to show up because incumbent Council member Laura Mitchell was the only one bothering to run in her district.
On the other hand, there are old-fashioned shootouts in the other four Council districts. Two incumbents lumped together in District 3 will tangle as both Tim Spies, who won in his second try in 2011, and 2014 appointee Jack Heath will both battle for that seat along with Kevin Lindsay, who was one of 11 unsuccessful applicants to succeed Terry Cohen when she resigned last year – it was the seat Heath won appointment to. It's a district that takes in the Camden neighborhood by Salisbury University and hops across the Wicomico River to take in areas along Pemberton Drive.
There are two others who tried for the Cohen chair that are running for election this year: Sarah Halcott in District 1 and Muir Boda in District 2. Halcott faces two foes who are familiar with each other: incumbent Shanie Shields and 2013 opponent April Jackson in this inner-city and near west side district. Boda, who is in a district with no incumbent, has three fellow challengers in Keyvan Aarabi, Marvin Ames, and Justin Gregoli. Ames ran for the District 1 County Council seat last year but lost in the Democratic primary. District 2 covers the close-in neighborhoods on the north and east sides of Salisbury (and is my home district.)
Instead of running again for mayor, Jim Ireton opted to run for City Council in District 4. He will face two others vying for the seat: Kenneth Vickers III and Roger Mazzullo. That district is perhaps the largest in geography as it takes in most of the commercial center along the northern fringes of town before veering toward downtown Salisbury.
And downtown will have a friend in Day, who has to be pinching himself and wondering how he was fortunate enough not to have an opponent in his run for mayor. It's very possible, though, that he may just switch roles with Ireton as he would likely seek to be Council president after being put on the Council as Day did after the 2013 election. (Ireton has served on City Council before, though. He was on it for about a year before leaving – as the story goes it was to take a job out of town.)
With no incumbent in District 2, that will be an interesting race as the victor may be the only newcomer to city government. Boda has run for City Council twice before, losing to incumbent Debbie Campbell in 2009 and finishing fourth behind Mitchell, Cohen, and Spies in 2011.
Out of the 16 total candidates, there are six incumbents (one by appointment), four who have sought election at least once before and lost (including the appointee), four who tried for appointment (one apiece being also in the previous two categories), and five who are apparently political neophytes. Some have steeper learning curves than others.
Interestingly to me, the lack of a primary election means financial disclosure statements will not be due until a week before the election – so no one will know just how the money supply is for candidates until the last minute. (Had the primary remained in place, it would have been held in early September for voters in all but District 5 as the three or four candidates otherwise would have been whittled down to two in each race.) One can ask the legitimate question of who, if anyone, Jake Day will ask his donors to give to now that he is in the clear. (They can also ask about Laura Mitchell.) As two incumbents who got a free ride, their backing could make a difference.
So the first hurdle is crossed, eleven weeks before we actually vote. For a candidate, 77 days can seem like an eternity until they get to mid-October and wonder how they will get through the next few weeks with all they need to do. I look forward to hearing some new and good ideas for the city of Salisbury from this group.
Sometimes we make the best advance plans and they go for naught. It happened to the Wicomico County Republican Club tonight when not just one, but both of their scheduled speakers had to send their regrets thanks to Uncle Sam and an Annapolis meeting. So we heard from neither Jake Day nor Jeannie Haddaway-Riccio tonight.
But we did get some business done and firmed up a number of dates for future reference.
Alison Pulcher filled in for Jake Day a little bit as his campaign manager, officially sending his regrets by noting he was "really sad" that he couldn't be there. One question which was asked is why the onetime Republican switched parties, with Pulcher responding her belief that he has "ideologies on both sides of the plate." She herself was impressed with the passion on both sides of the aisle here, as she isn't a native to the region.
In his Central Committee report, Mark McIver confirmed the Lincoln Day Dinner is slated for November 7 and will feature Andy Harris. But he also asked for a moment of silence for longtime WCRCC member Blan Harcum, whose farm was the scene of an incident today that left Mark "devastated."
After that silence, McIver was asked whether the Central Committee had any involvement with the local liquor board, which they do not. But it was a point that we should check into as appointments were allegedly made at the behest of one of our local Senators, and not the one who is of our party.
The conversation then turned to the elected school board as McIver was one of those chosen to testify in an open work session before County Council. Intentionally or not, it was somewhat stacked with Democrats and opponents of an elected board.
Marc Kilmer chimed in, announcing public hearings were scheduled for September 10, 22, and 29, and October 15. They would be distributed between the Pittsville/Parsonsburg area, Delmar, the Wicomico Youth and Civic Center, and First Baptist Church in Salisbury. The only confirmed date/location so far is September 22 at the WYCC.
Kilmer conceded, though, that things may be beyond our control. When it comes to getting the legislation necessary for the transition, "the only person that matters is Jim Mathias." Custom requires that all Senators representing a county should be on board with legislation affecting it, and Mathias shares representation with Addie Eckardt, who supports the elected board.
Since the two newest school board members were there, it was asked if they could make the point to the incoming superintendent that this was something they may have to work with. The process will begin soon, but one thing I didn't know is that the new administrator has to win state approval as well. I suspect we may not get the school board's first choice.
Because we lost an officer when Joe Collins was selected for the Board of Elections, we had to select a new 2nd vice-president and Dave Snyder stepped forward. He was elected by acclamation.
The next announcement was that the Wicomico County Fair was coming up August 14-16. I had a signup sheet out for fine Republicans to work at our table, and I'm pleased with the response. Ann Suthowski suggested we let the elected and appointed officials know we would be there.
Another event on the horizon is the Crab Feast, which is coming together. We should have the liquor license this week, so "our biggest fundraiser" was just in need of volunteers to help with setup, cooking, takedown, and the silent auction. We are set for September 12 otherwise, and the tickets are just $30.
That was pretty much the extent of a tidy meeting which came in under an hour. Next month we hope to reschedule Jake Day (and maybe Jeannie Haddaway-Riccio) – regardless we will reconvene on August 24.
It was apparent from the start that Jake Day was a guy in a hurry. Not content to learn the ropes as a member of Salisbury City Council, he ascended directly to its leadership. So I'm not really surprised that he made his expected run for mayor of Salisbury official earlier tonight at Headquarters Live.
Yet there are some things which stick out about Day's agenda and record which I find to be of concern. It's possible he may have addressed these in his remarks, since I was not at the event, and he may certainly feel free to comment here. But I would like to know first of all what he plans to do to keep up Salisbury's neighborhoods and not create a city full of red-headed stepchildren to the spoiled brat of downtown. Certainly downtown development has a place in the city's renewal but there are other avenues worth considering too.
Granted, downtown revitalization was Pillar 1, Strategy 1 of his original vision for Salisbury from two years ago but there are about 95% or more of the city's residents who live in the rest of the city so their needs have to be kept in mind as well.
Another question I have is what will become of the "rain tax" he and most of the rest of City Council (save District 3′s Jack Heath) voted for last year. What specific projects will the money go to, and is there a point when the job will be completed, negating its need? I understand he has a multi-decade goal in mind, but there are a lot of blanks instead of answers on how to get from point A to point B.
One thing the Daily Times story alludes to is the possibility of a race between Day and current Mayor Jim Ireton; however, I don't see that happening. The simple reason is that if Ireton wanted to secure another term he would have made his intentions known already. I know we have more than a month before the filing deadline but the word on the street is that Ireton wants to switch jobs with Day and run for a County Council seat in his District 4.
If it's a race between Ireton and Day for mayor, certainly the city would be better off with the more even-keeled Day at the helm. Ireton's bullying style is wearing thin.
But I want to keep my powder dry for the time being and see if a more conservative, business-minded candidate emerges. So don't include me in the hoopla surrounding Day just yet.
As it turned out we didn't have a speaker for tonight's meeting so the agenda was on the light side. Still, there was plenty of discussion at our gathering.
We did the Lord's Prayer and Pledge of Allegiance as we always do, but in between we had a silent moment of prayer for Governor Hogan. I had not heard the news about his cancer diagnosis, so I was quite shocked. It was definitely a somber way to begin the meeting.
With no speaker, we jumped to Julie Brewington's Central Committee report. She recounted our appointments to the Board of Elections and Board of Education and revealed we were in the process of working on a fundraising event. We were also seeking a mayoral candidate for Salisbury as the filing deadline approaches in August.
Representing Somerset County's GOP was Matthew Adams, who came up to sell tickets to the Tawes Crab and Clam Bake. Readers of mine know all about this annual event, which this year has increased its ticket price to $45. Between the state party and our two counties, we have half of one of the large tents for a total of 120 tickets. Adams expressed his interest in having Andy Harris make an appearance, but we were at the mercy of the House voting schedule for that one. Harris may be able to do a morning event, though. (I would assume that Harris's primary opponent, Michael Smigiel, already has Tawes on his calendar just as Harris was able to do when Frank Kratovil held the seat.)
We also got the pleasure of meeting Patty Miller, who is the incoming president of the Salisbury University College Republicans. Their big task this year, said Miller, was to recruit new members. When asked about the atmosphere on campus Miller admitted that it was hard to overcome the liberal bias of the faculty, but it helped that many students came from rural areas. Adams noted that a good percentage of SU students come from Somerset County and was hoping to use them to gain inroads into UMES.
Some good news came from Muir Boda, who announced the beer license for the Crab Feast on September 12 should be secured this week. The issue was our non-profit status, which was resolved by (of all people) the IRS. Boda was working with Josh Hastings of the Democratic Club, who have the same issue with their event, so there is bpiartisan cooperation around here. He also announced he had filed for City Council last week.
Another upcoming event is the Wicomico County Fair in August, and we were in the process of getting our space there. Dave Snyder asked about voter registration and we encouraged him to do so.
Our most recent appointees to the Board of Education were then asked to speak, as their first meetinnd wg will occur tomorrow morning. And while the reaction to John Palmer's appointment was "righteously fearful," according to Julie Brewington, Joe Ollinger struck a more optimistic tone – although he admitted "public education is a tough job." But it's not a money issue, he added.
Some of his ideas for change were efforts to instill more discipline in the schools while encouraging more respect for the public school teachers. But he also wished to move as much responsibility as possible to the local board, hoping the state would cede some power.
One other item on the club's agenda is a new officer. Since Joe Collins took a position on the Board of Elections, he can't serve as an officer for the WCRC. Dave Snyder volunteered to be nominated but we would like to have other candidates step up, too.
Marc Kilmer filled us in on the public hearing process for an elected school board. Five hearings will be held beginning in September – wonder where they got that idea? It was also suggested that we hold a straw poll at the Wicomico County Fair to gauge support.
Marc also was lauded by Joe Ollinger for how he explained how he came u with his votes, and it was incumbent upon us to demand that same forthrightness from the others on County Council.
Shawn Jester passed along word from Delegate Carl Anderton that his district office was now open. We also learned from Cathy Keim that we would be using the optical scanner machines beginning in 2016. Of course, that brings a headache because the machines and paper ballots have to be kept in a conditioned space the county doesn't have yet, so they will have to lease or build one.
Next month we will have two speakers. It's no surprise that our old friend Jeannie Haddaway-Riccio is coming to address us, but having Jake Day speak is definitely different. He sought us out, though, and we'll give him the forum on July 27.
Rumor has it that he's going out the door by not standing for re-election as mayor, but if this is so Salisbury Mayor Jim Ireton is declaring war on private property as his swan song.
On Monday, according to a press release from his office, Ireton will set the wheels in motion to eliminate the non-conforming "4 to 3″ or "4 to 4″ properties in the city, with the stated goal that all housing units in the city will either have no more than two non-related occupants or be single-family housing. Approximately 400 households in the city would be affected.
Ireton is also looking to hire a Community Development Specialist, with the stated goal for this new position being "someone who can identify funding sources, and coordinate with the various agencies involved to shepherd properties through the tax sale process." That last part is interesting because it brings me to my main point: it looks to me like the city wants to become a much larger landowner. To wit:
According to Salisbury's Vacant Building Registry, there are 187 vacant and/or abandoned houses within City limits. The effect of these properties on their surrounding communities is demonstrably negative, causing losses in neighborhood property values, increases in crime and vagrancy, and public health concerns. The proposed budget amendment would set aside $45,000 for a fund which the City would use expressly to purchase vacant and abandoned homes at tax sale. Starting in FY2016, an additional $500,000 in bonded debt would be earmarked for acquisition, rehabilitation, repurposing, demolition, and legal fees. Homes bought by the City would be determined to be either eligible for donation to Habitat for Humanity or Salisbury Neighborhood Housing Service, or unfit for rehabilitation and demolished.
Imagine if you will an entrepreneur suddenly deciding to go out a purchase a whole bunch of houses at a tax sale, and the hoops this owner would have to jump through to secure all the permits, inspections, and other hassles a prospective investor would endure because the wheels of city government move so slowly. It's a climate that discourages investment, so oftentimes properties sit vacant or abandoned. Factor in the difficult economic times of the last several years and there's no question that too many people believe investing in Salisbury would be a losing cause.
So instead of addressing the situation of why investment is such a risk, the city will go into the business of home ownership. Not only that, they plan on running up plenty of debt to get themselves into a position to decide whether to renovate or tear down these dwellings.
It seems to me the better use of tax dollars would be to take care of what they do own. For example, I live across from a city park that is essentially an empty, semi-wooded lot with one lonely basketball hoop in the middle of it. For a few thousand dollars they could perhaps install a walking path, nice flower beds, and perhaps a couple trash receptacles. It's not a large space, but it is a focal point of this little neighborhood.
If you believe the rumors that Jim is going to try and trade places with Jake Day, this isn't the way to do it. Six years ago, we were promised that "help is on the way" but this isn't going to be much help in making Salisbury an attractive place in which to invest. Why take a chance on buying a house when your next door neighbor could be a property owned by the city?
I was reading in the Salisbury Independent last night and came across an item that piqued my interest. As some of you may know, the city of Salisbury has revamped its electoral system over the last few years.
Step one was moving its elections from the spring to the fall as well as synchronizing the terms of all elected officials to finish at the same time – those who were elected in the spring of 2013 only won terms of slightly over 2 1/2 years.
Last year the new leadership in City Council scrapped the old two-district system where one member was elected from a majority-minority district (District 1] while the other four came from District 2 and redrew it into five separate Council districts, with two having significant minority populations. Going to five single-member districts allowed the city of Salisbury to more closely reflect a minority population of about 2/5.
All that I could live with; in fact, I had encouraged the five-district idea for many years (even asking the opinion of candidates on the subject at a 2011 NAACP forum.) And while you run the risk of a complete turnover in government by having all seats elected at once, this reflects the system we live with in Wicomico County and in Maryland as a whole. So far we've not turned over anything close to the whole General Assembly and have managed to keep at least a couple incumbents on County Council.
However, aside from the likelihood of multiple incumbent participants being in the same district this cycle, the blurb I read leads me to think there will be an incumbent protection program in place this fall.
City Council, led by its President Jake Day, is floating a proposal to do away with the city's primary election and simply place all comers on the November ballot. On the surface it makes sense given that the 2013 primary only eliminated one contender out of eight who ran for office. (Ironically, that one person was later appointed to City Council.) Certainly it's a taxpayer-friendly proposal as well since only one election would be necessary.
But imagine, if you will, a situation where four or five are on the ballot with a somewhat unpopular incumbent. Each of those challengers will take a share of the vote, and knowing how some voters may go with the name they know it means an incumbent may win re-election with just 20 or 25 percent of the vote. At least with a primary culling the field down to two (at least in most cases, barring a tie for second as we had in 2013) we're assured the victor has a majority of the vote. It can give voters the opportunity to amass support behind a single challenger.
Even so, there is opportunity in adversity given that City Council is expected to put this proposal into place. But it would take a meeting of the minds between all the conservative groups in town who may want to back a particular horse in a city race.
Since I happen to live in the same district as my friend Muir Boda, I'll use him as an example. Let's say I had a scintilla of desire to run for City Council (which I don't) and that Muir also got in the race, along with a liberal incumbent who wasn't doing his job. Seeing that Muir and I are both in a conservative mindset, it's likely we would split the vote against the incumbent and allow him to win because there's no primary to eliminate one of us and unite the opposition.
This idea goes a little bit against the grain for me, but there may be merit in having the proverbial (or literal, depending on who's involved) smoke-filled room to decide which prospective candidate to back. Even though it's a non-partisan race, it may be a good idea for the GOP to endorse a candidate beforehand. With the last election yielding a 5-0 Democrat majority on City Council as well as a Democrat mayor, it's obvious our procedures heretofore weren't very good.
Day contends that the new districts will produce a smaller number of candidates for each district, and he may be right. But if the residents of Salisbury want to take the city in a more conservative direction, we don't want to split the vote by having several conservatives canceling each other out.
It took several months longer than anticipated – and we don't yet know exactly what the toll will be – but last night 80 percent of Salisbury City Council gave 100 percent of local property owners another tax to pay by approving a stormwater utility on a 4-0 vote, with newly-appointed Jack Heath being absent.
Council President Jake Day "doesn't expect" the fee to be more than $20 a year for homeowners, and expects to raise $1.25 million annually from the "rain tax" – and yes, I think the moniker is appropriate given the business fee will be determined by the amount of runoff they produce. According to the latest Census data, though, there are 13,401 housing units in Salisbury so my public school math tells me that businesses are going to pay almost 80% of the total, to the tune of almost $1 million annually.
Interestingly enough, I was quoted in the Daily Times story from last Thursday from a post I wrote in February when the idea came up, and I think the point is still valid: we don't know what impact there will be from this tax hike on the overall health of the Chesapeake Bay. It seems to me that the timing isn't very good on this one, particularly as the state and county are working to make these entities more business-friendly and new taxes tend to work in the opposite direction.
I was curious about something, so I took a look at the city's latest budget that was adopted in May. In it, Mayor Jim Ireton points out that "(t)his budget shows levels of monetary surplus at incredibly healthy levels for both the City's General Fund and the City's Water and Sewer Utility." But it also is using some of the proceeds from the wastewater treatment plant settlement on sewer infrastructure, so why do they need this new tax now? Granted, it's also stated in the budget that ratepayers get a 2.5% break on water and sewer rates this year, but the extra $20 fee will likely eat that savings up and then some.
The budget also makes the case that the $100 a month, give or take, that a residential property owner pays in property taxes provides a cornucopia of services, a palette which includes stormwater management. So we're already paying for the service with our property taxes, but instead of adding the penny or two that would cover the additional services the city wants to create a new special fund. Currently the Water and Sewer Fund comprises roughly 1/3 of a city budget which runs about $50 million, with property taxes chipping in about $22 million toward the General Fund. With the city of Salisbury increasing the tax rate regularly, it's doubtful we'll see a corresponding decrease in property taxes to offset the new fee.
And while I'm not an expert on the city charter by any means, my question is why can't the purview of the Water and Sewer Utility (which has a large surplus) be simply expanded to stormwater? Generally infrastructure improvements to the stormwater system involve changes to the remaining utilities as well, so the same work may well come out of two (or three) different funds given the city's idea. It may be more efficient and less taxing on the city's residents to amend the charter to add stormwater to the existing water and sewer utility.
So let's review: the fee would cover something which is already supposed to be paid for, in an amount we haven't quite determined yet, to achieve projects for which we don't know the scope but are supposed to address a problem Salisbury contributes little to and is only compelled to deal with because the state refuses to stick up for itself and tell the EPA and Chesapeake Bay Foundation to go pound sand. What could go wrong?
Just remember all this come Election Day next year.
Update 11/26: I actually stumbled upon this as I was researching some items for my next post today, but it's worth pointing out that Salisbury has justified its adoption of a stormwater utility by saying the town of Berlin has one in place.
The same group, called the Environmental Finance Center – which is part of the University of Maryland but serves as a regional hub for an existing EPA program – did studies to justify the need for Berlin (2012) and Salisbury (2013). The results were pretty much the same, although the suggested fee was higher in Berlin than it was in Salisbury, where they recommended a $40 annual fee for homeowners. Notably, the Salisbury report also recommends fee increases after a period of years – see the chart on page 15. So the problem won't ever be solved and the program will run an annual surplus that likely won't be rebated to taxpayers. Moreover, unlike a property tax from which religious-based entities have traditionally been exempt, they have to pay the fee as well.
Also, the fingerprints of the notoriously Radical Green folks of the Town Creek Foundation are on these reports. It's a group which believes:
We think that true sustainability and resilience – in an increasingly unstable, crisis-prone world – will depend on fundamental transformations of the systems (including the value systems) by which everyday life is organized. These include the systems by which we make and consume energy, food, and materials, and the systems by which we make and enforce social decisions.
We've already seen the results of a national "fundamental transformation" over the last six years, and many millions would like to transform back to where we were. But a tone-deaf government just wants to take more out of our pockets rather than prioritize existing resources.
After a tremendously busy last few days, I'm finally able to catch my breath a little bit and take stock of where we are.
At the top of my site since last Thursday is the reporting on early voting trends. To me, this is key because it's not something Republicans have adapted to despite the pleas from the state party – until this year. As a whole in the state, Republicans and Democrats are utilizing early voting at the same rate which indicates turnout may be a tick or two better than expected for the GOP. And remember, polling is released based on a turnout model that they attempt to predict will hold true for the election, but there are so many variables. At this stage weather doesn't appear as it will be a factor, though.
I just finished downloading the last of the pre-election financial reports for most of those on the ballot locally in contested races. There may be a minor scandal here because I noticed District 37B candidate Rod Benjamin didn't have a report on file yet – he's submitted affidavits of limited contributions and expenditures through his campaign, but still has to file timely or face a $20 daily fine that comes out of his own pocket. In the last few days before the election I'll distill the numbers and see if any new trends develop.
By now I'm sure you've heard about the irregularities in voting machines in some areas; a phenomenon addressed by the state Board of Elections. But how about irregularities in support? Some local Republicans are outraged about two photos which have appeared on Facebook.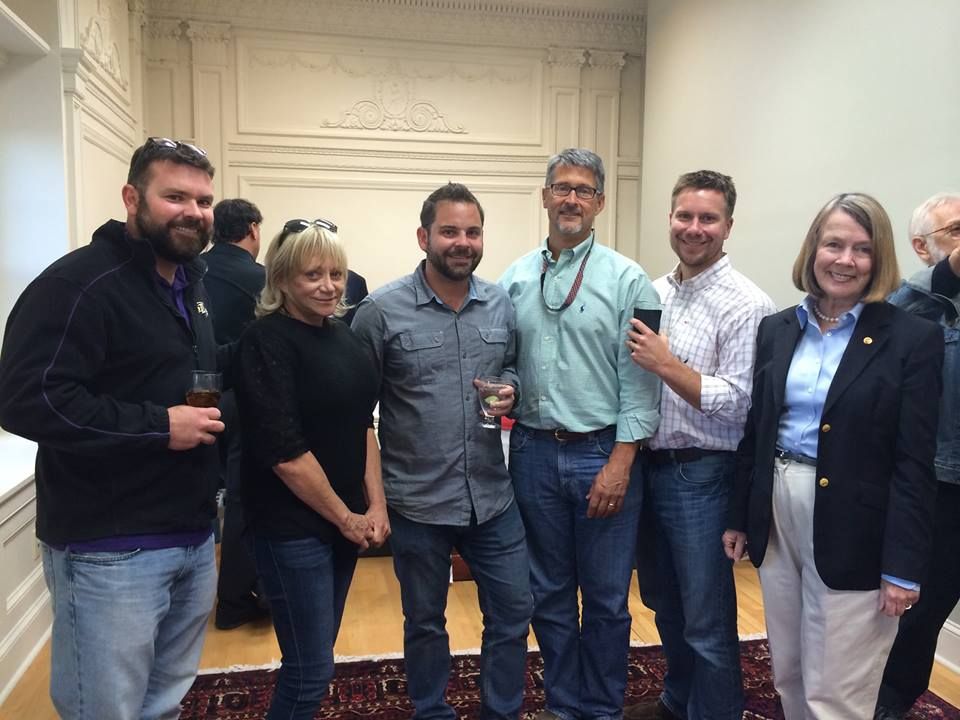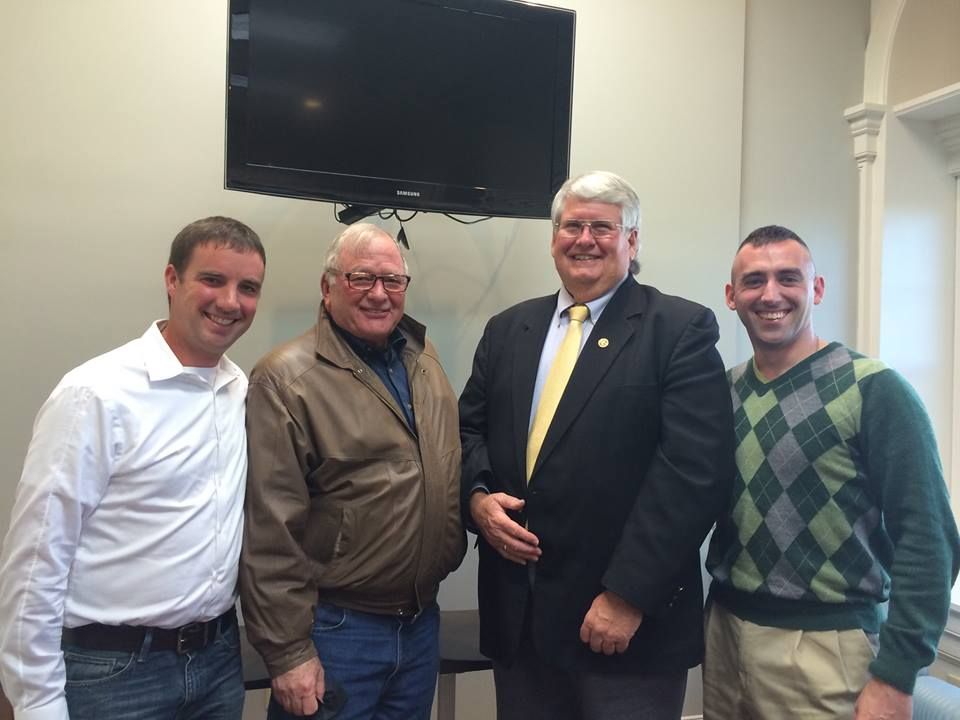 The photos were reportedly taken at a recent fundraiser for current Wicomico County Executive Rick Pollitt, who is a Democrat. In the top photo second from left is outgoing County Council member Stevie Prettyman. In the bottom photo is, left to right, County Council members Matt Holloway and John Hall along with Pollitt and Salisbury City Council president Jake Day. All three Council members pictured are Republicans, a trio which generally votes opposite Republican County Executive candidate Bob Culver (who is one of two to consistently oppose Pollitt.) While Prettyman is leaving, Holloway is in a good position to be re-elected since only one Democrat filed for two at-large posts, and Hall is unopposed for a District 4 Council seat.
My take on this: of course I'm disappointed with these Republicans attending a fundraiser for a Democrat, but the time to address this will be 2018 primary. Just file it in the memory bank.
And then we have this which just came to my attention from the Maryland Pro-Life Alliance.

Contrast that, if you will, to opponent Mike McDermott's support for pro-life causes such as the recent Eastern Shore Pregnancy Center dinner.
Jim Mathias has spent thousands of dollars – much of it money from PACs and out-of-district – trying to convince District 38 voters he's "always working for you." But the question is whether simply voting for or against a particular issue is "working." As a member of the majority party, he's in the position where his negative vote can be made with little consequence except to placate the people back home. He doesn't stick his neck out and publicly testify at a pro-Second Amendment rally or participate in a pro-life march, despite the fact his district would welcome that with open arms. We're just supposed to count the effort and not the results.
But there are more important items to deal with – I'm watching Game 7 of the World Series.
It came as a surprise to many that Salisbury City Council member Terry Cohen resigned with a little over a year left on her term. Citing her family's "major life changes" she's resigning as of August 8.
Cohen was originally elected as part of a reform-minded slate in 2007, and found a natural ally in then-Council member Debbie Campbell. And while those who advocated for reform eventually turned on Louise Smith, who was one of the two new Council members elected in 2007, the real change in Salisbury came when current Mayor Jim Ireton was elected in 2009. Campbell and Cohen became more reviled as the obstacles to Ireton's agenda, eventually leading to Campbell's defeat by Jake Day in 2013 as well as Cohen's removal as City Council president, where she served from 2011-13, to be replaced by the newcomer Day.
Of course, the blogs which focus more on local politics are already aflame with comments and suggestions for a replacement for Cohen, with the situation further complicated by Day's required military reserve service occurring this week – however, they have until September 5 to name a replacement and they'll begin accepting applications Monday. That replacement will have just 15 months to serve out Cohen's term before he or she stands for election, if desired.
Two of the names most bandied about to fill Cohen's seat are Josh Hastings and Muir Boda. As most locals know, Hastings is already running for a County Council District 3 seat as the Democratic nominee while Boda ran at-large and finished third in the Republican primary behind Matt Holloway and John Cannon – respectively, present and former County Council members. There are others who are being mentioned, mainly on the Democratic side, so the obvious question is whether the Democratic-dominated City Council will stay loyal to party or not.
Yet what do I always hear from Democrats when the Republicans are in charge – we need to have bipartisan consensus, they say. Well, here's an opportunity to put their money where their mouth is and select the best candidate out there. (Worth noting: the city elections are non-partisan.)
I believe in having everyone at the table.  All are stakeholders in this city whether you are a homeowner or business owner, landlord or renter, employer or employee, you have a right to be heard.  We all have a stake in this community and passing it on to the next generation better than we received it is not just the right thing to do, it is our duty.

Join me as we bring forth a positive message of healing, reaching out to our neighborhoods that are disenfranchised and opening up our doors for business.  We have so much work to do and it is going to take all of us putting aside our differences to do what is best for Salisbury.
These were Muir Boda's words in 2011, just before the general election where he finished fourth – it was the same election where Terry Cohen retained the seat she's vacating, along with Laura Mitchell and Tim Spies. For the most part, the message rings true still today.
As the city moves into a phase where the downtown may be revitalized, I want to make sure that's not at the expense of the neighborhoods. As a homeowner in one of the city's most transient neighborhoods – most homes on his block are rentals – Muir has an interest in maintaining the sometimes-neglected corners of the city. I think he would be a fine choice for this sudden vacancy.
The "rain tax" is probably coming to Salisbury.
Eager to jump on that bandwagon, the Daily Times reports that Salisbury City Council unanimously agreed to move a bill to create a stormwater utility forward for final approval at a future meeting, a date to be determined but likely in the next 60 days. All five of the Salisbury City Council members are Democrats, as is Mayor Jim Ireton, who backs the proposal. Jeremy Cox's story quotes City Council president Jake Day as saying "There's no good argument for not having this in place, to have a funding system to pay for things."
Bull.
There's a great and very simple argument: we have no idea if what we would be doing will have any significant impact on Chesapeake Bay. As vague as the Phase II Watershed Implemetation Plan for Wicomico County is in terms of how many assumptions it makes, there are two things it doesn't tell me: the overall impact of Wicomico County presently on the health of the Bay, and the economic impacts following the plan will have on business and our local economy. Does the $20 I would spend each year make a dent, or is it just another way for government to reach into my pocket for dubious benefit? Less than national average fee or not, it takes away from my less-than-national-average salary.
The argument by Brad Gillis also rings true. Because the state requires most new development to adhere to overly strict stormwater guidelines, those who have will still be paying the rate on top of the expense others didn't put out. Stormwater retention isn't cheap.
And, of course, there's the very real possibility that the $20 of 2015 will be $35 after 2017 or $100 sometime after that. Once enacted, I've rarely met a fee or a tax that's decreased and because the goal is so open-ended this just seems like another excuse to reach into our pockets in perpetuity.
This is a state where I pay bridge tolls to subsidize a superhighway I'll probably never drive, pay a gasoline tax out here in the hinterland to prop up a boondoggle of a public transit system in the urban core (complete with pie-in-the-sky light rail lines many of those along the route don't want), and get to watch a governor for whom I didn't vote – twice – play whack-a-mole with expenses that pop up by "borrowing" from dedicated state funds and floating bonds to make up the difference. Why should I trust the city of Salisbury to be prudent with my money when the regulatory goalposts are sure to shift? Ask David Craig about the state and what happens when they change their mind.
Several years ago I proposed a moratorium on new Chesapeake Bay regulations so we could figure out whether all that we had put in place would work. Of course, for the Chesapeake Bay Foundation, Town Creek Foundation, and other denizens of Radical Green there's too much money for their coffers at stake to ever agree to such an idea – and it's such fun to figure out new offensives along our flanks in the War on Rural Maryland.
Needless to say, my reasoning probably won't change any minds on Salisbury City Council, or that of the mayor. I know Jim Ireton, Jake Day and Laura Mitchell to a greater or lesser extent, and they're decent enough people, but they seem to have this idea in their head that government central planning is the solution and for every need there has to be a new fee to pay for it. When the "need" is a mandate from on high, that's where I object. Twenty bucks is twenty bucks for the tapped-out homeowner, but those who are job creators will likely pay a whole lot more and it's just another incentive to locate elsewhere, in my estimation.