For some reason the vibe seemed a little different to me this time around – maybe it's because this is the first one I've attended as an erstwhile political participant. But at 10:00 I rolled into town and got my ticket (this was a first, too – more on that in a bit) so I started looking around while I was there. Immediately I found there was still one constant.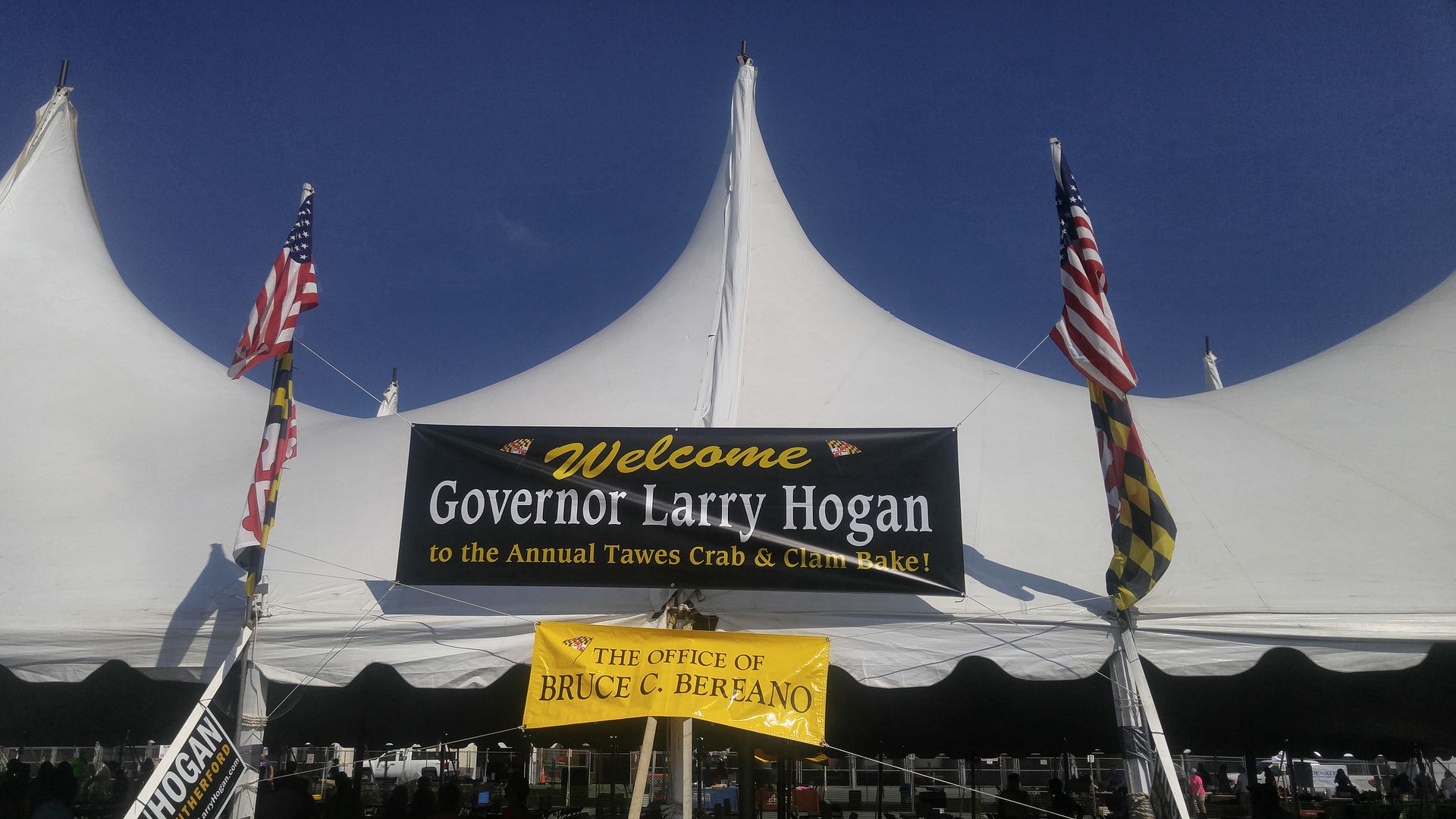 Bruce Bereano probably brings half the people down there, and I'm not kidding. If you consider that the political people are a significant draw to this festival, and his massive tent is annually chock-full of Annapolis movers and shakers, one has to wonder just what would be left if he ever pulled up stakes. Would they have a crowd like this?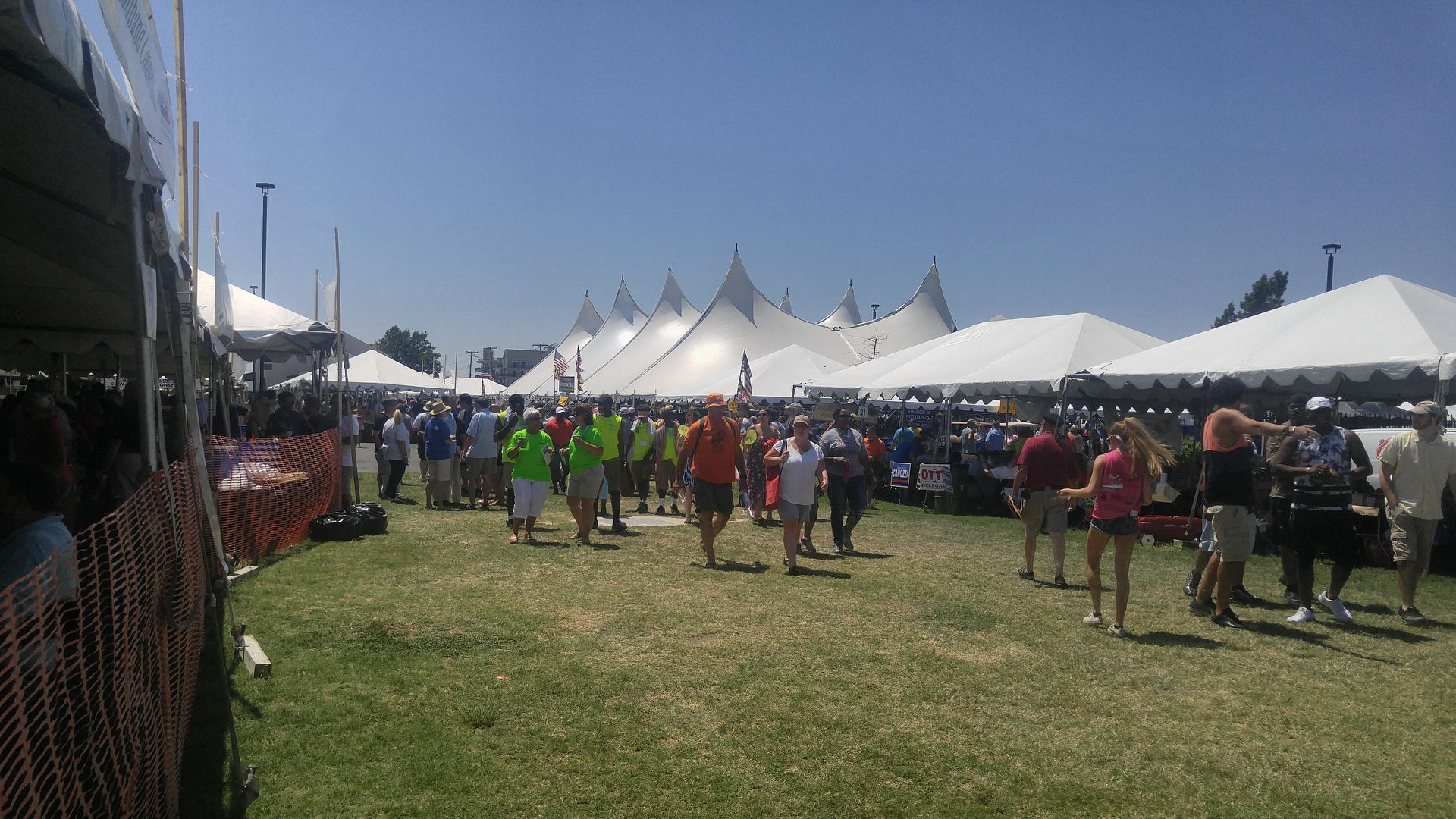 But the Crisfield Chamber of Commerce (as event sponsor) has its own ideas on VIP treatment.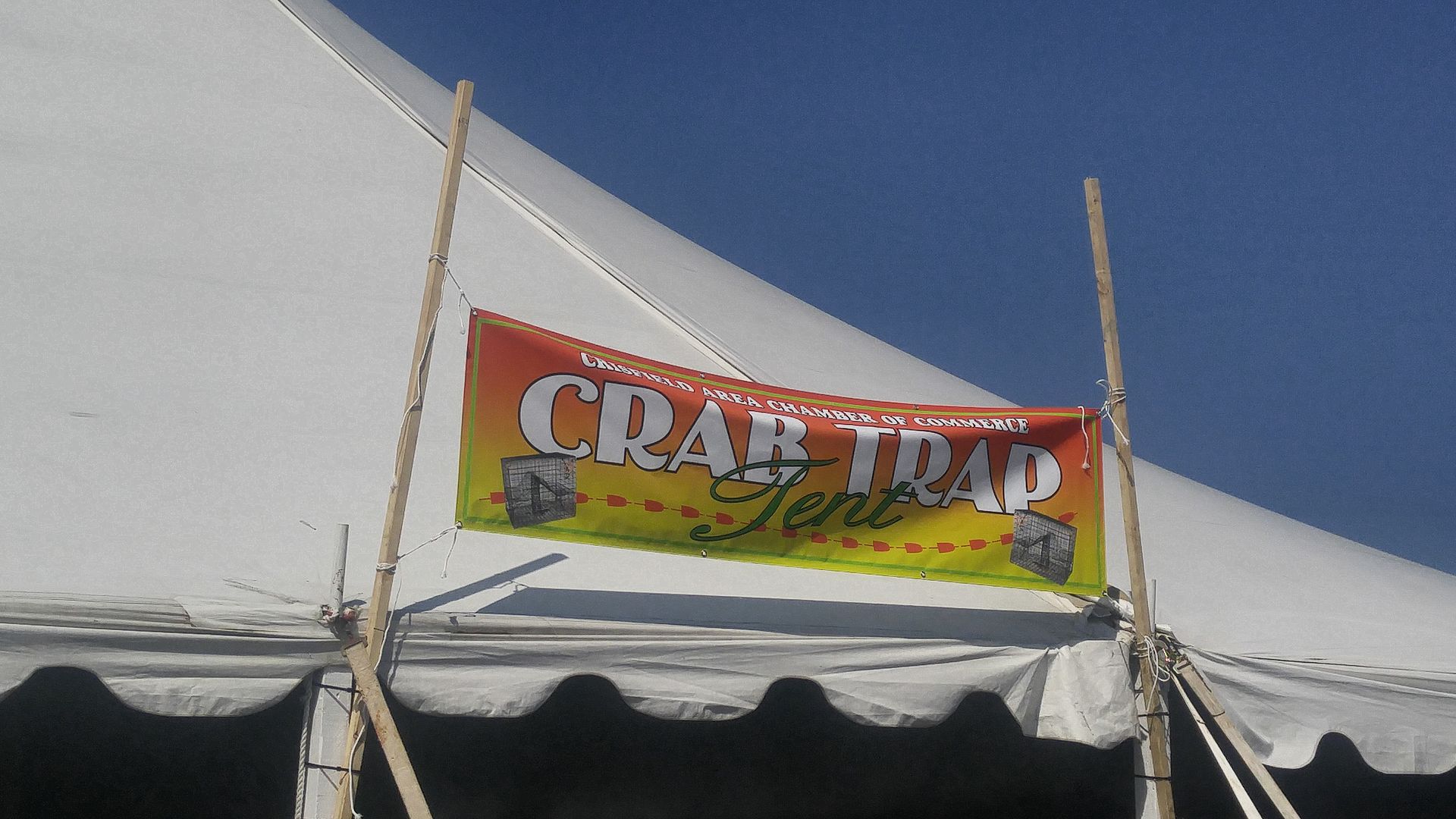 For an additional $15 fee on top of the ticket price, you could get access to this tent with its amenities. It was an answer to some of the corporate tents that were doing this anyway. Many of those were still doing their thing.
Most of the people were already in line at 11:30 waiting on lunch. While the ticket says 12, if you wait until then you're waiting for food.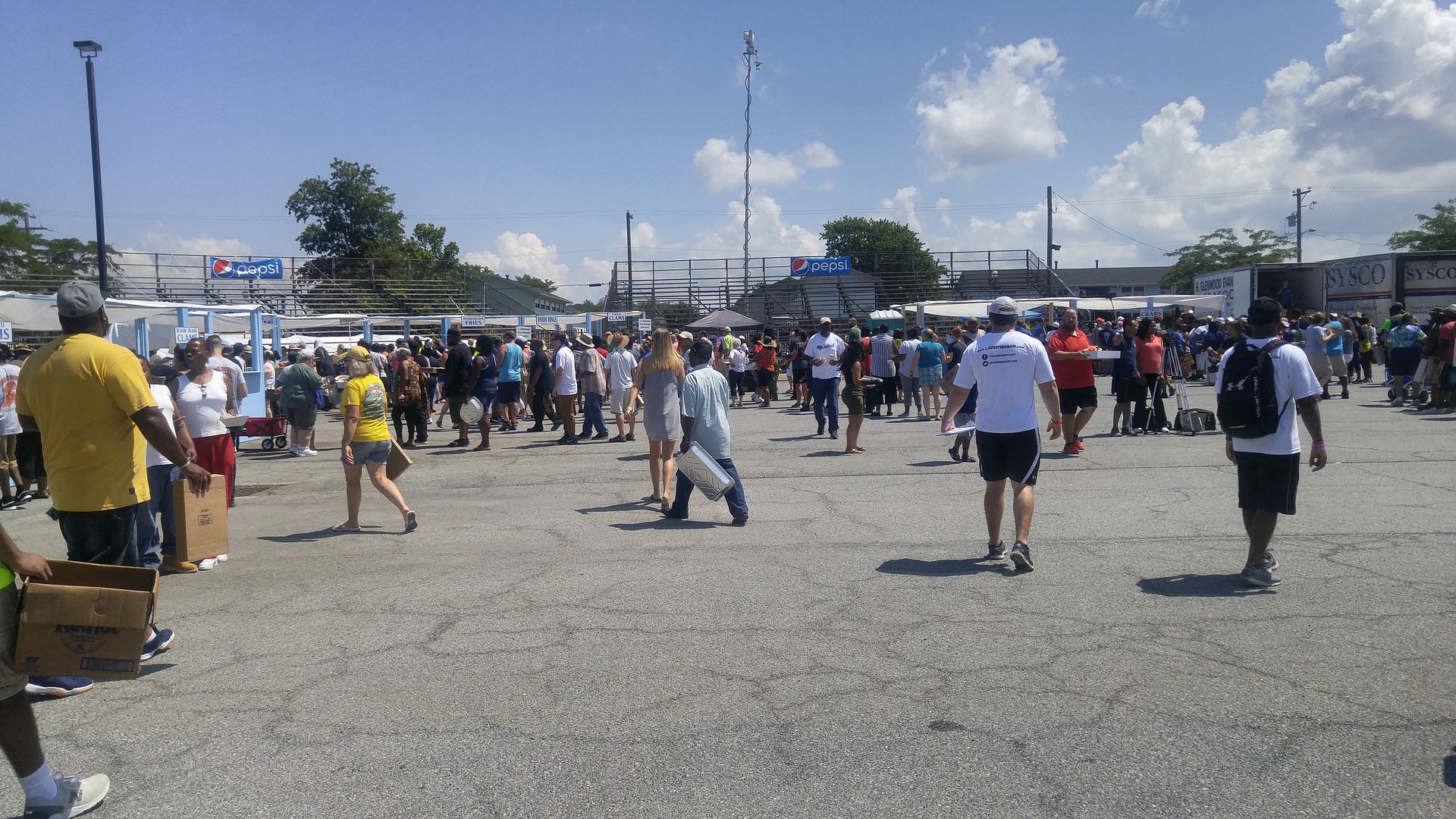 But let's face it: the media doesn't really come here to see food lines, although that's where I found this crew from Channel 47, WMDT-TV.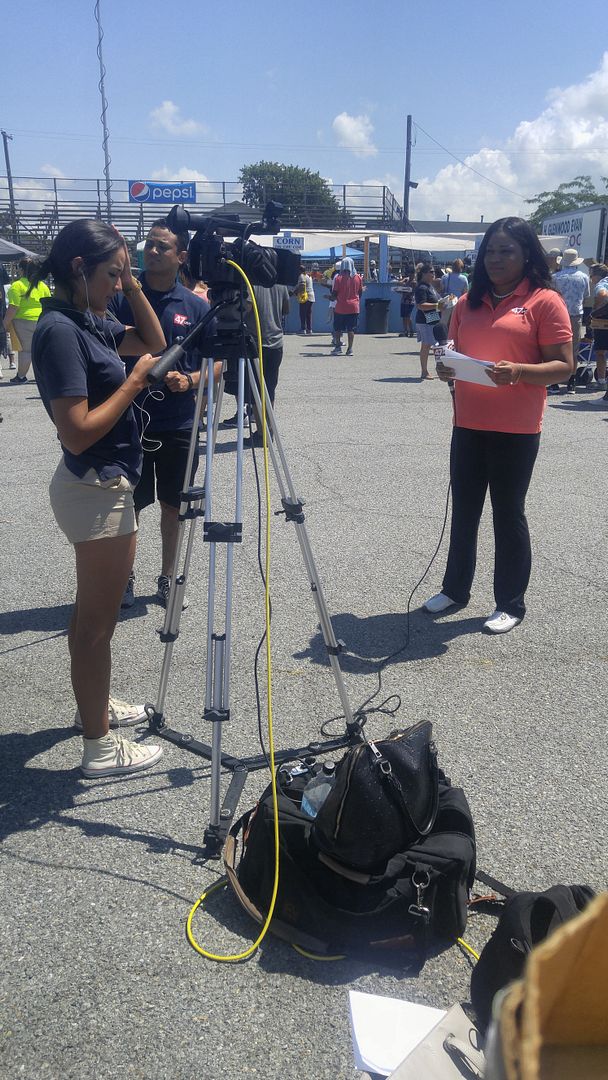 No, the real draw for this edition was the potential 2018 candidates. Until the last couple cycles, odd-numbered years were somewhat sleepy because the campaigns weren't really underway yet, while the even-numbered years saw Tawes fall on a date less than two months before the primary. That's now flipped on its head because the primary was moved up to June, so this is the last Tawes before the 2018 primary. So several contenders were out scouring for votes – none, I would say, moreso than this guy.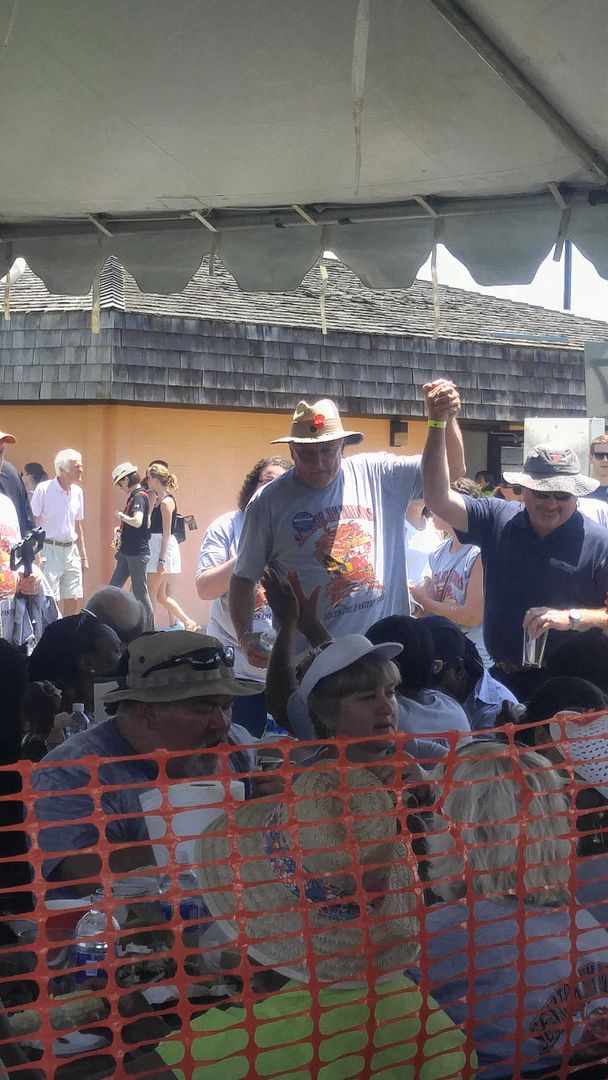 State Senator Jim Mathias (standing, in the gray shirt) has a huge target on his back that's far larger than the logo on the front. He is the one Democrat Senator on the Eastern Shore, and the GOP sees his seat as a prime candidate for taking over next year as they need to flip five Senate seats to assure themselves the numbers to sustain Larry Hogan's vetoes.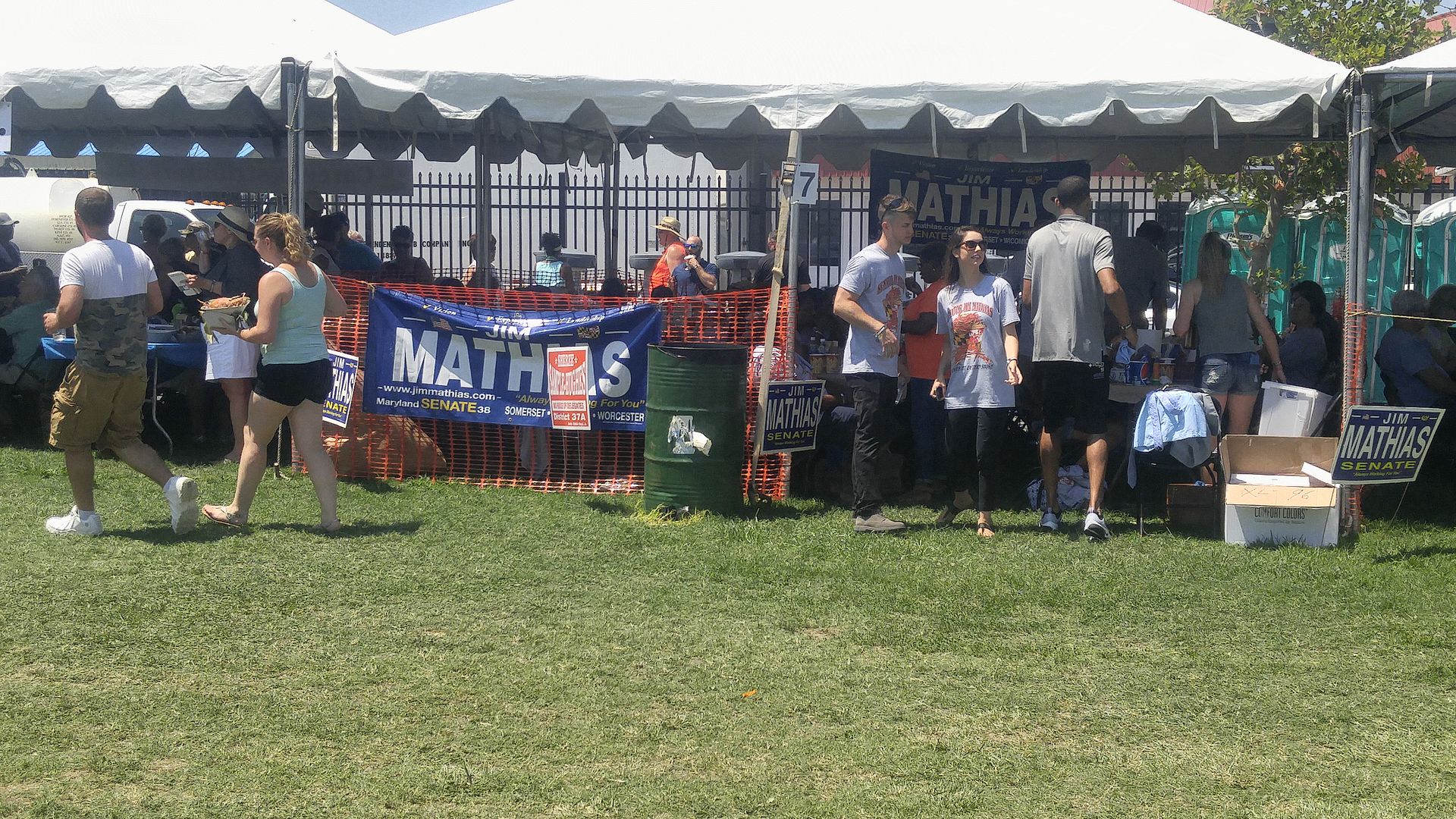 To that end, Mathias was the one candidate who had his own supporter tent. To me, that was interesting because most of the local Democrats that I know spent their time milling around the Mathias tent (wearing their own gray shirts) and didn't hang out at the "regular" Democrat party tent.
Just a couple spots over from Mathias was the Somerset GOP tent.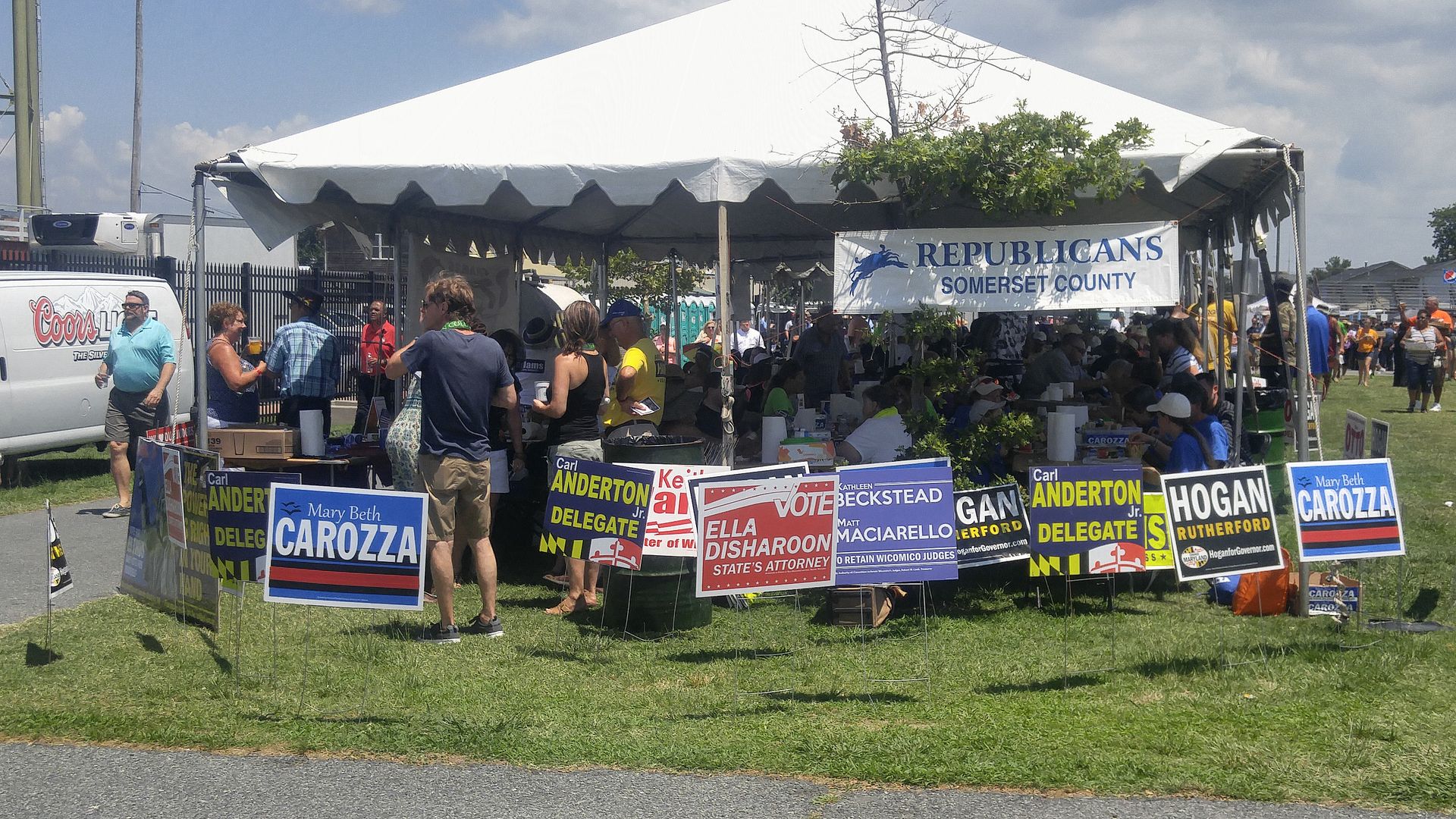 Now you'll notice I said Somerset. For whatever reason, Wicomico's Republicans chose not to participate this year and there were few of my former cohorts to be found. Since that's how I used to get my tickets, I had to make alternate arrangements this time. That's not to say there weren't Wicomico County Republicans there such as County Executive Bob Culver, Judge Matt Maciarello, Salisbury City Councilman Muir Boda, and many others – just not the Central Committee.
Closer to their usual back corner spot were the Democrats.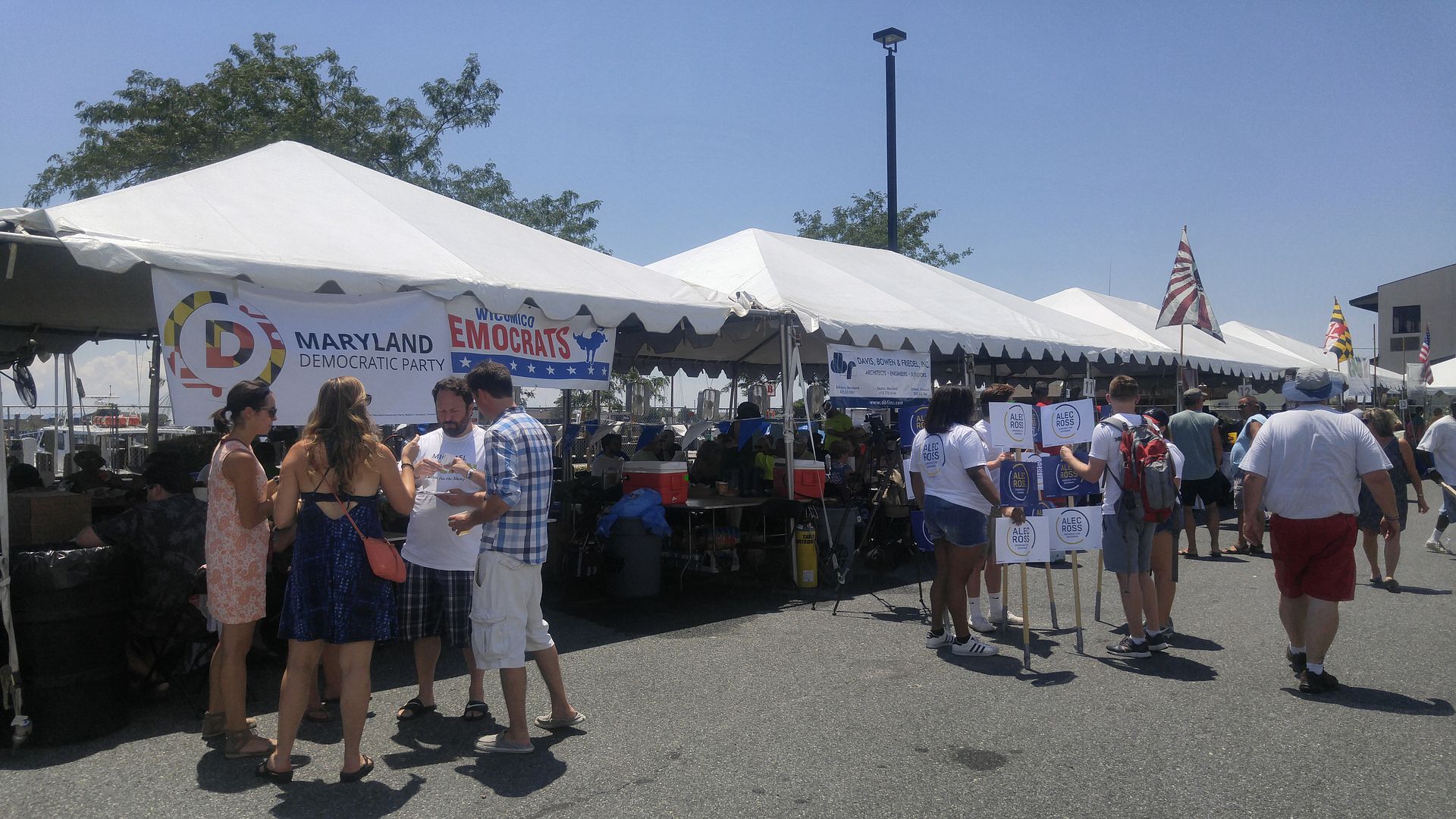 Their focus seemed to be more on the larger races, as even their state chair Kathleen Matthews was there. Here she's speaking with Crisfield mayor Kim Lawson.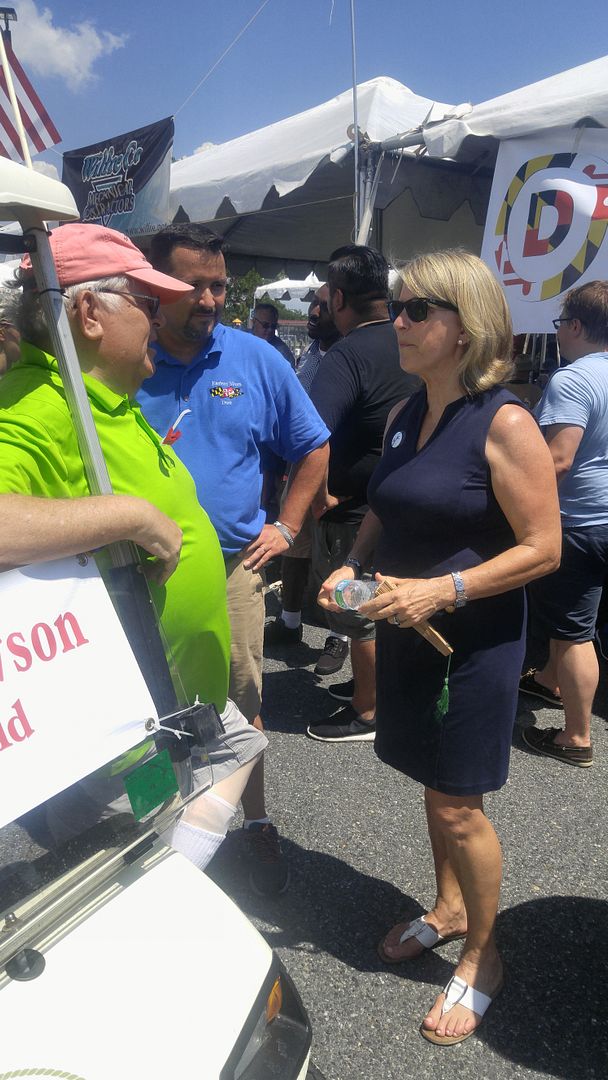 (Lawson has a smart-aleck sense of humor I can appreciate. When a photographer introduced herself as being from the Sun, he thanked her for making it a little cooler here than back home. I got it right away, she looked befuddled.)
The small posse you may have noticed in the original photo of the Democrats' tent belonged to gubernatorial candidate Alec Ross, who eventually caught up to them at the tent.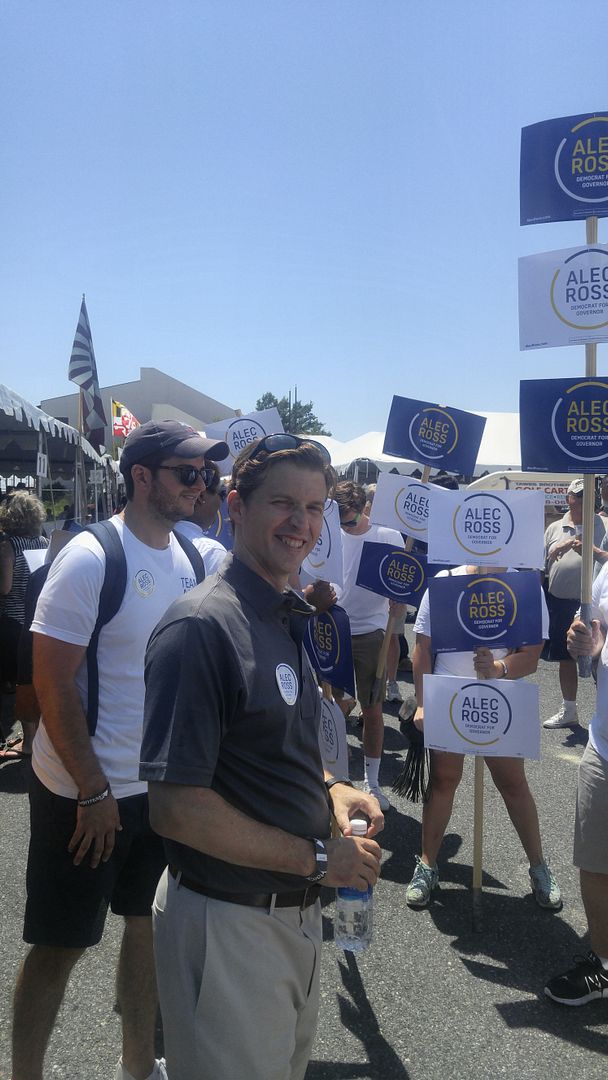 I asked Ross what he would do differently than the current governor, and he said he would focus more on education. One thing I agreed with him on was something he called a Democratic "failure" – focusing too much on preparing kids for college when some aren't college material and would be better suited for vocational training. But he limits himself in the palette of school improvement and choice to public and charter schools, whereas I believe money should follow the child regardless. Ross also has this pie-in-the-sky scheme about government credit to working moms for child care which I may not quite be grasping, but one assumes that all moms want to work. I think some may feel they have to work but would rather be stay-at-home moms.
The thing that stuck out at me was his saying that when two people disagree, at least one of them is thinking. You be the judge of who ponders more.
But the Democrats' field for the top spot is getting so crowded that I got about five steps from talking to Ross and saw State Senator Richard Madaleno, another candidate.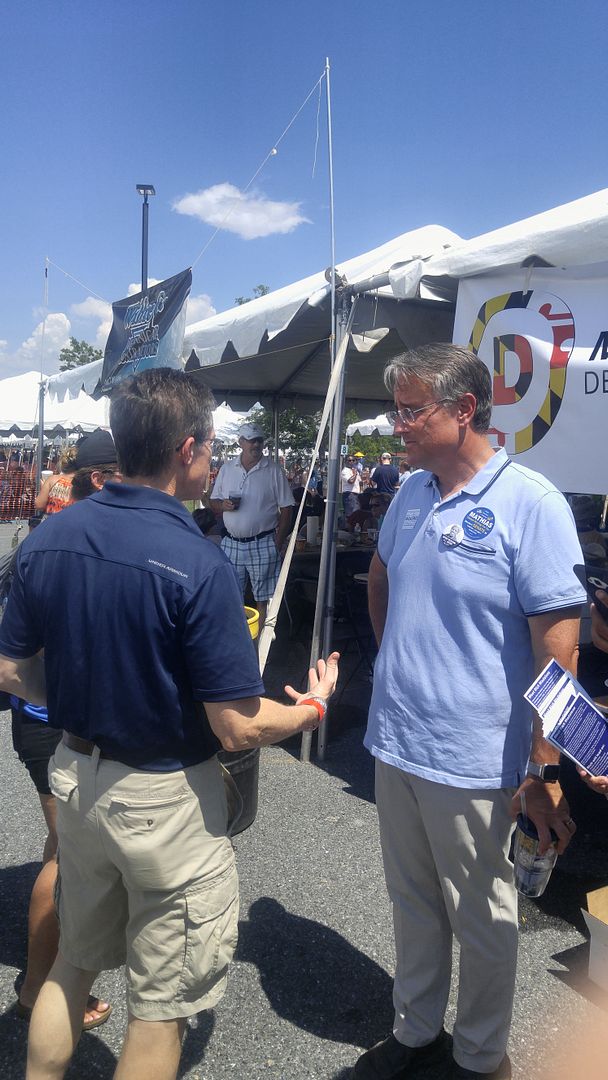 Having done the monoblogue Accountability Project for a decade now, I pretty much know where Madaleno stands on issues – but I was handed a palm card anyway. Indeed, he's running as a "progressive."
And then there's this guy. I didn't realize he was talking to the state chair Matthews at the time, but I wonder if she was begging him to get in the governor's race or stay out of it. I suspect state Comptroller Peter Franchot is probably happy where he is.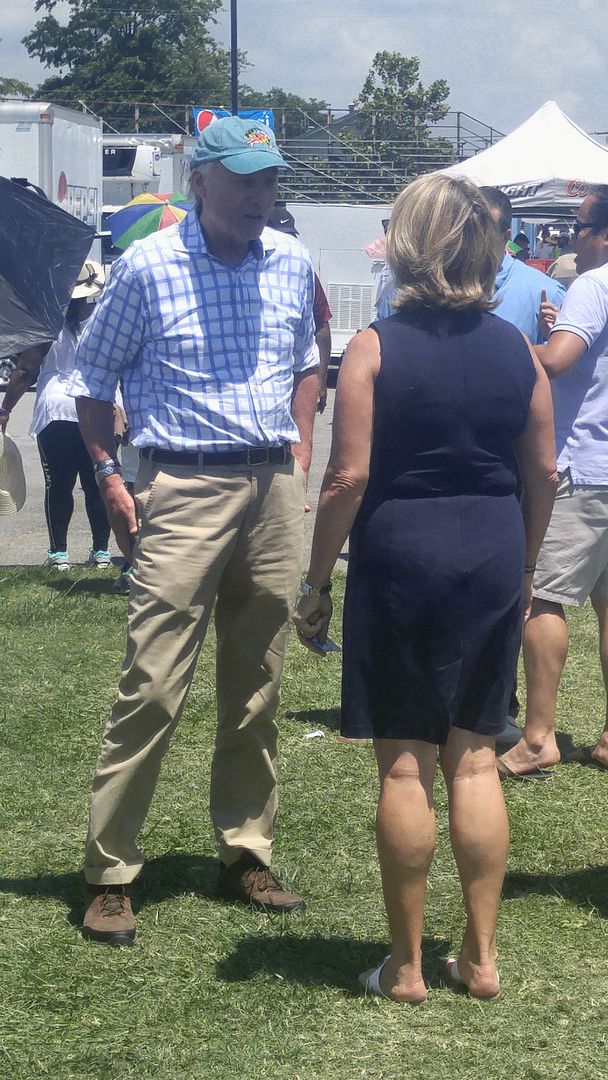 Franchot is probably happy because he works so well with this guy, the undisputed star of the show.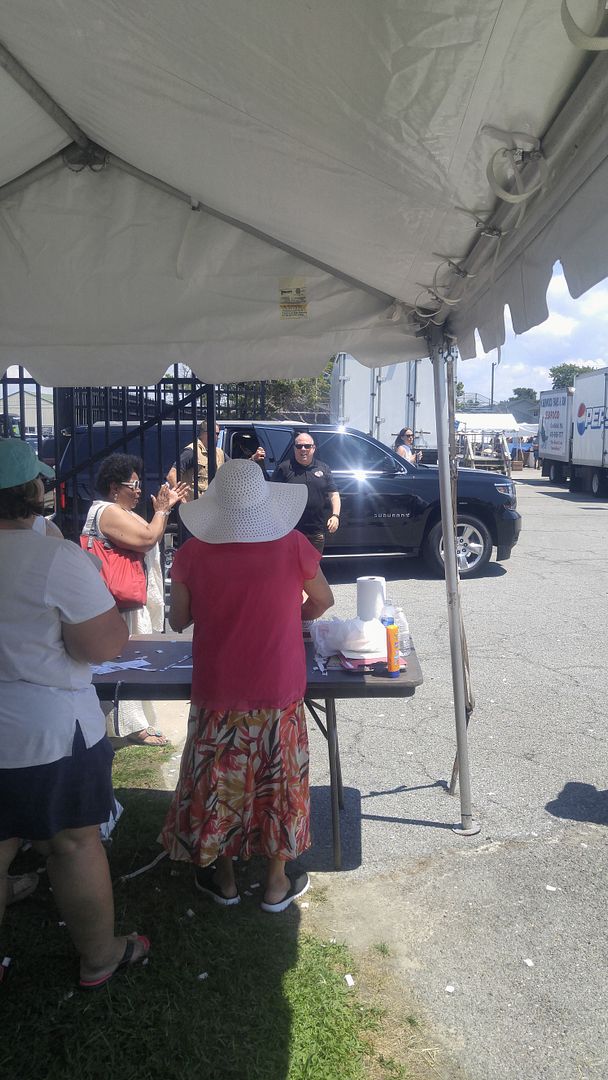 This turned out to be a pretty cool photo because I was standing in just the right spot to see his car swoop around the corner, come to a halt, and watch the trooper open the door for Governor Hogan to emerge.
If you follow me on social media you already saw this one.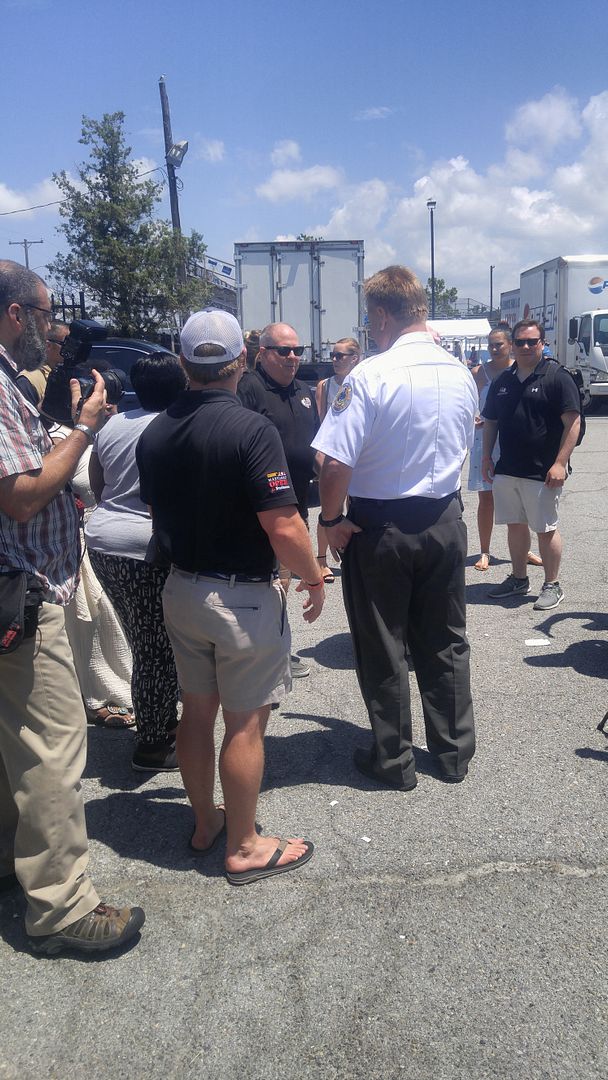 Say what you will, and Lord knows I don't agree with him on everything: but Governor Larry Hogan was treated like a rock star at this gathering, to a point where he could barely make it 50 yards in a half-hour.
This would have been of no use.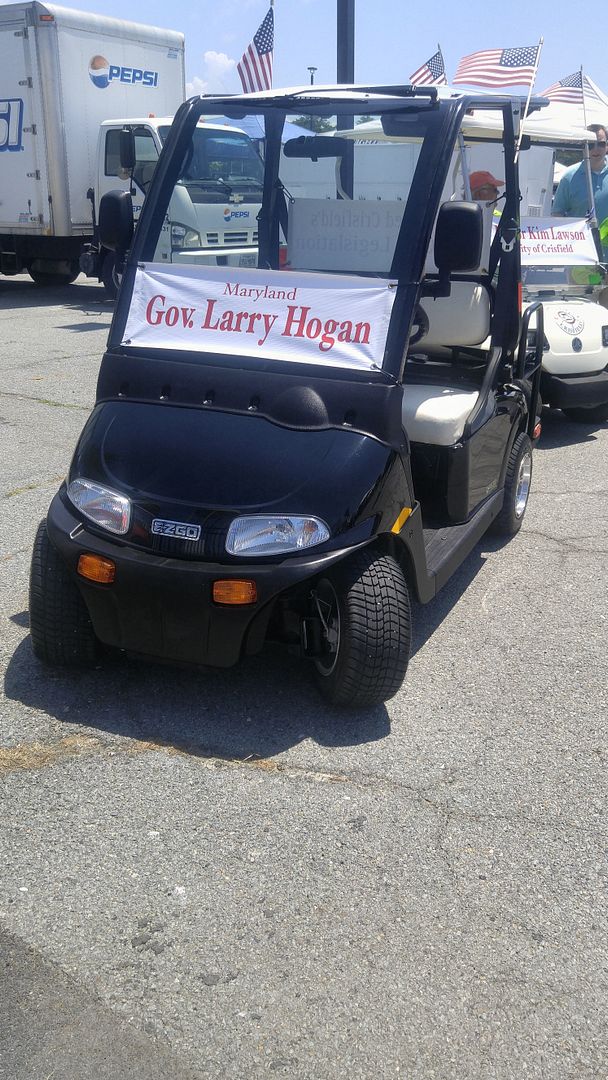 I said my quick hello to Larry moments before WBOC grabbed him for an interview, and that's fine with me.
Here are two ladies who were probably glad he was there, too.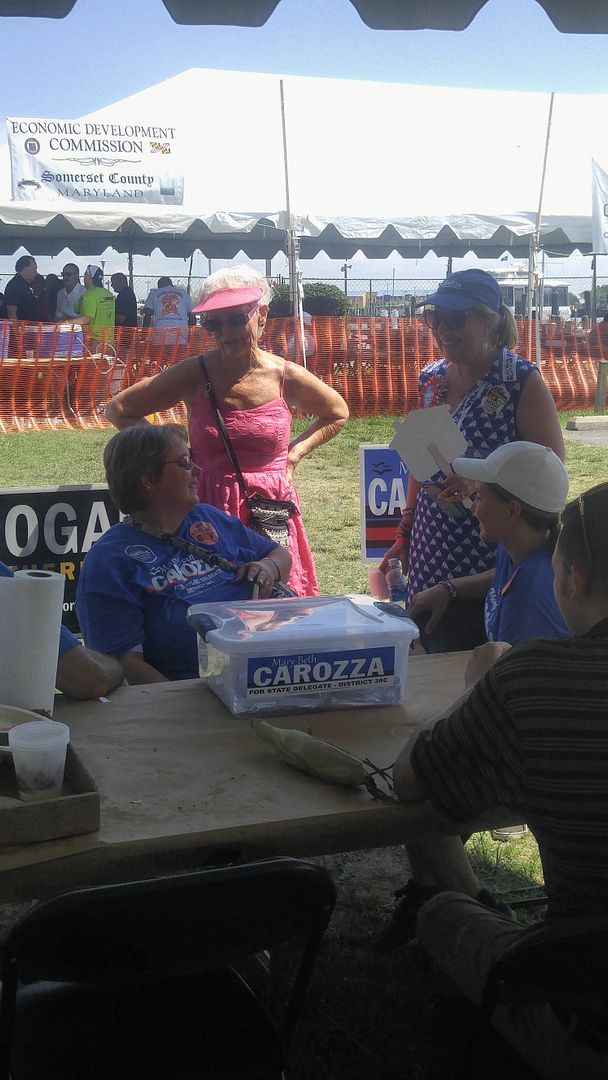 In her usual pink was State Senator Addie Eckardt, while Delegate Mary Beth Carozza was in her campaign blue. And since Carozza told me she treasures my observations, here are a couple.
First of all, it's obvious that Jim Mathias is running scared because why else would he spend the big money on a tent and dozens of shirts for the volunteers that showed up (plus others who may have asked)? Not that he doesn't have a lot of money – the special interests across the bridge make sure of that – but Mathias has to realize there is some disconnect between his rhetoric and his voting record. And he's not prepping for a major challenge from Ed Tinus.
A second observation is that most of the Mathias signs I saw driving down there were flanked by signs for Sheree Sample-Hughes, and you don't do that for a Delegate seat you were unopposed for the first time you ran. Something tells me Sheree has a higher goal in mind, but it may not one worth pursuing unless the circumstances were right.
One thing I found out from the Democrat chair Matthews is that at least two people are in the running against Andy Harris and were there. I didn't get to speak with Michael Pullen, but I did get to chat for a bit with Allison Galbraith.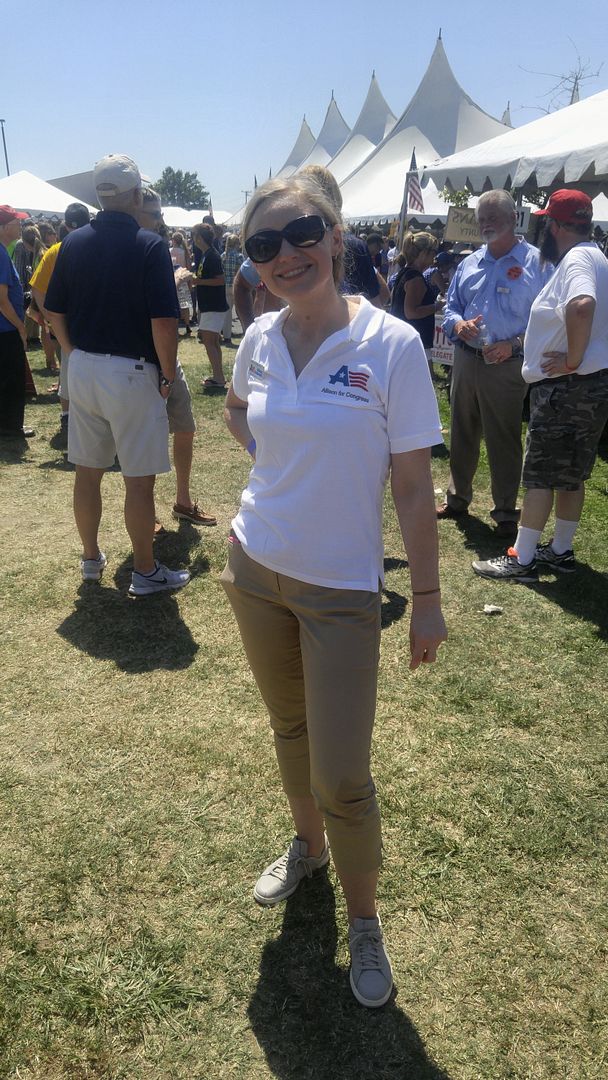 So when I asked her what she would do differently than Andy Harris, the basic response was what wouldn't she do differently? We talked a little bit about defense, entitlements, and health care. Now she is against government waste (as am I) but I think my idea of waste is somewhat different. She also claimed to have saved some sum of money based on her previous work, but I reminded her she would be one of 435 and there seems to be a "I'll scratch your back if you scratch mine" mentality in Congress. (I should have asked her who she would pattern herself after as a Congresswoman.)
But in the end, I was hot, sweaty, sunburned, and dog tired. I will say, though, that despite the rancor that seems to be pervasive in our world these days when it comes to politics most of the people in Crisfield got along just fine. I think I was very bipartisan in speaking since I talked to many GOP friends and met some of these Democrat candidates I didn't know so I had an idea who they were. And who knows? I haven't checked yet, but I may be on the Sun's website – that same photographer Lawson joked with took my photo later while I was asking Ross questions and got my info.
By the time we do this next year, we will know who's running for office and the campaigning will be more serious. So will the eating for the 50% that don't care about politics and never wander by Bereano's massive setup. As long as the Tawes event can cater to both they should be okay.
The other day I noticed on social media that our Congressman, Andy Harris, had put up a post explaining his vote for Trumpcare 2.0, the "repeal and replace" bill for Obamacare. (Most people refer to it as the American Health Care Act, or AHCA.) At the time I saw this there were 1,043 comments on his post and probably 80 to 90 percent of them were negative. I can guarantee you that 80 to 90 percent of his district doesn't oppose his vote, but thanks to this so-called "Indivisible" movement we are seeing some of the most seriously squeaky wheels get the grease that comes from taking 30 seconds to write the linguistic equivalent of "you suck!" on his wall. So I took about five to ten minutes to write my response, because there was a little research involved.
1,043 comments, mostly from people who probably didn't vote for Andy in the first place, vowing he's going to lose in 2018. Y'all need about 139,000 more folks.

In terms of repealing the disaster known as Obamacare, this was the correct vote, We have a long way to go in the process and it's way too early to say what will happen in the Senate (except that regardless of what it is, Maryland's Senators will vote no.)

Oh, and by the way, I just checked out that Allison whats-her-name and if she's praising NARAL she's not getting too far in this district. Most of us stand for life.

Also, since you are on the subject of town halls up and down the thread, could you get those aforementioned Senators down here to have one? Interesting how I never hear anyone clamoring for that.
I have to admit I was only being semi-flippant when it came to "Allison whats-her-name" because I had closed my window and honestly didn't feel like looking it up. Her name is actually Allison Galbraith and she makes her living from, of all things, steering companies to government contracts. I kid you not.
But to begin this piece I want to address the two people who replied directly to my comment, whose names are Gail Jankowski and Bill Schwartz. I'm going to quote their opening sentences here, ladies first.
Gail: We will get MORE than enough votes to replace him because more and more constituents are learning just how negatively this AHCA will affect them!

Bill: Maryland is a Blue State and we need to ensure that the first district is fairly represented.
I'm sure Gail and Bill are nice enough people, and in her case she gets bonus points for (at least presumably, judging by the surname) marrying into a Polish family. (By the same token, I won't take any points from Bill just because his ancestors insisted on unnecessary consonants.) But they seem to have a slim knowledge of political reality.
What the vast majority of people "know" about the AHCA comes from the talking points being fed to them from the media, which isn't exactly a set of unbiased observers. But the 2018 campaign won't begin in earnest for another 15 to 16 months, and what I've found out over the years, Gail, is that the issue you may think will drive the electorate this far out isn't always the one that is front and center by the time people really begin to pay attention, let alone when votes are cast. The big difference between the era of the TEA Party eight years ago in the Obama administration and the Indivisible movement now is, while both are having a discussion about health care as a topic in the off-year before the election – although Obamacare was more dominant in the fall and winter of 2009 – the economy was much, much worse back then. If the economy is in good shape come the fall of 2018, the AHCA will be a minor issue by comparison. People generally vote with their pocketbooks, and the reason the 2010 election was such a wave was the pent-up outrage at an administration that addressed health care before job creation and the economy. (The sticker shock effects of Obamacare were the reason for the 2014 wave election, since it took effect in earnest that year.)
So if the economy remains in decent shape, the AHCA will be so minor of a concern by then that Andy Harris will once again get his 60-65% of the vote and cruise to victory. You see, Bill, Maryland is indeed (and unfortunately) such a blue state that our previous governor and the Democrats got greedy – or at least as greedy as their incumbent Democrat Congressmen would allow them to be. I've made this point before, but if the composition of the First Congressional District were the same in 2008 as it became in 2012, Andy Harris would be on his fifth term. By erasing the northern half of Carroll County from the previous configuration of the Sixth Congressional District and adding it to the First, it assured whoever the GOP puts up in the First District will win because the plurality of the state's Republican voters now reside in the First, and it's by a factor of almost 50% more than any other district. So based on the electorate of the district the First is fairly represented. (The rest of the state? Well, they are just poorly represented, but I'm working on that.)
So now let me turn to another aspect of social media. My friend Sarah Meyers, who describes herself as a proud moderate Democrat (and is a member of our county's central committee) was distraught about the passage of the American Health Care Act, claiming, "The Republican House just voted to allow insurance companies to deny me healthcare."
Now I'll set aside the false conflation of actually having health care provided and paying for it, since there are other methods of doing so out there, but my response essentially noted that she is in the minority of people who are net beneficiaries of the ACA in terms of paying less. Those who get their insurance through their employer are paying far more, a fact that she chalked up to the "greed" of the insurance companies. But the "greed" is tempered by the fact that group insurers have to pay out 80 to 85 percent of their premium income on medical care, leaving the remainder for "administration, marketing, and profit." Since neither administration nor marketing are free, one can presume these insurers are not rolling in profit. This "medical loss ratio" is part of the ACA and may be one reason why insurers are dropping out of the business.
One of the next arguments I got was that the ACA "saves lives," presumably because those who could not afford insurance or were no longer being tossed off for the various reasons of pre-existing conditions, lifetime limits, and so forth were being covered. But the evidence of this is anecdotal at best, and rather dubious in the amount of inference that has to be made. It truly depends on the source, but the best scholarly guess is a net wash. Even some of the partisans concede it's a bogus argument. And while there's always the emotional appeal of someone who can come out and claim they are a survivor because they had health insurance through Obamacare, it's pretty difficult to speak with someone who didn't because Obamacare made their deductible too expensive.
The most radical solution offered up was the old single-payer bromide, from local leftist Chuck Cook:
Single payer is the only solution, and it has been proven to work in every single industrialized first world nation on the planet… except ours. We are the outlier due to conservative ideology that honors the wealth of billionaires over the health of children.
Uh…..no. Honestly, we're very close to having a single-payer system in place here given the lack of competition in many places and tight regulations on the health insurance industry in terms of how much they can make, what they must cover, and how they conduct their business. Basically it would be a Medicare/Medicaid for All system and you can just ask a doctor (whose Medicare reimbursement increased a whopping 0.24% this year, with Medicaid reimbursement being a fraction thereof) how they like it or check out study outcomes, as the left-leaning Kaiser Family Foundation did recently, noting…
Multiple studies, though not all, have documented improvements in beneficiaries' self-reported health, reduced stress and anxiety, and improved quality of life following Medicaid expansions. The Oregon Health Insurance Experiment, which used a research design that is considered the gold standard, compared the experience of adults who gained and adults who did not gain Medicaid coverage through a lottery that allocated a limited number of new Medicaid "slots" for low-income uninsured adults in the state. The study found that Medicaid improved self-reported mental health and reduced clinically observed rates of depression by 30% relative to the uninsured group. The findings related to impacts on physical health were mixed. Medicaid increased the detection of diabetes and use of diabetes medication, but did not have a statistically significant effect on control of diabetes, high blood pressure, or high cholesterol. The researchers note that the study did not have sufficient statistical power to detect changes in these measures, and also that factors including missed diagnosis and inappropriate or ineffective treatments, among others, could mitigate the impact of coverage on clinical outcomes.
…to see if this meets your definition of "proven to work." For me it's lacking.
I think both sides agree, though, that the problems with the system are defined simply: access and cost. The government's solution was twofold: one side was to force everyone into the insurance market whether they wanted to be or not (hence, the "shared responsibility payment") so that the healthy people would balance out the sick and the other side was to try and make preventative care cost nothing out of pocket, but the problem with that is doctors aren't going to work for free because they have families to feed, too. And thanks to all of the billing and coding concerns we have with modern government medicine, a good percentage of the staff in any doctor's office is the overhead required to deal with billing and not there for patient care. (It's akin to the number of administrators in a school system who don't educate children.) In other words, "free" is the extra $2,000 on your deductible or $40 a week out of your paycheck.
One analogy often used as a comparison to health insurance is auto insurance, which is also mandatory in most states (New Hampshire is the lone holdout.) However, when you buy auto insurance it does not cover oil changes, new tires, and other mechanical issues. Similarly, the original intent of health insurance was to cover the medical bills in case you were hospitalized, as opposed to supplemental insurance like AFLAC which covers other expenses.
The idea of insurance is that of calculating and sharing risk among as many participants as possible. Let's say you have a group of 1,000 40-year-olds whose lives are all insured for $100,000 and you know four of them will die on the average in a given year. You then know your premium pool will have to be set to $400,000 plus an amount set aside for the off-chance of a year where more than 4 die, plus administrative expenses, plus a little for shareholders. If you assume those other expenses total $300,000, then each participant would pay $700 a year to be insured for $100,000 if they die, which they may find is a prudent and affordable hedge against that risk as they have families to support. It would be impossible for a group of 2 or 10 to be able to do this, but over a thousand people it's very attainable.
However, what we now have with health insurance isn't truly insurance because there is so much mandated coverage and the risks are highly unpredictable. Nor are they being shared among all the participants equally because some are paying themselves through their employer, some are being subsidized for their coverage by the government, and others are completely on the government dime. Because a large amount of the money comes from funds never seen by the buyers (deducted from their checks, or just plain subsidized) they don't much care what treatment costs, just their premiums and deductibles.
So let me return to the car insurance analogy. You have to have car insurance, and it has to be minimum coverage, but after that the market is relatively free and there are a whole lot of competitors. If you get tired of Allstate because they raised your rates 50% for no good reason, there's always Progressive. When Flo gets too annoying, Jake from State Farm will be happy to help. If you don't like them, we have local independent agents. They compete on price, coverage, and service – so why can't that be the case with true health insurance, too? And what I mean by "true health insurance" is that you select what you want to cover from the options provided by the companies, or you can skip it altogether. (Or, the option for employers to provide group coverage can be left in place as well, as I'll get to in a moment.)
I can already hear the Sarah Meyerses of the world screaming "but pre-existing conditions!" Yes, there can be high-risk pools created for those at the state level, or even groups of states can create a compact to make the pool even larger and share the cost among more people. If states want to create incentives for employers to provide insurance, that's fair game as well. I happen to think the Tenth Amendment is the part of the Constitution that's supposed to be most flexible, allowing states to do a large number of things that should be off-limits to the federal government. I may or may not agree with them, but that is their right to do so. There's very little need for federal involvement in health care at all – certainly nowhere near the amount we have now.
I'm sorry to break this to Chuck Cook, but the United States isn't like the rest of the "industrialized first world." We are a constitutional republic where the federal government is intended to be limited, not maximized and in control of everything. (It's also worth mentioning that the wealth of our billionaires – and the talent of a lot of other, less well-to-do American people – is quite often freely given to assist in promoting the health of people both here in America and around the world. Here's a great local example.) So the idea that we don't have single-payer health care is one of those rare things that's still a feature of ours and not a bug. That's not to say it can't stand some serious improvement, though.
Let's just see if we can't make it more in conformance with what our great American experiment in liberty is supposed to be all about, mmmmkay?