The beauty of having a blog is that I don't have to be in any hurry to post what, to others, may be old news by now.
Yes, this month's Third Friday is a hazy weekend past and normally about this time I would be starting my wrapup of the monthly Republican Club meeting. But since I don't play as much in the political game (and I had a previous commitment anyway) I was someplace else tonight. (Apparently I missed the annual legislative wrapup this evening, but it doesn't matter because I'm working on the real legislative wrapup called the monoblogue Accountability Project. What do you think I spent a good part of my weekend doing?)
Digression aside, on Friday evening the family and I went downtown for a little while to see what we could see.
The parking lots were about full, but it didn't seem like that translated into a lot of people on Main Street. It was a nice gathering, but I've seen wall-to-wall people down there, too.
One business that has seemed to be down there month after month is Zockoll Pottery. Now I'm a little biased because I know Brent through church, but he's quite the artisan and even tossed a little bit of clay while he was down there. His business is slowly recovering from a fire that damaged his studio around the holidays.
As I strolled up Main Street to the top of the hill, it seemed to me the crowd was a little thinner. Granted, we arrived about 6:30 or so, thus the sun was going down and it was cooling off rapidly. Also, there's been a bit of a change in the setup where the area that's being closed off has increased to the first block of Market Street so the focus of Third Friday is geographically shifting a bit to the west.
The photo probably doesn't do this justice, but this is where the bubbles were coming from. Sometimes there's been a food truck down there but this is also where the Jaycees sell the beer. It's an unusual setup to have such a large open container section since there are two blocks of space where people may imbibe.
The musical choice was one of the more unusual ones – normally they don't do a straight-ahead classic pop cover band. Normally they choose something in a more alternative or acoustic vein, but these guys kept a decent crowd nearby. Wasn't completely my thing but that's quite all right.
Back in the day Third Friday used to be more ambitious with multiple music groups on two or three stages, but in recent years they've settled on the single stage of the Plaza for music and maybe some other act (like a youth dance group) on the courthouse steps. One thing that I'm going to be curious about regarding downtown development is whether Third Friday will eventually be relocated to focus the music on the amphitheater that's under construction – alas, that location doesn't leave a lot of space for artisans unless they are placed across the river.
The event that would make good sense based around the amphitheater is the "Fridays at Five" event (like the last one from 2017 that I attended in this North Division Street location.) That is a gathering where such a focal point would enhance the event. (The same goes for First Saturday, which I've always managed to miss. Half the time it's held inside anyway.) I think there will be some events held in and around the amphitheater this summer as a dry run for the National Folk Festival.
While Third Friday's physical location lies just outside the district, both County Council District 4 hopefuls were pressing the flesh. I saw Josh Hastings out walking around, while I got to at least introduce myself to Suzanah Cain before I left. At the time she was standing with the guy in the ultimate catbird seat, Delegate Carl Anderton. (The third in the confab was one of my favorite Democrats, Sarah Meyers – so it was a reach across the aisle.) Also making his rounds was Clerk of Courts candidate Bo McAllster, who I saw for the second time in less than a week. He had his wife and two kids in tow.
One place I didn't stop by and say hello was the Republican Women's booth. (Honestly, I'm not sure which of the two local groups was there. I'm sure someone reading this would tell me and break my you-know-whats for not dropping in.) But this was while I was still walking with Kim – shortly after she stopped and I kept going until I got to the band – only to turn around and see she was talking to Carl Anderton, who I had seen a couple minutes earlier and said hello to walking by. (Turnabout is fair play, I suppose.)
Anyway, we checked out the scene and departed as things were already breaking down about a half-hour before the scheduled (but informal) 8:00 close of festivities. Seeing them bail early was the second part of the foundation of my theory that the crowd was less.
A final thought: in years past this particular Third Friday date would have been a lead in for Pork in the Park. But for just the second time in over a dozen years, there was no Pork in the Park in April. (In 2014 it was held in May because it would have fallen on Easter weekend.) A few months back Wicomico County finally decided to pull the plug on that event to concentrate on the WIcomico County Fair, which is held in the same location.
You could couple that somewhat official excuse with the cyclical nature of food-related events. Even the venerable old Delmarva Chicken Festival that had dated from the 1940s ran out of time a few years ago and was – ironically – folded into the former Wicomico Farm and Home Show and rebranded as our county fair in 2015. It's sad because Pork in the Park was one of my favorite weekends of the year until they ruined it by being greedy. That began in 2012, which was the year they alienated half their food vendors, and then a couple years later Pork in the Park doubled down by charging a hefty admission fee. Anyway, to get a "do you remember when" back when Pork in the Park was a premier event, here is a nice walk around video from 2012 (with a cameo from Jonathan Taylor of Lower Eastern Shore News – watch from the beginning and you'll see him.) After those spectacular failures and the loss of the KCBS competition, it was never the same. Even worse, the event that succeeded it with KCBS (Pig and a Jig, down in Snow Hill) also seems to be no more.
But the demise of Pork in the Park and the former Salisbury Festival a few years apart means that two staple events of the so-called spring shoulder season are no more. The Wicomico County Fair is held in the traditional late-summer slot one would associate with a county fair, while the Salisbury Festival is being rebranded as the Downtown Salisbury Festival and they will try it in early June, when the june bugs are in OC.
With those cautionary tales in mind, we will see how Third Friday fares as the years go on. Has it reached its peak like all these other events did?
Over the summer in Salisbury, there has been a controversy over a plaque in front of the courthouse that honors a native of what would become Wicomico County after his death. Brigadier General John Henry Winder was a West Point graduate and veteran of the Mexican-American War, but he also played a role in the War Between the States as a military prison commander in the Confederate army, and that trivial fact has enraged a certain segment of the community.
The plaque itself dates from the mid-1960s, as it was placed by a commission created to mark the centennial of the Civil War. Its original location along U.S. 13 made it a target for wayward drivers, so it was relocated in 1983 to its present location on the front yard of the old county courthouse, facing south along East Main Street. (The old courthouse itself fronts North Division Street, so the plaque is sort of off to the side. In truth, visitors to the courthouse seldom see the monument as it's on the back side of the more recent addition to the county's halls of justice, where most enter.)
Last week an incident at the courthouse reignited the uproar, as two men were charged with malicious destruction of property after chalking up the building and walks leading up to it with various slogans and phrases indicating their displeasure with the monument's presence.
With that background in mind, know that I decided to drop by an event on Friday that I've been meaning to check out but hadn't. The final edition of "Fridays at Five" for the year was this past Friday and even though I had a family function later that evening I decided to go scan the scene. As parties go, it was comparatively modest: a beer truck and team of two DJs surrounded by a host of games to amuse the partygoers. But there were also a couple of buckets of chalk there and I think these gentlemen weren't through with their messaging.
Yes, these guys were just the life of the party, all right.
And not only were they being blowhards about a dead subject – the plaque's not going anywhere fast unless another criminal act is perpetrated – but they're not too bright, either. "Buget"? (He tried to fit a "d" in after it was pointed out to him.)
While he's pretty close on the number, there's a reason it's so high: sequestration. It didn't seem like anything else on the budget was subject to it, but something that's Constitutionally mandated was. And the FY18 defense budget had bipartisan support.
Since the chalk was going to be used anyway, I had my own little message, set off to the side.
Because I'm not a professional chalker, this is what it says: "Let history be history, work to a better future."
I say just leave the Winder plaque where it is, because it's not hurting anyone and nary a complaint had been made about it for 33 years until a certain president was elected. Now if they want to commemorate other things that occurred there, let them go through the proper channels (since I believe these are state-sponsored monuments) and see if there can be monuments to the lynchings or slave trading that may have taken place in downtown Salisbury.
With so many more important issues and problems in our community, worrying about a plaque seems a waste of time. Notice I've been relatively quiet about the whole NFL kneeling for the National Anthem thing because there are more important things in life for me to obsess over – if NFL players want to cut their collective economic throats, people can do other things on Sunday. I don't really worry about football season until the World Series is over, anyway.
And with the news of the Las Vegas massacre, it's a reminder that we have serious issues which demand that we hug our loved ones a little tighter and not be as offended with things we don't wish to read.
Earlier today I spent a little time at the "No Ban No Wall No Registry" rally in downtown Salisbury, which was countered by a (more or less) silent protest on the outside. I was only there about 45 minutes, since I had more pressing family business to attend to, but I think my stint there gave me the flavor of the event. So I have some pictures and quotes I jotted down from representative speakers.
My obligatory crowd shot. I believe the event was supposed to begin at 1:00, so I took this about a half-hour into it.
On such an event as this my basis of comparison is the Tax Day TEA Party I attended at that very same location in 2009. Considering that prior event was held on a rainy, chilly weekday afternoon and this one was on an unseasonably warm February weekend (a holiday weekend to boot) the turnout seemed rather small – maybe 300 people. Also note that perhaps 75 of these people were there for the "Resist the Resistance" counter-rally, so my estimate is of about a 3:1 ratio of rallygoer to protestor.
This second crowd shot above came about 20 minutes later, from across the street. Notice the police car parked there, as there were perhaps 4 or 5 pairs of Salisbury police officers surveying the group from different vantage points. Overall, the gathering was rather peaceful and the event organizer only chastised the counter-group once when I was there for being disrespectful. This is a sampling of the counterpoint; however, they were more scattered around the outside. The cheers and chants weren't coming from them.
As with any protest worth its salt, there were signs expressing a variety of points of view.
I'm surprised the bearer wasn't asking for the birth certificate. Oh wait, wrong president. But this wasn't necessarily supposed to be an anti-Trump rally.
Well, then again… but to be fair, this was spotted on a car in the nearby parking lot. I would presume the person who slapped it on wasn't at the library, though.
True, but many do illegal acts, and in the case of our subject matter crossing the border without permission, identity theft – which many "undocumented migrants" do in order to secure work authorization – and overstaying visas are criminal acts.
I agree with this one as well, particularly with regard to the below sign.
Radical Islam is more of a threat to that light than a temporary pause in accepting refugees and immigrants from particular nations. Shari'a law is not compatible with our Constitution. And looking at the other sign in the top photo, I didn't think global warming was a concern with this one. Today's global warming feels pretty darn good, actually. And, by the way, spellcheck is your friend.
Rather than take a photo of the kids drawing on the posterboards (making more signs?) I took this shot. They're not old enough to know better, although I fear that what they are exposed to isn't going to lead them in a positive direction.
I did not write down the names of the speakers, so forgive me on that. More important than the names, though, was their sentiments. One high-school age girl who claimed she was brought up in a mixed home (Muslim and Catholic) was afraid she would be "hated and harmed by those misinformed" and that with continued scapegoating of various groups America will unmake itself.
I recall this girl talked about the internment of the Japanese in America during World War II, which was primarily because FDR considered them a threat as we were fighting their homeland. Yet no one is talking about rounding up Middle Eastern males and putting them in a camp – the idea is just to have more "extreme vetting" of a group which has been proven to have a propensity toward committing acts of terror both here and elsewhere.
Another woman (most of the speakers I saw were women, particularly college-age and below) exhorted the audience to educate themselves and not to believe various news sources, including blogs. Hey, I resent that remark – come tell me I'm lying. I certainly will cheerfully admit my bias toward limited, Constitutional government, and I believe Trump's action regarding immigrants is within his purview. (The Washington judge and Ninth Circuit got it wrong. The law – which dates from the 1950s – clearly states Trump can take this action, just as the last six presidents have.)
I'm not sure if it was the same speaker, but it was noted as well that the Likovich family (the organizer is local college student Molly Likovich) has received "a lot of hateful words." I don't condone that tone, either, but please remember hateful words aren't the exclusive province of the Right.
Something I noticed in further remarks was when a speaker was talking about having respect for all religions, including those who choose not to follow any religion, that last part got the loudest cheer. What someone does with their immortal soul is between them and God, but I found, sadly, I wasn't surprised by that sentiment there.
I also heard the opinion that we all have blanket stereotypes of people as human beings. But by the same token, this speaker said "Ignorance is not bliss, and knowledge is power." We had to admit to ourselves these stereotypes and try to change our behavior. The question I have, though, is change it to what? Should we just accept the false notion that all cultures are equal and just let things go? That's not possible in a civilized society. And while she asked us to "never stop fighting for humanity," the question becomes which behaviors and cultures are assets to humanity and which are detrimental.
But the last speaker I heard before I departed the scene took the cake.
Thanks to my erstwhile fellow WCRC officer Jackie Wellfonder, I found out this speaker's name is Amber Green, and yes she is sporting a BLM shirt. Jackie had a video of Amber's whole speech up on her social media, so I listened again.
Amber was very riled up, which is fine, but when she told the older generation "it's time for you guys to sit down" and let the younger generation take over because "we have a lot to say," well, from what they had to say I don't think they have the maturity or common sense to take over yet.
To show how naïve these people are, remember that one of the speakers said humans have "blanket stereotypes" about each other. Young lady, that cuts both ways. Unfortunately, there is a group of relatively young humans out there who use the blanket stereotypes given to them by their religion as an excuse to murder and maim people, in the belief that dying themselves in the act is their surest way to 72 virgins in paradise. Again, I will admit that I heard only a portion of the remarks but I don't recall any of the speakers condemning that behavior. Instead, we had to be tolerant of their beliefs because they have the notion that there is moral equivalence between all cultures and religions. So if someone came to the event with a Confederate flag, would they be as forgiving because – remember – all cultures are equal?
I also recall one of the speakers revealing that Molly and several of the other event organizers participated in the Women's March last month. At least this rally didn't feature the pink hats, which did little but make those women look foolish.
Good thing there was a little levity about the place, not to mention the bottled water on the table above the sign.
Maybe what we need is a beer summit, and apparently from what I read on social media several of the pro-Trump people went to this establishment to have a few adult beverages. Yet it's the organizers who need it so they will figure out a little bit of common sense. Lord knows they need something to get through the next four to eight years because they'll have to deal with Donald Trump and Mike Pence for that long. Despite Michael Moore's fantasy, Hillary Clinton is nowhere on the succession list.
But do you know what was most silly about this rally? These people have already forgotten something I observed during the 2016 campaign: the more extreme the rhetoric and vitriol toward Donald Trump, the more people embrace him. All this affair did was sow the seeds of division in our nation deeper, but that may have been the goal all along. And despite the glowing coverage in local media, it will just take one terror attack in the name of religion to obliterate the points made today.
Last year I did this in three parts, but to me that may be overkill this time around. Consider that 2017 is not an election year, so if anything we will not see much on that front until the latter stages of the year as the campaigns for 2018's state elections ramp up. And because all but one of our local officials are first-term representatives in their respective offices, it's likely they will wish to continue in office. Bear in mind, though, on the Senate side longtime House member Addie Eckardt will be 75 and Jim Mathias (who is in his second term as Senator after one-plus in the House) will be 67 by the time the next election comes around, so they are likely closer to the end of their lengthy political careers than to the beginning. And thanks to Wicomico County voters who passed the referendum this past November, 2017 will be the year we formally set up the elections which will net the county its first fully-elected Board of Education in late 2018.
Speaking of the local BOE, we still have an appointed board until that election and the two members whose terms expire this year are both Democrats who are term-limited. I suspect the local Democrats will try and send up names of people who will run for seats in 2018 to gain that incumbency advantage – as envisioned, though, these will be non-partisan elections. And the final say goes to the state Secretary of Appointments, who over the years hasn't always been kind to those we preferred, either. Or, conversely, since the incumbents serve until their successors are appointed, we may see a long stalling technique, too. It will be interesting to see how that plays out, but I'll bet those who are appointed will use that tenure as a springboard for eventual election.
Elsewhere in Wicomico County as 2016 comes to an end, it appears the city of Salisbury and Wicomico County are working out their issues rather well. The biggest sticking point remains fire service, and it's relatively likely the city is going to see more of a reimbursement from the county when it comes to that – perhaps to the tune of up to $2 million a year. It's possible there may be something to cut to make up for this, but as the county has increased its debt in the last few years to build several schools it leaves less room for spending cuts to make up the difference. If the city receives $2 million annually that would equate to about a 3 or 4 cent property tax increase for county residents. There's also the chance that a tax differential or rebate may be on the table in order to reimburse city residents, as they pay the same tax rate as county residents. Wicomico is one of only three counties in the state that choose not to provide a tax differential to their municipalities.
But there is another factor to consider. Back in June the number of people working in Wicomico County set an all-time high of 52,010, eclipsing a mark that had stood for nearly a decade (July 2006.) That record lasted a month, as July came in at 53,668. While the number of jobs has finally reached where we were a decade ago, bear in mind the labor force is about 1,000 larger – so unemployment is in the 5.5% range rather than 4%. Even so, that extra number of people working – a number which year-over-year between 2015 and 2016 has fluctuated quite a bit but usually comes in at 1,000 or more additional workers in 2016 – means there's more revenue to the county from income taxes so paying the city of Salisbury may not be such a heavy lift. The question for 2017 will be whether these economic conditions continue and whether Wicomico County will want to spend every "extra" dime on items which are unsustainable in rougher economic times.
That same question goes for the state, but the trend there has been for more spending. Democrats in the General Assembly added millions in mandated spending to the state budget and it's a sure bet they will try again this year. Add to that the general belief that year 3 of a Maryland political cycle sees the most ambitious agenda put forth – it's time for those incumbents to bring home the bacon and burnish their re-election chances the next year – and you can bet that paid sick leave will pass, Radical Green will have its day (perhaps with a fracking ban, which would devastate Western Maryland), and any Hogan veto will be promptly overridden. It's certain that they will leave enough time in passing these controversial bills to do so. We've already seen battle lines drawn with the counter-proposal from Governor Hogan on paid sick leave and the social media-fueled drive to repeal the "Road Kill Bill" that Democrats passed over Governor Hogan's veto in the spring of this year.
The wild card in state politics, though, comes from national politics. It's not because we had the well-publicized answer to an extremely nosy press – if only they paid as much attention to some of Martin O'Malley's foibles and scandals! – that Larry Hogan wasn't going to support his (nominally at best) fellow Republican Donald Trump, but the idea that Donald Trump may actually do something to cut the size and scope of government. (Military contractors, particularly, have reason to worry.) And because Maryland's economy is so dependent on the federal government, to a shocking and sickening degree, we know that if Trump begins to make cuts it will hurt Maryland the most. Given the typical bureaucrat CYA perspective, it explains perfectly why four of the five jurisdictions Trump did worst in – the only five which came in below his 35% statewide total – were the four counties closest to the District of Columbia (MoCo, PG, Charles, and Howard. Baltimore City was the fifth.) While I am entirely a skeptic on this, there seems to be the belief that Trump will take a meat cleaver to the budget and thousands of federal and contract workers will be cast aside because of it.
And in a situation where revenues are already coming up short of forecast, a recession in the state's biggest jurisdictions, coupled with the mandated spending Democrats keep pushing through, will make it really, really difficult on Larry Hogan going into 2018. You will be able to judge who has the most ambition to be Governor by who carps the longest about these cuts.
While the Dow Jones stalled this week in an effort to breach the 20,000 mark by year's end, the rise in the markets echoes consumer optimism – even as fourth quarter GDP forecasts turned a little bearish, consumers still feel a little better about the state of our economy. If we can get the 4% GDP growth Donald Trump promised we may see some of these fiscal crises take care of themselves.
Yet there was also a sentiment in 2016 that the world was going mad: consider all the terror attacks, the seemingly unusual number of and extended shock over high-profile celebrity deaths, and a general turning away from that which was considered moral and proper to that which fell under the realm of political correctness, wasn't a "trigger" and didn't violate the "safe spaces" of the Millennial "snowflakes." (I can't resist linking to this one I wrote for The Patriot Post.) At some point the pendulum swings back the other way, but in most cases that takes a life-changing event like 9/11 or Pearl Harbor. I'd prefer a much softer transition but a transition nonetheless.
As I see it, the key word for 2017 will be leadership: if the current elected officials and new President have it and use it wisely to the benefit of our county, state, and nation "so help me God" things will be okay. If not, well, we've seen that movie for about eight or ten years already and we will continue to slouch toward Gomorrah.
It may not be as apparent to the average American as "vacation day" patriotic holidays like Memorial Day or Independence Day, but today a small band of Salisbury residents came to City Park along the Wicomico River and celebrated the 229th anniversary of the signing and delivery of our nascent Constitution to Congress for approval. Once approved, it was sent to each of the thirteen colonies for ratification (Delaware was first, on December 7, 1787) and by the middle of the next year the requisite nine states had ratified the document, which was not yet amended with the Bill of Rights. (That would come a few years later, in 1791.)
So I arrived fashionably on time and was pleased to see the turnout.
It seems like there were a few more people than last year's gathering, and I think the morning start time (as opposed to afternoon last year) may have had something to do with that.
We were presented with a proclamation from Salisbury mayor Jake Day reiterating that the city would be celebrating Constitution Day today. Day is one of the few who could stand and say he was actively defending the Constitution as an Army officer on active duty.
The event also was the culmination of an essay contest where the top two winners were present to be honored with a certificate from the Maryland General Assembly, presented by members of the local delegation Mary Beth Carozza (who was speaking), Christopher Adams, Carl Anderton, and Johhny Mautz. The winning entry was read by Carys Hazel of Mardela High School, with runner-up Nathaniel Sansom of Salisbury Christian School also present to receive his award.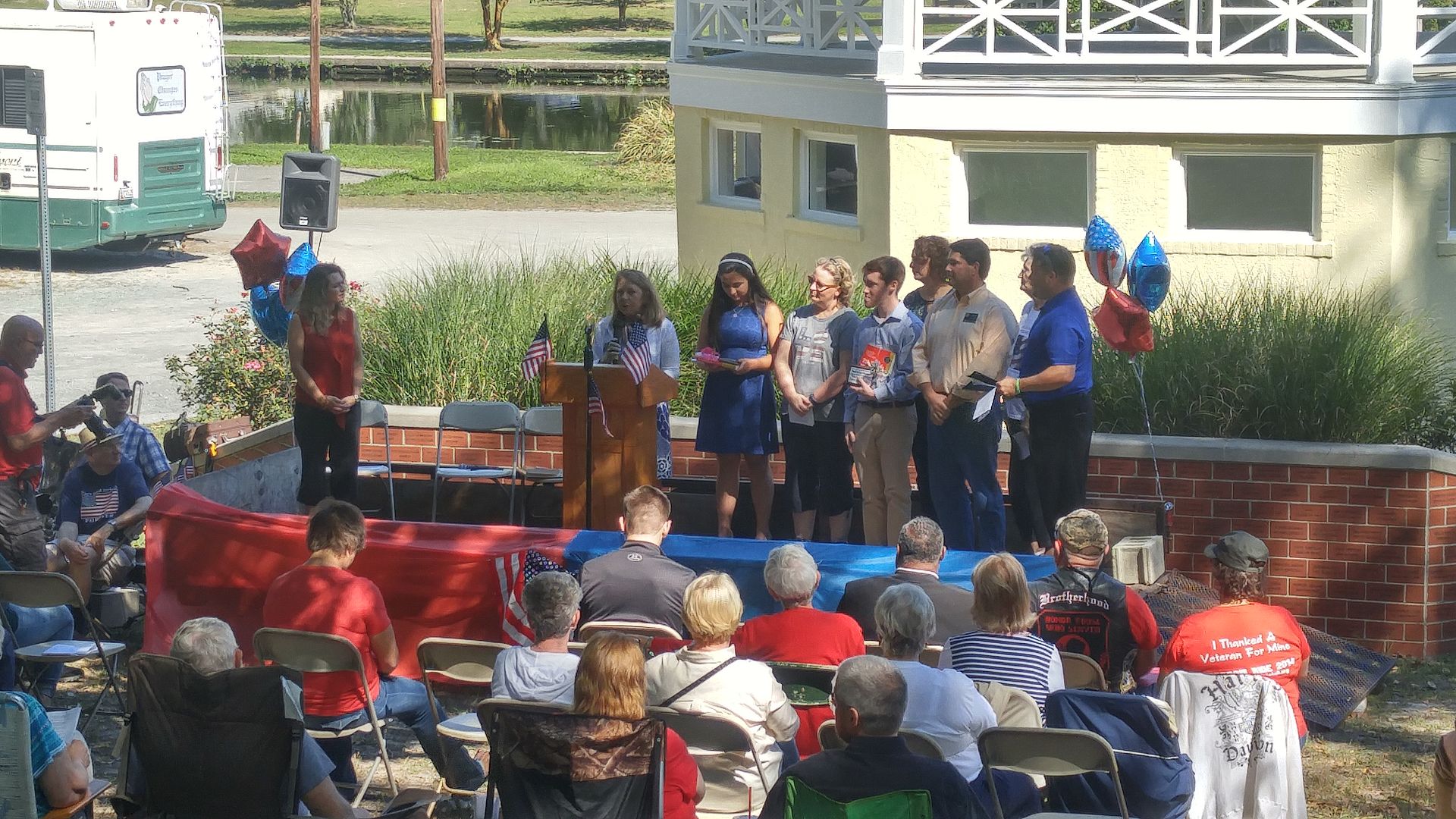 The keynote speaker was Wicomico County Sheriff Mike Lewis.
I wasn't really at the Constitution Day event to give blow-by-blow coverage, but I used the photos to both set the scene and cue up my own remarks, with the address Sheriff Lewis gave as a jumping-off point. Mike spoke at some length about the role of the military overseas and their fight against radical Islam. Certainly I understand the reason that they have embarked on such a mission, but to me it also begs a pair of questions for which we need an honest answer.
To a varying extent, the nation has been on a war footing since 9/11. In that time we have adopted the PATRIOT Act and sent thousands of troops overseas to fight against the proxy forces of radical Islam: the Taliban in Afghanistan, the Saddam Hussein regime in Iraq, and the Islamic State known as ISIS (or ISIL.) But the first question I have is: where does the balance tip too far toward security at the expense of the liberty afforded to us in the Constitution?
This question isn't really new, either: during the Civil War (or War Between the States or War of Northern Aggression, if you prefer) President Lincoln suspended the writ of habeas corpus and arrested members of the Maryland General Assembly to prevent them from meeting as a means of preserving the Union. Eight decades later, President Roosevelt interned Japanese-Americans as a result of their ancestral homeland's attack on American soil. In both instances America was in an active war within its borders or territories, but against a nation-state rather than an ideology as we are today. However, being in a state of war such that we are should not be an excuse for excess and there are many who have pondered the "War on Terror" and its response in the PATRIOT Act and whether the government is using this Long War as a flimsy excuse to consolidate power.
The idea of the government consolidating power leads to the second question: are we truly following the Constitution anymore or is this all just lip service?
Surely there are some who believe the Constitution has been eroding practically since the ink dried on the parchment. Whether they point to Marbury v. Madison being the moment where the judiciary became the most powerful of the three branches, the Civil War being the death knell for state's rights since they no longer had the right to secede if they were dissatisfied with the nation as a whole, or the Sixteenth and Seventeenth Amendments that gave the federal government taxation authority on individuals specifically prohibited in the original and ended the practice of state legislators electing Senators to represent their interests in Washington, there are a fair number that think we need to start over – perhaps with a Convention of States, otherwise known as an Article V Convention. (Years ago I contributed a couple ideas for new amendments, which are still sorely needed. Back then I had good discourse, too.)
I don't want to get into the weeds of determining the merits or problems of such a convention, but the fact that there are people who believe the Constitution needs a tune-up to fix excesses on one side or the other bolsters the argument that the government we have now is not the one originally envisioned by those men who toiled during the spring and summer of 1787 to write a replacement for the Articles of Confederation that the United States was bound to for the first decade or so of its existence. Granted, the Article V method is one prescribed in the document but there's no guarantee the amendments proposed would pass or the resulting Constitution any better for the people.
So the occasion of Constitution Day is bittersweet. Yesterday I wrote on the subject for the Patriot Post, noting that:
Contention over – and advocacy of – limitations to government based on constitutional principles has become a theoretical exercise at best, perhaps in part because few understand the ideas and arguments that were made during the drafting of our government's founding document.
Those who have sworn an oath to enlist in the military or (in my case) to take public office know that we swear to support and defend the Constitution as opposed to an oath to the United States. This is a clear distinction because the interests of the United States may vary by whoever occupies the offices of government at the time, but the Constitution is the set of ground rules which are supposed to define our nation. The key reason I resigned from the Central Committee was because I could not trust the Republican presidential nominee to support or defend the Constitution – rather, I believed he would tear the GOP from what few limited, Constitutional government roots it had remaining. Thus, I felt as a public official that supporting him was a violation of the oath I swore to the Constitution.
Many of those same men who pledged their lives, fortunes, and sacred honor to the American nation and survived the war that brought us independence were those who argued and debated the contents of the pieces of parchment that we consider our supreme law of the land. I pray that a group that is just as divinely inspired can lead us back to a nation that more closely reflects the intentions of these earliest Americans with respect to restoring a government that seeks the consent of the governed, and that those who are governed understand their responsibility in the equation as well. The fact that so few seem to have this inspiration or the desire to take this responsibility as citizens seriously may be what was most troubling about this day in the park.
Over the last couple days there has been quite the buzz about Salisbury becoming home to professional hockey at long last, since the alcohol restrictions on the Wicomico Youth and Civic Center are no longer in effect. One story on the WBOC-TV website quotes an official with the Federal Hockey League, which is a lower-level minor league comparable to an independent league in baseball as teams are not affiliated as farm clubs for a particular NHL team. According to Andrew Richards of the FHL, "for a team to survive, each game would generally need to see 1,200 to 1,500 attendees at roughly $10 per ticket."
It's interesting that this post will come right after my Shorebird of the Week post; however, I am a much more casual hockey fan than I am a baseball fan. I lived in Toledo, a city with a longstanding minor league hockey history dating back to the 1940s, and attended one or two games over the years (as opposed to perhaps fifty Mud Hen games.) Yet the criteria Richards uses is definitely doable if people are willing to spend a little bit more than they would for a Shorebirds game.
However, if Salisbury wants to have a successful hockey franchise, the FHL may not be the place to be. Formed in 2010, the league has suffered some serious growing pains to get to its current 7-team status. (Six clubs played in 2015-16; a seventh team in St. Clair Shores, Michigan is an expansion team for 2016-17 and the eighth team out of Watertown, New York is supposed to return from a one-year "hiatus" this fall.) The other serious contender would be the Southern Professional Hockey League, a ten-team league that is several years older and seems to be more established. They have an eleventh team that is taking a year off in 2016-17 due to renovations to its arena, so Salisbury would be a good fit as a twelfth team for the 2017-18 season.
But travel would also be somewhat more of a concern for an SPHL franchise – while Salisbury is not in the geographic center of either loop, the closest SPHL team would be in Roanoke, Virginia, which is about six hours away. Its other franchises are in Tennessee, North Carolina, two in Georgia, Alabama, Florida, Mississippi, Illinois, and Indiana. On the other hand, there are two FHL teams about five hours away, in Danbury, Connecticut and Brewster, New York. There are other teams in New York and New Hampshire, but the western side of the FHL is Midwest-based with franchises in Ohio, Michigan (2), and Illinois.
Attendance-wise, though, Salisbury could be one of the more successful FHL teams. Both the SPHL and FHL give host teams 28 games, but attendance at SPHL games is comparable to the South Atlantic League in minor league baseball, where teams average between 2,000 to 3,000 a contest. Using Richards' formula, none of the six FHL teams that played last year would be a success: the closest two were Danville, Illinois, which averaged 1,120 and Port Huron, Michigan, which drew 1,044 per game. The other four ranged from 243 to 774 per game, which meant half-empty (or even cavernously vacant, in Dayton's case) arenas. Unfortunately for Salisbury, the more successful FHL teams tend to be in the Midwest so we may not have close rivals; moreover, I'd have serious concerns about the entire league going belly-up, which may be why they are pursuing our area so hard thanks to a reasonably-sized arena and presumably hockey-starved market. (They obviously factor in the thousands of NY/NJ/PA retirees living less than an hour away in Sussex County and Ocean Pines.)
So nothing is official yet. But to paraphrase Ben Franklin, we may get ourselves a hockey team – if we can keep it.
It was a perfect day to be downtown and try a few local craft beers, so I went to the inaugural Salisbury Shore Craft Beer Festival (SSCBF) held downtown along the Riverwalk. (The Salisbury designation distinguishes it from a similar event with the same sponsor in Ocean City, the first of which was held last October.) It was also billed as a "Riverwalk Celebration" and while they are renovating it, there's still some work in progress.
To be fair, I was looking west from the Division Street bridge and most of the Riverwalk lies east of the structure. But this was the site chosen for the festival.
Early on I thought the crowd was a little bit meager. I took this photo about 2:00, a half-hour after the gates were opened for general admission. (VIP ticket holders could get in at 12:30.)
One area where the festival will have room to grow is the food selection. The Division Street bridge served as a mini-food court.
As time went on, though, the crowds thickened a little bit. This photo was taken from along the river looking toward the stage.
One thing that I got to take advantage of was making my first visit to Headquarters Live, which was a nice place to sit down. There wasn't a tent with picnic tables set up on the main festival site.
Now if you had the entry in the pool that said the first band I would see there would be called Billy Earl and the Pink Flamingos, you would be right – but I would have called you nuts.
I'll have much more on them as well as Eastern Electric on the mobile stage when I do a "Weekend of local rock" post later this week, but suffice to say Headquarters Live is a smaller venue than I imagined. Yet the festival was shrewd in tying the outdoor stage and indoor venue together, with a separate wristband for each. This gives them a logical area for expansion beyond the small parcel that was used across Division Street and along the river.
As it was, there was a comfortable amount of people in the park where you didn't feel like you were tripping over anyone yet there was enough to give the event some energy. Unlike the Good Beer Festival, which is held in a secluded location outside of town, people could readily walk in from outside but they could not sample the beer. Another asset was the fact that it was all local breweries – none of those mainstream brewers that are still considered crafters like Sam Adams or Blue Moon which come to the Good Beer Festival from afar. This will limit the event's size to some extent as the area can only support so many breweries and expanding to markets farther and farther away will run them into stiff competition from their local crafters. There were twelve area breweries represented at the SSCBF, pouring around 30 beers as well as a couple of tea concoctions.
I think the event was rather successful considering it was held at a time when few other events off the beach seem to succeed. Most of our larger local festivals actually occur during what's considered "shoulder season" before Memorial Day or after Labor Day. (April and October are the favored months.) In this case, the SSCBF was up against the OC Air Show and the end of the Firefly Music Festival as well as at a time when Salisbury University isn't in regular session, so there were a lot of distractions. It may succeed a little more a week earlier or a week later, but this isn't a bad summer event.
So we will see what happens next year and find out how much more of the Riverwalk they take advantage of.
I may never grace the pages of The Resurgent for my writing ability, but I at least can say I contributed in some small way to the success of Erick Erickson's venture. In an article written by Steve Berman on Friday, I had to do a double-take. "That looks like the Salisbury Trump headquarters," I said to myself, then realized the photo looks REALLY familiar. The person who did the photo for the article (perhaps Berman) cropped the car out of the left side of the photo.
I suspect I also used this photo for Facebook as well, so it's pretty much public domain. But I had to have a little fun with it.
Of all the #Trump joints in all the towns, @lifeofgrace224 had to pick our @DowntownSBY one. https://t.co/wzbk62CclQ

— Michael Swartz (@monoblogueUS) June 11, 2016
Berman was a good sport, though.
@monoblogueUS @DowntownSBY @resurgent no knock on your town. I've been there and enjoyed it.

— (((Steve Berman))) (@lifeofgrace224) June 11, 2016
Yet there was a serious element to his search.
@monoblogueUS @DowntownSBY @resurgent it was the emptiest and saddest that I had license to use.

— (((Steve Berman))) (@lifeofgrace224) June 11, 2016
Of course all this played out prior to the Orlando terrorist attack last night, which may make the fundraising question less relevant for Trump*, but the case that's been made by Berman and others who question the wisdom of nominating Trump is his heretofore weak effort at raising the sort of money needed. $2 billion in free media is great for the primary, but now the actual race between Trump and the candidate the media actually supports has begun. This doesn't count Trump's belief that he can put California, New York, New Jersey, and "maybe" Maryland in play.
Now I was told at our state convention that the RNC would immediately chip in $25 million upon his nomination, as Trump's message about self-funding his campaign was only for the primary. Nor does Trump have the advantages of donors made fat by government largesse or coerced dues to bankroll his campaign. While it's possible to overcome these disadvantages on a state scale as Larry Hogan did, the fact Republicans have lost the popular vote in five of the last six national Presidential elections tells me the Democratic formula is hard to beat. It's going to take all these newfound passionate Trump people contributing to the ground game to win over Hillary, and do so without taking resources needed to maintain the Senate and House.
Color me, along with Berman and Wolf, a little skeptical at this point.
__________________
* The BIG caveat: it seems to me that the more anti-Trump protests and terror attacks there are, the closer Trump inches to his goal. It will be interesting to see the polls toward the end of this coming week as more is learned about the Orlando attacker.
We had a good gathering for our primary eve meeting, buoyed by the presence of the families of the winners of our annual scholarship contest. Three things that were missing at the start, though, were three of our officers so Second Vice-President Shawn Bradley got things underway with a little assistance from me. Fortunately, we do pretty much the same thing as an introduction every month so we made it over those bumps in the road and heard our Central Committee report first.
County Chair Mark McIver announced we were still seeking applicants for our two upcoming Board of Education appointments, although we already had 5 with their information turned in. He also reminded us that the end of this process could be at hand, as the bill allowing us to vote on whether we wanted an elected school board was passed by the General Assembly. Jackie Wellfonder revealed the signing ceremony was slated for tomorrow, with Governor Hogan signing the Senate version sponsored by Senators Jim Mathias and Addie Eckardt.
He also spoke about the voter affiliation drive to allow people to vote in our primary. It was a multi-prong push combining a mailing, letters to the editor, and advertising in local media. I noted that the effort had worked to some extent – according to Board of Elections statistics, I recalled the GOP had gained about 400 voters in March, the Democrats about 250, and unaffiliated voters falling by about 250. (Actual numbers as I looked them up just now: Republicans +398, Democrats +261, and unaffiliated -247. We also lost 5 Greens and 18 "other" but gained 9 Libertarians.)
Mark also allowed Nate Sansom to speak. On his behalf, we are planning to bring a resolution to the Spring Convention asking for electoral votes in Maryland to be awarded to the winner of each Congressional district instead of all ten being winner-take-all. (Maine and Nebraska have such a system.) As I pointed out, it's only fair after the way Democrats gerrymandered our state.
McIver also announced he would be hosting a pig roast fundraiser on June 11, and it was likely several state candidates may be there to help the Wicomico GOP.
Ed Senkbeil, representing our scholarship committee, had the honor of presenting two local seniors WCRC Scholarships. Taylor Creighton of Mardela High School and Jessica Willey of Parkside High School were the two winners. Creighton will be heading off to Clemson University to study in the field of genetics, while Willey will be studying psychology at Washington College. Both of them gave brief introductory remarks and did well for an impromptu engagement.
We then heard from our featured speaker: the incoming president of the Maryland College Republicans, Patty Miller of Salisbury University.
After Miller introduced her successor as SU chapter president, Shelby Hall, she remarked that the College Republicans were "on the front lines of dealing with liberal college students." Under her leadership of the SU chapter, they had become active in local and state campaigns and recently hosted an address by Ben Shapiro, a writer, editor, and author perhaps most famous for working at Breitbart.com until he resigned after the Michelle Fields incident.
It was interesting to learn that her maternal family has a rich heritage in politics. Miller's mother is a native of Honduras, where her family was involved in the 2009 removal of President Manuel Zelaya, a leftist ally of the late Venezuelan strongman Hugo Chavez. Zelaya was ousted after attempting to circumvent a constitutional provision against serving more than one four-year term. These family ties made her "passionate about capitalism…the American Dream is still alive."
As the CR state chair, she announced "I'm here to get stuff done." She actually wasn't originally seeking the office of president but a series of events led her to take the top position, which oversees 11 school-level chapters around the state – Miller would like to secure two others as well. She also gets a non-voting seat on the state party's executive committee, although there is a proposal before the membership next month that may allow the CRs to have a vote once again.
After Miller's remarks, we went through some business. Jackie Wellfonder had the list of polling places for sign placement, which would commence after the meeting. She also announced the newly-formed Wicomico Republican Women's Club would host a "Welcome Back Reception for the Eastern Shore Delegation" on May 5.
Jim Jester let us know the Crab Feast will be September 10, once again at Schumaker Pond. His next step was securing the beer permit, but Muir Boda added we were seeking event sponsors for the first time to help defray the costs.
Nate Sansom was pleased to say the second meeting of the Wicomico Teenage Republicans was a success. Through his diligence, Nate was able to secure a phone visit from two local candidates: Anthony Seda for U.S. Senate and Jonathan Goff for Congress. He also received information from several other candidates to distribute, so these were well-informed TARs.
While we waited for 50/50 tickets to be sold as our last event, I asked Muir Boda to give us a City Council update. He had just come from the first budget meeting, where they were attempting to raise water and sewer rates. Muir also explained one of the budget priorities set out by Mayor Jake Day: the construction of a community center to host city-sponsored after-school programs as well as more immediate funding for a summer youth employment program. While the city of Salisbury would purchase the land and build the community center, funding for its operations would come from local non-profits.
Boda also noted that getting more highway user revenue from the state would assist in fixing some of the city's worst streets, which have been neglected for years if not decades.
So while the meeting turned out to be less than an hour, several people stuck around to help with signs for tomorrow. If you ask me, the most effective ones should be the red Ted Cruz sign, the blue-and-white Richard Douglas sign, and the yellow-and-blue Andy Harris one.
Next month's meeting (and yes, we will have a May meeting thanks to a late Memorial Day) will be May 23. It's not official, but I think we are due for our annual legislative wrapup.
One of the talking points that Salisbury mayor Jake Day has continually made about bringing jobs to Salisbury is that we need to improve our quality of life. Perhaps I'm oversimplifying the argument, but if we have a quality of life attractive to younger workers they will come here and create the jobs – or so the thinking goes.
So it was interesting that a few weeks back I received an e-mail from a company called LawnStarter. The reason I received it was that I have used business-related survey data from Thumbtack.com in the past and this entrepreneurial outfit had created something they called their Quality of Life Index. (Naturally, the company specializes in assisting lawn care startups by bringing customers and businesses together.) As a state Maryland ranks 13th out of 50, but the lone metropolitan area considered (Baltimore) ranked 73rd out of 101. (We in Maryland surely had assistance from 9th-ranked Washington, D.C. though.)
You may ask how they come up with this index – well, let them explain it:
The index is based on six quality-of-life factors analyzed by LawnStarter and borrowed from The Economist — GDP (economic output) per capita, average life expectancy, divorce rate, unemployment rate, geographic location (latitude) and male-female income equality. The Economist considers these factors to be good barometers for quality of life.
Based on some of the factors cited I suspect Salisbury would be near the bottom of the city list. However, they may not be at the very bottom because the lowest seven cities (and nine of the bottom ten) share one of two things in common:
They are in California (Sacramento, Riverside, Fresno, San Bernardino, and Stockton) or
are in close proximity to Lake Erie (Buffalo, Toledo, Cleveland, and Detroit)
Memphis is the outlier to that group, with Detroit occupying the 101st and bottom position.
However, Salisbury doesn't have a particularly high GDP per capita or low unemployment rate, nor is life expectancy that great compared to other places. As a state Maryland is certainly aided by its close proximity to Washington, D.C. but Baltimore's far lower rating may be closer to the conditions we have to endure here. It could be argued that our area has several of the same pitfalls that plague inland California (Sacramento, Stockton, et. al.) – chronic high unemployment in an area best known for agriculture due to a temperate climate. The agricultural base contributes to the low per capita GDP while the high unemployment eventually manifests itself in a shorter life expectancy thanks to crime and lack of preventative health care.
Short of a Bill Gates suddenly showing up and showering the area with wealth, these factors will remain common to our area. Unfortunately, the few assets we seem to have are difficult to leverage into productive careers. Most of our more lucrative jobs have to do with health care and government as opposed to STEM-based or manufacturing positions, which add more value and GDP. The exceptions to this are having the headquarters of Perdue in Salisbury and the Wallops Island NASA complex; while the latter is a government installation there are a number of private companies which use their facilities. While it's almost 50 miles away, Salisbury is the closest city of reasonable size to the remote installation on Virginia's Eastern Shore.
But those two entities need to be joined by many others to truly bring a better quality of life to Salisbury. To use a good local analogy, it's like a chicken-and-egg question: does the quality of life come from good jobs or do jobs spring from a good quality of life? I believe the former is true, while our mayor seems to side with the latter. Over the next few years, we will see who is correct in our local case.
There are news stories that turn out to be much ado over nothing, and recently the Salisbury community has been roiled by such a story. To some, it's a scandal and an outrage that our little community will once again be denied…a Cracker Barrel.
For some unknown reason, ever since I have moved here it's been the dream of some for that restaurant chain – which has over 600 locations around the country including those on Kent Island and Rehoboth Beach – to open one in Salisbury. In general, the company opens their locations within sight of a major highway, so the first rumor was that there would be one built where the old Zia's was torn down just north of the junction between U.S. 13 North and U.S. 50, which is perhaps the true crossroads of Delmarva. That interchange is close by the Centre of Salisbury, a regional enclosed mall.
After the former Zia's parcel went by the boards (to become the location for a second Chipotle restaurant in Salisbury) the attention and gossip turned to a vacant parking lot outside the Centre of Salisbury in front of a shuttered J.C. Penney store. But that option has also been rejected thanks to one of the anchor tenants at the mall, according to this published report. Thus, local residents are up in arms.
I don't make a living as a restaurant critic, but in my Ohio days I had eaten at Cracker Barrel perhaps a half-dozen times because I lived relatively close to the junction between I-75 and the Ohio Turnpike (definitely major highways) and there's a Cracker Barrel close by that exit. While my ex liked it, to me Cracker Barrel was nothing special – unlike Buffalo Wild Wings, for which I was thrilled when they finally made it here from Ohio. (Admittedly, BWW has lost some of its charm since it went national – I go back to when it was called BW-3.)
It also amuses me that there are people who are pining for Cracker Barrel to come in on the one hand, but lament that there are no good local restaurants to eat at. Obviously Salisbury has a large enough market base that dozens of national and regional chains are located here, but they mainly tend to congregate around the Centre of Salisbury or Salisbury University. Located in other parts of town, particularly downtown, are a number of local business we're continually being told we need to patronize. "Shop local," everyone says. So why do we need a Cracker Barrel?
Of course, the answer is obvious since there's apparently a pent-up local demand for average food and overpriced knick-knacks. But to go on for the better part of ten years? People were excited to get a Famous Dave's here, but that folded up in short order.
If you ask me, the best spot for Cracker Barrel (or similar tourist-driven enterprises) is the parcel of land close by Perdue Stadium that was once slated for mixed-use development before the Great Recession tried to wipe the local economy out. It's already annexed into the city, infrastructure can be added easily, and the site has major highway access and visibility. Another possibility is a parcel farther west on U.S. 50 recently purchased for development, according to the Daily Times.
Whatever the case may be, in the interim those who really like Cracker Barrel will have to drive an hour or more to get their fix.
One nice thing about Salisbury elections is that money unspent in the campaigns is not carried over to the next election but is required to either be returned to contributors or given to another entity, normally a charity. (There are exceptions, though – stick with me, it's called foreshadowing.) With the release of the final financial statements earlier this week, I was curious to see where all the money went.
I'll begin with the City Council races and District 1, where defeated incumbent Shanie Shields distributed $959.48 to a number of organizations around her neighborhood. $500 went to the Chipman Foundation while smaller amounts were received by the Wesley Temple, Operation We Care, and two local elementary schools, West Salisbury and Pemberton. Meanwhile, the winner April Jackson donated her modest leftover sum of $26.82 to the Salisbury Advisory Council while Sarah Halcott closed out her books by donating $96.13 to the Art Institute and Gallery. That made sense given Halcott's line of business as an artisan.
There wasn't a lot of money left in District 2, as the only candidate to file a final statement was victor Muir Boda. Boda gave $39.61 to Salisbury Neighborhood Housing Services.
District 3 winner Jack Heath had much more unspent, as he distributed $1,495.80 among four recipients: Lower Shore Enterprises, Operation We Care, the Salisbury Zoo, and the Joseph House. Amounts ranged from $325 to $500 for each. Neither of the other candidates had leftover funds at the end of the campaign.
Lots of money flowed into District 4, but not all of it was spent campaigning. Jim Ireton split the $399.96 remaining balance equally between the Wicomico High softball team, Tri-Community Mediation, and the Wicomico Public Library Homework Help Center. On the other hand, Roger Mazzullo had no money remaining.
Finally among the Council members, Laura Mitchell did not need to file a report. She was the lone unopposed Council candidate, as was Mayor Jake Day for his post. And that's where the story gets interesting.
First of all, Day was two days late in filing his report because he has a discrepancy between his records and accounts of $764.85. I make no accusations as to funny business; most likely someone put a number in the wrong column or the bank messed up. There are any number of logical reasons for the error.
More importantly, though, Day had over $10,000 to distribute – getting contributions when running unopposed will tend to do that – and he chose to make two disbursements. Instead of charitable contributions, though, as of this week we have two brand new state political entities:
Jake Day for Maryland had an initial contribution of $6,000. Day serves as the chairman and his campaign treasurer Jordan Gilmore retains that role for the new entity.
The New Day for Maryland PAC got the remaining $4,075.89, with Day's campaign manager Alison Pulcher serving as chair and Gilmore as treasurer.
Note that the PAC is not to be confused with the New Day MD PAC that former gubernatorial candidate Charles Lollar began in 2009. Lollar's PAC, as of its 2015 report filed in January, has less than $250 to its name.
Naturally these new campaign finance entities make me wonder if Day is going to serve a full term unhindered by political aspirations or perhaps challenge Bob Culver in 2018. Heck, even Jim Ireton – who has strongly hinted about a Congressional run – didn't move his city money to create a federal account. (Ireton's had a state account for a few years, with just over $1,000 in it at last report back in January.) But the campaign entity can also serve as a warchest to stave off challengers in the next city election, too.
In the meantime, we should be proud that much of the leftover campaign cash will be doing good in the community. With the elections now set for November, the contributions came as a nice Christmas gift to several local entities. It will have to tide them over through 2019, though.
Update: Day responds:
@monoblogueUS quote if u need: only job I want is #SBY Mayor but uncontested or no, Im not giving away my donors' $. They made an investment

— Mayor Jake Day (@jacobrday) December 24, 2015