As I did from last month, I'm building on 3rd Friday to provide another edition of WLR. But in this installment I'll profile a local group doing good through music.
The "official" 3rd Friday group playing on the Plaza stage was a Salisbury University-based group called The Benchwarmers, who I would say had more of a jazz feel than straight up rock. But they won the right to play through a battle of the bands, so here they were.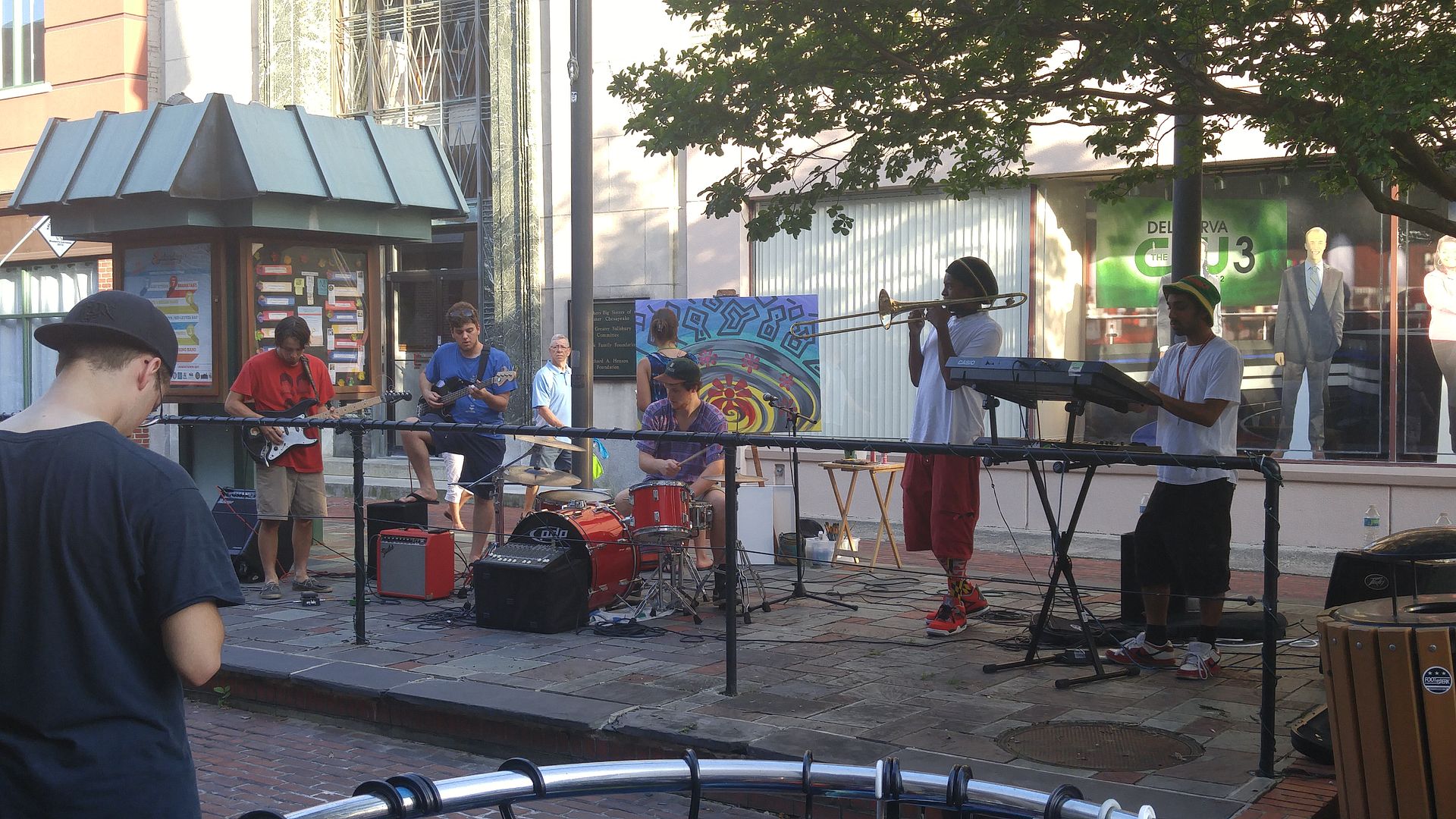 I still haven't figured out the idea of the painting being created behind the group, but to each his or her own, I guess.
Now if you stood in just the right spot, you could hear the Plaza stage in one ear while Alex & Shiloh played in the other one, outside at Roadie Joe's.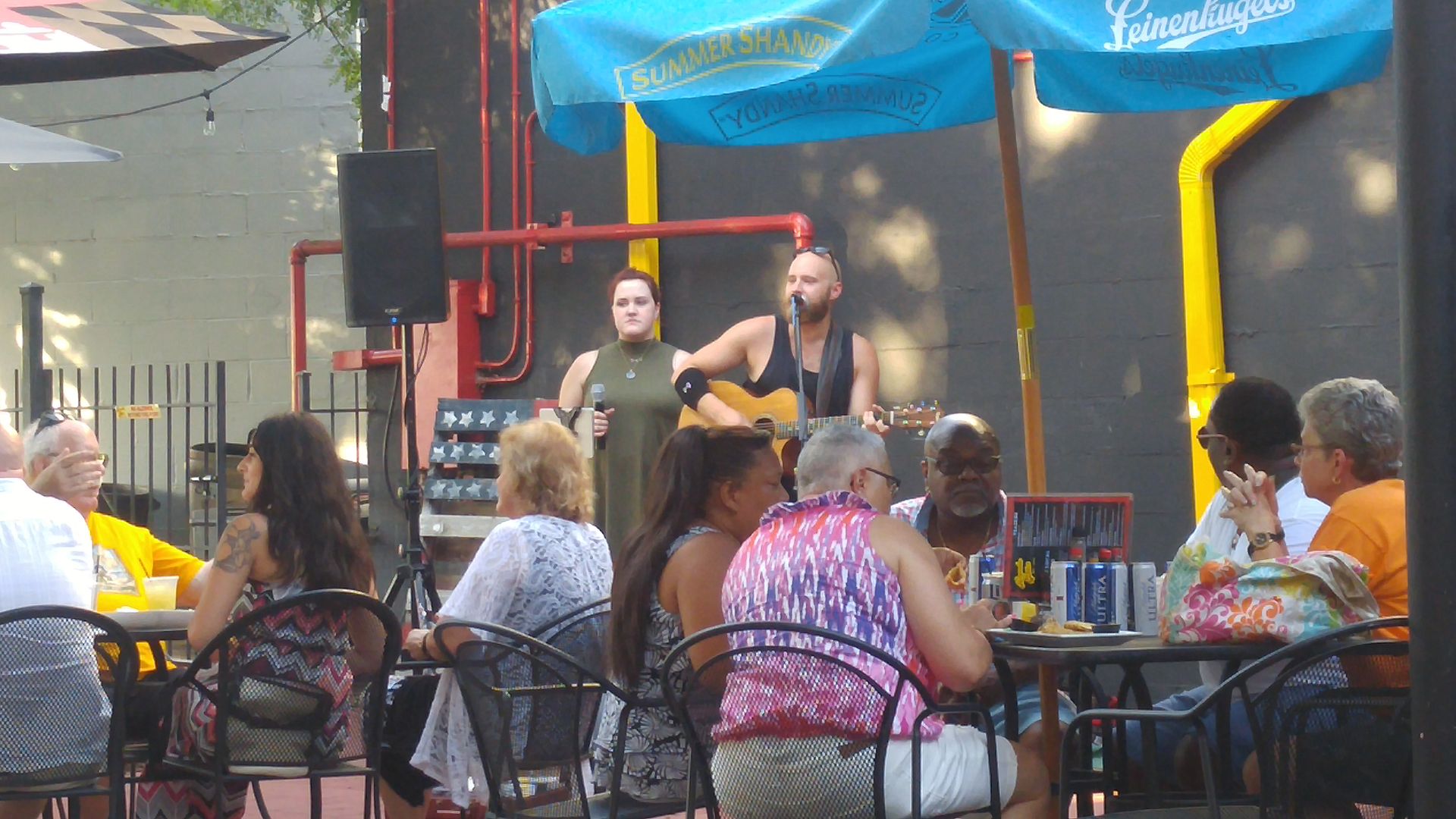 The management at Roadie Joe's has definitely picked up on the concept of having outside live music during 3rd Friday and bringing in business, as the outside tables are generally filled. (Kim and I ate there last month, as I noted in WLR 69.) It's nice because if the main stage doesn't strike your fancy you can browse on over to that end of the Plaza.
I didn't stay for the Roadie Joe's nightcap act this time because I knew I would be back downtown the next night for a benefit called "Fire Up the Bands," sponsored by the Maryland-8 chapter of Hogs and Heroes, a motorcycling group dedicated to supporting military and first responders.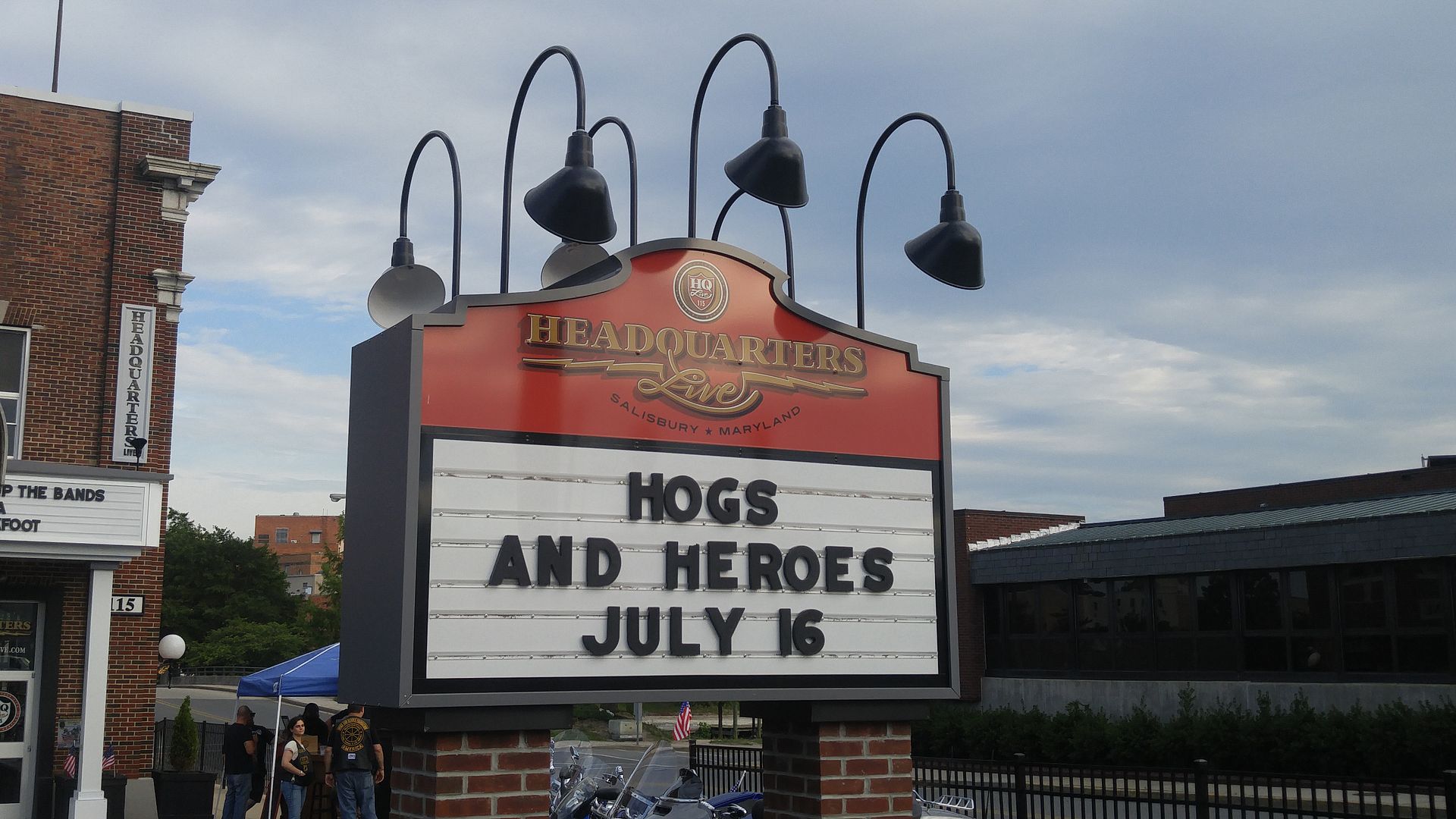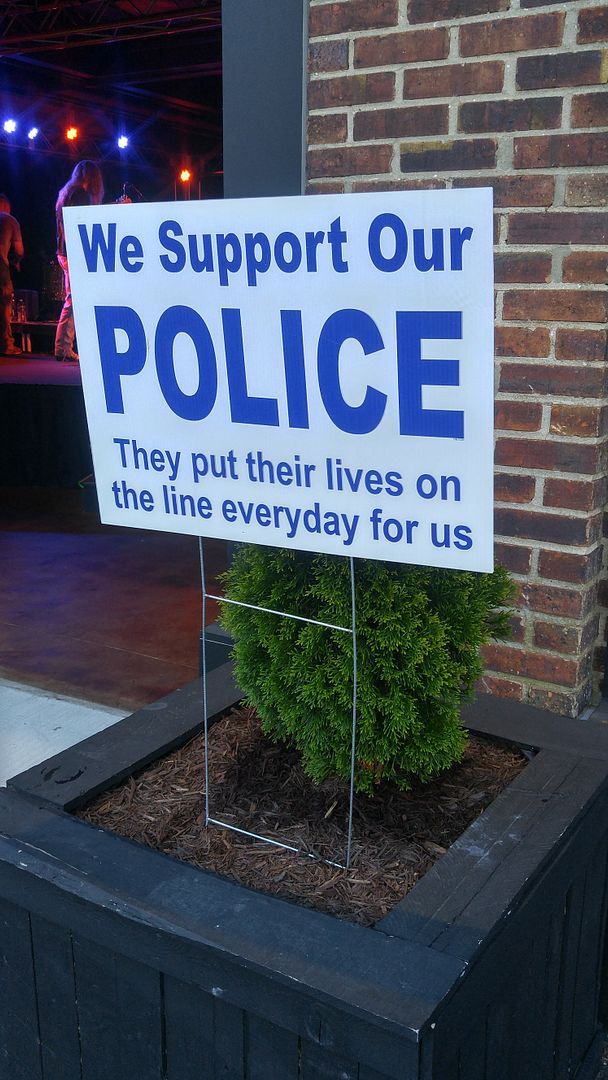 While there were originally three bands on the bill, a late change cut things down to two. Meanwhile, there was a silent auction going on and the leadership of Hogs and Heroes was giving away door prizes between bands.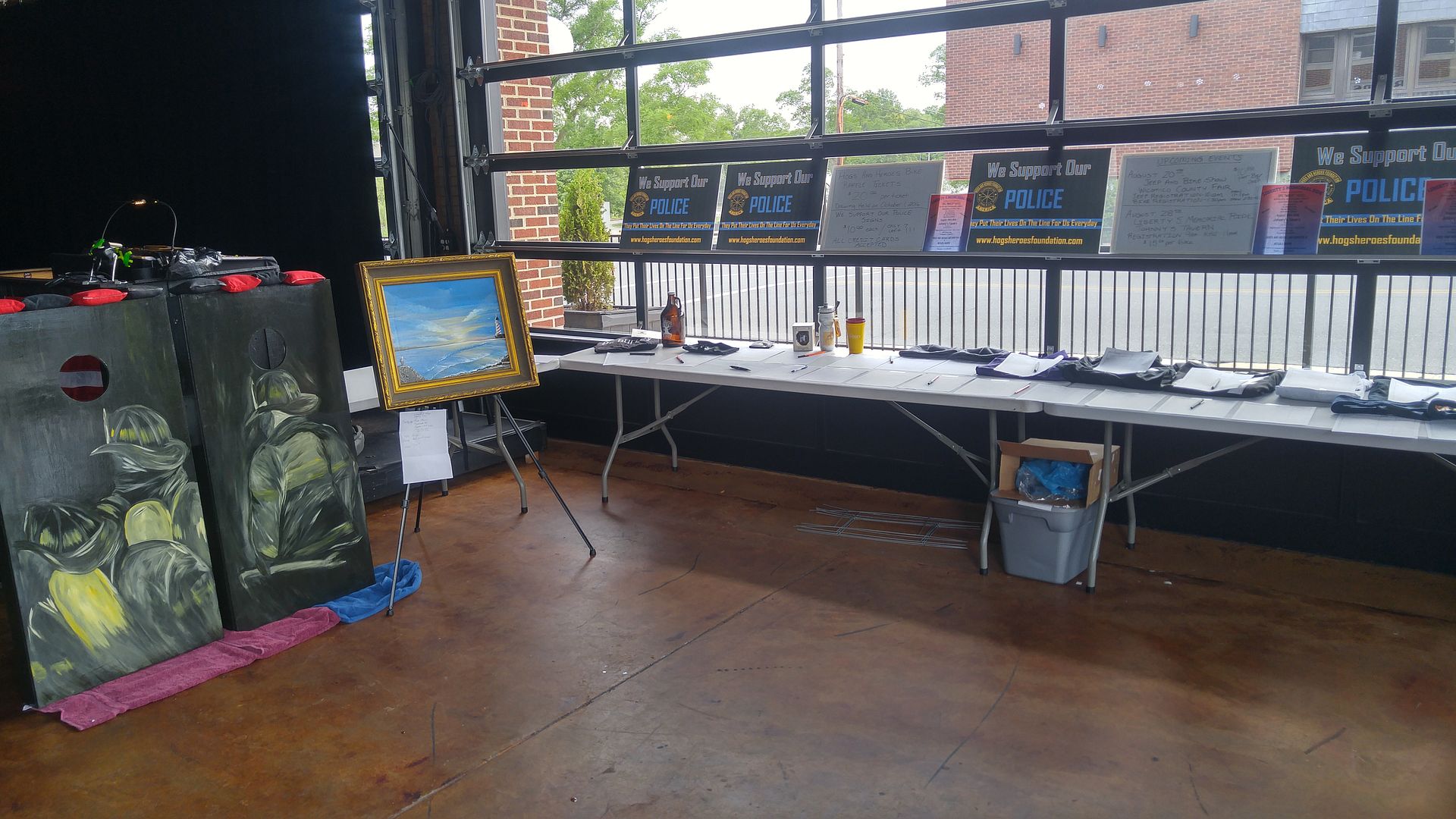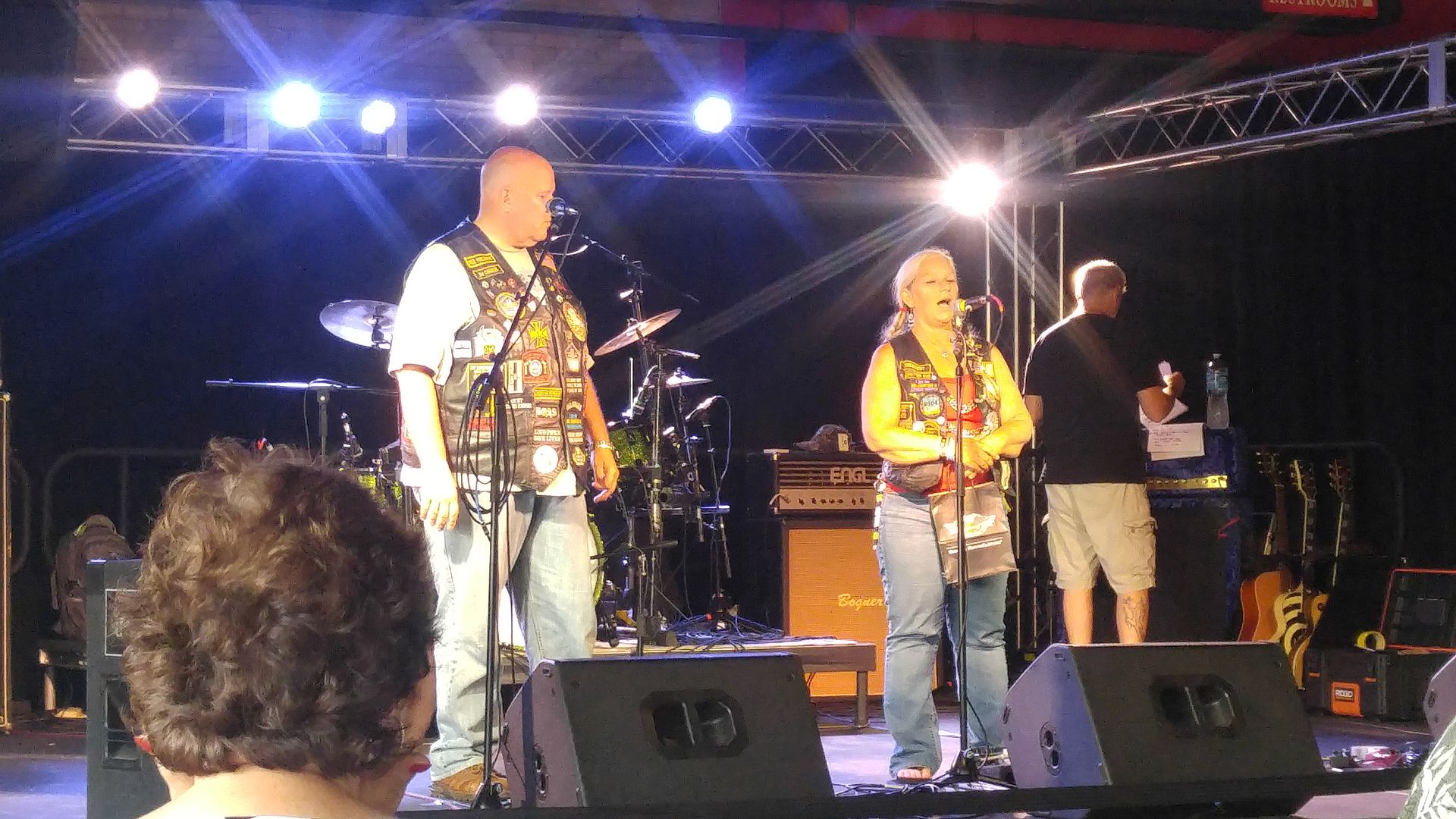 But the evening began with a group I had just seen at the Concert for a Random Soldier a couple months back, Scrapple.
After noting the sudden passing of Lewes firefighter Tim McClanahan in a training accident, Scrapple played a hard-rocking set that featured songs like the Black Crowes' Remedy, Love Removal Machine from The Cult, Godsmack's Keep Away, and Pearl Jam's Even Flow, just to name a few. They also found time for an original song of theirs, which I thought was cool.
Once Scrapple finished, I went outside to stretch my legs, see some bikes, and watch the sun set over a cloudy downtown. There was a rain shower that passed harmlessly by during the show.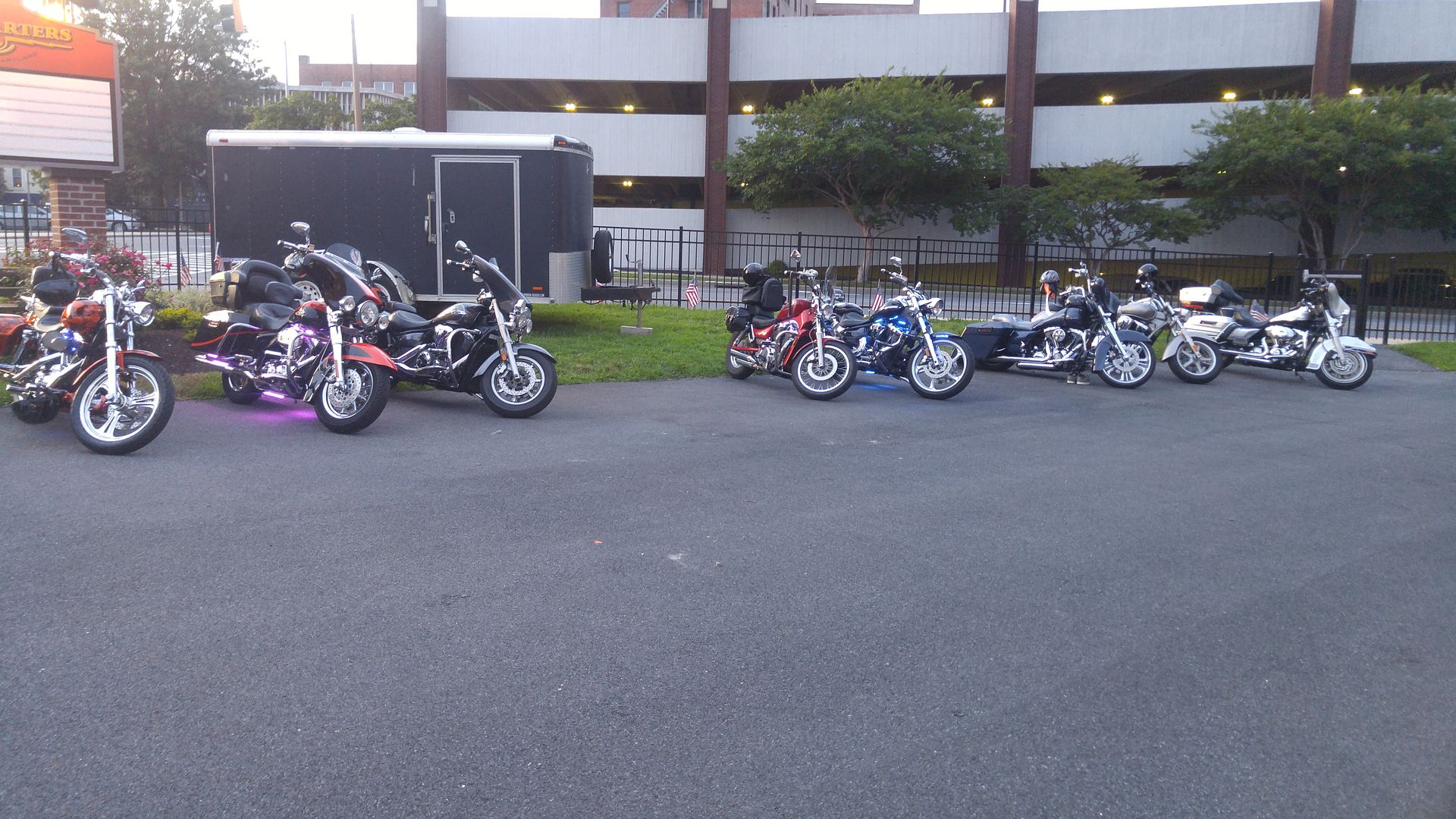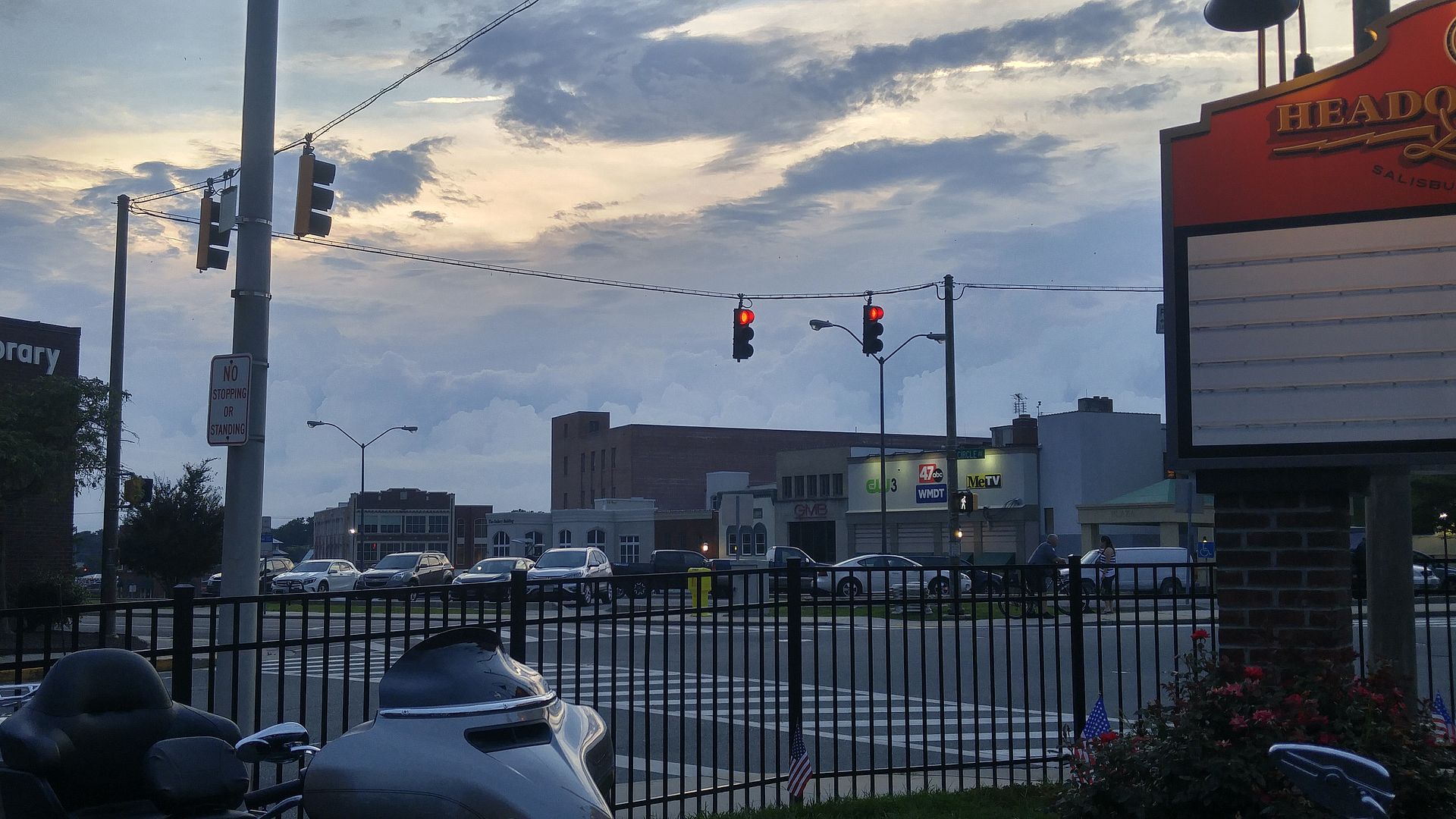 The second band on the bill was Lime Green, which I know has a number of originals to its credit based on their online presence. But they chose to play just one, their most recent called Pemberton Park.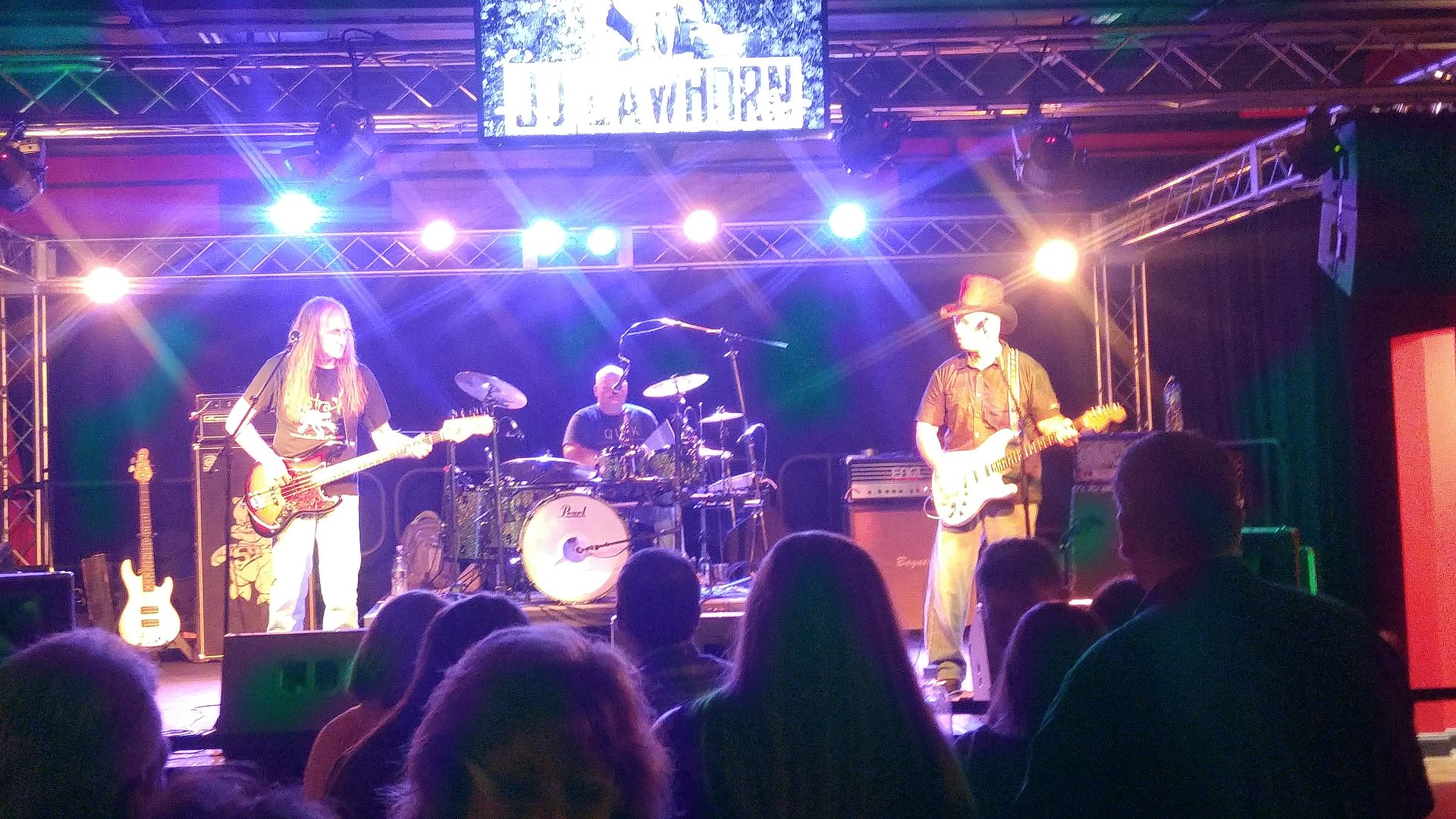 Yet Lime Green still had a lot of unique musical ideas, like buttressing the old Pink Panther Theme into Pink Floyd, playing forgotten classics like The Ballad of Curtis Loew by Lynard Skynard or Snortin' Whiskey by the Pat Travers Band, and absolutely blowing me away with their closer originally done by Rush. I never thought I would hear the first part of 2112 done as a cover, but they did Overture/The Temples of Syrinx. Damn, that was cool. I'm still smiling thinking about it.
Because the original intention was to have three bands, Scrapple came out and played a second set that started with Rush as well. But as they did when I saw them previously, they took Working Man and transitioned it into War Pigs by Black Sabbath. Their second set was heavier and more modern, with songs from Buckcherry, Marilyn Manson, Staind, and Tool among the selections.
But they got a little help when they went retro blues and did One Way Out, a song made popular by the Allman Brothers.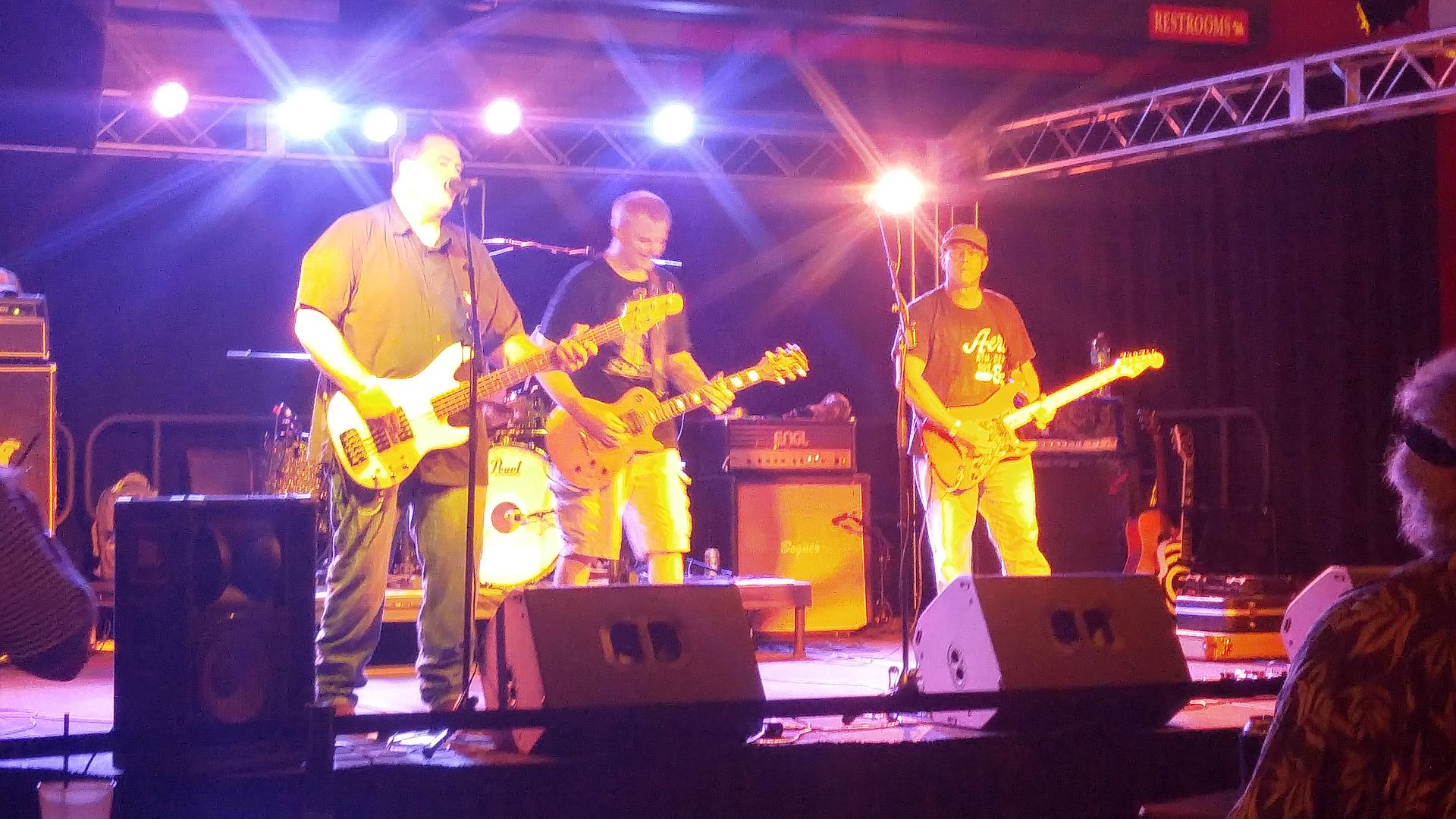 There was also a fun drum solo toward the end.
If I have one thing to say about Headquarters Live as a venue, though, I have to say that taking pictures in there is a royal pain with a cell phone camera. Unless you catch the lights just right, they come out awful. The best pics I had were with the doors open when it was still light out, which is why you get one photo of Lime Green.
But my night wasn't done. A friend of mine has been bugging me to see his band, so I went back over to Roadie Joe's to catch Copious Poor.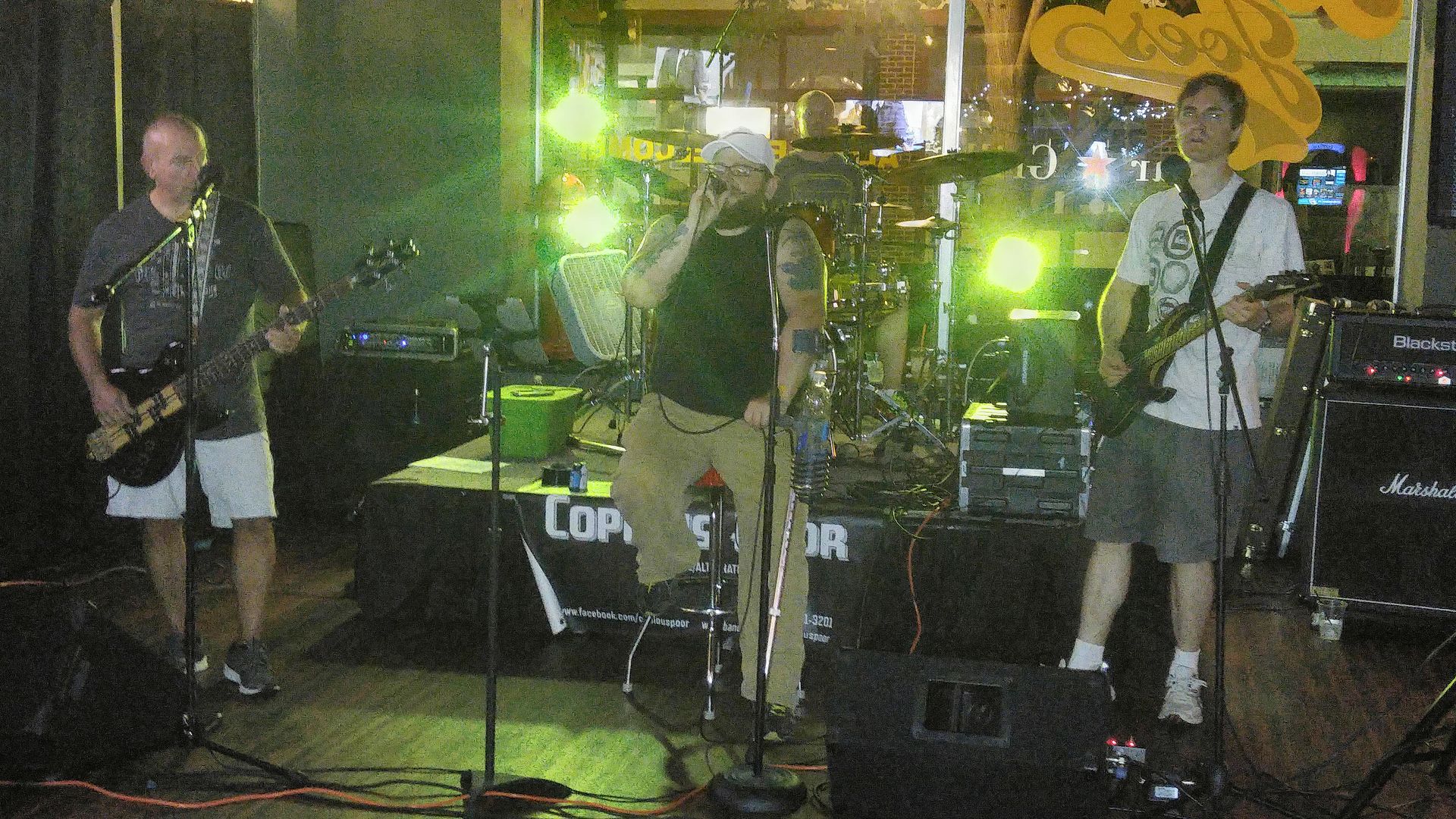 While they admitted they needed to get a sound person, the selection of songs was pretty good. I particularly enjoyed their rendition of a song I have occasionally used the video from on this site, Bound for the Floor by Local H. (You may see it again November 9.)
So once again it was a good weekend of local rock for firefighters that can always use a helping hand. It reminded me that local bands are among the quickest to respond when there's a need to lend their talents for a good cause – or just to make an evening a little better.