I'm about two weeks late on this, but it's better late than never when it comes to the Concert for a Random Soldier held back on Memorial Day weekend.
There were over a dozen bands on the bill, but we arrived about halfway through the event so we missed some of the acts that I remember as more of the oldies groups. (One thing about CRS: many of the same bands participate year after year.) So we walked in on Scrapple – it's not just for breakfast anymore, but they were a first-time participant who enjoyed the affair.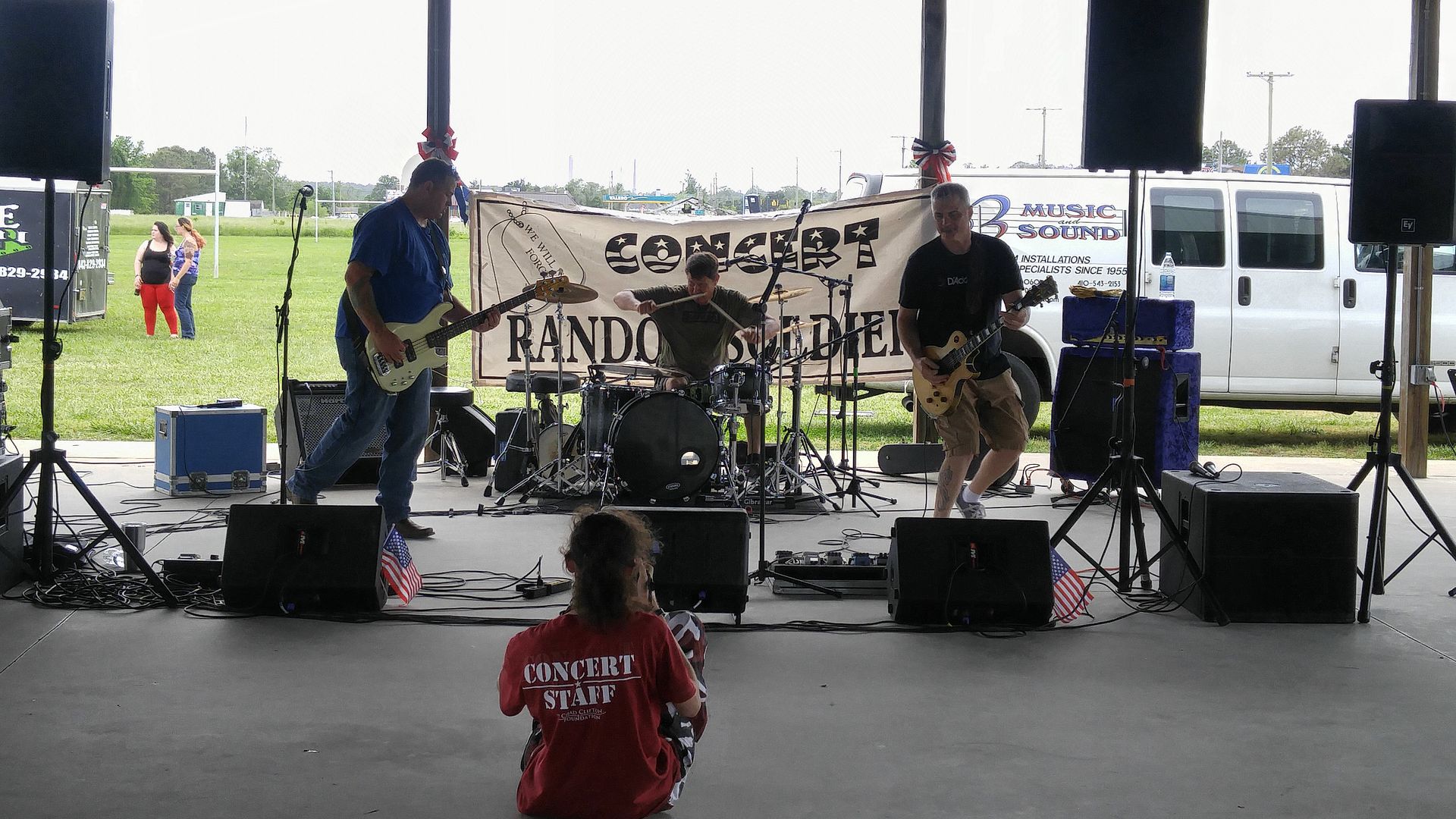 They were probably one of the first to play the heavier stuff, doing some Godsmack and a great mashup of Rush's Working Man and War Pigs by Black Sabbath. I would have liked the solo at the end of Working Man to make it a circular medley, but no matter.
As the stage was reset between bands, there were acoustic acts set up off to the side. Captain Mike was one of those who did a couple stints.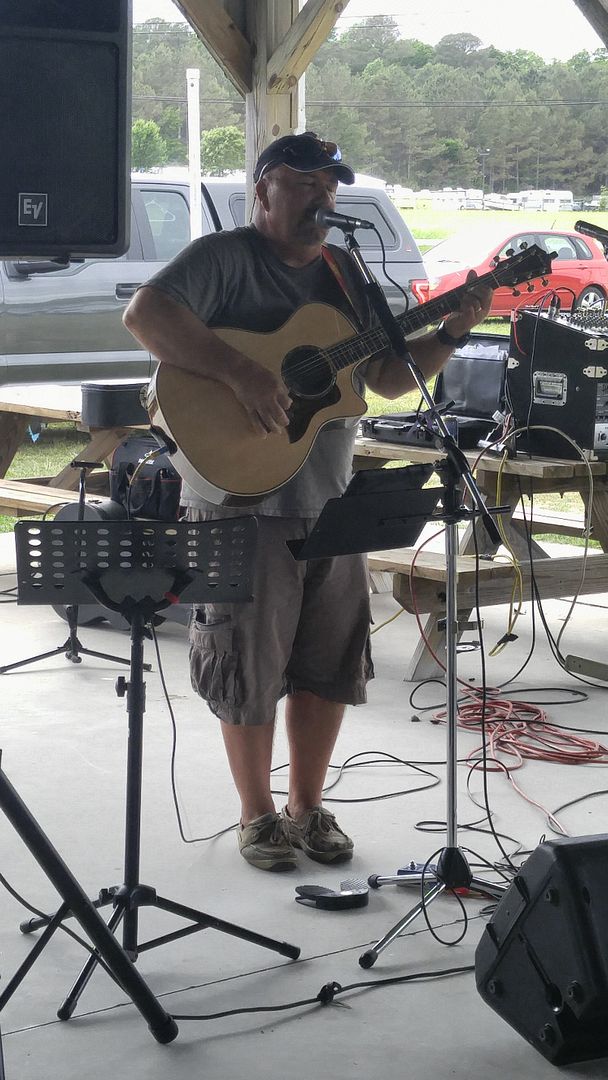 In this case, he yielded to the Joey Fulkerson Trio, which is the three-piece variant of Nothin' But Trouble.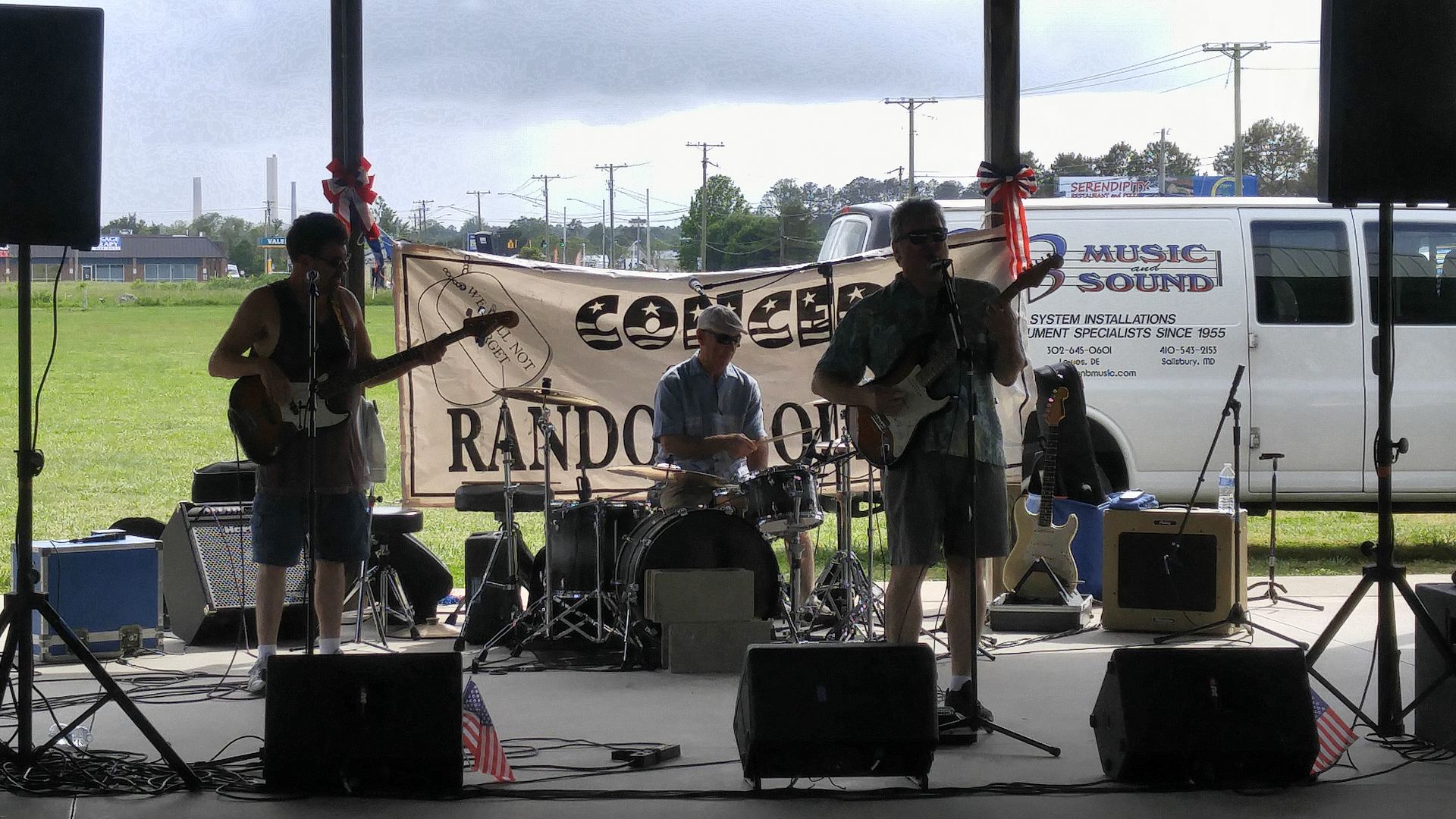 They reached back into a blues-based set that featured some B.B. King and wrapped up with the Jimi Hendrix classics Hey Joe and Voodoo Child. That was an enjoyable set as the fellas were jamming.
After the return of Captain Mike, the stage was set up for Welcoming War.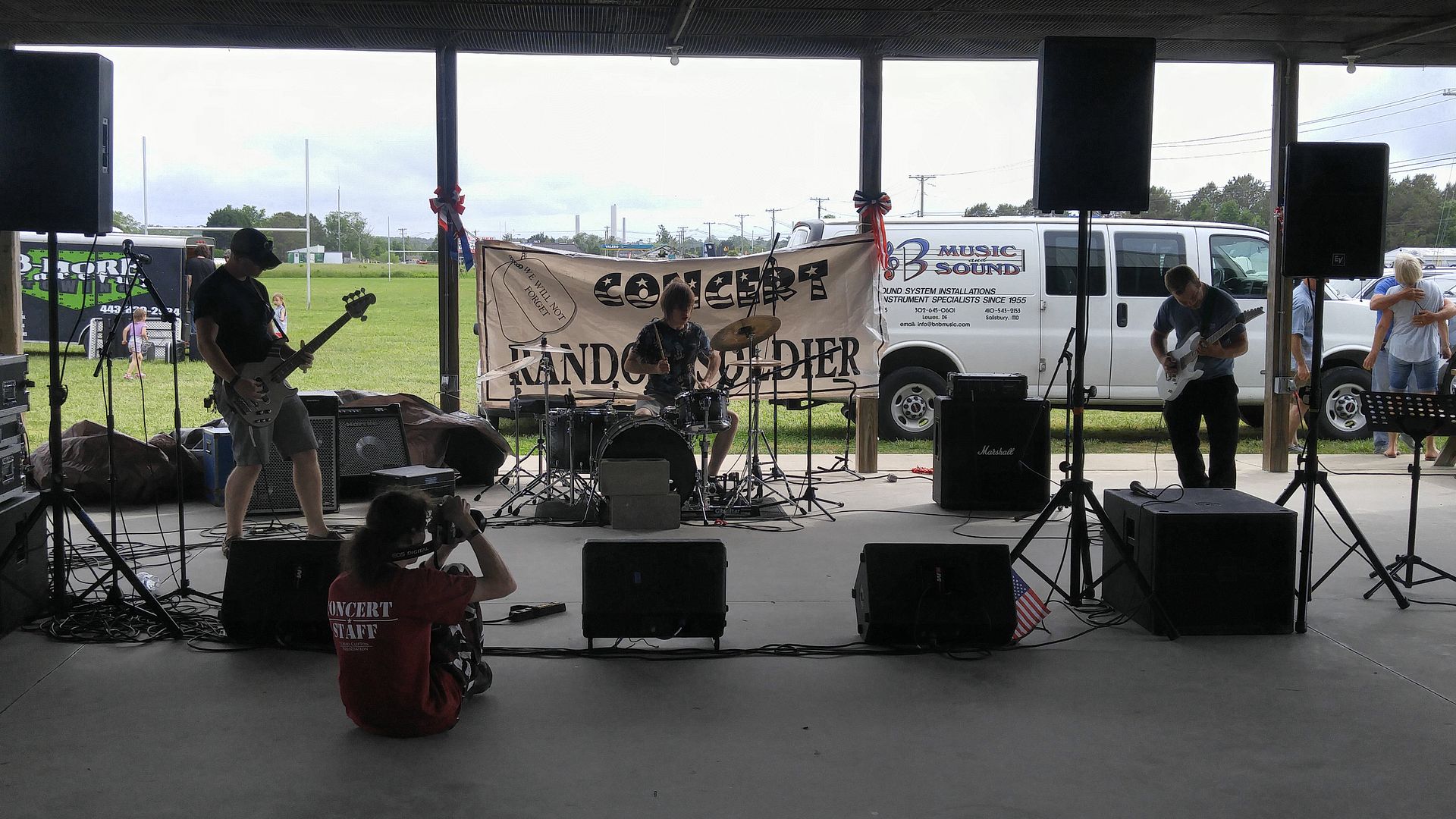 They were definitely a power trio, with the additional distinction of not having a lead singer. So all of the songs were instrumental.
In that respect it was much like listening to jazz – which is also often instrumental – but with rock instruments. It was a unique sort of a heavy metal/jazz fusion that I think I can get into because I don't much care for jazz but heavy metal sometimes needs a different take.
The mood shifted for the final acoustic act of the day-turned-evening, Mike and Savannah Shockley.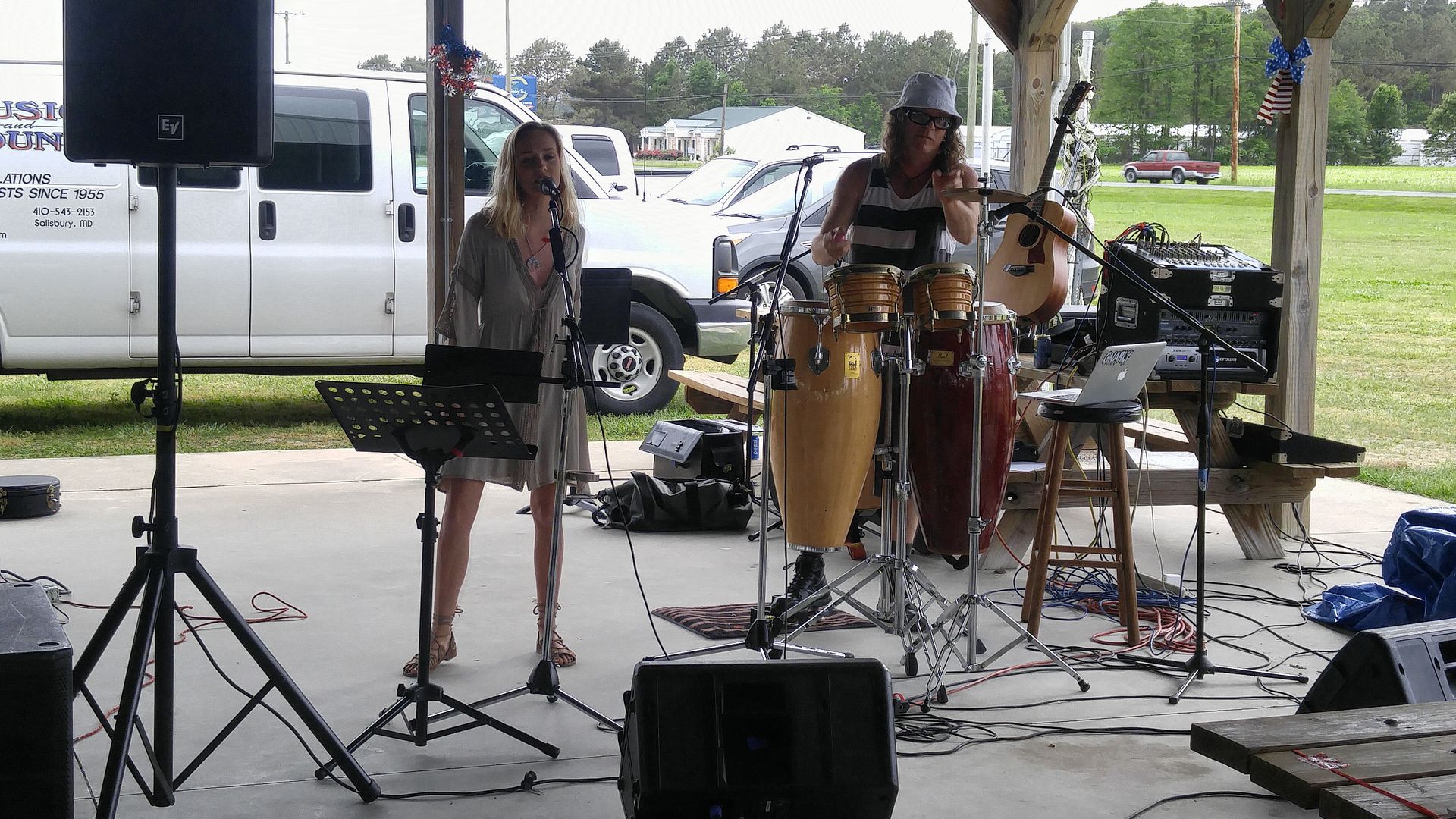 Savannah did a credible job on a Stevie Nicks classic, but she really did well with the couple originals they did. It's interesting that some of their music is programmed while the remainder is live, as you can see. Obviously this can be done in a professional manner as I've reviewed a lot of albums put together by one person, a handful of instruments, and a computer, so we will see how they develop.
From what I understand this was their second gig, so Savannah will learn over time and performance just what songs work for her and which ones she should avoid.
There was no avoiding the heavy from the last act of the day, Modern Day Addiction.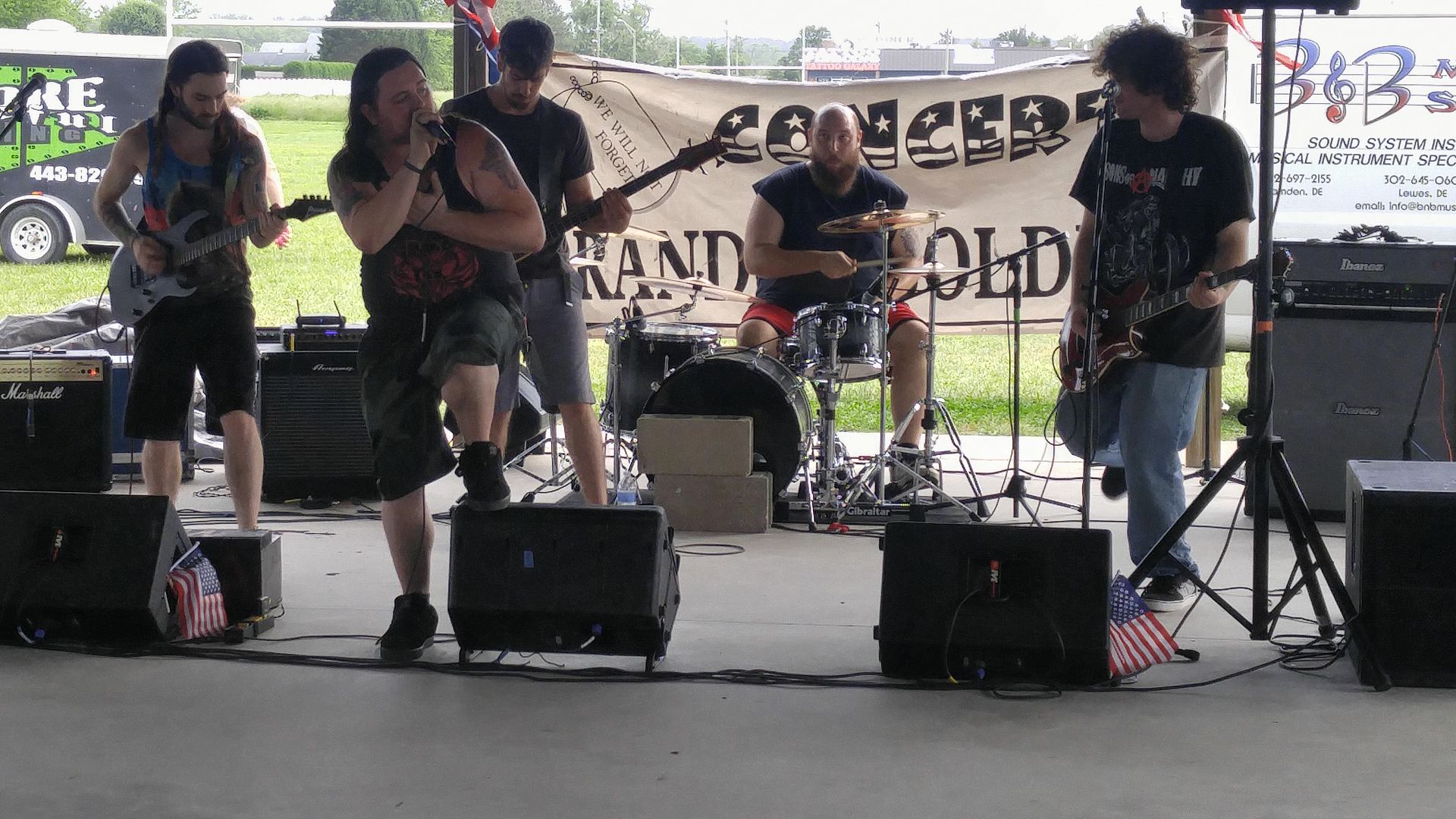 Blasting their way through a bevy of covers like TNT, Fuel, Dio's Holy Diver, and a great version of Tainted Love, a song made famous a quarter-century ago by Soft Cell, they also threw in some great original stuff. The mosh pit was in full effect while they were playing, even if it was only a couple people.
There have been a couple years where the company was ready to go by the time MDA played, so I was glad to stick around this time.
Of all the acts and all the love they had for the cause, though, there was one thing sadly missing. My friends Jim and Michele Hogsett used to play this event annually, whether as part of Semiblind or as solo performers (and sometimes both.) Regular readers of mine know Michele lost her battle with cancer late last year (WLR volume 67 covered her memorial concert) and it's hit Jim hard, so keep him in your thoughts and prayers. I definitely missed him at CRS, and I'm sure the Cliftons did too.
But they promise "a few exciting changes" for next year, so I hope to see you out there. Great music for a great cause is always good.
As a programming note: you won't have to wait as long for WLR volume 69. It will truly be a weekend full this time.