Today I went Somerset County way to check out two events, one I had planned for awhile and one I had not until yesterday morning.
So at 9:00 this morning I found myself in a restaurant called Peaky's eating breakfast with a man who wants to be Maryland's next Senator.
Richard Douglas alerted me to his visit a couple days ago as we have kept in occasional touch since his last run in 2012; a primary that he lost to Dan Bongino. (Douglas still believes Bongino "ran a terrific race," but Douglas won eleven counties as well.)
In fact, in his remarks Douglas revealed that his second try for the Senate came out of "watching this Iran trainwreck," an agreement he called "on par with the Munich Agreement" between Hitler and Neville Chamberlain in 1938. Douglas remarked that Iran wasn't the Westernized nation they try to portray but instead their people "want to kill Americans and British." A Senate that approves an agreement with such a nation will tolerate anything, Richard added, noting the Senate is "such (that) it will not heal itself."
With a significant part of his career being spent in the Senate, Douglas had knowledge of how the game worked, often picking up the volume which contains the Senate rules to make a point. He categorized his era in the Senate as being one with Republicans who had more backbone, such as his old boss Senator Jesse Helms. Regarding his time there, Douglas termed that the one of the "best moments" in the Senate was the Authorization for Use of Military Force passed in 2002. Passed as a bipartisan measure, Douglas wistfully noted that the Democrats were "back on the attack" a year later. Douglas also played up his experience with the Justice Department under President Bush as well as his service in the Navy during the Cold War.
Another of Richard's passionate subjects is Cuba, as he predicted the island nation will open up – just not under the Castro regime. He also predicted that Barack Obama would make some lame duck pardons of several American criminals seeking refuge in Cuba, particularly cop-killer Joanne Chesimard. But opening up Cuba now in the way Obama has is already costing Americans their jobs, as Douglas cited an Alabama company which will move some operations there. "The Senate let it happen," said Douglas.
In Richard's opinion, a good Senator needed three things: discernment, a knowledge of procedure, and backbone. "If you're missing backbone, the other two don't matter," said Richard. He continued the point by saying he was willing to deny unanimous consent if he judged a bill or amendment would be bad for Maryland or for the nation at large. "Alarm bells go off" when that happens, said Douglas, and leadership doesn't like it. Senators "hate to vote," said Douglas, because they're put on the record.
Unfortunately, the Senate he's trying to enter is one that enacted the Obama agenda instead of stopping it as promised. "They're afraid of looking obstructionist," said Douglas, "Instead, they look weak." He would "take issues hostage" because it only takes one Senator to stop the train and start the bargaining.
Most of what Douglas said in his remarks dealt with procedure and foreign policy, but he made sure to mention that there are thousands of voters who don't care about that because they are struggling economically. It's "a problem on par with national security," said Richard, and he stressed that he wanted to work with Governor Hogan to create an economic environment more like that of South Carolina, Georgia, or Texas. In visiting minority neighborhoods, Douglas revealed that "lots of African-American voters" were ready to vote Republican, in part due to Donald Trump. But Douglas called both Chris Van Hollen and Donna Edwards "eminently beatable."
There were a number of questions laid out for Douglas, with one being just how far he would take the withholding of unanimous consent when it could cost the state on another bill. That aspect was "part of the calculus," said Richard, but he vowed to "help when I can and resist when I must."
Regarding illegal immigration, Douglas said the current laws were fine, just not being enforced. One area of concern for Richard was work permits, and he vowed to "put American workers first again," trying to tilt the playing field back in our favor. Related to that was the refugee issue, on which Douglas pointed out America was once the "loudest voice" for refugees until Obama destroyed our credibility.
One thing that Douglas noted with regard to the Second Amendment was that Maryland has a "gap" in their state constitution. (He was referring to Article 28: "That a well regulated Militia is the proper and natural defence of a free Government." It does not give Marylanders the right to bear arms.) But he thought firearms should be in the hands of law-abiding citizens and they shouldn't face hurdles such as the fee prescribed by the state to secure a handgun permit.
To sum up, while Douglas believes "a weak Senate is bad for America" and has insider knowledge, he does not consider himself an insider. His insider knowledge would be used "for the good of the state."
I should also note that the Somerset County Republicans have a monthly straw poll and this month Ted Cruz emerged the big winner with 14 votes of 22 cast. John Kasich received 6 and Donald Trump just 2. (More on him in a few paragraphs.) If I read their chart correctly, Cruz and Trump were tied last month but now fortunes have shifted dramatically. (As a caveat, the sample fluctuates each month, I'm sure. For example, they had me as an "extra" Cruz vote this month.)
As a housekeeping note and favor to those who may wish to enjoy breakfast with the Somerset County club (it was quite good), they voted to not have their meeting May 14 because it conflicts with the state GOP convention and several Central Committee members would be absent.
Those absent people must have also planned to show up at the event I was set on attending in the first place. Not a single Somerset County voter came out to Congressional challenger Michael Smigiel's townhall meeting held at the library in Princess Anne. As a concerned voter who honestly hasn't made up my mind in the race, it was great to have a 40-minute or so conversation with Mike, but as a blogger it was not very good because carrying on a conversation keeps you from taking notes and I didn't bring a recorder. So I won't be chock full of quotes here, and you can take the lack of attendance as you will – of all the counties in the First District, Somerset has the second-smallest number of Republicans. (Kent County, the second leg of Smigiel's town hall tour today and the last of Smigiel's planned twelve county stops overall, is the smallest by about 300 voters – both are shy of 5,000. But Smigiel comes from neighboring Cecil County.)
I was given two new pieces of literature today. While both make their good points about Smigiel, the message on the palm card is that "Harris Sold Us Out," with the flyer adding "Harris Promised All The Right Things And Did All The Wrong Things." Obviously those with long memories may recall that Harris ran a similar campaign against Wayne Gilchrest to secure the GOP Congressional nomination in 2008, and Smigiel uses some of that literature on his flyer. When I asked him whether he was basing his campaign on one vote Harris took (the CRomnibus bill of 2014) he replied it was more like eight.
A couple other contentions I made regarded Harris's role in building the party as well as his seniority in Congress. It's no secret that several local candidates were recipients of Harris money – you can call it buying support, but I would argue that the Congressman was out to build a conservative farm team in this part of the state. Smigiel countered that Harris was also the recipient of money from Exelon, which led to a Harris vote allowing the federal government the authority to override Maryland's demand for a water quality permit for the Conowingo Dam. Mike also intoned that Somerset residents were unhappy with Harris for a vote against Hurricane Sandy cleanup funds, which is the linchpin for Jim Ireton's Democratic campaign.
And I didn't even bring up the Harris votes for Speaker with the former Delegate.
Overall, I felt bad for Mike that no one else showed up. Compare this with his stop in Salisbury that Cathy Keim covered for me while I was away, which had a fair number of people.
The question for all of us regarding this race is simple: Andy Harris is not a perfect Congressman, but then it's possible no one would be. Is Mike Smigiel running a campaign to convince voters he would be a better alternative? I really didn't get an answer to that question within our conversation, but it will come as a judgment call for me based on something Richard Douglas said: who has the better backbone to stand up for the people and do what's right, not just for the First District, but America as a whole?
Someone who's not convinced me he will do what's right for America has nevertheless secured a headquarters here.
Yes, the Trump headquarters is at 229 East Main Street here in Salisbury, the former location of a print shop. They'll be here for less than a month, as I'm told they have the space for a 30-day period. So the question is just what they will be doing in the building and how many people will stop by (it's not on the beaten path and downtown parking can be a challenge during the day, when you have to feed a meter.) I suspect there may be some volunteers making phone calls from there and perhaps staging a later appearance from The Donald himself locally. That would be a hoot.
But I'll stick with the choice of the Somerset County Republicans – #TrusTED Cruz.
By Cathy Keim
Editor's note: While inclement weather kept U.S. Senate hopeful Dave Wallace from making his formal announcement in Salisbury, nicer weather on Saturday allowed him to make an appearance before the Somerset County GOP in Princess Anne. Apprentice reporter Cathy made the trip down there to hear what the candidate had to say.
I was all set to attend the Dave Wallace Announcement Tour event at Salisbury University last Wednesday, but it was cancelled due to bad weather. Instead, I was invited to the Somerset Republican Club breakfast last Saturday morning in Princess Anne where Wallace was one of the guest speakers.
With fourteen Republican candidates for the open Senate seat, ten Democrats running, and the six Green/Libertarian/unaffiliated candidates, there are plenty of choices for every voter. Without the state board's list I certainly could not name all the candidates and few of them will run a credible campaign putting them in any position to survive their respective primaries.
Since I had not heard of Dave Wallace and there are only ten weeks until the primary election, I was a bit skeptical about whether he was running a serious campaign. In fact, I challenged him on this when we chatted after the event. He noted that he has been working hard on the campaign even though he was just making the public announcement. It was unfortunate that the weather interfered with the announcement tour, he continued, but he didn't want any campaign workers injured due to the weather as happened to the Ben Carson campaign in Iowa.
Wallace is an enthusiastic speaker and was happy to share his views on many topics. Since the first guests were Sheriff Ronnie Howard and Lt. Patrick Metzger, the Maryland State Police Commander for the Princess Anne Barracks, Wallace began his talk with a nod to law enforcement, in particular the loss of two Harford County Sheriff's deputies last Wednesday. He quickly moved to the horrific murder rate in Baltimore and to the war that Congressman Chris Van Hollen and President Obama are reputedly waging on law enforcement.
Wallace repeatedly attacked Congressman Van Hollen's record, which perplexed me at first since he must survive the primary to earn the privilege of facing off against Van Hollen – assuming he wins on the Democratic side. However, this was cleared up when he told me that he had run against Van Hollen for the Eighth Congressional District in the last election. Despite the gerrymandered district, Wallace was able to garner 39% of the votes against the incumbent. (Editor's note: Wallace carried Carroll and Frederick counties handily but lost by nearly 3 to 1 in Montgomery County, where the majority of the voters reside. Prior to 2010, the Eighth District was almost exclusively in Montgomery County with the Carroll and Frederick portions in the Sixth District, then represented by Republican Roscoe Bartlett.)
As a business owner, Wallace appreciates the burdens that are placed on businesses in Maryland. He is for reducing the regulations that are strangling businesses, for cutting taxes, and reducing government.
He believes in God, family, and the Second Amendment right to defend oneself. He is pro-life and would defund Planned Parenthood. Speaking on immigration, he supports Governor Hogan's request to not bring any refugees to Maryland that cannot be vetted, backs building a border fence, and would support stopping the practice of granting birthright citizenship to anchor babies.
If you are hoping for a Republican to take the White House and turn back our country from the transformational changes that President Obama is ramming down our throats, then you must also consider which Congressmen and Senators you want to send to Washington to have that new President's back. If a strong Constitutionalist like Ted Cruz were to win the Oval Office, the question is whether he will be stymied by the incumbent GOP members pf Congress who hate Cruz passionately and would rather maintain the status quo.
The desire for change that is roiling GOP primaries must also extend to the House and Senate races if there is any chance for success in turning our country back from the brink.
Iowa and New Hampshire have already handed first place to Ted Cruz and Donald Trump, respectively, both of whom are loathed by the Republican establishment. This same establishment seems oblivious to the fury that is boiling over in many of their constituents. Just remember that not only do conservatives need a change in the White House, but there must be a change in the "go along to get along" incumbents – or in the case of the Senate race, the open seat cries out for someone who is Constitutionally solid.
Dave Wallace seemed to be a sincere, well-informed Senate candidate with experience in campaigning. Many of his positions are laid out at his website for you to decide for yourself.
(Editor's note: no endorsement is given or implied by Cathy. That's my job.)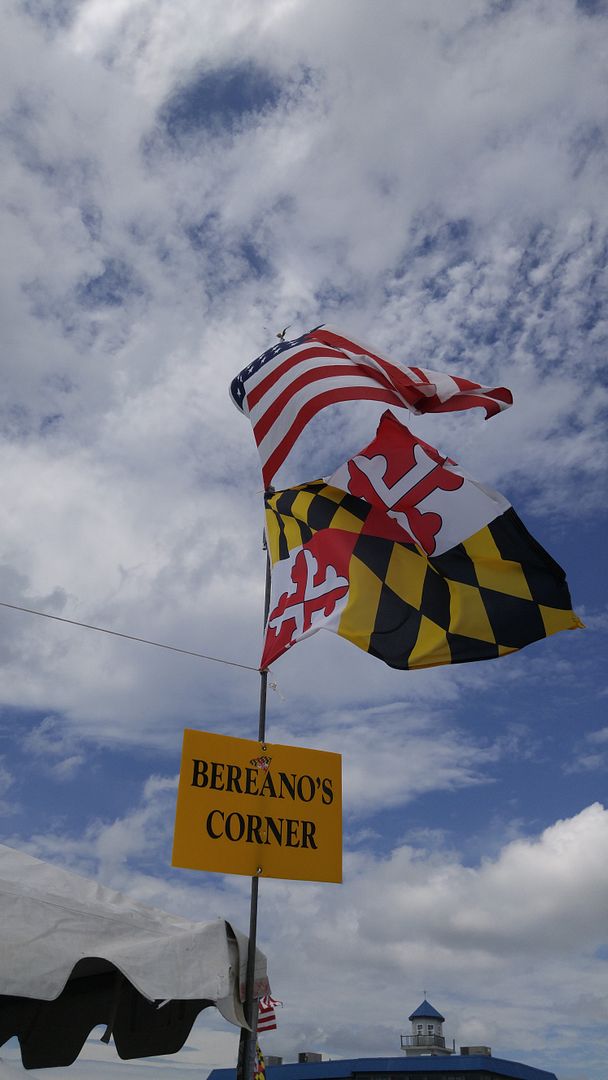 Bereano's Corner was in roughly the same location, but there was a lot of strangeness about this year's event.
Our tent was in a new location. Some liked the idea of being along the marina, but the traffic walking by wasn't as brisk as we had when we were in the middle, next to Bereano.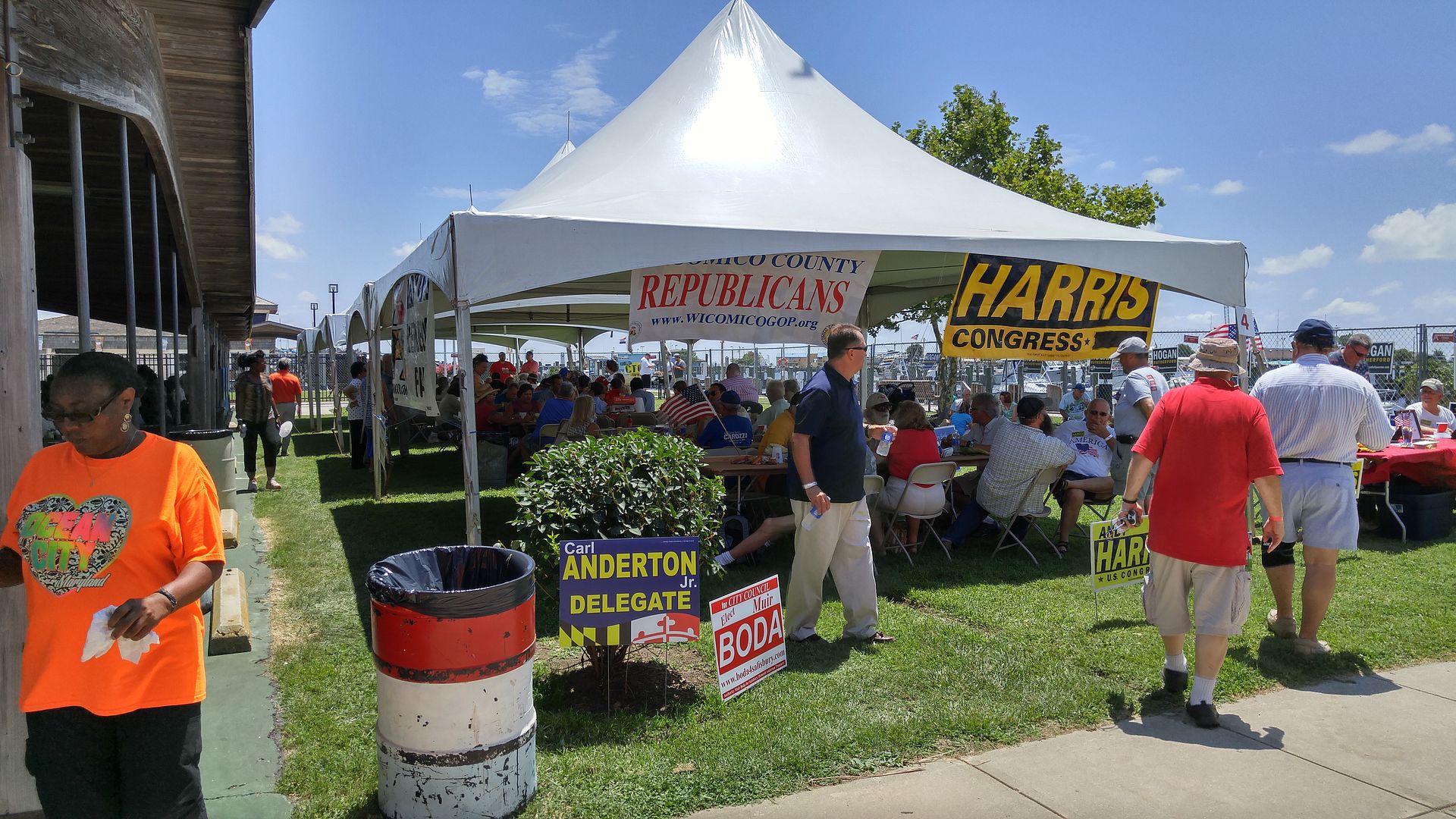 It did have a great space for signage that many took advantage of.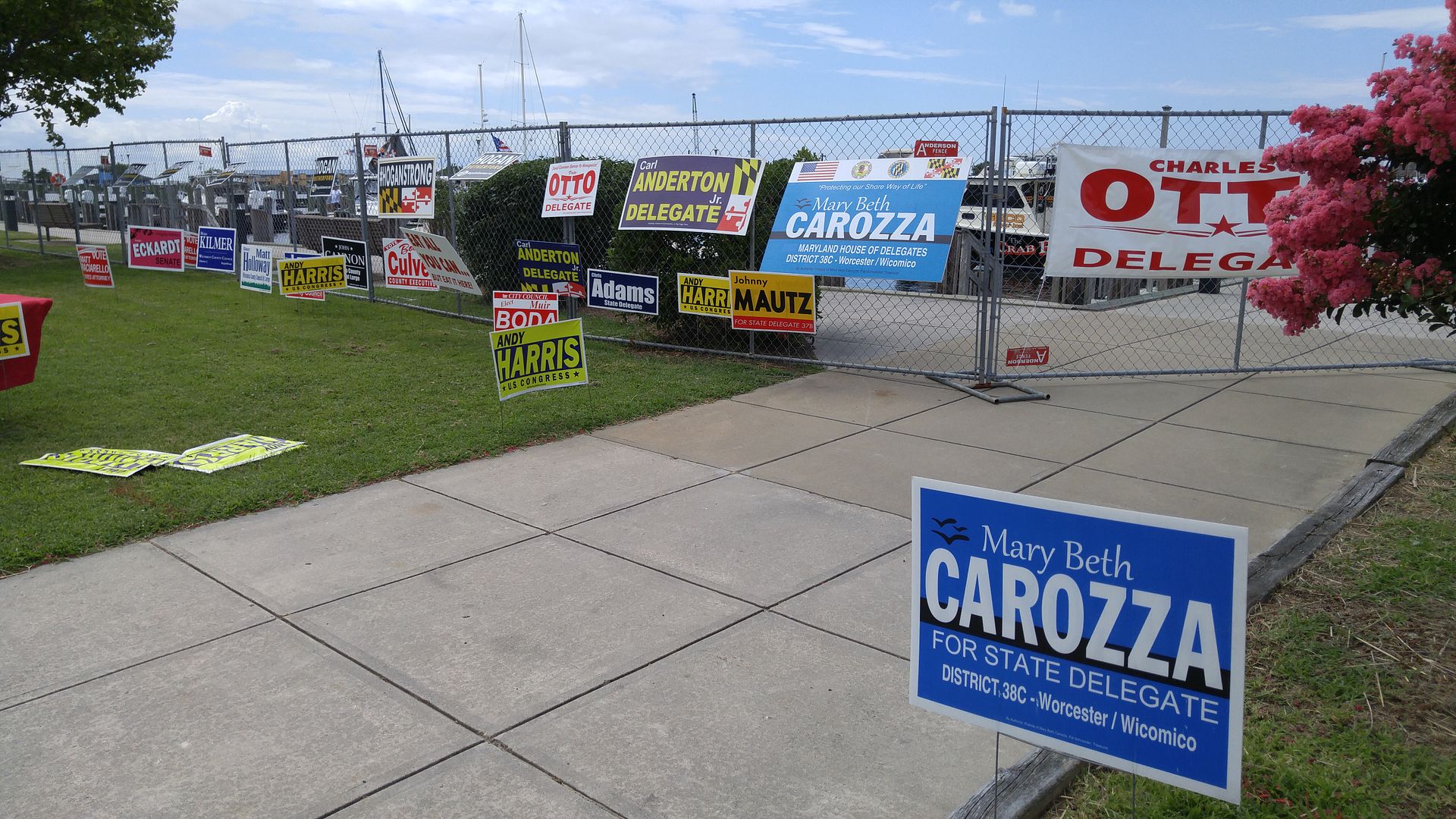 Being on the grass, we also had our share of bloodsucking biting flies. Speaking of bloodsuckers, the Democrats were less than thrilled with their location as well. Normally they have been the corner tent in this line.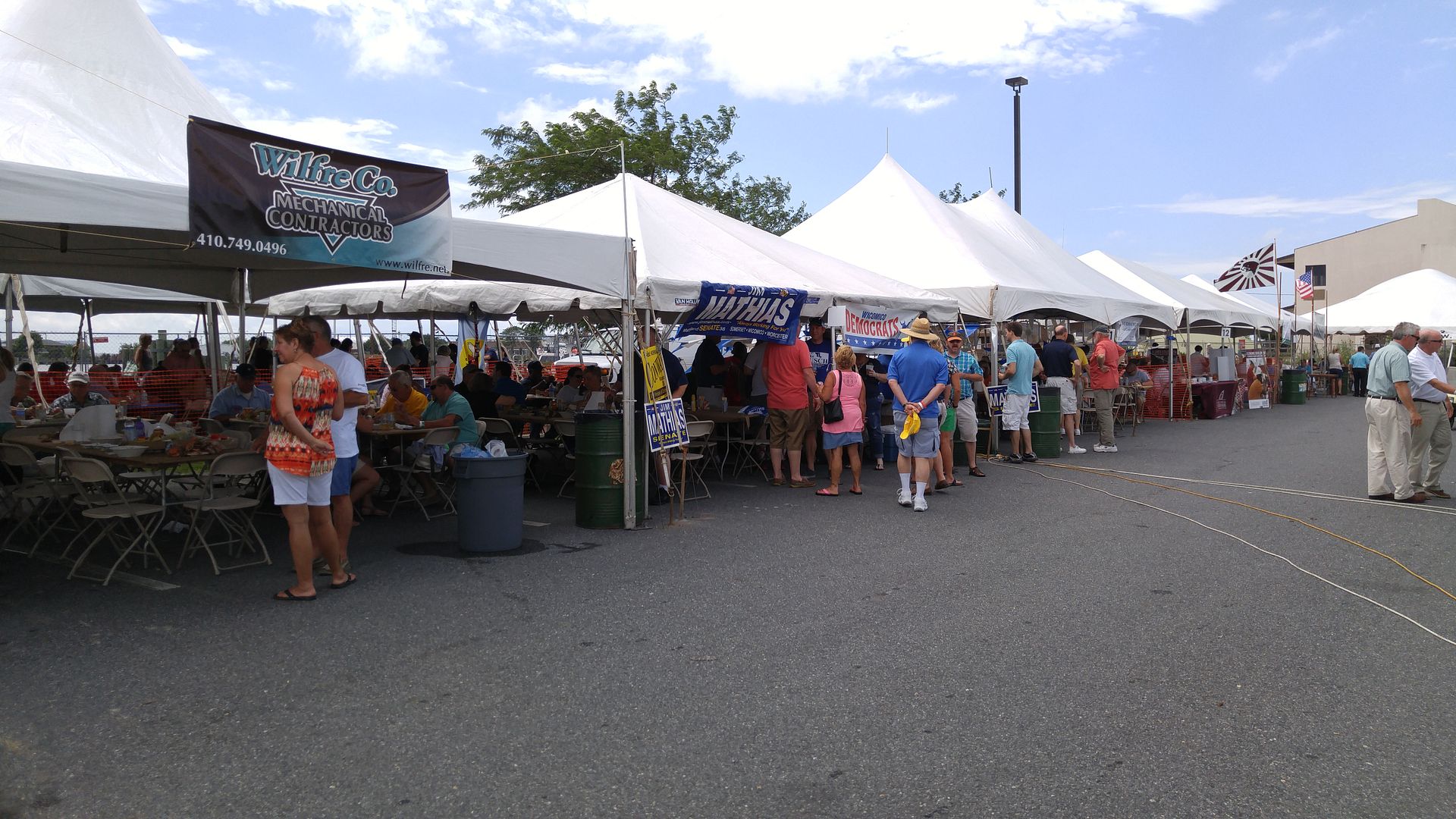 But they did have the keg, not that I had anything from it. They also had an interesting table within.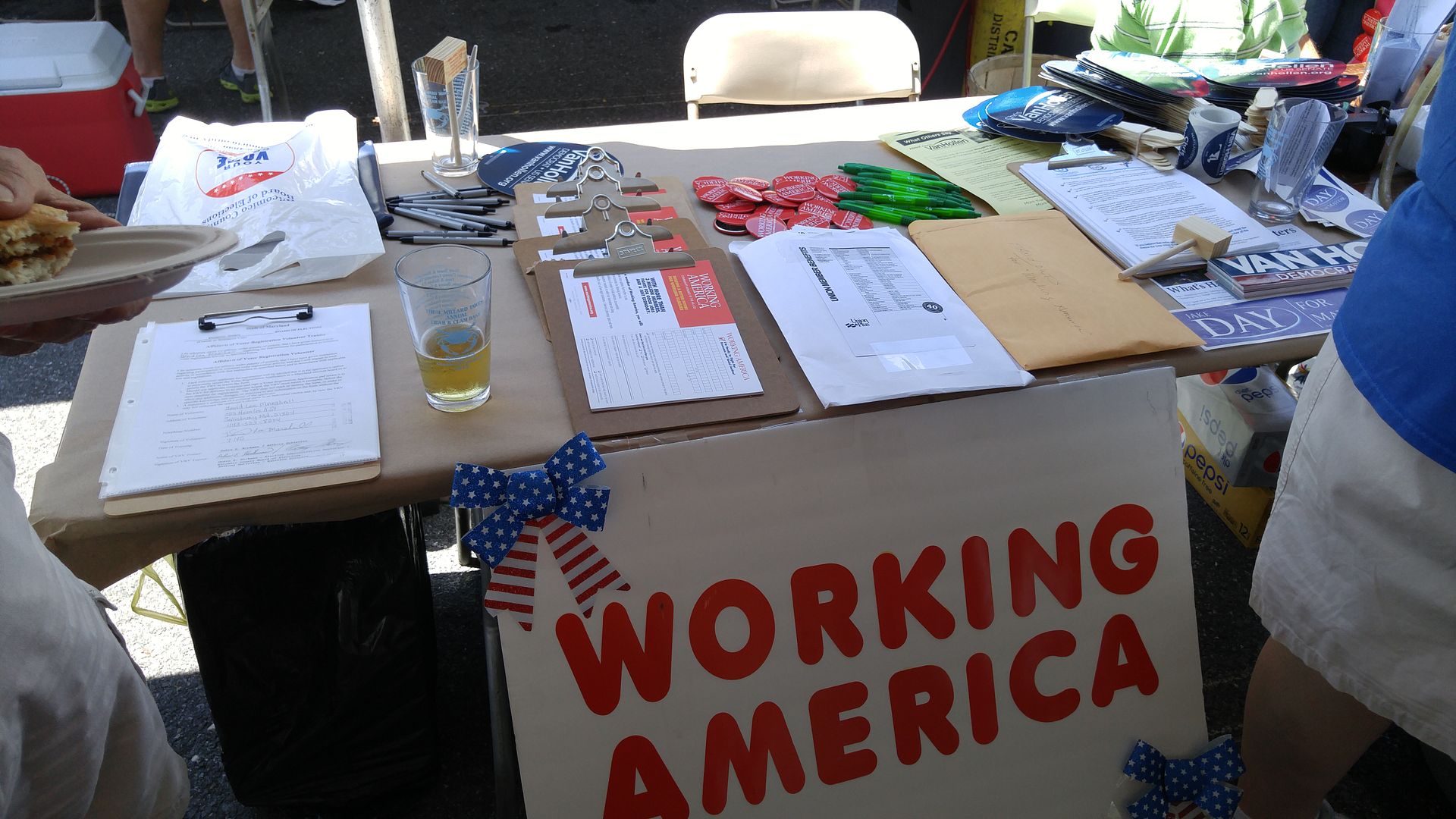 While I am part of working America I'm not a member of this AFL-CIO affiliated organization, so it's no surprise to find them in the Democrats' tent. There were a handful of folks walking around with their red shirts on, but Big Labor didn't have the presence here they did during the O'Malley years. Maybe they are laying low until next year.
There were quite a few businesses there, although it was a different mix than I recall from previous years.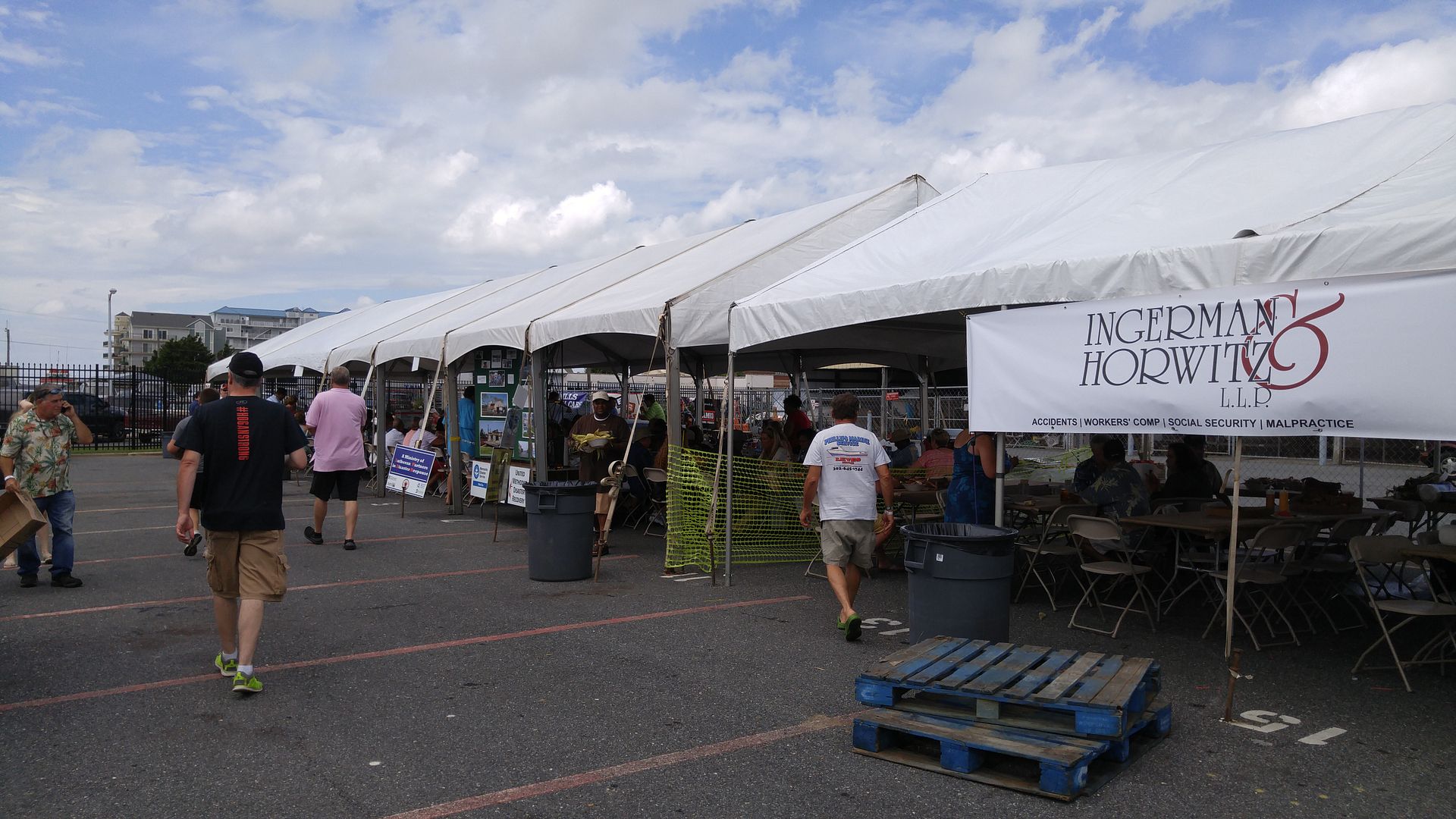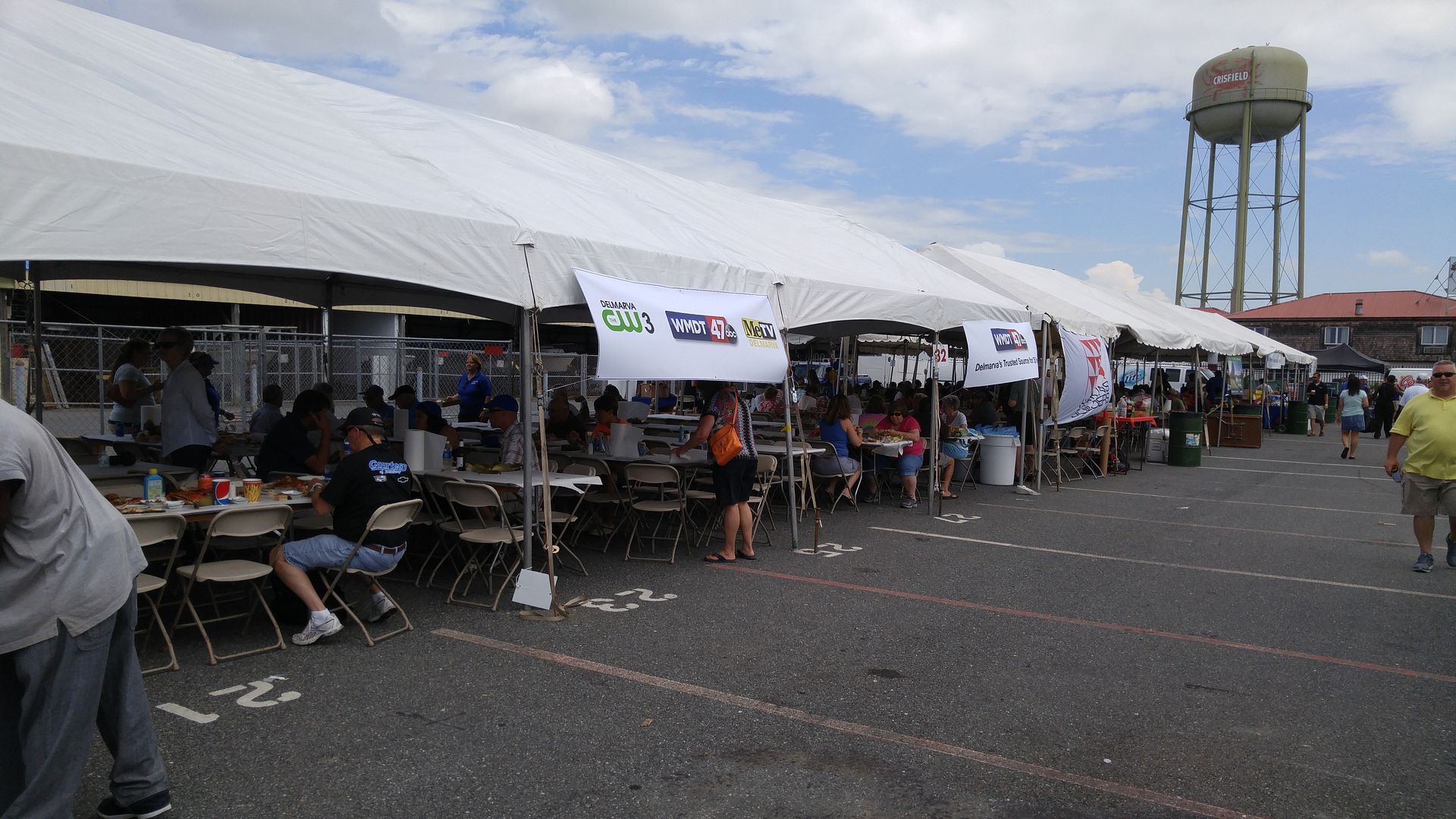 Some enterprising youth took the occasion to be their own business people. Those in orange were "runners" and on their shirts it read they were working for tips.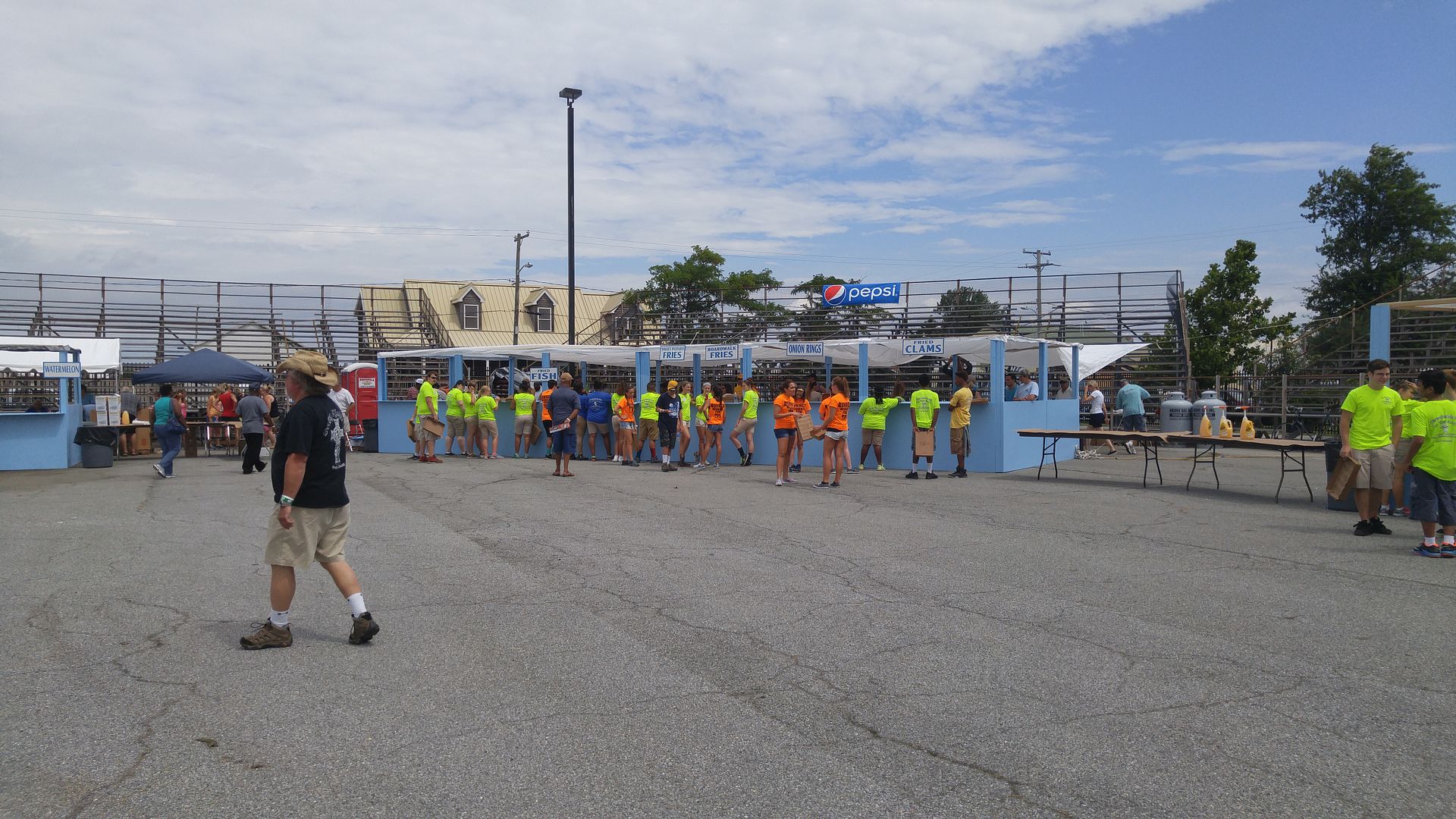 Hopefully they made more money than those who annually charge $10 or $20 for parking in their yard. I don't think business was as brisk for them because attendance seemed off from last year.
Government and public entities were well-represented, too. Interesting how the environmentalists are cozy with the economic development group.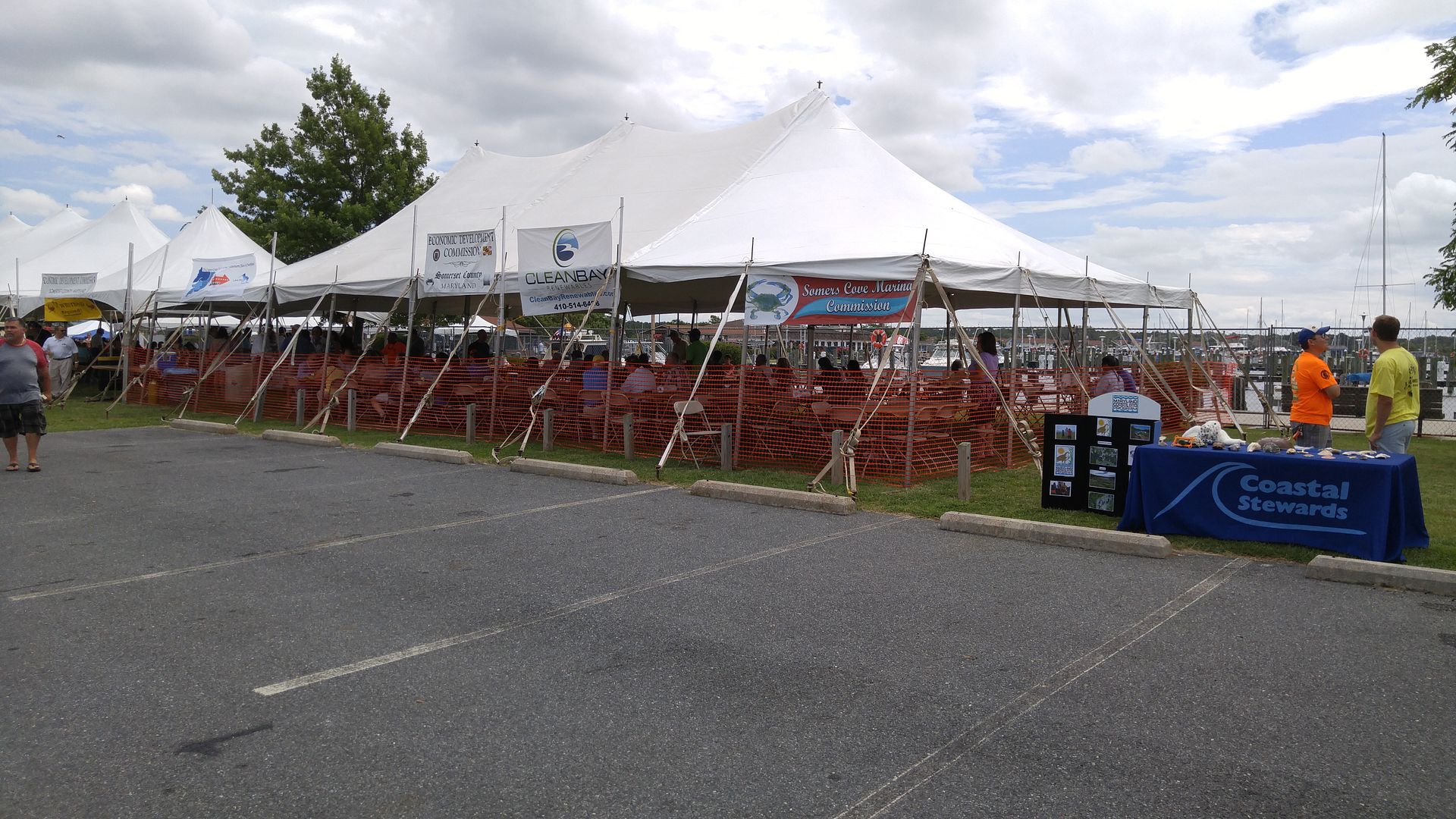 I think the University of Maryland – Eastern Shore was next to the Democrats, but Salisbury University was really trying to make a splash.
While there were a lot of differences in this year's rendition of Tawes, some things never change. Lobbyist Bruce Bereano always has the biggest tent.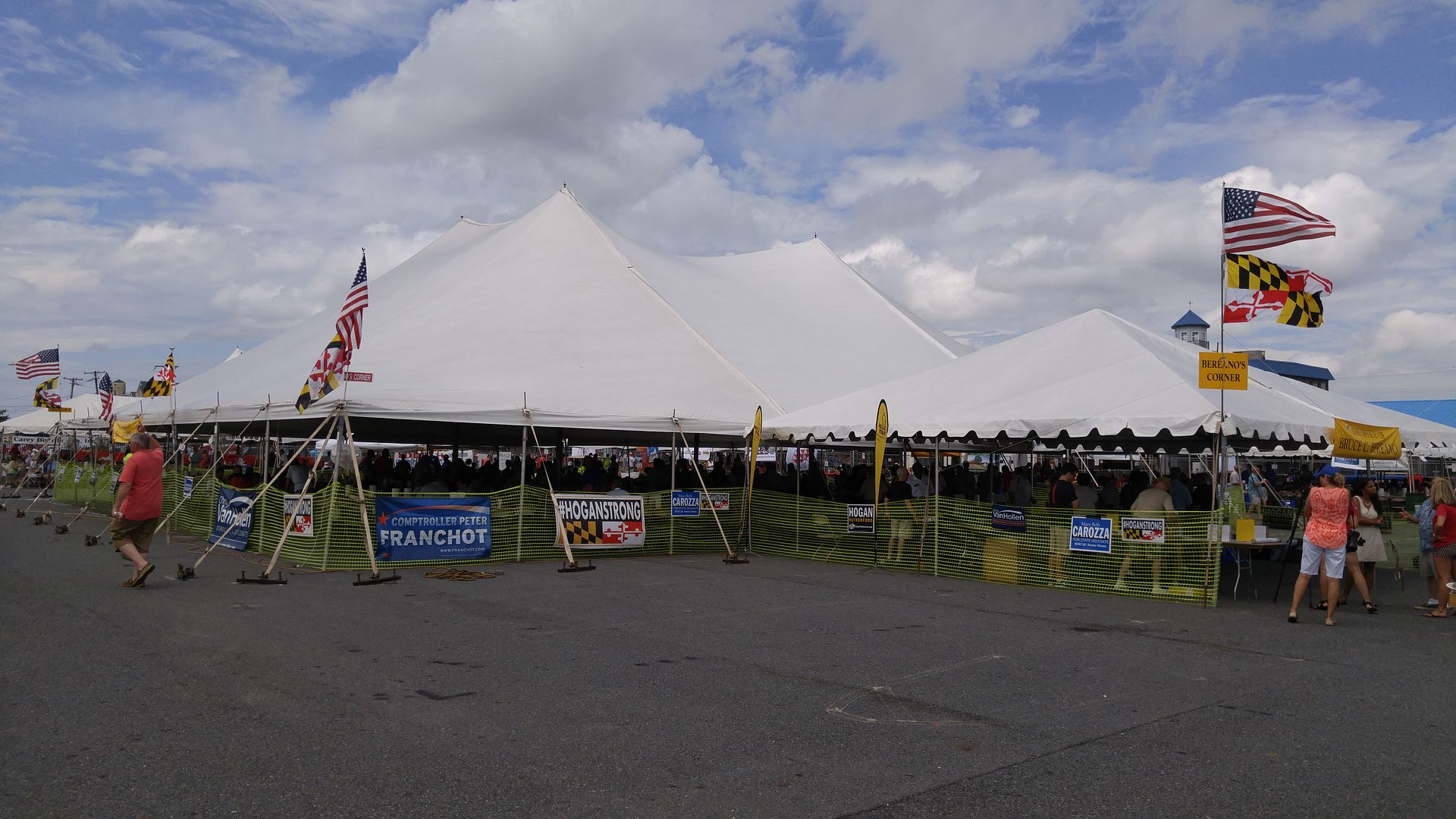 Another constant is a ton of good food, particularly of the fried variety. This was my spread.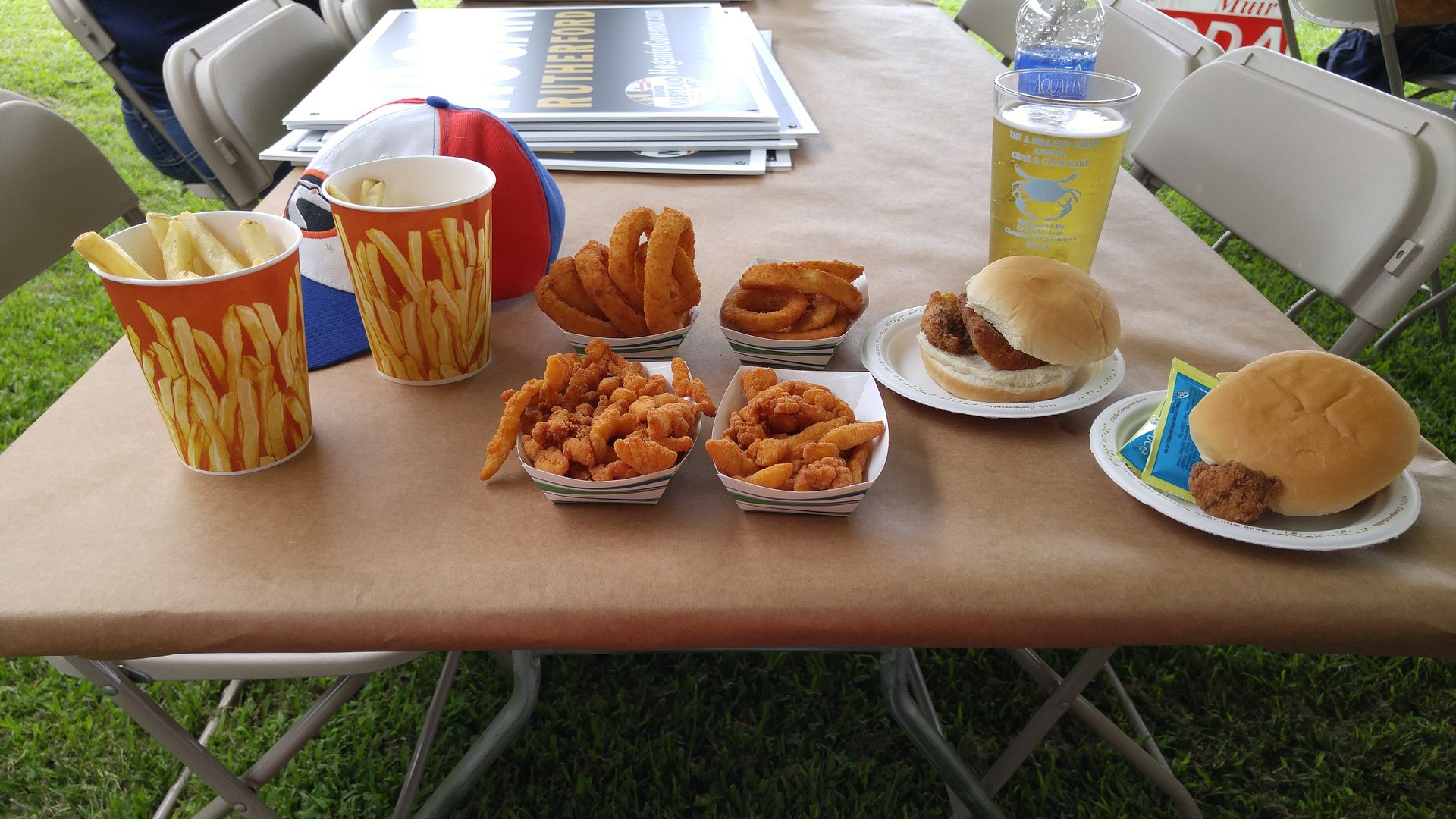 Not a salad in sight – in my dietary defense, I skipped breakfast. But it was all very good, aside from a little lack of fileting on one of the sandwiches. It was a trifle bony.
(No, I don't like crabs – so don't ask.)
This event also draws media like the food on the ground draws seagulls. Here's Delegate Carl Anderton being interviewed by local television.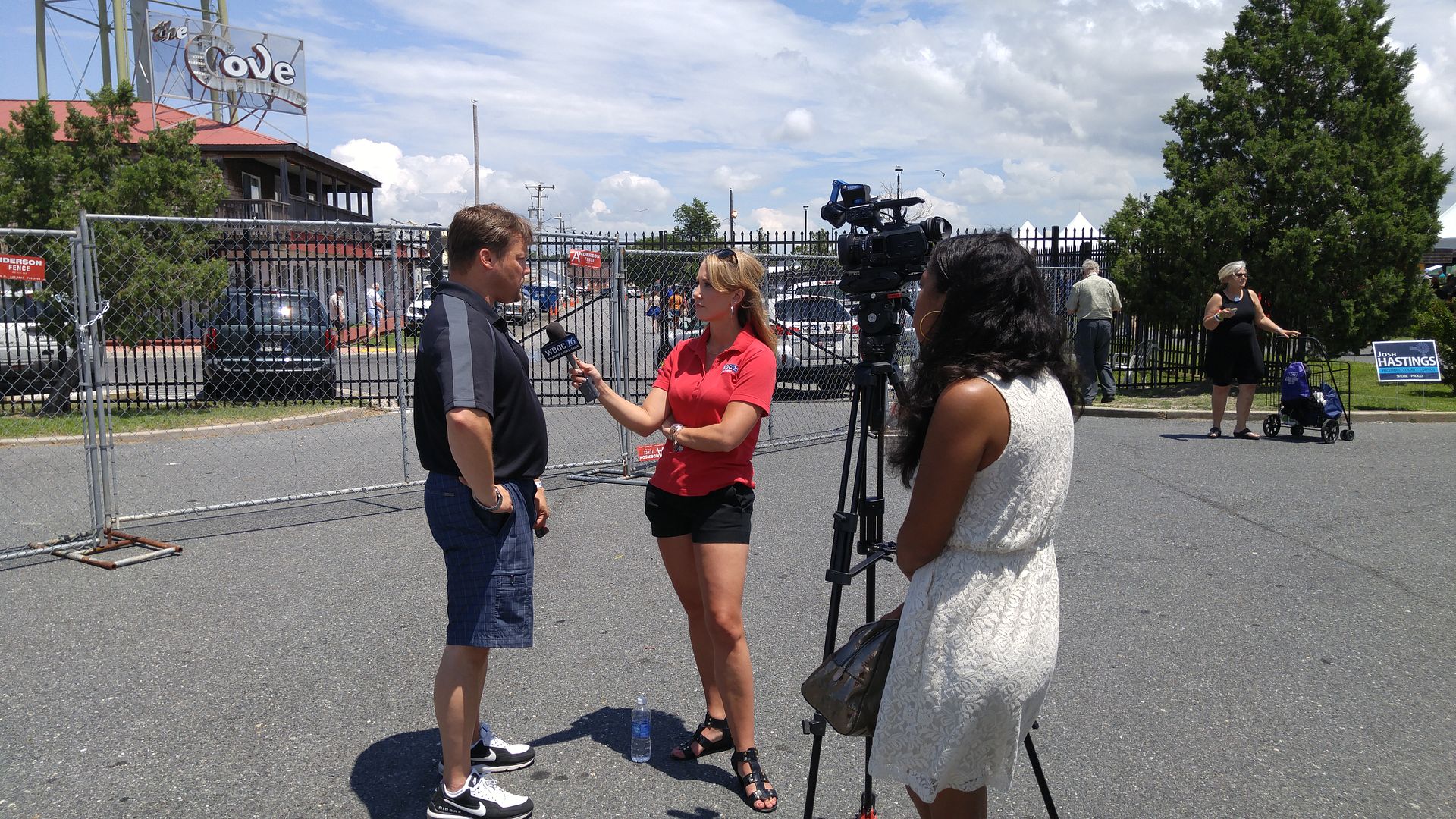 Both local Salisbury stations were there doing live shots and interviews.
And while the faces may change, the political aspect never does. You have the newcomers trying to make a good first impression, like U.S. Senate hopeful Chrys Kefalas and his millennial posse.
By the way, I had to look up that Kefalas is 35 because he appears a decade younger.
You have old hands looking for new positions, like Congressional candidate Mike Smigiel (in the center). He had a batch of "I Like Mike" buttons.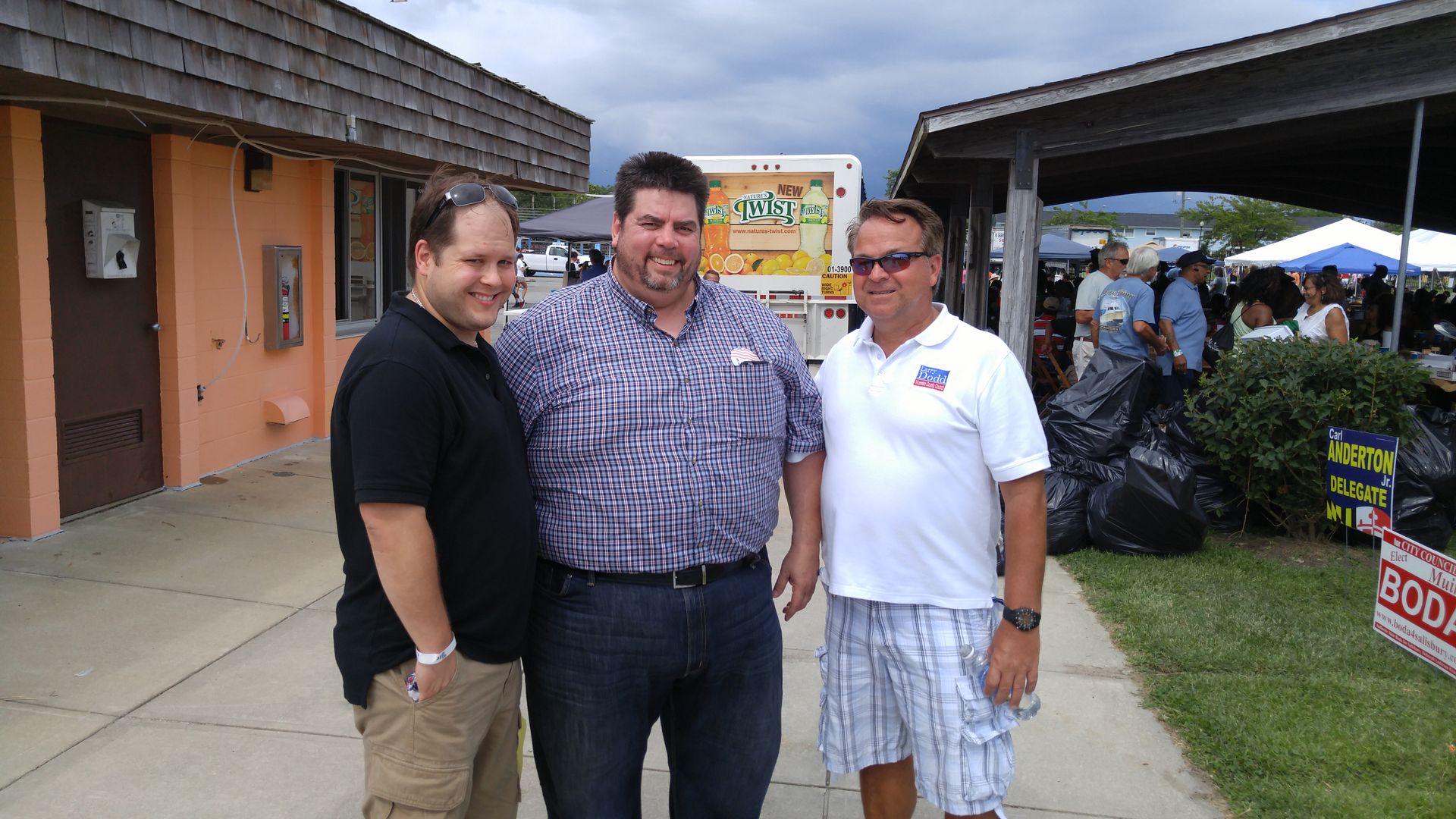 County Councilman Larry Dodd is on the right, and I apologize for not recalling the gentleman on the left's name.
And then there were established officeholders like my 2015 monoblogue Accountability Project Legislator of the Year, State Senator Justin Ready. He's talking to Jackie Wellfonder, who probably has some sort of social media record for photos with the most officeholders and general friends of hers.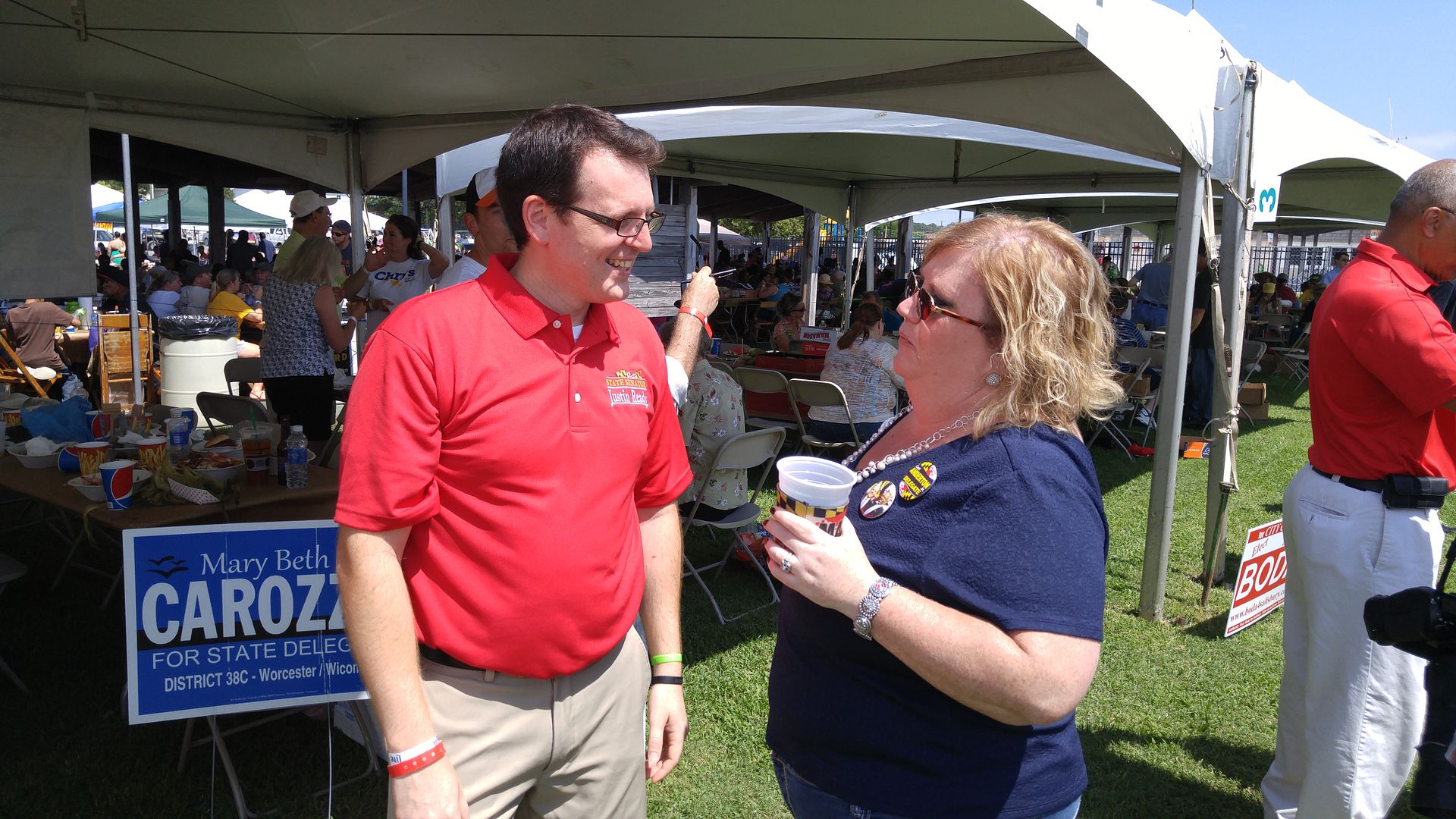 I think I've already seen her picture with our Lieutenant Governor, Boyd Rutherford. He's the distinguished-looking guy in the center.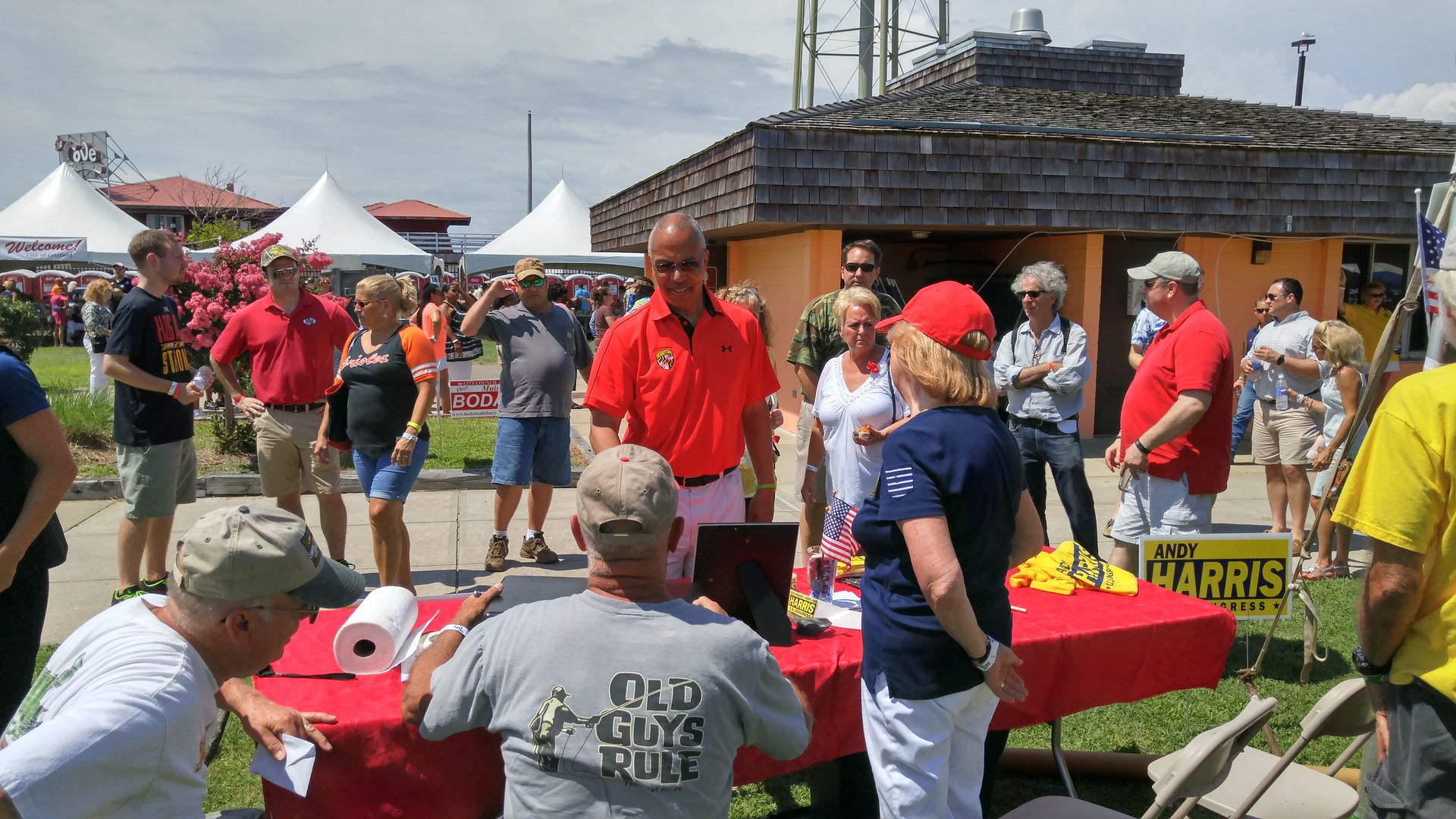 One final difference was the weather. While it was relatively comfortable, with a gentle breeze, the clouds rolled in toward the end.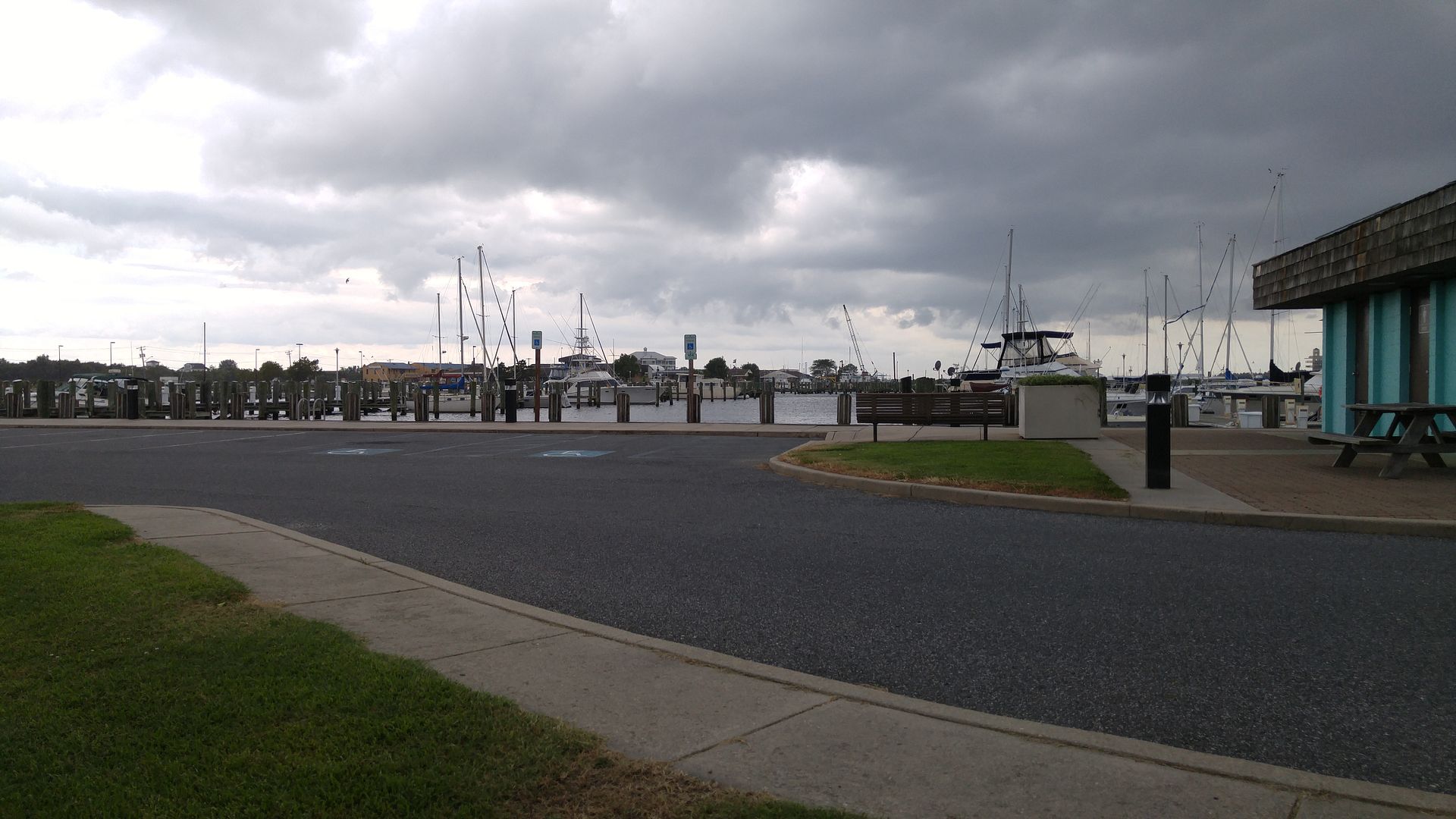 I left about 20 minutes before the scheduled 4:00 close, and by the time I got to my car about 1/2 mile away it was raining lightly. Before I got out of Crisfield it let loose and poured, so those who stayed to the bitter end either got under a tent or looked like drowned rats (or both.)
It was a fitting end to an event which was good, but perhaps a little off kilter. In fact, I was discussing the future of this gathering with someone who compared it to the Salisbury Festival – a venerable event that didn't change and eventually withered away. Since the cost went up this year (to $45 a ticket) we'll see how it affects the plans for next year.
As for me, I'd like the center location back.
If you subscribe to the theory that the most motivated voters will be there with bells on when early voting starts, it appears that statewide Republicans are slightly more enthused than Democrats.
Final update, Friday 10/31: While Democrats pulled away ever-so-slightly to finish with a higher percentage of early voters statewide than Republicans (9.29% – 9.17%) there are two conclusions which can be drawn.
One is that early voting seems to have gained acceptance among Republicans, as the total nearly matched the 2012 Presidential election number of 9.31% of the electorate.
The second is that Eastern Shore voters are by far the most receptive to the concept. While the major parties picked up just under 10% of voters statewide, about 1 in 5 Talbot County Republicans and Democrats used the process. As for the four lower Shore counties:
Dorchester: Republicans 9.64%, Democrats 7.68%
Somerset: Republicans 11.69%, Democrats 9.27%
Wicomico: Republicans 10.50%, Democrats 8.92%
Worcester: Republicans 11.49%, Democrats 9.57%
If four more Kent County Republicans had voted early, the entire Eastern Shore would have had a Republican advantage in early voting. As it stood for yesterday's final day of early voting, the Democrats held sway by a 827-795 tally. Republicans, despite a significant registration disadvantage, had more voters for five of the eight days locally and ended up with 5,056 voters to 5,024 for the Democrats.
**********
Update, Thursday 10/30: The race is almost tied between Democrats and Republicans (by percentage) statewide, as the two sides are 0.02% apart (7.35 to 7.33). Democrats maintain that slight edge statewide, but the GOP is still ahead locally by wide margins:
Dorchester: Republicans 7.52%, Democrats 6.12%
Somerset: Republicans 9.58%, Democrats 7.86%
Wicomico: Republicans 8.90%, Democrats 7.43%
Worcester: Republicans 10.01%, Democrats 8.18%
Republicans on the Lower Shore maintained a raw advantage for the day at the polls by a 678-671 count.
**********
Update, Wednesday 10/29: Democrats extended their lead on a statewide basis 6.04% – 5.97%. But the GOP maintains its edge in local counties:
Dorchester: Republicans 6.12%, Democrats 5.11%
Somerset: Republicans 8.26%, Democrats 6.63%
Wicomico: Republicans 7.55%, Democrats 6.15%
Worcester: Republicans 8.35%, Democrats 7.04%
Republicans on the Lower Shore maintained a raw advantage for the day at the polls by a 671-621 count. And there are some incredible totals among some counties: both parties in Kent and Queen Anne's counties are already over 10% turnout, but Talbot County Republicans have already eclipsed the 15 percent mark with the Democrats not far behind at 12.46 percent. Obviously that part of the Eastern Shore has embraced early voting, while the western end of the state seems to lag with Allegany and Washington counties well below average.
**********
Update, Tuesday 10/28: Democrats still lead by a slim margin on a statewide basis 4.80% – 4.76%. But the GOP maintains its edge in local counties:
Dorchester: Republicans 4.91%, Democrats 4.24%
Somerset: Republicans 6.45%, Democrats 5.57%
Wicomico: Republicans 6.10%, Democrats 5.00%
Worcester: Republicans 6.96%, Democrats 5.86%
All but one of the Eastern Shore counties have Republicans leading Democrats (Kent is the exception), and Wicomico joined Worcester as the second-highest GOP margin in the state behind Talbot County at this juncture. Republicans added a county as well and now lead by percentage in 15 of the state's 23 counties. Republicans on the Lower Shore regained a raw advantage for the day at the polls by a 624-606 count.
I was doing some research on 2010 election turnout and it looks like turnout is tracking about the same as it did back then, at least locally.
**********
Update, Monday 10/27: At the halfway point of the eight days (through Sunday), Democrats finally edged ahead on a statewide basis 3.58% – 3.56%. But the GOP maintains its edge in local counties:
Dorchester: Republicans 3.72%, Democrats 3.31%
Somerset: Republicans 4.92%, Democrats 4.59%
Wicomico: Republicans 4.73%, Democrats 3.91%
Worcester: Republicans 5.68%, Democrats 4.68%
All but one of the Eastern Shore counties have Republicans leading Democrats (Kent is the exception), and Worcester remains the second-highest GOP margin in the state behind Talbot County at this juncture. Republicans lead by percentage in 14 of the state's 23 counties and the Eastern Shore sha 8 of these 14. But local Democrats won this day at the polls by a 332-304 count.
**********
Update, Sunday 10/26: On a slow Saturday for voting overall, Democrats came back to close the statewide gap; it's now 3.11% – 3.08%. New totals for local counties:
Dorchester: Republicans 3.43%, Democrats 2.96%
Somerset: Republicans 4.21%, Democrats 3.90%
Wicomico: Republicans 4.03%, Democrats 3.35%
Worcester: Republicans 4.94%, Democrats 3.91%
All but one of the Eastern Shore counties have Republicans leading Democrats (Kent is the exception), and Worcester has the second-highest GOP margin in the state behind Talbot County at this juncture. But for the second straight day, local Republicans outpaced Democrats at the polls by a 342-331 count.
**********
Update, Saturday 10/25: The GOP extended its lead in the state to 2.56% – 2.47% partly on the strength of solid gains on the lower Shore. All four of these counties added to Republican gains, with the raw number of Republicans actually exceeding Democrats on Friday by a 750-697 count. New totals:
Dorchester: Republicans 3.11%, Democrats 2.57%
Somerset: Republicans 3.66%, Democrats 3.32%
Wicomico: Republicans 3.15%, Democrats 2.69%
Worcester: Republicans 4.17%, Democrats 3.30%
**********
1.34% of GOP voters statewide made it to early voting compared to 1.31% of Democrats, but this marks the first time Republican turnout as a percentage outstripped Democrat turnout on the first day of balloting in a general election. In the Presidential election of 2012, 2.56% of Democrats came out compared to 1.68% of Republicans, and that advantage grew greater with each passing day. Meanwhile, 2010 saw Democrats edge Republicans on the first day by 1.04% to 1% on their way to an overall advantage of just under 1 percent. So a Republican advantage at this juncture could spell good news for their candidates.
However, on the Lower Shore Republicans have a distinct advantage in turnout percentage and nearly eclipsed the Democrats – who hold a registration advantage in all four counties – in terms of raw numbers. Democrats held a slight 939-892 advantage in first-day turnout. (For the four counties overall, Democrats lead in registration 56,462 to 46,862.)
Dorchester: Republicans 1.66%, Democrats 1.49%
Somerset: Republicans 2.37%, Democrats 2.17%
Wicomico: Republicans 1.54%, Democrats 1.49%
Worcester: Republicans 2.39%, Democrats 1.86%
The turnout is brisk in legislative District 38C, where 2.02% of voters turned out on the first day and made it the fourth-best rate in the state. In Wicomico County, District 38B leads the way with 1.62% while, ironically, District 38C performs the worst at 0.82% – perhaps due to distance from the county's lone early voting polling place in Salisbury. Reportedly, candidates from both parties are hitting this Wicomico County location hard and the Republicans are set up there with a table.
But on a state and local basis, this has to be encouraging to Republicans who didn't adopt early voting originally but have been encouraged by party brass to take advantage of it to make sure their votes were cast in this important election. If Republicans can hang with Democrats in terms of percentage of early voters, it may be their Election Day turnout will push them to a better overall showing than expected, making the turnout models pollsters use overly optimistic toward Democrats.
Since I've now covered the county and District 37 races, it's time to focus on the last political subdivision involved, District 38. The turnout for this one was disappointing because they failed to get the two Senate candidates, nor did they cover District 38C (although Democrat contender Judy Davis was in the audience.) On the other hand, District 38A received part of the billing despite the fact the district no longer covers Wicomico County.
So there were just four candidates to deal with: Delegate Charles Otto and former Crisfield mayor P.J. Purnell in District 38A and Delegate Norm Conway and Delmar, Maryland mayor Carl Anderton, Jr. in District 38B. I'll start with the race that pits Otto, who was elected in 2010 after surviving a four-way Republican primary and rolling up 62% of the general election vote, against Purnell, who served as Crisfield's mayor for the last eight years before not seeking re-election this year.
Their initial question concerned the wind turbine farm slated for Somerset County, but placed in jeopardy for a time due to objections from the Naval Air Station at Patuxent River, who was concerned about effects on their radar equipment from the spinning blades. Otto said he had committed to the developers about being neutral toward the project although he objected to the renewable energy portfolio. He believed, though, the project was sited in an "appropriate place" to alleviate health concerns, and would rather see wind turbines than solar panels that directly affect the environment.
Purnell spoke about his experience with wind turbines in Crisfield, where he secured a $4 million "green grant" to build a 750 kilowatt turbine to service the town's sewage treatment plant. "If it doesn't work it will be Purnell's Folly," he said. But he felt the electricity savings would benefit the city by allowing other items to be funded.
It led into a question on unemployment, and Purnell stated the obvious: "Unemployment is tough." But he looked for anything he could to create jobs, including grants. "Economic development is a tough process," said Purnell, who added that we needed to be prepared.
Otto used the aborted Walmart distribution center to point out how the state's business climate affects job creation – on the very day Somerset County was to reopen discussions with Walmart about the site, the state passed its minimum wage law. Minimum wage and tax structure were the cause of many of our job creation problems, although the toll increase which makes it $1 per mile from the Bay Bridge to Salisbury for a truck doesn't help either.
In terms of helping the realty industry, Otto blasted the Septic Bill he opposed as part of the "war on rural Maryland." He vowed, "I'll continue to defend property rights" in Annapolis.
On the other hand, Purnell believed "sustainability is the root of all our problems on the Eastern Shore." He predicted we won't be able to build in five to ten years.
In his closing statement, Purnell pointed out he'd cut Crisfield's workforce, and made the case he believed smaller government was the answer. Otto talked about the state's increasing spending and told the gathering, "I was taught to pay for it when I bought it."
Again, this was a case where the Democrat in the race tried to convince the audience he was just as conservative as the Republican. It wasn't so much the case in the District 38B race, which places a Delegate who has represented the area in Annapolis since 1986 (and was a Salisbury City Council member for a dozen years before that) against a mayor elected in 2011, who spent six years before that as a member of their town commission.
I noted the other day in my initial report that Anderton apologized for a mailing which depicted Conway as a masked criminal. But Carl was critical when he was asked the question about what he would do differently than Norm.
"Communication is key," said Carl, who gave the crowd his cell phone number as a way of promoting access. He also noted that "I haven't seen my Delegate in my town hall" during his entire tenure in Delmar government, reinforcing his belief that "we're such an underdog in representation."
Unlike the other participants, Norm had a different question regarding highway user revenues. Conway said that the Transportation Trust Fund had been repaid, but as for the lost highway user revenues it was his claim that the approach was the preference of MACO (the advocacy group for Maryland's counties.) But "no one knew" the depth of the recession or the extent of the cuts needed, argued Conway.
Norm was asked then about tuition costs, noting they'd maintained a 3% level of increase while other states had done far worse. But he also bemoaned the fact that many students take much longer than four years to graduate, accumulating more debt along the way.
Anderton was asked about how to bring job opportunities here, but pointed out that Wor-Wic Community College, the site of the debate, won't have its funding restored to previous levels until 2023. "The things that go on in Annapolis have to change," said Carl. "We have to be fundamentally different (and) we have to do better."
Something Carl wanted to address for the realtors was the tax differential, although he also spoke helping to create the success of the Heron Ponds development. Conway agreed the differential needed a review or discussion, but felt that eventually Sussex County, Delaware, with its extremely low assessed rates, "will have to face reality." Norm also praised those moving into downtown Salisbury, calling it "a real plus."
In his closing statement, Norm talked about how he had always set goals for himself. But Anderton stressed a different approach: "it's all about teamwork."
This was an interesting part of the forum because the two candidates answered mostly different questions, which made it difficult to compare and contrast. Obviously Carl wouldn't have the same voting record as Norm has, but one thing which stuck out at me was that both of Norm's questions touched on appropriations – how much money it would take to hold tuition costs at 3% increases or how best to cut to fit a budget. Some of that was out of his hands, but I would have really loved to have Norm answer how he could create jobs when things have gone steadily south during his last couple terms. There are reasons Sussex County is so appealing at the moment and advantageous assessments is just one.
As I think I said in a previous rendition, I think this forum would have been far better spread out over a couple nights. It was also disappointing we didn't get to hear the exchanges between Jim Mathias and Mike McDermott for the District 38 Senate seat or Judy Davis and Mary Beth Carozza for District 38C – which, ironically, is the district Wor-Wic lies in. It went on for over 2 1/2 hours, but with 15 participants there was only time for three questions apiece, plus the opening and closing statements.
Overall, I don't think anyone crippled their chances for victory so we'll have to hang on for another couple weeks to see how it goes.
I have a friend that's tired of seeing this commercial for Jim Mathias because, as she said, "I feel like I've seen this same Jim Mathias commercial a million and four times already." So it's time for me to expand it and tell you what he's really saying.
The ad cuts through a number of different scenes from around the area. Most of it is shot in a restaurant but there are stills from a number of outdoor scenes, inside a firehouse, and so forth.
The script is rather simple.
Mathias: Hi, I'm Jim Mathias, your Senator. In Annapolis, I make SURE we get heard and get results for the Eastern Shore. I fight for lower taxes and less regulation so our businesses thrive, make money, and hire more people.

When we need to repair a bridge like a Pocomoke, make our roads safer like Route 113, or improve our schools like James M. Bennett, I get the job done. I'm asking you for your vote so that we can continue to preserve our way of life on the Eastern Shore.
So let's go through this a little at a time.
Hi, I'm Jim Mathias, your Senator.
Not by choice, and certainly not by voting record.
In Annapolis, I make SURE we get heard and get results for the Eastern Shore.
That can be taken any number of ways, but based on the fact we have higher unemployment and slower growth than the state as a whole, I'm not sure you're getting them to listen or give us the desired results.
I fight for lower taxes and less regulation so our businesses thrive, make money, and hire more people.
Now wait a second. You've voted for 11 of the 12 total state funding items since you've become Senator – all four operating budgets, all four capital budgets, and three of the four BRFA bills – 2012 being the exception. In that year, you waited until the Special Session to vote for that BRFA, which was the one that shifted teacher pensions to the counties. Seeing as that the budgets you voted for were increases over the previous year, wouldn't it follow that revenue had to come from somewhere?
It seems you don't have a lot of influence on your party since they keep voting for the tax hikes and regulation, yet many of them give you campaign financing. And as I referenced above, when compared to other parts of the state, businesses aren't hiring more people so it's doubtful they're thriving or making money.
When we need to repair a bridge like a Pocomoke…
Interesting you should bring that up. According to the SHA, the Pocomoke River bridge project was paid for by the gas tax increase you opposed, yet it's been in the pipeline for a few years. From the minutes of the Somerset County Roads Commission, November 15, 2011:
Commissioner (Charles F.) Fisher then asked about the status of the Pocomoke River bridge. Mr. Drewer (Donnie Drewer, SHA district engineer) stated that the north bound side deck will be replaced and a latex overlay will be placed over the south bound lanes. The project is slated to be funded with FY2013-2014 funding.
FY2013 began July 1, 2012, so the project ended up being almost two years behind schedule.
It's noted that Mathias was present at that Somerset County meeting so if he was fighting as hard as he states, wouldn't that bridge be finished by now? Instead, the SHA added it to their FY2013-18 plan, which reveals that of the $17.2 million cost, the federal government covers almost $13.8 million. (Page 447 of this exceedingly large file shows it.) So maybe Andy Harris deserves more credit.
…make our roads safer like Route 113…
This is a project which has spanned decades, with original studies dating from the 1970s and off-and-on construction over the last 20 years. So there's not much Mathias has really done for it. It's actually been dedicated to the man Mathias was appointed to replace in the House, Bennett Bozman.
…or improve our schools like James M. Bennett, I get the job done.
Actually, much of the money for improving the Bennett Middle School – which I assume is the one he's talking about since the high school was under construction when he became Senator – comes from Wicomico County taxpayers, who are the recipients of millions in debt to build the new school after two members of Wicomico County Council caved to a vocal support group and changed their initial vote against the bonds. The state money wasn't coming until the Council bowed to the "Bennett babes."
The job that was done was placing those children who will eventually attend the new BMS in debt.
I'm asking you for your vote so that we can continue to preserve our way of life on the Eastern Shore.
There are a lot of things worth preserving on the Eastern Shore. But for all the rhetoric, I come back to something I wrote four years ago when Mathias took advantage of the retirement of Republican Senator Lowell Stoltzfus to jump from the House to the Senate:
There's a reason that I get day after day of mailings from Jim Mathias explaining how, despite his Baltimore roots, he's an Eastern Shore conservative at heart (today it's being against "liberals" and for the death penalty.) Annapolis Democrats wouldn't be backing him if he weren't useful to them – they know the score and the fact they need Republicans to have fewer than 19 Senate seats to keep them meaningless. He will be no such thing as a loose cannon.
In order for the state of Maryland to be a true two-party state and keep in check the appetite of the liberals who have been running our state into the ground for God knows how long, Republicans need to maintain at least 2/5 of the Senate, or 19 of the 47 seats. (Getting 19 Senate seats is paramount because that can sustain a filibuster.) The GOP got to 14 seats in 2006, only to lose two in 2010 – one of them being to Jim Mathias. Prior to that, the 38th District Senate seat had been Republican for nearly 30 years, which matched the conservative nature of the district.
I won't deny that Jim Mathias has a more moderate voting record than most Democrats in Maryland, and on certain issues he will vote with Republicans, such as overt tax increases or the gun law. But these seem to be the exceptions to the rule, and now Jim is casting himself as someone who got pork for the district. Going along to get along, with the exception of votes where the hall pass to vote against the party line because the votes are already there, is one thing.
But in order to "preserve our way of life on the Eastern Shore" we need a reliable conservative voice to reflect the conservative area and that's not Jim Mathias.
I've been sitting on this for a few days, but it's a Saturday evening and I think the time is right for visual aids.
Their philosophy is simple, but so, so ignored.
It's a tenet of limited government that the government which is necessary is best enacted at a point closest to the people. The Founding Fathers who wrote the Constitution seemed to intuitively know this, which is why Congress only had a limited number of functions (as intended), the Bill of Rights spelled out what Barack Obama considers "negative liberties" – in other words, the government cannot do actions like limit the press, expression of religion, petitioning of redress of grievances, and so forth – yet it wasn't intended to be a catch-all, so the Ninth and Tenth Amendments were added.
(Indeed, there are those who argue the Articles of Confederation was even better at limiting the federal government, but it would have been nearly impossible to get 50 states to agree on anything – not that there would have been 50 states because many states claimed far more territory to their west.)
An example of how government overreaches can be found in our state's infamous "rain tax." Once the federal government decreed our state had to pay a share of Chesapeake Bay cleanup – although it's not necessarily a share proportionate to our fouling of the Bay, as those who advocate the cleanup of sediment trapped behind the Conowingo Dam may attest because that sediment comes from states upstream – the state, in turn, decided the local governments had to collect a certain amount in what are called Watershed Implementation Plans, or WIPs. (Wicomico's county cost is estimated to be over $900 million over 12 years, while neighboring Somerset County, which is the state's poorest jurisdiction, has about the same bill but concedes there is no way they can handle this with existing resources on a county budget of under $40 million annually. In some respects, the "rain tax" may be a handout from richer to poorer jurisdictions.)
Perhaps it may have taken federal action to goad states into compliance, but there are many cases in government, from highway safety to education, where Uncle Sam looks over the local shoulder and threatens to withhold funds for non-compliance with certain dictates and standards. And as the short video notes, every dollar which goes to Washington is returned many pennies short because the federal bureaucracy has to be paid their thirty pieces of silver as well. Some states are donor states and some states are considered recipients, but there was no real need to send the money to Washington for functions the federal government need not be doing. That was the point of Federalism in Action as well as a toolkit they recently made available for download.
It's my preference to deal with my local government here in Salisbury for most matters. But too often they tell me their hands are tied by the faceless bureaucrats in Annapolis whose only thought about Salisbury and the Eastern Shore in general is how quickly they can traverse it in order to reach the beach. Yet those at the state level will often tell us they're at the mercy of Uncle Sam, and it's true that federal handouts comprise a growing percentage of our bloated state budget.
Fortunately, we can reverse a lot of this process over the next three years – if we choose our representation wisely, and keep the pressure on and frequently question those who seem to be on our side now. Maybe one day our children will be blessed by a government which knows its place, and they'll be able to breathe free.
As is often the case, it was exceedingly hot, quite humid, and a sprinkle of rain fell on the Somers Cove Marina. But thousands braved all that for crabs, clams, and hot and cold running politicians. This is my story.
On any other summer Wednesday afternoon, one can stand near the Somers Cove Marina and see that sight. But yesterday it looked more like this.
The brand new Craig/Haddaway signs were in evidence, as were a handful of shirts.
However, the pair in question didn't show up until the event was somewhat underway. Their entrance was rather understated compared to some others, as I'll show later. I caught them just as they entered the gate.
Fellow GOP contender Delegate Ron George had long been set up by then, with his own tent.
He may have had the best giveaway item as well – ice cold bottles of water stashed in a cooler behind the palm cards and brochures.
Ron proved himself to be a man of many hats. Okay, at least just a woven straw one.
A more modest presence was shown by draft candidate Charles Lollar, who brought his wife Rosha along. Here they pose with Wicomico County Republican Club president Jackie Wellfonder.
Later I caught Charles chatting with host Delegate Charles Otto (left, in hat), who represents Somerset County in the House of Delegates.
Another would-be Delegate making her Tawes debut as a candidate was Mary Beth Carozza, who's seeking the District 38C seat. She had a few assistants in tow as well as an attractive sign.
She was one of many local Republicans and activists who were well-represented in their tent.
We even had the infamous "pin the tax" sign. Too bad we didn't have it out where more could see it, but it would have been soaked by the misters thoughtfully added by the Somerset County folks. Did I say it was hot?
Observing all this was state Republican Party Chair Diana Waterman, who indeed was carrying a bottle of water.
Also making a presence was Larry Hogan (right), whose Change Maryland group now boasts a 50,000-strong Facebook following. He was making no indication of a possible political run today, but it's intriguing that he took the time and came down to Tawes.
Hogan has made the point that his group is not restricted to Republicans; a significant portion are independents and Democrats. And the latter group was well-represented at Tawes, too.
Front-runner and Lieutenant Governor Anthony Brown was also casually late, but had a gaggle of young supporters trailing him. He's sort of obscured in the center of the photo.
Brown's first stop upon entering the gate?
There were more modest presences from Attorney General (and gubernatorial hopeful) Doug Gansler and Comptroller Peter Franchot, who considered the race for the top spot but opted to seek re-election. (My photo of Gansler didn't come out well.)
One other Democratic gubernatorial hopeful whose presence surprised me was Heather Mizeur, pictured here with Salisbury City Councilwoman Laura Mitchell.
Her formal announcement must have been a brief affair, as she and a small band of supporters made the trek down to Crisfield. Mizeur told me it was about her tenth time attending – obviously first as a statewide hopeful.
Also carrying the Democratic banner was the State Senator from District 38, Jim Mathias. He had a decent-sized group of supporters who must have been busy putting up a half-dozen 4×8 signs along Maryland Route 413 leading into Crisfield.
Salisbury mayor Jim Ireton (right) was sporting a "'bury" sticker to represent his town.
I found Wicomico County Executive Rick Pollitt enjoying his lunch early on.
Pollitt explained that it's easier to eat on the pavilion side because he would be greeted by more people in the party's tent. Makes sense to me – same reason I eat a little at a time.
In fact, a large percentage of those enjoying the food were well away from the political. They were being entertained by the DJs on the left of the photo.
A number of other businesses were represented at Tawes as well, although to me the number seemed down from previous years.
Still, lobbyist Bruce Bereano had his corner. Bruce Bereano ALWAYS has his corner, and it's always full of Annapolis politicians from both sides of the aisle.
It also always has this nice touch and tribute to the late Somerset County Delegate Page Elmore.
And of course, there was the media. Tawes was crawling with them.
In WBOC's case, not only did they have the remote truck and the flyover by Chopper 16, the 'Outdoors Delmarva' crew was there too. Also covering the event was competitor WMDT-TV channel 47, WBAL radio, and reporters from the Salisbury Daily Times and Baltimore Sun, among others I probably missed.
That doesn't count the alternative media. The Red Maryland crew was interviewing a number of Republicans – here it was Ron George's head fundraiser Hillary Pennington of Stratgic Victory Consulting.
Brian was also kind enough to query me, so we'll see if mine made the cut this evening.
Eventually the crowd began to trickle out and another year's Tawes event was in the books. There was actually a light shower as I was leaving, which didn't bother me in the least. A lot of fellowship and fun was had by all.
The vibe of the event promises to be different next year. An earlier primary now means that the Tawes event will occur once the major party nominees are known, so it's uncertain how much time and expense they will invest in the gathering.
One other note of interest: while I did see Blaine Young there this year, the presence he had was minimal. This leads me to believe he may be stepping aside from the gubernatorial race to concentrate on a local run; otherwise he would have had a tent space as he did last year.
Speculation aside, the Crisfield Chamber of Commerce put on another wonderful event – kudos to the volunteers who make the event one the late Governor can indeed be proud of.
Well, this is an interesting followup to a story I posted the other day – you know, the one where I asked whether those correctional officers indicted last month as part of the Black Guerrilla Family (BGF) prison scandal had gang ties from the outside:
Is BGF also prevalent outside the walls of the prison, too? Were any of these women gang wannabes in their youth, and recruited by the gangs from the inside?
Chair Mark Uncapher of the Montgomery County Republican Party obviously has a long memory, as he wrote in his latest party newsletter about a previous scandal uncovered in 2009 by the Baltimore City Paper.
This is a rerun of a very bad horror movie that continues to replay throughout the O'Malley administration.

Rewind the movie back to 2007, O'Malley's first year in office. Patrick Byer is awaiting trial on a murder charge in the Baltimore Detention Center. Like many of the inmates in that facility, Byers has access to a contraband mobile phone, which he uses to negotiate a murder for $2,500 of the principal witness against him. Just 8 days before the beginning of Byer's trial, Carl Lackl Jr. is gunned in front of his house in a crime witnessed by his daughter.
What's perhaps more amazing is that Antonia Allison, who was cited in that City Paper story as being one of the correctional officers alleged to have gang ties, is also under indictment in the newest scandal. One would have thought the slightest hint of gang activity would have gotten her out of the correctional system, at least as a guard. But she remained and is one of the 13 correctional officers newly accused.
Understandably, the prison population isn't adding any value to society and very, very few people aspire in their life's wish to be prison correctional officers. Moreover, the percentage of correctional officers who are tied to gangs is probably fairly low (although it likely varies from facility to facility) but it's obviously enough to shift the balance of power in the Baltimore City facility. For those highest up in the gang's food chain, jail wasn't punishment at all but simply a place to do business with decor which left something to be desired.
This isn't going to add to Martin O'Malley's Maryland legacy, although it may be an interesting thing to bring up for Lieutenant Governor (and 2014 gubernatorial candidate) Anthony Brown and perhaps Attorney General (and also prospective candidate) Doug Gansler. But as the meme points out, Martin O'Malley has set his sights on a higher office since about the time the results of the 2010 election became official. Priorities for him seemed to shift from the actual idea of governor a relatively small state to burnishing his resume. Running prisons? That's boring, and they probably can't vote anyway – let's pander to the gays, green energy crowd, and illegal immigrants!
(Obviously the hat tip for that comes from Change Maryland. Boy, this state really does need a change.)
And one has to wonder as well about the state's other prisons. Looking at crime in Salisbury, which is a known resting stop for families who have loved ones locked away in the Eastern Correctional Institution outside Princess Anne – conveniently about as far away from the I-95 corridor as you can get in this state but not too close to Ocean City to scare away the tourists – one has to ponder to what degree this is a problem in ECI. Like Baltimore City, Somerset County is one of the state's poorest areas so jobs, particularly for those without a great deal of education, are scarce. Granted, the fact that ECI is in a rural setting alleviates some of the issues found at the Baltimore City facility but being inside is still being inside.
But now that environment affects us outside the prison walls. That's the problem with ineffective leadership, and it's something which will need to be addressed in 2014 when the state next votes.
I know a lot of people have been waiting with bated breath for this, so let me tell you that if a picture is a thousand words this will be a post upwards of 32,000 words. And I didn't think I took all that many pictures.
Nor did it seem like this year's edition had the crowds that previous recent Tawes gatherings did. Perhaps this falls in the category of anecdotal evidence, but I climbed up to the top of the bleachers and took this panoramic photo just before 1 p.m. – a time you would think there would be huge, long lines.
And it also seemed like fewer businesses were there this year, too. Of course, you had the regulars:
Both of these entities are there every year, with Eddie Heath providing the tent "fencing" for another longtime client, the Hebron Savings Bank. And it goes without saying that this event is an important part of Somerset County's economic development.
But I spied a couple new entities I was unfamiliar with, too.
The Great Bay Wind Energy Center is being pushed by Somerset's economic development team, as they seek a 65-turbine complex. Despite its name, the wind farm is planned for an inland site near Marion Station.
The second could be an exciting development on the entertainment front.
The first concert at The Amphitheater at Heron Ponds will be a free show featuring local '80′s bands on August 24; a shakedown cruise if you will for its first major event featuring country singer Kellie Pickler on August 25.
They also win the creativity award for keeping the beer cold.
If you're scratching your head as to why I found it humorous, here's a wider view.
But the reputation of the Tawes Crab and Clam Bake was built on the perception that it was the place for Maryland politicians to see and be seen. Despite the smaller crowds, this year was no different.
Of course, you had the two party tents. I'm biased, so the GOP goes first.
The Democrats had a smaller rendition, but I think part of the reason is, as I found out, there's only two counties represented there. (The Republicans generally pool Somerset, Wicomico, and Worcester into theirs.)
One advantage the Democrats had was a little grassy area for easy sign placement.
They had the usual fare: Obama, Cardin, Rosen, Conway. Norm Conway? He's not up this year, is he?
Nor is Blaine Young of Frederick County. But he is planning a 2014 run for Governor on the GOP side so he secured his own tent.
But the granddaddy of all political tents didn't belong to a party or a candidate. Instead, it belonged to a lobbyist.
It even had fans stationed along one side of the perimeter.
Unfortunately, you cannot read the cards, but various politicians had reserved tables inside the tent. These two were saved for Delegate Cheryl Glenn and State Senator Joan Carter Conway. They weren't the only ones.
However, I must say that Bereano is bipartisan – a goodly number of the pictures below were shot in front of his tent, which was conveniently across from the GOP tent.
And as I said above, those who wanted to see and be seen were in Crisfield, the southernmost city in Maryland. (Bet you non-locals didn't know that.) I have a lot of these photos, so I suppose I'll begin with statewide races and work my way to local ones.
Since I already revealed Blaine Young had a tent for his 2014 gubernatorial bid, I'll start with him enjoying his lunch within.
To be honest, this was the biggest splash his nascent campaign has made, as he has a little catching up to do with two of his fellow presumptive GOP contenders. Larry Hogan (right in photo below) was in the house, sporting his Change Maryland logo with Red Maryland blogger and state YR head Brian Griffiths.
Griffiths is apparently an equal opportunity gladhander, since he's also here with Harford County Executive David Craig, the unofficial-official candidate for Governor in 2014.
On the other side, Howard County Executive Ken Ulman is thought to be considering a run for the Democratic gubernatorial nomination. He's on the right, Wicomico County Executive Rick Pollitt (who introduced me) is to the left. I'm also told Peter Franchot, who may run in 2014, was there as well but I didn't see him.
There was one other statewide candidate there, at least that I'm aware of.
Let's just put it this way. I arrived at 11:00, and Dan Bongino was there 15 minutes later (note that the event officially started at noon.) The photo below was the second one I took. He stayed and sweated it out (literally) until almost the bitter end.
And while I show him by the GOP tent in this picture, he was all over the Somers Cove complex getting votes.
And they didn't forget to get more volunteers, as the Bongino signup sheet was prominent on this table.
An advantage Bongino and other challengers had was the fact the incumbents were working today in Washington. So Ben Cardin couldn't walk the grounds gathering votes, and nor could Andy Harris in the local First District race. But Harris had a good volunteer turnout.
Opponent Wendy Rosen had her own small posse of backers, too.
I had never met Rosen before today, so I wanted to put a face to a name. She's a nice enough lady, but when she remarked something along the lines of Republicans selling their souls to the Koch Brothers, well, let's just say the class envy card isn't accepted here.
The Second District could have much better representation with this lady, who obviously approves this message.
It was nice to see her get some airtime, although the local TV station isn't in her district.
I wish I had gotten a better photo of Third District hopeful Eric Knowles (on the right) but this will have to suffice.
While most state and local politicians aren't on the ballot for awhile, there is one exception. Salisbury Mayor Jim Ireton is up for re-election in early 2013. Here he's on the left (which seems to be the norm) but being bipartisan is Delegate Charles Otto, on the right.
General Assembly members from near and far came to participate. Delegate Mike McDermott was rolling up his sign as the day wound down.
State Senate Minority Leader E.J. Pipkin had one of his supporters in tow.
Here's that Brian Griffiths guy again, in front of the Bereano tent with Delegates Kathy Szeliga and Justin Ready. Truly, though, it's better Griffiths be in front of the camera and me behind it than the other way around.
And maybe politics is in the future of these two lovely young ladies – after all, they've won one contest already. The outgoing Miss Crustacean and Little Miss Crustacean will turn over their crowns at the Hard Crab Derby in September, but Hannah Adkins (left) and Jessica Wilson (right) seem to be having fun with their titles for now.
They definitely have winning smiles.
And by next week those who normally frequent the Somers Cove Marina can have their facility back.
So with that another Tawes Crab and Clam Bake is in the books. Next year should be a little more active since the 2014 campaign will be in full swing.
Oh, and I would be remiss if I didn't mention some of my local blogging cohorts there. Since Jackie Wellfonder was busy coordinating Dan Bongino's effort she may not put anything up on her Raging Against the Rhetoric site, but Julie Brewington of Right Coast Conservative was snapping a number of shots for herself while Jonathan Taylor of Lower Eastern Shore News has his observations as well.
A little over a month ago I wrote a post which challenged Ron Paul to prove there was caucus fraud or get out of the race. Well, at first I was criticized by rabid Paul supporters who questioned my assertions, stating it wasn't the candidate himself making them, well, until he actually made that suggestion. Of course they ignored me then.
But after the debacle on Saturday in St. Charles County, Missouri (or as blogger Bob McCarty termed it, the "St. Patrick's Day Massacre") I'm reminded of another incident in the recent past. And I'll get to that in a moment.
First, though, I want you to read a couple other accounts (The Other McCain and All-American Blogger) of the incidents, including the comments, and learn that Ron Paul supporters sometimes leave a lot to be desired in manners. All done? Good.
Now you can continue past the jump.
Late this evening, the Maryland Department of Planning released their versions (House of Delegates and Senate) of the redistricting map for the General Assembly. For the purpose of this post, though, I'm going to concentrate on Districts 37 and 38.
The new District 37 is a lot like the old one, as they maintained a majority-minority district in 37A which snakes along the U.S. 50 corridor between Salisbury and Cambridge, with a arm of the district heading up toward Hurlock in Dorchester County. But District 37B now makes nearly an entire crescent around the single-member district and swallows up much of the Wicomico County territory formerly in District 38A. Geographically it's a huge district that takes in all of Talbot County, the southern end of Caroline County, most of Dorchester County and the southern and western ends of Wicomico County, plus a small area near Sharptown. In essence, it moved a little bit southward and eastward.
As for District 38, well, I got part of my wish as it will now be comprised of three single-Delegate seats. The 38A portion, though, now takes in all of Somerset County and the southern half of Worcester County, with a spike running along the U.S. 113 corridor into the Berlin area. I predicted this would happen because it would force two incumbent Republicans (Charles Otto and Mike McDermott) into the same district. Looks like we have our 2014 District 38 Senate candidate now.
District 38B maintains only a sliver of the Wicomico County portion of the existing district, and looks tailor-made for another run by Norm Conway. To me it looks like the western boundary hardly changed so it's now primarily a Salisbury/Delmar/Fruitland district, as it did move a little bit southward to take in that former 38A territory. The eastern side of Wicomico County and the northern half of Worcester County (except Berlin) now become part of the new District 38C.
So who does this benefit? Obviously the new District 37 will probably keep the incumbents in office, or at least decrease the chance for a non-minority to win the 37A seat. Rich Colburn picked up a decently Republican chunk of Wicomico County but lost quite a bit of Caroline County to District 36. So that is probably a wash. But District 38 was built simply to eliminate one Republican from the area, and the extension of District 38A into Berlin may have been on the behalf of Berlin mayor Gee Williams, who tried for the seat before. Perhaps it's a more lopsidedly Republican seat, but now it gets only one Delegate.
And I'm stuck with Norm Conway, since I'll be in the new and smaller District 38B. Unless Mike McDermott moves closer to me, he won't be my Delegate anymore in a practical sense. But that's okay – it just means I can give old Five Dollar more flak if he decides to run again, which I hope he doesn't. Given the fact the district maintained its irregular shape at the western end, my guess is that he will and they eliminated the rural parts of his district to help his cause.
Finally, I'm disappointed with the MDP's map since it wouldn't allow me to figure out the new districts close-up – that is unless my laptop isn't up to the task. So forgive me my wild guesses as to where the districts lie, but before that site failed me I did verify my home is in 38B. Not by a whole lot, though.
Update: This example may illustrate how cut up our area is. Along the first two miles of Mount Hermon Road you can have houses in four different districts. At the far west end of the road and up to Civic Avenue it's the border between the extreme eastern fringe of District 37A on the north side and 38B on the south side. Then about a mile or so it's in entirely in 38B, until the road passes under U.S. 13. Then it's solely in District 38C for a short distance until it crosses a creek just west of Hobbs Road, when the highway becomes the border between 38C on one side and District 37B on the other. Finally, just past Walston Switch Road, the road becomes part of 38C. To use east side landmarks, the airport is in 37B, Perdue Stadium is in 38C, WinterPlace Park is in 38B, and the established part of the Aydelotte neighborhood is on the edge of 37A.