For the last two CPACs, Bretbart News has hosted a gathering called "The Uninvited", a meeting where those who speak to subjects taboo to the main conference meet. In 2013, they met in a side conference area well away from many of the main events and this year they left the Gaylord National Resort and Conference Center entirely, choosing the nearby Westin Hotel instead.
I bring this up not because I want to extend CPAC coverage, but it was the immediate thought I had after reading a piece by Jeff Quinton last night about a Larry Hogan-sponsored Maryland blogger gathering. Indeed, when asked by Quinton a few days ago I said I hadn't heard about such a meeting so presumably I wasn't invited – not that 4:30 on a Wednesday afternoon in Annapolis generally works for me anyway.
But I thought a little compare and contrast was in order, perhaps to help make Quinton's overall point.
About 2 1/2 years ago, well before he officially announced but at a time when the wheels for a 2014 run were already in motion, David Craig gathered a number of prominent bloggers at the time (including a couple of the Red Maryland guys) for an informal Friday evening meeting in Annapolis.
But it didn't stop there. Craig also made sure I was aware of the announcement tour stop in Salisbury and his staff arranged for me to have some time for an interview before they left. Insofar as I know, David has been fair to most of the bloggers – no complaints.
And while I haven't had similar face time with either Ron George or Charles Lollar, Ron has taken care to call me or provide comment for my site on several occasions. I've also heard from members of Lollar's staff regarding things going on in the new media world. On the other hand, it's been a long time since I've spoken to Larry Hogan, but then I don't initiate the conversation either. There was a point where I was trying to get him for the most recent Ten Questions series of interviews I did last year, but we couldn't get a time coordinated and I eventually abandoned the effort.
Now I'm presuming the Hogan event would be patterned on the initial Craig soiree, and since there were about 10 or 11 total people there perhaps only six to eight bloggers were invited – figure four from Red Maryland, Jackie Wellfonder, and perhaps the folks from the Sun and Post and pretty soon you have a crowded table. But if a candidate really wanted to do it right, he or she would have 3 or 4 similar events around the state.
Then again, what do I know? In the scheme of things I'm just a blogger whose main complaint about the Hogan campaign isn't lack of access but lack of detail, as in his plans for governance should he be fortunate enough to win. Maybe I'm just one voter but I have a lot of pet issues, so that's why I want to know.
So I hope my cohorts have a good time this afternoon. I won't be there, particularly since I'll probably still be hard at work doing my outside job in the real world. But I'm sure I'll hear about it from someone.
As many of you know, I write regularly for the Patriot Post. As such, I've been a longtime subscriber to their various releases and today editor Mark Alexander wrote a piece called "The GOP's Fratricidal Threat to Liberty." And while I disagree with his premise to some degree – because he seems to blame the TEA Party movement for recent failures moreso than the "Establishment" pushback, something I would reverse – the overall point about unity is a good one, and it got me to thinking about how things are going in Maryland.
Back in November I was crucified for a particular post, but in light of recent events I want to quote from what I said then:
Now you can trust me when I tell you this "erstwhile contributor" to Red Maryland has had many differences with them over the years. But I have to say that they are an important piece of Republican politics in this state, for better or worse. I would have more respect for those running the Lollar campaign if they pointed out the differences between their guy and the other Republicans running than I do with their spending time worrying about what a group of bloggers thinks. If you disagree with Kline's assessment (of your campaign), prove him wrong and step up your game.
Indeed, I think the Lollar campaign has stepped up. But more to my point, there are some who are taking a victory lap over the eviction of Red Maryland from the pages of the Baltimore Sun. It's well worth noting a particular timeline of events: I wrote my piece on November 6, the Red Maryland – Baltimore Sun partnership came out November 20 (on the eve of the MDGOP Fall Convention), and their endorsement of Larry Hogan was made official December 12. So the endorsement was made after the Sun hired them.
Also worth mentioning is this part of Red Maryland's rationale on choosing Hogan:
No doubt there will be, in some circles, the gnashing of teeth over our endorsement, much like there was for our 2010 endorsement of Bob Ehrlich. However, we will continue to ascribe to the Buckley Rule and support the most viable right candidate who can win. (Emphasis in original.)
Gnashing of teeth – check. But there's another issue at play here, and it has nothing to do with who is on what payroll.
There are only a handful of conservative political blogs in Maryland; perhaps no more than a dozen really cover the state well on a regular basis. As I said back in November, I have had many differences with Red Maryland and probably will lock horns with them on a number of future occasions. There's no doubt we see the limits and overall merit of the Buckley Rule differently.
But I do agree with the need for the Eleventh Commandment. There has to be a change in philosophy among all of us – instead of trying to be the "tallest midget in the room" (as a Red Maryland stalwart is fond of saying) by needlessly savaging political and online opponents, we should be the ones who support each other in the overall uphill climb. On the whole, we've lost a valuable platform because of mistakes made by those who tried to be that tallest midget, ones for which they were called out. Hopefully a lesson is learned out of all this; and I don't doubt Red Maryland will still have a part to play going forward. Just remember, folks: perception is reality.
As I see in my perception, each and every one of us who toil in this field can complain all we want and write 24/7/365 about the mess that is Maryland politics, but if we don't strive to educate and motivate our readers into supporting good conservative candidates from around the state we've done nothing but waste our time. (Okay, a few of us may be paid for advertising, consulting, and other favors, but that's peanuts.)
I may not necessarily agree with Red Maryland or Jackie Wellfonder about their belief that Larry Hogan is the best candidate for governor, but if he wins on June 24 it's our job to help him win on November 4. I can tell you from experience that it's a rare ballot indeed where a Democrat is more conservative than a Republican, and looking at the top of the Maryland ticket this year won't be one of those rarities. Trust me, it's not like I've never had to put my ego aside because my choice in the primary lost. But I sucked it up, buttercup, because I understood what was at stake.
To me, the end game is to elect conservatives, and if we elect GOP moderates we either convince them they should become more conservative or find a better primary opponent for the next go-round. As Alexander said, we will still agree with them on 80 percent or more of the issues.
To finish, let me quote Alexander but add just a couple words:
The internecine warfare in the (Maryland) GOP (blogosphere) may be good for cornering constituents and emptying their wallets, but it is most assuredly and demonstrably NOT good for advancing Liberty.
If I have a legitimate beef with a candidate – and there's at least one I've been disappointed in so far – I'm reserving the right to say so. But the events of the last couple weeks should remind us all we have a ton of work to do and these misadventures are too much of an ill-timed idle diversion.
In case you can't tell from the bright blue splash of color on the site, I have my first political ad of the campaign. Mary Beth Carozza is looking to win the newly-created District 38C seat and what better way to reach a conservative audience than this site? I wanted to take this moment to welcome her to the fold and thank Mary Beth for her support! The ad turned out nicely, didn't it?
So last night, after I put up the ad, I updated my ads page with the exciting offer Mary Beth took advantage of. I have plenty of room for more ads. I even put up my own, since this site doubles as my campaign site and has the authority line.
Now the ball is in your court. Even if you have something to sell besides politics, why not take advantage of a growing conservative audience and advertise here?
In certain quarters of the Maryland GOP, a video is being shared – one that's less than flattering to candidate Larry Hogan. It was done by a gentleman named John Lofton.
Biographically, John Lofton is a journalist of some repute, including a stint as editor of an RNC newsletter during the Nixon era and jobs as a syndicated columnist as well as op-ed writer for the Washington Times in its infancy. He's now Communications Director of the Institute on the Constitution (IOTC), and perhaps one of the quirkier, if God-fearing, people in the state. This video illustrates the point. As for the state of the GOP these days, Lofton writes that "(b)eing a Republican is not a disease; it is a choice – a very bad choice, but a choice nonetheless." His other working title is the director of the God and Government Project, billed as "an outreach mission" of the IOTC.
Yet on the way to a Republican coronation, in a race where at least one supporter feels the other candidates should drop out, Larry Hogan stumbled over what was a simple philosophical question posed by Lofton: what is the purpose of government? Admittedly, I might have, too, although when asked a second time about the role of government the change in terms may have helped me understand what he was driving at. Instead, the Lofton-Hogan conversation came to an end and has not been restarted despite what Lofton calls repeated efforts to conclude what John calls "possibly the shortest interview of my career."
So while blogger Jeff Quinton saw Larry's supporters as perhaps a little thin-skinned, and Richard Cross took time to note that Lofton, indeed, has some views which could charitably be considered as somewhat outside the mainstream of thought, it fell on some of the strongest Hogan backers to shoot the messenger and blame the spread of the video on Charles Lollar supporters, a group which Red Maryland Radio called "Facebook warriors." On Thursday's show co-host Greg Kline assessed it this way, part of a conversation during the show's first segment:
(John Lofton) is one of these guys who's, you know, Christian nation – his answer to the question, by the way, is the purpose of the government is to serve God, that's the answer he was looking for. And because this interview got cut off, and Larry Hogan – I think you can hear, even in that clip, I think he realized 'what am I doing here'…

…he gets interviewed all the time and doesn't get that question very often.
That may be true, but the question has validity – regardless of its source or the answer the questioner was looking for – because voters aren't as familiar with Larry's stand on all the issues. One weakness of a candidate who comes from a non-political background is that we can't tell political philosophy based on voting records or how he or she has governed in smaller jurisdictions, which on the GOP side covers Ron George and David Craig, respectively. This is tempered somewhat in the cases of Charles Lollar and even Brian Vaeth by their recent unsuccessful runs for office, but aside from an abortive 2010 run for governor, Larry Hogan last completed a campaign 22 years ago – in politics, that's a lifetime. (To put this in context, that was the election cycle just before the Contract With America.) That's not to say political experience is a requirement, but without it a candidate should take pains to reveal to voters where he stands.
Yet there's a second aspect to this. If the situation were reversed, and Anthony Brown similarly blew off an interviewer asking a "crazy" question, most on our side would be caterwauling (and rightfully so) about ducking the tough questions in order to maintain spin control. On the other hand, Larry Hogan has thus far run one of the most non-specific campaigns in recent memory. I want to believe that Larry will be different, but we all see what happened the last time someone ran on a "change" platform – millions have been disappointed with the changes which were made. And when he's been given the forum to expand on his plans, he's taken a pass or simply refused to answer the question.
I'll leave aside my opinion that Larry should have gotten into the race sooner as well as the strange itinerary which has had him miss certain key events. But let's look at how other candidates have addressed key issues.
Both David Craig and Charles Lollar made whistle-stop tours, engaging voters at several stops along the way. (This is from Craig's stop in Salisbury last June. Unfortunately my outside job precluded seeing Lollar on his September tour here.) Meanwhile, Ron George eschewed the bus tour but released a multi-point agenda of proposals shortly after he announced.
Some may say that gives the other side ammunition to pick apart certain pieces of the candidate's platform, but in looking at the Democratic contenders I see no shortage of specific proposals from them. We certainly don't agree with most of them because they're not going to be in the best interest of Maryland voters, but at least we have somthing concrete to debate on a philosophical basis. This is lacking from Larry Hogan thus far, and it bothers me because I like to know where those seeking office stand. Ducking a legitimate question and calling it "crazy" didn't help because I'd also like to know how candidates feel about the role of government.
Finally, I have one statement about all this fallout, charges, and countercharges.
On June 25th someone will emerge from the chaos of our Republican primary with the nomination for governor. And unless a candidate or two drops out before the primary, the chances are pretty good that the victor will only have a plurality of the vote. If Bob Ehrlich suffered in 2010 from the disinterest of the 1/4 of GOP primary voters who backed Brian Murphy, can you imagine the headwinds our candidate will have when 60% or so supported someone else?
Say what you will about Democrats – once the primaries are over, they seem to quickly get on board with their winner. It's likely we will have the situation I described above, so the underlying thought all candidates should have is how to get those who supported the opposition behind them in a state of unity. Having Lollarites at war with the Hoganistas in a show of junior-high style personal attacks on supporters' weight and brushes with the law, with the Craigsters and Bygeorges looking on hoping to gain advantage, is no way to run a party.
You may not like the supporters of the other guy, but just remember who the real enemy is. Hint: it's the guys on the other team making this a less Free State.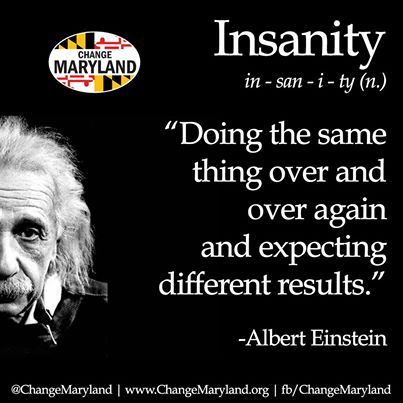 According to John Wagner in the Washington Post, Larry Hogan will formally announce his candidacy for governor on January 21 in Annapolis. It's two months later than some thought he would – and about six months after this observer thought he should get in – but nonetheless the announcement will come a week from Tuesday.
Even with the brief Wagner piece, there are some things to watch for. For example, Jeff Quinton notes that Hogan's campaign chairman is a veteran of the Democratic Glendening administration, although Quinton later concedes James Brady has given mostly to Republicans in recent years. It fits in with the Hogan pattern of emphasizing support from both sides of the aisle, which has been a staple of Change Maryland's rhetoric over the last couple years.
Personally, though, I would be more interested to know which legislators are planning to meet with Hogan this upcoming week. With just 55 General Assembly Republicans – who already have one of their own in the race in Delegate Ron George – the identity of those participants will be vital in knowing how the race will proceed. Obviously if a Democrat bucks party lines to show support for Larry it would be a coup, too.
And while I disagreed with Hogan's decision to wait until January to announce, it will give his campaign the advantage of knowing where his opponents stand financially as reports for 2013 are due this coming week. If one of his three Republican aspirants trails badly in the race, we may see some consolidation knowing from past experience Hogan is willing to lend himself seed money.
Now it's time for something a little different. Due to a confluence of events I couldn't make it to Turning the Tides this year. But in the reports I've been seeing it doesn't appear any of the gubernatorial candidates stopped by. That may not be the case, but I read from Facebook that David Craig's itinerary didn't include the event, and I would have thought either of the other two would have made sure to mention their attendance on social media. Since I'm prewriting this by a few hours I'm waiting to see some of the "blogger's row" coverage but it's disappointing to me if the GOP candidates didn't get there to at least say hello. Maybe that's how the organizers and activists wanted it, but I would be curious to know how (or even if) various campaigns represented themselves.
Anyway, the nine days leading up to Larry Hogan's formal announcement will also be a time of transition for Change Maryland. Who will be put in charge of the 74,000 strong organization while Larry Hogan runs? And can they succeed as Hogan has?
There's a lot to look for in the next week or two on the political front.
Update (h/t Jackie Wellfonder):
@monoblogueUS Ron George was the only one that stopped by.

— Jackie Wellfonder (@Wellfonder) January 12, 2014
Thanks, Jackie! I kind of figured he would be there since it was close by for him.
Update 2: Here's the link to his gubernatorial website, which just has an announcement slide at the moment.
It's interesting how the blogosphere works.
At 3:19 p.m. yesterday I received the e-mail about Richard Douglas deciding not to run for Attorney General, presumably at the same time several others got it because we were all "providing coverage of his potential run during the exploratory phase," as the e-mail said. I say I received it, but I actually didn't read it until maybe 3:45 or so because I was out when it hit my e-mail box.
As it turned out, there were six media sources which received the e-mail, although it went to a total of eight people excluding the common practice of self-addressing to make sure the e-mail went out. (Three of them represented Red Maryland, although Brian Griffiths wrote their coverage.)
Now I'm not sure who had it out first between Michael Dresser of the Baltimore Sun, The Quinton Report and Red Maryland, but the latter two outlets more or less reprised the press release in full with a line or two of comment. Dresser's piece was even more brief, and shows why he's a professional – assuming he got the e-mail at about the same time the rest of us did, it was written in a matter of minutes. As a summary it was well done. All three did the quick and dirty thing, getting the news out to their readers.
Jackie Wellfonder and I took a little longer to write our coverage, but both of us added more summary to the news release, which she printed in full and I excerpted from. Jackie brought out the idea of a task force, which I will speak to shortly. For my part, I was hoping to be first out with the news (I wasn't) but I also wanted to add some opinion and context, which I did. As it turns out I wasn't at my outside job so I had my piece set to go about 4:30 yesterday.
The other person who received the e-mail has chosen thus far not to write on it. So there's my compare and contrast of the coverage, for what it's worth. I thought the situation made for an interesting case study.
Now here's some more context and information. In looking at the election calendar, we all know the filing deadline is February 25, so any candidate for Attorney General (or other office) has to have his or her affairs in order by then. But it's not the actual "drop-dead" date for the Maryland GOP.
If you remember the 2010 election – the one where Republicans ended up with no AG candidate – there was a controversy which came to a head two years later when Audrey Scott, who was the Chair of the Maryland GOP during the 2010 election, made an unsuccessful bid for National Committeewoman. Jim Shalleck, who had volunteered to place his name on the ballot for the AG post, claimed in a letter sent out during Scott's 2012 NCW campaign that his would-be candidacy was scuttled because of inaction by the state party. At the time, state parties had a full fifteen days to fill any ballot vacancies which occurred during the filing period – here in Wicomico County, that's how current State's Attorney Matt Maciarello made it onto the 2010 ballot because no Republican filed for the office during the prescribed time frame. Fortunately, it worked out for us as a local party and for the county as a whole. On a state level, we failed.
This year, however, the time frame is much shorter as the "drop-dead" date is Monday, March 3. (Note to state Executive Committee: pencil in a Saturday, March 1 meeting now for a task force or however you wish to handle this.) I have no idea if Shalleck is still willing to run, since he seems to have the qualifications to do so if not the fire in the belly, but this is actually a pretty good shot for a Republican because there's no incumbent, a four-way primary on the other side, and perhaps a wave year for the GOP. That confluence of factors rarely comes along in the downballot races where there are no term limits – before Doug Gansler won the office in 2006, his immediate predecessor Joe Curran served 20 years.
Many of those who came before Curran served until a judgeship came open, which is how the last Republican AG got into office – his elected Democratic predecessor moved to the Maryland Court of Appeals and Edward D.E. Rollins of Cecil County was appointed to the post in 1952 by the last Republican governor to win re-election, Theodore McKeldin. It's been 96 years since a Republican won the AG job via election, and that streak's not in jeopardy until someone steps up on the Republican side.
Time to get back on the horse after a Christmas break.
I first heard from Sara Marie Brenner about a year ago when my friend Jackie Wellfonder became a contributor at her website, The Brenner Brief. Later our paths crossed when she was the Strategic Outreach Manager for the Franklin Center, the group who sponsored the "blogger's row" at Turning the Tides 2013. That led to a subsequent edition of Ten Question Tuesday, and since I've tracked her accomplishments from time to time. (It helps when you're on her very active e-mail list.)
I would describe Sara Marie as a serial entrepreneur; as she said in her TQT interview, "I'm always creating new things." Sometimes her enterprises succeed, such as her writing career, which now extends to a gig for the Washington Times community page of bloggers, or her radio show, which left BlogTalkRadio and became a new network called Heartland Talk Radio. So far, however, it appears hers is the only show. That's not so bad, though – there's this guy named Rush Limbaugh who built a radio network on just one show.
Yet there have been some misses, too. The Brenner Brief now struggles to get more than one or two posts a day out of its stable of writers, and the PolitiGal Network alluded to in the interview no longer has a website, just a Facebook page with fewer than 200 likes. Her tenure on the city council in Powell, Ohio ended this year as she was defeated for re-election after just a single term.
Needless to say, Sara's irons have been in a number of fires, so when an item announcing the formation of an entity called Buzz On My Block Media crossed my path I was interested to see which category it would fall under. Upon reading its description, I immediately thought of the failing network of hyper-local websites called Patch, which turned out to be a money pit for AOL. But I wanted her side of the story, so I reached out and asked her the question.
In the series of e-mails which followed, I found out she'd been working on the site for months – which helped to explain the paucity of Brenner Brief items – and that many of my questions were indeed covered on the site's FAQ page. She also explained that selling local ads is a "completely different sales tactic" than selling national ads. "Local businesses want to see community, foot traffic, and be next to stories people are reading about," Brenner explained.
One difference between her concept and Patch is that there will be fewer restrictions on geographic location. The Patch websites tended to cluster in the suburban areas their big-city papers stopped covering when times became tight, but Brenner's concept is intended for most areas, except places "in the middle of the frozen tundra." Starting next Friday, hers will be the first example, covering the city of Powell and surrounding townships. Each subsequent edition will require an editor and/or director to hire writers, solicit advertisers, and set up connections to cover its territory.
When reading her words and relating it to the possibility of making this succeed in our area, my mind thought back to the much-ballyhooed Delmarva Crossroads newspaper and website. The excitement of its opening petered out quickly and the enterprise barely lasted a couple months from start to finish. (The last update on the site, which is still in existence, was September 24, 2012.)
The site and paper had everything Sara Marie could ask for – a backer who is a local businessman, an editor who had previously worked as a reporter for the local Gannett-owned daily, and a small staff of professionals augmented by various local writers – and it went belly-up in a matter of weeks. Perhaps that was a function of insisting on a print edition of the newspaper, which was a local weekly.
On the other hand, Salisbury has a couple websites which purport to supplement the local newspaper, but have devolved to the point where much of the content is regurgitated press releases and the occasional on-the-spot or correspondent report. Editing at times seems to be a secondary concern; however, both these sites have shown far more staying power than Delmarva Crossroads did, let alone a fair number of their onetime peers.
Meanwhile, in Sara Marie's description of articles about local businesses, the market here has that cornered, too. Metropolitan Magazine is very successful in its niche and has been for a quarter-century.
So it's truly difficult to tell whether this venture will succeed as others have not. Obviously there are several ingredients necessary for success, chief among them sources of revenue. Someone has to pay for space on the site, and as I've found over the years it's not easy to get local businesses to support a venture, particularly in the face of other rising costs and the assurance more established local outlets presents to would-be advertisers. That's not to say a Buzz On My Block outlet couldn't succeed here – perhaps as a refurbished web-only Delmarva Crossroads – but there's a reason Patch failed and there's generally not enough of a market locally to support both the struggling local paper and their outlet. It would take someone willing to lose money for the first year or two to make a go of this, and I can't think of anyone willing to take the risk.
Maybe Sara Marie can make her local paper work, but I think the hard part will be finding writers willing to work for very little pay. Blogging is an inexpensive hobby, but few can make a living at it. It may explain why she has so many gigs.
There's an old saying that you draw the most flak when you're over the target. Well, over the last six weeks or so I must have been circling around the heart of the Maryland political conversation because I've seen my name in a lot of other quarters and have had to defend myself a lot. It happened again yesterday.
I actually was in the midst of writing a long, drawn-out post to rehash these assumptions when I came to a conclusion that I have better things to do, thus I broomed it. Just leave the past in the past and concentrate on being a better, more effective writer and better man. So I apologized to the latest writer for any misunderstanding.
I think at times we all forget we in the Maryland conservative movement, particularly those who choose to be the writers, are all part of the same team, and what we are going through would equate to the same clubhouse dissention that you'll find on a ballclub which is a perennial cellar-dweller. As it turns out, though, we're catching the other team on a losing streak of sorts, that being expressed in tax hikes, a flawed Obamacare rollout, and the people growing weary of the general attitude of entitlement the other side exhibits. Many members of our team point these out, although not everyone seems to be aware of this.
Yet we have our problems as well, particularly in management – in fact, we have no manager. Instead, we have four men who are doing an extended interview for the job and different factions of the team support different candidates – the left side of the infield strongly backs one guy so much so they endorsed him, starting pitchers and bullpen are divided, and the left fielder who likes to play deep has his choice. Veterans are in their camp and the brash rookies probably don't agree. In and of itself, that's not so bad because, as I said, we're still picking a manager. The game hasn't started quite yet.
Me? I'm just trying to stay in the starting lineup and trying to decide who I think will be the best leader. Once in awhile I toss a wild pitch but I believe I throw mostly strikes, and those umpires who stop by here generally agree. Maybe the other bloggers feel differently about their roles, but I look at my job as one of keeping the team in the game. I may be the hoary veteran of the bunch, but I still want the ball every day so I can help the team. I'm all about turning things around and getting us that long-awaited championship, rewarding not just our long-suffering fans but everyone else, too.
That's enough of the ballclub analogy for today. I can almost guarantee some will take this in a way I wasn't intending, so my advice can be heeded or fall on deaf ears – that's not up to me anymore. I said my piece, so it's time to carry on.
Today marks the 3,615th post in the (now) eight year lifespan of this website.
If you haven't noticed, I'm heavily into milestones because to me they best represent certain points in life. For example, I usually mention the fact I'm on a post number with a multiple of 500 as it should be sometime in 2014 when I make it to 4,000. By the same token, almost every December 1st since this site's first anniversary in 2006 I've written a piece about where this enterprise has been and where it is going. Today won't be an exception.
One would have figured this to be a down year for monoblogue because it wasn't an election year in 2013, but the signs point to my readership actually increasing slightly. For most of 2013 the readership line on my Google Analytics stayed 10% to 30% ahead of 2012′s numbers, aside from a barely slower summer this year. Unfortunately my Analytics was down for about a month last fall; however, I determined from looking at my StatCounter reports that naturally my October 2012 numbers were 58% higher than 2013′s but those figures from November of last year vs. November of this year will likely be nearly identical once I get the summary later this week. So I would expect October 2014 to be a banner month, and the state probably did me a favor readership-wise by pushing the primary to June, which is generally one of my slower months. It won't be next year.
I chalk that increase up to being a better promoter of my work, although I think being named one of the country's best state-based political blogs by the Washington Post didn't hurt, either.
When I wrote this summary last year, I had two writing goals in mind for 2013. One was to finally make it to CPAC, and even though it was just for one day I indeed
attended the venerable event held outside Washington, D.C. It allowed me to meet a number of my cohorts from around the country, which was a plus. Certainly it would have been more helpful in that regard if I could have made it to the Blogger's Bash, but when you are an hourly employee and work comes on someone else's time schedule sacrifices sometimes have to be made.
One way I was hoping to escape that economic necessity was by working on my second book; alas, I made very little progress on that front. Maybe I haven't sold myself on the idea I've chosen, which I think is unique but requires more dedication than I've given it. Perhaps I'll find a little more time in 2014 but honestly I'm not holding my breath with my current situation.
Yet I think there is a way I can provide a useful service. Not everyone agrees with my methods, and others pout about how they believe I judge moral equivalence, but those who exist behind the scenes and don't seek to grab the headlines or attention are perhaps the most loyal members of my fan base. If my numbers went up (or at least held serve) between an election year and a non-election year, that seems to indicate I have a fair idea of what I'm doing and have some talent. Never mind I've also outlasted dozens and dozens of Maryland political sites – go back to this list and ask yourself where the others went.
So the question becomes one of how I improve the situation to make myself more useful to the pro-liberty movement? I know readers have helped a little here and there by rattling the tip jar or buying my book – for some reason, November has been by far my best sales month of the year – and I certainly appreciate the support.  But while monoblogue serves me as a great base to practice my craft, this enterprise isn't nearly enough financially – and that's all right. Unless people are going to start throwing a couple grand a month at me to advertise here, I really don't think that by itself monoblogue is going to be my financial savior. It's a hobby which takes on the average an hour or two of my day and it makes a small profit, so I'm okay with that.
But in reading a lot of the GOP candidate websites, I have to say that their writing style and conveyance of message leaves a lot to be desired. I've talked to insiders who complain about the same thing, and actually alerted one of the gubernatorial candidates about a glaring error in his platform, which has since been fixed. Yet when reading the websites on the other side, I don't often see these problems – the message may be counter-productive to the state as a whole, but it's presented in a readable way. So maybe I can be of service? I mean, I won't work for free, but I don't think I'll be all that expensive and proofreading is really your friend. Just let me know.
As for the site itself, I think it's in a pretty good place. It may need some freshening up in spots and those improvements will come as needed. On the front I just discussed I have a couple advertising leads from candidates, but I'd love some good ads for products and services which will appeal to a potentially large Maryland-centric audience. (I can think of a couple businesses which could use exposure throughout the state, but are locally centered around Salisbury. They would be great clients if they want to take the leap.)
One feature I think will become a jewel is the one I started recently called GO Friday. (The GO stands for "guest opinion.") It's off to somewhat of a slow start but there's true potential for growth there. GO Friday was intended to give voice to up-and-coming bloggers trying to build their own audiences out of my reader base, but it's open to anyone with a good opinion. It also gives me a breather to work on other avenues, such as the aforementioned potential writing tasks.
And don't think I'm abandoning some of my other features like Shorebird of the Week or Weekend of local rock. I think there's still plenty of mileage left in both, although the latter hasn't been as prominent lately.
When I started this enterprise, I said from the beginning it wouldn't be totally political because then I'd get burned out. There are days I've struggled to keep pace with my personal goal of daily updates (and I missed one this year because of an internet outage) but with that rare exception it's been one goal I've accomplished. Fortunately I'm not prone to writer's block and have something I want to say so the combination works well.
Anyway, this is where monoblogue is at as it begins its ninth year. Hope you enjoy the ride as long as I do.
I think I plugged this once or twice early on, but as I wrote on the subject a couple weeks back I figured I had no shot of winning a Mobbie Award for Best Political Blog or Best News Blog simply because it's more or less a popularity contest. I have good readership, but not necessarily within the Baltimore Sun's primary readership area.
So now that I lowered expectations enough, I found out last night I finished 10th of 14 in Best News Blog (won by Baltimore Brew) and 8th of 18 in the Best Politics Blog (Maryland Reporter came out on top.) Although I cracked the top 5 last year in the latter category, over the years I have generally ended with about the same overall placement I came in this year. Mine was the top finisher outside the I-95 corridor, though, so I'll take it.
At least I beat out Governor O'Malley.
There were a couple winners in other categories for whom I cast a few votes, most notably Chesapeake Journal in the Lifestyle Blog category and The City That Breeds in Best Humor Account.
But I would like to thank all those who nominated me and took the time to cast a ballot or two my way. I'd be curious, though, to know how this would have turned out if you could have voted for more than one in a category.
In the meantime, I hope those who attended the bash enjoyed the free food. While they were partying I was getting stronger signals that a particular rumor may be true – we'll know for sure soon enough. Once I find out, you can bet I'll be analyzing the effects of the change as the days pass. It's what I do.
Well, folks, I have to admit my wheel wasn't the one which squeaked last on the matter since the crap I described last Wednesday continues apace. So hopefully someone with a little law enforcement experience can get this din to a dull roar:
As Republican candidates in a deep-blue state, we have a responsibility to provide you with a quality message and a quality campaign.

The likely nominees for office on the Democratic side will be flush with campaign cash, aided by an accommodating media and, in the case of Democratic candidate for Governor Anthony Brown, operatives from the Obama campaign. These campaigns are not playing games and this is not a joke, they are running to install a permanent tax and spend super-majority which will bankrupt our beautiful state and drive thousands more to flee across our borders.

I write this out of a deep and genuine concern for our state's future. Some of the parochial spats developing amongst a limited number of campaign staffs are causing unnecessary and damaging rifts within our Party while we struggle for relevancy and the support of the people of Maryland.

It's time for us to put the games and the nonsense aside and focus on the real fight. As the head of my campaign team I promise you a relentless effort and a quality team and if either I or my team fail to produce, email me immediately at campaign@bongino.com. I respectfully request that the remaining candidates on our Party team do the same and start to prune their campaign trees of people who alienate rather than unite.
That's what Dan wrote on his Facebook page earlier this Tuesday evening, and I (almost) couldn't agree more. (I think we will get the Obama operatives regardless of who wins that Democratic primary because we have one of the state-run exchange states.)
But we've had "unnecessary and damaging rifts" for a long time, well before this campaign began. I'm going to go beyond the whole Lollar aspect for the moment because plenty enough has been said about that over the last week; in fact, the controversy over that has enabled the argument over open primaries to be swept way under the rug. People may need to be reminded we have a convention next week.
In essence, it seems to me the party lost its unity when Bob Ehrlich lost. That so happens to be the time I was elected to my Central Committee – I swear, though, this is not cause and effect – and these are just some of the political slugfests we have endured since:
The argument over convention voting, which got so bad for a time some small counties boycotted the whole thing
The vote of no confidence on party Chair Jim Pelura
The return of Bob Ehrlich, which begat the Rule 11 controversy because Brian Murphy was also in the race (as was a challenger for Andy Harris, who also benefitted)
Audrey Scott and "party over everything" – her tenure neatly coincided with the rise of the TEA Party and pro-liberty movement
Speaking of Scott, her battle with Nicolee Ambrose for National Committeewoman
The ongoing question about whether Delegate Don Dwyer should resign, which one of the current gubernatorial candidates used to score political points
The referendum battles, including the times we chose not to use it
Alex Mooney's resignation and the bitter subsequent election for party Chair
And now the open primary question
It's been a constant routine of renegades, rule changes, and rancor for the last eight years – all we've been missing is the string of victories we need to make ourselves relevant in Maryland. The math is simple: one governor + one comptroller + 19 Senators + 57 Delegates = relevance. Anything less and we may as well not be there at all. Get that or more and maybe this state can be saved.
Now I will cheerfully admit I've had a hand in a couple of these issues I alluded to above; surely I'm not on Audrey Scott's Christmas card list. But my goal is to help drag the Maryland Republican Party (insofar as it relates to the idea of enhanced liberty and freedom) over the finish line and make this more of a truly "free state." (I'd like to do the same for all the other states as well.)
So this is why it bugs me that we have this whole power struggle between campaigns, between individuals – and even between websites. I like a good argument as much as anyone, but after awhile it gets pretty pointless. (Although I should take this moment to thank those who have supported me and my efforts – never hurts to acknowledge them! I have a support base I'd stack up to anyone's.)
Certainly the average person, who may only now be starting to pay attention peripherally to the race (we're months away from it being foremost in mind to probably 90% or more of Marylanders; this won't occur until after the primary) would be unaware of what has transpired so far but right now we're doing a damn fine job of both providing the opposition research Democrats can use in the general election and probably cheap entertainment for them as well. Doug Gansler has to be thanking his lucky stars that word of these shenanigans on our side is starting to get out because people will forget his transgressions long enough for him to rehabilitate his image.
I can surely guarantee, though, that Dan Bongino's got enough of a struggle on his hands without having to worry about being tarred with these same broad brushstrokes. His is advice which should be heeded.
When you think about it, the number of people represented by the Red Maryland poll is generally about 1/10 of 1 percent of the potential Republican electorate in the state. So why do I see e-mails and Facebook messages from the three candidates encouraging me to vote in their poll?
Well, before I answer that question, let me state that as a blogger I understand the reason behind the poll. Truth be told, it's not necessarily to provide an accurate barometer of the race – it's to bring eyes and ears to the Red Maryland blog and network, respectively. It's the reason I've done polls, and often I see a bump in the numbers if I put up an interesting horserace. It might even attract a little notice for me outside the blogosphere.
But Lord knows none of us have the scratch to come up with a scientific method of gauging the true snapshot of the electorate – not that it can't get blown out of the water by potential events anyway – so we do the next best thing. If they have 500 or 600 responses to their poll, well, that means 500 or 600 people read their website over the period in question. (Obviously some read the site without responding to the poll, so in reality they have hundreds more who stop by during the week they have it up.) Same goes for the radio show where the results are revealed. I may be a dumb country hick from the Black Swamp of northwest Ohio, but I can figure out that much about marketing.
So let's take this e-mail Ron George sent out as one example:
The November Red Maryland Poll is open for the next two days, so please cast your vote for Ron George for Governor. With your help, Ron came in 1st place in the October Poll, and we look forward to winning back to back months.
Not to be outdone, David Craig mentioned via Facebook:
Maryland deserves a leadership team with vast experience and a real record of accomplishments. Please take a moment to show your support for that team by voting for "David Craig" in this month's Red Maryland Poll.
I haven't seen anything from Charles Lollar yet, but he and the Red Maryland crew probably aren't the best of pals right now anyway. Last month he came in just south of "undecided" but he had otherwise polled relatively well there. (Along with "undecided" all three polled in a narrow range between 20 and 30 percent.)
Of course, these aren't scientific polls so we have no clue how these candidates would do with a "real" electorate. I guess the real value of the poll – as I have said on occasions before, which holds true in this case as well – lies in the poll providing a gauge of passionate supporters. So, at least in October, Ron George had the largest number of passionate supporters, although no one was really short on them overall. Insofar as that polling has shown, it's been a solid three-way race throughout.
Winning an internet poll may not give you a boost in the real polls but it provides some good press for the winning campaign, so there is that.
Now, speaking of polls, for the fourth time in five years I've found myself nominated for a Mobbie Award. (Actually, two.)
I harbor no illusions of winning an award, seeing that it's essentially a popularity contest and my website is probably not nearly as well-read as some of the others nominated. Let's face it: a blog discussing Ravens football is going to cream mine in readership and probably voting as well. Even among the nominees in the News Blog and Political Blog categories, I'm sure other contenders have higher traffic (although I enjoyed a somewhat better than average week last week, with nice consistency. Thanks, folks.)
Knowing that, I don't figure on winning the Reader's Choice Award. But I don't want to finish last, either. So if you feel inclined to do so, I would appreciate the support. If you can't bring yourself to support me, vote for Raging Against the Rhetoric (Jackie Wellfonder's site) because I nominated her in the political category.
Someone might get the perception I have a halfway-decent website if I happen to win, and who knows? It may attract a couple dozen advertisers and other major sponsors. You can beat the rush, though, and get in on the ground floor – just go here for details.