By Cathy Keim
Editor's note: While I was off on my honeymoon, Cathy Keim took the lead and attended Congressional challenger Mike Smigiel's Second Amendment townhall meeting Saturday. She filed this report on the proceedings.
I dropped by the 2A Townhall on Saturday, February 6, at Headquarters Live here in Salisbury. Former Delegate Mike Smigiel, who is running for Congress as a Republican in the First Congressional district, is holding 2A Townhall meetings around the district to address the ex post facto confiscation of guns for old offenses prior to the passage of the Firearm Safety Act of 2013 (SB 281).
First to speak at the Smigiel event, though, was Justin Trader, a former Marine who now runs D. I. Strategic, LLC, here in Salisbury. "The Second Amendment is the ultimate safeguard to protect our rights," said Trader, adding that it is not just about hunting or collecting guns; instead the amendment's main purpose is to safeguard us from tyranny amongst us. He quoted Abraham Lincoln that the enemy which destroys America would not be from far away, but from amongst us. Justin also believed that today we are under the government that our founders warned us about.
Next up was retired Maryland State Police (MSP) Captain Jack McCauley, who was the former commander of their Licensing Division. That agency is the one which oversees background checks for firearms in the state. McCauley spoke about being asked to testify before the House Judiciary Committee about SB281 back when it was being debated in 2013. Smigiel, who was a Delegate at the time, asked him if the ban of certain guns would have an effect on crime. But when McCauley tried to answer the question, Governor O'Malley's lawyer advised him not to. McCauley was shocked because he thought the whole purpose of his appearance was to answer questions.
The hearing erupted in arguments, but Captain McCauley did not answer the question in order to obey the direct order of an agent of the governor's office. Later, after the hearing, the agent told him that she directed him not to answer because the bill was "not about policy - it is just votes."
This served as the wakeup call for McCauley, who realized the Firearm Safety Act was all politics and had nothing to do with the safety of the citizens. The Governor's office was only interested in the number of guns seized, so it really didn't matter whether manpower was wasted doing work that would not increase safety or decrease crime.
Had McCauley answered Smigiel's question at the committee hearing, McCauley would have answered that the law would not decrease crime at all. For one thing, the banned weapons were rarely used in crimes. Secondly, the restriction on the magazines to only ten rounds would not stop people from buying larger magazines from out of state, but would only restrict which guns and magazines could be bought in Maryland by law-abiding citizens.
The O'Malley administration was only concerned with the political capital to be gained by passing the law, continued McCauley, and not whether it was a good law or whether it would actually achieve any reduction in crime. McCauley contends that by forcing the MSP to do three background checks on every citizen that wants to buy a handgun, valuable manpower is being wasted doing paperwork instead of being out on the streets.
McCauley concluded by noting that he resigned so that he could tell the truth. It was his belief that there was only one legislator working for the people and that legislator was Mike Smigiel.
Once those two speakers set the stage, Smigiel came up to present his concerns about Maryland's treatment of the Second Amendment. Smigiel revealed that he had come to Headquarters Live at the request of Jeremy Norton, the man who runs both that venue and Roadie Joe's, the location of the fundraiser that followed the townhall meeting.
Mike explained that Jeremy had contacted him in response to an event which had occurred to Norton, but one which was occurring all across Maryland. As a businessman and a gun owner, Norton was given clearance to own his guns. But after SB281 was passed the MSP began checking the records for prior offenses that would not have precluded legal ownership prior to SB281′s passage, but now would affect their legal right to own a gun. Smigiel alleged that the MSP was showing up at gunowners' homes, without warrants, and asking for their registered guns.
In Norton's case, a juvenile conviction for selling a small amount of marijuana was enough to give the MSP reason to confiscate his guns, alleging that under SB281 he was now disqualified. However, since it was a juvenile offense, he will be eligible to reclaim his guns when he turns 30. (Isn't that just charitable of the state of Maryland?)
This provision of the law also traps those who may have committed a crime decades ago; when the penalty changed to require a longer sentence some were suddenly retroactively determined to be unfit to possess a gun according to the state of Maryland. Needless to say, Mike is concerned that this law will lead to an unnecessary tragedy because the MSP sends plainclothes police to confiscate guns. Smigiel has spoken to Governor Hogan's office and asked him to intervene before a tragedy occurs.
Mike has also written an article in the Maryland Bar Journal that covers the issue, where he concludes:
In light of the Doe court's position prohibiting the ex post facto application of the law against convicted sex offenders, it is unconscionable that the Maryland State Police could continue applying gun laws, ex post facto, against citizens who are merely wishing to continue exercising their Second Amendment rights.
Jack McCauley stated in the Q&A that followed that gun confiscation schemes are ineffective in reducing crime, so why waste time harassing law abiding citizens?
Yet the whole mindset of the progressives in their battle to disarm America seems to be their pure-hearted conviction that the only way to make us safe is to disarm everybody. Facts to the contrary do not impinge upon their plans.
Once again we see that the battle for our country is waged in the hearts and minds of citizens that have opposing views of reality. The progressive supporters have embraced the propaganda that is being churned out daily by the media, the leadership, the schools, and Hollywood. Just as they will believe in global warming despite the lack of evidence, they will confiscate guns in spite of the abundance of evidence saying it will not make us safer.
While he's actively trying to win a Congressional seat, Smigiel really didn't speak about his campaign at the townhall meeting. But his determination to follow his principles and to fight for our Constitutional rights came through loud and clear. From his record as a Delegate, one can see that he will stand his ground if elected to Congress. Personally I have no doubt that he would continue to be a Constitutionalist despite the pressures of the lobbyists and donor class.
Before I step aside for a few days, there are some things I've been meaning to push. I'll do these in chronological order of occurrence.
I had wondered when the First District challenger would have an event in Salisbury, but he has the uncharacteristic bad luck of picking the weekend I'm away (this Saturday) to do a combination townhall and fundraiser at two popular downtown venues. So I will just pass this on without additional comment, except for noting that the Roadie Joe's event is $40 (or $30 if you're wearing camo or hunter orange.)
Another would-be challenger is bringing one of the last stops on his three-day announcement tour to Salisbury University next Wednesday. SU is the penultimate stop on the tour for U.S. Senate candidate Dave Wallace, who will stop at Holloway Hall next Wednesday, February 10th, around 4 p.m. (His day will wrap up in Easton before returning the vehicle to the Western Shore.)
As his campaign's advance person pointed out:
If you have owned or operated a business on the Eastern Shore, you know how hard it has been to work with all the new laws, regulations, fees and taxes. When did Senator Barbara Mikulski, our Democrat US Senator for 30 years, decide to work with Safran Labinal, one of Wicomico County's largest companies, with more than 650 workers?  When they announced they were moving to Denton, Texas – a bit too late, don't you think?  Have you wondered why Perdue AgriBusiness is planning to build their corporate offices in Delmar, DE? Could it be that Delaware is more business friendly?
Wallace will be the second candidate to announce in Salisbury, as Kathy Szeliga made a swing through town in November.
Finally, I took advantage of a rare weekday off to attend yesterday's Republican Women of Wicomico monthly meeting. (Yes, there were three guys there, including speaker Muir Boda.) But they wanted me to pass along word of their Paint Night fundraiser on Thursday, February 11 at Brew River. It goes from 6 to 8 p.m. and the cost is $40. Men are invited and encouraged to both attend the fundraiser and be associate members of the group, said RWOW president Julie Brewington. (Associate membership is only $15, if I recall correctly, and they run a pretty good meeting.)
This should fill the political calendar pretty well.
There are still a few days to the primary, but I'm using the occasion of Greg Holmes's entry to the Republican U.S. Senate race and check how the field is shaping up. (And if you say "who?" you're not alone – Holmes was one of the also-rans in 2014′s Fourth Congressional District primary.)
Having done this political thing for a few years, I know that there are usually 10 or so Republicans who run for U.S. Senate in any given cycle. My first election here was 2006, the year Michael Steele was the overwhelming choice of the state party (and accordingly won 87 percent of the vote.) Despite that, there were 10 people on the GOP primary ballot, nine of whom split the other 13 percent of the vote. (With an open seat, that was a scrum on the Democratic side – they had 18 running.)
As of this writing, though, we are only at eight running on the GOP side and Holmes would be nine – so we should be in the ballpark for an average election. On the other hand, the open seat on the Democratic side isn't bringing out nearly as many – just nine have signed up for the Democrats, with at least four being the perennial candidates who rarely get more than 1% of the vote.
Of those nine Republicans, most have some sort of electoral history: Holmes and John Graziani both ran for the same Congressional seat in 2014, while Dave Wallace was the Republican nominee against Democrat Chris Van Hollen that same year. Richard Douglas was a Senate candidate in 2012 and Richard Shawver was in 2006, but Kathy Szeliga is the only one who's won a legislative position as a Delegate in the Maryland General Assembly. It appears Chrys Kefalas, Lynn Richardson, and Anthony Seda are first-time candidates.
So while Szeliga probably has the greatest name recognition, followed by Douglas, it is a relatively wide open race. If someone were to do favorability numbers on the GOP side right now, I doubt any one of the candidates would be over 20% favorable, with the vast majority saying "never heard of them." I myself didn't know many of these people were in the race until I looked tonight.
Meanwhile, in looking at our First District, it's still a four-person race on the GOP side where incumbent Andy Harris is joined by 2014 challenger Jonathan Goff, first-time candidate Sean Jackson, and former Delegate Mike Smigiel. Jim Ireton hasn't filed yet, so Joe Werner (who ran for the seat in 2008) is the only candidate so far on the Democratic side.
I think there will be between one and three more in each of the aforementioned races by the time Wednesday's filing deadline expires. But I am sort of surprised that we're not seeing as many candidates up and down the ballot this year.
In the First Congressional District, winning the Republican primary is tantamount to winning the race: the latest round of gerrymandering by Maryland Democrats made sure it would be by creating an R+13 district in a state that's nominally D+26. So what do I make of an announcement by upstart former Delegate Michael Smigiel that he has a 2-to-1 lead over incumbent Andy Harris in a pre-primary poll?
If you read between the lines, you'll see a few interesting tidbits. And my readers may recall that my co-writer Cathy Keim talked about a survey she took a few days ago. Chances are this was the same Gravis Marketing survey Smigiel is referring to in his work, which leads me to believe this was a push poll Smigiel did to build up his support. If you're a relative unknown in much of the district, a tactic often used is that of driving up the negatives of the established politician.
Ironically, it's much the same tactic Harris used to win the nomination in 2008 against a well-known incumbent, Wayne Gilchrest. Wayne's biggest issue was the leftward drift of his philosophy and voting record, so much so that a clearly upset Gilchrest later rejected his party's nominee and endorsed the Democrat challenger, Frank Kratovil. That and the Obama wave election led to Kratovil being a one-term Congressman before Harris defeated him in the TEA Party wave election of 2010.
As Cathy described it – a manner which isn't reflected in Smigiel's narrative – the issue questions came first:
Calls were made to over 20,000 voters with over 600 individuals answering the poll, and results indicate that when voters were informed that Rep. Harris had voted to fully fund Obamacare, 82 percent (82%) of the Republican primary voters surveyed would not vote for Harris.

When voters were aware that Rep. Harris had voted to fully fund President Barrack (sic) Obama's unconstitutional use of executive power to grant amnesty to millions of illegal aliens, 85 percent (85%) of Republican voters said they would not vote to re-elect Harris.

Likewise, 80 percent (80%) of those surveyed reported that they would not vote to re-elect Rep. Andy Harris if they knew he had made the statement that it was "just fine" for Planned Parenthood to sell baby parts as long as they did not use federal money to do so.

Nationally, Rep. Harris is known as the most outspoken critic of D.C. and states which have chosen to allow medical marijuana, decriminalization or legalization. In the 1st District, fifty-nine percent (59%) of the Republican voters surveyed reported they would be less likely to vote for Harris because of his anti-marijuana, anti-state's rights stance.
In that context, it's hard to believe Harris got 29% when over 80% of Republicans disagreed with him on one or more issues.
But there are two advantages Andy still enjoys in this race. While the FEC data is still from back in September, Harris had over a half-million dollars in cash on hand while Smigiel barely registered. Certainly Harris has been fundraising since then, and incumbents often enjoy the largest share of PAC money. In the 2015-16 cycle Harris had already amassed over $166,000 from various committees, a large portion of them in the medical field.
The second advantage is the IOUs Andy has built up through donating to local candidates. Here's just a few that I noticed on his 2013-14 FEC report:
Bob Cassilly (Senator, Harford County) – $4,000
Matt Morgan (Delegate, St. Mary's County) – $1,000
Theresa Reilly (Delegate, Harford County) – $1,000
Mike McDermott (former Delegate, Worcester County) – $4,000
Bob Culver (Wicomico County Executive) – $4,000
Carl Anderton (Delegate, Wicomico County) – $4,000
Christopher Adams (Delegate, Wicomico County) – $1,000
Jay Jacobs (Delegate, Kent County) – $1,000
Jeff Ghrist (Delegate, Caroline County) – $1,000
John Cluster (Delegate, Baltimore County) – $1,000
Johnny Mautz (Delegate, Talbot County) – $1,000
Justin Ready (Delegate and now Senator, Carroll County) – $4,000
Kathy Szeliga (Delegate, Baltimore County) – $4,000
Kevin Hornberger (Delegate, Cecil County) – $4,000
Mary Beth Carozza (Delegate, Worcester County) – $4,000
Nic Kipke (Delegate, Anne Arundel County) – $4,000
Rick Impallaria (Delegate, Baltimore County) – $2,000
Robin Grammer (Delegate, Baltimore County) – $1,000
Steve Arentz (Delegate, Queen Anne's County) – $1,000
Susan Krebs (Delegate, Carroll County) – $4,000
Addie Eckardt (Senator, Dorchester County) – $1,000
Michael Hough (Senator, Frederick County) – $4,000
Herb McMillan (Delegate, Anne Arundel County) – $4,000
Ric Metzgar (Delegate, Baltimore County) – $1,000
Johnny Salling (Senator, Baltimore County) – $4,000
Maryland Republican Party – $49,500
Well over $100,000 went from Andy's campaign coffers to help build the GOP state bench with several new legislators being the result. I don't look for a lot of those folks jumping ship to support (in several but not all cases) a more recent former colleague. That's a significant part of the state GOP delegation, including all three who defeated Smigiel in the 2014 Republican primary. And electability is a legitimate question mark for Smigiel.
In the 2014 Republican primary, Smigiel was fourth among seven candidates, four of whom hailed from Smigiel's Cecil County portion of the district – those four finished fourth through seventh. (Mike finished third in Cecil behind fellow resident Alan McCarthy, who finished a distant fifth overall, and Jay Jacobs of Kent County, who was second overall.) Smigiel was third among five candidates in 2010 (all three winners were Republican) and while he kept the seat in 2006 based on the overall district vote he actually lost in his home Cecil County to Democrat Mark Guns. Smigiel was barely second out of five when he won his first term in 2002, so he's never been overwhelmingly popular at the ballot box – just good enough to win three terms in a very safe GOP district. The fact that three other people challenged Smigiel from Cecil County – knowing only one of them could win due to an election law stating only one person could advance from any particular county – indicates there was some dissatisfaction with him, just as many are now displeased with Harris.
That anger toward Harris attracted Smigiel to the race and produced a poll result like this. Since he won the election in 2010, Harris has had little in the way of a challenge from either party until now. It's a race perhaps reminiscent of the 2004 primary between Wayne Gilchrest and then-Maryland Senator Rich Colburn – the fact Colburn got 38% against a sitting Congressman may have opened the race up four years later when state officials could run from cover again without having to risk their own seats.
If I were to handicap the election today I would put it around that 60-40 range with Harris prevailing. A lot can occur in 3 1/2 months, though, and it's probably good for Harris that there are a couple of other lesser known hopefuls in the race to split the protest vote.
This may be a good time to point out that Andy has a couple of townhall meetings slated for the Eastern Shore. On Monday night the 18th he will be at the Black Diamond Lodge in Fruitland for a 6 p.m. meeting. (Right next door is the site of Andy's chicken suit affair of a few years back.) Then Tuesday at noon he will be the host at the Easton Volunteer Fire Department headquarters on Aurora Park Drive.
Unfortunately, I already have a commitment for Monday night so I will have to hear second-hand about what the Congressman has to say. It will be interesting to hear how all that goes down.
By Cathy Keim
I was just thinking the other day that now that the holidays were over, the Congressional races in Maryland should start heating up. Before the thought disappeared, my home phone rang – and I was asked to take a survey. I usually enjoy these surveys, as I try to see behind the questions and guess who is paying for the poll. If they have a live person, then I will ask questions to see if they will give out any information.
This automated poll asked questions about Congressman Andy Harris, the incumbent, and former Delegate Mike Smigiel in the Maryland First Congressional District race. The questions were worded in this format: "If you knew such-and-such about Andy Harris, would you be more likely to vote for him, less likely to vote for him, or no difference?" After several questions the questioning switched to Mike Smigiel, repeating the process but with different questions. The phone poll closed by asking who you would vote for if the election were today and gave three choices: Andy Harris, Mike Smigiel, and Sean Jackson. This surprised me, as I was not even aware of the third candidate.
I went to the Maryland Board of Elections website and found that candidates can file a Certificate of Candidacy until February 3, meaning we still have several weeks for additional candidates to file. So far one Democrat (Joe Werner of Harford County) and three Republicans (Jonathan Marvin Goff, Jr. and Sean M. Jackson, both of Harford County, and Smigiel from Cecil County) are listed. I am assuming that Andy Harris will file before the deadline.
(Editor's note:  Since Cathy wrote this, Matt Beers, a Libertarian candidate from Cecil County, has filed for the First District seat with the state Board of Elections. Meanwhile, federal campaign finance filings are not completed for the last quarter of 2015, but only Harris and Smigiel are listed with FEC campaign finance accounts.)
The primary is not until April 26, so we still have plenty of time for these candidates to present their positions.
But what are their positions? At least with Congressman Harris we have a current track record that can be poked and prodded, thus enabling the prospective voter to review the information and make a decision. But is it really that easy to know how any politician voted?
And even more to the crux of the matter: which vote do you look at?
John Kerry, former Senator and current Secretary of State, famously uttered the words, "I actually did vote for the $87 billion before I voted against it," cementing his reputation as a flip-flopper. But knowing which vote you are looking at and the context in which it was cast is particularly crucial in an election year. Voters' memories are short, so a candidate usually only needs to vote as his constituents desire in the last few months before an election.
Congress just voted to pass the omnibus spending bill which provides funding for Obamacare, Planned Parenthood, refugee resettlement, and oodles of other awful programs. If your Congressman voted no on it, then he should be in the clear, correct? Well, maybe not. You need to step back and examine the background behind the bill. Why was it allowed to be brought to a vote so it could be passed with Democrat votes? The Speaker of the House controls what comes up for a vote so Speaker Ryan did not have to bring the omnibus bill up for a vote where he knew it would pass with mainly Democrat votes. But he did.
Paul Ryan was elected Speaker of the House after John Boehner was forced out for not leading the fight against President Obama. Only nine Republicans opposed his nomination as Speaker. If a Republican Congressman voted for Paul Ryan to be Speaker but then voted against the omnibus bill, did he or she vote correctly?
Let's go further back. How do last year's votes count? What if a Republican Congressman voted for the CRomnibus bill in December 2014? Should that be held against them if they voted against the omnibus bill in December 2015? It takes a bit of interest and time to dig through the old votes to get the whole picture. And that is why politicians can dissemble so well. Who can keep up with the constantly changing stream of votes?
Remember: as Election Day draws closer and closer, we are going to see votes on one politicized project or issue after another — none of which will significantly change anything because the Omnibus bill, funding the Federal Government through next October, was passed in December. Congress, under the GOP leadership of Speaker of the House Paul Ryan and Senate Majority Leader Mitch McConnell gave up all power of the purse and the only restraint that was possible on an out-of-control President in his final year.
Do not be impressed by these showcase votes! The deed is done and all we can do is hang on for the increasingly bumpy ride until the new President is elected — and it may get bumpier yet depending on who is elected.
So how did Andy Harris vote in the last two Speaker of the House elections? He voted for Speaker Boehner last January, even after the CRomnibus horror was pushed through (which he also voted for). He voted for Paul Ryan to replace Boehner as Speaker this fall. Despite these votes, however, he "bravely" voted against the Omnibus Bill this December.
So, to paraphrase John Kerry, Congressman Harris voted for Speaker Ryan, Speaker Boehner, and CRomnibus before Harris voted against the Omnibus Bill.
Those are the facts. What is the truth?
By Cathy Keim
Second in an ongoing series.
I am using my prerogative to switch to a different immigration topic because a friend sent this Breitbart article and pointed out that Rep. Andy Harris is on the list, as is Senator Barbara Mikulski. As I mentioned before, immigration is such a broad subject that one cannot cover all the angles in just an article or two.
I actually wrote to Andy Harris about the Strengthen Employment and Seasonal Opportunities Now (SEASON) Act (H.R. 3918) back on November 12. I saw him later that day at the Kathy Szeliga event and I asked him about his support for this bill.
He stated that the Obama administration had changed the regulations about the H2B visa program and HR 3918 was merely to return things to the way they were done previously, adding that employers needed the foreign workers to do these jobs that Americans will not do. I asked about the families of H2B workers and he said that they were not allowed to bring their families with them.
But I checked on the United States Citizenship and Immigration Service (USCIS) website and it clearly states that:
Any H-2B worker's spouse and unmarried children under 21 years of age may seek admission in H-4 nonimmigrant classification. Family members are not eligible for employment in the United States while in H-4 status.
So I must disagree with the Congressman's assertion. My concern was that if the families enter with the worker, then they will most certainly have an impact on the local economy as the children enroll in school and utilize other social services.
The H2B visa worker may be a boon for the employer, but the rest of the community is underwriting the social service costs for the cheap labor. In addition, we are paying the welfare costs of our unemployed citizens who could be working instead of a foreign worker. The taxpayer is picking up the tab in every direction while the employer is improving his profits.
The employers complain that Americans won't do these jobs, but it is likely that they would do them if they were paid a fair wage. The employers utilize the H2B visa program to bring in foreign workers to keep the wages depressed.
According to the Society for Human Resource Management:
In a separate final rule, the departments unveiled the methodology for determining the prevailing wage that must be paid to H-2B workers.

(snip)

The Economic Policy Institute's (vice-president Ross) Eisenbrey expressed disappointment that the rule allows alternative wage surveys to set the prevailing wage. "Employers only use these alternative surveys to ensure that they can pay their workers the least possible amount, rather than using credible and reliable survey data compiled by DOL," he said, pointing to the seafood industry as an example as having used private wage surveys to justify "paying their H-2B workers wages near the federal minimum wage for grueling work like crab-picking, rather than the higher average wages paid across Virginia and Maryland for similar work."
Here is a link to information about the changes to the H2B visa program that were put into effect in April of this year.
I also asked Mike Smigiel, who is running against Andy Harris for the First Congressional District seat, for a statement about HR 3918. Smigiel said:
With our real unemployment numbers over 11% and the workforce participation at one of its lowest levels in years we clearly have a workforce that is hard pressed to find employment. The most vulnerable sector of the workforce are youth, legal immigrants, and those with a high school education or less. Record numbers of Americans are living in poverty and surviving on food stamps, it is hard to fathom that Congress would expand the H2-B program to an all time high.

What Congressman Harris failed to address is the fact that those here on the H2-B program can bring their spouses and families in under the H-4 visas. Do you think that the spouses and children of those coming in under the H-4 visa program are not going to be working, going to school, getting sick? These associated costs will be additional burdens upon our already strained economy.

Our first obligation should be to helping our unemployed and underemployed citizens by providing this most vulnerable sector of the workforce work training and providing incentives to employers to hire citizens for the jobs.

It is disingenuous of Congressman Harris to sponsor this legislation since just a few months ago he voted to prohibit American poultry, beef or pork producers from listing the country of origin on their products. This does not benefit the consumer or farm workers but makes it easier for large farming corporations to take their operations overseas where labor is cheaper and there are fewer regulations placed upon their farming operations. Their products can then be sold in the US without any notice that they were not raised here. So thanks to Congressman Harris we may be eating Chinese chickens with American companies' names on the product.
Once again, I would encourage you to pick up your phone and call Congressman Andy Harris and Senator Barbara Mikulski and ask them to not support HR 3918. Let's put our own citizens back to work.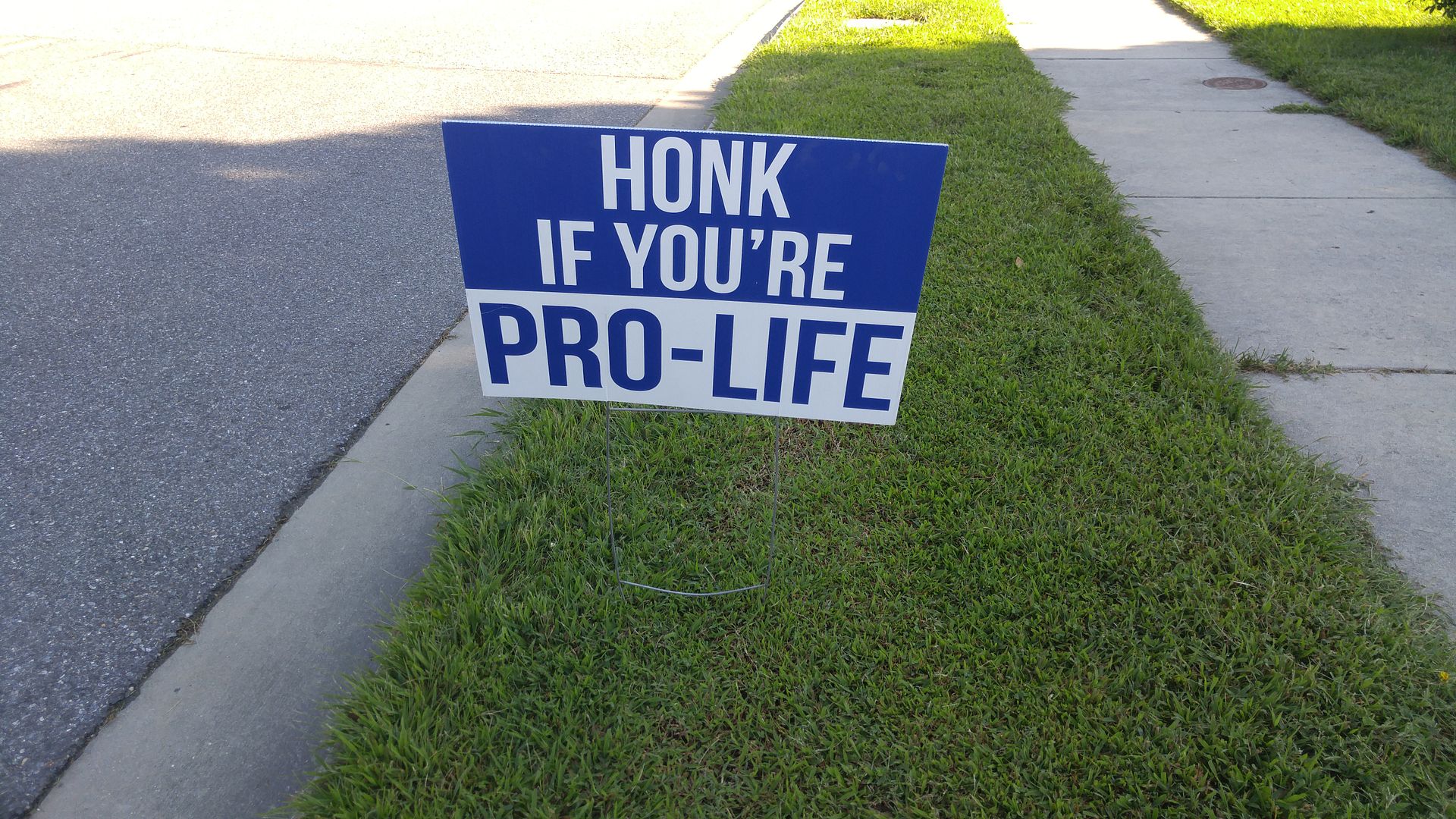 This morning I got up with the sun to help cover one of around 300 coordinated local rallies aimed at defunding Planned Parenthood in the wake of their sale of baby parts exposed in a series of investigative videos from the Center for Medical Progress.
The Easton site was selected because Salisbury's office had closed last spring. And while detractors claim the facility, which is located in a nondescript office complex with several other tenants, doesn't do any abortions, they still support the overall brand.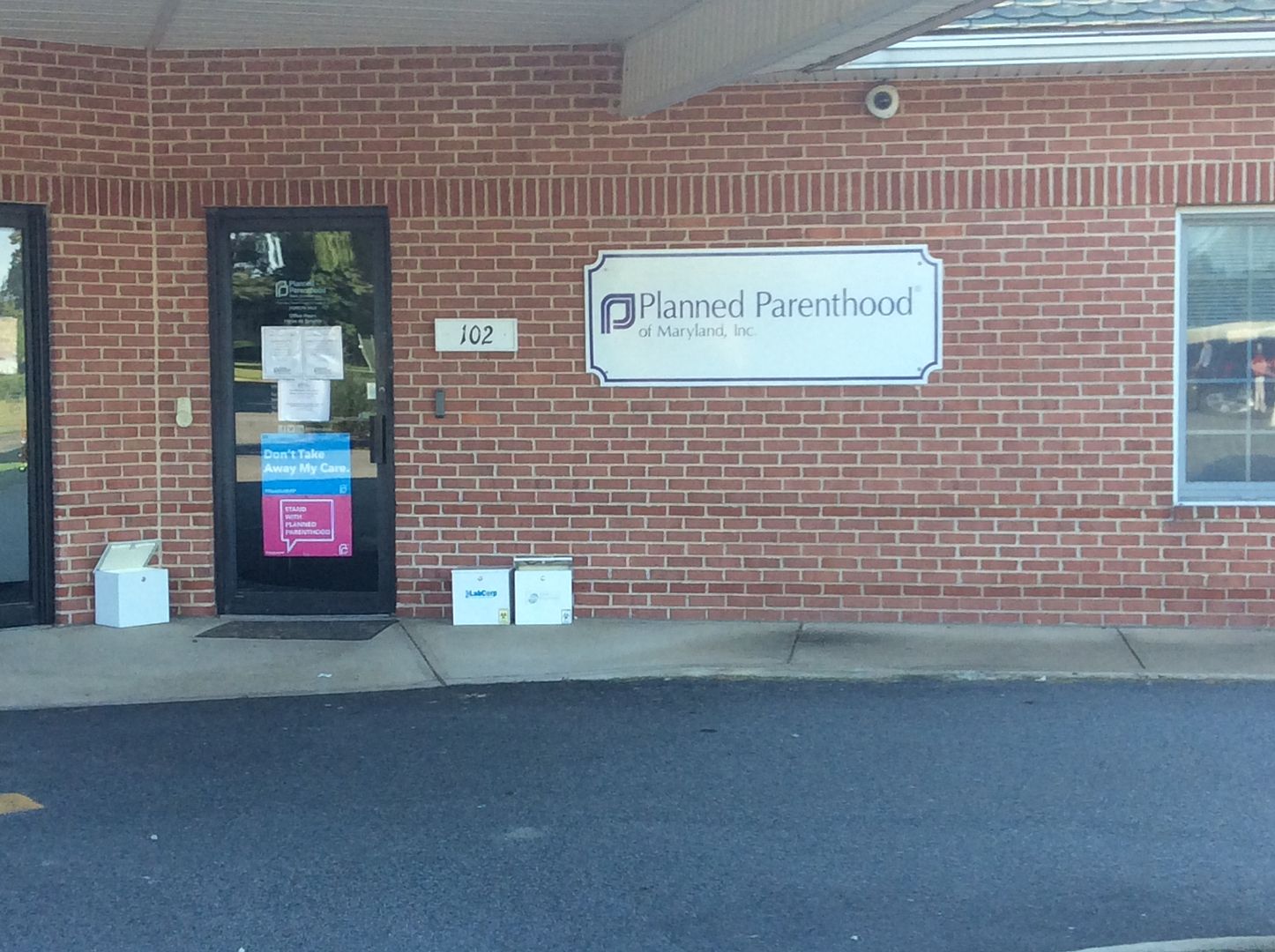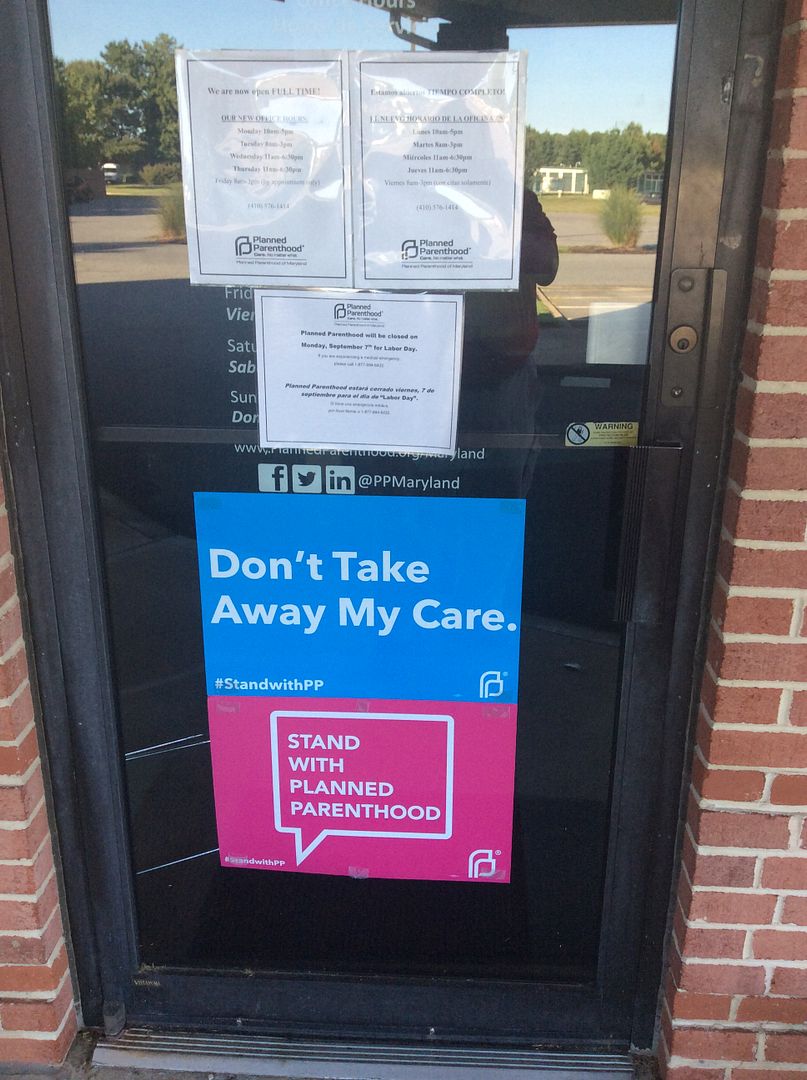 As you will hear in a bit, the facility is not the only one which provides its services. Plenty of care is available and accessible. (It's ironic the facility was closed today, but the protests were intentionally scheduled for off-hours.)
The rally began at 9 a.m. with about 50 people lined along the street in front of the facility.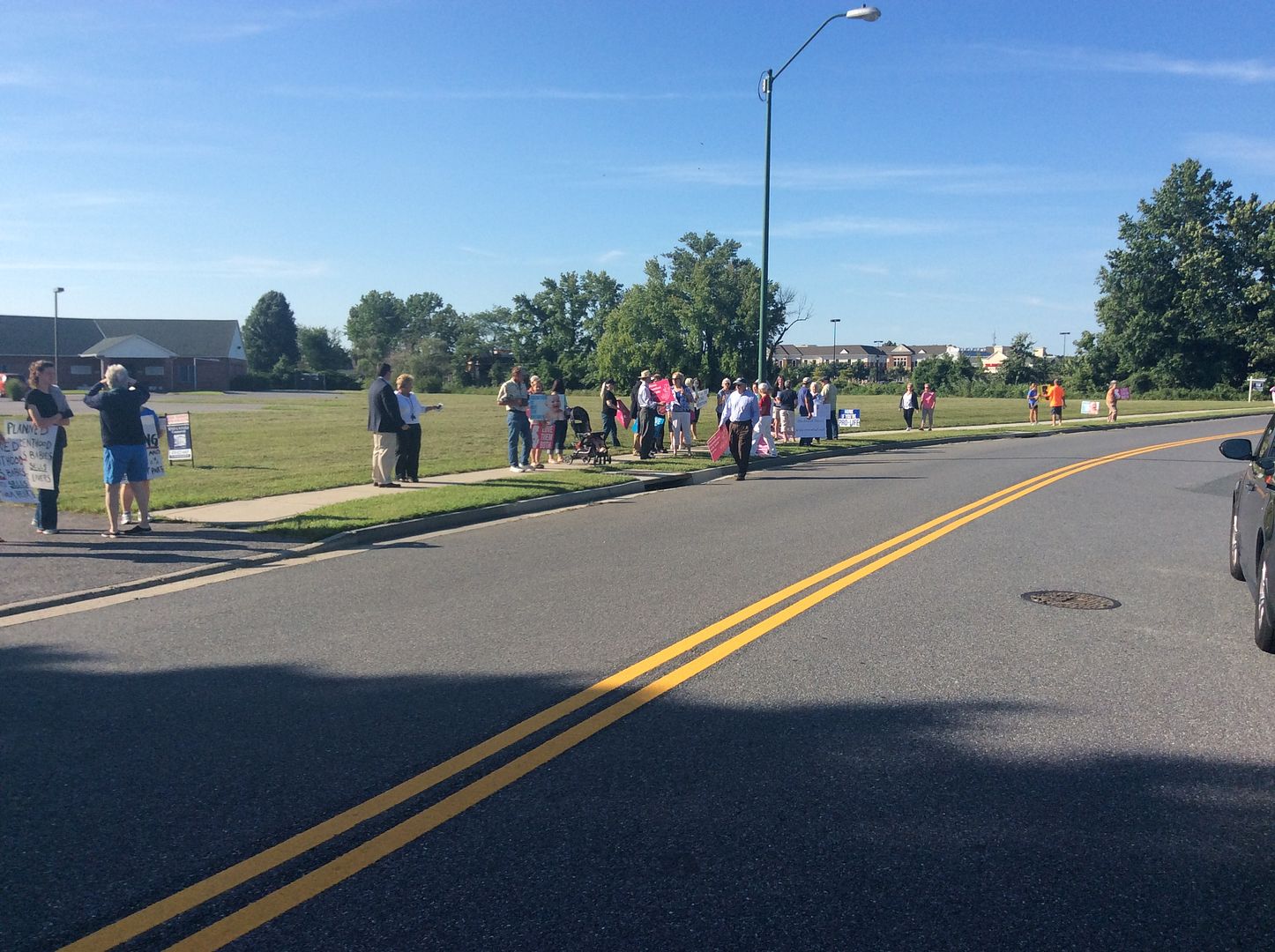 In all, there were a dozen speakers, mainly representing the pastoral community. We had clergy representing churches from Berlin to Centreville and several points in between. First up was Keith Myer, from Harvest Baptist in Salisbury.
As he spoke, the gathering was growing, spilling into the front yard of the facility and later across the street.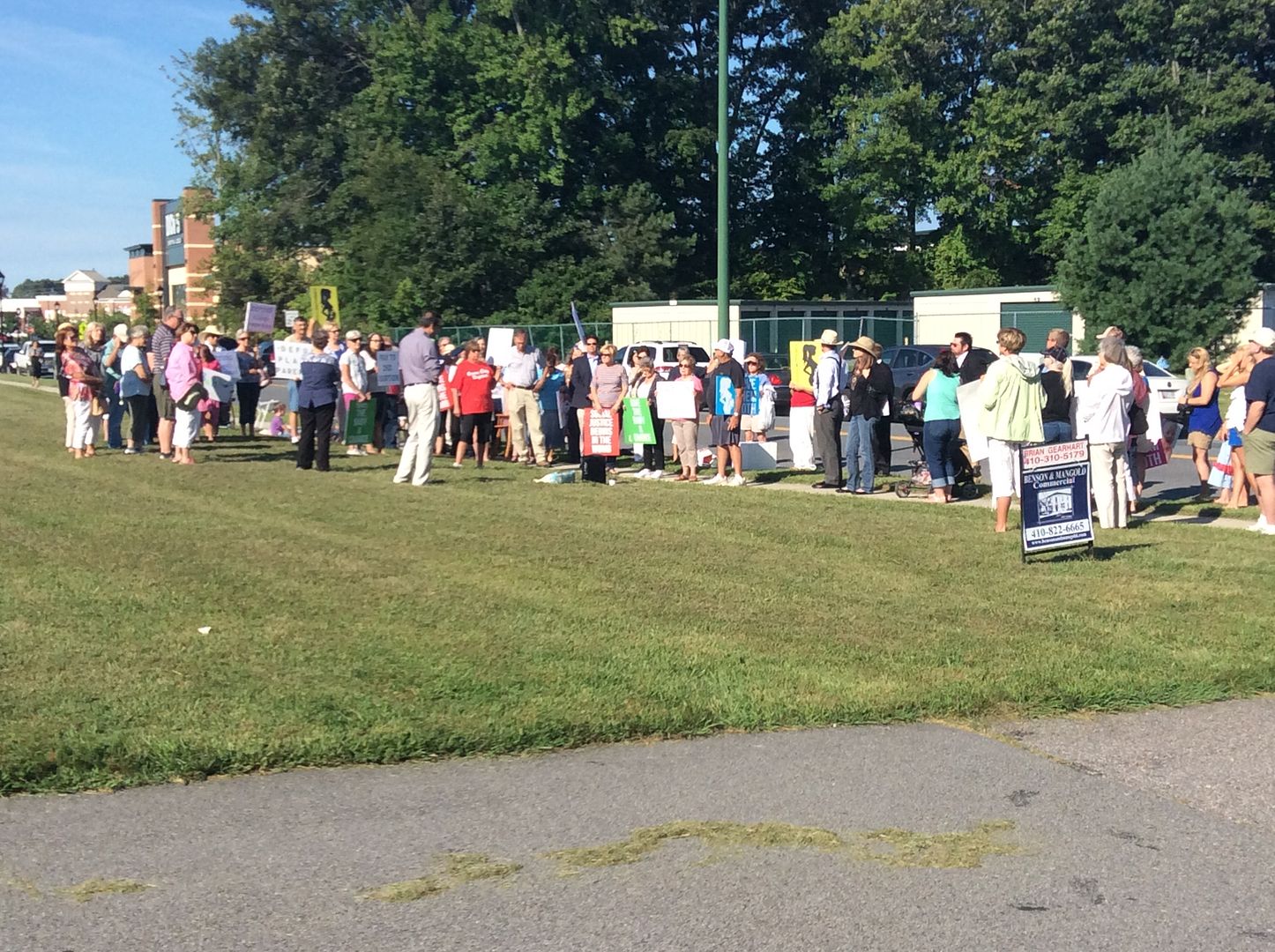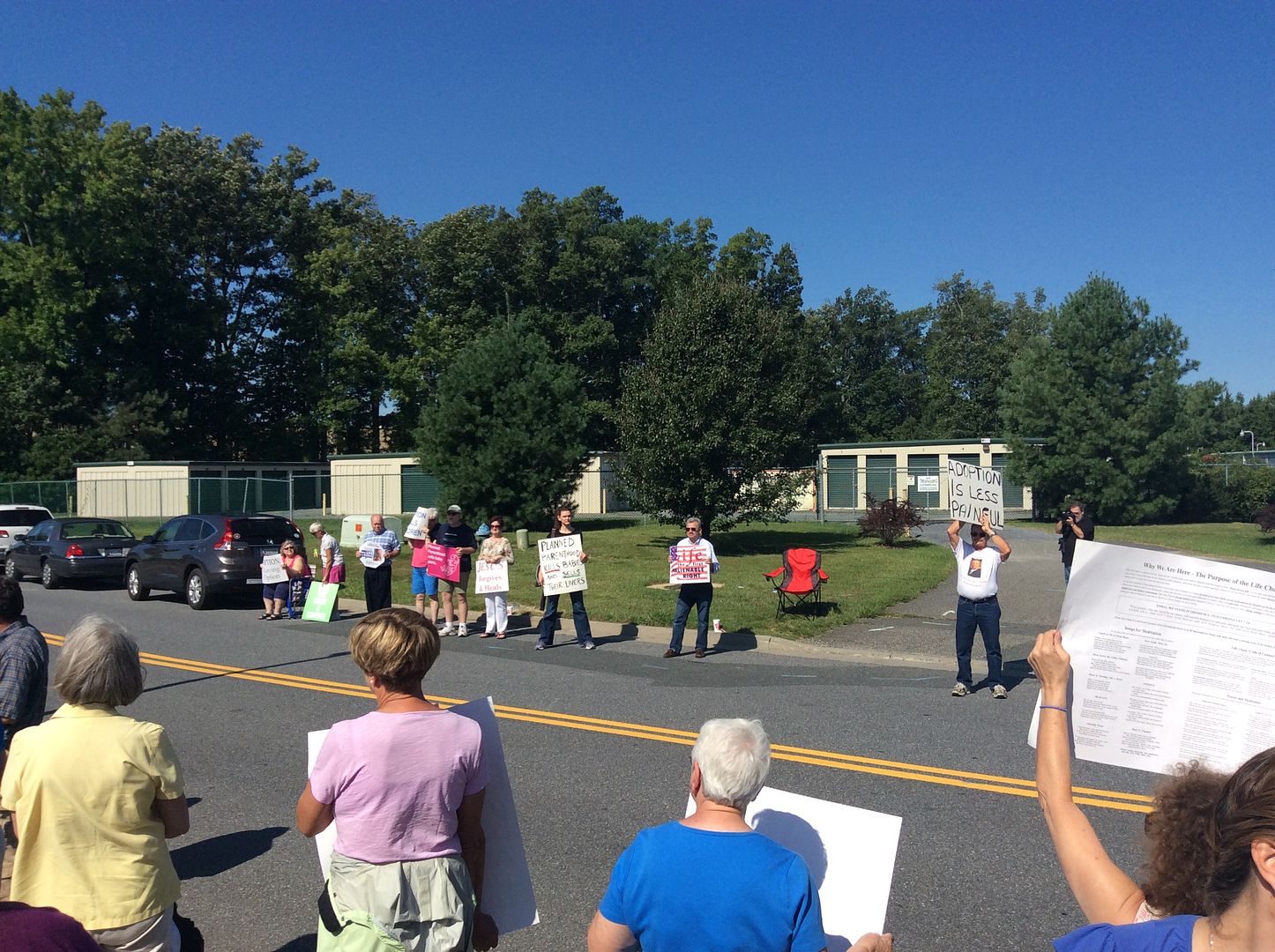 Another Wicomico County minister who spoke was Shawn Seldon, who represents a church in the small hamlet of Tyaskin.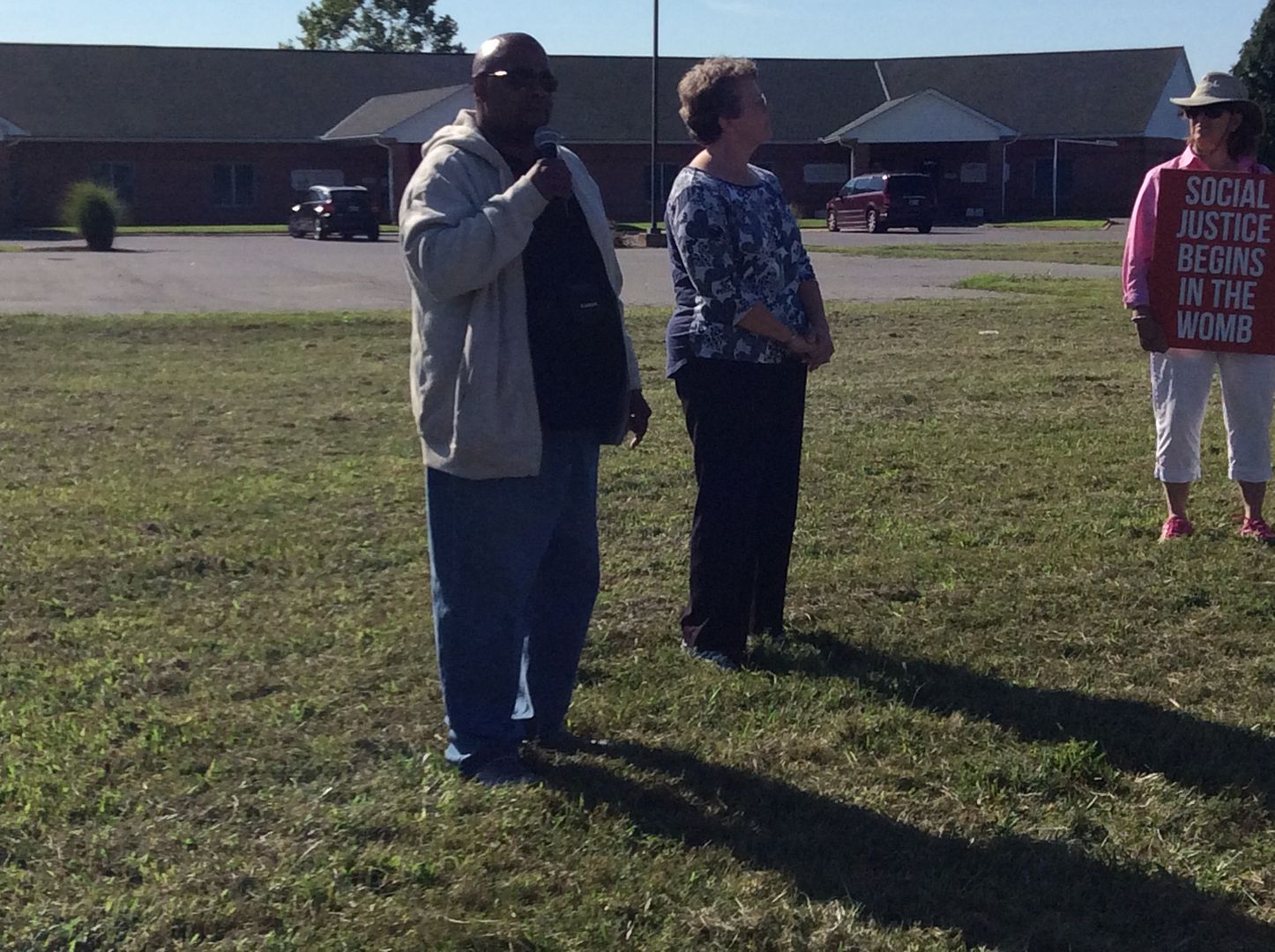 He lamented Planned Parenthood as "the largest morgue in the country." But when it came to those on the other side, it was not our job to cast stones but instead "love the hell right out of it," he said.
If the Seldon name rings a bell, it should because his wife Jackie runs the Eastern Shore Pregnancy Center here in Salisbury. Both she and her counterpart from the Choices Pregnancy Center in Easton were there.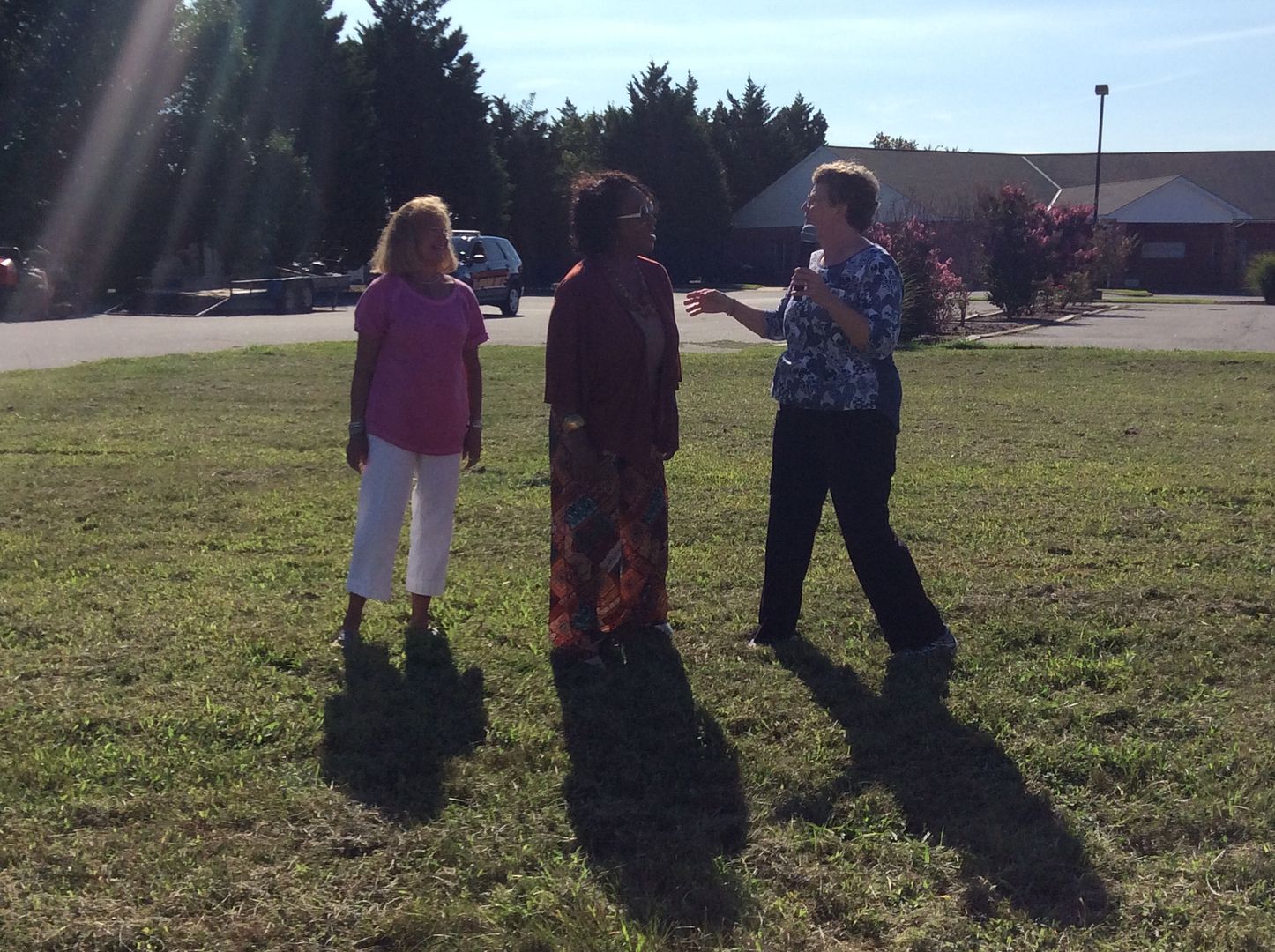 Jackie noted that when women come to her center and take advantage of their services, "things change in the ultrasound room." They see that their baby is not a tissue mass, but a living human being developed in the womb.
Unfortunately, I didn't get photos of all of the pastors but I did get a number of quotes. For example, John Abbott of Faith Baptist in Berlin reminded us that "thou shall not kill" means you don't kill innocent life. Chris Williams of Covenant Family Church in Centreville added that, "our hearts should be broken as a nation," and called abortion "the antithesis of the good news of the gospel."
Also representing his congregation was Eric Olson of the Oasis Covenant Fellowship in Easton, who spoke early as I was taking photos. We also heard from Barbara Kelly, a post-abortion counselor who told us "abortion doesn't have to happen." She added that women come to her decades after their procedures, a "trauma" that happens as they grow old and wistfully think about the child they never had.
The only minor bit of controversy came when the lone tenant who was open at the time, a pediatrician's office, asked us to move back onto the sidewalk. As you'll see in the videos, we were larger than the right-of-way.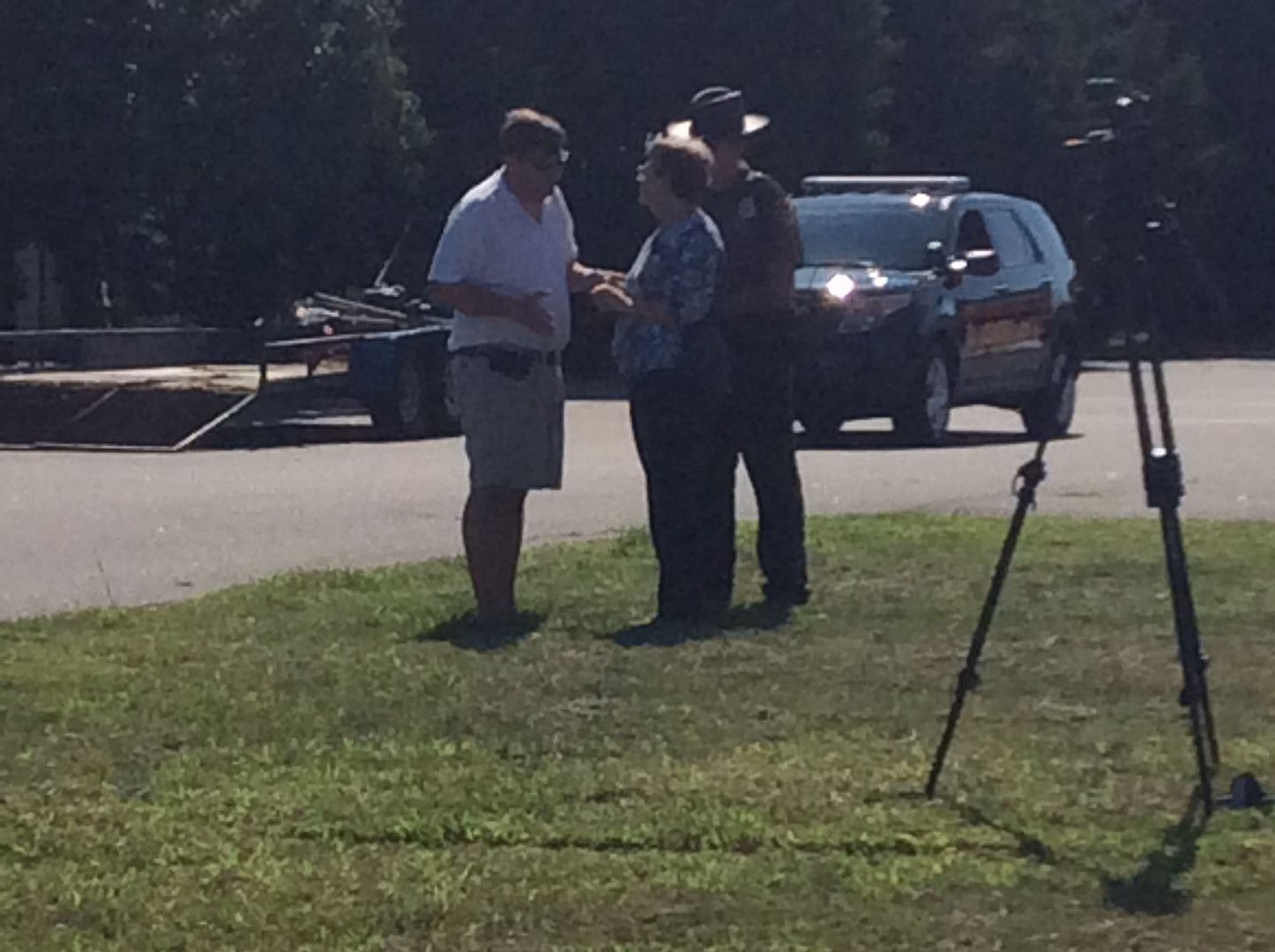 I think their issue was twofold: supposedly people were cancelling appointments this morning and "the children are upset." I suspect it was parents who simply didn't want to face the facts.
So our last speakers, pastor Jason Shelton of Providence Presbyterian Church in Salisbury and the lady representing Talbot Right to Life (who secured the permit for the event) did their speaking from the street.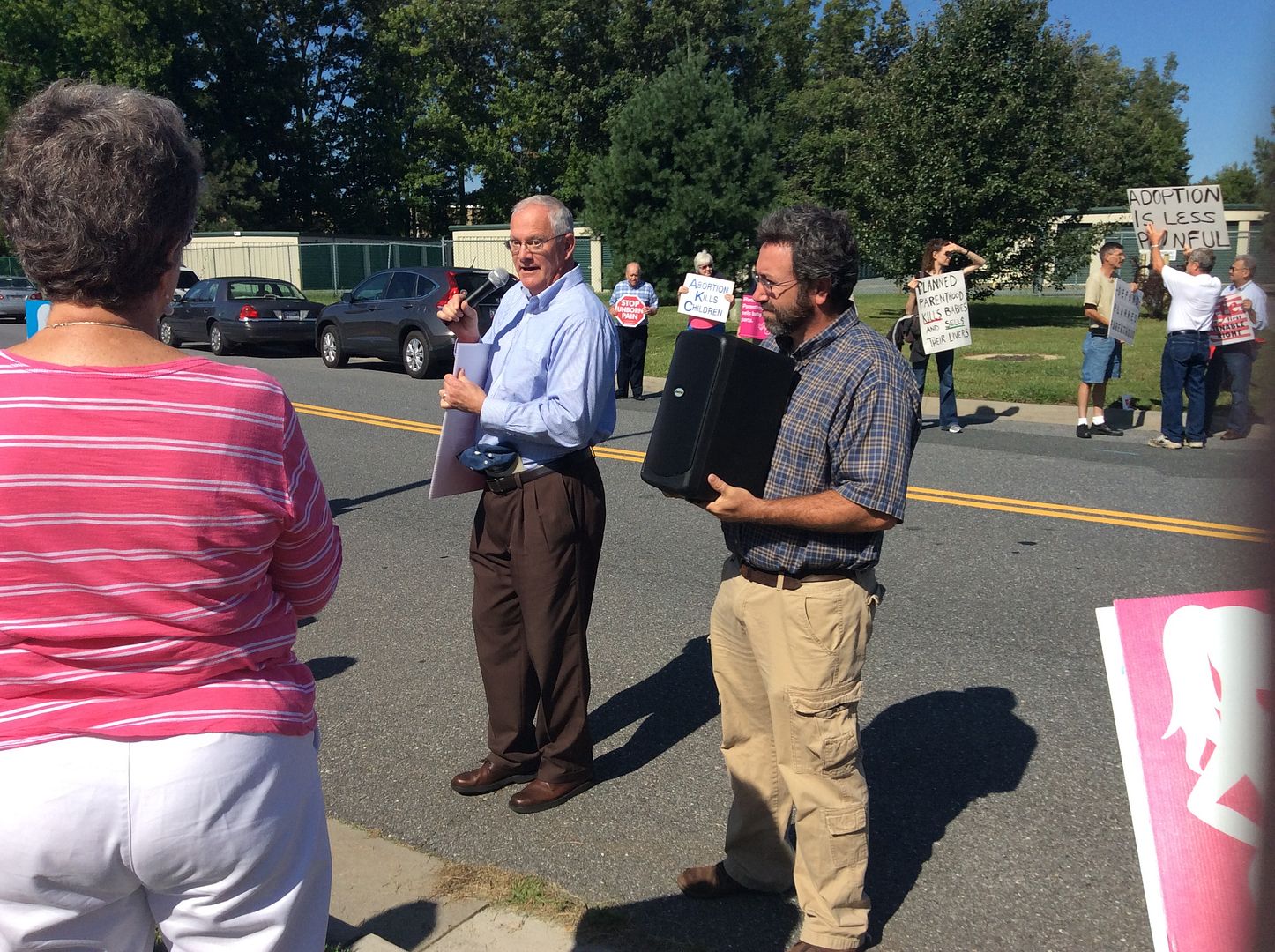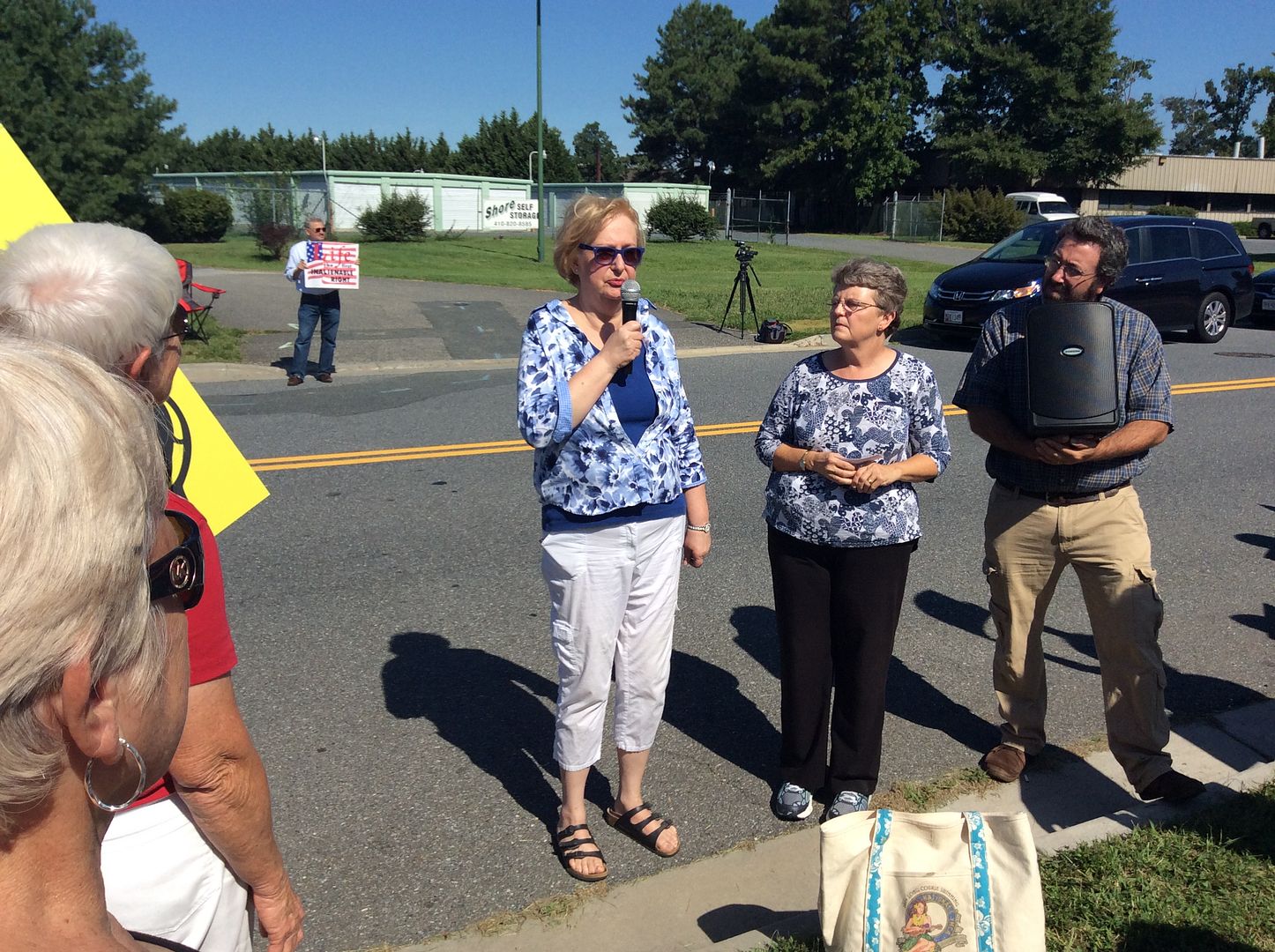 Sheldon cited heavily from 2 Timothy 3, adding that we have become "a bloody and callous people."
I noted above that we had politicians as well. One who spoke was local Delegate Christopher Adams.
Citing his own experience with his kids, Delegate Adams opined that "parenthood means life" and described the connection between abortion and profit as "disgusting and immoral." He continued that we weren't on the slippery slope here in Maryland, but "the bottom of the chasm."
There were two other political speakers of note, who both happen to seek the same office. Congressman Andy Harris spoke early on, followed a few turns later by challenger and former Delegate Mike Smigiel. I fired up my moribund Youtube page to share the videos of their remarks, Harris first.
To his credit, Smigiel and his aide Cody Leach stayed for the whole thing.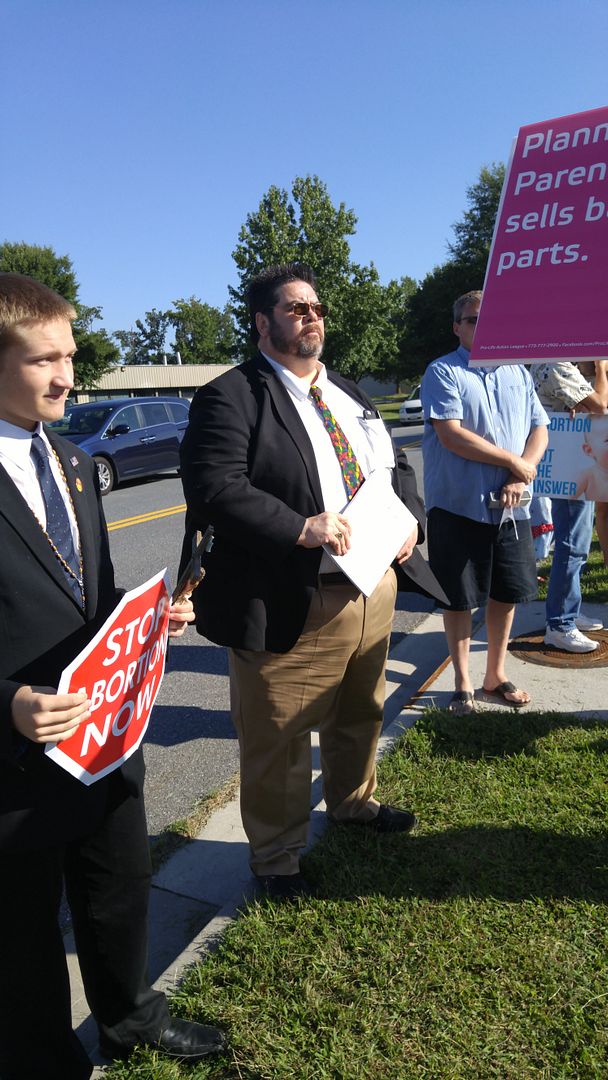 As with a rally such as this, there were a number of good signs. You'll see a number of pink ones which remind us Planned Parenthood sells baby parts, but there were other descriptive ones too.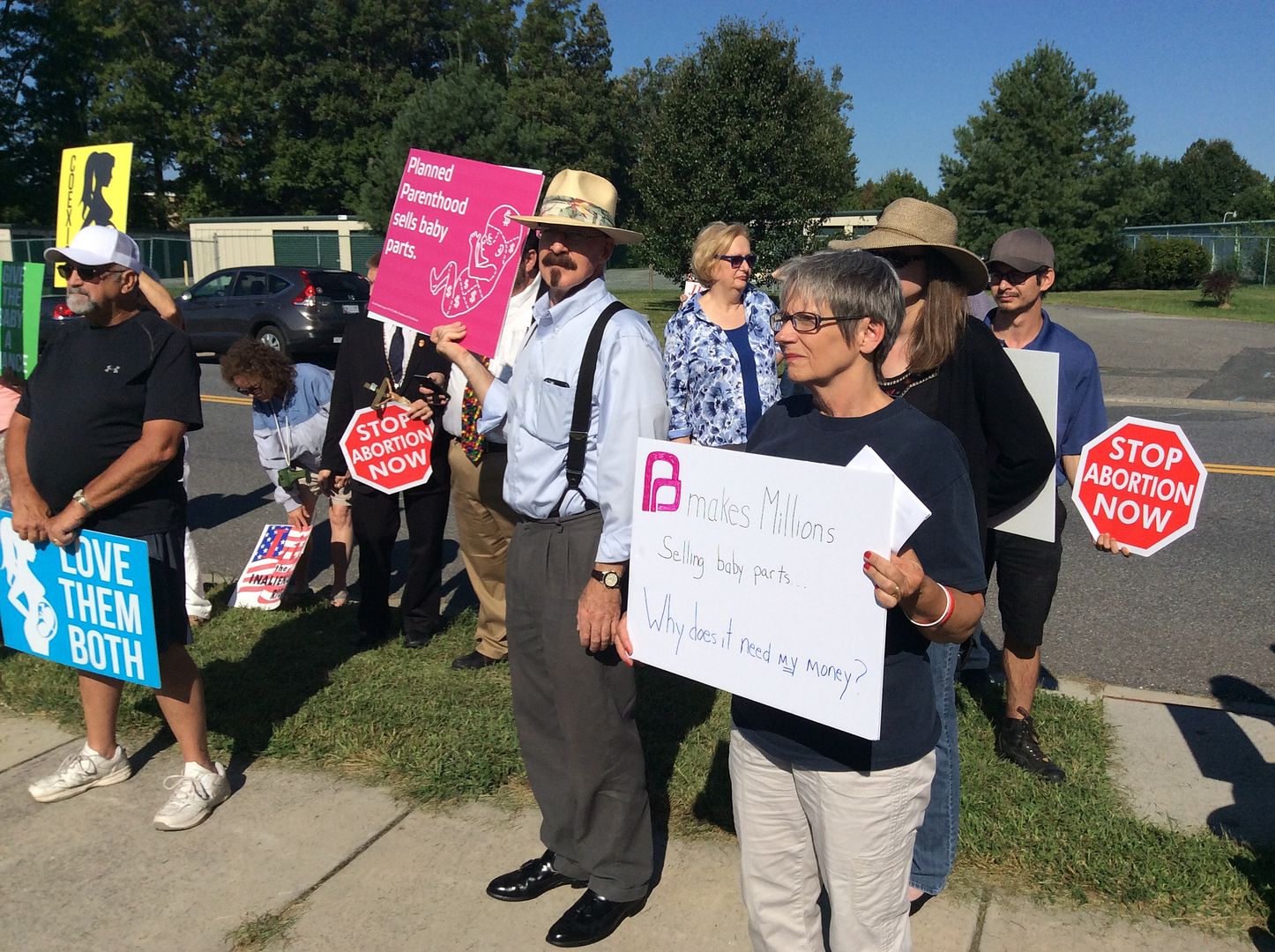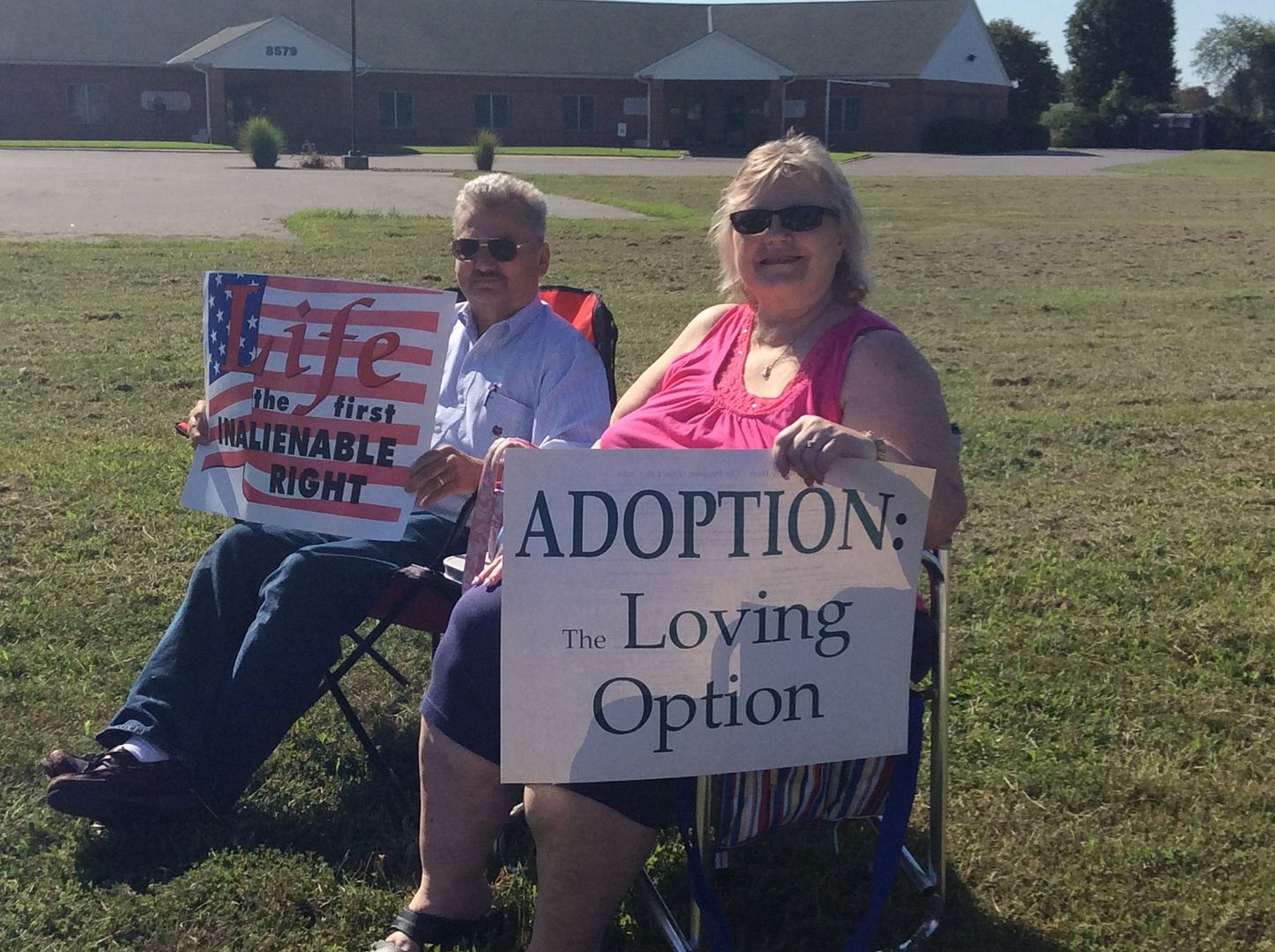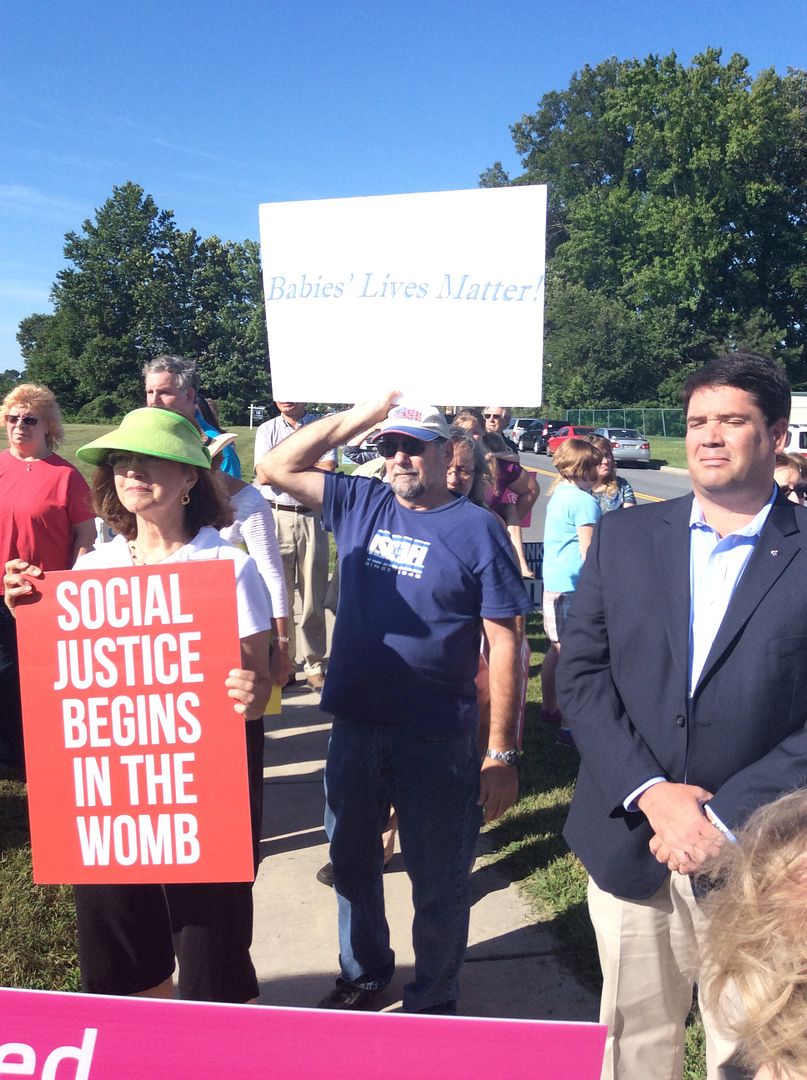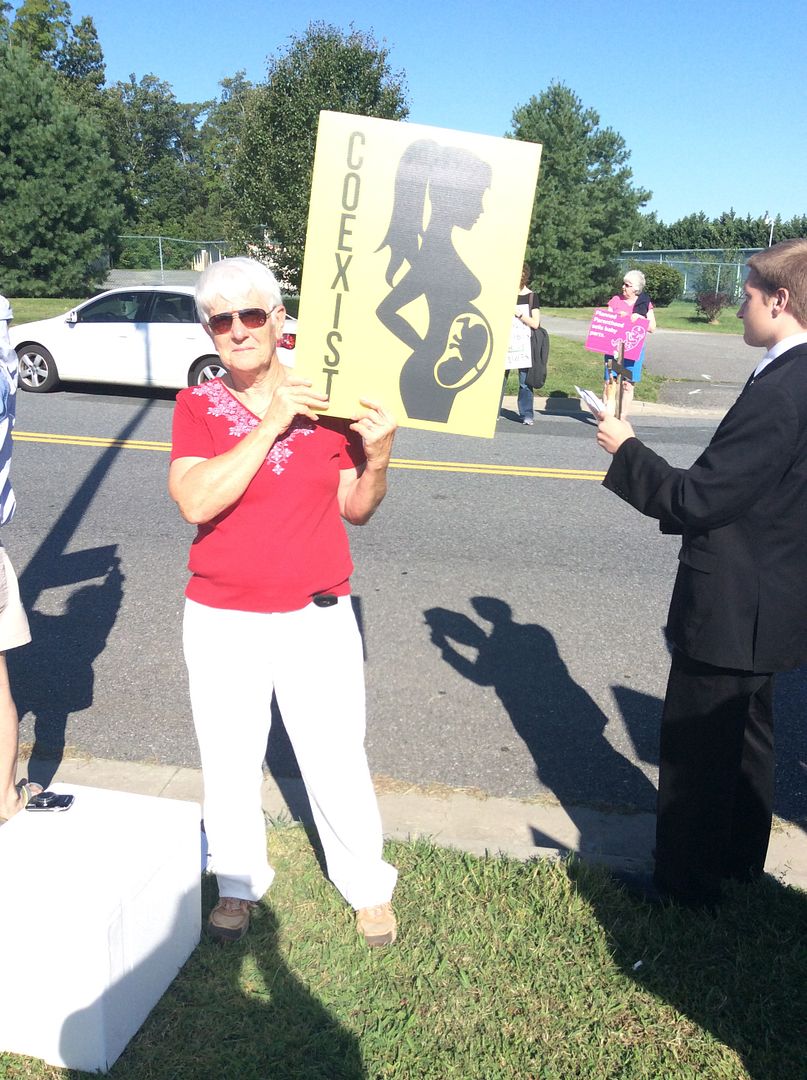 The fine folks from Worcester County opted to take a group photo.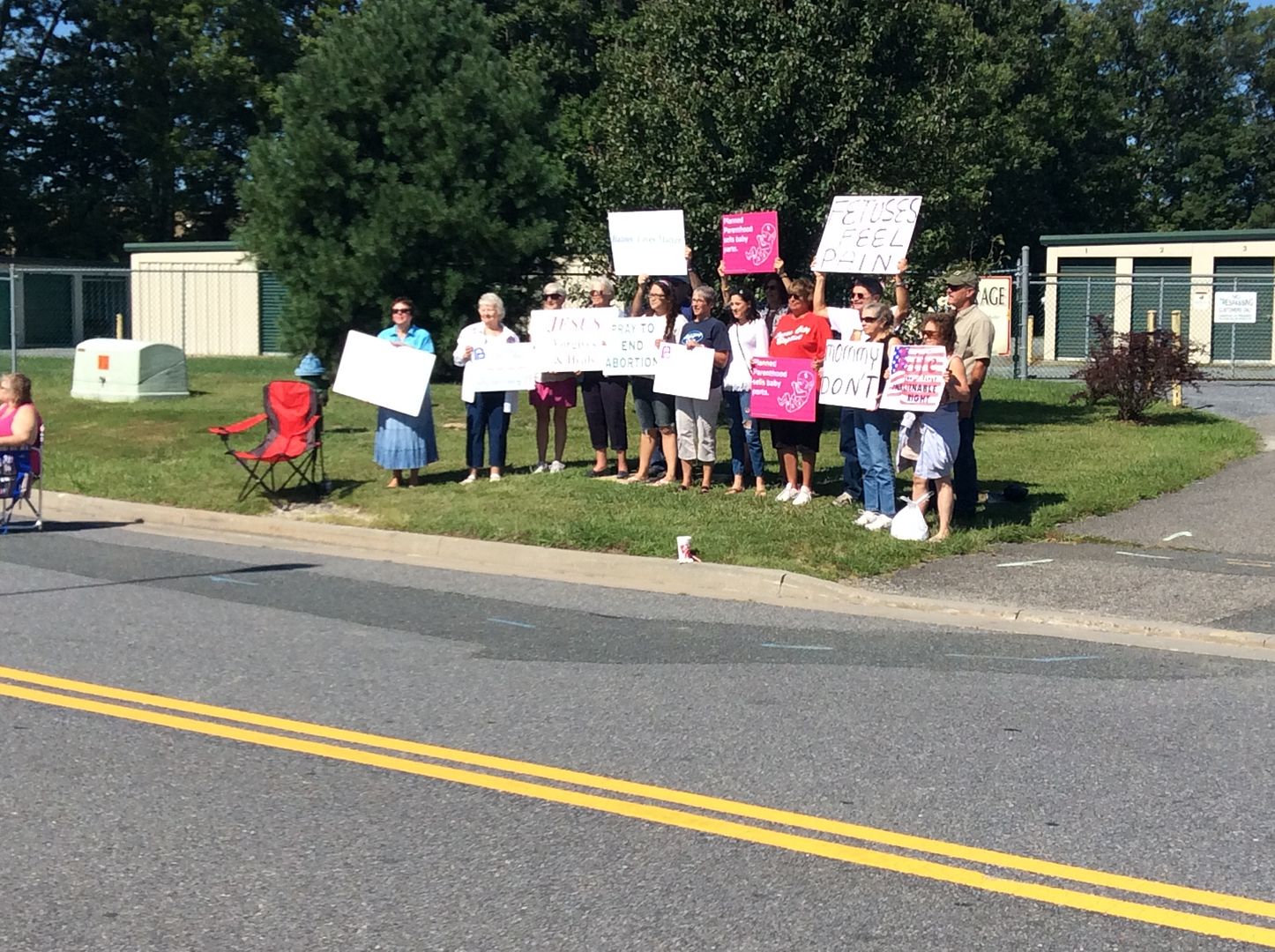 Fortunately, there was some media there to spread the word (besides me.)
Nicole Edenedo of WBOC-TV filed this report, which managed to avoid me until the very end when it showed my good side. It was interesting observing her work – I guess reporters don't bring cameramen anymore, and she did well memorizing her wrap at the end that she repeated to herself a couple times.
From what I was told, yet another CMP video was released today. With 300 protests scheduled nationwide today, even if they only averaged the 125 or so we had that's 37,500 people who came out on a summer weekend to make their displeasure known.
You may have noticed a police car in the background of my videos. Despite the fact we were on a quiet street and had a rally Myer described as one where we were "calm, peaceful, left no trash, respected the police, stayed consistent with the time allotted for the protest, stayed out of the street, and didn't damage any property," we had an officer spend his morning watching us. I suppose it was SOP given the chance of a counter-protest, but none was to be found.
As I noted, the only issue was that we were too many for the sidewalk. My colleague Cathy Keim took the lead in getting this together, with a lot of help and maybe a dash or two of divine providence, and as such deserves kudos.
This is the first step along a road that leads first to the defunding of Planned Parenthood by the federal government but ends when abortions are no longer commonly accepted as the law of the land. Remember, even Hillary Clinton said abortions should be "rare." I just disagree that they are "safe" – especially for the unborn – and their legality should be at the very most a state matter.
The best time to be pro-choice is making the choice not to create kids if you're not ready or willing to take the responsibility. As a method of birth control, it's worth remembering that, unless you are destined to carry the son of God, abstinence works every time.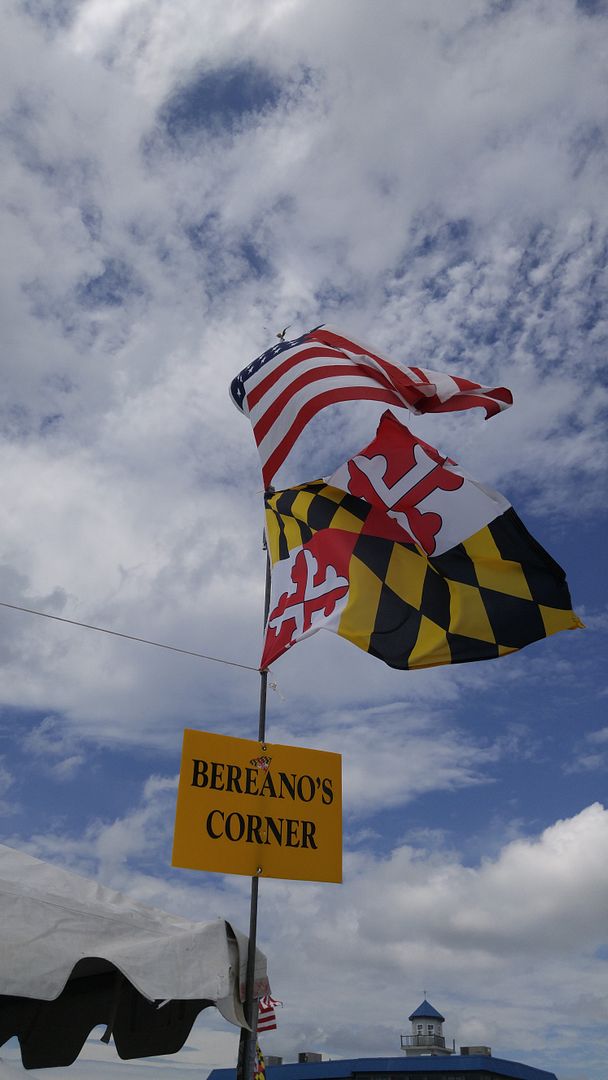 Bereano's Corner was in roughly the same location, but there was a lot of strangeness about this year's event.
Our tent was in a new location. Some liked the idea of being along the marina, but the traffic walking by wasn't as brisk as we had when we were in the middle, next to Bereano.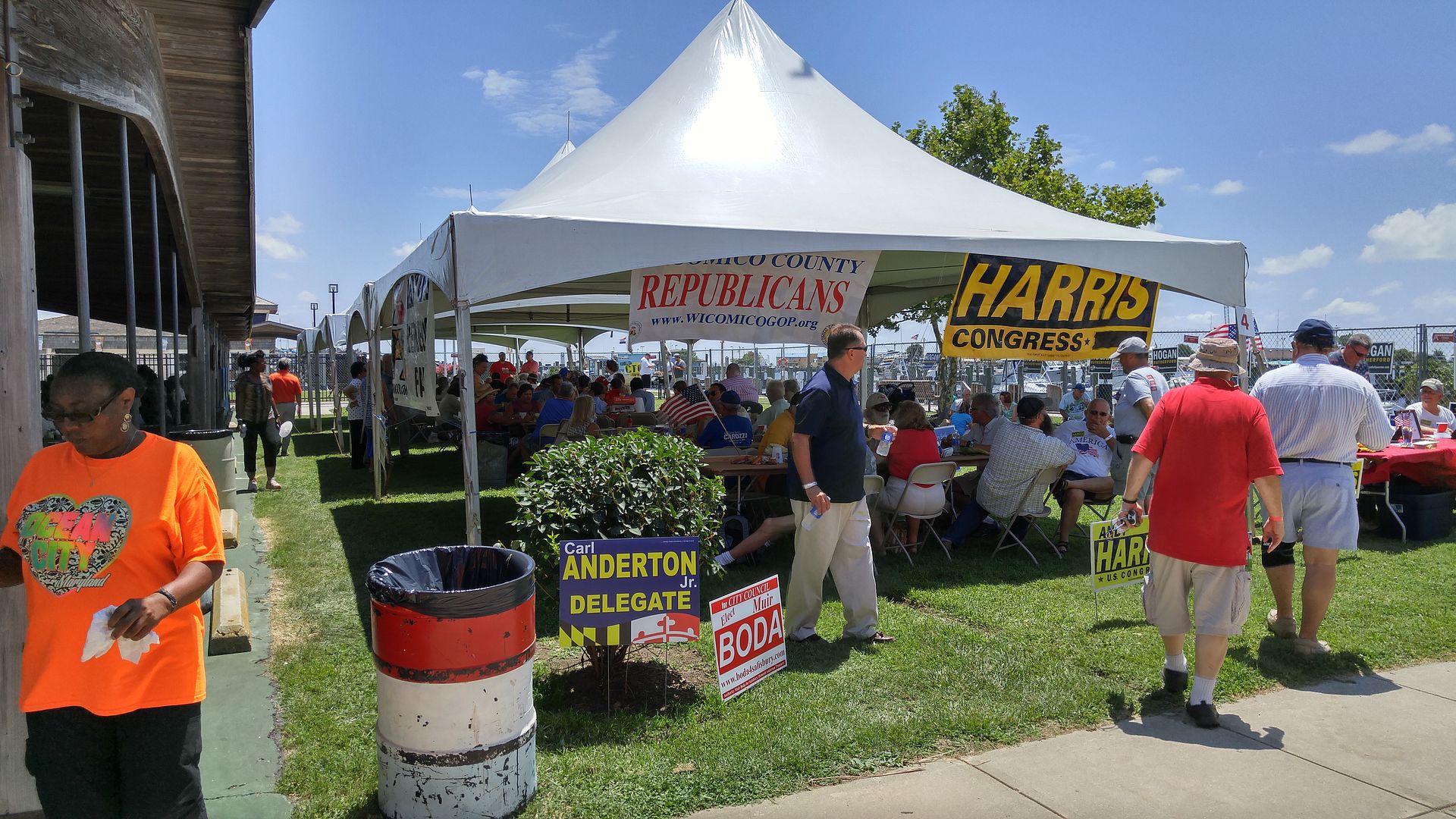 It did have a great space for signage that many took advantage of.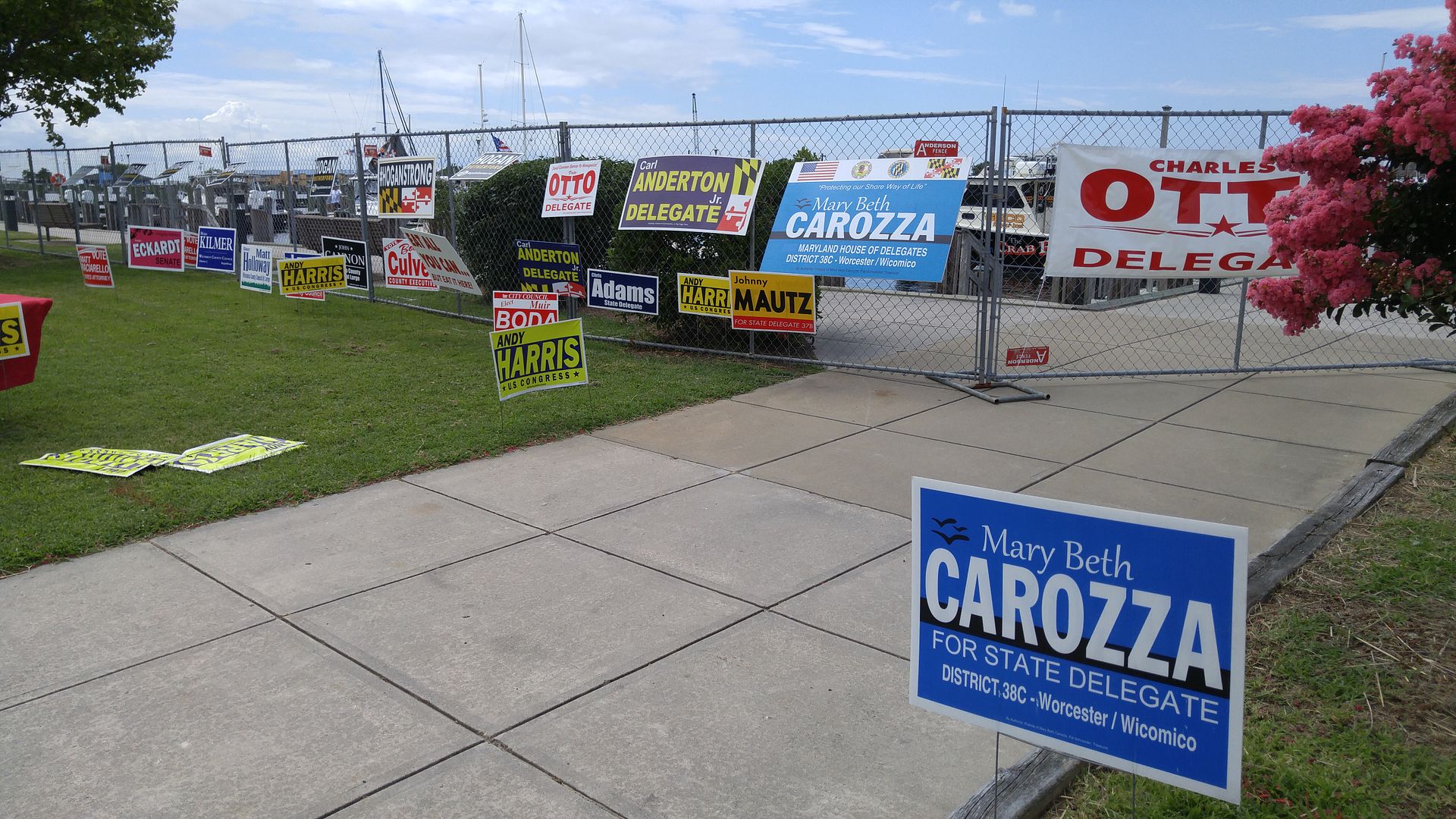 Being on the grass, we also had our share of bloodsucking biting flies. Speaking of bloodsuckers, the Democrats were less than thrilled with their location as well. Normally they have been the corner tent in this line.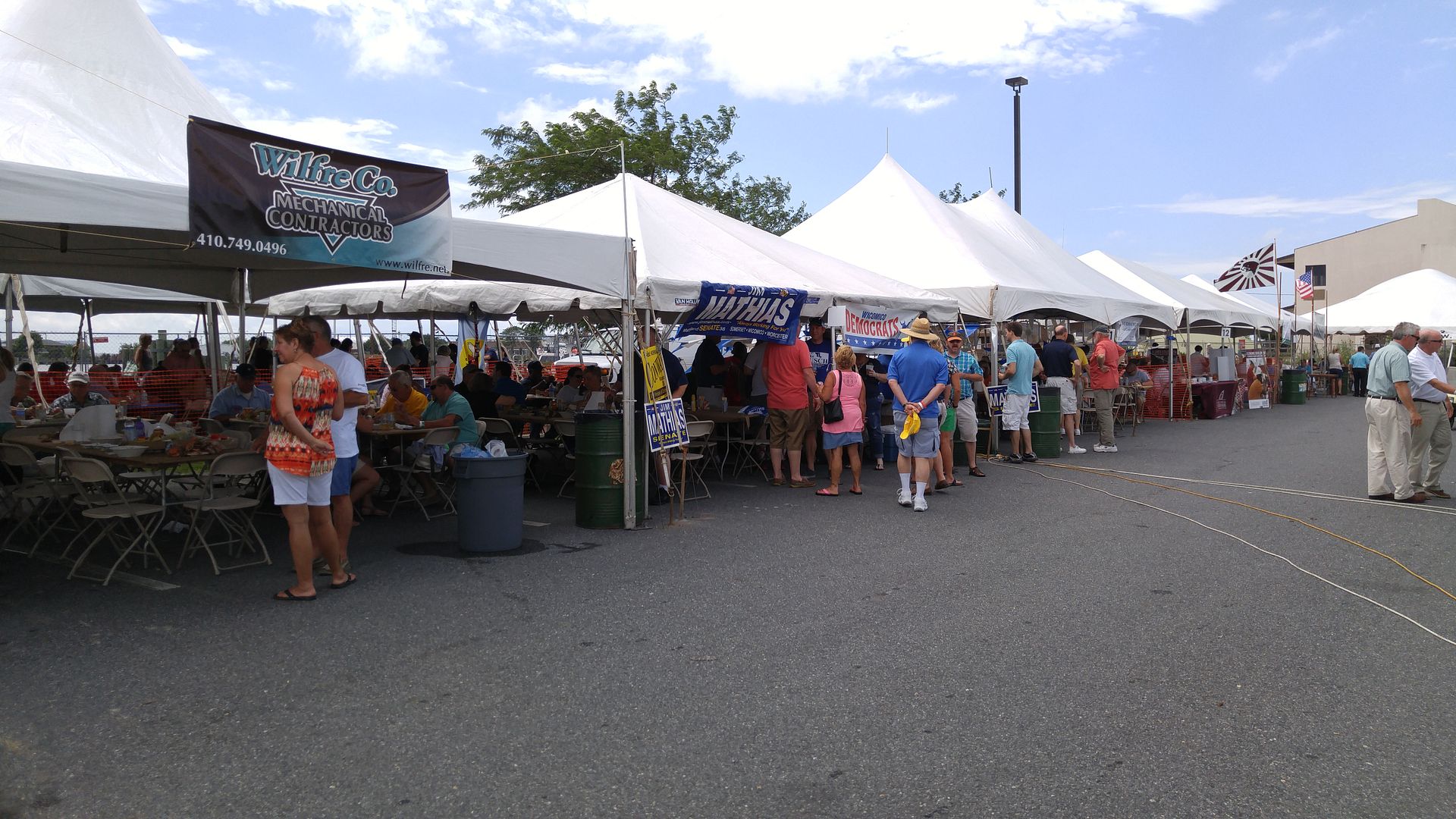 But they did have the keg, not that I had anything from it. They also had an interesting table within.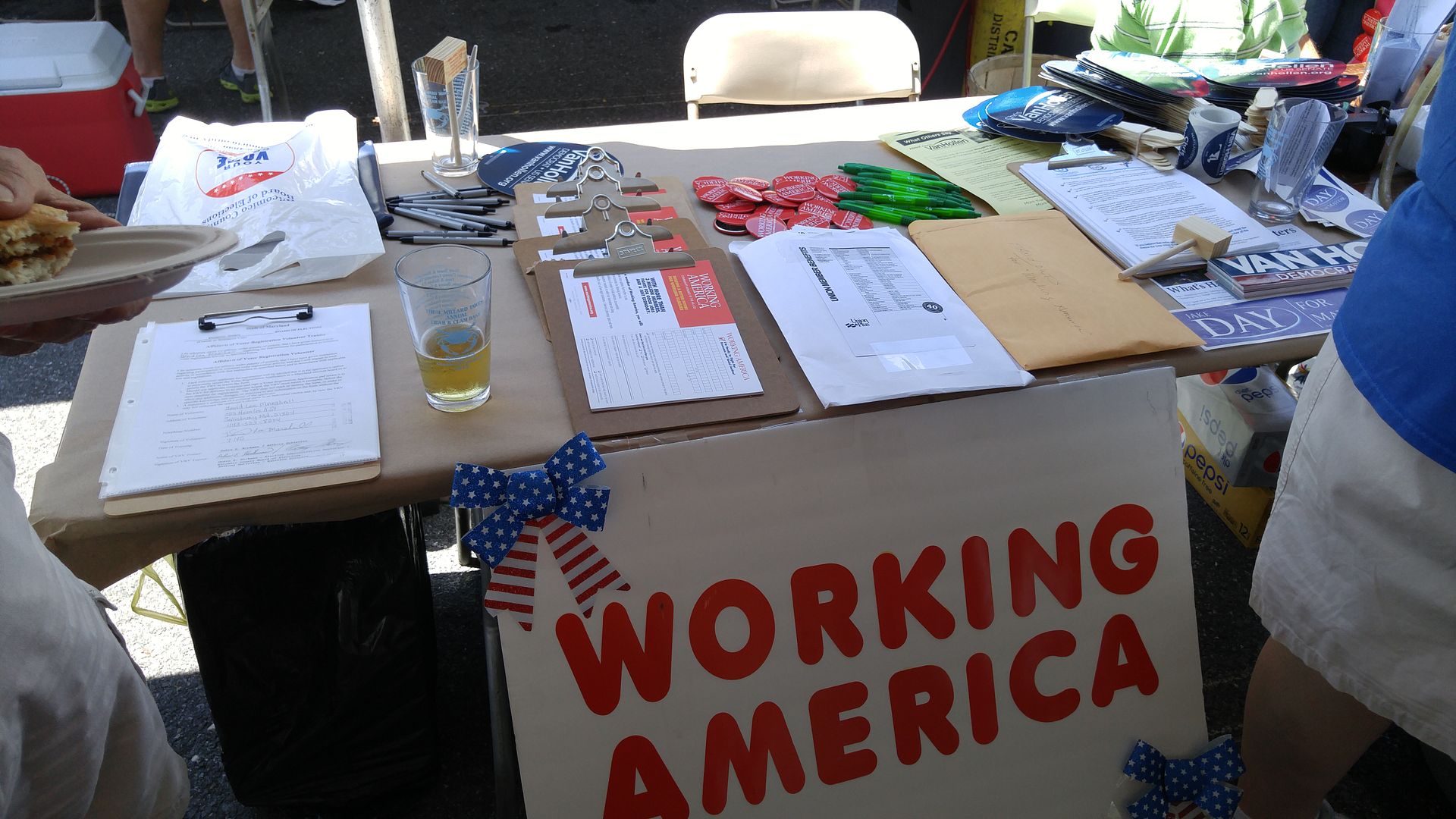 While I am part of working America I'm not a member of this AFL-CIO affiliated organization, so it's no surprise to find them in the Democrats' tent. There were a handful of folks walking around with their red shirts on, but Big Labor didn't have the presence here they did during the O'Malley years. Maybe they are laying low until next year.
There were quite a few businesses there, although it was a different mix than I recall from previous years.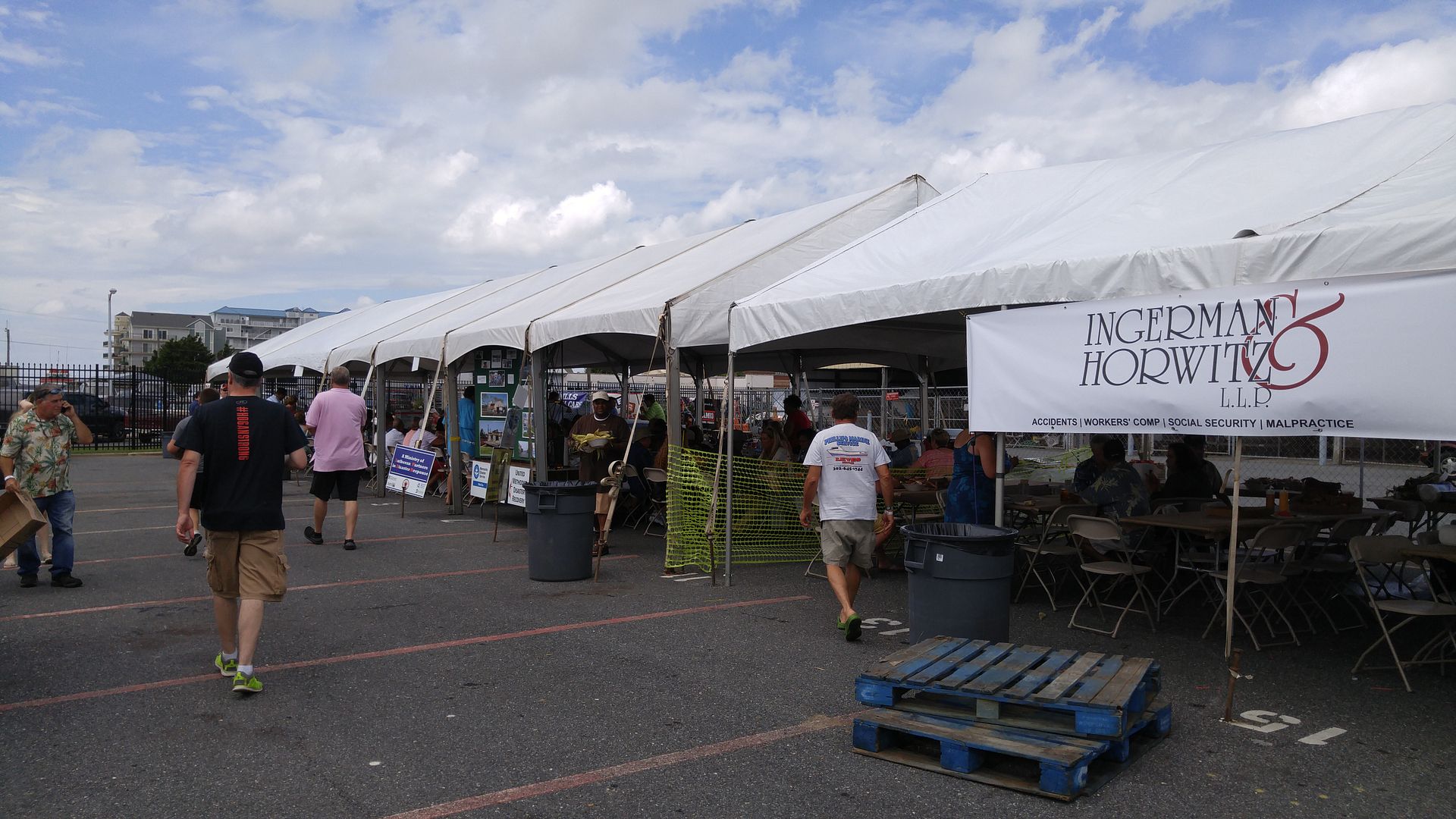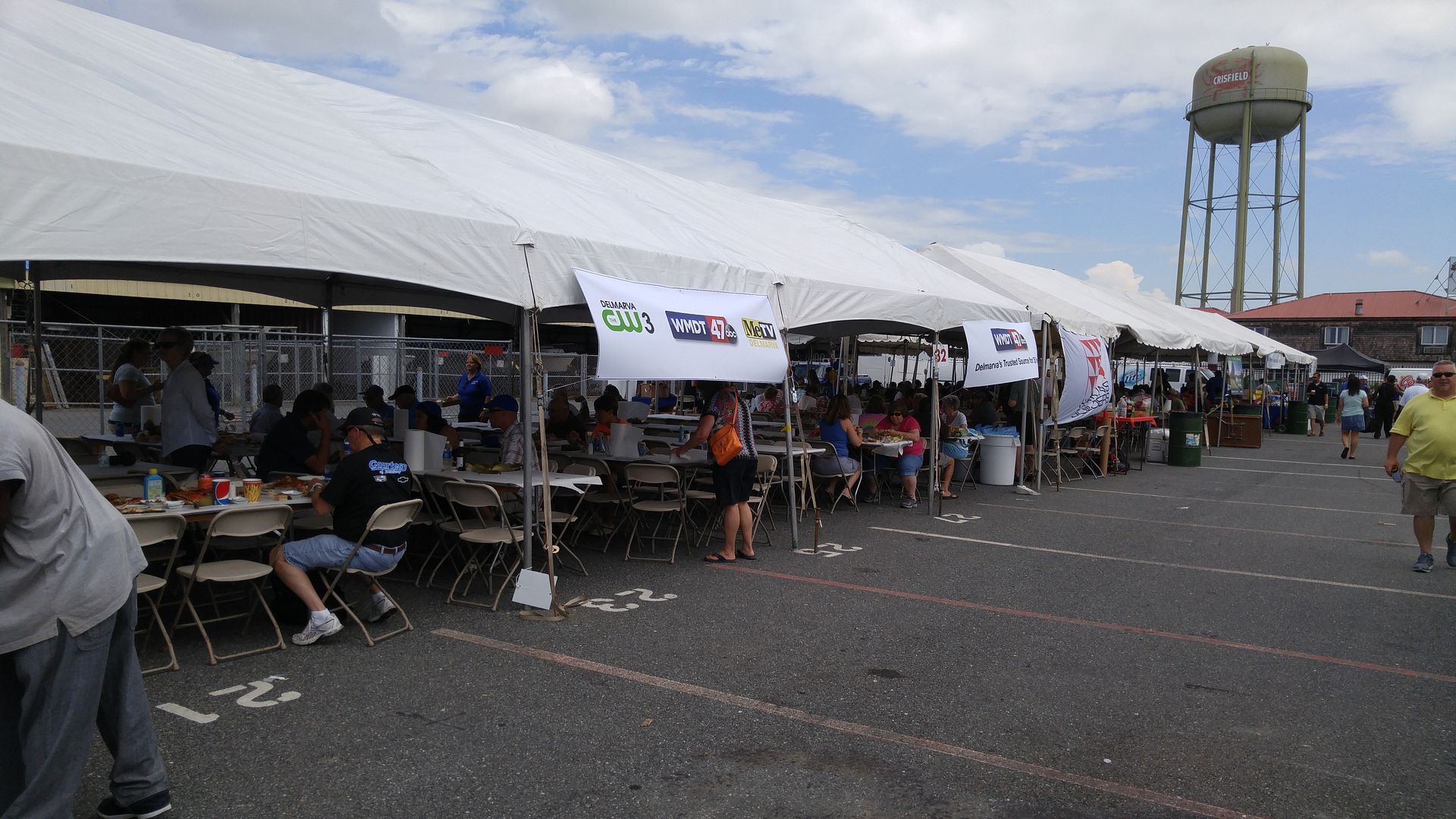 Some enterprising youth took the occasion to be their own business people. Those in orange were "runners" and on their shirts it read they were working for tips.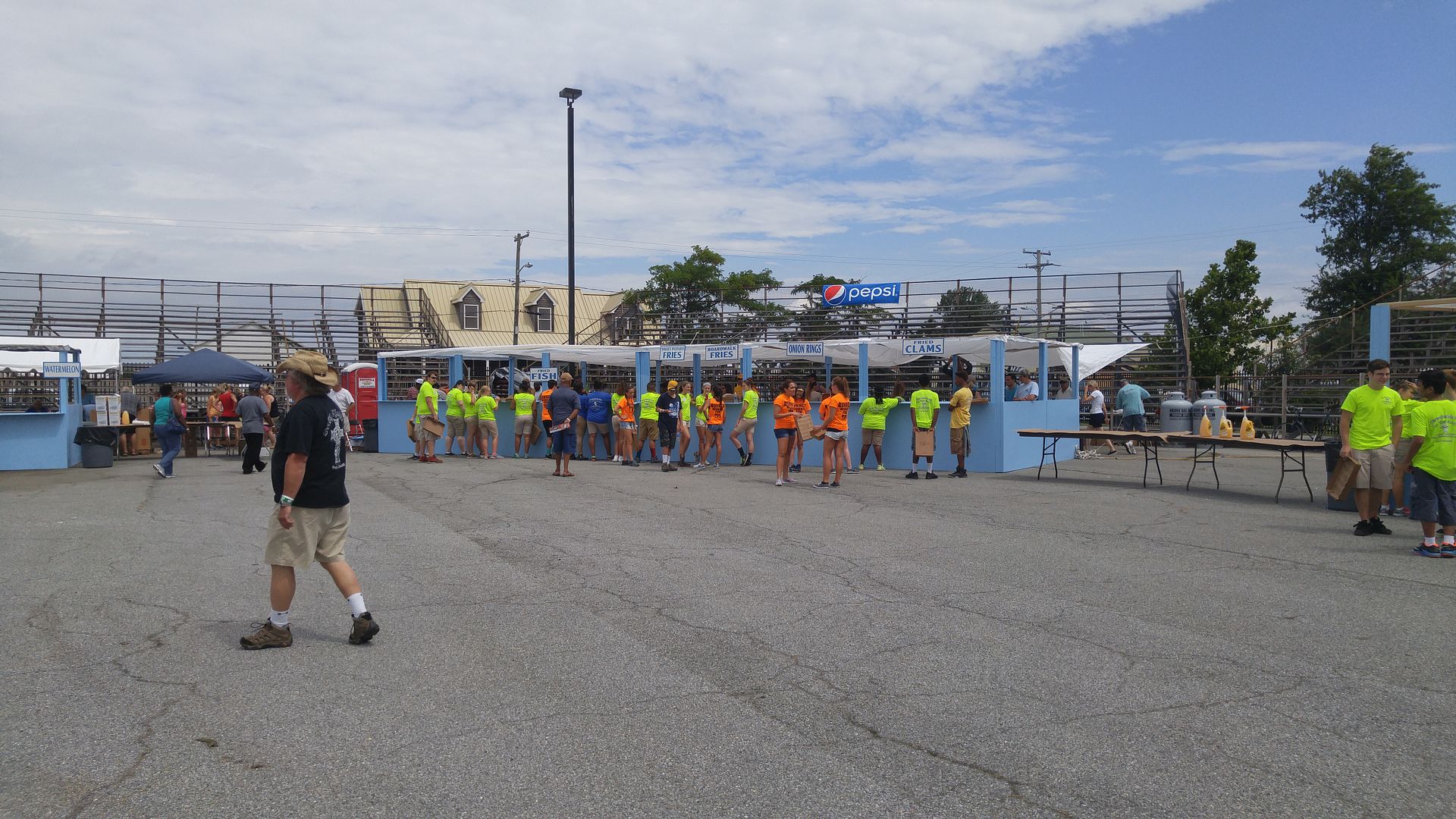 Hopefully they made more money than those who annually charge $10 or $20 for parking in their yard. I don't think business was as brisk for them because attendance seemed off from last year.
Government and public entities were well-represented, too. Interesting how the environmentalists are cozy with the economic development group.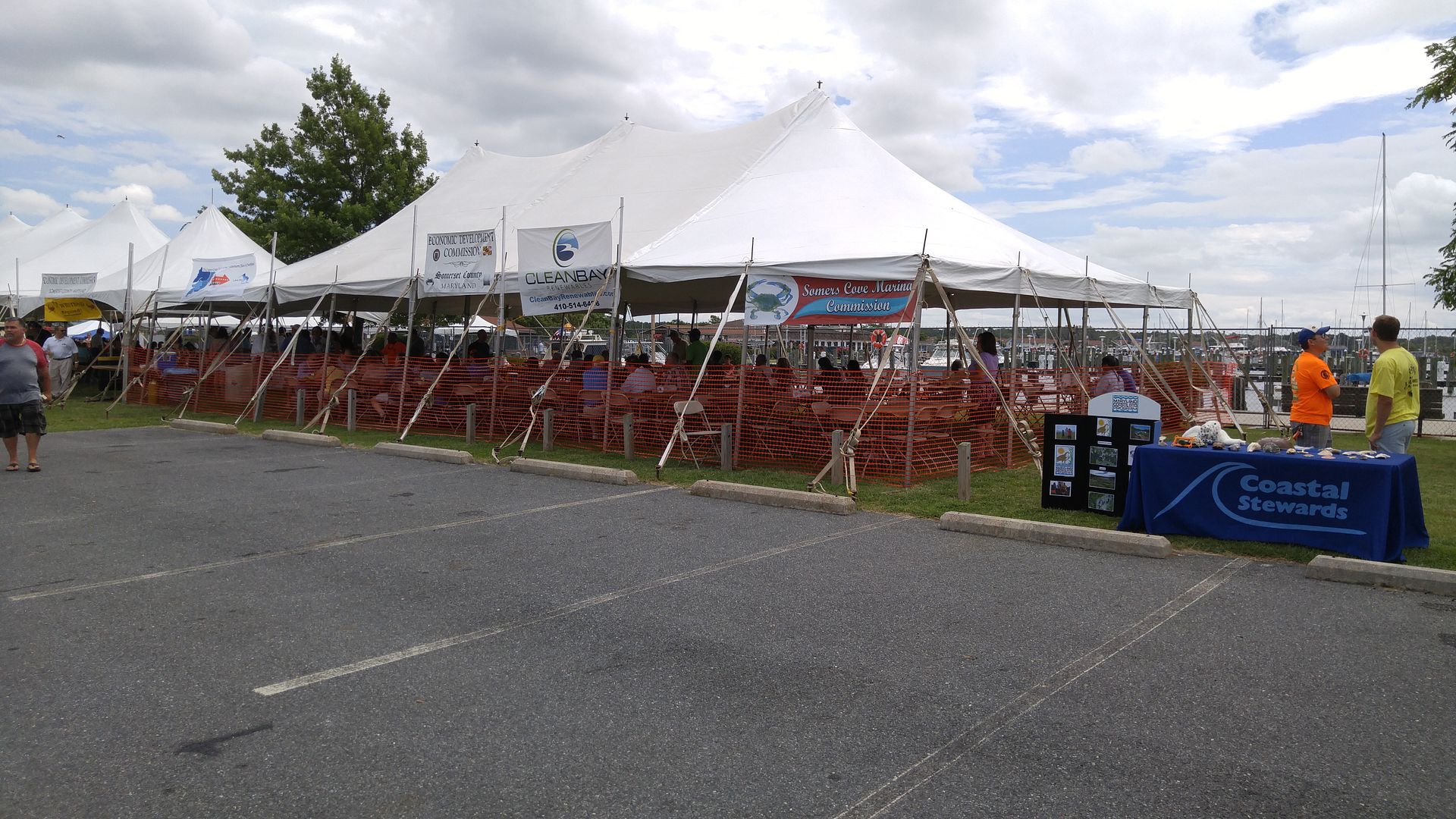 I think the University of Maryland – Eastern Shore was next to the Democrats, but Salisbury University was really trying to make a splash.
While there were a lot of differences in this year's rendition of Tawes, some things never change. Lobbyist Bruce Bereano always has the biggest tent.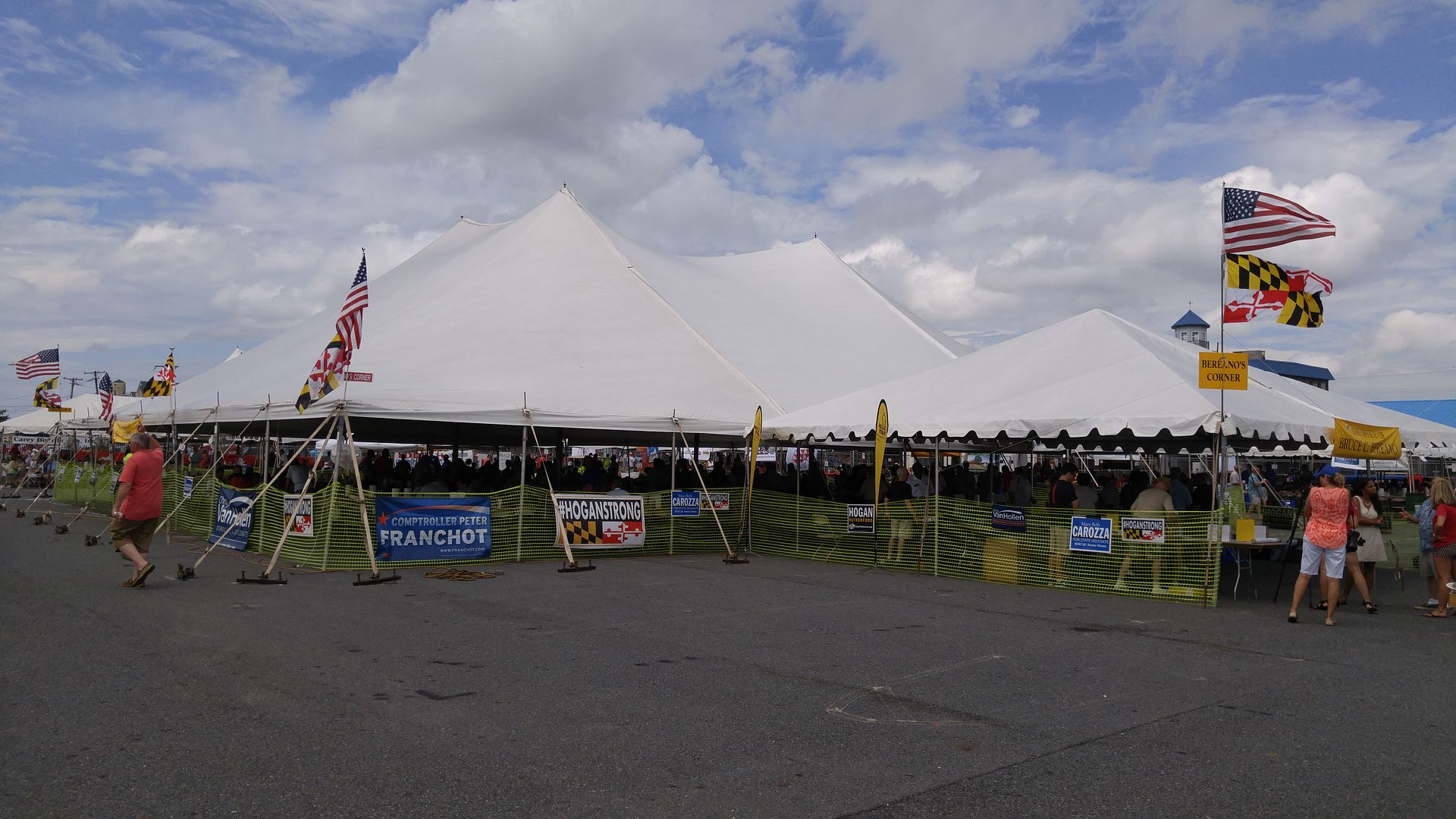 Another constant is a ton of good food, particularly of the fried variety. This was my spread.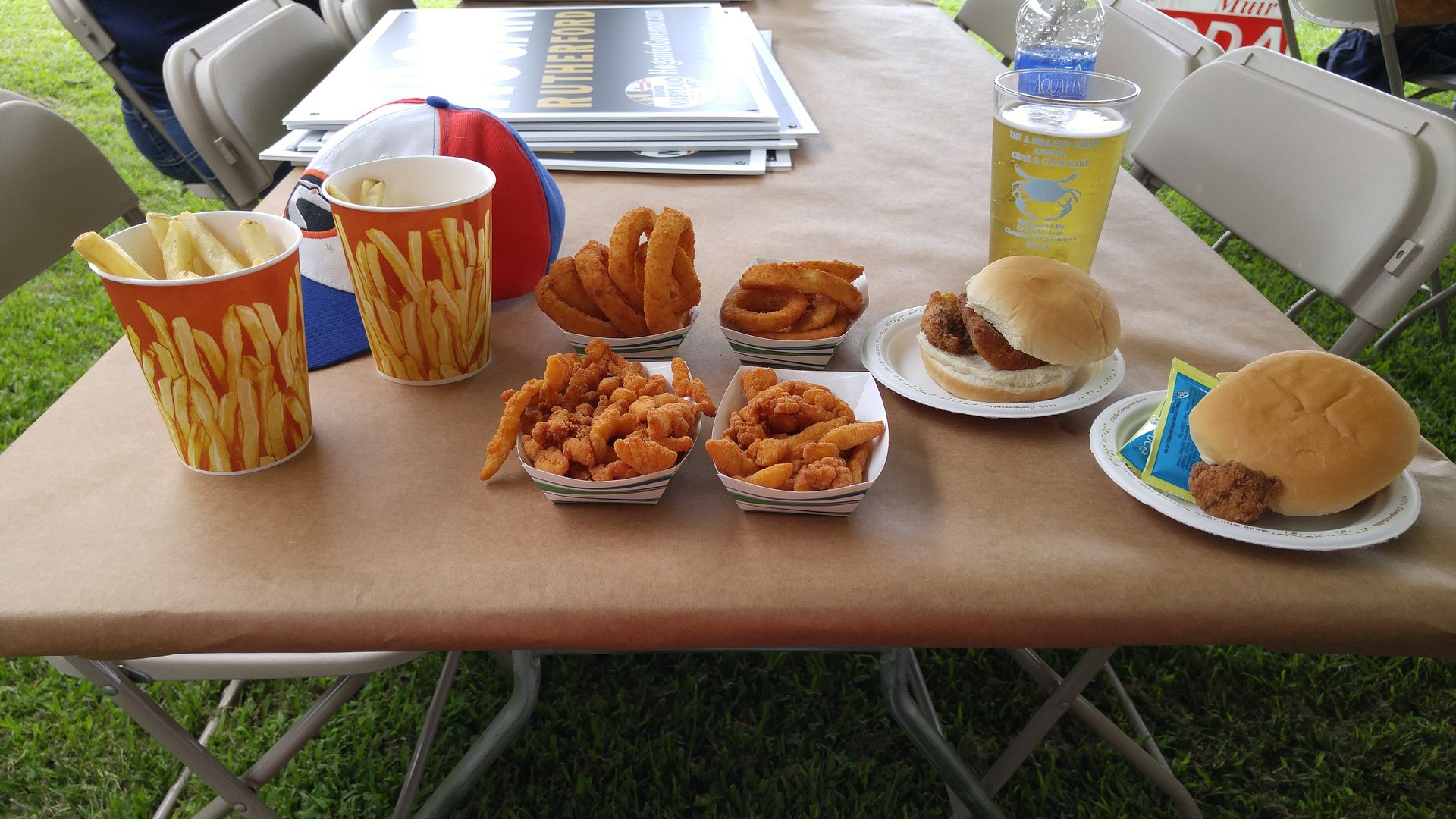 Not a salad in sight – in my dietary defense, I skipped breakfast. But it was all very good, aside from a little lack of fileting on one of the sandwiches. It was a trifle bony.
(No, I don't like crabs – so don't ask.)
This event also draws media like the food on the ground draws seagulls. Here's Delegate Carl Anderton being interviewed by local television.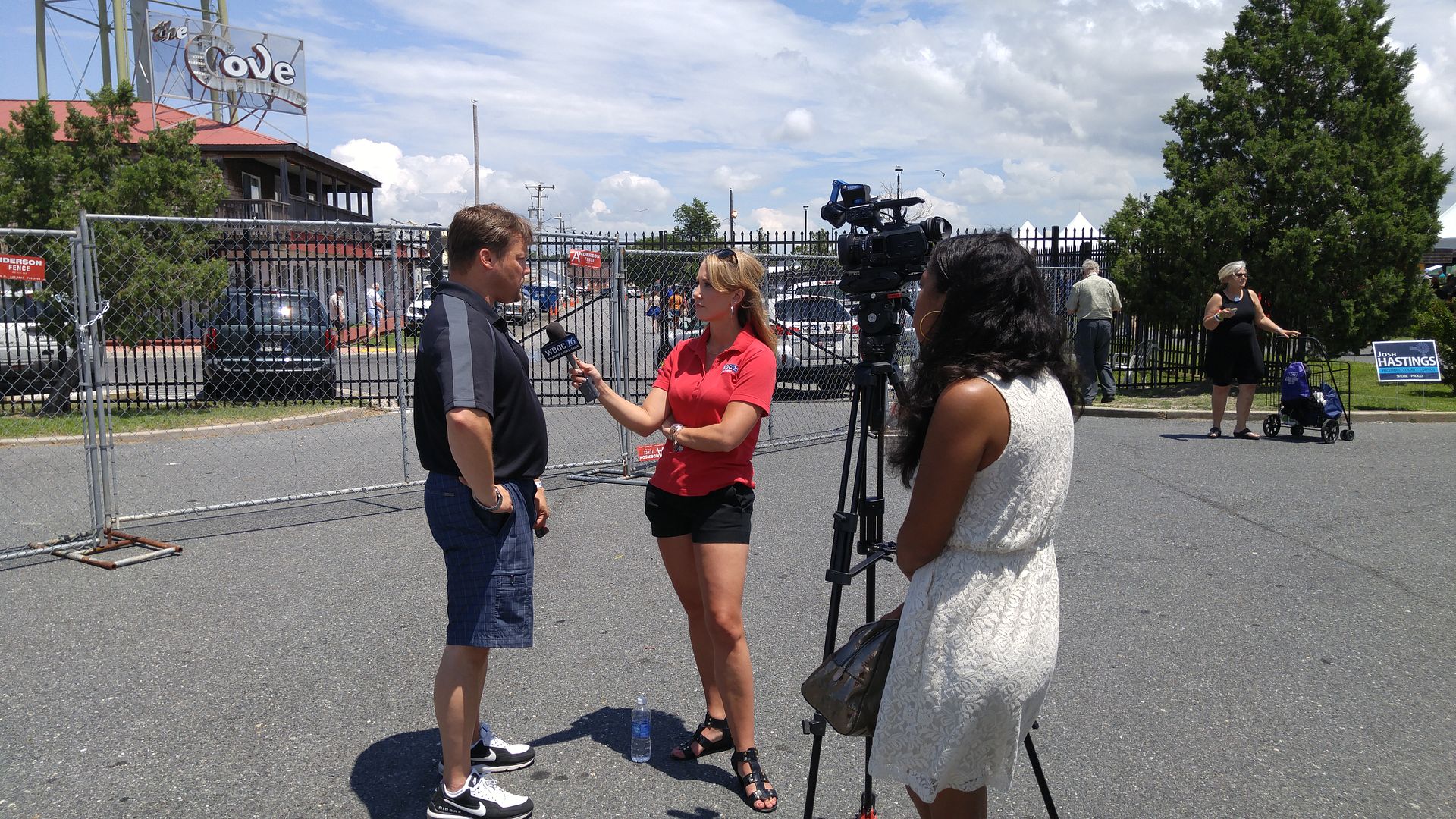 Both local Salisbury stations were there doing live shots and interviews.
And while the faces may change, the political aspect never does. You have the newcomers trying to make a good first impression, like U.S. Senate hopeful Chrys Kefalas and his millennial posse.
By the way, I had to look up that Kefalas is 35 because he appears a decade younger.
You have old hands looking for new positions, like Congressional candidate Mike Smigiel (in the center). He had a batch of "I Like Mike" buttons.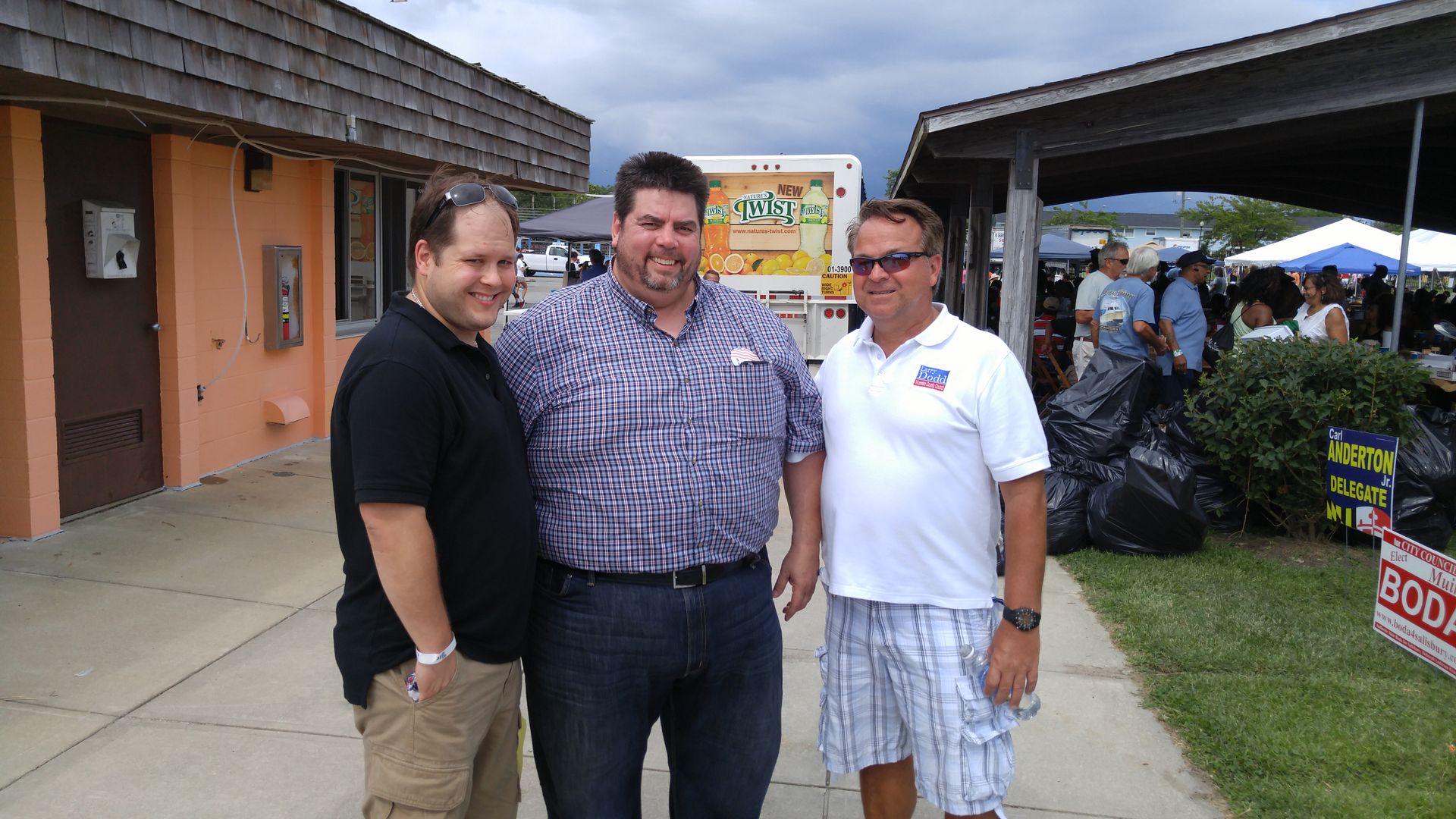 County Councilman Larry Dodd is on the right, and I apologize for not recalling the gentleman on the left's name.
And then there were established officeholders like my 2015 monoblogue Accountability Project Legislator of the Year, State Senator Justin Ready. He's talking to Jackie Wellfonder, who probably has some sort of social media record for photos with the most officeholders and general friends of hers.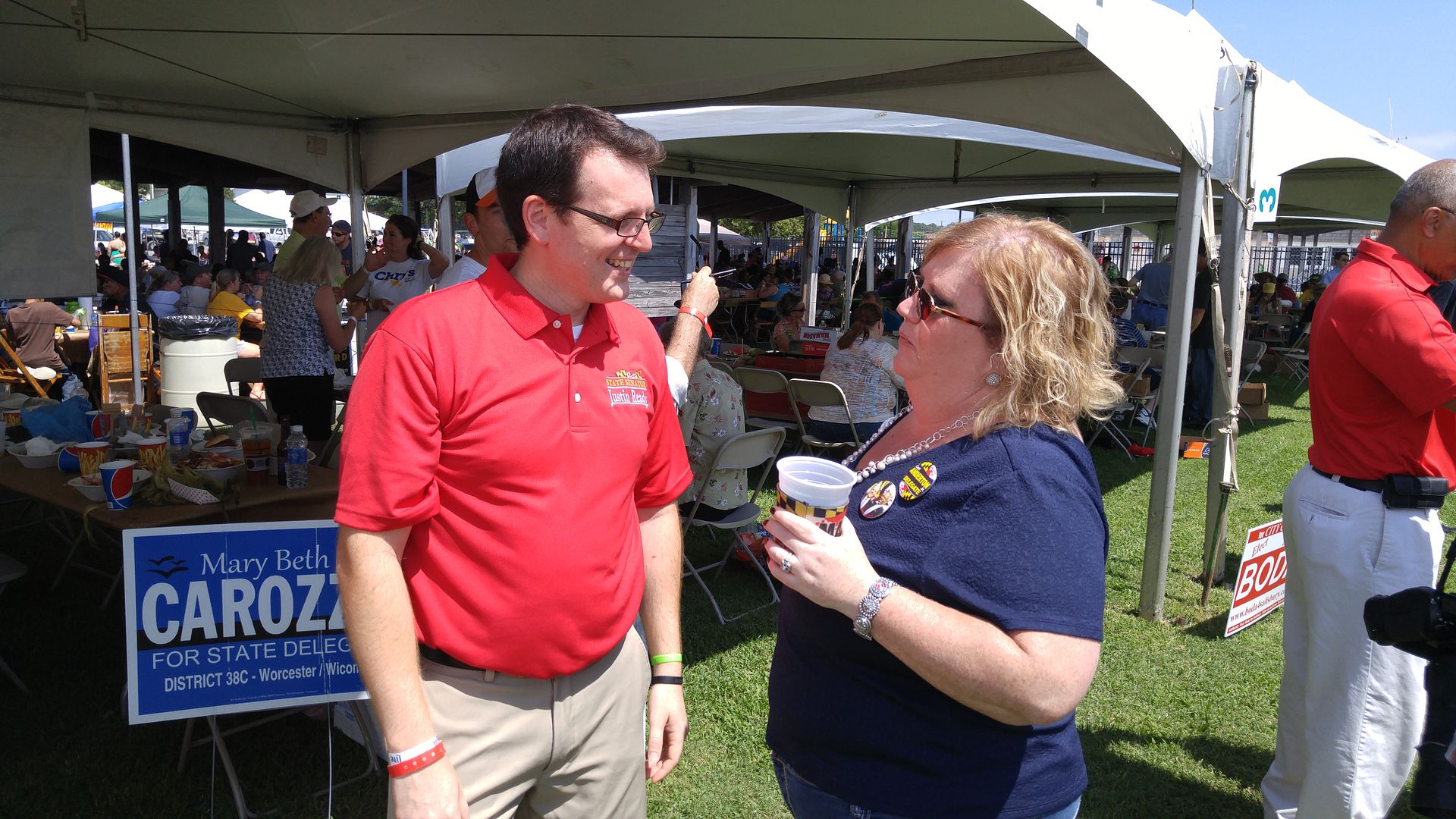 I think I've already seen her picture with our Lieutenant Governor, Boyd Rutherford. He's the distinguished-looking guy in the center.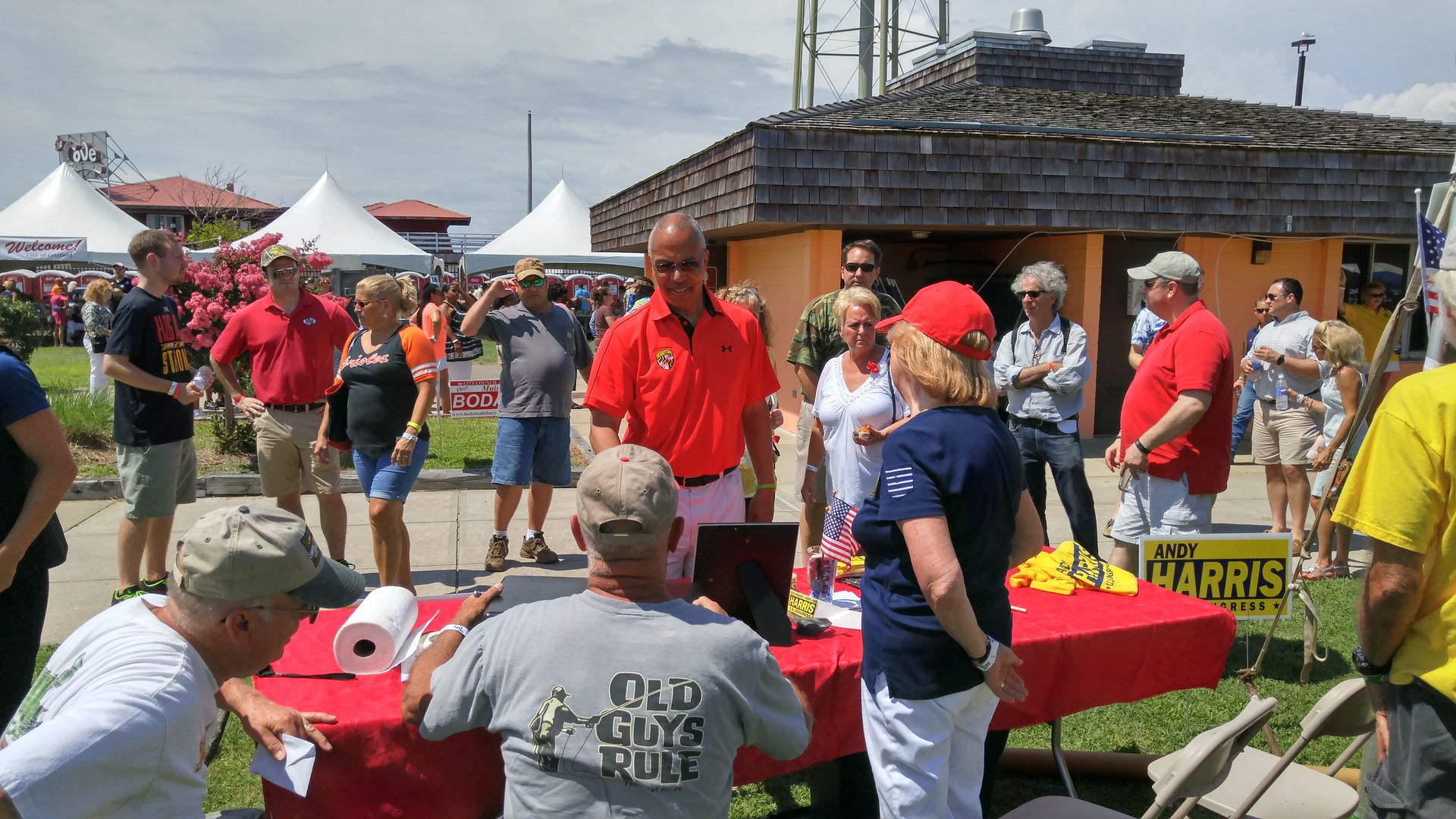 One final difference was the weather. While it was relatively comfortable, with a gentle breeze, the clouds rolled in toward the end.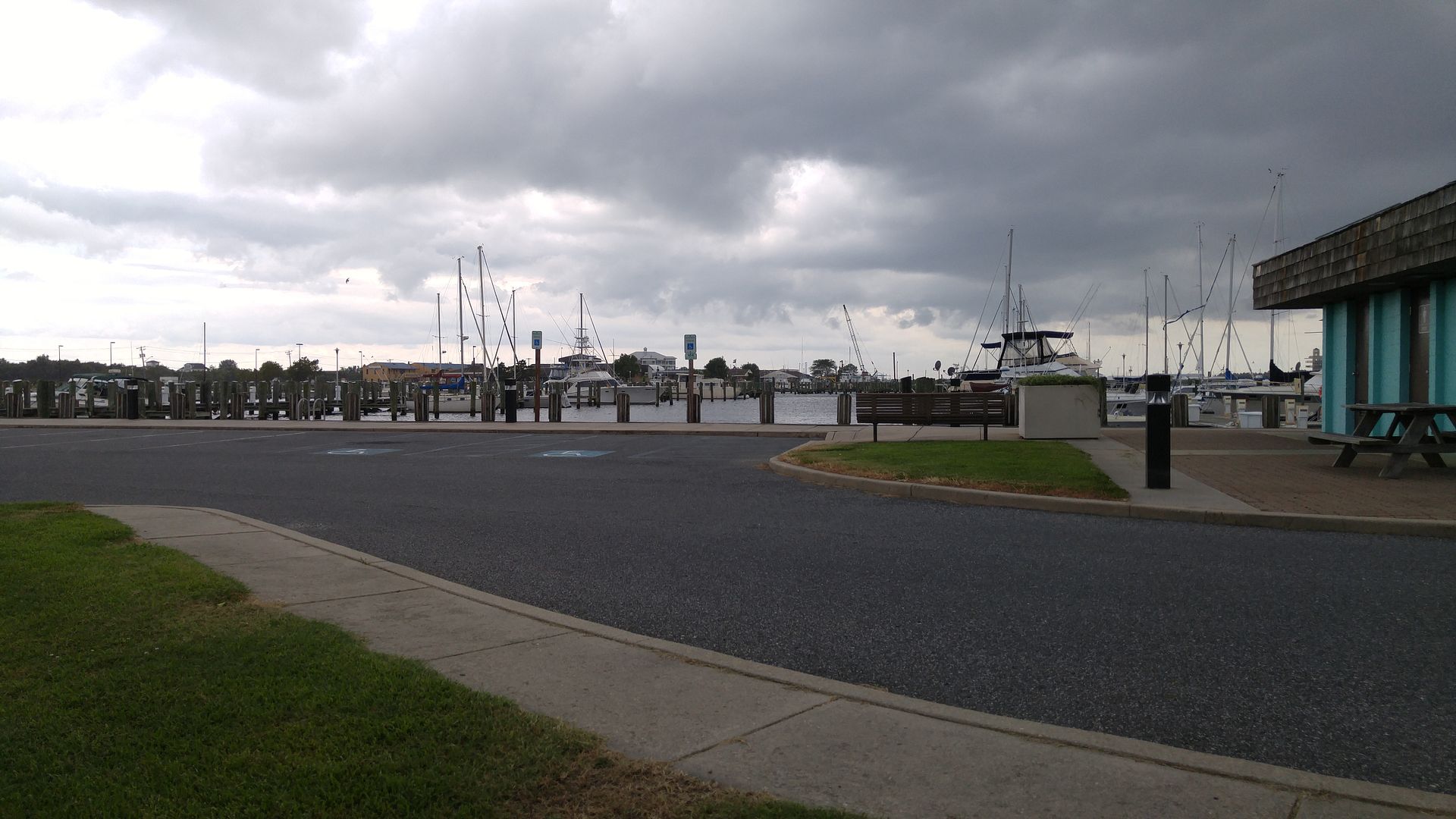 I left about 20 minutes before the scheduled 4:00 close, and by the time I got to my car about 1/2 mile away it was raining lightly. Before I got out of Crisfield it let loose and poured, so those who stayed to the bitter end either got under a tent or looked like drowned rats (or both.)
It was a fitting end to an event which was good, but perhaps a little off kilter. In fact, I was discussing the future of this gathering with someone who compared it to the Salisbury Festival – a venerable event that didn't change and eventually withered away. Since the cost went up this year (to $45 a ticket) we'll see how it affects the plans for next year.
As for me, I'd like the center location back.
By Cathy Keim
On July 8, 2015, the House passed HR 5, the Student Success Act, which is the reauthorization of No Child Left Behind (NCLB). This behemoth of a bill weighing in at 800 pages will guarantee that every child that graduates from high school is ready to attend college or start in the workforce without remediation. Yes, you read that correctly.
The hubris of our Washington elite putting into law that every child that graduates from high school will need no remediation is amazing. Just that one statement alone assures me that the 800 pages are filled with bureaucratic overreach.
What kind of measures must be in place to assure that grandiose statement? This is the same government that cannot get patients seen at the VA hospitals in a timely fashion, yet they are proclaiming that every child that graduates from high school in these United States will be stamped proficient to advance to the next step of their lives by the Department of Education.
I can think of only one way that they might even pretend that this could be true and that would be by dumbing down the system so that more children could meet the criteria, but even that is not going to convince me that the government can achieve their goal.
Just try to think of anything in real life that can be achieved 100% of the time. You can't come up with much, can you? (Remember that NCLB declared that there would be 100% proficiency in reading and math in the entire US school system by 2014.) You can check out American Principles in Action's 24 points for plenty of details on why this is a terrible bill.
HR 5 was brought up in February 2015, but was pulled because the Republican leadership could not get the votes to pass it. They have used the time tested ruse of bringing it back in the summer when parents are not paying attention to school issues.
It narrowly passed, 218 to 213, with every Democrat voting no, and 27 courageous Republicans joining them. This is similar to the TPA battle where a few Republicans joined the Democrats in opposing another awful bill.
Of course, their reasons for opposing were completely different, just like the TPA fight. Once again it gives me pause when I find myself on the same side as the Democrats.
One of the reasons given for conservatives voting for HR 5 was that the Senate version, SB 1177, the Every Child Achieves Act, (ECAA) is even worse. The reasoning goes that by voting for HR 5 it preempts the Senate version, so that even if the Senate passes their bill, it will be forced into conference rather than the Senate bill coming directly to the House.
From past experience we all know that what comes out of the conference back room will very likely be worse than what went in.
Andy Harris voted yes on HR 5. I called his office to inquire what his reasons were for voting yes, but I have not received an answer yet.
I called Senators Cardin and Mikulski's offices to inquire if they had any statements out about this bill. Senator Cardin's office said that he supports the bill in general, but is concerned about the Title I funding following the child since it might allow money to go to schools that don't need it rather than to the schools originally intended.
(Editor's note: one selling point given for the SSA is that it would allow certain parents who have children in failing schools a choice in where to send their children for their education, although the choices are limited to just public and public charter schools. This is the meaning between the lines of Cardin's remarks.)
Senator Mikulski's office said she did not have a statement out yet, but that she is against No Child Left Behind. Since ECAA is a reauthorization for NCLB, which actually expands it, we will just have to see how she decides to vote.
Generally speaking the Democrats seem to be against this bill due to the Title I funding shift potential and also because they fear it could lead to universal vouchers.
The Republican leadership crows that HR 5 is returning education issues back to state control. If so, why do they need 800 pages to do this?
The Senate should take this bill up in the coming weeks, so please call your senators and explain to them why they should vote no. Their offices need to be bombarded with parents telling them to not expand on No Child Left Behind.
However, the best reason is the one given by former Delegate Michael Smigiel, who is running for Congress in the First Congressional District. When I asked him whether he would support HR 5 he replied, "I would do away with the Federal involvement in education as it is not authorized by the Constitution. The individual States should determine educational standards for their own States. I led the fight against Common Core and argue and voted against No Child Left Behind."
While that is the correct reason for opposing ECAA, our current leadership is not impressed by the concept. Until we can elect sufficient Constitutionalists to represent us, we will have to rely on a massive phone campaign to get the attention of the DC crowd.
It was 2009, and Americans were still captivated by a shiny and new (or articulate, bright, and clean, if you prefer) President. Yet deep in the nether lands of liberalism there were people already thinking about how to maximize the political gains they could make. In November of that year I wrote about a scheme dubbed the "10-0 project" where Maryland Democrats would gerrymander their way to having all eight Congressional seats by pairing up the few Republican strongholds in the state with large Democratic enclaves, such as wrapping the First District into Baltimore City. The person who developed that plan bragged how it split the McCain voters out so that no district had more than 40 percent McCain support.
While the redistricting plan developed after the 2010 census wasn't quite that extreme, there were still some of the shenanigans of rerouting the Sixth District toward Washington, D.C. to pave the way for that district to turn Democrat (canceling out the GOP strongholds west of Frederick) and dissecting other heavily GOP areas in Carroll and Anne Arundel counties into multiple districts. They also made the First District a nearly impenetrable Republican fortress, an R+13 district in a state which is nominally D+26.
But while we are past the halfway mark to the 2020 census, there are still those out there who believe the state's Congressional lines were drawn for partisan advantage rather than true representation. Last week a number of plaintiffs – one from each Congressional district – utilizing the assistance of Judicial Watch filed a federal lawsuit alleging the current setup "harms all Maryland voters, regardless of their party preferences or how they would vote in a particular election, by giving State legislators the power to make choices regarding the State's congressional delegation that only the voters should make."
As relief, the suit seeks to have the current districts tossed out and a new district plan drawn which better conforms to the Polsby-Popper compactness test. As it stands currently, Maryland has the worst score of any state, but the plaintiffs allege (through a map they created) that significant improvements can be made. (Unfortunately their map is somewhat confusing because the district numbers assigned on it are quite different than the ones in use now. As an aside, if this map were adopted we would likely be placed in the equivalent of the Fifth Congressional District while both Andy Harris and GOP challenger Michael Smigiel would land in what's basically our Second Congressional District shifted more to the north and east.) Regardless, the plan appears to keep more counties and areas together rather than the Rorschach test we have now.
While Judicial Watch has stepped in, though, it's obvious that the battle will be an uphill one. As the suit notes, this is not the first time there has been an objection to the Congressional redistricting plan, and the current scheme was maintained through a misleading referendum in 2012. Thus, the chances for success aren't very good.
But this should come with a parallel effort to change the system once and for all by putting it into the hands of an independent commission comprised of citizens from each district or even each county. As an example of this, Wicomico County had a commission to redraw County Council districts and its end product had few complaints regarding compactness or gerrymandering. (The most unusually-shaped district here is the one mandated to be majority-minority.) Let them come up with the maps away from the General Assembly and have our legislature give them a simple up-or-down vote. The same goes for state legislative districts, which also should become exclusively single-member districts – no more jungle elections where the top two or three get in.
In our case, unless it sees significant growth, the Eastern Shore will likely always have to share its Congressman with someone else. But that someone else should be close and accessible neighbors – surely the folks in Carroll County are nice people but they really don't belong in our Congressional district. If we have to take some of Harford and Baltimore counties to make up the population that's understandable.
Maybe in the next Census I'll draw a real map that shows the way it should be done. But if Judicial Watch somehow gets its way I can always move that timetable a little closer.
As it turned out we didn't have a speaker for tonight's meeting so the agenda was on the light side. Still, there was plenty of discussion at our gathering.
We did the Lord's Prayer and Pledge of Allegiance as we always do, but in between we had a silent moment of prayer for Governor Hogan. I had not heard the news about his cancer diagnosis, so I was quite shocked. It was definitely a somber way to begin the meeting.
With no speaker, we jumped to Julie Brewington's Central Committee report. She recounted our appointments to the Board of Elections and Board of Education and revealed we were in the process of working on a fundraising event. We were also seeking a mayoral candidate for Salisbury as the filing deadline approaches in August.
Representing Somerset County's GOP was Matthew Adams, who came up to sell tickets to the Tawes Crab and Clam Bake. Readers of mine know all about this annual event, which this year has increased its ticket price to $45. Between the state party and our two counties, we have half of one of the large tents for a total of 120 tickets. Adams expressed his interest in having Andy Harris make an appearance, but we were at the mercy of the House voting schedule for that one. Harris may be able to do a morning event, though. (I would assume that Harris's primary opponent, Michael Smigiel, already has Tawes on his calendar just as Harris was able to do when Frank Kratovil held the seat.)
We also got the pleasure of meeting Patty Miller, who is the incoming president of the Salisbury University College Republicans. Their big task this year, said Miller, was to recruit new members. When asked about the atmosphere on campus Miller admitted that it was hard to overcome the liberal bias of the faculty, but it helped that many students came from rural areas. Adams noted that a good percentage of SU students come from Somerset County and was hoping to use them to gain inroads into UMES.
Some good news came from Muir Boda, who announced the beer license for the Crab Feast on September 12 should be secured this week. The issue was our non-profit status, which was resolved by (of all people) the IRS. Boda was working with Josh Hastings of the Democratic Club, who have the same issue with their event, so there is bpiartisan cooperation around here. He also announced he had filed for City Council last week.
Another upcoming event is the Wicomico County Fair in August, and we were in the process of getting our space there. Dave Snyder asked about voter registration and we encouraged him to do so.
Our most recent appointees to the Board of Education were then asked to speak, as their first meetinnd wg will occur tomorrow morning. And while the reaction to John Palmer's appointment was "righteously fearful," according to Julie Brewington, Joe Ollinger struck a more optimistic tone – although he admitted "public education is a tough job." But it's not a money issue, he added.
Some of his ideas for change were efforts to instill more discipline in the schools while encouraging more respect for the public school teachers. But he also wished to move as much responsibility as possible to the local board, hoping the state would cede some power.
One other item on the club's agenda is a new officer. Since Joe Collins took a position on the Board of Elections, he can't serve as an officer for the WCRC. Dave Snyder volunteered to be nominated but we would like to have other candidates step up, too.
Marc Kilmer filled us in on the public hearing process for an elected school board. Five hearings will be held beginning in September – wonder where they got that idea? It was also suggested that we hold a straw poll at the Wicomico County Fair to gauge support.
Marc also was lauded by Joe Ollinger for how he explained how he came u with his votes, and it was incumbent upon us to demand that same forthrightness from the others on County Council.
Shawn Jester passed along word from Delegate Carl Anderton that his district office was now open. We also learned from Cathy Keim that we would be using the optical scanner machines beginning in 2016. Of course, that brings a headache because the machines and paper ballots have to be kept in a conditioned space the county doesn't have yet, so they will have to lease or build one.
Next month we will have two speakers. It's no surprise that our old friend Jeannie Haddaway-Riccio is coming to address us, but having Jake Day speak is definitely different. He sought us out, though, and we'll give him the forum on July 27.
By Cathy Keim and Michael Swartz
Here is a question for our loyal readers: Now that it is mid-May, do you think that the GOP elites in Washington, D.C. have fulfilled their campaign pledges to stop President Obama's fundamental change of our country?
Michael and I have voted no on that question and to make our point we have signed the Open Letter to Congress: Interim Assessment from the Citizens' Mandate. (Our signatures are on page 5.)
I wrote about the original Citizens' Mandate on monoblogue back in February. After working hard on the 2014 elections, many of us felt great relief when the GOP won by a landslide. That feeling was quickly replaced by a sense of betrayal with the passage of the CRomnibus budget and the retaining of John Boehner as Speaker of the House. The Citizens' Mandate was a call to the GOP leadership to remember their campaign promises and to fulfill their obligations to their voters.
Instead, as the organizers of the mandate stated:
Contrary to the Republicans' self-assessment of their first 100 days… more than 100 conservative leaders, in only 72 hours of signature collection, have given the Republican Congress a poor assessment on the members' performance in their first 132 days in control of the legislative branch.
Among the actions by the GOP Cathy and I disagreed with, they:
Funded executive amnesty;
Continued Obamacare;
Jeopardized national security (by not addressing illegal immigration);
Ceded away treaty power on a nuke deal with Iran;
Continued excessive federal spending;
Undermined faith-based agenda;
Helped Obama (by confirming Loretta Lynch as Attorney General);
Continued federal education;
Punished conservative champions (through changing committee assignments), and;
Neglected congressional oversight.
While Congress is doing some things right, there's a tremendous amount of untapped potential we are missing out on. It's a reason that other vocal critics such as Richard and Susan Falknor of Blue Ridge Forum, Carroll County GOP Central Committee member Kathy Fuller, and former Delegate Michael Smigiel (who is running for Congress against the incumbent Andy Harris), and conservative commentator Dan Bongino have signed on. Bongino was quoted in the release, noting:
It's way past time to reinvigorate our party and set forth a set of guiding principles. For too long we've been lost in partisan games while forgetting that, in the end, it's the ideas that will take us to a better tomorrow.
Some may argue that Barack Obama received his electoral mandate in 2012, but it's just as valid (if not moreso) to make the point that a course correction had become necessary and the results showed the message was sent emphatically in 2014.
Our call is for Congress to translate that message in legislation and oversight. Certainly there's the prospect of veto after veto, but rather than get the reputation as a "do-nothing Congress" put the onus on the President to respond and – whatever you do – don't cede any more power to the Executive Branch. We don't want to have to sign an updated letter in the fall, so get busy.