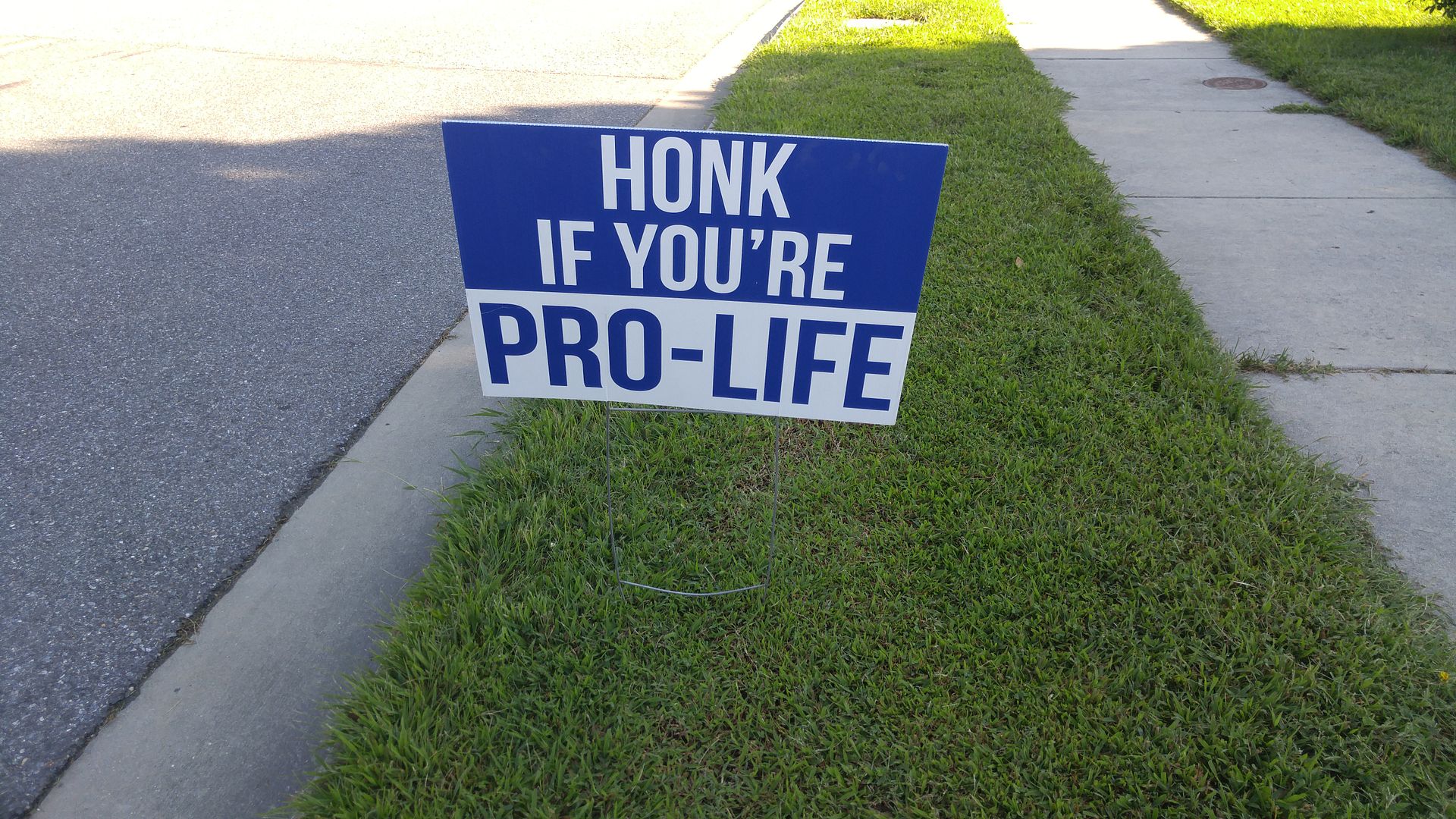 This morning I got up with the sun to help cover one of around 300 coordinated local rallies aimed at defunding Planned Parenthood in the wake of their sale of baby parts exposed in a series of investigative videos from the Center for Medical Progress.
The Easton site was selected because Salisbury's office had closed last spring. And while detractors claim the facility, which is located in a nondescript office complex with several other tenants, doesn't do any abortions, they still support the overall brand.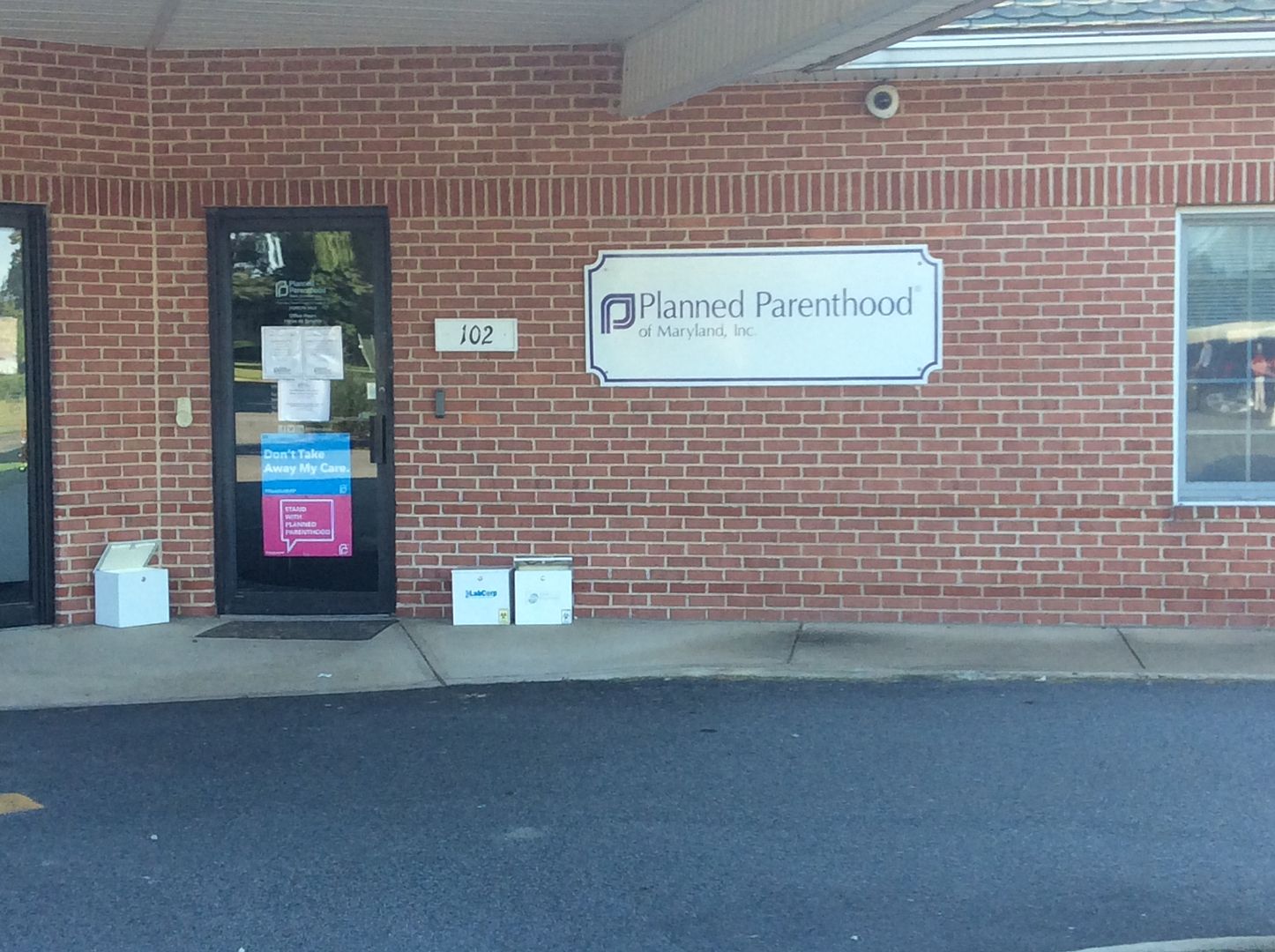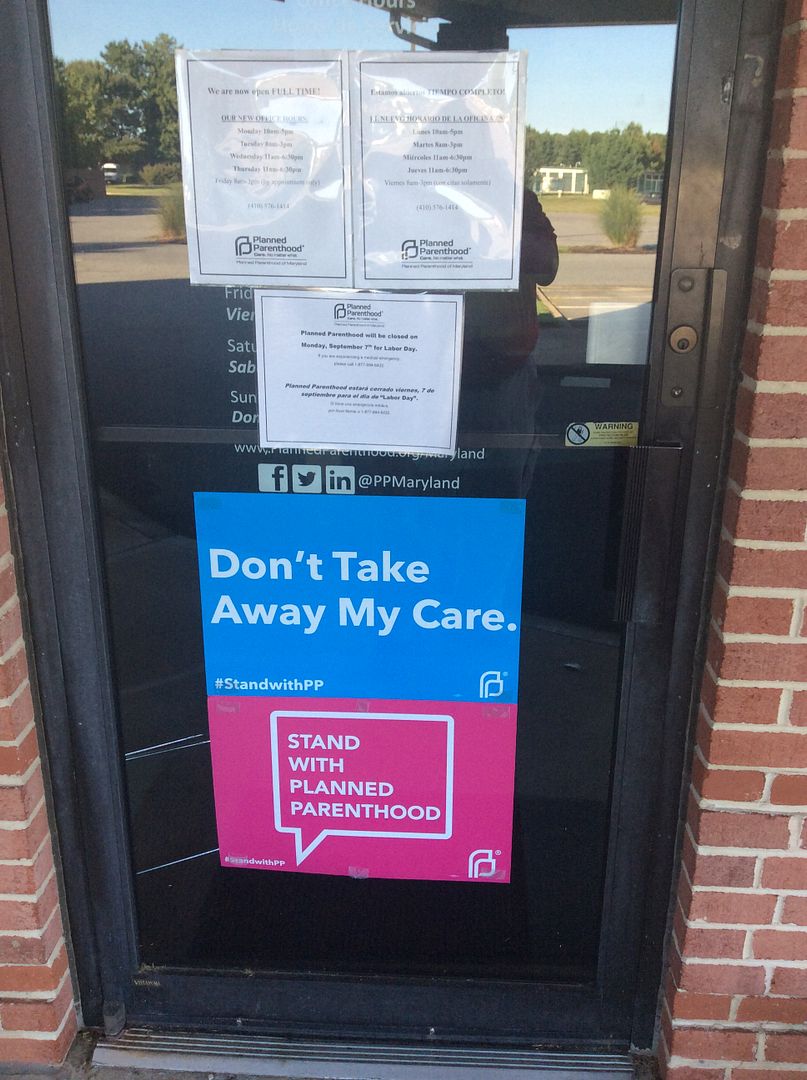 As you will hear in a bit, the facility is not the only one which provides its services. Plenty of care is available and accessible. (It's ironic the facility was closed today, but the protests were intentionally scheduled for off-hours.)
The rally began at 9 a.m. with about 50 people lined along the street in front of the facility.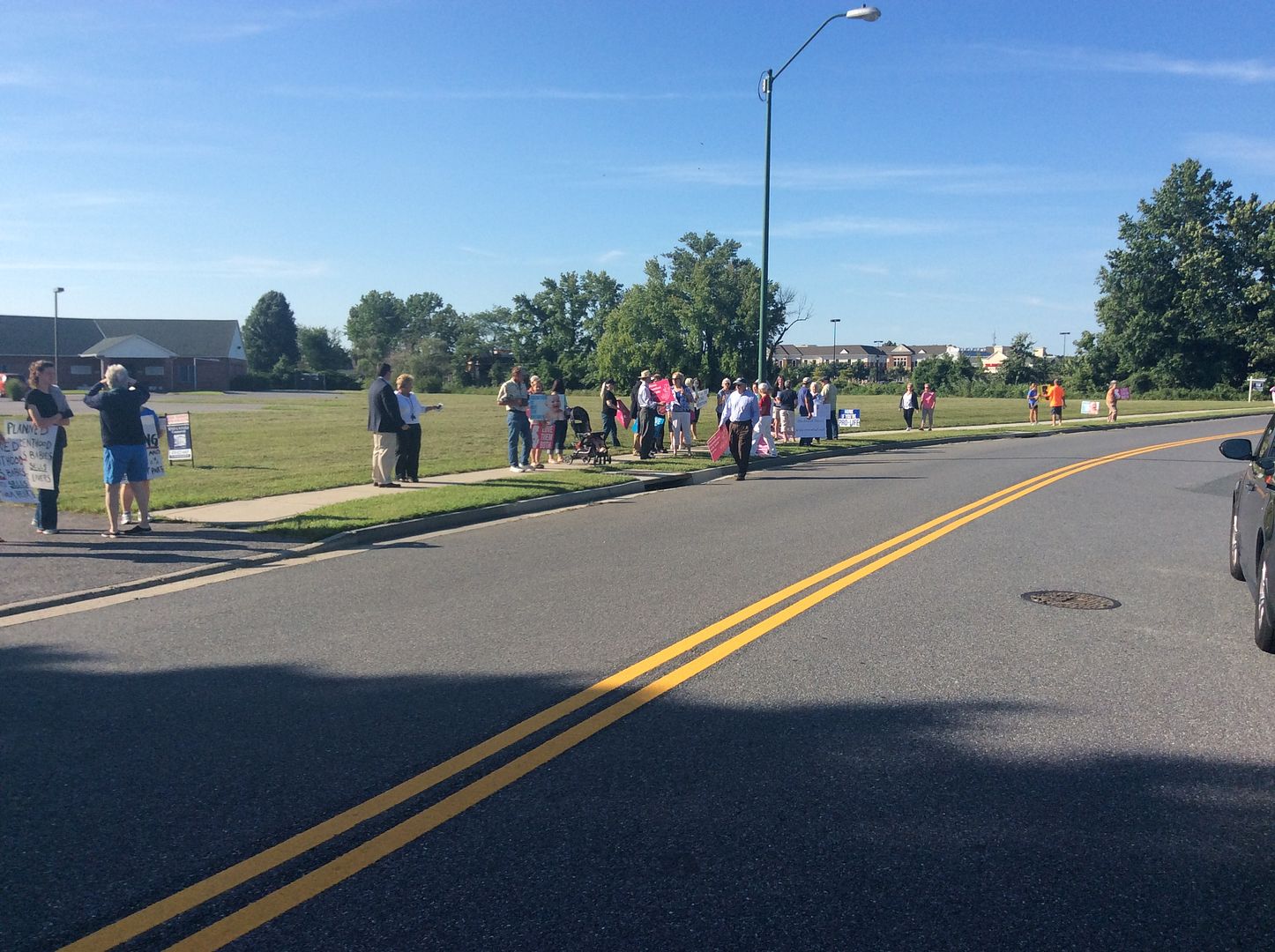 In all, there were a dozen speakers, mainly representing the pastoral community. We had clergy representing churches from Berlin to Centreville and several points in between. First up was Keith Myer, from Harvest Baptist in Salisbury.
As he spoke, the gathering was growing, spilling into the front yard of the facility and later across the street.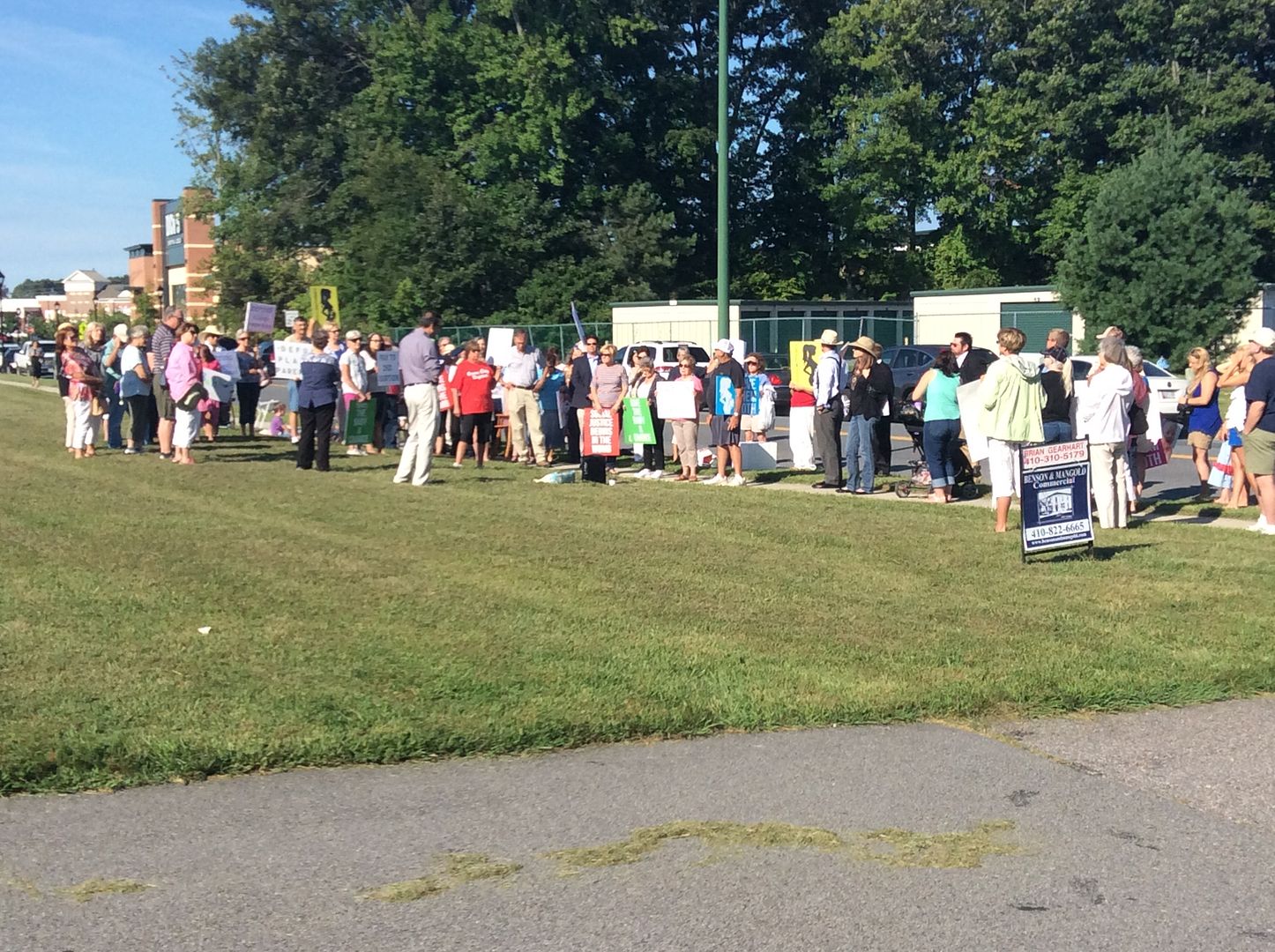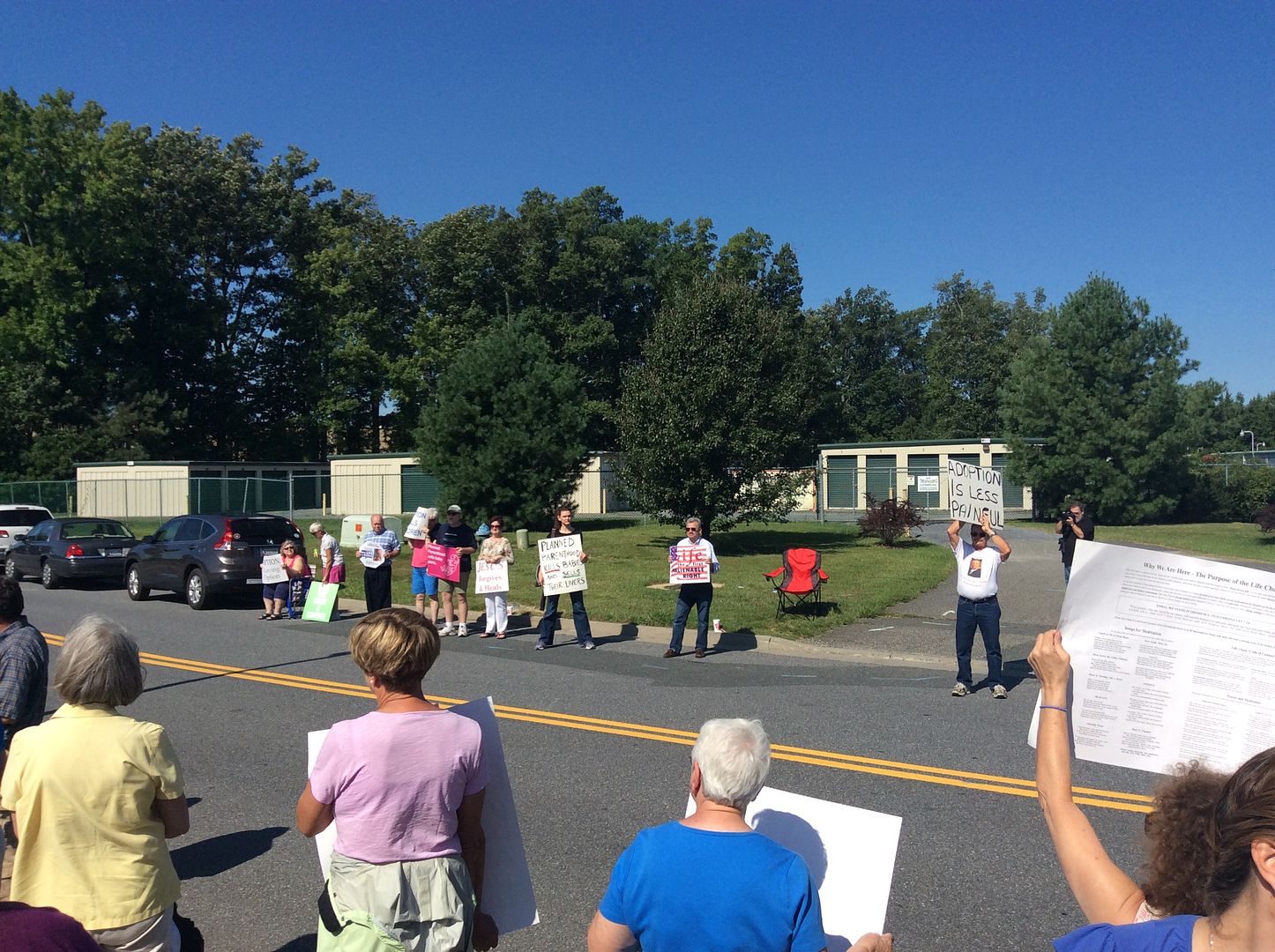 Another Wicomico County minister who spoke was Shawn Seldon, who represents a church in the small hamlet of Tyaskin.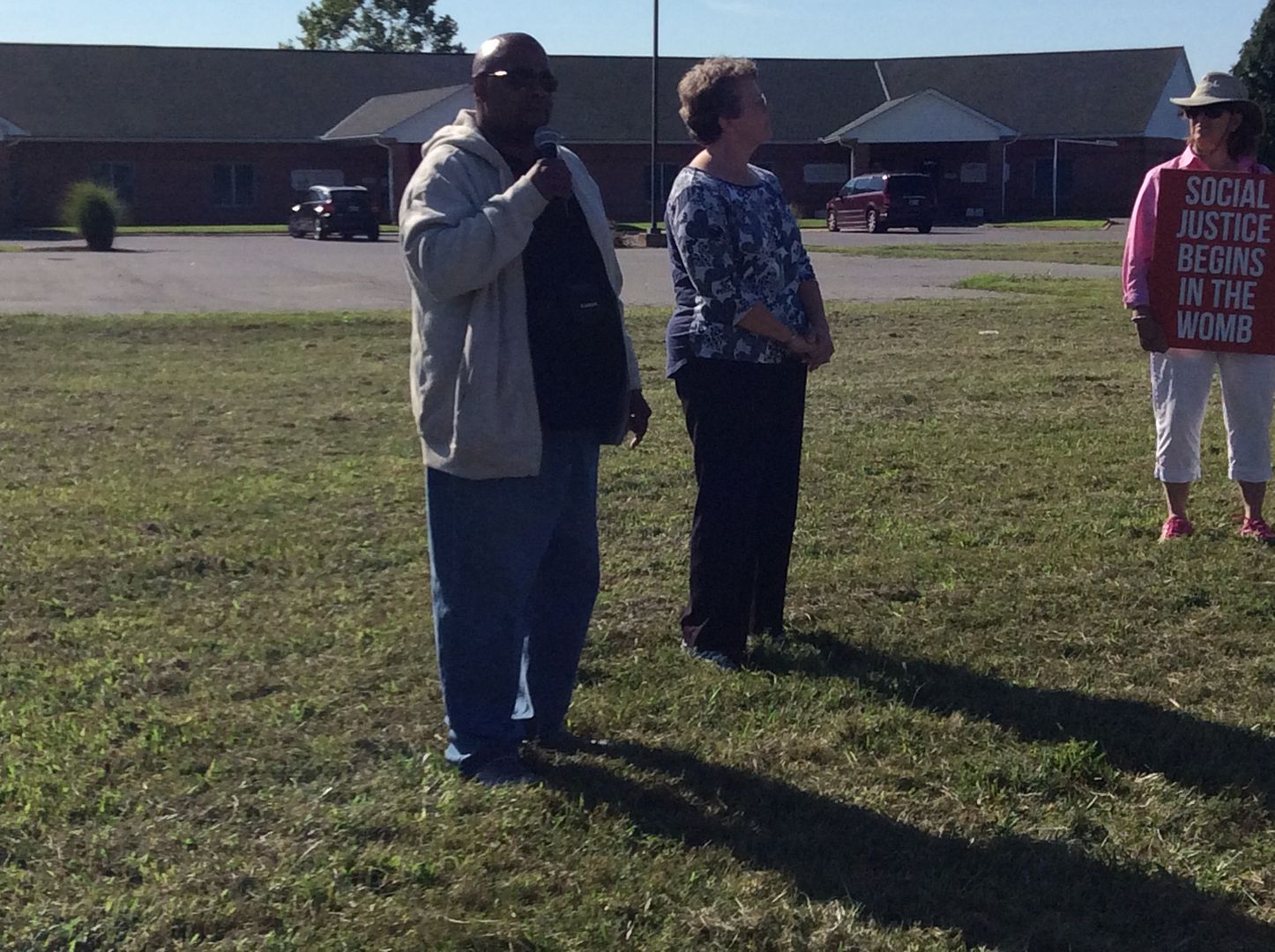 He lamented Planned Parenthood as "the largest morgue in the country." But when it came to those on the other side, it was not our job to cast stones but instead "love the hell right out of it," he said.
If the Seldon name rings a bell, it should because his wife Jackie runs the Eastern Shore Pregnancy Center here in Salisbury. Both she and her counterpart from the Choices Pregnancy Center in Easton were there.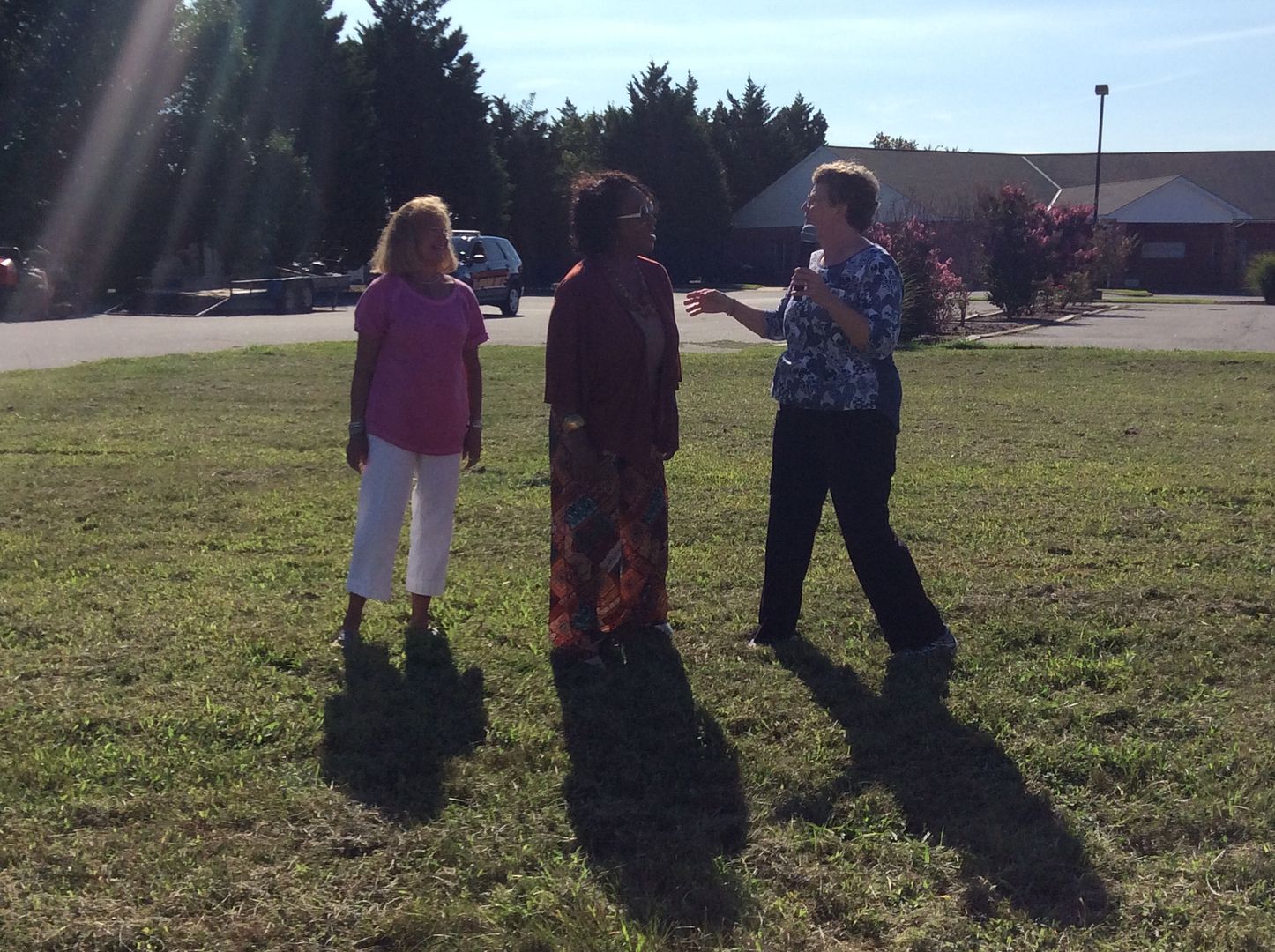 Jackie noted that when women come to her center and take advantage of their services, "things change in the ultrasound room." They see that their baby is not a tissue mass, but a living human being developed in the womb.
Unfortunately, I didn't get photos of all of the pastors but I did get a number of quotes. For example, John Abbott of Faith Baptist in Berlin reminded us that "thou shall not kill" means you don't kill innocent life. Chris Williams of Covenant Family Church in Centreville added that, "our hearts should be broken as a nation," and called abortion "the antithesis of the good news of the gospel."
Also representing his congregation was Eric Olson of the Oasis Covenant Fellowship in Easton, who spoke early as I was taking photos. We also heard from Barbara Kelly, a post-abortion counselor who told us "abortion doesn't have to happen." She added that women come to her decades after their procedures, a "trauma" that happens as they grow old and wistfully think about the child they never had.
The only minor bit of controversy came when the lone tenant who was open at the time, a pediatrician's office, asked us to move back onto the sidewalk. As you'll see in the videos, we were larger than the right-of-way.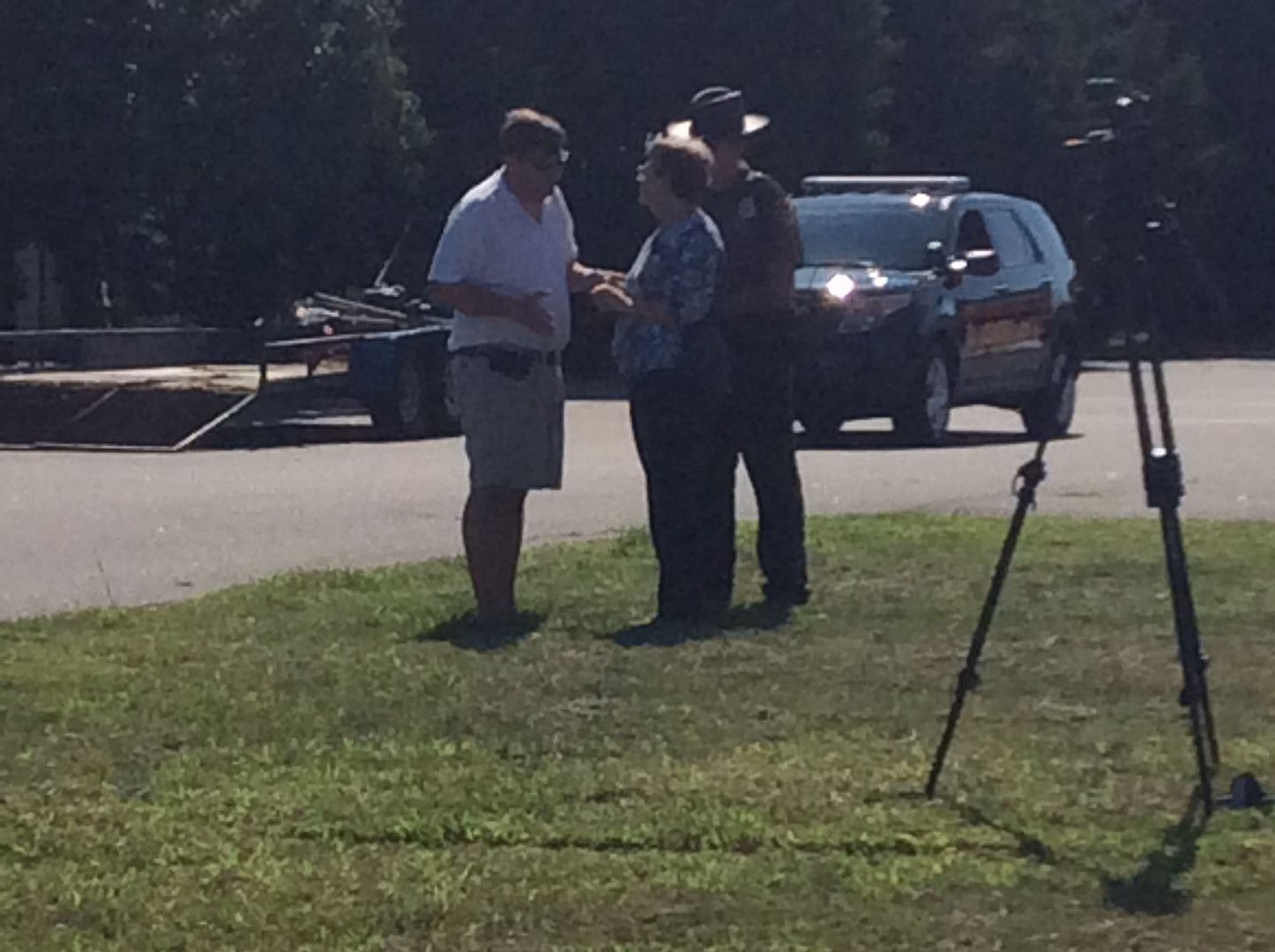 I think their issue was twofold: supposedly people were cancelling appointments this morning and "the children are upset." I suspect it was parents who simply didn't want to face the facts.
So our last speakers, pastor Jason Shelton of Providence Presbyterian Church in Salisbury and the lady representing Talbot Right to Life (who secured the permit for the event) did their speaking from the street.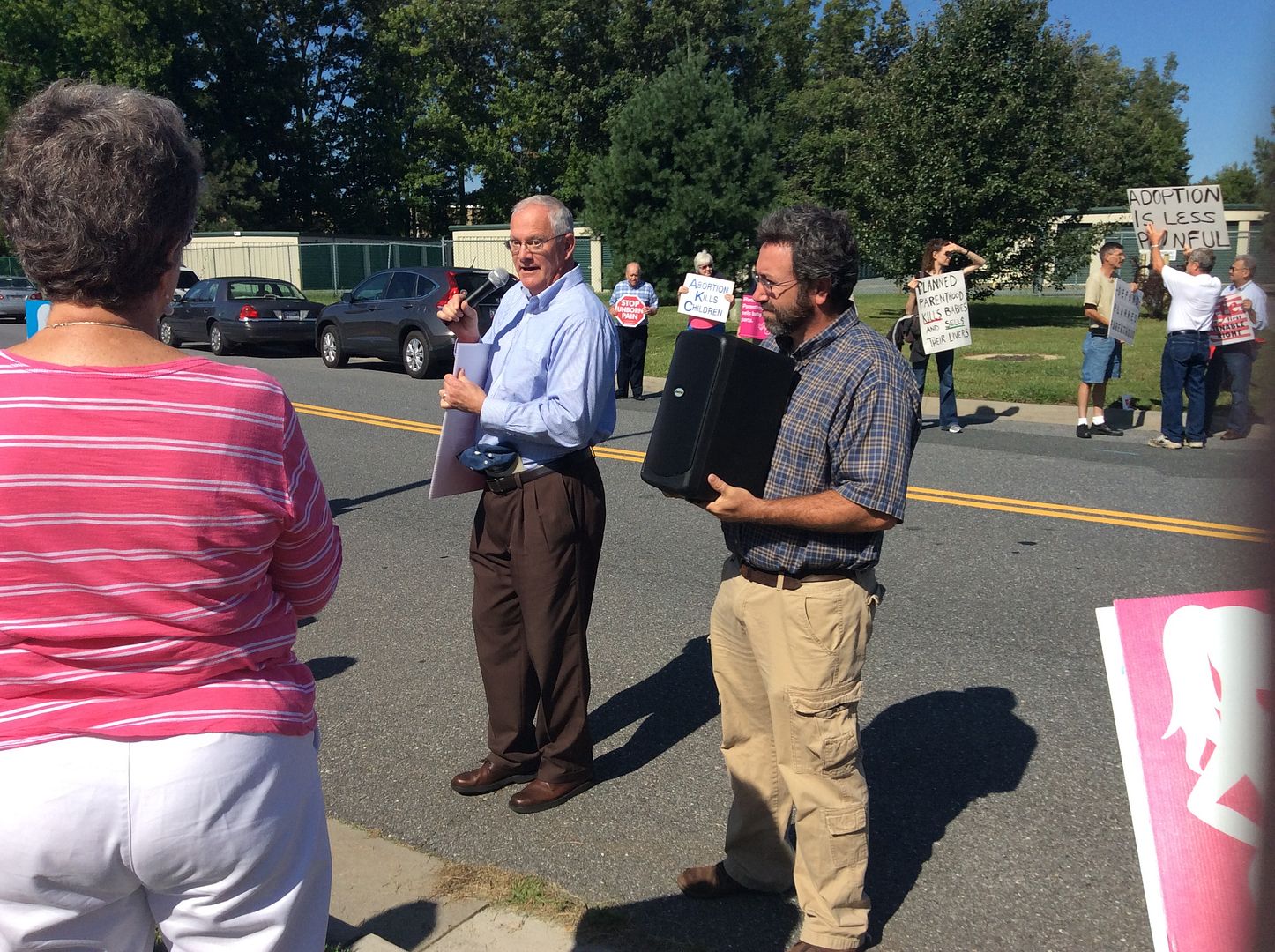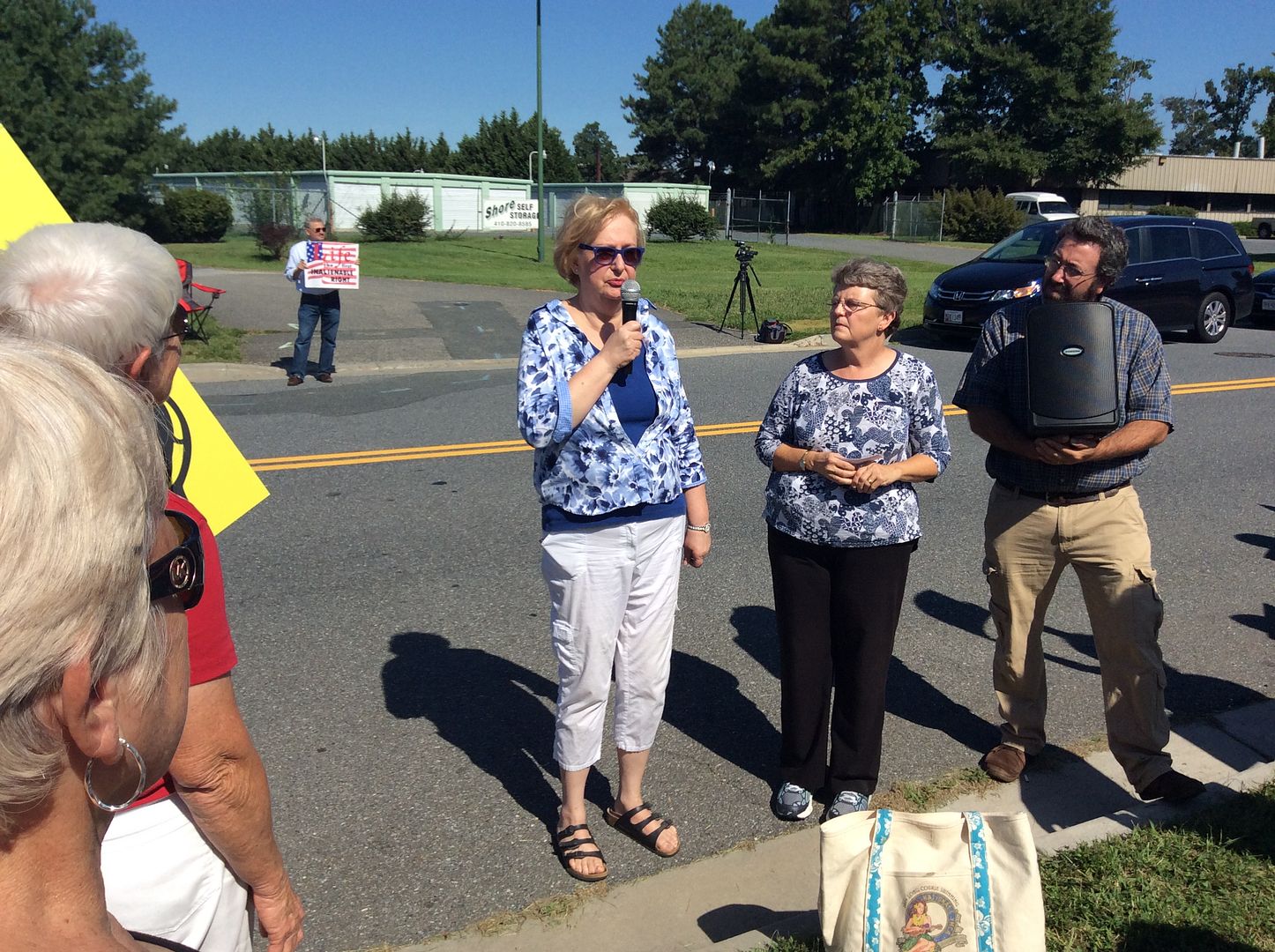 Sheldon cited heavily from 2 Timothy 3, adding that we have become "a bloody and callous people."
I noted above that we had politicians as well. One who spoke was local Delegate Christopher Adams.
Citing his own experience with his kids, Delegate Adams opined that "parenthood means life" and described the connection between abortion and profit as "disgusting and immoral." He continued that we weren't on the slippery slope here in Maryland, but "the bottom of the chasm."
There were two other political speakers of note, who both happen to seek the same office. Congressman Andy Harris spoke early on, followed a few turns later by challenger and former Delegate Mike Smigiel. I fired up my moribund Youtube page to share the videos of their remarks, Harris first.
To his credit, Smigiel and his aide Cody Leach stayed for the whole thing.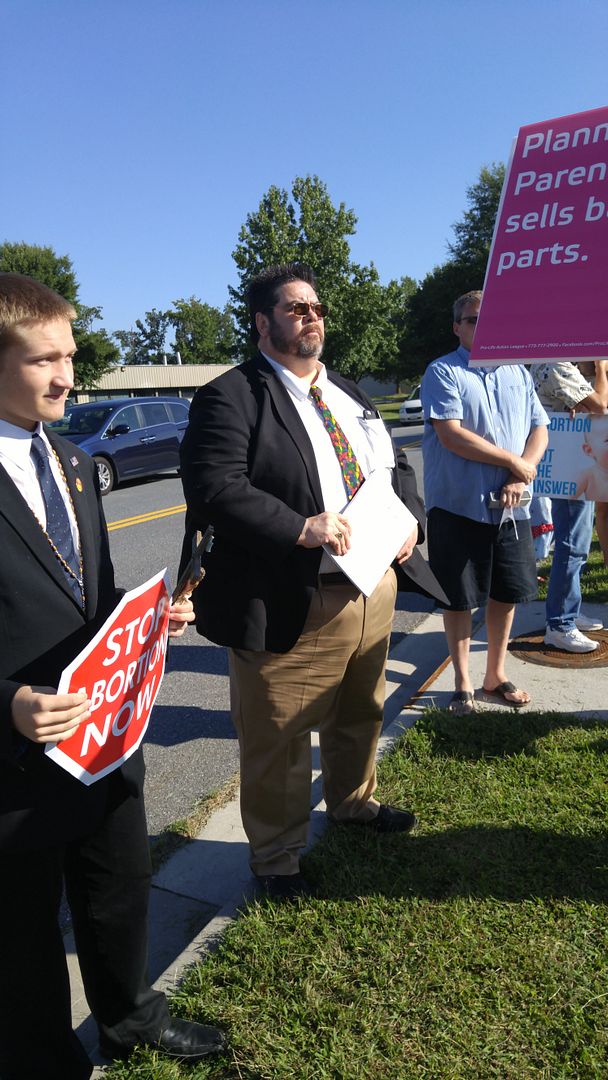 As with a rally such as this, there were a number of good signs. You'll see a number of pink ones which remind us Planned Parenthood sells baby parts, but there were other descriptive ones too.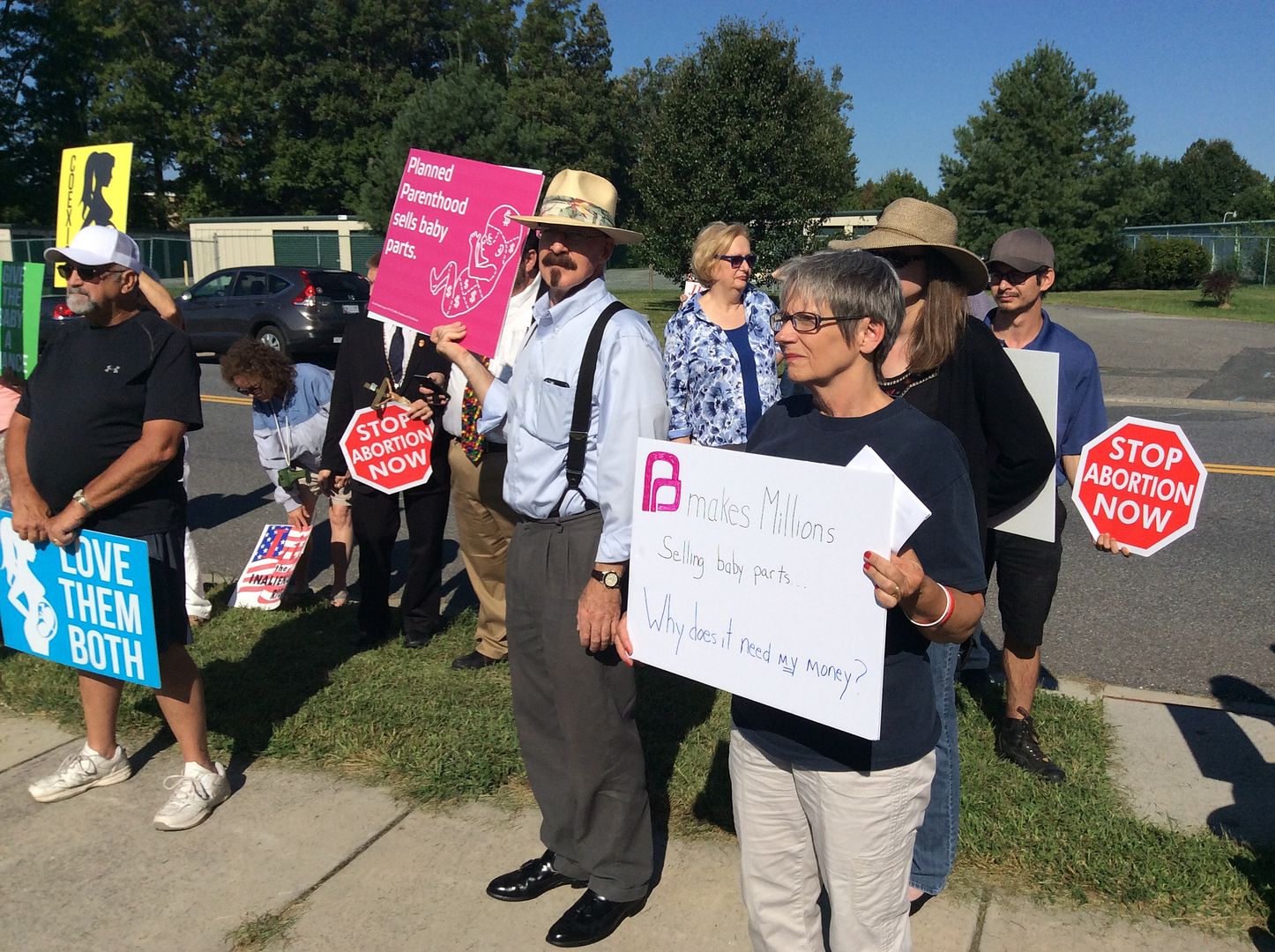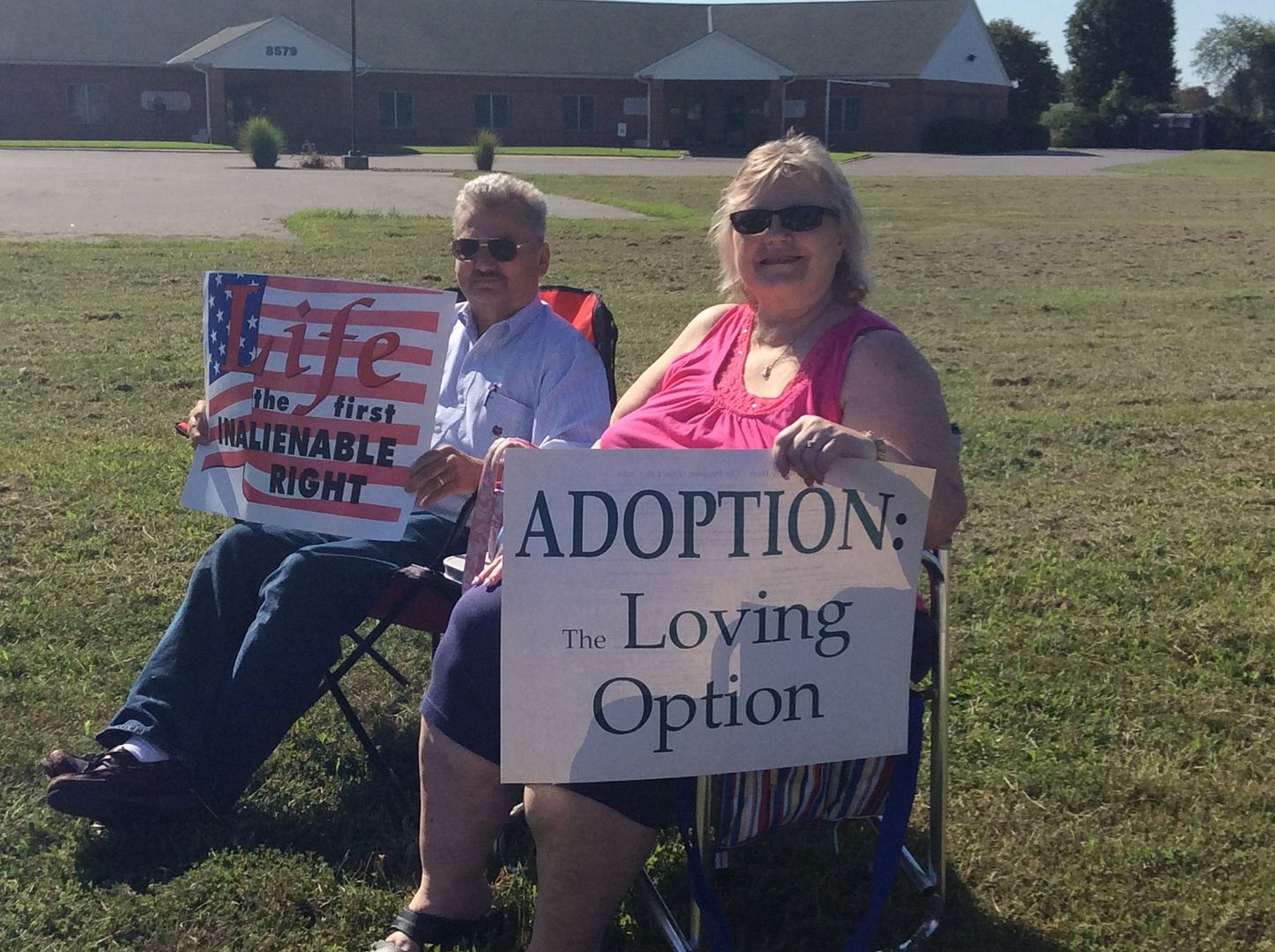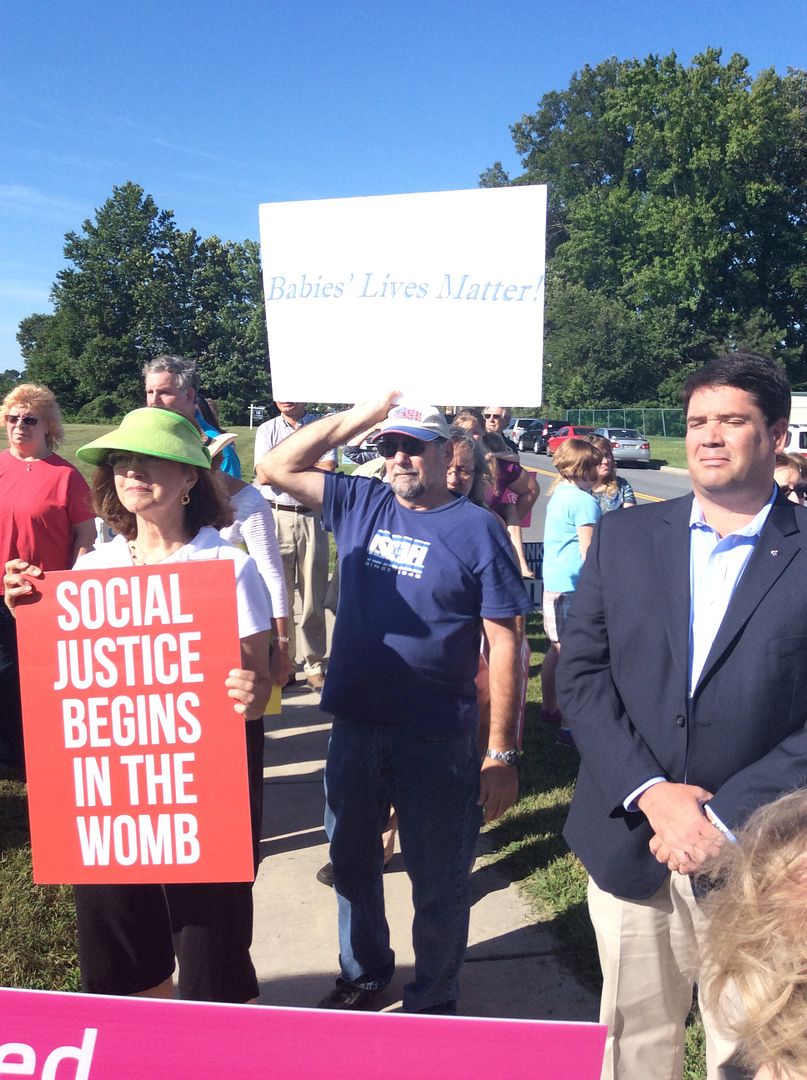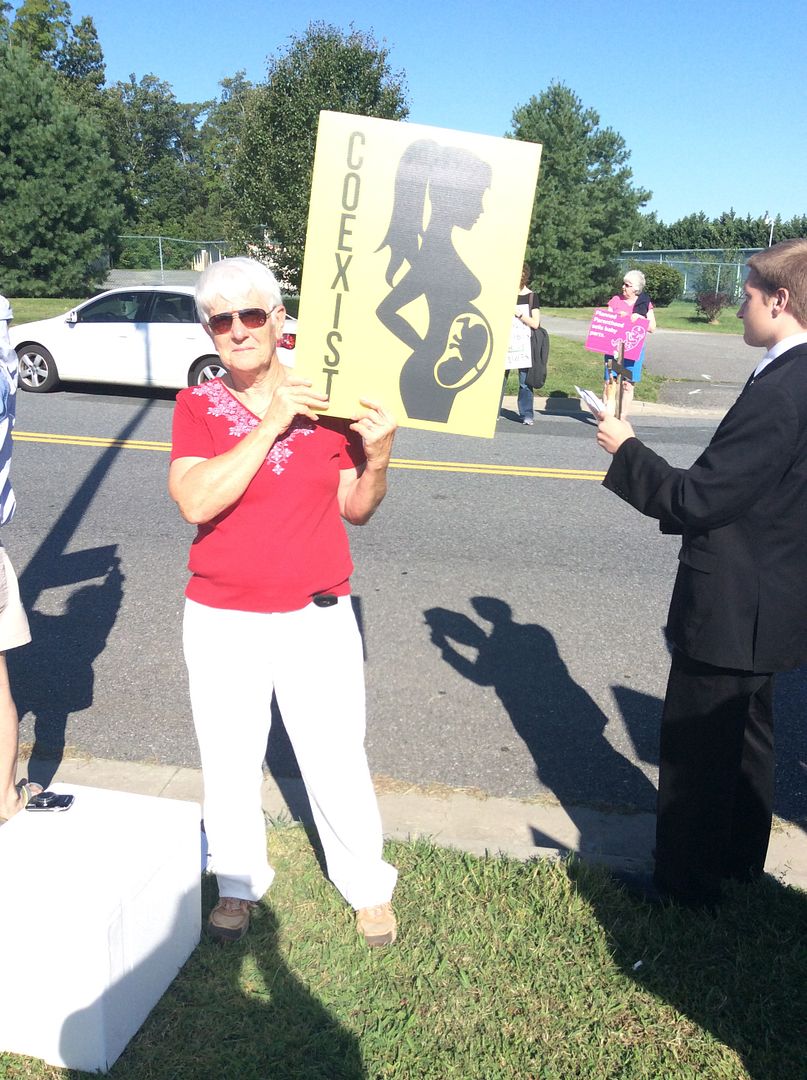 The fine folks from Worcester County opted to take a group photo.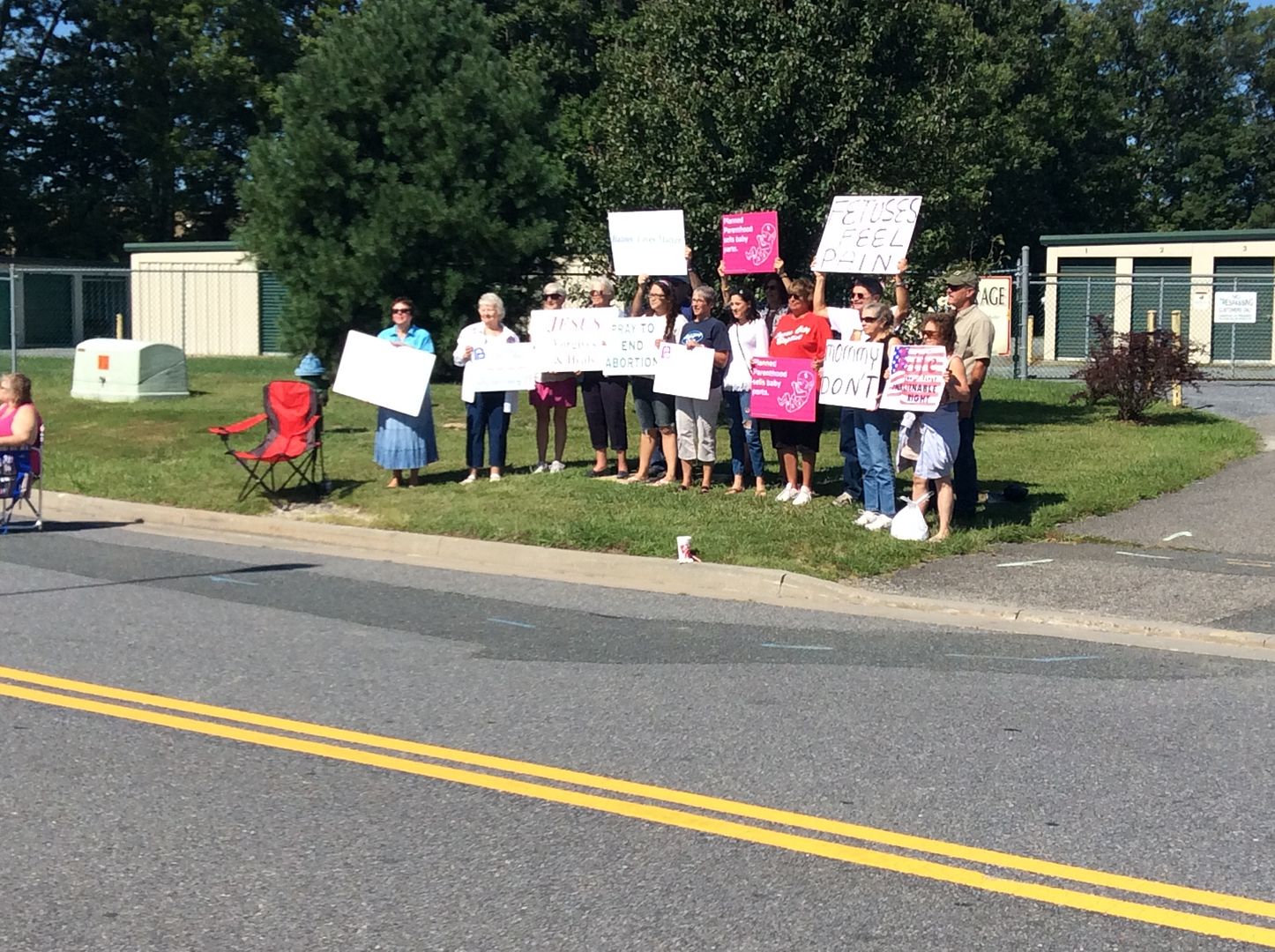 Fortunately, there was some media there to spread the word (besides me.)
Nicole Edenedo of WBOC-TV filed this report, which managed to avoid me until the very end when it showed my good side. It was interesting observing her work – I guess reporters don't bring cameramen anymore, and she did well memorizing her wrap at the end that she repeated to herself a couple times.
From what I was told, yet another CMP video was released today. With 300 protests scheduled nationwide today, even if they only averaged the 125 or so we had that's 37,500 people who came out on a summer weekend to make their displeasure known.
You may have noticed a police car in the background of my videos. Despite the fact we were on a quiet street and had a rally Myer described as one where we were "calm, peaceful, left no trash, respected the police, stayed consistent with the time allotted for the protest, stayed out of the street, and didn't damage any property," we had an officer spend his morning watching us. I suppose it was SOP given the chance of a counter-protest, but none was to be found.
As I noted, the only issue was that we were too many for the sidewalk. My colleague Cathy Keim took the lead in getting this together, with a lot of help and maybe a dash or two of divine providence, and as such deserves kudos.
This is the first step along a road that leads first to the defunding of Planned Parenthood by the federal government but ends when abortions are no longer commonly accepted as the law of the land. Remember, even Hillary Clinton said abortions should be "rare." I just disagree that they are "safe" – especially for the unborn – and their legality should be at the very most a state matter.
The best time to be pro-choice is making the choice not to create kids if you're not ready or willing to take the responsibility. As a method of birth control, it's worth remembering that, unless you are destined to carry the son of God, abstinence works every time.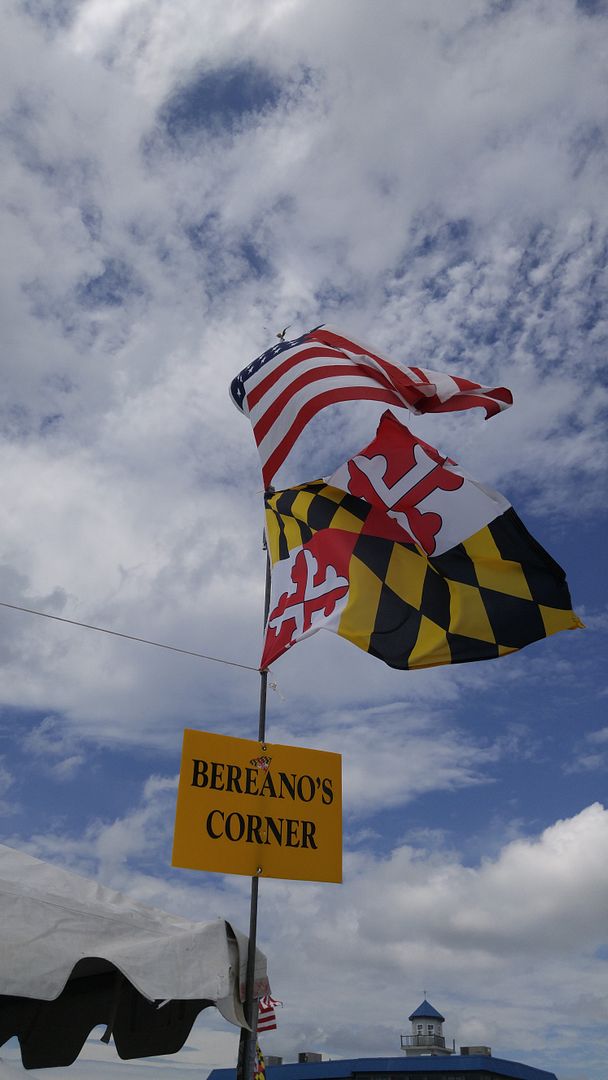 Bereano's Corner was in roughly the same location, but there was a lot of strangeness about this year's event.
Our tent was in a new location. Some liked the idea of being along the marina, but the traffic walking by wasn't as brisk as we had when we were in the middle, next to Bereano.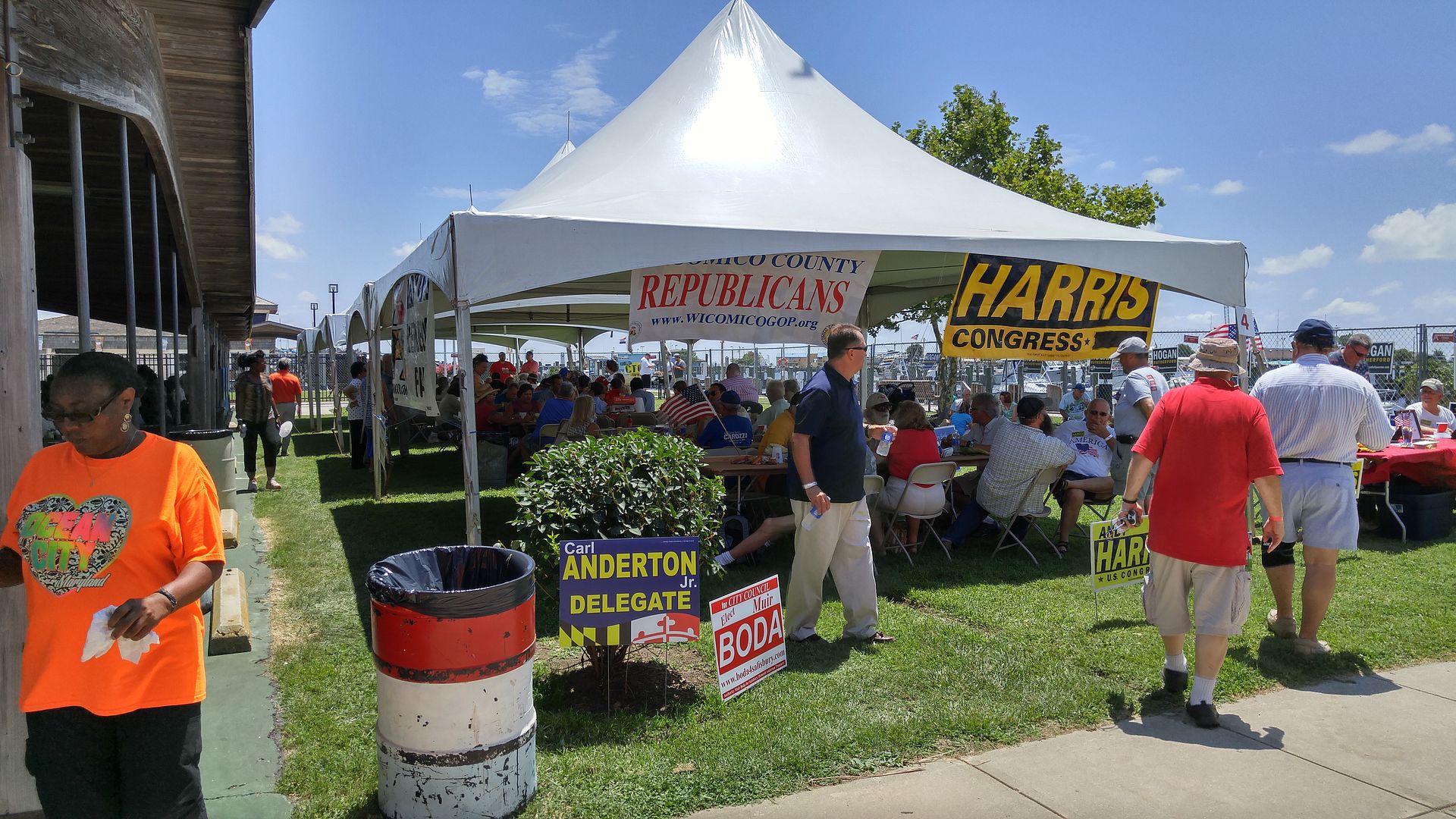 It did have a great space for signage that many took advantage of.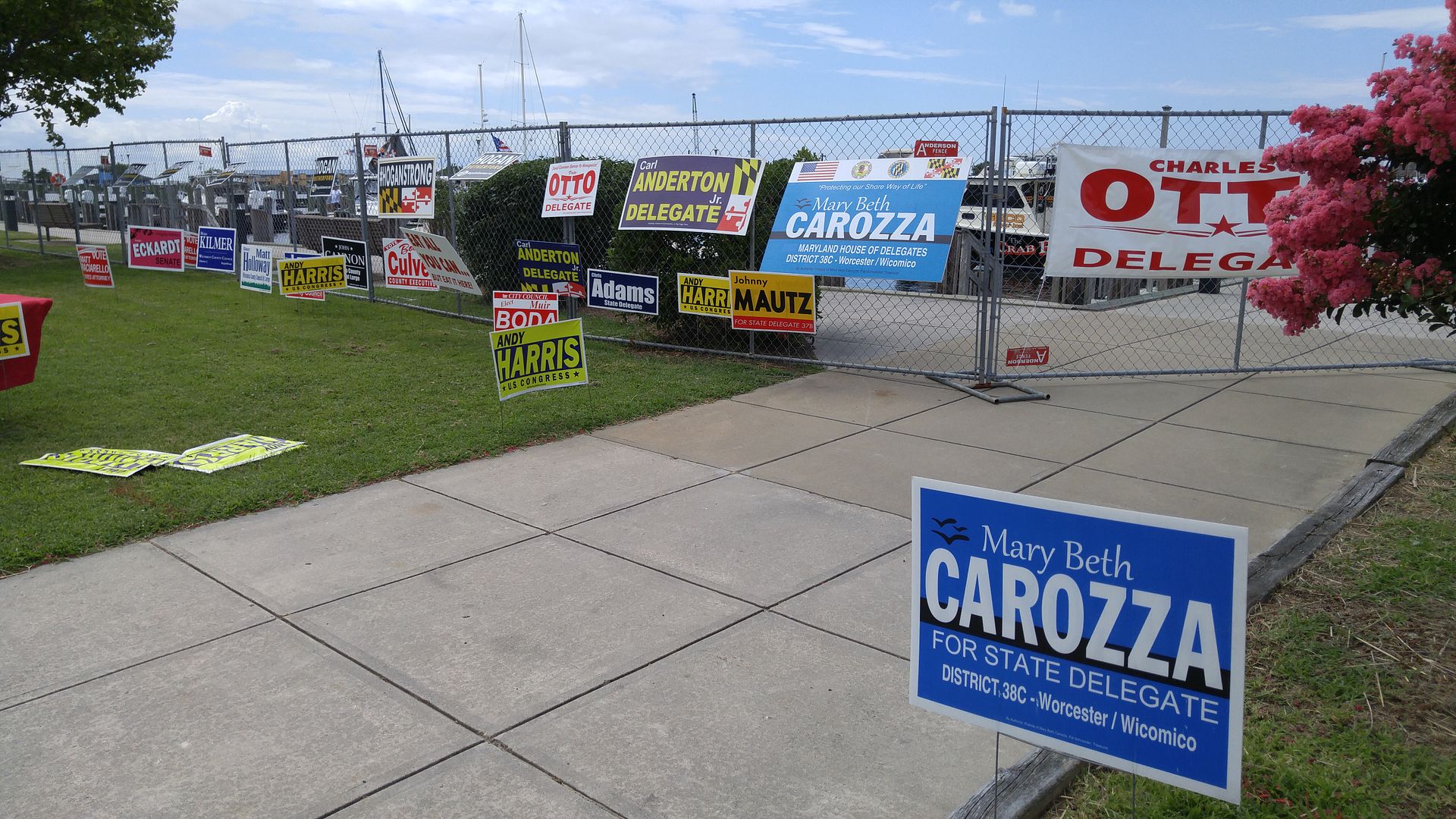 Being on the grass, we also had our share of bloodsucking biting flies. Speaking of bloodsuckers, the Democrats were less than thrilled with their location as well. Normally they have been the corner tent in this line.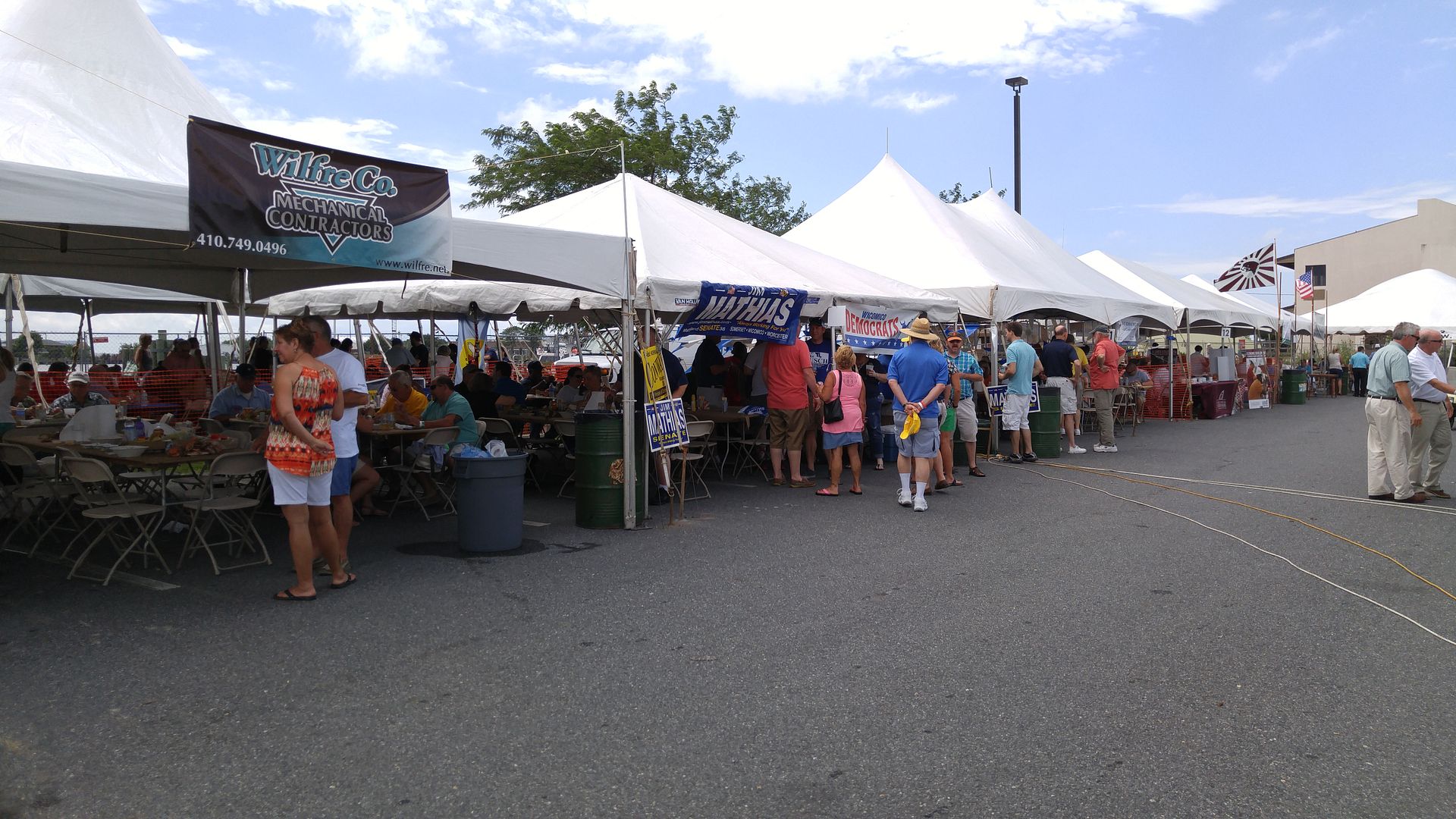 But they did have the keg, not that I had anything from it. They also had an interesting table within.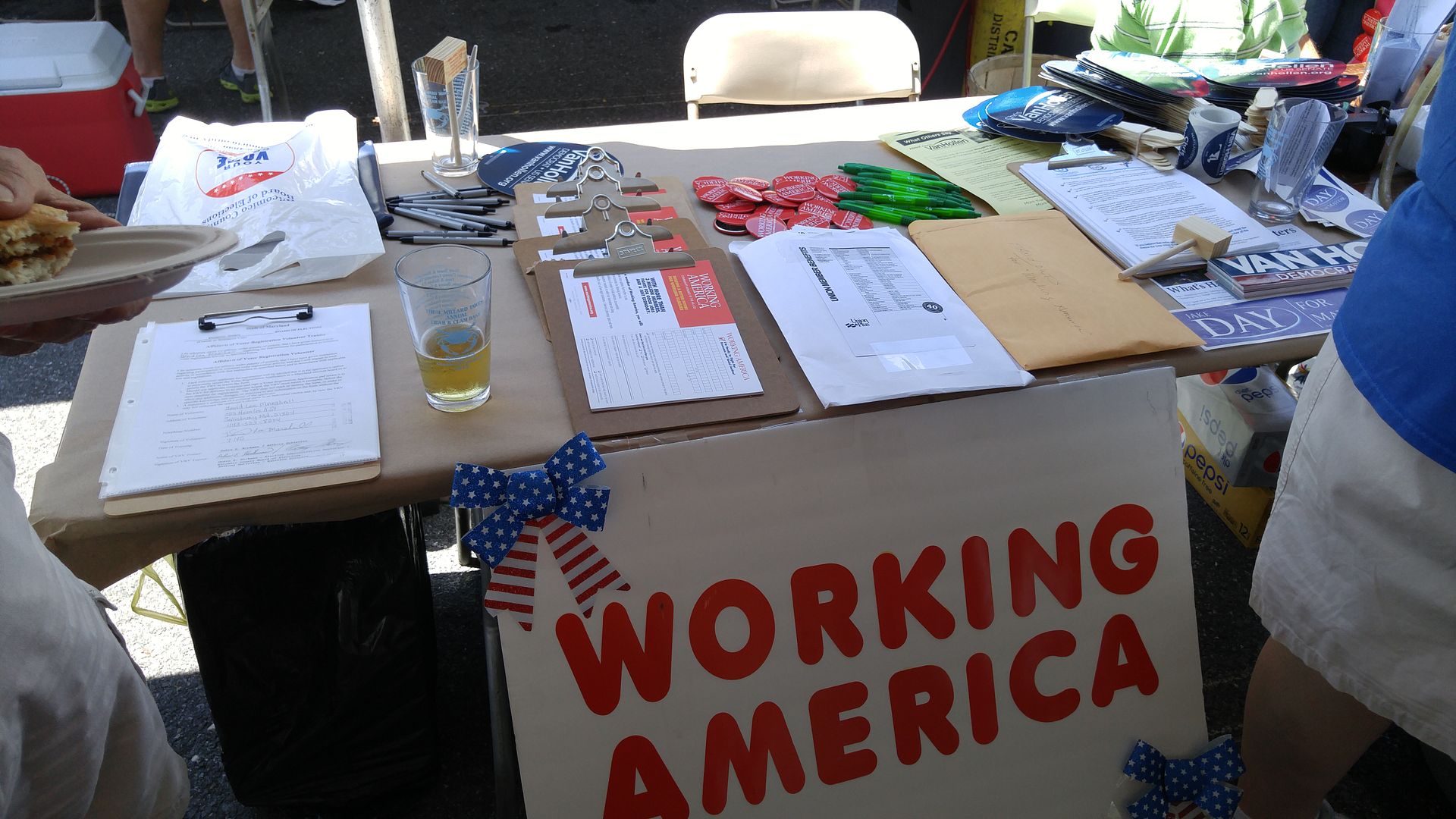 While I am part of working America I'm not a member of this AFL-CIO affiliated organization, so it's no surprise to find them in the Democrats' tent. There were a handful of folks walking around with their red shirts on, but Big Labor didn't have the presence here they did during the O'Malley years. Maybe they are laying low until next year.
There were quite a few businesses there, although it was a different mix than I recall from previous years.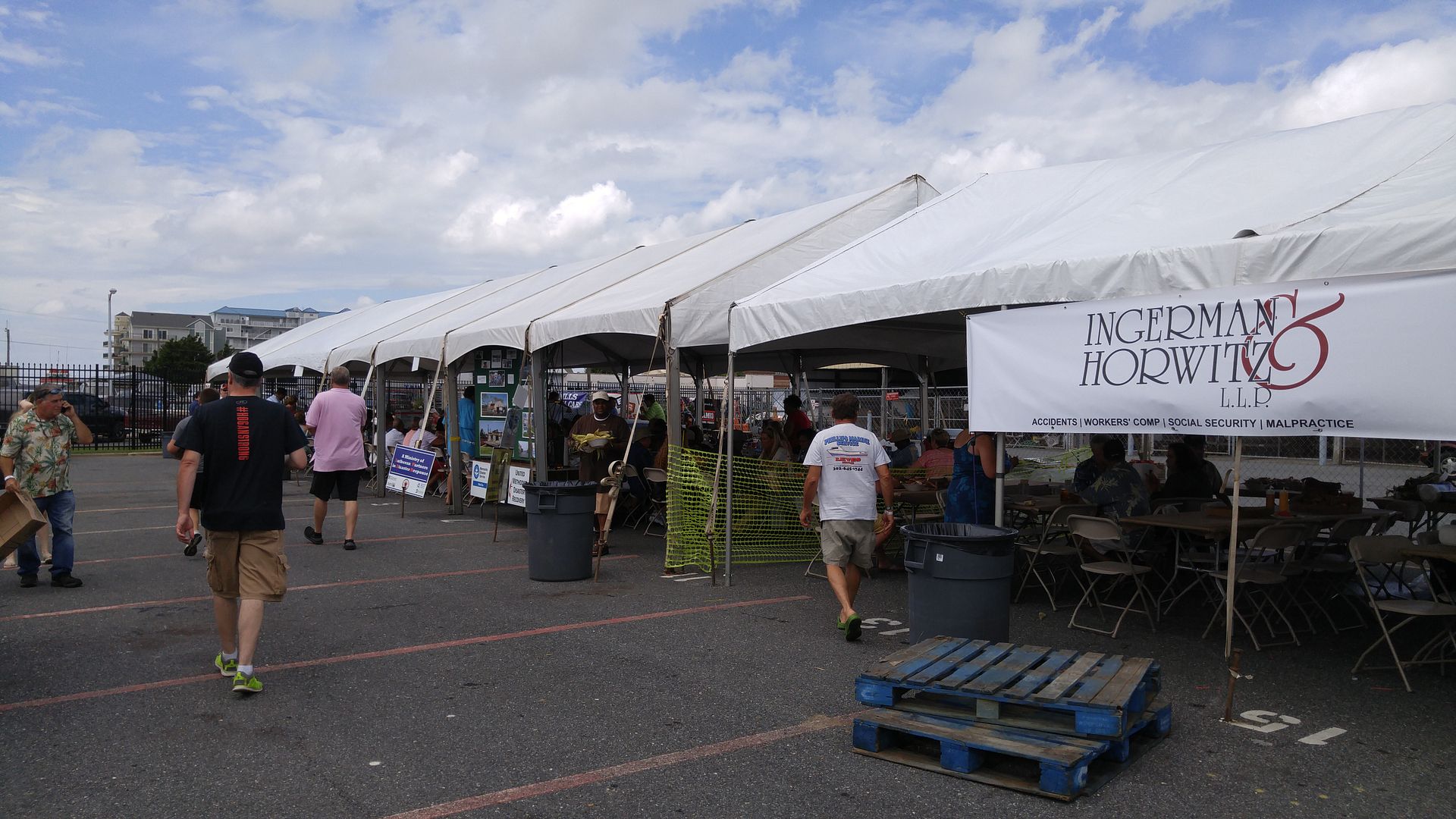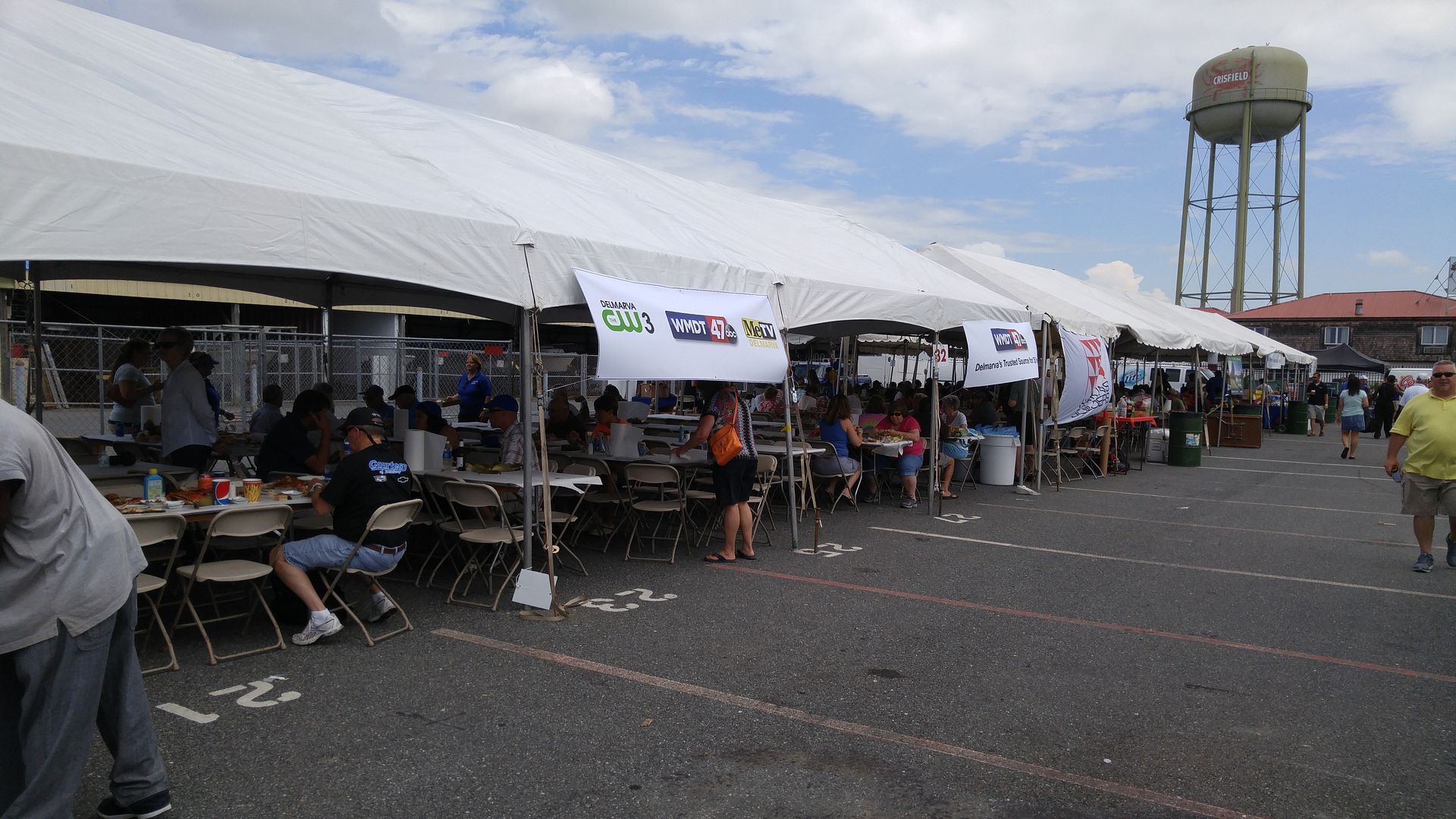 Some enterprising youth took the occasion to be their own business people. Those in orange were "runners" and on their shirts it read they were working for tips.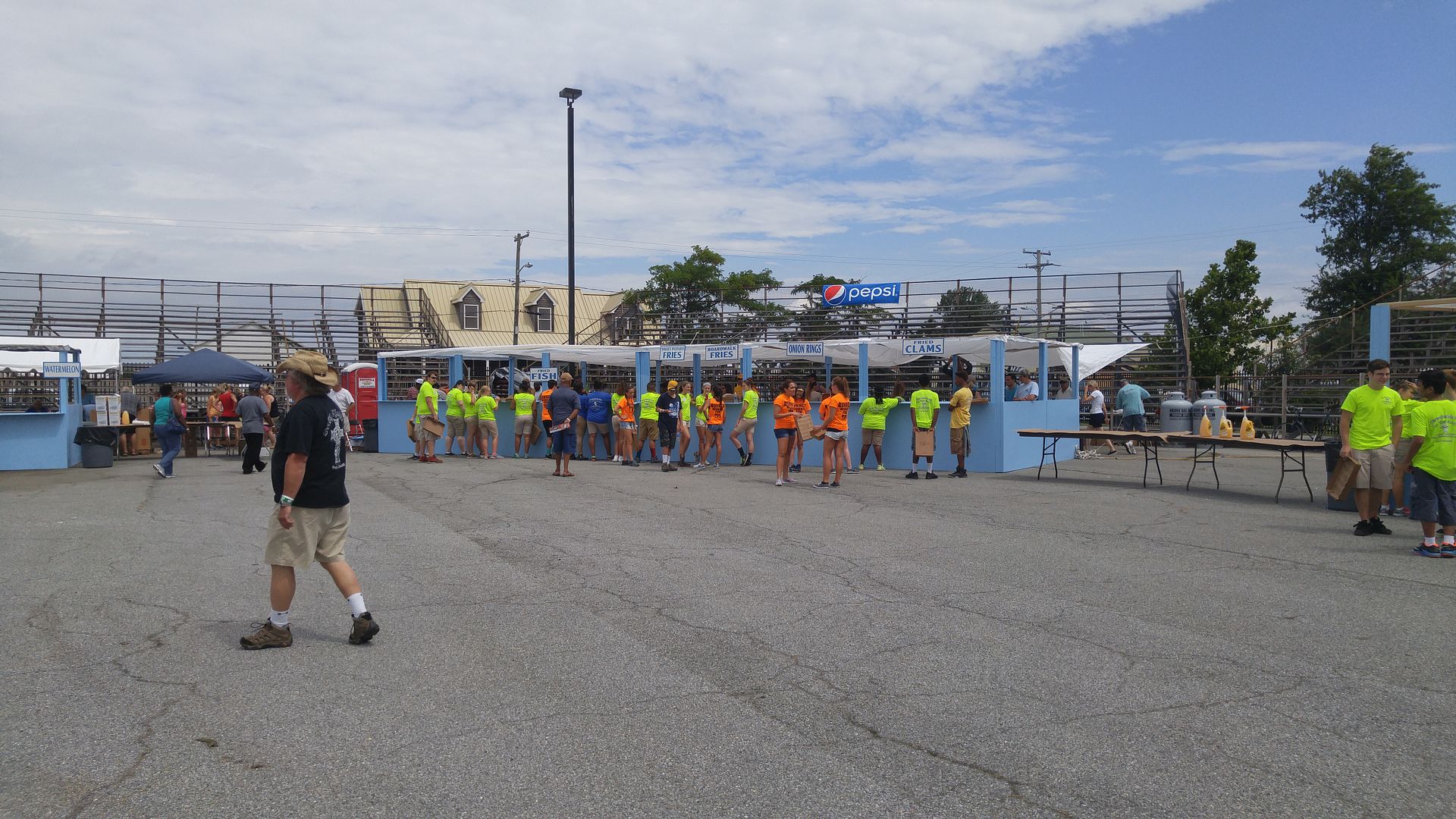 Hopefully they made more money than those who annually charge $10 or $20 for parking in their yard. I don't think business was as brisk for them because attendance seemed off from last year.
Government and public entities were well-represented, too. Interesting how the environmentalists are cozy with the economic development group.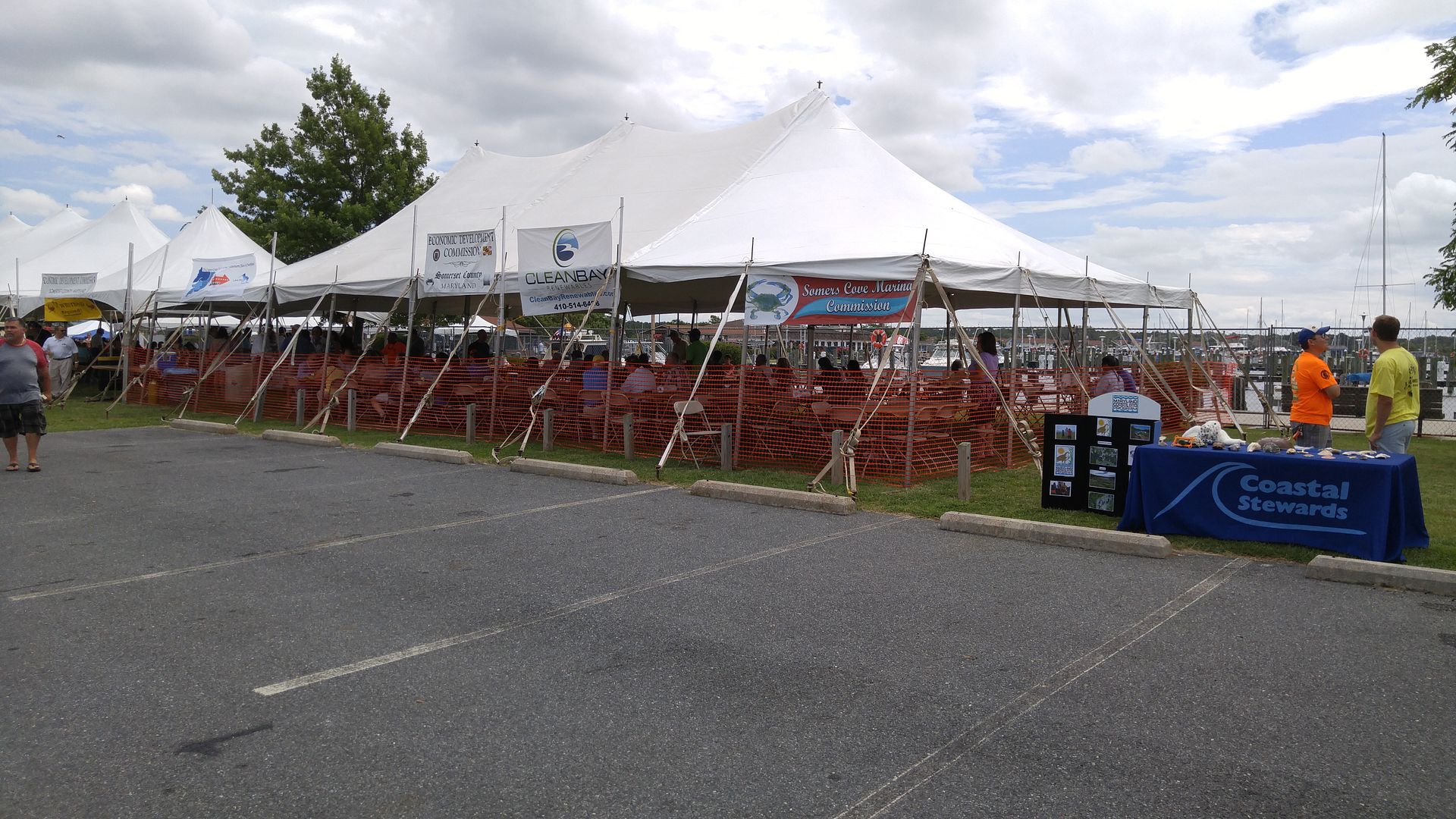 I think the University of Maryland – Eastern Shore was next to the Democrats, but Salisbury University was really trying to make a splash.
While there were a lot of differences in this year's rendition of Tawes, some things never change. Lobbyist Bruce Bereano always has the biggest tent.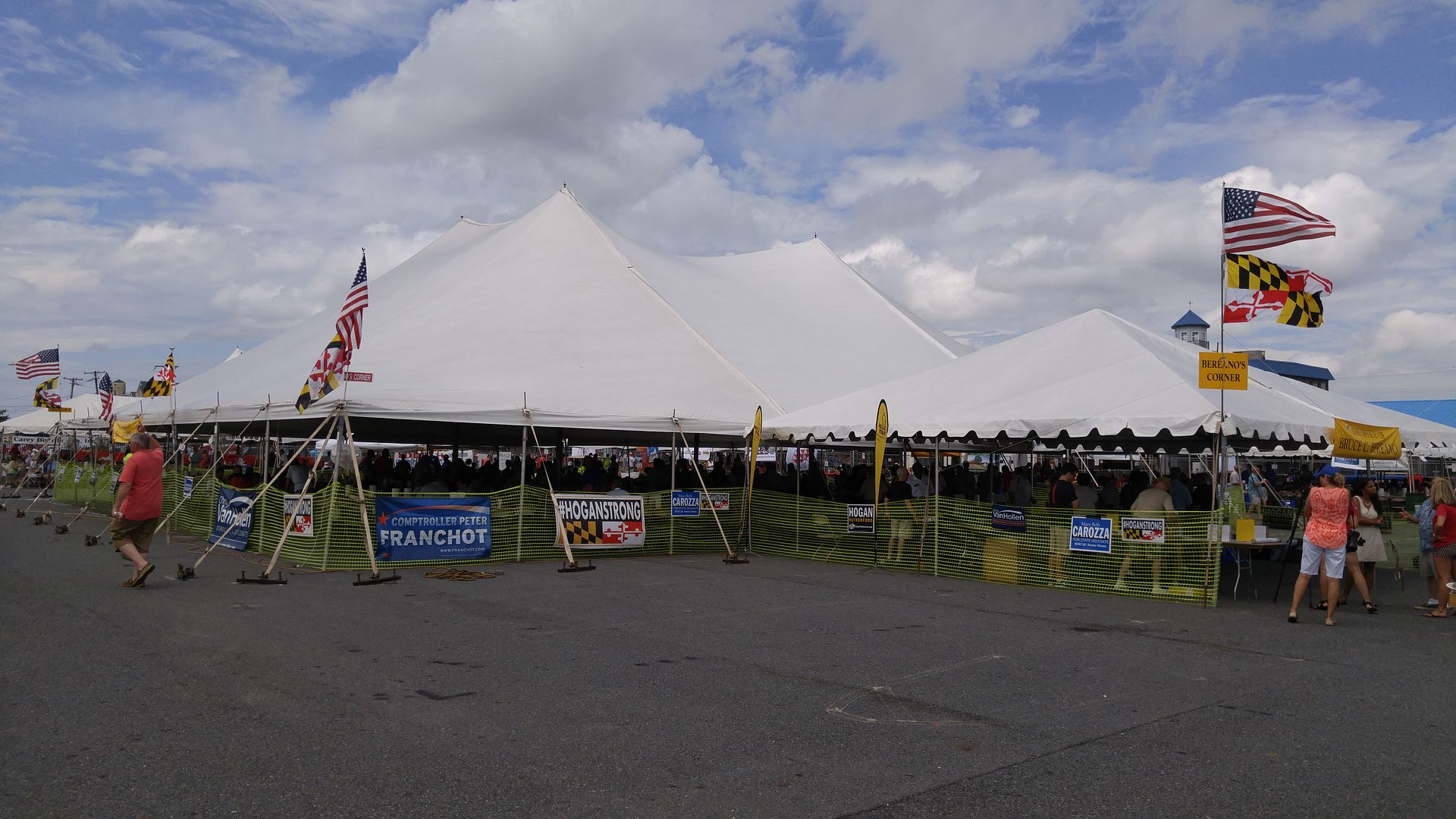 Another constant is a ton of good food, particularly of the fried variety. This was my spread.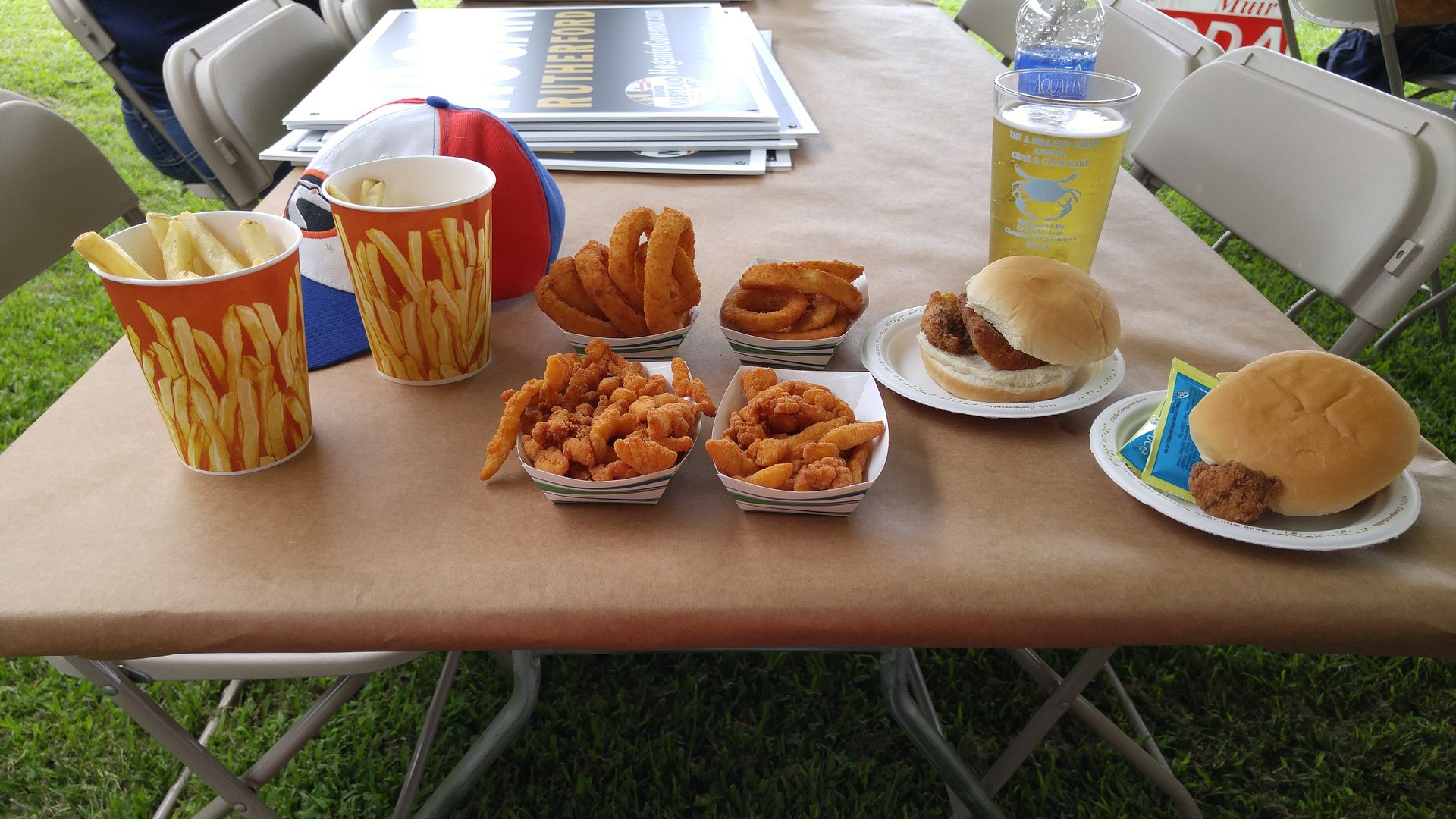 Not a salad in sight – in my dietary defense, I skipped breakfast. But it was all very good, aside from a little lack of fileting on one of the sandwiches. It was a trifle bony.
(No, I don't like crabs – so don't ask.)
This event also draws media like the food on the ground draws seagulls. Here's Delegate Carl Anderton being interviewed by local television.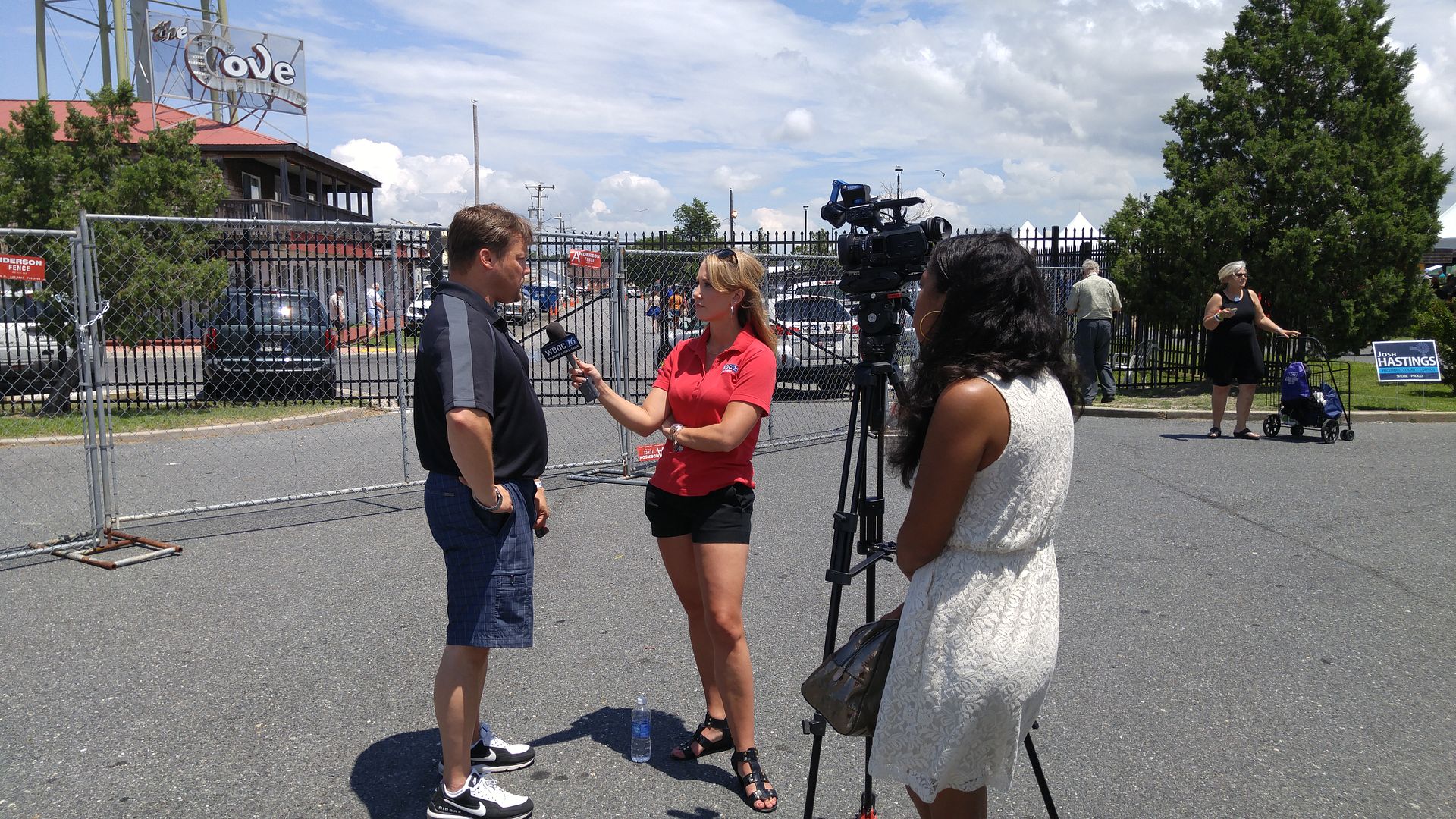 Both local Salisbury stations were there doing live shots and interviews.
And while the faces may change, the political aspect never does. You have the newcomers trying to make a good first impression, like U.S. Senate hopeful Chrys Kefalas and his millennial posse.
By the way, I had to look up that Kefalas is 35 because he appears a decade younger.
You have old hands looking for new positions, like Congressional candidate Mike Smigiel (in the center). He had a batch of "I Like Mike" buttons.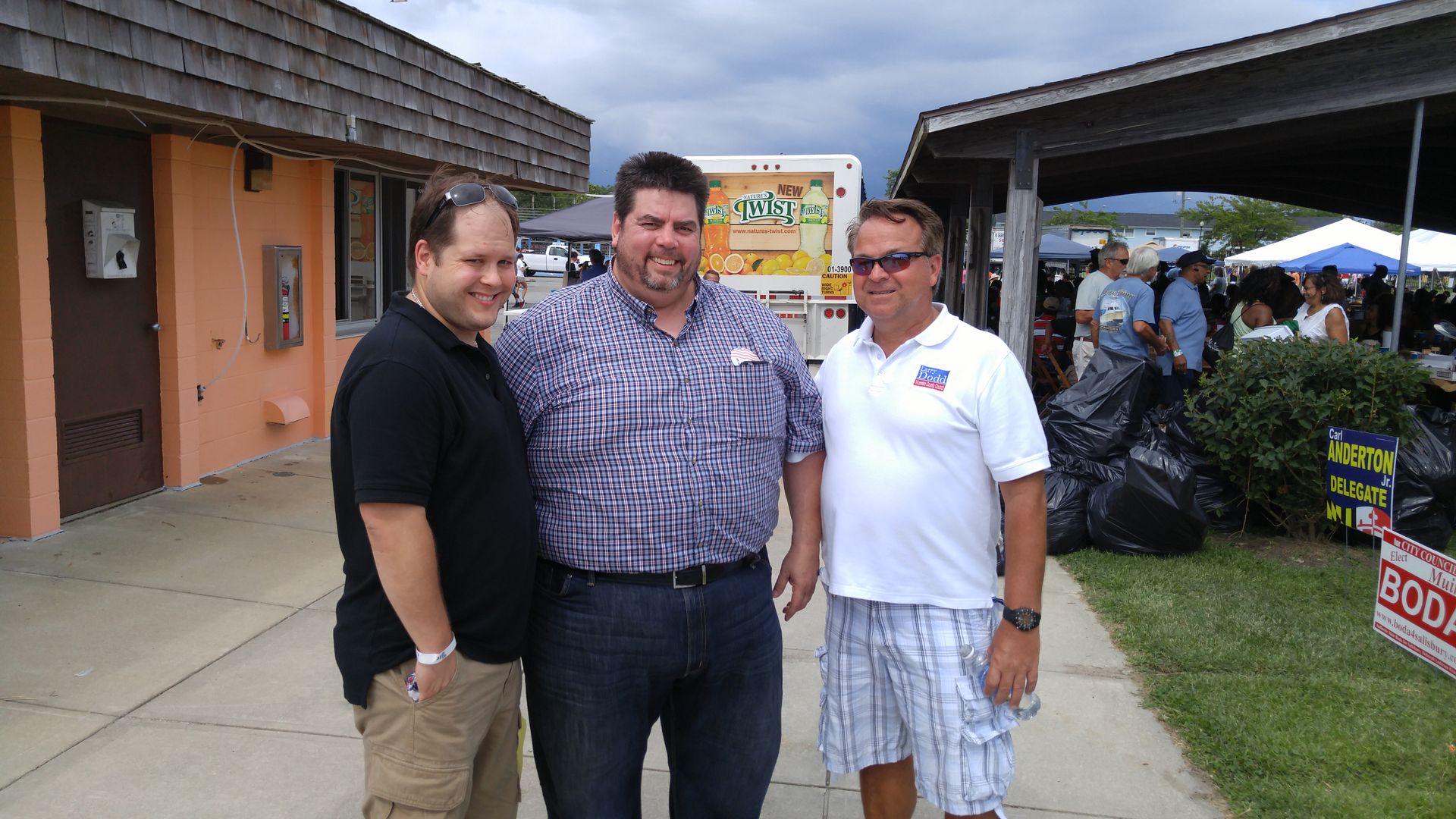 County Councilman Larry Dodd is on the right, and I apologize for not recalling the gentleman on the left's name.
And then there were established officeholders like my 2015 monoblogue Accountability Project Legislator of the Year, State Senator Justin Ready. He's talking to Jackie Wellfonder, who probably has some sort of social media record for photos with the most officeholders and general friends of hers.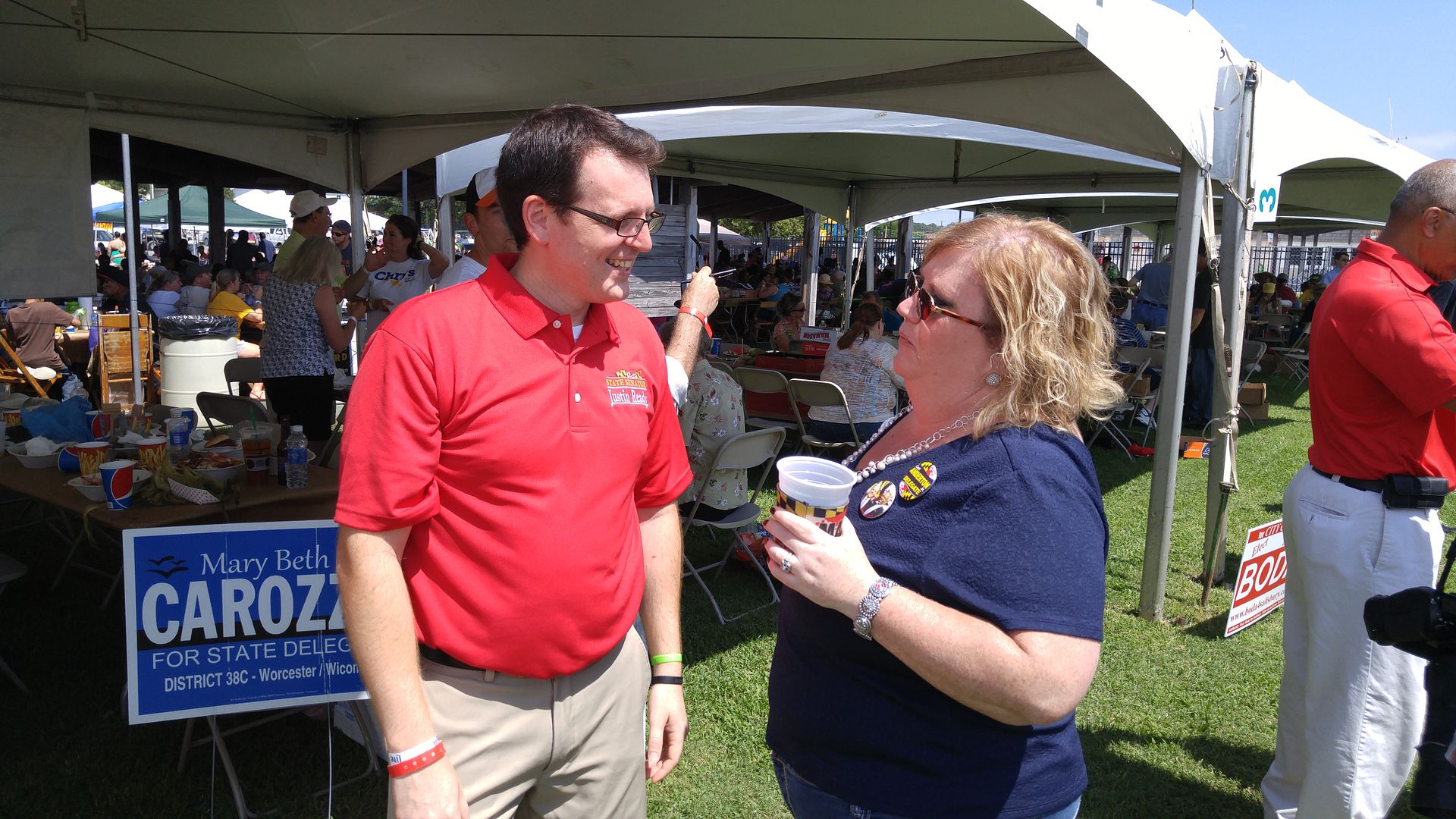 I think I've already seen her picture with our Lieutenant Governor, Boyd Rutherford. He's the distinguished-looking guy in the center.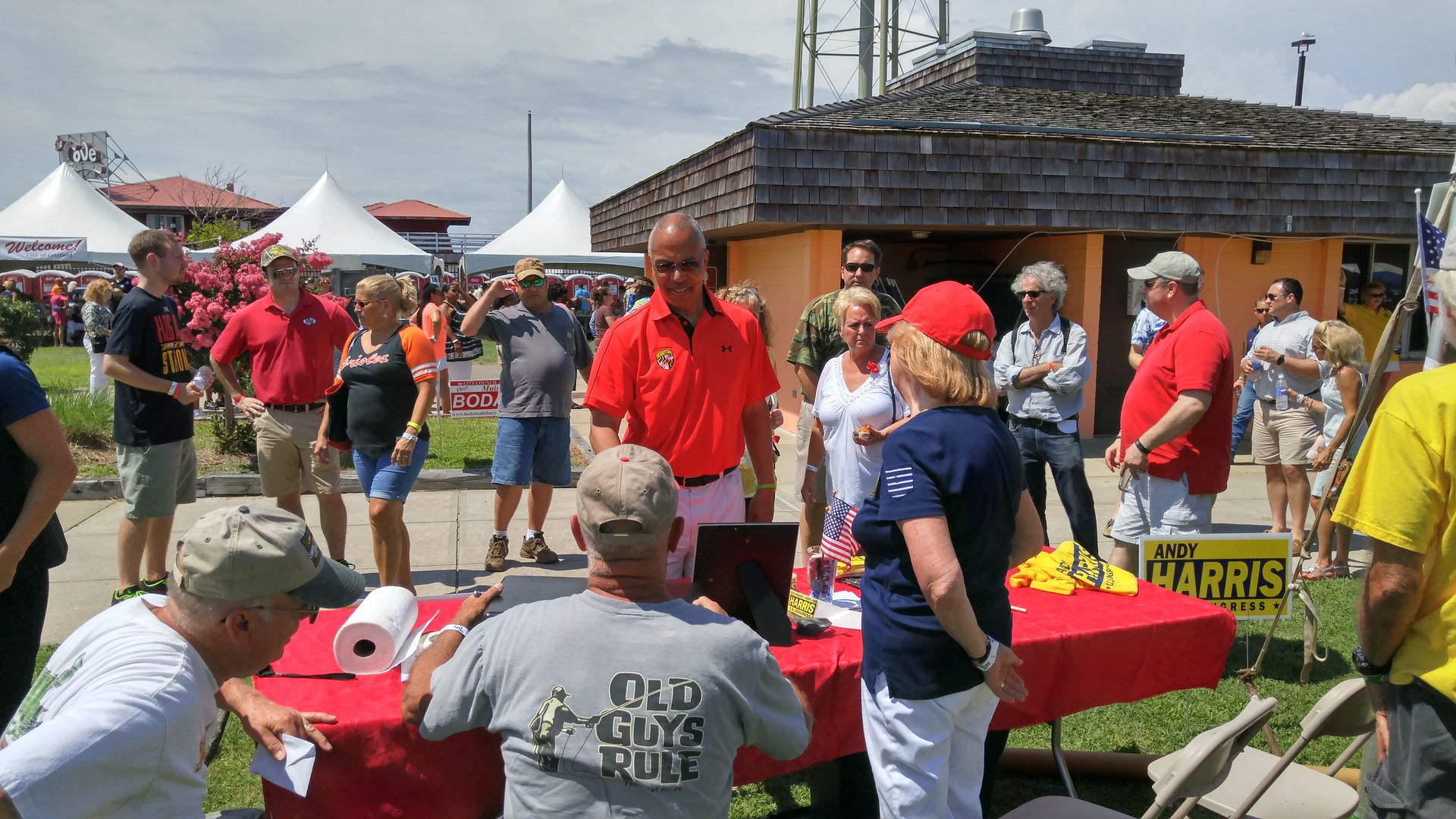 One final difference was the weather. While it was relatively comfortable, with a gentle breeze, the clouds rolled in toward the end.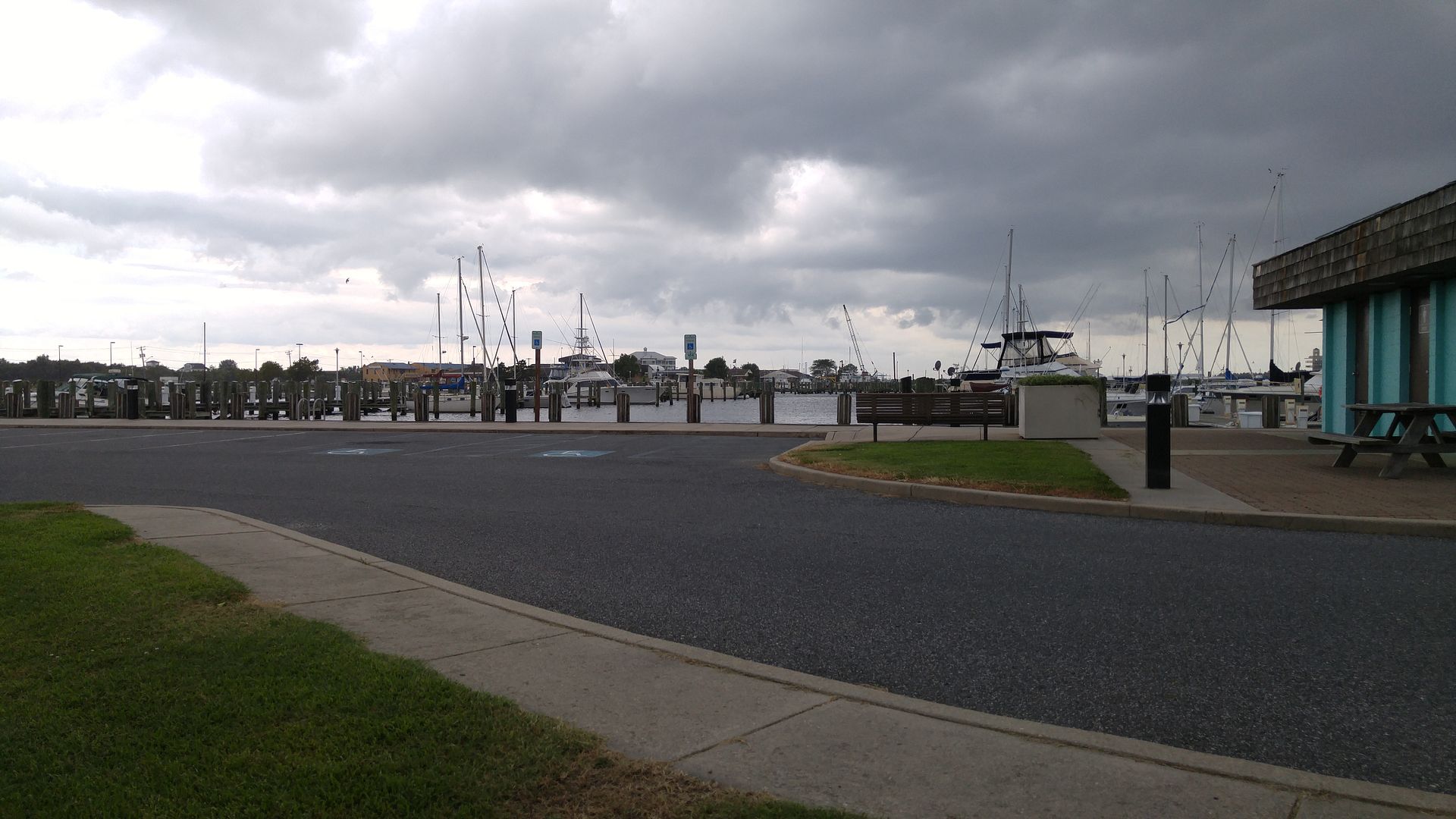 I left about 20 minutes before the scheduled 4:00 close, and by the time I got to my car about 1/2 mile away it was raining lightly. Before I got out of Crisfield it let loose and poured, so those who stayed to the bitter end either got under a tent or looked like drowned rats (or both.)
It was a fitting end to an event which was good, but perhaps a little off kilter. In fact, I was discussing the future of this gathering with someone who compared it to the Salisbury Festival – a venerable event that didn't change and eventually withered away. Since the cost went up this year (to $45 a ticket) we'll see how it affects the plans for next year.
As for me, I'd like the center location back.
By Cathy Keim
On July 8, 2015, the House passed HR 5, the Student Success Act, which is the reauthorization of No Child Left Behind (NCLB). This behemoth of a bill weighing in at 800 pages will guarantee that every child that graduates from high school is ready to attend college or start in the workforce without remediation. Yes, you read that correctly.
The hubris of our Washington elite putting into law that every child that graduates from high school will need no remediation is amazing. Just that one statement alone assures me that the 800 pages are filled with bureaucratic overreach.
What kind of measures must be in place to assure that grandiose statement? This is the same government that cannot get patients seen at the VA hospitals in a timely fashion, yet they are proclaiming that every child that graduates from high school in these United States will be stamped proficient to advance to the next step of their lives by the Department of Education.
I can think of only one way that they might even pretend that this could be true and that would be by dumbing down the system so that more children could meet the criteria, but even that is not going to convince me that the government can achieve their goal.
Just try to think of anything in real life that can be achieved 100% of the time. You can't come up with much, can you? (Remember that NCLB declared that there would be 100% proficiency in reading and math in the entire US school system by 2014.) You can check out American Principles in Action's 24 points for plenty of details on why this is a terrible bill.
HR 5 was brought up in February 2015, but was pulled because the Republican leadership could not get the votes to pass it. They have used the time tested ruse of bringing it back in the summer when parents are not paying attention to school issues.
It narrowly passed, 218 to 213, with every Democrat voting no, and 27 courageous Republicans joining them. This is similar to the TPA battle where a few Republicans joined the Democrats in opposing another awful bill.
Of course, their reasons for opposing were completely different, just like the TPA fight. Once again it gives me pause when I find myself on the same side as the Democrats.
One of the reasons given for conservatives voting for HR 5 was that the Senate version, SB 1177, the Every Child Achieves Act, (ECAA) is even worse. The reasoning goes that by voting for HR 5 it preempts the Senate version, so that even if the Senate passes their bill, it will be forced into conference rather than the Senate bill coming directly to the House.
From past experience we all know that what comes out of the conference back room will very likely be worse than what went in.
Andy Harris voted yes on HR 5. I called his office to inquire what his reasons were for voting yes, but I have not received an answer yet.
I called Senators Cardin and Mikulski's offices to inquire if they had any statements out about this bill. Senator Cardin's office said that he supports the bill in general, but is concerned about the Title I funding following the child since it might allow money to go to schools that don't need it rather than to the schools originally intended.
(Editor's note: one selling point given for the SSA is that it would allow certain parents who have children in failing schools a choice in where to send their children for their education, although the choices are limited to just public and public charter schools. This is the meaning between the lines of Cardin's remarks.)
Senator Mikulski's office said she did not have a statement out yet, but that she is against No Child Left Behind. Since ECAA is a reauthorization for NCLB, which actually expands it, we will just have to see how she decides to vote.
Generally speaking the Democrats seem to be against this bill due to the Title I funding shift potential and also because they fear it could lead to universal vouchers.
The Republican leadership crows that HR 5 is returning education issues back to state control. If so, why do they need 800 pages to do this?
The Senate should take this bill up in the coming weeks, so please call your senators and explain to them why they should vote no. Their offices need to be bombarded with parents telling them to not expand on No Child Left Behind.
However, the best reason is the one given by former Delegate Michael Smigiel, who is running for Congress in the First Congressional District. When I asked him whether he would support HR 5 he replied, "I would do away with the Federal involvement in education as it is not authorized by the Constitution. The individual States should determine educational standards for their own States. I led the fight against Common Core and argue and voted against No Child Left Behind."
While that is the correct reason for opposing ECAA, our current leadership is not impressed by the concept. Until we can elect sufficient Constitutionalists to represent us, we will have to rely on a massive phone campaign to get the attention of the DC crowd.
It was 2009, and Americans were still captivated by a shiny and new (or articulate, bright, and clean, if you prefer) President. Yet deep in the nether lands of liberalism there were people already thinking about how to maximize the political gains they could make. In November of that year I wrote about a scheme dubbed the "10-0 project" where Maryland Democrats would gerrymander their way to having all eight Congressional seats by pairing up the few Republican strongholds in the state with large Democratic enclaves, such as wrapping the First District into Baltimore City. The person who developed that plan bragged how it split the McCain voters out so that no district had more than 40 percent McCain support.
While the redistricting plan developed after the 2010 census wasn't quite that extreme, there were still some of the shenanigans of rerouting the Sixth District toward Washington, D.C. to pave the way for that district to turn Democrat (canceling out the GOP strongholds west of Frederick) and dissecting other heavily GOP areas in Carroll and Anne Arundel counties into multiple districts. They also made the First District a nearly impenetrable Republican fortress, an R+13 district in a state which is nominally D+26.
But while we are past the halfway mark to the 2020 census, there are still those out there who believe the state's Congressional lines were drawn for partisan advantage rather than true representation. Last week a number of plaintiffs – one from each Congressional district – utilizing the assistance of Judicial Watch filed a federal lawsuit alleging the current setup "harms all Maryland voters, regardless of their party preferences or how they would vote in a particular election, by giving State legislators the power to make choices regarding the State's congressional delegation that only the voters should make."
As relief, the suit seeks to have the current districts tossed out and a new district plan drawn which better conforms to the Polsby-Popper compactness test. As it stands currently, Maryland has the worst score of any state, but the plaintiffs allege (through a map they created) that significant improvements can be made. (Unfortunately their map is somewhat confusing because the district numbers assigned on it are quite different than the ones in use now. As an aside, if this map were adopted we would likely be placed in the equivalent of the Fifth Congressional District while both Andy Harris and GOP challenger Michael Smigiel would land in what's basically our Second Congressional District shifted more to the north and east.) Regardless, the plan appears to keep more counties and areas together rather than the Rorschach test we have now.
While Judicial Watch has stepped in, though, it's obvious that the battle will be an uphill one. As the suit notes, this is not the first time there has been an objection to the Congressional redistricting plan, and the current scheme was maintained through a misleading referendum in 2012. Thus, the chances for success aren't very good.
But this should come with a parallel effort to change the system once and for all by putting it into the hands of an independent commission comprised of citizens from each district or even each county. As an example of this, Wicomico County had a commission to redraw County Council districts and its end product had few complaints regarding compactness or gerrymandering. (The most unusually-shaped district here is the one mandated to be majority-minority.) Let them come up with the maps away from the General Assembly and have our legislature give them a simple up-or-down vote. The same goes for state legislative districts, which also should become exclusively single-member districts – no more jungle elections where the top two or three get in.
In our case, unless it sees significant growth, the Eastern Shore will likely always have to share its Congressman with someone else. But that someone else should be close and accessible neighbors – surely the folks in Carroll County are nice people but they really don't belong in our Congressional district. If we have to take some of Harford and Baltimore counties to make up the population that's understandable.
Maybe in the next Census I'll draw a real map that shows the way it should be done. But if Judicial Watch somehow gets its way I can always move that timetable a little closer.
As it turned out we didn't have a speaker for tonight's meeting so the agenda was on the light side. Still, there was plenty of discussion at our gathering.
We did the Lord's Prayer and Pledge of Allegiance as we always do, but in between we had a silent moment of prayer for Governor Hogan. I had not heard the news about his cancer diagnosis, so I was quite shocked. It was definitely a somber way to begin the meeting.
With no speaker, we jumped to Julie Brewington's Central Committee report. She recounted our appointments to the Board of Elections and Board of Education and revealed we were in the process of working on a fundraising event. We were also seeking a mayoral candidate for Salisbury as the filing deadline approaches in August.
Representing Somerset County's GOP was Matthew Adams, who came up to sell tickets to the Tawes Crab and Clam Bake. Readers of mine know all about this annual event, which this year has increased its ticket price to $45. Between the state party and our two counties, we have half of one of the large tents for a total of 120 tickets. Adams expressed his interest in having Andy Harris make an appearance, but we were at the mercy of the House voting schedule for that one. Harris may be able to do a morning event, though. (I would assume that Harris's primary opponent, Michael Smigiel, already has Tawes on his calendar just as Harris was able to do when Frank Kratovil held the seat.)
We also got the pleasure of meeting Patty Miller, who is the incoming president of the Salisbury University College Republicans. Their big task this year, said Miller, was to recruit new members. When asked about the atmosphere on campus Miller admitted that it was hard to overcome the liberal bias of the faculty, but it helped that many students came from rural areas. Adams noted that a good percentage of SU students come from Somerset County and was hoping to use them to gain inroads into UMES.
Some good news came from Muir Boda, who announced the beer license for the Crab Feast on September 12 should be secured this week. The issue was our non-profit status, which was resolved by (of all people) the IRS. Boda was working with Josh Hastings of the Democratic Club, who have the same issue with their event, so there is bpiartisan cooperation around here. He also announced he had filed for City Council last week.
Another upcoming event is the Wicomico County Fair in August, and we were in the process of getting our space there. Dave Snyder asked about voter registration and we encouraged him to do so.
Our most recent appointees to the Board of Education were then asked to speak, as their first meetinnd wg will occur tomorrow morning. And while the reaction to John Palmer's appointment was "righteously fearful," according to Julie Brewington, Joe Ollinger struck a more optimistic tone – although he admitted "public education is a tough job." But it's not a money issue, he added.
Some of his ideas for change were efforts to instill more discipline in the schools while encouraging more respect for the public school teachers. But he also wished to move as much responsibility as possible to the local board, hoping the state would cede some power.
One other item on the club's agenda is a new officer. Since Joe Collins took a position on the Board of Elections, he can't serve as an officer for the WCRC. Dave Snyder volunteered to be nominated but we would like to have other candidates step up, too.
Marc Kilmer filled us in on the public hearing process for an elected school board. Five hearings will be held beginning in September – wonder where they got that idea? It was also suggested that we hold a straw poll at the Wicomico County Fair to gauge support.
Marc also was lauded by Joe Ollinger for how he explained how he came u with his votes, and it was incumbent upon us to demand that same forthrightness from the others on County Council.
Shawn Jester passed along word from Delegate Carl Anderton that his district office was now open. We also learned from Cathy Keim that we would be using the optical scanner machines beginning in 2016. Of course, that brings a headache because the machines and paper ballots have to be kept in a conditioned space the county doesn't have yet, so they will have to lease or build one.
Next month we will have two speakers. It's no surprise that our old friend Jeannie Haddaway-Riccio is coming to address us, but having Jake Day speak is definitely different. He sought us out, though, and we'll give him the forum on July 27.
By Cathy Keim and Michael Swartz
Here is a question for our loyal readers: Now that it is mid-May, do you think that the GOP elites in Washington, D.C. have fulfilled their campaign pledges to stop President Obama's fundamental change of our country?
Michael and I have voted no on that question and to make our point we have signed the Open Letter to Congress: Interim Assessment from the Citizens' Mandate. (Our signatures are on page 5.)
I wrote about the original Citizens' Mandate on monoblogue back in February. After working hard on the 2014 elections, many of us felt great relief when the GOP won by a landslide. That feeling was quickly replaced by a sense of betrayal with the passage of the CRomnibus budget and the retaining of John Boehner as Speaker of the House. The Citizens' Mandate was a call to the GOP leadership to remember their campaign promises and to fulfill their obligations to their voters.
Instead, as the organizers of the mandate stated:
Contrary to the Republicans' self-assessment of their first 100 days… more than 100 conservative leaders, in only 72 hours of signature collection, have given the Republican Congress a poor assessment on the members' performance in their first 132 days in control of the legislative branch.
Among the actions by the GOP Cathy and I disagreed with, they:
Funded executive amnesty;
Continued Obamacare;
Jeopardized national security (by not addressing illegal immigration);
Ceded away treaty power on a nuke deal with Iran;
Continued excessive federal spending;
Undermined faith-based agenda;
Helped Obama (by confirming Loretta Lynch as Attorney General);
Continued federal education;
Punished conservative champions (through changing committee assignments), and;
Neglected congressional oversight.
While Congress is doing some things right, there's a tremendous amount of untapped potential we are missing out on. It's a reason that other vocal critics such as Richard and Susan Falknor of Blue Ridge Forum, Carroll County GOP Central Committee member Kathy Fuller, and former Delegate Michael Smigiel (who is running for Congress against the incumbent Andy Harris), and conservative commentator Dan Bongino have signed on. Bongino was quoted in the release, noting:
It's way past time to reinvigorate our party and set forth a set of guiding principles. For too long we've been lost in partisan games while forgetting that, in the end, it's the ideas that will take us to a better tomorrow.
Some may argue that Barack Obama received his electoral mandate in 2012, but it's just as valid (if not moreso) to make the point that a course correction had become necessary and the results showed the message was sent emphatically in 2014.
Our call is for Congress to translate that message in legislation and oversight. Certainly there's the prospect of veto after veto, but rather than get the reputation as a "do-nothing Congress" put the onus on the President to respond and – whatever you do – don't cede any more power to the Executive Branch. We don't want to have to sign an updated letter in the fall, so get busy.
If you're not aware of this, the saga of appointing new legislative members in Carroll County came to an inglorious end when the state Court of Appeals ruled it was within the Carroll County Republican Central Committee's right to send multiple names to Governor Hogan for the selection of a new member of the legislature. Personally I think it should remain as one name, but apparently Larry likes having choices.
But you may not be aware – in fact, I wasn't either until it was alluded to at Monday night's Central Committee meeting – that the next state party convention, to be held next month in Ocean City, will feature a push to have counties adopt a standardized policy on filling legislative vacancies.
Indeed, there is logic and sense behind this as a whole. However, if it's up to each county to make this official I would recommend the Central Committee in Wicomico County adopt this with at least one change. In Section 13, where it reads:
The Chair shall submit one name, however, at the request of the Governor, may submit more than one name.
I would ask the sentence be amended thus:
The Chair shall submit one name.
Here's the reasoning why we should stay with a one-name approach (and why the Court of Appeals got it wrong.)
It has long been the practice that Central Committees in each county submitted just one name - problems only tended to occur with multi-county districts where more than one name was sent because counties preferred different candidates. (Senate District 36 is a recent example.)
That District 36 situation illustrates the problem with a multiple-name approach. If my memory serves me correctly, two counties selected eventual winner (and then-Delegate) Steve Hershey while the two other ones tabbed former Delegate Michael Smigiel. The choice was eventually made by Martin O'Malley, a Democrat. (Note each of the four counties sent up one name.)
Someday there will be a Democratic governor again who will preside over the selection for filling a vacancy in a conservative Republican district. Based on the language in this prospective amendment, what is to stop this governor from informing the Central Committee that he or she wants ten names rather than just three? Or instead of making a formal selection, the governor simply requested the forwarding of the name of everyone who applied, regardless of merit?
There are not a lot of representative functions for which the local Central Committee is charged – mainly their job is to represent the county at the state conventions. But it does serve at times as the electorate in those situations where it's not practical to have an election – in recent meetings, the committee I serve with has selected applicants for the Board of Elections and interviewed for vacancies in our Board of Education. In the recent past, our local Central Committees have worked to select members of the General Assembly who died in office - Republicans for Page Elmore in 2010 and Democrats for Bennett Bozman in 2006.
Because Maryland doesn't have the provision for special elections, we have to take that task seriously as voters won't be able to correct us for many months or even three-plus years. It's interesting that Kathy Fuller, who was one of the plaintiffs in the Carroll County case (supporting the submission of just one name) has the idea of prohibiting the selection of a member of the General Assembly for an administration position. With one exception, that's the root cause of all this commotion.
But I digress. While there are many times we would be satisfied with any of a number of candidates, there is generally one who stands above the others in our estimation; however, there's no guarantee the Appointments Secretary will feel the same since it's likely he or she won't do an in-depth interview.
One name has worked well in the past, and it's a shame Larry Hogan mucked up the system because he didn't like the Central Committee's original choice. That's what it boils down to. A more stout Central Committee would have stuck with their first choice, so I think we need the rules that will stiffen their collective spines.
The return of a Republican to Government House has been a boon to the state party, but it has created no shortage of chaos in the General Assembly and in counties where erstwhile members of that body reside. One example of this is Carroll County, which has had to replace two members of its delegation as both Senator Joe Getty and Delegate Kelly Schulz were tapped for administration jobs.
Replacing the latter brought significant strife to neighboring Frederick County, where most of District 4 lies, but since a small portion lies in Carroll County they also get their say. But one change in their process was agreeing to Larry Hogan's request to send him three names, which Carroll did. Since former Delegate Barrie Ciliberti is on both lists, it would presumably be his seat once Schulz is confirmed the Secretary of Labor, Licensing, and Regulation by the Maryland Senate.
But if you look at the three men Frederick County advanced to their final interview stage, you would notice that Ciliberti was the only name agreed on – however, it's been reported that Carroll had Ciliberti as their second choice behind Ken Timmerman, who didn't make Frederick's top three.
Carroll County has also been feeling the heat for sending up the name of Robin Bartlett Frazier as their choice to replace Senator Getty over Delegate Justin Ready, among others. Frazier was a county commissioner until losing a bid for re-election this year; her biggest claim to fame is ignoring a judge's order and beginning commission meetings with a prayer. One argument in Bartlett's favor was that selecting Ready would have only set up a second search for his vacant position.
These incidents serve as a reminder to the issues Republicans had with replacing Senator E. J. Pipkin and Pipkin's eventual successor Steve Hershey back in 2013. But imagine if all four counties in the District 36 jurisdiction had to send up three names, and they were all different? It would be chaos.
Here's what the Maryland Constitution has to say about the process of replacing General Assembly members:
SEC. 13. (a) (1) In case of death, disqualification, resignation, refusal to act, expulsion, or removal from the county or city for which he shall have been elected, of any person who shall have been chosen as a Delegate or Senator, or in case of a tie between two or more such qualified persons, the Governor shall appoint a person to fill such vacancy from a person whose name shall be submitted to him in writing, within thirty days after the occurrence of the vacancy, by the Central Committee of the political party, if any, with which the Delegate or Senator, so vacating, had been affiliated, at the time of the last election or appointment of the vacating Senator or Delegate, in the County or District from which he or she was appointed or elected, provided that the appointee shall be of the same political party, if any, as was that of the Delegate or Senator, whose office is to be filled, at the time of the last election or appointment of the vacating Delegate or Senator, and it shall be the duty of the Governor to make said appointment within fifteen days after the submission thereof to him.

(2) If a name is not submitted by the Central Committee within thirty days after the occurrence of the vacancy, the Governor within another period of fifteen days shall appoint a person, who shall be affiliated with the same political party, if any as was that of the Delegate or Senator, whose office is to be filled, at the time of the last election or appointment of the vacating Delegate or Senator, and who is otherwise properly qualified to hold the office of Delegate or Senator in the District or County.

(3) In the event there is no Central Committee in the County or District from which said vacancy is to be filled, the Governor shall within fifteen days after the occurrence of such vacancy appoint a person, from the same political party, if any, as that of the vacating Delegate or Senator, at the time of the last election or appointment of the vacating Senator or Delegate, who is otherwise properly qualified to hold the office of Delegate or Senator in such District or County.

(4) In every case when any person is so appointed by the Governor, his appointment shall be deemed to be for the unexpired term of the person whose office has become vacant.

(b) In addition, and in submitting a name to the Governor to fill a vacancy in a legislative or delegate district, as the case may be, in any of the twenty-three counties of Maryland, the Central Committee or committees shall follow these provisions:

(1) If the vacancy occurs in a district having the same boundaries as a county, the Central Committee of the county shall submit the name of a resident of the district.

(2) If the vacancy occurs in a district which has boundaries comprising a portion of one county, the Central Committee of that county shall submit the name of a resident of the district.

(3) If the vacancy occurs in a district which has boundaries comprising a portion or all of two or more counties, the Central Committee of each county involved shall have one vote for submitting the name of a resident of the district; and if there is a tie vote between or among the Central Committees, the list of names there proposed shall be submitted to the Governor, and he shall make the appointment from the list (amended by Chapter 584, Acts of 1935, ratified Nov. 3, 1936; Chapter 162, Acts of 1966, ratified Nov. 8, 1966; Chapter 681, Acts of 1977, ratified Nov. 7, 1978; Chapter 649, Acts of 1986, ratified Nov. 4, 1986).
One can argue this both ways, but since the language states "a person whose name shall be submitted" it's taken to mean one person. In the case of District 36, the choice was made by then-Governor O'Malley between two names because two counties backed Hershey and two preferred Delegate Michael Smigiel. All of them submitted one name.
And this brings me to a message those of us who serve (or ran for) Central Committees around the state received from Kathy Fuller, who serves on the Carroll County Republican Central Committee. After she went through the process Carroll County used, she made one key point:
We have the constitutional requirement to provide one name. To do anything else usurps the constitutional authority endowed upon the Central Committee. If a Central Committee decides upon one name and submits it, the Governor must appoint that person. The power of the appointment then rests with the Central Committee. If the Central Committee can be convinced to submit more than one name then the Governor actually chooses who is appointed, and the power of the appointment rests with the Governor.

The Constitution designates Central Committees to choose who is appointed and the governor to carry out the appointment. This is separation of power. The Governor is the executive branch; the House and Senate are the legislative branch. If the Governor picks the members of the legislative branch then this corrupts the separation of powers and the checks and balances necessary for good government.

Think of it this way: The Governor has hundreds of appointments he is able to make. If he were to appoint legislators to most of those jobs and then tell the central committees who to send as replacements he would control most of government, both the executive and legislative branches. This is an extreme example, but illustrates the danger of allowing the authority endowed upon the central committees to be usurped by giving the governor more than one name or by allowing him to tell the central committee who that name should be. This is the same reason many gubernatorial appointments are made with the consent of the legislature. It is the check and balance of good government.
Just because Larry Hogan wants three names to choose from doesn't mean he is entitled to those three names. Unfortunately, most Republican politics turns the process on its head as they desire only one person to run in any primary (to avoid a GOP candidate spending money in a primary fight) but more than one person in this instance so that the state elected official farthest from the people (and perhaps representing the opposite party) makes the choice. Given the choice between a hardline conservative and someone more moderate and "bipartisan" we know who Larry Hogan would pick 95 percent of the time – so Carroll County should have maintained their fealty to the original process. If Maryland had a provision for a special election to fill these seats I would be happy to have plenty of choices, but it does not and I think Fuller's argument is the correct one.
And to me there is no better illustration of what went wrong with the process than our experience with the District 4 Wicomico County Council vacancy some years ago. By charter, we had to submit four names to County Council, which did their own vetting process after we did our interviews and voted on who to send. At the time it was also an overly rushed process because we only had 30 days to get through the process – a charter change adopted in 2012 extended this to 45 days. But had we only been required to send one name, there would be a different occupant of the office because the eventual appointee was not our top choice. This would be a good charter change to consider since the county charter is different than the state's Constitution on this manner.
Finally, it's worth pointing out that, in one respect, all of these appointments are moot because none of the principals have resigned yet. They all await confirmation to their positions but the process was started early because the General Assembly would be in session during the time. But I think it needs to be clarified that the duty of the Central Committee is already spelled out in the state's Constitution and we need only submit one name for these positions.
Let's do what's right under the law, not the personal preference of the new governor.
For the four years he has been in office, Andy Harris has generally enjoyed the support of his conservative Eastern Shore constituents. He's not had a serious primary challenge since he was elected and garnered over 70% of the vote in 2014 against Democrat Bill Tilghman, whose centrist posture was well right of mainstream Democrats but far out of step with the district.
But since that resounding November victory, Andy's actions in Congress during the lame duck session have earned him further enmity from the strong libertarian wing of the party and alienated conservatives as well.
By inserting a provision into the so-called CRomnibus bill preventing the District of Columbia from enacting its Proposition 71 marijuana legalization, Harris again became the target of District residents and leaders who demanded a tourism boycott of Andy's Eastern Shore district earlier this summer. Accusations of being in the pocket of Big Pharma followed, but Harris defended the role of Congress spelled out in the Constitution [Article 1, Section 8] as overseer of the District's affairs.
Yet while the libertarians of the Shore make up a small slice of the constituency – a Libertarian candidate ran in the First District for three successive elections from 2008-12, but never received even 5% of the vote – the conservatives are upset about Andy's vote in favor of CRomnibus. That segment of the electorate is Andy's bread and butter.
In the TEA Party community, there are whispers about who could challenge Andy from the right, as several feel he is on the same glide path that Wayne Gilchrest took during his long Congressional career. His 2008 primary defeat (by Harris) came after a bitter campaign where Andy stuck the "liberal" tag successfully on the longtime pol as well as fellow Maryland Senate opponent E. J. Pipkin.
Ironically, a politician long allied with Pipkin could be a prospect to make that challenge. Michael Smigiel, a delegate who was defeated in the 2014 District 36 GOP primary, is popular among the TEA Party community for his strong Second Amendment stance. But it would be difficult for anyone to raise the money Andy has at his disposal and Harris has bolstered his profile among local elected officials and the state Republican party by being generous with his campaign funds through A Great Maryland PAC.
It's also worth mentioning for context that CRomnibus is probably roughly the same deal which would have been made if the budget were completed in regular order, given the partisan divide between the House and Senate.
Instead, while most functions of the government will continue through next September, the Department of Homeland Security budget has a February expiration date. This sets up a showdown between Congress and Barack Obama regarding the latter's executive actions to give de facto amnesty to millions of illegal aliens; however, some hardliners already feel the damage is done.
In response to a lengthy Facebook post by Harris explaining his CRomnibus stance, though, local activists summed up the frustration TEA party activists felt, noting:
"(Harris) does a nice job of listing those riders and amendments that might seem to gain the approbation of the conservative and Republican audiences, while omitting anything that might serve as a balance – what effectively was the PRICE paid for what was had, the PRICE of 'compromise.'"
"It is rather sad that Andy thinks that he can list a few paltry gains and that will make us overlook the whole thousand page monstrosity. The obvious question is that if he got in a few tidbits that he wanted, then who else got in their tidbits and what are those?  I would imagine that they will far outweigh any small gains that he is bragging about."
These activists agree one way Harris could help to restore his image would be to take the lead in the conservative grassroots push to replace John Boehner as Speaker of the House. Bear in mind that this could come at some cost as Andy serves on the Appropriations Committee and a Boehner victory over any challenger for whom Andy shows support could bring repercussions such as the stripping of his position there, but on balance I believe a potential sacrifice such as that is worth the opportunity to have a stronger conservative leader as Speaker. It's a sentiment shared by commentators at American Thinker, WorldNetDaily, and RedState.
On November 4, people hungry for real change went to the polls to reject the Democratic Senate and place Republicans firmly in control of Congress. The events leading to the CRonmibus, though, shook the confidence that Washington would depart from its business-as-usual benefits to the ruling class by allowing the outgoing defeated members one last hurrah. While all of this blame cannot be laid at the feet of John Boehner, there is a mood in this country that a strong counterbalance is needed to the increasing use of Executive Branch power by Barack Obama, particularly on immigration and Obamacare. The fear of many conservatives, particularly those in the First District, is that John Boehner doesn't have the spine to rein in the executive.
Just like in 2008, when Andy Harris first ran for Congress, the potential is there in 2016 for state elected officials to "run from cover" as their Delegate or Senate seats aren't on the ballot. During the similar 2012 election, 7 members of the Maryland General Assembly ran for Congress – one for the Senate and six for various Congressional seats. While none were successful overall, two won their party primary and ran through November.
No member of Congress is universally loved, and being a representative at any level of government means you won't please everyone. But there's a growing number who want Andy Harris to be a conservative leader and not just talk a good game.
I've been seeing some comment about a blog post recently penned by outgoing Delegate Michael Smigiel regarding the Maryland GOP not assisting Mike McDermott in his Maryland Senate run against Jim Mathias. There are two damning allegations therein, so I'll speak to both.
First, we have the financial angle:
The Republican Party found it possible just two years ago to support three Republicans running for local county council seats to the tune of $40,000 in a Cecil County race! Now in a pivotal State Senate Race they can not offer the same support? Correct that, they can not offer any support? Even if the party claims financial inability, where are the dollars from Congressman Harris who two years ago gave $40,000 to the party to help those local candidates? Where is the help from the State Senators who have no challengers in their races but have tens of thousands of dollars in their war chests?
I know Smigiel has some sour grapes against certain Cecil County Republicans, but a quick check of campaign finance records finds only a few thousand dollars in contributions to these candidates from the local Republican club and Central Committee – nowhere near $40,000.
As for Andy Harris, he's already assisted Delegate candidate Carl Anderton (as have others) and it may be he's going to chip into McDermott's cause as well.
But the last sentence of Smigiel's is a valid question, particularly in light of his next paragraphs.
Republican State Senators have been told by the Democrat Senate President, "If you get in the McDermott v. Mathias race, you will be punished." So Republican Senators with the ability and the desire to help are not helping because of a concern over their own political comfort. Shame on any Senator in a position to help who fails to help out of fear they may be punished by the Democrat Senate President.

I call it Political cowardice to kowtow to the Democrat leadership on the decision of whom the Republicans should support for election to State wide office.

The Party and individual members of the Senate need to stand up to Democrat leadership and show they will not be intimidated into allowing the Democrat leadership to keep the growth of the Republican party stifled. Rhetoric about freedom and liberty rings hollow when you fail to stand up to tyranny when confronted with it in government. Republican Senators need to stand up and be counted. If you have no opponent and have tens of thousands of dollars in the bank you need to donate to and assist in every way possible in elected fellow Republicans. If you are threatened with loss of your committee seat or any other punishment by the Senate President, then make it public and double your efforts on behalf of the Republican candidate.
So is this a Senate or a fiefdom? Bear in mind that Senate President Mike Miller (Maryland's version of Harry Reid) has a Republican opponent himself, Jesse Peed. Those of you reading this in District 27 should note accordingly.
I did take a peek at Smigiel's last filing, which was the May filing, and it showed he had about $21,000 remaining in his account (with loans outstanding.) Obviously we have nothing newer to go by, but I haven't seen any transfers out from his account yet.
Now I don't know anything about the inner workings of the Maryland General Assembly but I do know bullshit when I smell it. Simply put, the way those bodies are conducted during the 90 days of terror we endure each year reeks to high heaven. Bills which would do a lot of good are stashed in the desk drawers of committee heads, arms are twisted in grotesque ways to get other less palatable bills to pass, and the public's voice is often ignored.
Thus, it doesn't really surprise me that such a punishment threat as Smigiel alleges might exist, but we need someone to stand up and say so. There are some who are no longer in office who could verify such statements because I'm sure these threats aren't new. Maybe Senator Simonaire would have something to say since he was the lone voice of opposition to Miller's re-election as Senate President.
As for the would-be Senator McDermott, he's come out with some interesting items of his own lately. I had intended to take a look at them, but there's one thing I need to put it all together so it can wait a few days. It's all good.
I actually started this a couple weeks ago, when writing about Ron George's last stand, and just added to it here and there every couple days – if only to keep it atop the queue. Regarding Ron, it was unfortunate that such a good candidate couldn't get much traction in the race.
But as the race comes to an end for three of the four gubernatorial hopefuls, I'm convinced that my initial instinct was correct and there was really only money enough for three candidates. Blaine Young saw this early on and, despite a solid period of fundraising, opted to drop out of the gubernatorial race and focus on a local campaign for the newly-created Frederick County Executive post. "We have a tendency to eat our own," he said.
To me this is yet another legacy of the Ehrlich era, which in some respects set our party back several years.  With the most direct connection to that administration, Larry Hogan was perhaps the second-most natural successor – besides Michael Steele, who took a pass in 2014. More and more I see 2010 as a completely missed opportunity in this state, and its domino effect is hurting us in 2014.
So Hogan starts out about 15 points down, just like Ehrlich ended up in 2010. How does he close the gap?
Out of the box, he's taking the approach which he used a little bit in the primary: Anthony Brown as incompetent.
Driving up negatives is generally a conventional wisdom play, but there are a couple downsides. First of all, Brown is, well, brown and the inevitable comparison to Republicans picking on Barack Obama will occur. I also don't see the counter of a positive agenda from the Hogan camp, which seems to be focusing more on undoing things than doing new things.
I mentioned Ron George early on and it was interesting how he accepted his defeat, as a letter to his youngest son Tommy:
Tommy, I lost. But that is okay. Many took my ideas, and I know those ideas will help our state. Your dad is now able to go camping with you and have more time with you, and that alone makes me glad I lost. I can go on trips with you and Mom visiting your nieces and nephew, and I look forward to that also. I did what God asked of me and did my best and that is all we are to do. I never wanted to do anything that took time from you, so I am happy to say I am not a governor but I am Tommy's dad. Love you, Dad.
Perhaps had Ron been given a do-over, he may have decided to devote full-time to running for governor. Surely he had people to run his business, but while David Craig had a staff to help him do his job as County Executive, Larry Hogan the same for his business, and Charles Lollar was granted extended leave from his duties, Ron had to also function as a Delegate. That was 90 days basically off the trail in the formative part of the campaign. It may be disappointing to me because it was one of two decisions that cost him my vote and endorsement; otherwise Ron had perhaps the best overall platform and he came very close to getting both from me.
But Ron ran the best campaign insofar as staying issue-based and not going off on personal attack tangents.
For David Craig, he pretty much spent the last three years trying for this. Obviously the blogger meeting he had early on didn't do him much good.
There have been people who opined privately that Craig should have attacked Hogan earlier, just as there are people who believed attacking Charles Lollar was a mistake. I would place myself in the latter camp, but what did Craig in was the lack of money to overcome Larry Hogan's advantage there. Once Larry got the public financing, the race was over and Craig couldn't chip away at the double-digit lead.
It's the Charles Lollar supporters I worry about, as in my opinion they are most likely to stay home in November. Charles tried to convince them otherwise:
Wow, family, what an experience! I can honestly say that the past 16 months have been filled with such excitement and joy as my family has had the chance to meet so many good people across the state of Maryland. I could not be happier with the extended family that I have acquired as a result of this campaign. While the results may have not been exactly what we wanted at least we know that there were many out there who share our vision for a better Maryland and a New Way Forward. From the bottom of my heart I want to thank everyone who played a role in making this such a successful campaign.

As many of you know there is still more work for us to do. A New Way Forward for Maryland is still out there for us to obtain and together we can make this happen. I want to congratulate Larry Hogan on a job well done as well as David Craig and Ron George for successful campaigns of their own.

I look forward to coming together in unity to win the state of Maryland and I urge all of my supporters to do the same and ensure unity within our state across the board.
It makes me wonder what Charles will do with the next few months, although his July 5th event for supporters and volunteers will likely have a lot of clues.
Looking down the ballot a little bit, there were some interesting upsets from both parties.
Two incumbent Senators lost in their primaries as ambitious House members ousted them: Republicans David Brinkley and Richard Colburn were knocked off. By the same token, many of the nine House members who were defeated were victims of redistricting: Republicans Joseph Boteler, Don Dwyer, Donald Elliott, and Michael Smigiel, and Democrats Keiffer Mitchell, Melvin Stukes, Michael Summers, Darren Swain, and Shawn Tarrant. Mitchell and Stukes were drawn, along with winner Keith Haynes, into one Baltimore City district.
In particular, Boteler was one of the good guys, and the reigning monoblogue Accountability Project Legislator of the Year. That district's voters made a serious mistake by pushing him aside.
Aside from the shocking margin of Addie Eckardt's victory, the Wicomico County results were pretty much what I expected. Obviously I was disappointed by Muir Boda's loss but apparently county Republican voters like mushy moderates. If things hold as expected, we will still have a significant GOP majority on County Council but it won't always govern like one.
It should be noted, though, that my advertisers went 3-1 for the primary. Mary Beth Carozza easily had the most primary votes in District 38C and Chris Adams and Johnny Mautz paced the field in District 37B. Mautz carried three of the four counties, with Adams second in all four (Rene Desmarais won Wicomico County.)
This brings up one of my favorite comments along the way in the campaign, from an old NetRightDaily colleague of mine, Richard Manning. It was in response to a Facebook post I put up to promote this post.
(A)ll those ads along the side pay Michael for his great work. He should be commended that he has created something from nothing that has enough value that people want to advertise on it to reach his readers. That is the essence of the entrepreneurial spirit that those on the right claim to embrace.
So that brings me to the final race, which was my own. I posted this on the soon-to-disappear Facebook page for my campaign:
I'd like to thank my supporters. Looks like I'm going to come up one spot short this time, but with so many good people running I knew I was the most vulnerable incumbent because I only made it by a little bit last time.

So after November it looks like I may have some free time on my hands – or maybe not.

It does look like the Central Committee will have a little more TEA Party influence because Julie Brewington and Greg Belcher got their start as part of that movement, so that's good.

As I've said all along, this will be my last election as a candidate. I was only planning to run this term anyway, and I would have definitely preferred to go out a winner. But I came home and got a hug from my treasurer, who happens to be my fiance. So everything is okay. I lost an election, but elections don't define me anyway. In fact, in some respects this can be liberating.

Obviously there's still the prospect of my involvement with the Central Committee, at least as secretary (it can be a non-voting position.) If they wish, I'm happy to stay on in that capacity.

But this will be the last time I have to go through all the hassle of getting a treasurer, filing campaign finance reports, and so forth. In the next few days we'll close the campaign account, file the necessary paperwork to wind up this committee, and it will be time for a new chapter in political involvement.

So in a few days this (Facebook) page will also go away. Congratulations to the winners and hopefully many of those who tried but fell short will try again. But this will be it for me on the ballot.

Again, I appreciate the kind words from my supporters and thanks to those who voted for me.
A lot of those remarks have appeared on my Facebook page or in e-mails to me. I appreciate the sentiment, but I have an observation on this whole thing.
Of the nine who made it, six were already on the Central Committee and had name recognition for various reasons. I've lived in the county for less than a decade and, quite frankly, had the 2006 election featured more aspirants than candidates I probably wouldn't have won my first term, let alone the second. Look at the three newcomers who won: two are doctors, and the other ran for the House of Delegates in 2010.
On the other hand, two of the other three who lost had been active in Republican circles but had little name recognition otherwise. Tyler Harwood probably knocked on hundreds of doors on behalf of himself and other candidates and was rewarded by finishing last. Jackie Wellfonder had bought signs and cards, and made her way around polling places yesterday to no avail. The gap between us and ninth place suggests that people just went with the names they knew, and that's sort of a sad commentary.
I'm not going to lie to you and say I'm happy about losing this election, but I knew going in this time that I would have a hard time keeping my spot. I originally figured that only five or six incumbents would run, but with seven that made it really difficult.
So here we are. Even if I'm selected as secretary again (a non-voting secretary and treasurer are allowed) October will be my last meeting as an elected Central Committee member. It would be strange not having something to do on the first Monday of the month, but life changes and so we have to as well.
I didn't plan on being a Central Committee member my entire life anyway, but now that this election is over my thoughts are on seeing our candidates through and working where I can to improve the process. It may not be completely universal, but one thing I think I've achieved over the last eight years is the respect of my peers.
I'm glad conservatives are playing the game liberals in the Maryland General Assembly play – if at first you don't succeed, try, try again. Many of the restrictions and regulations we're currently saddled with came on the second, third, or later try in the General Assembly.
So it's nice to see that a PlanMaryland repeal bill is being introduced again, by Delegate Michael Smigiel. It was pre-filed this session as HB74.
Understandably, the Maryland Liberty PAC was pleased to see this:
Plan Maryland is a statewide development plan designed to consolidate everyone's property rights into one simple document.

Centralized government planning has never and will never work, but that won't phase (sic) Martin O'Malley.

The agenda behind Plan Maryland is not to improve our state, it's to kill all new development that doesn't match the left's green agenda.

Many of you, especially those who are property owners or business owners in the development industry know all too well the headaches caused by Maryland's radical land use policies.

Well now, Plan Maryland is just another headache that we have to deal with statewide.
I used to talk about things which were in the category of "duh" and the last three sentences of this portion of their notice fit the bill. But this bill will get a hearing in the Environmental Matters Committee on Thursday, January 30 at 1 p.m. Delegate Maggie McIntosh is the chair of that committee, and she is definitely the keeper of all things Radical Green in this state.
The MLPAC notice goes on to note the bill introduced last year, but in reality this is the third straight year a similar bill was introduced. However, the 2012 version had many more co-sponsors.
In both cases, though, the votes were there to kill the bills in committee. And even though they were both 17-6 against the side of good, it's worthy to note that Delegate Herb McMillan switched sides between 2012 and 2013, voting to kill the bill in the latter case. Delegate Patrick Hogan, who was excused from the 2012 vote, voted the correct way in 2013.
Bear in mind this is not the same bill as the one which attempted to rescind the 2012 Septic Bill, a proposal which was introduced by Delegate Mike McDermott last year but failed. The Smigiel bill simply tries to eliminate the aspect of a statewide plan in favor of leaving things to the local jurisdictions which best know their own situation.
There are a lot of bad ideas which eminated from the General Assembly over the last several years, so many more repeal bills need to be introduced. This is one which has merit – if a county wishes to be less than developer-friendly it's their right. But don't impose those restrictions on places which may seek to utilize their resources in the highest and best manner.