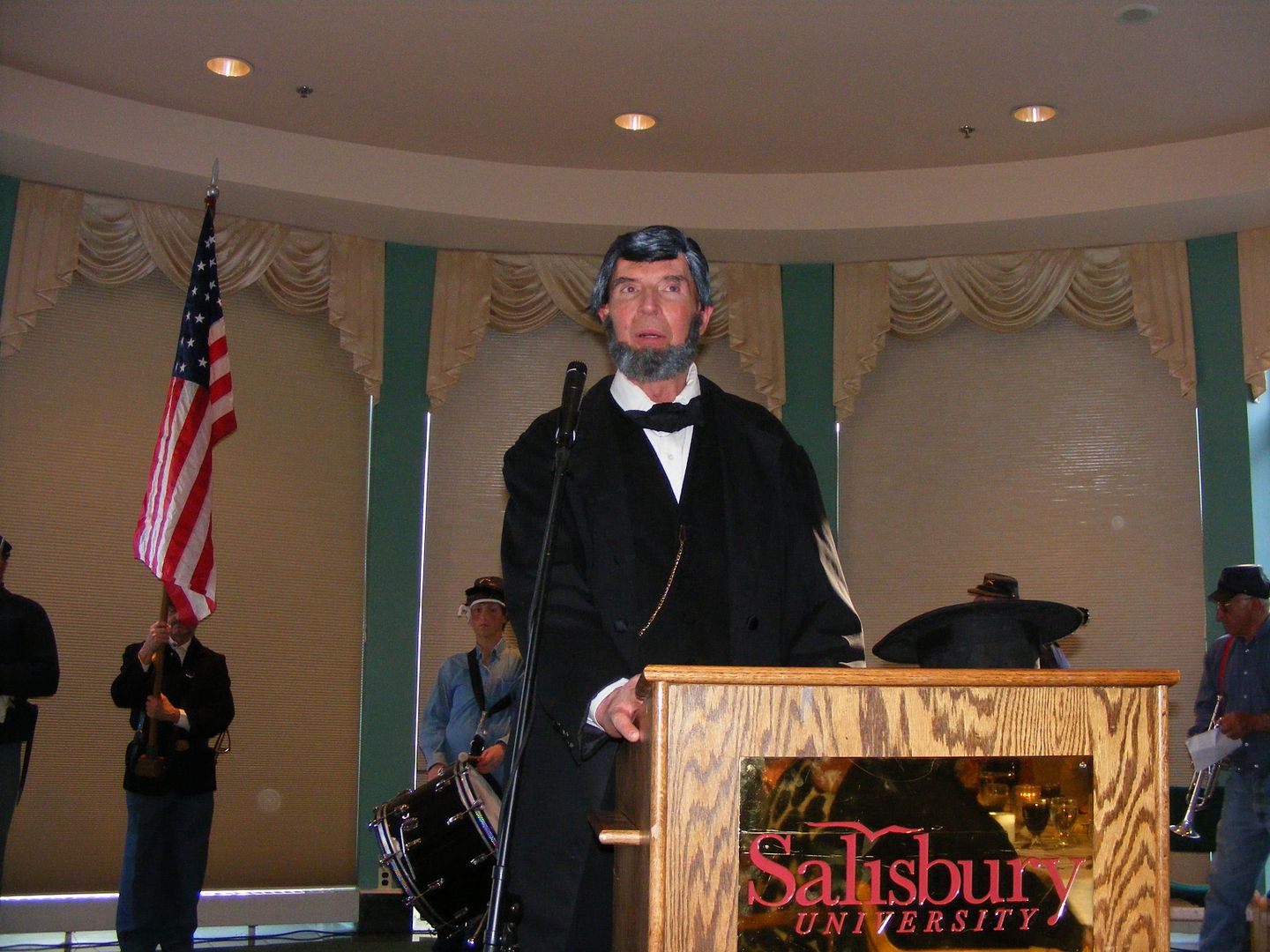 It wouldn't be a Wicomico County Lincoln Day Dinner without the guest of honor, now would it?
But it was that and much more as about 100 people enjoyed the festivities last night in Salisbury. I was a little disappointed in the attendance, but those who missed the affair missed some stirring words from both our four featured speakers – the GOP gubernatorial candidates – save Jeannie Haddaway pinch-hitting for David Craig, who was in Frederick tonight – and Delegate Mike McDermott.
Our event is set up so guests have an opportunity to talk to candidates before and after the proceedings. So before dinner was underway, acquaintances were made and renewed, such as Delegate Ron George speaking with the newly-goateed Delegate Charles Otto.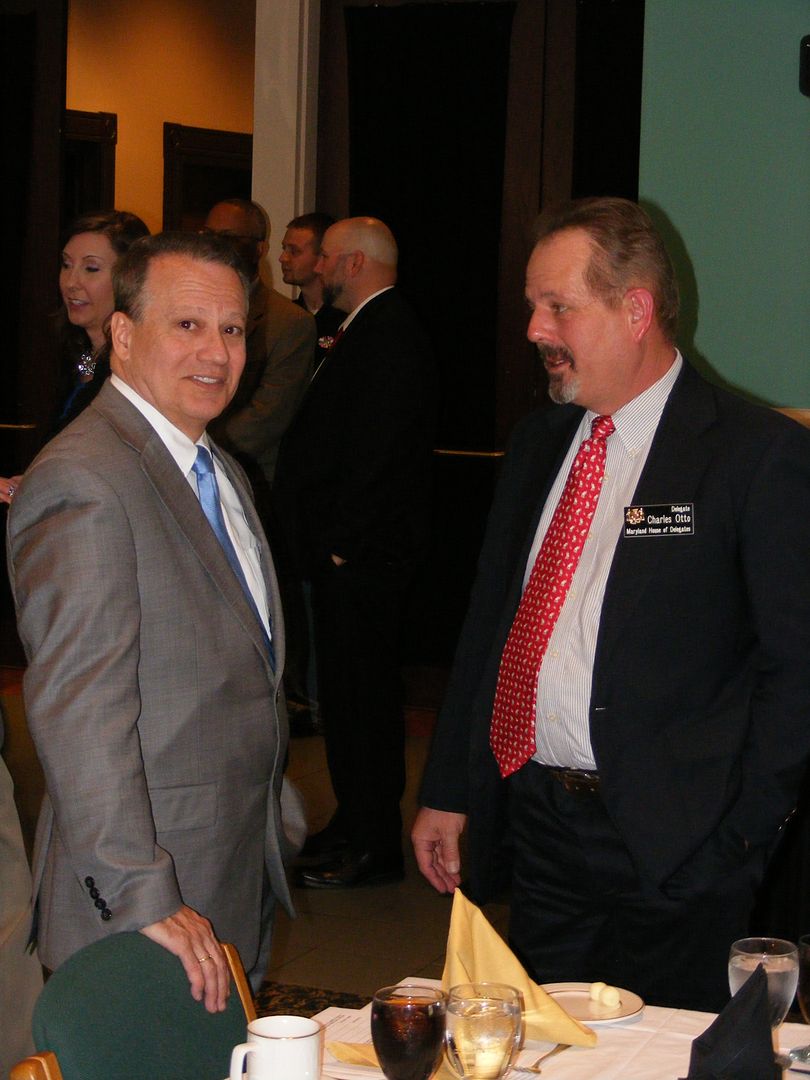 I like that look on Charles. Meanwhile, Larry Hogan and wife Yumi spoke to Wicomico County Council member Joe Holloway. I believe fellow Council member Bob Culver is back to camera.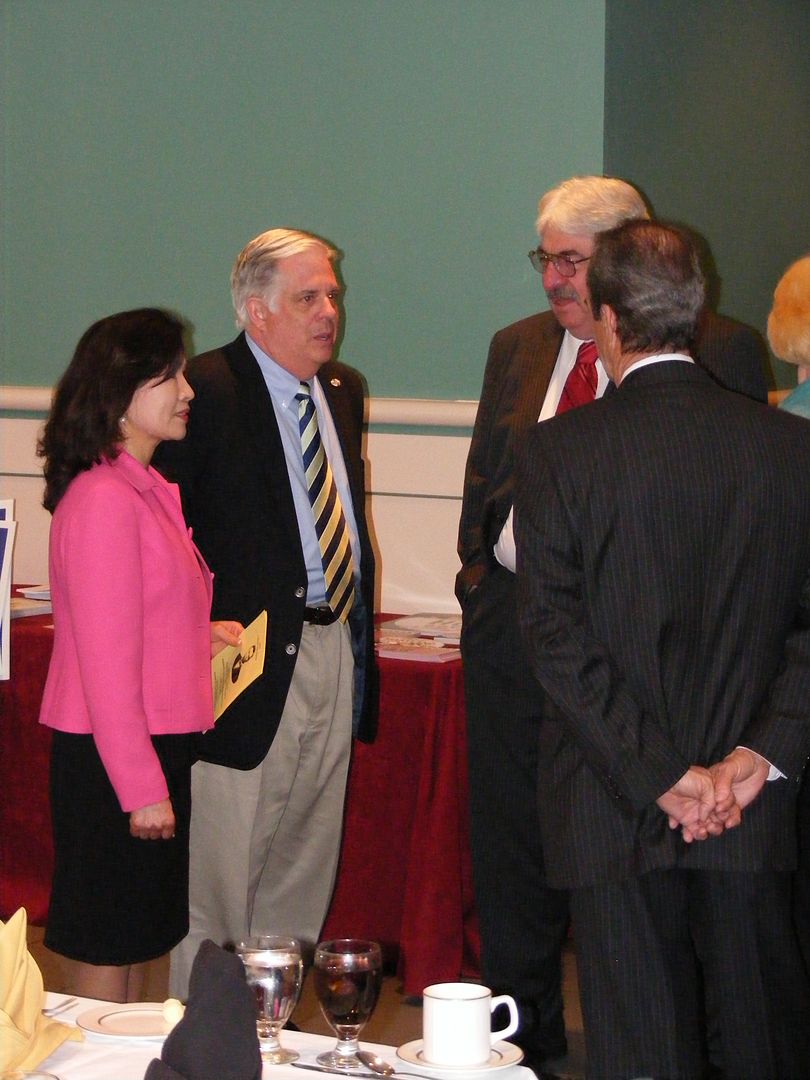 As I noted earlier, Jeannie Haddaway was taking the place of David Craig and visiting her alma mater. In the background is Larry Hogan's LG pick, Boyd Rutherford.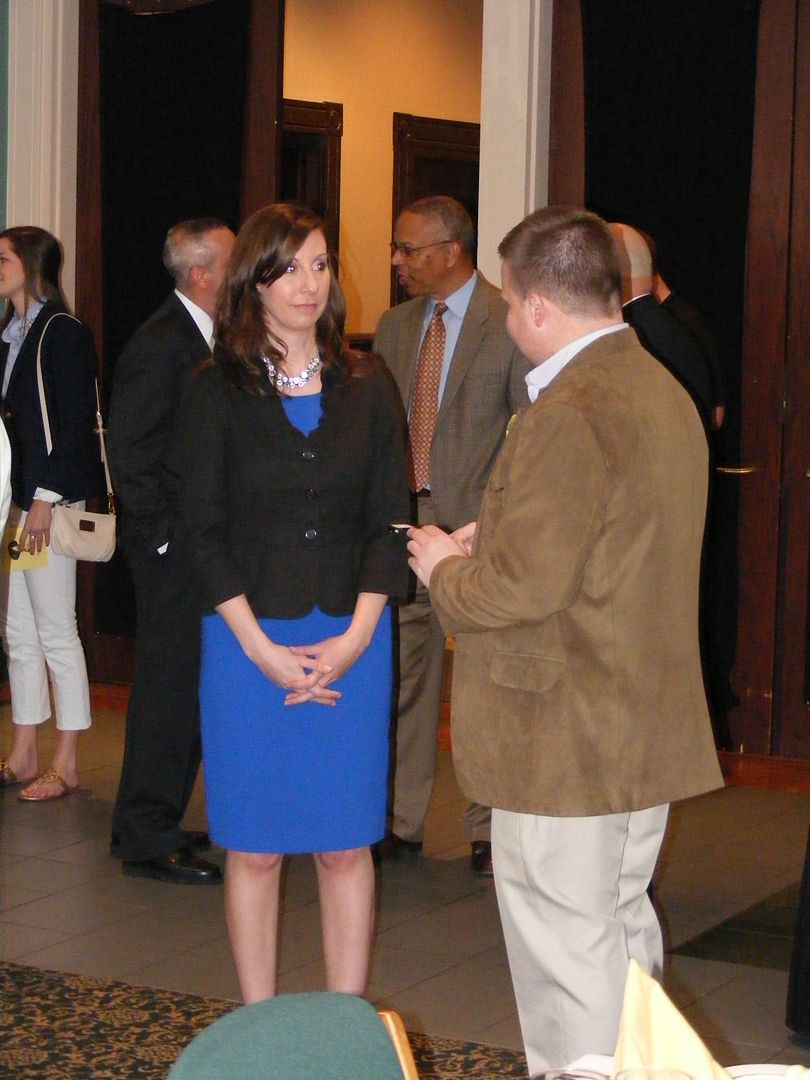 Candidates were also taking advantage of the space provided for literature and signs.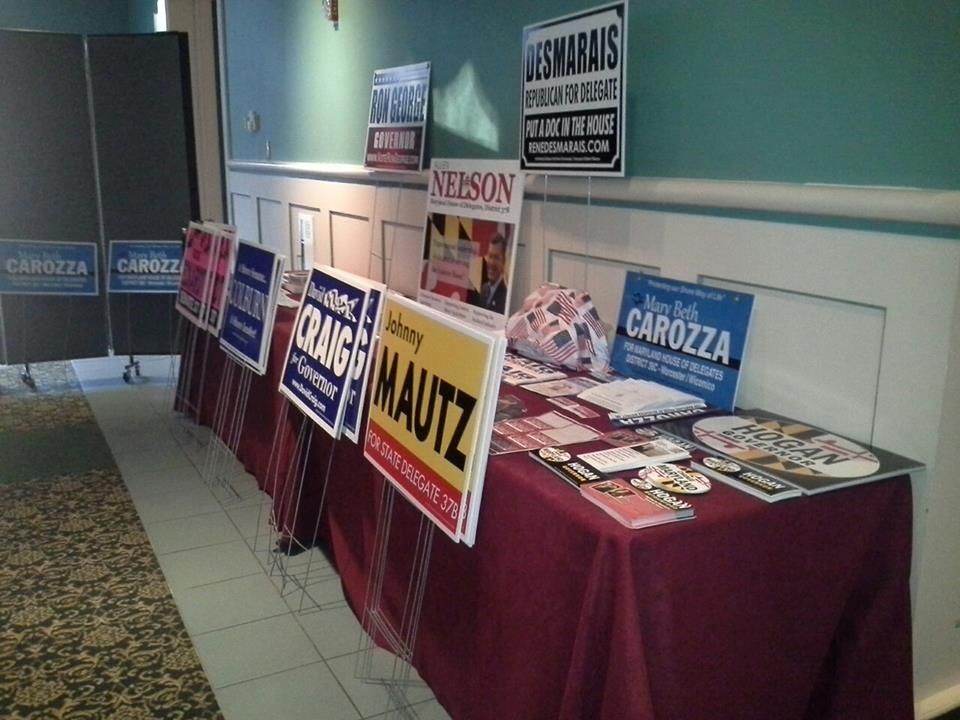 Things began to get going when the Union troops and band arrived in the room.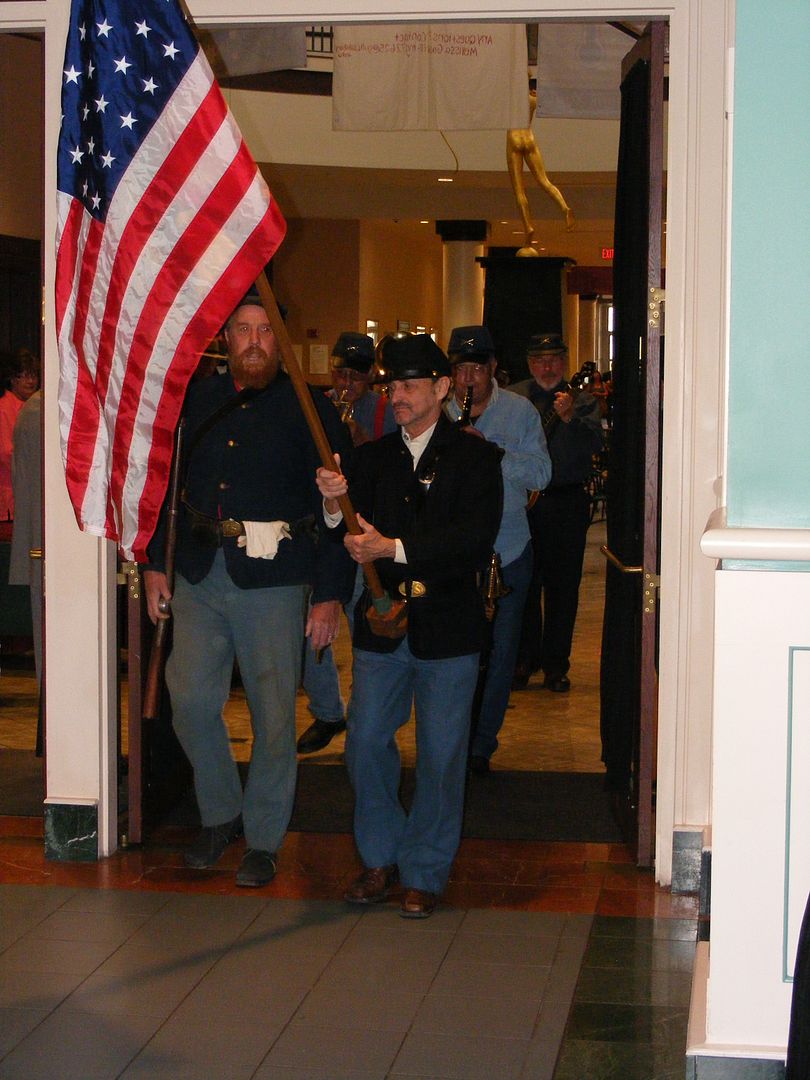 This heralded the arrival of our sixteenth president, who is a popular subject. In this case, it was with Senator Rich Colburn (left) and John and Gail Bartkovich. Gail is the outgoing Council member from District 3, while the good doctor John was our county chair for several years.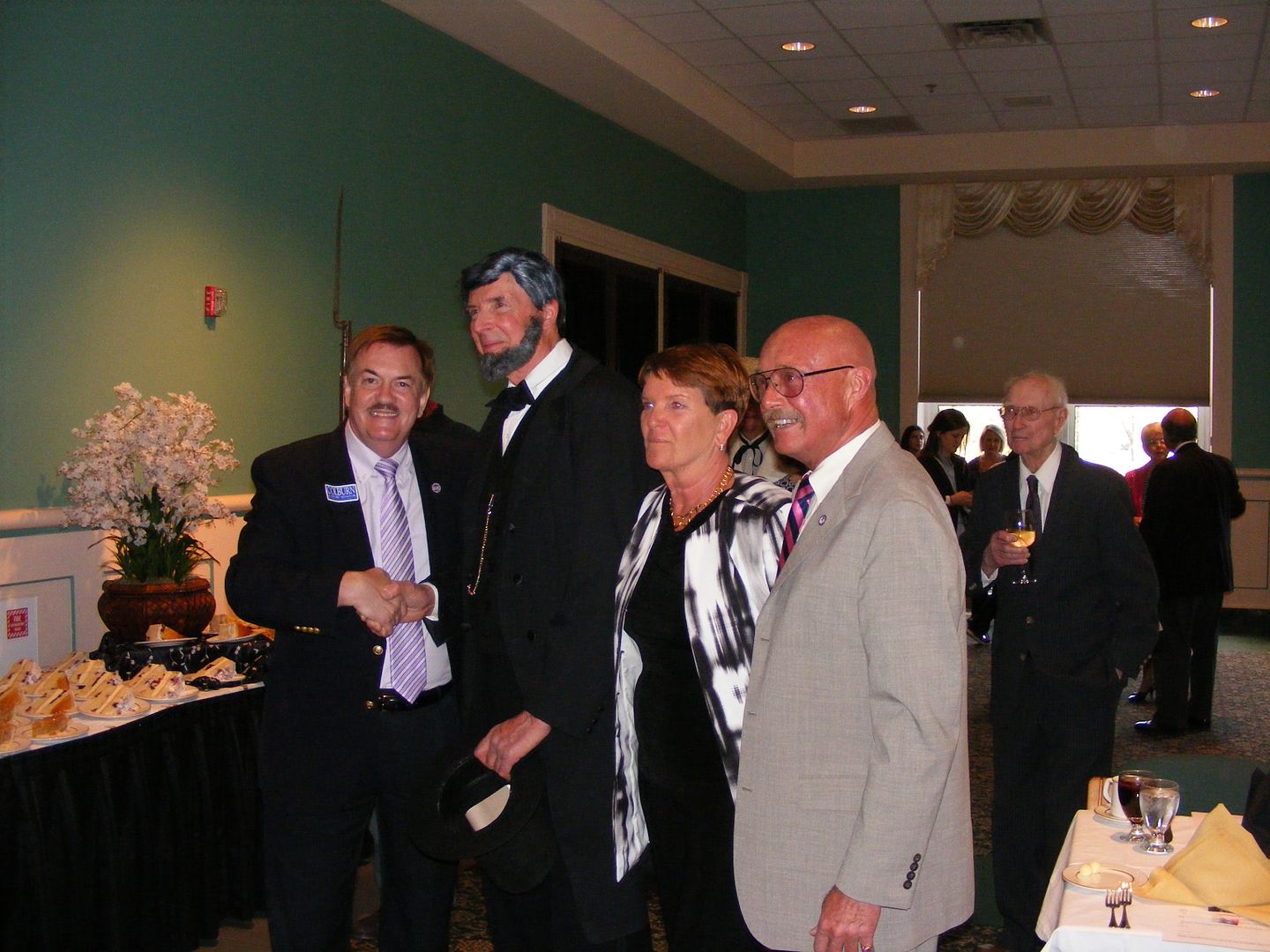 One new wrinkle we added this year was a Union band, described by Lincoln as "the Eastern Shore detachment of the 3rd Maryland Irregular Regimental Band," which played traditional music during the prelude to the ceremonies.
The troops sat behind Lincoln as he made his remarks, with a little banjo accompaniment toward the end.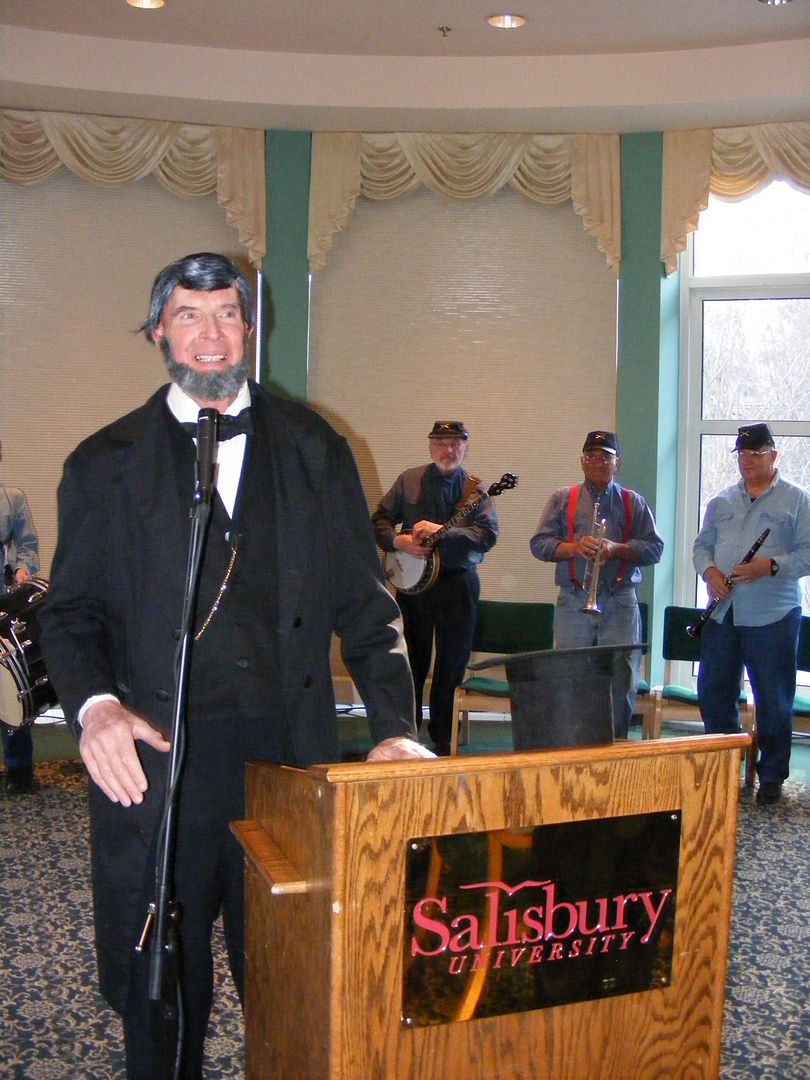 As he always does, Lincoln made remarks which tried to use the words of yesterday to relate to today's world, leading off with a tale about General George McClellan, one which he concluded by stating the case "the lunatics are running the asylum."
"Our greatest enemy is voter apathy," he continued. "It cheats honest citizens."
And just as the British Empire sparked a revolution by resorting to tyranny, Lincoln called the modern situation "mental torture." Now, "A lying tyrant is in control," Lincoln added, "We need to be a stumbling block to tyrants." But he ended on a hopeful note, believing "America shall not pass away."
Our county Chair Dave Parker then secured the floor for a number of announcements as well as praise for one outgoing member of our Central Committee.
First of all, we learned that there will be a gubernatorial debate among the GOP candidates here on May 31, at Salisbury University. Once the June 24 primary is history, we will convene for the Wicomico County Republican Club Crab Feast on September 6.
But the huge event was the one slated for September 27. After twice being unsuccessful at getting a Lincoln Day date, we got the next best thing: Lt. Col. Allen West will be appearing in Salisbury for a series of events September 27. Those who attend Central Committee or Wicomico County Republican Club functions already know this, but we put out the formal word tonight at Lincoln Day.
Before we heard from the gubernatorial candidates, we also took a few moments to honor one of the few Republicans in Maryland whose Presidential vote has truly counted – this man served on the Electoral College from Maryland in 1972 for Nixon and 1984 for Reagan. For the better part of five decades Blan Harcum has been a fixture in Wicomico County GOP politics, but after this election he will take a well-deserved retirement from the Central Committee. "I've enjoyed every minute of it," said Blan about his tenure.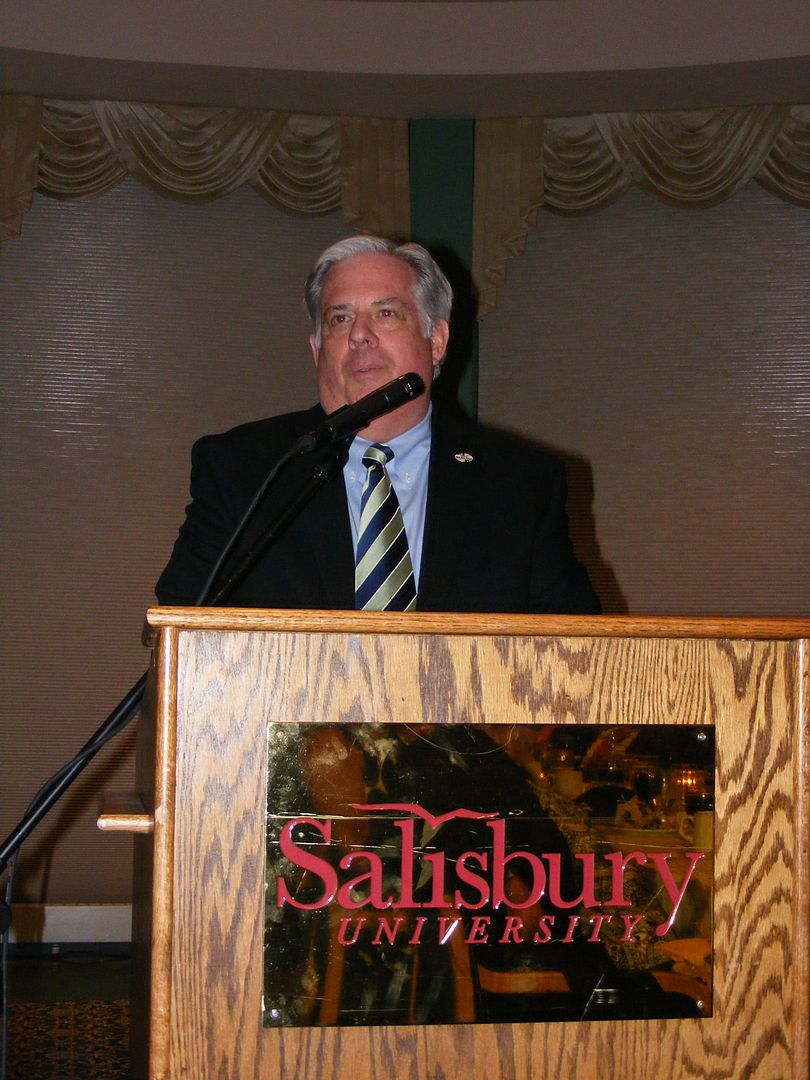 And as it turns out, Larry Hogan has known Blan "for a long, long time." He drew the opening slot among our four, and in doing so decided to play up his experience in both the private sector and executive branch under former governor Bob Ehrlich. "I've spent a lifetime challenging the status quo," Hogan said, accusing our current leaders of "actually causing the problems." Rather than "be something," he wanted to do something about them and that was why he decided to run.
Naturally, Hogan spoke about Change Maryland, noting that it "successfully changed the dialogue in this state." He could sense the frustration with the "huge disconnect" between the people and their government as well as the belief the state was heading in the wrong direction. Regarding the "arrogant, out of touch monopoly" in Annapolis, he believed it was "about time the politicians in Annapolis listened to the rest of us."
As he has often done in his stump speeches, Hogan returned to three main points: creating jobs, helping out the middle class, and getting government off our backs. He related his day in Salisbury, with stops in several area businesses as well as a Little League opening day and the downtown Easter Egg hunt.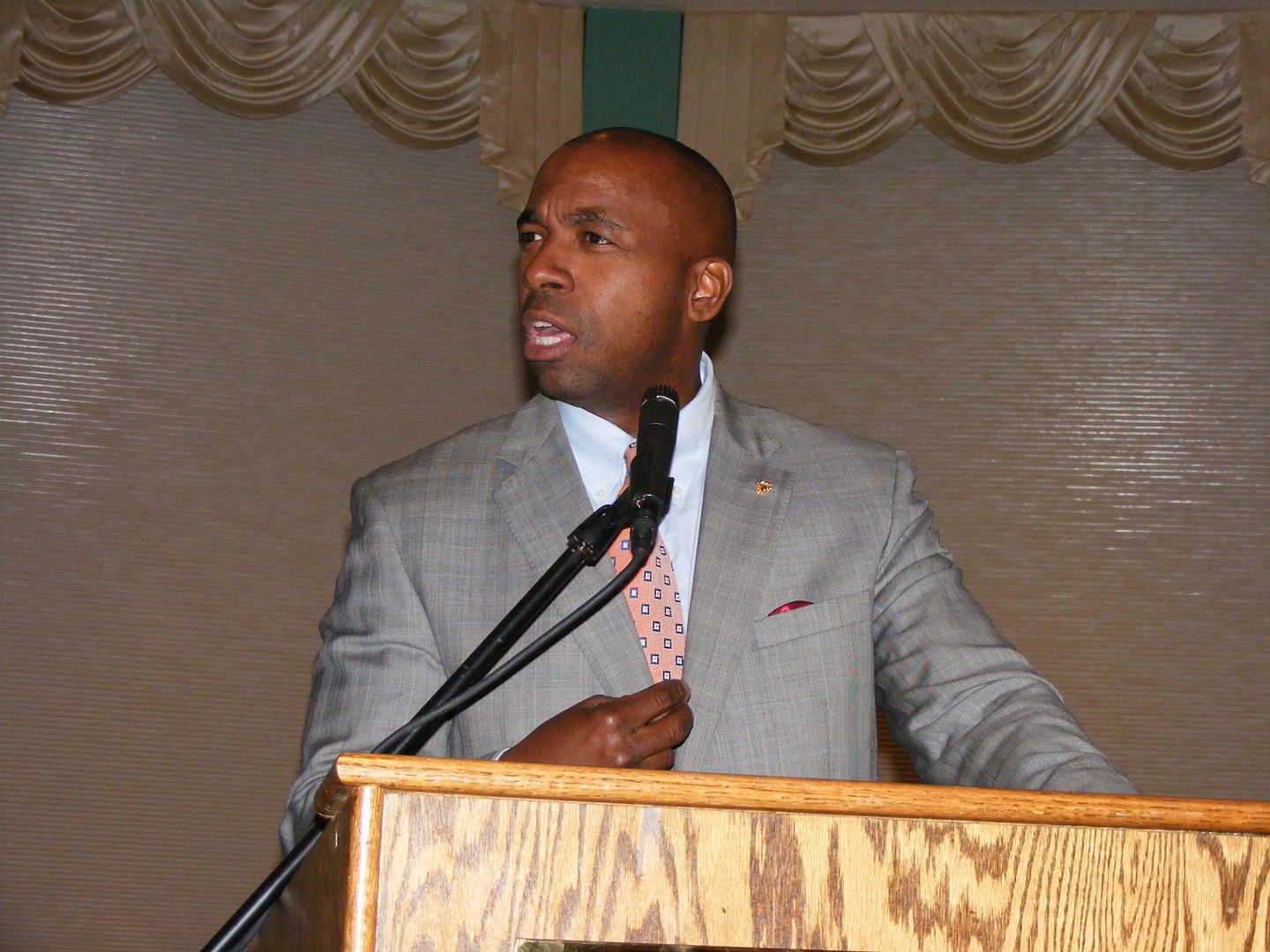 Charles Lollar also told us about his day, one spent taking the fight to Democratic strongholds and crossing paths with Democrat Anthony Brown on three occasions, debating him once. He was inducted into the 100 Black Men of Prince George's County, heard Brown say at a Howard County forum that "Maryland is doing fine" – while 1 out of 3 in portions of Baltimore are jobless – and went to a Veterans for Democracy meeting back in Charles County where he was "disinvited" to speak because of "political pressure" his name has brought. On top of that, his second daughter is going to her first prom tonight. "I'm not doing this for me…we're doing this for you," said Charles.
But his message to the Republicans was that whoever the nominee for governor may be, he has to have the "intestinal fortitude and integrity" to speak our convictions. His basic agenda would be one of economic solvency, installing a Taxpayer's Bill of Rights to slow budget growth, and eventually eliminating the personal income tax – a proposal which got him the support of economist Arthur Laffer.
He knew it would be difficult, but concluded that "I don't play politics very well, but I do enjoy a good fight every once in awhile." Whoever wins the primary has to care about the ideals of the minority community to earn their votes, Charles stated in closing.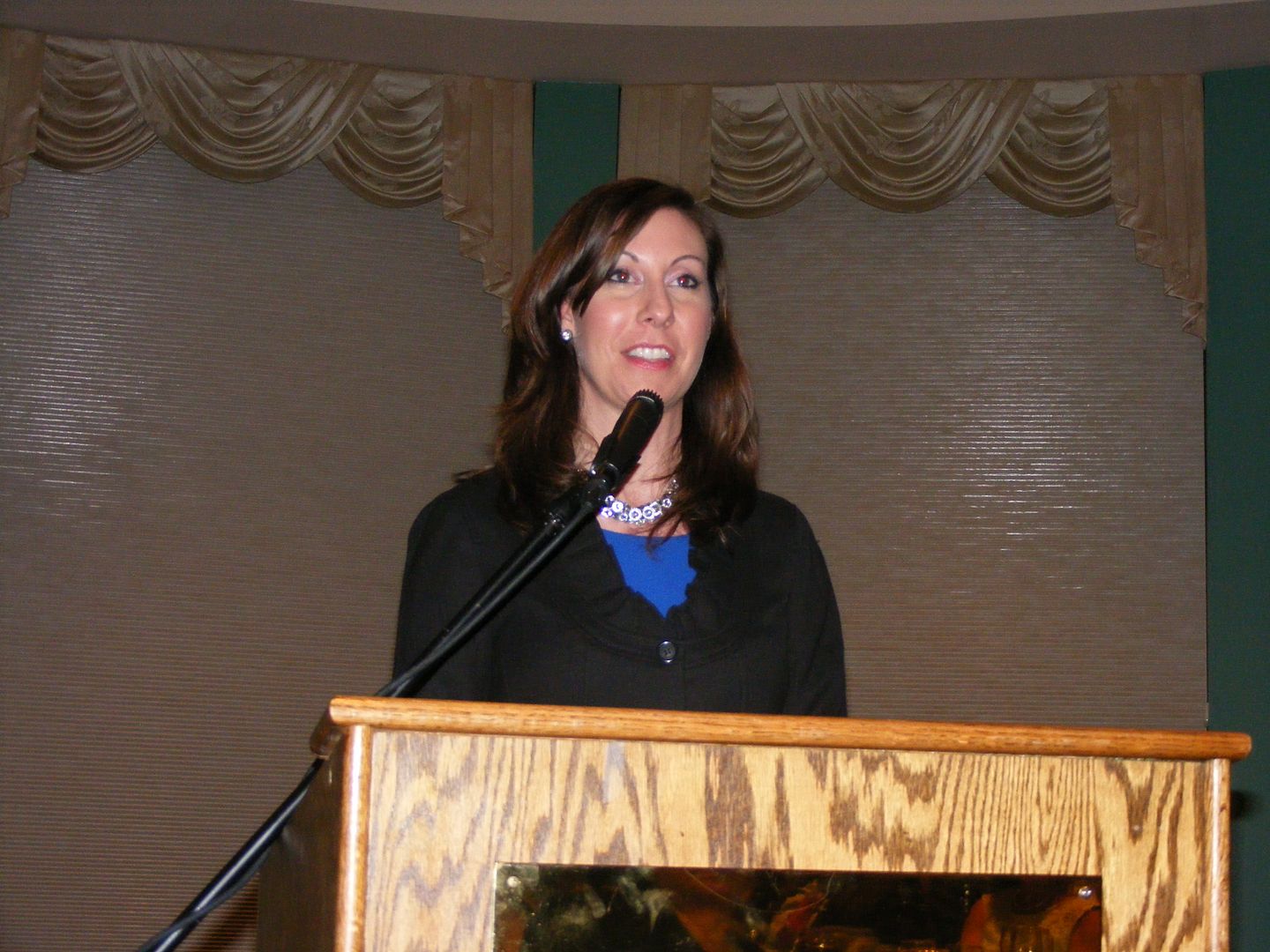 Representing David Craig, who couldn't be here tonight but was instead over in Frederick County, was his lieutenant governor candidate Jeannie Haddaway. We're out "covering the state as much as we could," she explained. Reflecting on the recent General Assembly session, Haddaway remarked that "there are people in Annapolis fighting for you." Some of the more controversial bills only passed by slim majorities, added Jeannie, because Democrats are reluctant to vote for them but have to contend with their "top-down agenda." Thanks to what's gone on the last few years, "our state is in really bad shape," said Jeannie.
She corrected Larry Hogan's remark about private sector experience, noting David Craig worked in a factory when not teaching and her own work as a small business owner. Their priority would be to straighten out the budget then "put money back in your pocket" through elimination of the income tax.
Haddaway pointed out 40 percent of Democrats were undecided, perhaps because they didn't like the options and may consider a Republican who would "try something different." And even in heavily Democratic districts, Craig had won. "We have won collectively 14 general elections," she said. "Whoever turns out is going to win this election." She promised that if Craig won and she became the state's first Eastern Shore lieutenant governor, "the Eastern Shore will be forgotten no more."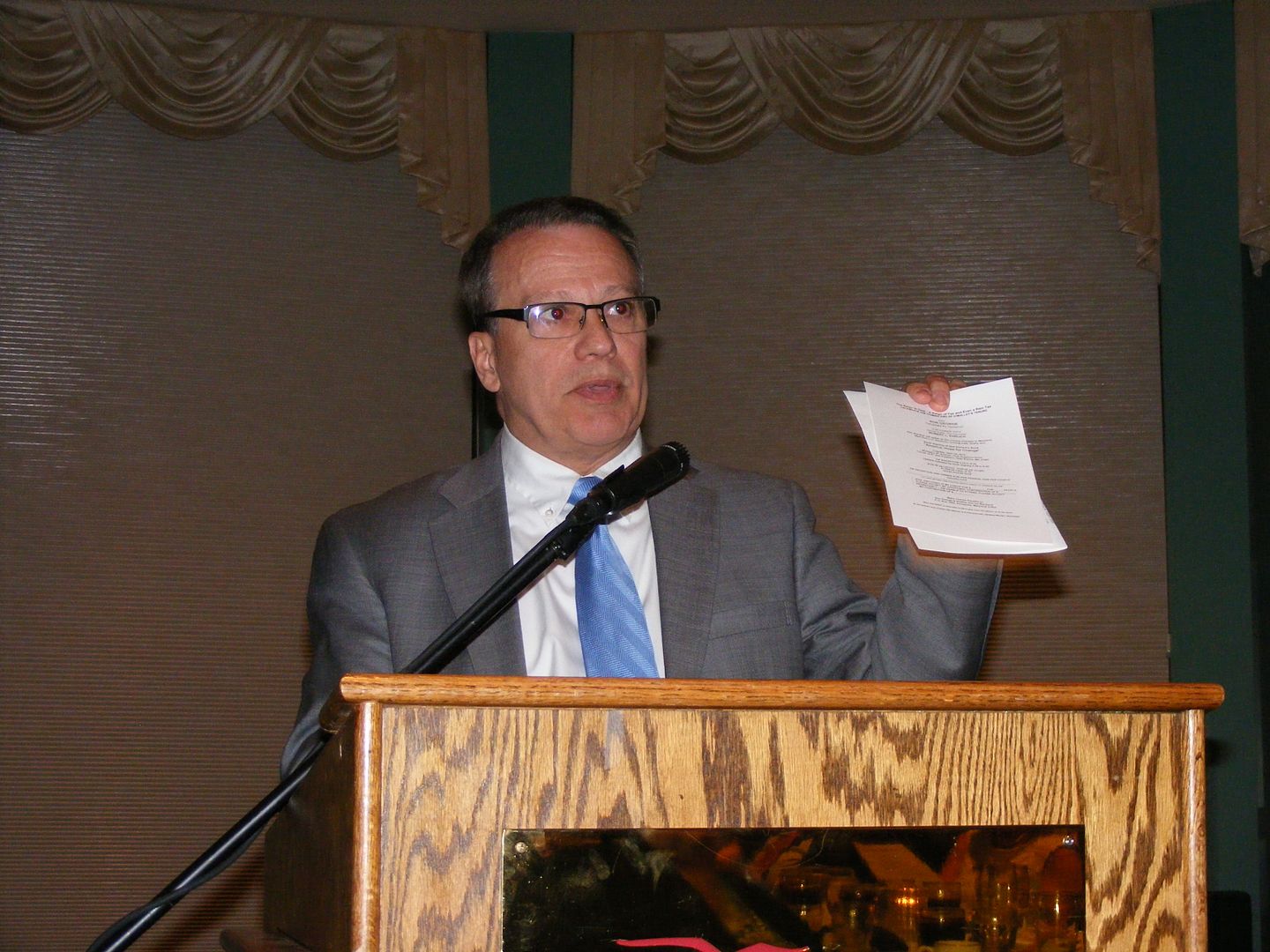 While he was holding up the flyer for an upcoming event in Ocean City in the photo above, Ron George opened up by discussing running mate Shelley Aloi – like many of us, I met her for the first time tonight. (She and Ron happened to sit at our table, along with our next speaker and his wife and the Parkers.)
Ron spent much of his time talking about the General Assembly: "I felt like I needed Rolaids constantly," remarked George – but considered it an "honor" to serve with our Republican "warriors." His pitch was combining his business experience with time served at the "front line" of issues as a member of the General Assembly – one who formed the Doctor's Caucus "to build consensus" and a related group called the Physician's Advisory. That group had uncovered waste within the exchange and the failures of health care contractor Maximus early on.
Ron also spoke about his work on the electoral process, closing a loophole for the next cycle so a donor couldn't form multiple LLCs just to circumvent campaign finance limits. Audits, too, were another major part of his platform since he'd found where Prince George's County "totally misused" $400 million. "That kind of waste has got to stop."
George went over a couple parts of his ten-point promise, one which "will fix the drain that Baltimore is" and strive to rebuild the state's manufacturing base in small communities like ours. "I cannot cut welfare payments unless I have those entry-level, mid-level jobs," said Ron.
He also made an announcement about a Monday event to be held in conjunction with Dan Bongino and David Craig, endorsing Anthony Brown for governor…of Connecticut. "How's that (health care) working out for us?" added Jeannie Haddaway.
But the rhetorical storm was brewing.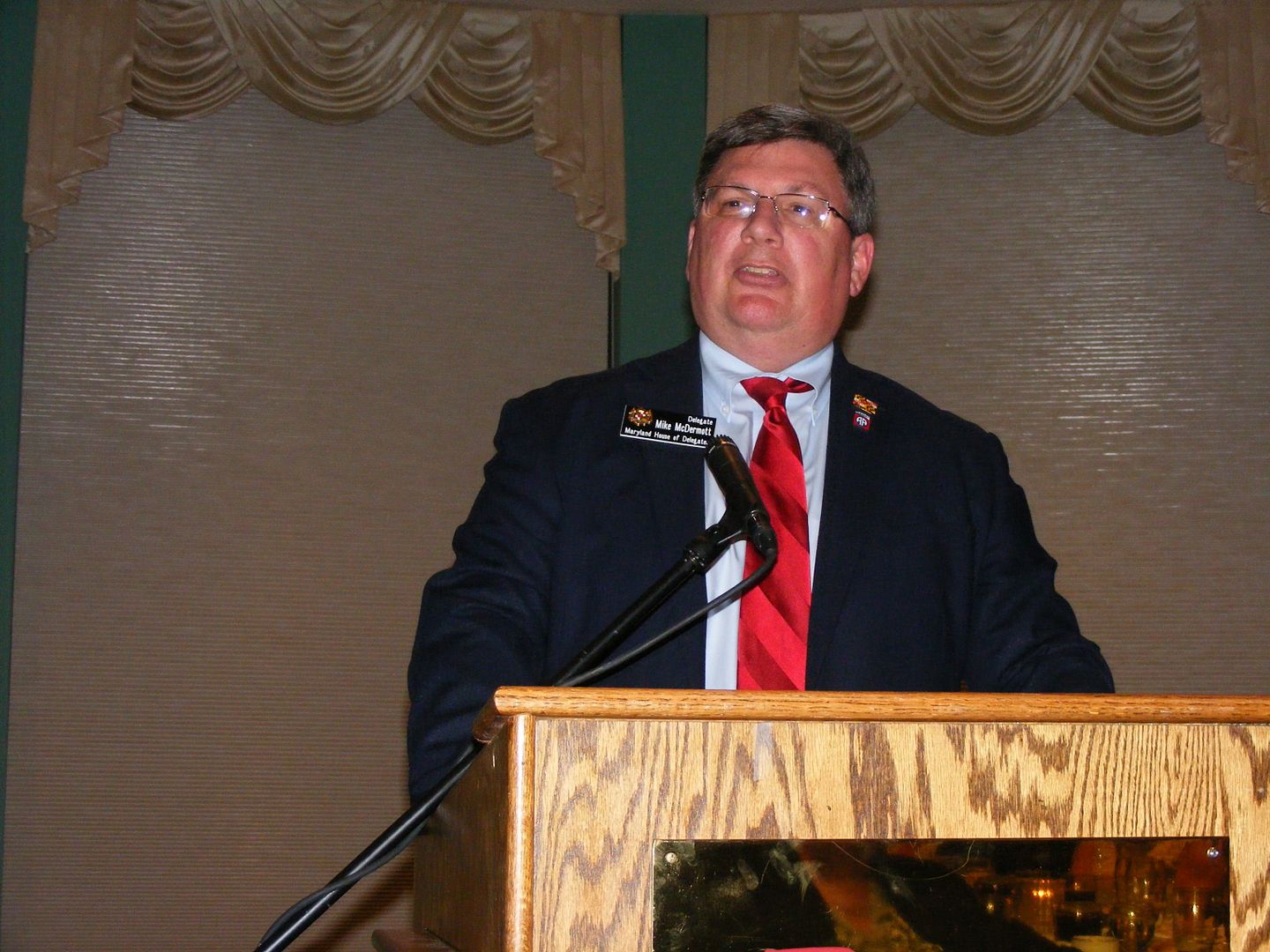 You knew Delegate Mike McDermott was working on a stemwinder when he noted, "the problem with Democrat math is that they follow Common Core logic." This after he noted losing the two GOP Senators in 2010, including the seat he seeks, "opened up the floodgates of hell on the social side." This didn't count the pilfering of various trust funds or the "blank check" to uncovered patients for the budget.
But once he got going on the "outrage" on the bathroom bill, it was on. "It should be unacceptable to all Marylanders," he said. We gave each gubernatorial candidate ten minutes – Mike was still going strong after fifteen.
"The tragedy of Maryland politics can be turned around," he said. "Don't send a governor to the governor's mansion without sending them reinforcements" of five Senators." His voice rising, McDermott made the case that North Carolina "worked on making government work for the people" after the GOP took over and raised its business friendliness rating from 46th to 17th in two years. "They've brought that state back! It can happen here."
"If we can't make the case for change this year," Mike thundered, "the Republican Party can never make it."
"We can take Wicomico County by storm! If there was ever a county which needed good leadership and change, it's this one. I'm tired of being up there, and being in a welfare county…I challenge you to take it back," an emotional McDermott concluded. He had to dial it back some for the benediction that he delivered.
Our friends in Worcester County have the chance to have a great team in Annapolis: Mike McDermott in the Senate, and Mary Beth Carozza and Charles Otto in the House.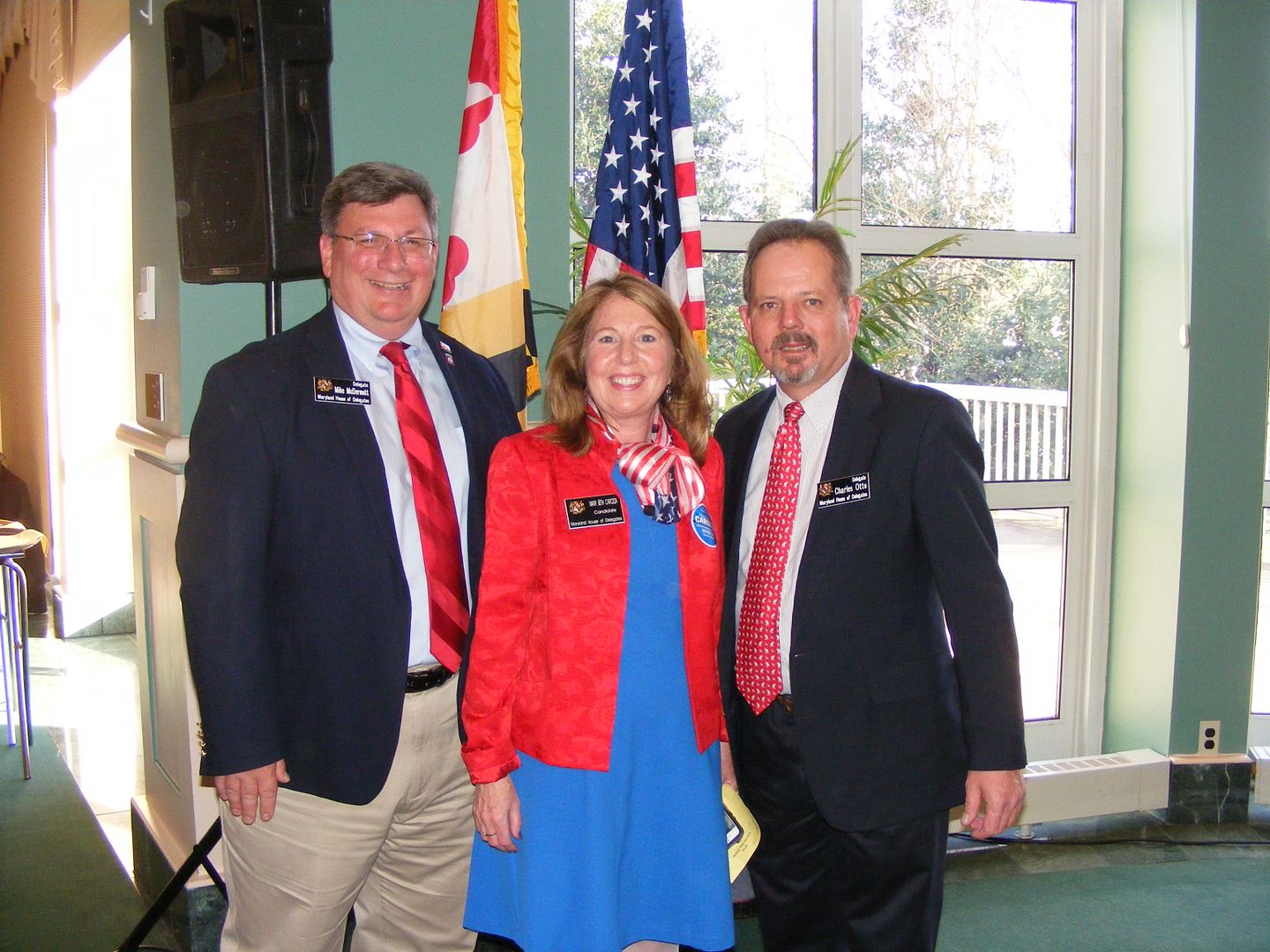 So ended another Lincoln Day Dinner. It wasn't quite what we bargained for when we started planning it last year, but those who were there were treated to a good event nonetheless.
He may not be much for participating in debates, but by the standard I set a few days ago Larry Hogan is a more-than-successful fundraiser. Today his campaign released a press statement claiming that the Hogan juggernaut raised $422,000 from over 1,800 individuals in just 68 days. (The official numbers are due next week, so this is a preliminary tally.)
Speaking on this, Hogan was thankful for the generosity:
Thanks to our supporters, volunteers and staff we've surpassed our outreach and fundraising goals.  The incredible outpouring of support from middle class voters across our state shows that Marylanders want a governor who'll put working families and small businesses ahead of Annapolis elites.
Yet a quick look behind the numbers reveals a few interesting things.
First of all, it appears that many of the donations are maxing out the $250 allowed for matching contributions, as the average works out to about $234 per. So you're getting your share of smaller numbers, but it's likely the report will show a high number who pitched in the most allowed. Moreover, it bears pointing out that Hogan only promised to use matching funds in the primary, so there's a lot of room for these donors to come back and upgrade to the maximum $4,000 allowed should Hogan win in June. This may be a shrewd strategy to compete in the general election.
But I found the comparisons to other campaigns at the 68-day stage a little disingenuous, because they're apples and oranges. Eighteen months out from an election is generally not prime fundraising time, and no contender makes a whole lot in the summer before a campaign year – for example, David Craig raised about $250,000 in each of the last two years but it was clear he wouldn't rest on those laurels and fundraising wasn't a big push at the time. As long as candidates have enough to keep the lights on a year out, they're happy, so saying that his campaign is more popular than the others based on that fact alone is a little misleading.
We also don't know how much cash on hand any of the campaigns have, and going forward at this stage that's a far more important number. With Hogan making a television ad buy, some part of that $422,000 is already spent.
Yet as time goes on, it's becoming more clear we may be looking at a two-person race, unless the campaign finance reports of Ron George or Charles Lollar show they've cut into the significant fundraising advantages David Craig already enjoyed and Larry Hogan has appeared to establish. Grassroots support is great, and taking the message to underserved areas helps build the Maryland GOP for the future. Reaching nearly a million Maryland GOP voters, however, isn't free, and there's a reason it's called broadcasting – media reaches a huge number of people other methods do not.
These warm and fuzzy commercials Democratic contenders are putting out are simply to build a brand association, because very few of those voters are going to look at the issues until the end, if at all. The more discerning group on the GOP side is fine with questioning the record of the incumbents, but they'll want a little more depth when all is said and done.
As a closing aside, David Craig is going to try and raise a little money on Sunday as he hosts a fundraiser of his own:
Please join the Eastern Shore's own Jeannie Haddaway and me on Sunday, April 13th at Sailwinds Park in Cambridge.

Our friends from all over the Eastern Shore and across Maryland will be gathering for fresh seafood, cold drinks, and good times. The event will be held from 12pm-4pm. Tickets are $60 in advance and $70 at the door. Tickets can be purchased by clicking here.
I will say that based on the forecast he is going to luck out in that respect. Next thing you know we'll be sweating in Crisfield, but only one GOP gubernatorial candidate will be there as a nominee.
Now that the General Assembly has made it to sine die, the transition to regular campaigning can begin. Certainly there will be posturing over one issue or another, and there are rumblings that the "bathroom bill" and perhaps even marijuana decriminalization could be placed on the ballot. But for better or worse, the General Assembly has completed its work for the year, and at least 37 members out of the 188 will not be back – many are retiring, but some are seeking other local or statewide offices.
So for those who are looking for greener pastures, as well as the 150-odd who are willing to serve another term – with many among them trying to move up from the House to the Senate – the campaigning can begin in earnest. Only seven Senators (three Republican, four Democrat) have a free ride to re-election, barring a late write-in entry. Two Democrats running for the House of Delegates will enjoy the same freedom, and both will be newcomers – Will Campos in District 47A (Prince George's County) and Sheree Sample-Hughes from right here in Salisbury. Both had opposition, but the one filer against Campos was disqualified and incumbent Delegate Rudy Cane from District 37A withdrew from his race, leaving it for Sample-Hughes.
Some in difficult races have been chomping at the bit to go out there and press the flesh, along with once again having the chance to raise funds. An e-mail from Delegate Neil Parrott greeted me this afternoon in my e-mail box, and certainly many others were making plans to raise some dough.
While he didn't serve in the General Assembly, Larry Hogan is making a push to look good on his initial campaign finance report. Messages like this have been appearing on his Change Maryland Facebook feed:
Thanks to the generous support of engaged and informed Marylanders like you, we are EVEN CLOSER to hitting our fundraising goal before tonight's finance report deadline! We have less than TWELVE HOURS to hit our goal – Can we count on you to help us get there? Any contribution you can afford, whether it's $5, $50, or $500, will make a big impact on our campaign and could be enough to put us over the edge to reach our goal!
Of course, since they're not letting on exactly what the goal is, I highly doubt they'll actually fall short. Yet what would be success in fundraising? Back in January, it was revealed that David Craig raised just under $250,000 in 2013 after a similar performance in 2012. Since we're closer to the election, I would have to assess success as whether Hogan raised the amount required to qualify for matching funds, which would come pretty close to matching Craig's total 2013 take. Since Hogan has media up already with a cable television buy, it's likely he's raised at least $200,000.
(It's worth pointing out as well that Hogan is slated to appear at our Lincoln Day Dinner on Saturday, as are Ron George and Charles Lollar. Jeannie Haddaway will pinch-hit for David Craig, who has another engagement. So if you're coming you can ask the tough questions, although we don't plan this as a debate.)
For us, the event will serve as a kickoff to the serious campaigning to come since it's likely we'll hear from a number of Republicans who are running, even if we have to drag out the egg timer to make sure they keep things short for our featured guests. If we let all of the District 37B aspirants go, we'll be there all night! (Yes, that was supposed to be funny. You are allowed to laugh.)
After all, not that I'm trying to hurry it along by any stretch of the imagination, we're just 30 weeks away from the November election (and 11 weeks from the primary, which I have a vested interest in.) Lots of time for good things to happen.
While David Craig got the jump on Larry Hogan for radio campaign ads, the Change Maryland founder has struck back with a 30-second TV ad called 'Dedicated':
I found it a very good ad, simple as an introduction to the candidate and his main campaign philosophy. Perhaps my only knock on it would be the fact it was shot in black and white, a technique usually reserved for the target of negative ads. The usage of black and white in an introductory commercial, therefore, seems a little stark.
While promising an "aggressive media effort" Hogan stated about the introduction:
Just two months ago I announced my candidacy, and since that time we have focused on building a campaign that will compete head-to-head with the Democratic nominee. The incredible outpouring of support from Marylanders we have received enables us to begin our TV and radio campaign earlier than we ever anticipated. This next phase of our campaign will help take our message of fiscal restraint and common sense government to every corner of the state.
Naturally, there is a lack of specifics about exactly where the ad is being placed, although John Wagner of the Washington Post notes it's in the "Baltimore market." Whether it's a cable buy or over-the-air I cannot ascertain.
But with the two leading contenders on the air, it means Ron George and Charles Lollar will have to scramble to raise the money required for their own ad buys. George will be able to restart his campaign, which has been stuck in low gear because of the General Assembly session that wraps up its work tomorrow night; meanwhile, Lollar and running mate Ken Timmerman recently wrapped up their "Economic Recovery Tour" which bypassed an area much in need of an economic recovery – the Eastern Shore. (Lollar is slated to appear at our Lincoln Day Dinner Saturday night, though.)
At this point neither George nor Lollar seem to have the kind of juice which can buy media advertising, although we should have a better idea of the financial picture of all the candidates in the coming weeks.
Update: I'm told Fox News is one of the outlets for the Hogan spot, so presumably it's a cable buy.
I had to do a double-take at my e-mail last night, and perhaps John Wagner at the Washington Post did as well. I thought I was seeing double, with Bob Ehrlich at two separate fundraising events for two different candidates for his old job. Only about an hour separated the two announcements, with David Craig's April 14 event in Bel Air hitting my mailbox just before Ron George let me know about his April 22 affair in Glen Burnie. It got me to thinking: didn't Larry Hogan have an Ehrlich event, too? Indeed he did back in February.
Ehrlich may only have a 1-2 record in gubernatorial contests, but he remains a popular fundraiser for a number of state and local Republican candidates. However, the common denominator seems to be the interest for Ehrlich in promoting his 2013 book, America: Hope for Change. Since it's languishing at #800,039 on the Amazon best-seller list, obviously Bob may have a few dozen copies laying around, and each of these events features (or featured, in Hogan's case) a book signing from Bob. At this point, the only Republican gubernatorial candidate who hasn't solicited Bob's help is Charles Lollar – then again, Lollar doesn't have the same political connection to Ehrlich as the others do.
It's also interesting that the maximum amount for each fundraiser is $250. Some may well pay more to see and be seen with Bob Ehrlich, but it also neatly matches the maximum donation allowed for a match from public campaign financing. Giving $251 would do no good in that regard.
But I also have to wonder if writing this book was part of a larger Ehrlich plan. If you look at the Republican party and the prospective 2016 presidential candidates, there are a number of governors who could play a role. Yet a guy like Chris Christie who hangs his hat on being able to appeal to the middle because he was elected (and re-elected) in a deeply Democratic state has the baggage of Bridgegate to deal with in contending for a 2016 run, not to mention he still has to run his state for another three years. Ehrlich could argue he's cut from the same cloth, but happened to run for re-election at a time when the overall GOP brand was at its nadir due to the press-created unpopularity of President George W. Bush. (By the way, look who some in the party and punditry are trying to foist on us – yet another member of the Bush family.)
At 56 years of age, Ehrlich should be in the prime of his political career, and he has a reasonable resume at the state and federal levels. Bob would be the darkest of horses for a 2016 run, but is it possible he may be angling for a Cabinet post in a future GOP administration? To me, it would be another reason why Bob hasn't endorsed anyone in this Maryland race – why alienate possible supporters for a favorite son bid to pump up a national profile?
I guess it would have helped, though, if America: Hope for Change was number 39 on Amazon's list rather than 800,039. Nevertheless, if supporters of Craig, George, or Hogan are willing to shell out a couple Benjamins for a picture and signed book from our last GOP governor, more power to them. Heck, somewhere I have a photo of Bob and I from 2006 at a Perdue Stadium event so it's not like I've never done the same (although it cost me much less.)
So if reading is your thing, you have another reason to attend. (Or you can read mine and save about 240-odd dollars.) Say what you might about his four years at Maryland's helm, but Bob Ehrlich is still somewhat of a draw and he'll take advantage of it.
A couple weeks ago I noted that David Craig was first on the radio with advertising buys in the Baltimore market. Apparently the ad buys have now gone pretty much statewide, but with a focus on rural areas like the Eastern Shore and western Maryland.
To me, it's surprising that more candidates haven't done the same, well, unless they don't have the money. Since most of them are taking public financing (except for Charles Lollar) they're probably still amassing the seed money required for the matching funds – we will know more in coming weeks when campaign finance reports come out.
From what I recall about looking into this for our party and GOTV messages, radio done right can go a long way and be cost-effective, although some would argue that television time on certain cable networks is also a good way to go. But I daresay that Craig is probably paying half of what he was paying in Baltimore down here, and in the case of WCBM's programming, could be on many of the same shows since they do the familiar Limbaugh/Hannity/Levin lineup from noon to 9 p.m. If you want to reach likely conservative voters, it's probably the place to start.
That outlet may be the only one available to Republican candidates come June. Something tells me that Anthony Brown and Doug Gansler will be filling the airwaves with 30-second TV spots so conservatives may not want to watch the television news beginning about Memorial Day unless you want to see back-to-back televised debates via the 30-second spot. This will be particularly true in the Baltimore and Washington markets, although they will probably have some TV spots on the stations in Salisbury and Hagerstown, too. With radio you may hear a couple statewide candidates in one commercial segment, then hear the others plus a local one or two at the next one.
But Craig seems to have the lead in media three months out from the primary. Elections may not be won at this point, but they can be lost and not being able to spread the message is generally crippling to a statewide campaign.
For the last two CPACs, Bretbart News has hosted a gathering called "The Uninvited", a meeting where those who speak to subjects taboo to the main conference meet. In 2013, they met in a side conference area well away from many of the main events and this year they left the Gaylord National Resort and Conference Center entirely, choosing the nearby Westin Hotel instead.
I bring this up not because I want to extend CPAC coverage, but it was the immediate thought I had after reading a piece by Jeff Quinton last night about a Larry Hogan-sponsored Maryland blogger gathering. Indeed, when asked by Quinton a few days ago I said I hadn't heard about such a meeting so presumably I wasn't invited – not that 4:30 on a Wednesday afternoon in Annapolis generally works for me anyway.
But I thought a little compare and contrast was in order, perhaps to help make Quinton's overall point.
About 2 1/2 years ago, well before he officially announced but at a time when the wheels for a 2014 run were already in motion, David Craig gathered a number of prominent bloggers at the time (including a couple of the Red Maryland guys) for an informal Friday evening meeting in Annapolis.
But it didn't stop there. Craig also made sure I was aware of the announcement tour stop in Salisbury and his staff arranged for me to have some time for an interview before they left. Insofar as I know, David has been fair to most of the bloggers – no complaints.
And while I haven't had similar face time with either Ron George or Charles Lollar, Ron has taken care to call me or provide comment for my site on several occasions. I've also heard from members of Lollar's staff regarding things going on in the new media world. On the other hand, it's been a long time since I've spoken to Larry Hogan, but then I don't initiate the conversation either. There was a point where I was trying to get him for the most recent Ten Questions series of interviews I did last year, but we couldn't get a time coordinated and I eventually abandoned the effort.
Now I'm presuming the Hogan event would be patterned on the initial Craig soiree, and since there were about 10 or 11 total people there perhaps only six to eight bloggers were invited – figure four from Red Maryland, Jackie Wellfonder, and perhaps the folks from the Sun and Post and pretty soon you have a crowded table. But if a candidate really wanted to do it right, he or she would have 3 or 4 similar events around the state.
Then again, what do I know? In the scheme of things I'm just a blogger whose main complaint about the Hogan campaign isn't lack of access but lack of detail, as in his plans for governance should he be fortunate enough to win. Maybe I'm just one voter but I have a lot of pet issues, so that's why I want to know.
So I hope my cohorts have a good time this afternoon. I won't be there, particularly since I'll probably still be hard at work doing my outside job in the real world. But I'm sure I'll hear about it from someone.
As many of you know, I write regularly for the Patriot Post. As such, I've been a longtime subscriber to their various releases and today editor Mark Alexander wrote a piece called "The GOP's Fratricidal Threat to Liberty." And while I disagree with his premise to some degree – because he seems to blame the TEA Party movement for recent failures moreso than the "Establishment" pushback, something I would reverse – the overall point about unity is a good one, and it got me to thinking about how things are going in Maryland.
Back in November I was crucified for a particular post, but in light of recent events I want to quote from what I said then:
Now you can trust me when I tell you this "erstwhile contributor" to Red Maryland has had many differences with them over the years. But I have to say that they are an important piece of Republican politics in this state, for better or worse. I would have more respect for those running the Lollar campaign if they pointed out the differences between their guy and the other Republicans running than I do with their spending time worrying about what a group of bloggers thinks. If you disagree with Kline's assessment (of your campaign), prove him wrong and step up your game.
Indeed, I think the Lollar campaign has stepped up. But more to my point, there are some who are taking a victory lap over the eviction of Red Maryland from the pages of the Baltimore Sun. It's well worth noting a particular timeline of events: I wrote my piece on November 6, the Red Maryland – Baltimore Sun partnership came out November 20 (on the eve of the MDGOP Fall Convention), and their endorsement of Larry Hogan was made official December 12. So the endorsement was made after the Sun hired them.
Also worth mentioning is this part of Red Maryland's rationale on choosing Hogan:
No doubt there will be, in some circles, the gnashing of teeth over our endorsement, much like there was for our 2010 endorsement of Bob Ehrlich. However, we will continue to ascribe to the Buckley Rule and support the most viable right candidate who can win. (Emphasis in original.)
Gnashing of teeth – check. But there's another issue at play here, and it has nothing to do with who is on what payroll.
There are only a handful of conservative political blogs in Maryland; perhaps no more than a dozen really cover the state well on a regular basis. As I said back in November, I have had many differences with Red Maryland and probably will lock horns with them on a number of future occasions. There's no doubt we see the limits and overall merit of the Buckley Rule differently.
But I do agree with the need for the Eleventh Commandment. There has to be a change in philosophy among all of us – instead of trying to be the "tallest midget in the room" (as a Red Maryland stalwart is fond of saying) by needlessly savaging political and online opponents, we should be the ones who support each other in the overall uphill climb. On the whole, we've lost a valuable platform because of mistakes made by those who tried to be that tallest midget, ones for which they were called out. Hopefully a lesson is learned out of all this; and I don't doubt Red Maryland will still have a part to play going forward. Just remember, folks: perception is reality.
As I see in my perception, each and every one of us who toil in this field can complain all we want and write 24/7/365 about the mess that is Maryland politics, but if we don't strive to educate and motivate our readers into supporting good conservative candidates from around the state we've done nothing but waste our time. (Okay, a few of us may be paid for advertising, consulting, and other favors, but that's peanuts.)
I may not necessarily agree with Red Maryland or Jackie Wellfonder about their belief that Larry Hogan is the best candidate for governor, but if he wins on June 24 it's our job to help him win on November 4. I can tell you from experience that it's a rare ballot indeed where a Democrat is more conservative than a Republican, and looking at the top of the Maryland ticket this year won't be one of those rarities. Trust me, it's not like I've never had to put my ego aside because my choice in the primary lost. But I sucked it up, buttercup, because I understood what was at stake.
To me, the end game is to elect conservatives, and if we elect GOP moderates we either convince them they should become more conservative or find a better primary opponent for the next go-round. As Alexander said, we will still agree with them on 80 percent or more of the issues.
To finish, let me quote Alexander but add just a couple words:
The internecine warfare in the (Maryland) GOP (blogosphere) may be good for cornering constituents and emptying their wallets, but it is most assuredly and demonstrably NOT good for advancing Liberty.
If I have a legitimate beef with a candidate – and there's at least one I've been disappointed in so far – I'm reserving the right to say so. But the events of the last couple weeks should remind us all we have a ton of work to do and these misadventures are too much of an ill-timed idle diversion.
There's no doubt the importance of the 2014 elections in Maryland can't be overstated. At stake will be the very direction of the state: will it continue to re-elect the same failed liberal leadership that's been bleeding jobs (and may continue to do so) and can't seem to balance a budget, or will it try the GOP alternative that at least promises to reduce the state's onerous personal tax burden, depending on whether the victor is David Craig, Ron George, Larry Hogan, or Charles Lollar? And will the GOP get to those magical numbers of 48 Delegates and 19 Senators which will allow it to be a viable minority party?
To address the latter point, it's worth mentioning that the GOP has conceded 46 House seats and 14 Senate seats to the Democrats because they couldn't find a willing candidate. Most of these vacancies are in what I call the 10, 20, and 40 districts, which in the state's numbering system cover areas around Washington, D.C. and inner-city Baltimore – basically the counties and Baltimore City which haven't quite figured out yet that it would be in their best interest to divest themselves from big government and voted for Martin O'Malley and Barack Obama. Most of the areas which backed Bob Ehrlich and Mitt Romney lie in the districts with single digits 1 through 9 or in the 30s. (For reference, here on the Eastern Shore we have districts 36, 37, and 38.) In the latter areas, Democrats conceded five House seats and three in the Senate, so at play are a total of 90 House seats and 30 Senate seats. In order to get to 48 and 19, respectively, the MDGOP has to win 43 out of 90 races in the House and 16 of 30 in the Senate.
We obviously won't know those results until November, and they will go a long way in determining the fate of the Free State. They will also go a long way in determining who will lead the party over the next four two years, and I think Diana Waterman is working hard to overcome her early missteps – so would she be in the mix for a full four-year term starting this November? (Corrected: I forgot we changed the bylaws a couple years ago to a two-year term starting in 2014, to match the national party.)
Certainly many have been impressed with her response to the ill-considered HB1513 on behalf of the state's Central Committees, which Joe Steffen elaborated on yesterday. But she's also been careful to reiterate that Central Committees cannot endorse candidates in contested primaries (although individual members can) and that our terms run until the election is over. (This year's Fall Convention doubles as the quadrennial organizational meeting for the party, when new members are officially sworn in.)
And she also reminded us:
I'm sure you're getting tired of hearing this but our number one job is to get Republicans elected. This is our time – the stage is almost set (Primary first to determine who will be facing off against the Democrat). The only way we will be successful is by working together. We are outnumbered. We must find a way to pull together – even if don't see eye to eye with the candidate or some of their volunteers. And I expect all of us to run clean campaigns so that they day after the Primary we can stand together and show our complete support for our ballot. I promise you, no matter who the candidate is, even if they were not your candidate, that you will have more in common with them than you will the Democrat on the other side of the ballot. I am not asking you to yield on any of your principles but to remember, even if the candidate who won the Primary is too conservative or too moderate for you – they are better than the Democrats who have a strangle hold on everything in our State. For starters, the Democrat who wins in the Legislature will case their first vote for Mike Miller or Mike Busch. And it just goes downhill from there!
Precisely. So the question is whether the grassroots and activists will follow, or take their ball and stay home on election day if their chosen candidate doesn't win. Remember, based on the polls we've had so far, a majority of voters will not have their first choice be the nominee for governor; unlike other states, we don't have a runoff to ensure majority support.
That healing process has to start June 25, because I know from experience that the other side sucks it up and gets behind whoever they pick, generally having their arguments behind closed doors.
But if Diana Waterman can pull off these electoral miracles with very little money and the more than 2-to-1 registration disadvantage with which we're currently handicapped, the only races we may have would be for the vice-Chair positions. I can't see the Republican winner wanting to put "their guy" in as the party chair after success like that. She's mended some fences over her term, and standing up for the Central Committees may allow her to climb out of the hole she dug early on.
David Craig is claiming to be the first to launch a series of radio ads touting his "glide path" tax plan, in which he exhorts Marylanders to "vote yourself a raise." Give a listen to the one-minute version.
In the release which accompanies this video rendition of Craig's ad, though, it notes that the spots are 30 seconds long. I'm not sure what portion of the long-form version they kept, but the ads are now supposedly running on two Baltimore radio stations, WBAL-AM and WCBM-AM. Obviously I don't know what sort of buy they made, or how much they paid, but my guess is that they spent a little more than the $5 a spot Red Maryland Radio is charging – and presumably have a far larger audience, depending on placement. If they are on during Rush Limbaugh, yeah, that's a big audience.
I like the touch of the female narrator, which will contrast with the mainly male hosts and attempt to soften Craig's image. He already comes across as the grandfatherly type given his age and demeanor – that may compare favorably with the rock-star image our current governor has.
As Craig's campaign points out:
This is the first, paid-media buy by any of the gubernatorial candidates and begins a month-long radio campaign that promotes a bold plan to lower taxes burden on hard-working families, and finally does something to keep Maryland citizens and businesses from moving out of state.

Ending the personal income tax is only one part of our plan to turn back the onslaught of insane new taxes and tax increases created over the past eight years by the O'Malley-Brown administration.
Obviously they also add:
And as always, to keep these radio ads running and ultimately change the ultra-liberal, one-party culture of Annapolis we will need your financial support.
All of the candidates are far short of the social media juggernaut which is Change Maryland – in comparison, David Craig is by far the piker with just 4,620 "likes." But Craig used that Facebook platform today to talk finance:
It comes as no surprise that Maryland will see a decrease in projected revenues in FY15. The O'Malley/Brown administration through their failed economic policies have once again opted to kick the can down the road. Maryland's working and middle-class have been asked to bear the burden of their mistakes for the last 7 years; as a result, many have fled the state because life in Maryland has become unaffordable.

Under our administration, Jeannie and I will provide real substantive tax relief for all Marylanders and balance our budget by ending uncontrolled spending. We will make Maryland affordable once again.
I suppose the key question which occurs to me is whether placing the state on a "glide path" will be enough relief for those beaten and battered Marylanders who are ready to throw in the towel and head for greener pastures. Craig's idea isn't quite as aggressive as the competing tax plan by Charles Lollar, who believes the additional sales tax and economic activity will make up the difference. So while they are waiting for a second term of David Craig, how many will go to those places which already feature all these tax advantages?
Whether it's the competition or just getting more familiar with the levers of state government, it is encouraging to see David getting more bold with many of his ideas. Perhaps he can shake that moderate image enough to get through the GOP primary, and I'm sure that's where the radio ads are aimed.
Now that we've filled in the gubernatorial primary with all the major players from each party (as well as a handful of lesser lights who probably won't have the wherewithal to make a dent in the race) it's time to look at who they are and perhaps why they were selected.
It's been many years since a party nominated a pair of white males to the state's two top jobs, and once again the tickets are diverse in terms of race, gender, or in a couple cases, both. These thumbnails will be in alphabetical order of lieutenant governor candidates, beginning with the last one to be named today.
Shelley Aloi was introduced by her running mate Ron George this morning. In terms of political experience, she's in the middle of the pack as she served as an alderman in the city of Frederick for one term (2009-13) before losing in the GOP primary for mayor last year to the eventual winner, incumbent Randy McClement. So she has a little bit of political experience, as well as a diverse resume of accomplishments. In her mayoral run, she stressed a relatively conservative approach of public safety, responsible spending, and job creation.
In sum, it was an interesting choice by Ron. Detractors will probably wonder if the move was made out of desperation as a second-tier choice, but Ron has always maintained he would announce his LG late in the game. It's certainly not a head-scratcher to the level of the ill-fated Kristen Cox selection by Bob Ehrlich in 2006, but may not do a lot to lift the ticket either.  Grade: C.
Back in November Democratic contender Heather Mizeur announced Delman Coates as her running mate. In doing so, Mizeur selected a black man with no political experience to round out the twofer of both female and minority on the same ticket. One thing both share is a political philosophy way out on the left wing, as Coates is described as "an outspoken champion on a range of progressive issues, including health care, the Voting Rights Act, immigration reform, and foreclosure protection." It's not unusual to have compatible political viewpoints on a ticket, but generally running mates come from the political world or have a business background, and Coates has neither.
It may be great for Heather to have in Coates "a friend, a confidant, a brilliant mind and a caring heart," but when it comes to governing those who have little political background tend to be the most susceptible to a corrupt administration when placed in power. Grade: D.
The first lieutenant governor candidate to be selected was David Craig's pick of Jeannie Haddway-Riccio, who has dropped the married Riccio name for this campaign. Admittedly, it's a long name for a sign. But for several years, GOP observers has believed she would be an ideal LG candidate – young, but with over a decade of political experience under her belt as a member of the House of Delegates and a background from the conservative Eastern Shore. She was a sought-after quality to be sure, and it's likely she was asked by at least a couple contenders to be part of the ticket. Perhaps the only knock on her was that she only has legislative experience, but that didn't stop the current lieutenant governor.
When he selected her, David Craig said of Haddaway, "I chose Jeannie because she will actually help me run the government." She hasn't done anything to hurt the ticket and is the strongest of the four GOP running mates. Grade: A.
A fellow Delegate was the selection of Doug Gansler in October. Jolene Ivey, of Prince George's County, brought the requisite balance to the ticket as both being a woman and of mixed race, but perhaps was more useful to Gansler as a counterbalance to Anthony Brown's background in Prince George's County. Rather than a business background, Ivey worked in television for several years.
But playing up her biracial background and being a mother to five boys didn't save her from this unfortunate utterance: "I am Trayvon Martin's mom," she told the Baltimore Sun last October, just after accepting the second spot on Gansler's ticket. She seems more like a pick strictly for political expedience than a woman ready to lead, particularly with her unremarkable record in the House of Delegates, even as a member of the dominant party. Grade: D+.
The last candidate to announce his intentions, Larry Hogan took the occasion of formally entering the race to announce Boyd Rutherford as his running mate. The pairing is unusual in that neither have held elective office, but both served in the same Bob Ehrlich administration. In one respect, Boyd is the perfect lieutenant governor candidate given his experience in the public and private sectors, but the question is how he would do in a political campaign.
When Hogan selected Rutherford, he said Boyd would bring "real management experience who has the ability to be a full partner in our administration and who is actually qualified to be governor." If he can work through the rigors of a campaign without making the mistakes a political novice tend to make, he would indeed be an asset. Grade: A-.
Perhaps the most unusual running mate of the seven is Ken Timmerman, who was announced as Charles Lollar's running mate Monday. While Timmerman has campaigned through the state as an aspirant for a U.S. Senate seat in 2000, his more recent experience in that field was being routed by Chris Van Hollen in 2012 for the Eighth Congressional District seat.
And while Lollar "intend(s) on using Ken as Maryland's chief investigator to help us uncover all of the excessive spending and misplaced tax dollars," according to the Washington Post, one has to ask how Ken's national and international background really matches up with state government. There's been the undercurrent of rumor that Lollar was practically to the point of using Craigslist to find a running mate; unfortunately, Timmerman wasn't the guy to completely dispel the notion. The one asset Ken may have, though, would be that of having the name to possibly nationalize the race for Lollar, enabling him to increase his barren coffers. Grade: C-.
It was the ultimate marriage of convenience: two contenders unite to make a strong financial team for the Democratic nomination. Since Anthony Brown was the chosen successor to Martin O"Malley, Ken Ulman made the political calculation that he'd rather switch than fight. Along with David Craig, Ulman brings executive experience to the race as chief executive of a medium-sized county – Howard and Harford counties are fairly similar in population. More importantly to the O'Malley wing of the Democrats, the two combined had a warchest large enough to overcome the initial financial advantage Doug Gansler had built up.
But while I doubt I'd be enamored with all of his political moves, there's no question Ulman would be able to easily assume the duties of governor should be need arise based on his experience as Howard County Executive. Insofar as the quality of the choice: Grade: A.
So we have the seven main contenders now, and the guessing games are over. Let the campaign begin.
Back in December, once I finished the original dossier series, I noted this would be an ongoing process. To that end, here are further statements made by the three contenders at the time, with the addition of items from Larry Hogan.
Each of these subcategories will be revisited, with changes in score noted.
**********
The 2014 monoblogue endorsement will be based on the following formula:
Election/campaign finance reform (3 points)
Larry Hogan: As a practical matter, seeking public financing made sense for Mr. Hogan, who entered the Republican primary race relatively late and was unlikely to raise as much privately as he may qualify for publicly. But he also noted that his decision 'sends a great message' about his grass-roots efforts. (Baltimore Sun, February 4, 2014)
Ron George has also talked about taking public financing, although he's made no formal decision on the matter. He had no points anyway, nor will Hogan receive any.
Illegal immigration (5 points)
No candidates have made significant public pronouncements on the subject, so no changes and no points for Larry Hogan.
Dealing with Obamacare (7 points)
David Craig: Craig has previously called on O'Malley and Brown to stop wasting money and hindering access to health care and to promote direct enrollment options through insurance carriers and brokers. The Administration then took a modest step in that direction by working with insurance industry leaders to develop a telephone help line. (press release, February 10, 2014)
*
Craig, the Republican gubernatorial candidate, said the O'Malley administration should instead be helping people get coverage directly through the insurers. He wants to reallocate $150 million, originally earmarked in part to market the problematic exchange, toward promoting alternative enrollment options.  (Fox News, January 7, 2014)
*
Craig's proposal would seek an HHS waiver to re-program funds to launch a public awareness campaign informing consumers of their right to obtain health insurance directly through carriers. A complimentary awareness campaign would inform people of their rights to utilize Maryland insurance brokers who are licensed and experienced in helping individuals with health insurance. Utilizing call centers for those needing assistance with the website would remain in place. Craig, however, would re-examine the navigator model in which people having problems with the website must set appointments with temporary workers disbursed among several organizations.
As for the vexing issue of low-income individuals seeking subsidies, Craig supports U.S. Sens. Ben Cardin and Barbara Mikulski's proposal to HHS to enable a direct data hub allowing people to obtain financial assistance without going through an exchange. (citybizlist, January 7, 2014)
Charles Lollar: Lollar advocates making hospital costs "much more transparent" by posting the prices. "Until we control the costs we're not going to get our arms around the health care issue."
"I'm all for a moratorium on the Affordable Care Act." (Fox 45 debate, January 16, 2014)
I had previously chided Craig for not offering up solutions (although he had done a nice job identifying the problems) but I'm not sure I like much of the approach he's taking besides the idea about promoting alternative enrollment options. I'll give him 1.5 points, up from none.
Lollar seems to have a better idea as far as approach, although it's still very vague. The moratorium alone, though, is worth 2 points (he had none as well.)
Larry Hogan hasn't addressed this, so no points.
Energy policy (8 points)
No candidates have made significant public pronouncements on the subject, so no changes and no points for Larry Hogan.
Education (9 points)
Ron George: He acknowledged that a repeal of Common Core "ain't going to happen in the state" of Maryland. But he argues for putting the educational focus back on what he calls a "local locus of control" rather than a one size fits all federal mandate. George also believes it is important to teach entrepreneurship and financial literacy in schools in an effort to help minorities and low-income Marylanders understand how to be successful in a free enterprise system. (In The Capital, January 15, 2014)
Charles Lollar: Lollar wants to stress internships for high schoolers, with the help of corporations. (Fox 45 debate, January 16, 2014)
Let me talk about Ron George first. It's interesting that he has gone from "I intend to fight it with all my energy" in September to "(repeal) ain't going to happen" just four months later. I have a problem with that change of heart because if you're elected as governor you have an automatic bully pulpit.
Look at how we were saddled with gay marriage. It didn't happen until Martin O'Malley decided to burnish his 2016 credentials and made it an issue in 2012 (with an assist from Barack Obama, who needed the gay vote.) If you want to get rid of Common Core, you browbeat the legislators who oppose you until you get your way. So I took him down from 4 points to 3.
On the other hand, I think Lollar's idea is pretty good so I bumped him from six points to seven.
Second Amendment (11 points)
David Craig on Rodricks show tells Dan Yes I SUPPORT concealed carry! (Facebook page, February 10, 2014)
Larry Hogan is a strong supporter of the Second Amendment and is opposed to SB 281. He will work to keep guns away from criminals and the mentally ill. Hogan supports tougher mandatory sentencing for criminals who commit crimes with a gun, but he is against taking away the rights of law abiding citizens. (Facebook page)
I added a half-point to David Craig (from 8 to 8.5) for the clarification. Conversely, I think Hogan's canned response is somewhat wishy-washy and political. He may be opposed to SB281, but will he repeal it? The time for opposition is over – the word is "repeal." So he gets 4 points of 11.
War on Rural Maryland (12 points)
Charles Lollar: Leadership in Annapolis needs to craft a regional solution to this problem that requires all states that pollute the Bay to "pay their fair share" to keep it clean. We must not allow legislators in Annapolis to "hurt Maryland first" by bankrupting hard-working farmers with a "Chicken Tax" and putting the future of Maryland's number one economic industry at risk. (press release, February 5, 2014)
Lollar picks up a half-point for this, from 5 points to 5.5 points. It's pretty easy to oppose the chicken tax but Lollar did it quite forcefully.
Role of government (13 points)
Larry Hogan: Job one will be to get the government off our backs and out of our pockets so we can grow the private sector, put people back to work and turn our economy around.
Every decision Larry Hogan makes as governor will be put to a simple test – Will this law or action make it easier for families and small businesses to stay in Maryland and will it make more families and businesses want to come to Maryland?
If something comes across Hogan's desk as governor that doesn't pass this test, he'll veto it. (campaign website)
*
We've got to be able to run the government, provide the services that are important and necessary to people as efficiently and cost-effectively as possible, so it's not like let's lop off this department or stop providing these services – I think it's just looking at zero-based budgeting and doing outside audits of every state agency and saying how do we use those tax dollars more effectively.
I think we need to focus on – these aren't Republican problems or Democrat problems, these are serious problems that our state has. We've got to reach across the aisle and work together between the parties to come up with common-sense solutions to solve these things. (NewsTalk with Bruce DePuyt, January 21, 2014)
Charles Lollar: A government should serve its citizens, not burden them. It must also provide for citizens truly in need without trapping them in an endless cycle of dependency on government programs that erode their self confidence, human dignity, and a chance to live the American dream.
The answer is not to grow bigger government.
The answer is to empower people with the skills and opportunity to grow a better future for themselves, and not allow government to stand in the way of these goals. (Facebook page, January 12, 2014)
Okay, as far as Larry Hogan is concerned, I get it. You want to work with Democrats. Good luck with that, because we will likely have four years of gridlock unless the voters of Maryland come to their collective senses and elect a Republican majority in the General Assembly. You will have a LOT of vetoes otherwise.
I have yet to be convinced there is such a thing as a broad centrist coalition, since to me all it means is we walk further away from truly being a Free State rather than sprint headlong as we are now. But I will allow 4 of 13 points for the smell test and the zero-based budgeting.
Lollar loses one point for that answer, from 6 to 5. Where is it government's role to provide for those truly in need? Shouldn't that be more of a function of the faith-based community? The very definition of government standing in the way is to have government programs one can become dependent on – to me the continuing spiral of unemployment benefit extensions is a perfect example.
Job creation and transportation (14 points)
David Craig: I think that each individual county should establish its own minimum wage. It just makes sense that local officials make laws and the State doesn't simply dictate what should be done. (Facebook page, February 11, 2014)
Ron George: We must focus on expanding opportunities for entrepreneurs and technical training for our unemployed to protect and grow our middle class for generations to come. (Press release, January 23, 2014)
Charles Lollar: Of course we want better opportunities, better modes of transportation – a diverse collection of different ways to get back and forth to work. Liveable, workable, playable communities where you can actually live, work, and play in the same place and have a legitimate conversation with yourself in the morning whether to walk or drive your bike to work and get there on time.
I think (the Purple Line) is absolutely doable. The question is – is it affordable? If it is, let's push forward. (2014 gubernatorial candidate transportation forum, February 18, 2014)
The idea David Craig has is a good one, and would have raised him a full point if he had allowed counties to do away with the minimum wage altogether. Yes, this would be a fight with the federal government but it's a Tenth Amendment fight worth having. I'll give him a half-point so he goes from 9 to 9.5 points.
Ron George already had a very solid approach, so there wasn't a lot of room for imporovement there. The statement is a little bit generic.
Suddenly, though, I think Charles Lollar caught his populist, pandering disease at an inopportune time. I know Red Maryland nailed him for one statement (which brought this gem to my attention) but I remembered that Lollar was opposed to the Purple Line last September – now he says it's "absolutely doable"? He wasn't pushing the bus alternative in front of that crowd.
And the phrase he was looking for insofar as "livable…communities" is (so-called) Smart Growth. Don't encourage the idiots, Charles. I took off three points, from 7 to 4.
Hogan misses out on this category so far.
Fiscal conservatism/taxation (15 points)
David Craig: Under Craig's plan, tax brackets would be lowered across the board to 4.25 percent as of 2016. Couples now pay a basic rate of 4.75 percent on most of their income. Wealthier Marylanders pay a higher percentage on a sliding scale that tops out at 5.5 percent on income above $300,000.
Craig said he would couple that with an increase in the personal exemption from $3,200 to $5,000. He said that will provide relief to middle-class that would help offset the face that the greatest benefits under his plan would go to the higher income brackets, which would see the highest percentage drop.
In the second phase, Craig said he will call for a further reduction to a maximum rate of 3 percent — with a bump in the exemption to $6,000.
Craig said a third phase in his plan, which would come sometime in what he hopes will be his second term, would eliminate the tax entirely. He said his proposal would not affect county piggyback income taxes, which the state would continue to collect.
According to Craig, elimination of the income tax would put Maryland in the company of nine states that have no income tax, including Texas, Florida and Tennessee. (Baltimore Sun, February 18, 2014)
Ron George: When asked what policies he will put in place to foster job creation, George said lowering the corporate tax rate is a necessary first step. "We have to lower the corporate tax rate," he said. "I would like to get it down to 5.75 percent and I think that sends a strong message out there that we're open for business." This, he argues, will help bring businesses back to Maryland thereby expanding the tax base and creating more revenue for the state. (In The Capital, January 15, 2014)
*
In addition to the expansion of jobs, George is planning on cutting income tax by 10 percent, building a tax base in Baltimore, and putting in place what he is calling the "Buy Maryland Program."
In this program, if Maryland residents itemize purchases over $100 on their tax returns, then they will receive 20 percent back. That way, George said, people will have a lump sum in the spring that they can then use for a down payment on a house or car. (Easton Star-Democrat, January 9. 2014)
Larry Hogan: When Hogan is governor, we'll repeal the rain tax. That's one change you can count on.
Charles Lollar: Our plan is to take a look at every regulation out there – all 74 of them. We want to peel this thing back. People are tired, here in Maryland, with this bait-and-switch tax scheme. So we're going to compose independent audits annually. We'll determine how the monies are collected, how they're being spent, and whether this spending demonstrates an efficiency of how we use taxpayer money. And this audit will be published online…In addition, I am not going to sign any tax bill that's void of an enforceable lockbox provision. (Bill Bennett Show, January 23, 2014)
*
In addition, Lollar pointed out on the Fox45 debate that this would be all taxes, not just the ones passed under Martin O'Malley.
*
In a fundraiser with economist and advisor Arthur Laffer, he supported the Lollar idea for eliminating the state's income tax but gave no details. (Press release, January 28, 2014)
David Craig followed the lead of another with his tax plan, but the timing is a little more specific. I think it's a great idea, though, and he seems to have the understanding that, because he controls the budget, that the idea is doable. He gained three points from 11 to 14 with one (somewhat) bold move.
Ron George is restating previously noted material, so there's no bold moves there.
Larry Hogan will repeal the rain tax. That's a start, but really it's only an entry-level gambit in this race so he gets just 5 points.
Charles Lollar was first to the post with the idea to eliminate the income tax, but hasn't elaborated on the details. But because he was so close to the maximum point total already with 14, I could only bump him up to 14.5 because I think eliminating the income tax is a splendid idea.
Intangibles:
Larry Hogan: Phony political spin, questionable donations, cronyism, and backroom deals pervade the current culture in Annapolis. We need more transparency in our government, more truthfulness and tougher ethics and disclosure laws that will begin to clean up the mess in Annapolis and restore integrity to our state capital. (campaign website)
*
It's time to engage every citizen who wants to get involved in the policy process. Policymaking should not be left exclusively in the hands of an oligarchy of anointed Annapolis lobbyists and lawmakers. (Capital Gazette, January 17, 2014)
Charles Lollar: First and foremost, I would do all I can to get rid of comments like the one I just heard. It's unfortunate, but I do take a bit of offense to that because the idea that all Republicans think the same way is probably about as similar as all blacks thinking the same way – it's not true – or all whites thinking the same way, it's not true. I want to be the best governor of Maryland I can be – not the best Republican governor I can be, and not the best Democrat governor I can be, I want to be the best Maryland governor I can be.
And I'm sick and tired – no matter where I go or who says it, I attack it the same – of people using partisan politics, skin color and gender, to separate us from real solutions that are at hand. (Purple Line Forum, February 18, 2014)
I'm not quoting him on anything here, but because he's been the most open and responsive candidate to me I added one point to Ron George's intangibles.
For Hogan's part, I agree with the sentiments for the most part. But they are belied by the way his campaign is conducted – missing opportunities to discuss issues with fellow candidates and instead uttering many of the same campaign mantras in one-on-one interviews with generally friendly questioners. It's not enough of a change from the current culture he decries, and until I start seeing and hearing answers on issues above and beyond the Change Maryland mantra, I have to deduct two points for intangibles.
Charles Lollar, though, has really cleaned up his campaign, and the statement I included is apt because he was responding to Democrat criticism. So he went from a -3 score to a wash – his campaign isn't firing on all cylinders yet but it is improving.
If you've been keeping track, well, more power to you. But unlike other bloggers, I'm not ready to make a choice yet because there's still a lot of information I'd like to have before making my choice.
What I can tell you is that David Craig and Ron George seem to have an edge over Charles Lollar, with Larry Hogan far behind simply because he's not addressed many of my key issues yet. His is a one-note samba so far. It turns out that the Craig tax plan has now vaulted him slightly ahead of Ron George – very surprising because my initial perception was that David was the most moderate of the four candidates.
But above all, my main complaint is with the Larry Hogan campaign. Stop skipping debates where everyone else shows up! You may have 40,000 Democrats and unaffiliateds in Change Maryland, but there's one problem with that: they get no Republican primary vote and you probably won't win with 40,000 votes (assuming all Change Maryland 'likes' = Hogan supporters, a very dubious assumption.)
So my plan is to revisit this sometime in April, with perhaps a final decision in early June. I don't think an early endorsement will do me a lot of good here because no candidate is standing out in this race.