Two weeks ago, in the waning days before the Christmas holiday, perhaps 40 to 50 brave souls dealt with the cold weather to state their case for job creation in western Maryland and beyond. I don't think the Maryland Energy Citizens and Energy Nation Rally drew a lot of interest outside the energy field beforehand (except perhaps from me) and in doing a news search for the event I found exactly zero coverage. (The photos I'll use here were Tweeted by Energy Citizens.)
It was a modest gathering to be sure, but those who showed were interested in regulations that would allow for job creation – directly in Allegany and Garrett counties, and eventually spilling over into other parts of the state as the infrastructure needed to move the natural gas to market is placed. And there was one group who understood this well.
The folks in the orange shirts were members of the Laborers Union, which would stand to benefit from the infrastructure being built. In the universe of the left wing, oftentimes Big Labor and environmentalists stand on opposite sides because the union side understands better the economics of utilizing our energy resources to provide the clean and reliable power we need to keep the economic engine going, while environmentalists seem to think that the wind will always blow and the sun shines every day so we can rely on those sources. With their entrenched opposition to energy progress through additional exploration and infrastructure construction, Radical Green would shortly have us in the same boat as the New England states when it comes to energy costs, especially at this time of year.
Yet in the days since I've learned of a study from the University of Chicago that has attempted to quantify benefits and costs of fracking, with the study being summarized thus:
The benefits include a six percent increase in average income, driven by rises in wages and royalty payments, a 10 percent increase in employment, and a six percent increase in housing prices. On the costs side, fracking reduces the typical household's quality of life by about $1,000 to $1,600 annually – excluding the increase in household income.
As a point of reference, the average household income across the two counties is about $42,000 so a 6% increase would be a net gain in household income equating to approximately $2,500. And considering energy jobs tend to pay more than average, the 10% increase in employment would be a boost to the median so the benefits could work out to $3,000 or more while the somewhat dubious "quality of life" costs would not be so affected.
I noted above that there was no coverage of the rally by the local media, but that very day the Baltimore Sun chose to run a laughable screed by Senator Cardin about the prospect of the incoming Trump administration abandoning the Paris Climate Agreement; a diatribe that included this howler:
In 2015, investment in renewable energy was nearly $350 billion worldwide, more than fossil fuel energy. Even though gas and oil have hit record low prices, current and projected prices for renewables are low too, making clean energy solutions remarkably competitive.
The huge piece of information unspoken here is how much of that renewable energy "investment" was picked from the pocket of unsuspecting taxpayers, nor does it account for the amount of the market carved out for renewables artificially by state mandate. Nor should it be our intention to follow Europe and take the blue pill, thinking mankind has one iota of effect on the global climate in the long run.
Sadly, it may be almost as much of a folly to believe that a small group of common-sense protestors will have an effect on a group of legislators who mistakenly believe that restrictive regulations will encourage job creation or that a fracking ban will benefit the state. But I encourage them to keep trying anyway because people who can see the long-range picture will realize you are on the right side of this.
As you surely know, I have taken an interest in rebuilding manufacturing within our nation in general and this region in particular. While much of our local economy takes the form of manufacturing in an agricultural sense, either through grain farming or its primary purpose of assisting in the raising and processing of chickens, the advantages to the local and national economy if America began to make things again is beyond dispute.
So when I was sent a link to a manufacturing report by the union-led Alliance for American Manufacturing (AAM), I wanted to see what the perspective would be. Up front, it was clear that the AAM had their eggs in one basket.
"American factory workers are the solution, not the problem," said Alliance for American Manufacturing President Scott Paul. "Instead of scapegoats, America needs a manufacturing strategy. That strategy should be built on balancing trade, investing in our infrastructure, enhancing our training programs, and rebuilding our innovation base."
This report, with the lengthy title "Exchange rate policies, not high wages, are why U.S. lags China and Germany in export performance," comes from the liberal Economic Policy Institute (EPI). Paul's interpretation of the report:
"The idea that high wages in the manufacturing industry are causing job losses is common, but incorrect," (report author Robert E.) Scott said. "Pushing manufacturing jobs into the low-wage, non-union south is a race-to-the-bottom strategy that should be rejected. Instead, we need to fight currency manipulation by countries like China and take a page from Germany and Europe to rebuild American manufacturing."
His is a truncated summary of the last bullet point solution offered in the EPI report:
The strategy of pushing manufacturing into the low-wage, nonunion southern states is a race-to-the-bottom strategy that should be rejected in favor of high-road strategies: fighting currency manipulation and doing more to rebuild American manufacturing, taking a page from the German and European models (with supply-side policies that benefit and support the manufacturing sector, including increased spending on research and development as a share of gross domestic product; support for "stakeholder capitalism" in which boards of directors include an equal number of representatives of workers and managers; and heavy investment in training and job creation).
Obviously there is a certain appeal to some of getting back to the conditions we had circa 1960, when American manufacturing was the undisputed heavyweight champion of the world, workers brought home a salary that could support a family while Mom stayed home to take care of the kids, and Big Labor had its own corner of the political table. Five decades later, we have ceded that crown to China for a number of reasons. But I don't think currency manipulation is the primary reason.
The EPI's worry that manufacturing jobs are flocking to the "low-wage, non-union south" is in and of itself a tacit admission that wages and benefits are an important factor in site selection. China got to be a manufacturing leader because they have a very inexpensive workforce of semi-skilled laborers – the same sort of workforce that illegal aliens bring to the table in this country, although it depresses wages here in a different manner. Given the equality of other factors nationwide such as the federal regulatory regime and abundant cheap energy, those who do site selection tend to choose the places where they can get the biggest bang for their buck.
By the same token, willing local governments which assist these manufacturers with providing new infrastructure and greenfields for development tend to have more success than those urban areas with problematic old systems and brownfields that require remediation. But that's not the only reason nice plots of available land sit empty in regions of the country outside the South.
Here in Maryland, we are saddled with a state government that refuses to even consider right-to-work legislation and has gone out of its way to punish large non-union employers. A decade ago when I began this site, the largest state issue was the (so-called) Fair Share Health Care Act and whether the Maryland General Assembly would override Governor Bob Ehrlich's veto, which they did. The bill was narrowly tailored to affect just one employer: Walmart. And while correlation is not causation, the fact a proposed Walmart distribution center in Somerset County was placed on a continuing hold was blamed on the unfriendly climate for non-union businesses in Maryland. (The bill itself was later struck down in court as an ERISA violation, something I thought improper at the time.)
If you assume my overall argument is in favor of this "race to the bottom," you're forgetting a simple fact: a little bit of something is better than a whole lot of nothing. There are many paths to prosperity our nation, state, and city have available to us but it seems to me the best one is where we add value to the goods and services everyone needs. This is why our chicken industry succeeds, since we take that which is available to us to raise and process chicken for a world market and have developed an expertise that competitors have a hard time matching. Granted, not everyone in the industry makes a ton of money but that's a function of the value placed on chicken by the market. Chicken is a very useful food product but people also like and can choose beef, pork, seafood, or vegan as well. On the other hand, there's a reason oil is called "black gold," to use another useful commodity for an example. The resource has a very high value thanks to its functionality, relative scarcity, and lack of alternative products.
America as a whole needs to again become the place where the most value is added, and once we get there we will all succeed because of it. (That will be the point where trade takes care of itself as well.) Back in 1960 we were the leaders in adding value, but now we're not because we let others take our place. Re-establishing our manufacturing base will help us get that crown back, even if some parts of the country do more to help themselves in improving their economic state.
It's been a tough year for Big Labor. From the worker freedom side, states are switching over to right-to-work status which gives the working man the ability to put hundreds of dollars more in their pockets annually by reducing or eliminating the forced payment of union dues. Meanwhile, the environmental lobby has grabbed the attention of the Obama administration from the left, meaning no Keystone XL pipeline the Teamsters support and a more rapid demise of the United Mine Workers union thanks to EPA regulations discouraging the use of coal. Ironically, Big Labor has allies on both those environmental issues in the Republican Party they rail against while shoveling millions to those who support the environmentalists.
But today I want to take a brief look at the former issue. In the next few months, there's a good chance that Missouri could join the ranks of right-to-work states despite the fact it has a Democratic governor – the GOP has significant majorities in both houses of its legislature so it's merely a matter of intestinal fortitude on their part.
After that, though, the pickings are far more slim. Most of the remaining closed-shop states have either a Democrat-controlled legislature – which means any right-to-work legislation is dead on arrival, as is annually the case in Maryland – or a Democratic governor who won't sign it and knows the votes aren't there to override. That eliminates most of the states which toil under closed shops.
A couple exceptions to this are Alaska and Ohio, but these states aren't promising for different reasons. Alaska has a Republican-controlled legislature and a governor who is a Republican-turned-independent who ran on a unity ticket with the Democratic nominee to defeat former GOP Gov. Sean Parnell. But there's no real push to adopt such legislation as it appears the energy industry, which is the state's predominant private employer, is comfortable with the closed shops.
On the other hand, Ohio tried to pass right-to-work reforms in 2011 but they were overturned via referendum that same year. In an election year with solely local offices on the ballot, Big Labor was able to mobilize its army of volunteers and fool enough of the others to win a sizable victory. And while the dire predictions that the defeat of right-to-work would make Gov. John Kasich a one-term governor didn't pan out, the current Presidential candidate has no appetite to go through that fight again. Moreover, GOP members of the Ohio legislature aren't going to risk anything that could enhance Democratic turnout in a state Republicans need to carry in 2016.
So the fight in Missouri may be the last right-to-work battleground for awhile. It may be Labor Day of 2017 before we get significant movement one way or the other.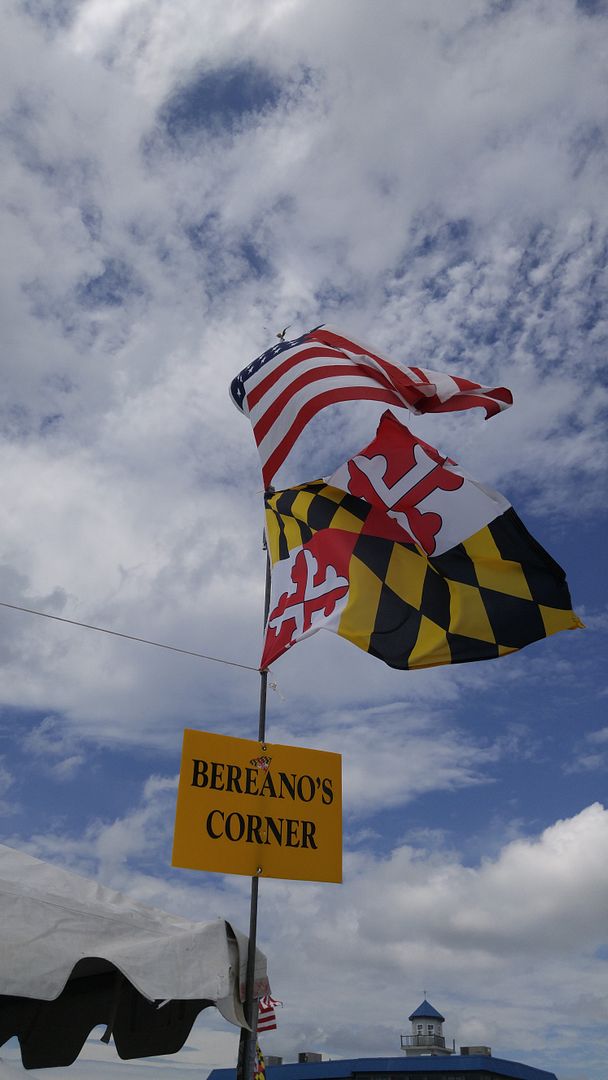 Bereano's Corner was in roughly the same location, but there was a lot of strangeness about this year's event.
Our tent was in a new location. Some liked the idea of being along the marina, but the traffic walking by wasn't as brisk as we had when we were in the middle, next to Bereano.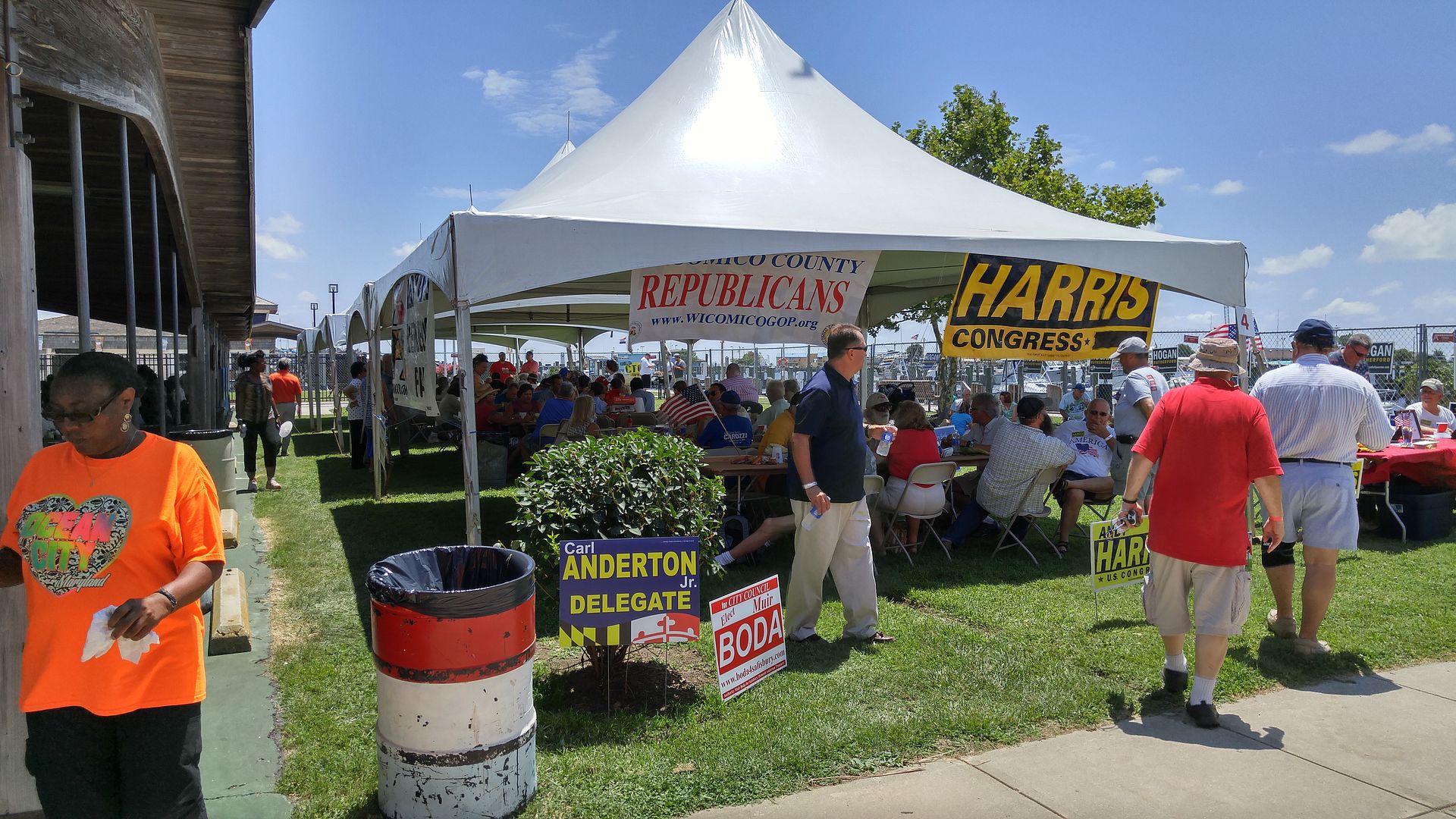 It did have a great space for signage that many took advantage of.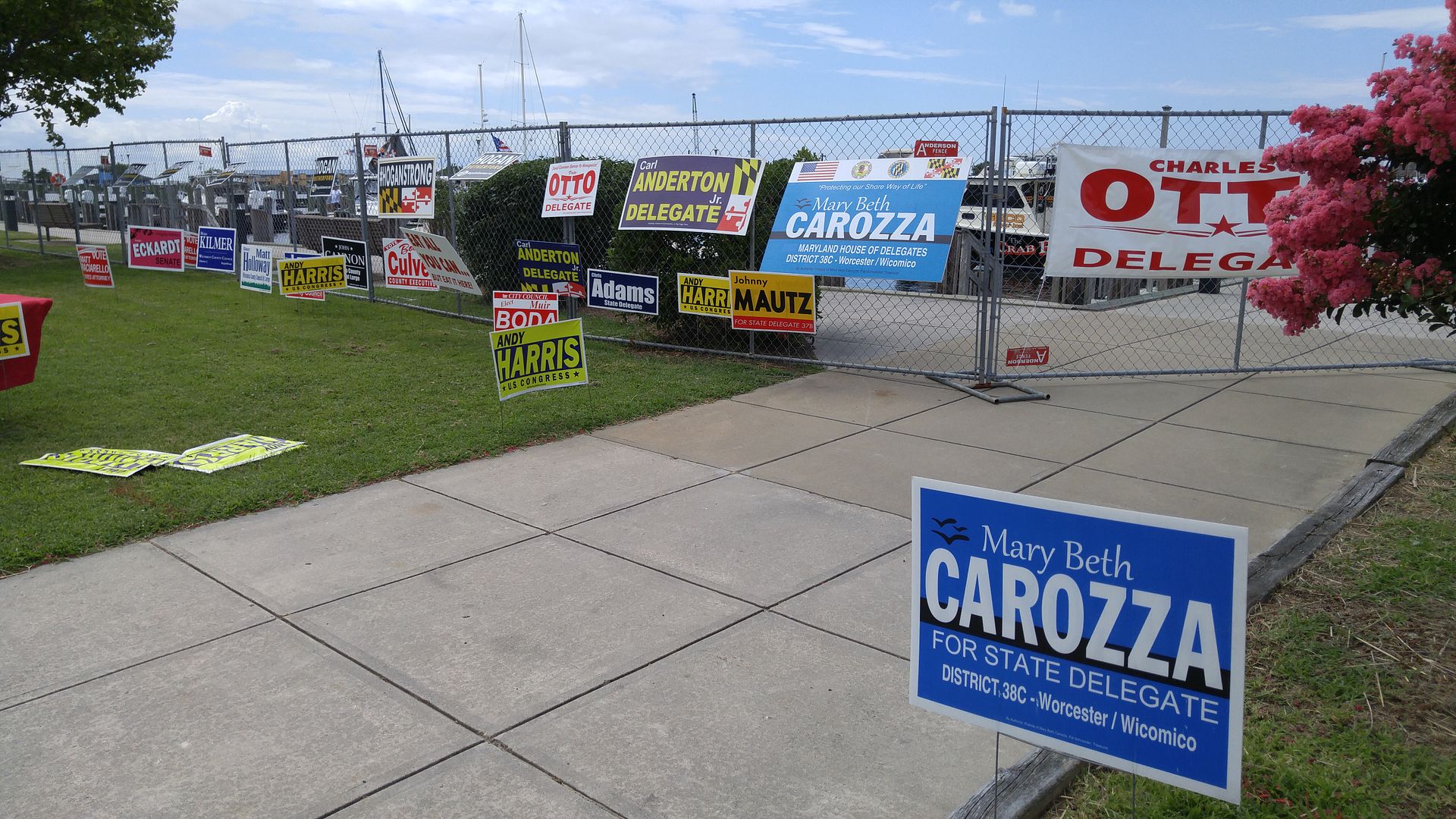 Being on the grass, we also had our share of bloodsucking biting flies. Speaking of bloodsuckers, the Democrats were less than thrilled with their location as well. Normally they have been the corner tent in this line.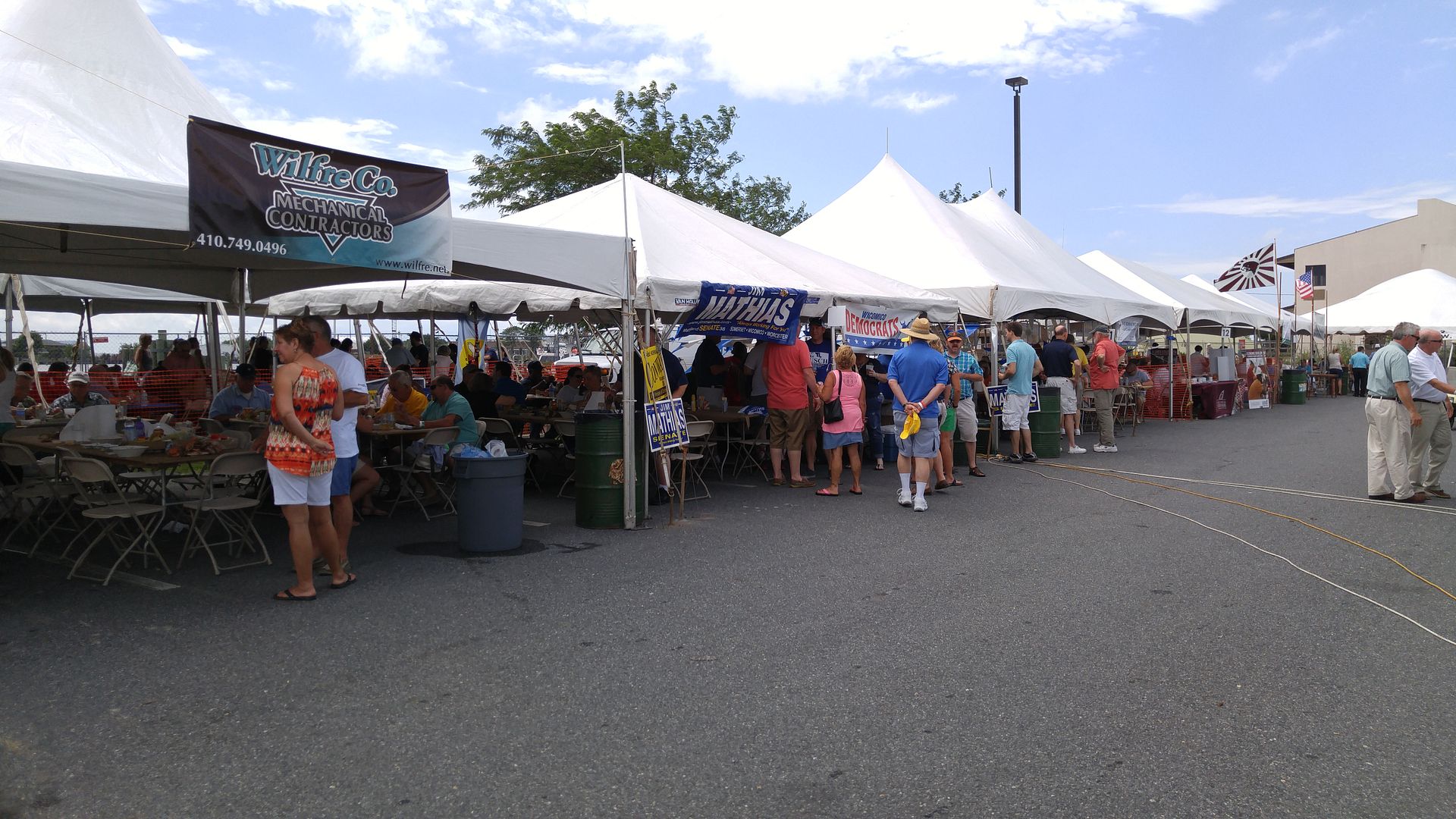 But they did have the keg, not that I had anything from it. They also had an interesting table within.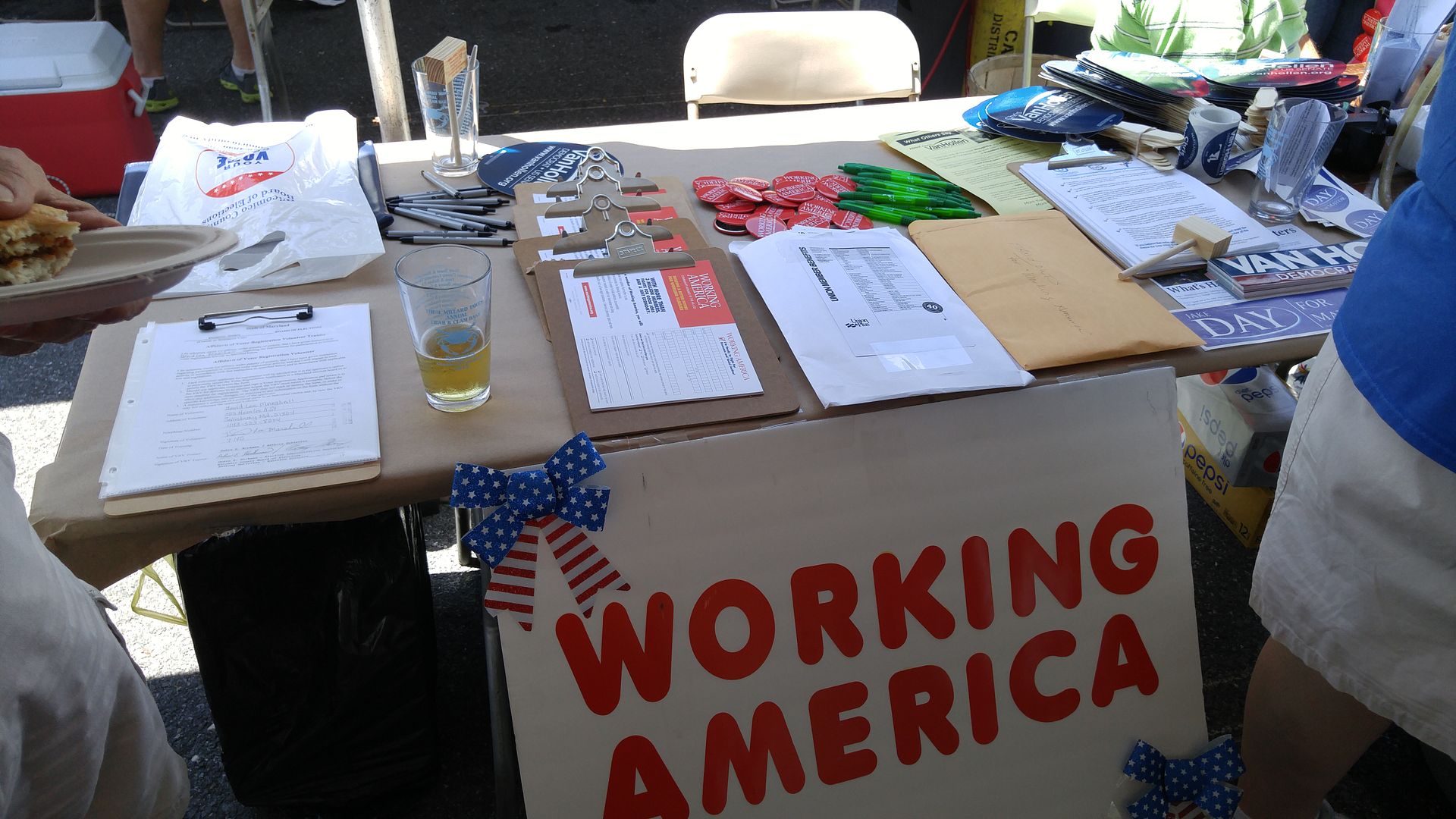 While I am part of working America I'm not a member of this AFL-CIO affiliated organization, so it's no surprise to find them in the Democrats' tent. There were a handful of folks walking around with their red shirts on, but Big Labor didn't have the presence here they did during the O'Malley years. Maybe they are laying low until next year.
There were quite a few businesses there, although it was a different mix than I recall from previous years.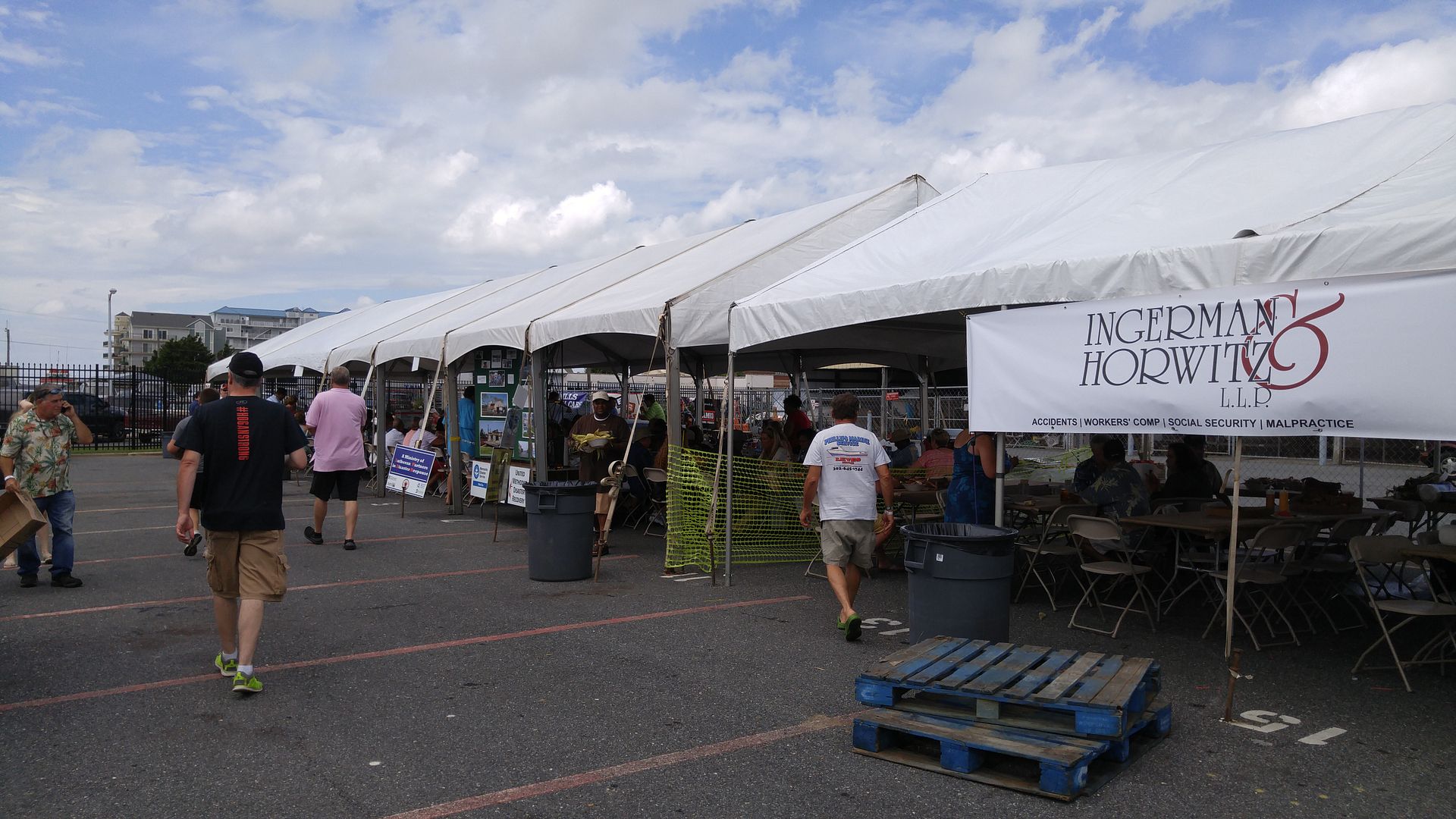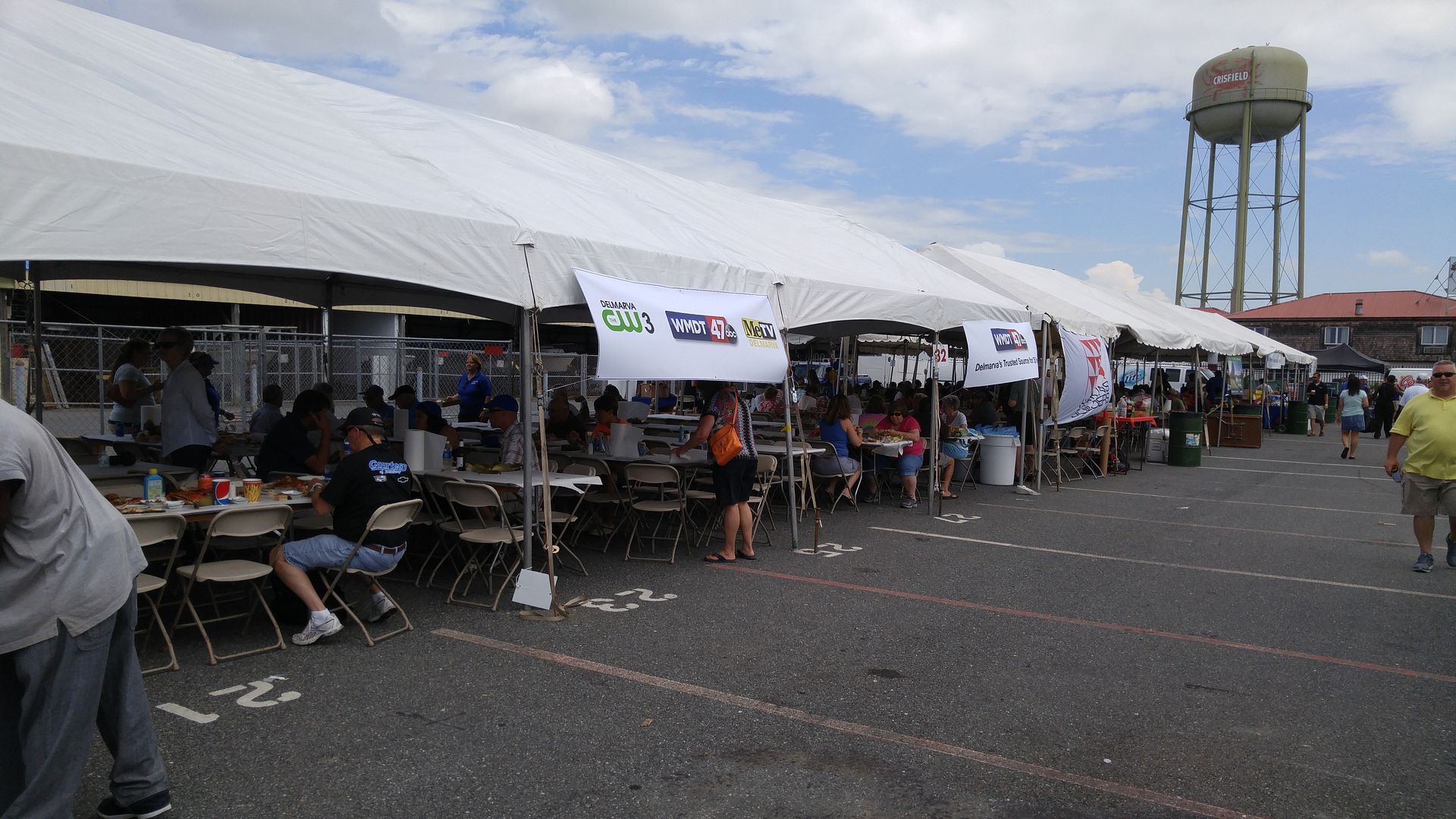 Some enterprising youth took the occasion to be their own business people. Those in orange were "runners" and on their shirts it read they were working for tips.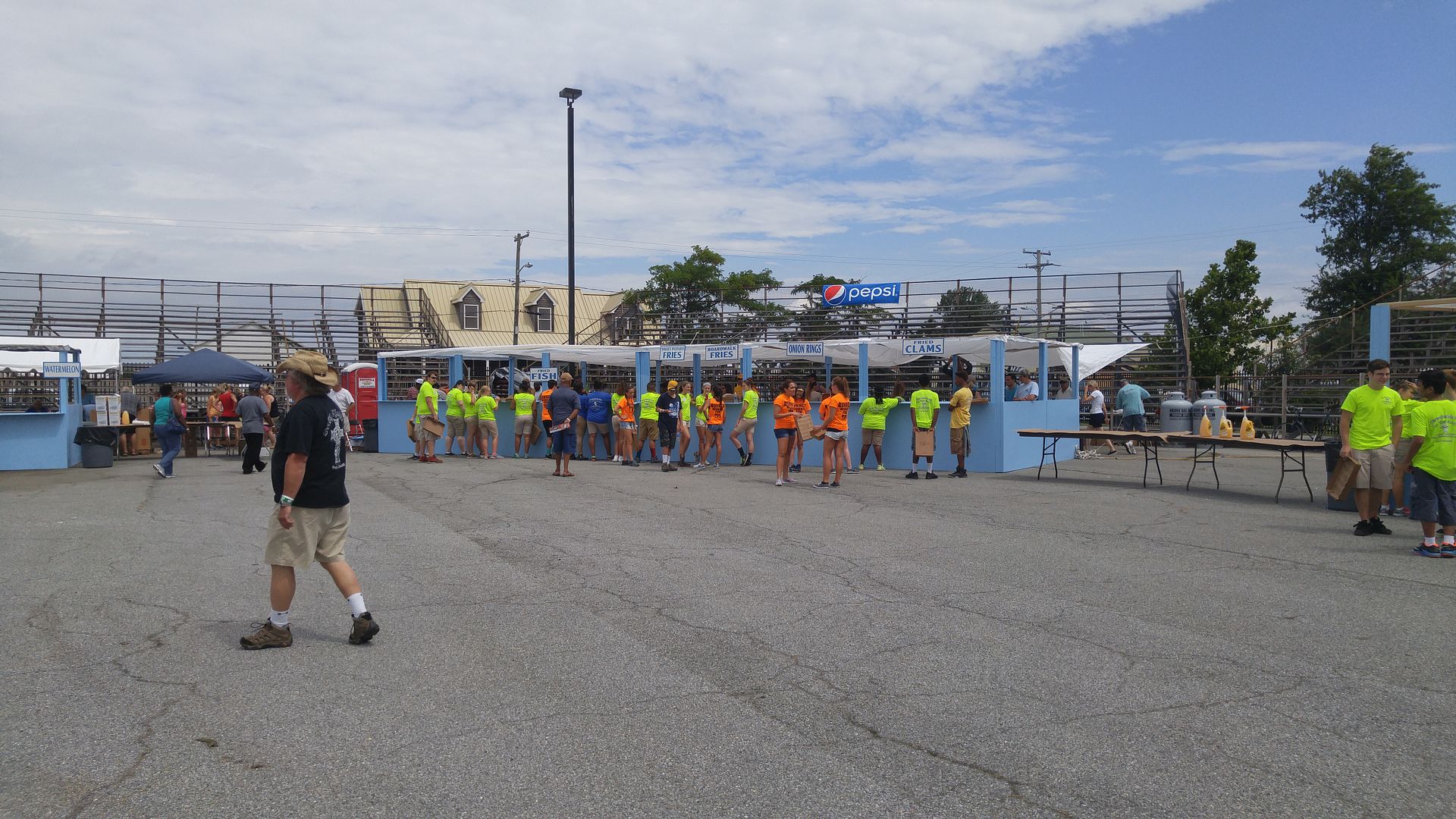 Hopefully they made more money than those who annually charge $10 or $20 for parking in their yard. I don't think business was as brisk for them because attendance seemed off from last year.
Government and public entities were well-represented, too. Interesting how the environmentalists are cozy with the economic development group.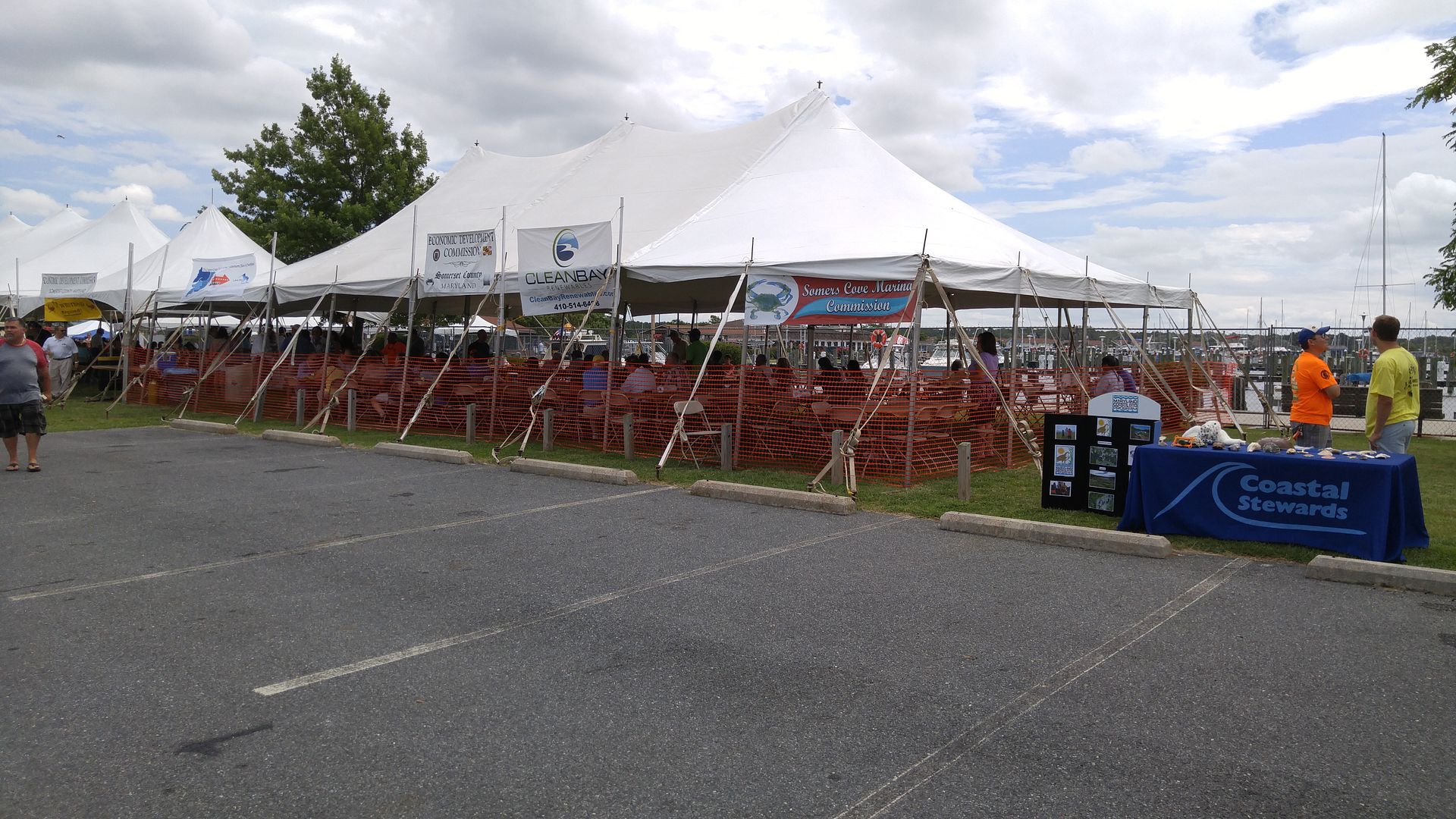 I think the University of Maryland – Eastern Shore was next to the Democrats, but Salisbury University was really trying to make a splash.
While there were a lot of differences in this year's rendition of Tawes, some things never change. Lobbyist Bruce Bereano always has the biggest tent.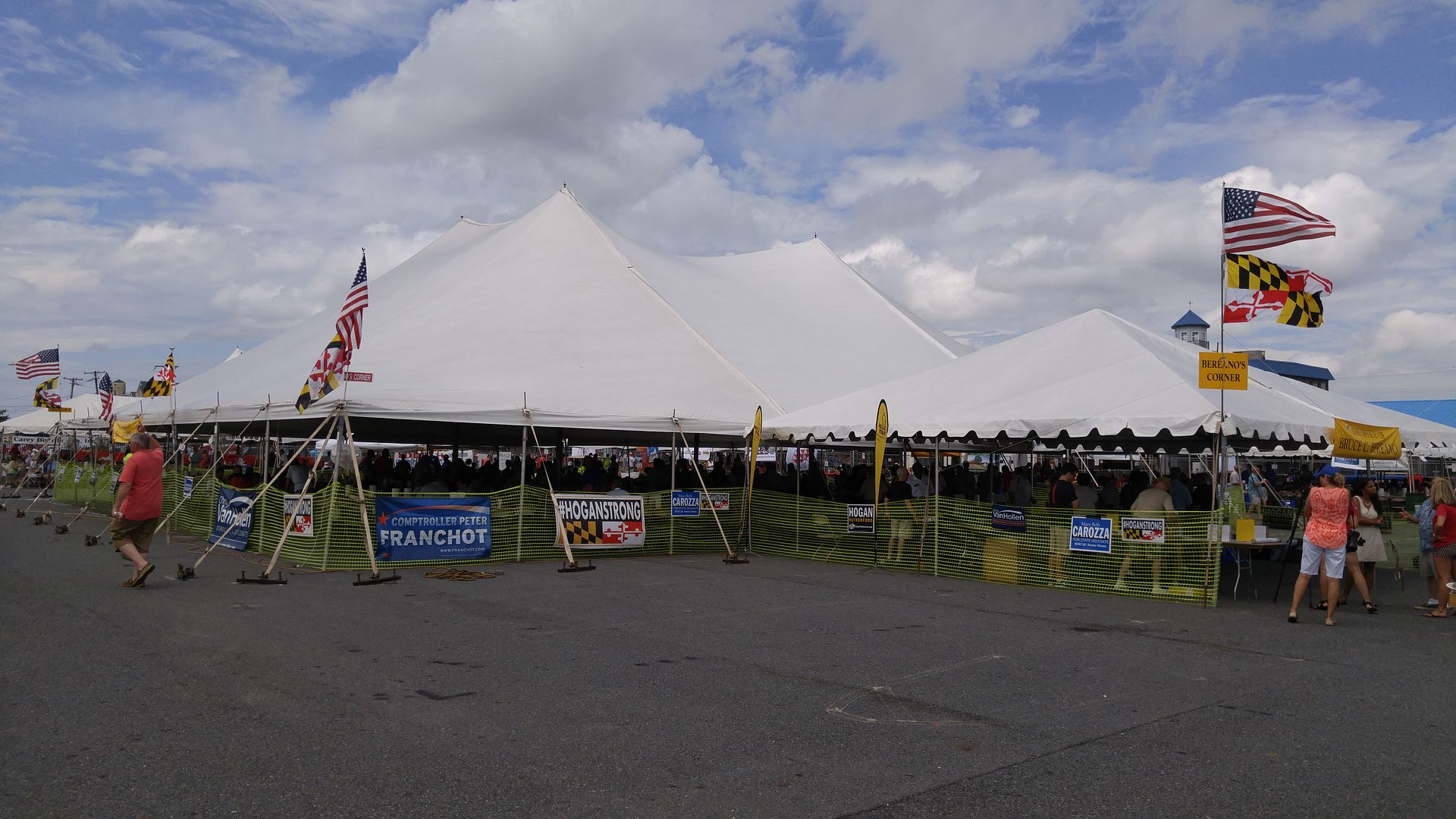 Another constant is a ton of good food, particularly of the fried variety. This was my spread.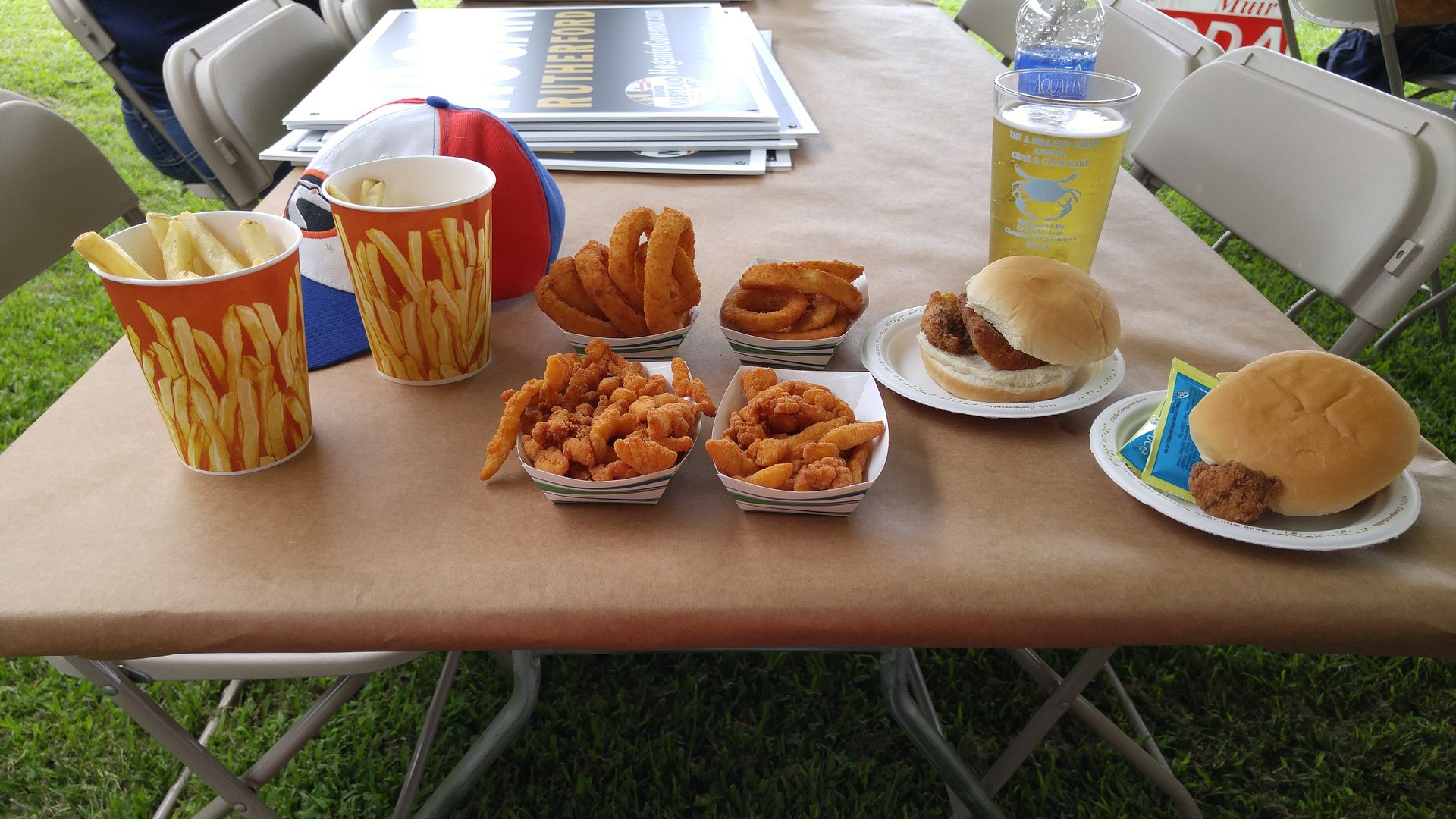 Not a salad in sight – in my dietary defense, I skipped breakfast. But it was all very good, aside from a little lack of fileting on one of the sandwiches. It was a trifle bony.
(No, I don't like crabs – so don't ask.)
This event also draws media like the food on the ground draws seagulls. Here's Delegate Carl Anderton being interviewed by local television.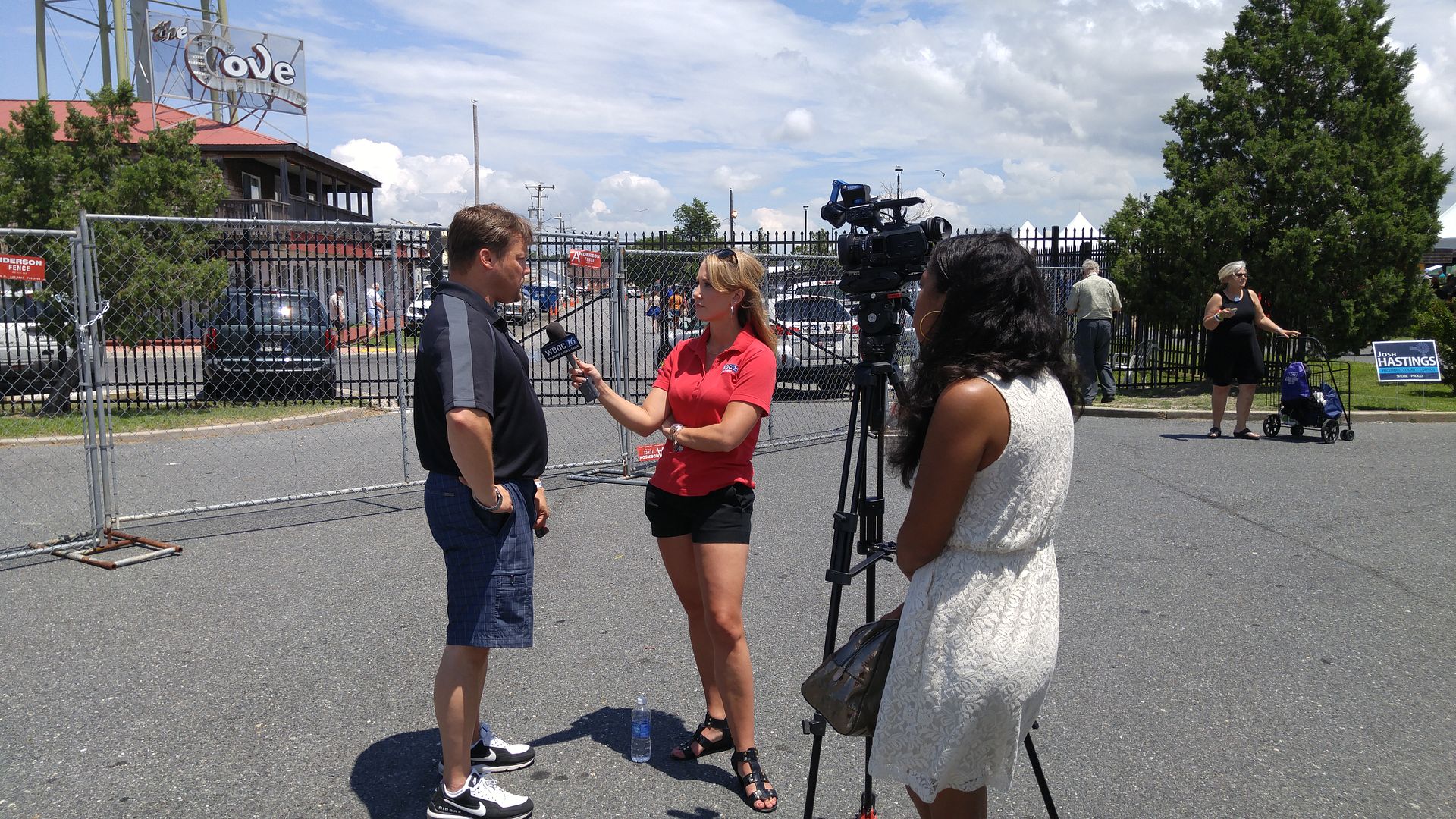 Both local Salisbury stations were there doing live shots and interviews.
And while the faces may change, the political aspect never does. You have the newcomers trying to make a good first impression, like U.S. Senate hopeful Chrys Kefalas and his millennial posse.
By the way, I had to look up that Kefalas is 35 because he appears a decade younger.
You have old hands looking for new positions, like Congressional candidate Mike Smigiel (in the center). He had a batch of "I Like Mike" buttons.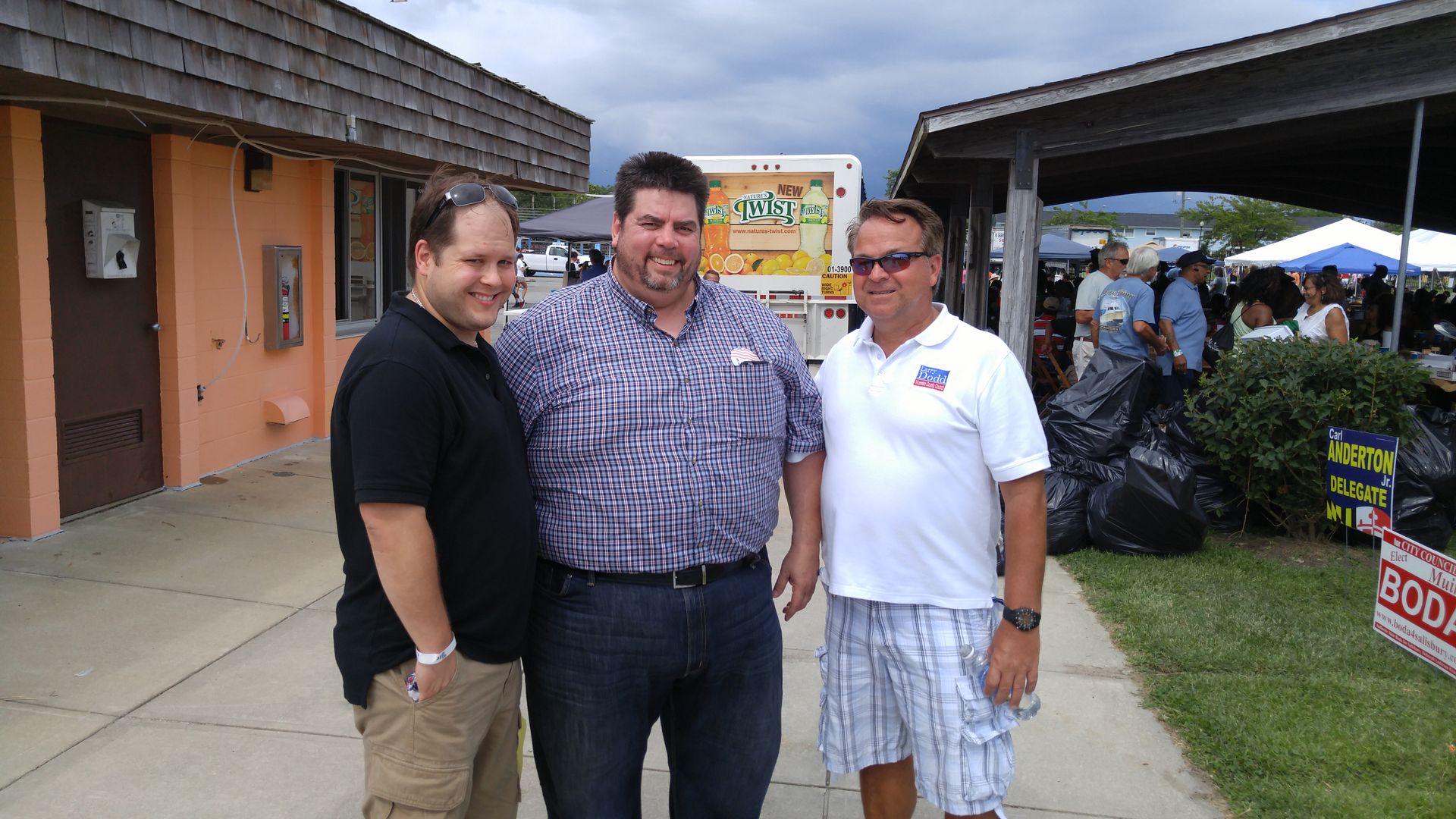 County Councilman Larry Dodd is on the right, and I apologize for not recalling the gentleman on the left's name.
And then there were established officeholders like my 2015 monoblogue Accountability Project Legislator of the Year, State Senator Justin Ready. He's talking to Jackie Wellfonder, who probably has some sort of social media record for photos with the most officeholders and general friends of hers.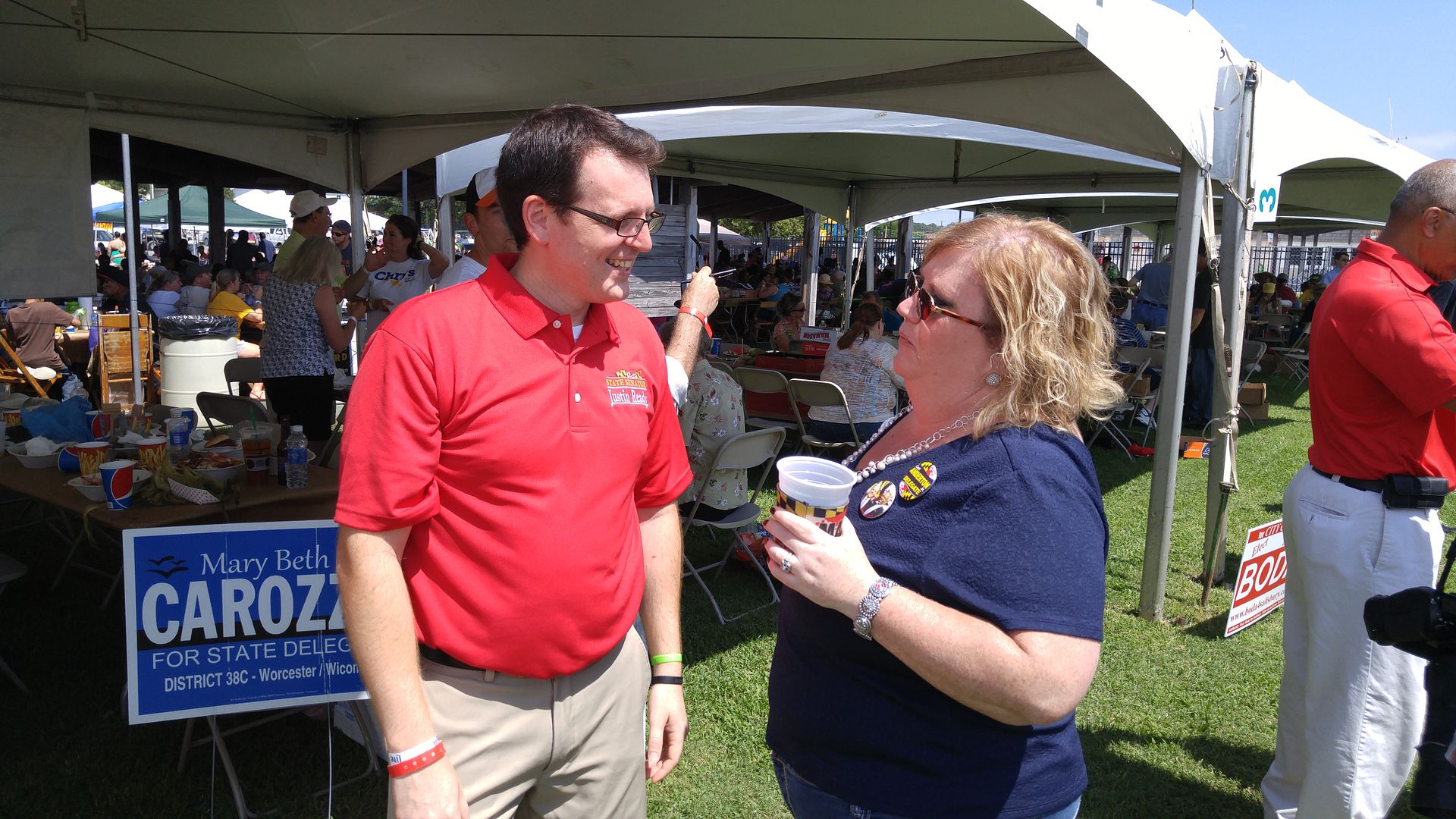 I think I've already seen her picture with our Lieutenant Governor, Boyd Rutherford. He's the distinguished-looking guy in the center.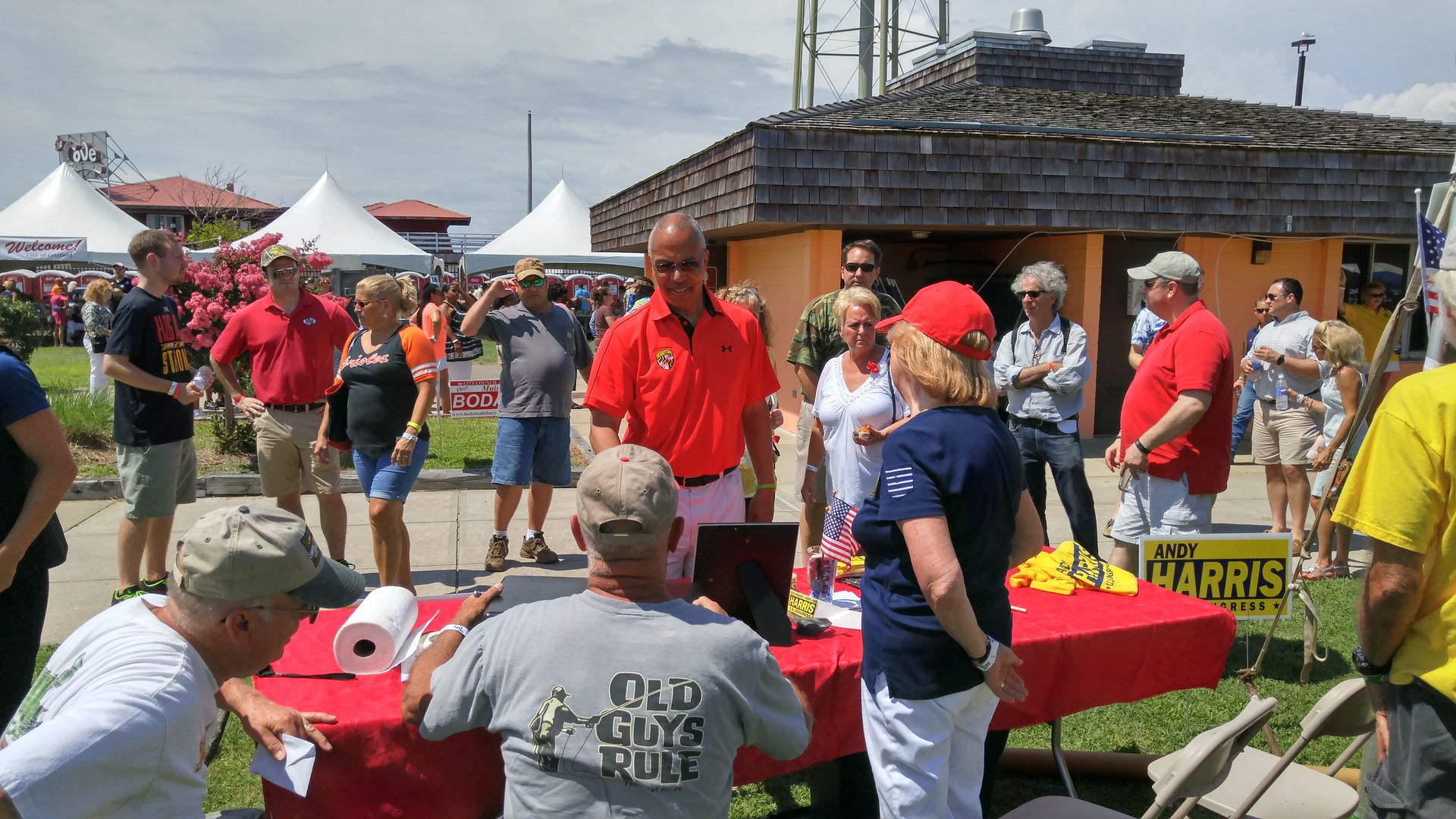 One final difference was the weather. While it was relatively comfortable, with a gentle breeze, the clouds rolled in toward the end.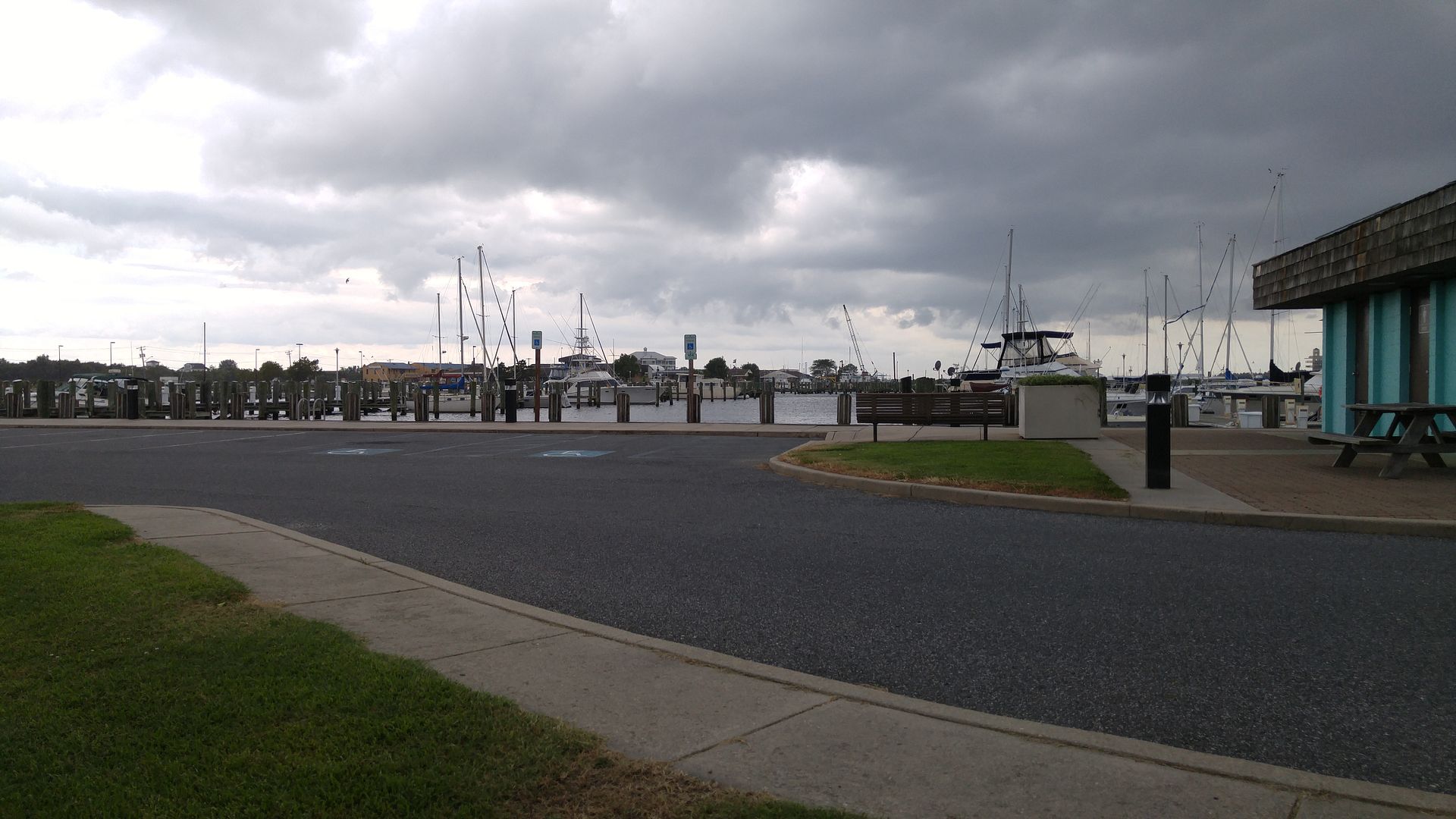 I left about 20 minutes before the scheduled 4:00 close, and by the time I got to my car about 1/2 mile away it was raining lightly. Before I got out of Crisfield it let loose and poured, so those who stayed to the bitter end either got under a tent or looked like drowned rats (or both.)
It was a fitting end to an event which was good, but perhaps a little off kilter. In fact, I was discussing the future of this gathering with someone who compared it to the Salisbury Festival – a venerable event that didn't change and eventually withered away. Since the cost went up this year (to $45 a ticket) we'll see how it affects the plans for next year.
As for me, I'd like the center location back.
I have a Twitter account.
Although I'm notified of a lot of different functions such as favorites, replies, retweets, and new followers, it doesn't mean I fanatically check it on a constant basis. Thus I missed this gem from December 28 until I fired up my Tweetdeck for the first time in a week.
@monoblogueUS @UFCW Pro Union Video by a UFCW member. Union Yes. America First. https://t.co/yo0kOpJzqz

— Joe Mahan (@joemahan_) December 28, 2014
Needless to say, Tweetdeck only featured the original so I was scratching my head trying to figure out how I was on this guy's radar. It would be one thing to get a reply from a powerful politician or member of the conservative new media, but I had no idea who this guy was. Neither of us follow the other.
It wasn't until I went to embed the Tweet that I saw the original, and a post was born.
So then I went to his Twitter page and found out he's an author trying to sell books, both on union organizing and a book of football poems. Guess he's not your prototypical "union thug," although I haven't read the poetry or checked out "football chess." I wasn't the only one to get a promotional Tweet like this, but at least you can't say I ignored it like (presumably) almost everyone else did.
It all started on the front end of this recent holiday season. Remember the Black Friday protests that were supposed to shut Walmart down? Neither do I, but I did write about it. A month later, Joe Mahan noticed. Don't know if he read the post, but I did tweak the UFCW on the Tweet.
Listen, Joe can do all the union organizing he wants – I would just like to see it done in an environment of right-to-work states from sea to shining sea. And here's hoping he helps himself to sell a few books – heck, maybe I should glom on to an appropriate Twitter handle to sell a few of mine. (I can even do autographed copies from the small paperback stash I have here at home.)
So I thought this would be a good opportunity to remind people I do have a Twitter handle (@monoblogueUS, naturally) and don't mind followers. You never know what you may find out.
If you wonder why there's just the average hustle and bustle at your local Maryland Walmart today, there's a good reason – a court order given last year keeps pro-union protests off Walmart property. But the UFCW keeps trying, encouraging supporters to instead tie up the phone lines in protest.
If you live in Arkansas, Colorado, Florida, Maryland, Ohio, or Texas, we ask that you remain off of Walmart property and tweak your action by calling the store manager on the phone to inform them that you/your group is there supporting #WalmartStrikers rather than delivering anything to the store.
I don't have to go to Walmart today, but I did have to go to a different store close by Walmart so I took a look around. It's near a corner where union picketers have stood before so in reality visibility is somewhat better for any who would protest Walmart anyway – although Wendy's and McDonalds probably aren't happy about it. Yet today the corner was busy with auto traffic and no protests in sight.
In other areas around the country, though, left-leaning news sites are gleefully reporting protests, including a major one in Washington, D.C.
But Walmart wasn't taking this lying down, nor were they going to depend on media to share its side of the story. I noticed this commercial played during the football games last Sunday and yesterday.
In reality, Walmart is like any other large company – employees who perform better or do more to improve themselves by taking advantage of opportunities the company may offer tend to advance.
Moreover, the $15 per hour demand by the UFCW smacks of hypocrisy when, as Diane Furchtgott-Roth writes, union employees in other UFCW union stores make far less after years on the job. Perhaps the Black Friday protests should occur at UFCW headquarters.
But what happens if employers knuckle under and pay $15 per hour? Indeed, for many it would be a tremendous raise, but the increased labor costs for those employers would ensure those who survive the immediate wave of layoffs and automation which would naturally take place with the vast wage increase for millions of workers would watch inflation (and a higher tax burden) erode their gains to a point where the process would have to begin anew in a year or two as advocates would demand $20 an hour to keep pace.
You may recall earlier this year the CBO came out with a study that predicted a minimum wage increase to $10.10 per hour could cost at least 500,000 jobs, and perhaps as many as a million. (At the same time, a smaller increase to $9 an hour would only cost 100,000 jobs and have a slim chance of increasing employment.) While the study didn't document a raise to $15 per hour, it's likely job losses would be in the millions based on the data compiled.
Until the UFCW looks at increasing wages and benefits in stores they do represent, their targeting of Walmart rings hollow.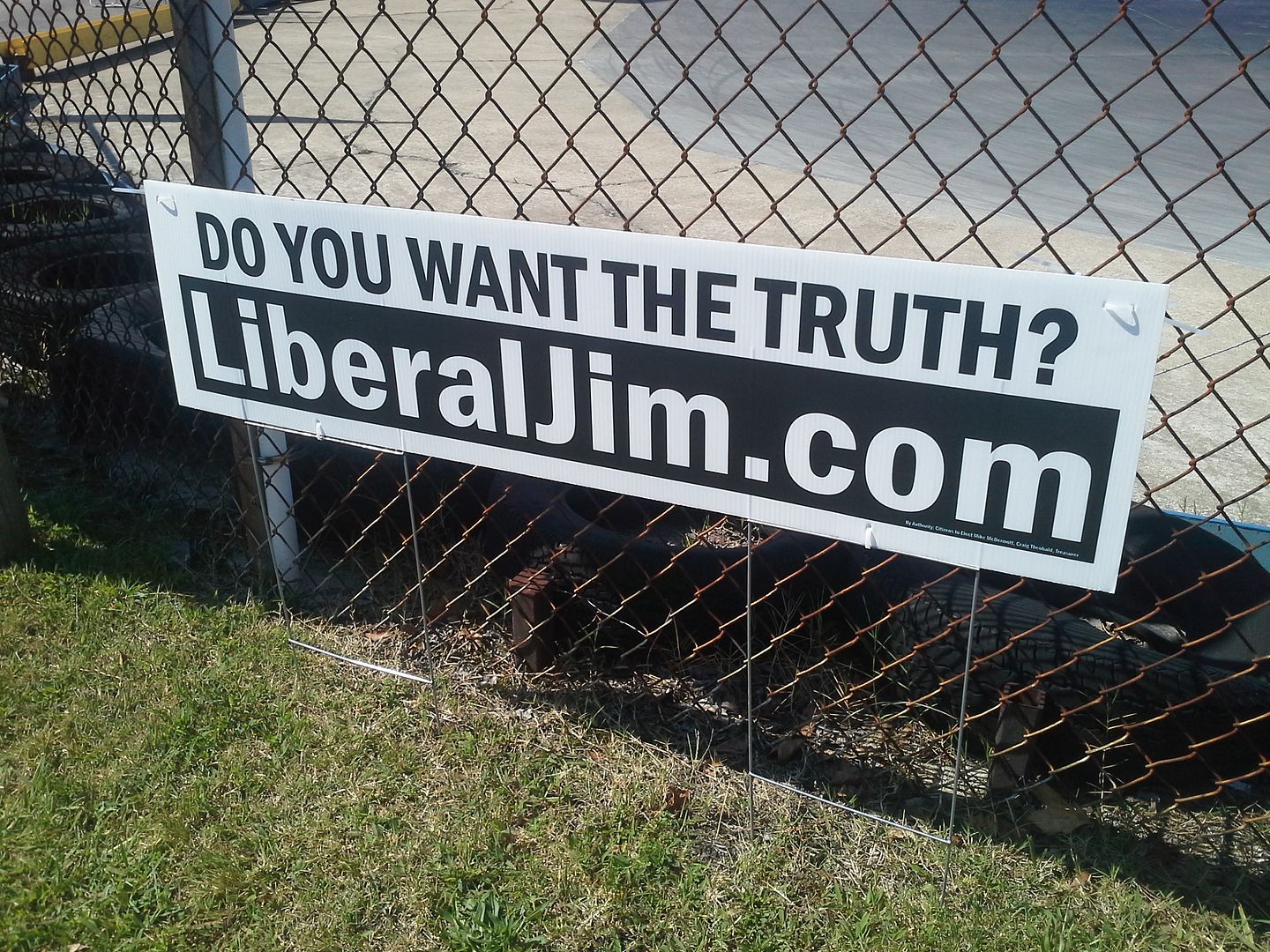 For several years I've done the monoblogue Accountability Project for this very purpose – disseminating the truth about how members of the Maryland General Assembly really vote when the rubber meets the road. There are few races with as clear-cut of a difference as the 38th District Senate race between incumbent Democrat Jim Mathias, whose mAP score as a Delegate from 2007-10 was a 15 (out of 100) and Senate lifetime score from 2011-14 has been 28 (out of 100) and Republican Delegate Mike McDermott, who replaced Mathias in the General Assembly and has a lifetime rating of 84.5 of 100. (The 2014 version of the monoblogue Accountability Project is here.)
But what does this mean in terms of issues? I went back and researched the common votes taken by both men. Since 2012, I have set up the mAP to use bills which received votes in both the House of Delegates and Senate – out of 25 votes, 22 of these would be common. (The other three were committee votes for the respective bodies.) So 66 votes over the last three years' worth of sessions were placed in front of both men.
In 2011 I hadn't changed the rules yet, so while I had standardized the number of votes at 25, only 9 were common. Yet of those 9 common votes, Mathias and McDermott only voted the same on two. In total, out of 75 possible votes, Mathias and McDermott differed a total of 45 times while agreeing on 27 occasions. (Mathias was absent for three votes in that time period.)
Eleven of those 45 votes of disagreement were budgetary. Year after year, Mathias has been a rubber stamp for the annual spending and debt increases put in by the state. It's not just the operating budget but the creation of more and more state debt and all the legerdemain that goes into each year's BRFA. The only agreement between the two: Mathias voted against the original 2012 BRFA.
But in 2011, Mathias also voted to force home care providers into paying union dues, which created an unearned estimated benefit to Big Labor of over $430,000, the crony socialism of the InvestMaryland Act where the state ate its seed corn of future receipts, state law conformity with Obamacare, and the gerrymandered Congressional districts which took effect for 2012.
Mathias also had a hand in some dreadful 2012 legislation, voting for the state health exchange that's only enrolled about 1/3 of the expected number of people at a wasted cost of over $125 million. Some guy named Anthony Brown was taking credit for that until it tanked. On a related front, Jim also voted to establish so-called "health enterprise zones," which was something requested by minority legislators. Wouldn't it make more sense to lift all boats?
But that's far from all of it. Remember that "flush tax"? Mathias voted to double it. Jim also voted to burden the nascent state natural gas industry with the presumption of guilt in well contamination, mandate expensive fire sprinkler systems in new homes, adding thousands to the cost, and punished cellular customers with an expansion of the USTF surcharge. And again, Mathias did a favor to unions by expanding their reach among state employees.
And remember the "doomsday budget"? In that 2012 special session, Mathias voted for the measure that transferred teacher pensions to the counties and forced Wicomico County to raise its income tax and maximize its property tax increase to stay eligible for a $14 million lower maintenance of effort payment. Thanks for the higher taxes, Jim.
2013 was the year with the most departure between the two, as they differed on 15 of 22 votes. Several of these were bills dealing with the state's implementation of Obamacare – including Medicaid expansion which is purportedly covered by federal funds (for now) – but there were other differences. Mathias supported provisions permitting voting by mail and, beginning in 2016, same-day registration during early voting. Both are invitations to voter fraud.
Mathias also voted in favor of the $18 annual surcharge residential customers start paying if offshore wind becomes a reality. (This may be hundreds of dollars annually for commercial customers and thousands annually for industrial users.) Jim also allowed the Maryland Stadium Authority to fund the construction of schools in Baltimore City. I'm not sure what sort of precedent that sets, but is Somerset County any wealthier of an area? Why is Baltimore City getting this new source of debt?
Nor were Jim's union friends left out. In 2013 he voted to enact so-called "service fees" at five state universities and statewide for public school employees.
But the most interesting vote was on the Transportation Trust Fund "lockbox." While it's supposedly in place to prevent the annual raid of the TTF by a governor who can't suppress his appetite for spending, the key to unlock is laughably weak: a 3/5 majority of both houses of the General Assembly. At this point Democrats by themselves could allow the transfer with 13 House votes and 6 Senate votes to spare. Those lucky Democrats, likely in swing district's like Jim's, would have the pass to go against their party while knowing passage is safely in the bag. I sense that Mike McDermott knew this when he properly voted no.
(That Constitutional Amendment is on the 2014 ballot as Issue 1, and I would encourage a vote AGAINST it. Make the General Assembly come up with a real lockbox – either a blanket prohibition or a 3/4 majority, which would require at least some Republicans to buy in – 106 House votes and 36 in the Senate.)
This year's agenda was somewhat less ambitious, but there were still major differences. Mathias dodged a bullet when the bridge-eligible assistance program he voted for proved to not be too expensive (although there was no final expense tally at the point this was updated) but he also kept adding more Obamacare provisions to state law while paying for a needle exchange program in Baltimore city.
On the educational front, Mathias supported a pre-K expansion which will be of dubious benefit (except to public school unions) and supported a workgroup of yes-men studying how to better implement Common Core, which they don't call Common Core anymore. And not only did he once again support a bloated budget, he tacked on a $10 additional fee for pesticide registration. Granted, it's an aggregate of about $130,000 a year but it's yet another burden for businesses.
Aside from the budget bills, though, the supporters of Jim Mathias would probably point to the bills both voted for as evidence of his moderate stance.
In 2011, both voted against the supplemental 3% alcohol tax and in-state tuition for illegal aliens. 2012 brought several points of agreement: voting against a prohibition of arsenic in livestock feed, enactment of same-sex marriage, the "rain tax," the Septic Bill (with a caveat as I'll get to momentarily), and even requiring helmets for moped riders. In the first Special Session that year both voted against the income tax increase.
When I revisited the Septic Bill, though, I noticed there were two Third Reading Senate votes – one for the Senate bill and one including some changes from the House version which passed, which had to be voted on again as amendments to the Senate version. Oddly enough, on the first iteration Jim voted yes but on the final product he was a no vote. Apparently Jim was for tier maps before he was against them?
Anyway, 2013 brought a lot of disagreement but Mathias and McDermott voted alike on some key issues: the gas tax increase, death penalty repeal, driver's licenses for illegal aliens, and the SB281 gun bill all drew their opposition. Credit Mathias with unsuccessfully trying to place a sunset date on the gun law. This year they both fought the minimum wage increase as well as prevailing wage applicability, helped to decrease the estate tax (a rare win for conservatives) and the "bathroom bill."
One thing I noticed in my research, though, is that Mathias rarely offers any floor amendments, whereas McDermott has several per term. Obviously that stage seems to me the one point where Republicans get in their say, giving Democrats more opportunities to be on the record as opposing common sense.
So while it's true that Jim will "stand up to his own party" on some limited instances where tax increases are too obvious, he gives the game away by voting for each budget. I suppose the question is who is really fighting for the district, and in part two of this post I'll look into where McDermott is fighting the other side.
After yesterday's lengthy post about Peter Franchot's assessment of the state economy, I wondered how the Republican running for the state's top job would react. Fortunately, I can distill his statement down to a couple short paragraphs:
(Wednesday's) report is utterly devastating and confirms what we have been saying, that Martin O'Malley and Anthony Brown have taxed and spent our economy into the ground. Overtaxed Marylanders are earning less, small business profits are disappearing and people have less to spend on goods and services.

As governor, I'll put partisan politics aside and work across the aisle to undo the damage of the past eight years. We'll work together to reign in reckless spending and waste so we can roll back as many of the O'Malley and Brown's 40 straight tax hikes as possible. It's time for Annapolis to live within its means so people can keep more of their hard earned money.
I was fine with that until the part about "work together," particularly with regard to an event last week with New Jersey Governor Chris Christie:
The Democrats want to tell you that Governor Christie and I are far-right extremists. Our similarities stem from the fact that we are commonsense Republicans that are prepared to reach across the aisle in order for progress and prosperity. That is why Governor Christie was overwhelmingly reelected in the blue state of New Jersey to a second term. And that is why Marylanders are ready for a Republican governor in Annapolis.
Unfortunately in this partisan day and age, for a Republican reaching across the aisle means getting your arm bit off and used as a club to beat you with. Remember, the reason for Christie's initial popularity was his get-tough stance with the state's unions, and I honestly don't see those sort of stones with Larry Hogan.
It's obvious we have a problem in this state, as Franchot pointed out. But the problem isn't just in the governor's office, it's in the bowels of the General Assembly as well.
Remember the "doomsday budget" session of a couple years ago, and the big deal many in the General Assembly made that spending "only" went up $700 million instead of the $1.2 billion they eventually received? Imagine that fight every year.
Depending on how many Democrats are returned to Annapolis, the budget that Governor Hogan would send out might only get 50 or 60 House votes, so the overriding question is what tradeoffs will we have to endure? Or will Hogan surprise me and take the bully pulpit, going over the heads of the General Assembly and the press to convince the people to demand action on a leaner budget? We know the unions wouldn't take cuts lying down, so are those on the side of sanity going to go to Annapolis and tell Big Labor to pound sand when they mass in protest like they did a few years back? Fifty isn't much against 5,000 and their box lunches.
(By the way, I should point out the link above was one of the posts where I lost all my pictures when Photoshop folded into Adobe Revel and rendered all my photo links obsolete. I spent a good half-hour fixing it for presentation last night because it was important to convey the sort of protest Larry Hogan can expect if he stands his ground.)
I certainly hope Larry wins and comes out with budgets which reflect sanity and not just a 4-6 percent increase each year. But be warned it won't come without a fight. And we can live with Larry's middle-of-the-road, reach-across-the-aisle tendencies if we can get some conservatives to Annapolis to keep him in line, with the rest of us having his back when he makes those promised cuts.
After a tough stretch for Big Labor, this Labor Day finds some good news for them in the New York Times, of all places. It seems that union membership in the New York region is on the upswing, according to a study by two professors at the City University of New York Graduate Center. The pair credit more work in the construction sector as well as gains in the hotel industry.
Needless to say, these particular jobs are somewhat cyclical and can be lost at the drop of a hat. (Just ask thousands of Atlantic City casino workers whose employers close after this weekend.) But any good news is manna from heaven for Big Labor.
I also noted in reading the Times piece that the two professors who did the study, Ruth Milkman and Stephanie Luce, downplayed the impact of fast food workers and their attempts to organize. Yet in a separate op-ed in the Louisville Courier-Journal, Kentucky AFL-CIO head Bill Londrigan singled out the fast food industry as one where workers:
…have labored long and hard and not benefited in a satisfactory manner from the fruits of their labor. They have been pushed too far. The pendulum has swung too far away from workers, the poor, elderly, children and those that need the help of others for their survival.
The problem they have, though, is that fast-food workers are very replaceable. And Londrigan has to throw in an obligatory whine:
The rich have gotten too rich and the poor too poor and the rest squeezed in the declining middle.
Take your class envy card someplace else. I'll agree that it is getting harder and harder for the middle class to get by, but it's not necessarily that the rich are getting richer in general – it's the rich who use the power of government for rent-seeking and weeding out potential competition. The unions don't mind so much when the UAW benefits from a General Motors or Chrysler bailout, but just let various local politicians speak out negatively about the prospect of a unionized Volkswagen plant in Tennessee and suddenly government is the bad guy.
Perhaps unions aren't completely to blame for the long, slow decline of American manufacturing over the last 50 years, but they haven't necessarily helped the cause, either. Collective bargaining for the workers of one company is one thing, but enacting protectionist policies to discourage competition or discouraging productivity with onerous work rules are completely different animals. Some of the local unions have wised up, but too many just exist to collect worker dues and pay off politicians.
On a day to celebrate American labor, I stand for the right to work.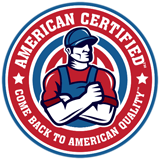 Thought I was missing something this morning. Oh well, it gave my previous post a little time to breathe.
Actually, I had a busy week outside the AC realm – actually, outside the entire realm of writing. Running around for the outside job will do that to you.
Fortunately, my slack was picked up around the AC world. Take, for example, the news that Volkswagen's new SUV will be made in America – more specifically, at the Chattanooga plant that just became unionized via the back door. So it's good news for the plant and perhaps better news for American consumers, even those residing locally as we have a relatively new Volkswagen dealership.
While German-based VW brings more production to America, though, others are considering the opposite move. AC colleague Ed Braxton reveals one reason why in his look at high domestic business tax rates, but the practice of tax inversion has led to a call from the Obama administration for "economic patriotism." (I got to expand on this a little bit on the Patriot Post as well.)
But whether it's Volkswagens coming in or businesses moving out, infrastructure remains a concern. Barack Obama's recent stop in Wilmington was the site of his unfortunate Malaysian Flight MH17 comment, but it was originally intended as the backdrop for a new infrastructure initiative and announcement of an upcoming summit on the subject, all thanks to the I-495 bridge debacle.
(When you think about it, though, we really have to give credit to those up in Delaware who discovered the issue and are addressing it. You may recall a couple other interstate bridge collapses in recent years with tragic results.)
Next week should be a more fruitful week, although Washington will soon be in vacation mode. I'm sure I can find something to write about.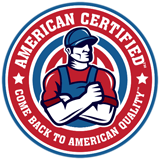 It was a varied palette of items written about on my American Certified blog, The Sausage Grinder. Maybe it was a little more like scrapple. Regardless, I made several contributions to the discourse.
For most of the spring and summer, I've been following a sort of obscure Commerce Department case regarding allegations of Korean dumping of a processed steel piping product called Oil Country Tubular Goods – it's strange that Korea is an OCTG producer when it has little oil. They made a decision favoring American steelworkers, which got positive reaction from a variety of interests.
One of those I quoted in the Commerce piece was the leader of the steelworkers' union. His fellows at the United Auto Workers got an unexpected surprise from Volkswagen, which let the UAW in the back door despite workers at the Chattanooga plant voting against the UAW in February.
The concept of economic patriotism was brought out last week in a letter from Treasury Secretary Jack Lew, who pressed Congress to do something about the practice of tax inversion, where companies transfer assets overseas to take advantage of lower tax rates. While I didn't bring up the argument in my piece, locally it's just like the practice of stores selling big-ticket items locating just across the Delaware line so they can advertise their "no sales tax" prices and hope to increase volume accordingly.
Finally, I restated the obvious: Obamacare rates will go up in 2015. In a government takeover of the health insurance industry, did you really expect otherwise?
As always, I'm working on new stuff for next week, with other stories to follow.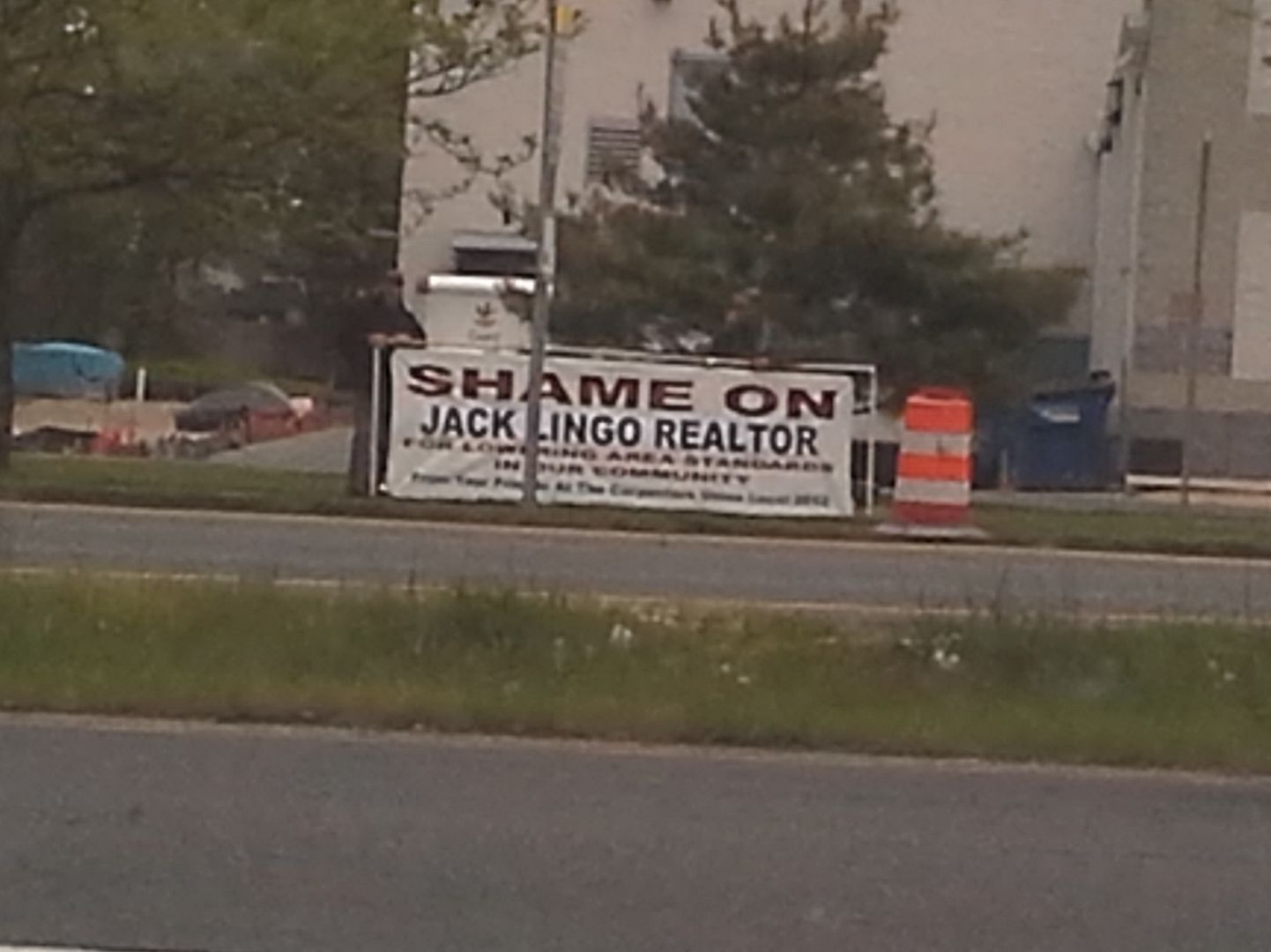 It's getting to be as predictable as the swallows returning to Capistrano; in fact, I alluded to this occurring a few weeks ago but I didn't know where it would be. Little did I know that traveling up Coastal Highway outside Rehoboth Beach I would see the friendly neighborhood Carpenters Local 2012 complaining once again about a company lowering area standards. I'm guessing that the realty company named actually owns the nearby building being renovated as their offices are in Rehoboth Beach proper.
I suppose it's a good sign that only a couple of guys were manning the picket, and they weren't going to be there much longer because it was about to rain – in fact, coming out of my next destination I was caught in a sudden shower. That was a minor slowdown in what seems to be quite a bit of construction going on around Sussex County, although Salisbury has its share of building right now as well; there are a couple of small retail projects being erected along North Salisbury Boulevard as well as two reasonably large apartment complexes in the same part of town and the new artists' housing just outside downtown. It's not looking like the peak of activity a decade ago, but at least there is some pent-up movement being made.
Naturally one can argue where the market for new housing and retail would come from given the number of vacant houses and storefronts around town, and the reality is that something that's showing its age will probably lose its market share to the newer construction. It may be that the new retail construction being built adjacent to the current Greene Turtle location may have several vacancies next door as the Turtle was reportedly relocating down the road to the former Famous Dave's restaurant and Barnes and Noble has been dogged by whispers about its demise. Even Sussex County acknowledges that abandoned properties are becoming an issue.
So where does the Carpenters Local fit in? Obviously they feel as if they're not getting enough of a cut. Unfortunately for them, the construction market is not such that wages can be sought as they were during the boom times, plus they have a fairly new training center from which their graduates need work. (It goes back to the point I've made about the best aspect of union carpenters is their training.) If jobs can't be had, there's little point in setting aside time and effort to be trained in a trade.
To ensure enough work for everyone, we need to first grow good-paying jobs here – not through artificial means like raising the minimum wage, a tactic which only leads to inflation because no additional value is created from the labor, but by securing the means and methods to increase value. I like to use energy exploration as an example because there are private investors willing to create jobs where none existed in order to make a profit for themselves – of course, the workers are going to invest their wages into things they need, in turn creating new jobs. It's how America was built.
Standing around holding up a picket sign really doesn't create a lot of value.